Resale HDB

Where Are The Cheapest Nearly New 5-Room Resale HDB Flats In 2023? (From $510,000)
Ryan J
February 6, 2023

9

min read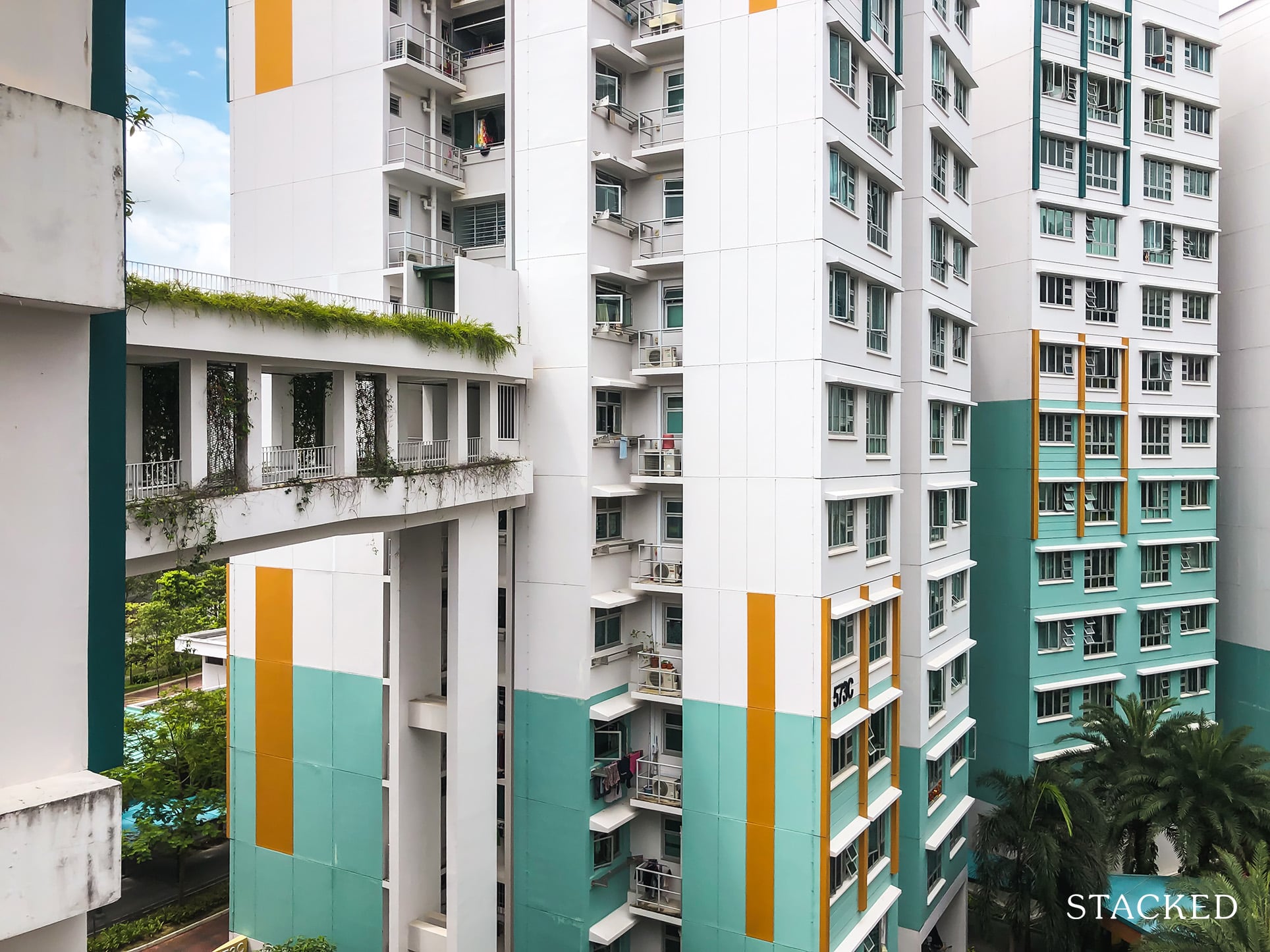 9
min read
Resale flat prices in 2023 are still high, although the last quarter of 2022 showed the slowest price increase of the year for resale HDB flats so far at 2.3 per cent. The rate of growth in prices has slowed too, with resale prices rising by 10.4 per cent, which is slower than the 12.7 per cent increase in 2021.
But besides just finding a cheaper home, many are also concerned about the lease of their HDBs.
As such, we've pored over the data to pick out the estates where you can start your search of nearly new resale HDB flats (5 – 10 years old). Here's where to look and what to know:
An important upcoming factor in 5-room flat prices for 2023
A few realtors we spoke to pointed out the September 2022 cooling measures, for which we may not have seen the full impact on 5-room flats yet. Under the cooling measures last year, some Singaporeans* who sell their private property must wait 15 months before they're able to buy a flat.
Realtors said this could wind up having a bigger impact on the resale flat market than you might think, which has yet to be fully reflected due to the recency of the measure. One realtor said that larger flats, such as 5-room flats and Executive Apartments, are likely to be affected as these were popular choices among those right-sizing from condos and landed homes. 
While the government has said the measure is temporary, most property agents said it's unlikely to be going away soon. Note that cooling measures such ABSD, which were also stated to be "temporary," have only intensified over the past decade. 
This is an upside for some buyers, as it will reduce the number of cash-rich buyers competing with you for flats; and it applies some downward pressure on COV rates. 
It is, however, a potential frustration if you're younger than 55 and right-sizing. If this is your situation, it may not be very helpful to know the cheapest options right now; check again when it's closer to the end of your wait-out period.
*You are exempt from the wait-out period if you are aged 55 or older and are moving into a 4-room or smaller flat.
Read this next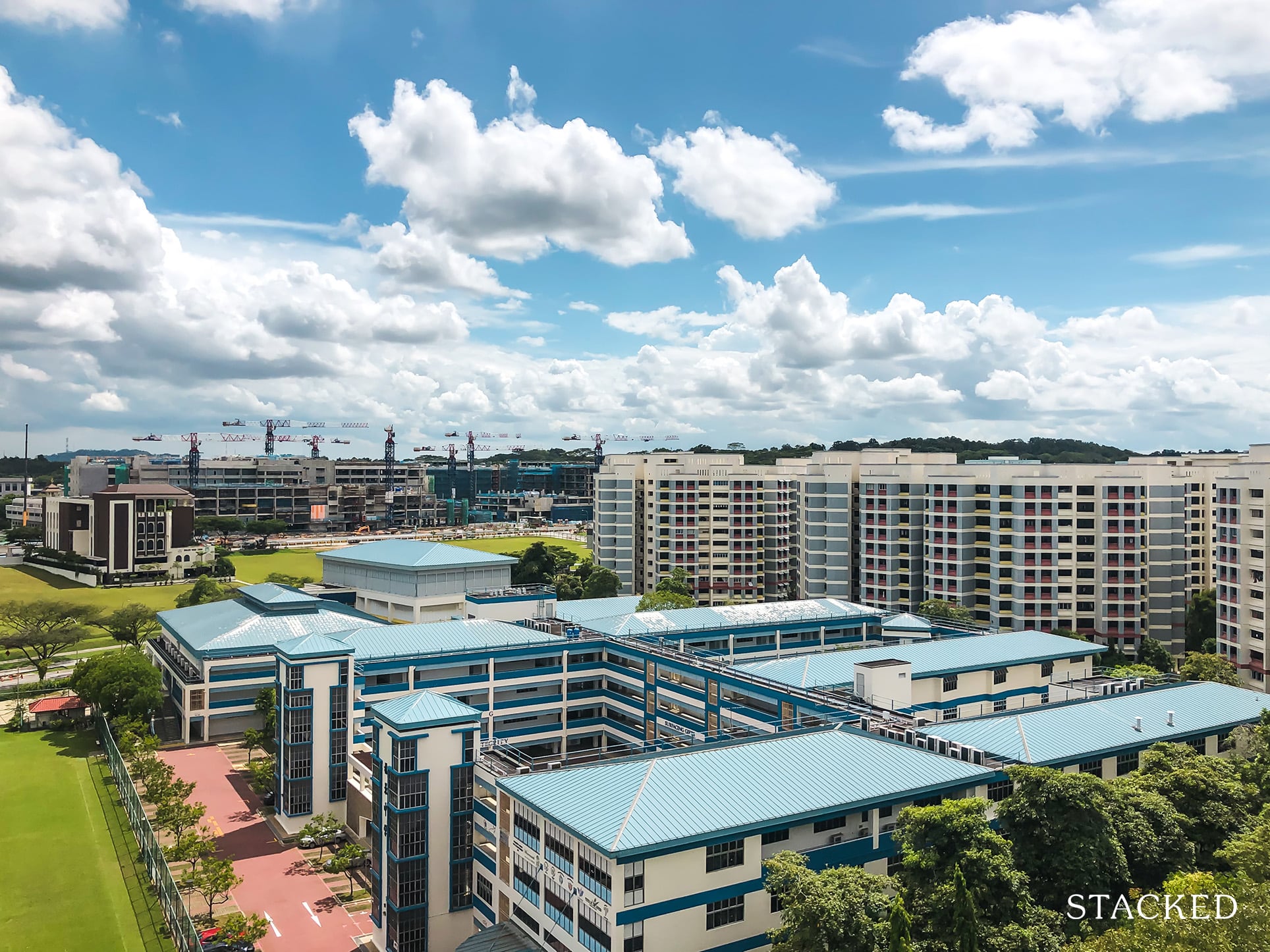 The cheapest housing estates for 5-room flats (mature)
| | | | |
| --- | --- | --- | --- |
| Cheapest Development | Lowest | Average | Highest |
| Costa Ris | $685,000 | $746,589 | $800,000 |
| Tampines Greenlace | $670,000 | $763,272 | $818,000 |
| Tampines GreenLeaf | $710,000 | $796,263 | $880,000 |
| Ping Yi Greens | $830,000 | $830,000 | $830,000 |
| Centrale 8 At Tampines | $800,000 | $875,000 | $955,000 |
| Casa Clementi | $895,000 | $946,250 | $1,000,000 |
Change in prices
5 Room 2022-H1
5 Room 2022-H2
Mature Estates
Average ($)
Average Age
Vol.
Average ($)
Average Age
Vol.
Change In price
ANG MO KIO
$769,423
29
65
$821,352
25
78
+6.7%
BEDOK
$649,682
36
117
$667,436
36
126

+2.7%

BISHAN
$816,954
35
55
$844,726
35
69

+3.4%

BUKIT MERAH
$845,470
29
116
$888,288
31
117

+5.1%

BUKIT TIMAH
$857,000
38
4
$917,127
38
7

+7.0%

CENTRAL AREA
$1,128,145
16
19
$1,135,689
16
10

+0.7%

CLEMENTI
$824,698
27
49
$814,138
32
29

-1.3%

GEYLANG
$803,055
32
37
$792,657
37
45

-1.3%

KALLANG/WHAMPOA
$781,872
32
58
$822,775
27
55

+5.2%

MARINE PARADE
$822,034
47
26
$883,904
48
33

+7.5%

PASIR RIS
$608,049
29
139
$636,879
29
121

+4.7%

QUEENSTOWN
$920,581
23
61
$951,817
28
45

+3.4%

SERANGOON
$679,839
32
40
$712,162
32
35

+4.8%

TAMPINES
$617,321
31
187
$660,266
30
220

+7.0%

TOA PAYOH
$780,199
32
64
$811,470
31
48

+4.0%
We doubt anyone will be surprised that prices are generally up in most neighbourhoods. But in three mature estates where prices are already high, we may be seeing a ceiling.
Central area flats saw little price movement (up by less than a percentage point from 1H 2022), while Clementi and Geylang dipped slightly by 1.3 per cent.
With Clementi, there was also a significant drop in transaction volume, from 49 units in 1H to just 29 units by year-end 2022. Geylang, meanwhile, may be at an inflection point: Transactions rose from 37 to 45 in the same time period, despite prices dipping by 1.3 per cent.
This said, the central area is still the most expensive for resale flats (averaging $1.35 million), and neither Clementi nor Geylang qualify as cheap compared to other HDB towns.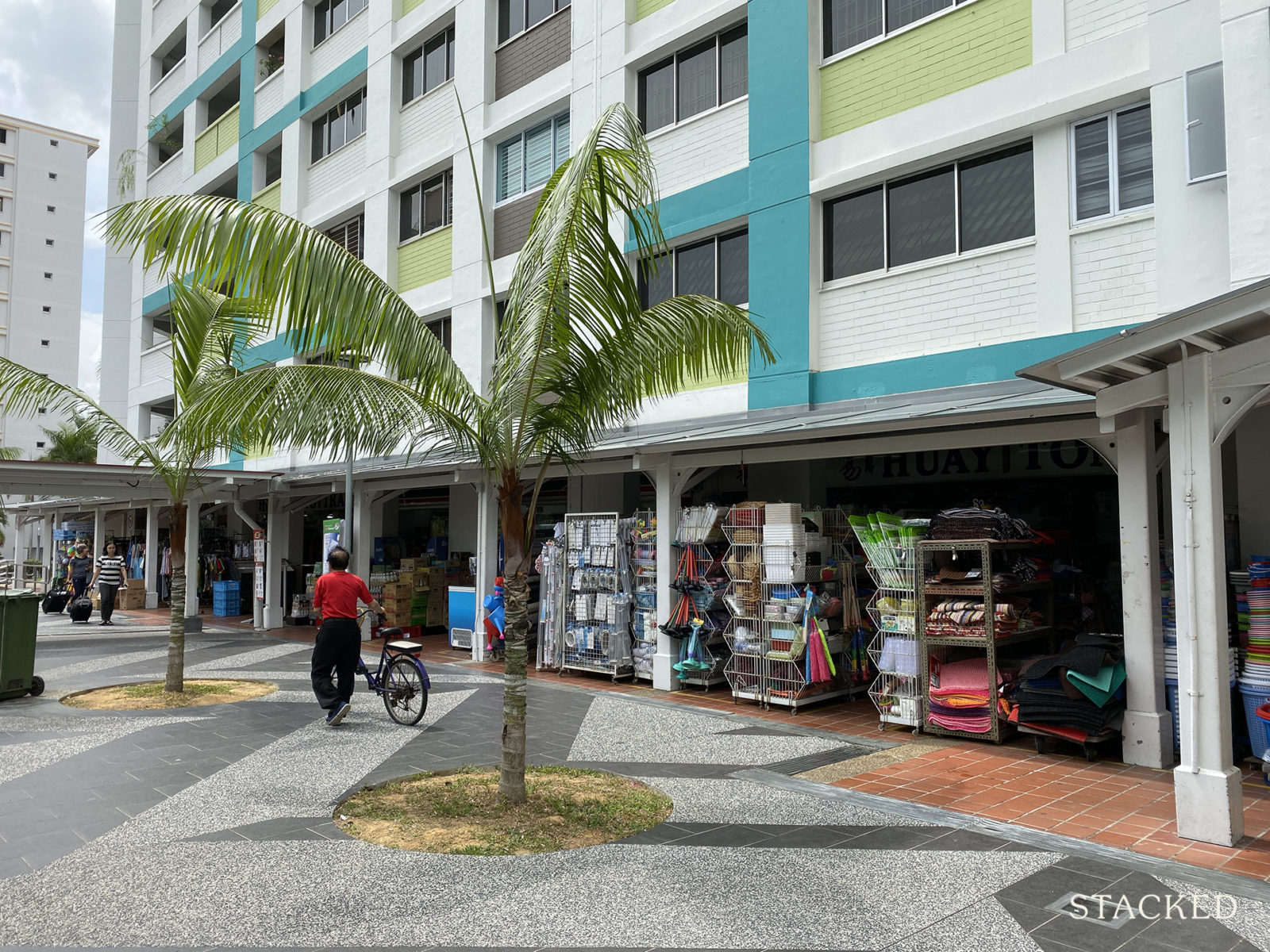 1. Pasir Ris
Pasir Ris remains the most inexpensive mature town to stay in. Prices average $636,879, up by 4.7 per cent from 1H 2020. Due to the low quantum, this is one of the rare mature towns where a first-time home buyer might be able to afford a 5-room right now.
However, Pasir Ris has one longstanding issue: some Singaporeans still don't consider it to be a true "mature town", probably due to its young age (Pasir Ris was built in 1988, very late compared to many mature counterparts). This could explain the market's reluctance to accept "mature estate pricing" from this town, even though we're clearly getting there.
In truth, Pasir Ris is quite built-up: Downtown East is one of the biggest family recreational hubs in Singapore, for example, and malls like White Sands, Pasir Ris West, and Elias Mall make the area quite self-contained; but awareness of this seems rather low. There is also the upcoming Pasir Ris 8 that comes with Pasir Ris Mall with almost 375,000 sqft of space with ~170 shops. For context, this is more than double the existing White Sands Shopping Mall. It may be that other prestigious east-end areas, like Marine Parade, simply steal the limelight.
Pasir Ris is also about as far east as you can get: mature or not, those who work in the CBD or in the west will find it a hassle.
2. Tampines
The regional centre of the east – prices in Tampines average $660,266, up by a substantial seven per cent since 1H 2020.
While Tampines is largely recognised as a hub, one ongoing issue is that most amenities are clustered in one area: this is the space around Tampines MRT, where you find office space as well as malls like Tampines One, Century Square, etc. This super-convenient area is what most people think of, when you mention Tampines.
However, there are parcels of Tampines such as Tampines West (near Changi General Hospital) where amenities are more sparse. Living in the more "ulu" parts of Tampines can be a totally different experience from living near the Tampines Hub.
We also regret to say that, if you do find a cheap flat in Tampines, it's probably not going to be one near said hub (but prices are rising across the board in this town).
3. Bedok
Bedok is one of the largest HDB towns, with prices averaging $667,436, up around 2.7 per cent from 1H 2020.
Bedok has a reputation as being quite a laid-back area, especially around the Bedok Reservoir area – but there are things happening here. The former Bedok Point mall has just been redeveloped into Sky Eden @ Bedok, a mixed-use development that reintroduces some retail (although some people might not describe 12 commercial units as much). While this is a private condo, the shops are available to the public as well.
Bedok will also see a BTO launch in the May 2023 exercise, so we expect that some people who failed to ballot may consider a resale alternative. This will be the first BTO launch since the November 2016 Bedok Beacon, of which there were just 500 units of 2-room Flexi and 4-room flats. This is one of the few mature towns where the quantum for a 5-room remains below $700,000, which is sometimes manageable for first-time buyers. 
The cheapest non-mature estates for 5-room flats
| | | | |
| --- | --- | --- | --- |
| Cheapest Development | Lowest | Average | Highest |
| Sunshine Gardens | $510,000 | $584,172 | $630,000 |
| Floral Spring | $528,000 | $577,367 | $628,888 |
| Fernvale Ridge | $530,000 | $602,815 | $680,000 |
| Woodlands Meadow | $532,000 | $575,714 | $618,000 |
| Fernvale Lea | $540,000 | $640,464 | $688,888 |
Change in prices
5 Room 2022-H1
5 Room 2022-H2
Non-Mature Estates
Average ($)
Average Age
Vol.
Average ($)
Average Age
Vol.
Change In price
BUKIT BATOK
$703,757
21
77
$715,181
21
79
+1.6%
BUKIT PANJANG
$599,309
22
136
$610,880
22
147

+1.9%

CHOA CHU KANG
$569,577
18
275
$585,261
20
225

+2.8%

HOUGANG
$611,138
27
121
$662,412
27
120

+8.4%

JURONG EAST
$600,643
36
60
$617,878
34
60

+2.9%

JURONG WEST
$542,056
24
257
$573,150
23
258

+5.7%

PUNGGOL
$605,988
14
337
$654,516
13
343

+8.0%

SEMBAWANG
$567,276
17
122
$602,194
16
133

+6.2%

SENGKANG
$594,161
16
417
$613,362
16
390

+3.2%

WOODLANDS
$542,514
24
252
$581,577
21
316

+7.2%

YISHUN
$596,897
20
186
$620,229
21
177

+3.9%
Hougang saw the biggest uptick in price, but this is to the usual chorus of "Hougang doesn't count as non-mature". We're inclined to agree – it's an open secret that Hougang is non-mature in name only, and it's every bit on par with an area like Bedok or Serangoon. (Hence the talk about reviewing the classification of non-mature and mature estates). As such, we're not surprised it sees so much demand in a time of low supply. 5-room flats here now average $662,412, up around 8.4 per cent from 1H 2020.
Punggol also continues its rapid rise in prices, up eight per cent from 1H 2022. This is on the back of the Punggol Digital District (PDD), which has seen rising prices since as early as pre-Covid days. Note that Punggol's average price of $654,516 is almost on par with Tampines, the regional centre of the east – this would have been unthinkable in the previous decade.
The low quantum of Woodlands is also disappearing. This town saw prices rise 7.2 per cent to $581,577, and we've long mentioned that the days of "cheap Woodlands" are coming to a close. The reason would be the Woodlands North Coast project, which will develop this town into the regional centre for the north. For owner-investors happy to wait, areas near the project could be a value buy.
1. Jurong West
Perhaps Jurong West doesn't capture the imagination like its better-developed Jurong East neighbour (we're referring to the newer side of Jurong West around Boon Lay MRT). There is still a tendency among Singaporeans to think of this area as being mostly sparse and industrial.
(We find some Singaporeans still think the heavy industries of Tuas are "in" Jurong West, for example, when Tuas is not part of Jurong).
Nonetheless, Jurong West has some of the most affordable 5-room flats, averaging $573,150. These are still up around 5.7 per cent from 1H 2022 though.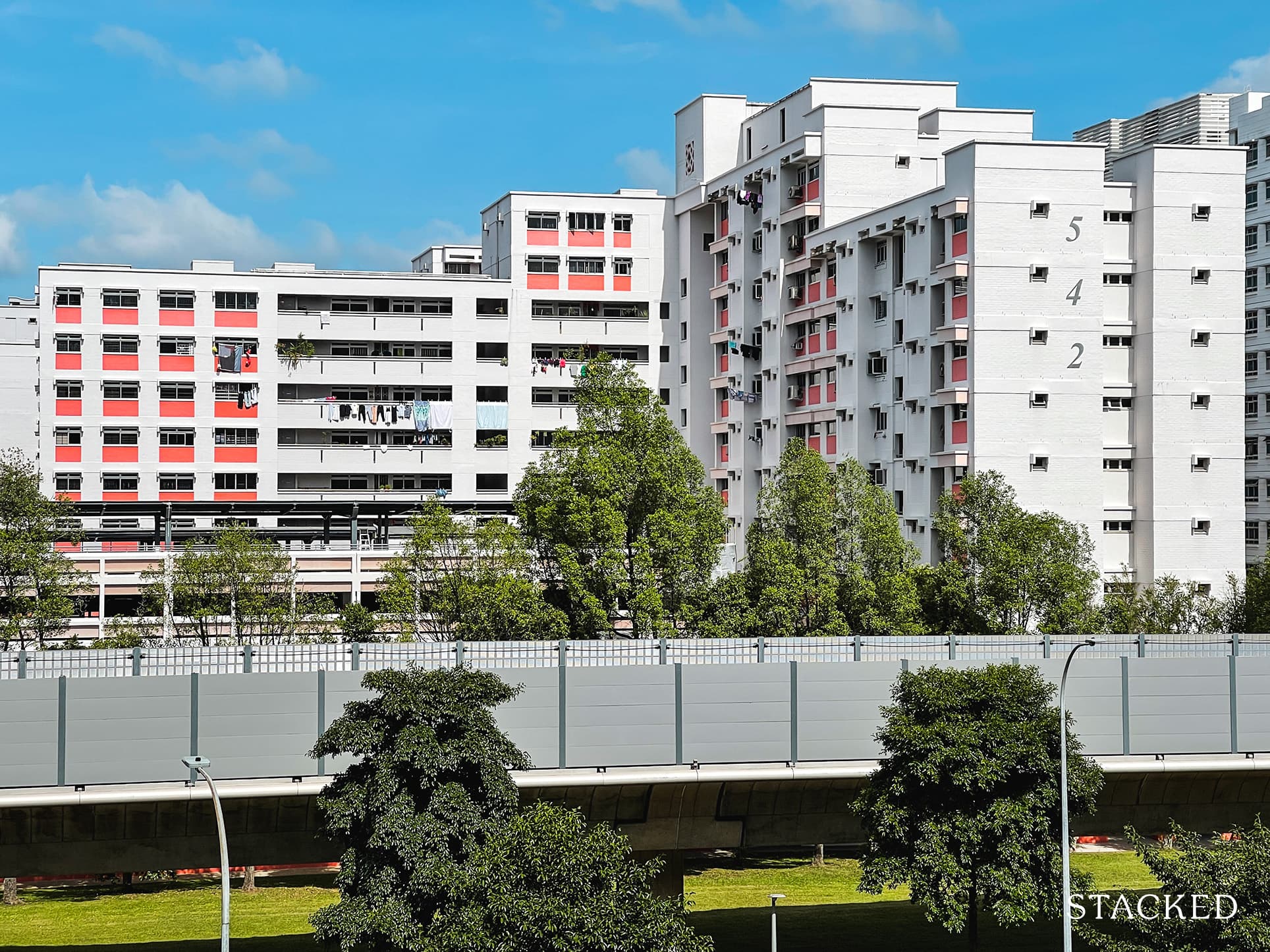 2. Woodlands
We've pretty much explained this situation above – Woodlands is still second-most affordable on the list, but this is likely to change soon.
3. Choa Chu Kang
Average prices here are almost on par with Woodlands, being just slightly higher at $585,261. Choa Chu Kang has recovered from a price dip around five years back when resale prices here broke a one-year low.
This is largely due to Choa Chu Kang's isolation from the traditional CBD; and its lack of any major projects or makeovers to capture public attention of late. Nonetheless, this is at heart a very liveable town, favoured by outdoors-loving types due to its green spaces (all coming at a price much more reasonable than Bukit Timah).
As much as everyone seems to want a dip in resale HDB prices, that is still going to take some time given the current limited housing supply and high demand. Bear in mind some demographics, like PR-only families, are forced to buy a resale HDB regardless of how many BTO flats are built. For more updates on the situation, follow us on Stacked. We'll update you on new trends in the market as they happen.