BTO
We Review The August 2023 BTO Launch Sites (Queenstown, Tengah, Kallang/Whampoa, Choa Chu Kang)
Ryan J
July 19, 2023

6

min read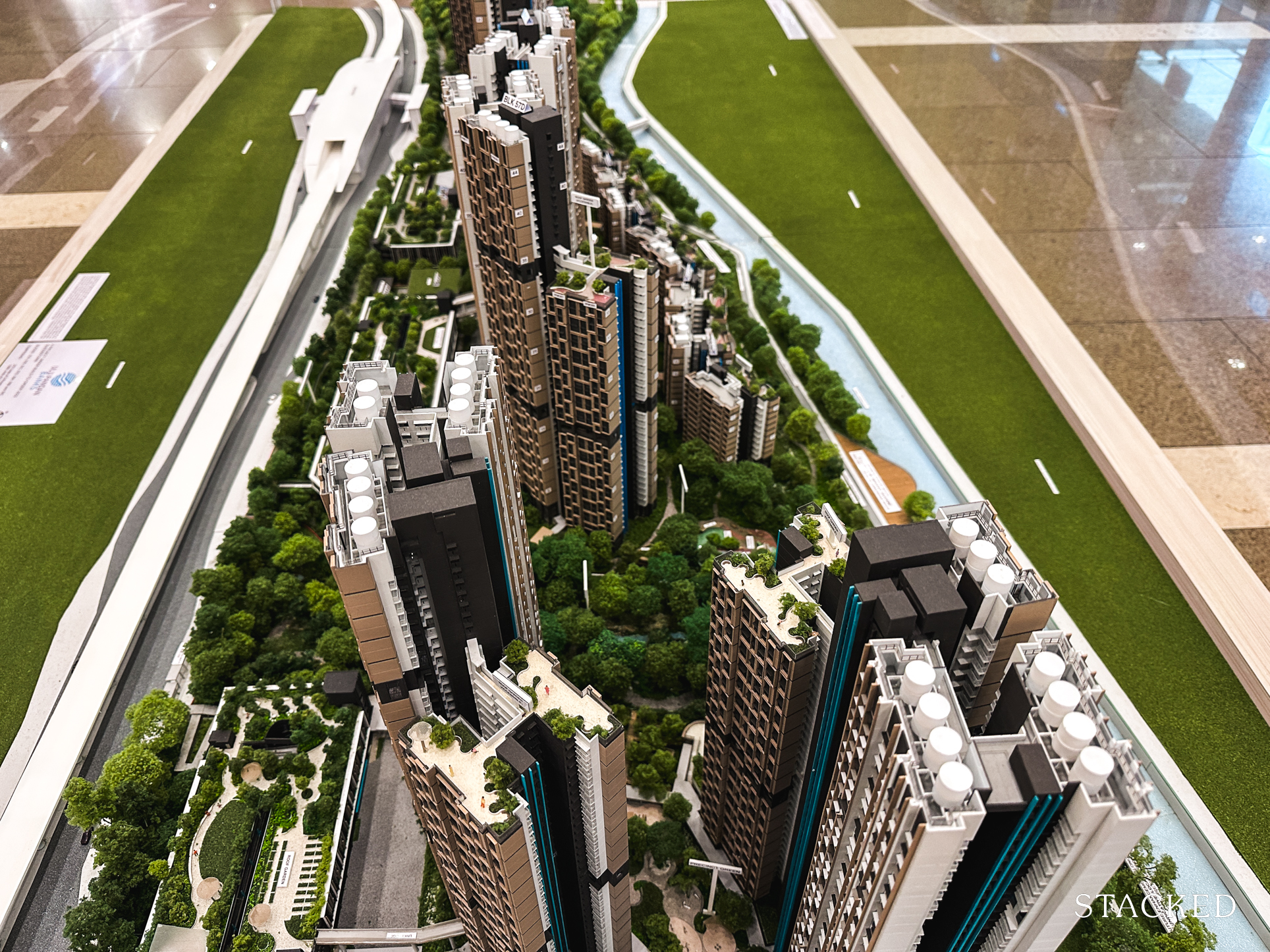 6
min read
Another August, another BTO launch; but this time with a twist: this is the first launch where new rules involving first-timers will be in effect. If you win the ballot but don't turn up for flat selection, you'll be kicked down to second-timer status for a year. It's time to start seriously thinking about where you want the unit, even if it's going to be on a lower floor! In the meantime, here's a look at the upcoming sites:
| | | | |
| --- | --- | --- | --- |
| HDB town | Maturity | Number of flats | Type of flats |
| Choa Chu Kang | Non-mature | ~1,870 | 2,3,4,5-room and 3Gen |
| Kallang/Whampoa (Note: There will be three sites in this town) | Mature | ~2,910 | 2,3, and 4-room |
| Queenstown | Mature | ~970 | 2,3, and 4-room |
| Tengah | Non-mature | ~1,010 | 2,3,4, and 5-room |
1. Choa Chu Kang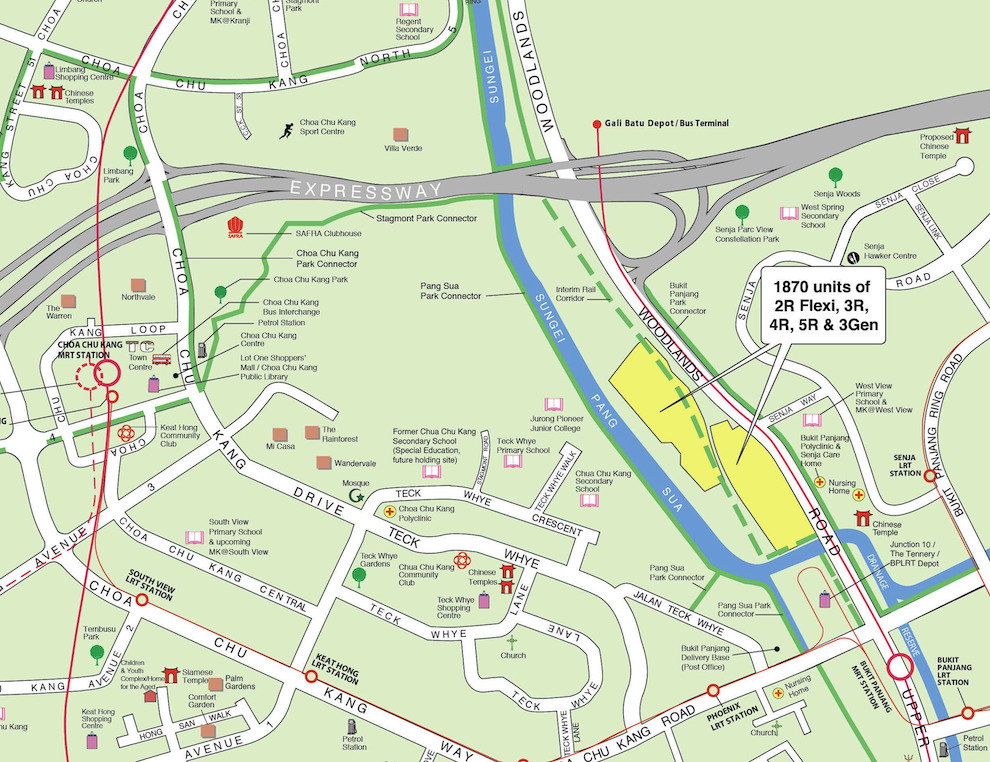 The largest of the launch sites, this is sandwiched between Sungei Pang Sua and Woodlands Road (If you're familiar with Woodlands Road, you may recognise it as the big car park where you often see all the coach busses gather). This is a mega site with 1,870 units, so you do have a better chance of securing a flat here.
Despite being "officially" in Choa Chu Kang, this site is really closer in feel and amenities to Bukit Panjang.
This land parcel has easy access to both Pang Sua and Bukit Panjang Park Connector, which will probably be appreciated by cyclists. It also runs alongside the Rail Corridor, which is popular among hikers and nature walkers.
Depending on where your block is (the land parcel is quite big), you may find it convenient to walk to Bukit Panjang MRT station (DTL). For the blocks that are further away, you'd probably use the Senja LRT station to connect to the MRT (it's just one stop away).   
Junction 10 Mall is next door, although it isn't the best in the area. There is a Sheng Siong here along with various food outlets and the usual tuition centres, so it definitely will come in handy. Hillion Mall (where Bukit Panjang MRT is) and Bukit Panjang Plaza are more viable alternatives which are also very nearby, and the convenience will vary depending on the location of your specific block.
You are also next to the canal, which on some maps (like Street Directory) looks to be water views. But we wouldn't place too much emphasis on the views here (just take a look for yourself).
2. Kallang/Whampoa Site 1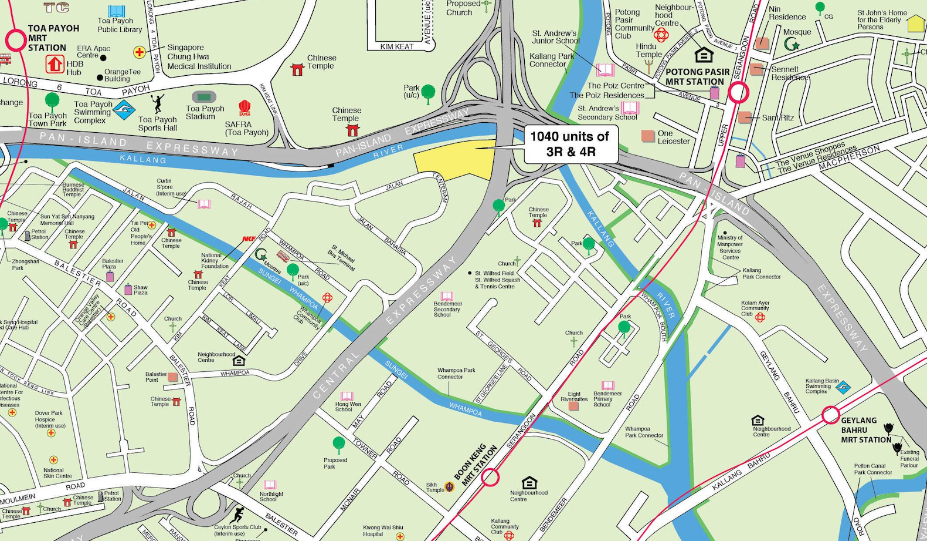 Next to Jalan Tenteram, this is the largest of the Kallang/Whampoa sites, and the least centrally located. On the plus side, this land parcel is next to the Kallang River, which could provide some nice views. On the downside, it's also close to the intersection of the PIE and CTE, which is far less great for views (unless you like staring at traffic jams).
Given the size of the land parcel, we will optimistically assume HDB will maintain sufficient distance from the CTE to minimise the noise (the PIE is on the other side of the river, which should pose less of an issue in terms of serious noise pollution).
On the brighter side, you are within 1 km of St Andrew's Junior School, so for parents with boys on the way, this could be a redeeming factor.
There's already an existing HDB enclave at Jalan Tenteram/Whampoa, providing the usual amenities (minimarts, scattered coffee shops, salons, etc.) This makes up for the lack of any major malls nearby. Balestier Plaza/Zhongshan Mall/Shaw Plaza will likely be your nearest points or even Toa Payoh Hub. Poiz Centre and Venue Shoppes do look closer on paper, but the drive there isn't very direct given the location.
Also, residents will have to be ready to use the bus, as there's no MRT within walking distance. It's not a bad location in and of itself, but we definitely see it as the least desirable of the three Kallang/Whampoa sites.
3. Kallang/Whampoa Site 2 (Jalan Rajah Site)
Located southwest of site 1 (see above), this has been more frequently referred to as the "Jalan Rajah" BTO. This area is next to Rajah Summit, which was the last plot in the area in the February 2023 BTO launch.
Read this next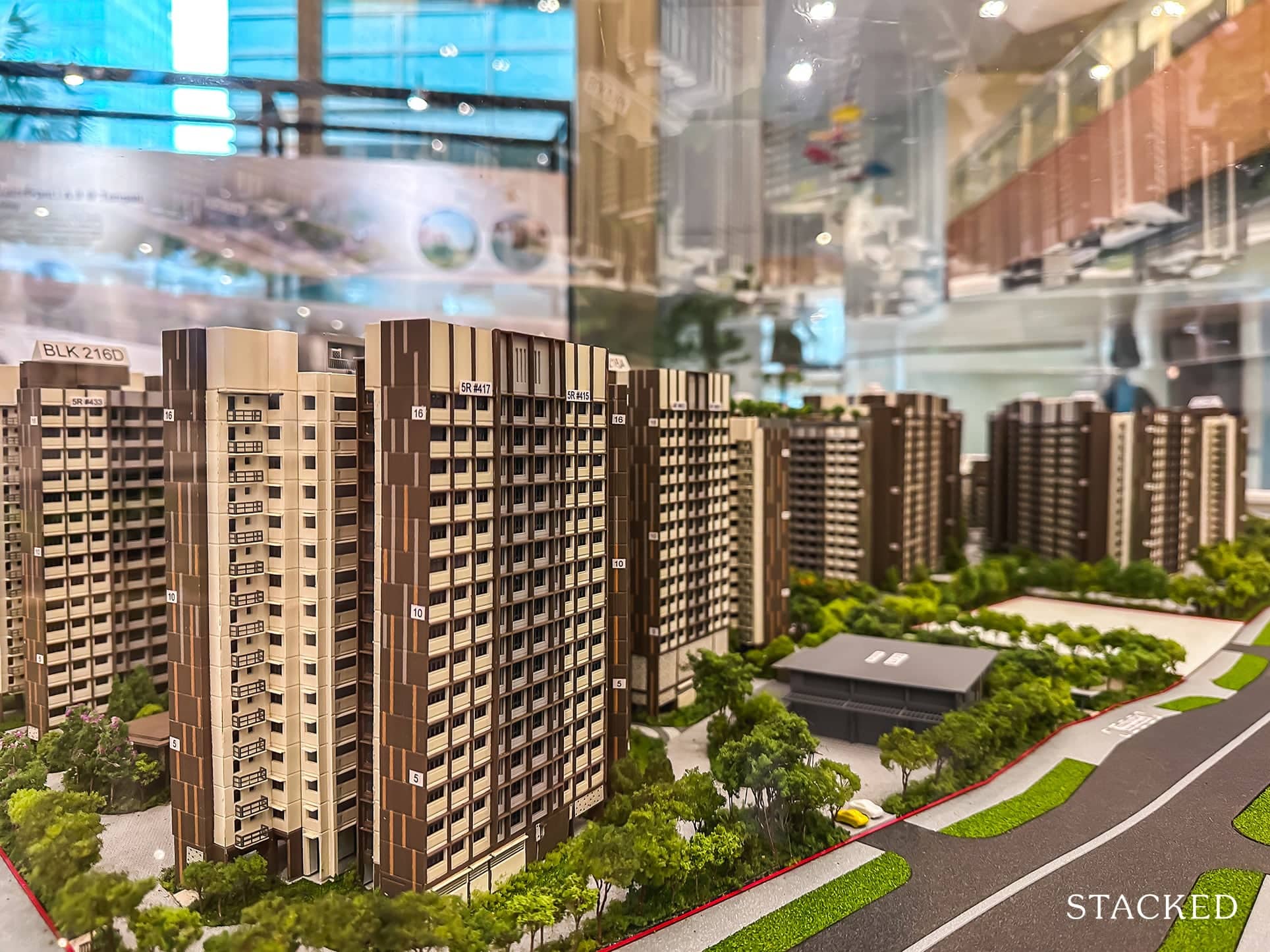 Zhongshan Park, along with Zhongshan Mall, seems to be within close walking distance of this site. Shaw Plaza (Twin Heights) also seems walkable, so residents will have good access to supermarkets, eateries, and retail.
We're not just talking about the malls in that regard. Balestier Road, along which Shaw Plaza is located, is something of a foodie stretch, and it reaches all the way to the Whampoa Food Centre if you care to walk. Rumour also has it that the Boon Tong Kee here, near Balestier Market, is the best of all the outlets.
We can't say Toa Payoh MRT (NSL) is within daily walking distance, as it looks rather far on foot; but it's also where you'll find Toa Payoh Hub. What is nearer though, is the Toa Payoh Sports Centre. This will be revamped by 2030, and the sporting facilities to look forward to are extensive: sheltered tennis, futsal, netball courts, swimming pools, indoor sports halls, a gymnasium, fitness studios, and a football stadium. Besides the Sports Centre will be the regional town park, polyclinic, and public library as well.
4. Kallang/Whampoa Site 3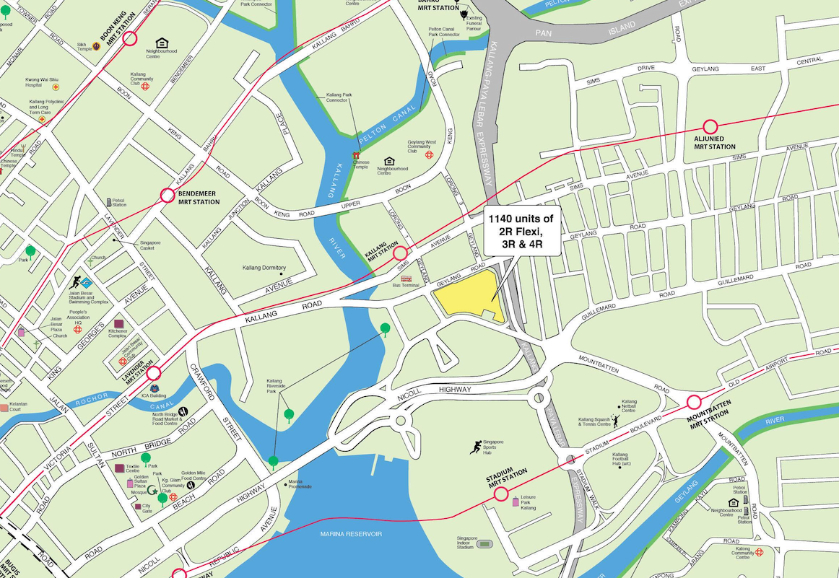 We're quite certain this is a PLH site. It wouldn't make sense otherwise, as it's just a few minutes from Kallang Horizon, one of the PLH launches from November last year.
The site is along Geylang Road (close to the point where Kallang Road splits into Sims Avenue and Geylang Road, just across from the Kallang River). This is a few minutes walk from Kallang MRT station (EWL), which also puts it in proximity to the Singapore Sports Hub and Kallang Wave Mall.
This site will also benefit from its proximity to Paya Lebar Quarter (PLQ), just two stops away by train. Meanwhile, Geylang which is just next door is famous for its long food stretches, many of which are open till late or even 24 hours.
For a bit of nature, Kallang Riverside Park (East) is within walking distance, and here you will have views of the Sungei Kallang.
A look at the URA Master Plan will also tell you that there are a lot of white sites (and hotel sites) in the immediate vicinity. The Kampong Bugis white site is envisioned to be a future waterfront residential precinct, so there will naturally be a lot of upside and rejuvenation for the area.
5. Queenstown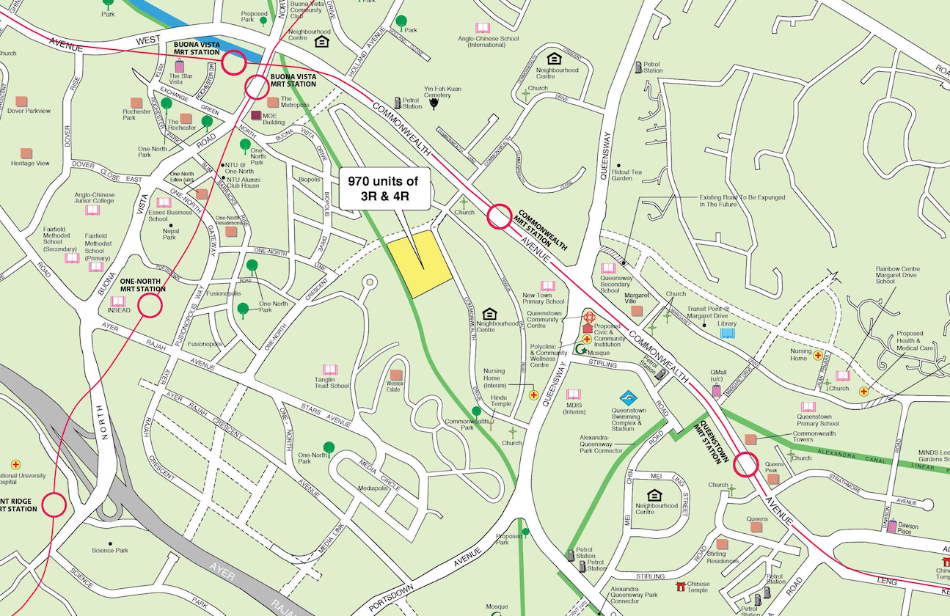 This is likely to be a PLH site, given the maturity of the location and the amenities. It's within walking distance to Commonwealth MRT (EWL), and is just one stop from Buona Vista. This places it in close proximity to major malls like The Star Vista. Commonwealth View itself holds a big 24-hour Sheng Siong, as well as a food court so that makes things a little more convenient.
Also note that, although you have to change trains at Buona Vista, this location is just two stops from Holland V or One-North. This makes it highly desirable to those who are working in tech hubs like Fusinopolis, Biopolis, etc., as well as those who enjoy Holland V as a lifestyle hub. Those who work there would definitely like the location, as you can also walk to work via a new road that will connect to One-North Crescent.
This allows for easy access to the food options in the area (it is a little quiet on weekends), as well as One-North Park.
There's not much else to say. other than that if this was a condo, people would be paying through their noses for it and happy to do so. Even with 970 units, we expect this to be heavily oversubscribed.
6. Tengah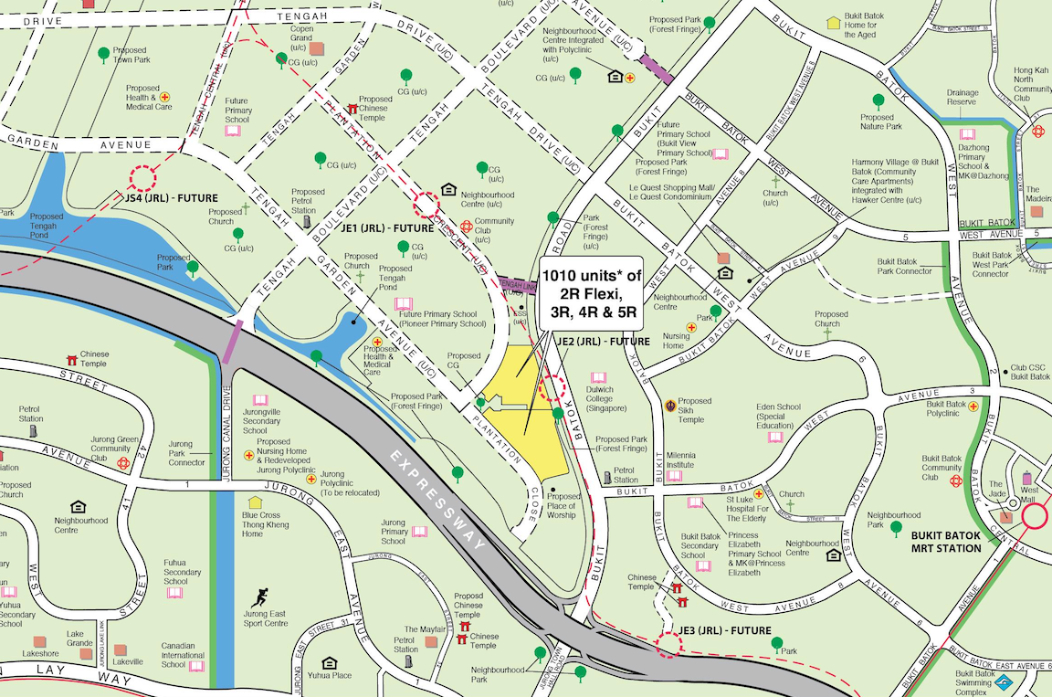 If you see yourself staying for a long time, this site may appeal to you. It's one of the closest to Tengah Park MRT (JRL), so this is a definite upside to look forward to in terms of convenience (and value).
Besides, you are also within walking distance of schools like Millennia Institute, Princess Elizabeth Primary, as well as Bukit Batok Secondary. However, the biggest selling point would be that some blocks are likely to be within the 1 km radius of the upcoming ACS Primary School, which definitely creates healthy demand.
You are also not too far away from Le Quest, where there is a FairPrice Finest as well as a selection of food options. For now, however, much of Tengah is still undeveloped, and we don't have much else to add. Every few months there are more coffee shops and convenience stores opening in the area; but it will be a few more years before you can really see the full potential of the area.
For more on the Singapore property market, follow us on Stacked. We'll provide you with insights into private and HDB markets alike, and reviews of new and resale projects.