26
min read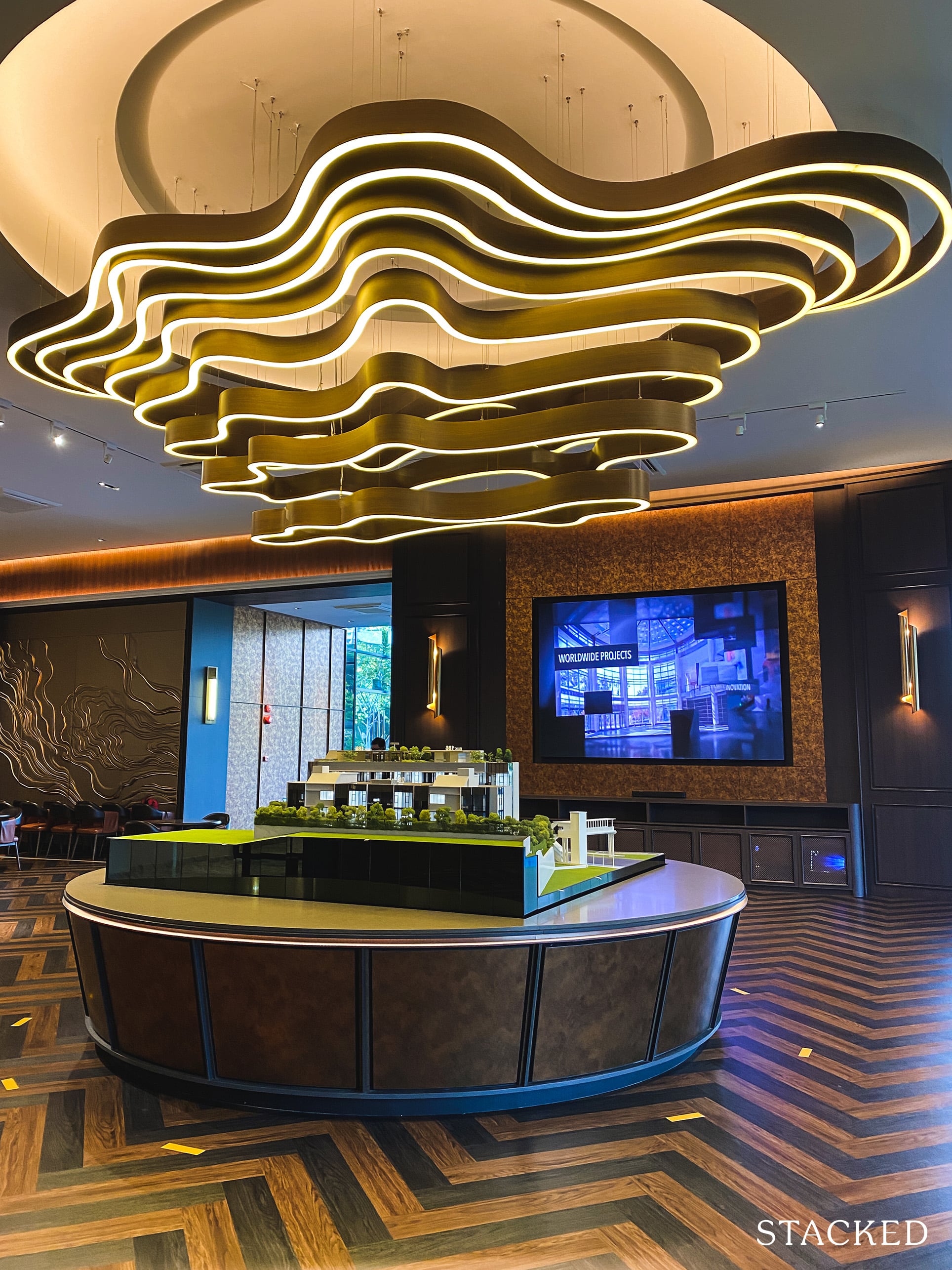 For those who love smaller projects
With only 69 units, Van Holland is perfect for those who crave exclusivity. It's also very accessible by MRT. However, these positive attributes do come at a relatively heavier price tag than surrounding freehold resale condos.
| | |
| --- | --- |
| Project: | Van Holland |
| District: | 10 |
| Address: | Holland Road |
| Tenure: | Freehold |
| No. of Units: | 69 |
| Site Area: | 47,660 sqft |
| Developer: | Koh Brothers |
| TOP: | 2023 |
Van Holland currently sits on the freehold site of the former Toho Mansion, which was purchased by Koh Brothers in a $120.4 million en bloc sale back in early-2018, at the height of the '17/'18 en bloc fever.

This boutique luxury condominium overlooking Holland Village spans a mere 47,660 sqft and was purchased at a staggering $1,805 psf ppr – an exorbitant amount for the small site which subsequently had a resounding effect on Van Holland's launch price tag.

Can its niche USPs help make Van Holland a standout project?

Let's find out!
Van Holland Insider Tour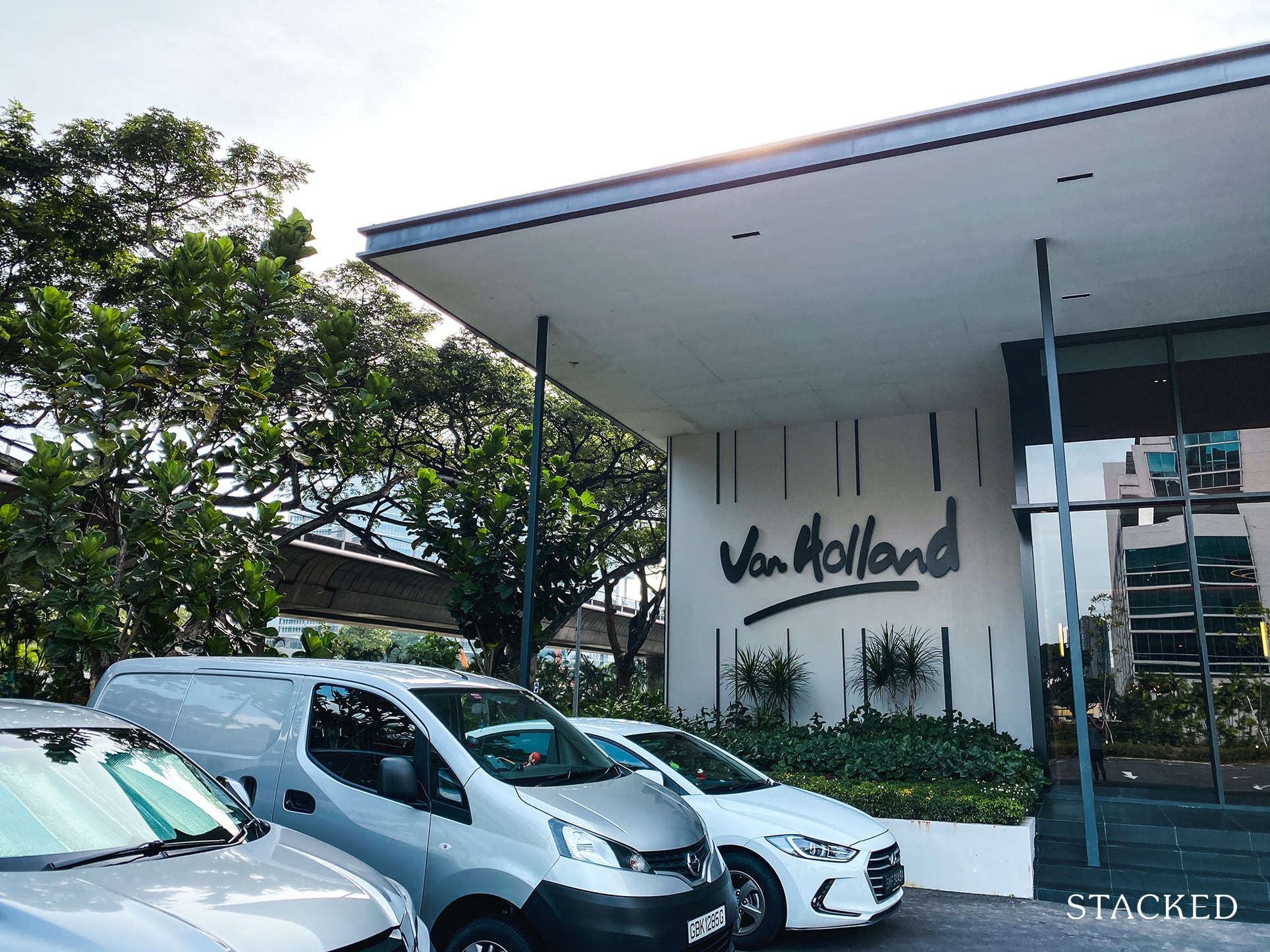 For those looking for a new home in the Holland vicinity, you are probably spoilt for choice at the moment. There's One Holland Village Residences (arguably the highest profile), Leedon Green, 15 Holland Hill, the yet to launch Hyll on Holland, and of course, Van Holland.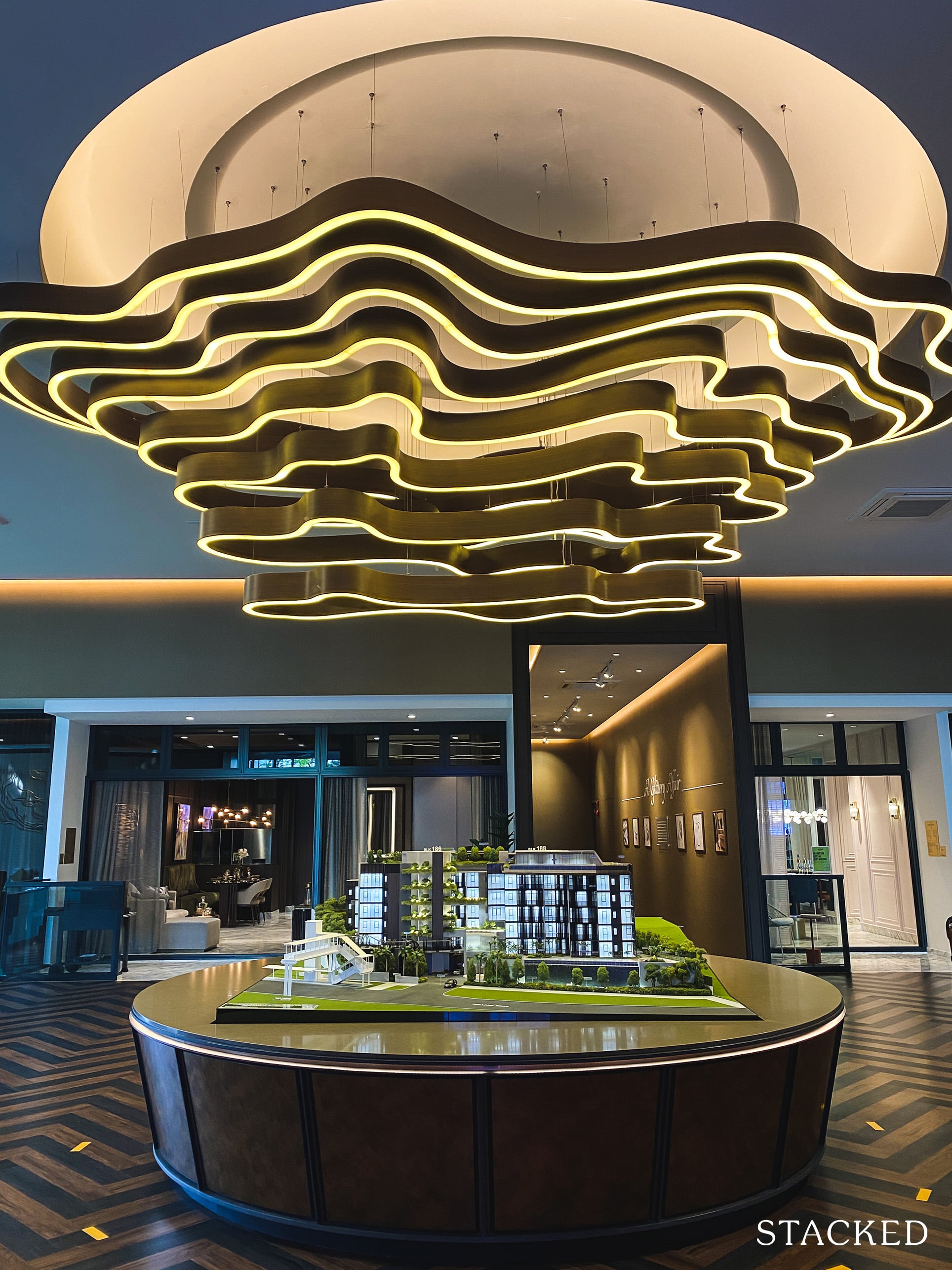 Out of all the new launches in the area, Van Holland is the smallest one (in terms of land size). Depending on your preferences, you may even find that Van Holland has the best location – it is close enough to the thick of the action at Holland Village, but set further away such that you do enjoy more peace and quiet (with the exception of the road facing units, of course).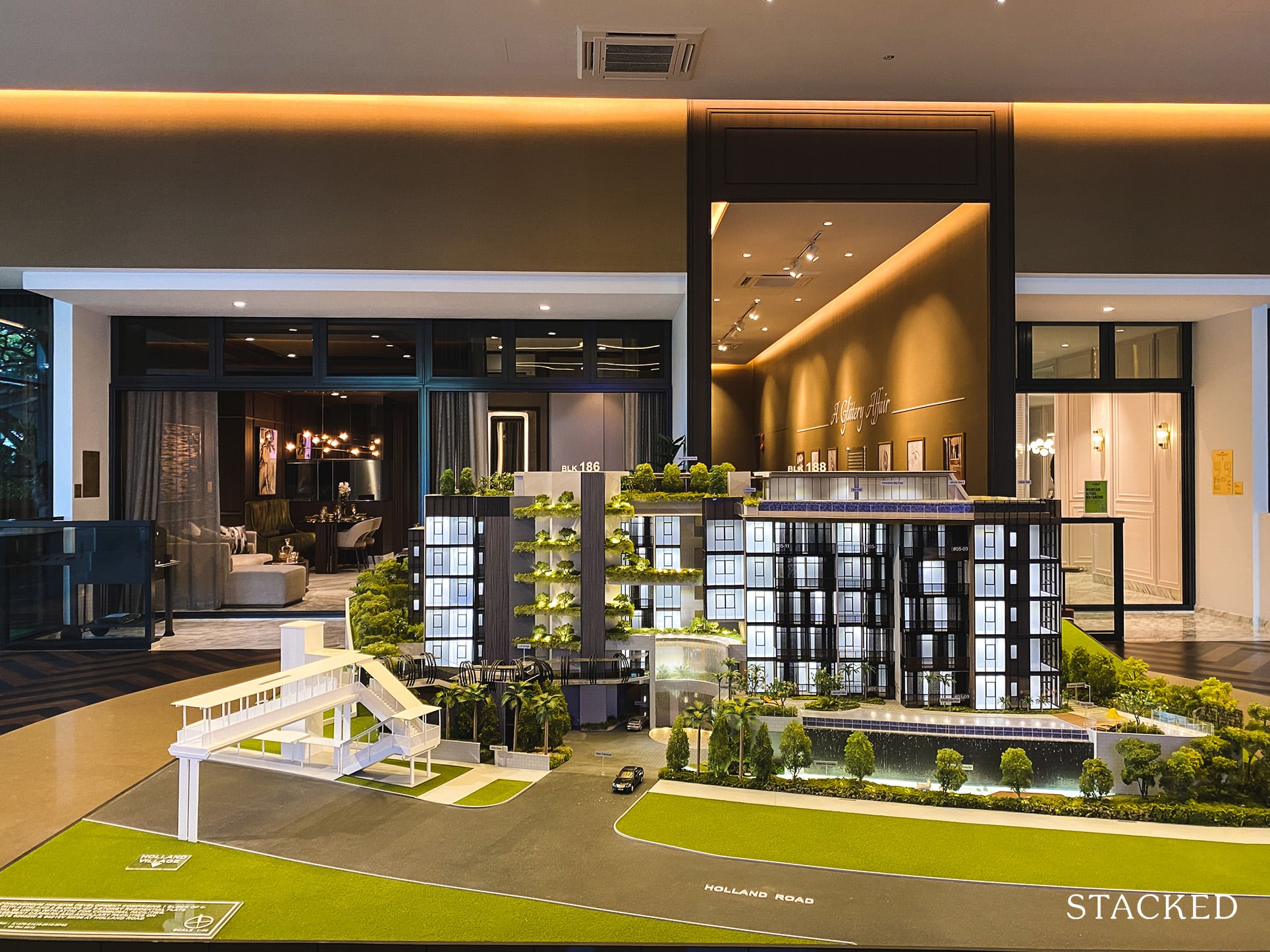 There's no doubt that Van Holland is a small development, with only 69 units set on a land size of 47,660 square feet (a far cry from the mega-sized 2,203 unit Treasure at Tampines). Some people shy away from smaller developments because of a lack of full facilities (among other things), but don't let its small size fool you – it actually does offer quite a solid set of features.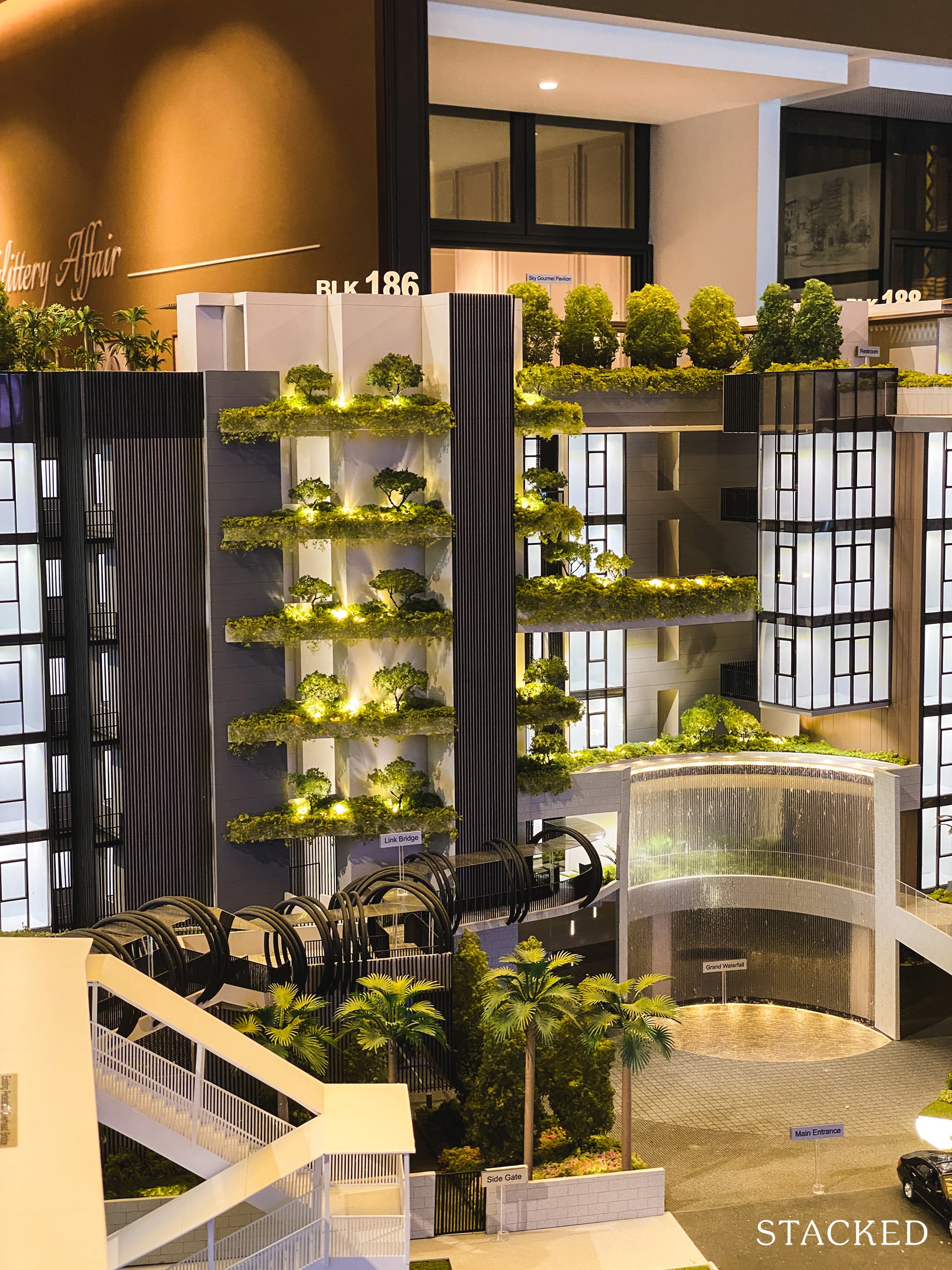 For one, you can immediately tell that there was a concerted effort to set Van Holland apart from its competitors. At the drop-off area, a 10 metre tall waterfall set over two storeys will be erected which serves as a visual spectacle. Naysayers may exclaim that a waterfall has no practical purpose, but I think that in the context of it being a luxury focused project, that expense is worth it. Plus, there's just something about fast moving water that is always captivating to look at – even if it is just to welcome you home.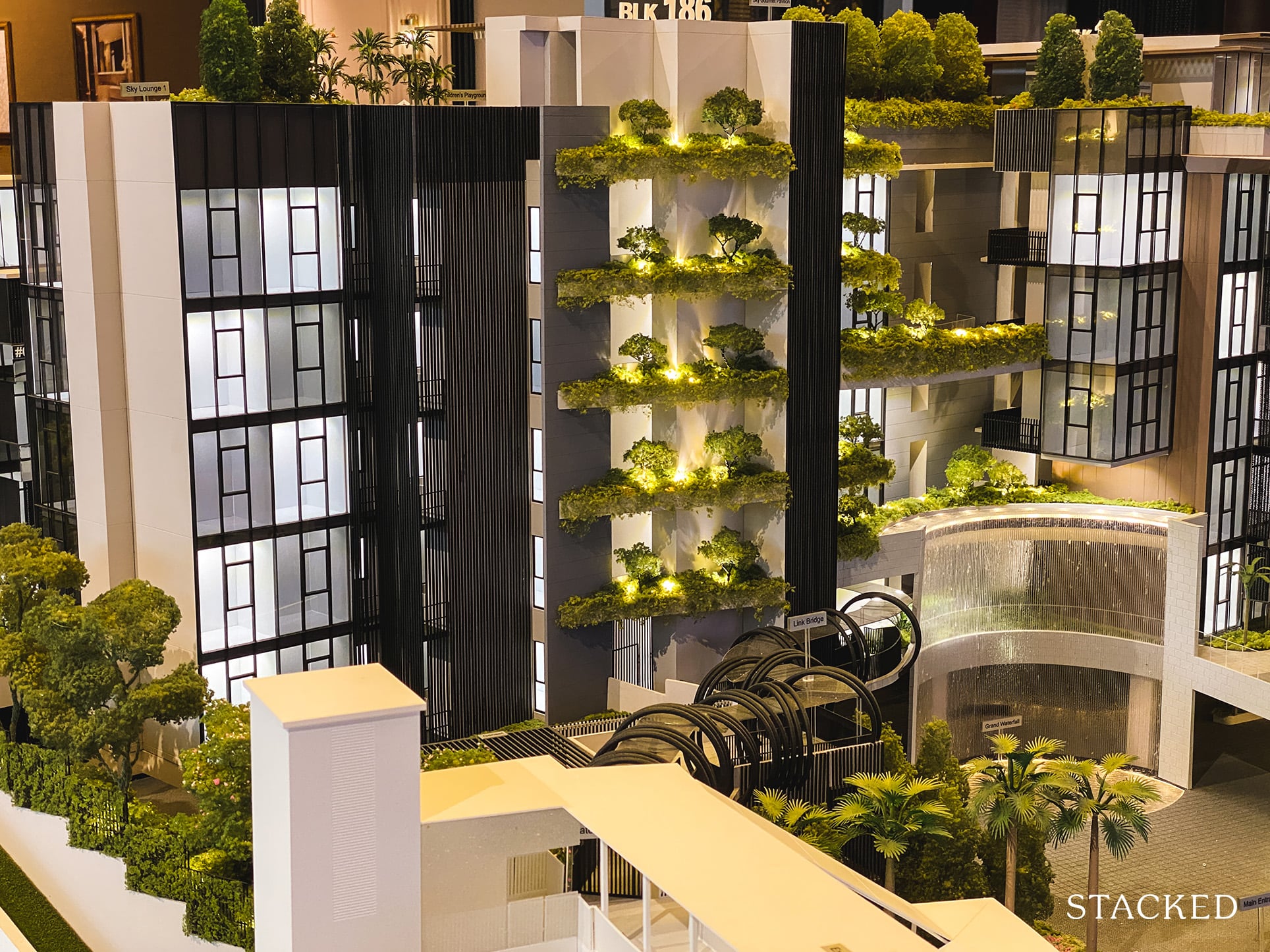 From a visual standpoint as well, the area above the drop off point will feature a good length of greenery at each level – which is not something you see as often in boutique projects.
Another major selling point here would also be the direct link (on the second level) to the sheltered overhead bridge that leads straight to Holland Village. This makes it super convenient to get to Holland Village, and is an understated but much needed feature.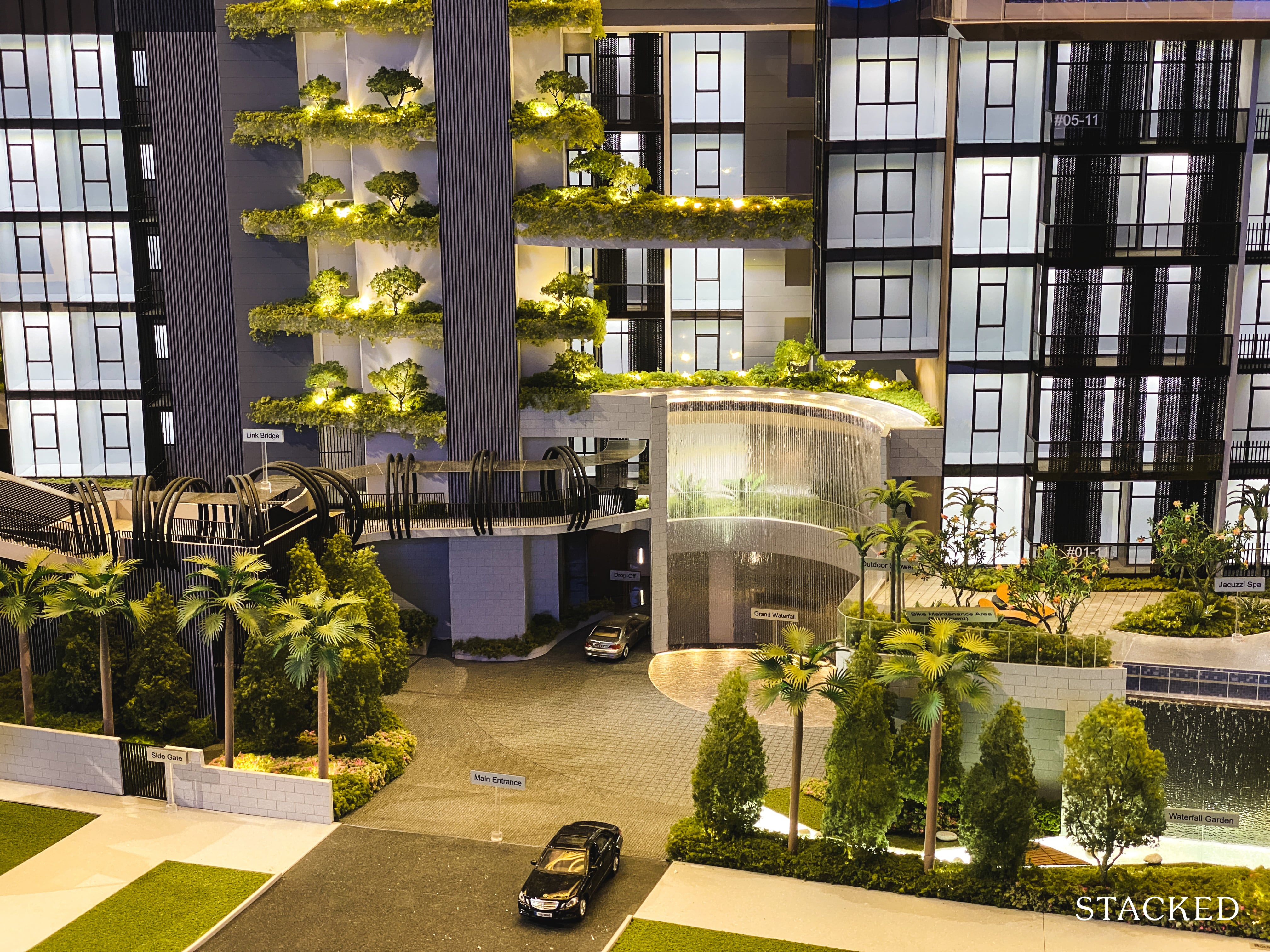 If I had to nitpick, I would say that the front facade isn't entirely cohesive in terms of design – it looks a bit too messy for me. Then again, design is always a subjective thing as well. As the saying goes, one man's meat is another's poison.
It's also worth noting here that the front entrance is right by the main Holland Road. Great for accessibility, but you could find it more difficult than usual to turn out of the development given the fast moving traffic (plus the overhead bridge could hamper your view of the road).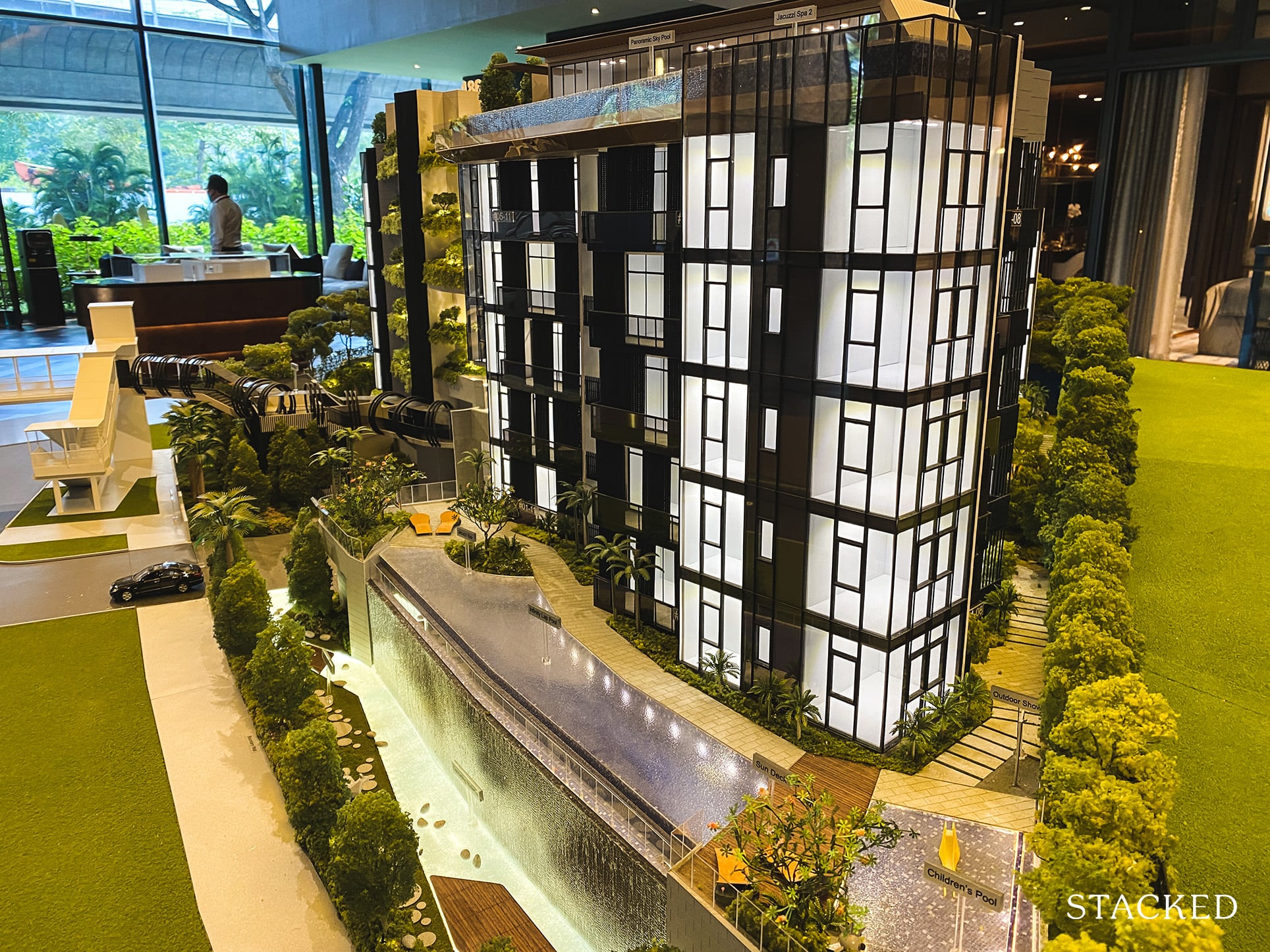 The infinity lap pool is set on an elevated position which overlooks Holland Road. Thankfully because of its higher setting, it does afford residents a good degree of privacy from pedestrians traversing on the footpath just outside. The downside? It wouldn't be a peaceful and tranquil setting at all – expect road traffic noise at all times.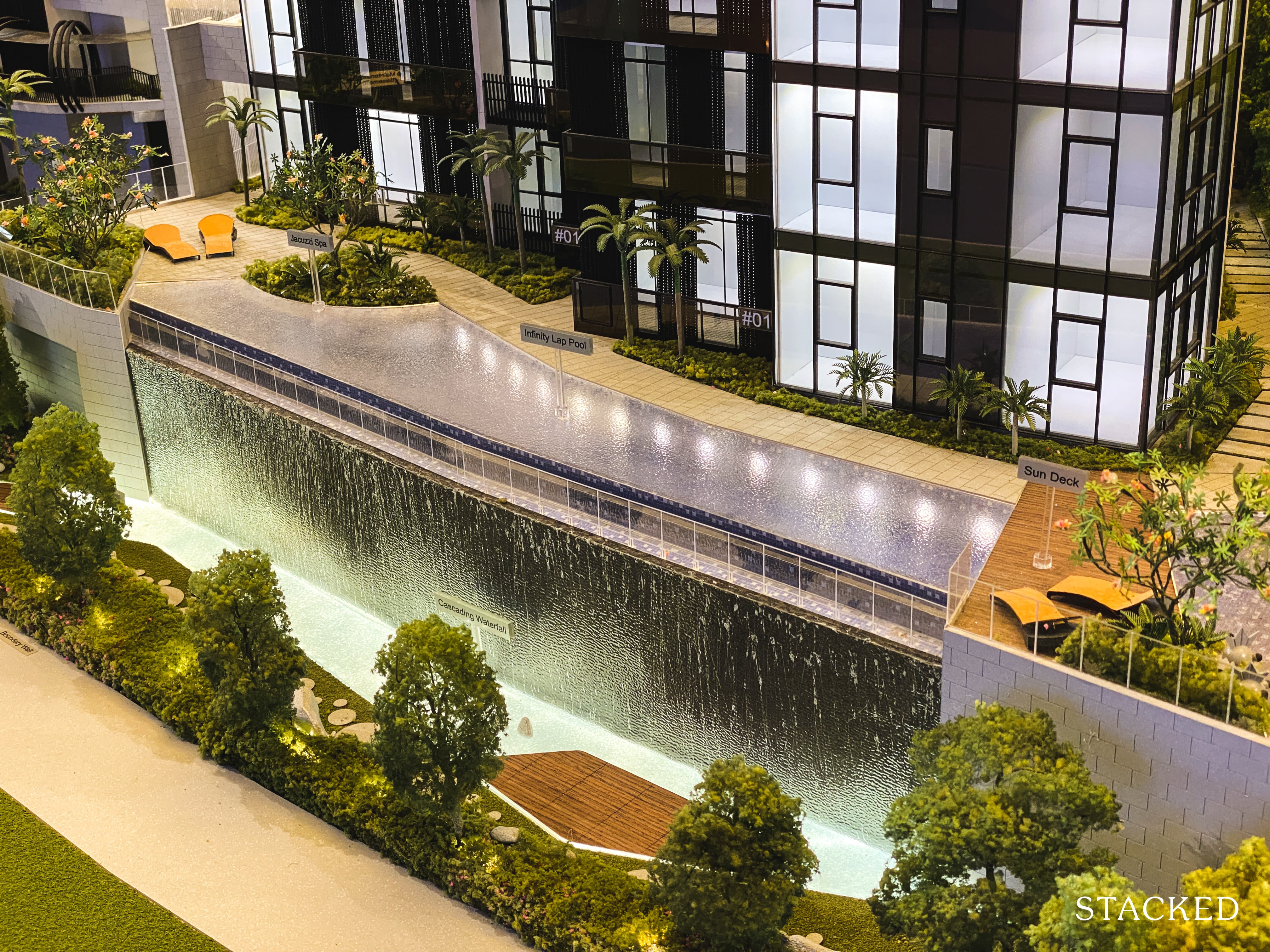 Another byproduct of the elevated positioning is the full length cascading waterfall, which can only really be enjoyed from the slim strip of garden at the ground level.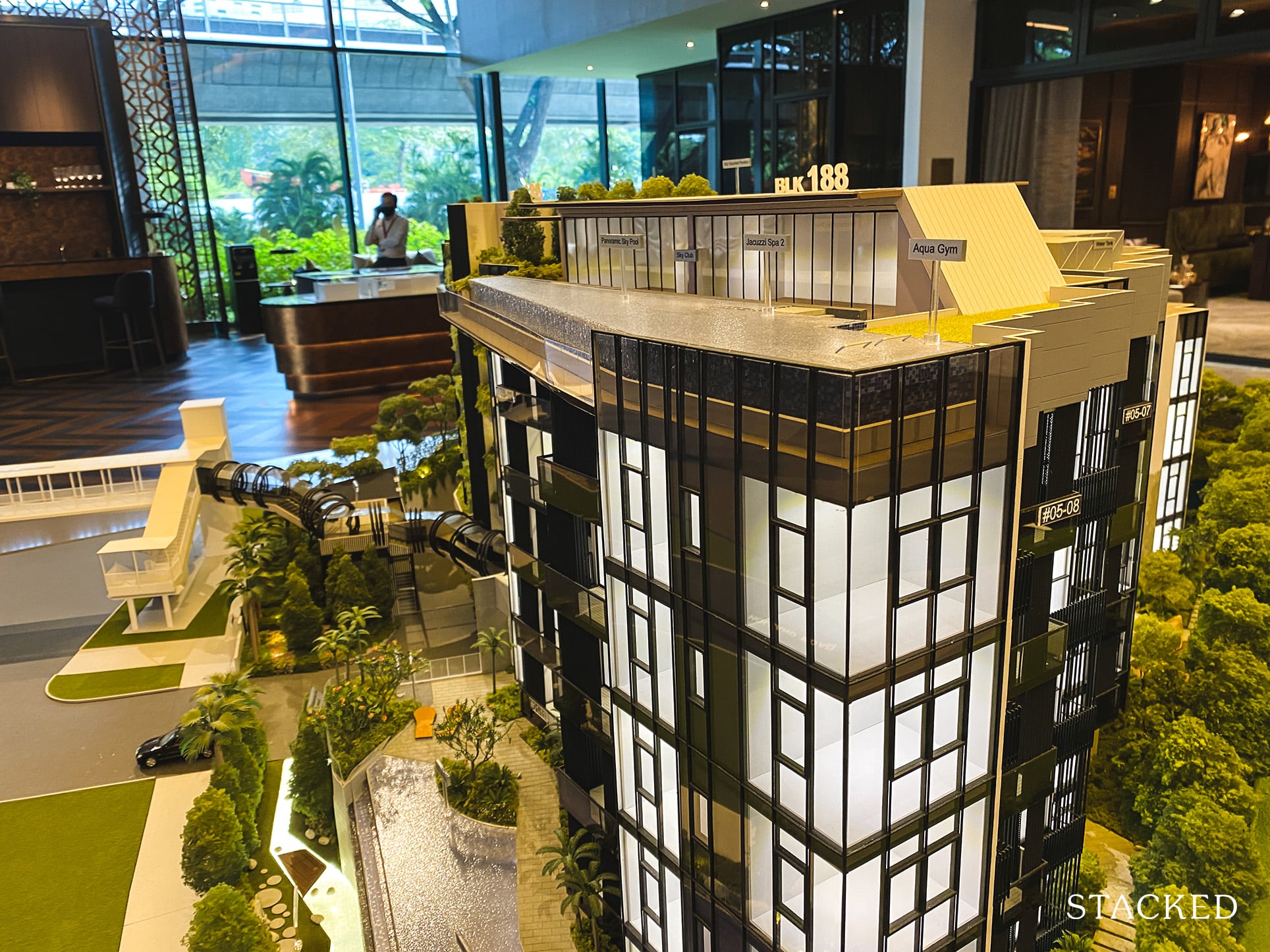 While a swimming pool is pretty much a given in any development that has an aim to produce a competitive product, it is rare to find a boutique project with more than one swimming pool – let alone a rooftop infinity pool. It's not a big pool by any means, but it's fantastic to have a change of environment should you feel like it.
Perched on the rooftop terrace, it does give you a view over the low-lying Holland area (save for the towering One Holland Village Residences). A word of warning: don't be expecting any sort of MBS-like views from here – it really is only 5 storeys high.
But what I especially like here is the clubhouse. Again, it's not a big space – 1,200 square feet of indoor and outdoor space, but it does feature a wine cellar, space to hold gatherings, and a pantry with kitchen facilities. Combine that with the rooftop infinity pool, and you do get a very relaxing space to chill at the end of a heavy work week.
If it seems like it has been a sea of positivity so far, well, that's because it has mostly been quite an impressive showing. But, as you should know by now, there's no such thing as a perfect development. There are drawbacks to the Van Holland, and they are primarily down to the constraints of its size.
As you can see above, the space between the blocks isn't exactly ideal. So for quite a number of units, you will be directly facing your neighbours – which for those who crave privacy, it could be quite a dealbreaker.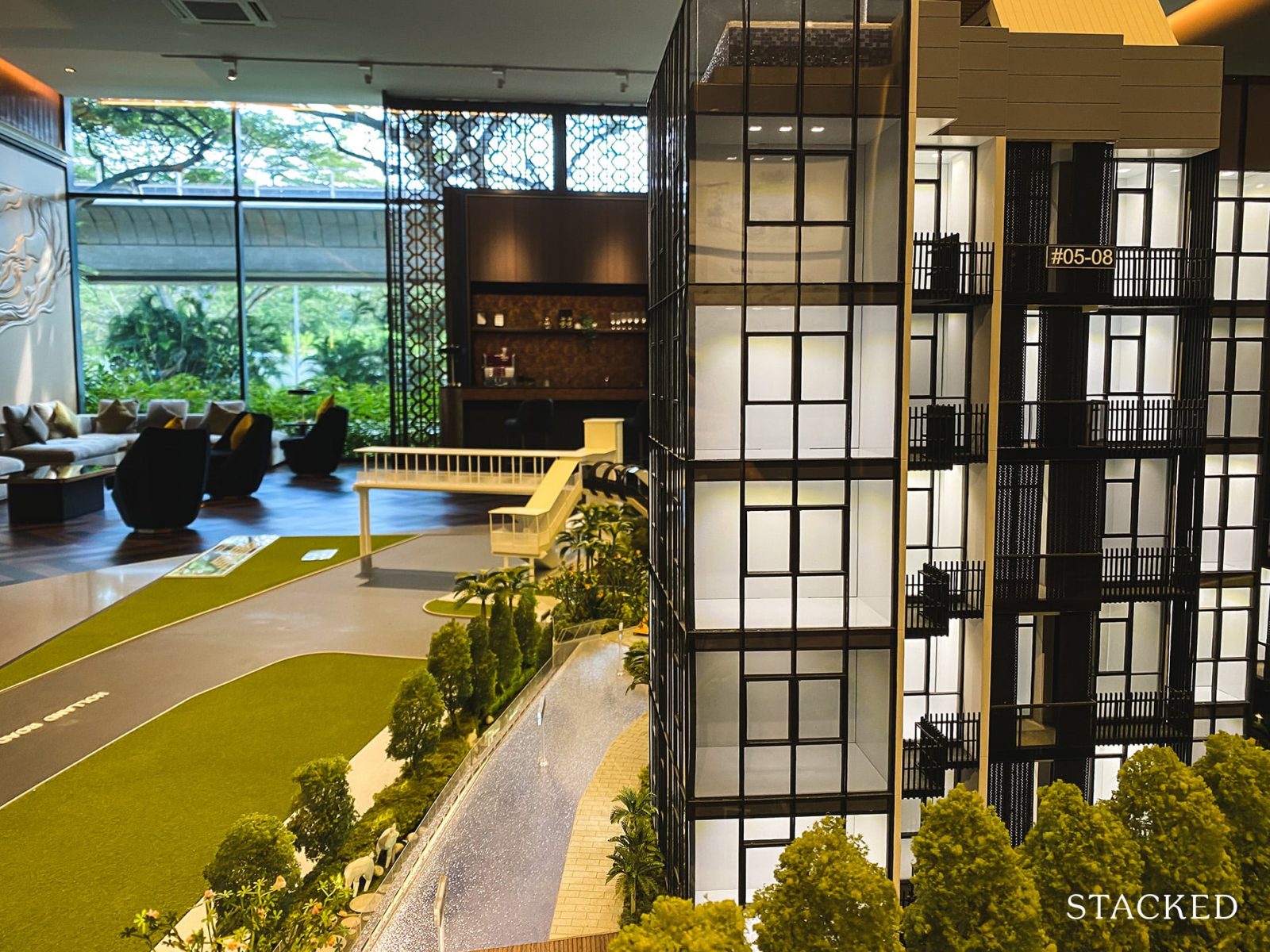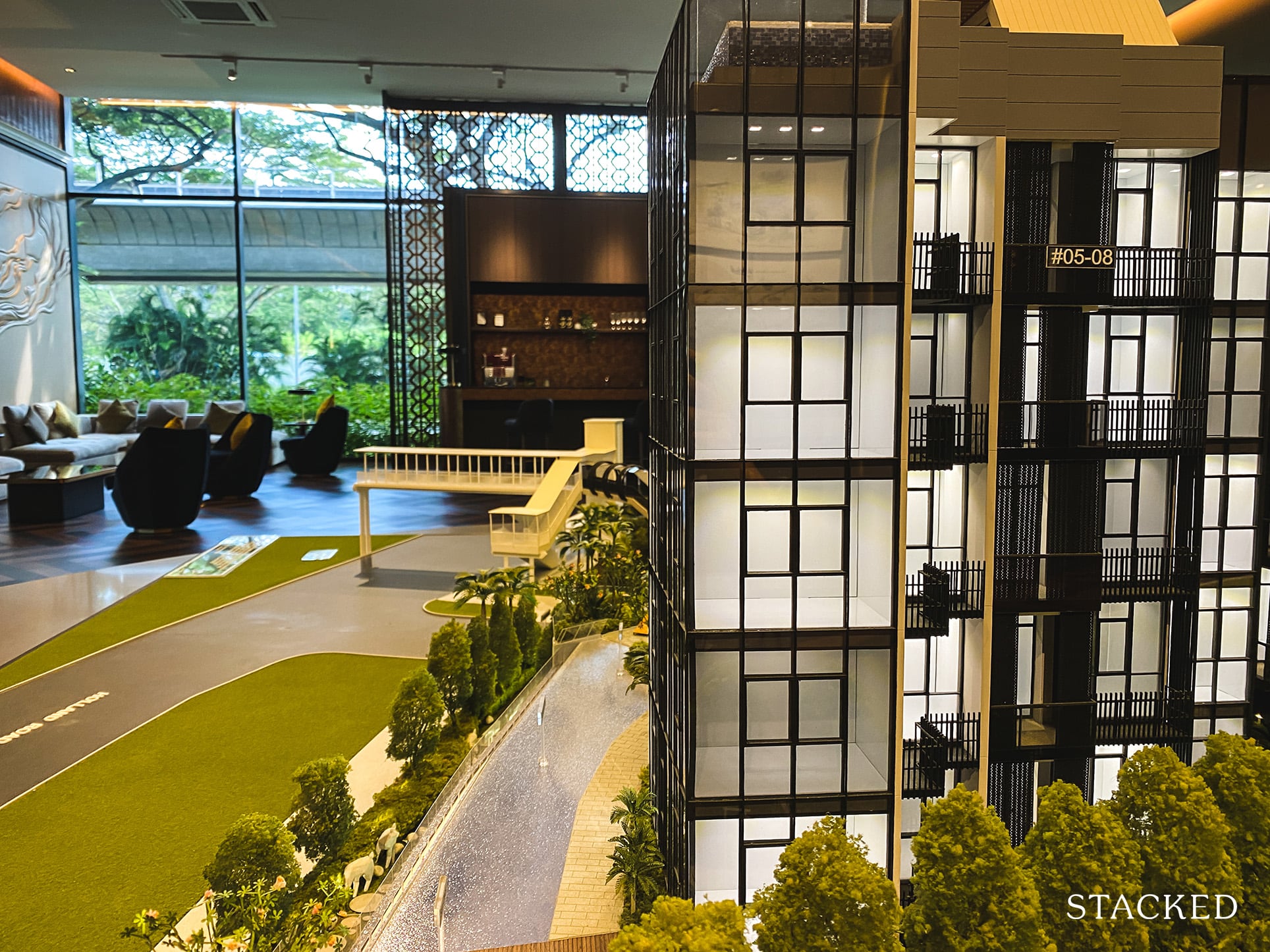 It's not as if there are any clear cut better options as well. The front facing Holland units will encompass traffic noise, while the back faces the landed homes along Ford Avenue.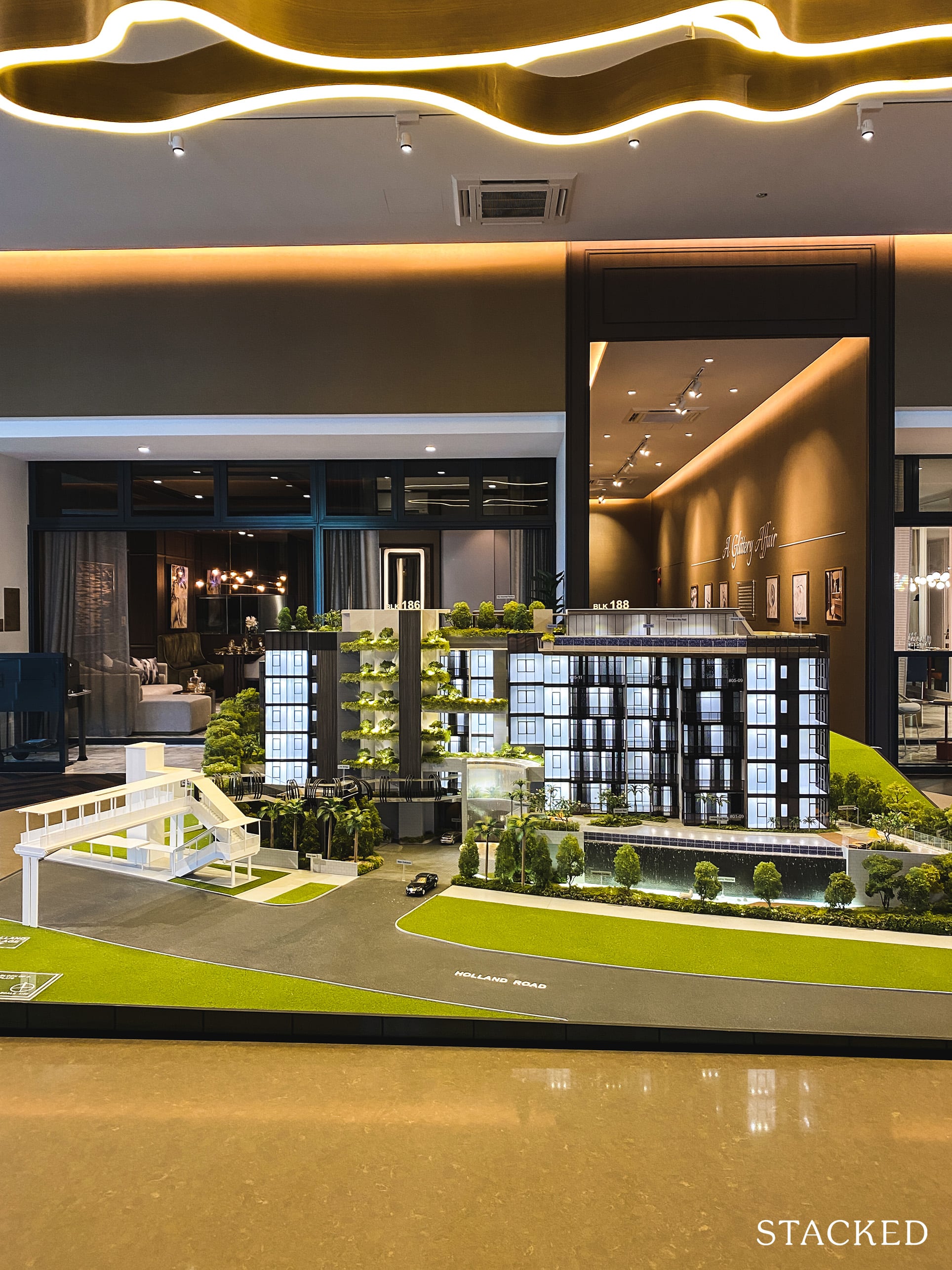 Van Holland 3 Bedroom + Study Review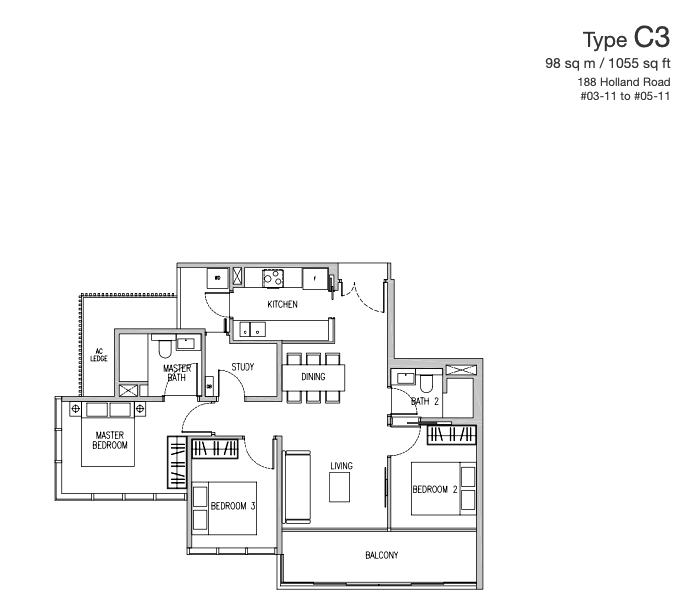 At 1,055 square feet, the 3 bedroom plus study is definitely on the smaller side, something which is to be expected given the land size of the project. On a more positive note, it is quite an efficient space, especially because of its dumbbell layout.
I do also like that the AC ledge here is tucked neatly at the back, so no disturbances to the windows or listening to the fan running while you sit out on the balcony. It does take up a significant chunk of space though, so I'm afraid you can't get the best of both worlds here.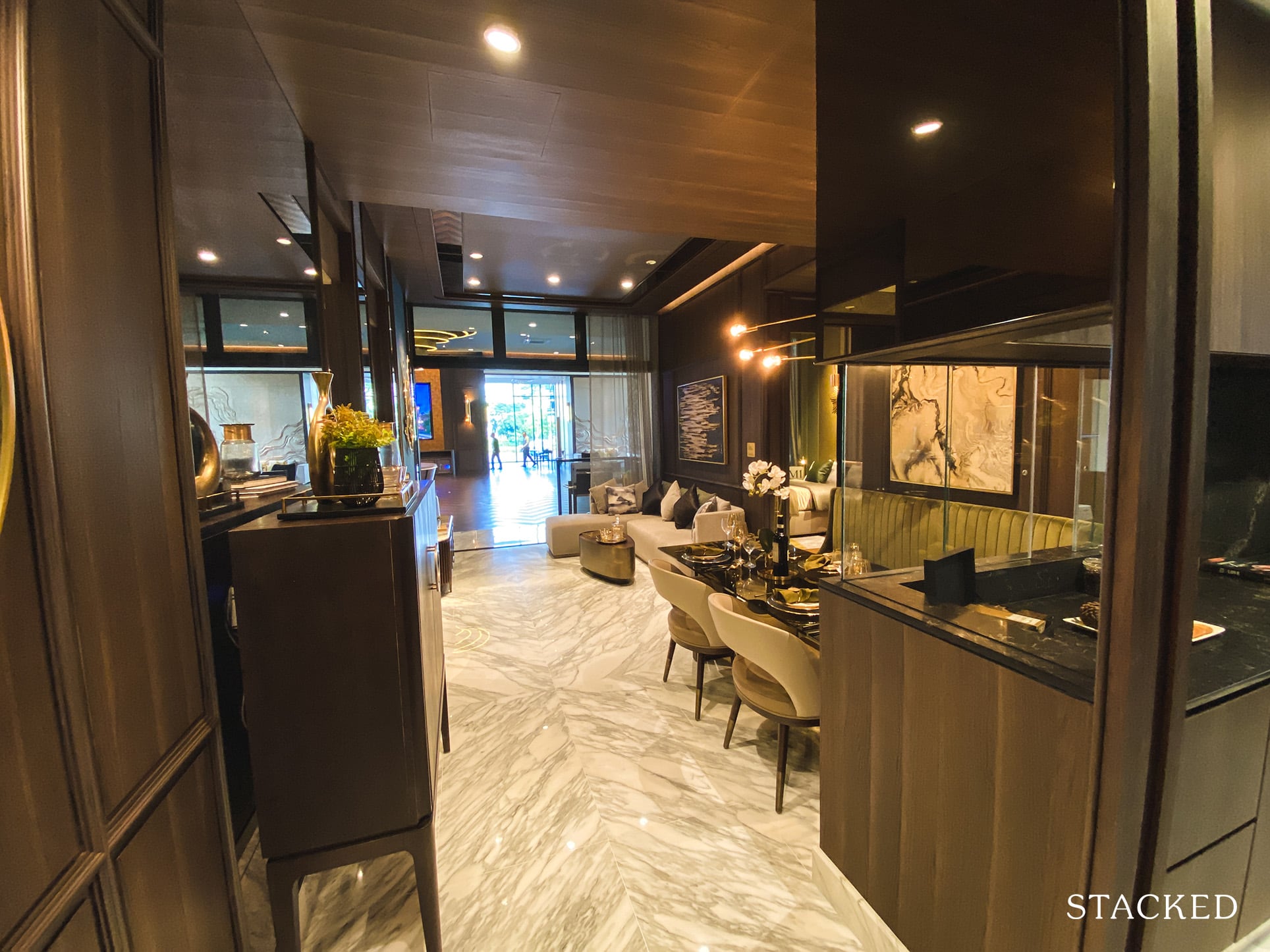 While you can view the Van Holland as a luxury project, there isn't private lifts to all units, only those with the word "exclusive" tagged on to it. In the case of this 3 bedroom plus study unit, you will have to make do with a regular entrance.
There aren't any real surprises here, the moment you enter you are greeted by the view of the living/dining area, along with the kitchen on your right.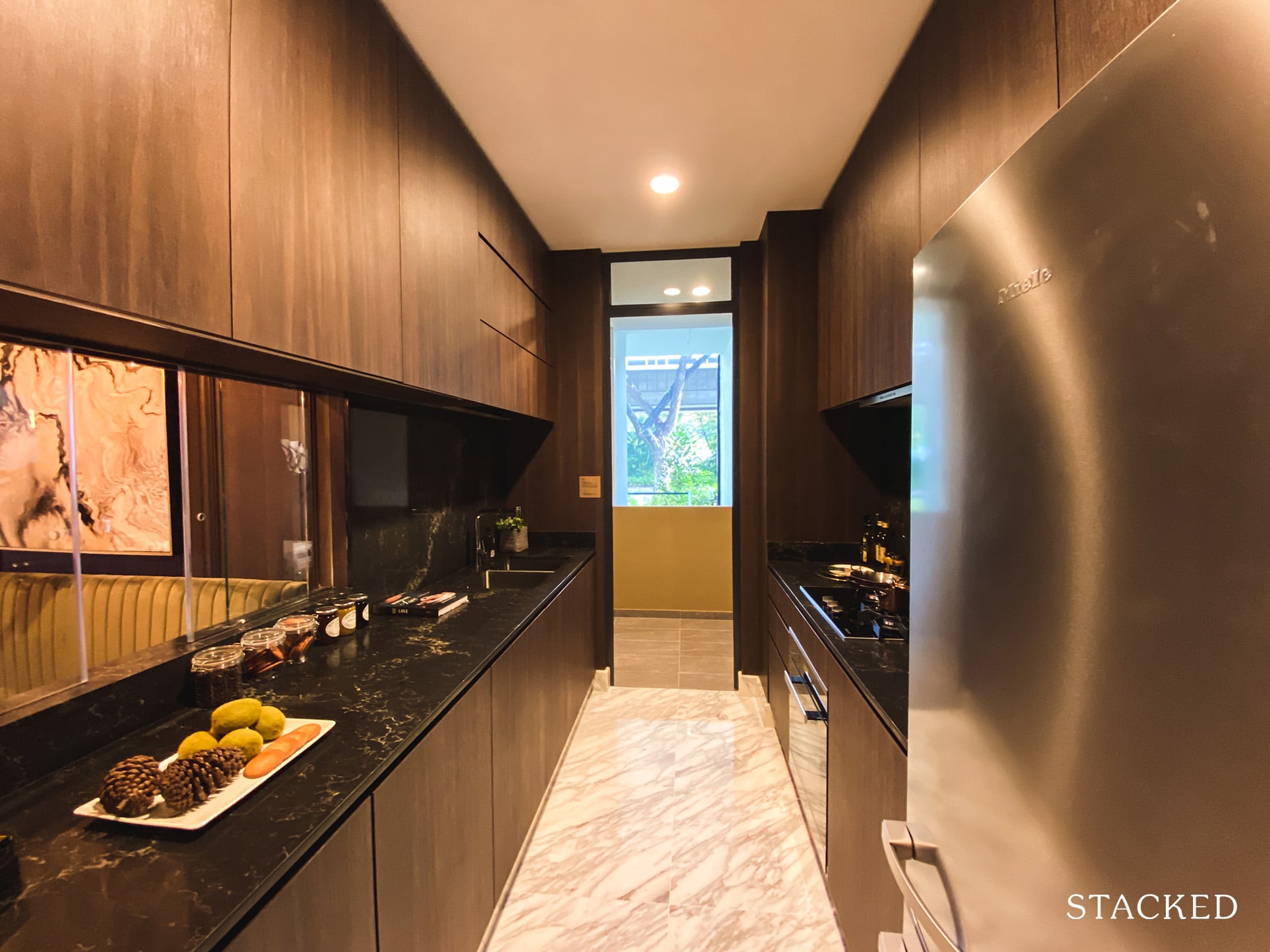 On paper, the kitchen is actually very decently sized. It's quite long, so there is good countertop space as well as storage. Width wise it should be enough for two people to work back-to-back. The glass window partition does help to make the space feel slightly more open too.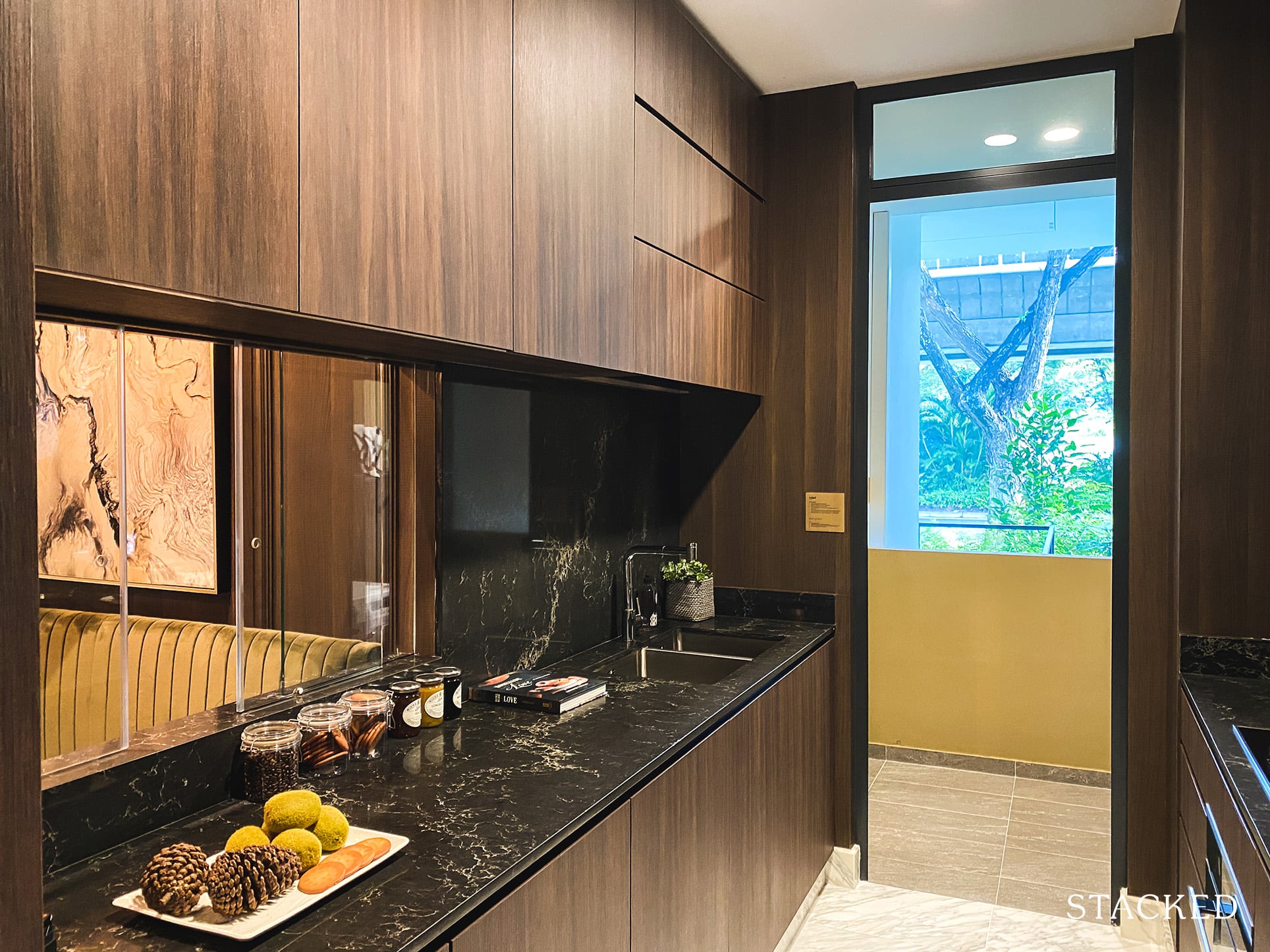 Kitchen appliances are all supplied by Miele, which is a popular high end German brand that most premium clients would be familiar with.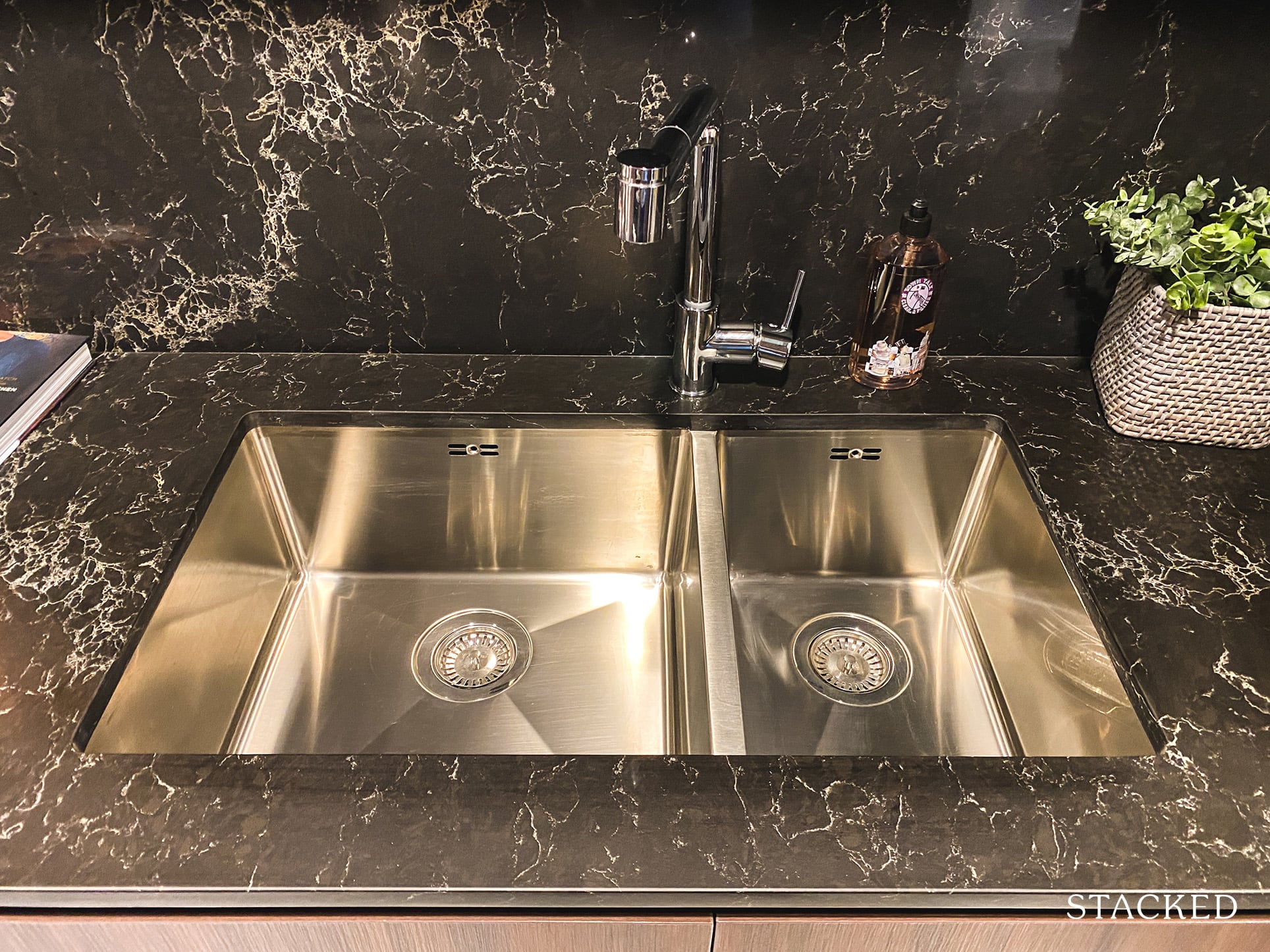 A small thing to note but it is nevertheless a great feature to have, dual sinks! It really makes a difference when it comes to washing the dishes.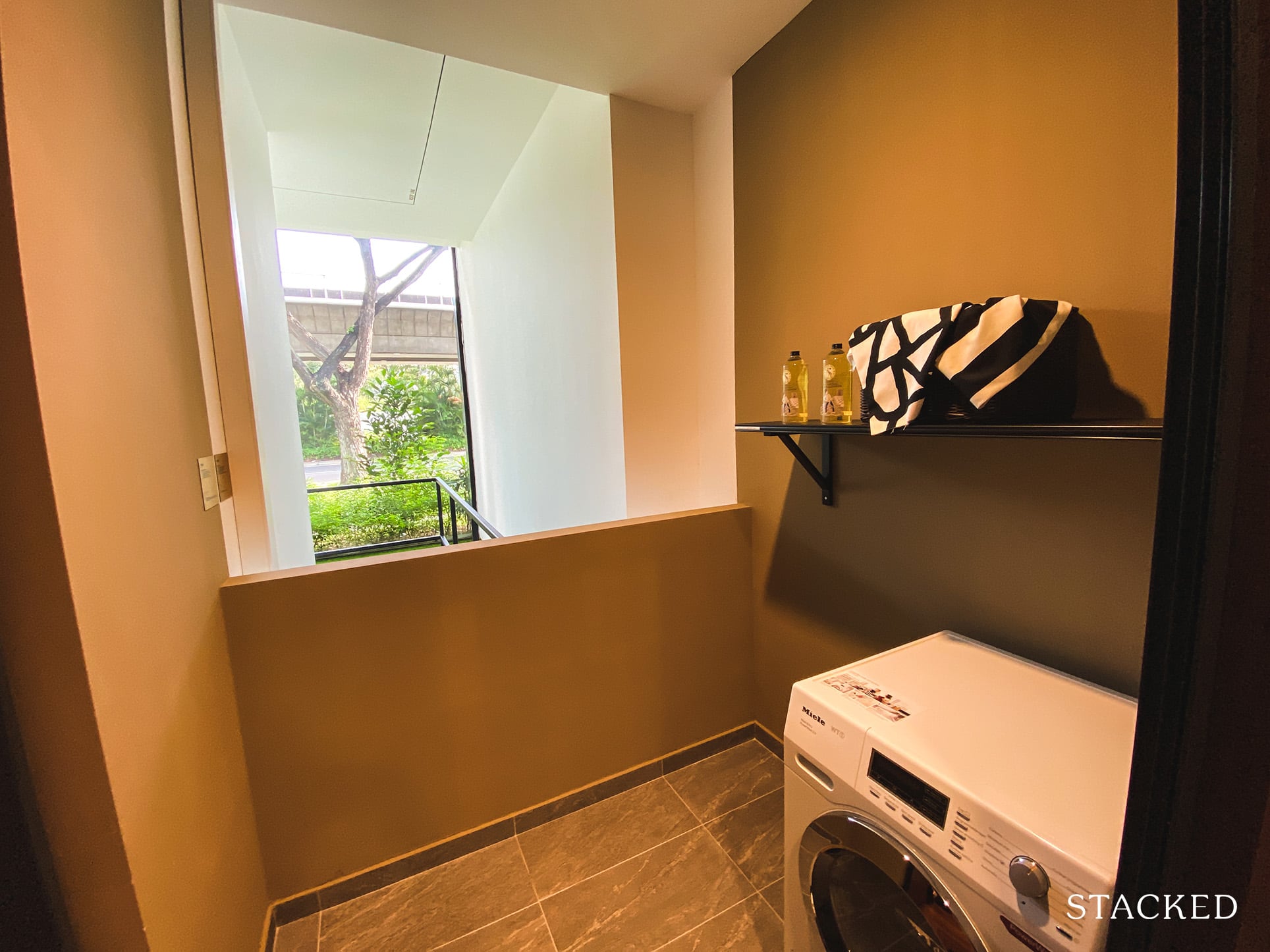 Despite the smaller overall size of the development, this 3 bedroom unit actually includes a yard area. It's not a terribly big area, but it does the job to store the washer/dryer or even for any laundry hanging.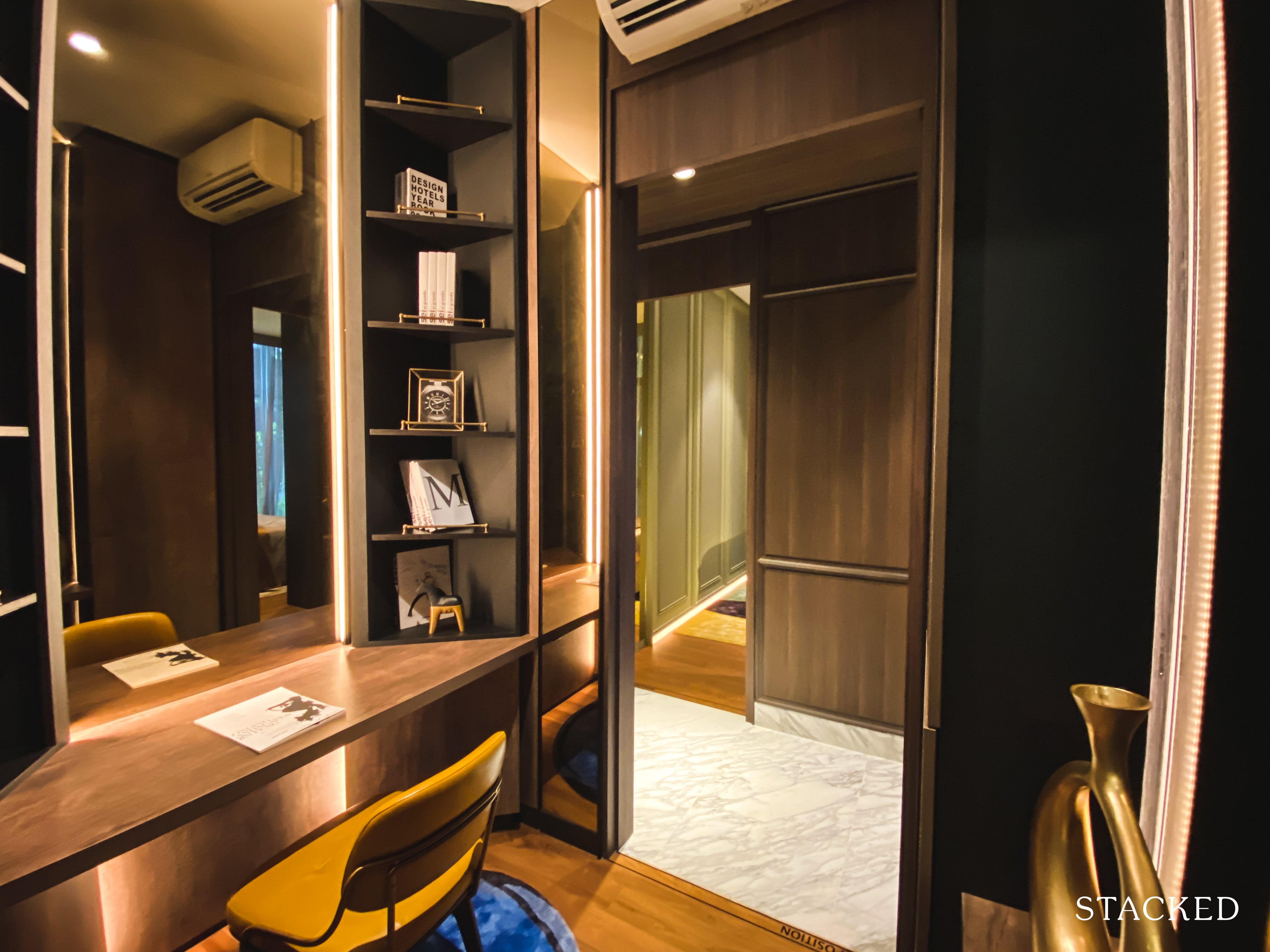 The yard is attached to the study, which isn't a very big area but it does look rather spacious because of the higher than average ceiling height (3.1 metres). Not to mention, in the current Covid-19 situation having a separate study/office area will be a bonus for many people.
You could also use this space as a store or helper's room – so its flexible in that regard. However, if you do require both a study and helper's room, you would unfortunately have to look at a bigger unit.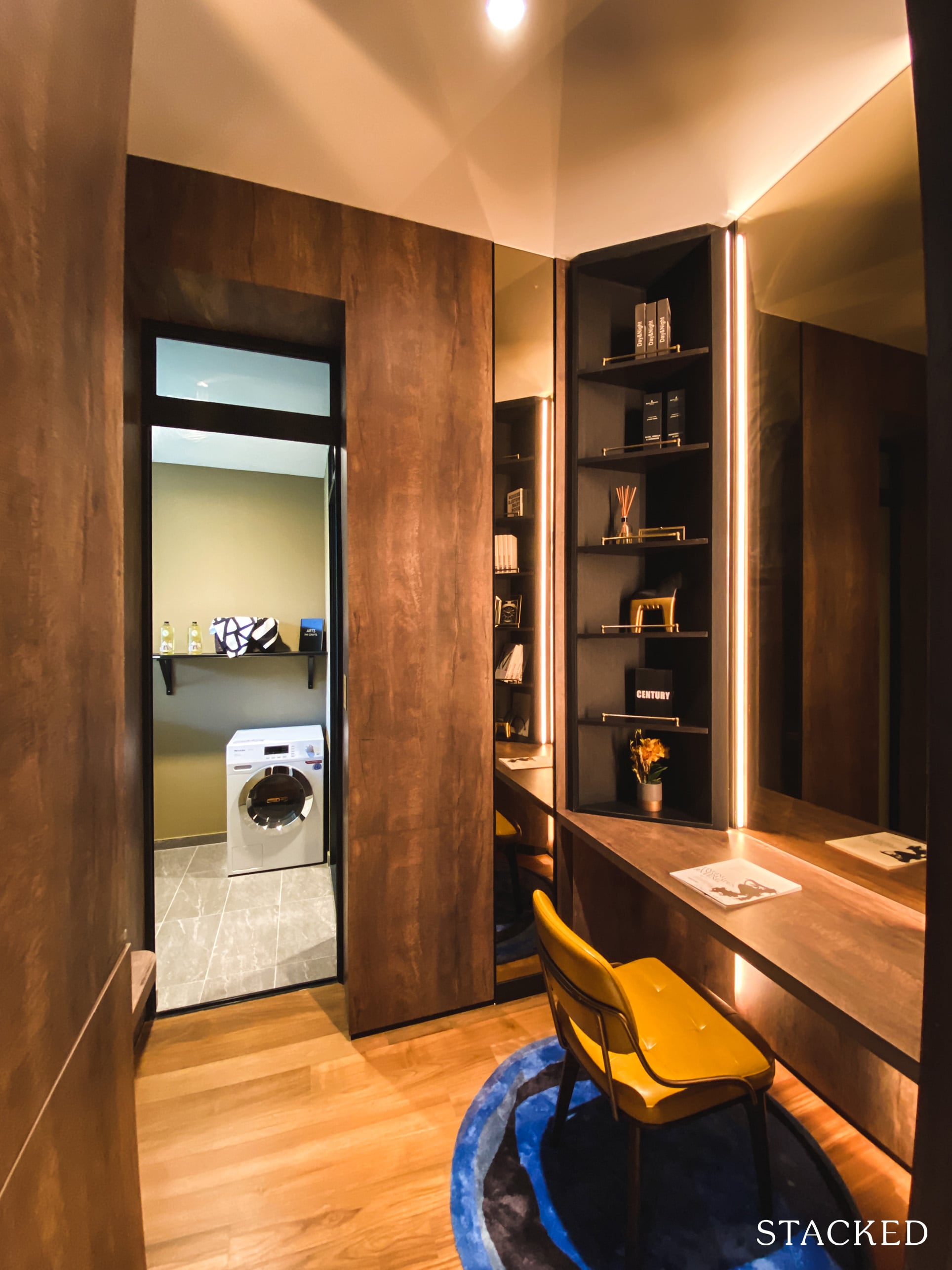 You wouldn't get much in terms of daylight here too, given that there are no windows. Unless you are fine with leaving the entry to the yard open, those averse to a no sunlight situation would also be better off relocating the study area.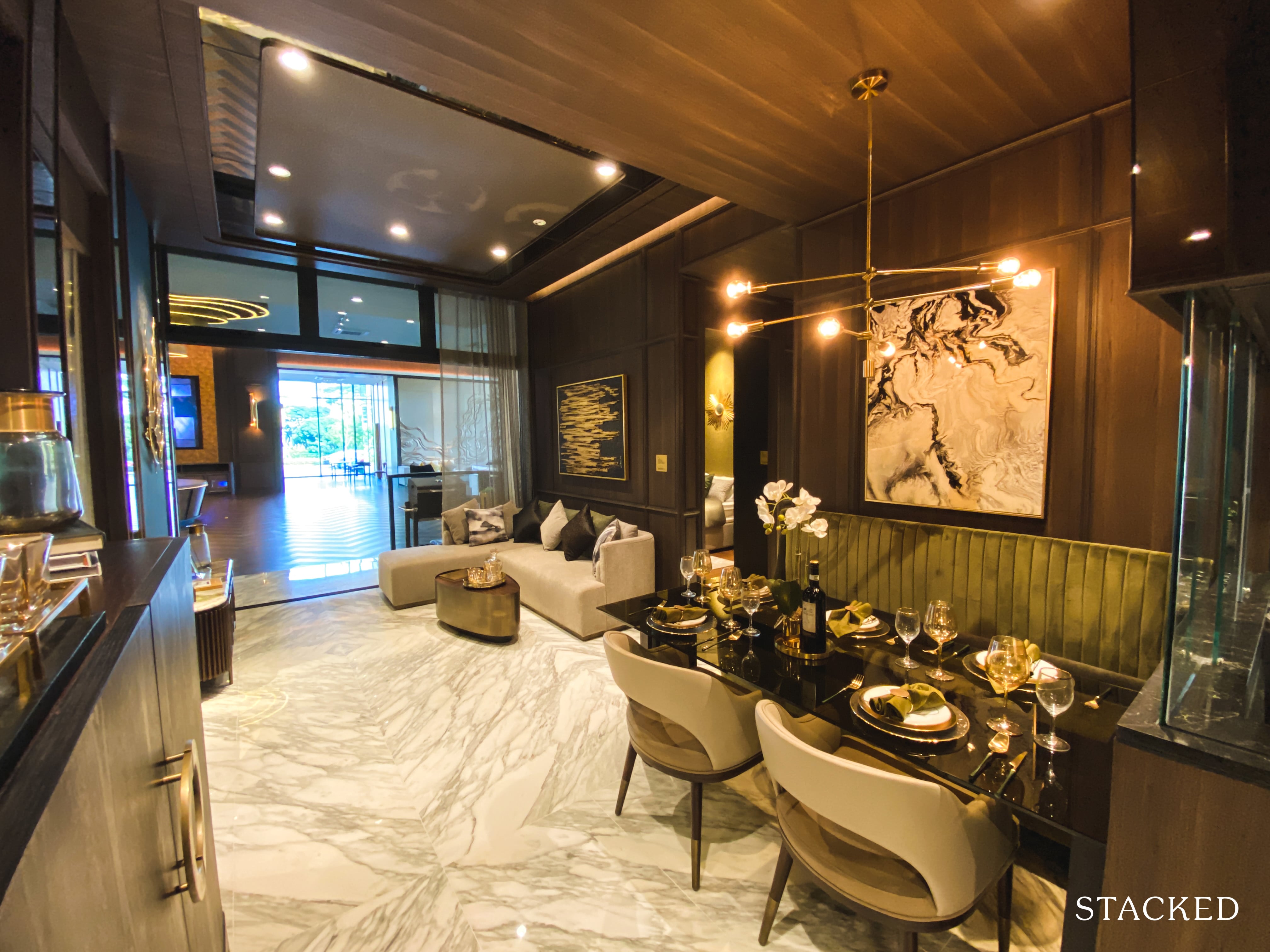 Let's head back to look at the living and dining area.
For those with a keen eye for details, you might notice this – the bookmatched marble flooring in the living area. For the uninitiated, bookmatched marble is to use two mirror-image marble slabs that are set side by side like the pages of an open book (hence the name). Which is why many people consider this to be one of the best ways to showcase the natural qualities of the stone.
Mind you, it isn't a cheap process. It has to be sliced from one flat slab into two flatter slabs, and upon installation – it has to be absolutely precise to ensure that the grains line up properly.
And if that wasn't a big enough feat, the developers actually specially flew to Italy to pick this particular marble that they had envisioned for the project.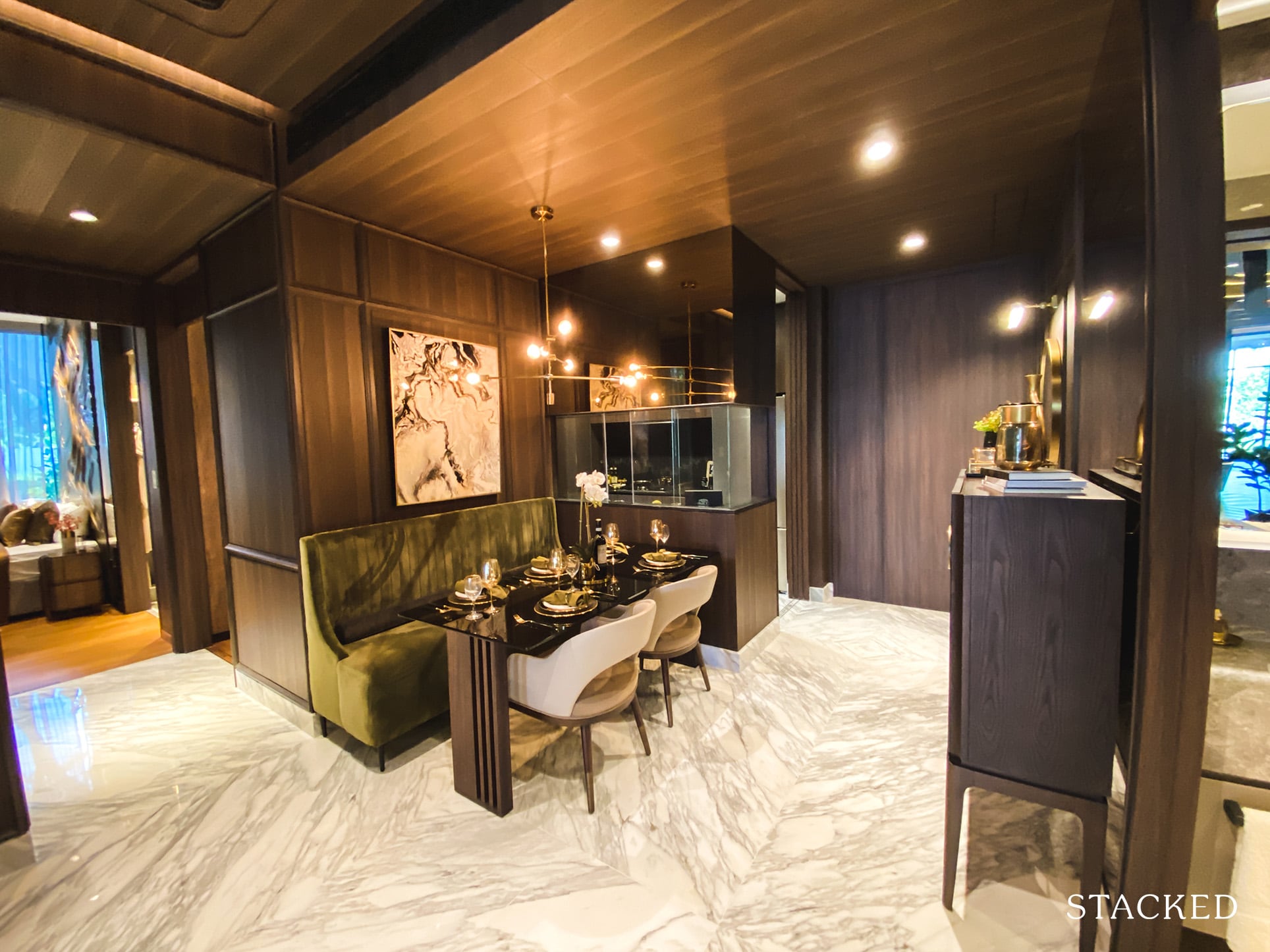 Given the overall size of the unit, you'd have to expect that certain areas would be compromised in terms of its size. So for those that enjoy entertaining at home, you might be disappointed to see the small dining area.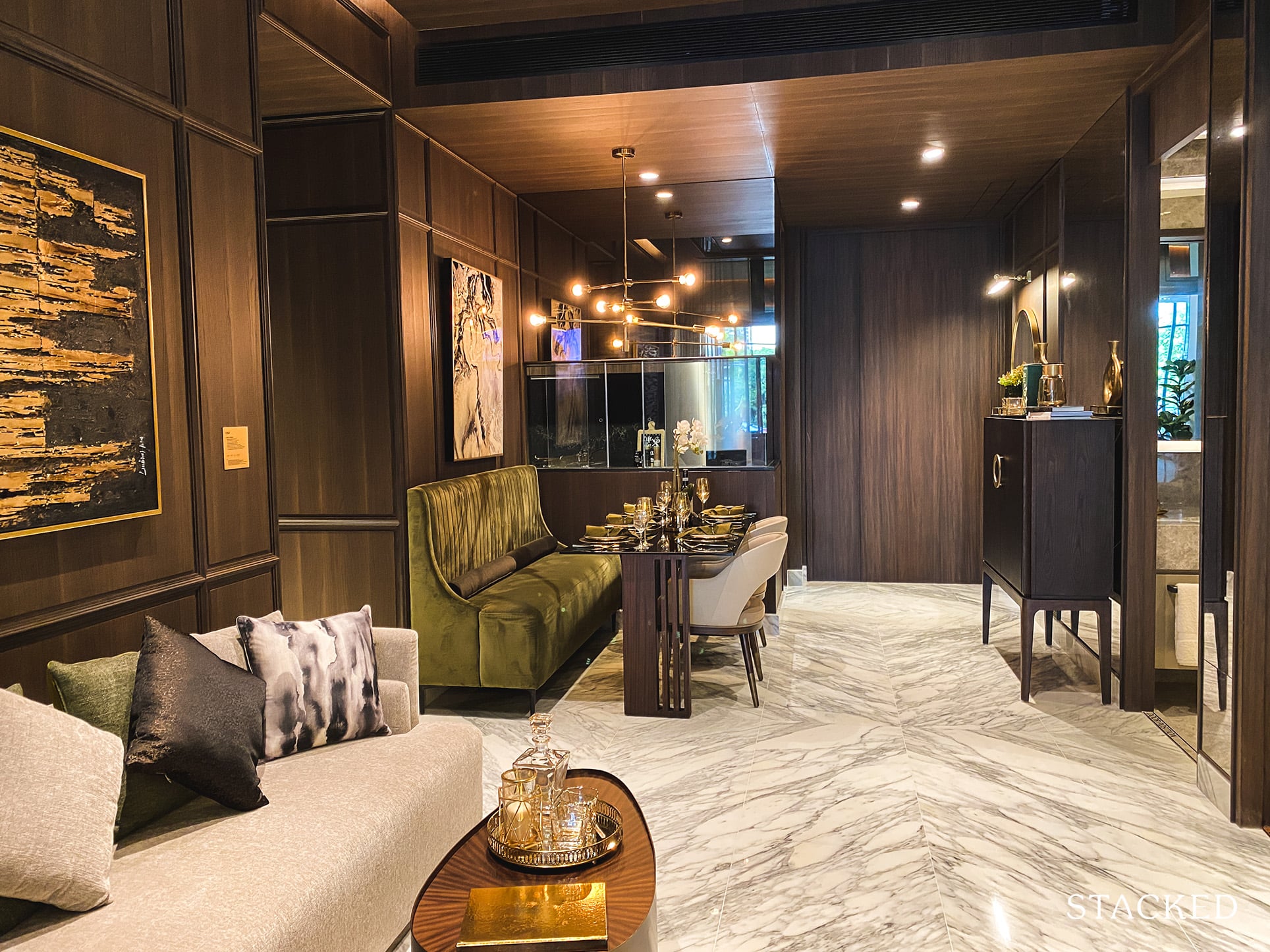 While it may look fine and dandy here, the dining table shown here is really only a 4 seater one – and that's really a squeezy affair at best. For a fully occupied 3 bedroom unit, this would definitely not be an appropriate size – best to have at least a 5 or 6 seater dining table.
The problem comes because you have to make allowances for both the walkway from the main door, as well as to the hall way – which cuts into the dining area.
The living room does fare much better, while it isn't particularly long, it is quite wide. Also, the 3.1 metre ceiling height really comes in handy here to make the space feel more voluminous.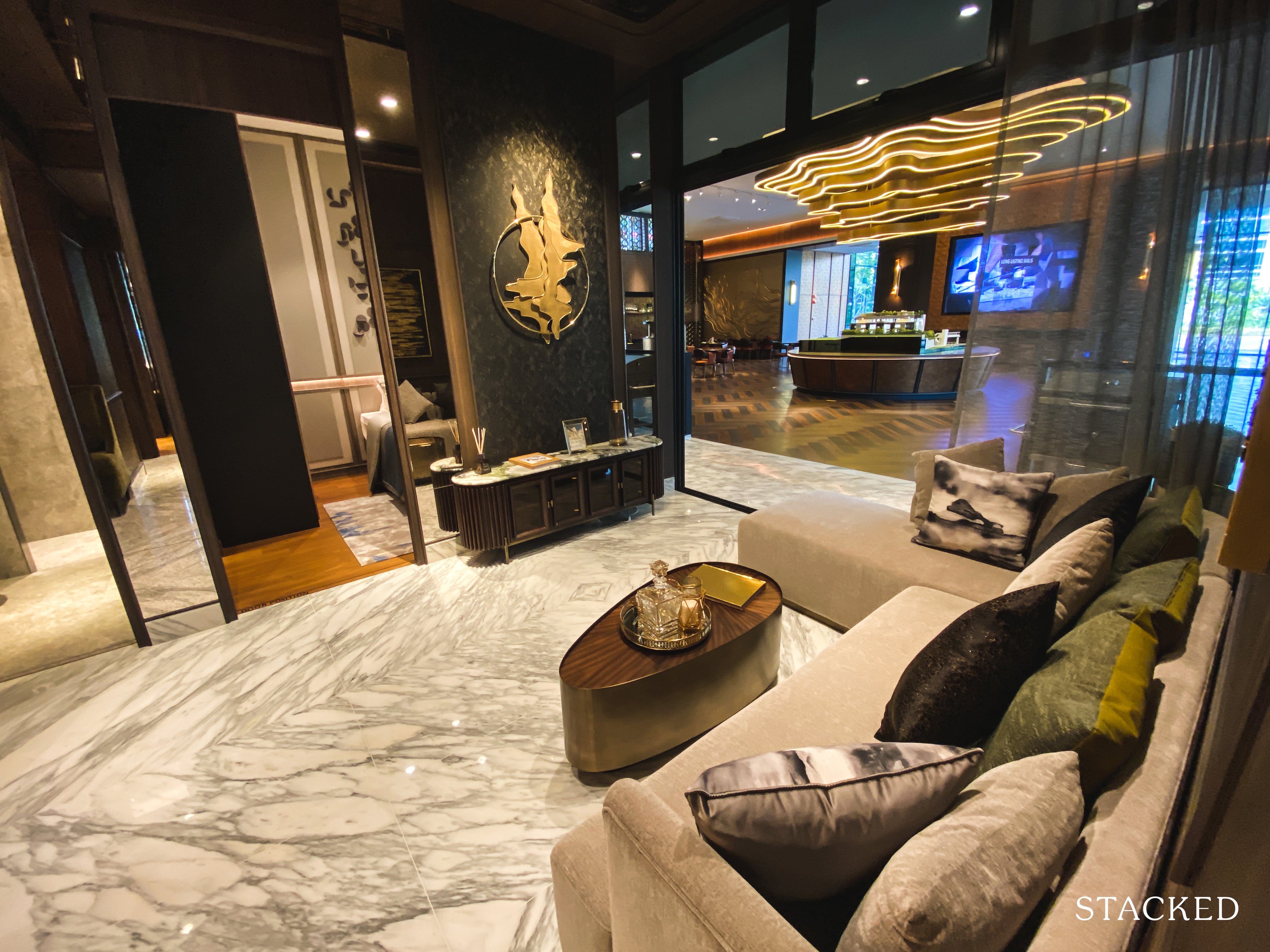 Take note the wall area where the TV console is usually placed is quite short because of the placement of the door to the common bedroom.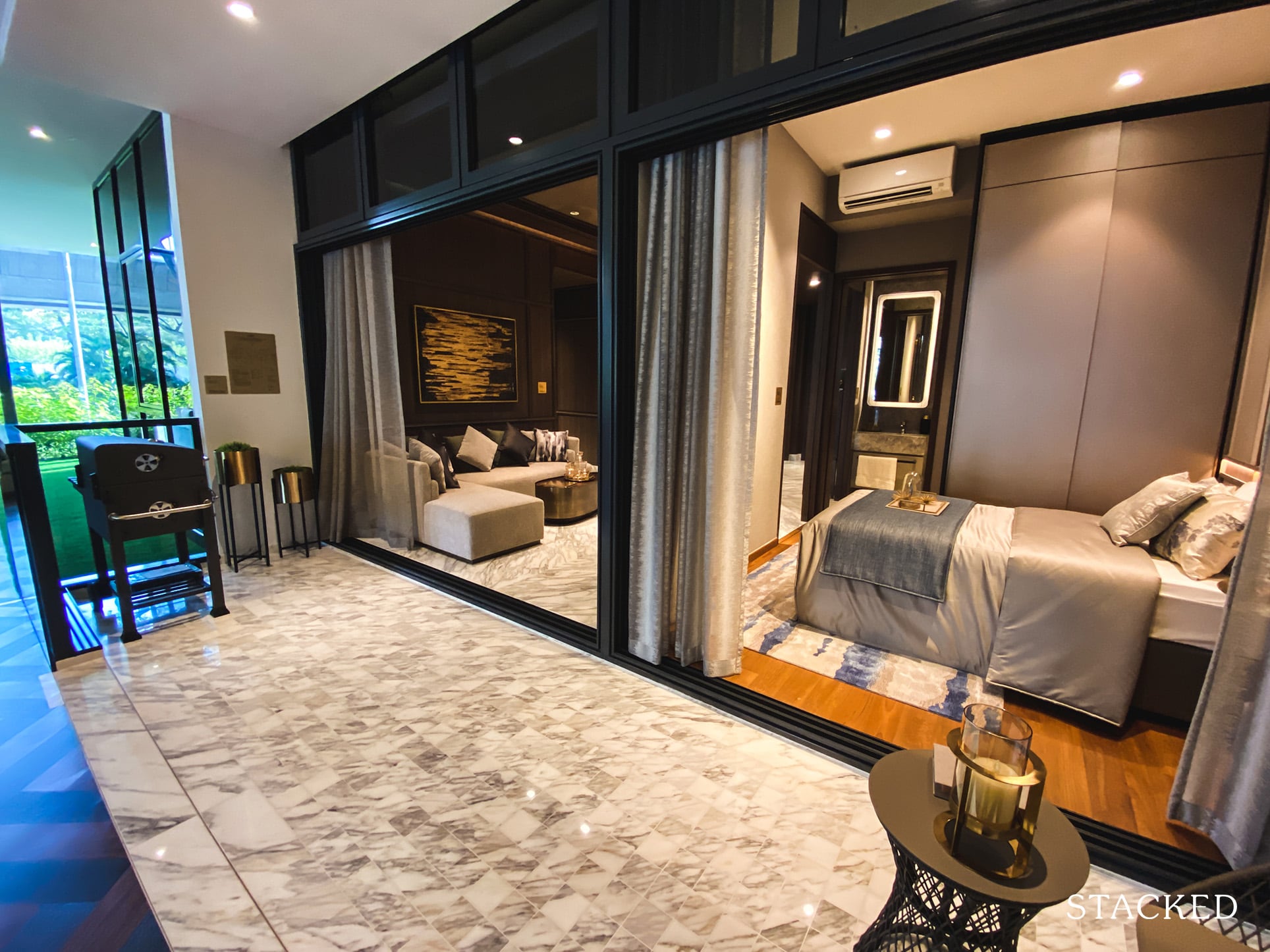 The balcony is big, to say the least. Those who don't fancy large outdoor spaces will definitely be turned off. But then again, I think the type of clientele interested in a project such as this would welcome a bigger outdoor space (its all about the lifestyle).
But here's the best part, the floor of the balcony is adorned with the same marble that you'd find in the living areas – something that I've yet to see in any of the new launches so far.
I like the attention to detail here too, because they actually cut the marble up into smaller pieces so as to prevent slippage.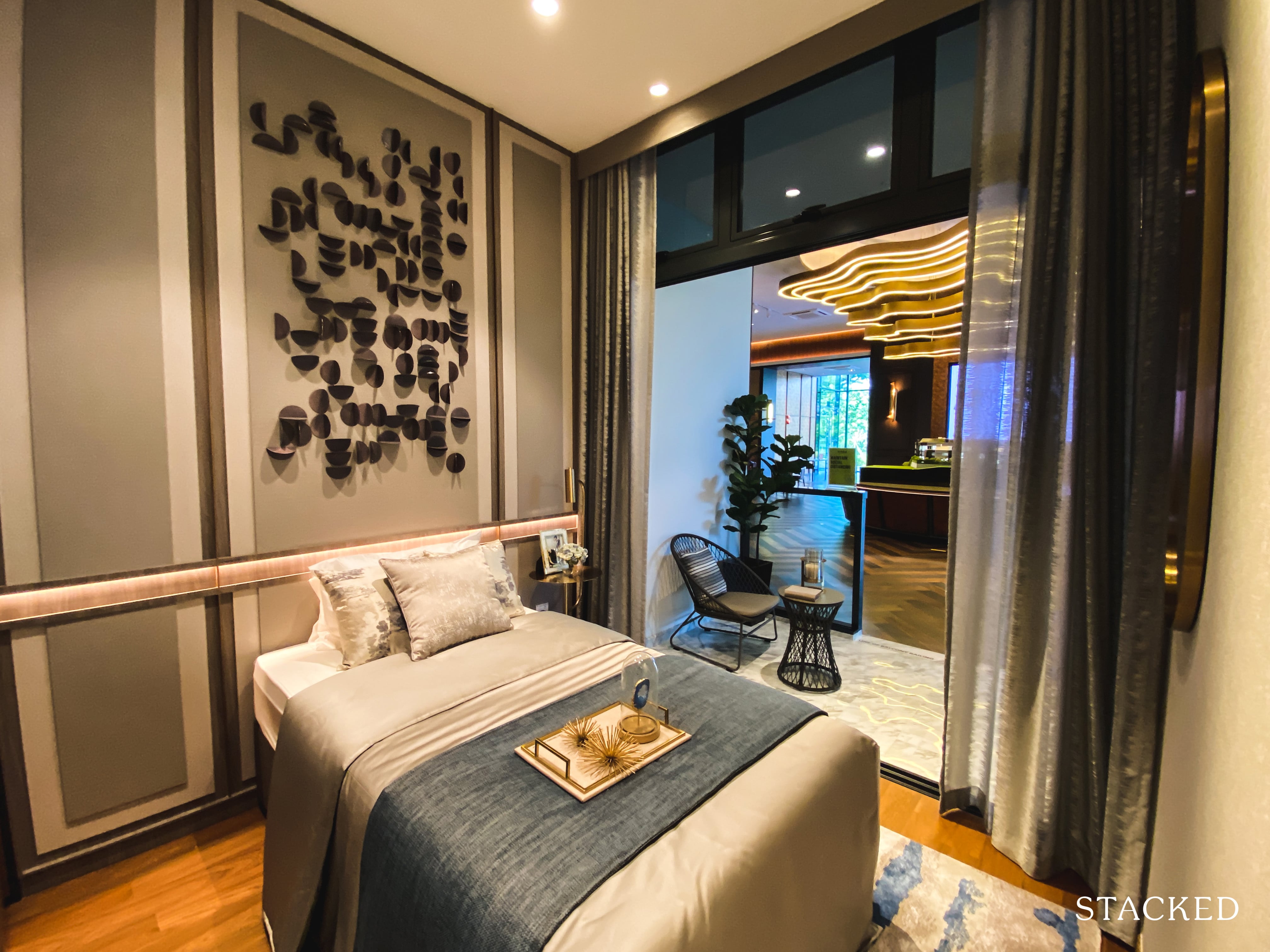 Of the 2 common bedrooms in the unit, this is by far and away the choice pick. It's bigger, has direct access to the balcony, it's separated from the other bedrooms so it is more private, and it comes with an attached bath (although it is a common bathroom).
And again, the high ceiling makes a world of difference to allowing the space to feel more spacious than it actually is.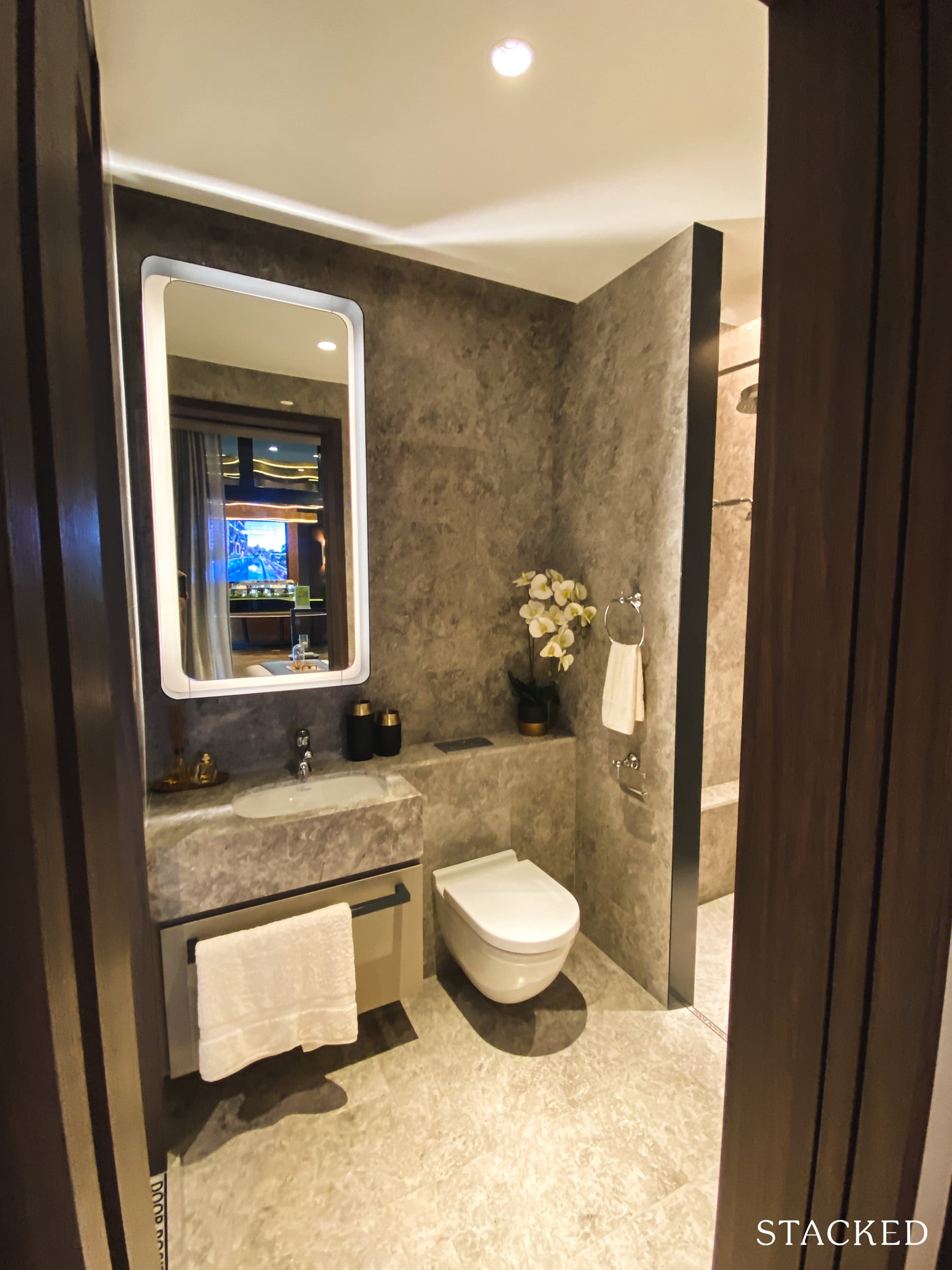 The common bathroom is of the jack and jill variety, which means you can access it from both the common bedroom as well as the main living area. Bathroom fittings are from Duravit, and I especially like the little touches, the black handles, to the unique (Swarovski adorned) faucets and towel handles. If you are wondering, these are from F.lli Frattini, an Italian brand known for its luxury bathroom fittings.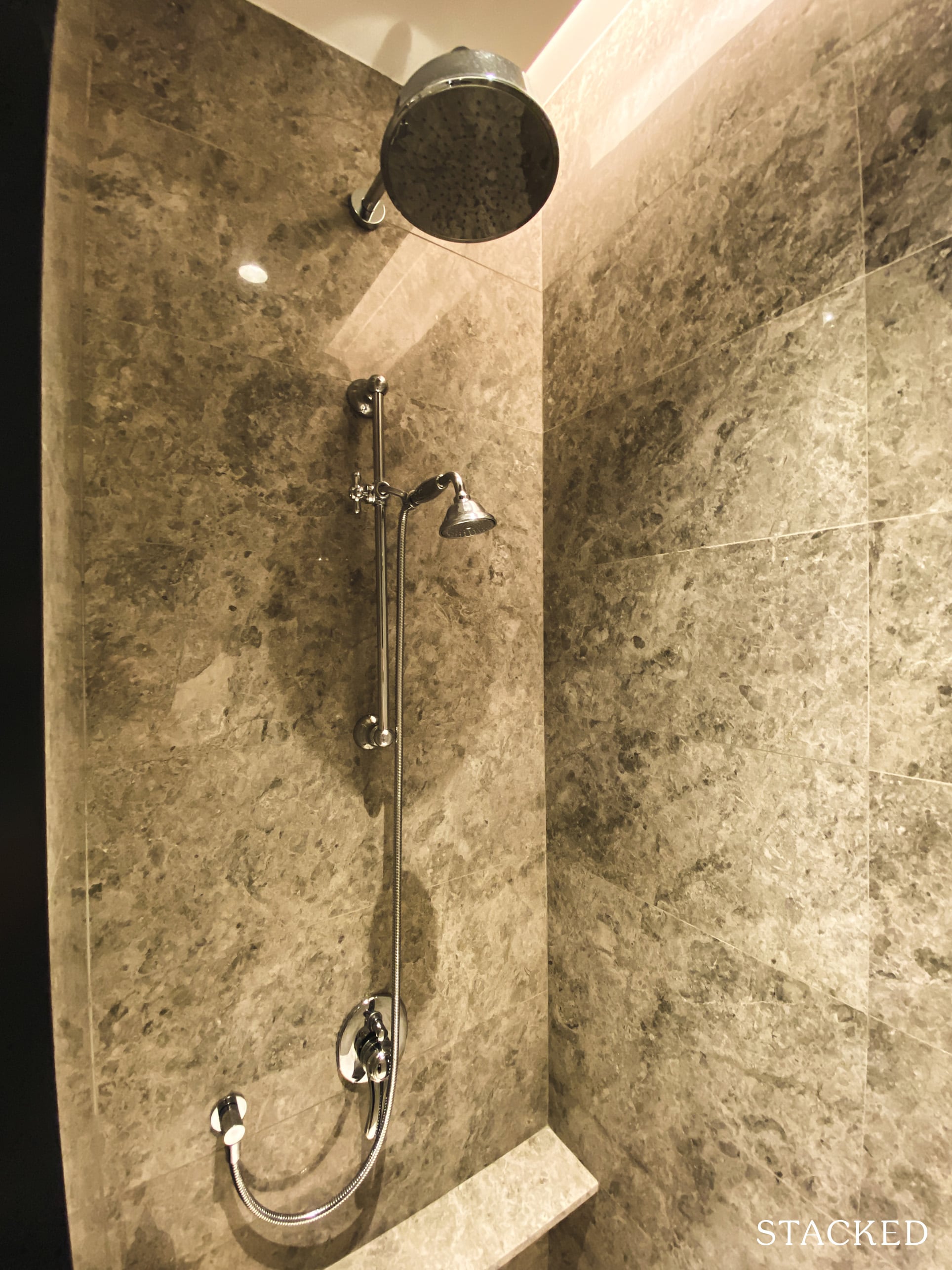 The common bathroom comes with a rain shower too – which is a nice touch.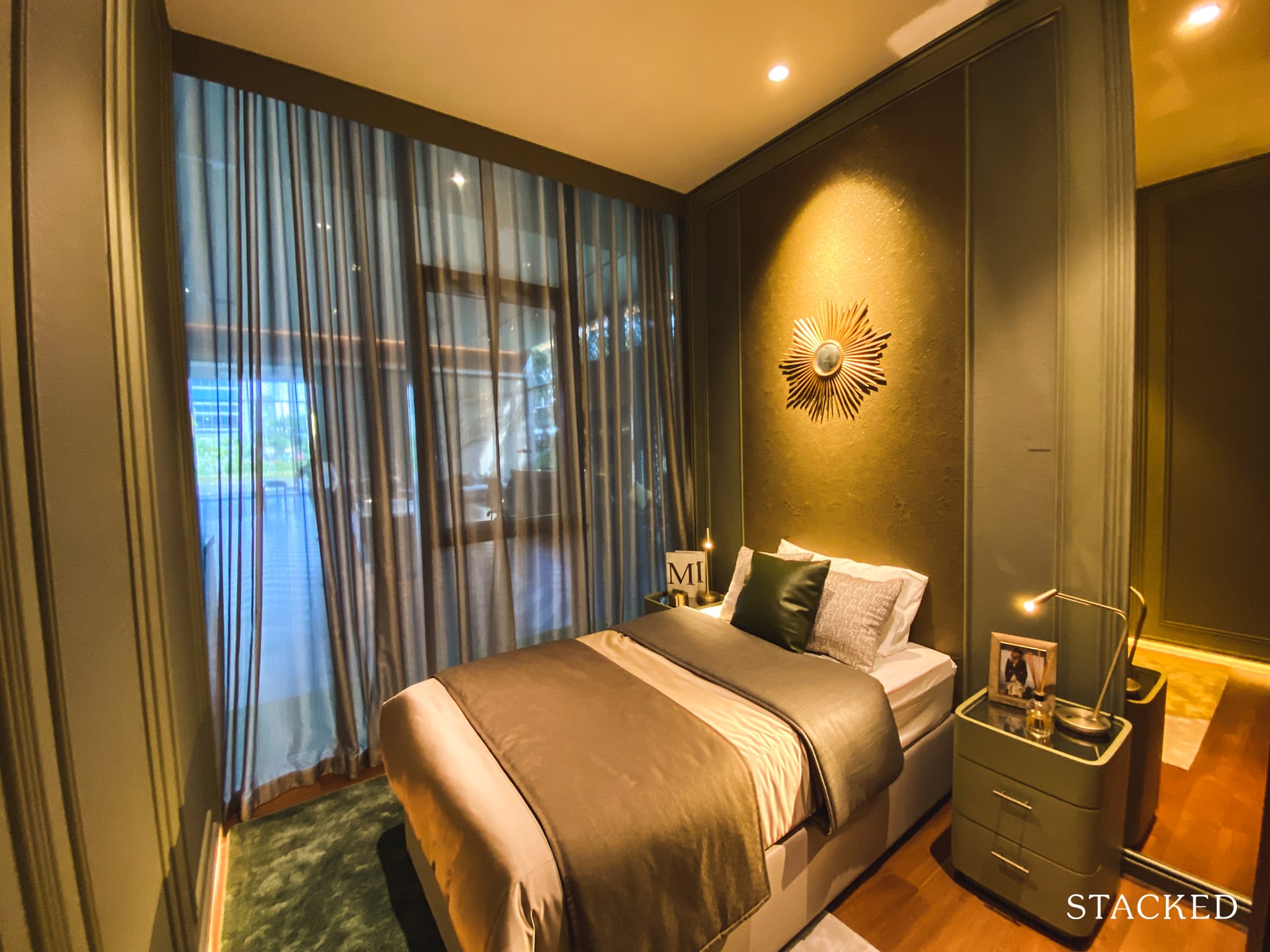 The second common bedroom is nothing to write home about. It's on the smaller side, but does come with floor to ceiling windows.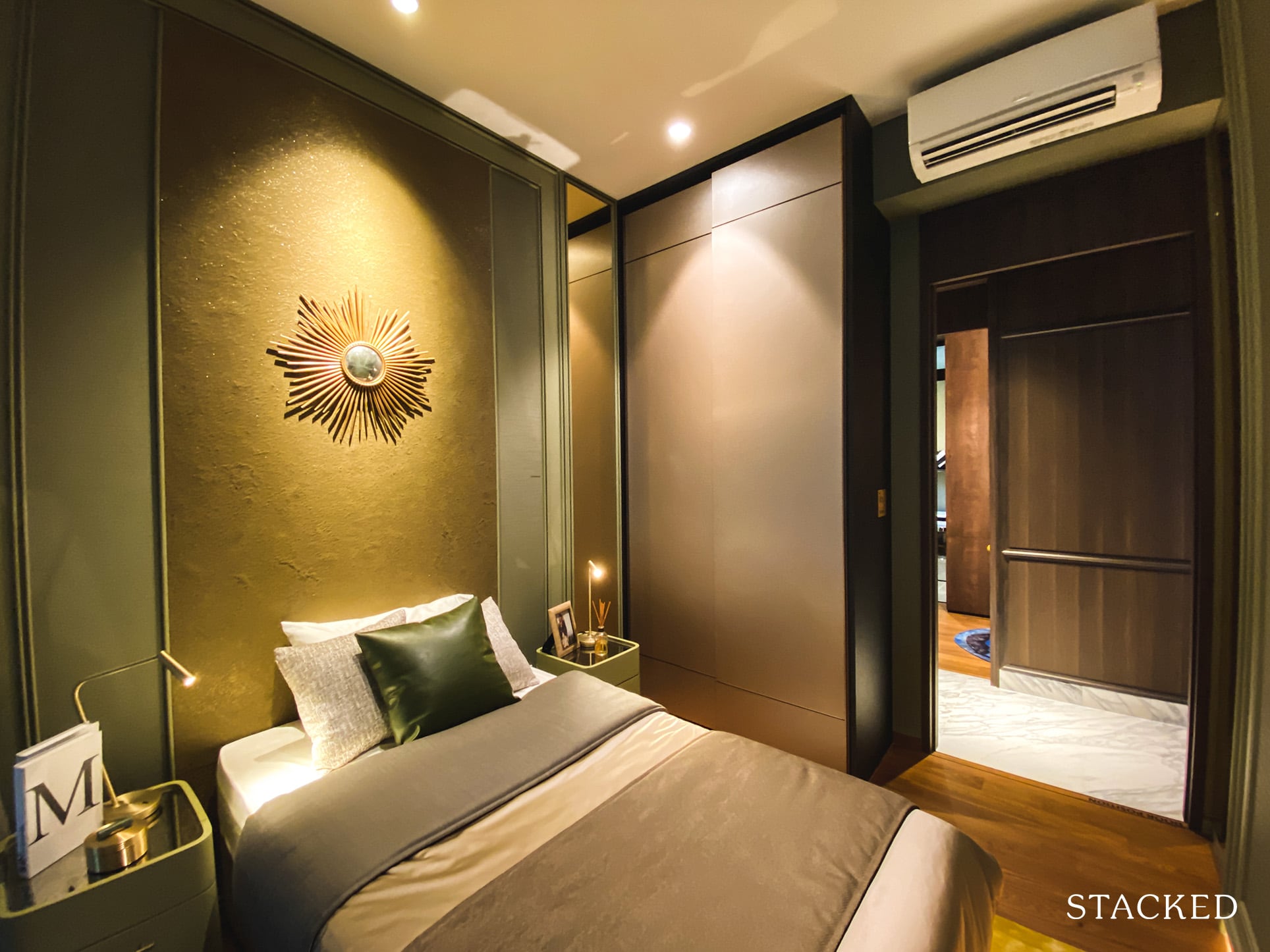 As per usual for new launches of today, storage space will be limited due to the size of the room.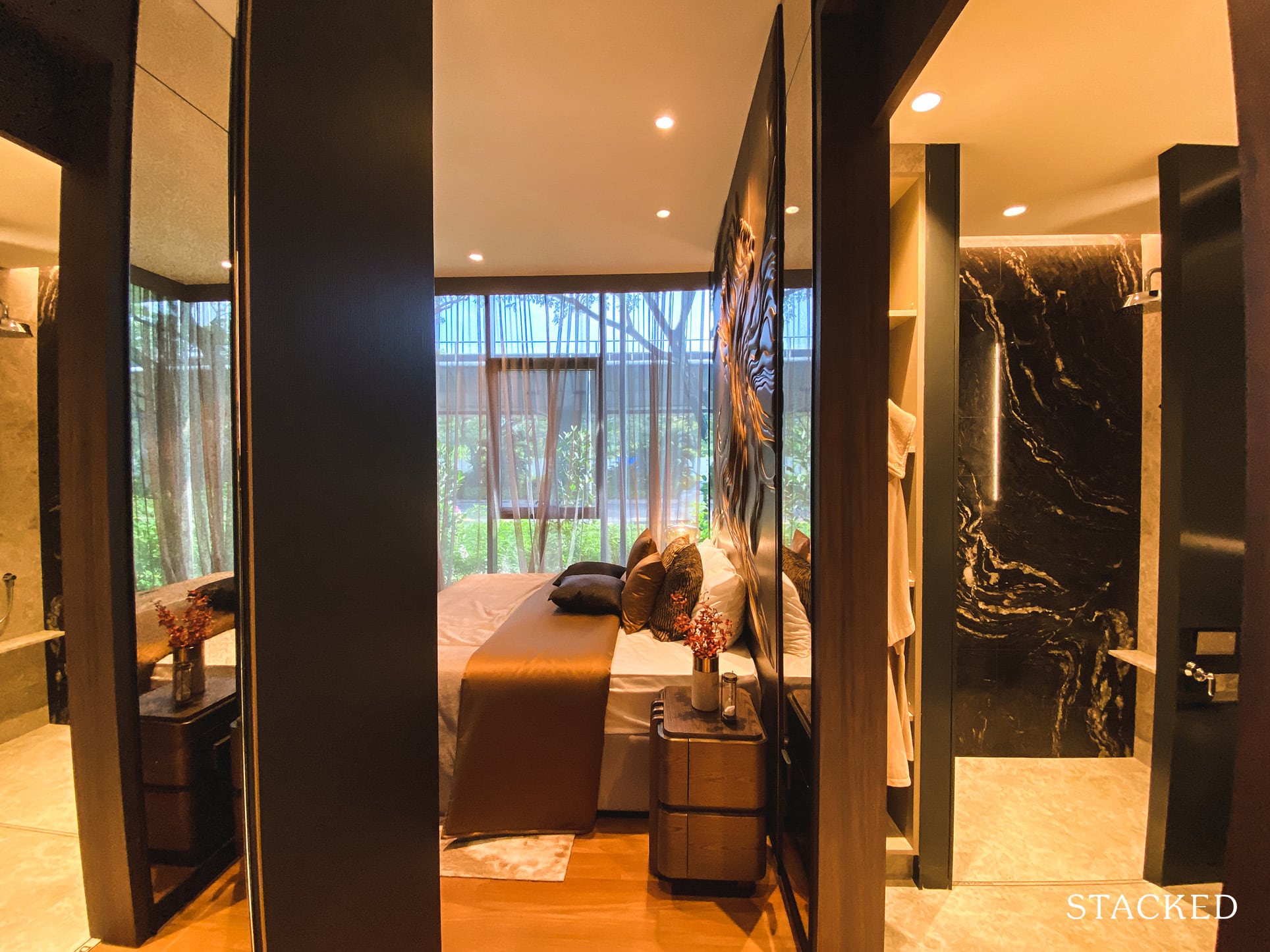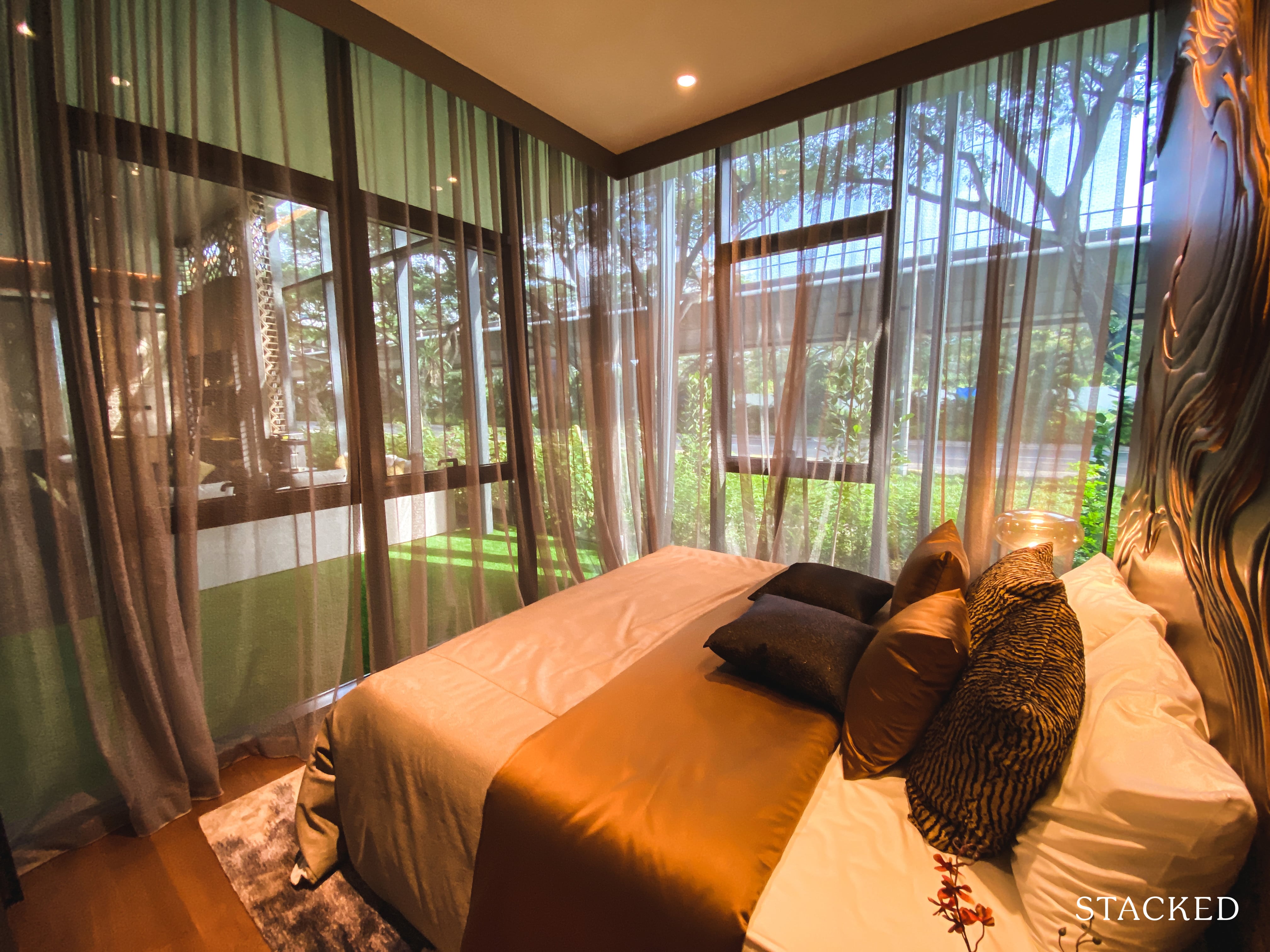 As with all the bedrooms so far, the master bedroom is on the small side. After fitting in a queen/king sized bed, you are practically done with the space in the room.
The lack of space is mitigated, however, with this gorgeous right angled glass window. It gives you an almost surround view, and just lets a ton of light in. That said the downsides are pretty glaring (pun intended), as depending on the facing you are subject to the heat. Not to mention, a severe lack of privacy without any shades or blinds.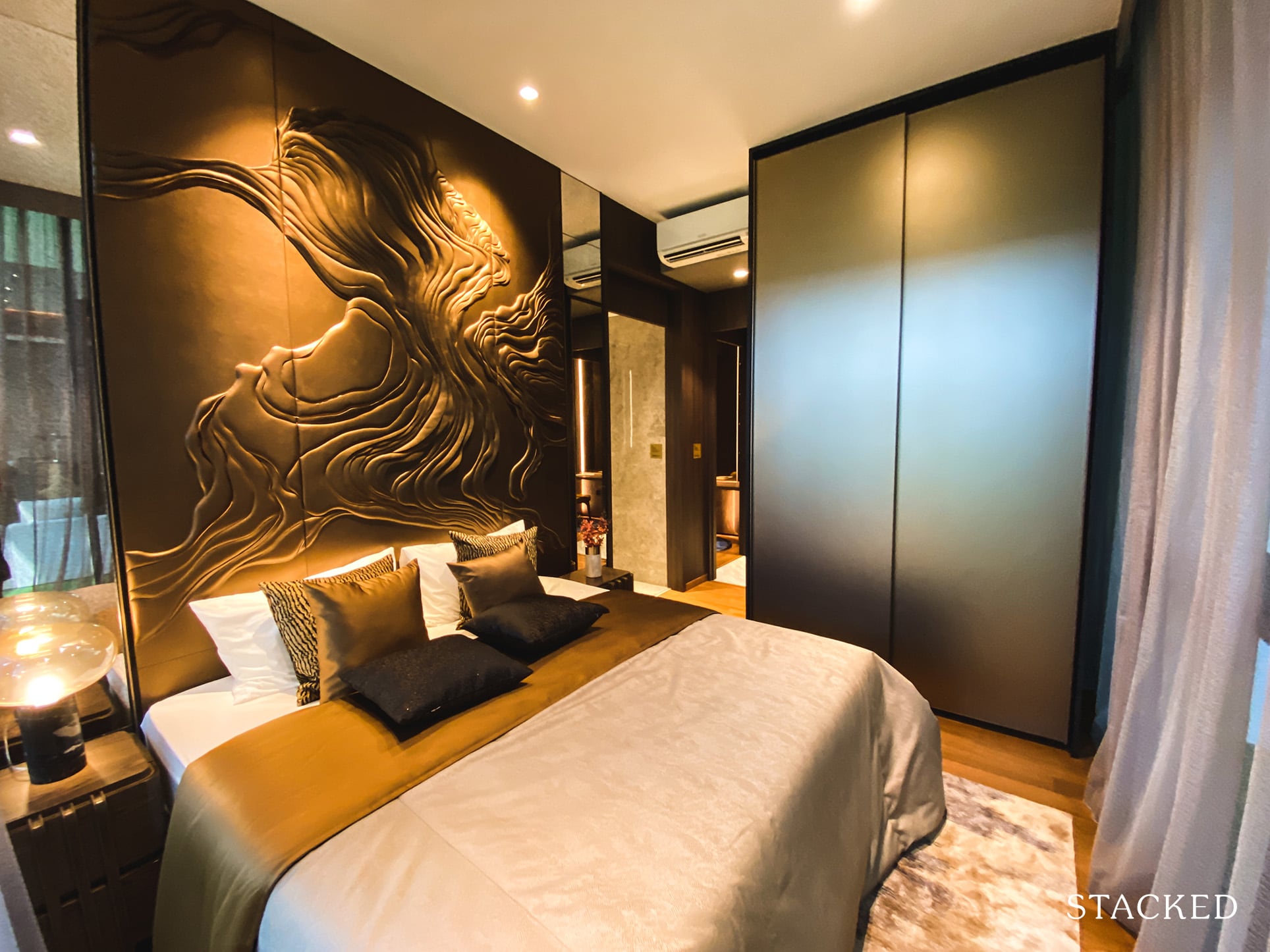 If you've been reading our condo reviews for a while now, you should know the drill – storage space will definitely be a point of contention for most people.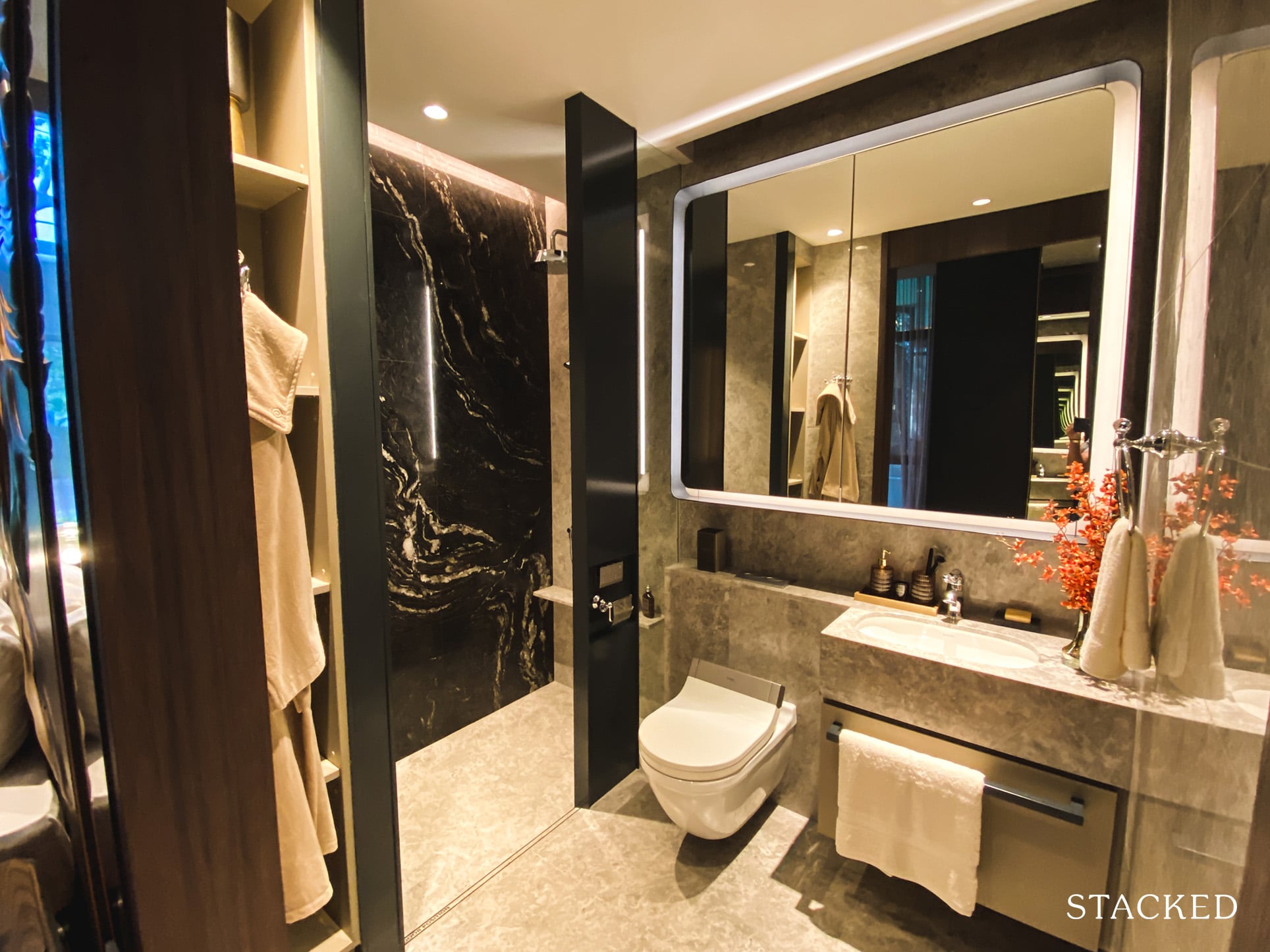 The master bathroom itself is pretty spacious, but sadly, not spacious enough for a bathtub.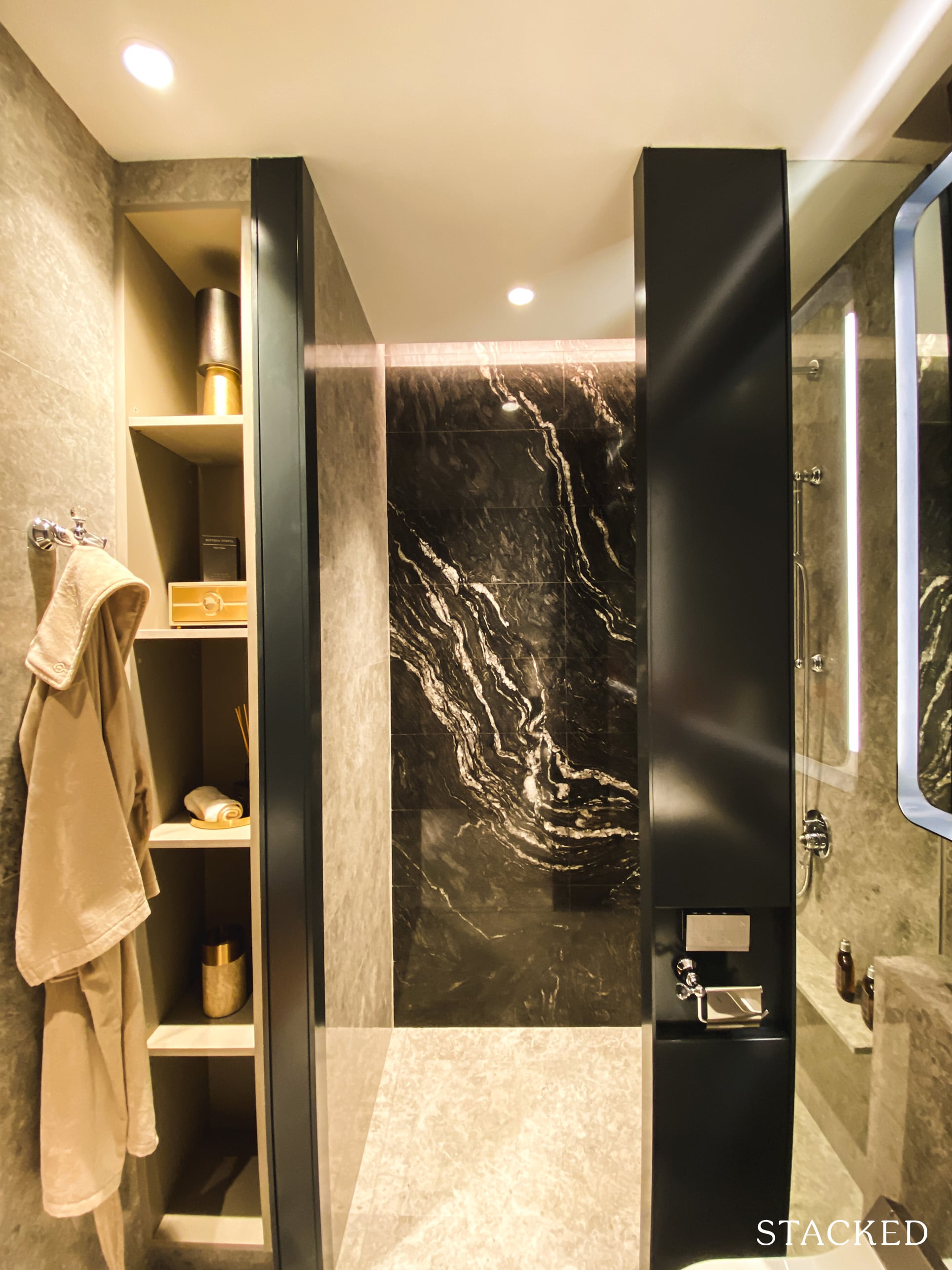 Although it does come with another stunner of a piece of marble, which is undoubtedly the centrepiece of the bathroom.
I do also like the addition of the slim shelving right next to the standing shower.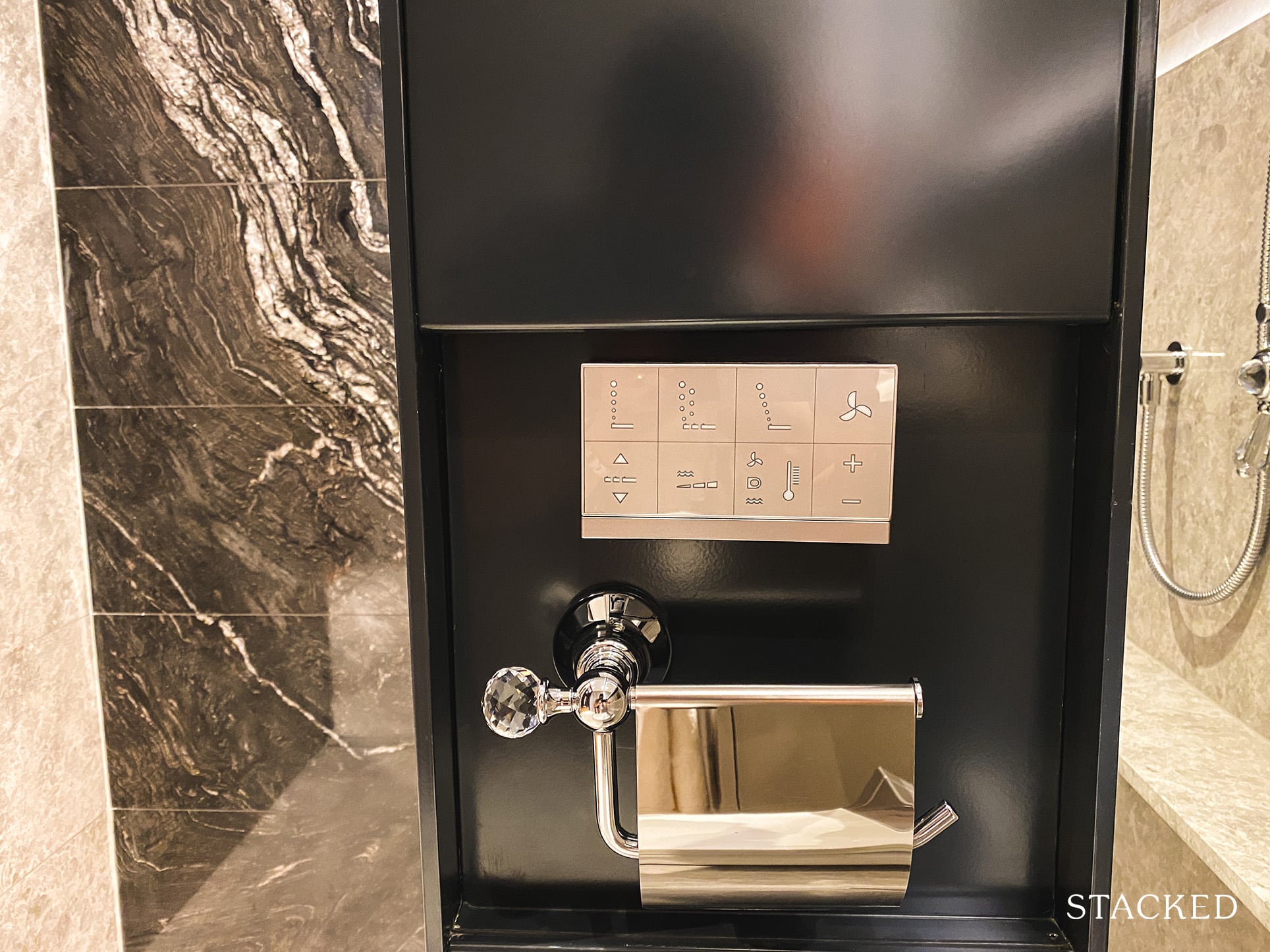 And this. Yes, for the toilet aficionados, it's a SensoWash® by Duravit (and designed by Philippe Starck). It's really a wonder why these electronic bidets aren't more popular in Singapore, given it does have some very useful functions.
Read this next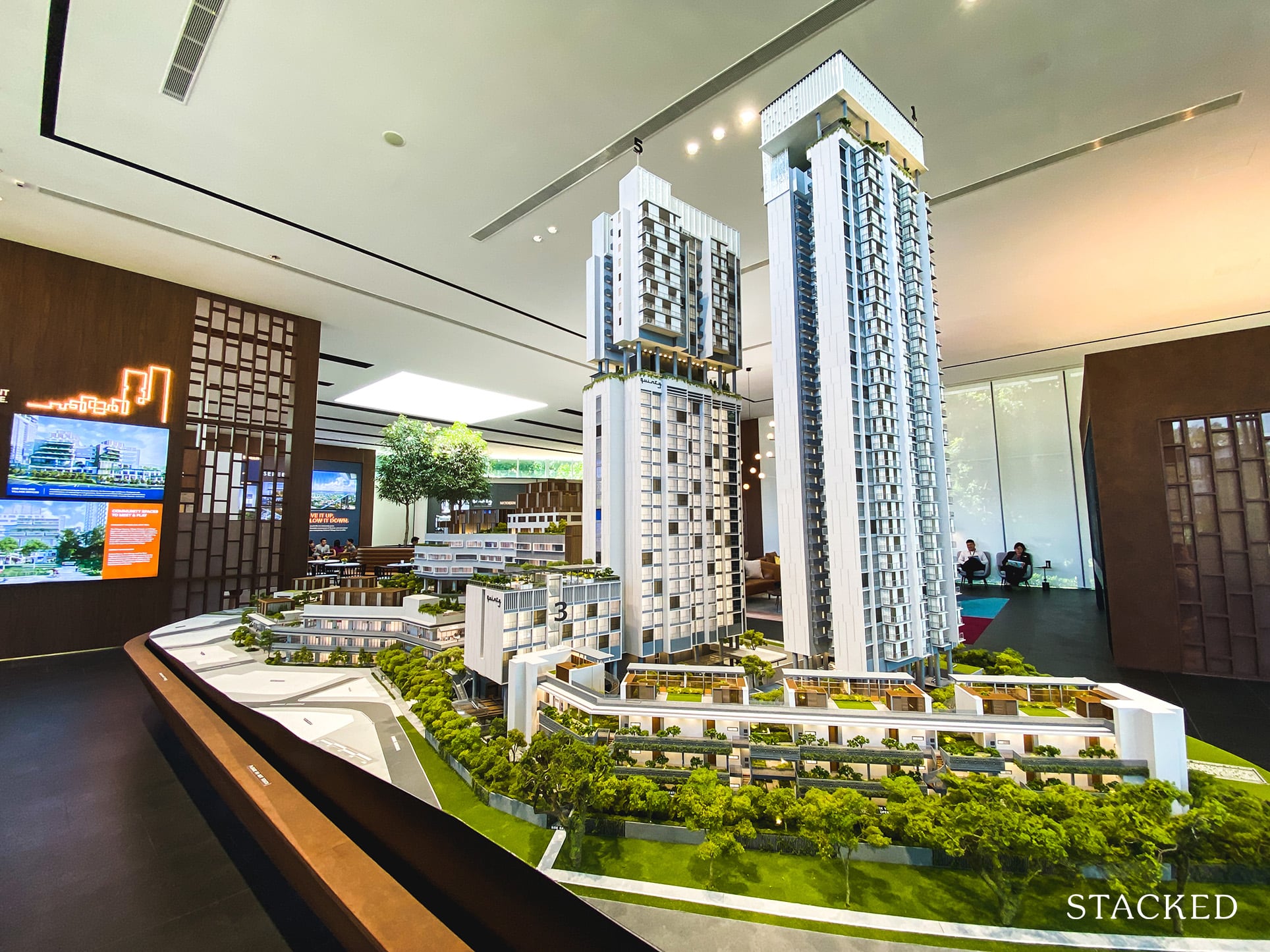 Van Holland 2 Bedroom Review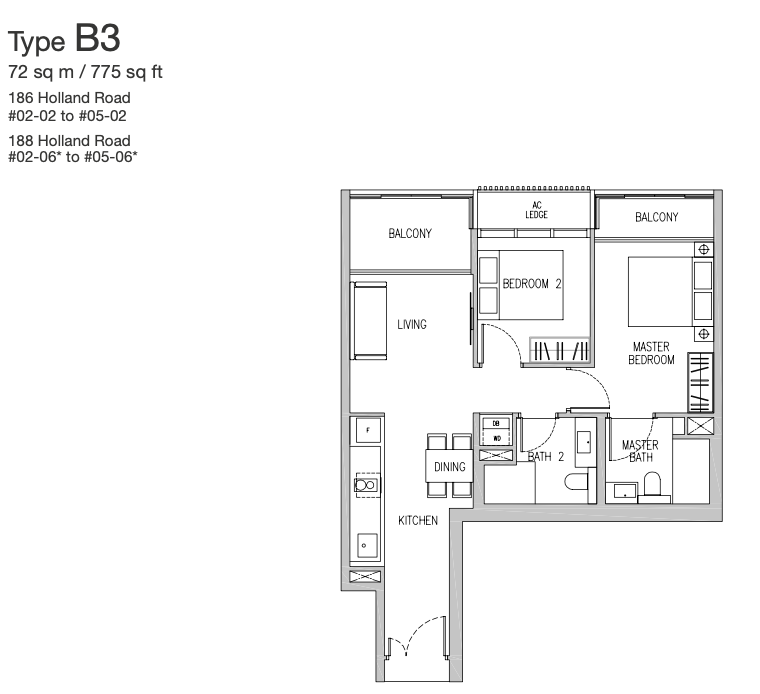 As far as new launches of today go, 775 square feet is actually a very decent size for a 2 bedroom unit. Unfortunately, it isn't quite as efficient as the 3 bedroom, with the main culprit being the long entryway (unusable space) into the unit itself.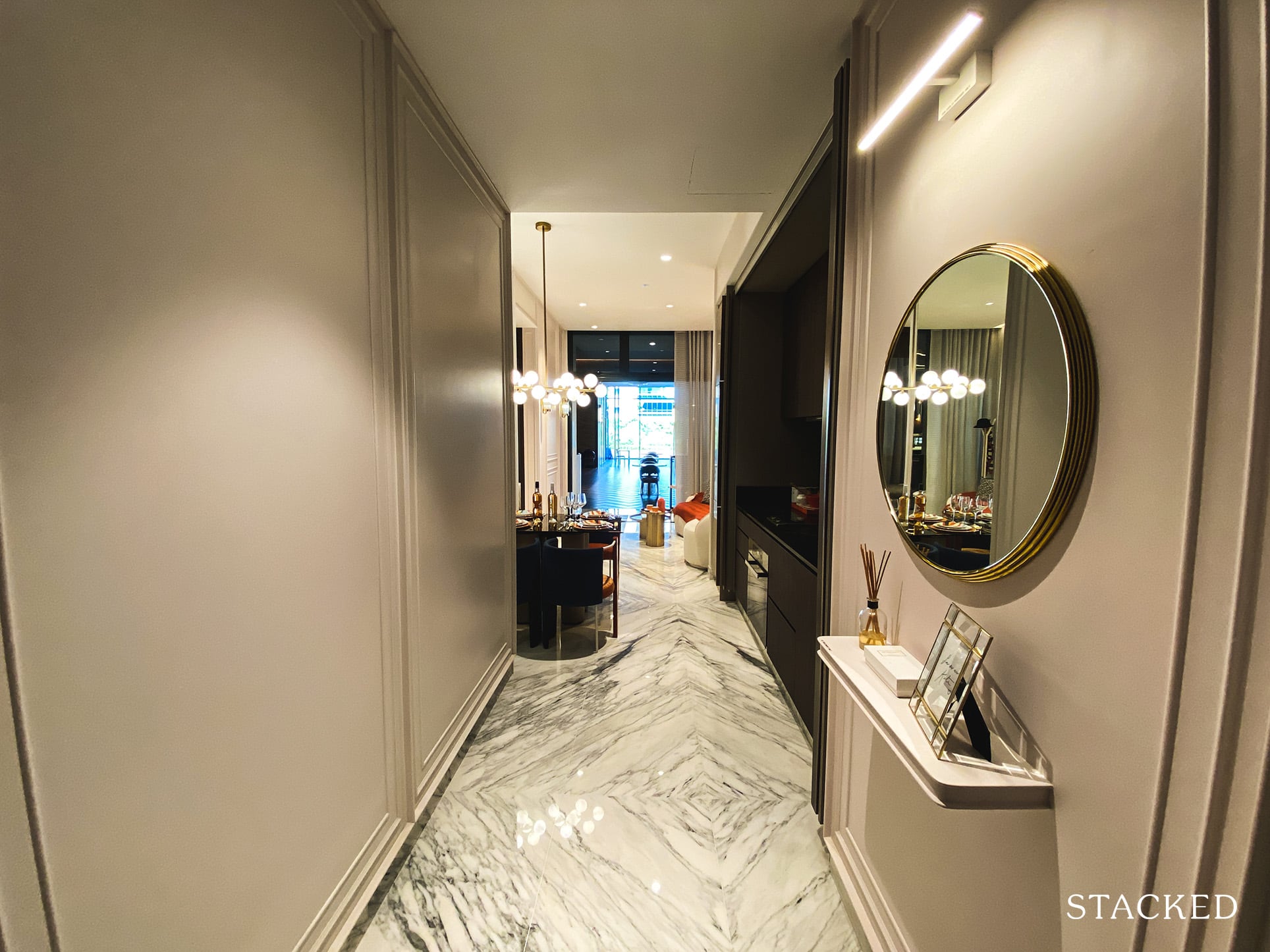 Honestly in a unit size such as this, there really is no need to have such a long entranceway. It is quite a fair bit of unusable space. And even if you do decide to place additional cabinetry for storage, it will make it look tight and constrained. Ultimately, no one is a winner here.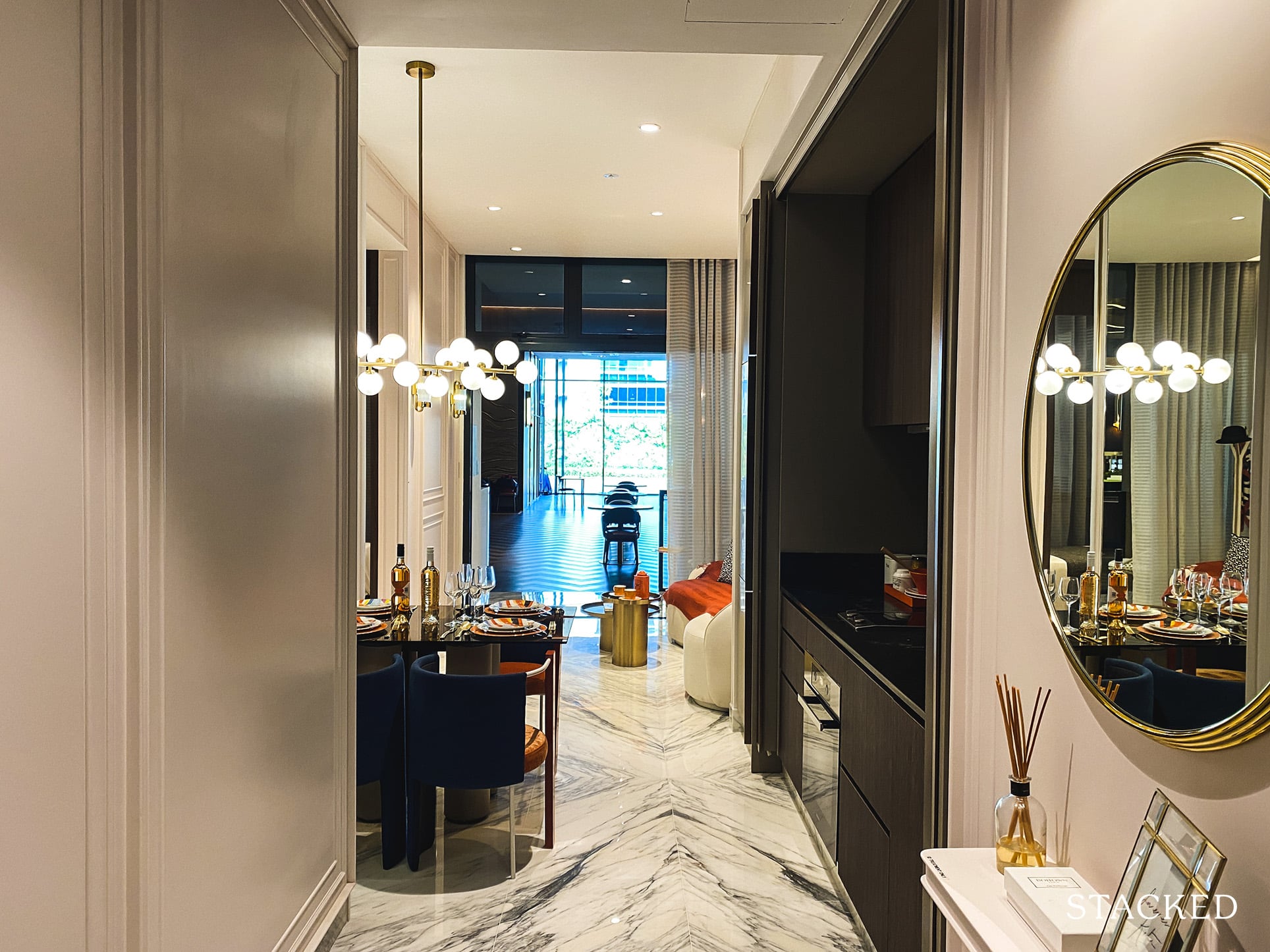 In what is quite a contrast to the dark, moody feel of the 3 bedroom unit, they've decided to go for a much brighter colour palette for the 2 bedroom unit. It's a good move too, given the smaller size at hand here.
Aside from the colour choice, first impressions here are pretty much in the ballpark of what you'd expect from a 2 bedroom unit nowadays. Again, the 3.1 metre ceilings definitely play a part in helping the space feel more spacious.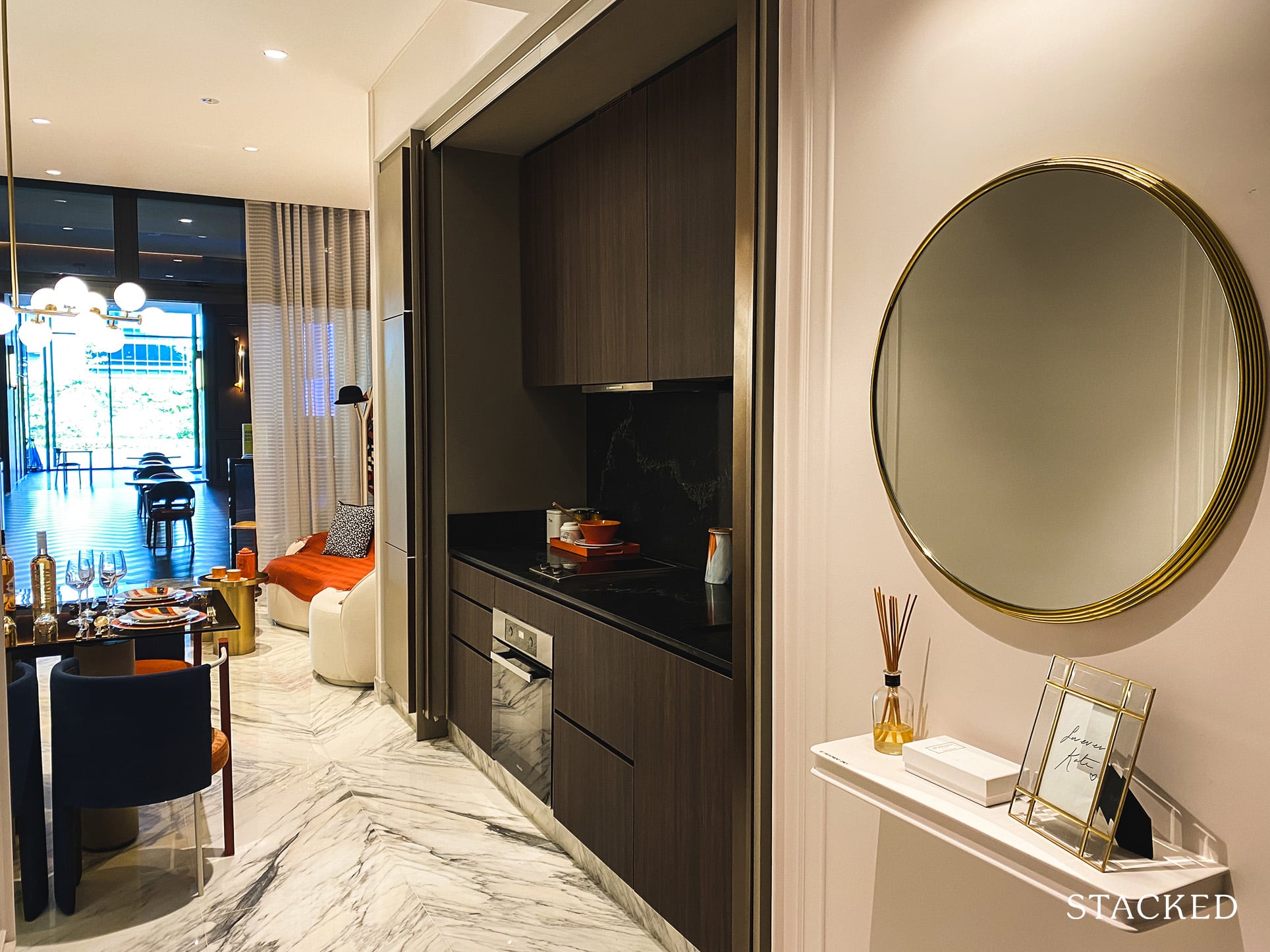 The kitchen and dining space here is essentially combined into one, so as an integrated space it probably is just about acceptable to meet the needs for most. If you were to judge it on its own, however, it is a different story.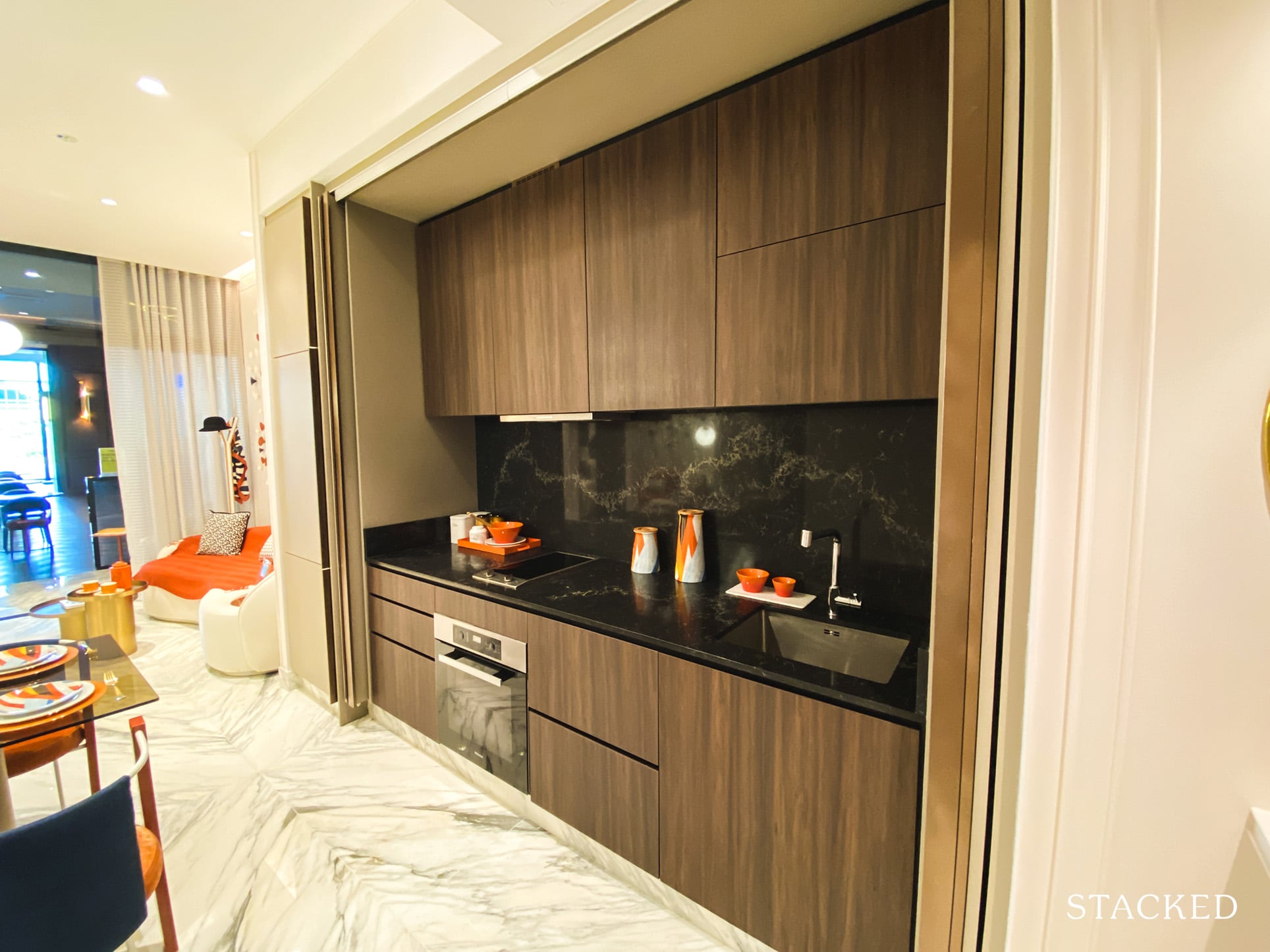 For those who will utilise the kitchen a fair bit, this probably wouldn't be a great choice. Countertop space is fairly limited, although you do get good quality kitchen appliances with Miele being used here as well.
If your main source of food will be from Holland Village just opposite, well, it's safe to say that the current kitchen layout will pose no issue to you at all.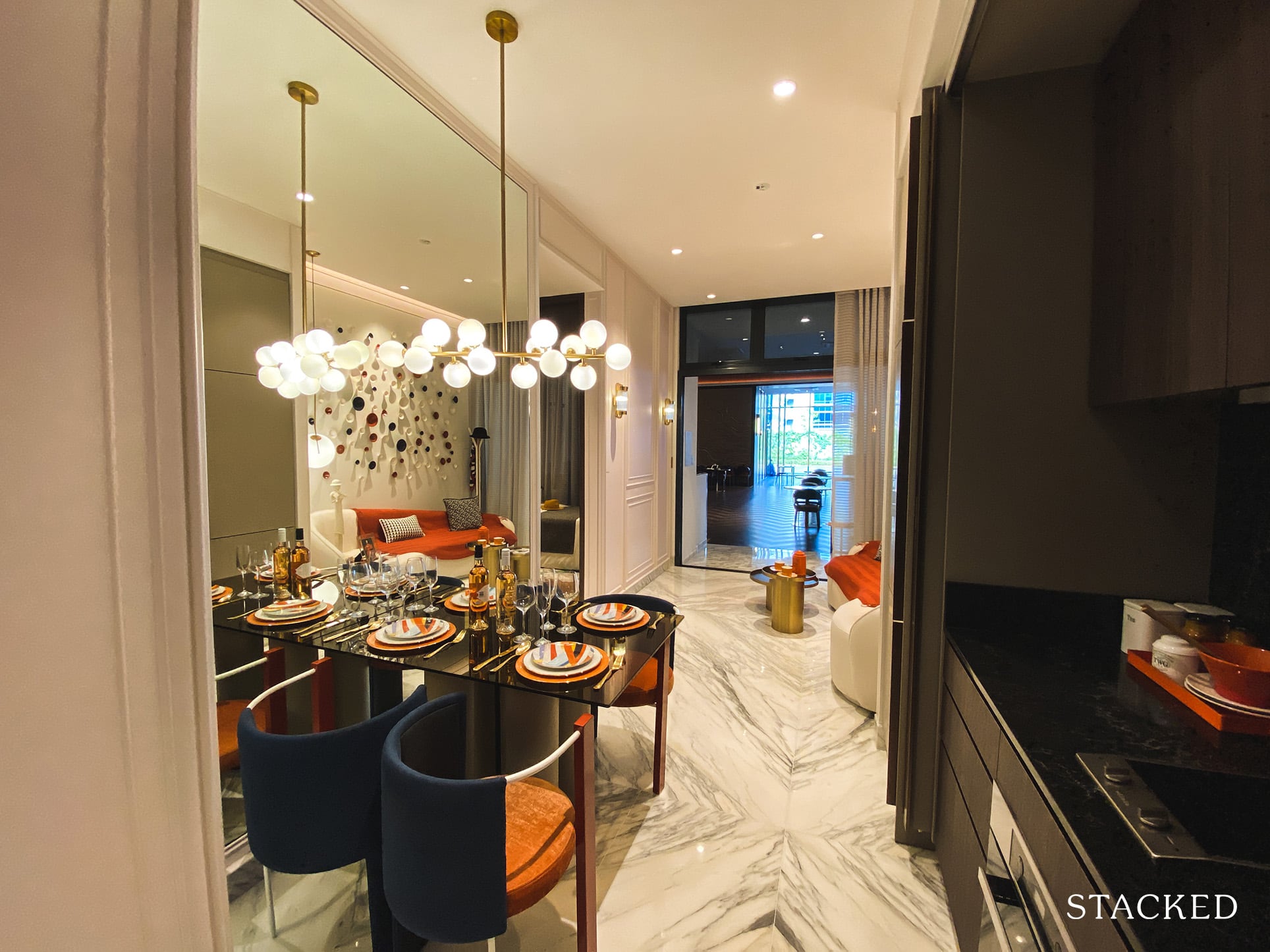 Dining space on its own is just about right for 4 people, any more than that and it will definitely be a squeeze.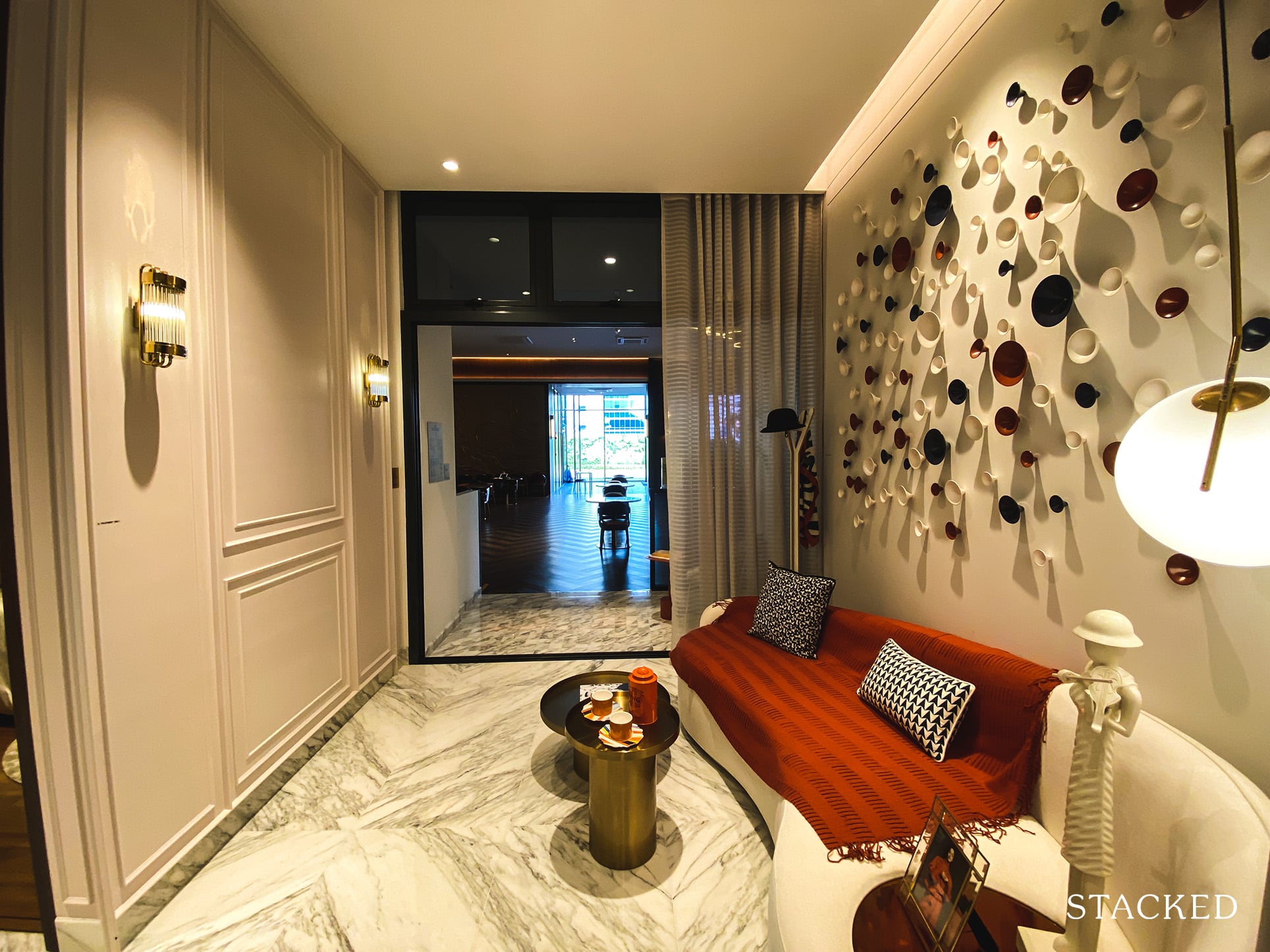 The living area is a better size – but only just. Width wise is probably where it falls a little flat – you can see with a TV console placed here the walkway to the balcony becomes a much tighter affair.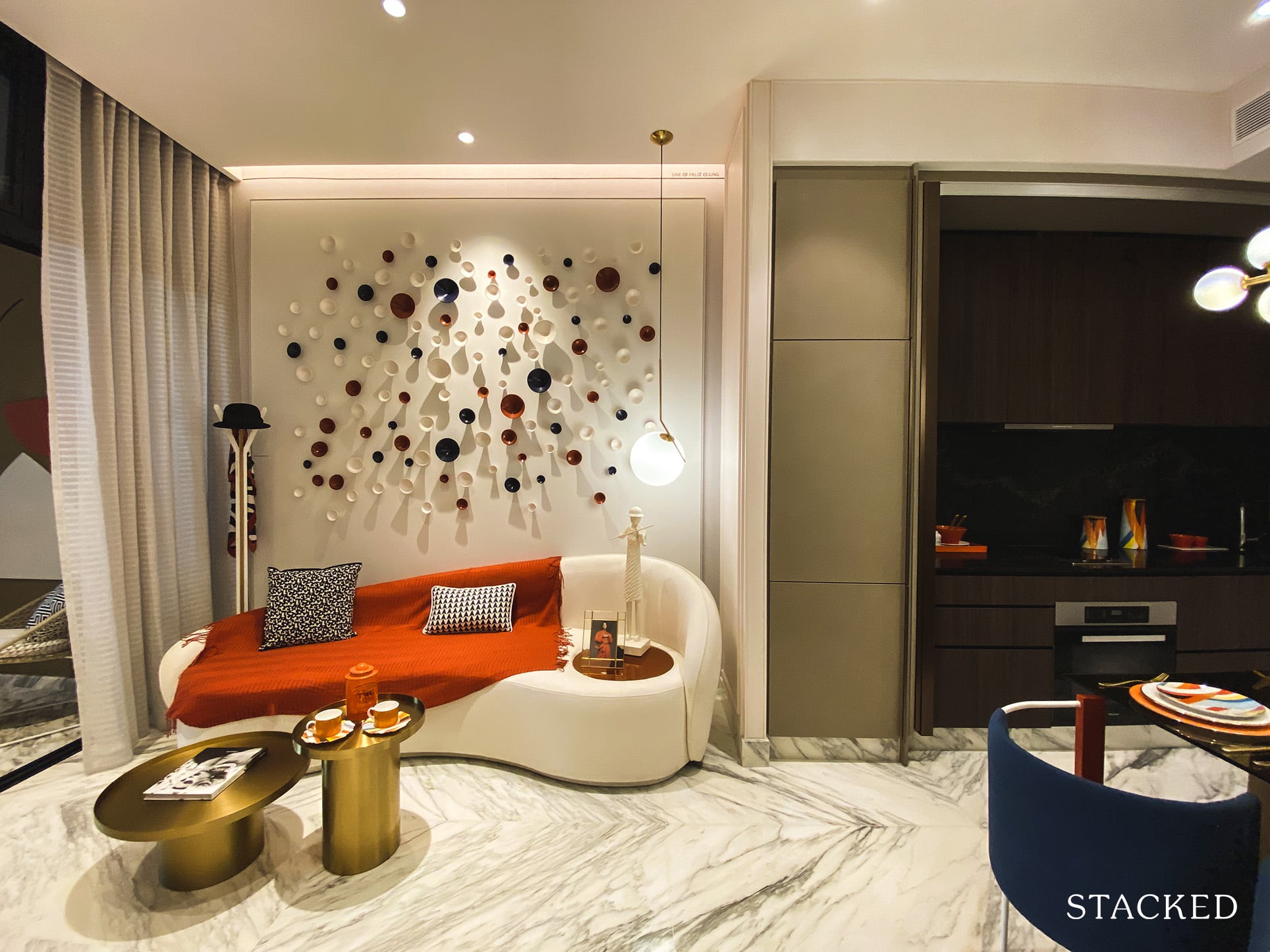 This may be a case of after you see it, you can't help but notice it. But the bookmatched marble flooring here is really quite the eye-catcher. It may be subtle for some, but I do feel it adds a premium finish to the unit.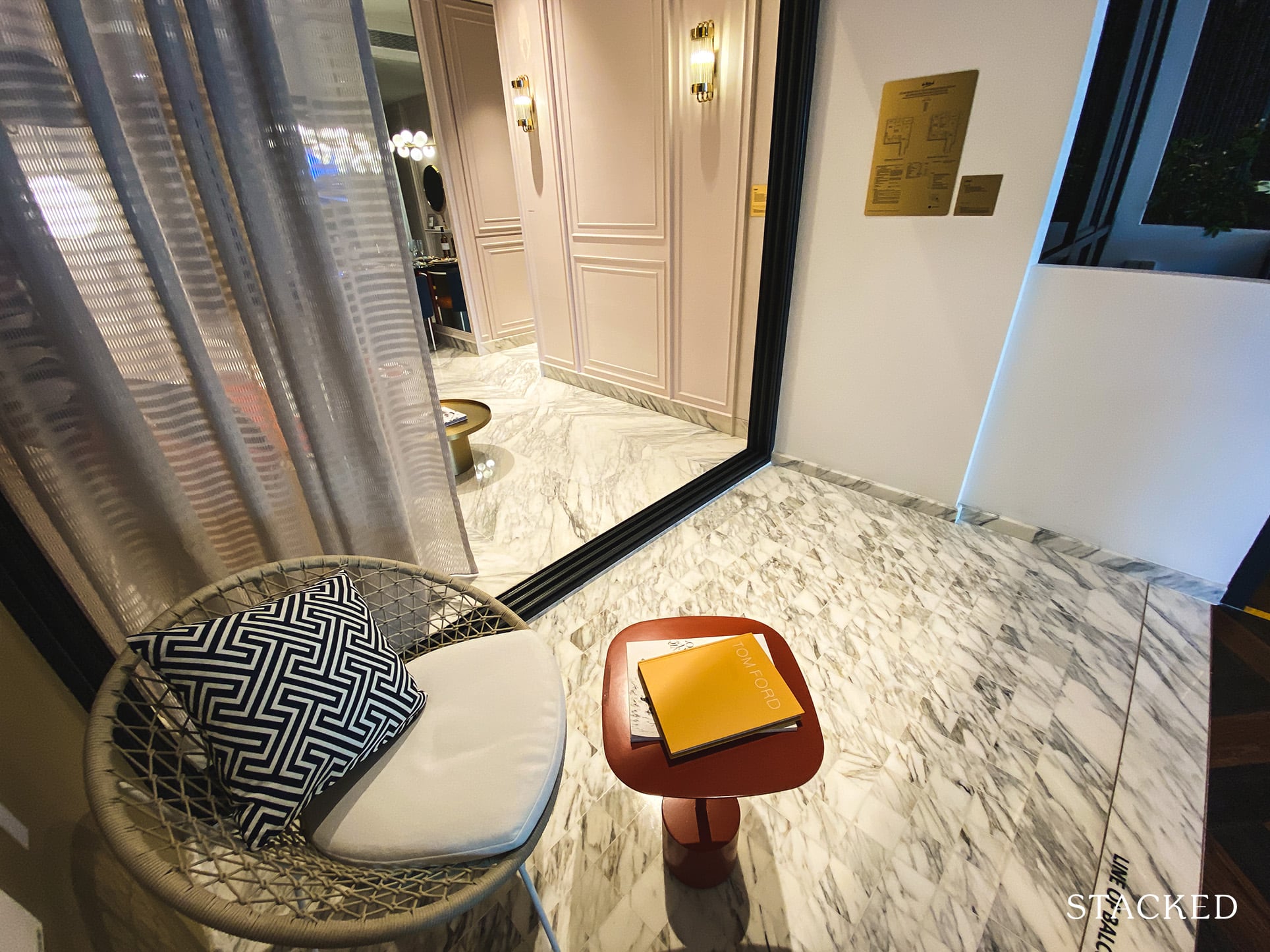 The balcony is not a bad size on its own, but couple that with the balcony over on the master bedroom, and the total outdoor space does add up. Of course, if you like to have a different change of environment (or there's nothing better than having a smoke in your own balcony after a long day), then this would be more than passable for your needs.
Again, the marble is cut into smaller pieces to minimise slippery mishaps (which is a great attention to detail).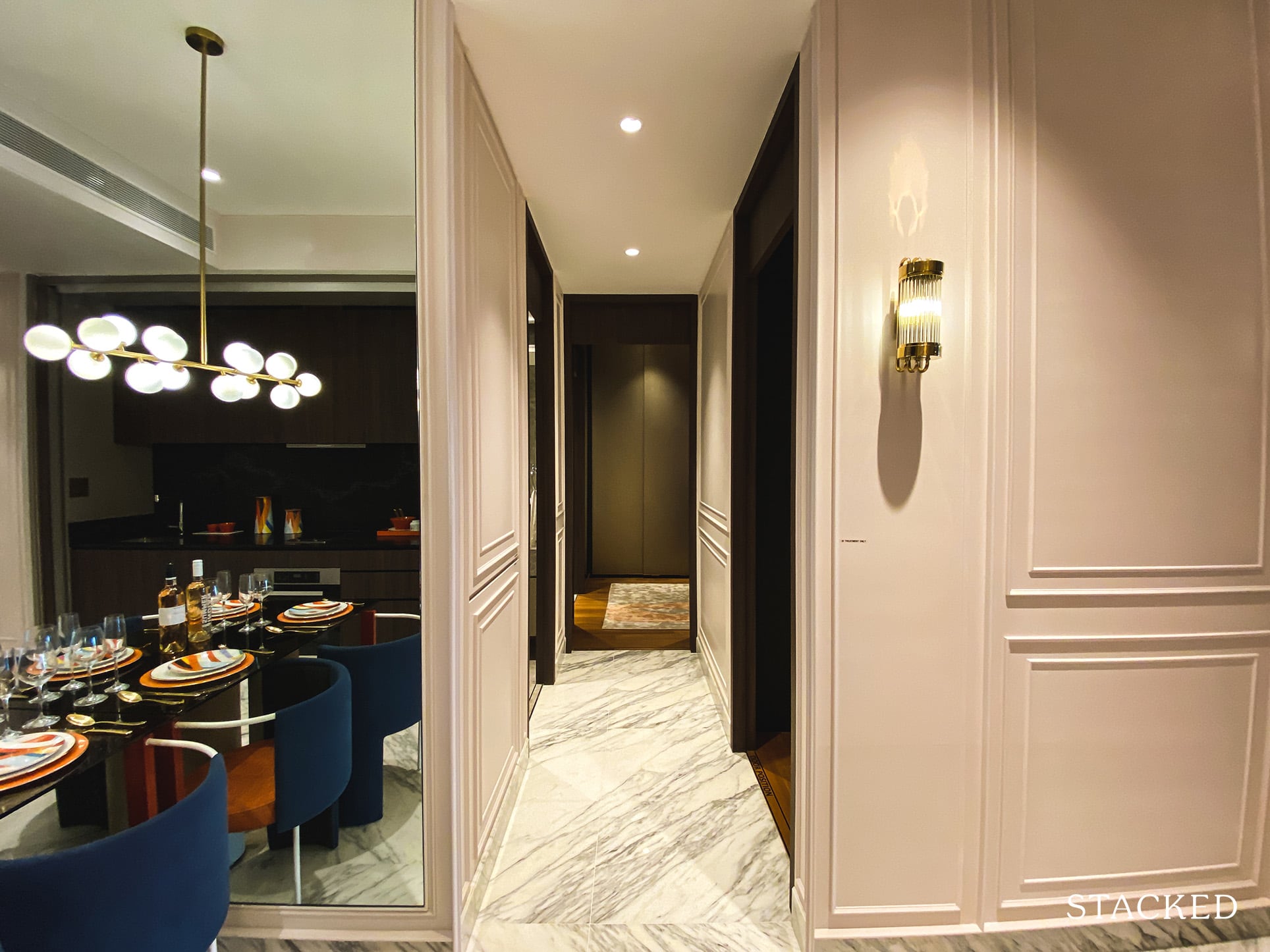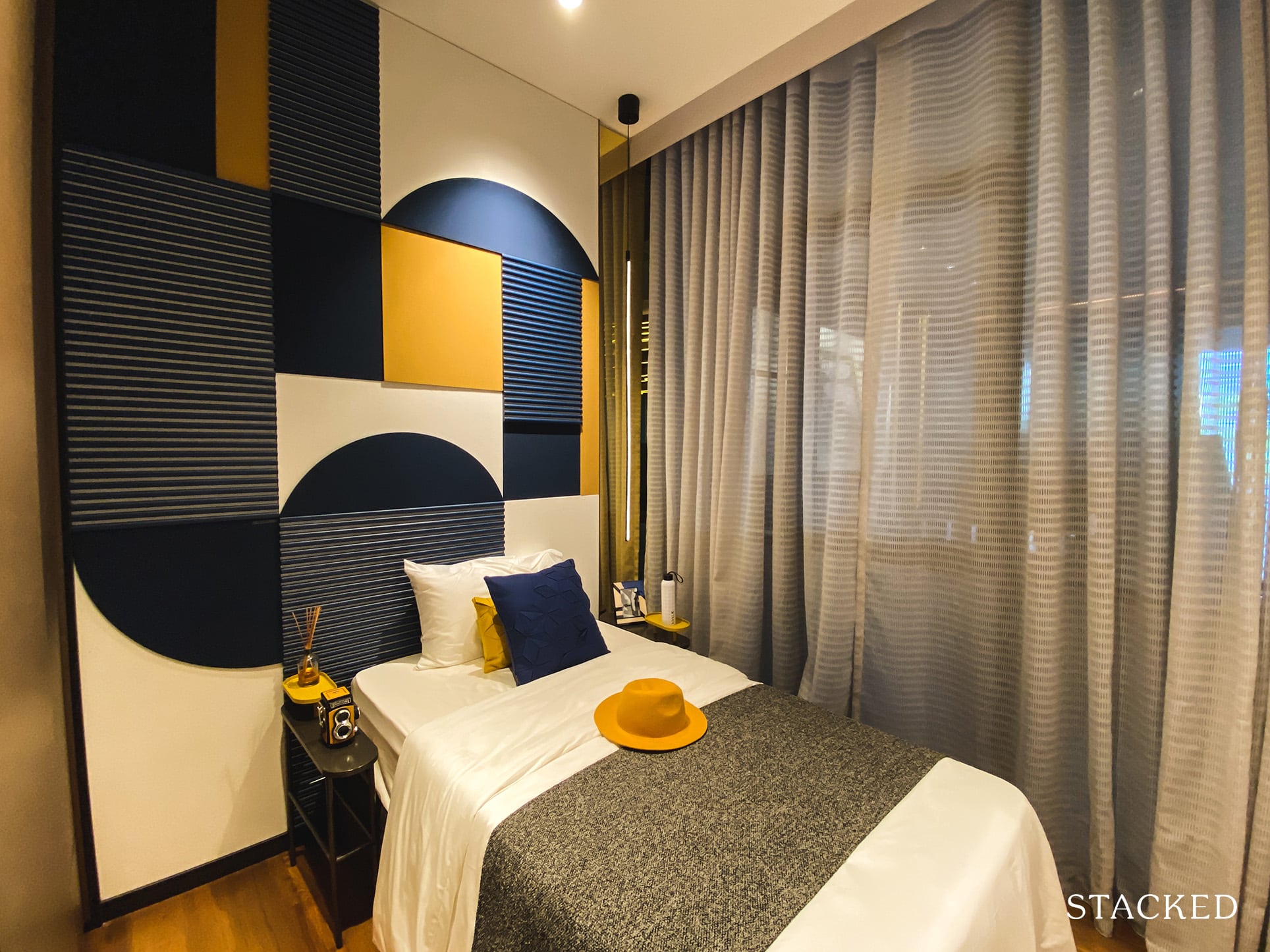 The common bedroom is small, and is really only suitable for a single bed scenario. Do note that the AC ledge is located on the outside too, so unfortunately there is no full length glass window for any occupant here.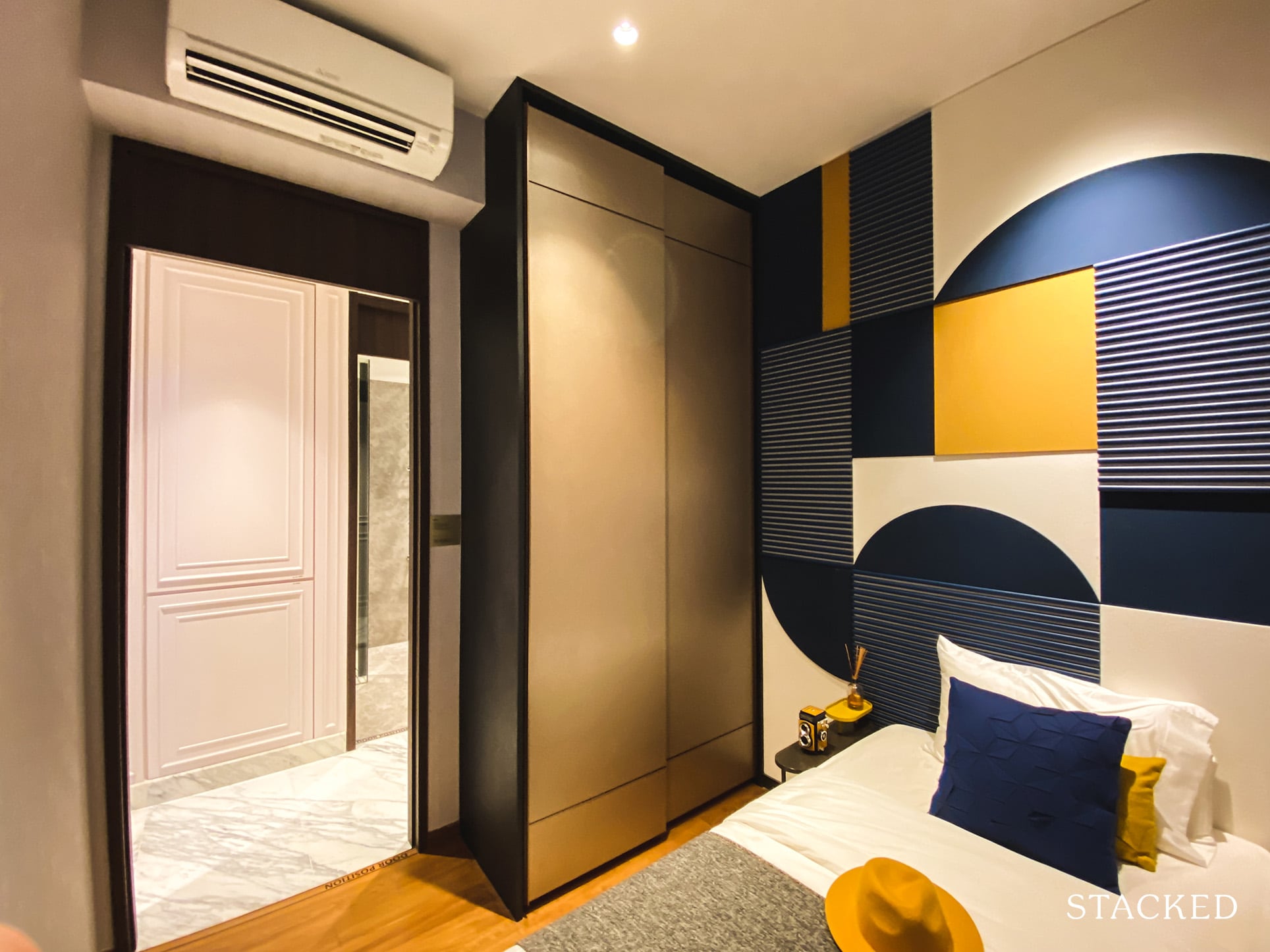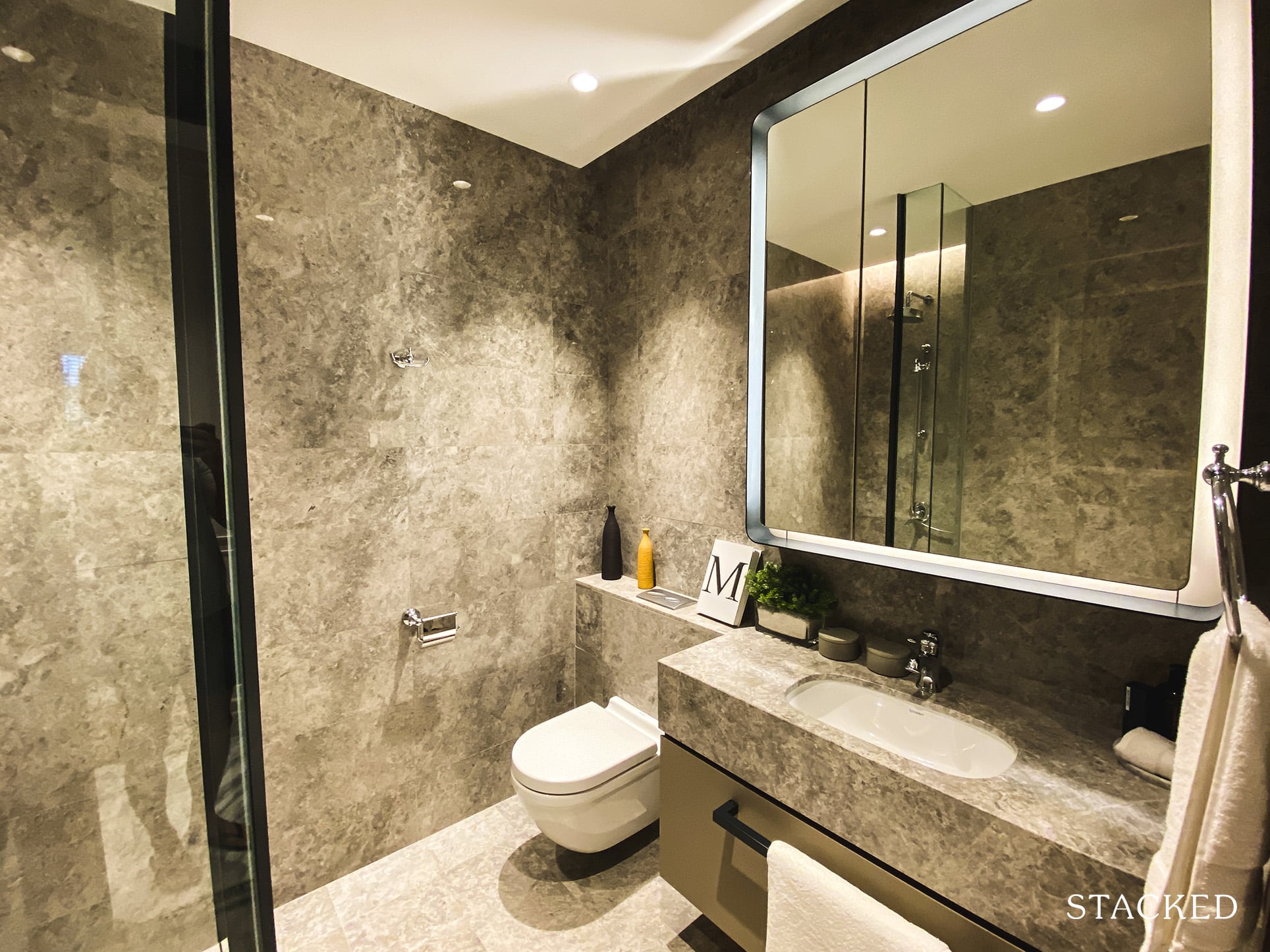 The common bathroom is really pleasantly well-sized. Bathroom fittings are by F.lli Frattini, and I especially like the extra large mirror with the backlighting. The other fittings are supplied by Duravit, but unfortunately, the SensoWash® bidets are only reserved for the master bedrooms.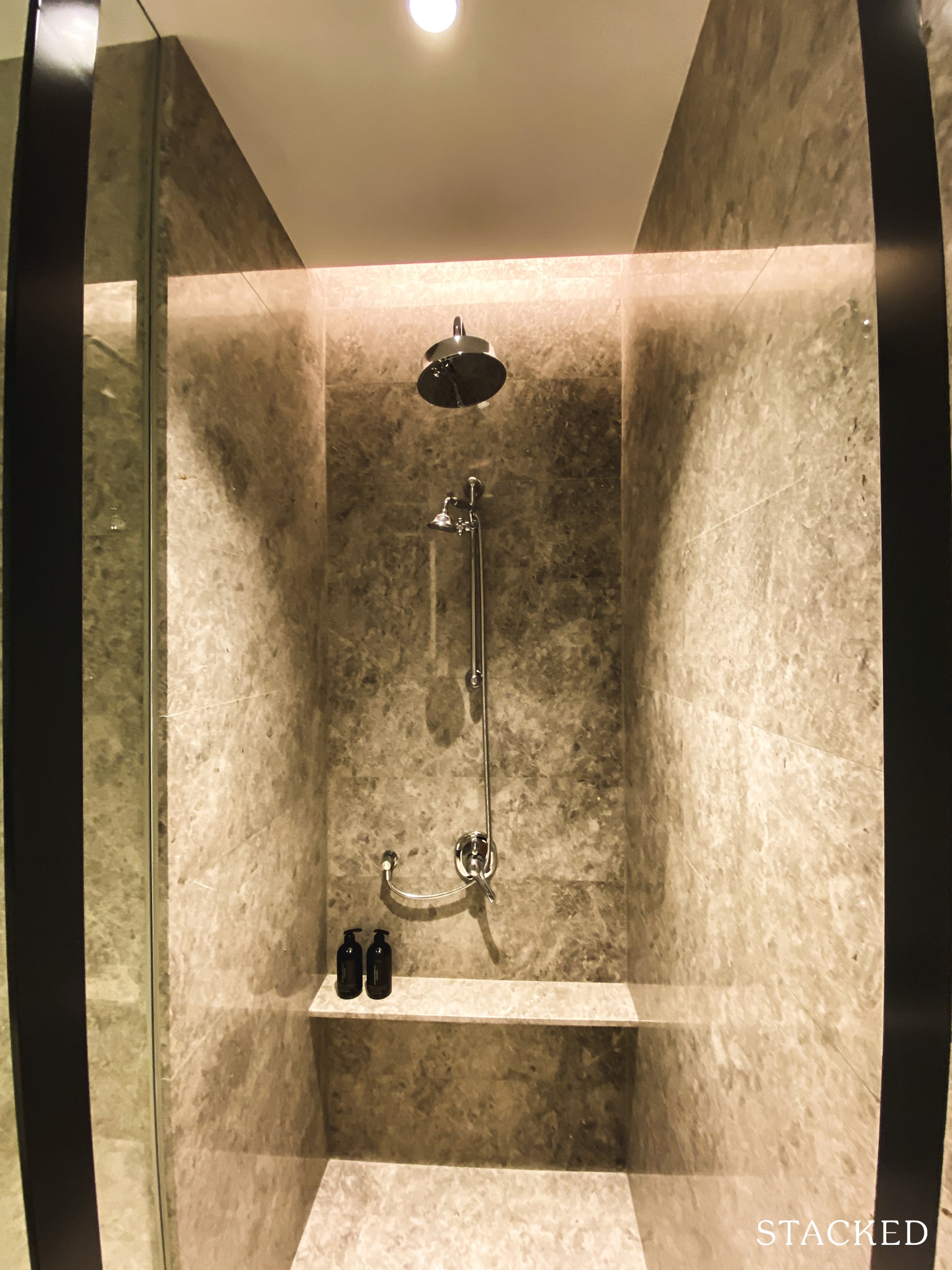 You do get a rain shower here though!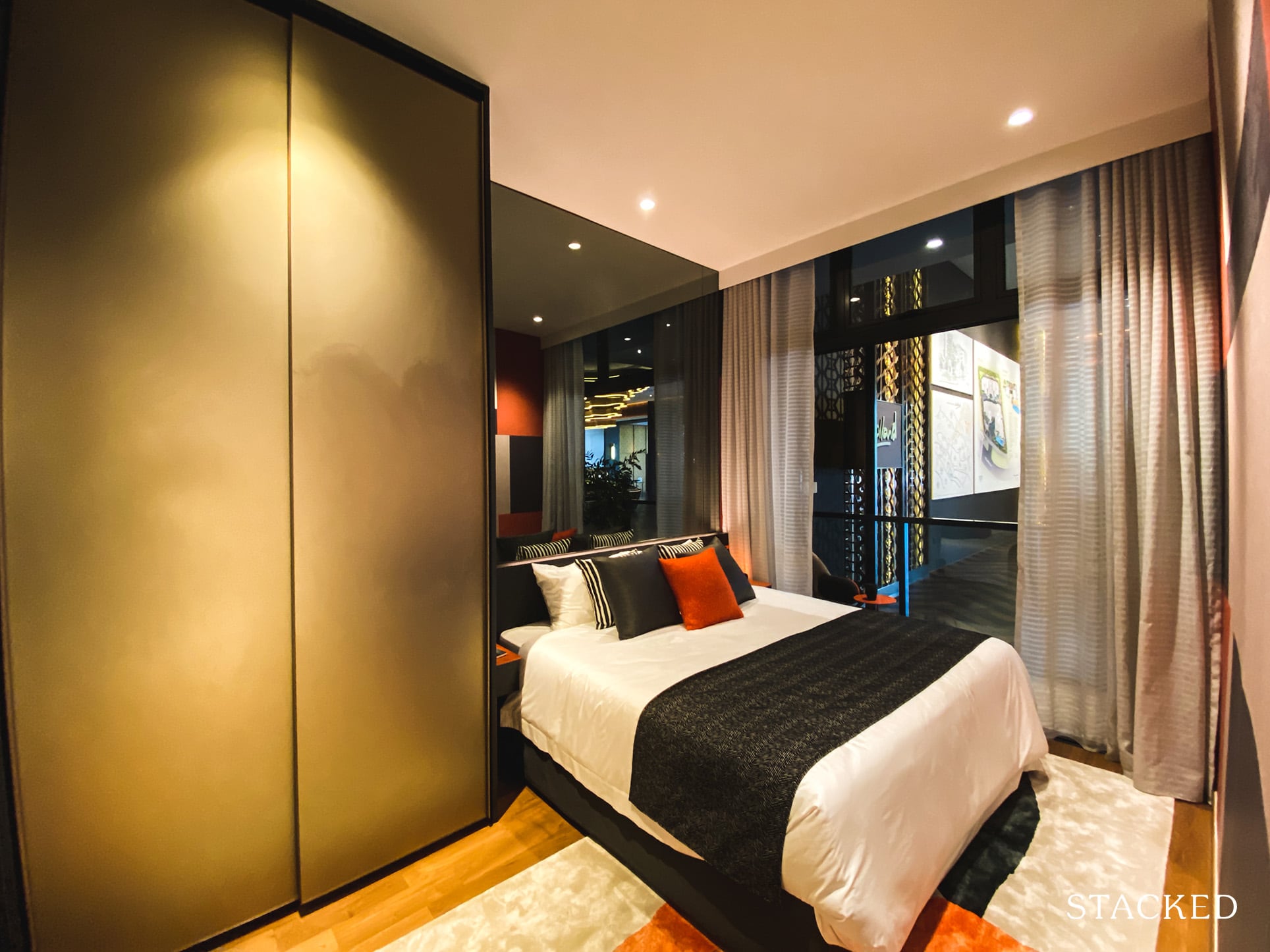 As with the rest of the unit, the master bedroom is on the smaller side.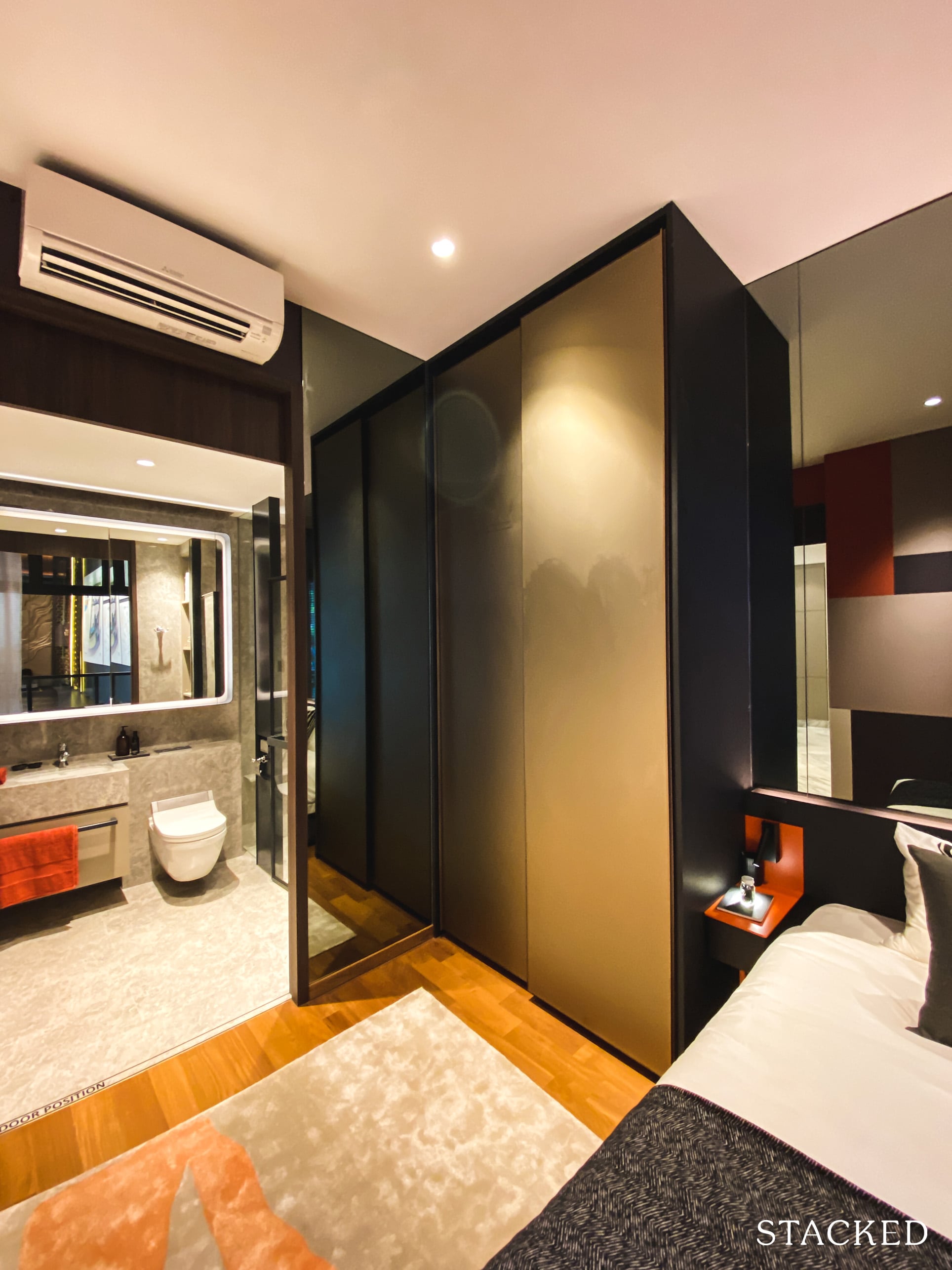 Storage space here is nothing to shout about either. It is inline with what you'd get in other new launches, but it really isn't sufficient for most couples for sure.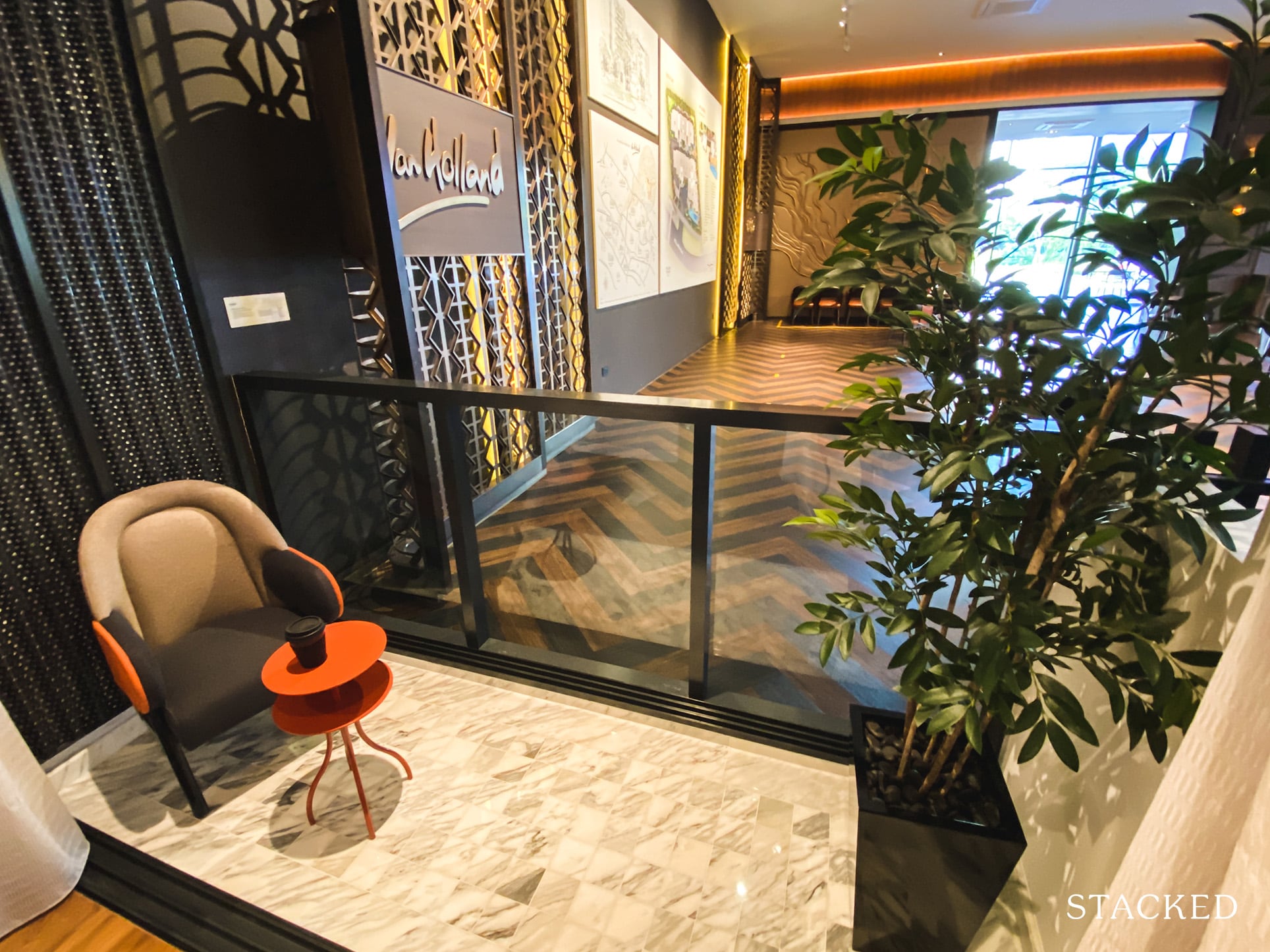 The balcony space is definitely big enough for a small chair or two.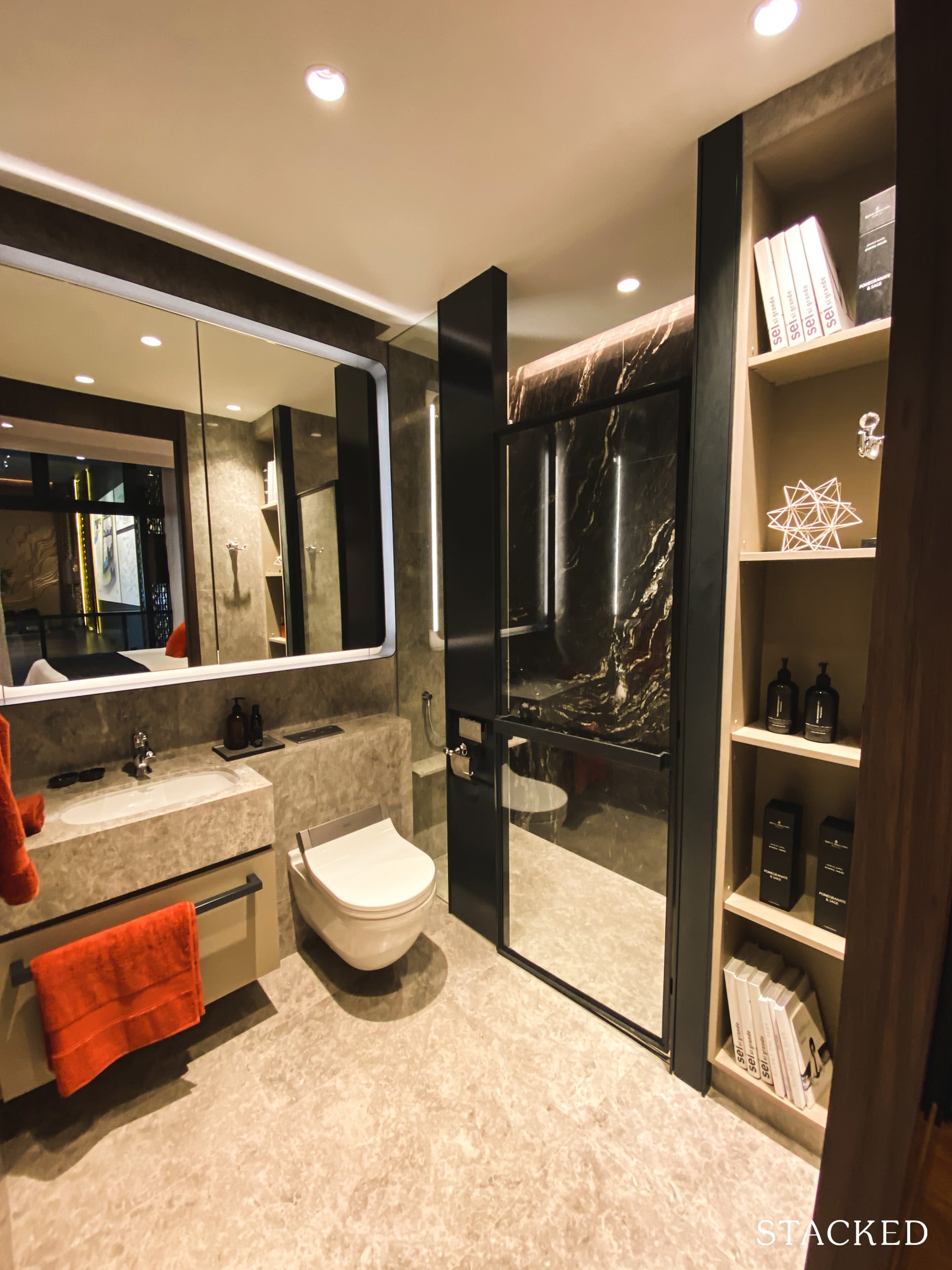 Similarly to the common bathroom, the master bathroom is of a great size. I really like the fittings and storage options here too.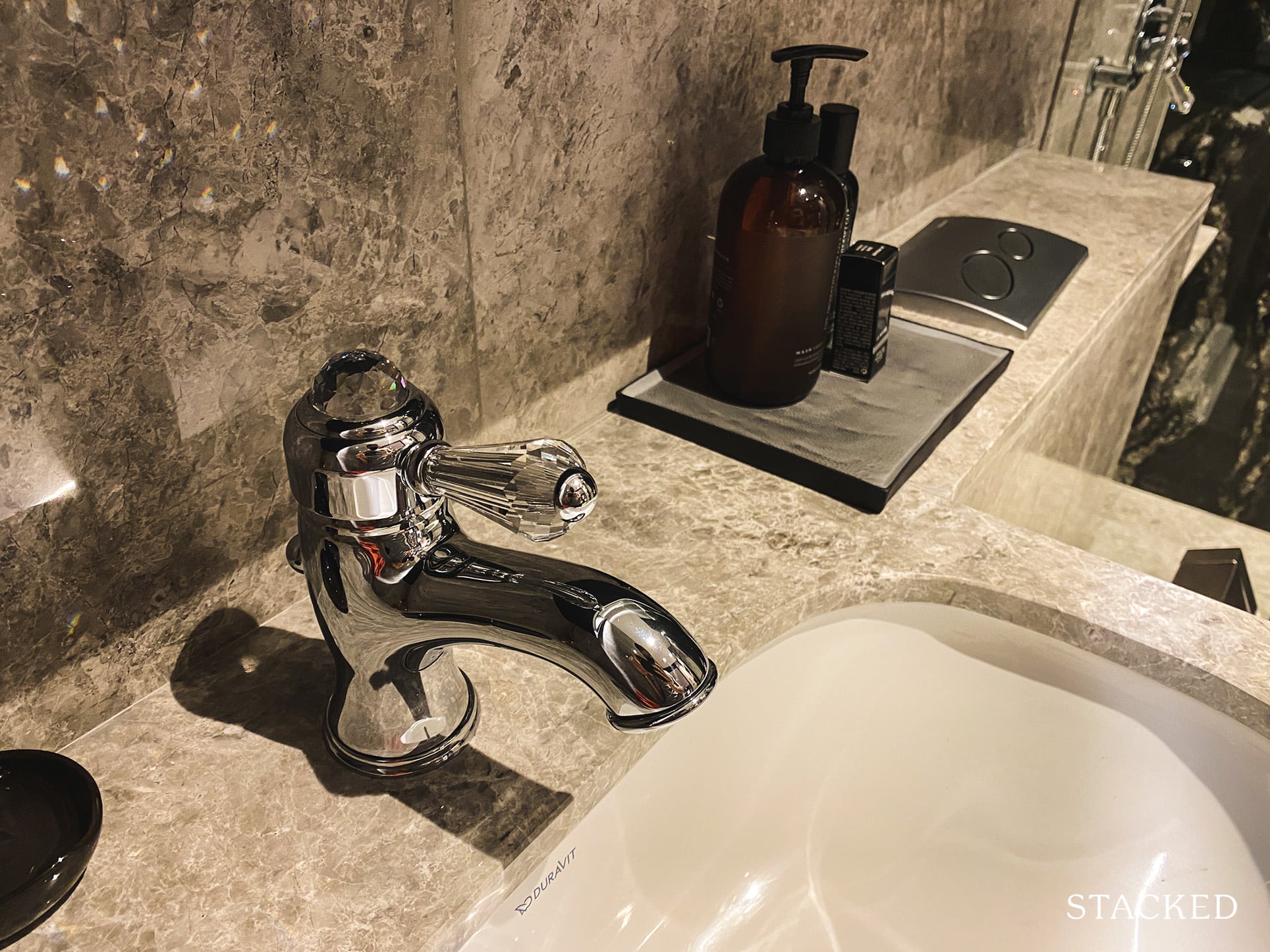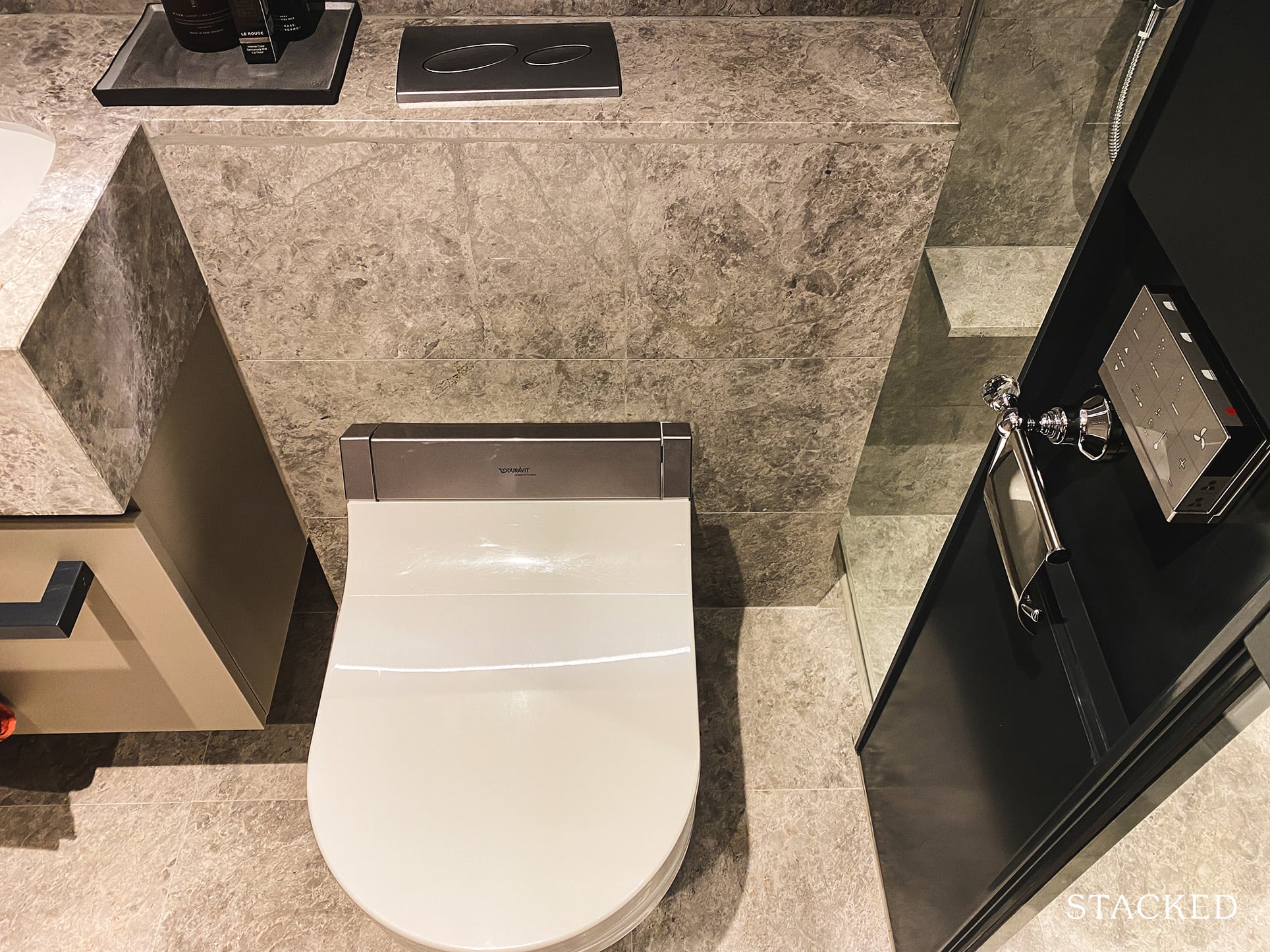 As mentioned in the 3 bedroom review, the Duravit SensoWash® bidet is a godsend (for me at least). If you've used one before, it is hard to go back to a regular one!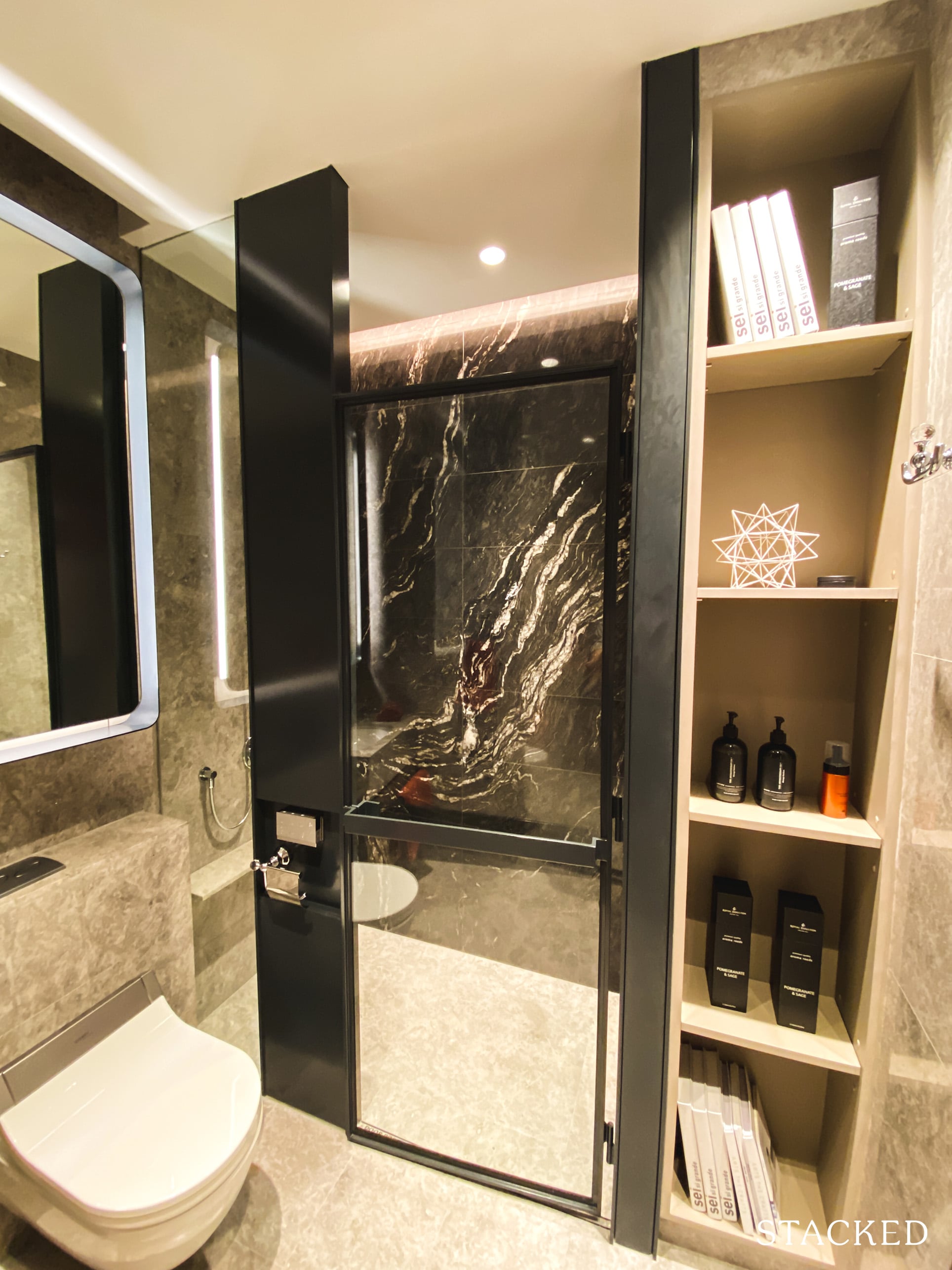 Again, the feature marble wall here occupies a prominent section of the bathroom.
Van Holland Location Review
As the name implies, Van Holland is located in the ever-vibrant Holland region of District 10 – a highly sought-after district for both homebuyers and real estate investors for a variety of reasons.

Some of these more popular reasons include its central location, which makes for great connectivity to the CBD (and the rest of Singapore), the scenic views of Bukit Timah Hill, and of course, the presence of the nearby Holland Village.

Set amidst a relatively low-rise residential enclave, Van Holland is also situated along Holland Road, making for excellent connectivity to expressways like PIE and AYE, and the CBD.

That said, Van Holland isn't the only New Launch condo in the area – Mooi Residences is just down Holland Road, while you'll find the much larger One Holland Village Residences just across the road.

Public Transport

| | | |
| --- | --- | --- |
| Bus Station | Buses Serviced | Distance From Condo (& Est. Walking Time) |
| 'Opp Holland Village' | 7, 7B, 61, 75, 77, 165, 970 | 80m, <1-min walk |
| 'Holland Village' | 5N, 7, 61, 75, 77, 95, 165, 970 | 170m, 2-min walk |
Closest MRT: Holland Village MRT – 380m, 4-min walk

As far as MRT routes go, Holland Village MRT Station isn't ideally central, although its position on the Circle Line does provide great connectivity to the rest of central Singapore.

Accessing the CBD (Raffles Place) isn't the most convenient either – a ride there would take 16 to 17 mins across 8 stops, with a single line change along the way at Buona Vista MRT.

A ride to Orchard MRT Station, on the other hand, is slightly faster lasting 10 to 11 mins across 5 stops, although it does involve 2 line changes at Botanic Gardens MRT and subsequently Newton MRT.

Personally, I would hop on buses 7/77. Those will take you straight to Orchard in less than 20 minutes.

If you work in the CBD, an alternative route with similar travelling time to the MRT route would be to start at the bus stop 'Opp Holland Village'. Buses 61 or 970 would take you to Commonwealth Station (East-West Line) spanning 4 stops in about 4 mins.

From there, a 12-min MRT ride across 6 stops would bring you straight to Raffles Place MRT.

Private Transport

| | |
| --- | --- |
| Key Destinations | Distance From Condo (& Est. Peak Hour Drive Time) |
| CBD (Raffles Place) | 11.7km, 15-min drive |
| Orchard Road | 4.4km, 8-min drive |
| Suntec City | 13.7km, 19-min drive |
| Changi Airport | 27.6km, 29-min drive |
| Tuas Port (By 2040) | 28.4km, 36-min drive |
| Paya Lebar Quarters/Airbase (By 2030) | 20.1km, 22-min drive |
| Mediapolis (and surroundings) | 3.1km, 6-min drive |
| Mapletree Business City | 6.8km, 12-min drive |
| Tuas Checkpoint | 21.8km, 23-min drive |
| Woodlands Checkpoint | 19.0km, 21-min drive |
| Jurong Cluster (JCube) | 10.4km, 15-min drive |
| Woodlands Cluster (Causeway Point) | 19.8km, 22-min drive |
| HarbourFront Cluster (Vivo City) | 10.0km, 14-min drive |
| Punggol Cluster (Waterway Point) | 24.0km, 27-min drive |
*Note that Drive Times are calculated during Peak Hours

Immediate Road Exit(s): 1 Exit along Holland Road

Summary: Since the road exit runs along a 3-laned road, traffic flow out of Van Holland is unlikely to experience frequent congestion. A yellow box is also already in place to make exits easier. Other than that, Holland Road offers incredible accessibility to central areas given the proximity of other major roads and expressways like PIE and AYE.

Groceries

| | |
| --- | --- |
| Name of Grocery Shop | Distance From Condo (& Est. Walk Time) |
| FairPrice – Holland Drive | 600m, 7-min walk OR 1.1km, 3-min drive |
| Giant Express – Ghim Moh Road | 1.2km, 16-min walk OR 1.8km, 5-min drive |
Schools

| | |
| --- | --- |
| Educational Tier | Number of Institutes |
| Preschool (within 1km walk) | 3 |
| Primary (3km-drive) | 4 |
| Secondary (3km-drive) | 4 |
| International School (3km-drive) | 2 |
| Junior College (5km-drive) | 2 |
| University (5km-drive) | 2 |
| Polytechnic (10km-drive) | 2 |
Additional Pointers

Intricate 'I.D' Craftsmanship
Sure, it is no surprise for modern condos to display unique architectural and design features.

But as many of you might have already noticed from the Van Holland showroom tour, one thing is for certain – developer Koh Brothers has taken leaps and bounds in its efforts to style-up the condo's interior design.

Two fine examples for this would be Van Holland's featuring of book-matched marble flooring (where two or more adjoining marble slabs mirror each other) and the F.lli Frattini brand of luxury sanitaryware.

During the planning process of these features, CEO Francis Koh actually flew to Italy together with his architectural and design team to visit not only the sanitaryware manufacturer, but also the marble quarry to select the marble blocks to be used for the Van Holland project.

The result of their efforts?

Artistic book-matched marble floors made from natural, non-cultured marble in every unit's living room, and Swarovski crystal-encrusted bathroom fittings.

The efforts by the developer extends to even the design of the built-in wardrobe system in every unit – you will find these wardrobes fully-fitted with a dehumidifier, pull-down hanging rail, and lighting.

Prime locale in District 10
If there is one key aspect that sets Van Holland apart from the rest of its competitors, it is its specific location in the already upmarket District 10.

For starters, I highlighted Holland Road's connectivity to major roads and expressways like the PIE and AYE earlier, but the true boast is really Van Holland's proximity to Holland Village…which is literally across the road.

For decades, Holland Village has served as a popular lifestyle and dining enclave for both locals and expats alike across all ages, providing nearby residents with plenty of dining, shopping, banking and leisure options.

By day, Holland Village is a vibrant urban environment for numerous types of lifestyle activities. Come nighttime, you'll find that the area turns into an ideal destination for dining and mingling.

Apart from that, residents at the Van Holland also have nearby access to a decent number of educational institutes, especially preschool, primary, and secondary-education level schools.

So for those with kids, you wouldn't have to worry too much about locating good schools in the region.

At the end of the day, it really boils down to both you and your kids' preferences… as well, as the availability of slots and the occasional ballot nightmare that many of us have already been through!
Van Holland Development Site Review
Facilities in Van Holland

| | | |
| --- | --- | --- |
| Children's Playground | Drop Off Point | Gymnasium room |
| Jacuzzi | Lap pool | Main entrance |
| Pavillion | Sky Lounge | Wading pool |
The 47,660-sq ft site offers a simple but neat layout of 2 residential blocks (which are elevated such that the lower-levelled units sit one-storey above street level), and an attractive array of facilities.

These facilities include a gymnasium, a rock-climbing wall (a unique facility you don't typically see in a condo), a basement carpark, and not one, but 2 infinity pools – one on a lower level, and one on the rooftop terrace fronting a large clubhouse.

This clubhouse will contain an event space, pantry, kitchen, and even a wine cellar (definitely not a big one).

And perhaps the most prominent feature…

An outstanding (not to mention, 'Instagram-worthy') piece of architecture that showcases a 10-metre high waterfall at the drop-off area, surrounded by lush greenery.

Looking at all these facilities really got me thinking. For such a 'small' development, the developers have really provided a prime selection of facilities here – to say the least!

Moving on just outside of the development, one can expect a fully-sheltered walk on their way to the MRT – Van Holland is linked directly to Holland Village (and subsequently Holland Village MRT Station) via an overhead bridge.

(Fun Fact – Koh Brothers will be building a link bridge connecting the existing overhead bridge to the condo's security gate – allowing residents to skip a walk to the bus stop to get to the overhead bridge and the additional flight of stairs.)

That said, it is also wise to be prepared for the monthly maintenance fees – which may turn out to be rather hefty due to the smaller pool of residents in this condo.

On a final note, as much as a low-rise/landed residential enclave usually offers a quiet lifestyle, I would not expect too much in the way of a 'quiet enclave' if you're thinking of taking up residence at Van Holland. 

While one of the main perks of staying along Holland Road includes a direct path to town, it also means one thing that most homebuyers would find unfavourable – unfavourable traffic and noise pollution.

As well all know, the traffic congestion along Holland Road is a frequent issue especially during peak hours.

Not to mention the influx of residents from neighbouring Leedon Green and One Holland Village which is bound to add to this conundrum.

Best Stacks
Unit Mix

| | | |
| --- | --- | --- |
| Unit Type | No. Of Units | Size of Units (sqft) |
| 1-Bedroom | 10 | 495 sqft |
| 2-Bedroom | 9 | 657 – 689 sqft |
| 2-Bedroom Premium | 17 | 710 – 797 sqft |
| 3-Bedroom | 9 | 1,130 – 1,152 sqft |
| 3-Bedroom + Study | 3 | 1,055 sqft |
| 4-Bedroom | 5 | 1,345 sqft |
| 2-Bedroom (Exclusive) + Study | 8 | 1,001 sqft |
| 4-Bedroom (Exclusive) | 6 | 1,593 sqft |
| 4-Bedroom (Exclusive) + Attic | 2 | 1,991 sqft |
As I mentioned earlier, Van Holland's residential units are split into 2 blocks – the first block fronting Holland Road contains the first 53 units shown in the table above, while the other houses the remaining 16 'Exclusive' units.

Generally-speaking, every unit shares a set of common features – full-height windows, marbled living room flooring, a 3.1-metre ceiling height, and of course, the Swarovski-crusted bathroom fittings.

In the first block, the 1-bedders cater more to single homebuyers or couples who don't plan to start a family (as you may notice from the crampy 495-sq ft unit size).

The 2-bedders, on the other hand, offer a little more space, and happen to be the most abundant unit type in Van Holland – each costing between $1.8 to $2.4 million.

As for the 'exclusive units' in the next block, you'll find that these larger-sized apartments will further stretch your wallets, with the 2-bedders here costing an upward of $2.8 million, while the remaining 4-bedder with attic (one of which has already been sold) costs almost $5.4 million!

Plus, private elevators also serve each of the 16 units (we are talking no-fringe exclusivity right here).

Best Stacks

Price Review

| | | | | |
| --- | --- | --- | --- | --- |
| Project Name | Tenure | TOP | Average Price (PSF) | Total Residential Units |
| Van Holland | Freehold | 2023 | $2,836 psf | 69 |
| Parksuites | 110-year Leasehold | 2023 | $2,058 psf | 119 |
| Mooi Residences | Freehold | 2023 | $2,566 psf | 24 |
| One Holland Village | 99-year Leasehold | 2025 | $2,675 psf | 551 |
| Leedon Green | Freehold | 2023 | $2,685 | 638 |
Here we have the other latest New Launches located in the Holland area.

Let's begin with the lowest-priced condo on this list.

Unlike the other 3 condos, Parksuites is not located along Holland Road – it is a small distance away from the road, nestled inside a landed residential enclave.

The price gap between this condo and the other 3 is also noticeably vast – mostly because Parksuites already has a huge price gap compared to the other resale condos in its immediate vicinity (by almost double for some), so pricing Parksuites any higher could be considerably risky.

Mooi Residences is an even smaller development with a 13,302-sq ft site area standing only 5-storeys high, and is located a few hundred metres further from Holland Village.

Despite its smaller range of facilities, though, this condo offers far more privacy (and a private lift for every unit) considering its very small pool of residents.

As for Holland Village Residences, this fascinating upcoming condo is located on the fringe of Holland Village – hence the fairly high average unit PSF despite this condo being a leasehold development.

It's also worth noting that its average price is higher mainly due to the higher priced Quincy Private Residences as well.

Leedon Green could be considered here too, although it is quite a completely different offering altogether. It is set further away, almost 10 times the number of units, and with a much bigger land size.

Van Holland's expensive price tag stems primarily from its status as a redeveloped freehold en bloc condo – the former Toho Mansion was sold at around $1,805 psf ppr, and given Van Holland's boutique features and location, its unsurprising that current prices average at $2,836 psf.

How about a look at some of Van Holland's resale neighbours who are also situated along Holland Road?

| | | | | |
| --- | --- | --- | --- | --- |
| Project Name | Tenure | TOP | Average Price (PSF) | Total Residential Units |
| Van Holland | Freehold | 2023 | $2,836 psf | 69 |
| Jade Mansion | Freehold | 1985 | $1,158 psf | 27 |
| Willyn Ville | Freehold | 1982 | $1,755 psf | 33 |
| Leedon 2 | Freehold | 1997 | $1,804 psf | 72 |
| The Ford @ Holland | Freehold | 2009 | $1,858 psf | 75 |
| Loft @ Holland | Freehold | 2015 | $1,878 psf | 77 |
While both are literally opposite each other on Holland Road, there is a noticeable difference in the prices of both Jade Mansion and Willyn Ville – Willyn Ville is more expensive by almost $600 psf, despite being a mere 3 years older than the former.

Jade Mansion does not feature a similarly-expensive price tag (psf wise) like its neighbours primarily because it does not cater to a large pool of homebuyer types (possibly making it one of the less profitable ventures in an upmarket region like Holland Village) – the condo comes with just 1 unit type (4-bedders).

Willyn Ville, on the other hand, has 2 unit types (2-bedders and 4-bedders), and like Van Holland, is conveniently situated across the road (Holland Avenue) from Holland Village. Naturally, Willyn Ville boasts a fairly high PSF despite being almost 40 years old!

Apart from that, it is also noteworthy that all the other resale condos here are priced just upward of $1,800 psf, and perhaps more interestingly that every single residence on this list offers less than 80 units each.

It highlights the exclusivity and charm of the area – and to some extent, also results in a lack of supply for the resale market in this particular region.

It's with little wonder why the average prices for Leedon 2, The Ford @ Holland and The Loft @ Holland all exceed $1,800 psf.

Prices for Van Holland
Price Breakdown (1st Property)
2-Bedroom
2-Bedroom Premium
3-Bedroom
4-Bedroom
4-Bedroom
Price
$1,886,000
$2,201,000
$3,164,000
$4,293,000
$1,534,000
25% Down Payment
$471,500
$550,250
$791,000
$1,073,250
$383,500
Additional Costs
Buyer Stamp Duty
$60,040
$72,640
$111,160
$156,320
$45,960
Legal Fees
$2,500
$2,500
$2,500
$2,500
$2,500
Valuation Fees
$300
$300
$300
$300
$300
Stamping Fees
$500
$500
$500
$500
$500
Total Price
$1,949,340
$2,276,940
$3,278,460
$4,452,620
$1,583,260
Initial Investment Amount
$534,840
$626,190
$905,460
$1,232,870
$432,760
Return on Investment
Expected Rental Price
$2,957
$3,195
$5,085
$7,169
$3,095
Rental Yield
1.82%
1.68%
1.86%
1.93%
2.35%
Price (2nd Property)
2-Bedroom
2-Bedroom Premium
3-Bedroom
4-Bedroom
4-Bedroom
Cost Without ABSD
$1,949,340
$2,276,940
$3,278,460
$4,452,620
$1,583,260
Plus: ABSD (12%)
$226,320
$264,120
$379,680
$515,160
$184,080
Total Price After ABSD
$2,175,660
$2,541,060
$3,658,140
$4,967,780
$1,767,340
Initial Investment Amount
$761,160
$890,310
$1,285,140
$1,748,030
$616,840
Return on Investment
Expected Rental Price
$2,957
$3,195
$5,085
$7,169
$3,095
Rental Yield
1.63%
1.51%
1.67%
1.73%
2.10%
Appreciation Analysis
There is little that goes against the prominence and exclusivity of this region.

The Holland area has long been an upmarket neighbourhood for the affluent, both local and expat.

Another big USP is that Holland Road in itself is a well-connected road to other major roads and expressways like Bukit Timah Road, PIE and AYE – and subsequently, the town area and the CBD.

Thus, it is no surprise to find competing condos along this road sharing similar prices as one another, especially since each also shared a close proximity to the richness of Holland Village and Holland Village MRT.

In the case of Van Holland, what makes it stand out most from its competitors is the fact that it is a niche boutique development, and caters mostly to higher-income homebuyers.

With great facilities for a boutique development, impressive interior design, great connectivity via both public and private transportation, and the appeal of Holland Village just across the road, you can definitely see the attraction for buyers to the development.

But, because boutique projects usually cater to the home stay type, coupled with a narrow group of potential resale buyers in the future, plus the usual hangups for smaller developments because of less frequent transactions, Van Holland wouldn't be a pick for me from an investment standpoint.

The main point for appreciation would probably be the rejuvenation and upgrades to the area with the One Holland project, and if it does manage to draw the crowds and shops that it has set out to from the beginning.

To add more substance to the conversation, here are some thoughts on District 10 in general.

As many of you may know, this district is a well-stocked region that encompasses a multitude of top-notch amenities, which is always a driving force for capital gains.

From 2025 onwards, the extension to the MRT Circle Line will also provide residents in this region with much more accessibility to the CBD – especially those who frequent public transport.

As for the district's overall appreciation, you'll find that as of December 2019, the average psf valuation in District 10 was noted to be $2,477psf, compared to $1,716psf back in January 2015 – an increase of a whopping 44.35% or $761psf.

Naturally the en bloc craze and New Launch openings in the area have contributed to this rapid and staggering increase.

Diving a little deeper, we also find that 21 condos in District 10 have actually gone en bloc here between 2016 to 2019 (not to mention a series of older projects holding prime spots in the area like our recently reviewed Spanish Village – which are almost ripe for the occasion).

One further look at the 30+ year-old, freehold Jade Mansion and Willyn Ville, and we see how the en bloc prospects of the area aren't completely diminished just yet.

That said, as the dust settles on these New Launches coming in, and the impact of the Covid19 issue continues to weigh down on sentiment, it is possible that we'll see some drop in unit prices here in the not too distant future.

But once the economy picks up in the coming years and things have been back in full swing for some time, the onset of another en bloc craze will naturally boost anticipation and prices of existing condos here based on these ripe en bloc developments in the area.

By that time, the remaining older developments would either be over-ripe for en bloc sales, or they'll be refurbished to protect the 'heritage' of the area.  

Finally, it is also important to note that Van Holland is a luxury condo, so naturally the buyer-demographics' here is different to most other condos we see. Needs and wants + point of entries/exits will differ, so if you're looking at Van Holland as a potential option, be sure to conduct some research based on this niche as well!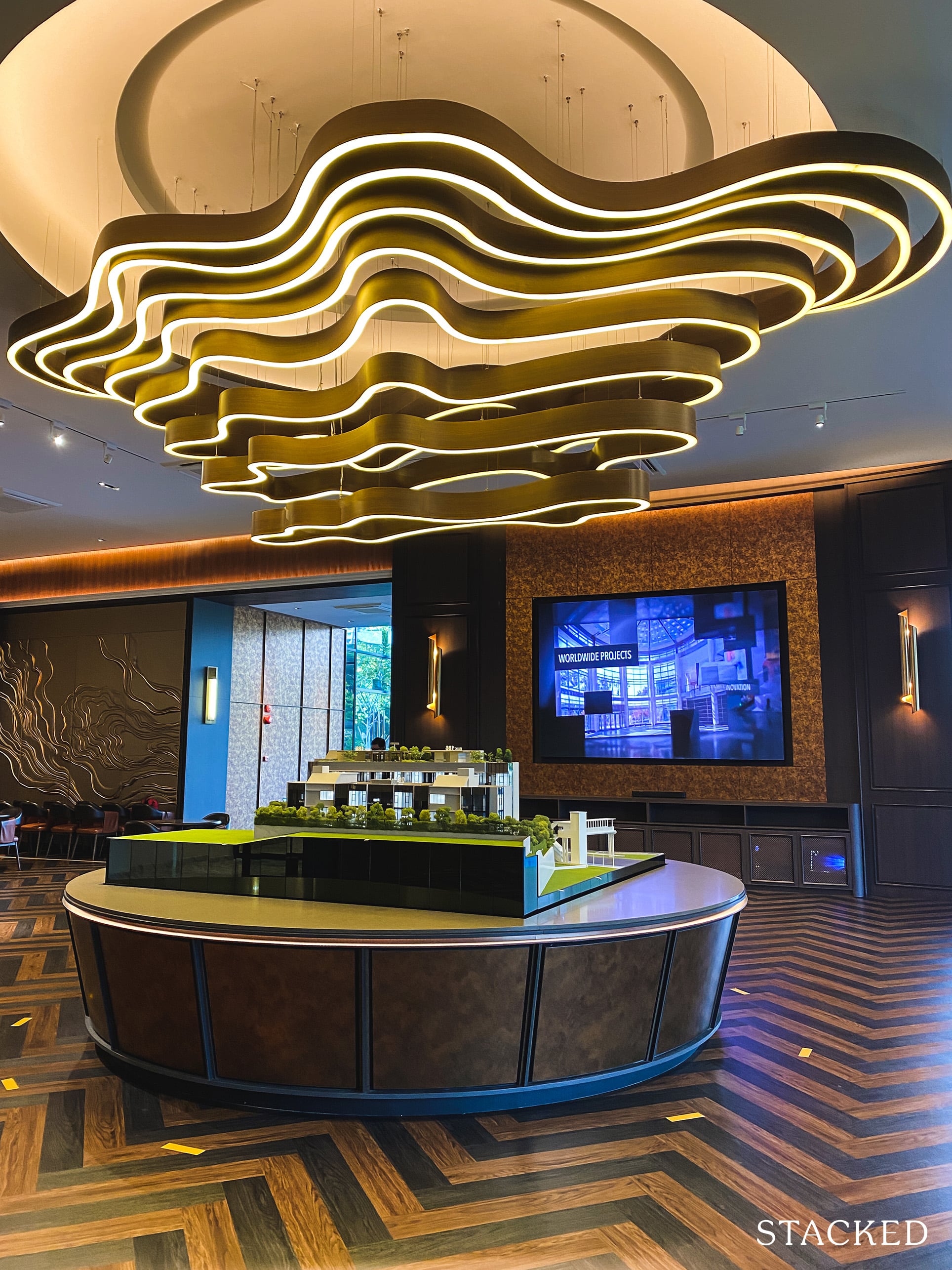 Our Take
What we like
Two swimming pools

Linked overhead bridge to Holland

Unique little details in units
What we don't like
–

Blocks are close to each other
While we merely have a small glimpse of what Van Holland will look like once it is completed, I believe that the condo will turn out to be an impressive residence at the start.

As mentioned countless times over, Van Holland's prominent location in District 10 – being within short walking distance to Holland Village, will allow residents easy access to a vast range of amenities like a supermarket, bars, eateries, the MRT, as well as banks.

Additionally, like other boutique developments, Van Holland boasts a considerable degree of privacy due to its small pool of residents, along with its design attributes and surprisingly solid set of facilities.

All of which are great attributes for affluent homeowners looking to take up residence in the area.

As long as you have the pockets required for it, and the convenience is more important to you than unit size, the Van Holland does offer an intriguing option in the mix of new launches in the area.

Developer Notes:

When it comes to our personal list of Singapore's top-performing developers, there are few residing at the top alongside Koh Brothers Development Pte Ltd – a subsidiary of Singapore company Koh Brothers Group Limited.

Let's take a quick peek at their history.

Founded as a sole proprietorship back in 1966 by Mr Koh Tiat Meng, the Group grew to become a well-established solutions provider in the aspects of construction, engineering and property development. 

With its Building and Construction Authority-awarded A1 Grading, the Group has undertaken multiple construction and infrastructure projects over past years, and progressed to become a niche real estate developer through its establishment of Koh Brothers Development Pte Ltd in 1993.

Not long after, Koh Brothers Group Ltd was listed on the Main Board of the Singapore Exchange Securities Trading Limited in 1996 – marking another of their many significant milestones as a company.

Like many other key players in the real estate development industry, the Group's influence does not exist solely in Singapore. To date, Koh Brothers Group Ltd has over 40 subsidiaries, partners and associated companies across Singapore, Malaysia, Indonesia and even China.

Some of their more notable projects in Singapore include Parc Olympia, Lincoln Suites, Westwood Residences (an Executive Condominium with a BMX adventure park) and The Montana.

Their spread of influence doesn't stop there though.

In 2018, the Group strategically expanded into the South Korean market, with their first freehold mixed-use development Nonhyeon I'PARK in Seoul's Gangnam district selling 75% of all units within the first 7 days of launching.

Long term goals-wise, the Group aims to gradually increase real estate contributions in Singapore to the topline, as well as contributions overseas in the hopes of vast gains in revenue.

Considering their real estate contributions to Singapore's skyline and their established reputation for innovation, quality and consistency, these long term goals don't look too far out of reach for Koh Brothers Group Ltd.

What this means for you
You might like Van Holland if you:
• Prefer Smaller Projects:

Sitting on a 47,660-sq ft site, Van Holland is a fairly small-sized development with an exclusive 69-unit selection.

• Prioritise MRT Accessibility:

Not only is Holland Village MRT a few-mins walk away, but so is the vast expanse of amenities that reside in the nearby Holland Village.
You might not like Van Holland if you:
• Crave Bird's-Eye Views:

While the area surrounding Van Holland largely comprises low-rise residentials, Van Holland only spans 5-storeys high. If you love your views, be sure to check out some alternative high-rise residentials in the RCR region. Stirling Residences is one that pops to mind!

• Are Budget Stringent:

With a range of less-expensive freehold (resale) units in the neighbourhood, Van Holland's exorbitant PSF prices will naturally pose a barrier – even to most 'higher-income' folks.
End of Review
Join our Telegram group for instant notifications
Join Now
Reuben