Property Stories
Touring Robin Estate: Freehold Landed Homes In Bukit Timah (Some Can Even Be Redeveloped Into Boutique Condos)
TJ
October 1, 2023

9

min read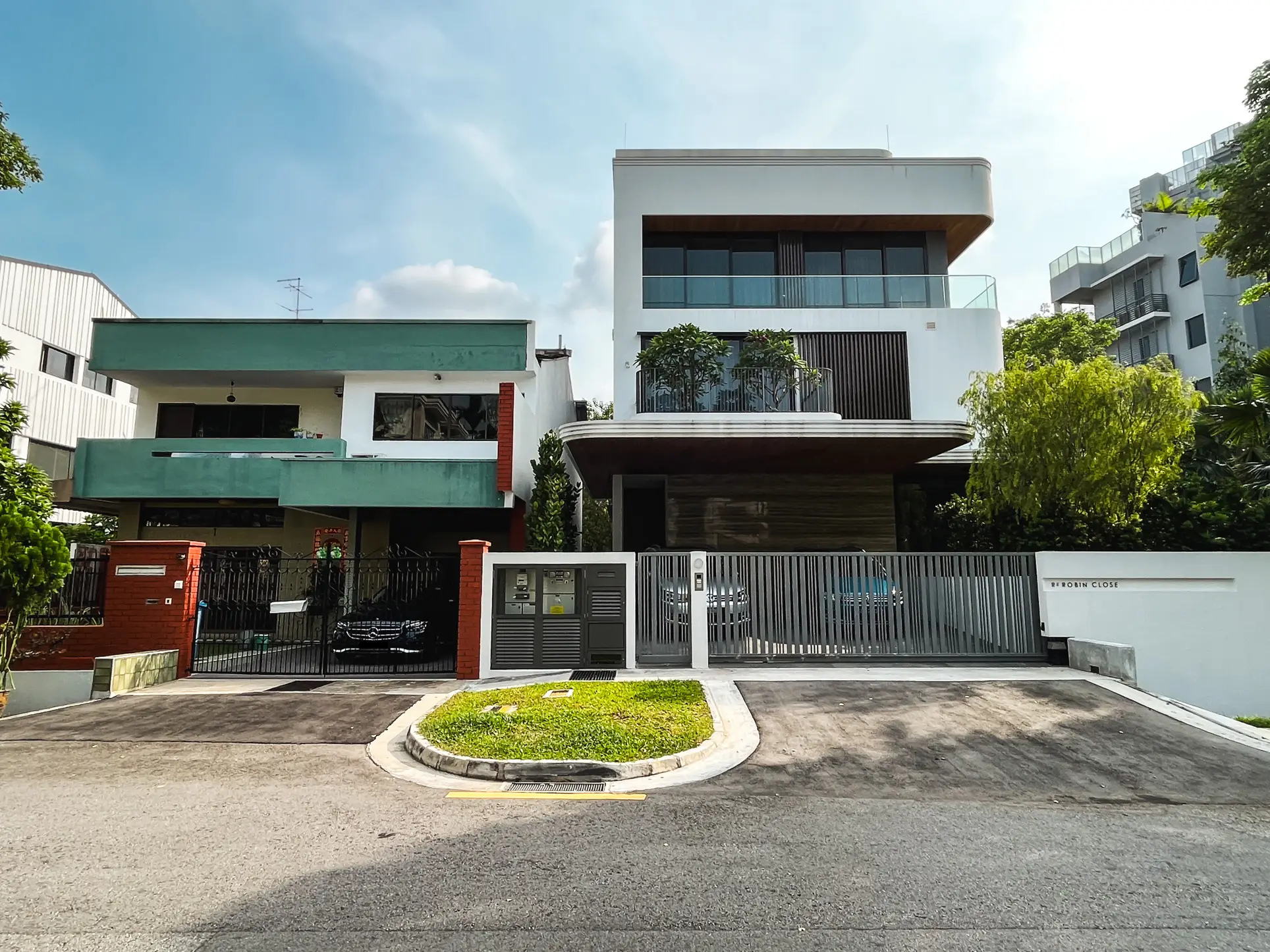 9
min read
As I was pleasantly surprised by Goldhill estate the other day, I thought I would go take a look at some of the other landed estates in the Bukit Timah area that I'd always written off before, to see if they would also turn out to be a pleasant surprise. The first estate I decided to visit was around Robin Drive. 
I used to know an expatriate who lived along Robin Road, and my impression of the area was that it was a little like the first Kovan estate I had visited: well-connected but lacking conveniences and too bustling for me, as so many cars use it to cut through from Stevens Road to Bukit Timah Road. Moreover, my memory of the roads there was that they were quite narrow, making the area feel quite claustrophobic. (The expatriate has since left Robin Road for, you won't believe it – JB, of all places, due to rent increases!)
The amenities situation has changed somewhat over the years, with the construction of the Stevens MRT station, which is literally next to the landed estate.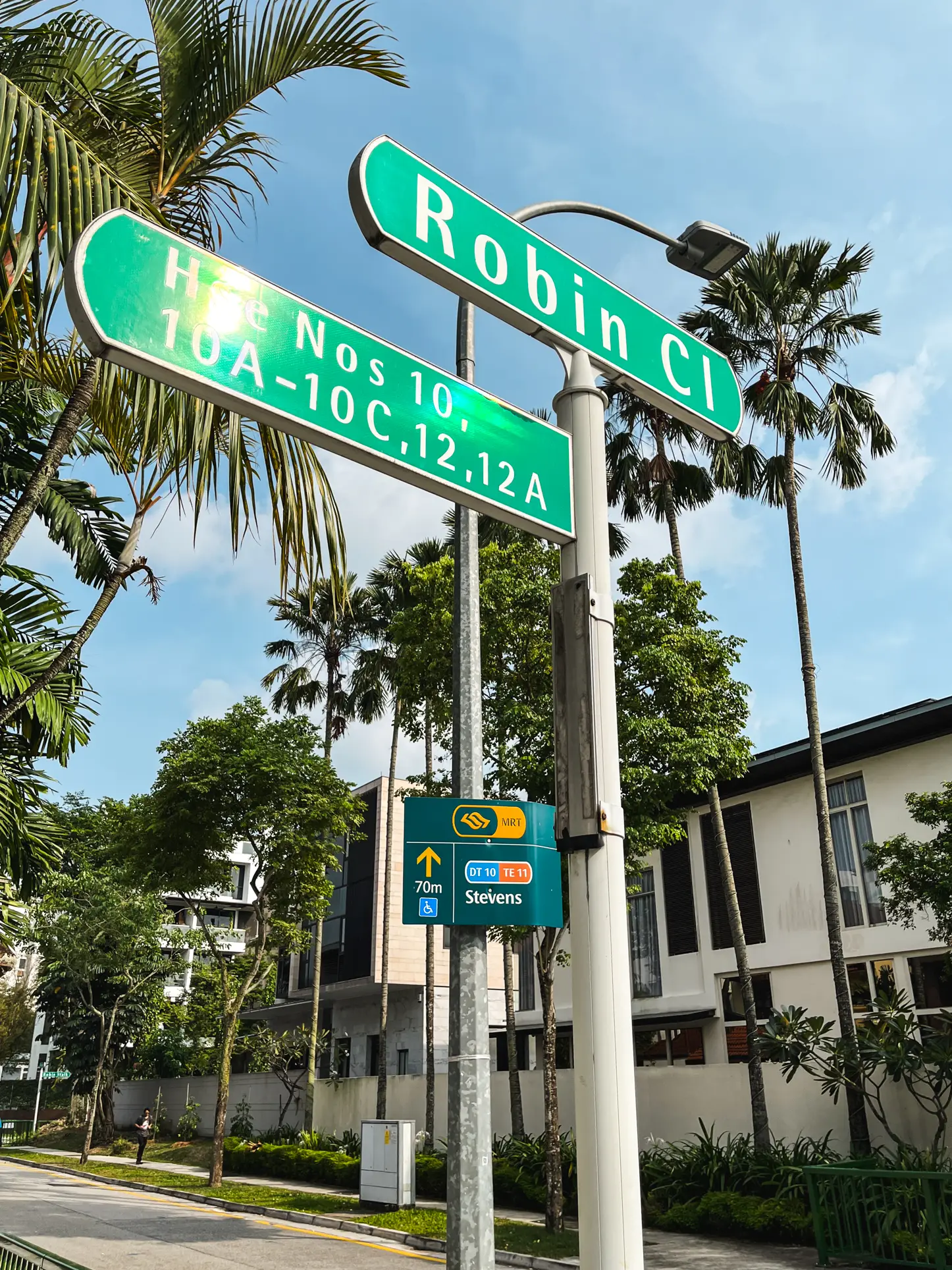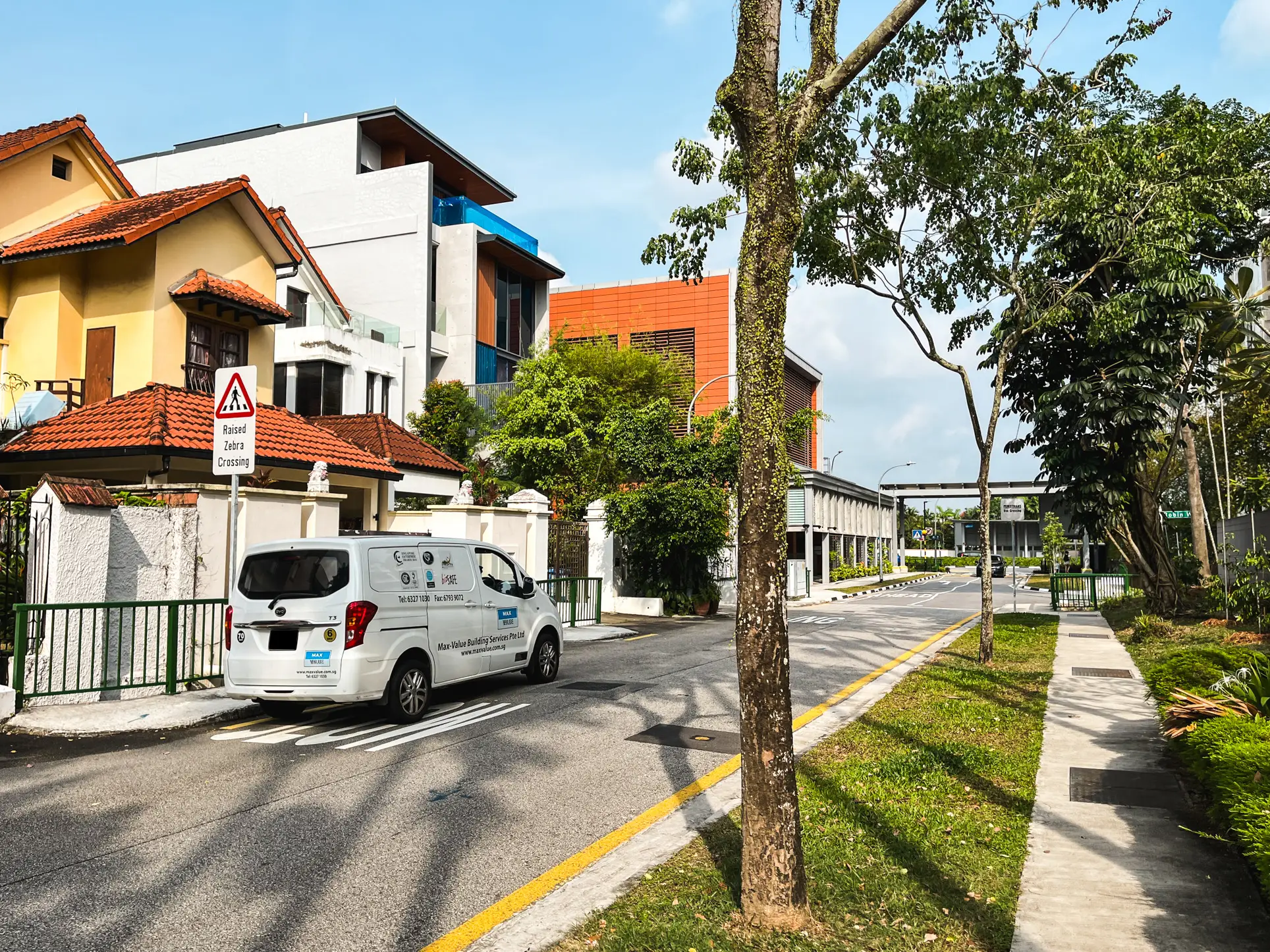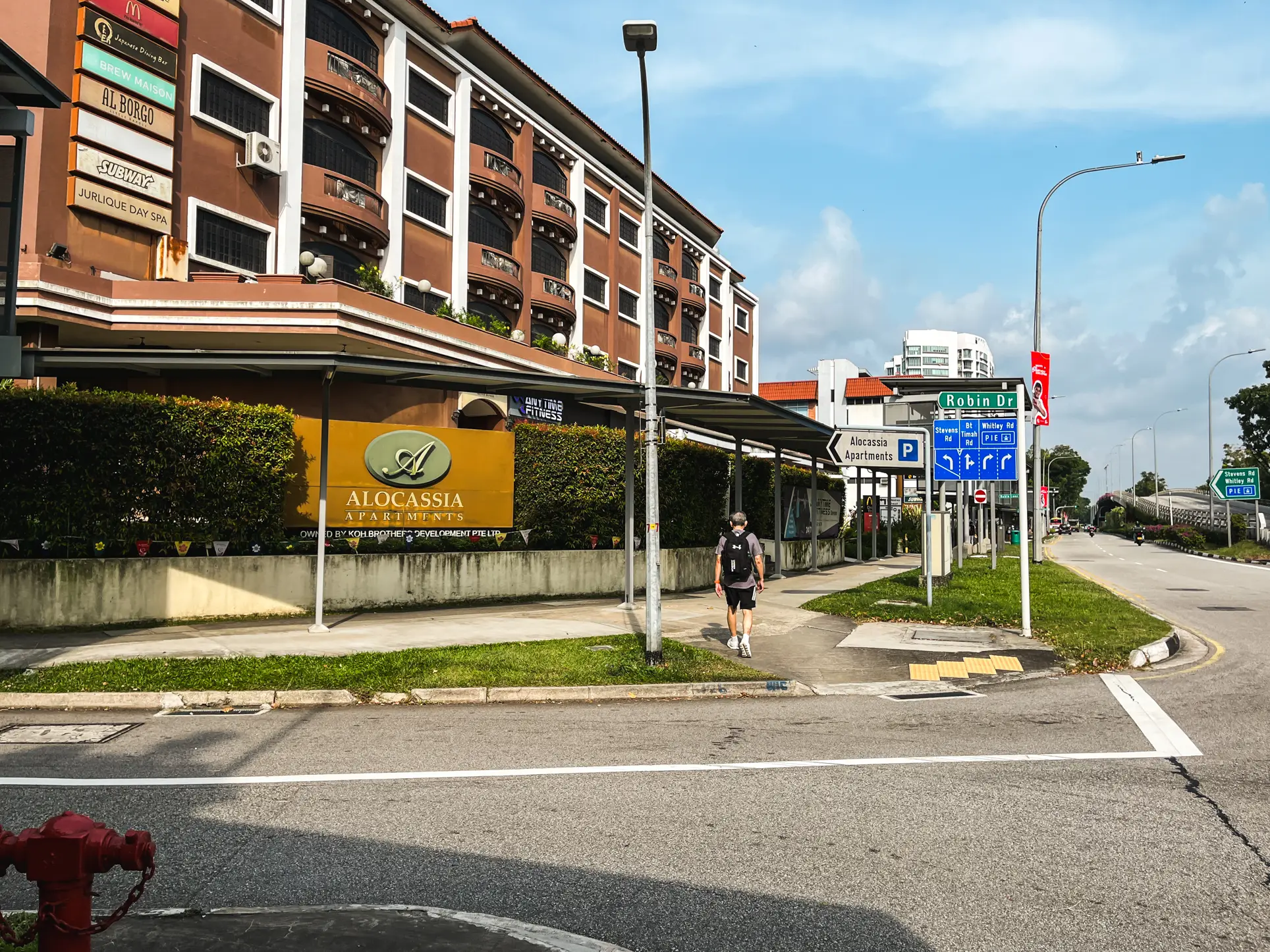 The only thing I can think of that I would dearly miss would be a hawker centre! (You're sort of in between Adam Food Centre and Newton, neither of which is close enough to walk to.)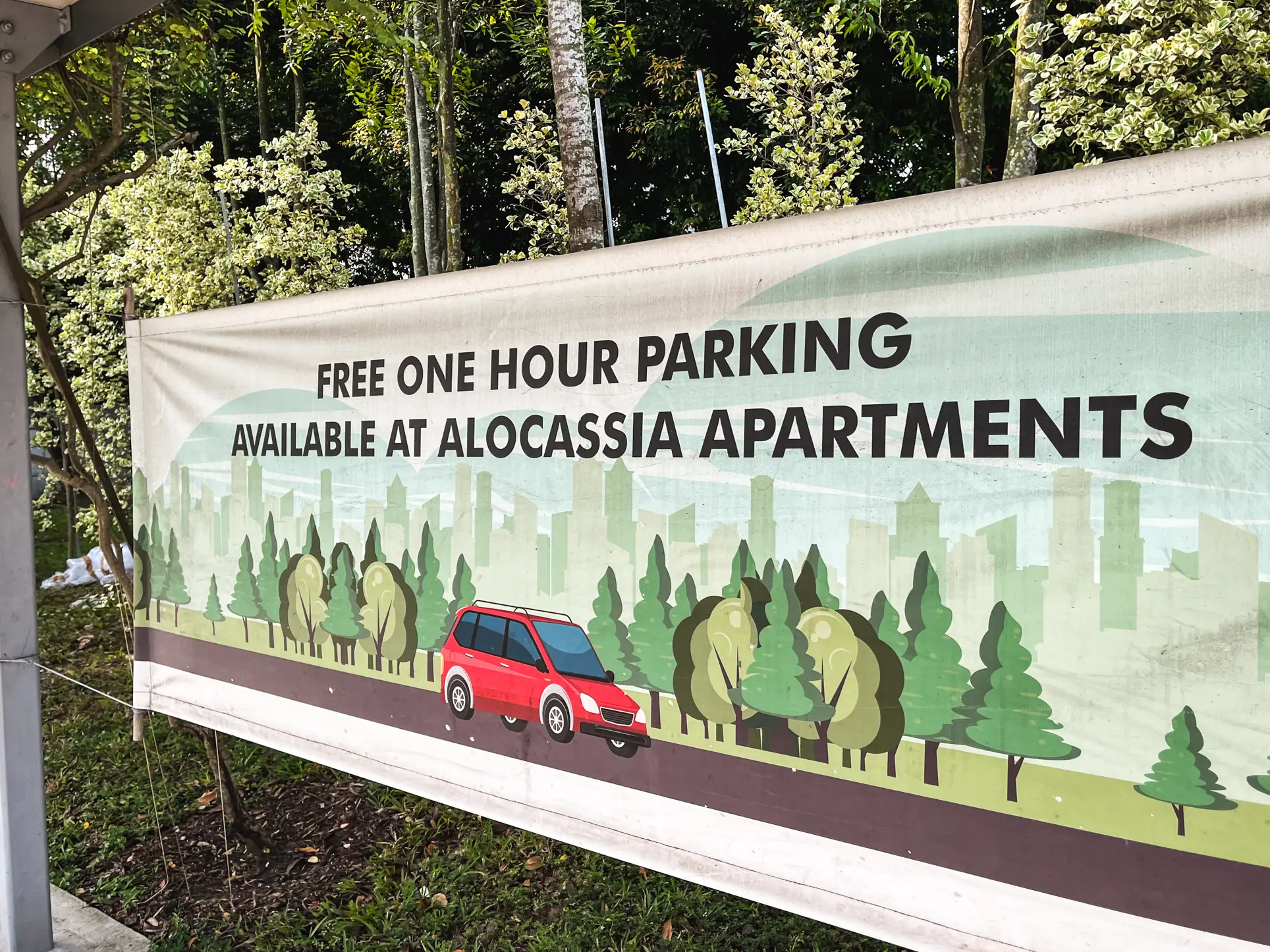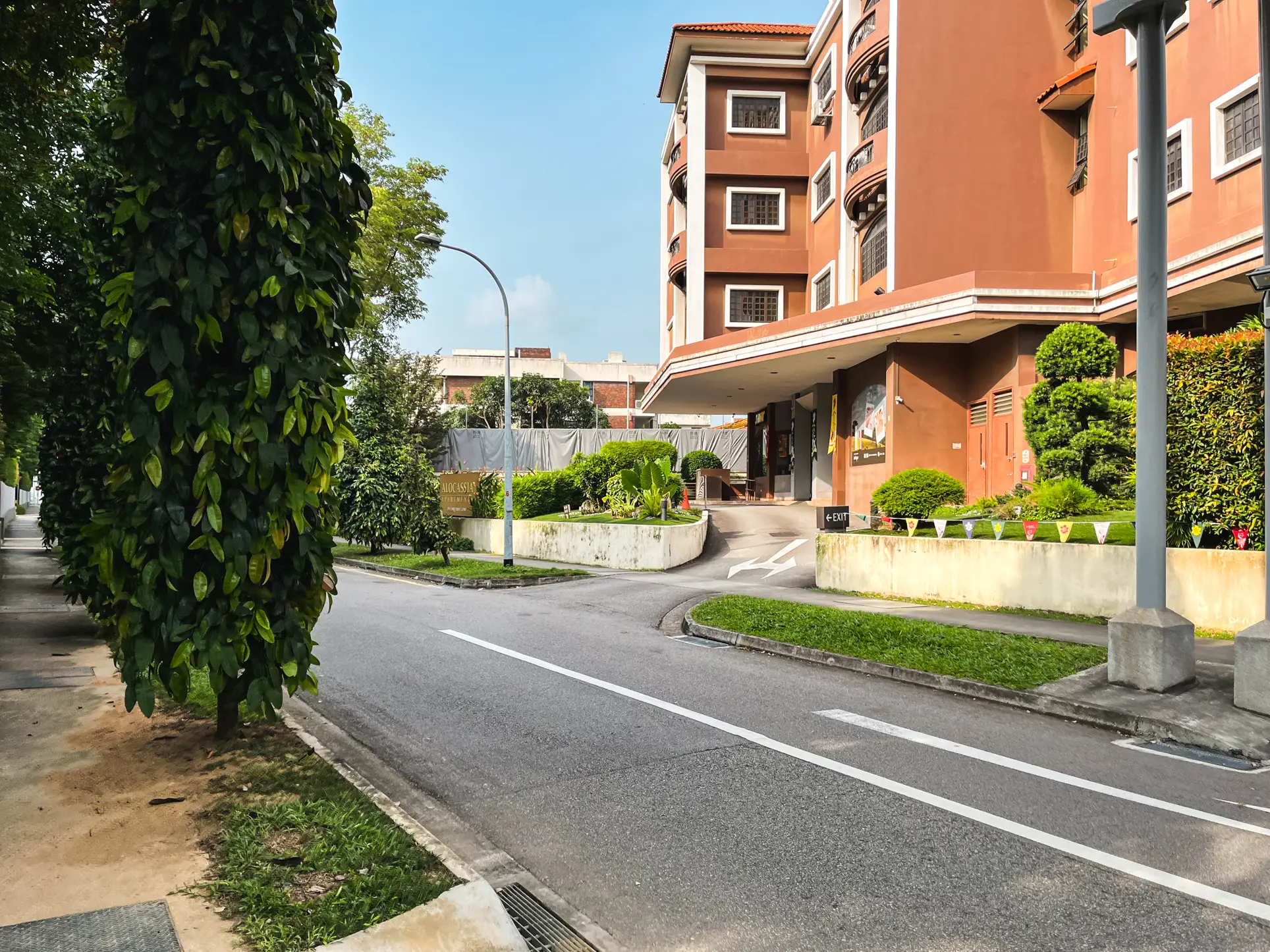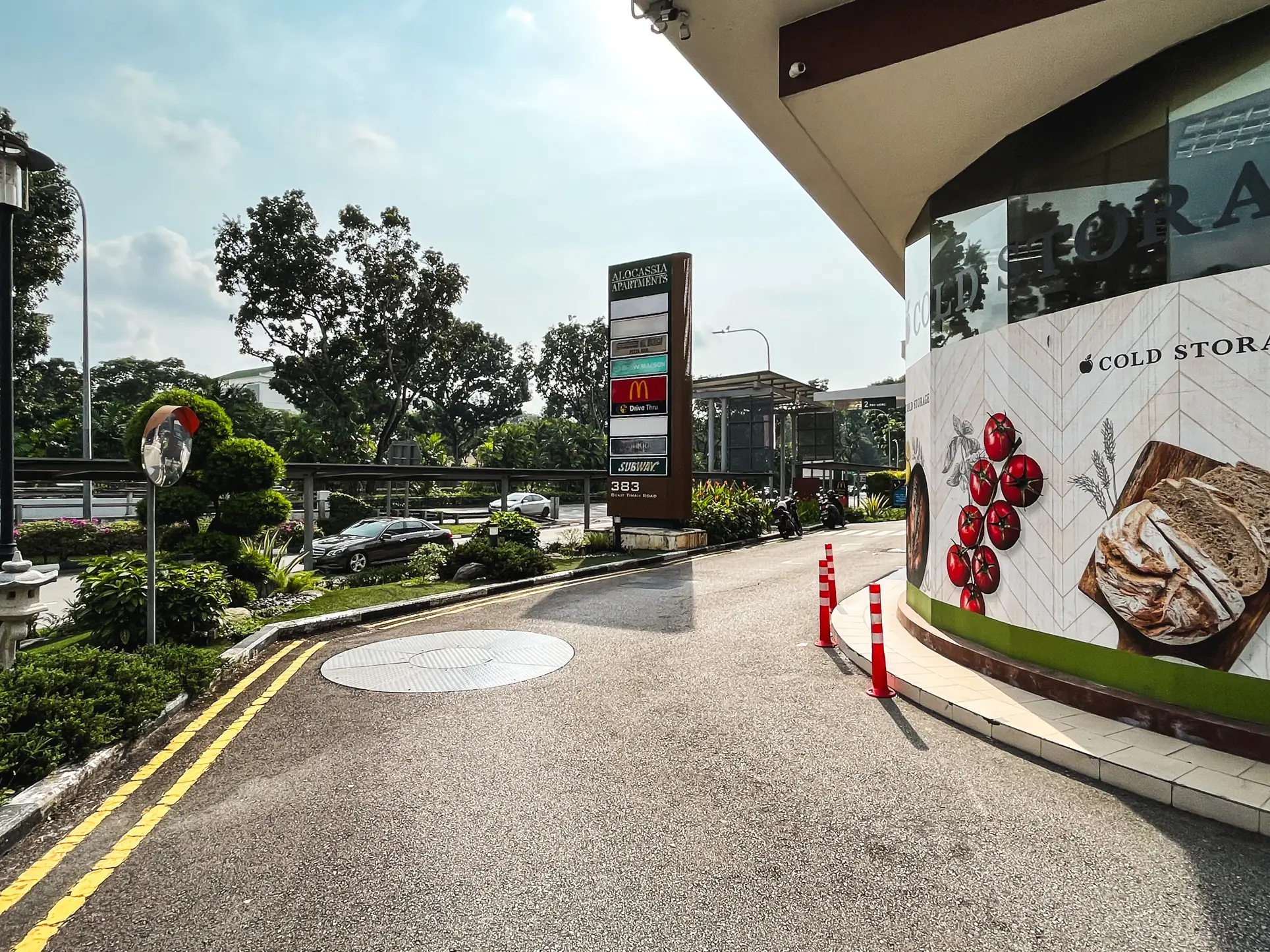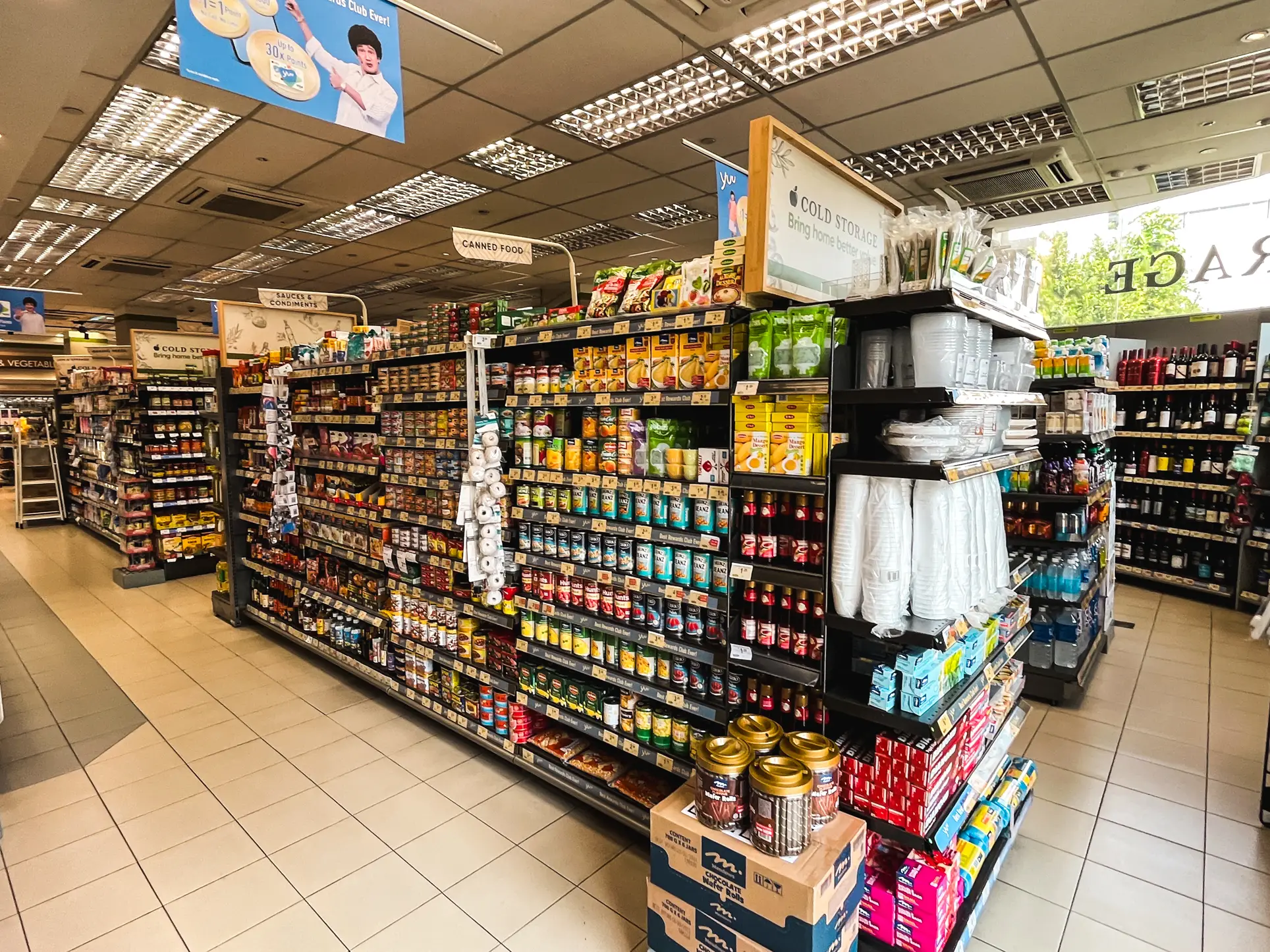 There are NTUC Finest units over at Coronation Plaza (40 minutes walk so you'll need to drive, really) and Balmoral Plaza (about a 15-minute walk according to Google Maps.) Balmoral Plaza also has a few eateries, so I'll leave it to you to decide whether that's considered walking distance or not!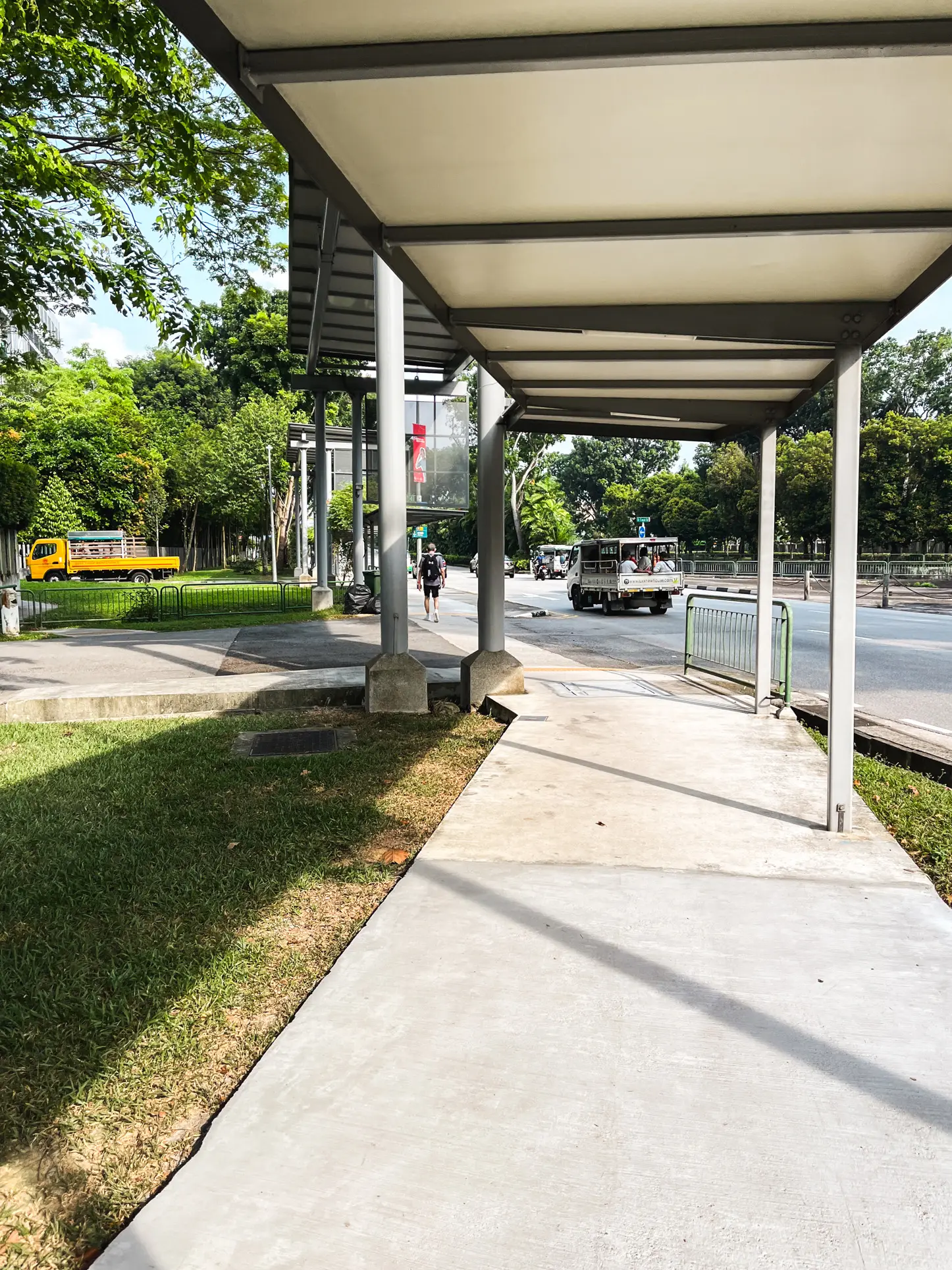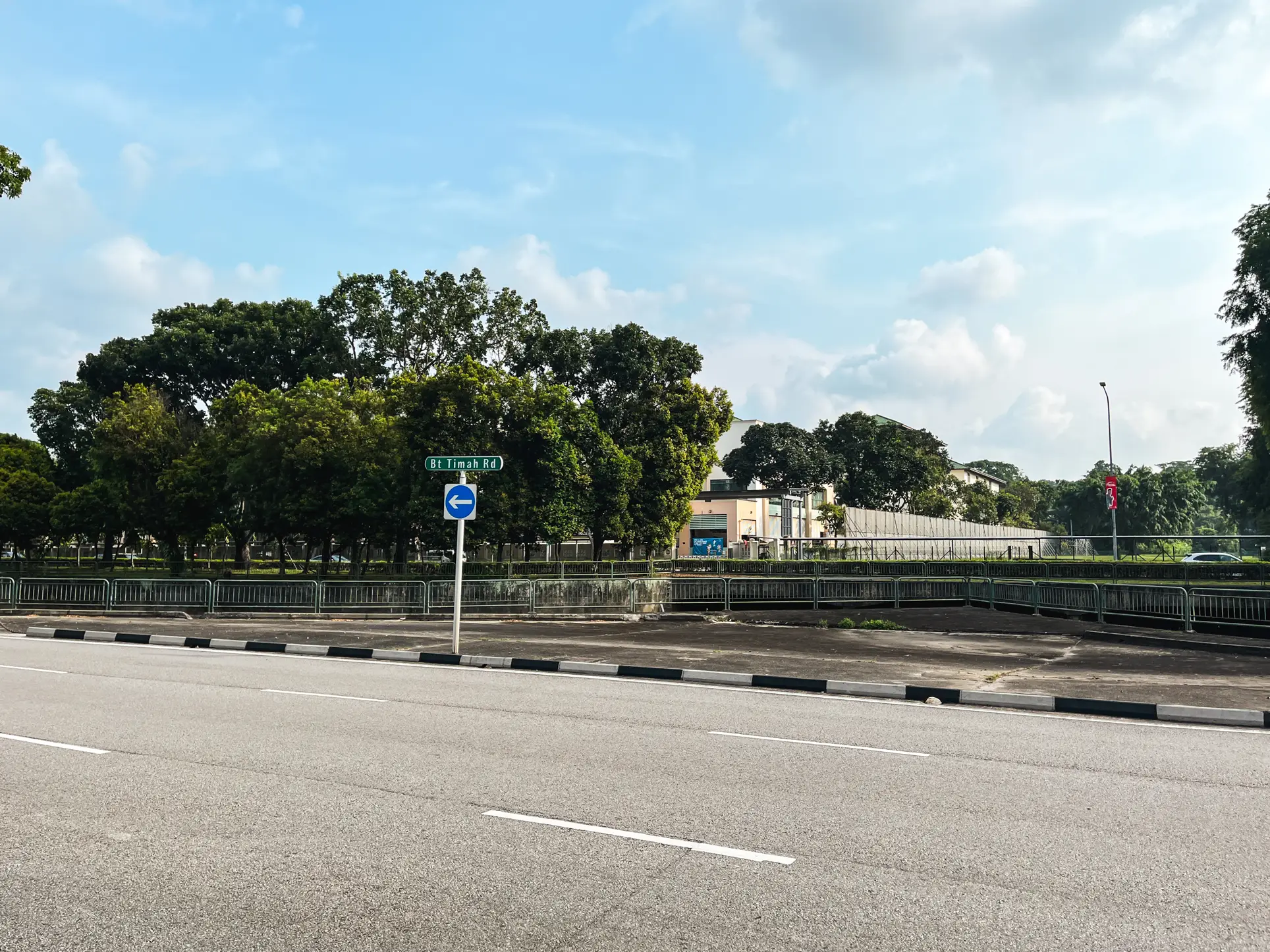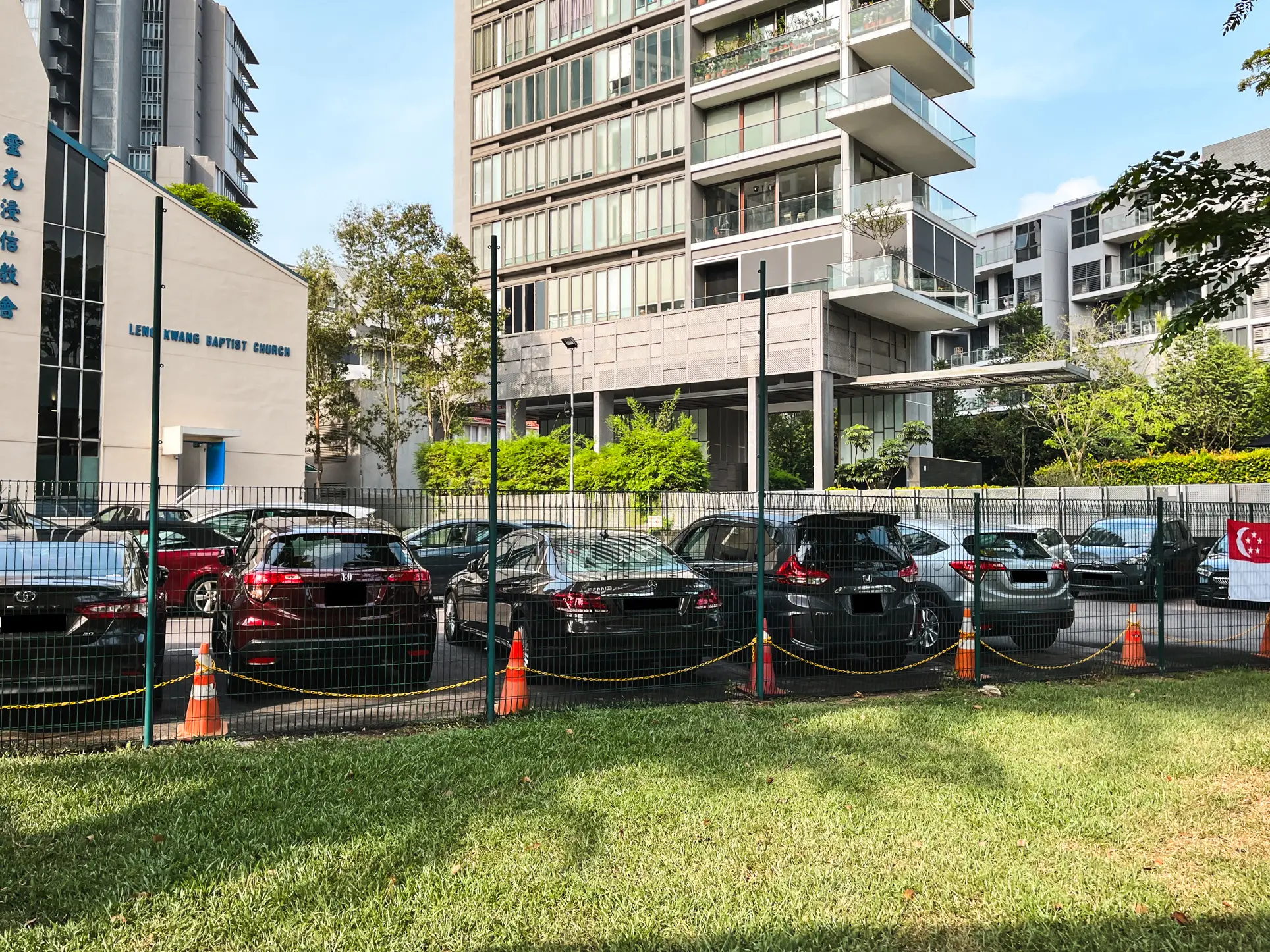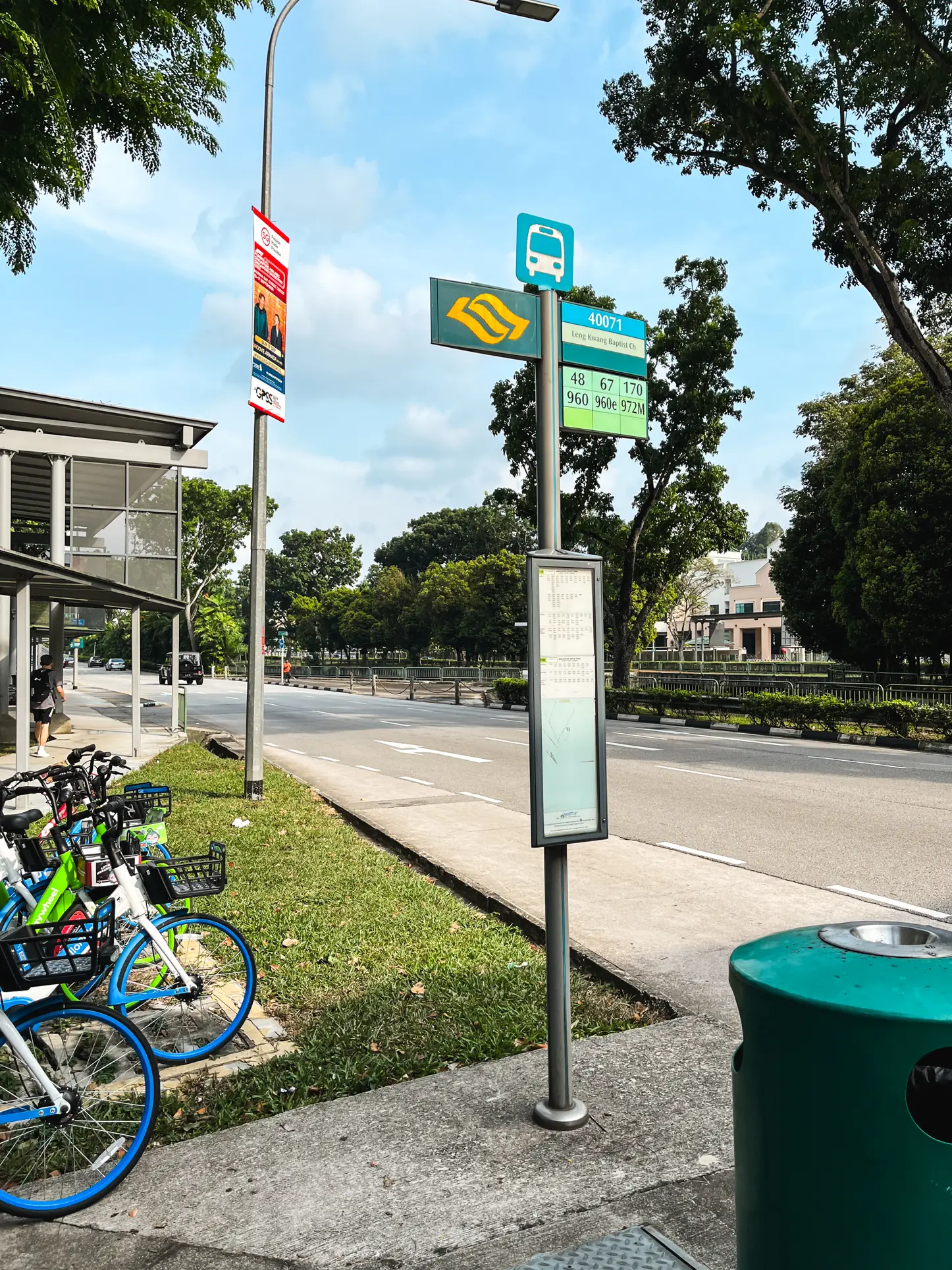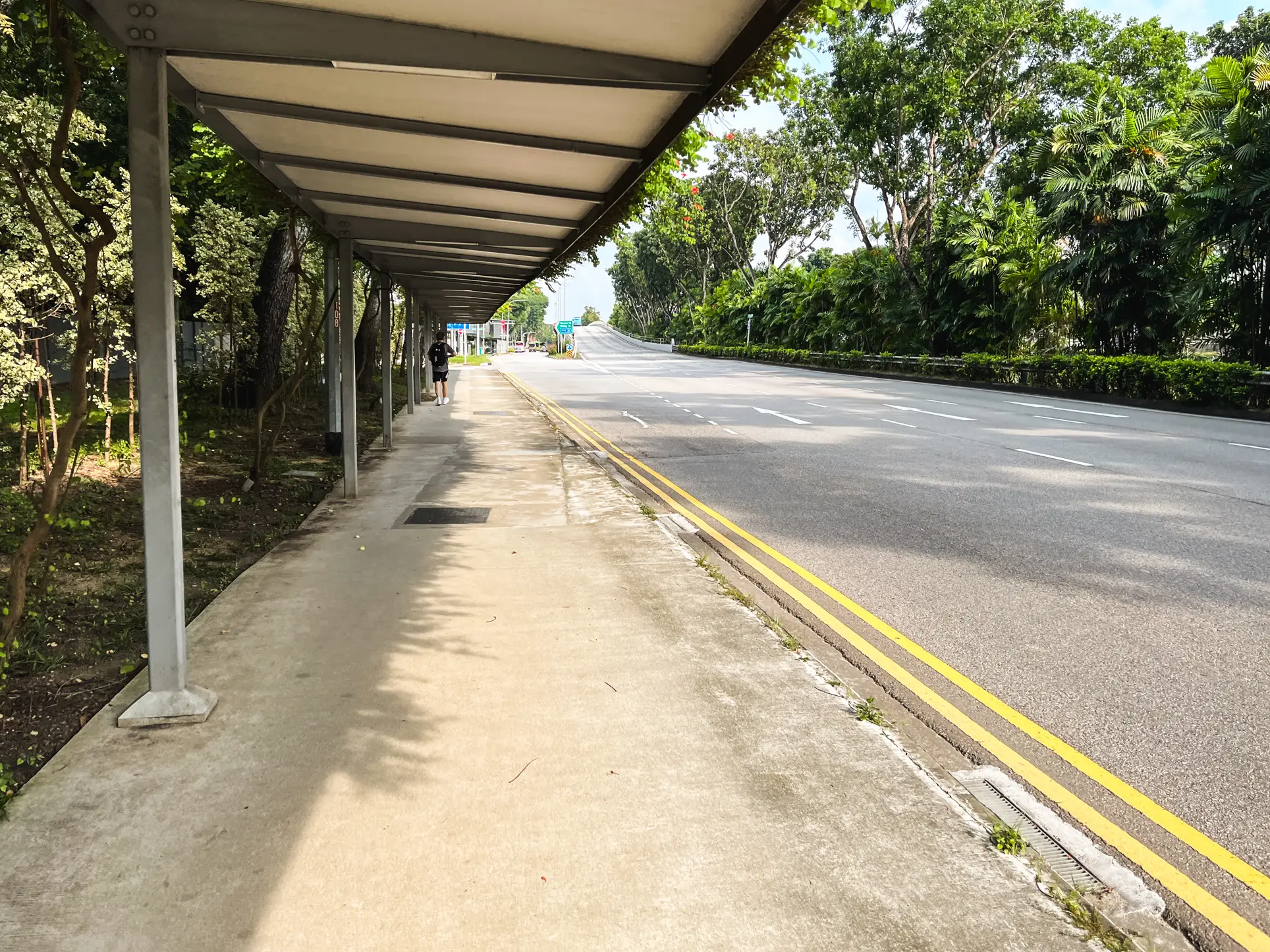 OK now that we've seen the outside of the estate, let's head back inside!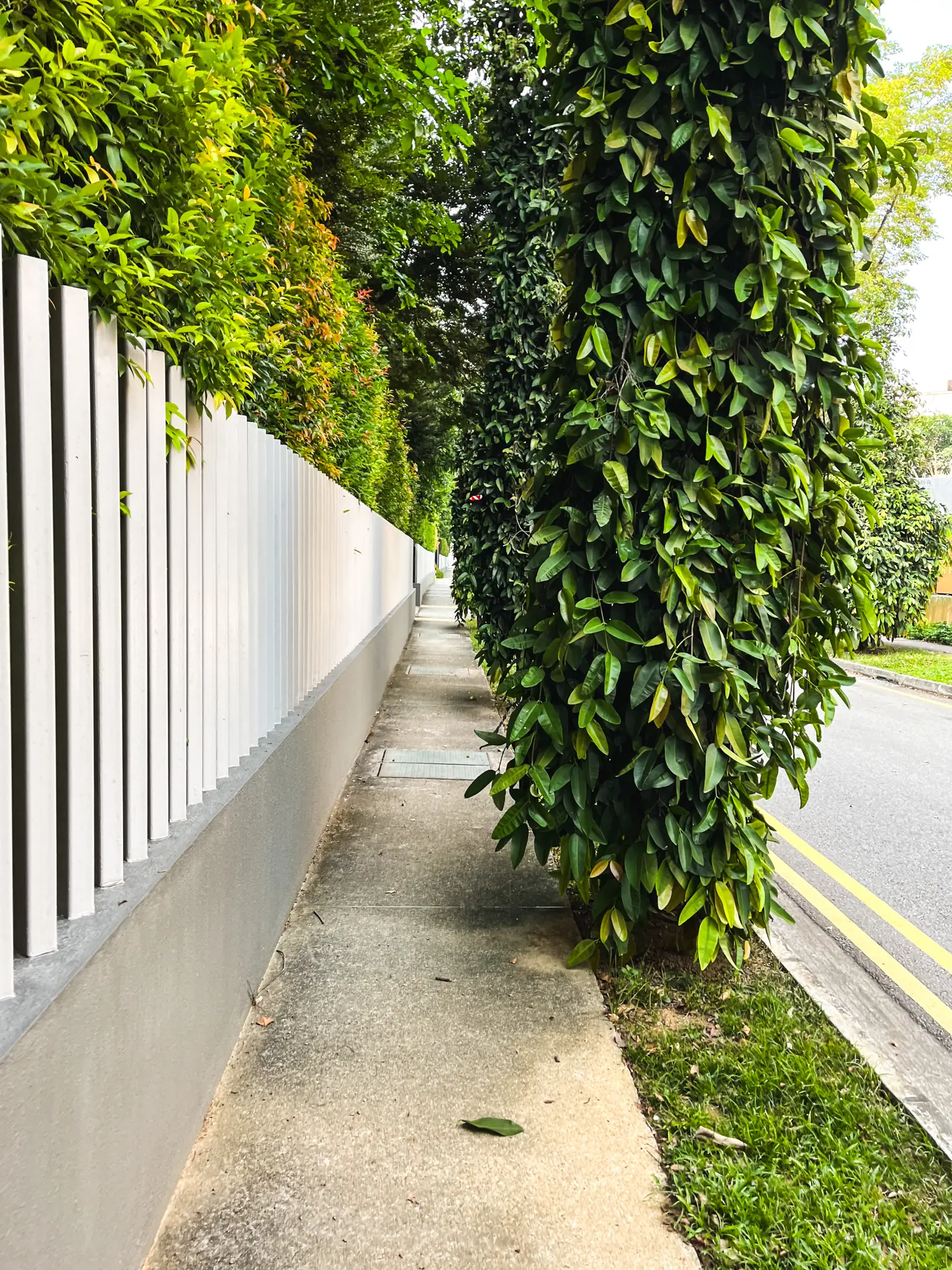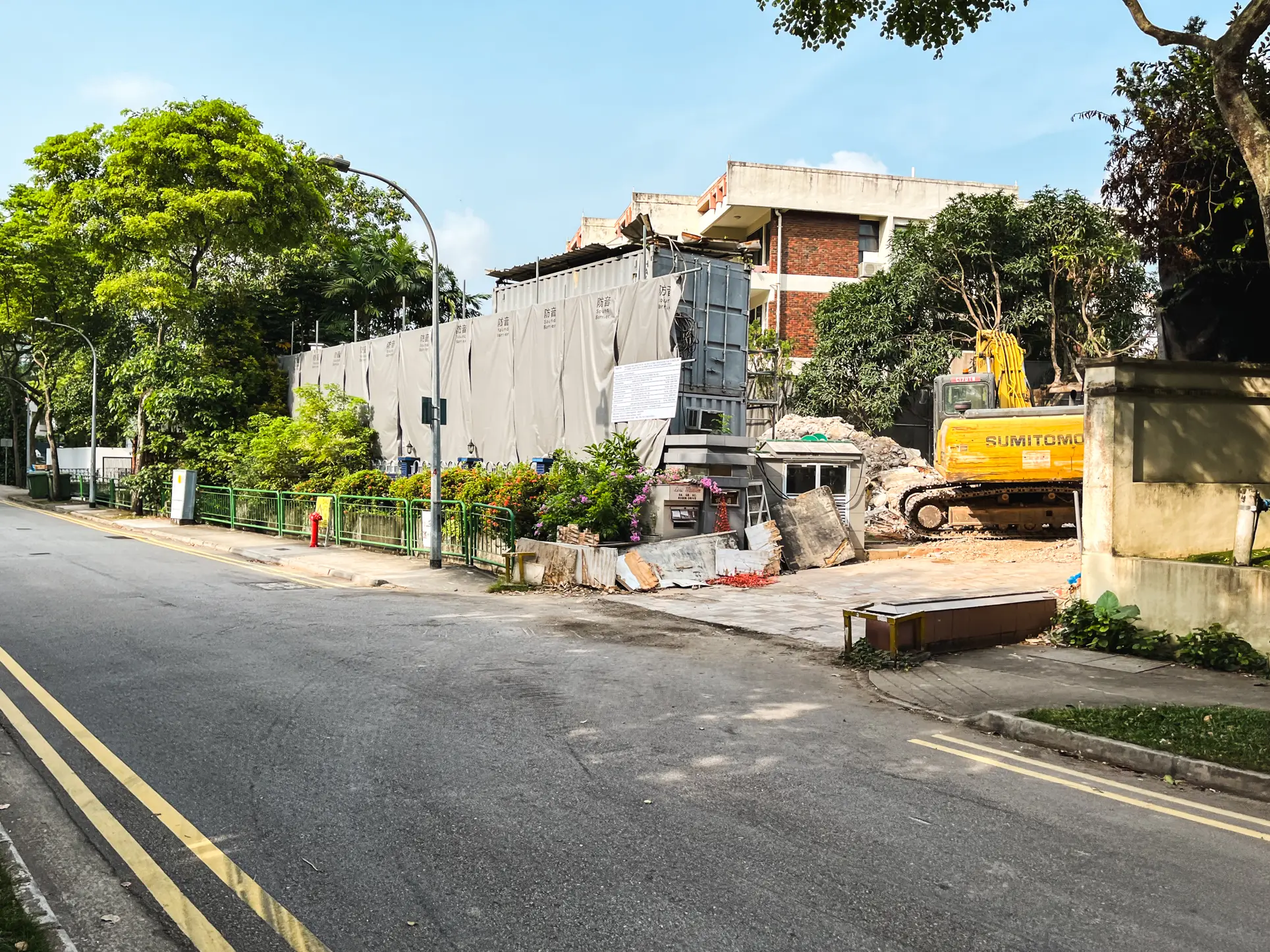 Oh, I should also mention that Stevens MRT is a Downtown Line and Thomson-East Coast Line interchange!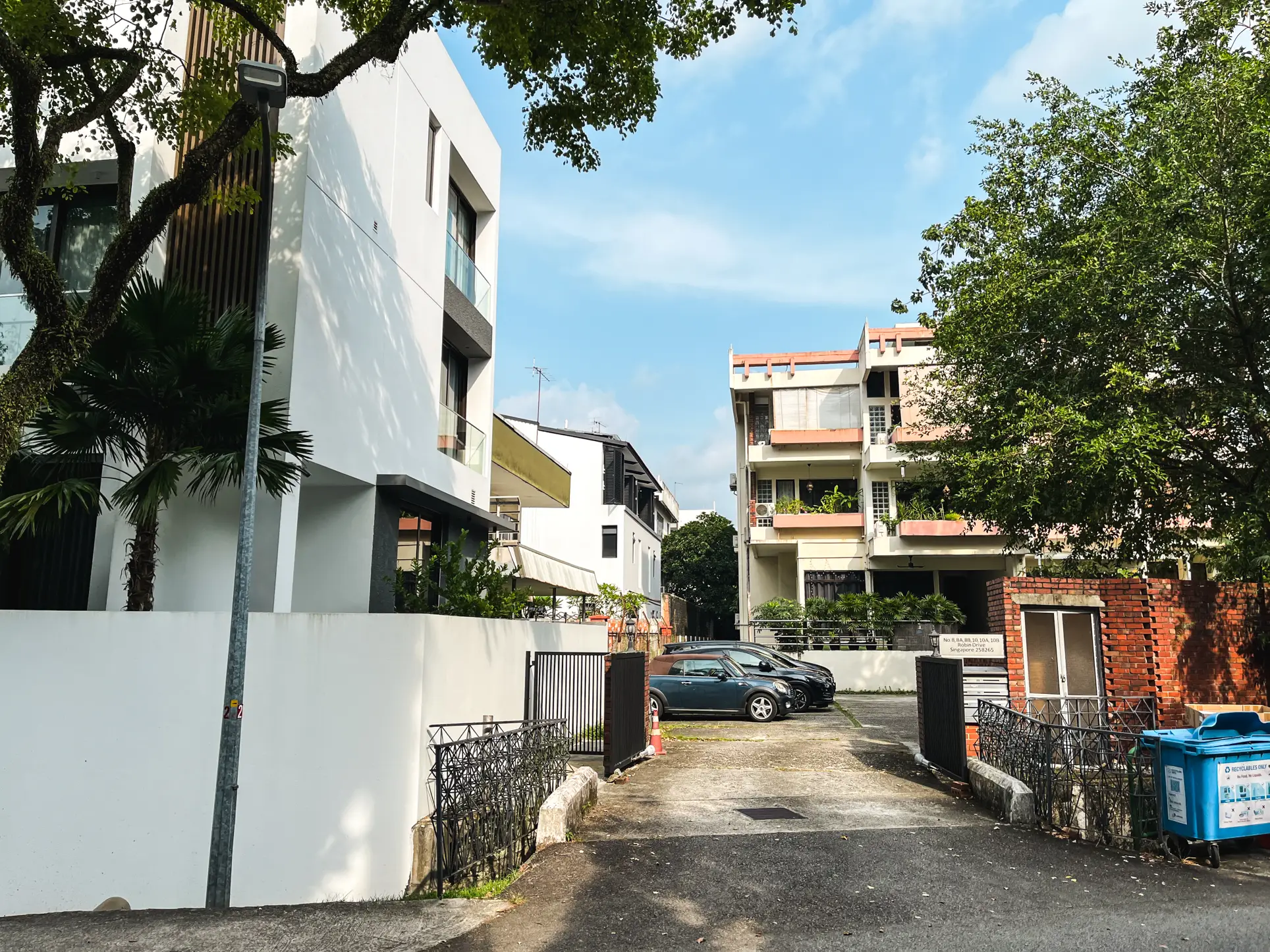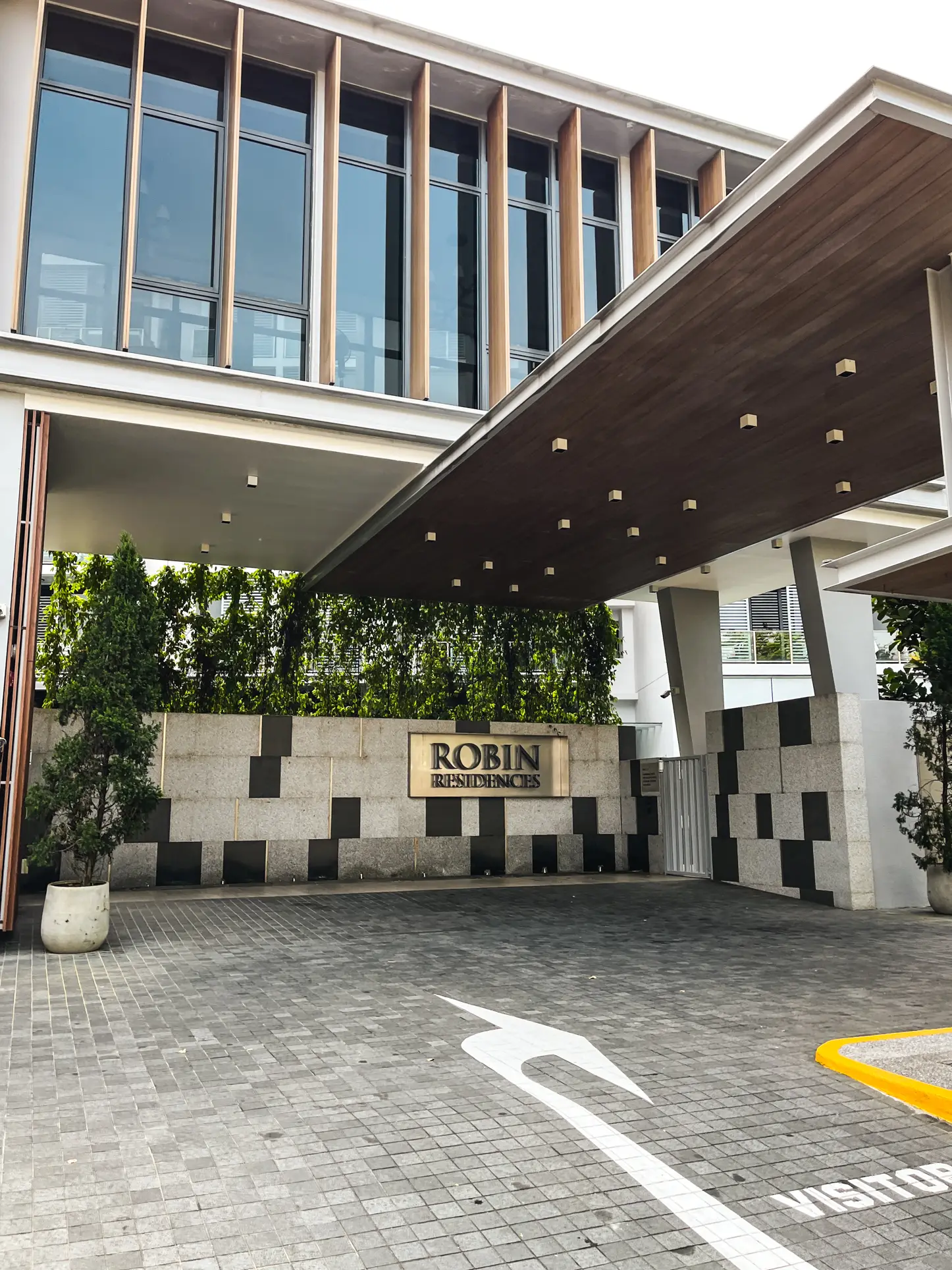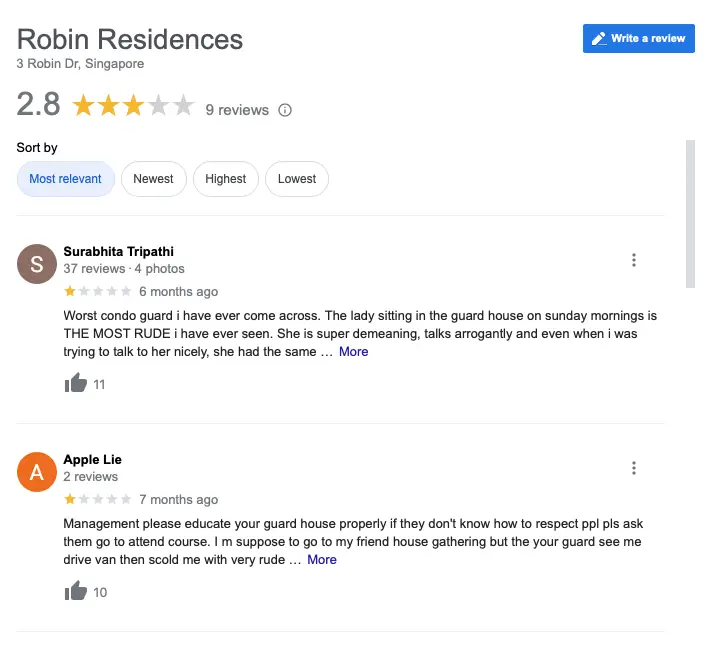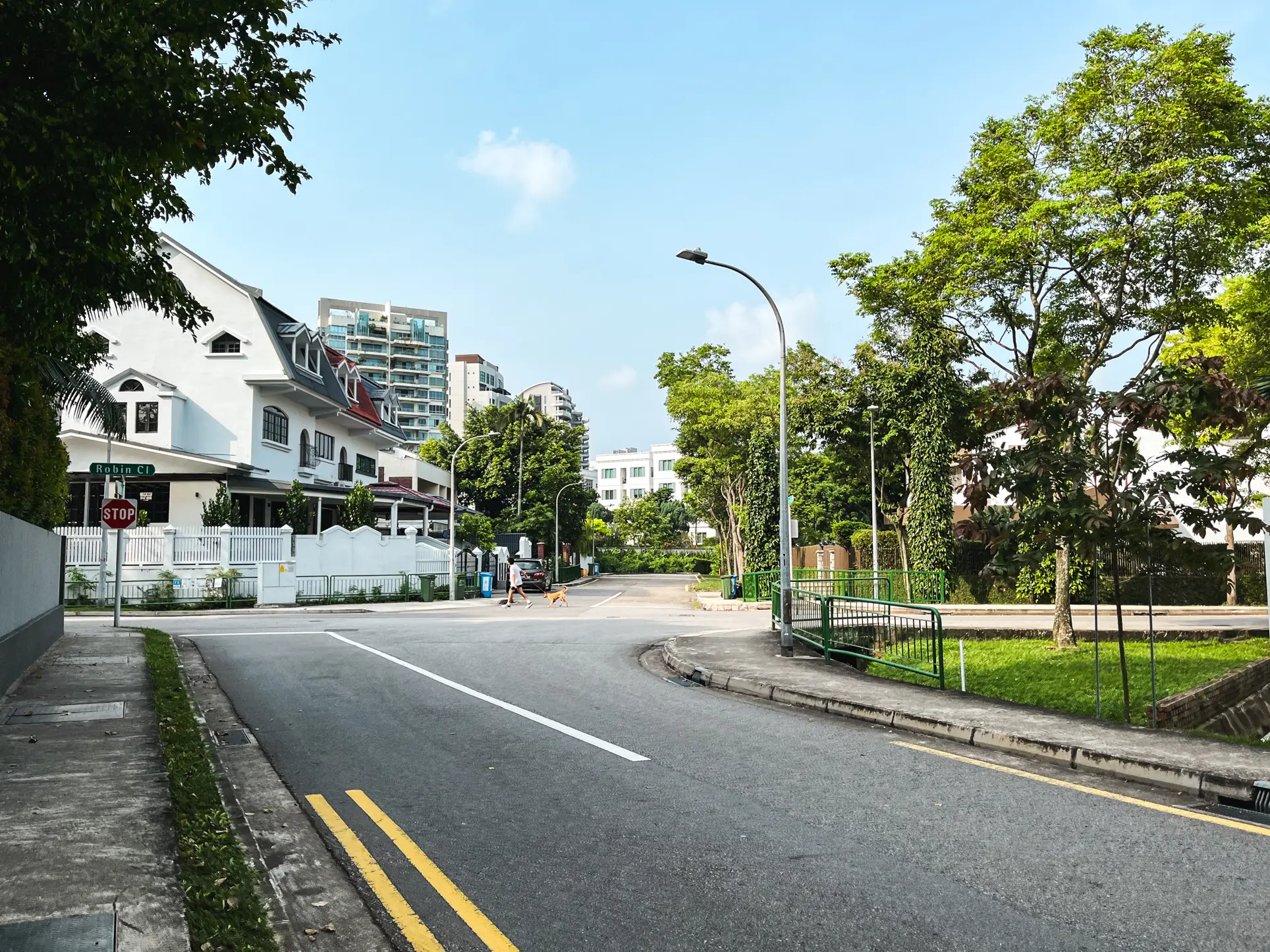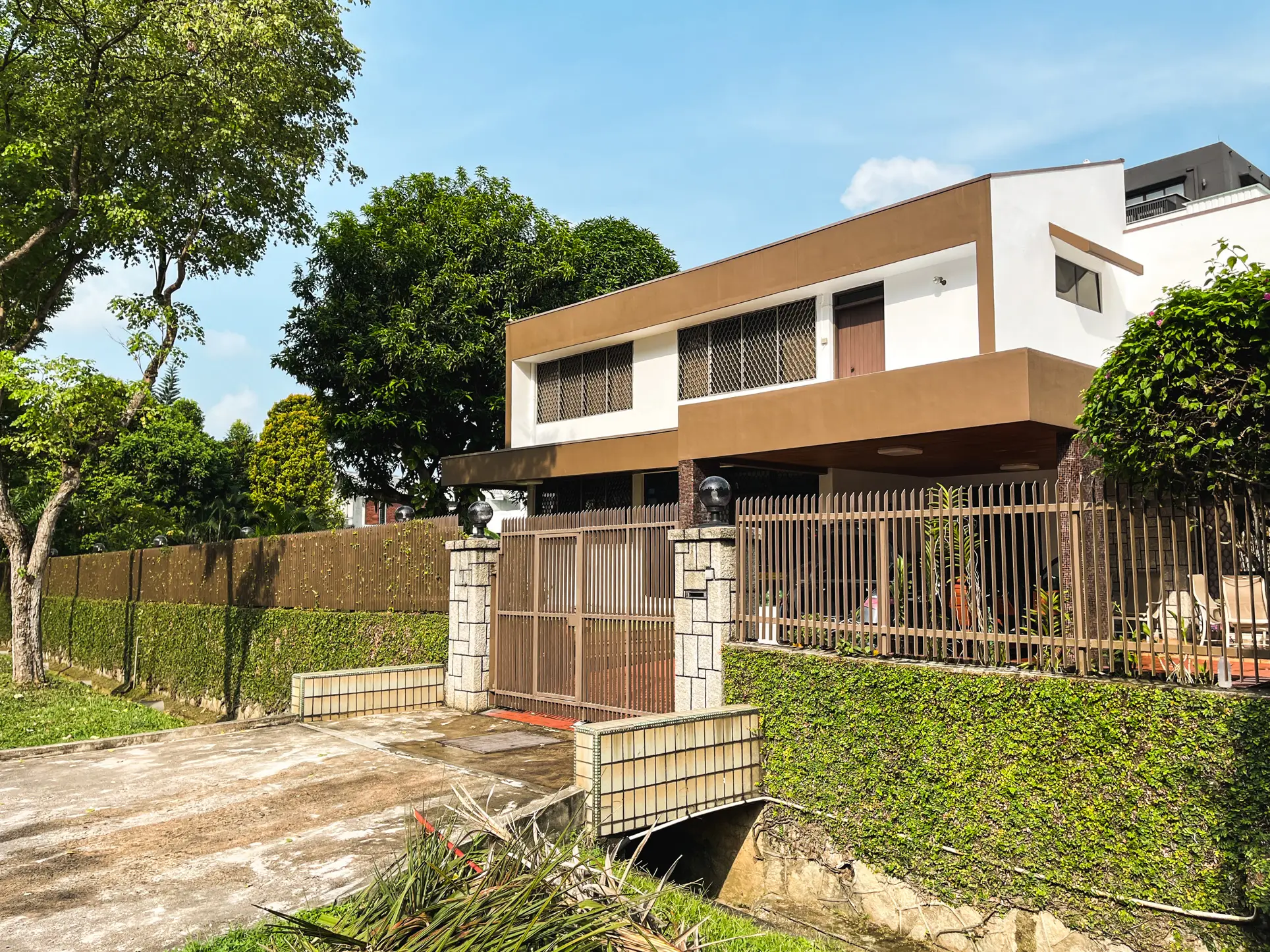 There are only 2-3 more houses here, so Robin Close is a pretty spacious cul-de-sac.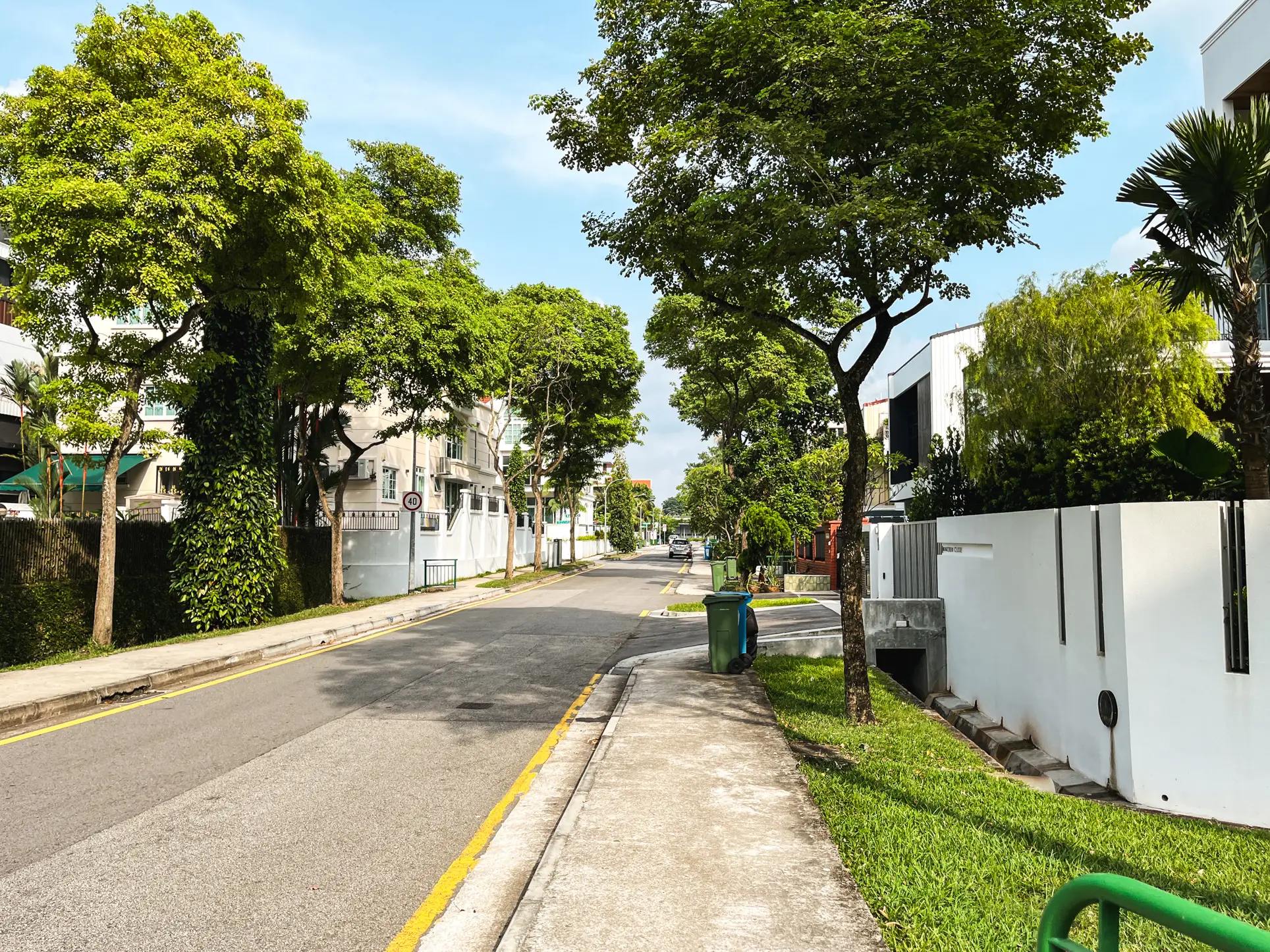 Let's take a walk down that way!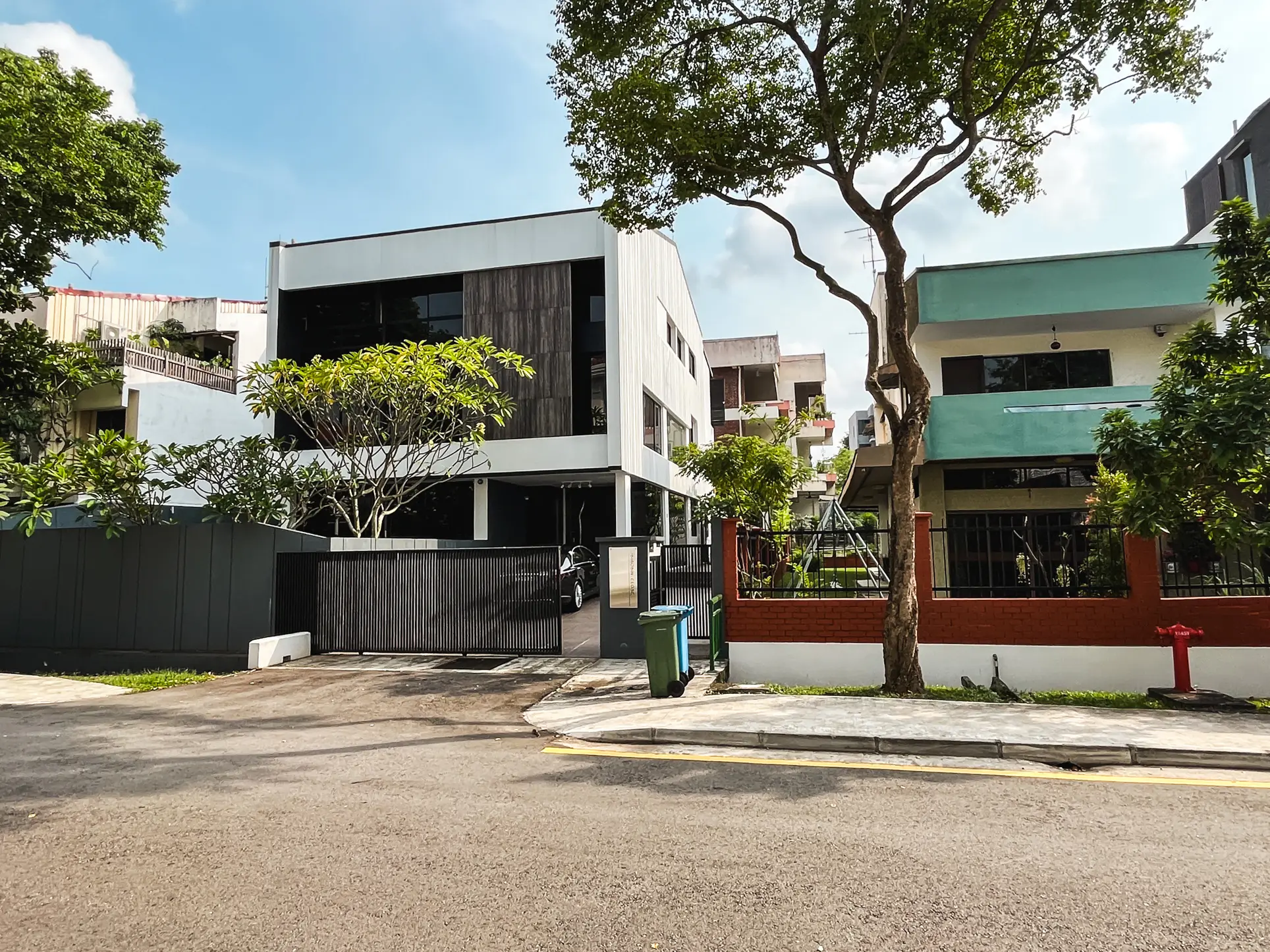 Similar to Goldhill, I find it interesting that the less expensive units (the terrace and semi-Ds) have the "better" location: in a cul-de-sac (more private, especially given that the Robin area sees a lot of through traffic) and with wider streets. Of course, someone else may disagree and feel that these houses have the better location as they're slightly nearer the MRT, so it's all relative I guess! (Personally, if I had the $$$ to live here, I would prefer a property located in the cul-de-sac.)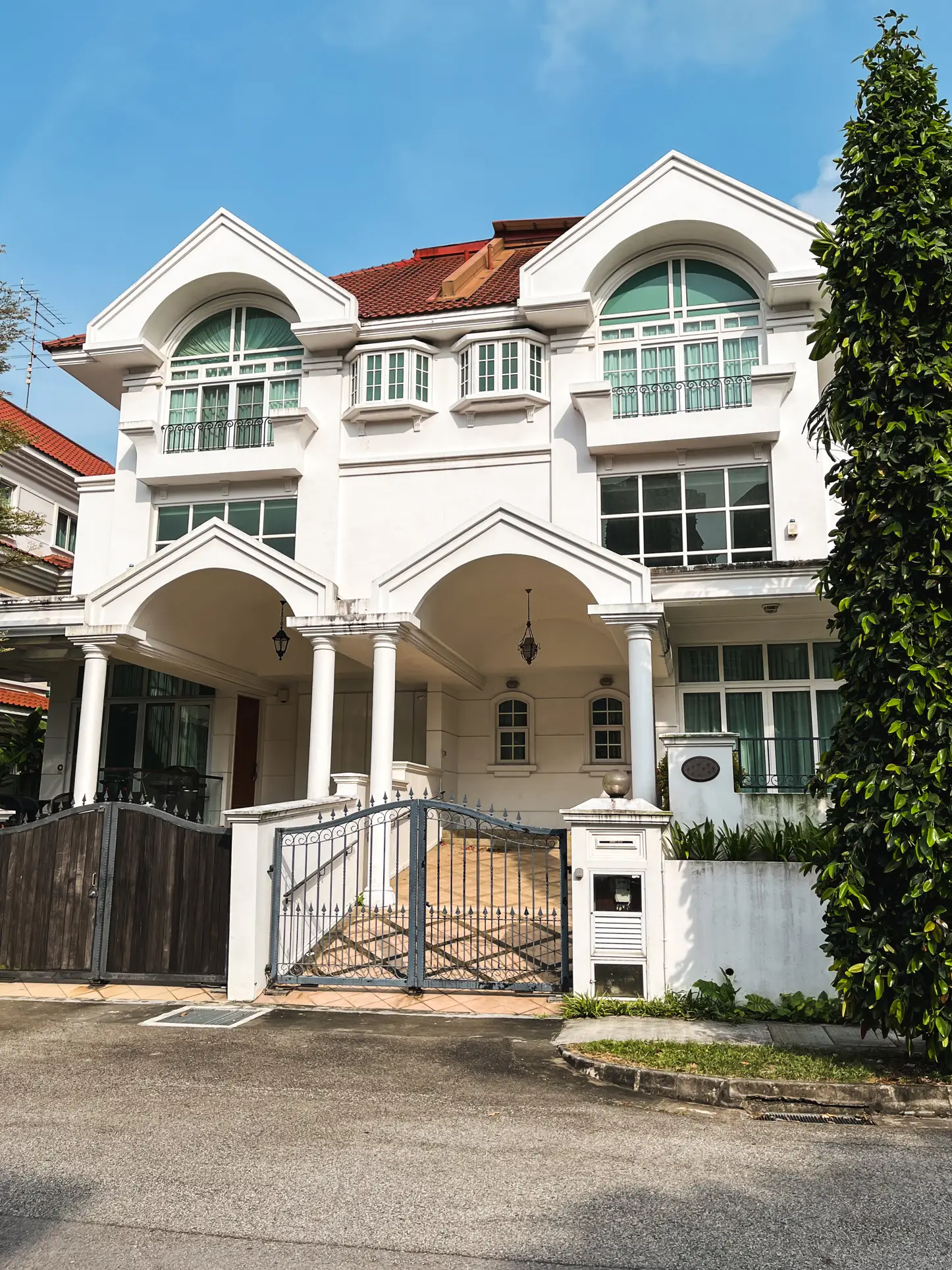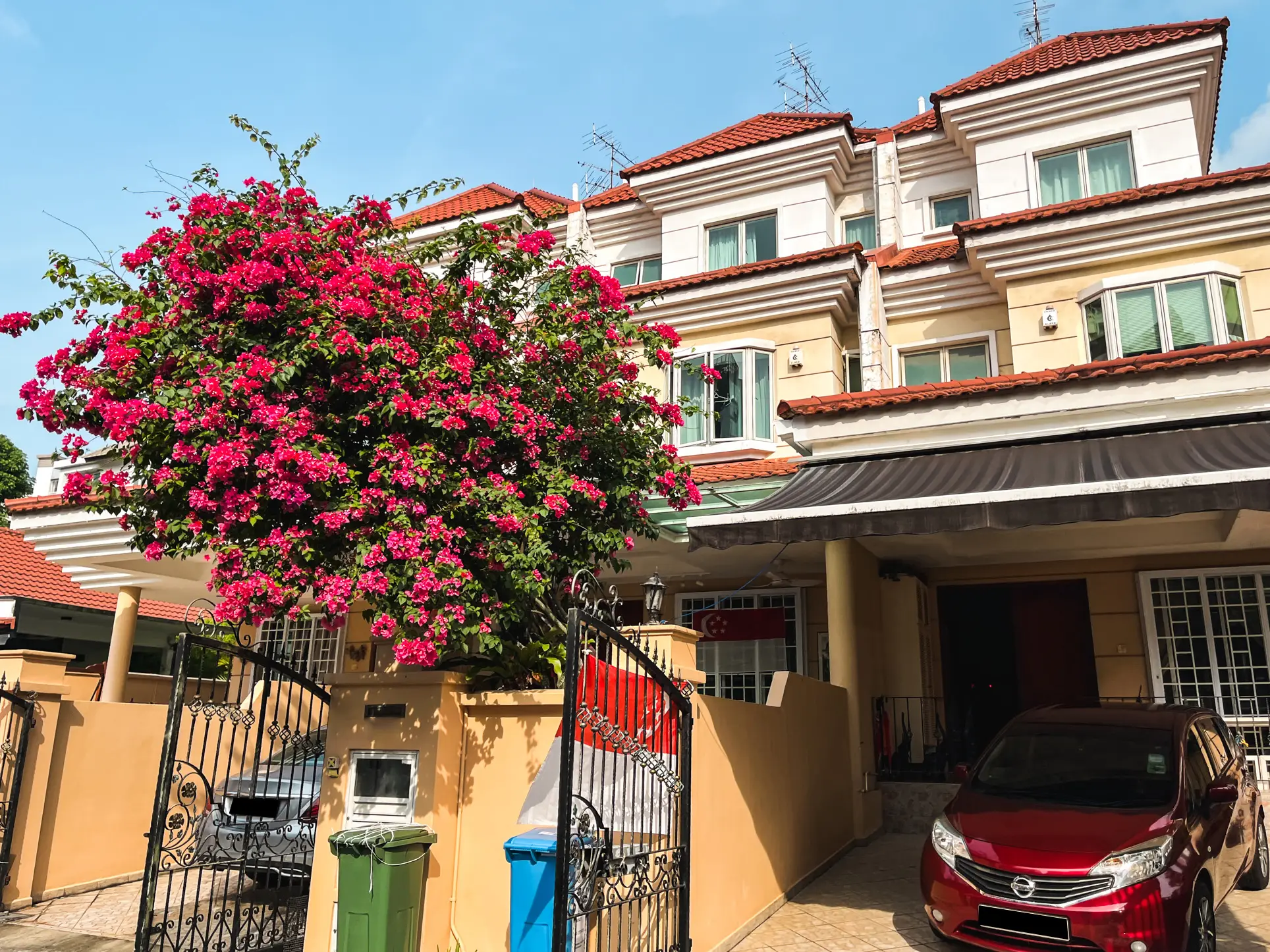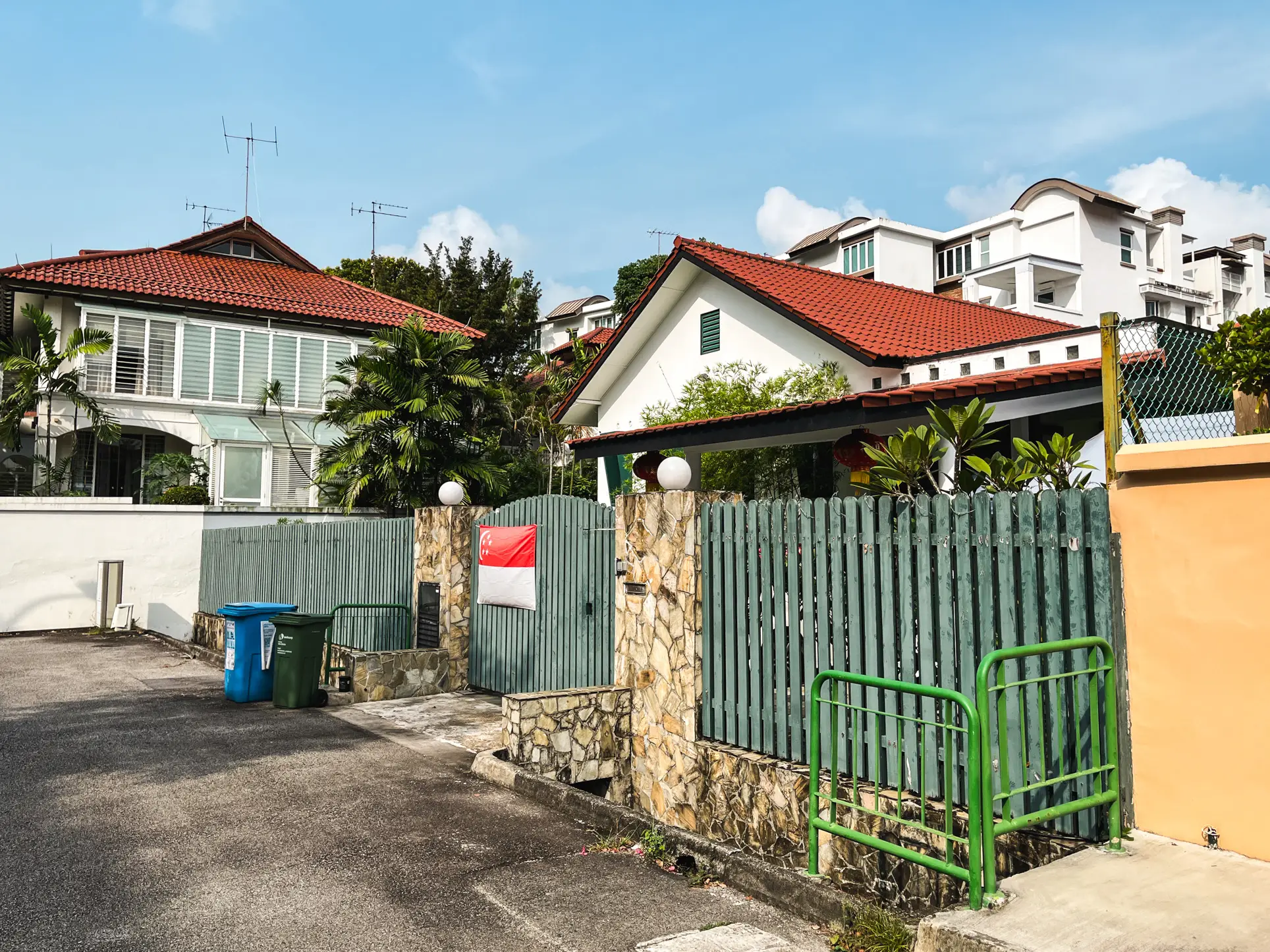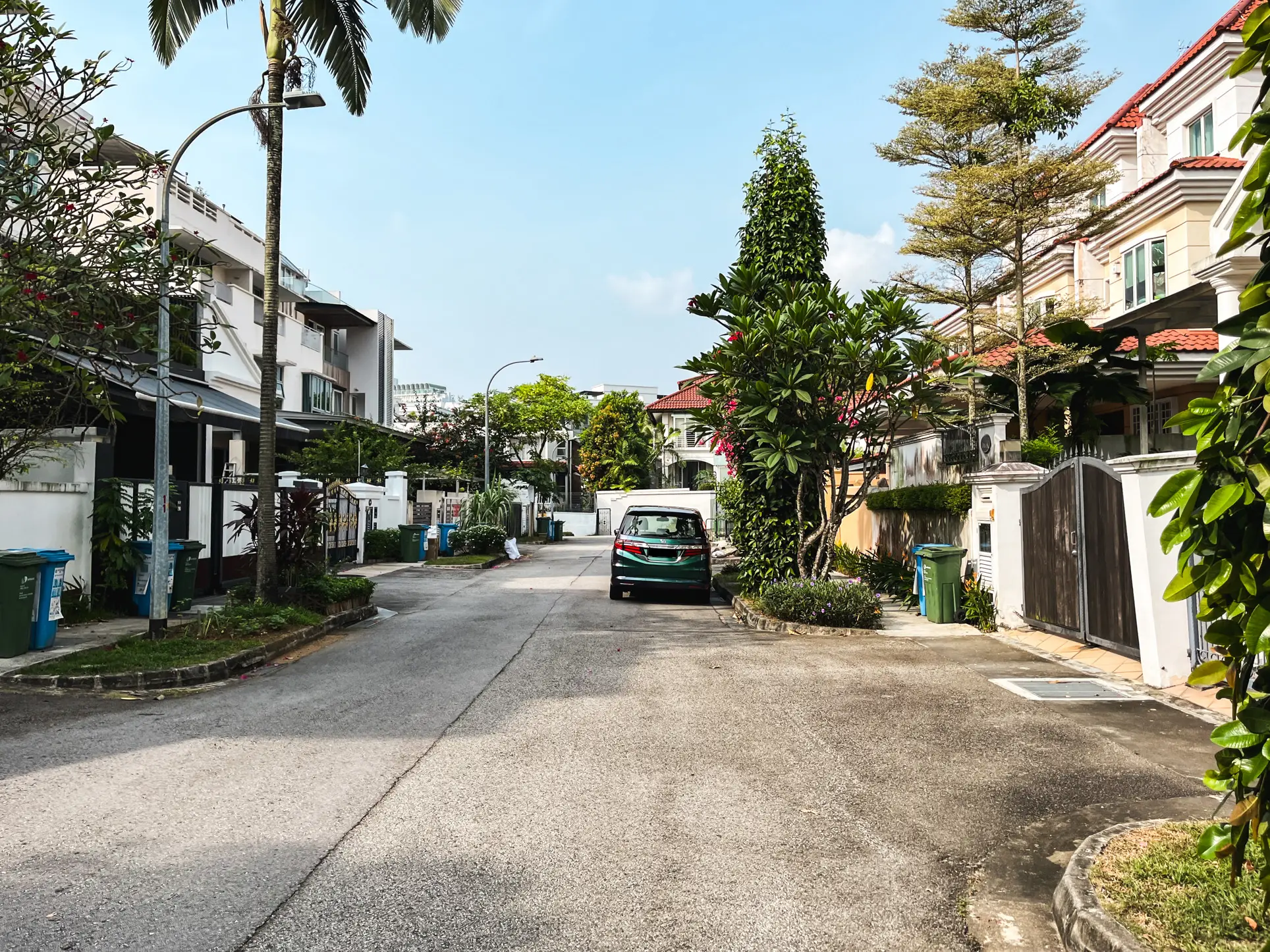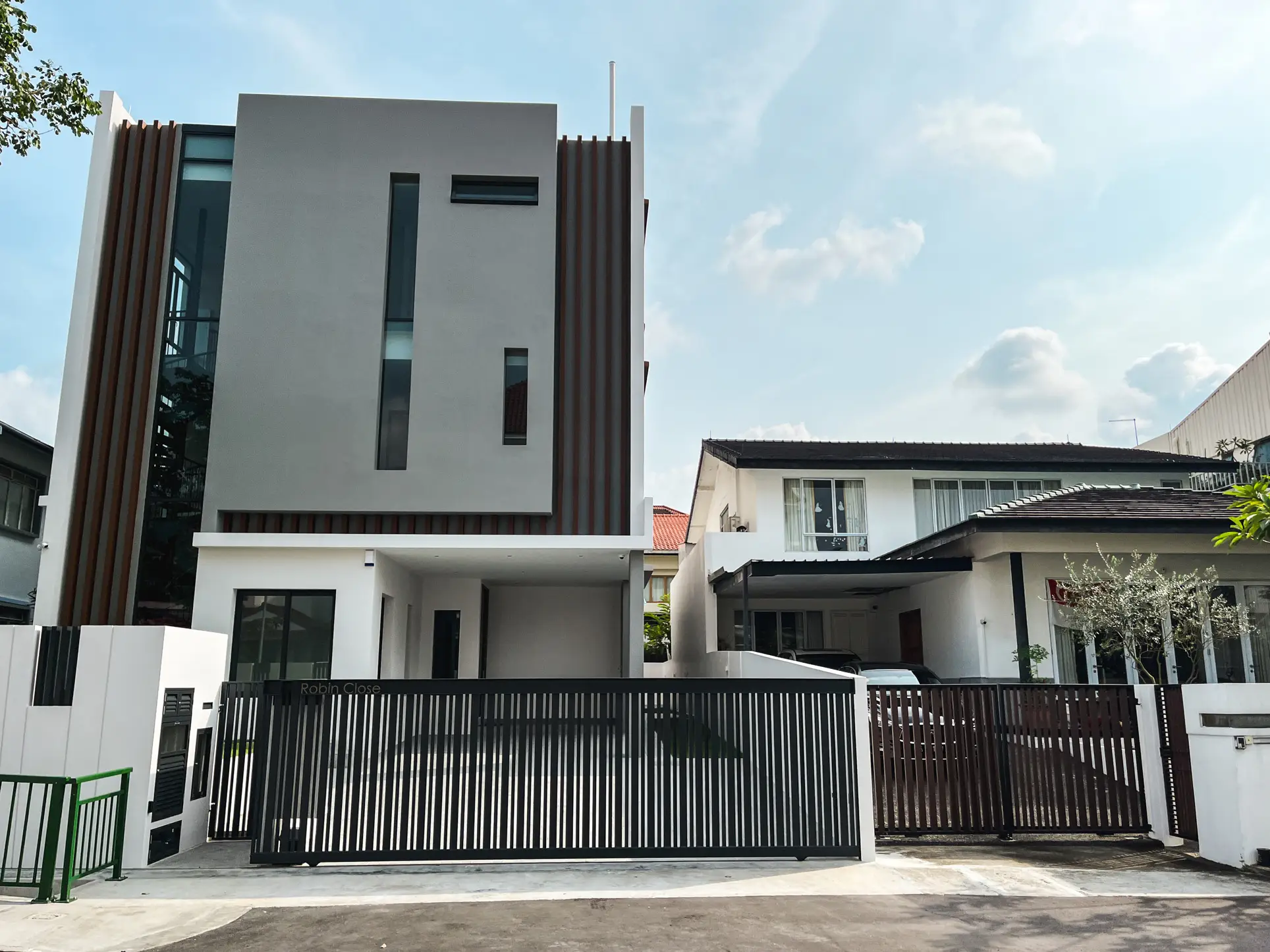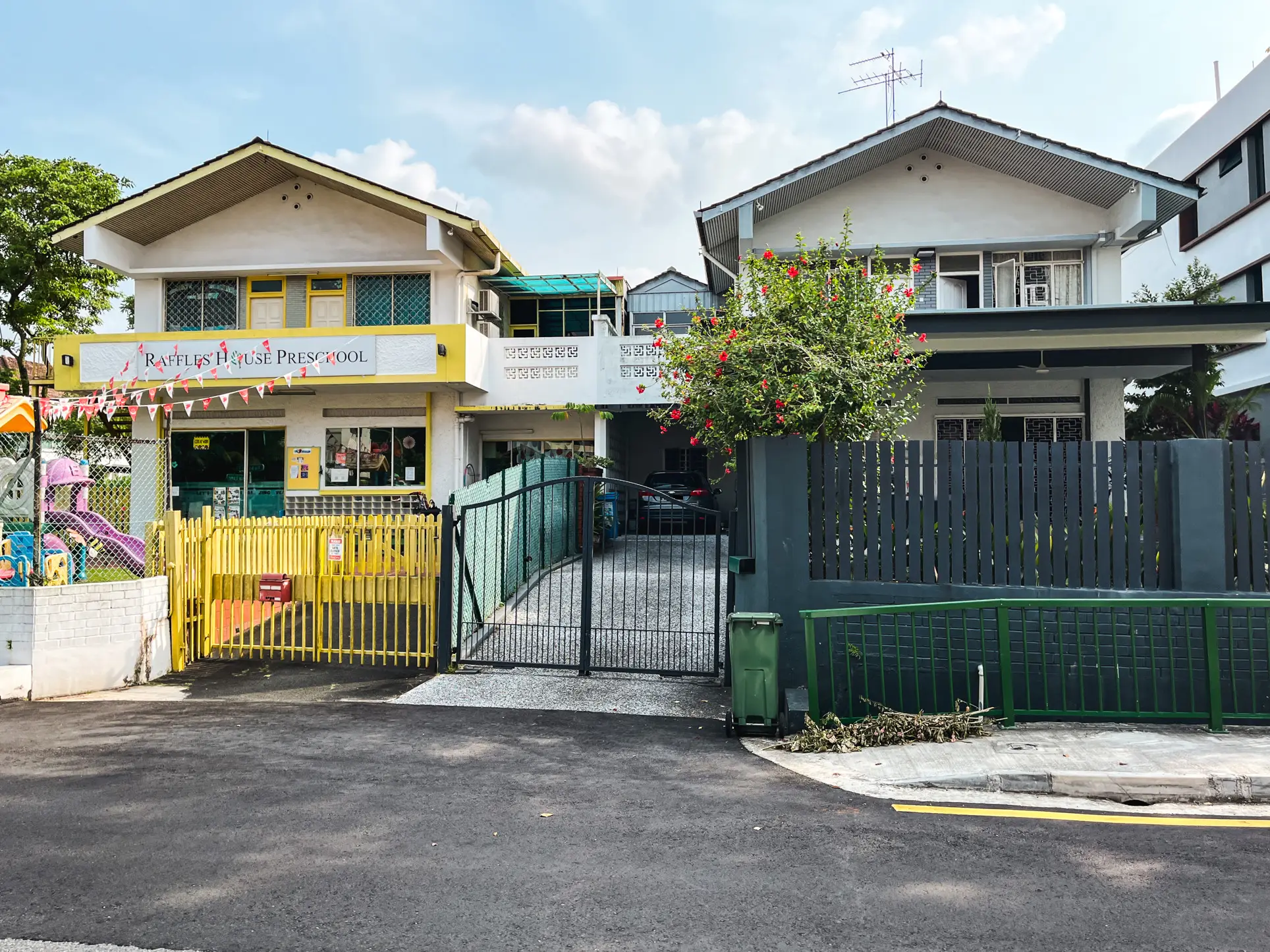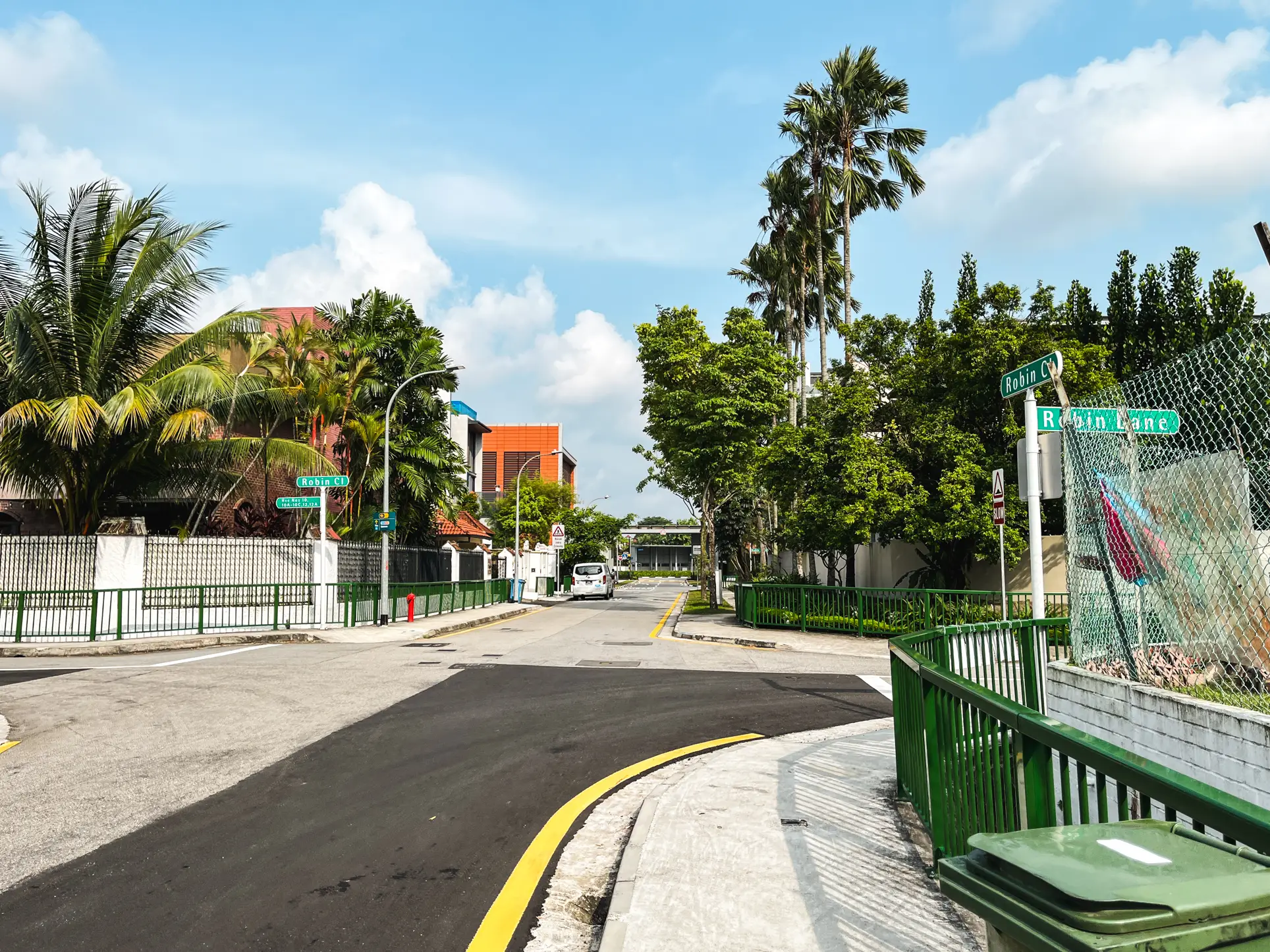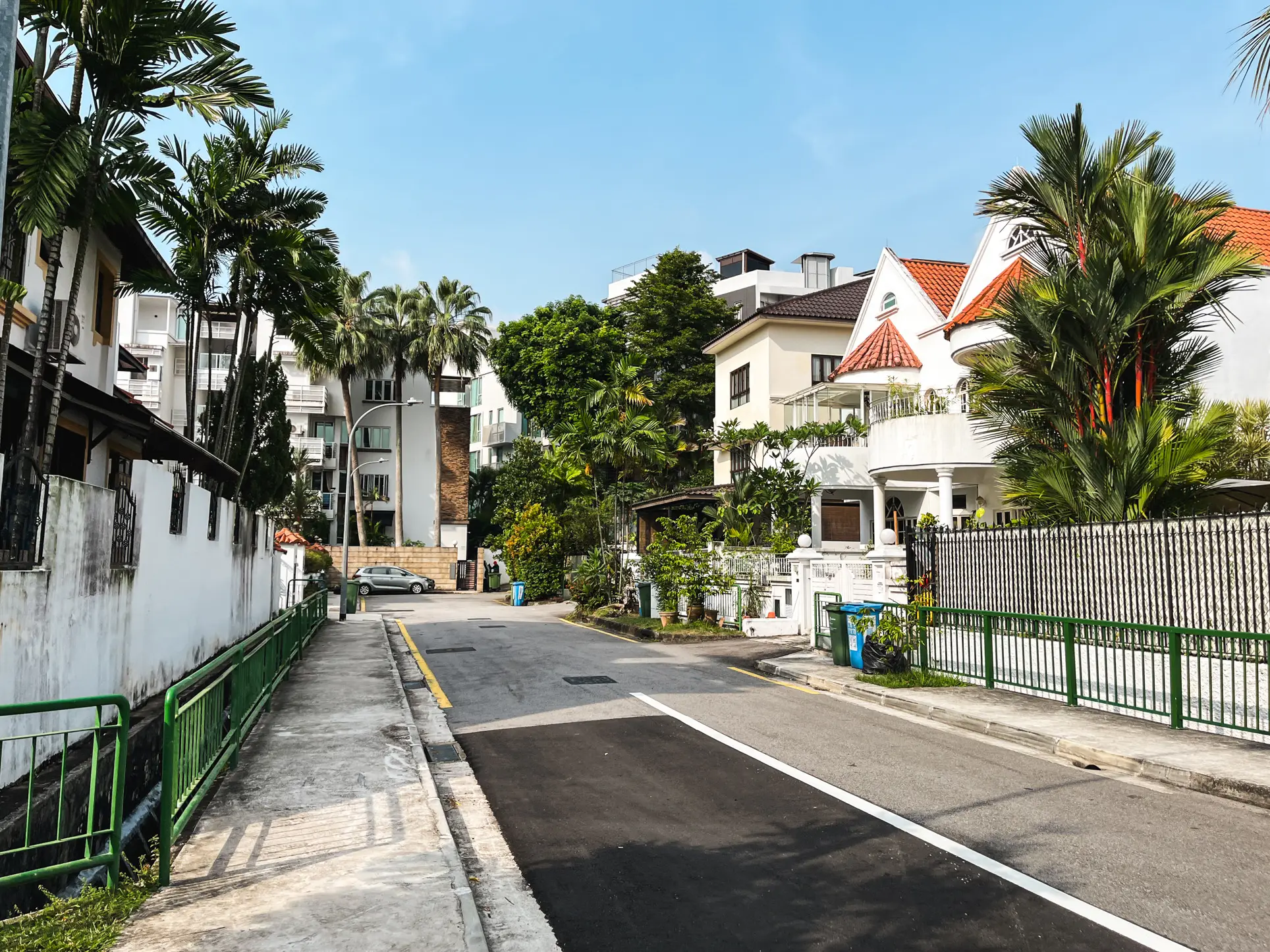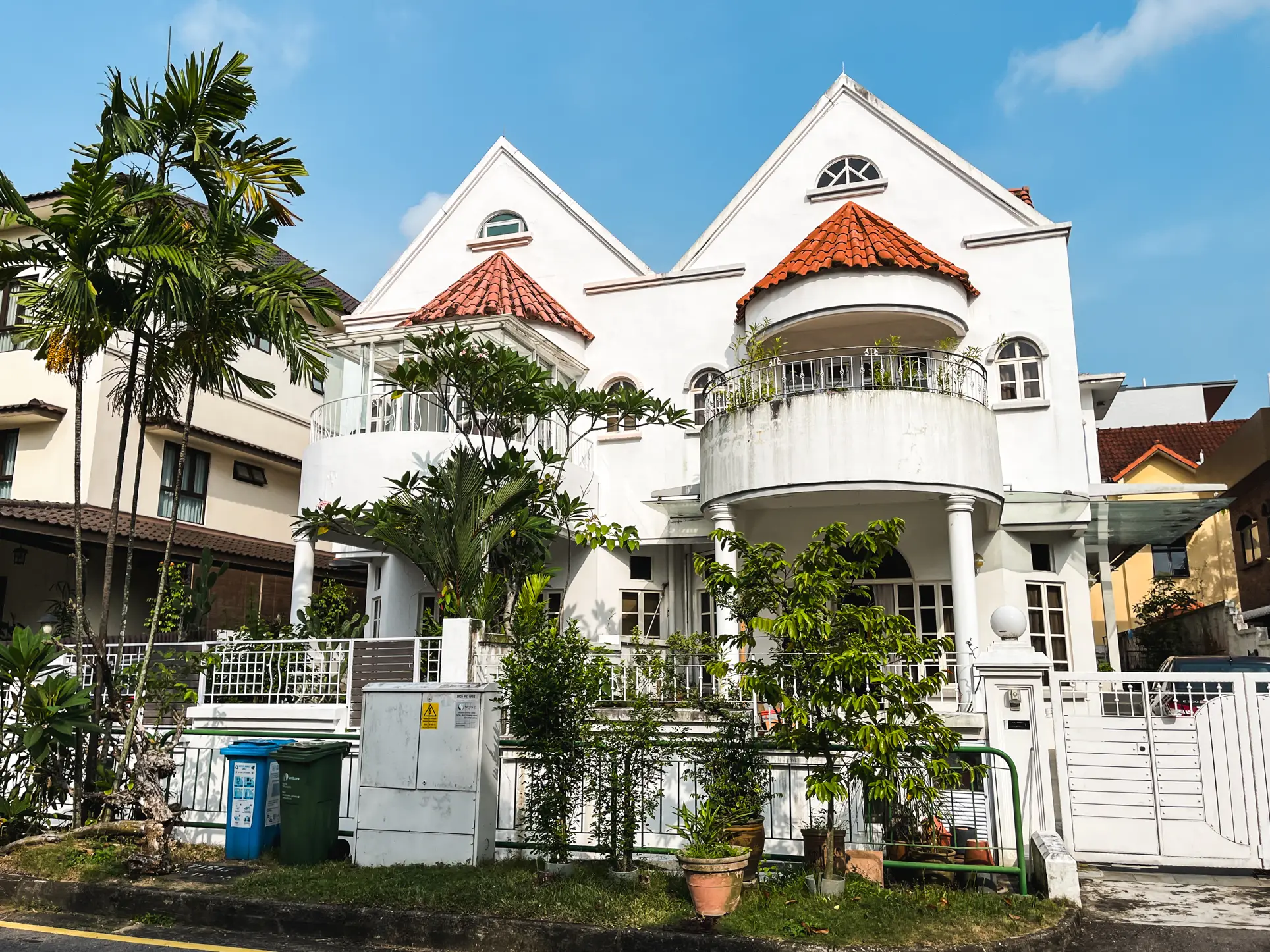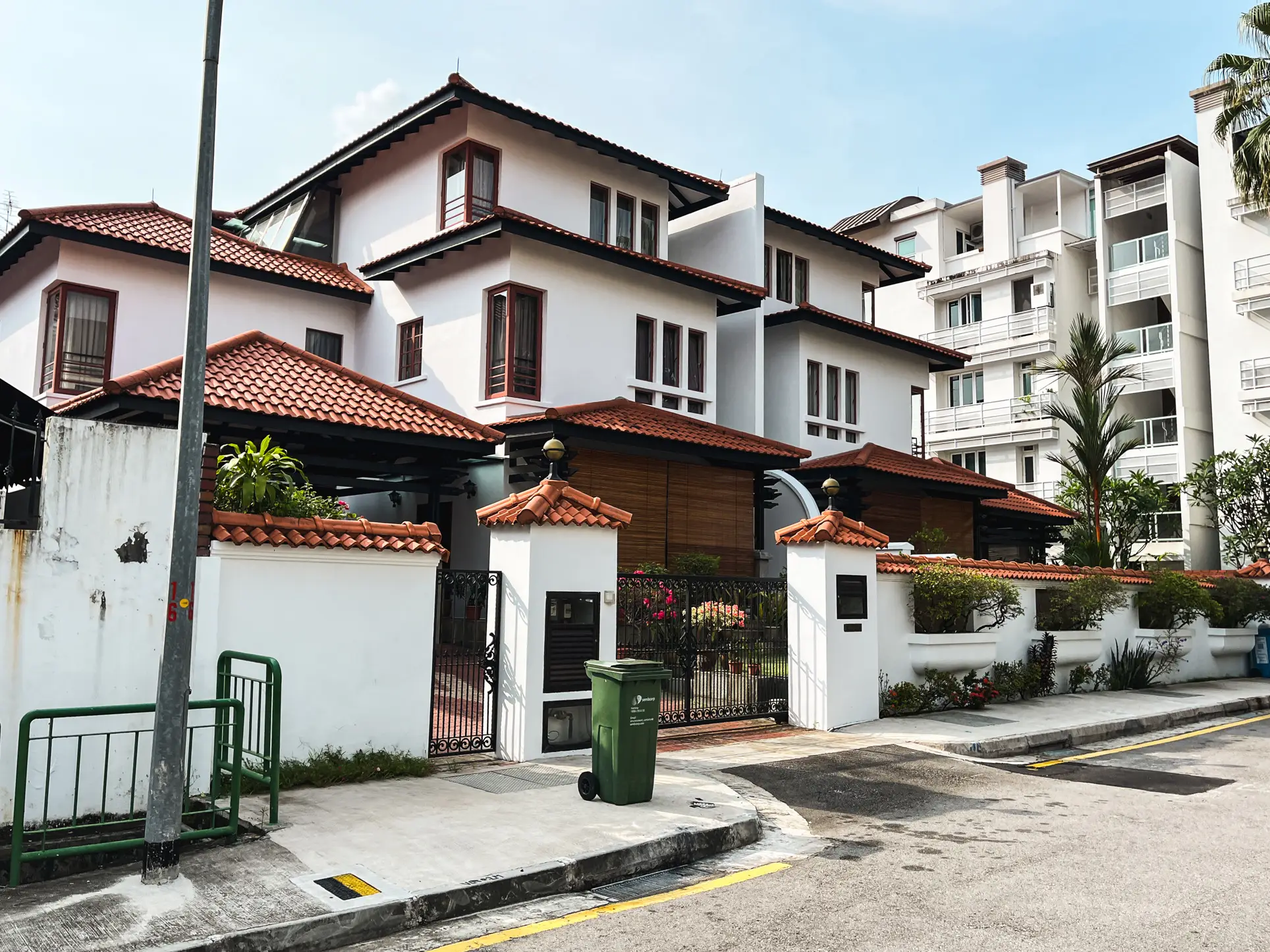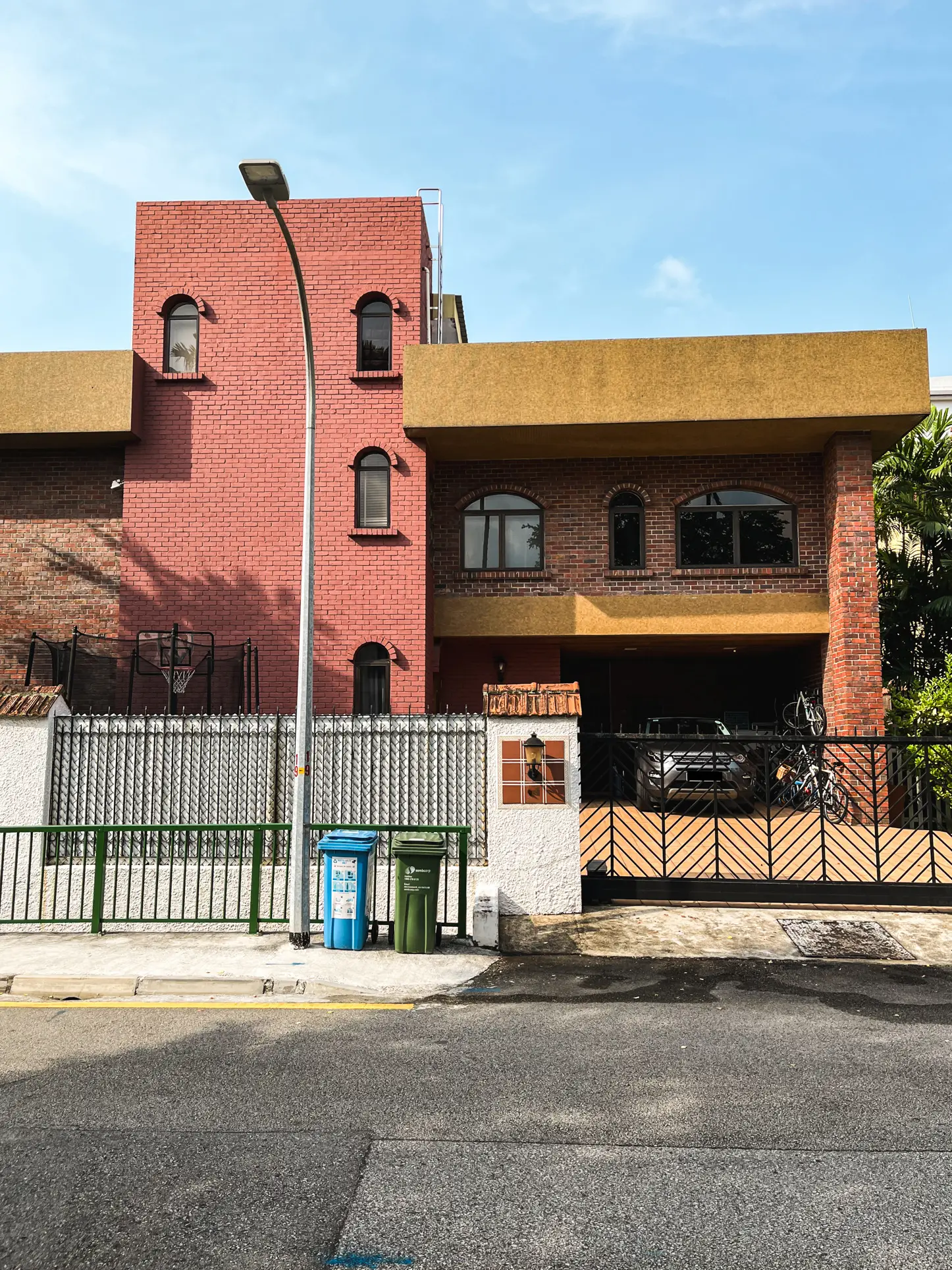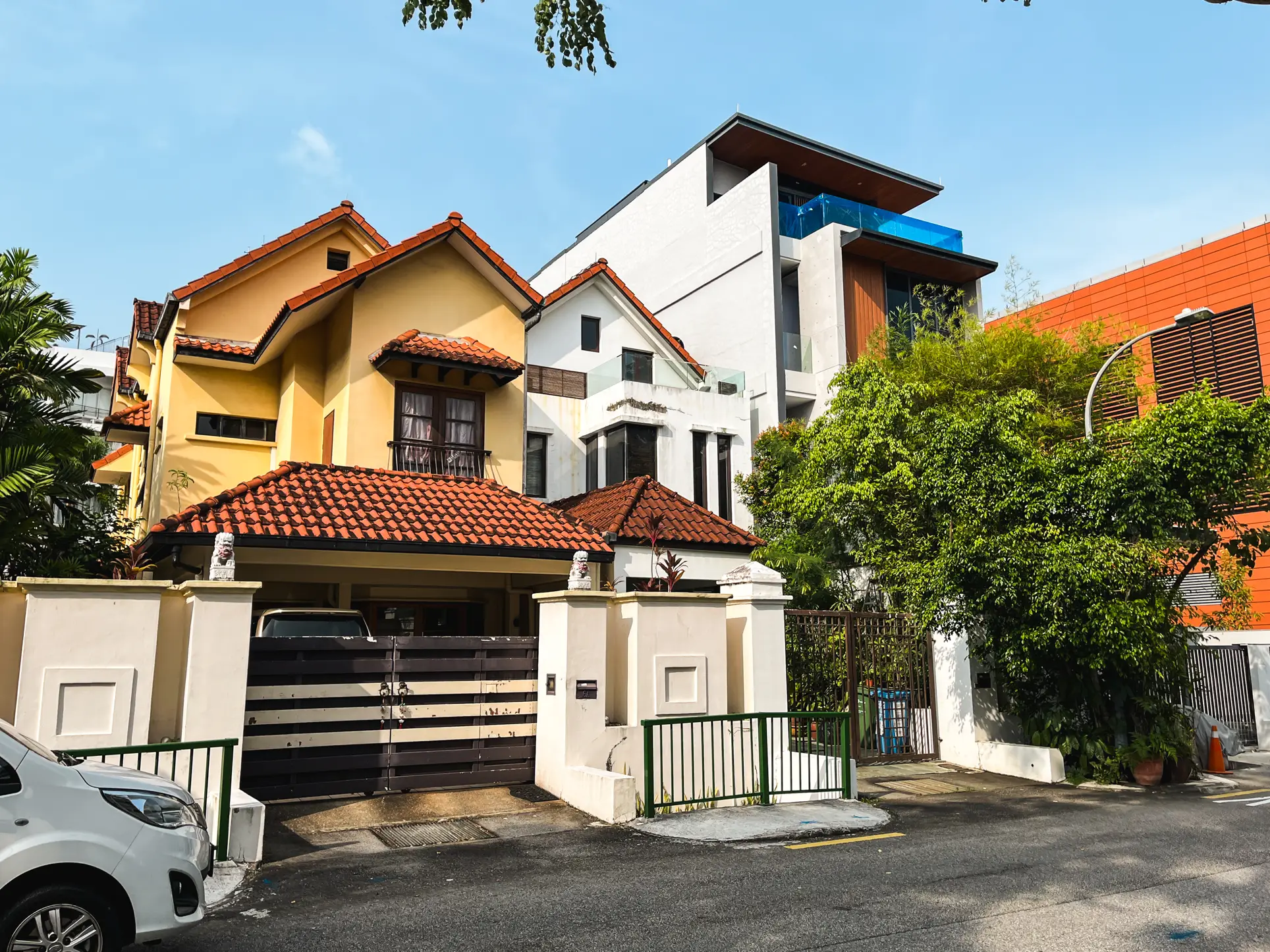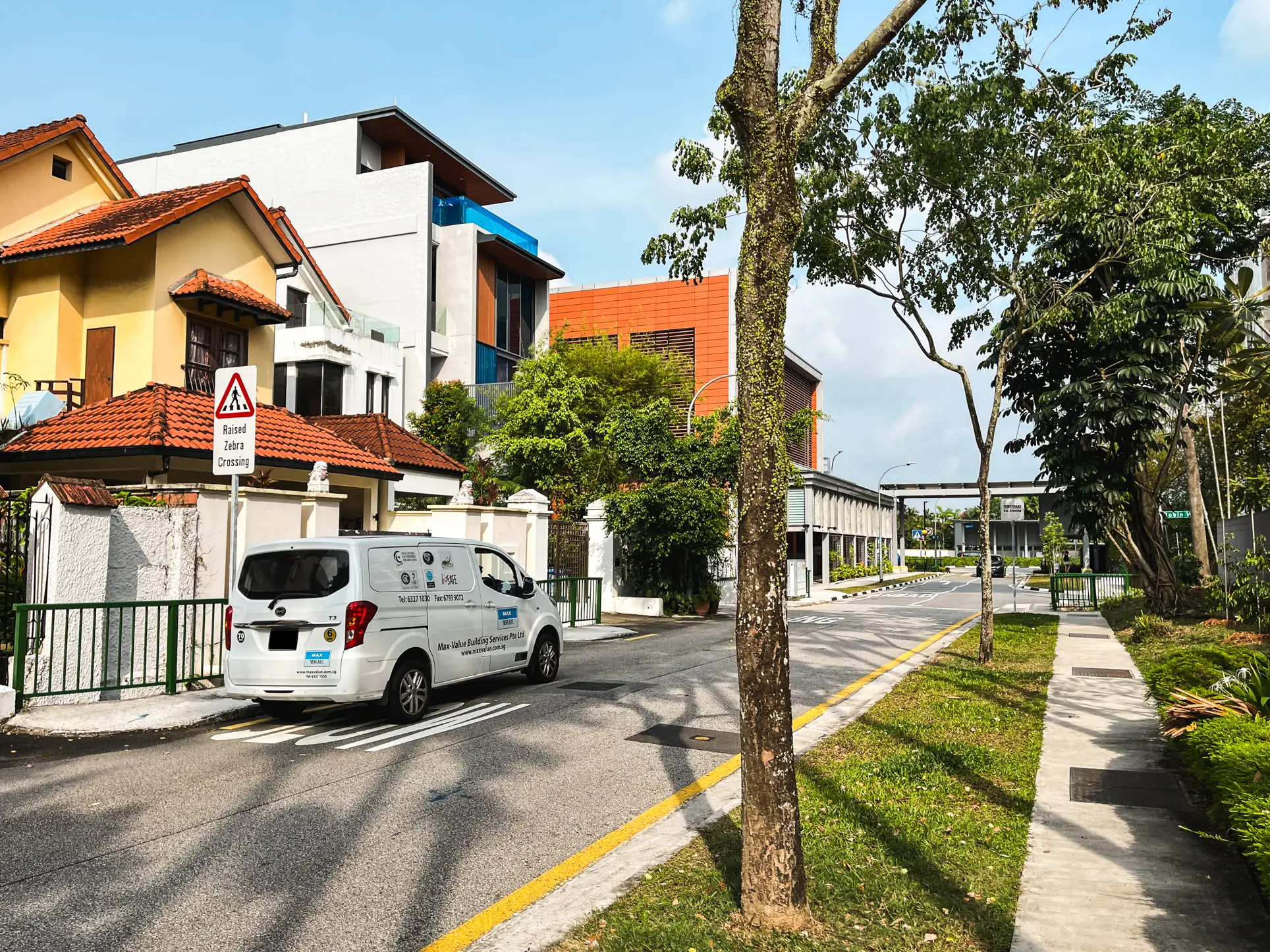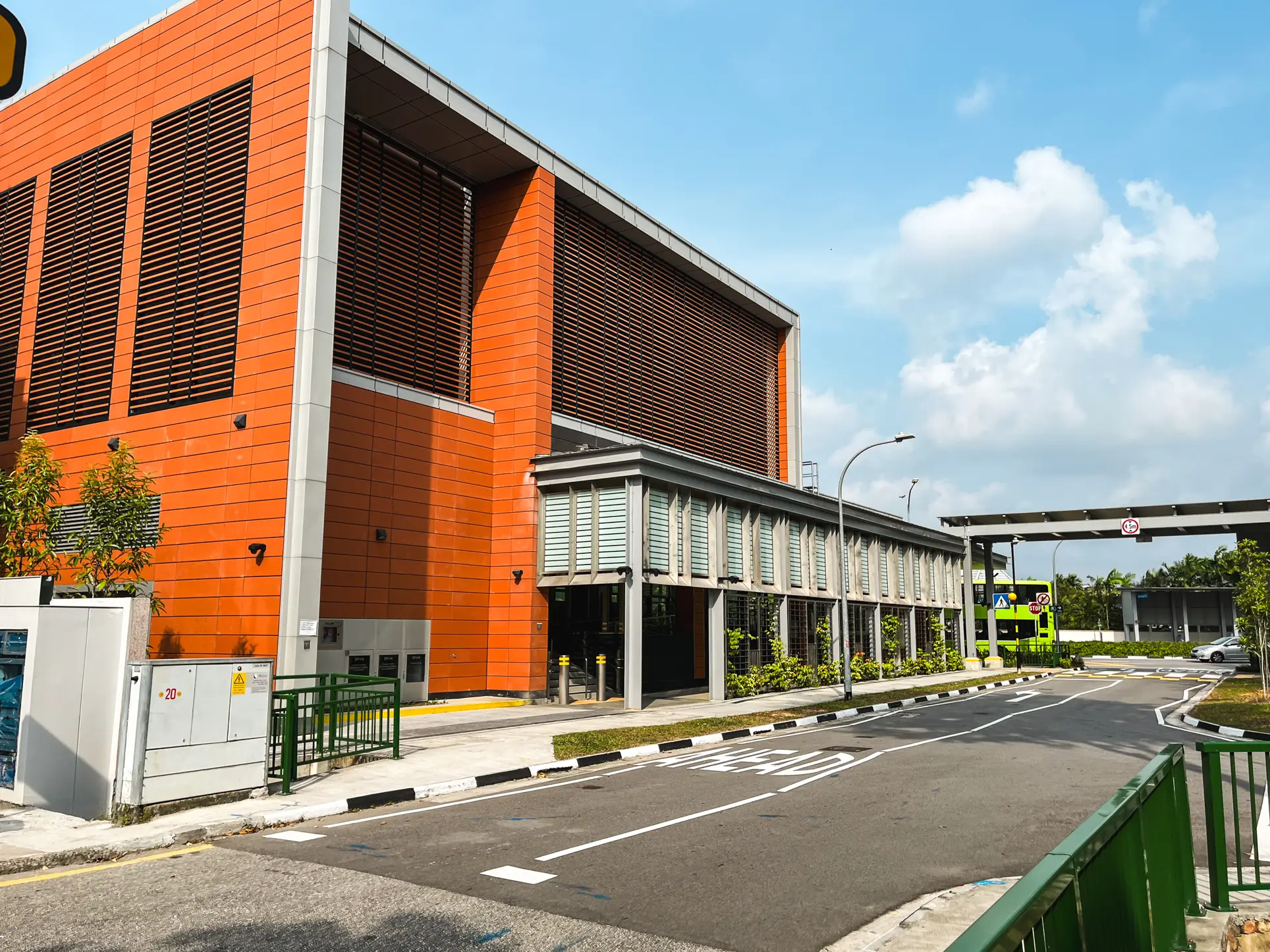 To the right is Robin Walk, so let's head out that way.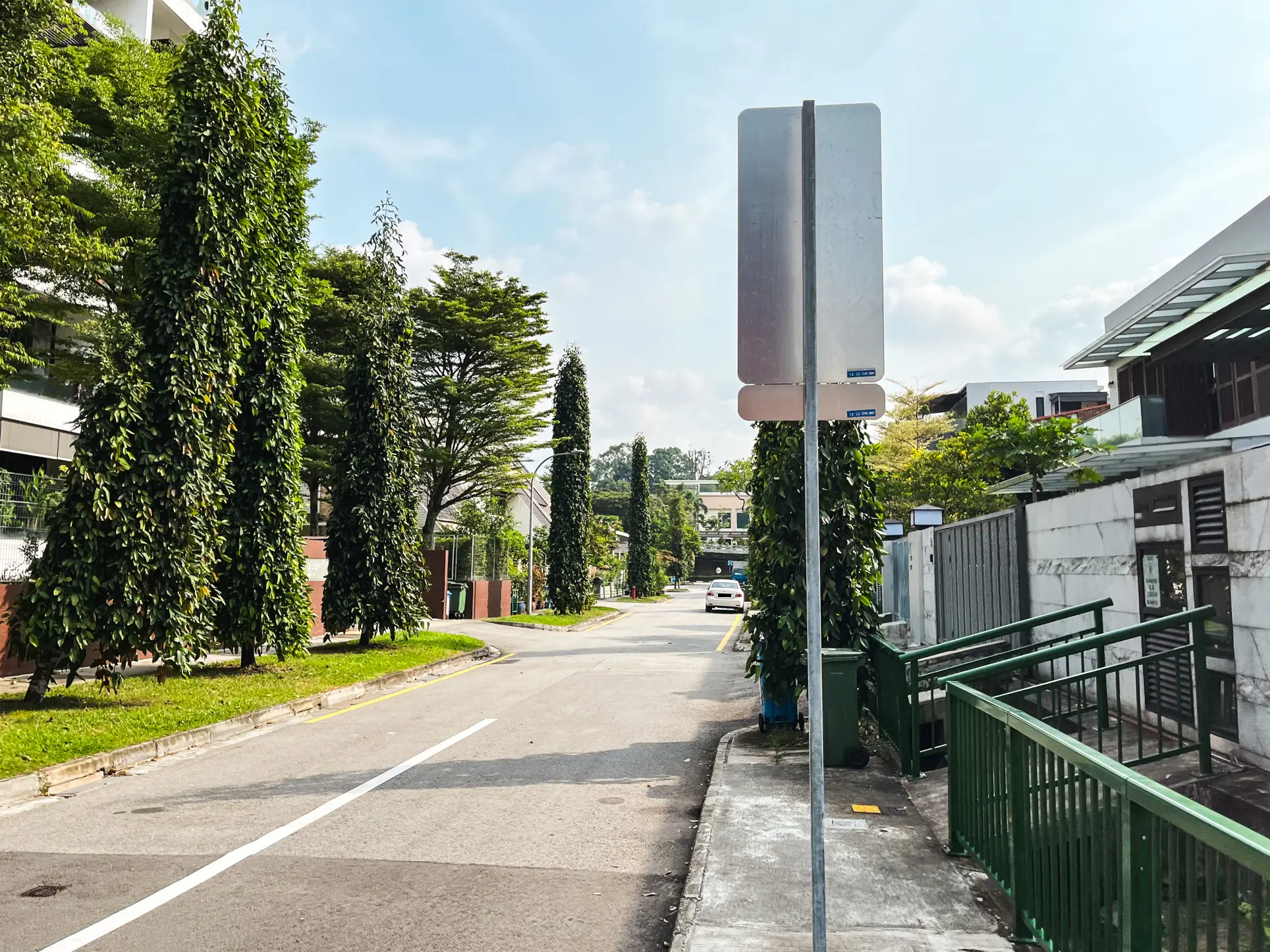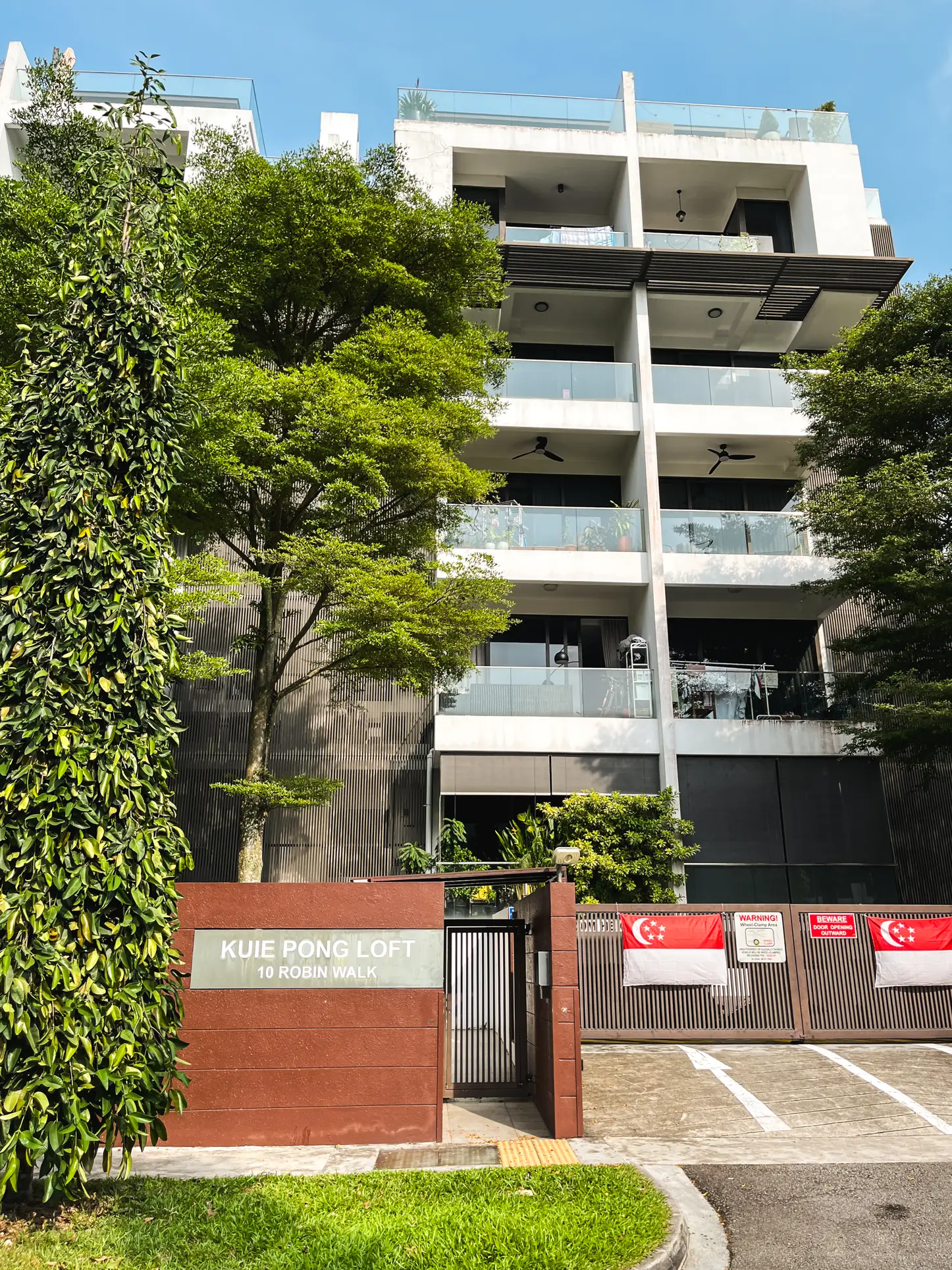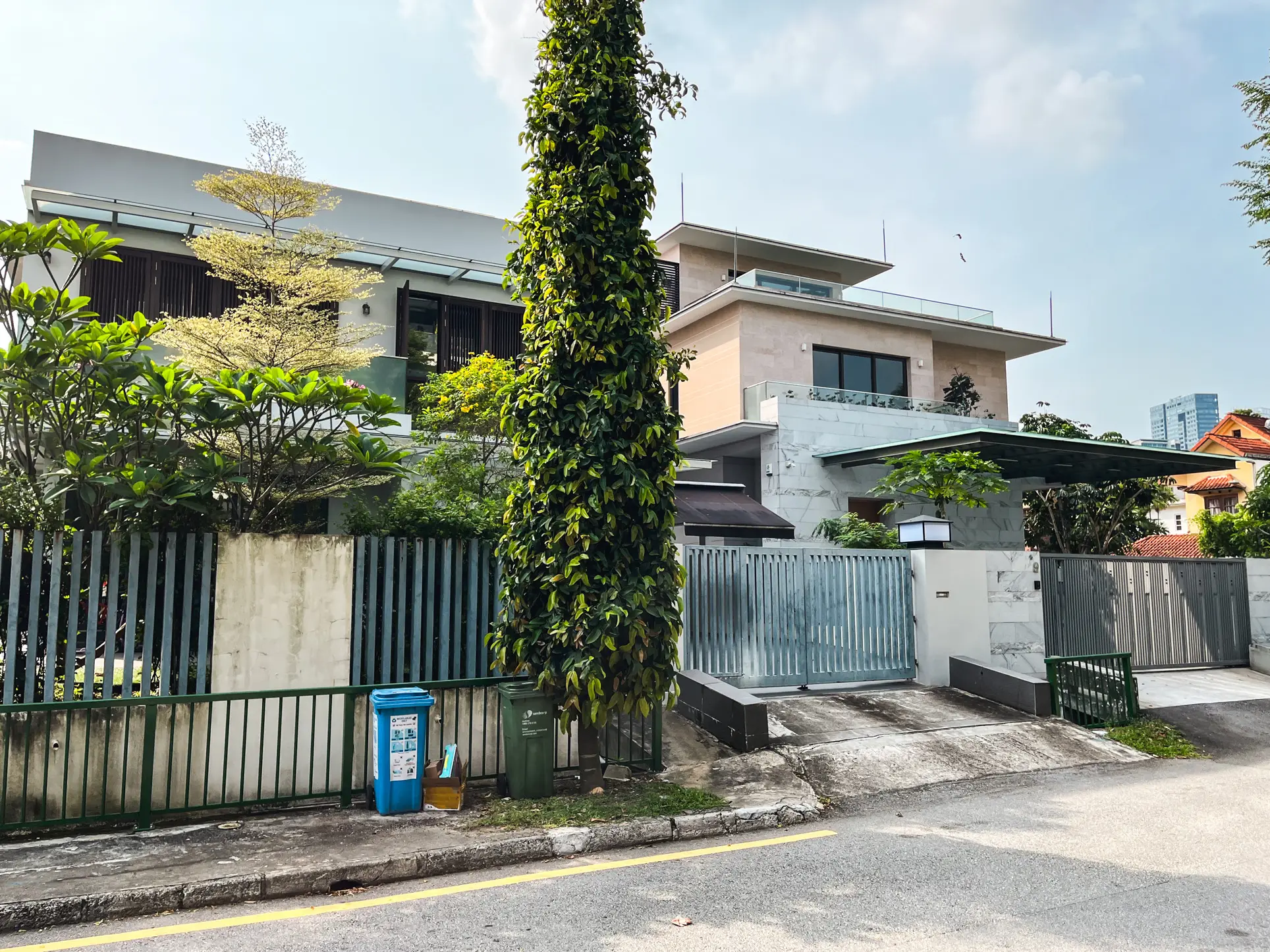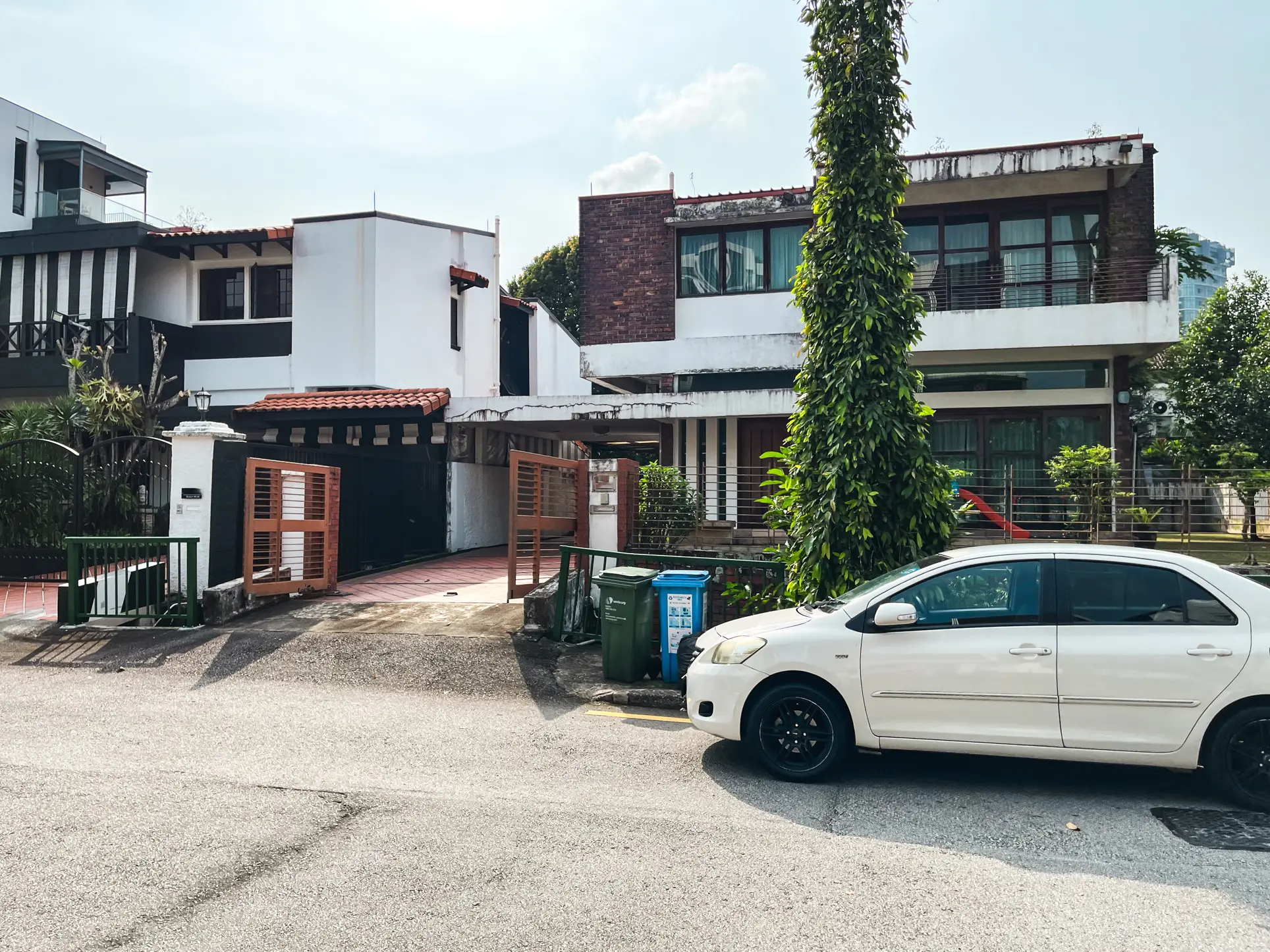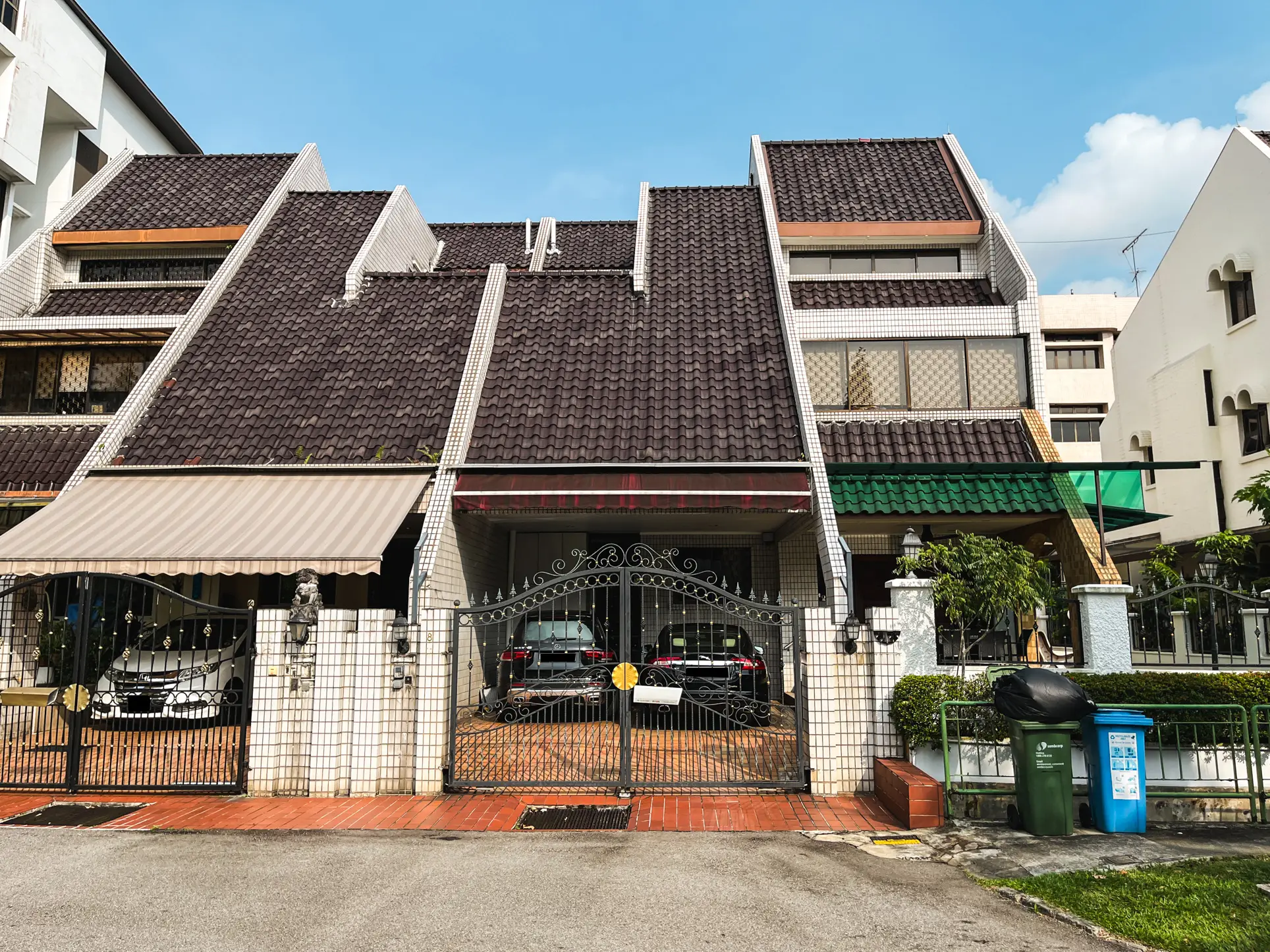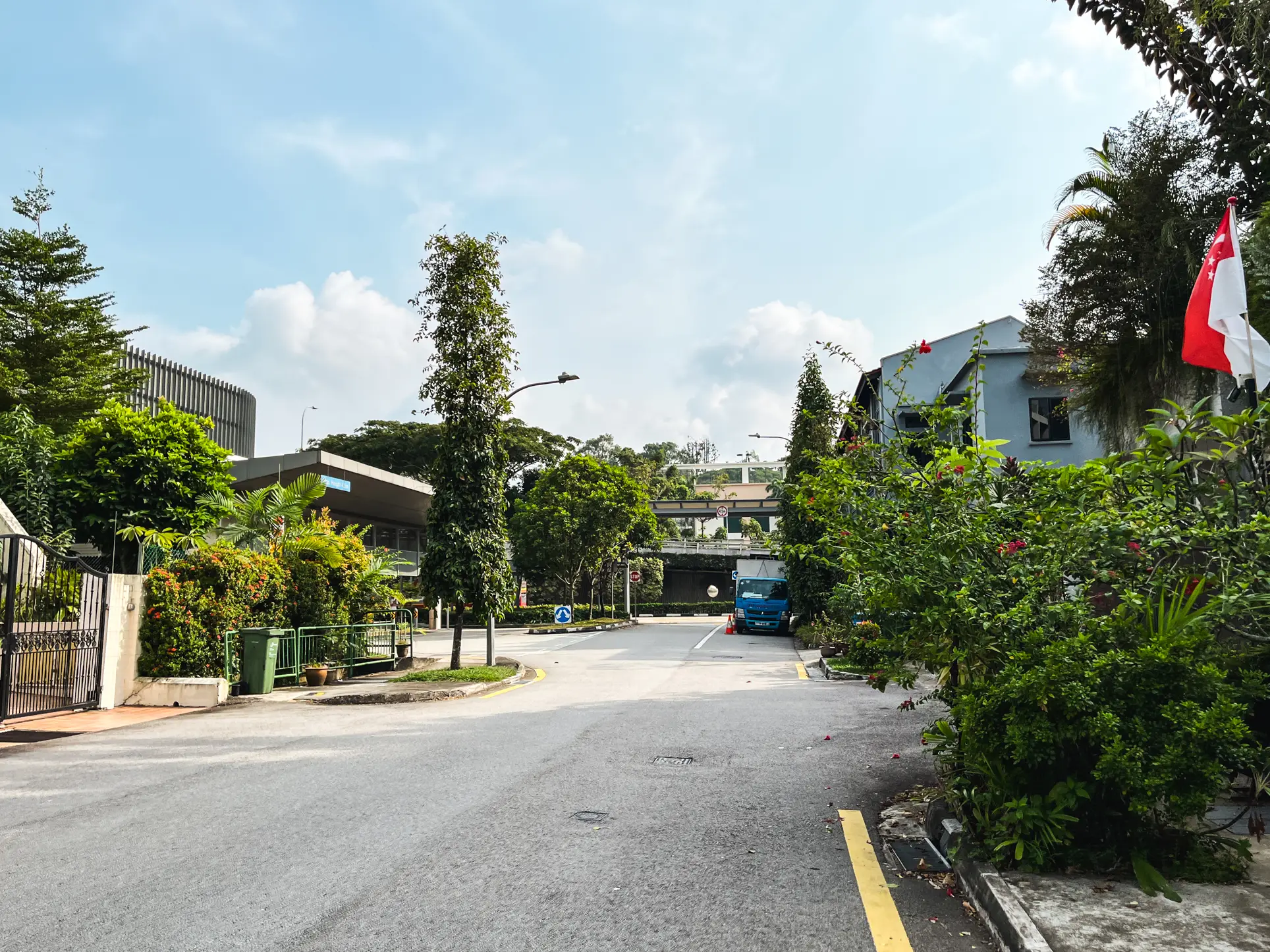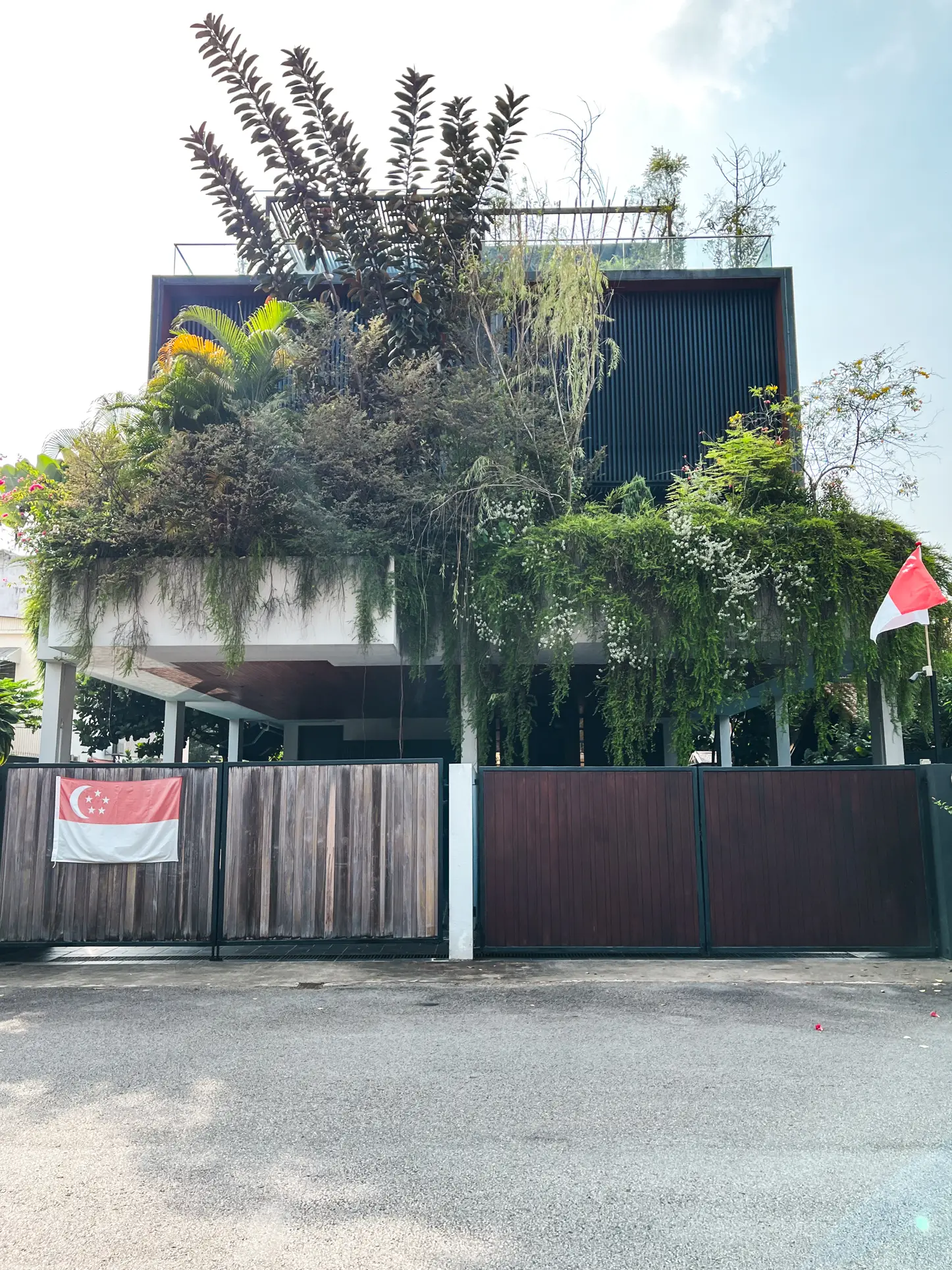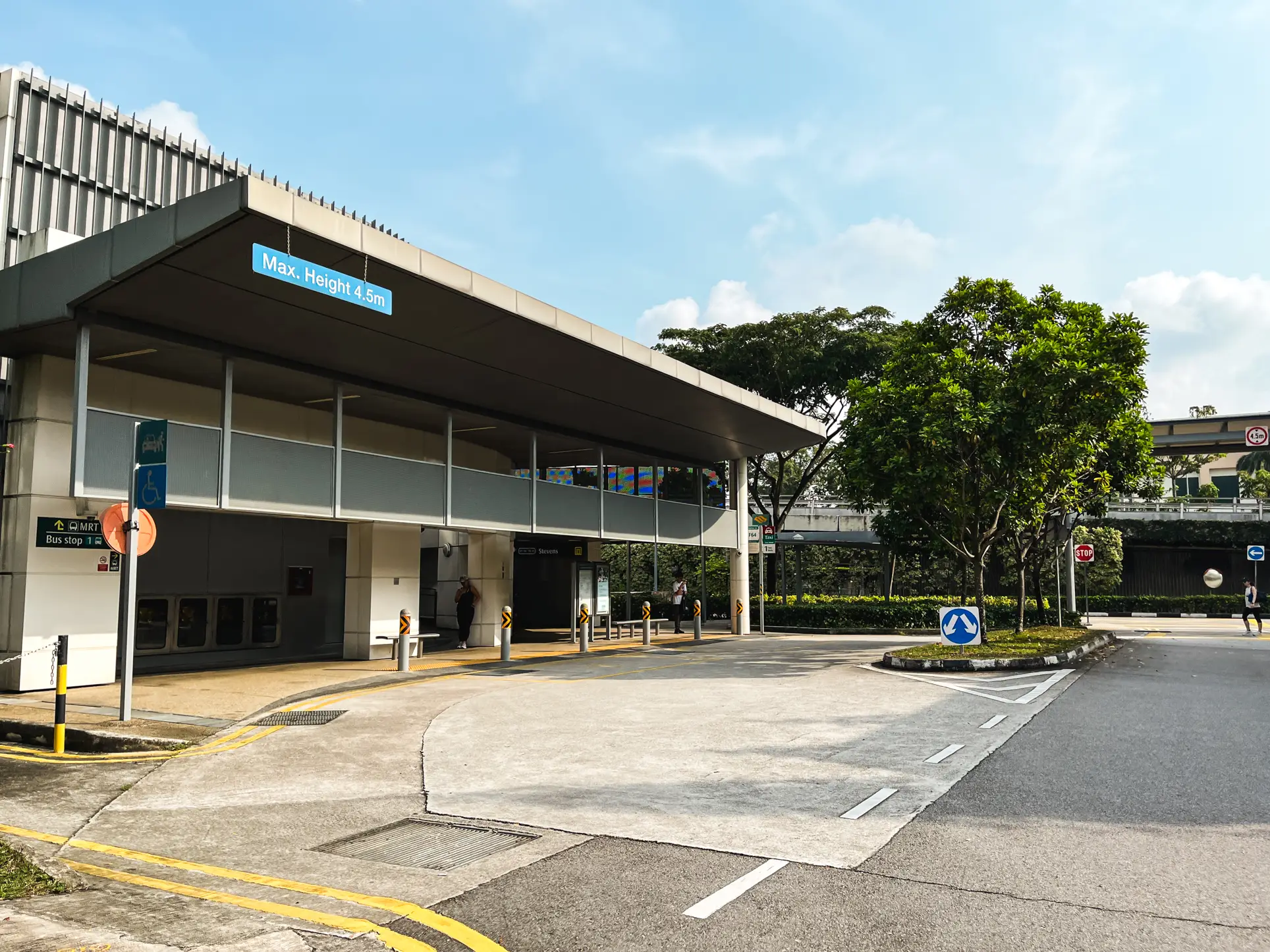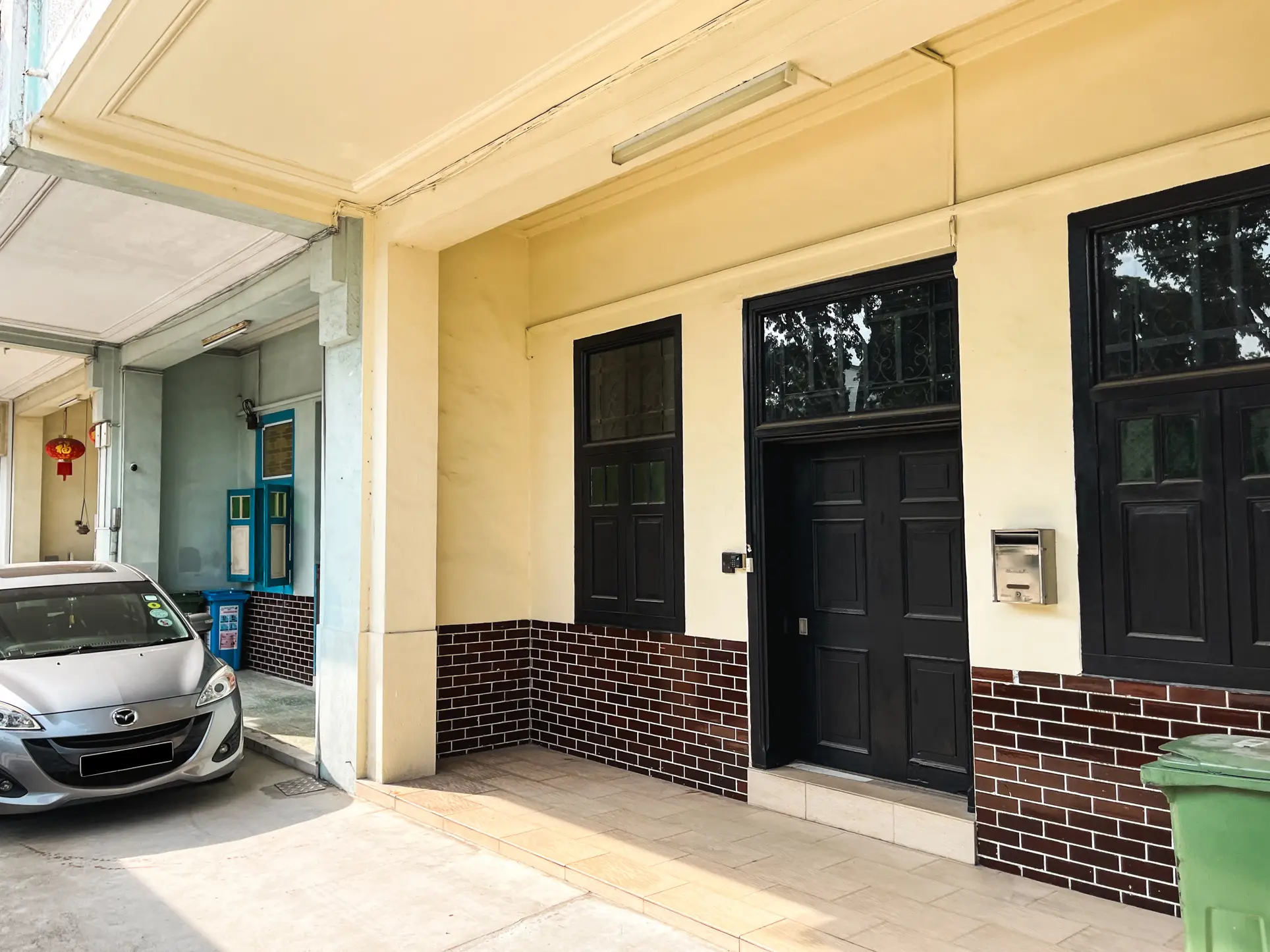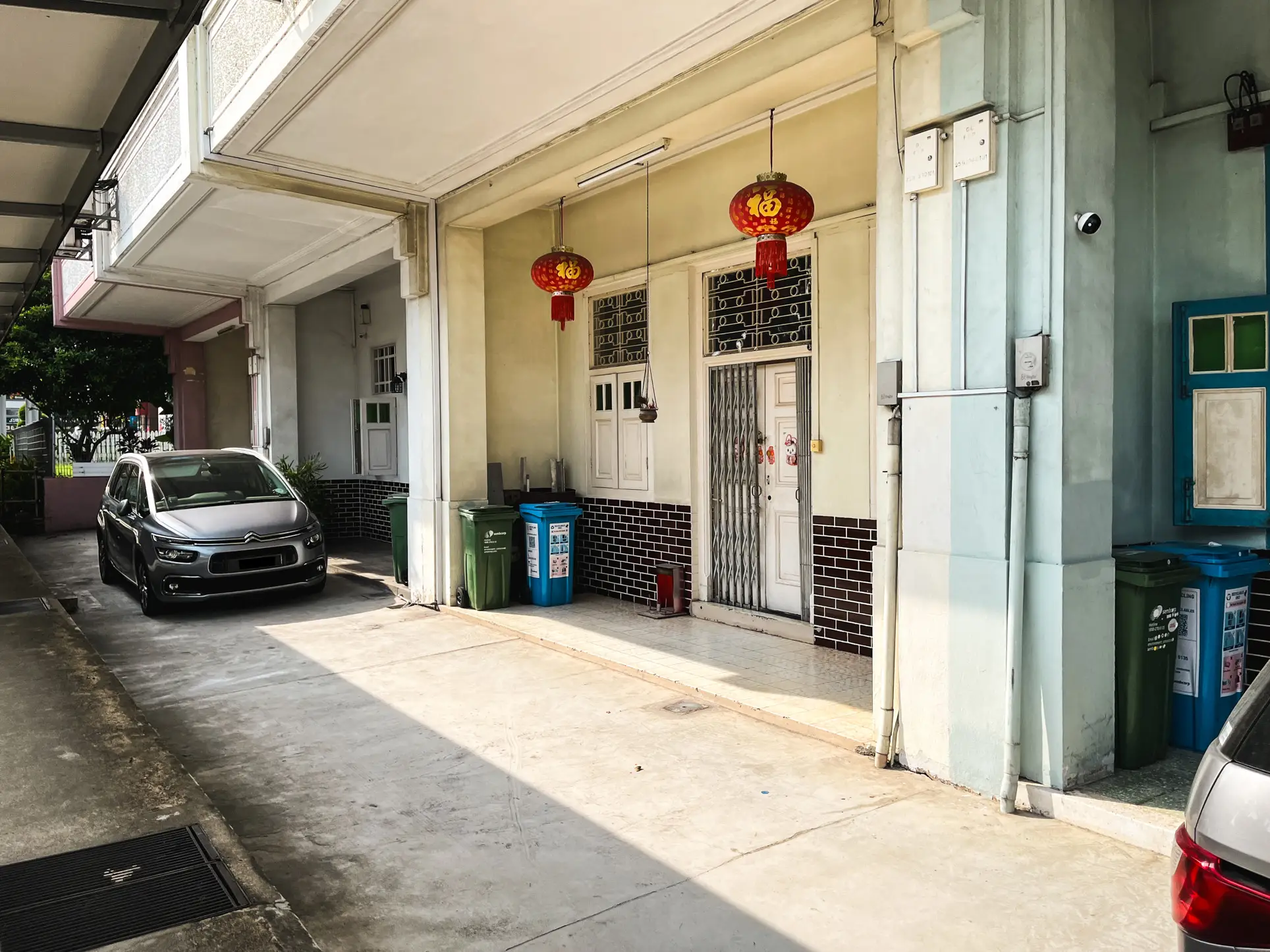 I kinda wonder how the residents of the houses towards the end get out though – do they go house by house to ask them to drive their cars out? (As there is only one way to enter/exit this little street.)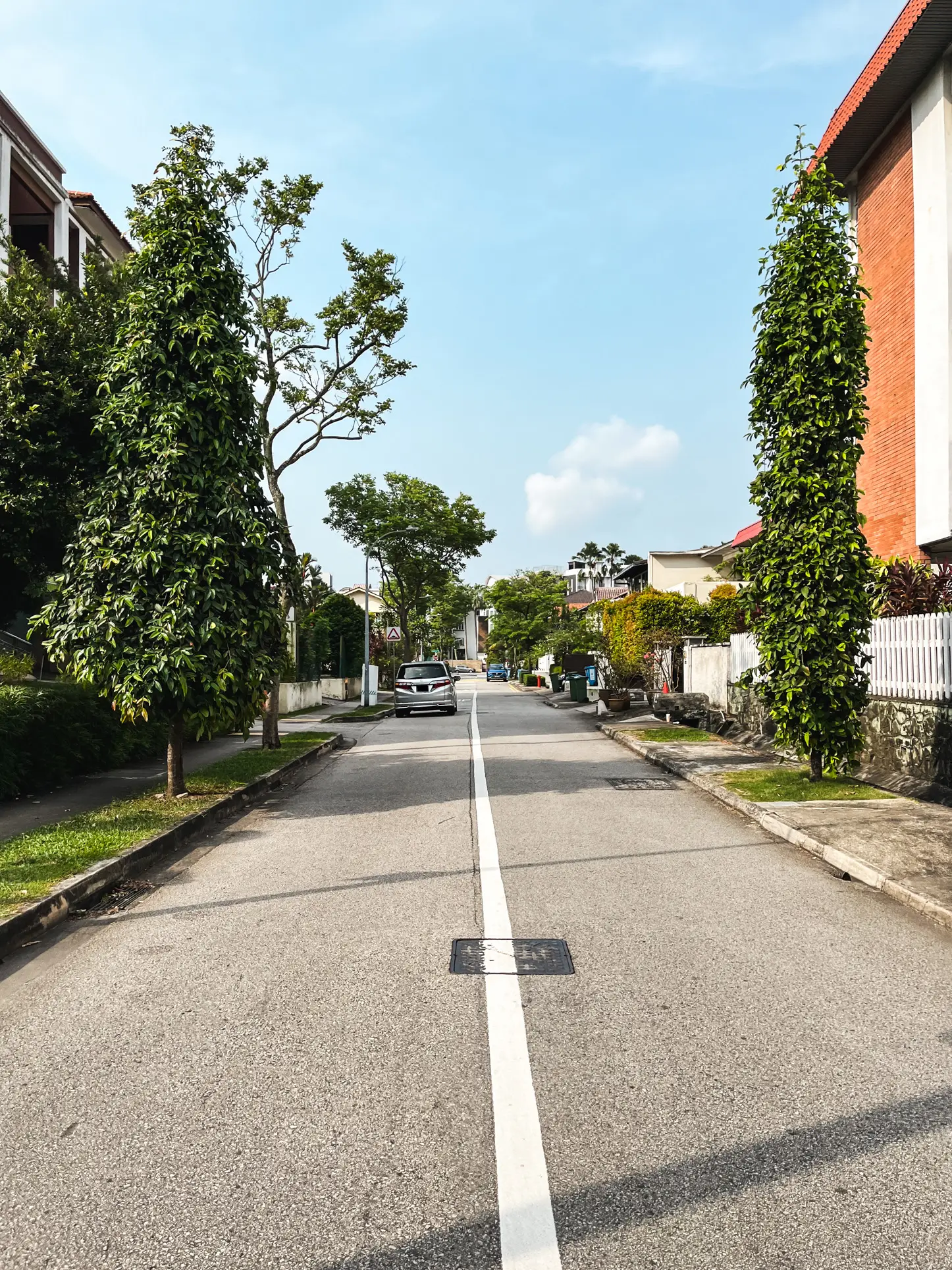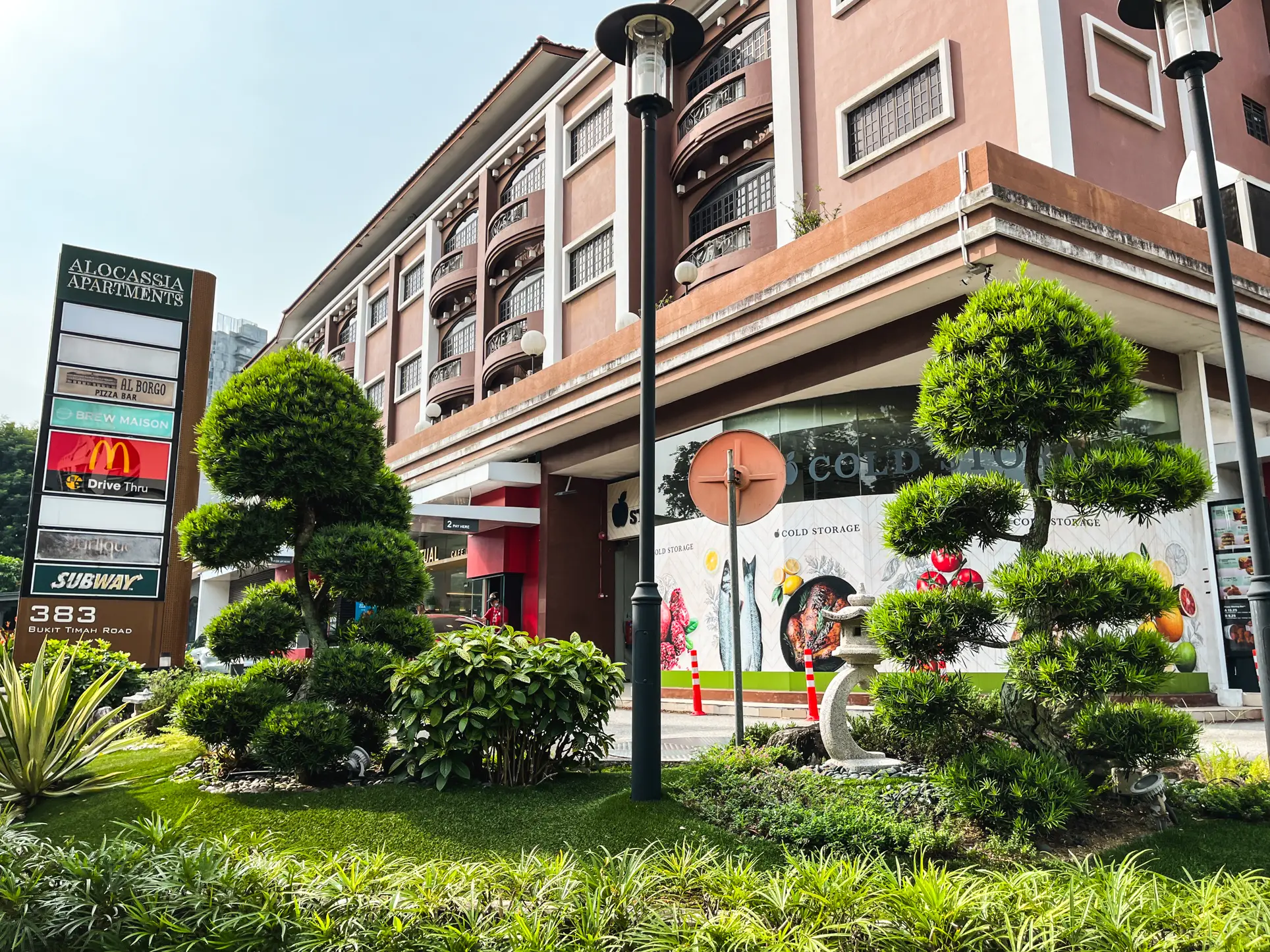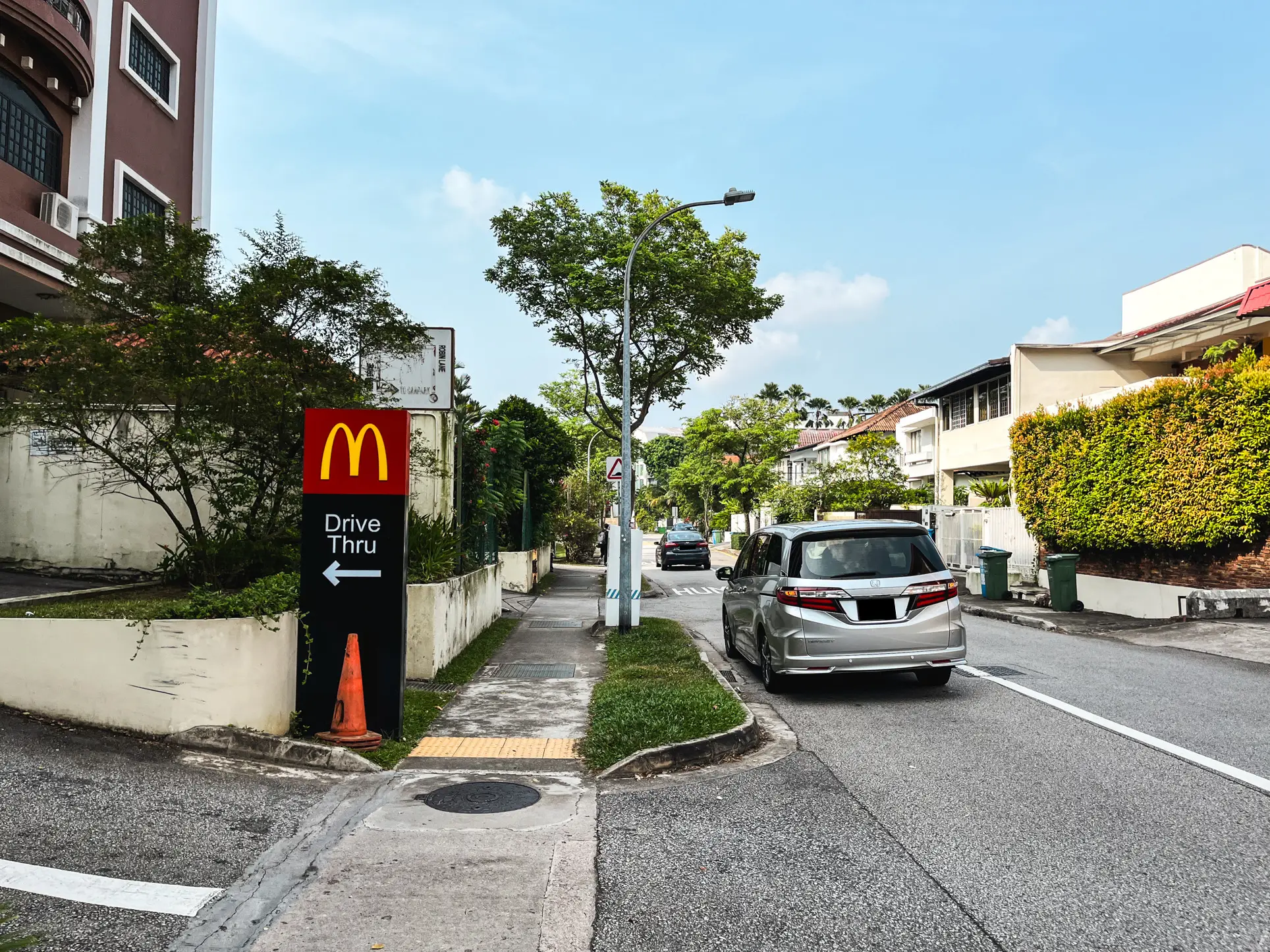 We've now reached the end of today's tour of the Robin area. How did you find it? Whilst it was more spacious than I had previously thought, I personally prefer residential areas with more of a village feel. The Robin enclave, like my first Kovan tour, feels more like a collection of houses with some amenities nearby, rather than a residential village. However, the area obviously remains popular with parents who want to enter their kids into ACS or SCGS (and have deep pockets!)
Do note that there is no playground within the estate. The closest green space would probably be Malcolm Park, across Bukit Timah and Dunearn Road. You can see it in the Masterplan below (it's the green bit at the top.)
If you walk all the way along Robin Road, you'll also eventually reach the Mercure Hotel, where you can find more eateries.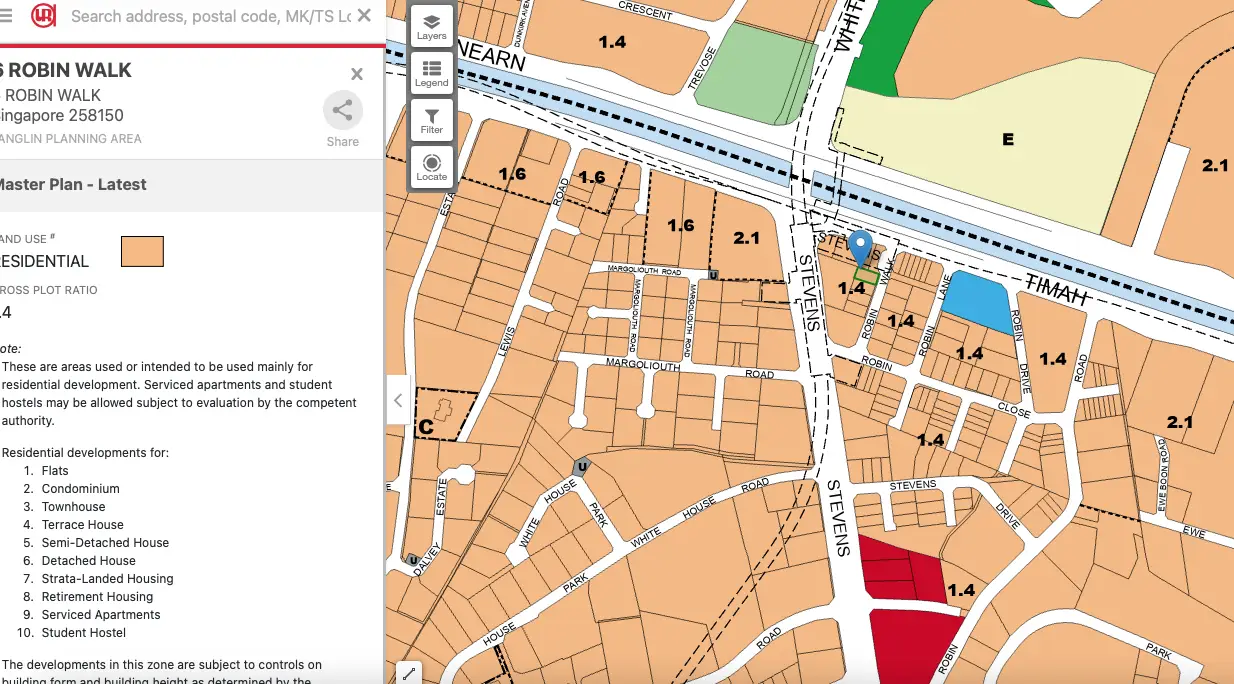 One last thing to highlight: many plots of property here have a plot ratio of 1.4, as shown above. I.e. in the absence of other restrictions, there are potential opportunities to en-bloc and develop a low-rise condo on the grounds.
So, now that you have all the info, how did you find the Robin estate? Let me know in the comments!