Condo Reviews

The Cornwall Review: Balinese-Inspired Hideaway In Holland
Reuben
February 16, 2020

18

min read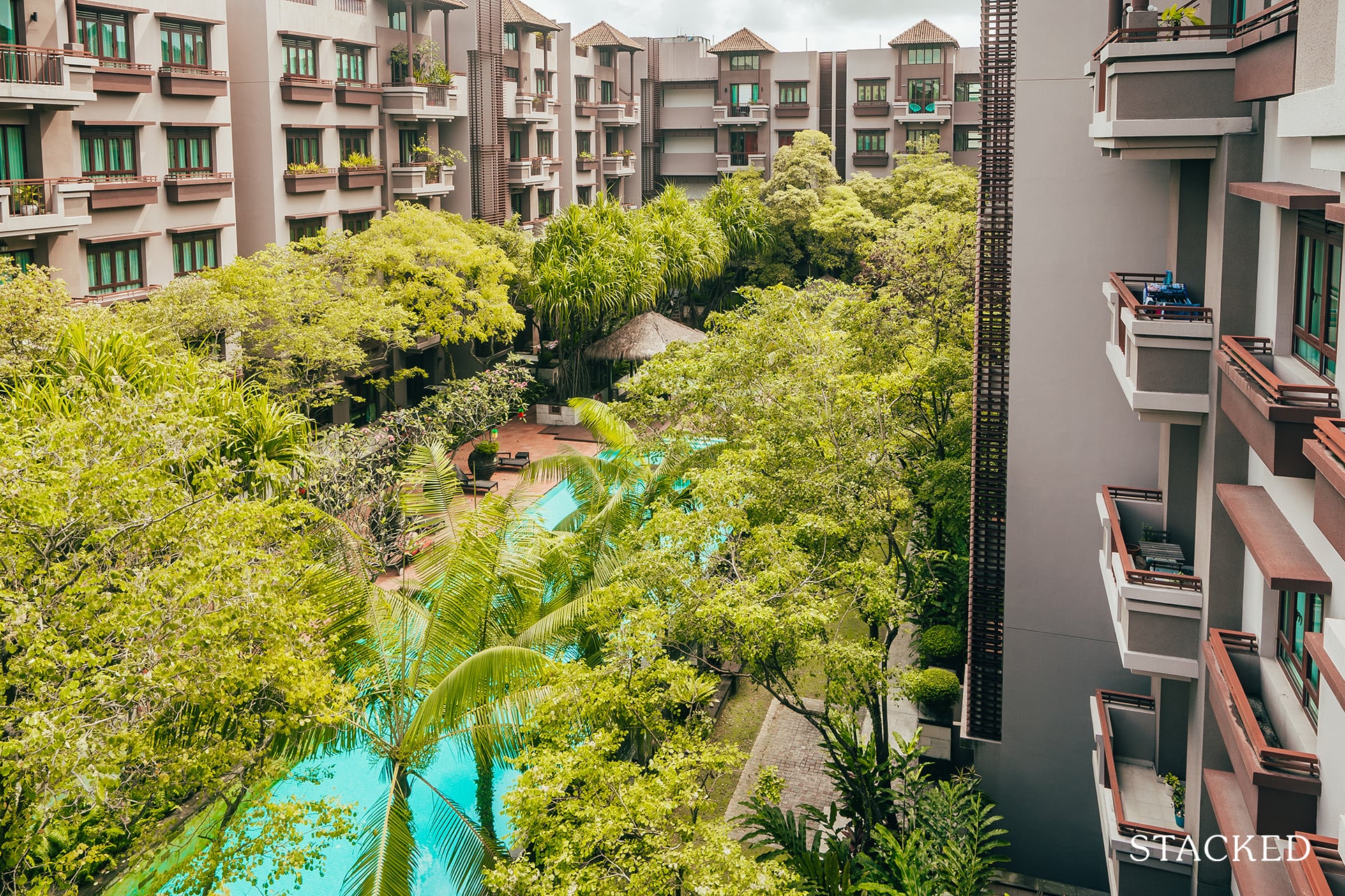 The Cornwall truly gives a resort-like feel with its low-rise apartment blocks and villa-like inner-condo vibe. However, while it comes with a wonderfully architected (and equipped) gym, as well as a jacuzzi and lap pool, it lacks the modernity / variety that bigger new condos can offer.
Reviewed by Reuben on February 16, 2020
What we don't like
—

Road noise for units along Holland Road
18
min read
| | | | |
| --- | --- | --- | --- |
| Project | The Cornwall | District | 10 |
| Address | Cornwall Gardens | Tenure | Freehold |
| Site Area | 80,730 sqft | No. of Units | 99 |
| Developer | Lum Chang Development Pte Ltd | TOP | 2005 |
For those of us who've been to Bali, you'd probably remember at least one crazy ride on a scooter – and also quite possibly, the frequency of having Nasi or Mee Goreng for lunch.

Yet one thing you might have noticed is the abundance of resorts in the general area.

Regardless of shapes, sizes or costs, these resorts commonly radiate chilled and laid back atmospheres – stemming from the unique, villa-like architecturals.

Singapore's very own 'The Cornwall' parallels this exact sentiment, its low-storeyed villa-like blocks spotting harmonious hues as its sparkling koi ponds and jungle-like playgrounds beckon to those who crave an enchanting abode.

Yet why do we not hear of it often?

Well for one, there's a never-ending list of new launch developments that often washes over most of the existing condos (no matter how villa-like they might be). 

And two, it only houses 99 units!

Yet despite its seemingly meek (read: exclusive) nature, you'd be surprised to find out that The Cornwall does very well on the facility-offering front, and it most definitely packs a punch location-wise.

With the imminent rise of One Holland Village on one end, and the massive Leedon Green on the other, we quickly see that the area is fast becoming a hotspot for redevelopment.

Occupants here might not know it, but a whole lot more attention is about to head their way in the coming months as the ever-seeking property spotlight illuminates this section of the illustrious District 10.

The Cornwall Insider Tour
Facilities in The Cornwall
Swimming Pool
Gym
Playground
Barbeque Pit
Function Room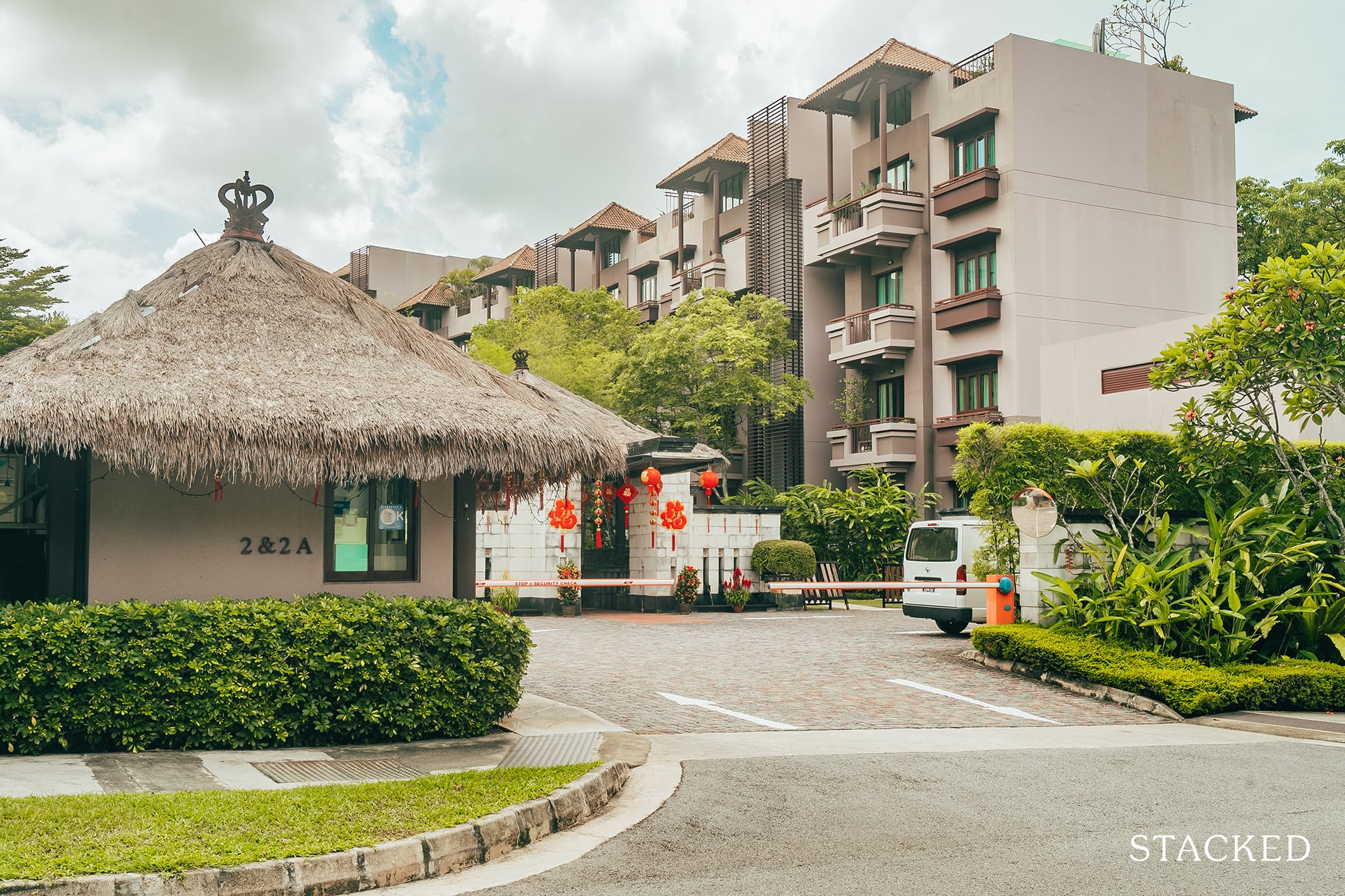 The first thing you'd notice when you get to the Cornwall is the thatched roof of the guardhouse. It's a very similar look and feel to other developments like the Maplewoods and Fifth Avenue condo.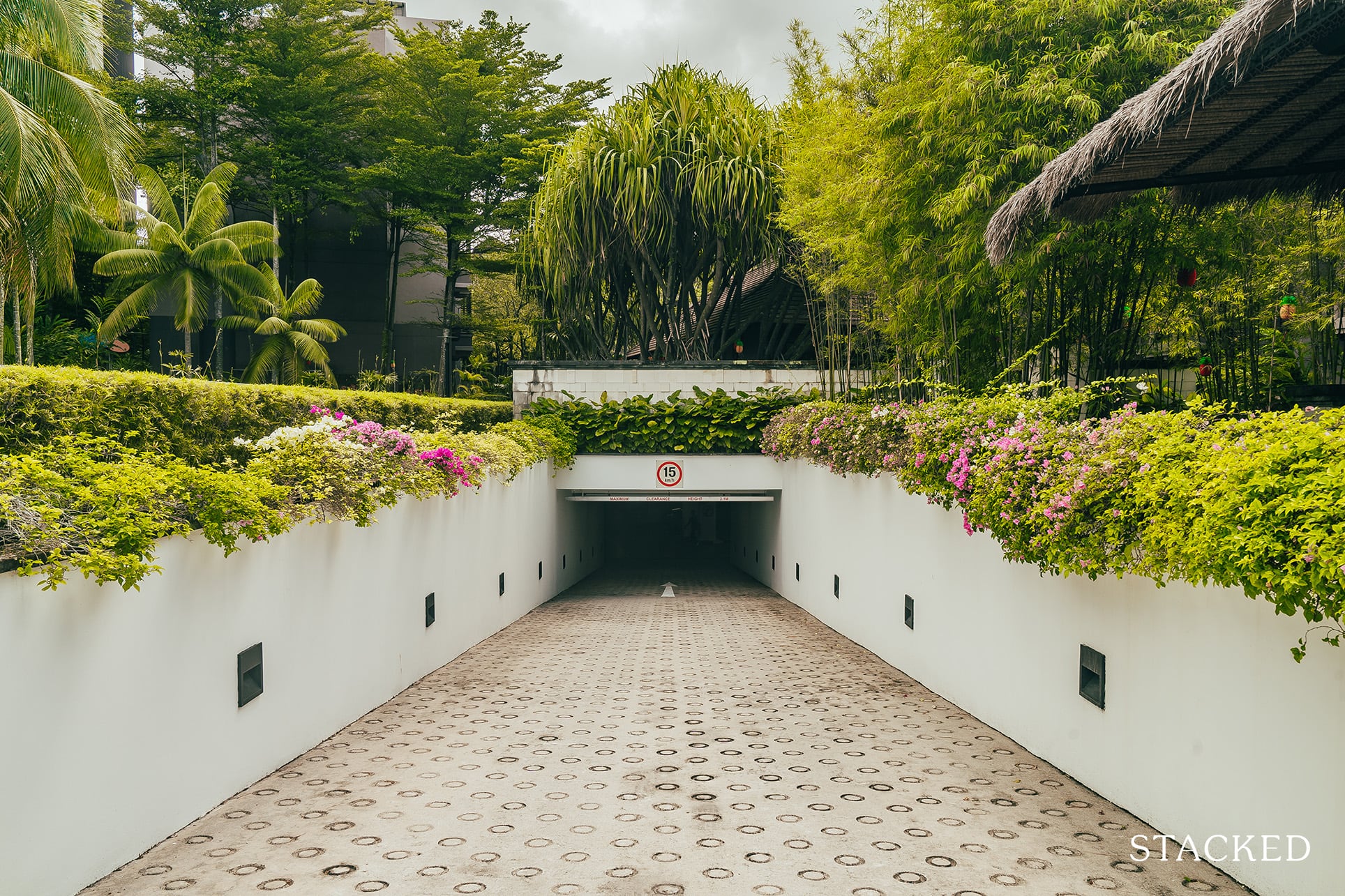 Once you get past the guardhouse, it's an immediate entry to the underground carpark. It's a wide driveway all the way down, so if you drive a big car there's no worrying about tight spaces or small turning angles. A peculiar point though – the entrance is through Cornwall Gardens but you have to exit through Holland Road. I'll touch more on that later, but it's not really the best arrangement.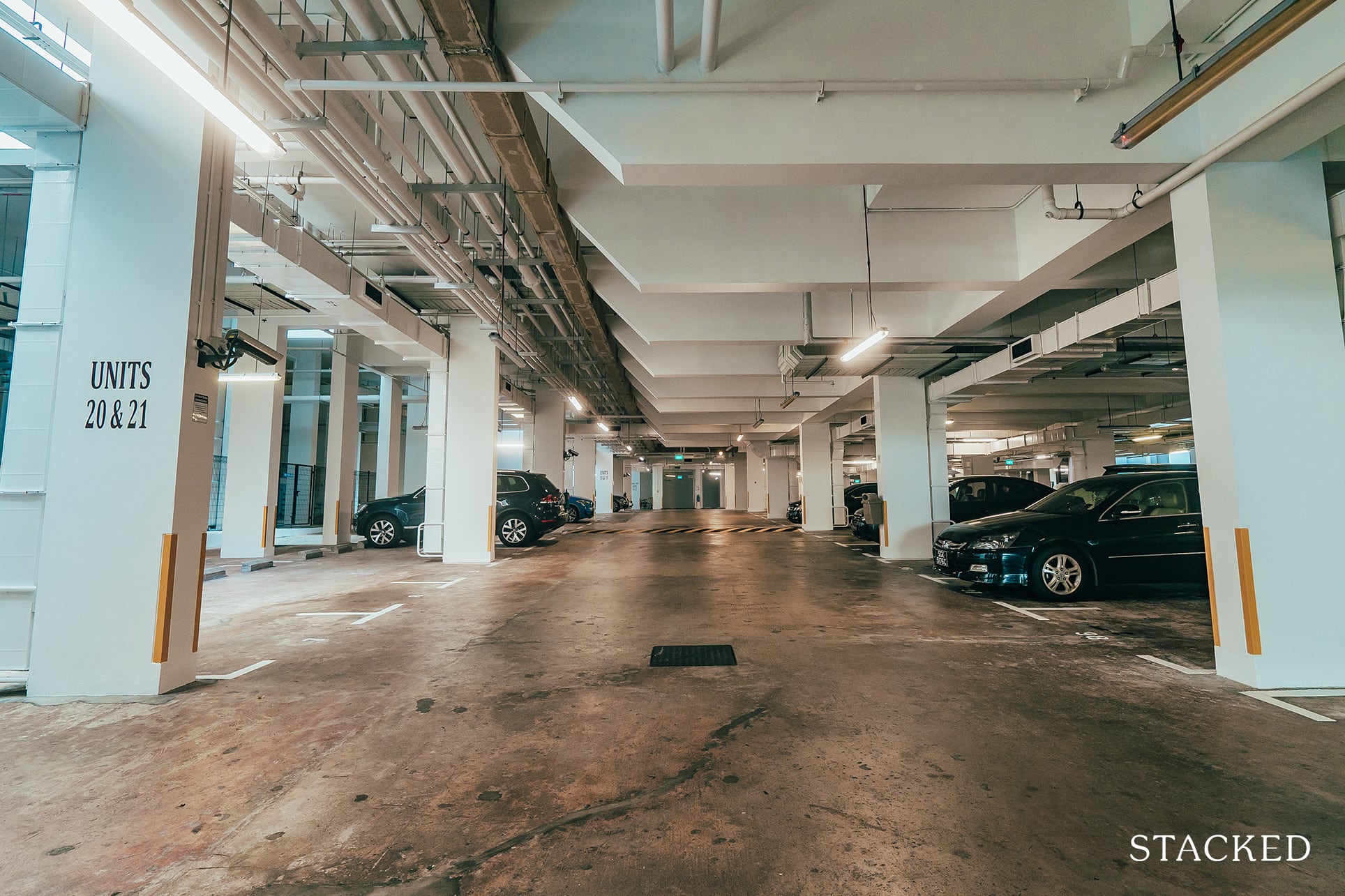 I can't quite put a finger to it, but my impression from the outside was that the carpark could potentially be rather dark and dingy. So I was pleasantly surprised to find that the carpark featured high ceilings with bright lighting. While the flooring was not of the smooth coating variety, the carpark spaces were actually generally well-sized.
As you'd know by now, the Cornwall is considered to be a small development. So the entire ground level is made up of the development itself – units and facilities. This means there isn't any driveway on top at all, everything is underground.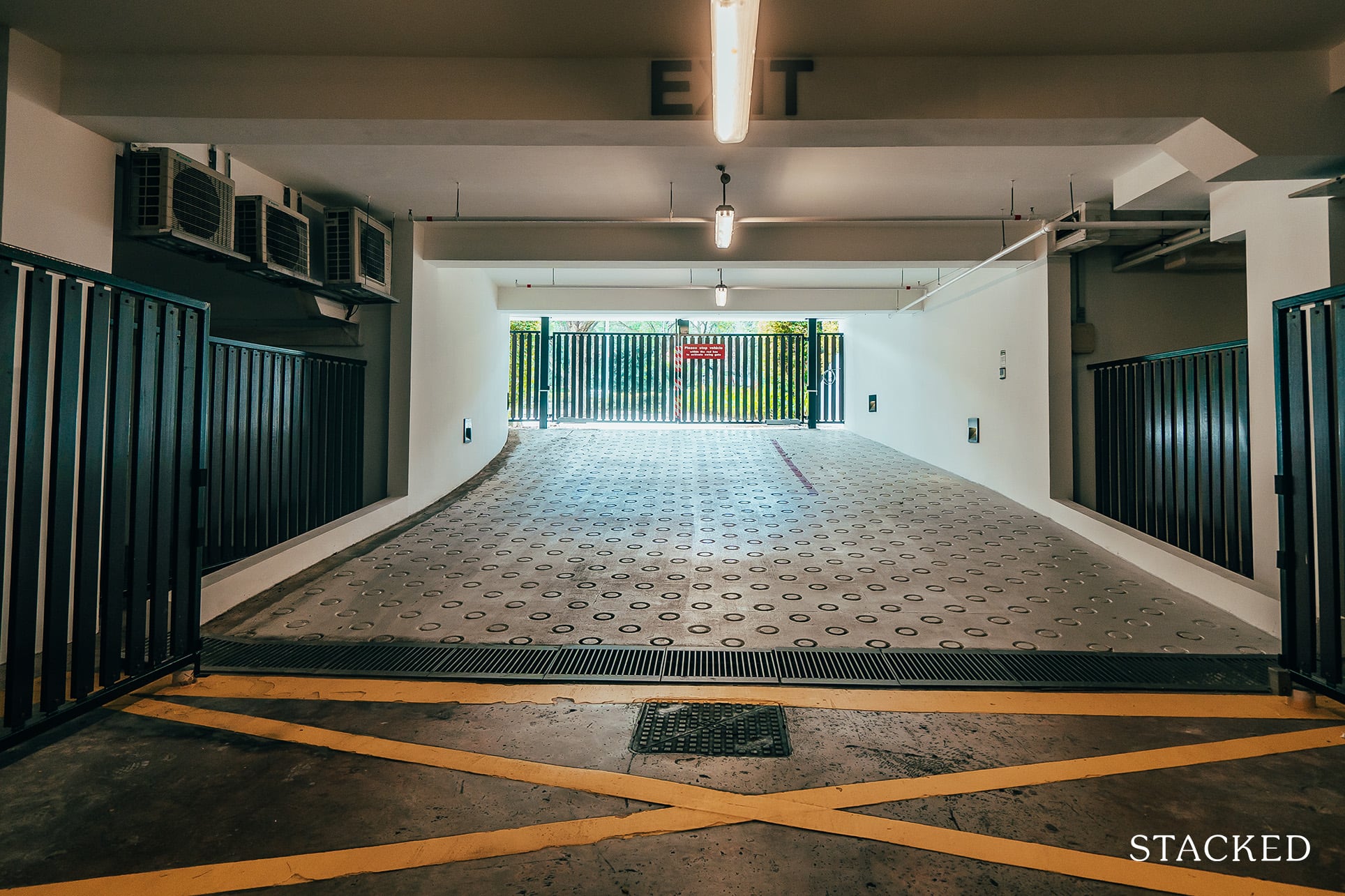 Like I mentioned earlier, the carpark exit is at the end of the carpark via an automatic gate. This exit leads you to Holland Road itself, which, unfortunately just misses the Holland Flyover. While this isn't a huge issue by any means, it would have been nice to be able to save on that time – especially if you travel towards town a lot. The road outside can also get quite packed during peak hours, especially as it's a side exit leading to the PIE via Farrer Road.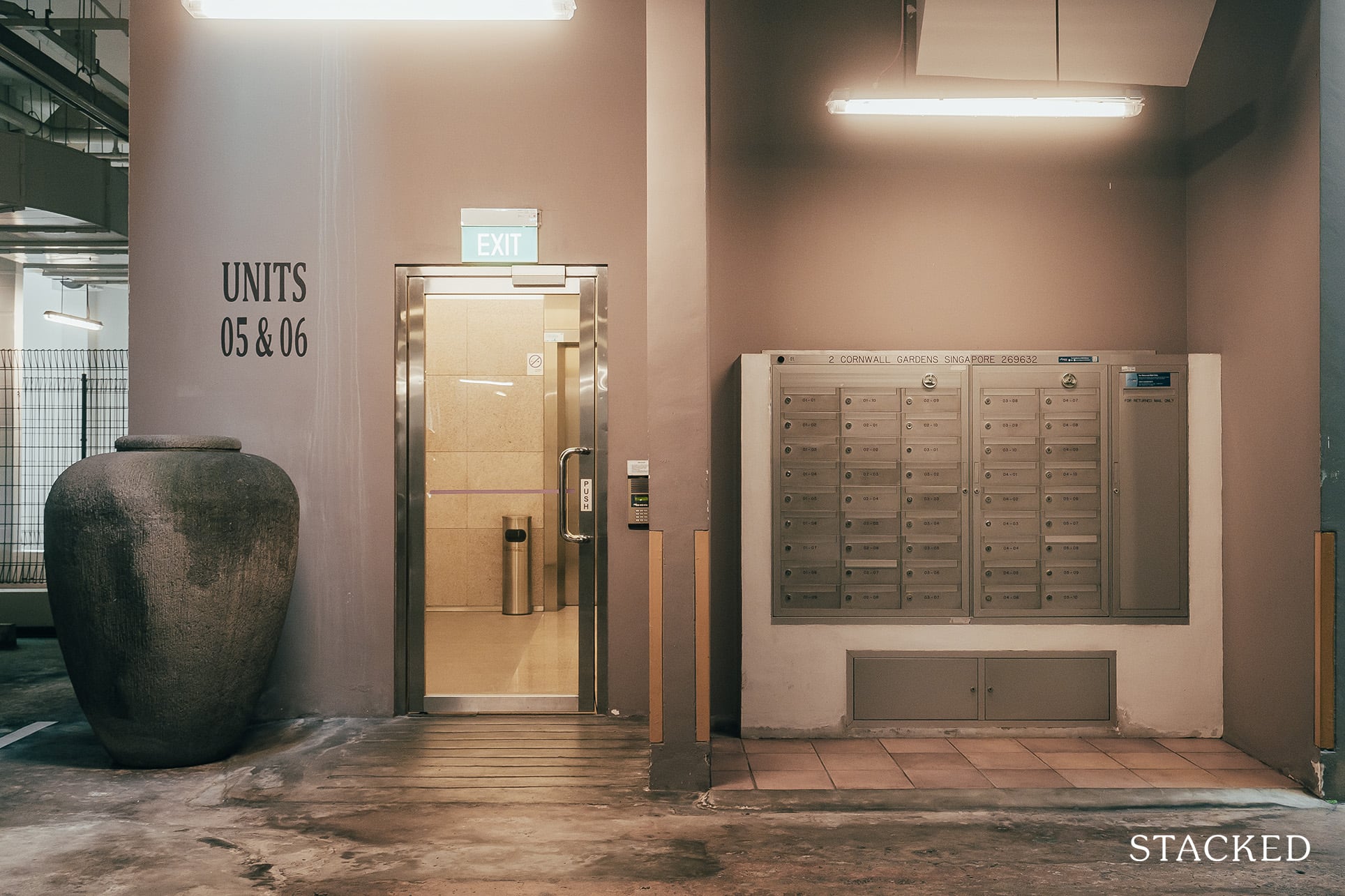 To get up to the units, you'd have to dial-up through the side panel. Keycard access is required for residents, which is the minimum standard for condos nowadays.
Inside the lobby itself, it's very much standard fare. There isn't any air conditioning, which I'd admit is really an indulgence. On the other hand, this also means lower maintenance fees.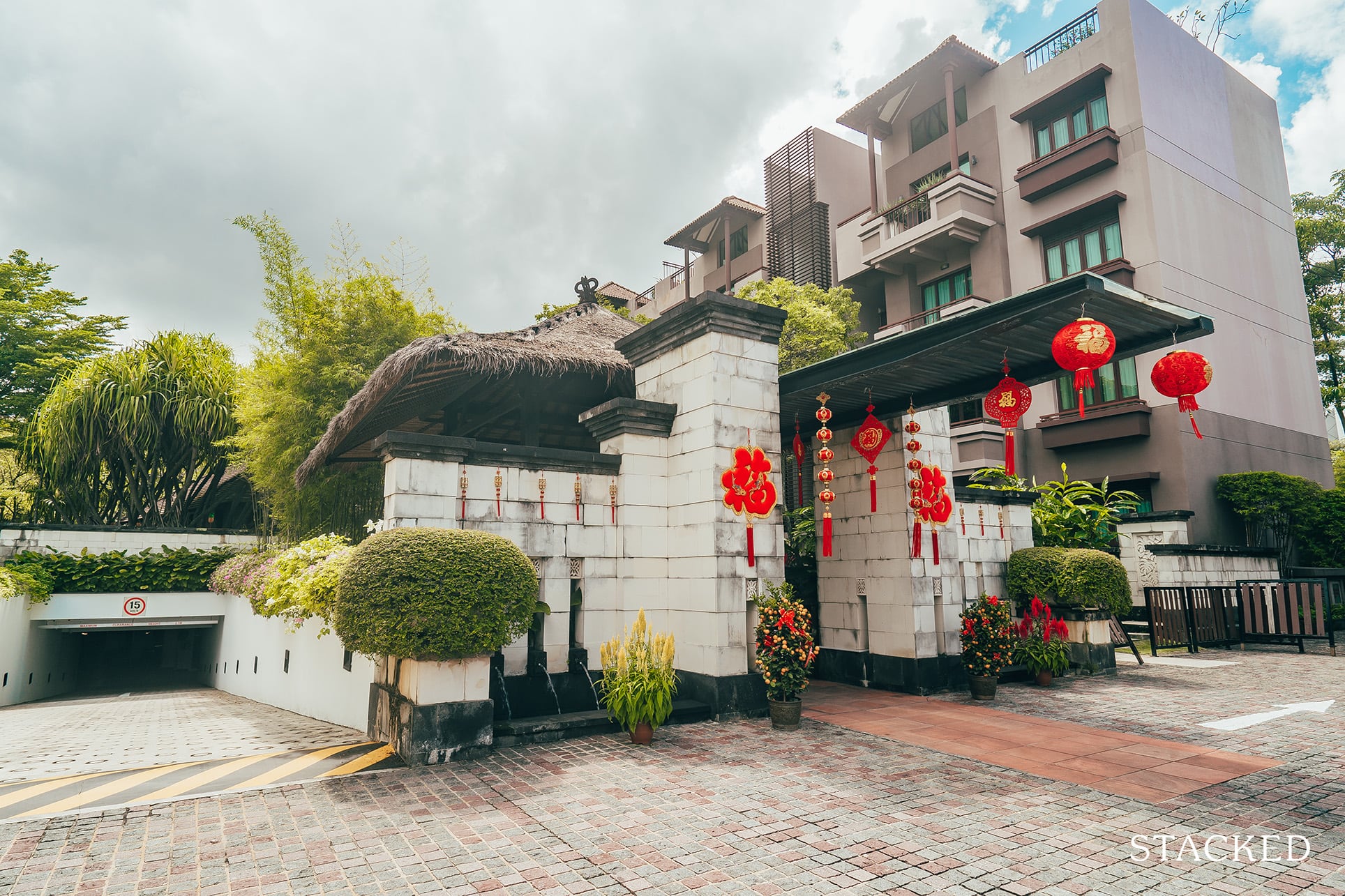 Let's circle back to the entrance, as the walk-in experience is pretty awesome. But before I get there, I just have to point out the drop-off point. It's a long one, but not in the right way. So on a rainy day, you probably have to maneuver the car to ensure your front and back passengers do not get wet – it's not the most practical design. Of course, you could always use the underground carpark, but it's a lot easier to turn out through Cornwall Gardens too.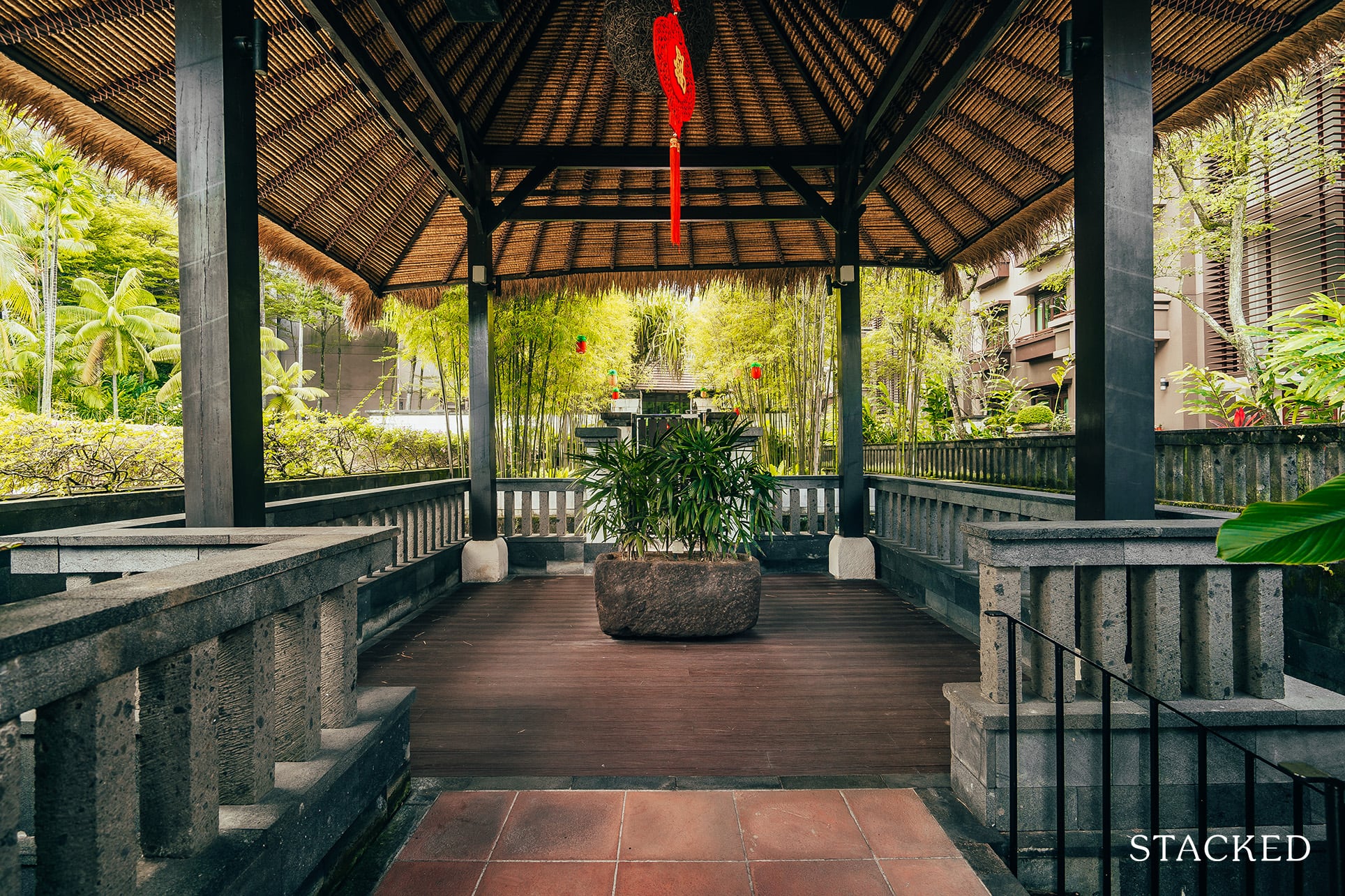 Upon walking in, you'll find yourself at a sheltered pavilion. You'd think there would be some form of seating here, but strangely, it's really just a wooden deck with a potted plant.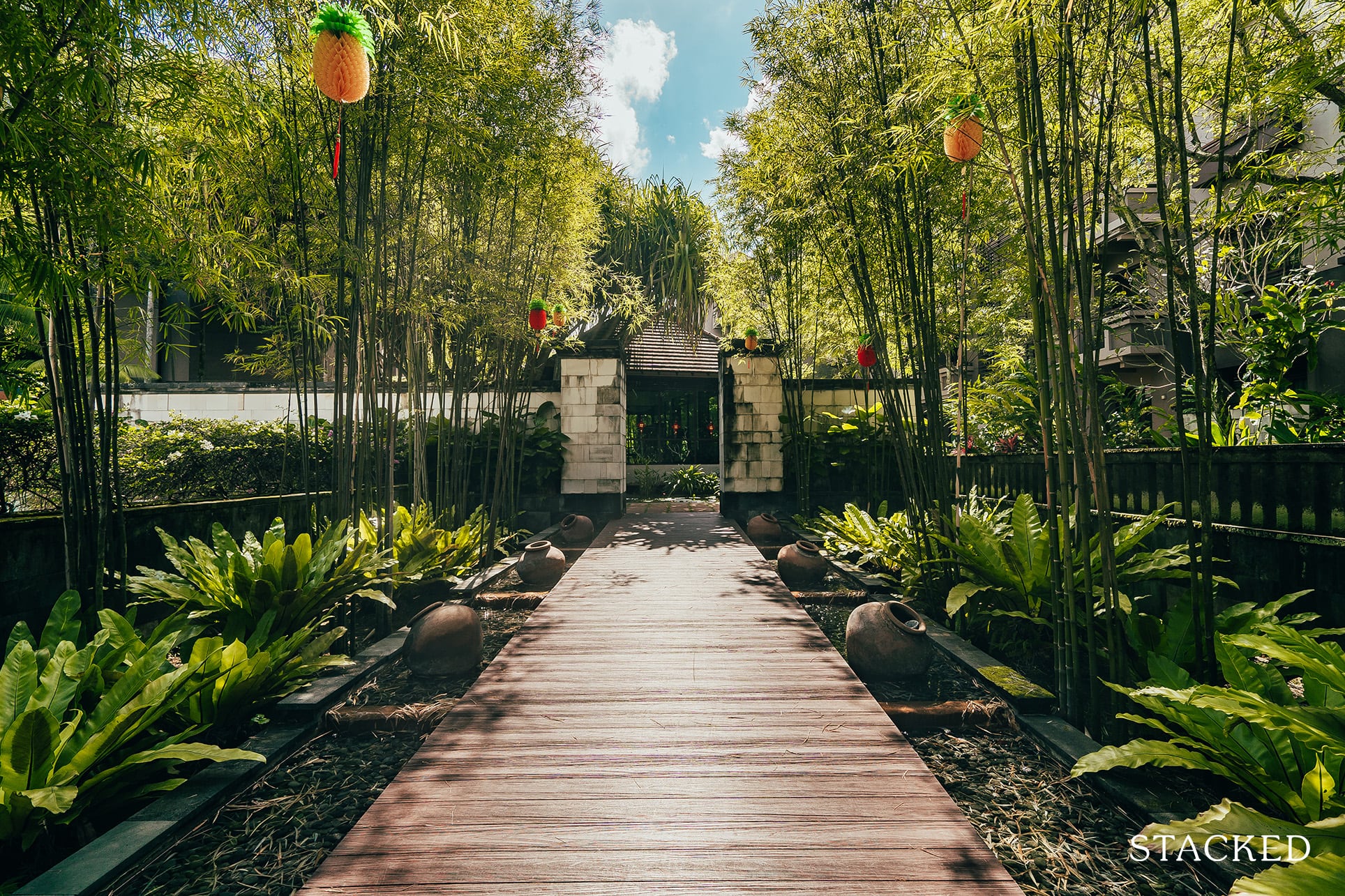 Now, for one of the highlights of the Cornwall – the walkway to the main development itself.
I know you might be thinking that this is a strange detail to care about, but there's a reason why you'll find many resorts around the world that do this. It creates a form of anticipation, and it formulates a good impression in your mind before you get to the main destination.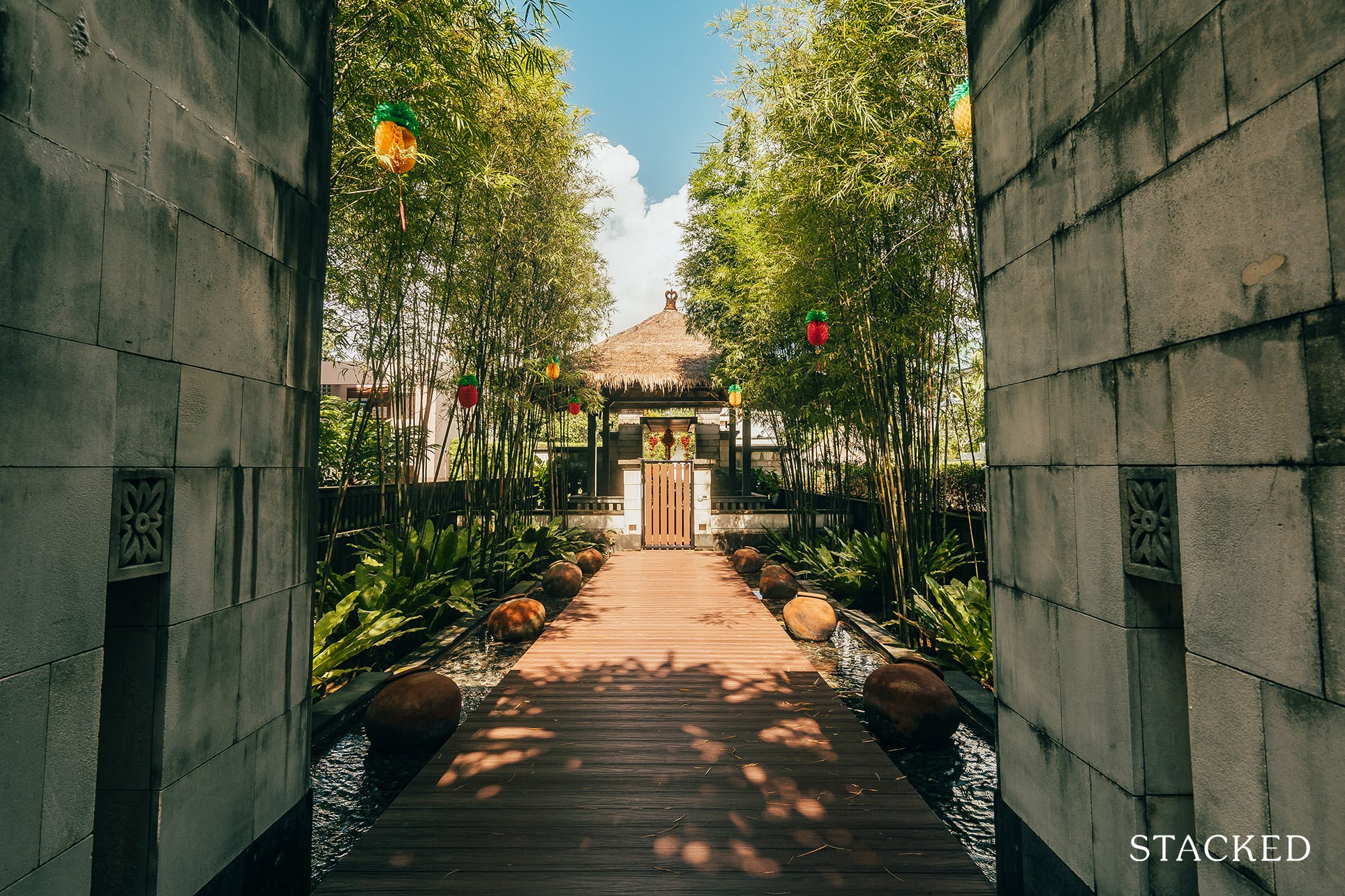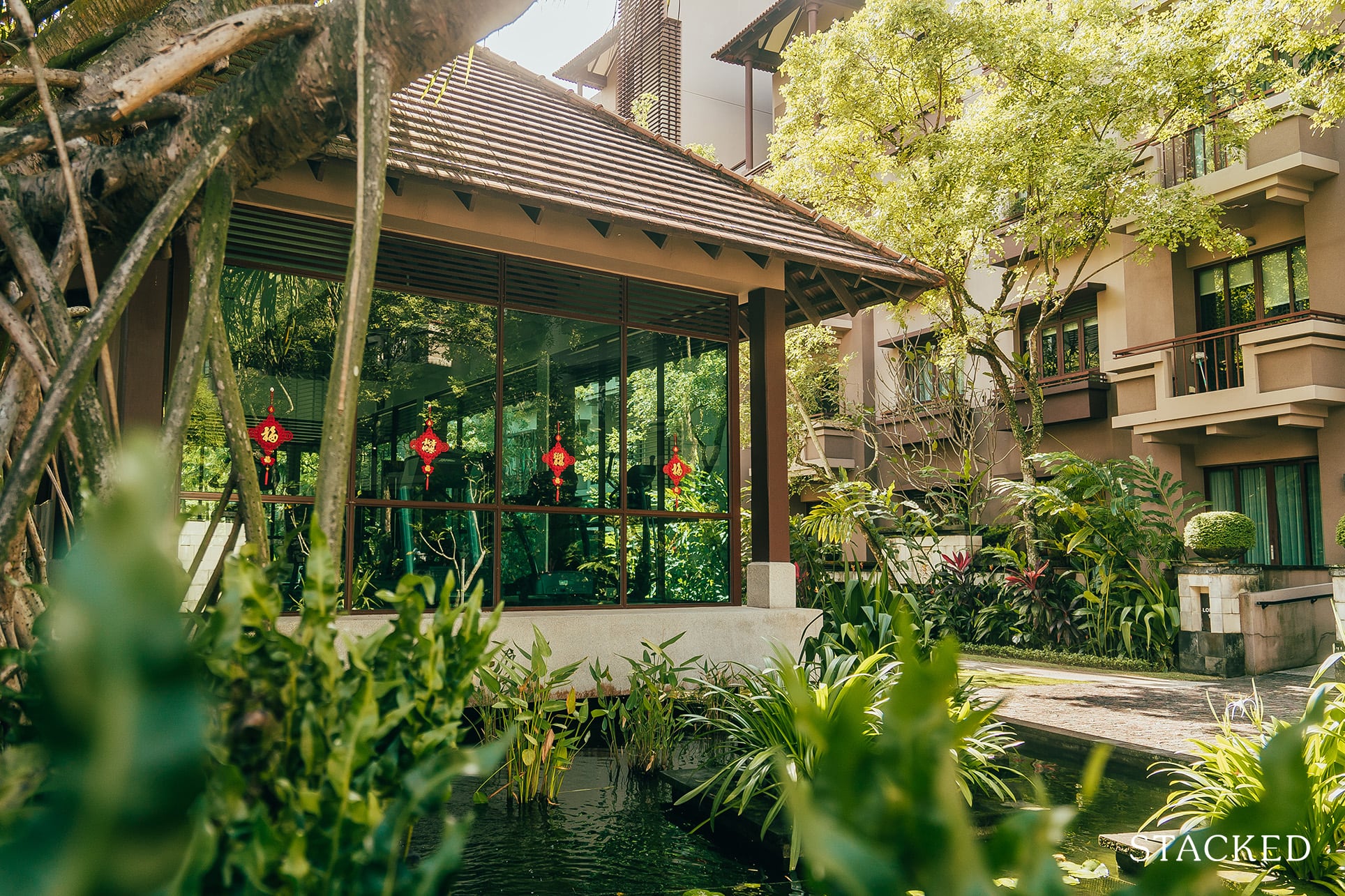 Just before you hit the gym, there is a quite sizeable pond featured.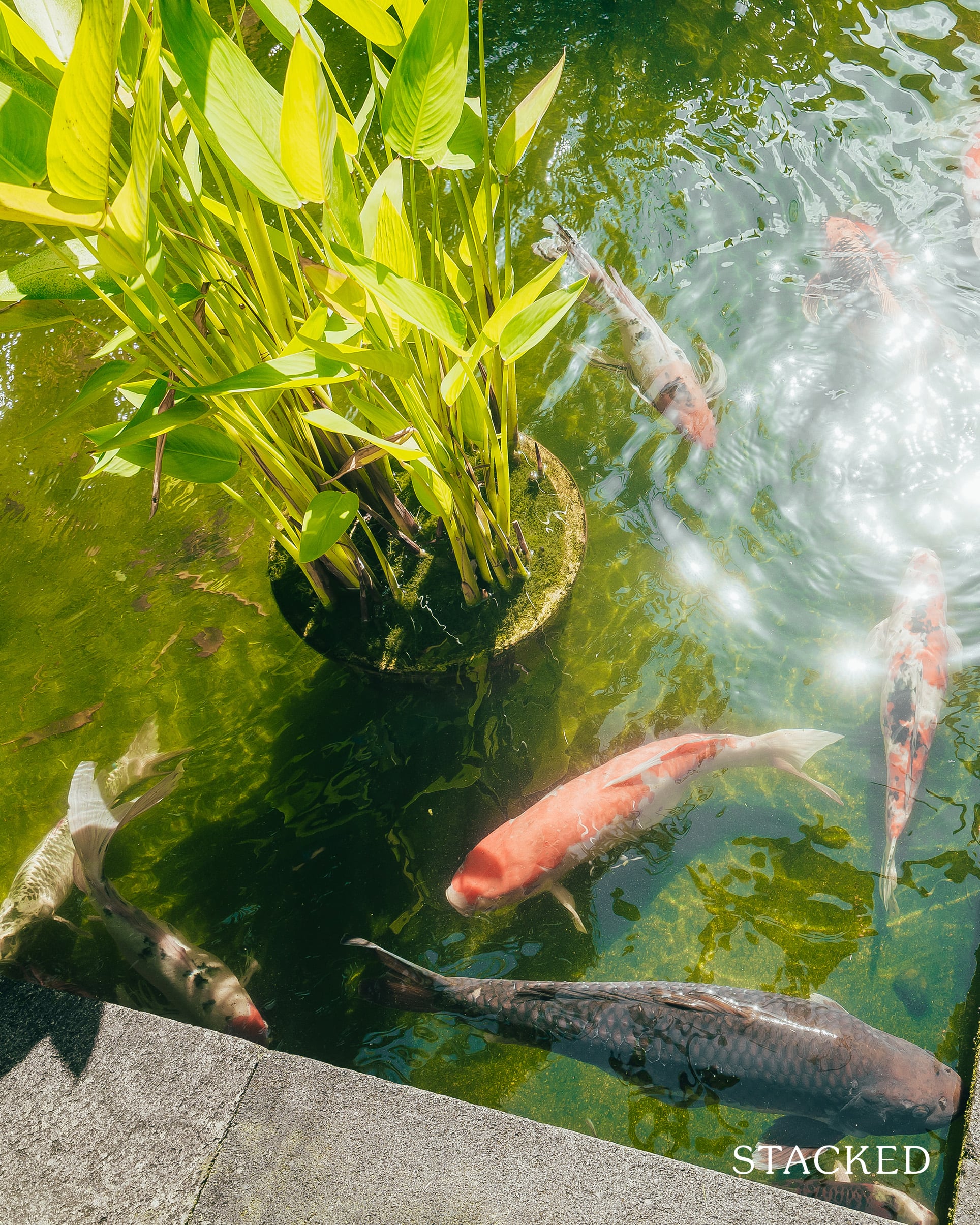 I wouldn't say it's the most beautiful pond around, but it certainly adds a level of vibrancy to the place.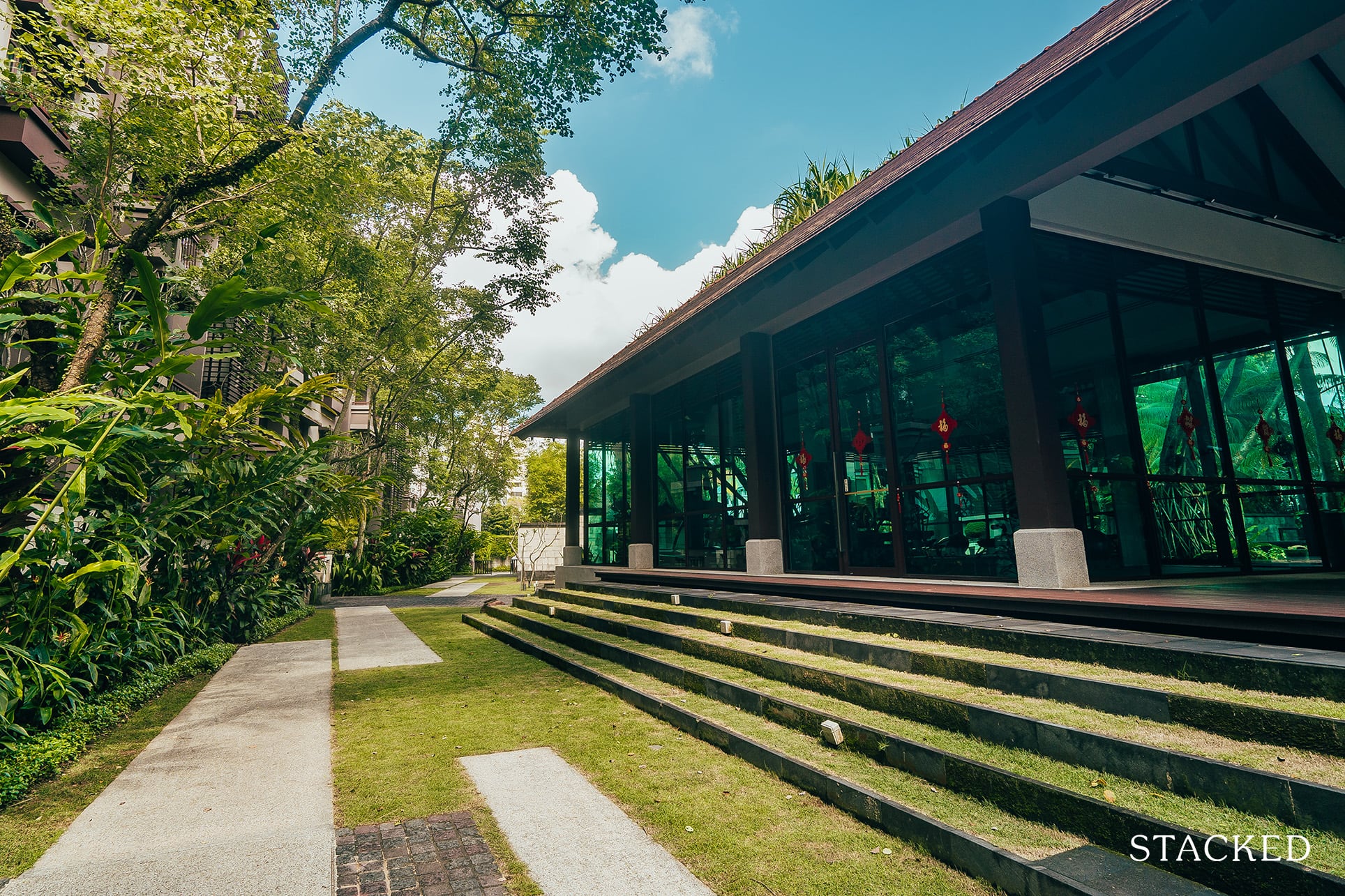 For a development with only 99 units, I must say that the gym at the Cornwall is absolutely brilliant.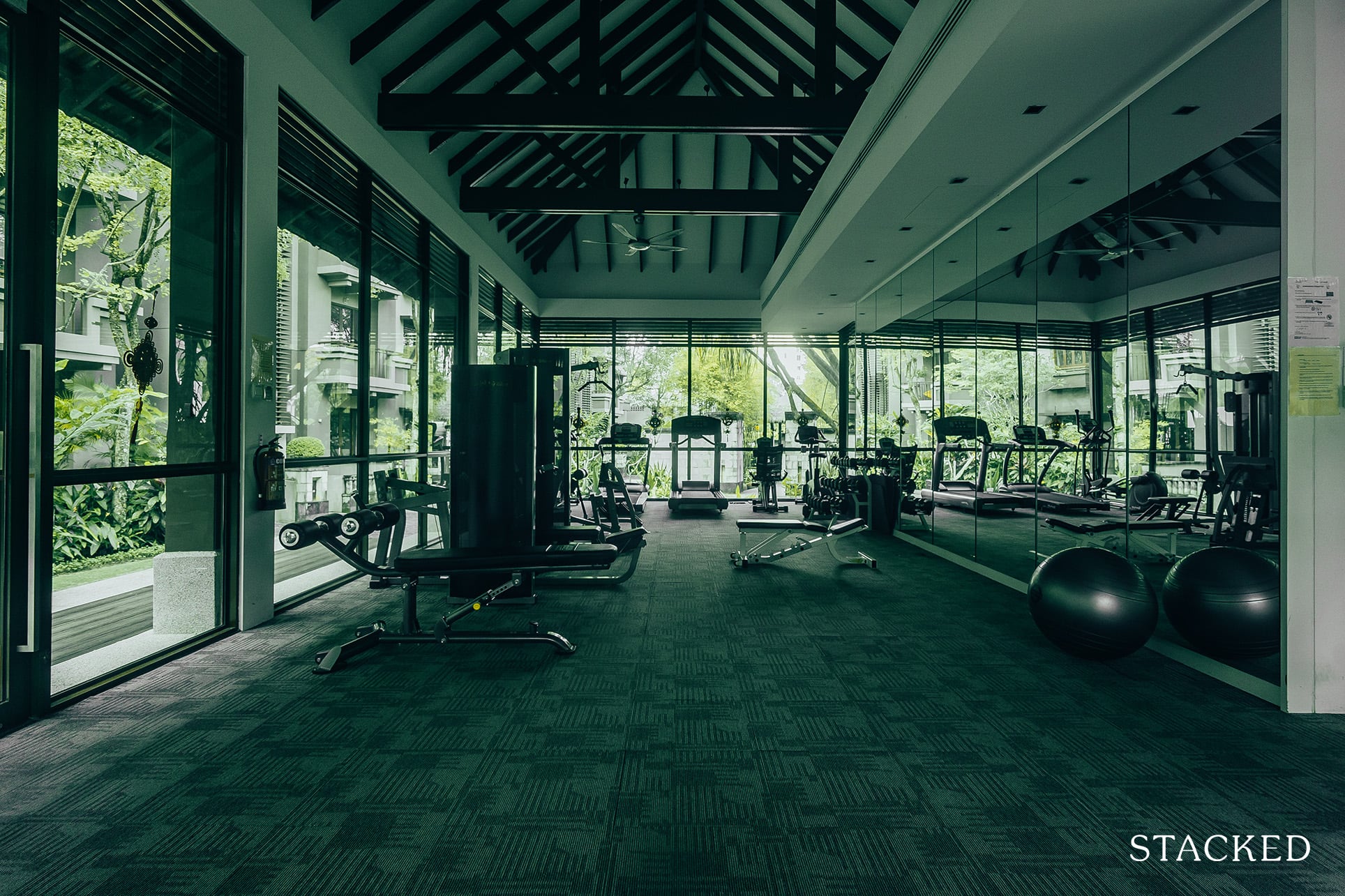 The first thing you'll realise is how spacious the gym is. With its high ceiling and mirrors that run the length of it, it's almost shocking how much space has been dedicated to the gym. In fact, the gym is the only actual standalone building in the development (other than the blocks, of course).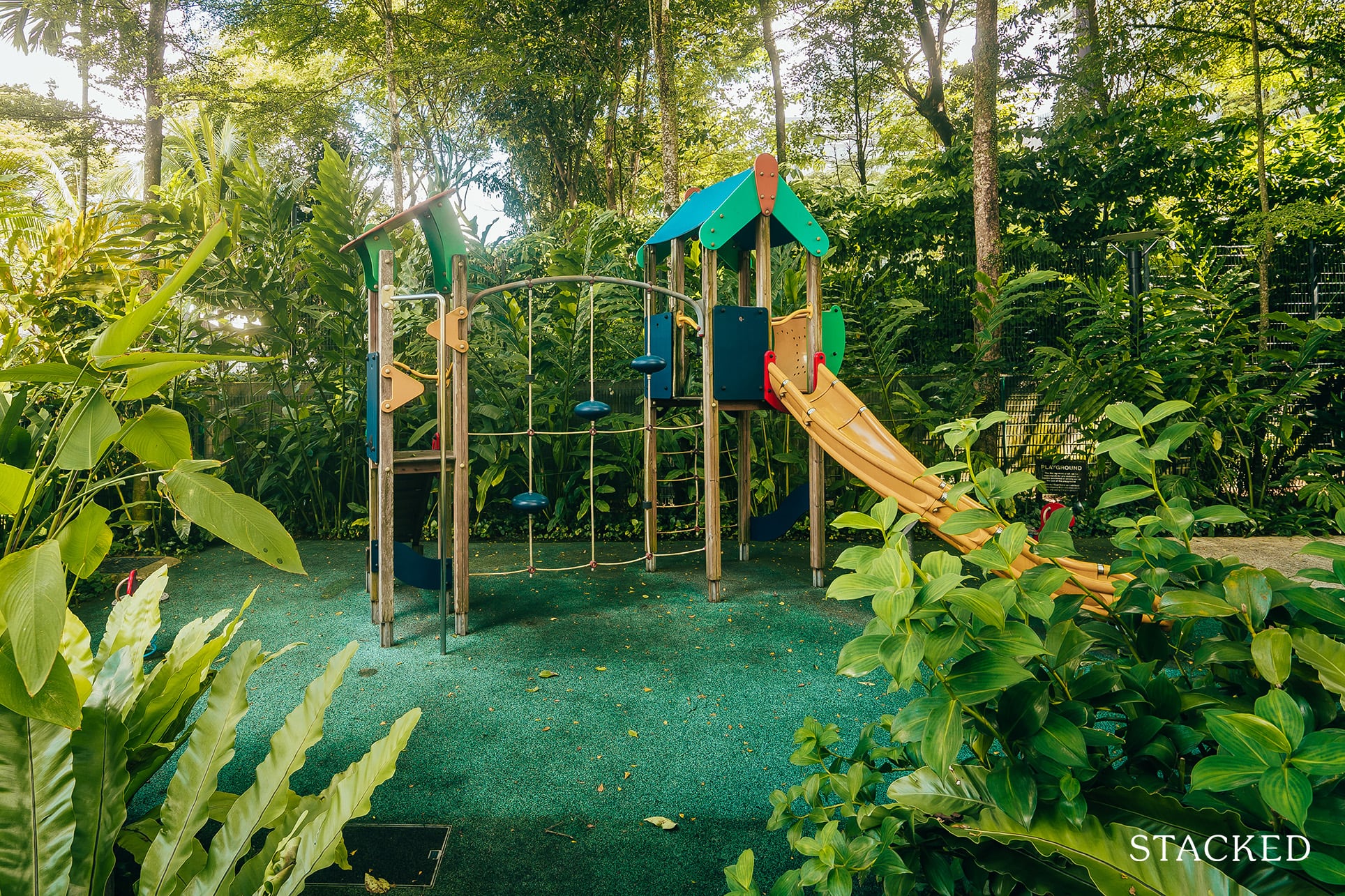 Just outside the gym are a host of other facilities – the playground, barbecue pit, and the function room. It's a sensible location as it's away from the noisy main road and tucked in a quiet corner.
The playground itself is surrounded by loads of greenery – pretty much making it look as if it was located in a jungle.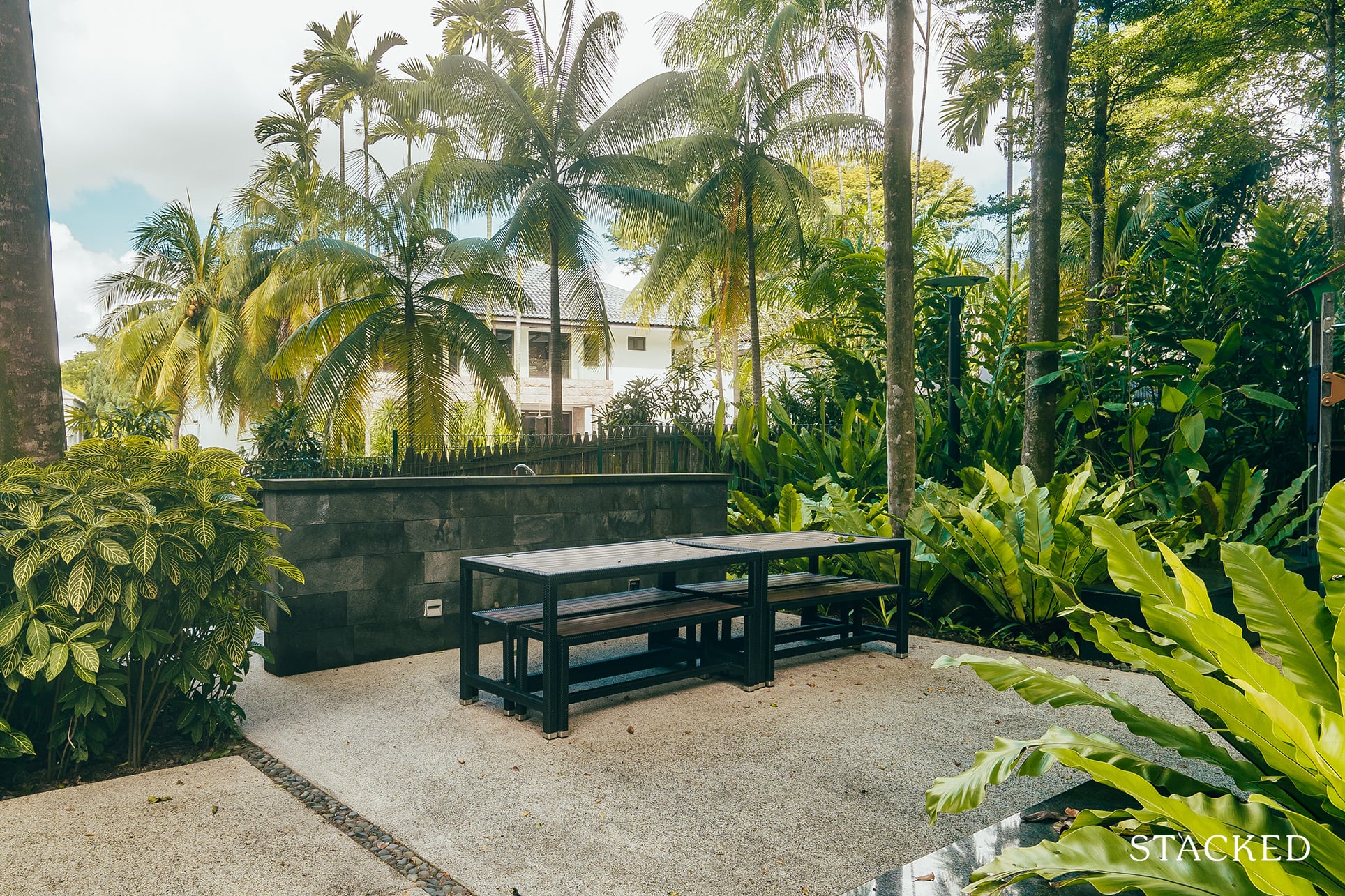 The barbecue area is what I would describe as a "rustic style". Flanked by tall palm trees, it is completely unsheltered and only has bench seating available. At the very least, because it's located closeby to the function room, you could book both in tandem – to have more seating as well as a wet weather program (just in case).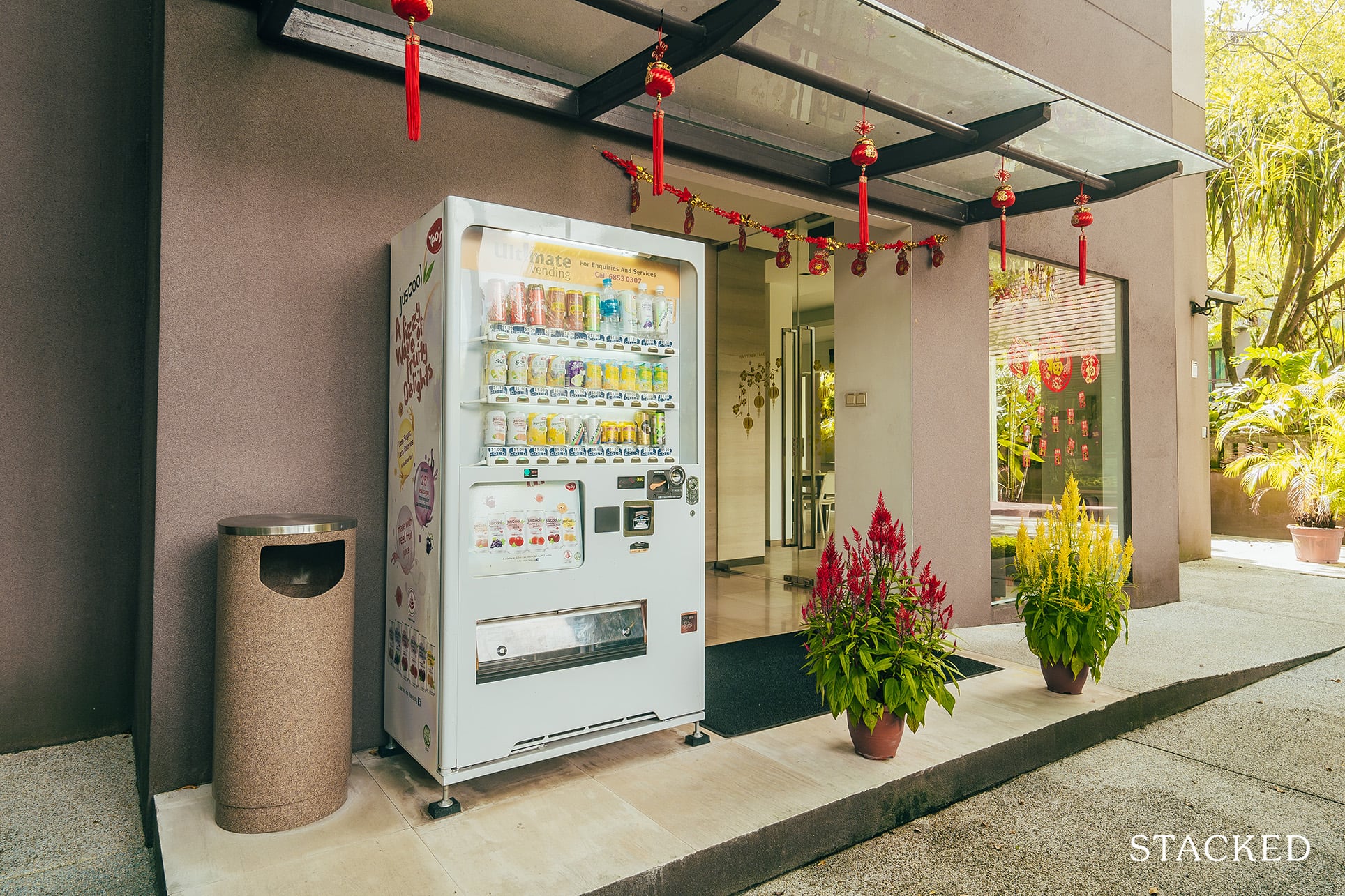 In what is a very strategic location, the vending machine is in close proximity to the function room, barbecue pit, and gym.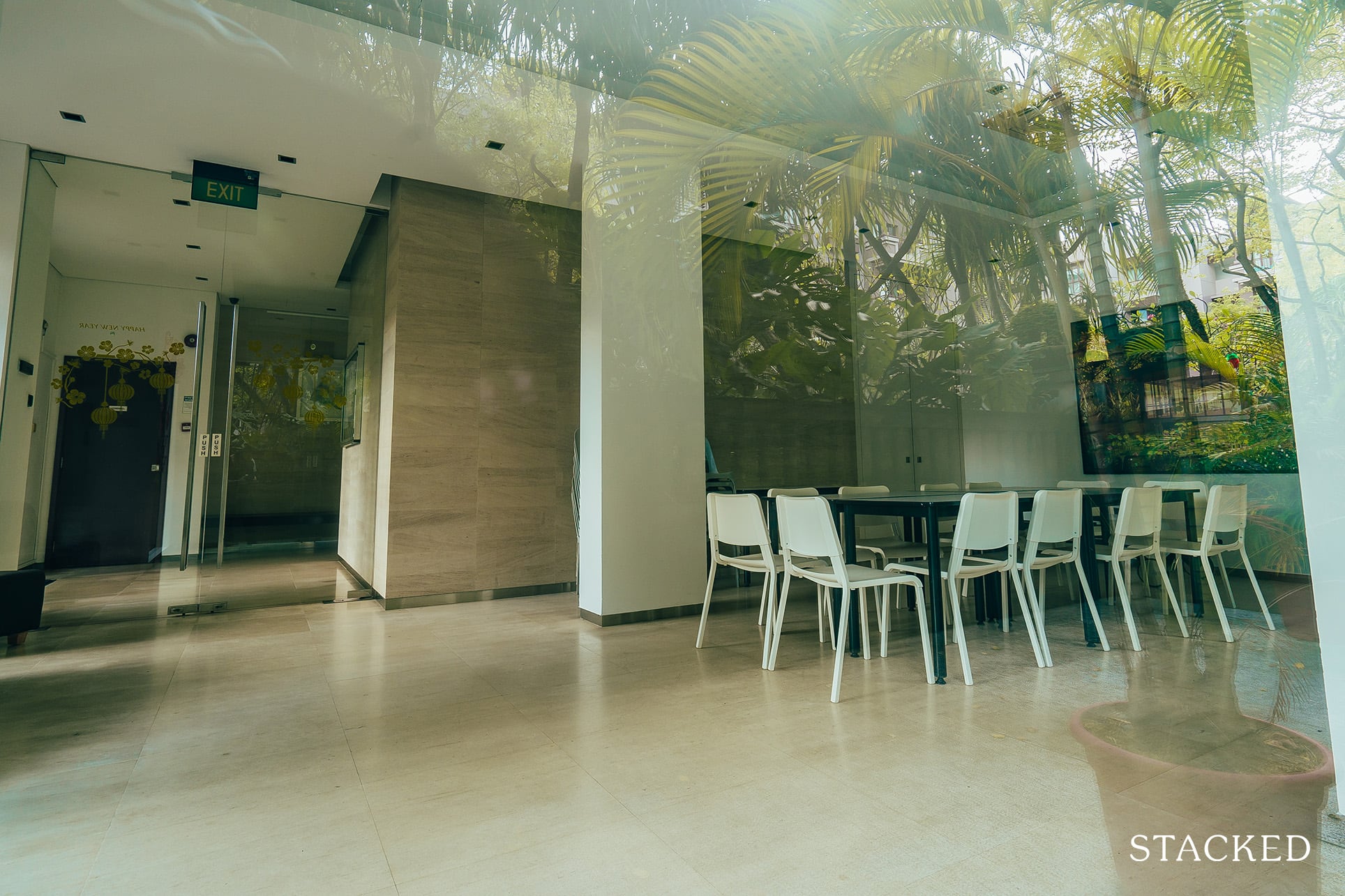 The function room is a very decent size, and there is quite a lot of options in terms of seating. It's a no-frills, bare-bones kind of function room. In that sense, I would say it is very aptly named. It's functional, nothing more, nothing less.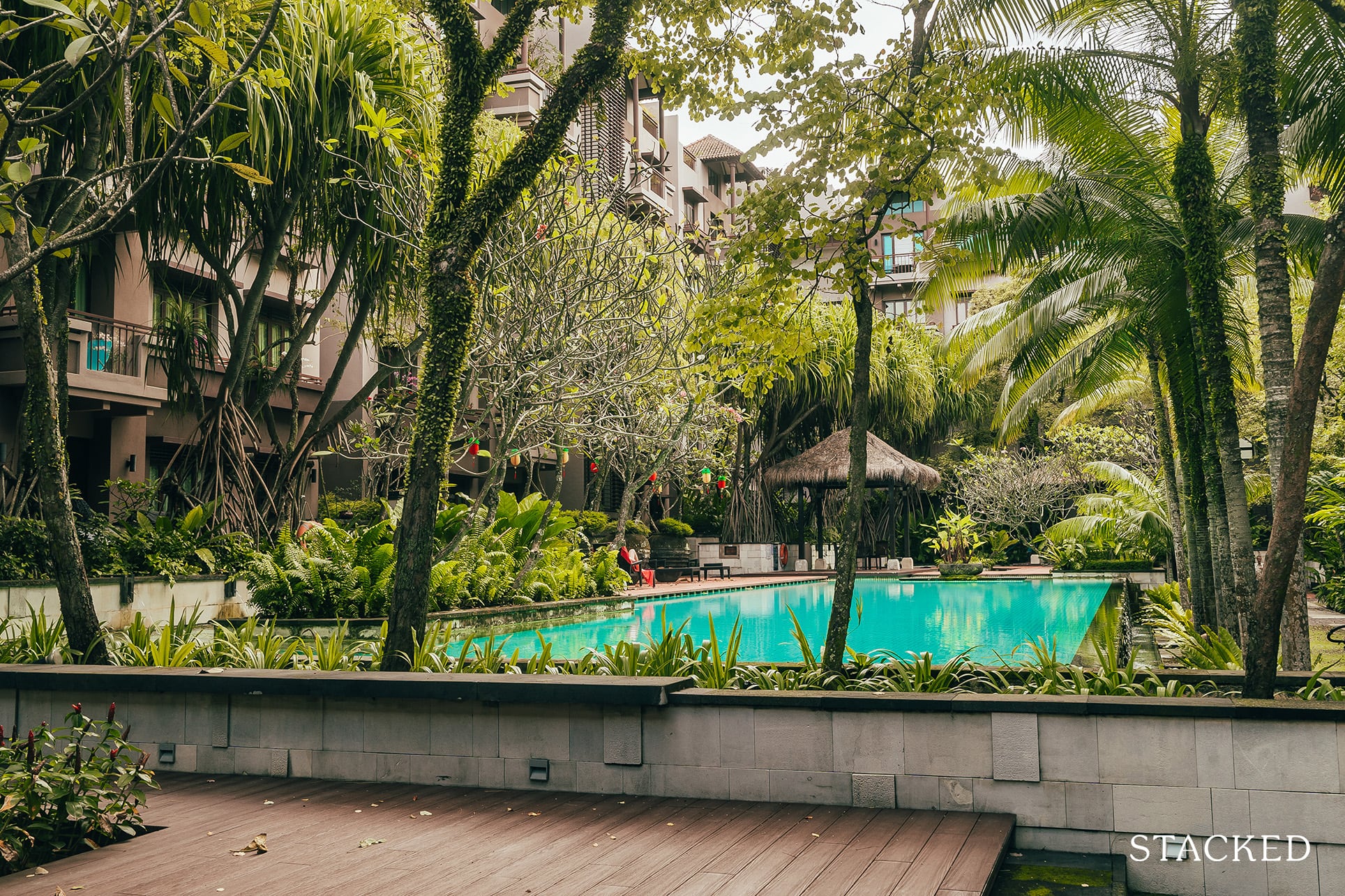 The swimming pool at the Cornwall is a good size for the number of units.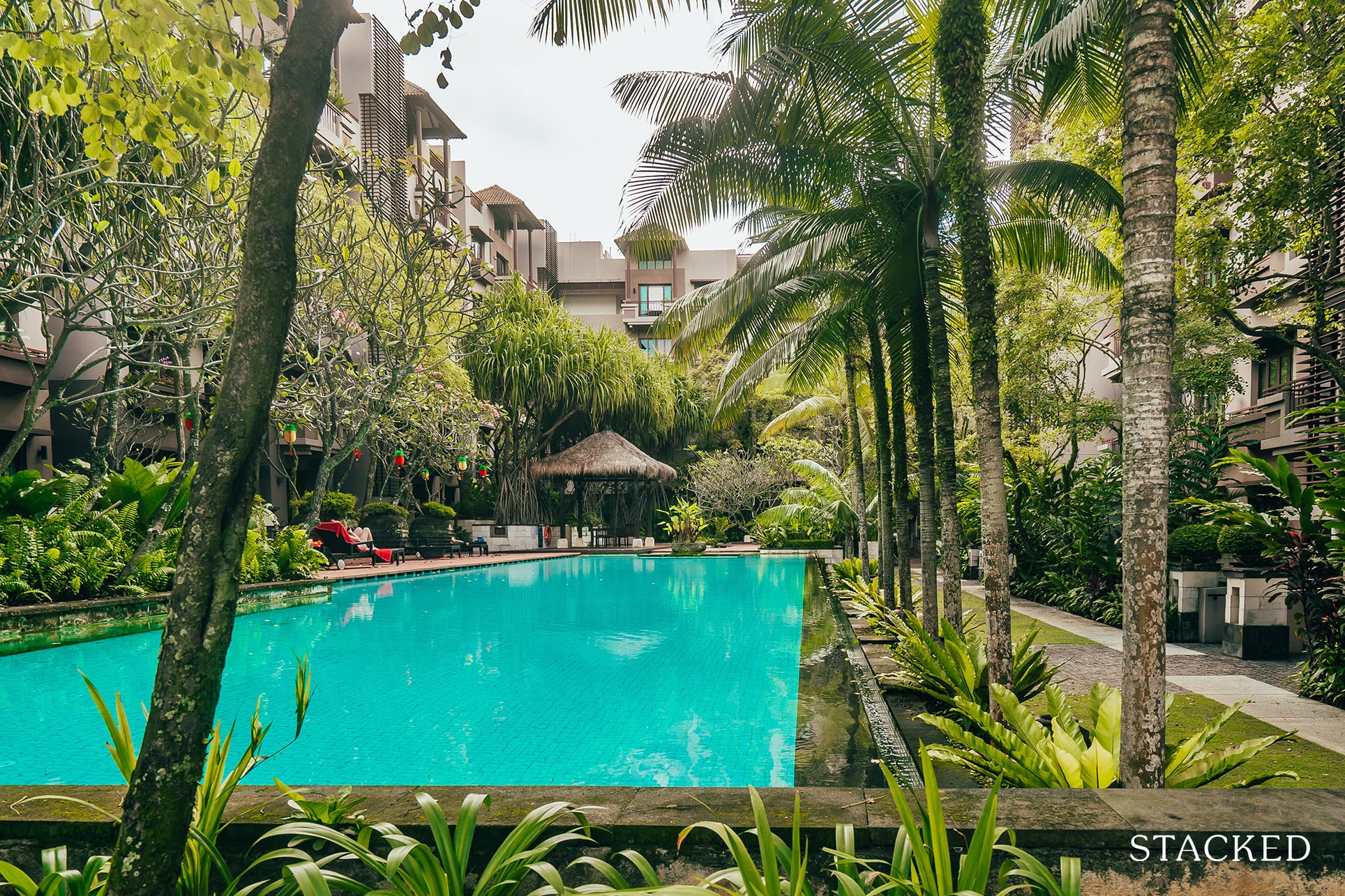 Although I'm not usually a fan of a courtyard swimming pool, it certainly does accentuate that feeling of it being a hidden oasis.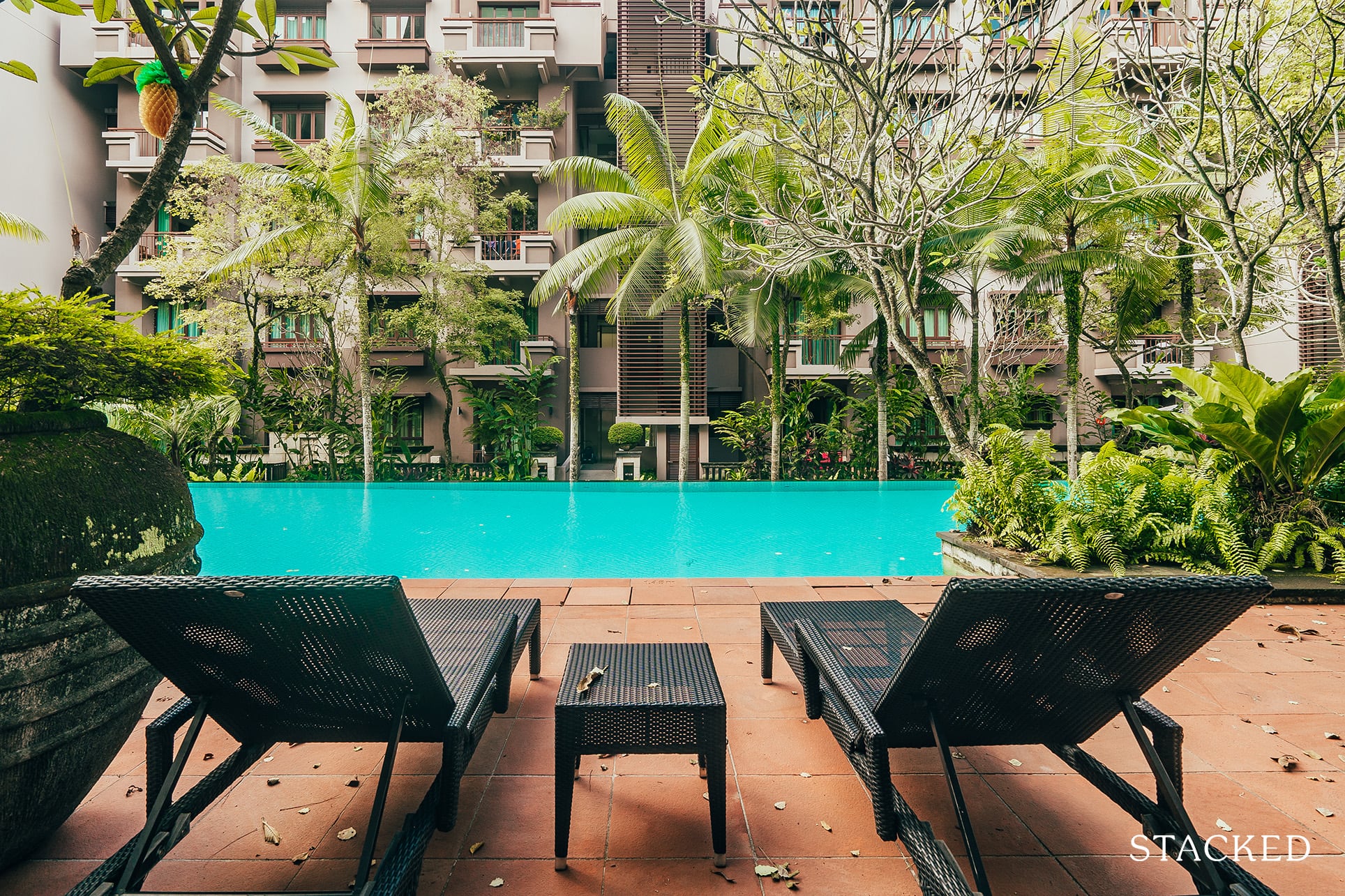 With the deck chairs by the side of the pool, you can lead that idyllic lifestyle on the weekends.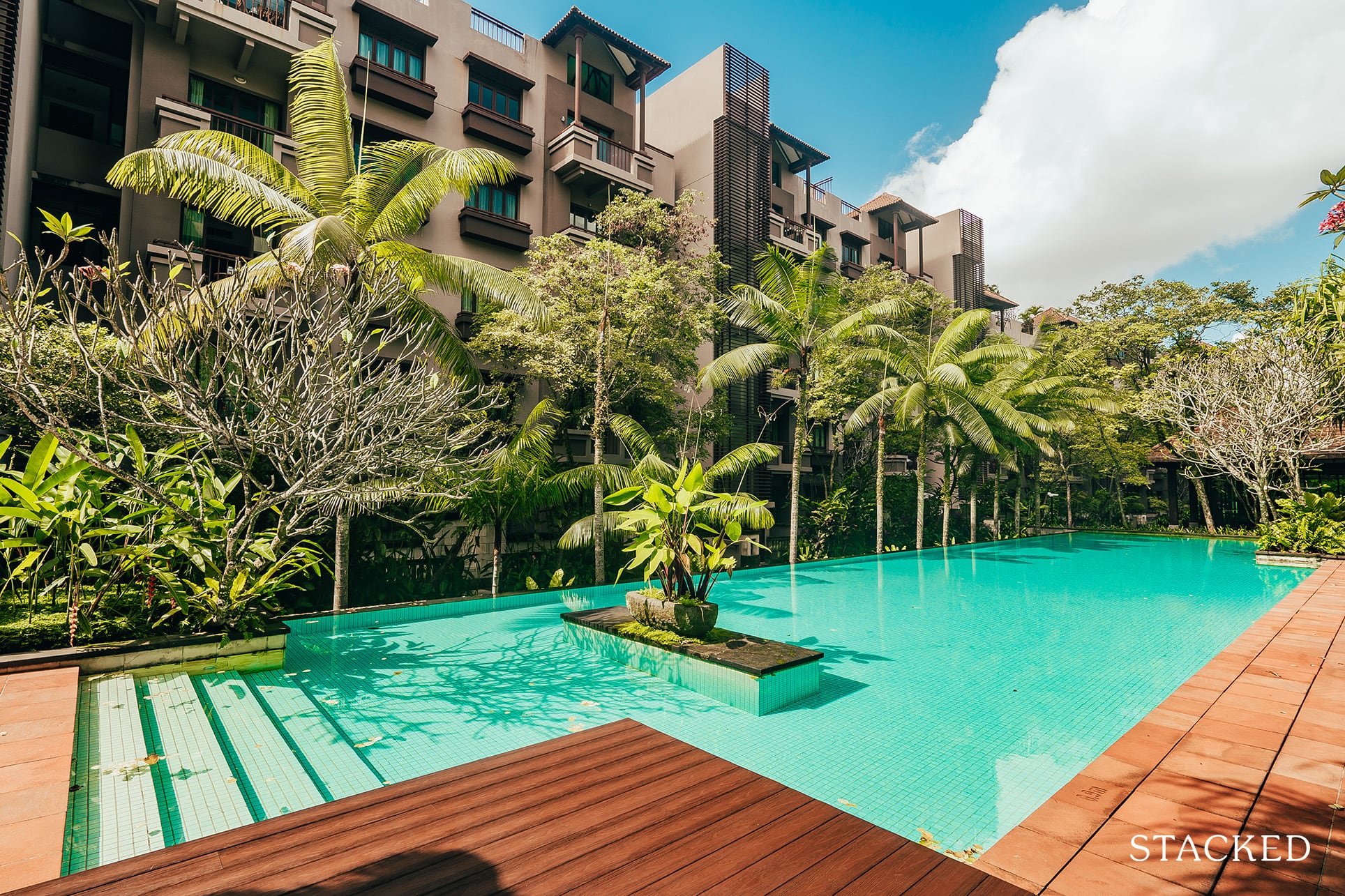 On a sunny day such as this, it really brings out the best qualities of the Cornwall. Other than Leedon Residence (which is really only at 12 stories), you don't get any other developments leering in – so the sense of seclusion is quite apparent.
This is unlikely to change in the near future too, given that its neighbours of the GCB enclave at Cornwall Gardens and the Holland Flyover would not be going away anytime soon.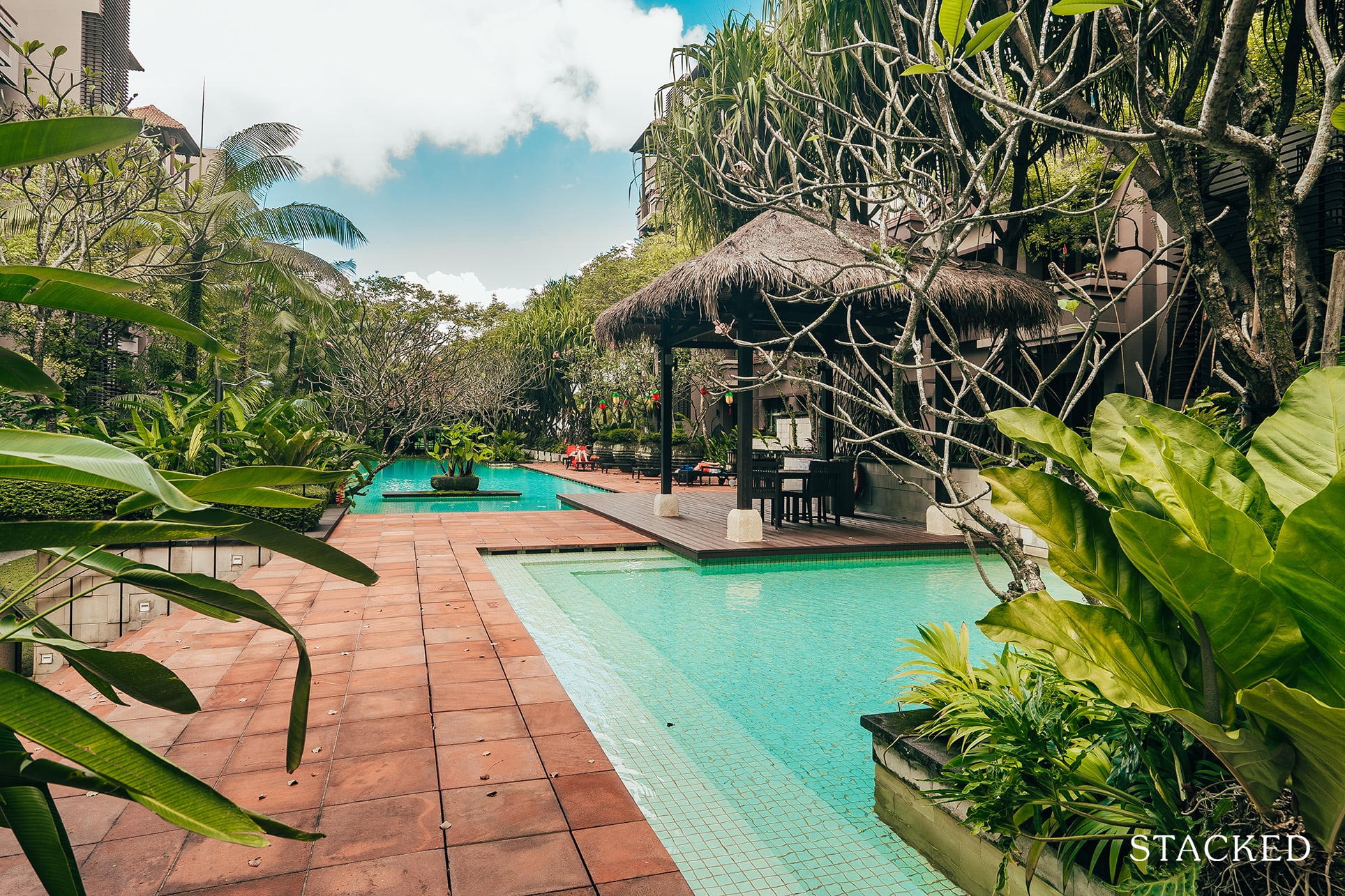 There is even space for a kids pool too, right by the side of a rather lonely looking pavilion.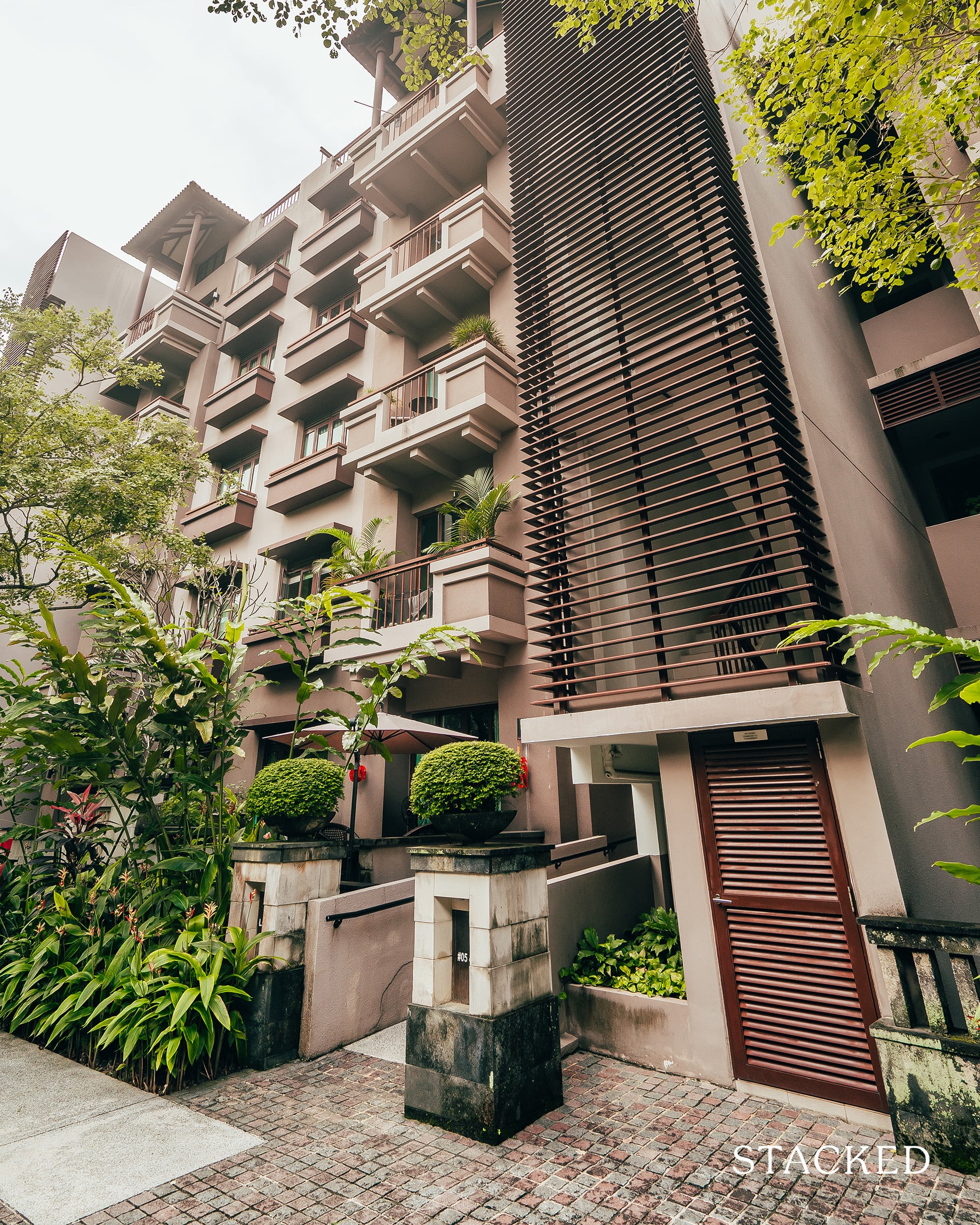 Taking a closer look at the design of the Cornwall, it's very clear what style they were going for. With its laidback resort vibes, it wouldn't look out of place at all in a hotel destination magazine.
I think for most people, you would either love or hate the Cornwall design – there's really no middle ground here. But if you are after a relaxed lifestyle, you really can't go wrong with the nature of the environment here.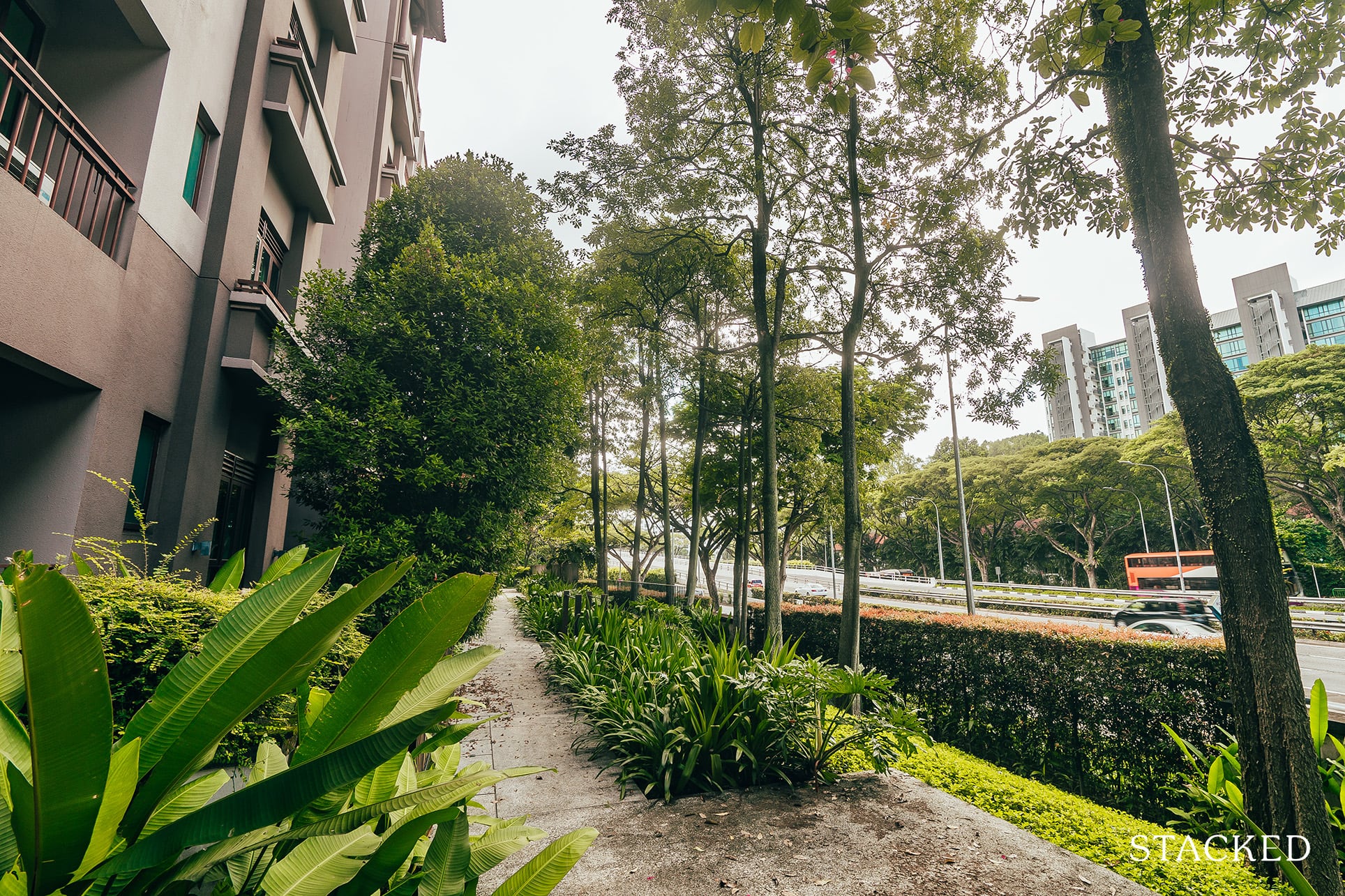 Unfortunately, those blocks along this side of Holland Road will have to deal with the brunt of the road noise.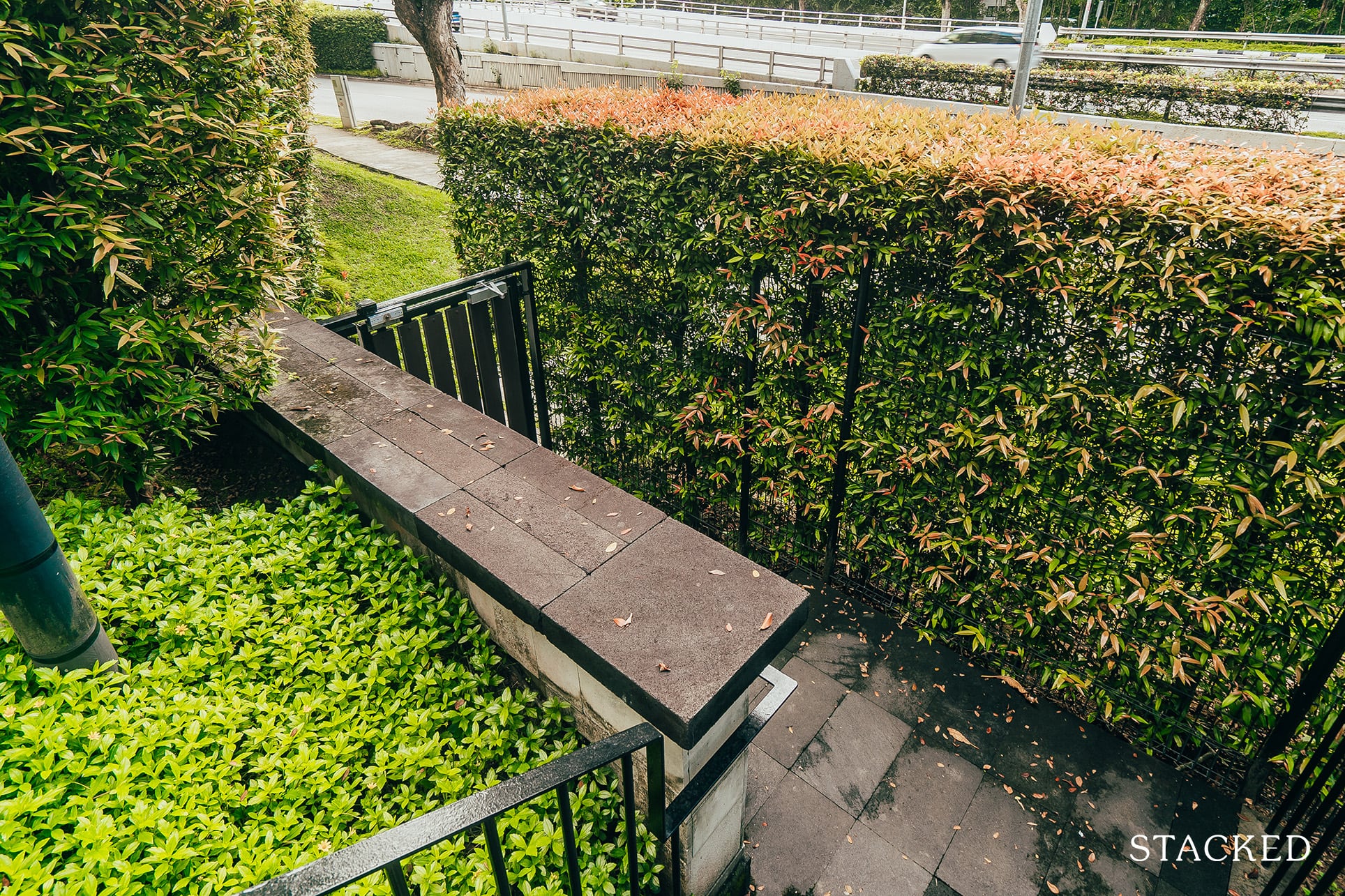 That said, the one advantage is the proximity to the main road through the side gate. The bus stop is not exactly right outside, but it's close, just a couple of steps down the road.
The Cornwall Location Review
The Cornwall gets its name from its immediate road outlet – Cornwall Gardens (no surprises there).

It is located along Holland Flyover, so noise from the highway is sometimes unavoidable – especially for blocks facing the road. It isn't extremely impactful, but it is worth noting for those looking for a place here.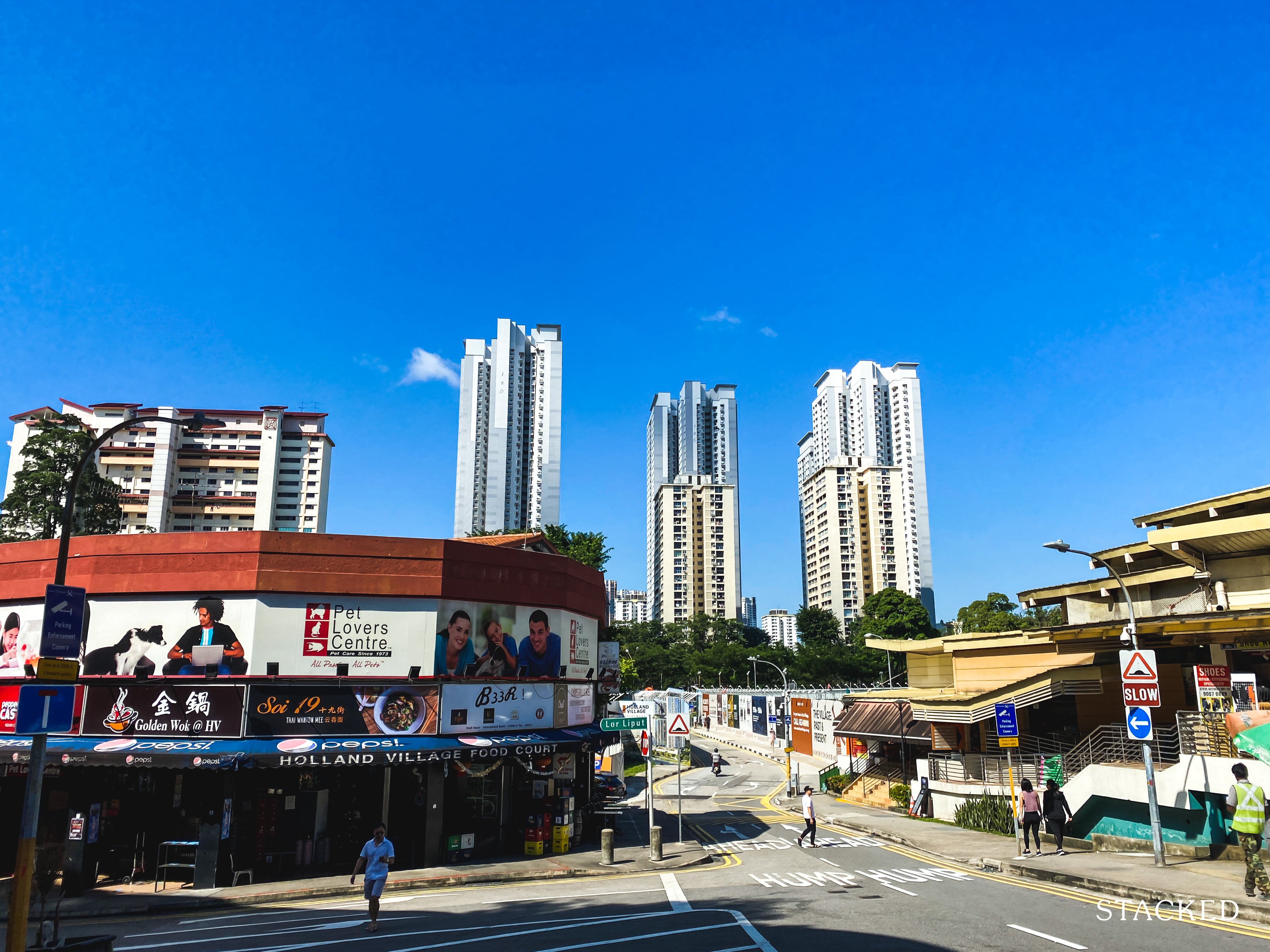 Set in the middle of the lengthy Holland Road, residents have easy access to the Holland Village area without being too far away from the Tanglin/Orchard Road enclaves.

Public Transport

| | | |
| --- | --- | --- |
| Bus Station | Buses Serviced | Distance From Condo (& Est. Walking Time) |
| 'Fairlodge' | 7, 7B, 48, 75, 77, 106, 165 | 160m, 2-min walk |
| 'Tulip Garden' | 48, 93, 153, 165, 174, 186, 855, 961, 961M | 500m, 6-min walk |
| 'Aft Estoril Mansions' (Opposite Fairlodge) | 5N, 7, 48, 75, 77, 106, 165, NR8 | 650m, 9-min walk (Traffic-light crossing) |
Closest MRT: Holland Village – 650m, 9-min walk

As far as MRT routes go, Holland Village MRT isn't the most central. It is 8 stops from the CBD/Raffles Place MRT (17 minutes ride), involving 2 line changes along the way.

Accessing the Orchard Road MRT station is admittedly a tad faster (10 minutes) across 5 MRT stops, even if it involves 3 line changes.

For frequent commuters heading to the Orchard Road area, note that Bus 174 from the 'Opp Tulip Gdn' bus stop (that's a 9-min walk away) could provide a faster alternative minus the MRT line changes.

It takes 11-minutes to get to the 'Royal Thai Embassy' from there.

Holland Village MRT station is also on the 'Harbourfront-end' of the Circle Line, which means that both students and office workers who frequent the Kent Ridge/Labrador MRT stations are just 6 (3 stops) and 13-minute (6 stops) rides away respectively — excluding walking/waiting times.

Private Transport
| | |
| --- | --- |
| Key Destinations | Distance From Condo (& Est. Peak Hour Drive Time) |
| CBD (Raffles Place) | 7.4km, 20-min drive |
| Orchard Road | 4.7km, 13-min drive |
| Suntec City | 15.2km, 20-min drive |
| Changi Airport | 24km, 25-min drive |
| Tuas Port (By 2040) | 34.2km, 45-min drive |
| Paya Lebar Quarters/Airbase (By 2030) | 13.9km, 20-min drive |
| Mediapolis (and surroundings) | 3.9km, 10-min drive |
| Mapletree Business City | 5.3km, 15-min drive |
| Tuas Checkpoint | 23.4km, 30-min drive |
| Woodlands Checkpoint | 18.3km, 30-min drive |
| Jurong Cluster (JCube) | 11.6km, 18-min drive |
| Woodlands Cluster (Causeway Point) | 18.7km, 24-min drive |
| HarbourFront Cluster (Vivo City) | 9.1km, 19-min drive |
| Punggol Cluster (Waterway Point) | 20.9km, 24-min drive |
*Note that Drive Times are calculated during Peak Hours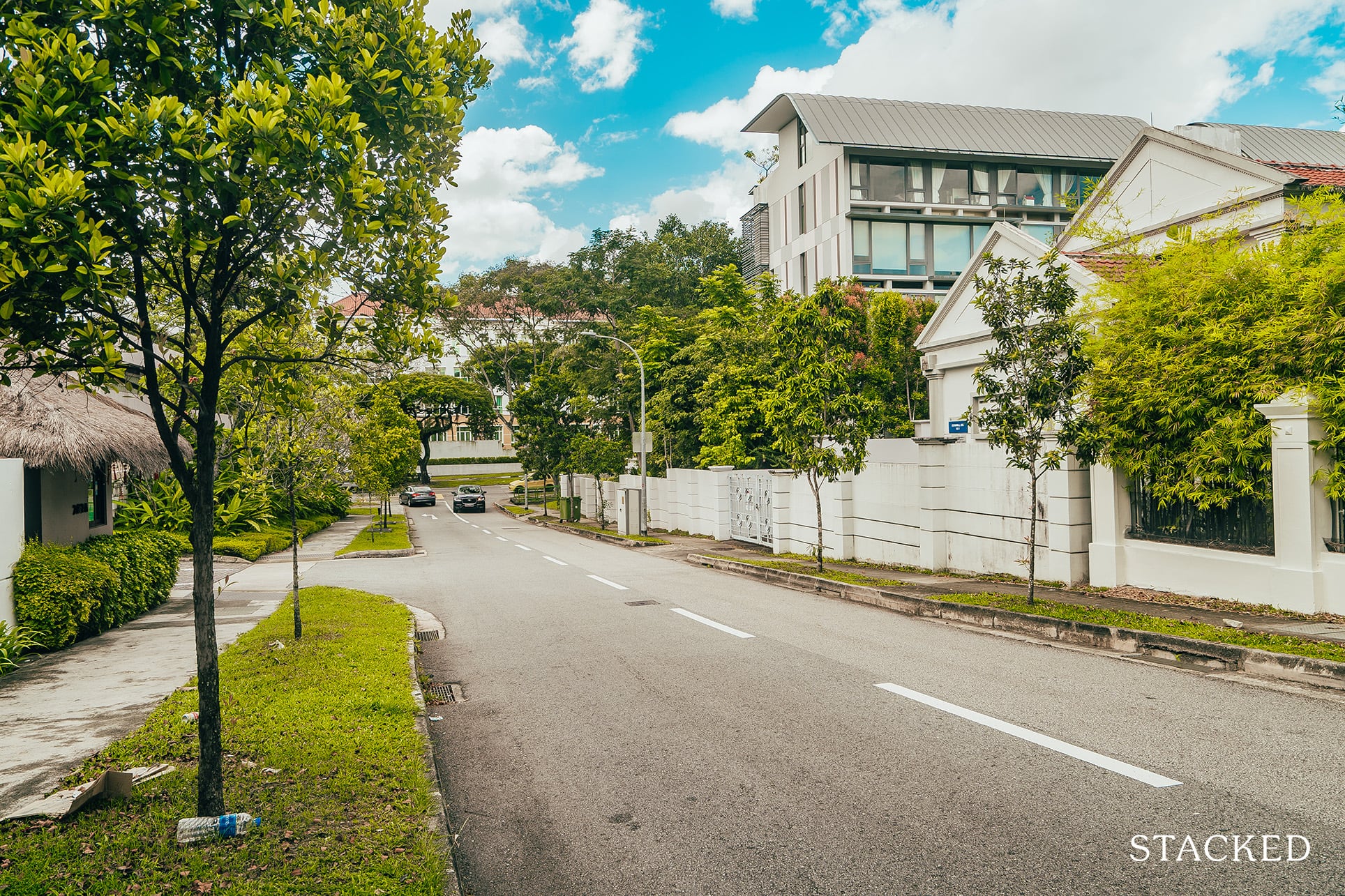 Immediate Road Exit(s): 1 exit onto Cornwall Gardens (immediately leads to Holland Road).

Summary: Incredible accessibility to central areas given the proximity of nearby major roads and highways, though traffic congestion has always been an issue here at whichever time of day. The influx of residents from Leedon Green and One Holland Village will only add to this conundrum, possibly resulting in a revamp of traffic flow here from the authorities.

Groceries

| | |
| --- | --- |
| Name of Grocery Shop | Distance From Condo (& Est. Walk Time) |
| Cold Storage – Holland Village | 1.6km, 4-min drive OR 750m, 10-min walk |
| FairPrice – Holland Drive | 2.2km, 6-min drive OR 1.2m, 16-min walk |
Schools

| | |
| --- | --- |
| Educational Tier | Number of Institutes |
| Preschool (within 1km walk) | 2 |
| Primary (3km-drive) | 3 |
| Secondary (3km-drive) | 3 |
| International School (3km-drive) | 1 |
| Junior College (5km-drive) | 3 |
| University (5km-drive) | 5 |
| Polytechnic (10km-drive) | 2 |
Additional Pointers

Educational Institutes (Few immediacies, Top-classed options)
The Cornwall is situated smack in the middle of Singapore's two biggest educational nodes – the Bukit Timah and Kent Ridge Educational Belt respectively.

The surrounding Queenstown area is also within close proximity, adding a further boost to the number of primary and secondary schools already present within the 10-minute drive radius.

Unfortunately, there are few preschools in the immediate walking area, though the above-average number of tertiary institutes near to the condo does shine in comparison.

Proximity to decadently designed eateries are hardly main points of consideration when people choose their homes (well at least for past generations anyway) – though you have to admit that it definitely adds to the fun factor and allure of the neighbourhood.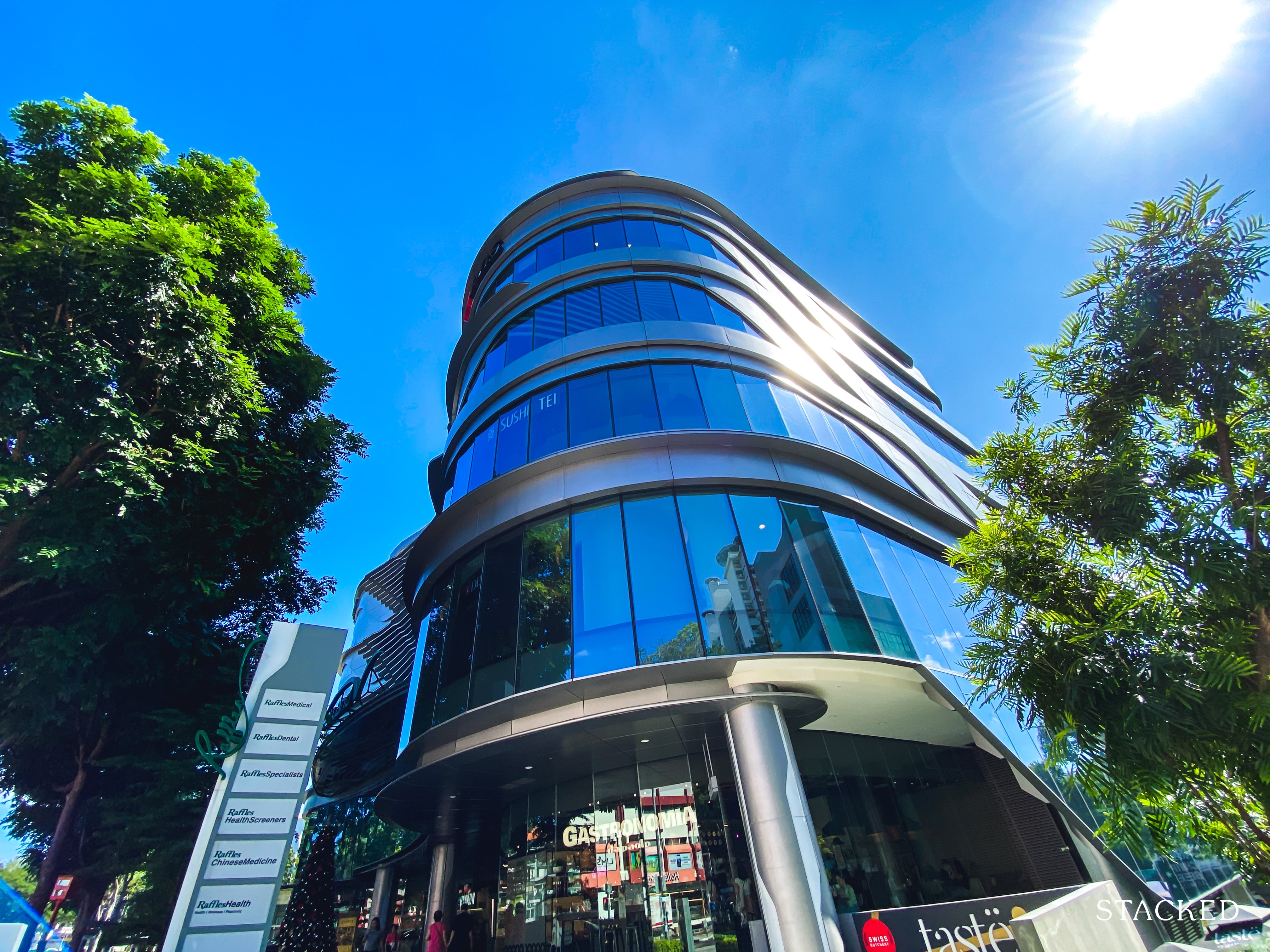 From sumptuous meals to delectable desserts, you'll find a whole bunch of these eateries lined up along the Holland Village enclave, waiting to both delight your senses and fill your phone's photo galleries.

Incredible Access To Over 6 Nodes
Singapore's a tiny island.

But to most of us who've grown and lived here our entire lives, what outsiders tout as amazing convenience might not necessarily ring true with us.

Traffic jams, long commutes or living outside of 'central areas' are just some of the complaints we hear on a frequent basis.

Thankfully, living in this area of District 10 means easy access to a number of important districts/nodes – whether it is by public or private transport.

The Orchard, Clementi, Bukit Timah, Queensway, Buona Vista (and not to mention, Holland) sections are spread out in immediate directions from The Cornwall, allowing their resident's incredible multi-node access.

The Cornwall Development Site Review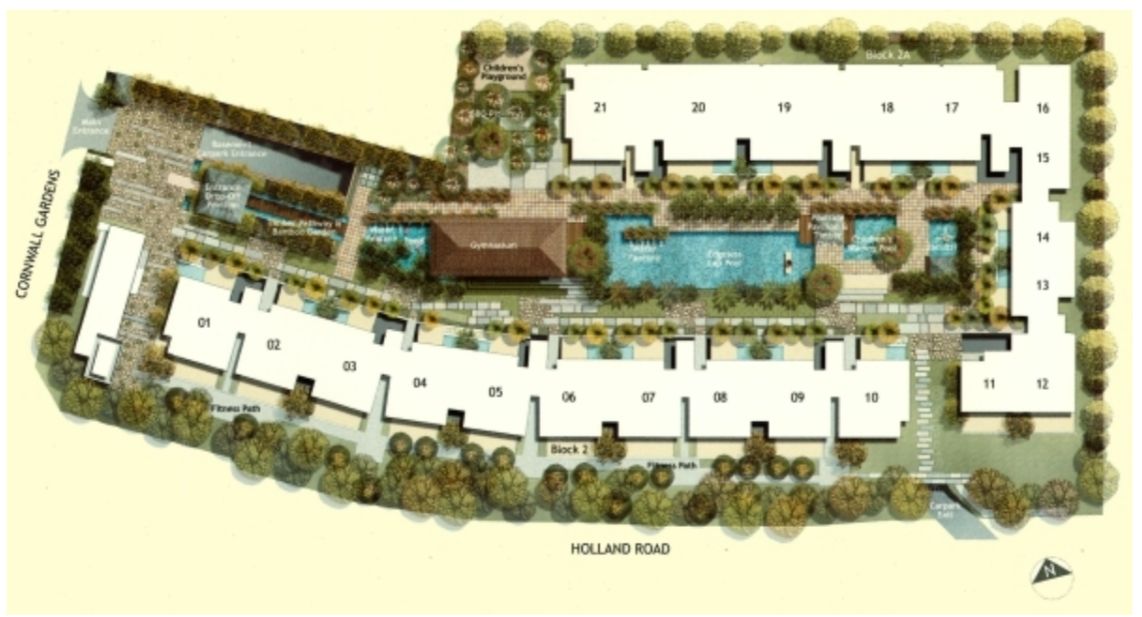 The Cornwall was built in 2006 (and of course, the site map was released even earlier) – so you'll have to excuse the quality of this site map.

Note that even though the blocks here are only 3-4 storeys high, the development is surrounded mostly by GCB enclaves, though unfortunately, a single block from Leedon Residences does peer over the development to its north.

It could be a deal-breaker to those who are looking for complete privacy, though rest assured that the unending foliage (in line with the project's villa-like theme) will provide more than adequate privacy in that sense.

On to the nitty gritties of facility placements, the jungle-like children's playground has been situated away from the surrounding roads, meaning a huge reduction in unnecessary fumes and traffic safety in that regard.

The children's pool, on the other hand, has been plopped in the middle of the jacuzzi and lap pool, so we can expect slightly less peace/privacy to the latter two facilities come holidays/weekends.

Admittedly, facilities here aren't abundant, but considering the number of units here, as well as its date of completion, I'd say that it is sufficiently adequate.

The design workmanship of the surrounding buildings and grounds (as seen in the tour) does provide a certain warm and homely appeal to the project that you rarely see elsewhere in Singapore nowadays.

Best Stacks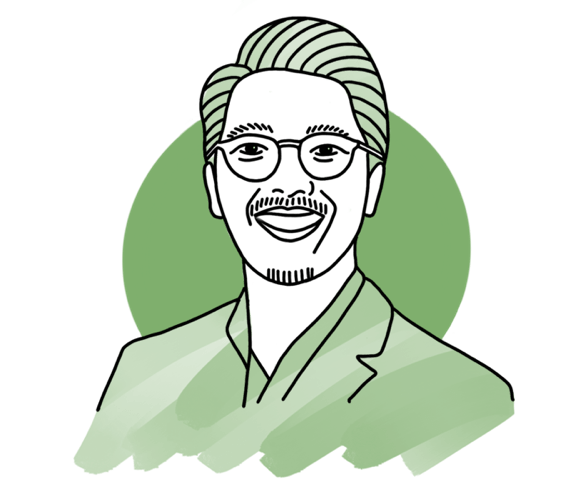 Insider Tip
"Stacks 1 to 5 are our recommended picks. Yes you get road noise, but to us, the wind flow and unblocked views go a long way into making up for it"
Ryan Ong,
Real Estate Specialist
In terms of best stacks, we'd recommend Stacks 1 to 5 purely for the unblocked views that you get looking out towards the Cornwall GCB area.
The downside, in this case, is the road noise that you'll encounter from Holland Road.
This can be quite subjective, but if you tend to keep your doors and windows closed the noise is never uncomfortably bad.
That said, some people like to keep them open for the wind flow – so really, it's up to you which is more important at the end of the day.
Unit Mix

| | | |
| --- | --- | --- |
| Unit Type | No. Of Units | Size of Units (sqft) |
| Studio | 30 | 614 – 958 sqft |
| 2-Bedroom | 45 | 1,044 – 1,701 sqft |
| 3-Bedroom | 12 | 2,142 sqft |
| 4-Bedroom | 12 | 2,497 sqft |
For 99 units, we wouldn't be expecting massive unit variations but things are not bad in that respect.

That said, the units here provide wonderful sizing-range options, with the smallest units already above the current average new launch unit sizes (especially for the 2-bedder variety).

The units also get very spacious at the larger-end of the size-range in each tier. 

One thing to note is that there aren't any internal lifts for the penthouse units here, so the elderly or those with mobility issues might want to stay away from these units.

Prices for The Cornwall
Price Breakdown (1st Property)
Studio
2-Bedroom
3-Bedroom
4-Bedroom
Price
$1,150,022
$1,975,248
$3,641,400
$4,244,900
25% Down Payment
$287,506
$493,812
$910,350
$1,061,225
Additional Costs
Buyer Stamp Duty
$30,601
$63,610
$130,256
$154,396
Legal Fees
$2,500
$2,500
$2,500
$2,500
Valuation Fees
$300
$300
$300
$300
Stamping Fees
$500
$500
$500
$500
Total Price
$1,183,923
$2,042,158
$3,774,956
$4,402,596
Initial Investment Amount
$321,406
$560,722
$1,043,906
$1,218,921
Return on Investment
Expected Rental Price
$2,763
$4,698
$8,568
$7,491
Rental Yield
2.80%
2.76%
2.72%
2.04%
Price (2nd Property)
Studio
2-Bedroom
3-Bedroom
4-Bedroom
Cost Without ABSD
$1,183,923
$2,042,158
$3,774,956
$4,402,596
Plus: ABSD (12%)
$138,003
$237,030
$436,968
$509,388
Total Price After ABSD
$1,321,926
$2,279,188
$4,211,924
$4,911,984
Initial Investment Amount
$459,409
$797,752
$1,480,874
$1,728,309
Return on Investment
Expected Rental Price
$2,763
$4,698
$8,568
$7,491
Rental Yield
2.51%
2.47%
2.44%
1.83%
The Cornwall Price Review
| | | | | |
| --- | --- | --- | --- | --- |
| Project Name | Tenure | TOP | Average Price (PSF) | Comparison Point |
| The Cornwall | Freehold | 2005 | $1,892 | |
| De Lente | Freehold | 2002 | $1,516 | Immediate Proximity/Similar Age |
| Duet | Freehold | 2005 | $1,606 | Similar Development-Type/Similar Age |
| Holland Residences | Freehold | 2012 | $1,930 | Immediate Proximity |
| Parvis | Freehold | 2012 | $1,979 | Immediate Proximity |
| Leedon Residence | Freehold | 2015 | $2,256 | Immediate Proximity |
| Leedon Green | Freehold | 2022 | $2,723 | Immediate Proximity |
The Cornwall's immediate neighbours are incredibly diverse (to say the least).

Given its prime location, however, we've decided to include most of these developments to give those who are looking at this area an idea of what they can expect development price-wise.

We've also included Duet even though it is admittedly a tad further away – due mainly to the similarities it shares with The Cornwall.

Now if you were to look at all the developments (De Lente & Duet) within the relatively same age group, you'll realise that The Cornwall comes on top in terms of quantum demand.

This is potentially due to the fact that The Cornwall is closer to the Holland Village enclave, as well as its incredible niche villa-like design.

IF you were to compare it with the other newer projects, however, you immediately realise that The Cornwall becomes the most 'affordable' of the lot (though not by very much).

Interestingly enough, even though Holland Residences and Parvis are located closer to Holland Village, and are 7 years newer than The Cornwall, their average PSFs are just a fraction off of the latter's – further emphasising the value of 'exclusivity'.

Leedon Residence/Green rounds off the top of the list, no doubt due to their novelty and 'luxury' high-rise status (in an area with generally low-rise residentials).

With this much diversity/variety of private residentials in prime District 10 location, potential buyers can go on to exert their other needs and wants without much constraints (provided that the locale is their utmost priority).
Appreciation Analysis
The Cornwall has seen incredible quantum growth since its launch back in the early 2000s.

The most expensive unit at that time was a 764 square foot 1-bedder (studio) going for $994 PSF, which has since risen to $1,753 PSF.

That's a jaw-dropping 76.3% appreciation growth.

Not to mention the fact that the development is getting increasingly aged, especially when compared to the newer and 'better'/more-modern developments rising up around it.

In fact, it is due to this latter premise that The Cornwall has seen such laudable appreciation rates.

As the Holland Village area has seen increasing redevelopment over the years in both the commercial and residential sectors, demand has naturally increased for homes here.

In tandem with the growing economy/property market, it is only natural that prices have therefore risen this much.

Still, the resales at The Cornwall have commonly been few and far between – and that is probably due to the number of other developments (competitors) in the area.

The last unit transaction that was made at the Cornwall was back in August 2019 (1,044 square foot unit on the 4th floor that went for $1,892 PSF, or $1,975,248).

Now considering that the development has been maintained so well, and the fact that it provides a nostalgic and exclusive offering in an area where these attributes are fast disappearing, I would say that units at The Cornwall would not really be considered for investment as much as a place for your own stay.
Especially when you consider the number of residential developments in the area that have already been 'en-bloc-ed' alongside Holland Village's incredibly fast growing commercial/residential sectors. 

Our Take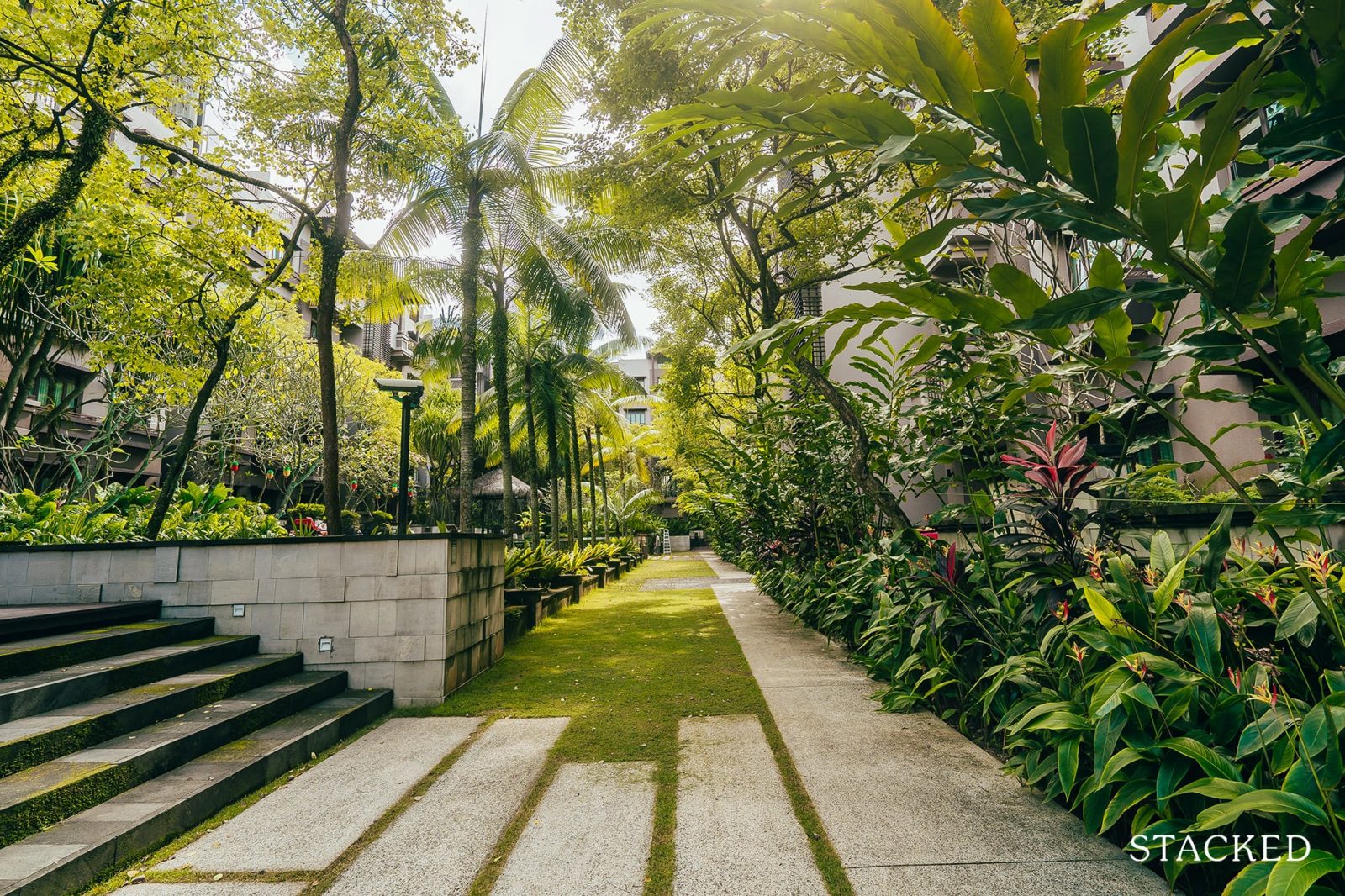 At the end of the day, The Cornwall can be summed up as an appealing, yet niche development with an incredible location.

Its villa-like exterior provides an authentic experience that only seems to grow in allure as the decades pass – further backed by relatively close proximity to the posh Holland Village enclave with its happening nightlife and scintillating gastronomical offerings.

At its quantum demand, The Cornwall might not be the cheapest development for projects in its category, but it definitely offers a homestay experience paralleled by no other modern condo in Singapore. 

And that alone could be worth the extra costs.
What this means for you
You might like The Cornwall if you:
• Enjoy The 'Resort' Life:Low-rise apartment blocks with a villa-like inner-condo vibe has earned The Cornwall comparisons to top Bali resorts in neighbouring Indonesia.
• Prefer Older Developments:Older developments tend to have a matured and warm community alongside relatively more 'affordable' quantums (even if The Cornwall might be a little on the higher-end).
You might not like The Cornwall if you:
• Like big common spaces:Unfortunately, while the location of the Cornwall itself is great, it's not big on common spaces.
• Crave Numerous Modern Facilities:The Cornwall comes with a wonderfully architected (and equipped) gym, as well as a jacuzzi and lap pool. Sadly, it lacks the modernity/variety that the newer big developments can offer.
End of Review