HDB Reviews

Skyline I & II @ Bukit Batok Review: Decent At Most Aspects With Traffic Noise Concerns
Sean
December 1, 2021

25

min read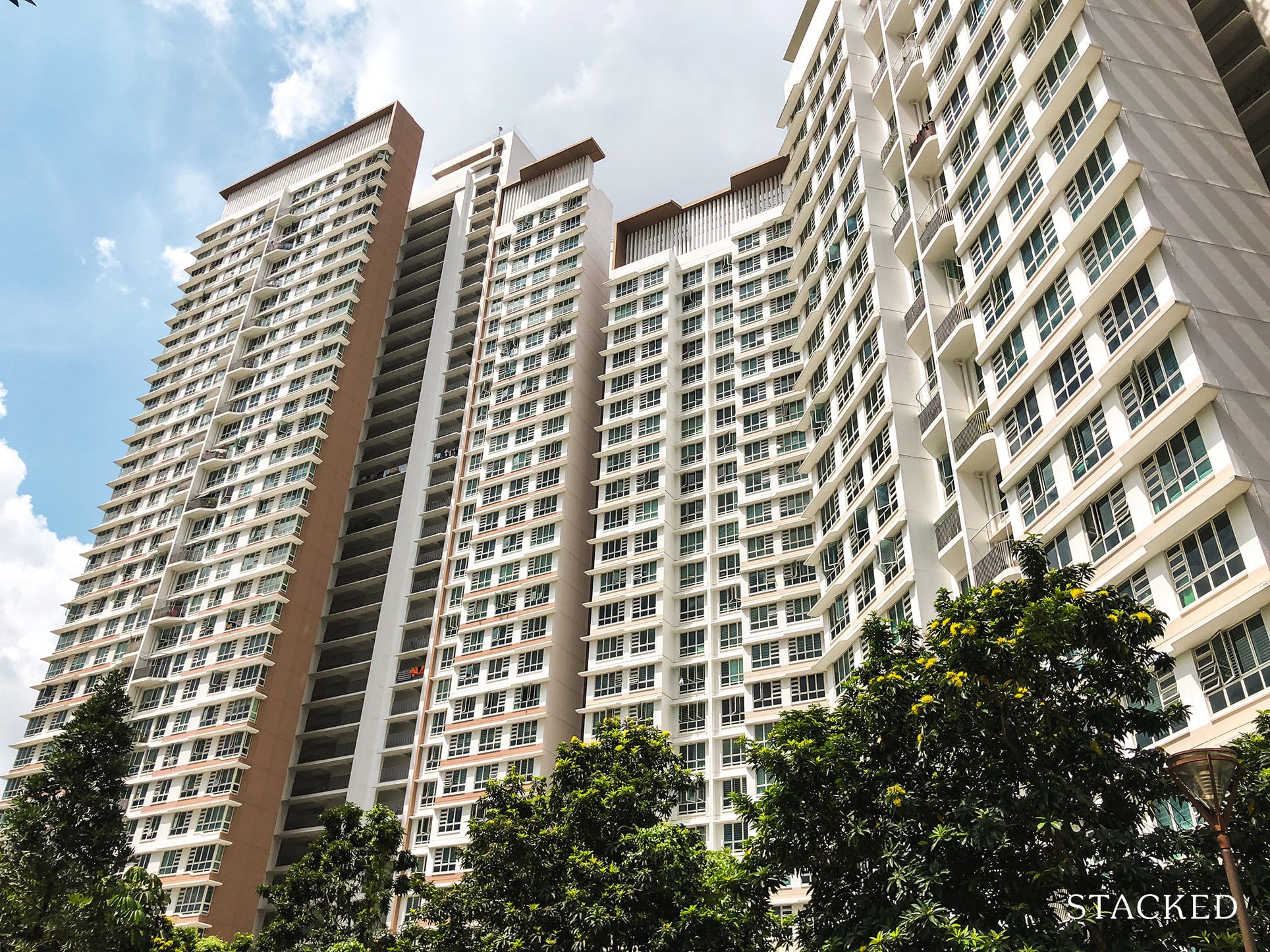 Reviewed by Sean on December 01, 2021
What we like
Amenities at your doorstep

Right next to a park connector

5 malls relatively nearby

Efficient use of development space
What we don't like
—

Very noisy due to the expressway, flyover & MRT track

—

Slightly narrow corridors

—

Sky garden is underwhelming

—

Underpass facilities are probably unhealthy
25
min read
| | |
| --- | --- |
| Project: | Skyline I & II |
| HDB Town | Bukit Batok |
| Address: | 194A-B Bukit Batok West Avenue 6 (Skyline I), 296A-C Bukit Batok Street 22 (Skyline II) |
| Lease Start Date: | 01 Jul 2017 (Skyline I)/01 Mar 2018 (Skyline II) |
| No. of Units: | 1,232 |
If you've ever taken a drive along the PIE from Jurong, you may have noticed several towering residential blocks on the left. These blocks belong to both Skyline I & II which are actually 2 separate developments that are connected together.
At first glance, Skyline I & II @ Bukit Batok probably looks like any other relatively new HDB project, with clean lines and at a towering nearly 40 stories high – it's the typical blueprint that has been used in the past few years. But there's actually more to it than you think – and that's because its towering demeanour draws your attention away from what's below.
As a result of having the main road and MRT tracks cutting through the development, both developments ended up being connected below the flyover – with a pretty unique facility offering that maximises the use of space.
With the evergoing focus on a green lifestyle, the development was also built to seamlessly integrate with the park connector, allowing residents to hop on and off the network quickly and easily.
That being said, its location right next to the PIE does create some hesitation in buyers looking at this development. And yet, the relatively high prices (one 5-room flat went for $900,000!) here does show a great desire by many to own a home here (or maybe just a consequence of the current hot market).
So should you consider Skyline I & II @ Bukit Batok? Let's find out more in our usual HDB tour!
Skyline I & II @ Bukit Batok Insider Tour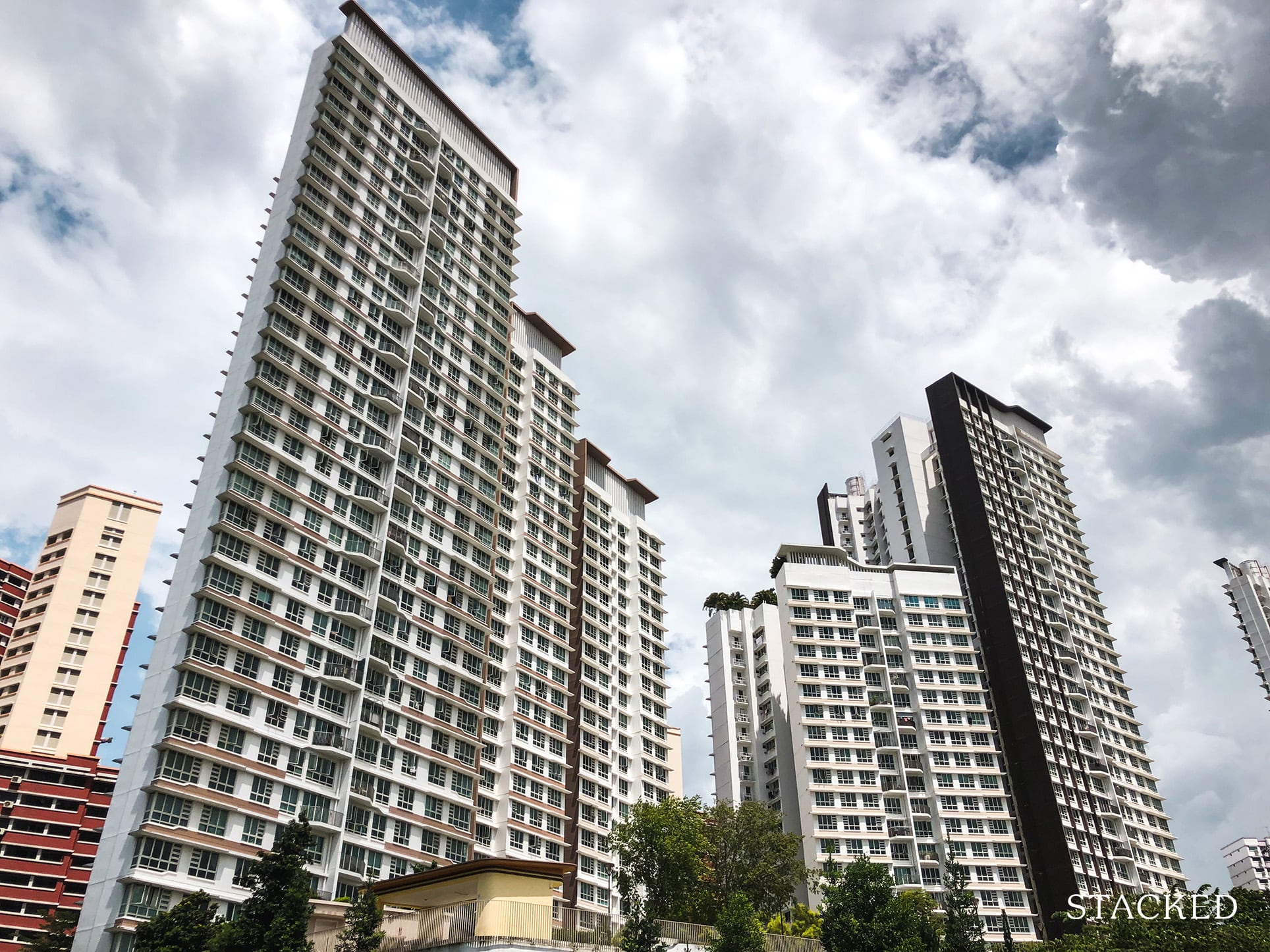 Given Skyline @ Bukit Batok is really 2 HDB developments combined into 1, my review will showcase and compare the different points of interest within both developments.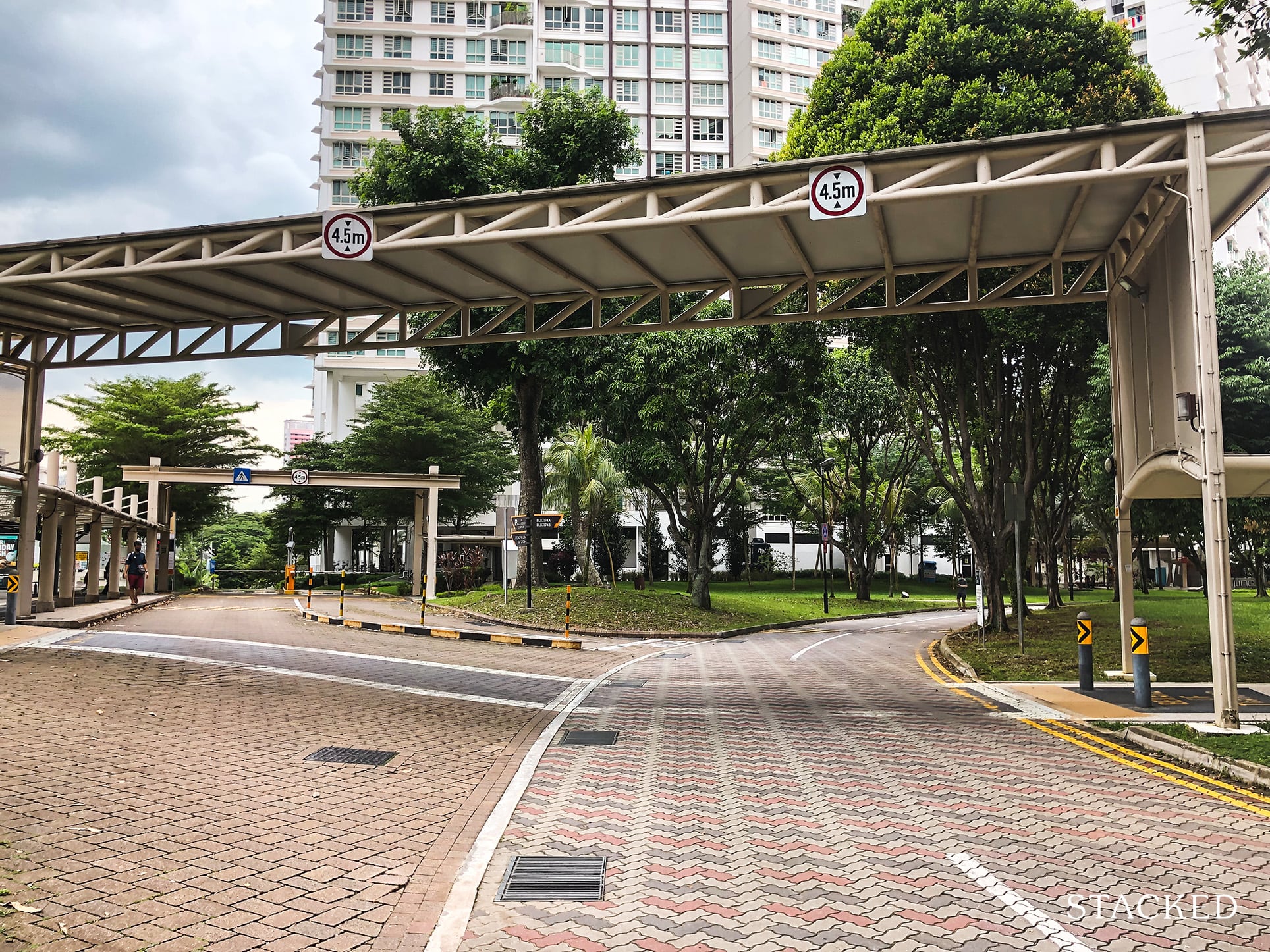 Getting to Skyline I @ Bukit Batok is an experience unlike any other HDB I've reviewed. The development is pretty much hidden behind an older HDB, so much so that you actually have to take the service road of this older development to reach it.
As such, drivers turning in might even wonder if they're at the right place since there is no sign at the entrance that indicates so. I suppose this is not much of an issue considering how tall the development is – it's hard to miss it!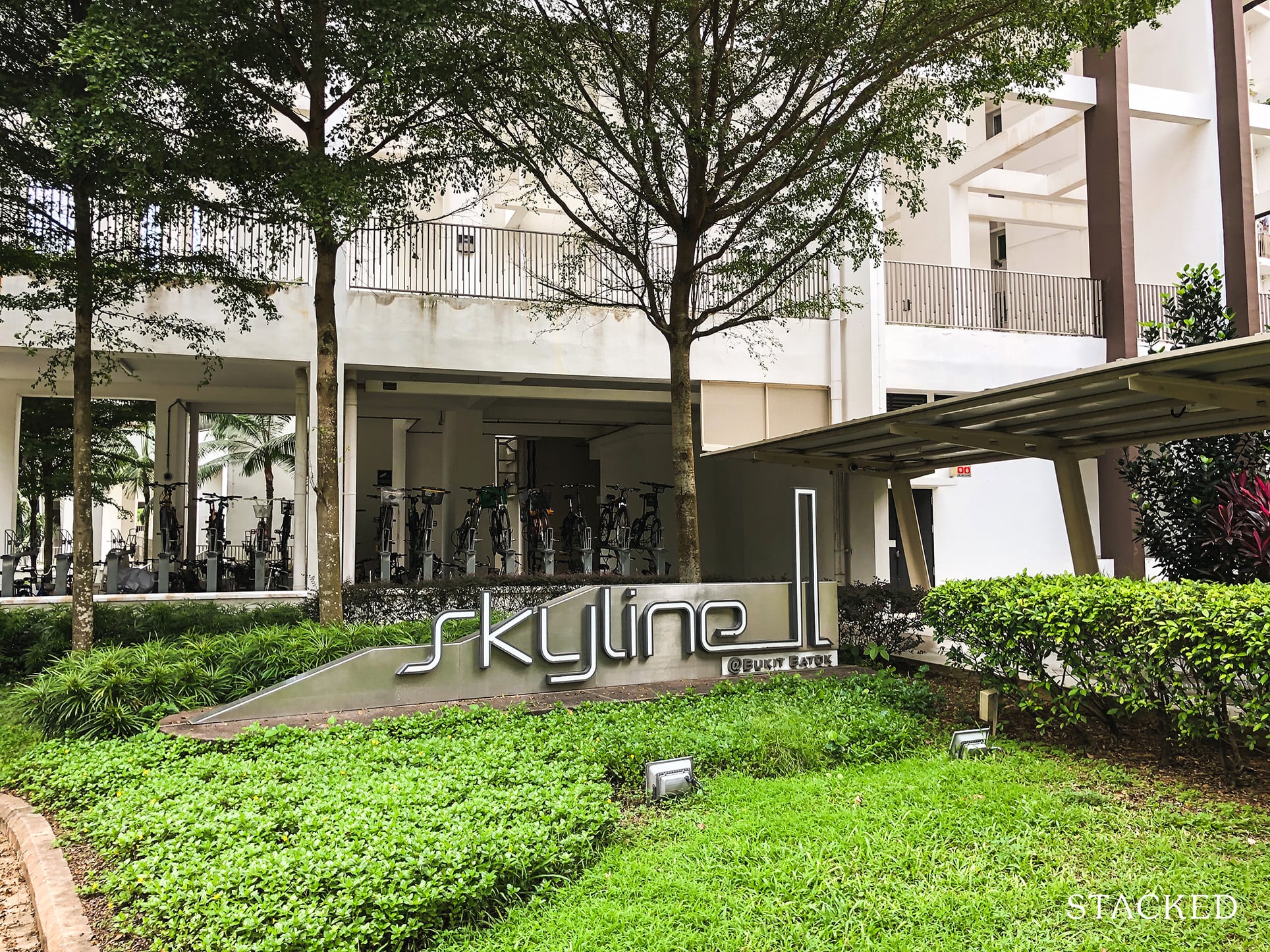 There're 2 places where you'll spot the development's name: first when you are headed to the entrance of the Multi-Storey Car Park (MSCP).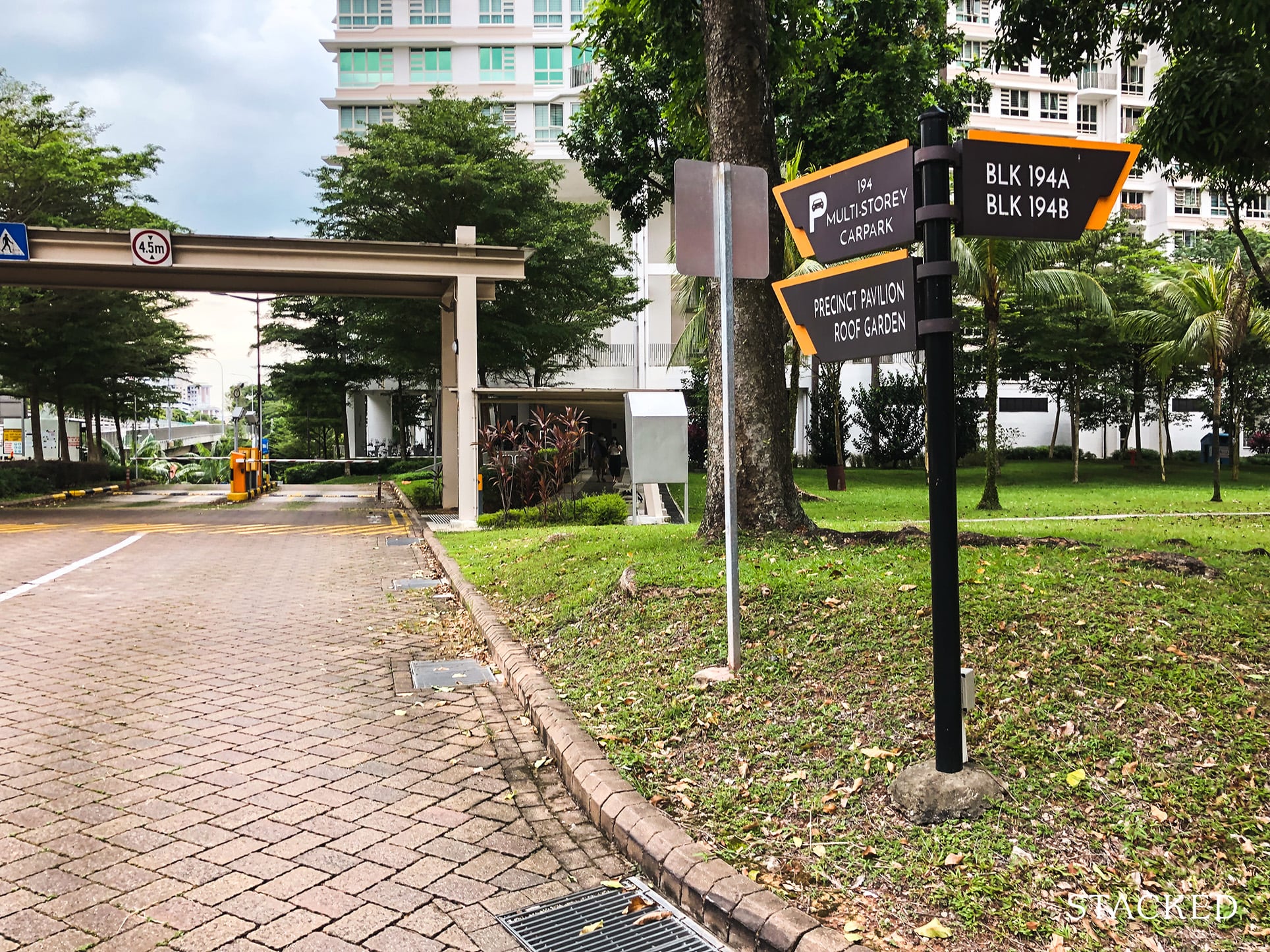 I like that there are at least directional signs here, even pointing you to where the precinct pavilion is which makes it easy for visitors attending events here.
The next place is just outside the drop-off point, though I must say it was not easy to spot given the setback from the service road.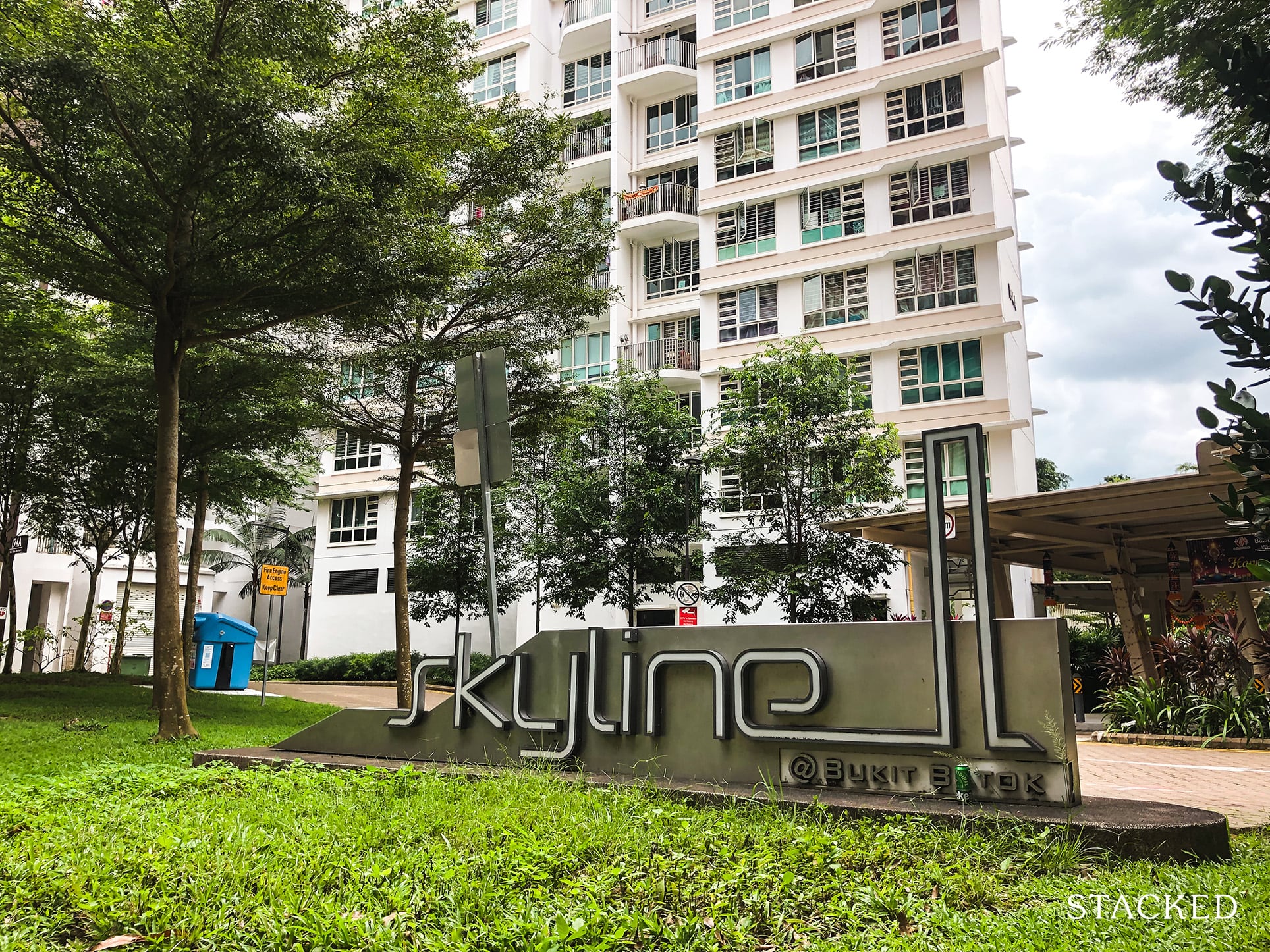 Turning left into the service road is the only drop-off point of Skyline I @ Bukit Batok: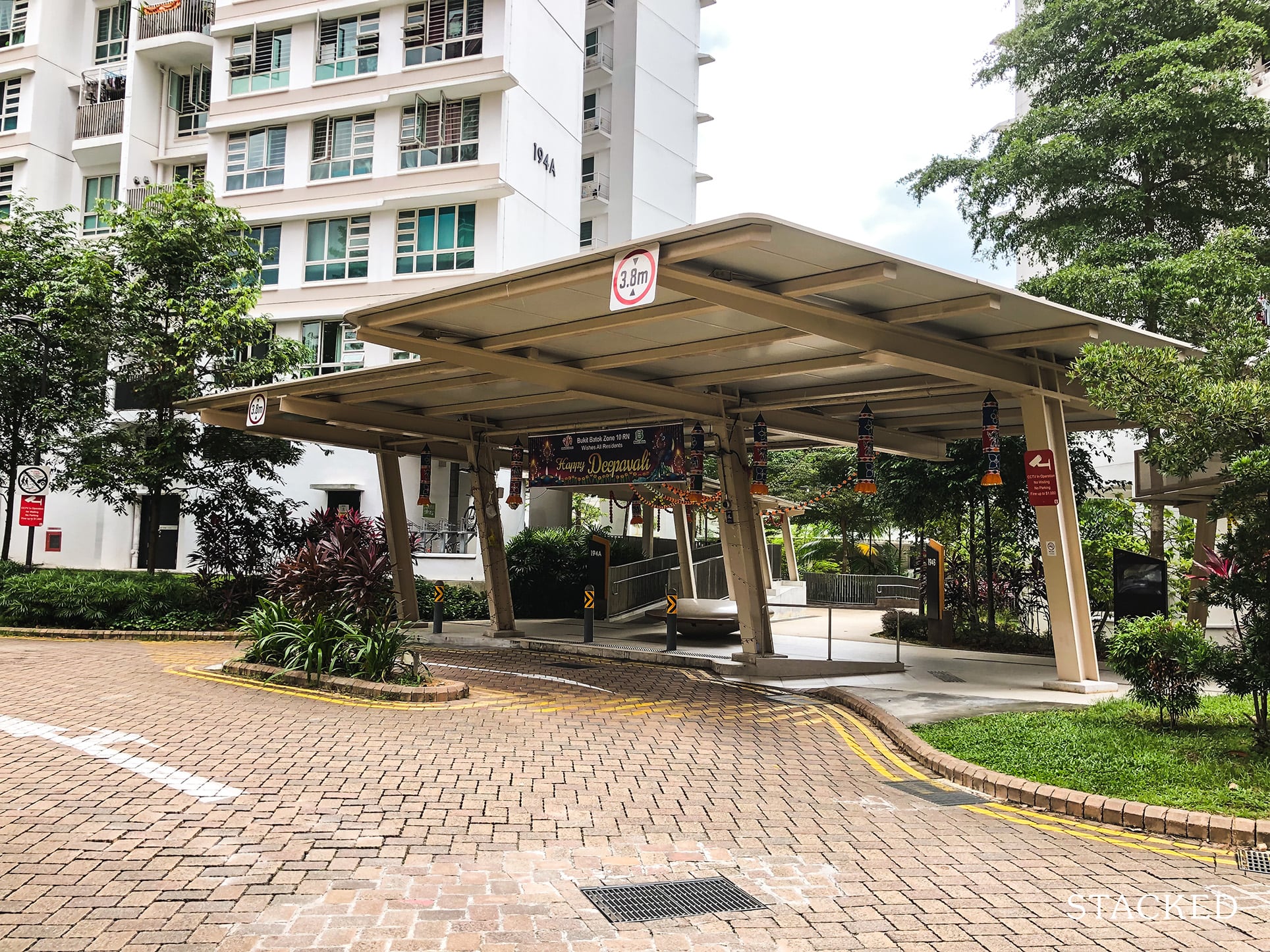 Skyline I @ Bukit Batok (being the smaller development) has only 1 drop-off point shared between the only 2 tower blocks. As far as drop-offs are concerned, this one is not impressive at all. It's a really small roundabout that can fit only 1 car at a time. Moreover, the turn from the service road is pretty sharp.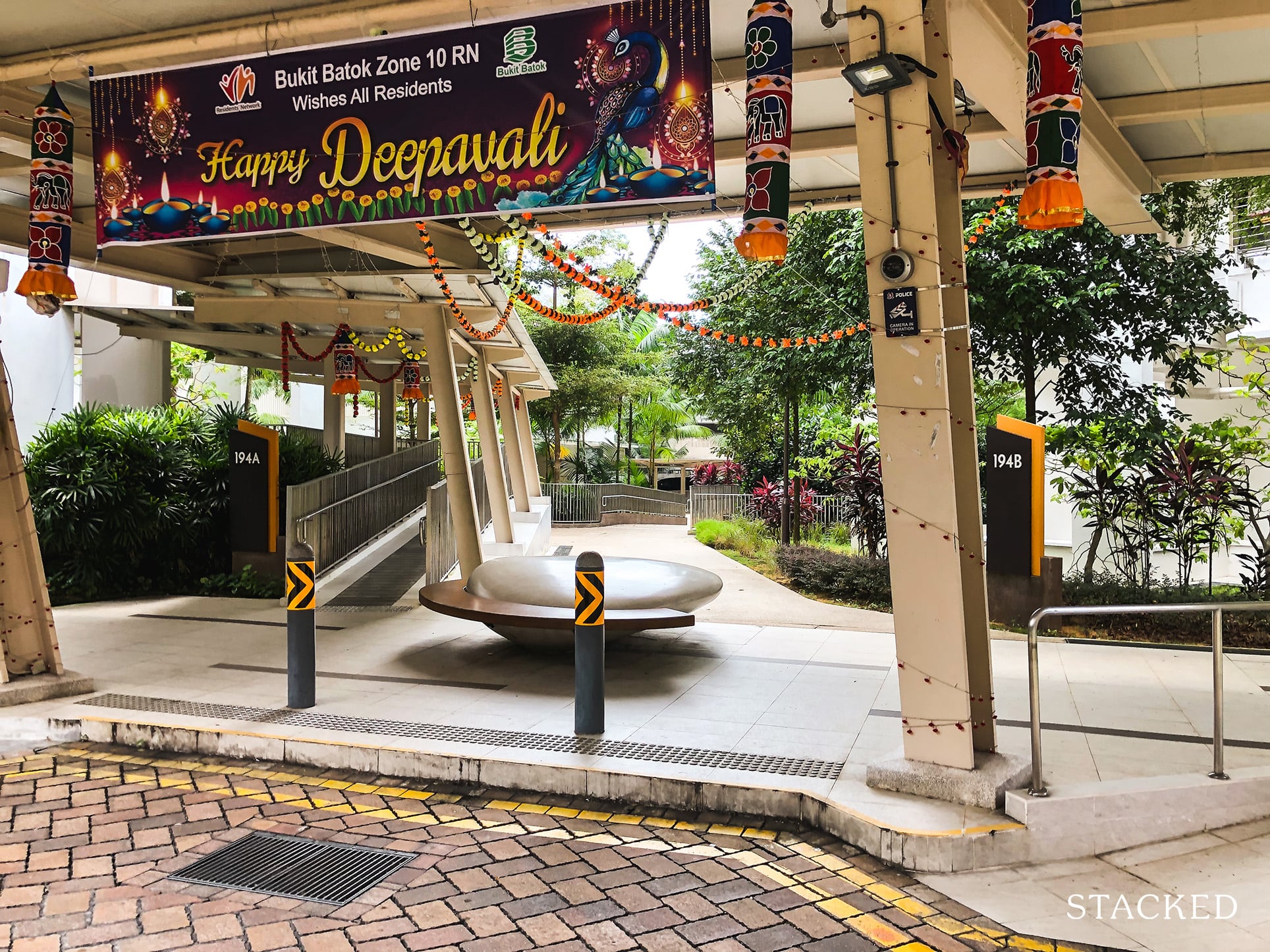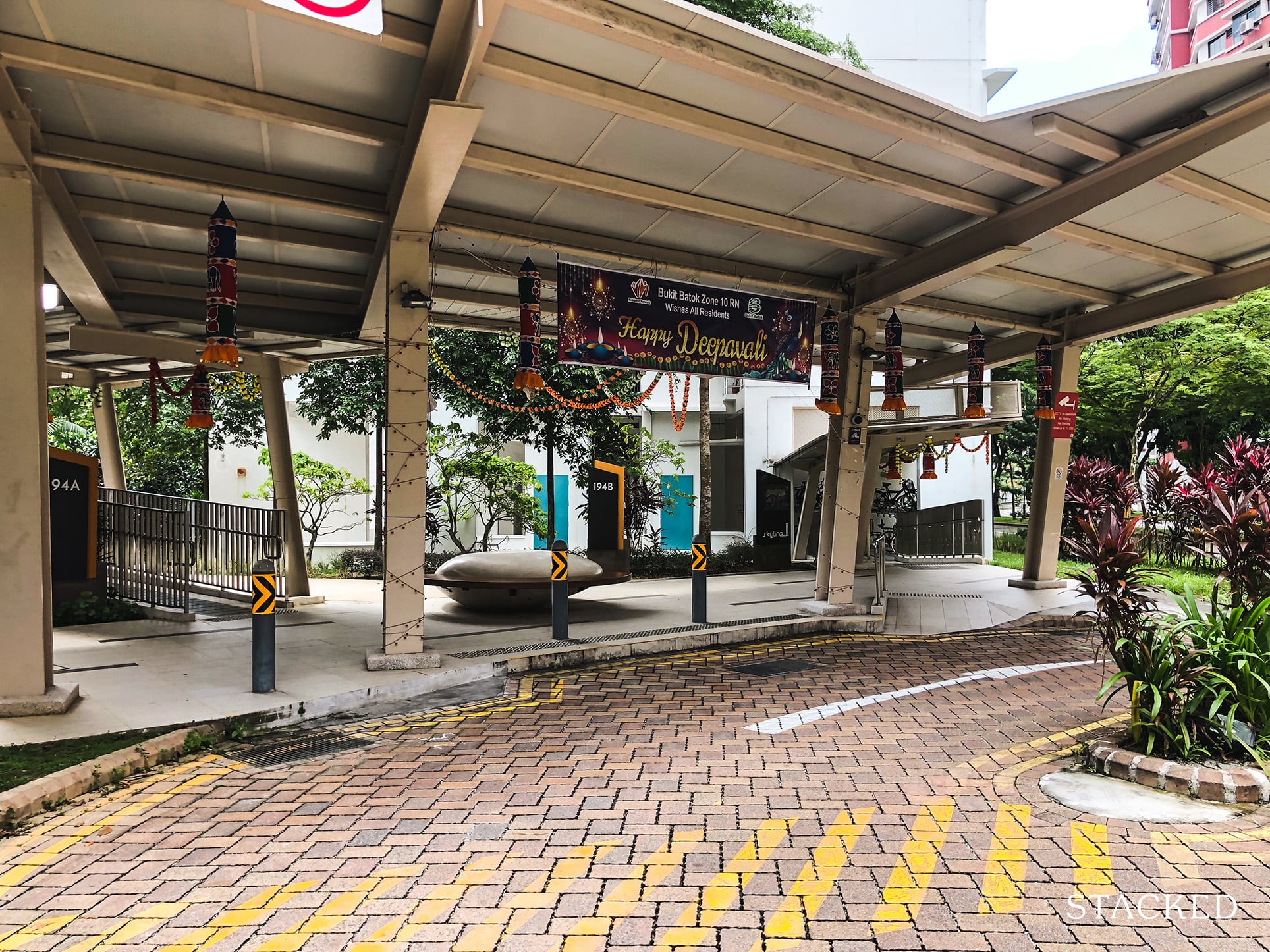 The good news is that it is sufficiently sheltered and has some seating provided. The shelter also extends all the way from blocks 194A and 194B, making it very comfortable for residents to get their taxis in the event of wet weather.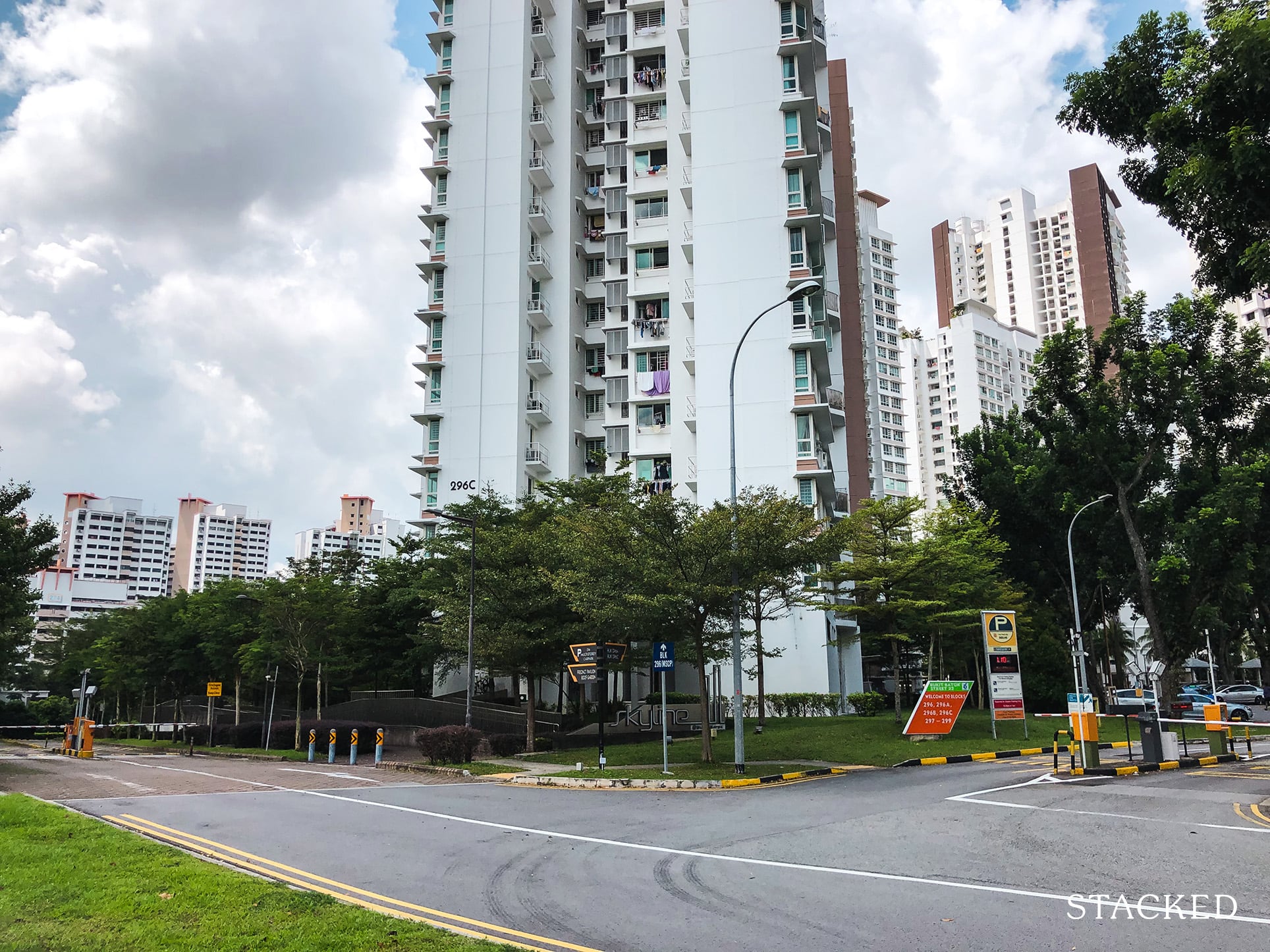 Now onto the bigger Skyline II @ Bukit Batok – you'll find that the entrance here is much more familiar where residents/visitors are greeted by a large sign of the development's name.
Heading inside, you'll find two further drop-off points. The first one is between blocks 296B and 296C and is very similar with regards to the issues to the one at Skyline I. I can't say it makes for a great showing as there's only 1 seating area here, only one car can fit in at a time and it's also not quite a roundabout considering the turn is quite sharp. If it's any form of consolation it is fully sheltered and its shelter extends to both blocks.
The 2nd drop-off point is thankfully bigger, accommodating up to 2 cars at a time. It also sports the development name here which make it seem more like the "official" drop-off point. From here, residents can also take the sheltered walkway leading them to their blocks.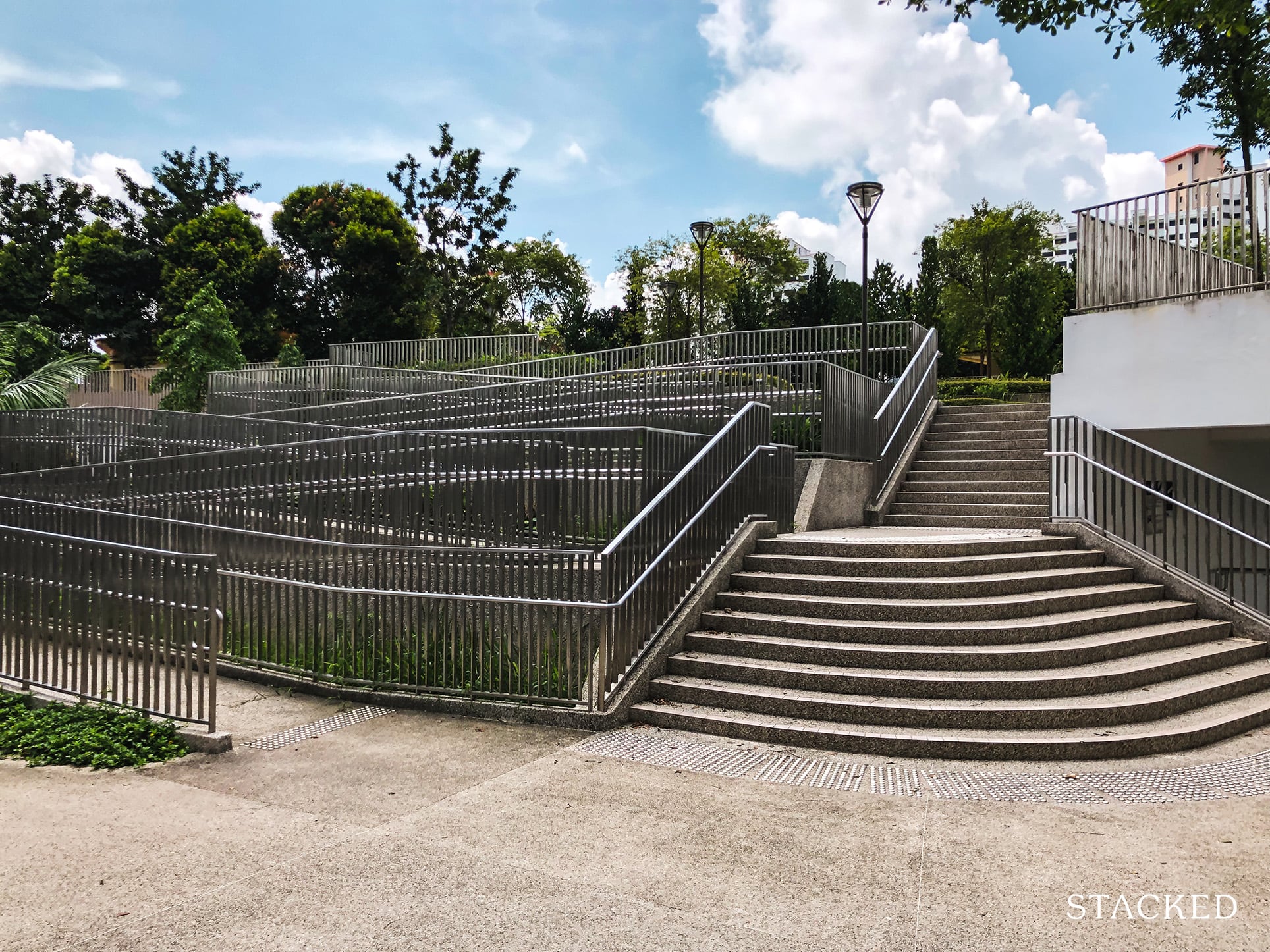 This drop-off also has a staircase (thoughtfully wheelchair friendly) that leads you to the carpark rooftop and the childcare centre.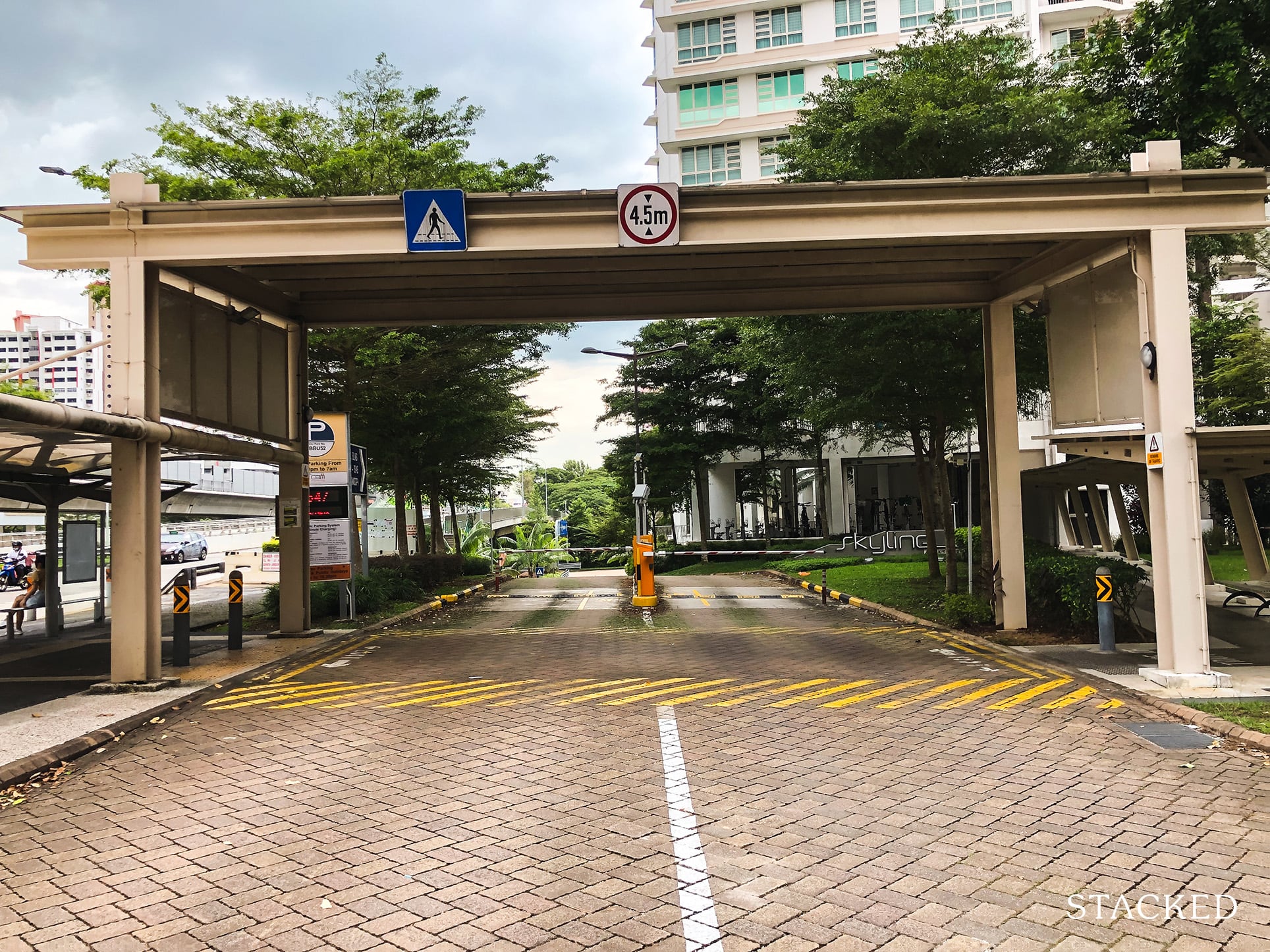 Next, let's look at the carpark at Skyline I. As mentioned, the service road will actually be shared with an older HDB, which isn't the most ideal setup as you have more traffic to contend with. From here, you'll find the entrance to the 3-storey multi-storey car park.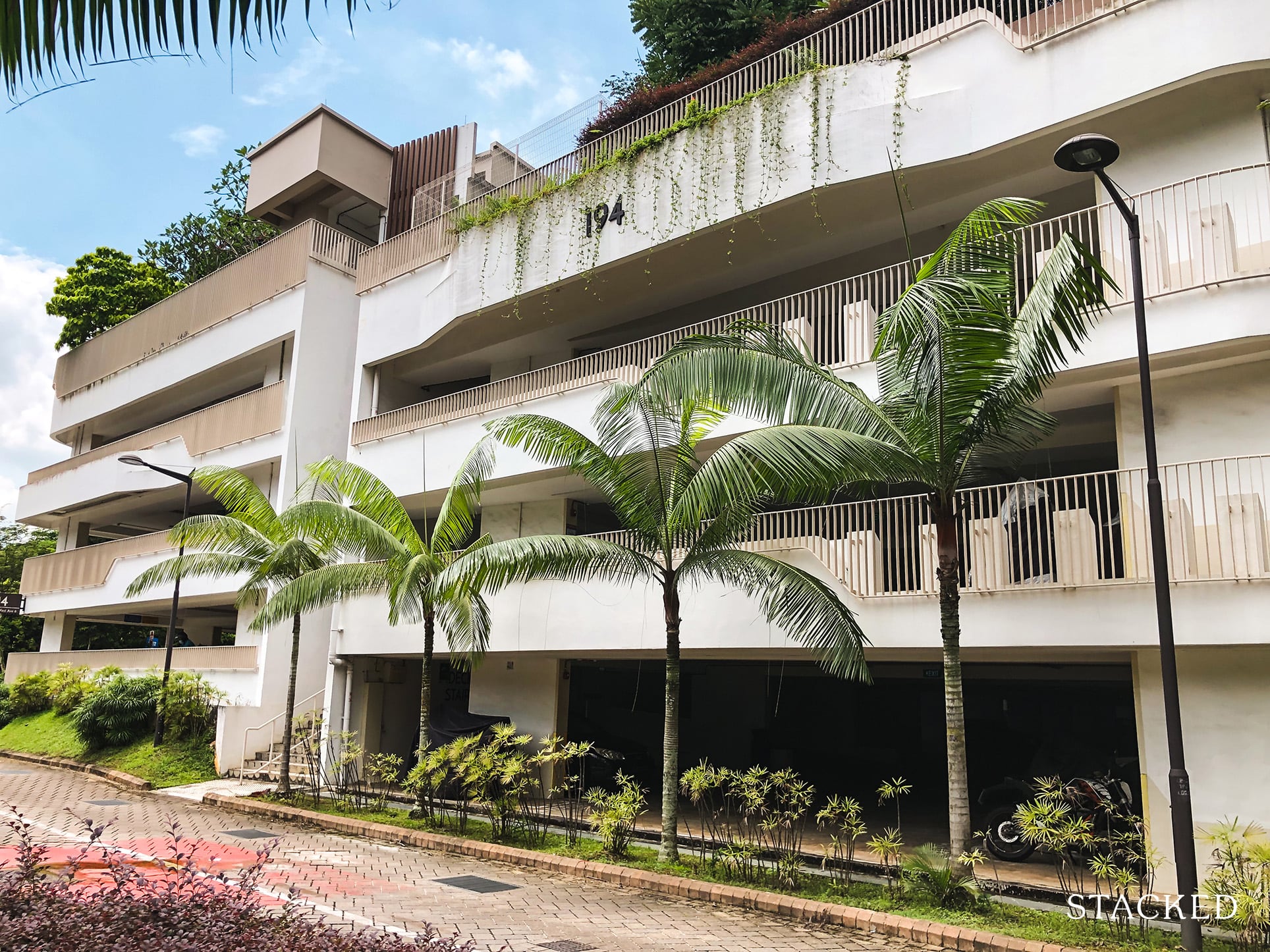 The carpark may be 3-storeys, but the first level is considered the "basement" since Skyline I & II are both elevated from the ground. As such, the second level of the carpark connects with the ground level of the residential blocks.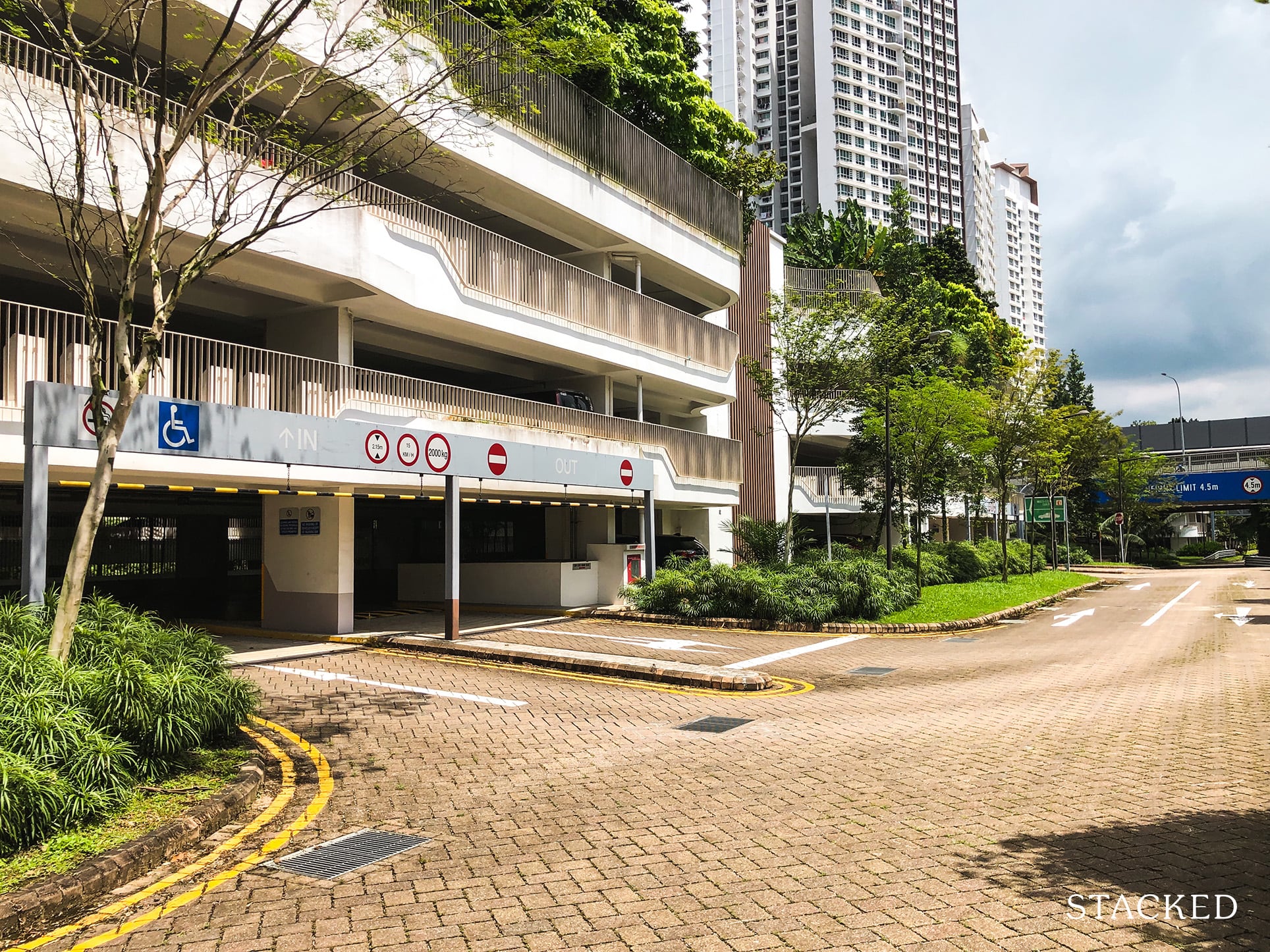 I must say, the car park's facade is very clean with its white finish and nice curves. It may look simple, but it's certainly different from other HDB car parks that can be an eyesore at times.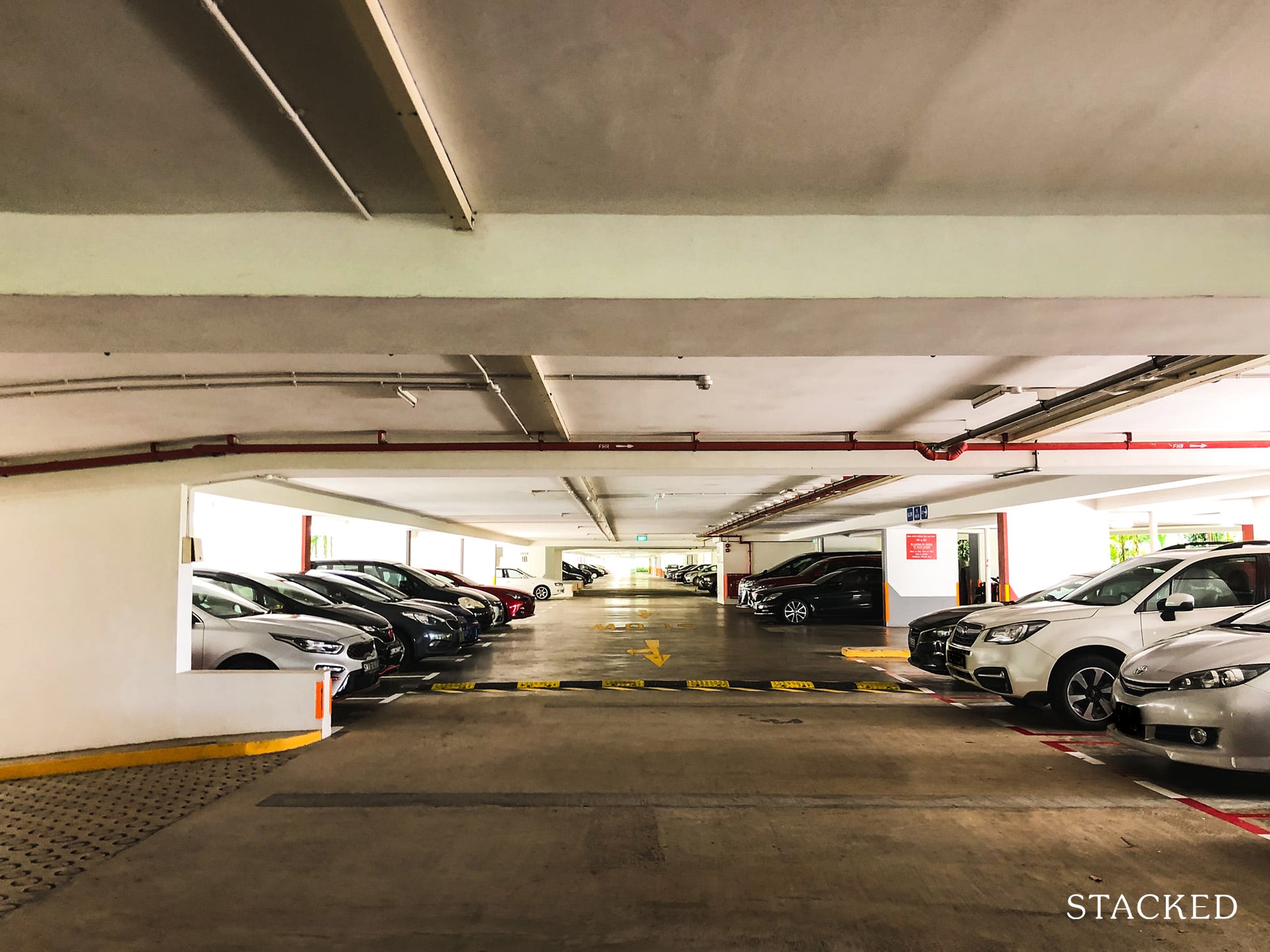 Inside, you'll find the space to be really bright and airy given the numerous air wells.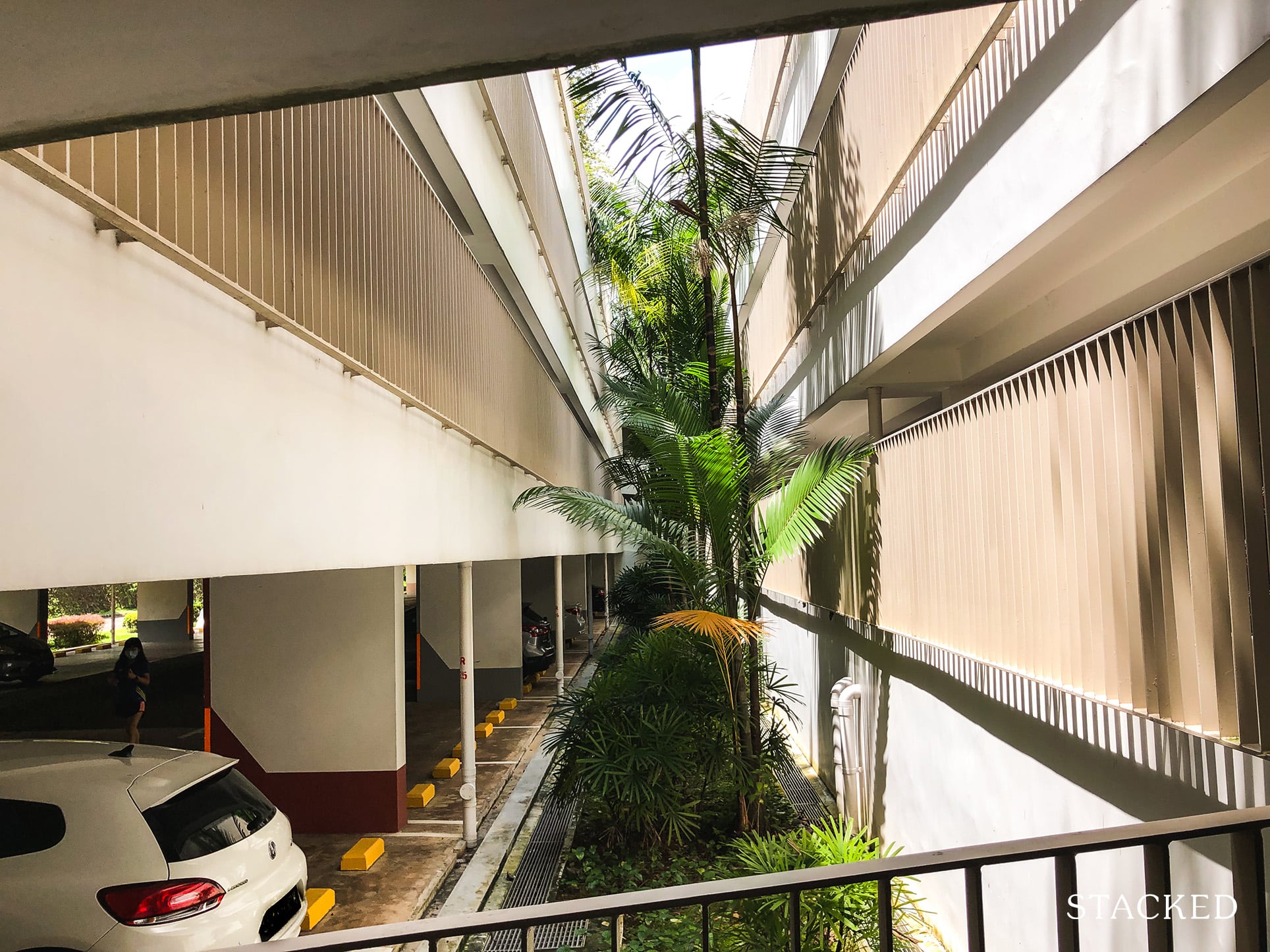 The same can be said for Skyline II's carpark – it's also 3-storeys high, and this one here does act as a buffer between the noisy expressway and the block next to it. It's also very bright, well lit and ventilated given the air wells here too.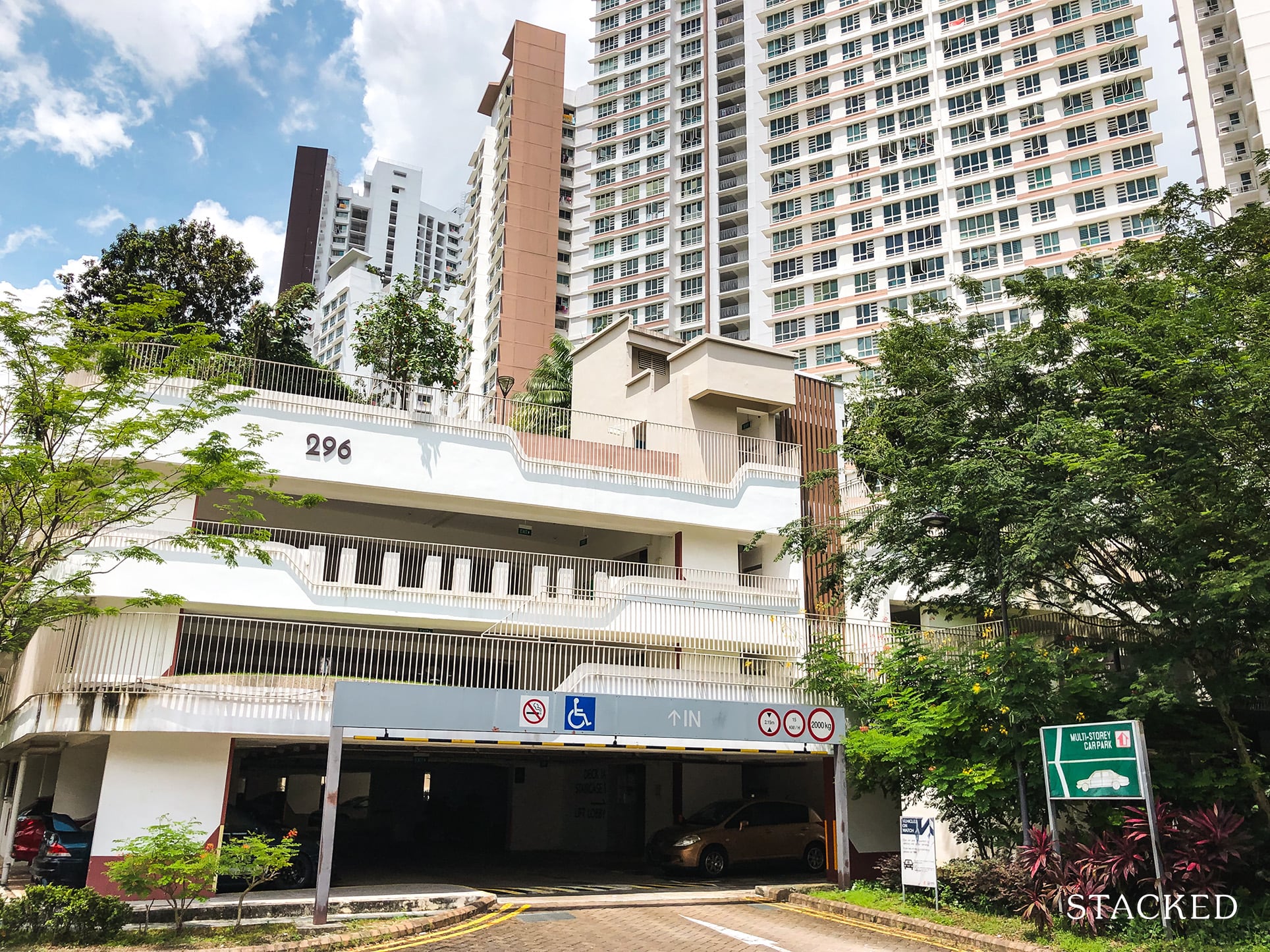 Usually from the inside, I'll take a peek at units that face the car park directly to see if lower-floor units here have this facing. In this case, I'm happy to report that all of the blocks are elevated, so no stack faces the car park directly.
Now for a quirky bit: it's pretty conceivable to think that the first level of the carpark would be the best place to park to get to your residential block, right?
Unfortunately, it's not quite so straightforward.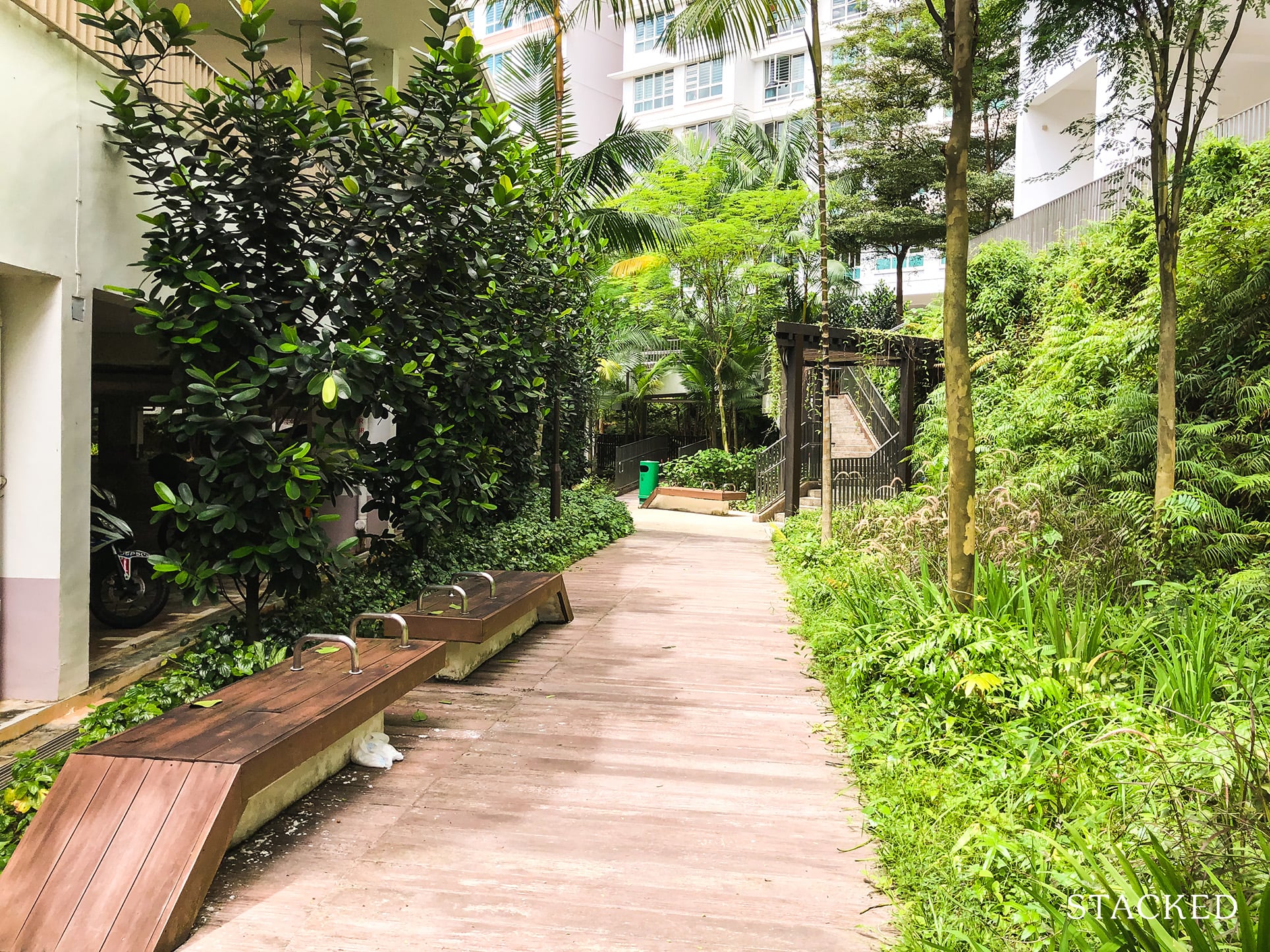 So getting out of the first level of the carpark would bring you to this beautiful trellis area. The path here is filled with thick greenery and I'll chalk it down to maximising the space here between the residential blocks and the MSCP.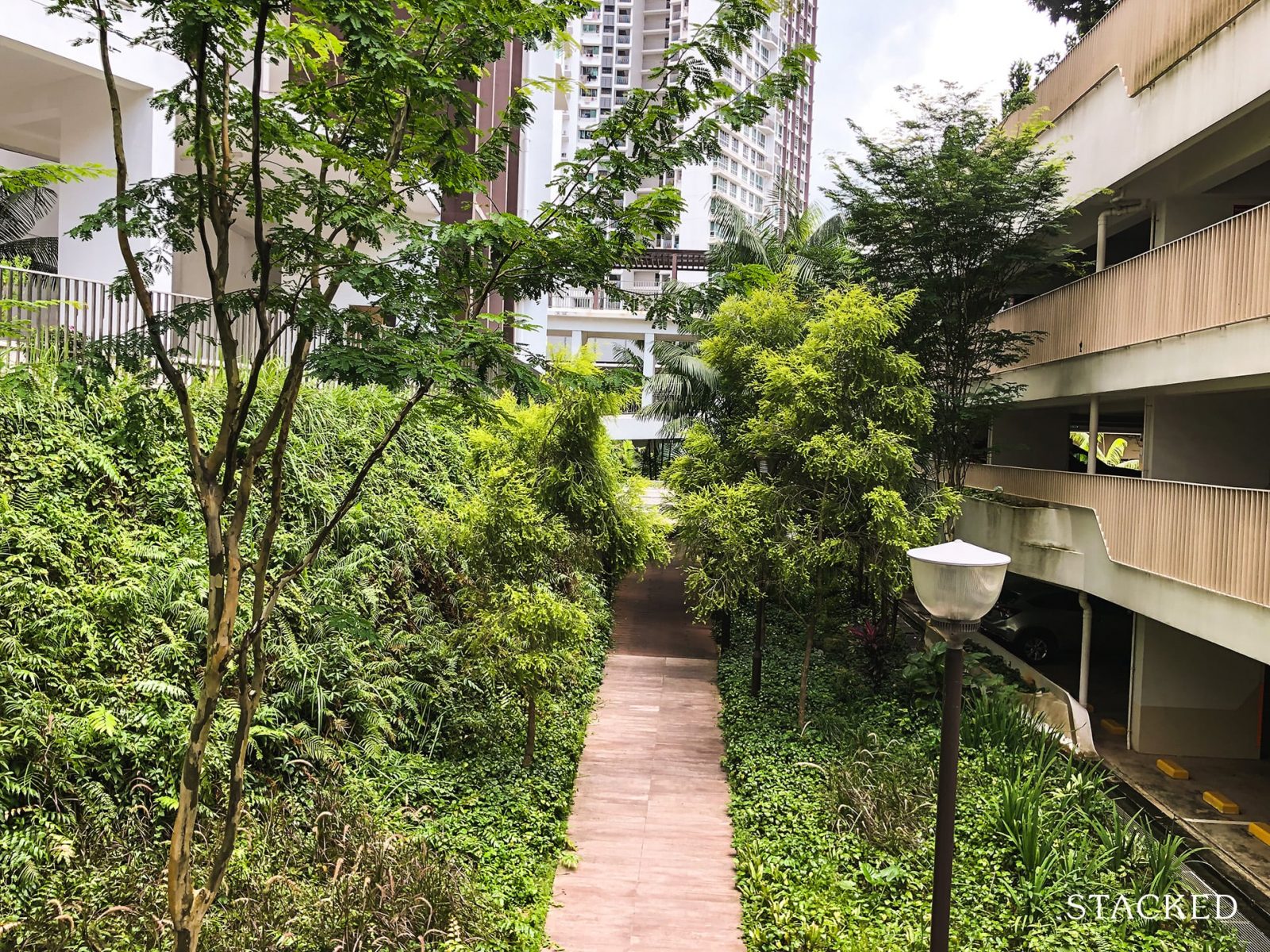 The trellis is partially sheltered at points, and you'll find some seating available here too!
But it's here that you'll also notice there's no direct lift lobby access to the residential blocks. Residents would need to take climb a flight of stairs to reach level 1 of the residential blocks to go home.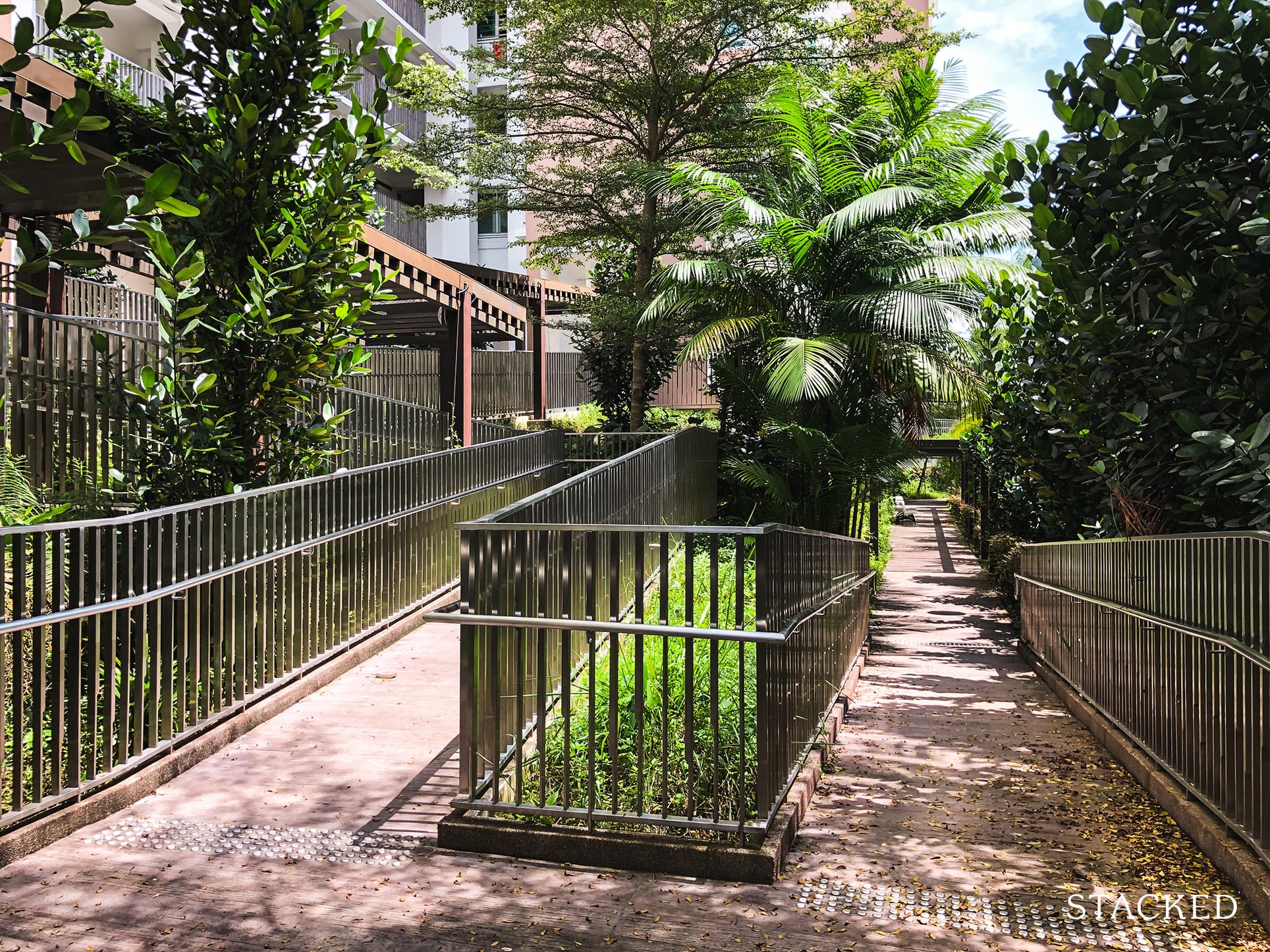 There are also paths for wheelchair accessibility too, which zigzags around a lot. As such, I think that those looking for a more convenient walk back (especially those who use a wheelchair) to their home should park on level 1 instead.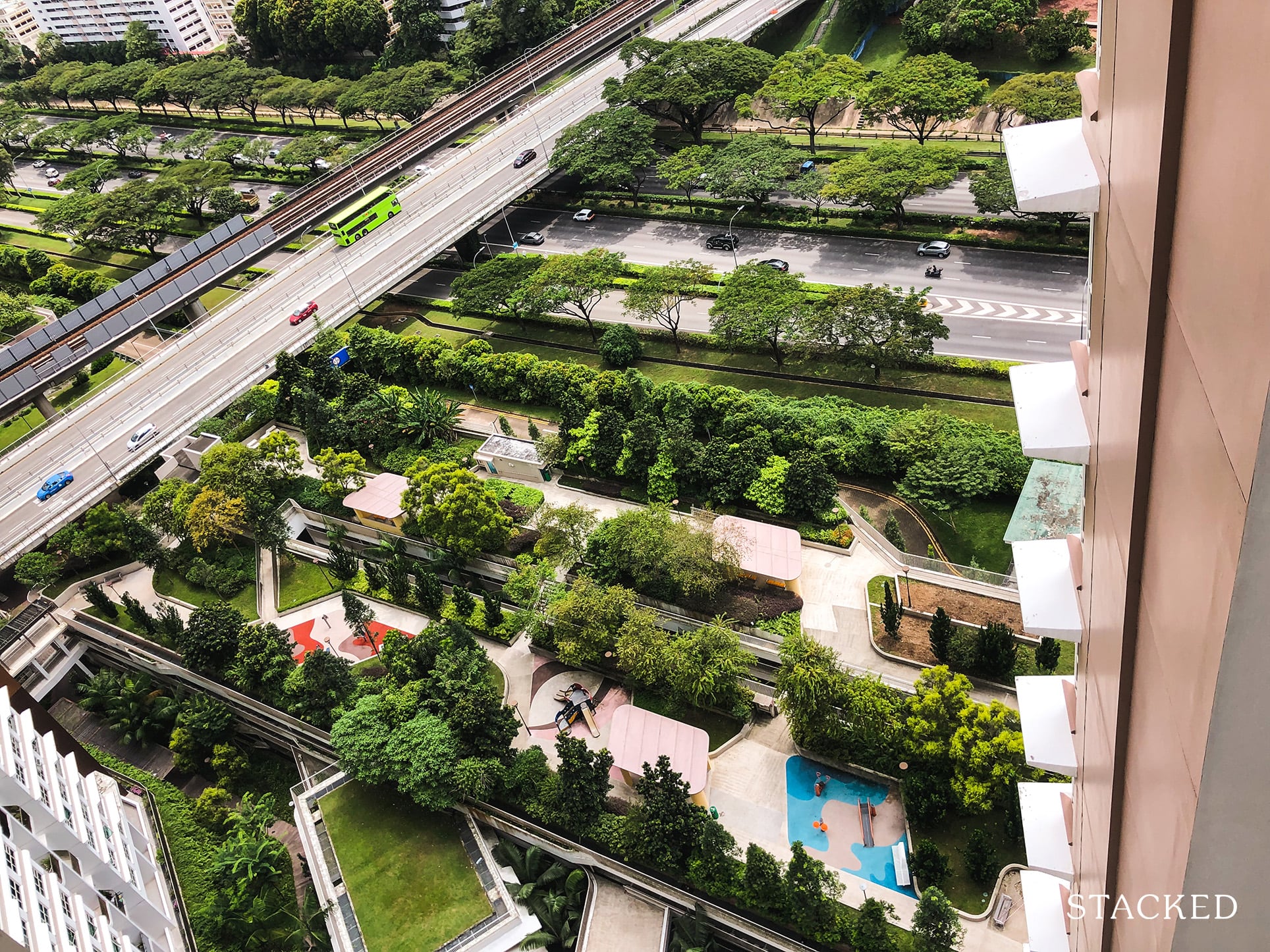 Next, let's look at the car park rooftop garden, where both rooftop gardens are located on the 4th floor of the Multi-Storey Car Park.
The rooftop garden at Skyline I is rather decently sized – which stretches alongside the development. But as you can probably see from the photo, it also fronts the PIE so it goes without saying that this is indeed a rather noisy place to be in. Moreover, the noise coming from the MRT that is under construction can be heard here too. It's definitely not where you'd want to be for some peace and quiet.
Due to the small land size of Skyline I, all of the facilities are located on the car park rooftop garden – as you'll see soon.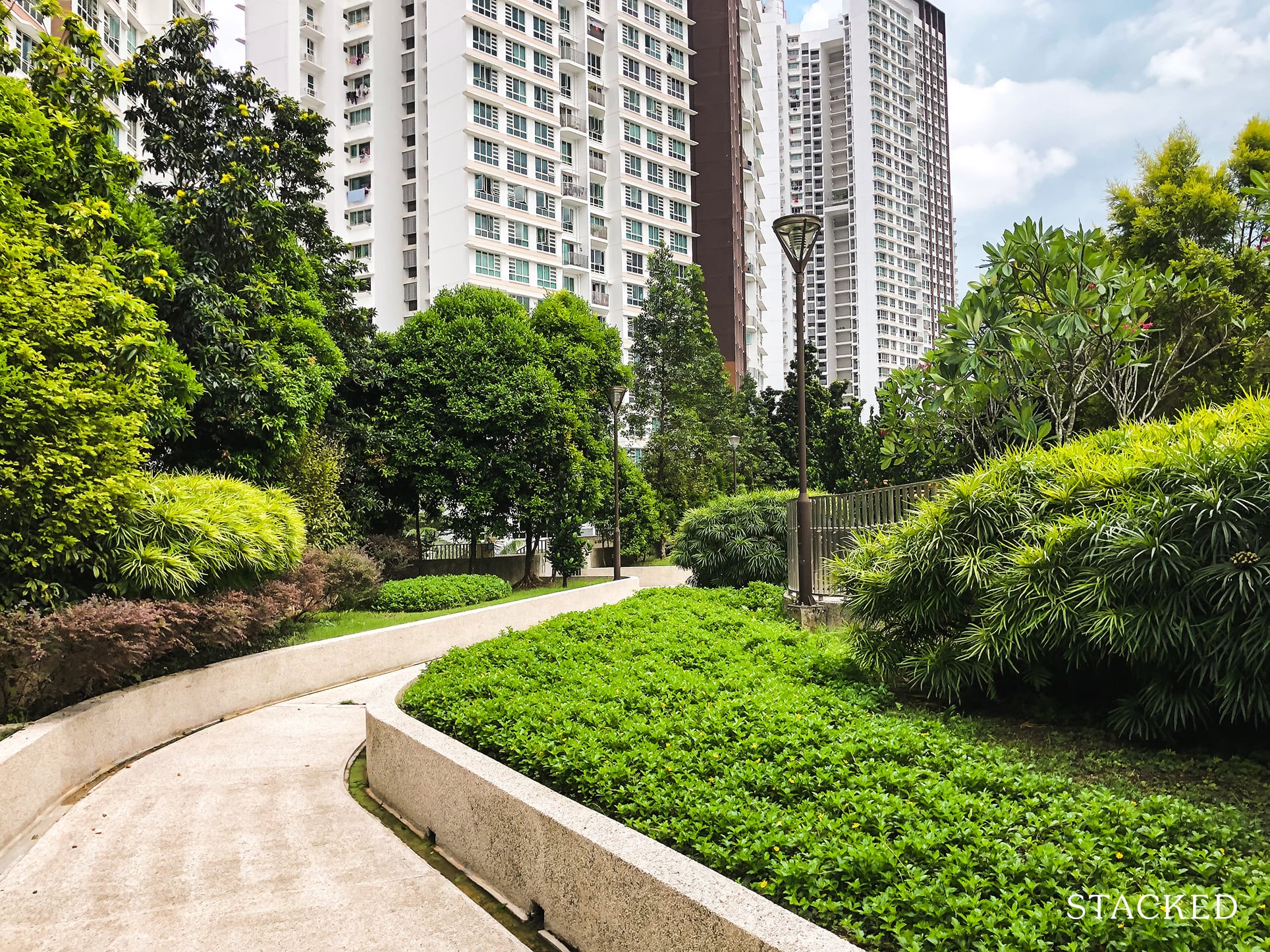 Walking around, you will see some really nice greenery that looks very well pruned and maintained.
Although I do have to point out certain areas that surprisingly have significant damage to it considering the infrequent foot traffic here and the age of the estate. That said with the warning tape cordoning off the area does show that they are aware and that perhaps works will be carried out to rectify it.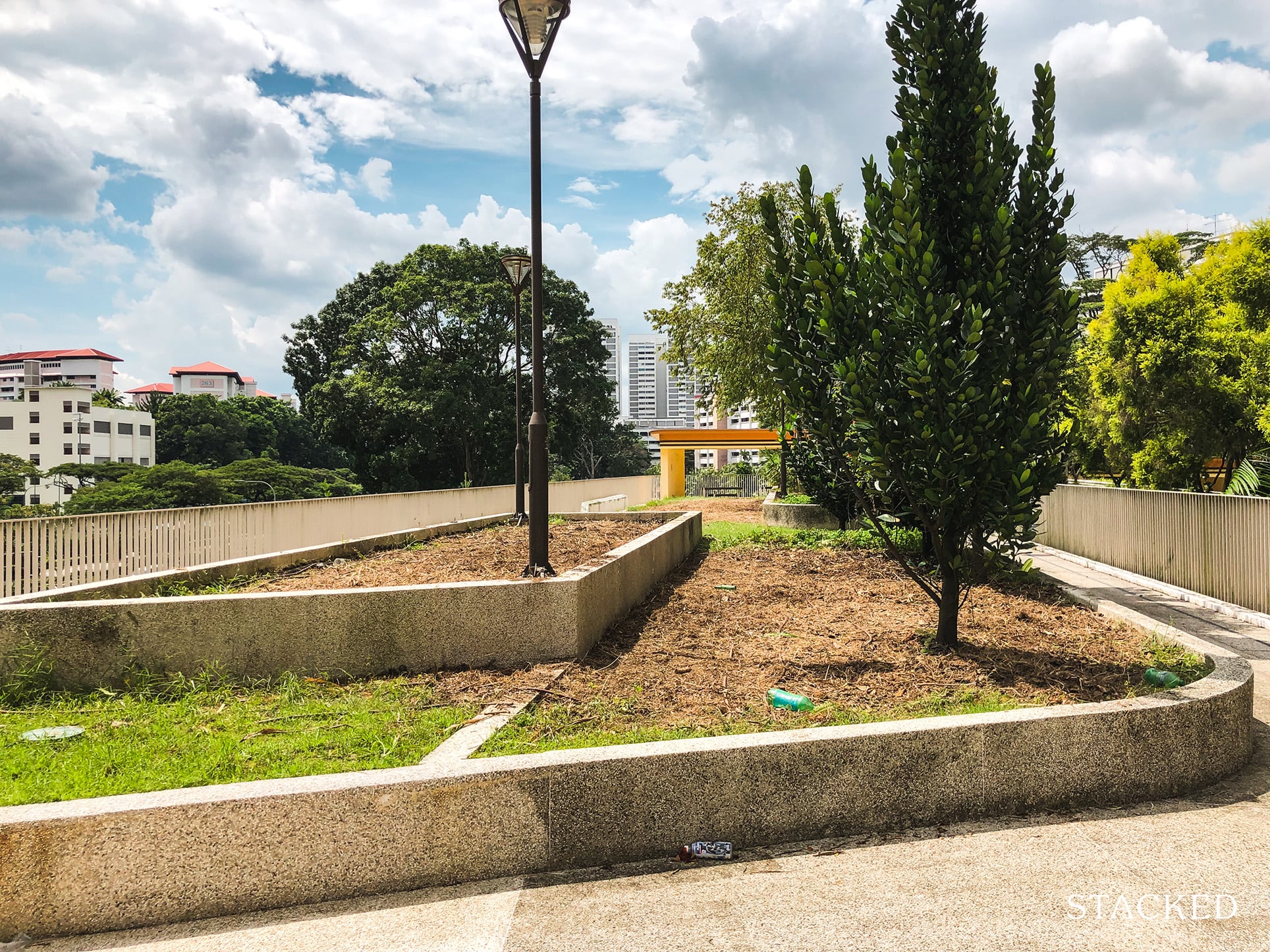 And while some areas are lovely and lush, other parts are lacking – perhaps it's undergoing maintenance since it's still new!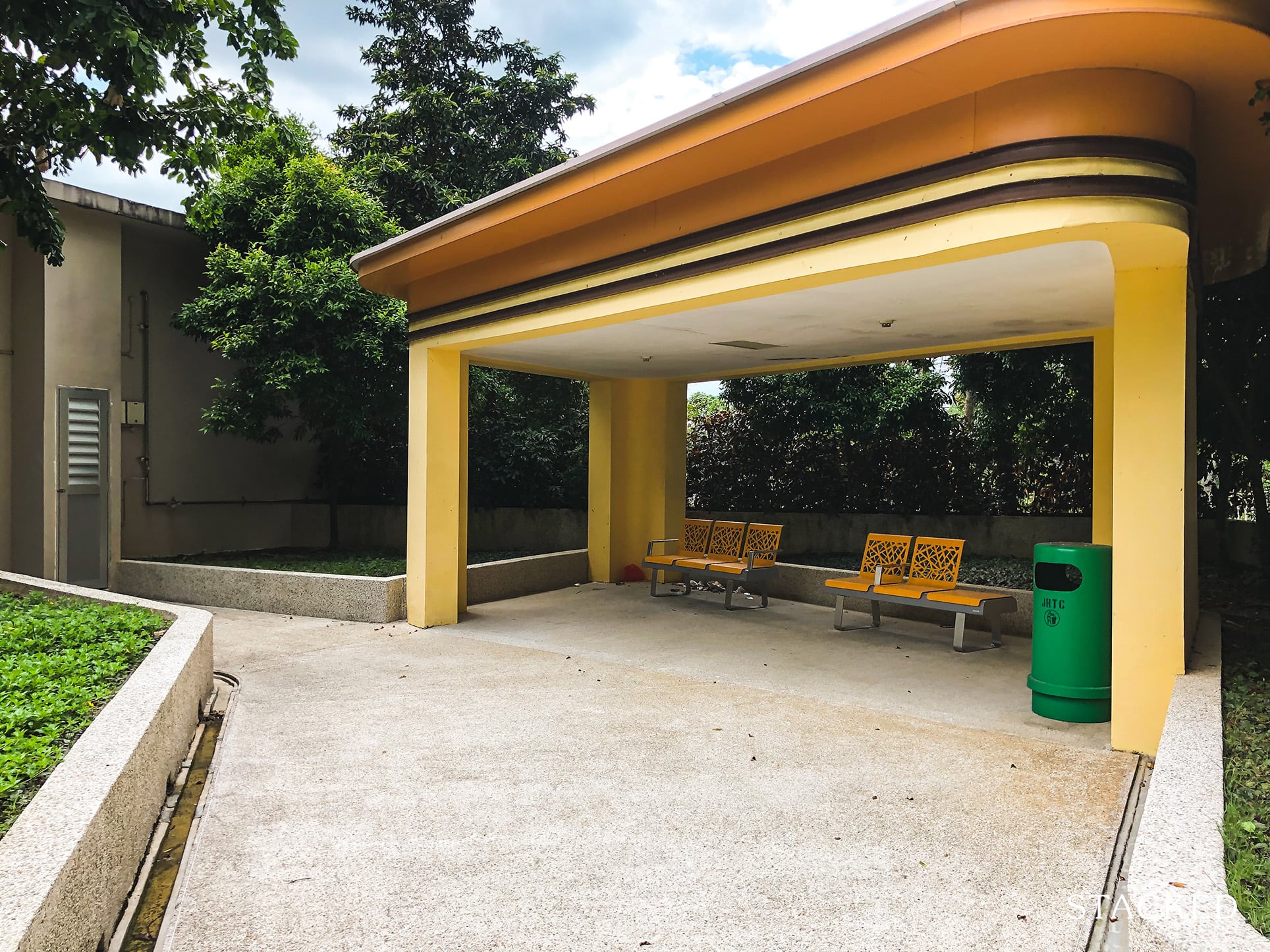 There's also an ample amount of sheltered seating here, and it's not the usual not-so-useful trellis type of shelter too, so this one is really effective against the scorching sun!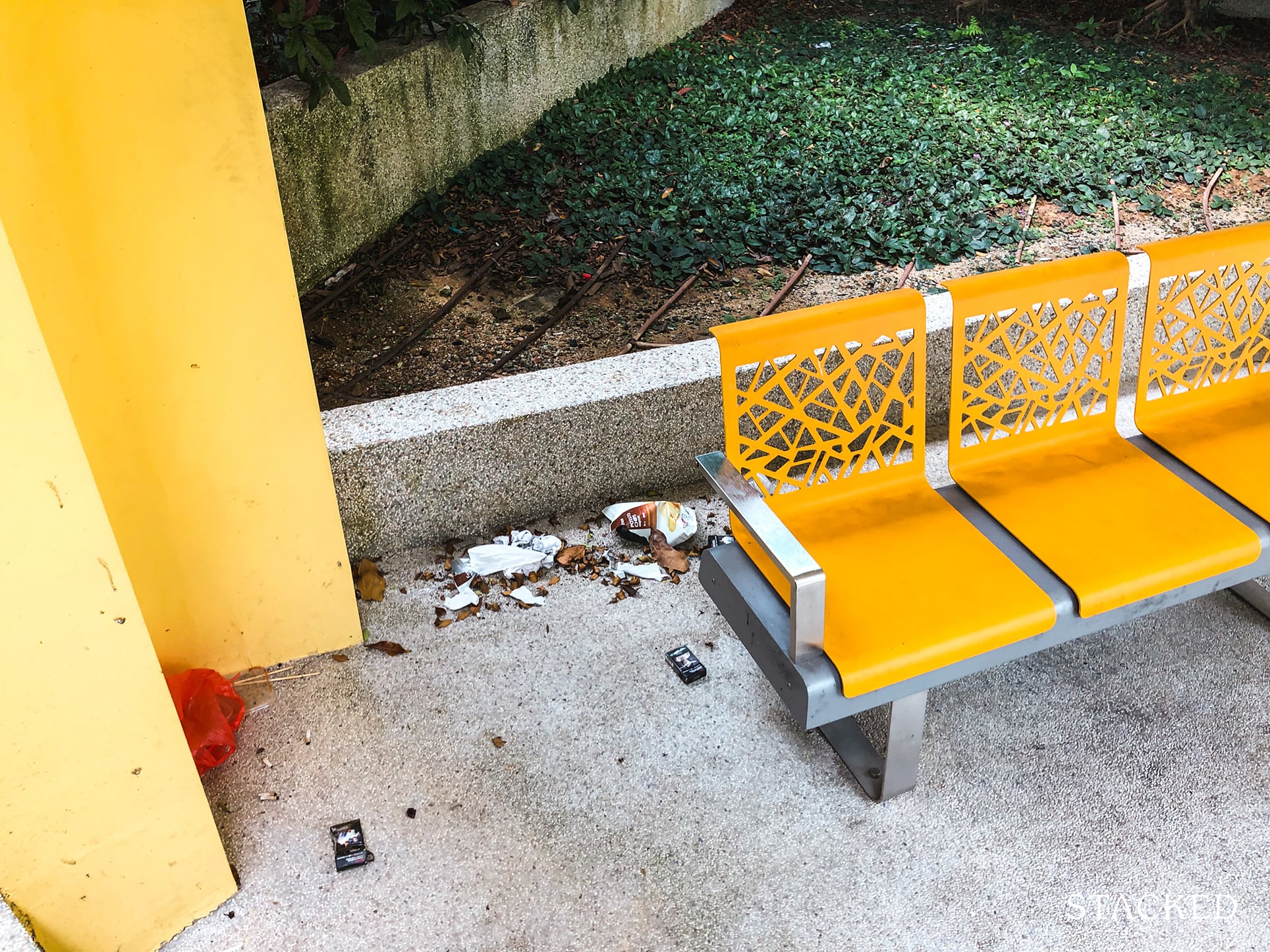 I did notice certain spots to be quite dirty, particularly the seating areas. I would not chalk this up to a lack of maintenance, but rather a lack of responsibility by some residents here considering the rest of the space is relatively clean.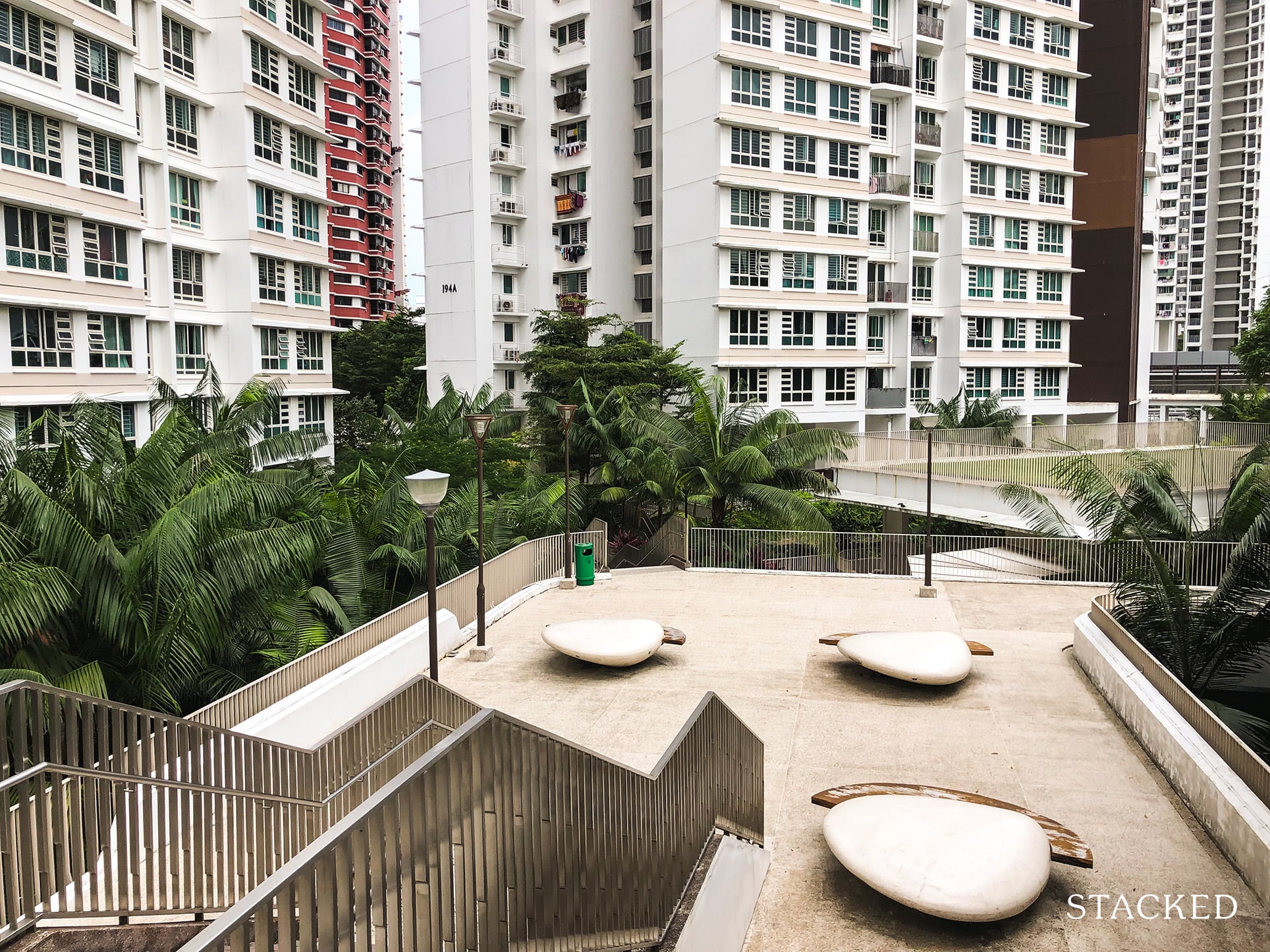 There are also some more outdoor seating areas that are unsheltered on the lower deck of the rooftop garden. On a hot day, it kinda reminds me of the flat stones sticking out from the seashore that fat seals and walruses suntan on.
It's also here where you'll find the adult and elderly fitness corner, as well as the playground. It's pretty typical fare, so no real surprises here. To those who think the playground is a bit small – there are other areas which I've yet to get to!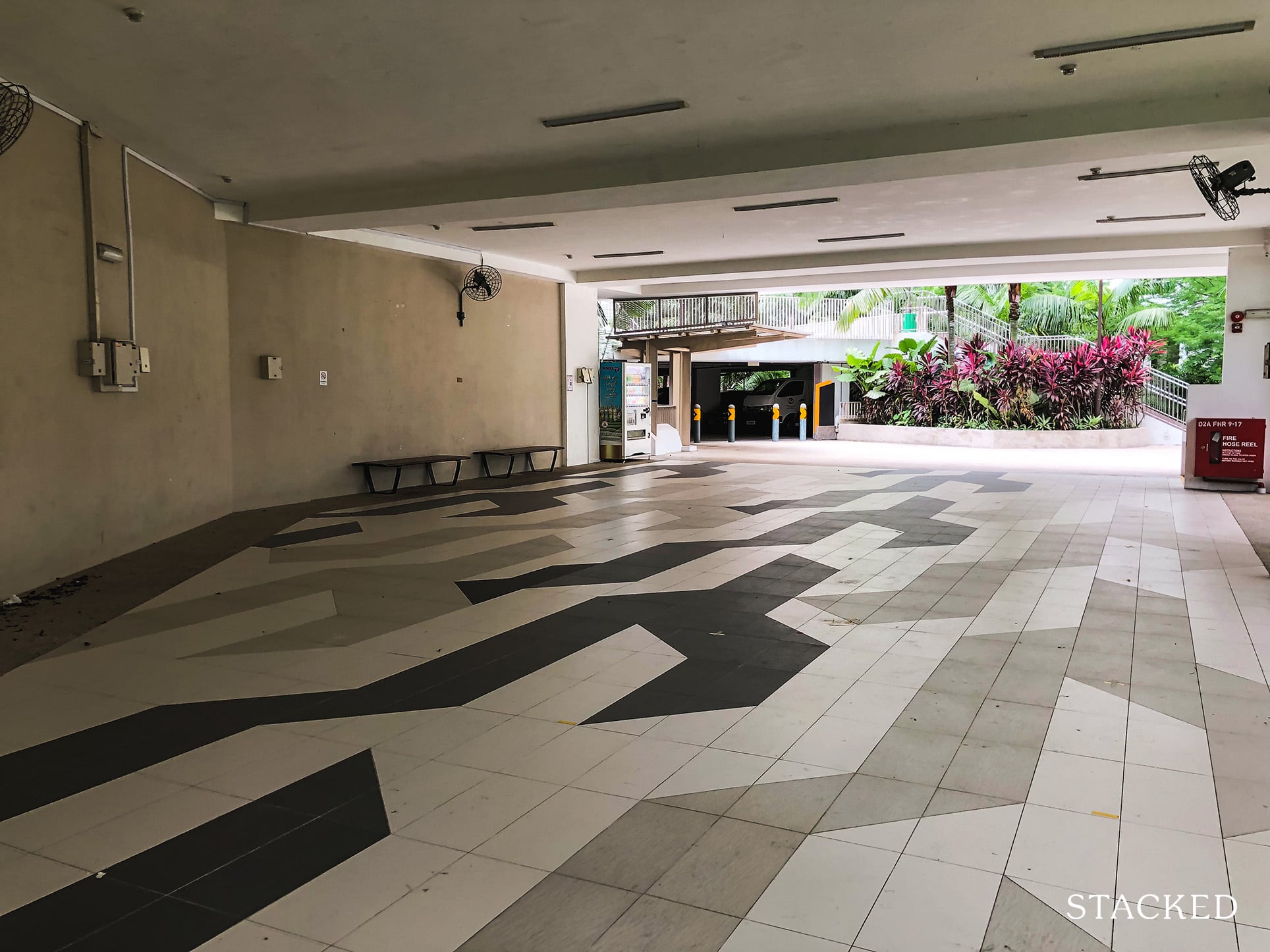 On the lower deck of the car park rooftop garden, you'll find a sheltered pavilion. Given it is on the lower deck, the sheltered pavilion shares the same level as level 1 of the carpark. I like the location as this means you will enjoy greater privacy away from the residential blocks.
It makes sense for those holding events too as guests and vendors can easily park and access it.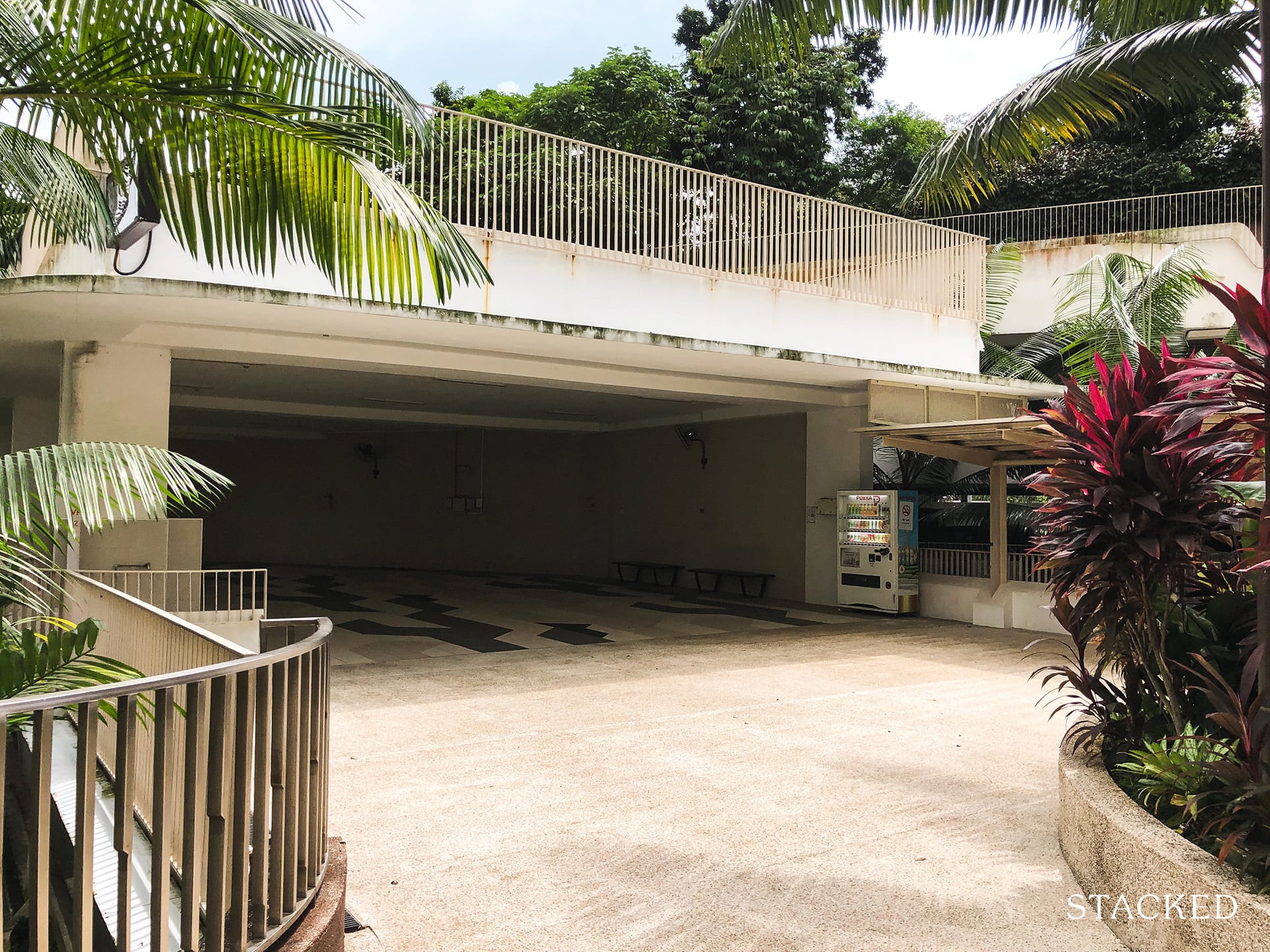 I would have to say that this is quite an effective place to implement a sheltered pavilion. It does not cause much of a privacy/noise issue with residential units nearby, and it's really easy for visitors to find.
This is quite different from Skyline II's pavilion, which is located on the 1st level like any other development:
In case you're wondering, residents do have easy access to the carpark rooftop garden.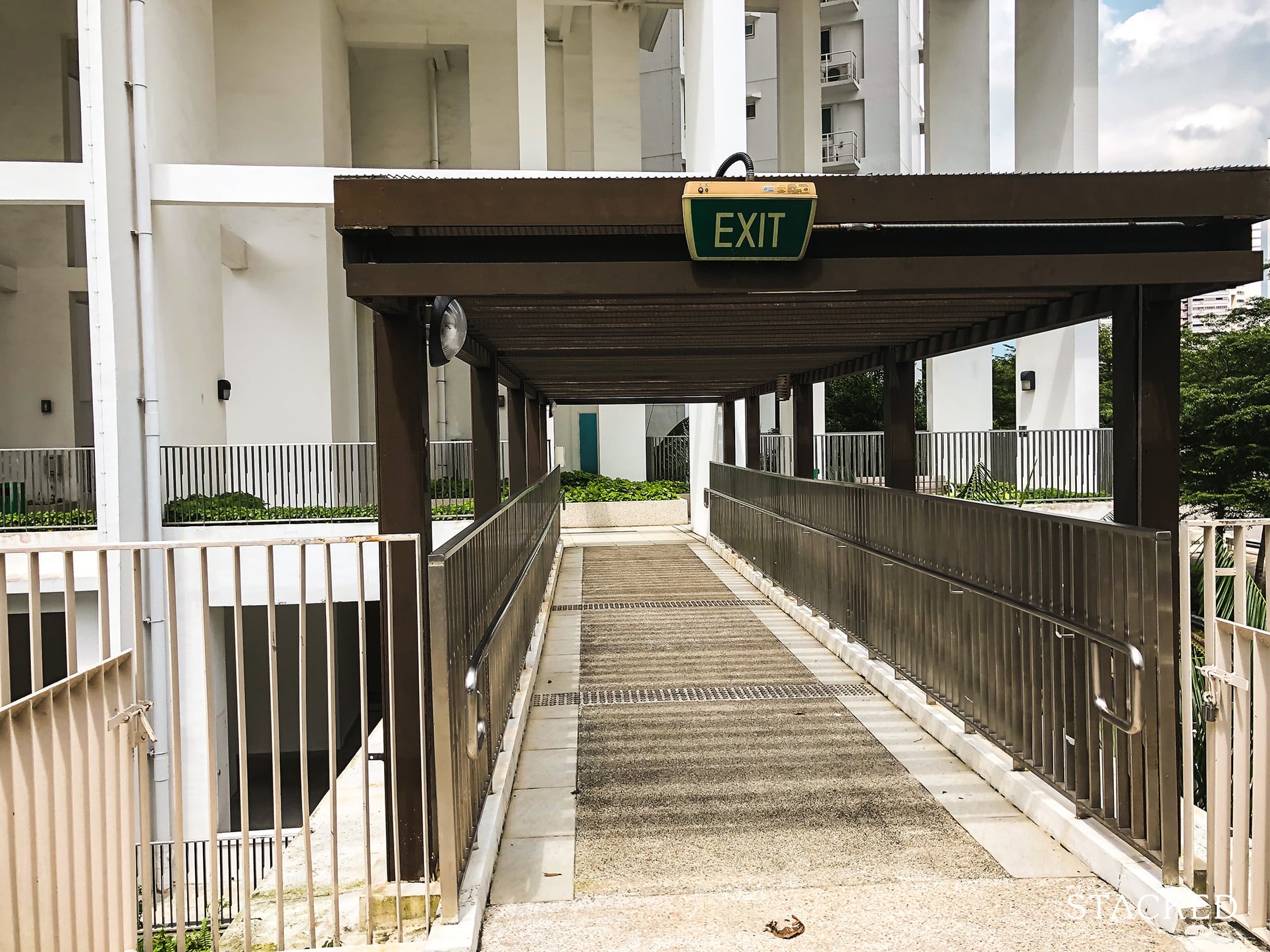 The lower deck of the rooftop is actually connected to the 1st level of the residential blocks, so in some sense, the rooftop garden facilities are like the "ground level" facilities. I quite like the thought process behind it since having the main facilities on the rooftop puts it at least further away from the expressway just opposite.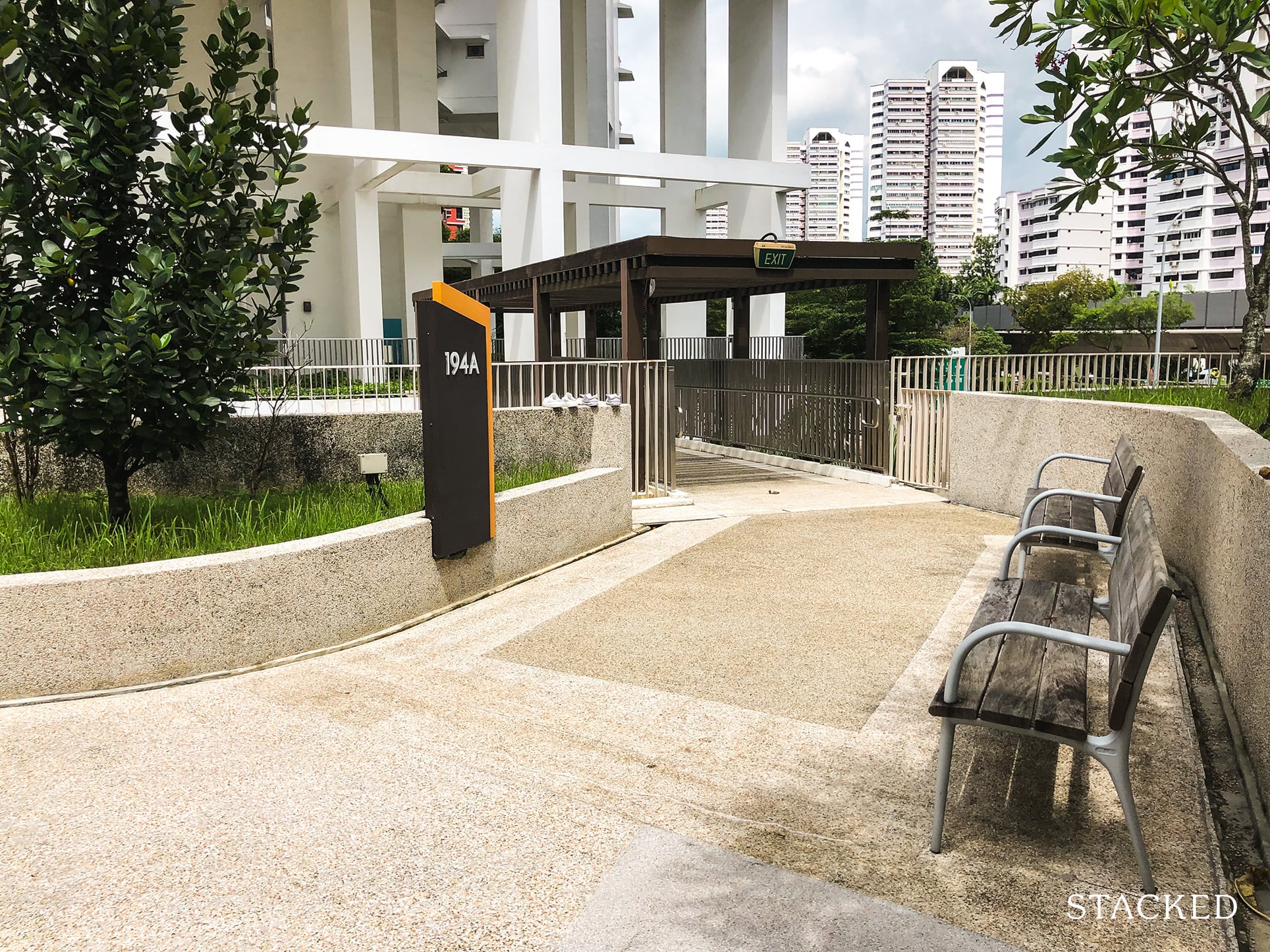 Next, let's see what Skyline II's rooftop garden consists of.
It shares a similar trait in that it also fronts the PIE (and hence, equally noisy). However, like SkyParc @ Dawson, some certain stacks here are quite close to the rooftop garden.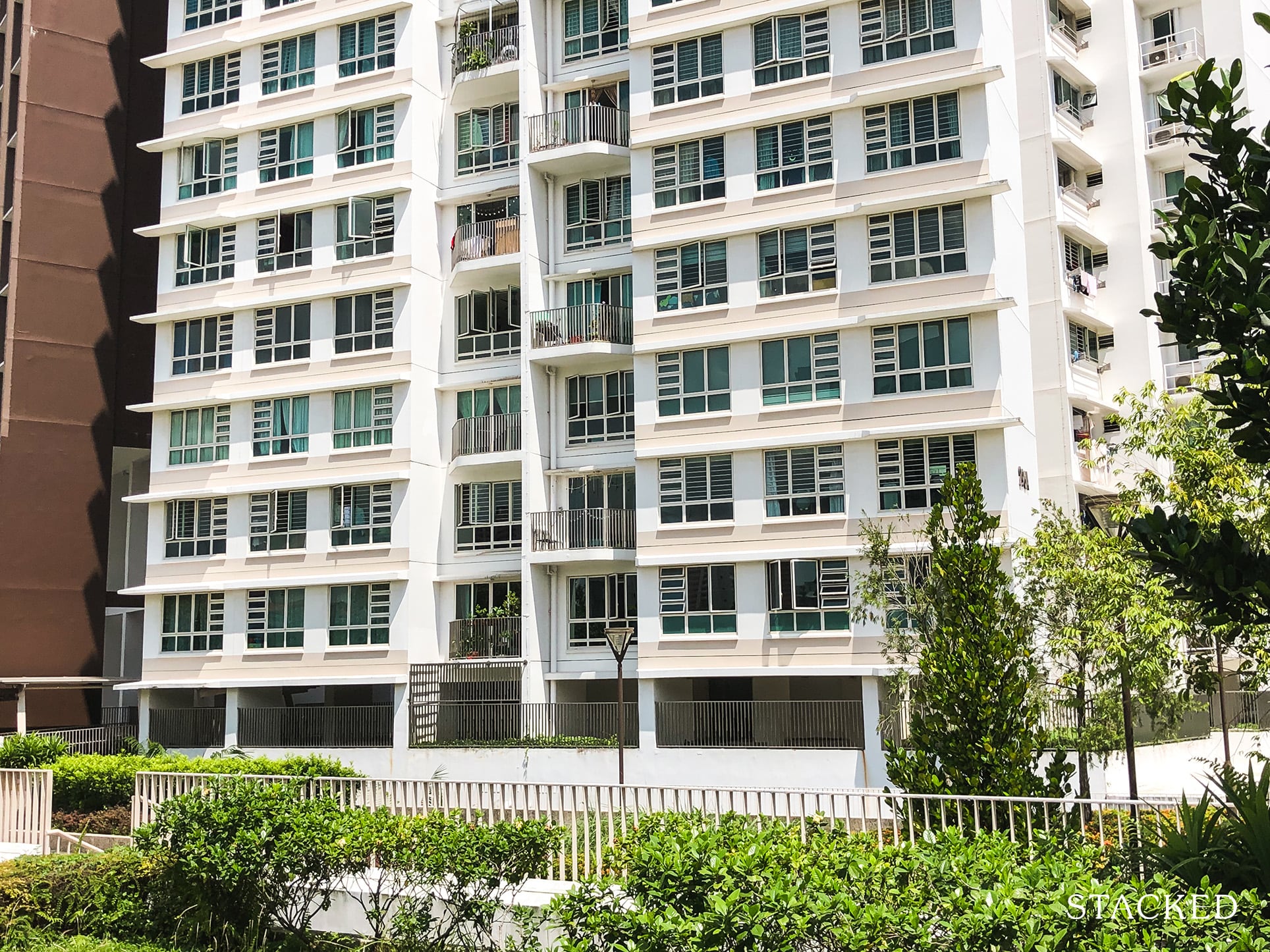 I've mentioned this before in my other reviews, but rooftop gardens aren't much of a concern if you're worried about possible overcrowding. I've toured many rooftop gardens and can safely say it's hardly used – even on weekends. The foot traffic here is usually dismal as compared to say, the service road, park connector or the main road.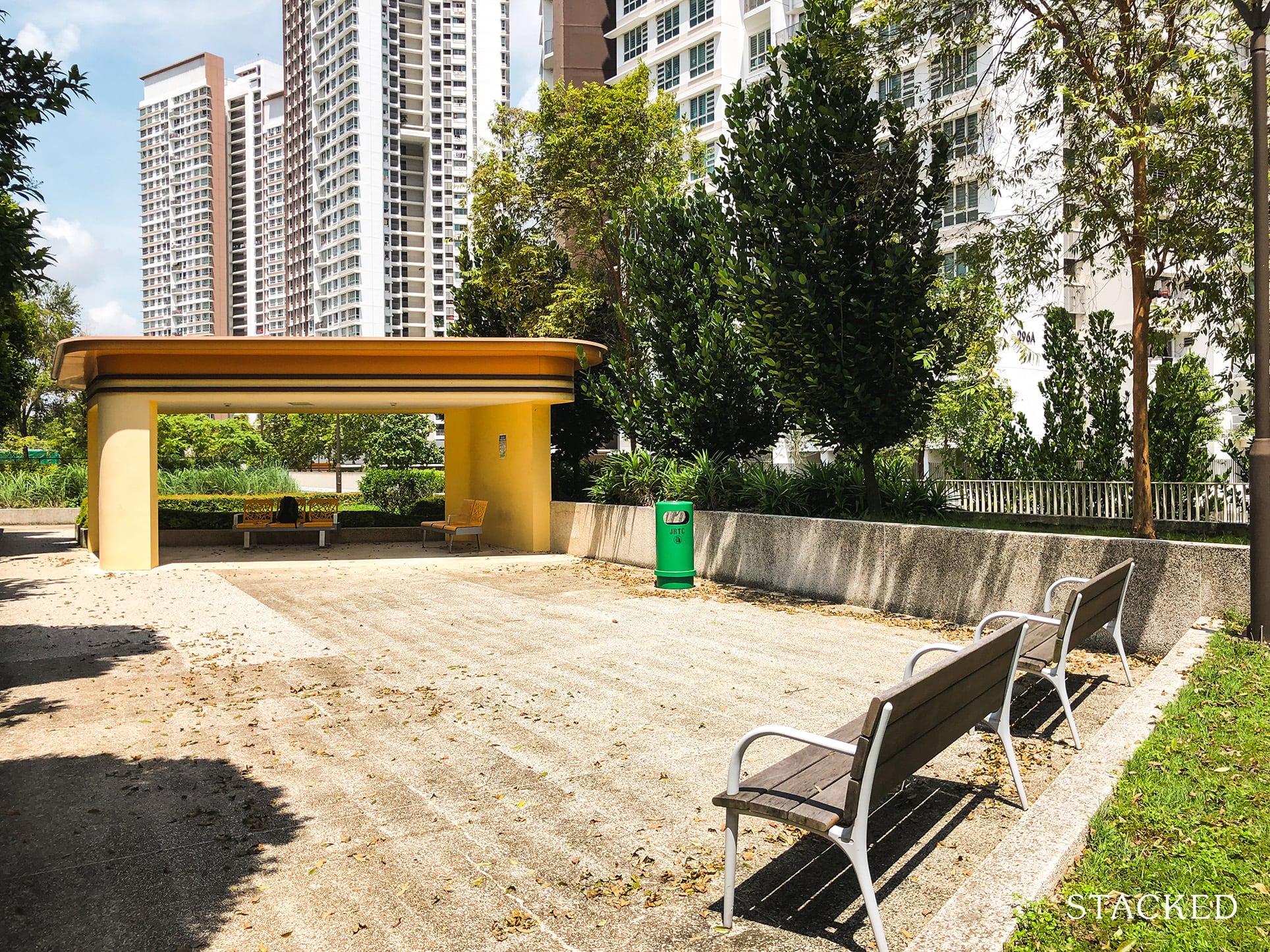 Like Skyline I's rooftop garden, this one also has an ample amount of sheltered seating areas.
There are also little nooks with several standalone seats. While it looks nice in pictures, I think these are hardly used given how hot it generally is in Singapore.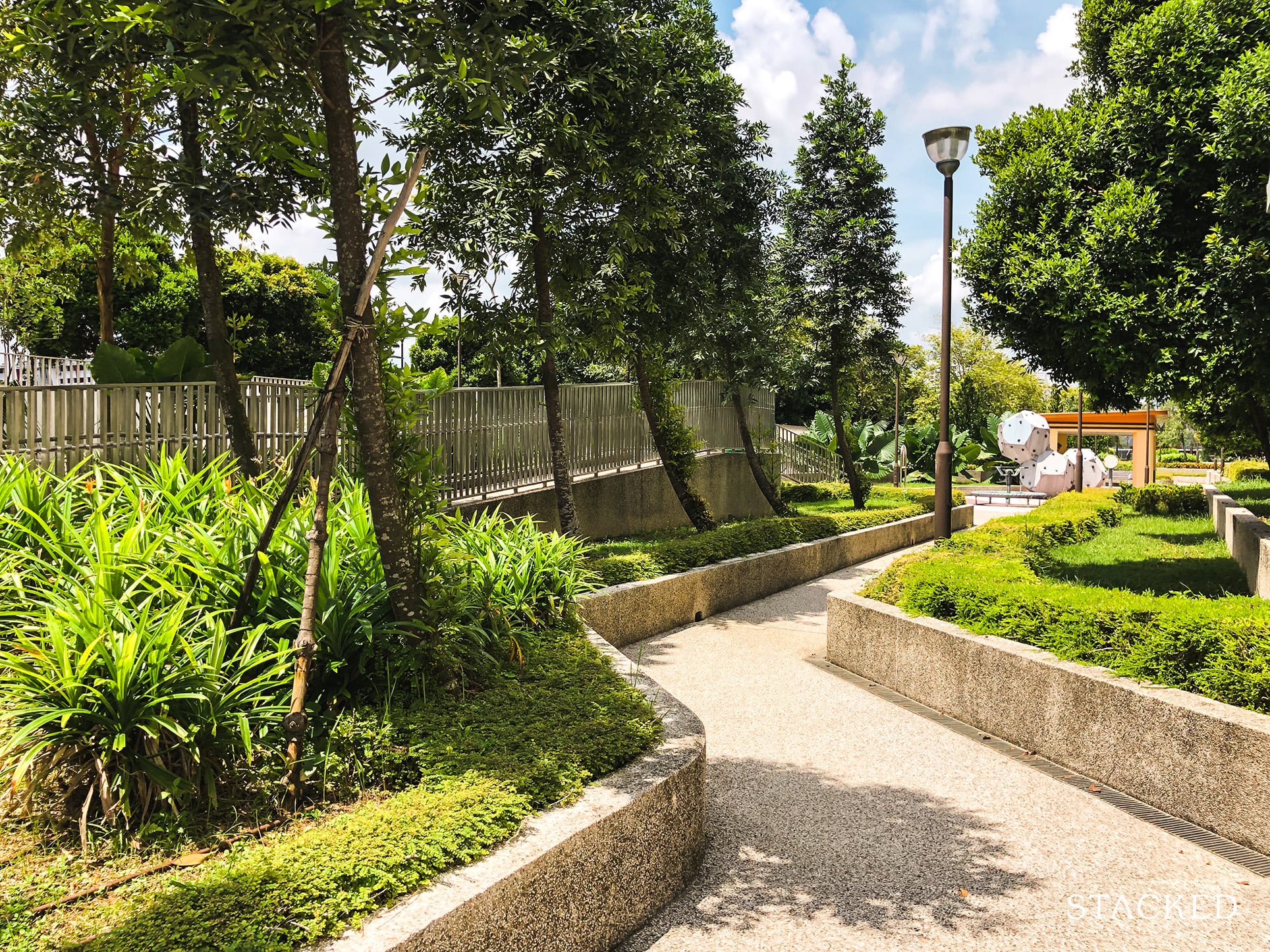 On top of the usual greenery, Skyline II's rooftop garden also has a community garden – a typical feature that you'll find in developments today to foster more resident interaction.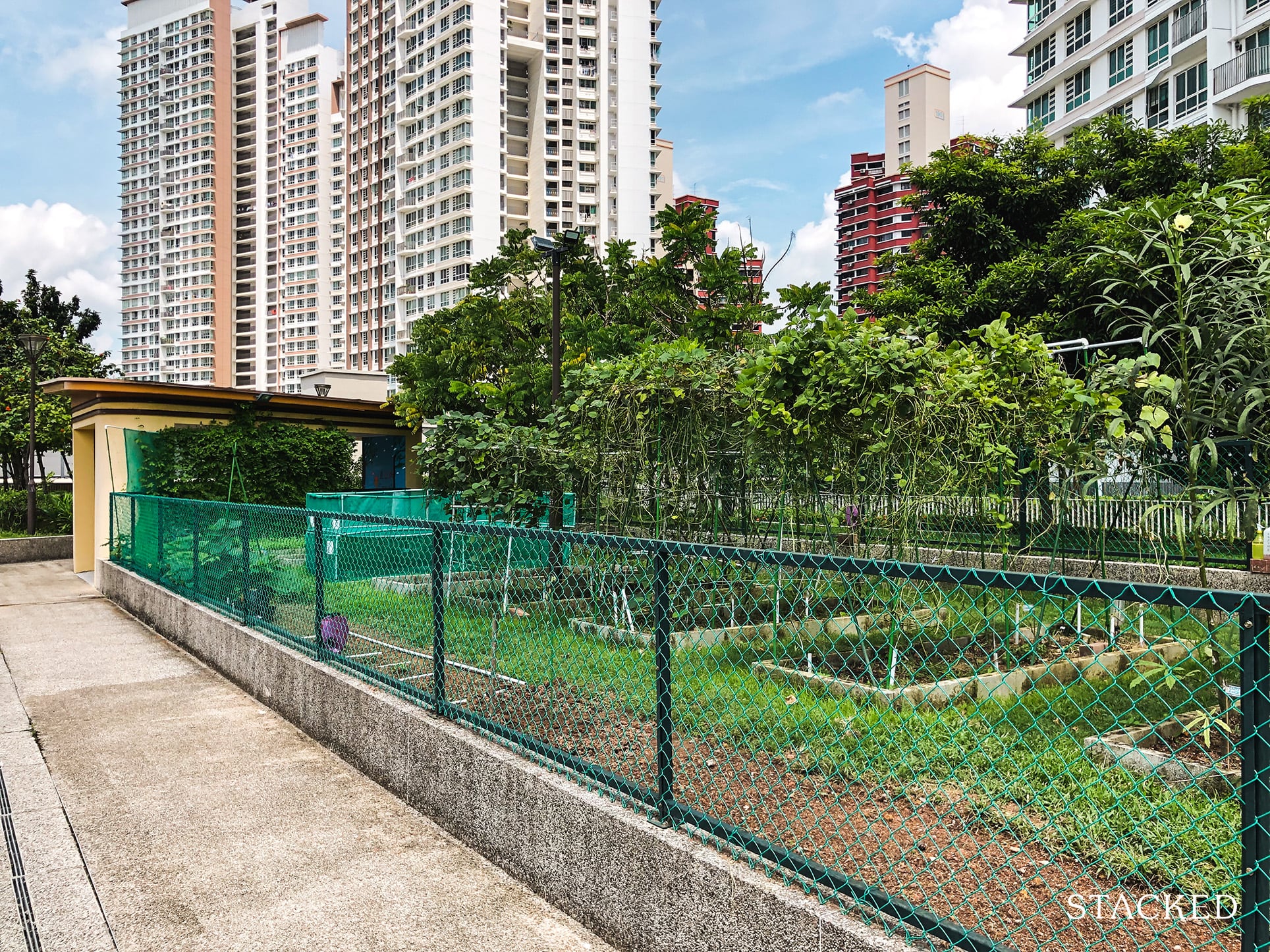 There are also the usual fitness corners here, as well as a pretty basic playground.
Now unlike Skyline I's rooftop garden, Skyline II's rooftop garden has the additional benefit of a hardcourt. Residents here can utilise this court to play racket sports like badminton. Given both developments are connected, it would be easy for residents from Skyline I to come and use the facility here too.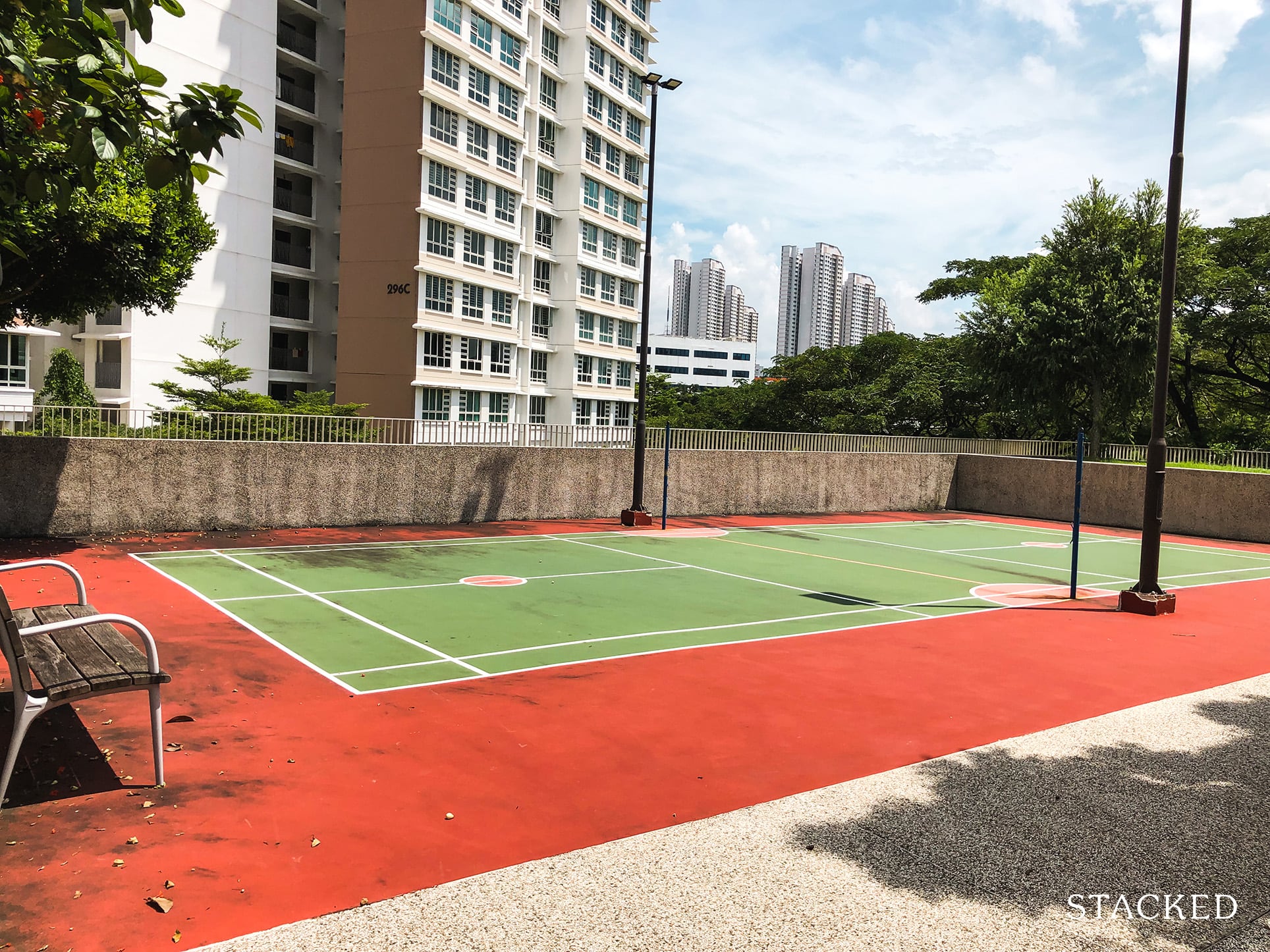 But what really makes Skyline II's rooftop garden special is the presence of barbeque pits. This is quite a rare facility to find in an HDB. In fact, it's a facility that you may commonly find in DBSS projects such as our most recent Pasir Ris ONE review. Our previous review of Senja Parc View also had a barbeque pit nearby, though it is located in the park behind and not actually within the development.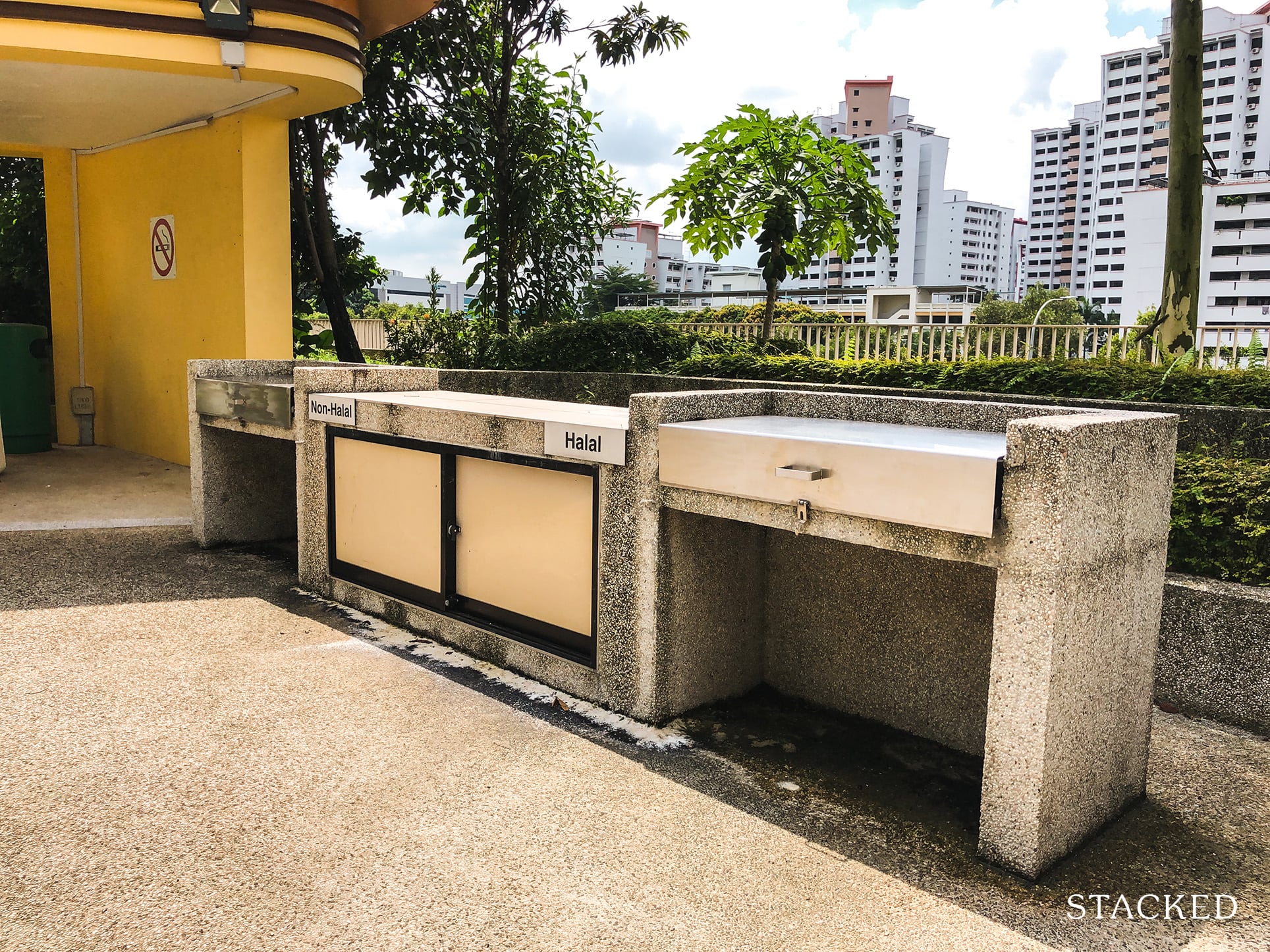 The pits here are pretty well-designed and actually looks comparable to some of those found in older condominiums. It even has a section for halal and non-halal, in what I think is an excellent and very inclusive set-up!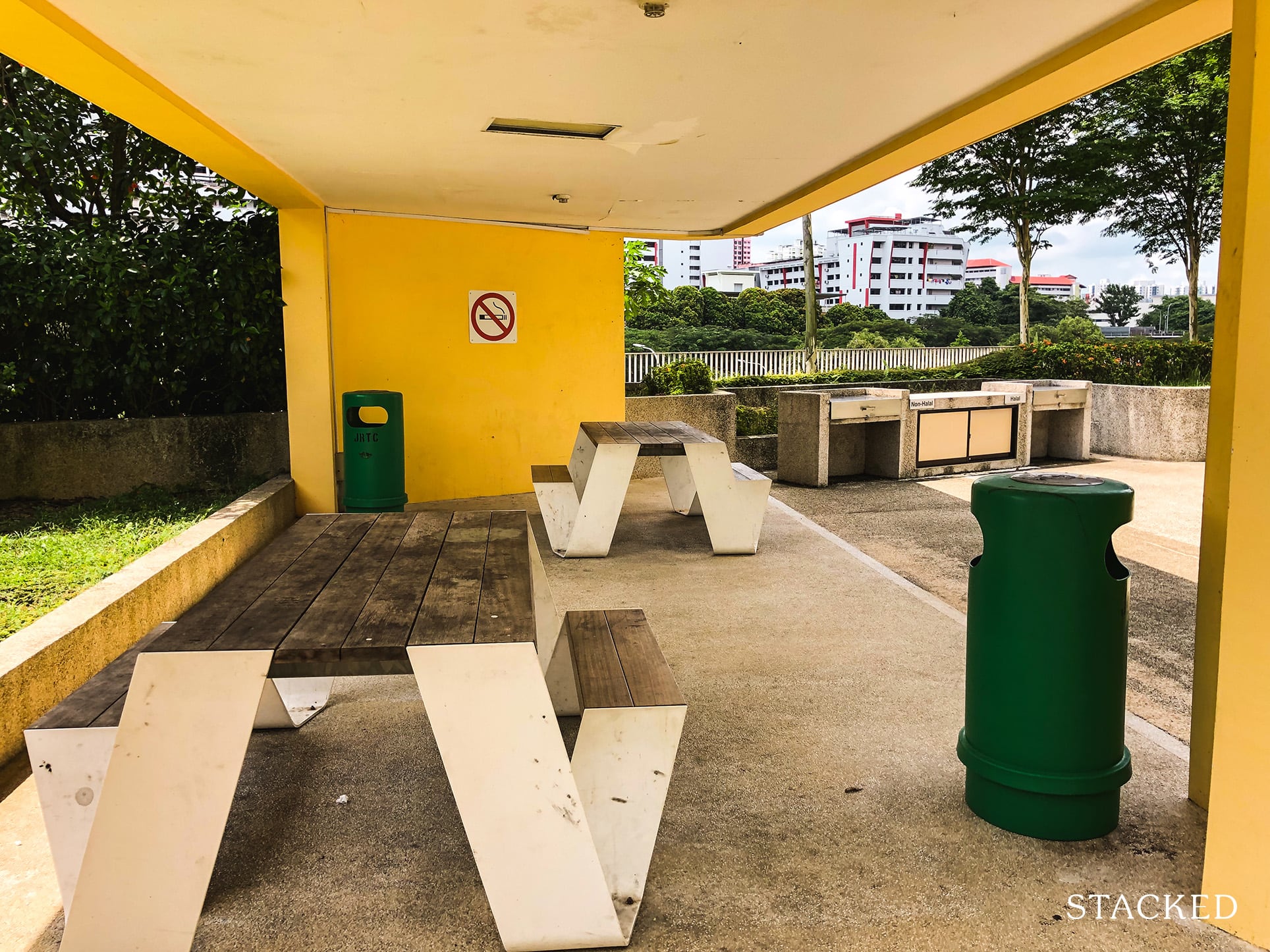 And to add the icing on the cake, it's even situated right next to a fully-sheltered seating area which is perfect for gatherings. So in the event of wet weather, you wouldn't have to run all the way into the block to get to shelter!
The only gripe I have with this is that it's just 2 pits shared between 2 large developments – but given the rarity of it in an HDB, there really isn't much to complain about here! I do think more HDB developments should cater for such facilities. It's a great activity to get the families to hang out together.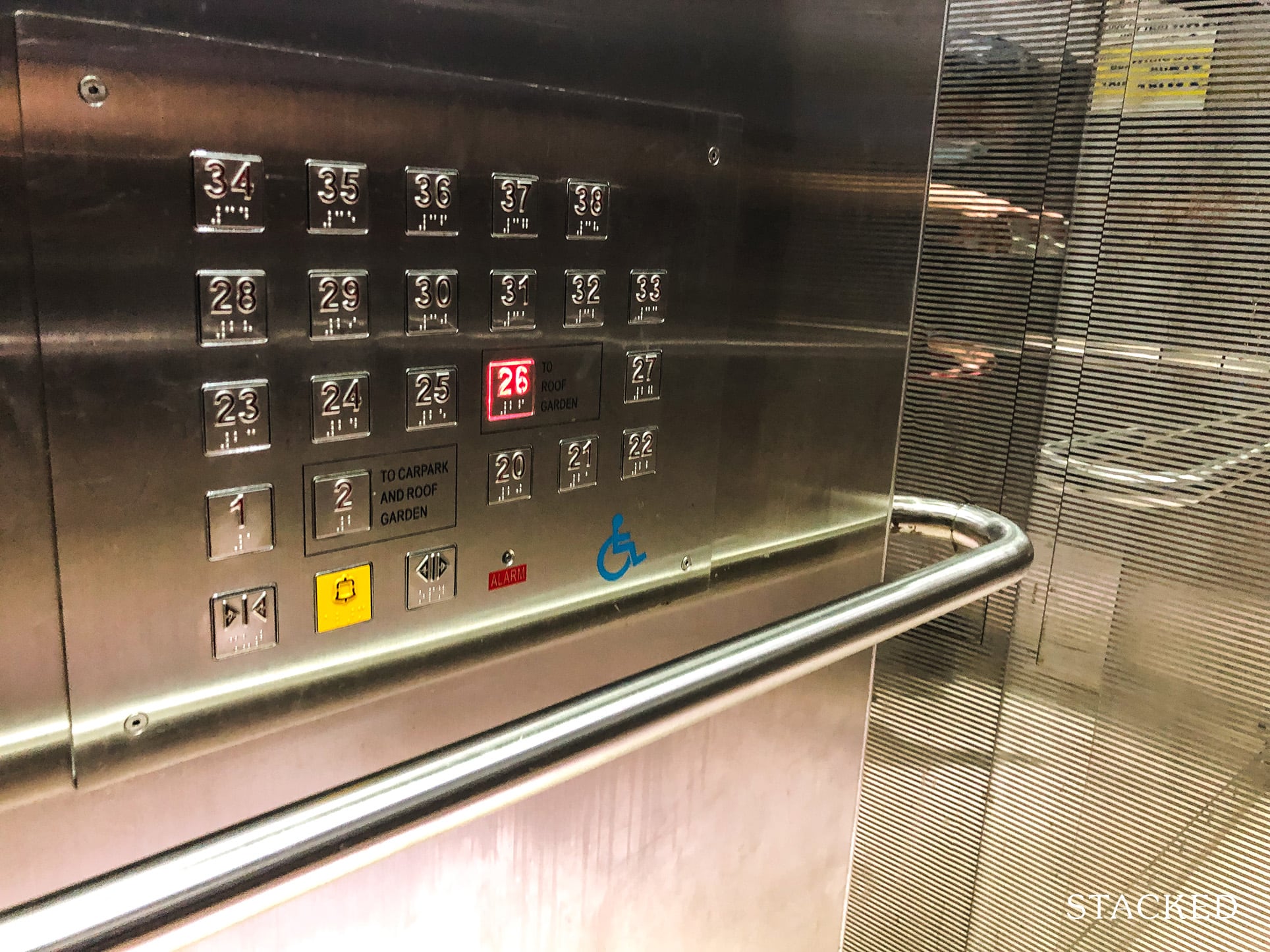 Now besides the car park rooftop garden, both Skyline I and II each have their own actual rooftop garden located on the 24th and 26th floor respectively.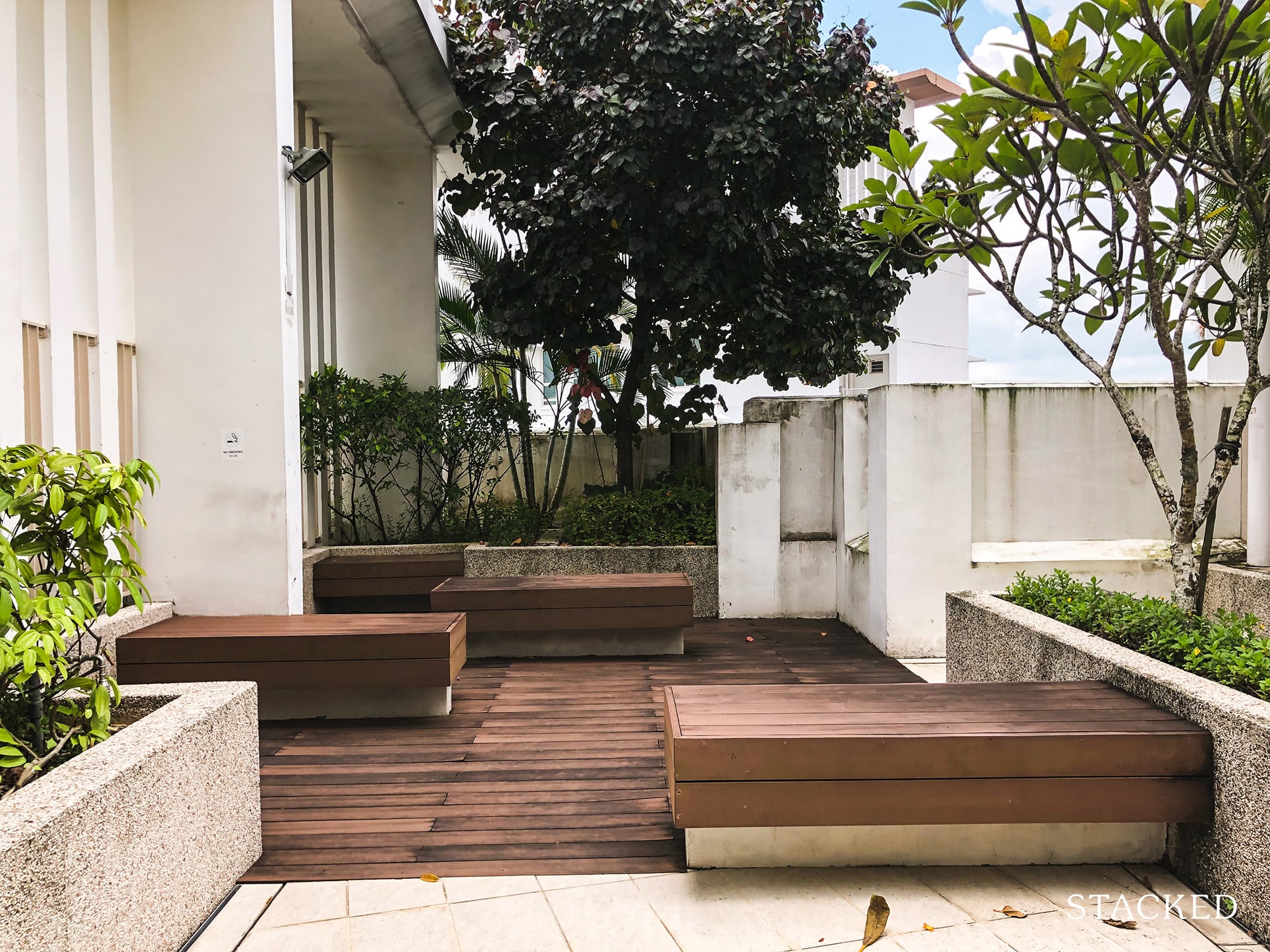 First, let's see the one at Skyline I. The sky garden is located in block 194A and honestly, my first impression was a little underwhelming.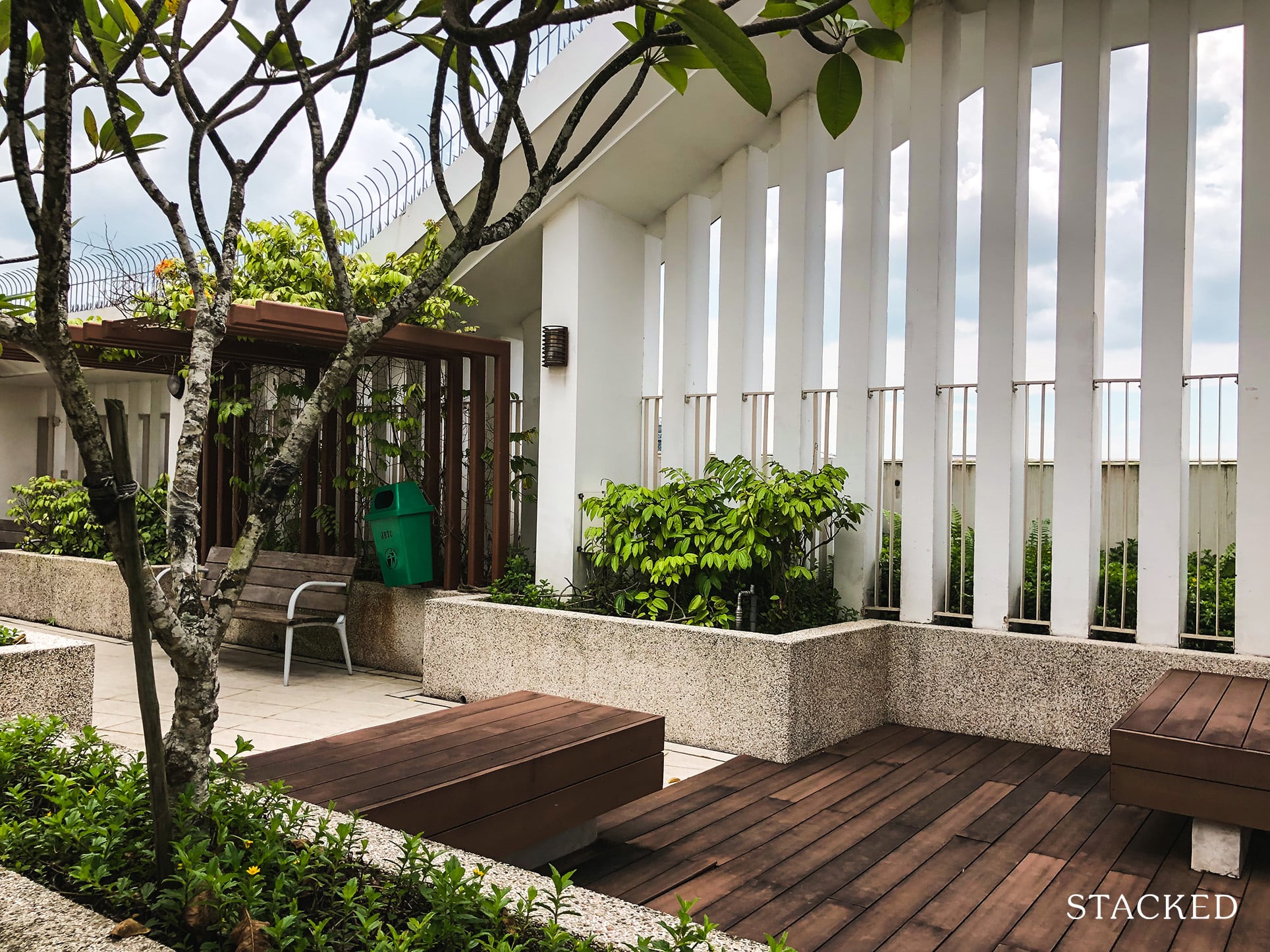 As with any sky garden, you'd expect a spectacular view. One that is somewhat panoramic, allowing you to enjoy views from all (or most) directions. Yet, most of the perimeter here is inexplicably blocked by a high wall. It's like ordering chicken rice with no chicken. Or to some chicken rice purists, ordering chicken rice with bland white rice. In other words – it defeats the purpose of such a facility.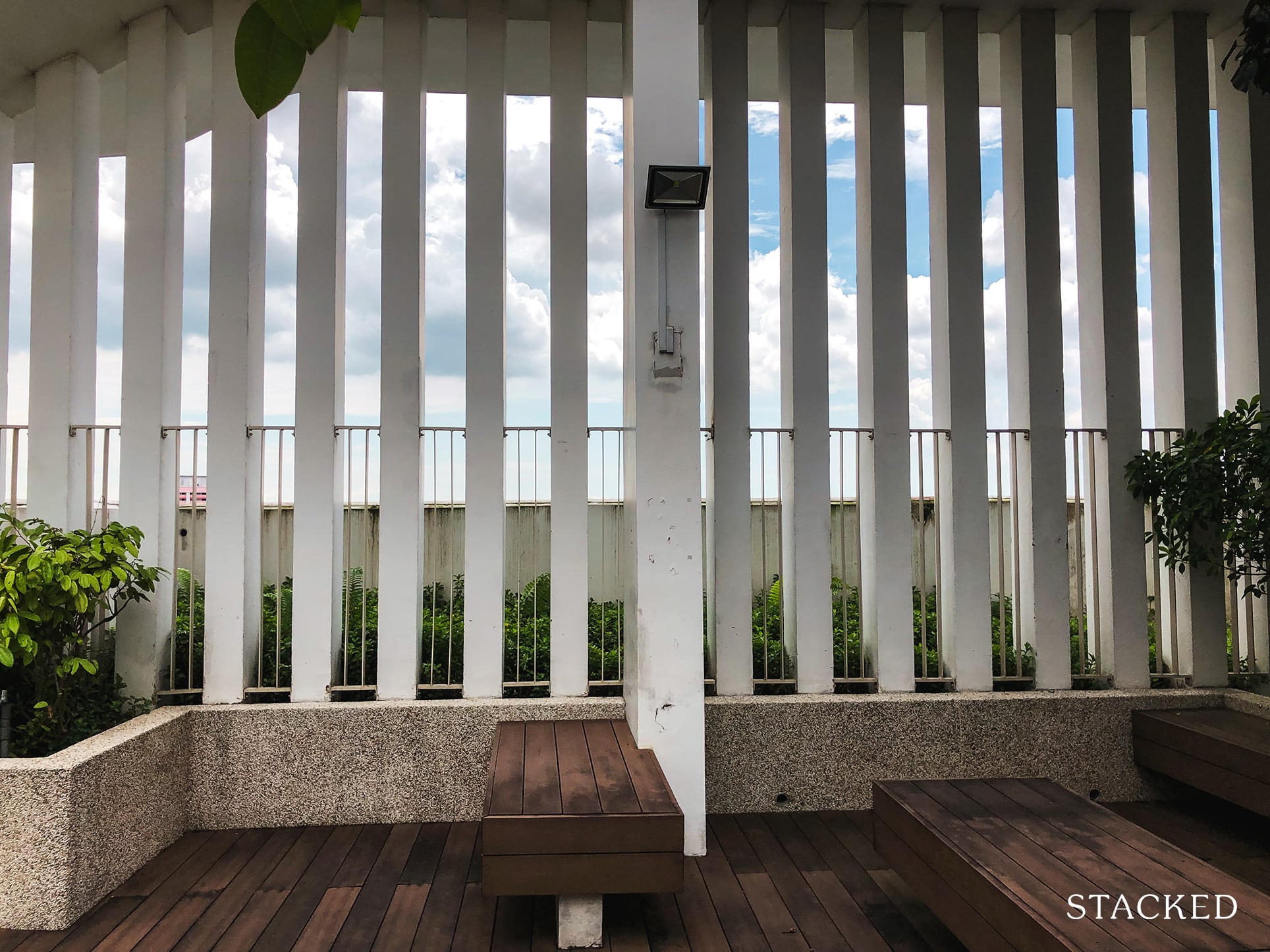 Even where there are seats, the surrounding is just more pillars and railings that do not allow you to enjoy the view. It's almost criminal to me that this is the case given how the views are probably the most attractive part of being on a rooftop sky garden.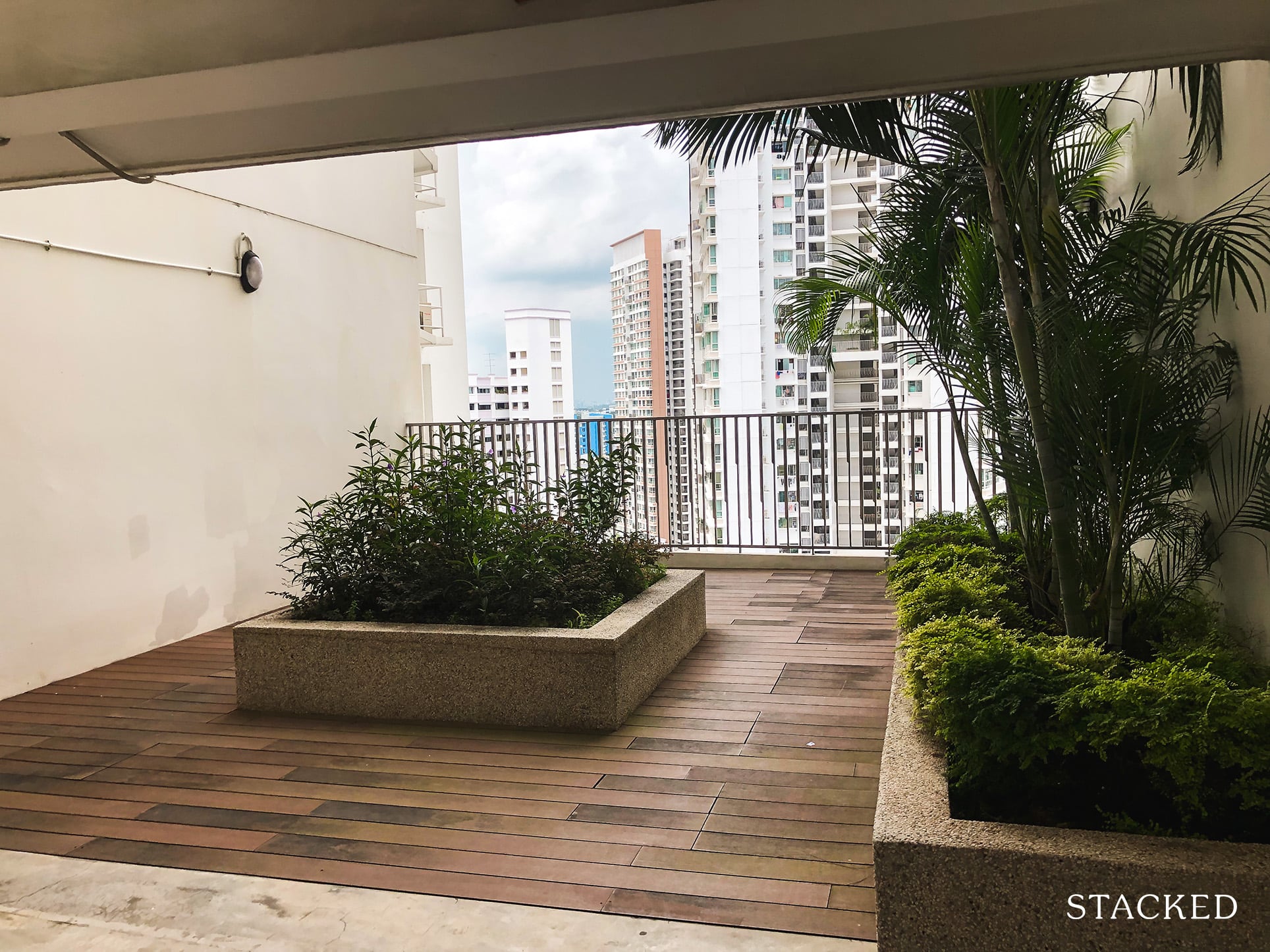 That being said, there is a viewing deck here. The one at Skyline I faces eastwards towards the side view of the block at Skyline II.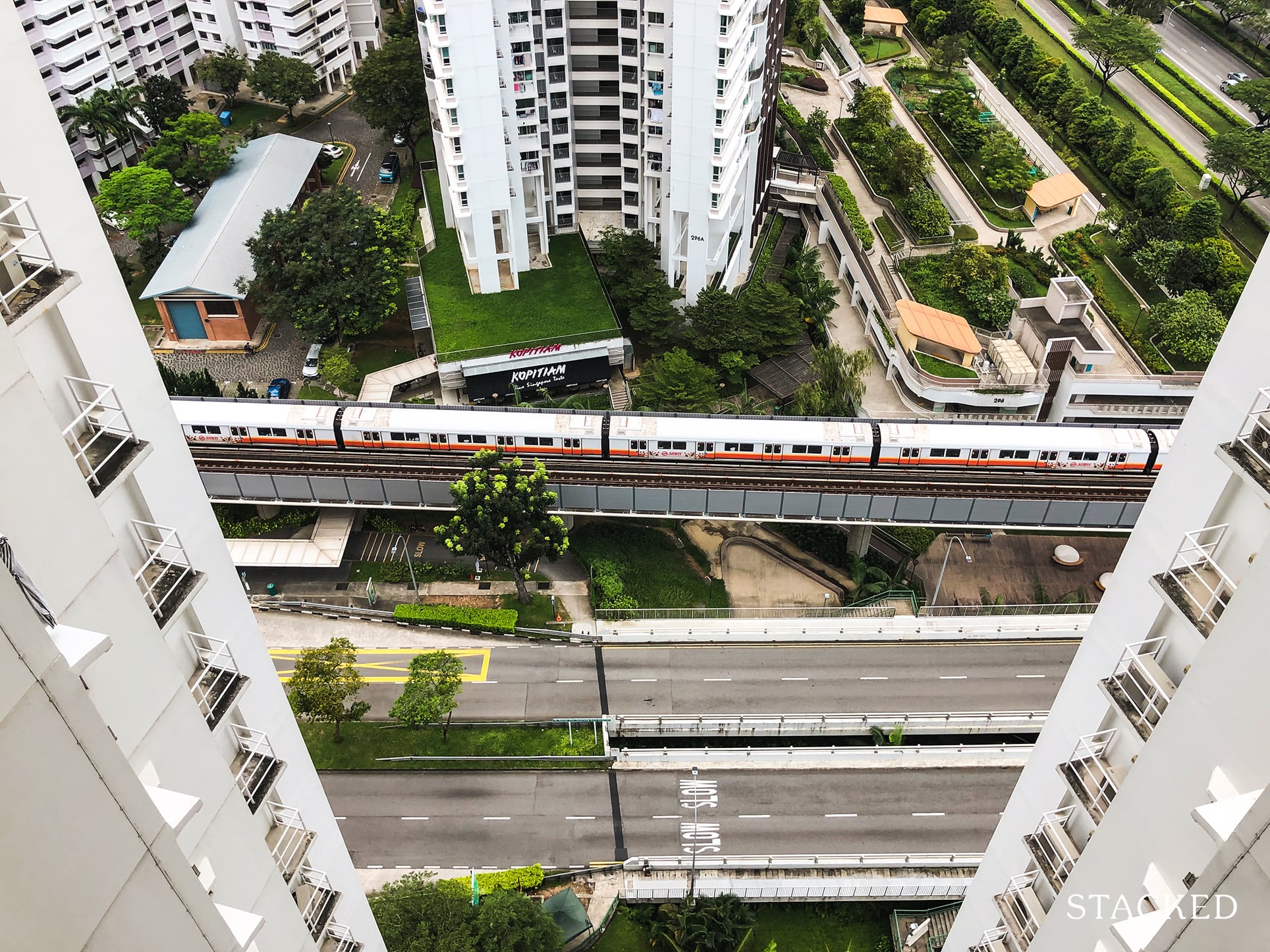 From here, you can catch an overhead view of the MRT tracks and the expressway, so it is quite noisy here. So to sum it up, the view is really nothing to shout about.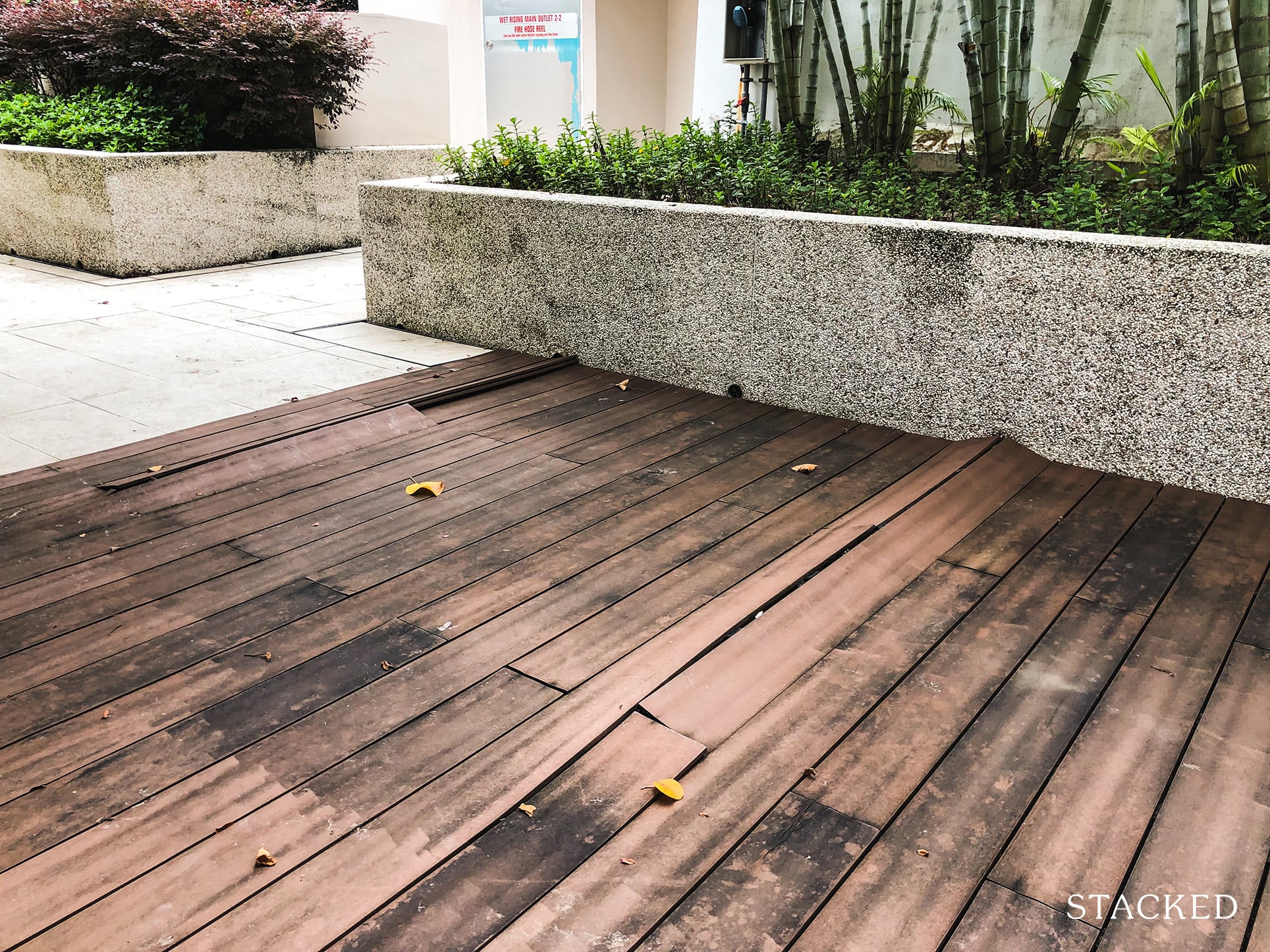 Aside from this, the place is also in need of some maintenance. For a relatively new development (about 5 years old), this is quite concerning. For example, the wooden deck here already shows signs of wear and is in need of some fixing. I'd say this is even potentially hazardous should someone trip over it – there's no clear ground lighting around here so it's a very possible situation at night.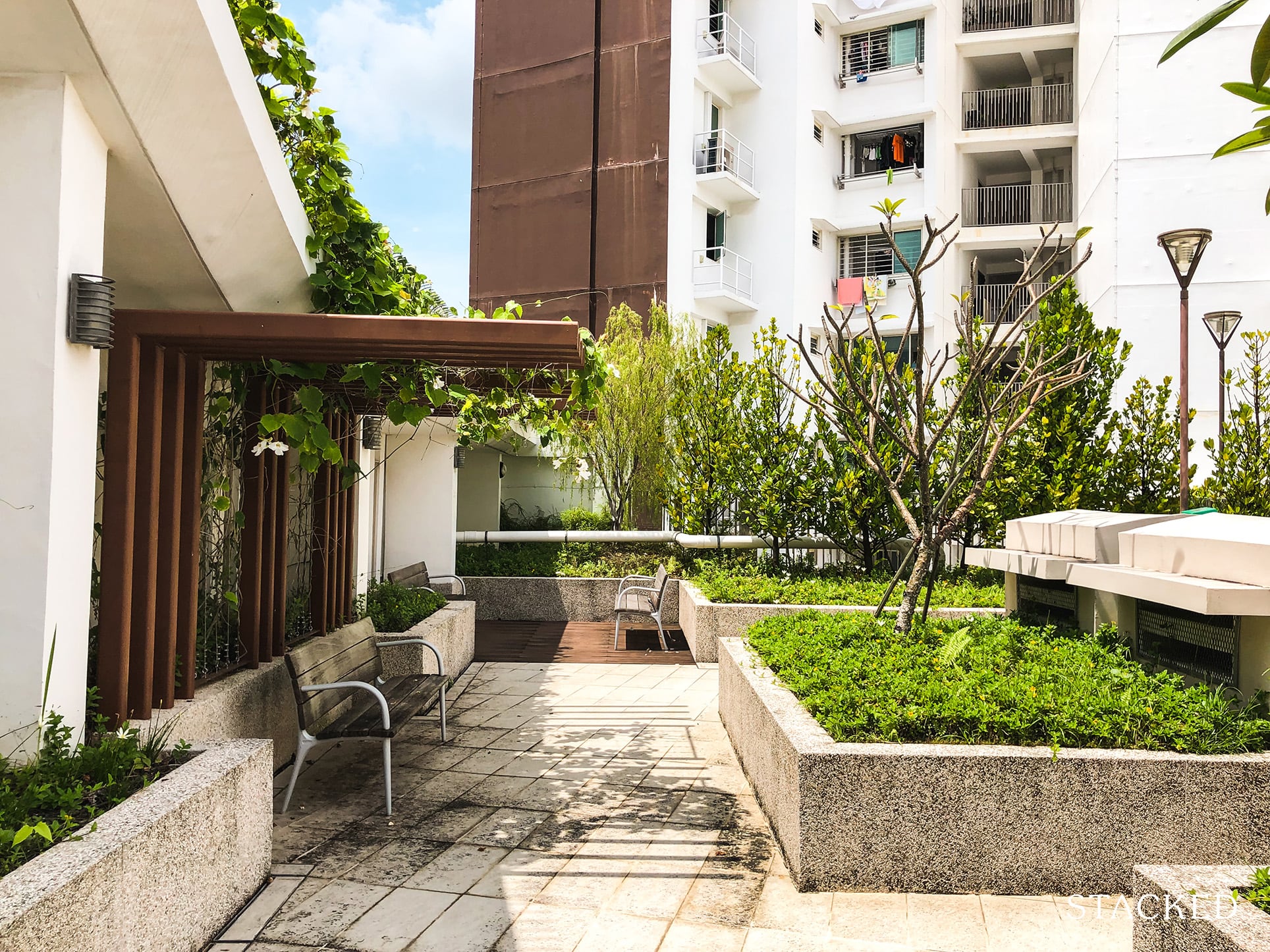 If you think that Skyline II's sky garden located on the 26th floor is any better, then you'll be in for a disappointment. The same high, concrete walls can be found surrounding the perimeter of this sky garden, blocking most of what could have been decent views of the city. The noise from both the MRT and the expressway can also be heard quite prominently here too!
That being said, you are able to catch a good (better) view of Jurong East on the southern side: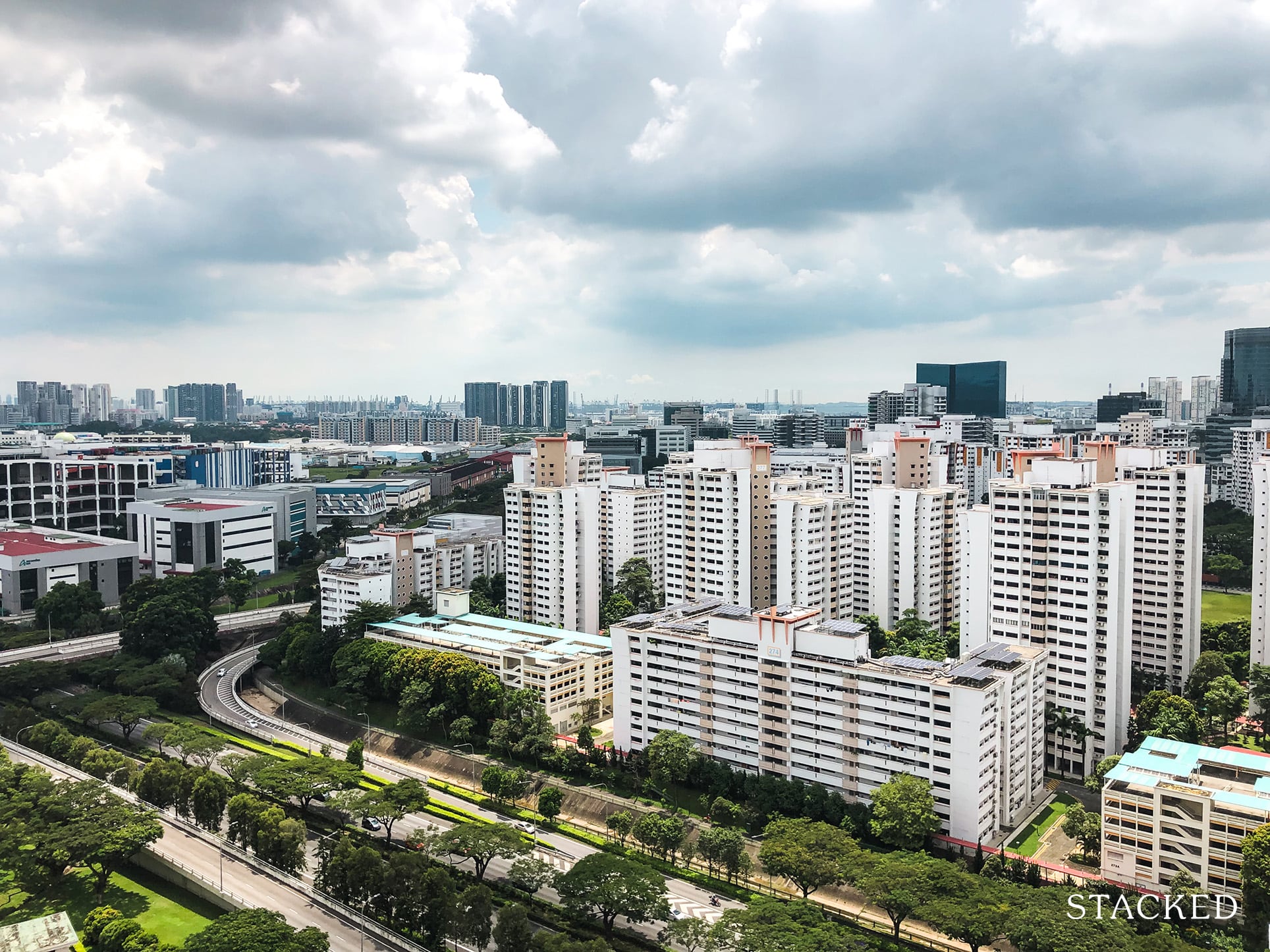 Another thing to note here is that some of the service yards face the sky garden directly. This is certainly not a big deal at all unless you treat the service yard as a balcony. Regardless, it's still better than having service yards facing the neighbour directly.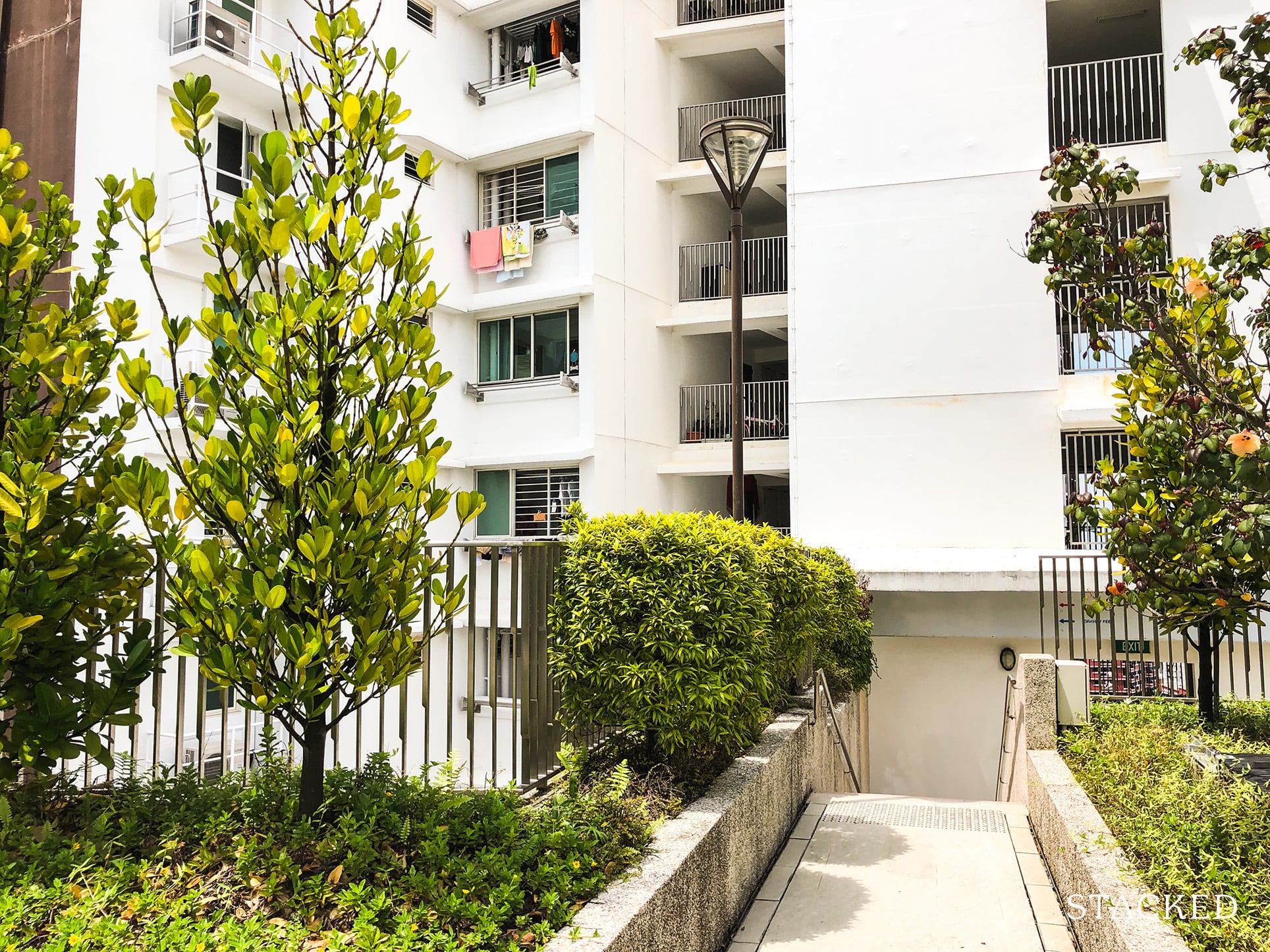 Now that we've seen what the sky garden here looks like, let's check out the common corridors.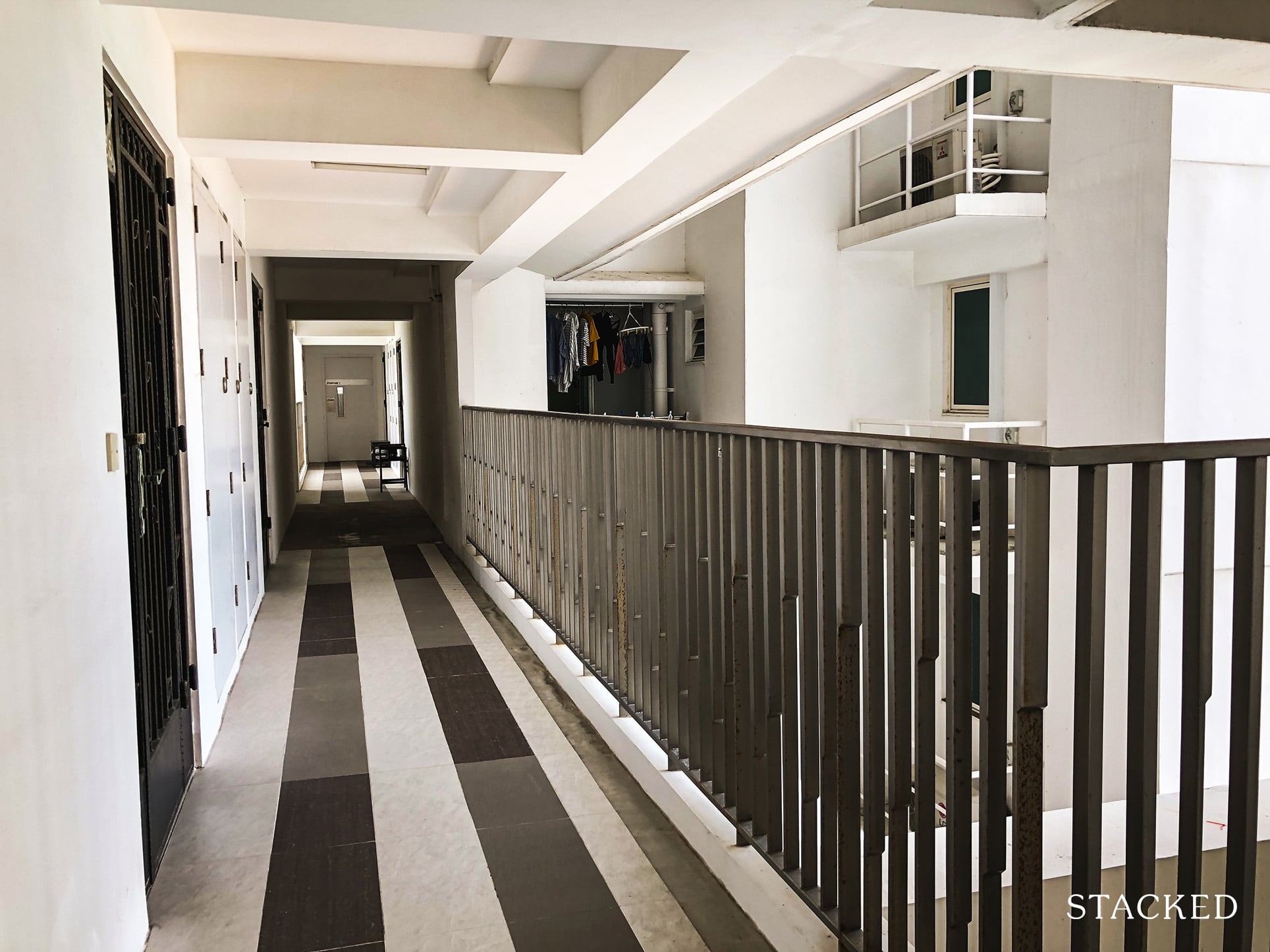 Coming out, you'll find that the common corridor here is quite airy. The reason for this is due to the use of railings here instead of walls that allows for cross ventilation. In some sense, this is quite the opposite of what the sky garden is supposed to be!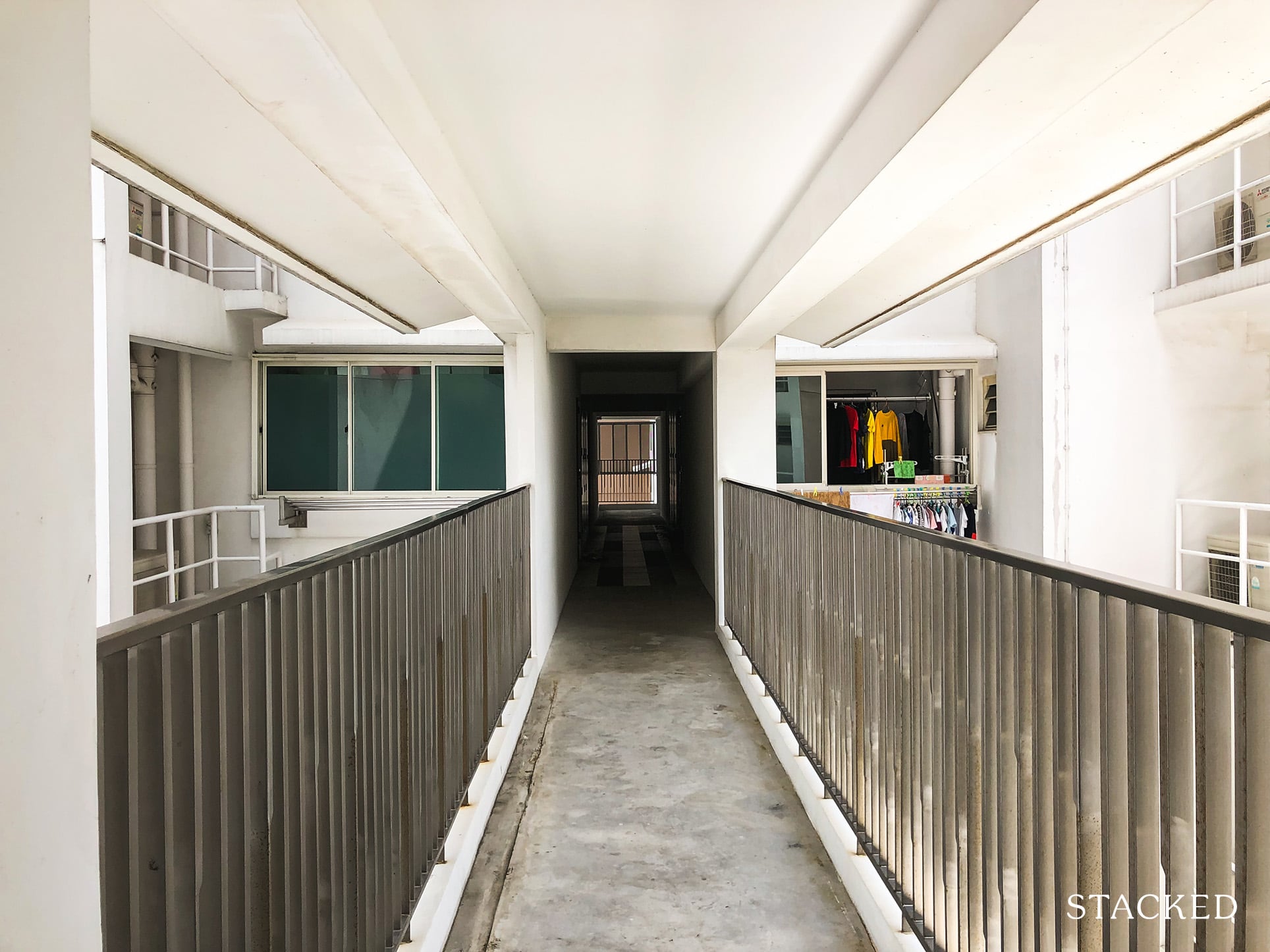 It's also from here that you can see how some units have their service yard facing this common corridor, though this is not a big deal given how little time is spent there.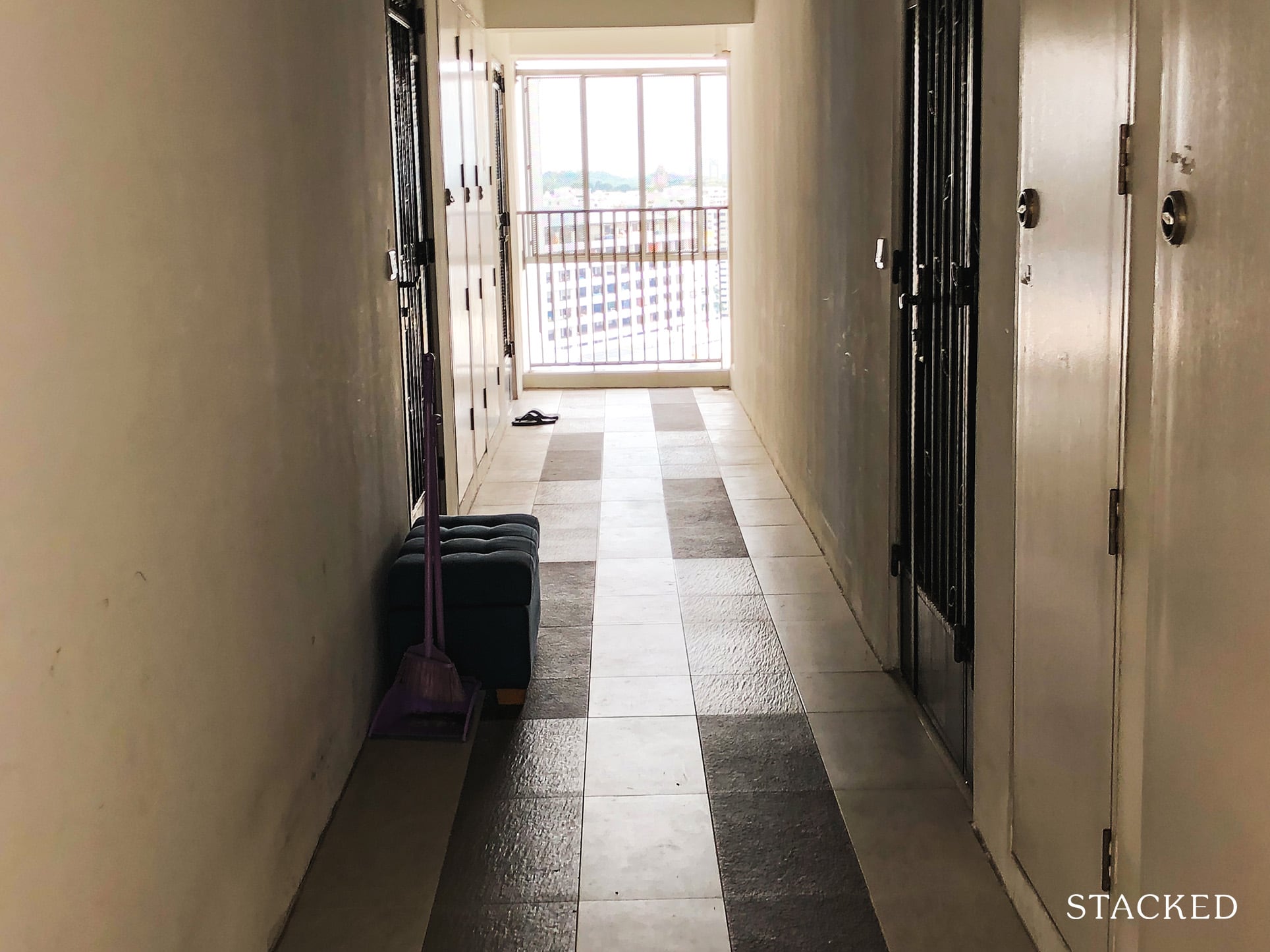 Moving further in, you'll also see that the main unit's gates are spread out quite evenly. This is unlike the layout in Pasir Ris ONE where some of the units face the opposite's one directly. However, I must point out that the corridor here seems quite narrow, leaving very little/no space to put your usual shoe rack: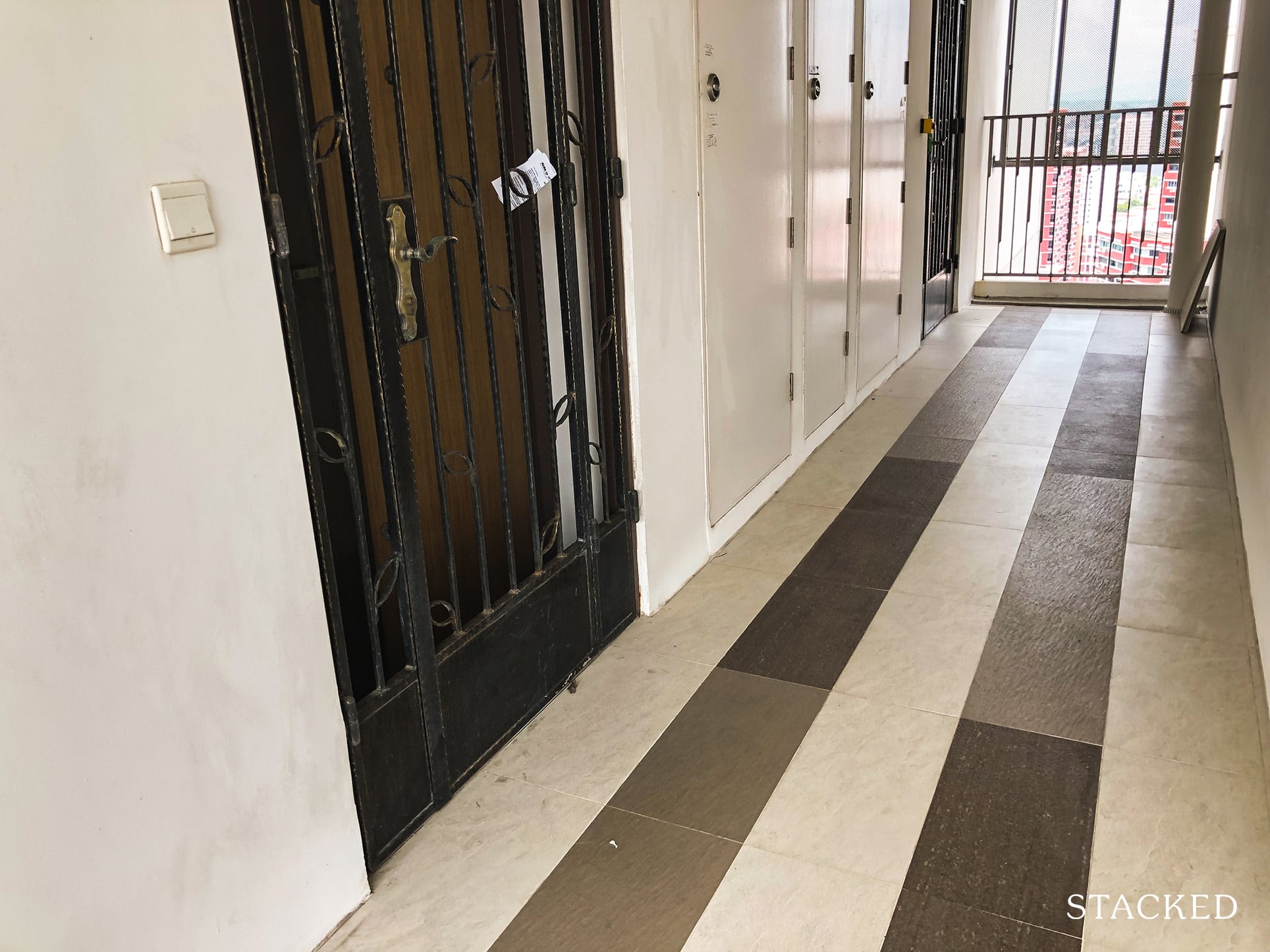 Now since the car park rooftop garden covers all the facilities at both Skyline 1 & 2, there really isn't much else except for the most unique aspect (to me, at least) – the linkway between both developments: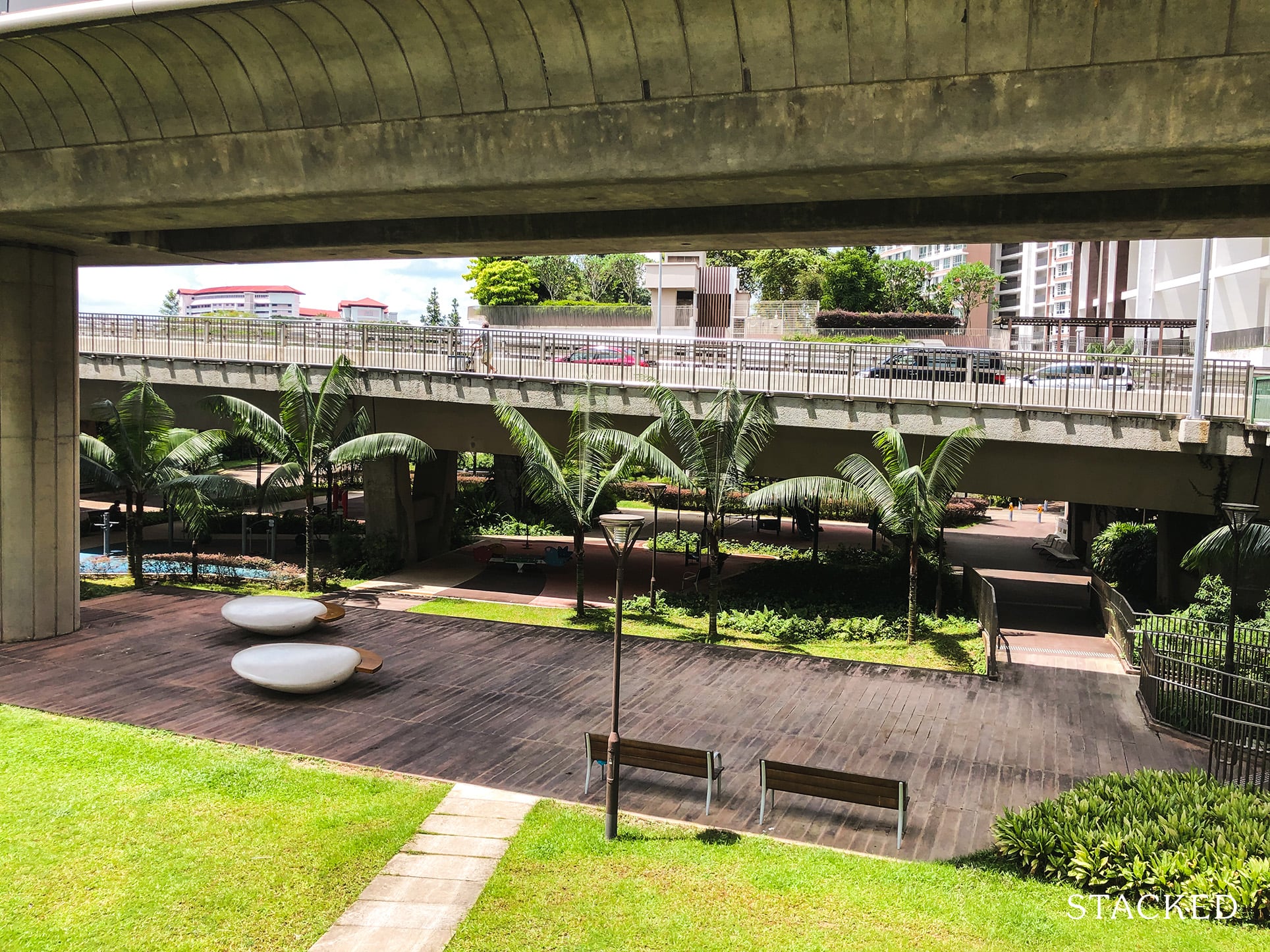 So right in the middle of the development, you'll find an underpass that allows residents to cross over to the opposite side. It's due to this reason that both Skyline I & II are considered to be the same project despite having both a major road and an overhead MRT line running through it.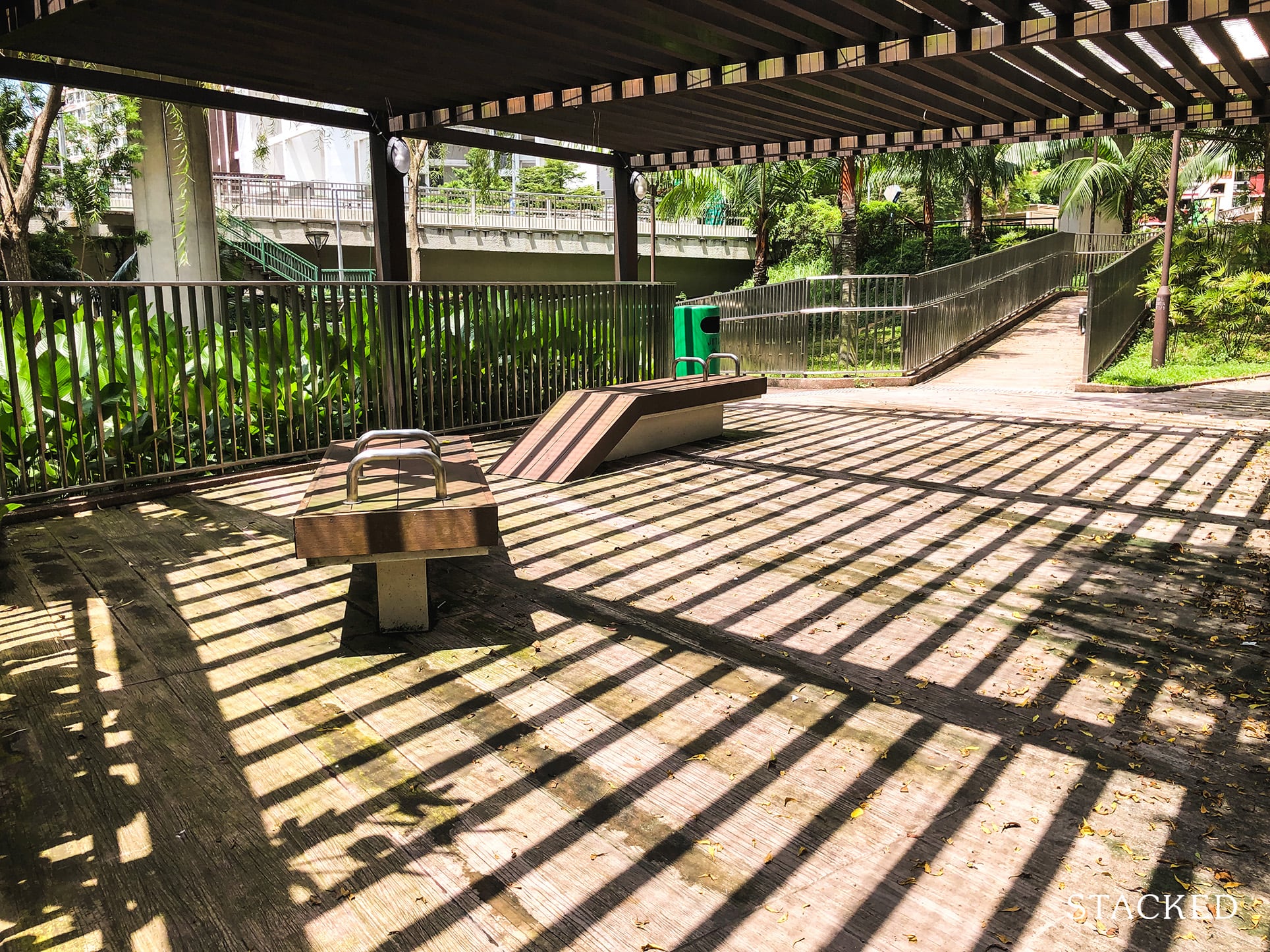 En route to the underpass, you'll find a sheltered area that seems pretty well-maintained. I'm not sure about you, but the idea of sitting close to a flyover does not sound very healthy given the exhaust and dust would reach this area. Moreover, a picture may paint a thousand words but it certainly can't produce sounds, so you'll quickly find this spot to be quite unconducive to relax in.
Moving on, you'll find an adult fitness corner. You can clearly see that it's underneath the flyover here. Again, I'm not sure if this is a nice spot for your exercise considering how the car park rooftop garden isn't as exposed to the dust and exhaust from motor vehicles above.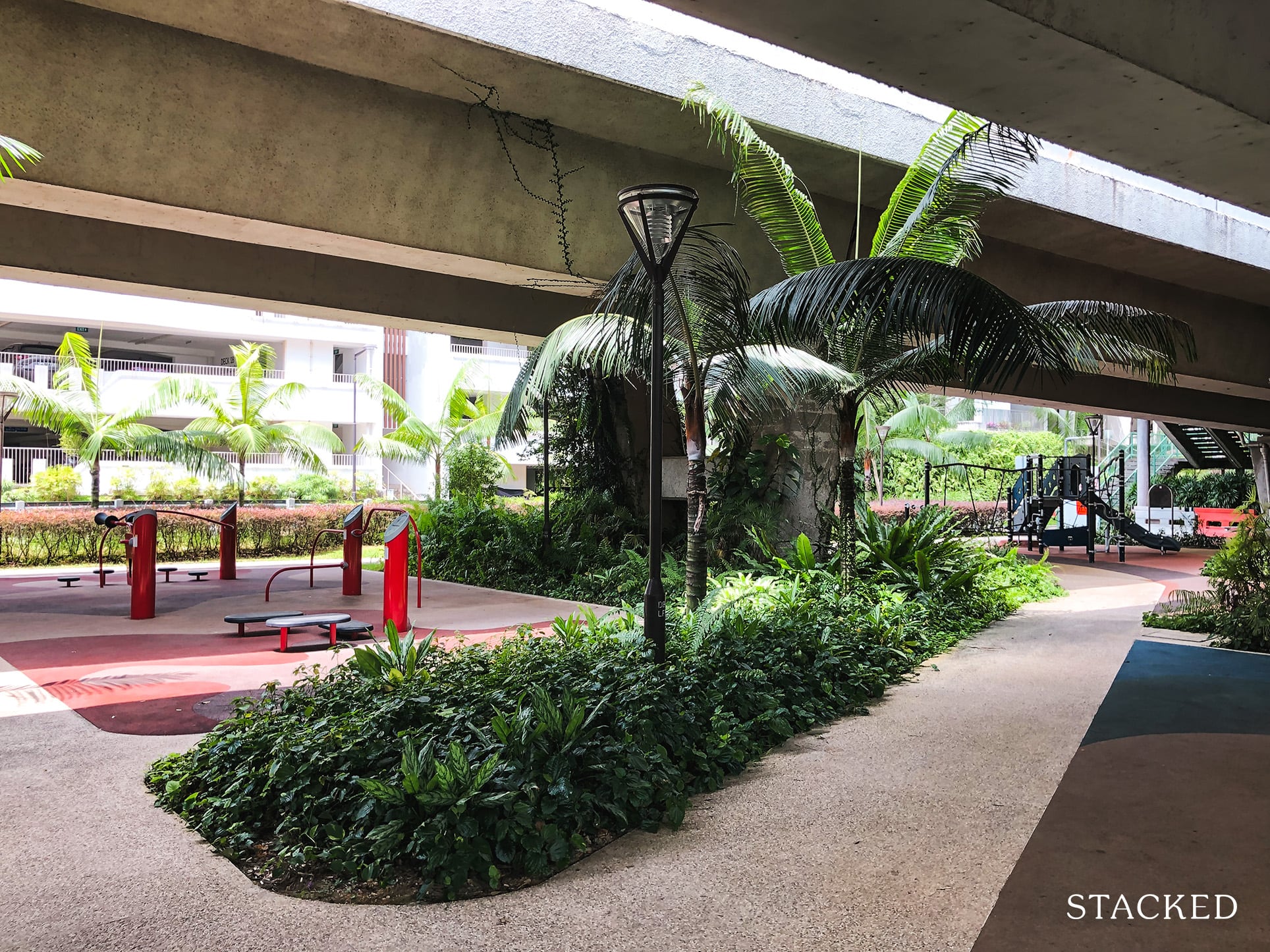 But I'll have to say that despite its jarring location, it's nice to see that a lot of effort has been put in here to make the space appear more cosy and natural through the use of plants.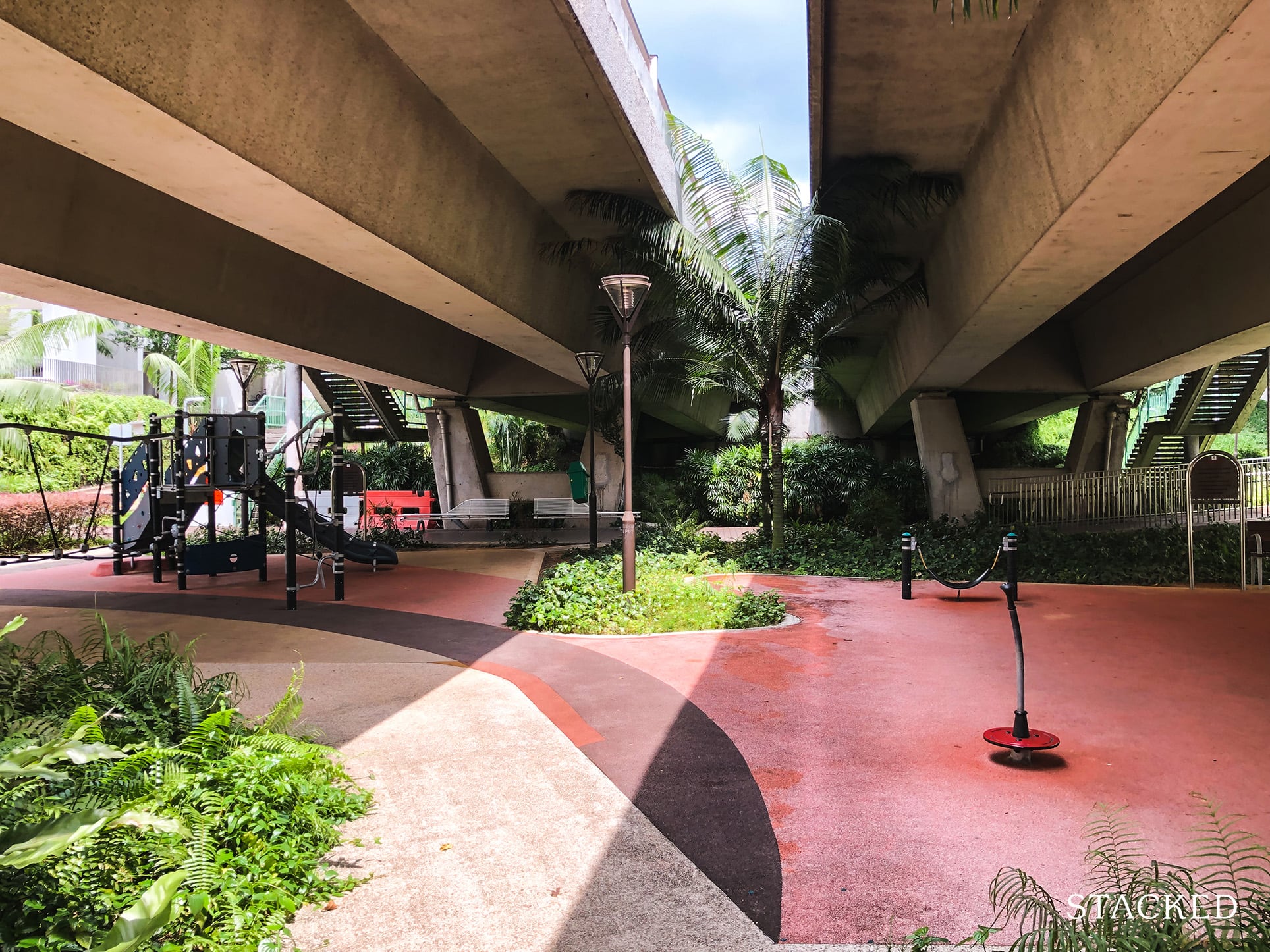 Just around the corner, you'll find the children's playground too. For the obvious reasons mentioned, this wouldn't be my top pick for kids to play in! The good news is that it's sheltered away from the sun, so those afraid of having prolonged exposure to the sun may not mind this underpass playground.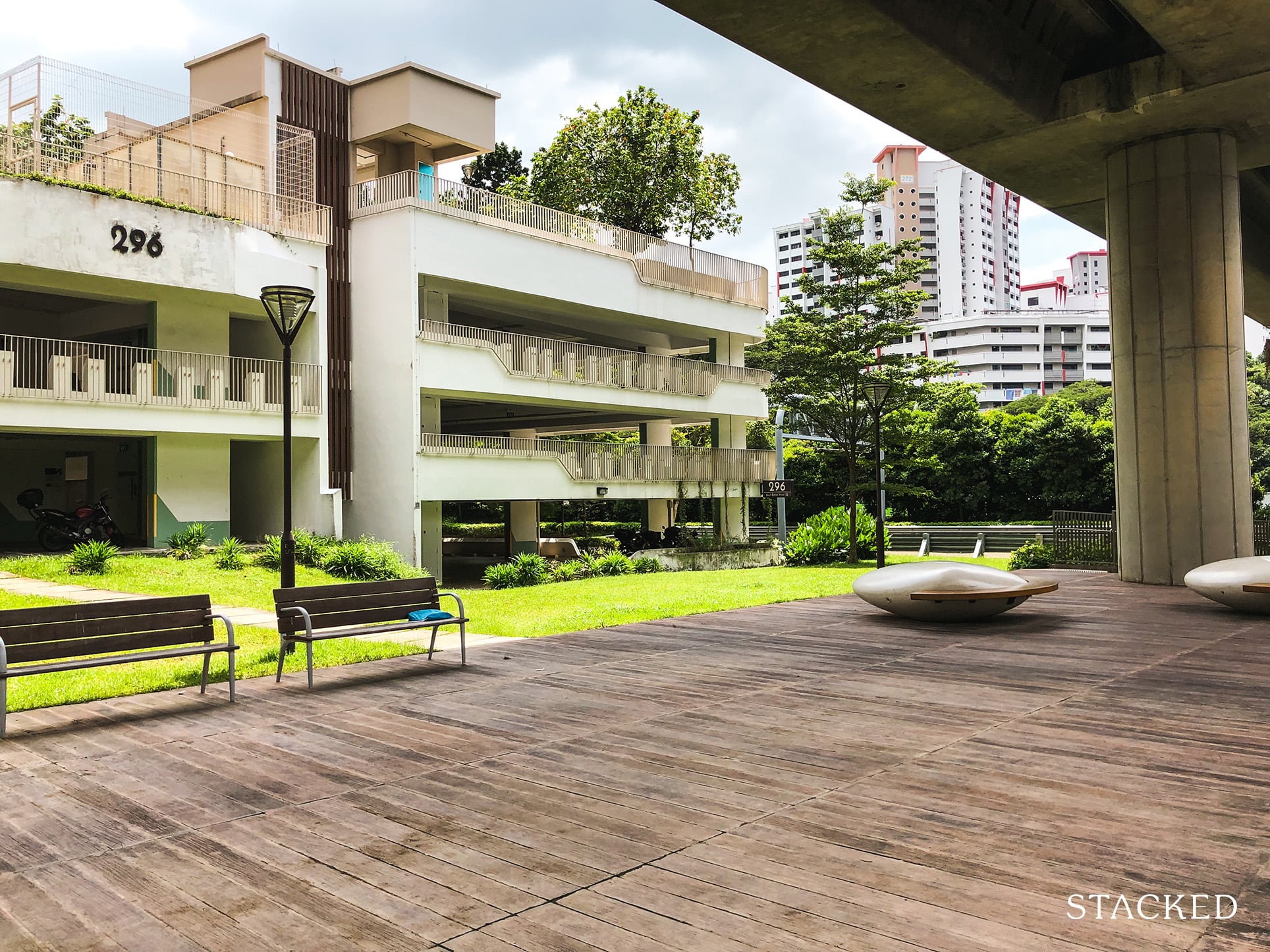 Lastly, there is a large wooden deck area with ample seats to watch over your children. It's also a great space to just stretch and have a rest. It is quite an inviting space, aside from the traffic noise above.
Now let's make our way to Skyline II's ground level where you'll find a good amount of amenities!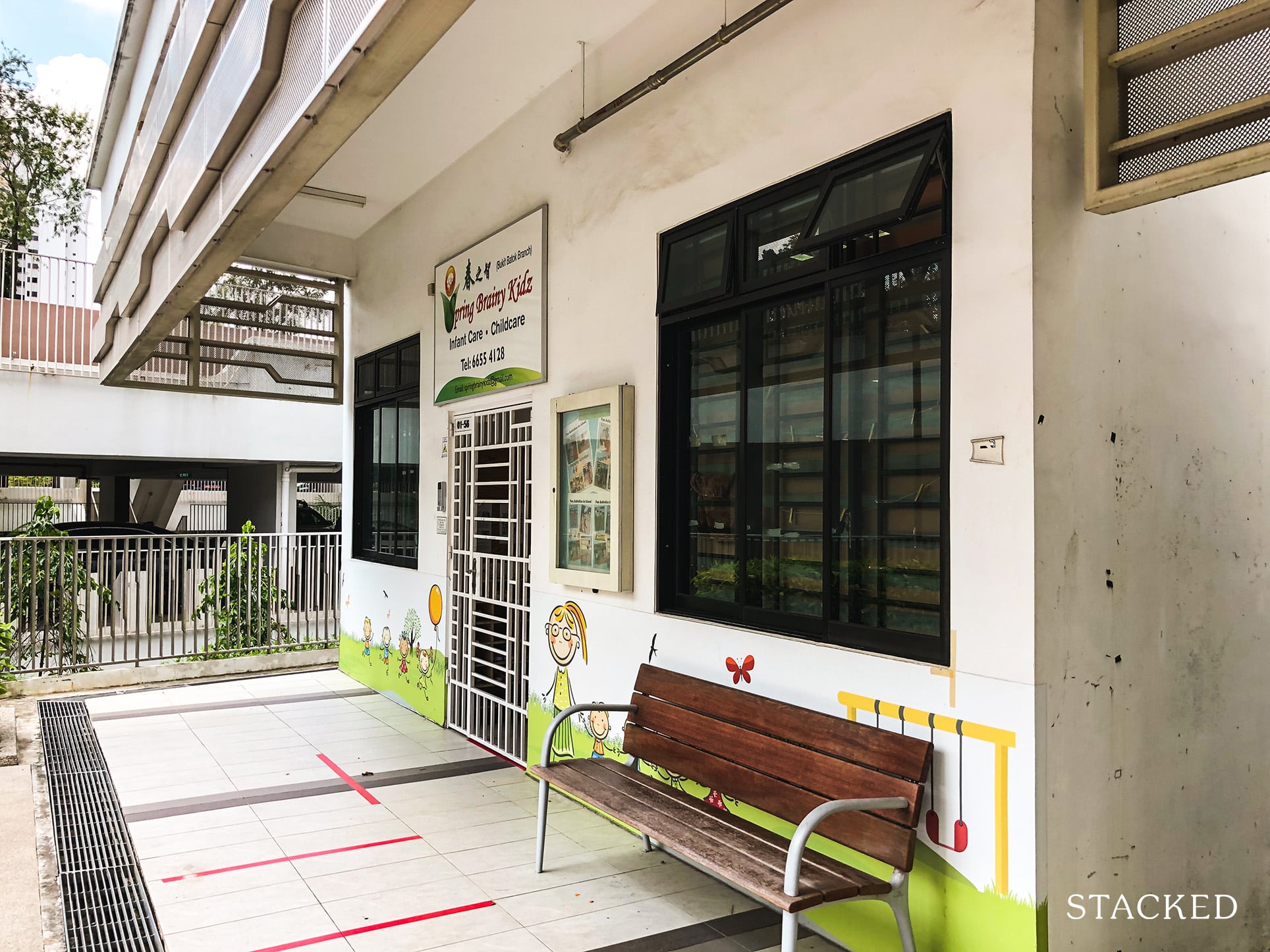 First off, there's a childcare centre here. I've mentioned the importance of having a childcare centre in any HDB since it's a huge convenience to young parents, so I'm happy to report that there's at least one here.
But what makes this one special is that it also has infant care, so parents looking for help early on can also enrol their child here!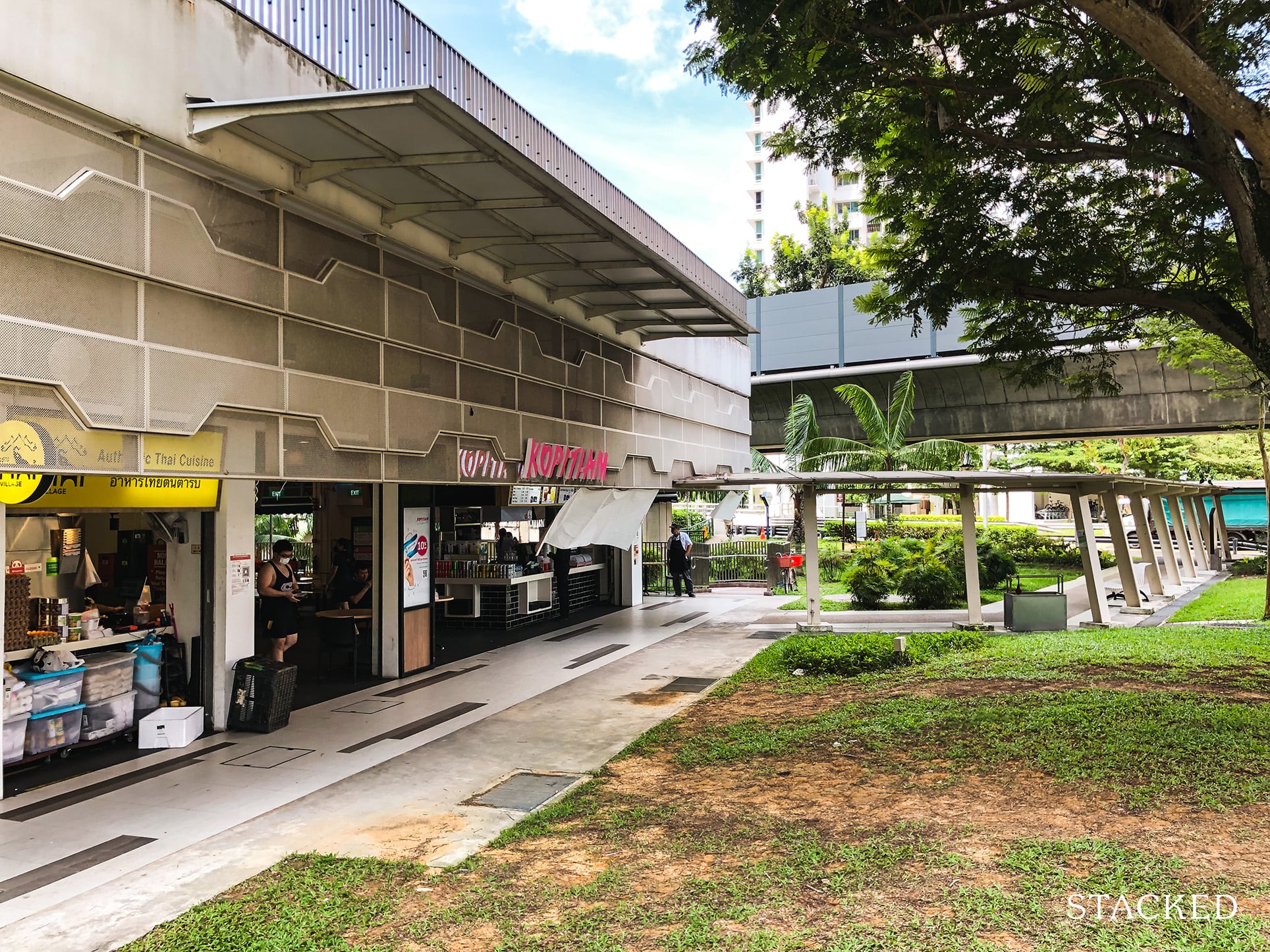 What's also notable about Skyline II are its daily needs amenities. Located at block 296A is the commercial area where you'll find a minimart, a clinic, a Kopitiam eating house as well as a Thai restaurant.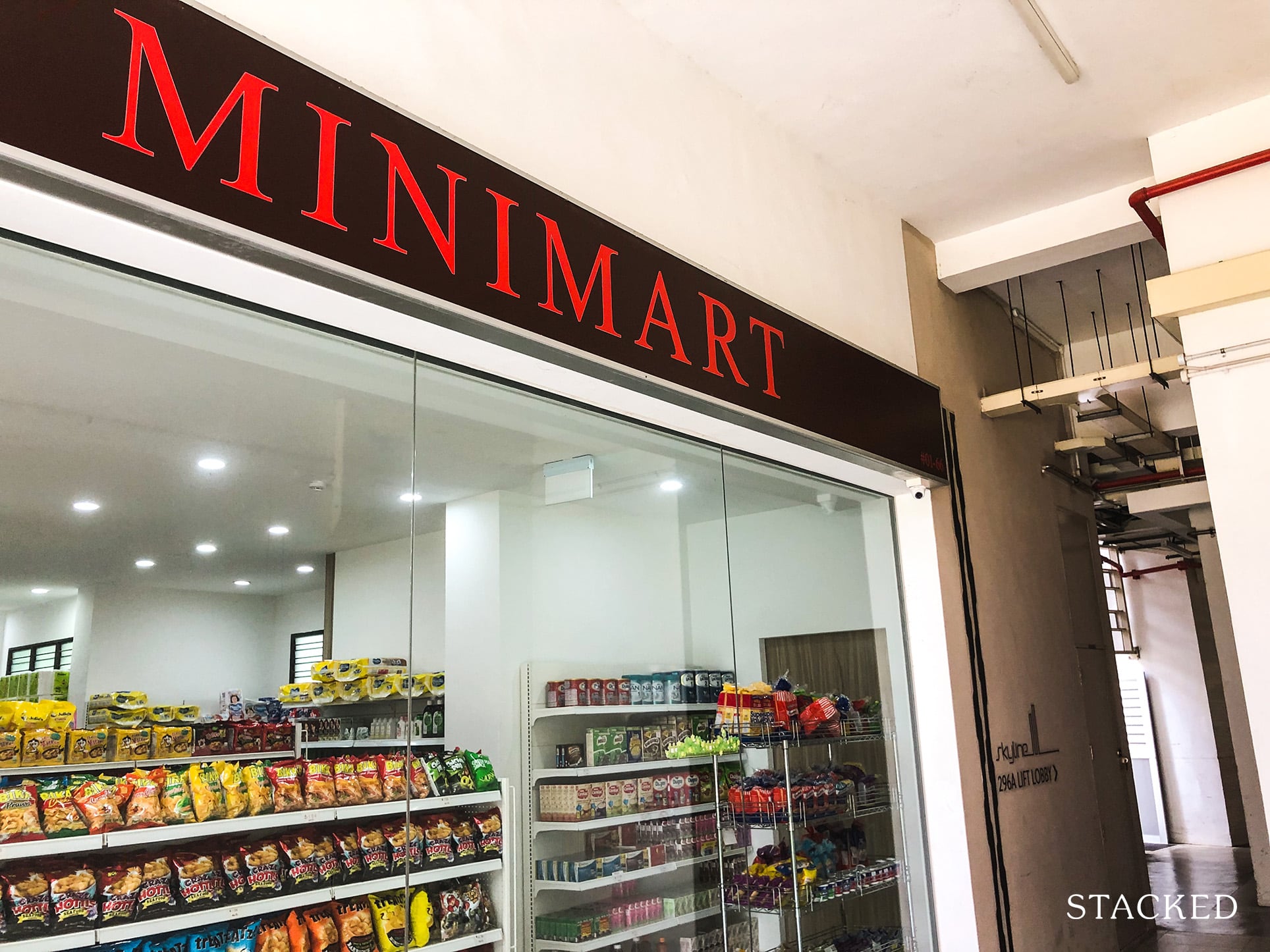 With these amenities, residents wouldn't have to go far to meet their basic daily needs. As such, Skyline I & II is pretty much almost a self-sustaining development.
Of course, it would be better to have a Sheng Shiong/NTUC/Cold Storage nearby, however, I think this is really enough for daily living!
Read this next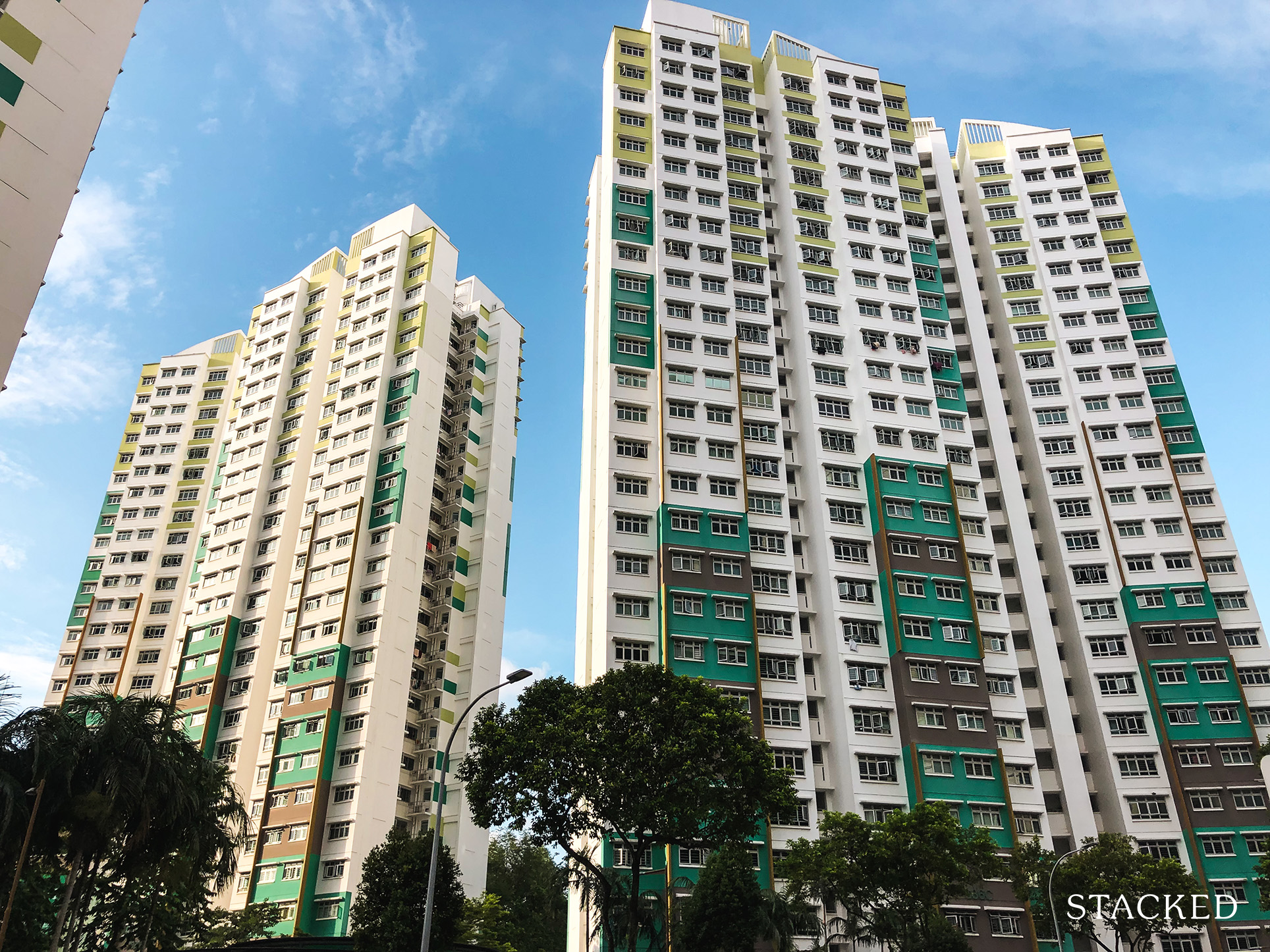 Skyline I & II @ Bukit Batok Location Review
Skyline I & II is located in the Bukit Batok estate which has a mix of residential, industrial and commercial zones. Around the development, you'll find several neighbourhood parks, the closest of which is just west of Skyline I – Bukit Batok West Park, which also houses a street soccer court among other common facilities like a playground and fitness area.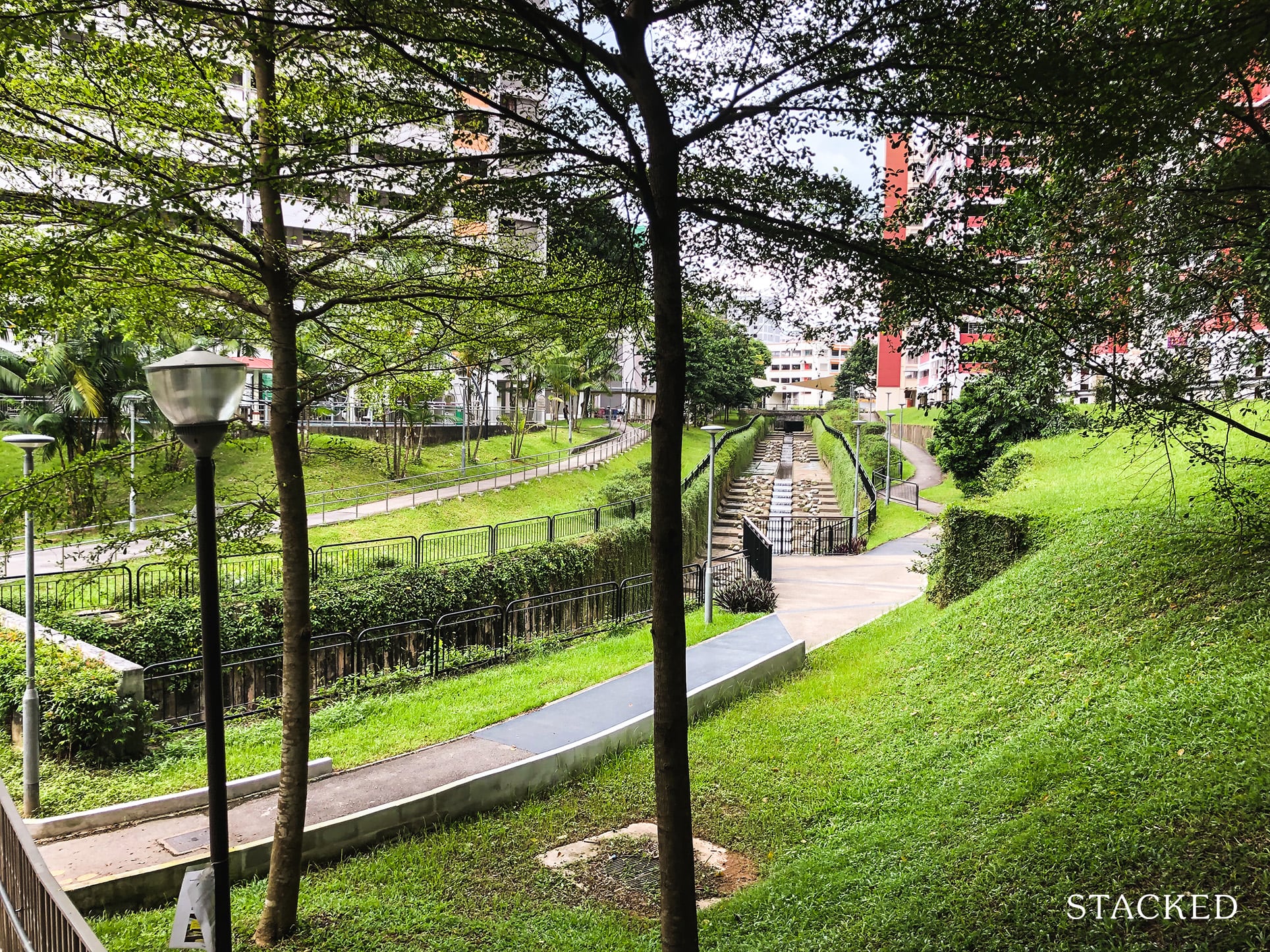 Speaking about parks, Skyline I & II has the advantage of being situated right next to a park connector. In fact, the development was built to seamlessly integrate with it, as you can see from the pictures here.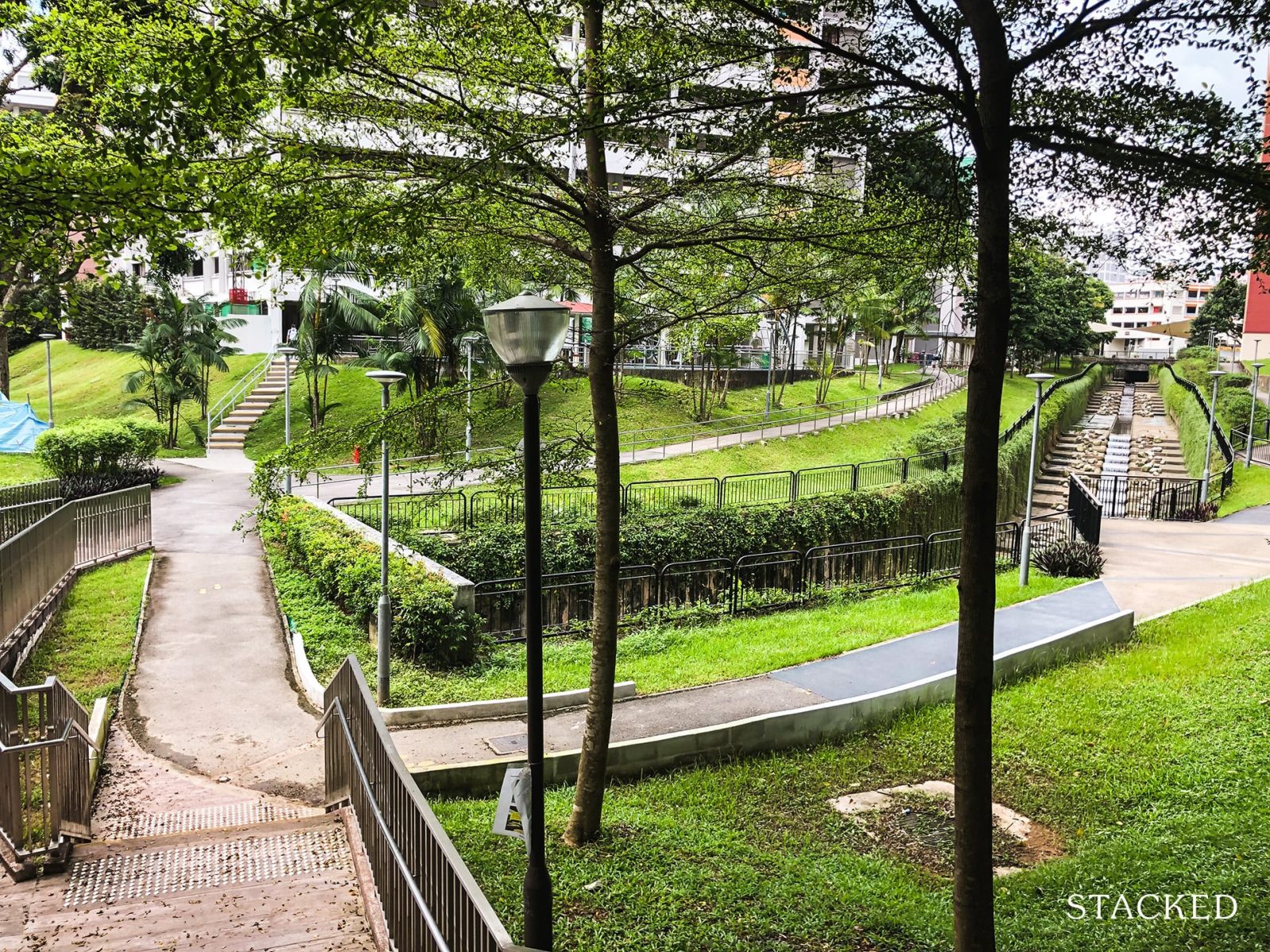 This park connector is part of the Western Adventure Loop and is located adjacent to Skyline II (along with the MRT tracks/expressway). Those who enjoy cycling or running would certainly appreciate this aspect!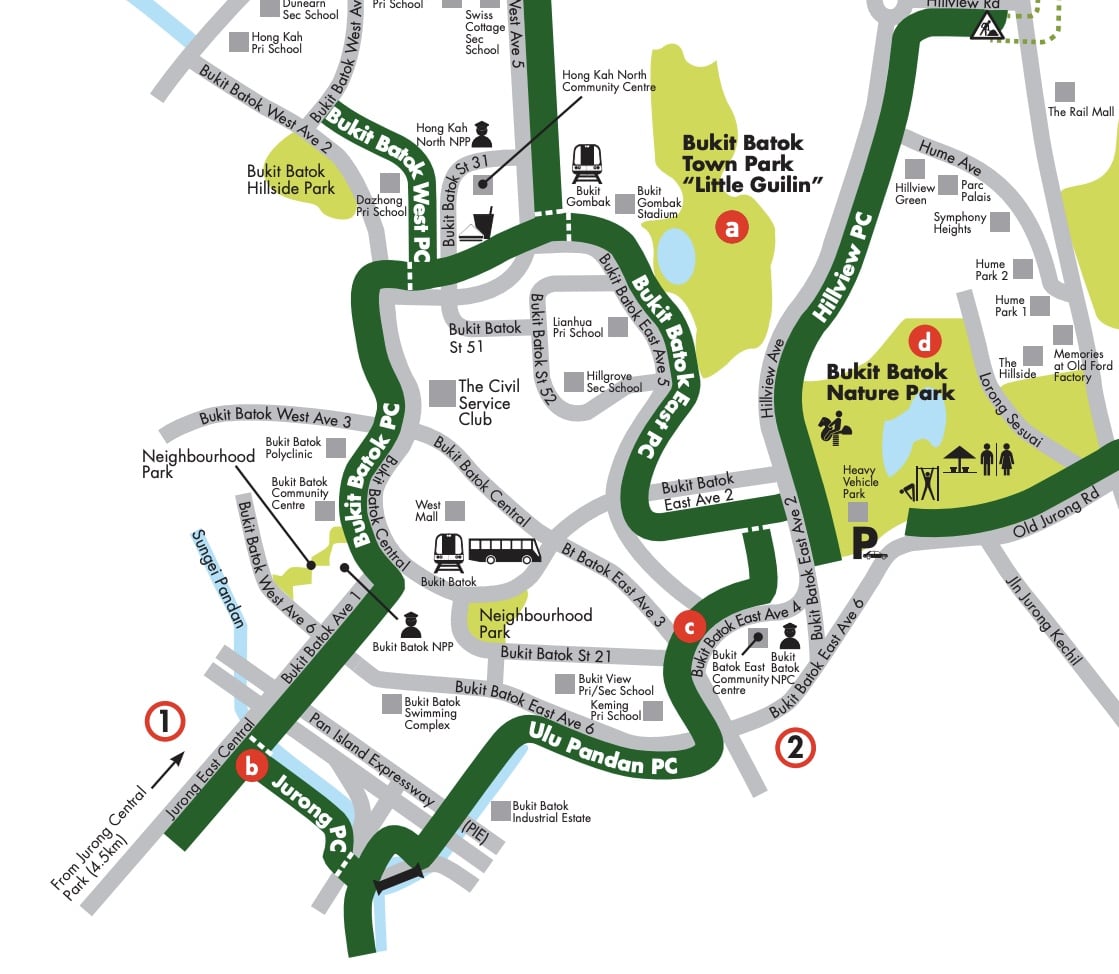 From here, residents can easily connect to the Bukit Batok Town Park (aka "Little Guilin"), Bukit Batok Nature Park, Bukit Timah Nature Reserve, Dairy Farm Nature Park, and Zheng Hua Park.
I think this is especially important for development like Skyline I & II which is located right next to the expressway and MRT tracks. For all the urban disturbances you receive staying here, having this park connector that you can easily whisk away into the tranquillity of nature is to me, more of a necessity than want.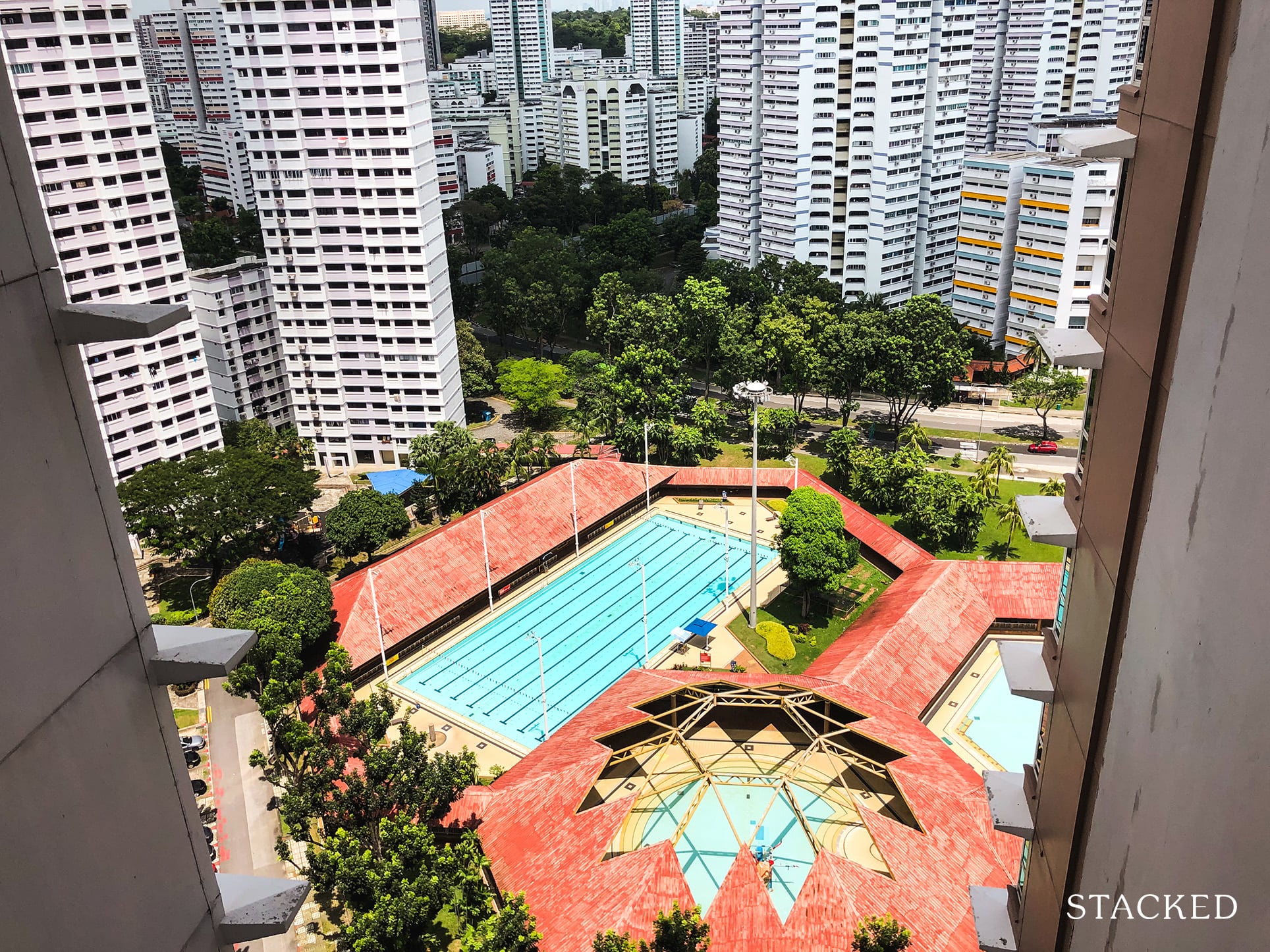 Besides nature, Skyline I & II is also located right next to the Bukit Batok Swimming Complex. Over here, you'll find a large competition pool for those keen on swimming laps. There's also a wading pool and "teaching pool" for parents who want to send their children for lessons. There is also an ActiveSG gym!
Beyond nature and sports, Skyline I & II also offers pretty good amenities within a couple of minutes' walk away – on top of the existing amenities found within the development.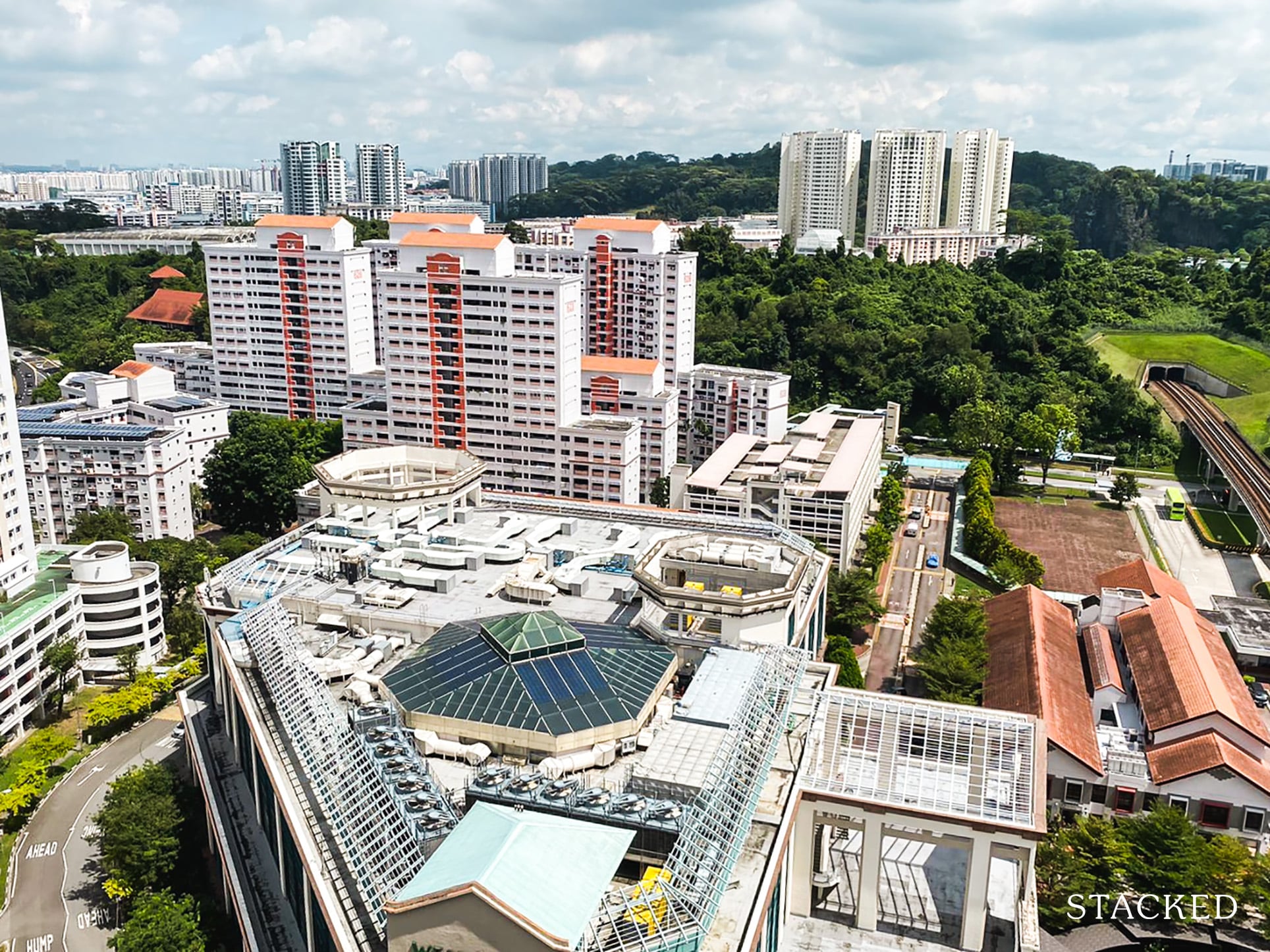 Located north towards Bukit Batok MRT is West Mall and is about a 12-minute walk (unsheltered). The full-fledged mall has well-known names such as Cold Storage and even a cinema!
But for even more variety, residents can also take a 15-20 minute journey (via the bus) towards Jurong East MRT which is right next to JEM and nearby Westgate, JCube and IMM.
With a plethora of full-fledged shopping malls within reach, residents at Skyline I & II who need their regular retail therapy fix (even if it's just window shopping) should find this location to be quite suitable.
Public Transport
| | | |
| --- | --- | --- |
| Bus station | Buses Serviced | Distance From HDB (& Est. Walking Time) |
| 'Blk 298' | 176, 187, 188, 188R, 188e, 868E, 990 | 2-minute (100m) |
| 'Blk 190' | 176, 187, 188, 188R, 990 | 2-minute (100m) |
Closest MRT: Bukit Batok MRT; 7-10 min walk.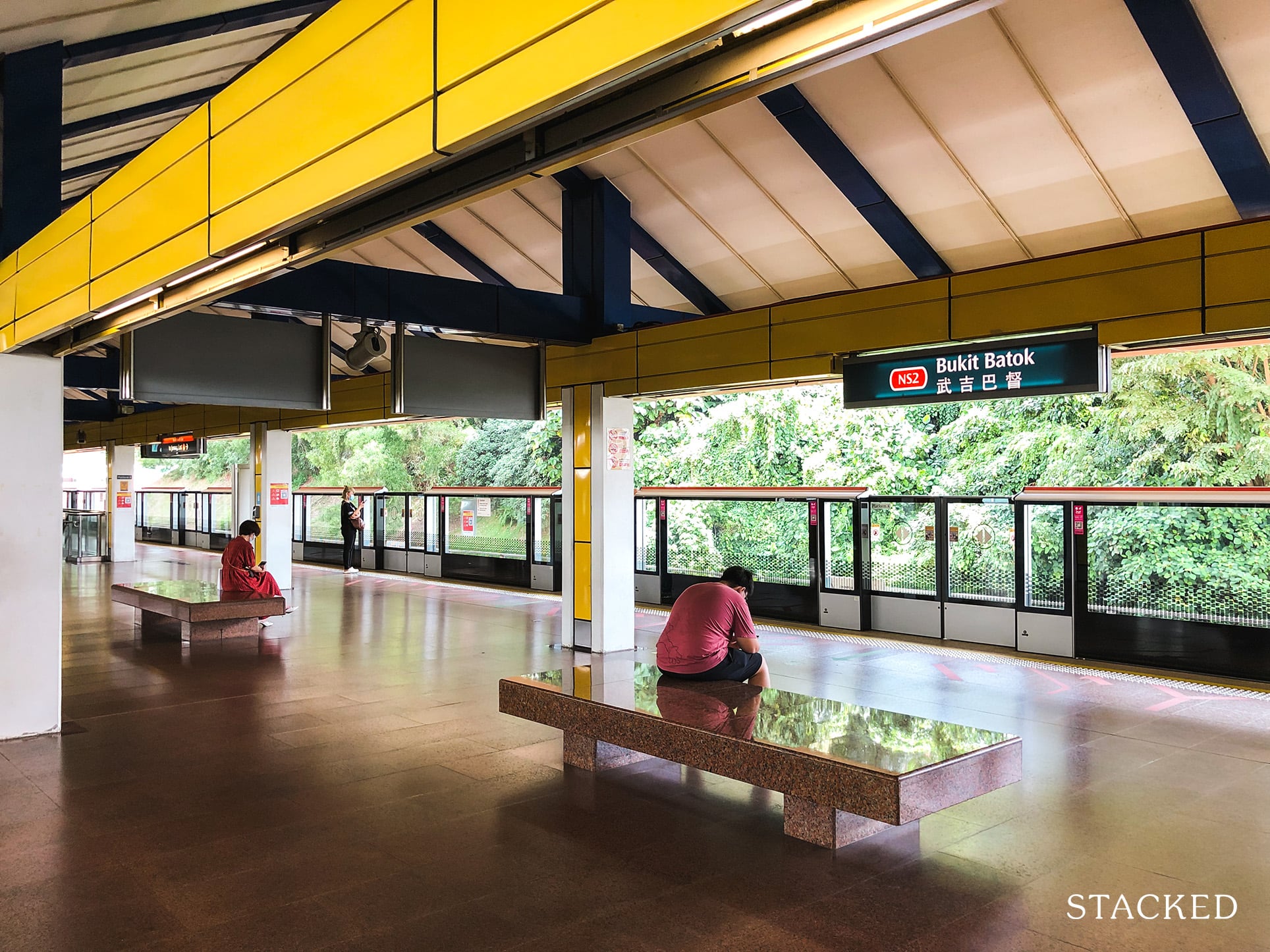 Skyline I & II is about a 7-10 minute walk to Bukit Batok MRT.
This is considered a walking distance to be achievable to most buyers, however, the fact that it is fully unsheltered can be a concern. Those who do not mind parking their bicycles outside the station could easily reach in just 3-4 minutes via bicycle given the park connector runs parallel to the road.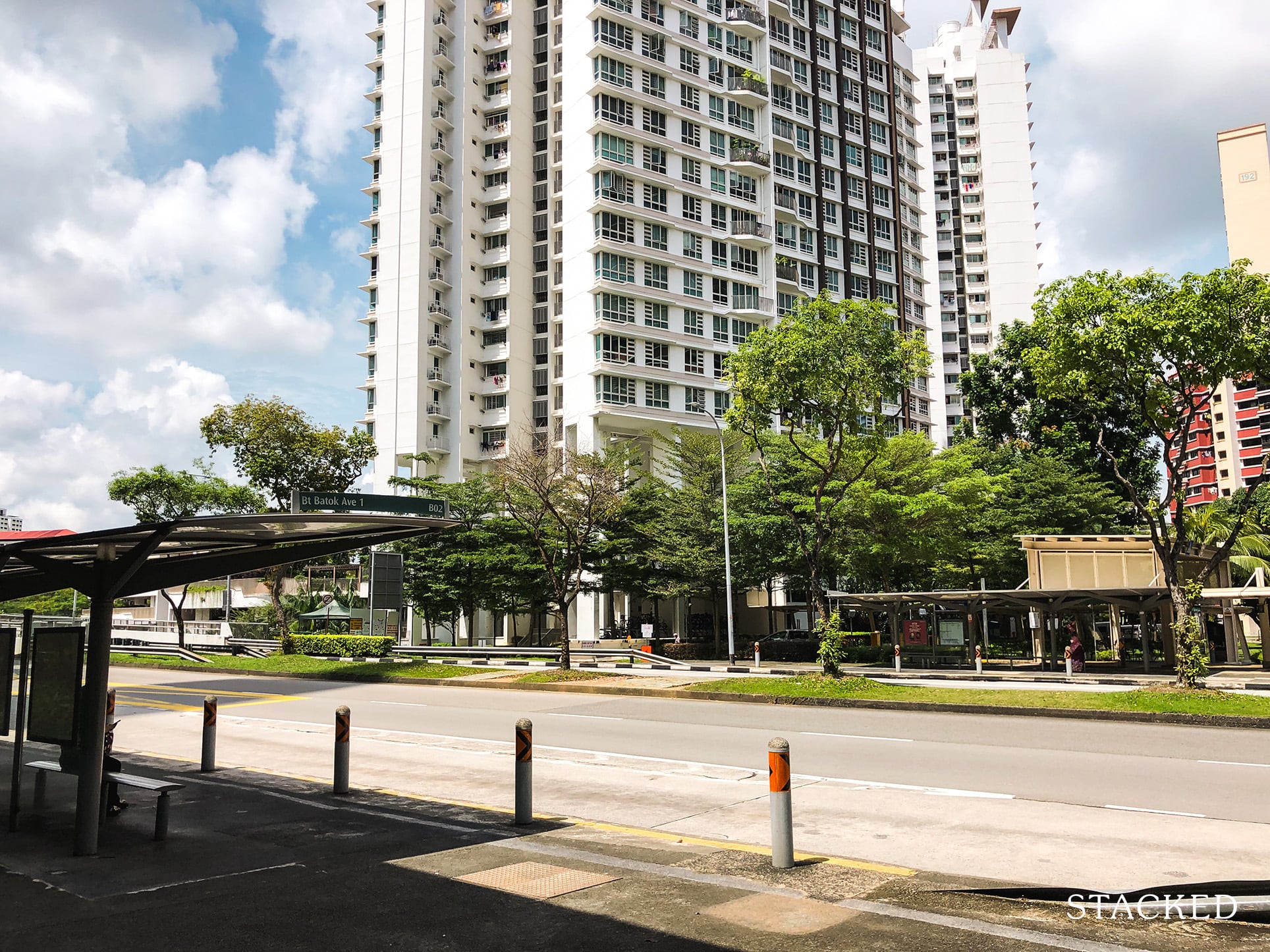 Alternatively, residents can take a quick walk to the bus stop along Bukit Batok Avenue 1. From there, it's just 2 stops to the main MRT – so about 8 minutes in total including the walk.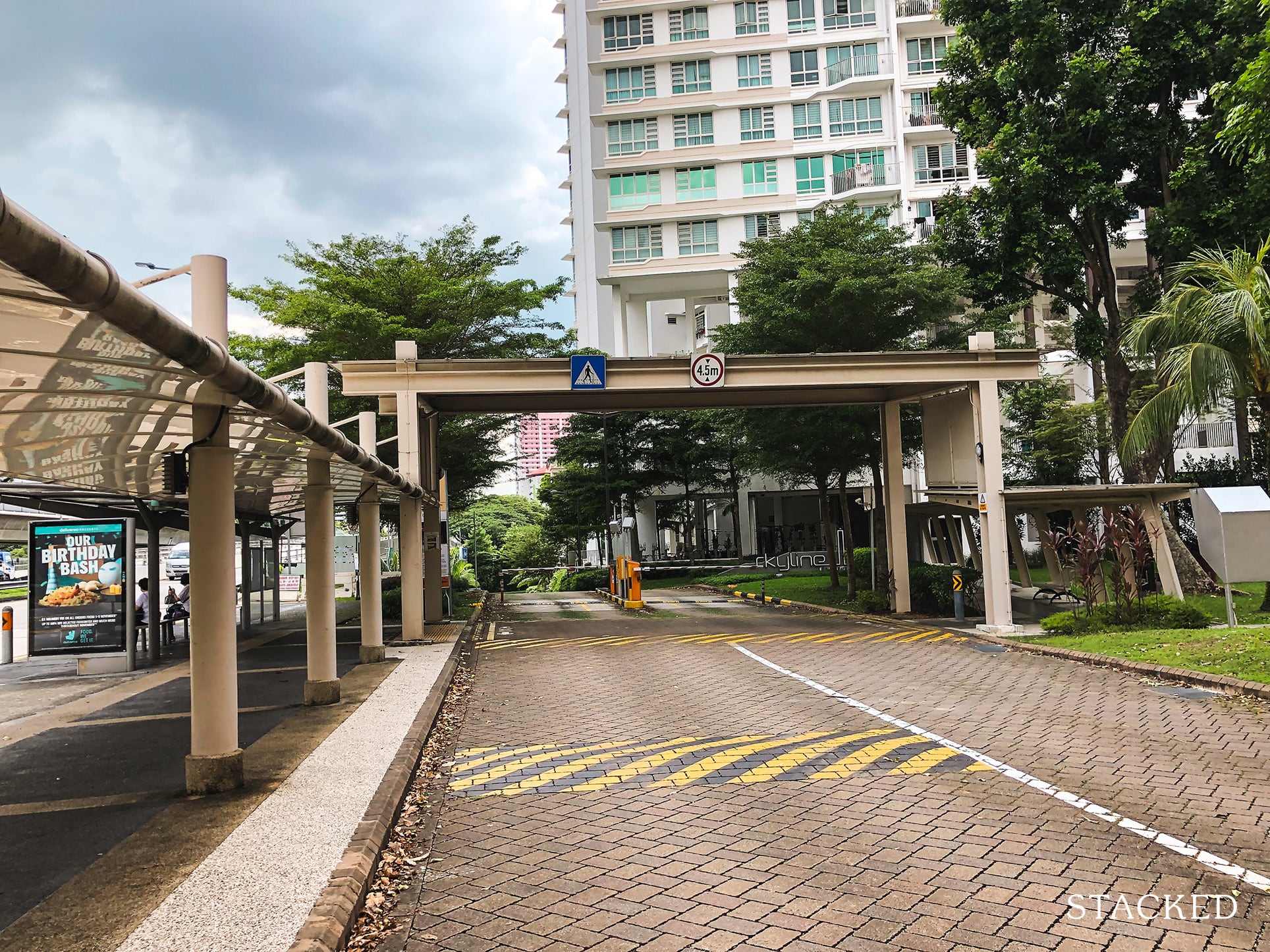 For those concerned about the elements of the weather, fret not! The bus stop is fully sheltered to block 194A for Skyline I, and block 296A for Skyline II.
While it's not terribly inconvenient, having an MRT within a 5-minute walk certainly beats having to rely on the bus to get home.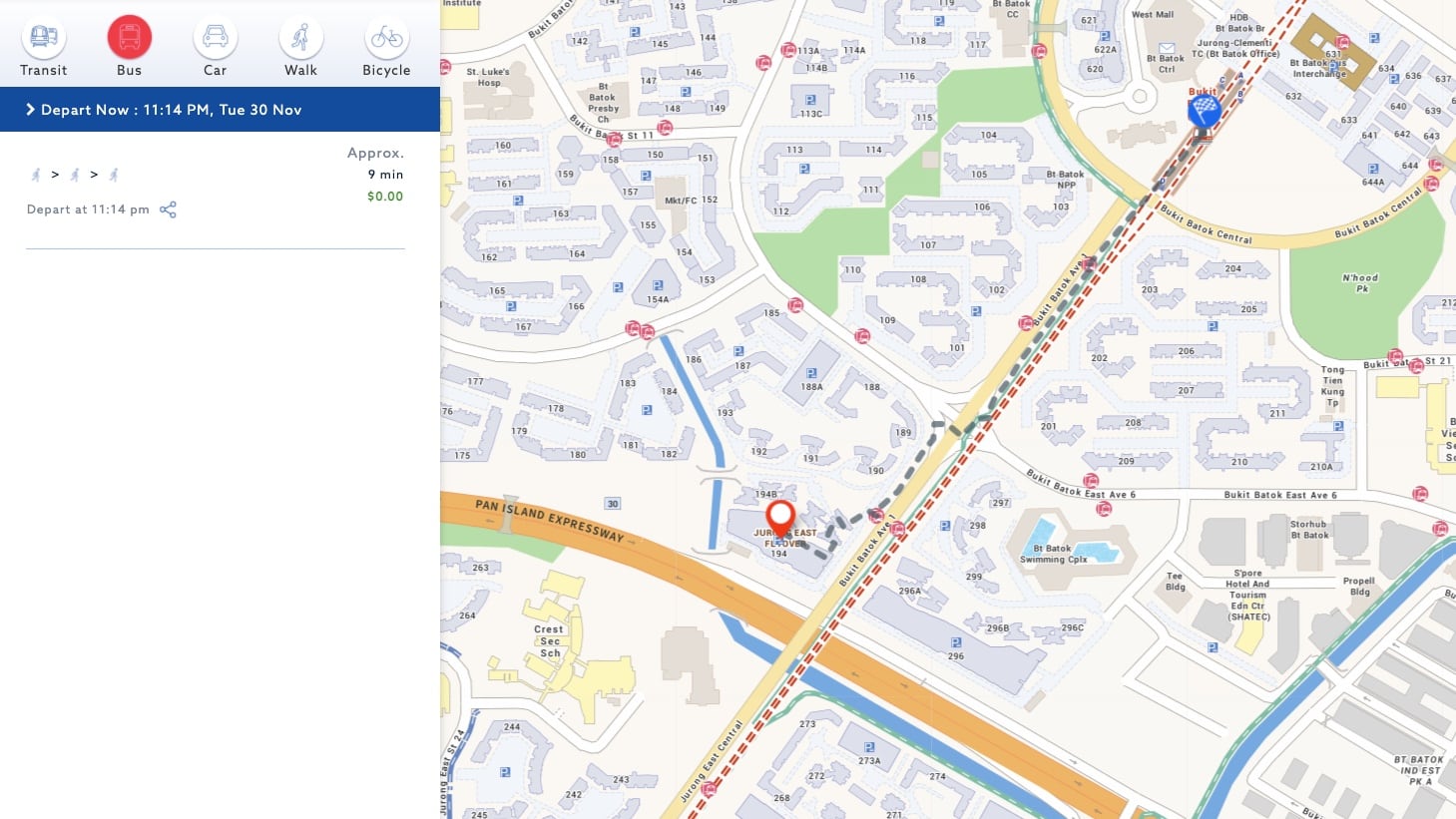 The bus stop here also has quite a fair bit of services that can take you out of the Bukit Panjang estate – up to the north and even to the CBD.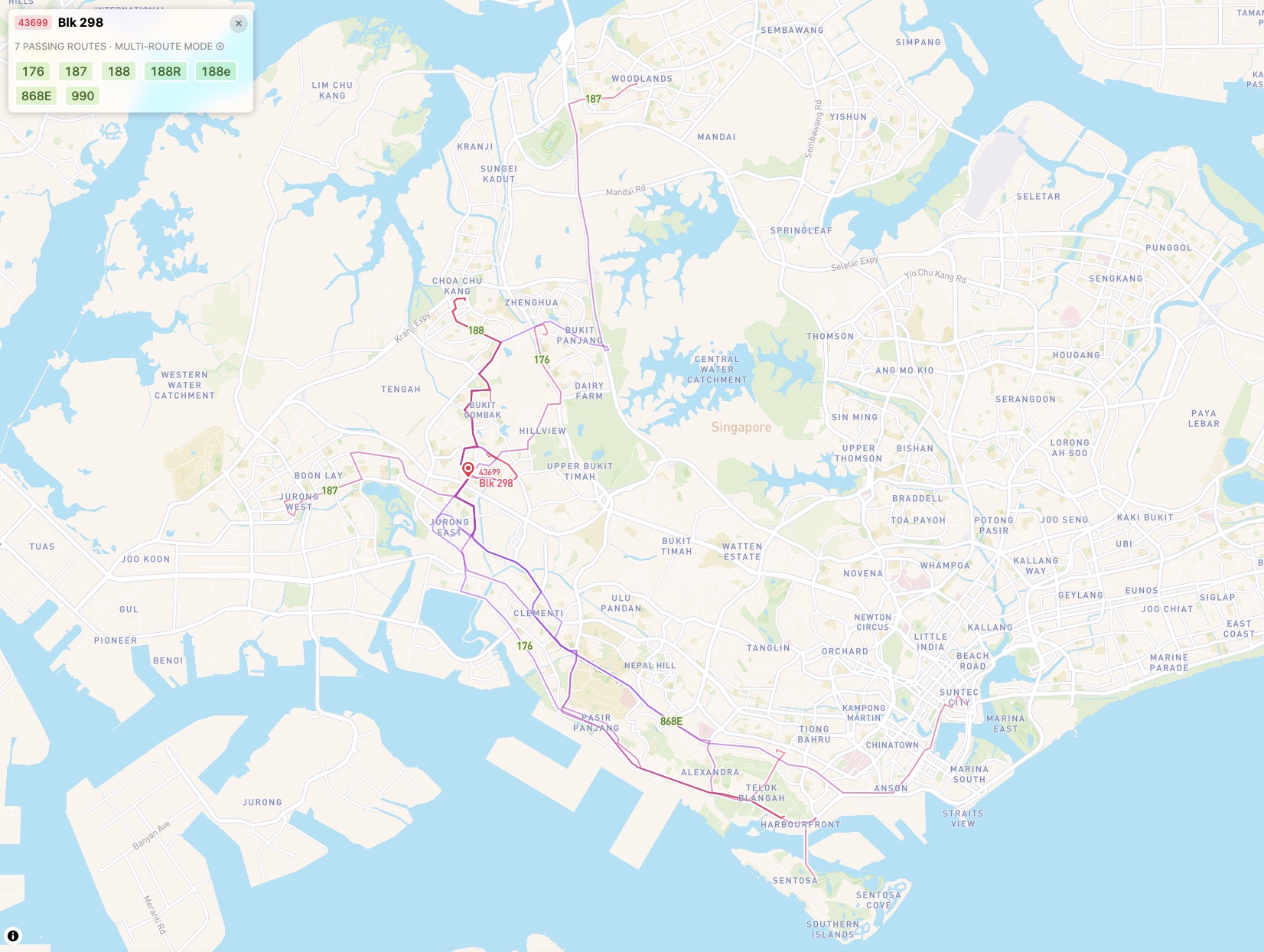 Private Transport
| | |
| --- | --- |
| Key Destinations | Distance From HDB (& Est. Peak Hour Drive Time) |
| Raffles Place | 18.1 km (26 mins drive) |
| Orchard Road | 16.0 km (27 mins drive) |
| Suntec City | 19.3 km (29 mins drive) |
| Changi Airport | 33.3 km (45 mins drive) |
| Tuas Port | 24.9 km (40 mins drive) |
| Paya Lebar Quarter | 19.6 km (27 mins drive) |
| Mediapolis | 10.9 km (18 mins drive) |
| Mapletree Business City | 13.4 km (22 mins drive) |
| Tuas Checkpoint | 21.4 km (34 mins drive) |
| Woodlands Checkpoint | 16.1 km (28 mins) |
| Harbourfront Cluster | 15.1 km (25 mins) |
| Punggol Cluster | 29.1 km (40 mins) |
Source: OneMap. Based on driving times during peak hours.
Immediate road exit:
Bukit Batok West Avenue 6 and Bukit Batok Street 22.

Summary:
Drivers here can easily drive down to Jurong Town Hall Road and connect to the AYE to directly reach the CBD area. Despite being next to the PIE, however, drivers would need to take a drive through Bukit Batok Avenue 6 all the way through to Upper Bukit Timah Road before being able to connect eastwards on the PIE.
Groceries
| | |
| --- | --- |
| Name of Grocery Shop | Distance from HDB (& Est Time) |
| Minimart | Within the development |
| Cold Storage | West Mall, 7-10 minute walk. |
Schools
| | |
| --- | --- |
| Educational Tier | Number of Institutes |
| Preschool | 2 |
| Primary School (Within 1KM) | 4 |
| Secondary School | 4 |
| Junior College | 1 |
| Other Tertiary Institutes | 3 |
Spring Brainy Kidz – Within the development
Mulberry Learning @ Bukit Batok – 900m (11 min walk)
Yuhua Primary School – 1.0 km (12 min walk)
Princess Elizabeth Primary School – 1.2 km (14 min walk)
Bt View Primary School – 1.4 km (16 min walk)
Keming Primary School – 10 min by bus
Crest Secondary School – 900m (10 min walk)
Bukit Batok Secondary School – 1.1 km (13 min walk)
Bukit View Secondary School – 1.2 km (14 min walk)
Hillgrove Secondary School – 14 min by bus
Jurong Pioneer Junior College – 27 min by MRT
ITE College West – 21 min by bus
Millennia Institute – 21 min by bus
Singapore Polytechnic – 23 min by MRT
Skyline I & II @ Bukit Batok Additional Pointers
Upcoming Toh Guan JRL Station
Despite being within walking distance to Bukit Batok MRT, residents staying here can look forward to increased connectivity via the upcoming Toh Guan MRT station. This station is on the Jurong Regional Line (7th MRT line in Singapore), which is meant to enhance connectivity in the Jurong area, touted as the "largest commercial hub outside the Central Business District".
This MRT station would really only be beneficial to those who work in the Jurong area though, as the line does not cut through any other lines.
Empty plot zoned "Business 1" next to Skyline II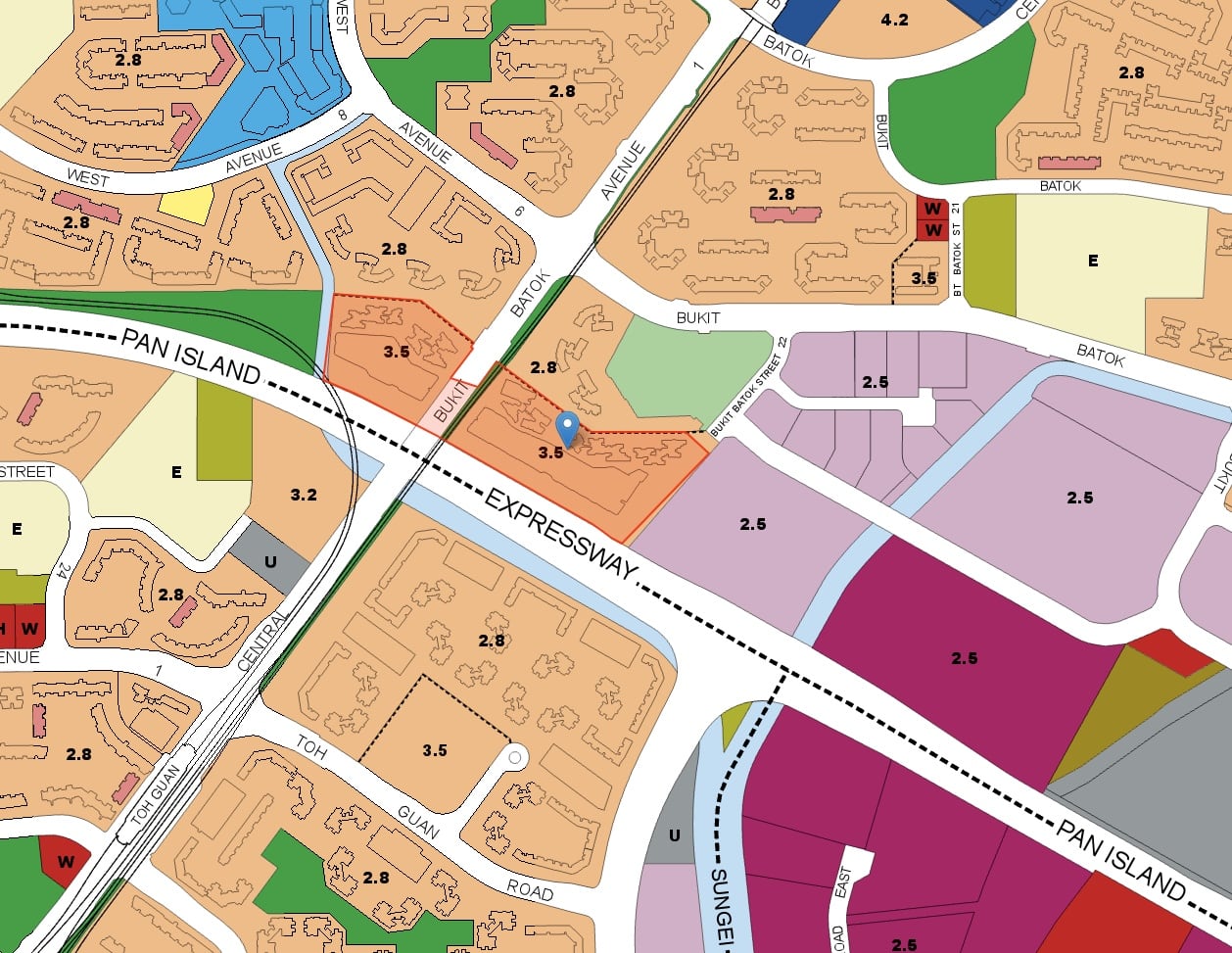 The empty plot next to Skyline II is currently zoned "Business 1", which refers to clean/light industrial use. This should ore or less dampen any hopes of it being a commercial building that would bring more amenities to the place. It has a plot ratio of 2.5, and given its industrial nature, it would likely not block the view of those staying in Skyline II. I would be more concerned about the potential dust and noise should any construction occur here.
That being said, there are light industrial buildings with eating houses on the first level, so should there be one, perhaps residents would be in for a new food centre. As of now though, there are no plans for this plot of land as far as we can tell.
Skyline I & II @ Bukit Batok HDB Site Review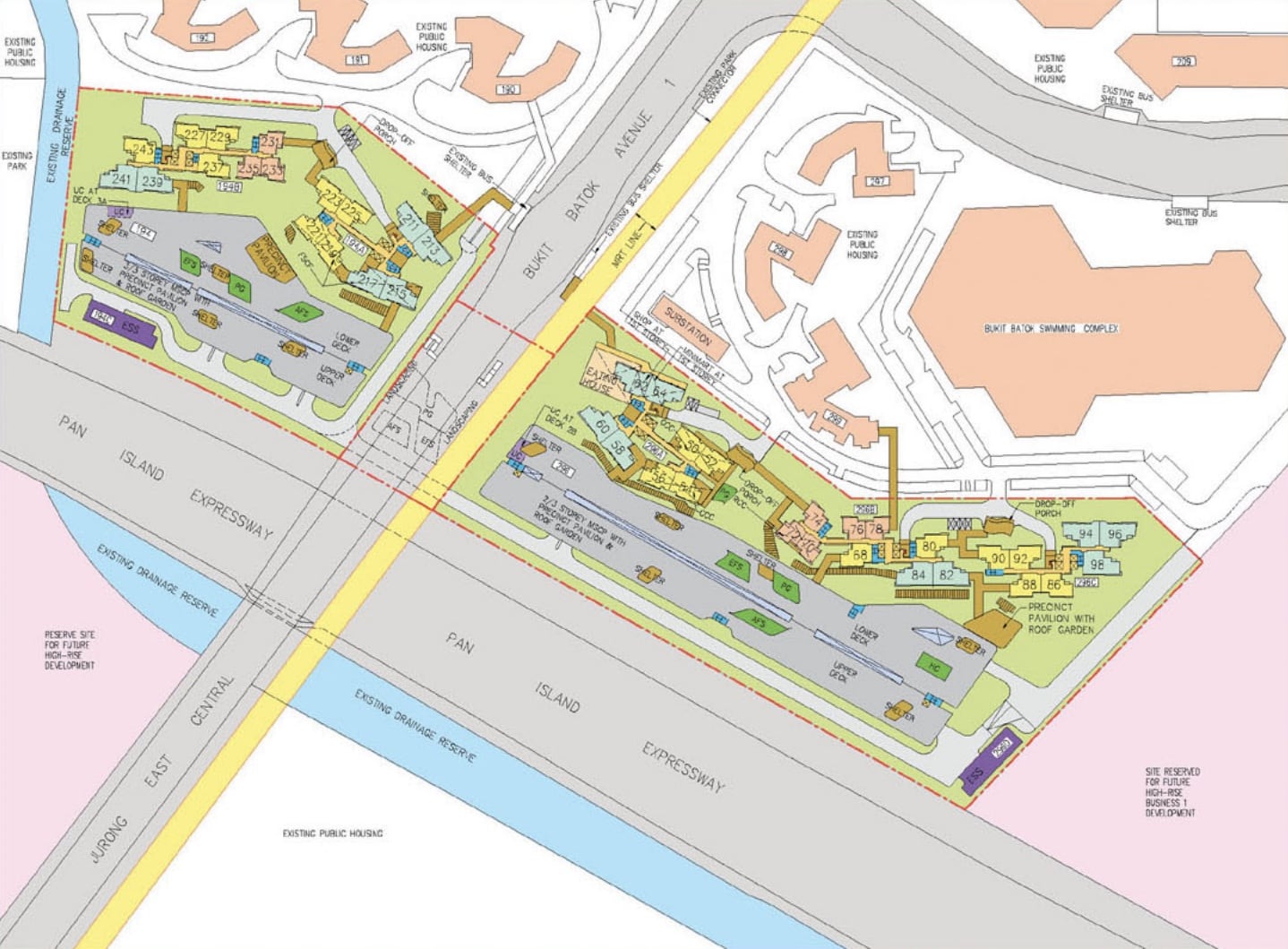 Skyline 1 and 2 is made up of 5 blocks with a total of 1,232 units comprising 3-5 room flats. In total, there are 23 to 38 floors here, and 4-9 stacks per floor depending on the floor and block.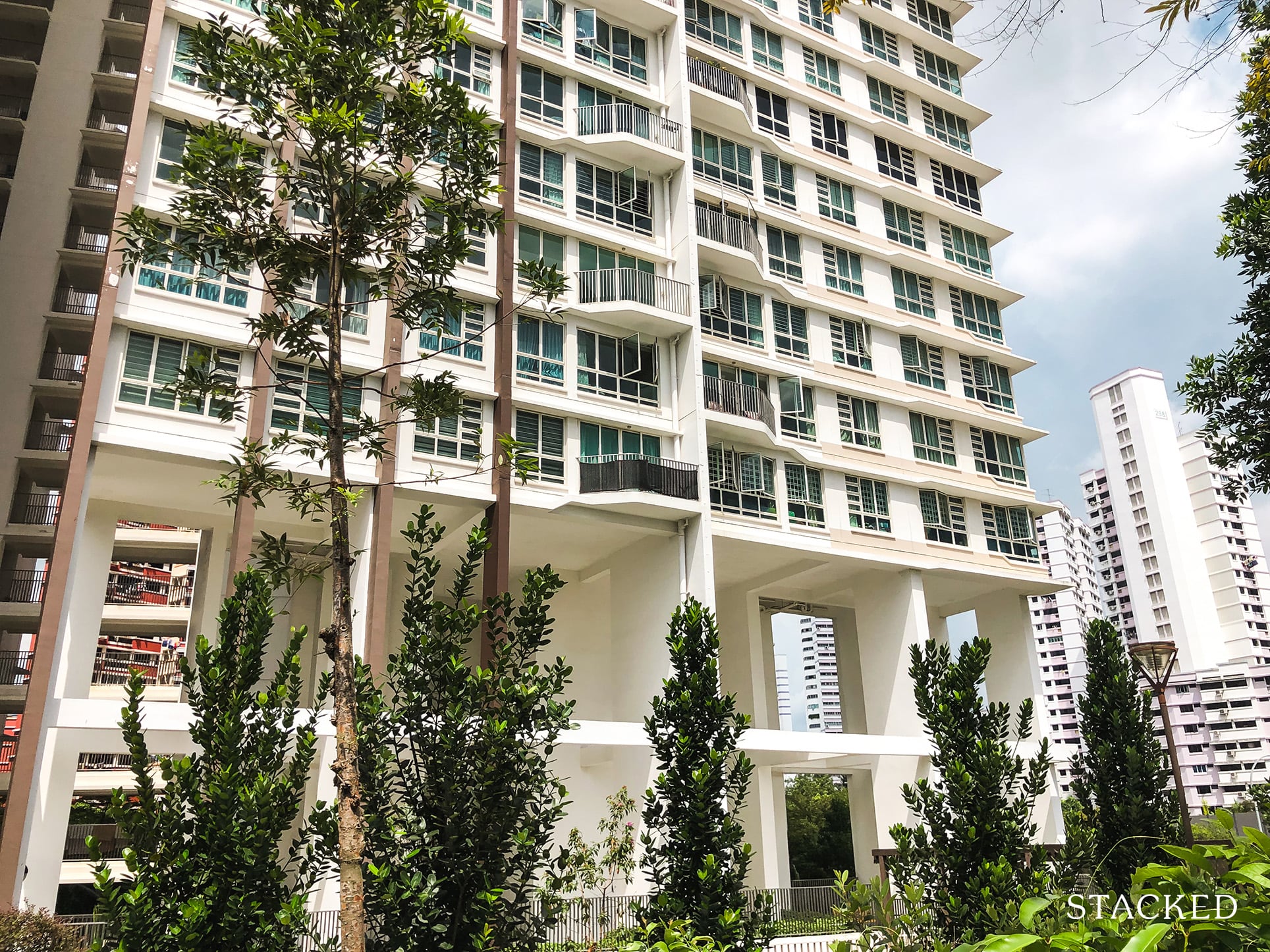 What makes this development a little special is its residential towers are elevated above-ground, so there aren't any 1st story units here. This does improve the lower-floor unit's privacy since it's situated away from the street. You can also see that "level 1" here starts quite high up from the ground!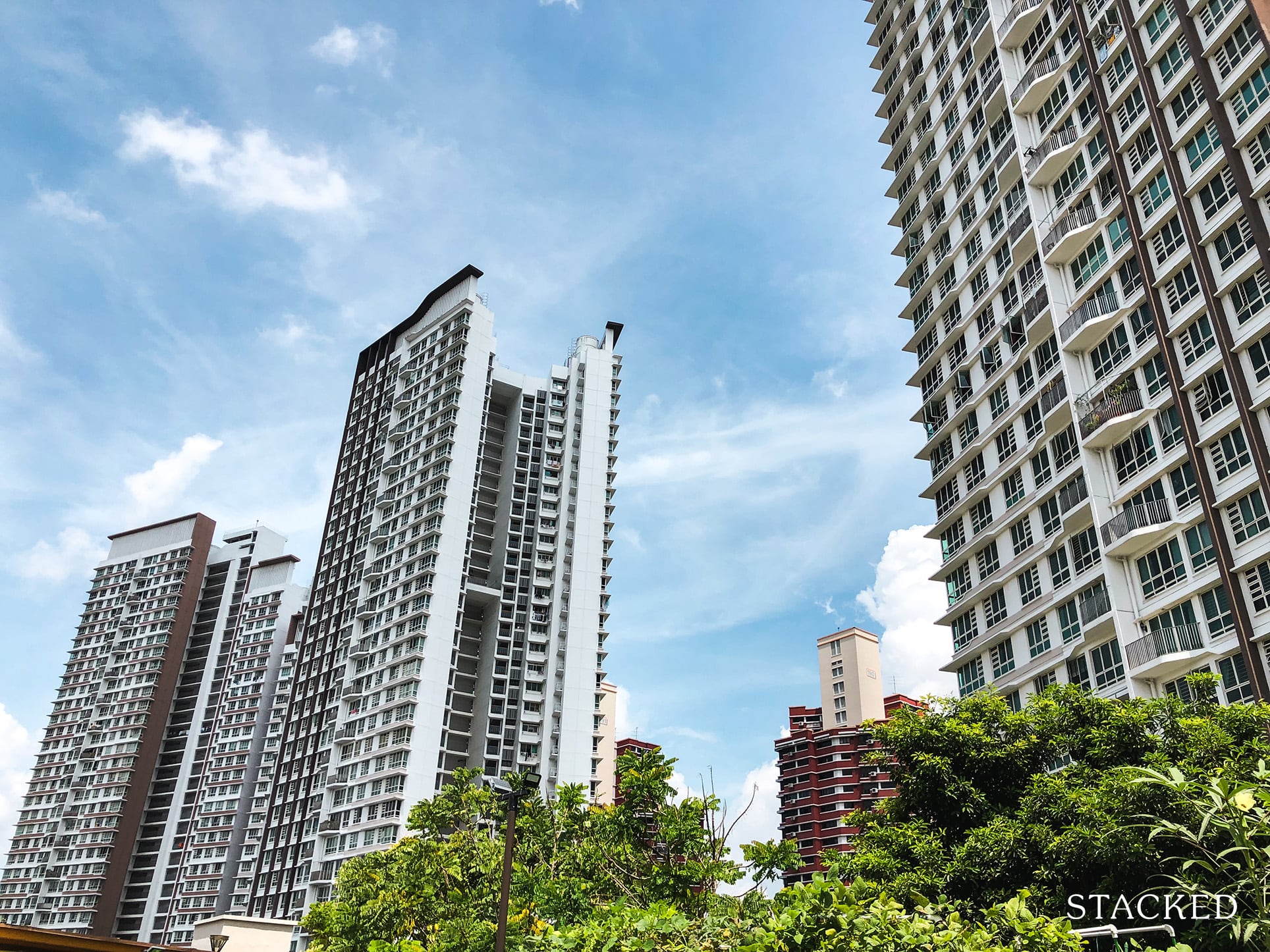 Overall, I really like the design of the buildings here. It sports a very modern look, with a clean white and brown colour scheme that's accompanied by sleek lines at the top.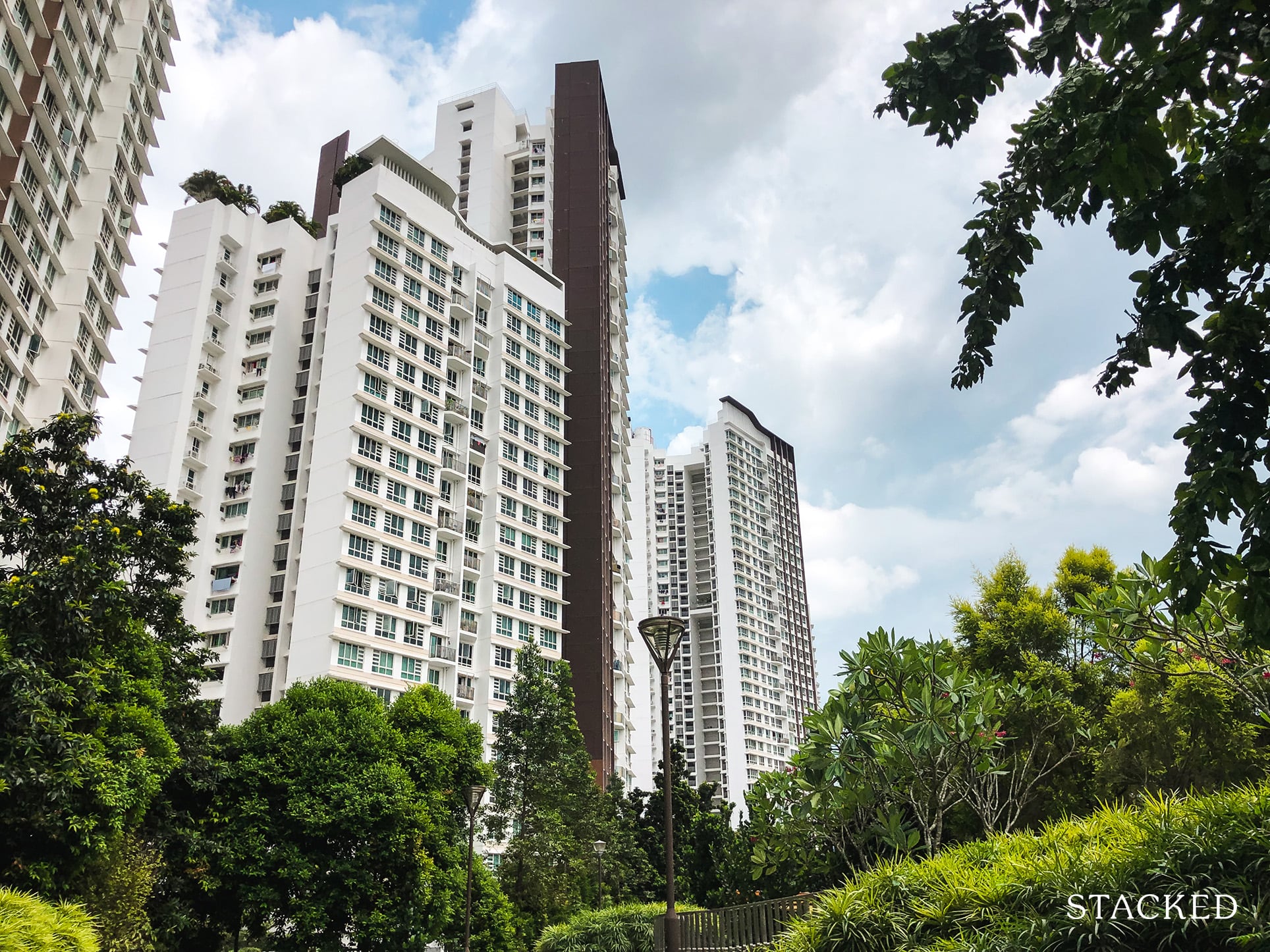 The design is also consistent throughout the development, like at the MSCP as I pointed out earlier. Even the benches in the seating areas are customised to reflect the curved line design that's distinct to Skyline I & II: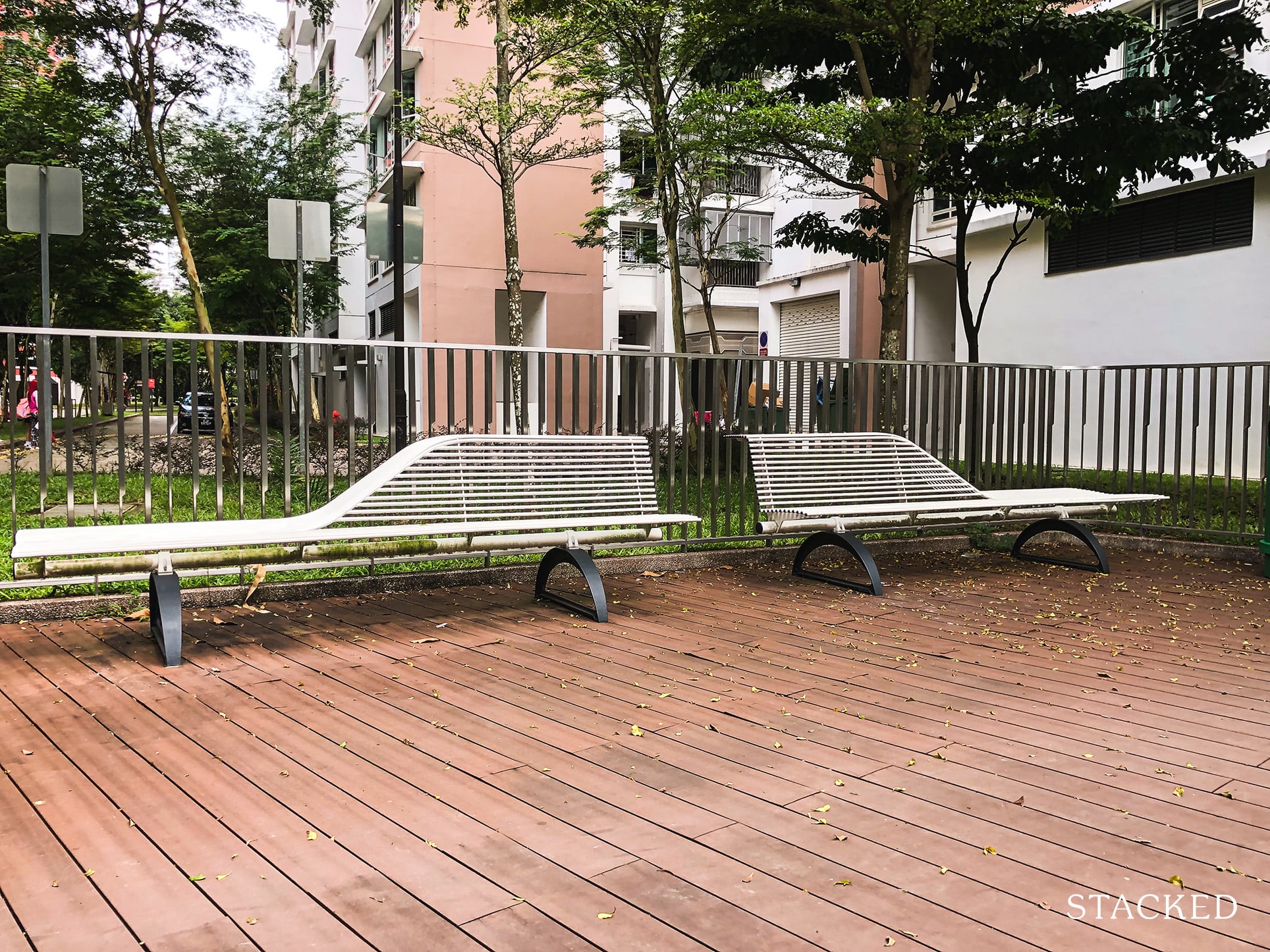 The facade is also an interesting one given the way the balconies alternate, giving it a nice varied look at a glance.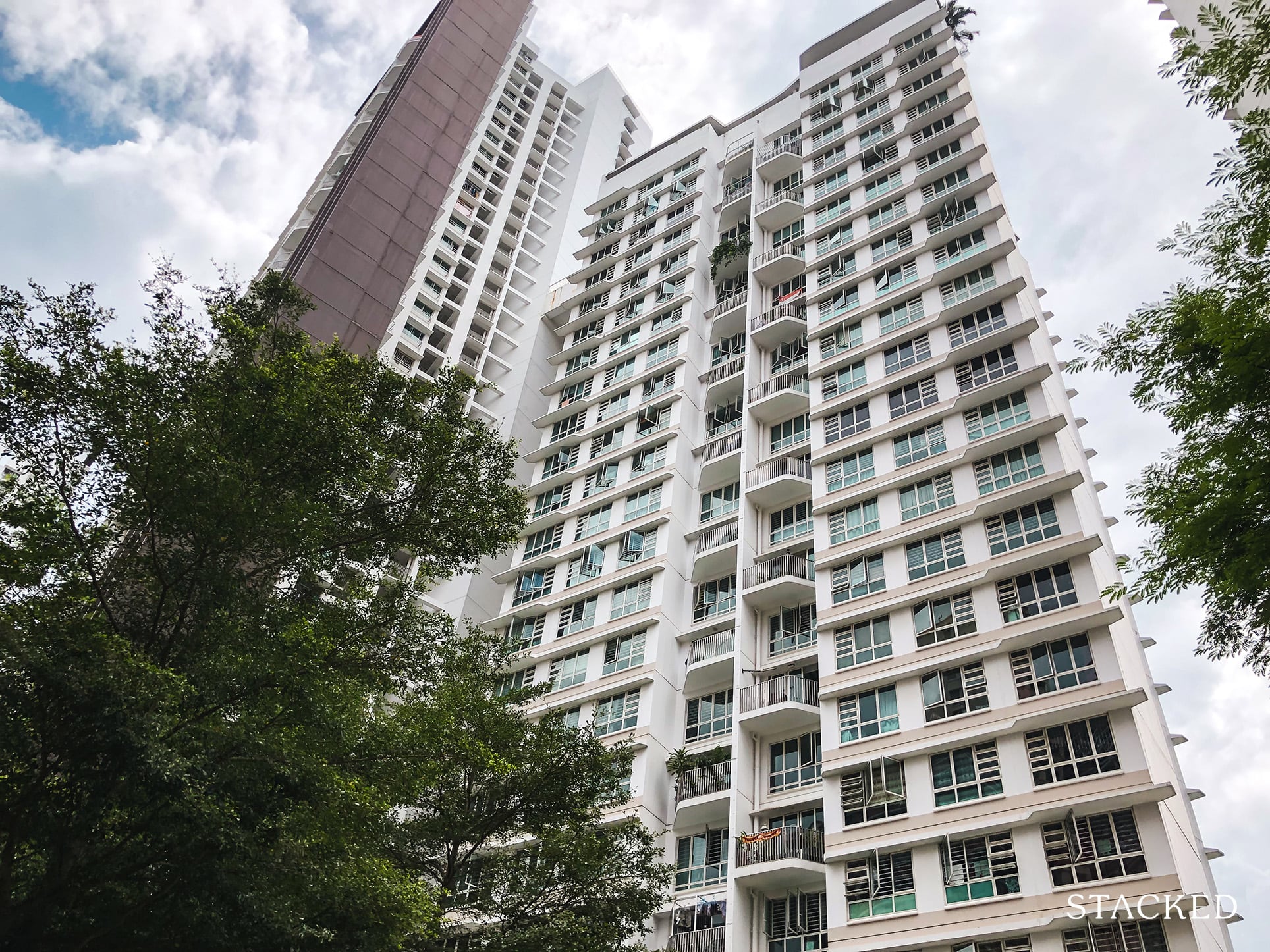 And while most of the land is taken up by the carpark and residential blocks, I would say that the area still feels very open since there isn't any other high-rise around except for the residential blocks on one side.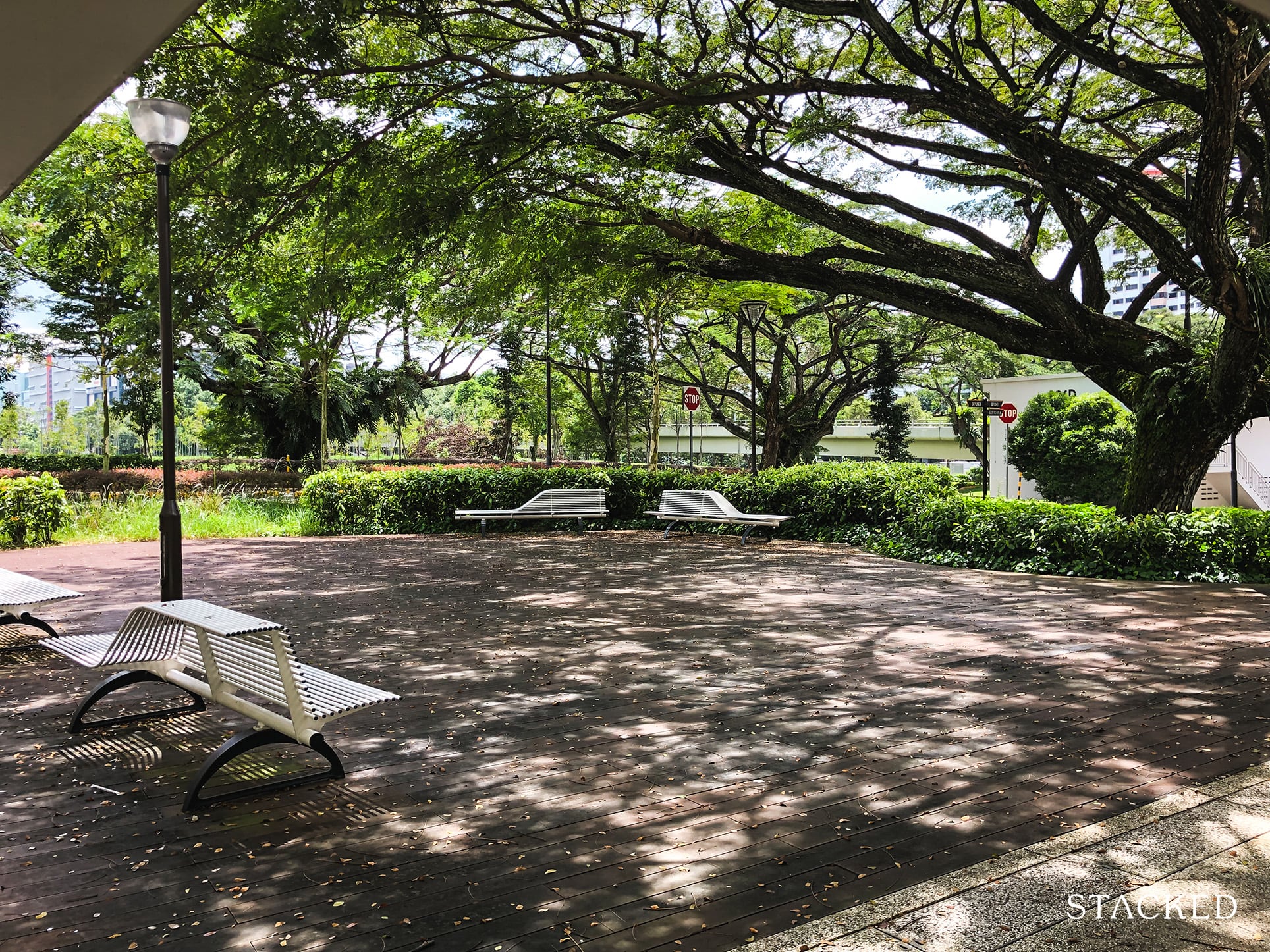 There are even open spaces here with lots of mature trees, giving it a very homely feel which reminds me of the trees in the mature estate of Queenstown.
Unit Mix
| | | | | | | |
| --- | --- | --- | --- | --- | --- | --- |
| Project | Block | No. of Storeys | 3 Room | 4 Room | 5 Room | Total |
| Skyline I | 194A | 23/36 | – | 88 | 124 | 212 |
| | 194B | 27/32/36 | 78 | 128 | 70 | 276 |
| Skyline II | 296A | 25/38 | – | 92 | 132 | 224 |
| | 296B | 27/30/33 | 136 | 61 | 64 | 261 |
| | 296C | 38 | – | 148 | 111 | 259 |
| Total | | | 214 | 517 | 501 | 1232 |
Stack Analysis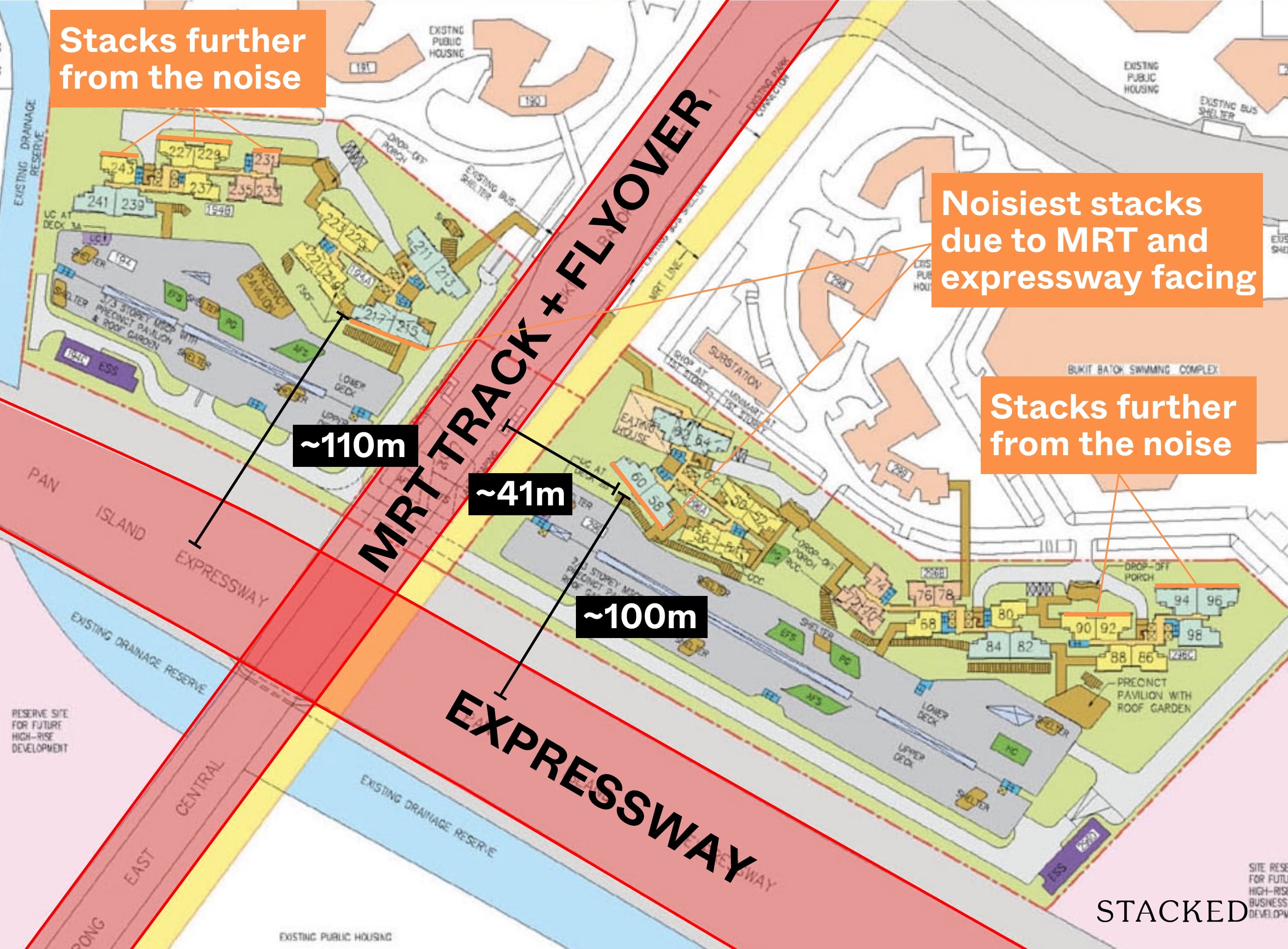 When it comes to Skyline I & II, it's clear that noise is the main cause of concern here. The MRT-flyover-highway combination is definitely not a pleasant one, and probably one of the worst combinations I've seen.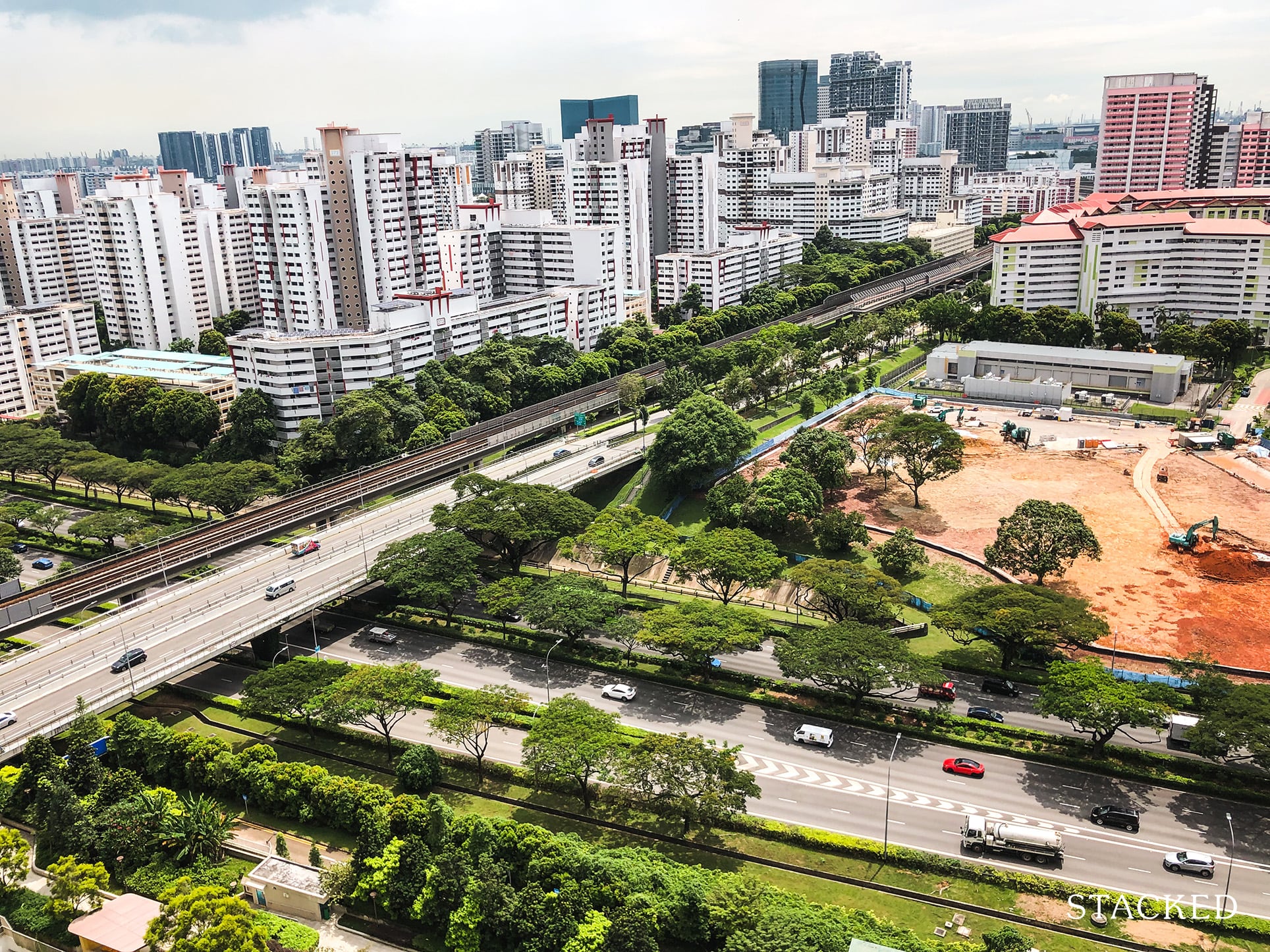 This means that stacks 217, 215, 60 and 58 are likely to bear the brunt of this audacious setup. It's about 100m away from the expressway, and about 40m from the flyover and the MRT track. While the MSCP does play a part acting as a buffer, the distance just isn't great enough to block out the noise. I do expect that lower floor units would be quieter here since sound travels up and outwards.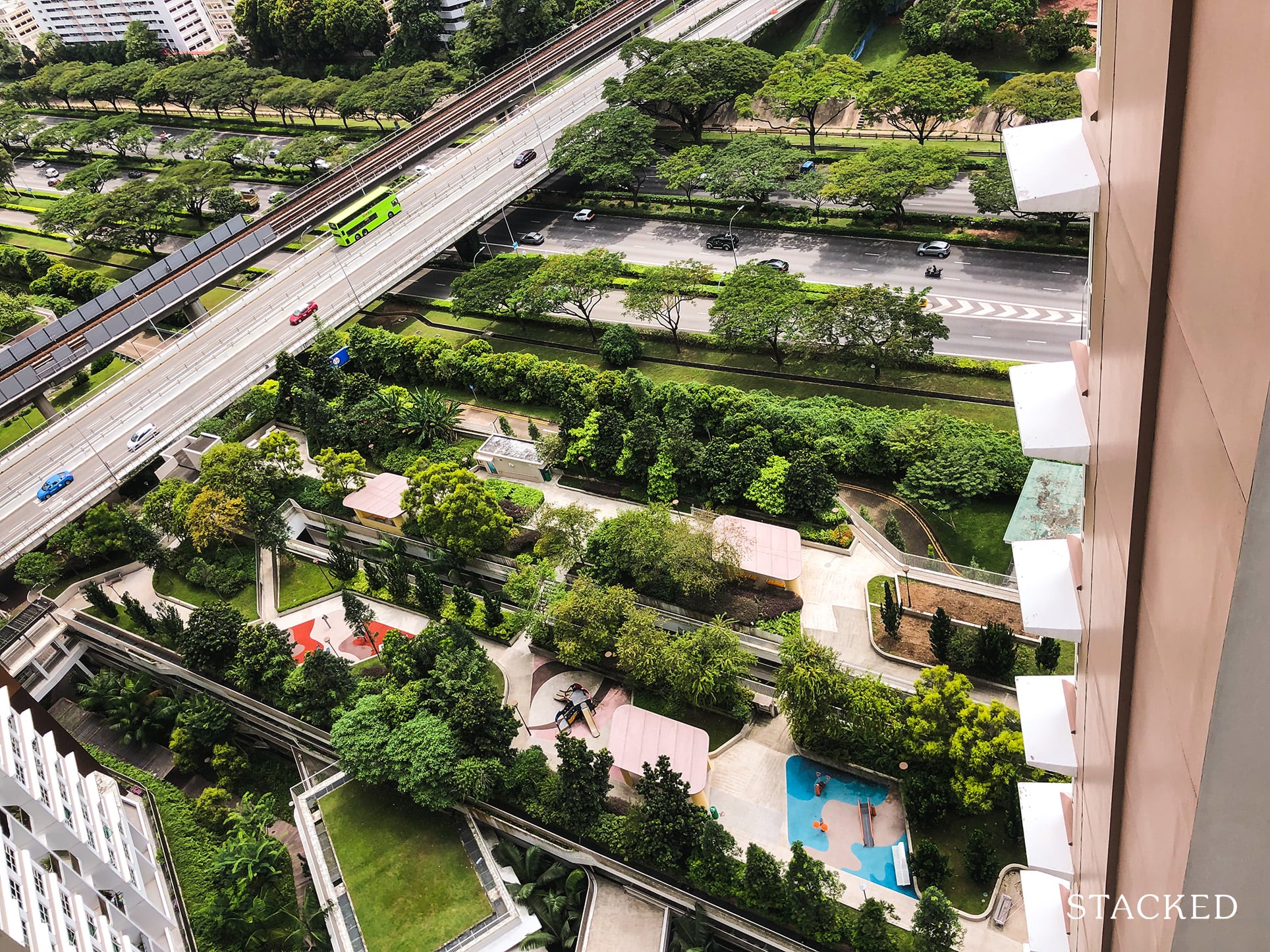 All other south-facing stacks face the expressway directly.
The least noisy stacks would have to be on the extreme ends facing away from the expressway. These are stacks 90 – 96, 227 – 229, 231 and 243. These stacks face north and are furthest from the MRT.
Skyline I Price Review
| | | | | |
| --- | --- | --- | --- | --- |
| Project | Lease Start Date | 3 Room | 4 Room | 5 Room |
| 185 – 193 Bt Batok West Ave 6 | 1989/97 | – | $410,000 – $500,000 ($411 psf) | $600,000 – $635,000 ($479 psf) |
| 620 – 622 Bt Batok Ctrl | 2003 | – | – | $665,000 – $720,000 ($579 psf) |
| Skyline I @ Bukit Batok | 2017 | $440,000 – $478,000 ($624 psf) | $590,000 – $710,000 ($632 psf) | $745,000 – $900,000 ($652 psf) |
Source: HDB. Transactions from December 2020 – November 2021.
Skyline II prices are not available as it's still within 5 years from the key collection.
For our pricing comparison, I've taken the immediate HDBs around Skyline I @ Bukit Batok which are HDBs built in the late 80s and 90s, as well as those that are next to Bukit Batok MRT.
At first glance, $630,000 for a 4-room flat may seem pricey for a non-mature estate. Senja Parc View is just 2 years older and is located in Bukit Panjang (9 minutes by bus to the MRT) and costs an average of $496,000.
However, both locations aren't comparable. The Bukit Panjang/Choa Chu Kang area is considered west, but it does not have the same connection to Jurong as Bukit Batok does.
As such, many of those who want to stay in a new HDB flat but close to Jurong aren't left with much of a choice, and at the moment, Skyline I seems to be one of the few options.
And unlike the Choa Chu Kang or Bukit Panjang area, Bukit Batok has benefitted from the positive spillover effects of the Jurong Regional Line and the growth of the Jurong Lake District which is why we think prices here can afford to be higher.
The highest transacted here so far is a 5-room flat that's located between the 34th to 36th storey that went for $900,000 – inching quite close to the million-dollar mark (can you imagine a million-dollar HDB flat in Bukit Batok?!).
Those looking to stay in a more convenient locale nearer to Bukit Batok can consider the units at 185-193 Bukit Batok. These are about 20-30 years old and the 5-room flats cost about as much as the 4-room flats in the further out Skyline I @ Bukit Batok.
Our Take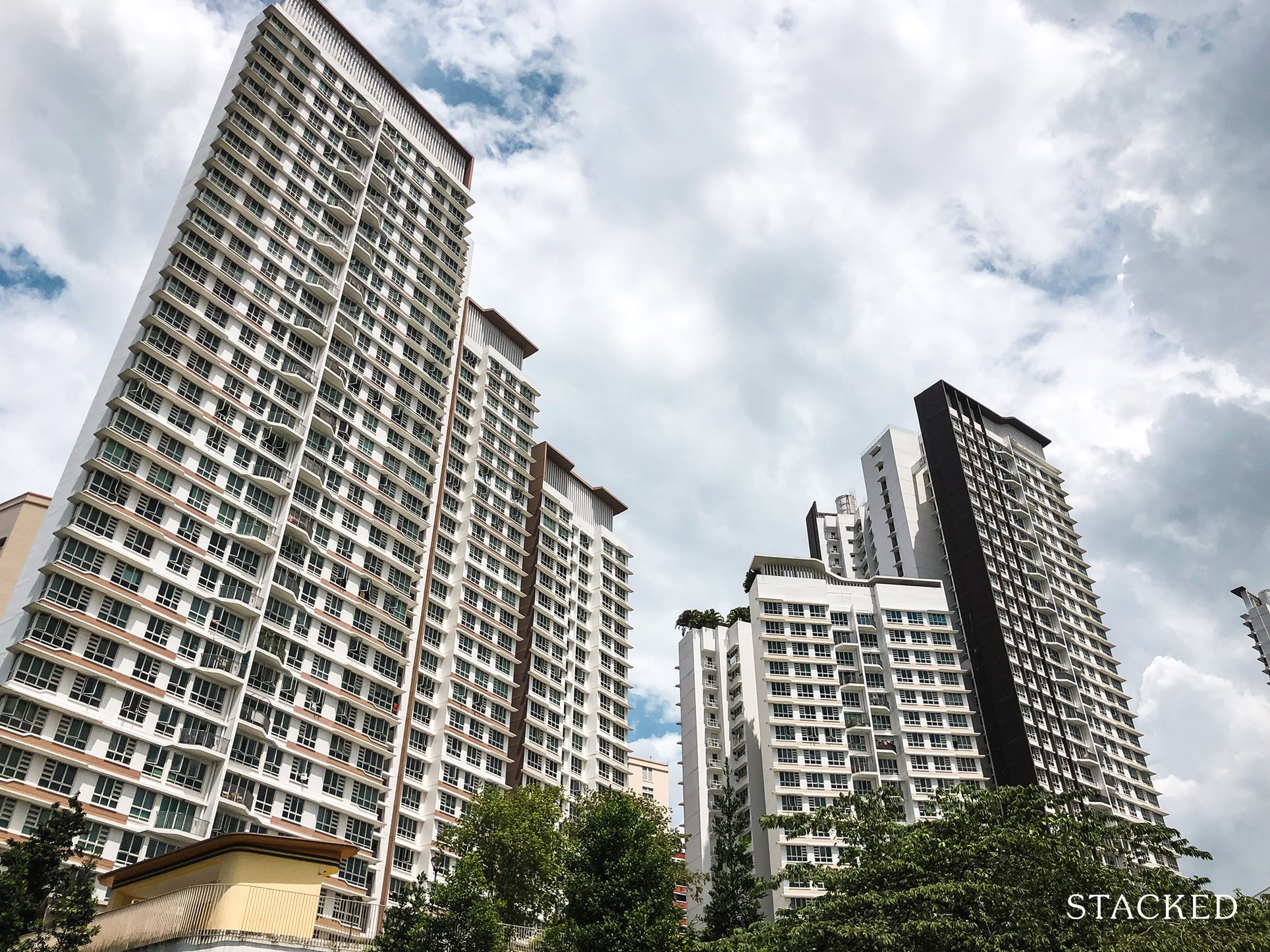 If I had to sum up Skyline I & II @ Bukit Batok, I would say that it's sort of a jack of all trades.
It's close to parks and it is right next to the Park Connector, making it accessible to nature. Yet, it's also fronting the expressway, MRT tracks and flyover – and it could not be more urban than that!
It is almost a self-sustaining development with its own Kopitiam eating house, other F&B options and a minimart. Yet what it does lack is a major supermarket.
There's at least 1 mall that's within walking distance (7-10 minutes) though it is unsheltered all the way through. The bus journey there would be much more comfortable though, especially during wet weather.
There are other malls at Jurong East, but they are about a 15-20-minute journey (by bus, in total). So while it is an attractive amenity, it's not quite close enough to be considered within convenient reach.
The development also offers unblocked views, but in all honesty, I have seen better views elsewhere, so while I do appreciate the unblocked view, it's certainly not the main draw for me.
Overall, this development is really more about the location and what you are used to. If you are looking to stay in a new, west-side development that is close to Jurong and is somewhat convenient, then Skyline I & II may be for you.
But if you are looking for some peace and quiet away from the traffic, I would be very careful about the facing of the block – if not there are definitely better-suited developments elsewhere.
What this means for you
You might like Skyline I & II if you:
• Want a new HDB in the west:For Westies looking to stay in a new development, there just aren't that many to choose from which has a good connection to Jurong.
• Need convenience to amenities:With its own F&B, clinic and minimart, as well as its proximity to 5 malls, Skyline I & II may suit those who prioritise convenience without having to fork out too much for a central location.
You may not like Skyline I & II if you:
• Want peace and quiet:Skyline I & II's proximity to the MRT tracks, expressway and flyover is a constant source of noise that will stay for a long time.
• Want a great view:While the views are mostly unblocked all around, the cityscape surrounding the development isn't particularly inspiring. Those looking for a good view in the west should consider the greenery found Bukit Panjang instead.
End of Review