Condo Reviews

Paterson Suites Review: Possibly The Best View in Orchard
Reuben
December 30, 2019

21

min read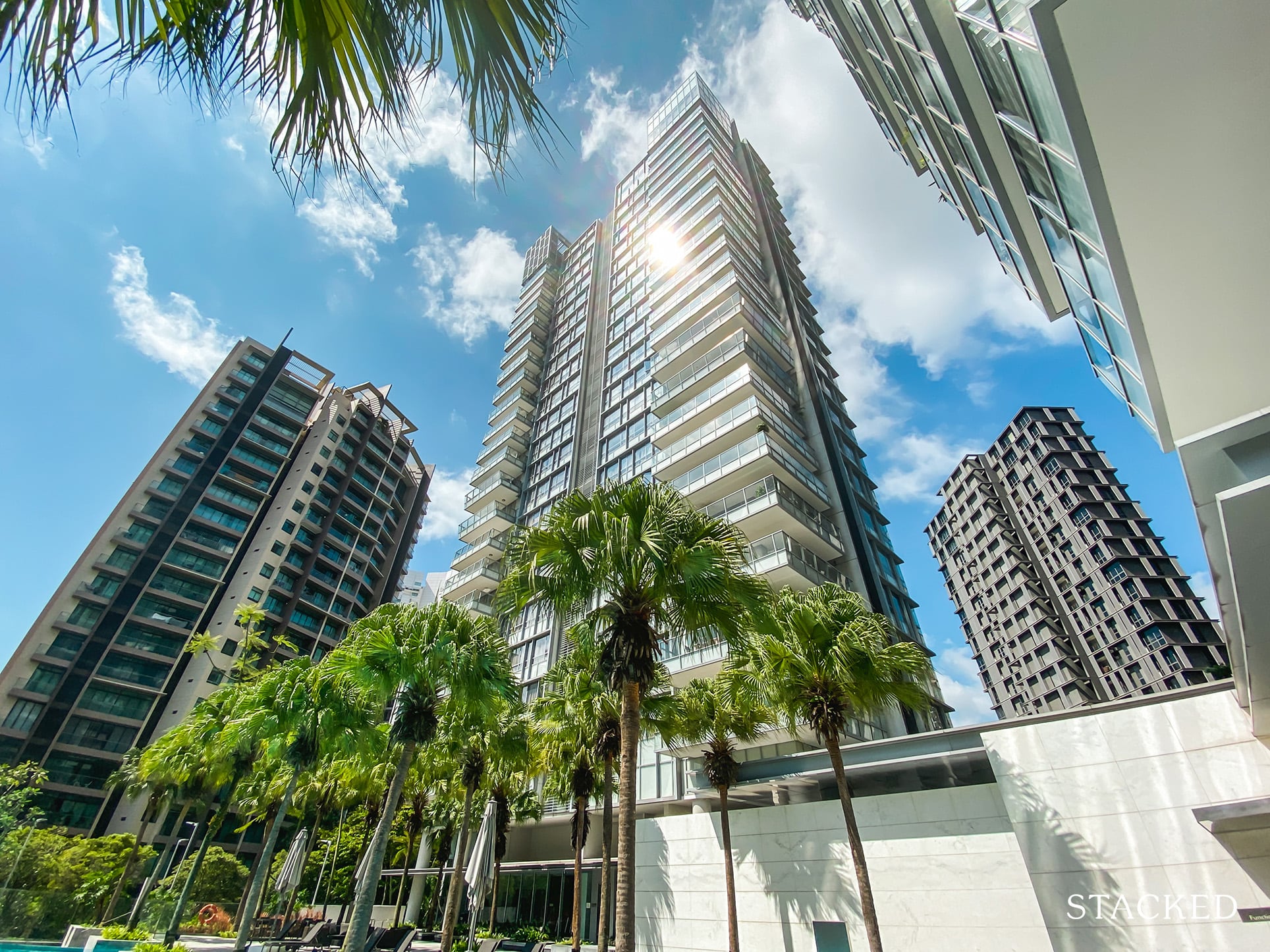 Paterson Suites is great for those who appreciate seclusion in a glitzy district and value exclusivity, however for those who truly value larger development space as well as peace and quiet, it's best to give this town area a miss.
Reviewed by Reuben on December 30, 2019
What we like
Privacy in Orchard

Walking distance to MRT

Good facilities for no. of units
What we don't like
—

Future view might be hampered
21
min read
About this condo

| | | | |
| --- | --- | --- | --- |
| Project: | Paterson Suites | District: | 09 |
| Address: | Paterson Road | Tenure: | Freehold |
| Site Area: | 86,524 sqft | No. of Units: | 102 |
| Developer: | Bukit Sembawang Estates Ltd | TOP: | 2011 |
'Luxury in the heart of Orchard' – nothing new there. Add in privacy-emphasis, a couple of open-spaces, as well as larger-than-average facility offerings and the freehold boutique residential, suddenly comes to life as a development matched by surprisingly few.

Just over a hundred households spread across (duo-towered) 22 luxuriously-designed storeys make up the total residential unit here at Paterson Suites.

2 years shy of a decade old, the lavish offerings in the condo's grounds emit a sense of timelessness paralleled only by stunning hotel and luxury residential projects worldwide. With expert maintenance also at play here, it is with little wonder that the development continues to bedazzle both its residents and visitors today.

Yet boasting more than just an incredible location and luxurious vibes, Paterson Suites actually has an interesting seller's history that dates back a couple of years.

At that time, 'guaranteed rental schemes' were prevalent – mostly as a 'safety net' for uncertain foreign investors.

Developers Bukit Sembawang (and later bulk-buying investors RECAP) were no different in rolling out these incentives for its remaining 19 unsold units in 2012 as an alternate choice to a 10% new launch discount (spoiler: most of them took the discount).

Within the next few months, all but the penthouse units were snapped up – a worthy attest of the development's pull amidst smooth marketing tactics.

While the condo has no doubt depreciated in quantum value over the years (due mainly to nearby construction and novelty wear-off), homeowners in the market for a freehold (yet central), uncluttered luxury offering can take heart in knowing that a rare project like Paterson Suites still exists today.

Perhaps more striking is the fact that quantum appreciation looks to be very much on the cards for the development in the coming months.
Paterson Suites Insider Tour
Facilities in Paterson Suites
50m lap pool
Reflective ponds
Spa pool
Lounge pools with spa seats
Kids pool
Lounge pavilion
Teppanyaki pavilion
Tennis court
Barbecue area
Lawn
Outdoor fitness area
Function room
Gym
Putting green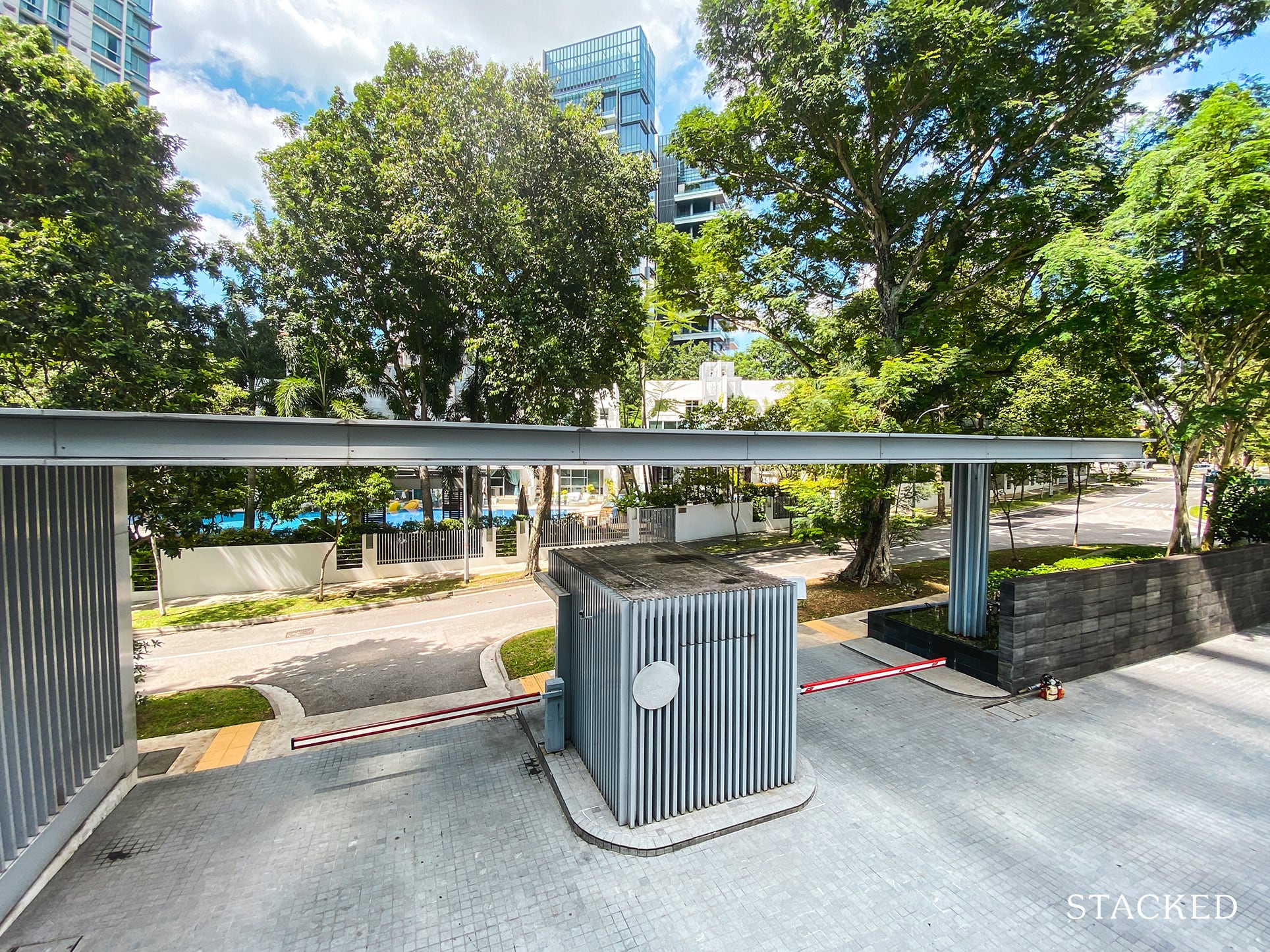 With many condos nowadays breaching the 4 digit number in terms of units (think Parc Esta/Parc Clematis), it's fair to say that it is always refreshing to see one that has ever so slightly just passed the 3 digit mark (102, to be exact). Situated on the relatively unassuming Paterson Road, the Paterson Suites is a very interesting proposition to me. The location can almost be described as perfect if you want the Orchard Road address, yet still crave some privacy. As you can see from the entrance, it's rather quiet as there are only three condos along this road. Save for those pesky chauffeured cars that sometimes wait along this road, you certainly won't be encountering much traffic here.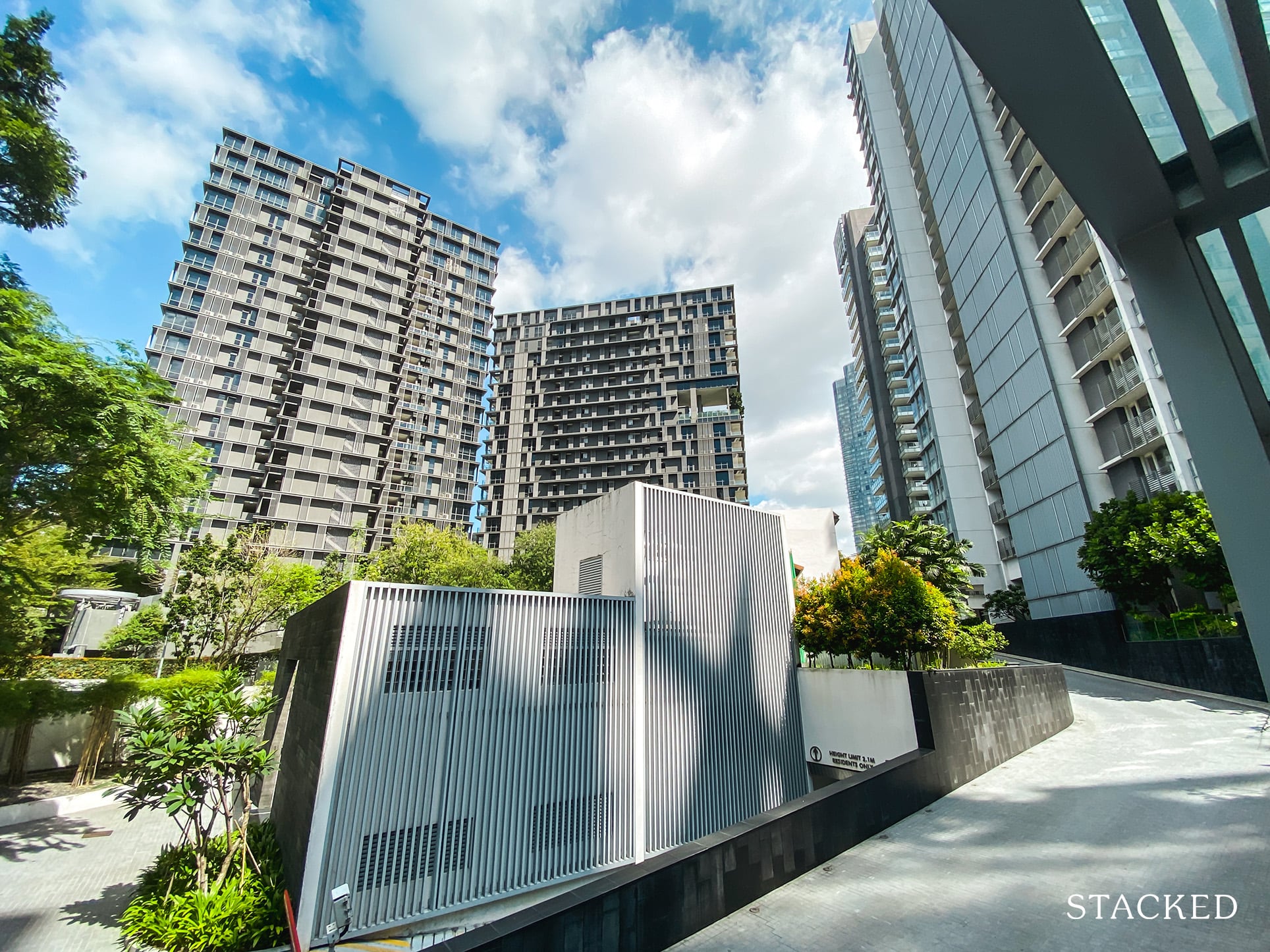 I've always thought that sloping driveways are so much more grand (see the Loft Condo), and the one at Paterson Suites is no exception. In fact, it is a notch better for visitors here, seeing how long and purposeful it is. Sadly residents don't get this "VIP" treatment, as the entrances to the underground carpark are right at the bottom.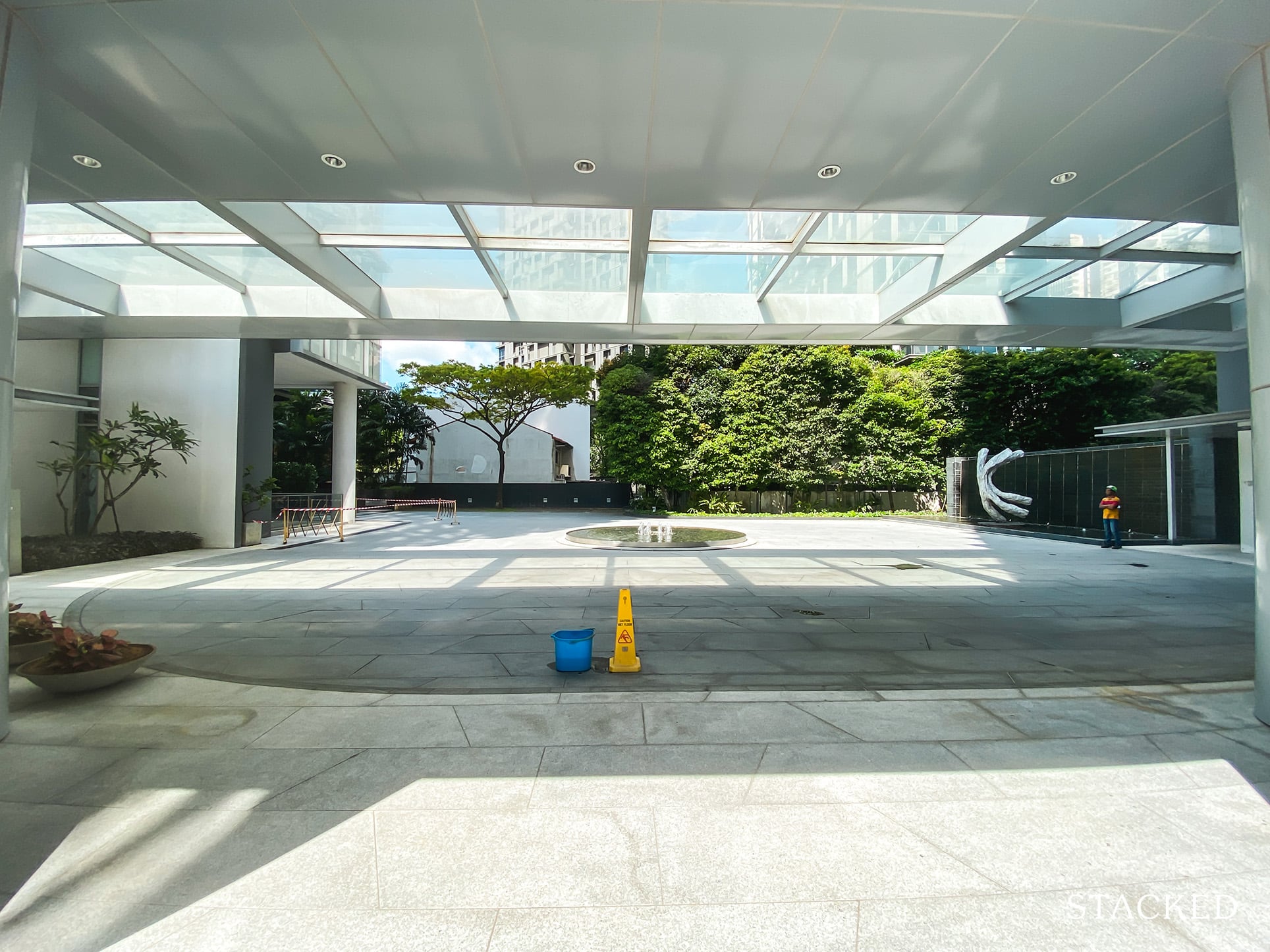 Apologies for the slight discrepancy in the middle maring this gorgeous arrival/drop off point. Random ugly yellow things aside, the huge expanse of space makes it feel suitably high-end. It's sleek, minimalist, and definitely makes you feel like you've arrived at a posh development.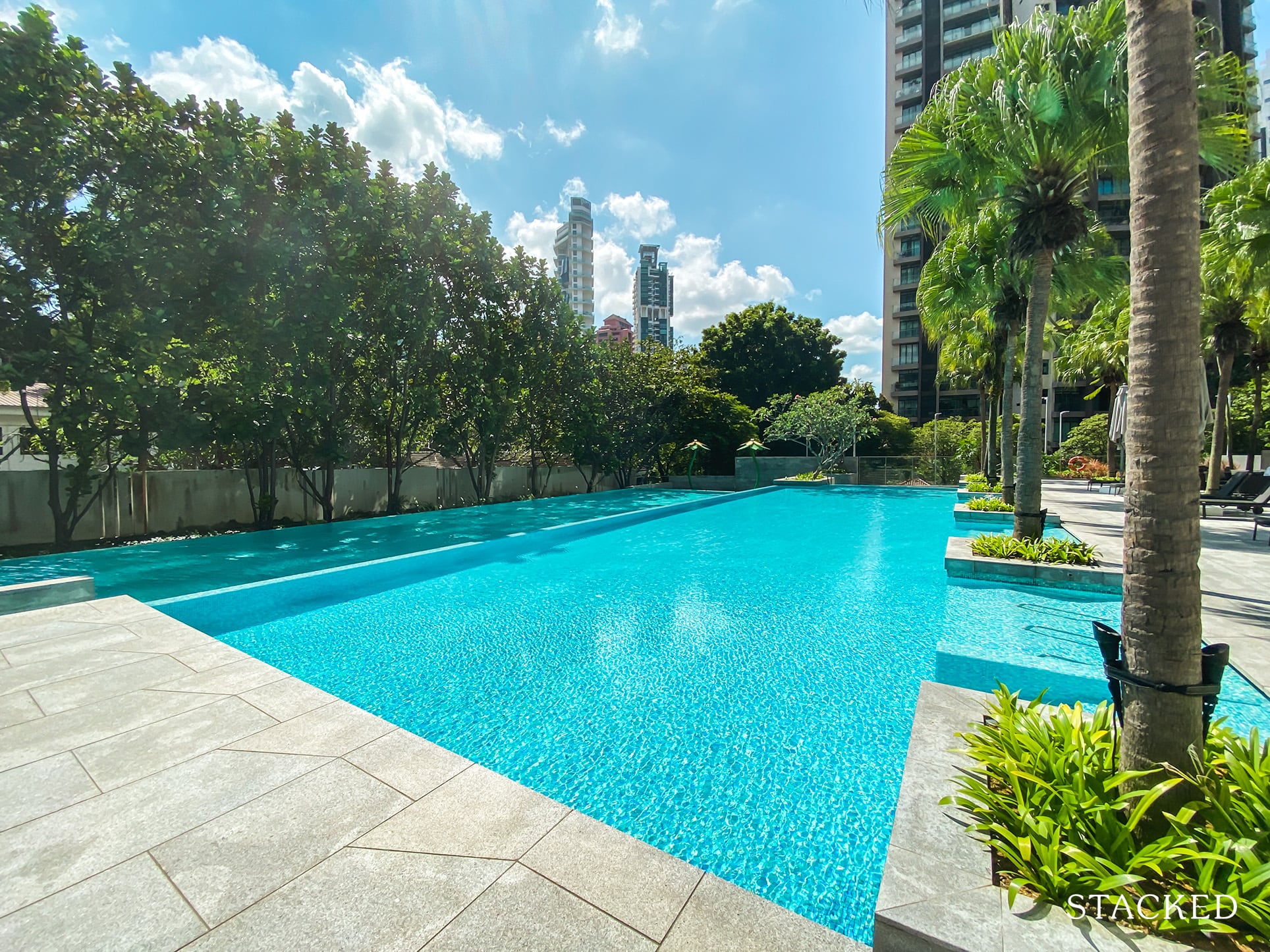 One of the best features of the Paterson Suites is undoubtedly the swimming pool. It's a 2-tiered infinity pool, and it is outrageously oversized for only 102 units. In fact, condos way bigger would do well with a pool of this size.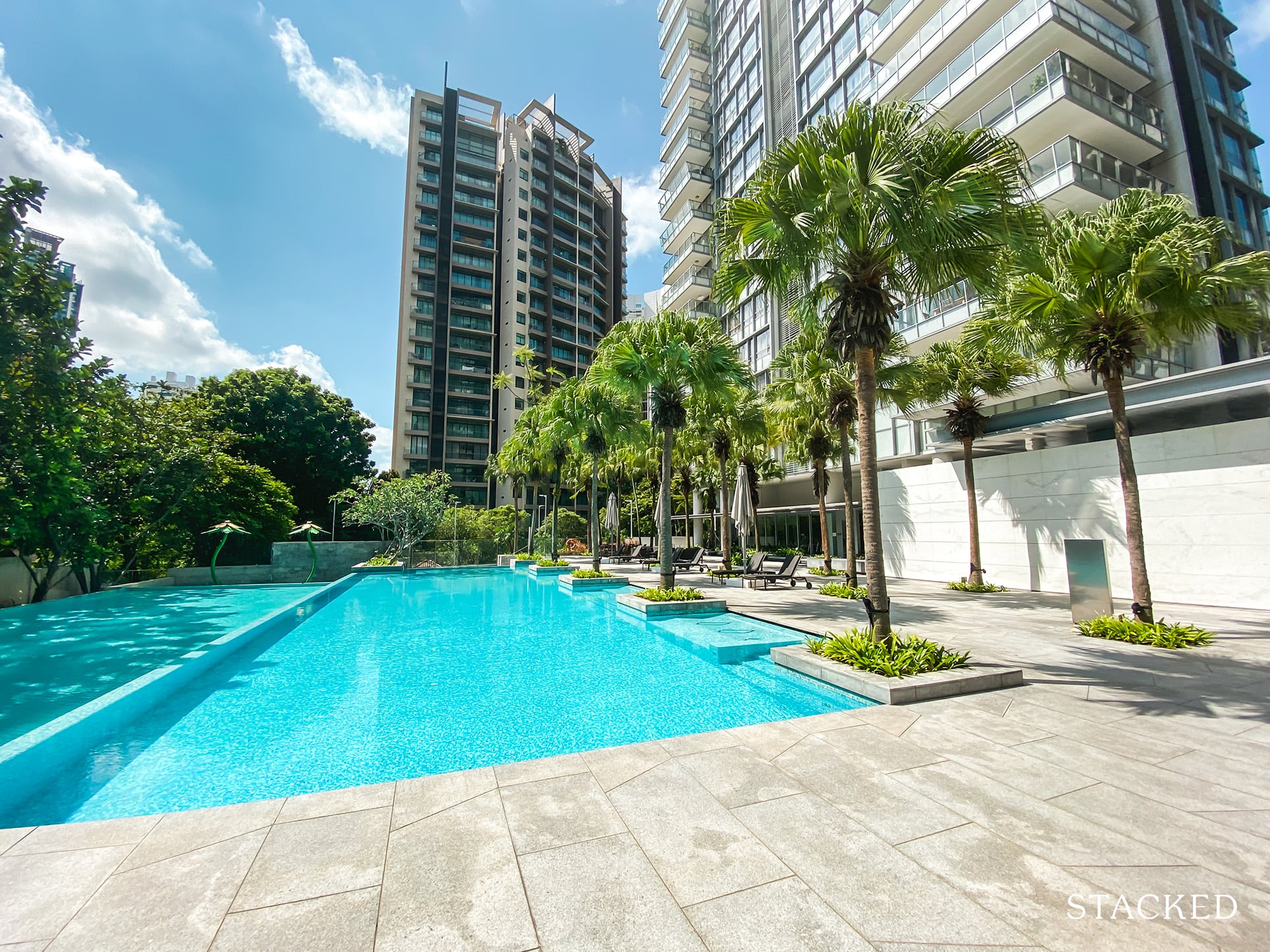 From here, you can see the posh ambiance that vibes from the poolside. It isn't your typical tropical-looking scene, but instead emits a luxe, high-end (sophisticated) feel to it. If you like the modern, minimalist-luxury designs of hotels like Alila and Park Hyatt, this will definitely tickle your fancy.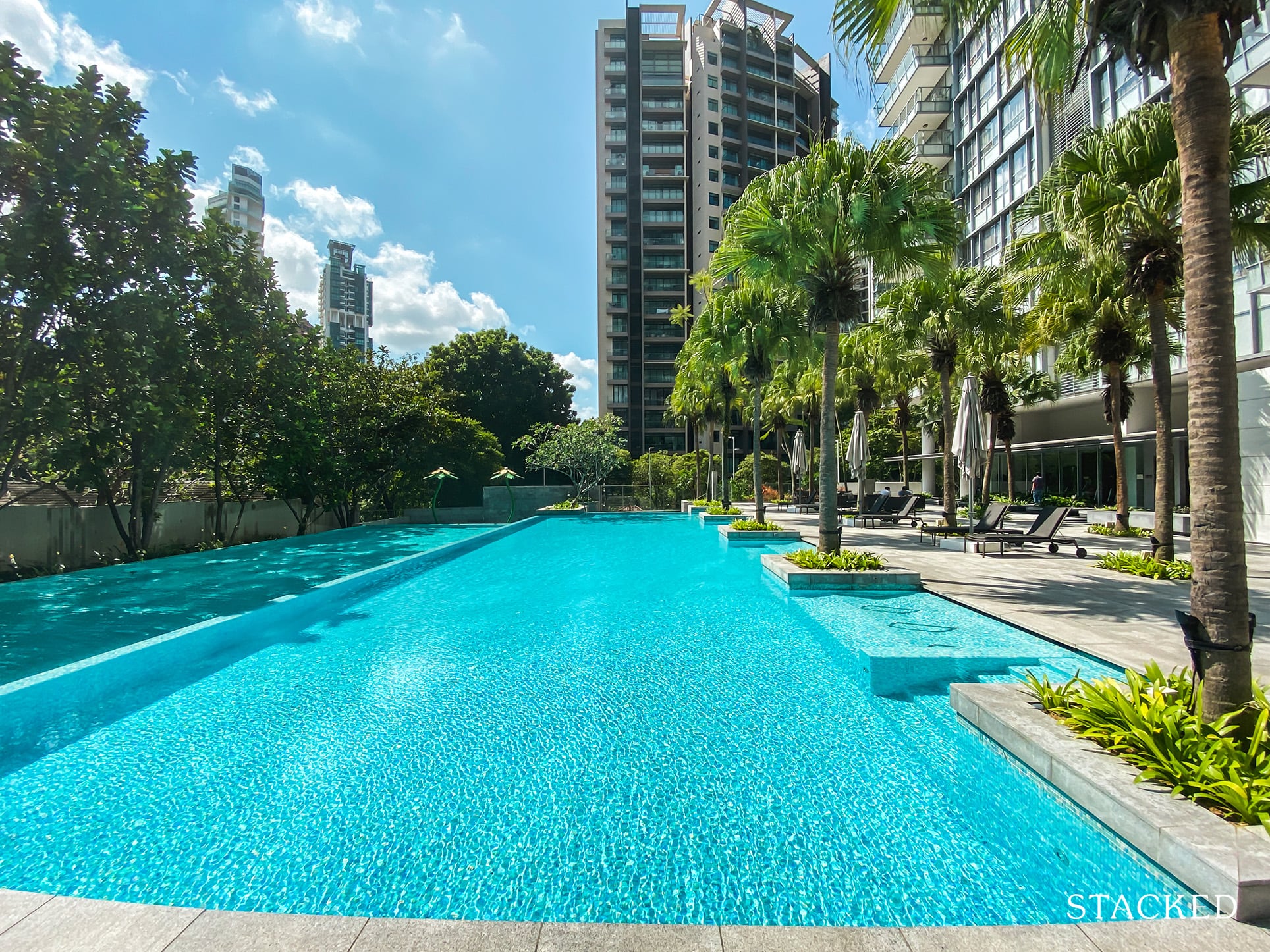 This pool that you see here is really more for you to lounge and relax in. By the steps, there are spa seats and beds, which can be a good alternative to suntan instead of the usual pool deck chairs.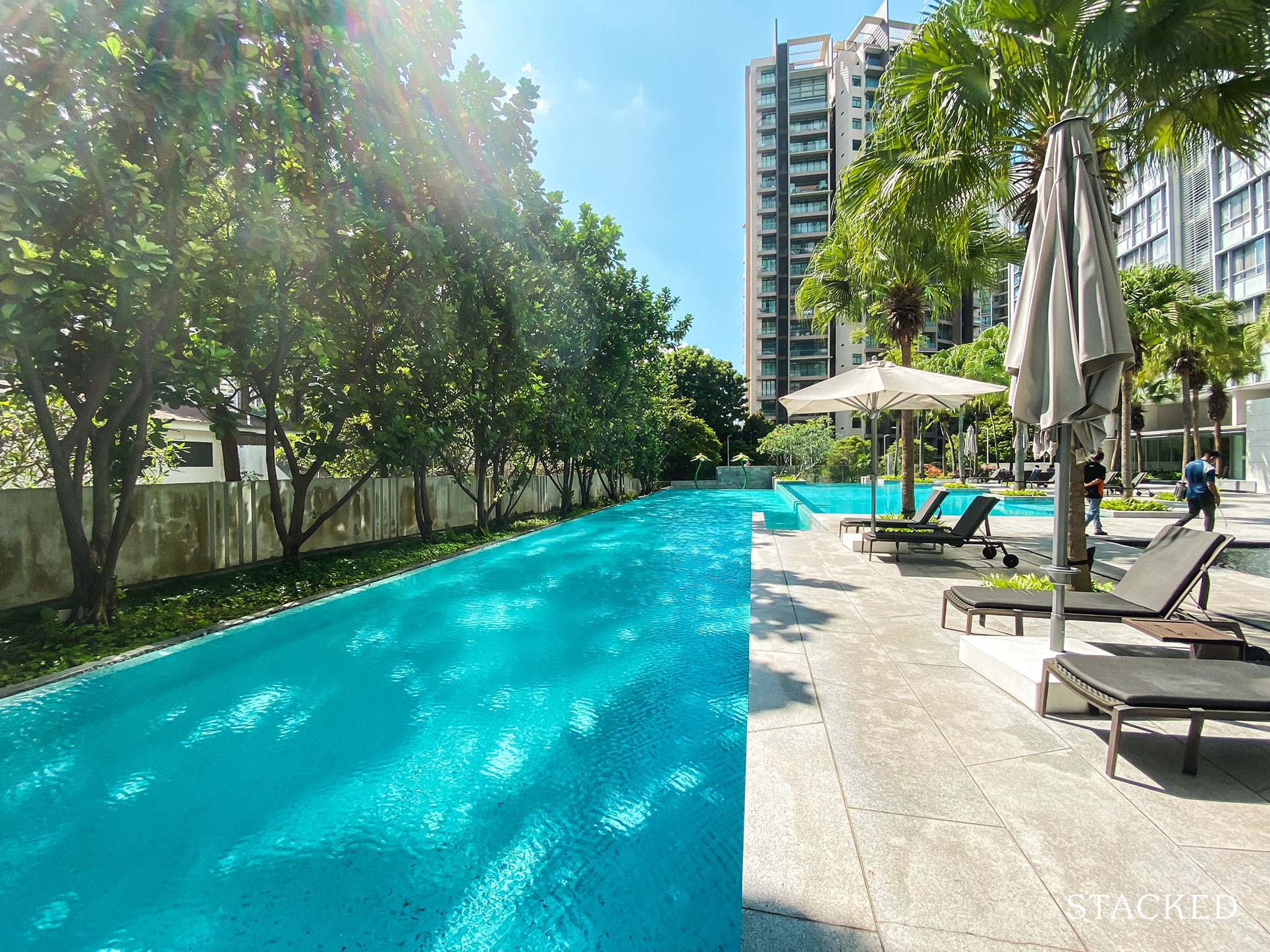 And as for the serious swimmers, there is a 50m lap (lower) pool for you to indulge in. Depending on the time of day, you might some shade from the row of trees adjacent to the pool. It isn't as wide as the lounge pool, but it's more than enough space for a couple of people to swim in without getting in each other's way.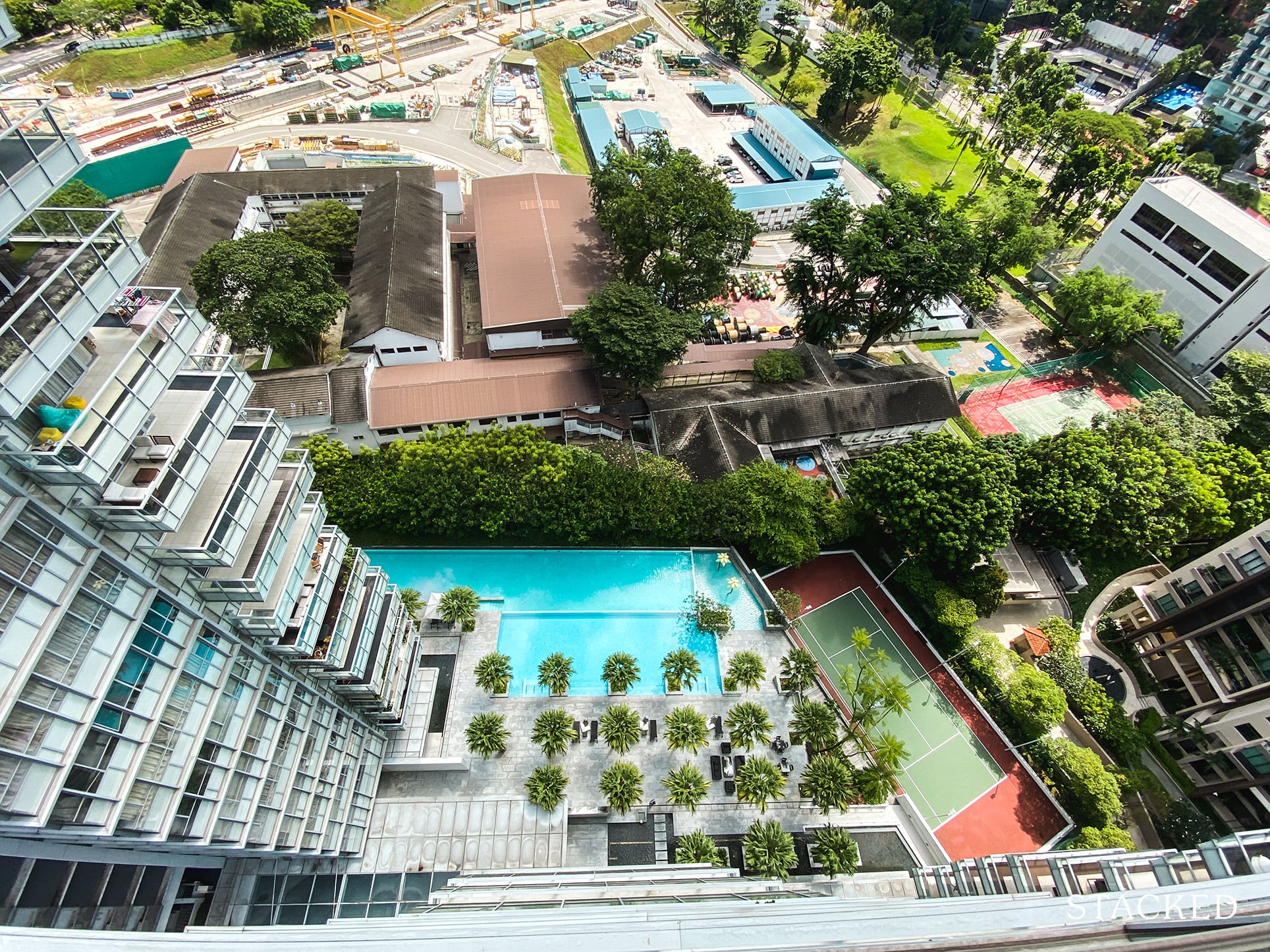 Here's a bird-eye's view to give you a better picture. To be frank, one of the more compelling things about the pool is really the privacy it offers. Beyond the pool is the low rise school blocks so you don't have any high rise buildings peeping in for the most part. Admittedly, the partial block of the Paterson condo can still look in, but in land-scarce Singapore, I'll take this any day.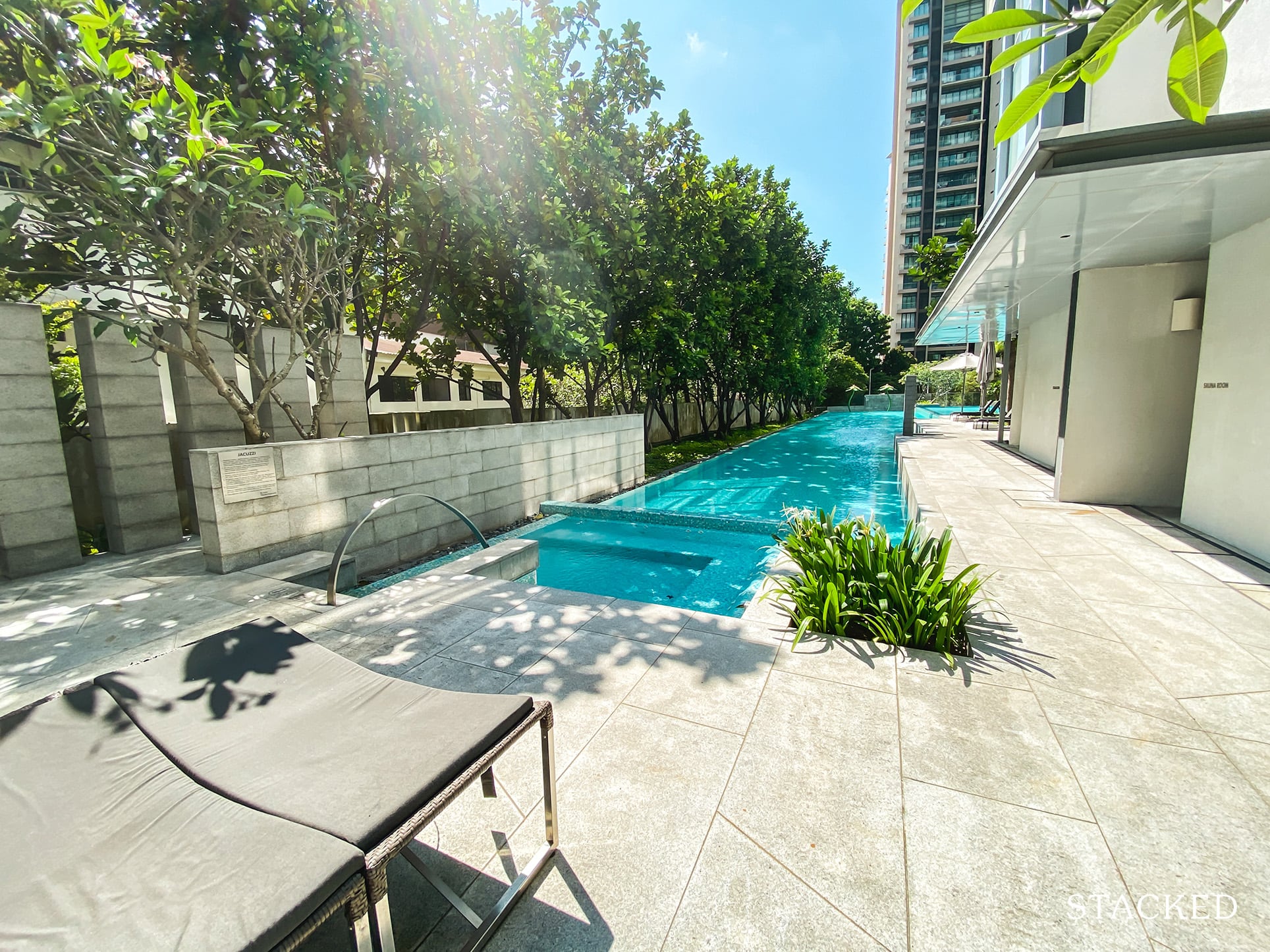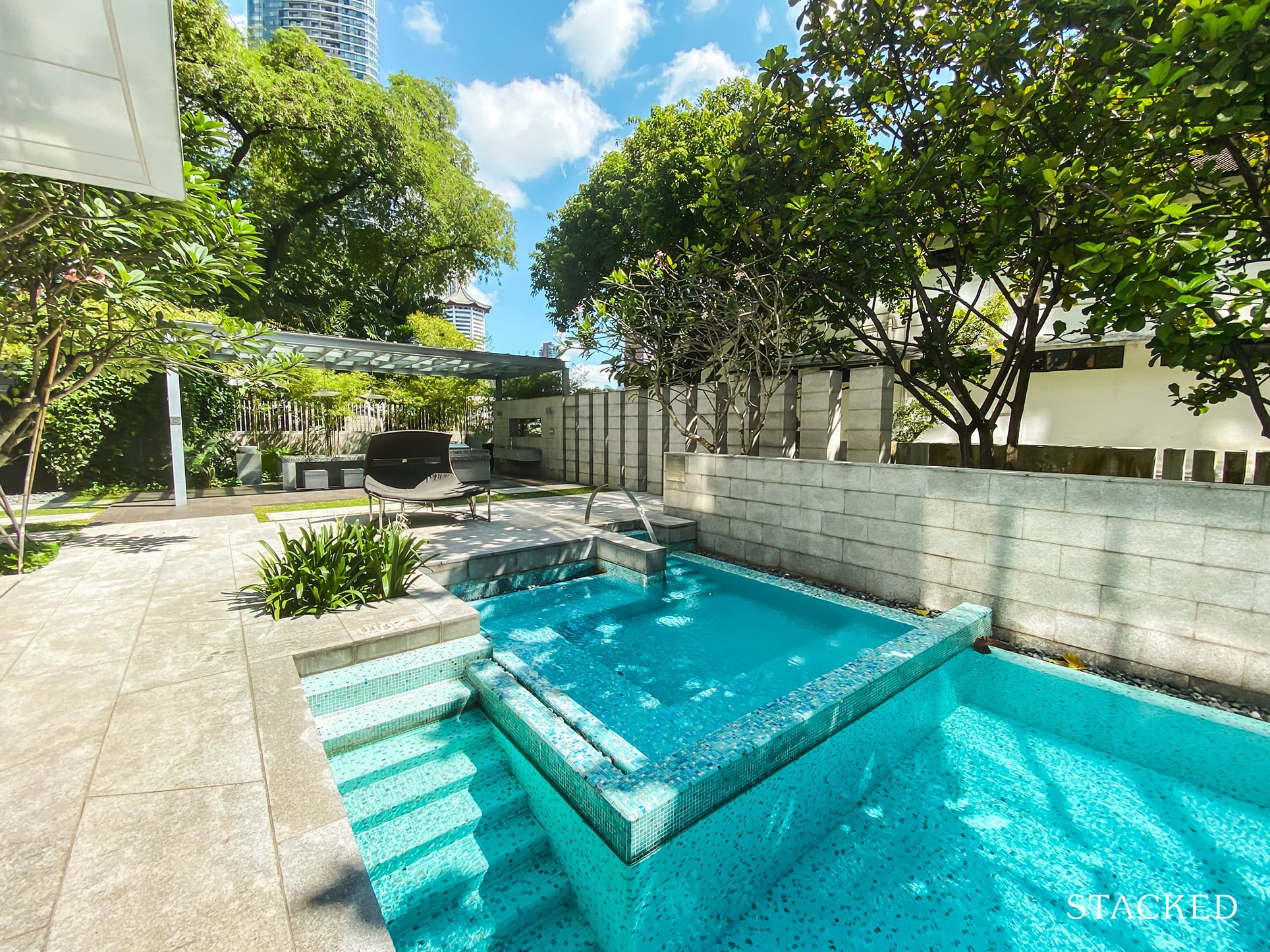 At the end of the lap pool is a small jacuzzi, where you can treat your sore muscles after those long laps. It's right by the corner so it's a little more private.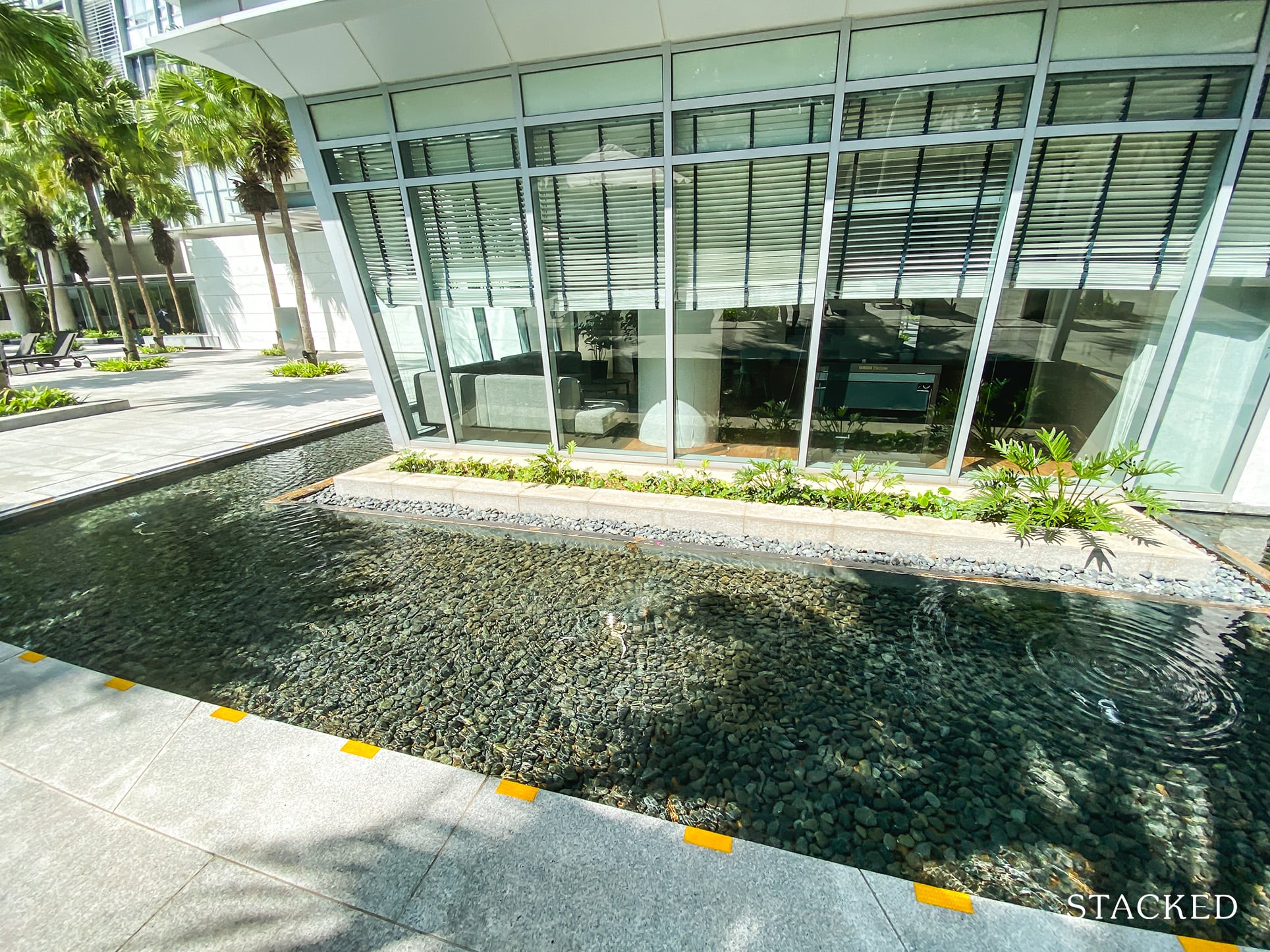 Before I get too far to the end, the function room is just next door to a shallow water feature. One good way to gauge how well a condo is maintained is through their water features/ponds/fountains. In this case, you can see that the water is kept clean and it still looks very well put together.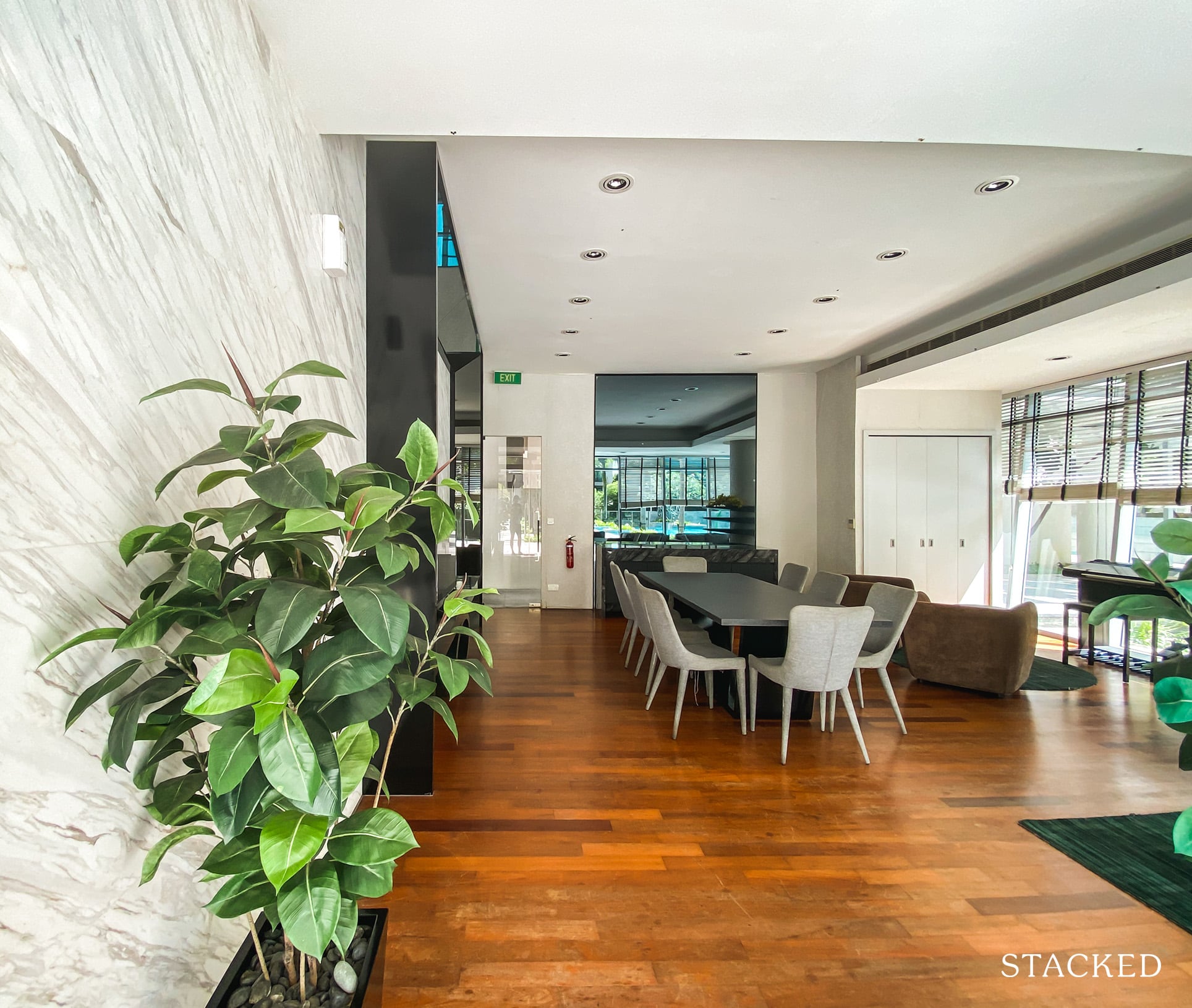 The function room has undertaken the less is more approach, but it really shows off the amount of space available.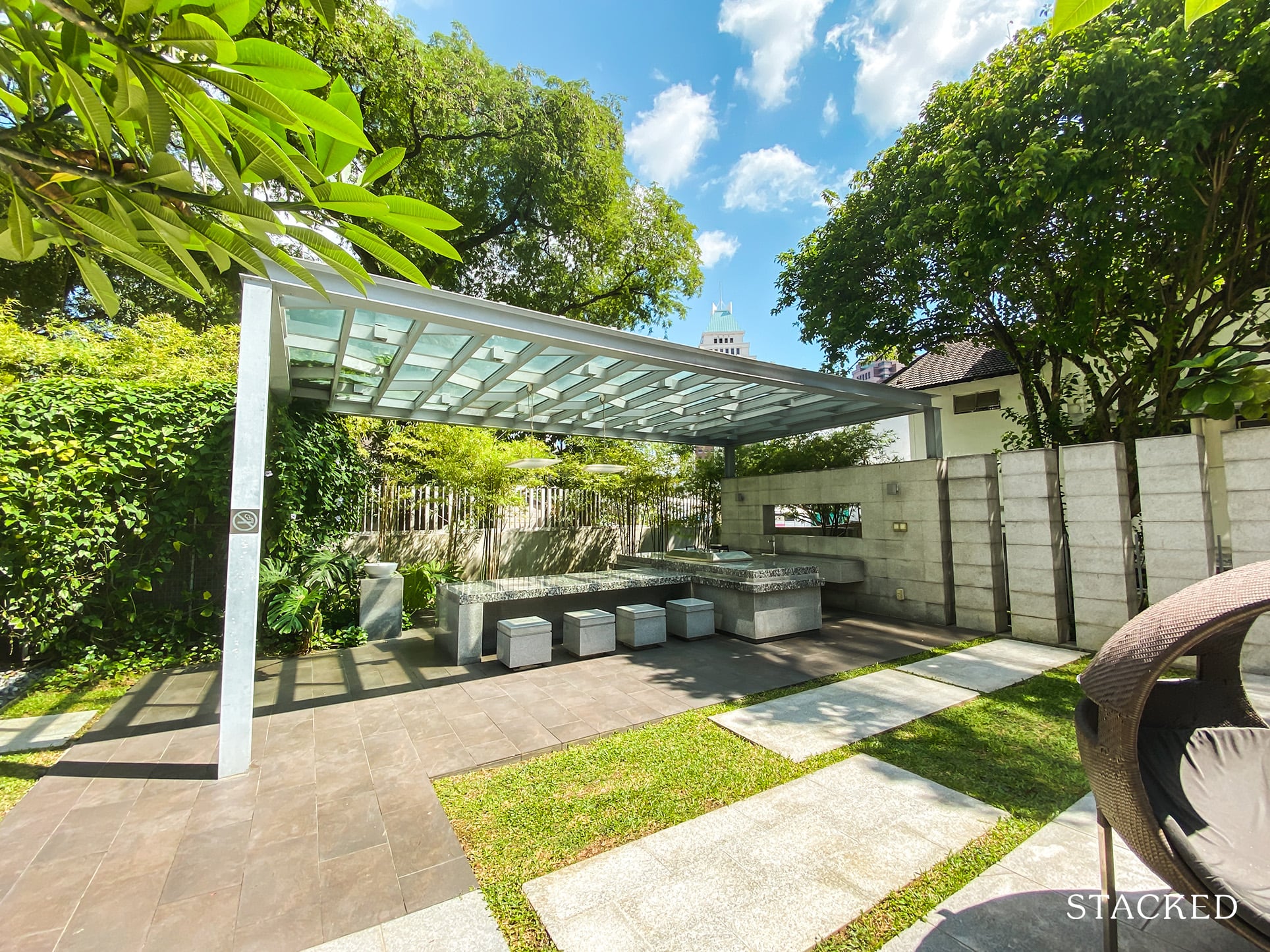 Beyond the jacuzzi is the outdoor dining pavilion. The most important thing here is that it is sheltered, yet the glass top allows light to shine through so it feels suitably open. I like the corner location as it is much more intimate.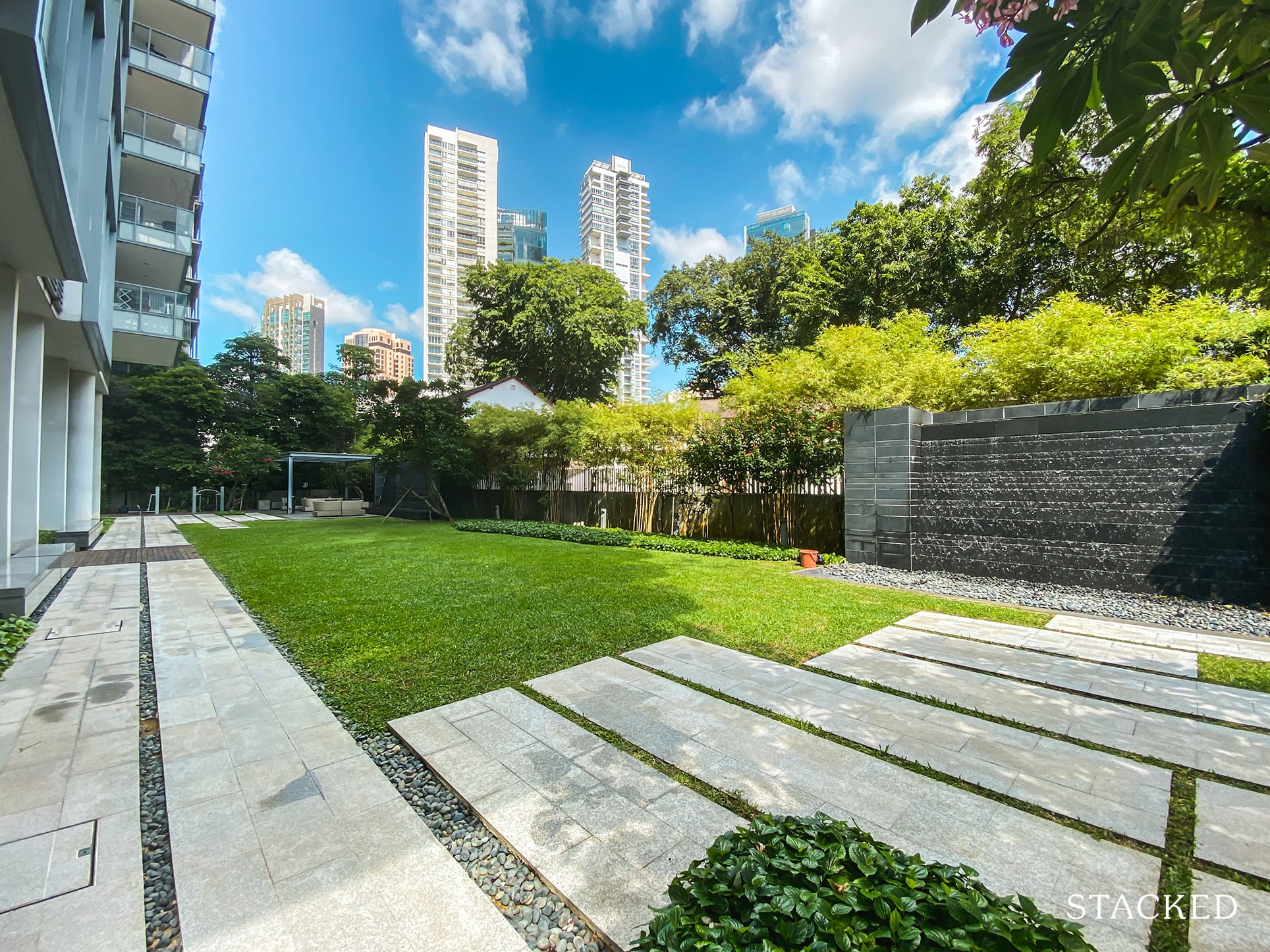 One thing missing in many of the condos in Orchard is the openness in the grounds of the development. This might not be a huge space, but when it comes to condos in the city it can play a part in making you feel less constrained in if that makes sense. It's sufficient too for small dogs or even young children to run about.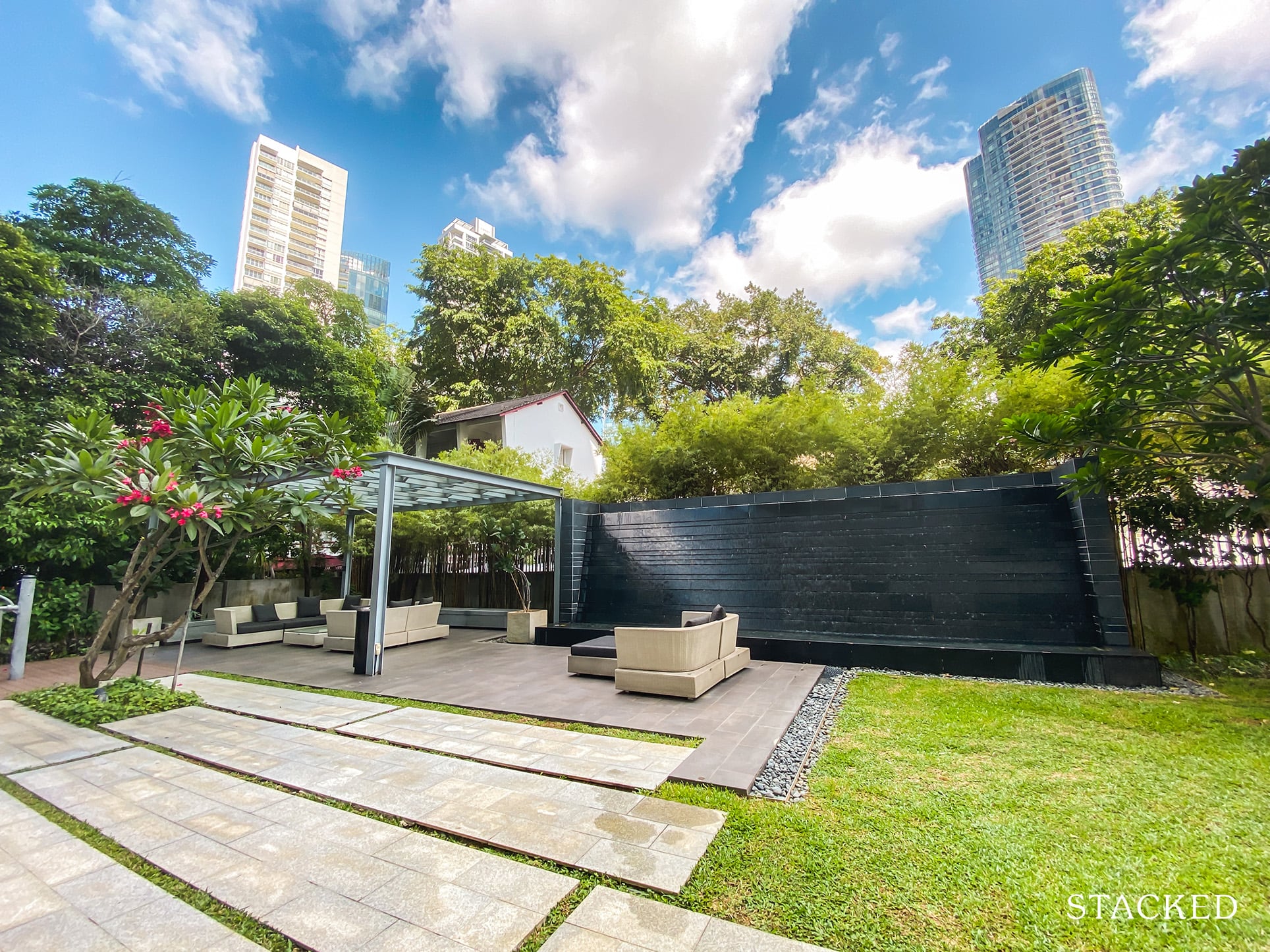 At the far end is a lounge pavilion, with a vertical water fountain right next to it. If you wondered how far Orchard Ion is from here (which you can spot in this photo), it's really only a short 6-minute walk away.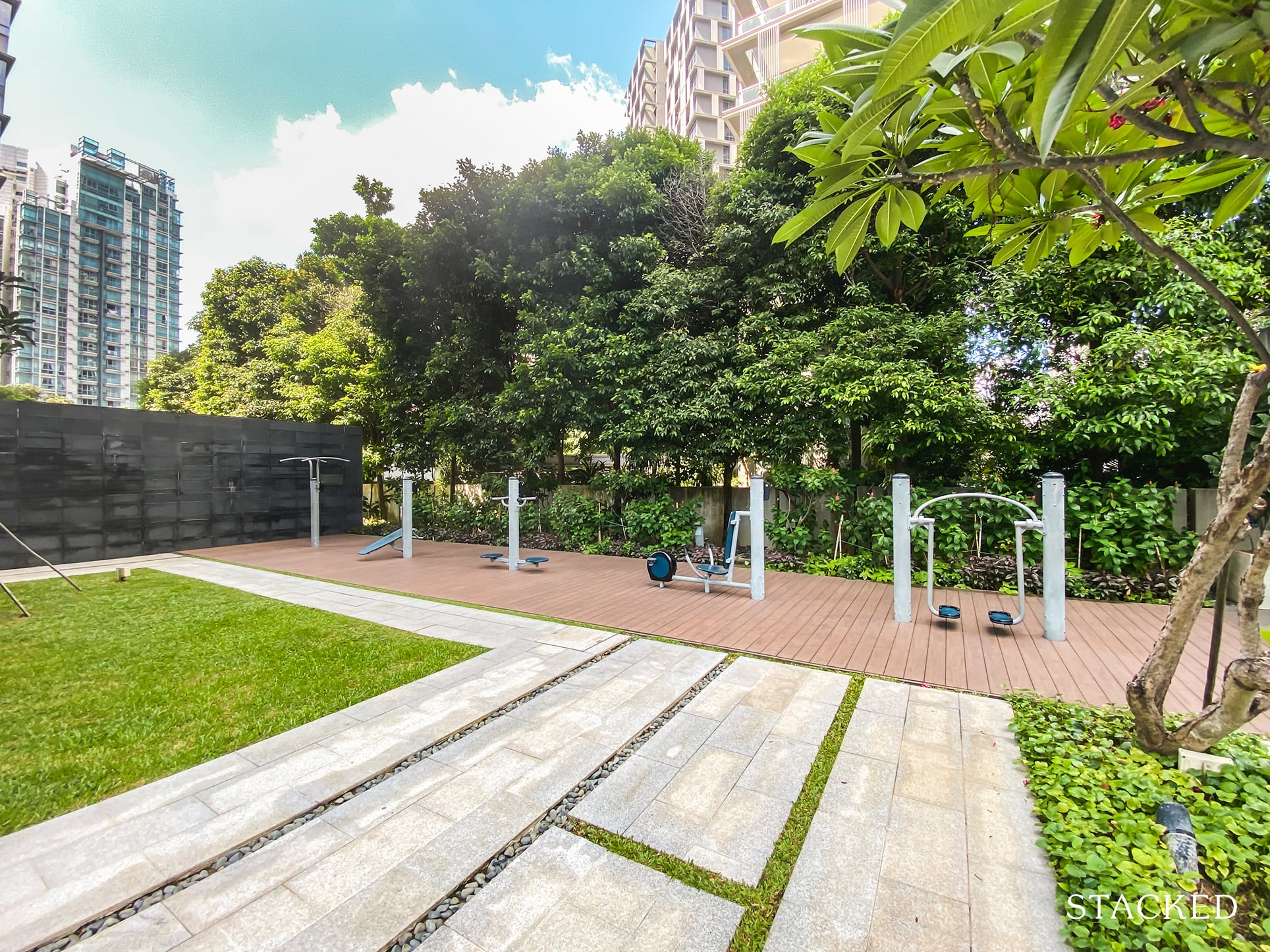 Weirdly enough, the outdoor fitness station is given a lot of space at the back. Again, it's really private so you can work out in peace with hardly anyone walking by.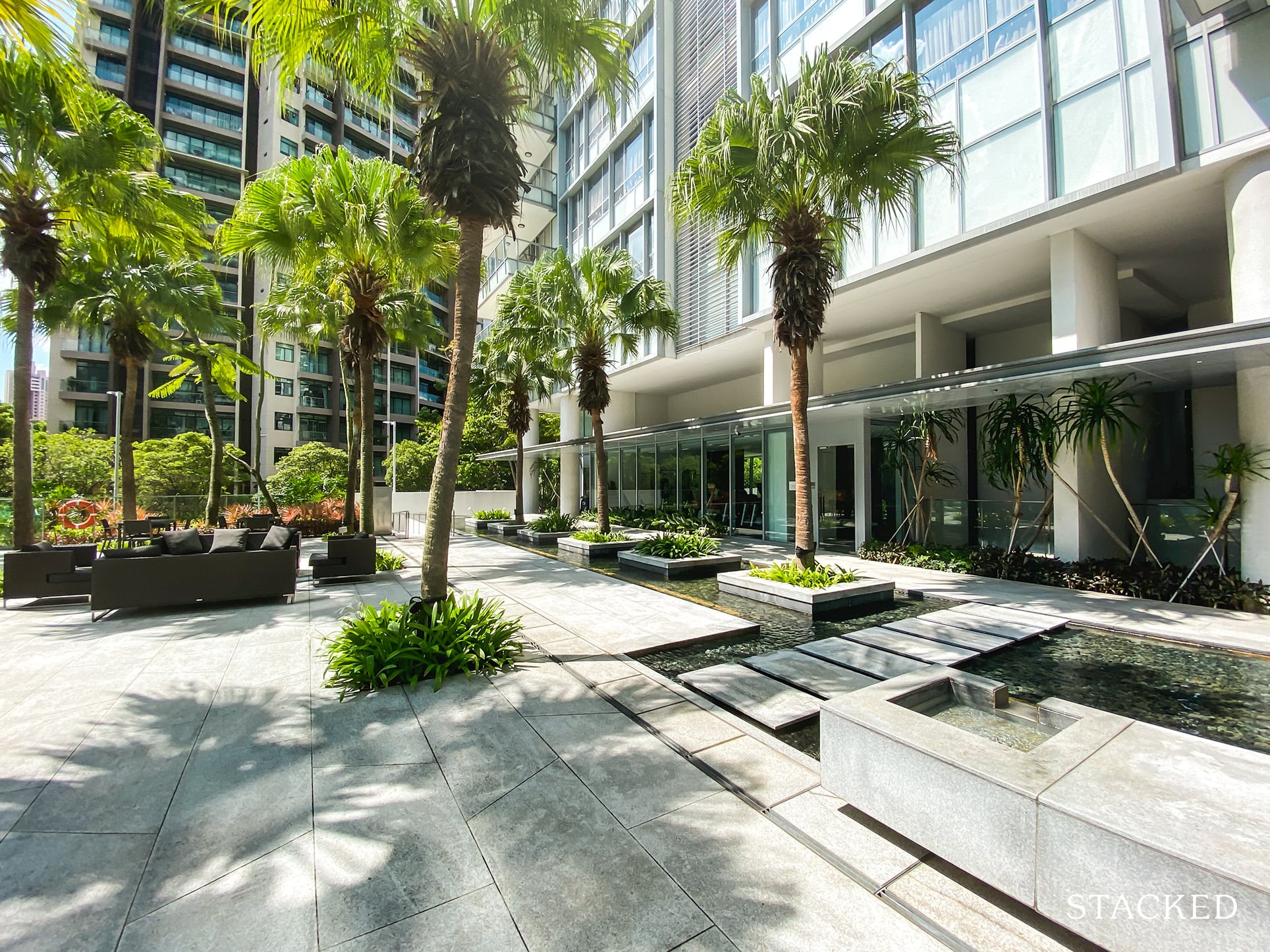 Let's move back to the main blocks.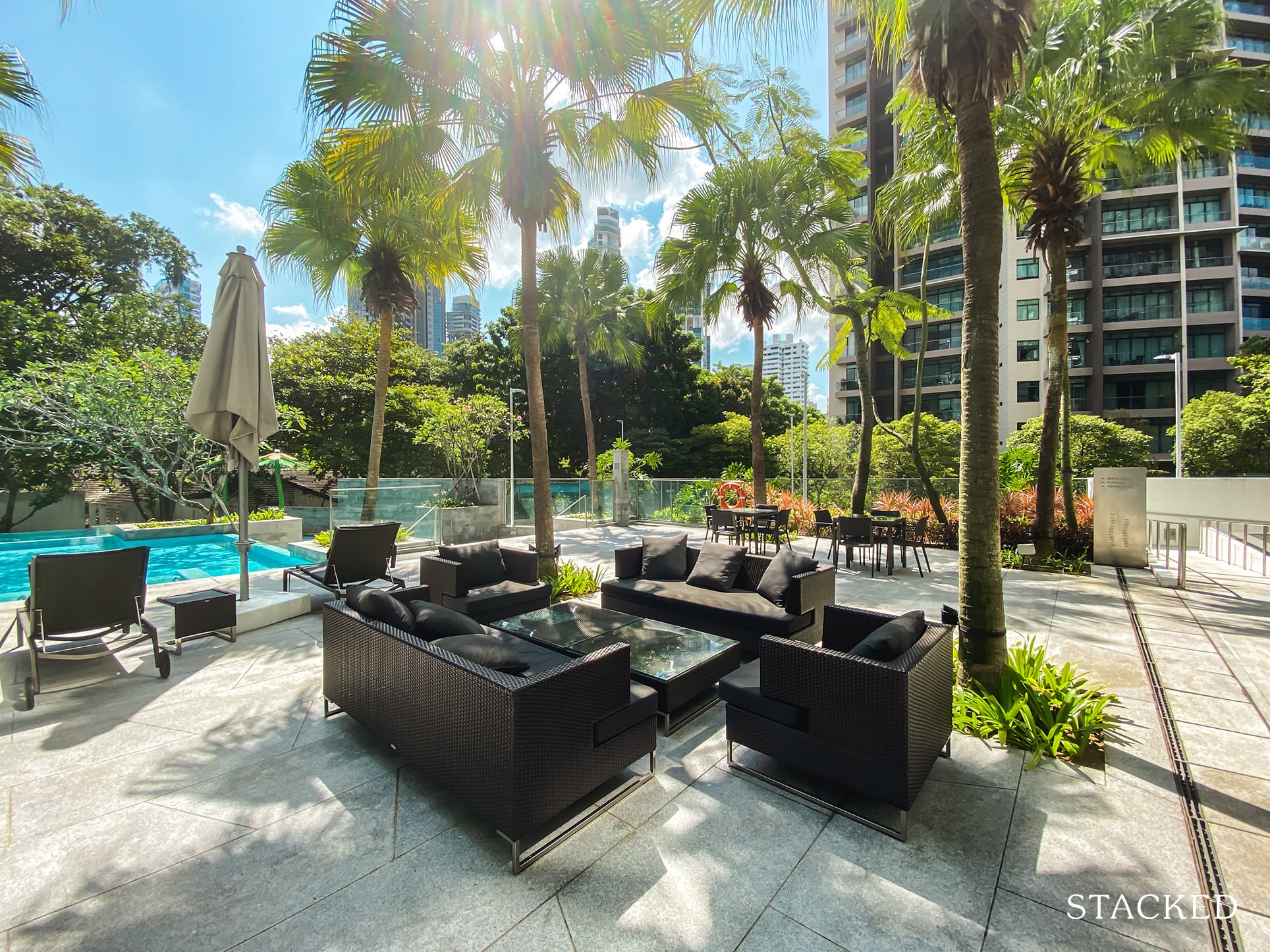 The outdoor space featured is great. Lots of seating by the neatly placed palm trees, and I really like that these have cushions on them instead of the usual hard seats.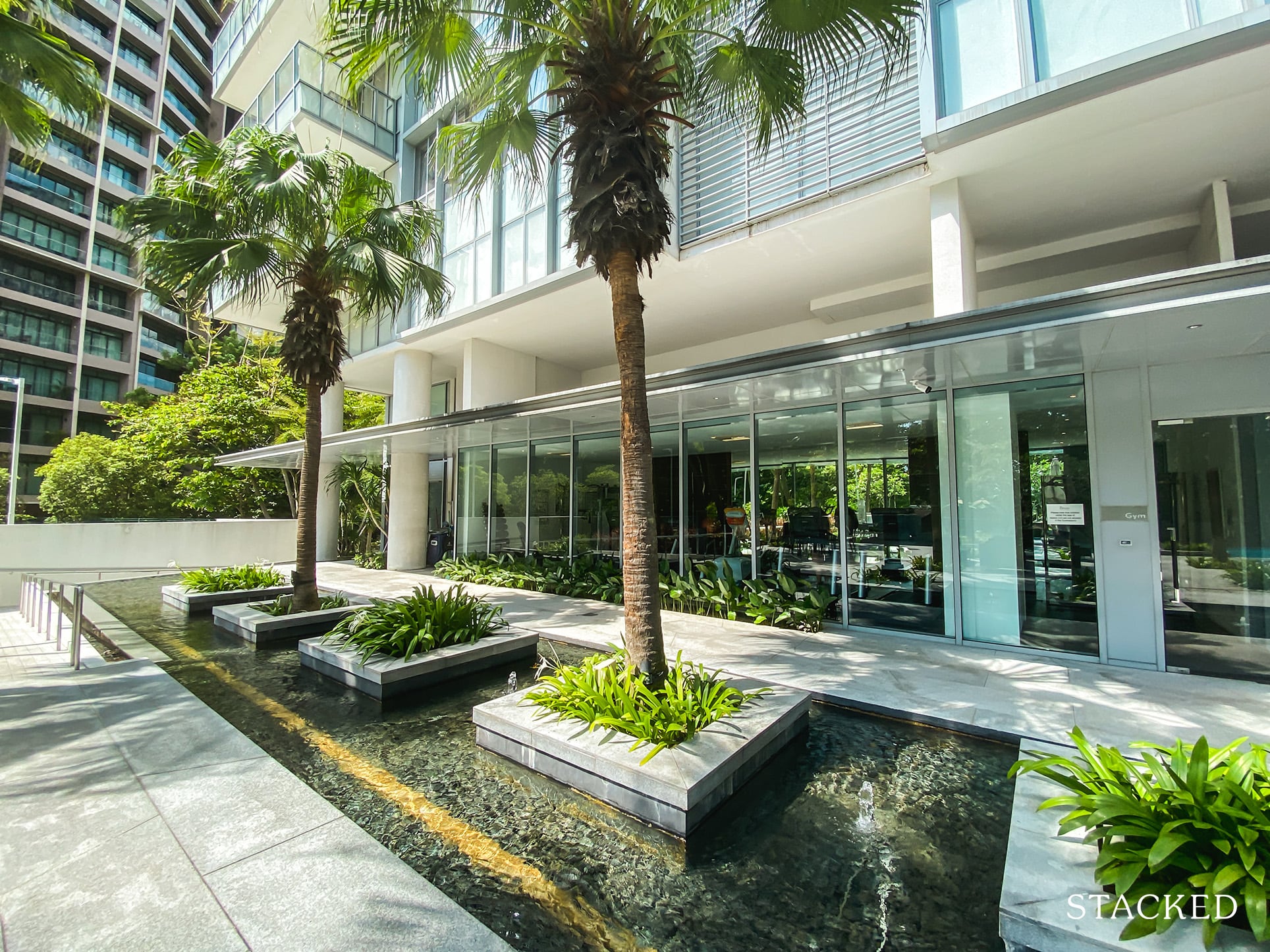 The gym is located right by the pool.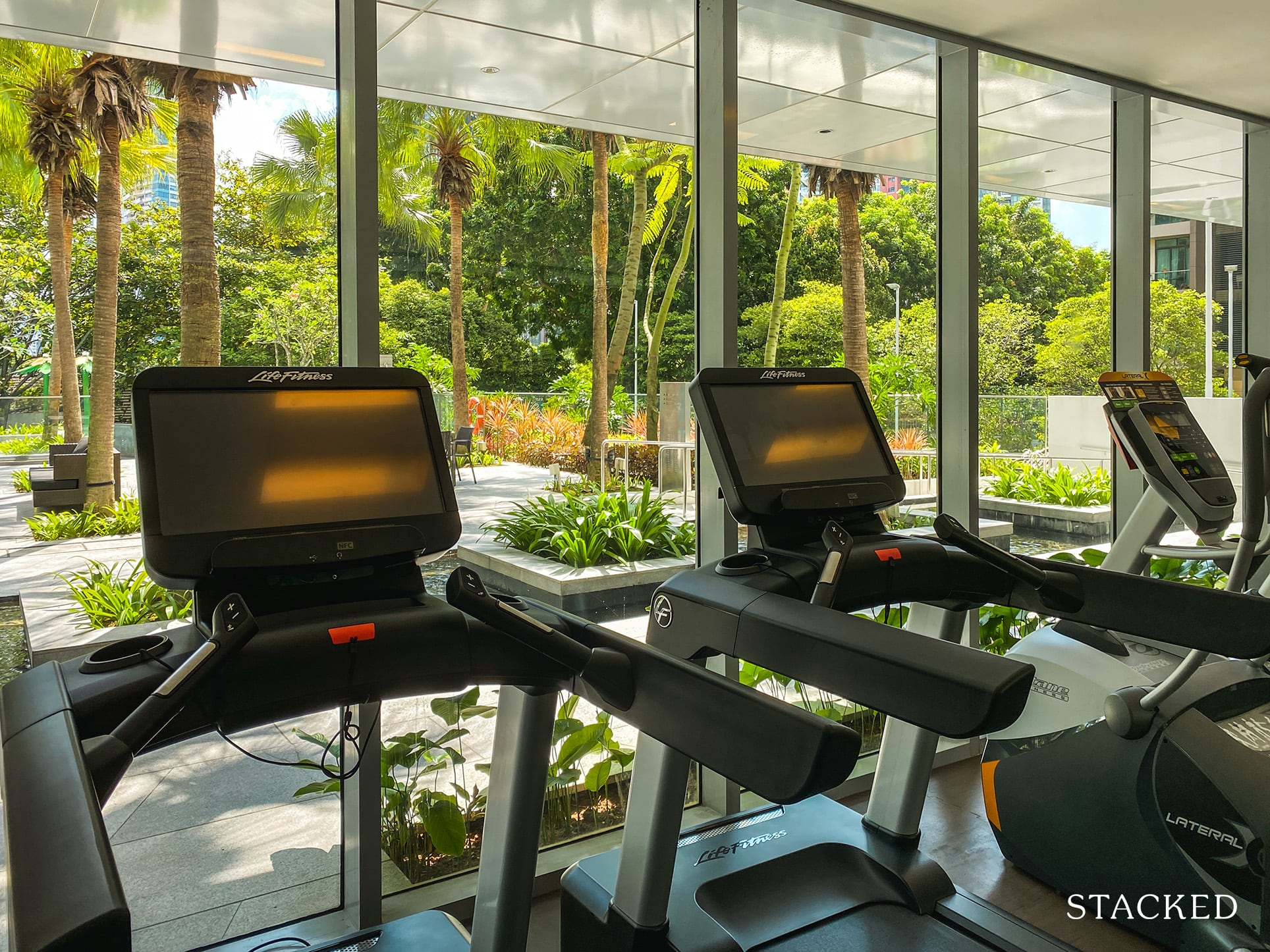 The view from the gym is decent, with a good separation from the outdoor seating area. There is your usual free weights and a selection of aerobic equipment.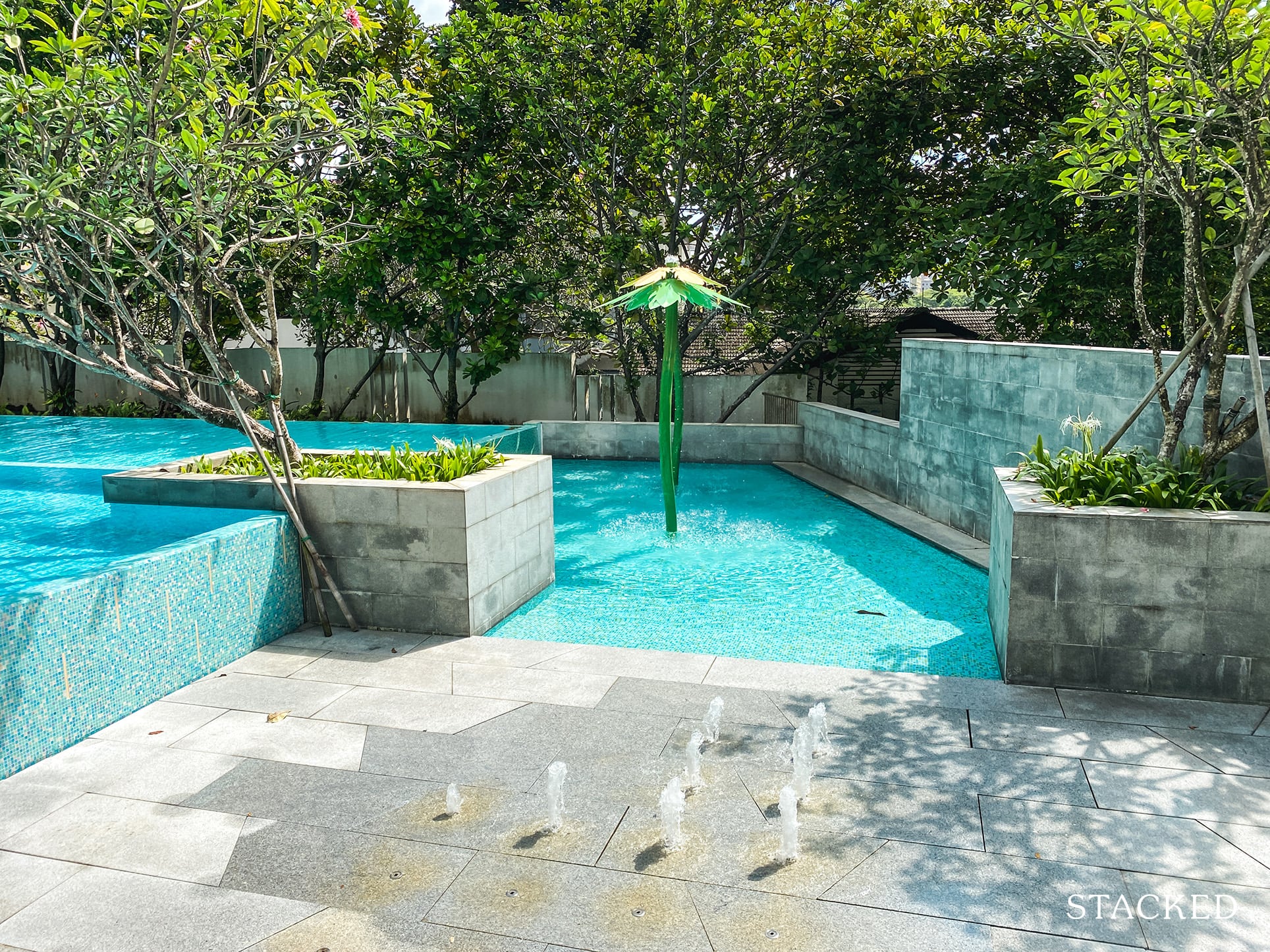 Not forgetting the kids play pool that's located right at the end of the 50m lap pool. The green and yellow fixtures spit water from the top, so it adds a little more fun for the kids than the usual. I like that they kept the look suitably minimalist too, which is in keeping with the rest of the design.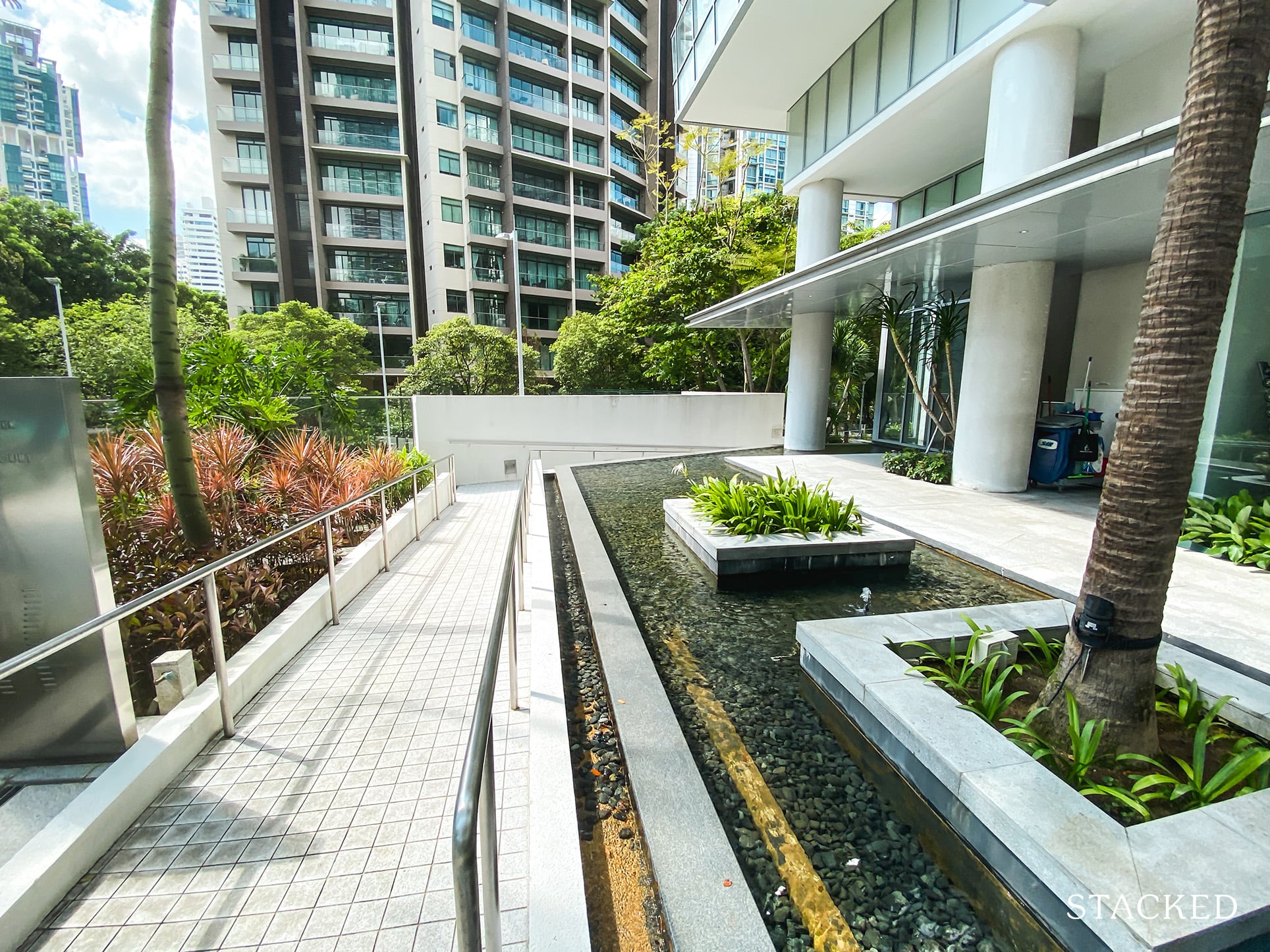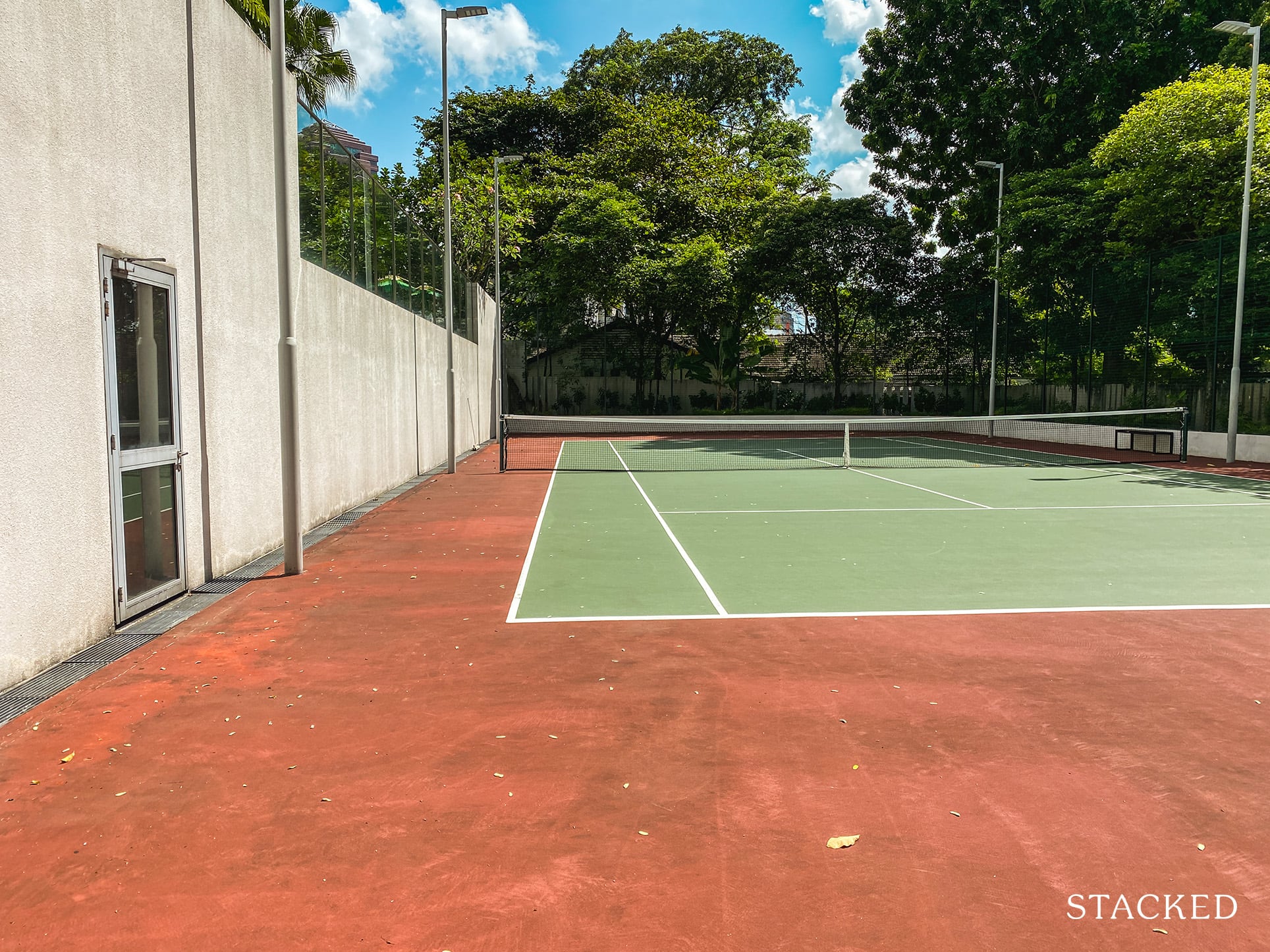 It's getting quite common for newer small condos to do away with the tennis court so having one in a development of this size is definitely a luxury.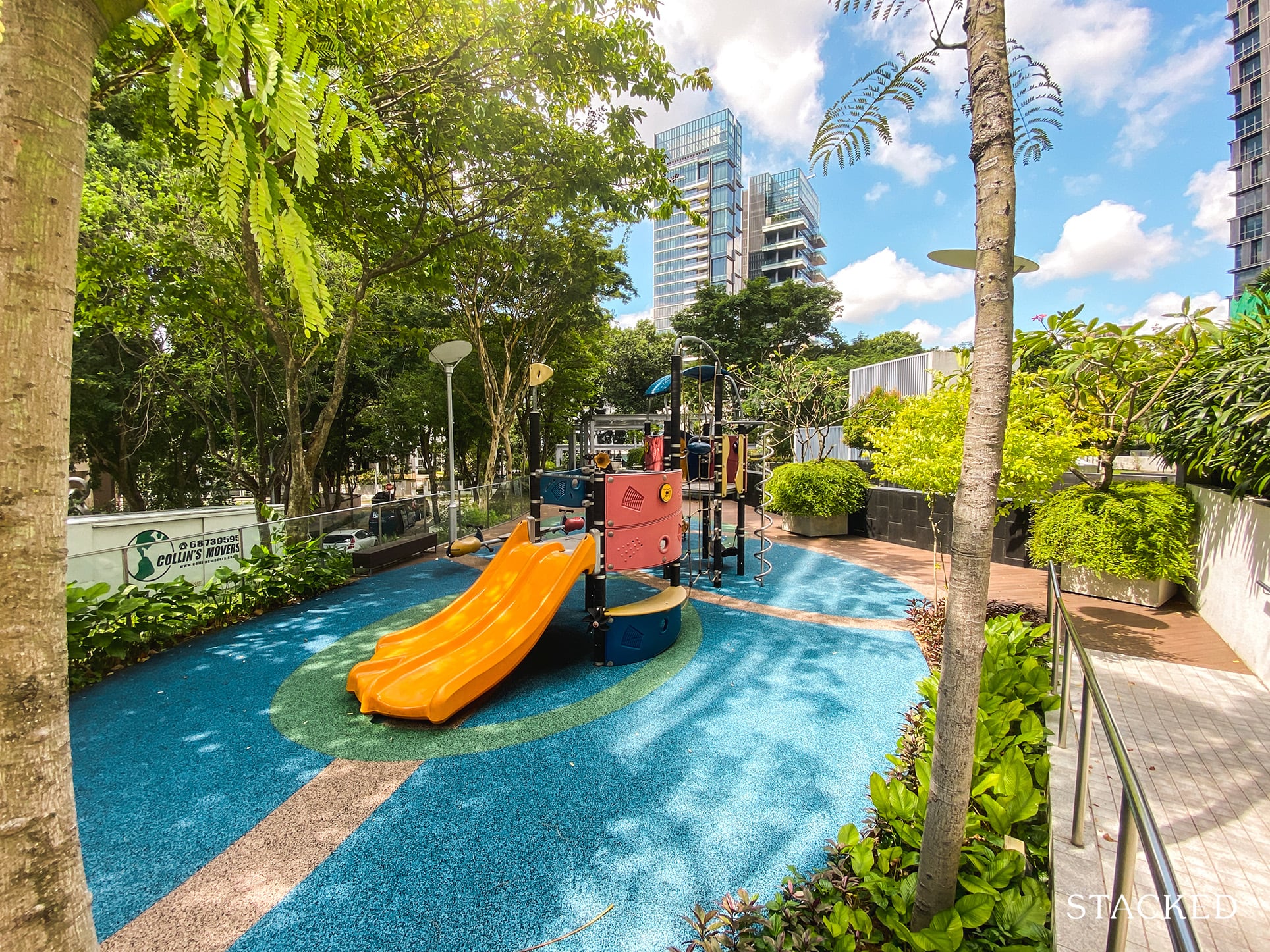 Moving from the tennis court, you'll find the mandatory children's playground.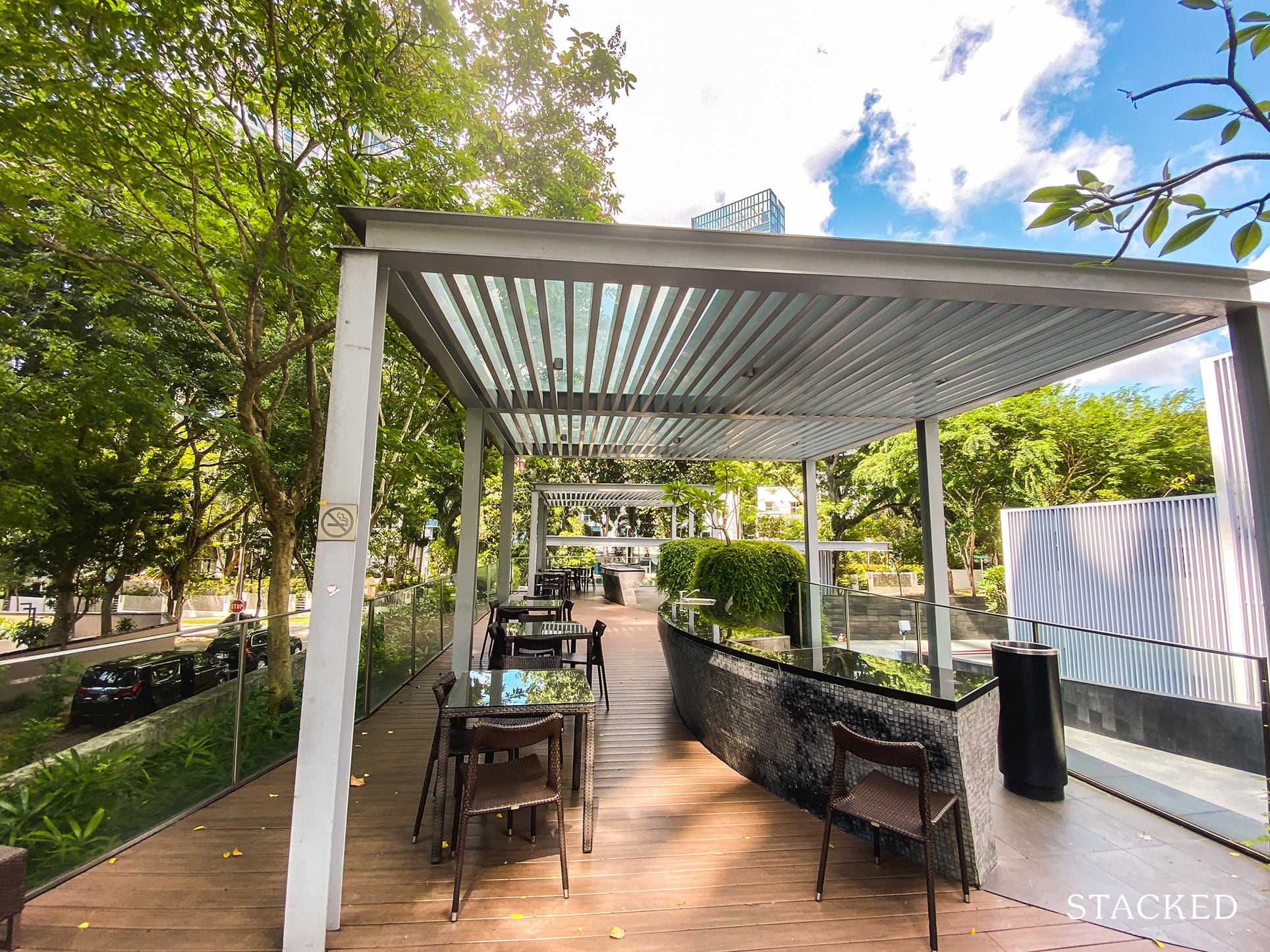 And further up from the playground is not one…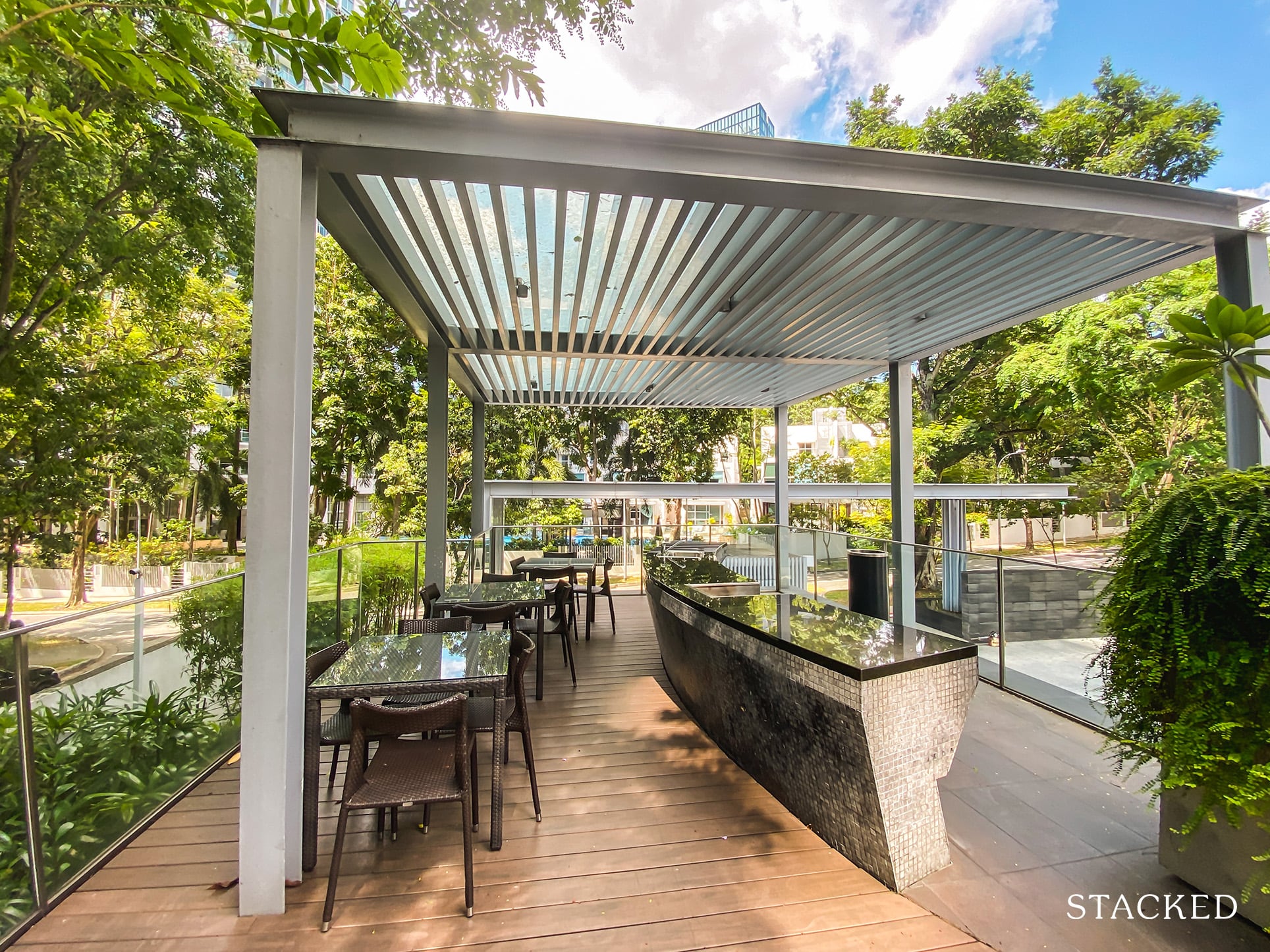 …but two barbecue areas. They are both sheltered, and the locations are great for some peace and quiet too. What's good about this layout is that you'd barely get foot traffic here, as they are located right at the corners.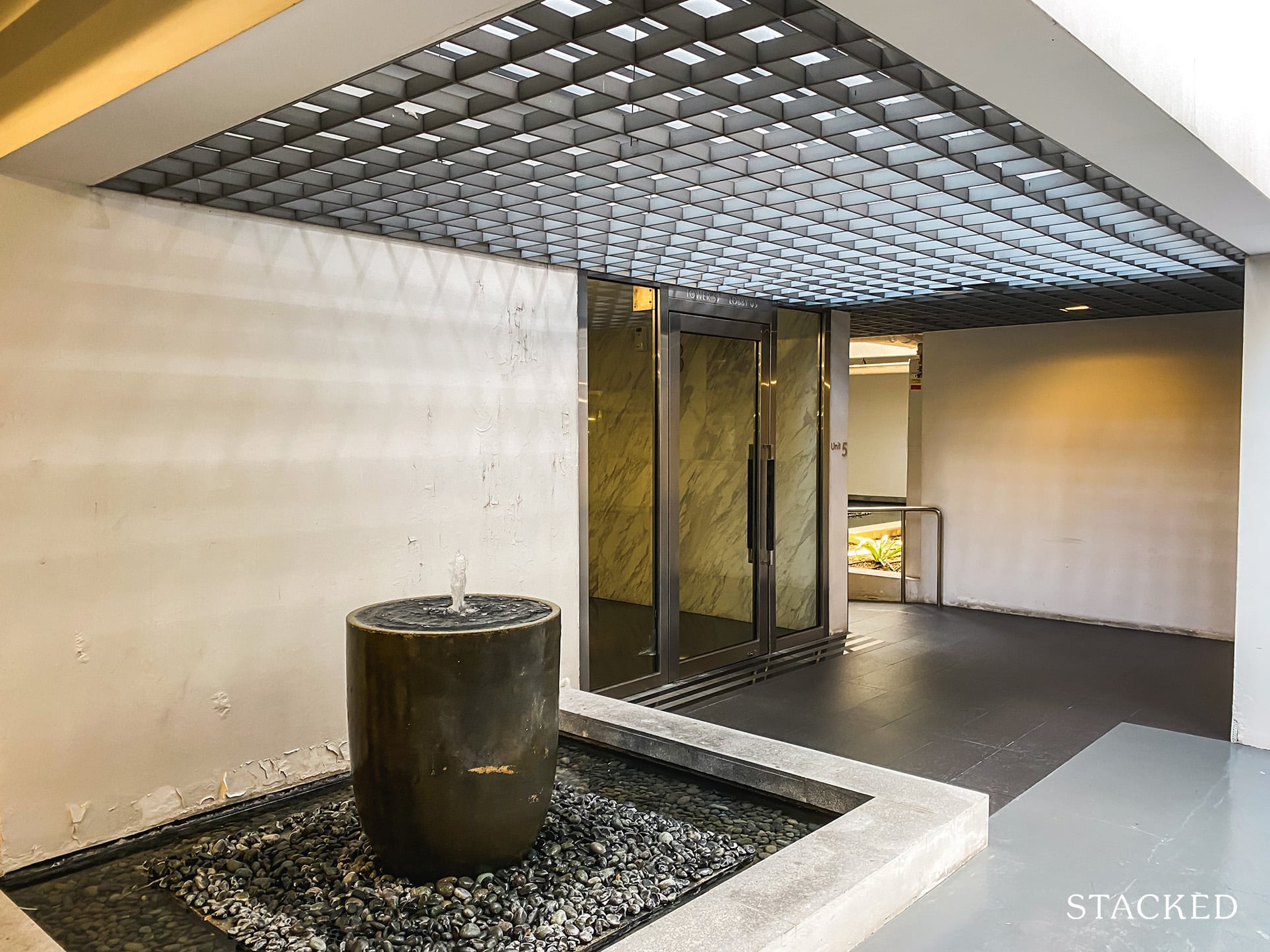 The lobby at the Paterson Suites looks quite understated on the outside. On a side note, you'll observe that maintenance of the walls isn't great here.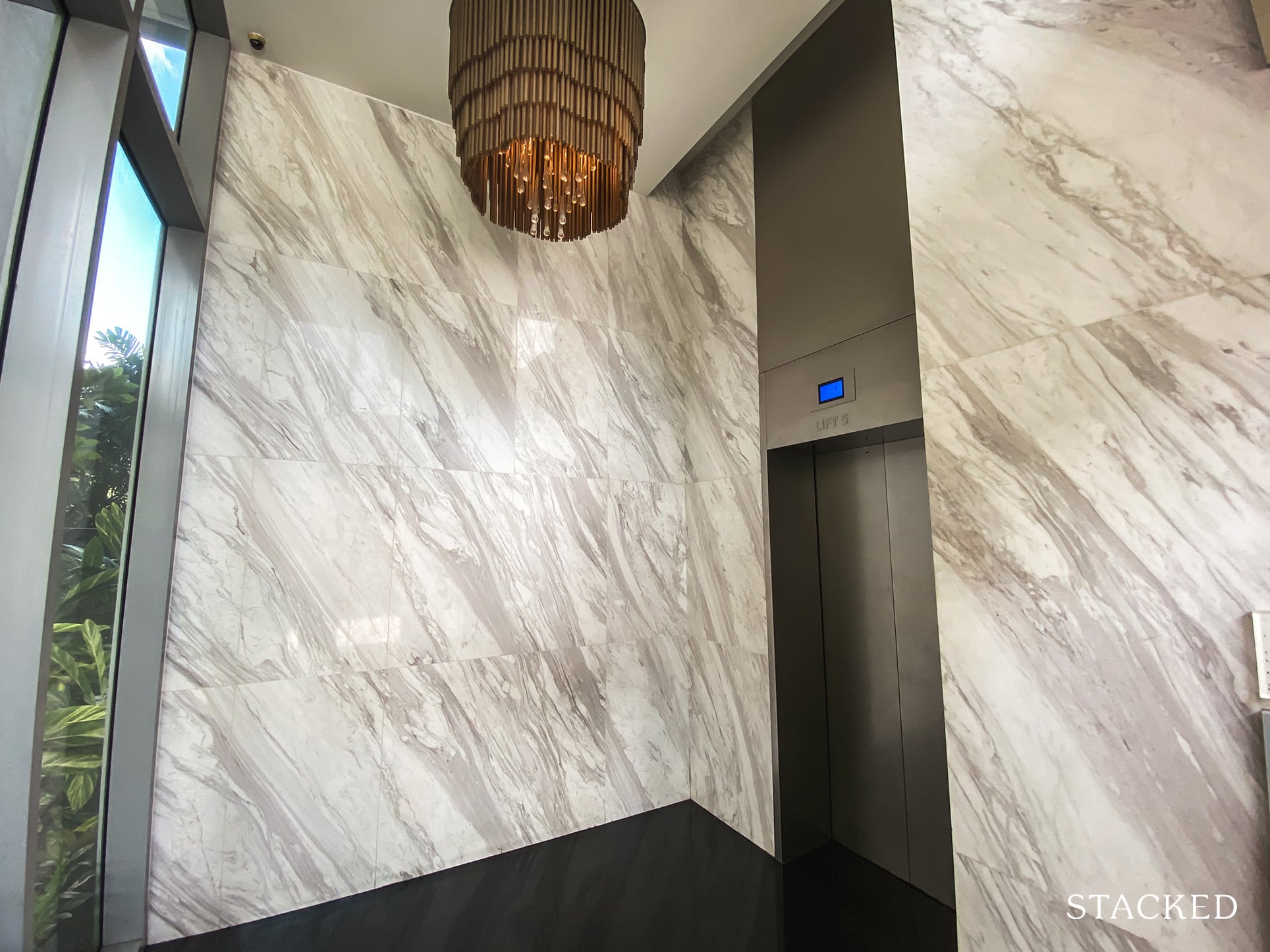 On the inside, the marble walls and bronze chandelier certainly jazzes things up a little more. As you'd expect from a development like this, it's also air-conditioned.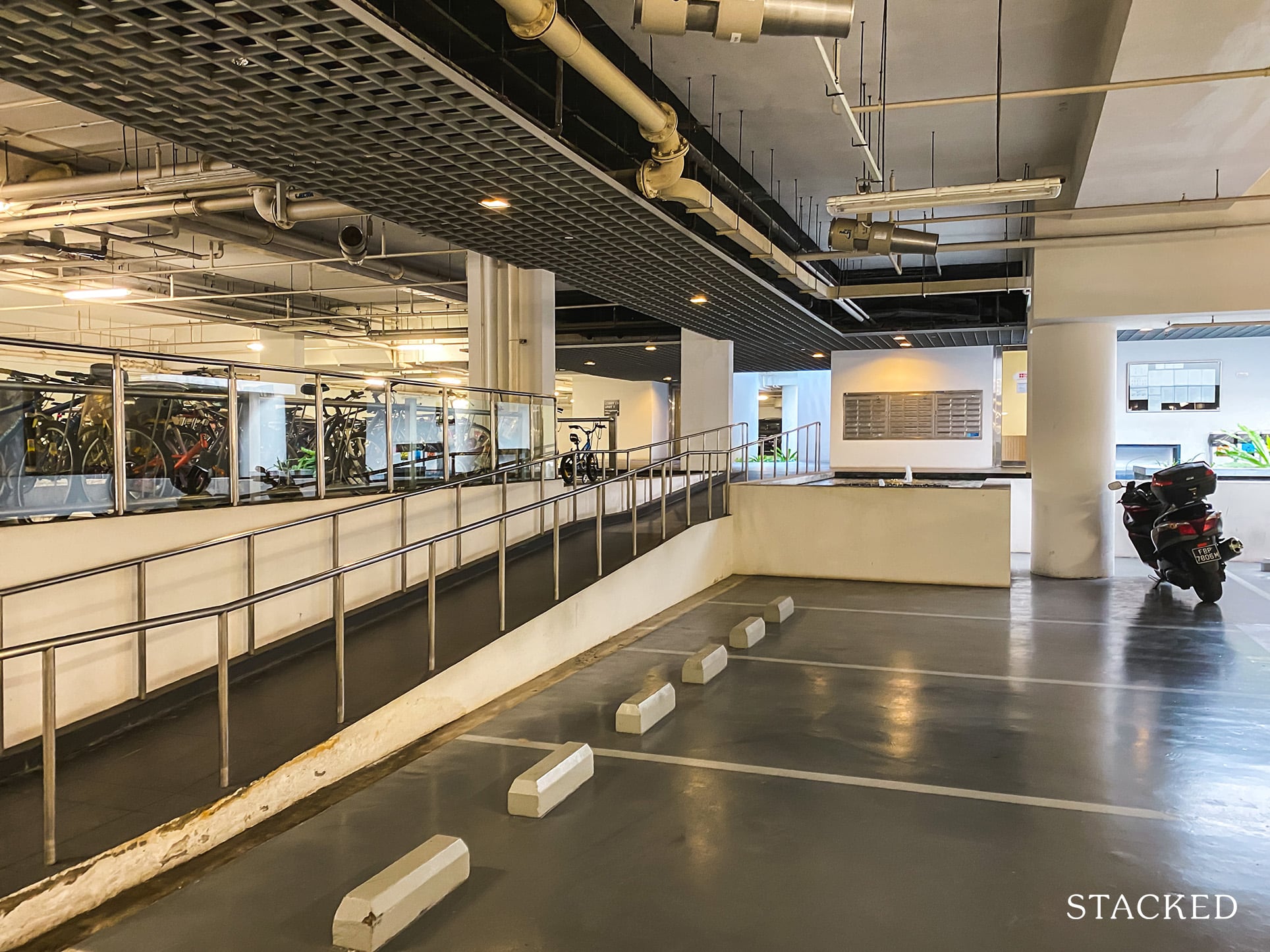 The carpark is competent enough. It's well-lit and the carpark floor is of the smooth variety. However, this is the area that has the most wear and tear and is a blemish on the otherwise high standard of the development.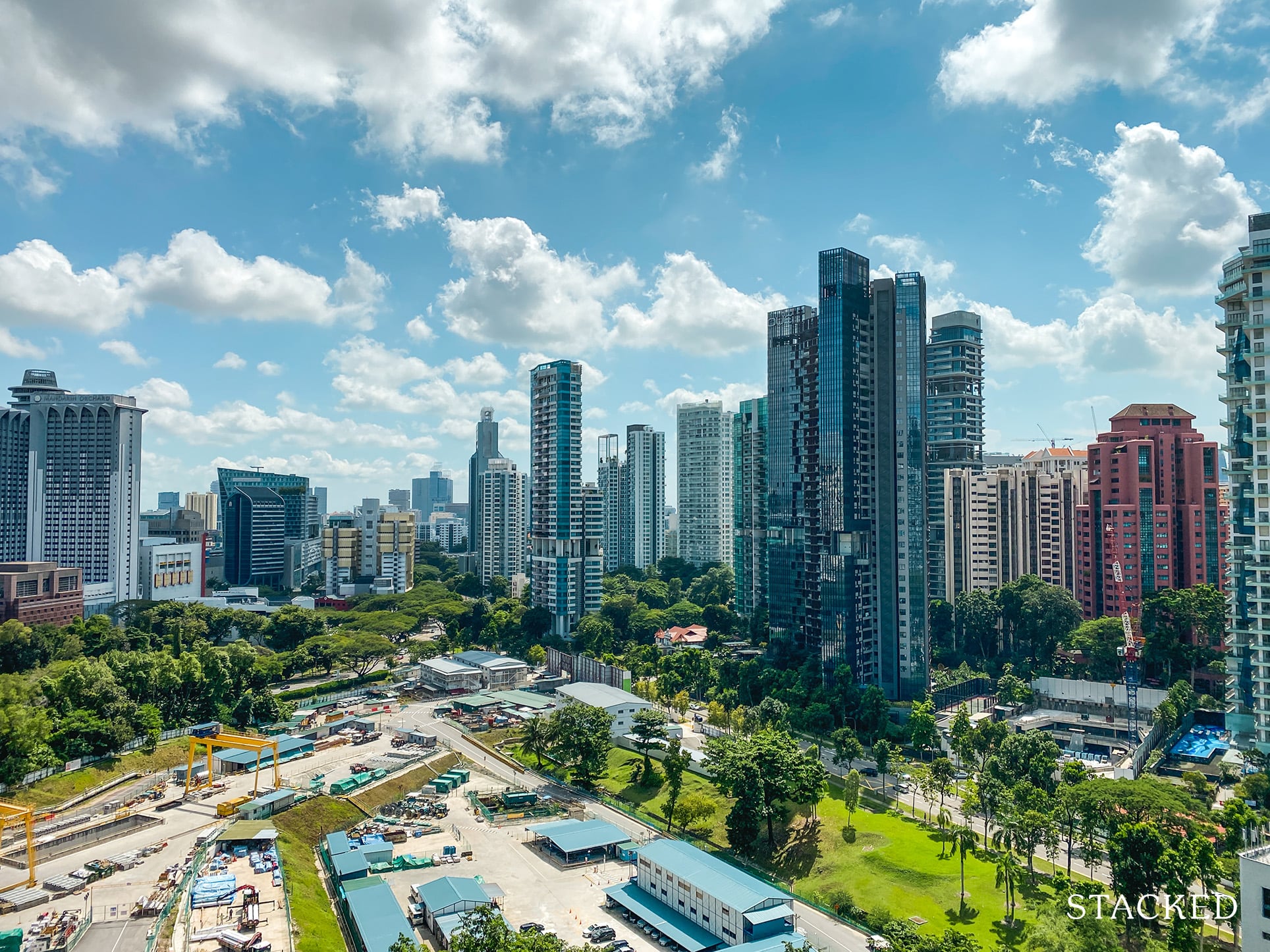 Saving the best for last, the main attraction of the Paterson Suites is really this breathtaking view. Personally, it's one of if not the best view in town. Why? Because of the wide space in front of the blocks, it allows for a supreme unblocked view of Orchard. Most city views are of buildings closeby, but having such a big space like this is not easy to come by. While you can't be certain the land here would always remain lowrise, the fact remains that for now, you'll have one of the best views of the city.
Paterson Suites Location Review
Adjacent to the (soon-to-be) Finnish Supplementary School… and a host of Paterson-something residential enclaves, we've seen the facility offerings and view that the Paterson Suite project boasts.

With half the battle already won, lets see how its location-related prowess holds up against our expectations.
Transport
| | | |
| --- | --- | --- |
| Bus Station | Bus Services | Distance From Condo (& Est. Walking Time) |
| 'Aft Orchard Blvd' | 5, 14, 16, 54, 65, 175, NR5, | 230m, 3-min walk |
| 'Orchard Boulevard' | 7, 14, 16, 36, 36A, 36B, 65, 77, 106, 111, 123, 174, 174e, 175, NR5, NR8 | 650m, 8-min walk |
Closest MRT: Orchard MRT – 650m, 8-min walk

One of the biggest perks of living in town is the ease with which residents can crossover to other MRT lines. Newton MRT (Downtown Line) is just a stop away from Orchard MRT, Dhoby Ghaut MRT (Circle and North-East Line) 2 stops in the other direction and City Hall MRT (East-West Line) 3 stops away. 

The CBD is also extremely close by in that regard.

With a wide number of bus offerings and a couple of 'Night Rider' services also in the vicinity, it's evident that residents at Paterson Suites are definitely getting public transport convenience they paid for.

Also note that while most of the paths to the bus stops and MRT station are unsheltered, a lush variety of greenery lines these walkways helping in part to shelter pedestrians from the heat and provide an all-around pleasant walking experience to and from these stations.

Most important of all, residents at Paterson Suites can look forward to the impending extension of the Orchard MRT (as part of the Thomson-East Line installation) at their doorsteps where an 8-minute walk will soon be reduced to 2 – and a current $2,445 average psf could soon be on the rise (more on that under Price Review).
| | |
| --- | --- |
| Highway/Major Road | Distance From Condo (& Est. Off-Peak Drive Time) |
| Grange Road | 290m, 1-min drive |
| River Valley Road | 700m, 2-min drive |
| Orchard Road | 1.1km, 3-min drive |
| Newton Circus | 2.3km, 4-min drive |
| Jalan Bukit Merah | 2.7km, 4-min drive |
| Farrer Road | 4km, 5-min drive |
| Queensway | 4.2km, 6-min drive |
| Bukit Timah/Clementi Road Junction | 9km, 10-min drive |
| CTE | 2.3km, 4-min drive |
| AYE | 3.8km, 5-min drive |
| PIE | 4.6km, 6-min drive |
| ECP | 5km, 7-min drive |
| KPE | 6.6km, 8-min drive |
| BKE | 8.8km, 9-min drive |
| SLE | 13.2km, 10-min drive |
| KJE | 14.2km, 12-min drive |
Private transport accessibility: Excellent

Apart from the consistent traffic jams that have become simultaneous with Singapore's city offerings, Paterson Suites's location on the south-west end of Orchard Road is a massive bonus.

Similar to the The Loft over at Nassim Road, residents need undertake only a short drive before arriving at the Alexandra Road district. What's more, the proximity of both the River Valley and Clarke Quay district to Paterson Suites serves as an added bonus to its occupants.

Perhaps another huge (and rather surprising) perk is the condo's proximity to the ECP – which in turn allows easy access to a plethora of the East Coast's recreational offerings.

Groceries
| | |
| --- | --- |
| Name of Grocery Shop | Distance From Condo (& Est. Off-Peak Drive Time) |
| Cold Storage – Great World City | 1km, 3-min drive OR 900m, 11-min walk |
| Cold Storage – Takashimaya | 1.1km, 4-min drive OR 12-min walk |
| FairPrice – Orchard Grand Court | 1.6km, 4-min drive |
| FairPrice Finest – 111 Somerset | 1.8km, 5-min drive OR 1km, 12-min walk |
Living next to the Orchard Road Shopping Belt provides a range of options for those who prefer to purchase their own groceries.

While we've only listed the Cold Storages and FairPrices closest to the condo, it is worth noting that the Takashimaya Cold Storage might be accessible via a shortcut through the Finnish Supplementary School once the renovation is completed. 

What's more, given the one-way direction of Grange Road, those visiting the 111 Somerset FairPrice by vehicle will have to access it via the River Valley and Devonshire route – which makes it the further option (as compared to the FairPrice at Orchard Grand Court) even if it is closer by foot.

Shopping Malls

| | |
| --- | --- |
| Name of Shopping Mall | Distance From Condo (& Est. Off-Peak Drive Time) |
| Scape | 850m, 3-min drive |
| Great World City | 1km, 3-min drive |
| Paragon Shopping Centre | 1.1km, 4-min drive |
| Ion Orchard Mall | 1.2km, 4-min drive |
| Wisma Atria | 1.2km, 4-min drive |
| Lucky Plaza | 1.4km, 5-min drive |
| Start of South-End Orchard Road Cluster | 1.2km, 5-min drive |
| UE Square (River Valley) | 2.4km, 7-min drive |
| Plaza Singapura | 2.6km, 9-min drive |
| Pomo/Peace Center | 2.7km, 9-min drive |
| The Central (Clarke Quay) | 3.2km, 10-min drive |
| United Square (Novena) Cluster | 3.3km, 10-min drive |
| Ikea Alexandra | 4.2km, 10-min drive |
| City Square Mall/Mustafa Centre area | 4.6km, 16-min drive |
To substitute the listing of every single shopping mall in the Orchard Road Shopping District (*just note that the distances of the unlisted malls fall between the 'start of South-End Orchard Cluster' and Plaza Singapura), we've also added in some of the nearby shopping clusters outside of the area.

As mentioned earlier, the River Valley/Clarke Quay area and the Queenstown districts offer a solid variety to the already superfluously well-stacked Orchard Road Shopping Belt.

Cue Christmas-themed melodies and fancy wrapping paper.

Schools
| | | |
| --- | --- | --- |
| Name of School | Education Level | Distance From Condo (Est. Off-Peak Drive Time) |
| Little Raindrops | Preschool | 600m, 2-min drive |
| Safari House Preschool, River Valley | Preschool | 900m, 3-min drive |
| MapleBear One Tree Hill | Preschool | 2.1km, 6-min drive |
| Kay Poh Road Baptist Kindergarten | Preschool | 2.2km, 7-min drive |
| Finnish Supplementary School | Primary | To-Be-Announced |
| River Valley Primary | Primary | 1.7km, 6-min drive |
| Alexandra Primary | Primary | 2.1km, 7-min drive |
| Zhangde Primary | Primary | 2.6km, 9-min drive |
| Queenstown Primary | Primary | 3.1km, 7-min drive |
| Cantonment Primary | Primary | 3.7km, 10-min drive |
| Anglo-Chinese School | Primary | 3.8km, 10-min drive |
| Singapore Chinese Girls' School | Secondary | 4km, 10-min drive |
| Queensway Secondary | Secondary | 3.9km, 8-min drive |
| Bukit Merah Secondary | Secondary | 3.7km, 10-min drive |
| Outram Secondary | Secondary | 2.7km, 7-min drive |
| St. Margaret's Secondary | Secondary | 5.3km, 11-min drive |
| Gan Eng Seng Secondary | Secondary | 2.2km, 7-min drive |
| Crescent Girls' School | Secondary | 2.3km, 6-min drive |
| Anglo Chinese Junior College | Tertiary | 6.9km, 14-min drive |
| Eunoia Junior College | Tertiary | 7.1km, 14-min drive |
| Catholic Junior College | Tertiary | 4.1km, 11-min drive |
| National Junior College | Tertiary | 7.7km, 16-min drive |
| Hwa Chong Institution | Tertiary | 5.8km, 13-min drive |
| St. Andrews' Junior College | Tertiary | 8.1km, 16-min drive |
| Raffles' Junior College | Tertiary | 9.7km, 16-min drive |
| Singapore Polytechnic | Tertiary | 7.5km, 15-min drive |
| SMU | Tertiary | 3.6km, 11-min drive |
| NUS Law Faculty | Tertiary | 4km, 10-min drive |
| Curtin Singapore | Tertiary | 5.6km, 12-min drive |
| University of Newcastle | Tertiary | 4.1km, 14-min drive |
| ISS International | International Schools | 350m, 4-min walk |
| Chatsworth International | International Schools | 1.5km, 6-min drive |
| Furen International | International Schools | 1.9km, 6-min drive |
| Eton House International | International Schools | 2.1km, 6-min drive |
| Razum International | International Schools | 2.5km, 6-min drive |
As mentioned before, the central roads near Paterson Suites are generally more crowded hence slightly longer drive times despite the shorter distances. As such, there are a couple more unlisted primary and secondary schools just outside the 10-minute radius that could still provide worthy schooling options for the children.

This holds especially true for the Bukit Timah Education Belt just north-west of the development – though be warned that traffic jams in that area are a nightmare in the mornings and evenings.

Finally, you might have also observed the abundance of International Schools in the immediate area. Catered mostly for expat families, it comes alongside yet another notably long list of Junior Colleges within the 15-minute drive radius of the condo.
Additional Pointers

In accordance with the Master Plan 2019, Orchard Road will soon undergo a 'revamp' to restore the flora and fauna of its yesteryears. What's more, potential linkage work could be done to join the Istana Park, Dhoby Ghaut Green area and Plaza Singapura into one continuous green oasis with further plans to pedestrianise this area of Orchard Road.

Given Paterson Suite's proximity to the aforementioned area, residents can look forward to increased convenience and nearby recreational offerings in the near future.

As is the norm with most central developments, there are a couple of medical options in the vicinity should the need arise. In this case, Paterson Suites is smack in the middle of two top healthcare institutions – Gleneagles Hospital (7-min drive) and Mount Elizabeth Hospital (6-min drive).

More than that, residents who work as staff at these medical centers will no doubt benefit from the almost immediate home-to-work commute time. 

Living in the central area of Singapore has its perks. But more than shopping, entertainment and efficient public/private transport offerings, residents here can look forward to the finer things in life (if they so choose).

A range of high-end hotels and country clubs in the area sprout lavish offerings (think high-teas, fancy spas etc.) that only add to the glitz and glamour that comes with living next to Orchard Road.
Paterson Suites Development Site
One of the biggest perks of the development's immediate locale is its seclusion. Yes, it might cost you an additional minute or two on your way to the bus stop, but the privacy that Lengkok Angsa (the road after Paterson) provides is well worth the little tedium.
What's more, the underground car park is at the bottom of the 'hill' (as opposed to the drop-off point at the top) – so for those who drive frequently, the seclusion comes without trades. Having the underground car park also helps to maximise (limited) space usage here.

With the drop-off point situated in between both towers, ease-of-access to lift lobbies for residents/visitors (especially those in their later years) is also greatly improved.

Finally, it is clear (and commendable) that the developers have made the effort to separate both the playground and swimming area from the drop-off point to ensure the children's safety. Perhaps the playground could have been positioned where the current Teppanyaki Pavilion (I.) is to reduce the little ones breathing in the exhaust from vehicles entering the grounds, but it is really just a tiny nitpick that shouldn't affect the majority.
Unit Mix

| | | |
| --- | --- | --- |
| Unit Type | No. Of Units | Size of Units (sqft) |
| 3-bedroom | 59 | 1,679 – 1,776 |
| 4-bedroom | 40 | 2,164 – 2,228 |
| 5-bedroom Penthouse | 3 | 6,663 |
The Paterson Suite's unit mix makes its developer's target audience very clear. Unfortunately for bachelors or couples looking for smaller-tiered units, the condo only offers 3-bedroom units and above. To harbour an educated guess, this would be aimed mostly at expat family tenants/homeowners.

You'd also realise how massive the units actually are by now, especially when compared to most central developments built during that period. What's more intriguing, however, is the fact that the total land area on which the condo resides is a mere 86,522 square feet – further highlighting the developers emphasis on luxury and exclusivity.

Yes, units would be more expensive as a result, but for those who are seriously looking for a centrally-located abode, you could safely say that the increase in quantum is well quantified in value.

Another point worth highlighting is the privacy that the stacks have been architected to provide. Each unit is built such that crossover views of the adjacent block is no longer a possibility here (bye bye you sneaky peepos).

Finally, every unit here comes with a private lift lobby so say good riddance to ever making small talk in tiny ventilated boxes ever again.

Best Stacks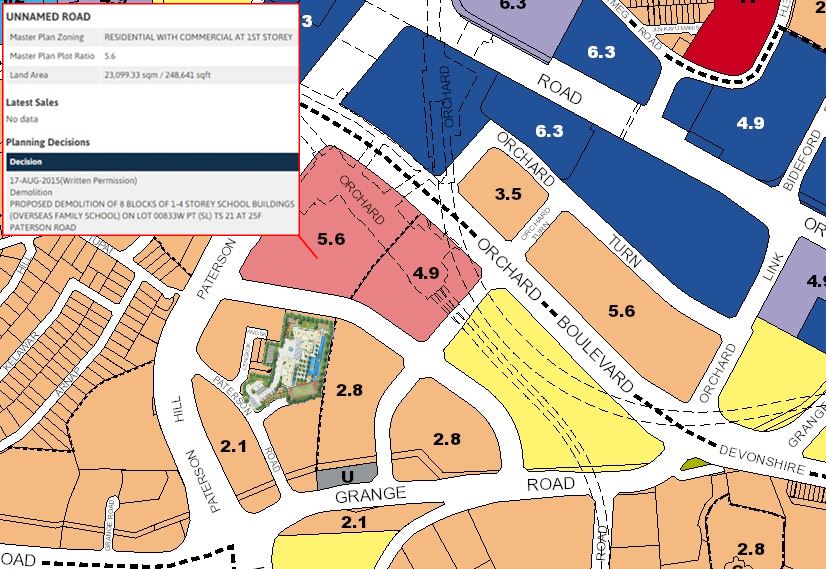 So before we get into the best stacks, there are some things that you'll have to know about the potential redevelopments to the land surrounding the Paterson Suites.
As you can see, the land to the left has a plot ratio of 5.6 and 4.9 respectively. Under the Master Plan 2019 zoning, it is slated for a residential with commercial at the first storey.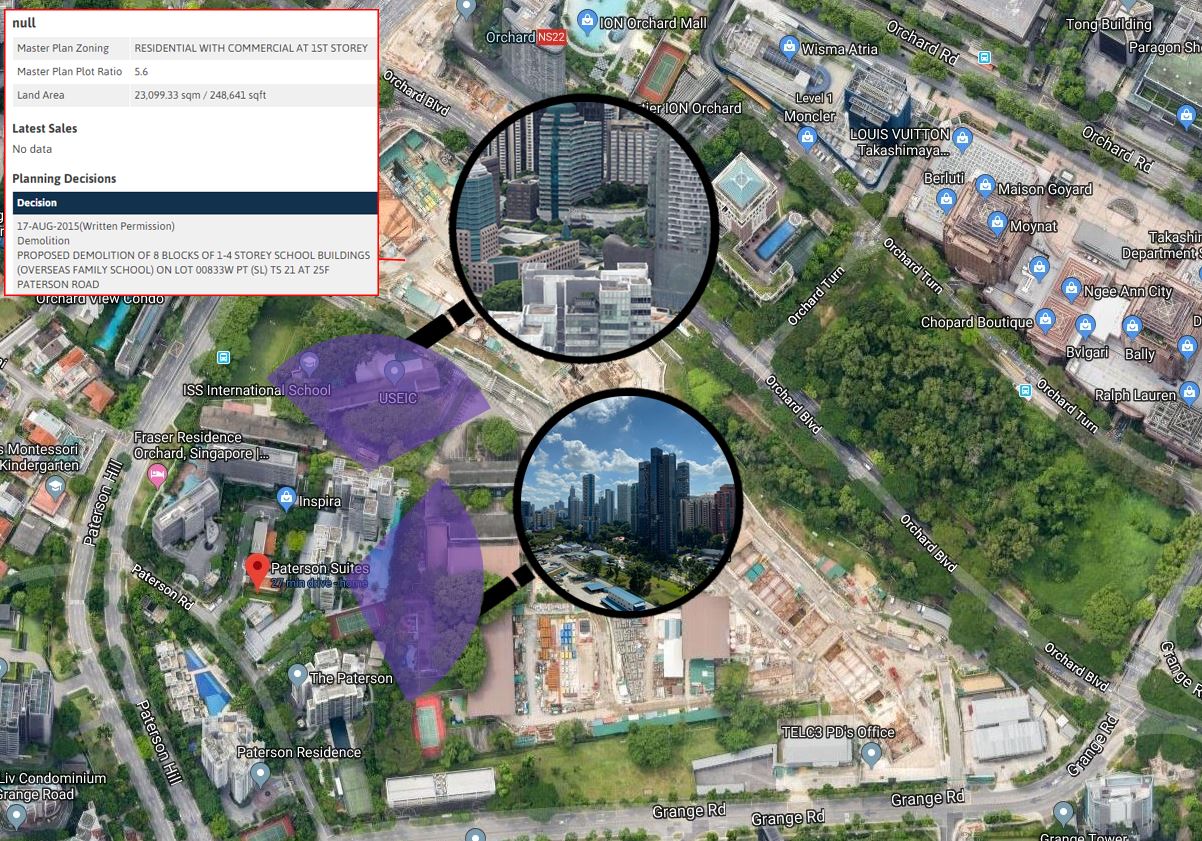 To give you a clearer perspective, the view that was taken faces the two plots that have a plot ratio of 2.8. These are meant for high-rise residential developments too, so for Stacks 5 and 6 that currently enjoy the unblocked views, this will change in the future.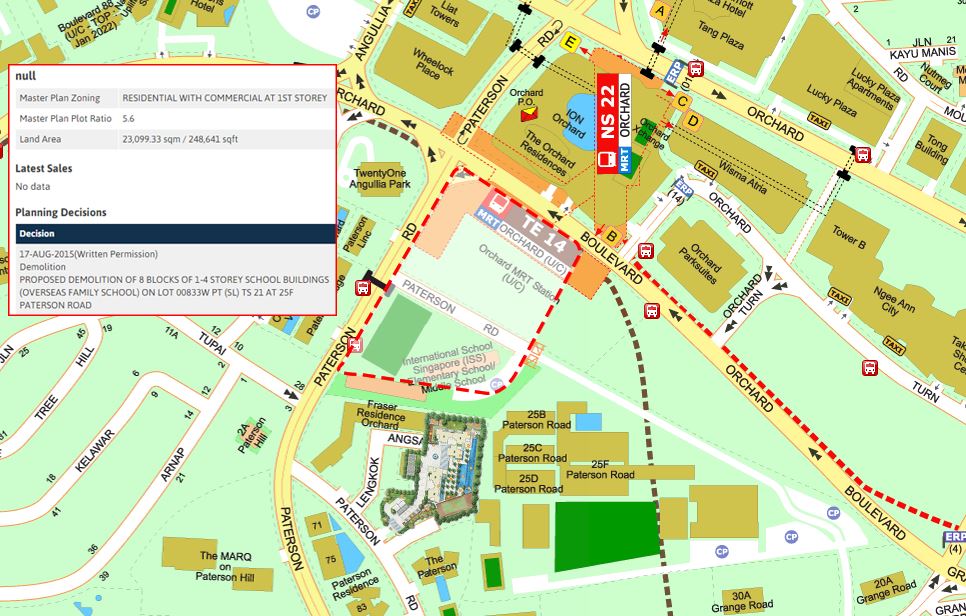 Judging from how the Master Plan 2019 is drawn out, we think that Paterson Road will have to be moved down closer to Fraser Residence. This means that the road would probably cut right by Stacks 1 and 2. This should be a good thing, as this provides some distance in between the new developments and Paterson Suites.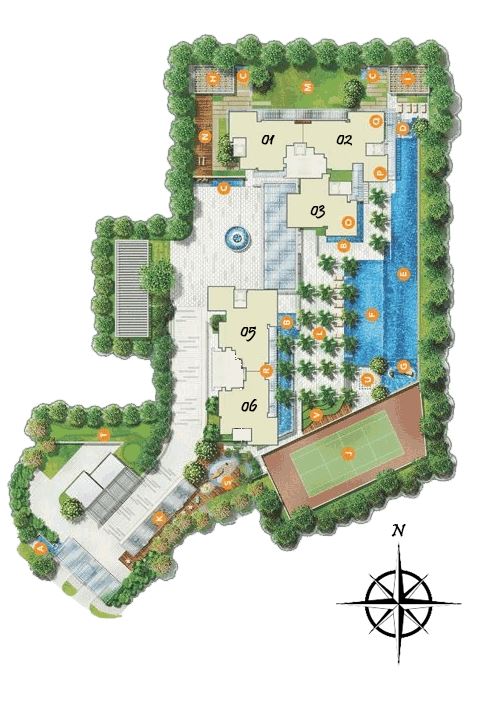 So now that you know all the potential redevelopments to the land, how does that change the best stacks for Paterson Suites? For one, Stacks 5 and 6 will probably have the views blocked by the new developments in the future. As these stacks also get the west sun, they should be your last resort. For that reason, we'll have to go with Stacks 1 and 2.
Paterson Suites Price Review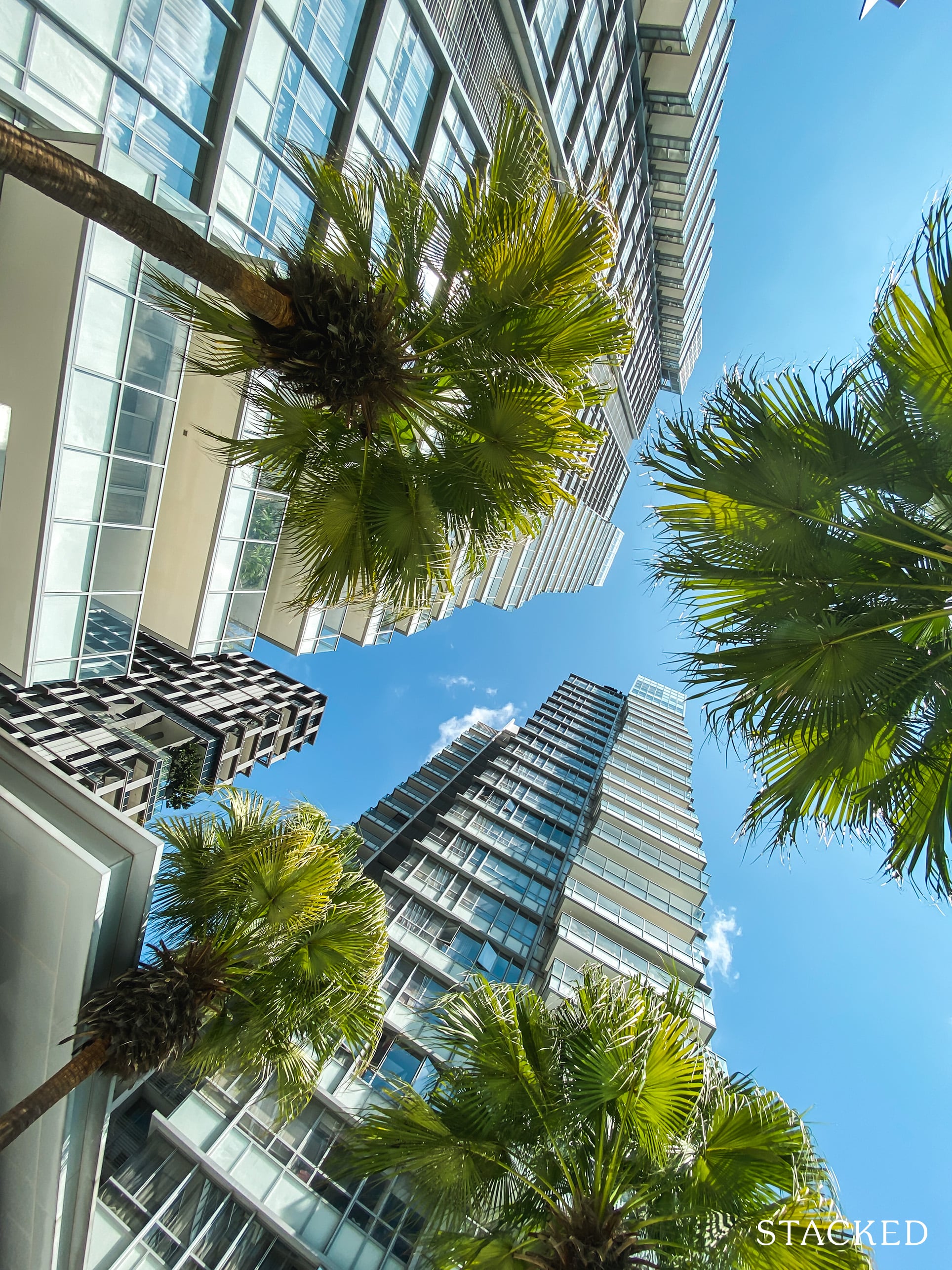 | | | | | |
| --- | --- | --- | --- | --- |
| Project Name | Tenure | TOP | Average Price (PSF) | Comparison Point |
| Paterson Suites | Freehold | 2010 | $2,442 | Immediate Locale |
| The Paterson | Freehold | 2004 | $1,603 | Immediate Locale |
| Paterson Residence | Freehold | 2008 | $2,244 | Immediate Locale |
| OUE Twin Peaks | 99-years | 2014 | $2,382 | Age/Tenure |
Interestingly enough, Paterson Suites' neighbours fall into a mix of freehold and 99-year lease tenures. In this price review, we will be comparing the condos based on tenure, age and immediate proximities as well as how the launch of the impending Orchard Road extension might affect its pricing.
To start things off, let's match Paterson Suites to its immediate neighbours, The Paterson and Paterson Residence. Naturally, their quantums line-up against their age – no surprises there.
Now if we were to compare Paterson Suites with the 'newest' luxury development in the area (aka OUE Twin Peaks), you'd realise they have a relatively similar quantum. What some of you might not have realised though is that the latter is a 99-year leasehold.
Looking at their individual appreciation trends, Paterson Suites' average quantum initially started out at $3,428 in May 2007 as opposed to OUE Twin Peaks' $2,866 average psf in July 2010. Considering that their current average psfs are $ 2,442 and $2,382 respectively, it is safe to say that the former has depreciated much more than the Twin Peaks.
While this could be due to the Paterson Suites' extremely high initial quantum (as compared to its neighbours) and bigger unit size figures (and hence more expensive units) as well as the OUE Twin Peaks' incredible design/architecture allure, appreciation trends are expected to rise for both residential developments when the new Orchard MRT extension is launched. 
Despite that, one would naturally expect Paterson Suites to uphold a stronger quantum demand than OUE Twin Peaks towards the end of the latter's leasehold.
Our Take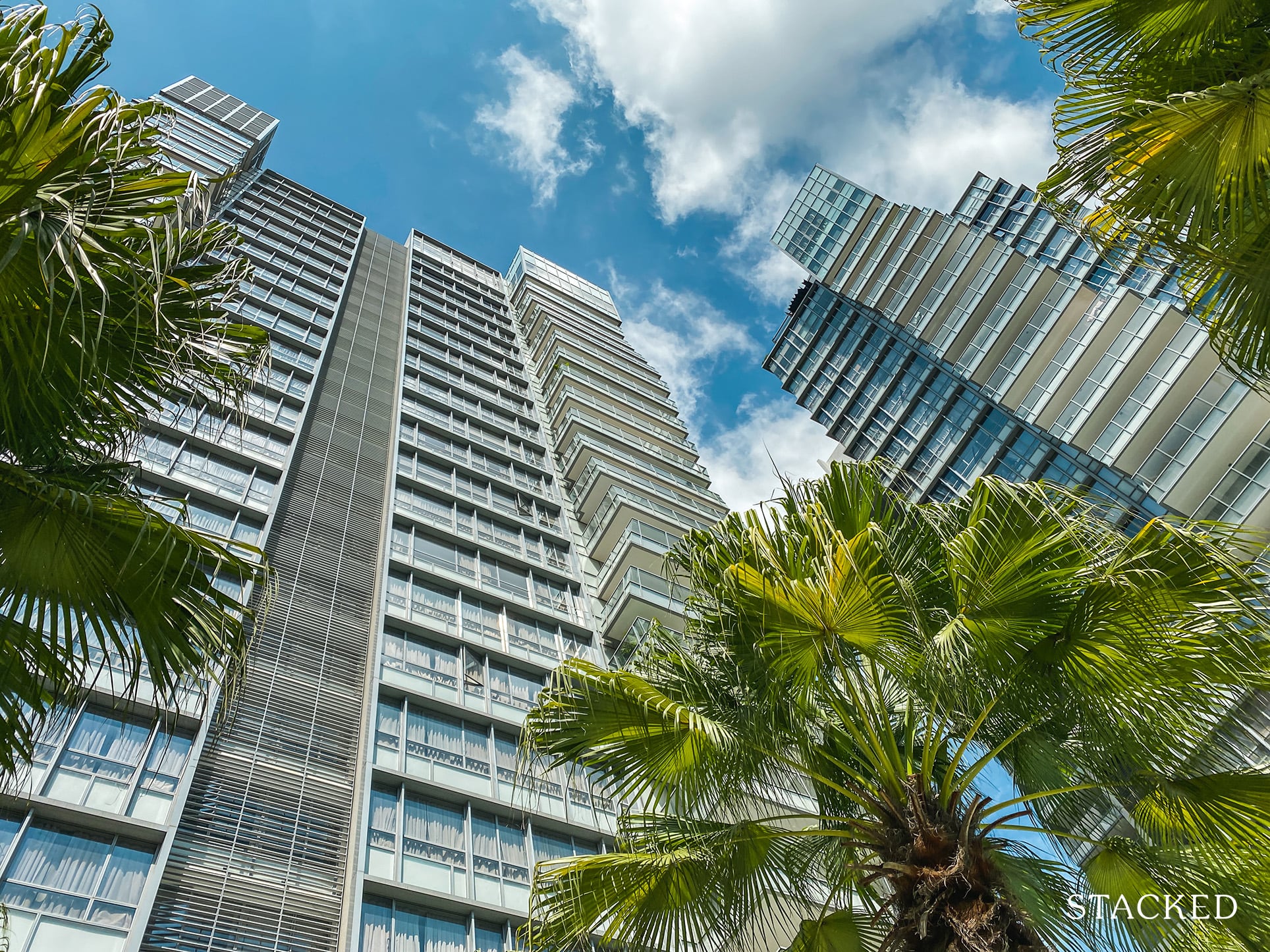 If you were to look at the prices of developments in the relative vicinity, you'd observe that the current average psfs ranges from $1,248 to $3,916.

At $2,442 psf, potential buyers of units at the Paterson Suites should know that its pricing lies in the middle of this range. What makes it more attractive is the fact that its average quantum has fallen nearly a $1,000 psf since its launch. This despite no major flaws/issues to the freehold development.

Add on the solid condo maintenance, rare privacy/exclusivity to locale offering and larger-than average facility installations/rare open spaces (despite its 'boutique-esque' stature) to the impending launch of the Orchard MRT extension and it isn't a surprise that a potential appreciation trend is on the cards for Paterson Suites.

Still, a unit here does command a demanding price tag (especially with its larger-than-average unit space) and wealthy short-term resale investors who might have their eyes on the project should understand that rental yield here borders a measly 2%.

As for those looking for homeownership (or long-term investment – with residence) opportunities however, Paterson Suites offers itself as a well-convenienced high-end abode on the fringe of Singapore's greatest shopping belt yet.
What this means for you
You might like Paterson Suites if you:
• Appreciate seclusion in a glitzy district:Living next to Orchard Road can get understandably exhaustive on multiple fronts. The condo's seclusion will go a long way in reducing noise and car pollution for one.
• Value exclusivity:While boutique residential developments are a dime a dozen in Singapore, the condo offers a rare venture on this end with luxurious/exclusive fittings in various sectors.
You might not like Paterson Suites if you:
• Lean Toward Quieter Districts:Paterson Suites might be enclaved in a quiet part of town, but for those who prefer the quieter, far-reaching districts, it is best to give the town area a miss.
• Prefer Larger Development Space:While it boasts some open spaces, larger facility offerings and bigger units, those who appreciate larger condo grounds should look elsewhere.
End of Review