35
min read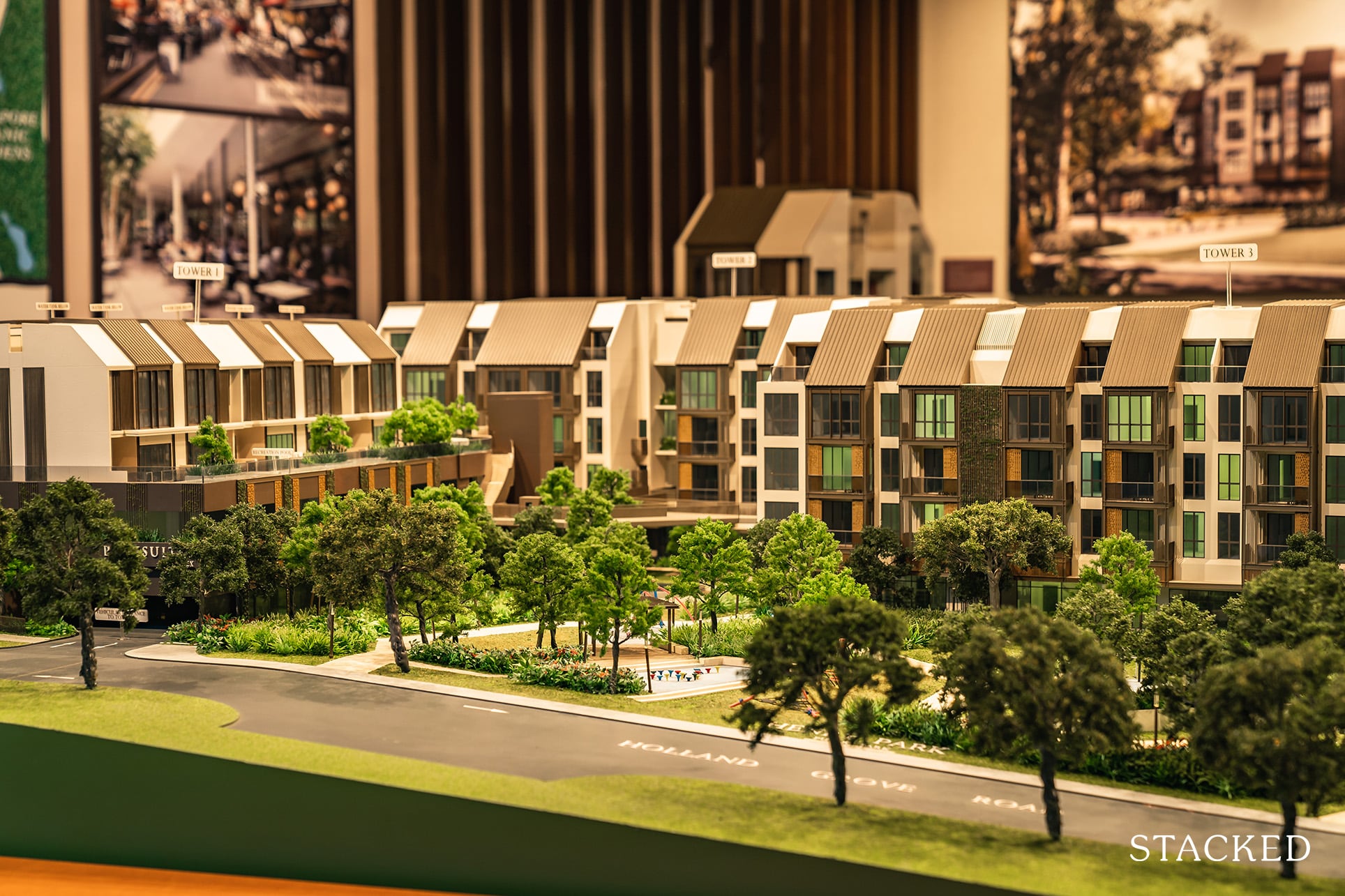 Perfect for families craving tranquility
Set in the middle of a low-rise private residential enclave and far from any MRT tracks, Parksuites is perfect for those who crave tranquility. Its location opposite Henry Park Primary also makes it ideal for families with young ones.
| | |
| --- | --- |
| Project: | Parksuites |
| District: | 10 |
| Address: | Holland Grove Road |
| Tenure: | 110-Year Leasehold |
| No. of Units: | 119 |
| Site Area: | 101,203 sqft |
| Developer: | Far East Organization |
| TOP: | 2023 |
How many condos in Singapore have their very own park and their own built-in mini shopping complex?

Perhaps more importantly… how many new launch projects today consist of solely low-rise residentials reaching up to a max of just 4-storeys high!?

Well the slightly sheepish, I-beg-your-forgiveness answer to that is 'very few'.

Allow me to first begin with a little bit of backstory about Parksuites' land acquisition.

Before February 2018, it had been a lengthy bit of time (4 full years) since real estate developer Far East Organization had actually acquired a site via the Government Land Sales (GLS) programme.

Their previous prize? A rare strata-titled office space at Woodlands Square which also included F&B and Retail units.

Based on this little (lengthy) case alone, you can see how cautious Far East Organization were with their GLS bids and how eager they were to secure this valuable piece of land when the opportunity arose (their bid came in at $1.213 billion, almost $200 million more than the second highest bidder).

Featuring unrivaled serenity, pretty good convenience levels, and (for parents reading this) a number of solid early and mid childhood options in the immediate vicinity to supplement the kids' education careers, on paper it does seem to offer quite a well rounded offering.

Yet why have they only been able to sell just 20% (or 24) of their 119 exclusive units here?

We'll go more in depth into that in the price review/analysis later. For now though, let's dive into a showroom tour of luxury and prestige!
Parksuites Insider Tour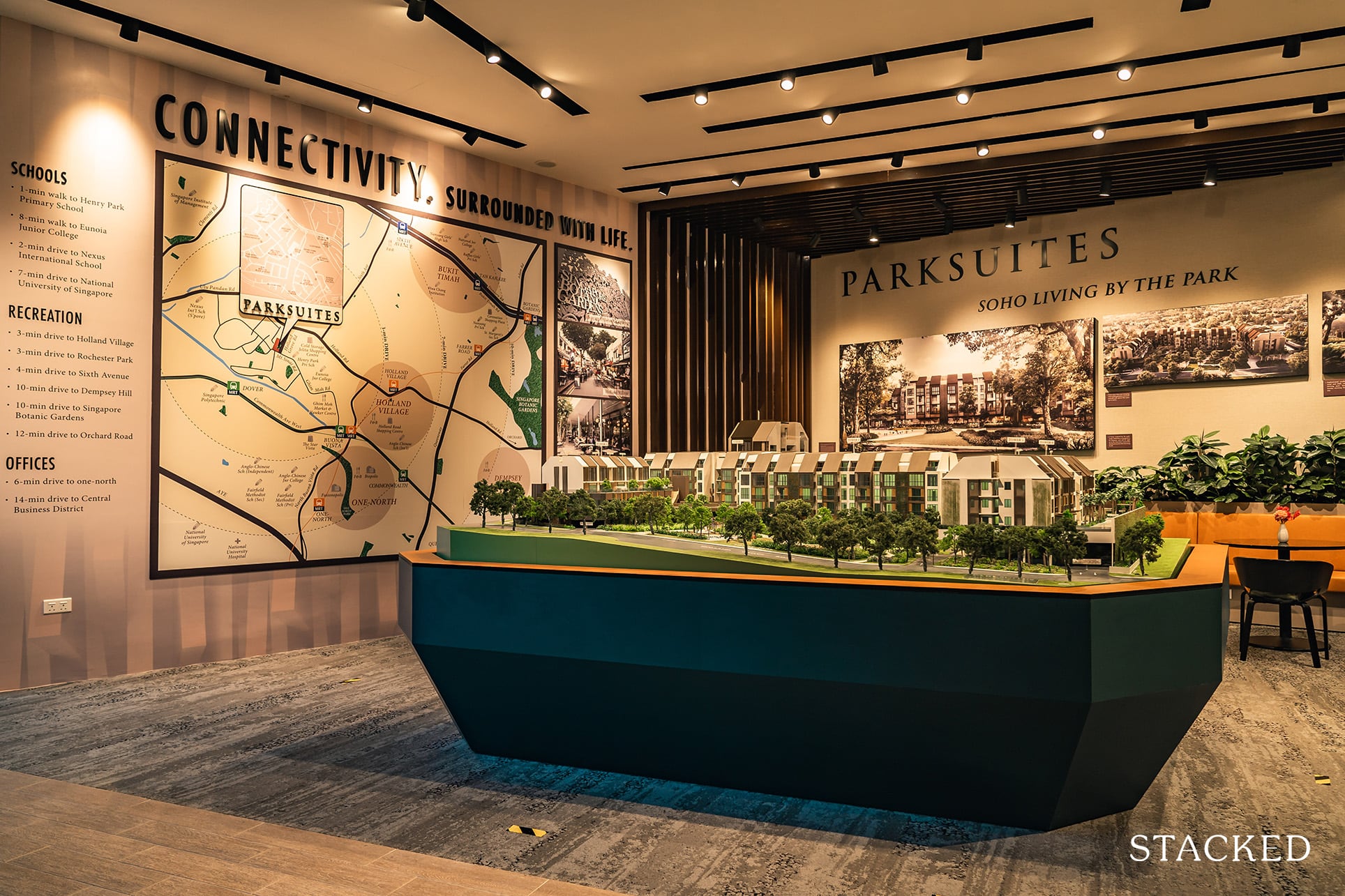 I don't know about you, but for me, a condo name often sets the tone for expectations of the development. And this is all the more so for a new launch, as its name is usually the first thing you hear.
Perhaps it's because Parksuites has a nice ring to it, or maybe because of my association of the words Park (Park Hyatt) or Suites (premium hotel room category), but first impressions are definitely good.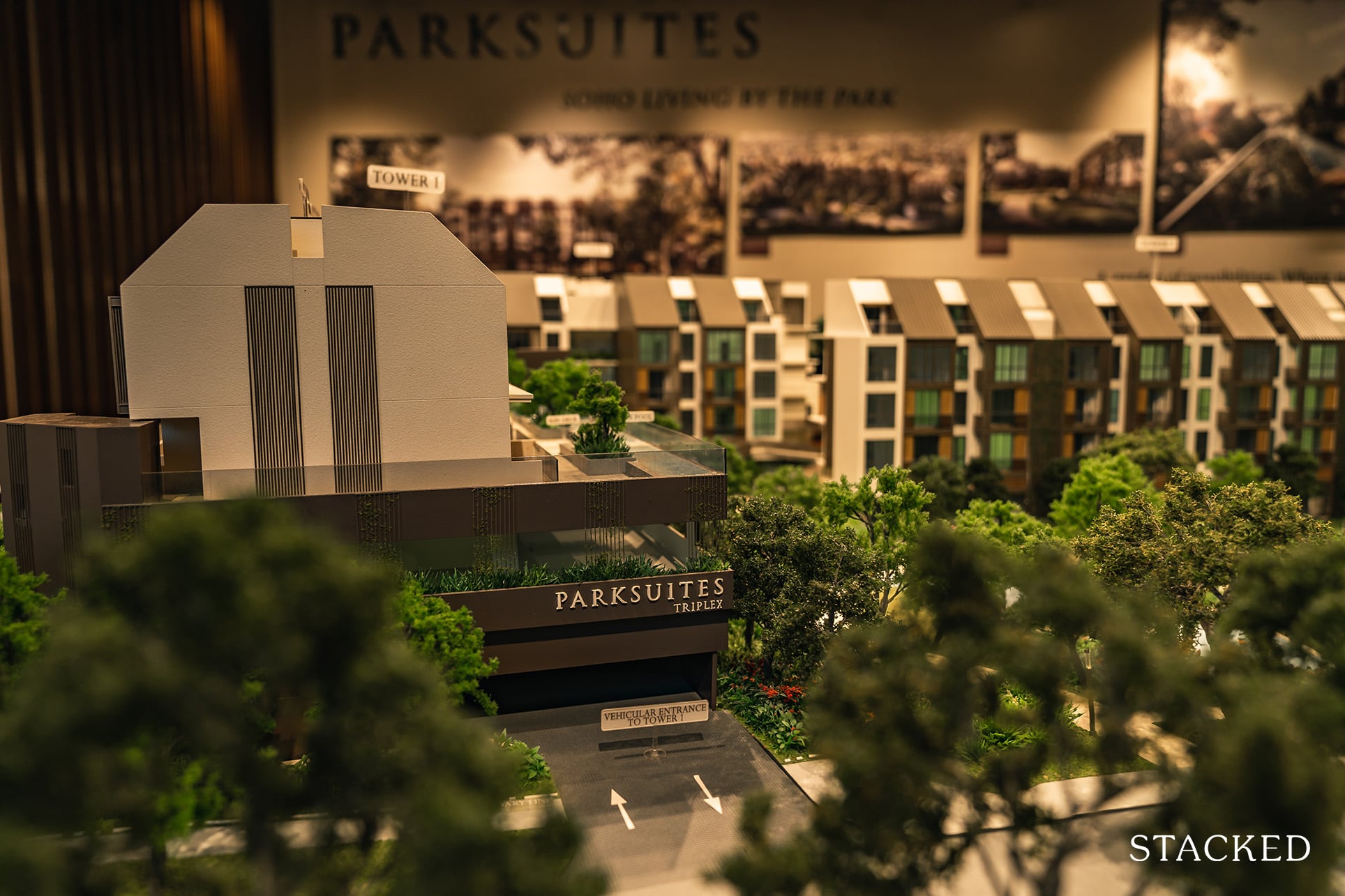 That's not to say having a good name means its a solid project, or that it would even guarantee great capital appreciation – all it creates is a positive first impression.
There are two entrances to Parksuites, but the entrance you see here is purely for Triplex units owners, as they have their own dedicated car park lots.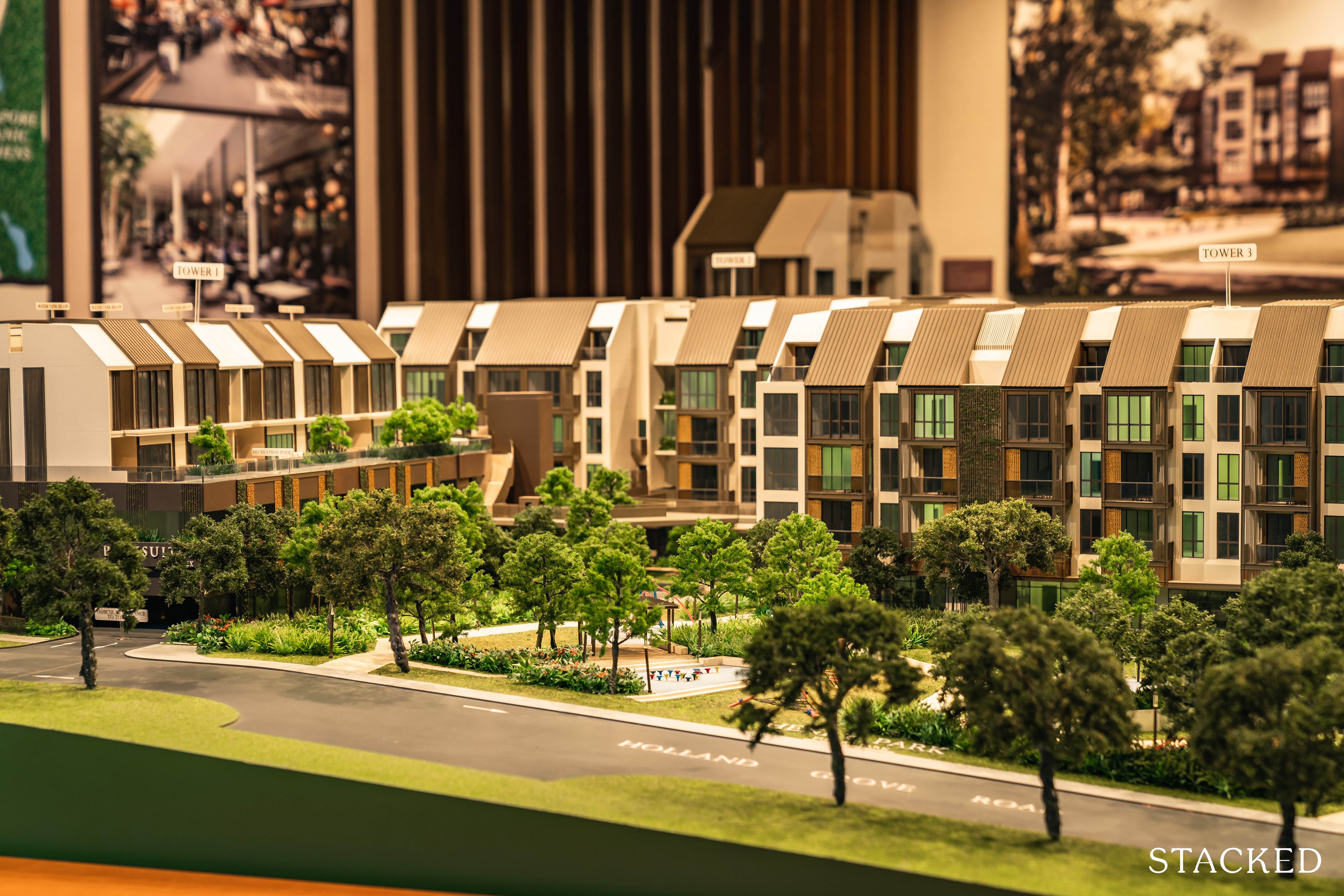 Parksuites sits on a land size of 101,203 square feet, which sounds pretty respectable for its 119 residential and 18 commercial units. Bear in mind, however, that these are low lying blocks of just 4 storeys – mainly because it is situated in the Holland Grove landed estate.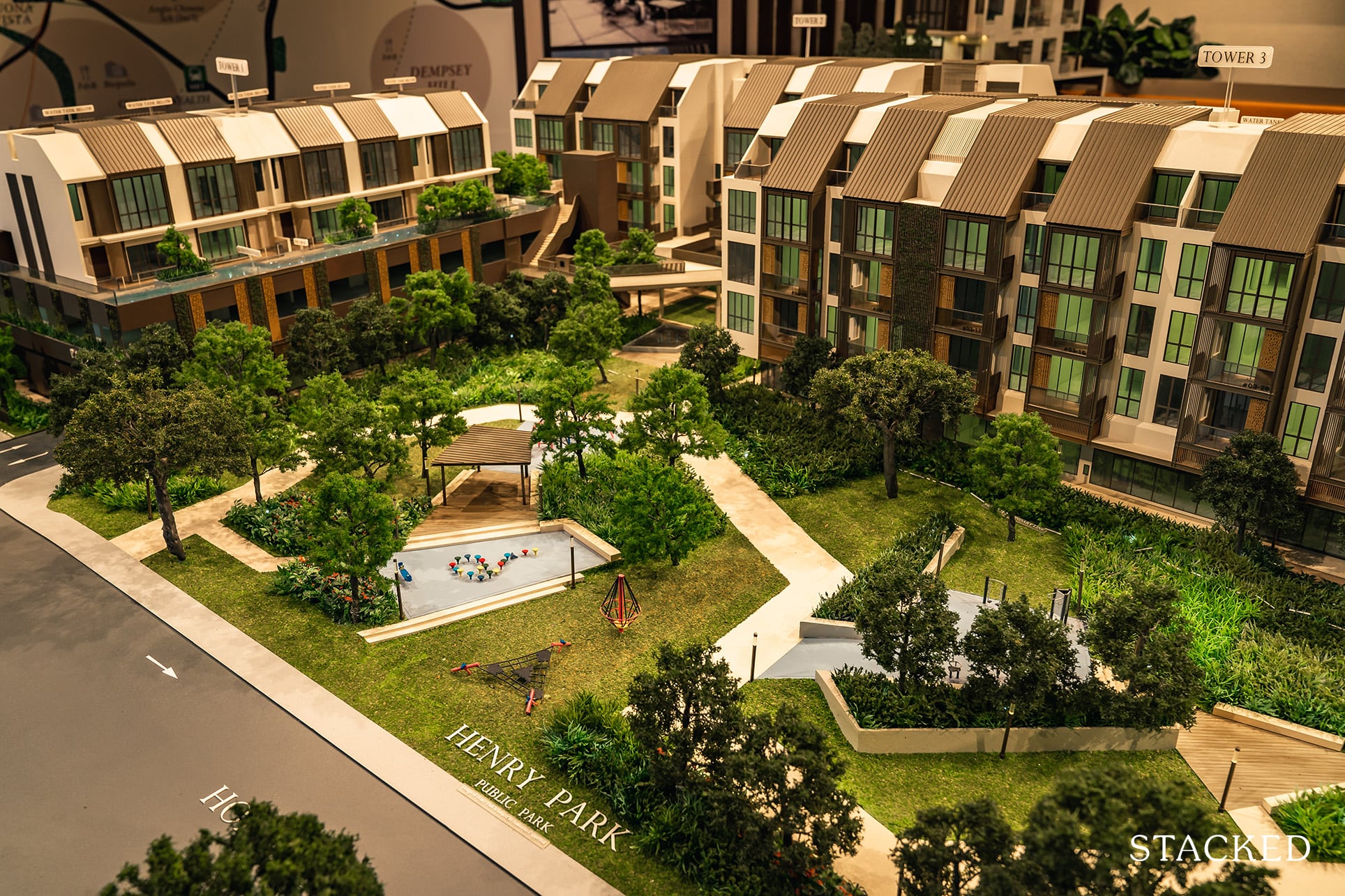 If this is your first time taking a look at Parksuites, it's easy to think that these open grounds are part of the estate.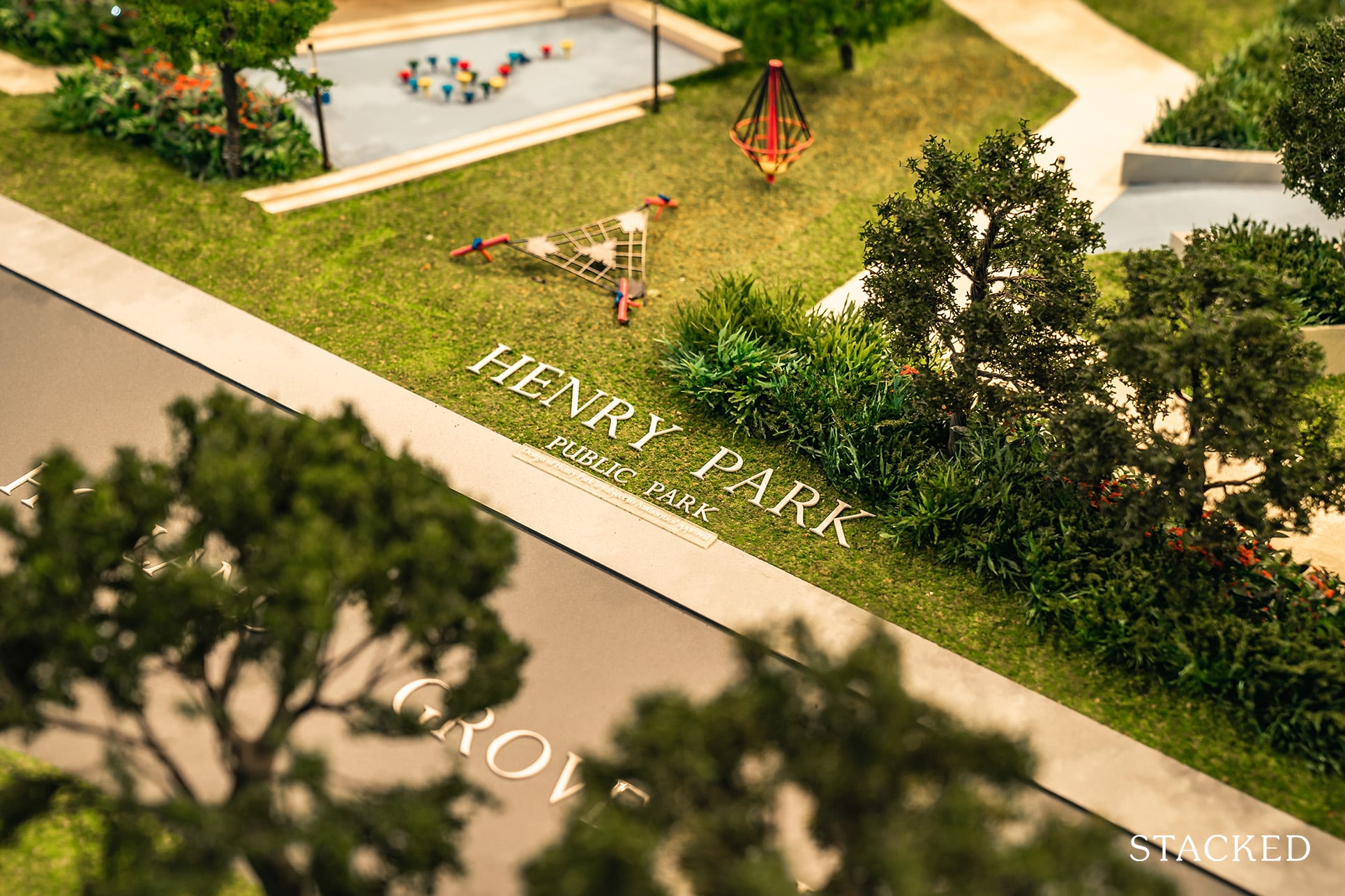 Sad to say, this expanse of greenery is actually Henry Park – which is accessible by the public. It would certainly be a huge selling point if these grounds were exclusive to Parksuites.
That said, you still enjoy the direct benefits of having a park right at your doorstep. Especially for families with young children or those with pets, you can surely appreciate having this lovely space in which your children/pets can run and revel in.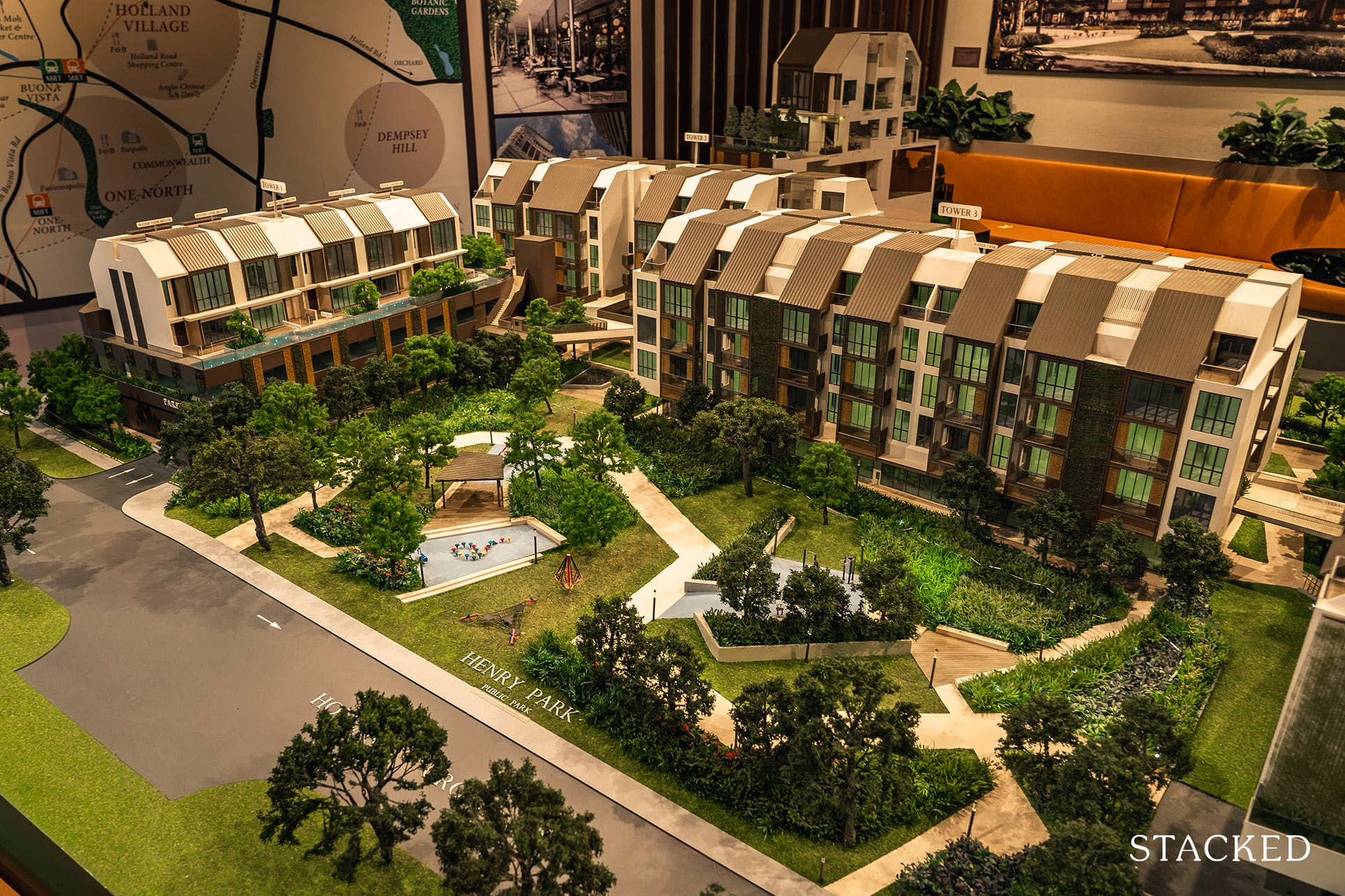 I'm sure some people might worry about the downside of noise, as it is a public park after all. But being located in the landed estate should mitigate that as it is a lot less dense people wise.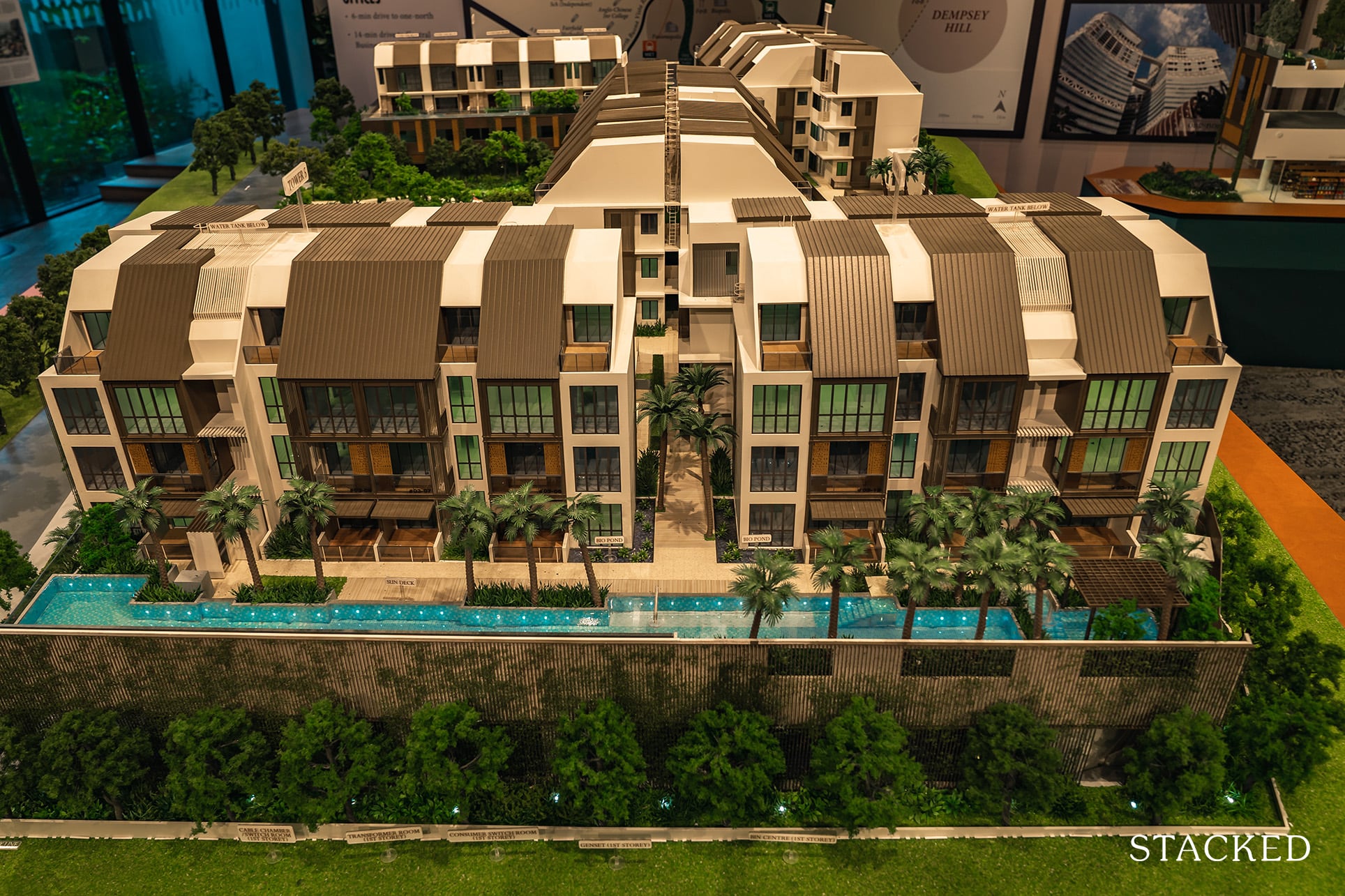 Facilities wise, there isn't a tennis court but you do get 3 swimming pools, a 50m lap pool and two smaller recreational ones.
The 50m lap pool you see here is a great length for swimming, but it is quite a narrow strip.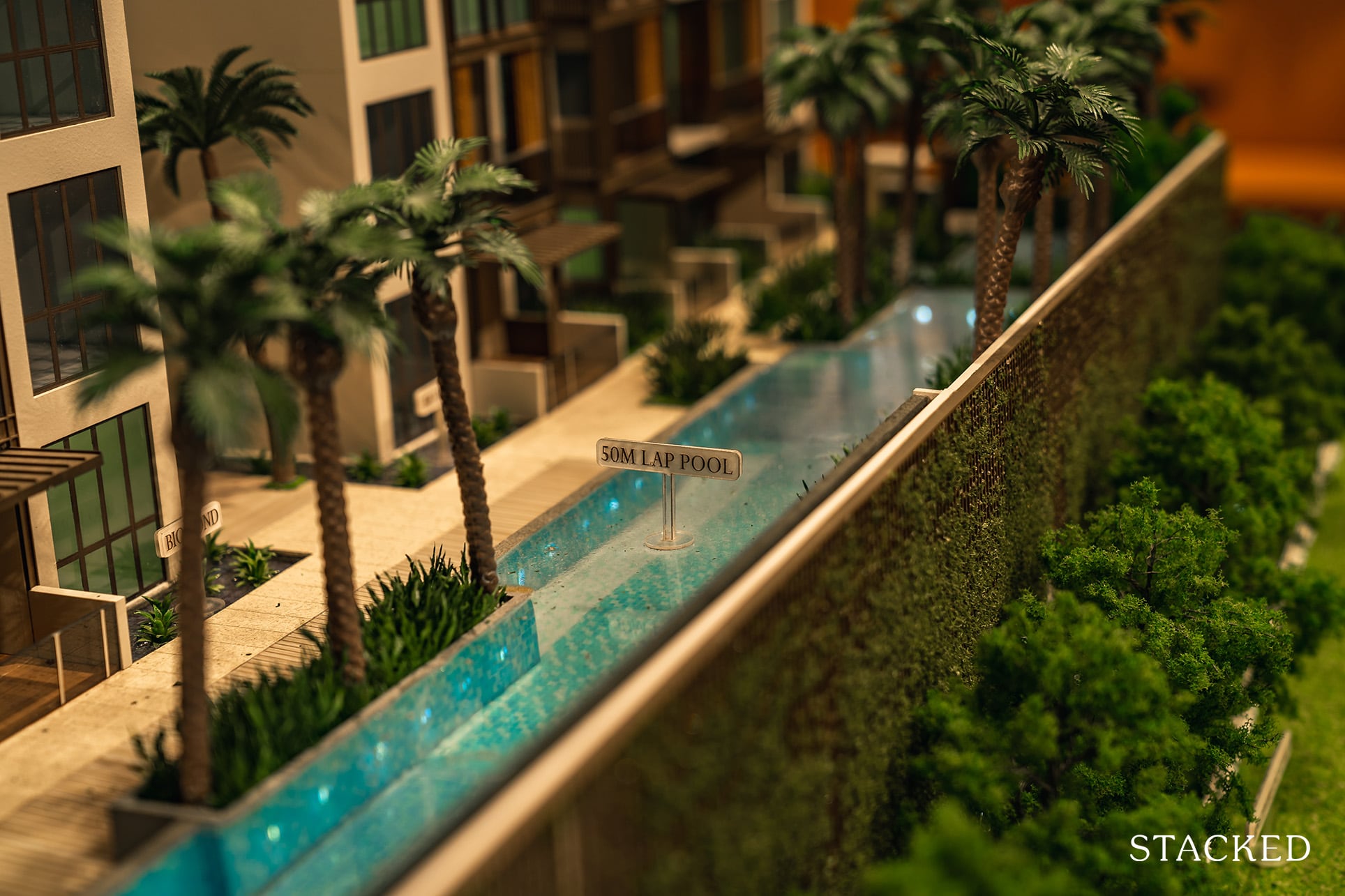 The 50m lap pool is located parallel to the landed house along Holland Grove – not the most ideal view. The good news is there is a margin of separation due to a drain, but the bad news is you are overlooking the drain as well.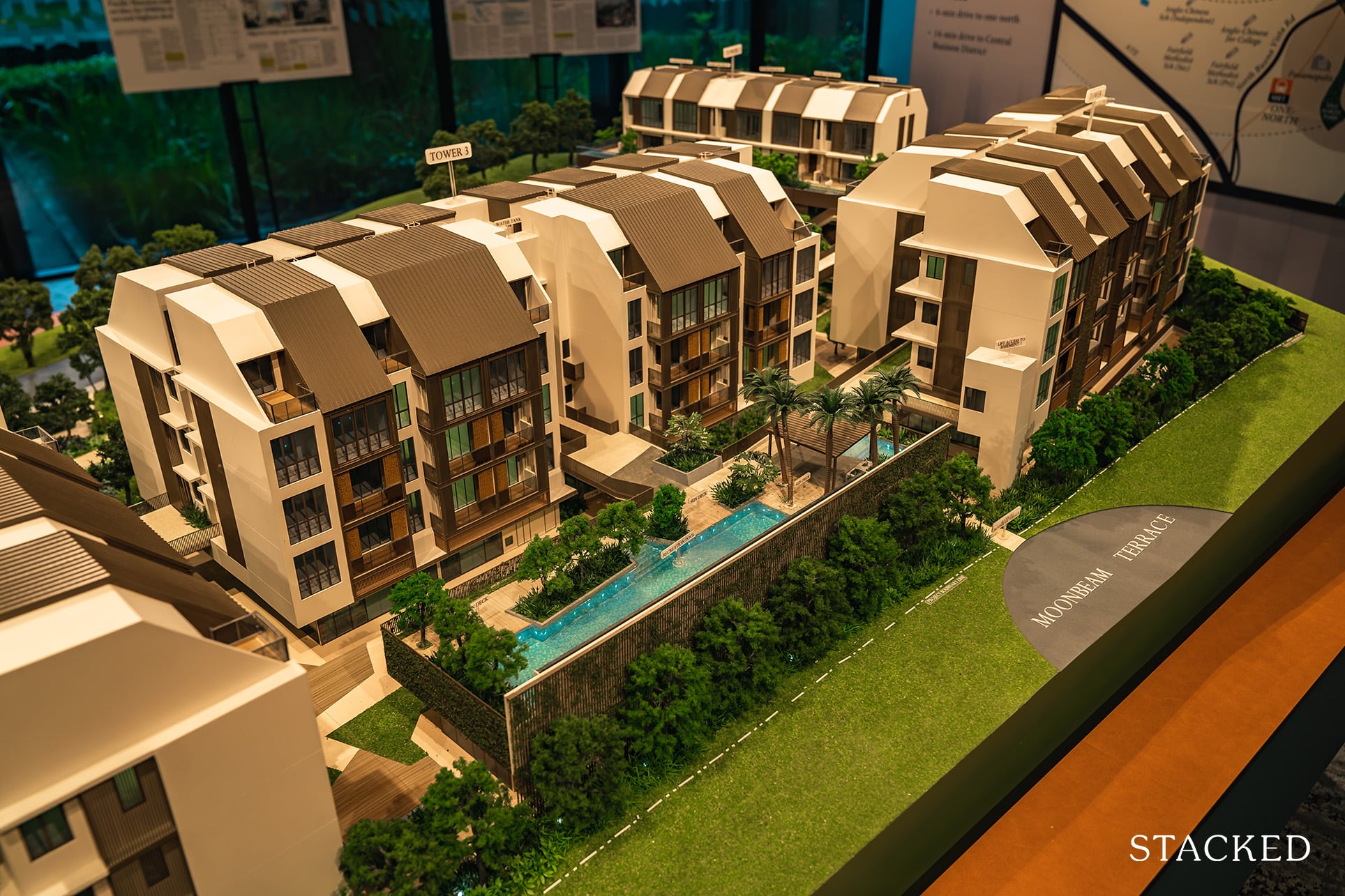 As mentioned above, there is a recreational pool as well. This one is decidedly smaller and it faces the back of the landed homes at Moonbeam Terrace.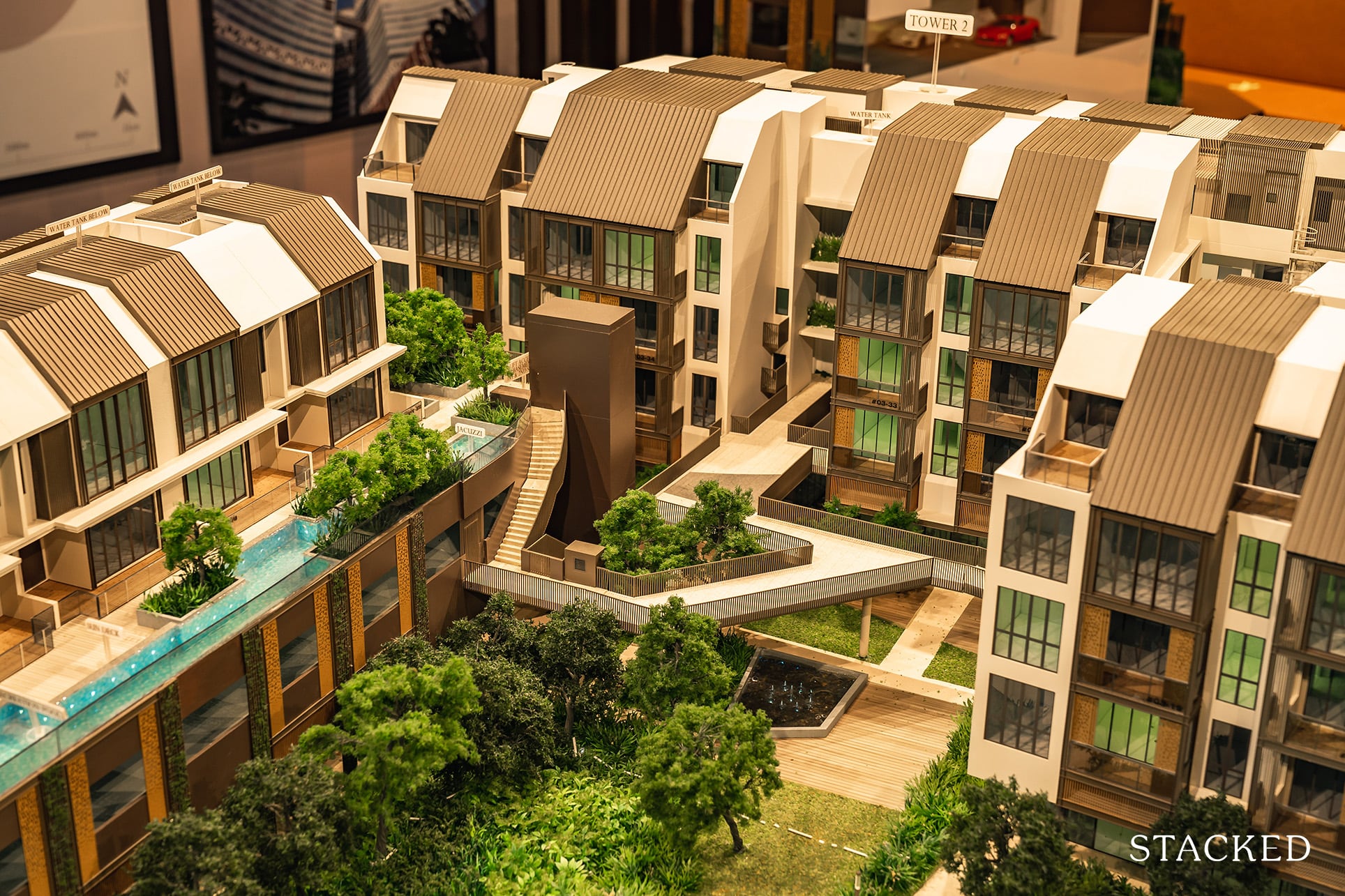 The last swimming pool has arguably the best views, as this is set on the third storey and overlooks Henry Park. It is definitely not a big pool here, and is still rather narrow as well – think of it more as a place to relax and soak in the ambience.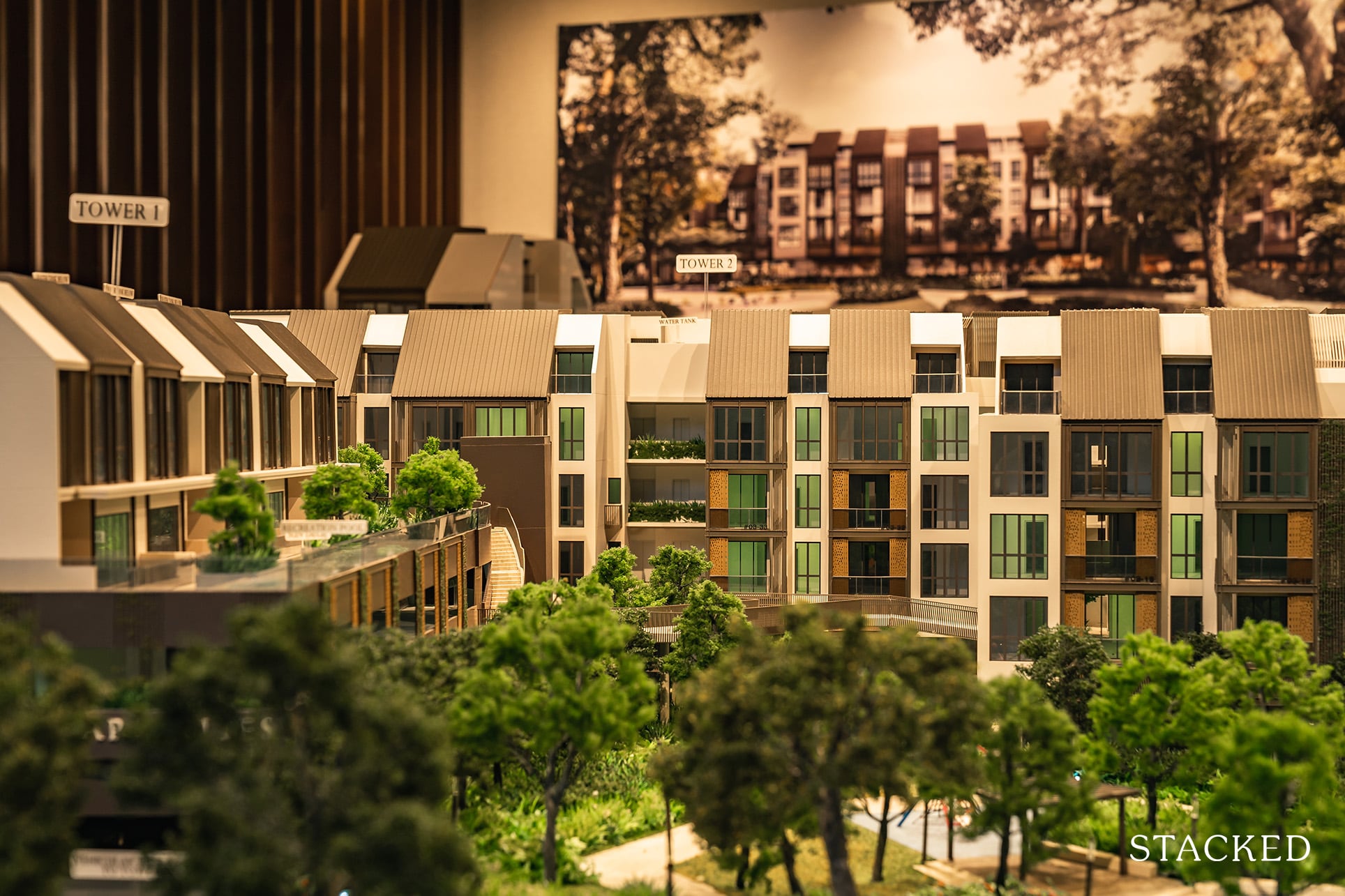 In terms of other facilities, it's really just your standard gym and BBQ pavilions. Where it stands out from its competition is really the commercial component, 18 retail units is pretty sizeable considering the size of the project.
Where it stands out from its competition is really the commercial component, 18 retail units is pretty sizeable considering the size of the project.

Reuben Dhanaraj
While on the brochure it does say that there will be artisanal retail and F&B options, it really remains to be seen if this can be properly curated to attract the right tenants to make this a viable mini-destination for the landed housing residents in the area. If it is done well, I can see this as a real draw for the convenience and lifestyle.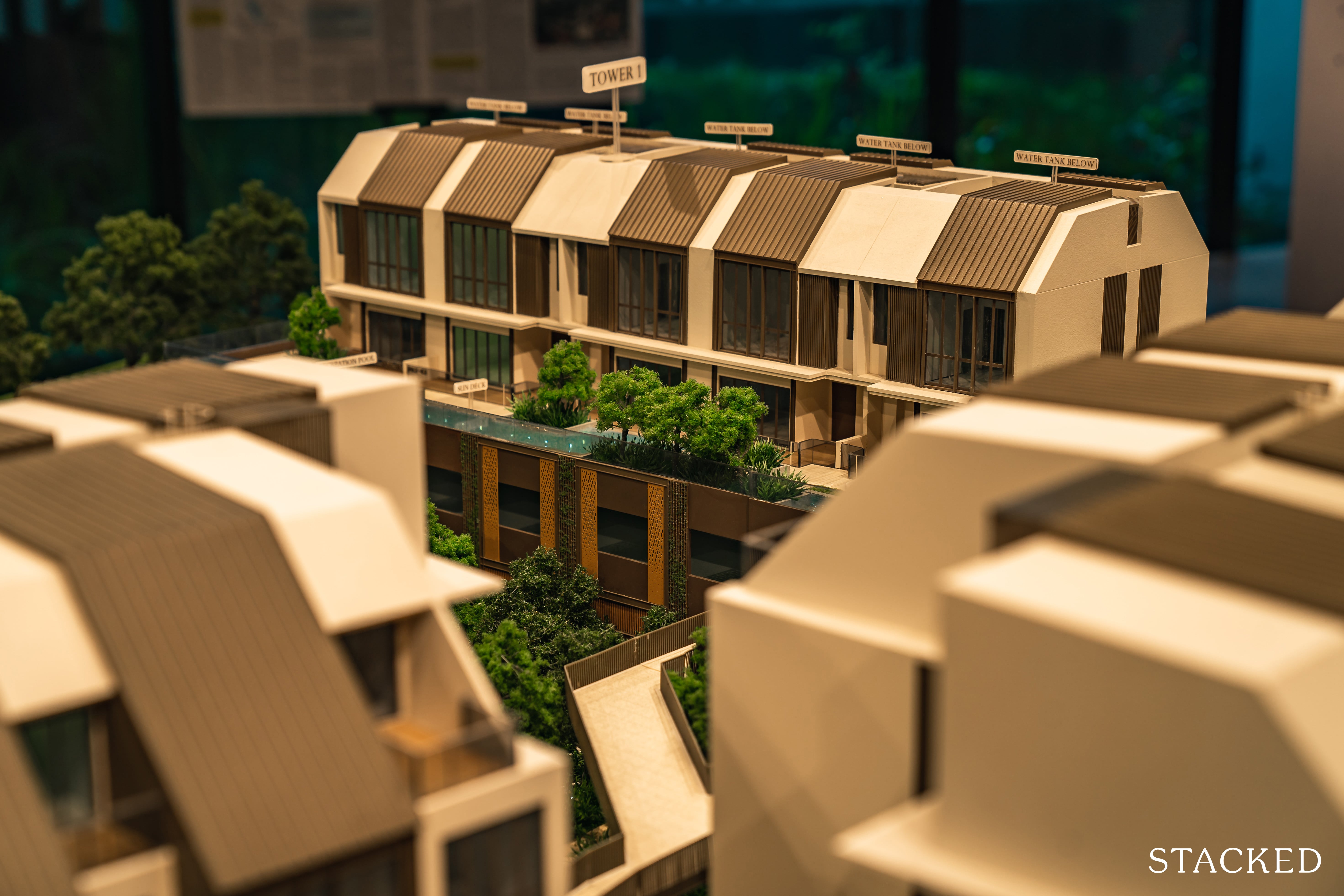 Design is always a subjective thing – everyone always has differing opinions about it. Personally, I am rather ambivalent towards it. On one hand, the colour palette is pleasing and it looks homely – on the other, I can't help but feel that the look would get outdated quite quickly.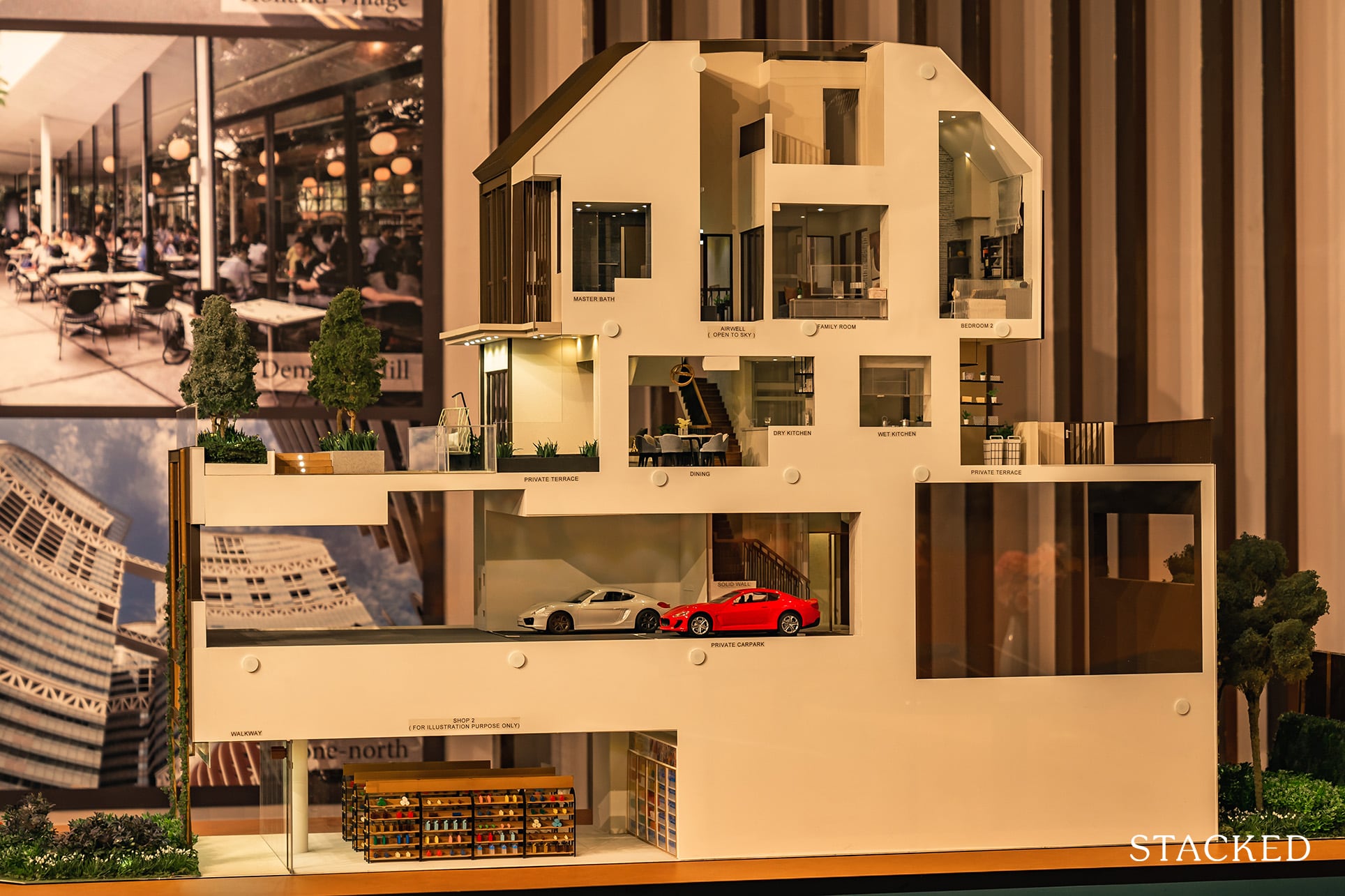 Parksuites does offer a unique option of 5 triplex units which range from sizes of 2,885 to 3,068 square feet. Think of these as landed homes within the estate of a condominium development. As I referenced above, these have their own dedicated car park lots as well as entrances.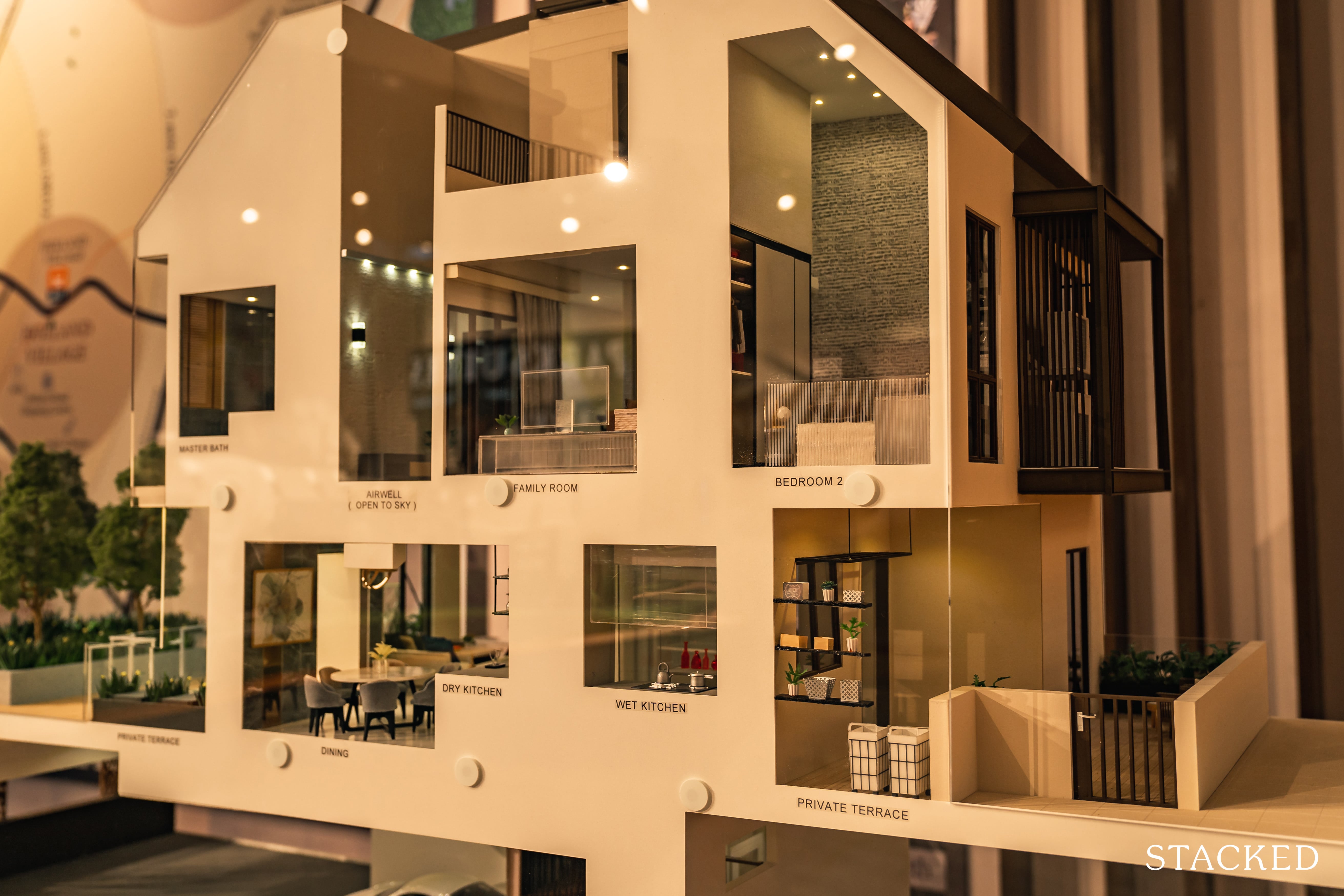 While on paper the sizes are quite substantial, you could face a similar issue with cluster landed homes – where because it is split amongst a few levels, it doesn't quite feel as big.
That said, ceiling levels here are high, with the lowest at 3.4 metres, and going up to a high of 6 metres (the sloping roof at the highest point).
Parksuites 2 bedroom + Study Review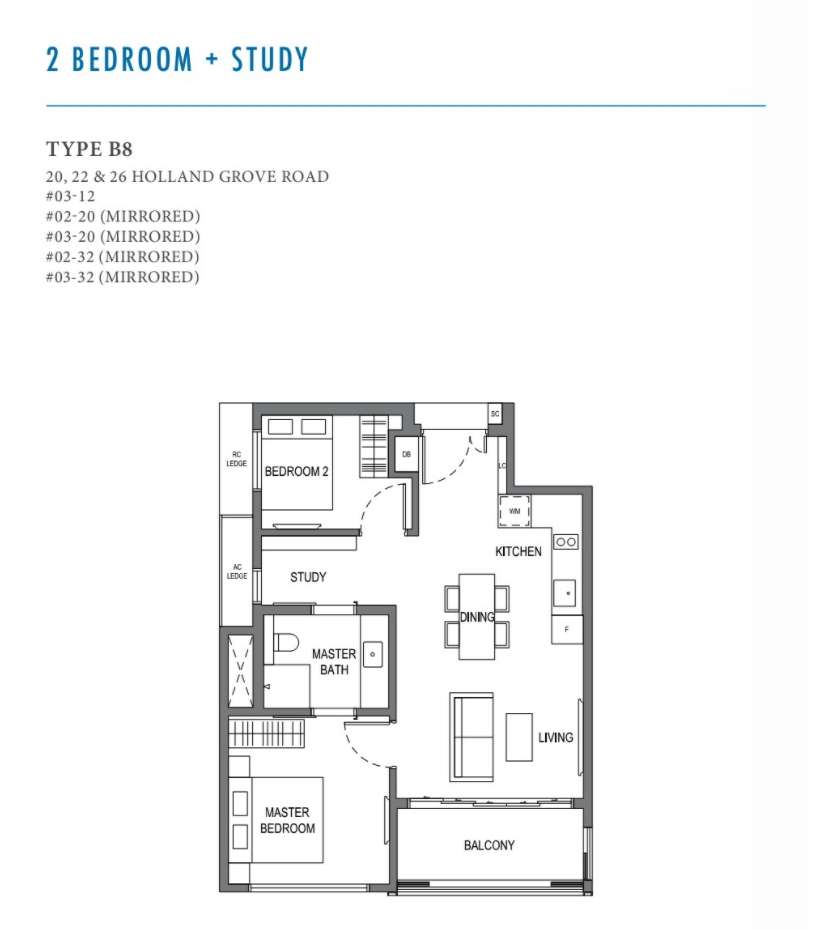 There are a few variations and sizes of the 2 bedroom + study units at the Parksuites – these range from 786- 872 square feet of space. The biggest difference is down to the size of the balcony, with the larger units having a private roof terrace.
This one that you are currently seeing is the 786 square feet unit – for a 2 bedroom + study unit, it is quite an average size. The biggest consideration for most people here is that there is only one bathroom available, which is definitely not a comfortable situation depending on your living arrangements.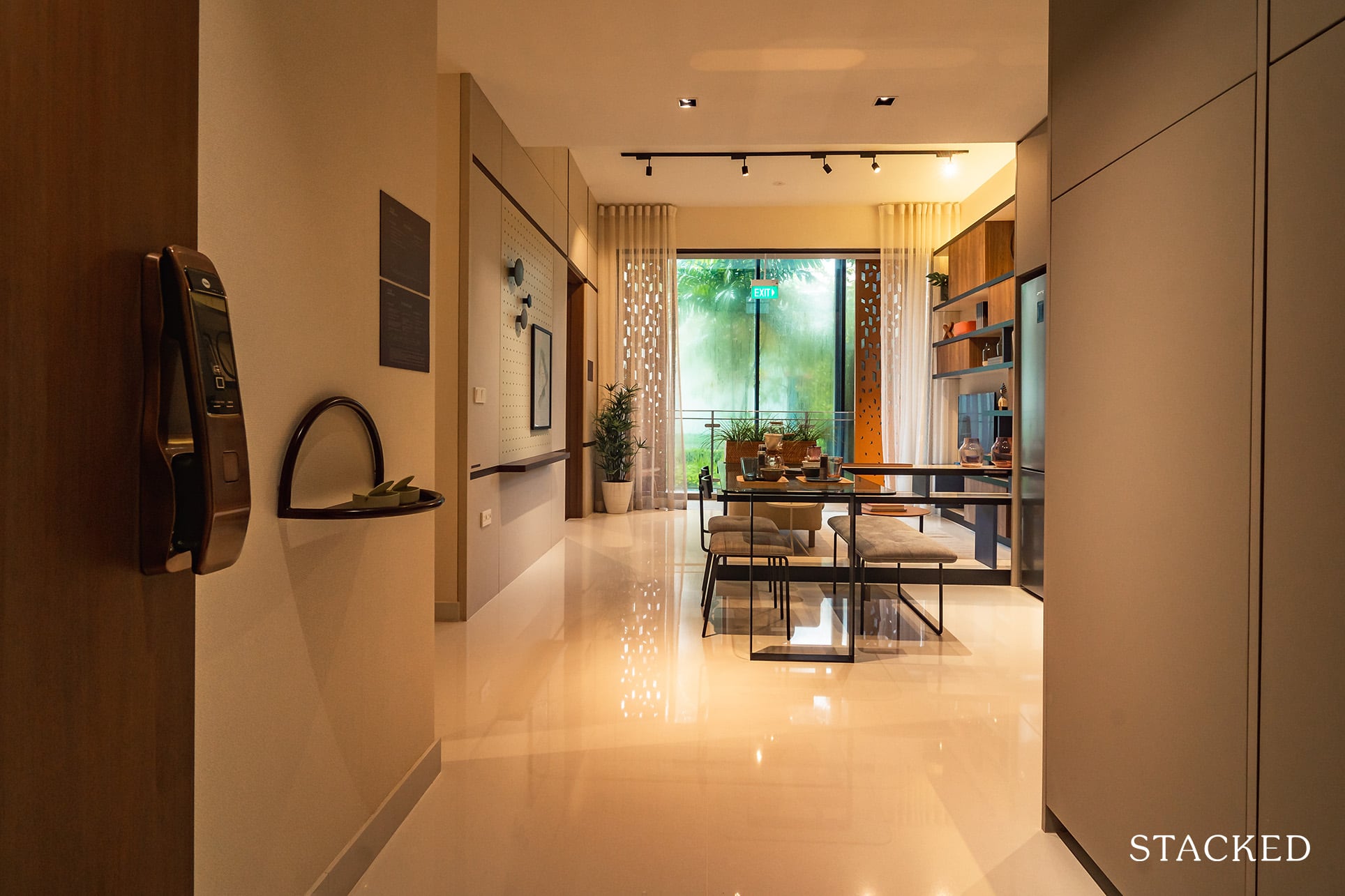 Stepping into the unit, first impressions are pretty great. It's wider than most other units, and what you'll immediately notice is how open it is.
Let's not forget, there is a built-in shoe cabinet right on the outside of the unit – it's a small but practical touch.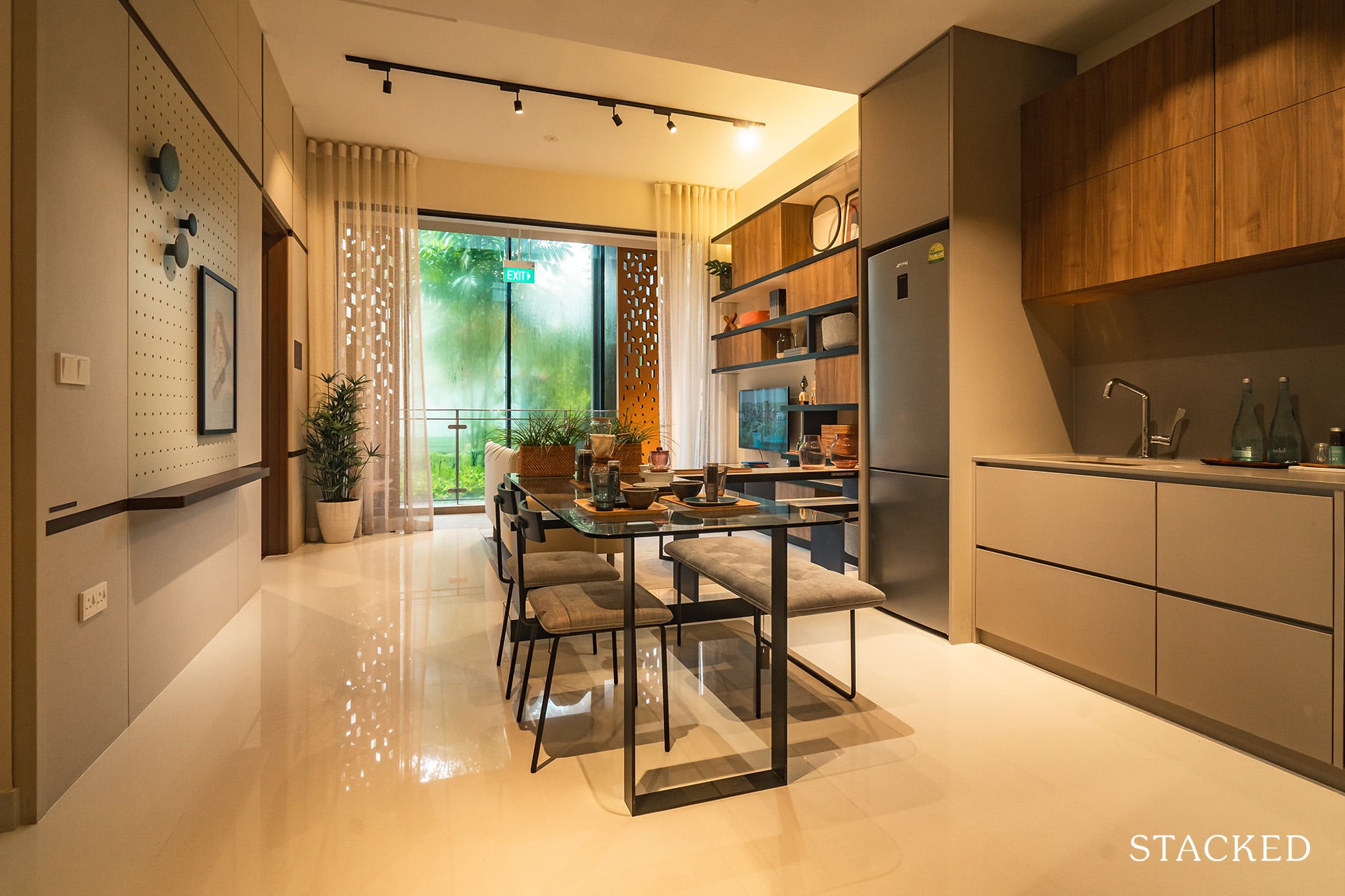 The layout is somewhat similar to the one at the Holland Village Residences Leven 2 bedroom unit (by Far East too). It is an efficient layout, with little wasted spaces and has the benefit of making the space seem a lot bigger than it actually is.
The downside to that is lesser privacy for you, particularly as the bathroom is a shared commodity in the middle.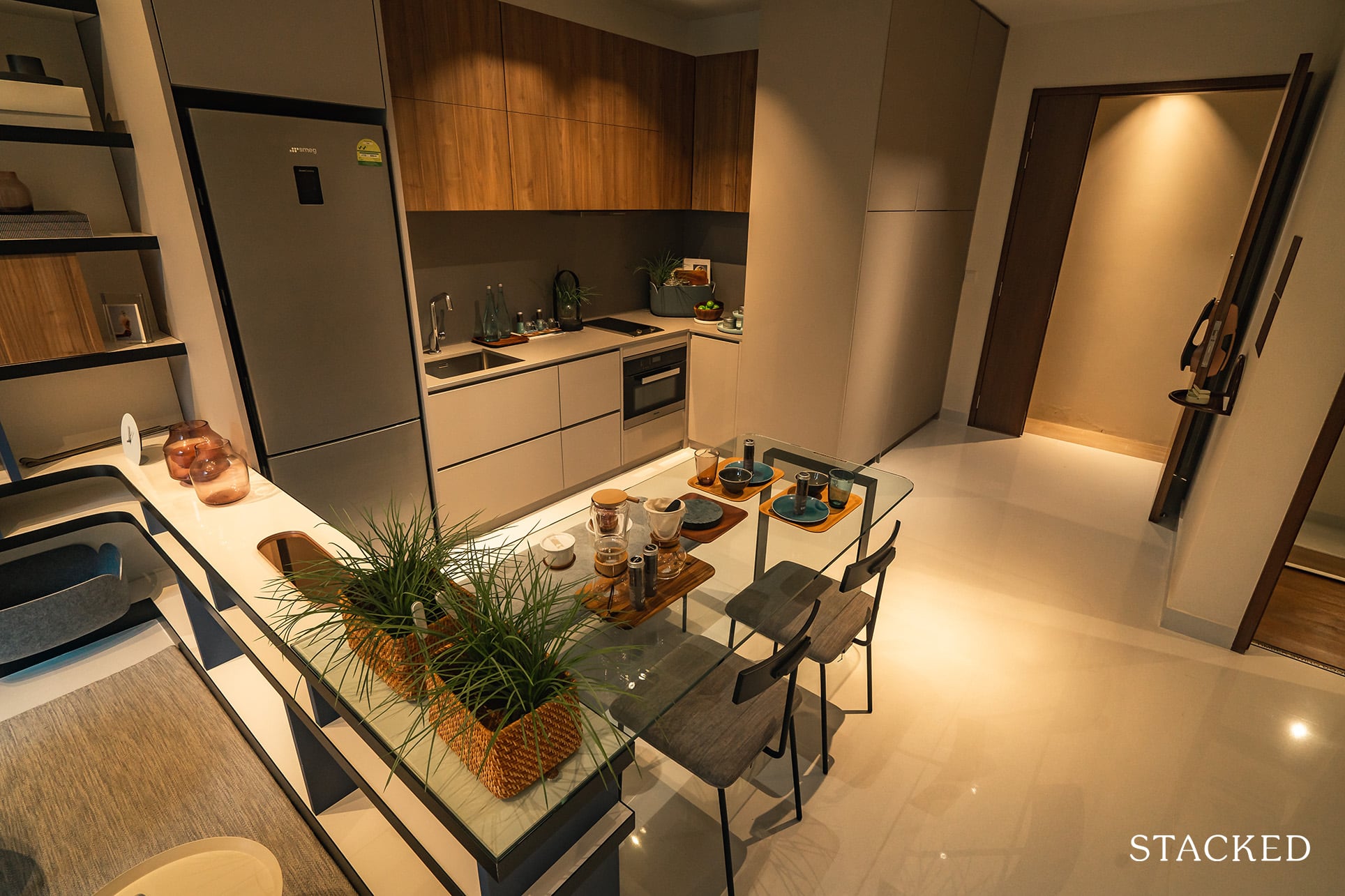 As with most 2 bedroom units in new launches nowadays, the dining and kitchen areas have almost become synonymous spaces. Depending on the size of the dining table you choose, it is generally quite spacious. I think also because of how it is laid out, you do have quite a lot of flexibility in the shape of it.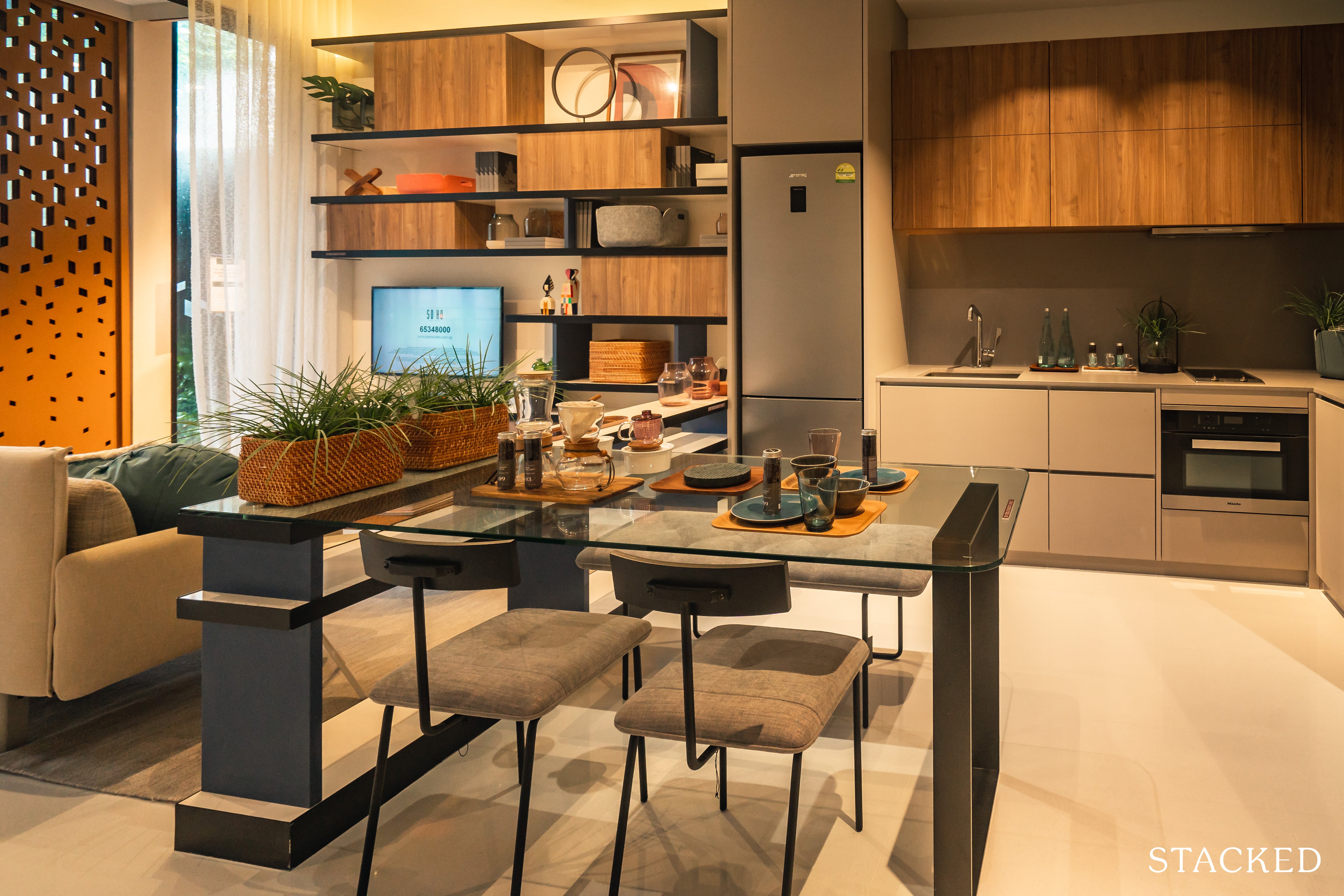 Of course, this isn't a big dining table – plus the transparent nature of it makes it less obtrusive. But even with those "enhancements" you can quite clearly see the amount of space afforded.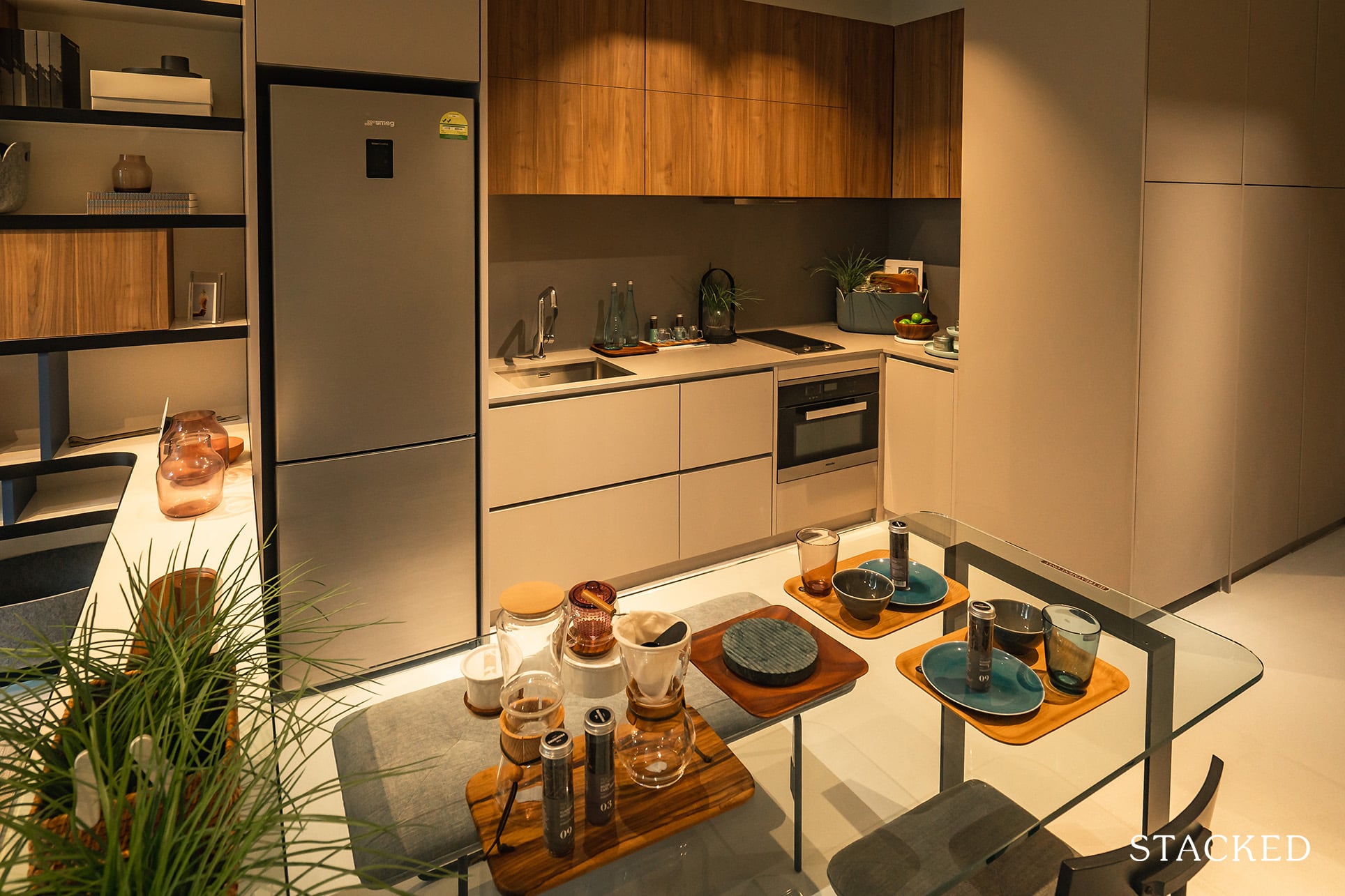 There isn't an enclosed kitchen here, but you do get decent storage and countertop space. Of course, there is no yard area so the washer/dryer is located here as well.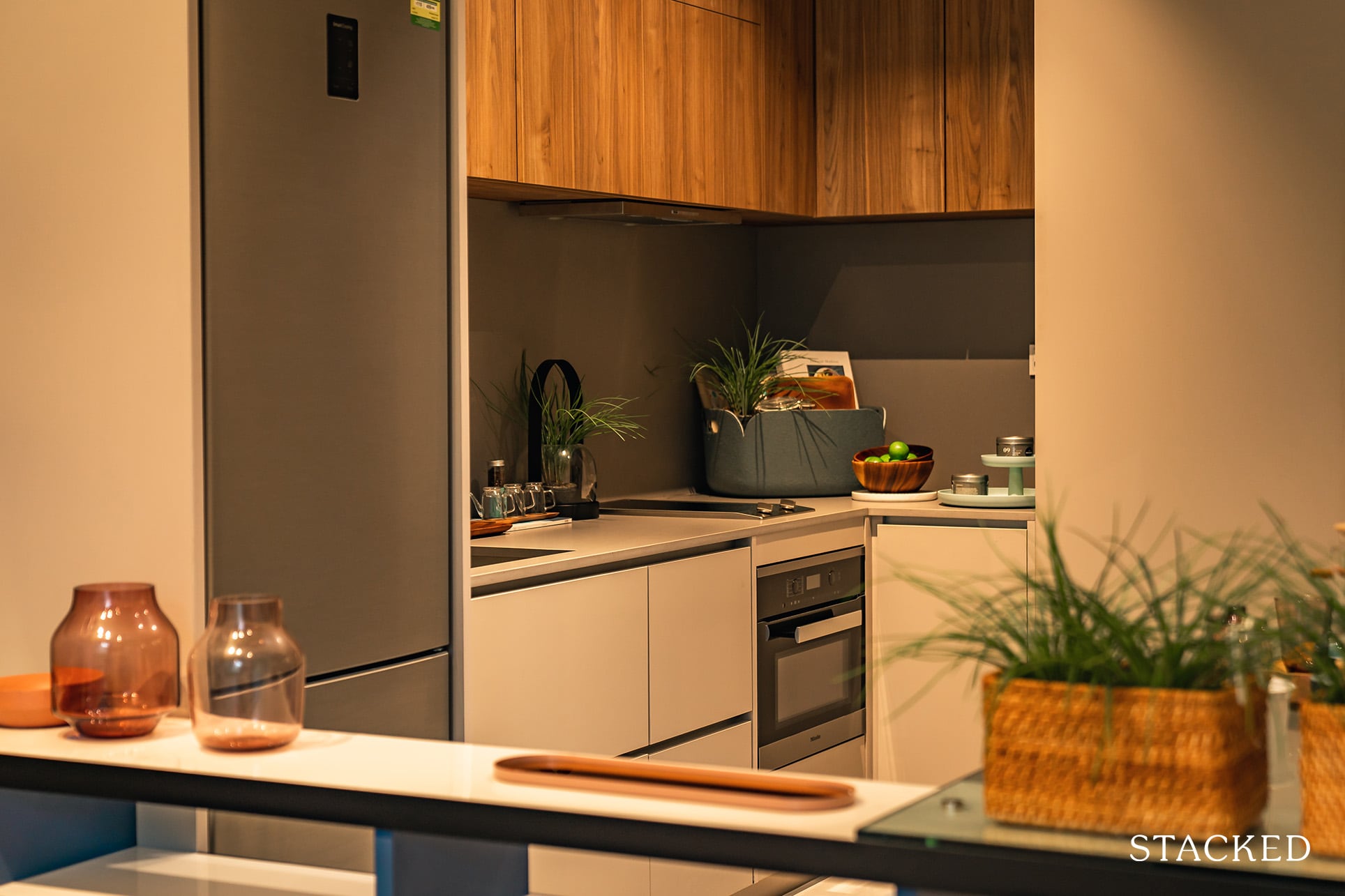 The fridge is by SMEG and the oven, Miele – both typically seen as premium brands when it comes to kitchen appliances.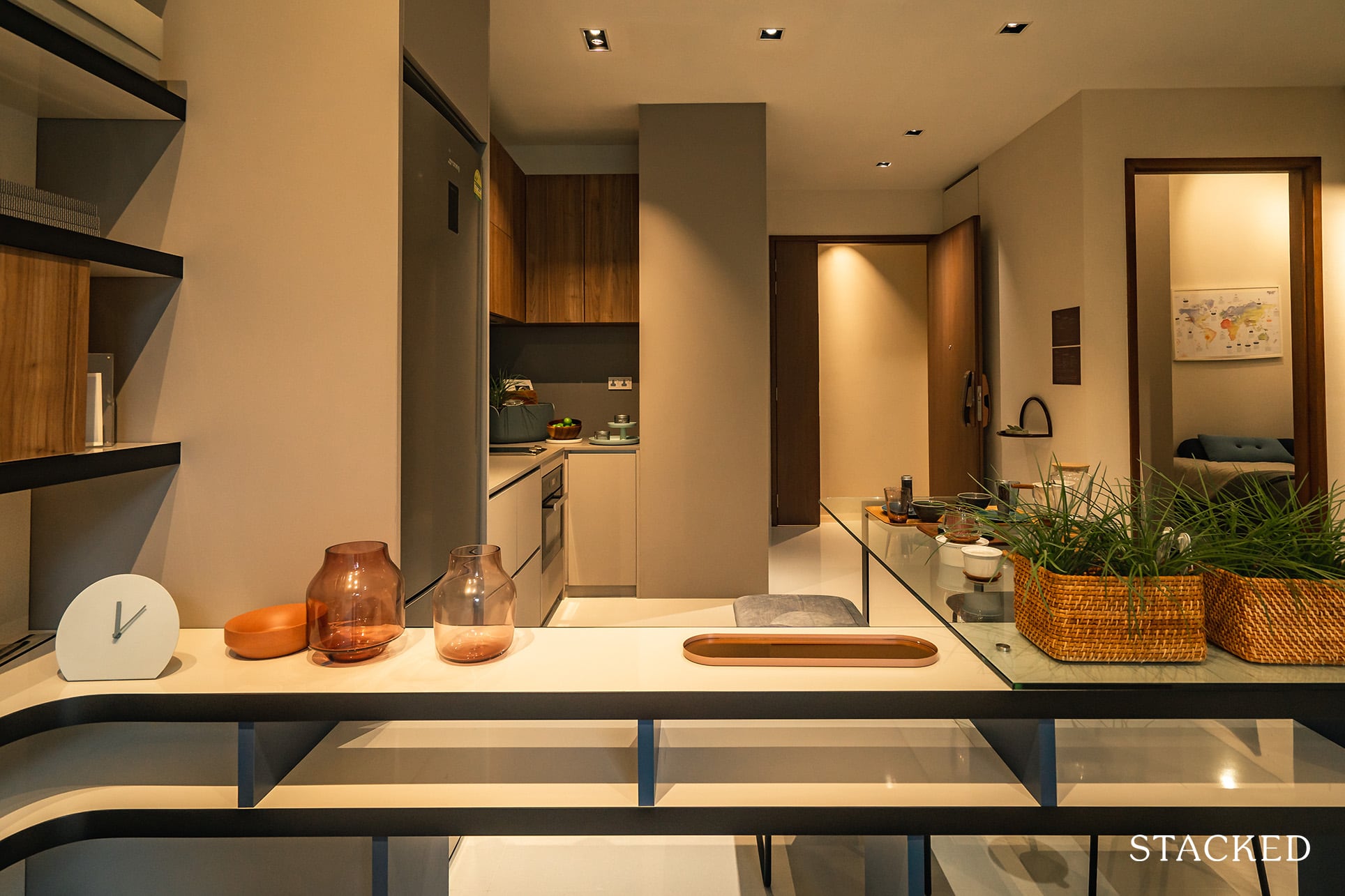 As with this open layout, you undeniably have that feeling of space – it isn't constrained like other 2 bedroom units I've seen – particularly those that share the kitchen space with the walkway.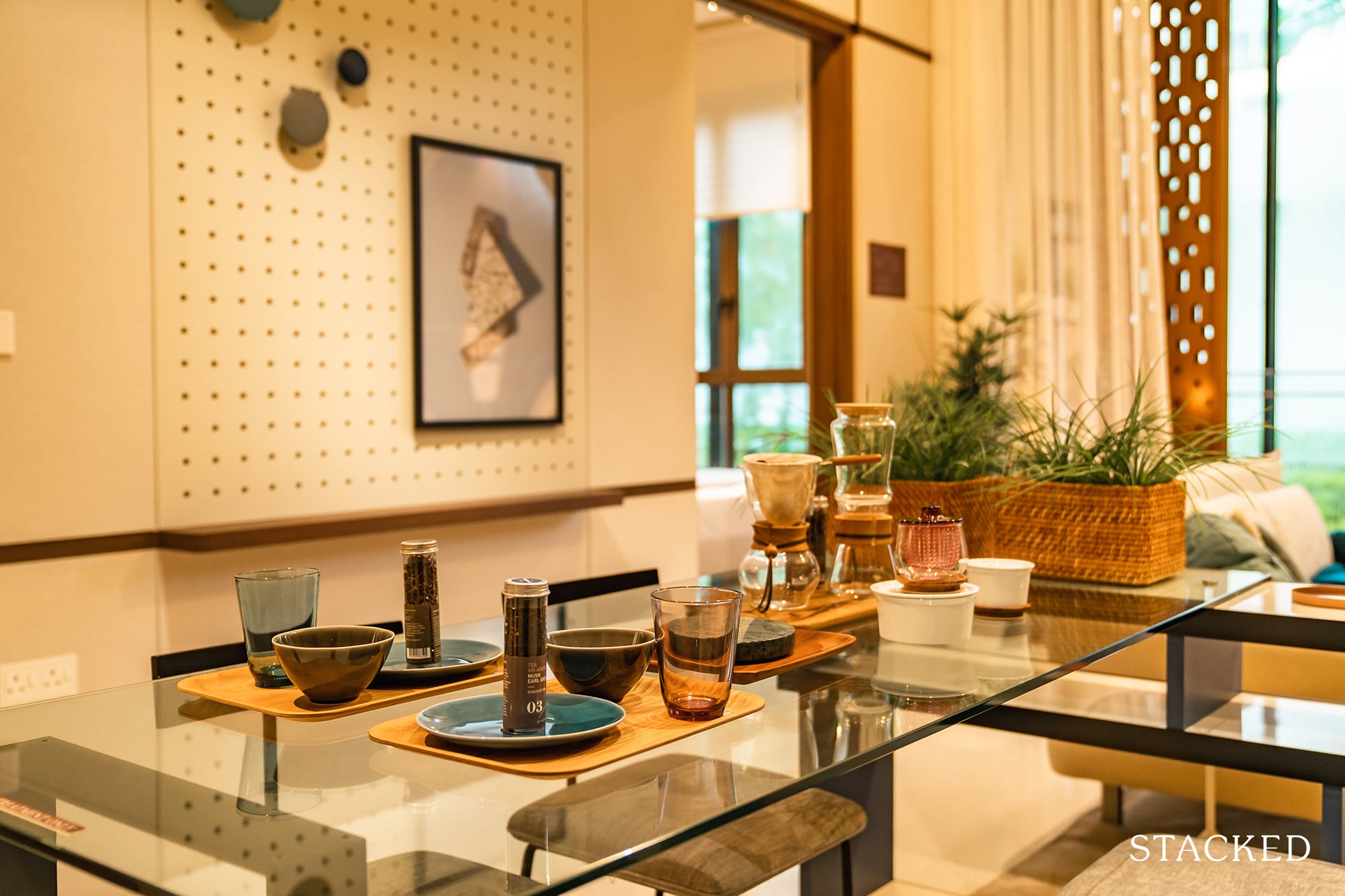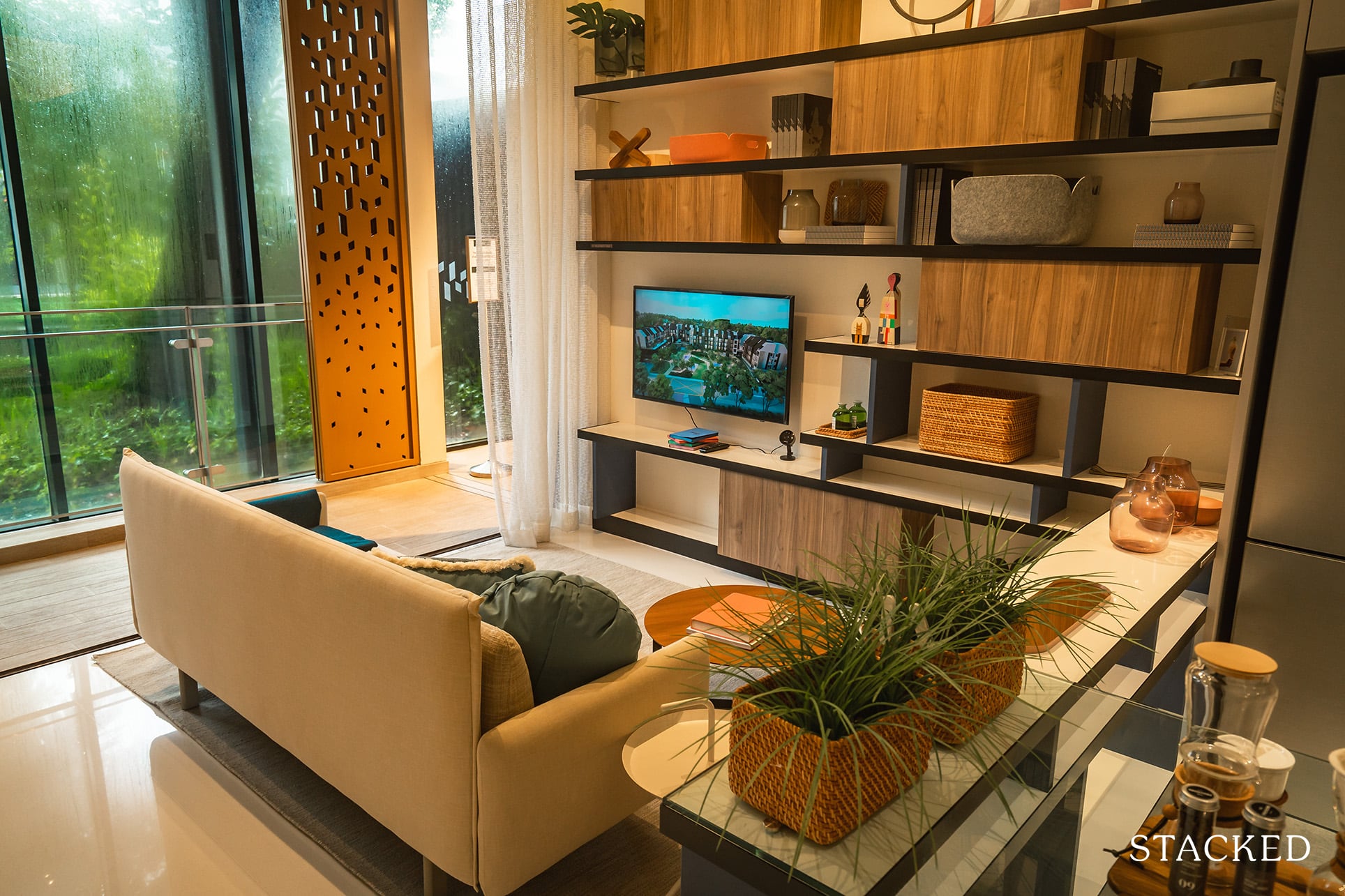 Let's start with the positives for the living space – it's quite wide, which again contributes to that openness. On the other hand, it is quite short length wise, so you will have to be careful with the length of the sofa.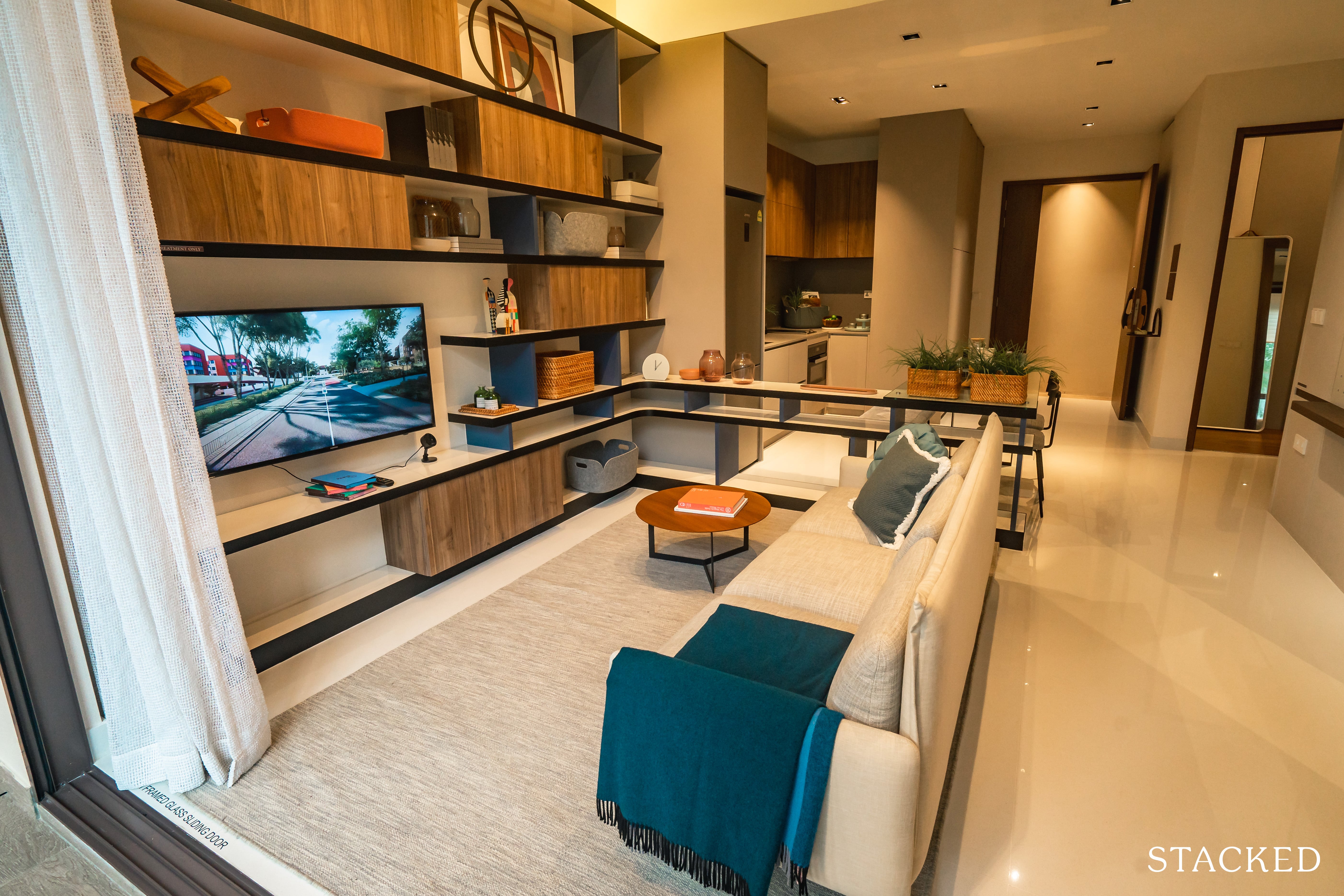 As you can see from here, there is more than enough walkway space to get to the master bedroom or the balcony.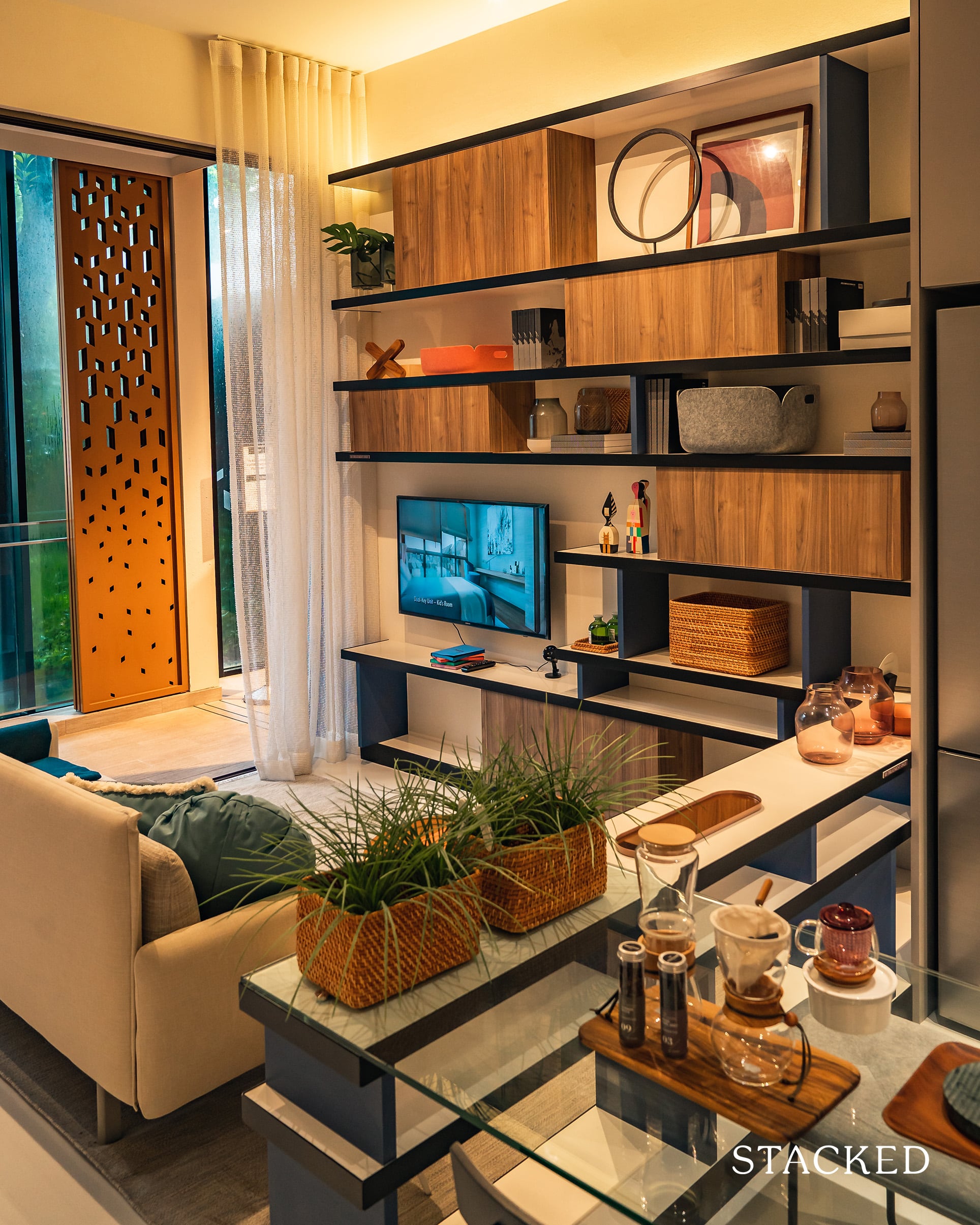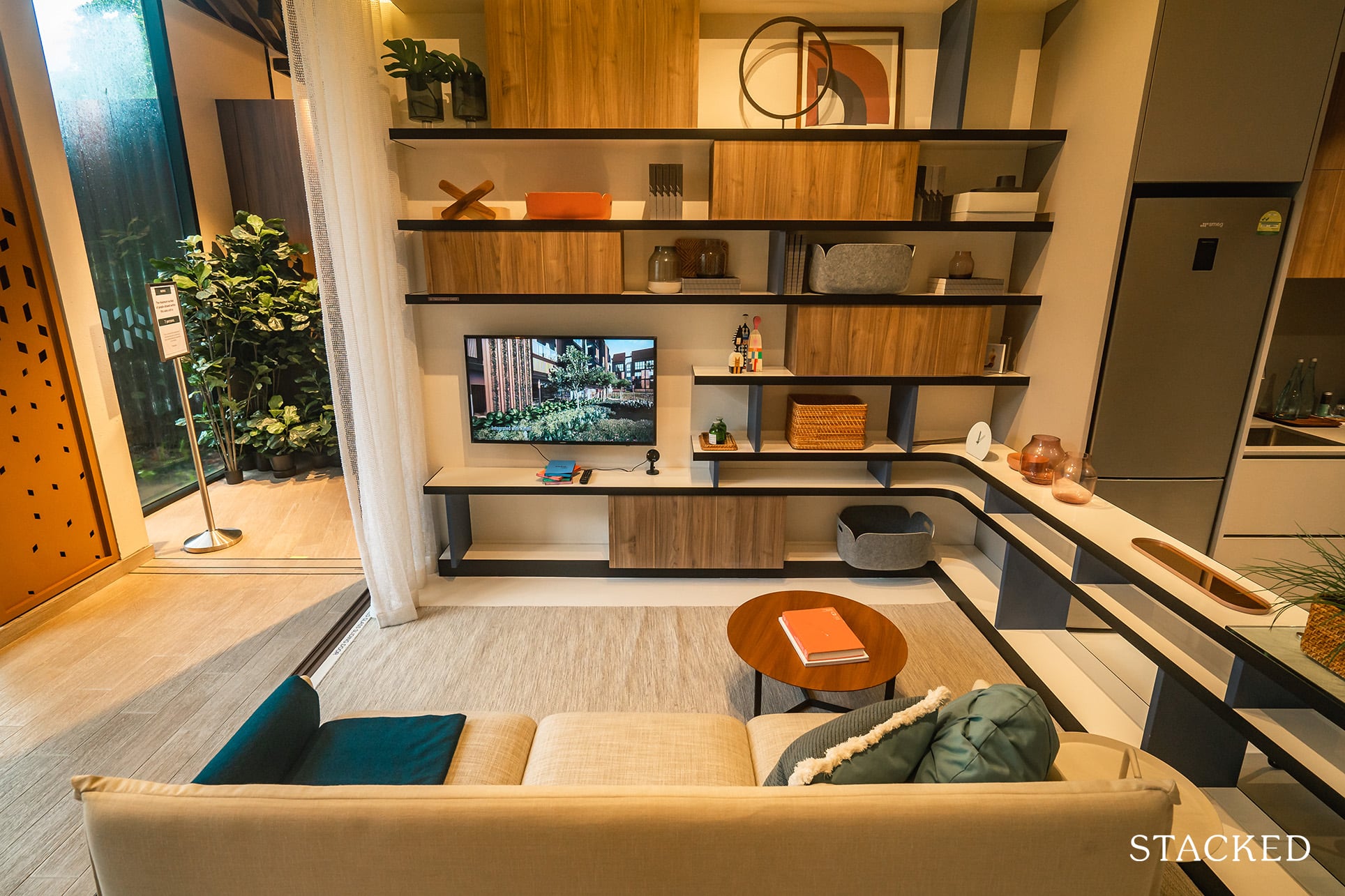 Another alternative is to place the sofa against the wall instead (where the TV is right now), this could possibly make the space feel even more voluminous. And for the TV? Well, you could always install a projector with a screen hanging from the ceiling. So if you aren't watching the TV it can be stowed away, leaving that empty space behind.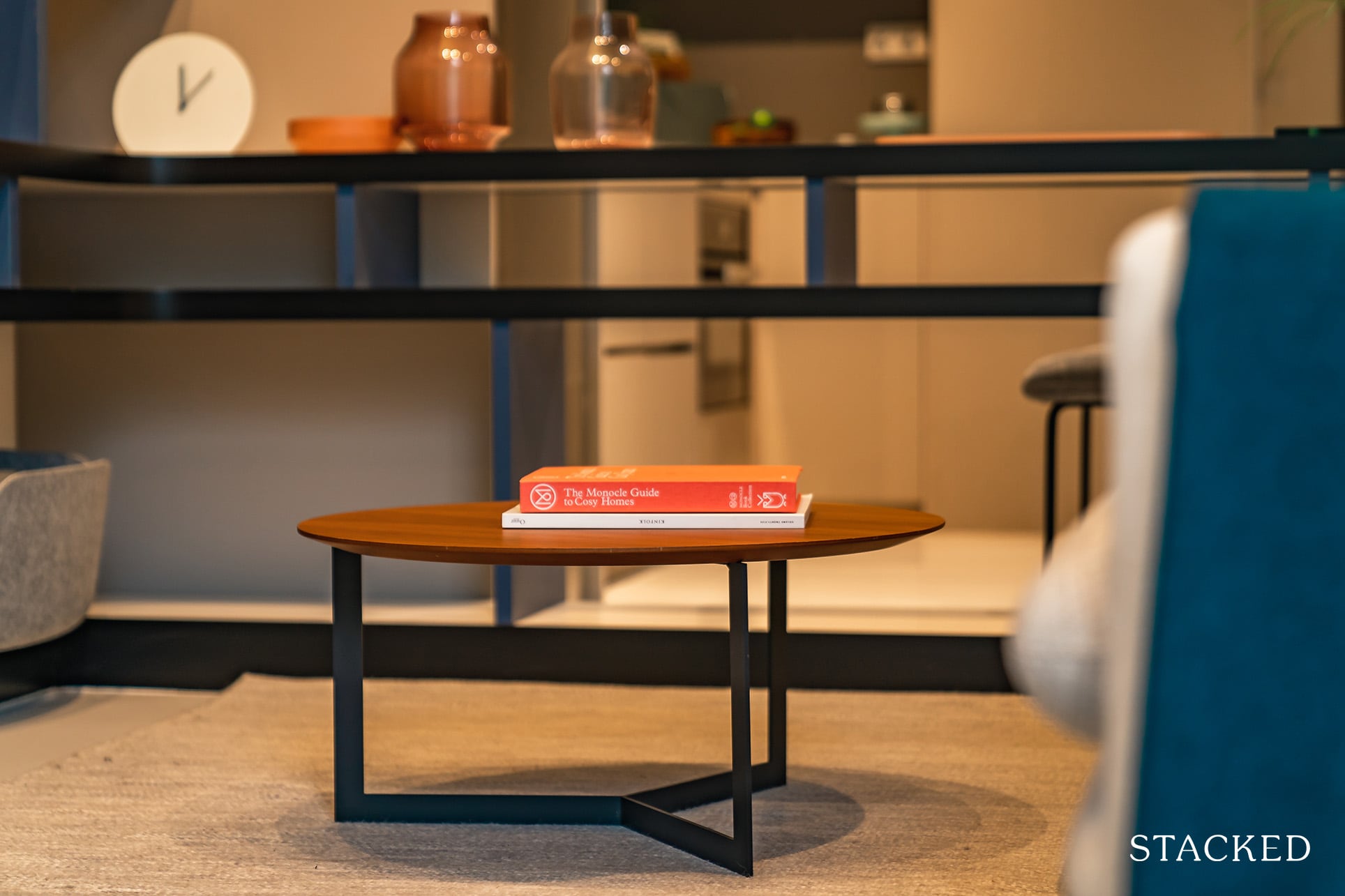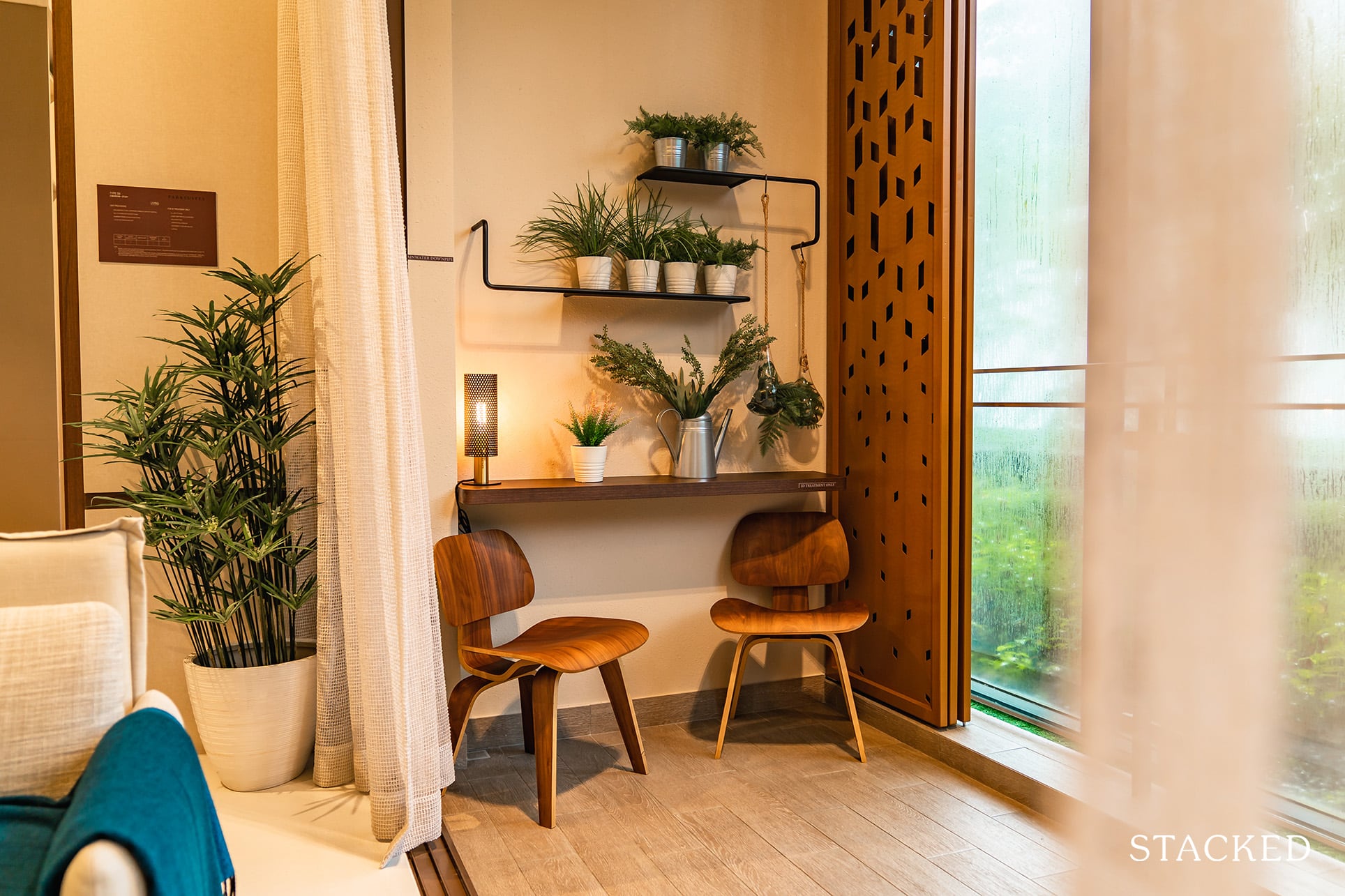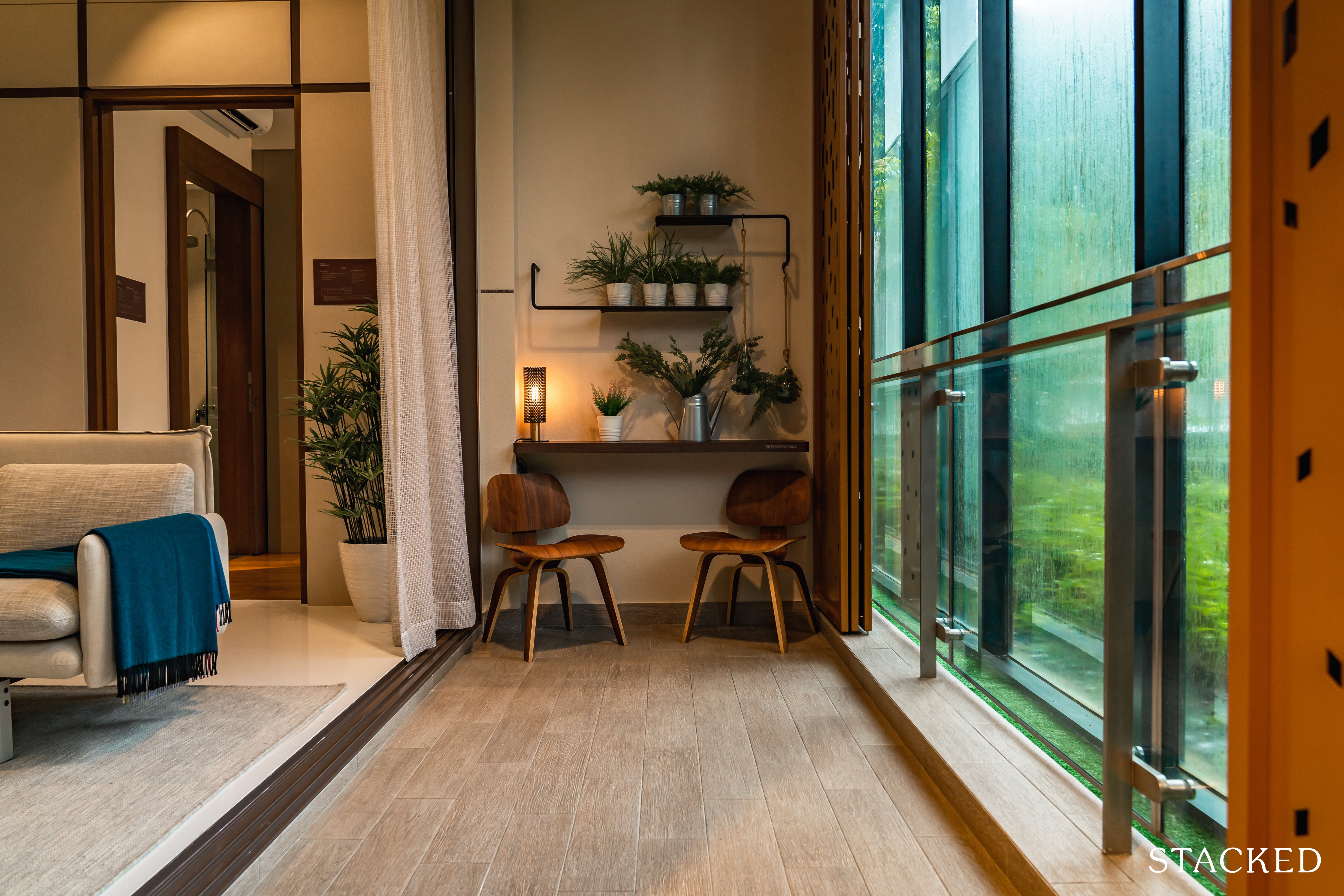 Considering the overall size of the unit, the balcony space is actually quite big. Then again, it's hardly a surprise if you take into account the lifestyle aspects that it is promoting – big communal areas and smaller bedrooms.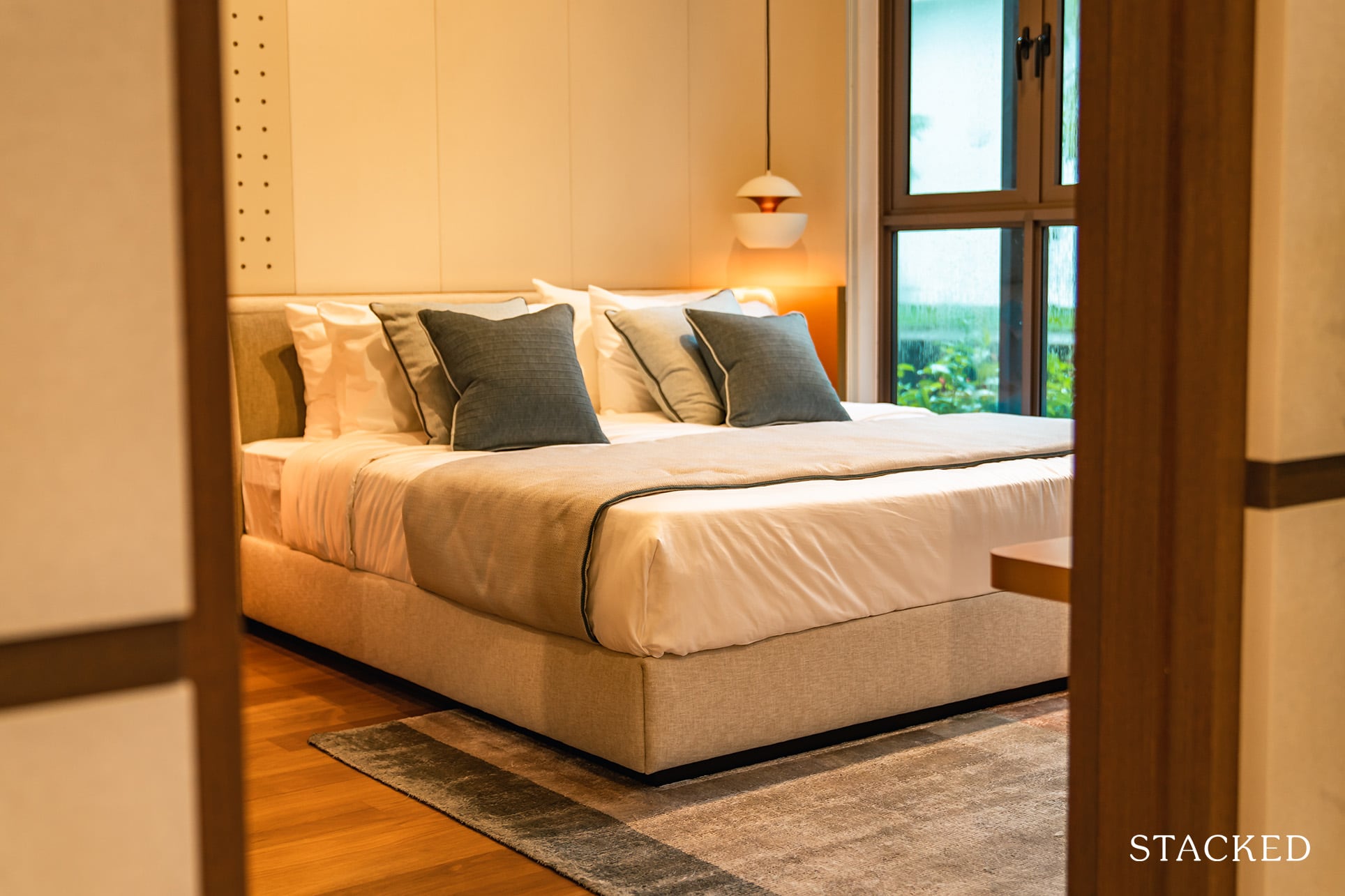 The master bedroom is located next to the balcony, so the entrance is right by the living room. As I mentioned above, the downside to this open layout is privacy – so unlike the regular 2 bedroom layout where the master bedroom is "concealed" at the end, this one is undoubtedly less intimate.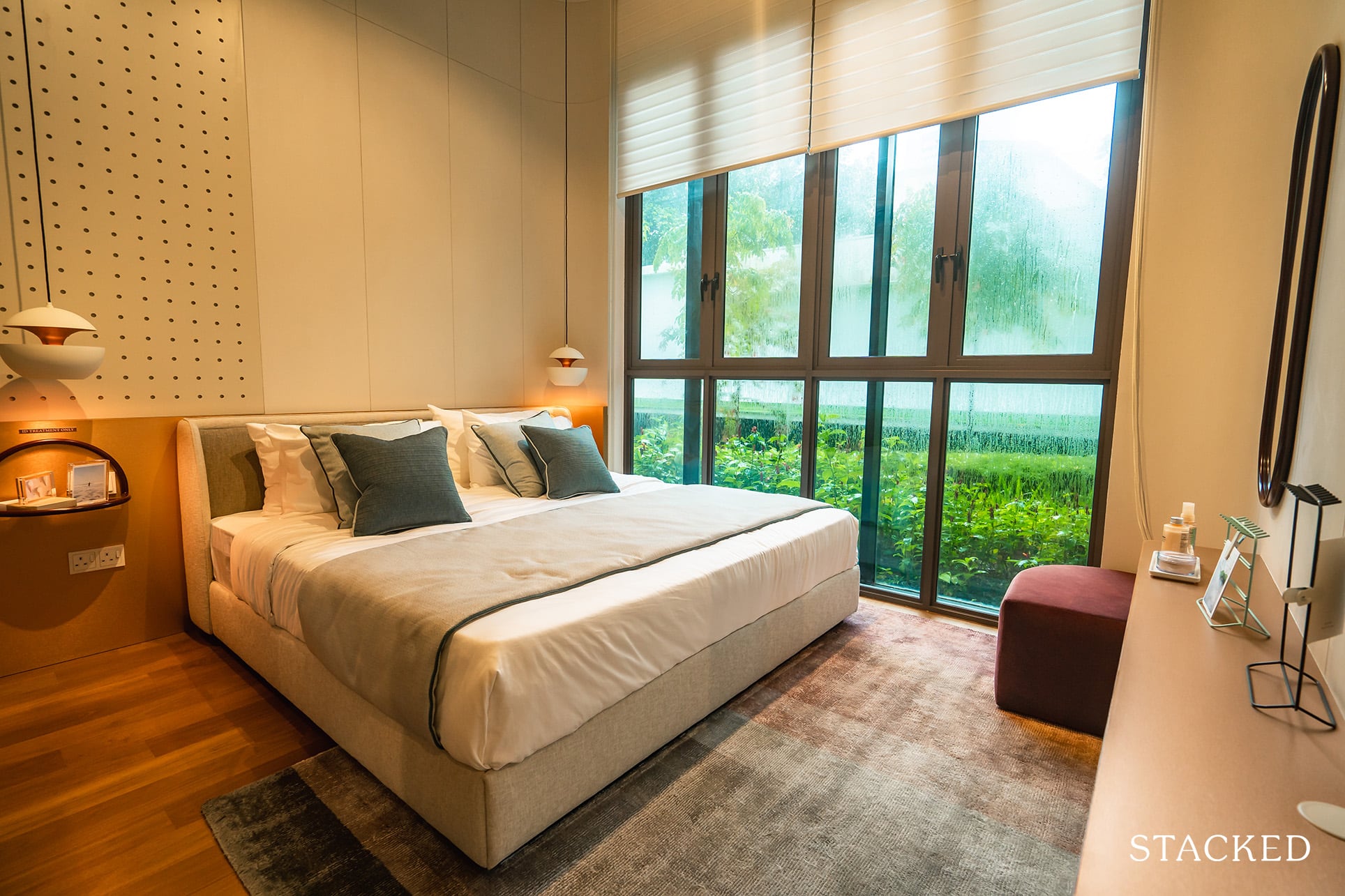 Surprisingly, the space in the master bedroom is not too bad, there's even some space for a narrow dresser table at the front. The windows here are end to end, so they let in a good amount of natural light.
The amount of wardrobe space is typical of what you'd usually see in most 2 bedrooms – which is probably not enough for most couples. Interestingly, the wardrobe here doesn't stretch to the top to maximise the slightly higher ceiling levels.
The master, or rather common bathroom, is thankfully a spacious one. But, and a big but at that, there's just the one bathroom in this unit. Now, it does feature two entrances/exits from either the master bedroom or the study which is great from a flexible point of view. But it really isn't great at all privacy wise if you are staying in the master bedroom.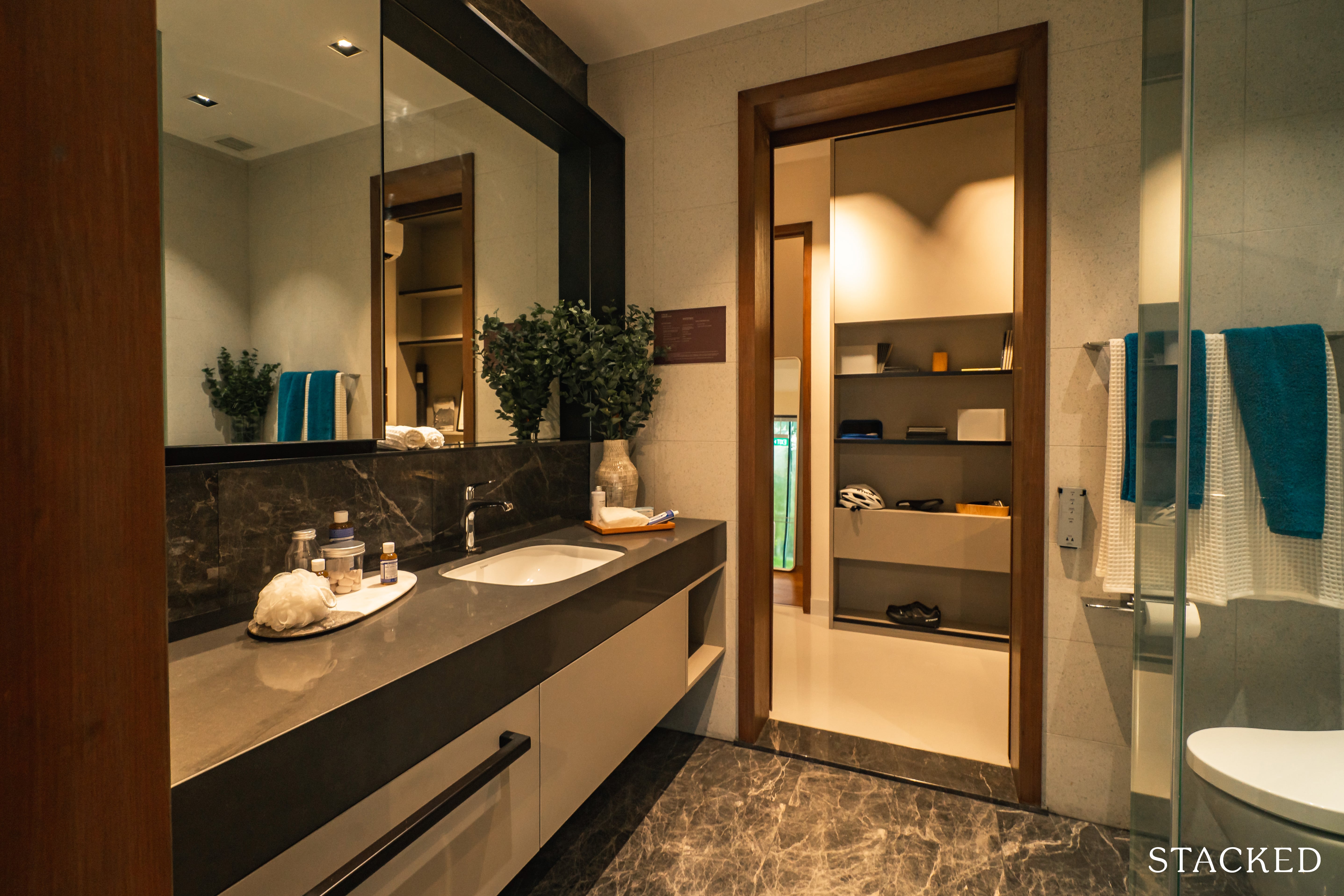 Again, because of how it's laid out, the sink counter is really long. So while there is a good amount of space to store all your toiletries, it is still a shared bathroom after all.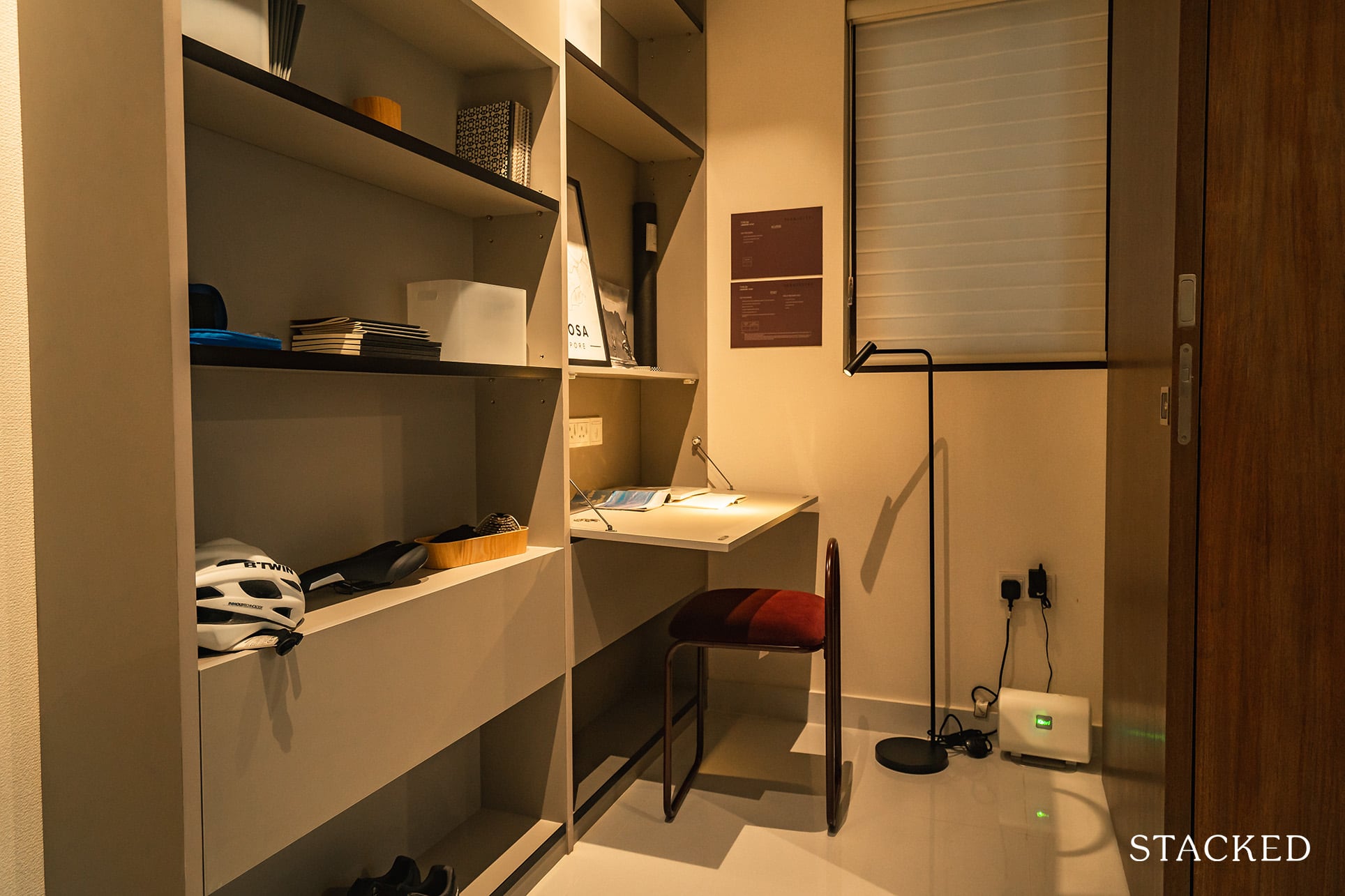 The study is decently sized, and at the very least comes with a window for natural light. You could possibly make it an enclosed space by fitting a door, but that would mean you'd have to go through two doors to get to the bathroom.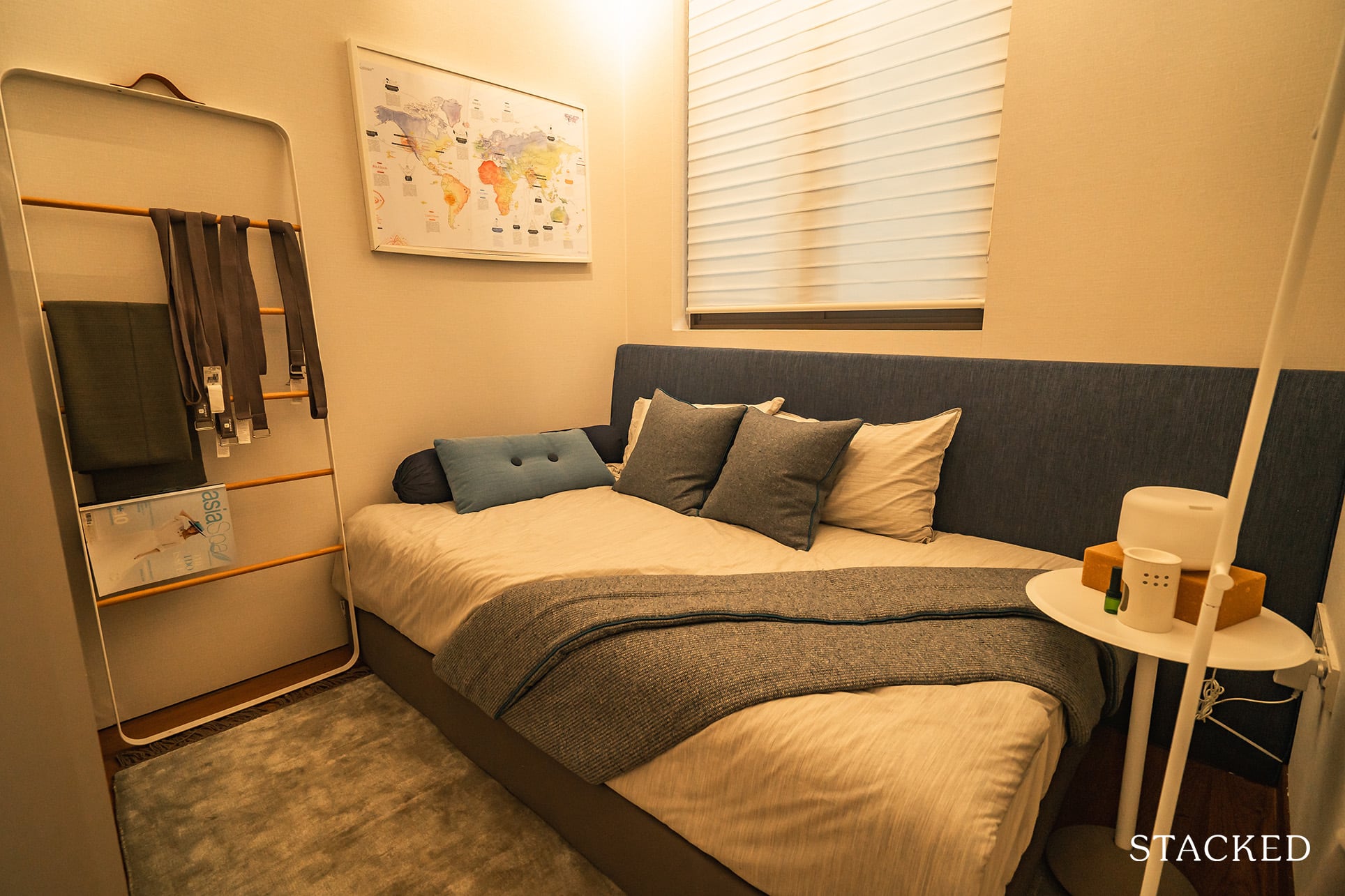 Now onto the final space, the common bedroom. It's quite small, which you can attribute to the inclusion of the study area on the outside. So you should really only look to be fitting a single sized bed in here.
I wished the windows were stretched end to end instead, as the bottom half is already hampered by the RC ledge on the outside.
Read this next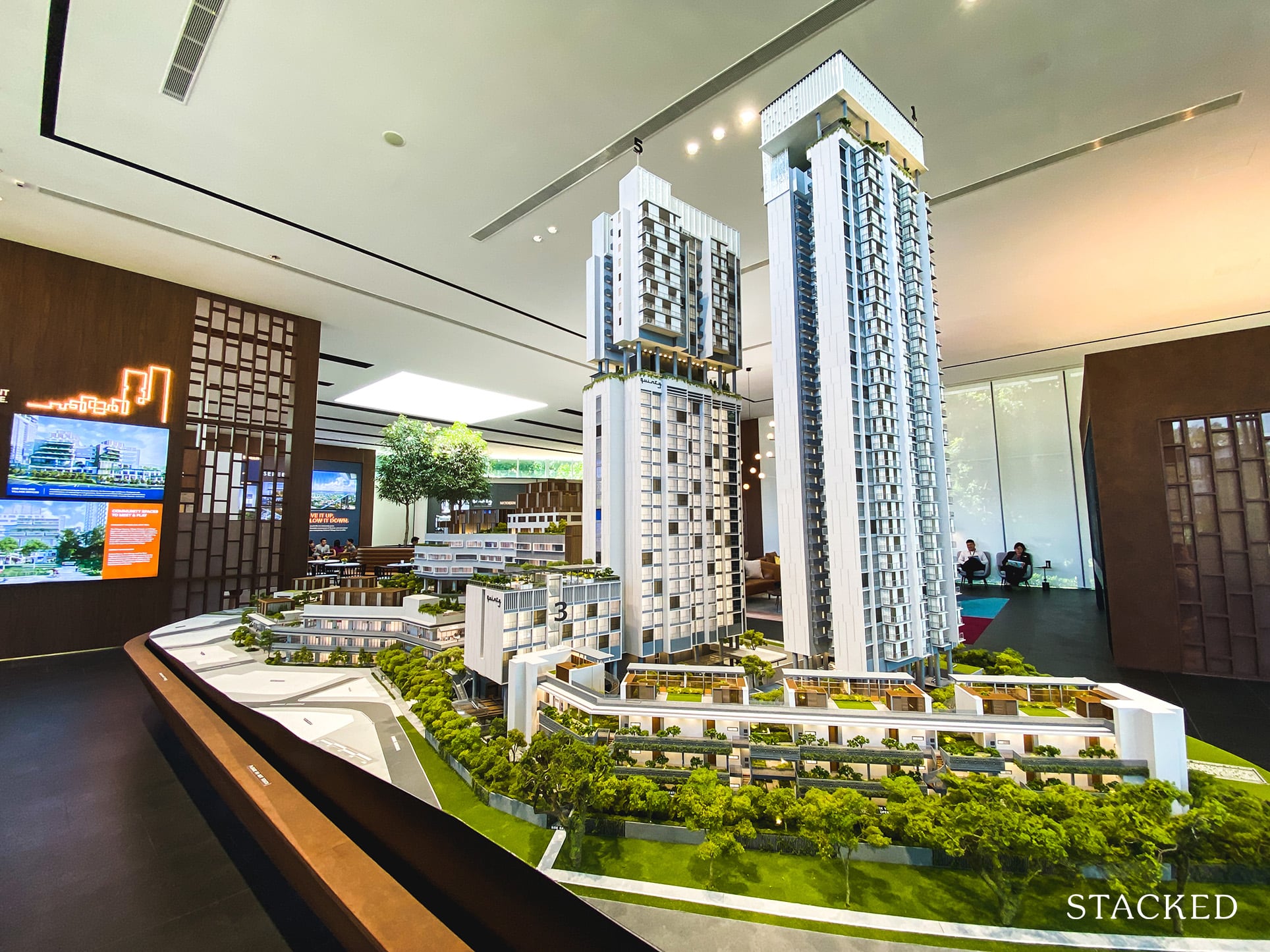 Parksuites 2 Bedroom Dual Key Review
At 1,173 square feet, this 2 bedroom dual key unit at Parksuites may seem quite big, but you have to remember that you are paying for the void space as well as the staircase space to get to the platform.
Functionality wise, you are always going to be on the losing end here – especially when you take into account the private roof terrace space, and the staircase – it's really more about the lifestyle than anything.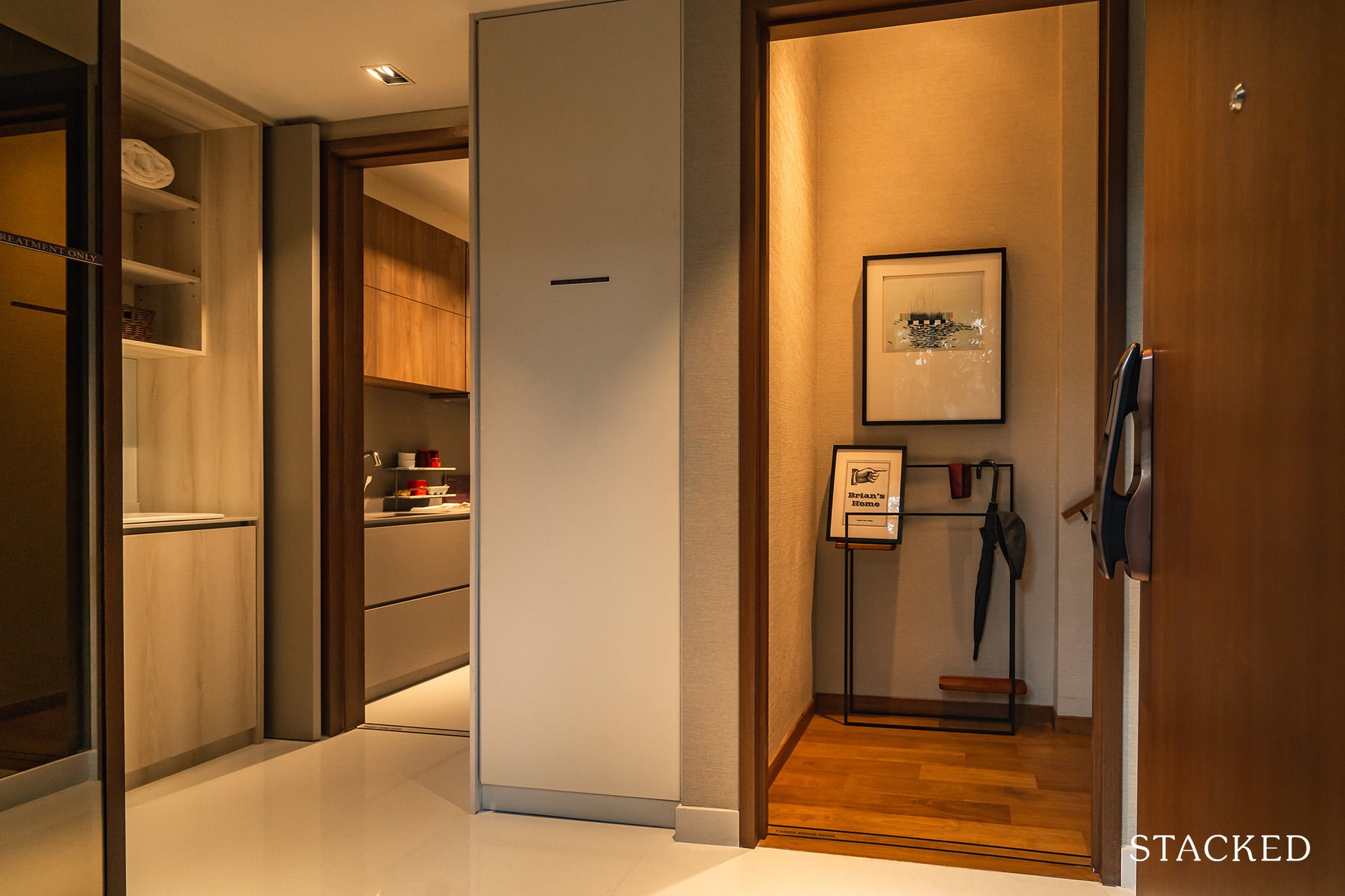 Now, you don't get the full dual level experience at the Parksuites showflat, but Far East has done a commendable job in showcasing exactly what it would look like.
Once you open the main door, this is where it splits into two different units – on the left is the first level, and on the right is the staircase that leads you to the second unit.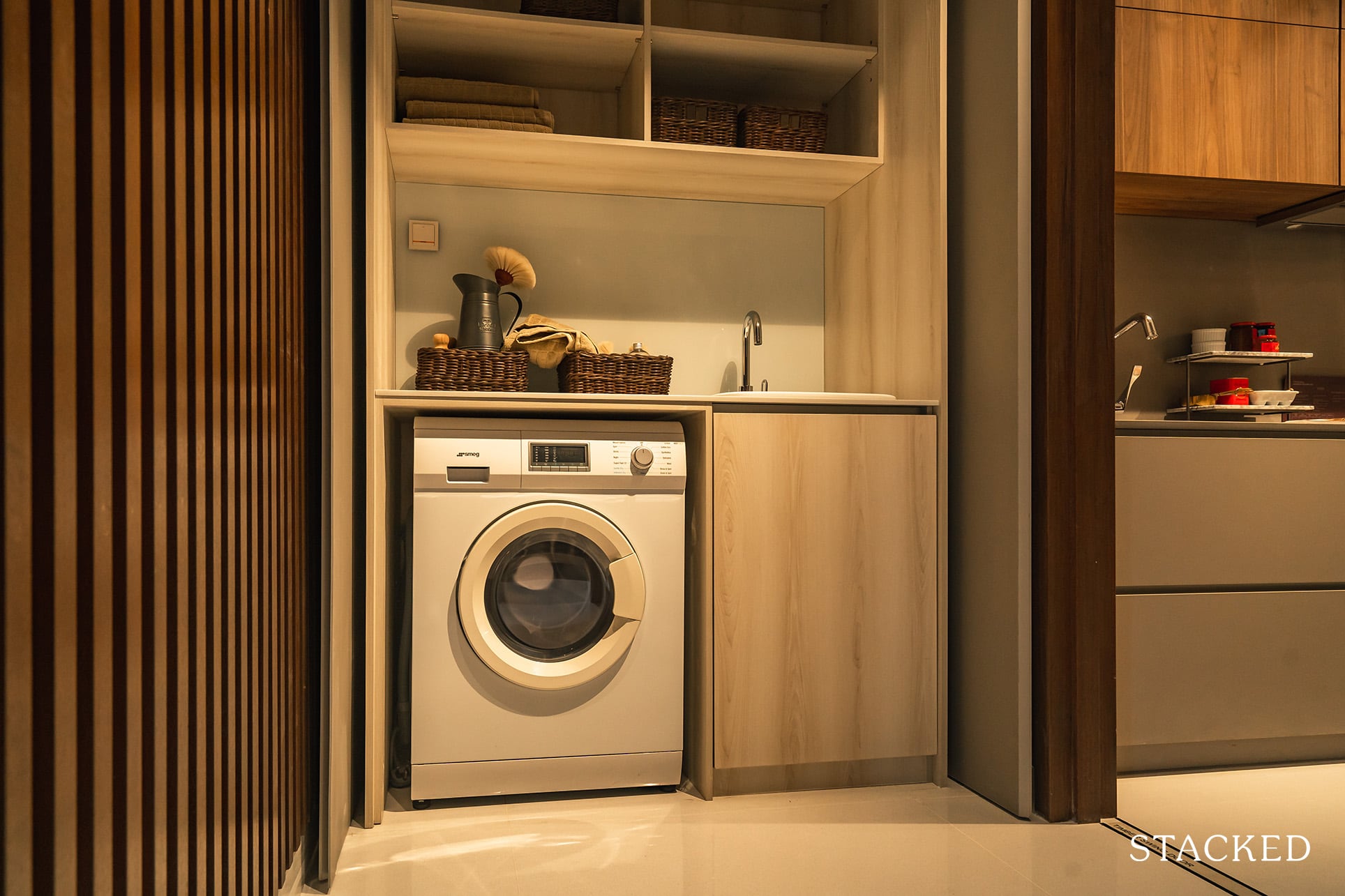 The first thing you'll see before stepping in is the foyer/utility area. Here, you'll find the washer/dryer, as well as a small sink and some storage options. If you are planning to rent out the other unit – this is actually going to be a shared space.
You could also seal this part up to include it as part of the bottom level unit instead – there is some flexibility there.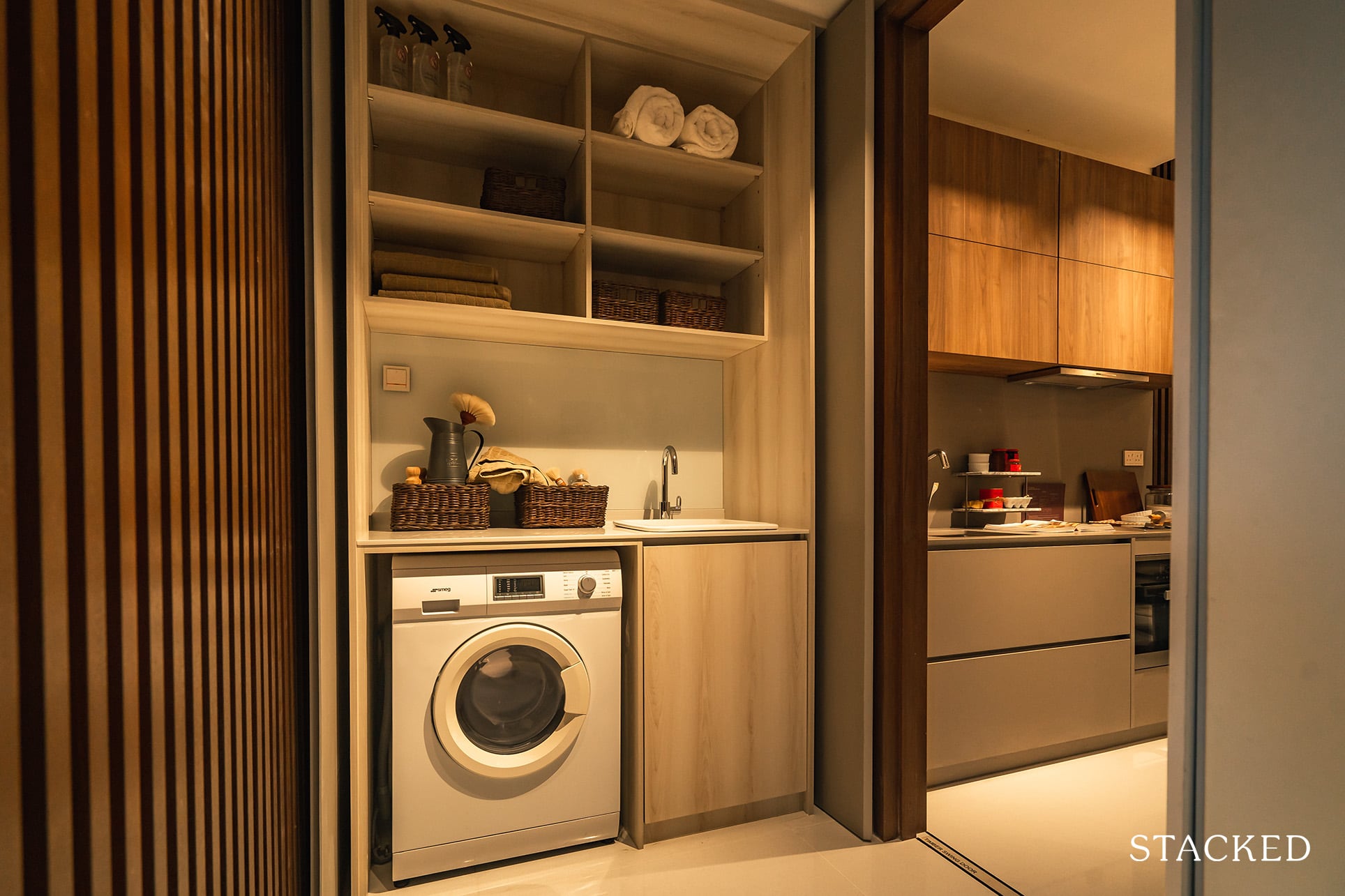 Some people might find it strange that you'll have to walk through a utility area before getting into the unit, but for me it isn't a deal breaker by any means.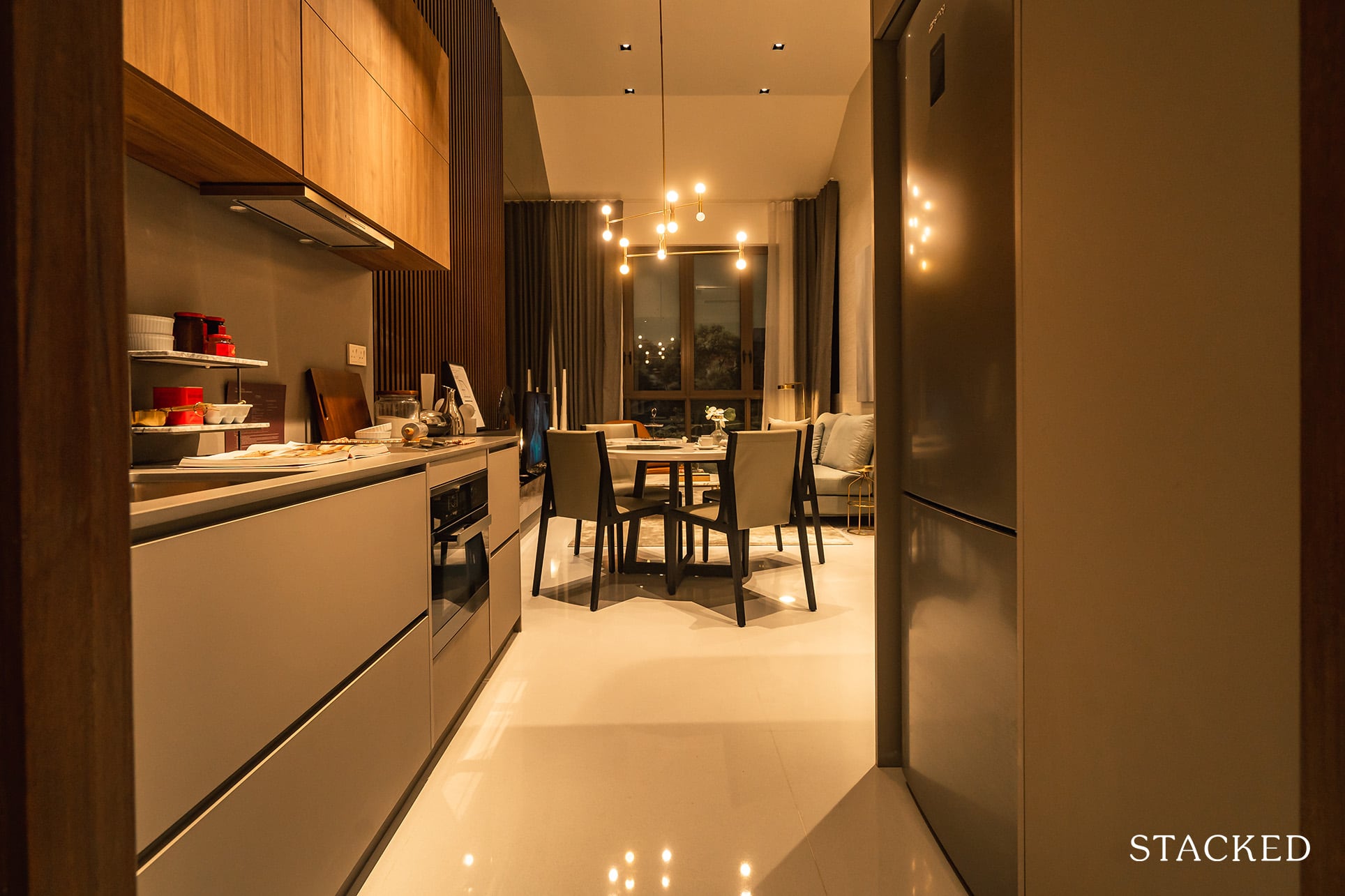 As with most small units, the entrance to the living area itself is through the kitchen.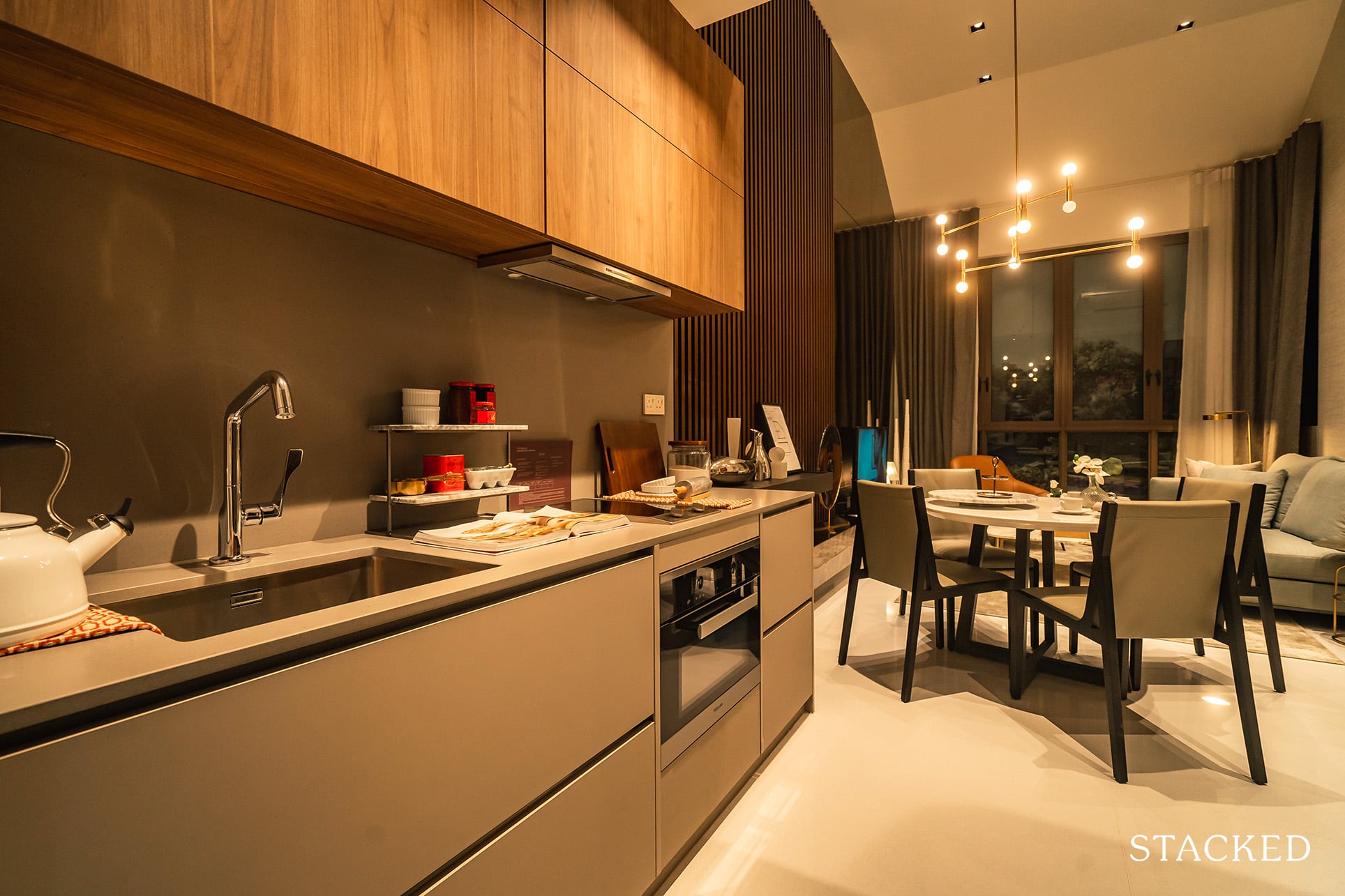 The kitchen space is not too bad, with decent countertop space as well as storage. That said, you really can't do much heavy cooking here because of the layout – there is a cooker hood but that is only effective to a certain extent.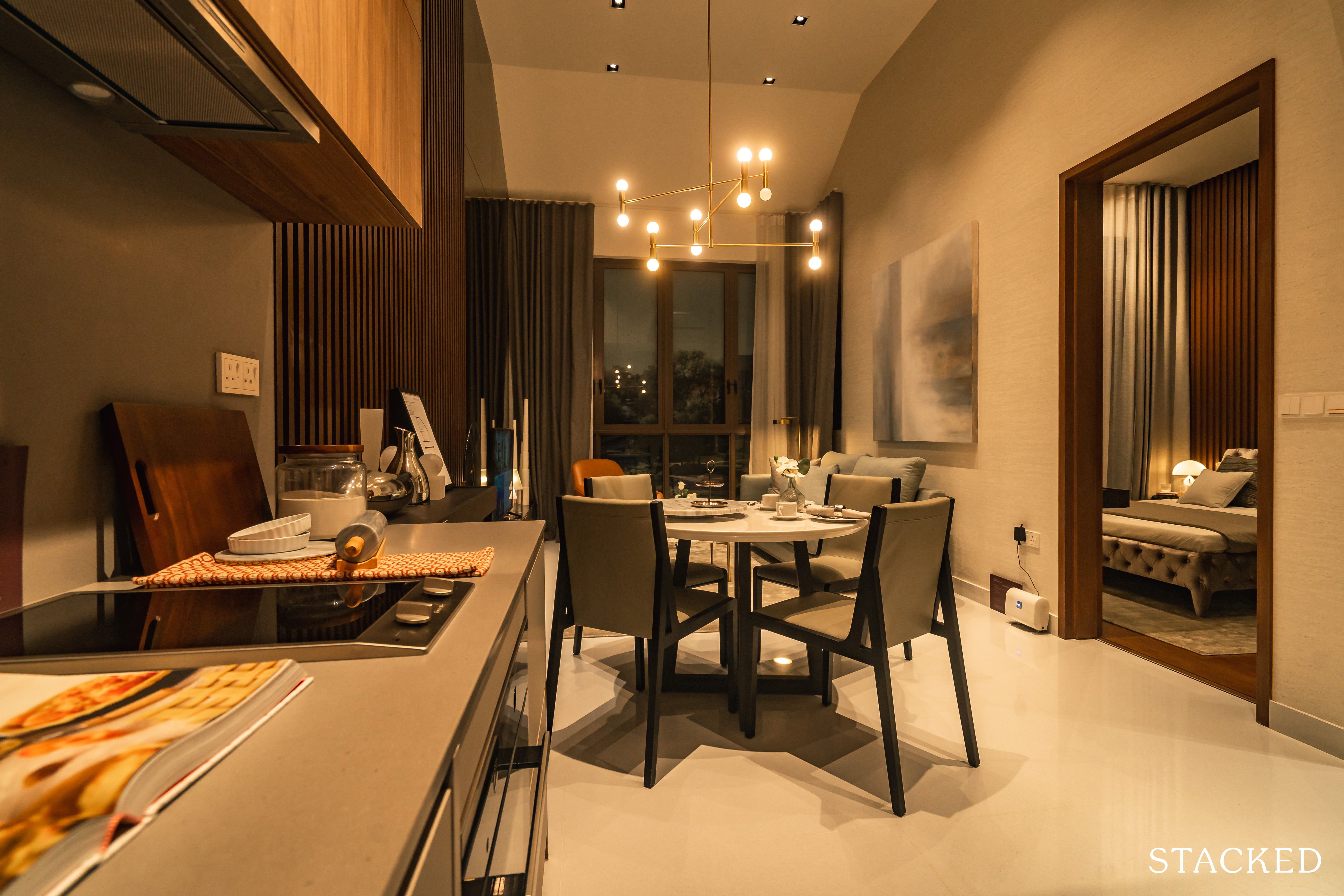 The problem lies in the lack of an open wind flow because of the foyer – even if you open both doors there still isn't an open channel for the wind to flow through to air the house.
Of course, you could open the windows and purchase a fan, but it isn't the most ideal situation.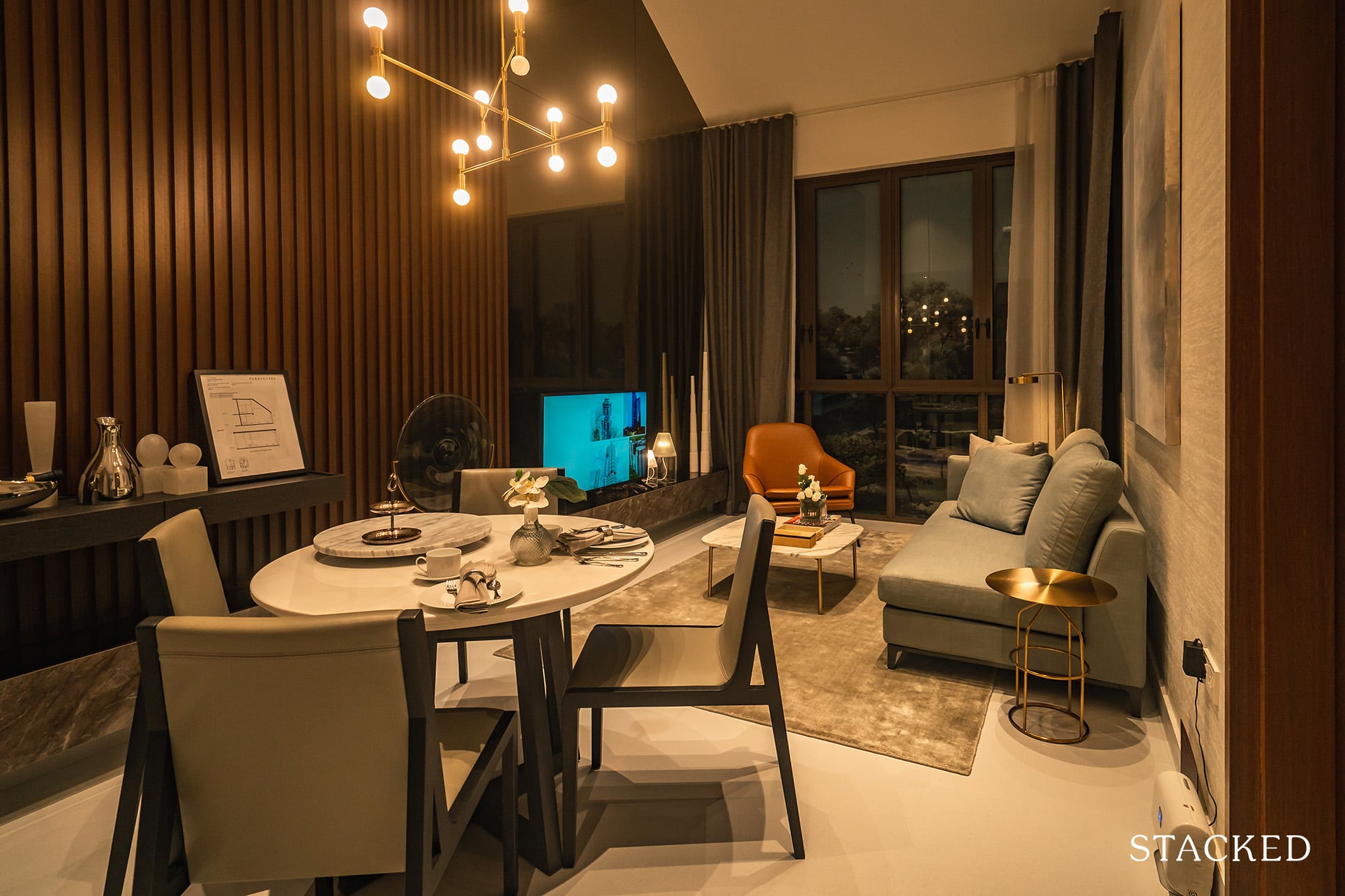 As you might expect, the dining area is limited in size – you'll have to be careful about the size of the table that you choose.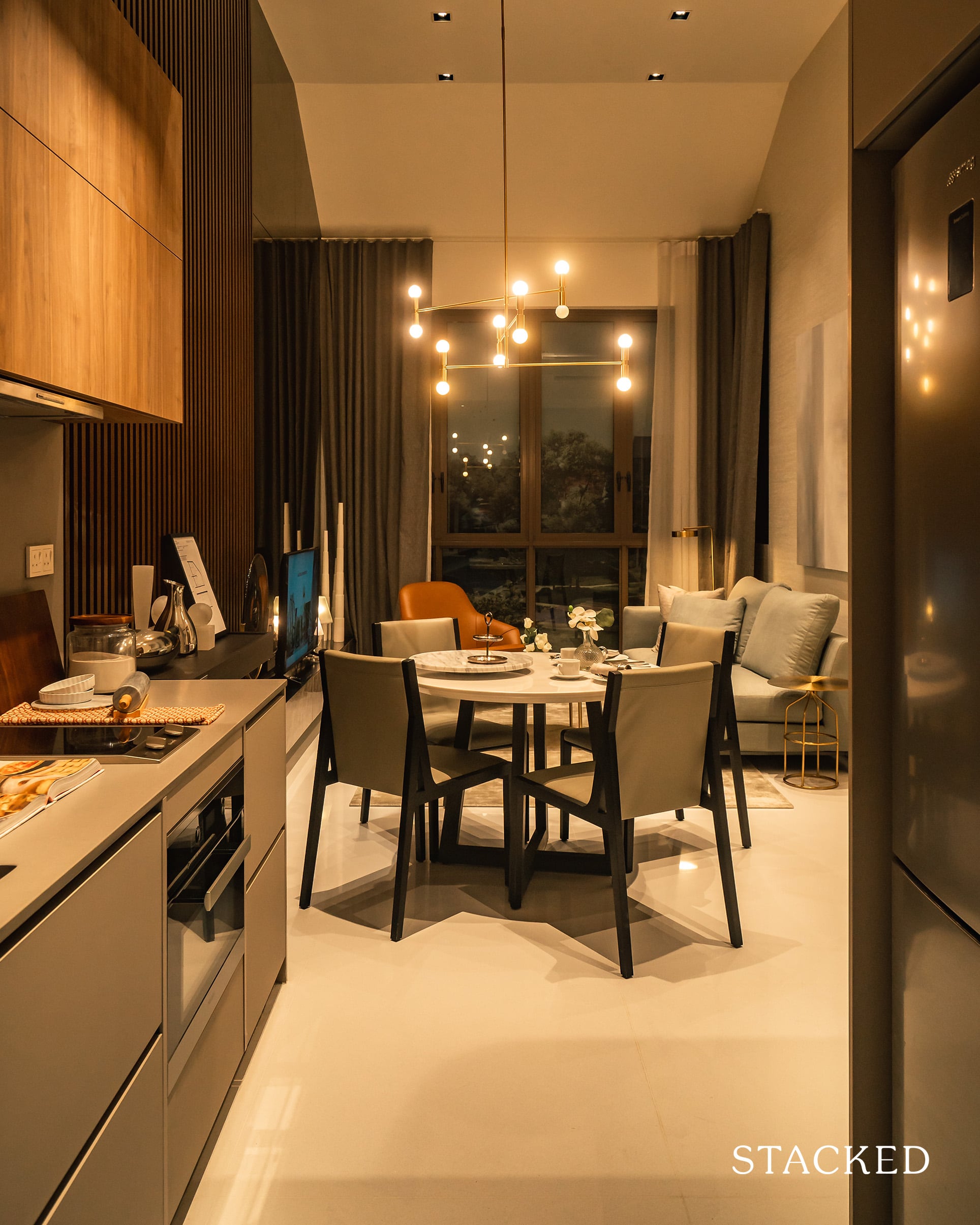 That said, because of the higher ceilings here, it does feel a lot more open that can't be experienced just by looking at the floorplan.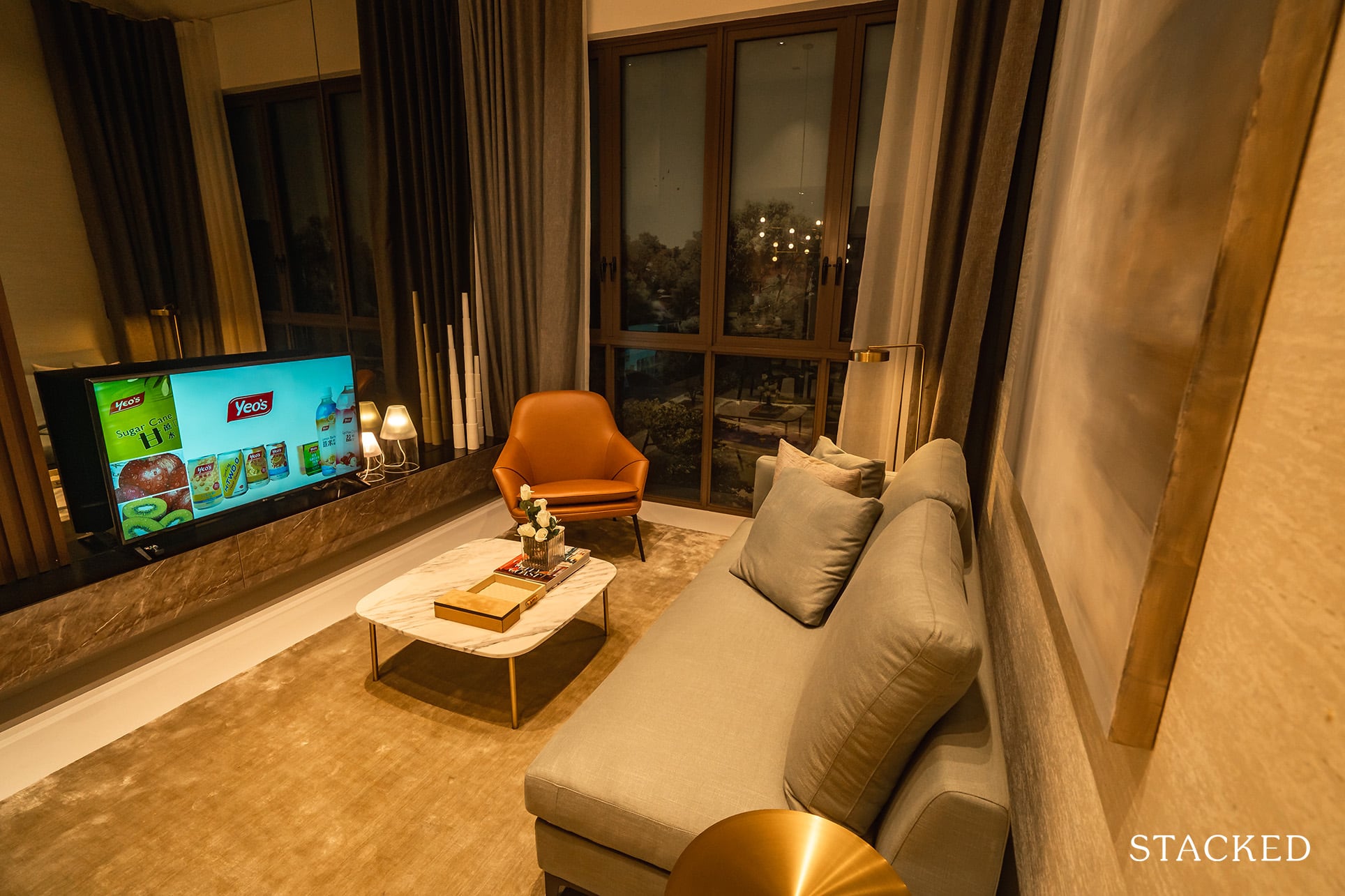 Living area is decent, there is enough space for a small couch and coffee table. But buying an off the rack TV console could prove a challenge, unless you are willing to compromise on walking space.
There isn't a balcony for this section of the unit, as there already is a roof terrace on the second level.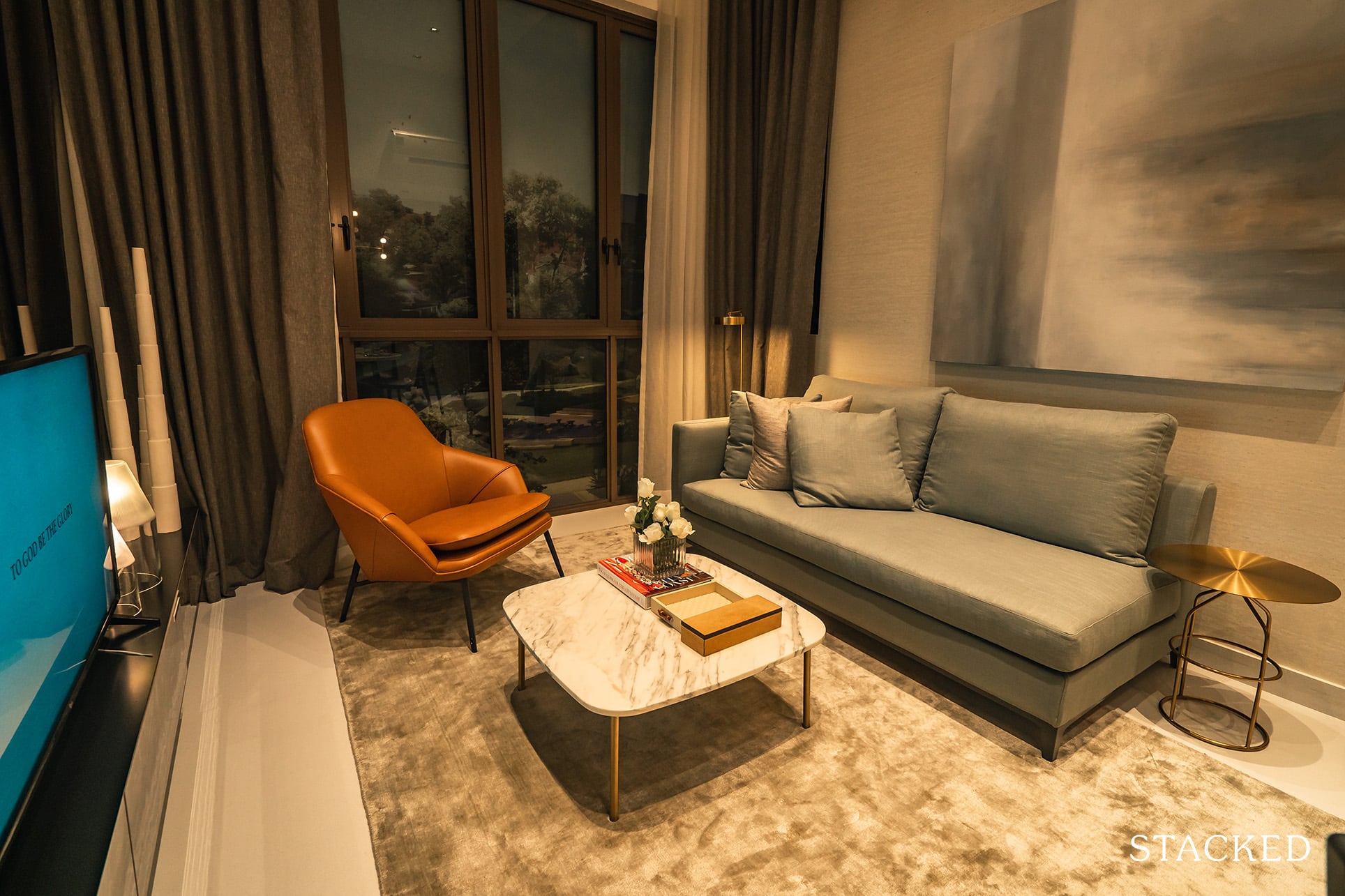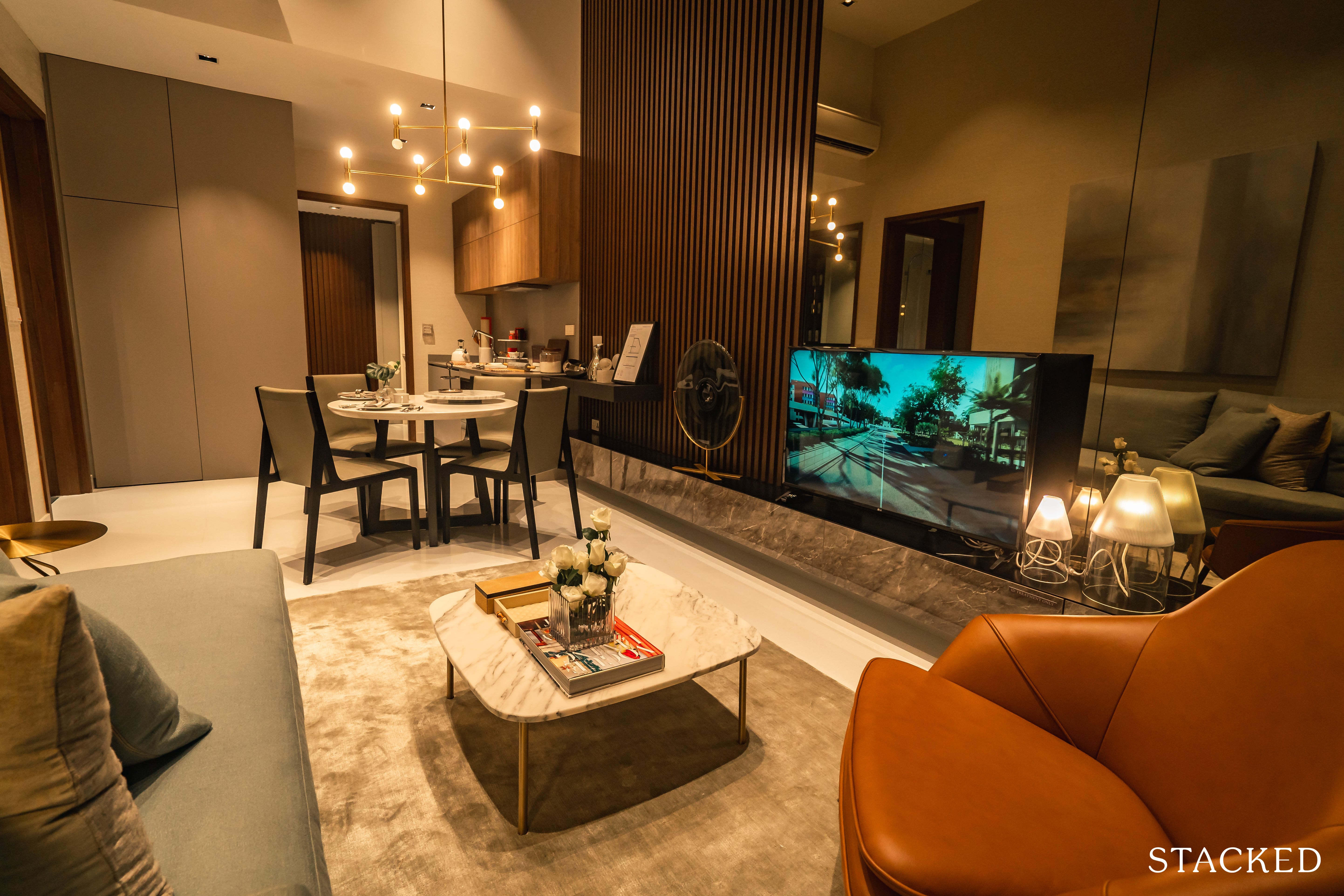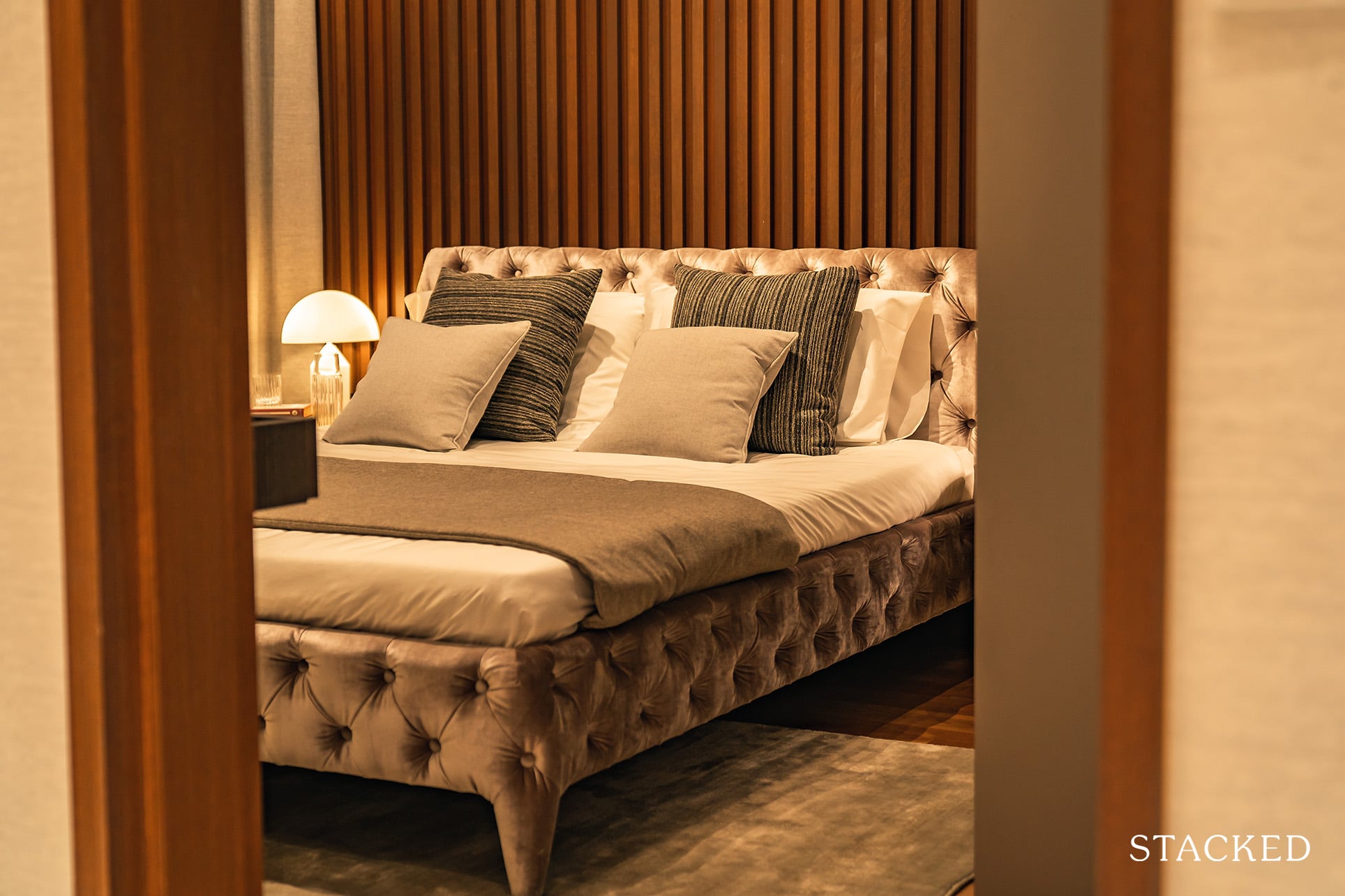 The common bedroom is located right next to the dining area.
The bedroom is a decent enough size, but it does look more roomy thanks to the higher than average ceiling. While it may seemingly look like there's space for a dresser, you can see if the chair isn't tucked in, it will be quite a squeeze.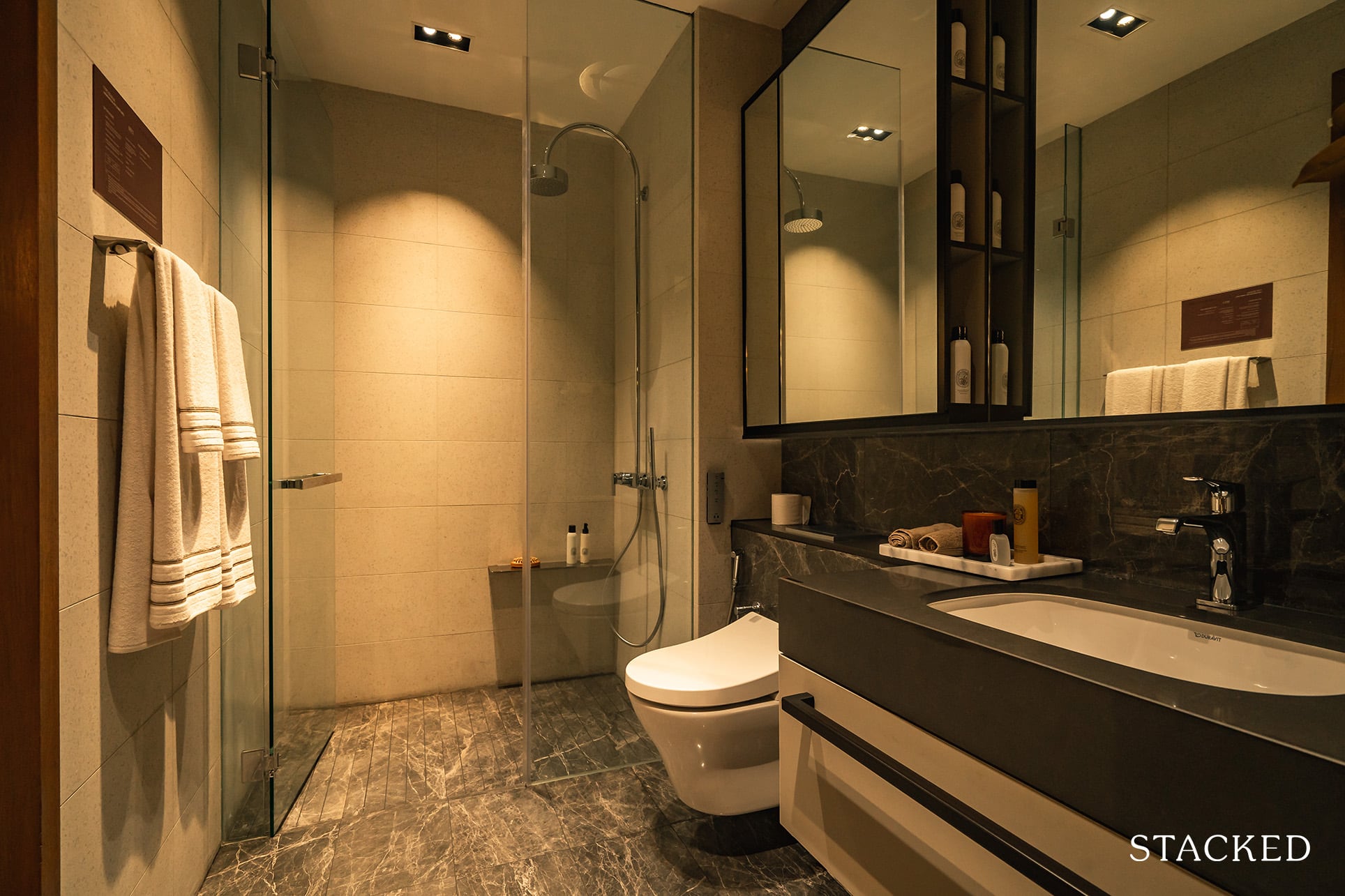 The bathroom here is a good size, with the shower head a rather unique offering.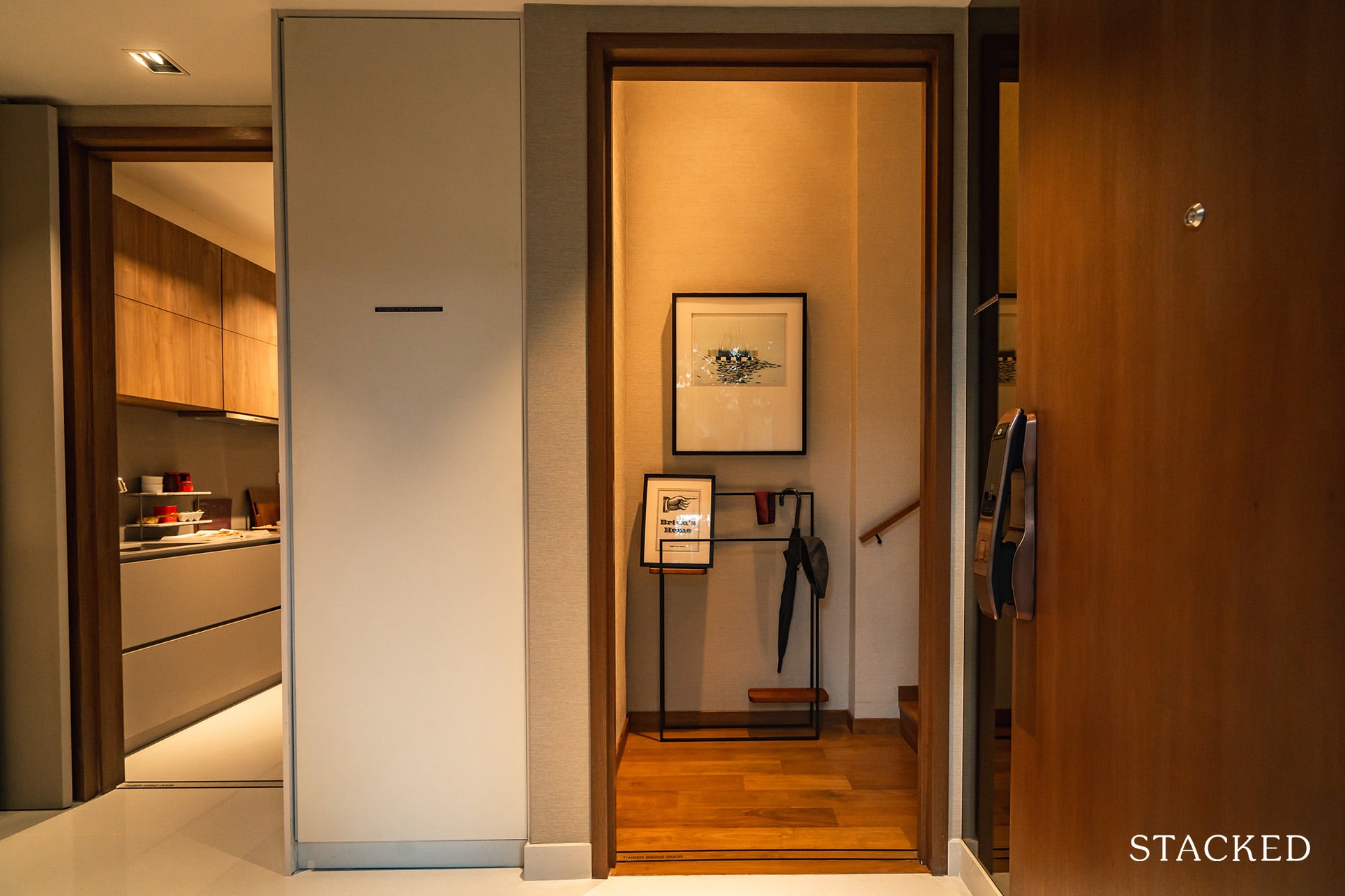 Let's move on to the second level.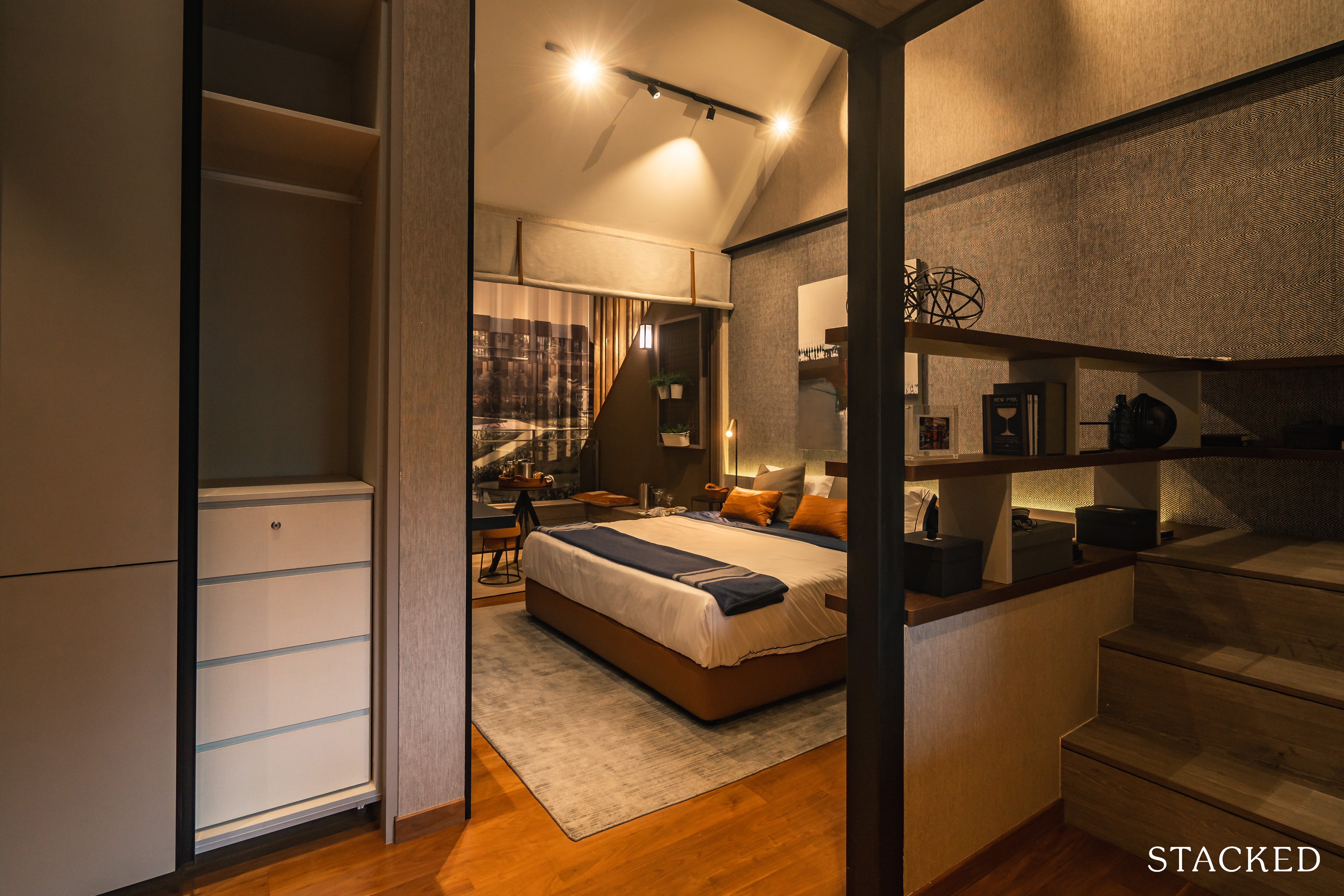 Once you walk up the stairs, you are immediately greeted by the sight of the bedroom. On the left you'll find your wardrobe space along with a small pantry, and the attached bathroom.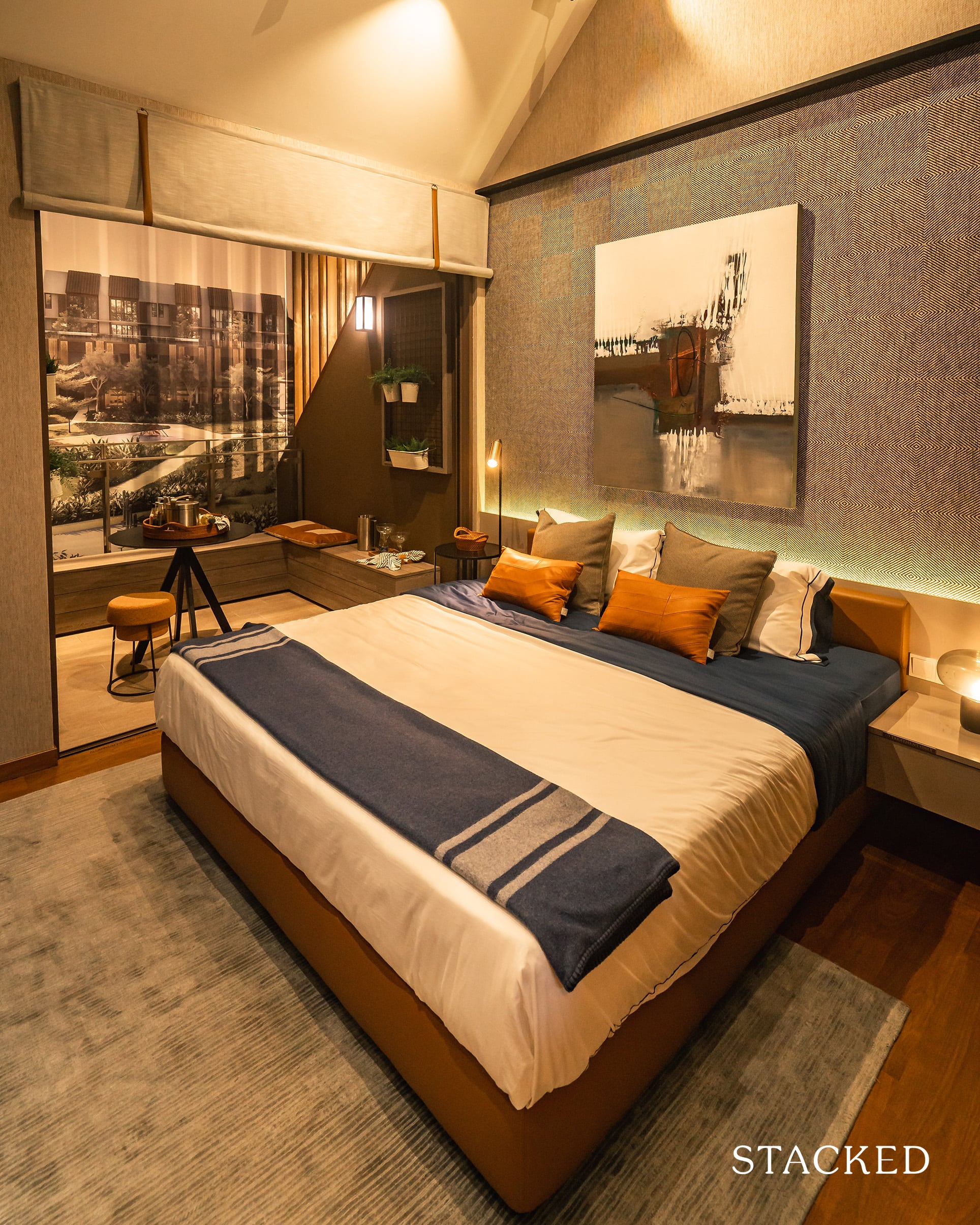 The high ceiling allows the space to feel a lot more roomy and I especially like the sloping roofline – which adds a lot more character to the unit.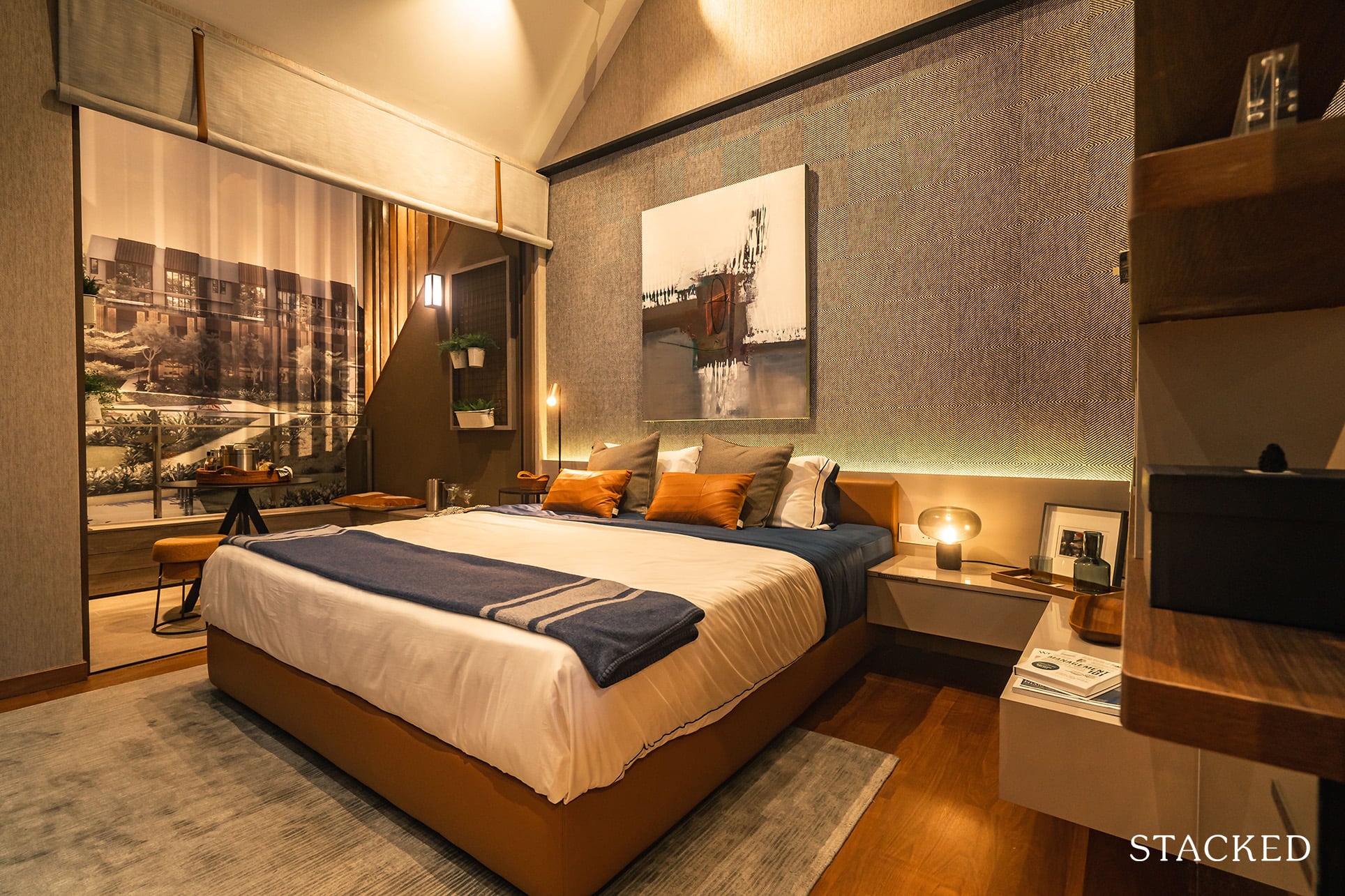 Space on the whole is quite decent, especially with the additional platform above that doubles up as a study area.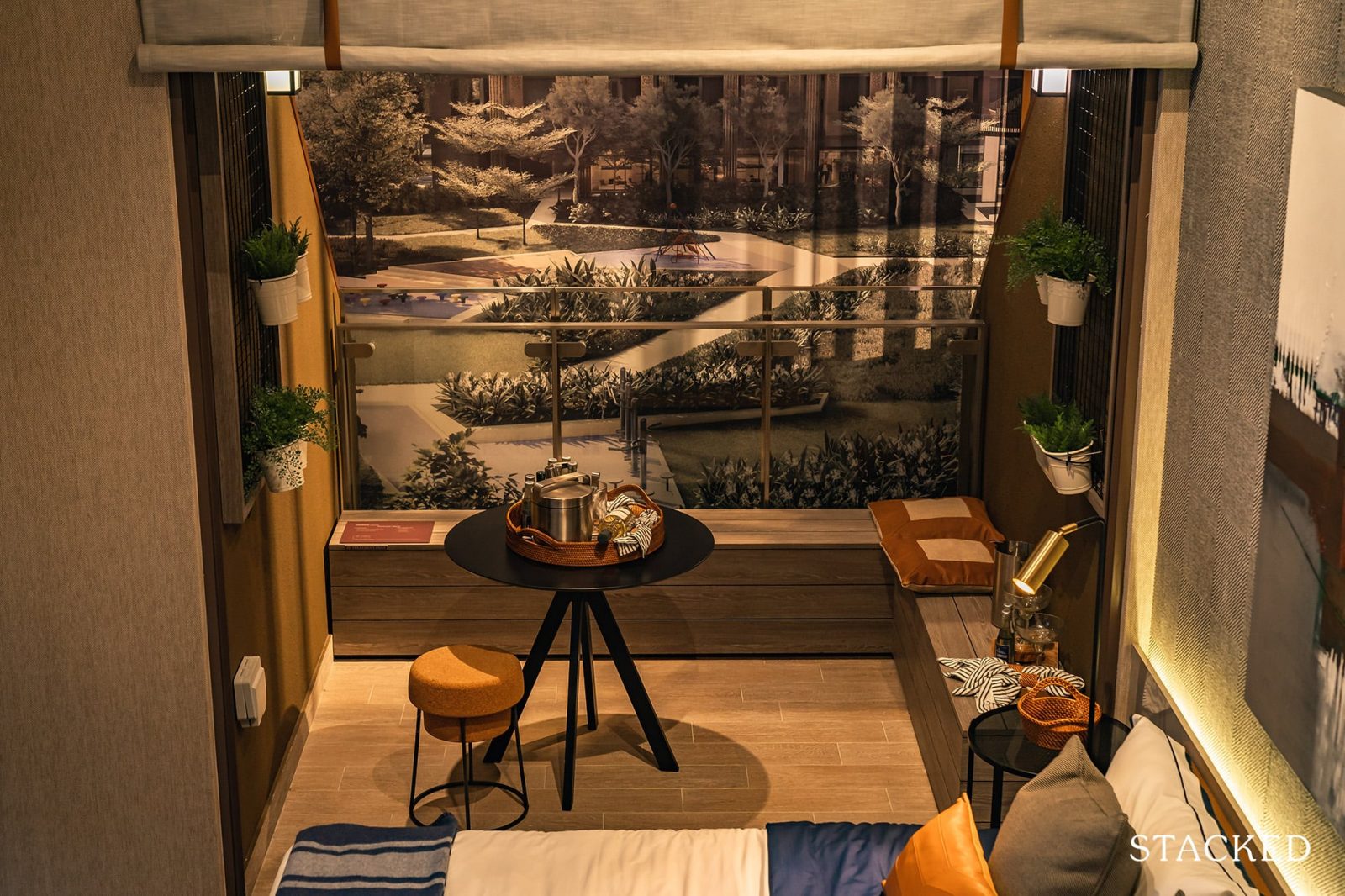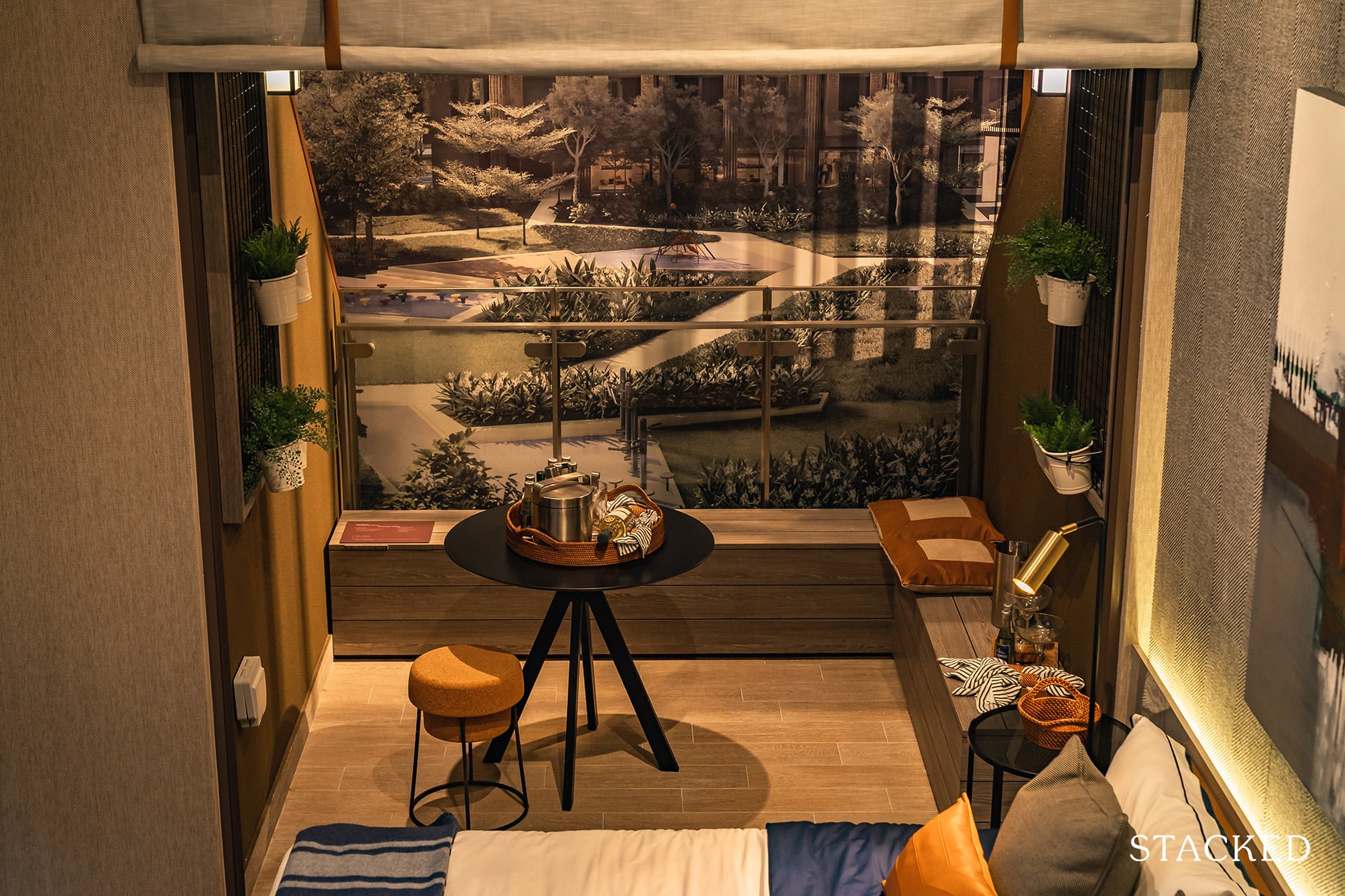 Above all, the most unique aspect of this 2 bedroom dual key unit is really this private roof terrace. I think the showflat decor has done a good job of highlighting what the space can potentially look like – it's super cosy and idyllic.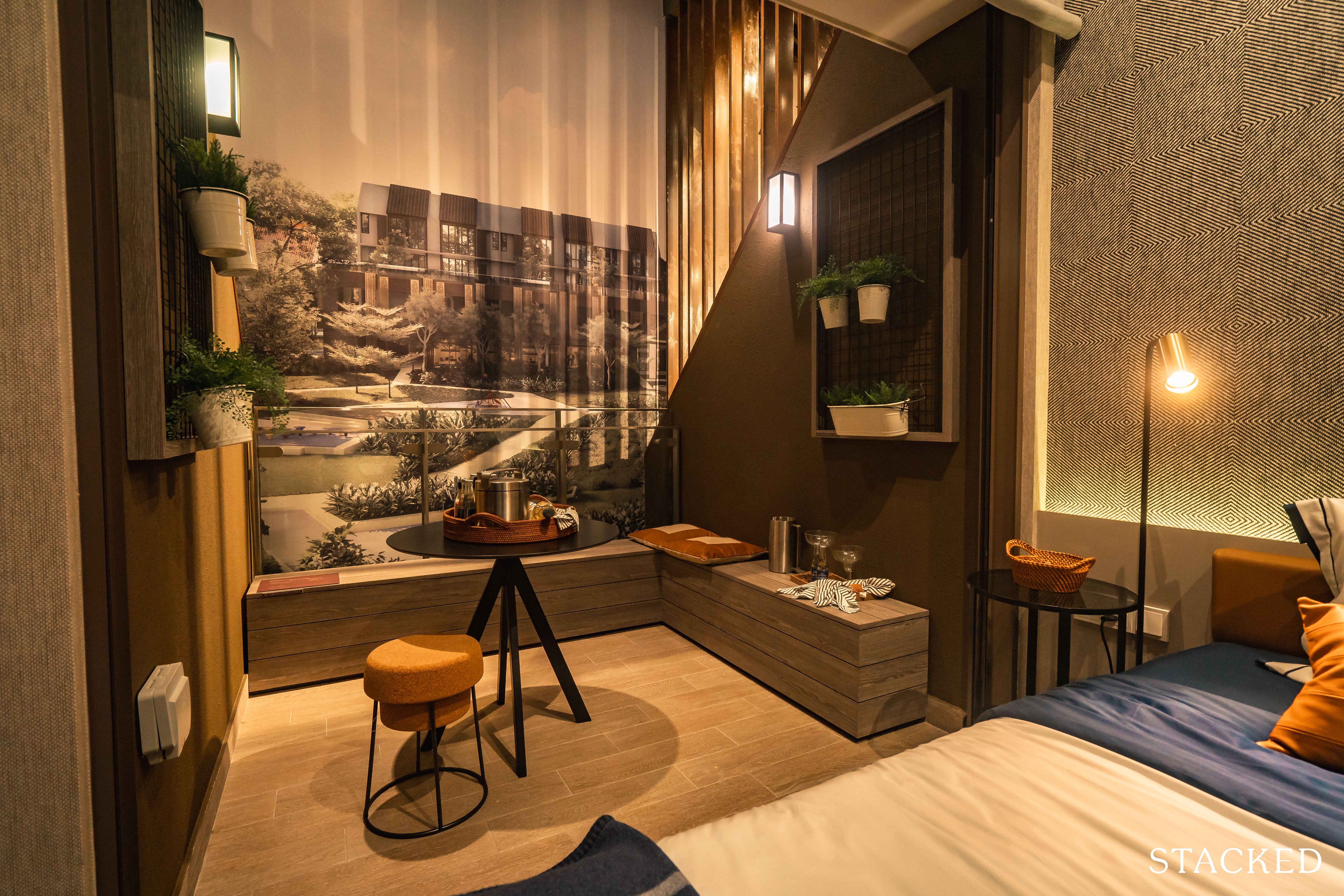 While you aren't high up at all (4 storeys), the Holland Grove area is all low lying, so you won't get the claustrophobic feeling of tall buildings peering into your space.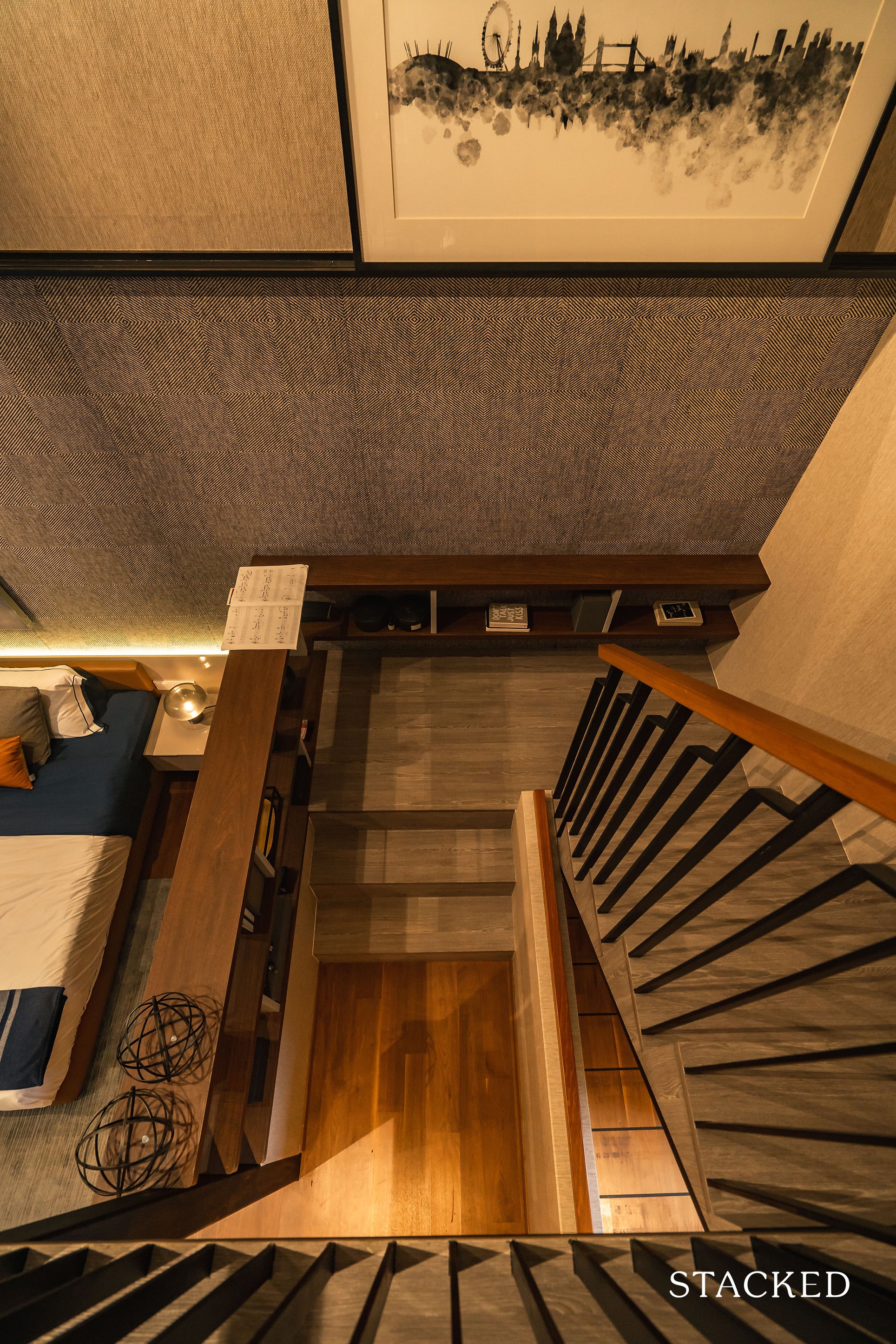 Let's take a closer look at the top platform. Unlike some platforms I've seen (which can feature steep, precarious steps), this one here is proper stairs up – at the expense of your living space.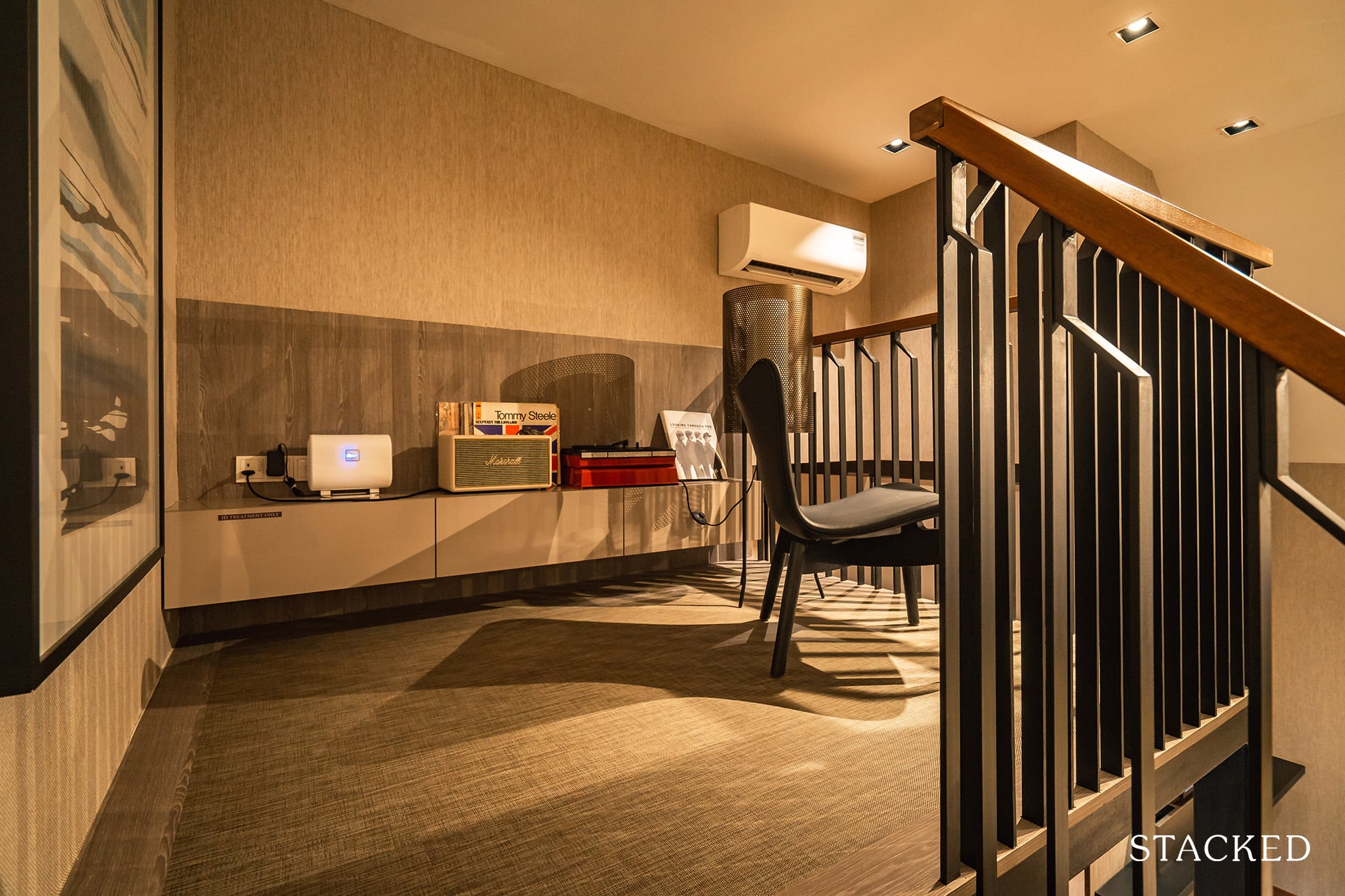 As with most platform fixtures, ceiling height here is limited. So for those who are vertically blessed, you could find your heads touching the ceiling. It is still a decent, cosy enough space to get your work done.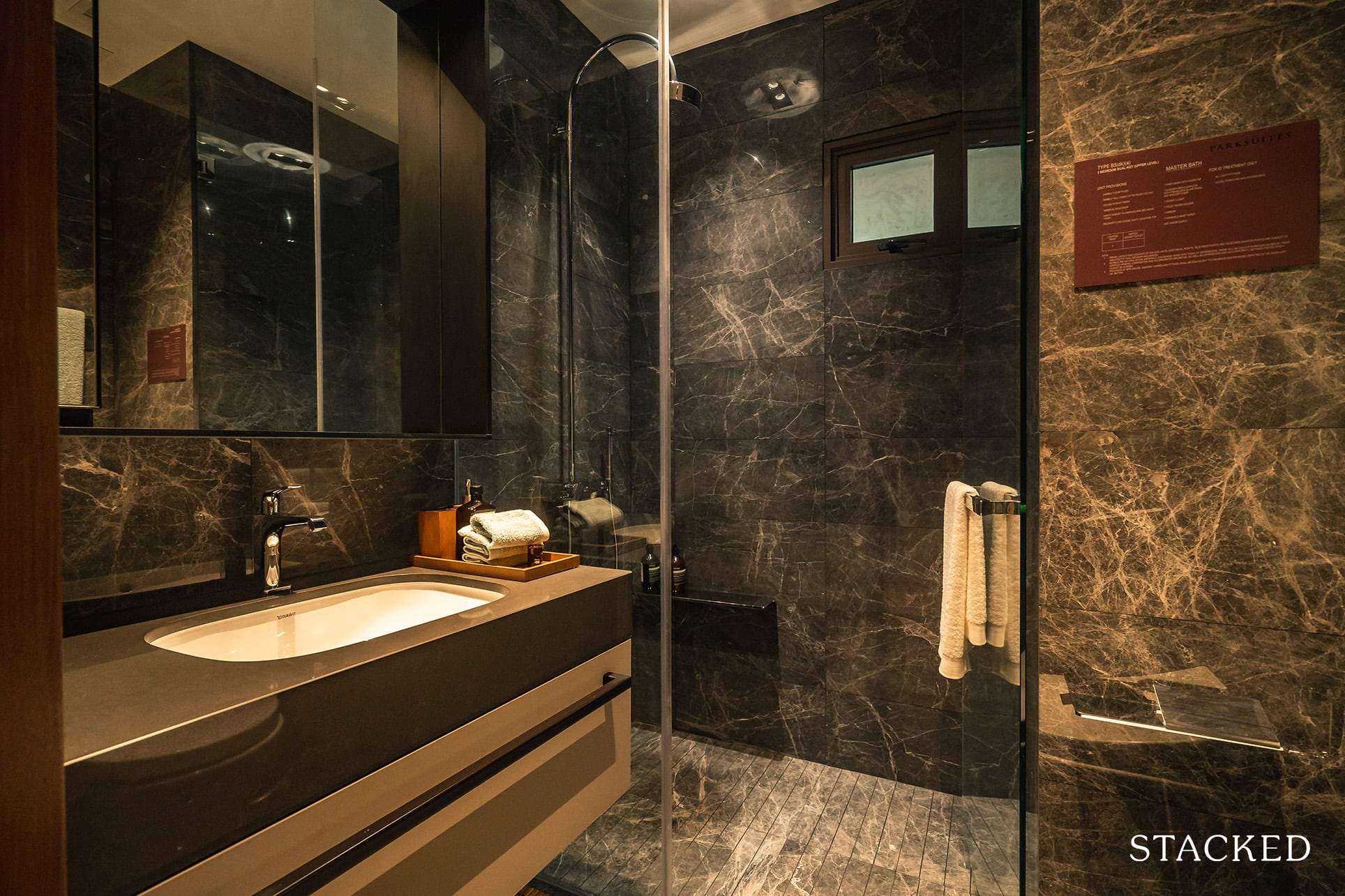 Rounding up the rest of the unit is the master bathroom. It's quite small, and the small windows don't help much with its case as well (neither does the dark palette).
Parksuites Location Review
The soon-to-be Parksuites is located in the scenic District 10. Apart from its close proximity to the CBD, District 10 boasts a number of exciting features – from Bukit Timah Hill's scenic views, to a variety of popular foods and bars in Holland Village.

Considering its immediate surroundings, you could say that Parksuites would add some extra 'character' to its location once it's completed – a nature-themed integrated development housing a community of artisanal retail services (fun fact: that's not even the half of it!).

At the foot of the development site lies the small but serene Henry Park – a great place to wind down after a long day of work.

Other than Henry Park Primary School and Glentrees Condominium situated across the road, the site is surrounded by low-rise buildings and bungalows. To the west, you can find a number of (taller) HDB flats and a few luxury condominiums.

Plus, if you feel like dining on some local food or catching up with friends over drinks, Holland Village is just a few bus stops away!

Public Transport

| | | |
| --- | --- | --- |
| Bus Station | Buses Serviced | Distance From Condo (& Est. Walking Time) |
| 'Henry Park' | 92, 92M | 130m, 1-min walk |
| 'Bef Moonbeam Walk' | 7, 61, 75, 156, 165 | 275m, 3-min walk |
| 'Opp Moonbeam Walk' | 7, 7B, 61, 75, 156, 165 | 330m, 4-min walk |
Closest MRT: Dover MRT – 800m, 10-min walk

Not all residents might be comfortable with a 10-minute walk to the MRT, though add in the beautiful scenery (bungalows and very well-maintained neighbourhood) that comes alongside, and some might even enjoy it.

Perhaps more poignantly, for those who plan to commute to the CBD, a 6-min ride aboard Bus 61 (across 7 stops) would bring you to Commonwealth MRT, from which, a 12-min ride on the East-West Line would take you straight to Raffles MRT (18-minutes ride in total).

For those heading in the direction of Orchard MRT, hop aboard bus 7 at the 'Opp Moonbeam Walk' and you'll find yourself there in and around 18-minutes.

Private Transport
| | |
| --- | --- |
| Key Destinations | Distance From Condo (& Est. Peak Hour Drive Time) |
| CBD (Raffles Place) | 12.1km, 18-min drive |
| Orchard Road | 6.3km, 12-min drive |
| Suntec City | 16.1km, 23-min drive |
| Changi Airport | 29.5km, 33-min drive |
| Tuas Port (By 2040) | 31.2km, 37-min drive |
| Paya Lebar Quarters/Airbase (By 2030) | 16.1km, 20-min drive |
| Mediapolis (and surroundings) | 3.7km, 11-min drive |
| Mapletree Business City | 9.2km, 14-min drive |
| Tuas Checkpoint | 20.9km, 21-min drive |
| Woodlands Checkpoint | 18km, 21-min drive |
| Jurong Cluster (JCube) | 9.1km, 14-min drive |
| Woodlands Cluster (Causeway Point) | 18.8km, 22-min drive |
| HarbourFront Cluster (Vivo City) | 10.4km, 19-min drive |
| Punggol Cluster (Waterway Point) | 18.8km, 22-min drive |
*Note that Drive Times are calculated during Peak Hours

Immediate Road Exit(s): 2 Exits along Holland Grove Road

"2 exits for a 119-unit project?"

Well, it's not exactly what it seems…

Only one of the exits leads out of the estate's main basement carpark, the other is both an entrance and exit to and from Tower 1, which also has its own private parking lots (we'll touch more on this in the development site section later on).

As for the roads outside, Holland Grove Road is double-laned, but may experience some heavy traffic flow briefly in the mornings, late afternoons, and early evenings as parents drive their kids into and out of Henry Park Primary School (shared road).

Other than that, you should have minimal trouble exiting from Holland Grove Road onto the nearby Holland Road which leads straight to the CBD.

As for those who don't intend to drive, you'll be relying on the beauty of Parksuite's centrality – with a variety of bus services on both sides of Holland Road for you to peruse.

Groceries

| | |
| --- | --- |
| Name of Grocery Shop | Distance From Condo (& Est. Walk Time) |
| Cold Storage – Jelita | 400m, 5-min walk OR 1km, 4-min drive |
| Giant Express – Ghim Moh Rd | 1.1km, 14-min walk ORD 1.4km, 4-min drive |
| Fairprice – Ghim Moh Link | 1.4km, 17-min walk OR 4.4km, 8-min drive |
Schools

| | |
| --- | --- |
| Educational Tier | Number of Institutes |
| Preschool (within 1km walk) | 4 |
| Primary (3km-drive) | 3 |
| Secondary (3km-drive) | 3 |
| International School (3km-drive) | 2 |
| Junior College (5km-drive) | 3 |
| University (5km-drive) | 4 |
| Polytechnic (10km-drive) | 2 |
Additional Pointers

Abundance of Amenities…and F&B Outlets
District 10 boasts an incredibly well-diversified array of amenities – a blessing to many of its surrounding residential projects.

For instance, Jelita Shopping Centre is a relative stone's throw away from Parksuites (vaguely assuming you're able to throw a stone 400 metres) – fitted with a variety of retail outlets and a Cold Storage (a big one at that).

Fancy bar-hopping or dining on some local delights? The vicinity provides no end to the F&B outlets serving quality food.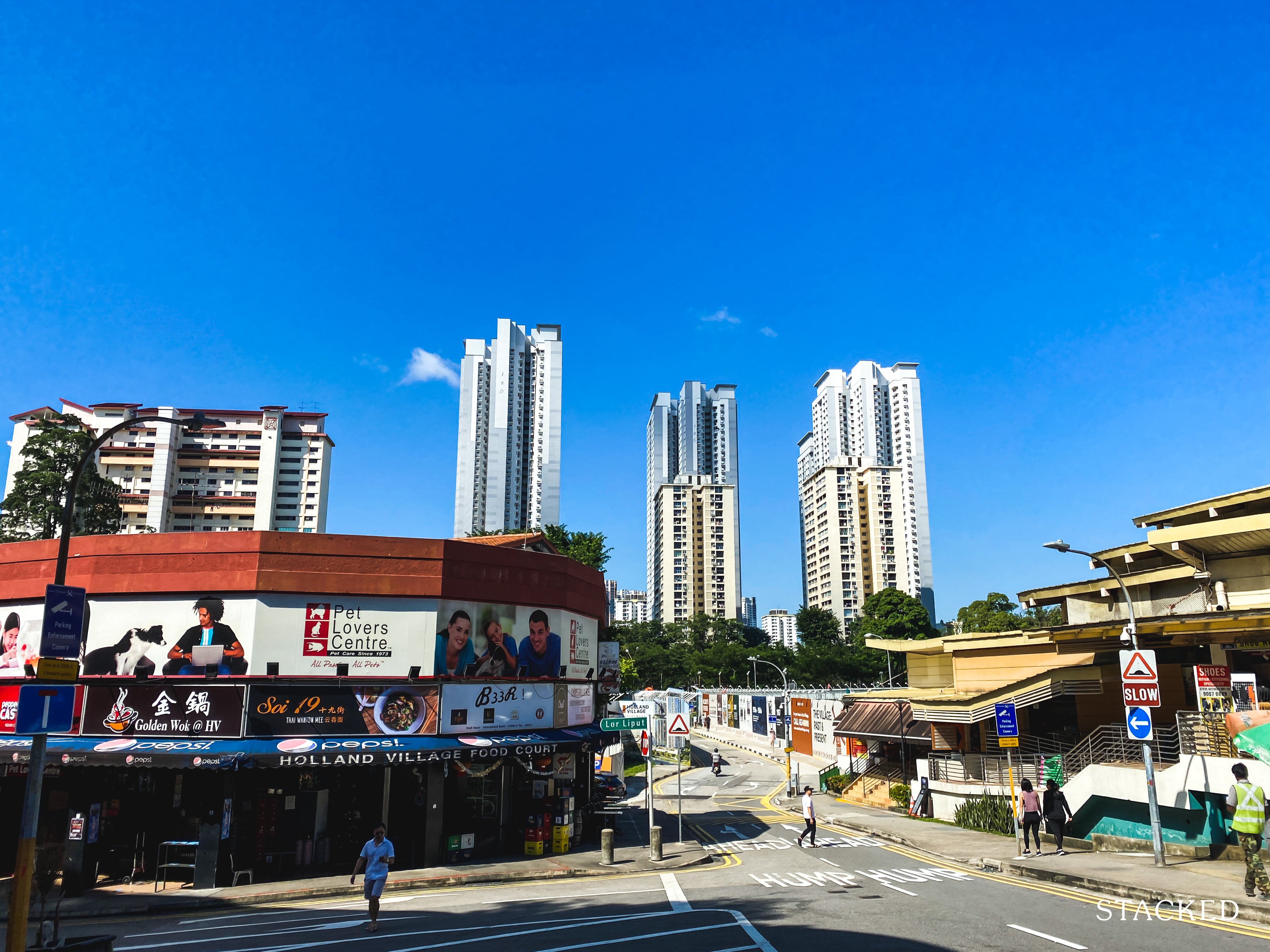 One such example would be the outlets and bars over at nearby Holland Village, merely a few bus stops away along Holland Road.

Another highlight worthy of mention for the gastro-maniac?

The hawker centre at 20 Ghim Moh Road.

Home to the Yuan Authentic Thai Stewed Beef Noodles stall (I was quite the regular here not too long ago), you'll find a diversity of affordable local foodfare here.

Moving on, the accessibility of nearby medical care.

Inside Jelita Shopping Centre, you will find the International Medical Clinic – a clinic with a wide variety of services which has been operating for over 15 years. It is survived by 8 doctors who have had medical training in countries like the UK, Australia, Germany and Canada.

What's more, Parksuites' location also sits in close proximity with a number of hospitals, with the closest ones being Gleneagles Hospital and National University Hospital.

They are both a 9 to 10-min drive away, so rest assured that any unanticipated medical emergencies will be swiftly attended to.

Tranquility and a Quiet Life
Parksuites Condominium sits in the middle of a private residential enclaved region.

Surrounded by low-rise residences where residents mostly prefer exclusivity and a peaceful abode, rest assured that serenity is prioritised in this neighbourhood.

It's also situated a fair distance from Holland Road – which can get rather busy at different points of the day considering that it leads straight to the CBD. And as we mentioned earlier, Parksuites is far from any MRT track – meaning residents need not worry about noise pollution from that spectrum.

As for the icing on the cake, you'll also find that the beloved Henry Park is also conveniently situated within the estate.

It makes for great opportunities to bring your kids to the playground in the evenings, enjoy a drink or two from one of the estate's artisanal retail outlets + pop in a brief but relaxing stroll after a day of work in this lush, surrounding greenery.

If you love your relaxing walks with the spouse and kids, Singapore Botanical Gardens is just an 8-min drive from home!

Close Proximity to Renowned Educational Institutes
Your child's education – one of the many factors of importance to consider when you choose a house. Fortunately, there is an abundance of renowned schools in close proximity with Parksuites.

Child still in his/her early growing years? Little Ones Kindergarten, Mount Sinai Montessori Kindergarten, Kinderland Preschool and Between Two Trees Preschool are all within 1km of walking distance from Parksuites.

Your kid advancing on to primary education? Look no further than across the road at Henry Park Primary School. A popular primary school option in Singapore, it is situated directly opposite Parksuites, separated only by Holland Grove Road.

As for tertiary education, Singapore Polytechnic is linked via a bridge to Dover MRT, a 10-min walk or 7-min drive away!
Parksuites Development Site Review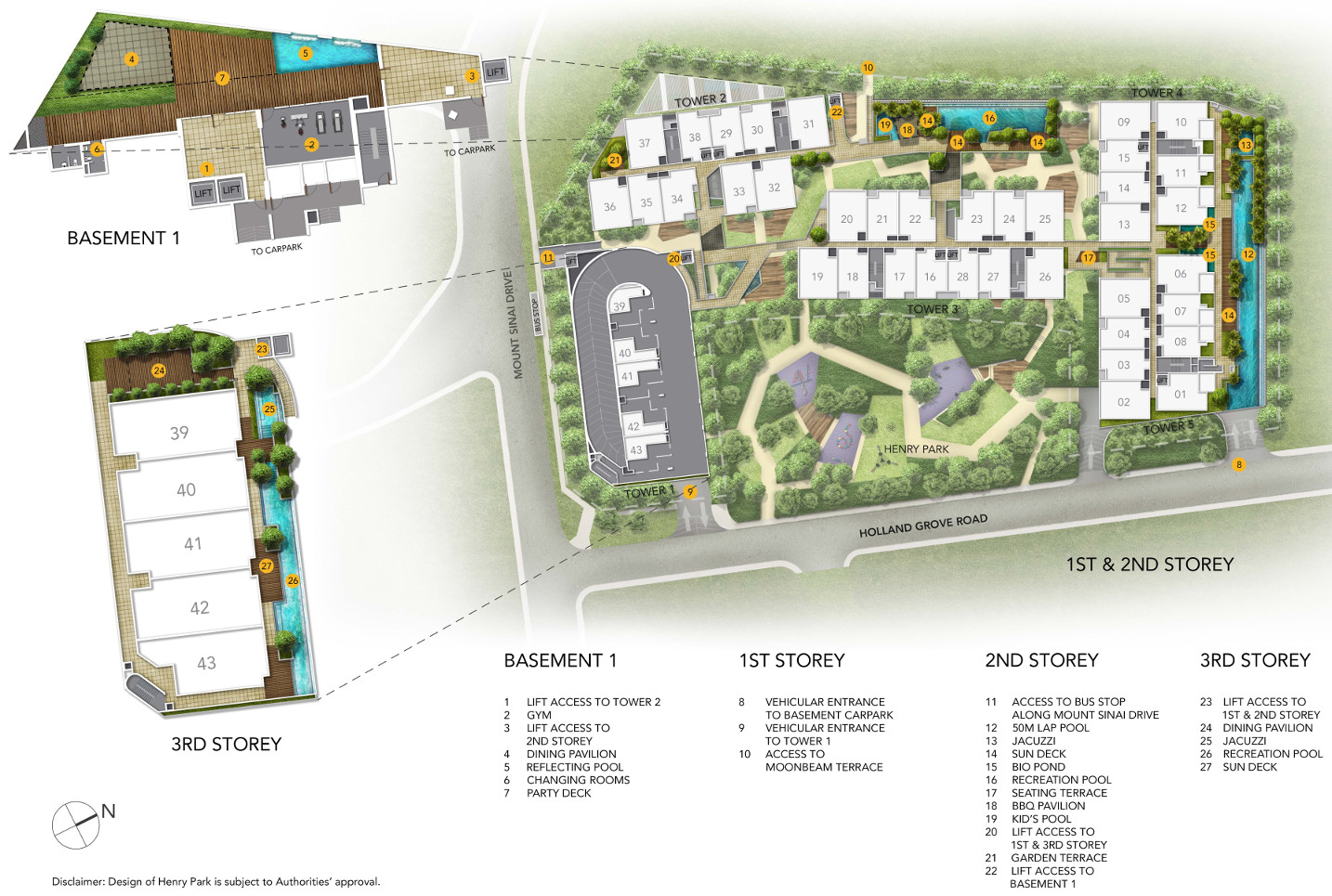 Facilities in Parksuites

| | | |
| --- | --- | --- |
| 50m Lap Pool | Kid's Pool | Recreational Pool |
| Barbeque Pavilion | Gymnasium room | Jacuzzi |
| Dining Pavilion | 24 hours security | Community Garden |
Interestingly, you'll notice that most of the units don't experience an obstructed view of another blank wall or block opposite (as you would find in many HDB flats or high-rise residences).

Apart from Units #32 to #36 of Tower 2, #9, #13, #14, #15 of Tower 4, and #5 of Tower 5, every other unit has an unobstructed view of either the picturesque Henry Park, or the neighbouring low-rise residences and lush greenery surrounding the estate.

Tower 1 has some unique features of its own which you may like if you value privacy and exclusivity. It is home to only 5 triplex units (situated side-by-side), each with its own personal basement parking lots (remember when I mentioned the 2 road exits to the condo?).

Unlike other (bigger) projects, Parksuites does not have an extensive range of facilities and services – however, it manages to boast its very own mini-shopping complex, featuring a total of 18 retail units within the estate.

Think of it as a downscaled version of Sengkang Grand Residences – which also has its own 'park' and an entire shopping mall beneath it.

As for the actual facilities, it is a simple range of facilities for the relatively-small estate: a gym, a few pavilions for private events, and last but not least, the swimming pools.

I have to say, Parksuites is rather generous with its design and layout of its swimming pools. Ambience-wise, I'm sure that the crystal blue will add a very exquisite look to the estate against the backdrop of both the estate's and Henry Park's lush greenery.

Apart from the 50m lap pool, there's also a kid's pool, recreation pool, jacuzzi, and even a 'reflecting pool' over in Tower 2's basement near the gym. Tower 1 also has its own recreation pool on the 3rd storey (shared by the residents of the tower's 5 triplex units), overlooking the rest of the estate and the park below.

Certainly nothing like Sengkang Grand Residences in terms of size and facilities, but a straight winner when it comes to luxury and exclusivity.
Best Stacks With The Least Afternoon Sun
Stacks with the least afternoon sun include 32 – 35, 16 – 26, 6 – 8, 11 – 12 and 01.
Units facing the North-West direction would have afternoon sun all-year round.
Best Stacks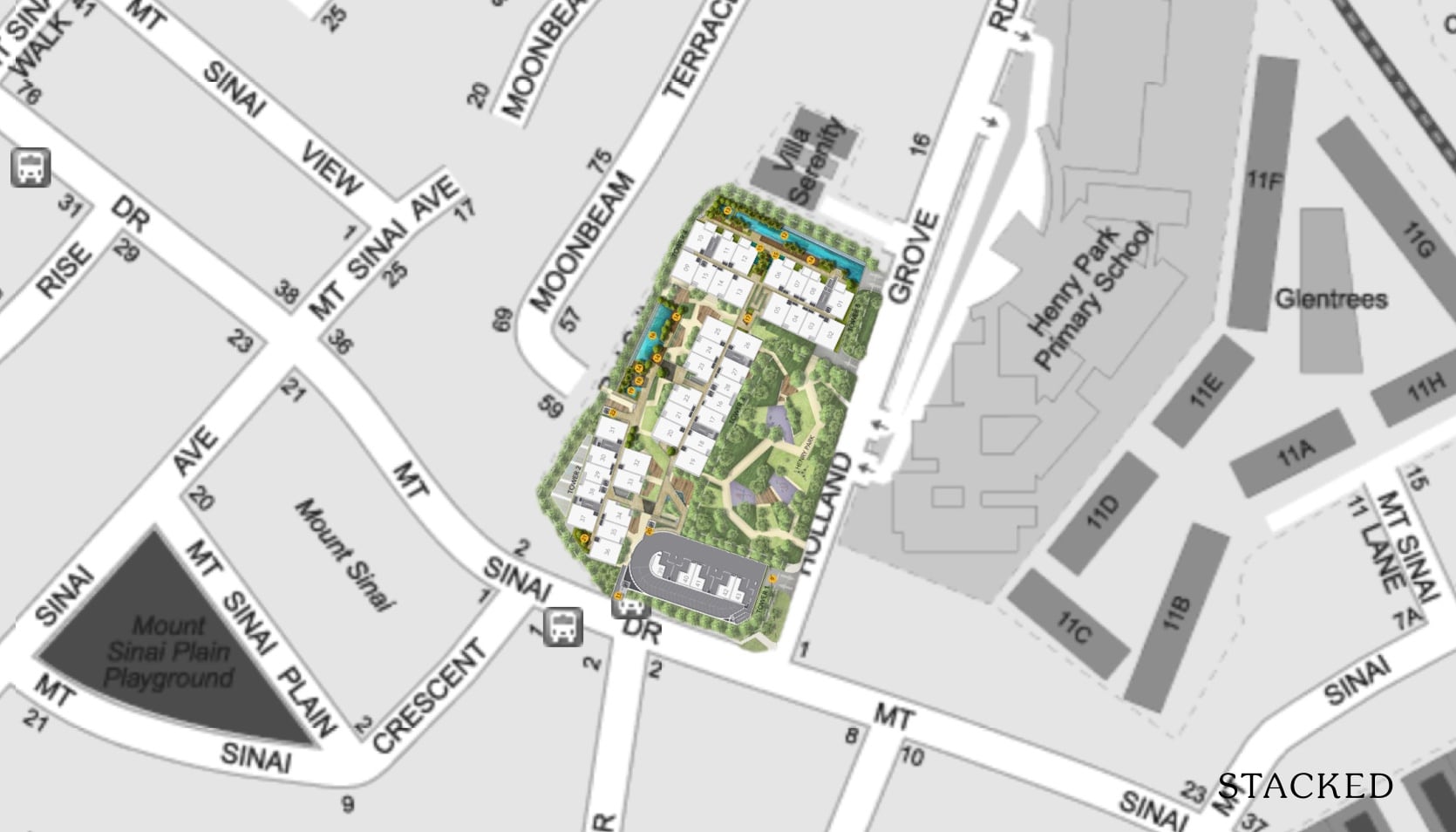 For Parksuites it's actually quite a clear cut choice – stacks 19, 18, 17, 16, 28, 27, and 26 are the pick of the bunch as its East facing gives it a enviable view over Henry Park.

If you enjoy pool views as well, stacks 20 – 25, and 1 – 10 overlook the swimming pools as well as provide a good setback away from the landed houses surrounding Parksuites. The immediate vicinity is low-lying all round, so the upper floors should do quite well in that regard.

Unit Mix

| | | |
| --- | --- | --- |
| Unit Type | No. Of Units | Size of Units (sqft) |
| 1 Bedroom | 10 | 581, 592 |
| 1 Bedroom + Study | 28 | 624 – 689 |
| 2 Bedroom (Single Level) | 8 | 700 – 829 |
| 2BR + Study (Single Level) | 30 | 786 – 872 |
| 2 Bedroom Duplex (Dual Key) | 22 | 1,098 – 1,227 |
| 3 Bedroom Duplex (Dual Key) | 16 | 1,389 – 1,475 |
| 4 Bedroom Triplex | 5 | 2,885 – 3,068 |
Considering that this is a 119-unit estate, there aren't that many units to choose from.

Although I have to say, the developers of Parksuites have done a great job in diversifying the layouts of units in each tier across separate towers – it keeps the estate's overall layout uncomplicated.

Prices for Parksuites
Price Breakdown (1st Property)
1-Bedroom
2-Bedroom + Study
2-Bedroom Dual Key
3-Bedroom Dual Key
4-Bedroom
Price
$1,296,792
$1,767,714
$2,308,464
$2,841,624
$6,810,960
25% Down Payment
$324,198
$441,929
$577,116
$710,406
$1,702,740
Additional Costs
Buyer Stamp Duty
$36,472
$55,309
$76,939
$98,265
$257,038
Legal Fees
$2,500
$2,500
$2,500
$2,500
$2,500
Valuation Fees
$300
$300
$300
$300
$300
Stamping Fees
$500
$500
$500
$500
$500
Total Price
$1,336,564
$1,826,323
$2,388,703
$2,943,189
$7,071,298
Initial Investment Amount
$363,970
$500,537
$657,355
$811,971
$1,963,078
Return on Investment
Expected Rental Price
$2,615
$3,144
$4,106
$5,124
$10,738
Rental Yield
2.35%
2.07%
2.06%
2.09%
1.82%
Price (2nd Property)
1-Bedroom
2-Bedroom + Study
2-Bedroom Dual Key
3-Bedroom Dual Key
4-Bedroom
Cost Without ABSD
$1,336,564
$1,826,323
$2,388,703
$2,943,189
$7,071,298
Plus: ABSD (12%)
$155,615
$212,126
$277,016
$340,995
$817,315
Total Price After ABSD
$1,492,179
$2,038,448
$2,665,718
$3,284,184
$7,888,614
Initial Investment Amount
$519,585
$712,663
$934,370
$1,152,966
$2,780,394
Return on Investment
Expected Rental Price
$2,615
$3,144
$4,106
$5,124
$10,738
Rental Yield
2.10%
1.85%
1.85%
1.87%
1.63%
Price Review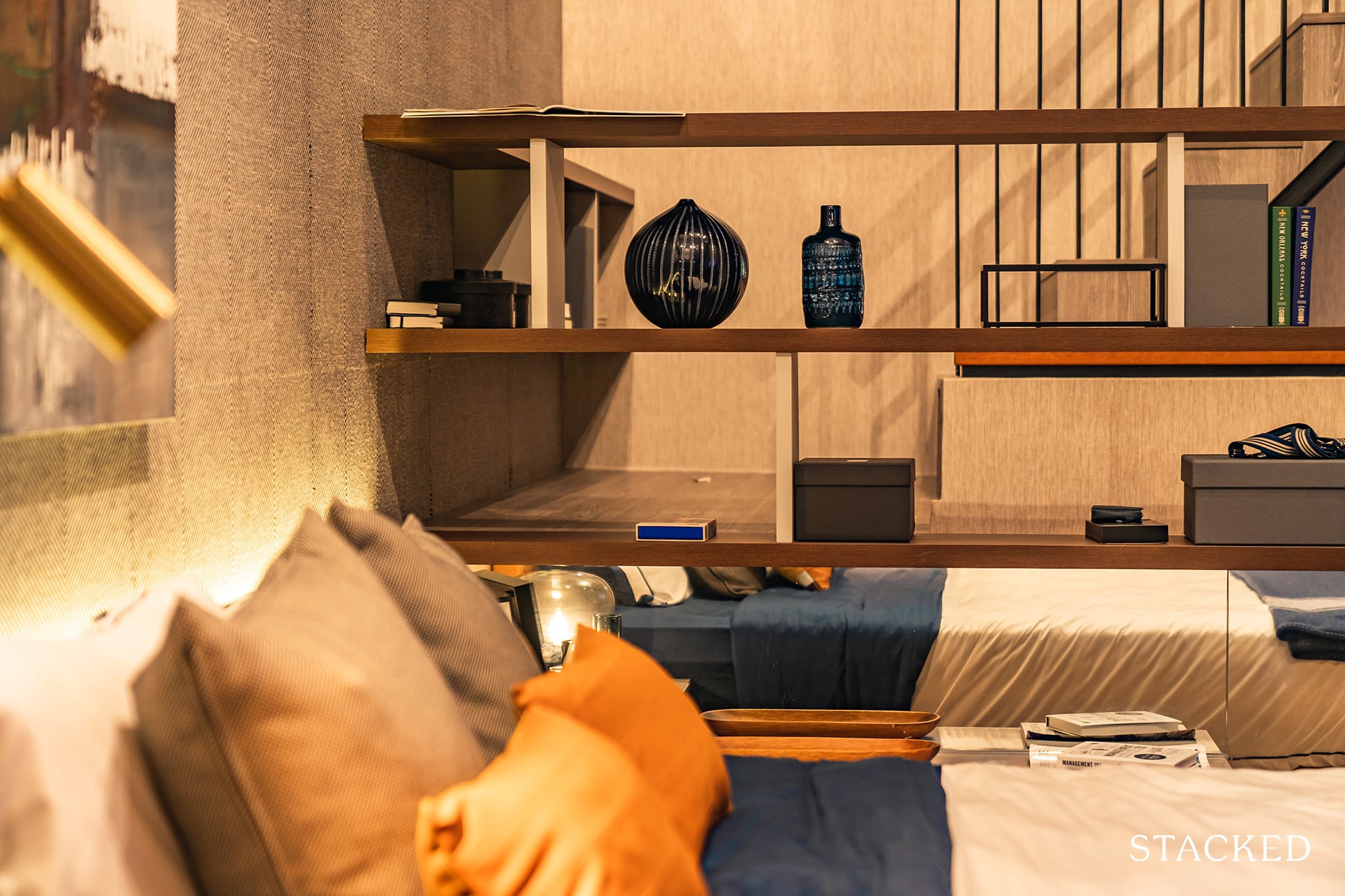 In this review, we will have 2 sets of comparisons – one comparing Parksuites with similarly-tiered projects, and the other comparing the former with neighbouring developments.

If you have read our previous review on Jadescape, you would notice that the price comparison were based on mega developments (800+ units) that were in the RCR (or city fringe) and with most within a certain walking distance of their respective MRT stations.

For this first comparison set, we shall widen the stats comparison a little further, such that the list is based solely on similar-sized new launch developments located in the RCR, within a 10-minute walk to the MRT.

(For more details about each listed project, check out our current New Launch Cheatsheet)

| | | | | | | |
| --- | --- | --- | --- | --- | --- | --- |
| Project Name | Tenure | TOP | Average Price | Distance from MRT | MRT Station | No. of Residential Units |
| Parksuites | 110-year Leasehold | 2023 | $2,033 psf | 800m, 10-min walk | Dover MRT | 119 |
| Artra Residences | 99-year Leasehold | 2021 | $2,031 psf | 30m, 1-min walk | Redhill MRT | 400 |
| Meyerhouse | Freehold | 2023 | $2,326 psf | 430m, 5-min walk | Tanjong Katong MRT | 56 |
| Coastline Residences | Freehold | 2022 | $2,387 psf | 180m, 2-min walk | Tanjong Katong MRT | 144 |
| Jui Residences | Freehold | 2022 | $1,744 psf | 580m, 7-min walk | Potong Pasir MRT/LRT | 117 |
Unsurprisingly, Meyerhouse and Coastline Residences of District 15 top our list on psf-value alone given not just their proximity to Tanjong Pagar MRT Station, but the fact that they are popular freehold 'East-Coast properties' (for a lack of a better phrase).

The outlier on this price list would be Jui Residences. Among several others, here is a significant reason for this – while Jui Residences may not be as far from Potong Pasir MRT as Parksuites is from Dover MRT, the condo is adjacent to Serangoon Road (a main road), which also connects to the Pan Island Expressway less than 200m away.

That's right, noise pollution for the condo's residents.

As for Artra Residences, you may notice that its psf value is practically on par with that of Parksuites, although for a different reason… 

Parksuites' value stems primarily from being an "integrated" development surrounding Henry Park, retail outlets within the estate, and its proximity to renowned schools (not to mention the land price and prime district location).

Atra Residences' value comes from its very close proximity to Redhill MRT, and the overall value and popularity of the Redhill region (taking into account that Atra is surrounded by other highly sought-after condos like Tanglin Regency, Echelon and Avenue South Residence).

*Side Note*: I know that some price comparisons in our review might seem a little niche for various buyers with different backgrounds/needs. For a more detailed analysis on a New Launch comparison of your choice, feel free to reach out to me at hello@stackedhomes.com and I'll get to it as soon as I can!

Alright, so what about its neighbouring projects for buyers who are interested solely in Parksuites' immediate vicinity?

| | | | |
| --- | --- | --- | --- |
| Project Name | Tenure | TOP | Average Price |
| Parksuites | 110-year Leasehold | 2023 | $2,033 psf |
| Glentrees | 999-year Leasehold | 2005 | $1,274 psf |
| Quinterra | 99-year Leasehold | 2009 | $904 psf |
| The Serenade @ Holland | 99-Year Leasehold | 2004 | $807 psf |
Here we have a pricings list comparing private residentials within a 600m-radius of Parksuites Condominium in the general Holland area. That said, I have left out Allsworth Park, Ridgewood and Evian Condominiums due to their age (all three TOP-ed back in the '80s).

As you may have already noticed, Parksuites is the most expensive condo residential in this area.

If you prefer cheaper private residential options in this vicinity, Quinterra and The Serenade @ Holland do stand out (quite literally) at 19 floors high. Tongue-in-cheek, that's 16 storeys more than what you'll find at Parksuites!

A word of wisdom however, both condos are even further from the nearest MRT (also Dover MRT) when compared to Parksuites – thereby contributing to a lower value in psf.

As for those looking to live in the area but require significantly bigger living space, Glentrees does stand out too.

Glentrees is situated behind Henry Park Primary School, and Jelita Shopping Centre – although it is quite a long walk in and out (if you don't cross over the train tracks). Additionally, if you're more of the sporty type, there are a few badminton and basketball courts, and a running track about a minute's walk away as well.

Appreciation Analysis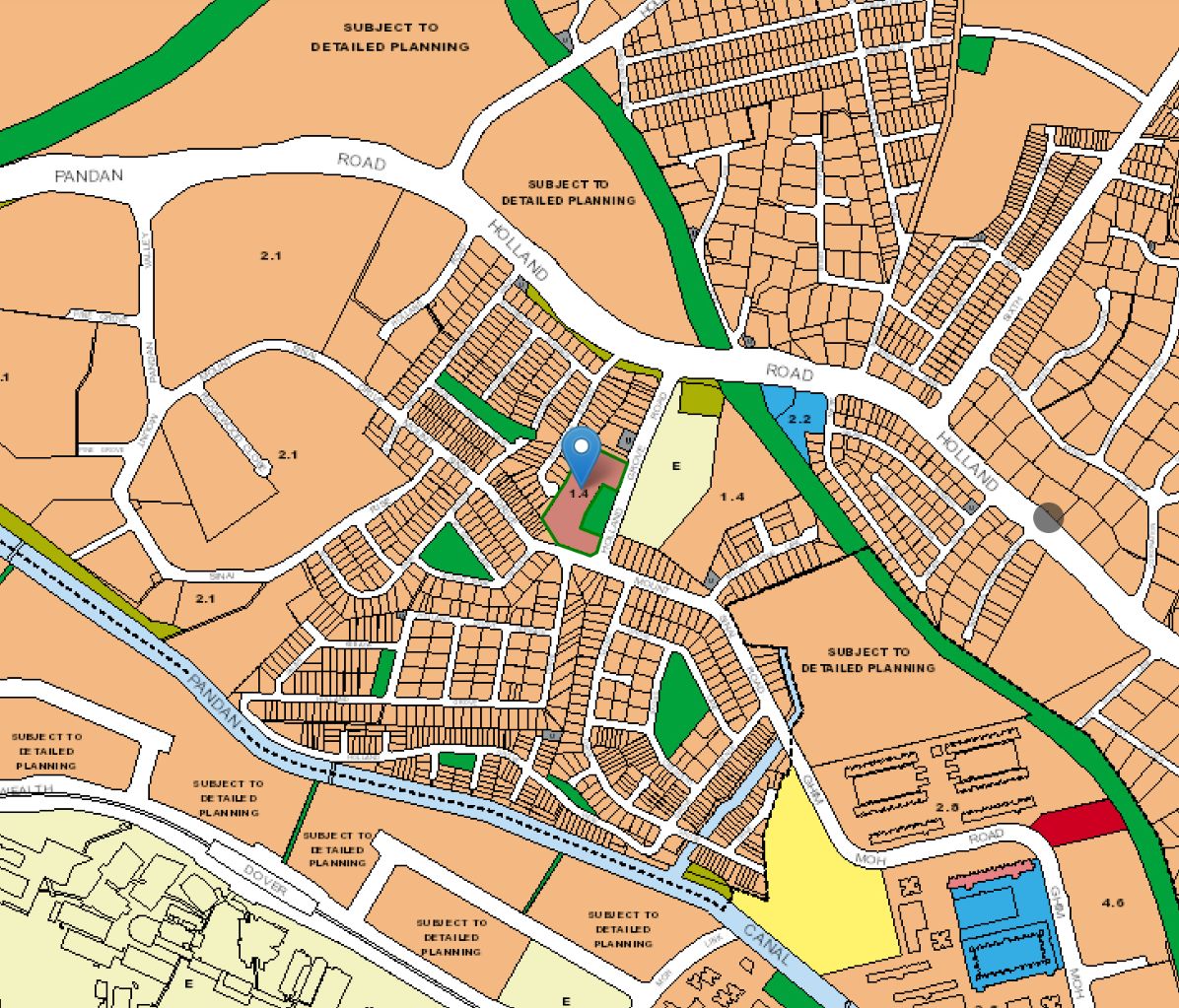 This analysis will centre around the characteristics of the project, its immediate vicinity, and the entirety of District 10.

If you were to take a close look at the image, you'd realise that Parksuites is the only residential development equipped with commercial retail outlets other than the Ghim Moh HDB development at the bottom-right.

This adds a further level of exclusivity, on top of the entire park that we see is already present in the project itself.

An abundance of top schools in the vicinity rounds up the family-friendly nature of this development.

Based on these USPs alone (especially the nature-etched, privacy and integrated development ones), we could see increased demand from the well-heeled in the near future as more attention is drawn to the project once this string of current new launches goes out the gate. 

As for Parksuites' immediate vicinity, you'd notice from the Master Plan image that it is already surrounded by other residentials, all low-rise residentials and bungalows which won't be acquired for redevelopment purposes anytime soon.

In other words, there are close to zero chances of new condo developments popping up in close proximity to Parksuites – which, although might not be extremely helpful to raising price points, will ensure that the biggest USPs (exclusivity/peace) of the neighbourhood goes untarnished.

Also note that the chances of any future MRT projects popping up in close proximity to Parksuites are extremely low to non-existent. Once again, while that will admittedly not contribute to a possible boost in appreciation (much like in the case of Meyerhouse's and Coastline Residences' mentioned earlier), rest assured that the more treasured 'seclusion aspect' of the area will stay intact.

To cap this analysis, here are my thoughts on District 10 – a well-stocked stretch that encompasses a multitude of top-notch amenities, spelling promising appreciation potential.

As of December 2019, the average psf valuation in District 10 was noted to be $2,477psf, compared to $1,716psf back in January 2015 – an increase of a whopping 44.35% or $761psf.

Additionally, District 10 is a popular district for en bloc sales, with 21 condos having gone en bloc here between 2016 to 2019 (not to mention a series of older projects holding prime spots in the area which are almost ripe for the occasion).

Yes, the en bloc fever might have died down, but it's always important to remember the premise of the fever.

'Land-hungry developers keen on topping up their 'land banks' + their quintessential fear of missing out (on profits)'.

Could we see an escalation of en bloc sales in the coming years once the effects of Co-vid are through? It's definitely a possibility.

And so in time to come, this means more highly-valued residential developments in the supply pipeline (not factoring in economic and dollar growth), which could push up prices in the immediate area.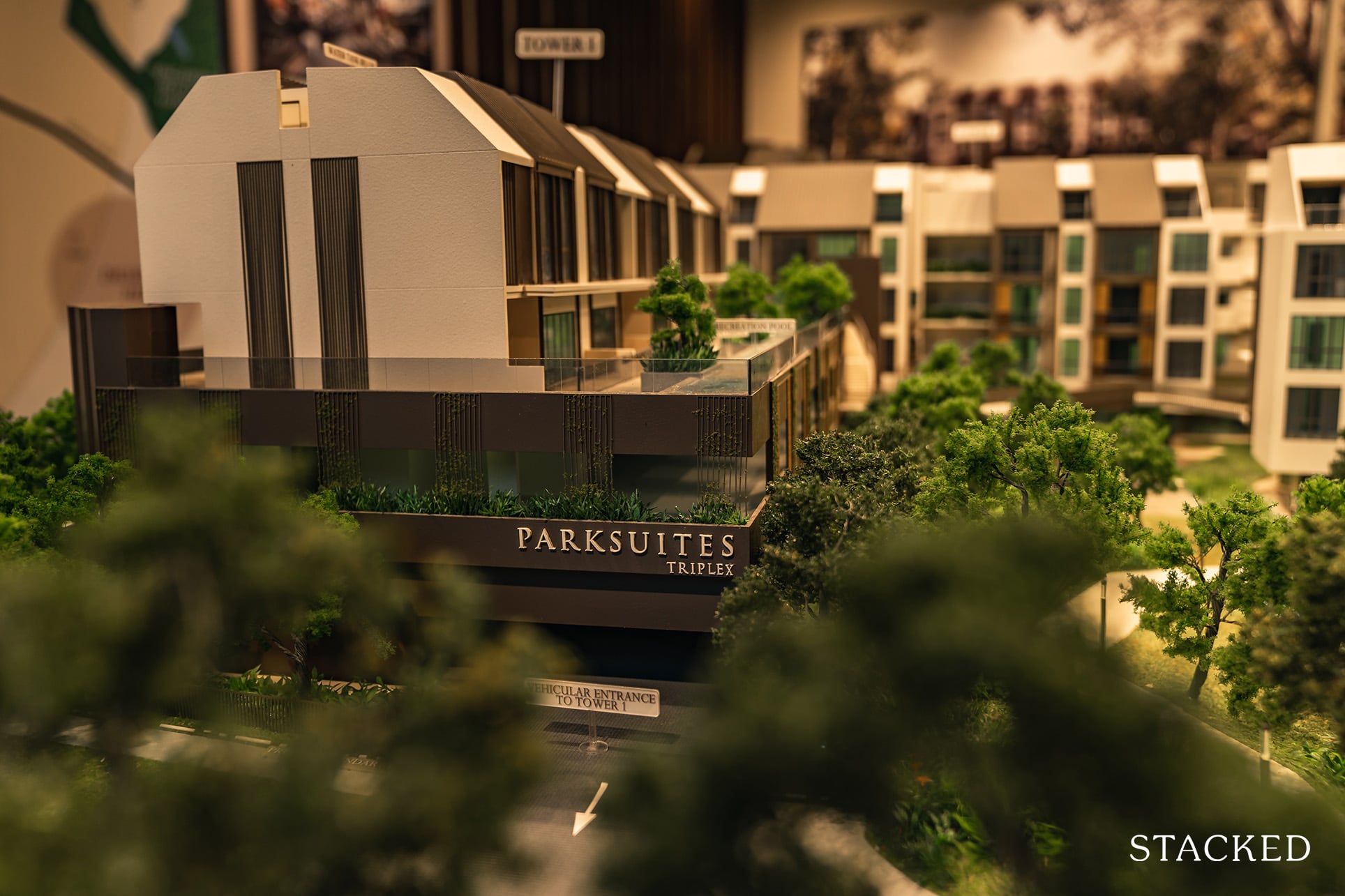 Our Take
What we like
Public park right outside

Serene location

Henry Park Primary School opposite
I do like the concept that Parksuites brings – the small but comfortable size of the low-rise estate, a view of the park when you look out the window, and even the absence of vehicular noise from main road traffic or an MRT track.

Plus, the built-in retail outlets and nearby grocery store also come as an added boost.

But this all comes at a cost – much smaller units.

So the question really is, are you prepared to pay the premium for a new launch with smaller units?

It's a tough one really, and it's always down to a problem many people face – should I buy a new launch but small unit? Or older resale but spacious unit?

The problem is, while the overall location of the Parksuites is definitely good, it isn't a highly desirable vicinity unlike the immediate Holland area – where there is a ton of new launch competition.

If you like a more serene and idyllic environment yet still near vital amenities, this is definitely a great choice. But the real issue is that I think many of those who value those attributes also want big living spaces – of which there are quite a number of options in the area.

Developer Notes:

Far East Organization is by far, the largest and one of the most successful private property developers in Singapore.

Unknowingly, most of us have already patronised some of their developments in one way or another through mall developments like Clarke Quay Central, Orchard Central, Junction 10 and even West Coast Plaza.

Founded in 1960 by the adored (late) Singapore entrepreneur Ng Teng Fong (yeah that's the guy who also has a Hospital named after him), Far East Organization has contributed extensively to the transformation of the country's urban landscape.

It boasts a portfolio of over 780 developments, including 55,000 private homes. Some of its incredible residential projects include Bullion Park and One Holland Village Residences – feel free to check out our past reviews on them!

Far East's subsidiaries include Far East Orchard Limited, Yeo Hiap Seng Limited, and Far East Hospitality Trust, which has made a name for itself on the Singapore Exchange Securities Trading Limited (SGX-ST) having been the only listed Singapore-focused hotel and serviced residence hospitality trust since its IPO in 2012.

Unsurprisingly, the developer's presence doesn't exist solely in Singapore (or even Asia, for that matter). To date, Far East has also established a growing portfolio of investment properties and development sites in locations across Australia, with investments in partnerships and acquisitions worth A$2 billion!

By venturing into a foreign market that operates to a different economic cycle from Asia, yet continually juggling top-notched real estate projects back on home turf, Far East Organization has proven time and again that their operations are both diverse and extremely well organised.

Well-supported by quality values, vast experience and strong leadership, this is a company that has both the respect of the public (an often underestimated factor in long-term appreciation trends) and promising potential in both their local ventures and current wares.
What this means for you
You might like Parksuites Condominium if you:
• Appreciate a Tranquil Lifestyle:

As we touched on earlier, Parksuites is set in the middle of a low-rise private residential enclave, far from any MRT tracks and a fair distance from the main road (Holland Road). Plus, the quiet comes hand-in-hand with the scenic greenery of the estate and Henry Park.

• Have a Family (with Young Ones):

Schools for all educational levels are in abundance around the estate, with a decent number of them easily accessible by bus or car (many even within walking distance). Henry Park and the nearby Singapore Botanical Gardens also makes for excellent bonding opportunities with the family.
You might not like Parksuites Condominium if you:
• Prioritise MRT Accessibility:

Positives aside, the nearest MRT is still a 10-min walk away, and this could add some hefty time-delay on your journey to work in the long run.

• Crave Birds-Eye Views:

Given that it's a 119-unit estate atop 101,203 square feet of land, I would say the 'population density' of Parksuites is (extremely) reasonable. However, if you love your views, why not have a look at the alternative high-rise residentials in the RCR region? (Stirling Residences is one that pops to mind!)
End of Review
Join our Telegram group for instant notifications
Join Now
Reuben