Condo Reviews

Park Infinia at Wee Nam Review: Space Abounds In Novena
Reuben
December 23, 2019

21

min read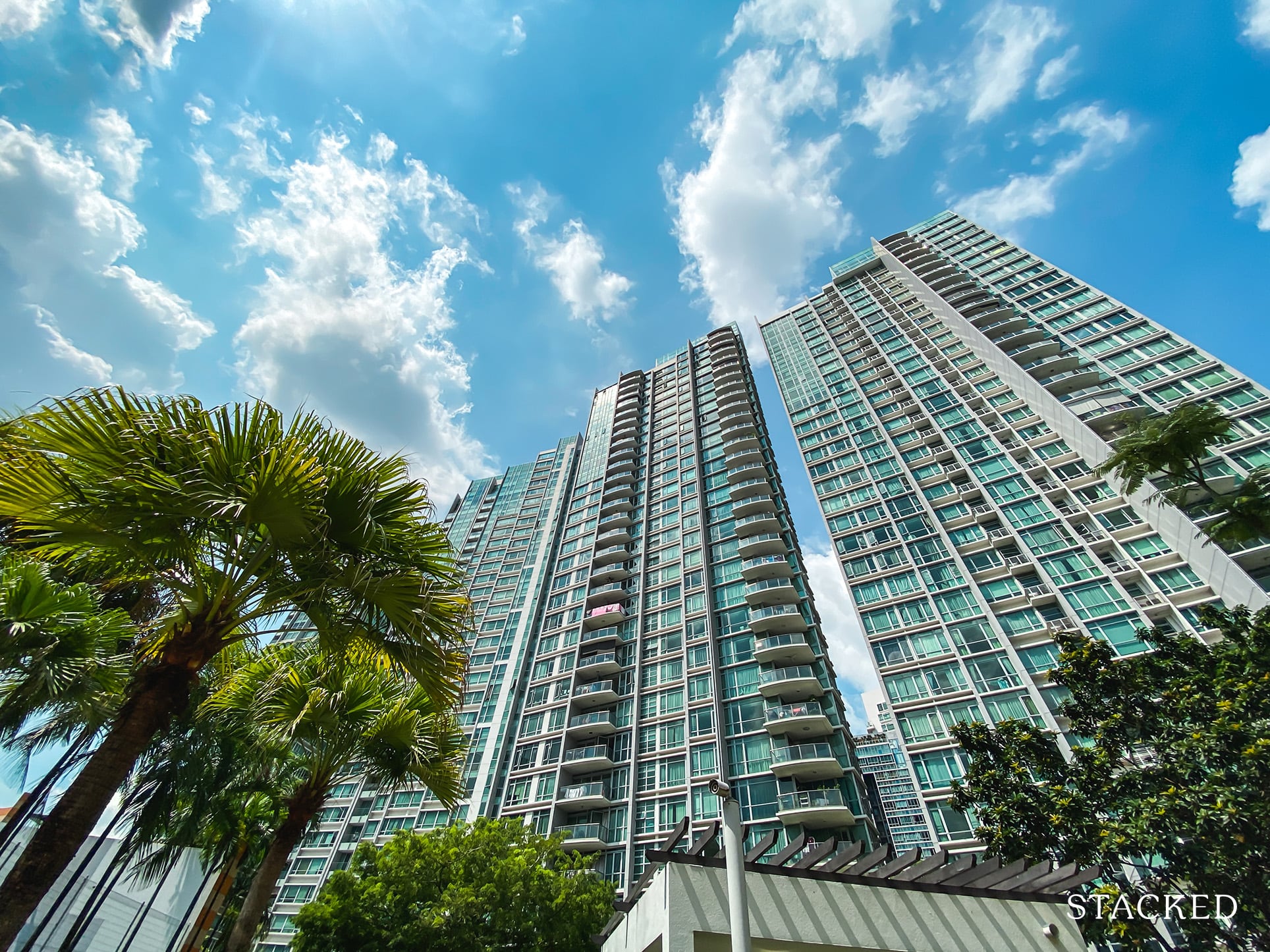 Park Infinia serves as a great place to stay if you work in the medical field due to the rise of the Novena Medical City. However, Park Infinia's quantum is relatively big compared to other condos in the area, so those on a stricter budget may want to look elsewhere.
Reviewed by Reuben on 23 December 2019
What we like
Close to malls

Big land space for Novena

Good facilities
What we don't like
—

Slightly dated design

—

Walk to MRT
21
min read
About this condo

| | | | |
| --- | --- | --- | --- |
| Project: | Park Infinia at Wee Nam | District: | 11 |
| Address: | Lincoln Road | Tenure: | Freehold |
| Site Area: | 224,531 sqft | No. of Units: | 486 |
| Developer: | Keppel Land Realty Pte Ltd | TOP: | 2008 |
It might have just celebrated its 10th anniversary, but Park Infinia's appreciation trends are a force to be reckoned with. An outrageous $2.71m profit for its penthouse unit back in 2017 stands witness.
Just 5-minutes' drive from 4 major districts, Newton has long been touted as one of the best places to stay in Singapore. With solid proximity to the CBD, highly-rated surrounding amenities in the shopping mall, school, food, private transport and even medical sectors it's easy to see why.
More than just solid amenities and appreciation rates however, the freehold Park Infinia boasts expansive free-space in a district where land is so scarce. It's rather unique range of facilities also go the distance in livening the condo amidst its clean and somewhat muted general hue.
With 486 units spread across four 30-36 storeyed towers, ranging from 1 to 4-bedroom units and penthouses, it's also clear that developers Keppel Land have thought to cater to every demographic group.
Curious to see if the condo's been able to withstand the test of time thus far, we headed down to pop a closer look at the condo's internal offerings (and a particularly interesting 'rocky outcrop').
Park Infinia at Wee Nam Insider Tour
Facilities in Park Infinia
Lap Pool
Kid's Pool
Gym
Dance Studio
Resident's Lounge
Music Studio
Fitness Station
Playground
Basketball Court
Tennis Courts
Clubhouse
Jacuzzi
Yoga Deck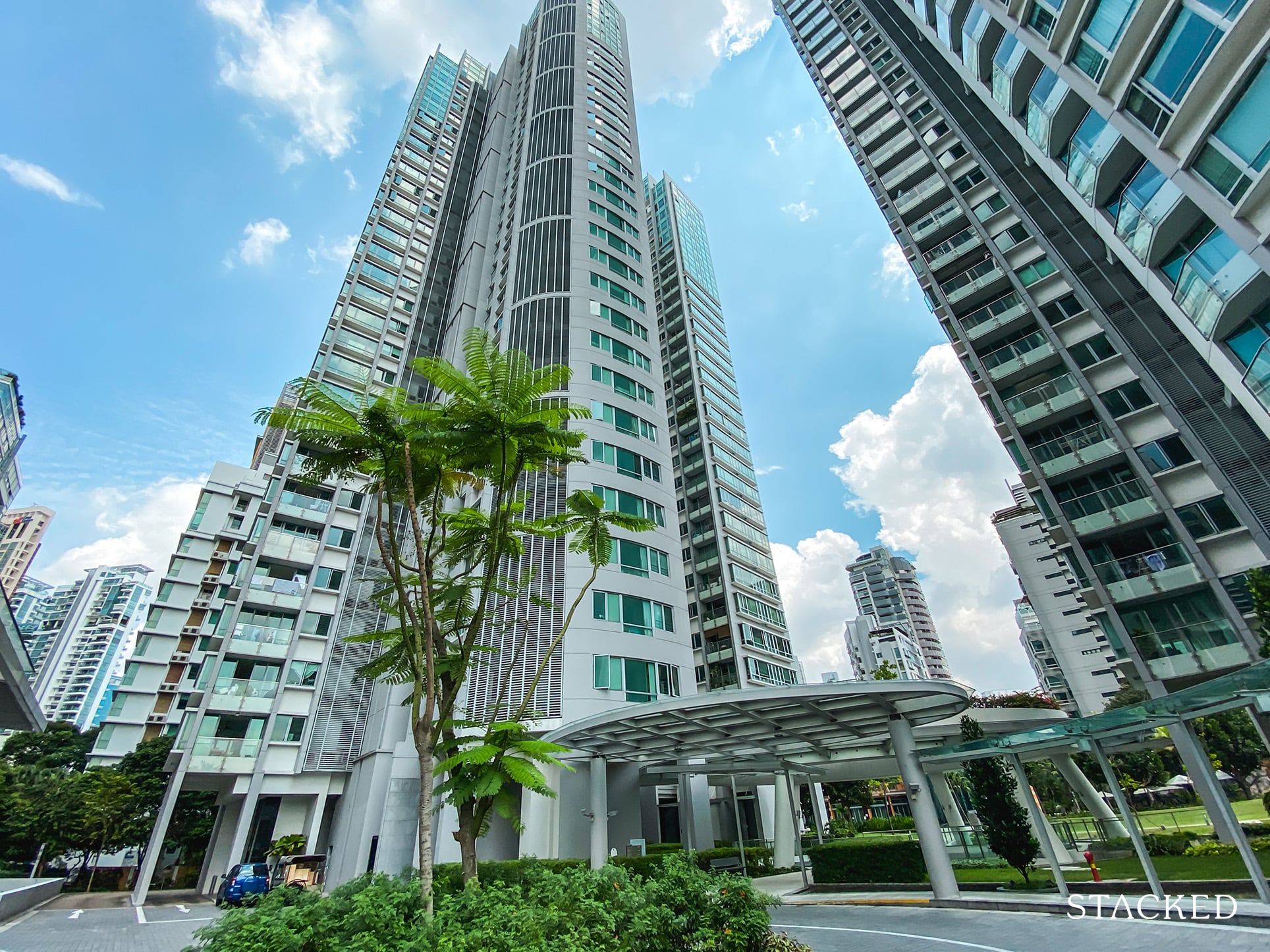 While the name of the condo is a bit of a mouthful, it does go some way into giving some insight into the main selling point of the Park Infinia at Wee Nam. Generally speaking, the Novena area is quite packed with condominiums, with many of them being small boutique ones. So the Park Infinia at Wee Nam is quite the outlier, with much bigger grounds than most of its neighbours.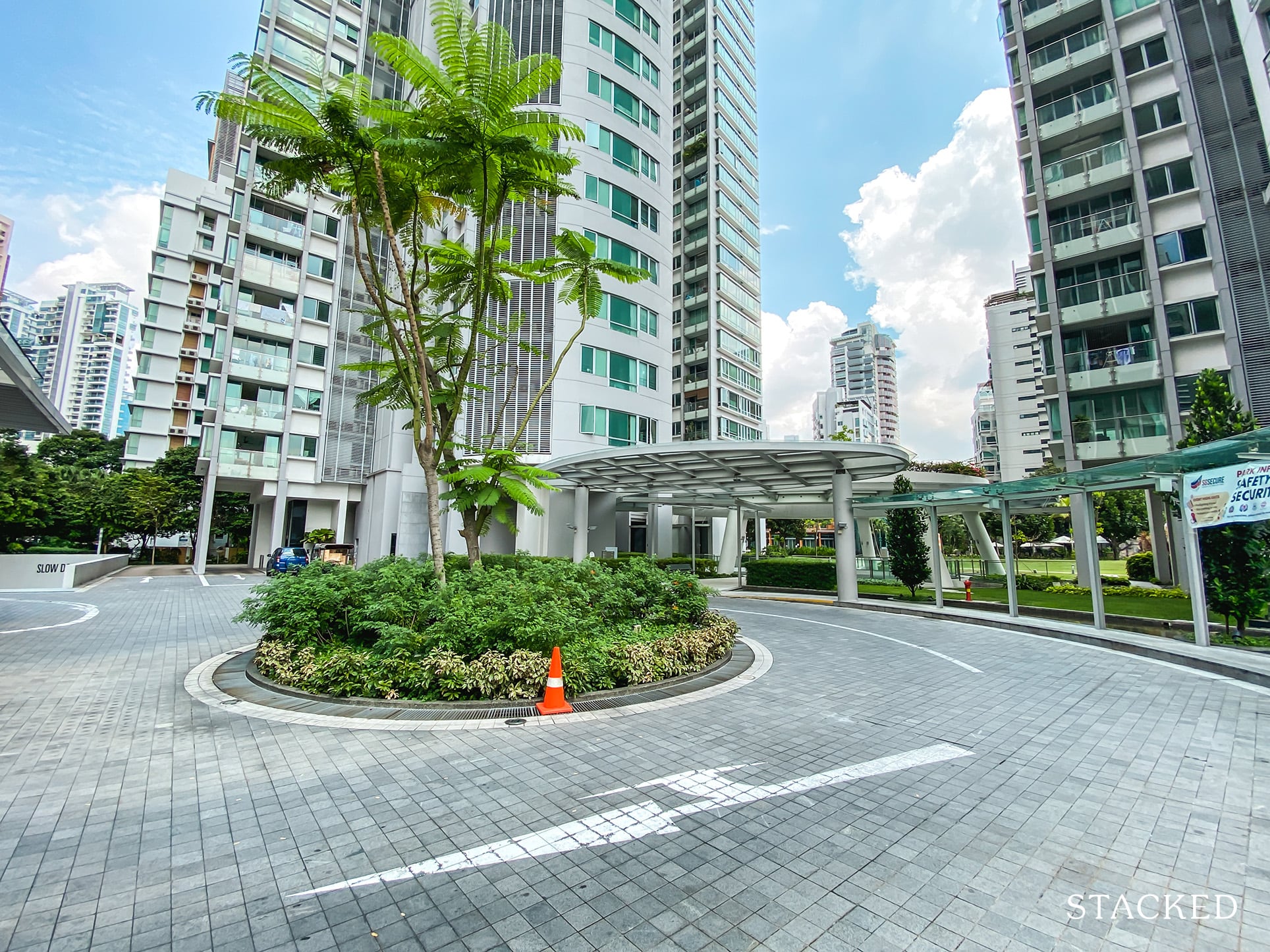 Which is really evident here from this spacious roundabout at the entrance.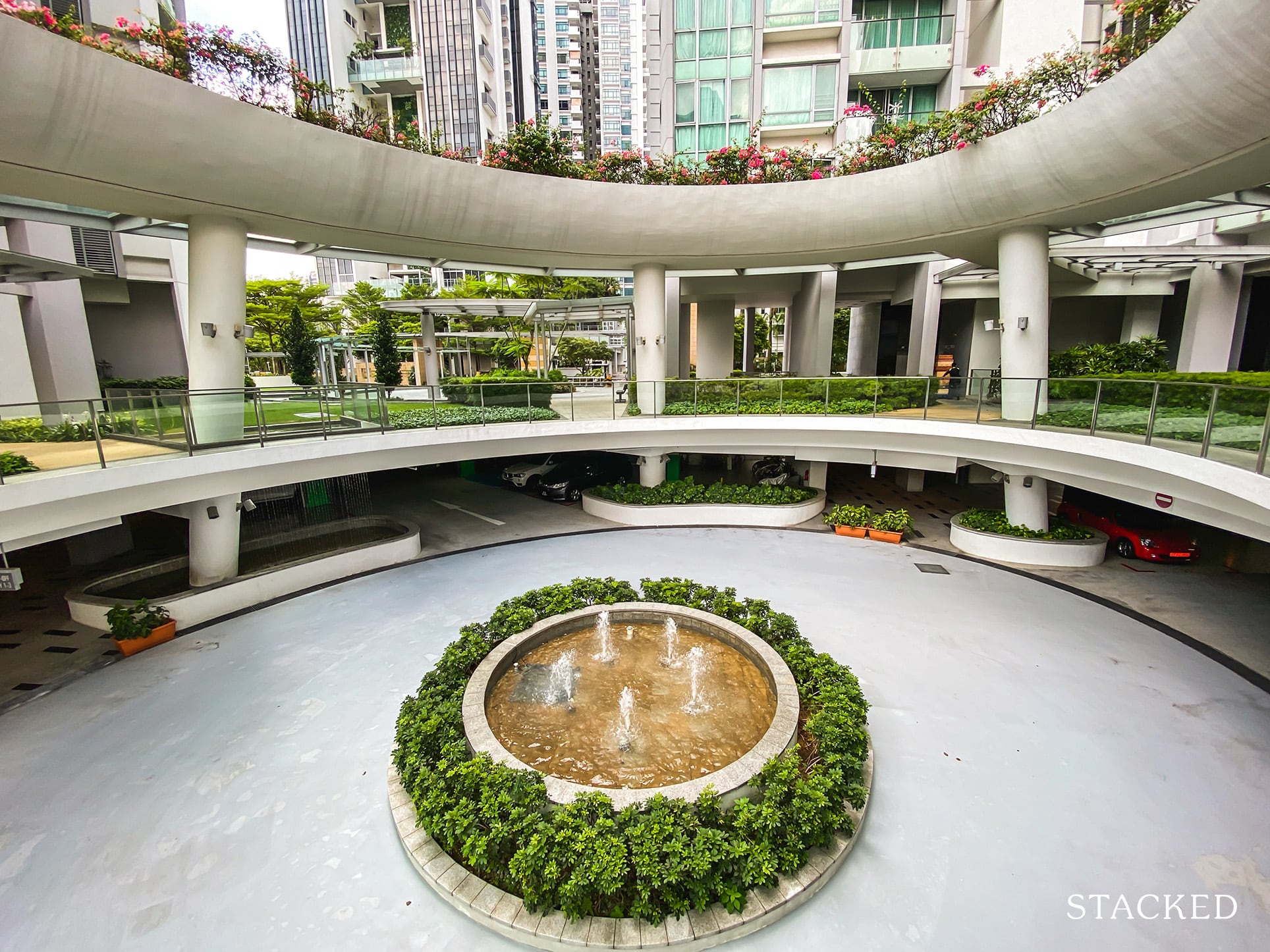 Moving from the main entrance, you'll immediately find yourself face to face with this considerably large circular structure surrounding a water fountain. No prizes for guessing which landmark in Singapore this is modelled after. Personally, it's not my style but it does make for an imposing welcome.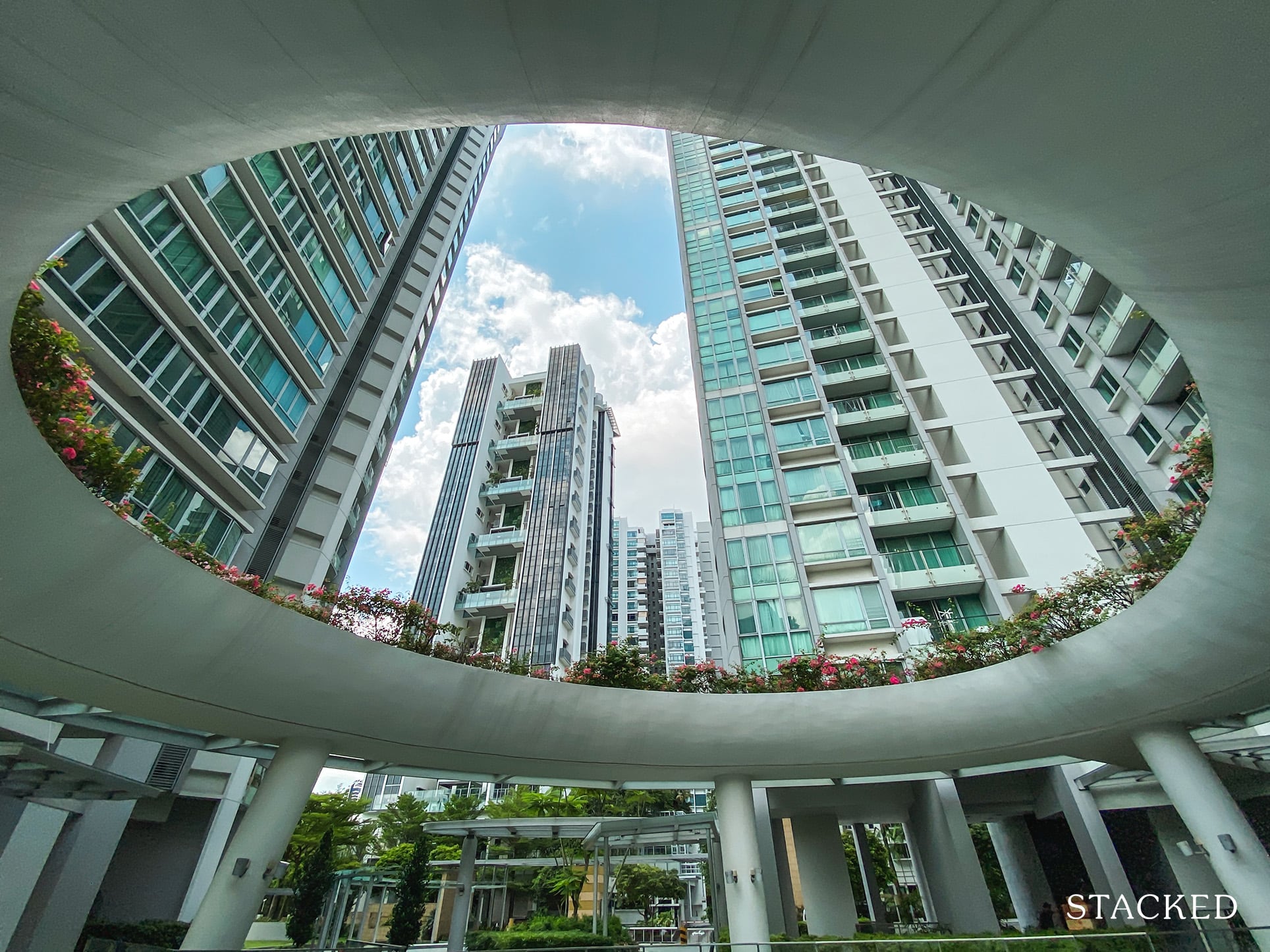 Perhaps it would have been cooler to have the water flowing down the sides, but the maintenance costs would probably have been prohibitive.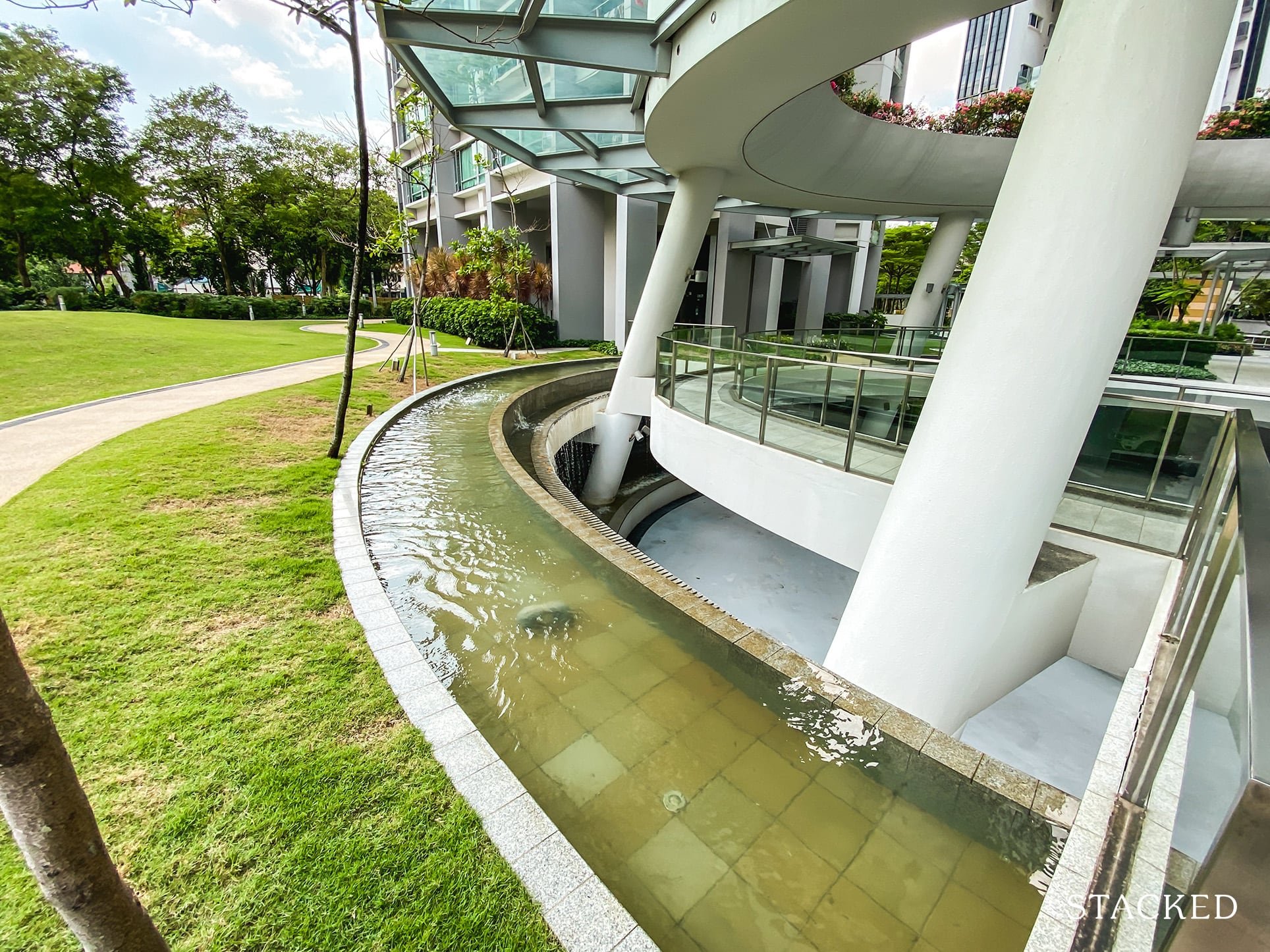 On the ground floor, you do get a ring of water surrounding the fountain which cascades down into the carpark. Although the muted colours of the tiles make it a little less attractive in my opinion.
Last parting shot of the mini fountain of wealth!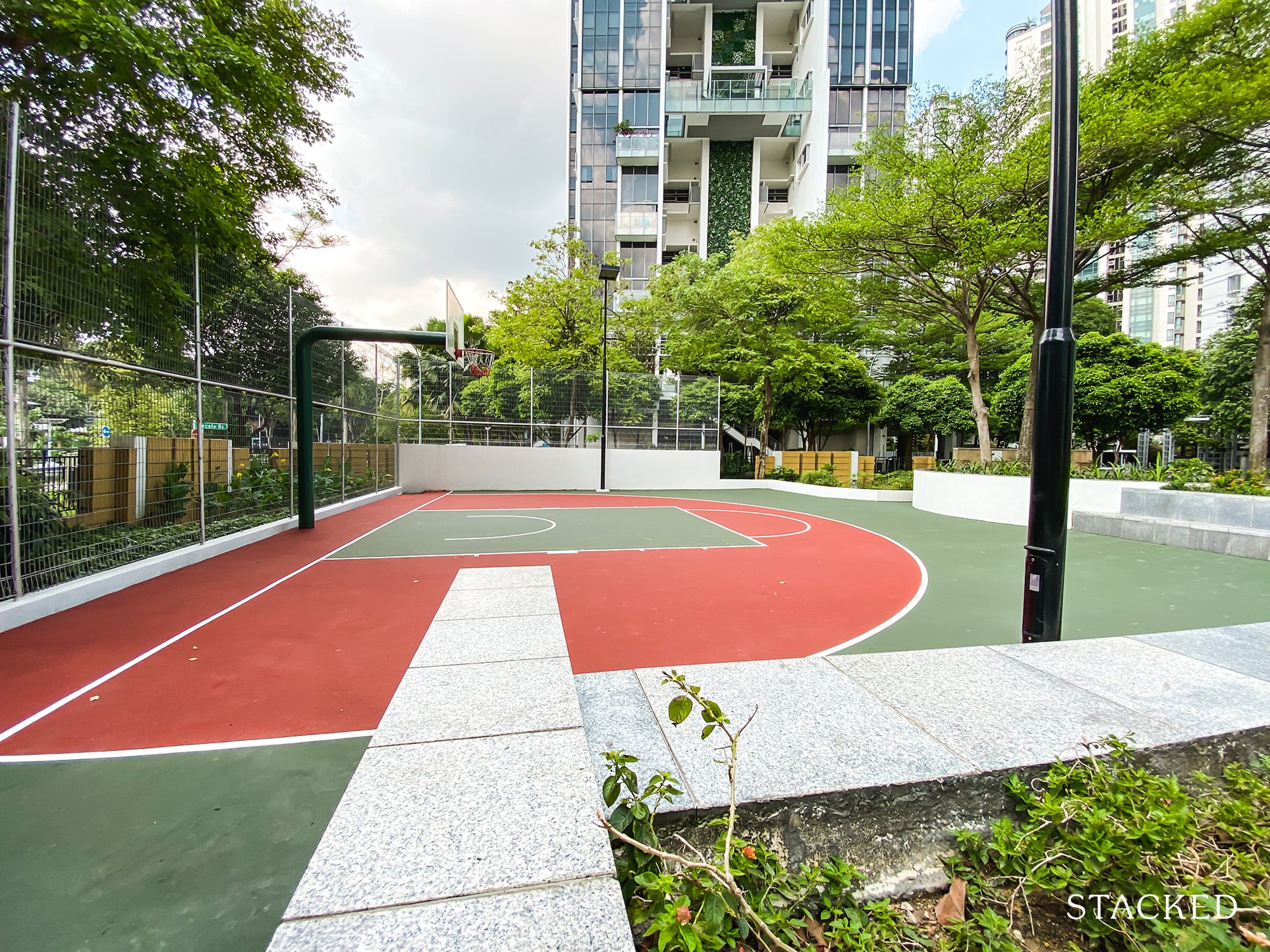 Close by to the right of the entrance is a basketball court. Or more accurately, half a basketball court. Not many developments have these, so it is quite the luxury to have one especially since Novena is quite congested already.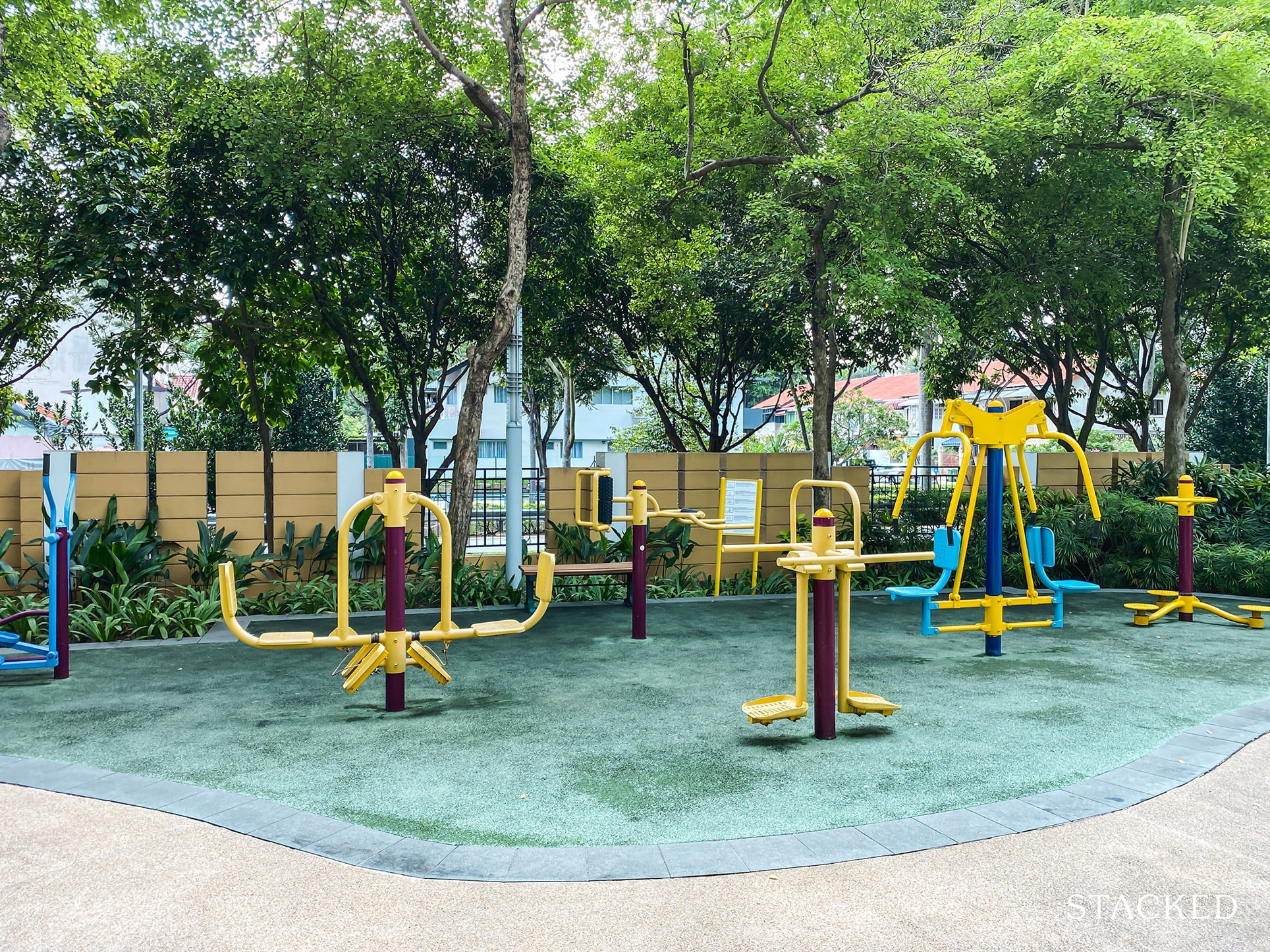 Moving on with the theme of fitness, closeby to the basketball court is an outdoor fitness station. The bright colours make it look quite kiddish, but for a condo that is more than a decade old, the equipment seems to be maintained quite well.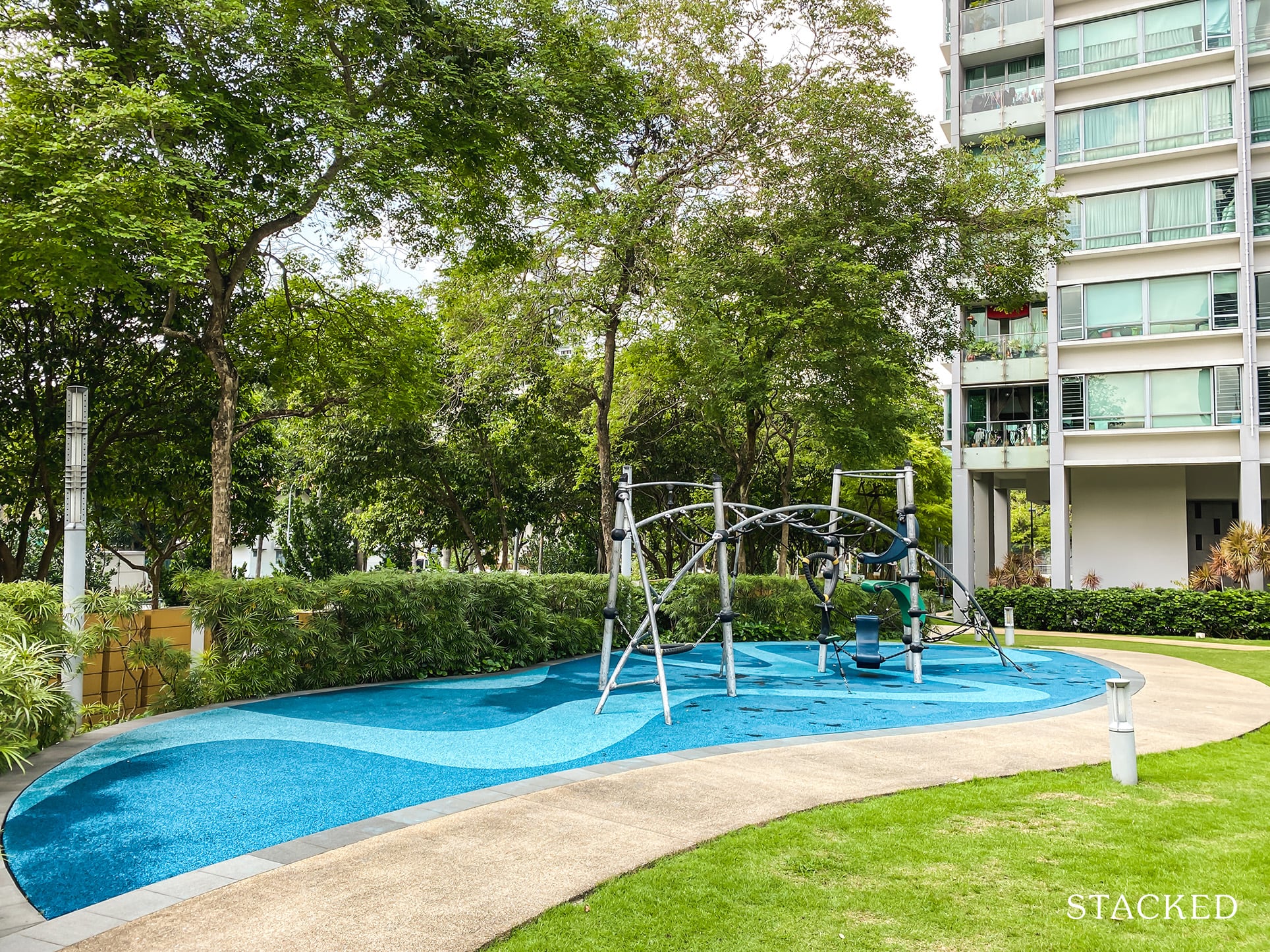 If you walk further down, you'll find a futuristic-looking playground. Is it just me or do the colours here seem to be more suited for adults as compared to the outdoor fitness station…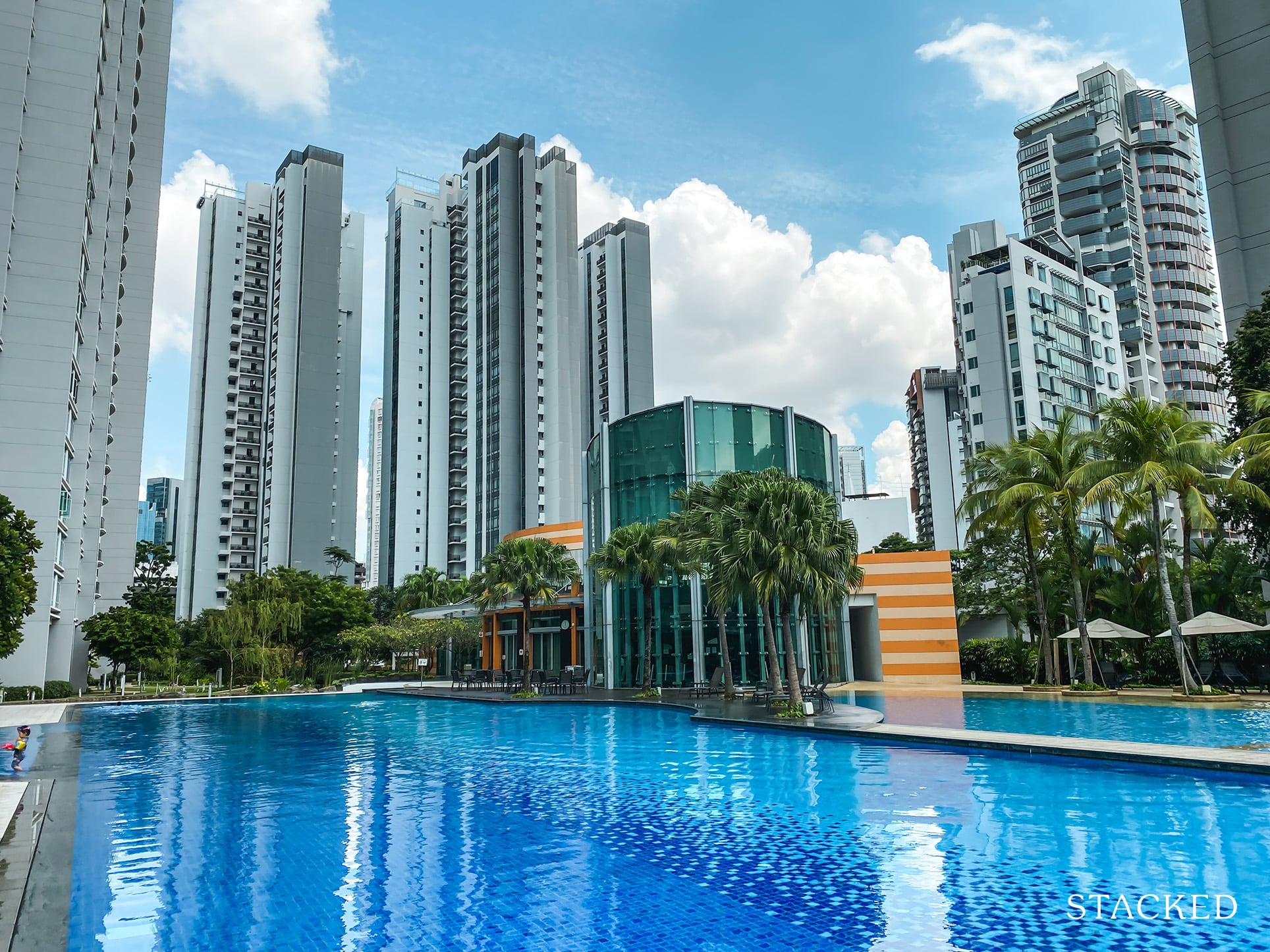 There are two swimming pools at the Park Infinia at Wee Nam, one lap pool and a kids pool. The kid's pool is actually pretty cool, which I'll get to in a bit.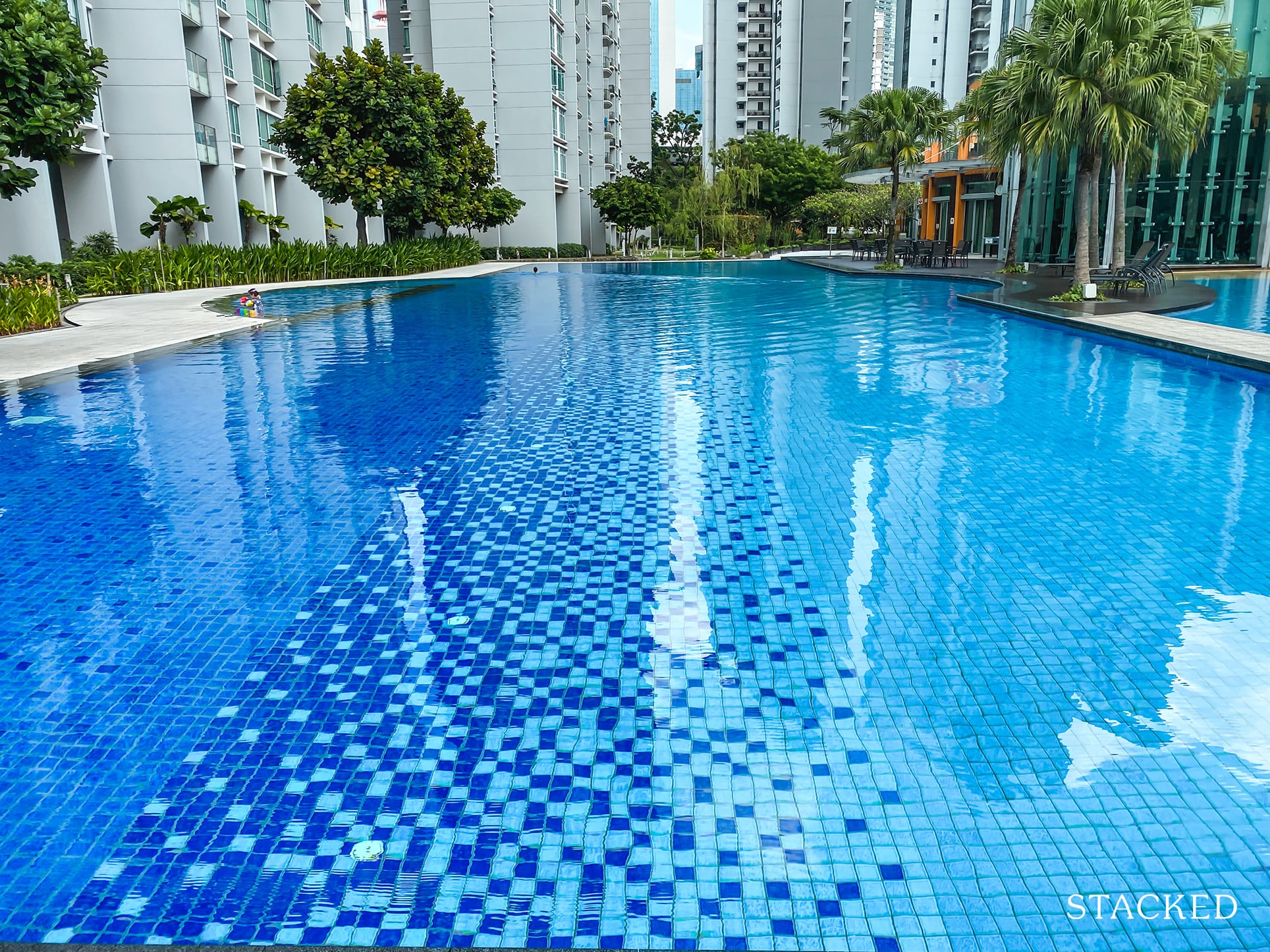 The main swimming pool is quite expansive. It's long and wide, great for swimming laps or just lazing about. A great feature is the semi-circular indents at the side – these are shallow and convenient for your kids to be in while you watch over them.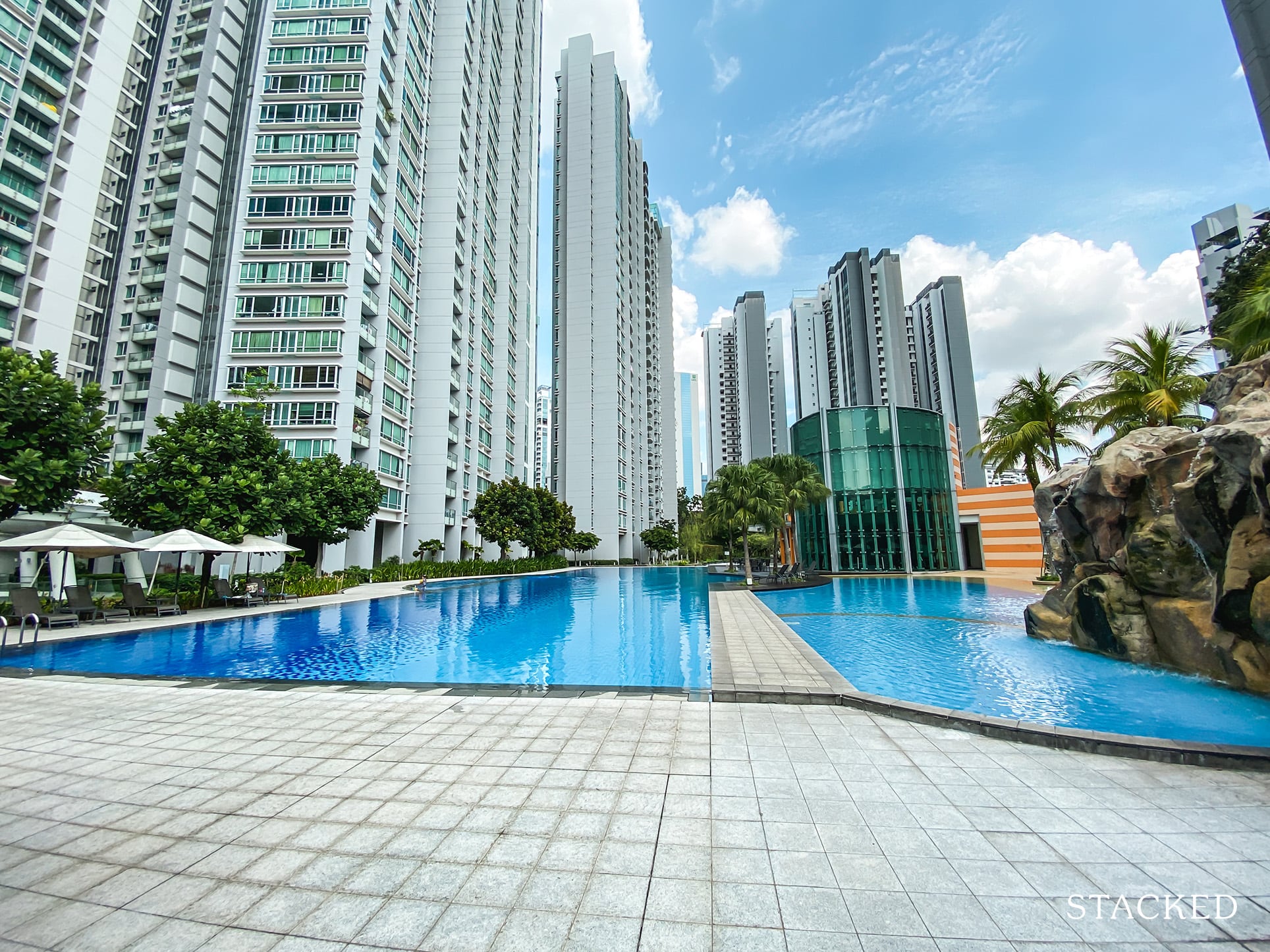 There are a number of deck chairs and umbrellas that line the side. These are your run of the mill outdoor deck chairs, durable, but not the comfiest.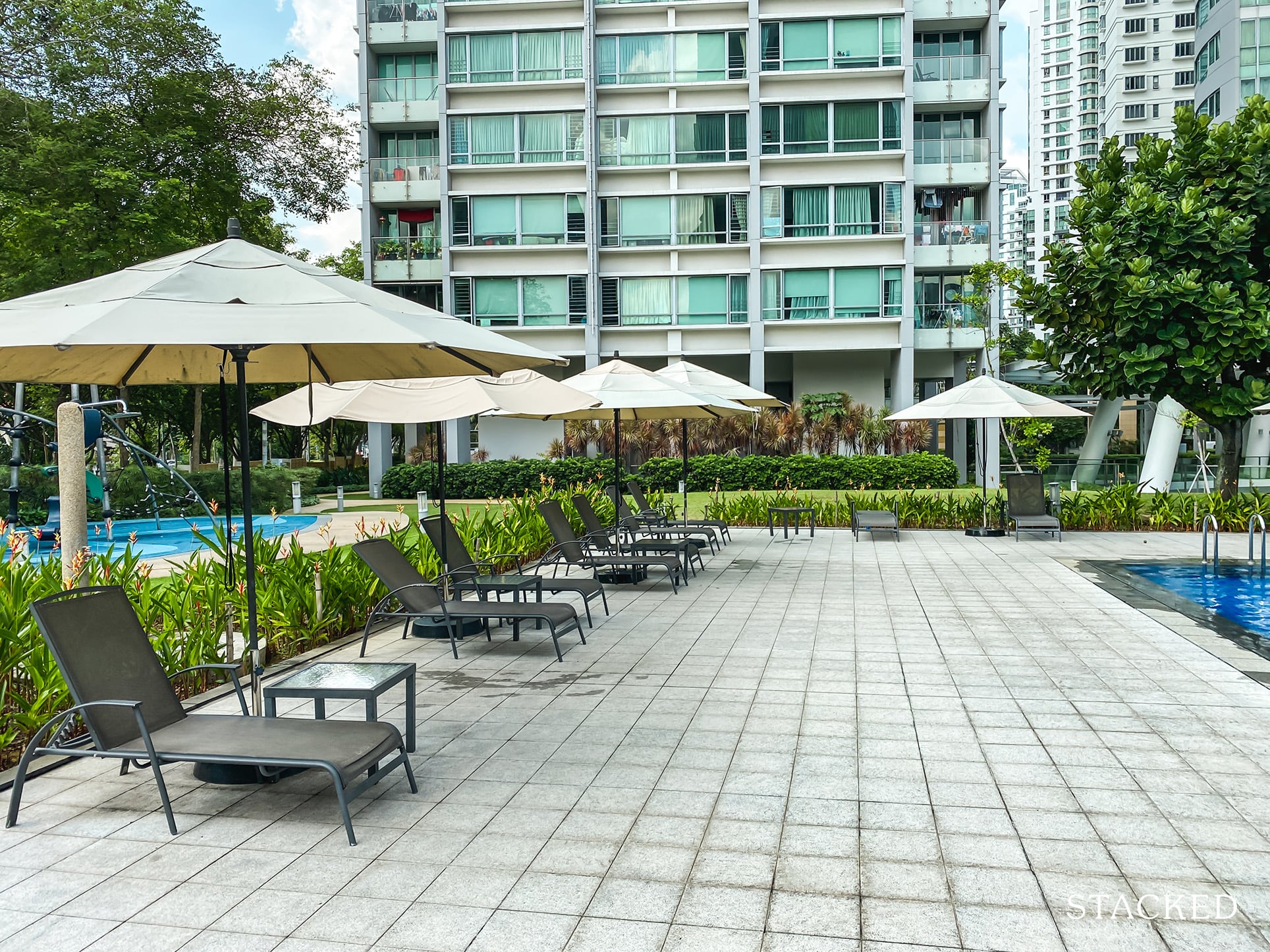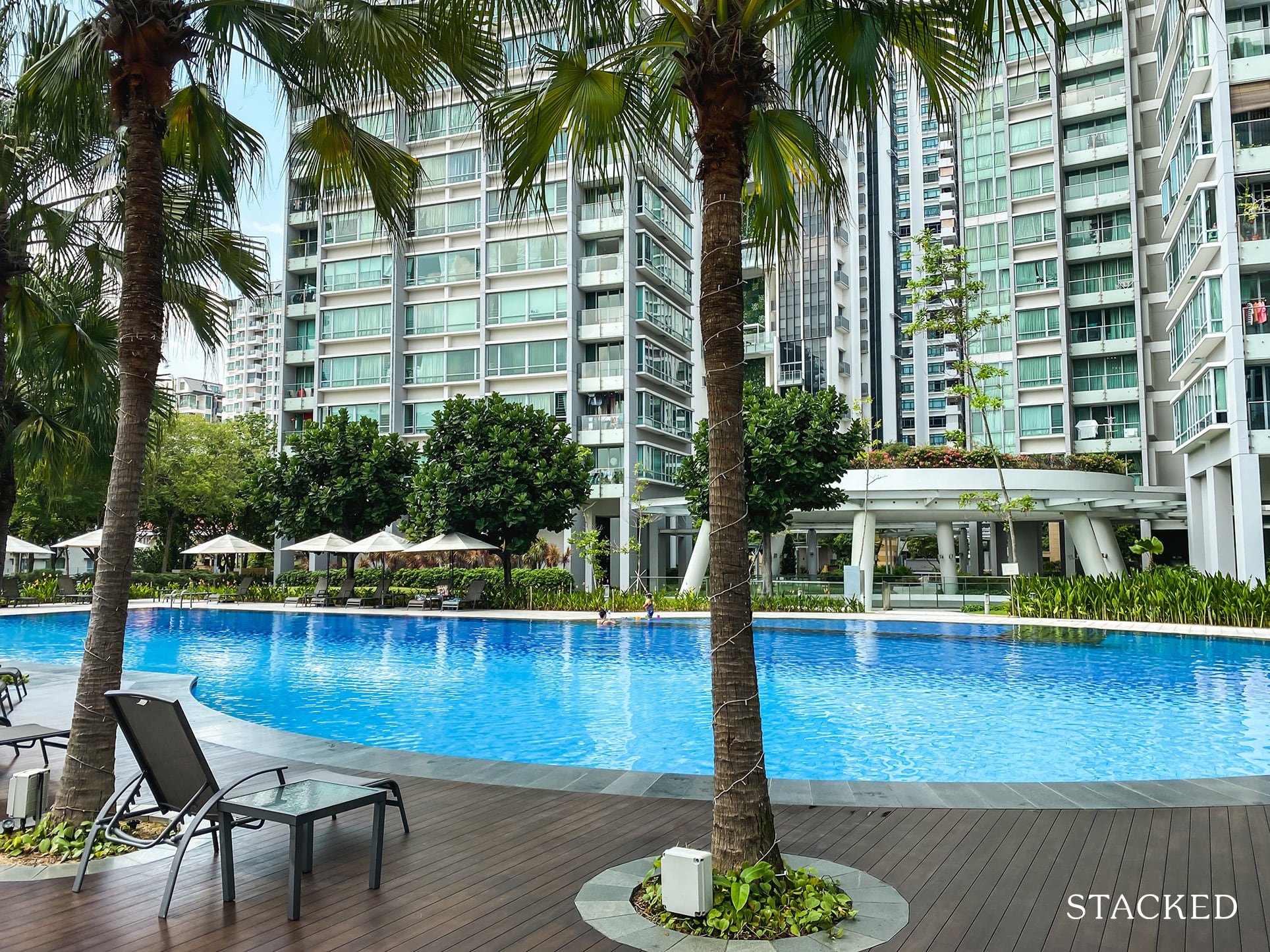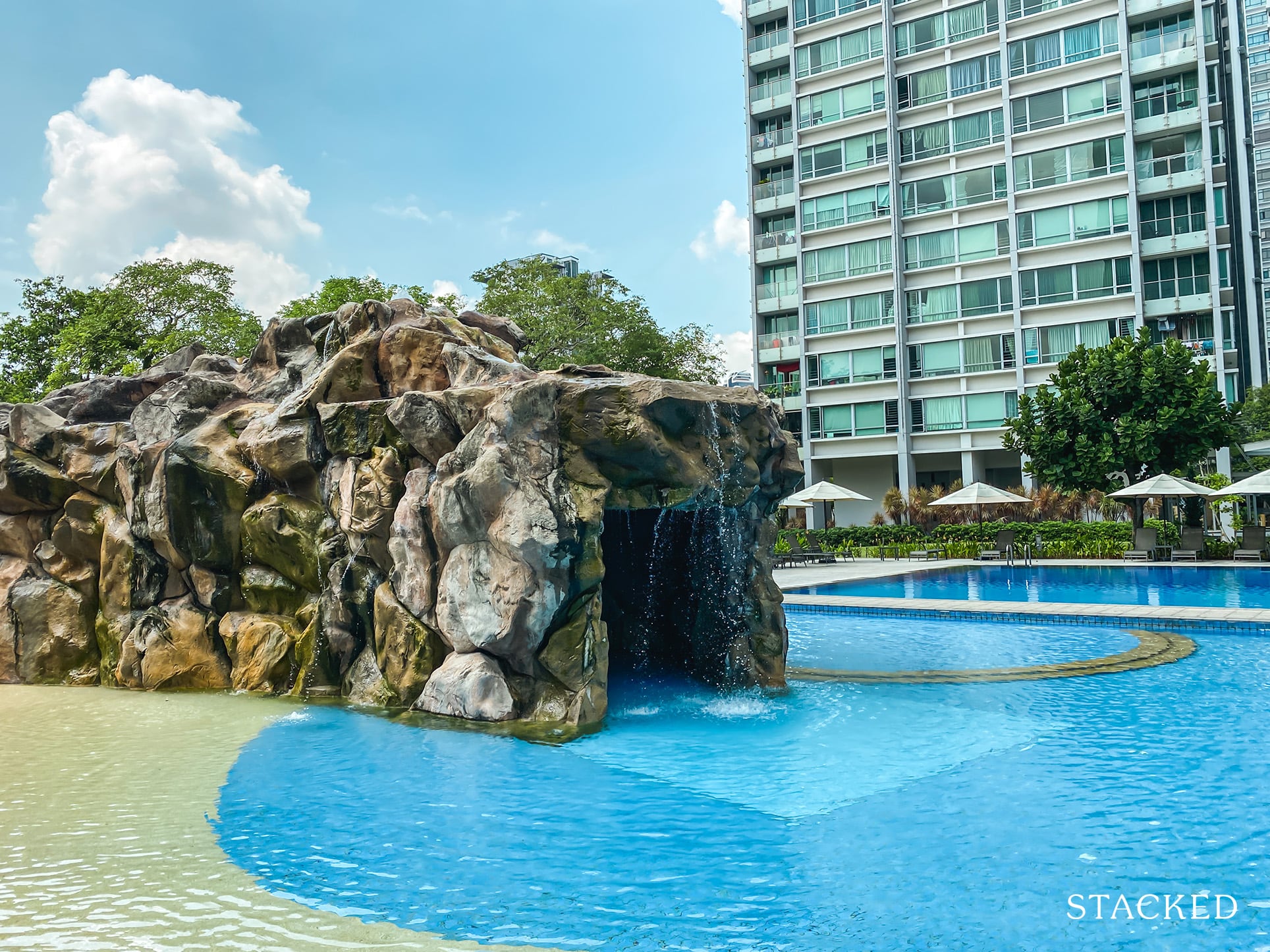 Here's a rare sight you'll almost never see in any condo in Singapore – a cave! To be completely honest I'm not sure where it fits in the theme of the condo, but I think kids would love the waterfall at the entrance and the cocoon-like interior. It would have been so much better with a slide from the top though, a real oversight!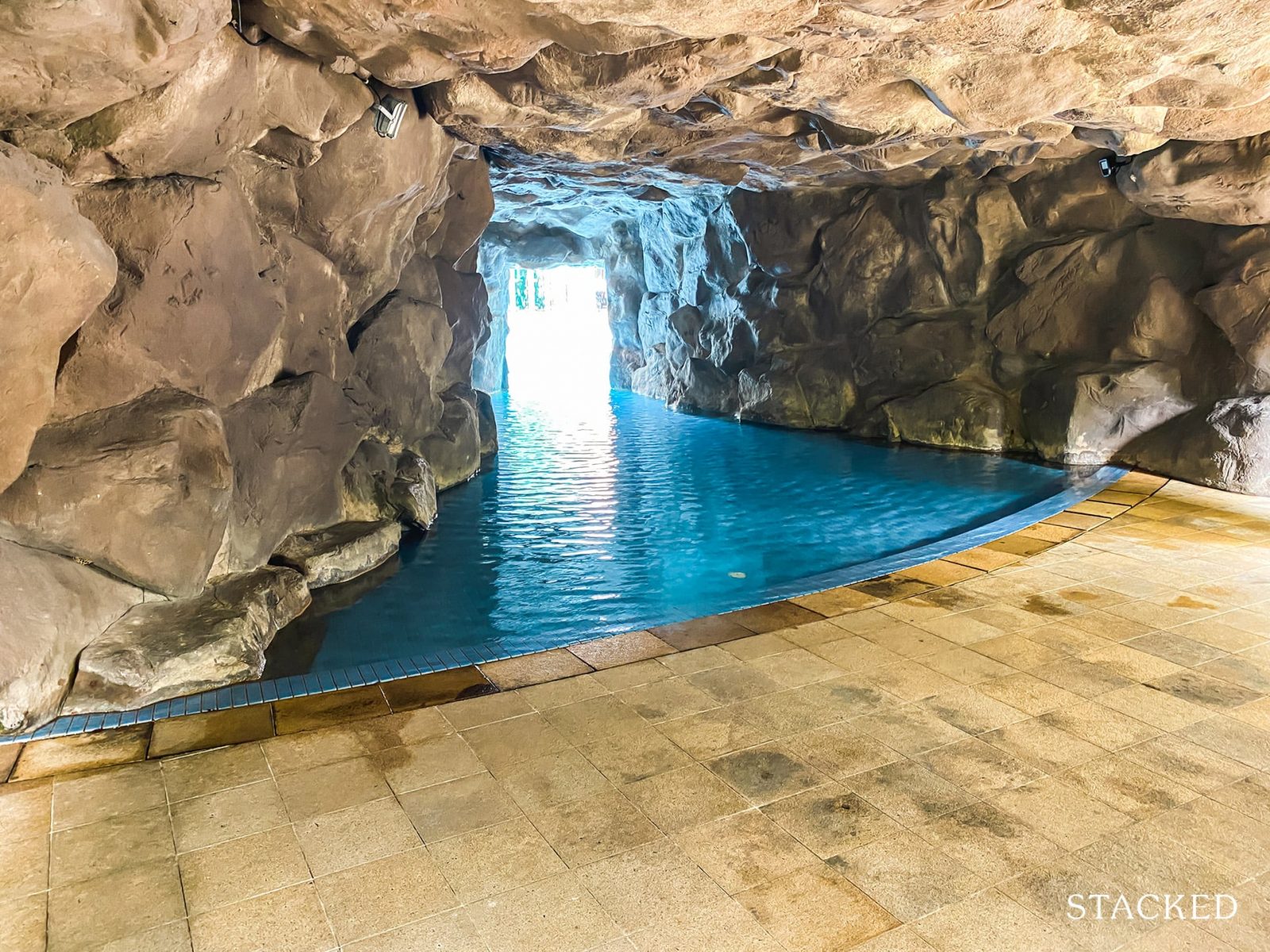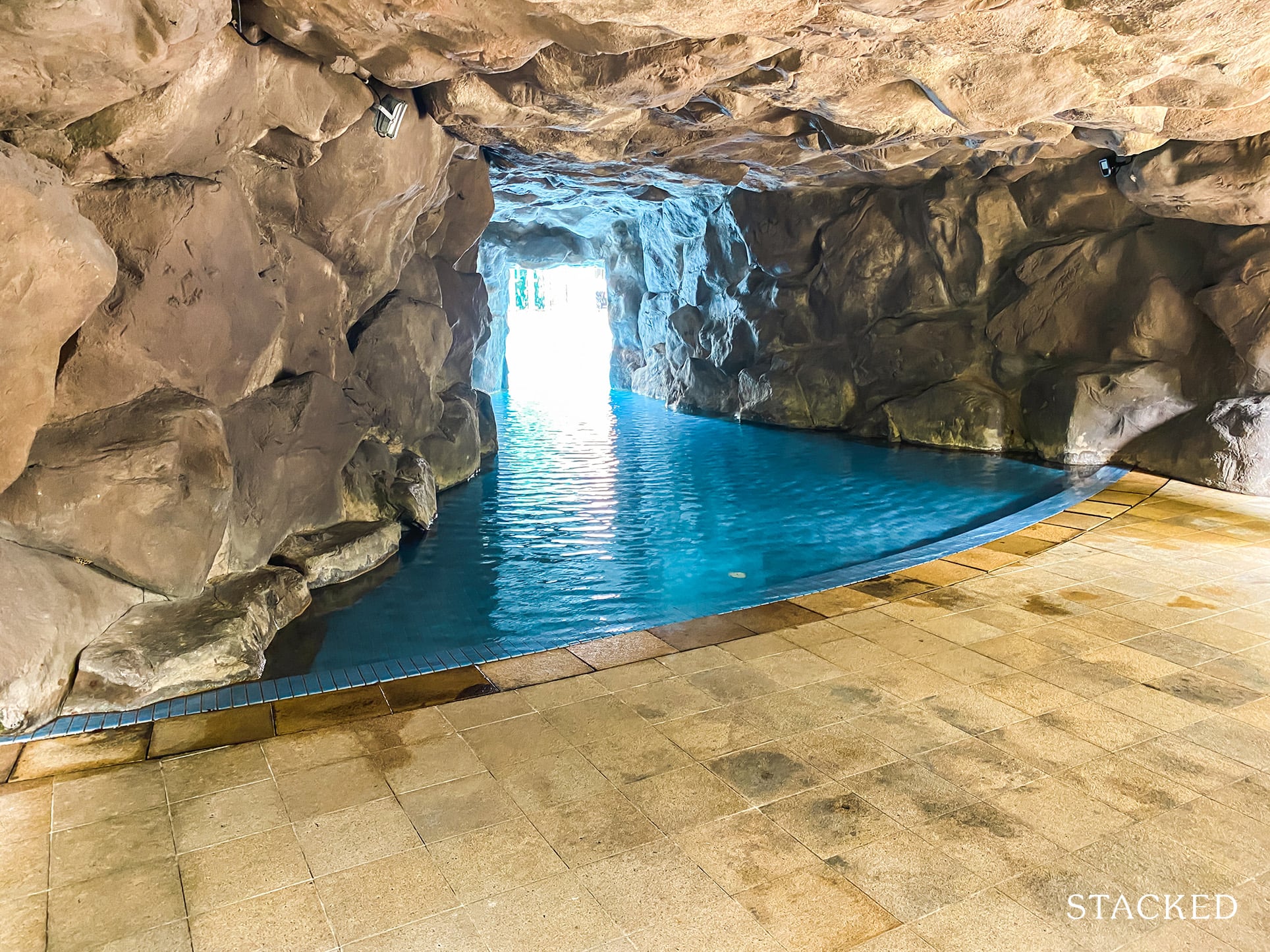 To be completely honest, I'm not sure what I was quite expecting here, but the interior of the cave was slightly underwhelming. Still, it would serve as a great respite from the heat on a hot day.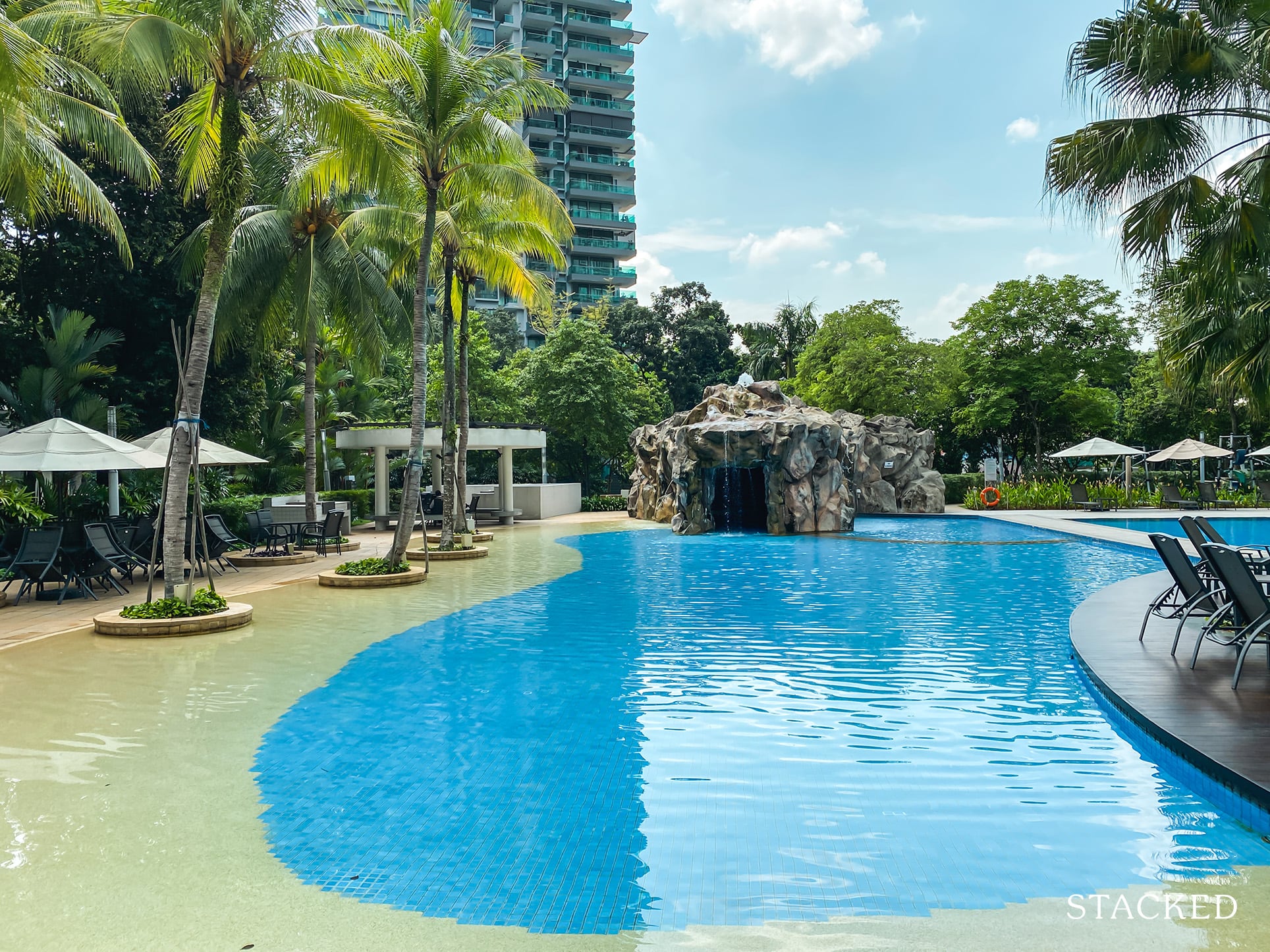 The pool dedicated for kids is really impressive in size. It has ample space to move around, the sand-coloured tiles on the circumference do go some way into making you feel as if you are on a beach getaway.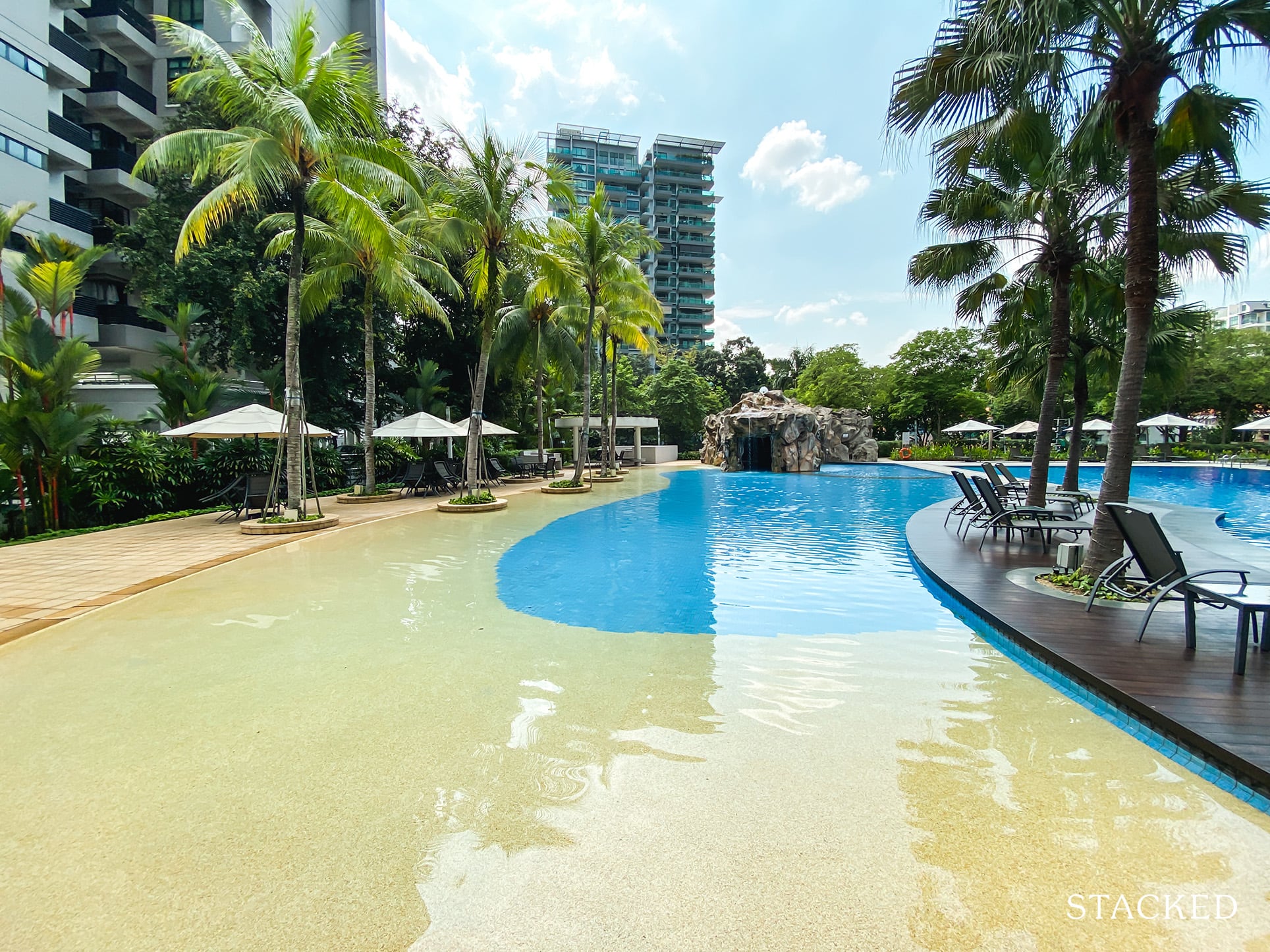 Another great feature of the kid's pool is the sloping entry into the pool itself. This goes the entire exterior of the pool and is really awesome for children (maybe even adults). I think it'll be great if more condos adopt this.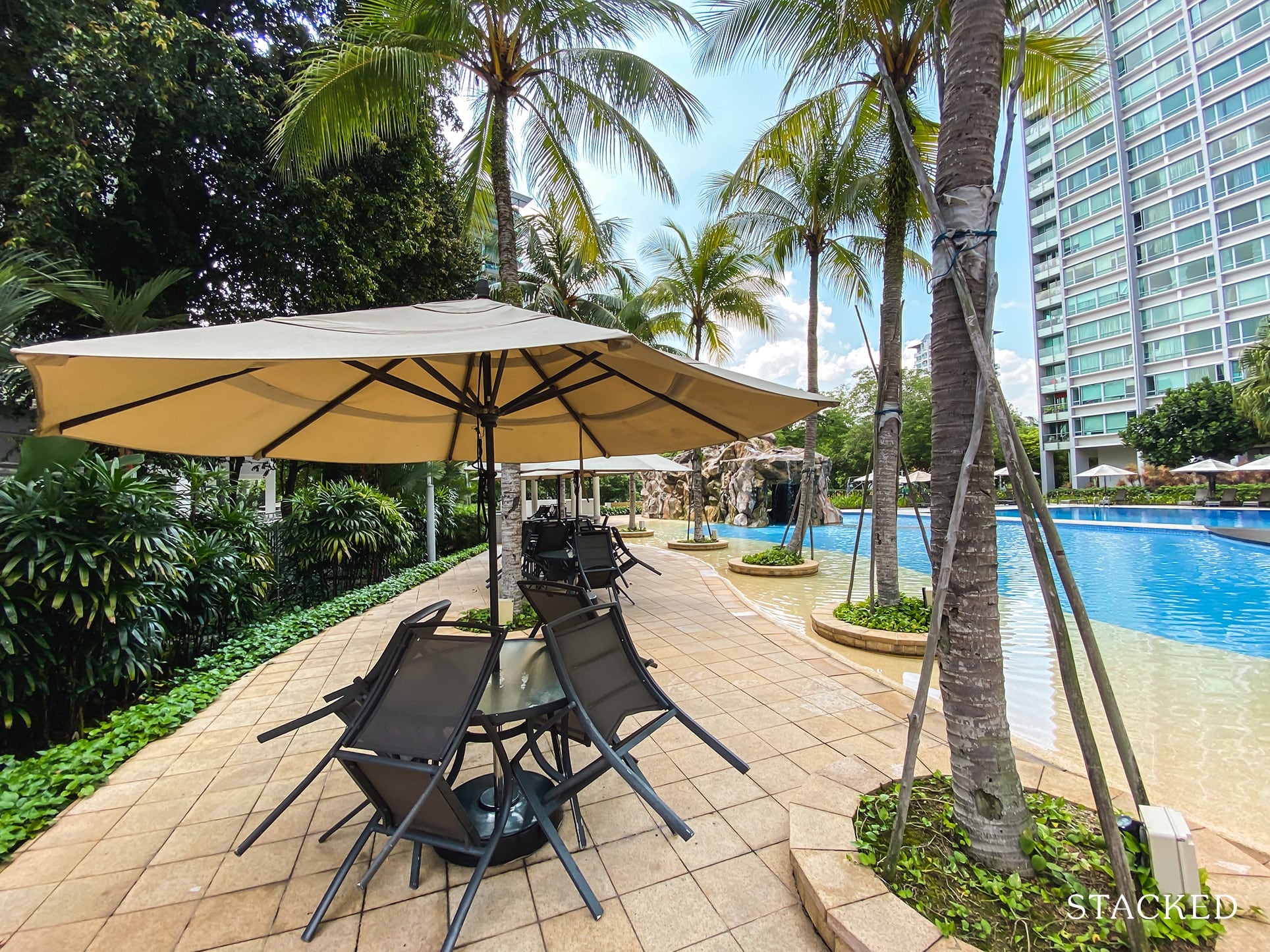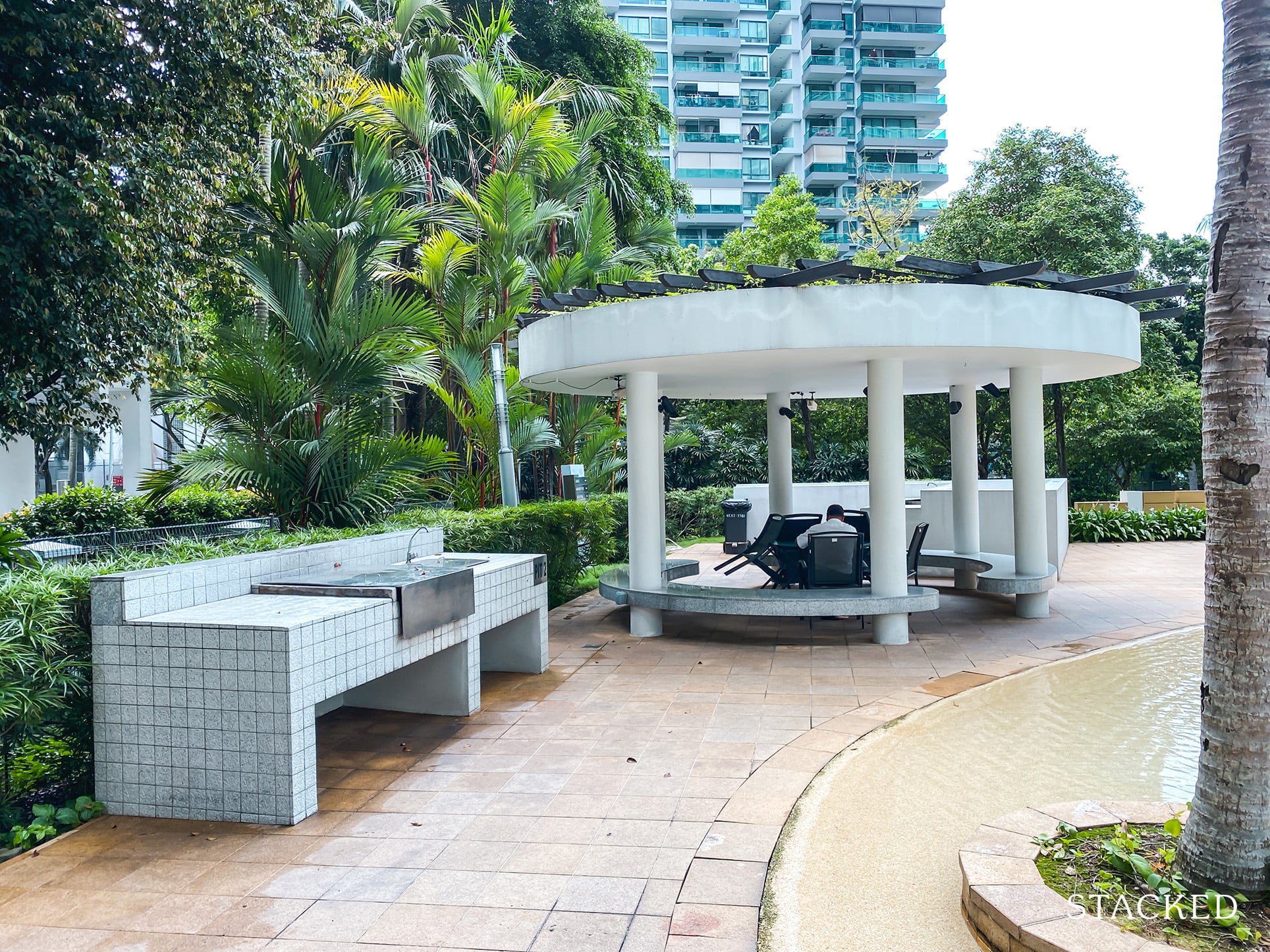 And on to the ubiquitous barbecue pits. Slight nitpick incoming – for a condo that was built in 2008 the design of the barbecue pit sure looks as if it was transported from the early 1990s!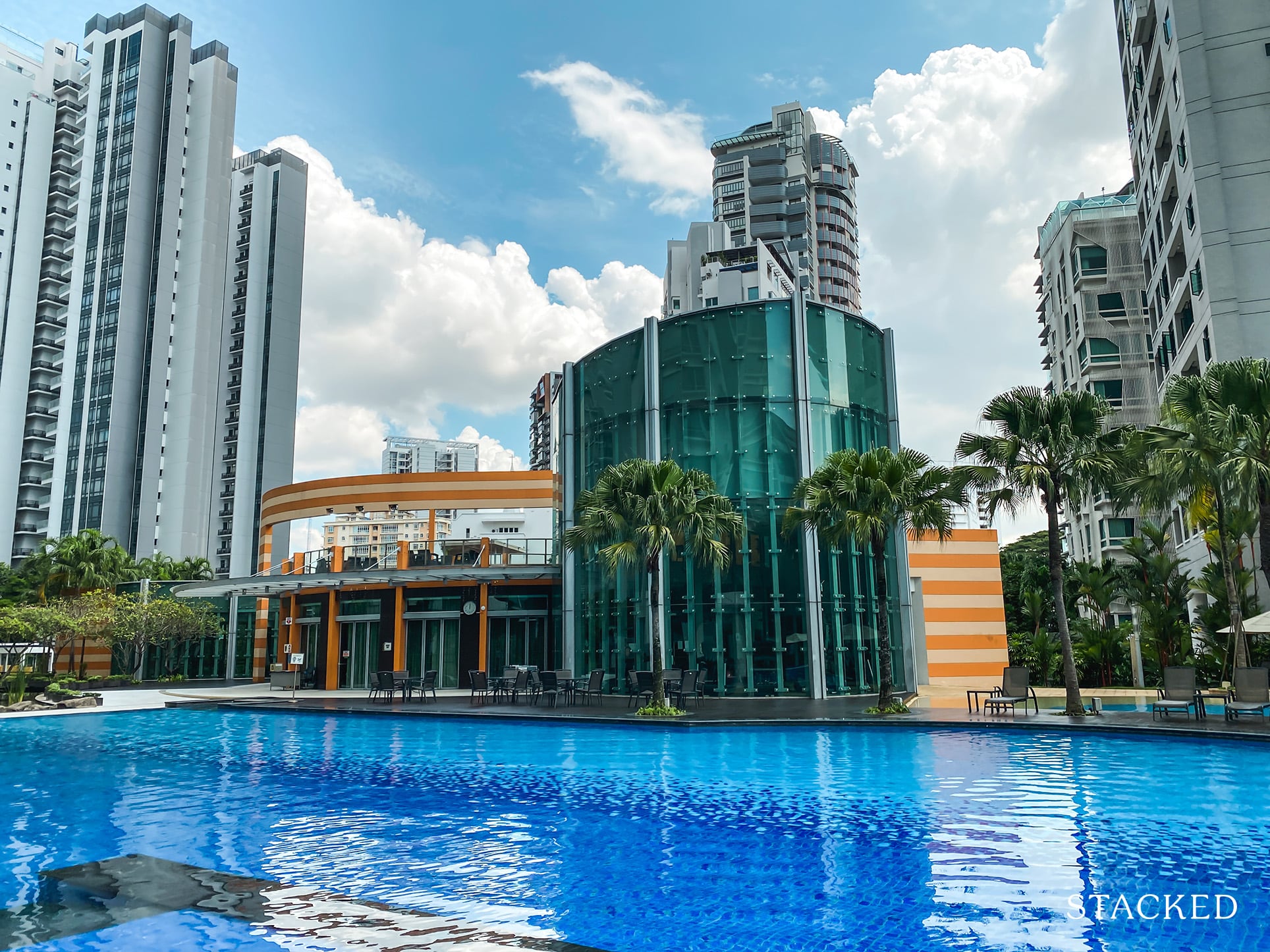 Let's move on to the clubhouse. See that double volume cylindrical glass structure? That's the the gym!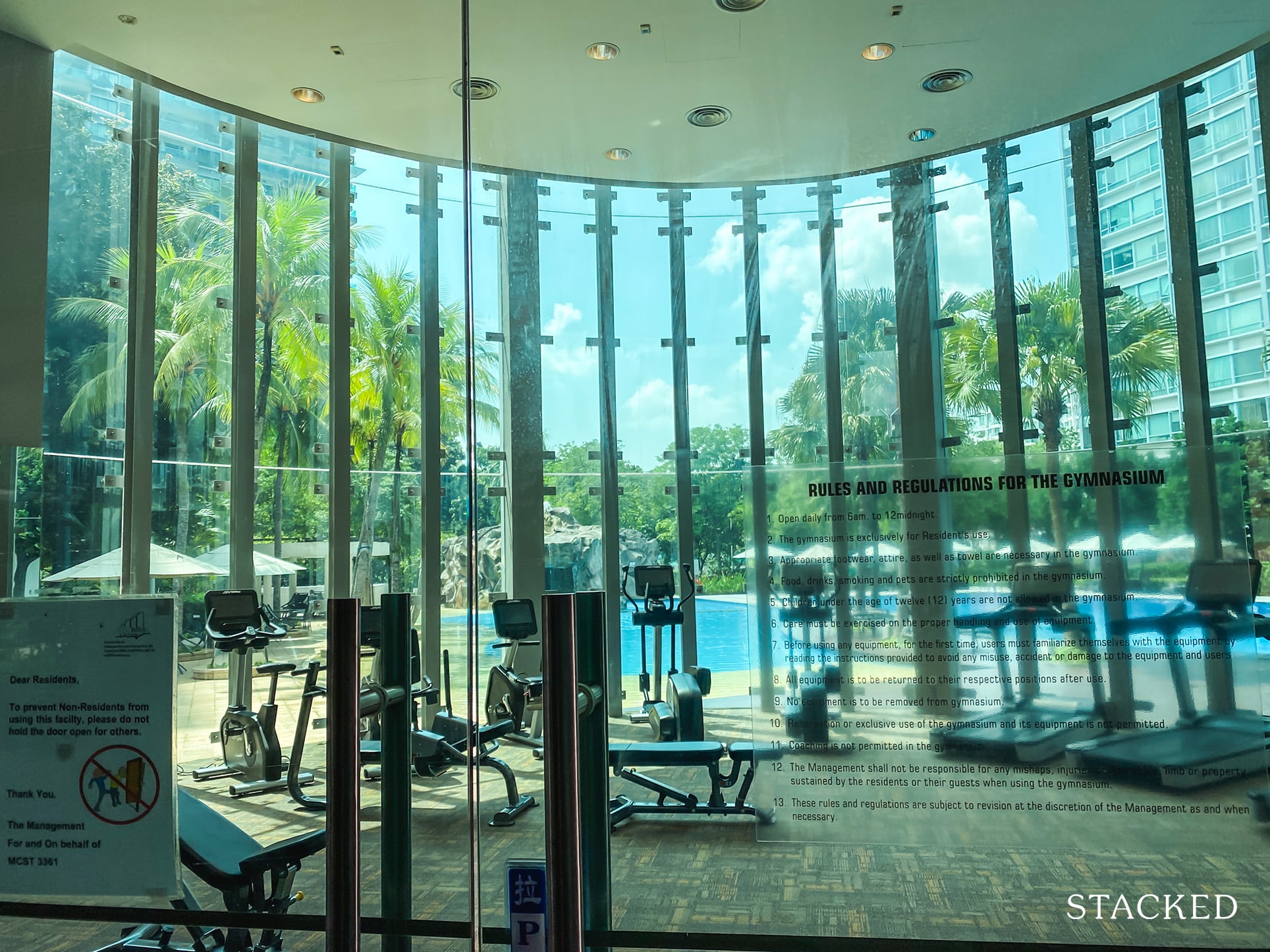 If you are a gym fanatic you will love the gym at the Park Infinia at Wee Nam. It's big and the double volume ceiling gives an imposing sense of space. Not to mention the floor to ceiling glass which allows for a great view of the swimming pool and lets a ton of light in. The equipment on hand is substantial too, with all the cardio and lifting weights you would need.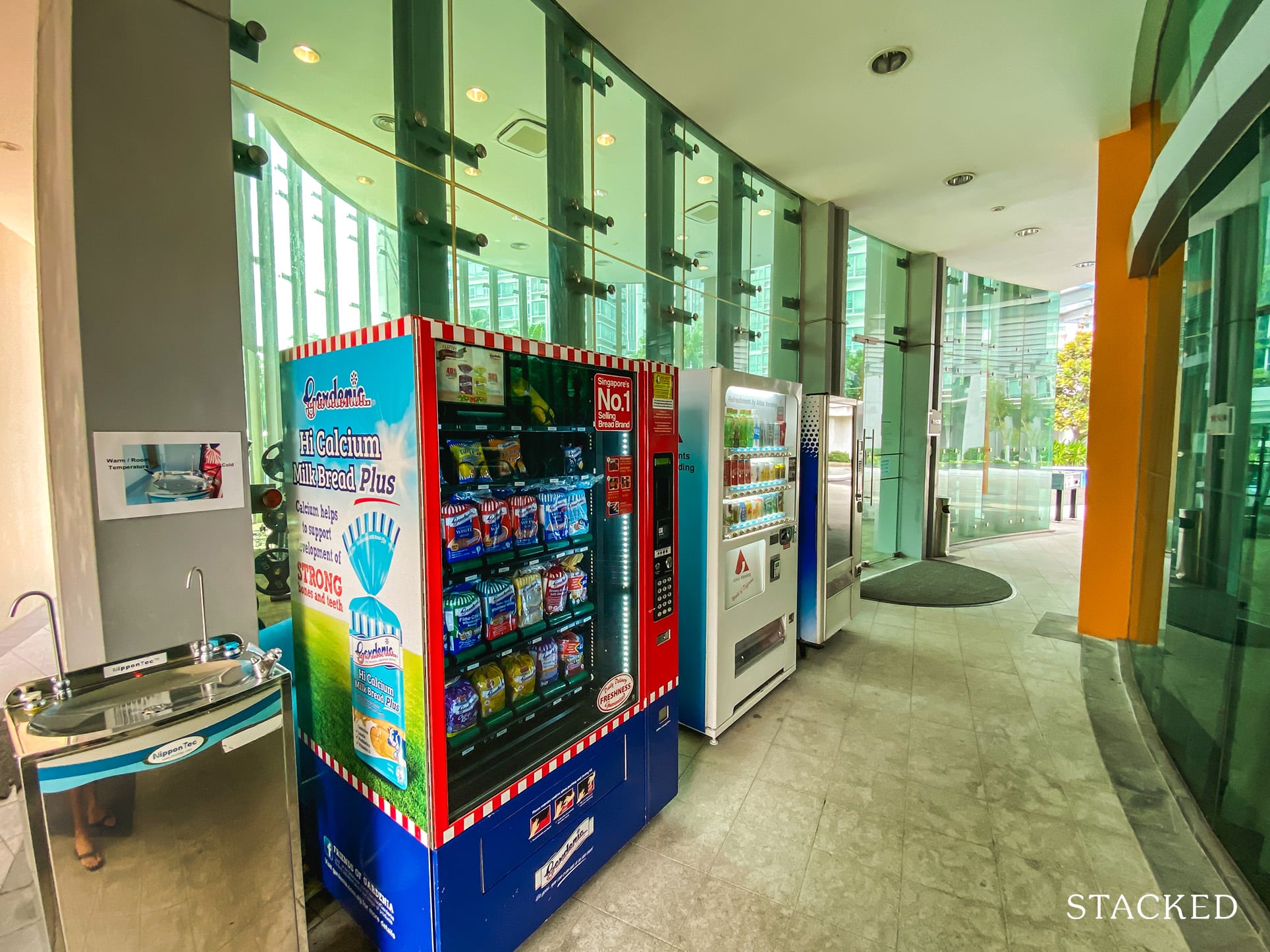 Right outside the gym are 3 vending machines and a water cooler. While bread isn't exactly the number 1 recommended post-workout snack, I can see it coming in handy at times.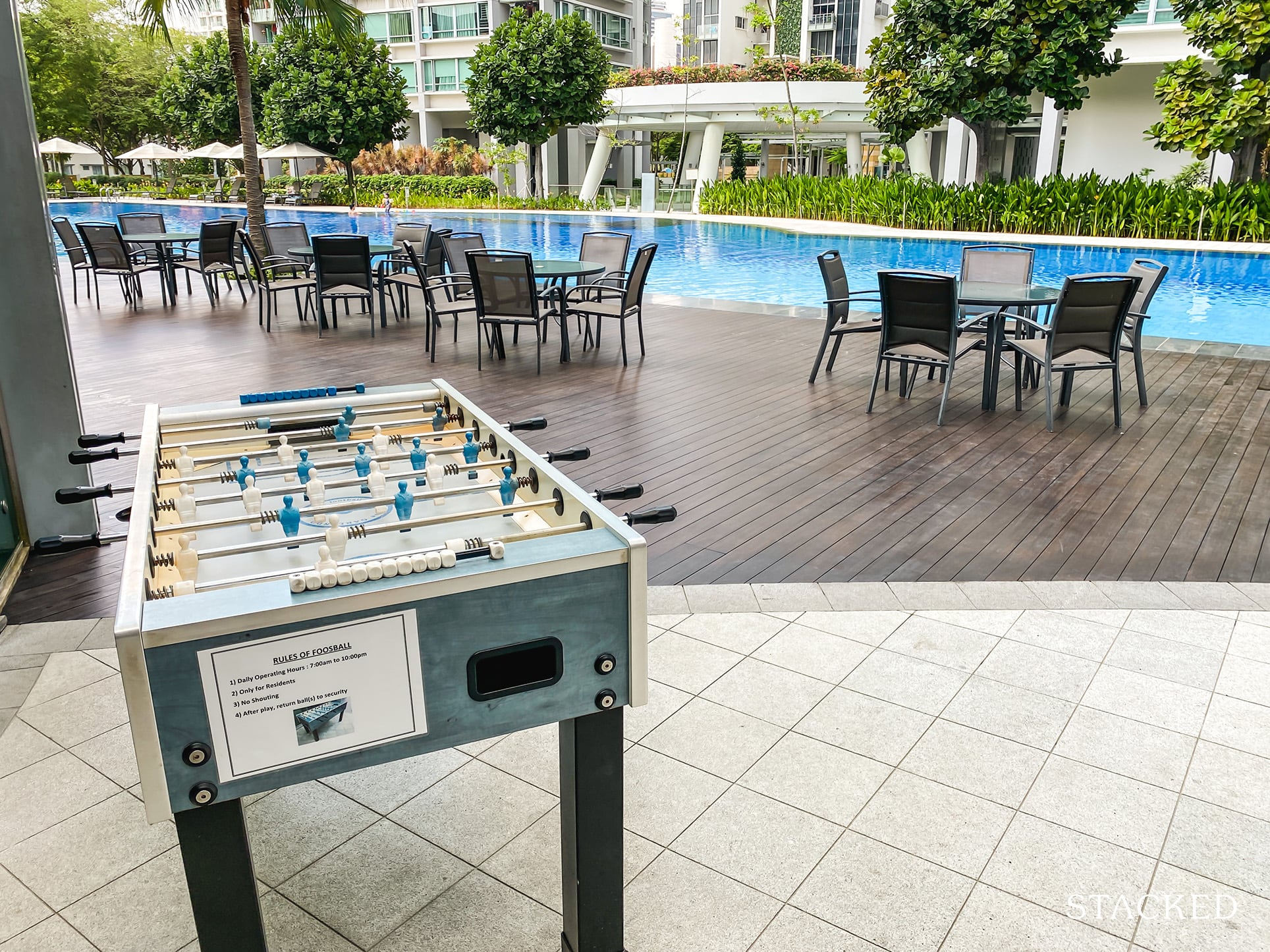 Closer to the poolside, there is even a foosball table along with numerous outdoor chairs and tables. Again, one of the uncommon features that you'll find in a condo nowadays. (No shouting here or a different kind of man-in-blue will come running)
While I'm not a big fan of the orange paint here, the size of the clubhouse is definitely above average. Another good point is the abundance of open space on the outside, allowing you to hold bigger gatherings if need be. The clubhouse is also made up of multiple leisure rooms (as you'll soon see).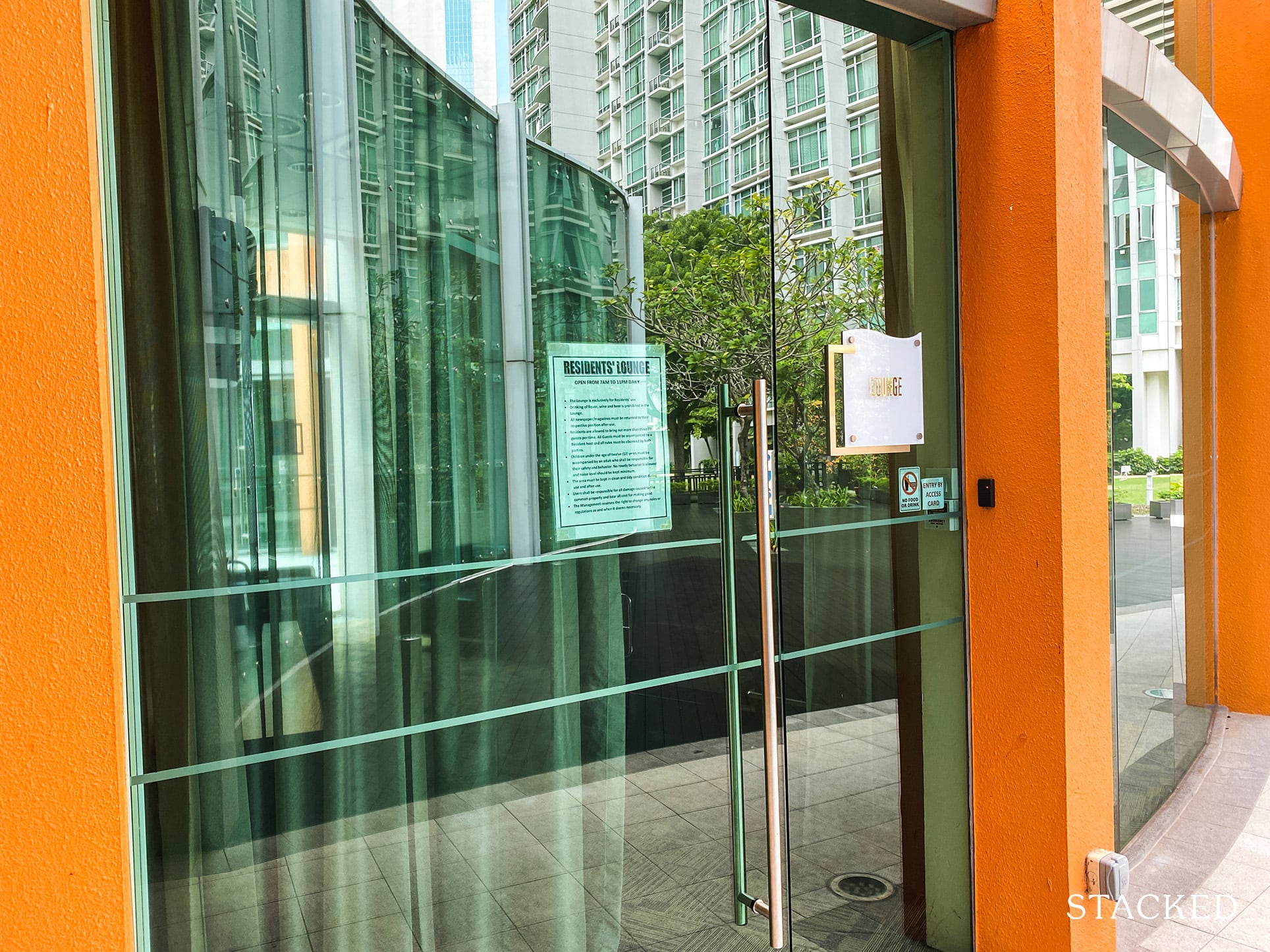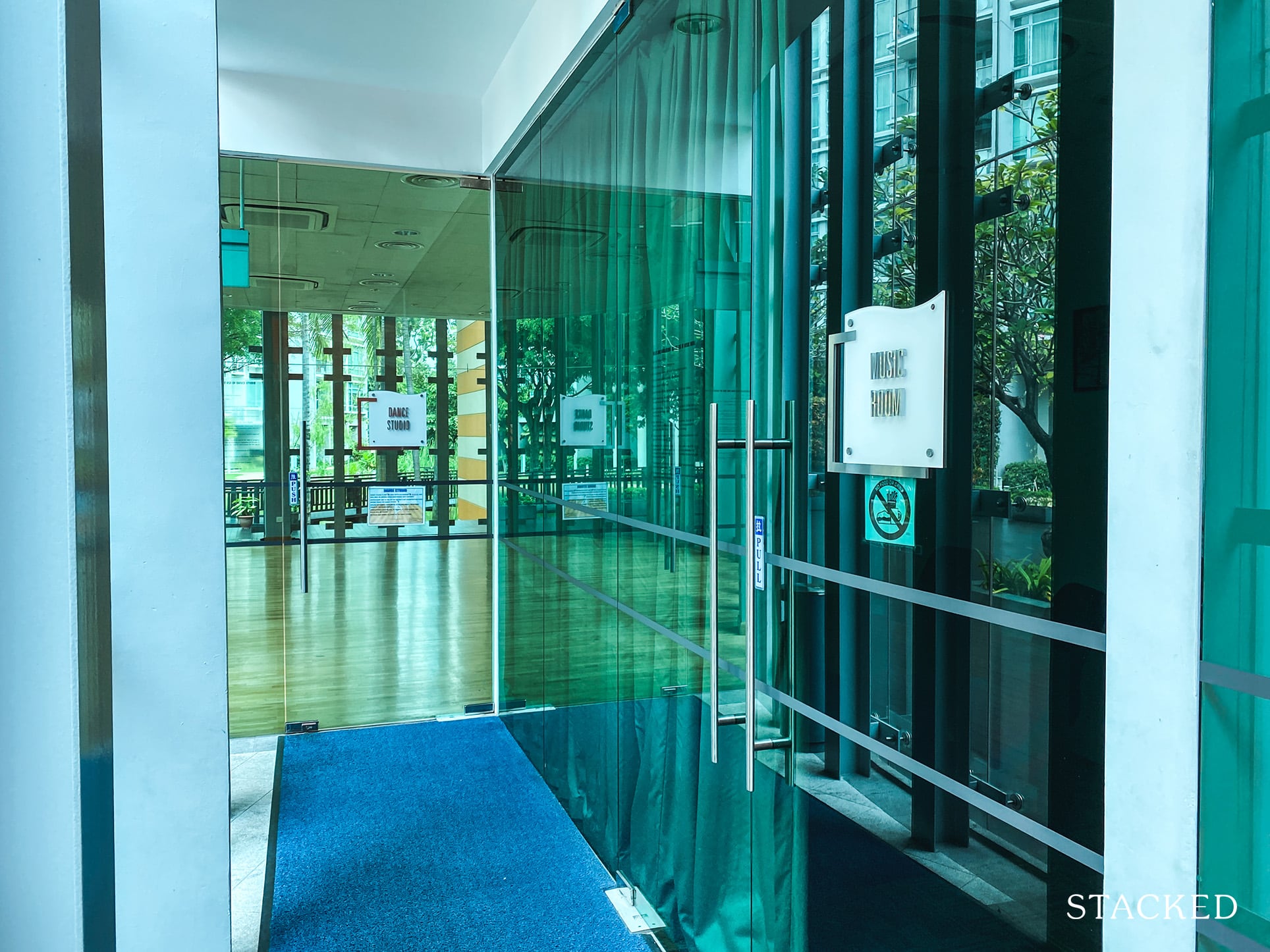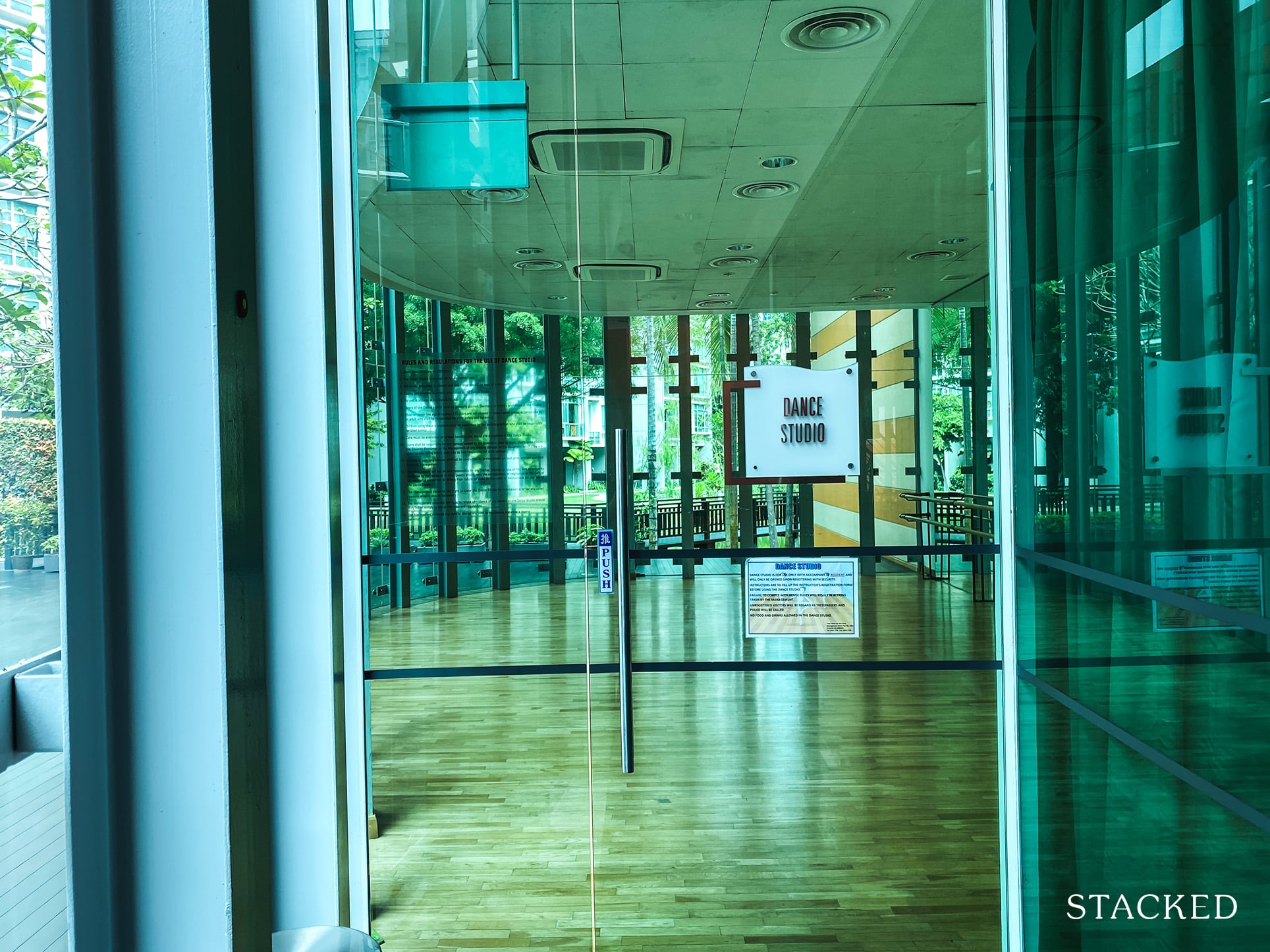 The dance studio is as a matter of fact really spacious. I'm no target market for this, but I can't help but think that this is quite a niche group? So the space dedicated to this is really quite absurd. Surely they'll use it for other events too!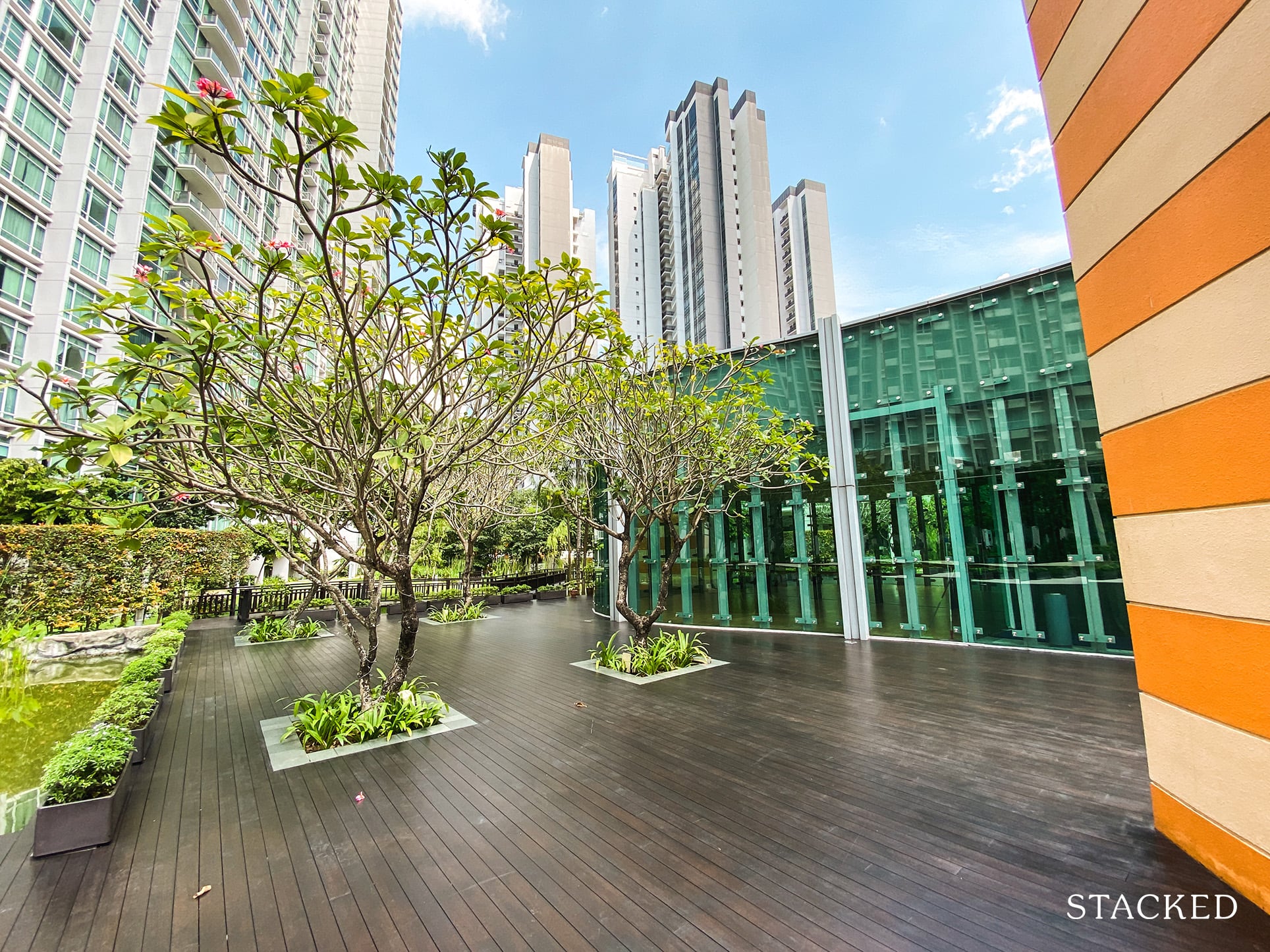 At the side of the clubhouse, there is a generously sized open deck. Despite the trees here there is more than enough space for some early morning yoga sessions.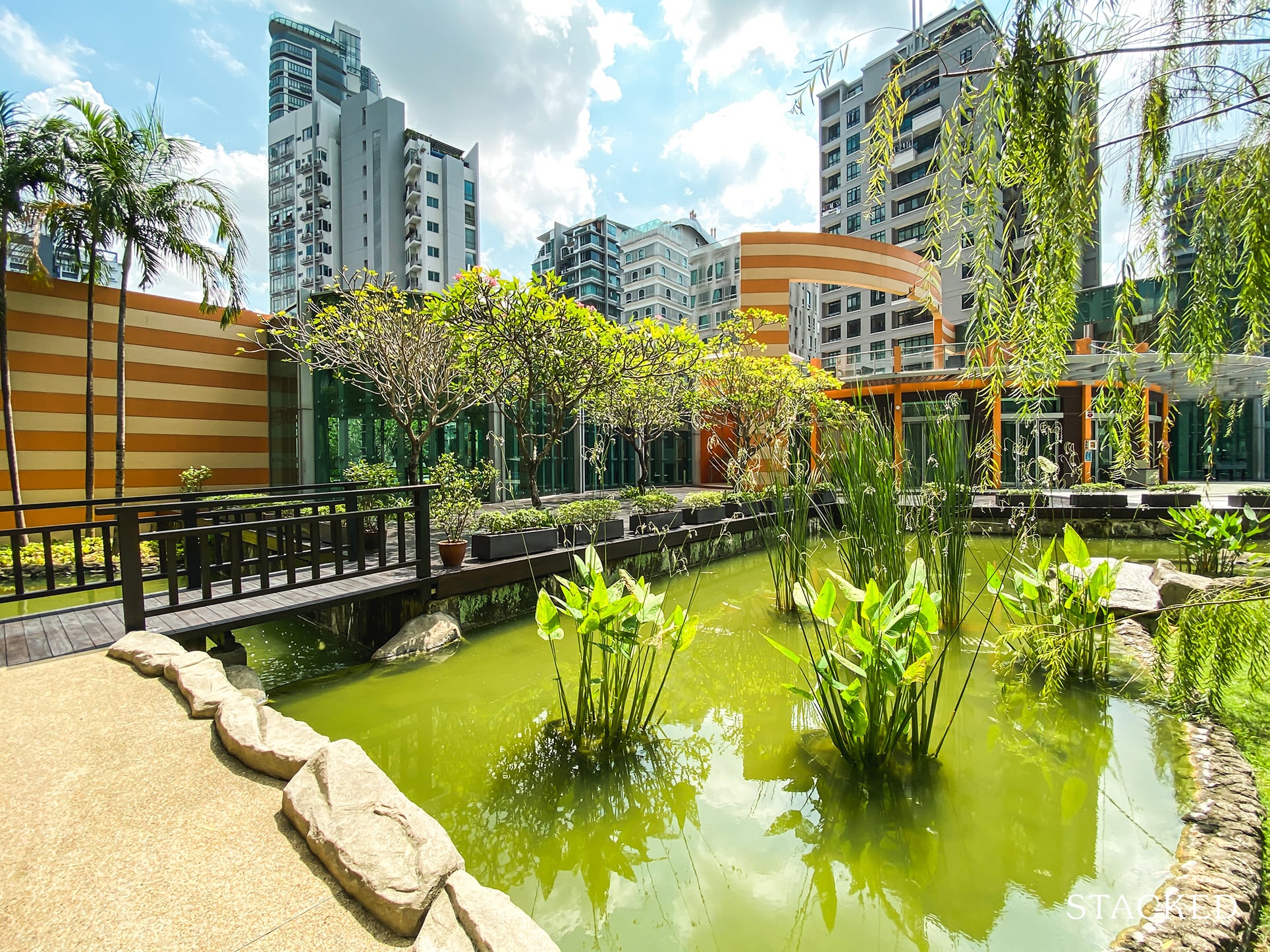 From the deck, you can cross the bridge past this large pond.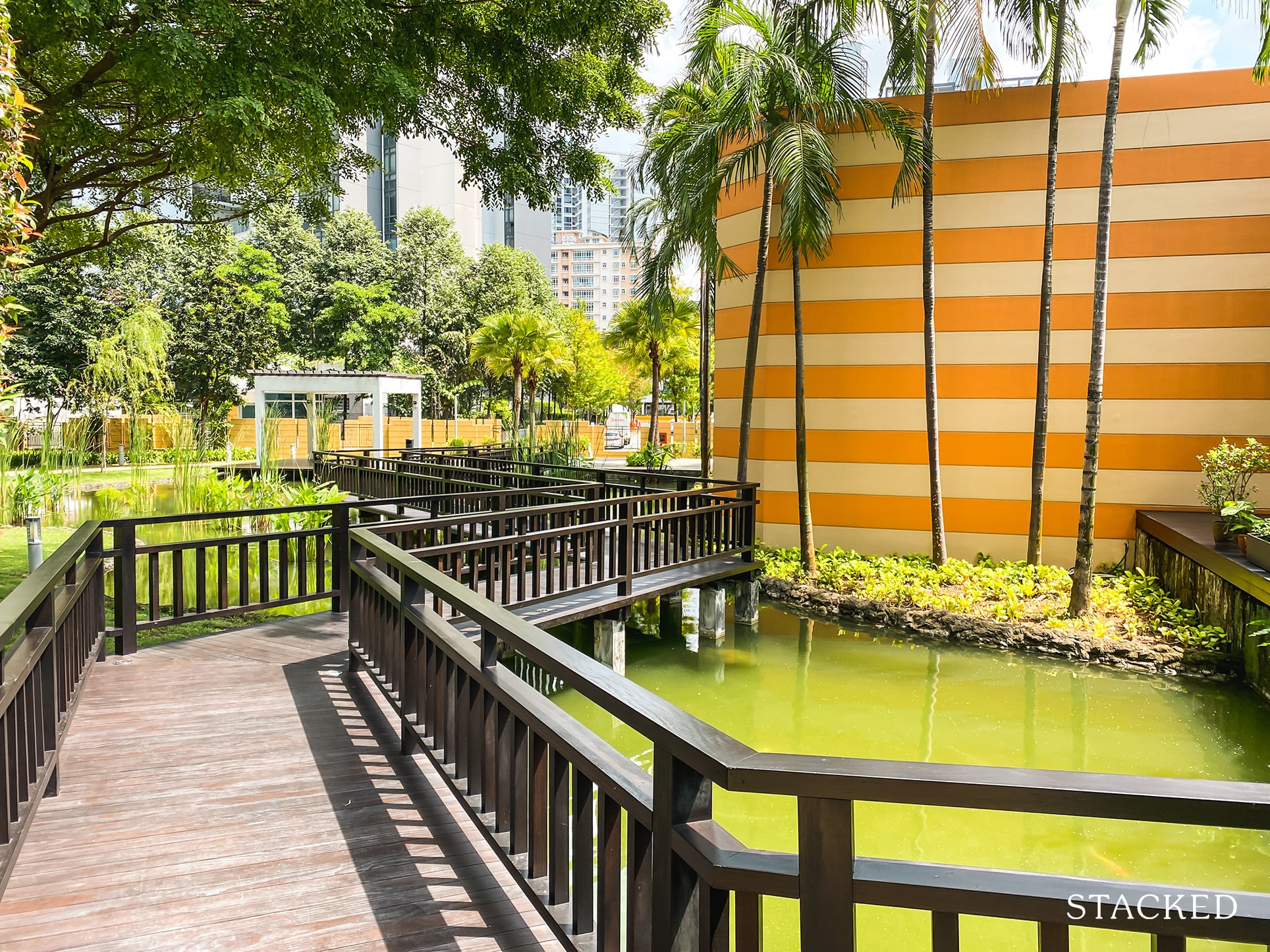 The bridge is reminiscent of the one at the McDonald's Tea Garden, with its dark wooden bridge and slightly murky green waters.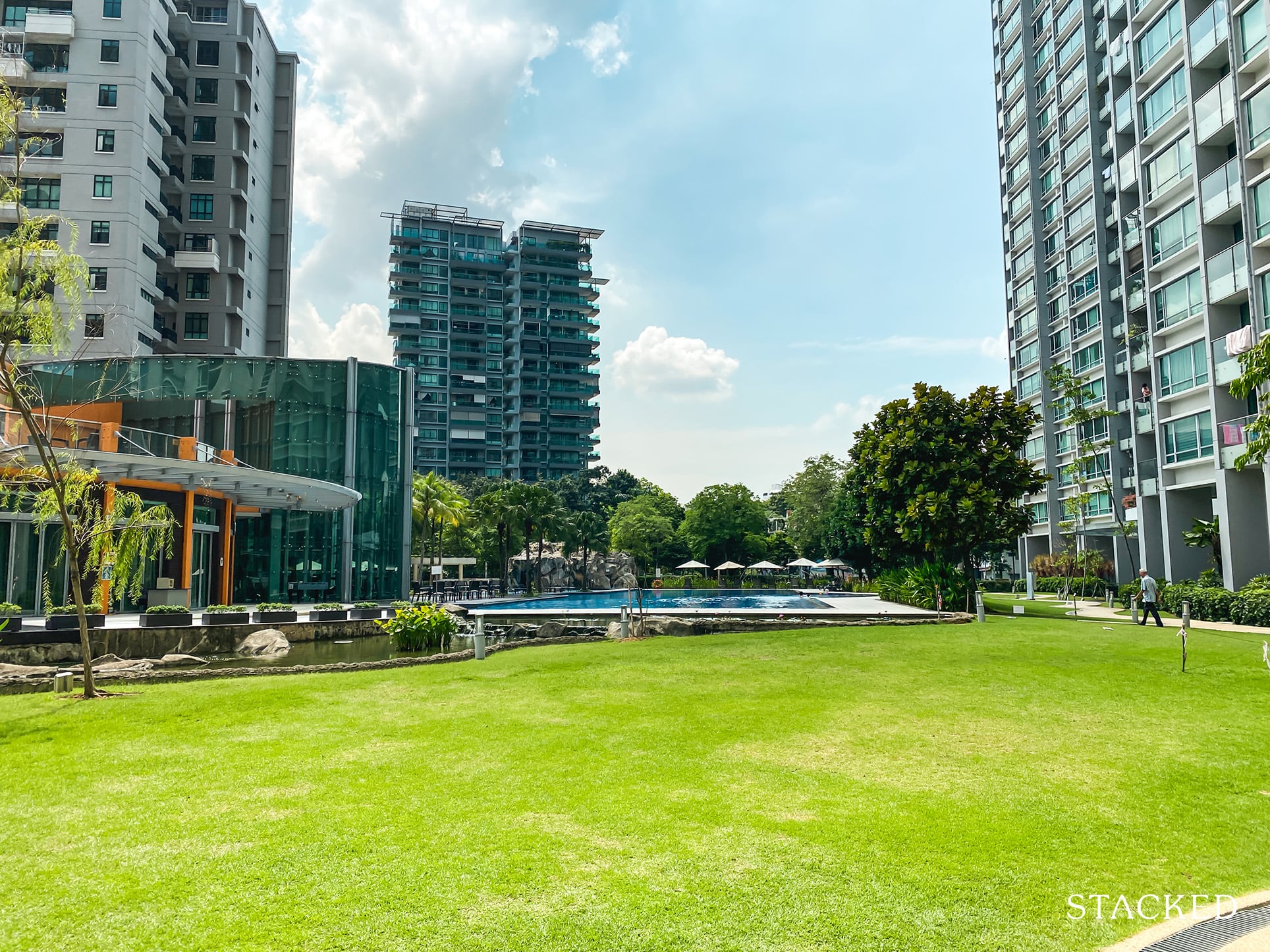 It's important to note the expanse of open greenery here, as it is quite rare to find in the Novena stretch.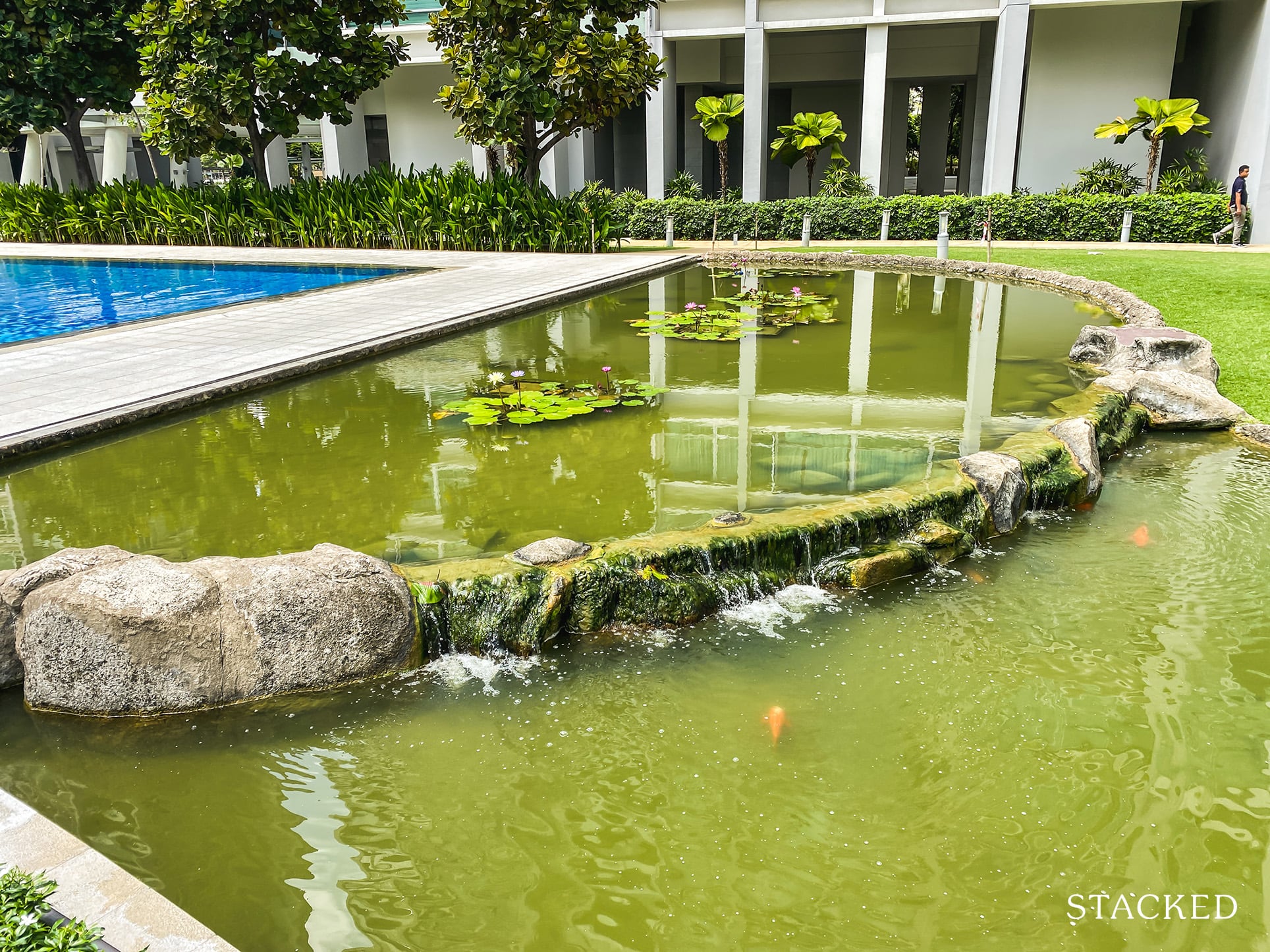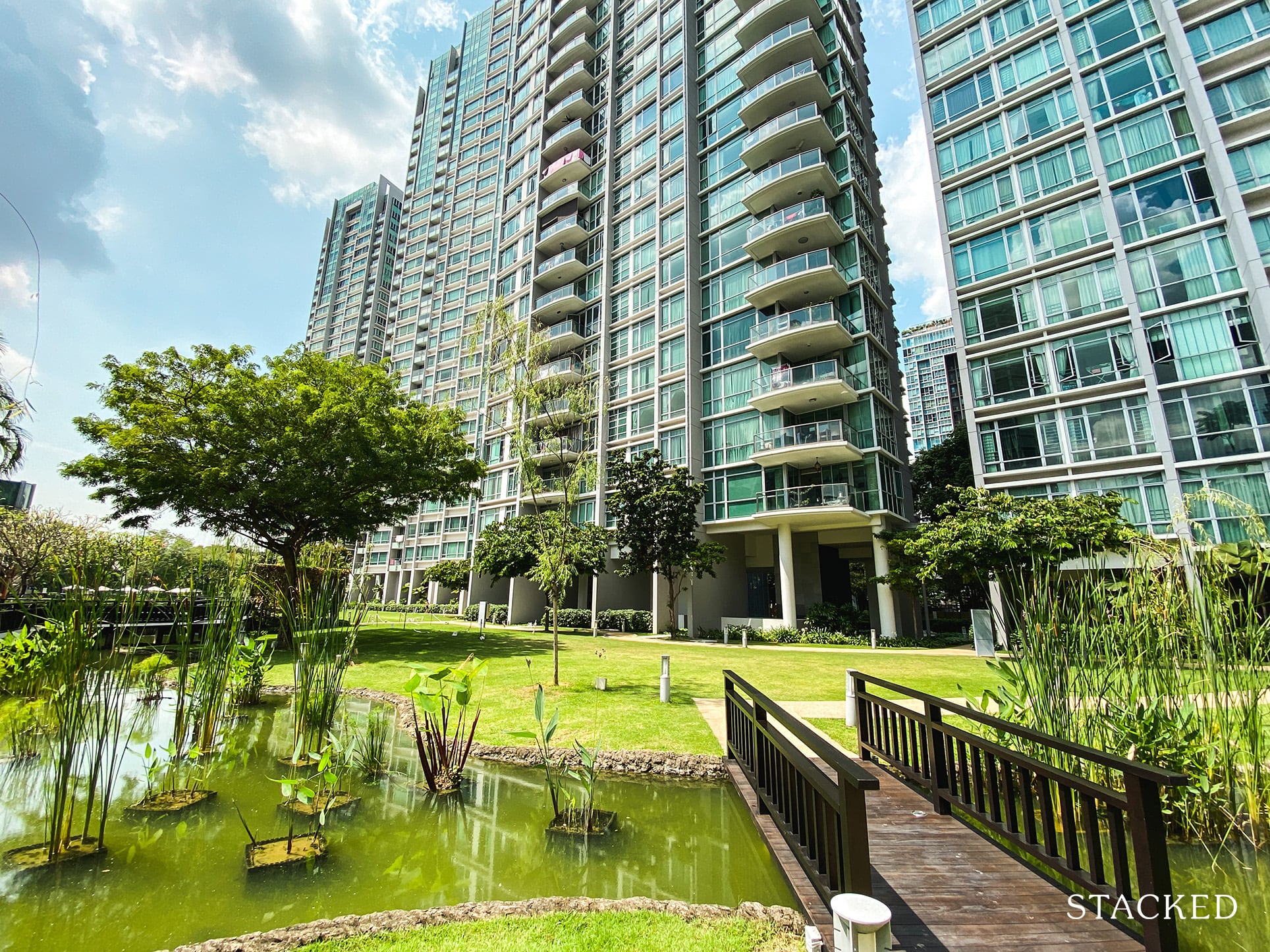 After you cross this bridge, you'll get to the back entrance of the Park Infinia at Wee Nam.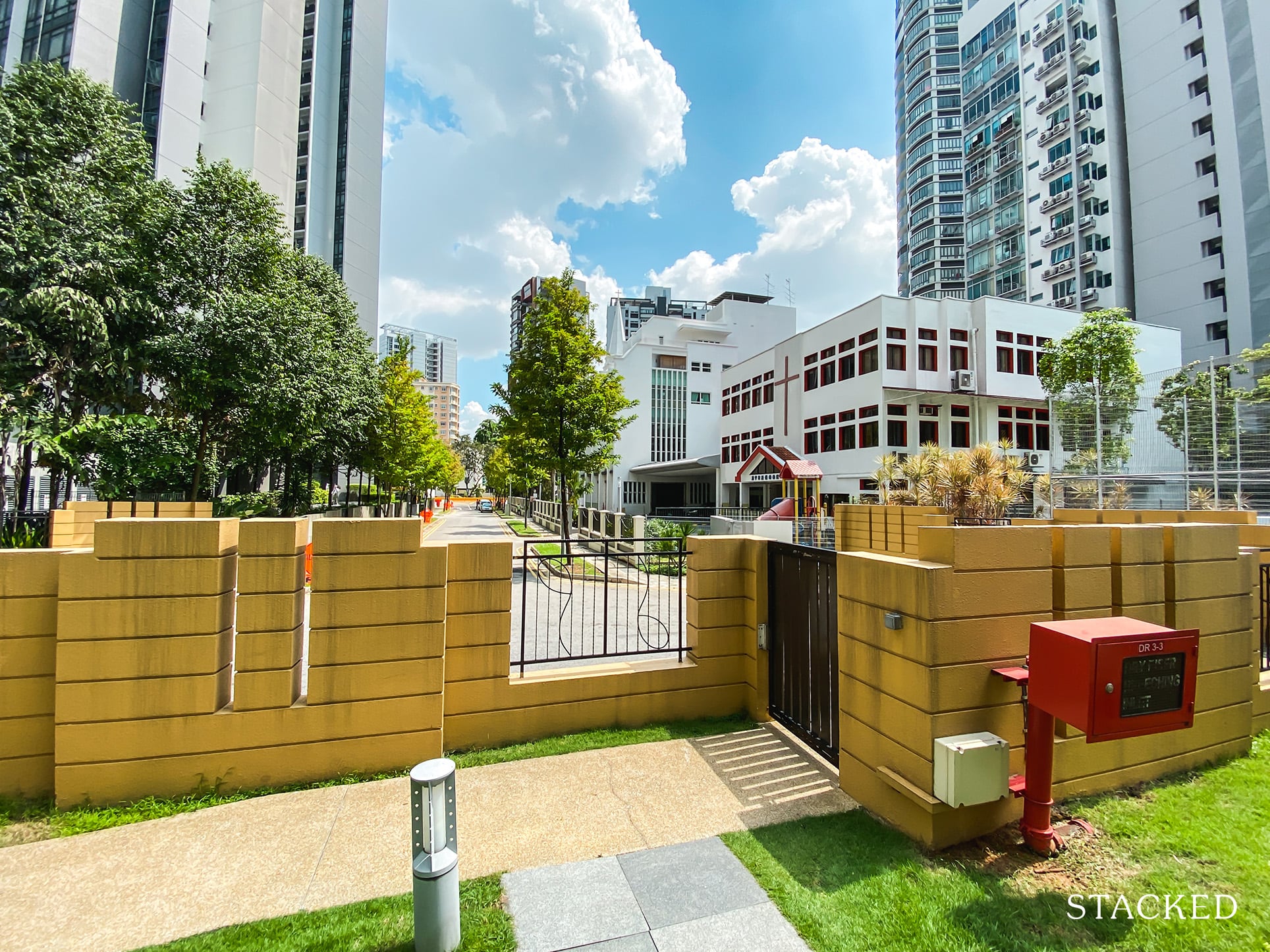 From here, this side gate gives you access to Suffolk Road.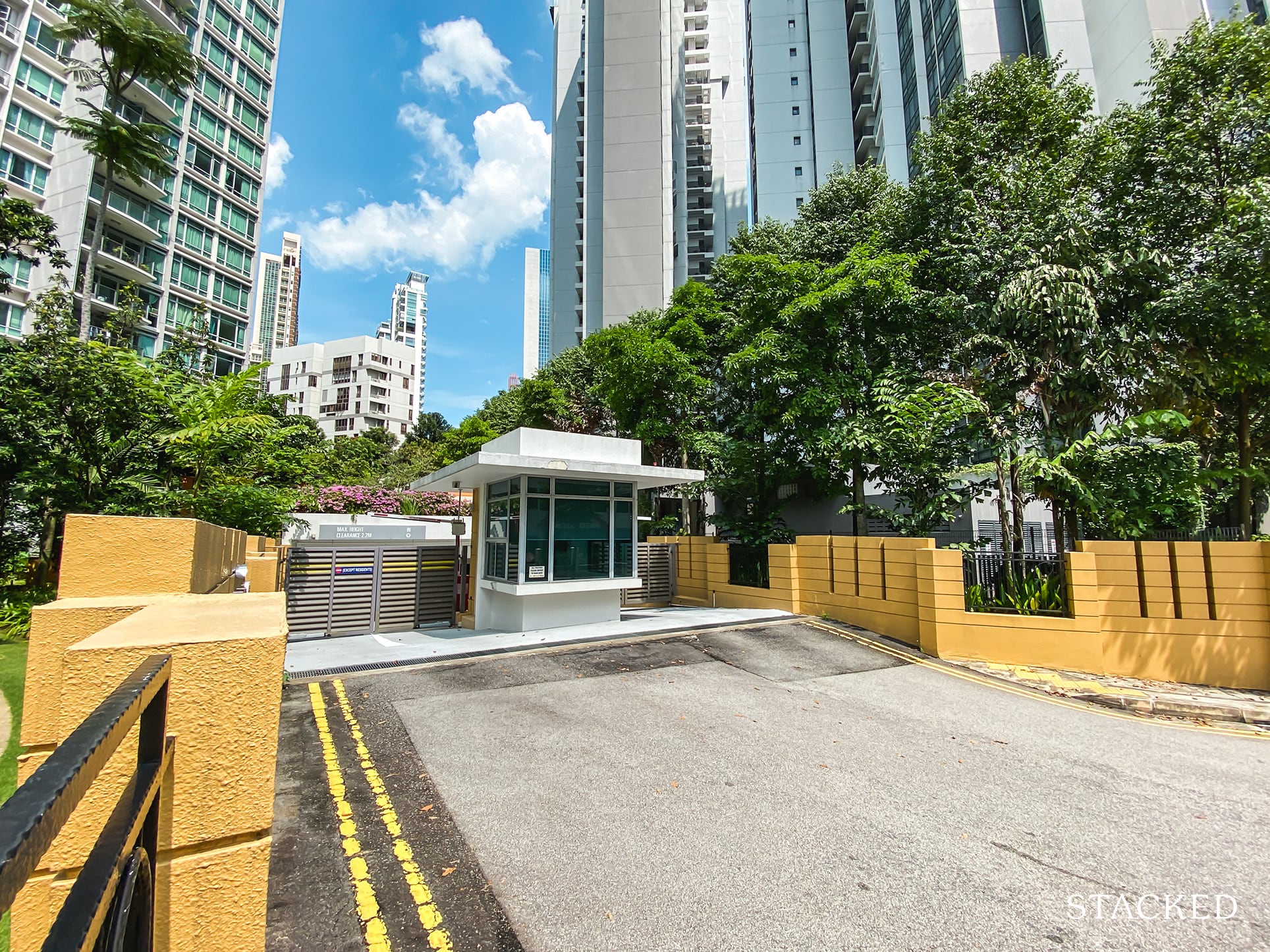 Which is basically the second entrance of the Park Infinia at Wee Nam. This, however, is only for residents. So if you come home via Thomson Road this should be much more straightforward for you.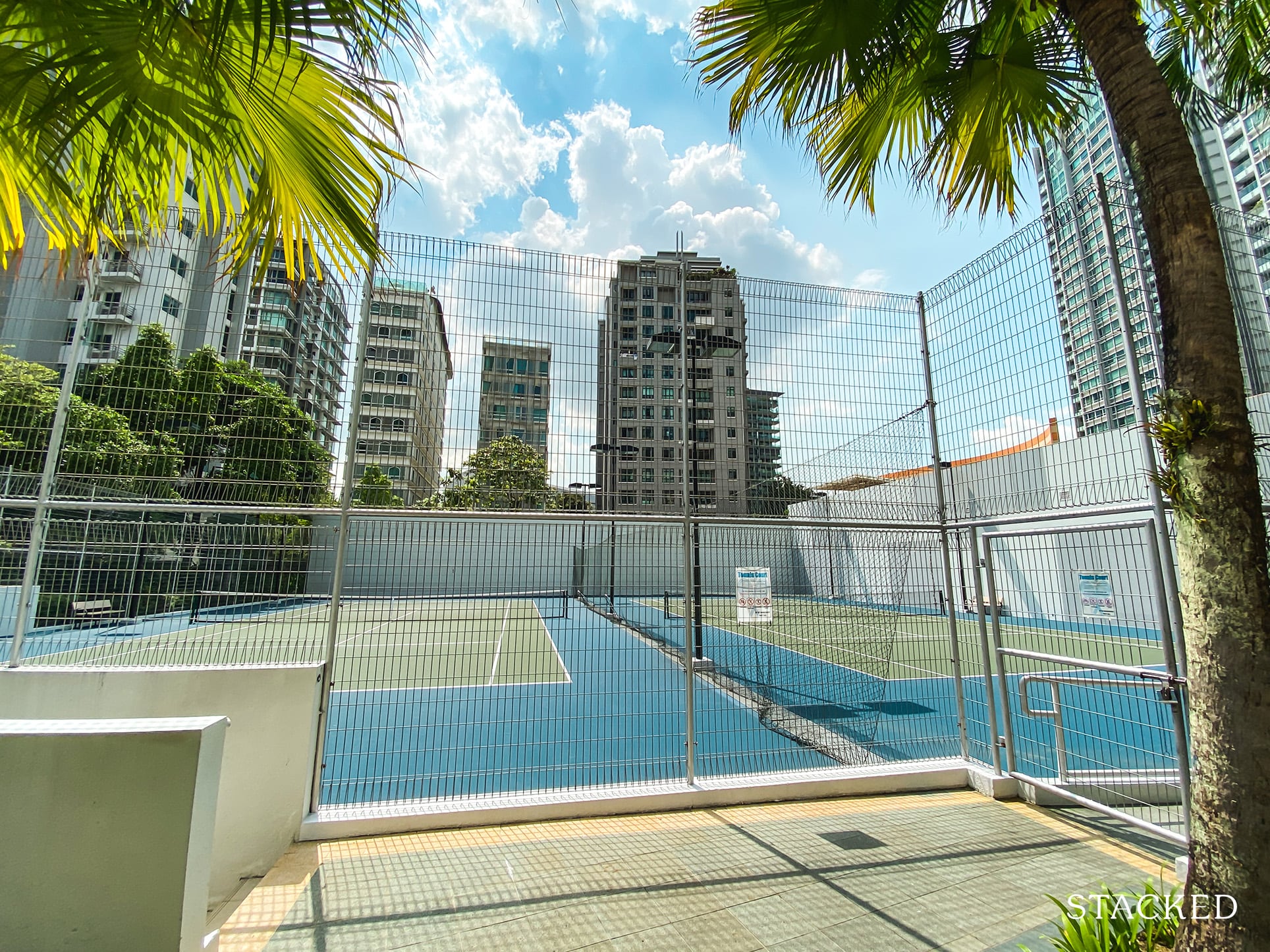 Right by the second entrance are the two tennis courts.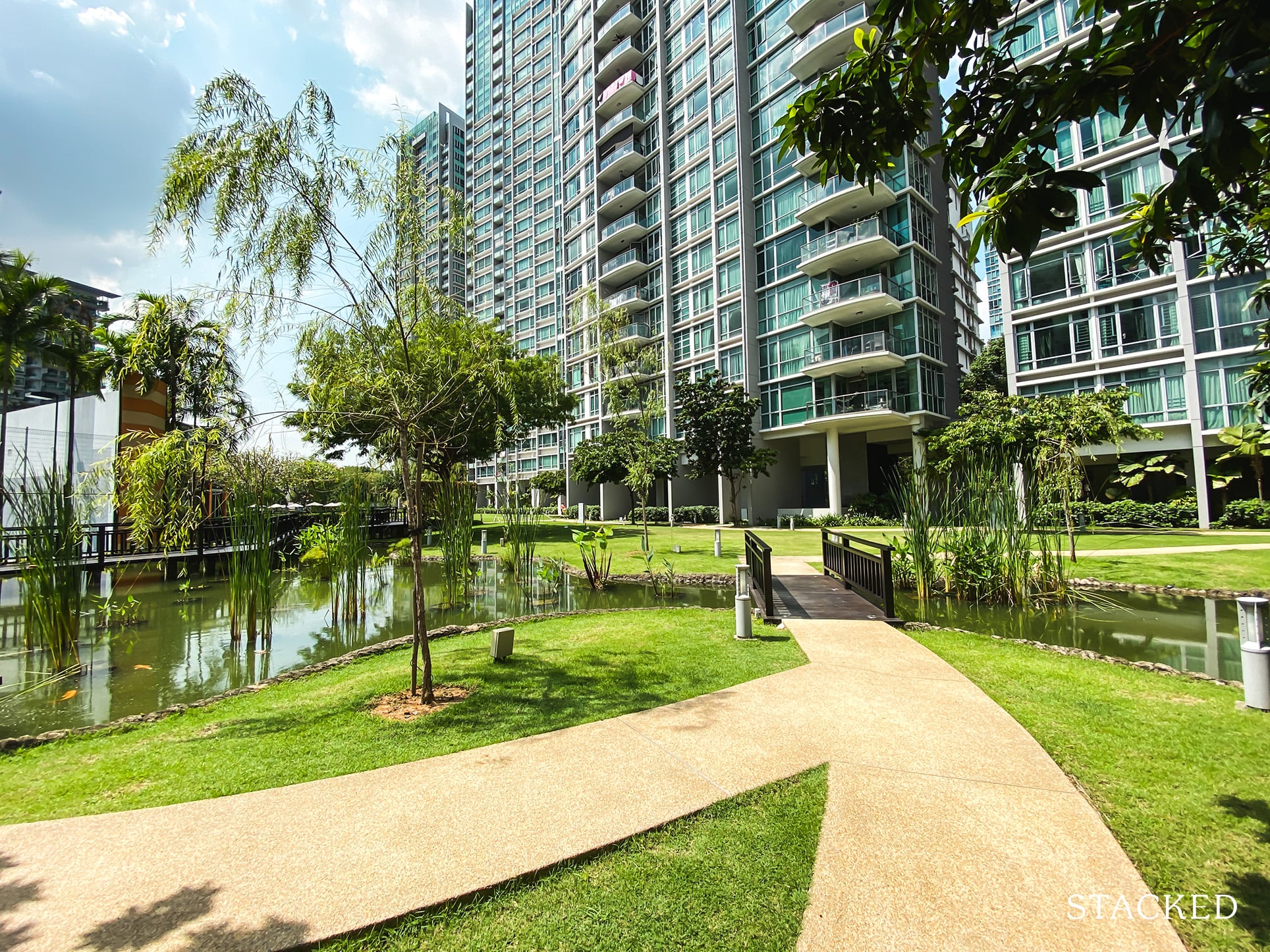 Moving back to the walking path, you really get to see the breadth of land here. It's almost as if you have your very own park at your doorstep. I can just imagine laying a mat to enjoy a picnic on the weekends.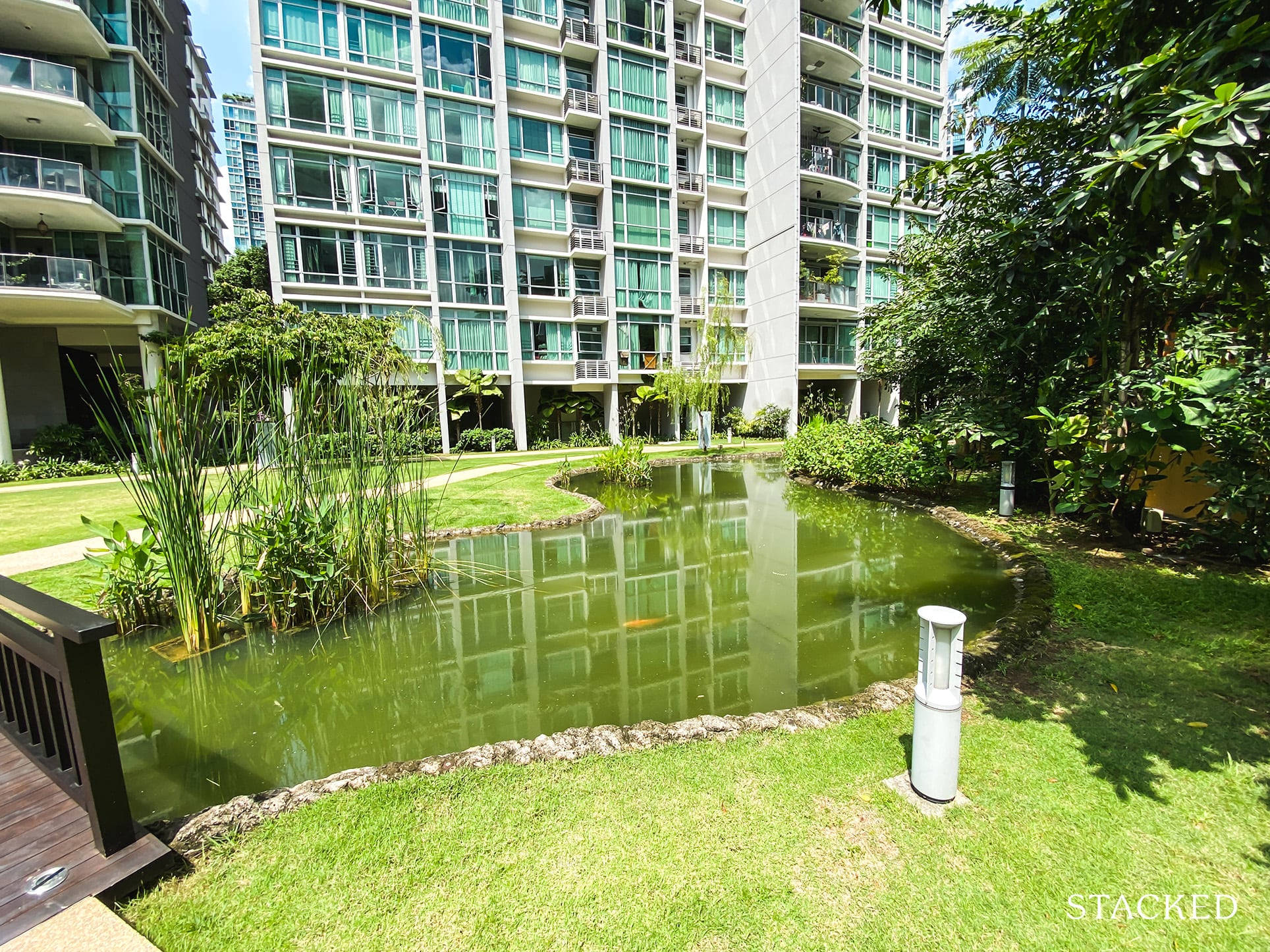 If you have a dog, this stretch of grass will be pretty great for them to amble around too.
*Note: We've received news that residents at Park Infinia have been having trouble with pet owners not cleaning up after their pets – just a word of caution.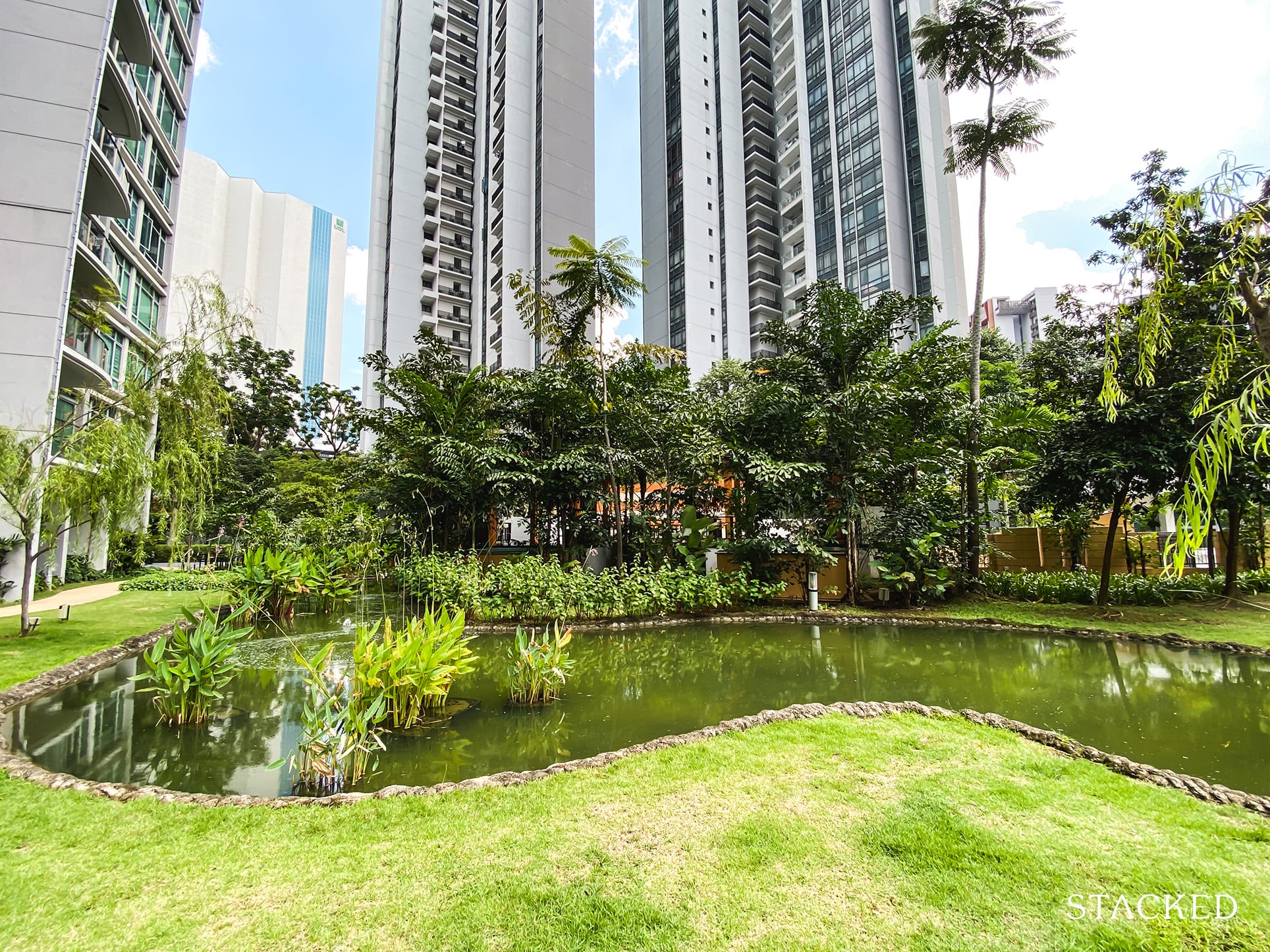 Some people might find the ponds here over-excessive, but in land-scarce Singapore, I think it is quite the treat for the eyes.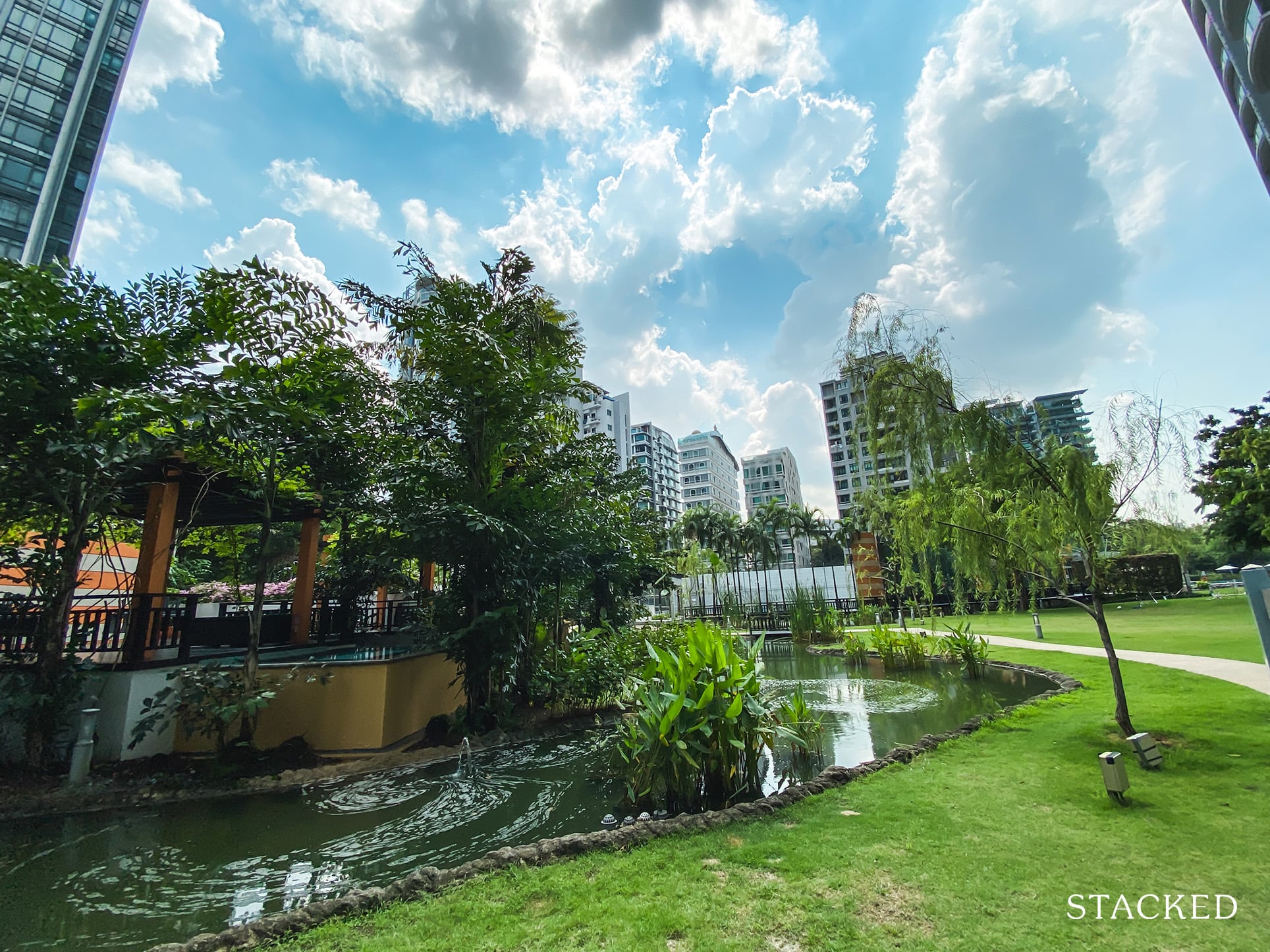 In fact, if you were to follow the walking path, it actually leads to a little "hideaway"!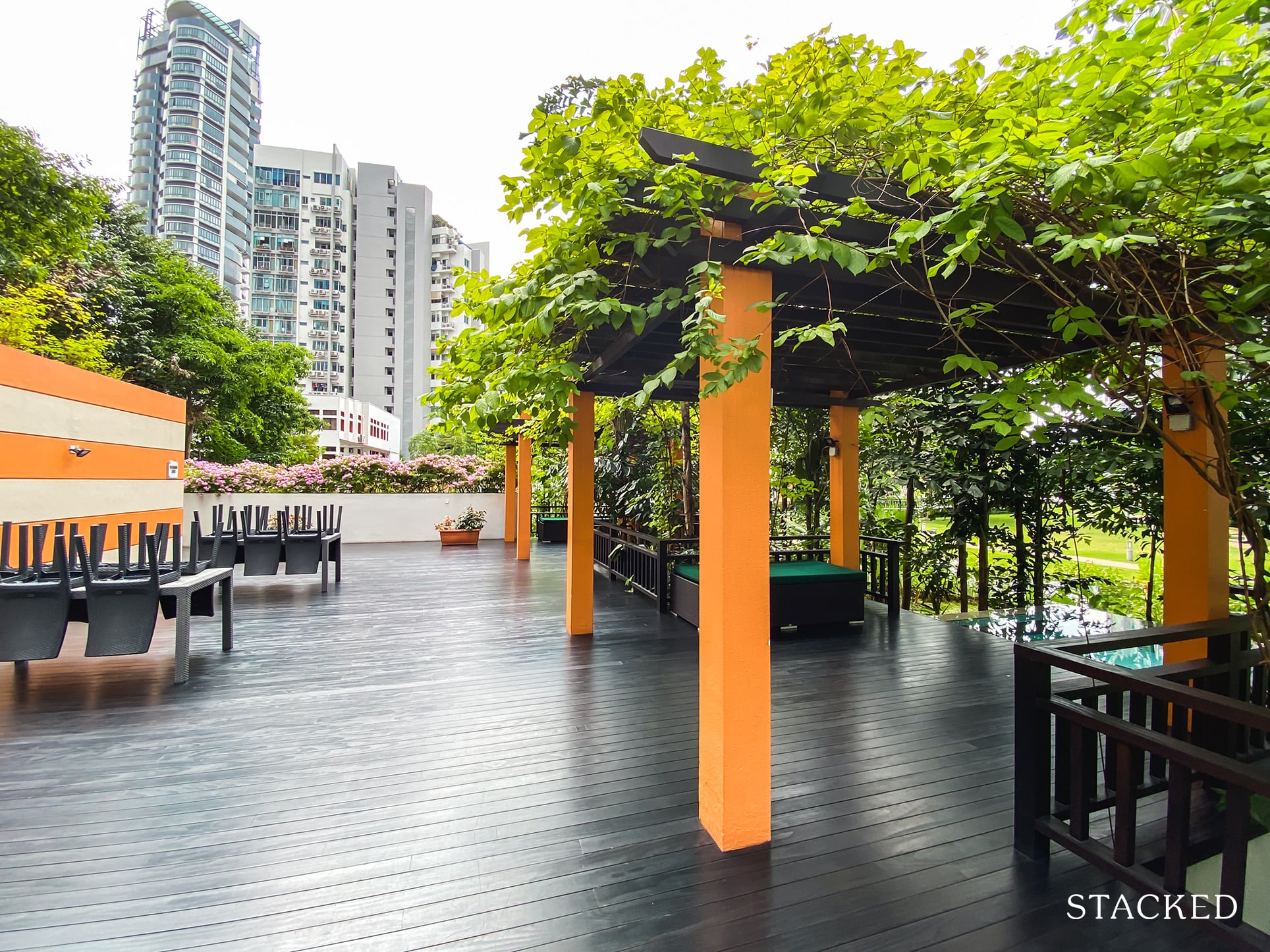 Once again, not a fan of the orange. But it's a private tucked away area that you can use for functions and the deck looks really well maintained for an unsheltered stretch.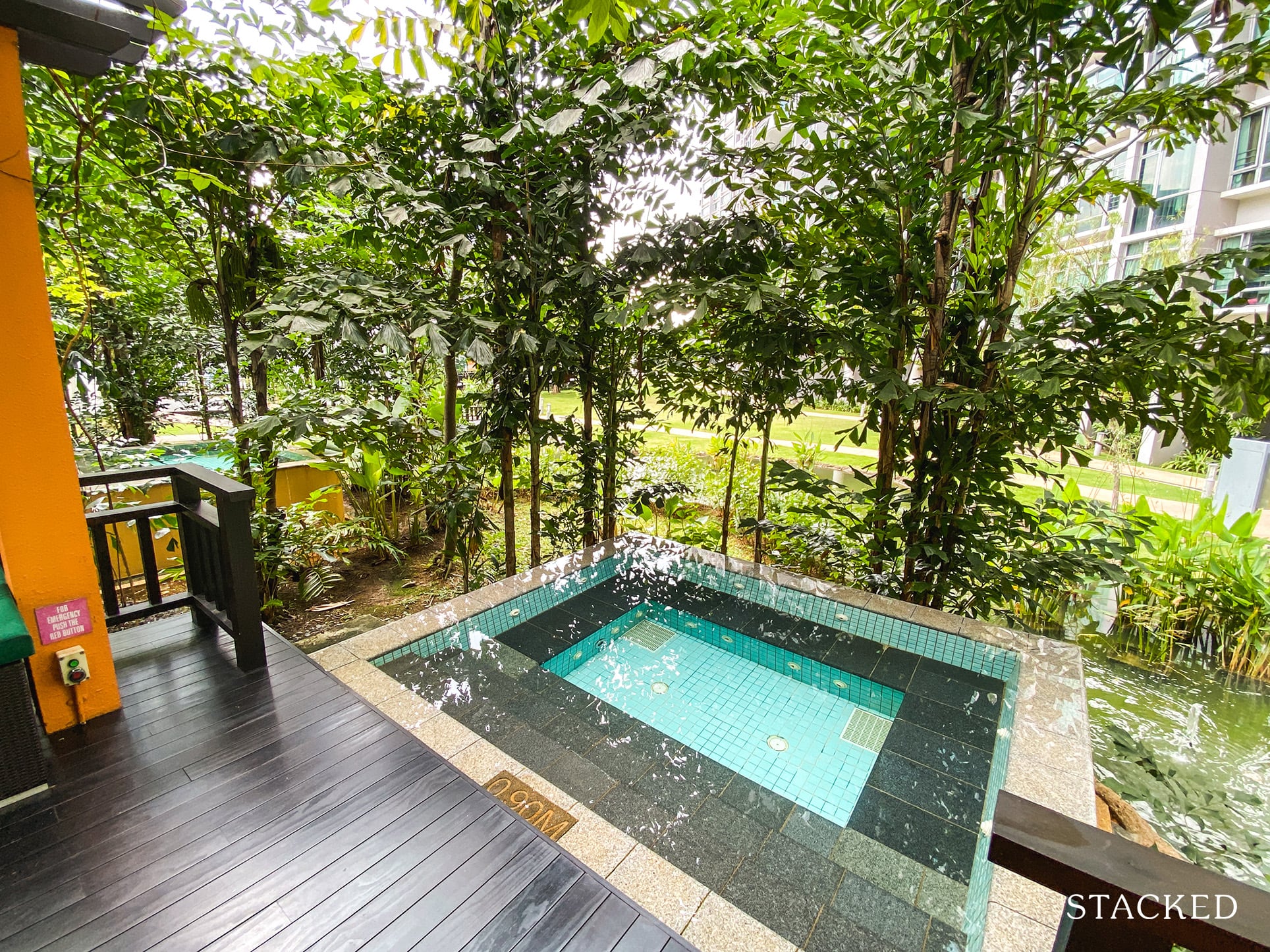 At the front of the deck, there are private jacuzzis that overlook the pond and greenery. It's hard to spot these from the outside because of the trees and plants that provide shade and seclusion.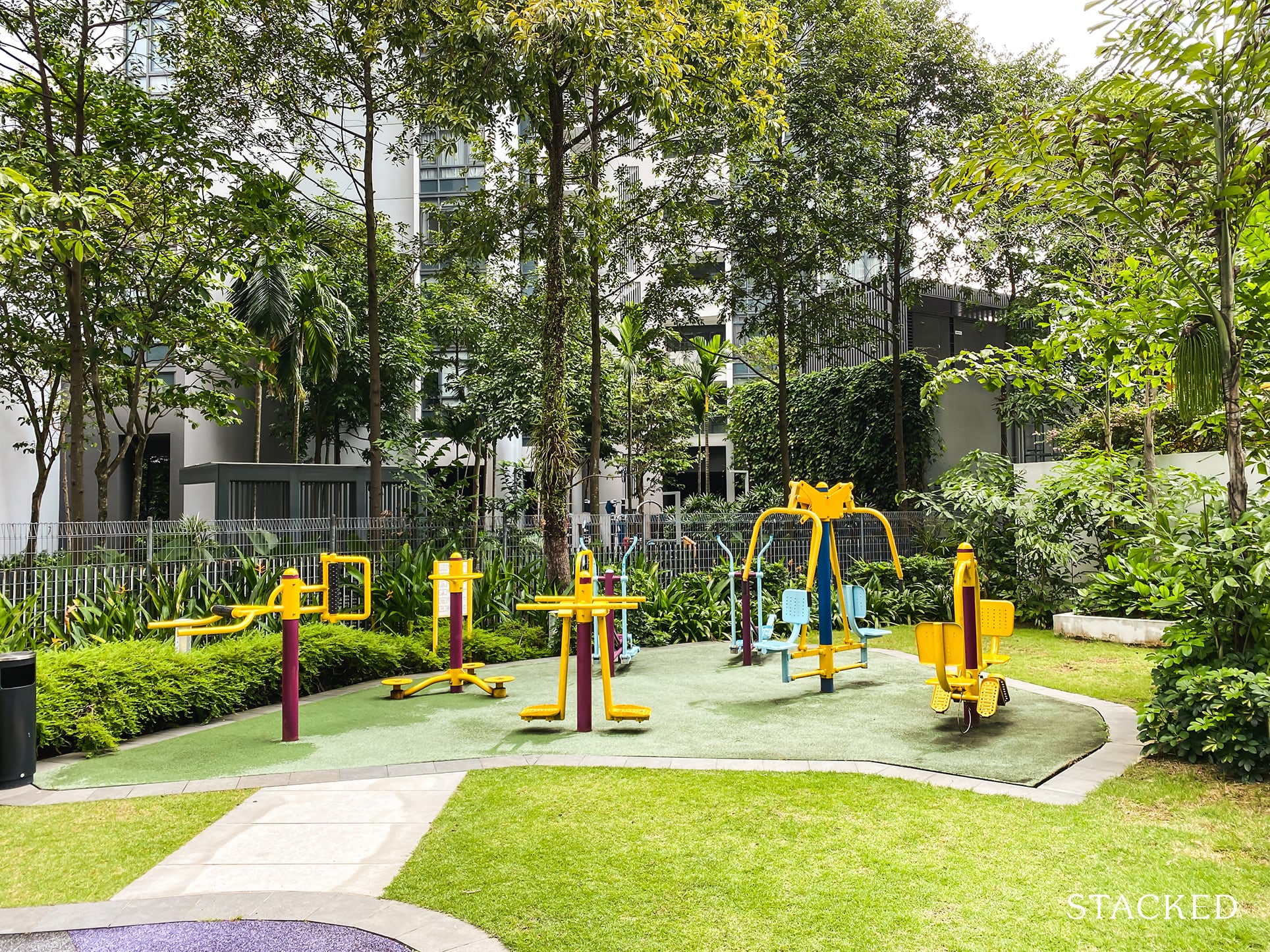 Round the back, you'll find yet another outdoor fitness station.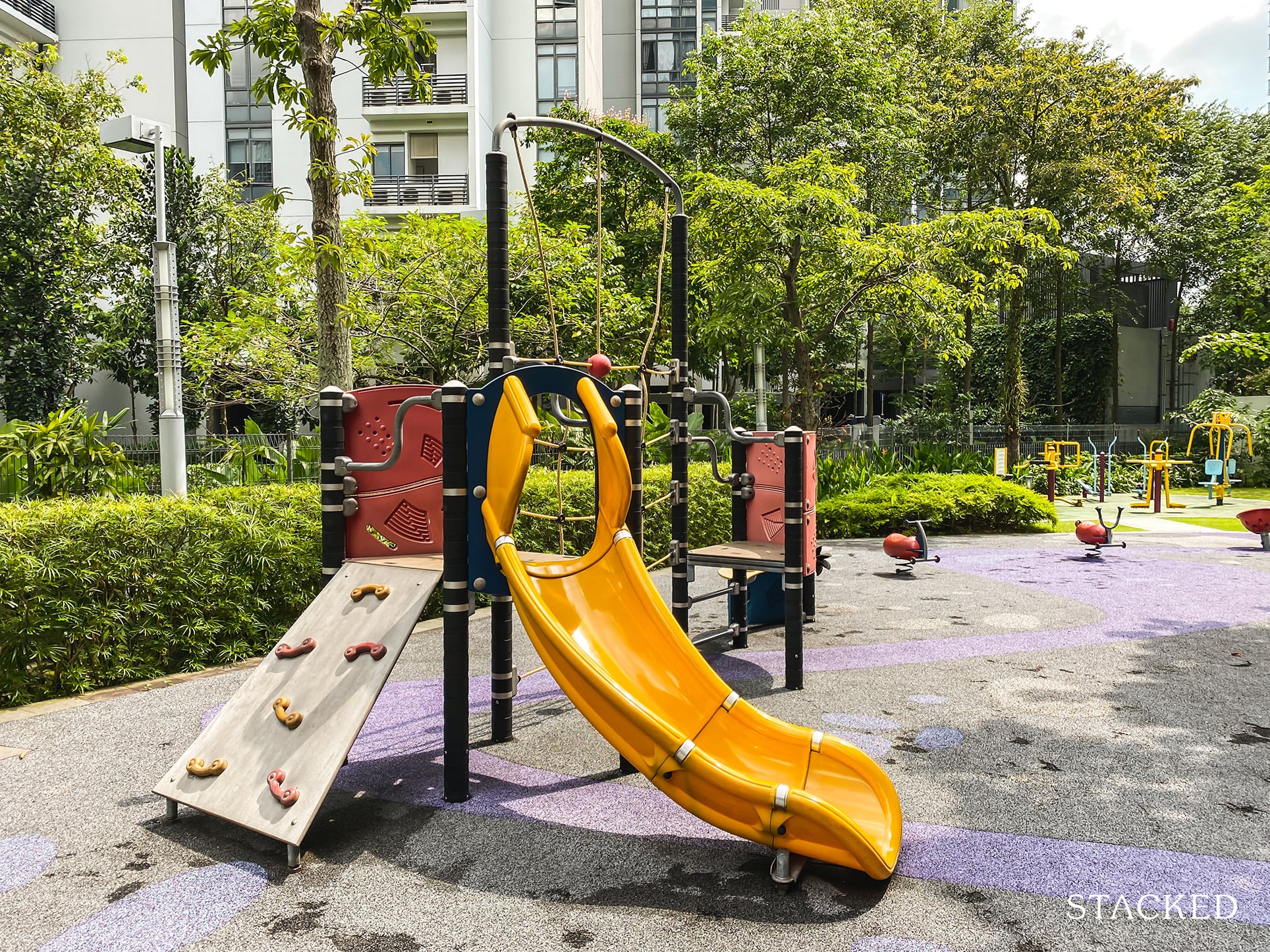 Along with a second playground for kids!
Beyond the playground is a roundabout at the end of the driveway. From here you can also get to the second side gate, which is essentially a shortcut towards United Square and Novena MRT.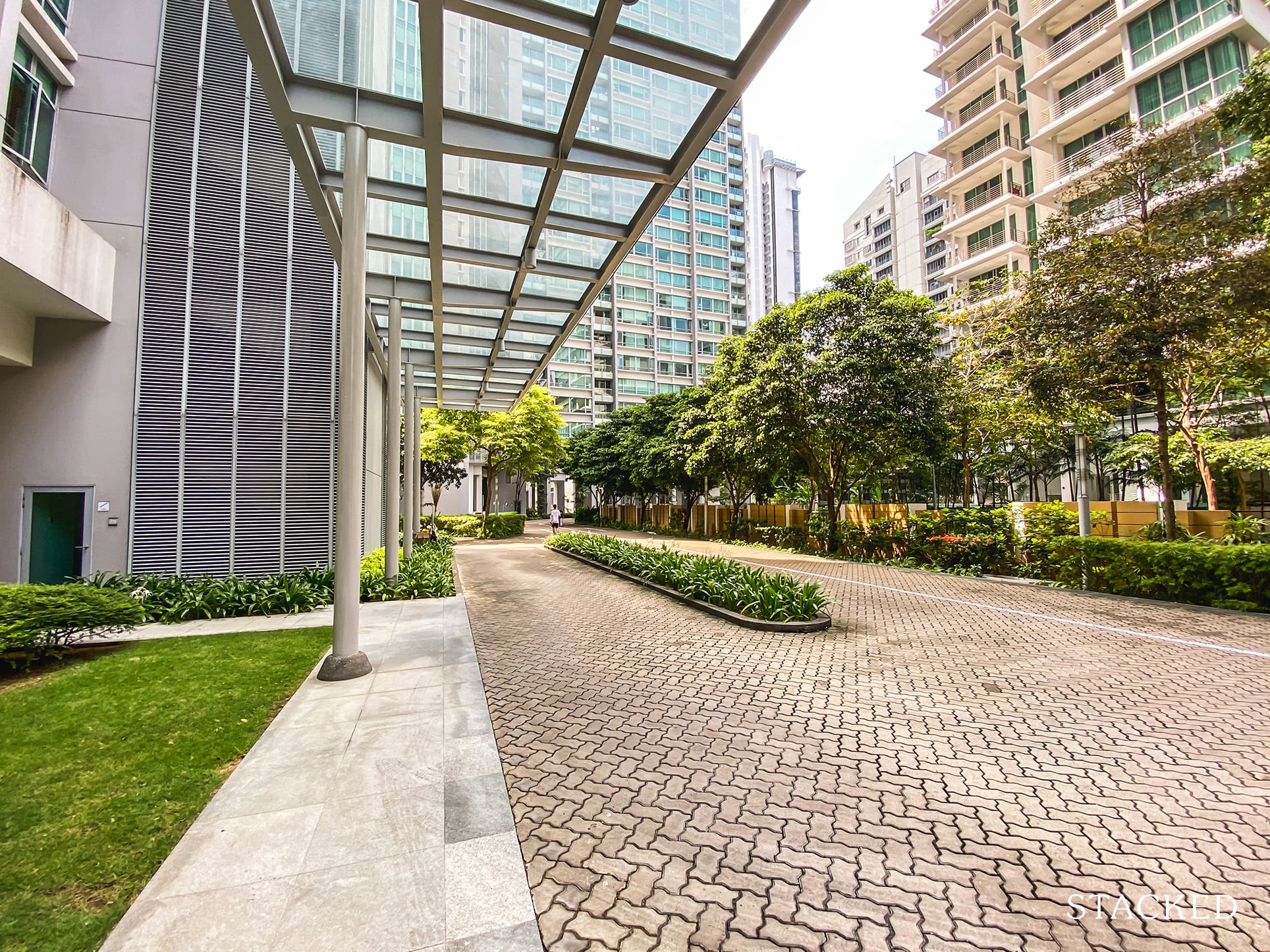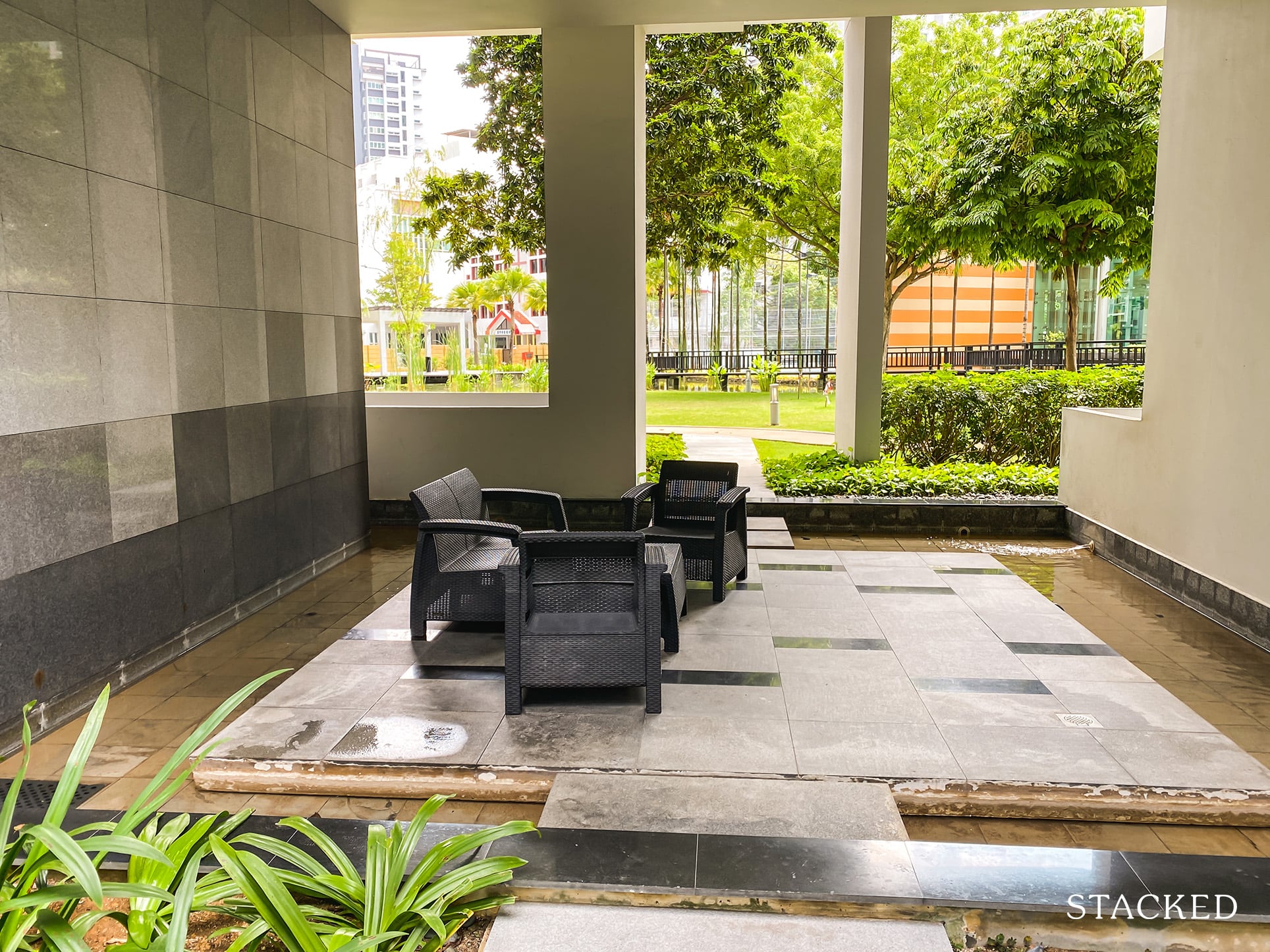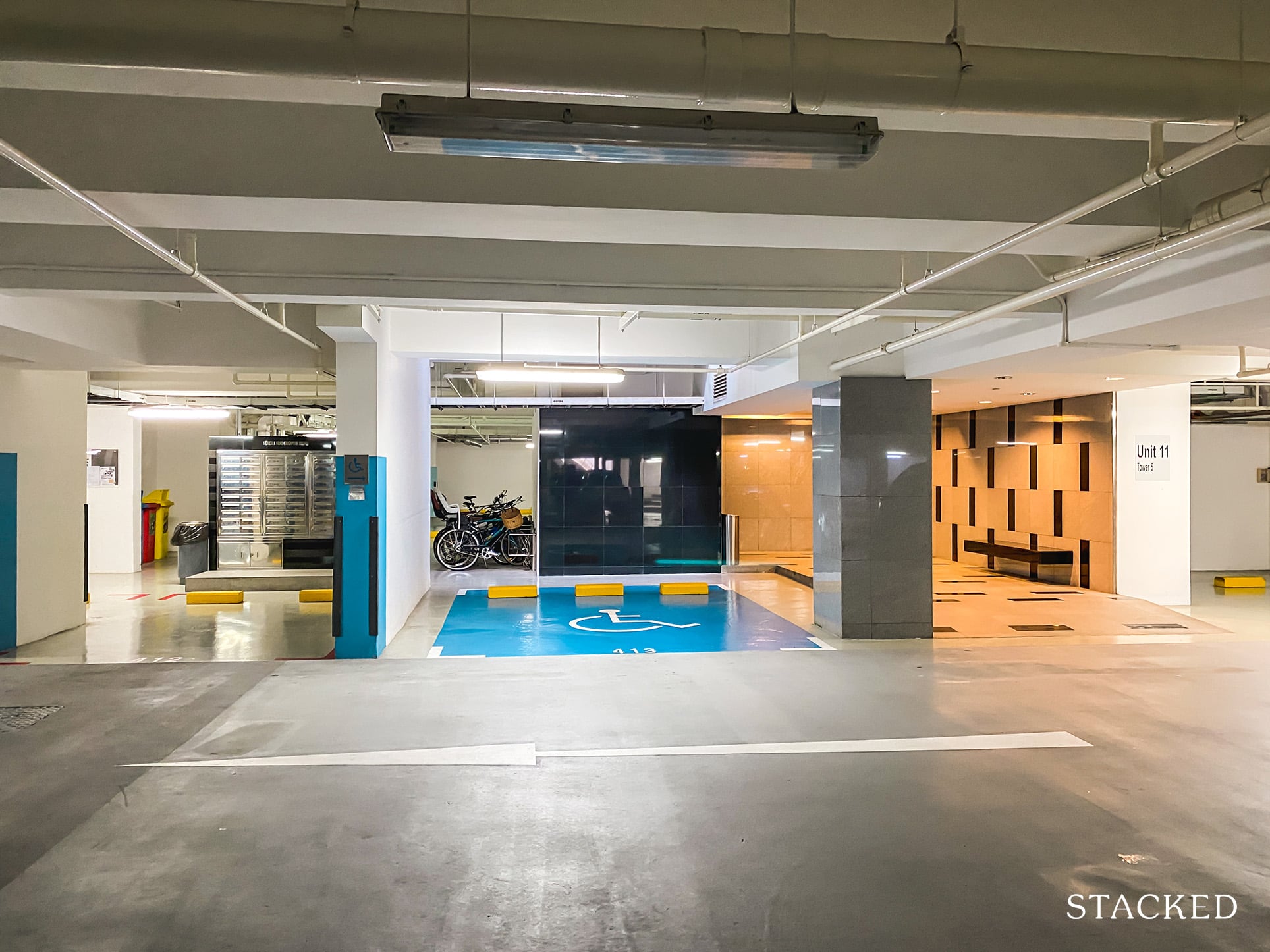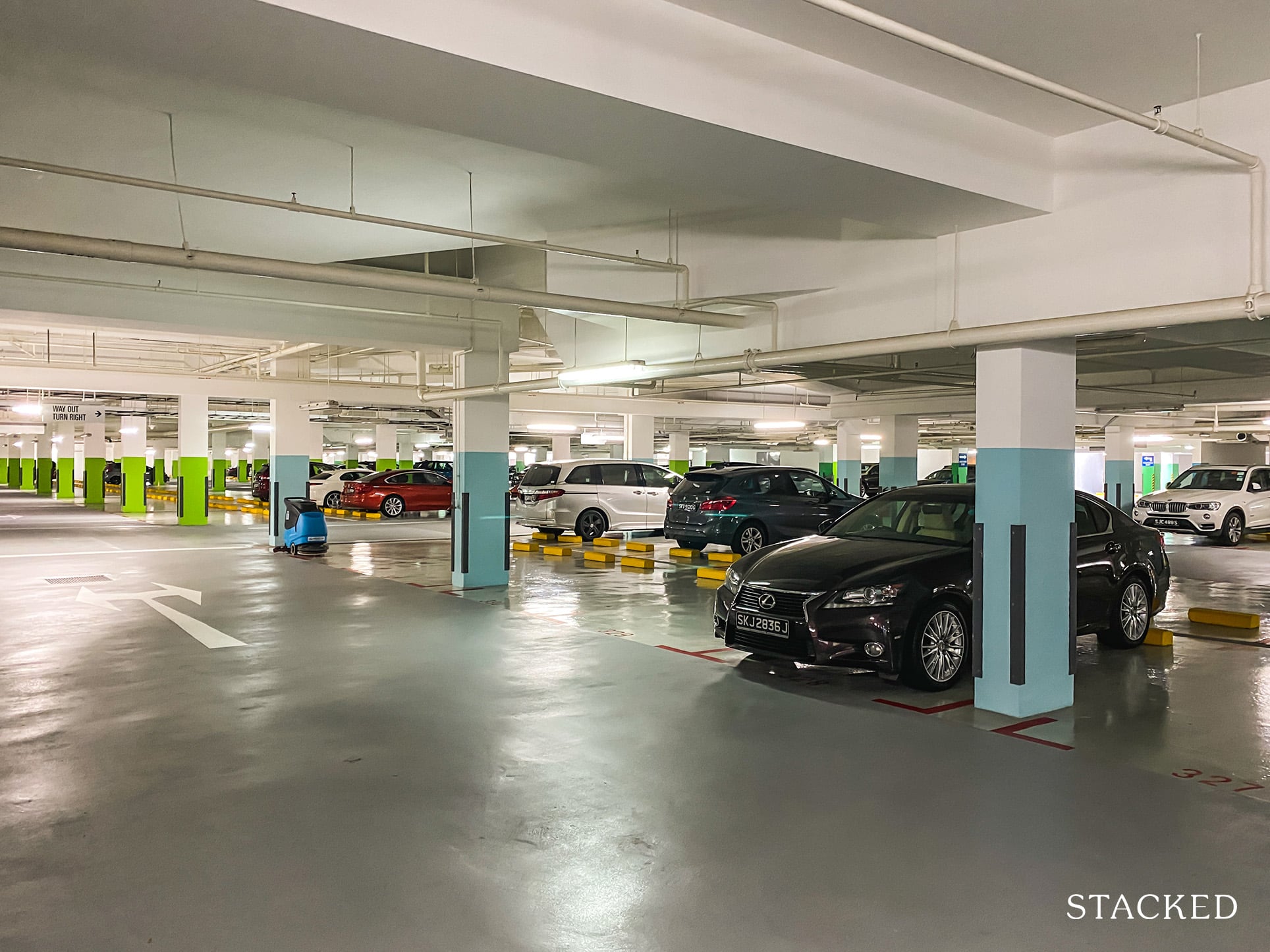 There is enough carpark space for the number of units, and it is generally well spaced. However, it is starting to look tired. The ceiling feels quite low and the lighting is rather dim, so it doesn't look as welcoming.
Park Infinia at Wee Nam Location Review
Plonked between Singapore's greatest shopping district, a major heartland, a UNESCO heritage site and an extravagant culture/food district, it's needless to say that Park Infinia offers unbridled convenience to a majority of the nation's best offerings.
Transport
| | | |
| --- | --- | --- |
| Bus Station | Buses Serviced | Distance From Condo (& Est. Walking Time) |
| 'Newton Life Ch' | 5, 54, 124, 143, 162, 162M, 167, 167e | 400m, 5-min walk |
| 'Opp Newton FC' | 48, 66, 66B, 67, 170, 960, 960e | 450m, 6-min walk |
| 'Opp United Sq' | 56, 57, 131, 131A, 141, 166, 851, 980 | 650m, 8-min walk |
Closest MRT: Newton MRT – 850m, 11-min walk
It feels very much like the diversity here comes at the cost of immediate proximity.
With the closest bus stops scattered along 3 major roads, the number of bus service options no doubt increases by 3-fold, though the paths to them aren't the shortest nor are they completely sheltered.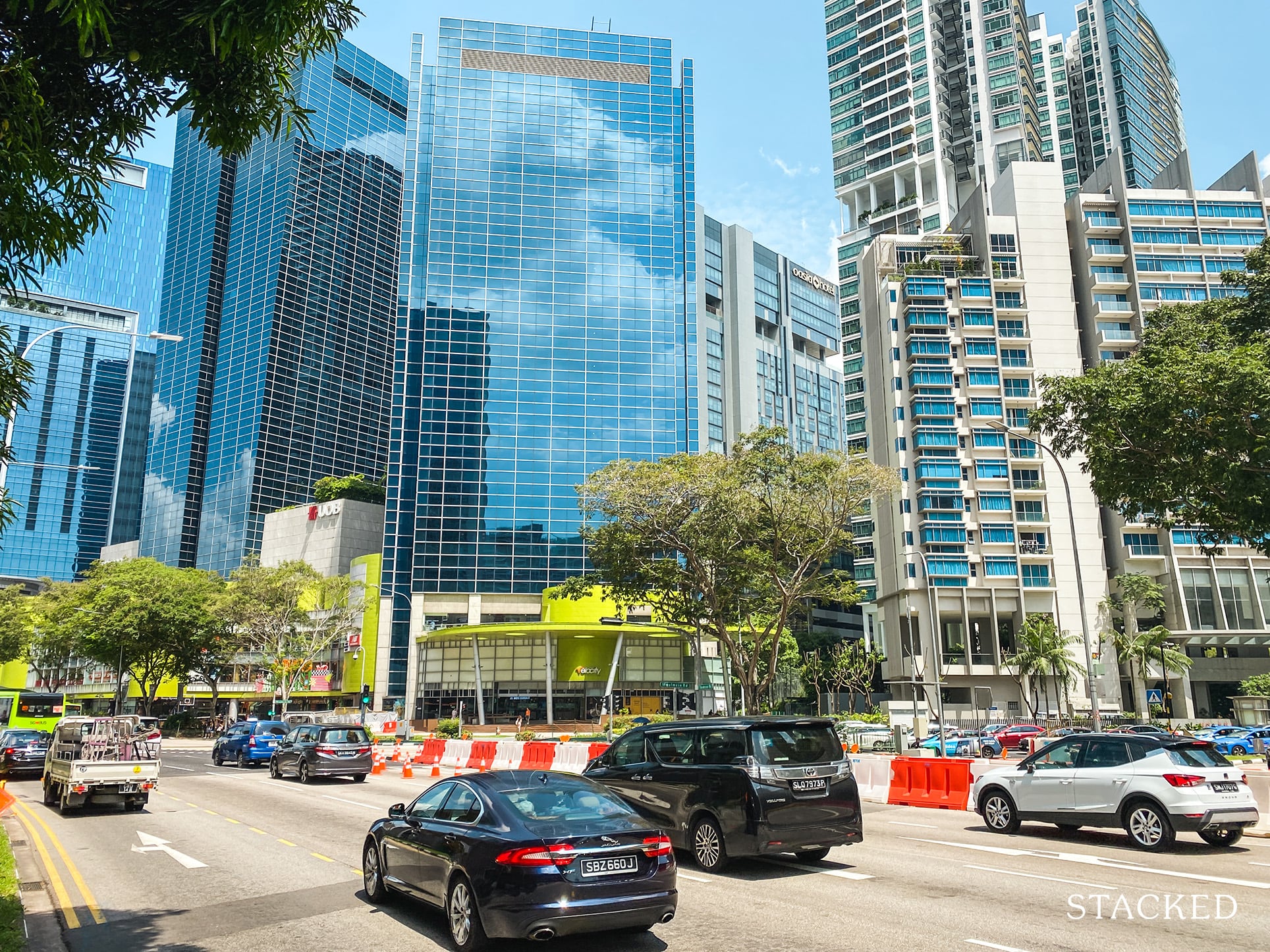 Having the closest MRT station an 11-minute walk (unsheltered and across major roads) away from the condo also feels like a stretch – especially when you consider the centrality of the station and hence its increased utilisation by residents and visitors alike.
Also, note that there are no buses from the condo to the MRT.
| | |
| --- | --- |
| Highway/Major Road | Distance From Condo (& Est. Off-Peak Drive Time) |
| Thomson Road | 400m, 2-min drive |
| Bukit Timah/Newton Flyover | 1.1km, 4-min drive |
| Serangoon Road | 2.4km, 4-min drive |
| Jalan Besar | 3km, 5-min drive |
| Adam/Farrer Road | 4.2km, 7-min drive |
| CTE | 2km, 3-min drive |
| PIE | 3km, 4-min drive |
| ECP | 4.6km, 6-min drive |
| KPE | 6.4km, 7-min drive |
| BKE | 8.6km, 8-min drive |
| AYE | 8.9km, 8-min drive |
| SLE | 11.6km, 10-min drive |
| KJE | 13.7km, 12-min drive |
Private transport accessibility: Very Good
While Park Infinia appears to be within solid proximity to a couple of major highways and roads, the high tendency of road congestion in the immediate area like the Newton Circus roundabout and Moulmein Road Exit does throw a spanner in the works.
Perhaps just as frustrating is the drawn-out process of accessing the CTE despite it being so close on paper to the condo.
It either involves a drive through Keng Lee, Thomson and finally Moulmein Road OR a U-turn along Thomson Road into Norfolk Road before merging with either Cavenagh/Bukit Timah Road prior to the CTE.
Groceries
| | |
| --- | --- |
| Name of Grocery Shop | Distance From Condo (& Est. Off-Peak Drive Time) |
| Cold Storage – United Square | 600m, 4-min drive OR 350m, 5-min walk |
| Cold Storage – Velocity | 1.6km, 6-min drive OR 1.4km, 17-min drive |
| FairPrice – Square 2 | 1.6km, 6-min drive OR 1.2km, 15-min walk |
| FairPrice – Cambridge Road | 2km, 6-min drive OR 1.5km, 18-min walk |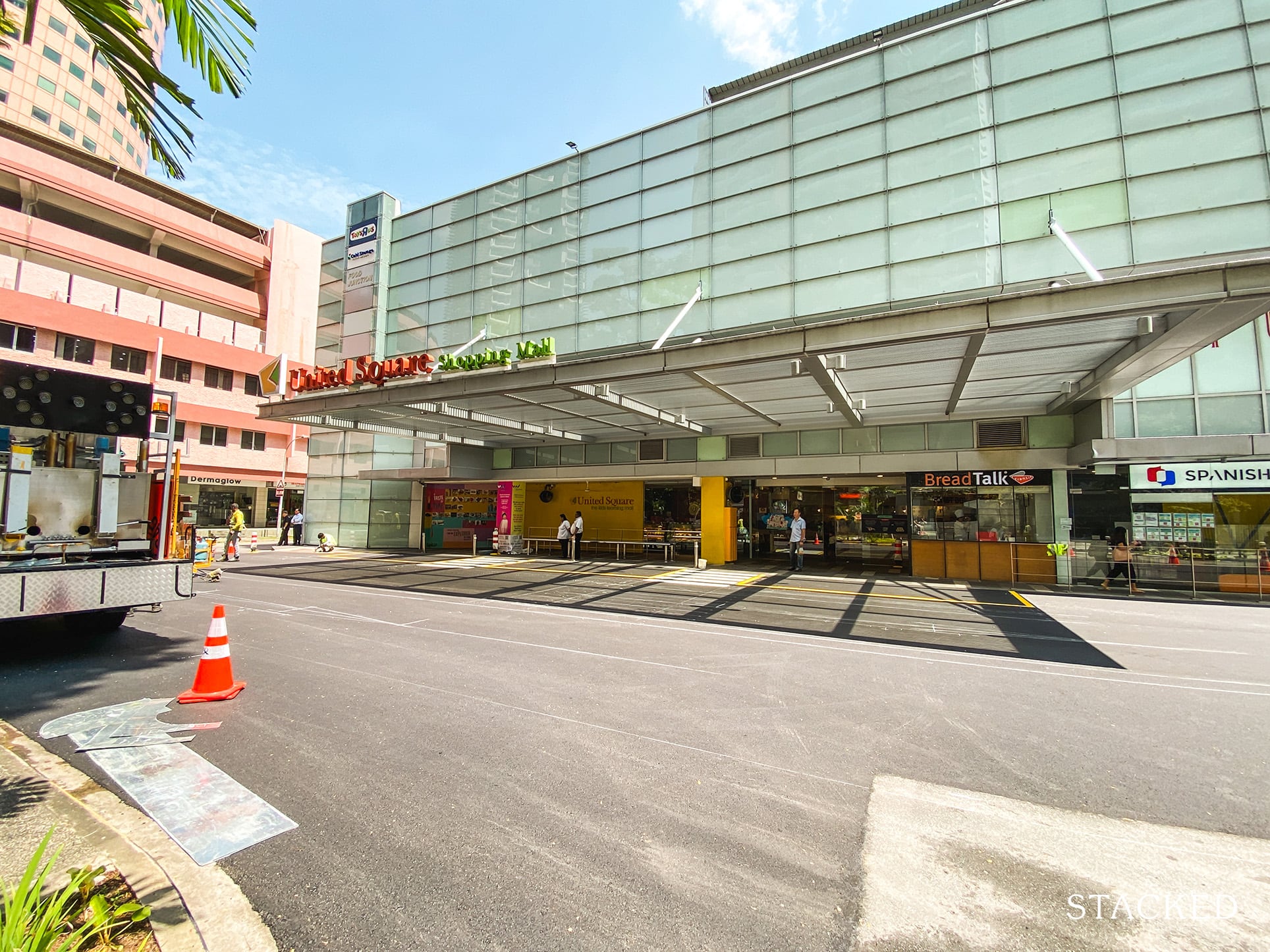 While it's advisable to walk to the Cold Storage at United Square (to avoid them hefty parking fees and what not), the same cannot be said about the other 3 grocery outlets. Nevertheless, we've included the walking times in the event that the latter option isn't viable.
Shopping Malls
| | |
| --- | --- |
| Name of Shopping Mall | Distance From Condo (& Est. Off-Peak Drive Time) |
| United Square/Goldhill Plaza Mall | 350m, 4-min walk |
| Novena Square/Square 2 | 1.6km, 6-min drive OR 850m, 11-min walk |
| Balmoral Plaza | 1.9km, 7-min drive |
| Cluny Court Cluster | 4.1km, 9-min drive |
| Toa Payoh Mall | 4km, 12-min drive |
| City Square Mall (Farrer Park) | 2.7km, 9-min drive |
| Balestier/Shaw Plaza | 2.8km, 8-min drive |
| Orchard Road Cluster | 2.5km, 8-min drive |
| Bugis Cluster | 3.3km, 9-min drive |
This is where Novena really shines as a locale. With a host of entertainment opportunities – from cultural immersion to food tripping to shopping, it is completely covered irregardless of which direction you head in.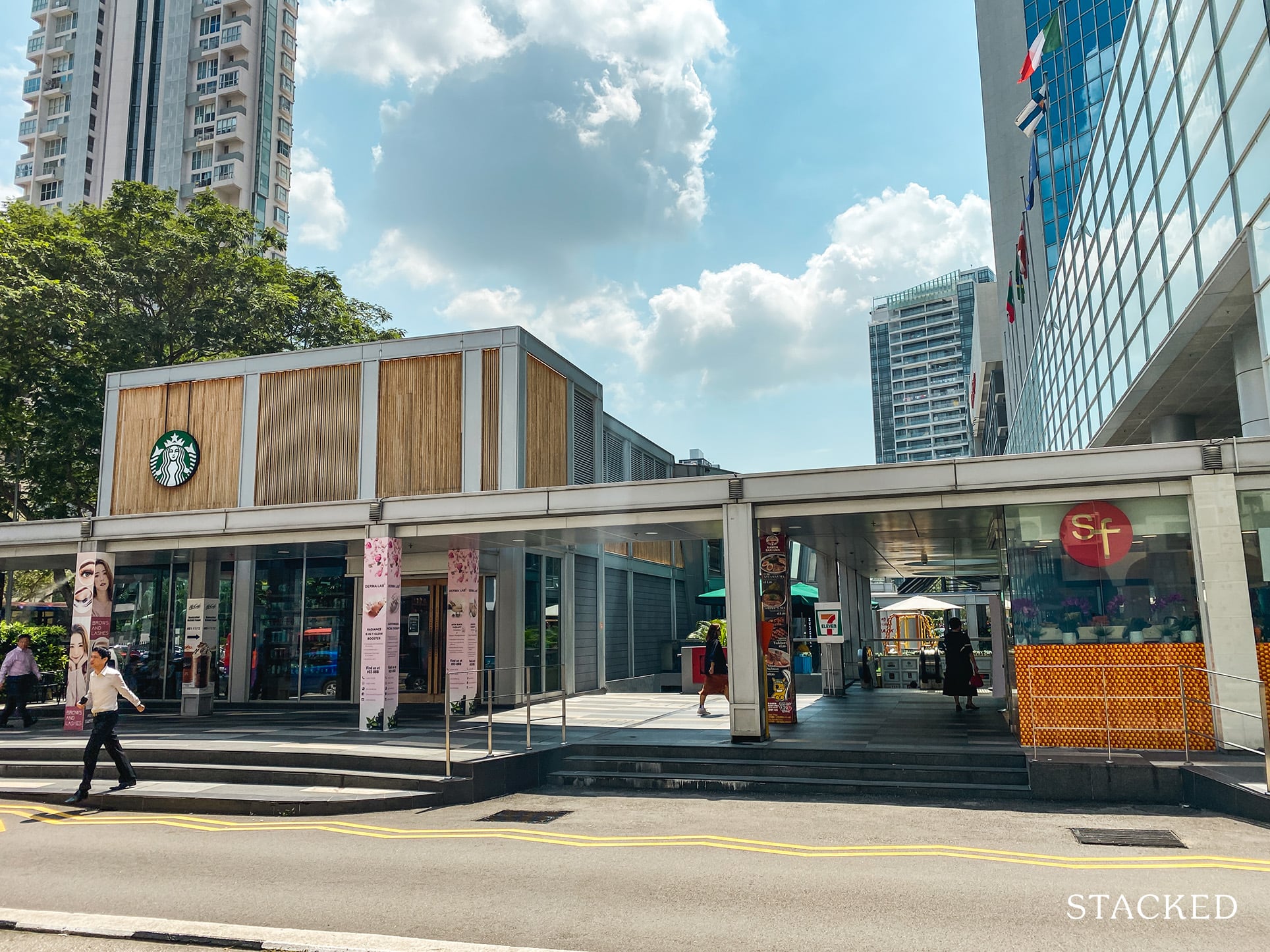 Furthermore, as we rarely touch on shopping malls in the Novena area (and surroundings), we've decided to pop in some of the rarer mentioned malls like Balestier and Goldhill Plaza Mall.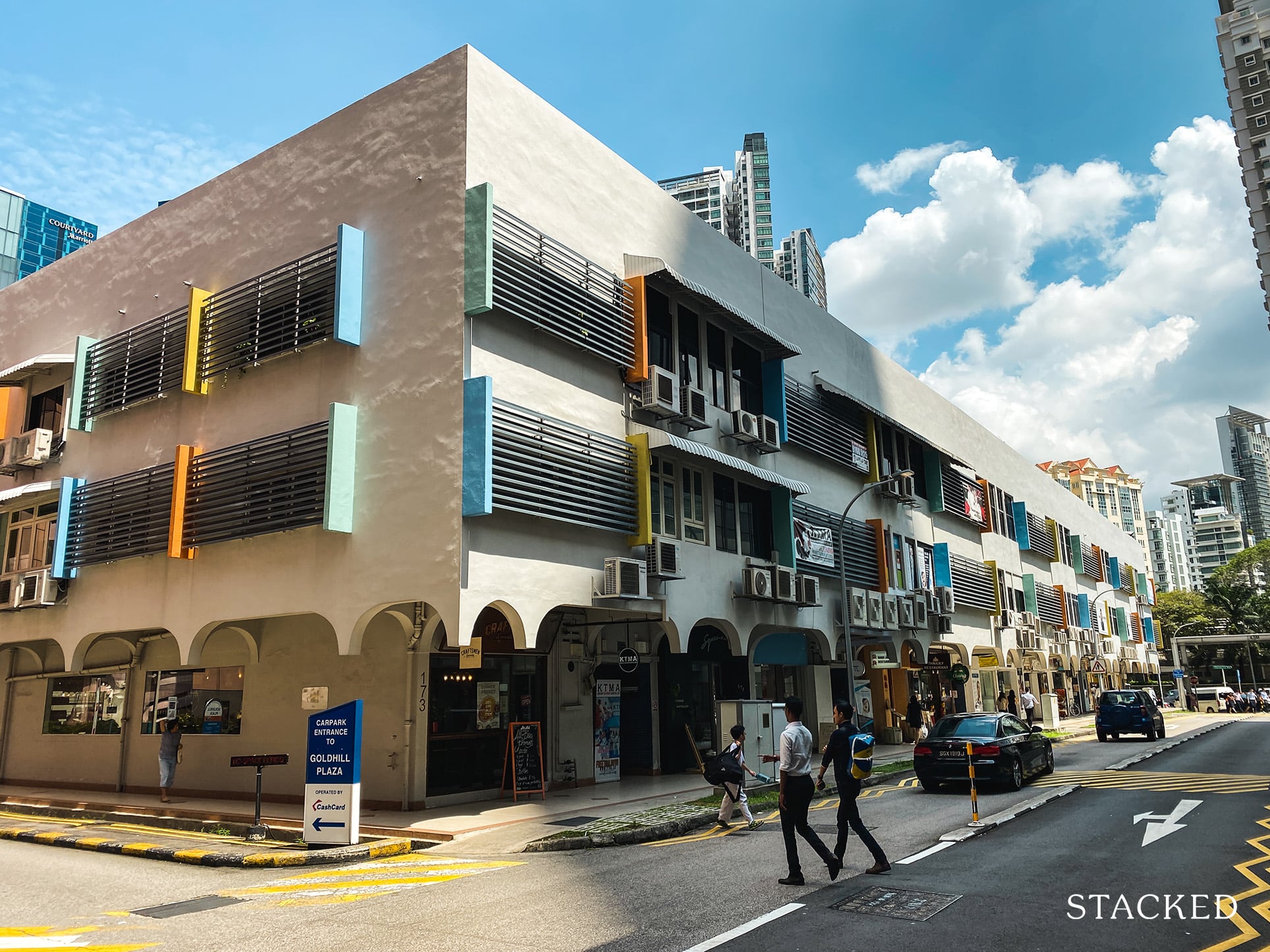 The famous Orchard and Bugis Shopping districts are also less than a 10-minute drive away.
Schools
| | | |
| --- | --- | --- |
| Name of School | Education Level | Distance From Condo (Est. Off-Peak Drive Time) |
| Chris Preparatory Place Montessori Preschool | Preschool | 1.4km, 6-min drive OR 550m, 7-min walk |
| Eton-House Preschool (Novena) | Preschool | 750m, 3-min drive OR 650m, 9-min walk |
| My Little Genius (Novena) | Preschool | 1km, 3-min drive OR 750m, 9-min walk |
| Pegasus International Preschool | Preschool | 1.4km, 4-min drive OR 900m, 11-min walk |
| St. Joseph's Institution Junior | Primary | 850m, 3-min drive OR 11-min walk |
| Anglo-Chinese School | Primary | 2.1km, 7-min drive OR 1km, 12-min walk |
| Farrer Park Primary | Primary | 2.4km, 6-min drive |
| Hong Wen School | Primary | 3.1km, 9-min drive |
| Stamford Primary | Primary | 3.5km, 9-min drive |
| Singapore Chinese Girls' Primary | Primary | 3.5km, 10-min drive |
| CHIJ Primary Toa Payoh | Primary | 3.8km, 10-min drive |
| Northlight School | Secondary | 2.1km, 7-min drive |
| Raffles Girls' School | Secondary | 2.8km, 9-min drive |
| Singapore Chinese Girls' School | Secondary | 3.5km, 10-min drive |
| ACS (Barker Road) | Secondary | 3.5km, 10-min drive |
| CHIJ Secondary | Secondary | 3.6km, 8-min drive |
| Bendemeer Secondary | Secondary | 4km, 10-min drive |
| St. Andrews' Secondary | Secondary | 5km, 10-min drive |
| Catholic Junior College | Tertiary | 2.6km, 7-min drive |
| Hwa Chong Institution | Tertiary | 5.1km, 11-min drive |
| Raffles Junior College | Tertiary | 5.4km, 14-min drive |
| St. Andrews' Junior College | Tertiary | 6.4km, 14-min drive |
| National Junior College | Tertiary | 7.1km, 15-min drive |
| Curtin Singapore | Tertiary | 3.9km, 9-min drive |
| NUS Law Faculty | Tertiary | 4.1km, 10-min drive |
| SMU | Tertiary | 5km, 16-min drive |
The bonus for most young parents is that all the preschools in the vicinity are within walking distances.
Given the proximity of the condo to the Bukit Timah Education Belt, you'd also observe a higher ratio of 'top/mission' schools in the table.
Also worth noting is that polytechnics in Singapore are positioned away from the central areas, hence the closest (Ngee Ann Polytechnic) is located a lengthy 19-min drive away.
On the flip side however, there is an above-average number of Junior Colleges here within driving distance of the condo.
Additional Pointers
Novena has become simultaneous with its numerous medical offerings. With Tan Tock Seng, Thomson Medical, KK, Farrer Park and Mount Elizabeth Hospital in either direction, residents here can optimise both value and precision for a variety of medical cases should the need arise.
Novena's proximity (10-minute drive) to Singapore's only UNESCO Heritage Site in Botanic Gardens makes for great family outings and serves as a peaceful place to unwind. Subsequently, there is always Dempsey Hill a little bit down south that serves the same purpose while also providing a variety of unique food and shopping options.
Perhaps the biggest draw for foodies is the numerous culinary offerings in the area.
The Little India cultural district (think Tekka Market & incredible Indian fare) and Novena food district (Newton Circus Food Centre, Pek Kio Market & Thomson Road delicacies), as well as the Bugis and Orchard shopping belts, provide a range of delicacies ranging from high-end dining to simple local fare.
Park Infinia at Wee Nam Development Site
Sitting atop 224,531 square foot of land with a plot ratio of 2.8, Park Infinia at Wee Nam is one of the bigger developments in the Newton area. More so when you consider its freehold status.
As mentioned, its double entrance/exits serve as easy alternatives for various route-plans and congestion-contingencies. Perhaps more interestingly, however, is the developer's choice to position the residential blocks away from the condo facilities with the empty green spaces in between.
Compared to many bigger modern developments (think Parc Esta & Parc Clematis amongst many others) who integrate their facilities in an adjacent manner to most of their residential blocks, this little implementation could go some way in reducing noise levels for residents at the lower levels – even if it does mean having to walk a little to these facilities.
Naturally, this also provides slightly more privacy to those utilising said facilities.
While we're still on the topic of facilities, the inclusion of the sizable bio pond definitely adds diversity and distinction – however it lies heavily on the management to mitigate any possible mosquito-breeding issues that could stem from its implementation.
Finally, having an adjacent in-condo road with individual block drop-off points allows for a certain level of vehicular-related pollution even if it helps to enhance drop-off accessibility to an extent.
Unit Mix
| | |
| --- | --- |
| Unit Type | Size of Units (sqft) |
| 1-bedroom | 560 sqft |
| 2-bedroom | 850 – 969 sqft |
| 2-bedroom + Private Lift | 1,130 sqft |
| 3-bedroom + Balcony | 1,335 sqft |
| 3-bedroom + Private Lift | 1,421 – 1,464 sqft |
| 3-bedroom + Private Lift + Balcony | 1,582 sqft |
| 4-bedroom | 1,668 – 1,690 sqft |
| 4-bedroom + Balcony | 2,002 sqft |
| Penthouse | ~ 3,315 sqft |
From the start, it is worth noting the possibility of private lift access for 2-bedroom units and above.
Another point to highlight is the presence of high-rise towers to its immediate north, west and east which would undoubtedly impact views.
The silver lining is that the south-facing units are mostly unblocked due to the low-rise terrace units along Jalan Aruan, Makepeace Road and the further-out Cavenagh/Winstedt Drive area.
More importantly, most of the surrounding land has already been occupied so residents of units here should not worry about any unprecedented major construction in the immediate area and the pollution that comes with it.
The Kampong Java Flyover is also sufficiently distant from the condo to prevent any unwanted disturbance in that aspect.
Lastly, the location and presence of larger units here make it a choice option for expat families when it comes to potential leases.
Best Stacks at Park Infinia at Wee Nam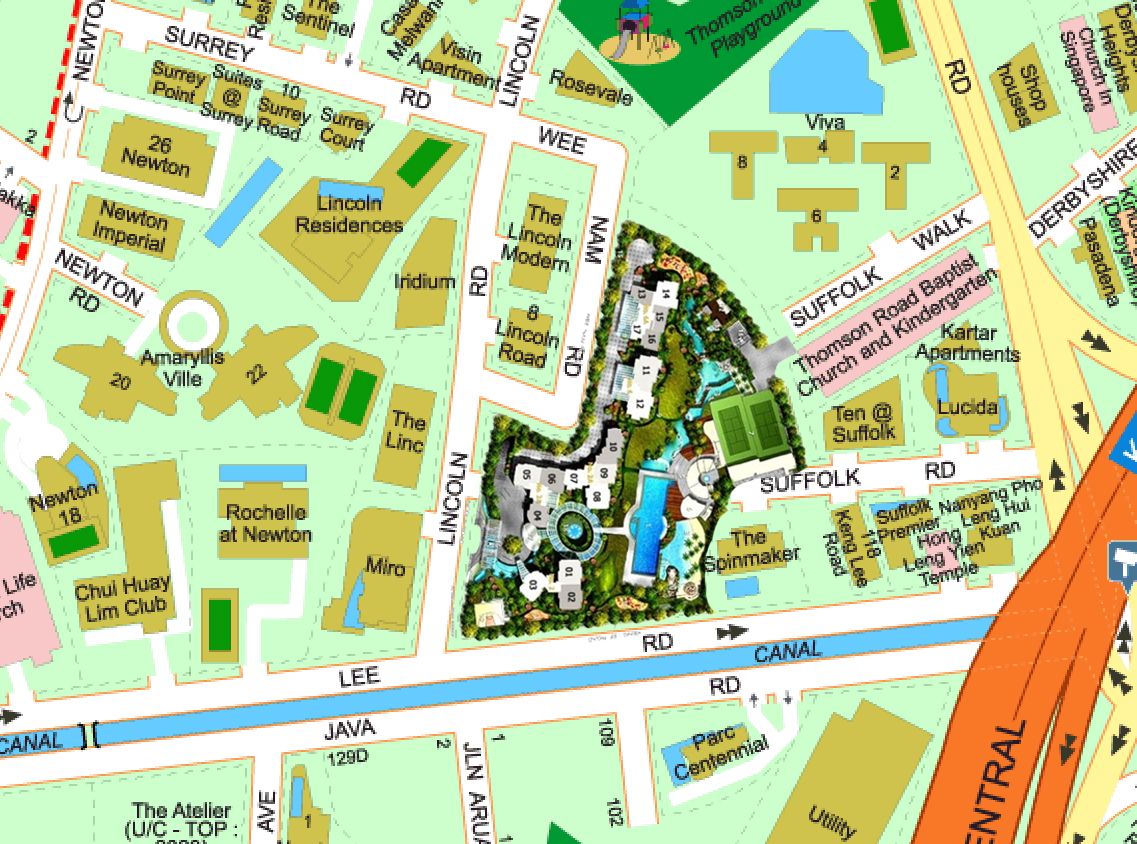 If you were to look at the Park Infinia at Wee Nam by itself, it's actually quite well laid out given the stacks are lined up in a row (mostly). This means that for most of the units, you don't have to face each other.
However, given the tightly packed nature of the condos in the vicinity, you would want to avoid directly facing your neighbours as 8 Lincoln and the Lincoln Modern are located just opposite. So apart from stack 13, the whole project is either East or West facing. Which is why the East facing is a much better prospect because of the more open facing.
So for the East facing stacks, if you are on the lookout for an open view, stacks 11, 12, 14, 15, and 16 will be blocked by the building in front. Hence, if you are looking for a view from a high floor (ideally 17th floor onwards), you'll want to take a look at stacks 1, 2, 8, 9, and 10.
Park Infinia at Wee Nam Price Review
| | | | | |
| --- | --- | --- | --- | --- |
| Project Name | Tenure | TOP | Average Price (PSF) | Comparison Point |
| Park Infinia @ Wee Nam | Freehold | 2008 | $2,115 | – |
| Newton Suites | Freehold | 2007 | $2,104 | MRT Proximity |
| Iridium | Freehold | 2009 | $1,473 | Immediate Locale/Age |
| The Lincoln Residences | Freehold | 2011 | $1,844 | Immediate Locale/Age |
| 26 Newton | Freehold | 2016 | $2,286 | Newer Development |
| 6 Derbyshire | Freehold | 2017 | $1,817 | Newer Development |
| Suites @ Newton | Freehold | 2016 | $1,842 | Newer Development |
With over 26 neighbours to choose from, we've decided to narrow the prospects down to neighbouring developments that are 1.) of the same age group & immediate area, 2.) closer to MRT (and hence the mall), 3.) Newer.
Beginning with the MRT proximity comparison, we have Newton Suites. Interestingly enough, their average PSFs over the last 5 years are extremely similar. While there have been a significantly lesser amount of unit transactions with Newton Suites during this time, both developments have appreciated significantly since they first launched with their $800 average psf.
The same cannot be said of The Lincoln Residences and Iridium. The former commanded an average of $1,200 psf in its earlier years and has since risen to an average of $1,844 psf. The latter was launched at around $800 average psf and while it did appreciate over the years, doesn't command as high a figure as Park Infinia does now at $1,473 psf.
Perhaps this is due to the solid (and forward-thinking) facility offerings and condo upkeep through the years at Park Infinia.
Finally, 26 Newton, 6 Derbyshire and Suites @ Newton are amongst the newer developments in the area.
While it comes as no surprise that 26 Newton peaks the table quantum range due to its luxury status, Park Infinia still outmatches the latter two in terms of quantum despite their near 10-year age difference.
Given their relatively similar proximities to the MRT station and nearby amenities, it goes to show how big a draw the larger open spaces and bigger facility offerings at Park Infinia commands, especially in such a prime, land-squeezed area with little promise of better future offerings.
That and the fact that it's pretty much closer to the one-of-a-kind Newton Circus Food Centre.
Our Take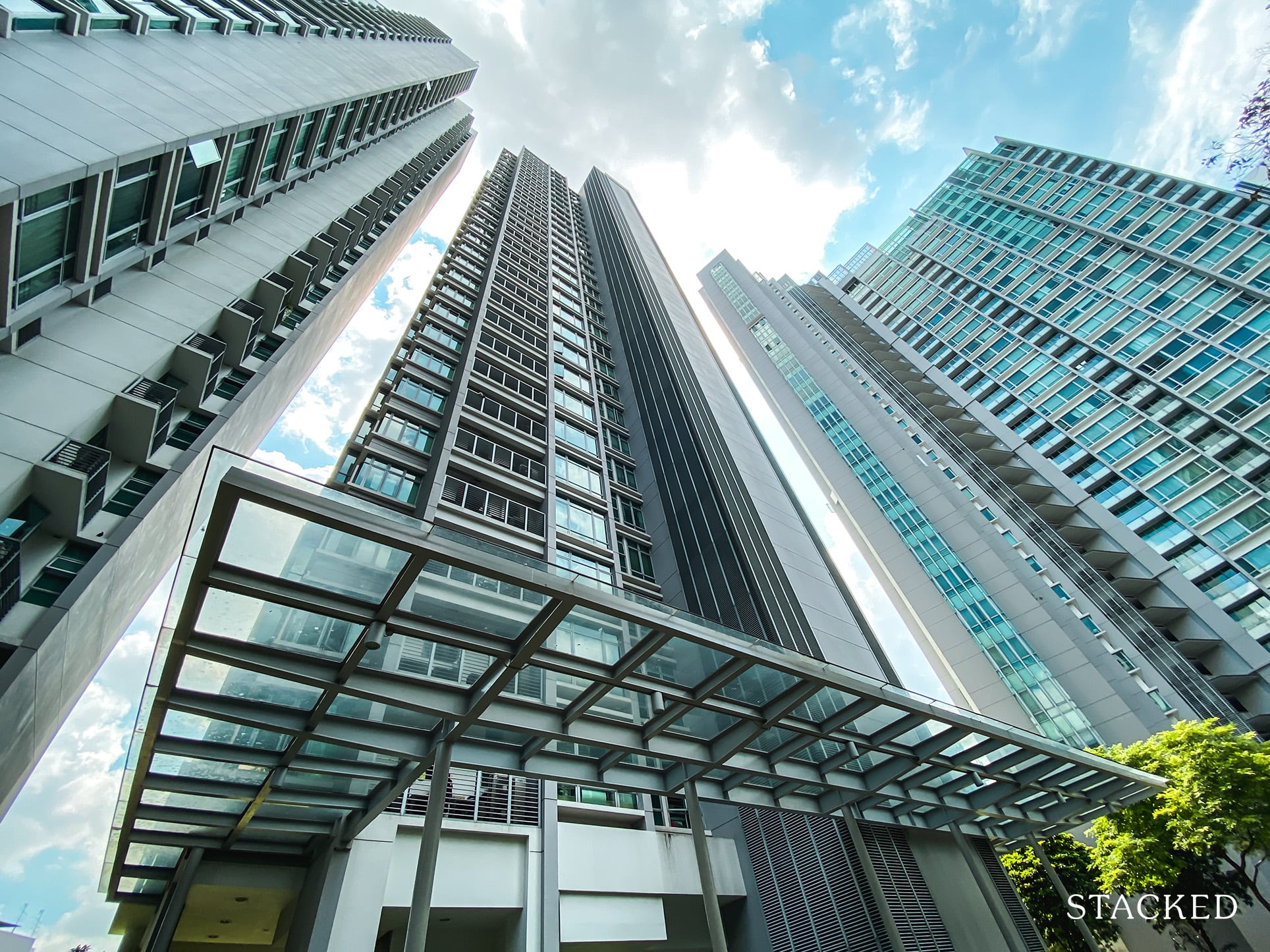 It is evident from the analysis that while Park Infinia might not have unbridled convenience like that of an integrated development, it is positioned in an incredible locale with easy access to a massive range of top-tiered amenities.
More importantly, it boasts an abundance of much sought-after free spaces in an area where land is in such demand. Given its solid upkeep, it makes sense that the condo has gone on to appreciate over 100% in quantum value since its launch.
And while it is hard to see the condo's quantum peaking drastically again in the near future (outside of economic/property market trends), the implementation of the Novena Medical City could yet further its current psf range.
Personally, I would not go as far as to buy a unit here solely for short-term investment purposes – even if rental demand might still be high (rental yield here is currently only averaging 2.5%).
This is due in part to its age, but also mainly from the potential resale price decline in the face of a nationwide resale demand fall (resulting from the impending new launch craze). 
But if you are looking for a home in the Novena area, the Park Infinia at Wee Nam is a real standout when it comes to the (relative) abundance of space.
What this means for you
You might like Park Infinia if you:
• Are a Medical Professional:With the rise of the Novena Medical City amidst a host of current medical offerings, Park Infinia serves as a prime residential for those working in the medical field.
• Have kids:A variety of good schools in the area coupled with the condo's highly sought-after free spaces and larger unit offerings make it a great place to raise kids.
You might not like Park Infinia if you:
• Are on a Strict Budget:Park Infinia's quantum ranks it as one of the highest in the Novena district. There are more affordable options in the vicinity if a smaller budget is prioritized.
• Prefer a Quieter District:It makes sense that most of Novena's residents are younger folks looking for convenience. For those who prefer seclusion, however, it is best to look elsewhere.
End of Review