Condo Reviews

Onze Tanjong Pagar Review: Rare Freehold Condo in CBD
Reuben
January 9, 2020

14

min read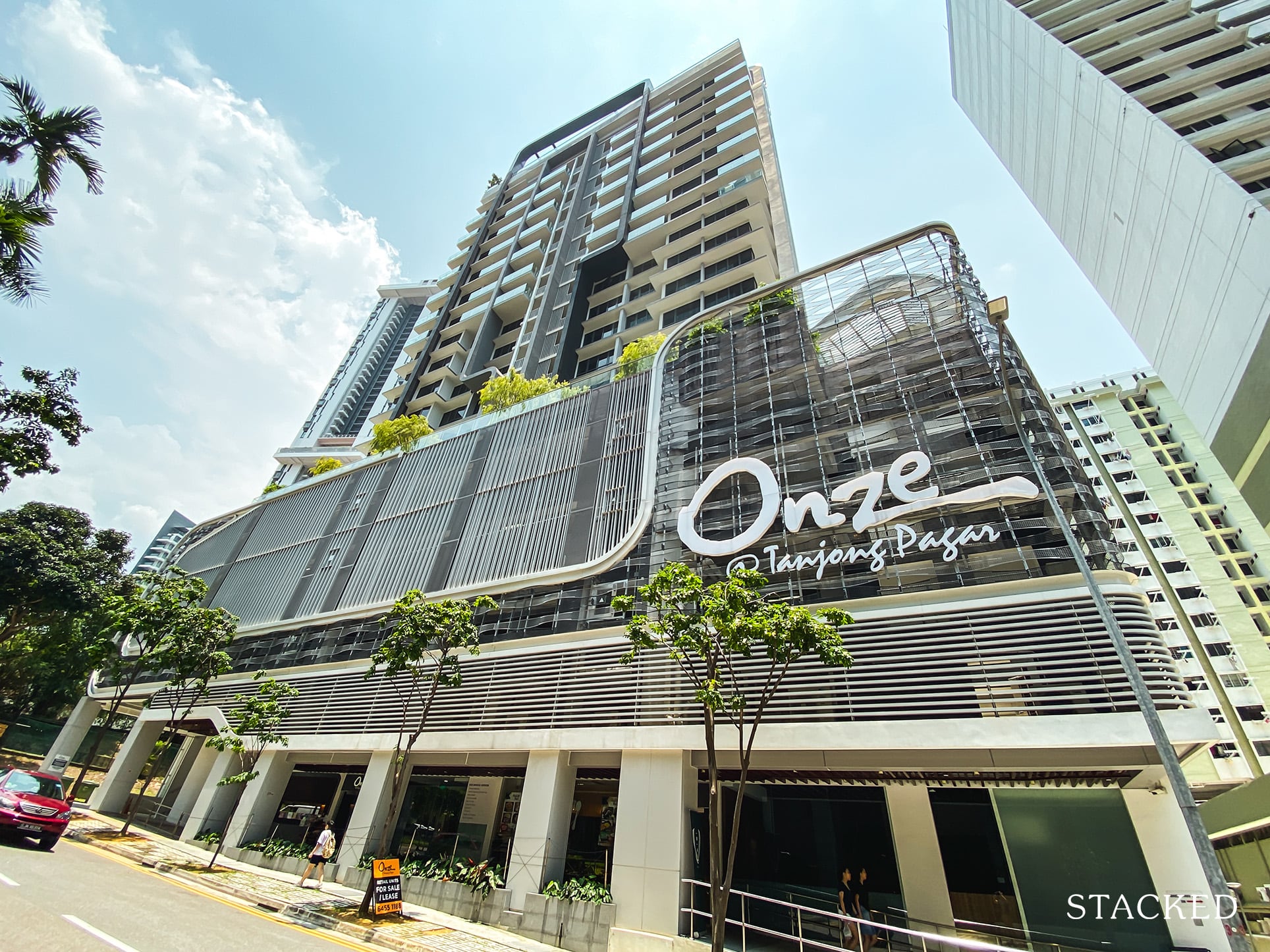 Onze @ Tanjong Pagar is positioned to bring about huge convenience to amenities for its residents. However, the lack of condo facilities like a gym is sure to turn off anyone who seeks these standard facilities.
Reviewed by Reuben on January 09, 2020
What we like
Freehold

"Quieter" corner

Near lots of amenities

Rooftop Pool
14
min read
About this condo

| | | | |
| --- | --- | --- | --- |
| Project: | Onze @ Tanjong Pagar | District: | 02 |
| Address: | Kee Seng Street | Tenure: | Freehold |
| Site Area: | 14,781 sqft | No. of Units: | 56 |
| Developer: | Heeton Holdings Limited | TOP: | 2017 |
13 commercial spaces, tip-top facilities and a 3-tiered multi-storey car park sparks vibrance alongside 56 exclusive residential units on offer at the Onze @ Tanjong Pagar.
A relatively new development in district 2 (completed 2018), there is much more to the condo's incredible convenience factor than meets the eye.
14 of its 18 floors have been ingeniously engineered to fit 2 1 and 3-bedroom units each. The latter of which offers a premium option for dual-key residency in the heart of the CBD (investors take note!).
Pop in a solid amenity to development space ratio and it's hard not to see the Onze's allure… especially when you realise that this 14,000+ square foot freehold boutique property boasts not just one, but two swimming pools with individually-exclusive appeals (more on that in a bit)! 
Unsurprisingly, all this does come at a premium.
Will the condo's perks match up to its high quantum demand? Read all about it in our latest detailed review of Heeton Holdings' brainchild – the Onze @ Tanjong Pagar.
Insider Tour
Facilities in Onze @ Tanjong Pagar
Basement car park
Car Park
Community Garden
Lap pool
24-hour security
Cafes
Children's Playground
Drop off point
Lift lobby
Pavilion
Sky lounge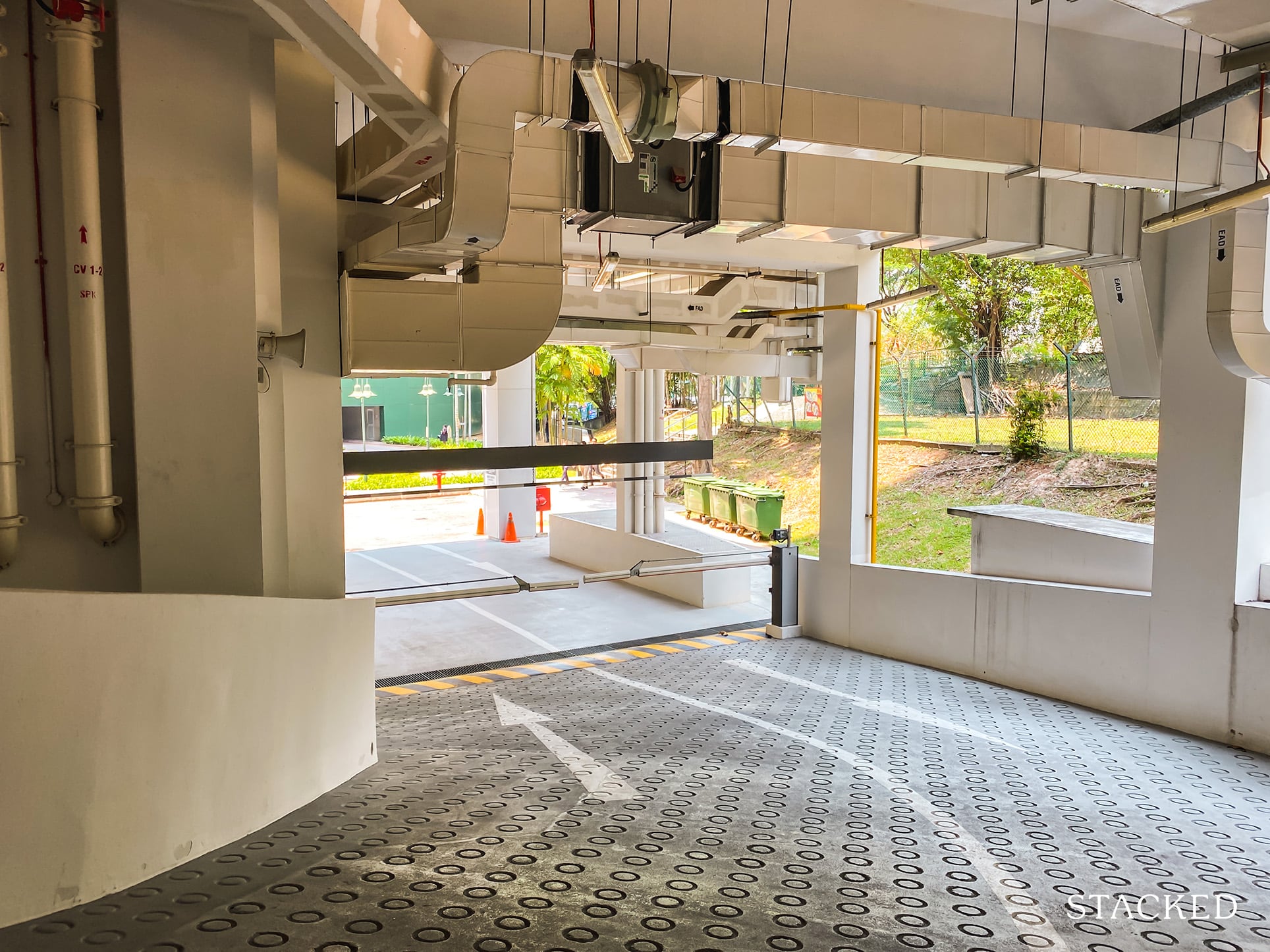 As a city centre condo, Onze @ Tanjong Pagar has a simple and straightforward entrance to the carpark. There is no guard, just barriers that will only let registered cars in. This means no free carpark for your guests, which is expected for a condo in the heart of the CBD.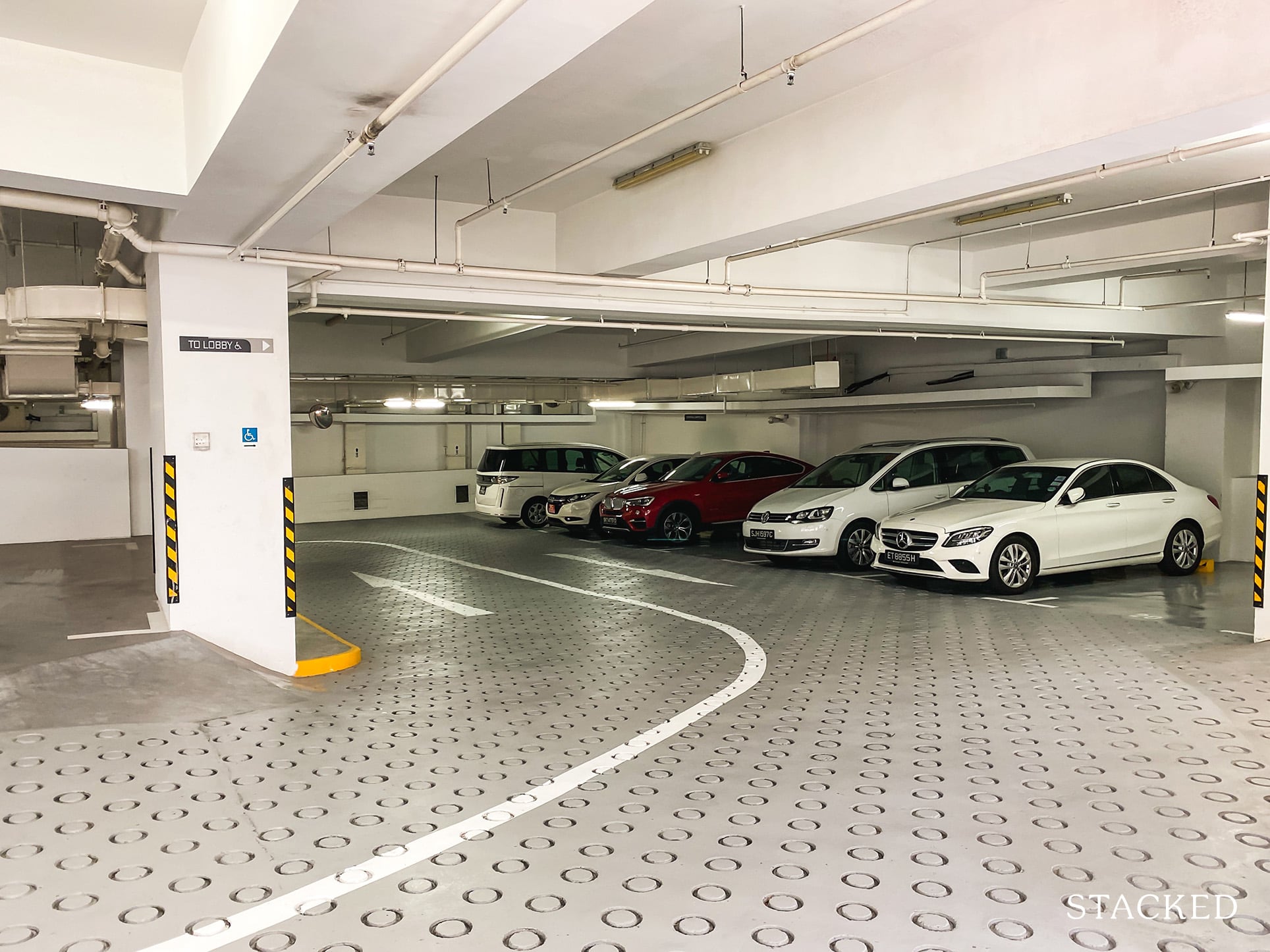 There is plentiful of free car park space, which is no surprise given most residents living here would not be driving. After all, the benefits of staying in the city centre are to save on driving and commute time. I do like the smooth coating used for each individual car park lot. But on a less positive note, I do think the corners are quite tight when there are two cars going in the opposite direction. With that said, I don't see much movement in the car park anyway so I doubt this would pose much of an issue.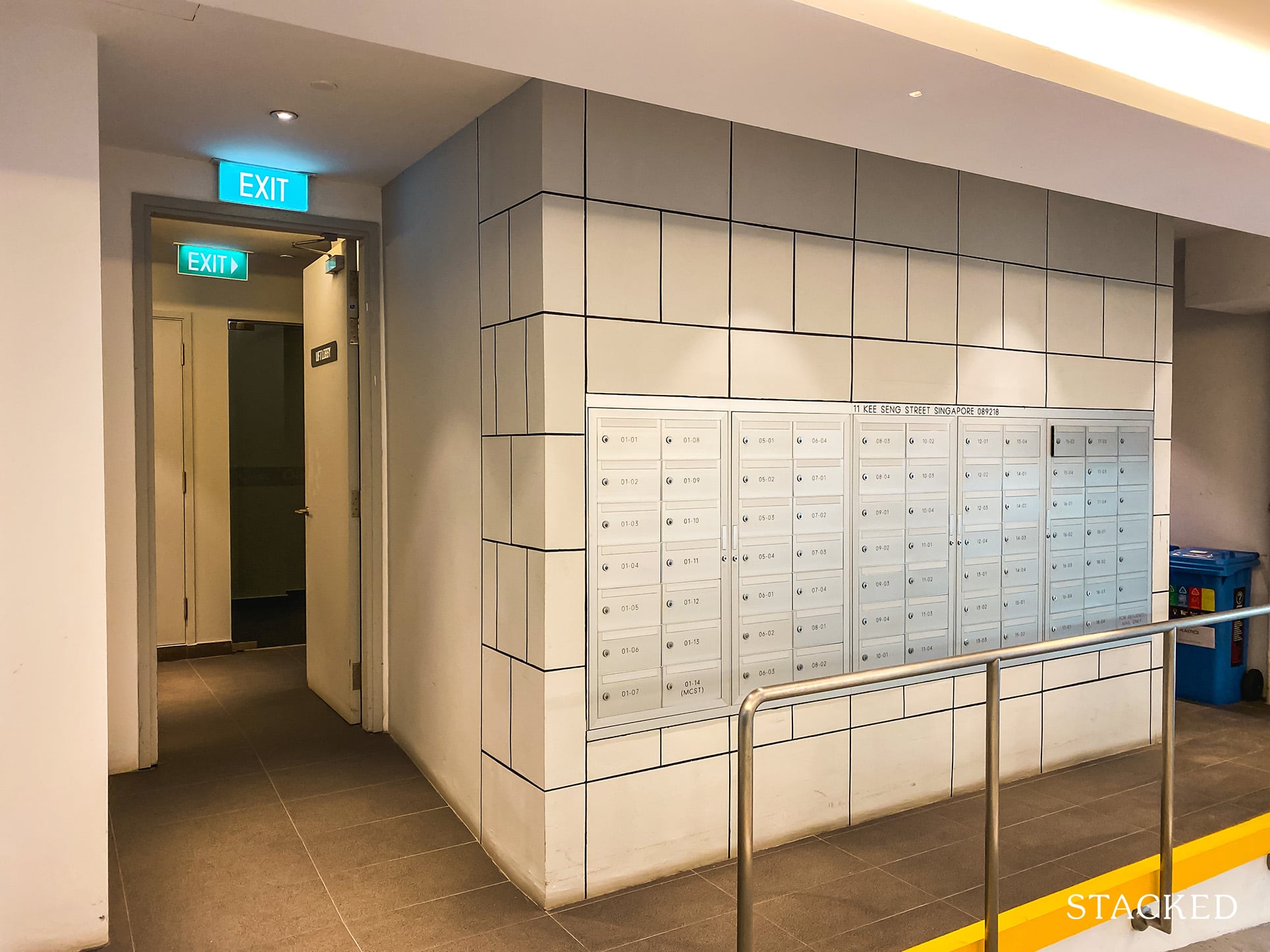 To get to the units, there is a small lobby area along with the letterboxes. The lobby isn't the most welcoming, and it does feel quite squeezy inside.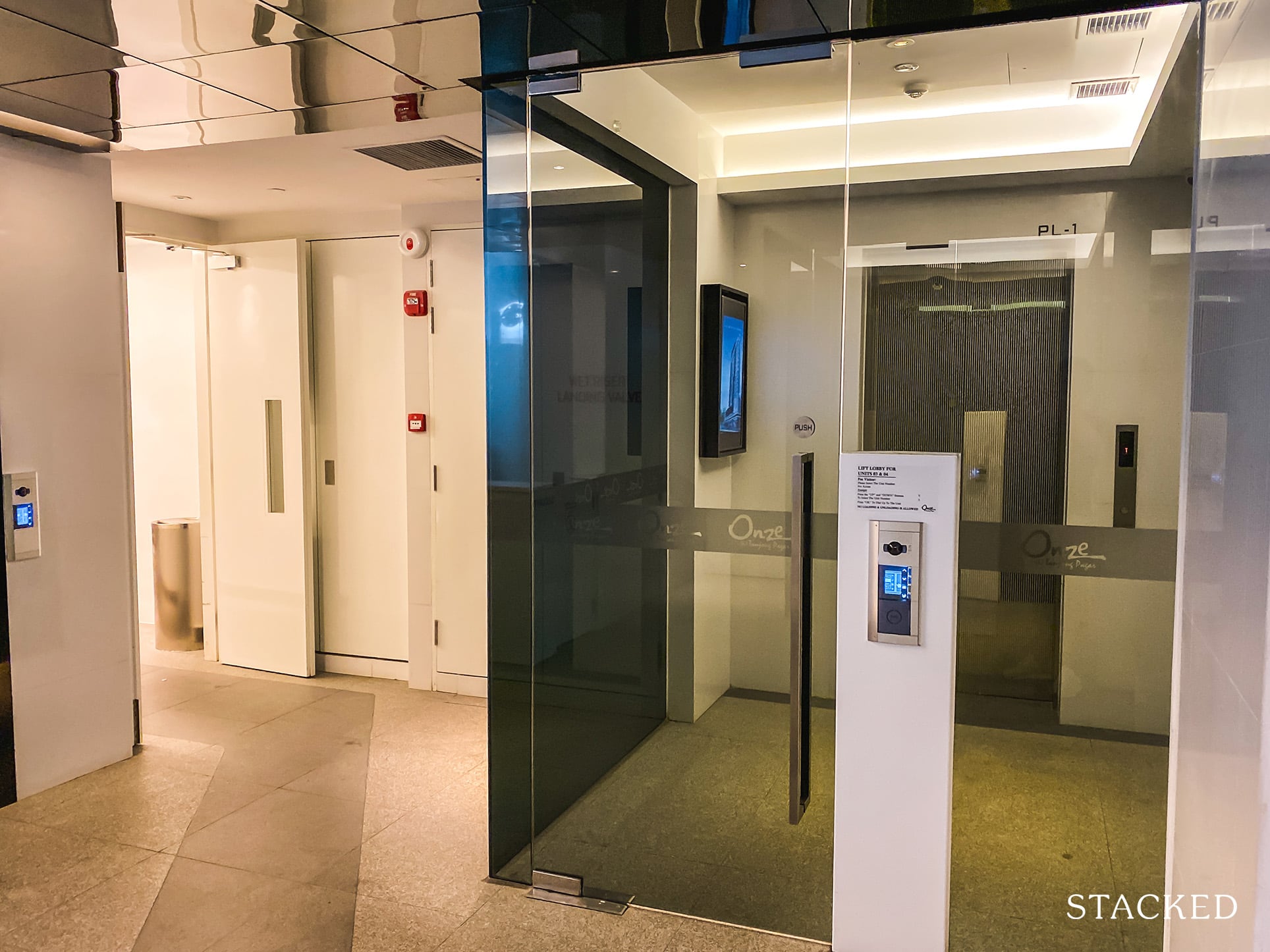 It does get better once you get to the first level, where both blocks have a small lobby that requires keycard access for added security. It is airconditioned too so bonus points for that!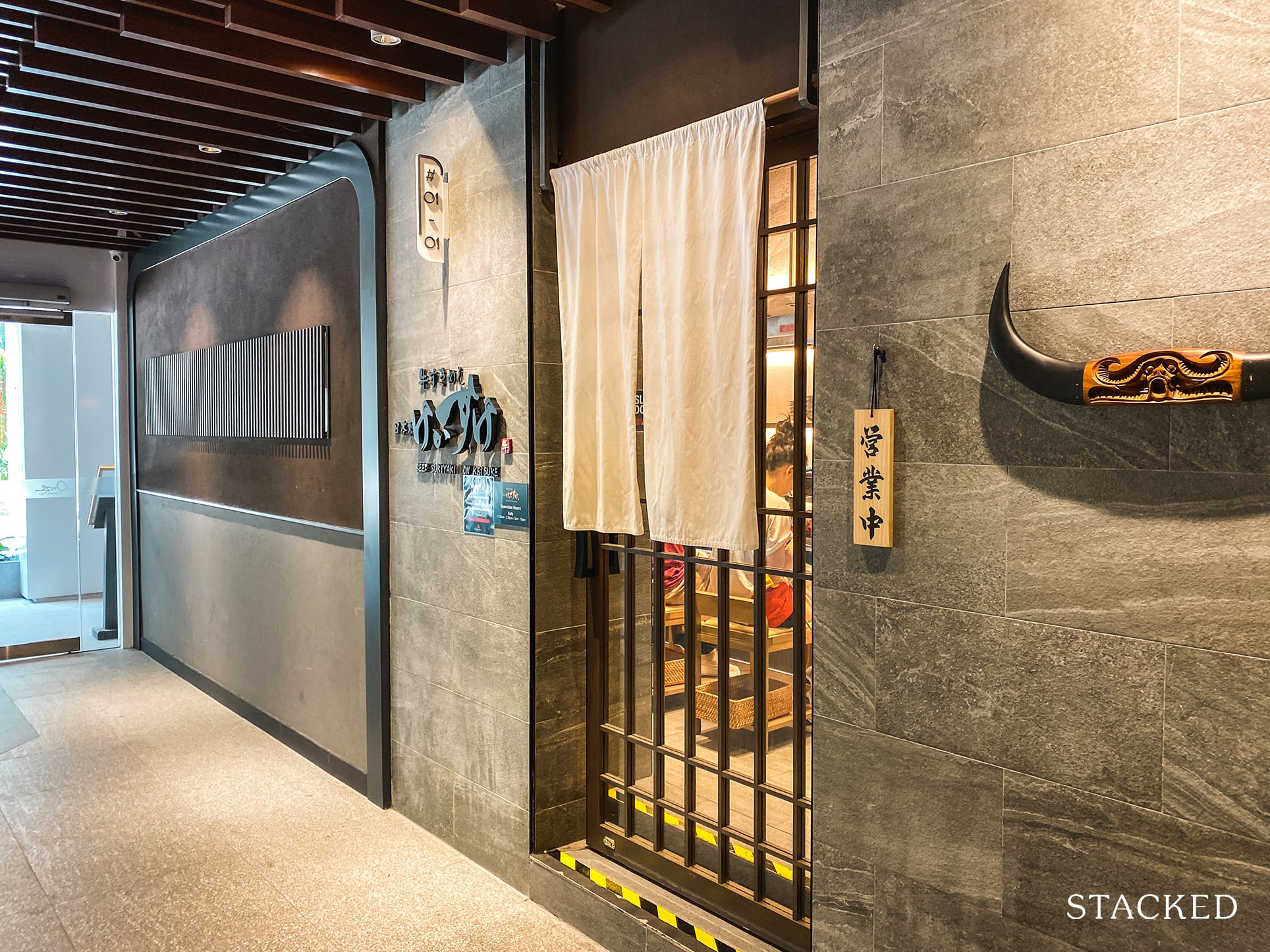 Part of the appeal of the Onze @ Tanjong Pagar is its 13 commercial spots along with the residential units. Certainly, not many people can boast having a Keisuke restaurant right below their block! If you haven't heard, this is the famous Beef Sukiyaki Don Keisuke, where there are often lines during mealtimes because of its affordable beef sukiyaki.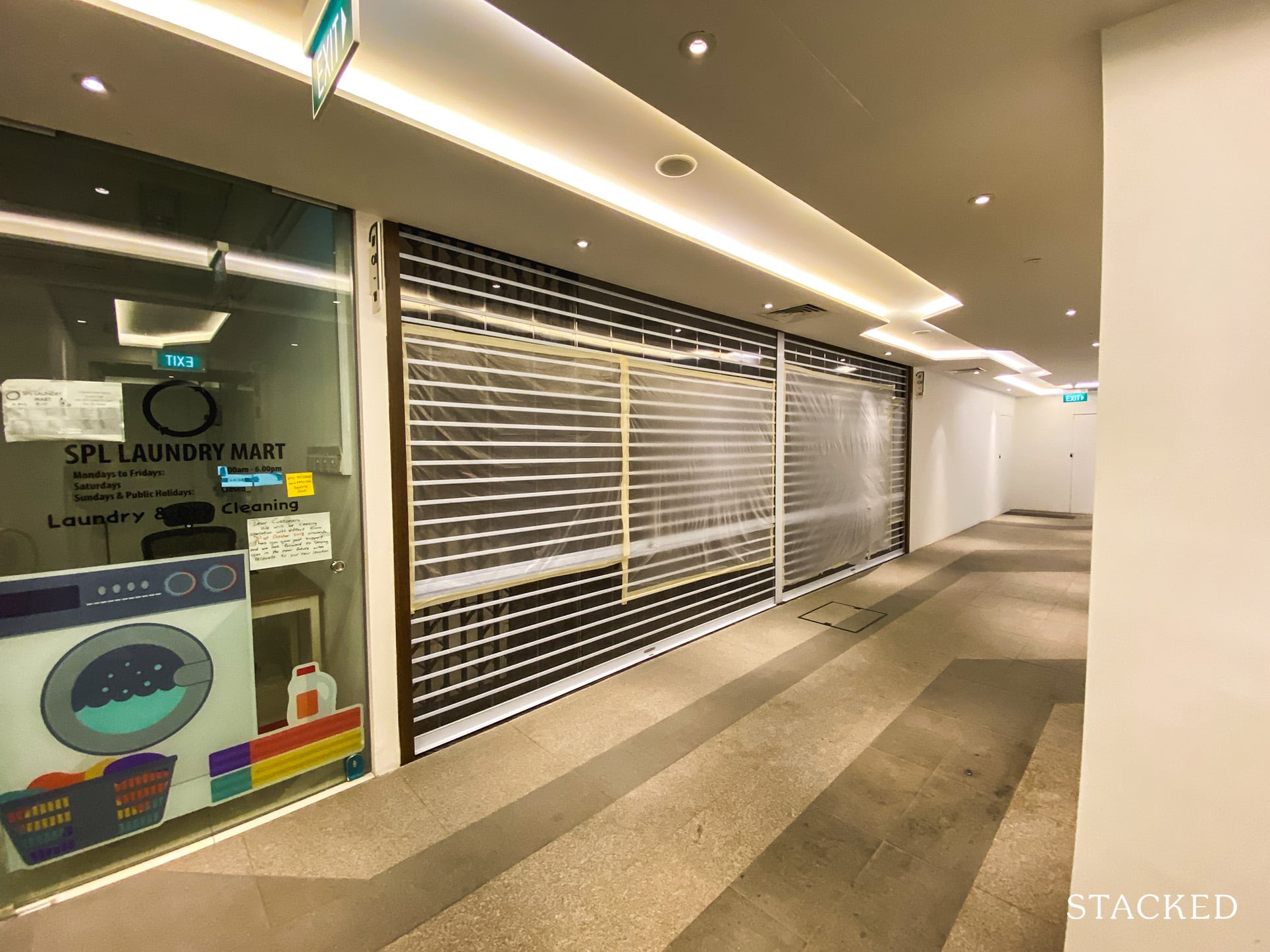 Along the back are other commercial spaces in the development. One of which is an SPL laundry mart, which will prove really handy for many of the residents in this project. Not all the commercial units are taken up, but this really isn't a problem at all given the wealth of dining and shopping options on the outside.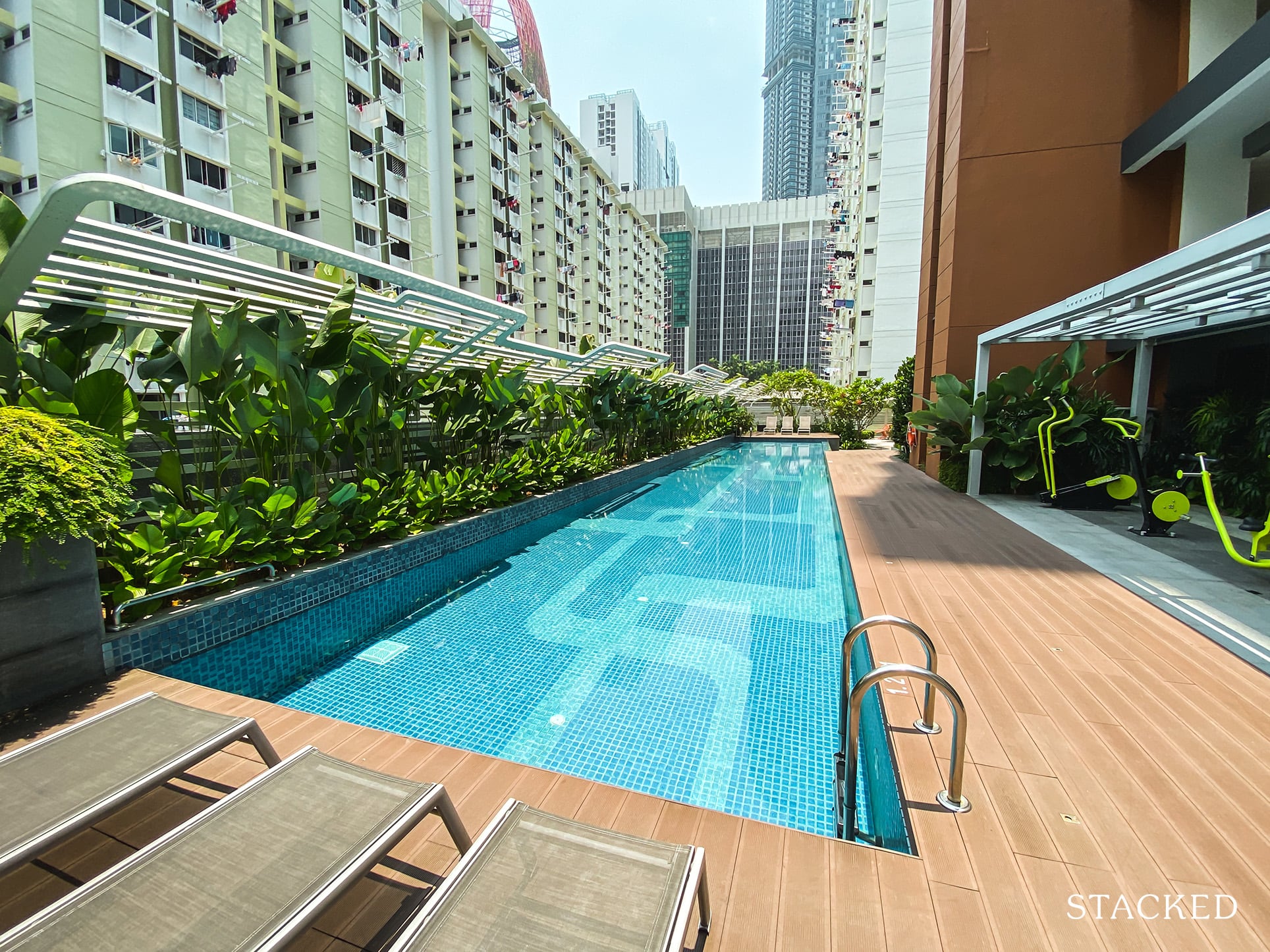 Coming up to the level termed as the Park, the lap pool at the Onze @ Tanjong Pagar was seriously impressive. For such a boutique development, it is admirable that the developers managed to squeeze such a long swimming pool.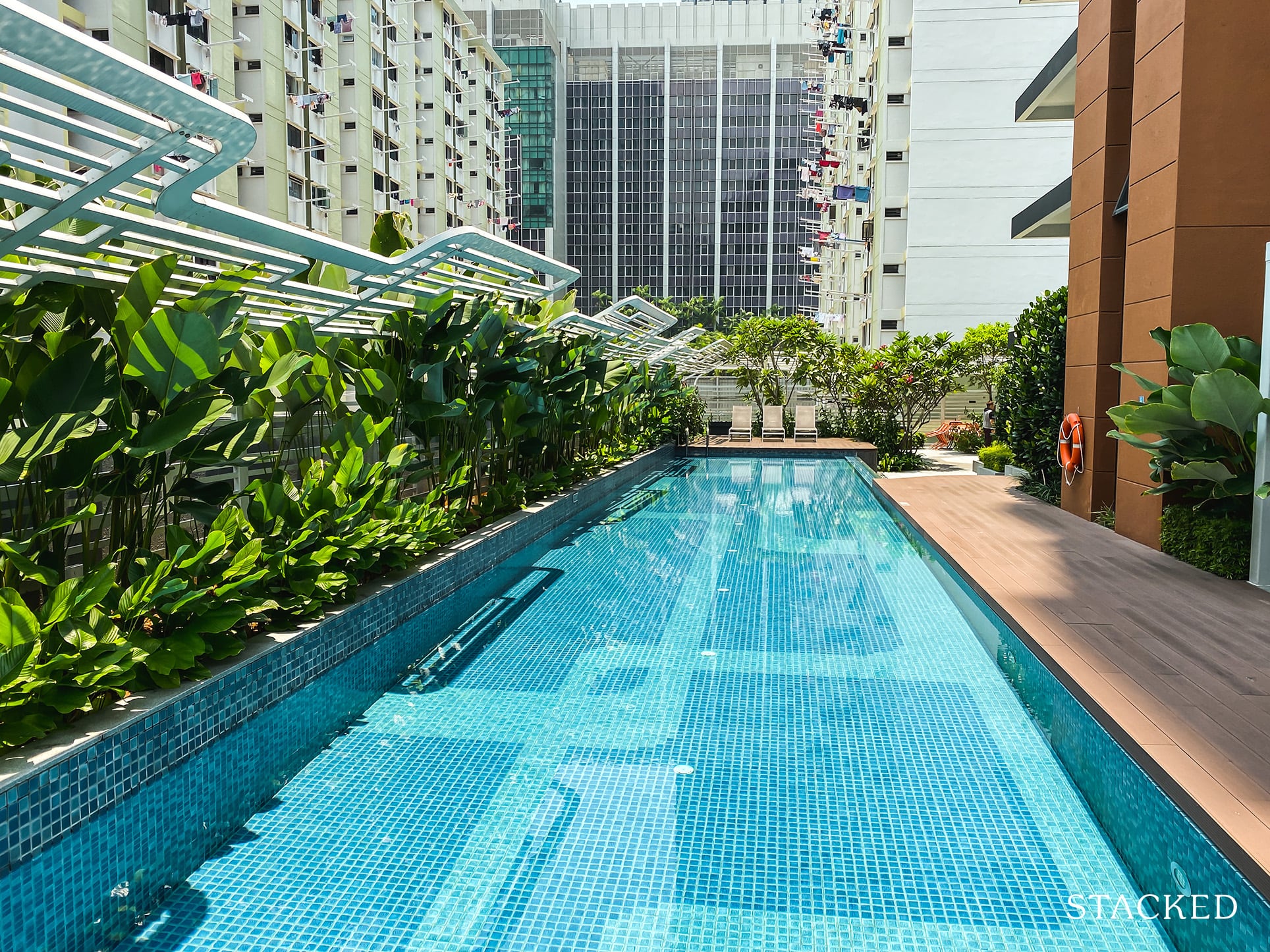 It is a very peaceful oasis in the middle of the city, and will no doubt be an awesome place to kick back and relax over the weekend.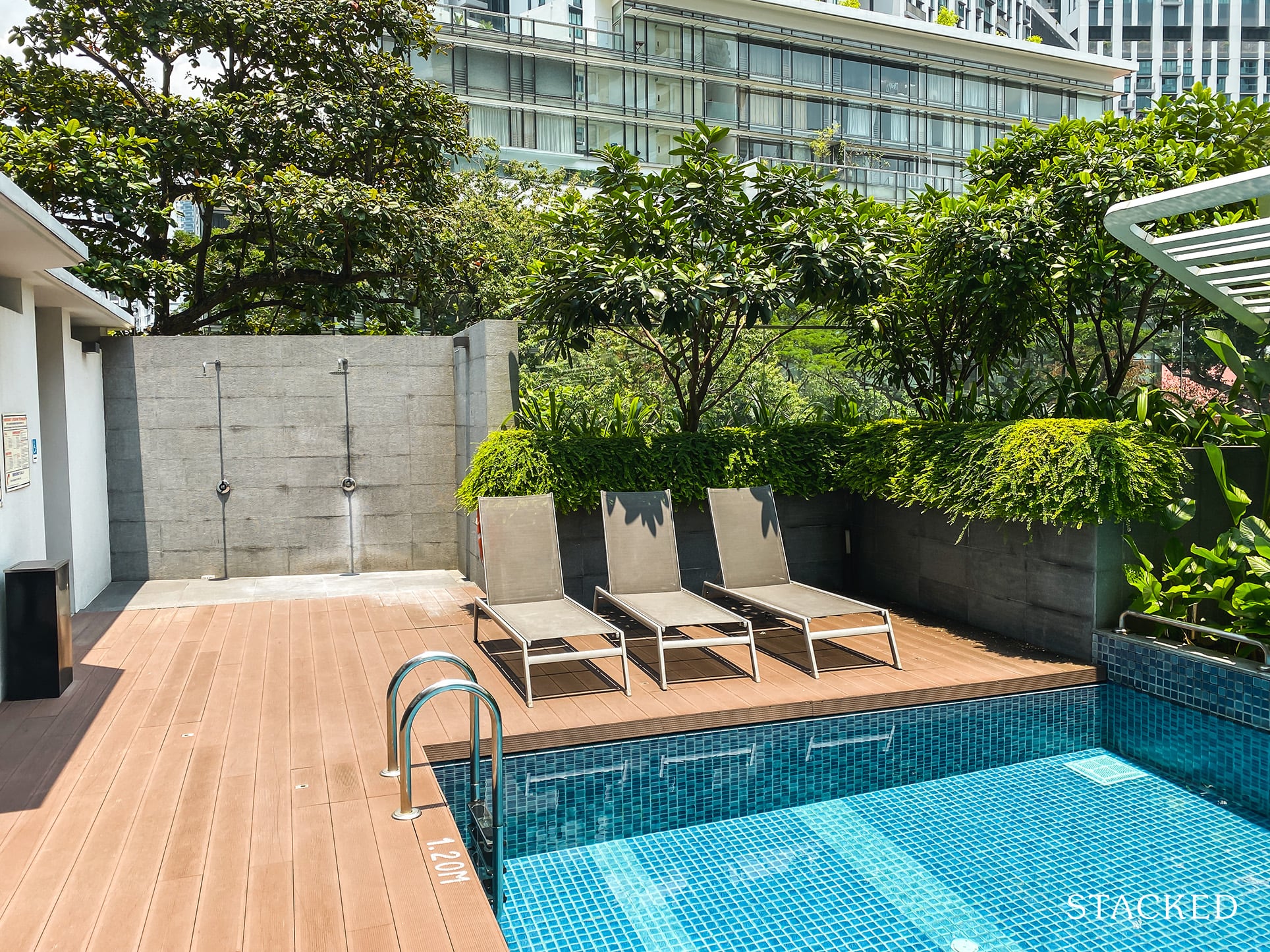 There are deck chairs on opposite ends of the pool, which will come in handy for sunny days like this to get a tan!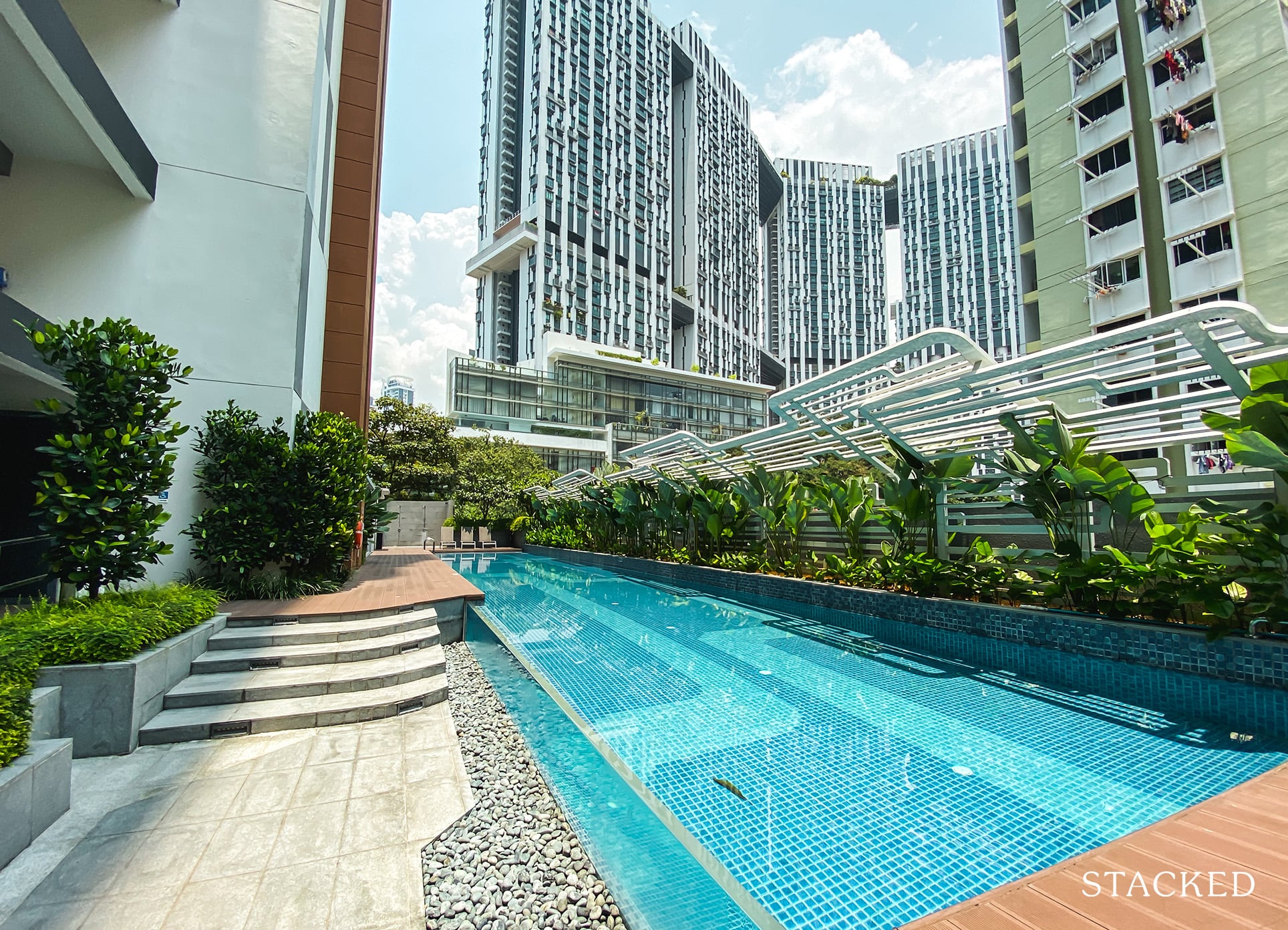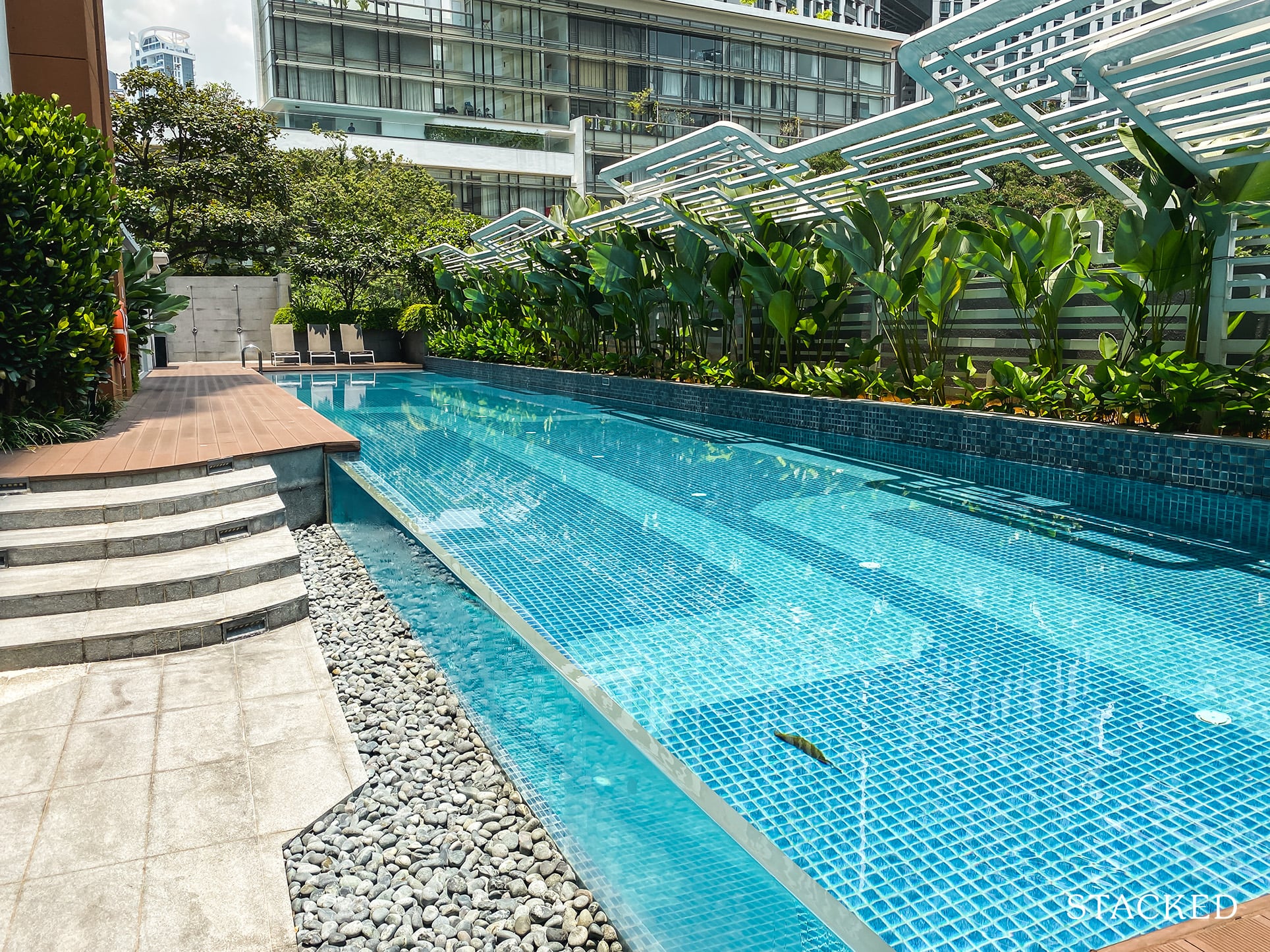 I have to give props to the developer for even building an infinity-edged glass panel at half the side of the pool, which is not something you see very often. It will definitely create some cool perspectives for people walking past!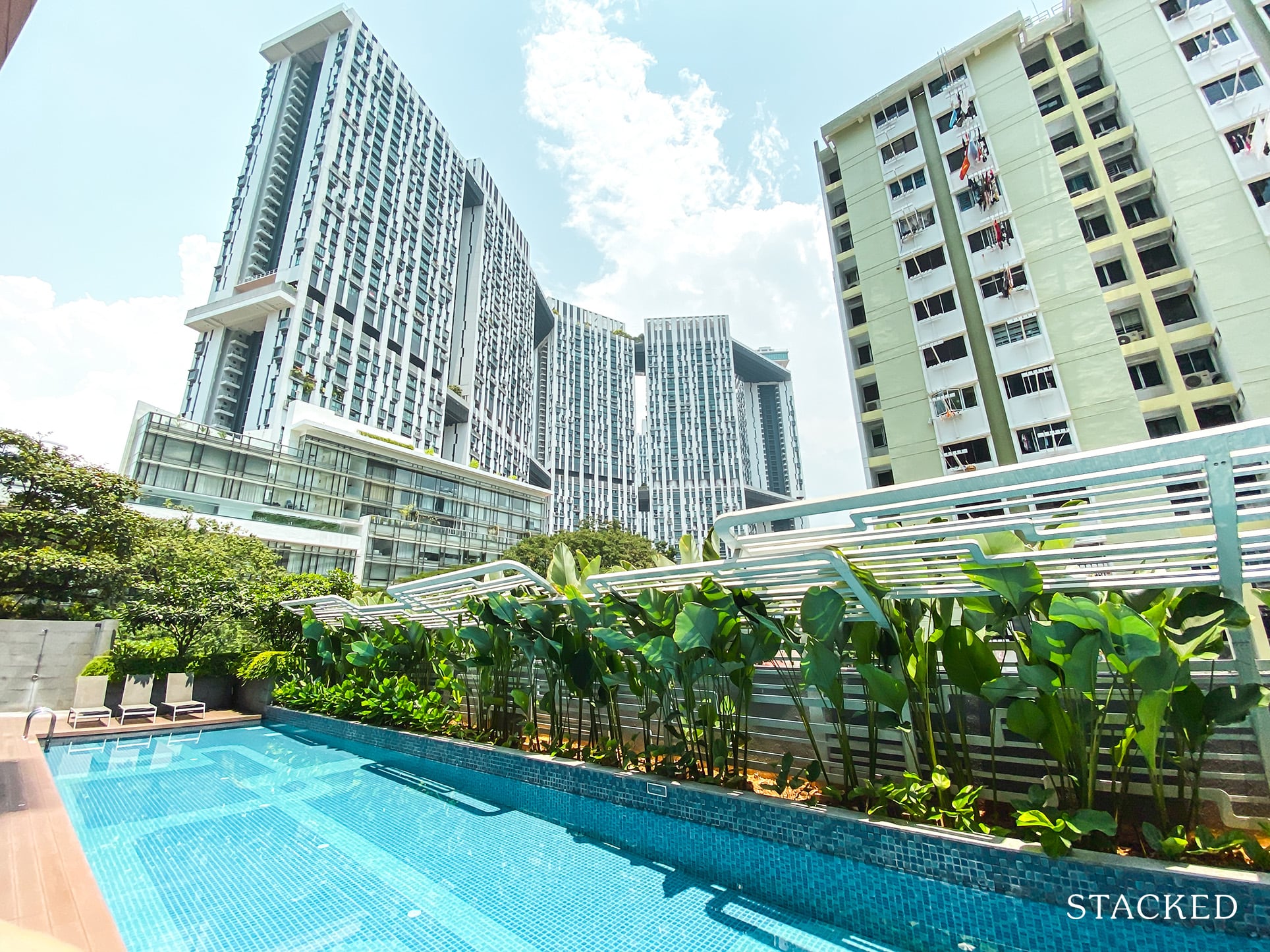 One downside would be the close proximity to your neighbours peering into the pool, but I can't really fault anyone for that. This is just one of the pitfalls of living in the city centre, the space constraints mean most buildings will be built quite close to each other. The louvred white structures do go some way in helping preserve privacy, as you would have to live quite high up to be able to see the swimming pool.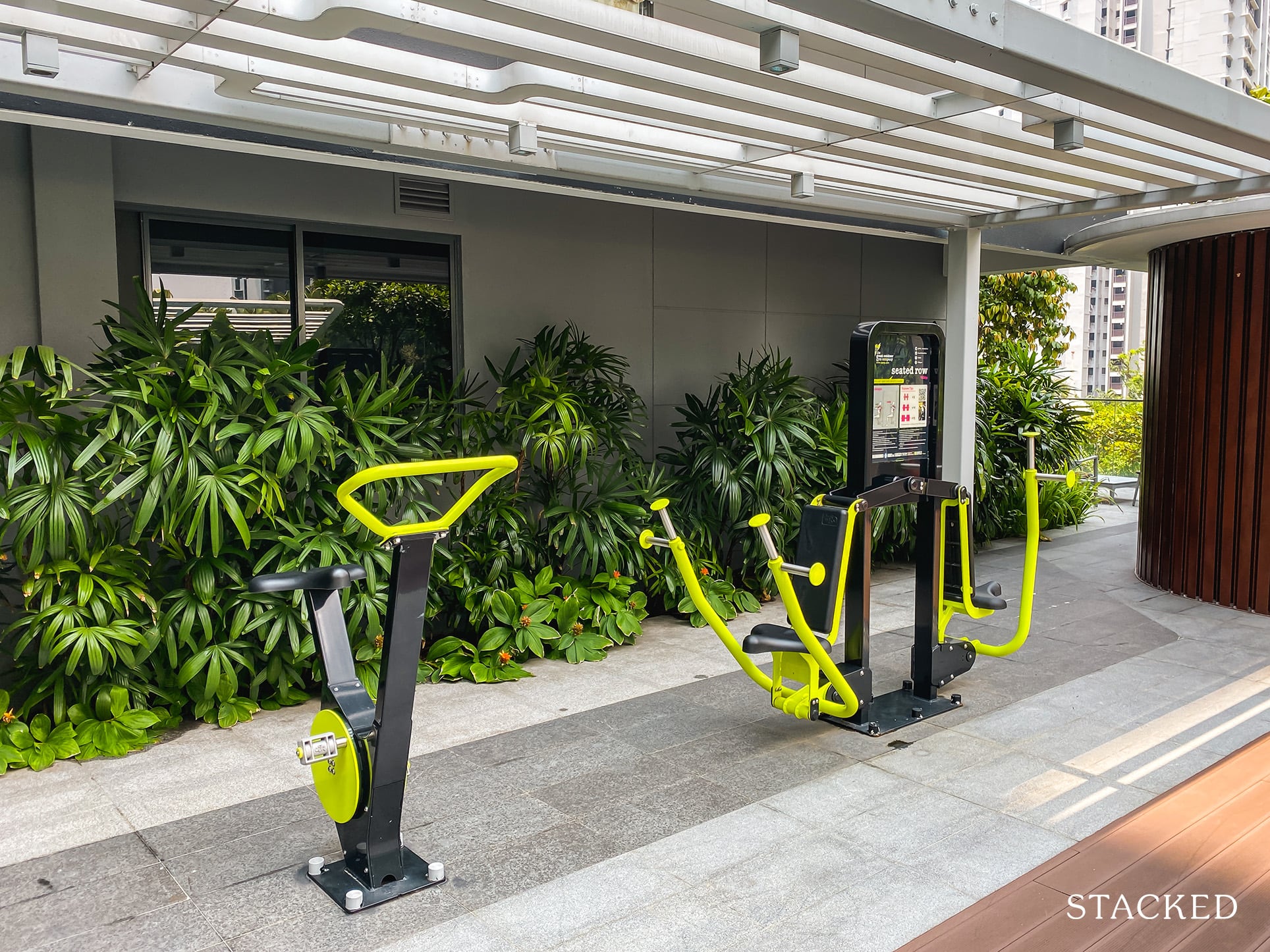 There is an outdoor fitness station right next to the lap pool. It's a pity there isn't an indoor gym here, but seeing as there is a gym just opposite, not to mention the many other gyms in the Tanjong Pagar area, I don't think people will miss it too much.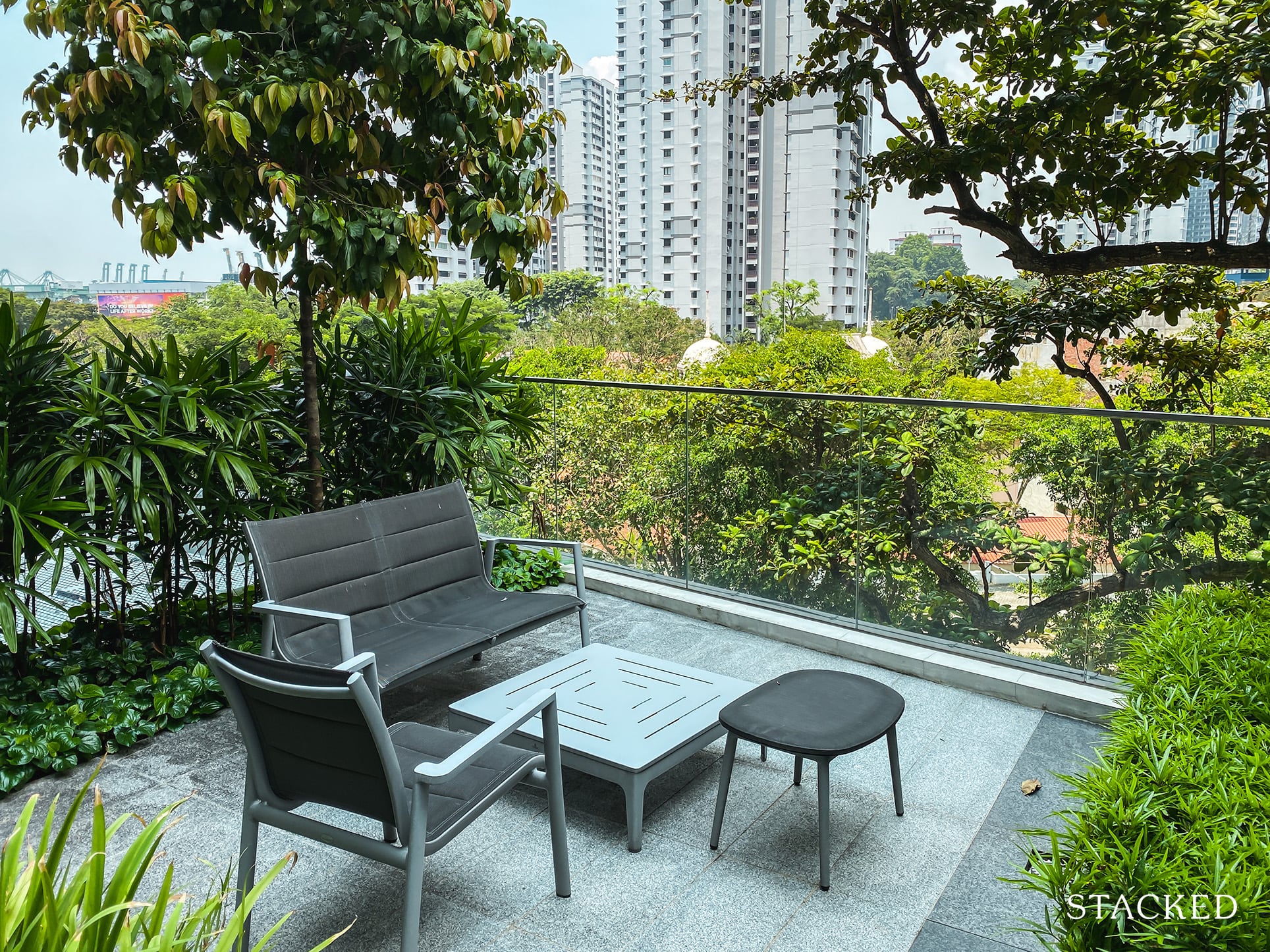 Over at the far corner, there is a little hidden spot with some seating that overlooks the back of the building. I can see this as a nice spot to have some drinks in the quieter parts of the evening. There's a lot more greenery here which provides some respite from all the tall buildings in the CBD.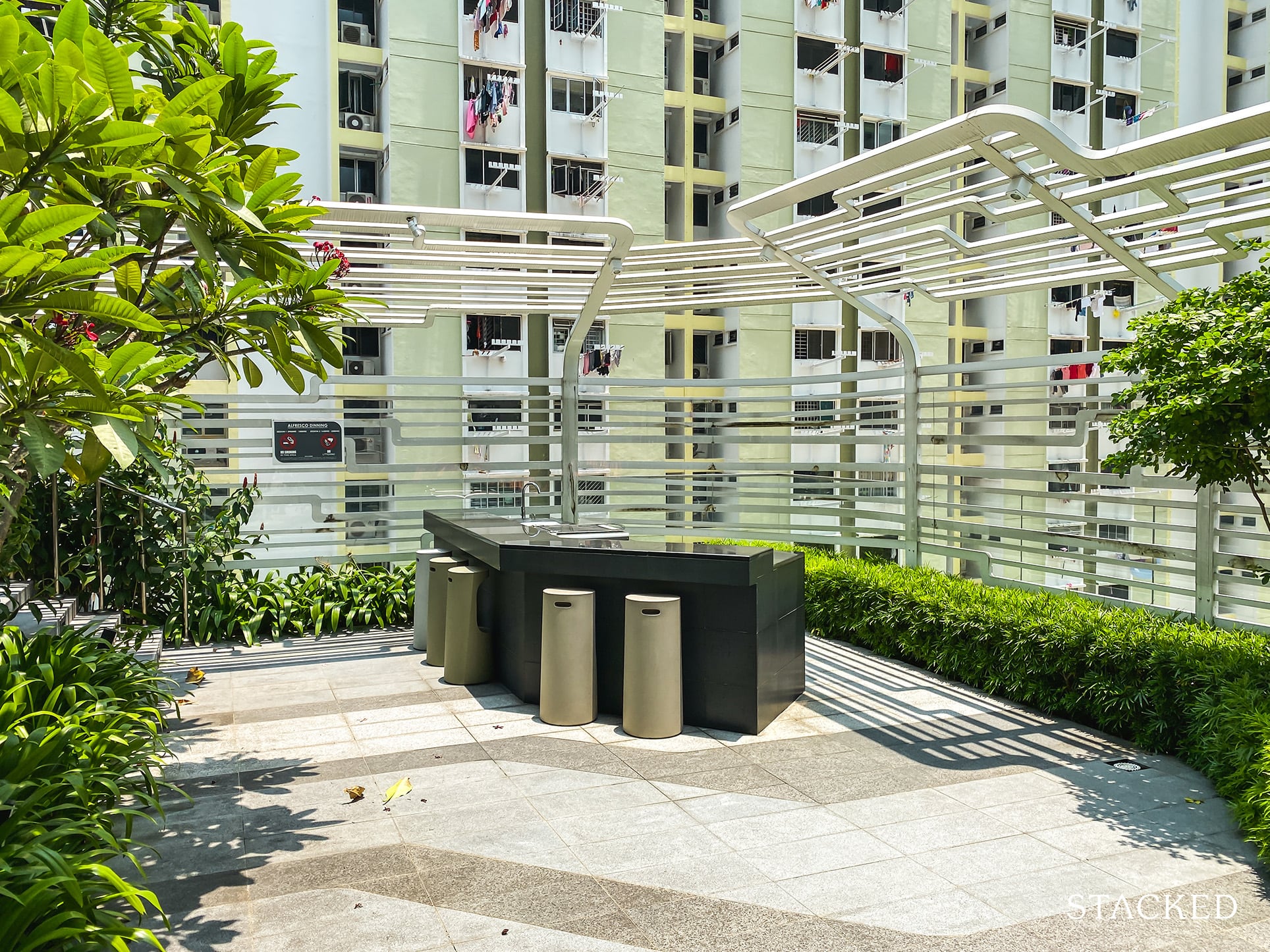 At the opposite end of the swimming pool, the corner is reserved for a barbeque spot.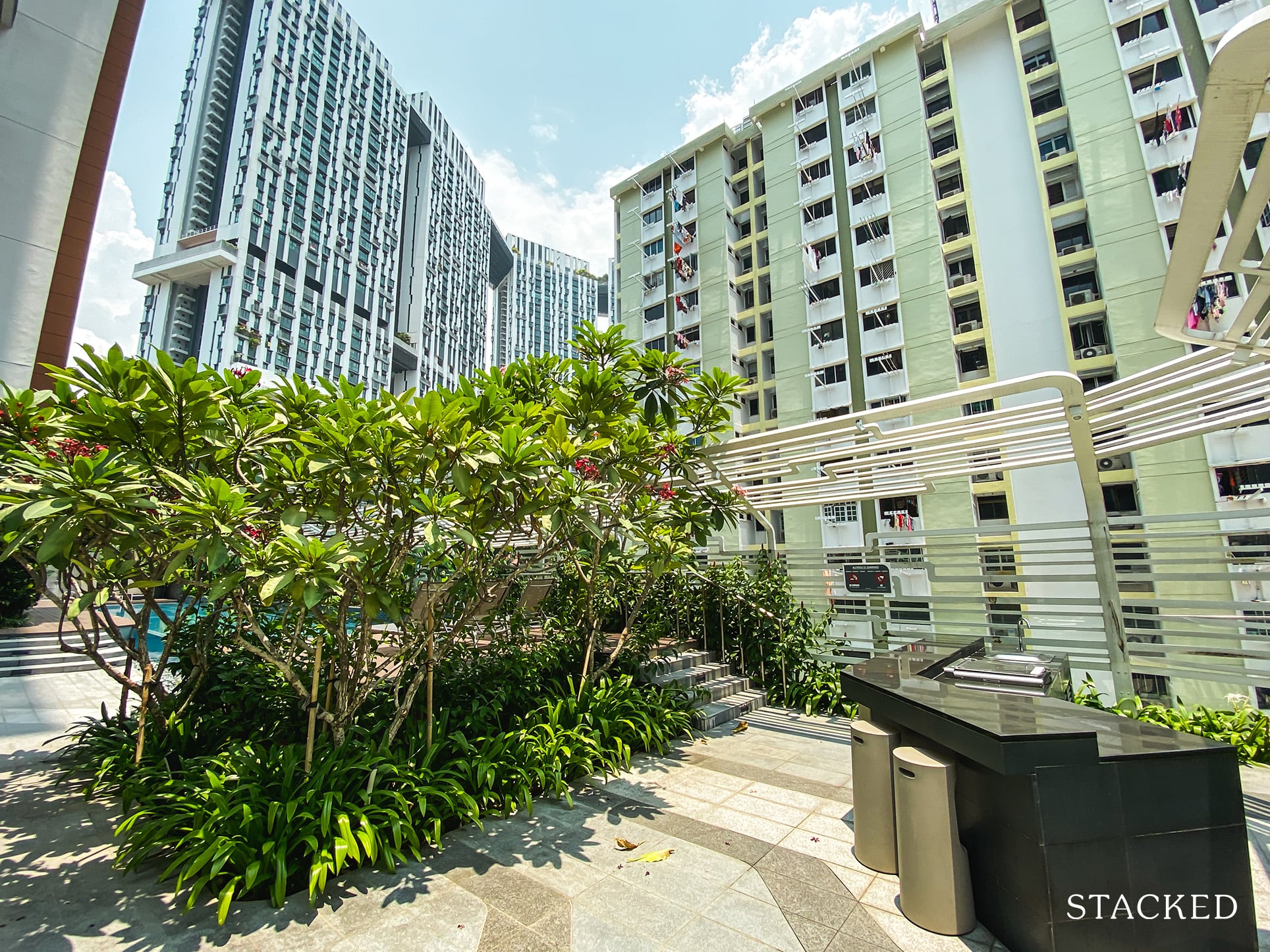 Which has a couple of small trees and plants providing some seclusion from the swimming pool.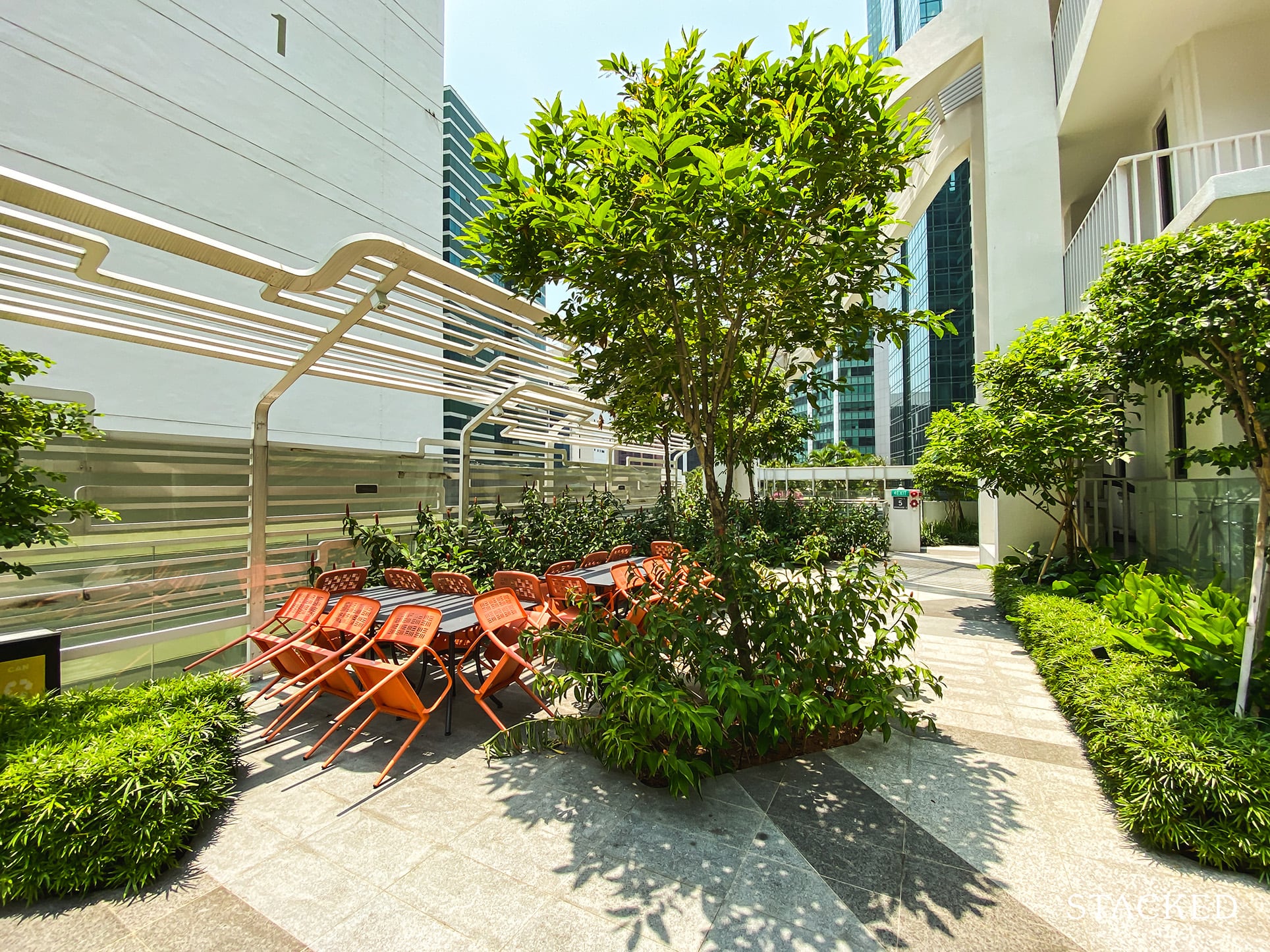 Next to that is a surprising number of seating and tables, which is fantastic for holding a gathering for friends and family.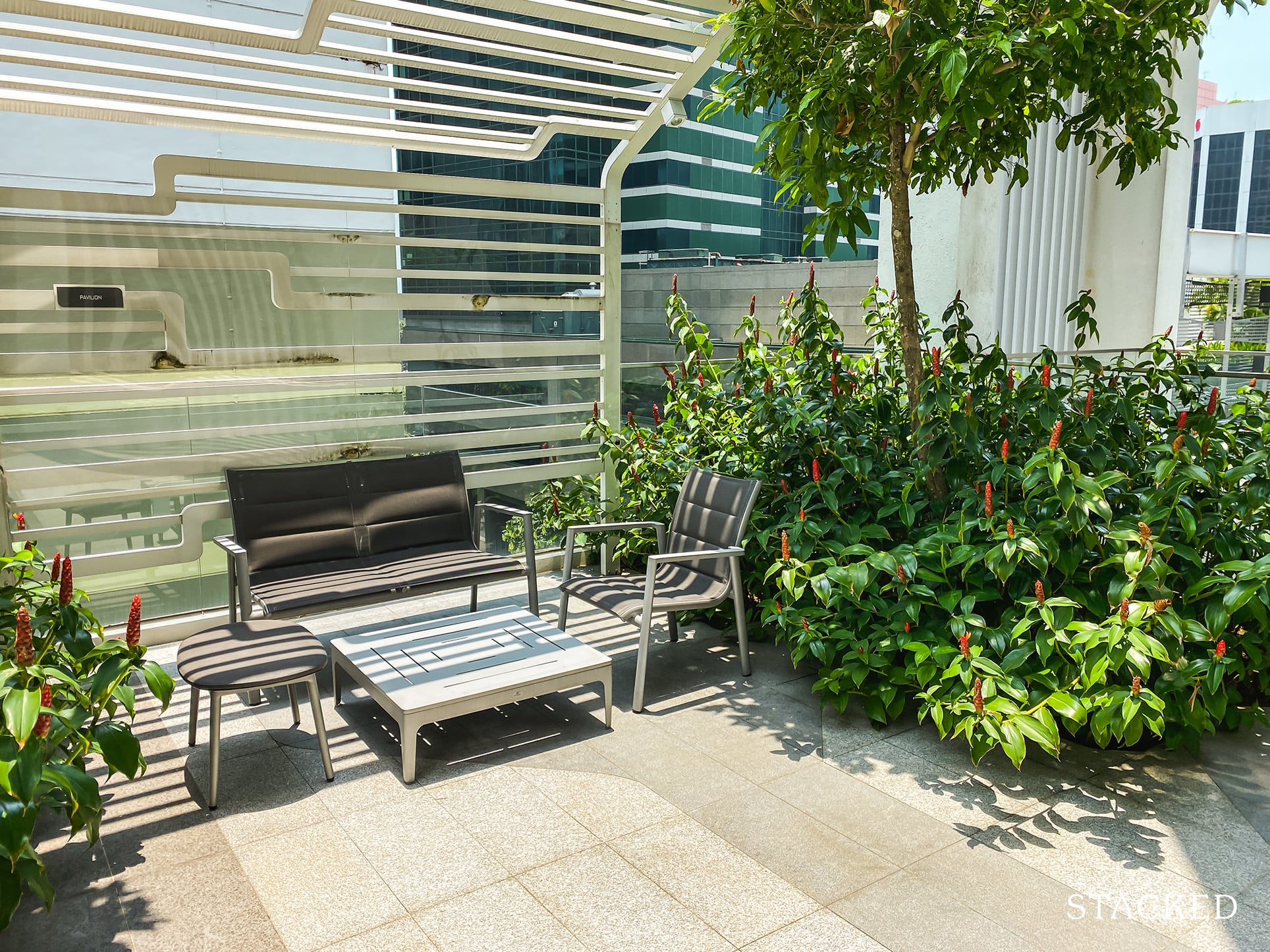 Plus even more outdoor seating at the corner.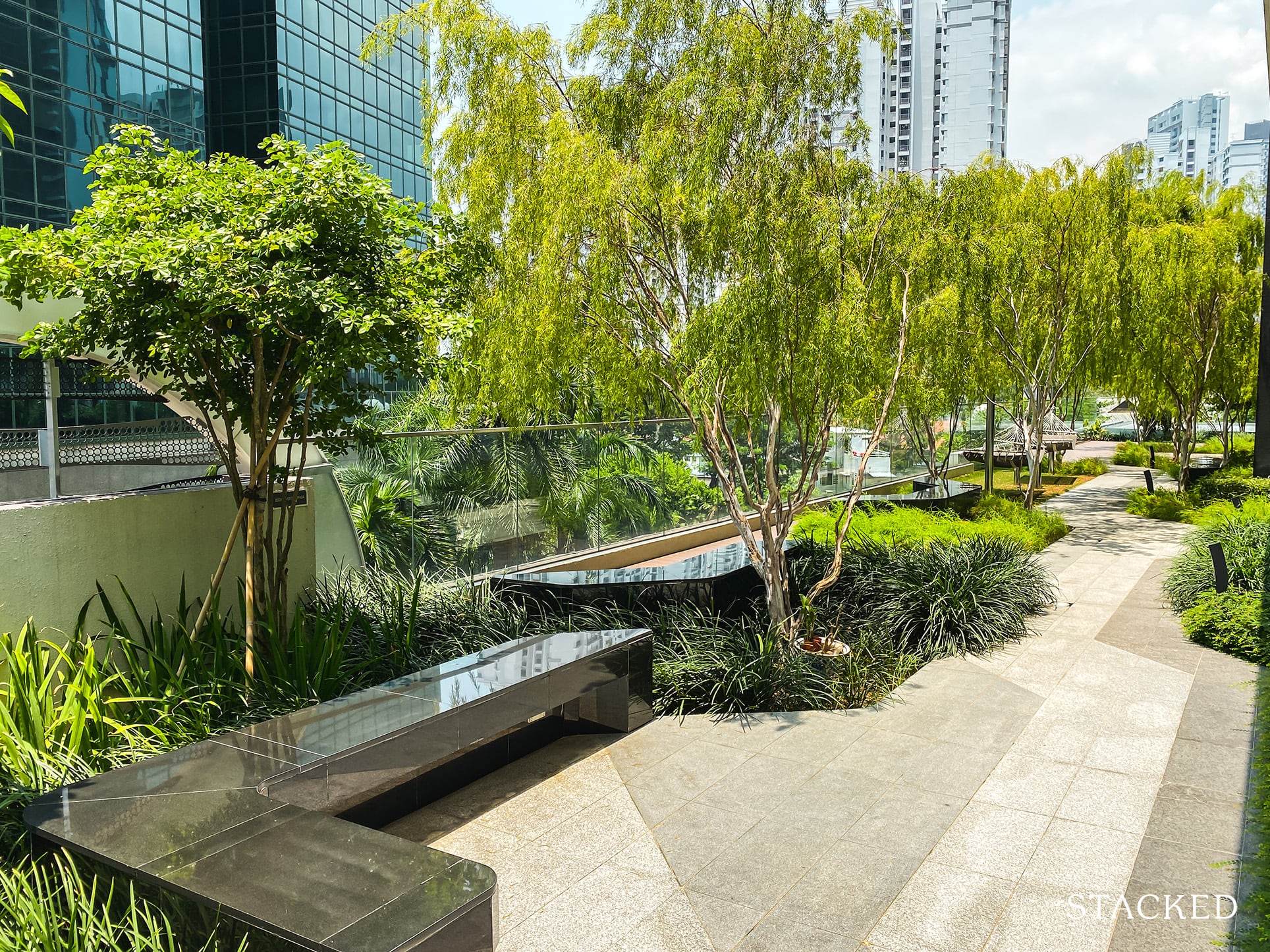 Walking further down, you get to a long stretch of space with some trees and long benches to sit.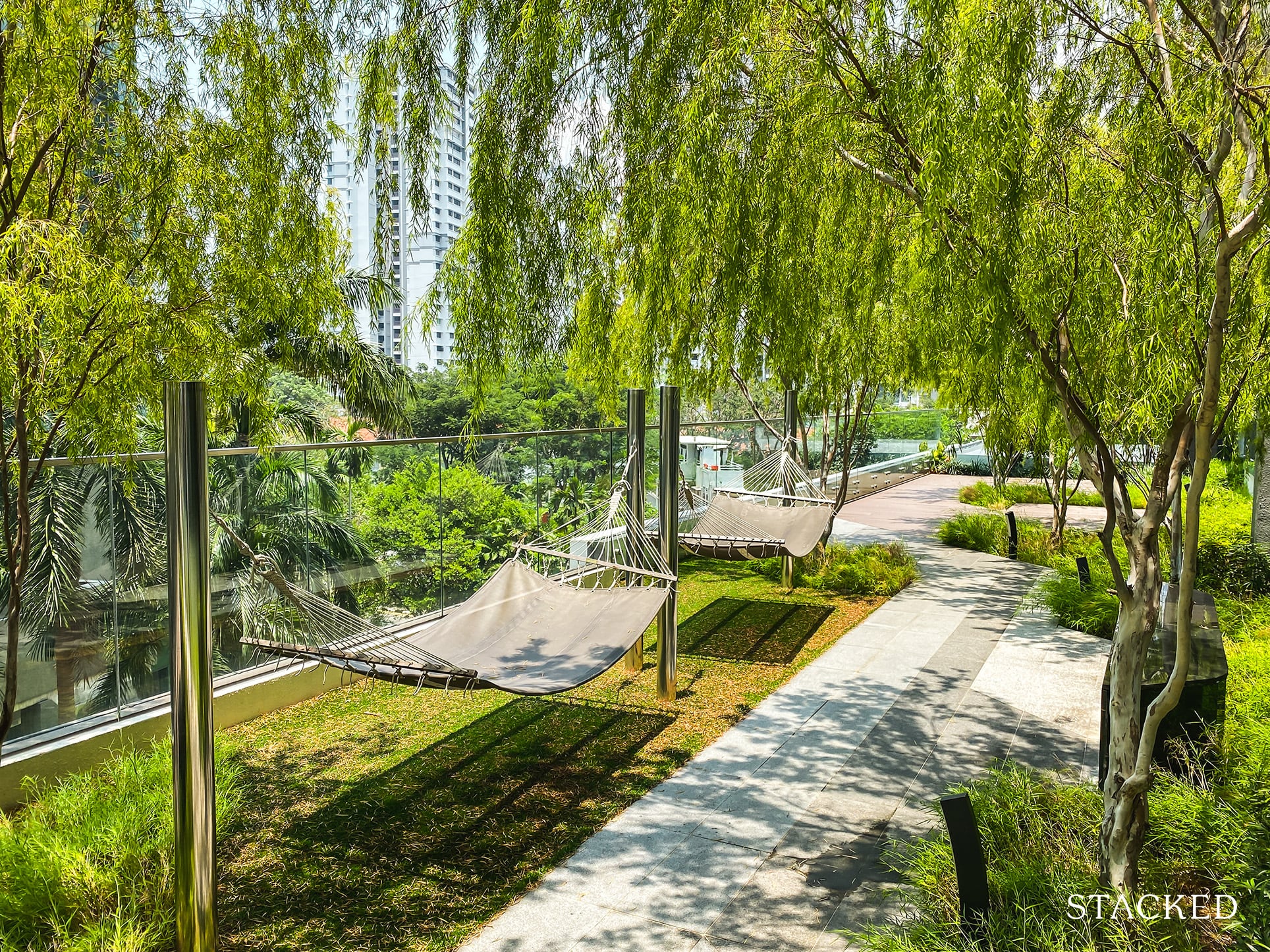 I'm not sure how popular this is with residents, but it looks like quite a nice touch to have the hammocks here surrounded by these picturesque trees.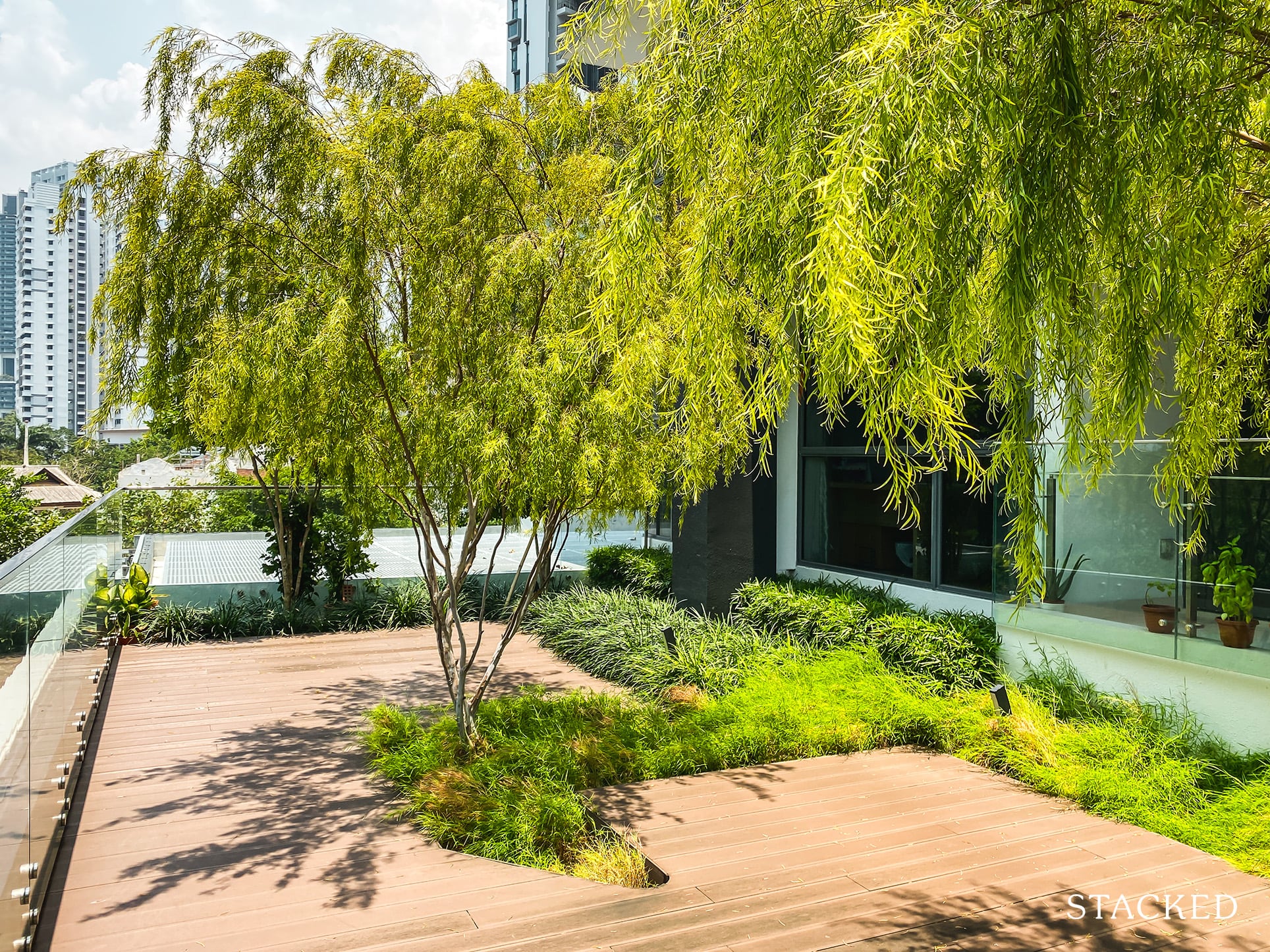 Finally, at the far end is an open deck that would surely be a popular spot for yoga lovers in the early mornings or evenings. Honestly, if this was the end of the facilities offered at the Onze @ Tanjong Pagar I would have been very happy with it bearing in mind its a city centre condo. But believe it or not, there is more to see at the rooftop!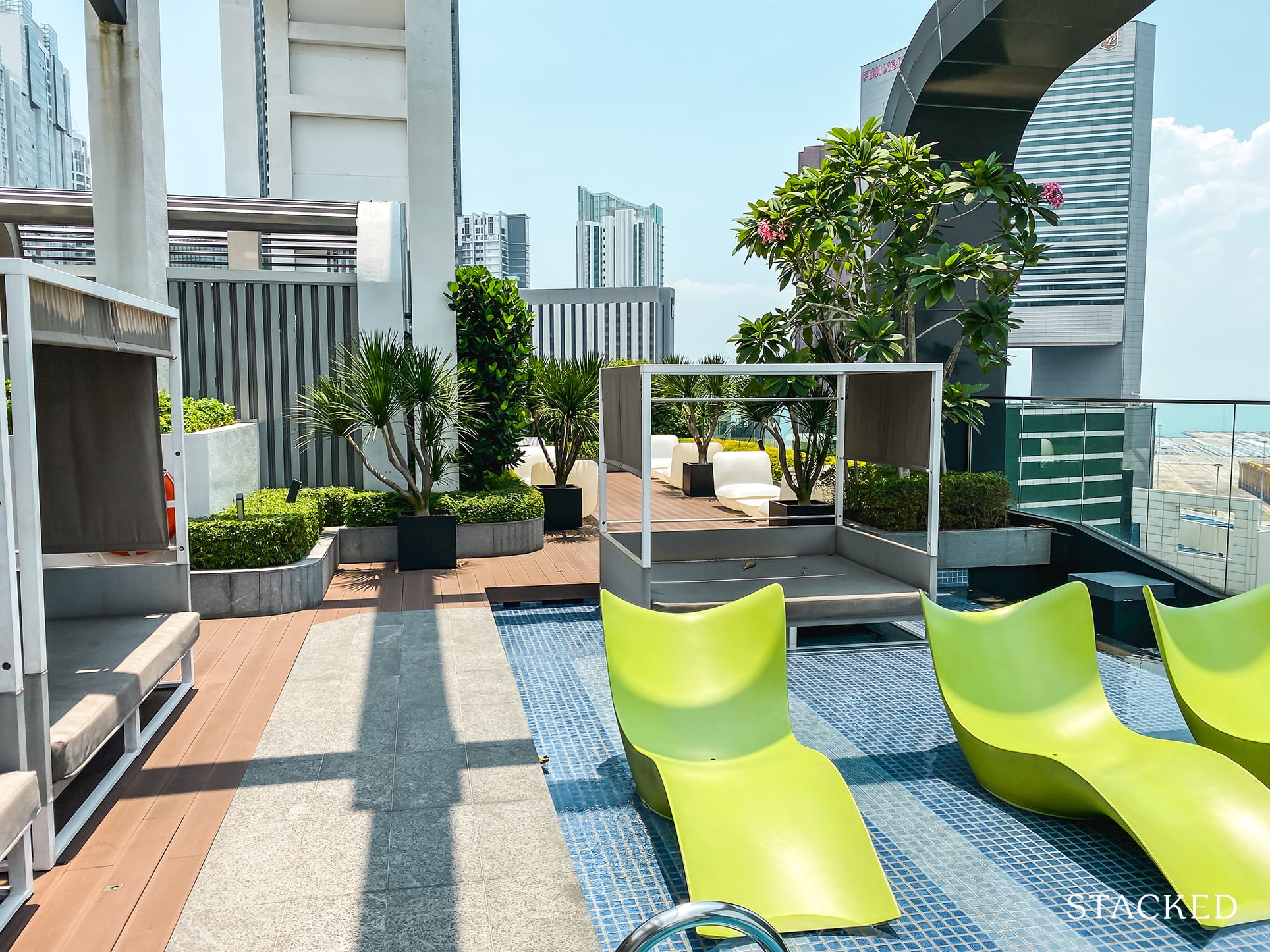 Taking the lift right to the rooftop brings you to the Solitaire Club. It's a brilliant space that consists of an infinity pool, cabanas, a bar area and more outdoor seating. It has a rooftop city hotel vibe and almost feels as if you are here on a staycation.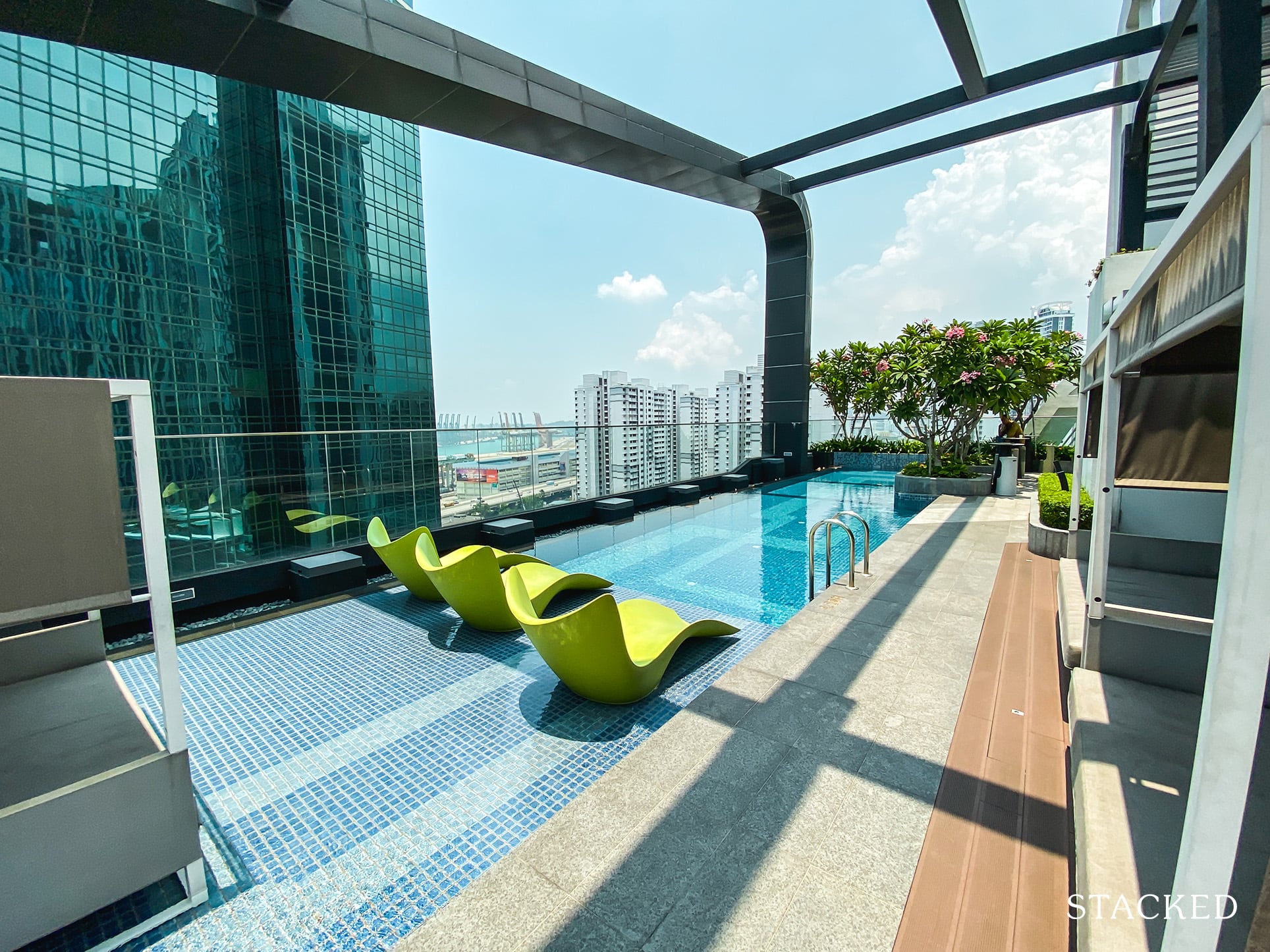 Again, for just 56 residential units, this 15-metre rooftop pool alone would have just about been sufficient. The combination of the infinity pool and views are really something you don't get in most condos.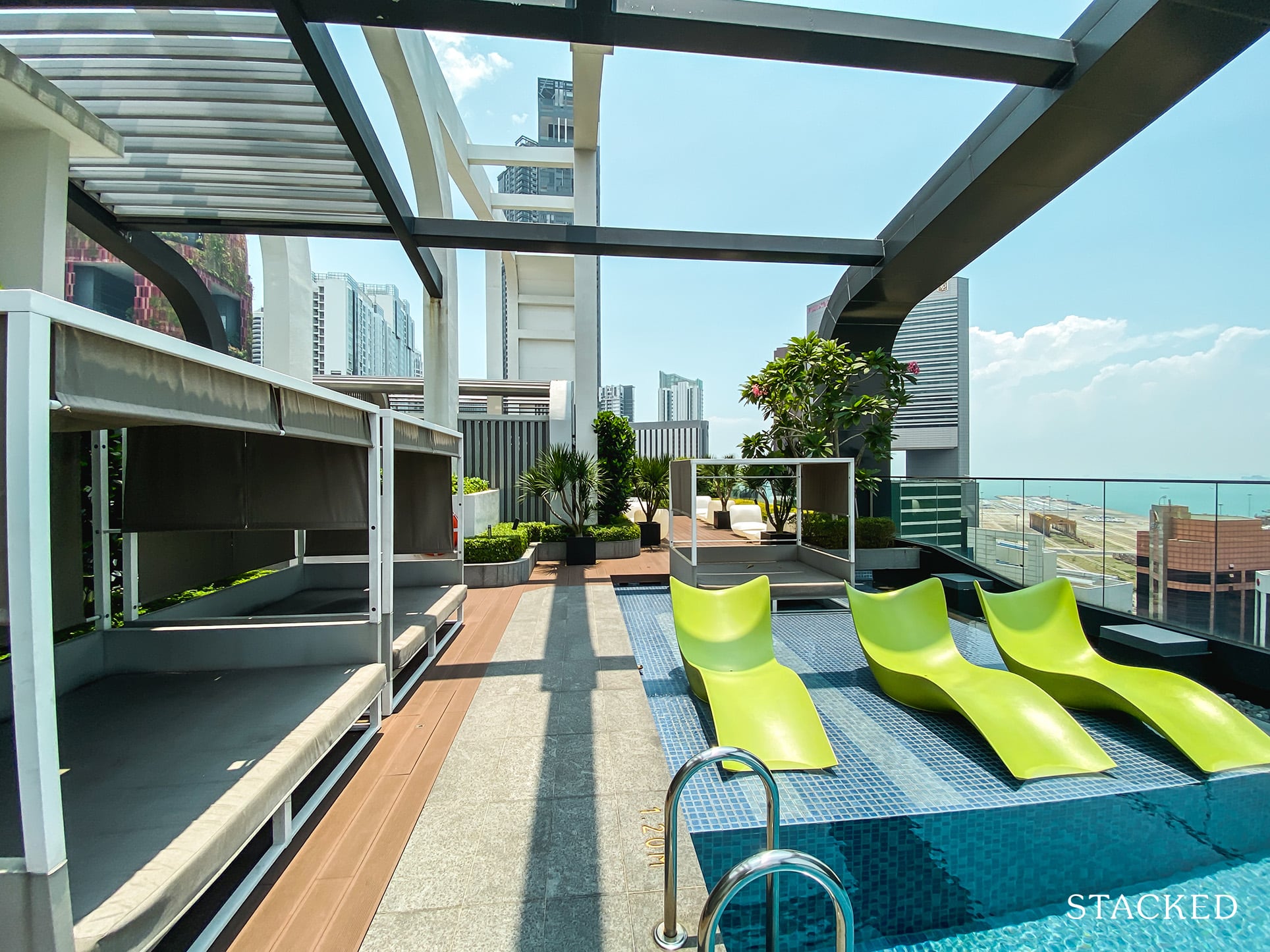 The poolside cabanas and sloping deck chairs will make for some very relaxing times up here indeed!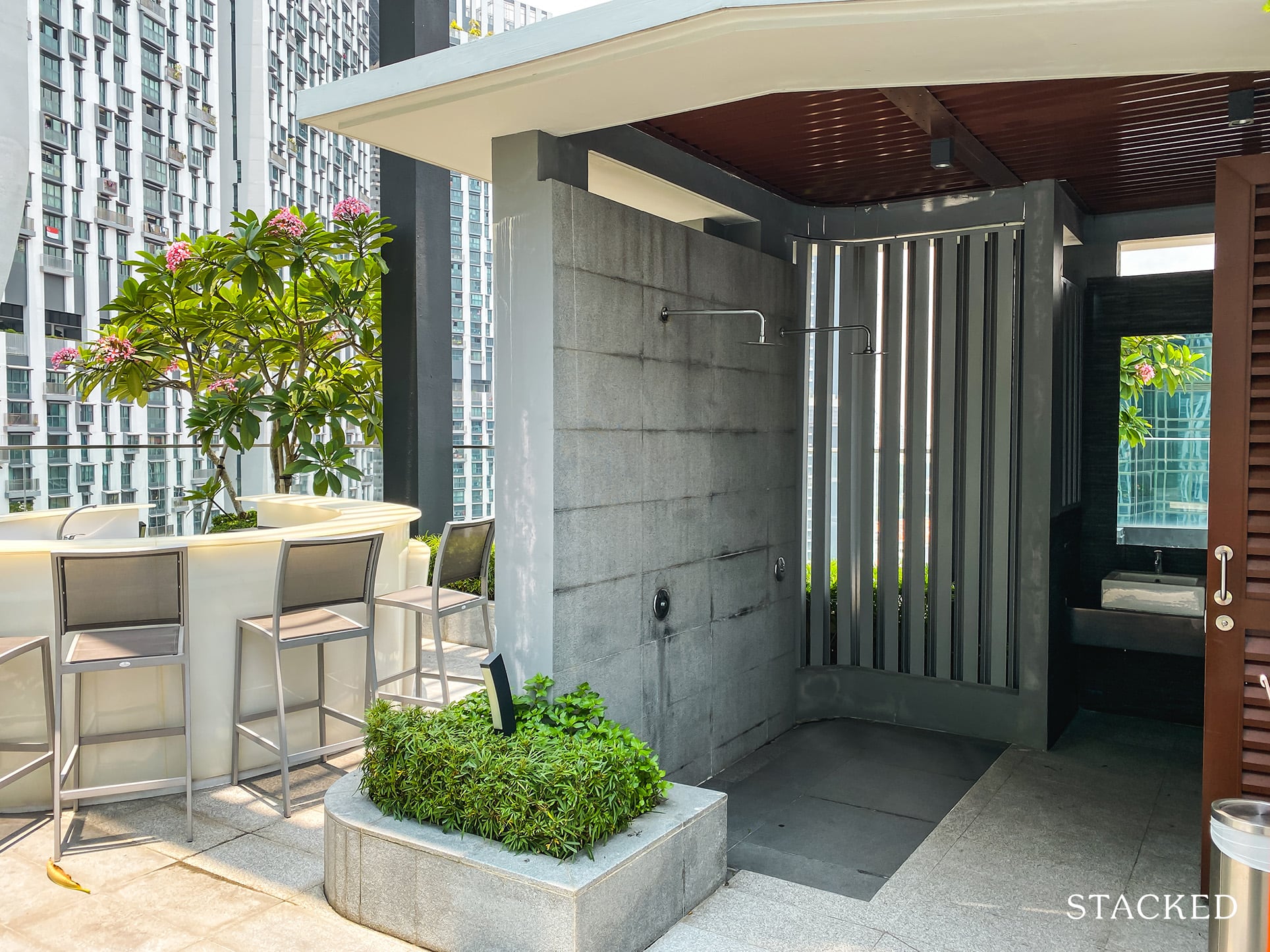 Over on the far end, there is an area for a quick rinse and shower.
And a rooftop bar area that looks to be a nice place to chill at night.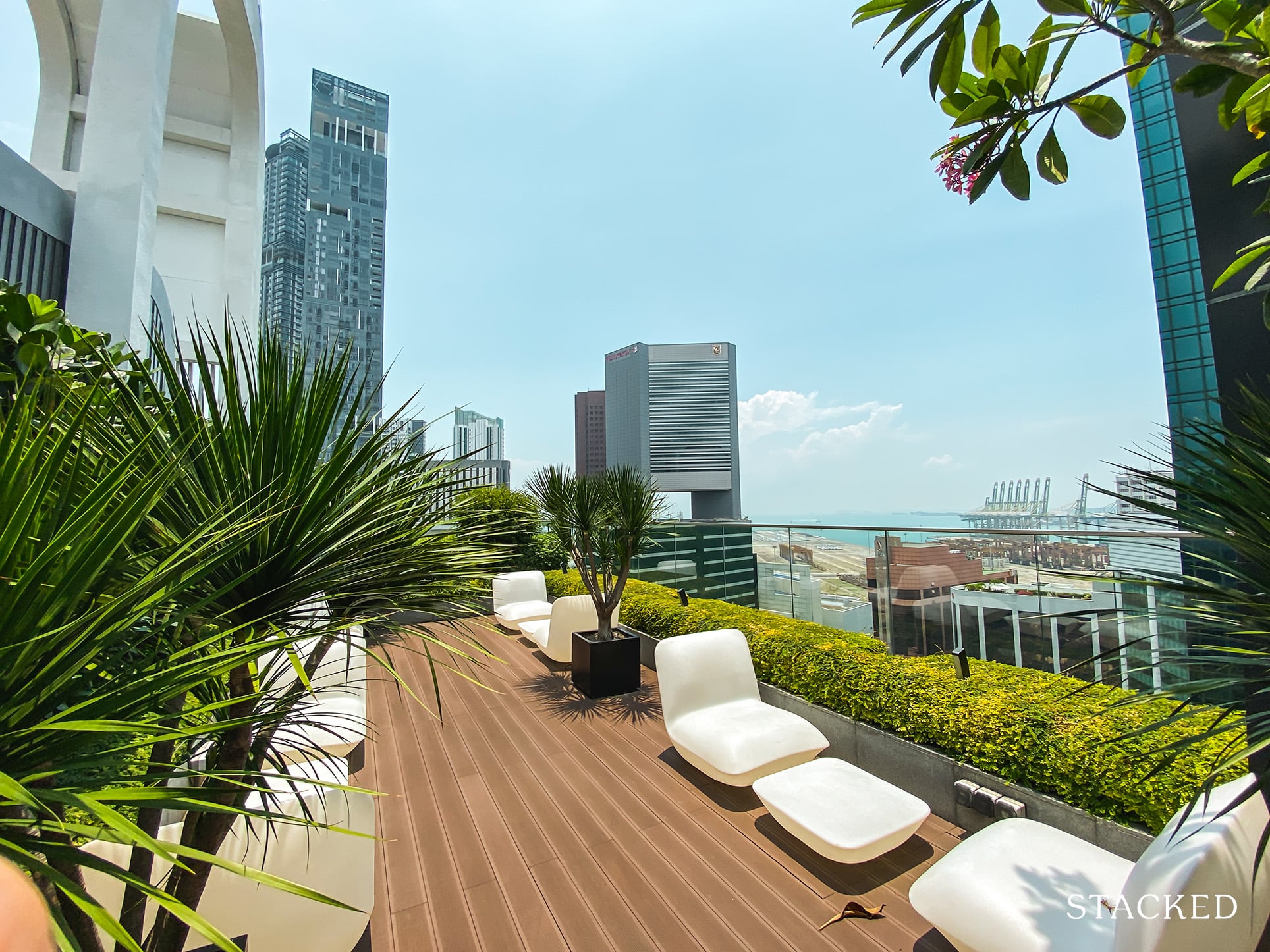 On the other end of the rooftop are more seating areas and a nice wide deck space.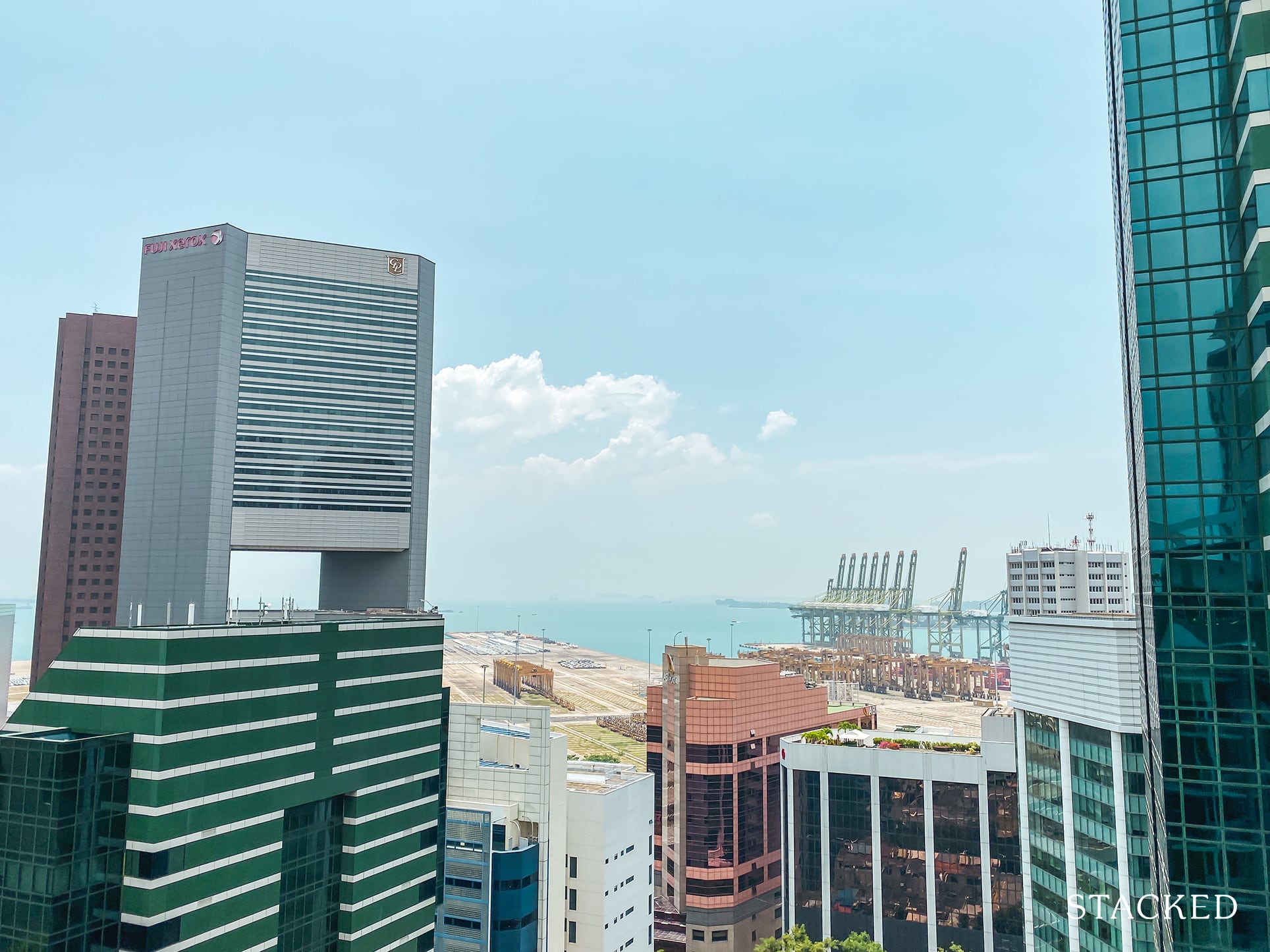 From this height, the views up top are pretty splendid. And on a clear day like this, you can get really magnificent sea views. I think from the combination of facilities here, it's quite clear the type of clientele that the Onze @ Tanjong Pagar is trying to attract. On that front, I would say that they have succeeded.
Onze @ Tanjong Pagar 3 Bedroom Dual Key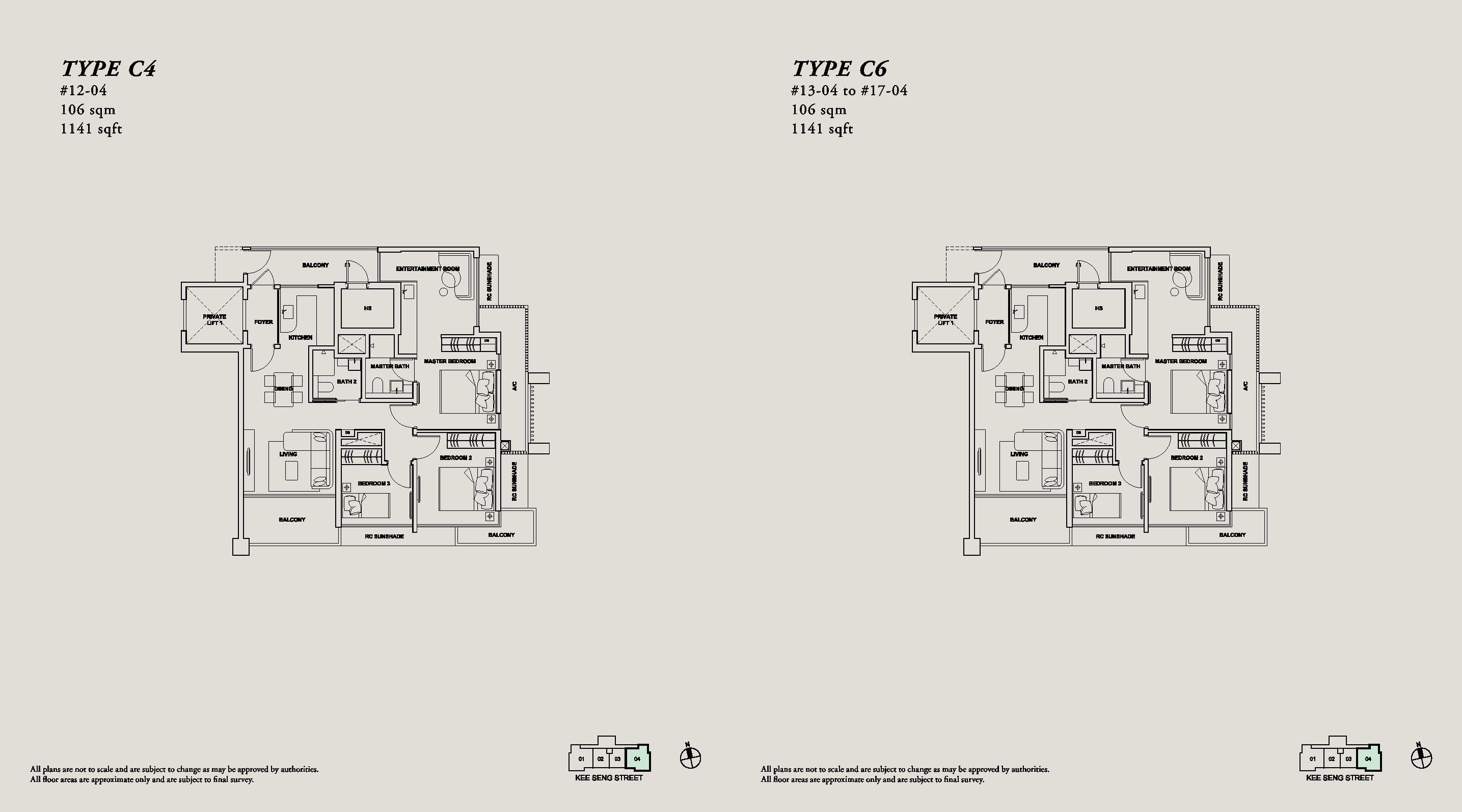 Let us now show you a very interesting 3 bedroom dual key unit at the Onze @ Tanjong Pagar. Coming in at 1,141 square feet, it is surprising just how much they managed to fit into this space. 3 bedroom, private lift, entertainment area and balcony. The best part? It can actually be configured to a dual key layout, so the master bedroom and entertainment area turns into a unit by itself as you can access it via a separate entrance from the balcony. This makes it super flexible for someone to stay and rent out a portion of the unit for some extra income.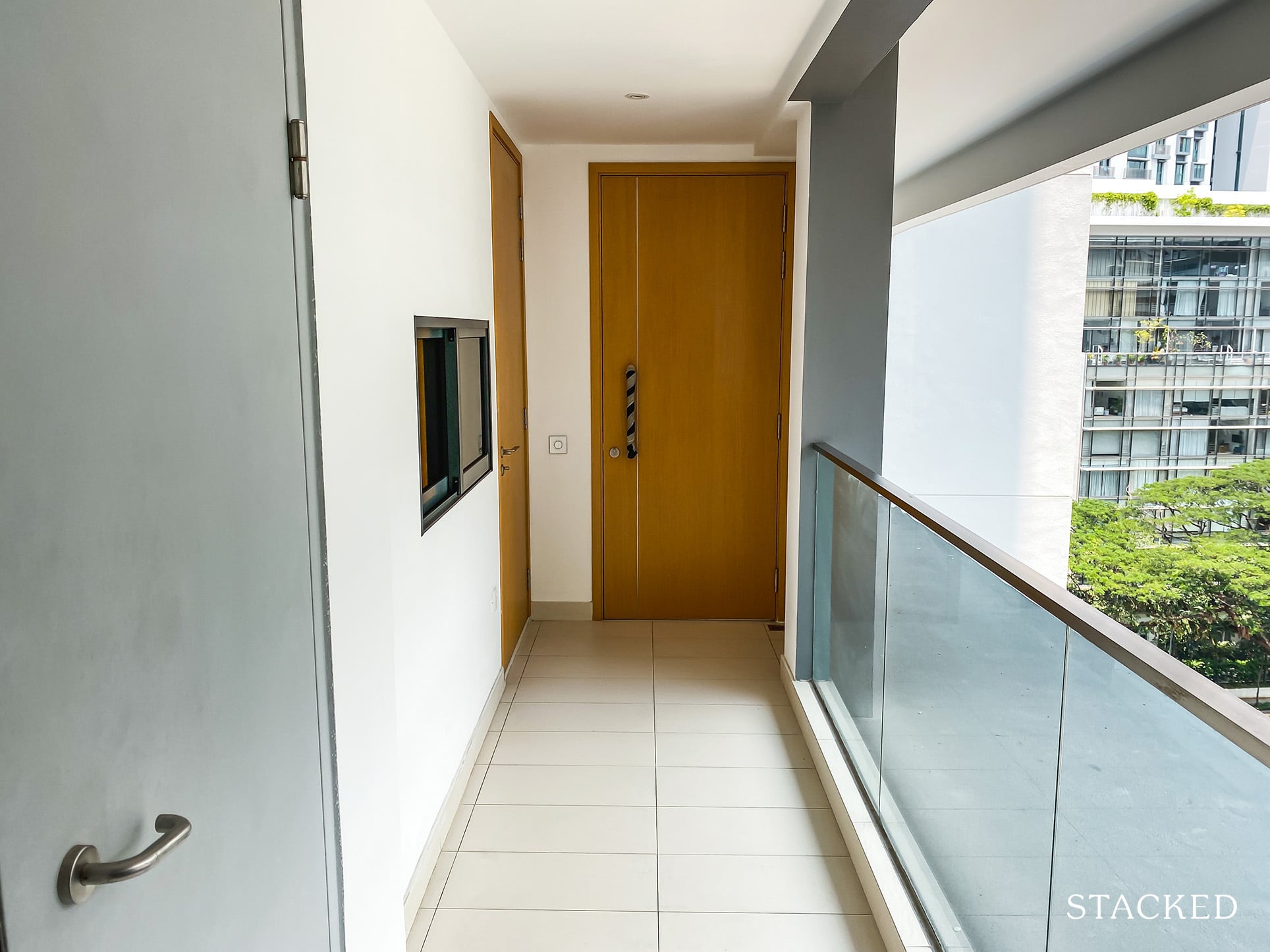 This is the outdoor balcony, which I would actually describe more like a corridor. From here, this is where you can access the dual key part of the unit through the common lift.
The main entry into the unit is actually through a private lift, which is always a nice touch. It leads to a small foyer, before you can access the unit itself.
The living and dining room isn't a very big space, but it is quite cosy. The dining table is flushed to the side, which gives more overall space.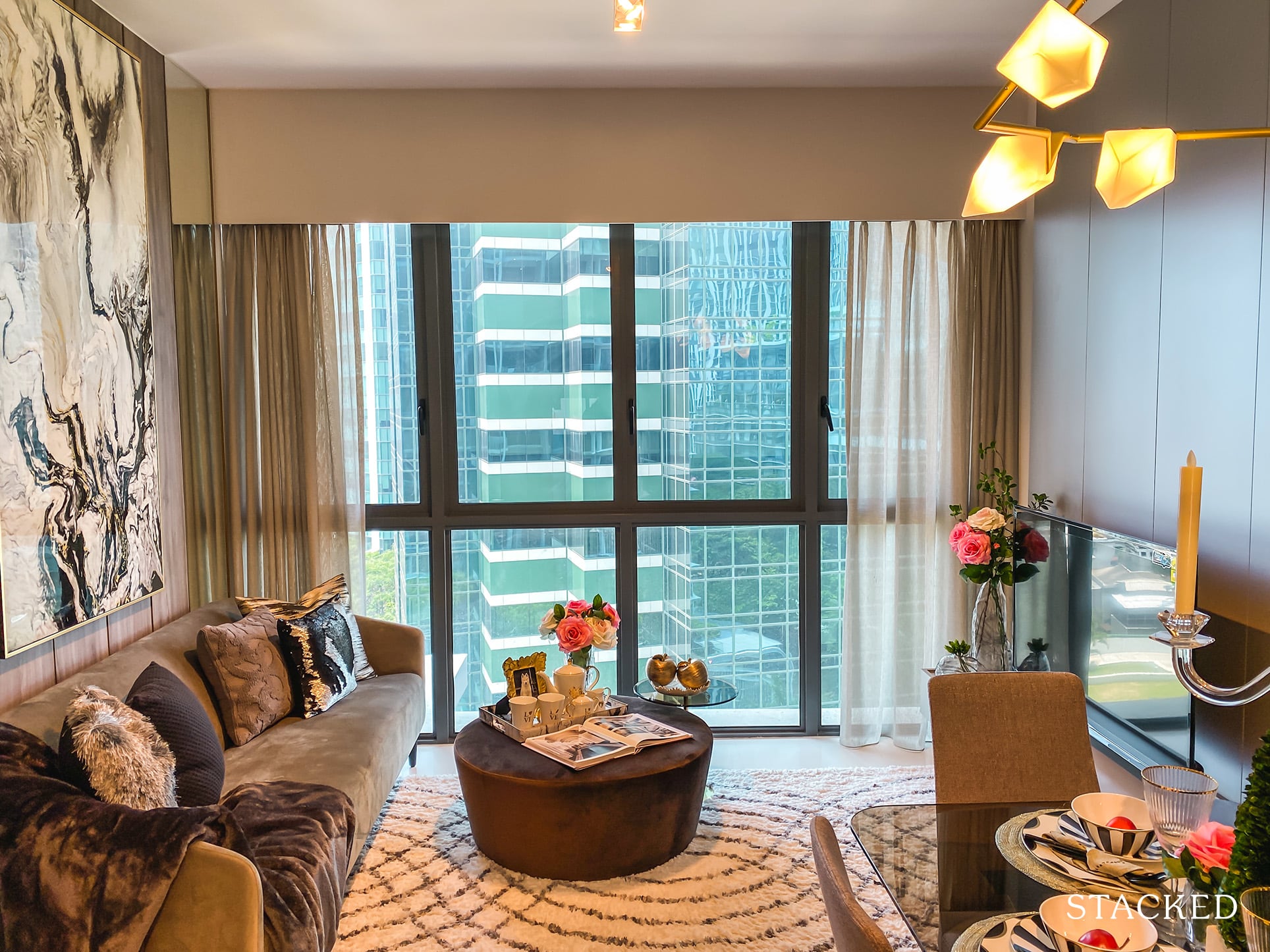 I like that the windows are floor to ceiling, which allows much more light to make the space feel brighter and more open. You can just about squeeze a small couch and coffee table here, but truthfully it isn't the widest of spaces.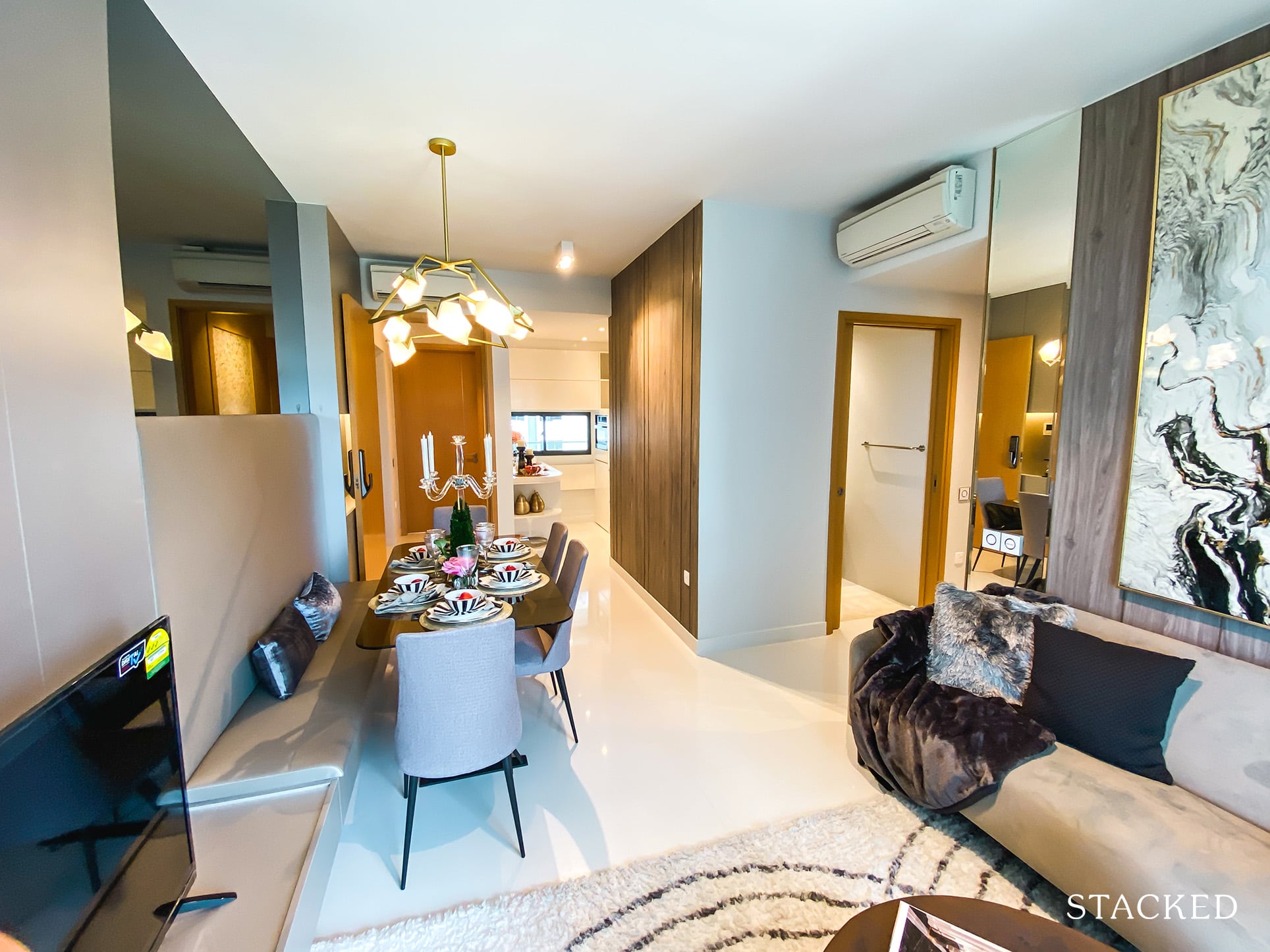 Functionality wise, however, I think this unit cannot be beaten.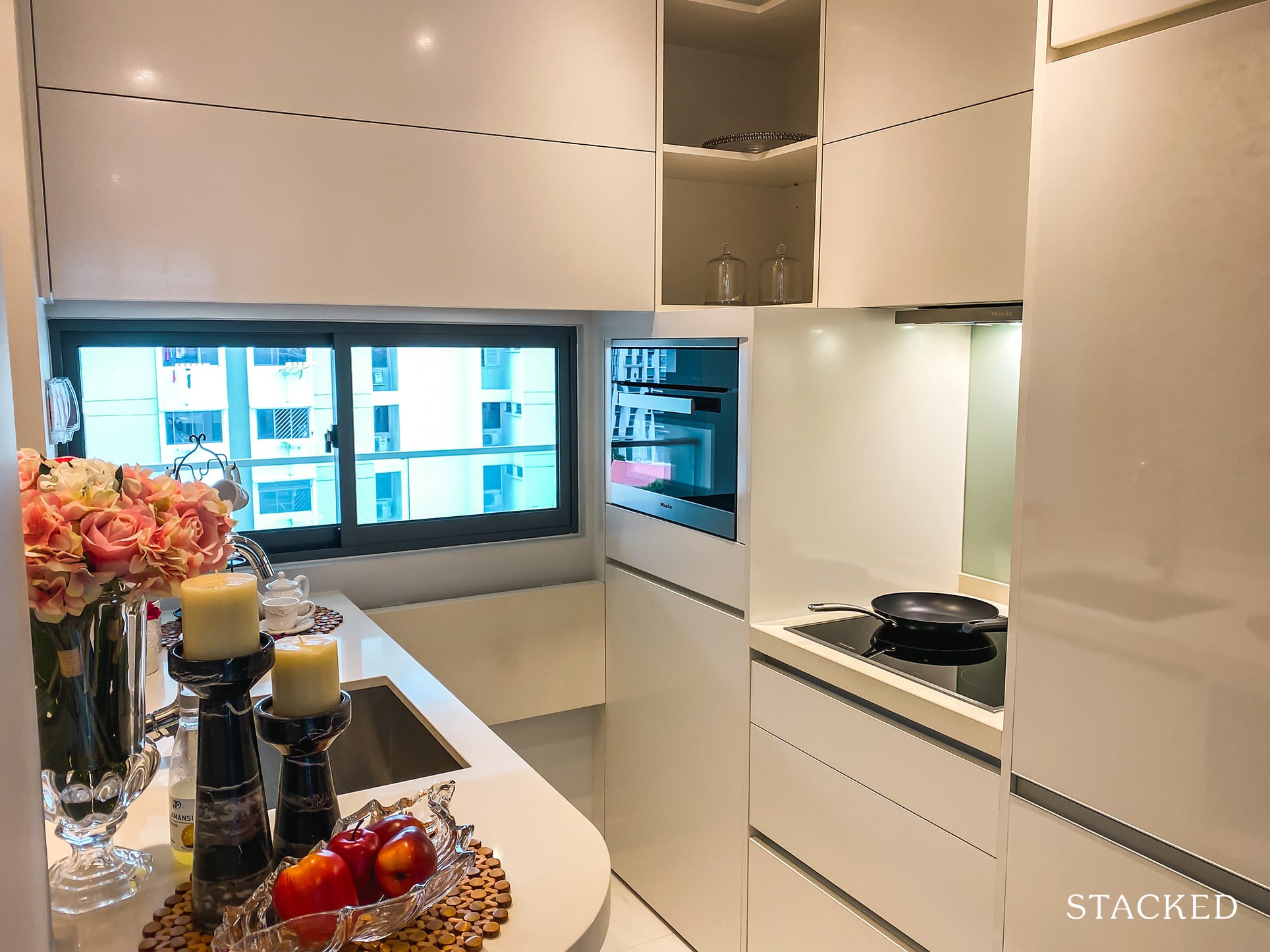 The kitchen is actually right next to the main door. It's small and cramped for a 3 bedroom unit, fitting 2 people in here at the same time can be a bit of a squeeze. I do think most people living in the city won't be doing much cooking anyway, and thankfully, if you do need to cook, there are windows that you can open for more ventilation.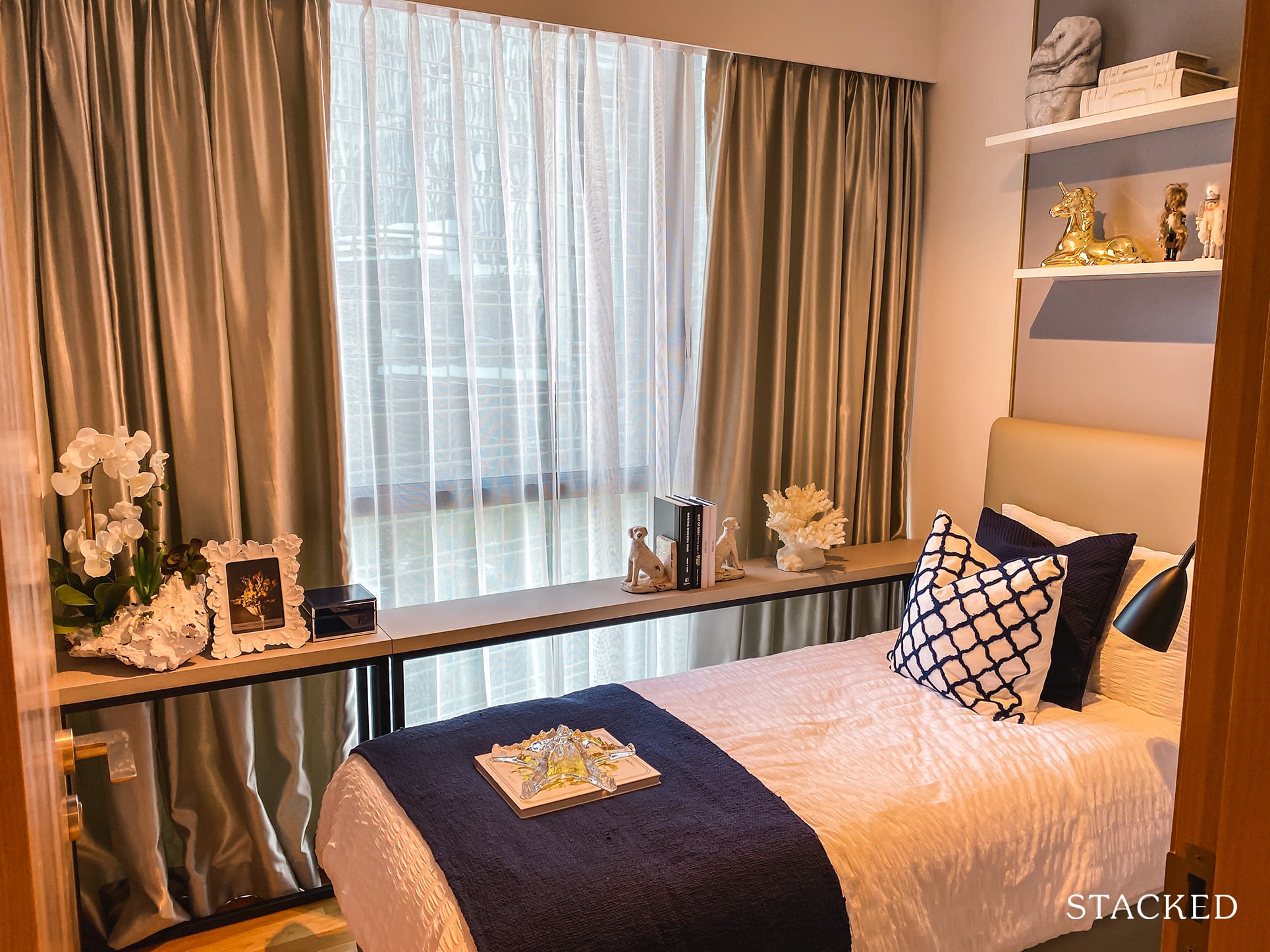 The common room is definitely not a big space, with just about enough room for a single bed, and maybe a small study table.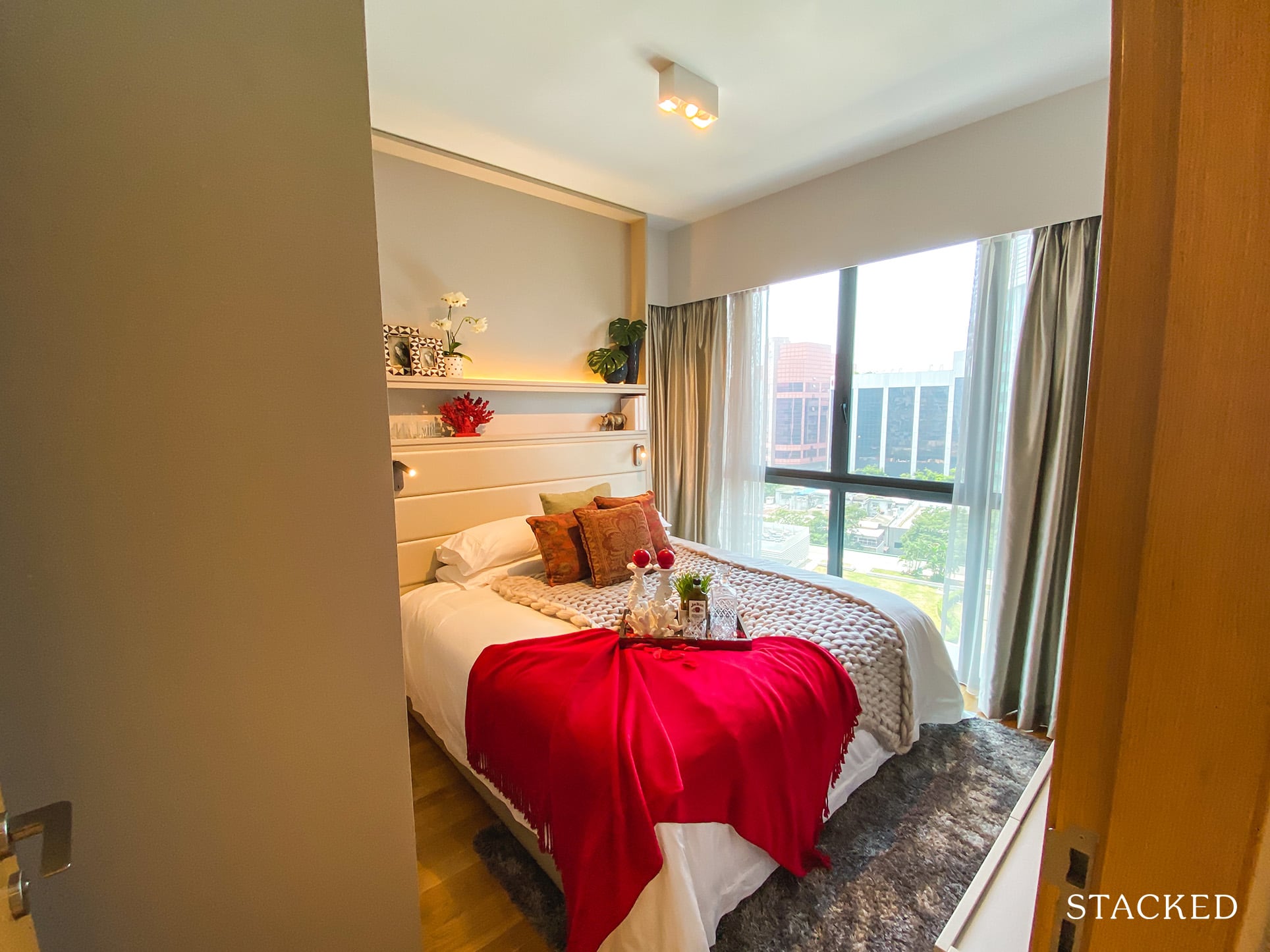 The other common bedroom fares a lot better in terms of space, and you are able to fit a queen sized bed in here with some room to spare.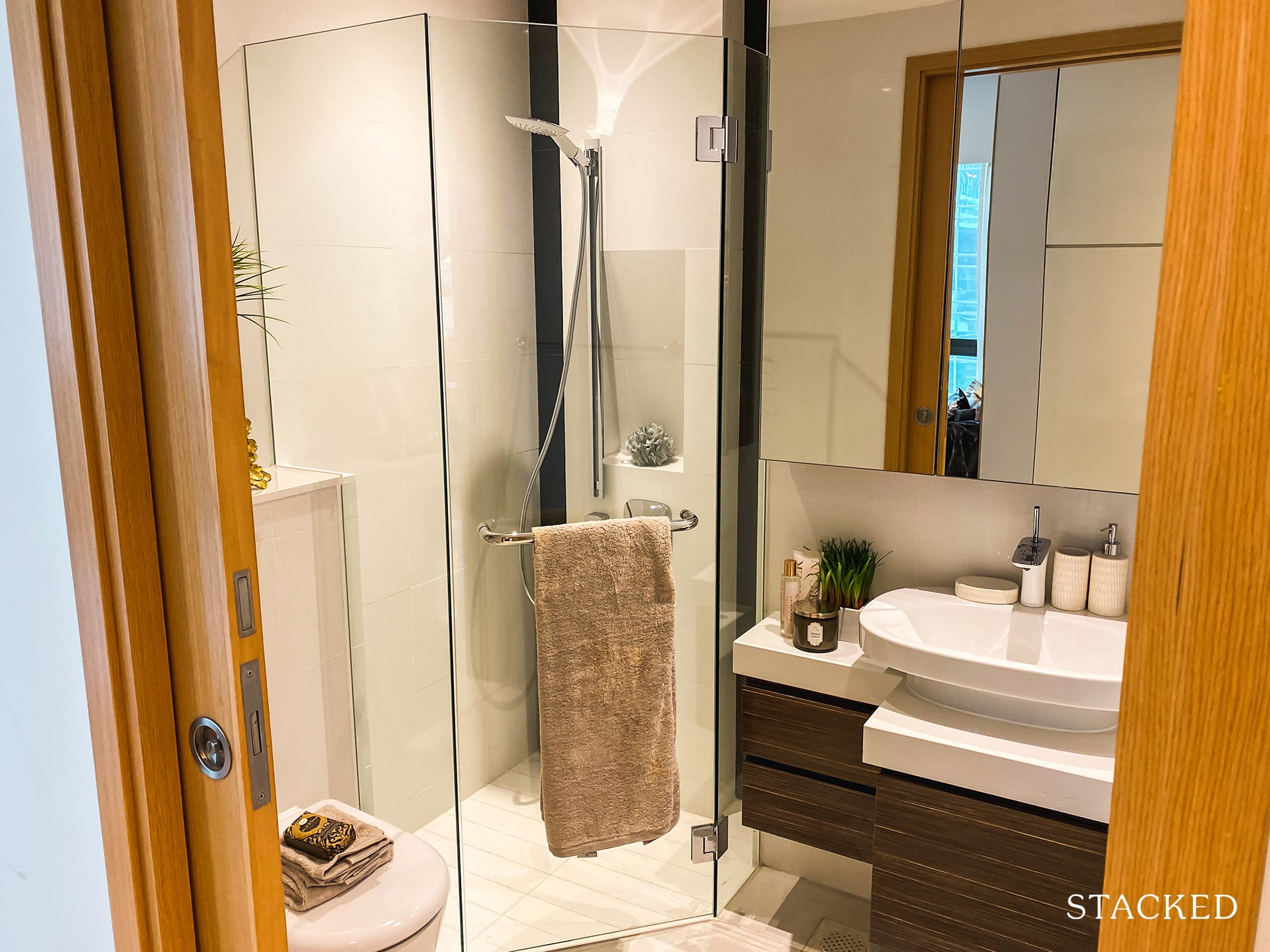 The common bathroom serves both bedrooms, as well as functions as the bathroom of choice when you have guests over.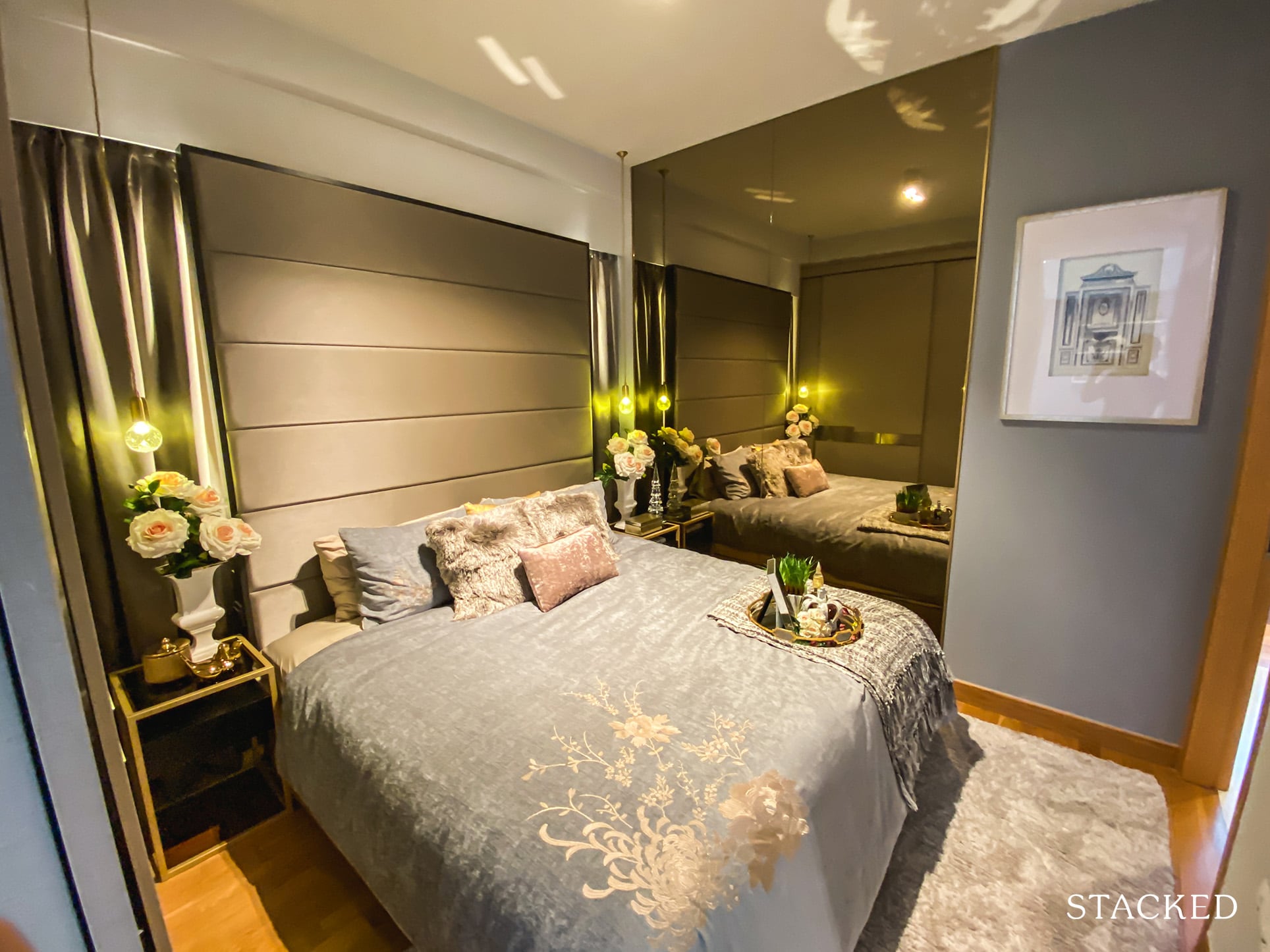 The master bedroom can fit a queen or king if you should so wish. This is also the bedroom that actually forms as part of the dual key unit, should you choose to keep it separate to rent out.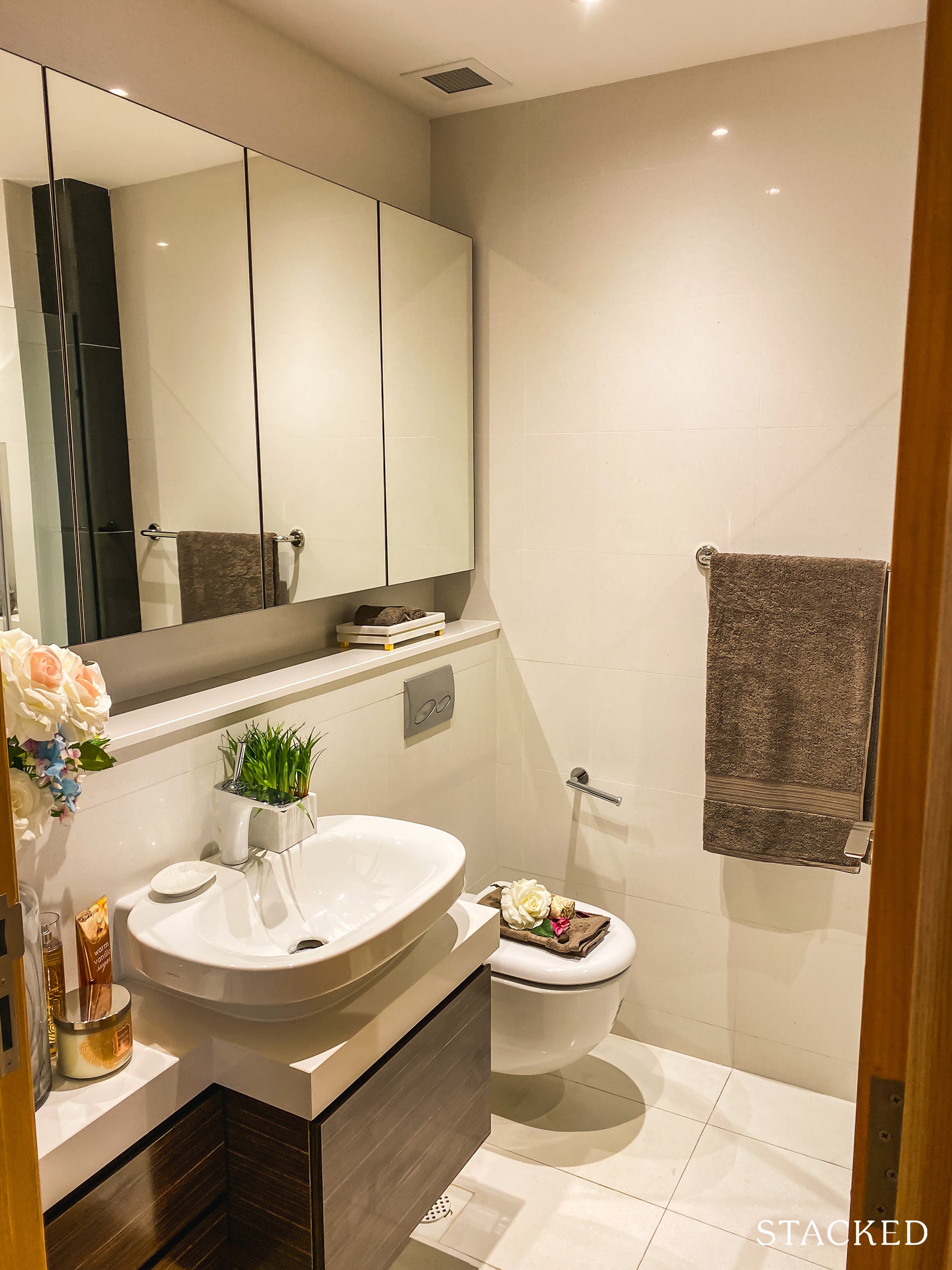 The master bathroom is not a big space, but it is certainly functional and more than enough for most people.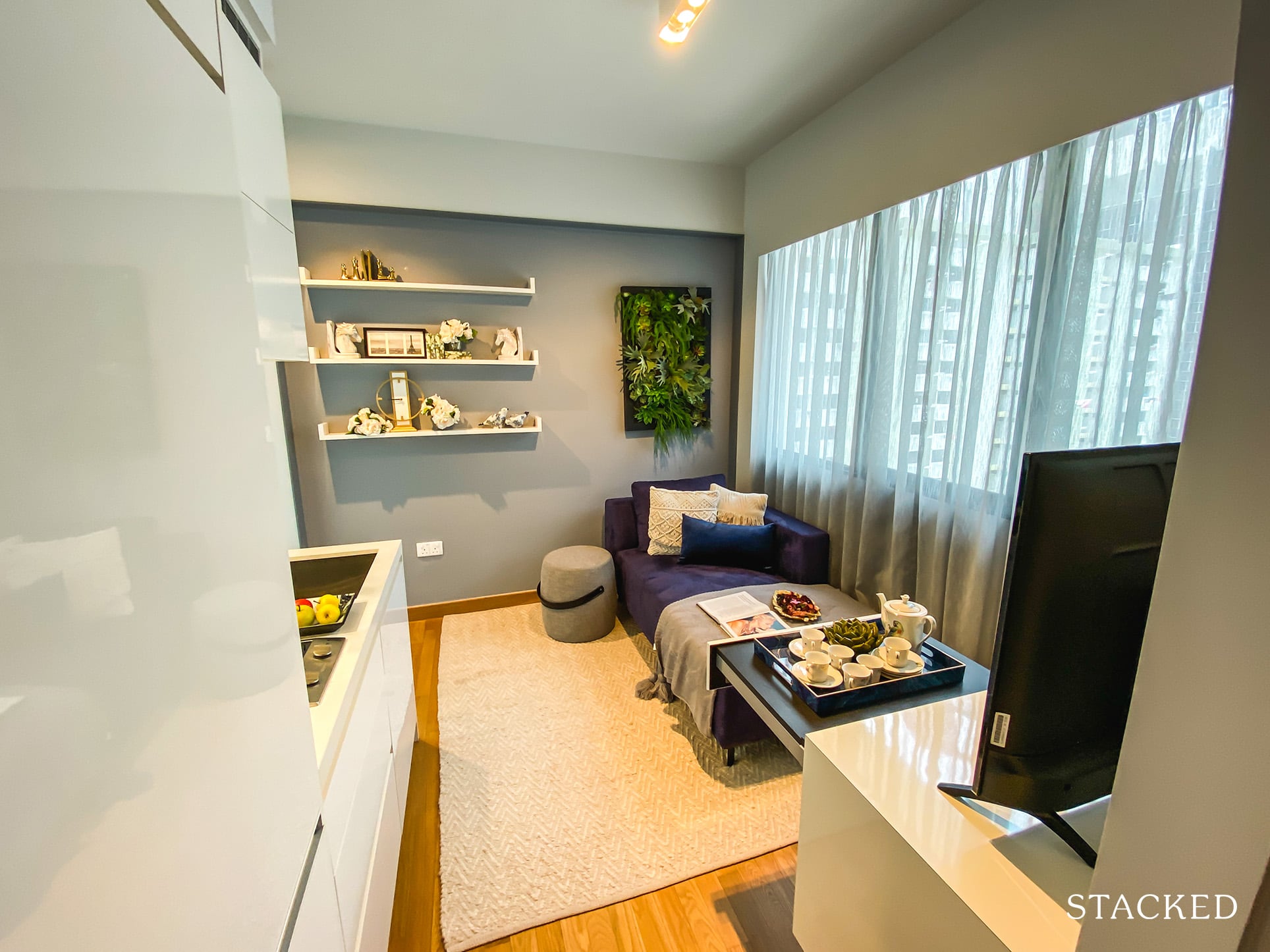 Finally, we get to the entertainment room, which is actually surprisingly spacious. When I say spacious, I do mean relative to the rest of the unit. But still, the flexibility of what you can do here is great.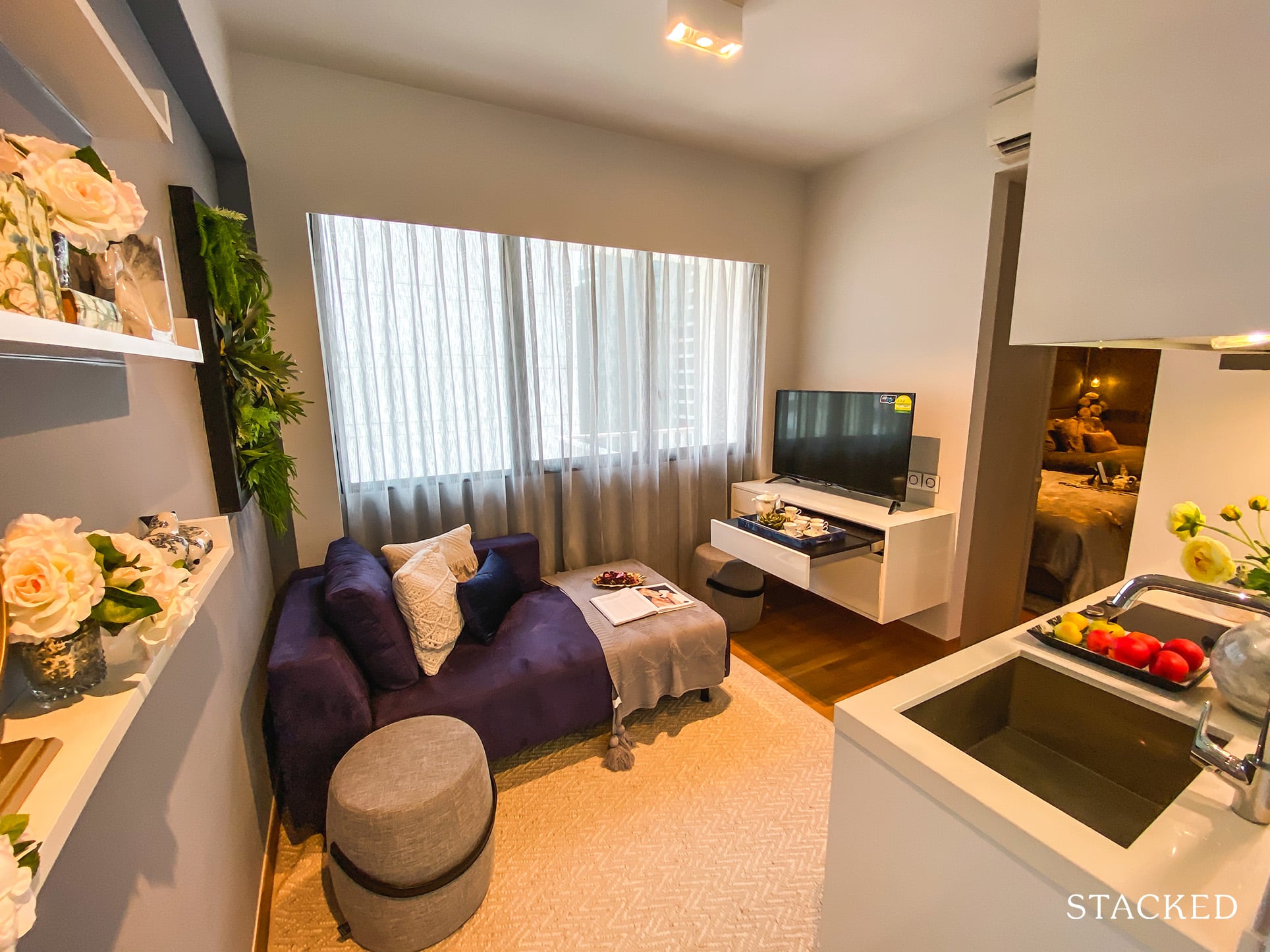 It can double up as a living room, together with its own kitchenette.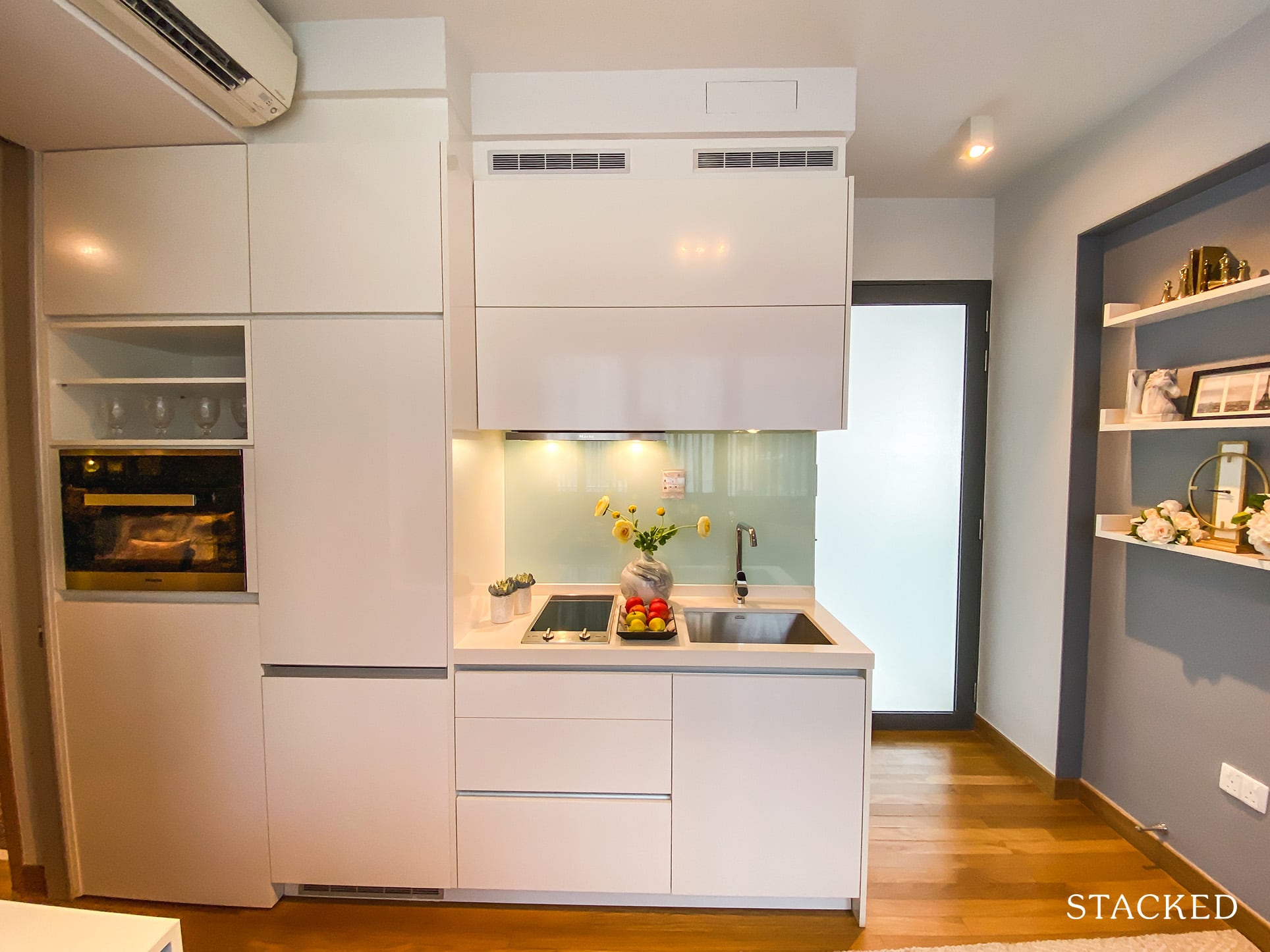 Not the biggest space to cook, but for one or two people to live here, I think it is a very comfortable and cosy space indeed.
Onze @ Tanjong Pagar Location Review
For the benefit of those who are unfamiliar with the Tanjong Pagar Road area, it can be politely described as an extensively convenient sprawl of urban developments.
Nestled between an HDB enclave, Tanjong Pagar Plaza and the 27-storeyed Keppel Towers (where Zalora Singapore currently resides), the Onze might be what some Singaporeans refer to as a 'modern-day' shophouse (given the commercial units on its first floor).
Perhaps the only respite from in-your-face concrete structures comes in the form of a lush plot of greenery to its immediate west. Even then, you will find the Arris and more prominently, the Pinnacle @ Duxton just a few metres after.
Still, what the condo lacks in peace and privacy, it more than makes up for with unbridled convenience.
Kicking off with public transport, residents will find that they have easy access to two bus stops with varying services. The first, 'Tg Pagar Plaza' is 2-minutes' walk from the condo and caters to commuters of buses 80 and 145. The second, 'Opp Maritime House/Cantonment Rd' services buses 75, 167 and 196.
As for train services, residents will find the Tanjong Pagar MRT station just 500 metres away (translating to a 5-minute walk). A stop in either direction and you'll find yourself either at Outram MRT (North East line and future Thomson-East Coast line crossover) or Raffles Place MRT (North South line crossover).
Given the 'centrality' of the Onze @ Tanjong Pagar and potentially increased tenant residency, car-related travel is admittedly not a top priority here.
Still, there is a 3-storeyed car park dedicated to this cause. More than that, those who drive will find easy access to major roads and highways like Eu Tong Sen Street, New Bridge Road, Jalan Bukit Merah, Keppel Road and Anson Road as well as the Keppel Viaduct, AYE, CTE, MCE, ECP and West Coast Highway.
Next up, necessities.
Few condos in Singapore can boast a supermarket in the immediate vicinity (some examples that pop to mind are the Royalgreen & Marina One Residences).
Fewer still can boast an entire shopping mall right next to it!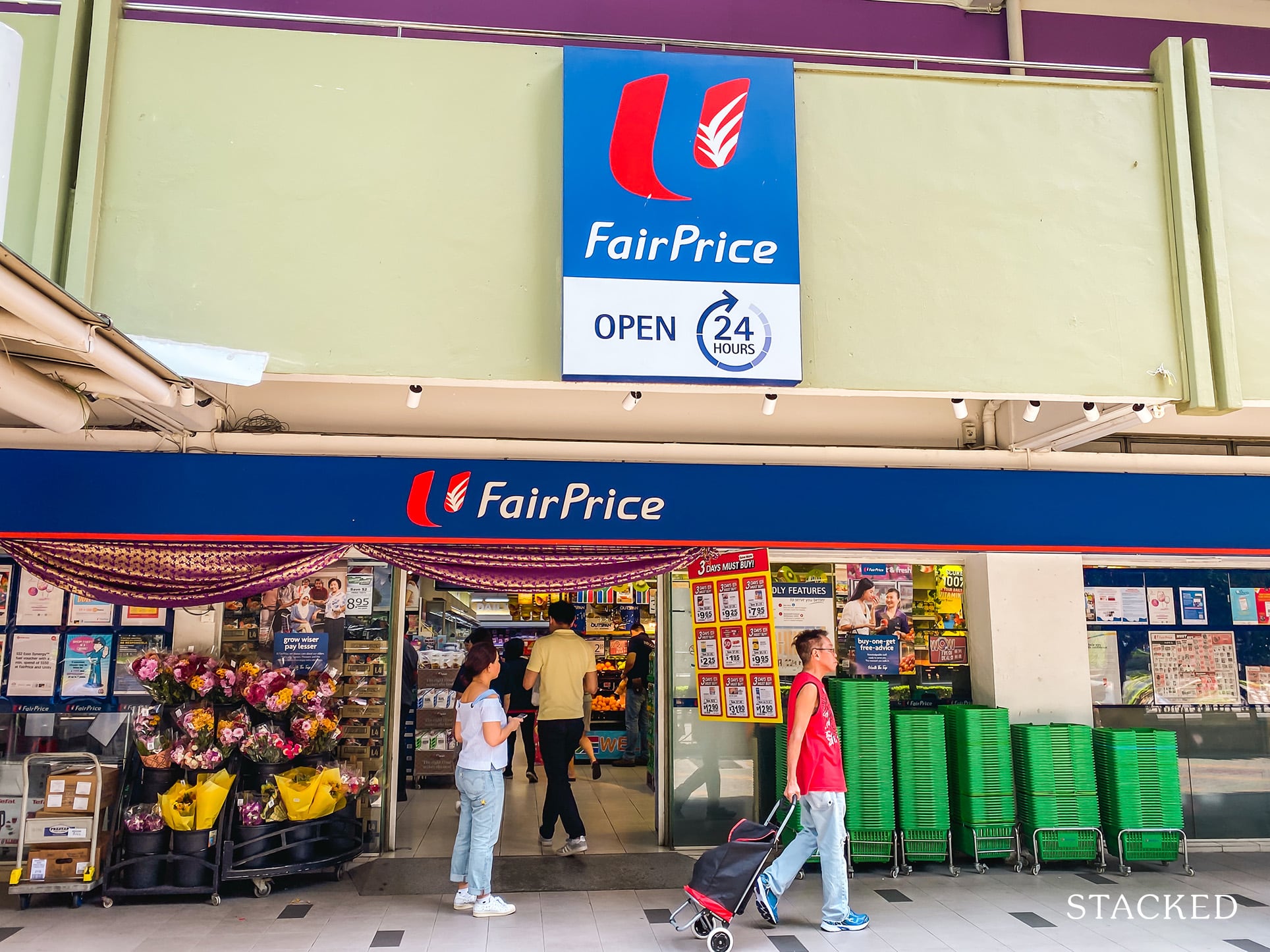 Tanjong Pagar Plaza (if you haven't already guessed) is this shopping mall. In here, you will find a fully equipped NTUC FairPrice alongside ATMS, clinics, beauty care outlets, banks, bakeries, photo shops and education centres amongst a host of other things.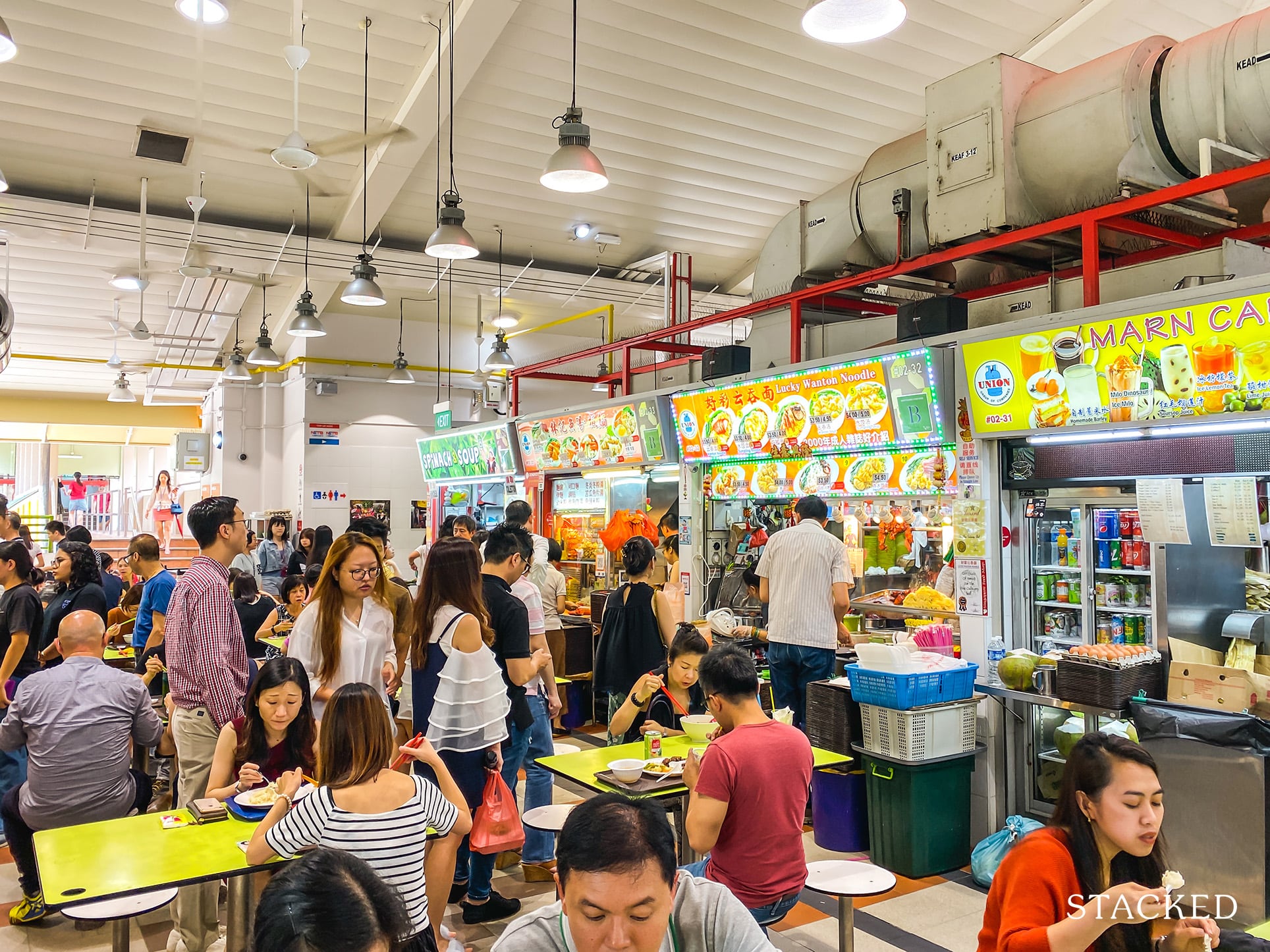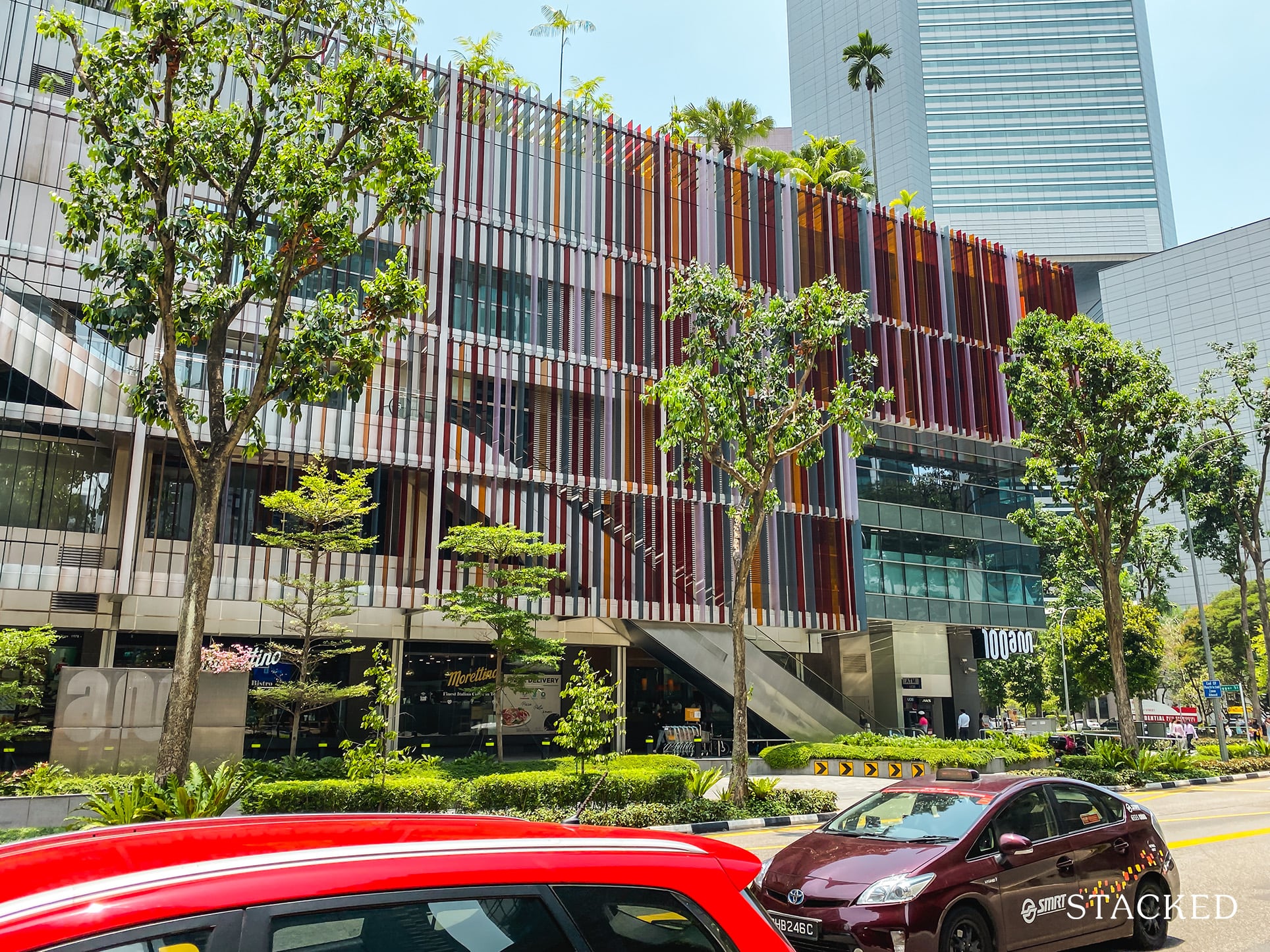 If that doesn't tickle your fancy, both 100am and the Icon Village are around the corner. There, you will find a whole bunch of food and shopping necessities as well as a FairPrice Finest and Cold Storage Altez respectively.
As we said in the condo tour, there is a gym located right opposite the Onze @ Tanjong Pagar.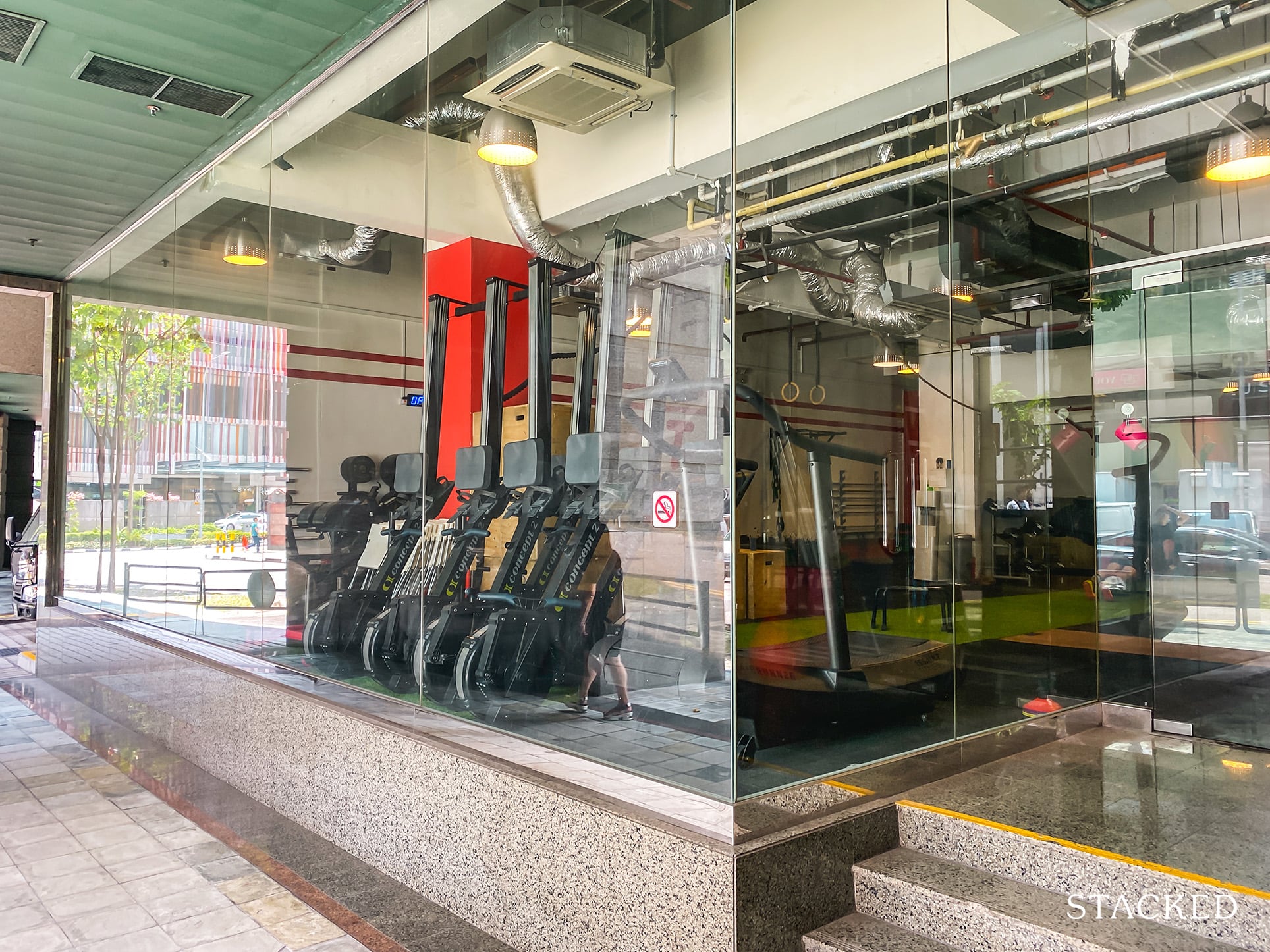 And if all that gymming and swimming is still not enough exercise for you, there are public basketball courts available just a short walk away too!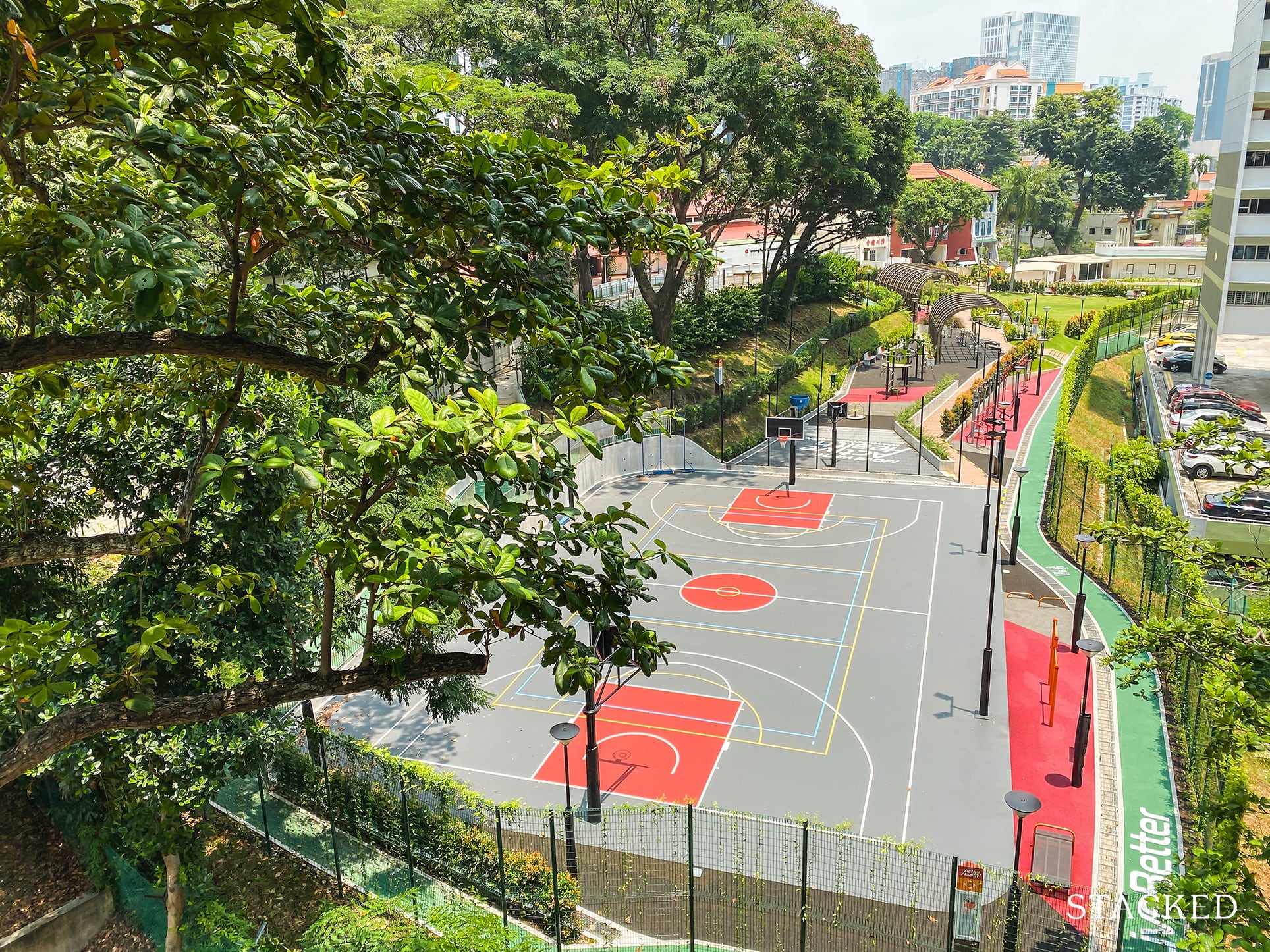 Of course, the fact that the condo is located in the north-eastern part of district 2 means that while it isn't the closest to VivoCity (6-minute drive), it is relatively close to the District 6 & 7 party area – a great plus for the outgoing bachelor.
Lastly, while the Onze @ Tanjong Pagar might not be the best place to raise a huge family, there are several education options available to residents here.
For preschools, you have Mulberry Learning Centre @ Tanjong Pagar, PAP Community Foundation @ Cantonment, Modern Montessori @ Pinnacle and Superland @ 100am – all within immediate walking distance to the condo.
Regarding primary schools, we find Cantonment Primary just a short walk away as well as Radin Mas, CHIJ Kellock and Zhangde Primary rounding up the 10-minute drive radius.
Secondary schools are found a little wanting with Outram Secondary and CHIJ St. Theresa's Convent located 7 and 9-minutes' drive from the condo respectively.
As for tertiary options, we have Catholic and Anglo-Chinese Junior College as well as the Singapore Management University bordering 15-minute drives away.
Onze Tanjong Pagar Development Site Review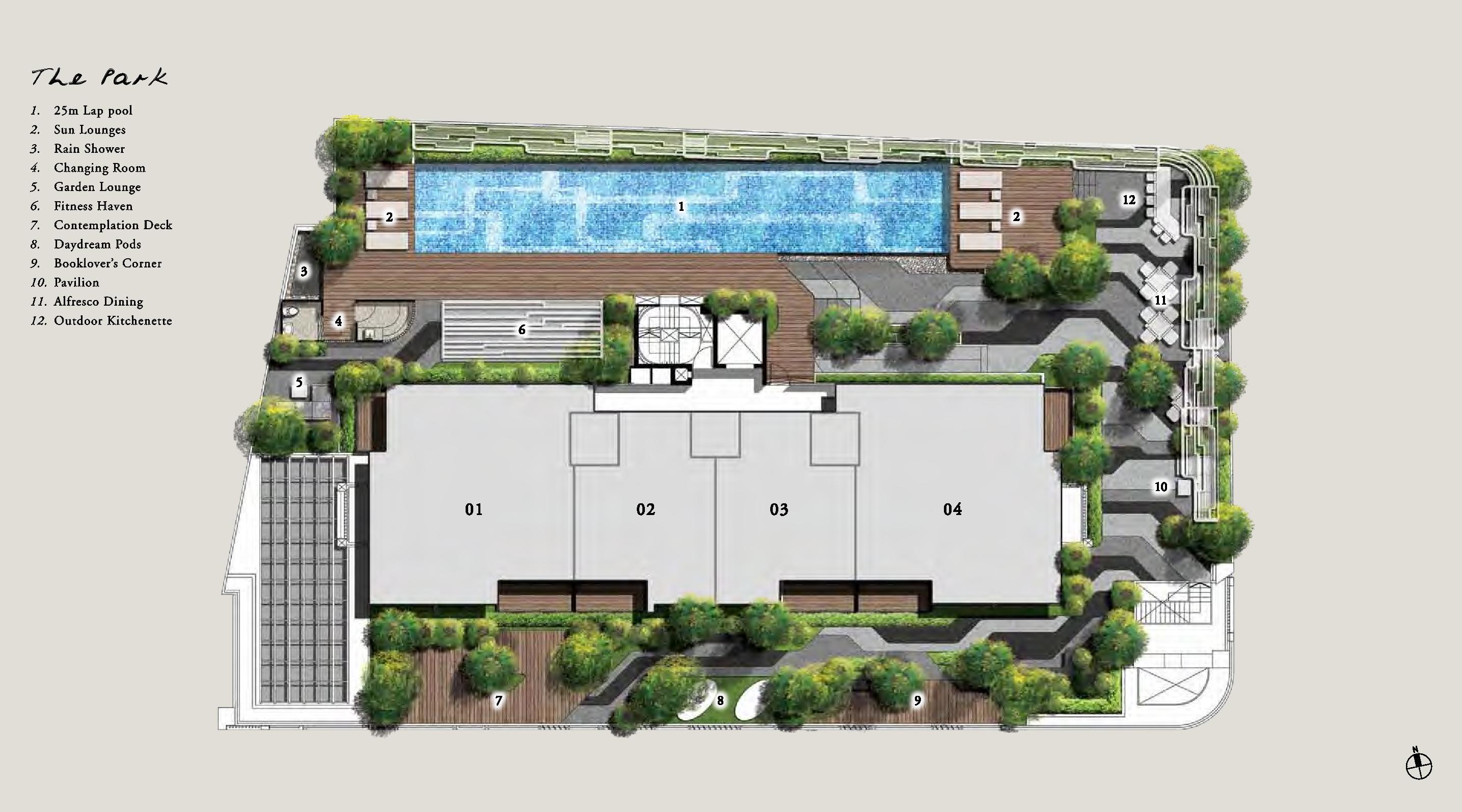 Observing the various intricate titles and maximised layouts of both site plans, it is obvious that the developers of Onze @ Tanjong Pagar have taken the extra mile to compensate for its limited 14,781 square feet of land area.
A lack of a security post alongside the presence of the 'inbuilt car park' further adds to the cause.
Still, it has to be said that the neighbouring high-rise buildings might prove claustrophobic for residents. The abundance of public amenities in the immediate area will also add to the noise factor – especially for those who have (or are) selecting units closer to the ground.
Let's check out the residential unit mix:
| | | |
| --- | --- | --- |
| Unit Type | No. of Units | Size of Units (sqft) |
| 1-Bedroom + Study | 12 | 506 sqft |
| 1-Bedroom + Study + Balcony | 14 | 570 sqft |
| 1-Bedroom + Study + Terrace | 2 | 600 sqft |
| 3-Bedroom + Entertainment | 12 | 1,044 sqft |
| 3-Bedroom + Entertainment + Terrace | 2 | 1,109 sqft |
| 3-Bedroom + Entertainment + Balcony | 14 | 1,141 sqft |
Now how nice would it be to have a nice cross-section like that for every condo…
Dreamy fantasies aside, the immediate eye-catcher here are the units along the 5th storey.
As an added bonus (and you don't usually see this) to those who are willing to brave the noise and smells from the lower ground, not only do you get bigger unit space (biggest for the 1-bedders), but also a private terrace of your own!
In fact, if you were to calculate based on gross size alone, all the units here are definitely above average for modern developments (much more for a boutique development of this size).
Admittedly, if you were to factor in space taken by the private lift and balconies (note that unlike most developments, there are no shared cross-unit walkways here), it does eventually even out to square one.
Still, variety is always nice and mad props to the developers for this lovely piece of engineering.
Onze Tanjong Pagar Price Review
| | | | |
| --- | --- | --- | --- |
| Project Name | Tenure | TOP | Average Price (PSF) |
| Onze @ Tanjong Pagar | Freehold | 2017 | $2,465 |
| Skysuites @ Anson | 99 years | 2015 | $2,115 |
| Altez | 99 years | 2014 | $2,250 |
To be extremely fair, there are few condos in Singapore that compare with the Onze @ Tanjong Pagar. Freehold, boutique District 2 development averaging 14,000 square feet… you just don't get many of them around.
As such, we have taken the liberty of comparing condos in the immediate surroundings with relatively recent TOPs.
Considering that both Skysuites and Altez are large high-rise condos (71 and 62 floors respectively), this is by far an apples to apples comparison.
Still, given their relatively new TOP and 99-year leasehold status, we thought it worthwhile to briefly analyze them alongside the Onze @ Tanjong Pagar.
And as you can see, the Onze @ Tanjong Pagar takes the cake here in terms of PSF.
Yes, the massive number of floors (and thus units) in the two big developments do allow their developers to price their packages better, but if you think of it, added unit furnishings are also bound to cost more – which would naturally be reflected in their quantum. 
Interestingly enough, Skysuite @ Anson actually has a smaller average unit size than the Onze @ Tanjong Pagar in almost every possible unit comparison (bear in mind however that the latter has private lift access to every unit).
Still, both the Altez and Skysuites are hands-down more prominent in the public eye with regards to in-condo facilities and luxury appeal. Add in the fact that they are also both closer to Tanjong Pagar MRT (even if it is by a tad), and it really is a surprise that the Onze @ Tanjong Pagar still outshines in terms of quantum.  
In conclusion, you can see how much leverage the freehold premium can hold on a CBD development's quantum… even after factoring in its weaker aspects in terms of proximity to MRT, development size and in-condo facility variants from other neighbouring condos.  
Our Take
Personally, I find the locale of the Onze incredibly attractive. Factor in its freehold status, and I can see it being a very attractive option for singles/ small families who frequent the CBD (I'm thinking mostly for work).
Given the availability of public transport in the vicinity, it's also a solid option if you'd prefer not to invest your hard-earned cash in a personal vehicle.
Unfortunately for me, I do require sizable spaces both in and around the condo and personal unit.
Education options are also a must given our current family status.
That being said, I think that overall the facilities are top-notch, made outstanding by both the developers and designers' work in maximising what limited space they were given to work with. The lobby areas are probably the only small blemish on what is a very liveable space indeed.
What this means for you
You might like the Onze @ Tanjong Pagar if you:
• Value convenience above all else:The variety of amenities in the immediate vicinity (and even in the condo) is bound to do its bit in easing your daily needs and wants.
• Are an investor:A freehold property in this area usually equates to solid rent returns and little risks involved for investors (unless an urgently required resale is on the cards).
You might not like the Onze @ Tanjong Pagar if you:
• Have a large family:A regrettable lack of space for your kids to grow and run around in could be slightly daunting for some families.
• Greatly value your condo facilities:The lack of a gym, tennis courts and a couple of other prominent facilities will not bode well with most facility-lovers.
End of Review