Advice
La Fiesta Vs Jewel @ Buangkok: Which Is Better For Family Stay With Capital Appreciation In 5-10 Years?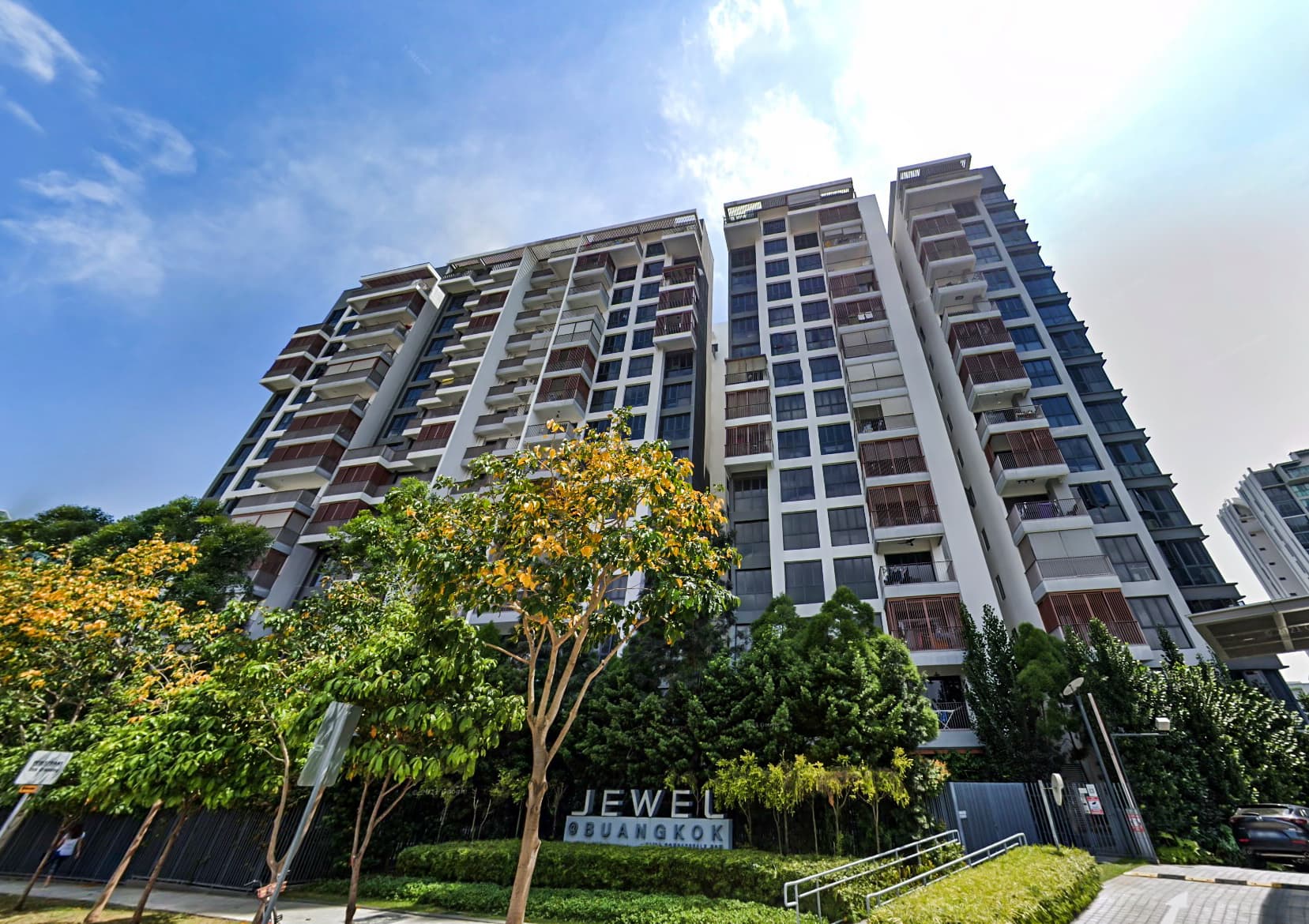 19
min read
Hi Stacked Home,
Happy Friday! Alongside with my partner, we are looking for 3 Bedroom Resale Condo in D19. We have shortlisted 2 Projects – La Fiesta & Jewel @ Buangkok – and would love to hear your review on these two projects for home stay.
We are looking to exit in 5 to 10 years time, which would be a better project in terms of its:
Locations: Will the upcoming project around the area affect the prices?
Investment: Is this a good investment for us to consider?
In addition, what are your thoughts on purchase with tenancy agreement?
Many thanks for your review in and have a blessed weekend ahead!
Warmest regards
---
Hi there, thanks for reaching out! Both developments in district 19 are located just 1KM apart and are right next to an MRT, so there's no doubt that if you're looking for public transport convenience, these two developments would fit the bill.
And while you have highlighted that these two projects are meant for home stay reasons, we can also understand why you'd also want to know which of the two would be better in terms of investment since that could be the deciding factor on which D19 condo you'd choose. So let's first cover the issue of what both developments can offer residents.
La Fiesta
La Fiesta is a 99-year leasehold condo with a lease starting from 2012, resulting in a balance lease of 89 years. It was completed 6 years ago in 2016 and houses 810 units in total.
In terms of amenities, it has the advantage of being right next to Compass One (formerly known as Compass Point) which comes with all the commercial offerings that a family needs – a Kopitiam food court can be found on level 4 as well as a Cold Storage in basement 1. There's a whole host of restaurants and cafes here such that you and your family probably wouldn't get bored of even after many years!
If you're looking out for more hawker fare, there's even the Kopitiam Square which is only a 3-minute walk away.
Apart from shopping and eating, there's the Sengkang Public Library located right below that which could be useful if you have kids or are expecting kids as a way to enjoy a fun and free family outing trip.
Finally, Singhealth Polyclinic Sengkang is just a 5-minute walk away. With all of these amenities, you can really see how La Fiesta is at the epicentre of what is considered to be a highly-residential district, meaning you're right at the doorstep of most of the amenities Sengkang has to offer.
We are not sure if primary schools are a concern for you as it wasn't mentioned, but given you are looking at a 3-bedroom condo for the next 5-10 years, perhaps this is something you might want to consider.
La Fiesta is within 1KM to 8 primary schools. While this sounds like a lot, bear in mind that the entire area is filled with high-rise residential developments with an age demographic geared towards younger couples. What's interesting is that it is 2nd closest to Nan Chiau Primary which is considered a popular school in Singapore (ranked 31 in the popularity index of schlah.com). While being within 1KM doesn't guarantee slots to it, it does provide a chance of enrolment there. Moreover, it's within 500m of La Fiesta, making it a within convenient reach to you by foot.
Transport-wise, it's right next to the Sengkang Bus Interchange. The bus interchange has a multitude of buses that stretches well beyond the estate. Since you're right at the bus interchange, there's no need to take the feeder bus to get anywhere which is a common occurrence if you stay in any other parts of Sengkang.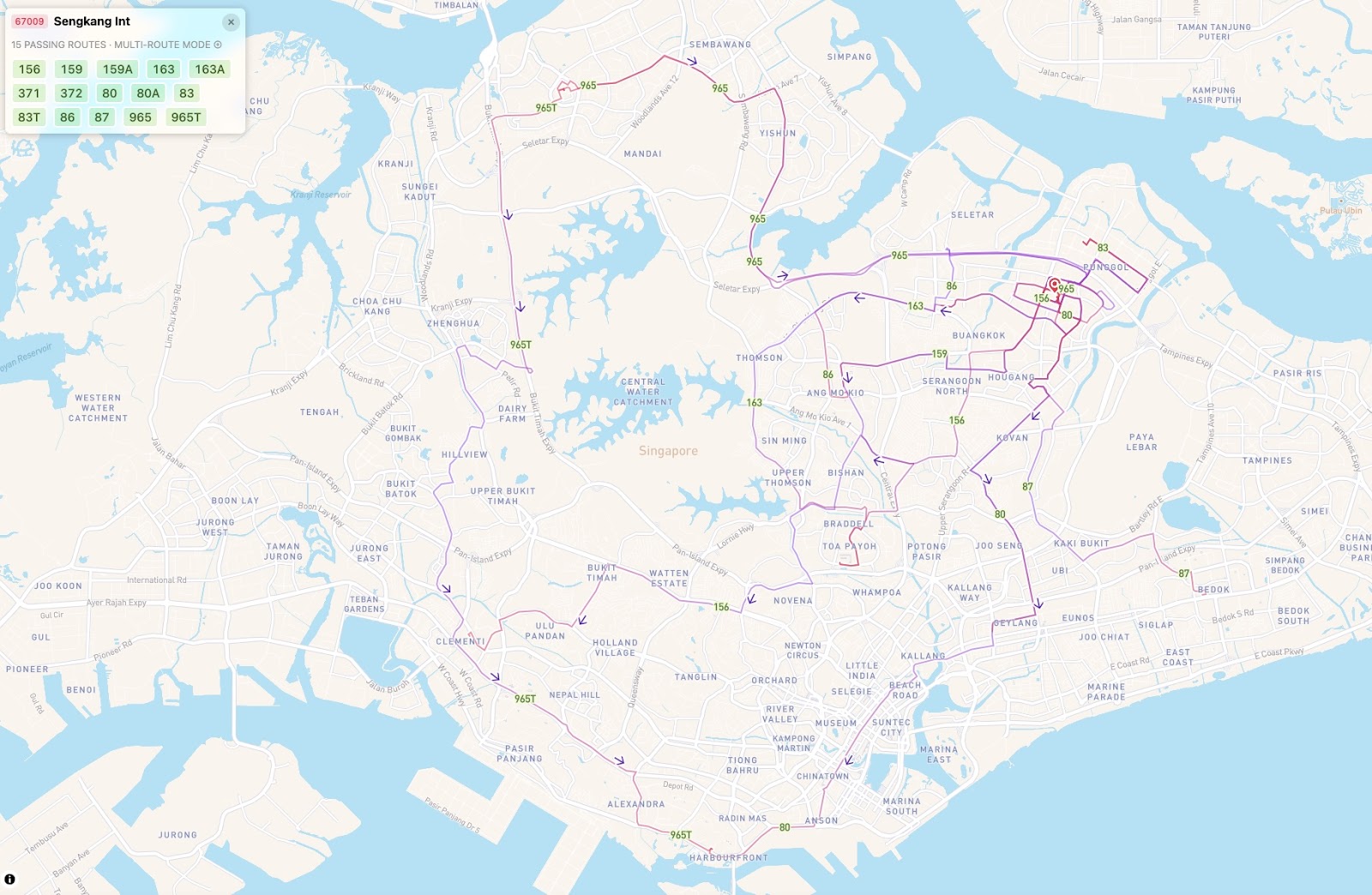 From there, you'll find direct routes to Serangoon, Bukit Timah and the CBD area.
As mentioned, it's next to Sengkang MRT too, but the best part about it is its direct link to the MRT – that means you are completely sheltered all the way to the MRT!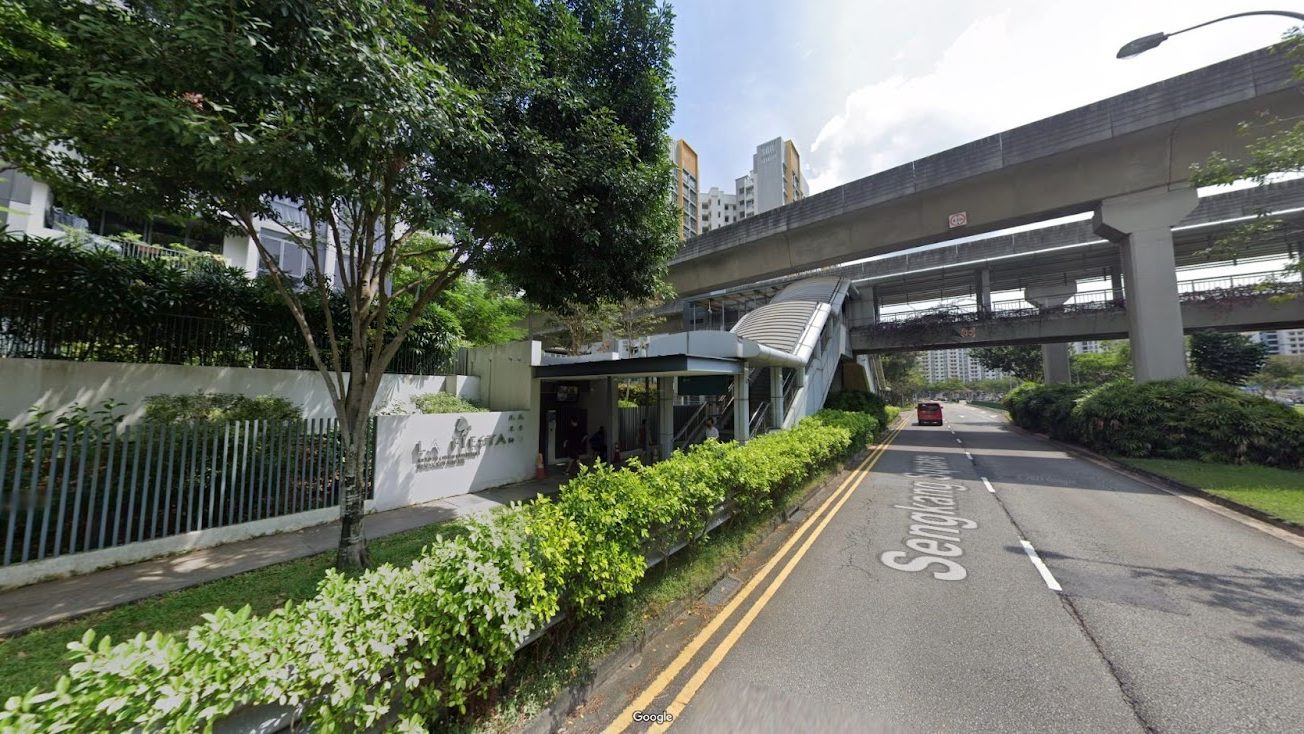 It's safe to say that La Fiesta nails it when it comes to both amenities and public transport offerings. Now, let's focus more on the development.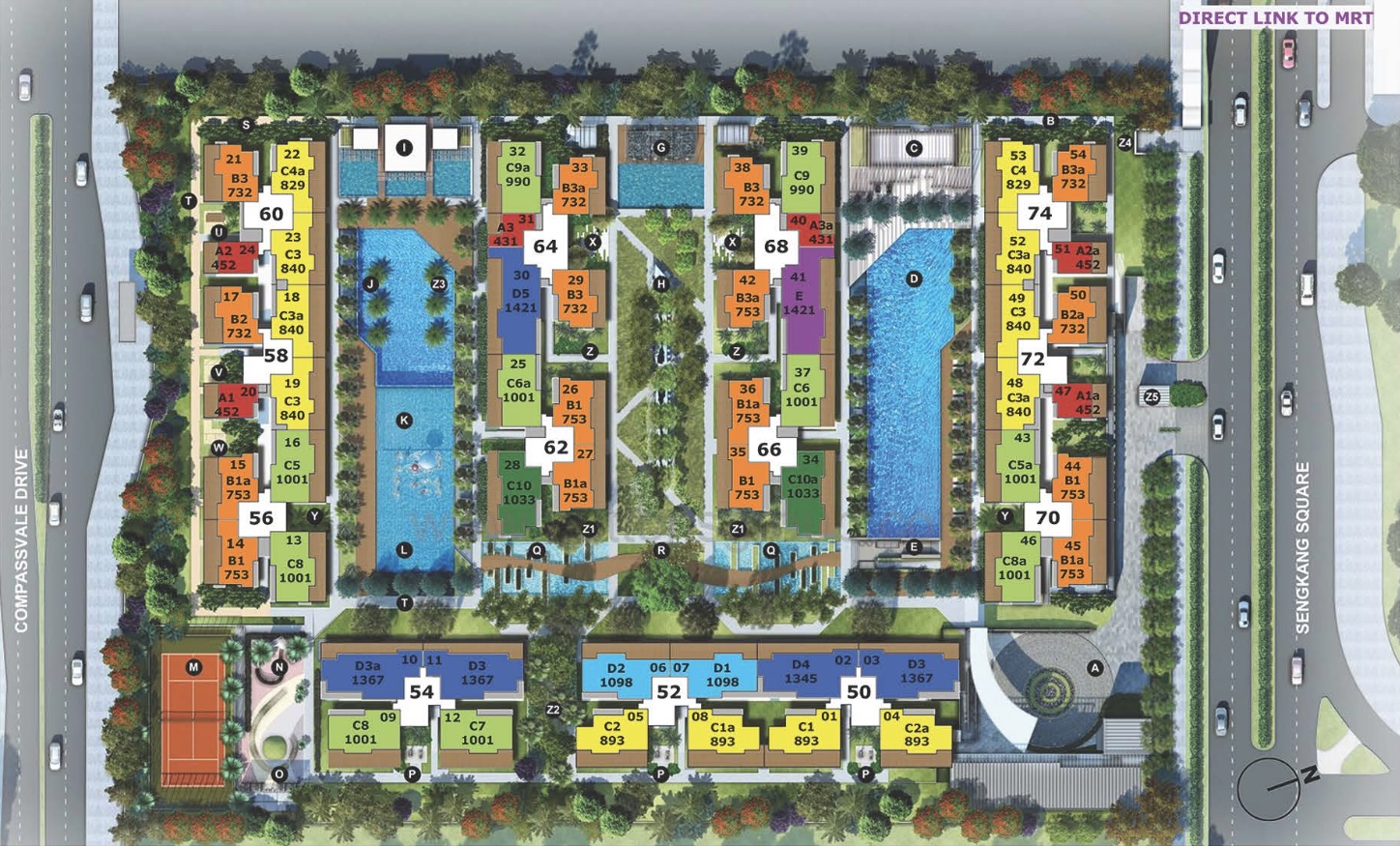 La Fiesta is full-fledged condo development that comes with a 50M lap pool as well as a tennis court (a rarity in newer developments today!). There's also a Social Pool which is commonly seen as more of the "fun pool" as opposed to the lap pool that's dedicated to more serious swimmers. This makes it pretty comfortable for 810 units.
You can also tell from the size of the Kidde Pool and Water Play Area combined that the condo is geared towards Family living. And if you're looking to entertain guests, the Teppanyaki Grill and Barbeque Pavilion come in handy.
Since you're considering the 3-bedroom units, let's check out which stacks they would be:
Most of the 3-bedroom units are inward-facing. The only exception would be the 3-bedroom units facing east towards The Luxurie.
In this case, the best stack would be 04 and 09 since it faces the lap pool of The Luxurie directly and no other unit peers into that stack directly. It's also about 150 metres away from the opposite HDB. The only downside here is the direct east-facing – this means you'll be getting the morning sun all-year round. While it's not as hot as the afternoon sun, some people could consider this to be an annoyance. The bright side (get it?) is that you can hang your laundry along the balcony to take advantage of the sunlight.
The remaining 3-bedroom stacks are about 25 metres away which isn't fantastic, but with a land area of 22,498 sqm having to squeeze 810 units with a maximum height of just 15 storeys, this is unavoidable.
Pricing
There are 3 different 3-bedroom units here: the 3-bedroom compact (840 – 893 sqft), 3-bedroom (990 – 1,001 sqft) and the 3-bedroom dual key (1,033 sqft).
Here's a look at the past transacted prices:
| | | | | | | | |
| --- | --- | --- | --- | --- | --- | --- | --- |
| CONTRACTDATE | ADDRESS | TYPE OFSALE | UNIT AREA(SQFT) | TYPE OFAREA | PRICE(S$ PSF) | PRICE(S$) | Type |
| 24 Feb 2022 | 72 SENGKANG SQUARE #02 | RESALE | 840 | STRATA | 1,370 | 1,150,000 | 3BR Compact |
| 30 Dec 2021 | 60 SENGKANG SQUARE #03 | RESALE | 840 | STRATA | 1,332 | 1,118,000 | 3BR Compact |
| 29 Dec 2021 | 60 SENGKANG SQUARE #13 | RESALE | 840 | STRATA | 1,334 | 1,120,000 | 3BR Compact |
| 1 Dec 2021 | 72 SENGKANG SQUARE #08 | RESALE | 840 | STRATA | 1,358 | 1,140,000 | 3BR Compact |
| 14 Mar 2022 | 52 SENGKANG SQUARE #12 | RESALE | 893 | STRATA | 1,354 | 1,210,000 | 3BR Compact |
| 15 Dec 2021 | 52 SENGKANG SQUARE #14 | RESALE | 893 | STRATA | 1,388 | 1,240,000 | 3BR Compact |
| 3 Dec 2021 | 52 SENGKANG SQUARE #07 | RESALE | 893 | STRATA | 1,321 | 1,180,000 | 3BR Compact |
| 15 Feb 2022 | 70 SENGKANG SQUARE #03 | RESALE | 1,001 | STRATA | 1,264 | 1,265,000 | 3BR |
| 11 Jan 2022 | 66 SENGKANG SQUARE #02 | RESALE | 1,001 | STRATA | 1,239 | 1,240,000 | 3BR |
| 16 Dec 2021 | 62 SENGKANG SQUARE #15 | RESALE | 1,001 | STRATA | 1,224 | 1,225,000 | 3BR |
Source: Squarefoot Research
There were just three 3-bedroom regular transactions and but a larger number of seven 3-bedroom compact units that went for sale here. The 3-bedroom compact has an average of $1,351 psf while the 3-bedroom regular is $1,252 (#15 was not considered as it doesn't tally with the market value).
Transaction prices for the 3-bedroom here are around $1.1 to $1.24m for the 3-bedroom compact and around 1.2+m for the 3-bedroom regular. Due to the lower supply of Dual Key units, there weren't any recorded in the past 7 months although as a guide, a 3-bedroom dual-key unit went for $1.32m in June 2021. Today, that is expected to be higher.
If you're considering the regular 3-bedroom unit, then you can look at the last transacted price of $1.265m for a unit that went on the third floor. You might be wondering why even though it was transacted later, the third floor unit went for more than the 15th floor unit which transacted for 1.225m – less than a third floor unit.
In this case, both stacks were inner-facing (facing the pool) and had no strategic advantage. It's likely that the 15th floor buyer got a good price and isn't a good reflection of the market value of the regular 3-bedroom unit here. This is especially true since $1,224 psf is still the lowest $PSF for a regular 3-bedroom unit here in the past 12 months despite it being on the highest floor.
Layout Analysis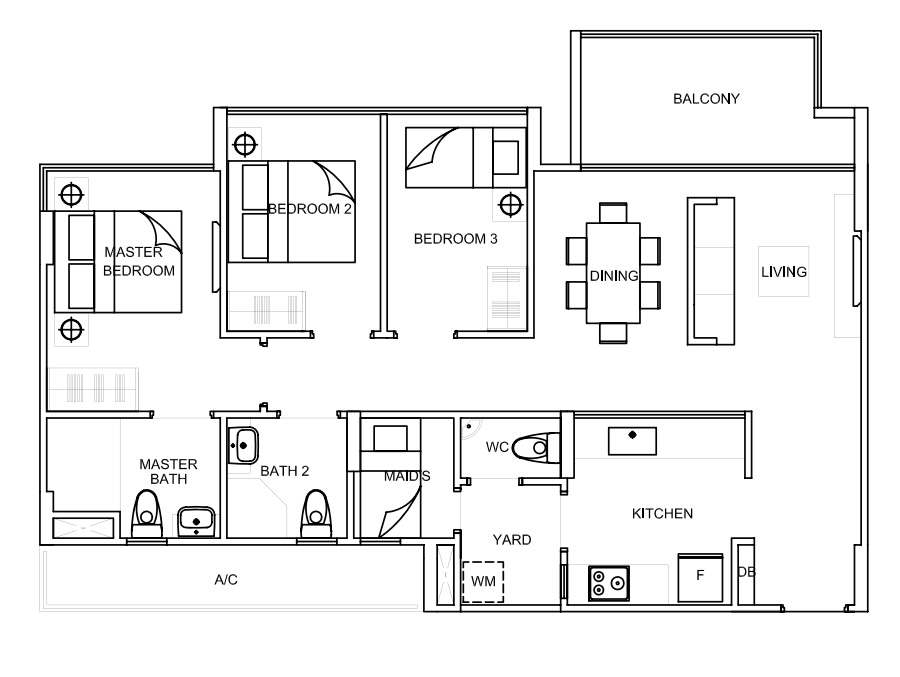 The 1,001 3-bedroom unit at La Fiesta packs quite a punch and is considered to be efficient. It comes with a combined living/dining area, an enclosed kitchen, a yard, a WC as well as a utility/helper room. This makes it a full-fledged 3-bedroom unit that would be very practical for families.
Starting from the entrance, you'll find that it opens up to an entranceway that faces the living room directly. This is not really an issue when it comes to privacy since the sofa can be positioned away from the door. The entranceway also has some space on the left, allowing you to conceal the DB box inside a cupboard which could be useful to put things like your shoes or keys in.
The kitchen has space on both sides to put cabinets, so there is quite an ample amount of storage here. The yard is also squarish in layout, allowing you to fit both a washer and dryer comfortably. There's even room to fit a compact clothes hanging rack above. One downside to this yard is that there's a lack of sunlight coming in here, but this is mitigated with the allowance for a dryer.
The helper's room fits a single bed and comes with a window, making it more liveable that most utility rooms. Leaving this door open could also mean cross-ventilation coming through the yard and flowing out through the balcony which is rare for a condo.
Moving on to the communal area, you'll find that the living and dining are combined – giving you flexibility in configuring the space. The balcony is of a decent size which is just nice to fit a dining table for 6 if you are looking for that alfresco dining experience.
In terms of bedroom sizes, one of the common bedrooms is considered to be small and fits only a single bed. Both the 2nd common bedroom and the master bedroom are average in size. You'll also notice that both bathrooms also come with natural ventilation which is great.
One downside is the AC ledge that spans both bathrooms which some would consider unnecessary. But other than that, the layout is considered to be quite efficient and is acceptable for its size.
Next up, let's look at what Jewel @ Buangkok has to offer.
Jewel @ Buangkok
Jewel @ Buangkok is also a 99-year leasehold condo with a lease start year of 2012. It was also built in 2016, sharing the same building timeline as La Fiesta. It houses 616 units compared to the 810 at La Fiesta, however, it does have a smaller land area of 18,341 sqm – about 19% smaller than La Fiesta. As such, there shouldn't be a noticeable difference in density between both developments.
In terms of amenities, Jewel @ Buangkok has always been at a disadvantage compared to La Fiesta considering how the latter had Compass One just next door even before it was built. Prior to Sengkang Grand Mall being built, there really wasn't much on offer in terms of amenities around although there is an NTUC supermarket in at Aspella HDB just opposite.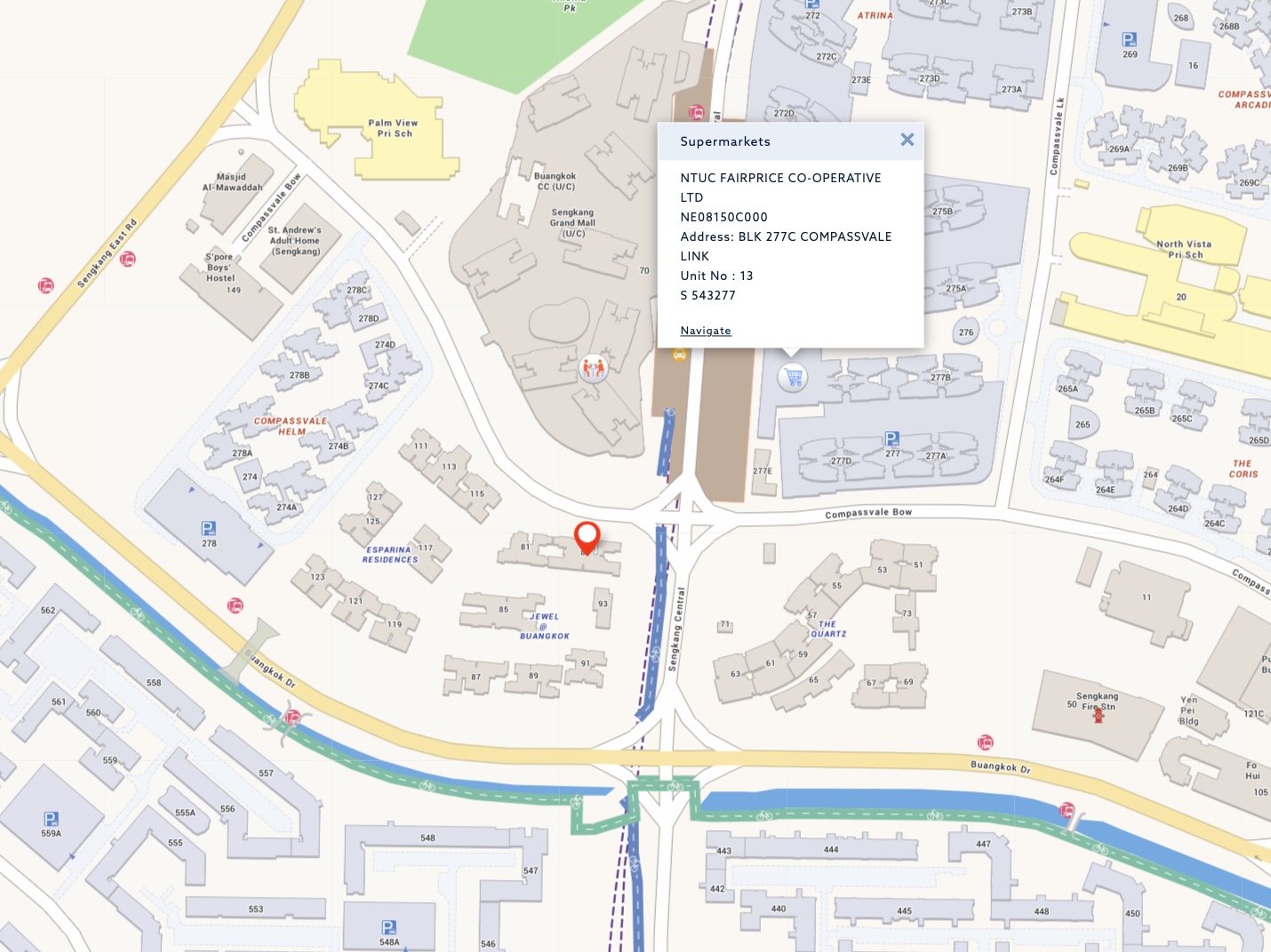 The good news is that Sengkang Grand Mall is coming up which sports over 160,000 square feet of retail space which will be managed by CapitaLand, a developer with a seasoned track record of managing malls.
More importantly, Sengkang Grand Mall is integrated with Buangkok MRT which will serve as the primary public transport mode for those living around here. Unlike La Fiesta, there is no direct link or sheltered walkway to the mall or the MRT – meaning that you will be subjected to the elements of the weather even with such a short distance.
What Jewel @ Buangkok has is its proximity to the Park Connector which is a lot more convenient to reach from here than from La Fiesta.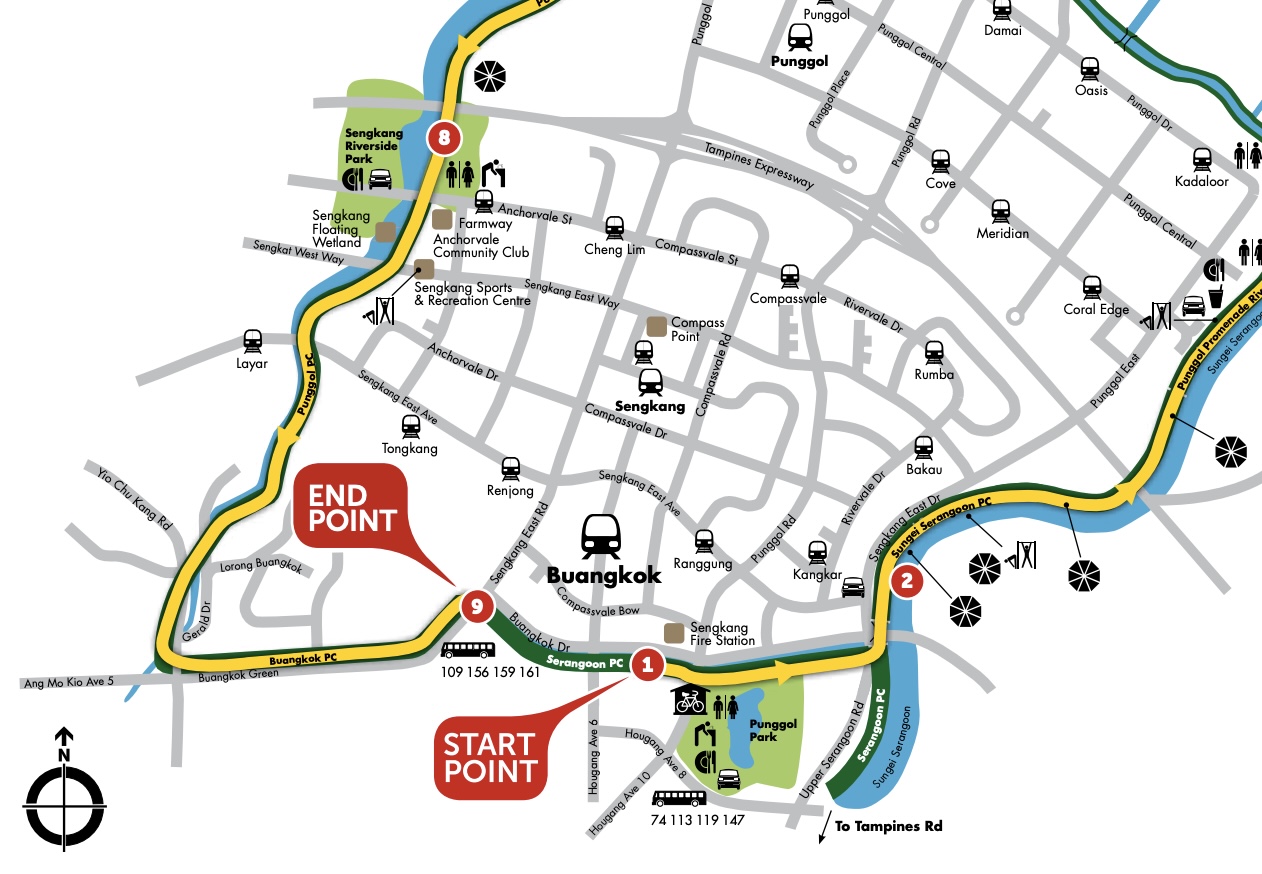 In terms of schooling, Jewel @ Buangkok has fewer primary school options within 1KM – 6 compared to the 8 that La Fiesta has.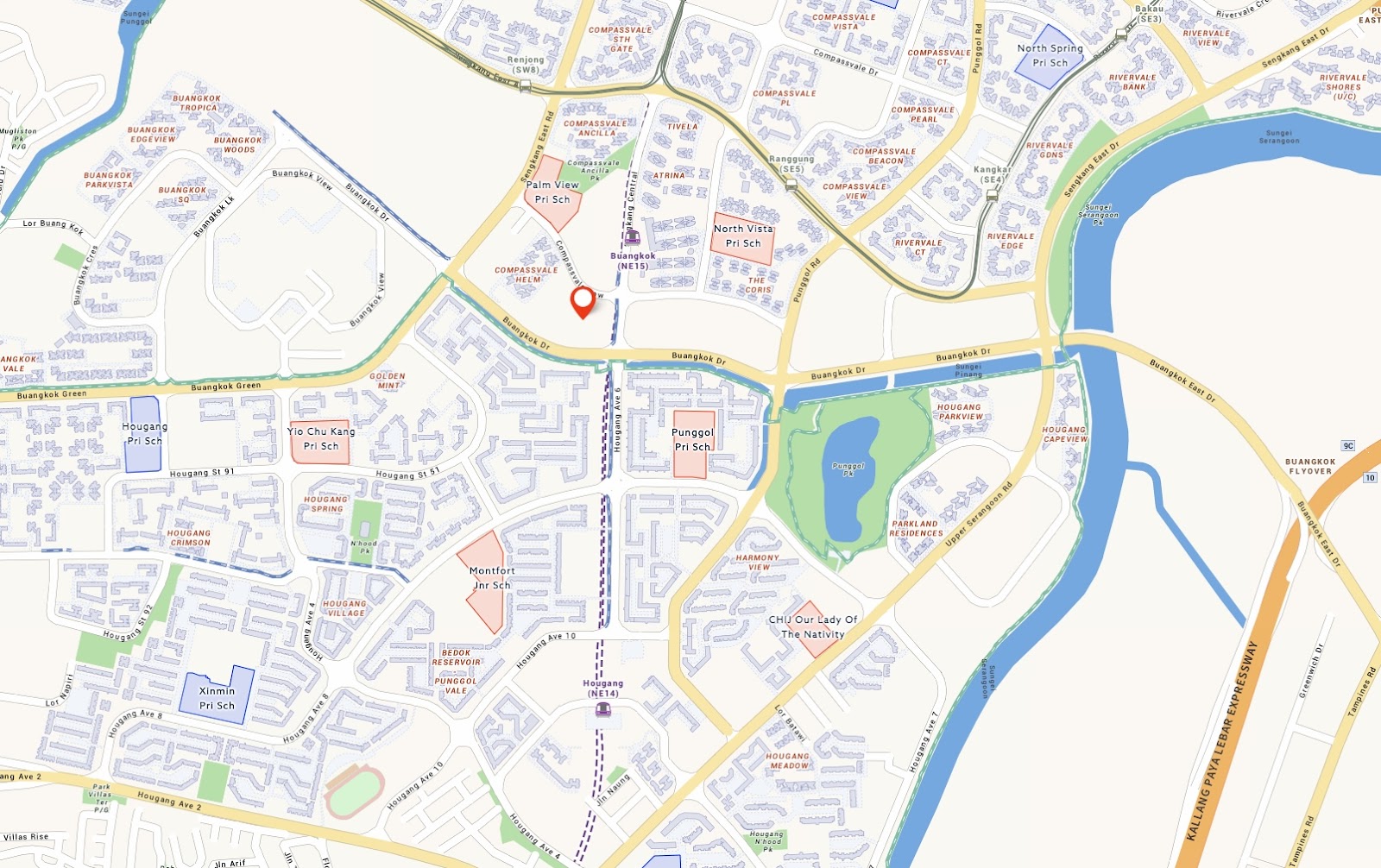 While this is convenient, do note that it is not within 1KM to the more popular Nan Chiau Primary, so if this is even a consideration then La Fiesta would be the obvious choice.
Next, let's look at the condo layout: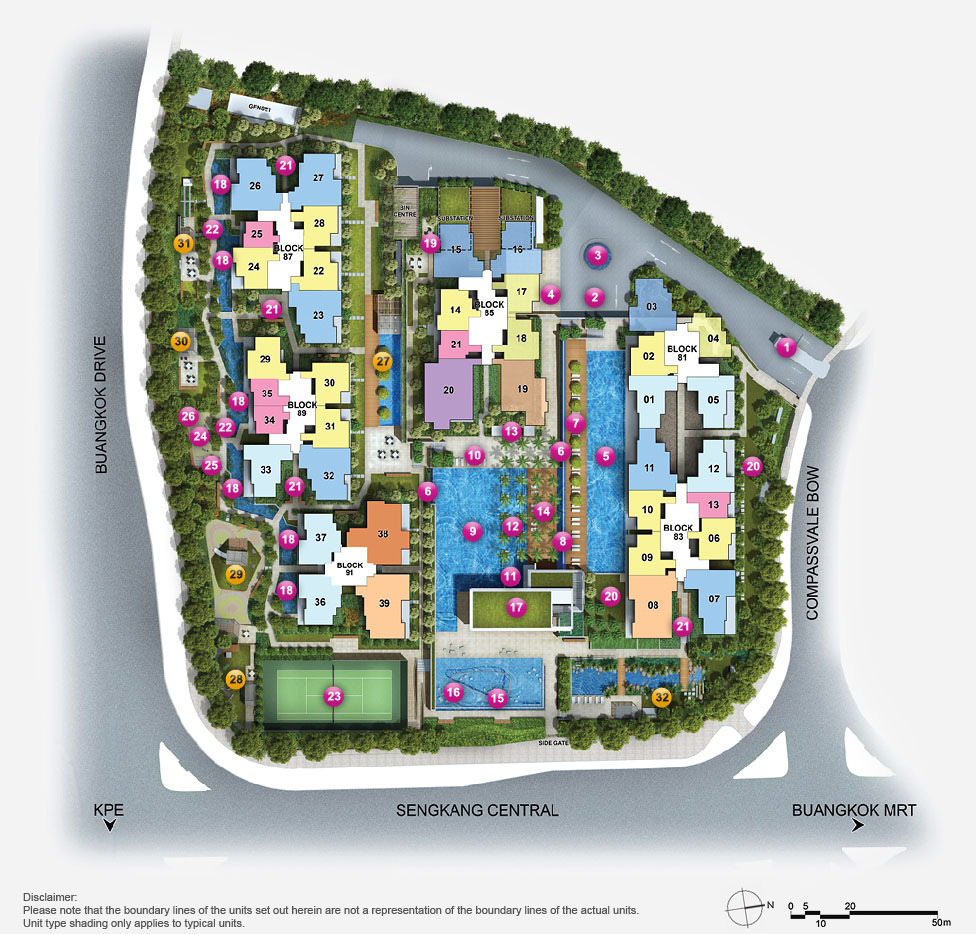 You'll find that Jewel @ Buangkok is also a full-fledged facility condo replete with a social pool, a 50m lap pool and even a tennis court. There's also a facility known as the "pet lovers cabin" which would be useful if you have a pet.
While the facilities on offer are similar, do bear in mind that Jewel @ Buangkok has fewer 24% fewer units and this should be reflected in how crowded/booked these facilities are.
Here are the 3-bedroom stacks at Jewel @ Buangkok: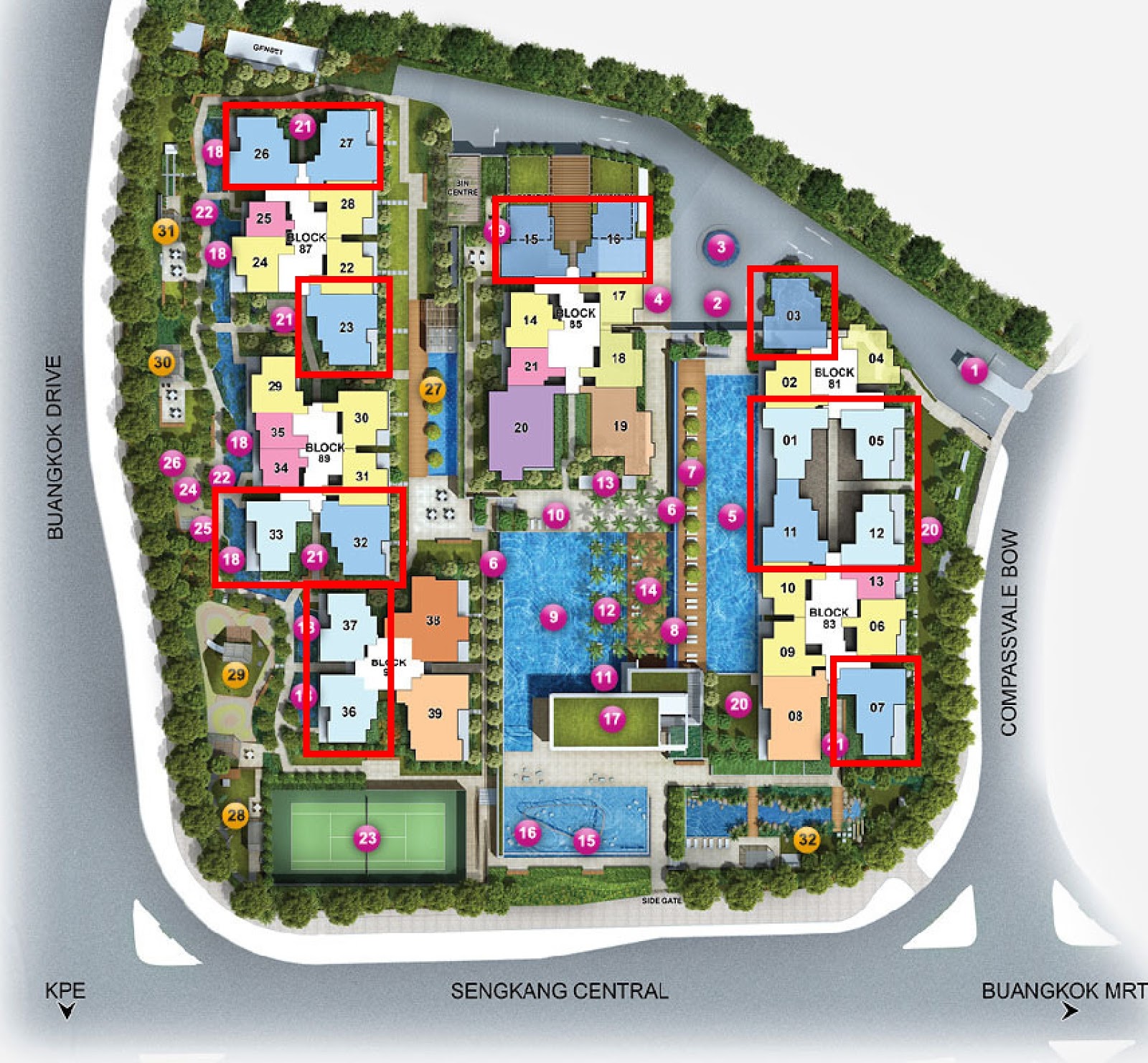 There are two types of 3-bedroom units here – the regular and the premium. Most of the regular 3-bedroom units are 872/936 sqft in size while most of the premium 3-bedroom are 1,130/1,152 sqft in size.
They come in a mix of facings. Stacks 36 and 37 are closest to the tennis court, so noise can be a concern there. The rest either face the road (whether outside or inside the development) or the pool/opposite block.
The best inner-facing stack would have to be stacks 11 and 32 (3-bedroom premium) since it's the furthest apart at around 64 metres.
Those looking for more peace and quiet can turn to the west side since it's furthest from both the pool and the tennis court. Stacks 15 and 16 are also further from the main roads.
Pricing
Here's what the past transactions look like for the two different 3-bedroom units:
| | | | | | | | |
| --- | --- | --- | --- | --- | --- | --- | --- |
| CONTRACTDATE | ADDRESS | TYPE OFSALE | UNIT AREA(SQFT) | TYPE OFAREA | PRICE(S$ PSF) | PRICE(S$) | Type |
| 1 Apr 2022 | 83 COMPASSVALE BOW #03 | RESALE | 1,109 | STRATA | 1,452 | 1,610,000 | 3BR Premium |
| 24 Feb 2022 | 87 COMPASSVALE BOW #09 | RESALE | 1,130 | STRATA | 1,405 | 1,588,000 | 3BR Premium |
| 8 Feb 2022 | 81 COMPASSVALE BOW #07 | RESALE | 1,130 | STRATA | 1,398 | 1,580,000 | 3BR Premium |
| 6 Apr 2022 | 85 COMPASSVALE BOW #04 | RESALE | 1,152 | STRATA | 1,337 | 1,540,000 | 3BR Premium |
| 21 Feb 2022 | 87 COMPASSVALE BOW #08 | RESALE | 1,152 | STRATA | 1,431 | 1,648,000 | 3BR Premium |
| 21 Feb 2022 | 87 COMPASSVALE BOW #11 | RESALE | 1,195 | STRATA | 1,364 | 1,630,000 | 3BR Premium |
Source: Squarefoot Research
Since December 2021, there were only 3-bedroom premiums that transacted in the resale market. These go for around $1,398 psf on average. $PSF-wise, it's a premium of 11.6% over La Fiesta's regular 3-bedroom unit that's smaller by 129 sqft. On average, the 1,130 sqft unit is $1,584,000 which costs 26.5% more than the average of $1,252,500 that La Fiesta is going for!
Of course, La Fiesta's transactions were on the 2nd and 3rd floor, but even if we accounted for the floor level, we can't ignore the fact that Jewel @ Buangkok costs over $200,000 more on average.
We'll explore the price differentials between La Fiesta and Jewel @ Buangkok soon.
For now, let's look at what the 3-bedroom here has to offer in terms of layout: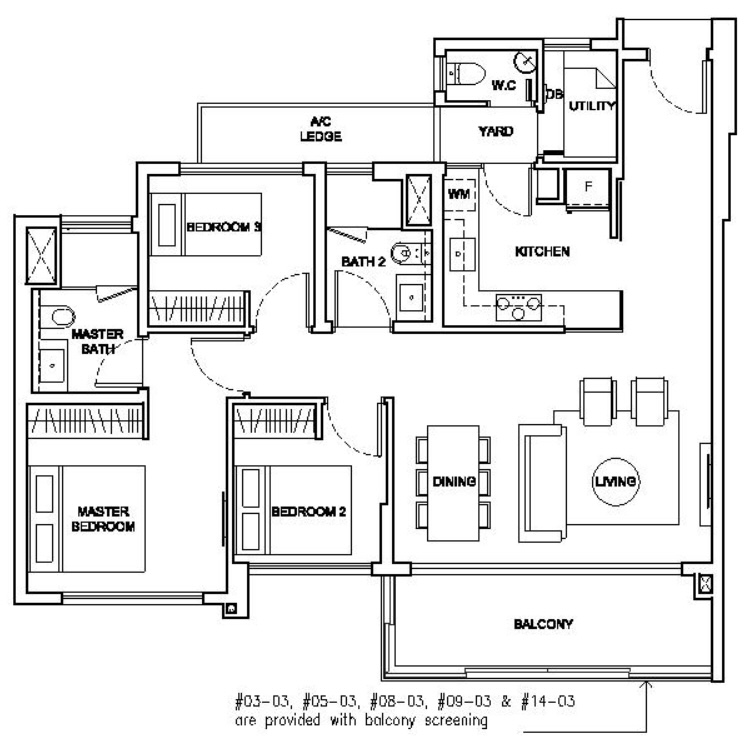 Immediately, you'll notice that the 3-bedroom premium offers more or less the same as what La Fiesta has. It includes a yard, a WC, a utility room (with a window) as well as an enclosed kitchen. There's also an ample amount of space to put cabinets for storage.
The entrance also has space on the right to build a narrow cabinet that allows you to put your shoes and other household items. Moving in, you'll see that the living and dining are together as well, giving you flexibility in moving things around depending on your needs. The balcony is also just enough to fit a dining table, although it could be quite a squeeze width-wise.
Just like La Fiesta, the first common bedroom is only enough to fit a queen-sized bed. Given the AC ledge outside, it can't have full height windows. The master bedroom is able to fit a king-sized bed, but it would not leave much room for bedside tables on both sides.
Both bathrooms are also naturally-ventilated which is not very common in layouts from new launch condos today.
Overall, the layout is quite efficient and I must say there isn't a distinct winner if we compare it to La Fiesta's 3-bedroom layout.
Is this an investment?
Before we look at the investment potential (in terms of capital appreciation) between both projects, here's a look at how their median $PSF has fared since their launch. A comparison with D19 leasehold/freehold prices and Esparina Residences was also put in as a reference: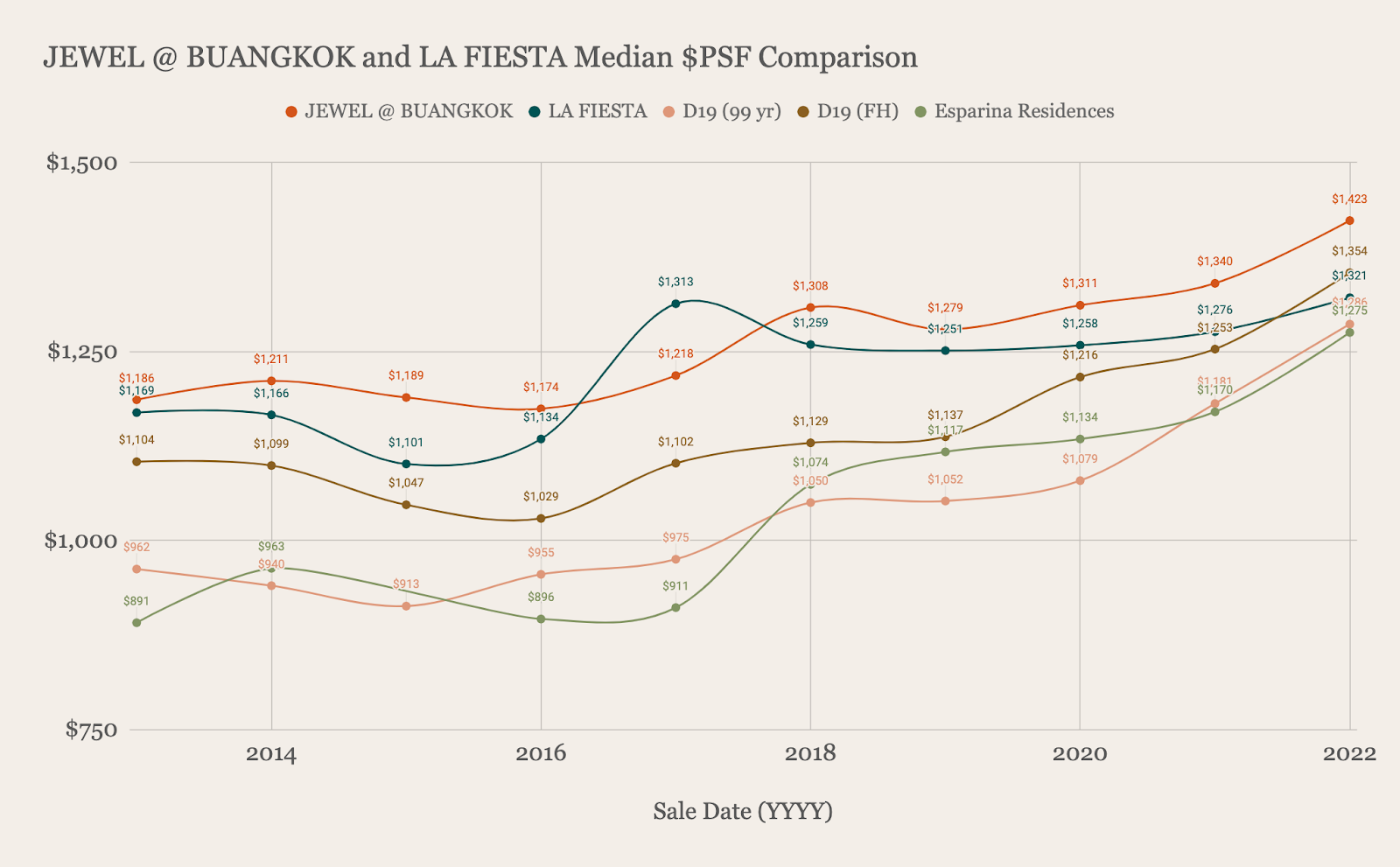 In almost every year, Jewel @ Buangkok costs more than La Fiesta in terms of $PSF, however, the disparity between both has grown since 2019 which is coincidentally the year when Sengkang Grand Residences next door started selling. The year in which La Fiesta had an anomaly of $1,313 psf was due to the flippers where almost half of the transactions were for 1-bedders.
Just by looking at this, you could argue that people are putting in a greater premium to Jewel @ Buangkok now over La Fiesta given this new and shiny amenity just next door – something that the development was lacking beforehand. This means that the presence of Sengkang Grand Mall has likely been priced in.
We can also look to Esparina Residences, an Executive Condominium just next door, to see the effect of its $PSF against La Fiesta: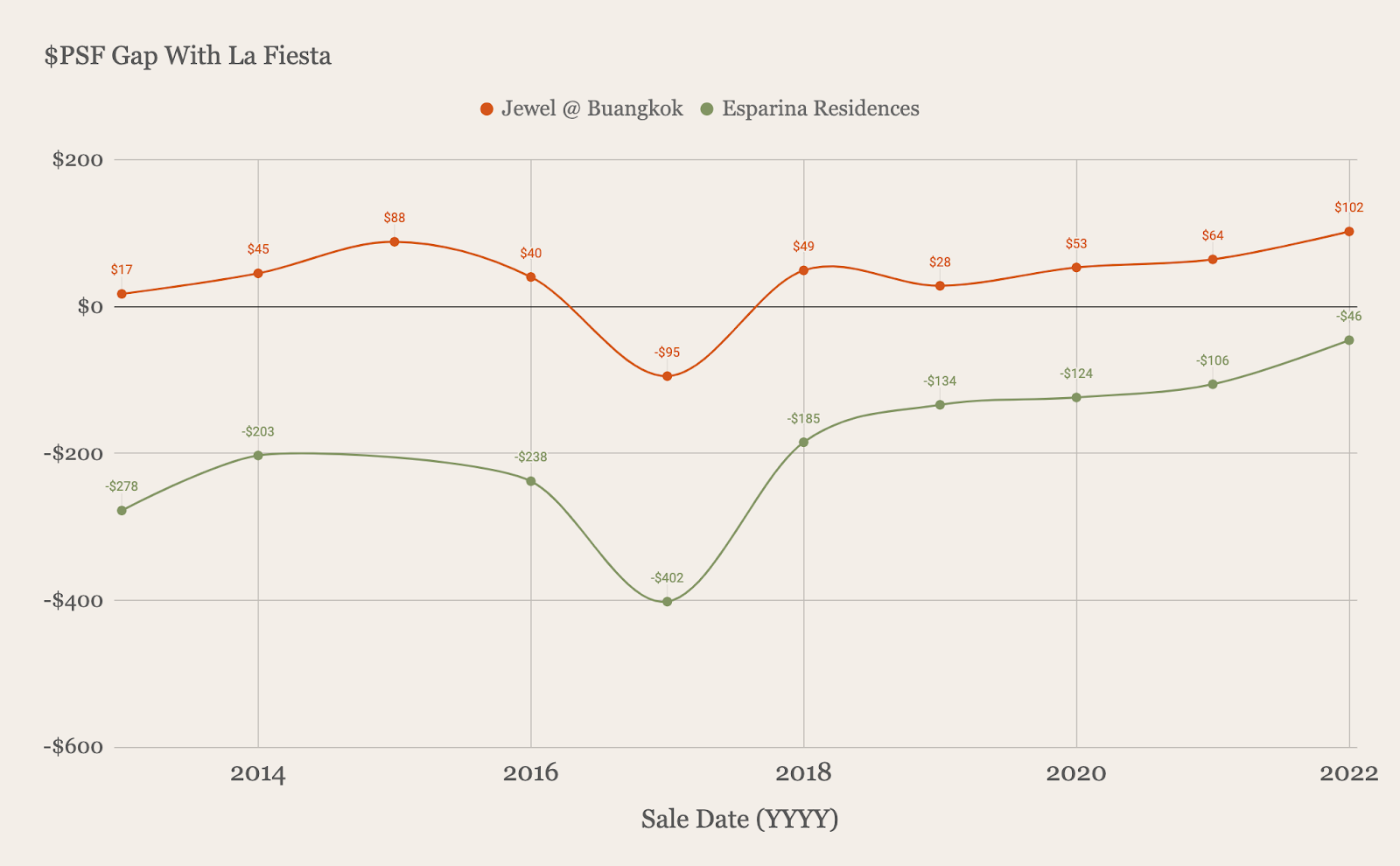 Being an EC, Esparina Residences is expected to trade at some sort of discount to resale condos (especially in the first 10 years since ECs cannot be sold to foreigners). Yet, the gap is also closing. It's visually clear that Jewel @ Buangkok's $PSF gap is also increasing here.
Comparing both their growth to the average resale D19 $PSF of 99-year leasehold properties, you'll see that the $PSF difference has started to narrow since 2019 as well. As the property market picks up, La Fiesta has been lagging behind the growth of other developments.
So the question is – will this disparity remain or will La Fiesta catch up?
We think that the presence of the new Sengkang Mall, as well as Sengkang Grand Residences, will continue to maintain the disparity between Jewel @ Buangkok and La Fiesta – and perhaps even increase this disparity.
First, Sengkang Mall is the new and shiny mall of the area. We foresee that it would make the place very vibrant and between having to live beside Compass One or the new Sengkang Grand Mall, most buyers would prefer the latter. Considering the area is generally made up of HDB Upgraders (likely prospective buyer profile) that have the option to pick between Punggol (Watertown), Sengkang (Compass One) and Buangkok (Sengkang Grand Mall), typically the newest would be the most attractive.
Moreover, CapitaLand will be the managing agent, and with its strong track record, it's likely that the mall will come to be distinct in the area.
Next, Sengkang Grand Residences will reach its TOP soon and start seeing transactions in the resale market. When a new development trading at a much higher $PSF comes onto the resale market, having prospective buyers choosing between Sengkang Grand Residences and Jewel @ Buangkok means that the latter now has continuous price disparity to help pull its prices up. La Fiesta does not benefit as much from this given the immediate area around it has no new launches.
Some may point out that La Fiesta is close to a reputable school (Nan Chiau Primary), but that is nothing new. Clearly the disparity has grown in spite of this fact, so we feel that this point is not as relevant from a capital appreciation standpoint.
We could be wrong – perhaps Sengkang Grand Mall could flop similar to how Junction 10 fared at The Tennery. But we think this is unlikely given the large retail space as well as the track record of the Managing Agent.
And for a time horizon of 5 to 10 years, we do think that the depreciation effect should not kick in much even though the development is already 10 years old (in terms of lease remaining). We usually observe leasehold developments to start stagnating of depreciating past the 21 year mark, so in your time horizon, you'd be well clear of that.
Finally, for your last question on buying with a tenancy agreement – we think the main point is whether or not it fits in with your timeline. Having a tenant in place could make it hard for you if you ever find yourself in urgent need of moving in.
For specific things to look out for, we've done a 6-point list that you should take note of here.
Conclusion
We wouldn't fault you if you had a hard time deciding between the two. Both are about 1KM apart, are close to an MRT, have pretty decent layouts – natural-ventilated bathrooms, enclosed kitchens, a yard, utility room and decent living/dining space).
Both developments are also full-fledged condos with a 50-metre lap pool and a tennis court.
For own stay reasons, unless you are a stickler for being near a reputable school, it seems that both are pretty strong contenders.
We would add that the question shouldn't really be if these will be good investments. To be sure, if your main criteria is capital appreciation then there will be other places that would be a better bet.
It's more of if these places fit your needs from an own-stay perspective, and then consider which would have a better value retention.
So between the 2, we do think that Jewel @ Buangkok could be the better choice given the new mall nearby that would likely be a strong attraction for buyers compared to Compass One, as well as Sengkang Grand Residence that will continue to have a price disparity effect on Jewel @ Buangkok.
Thank you again for turning to Stacked for your real estate questions – we hope that our insights into both developments will help you in your decision-making.
Have a question to ask? Shoot us an email at hello@stackedhomes.com – and don't worry, we will keep your details anonymous.
Looking for a home? Feel free to reach out to us here for a more in-depth consultation.
For more news and information on the Singapore private property market or an in-depth look at new and resale properties, follow us on Stacked.