33
min read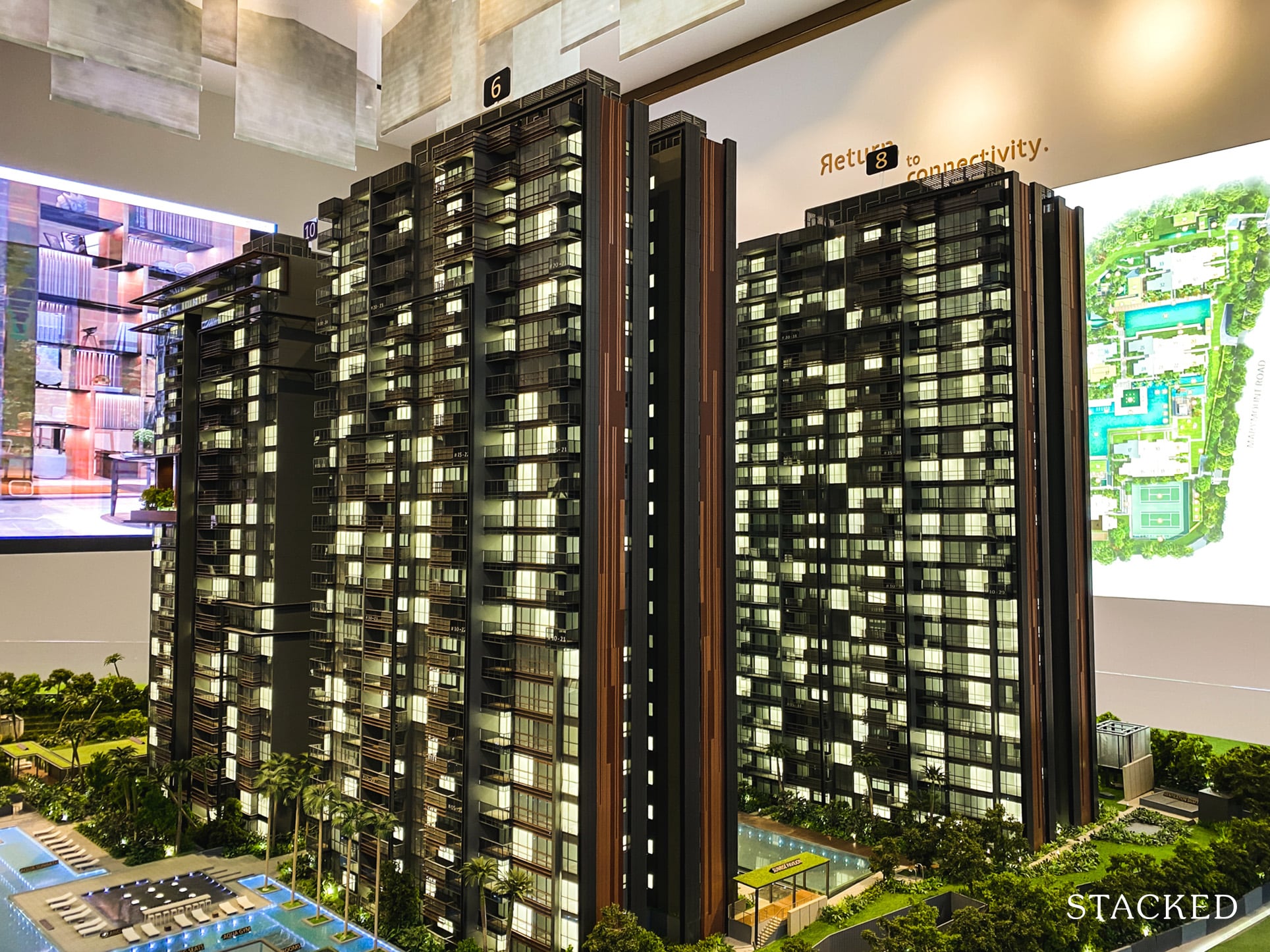 Big development with efficient smart-home technology
With a site area of close to 400,000 sqft, Jadescape is certainly for those who love big developments. Homeowners here would also stand to benefit from its smart-home technology and specialised condo apps.
| | |
| --- | --- |
| Project: | Jadescape |
| District: | 20 |
| Address: | Shunfu Road |
| Tenure: | 99-Year Leasehold |
| No. of Units: | 1206 |
| Site Area: | 397,823 |
| Developer: | Qingjian Realty (Marymount) Pte. Ltd. |
| TOP: | 2022 |
If there's one other thing than money that makes the world go round, it's technology.

And if you've read a number of JadeScape reviews before this, you'd know by now that one of the key USPs of the condo is its (elevated) 'Smart Home Technology'.

With facial recognition at lift lobbies, QR code access for guests and a private condo maintenance app to boot (amongst many other high-tech features), some would say that its developers – Qingjian Realty have now gone a step beyond the industry's current 'smart-home tech' standards.

But those aren't the only things that set the condo aside from its competitors.

A brilliant location, specific demographic-related unit fittings and sprawling condo grounds (not to mention an abundance of facilities) make this 2022 TOP project a popular topic amongst many prospective homeowners.

And although it was launched almost a year and a half back in September 2018 to an overwhelming response (300 out of its 480 launch units were snapped up back then); this updated review further elaborates on its current price points against today's market for you to make an educated and informed property decision.

If you've had your eyes set on the alluring Jadescape for some time, or simply are curious about the current pricing/physical landscape surrounding the condo, this review is for you!

JadeScape Insider Tour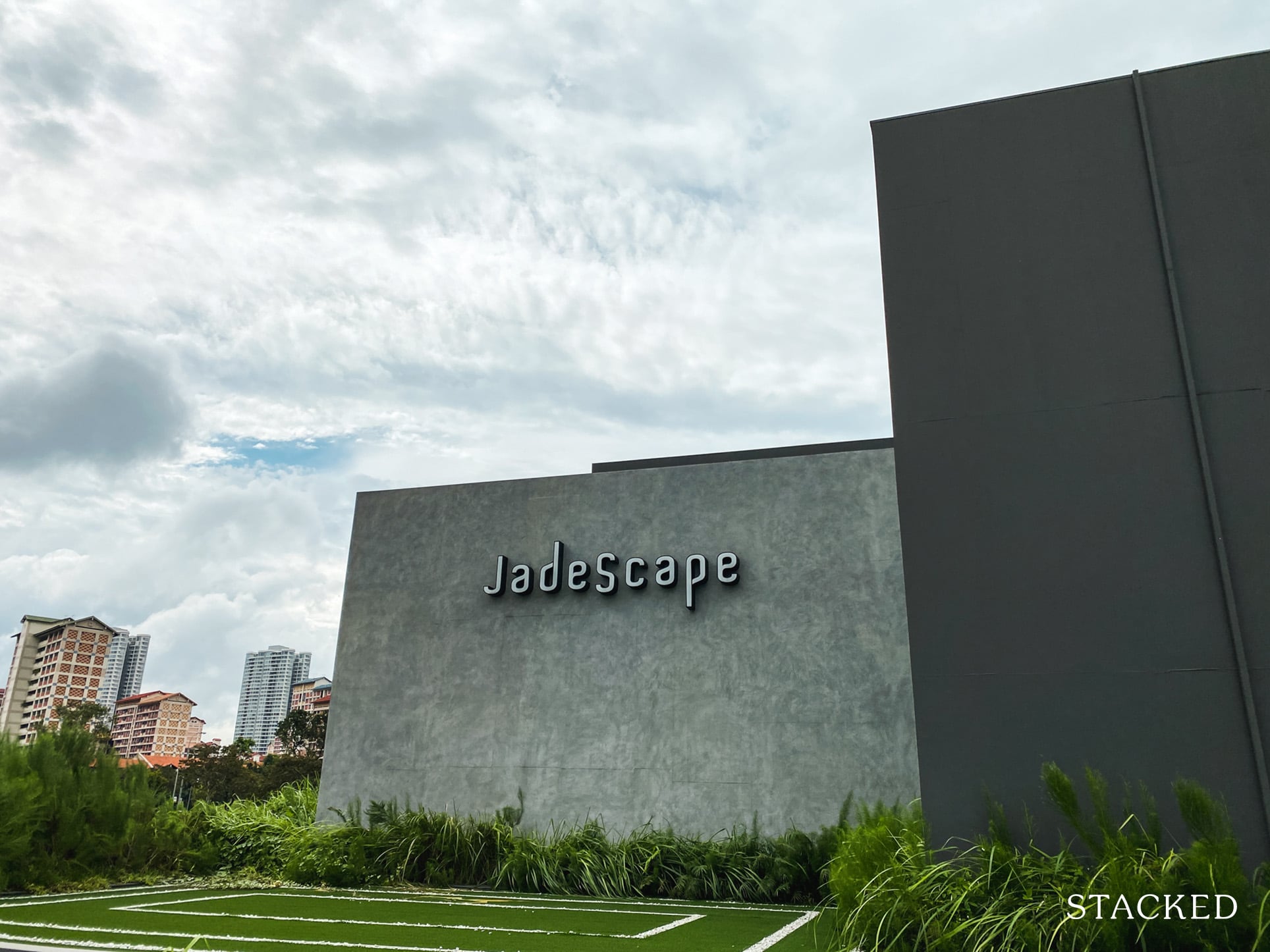 Just some interesting trivia before I go right into the insider tour – JadeScape is by far and away the most requested condo for us to review on Stacked. It could be down to its central location, or maybe because of its "unorthodox" marketing tactics – but there's no denying that it has captured significant mindshare of buyers who are looking for a new launch property in Singapore.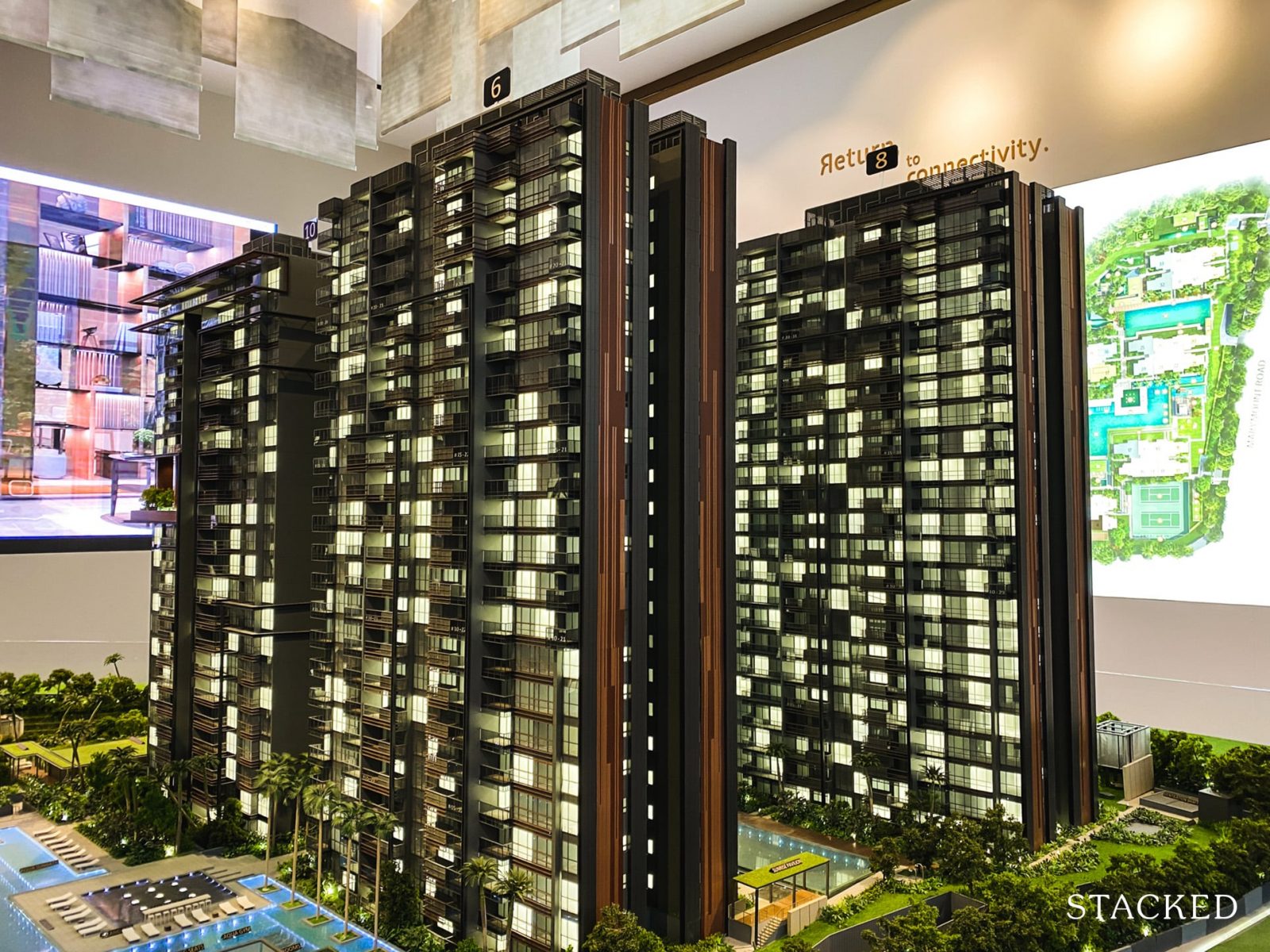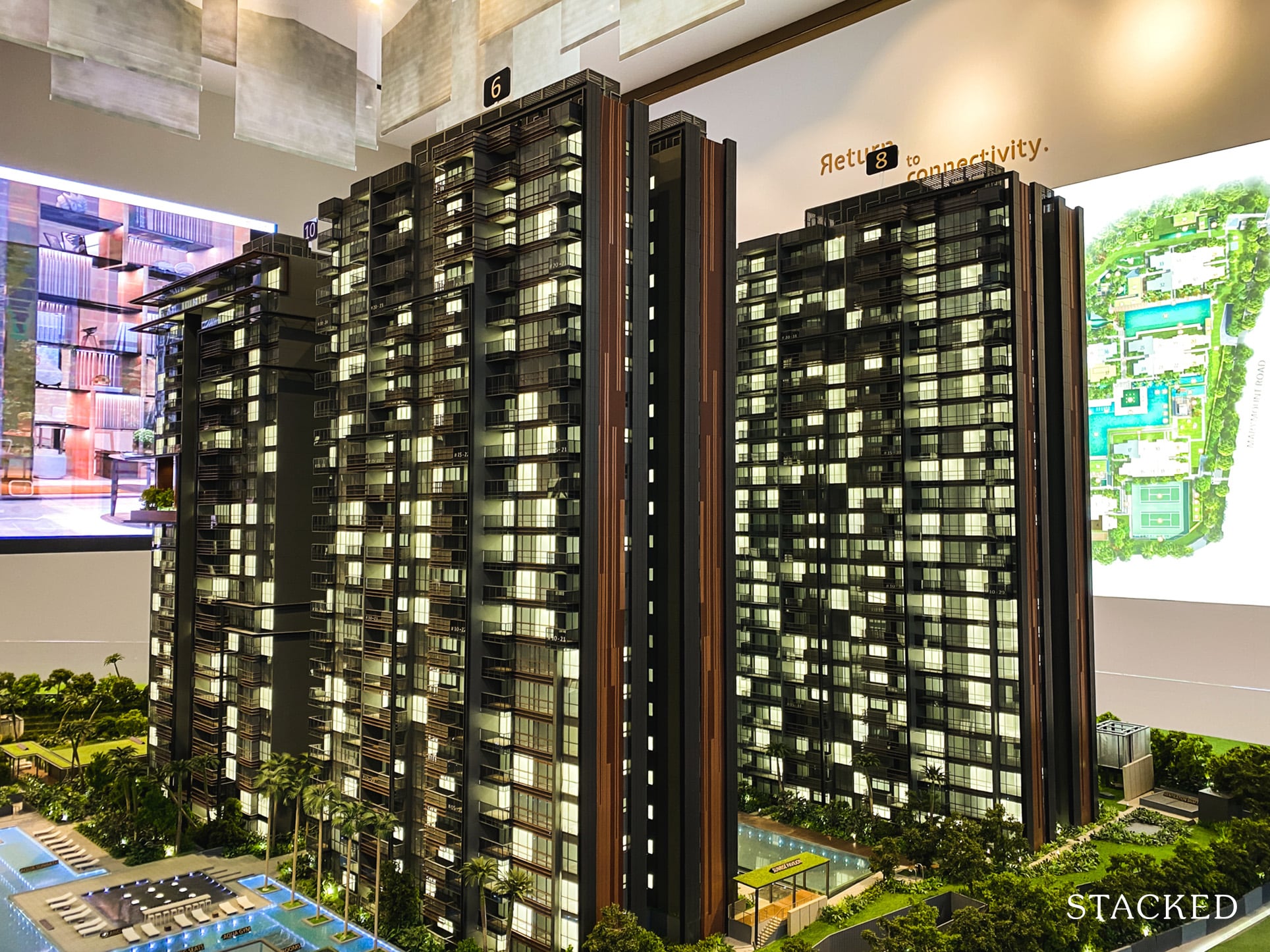 For better or worse, depending on your view, JadeScape adopts the current trend of sleek glass and straight lines. Clad in a mix of darkened glass, shades of grey, and wooden accents – the overall feel is quite reminiscent of my visit to Leedon Green.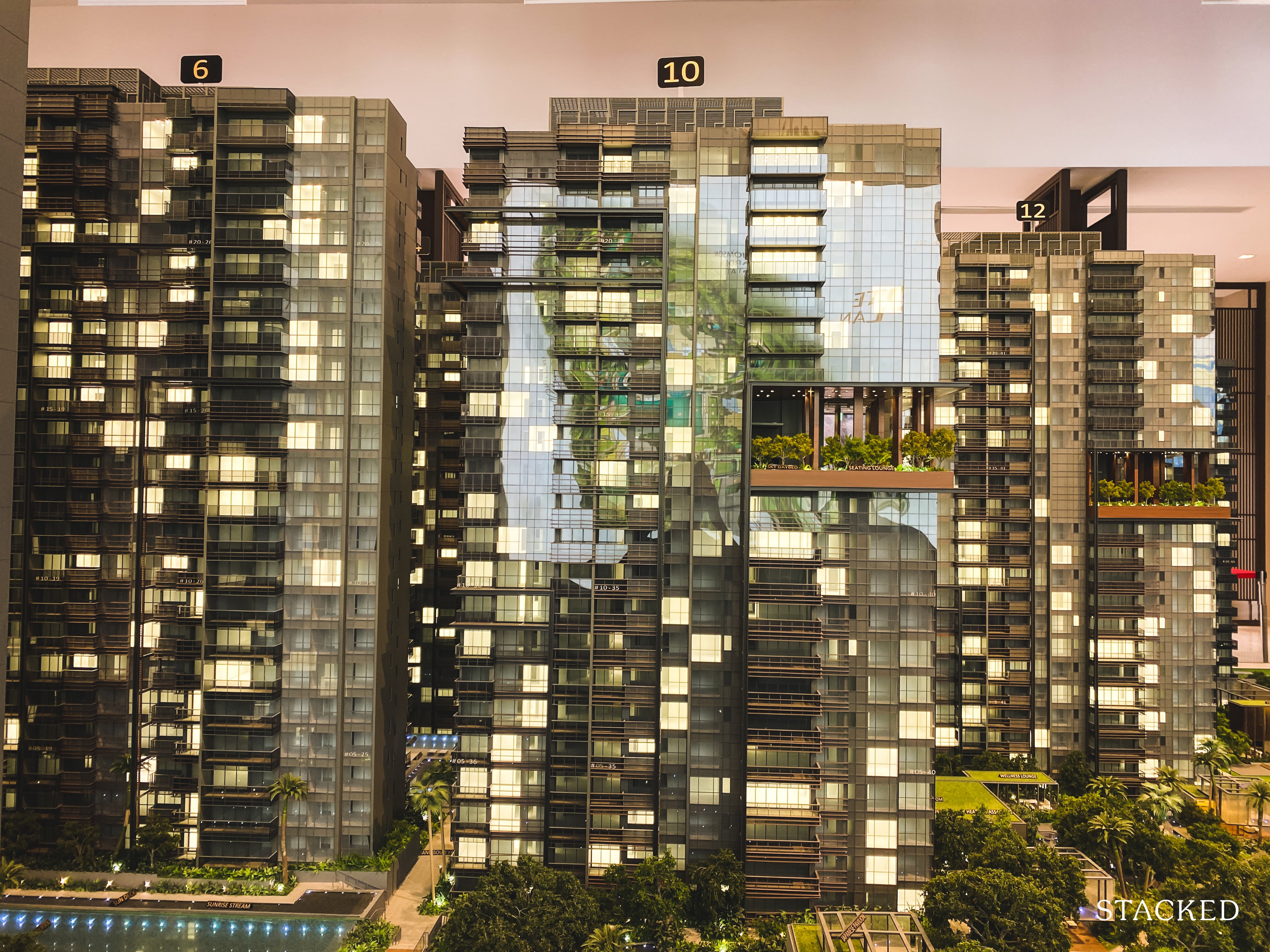 Personally, I quite like the design. If not for the number of blocks giving away its mass-market status, you could easily mistake this for a higher-end condo development.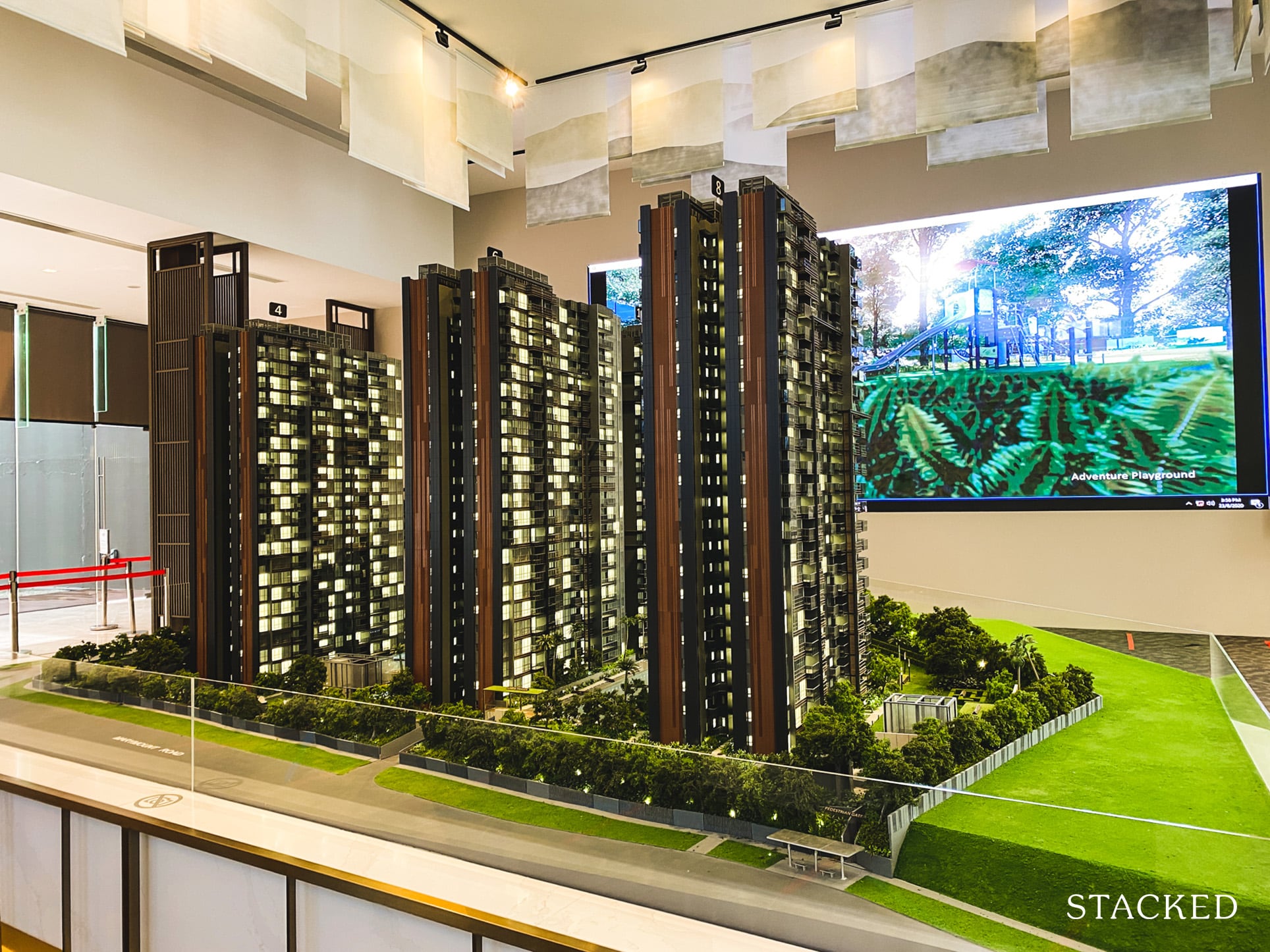 The dark copper coloured accents down the side give it a distinct look too, especially when viewed from a distance. And while the dark colours make it more susceptible to attracting heat, the upside here is in the form of sustainability – I think it will stand the test of time better than the white-based condos that we used to see.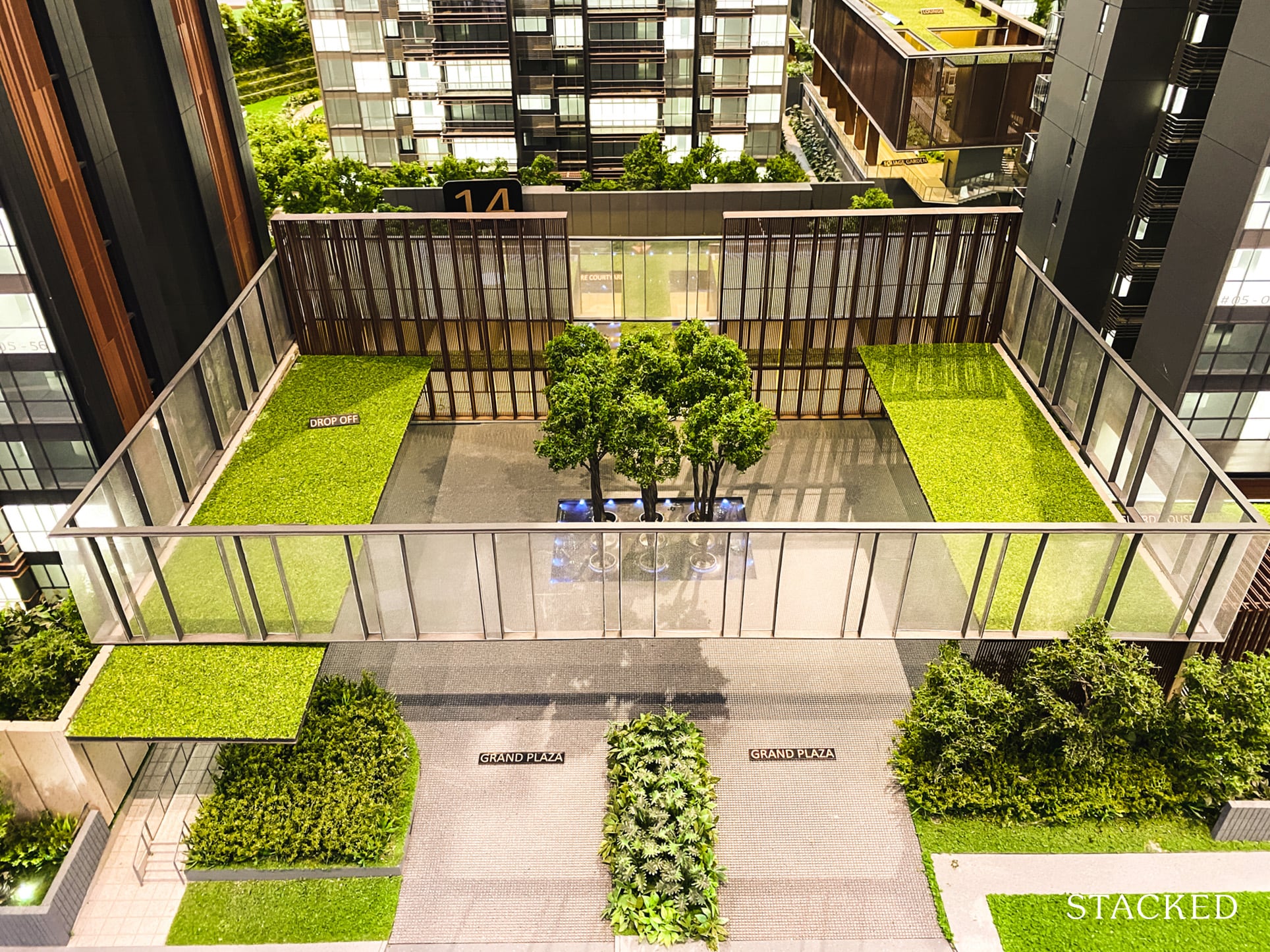 It's quite telling that Qingjian has tried to up the high-end factor at JadeScape with the inclusion of this Grand Plaza arrival courtyard. While we can only judge when the final product is actually out, on first impressions – I have to say that I am quite impressed. If a sense of sophistication and grandeur was the desired outcome of this, I think they have achieved that here.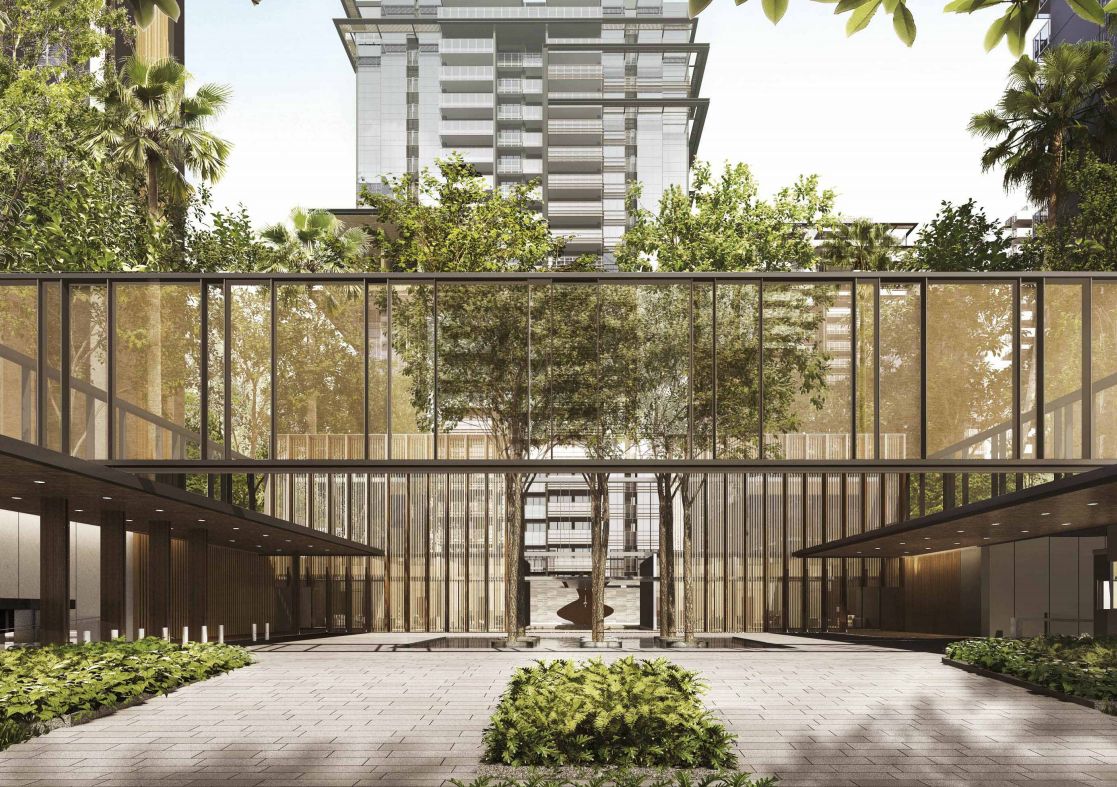 Make no mistake, JadeScape sits on a pretty sizeable plot of land – 397,823 square feet to be exact. This is home to 1,206 residential units and 6 commercial units. If you were to compare with similar behemoths like Parc Esta and Parc Clematis, JadeScape sits in the middle in terms of unit density. It's hard to compete against the gargantuan Parc Clematis (633,644 sqft), even if it does contain more units (1,468).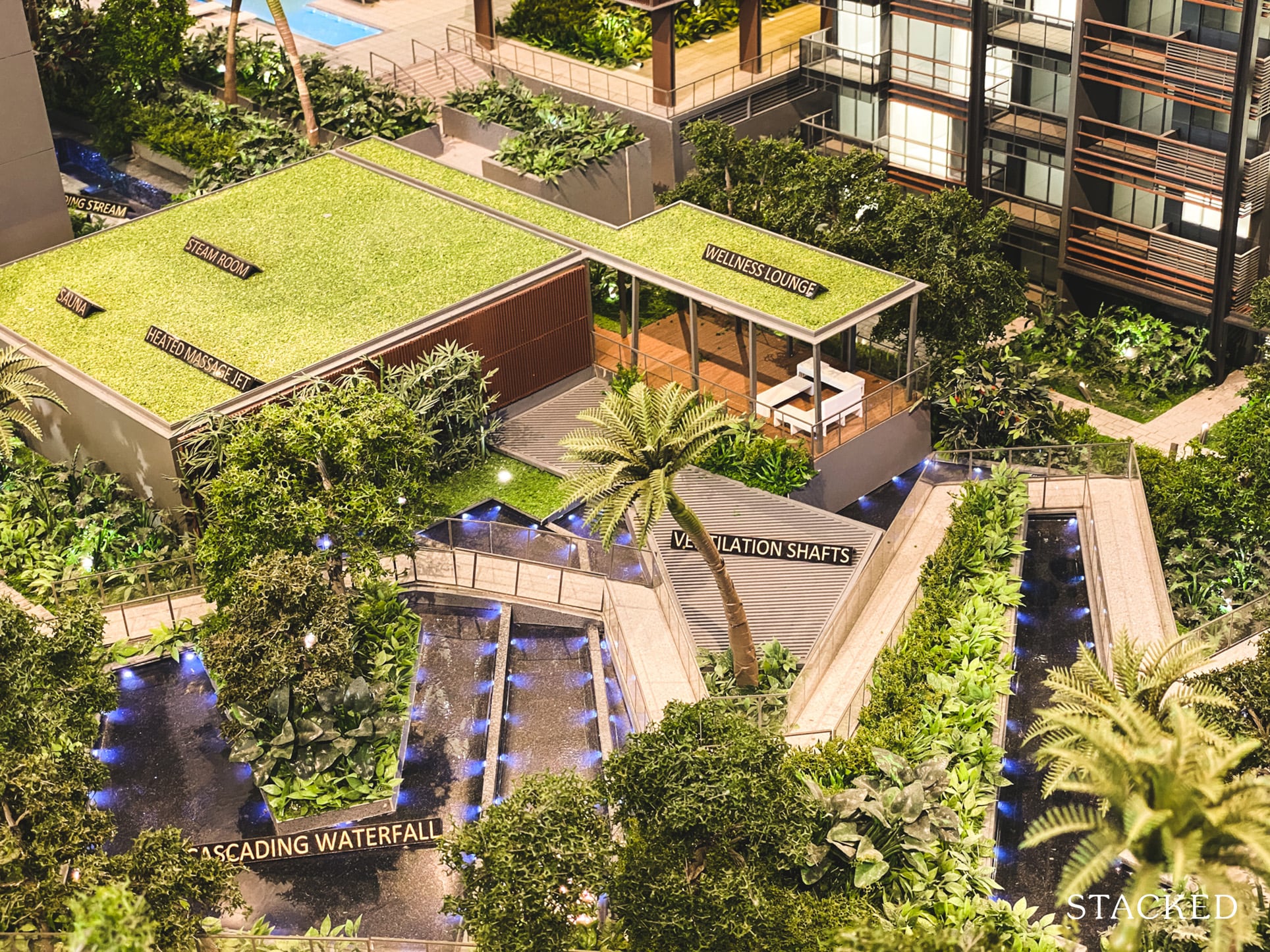 While some people see condo facilities as a longer the better type situation, I take a different stance on it. It's evident from looking at the facilities list that Qingjian has tried to cram as many facilities as possible. It is water features and landscaping everywhere you look, and it comes across as rather busy in my opinion.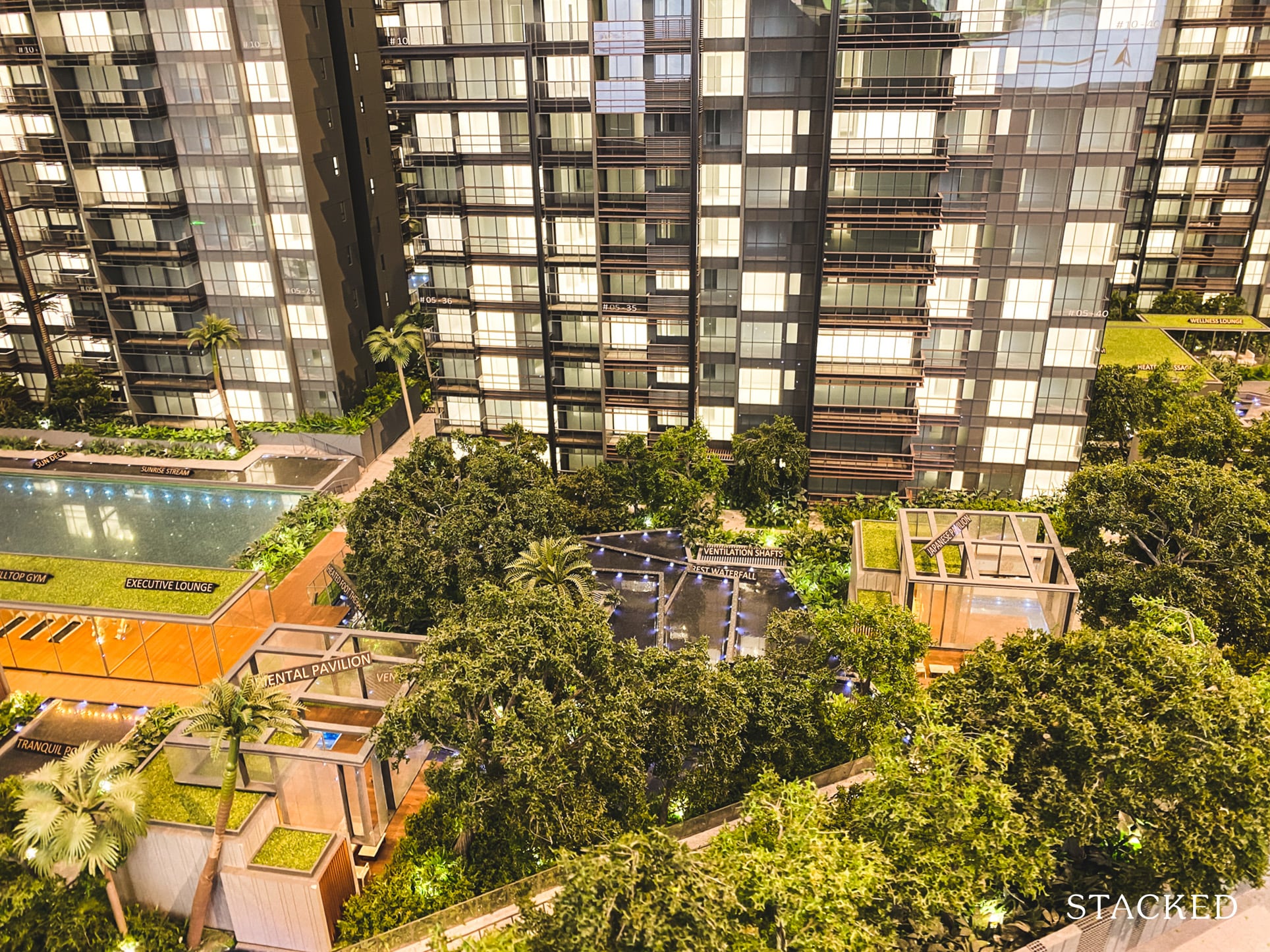 I wouldn't say there is a right or wrong here, it's just a personal preference. Sometimes less is more – having more open spaces does give a better perspective to the size of the land. It's something many developers are guilty of as often many of these facilities go unused. So this can add to maintenance costs and more upkeep is required in the long run.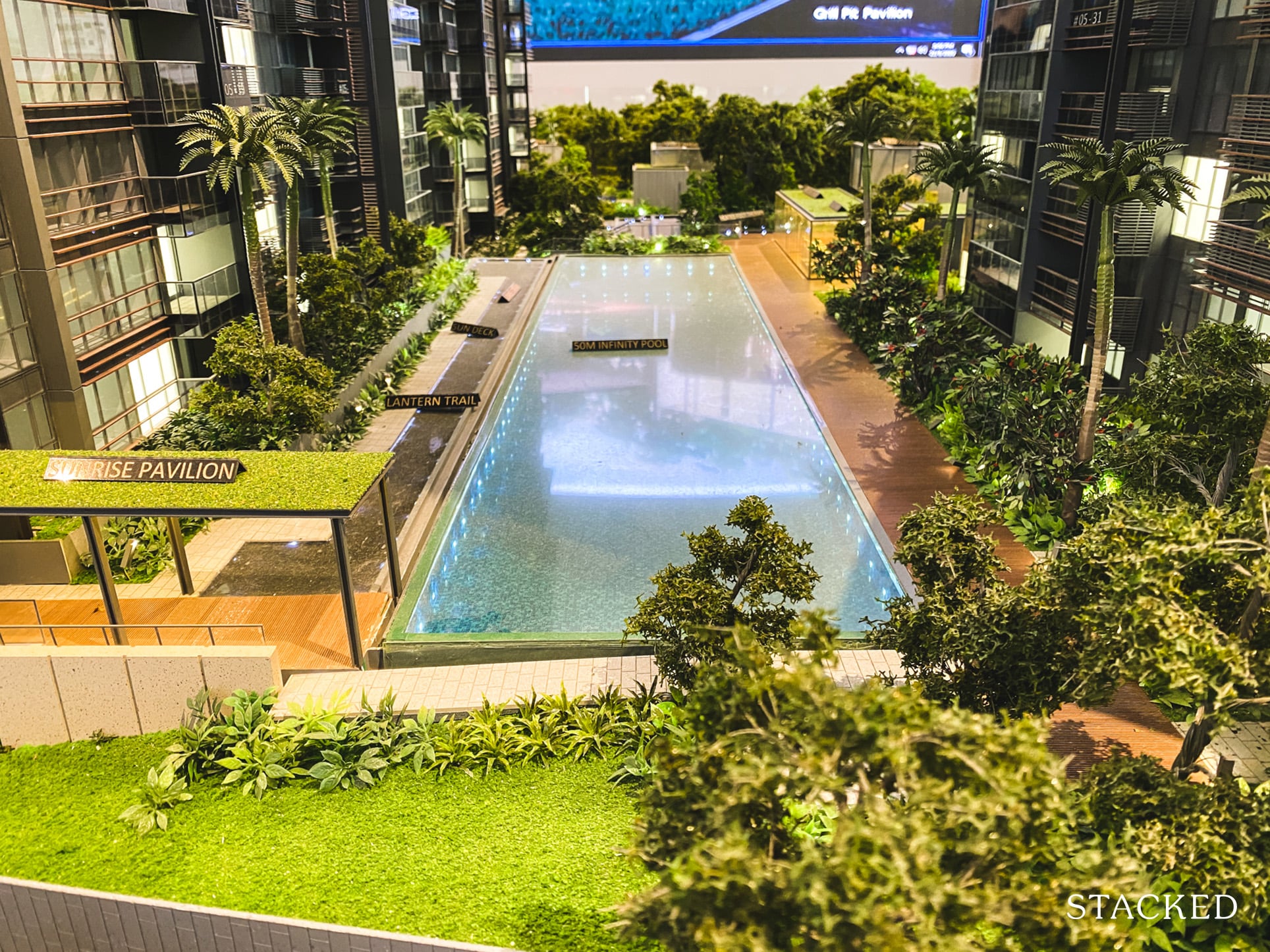 One of the more impressive aspects of the JadeScape are the swimming pools at hand. This one is a long and wide 50-metre infinity pool – it does remind me of the one at Sims Urban Oasis.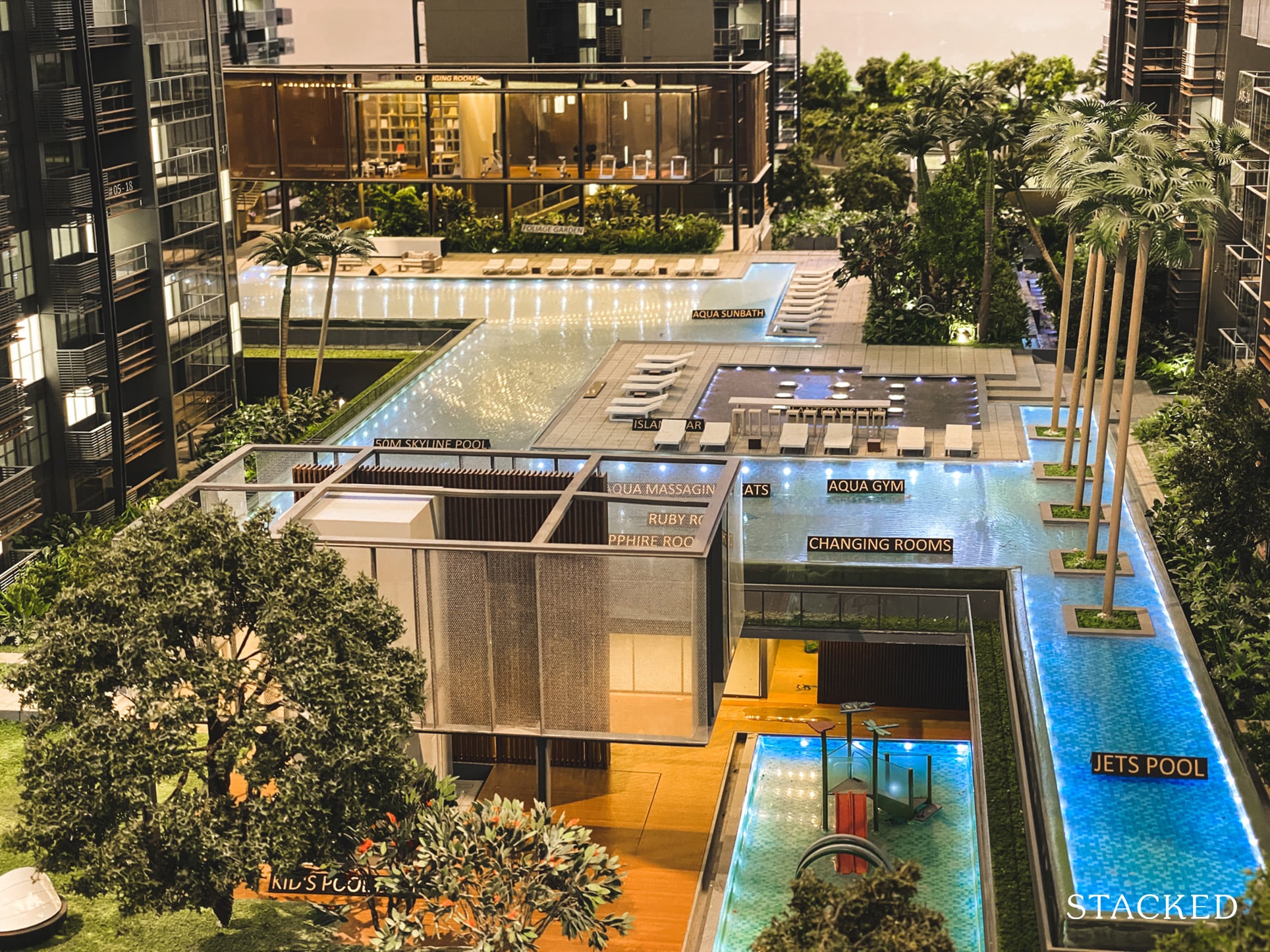 Where it differs is the design of the second pool – which is radically different from the first.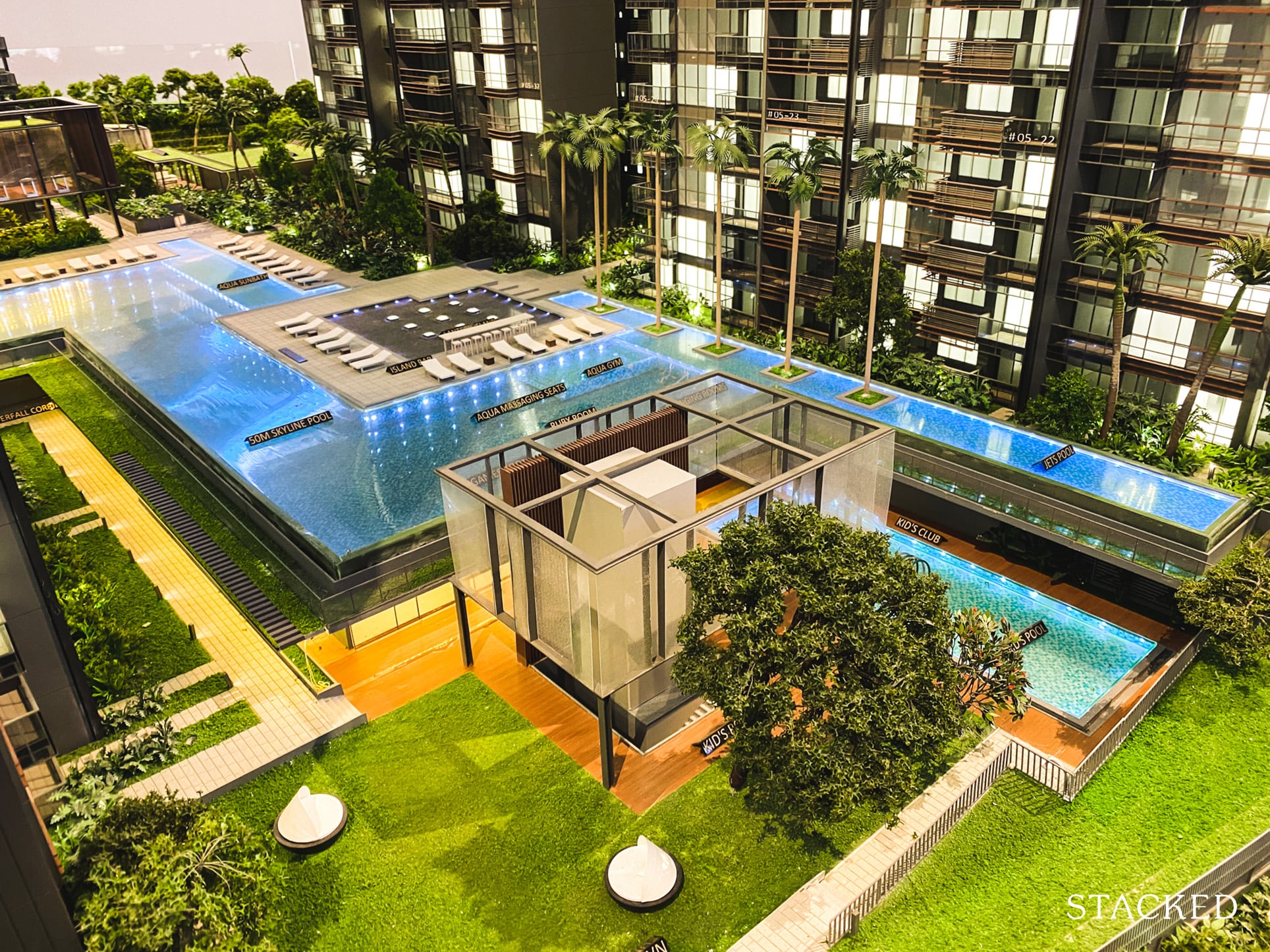 You can look at it as two L's linked together into a long infinity pool. I like that there's some variety for residents to choose from, which is one of the attractions that come with living in a large development. That said, the pools here still can't compare with the giant lagoon pool in Parc Clematis.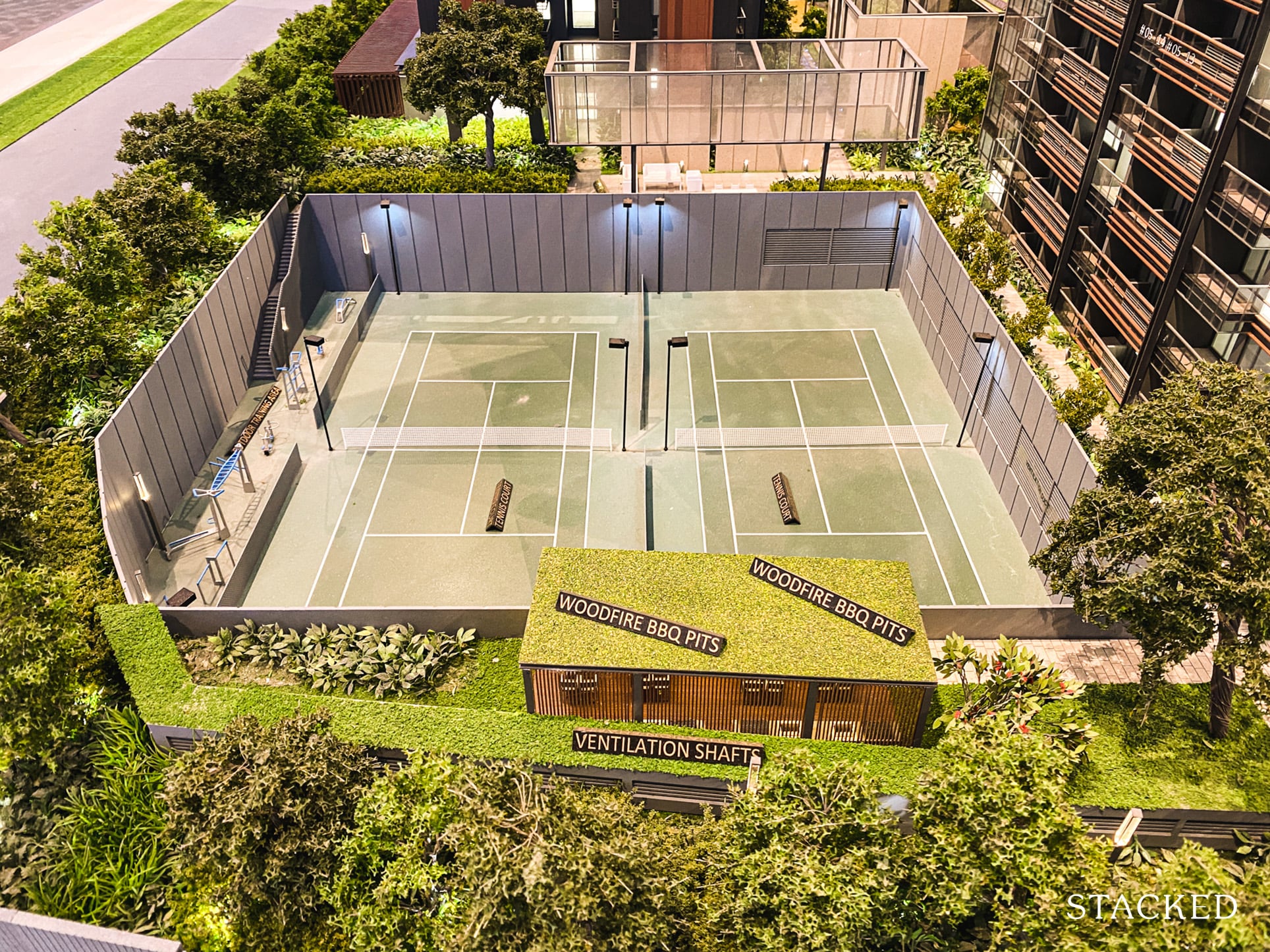 Unlike the miserly one tennis court at Parc Esta, there are two tennis courts available at JadeScape.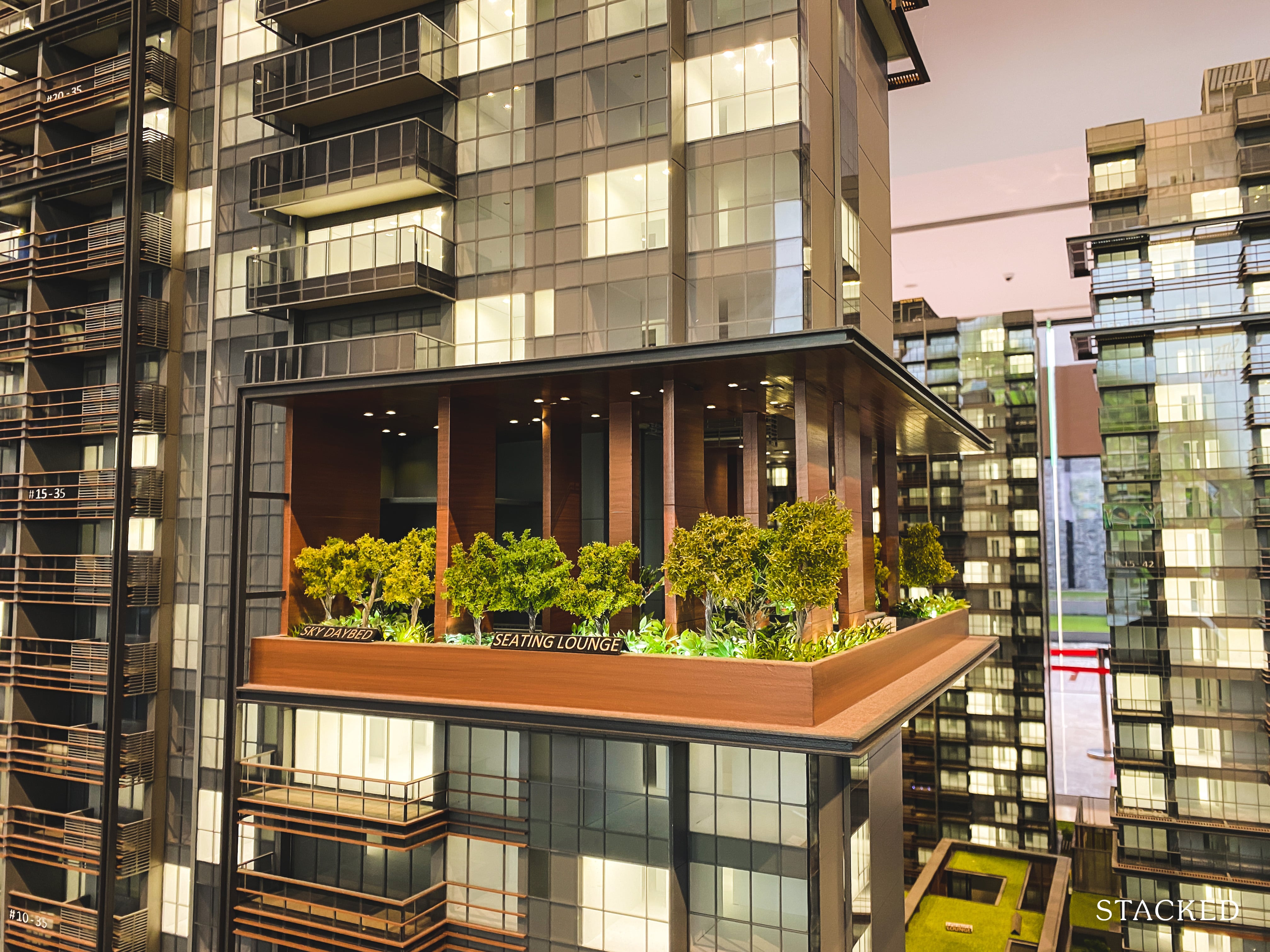 One more highlight of JadeScape is the Sky Terrace – a seating lounge featuring high ceilings and landscaping all around. However, this is only available in Blocks 10 and 12 on level 13. These blocks also hold the only 2 4,000+ sqft penthouses in JadeScape, so it should be enough to tell you that these two blocks are essentially the premium ones out of the whole project. The blocks at JadeScape aren't that tall to begin with, but you do get unblocked views because these blocks are facing the low lying Thomson Garden Estate landed area.
Unlike the miserly one tennis court at Parc Esta, there are two tennis courts available at JadeScape.

Reuben Dhanaraj
JadeScape 3 Bedroom Deluxe Review
At 1,012 square feet of space, this 3 bedroom unit at JadeScape is just about average if you were to compare with other similar developments. But on the whole, the layout is rather efficient with just the usual wasted spaces in the form of the foyer and hallway.
But considering this is aimed towards families, the lack of a proper yard area could be a major blow for those who are looking for a suitable family home.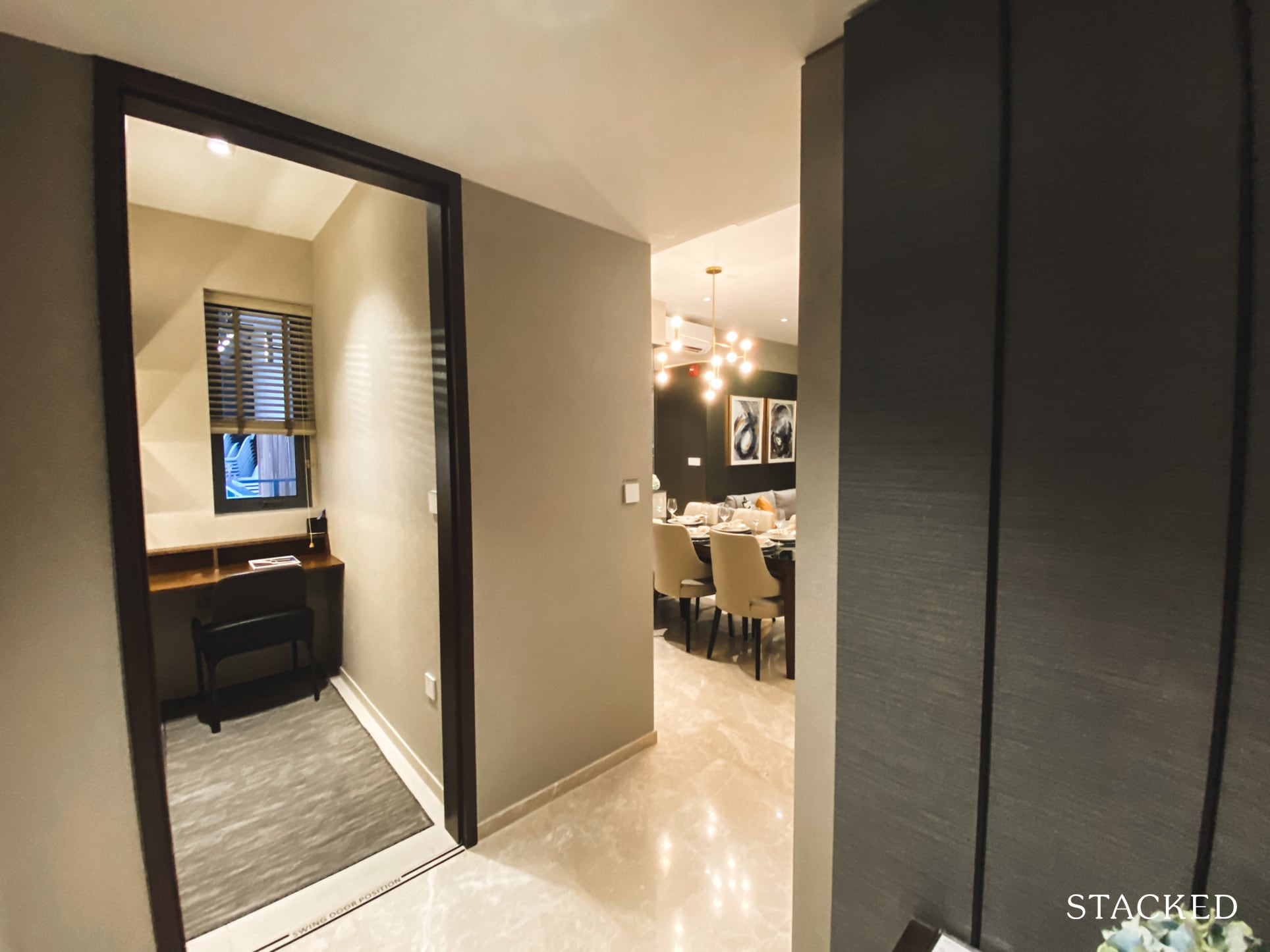 Depending on the unit, the 3 bedroom deluxe features a foyer that you'll have to turn to the right or left to access the rest of the unit.
Flexible store room
On the floorplan this narrow space has been classified as a store room, but it actually is more flexible than that – especially with the window available.
In this case, they showcased it as a study which is definitely useful in today's context as more people are able to work from home.
This could also be used as a helper's room, given that most 3 bedroom units would be geared towards families.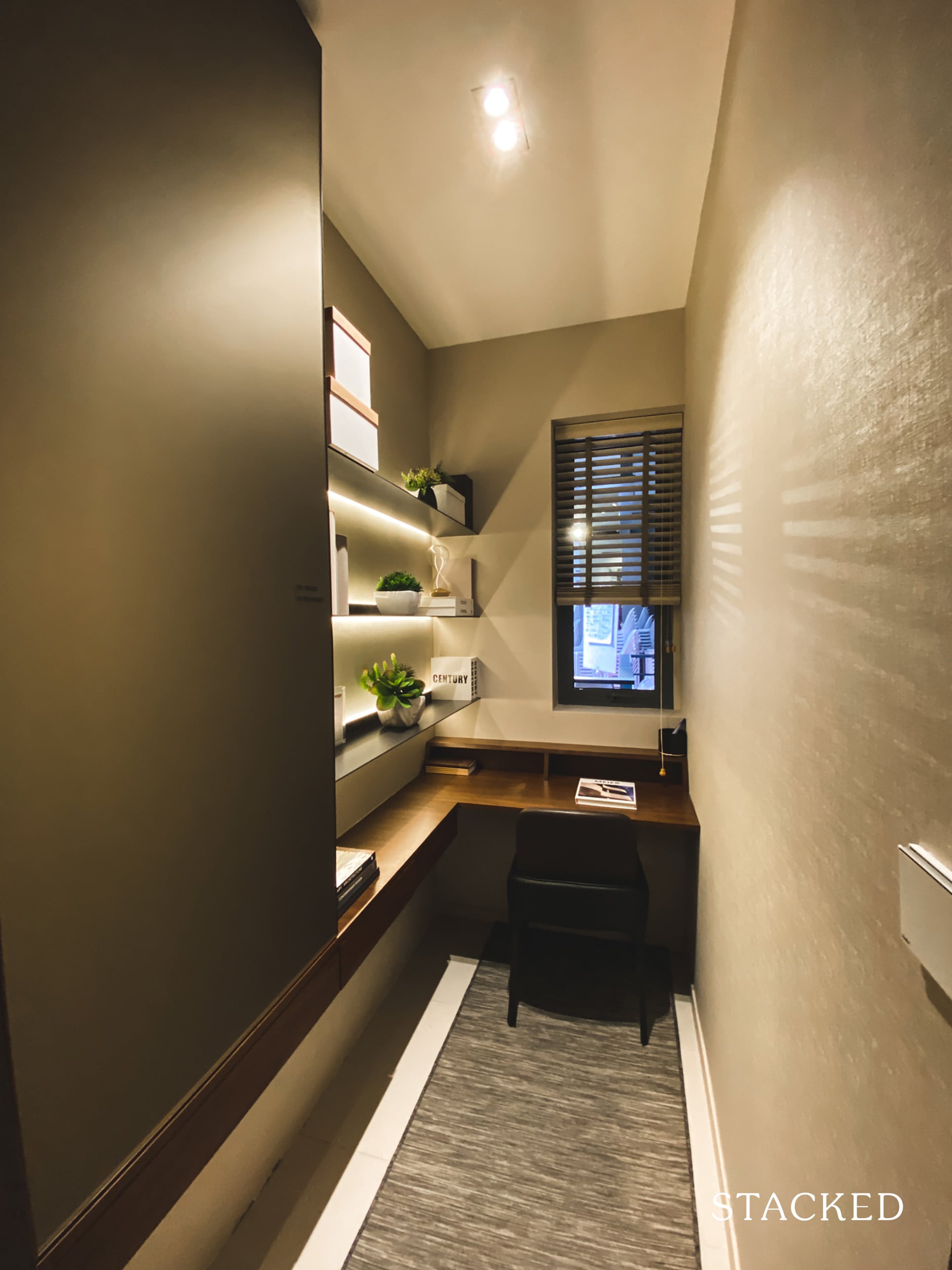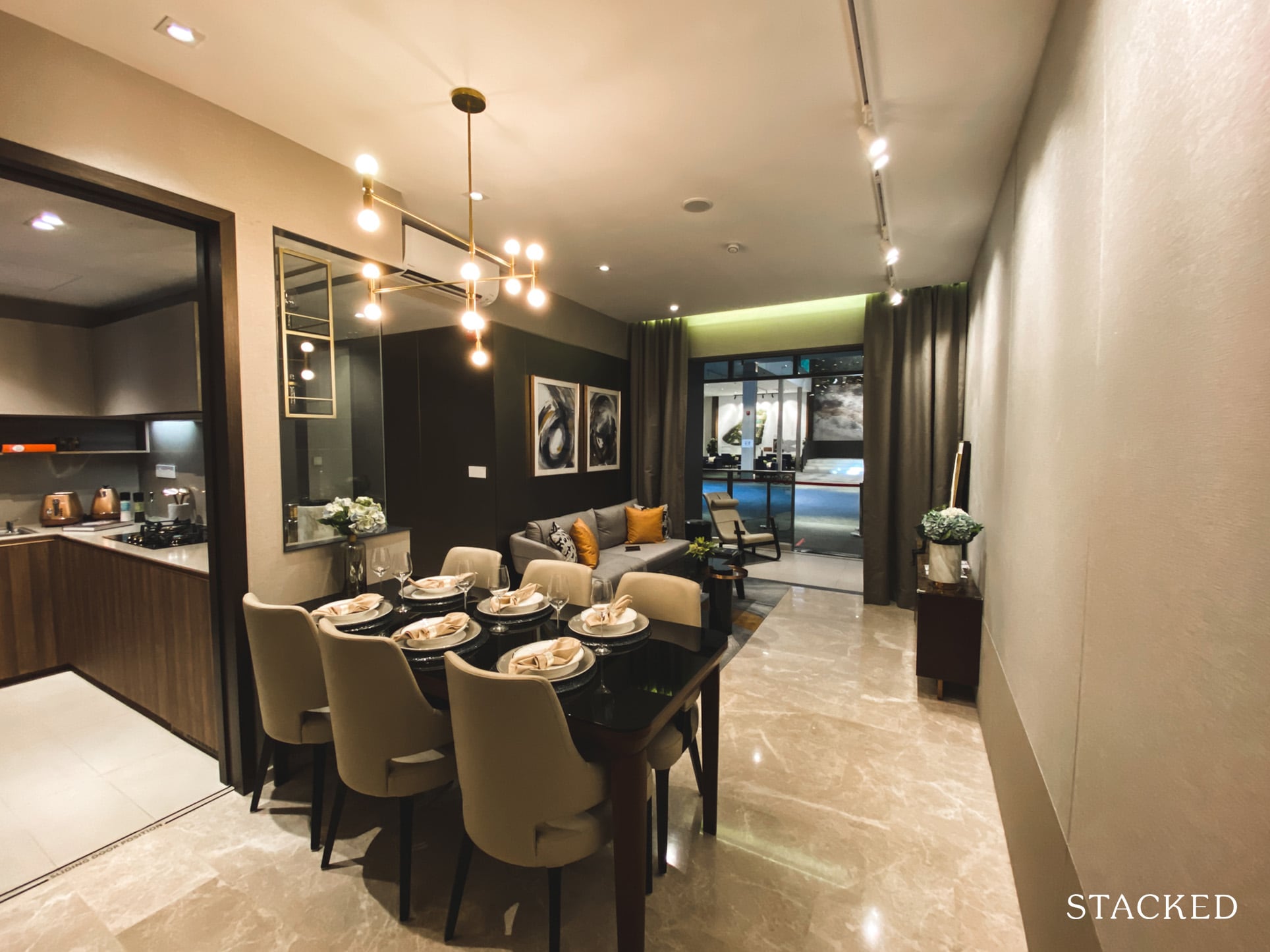 Step inside and on first impressions, it looks to be a straightforward layout. The decor is kept nice and simple, but there are a few quirks that I'll point out as we go along.
The living and dining area comes with marble flooring and a not too bad 2.9 metre ceiling height.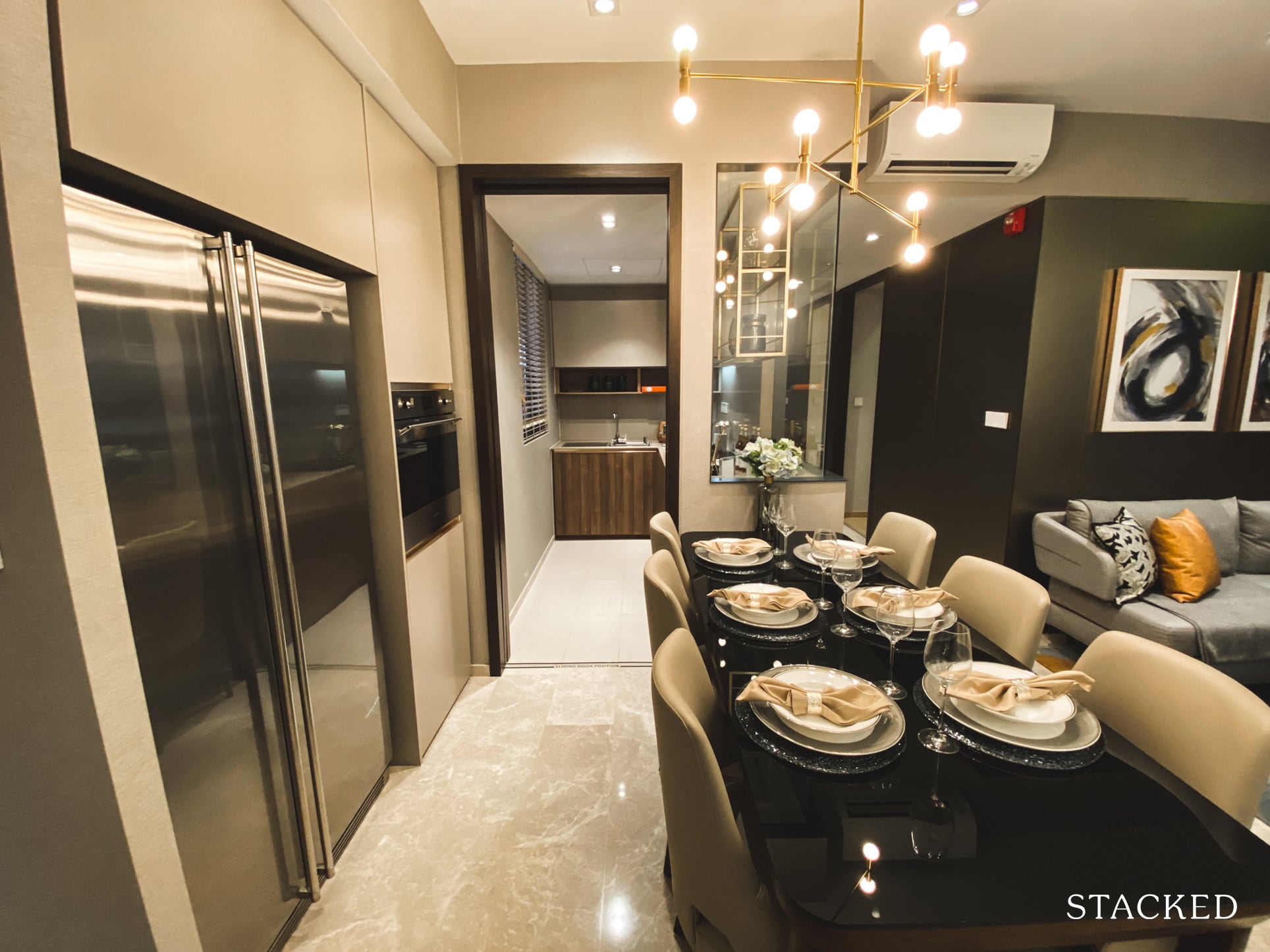 First up, the dining area – it really isn't a big space at all. While in the previous photo it looks to be decent, I think in actual real world usage you might find the space to be rather limiting. For example, if you'd like to place the table in this same configuration, you will have limitations in the width because of the wall at the foot of it. So unless you find the perfect table, you'll either have to customise one or just be okay with it jutting out at the sides.
Also, from this position you can easily see what happens when you have a full 6 pax dining in – getting access to the kitchen, opening the fridge or using the oven will be inconvenient.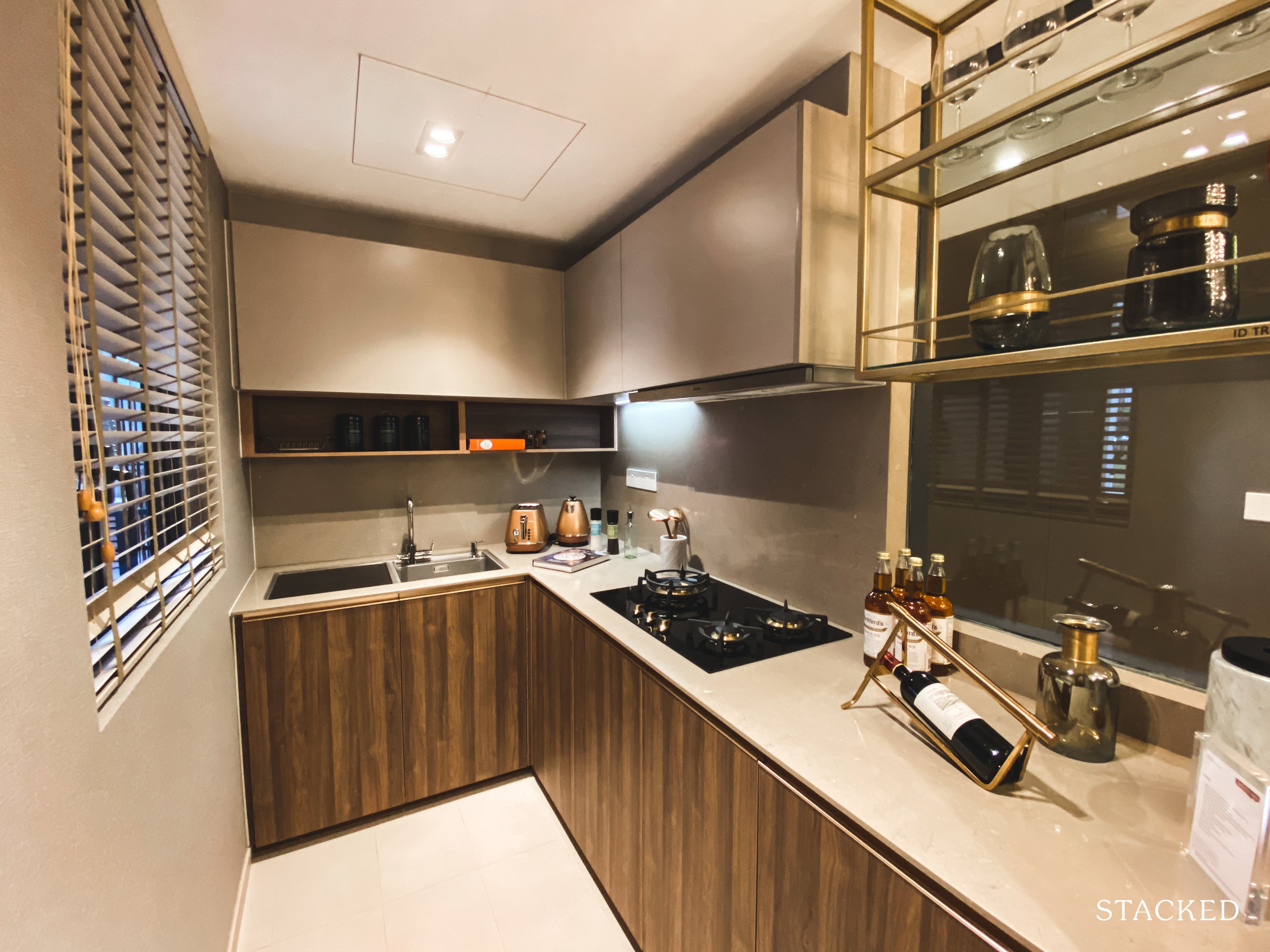 Because the fridge and oven have been placed on the outside, there is slightly more room in the kitchen itself. Size-wise it actually is not bad at all. I like that despite it being enclosed, the window and glass panels do help in opening up the space while letting more light in as well. It's quite long, so you do have sufficient countertop space and storage.
The kitchen comes with pretty standard porcelain tiles, which is the same as what you'd find in the balcony.
Depending on how you use the kitchen and cook, you might find it annoying after a while that the fridge and oven is placed on the outside. I'm also not a fan of the oven placement given that the cooking smell will radiate through the house – defeating the purpose of an enclosed kitchen.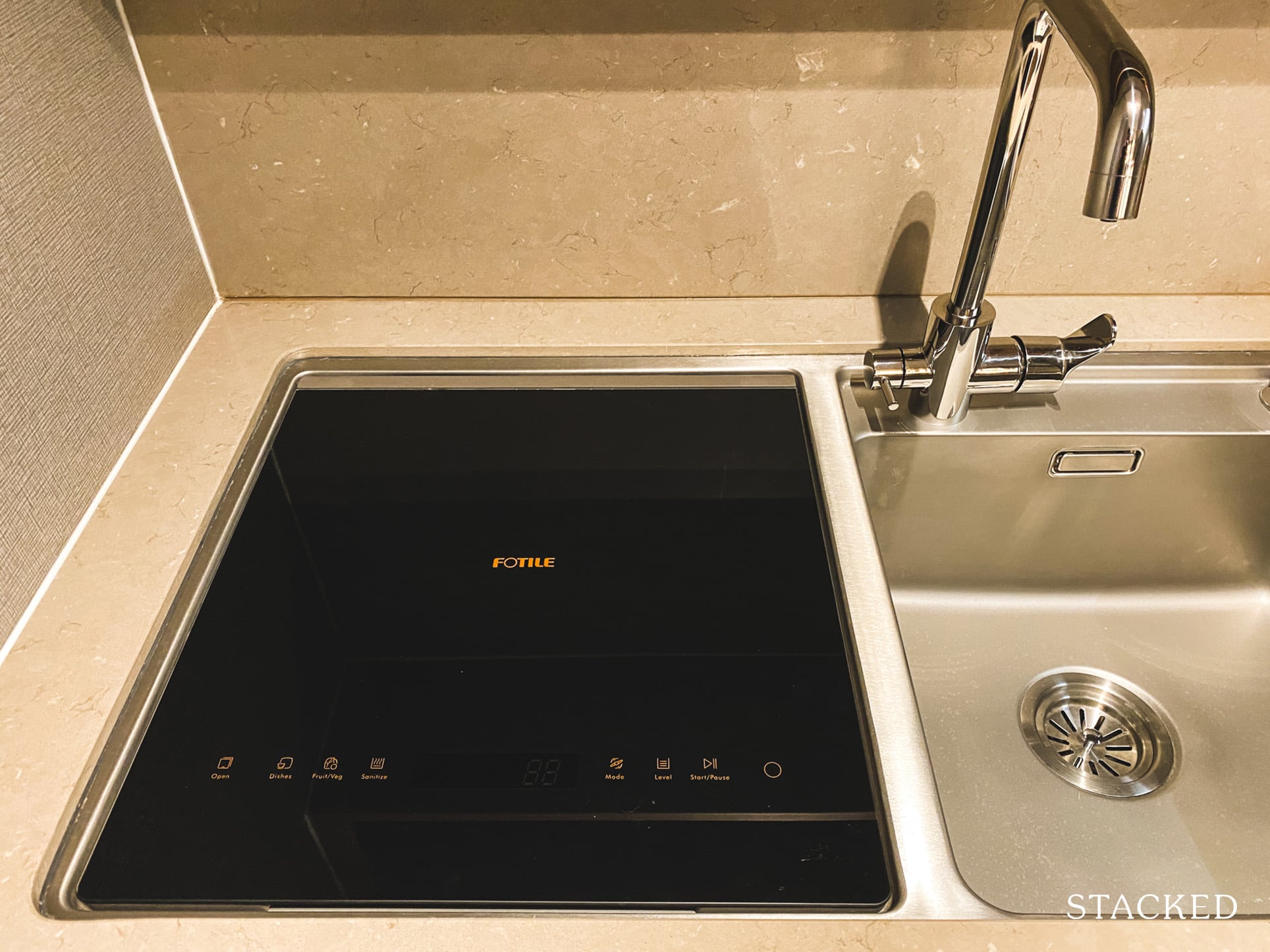 What's interesting here is the addition of a top-loading dishwasher in a convenient location next to the sink. That said, the sink is a little on the small side as it has to accommodate the dishwasher. It's actually in quite a nifty position – no more back-breaking squats trying to stuff dishes into a standard dishwasher. You can even wash fruits and vegetables here – which is supposed to be even an even cleaner exercise.
Most people wouldn't be too familiar with the brand – Fotile, but it is a brand that originated from China. They were the first to launch such a concept for a dishwasher in 2016, and upon introduction their dishwasher market share hit 41.4% – so take away from that what you will.
The rest of the kitchen appliances are from SMEG, a brand most Singaporeans should be familiar with.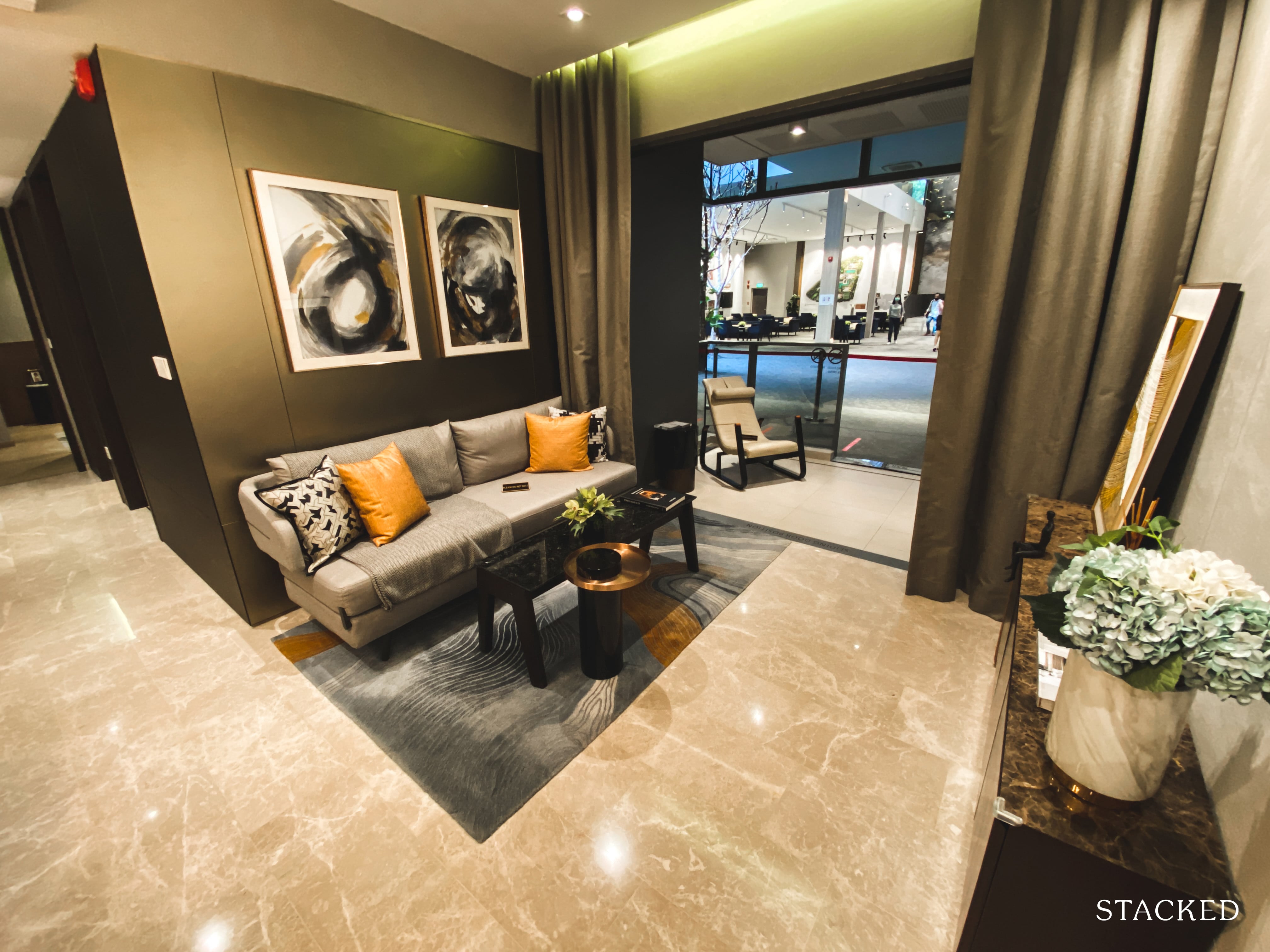 The living room definitely fares better than the dining. It fills in adequately width-wise, but lengthwise you could be restricted to a certain size of sofas.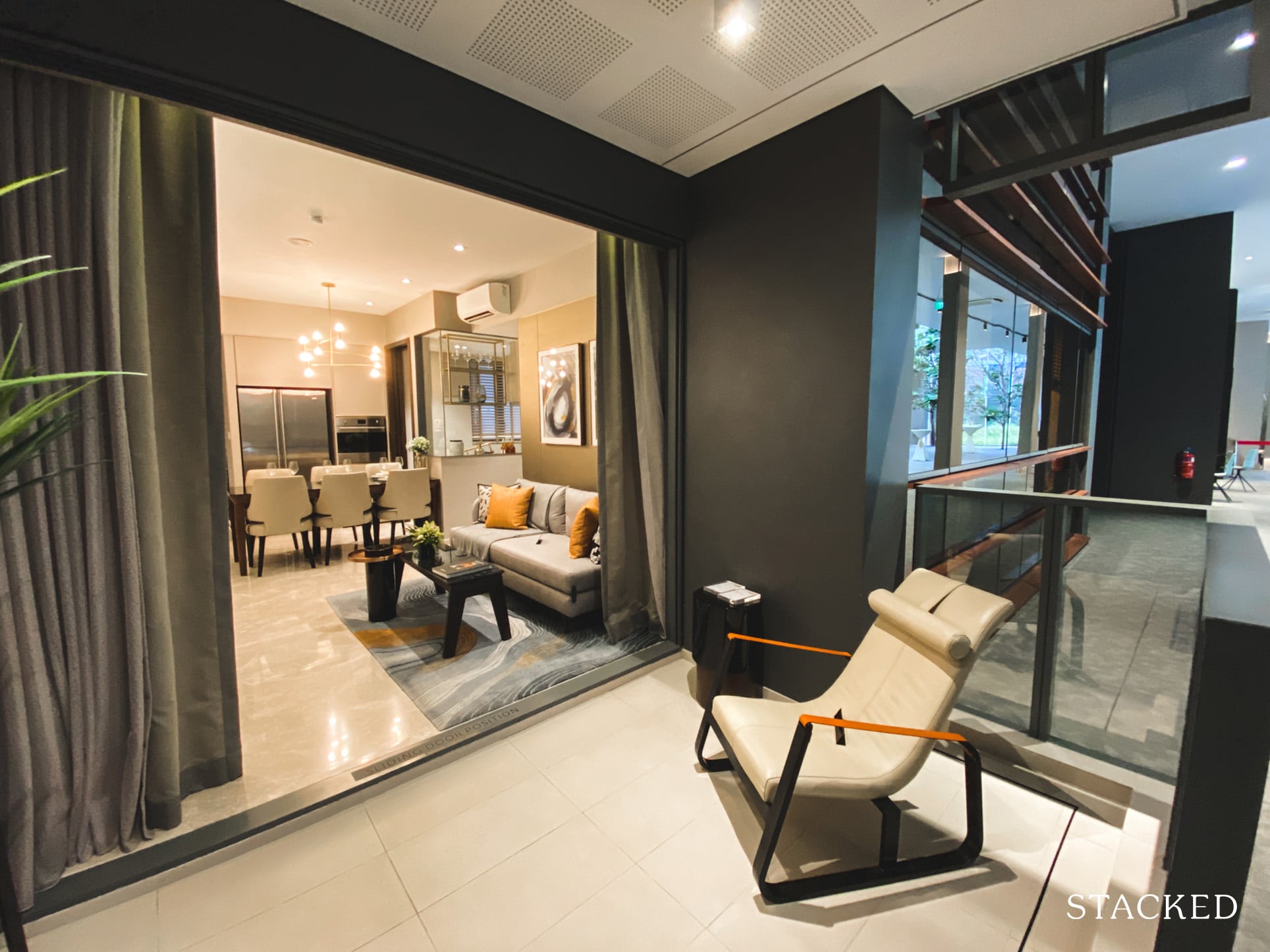 For those who prioritise indoor living spaces, you'll be happy to know that the balcony is kept to a minimum. That said, there is still definitely enough space for some comfortable seating.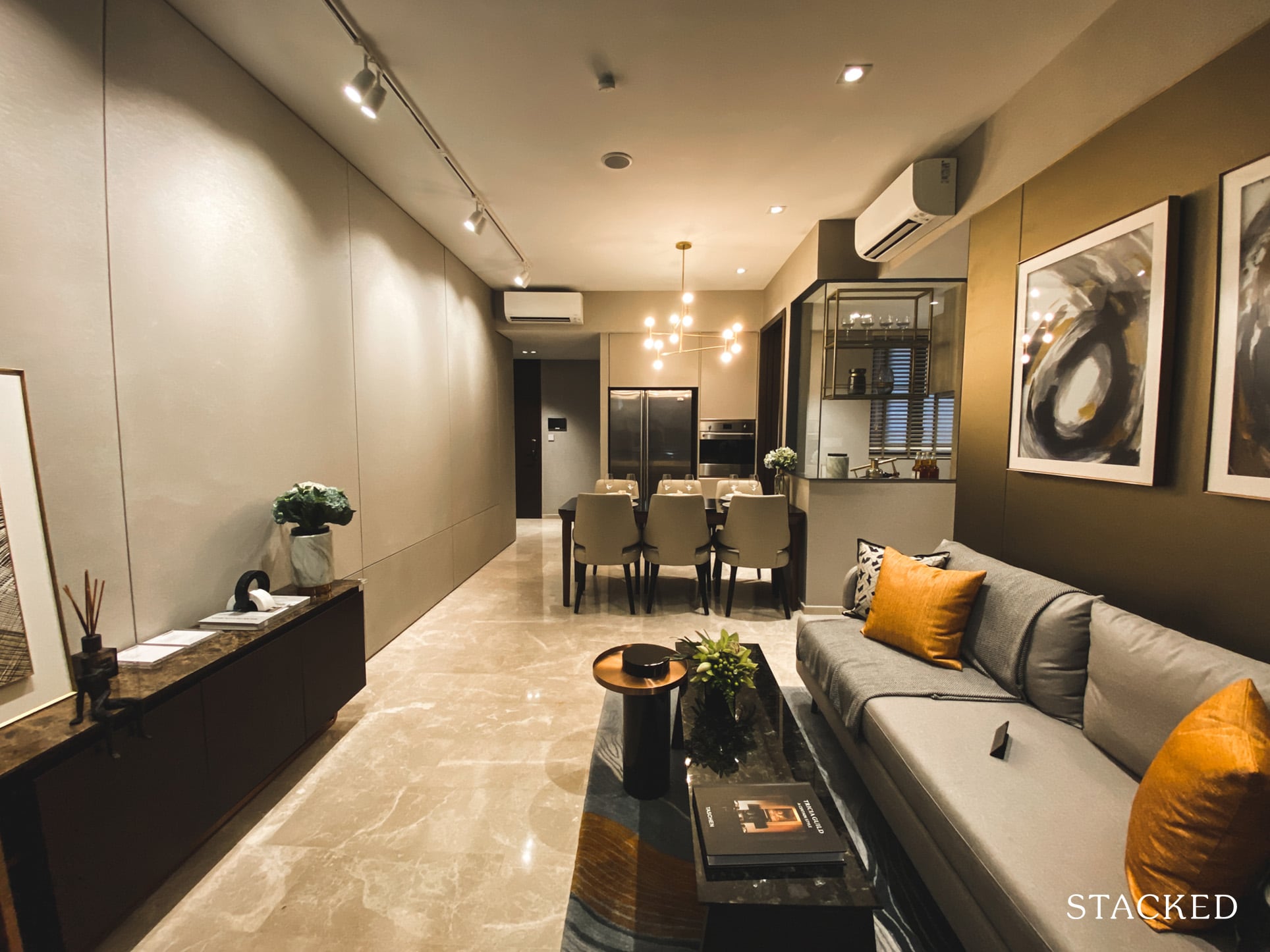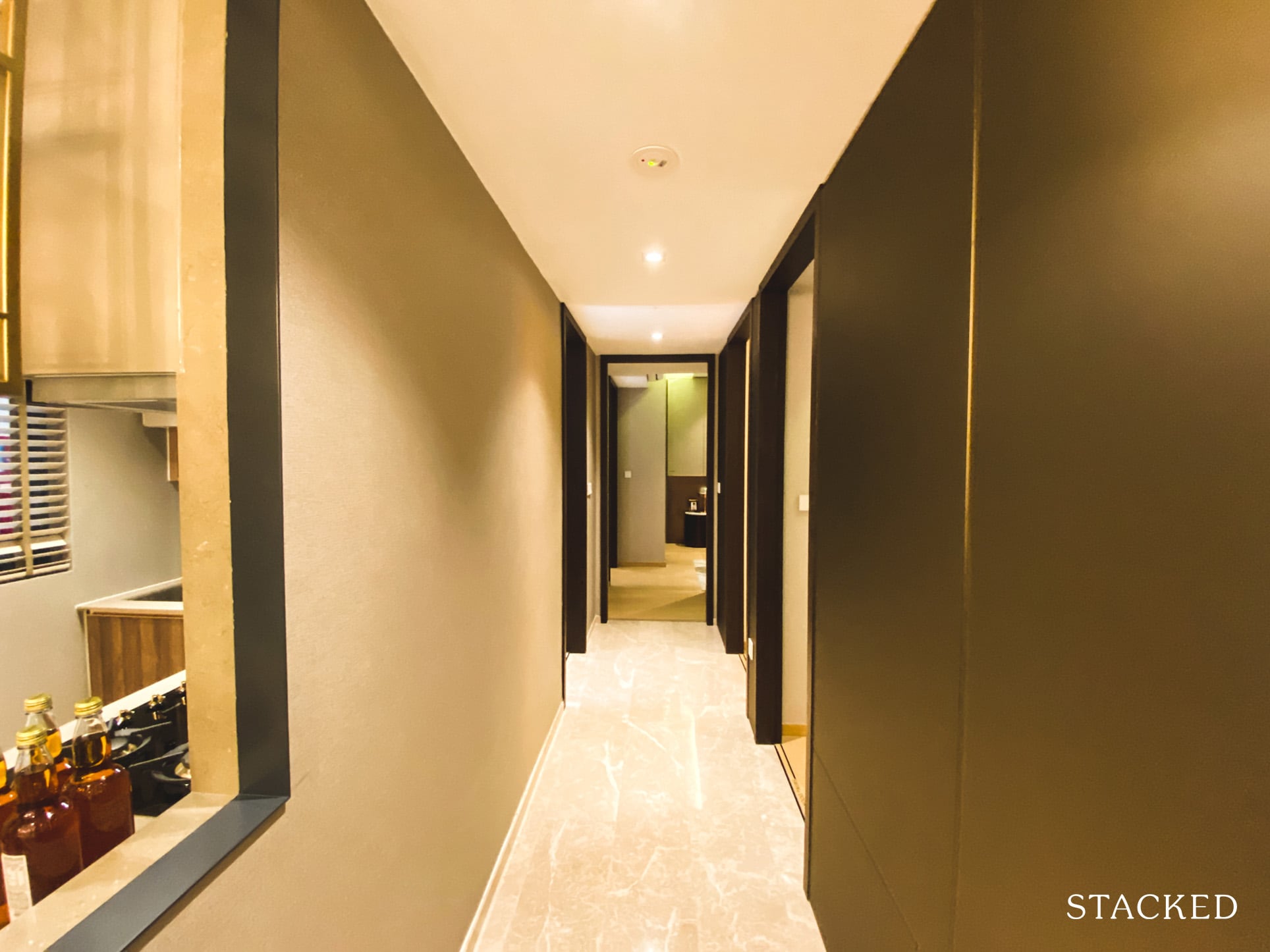 The 3 bedrooms are all located down the hallway.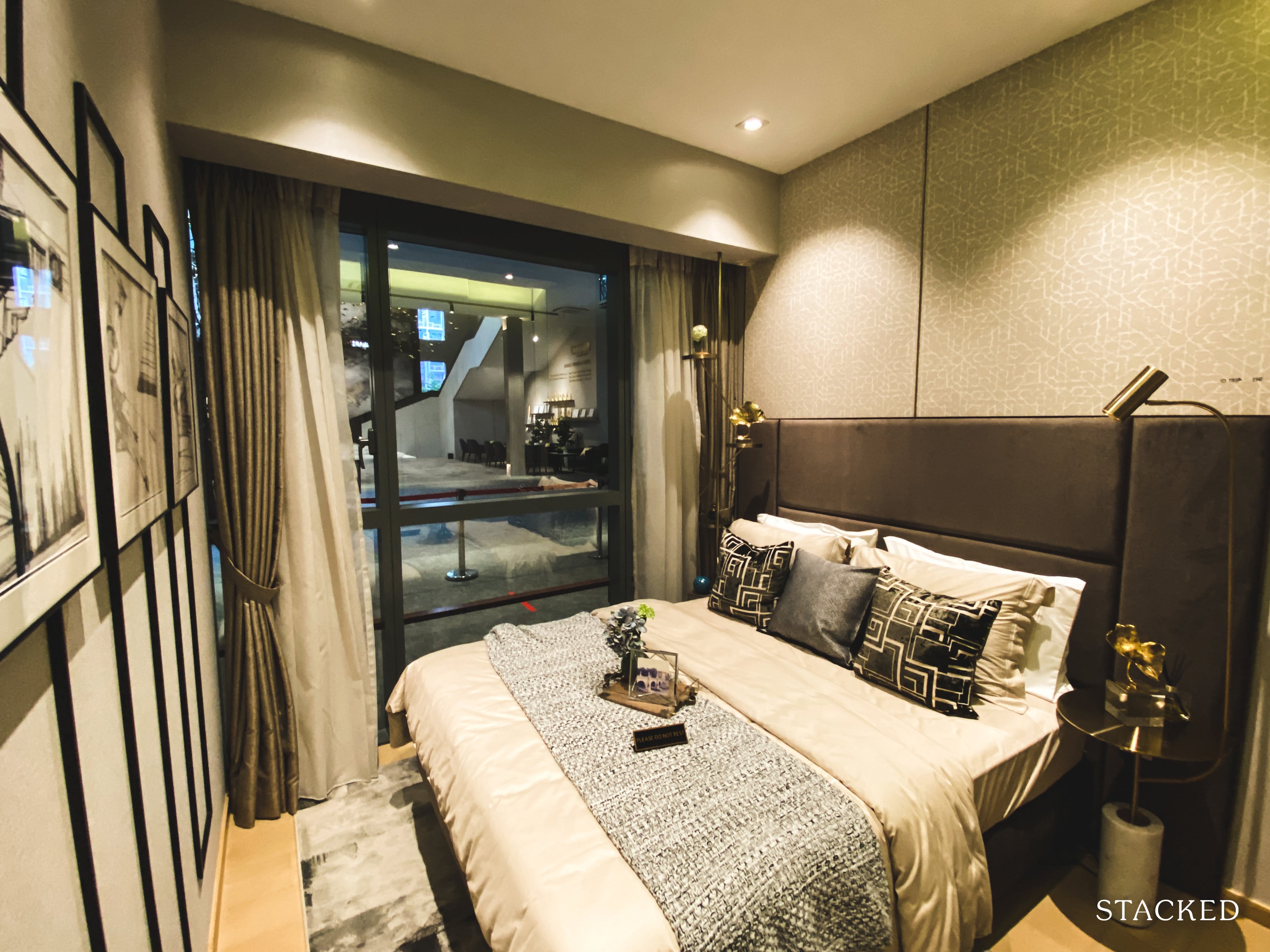 One of the plus sides of a smaller living and dining area – the common bedrooms are ever so slightly more spacious. The windows are nearly floor to ceiling as well, so this allows more light in and makes the space feel more open.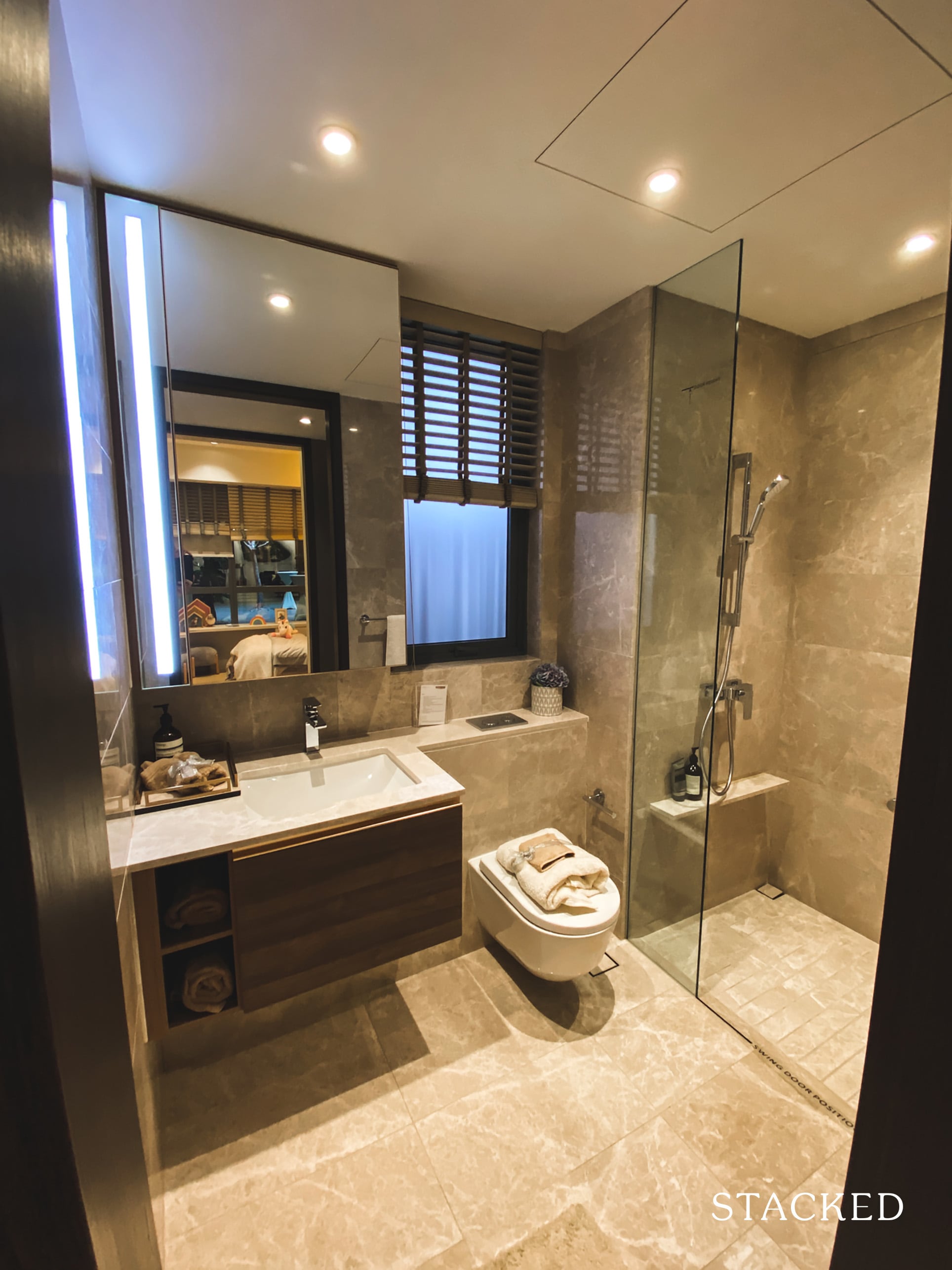 The common bathroom is surprisingly quite roomy, but you'll have to bear in mind this is shared between the 2 common bedrooms as well as if you have any guests over.
The flooring here features the same marble finishings as what you see on the outside, which is good. Most of the bathroom fittings are from Hansgrohe, while the washbasin is from Laufen – a Swiss brand.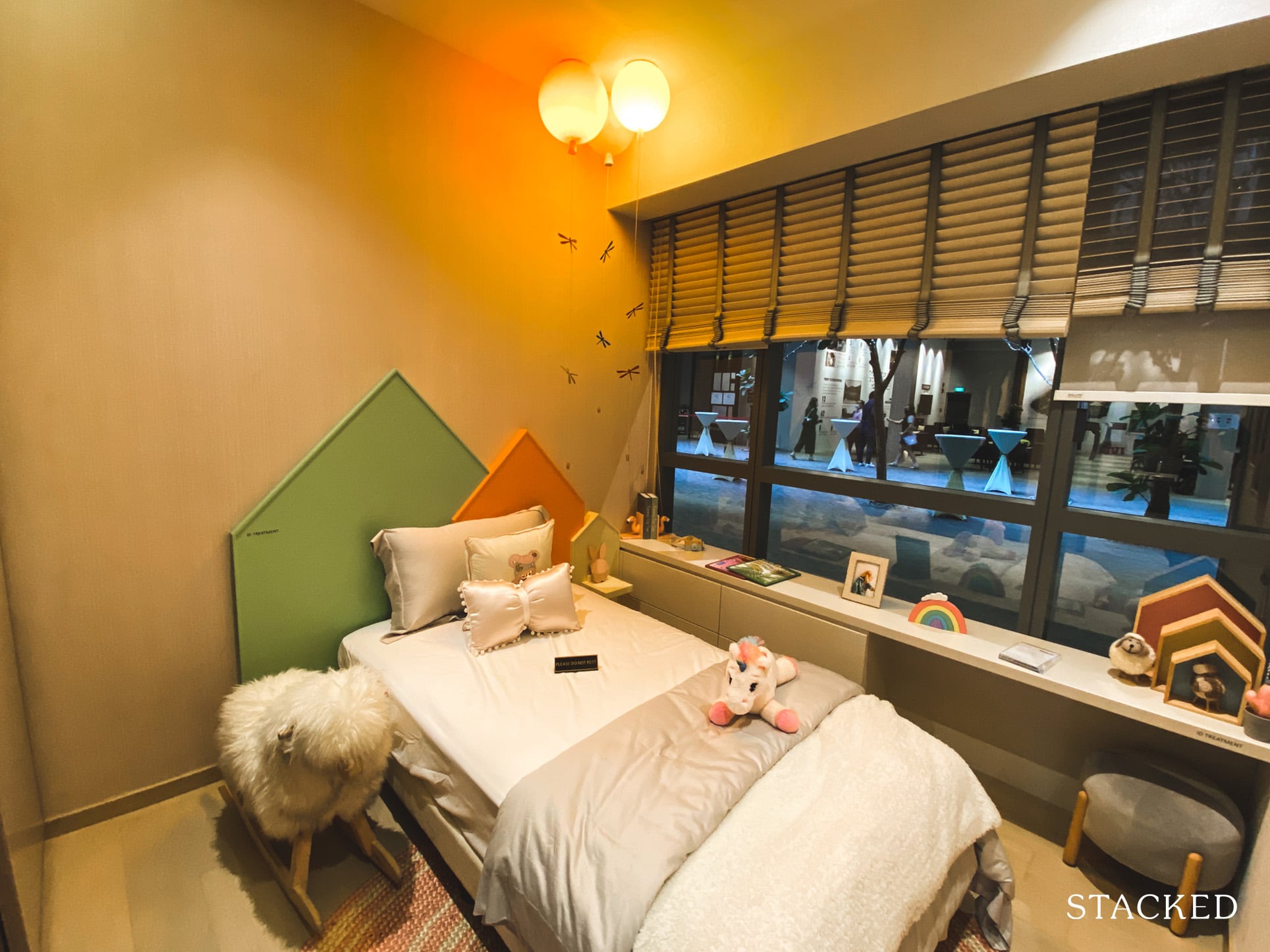 The second common bedroom is the same size as the first.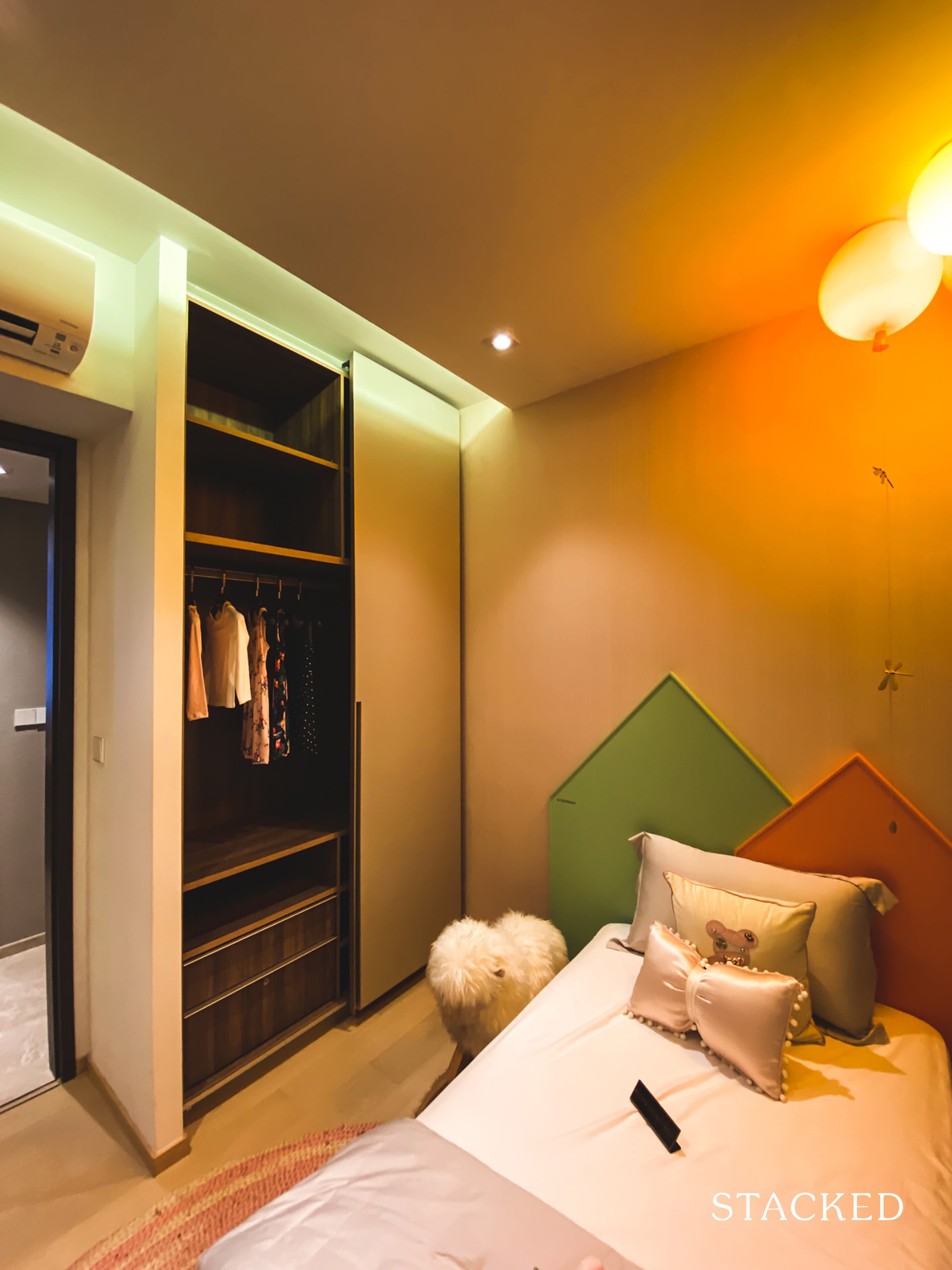 One good thing is that the cupboards extend all the way to the top of its 2.9m ceiling height – so you have a little more room for storage. Most people don't realise this but storage spaces are getting increasingly limited as the unit sizes scale down too. So especially if the store room here is being taken up by your helper/office, having a little extra space always helps.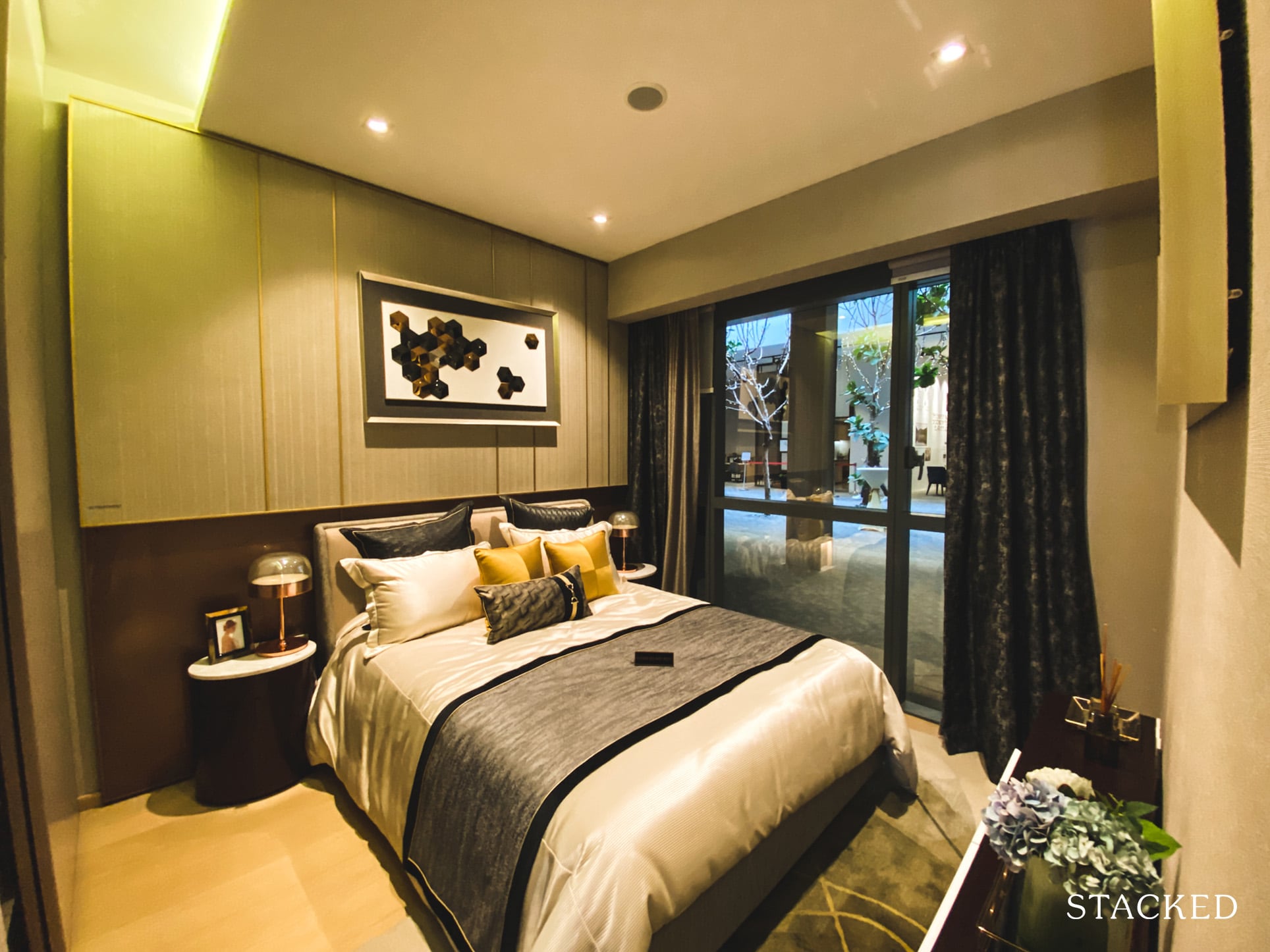 The master bedroom is just okay in size, you could fit a small dresser table at the front. The flooring, like the rest of the bedrooms are made from engineered timber.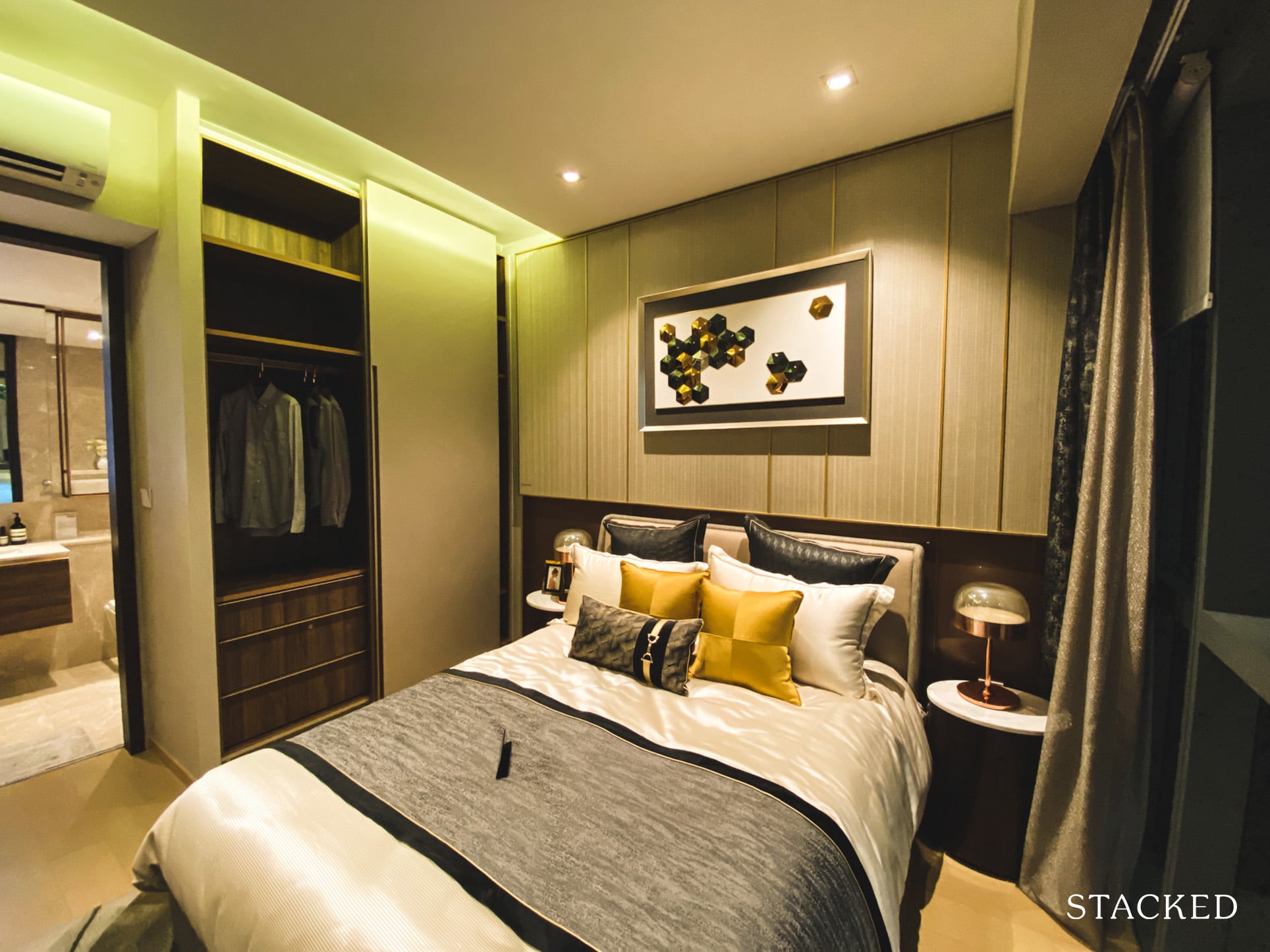 There is adequate space by both sides of the bed as well. Otherwise, there is nothing really remarkable to highlight about the room. As per most newer developments, storage space will always be a problem most people will have to grapple with.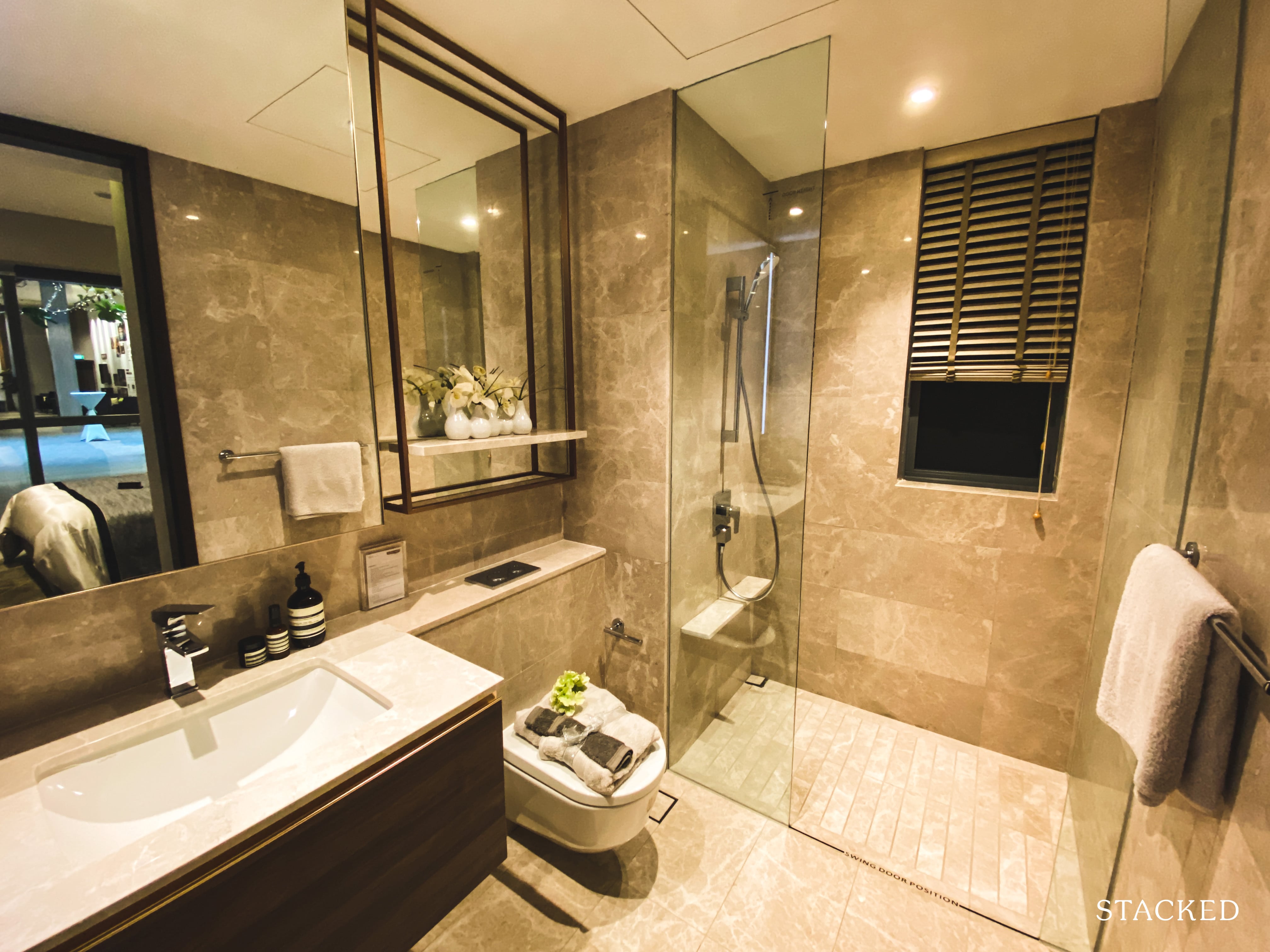 The master bathroom is definitely bigger than the common bathroom, but again, nothing special about it. No rain shower or his or hers sinks here – just more space.
Read this next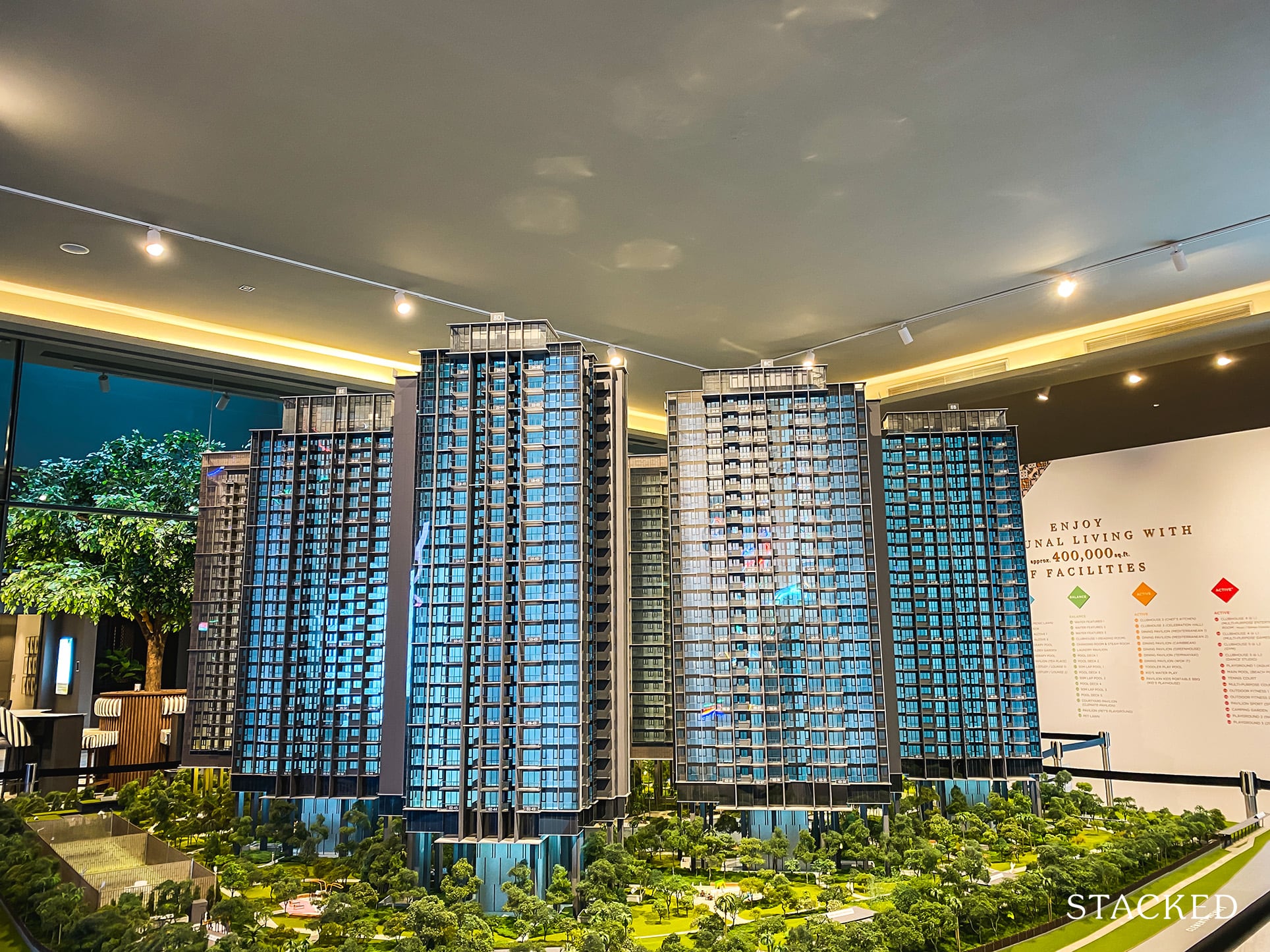 JadeScape 1 Bedroom Review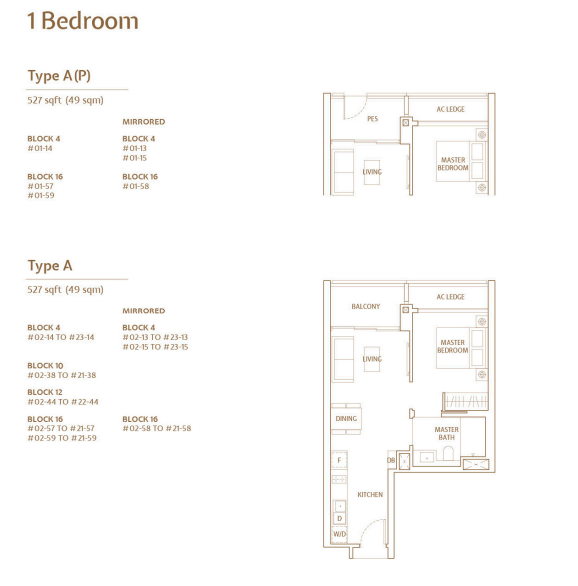 At 527 square feet, the 1-bedroom unit at JadeScape is definitely larger than average. The layout is decent, and it is overall an efficient use of space – you'll find very little waste.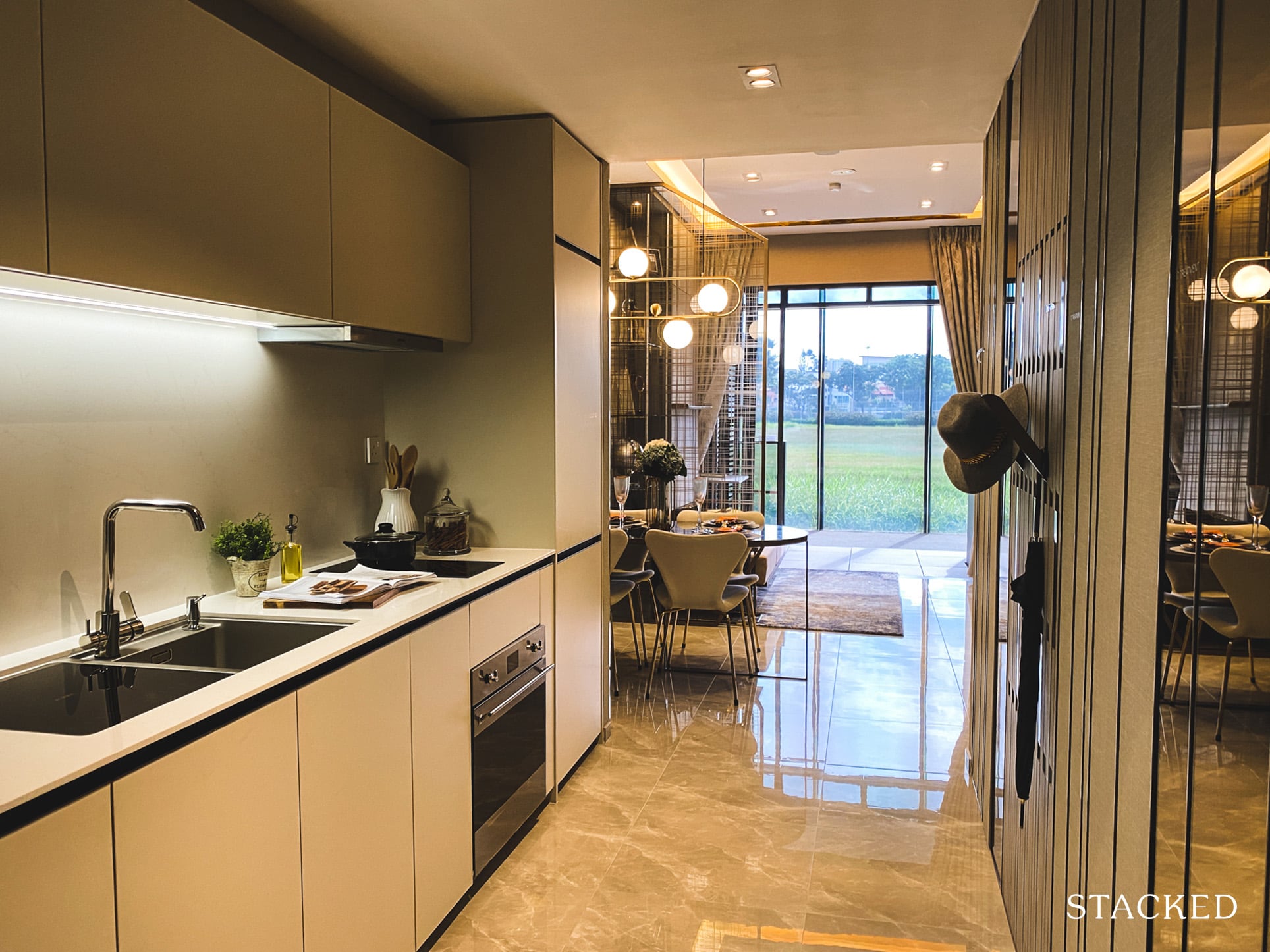 A pet peeve for me is when I see 1 bedroom units with an entrance foyer, it's such a waste of space when the unit sizes are already so limited. So I'm happy to report here that the entrance opens right up into the kitchen.
Unlike the bigger units, the 1 bedroom here features porcelain tiles.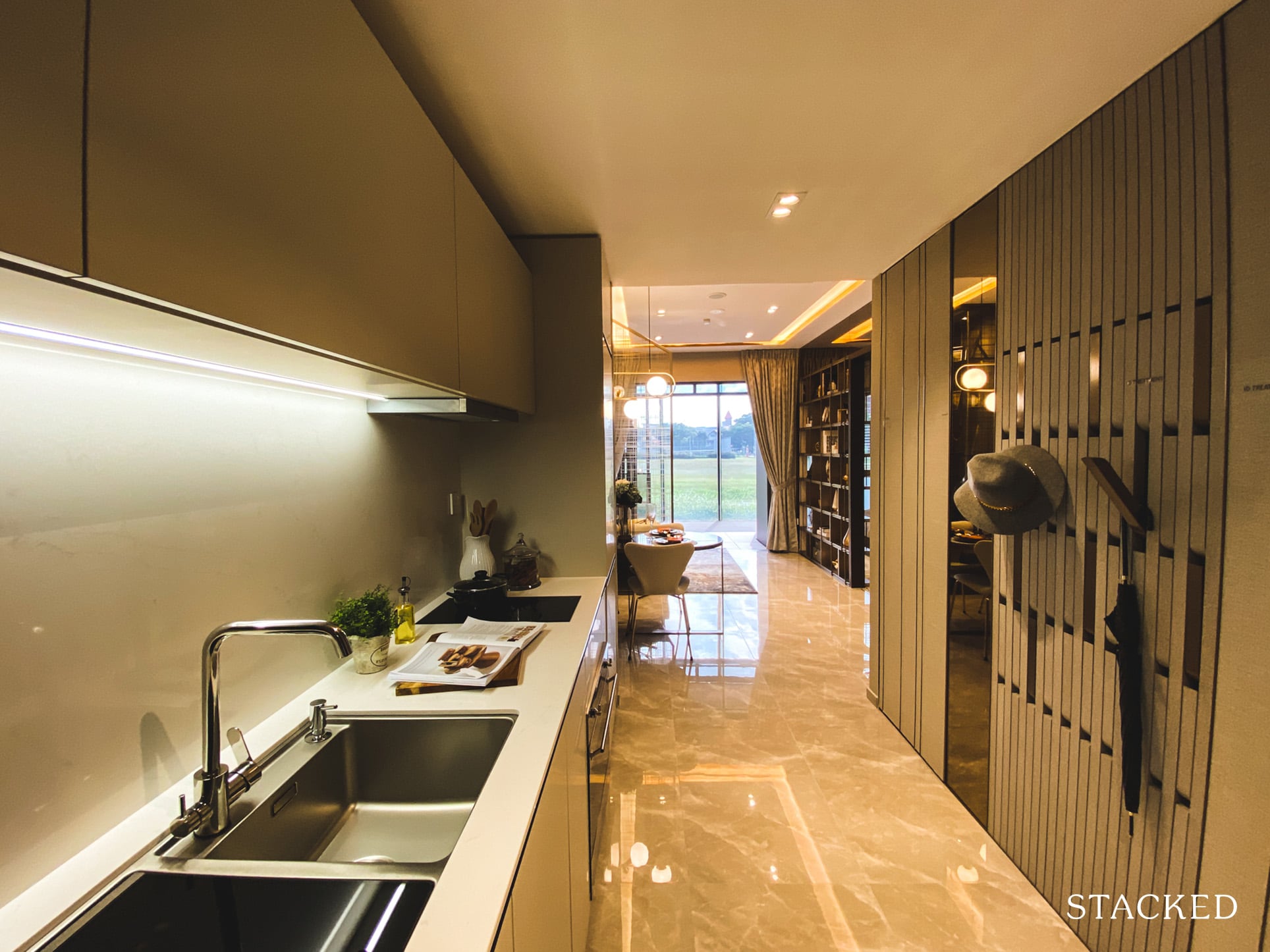 Unless you're looking at a luxury development, it's nearly impossible to find a 1 bedroom unit with an enclosed kitchen. Nevertheless, if you do cook a lot you will appreciate the size of the kitchen here. It's long – so good countertop space and storage. It's quite wide too, so even if you're cooking, others can move up and down the entrance way quite easily. (The 1 bedroom comes with the top loaded dishwasher too so its a definite thumbs up here).
The rest of the appliances (induction hob, hood, oven, fridge, and washer) are all from SMEG.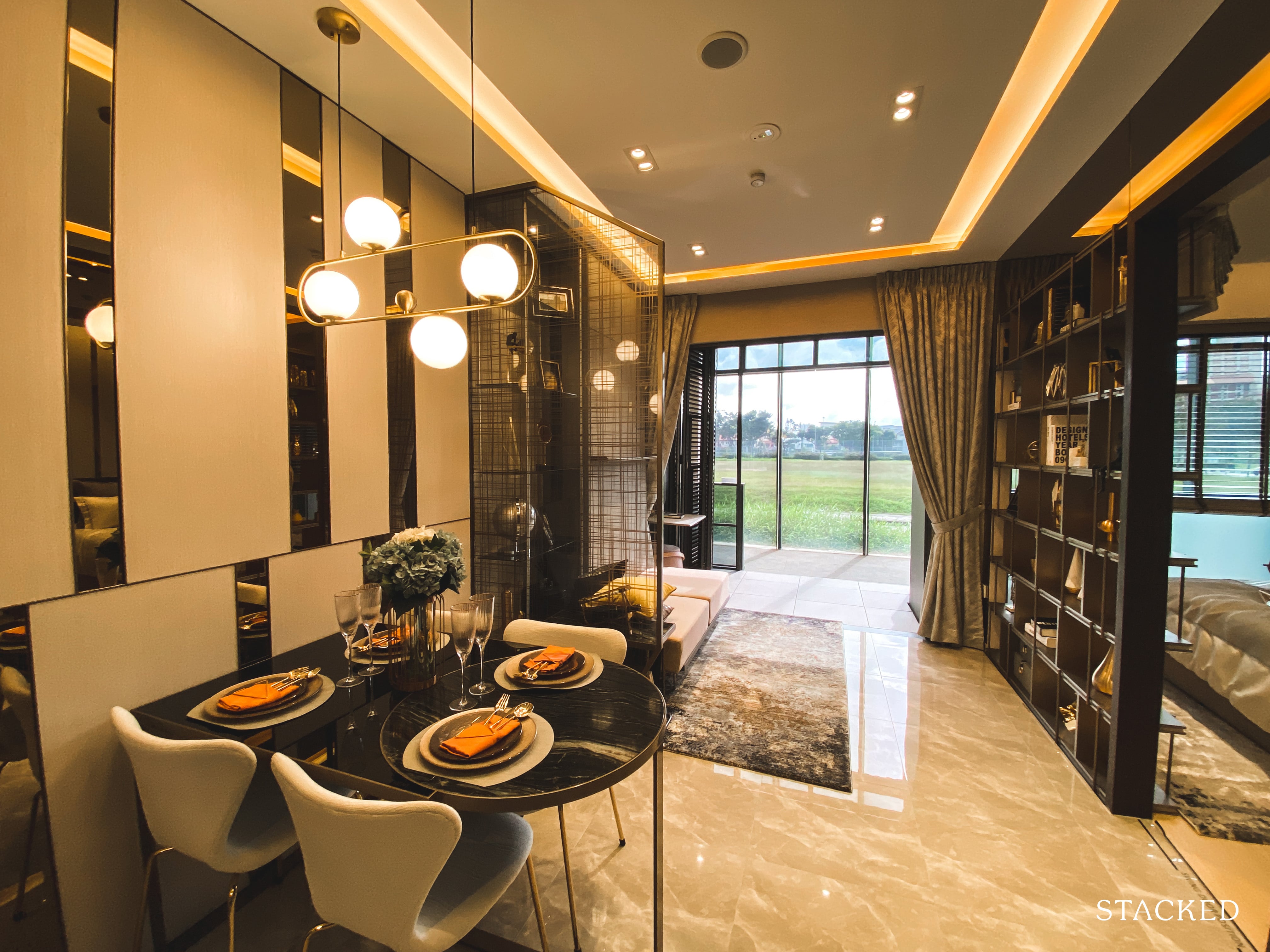 Again, for a 1-bedroom unit, the space afforded to the living and dining is pretty substantial. It looks surprisingly spacious, but this is also partly down to the "smart" choice of furniture here.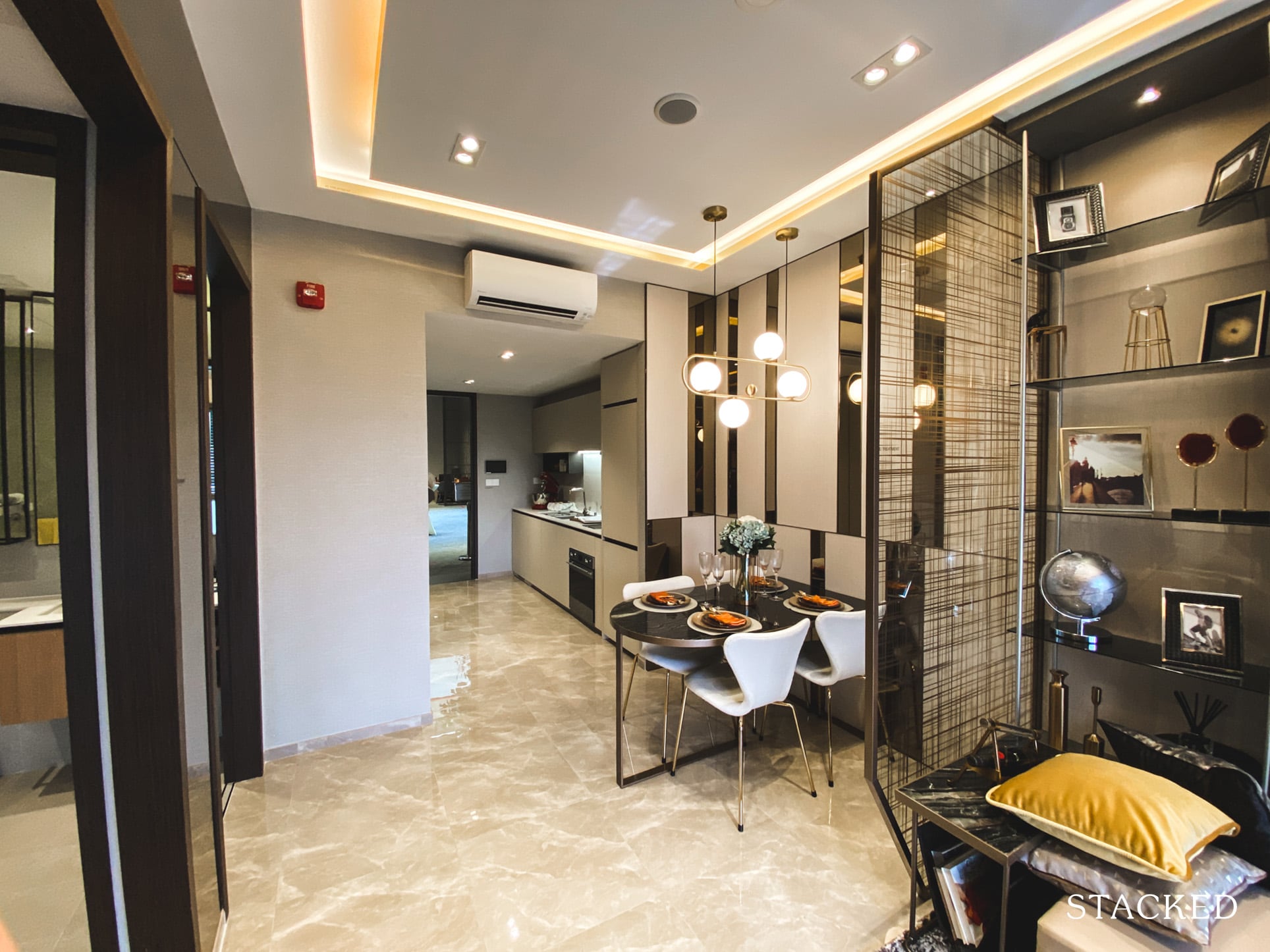 You'd still have to be careful with your choice of dining table, but it is still better than some of the competition out there.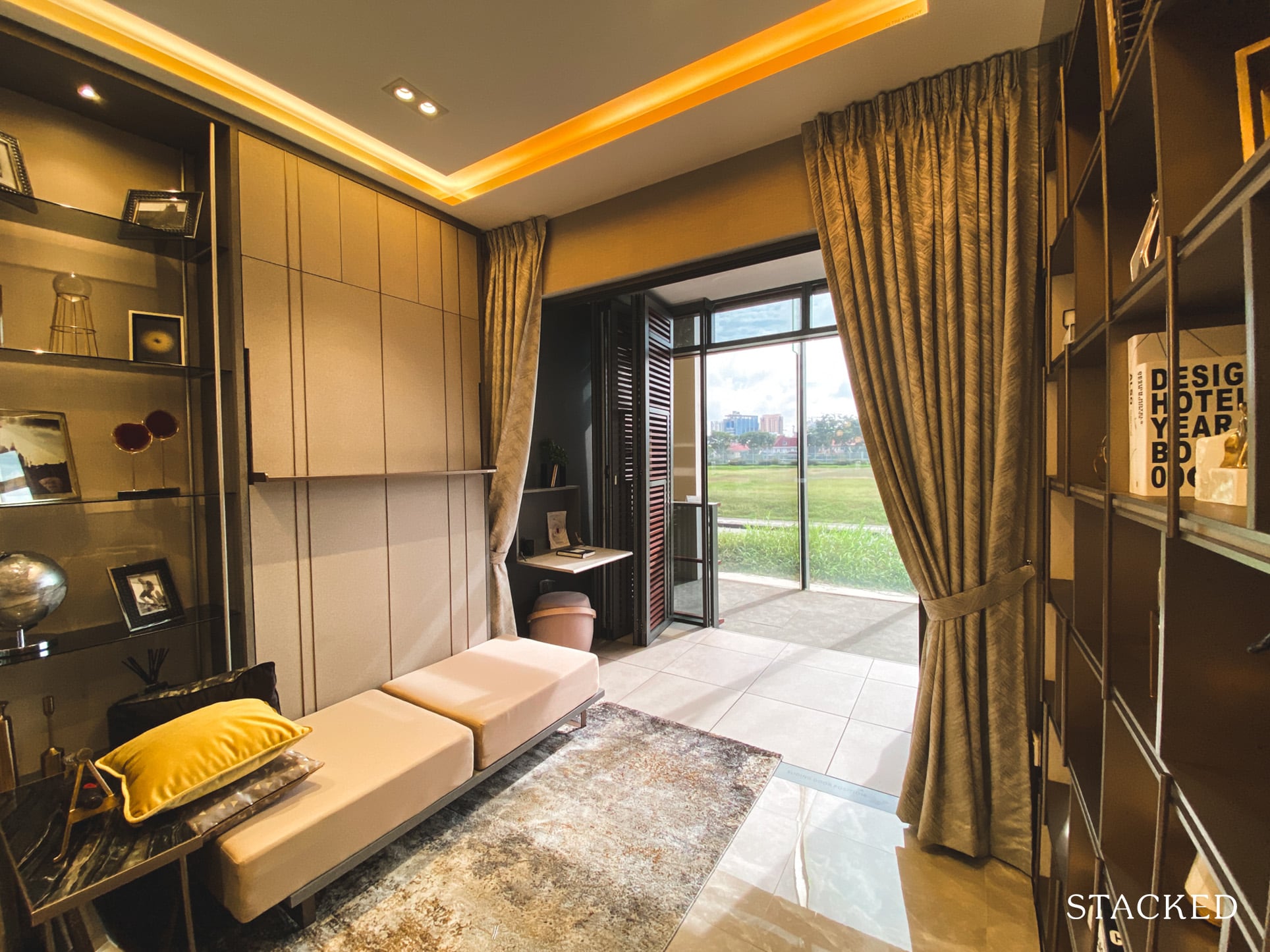 While the space in the living looks generous here, don't forget that there isn't a proper couch in place – neither is there any TV console too. The absence of the wall to separate the master bedroom makes the area look bigger too.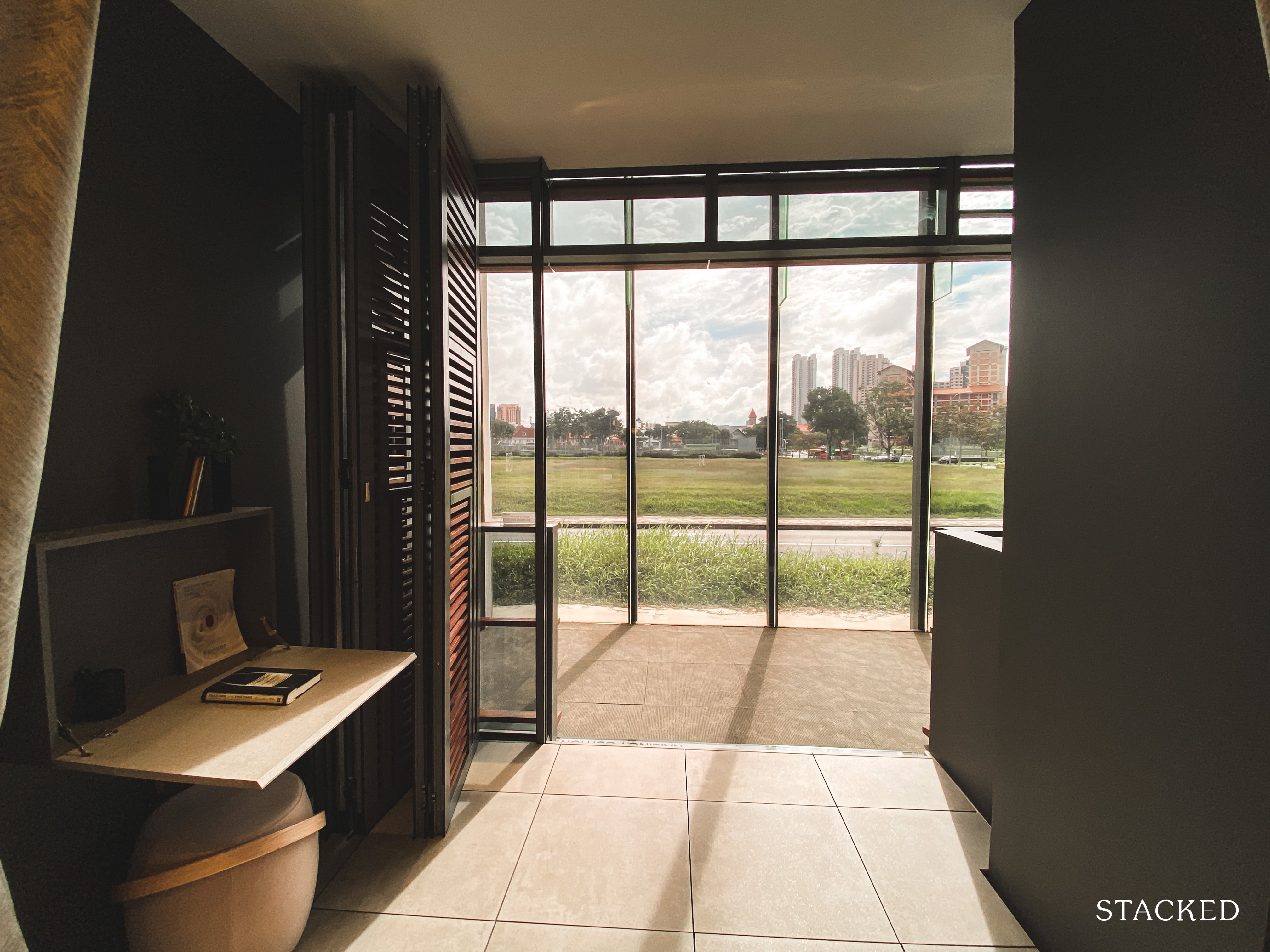 Likewise to its other units, balcony space here is kept to a minimum. You have the option of installing a foldable screen to almost make it feel as if the balcony is an extension of your living space.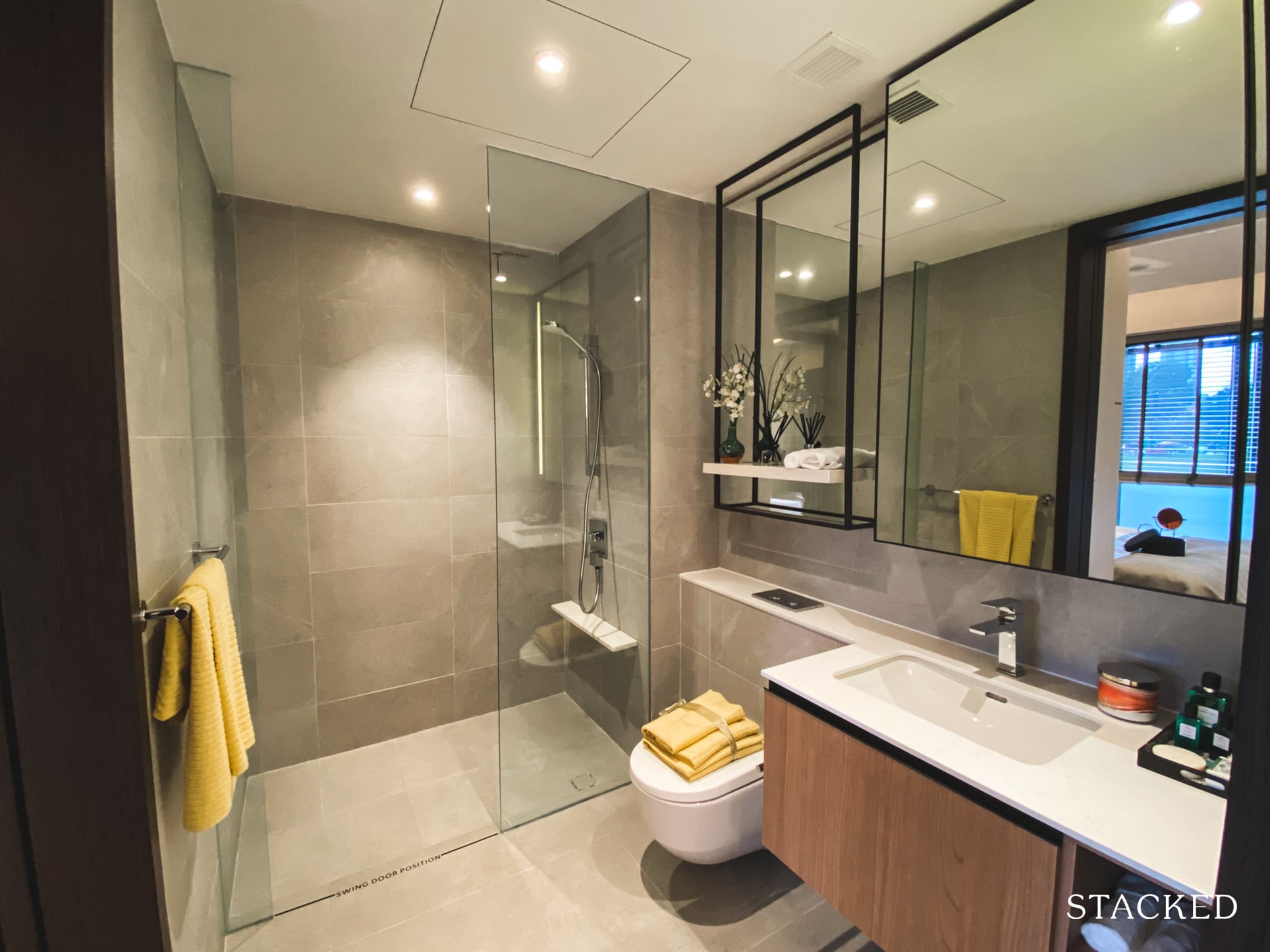 The bathroom here features two entrances – so you can enter from both the master bedroom, as well as the living room. This is an ideal arrangement especially if you have guests over a lot.
It's a spacious bathroom here, so no complaints about the size. Do note, however, that there is no window here so ventilation wise it might be an issue. It would also have been more ideal to have extra storage above the toilet bowl rather than a decorative fixture.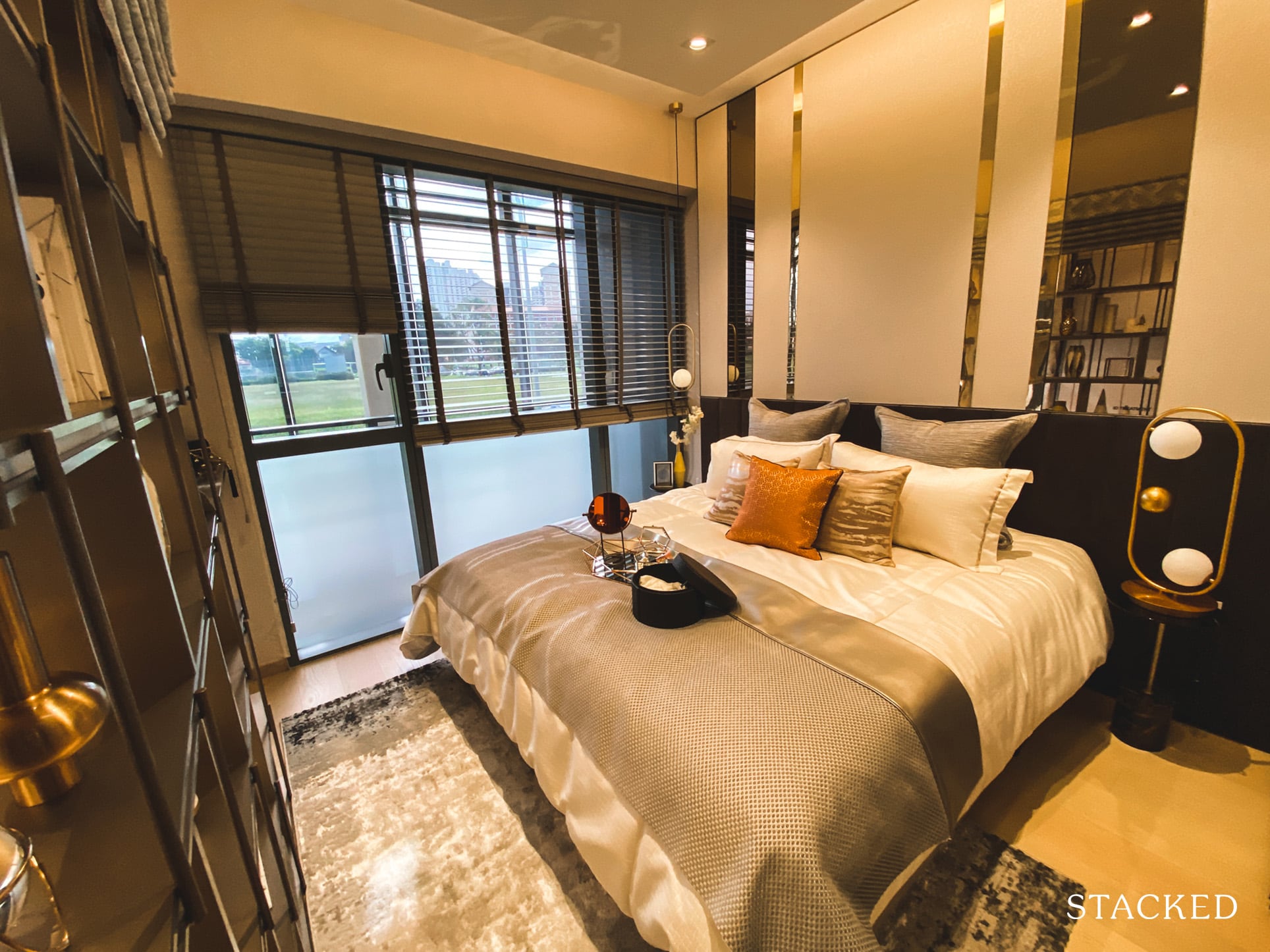 The master bedroom is just okay in size, you aren't going to be able to fit much in here other than the bed. Sadly, the size of the windows here are hampered by the location of the AC ledge just outside.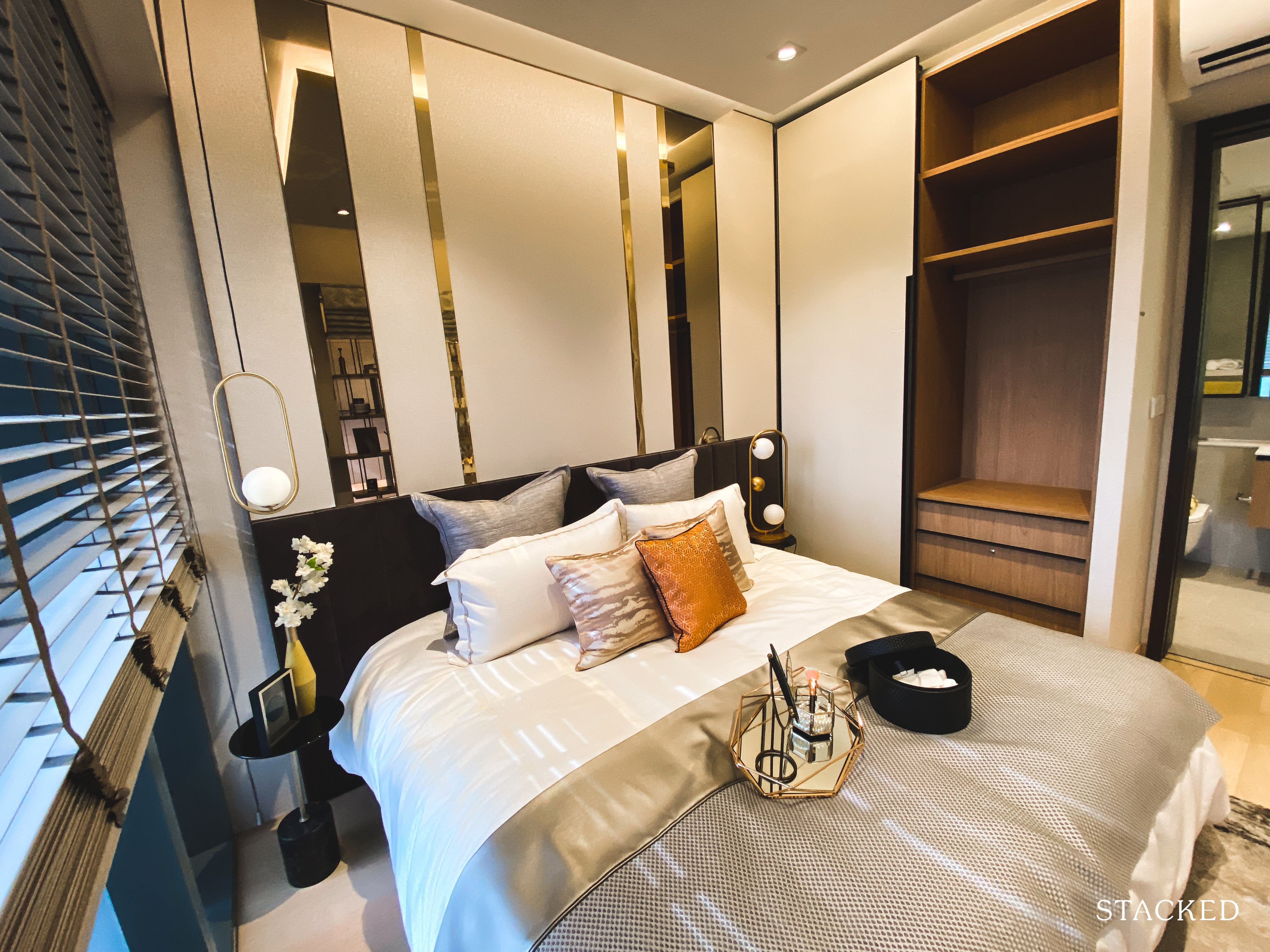 While the storage here does go all the way to the ceiling, this is really the only built-in place for storage in this 1 bedroom unit.
JadeScape 2 Bedroom Deluxe Review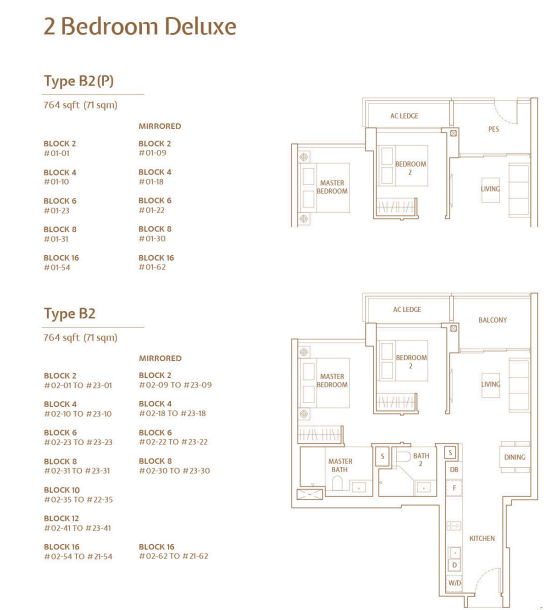 The 2 bedroom deluxe unit at JadeScape is quite a decent size at 764 square feet.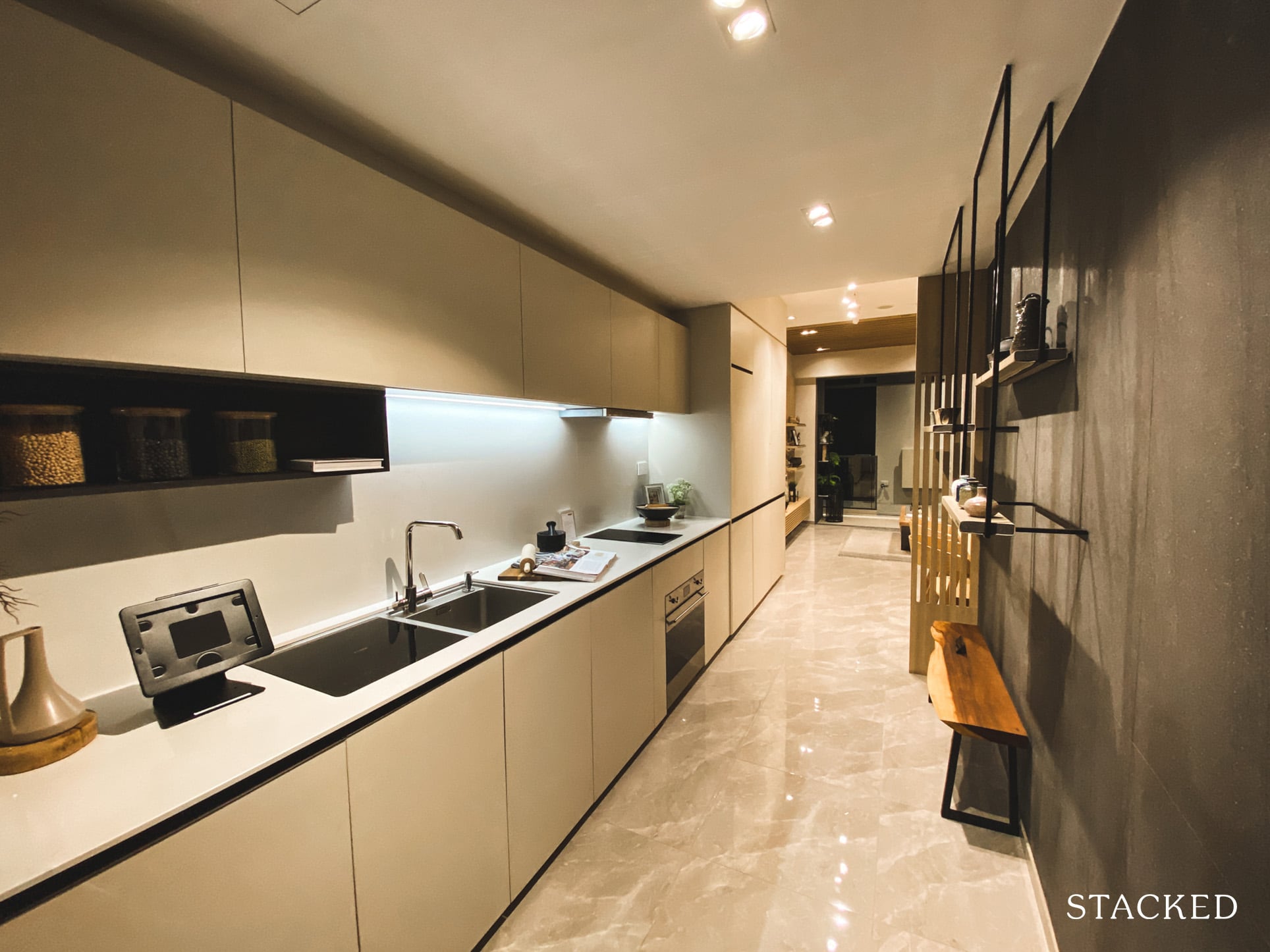 Similarly to the 1 bedroom above, the entrance to the 2 bedroom deluxe leads directly to the kitchen – so no wasted space at all.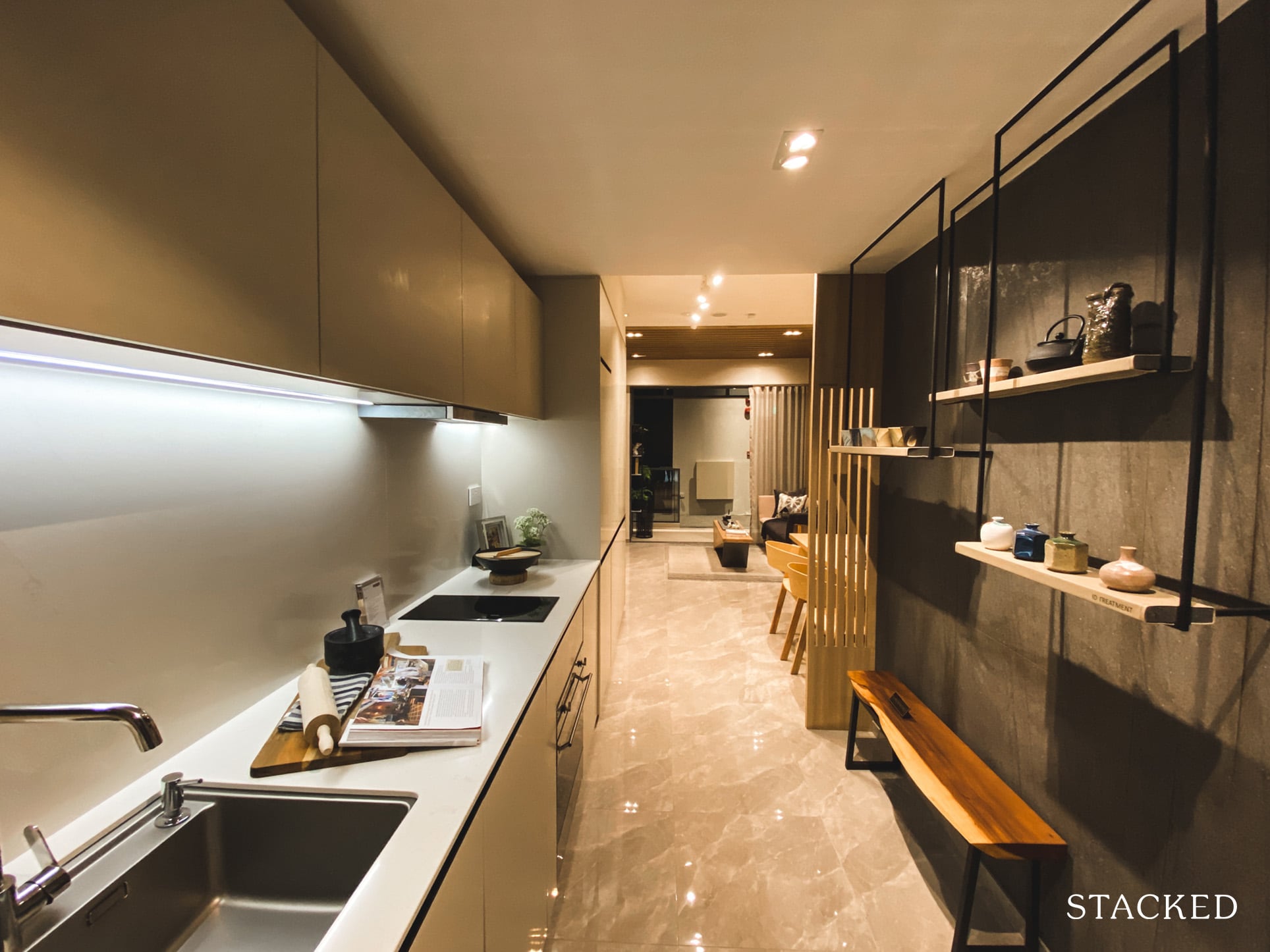 The kitchen is a great size – the countertop is very long so there's lots of storage and space to prep food or even to keep equipment. Width wise it is decent too, there is probably enough space for 2 people to work here comfortably. Like the 1 bedroom unit, the main areas come with porcelain tiles.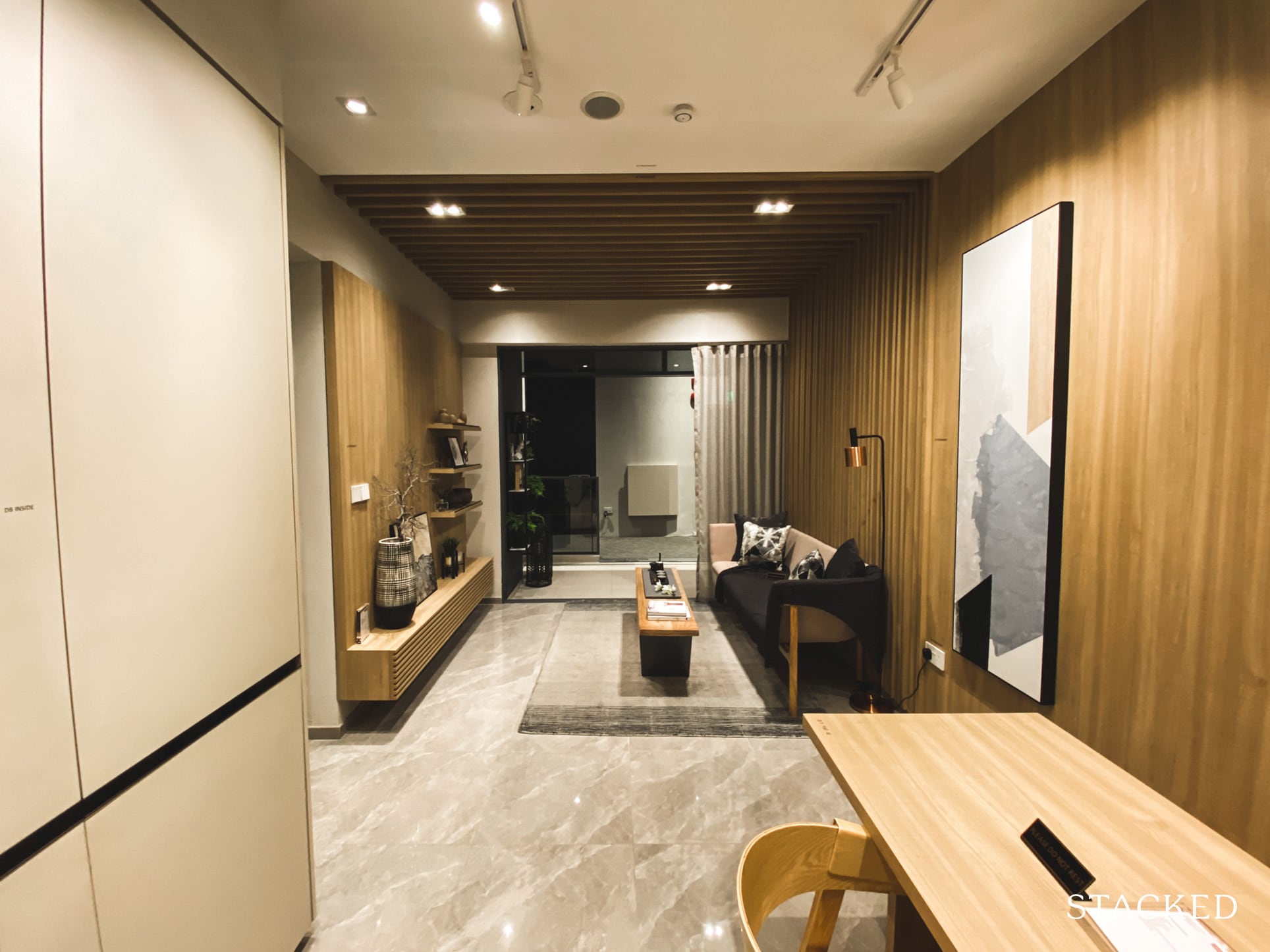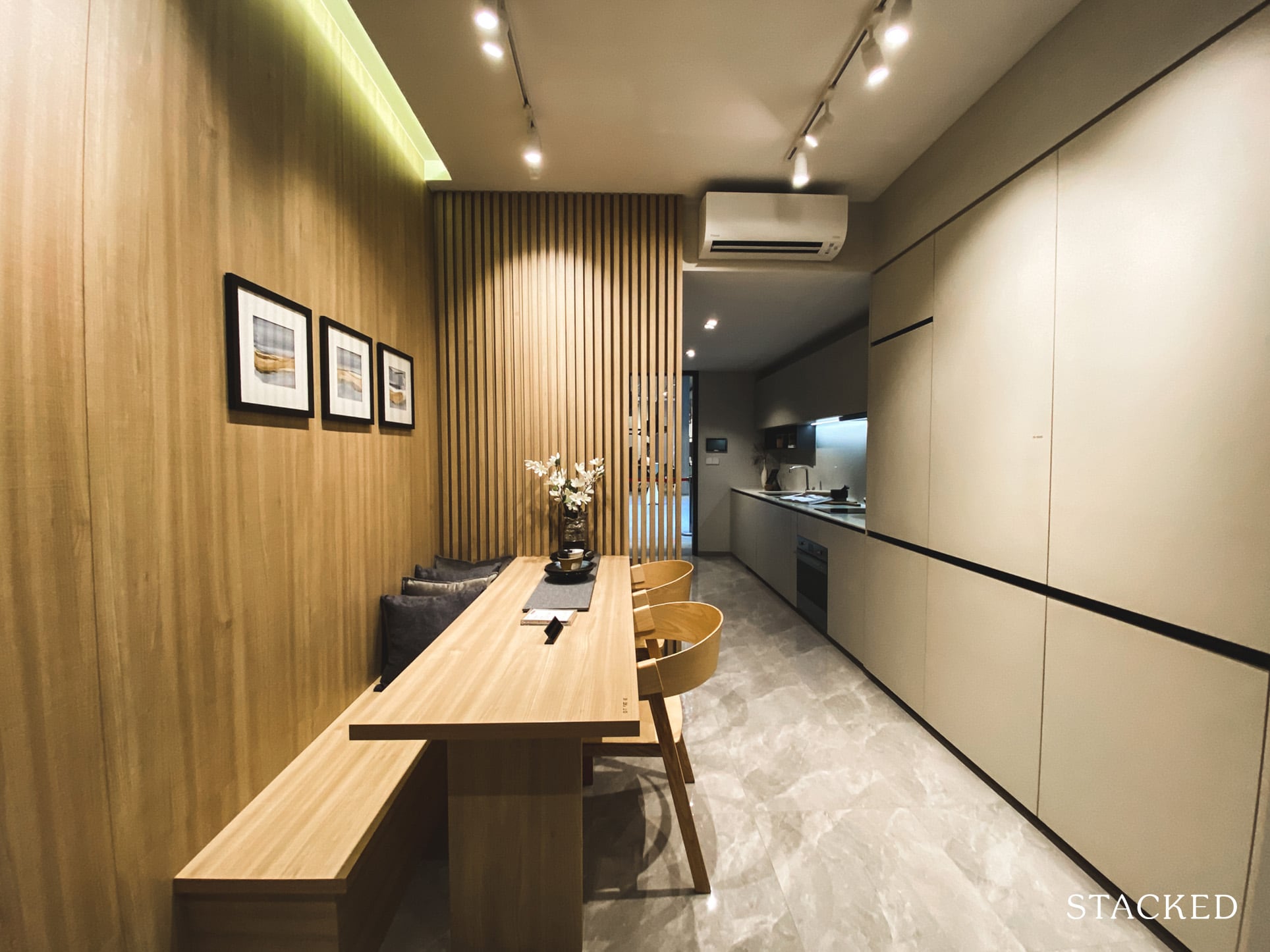 The ID here was done in a very Japanese Muji-inspired vibe. So the dining area adopted bench seating on one side so as to save on space. While it looks adequate here, it is worth pointing out that the table is rather narrow – so a wider table would definitely eat into the walkway.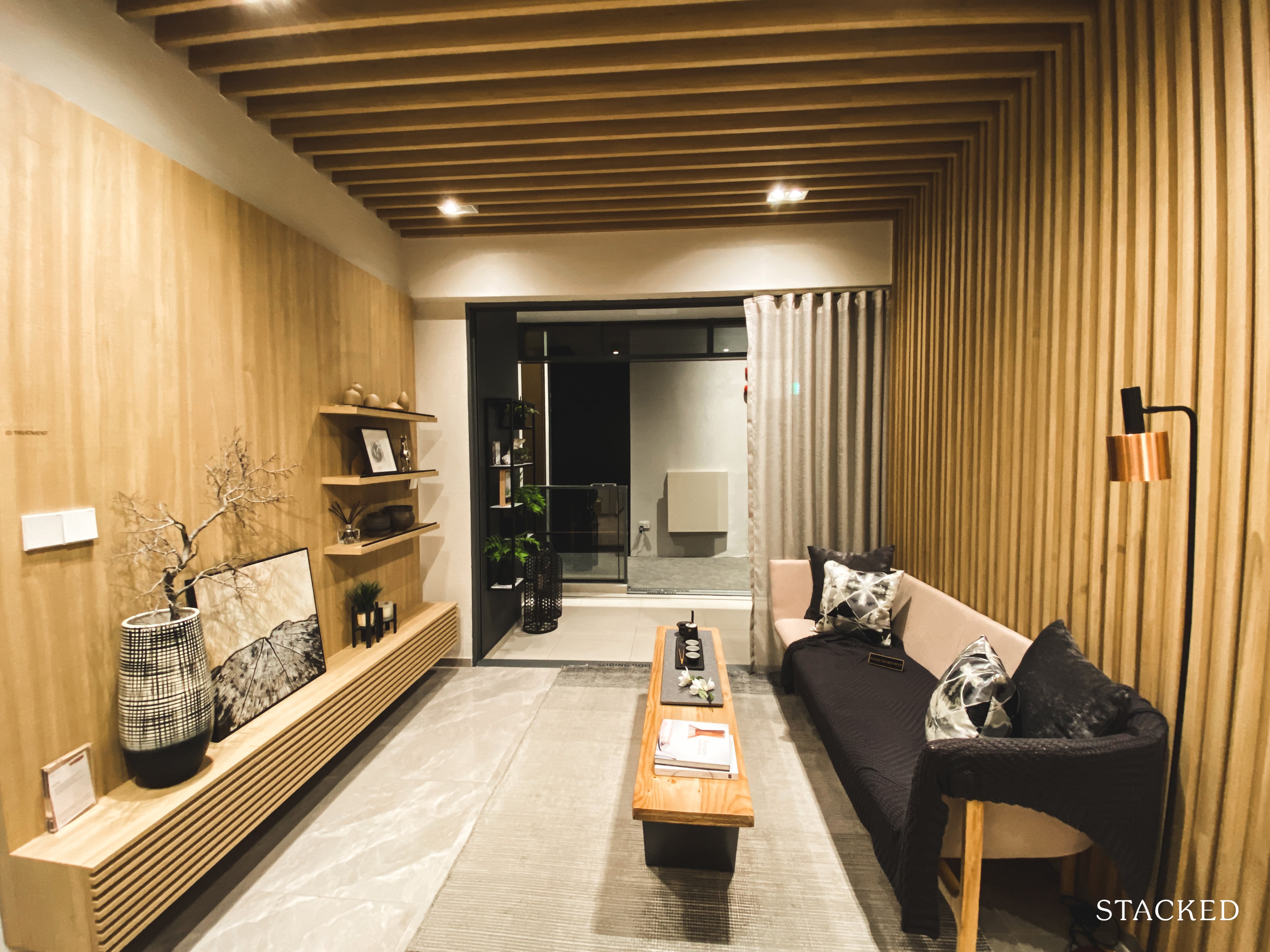 The living room is quite well-sized, with decent length and width. Get the right furniture and it can be a comfortable space indeed.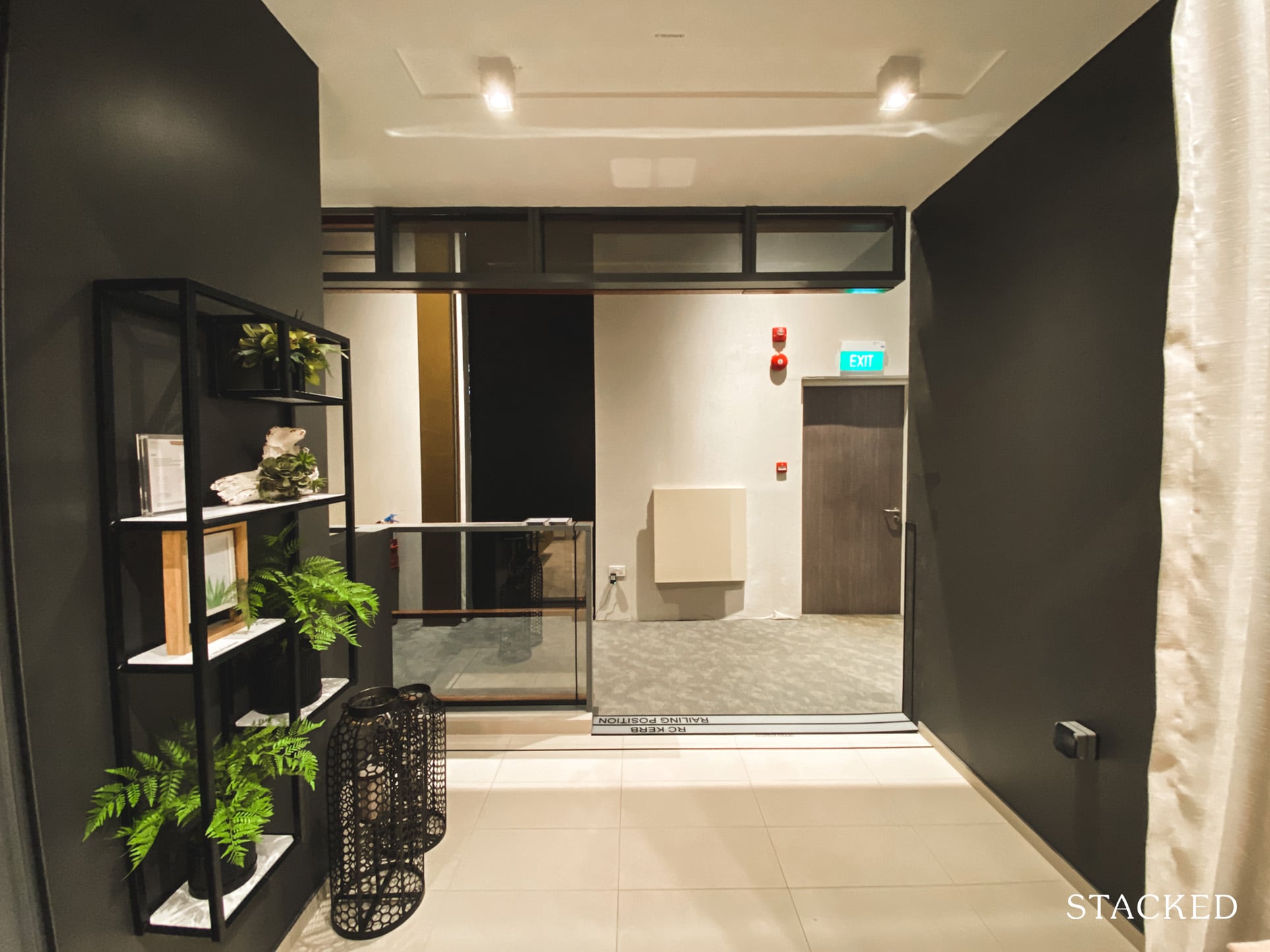 As you'd probably have guessed by now, the space afforded to the balcony is kept at a minimum. For those looking to live on the ground floor, this will include a gate for direct access to the common areas of the development.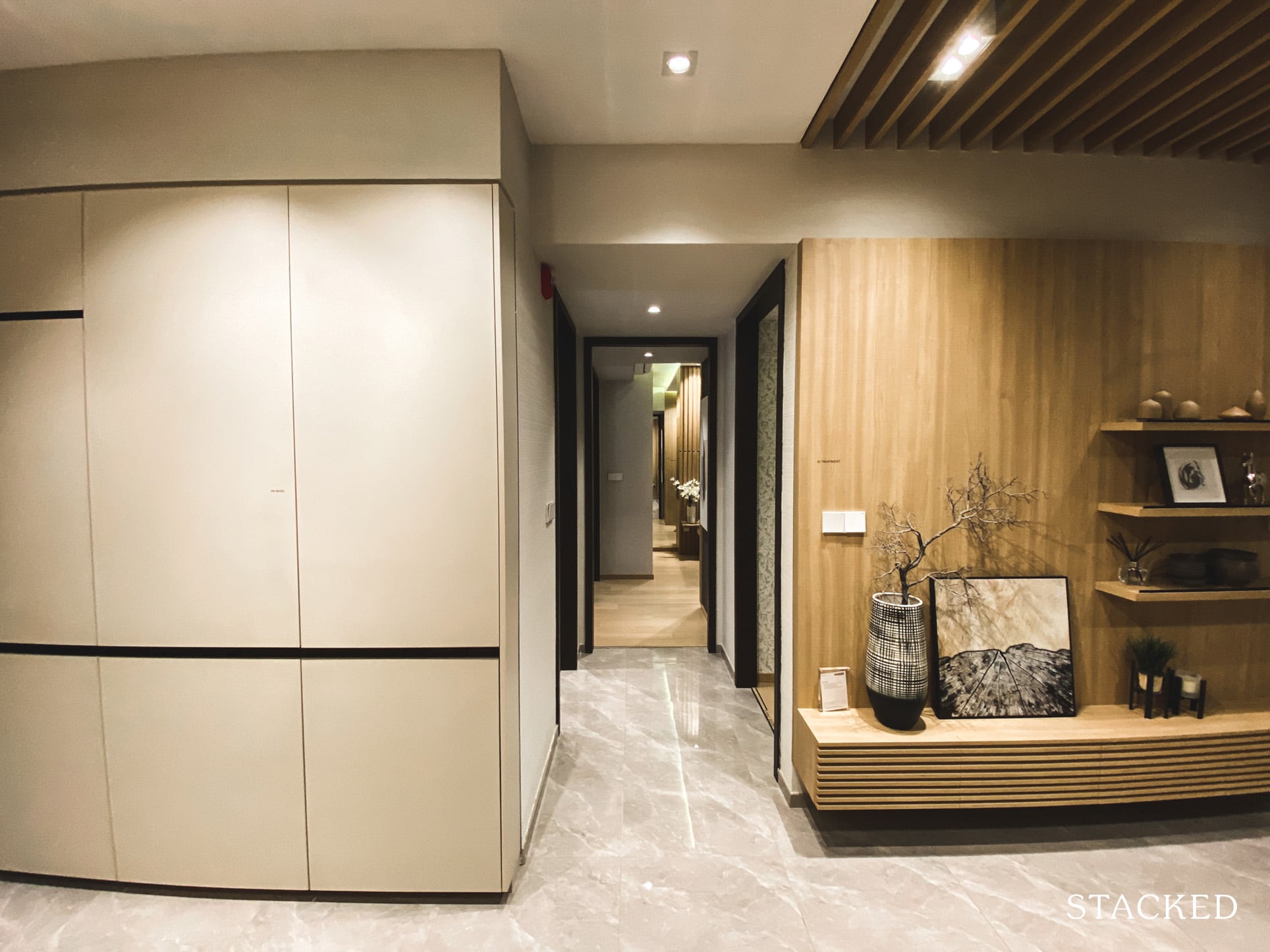 It's great that there is additional storage options on the left here.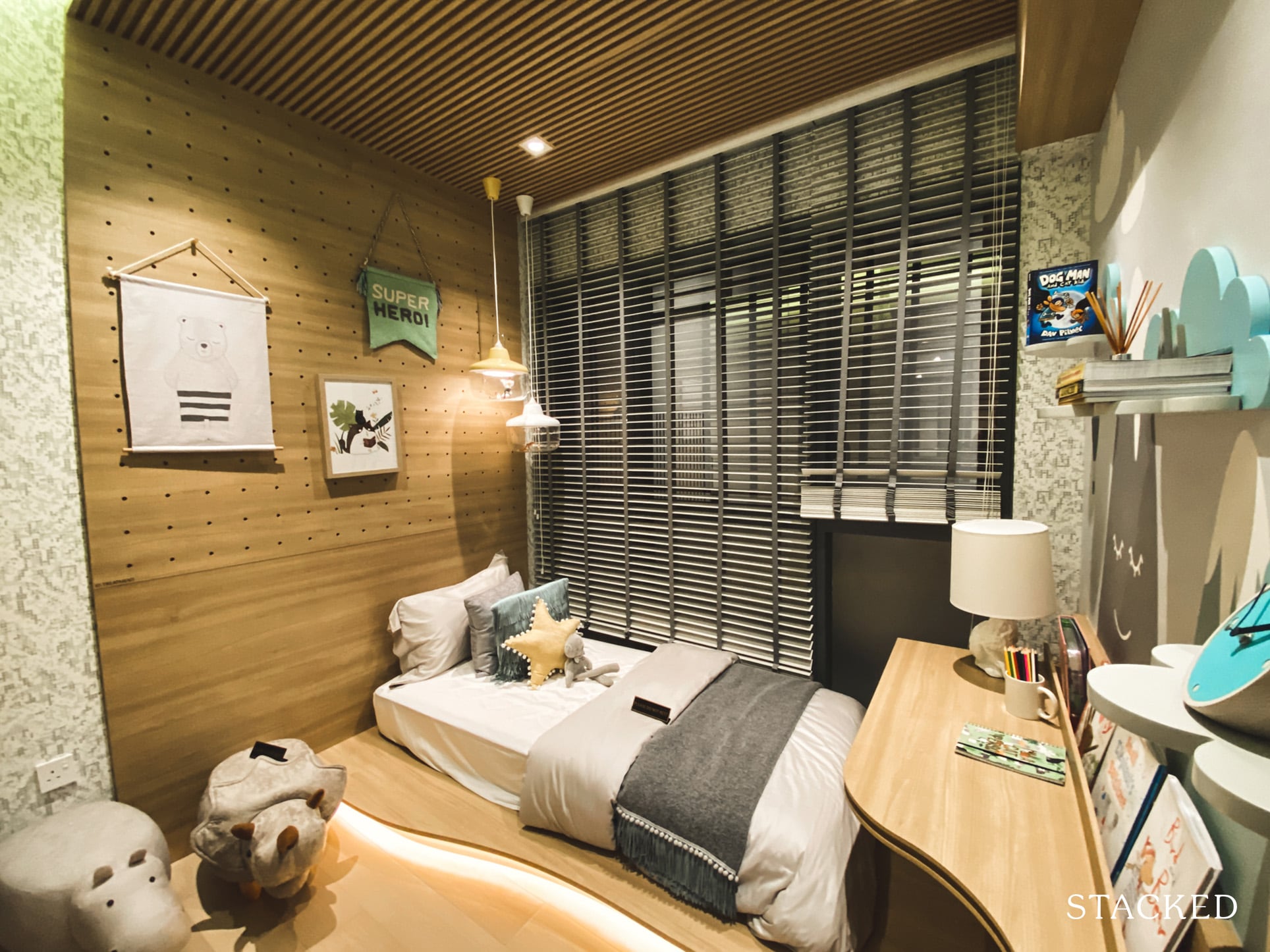 The common bedroom in this 2-bedroom deluxe unit is on the smaller side (which you can usually tell when the choice of bed is a single instead of a queen). The AC ledge is on the outside too, so no floor to ceiling windows here either.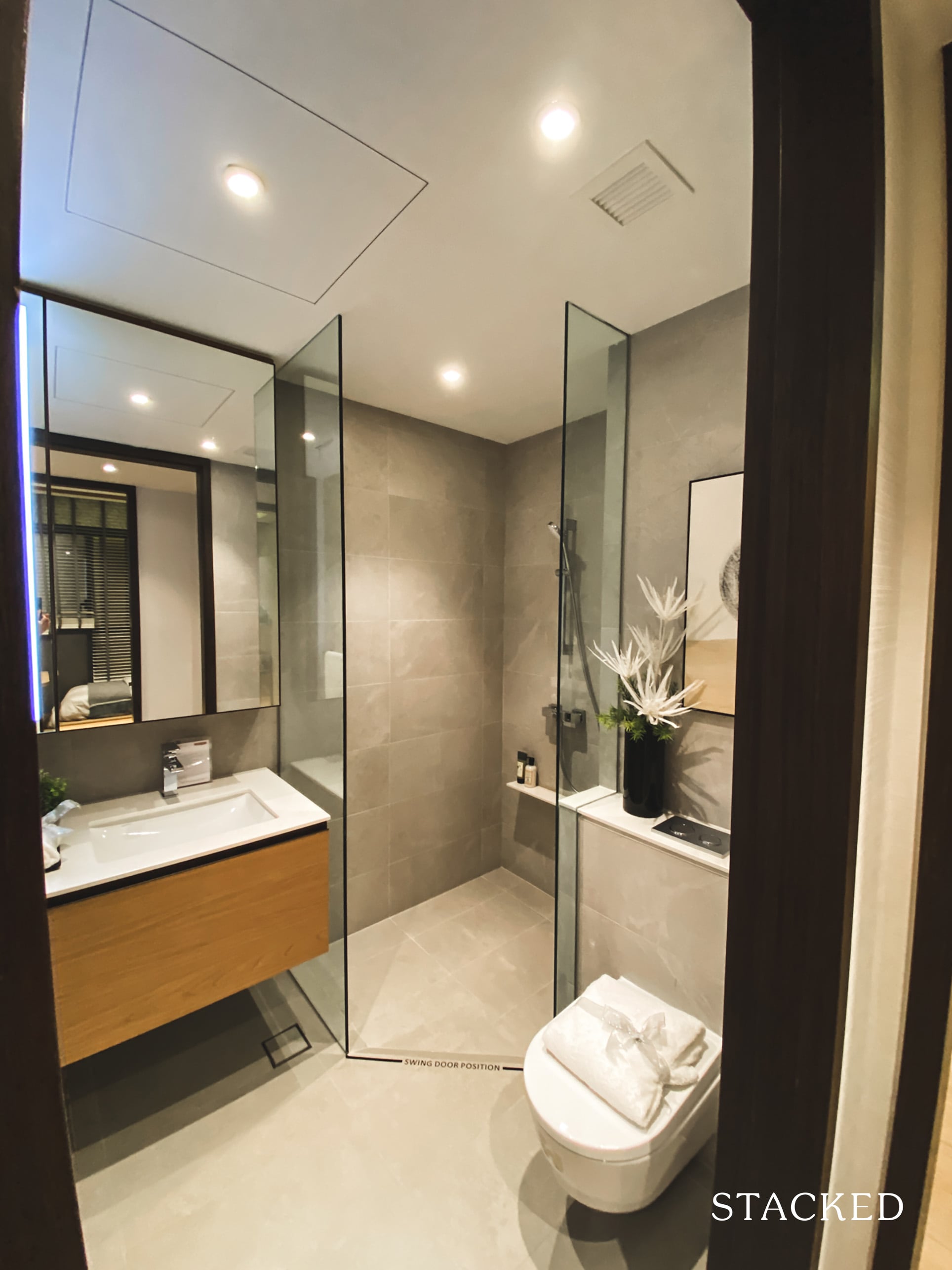 The common bathroom is an average size – it is a rather odd layout, something that definitely isn't as commonly seen. Floor finishes are porcelain tiles and bathroom fittings are from Hansgrohe (taps) and Laufen (sink).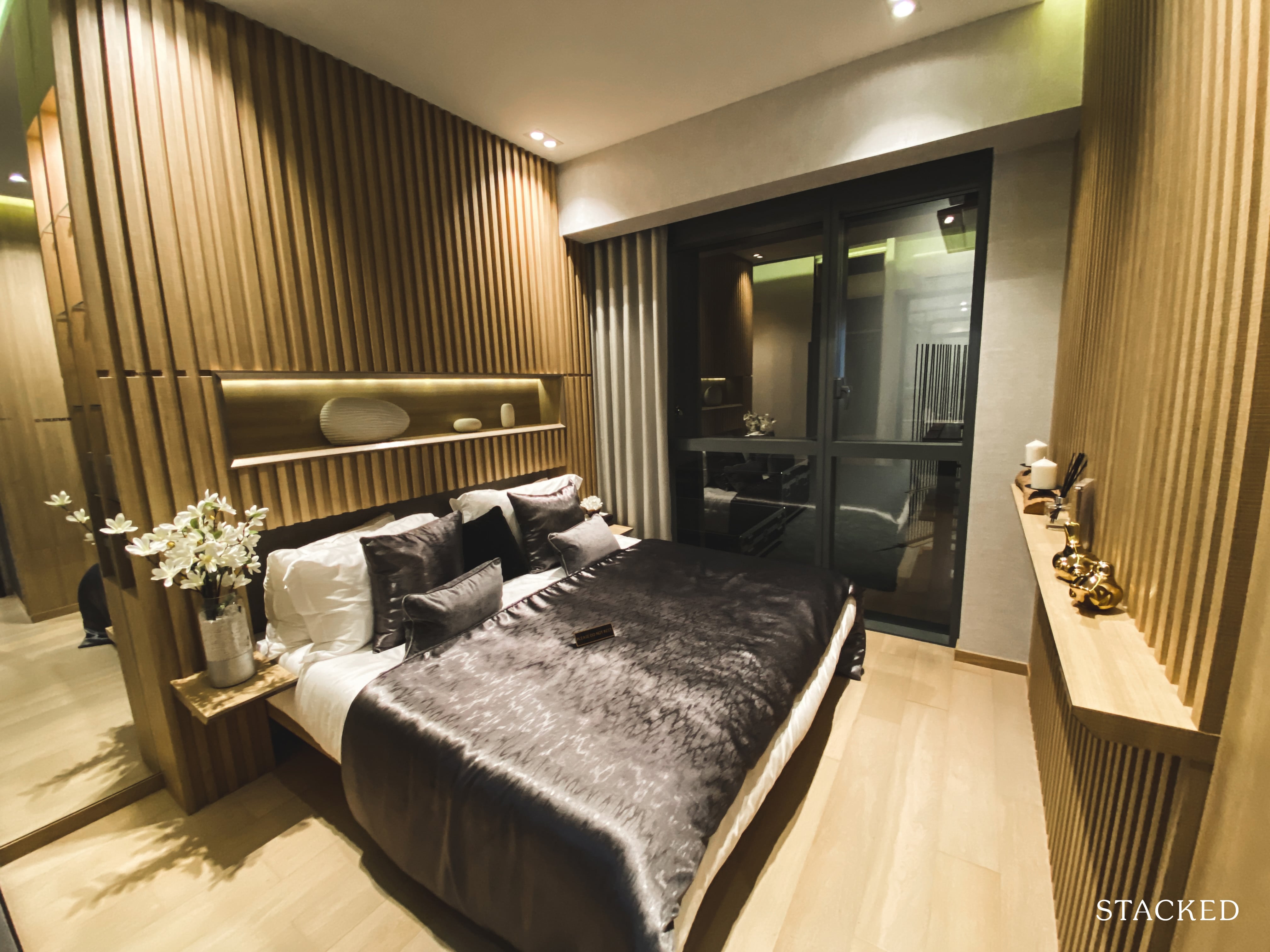 The master bedroom is on the smaller side, while the windows do not actually stretch from end to end (which is more glaring due to the lack of curtains here). Like the rest of the bedrooms, flooring is made out of engineered timber.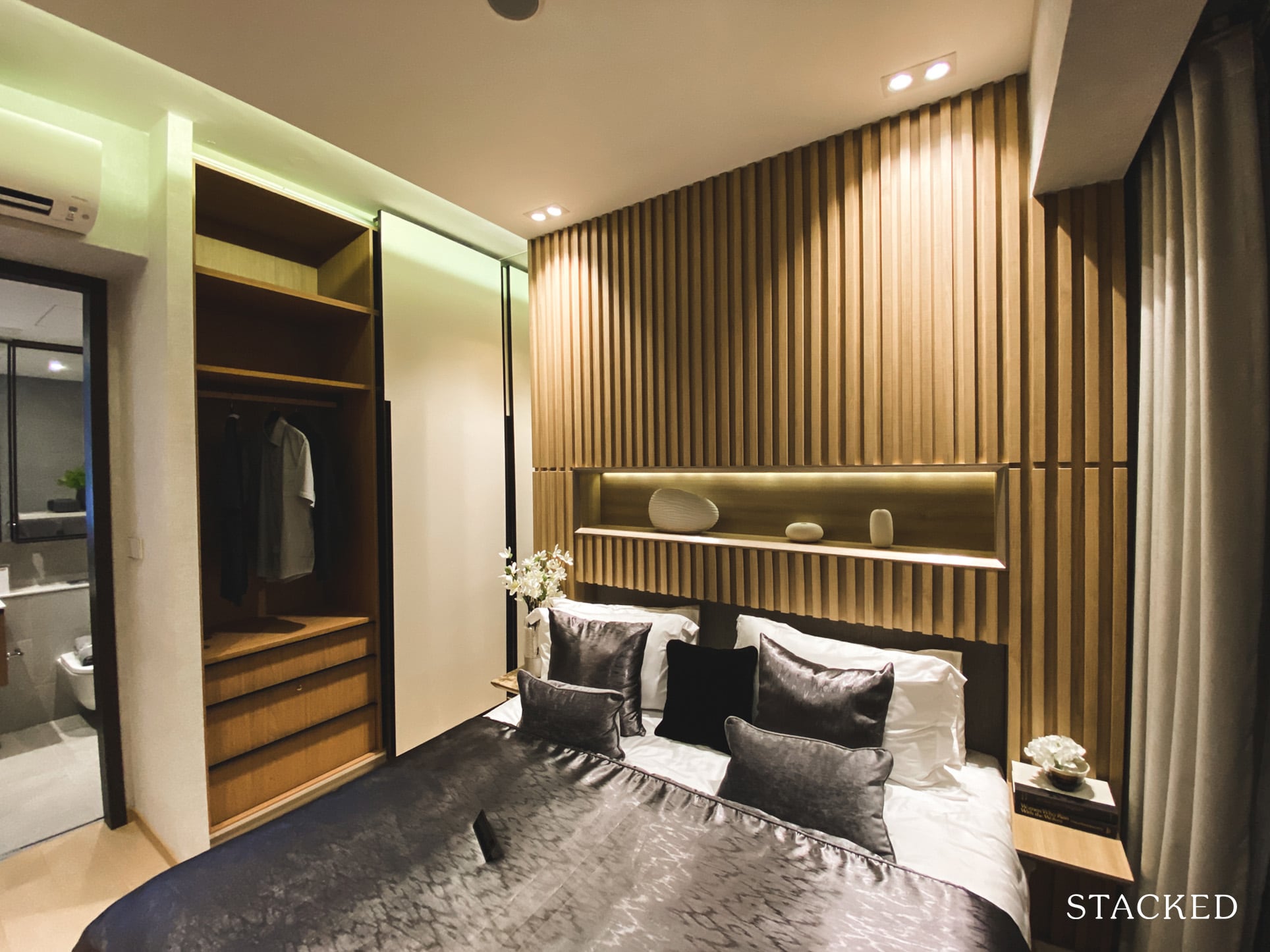 Storage will always remain a challenge for most, but at the very least, this one stretches to the top.
The master bathroom is quite spacious, but nothing fancy here with just standard bathroom fittings from Hansgrohe and Laufen again.
JadeScape 4 Bedroom Deluxe Review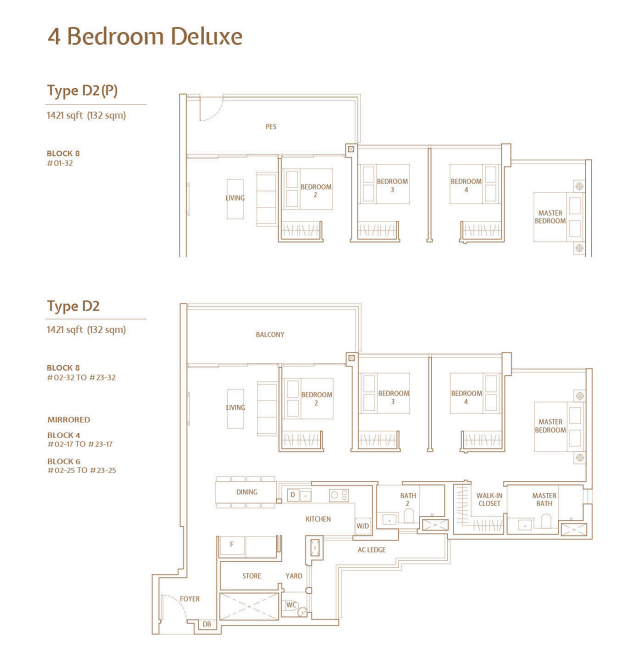 Coming in at 1,421 square feet, the 4 bedroom deluxe unit at JadeScape is rather average in terms of size. It is mostly quite an efficient layout, and is very much like the 3 bedroom deluxe that you've seen earlier – save for an extra bedroom, a bigger master bedroom, and a yard.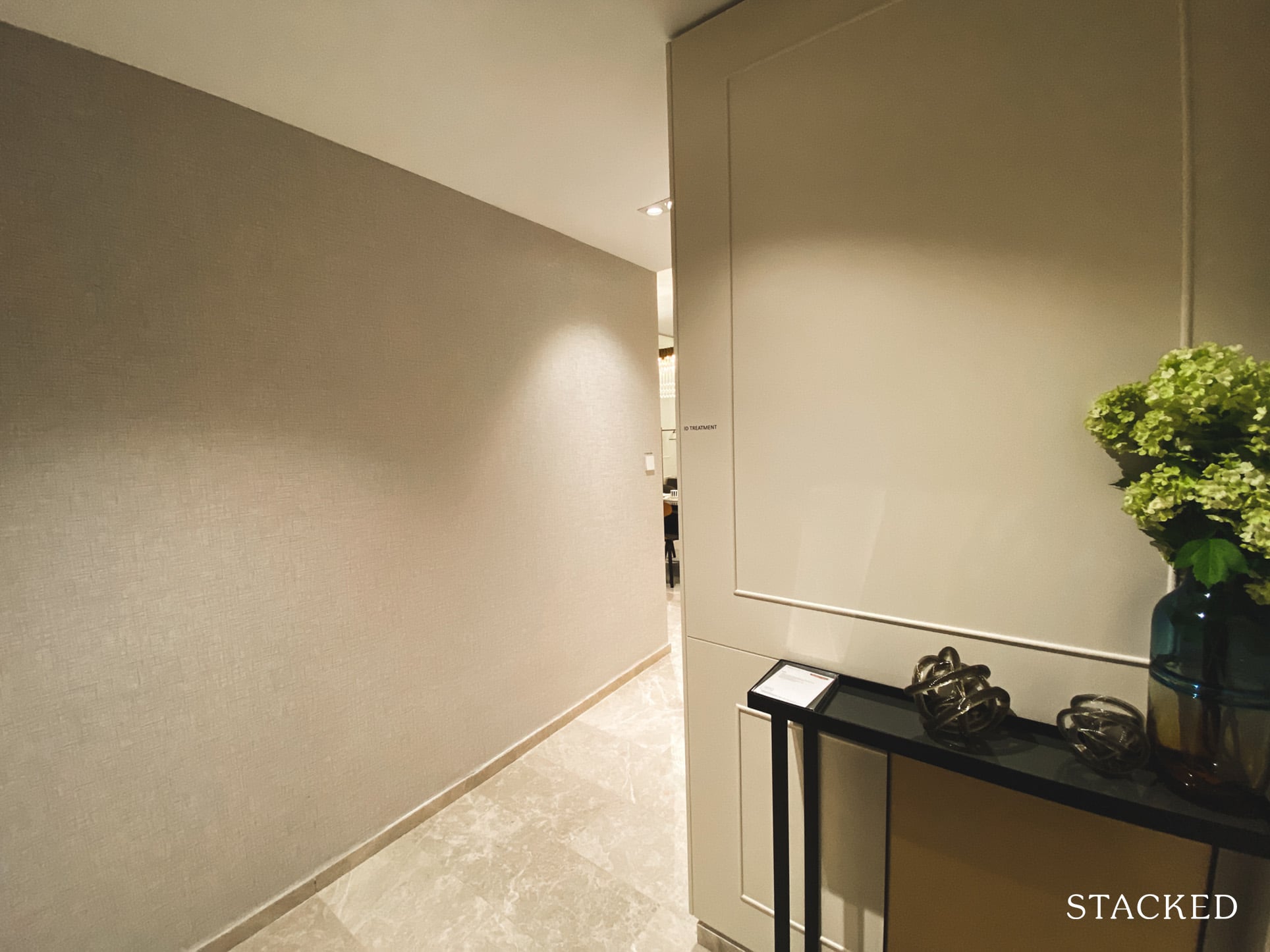 Since this is a 4 bedroom and a more premium unit, having a foyer here makes more sense – it does add extra privacy for your family.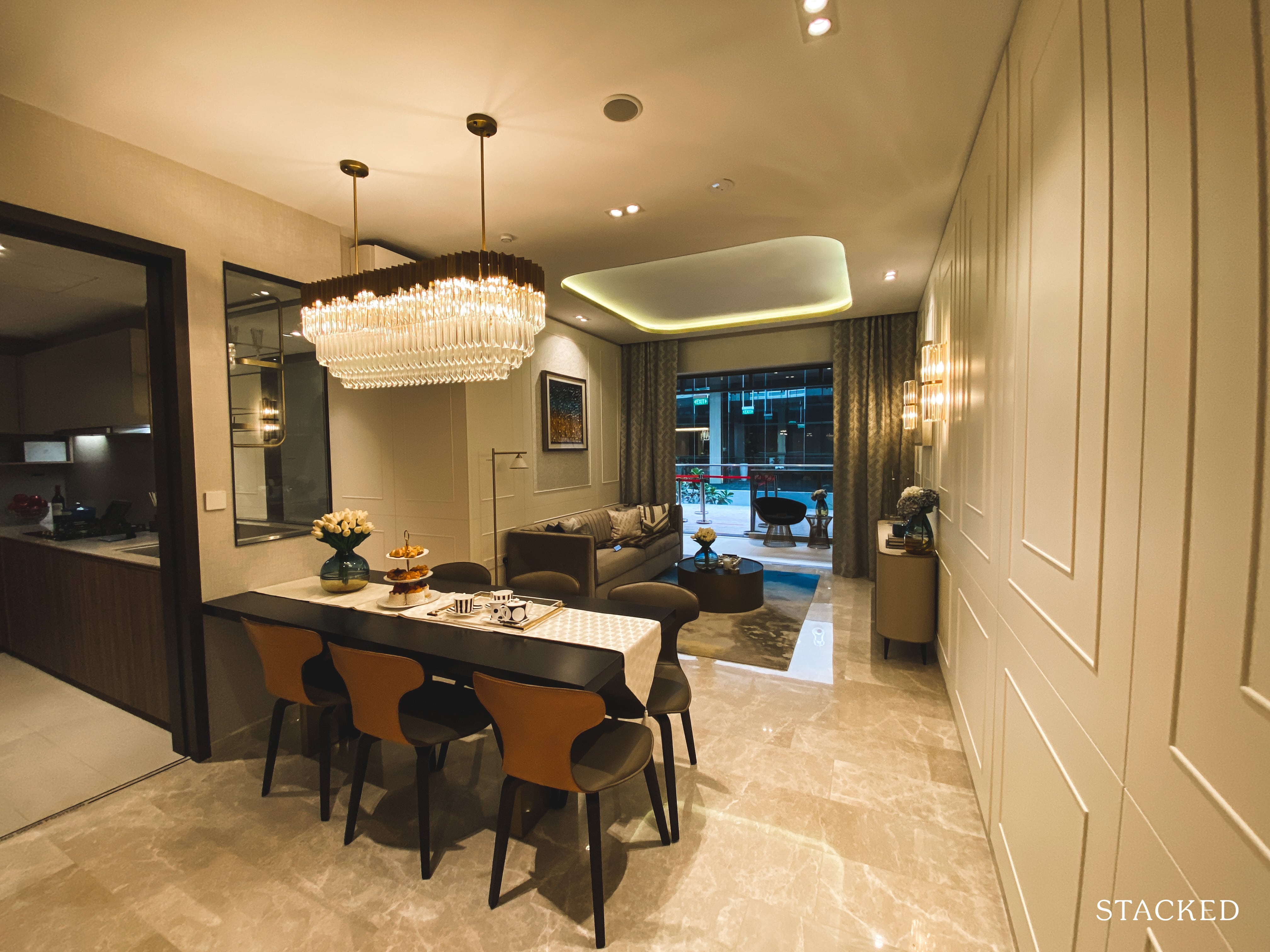 Once you step in, you are faced with a very familiar view – it certainly doesn't look all too different from the 3-bedroom deluxe unit, just slightly roomier.
The floor finishes here are marble throughout, with the exception of the bedrooms, kitchen, and balcony.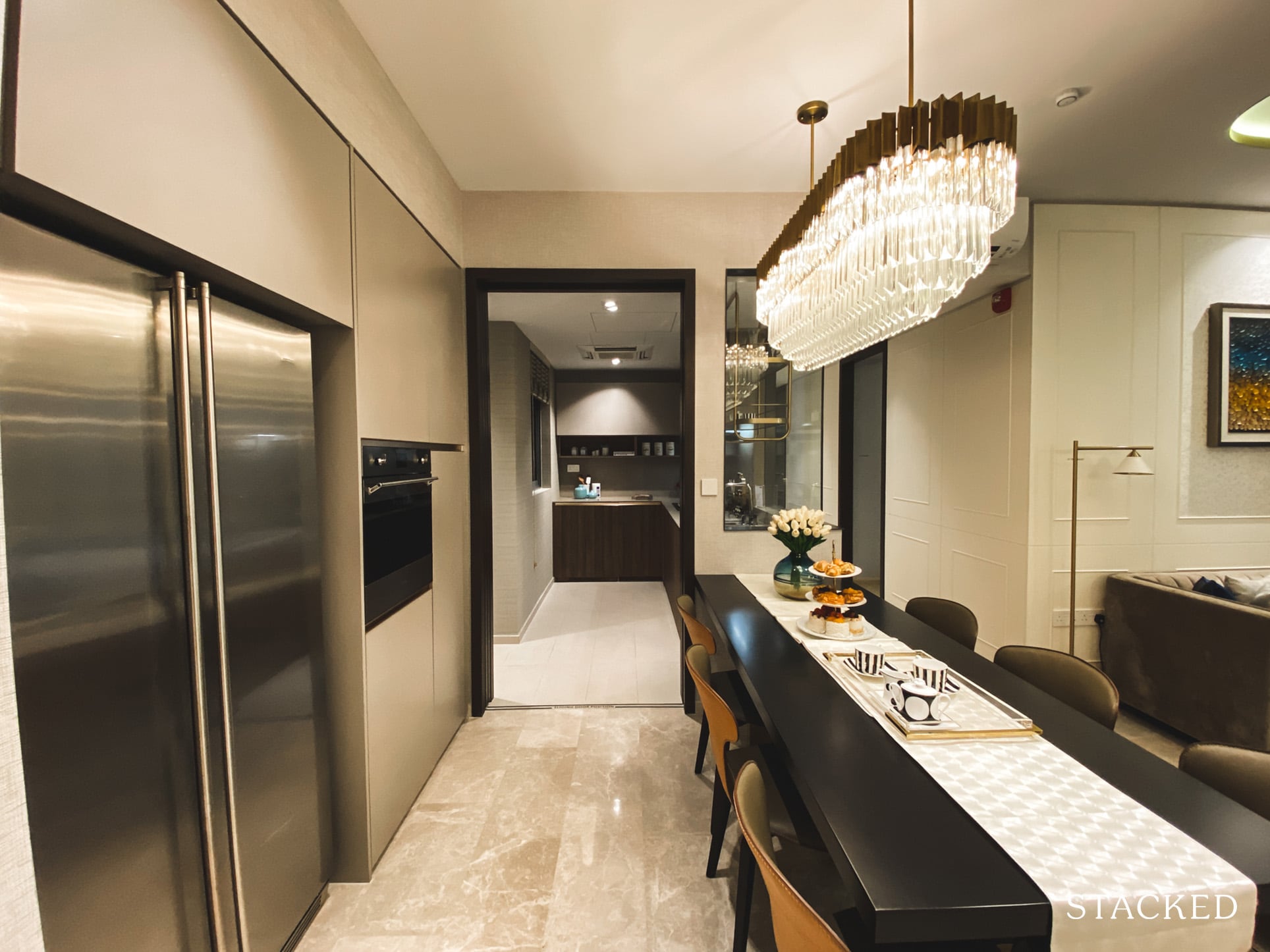 The issues mentioned in the 3 bedroom deluxe unit is definitely less pronounced here – you do get a tad more space to move around. I still am not the biggest fan of the layout, however.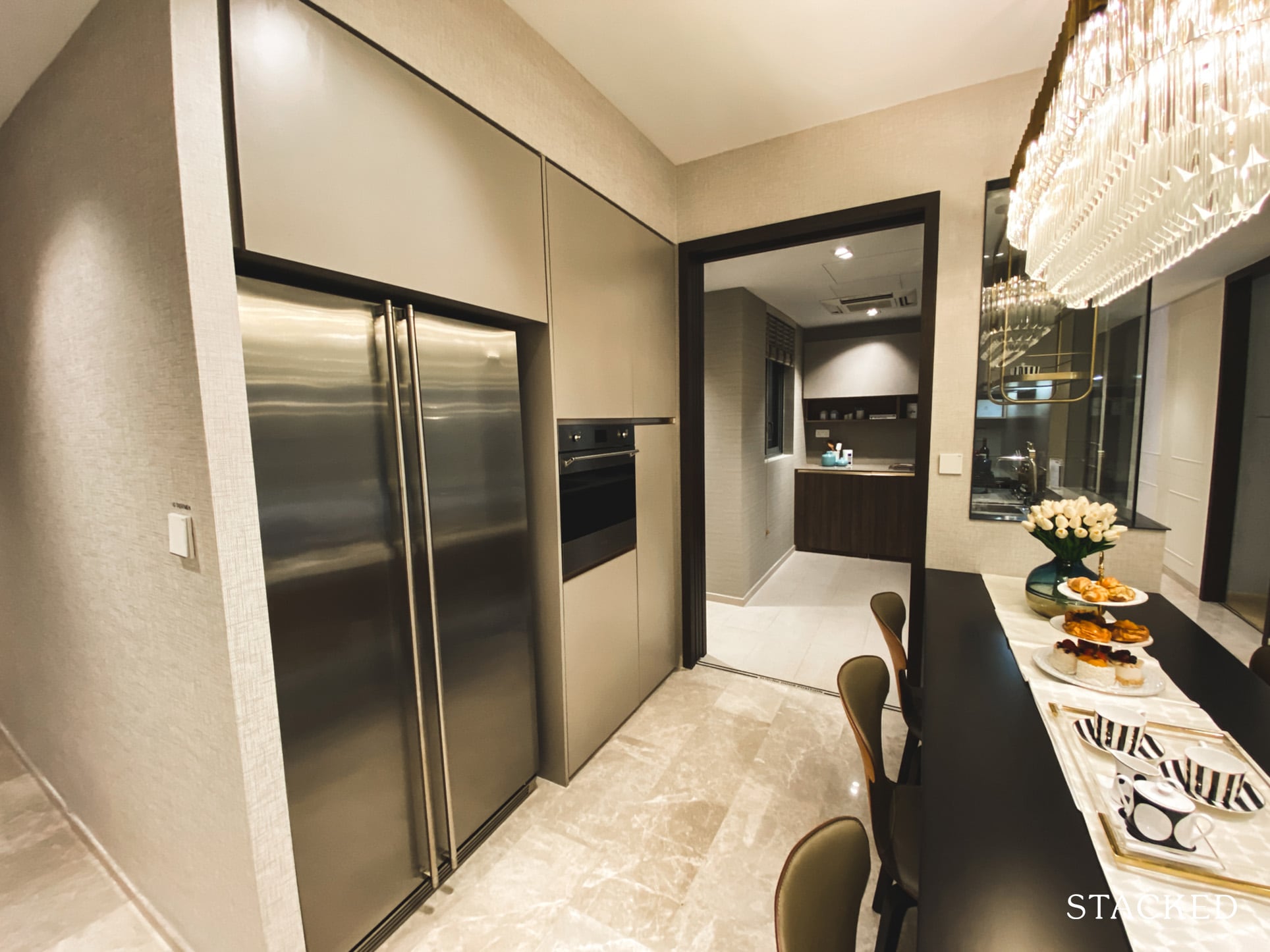 Sure, this gives more allowance for space in the kitchen – but there's still a lot of shuttling back and forth to get ingredients from the fridge. It certainly isn't ideal if you do cook a lot.
And while it seems like a lovely sight to sit at the dinner table while the chicken is roasting in the oven, the reality is the cooking smells would always permeate throughout the house – which will then require frequent airing.
The kitchen has the same layout as the 3-bedroom, it's long so there is adequate countertop space and storage. There is also a glass window partition which you can look out into the living/dining area and vice versa.
Appliances wise you get the same Fotile sink dishwasher, with SMEG covering the rest of the usual equipment list. The floor is the standard porcelain tiles.
Thankfully, there is a window here too, which provides for ample ventilation.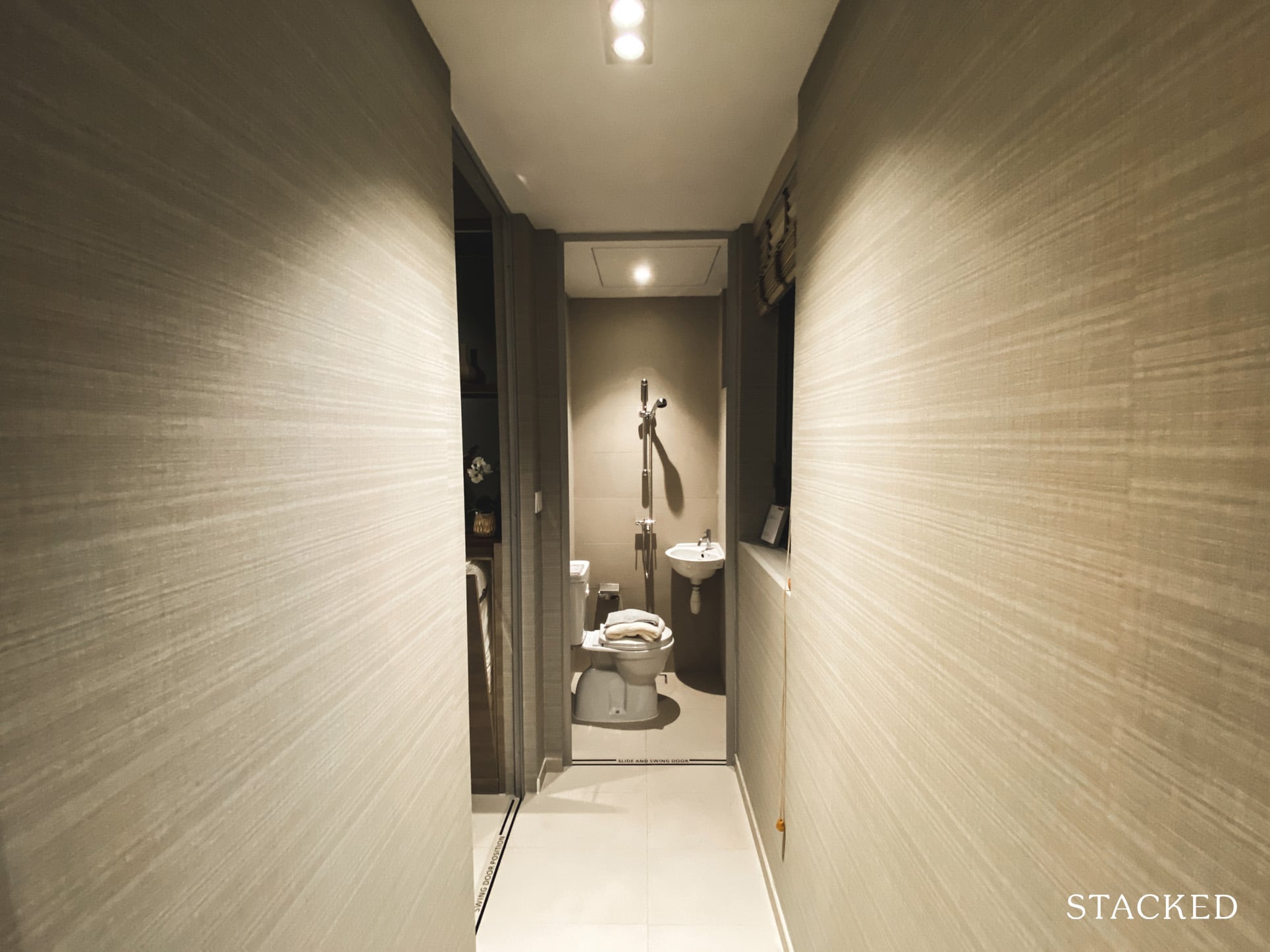 At the very least, there is a yard area here which houses the store/helper's room and a small bathroom. Although it is long, it is quite narrow as well so hanging your clothes may still require some manoeuvring.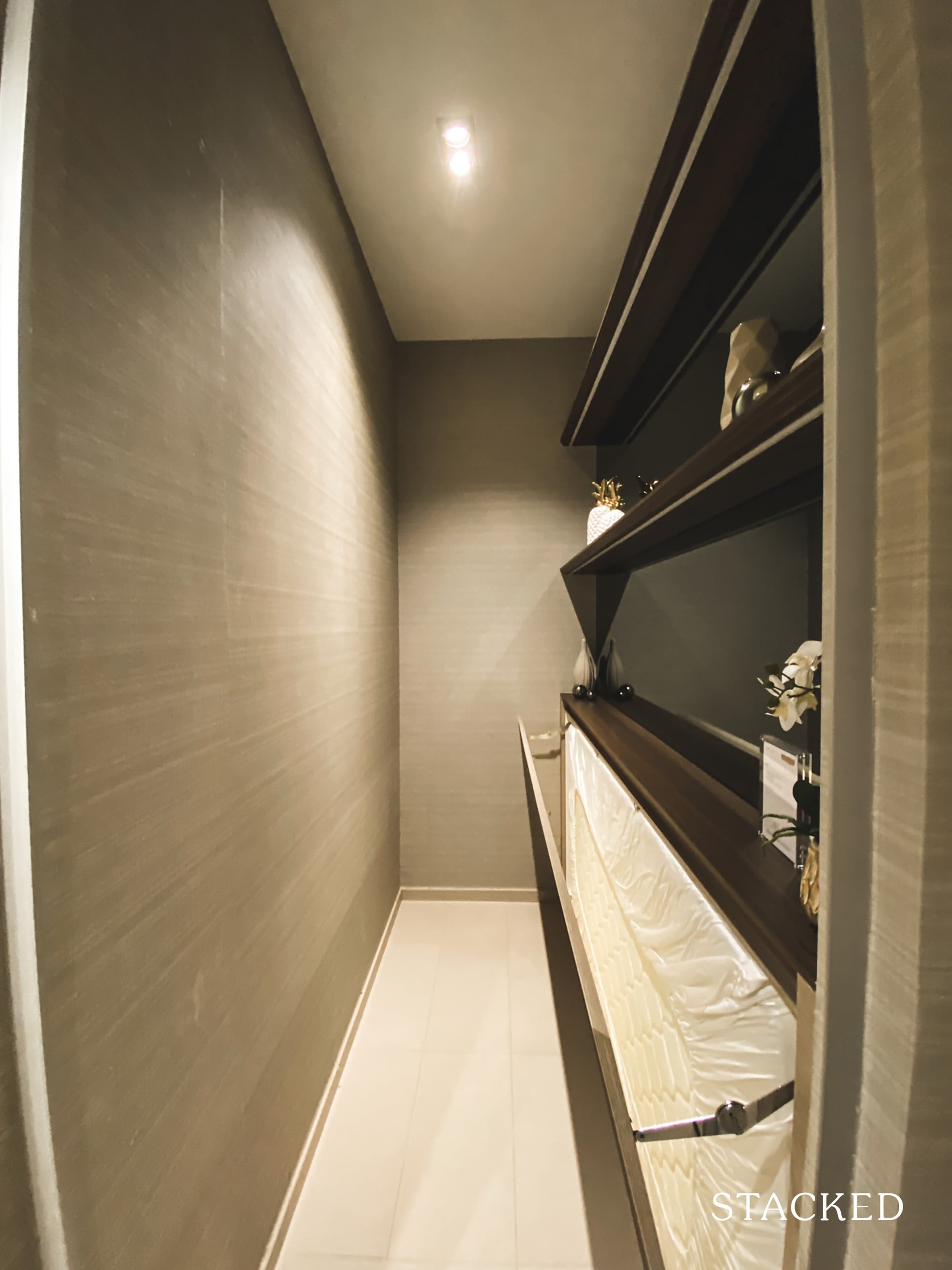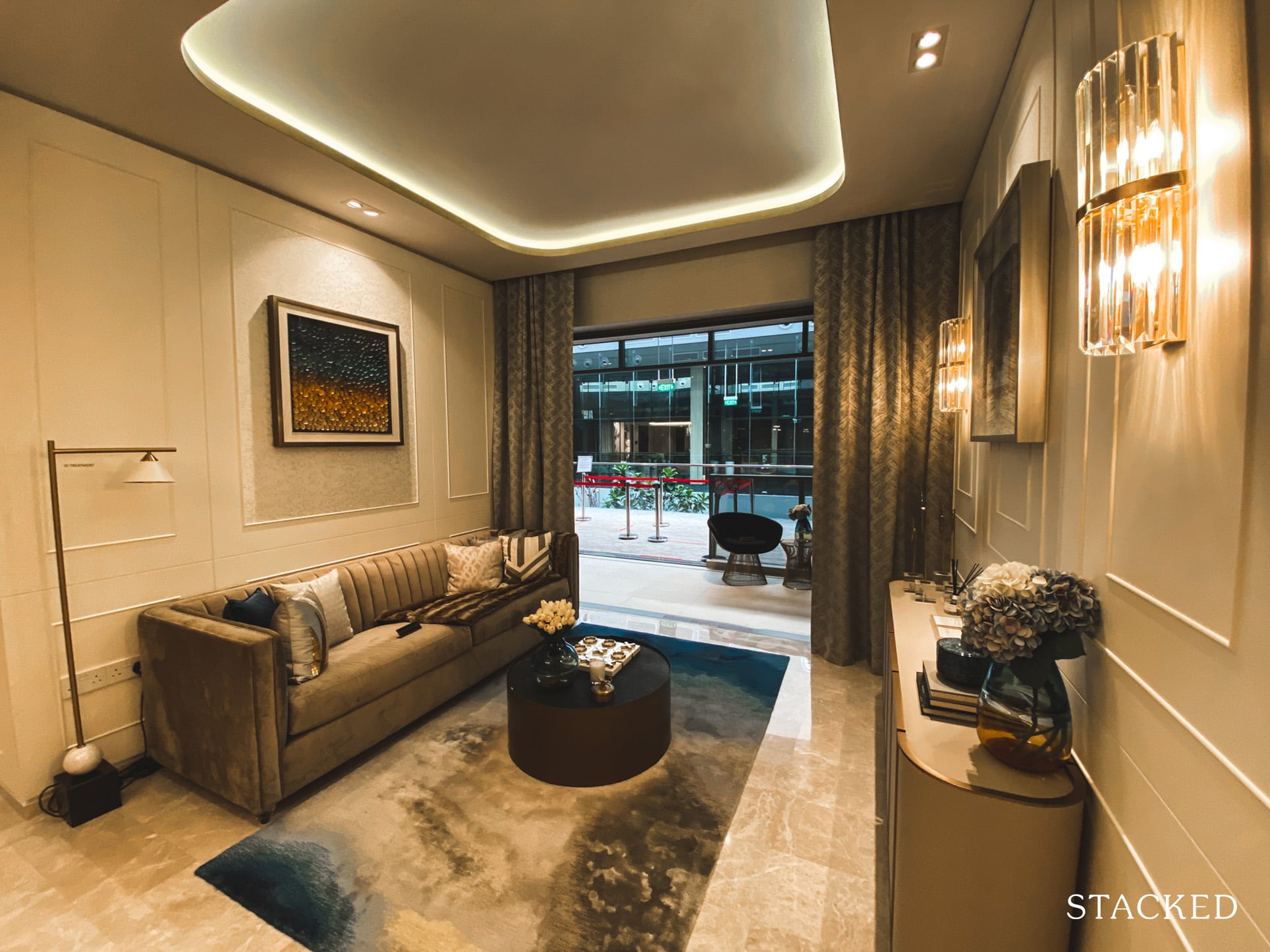 The living room space is not bad. It's not ultra-spacious by any means, but choose the right furniture and it will still do the job for most people.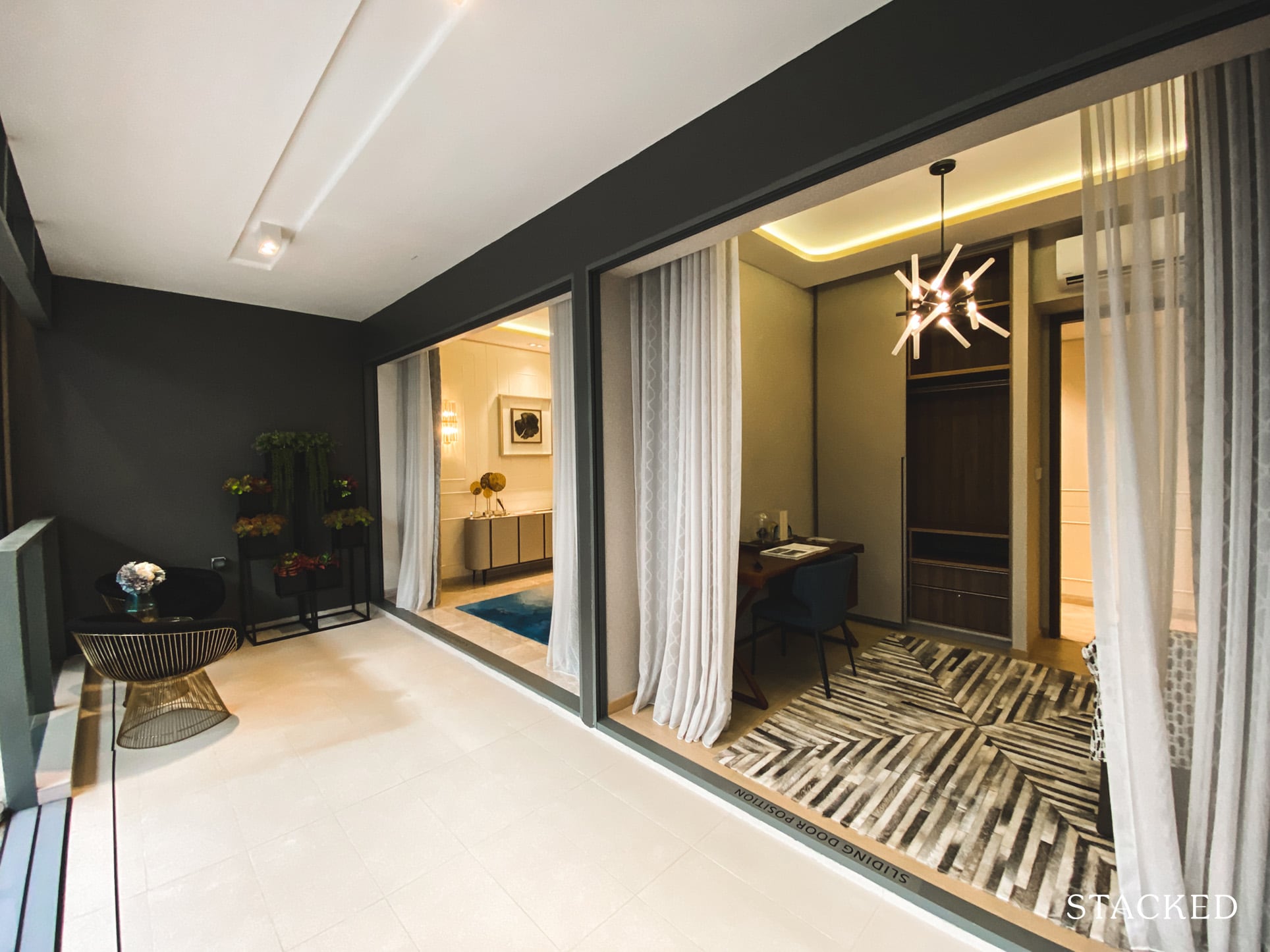 Now this where it starts deviating away from what we've seen so far at the JadeScape, with a much bigger balcony featured here. It is long (stretches till the first common bedroom), and pretty wide as well. One perk would be having the option to move your dining set here instead, giving you a bigger living area. Of course, not everyone enjoys outdoor dining all the time, but it's good to have that flexibility either ways.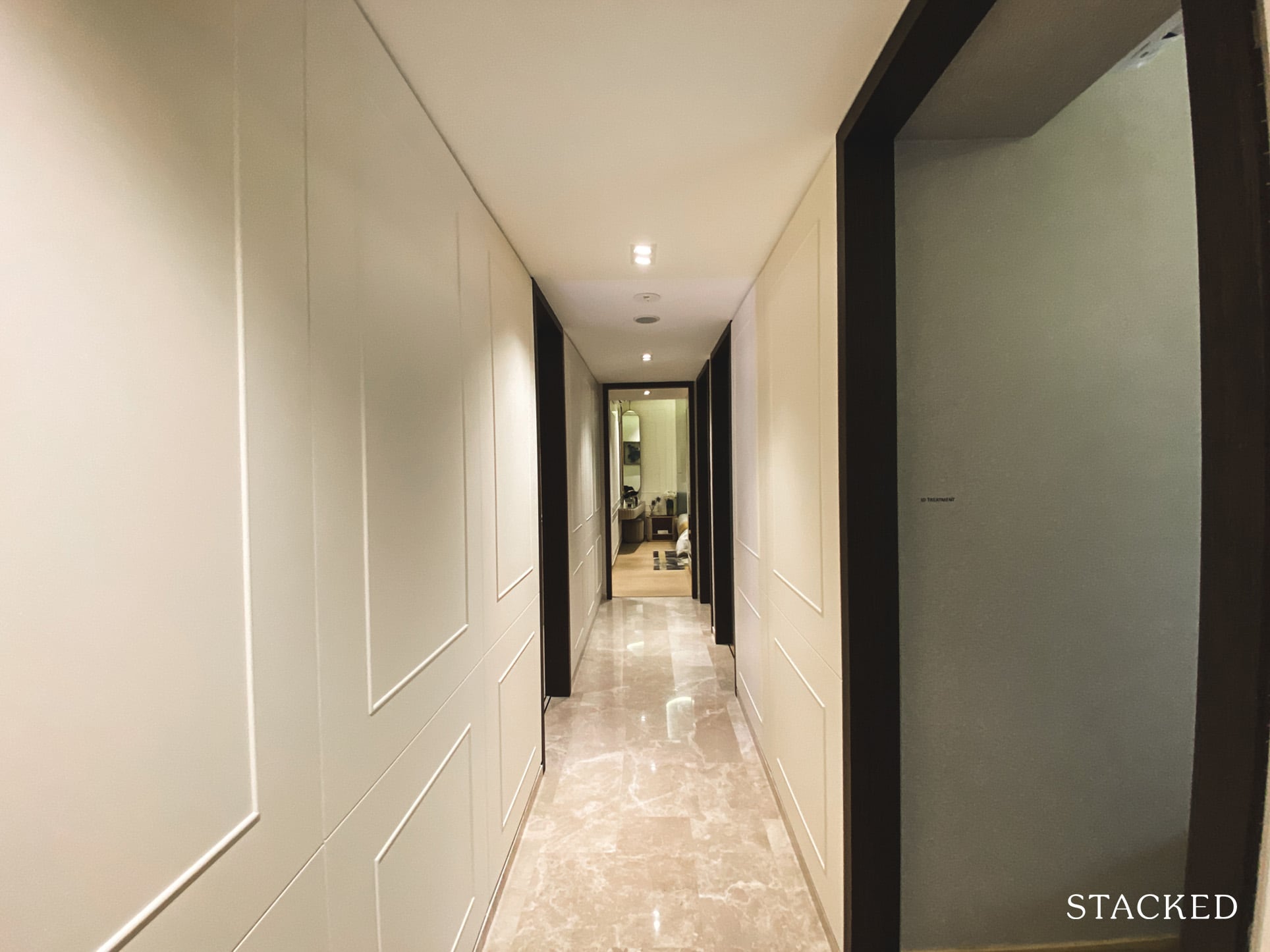 All the bedrooms are tucked away on one side of the unit.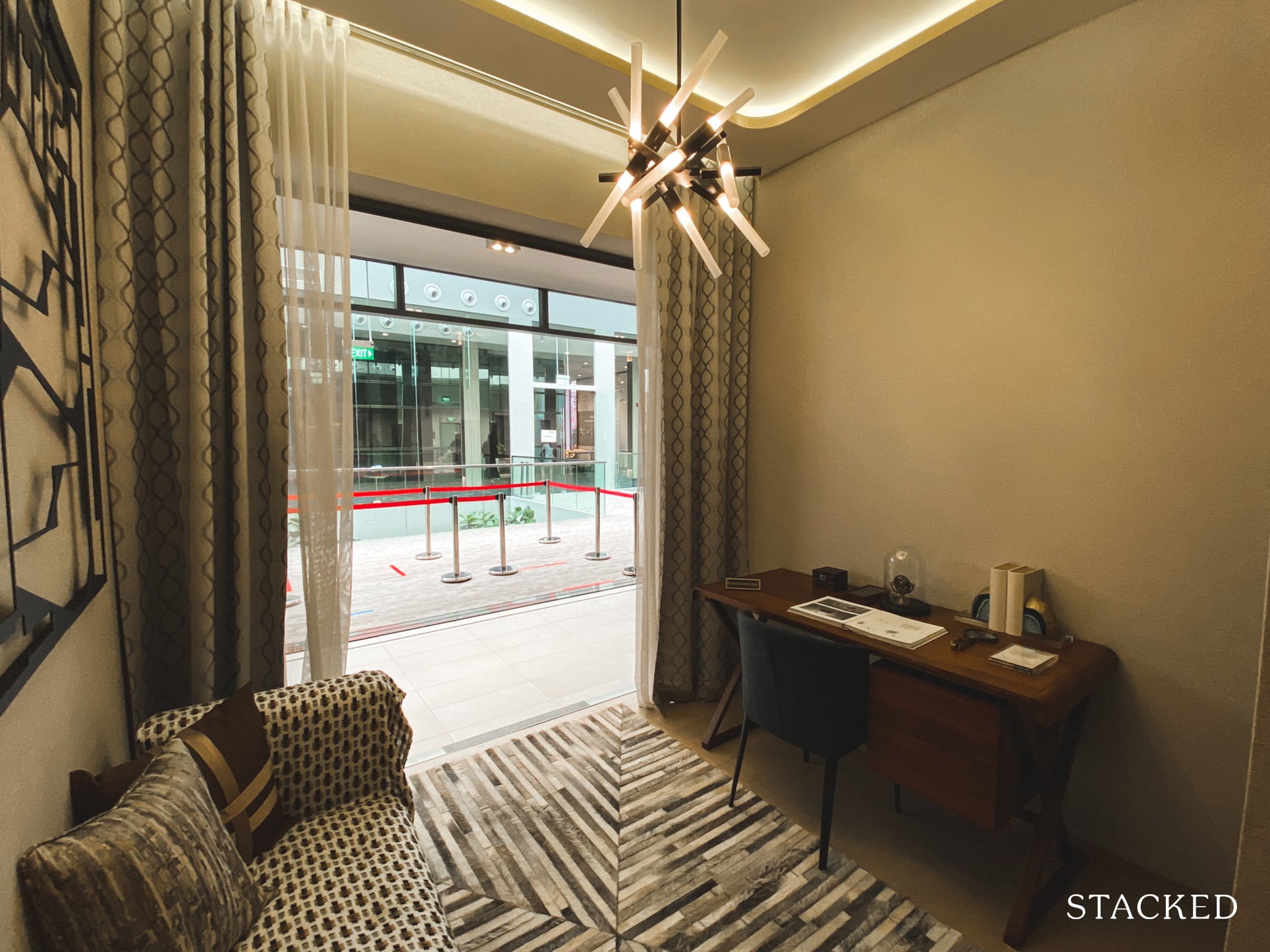 Of all the bedrooms in this unit, this is the smallest – but you do get the added perk of direct access to the balcony. Not everyone will have a use for this as a bedroom, so you can definitely use this as an office too – something that will be useful in the current WFH trend.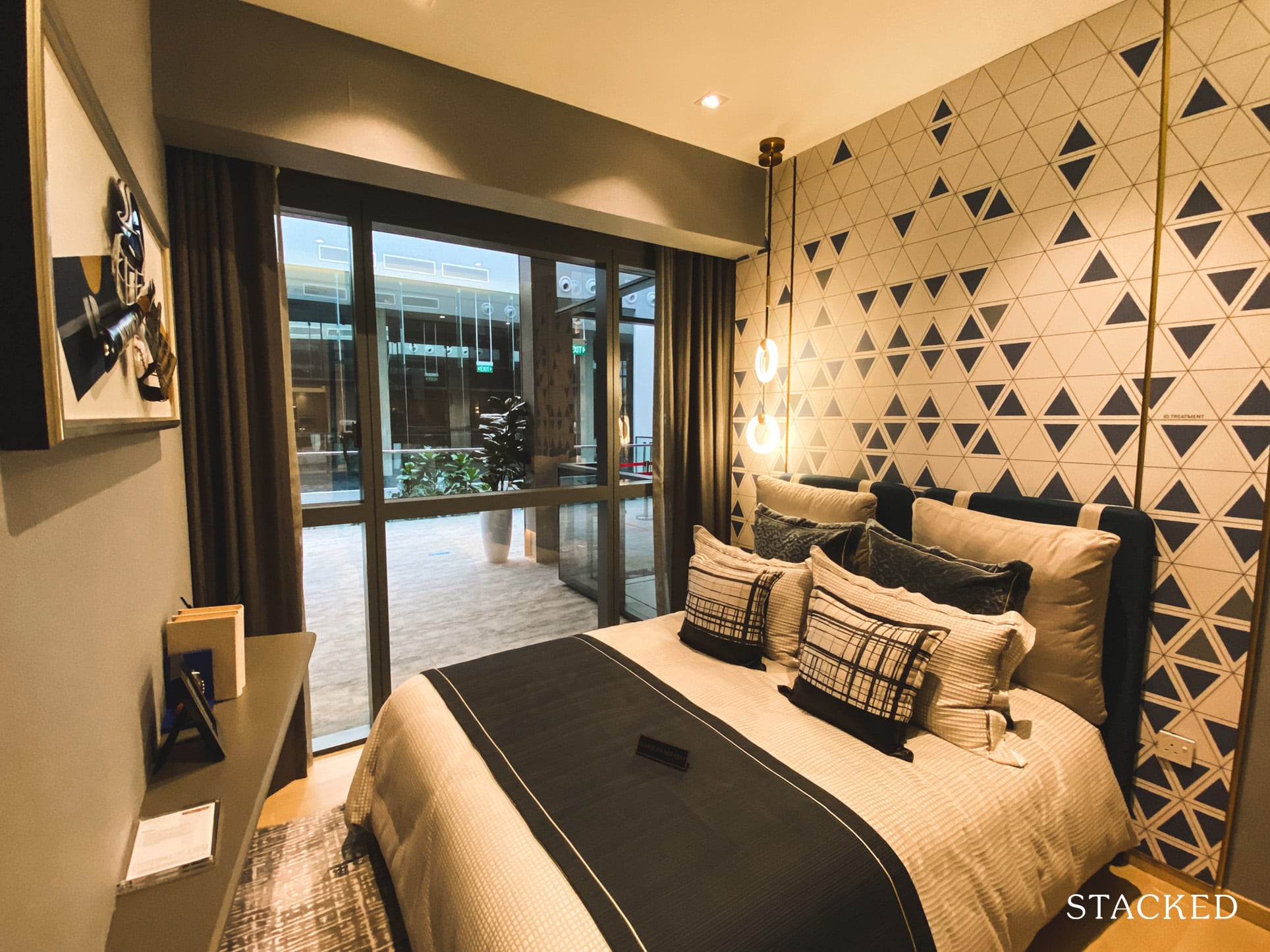 Both other common bedrooms are exactly the same size. It's not a bad size, especially if you are fine with just a single sized bed.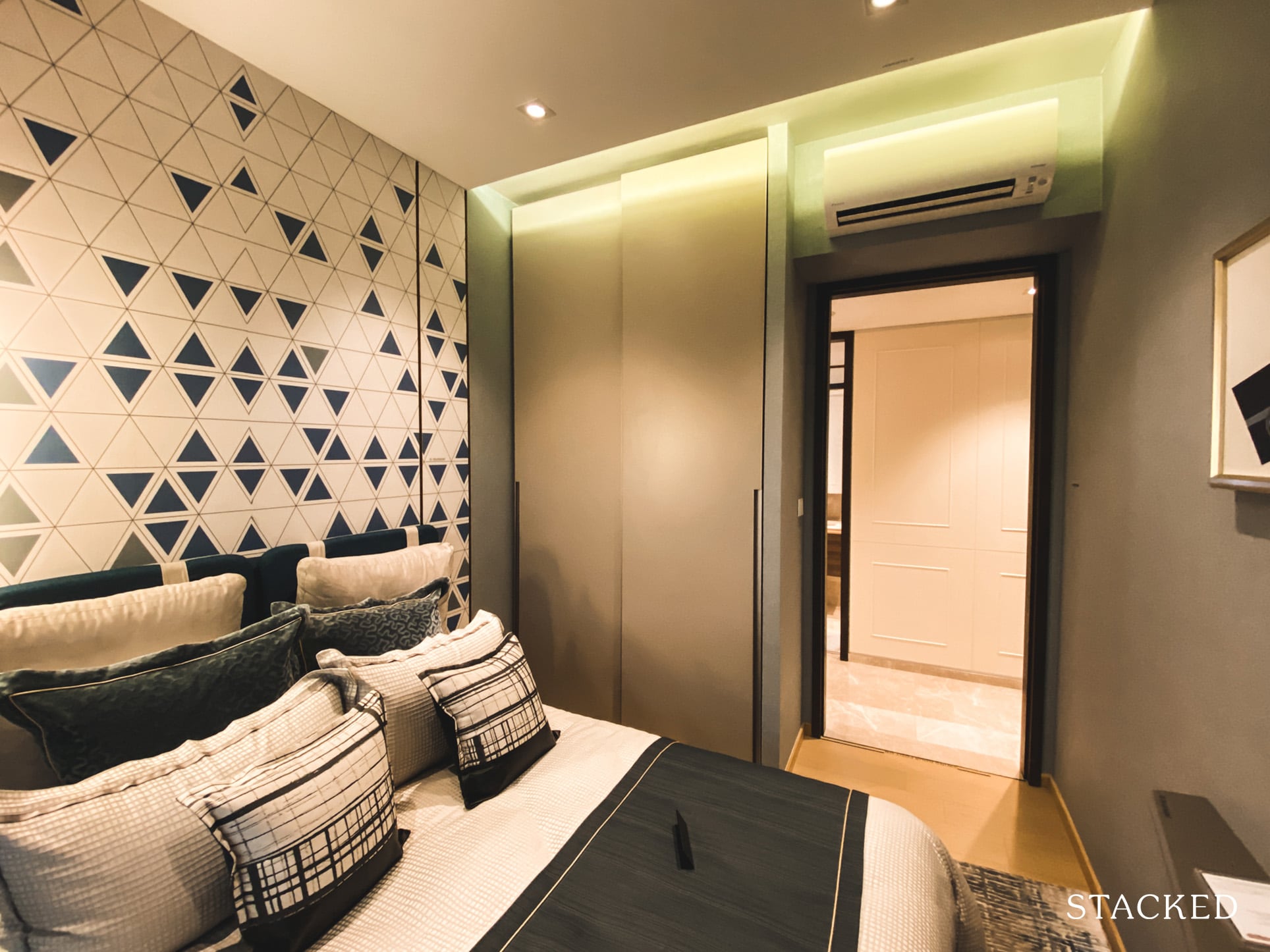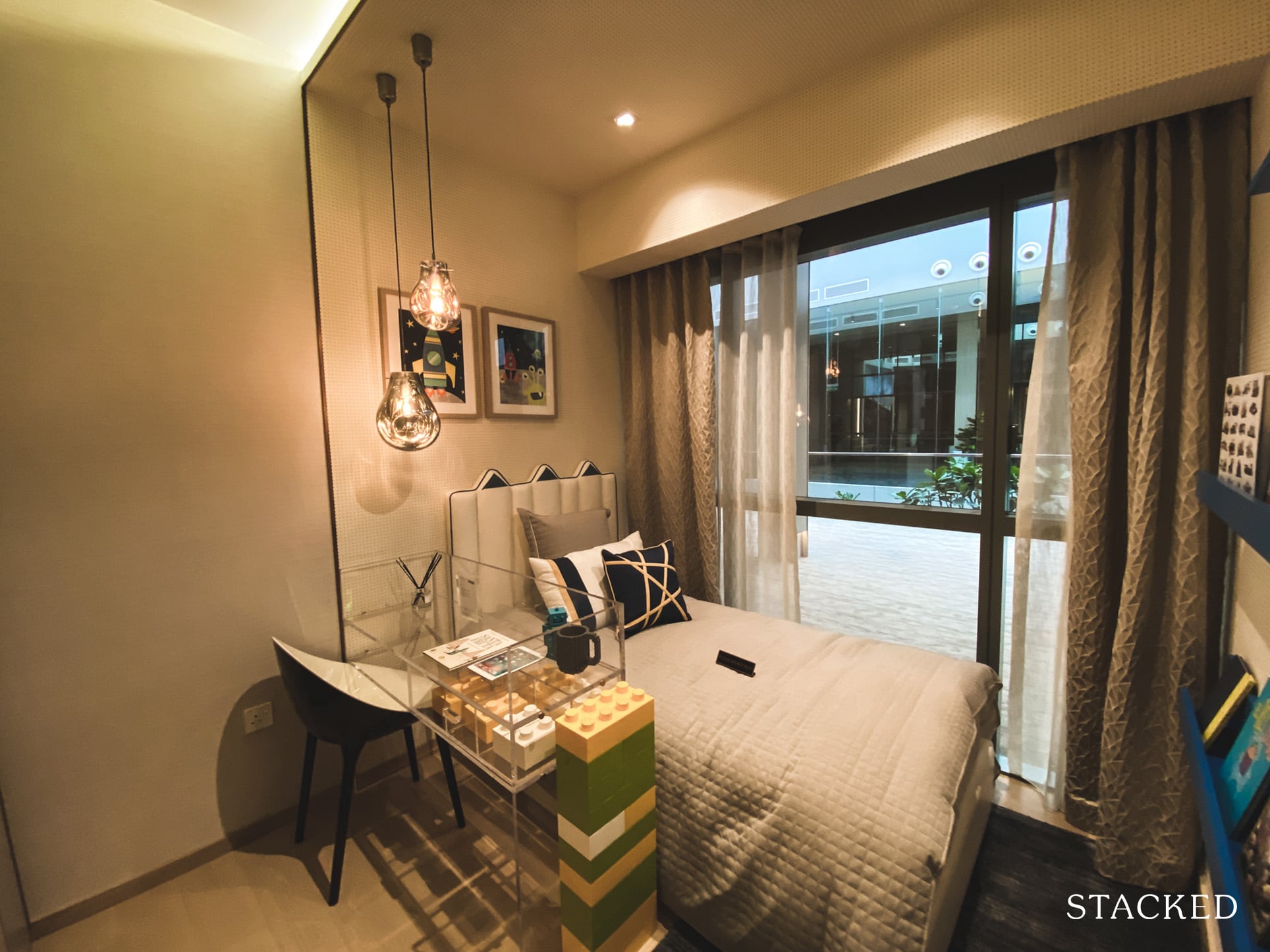 Like I mentioned above, having a single bed certainly frees up a lot more space, so you're able to fit a small study corner as well.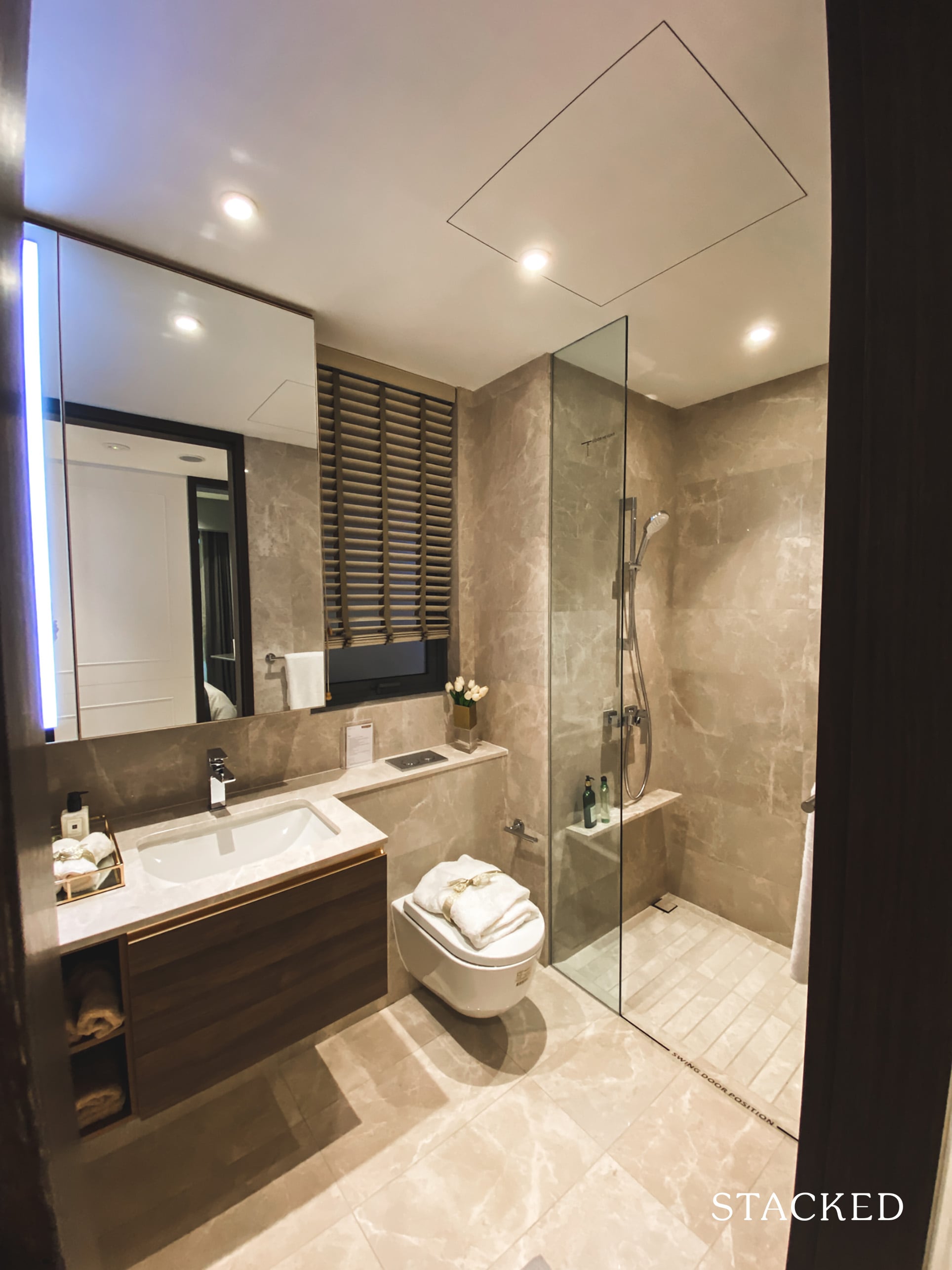 You might be surprised to find out there is only one common bathroom – shared amongst the 3 bedrooms (and guests). While it is quite spacious, this single bathroom will definitely pose some logistical challenges at times.
The bathroom flooring here features the same marble, with the same Laufen sinks and Hansgrohe fittings seen in the other units so far.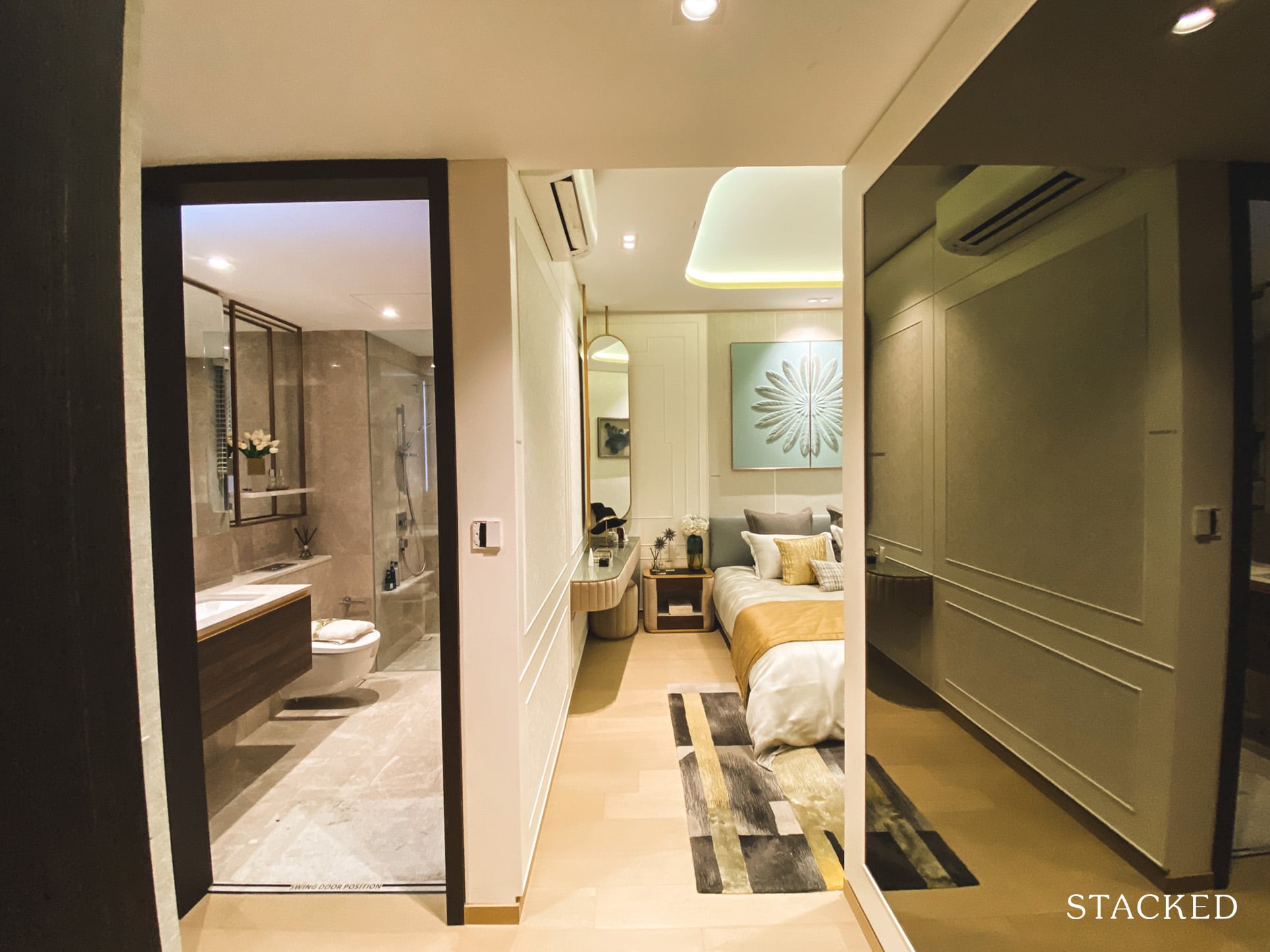 Master bedrooms are traditionally given special treatment, and this one is really quite good. It's big, roomy, and has a few standout features.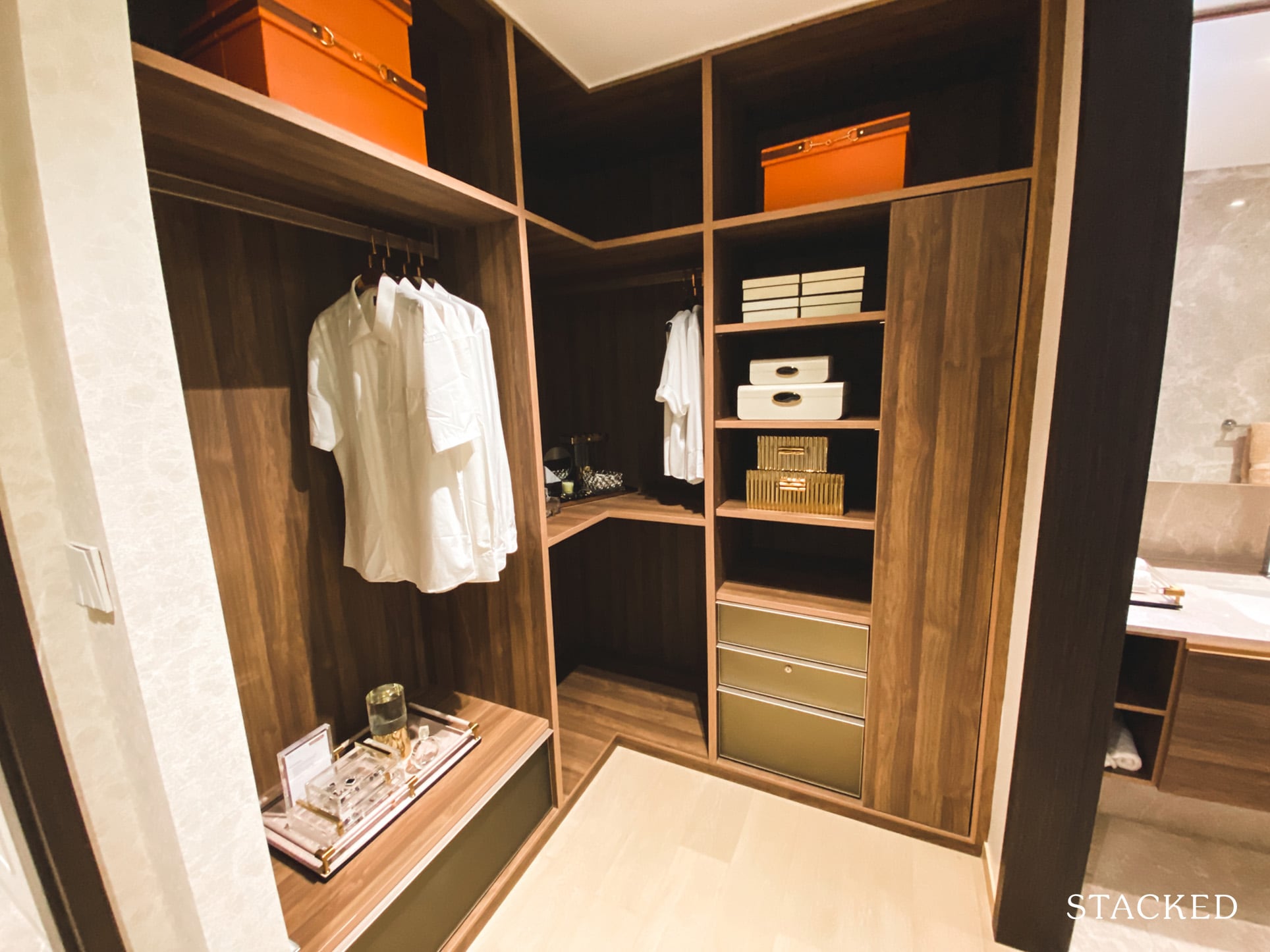 First up, it features a "walk-in" wardrobe. Or more aptly speaking, an L-shape wardrobe. Either way, you definitely get more storage space here.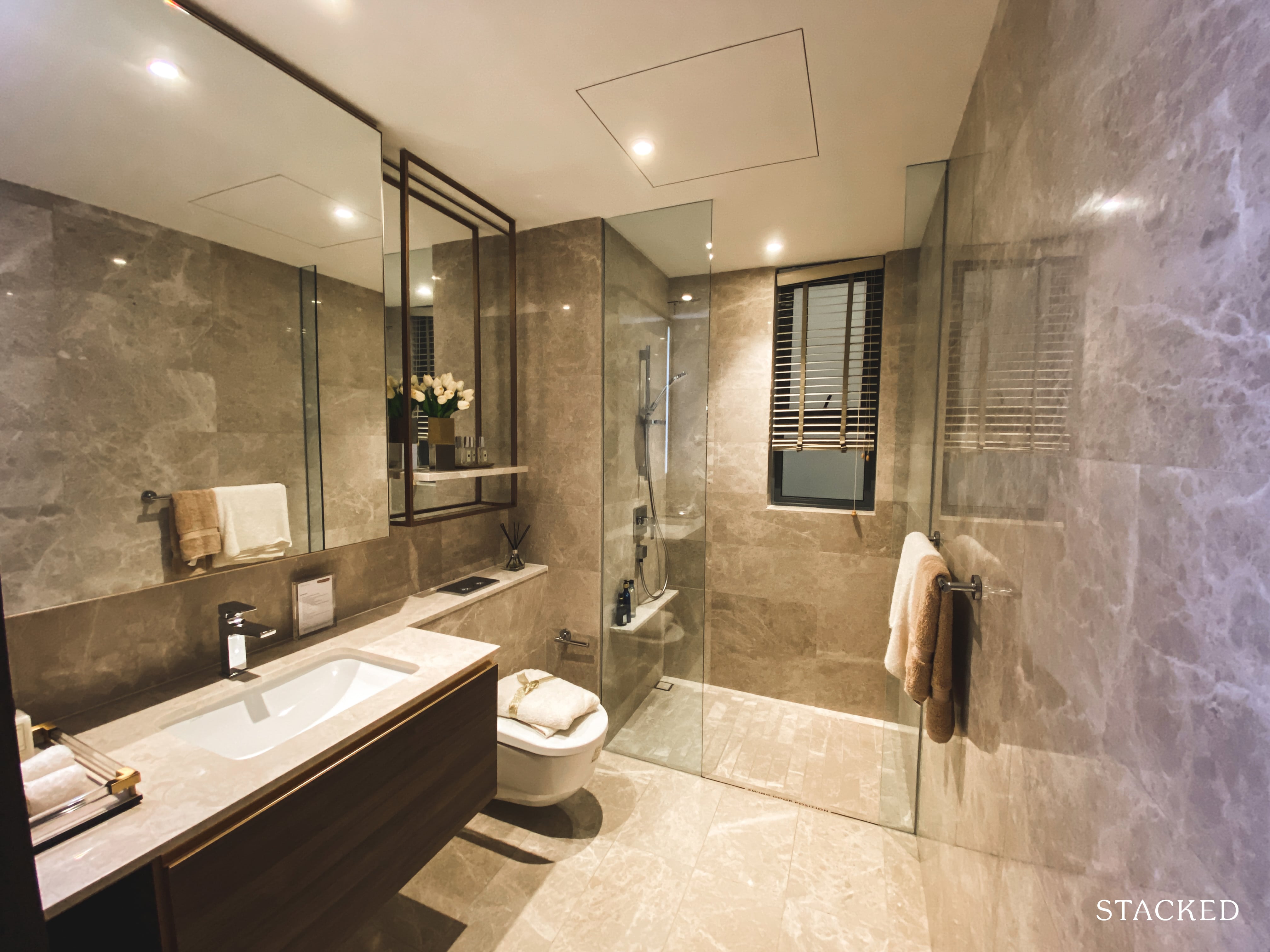 The master bathroom is positively roomy as well, but unfortunately, that's where the positives end. No special touches here I'm afraid (his and hers sinks, or even a rain shower).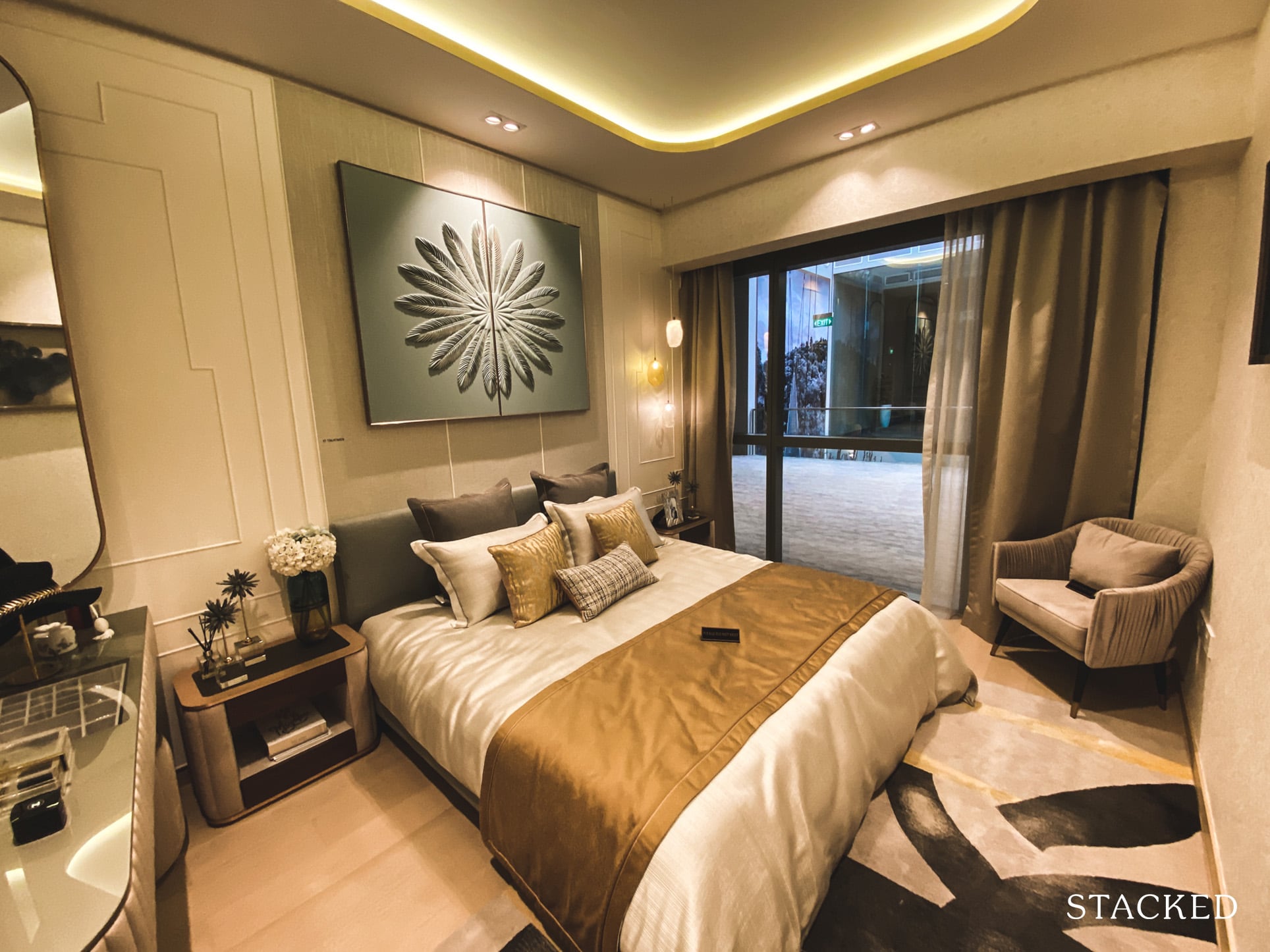 The master bedroom itself is a great space. There's ample room to move around, with added space for a dresser and perhaps even a small couch.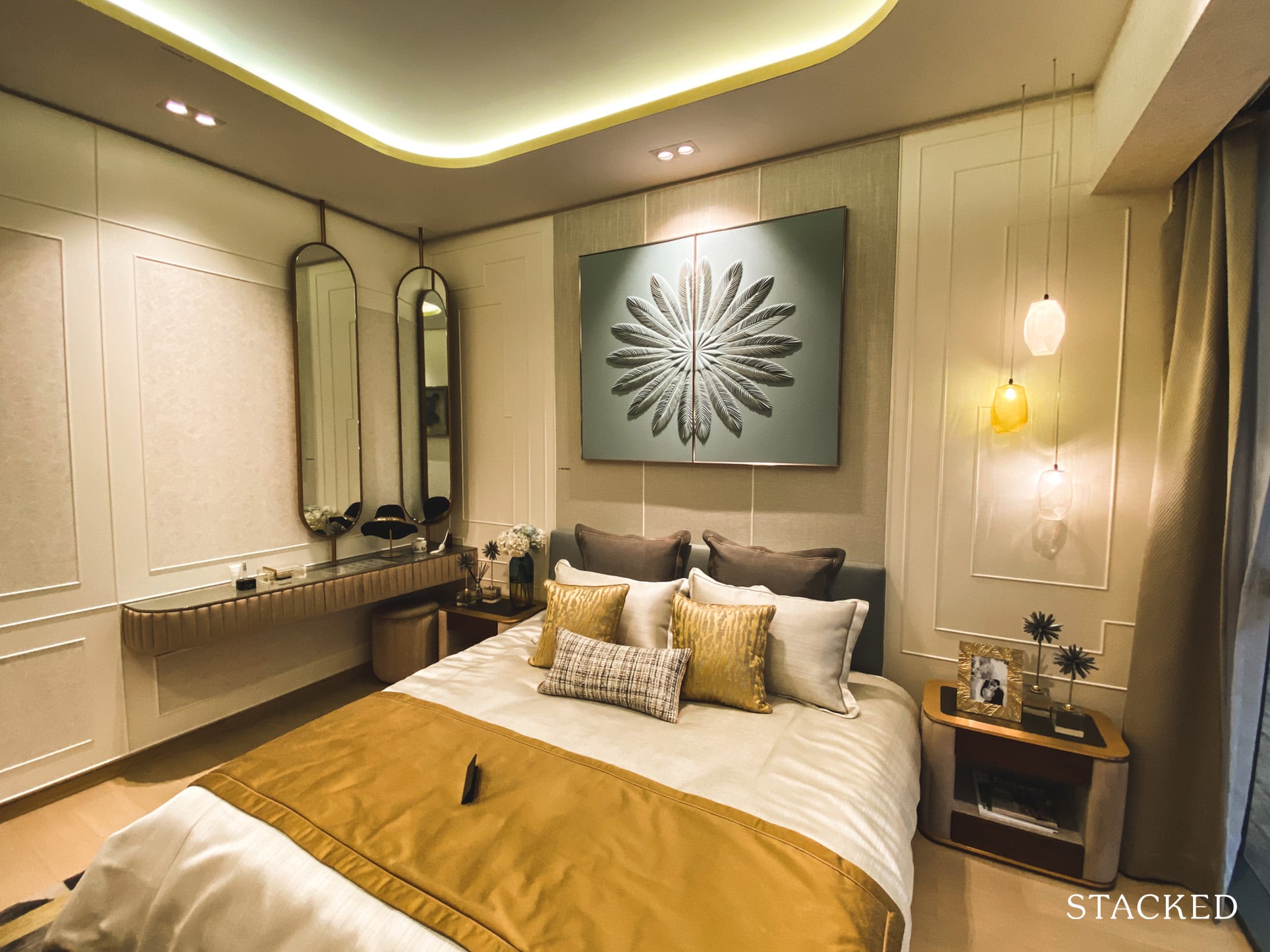 JadeScape 5 Bedroom Suite Review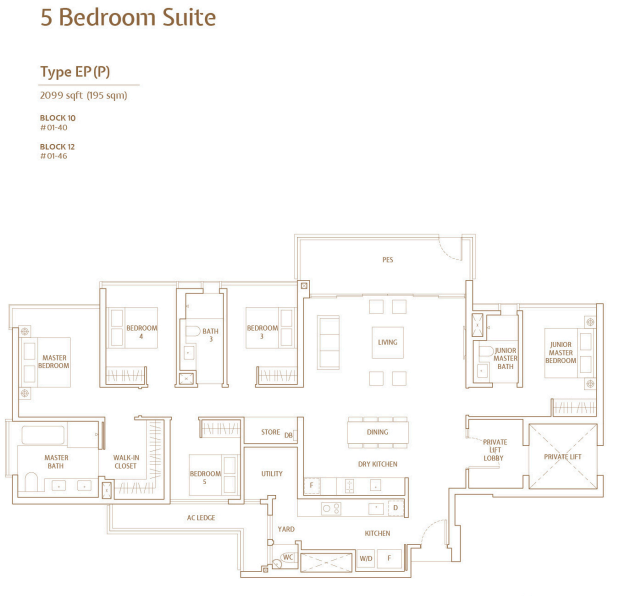 Finally, the crème de la crème of the JadeScape condo (other than the 2 massive penthouses) – the 5 bedroom suite.
At a size of 2,099 square feet, no one can deny that this 5 bedroom unit dwarfs over the rest of the units. The best part? It is very well laid out, and suited to meet the needs of most families – along with a few luxurious touches.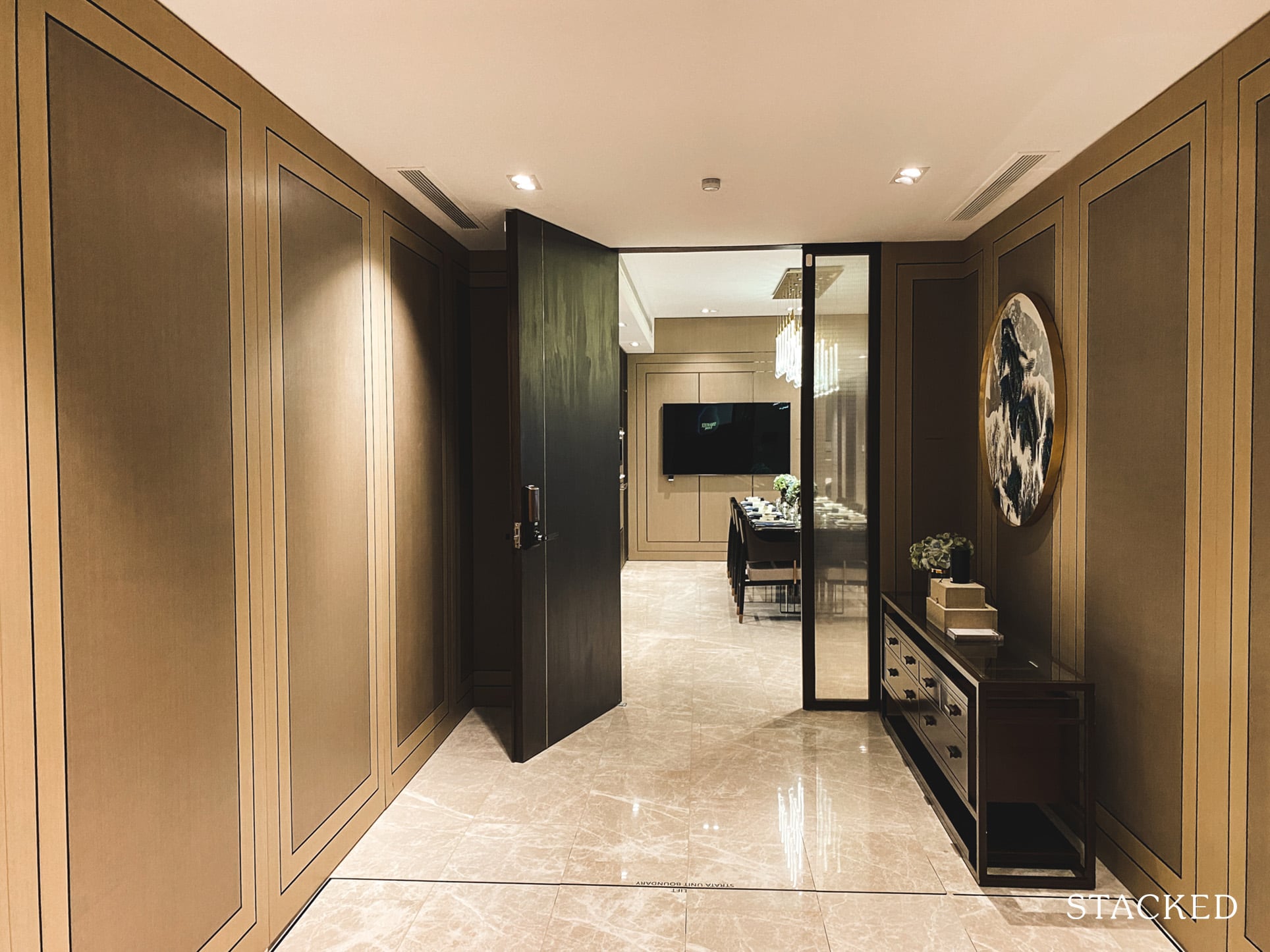 As you'd expect for something with the word "suite" inside, this 5 bedroom unit comes with private lift access – something typically reserved for higher-end developments.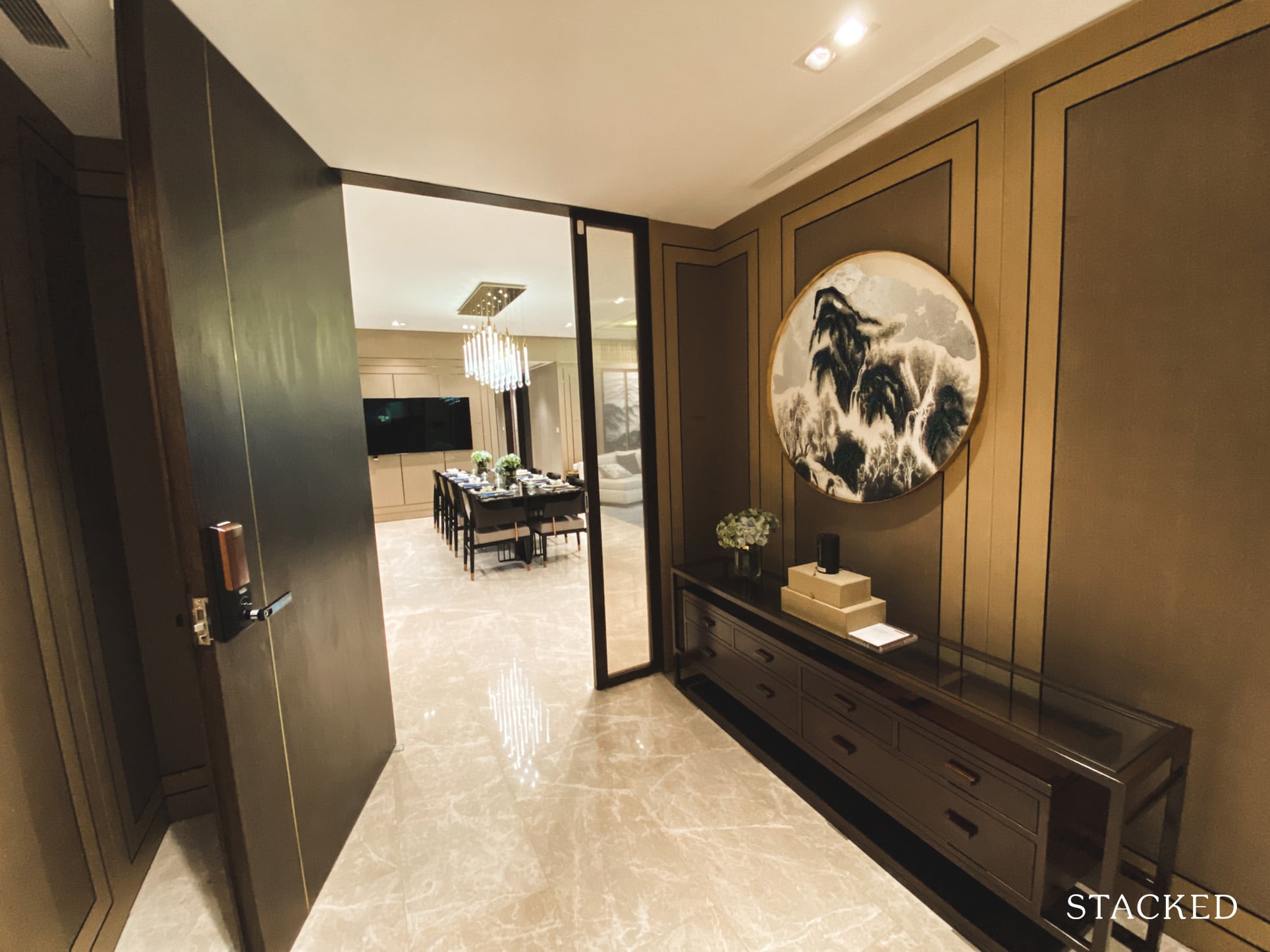 It opens up to a foyer, which provides additional privacy, and a space for a console table or even shoe storage.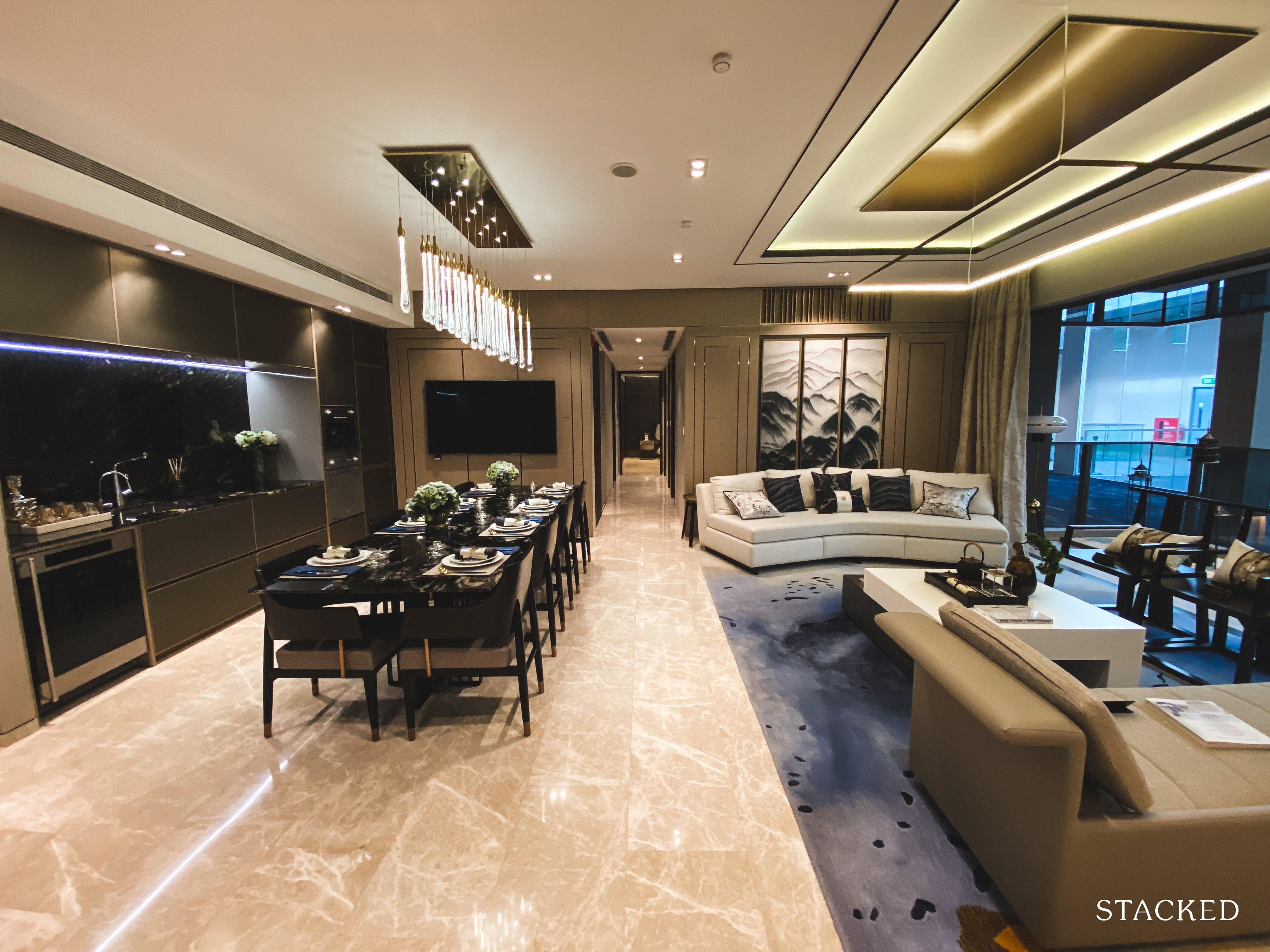 Once you step in, you are immediately greeted by the expansive living and dining area. For families, having a sizeable communal area for gathering is definitely a priority – so this would no doubt be an attractive plus point.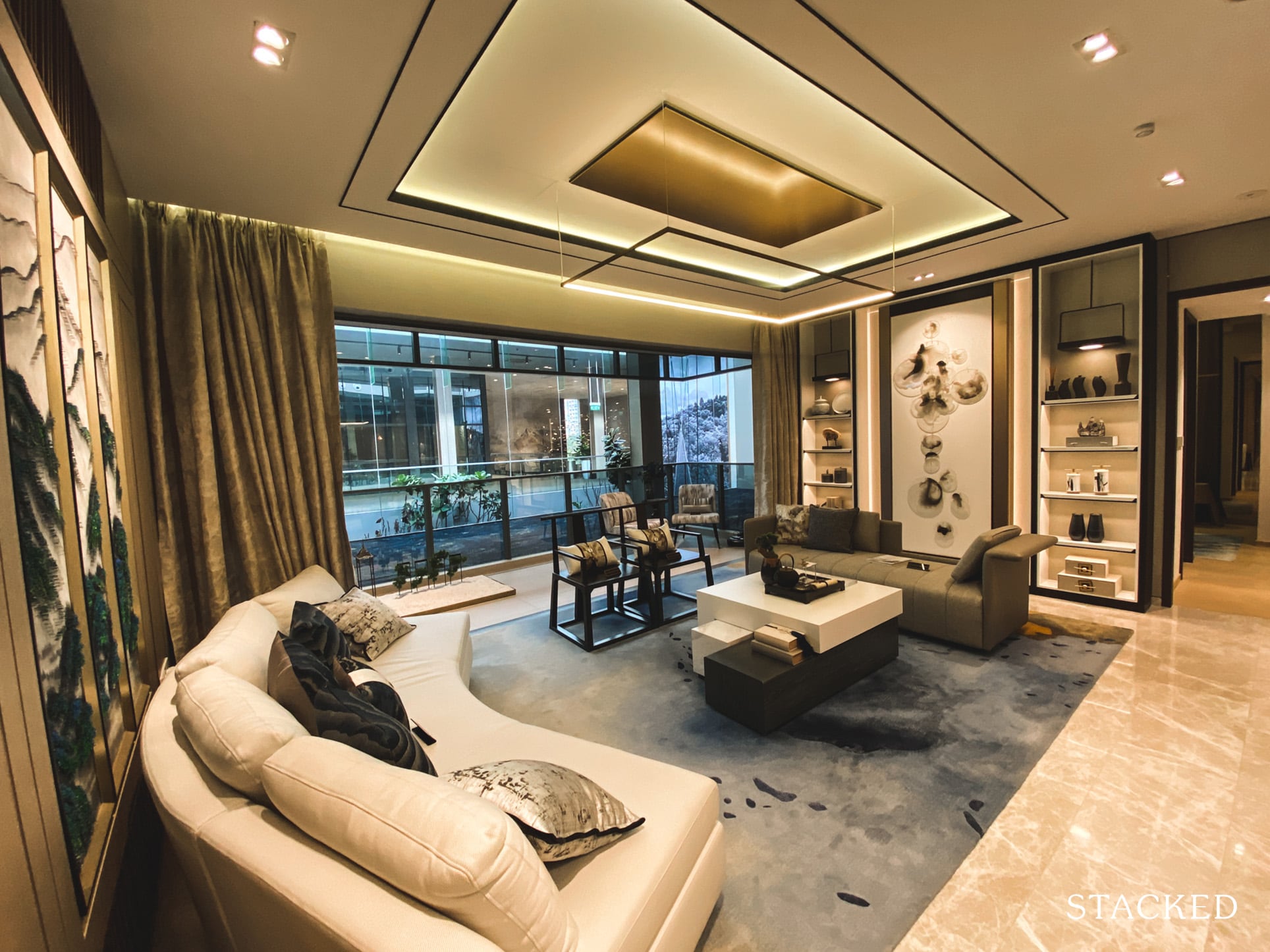 The living room is a fantastic size. You can easily fit a big sofa, and a couple of other couches as well.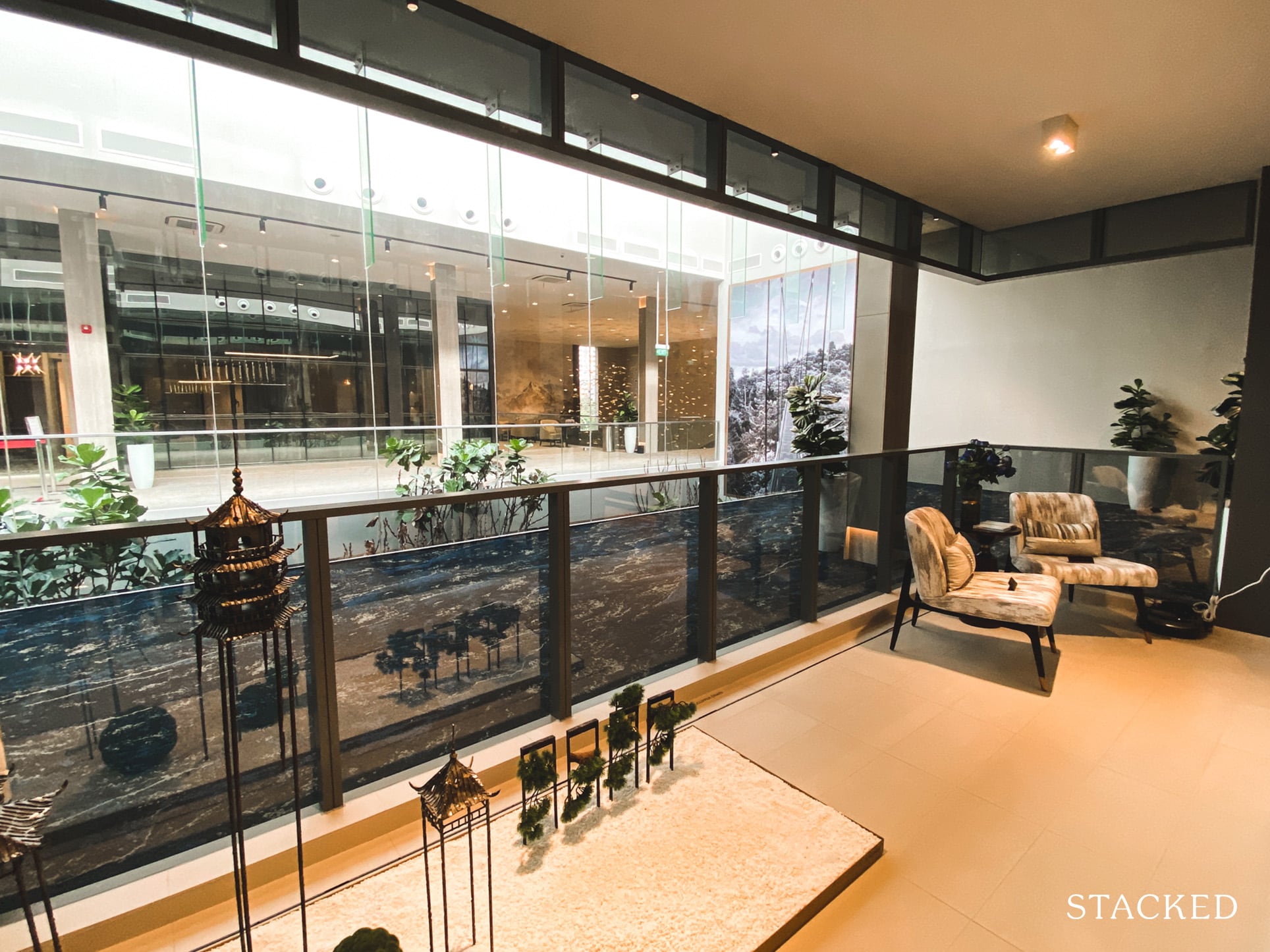 Surprisingly, the balcony isn't too big (as compared to the rest of the unit). Nevertheless, it is certainly large enough if you want to wine and dine outside.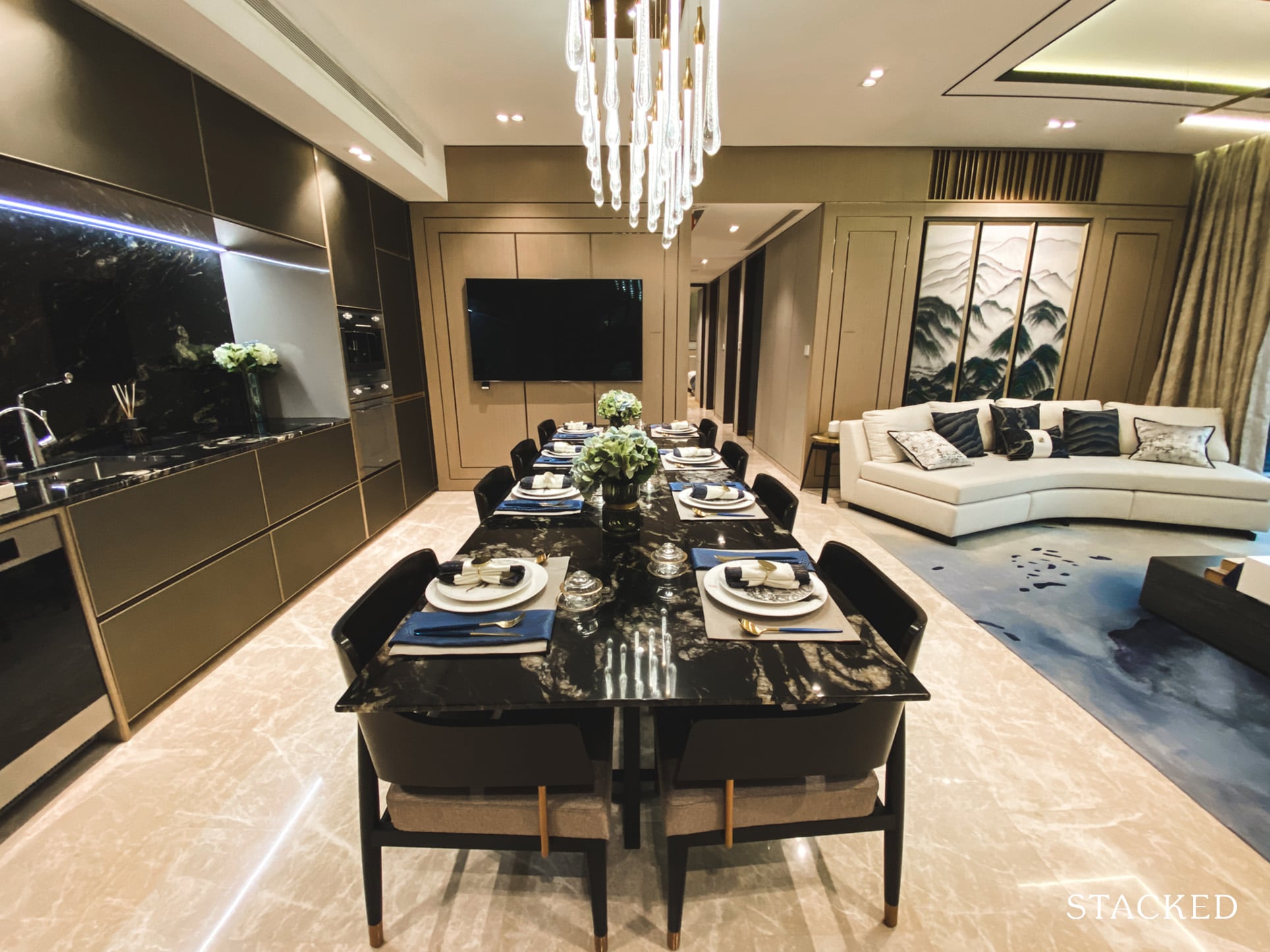 The dining room is good for a long table that can easily fit a 10-seater table.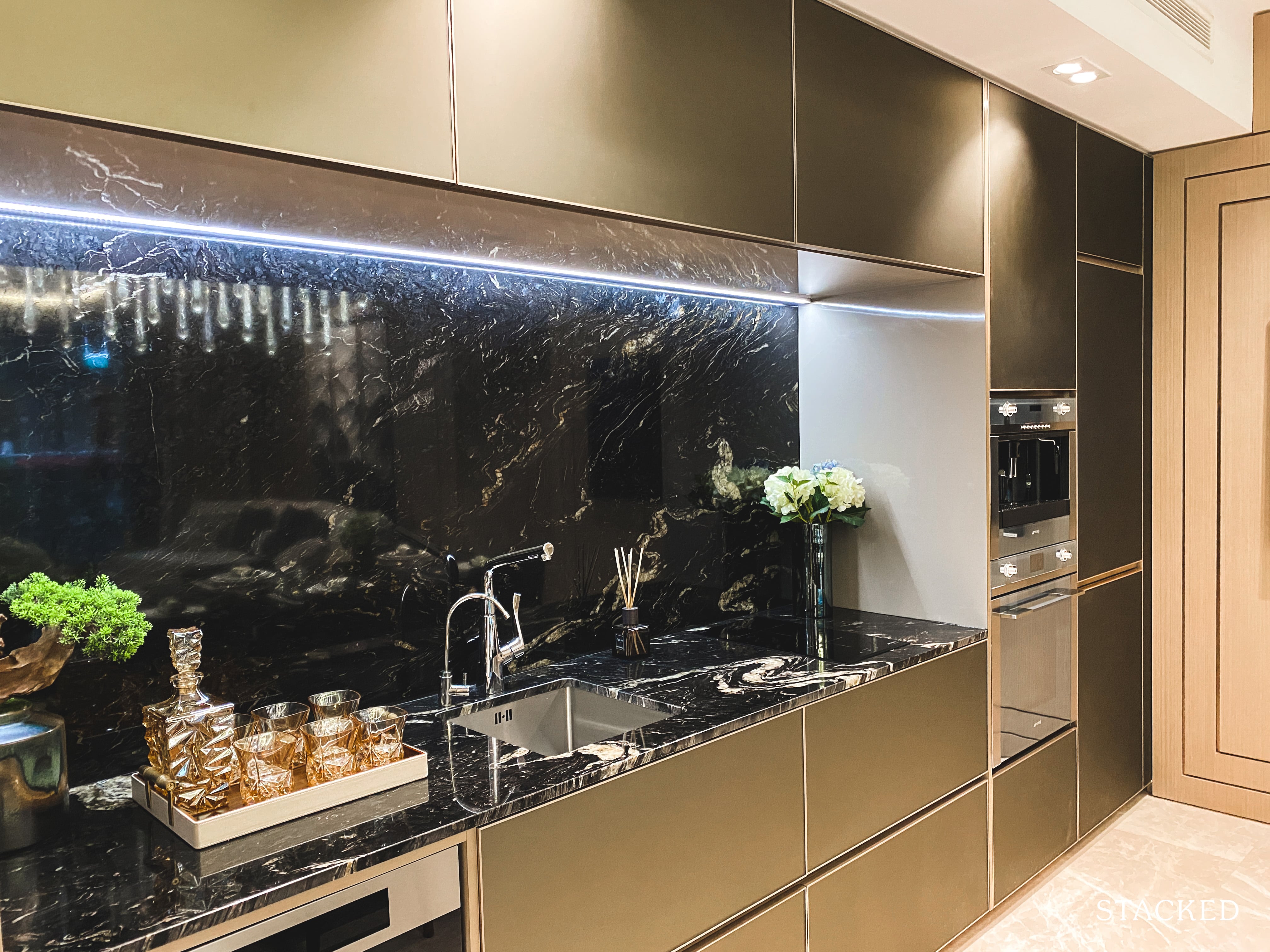 Next to the dining area is the dry kitchen, complete with a sink, countertop, and storage areas. While personally I would prefer a kitchen island concept instead, this isn't a bad solution by any means.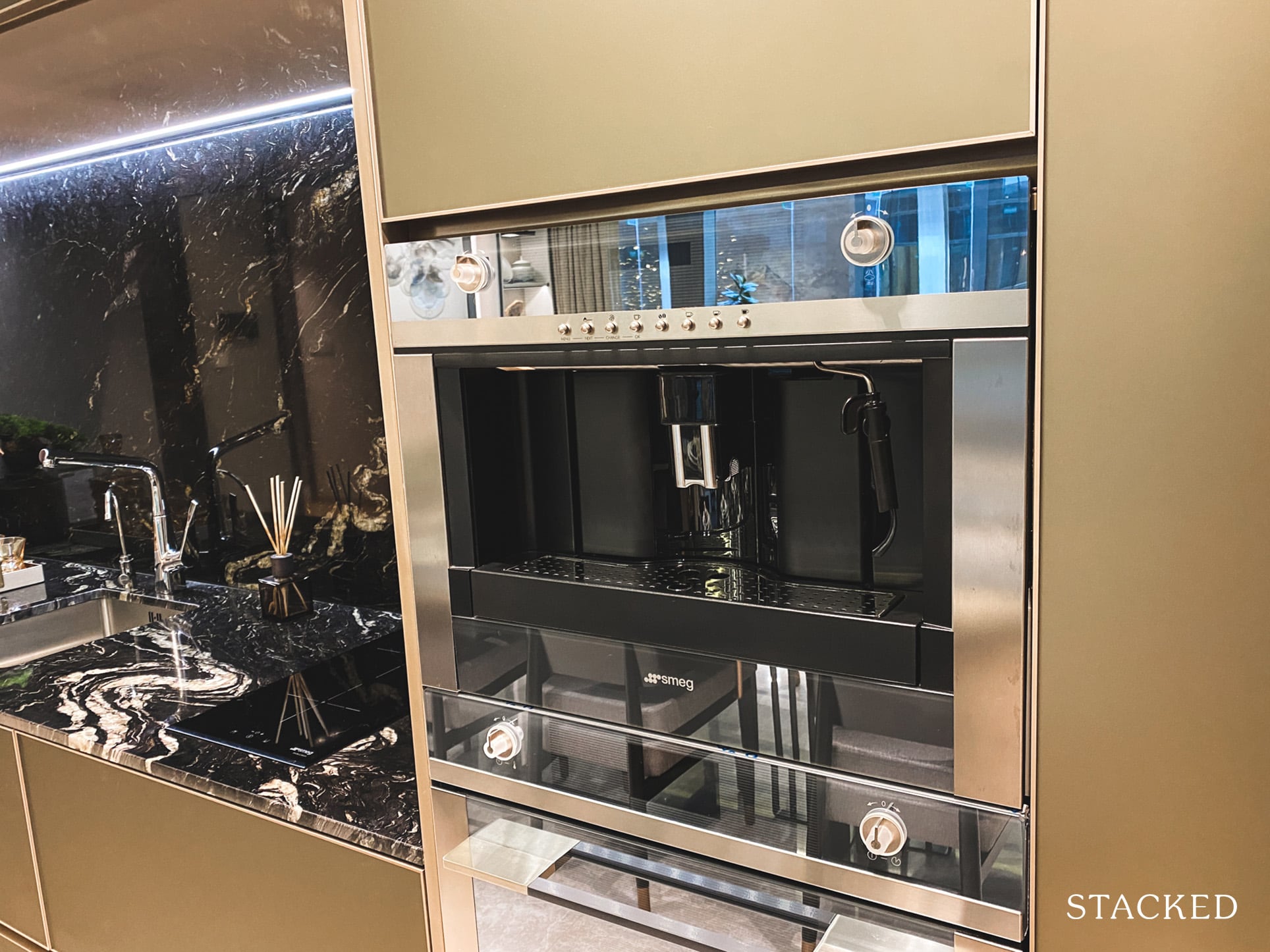 Because this is a premium unit, you do get a few more bells and whistles over the other normal units. For example, there is an additional in-built coffee machines and wine chiller (other than the fridge and oven) by SMEG.
Flooring throughout is marble, as you might expect.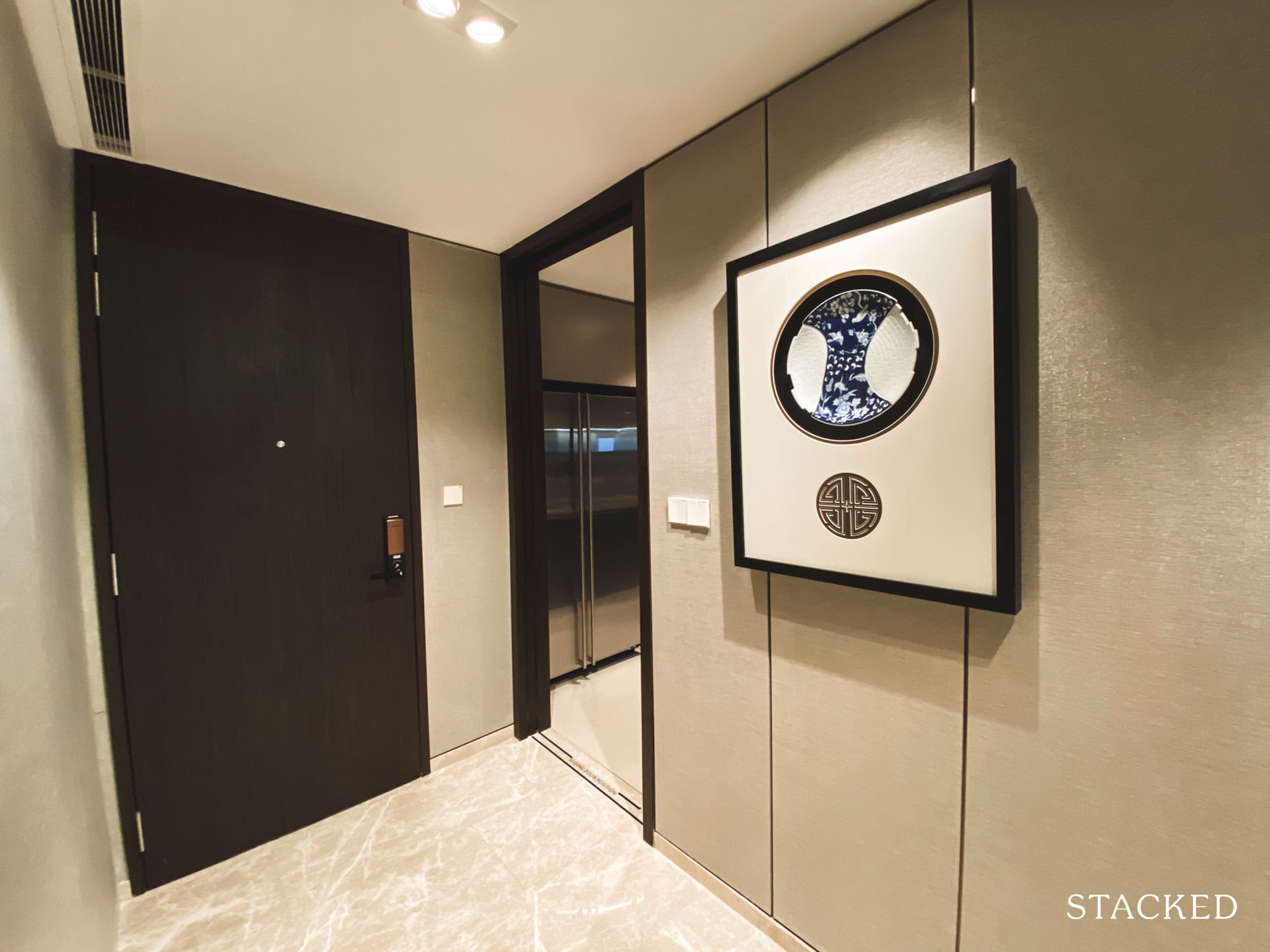 The wet kitchen is just behind, by the side of the second entrance.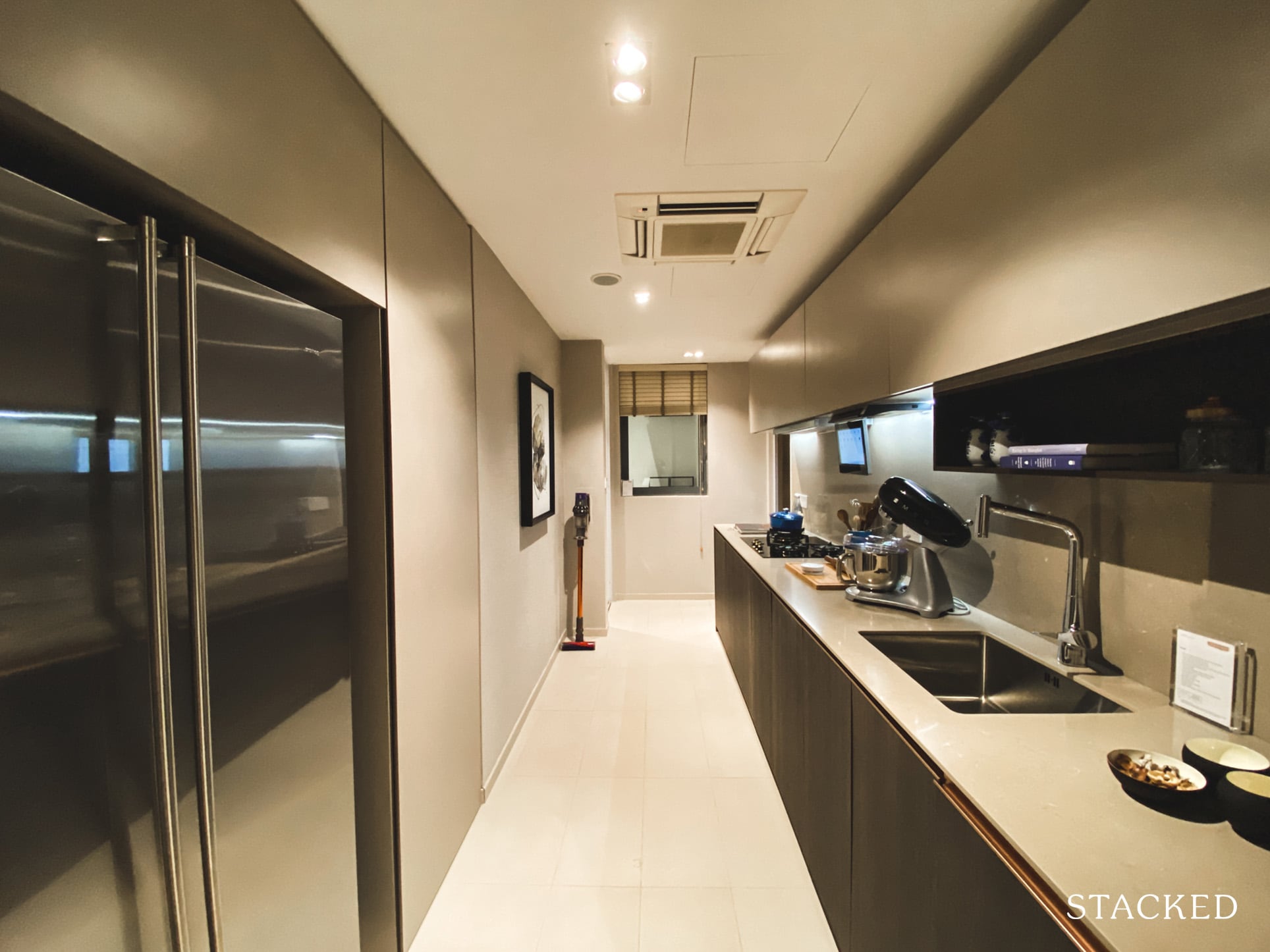 It's definitely a big enough space for a few people to work side by side comfortably. A long countertop means there is sufficient space to keep appliances and more than enough storage compartments.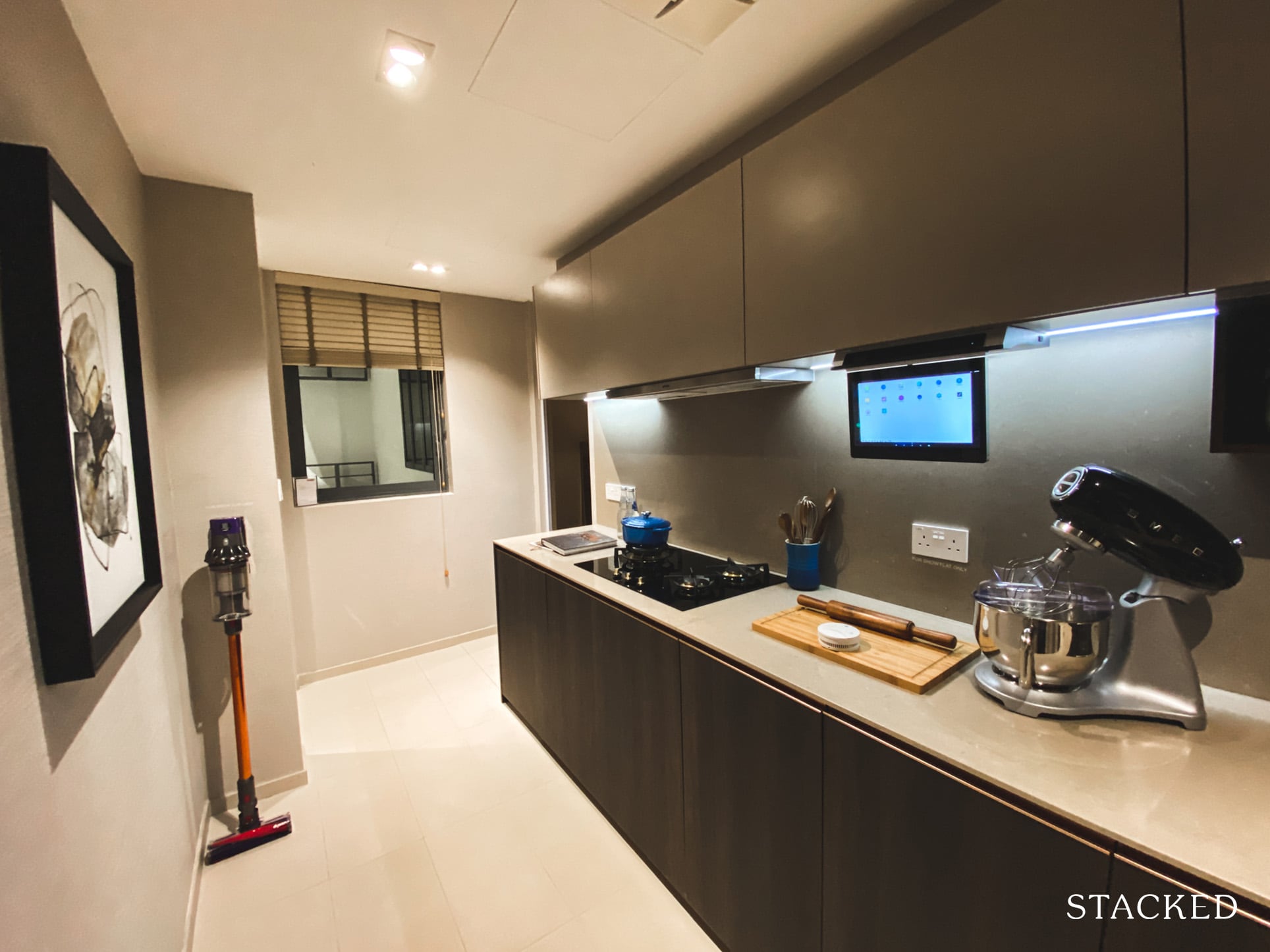 Round the back is a small bathroom and a utility area which can be used as additional storage or a helper's room. The area just beneath the window is actually classified as the yard, but it is a very small and almost negligible space.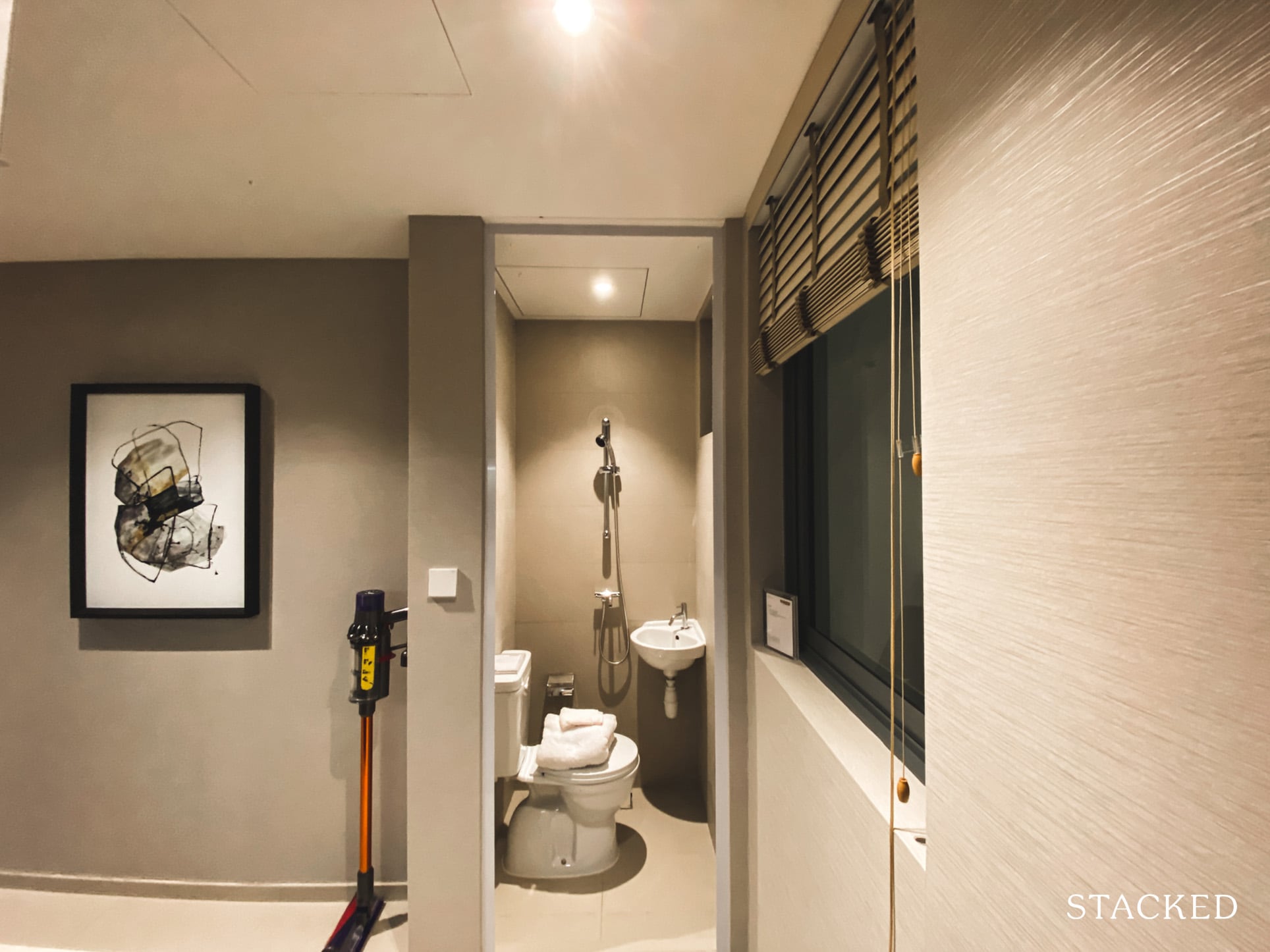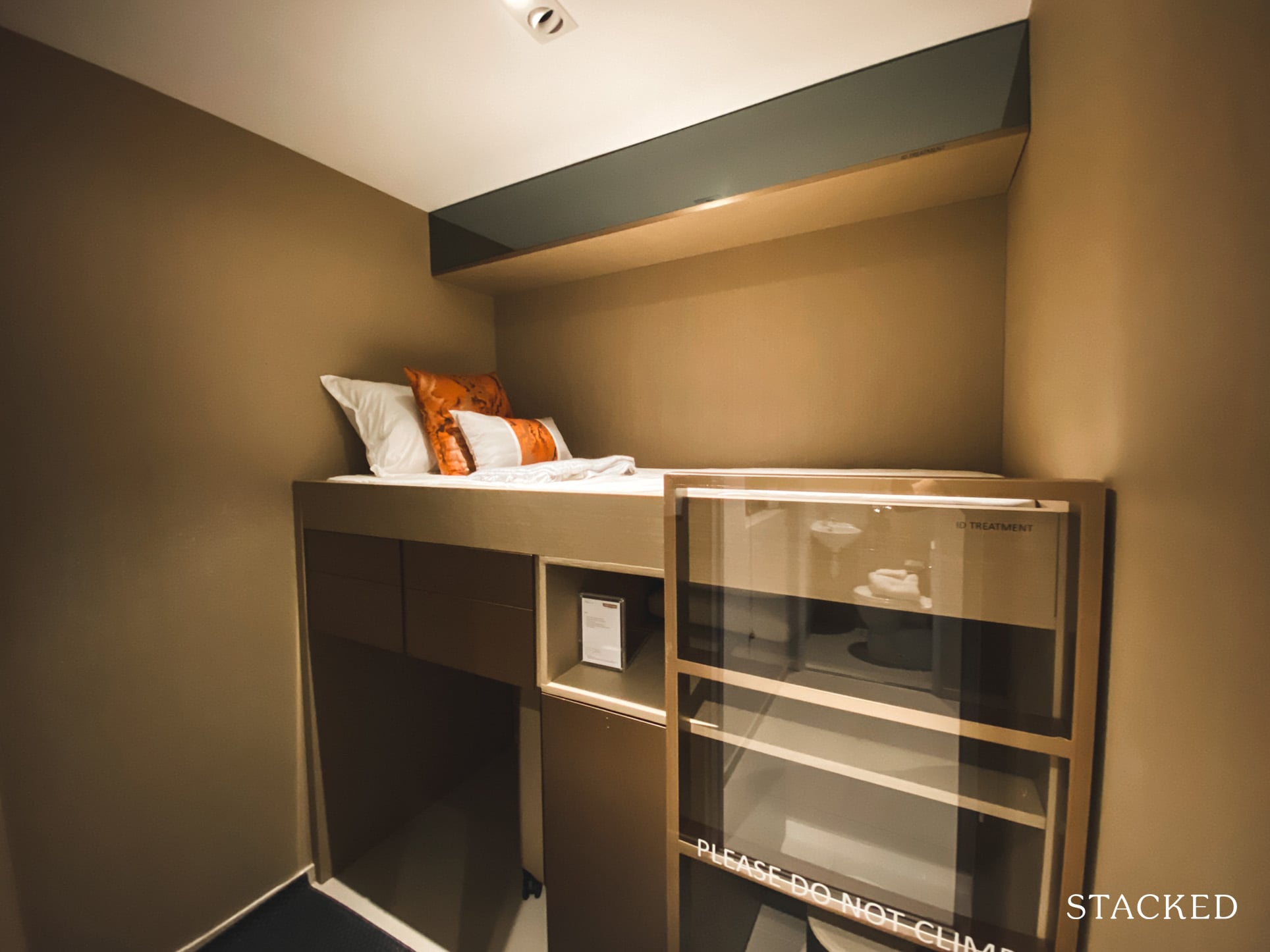 The utility room at the back is actually quite a big space, which can also be converted into a helper's room. There is also another store room along the hallway so storage requirements for most people should be sufficiently met.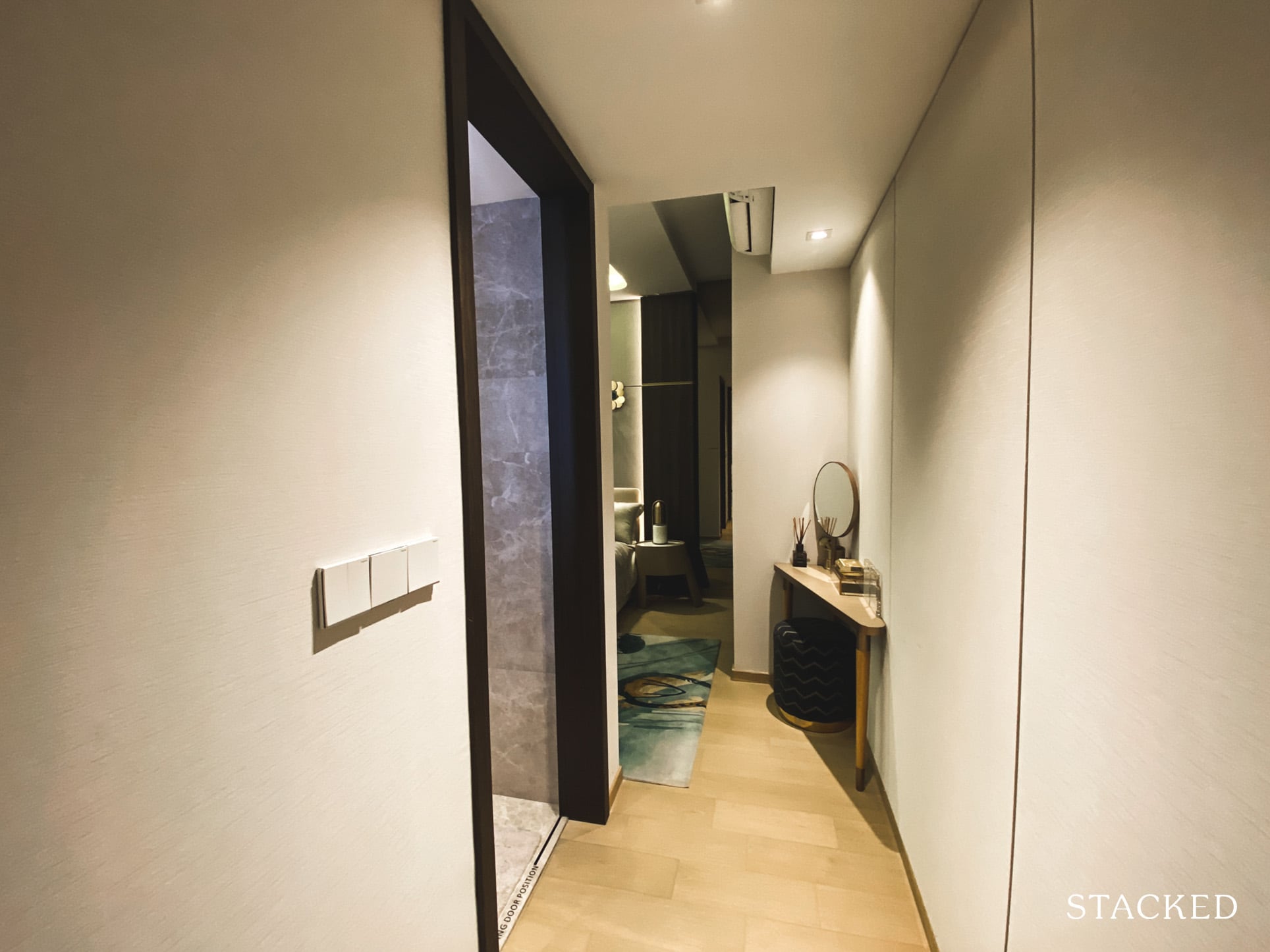 Moving back to the living area, the junior master bedroom is located on the right – just after the main entrance of the unit.
I like the layout of the bedrooms, having the junior master bedroom located further away from the rest allows for more flexibility in terms of living arrangements. This makes it suitable for multi-generational living – elderly parents or even married couples can stay here with a greater sense of privacy.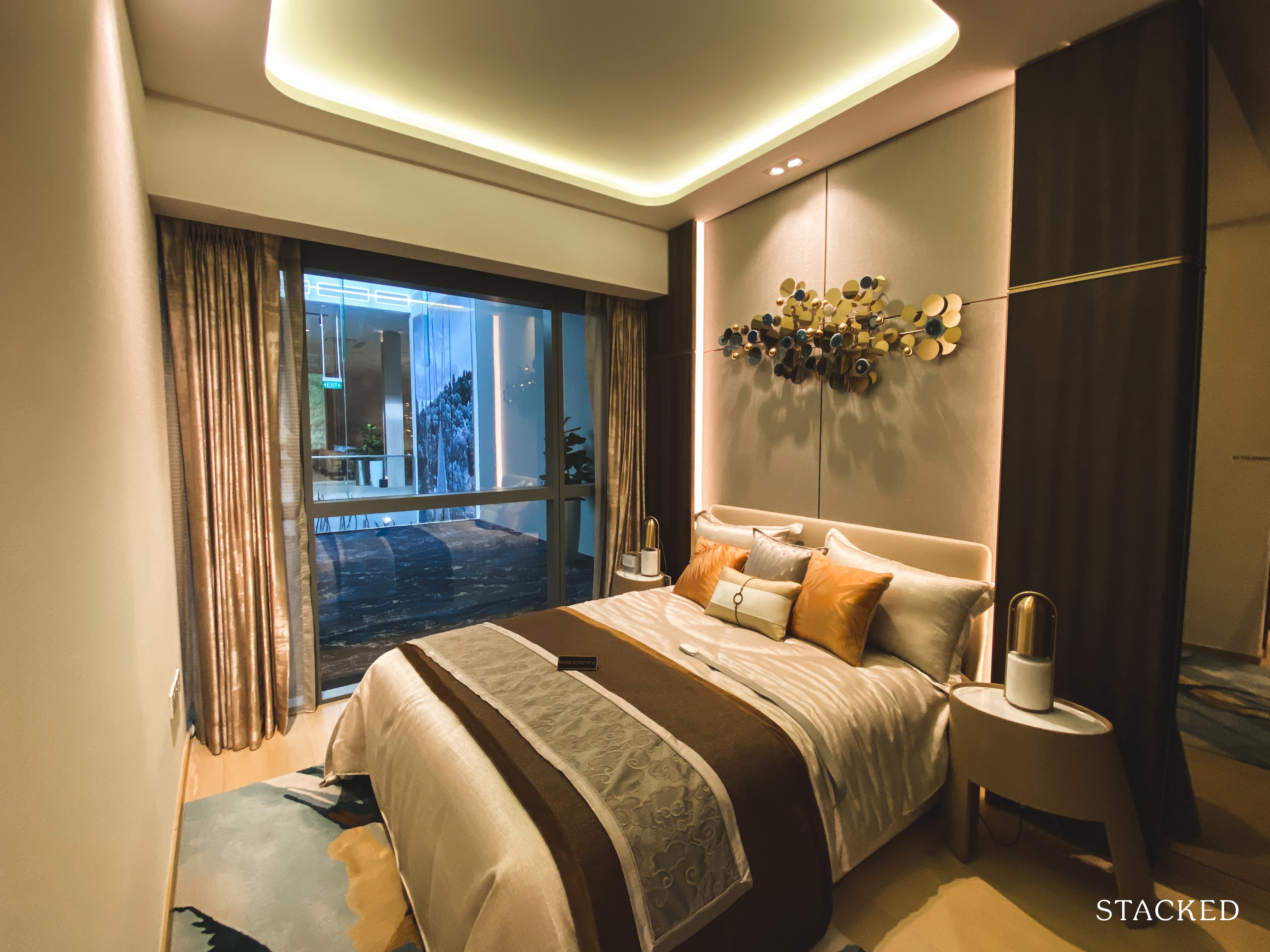 The space here is quite good as well, with more than enough space to move around even with a queen sized bed in place.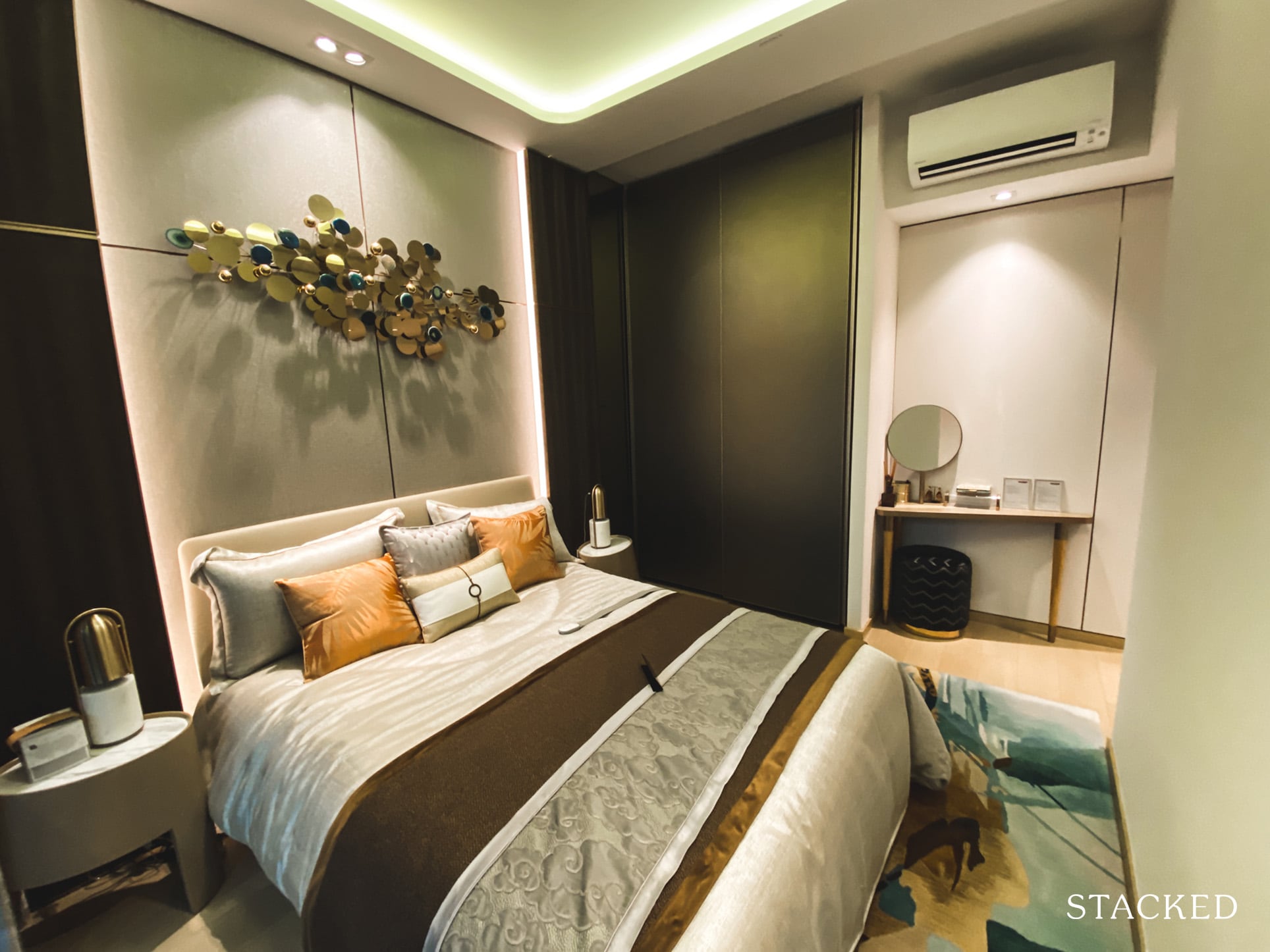 There is also an allowance for a tiny dresser table, or perhaps even more storage.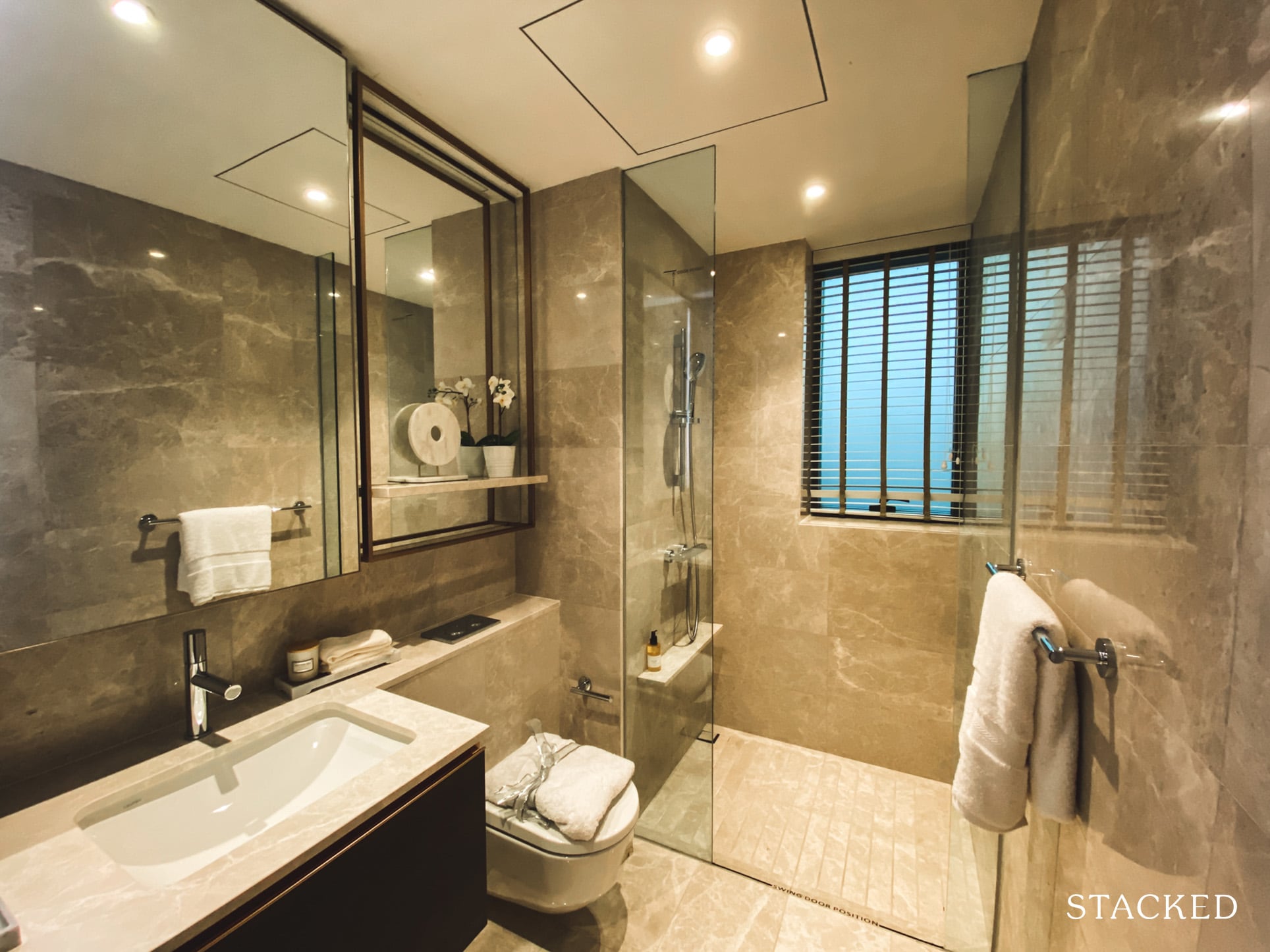 Of course, the junior master bedroom comes with an attached bathroom. It's a good size, so no complaints here. Fittings here are the usual Hansgrohe and Laufen, with the shower mixer from Axor.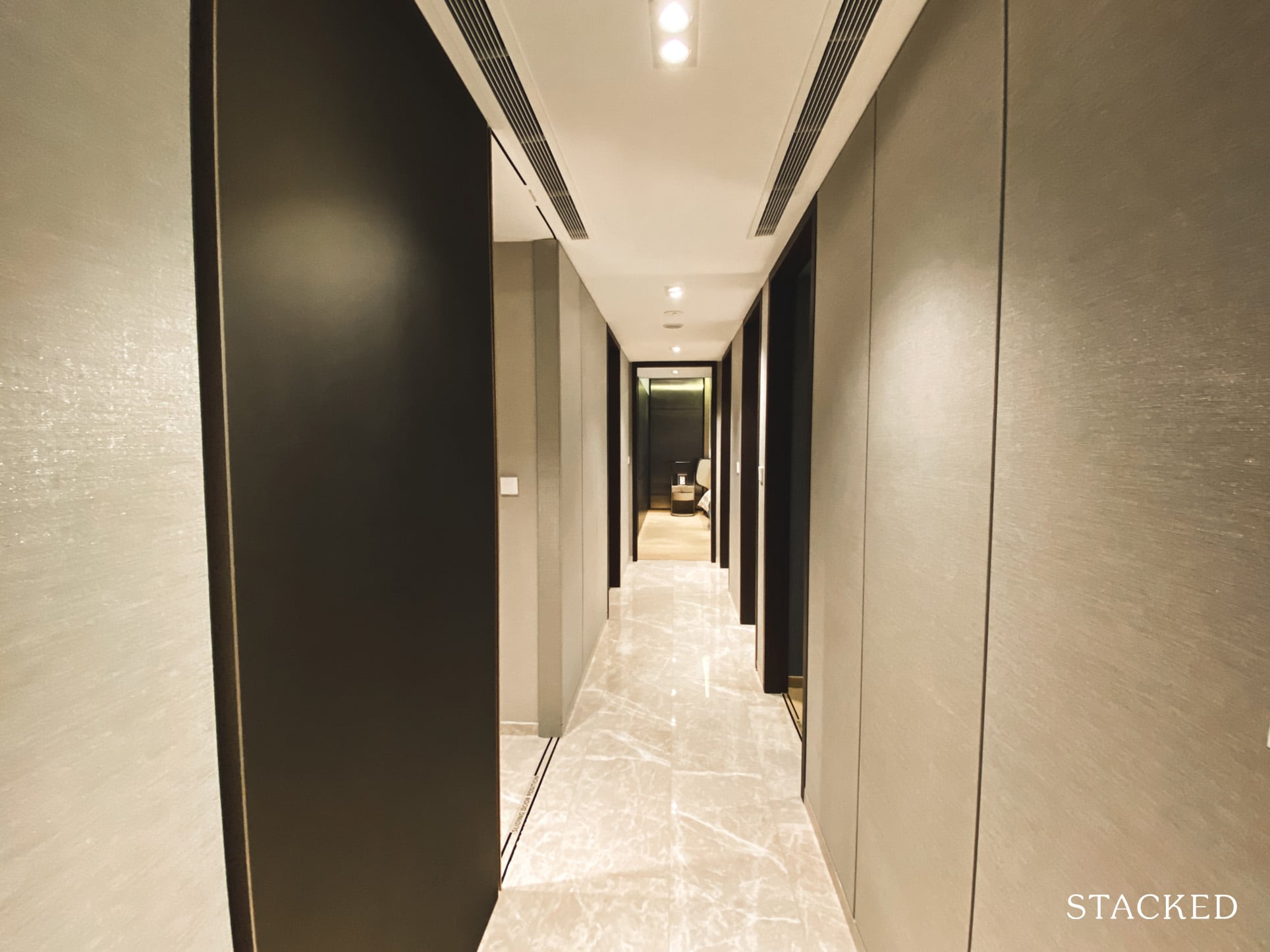 It's no surprise it is a long hallway down given that there are 4 bedrooms on this side of the unit.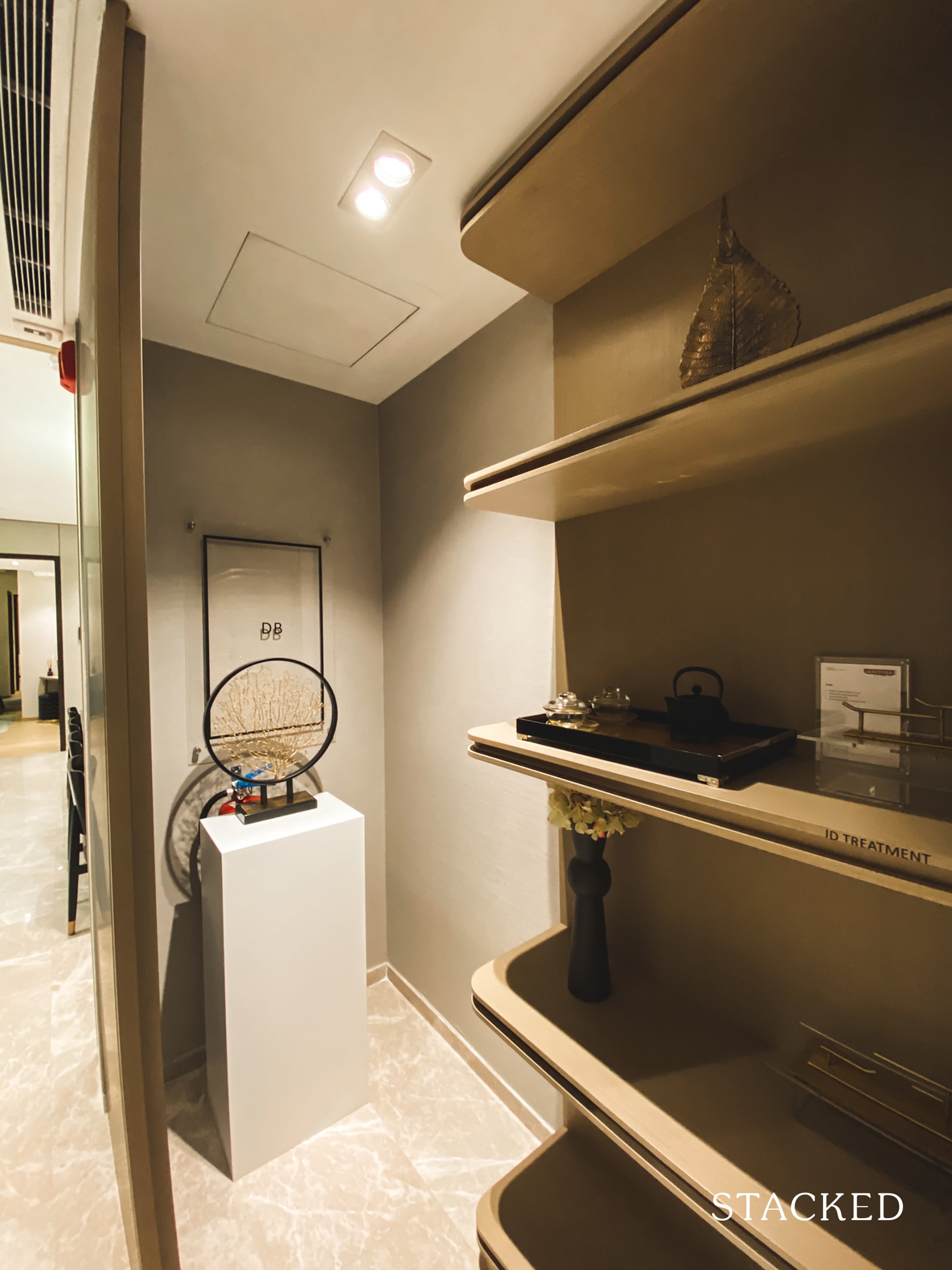 First up is a store room on the left. Storage space is really becoming increasingly overlooked so having that ample option here is great.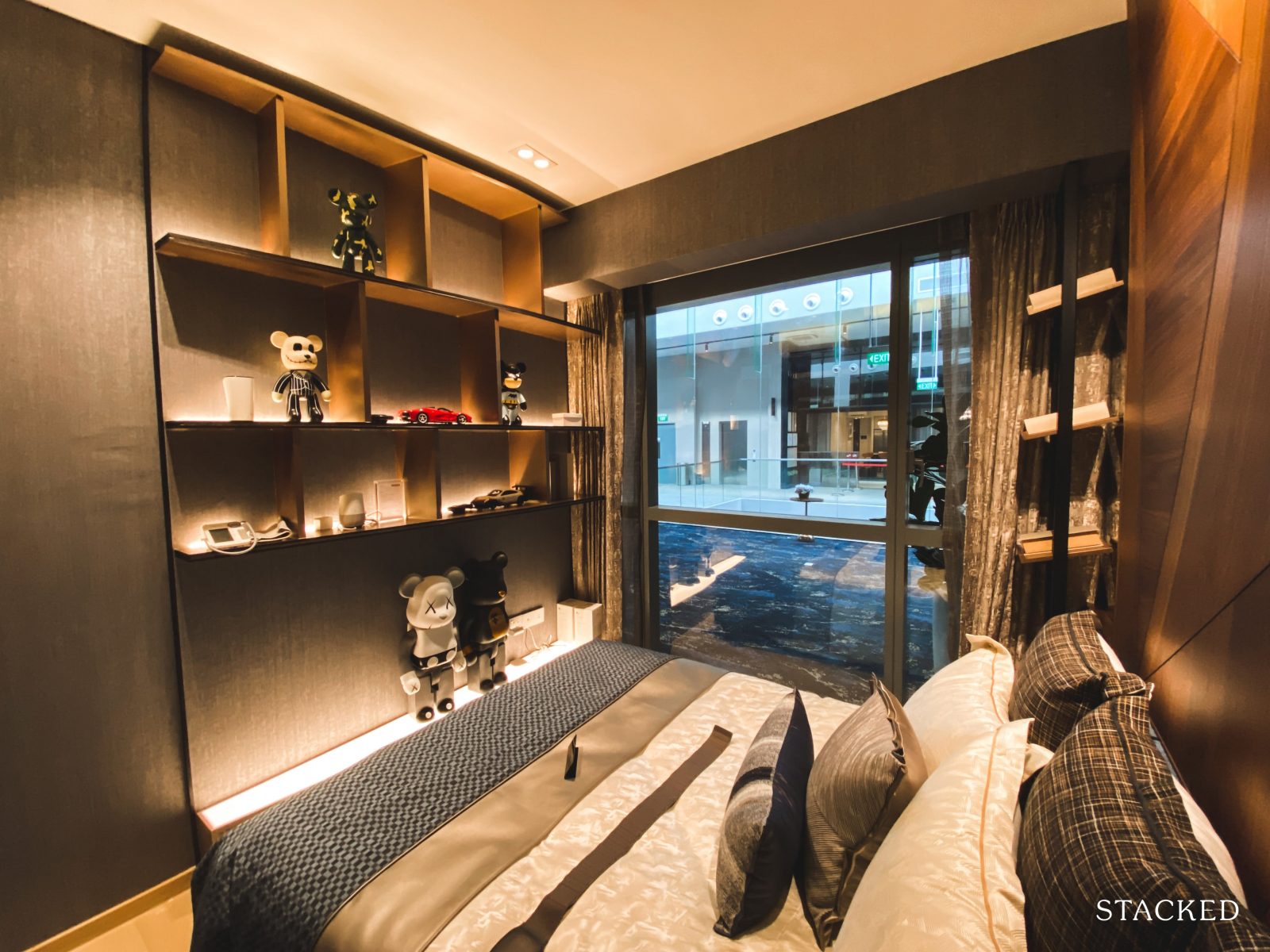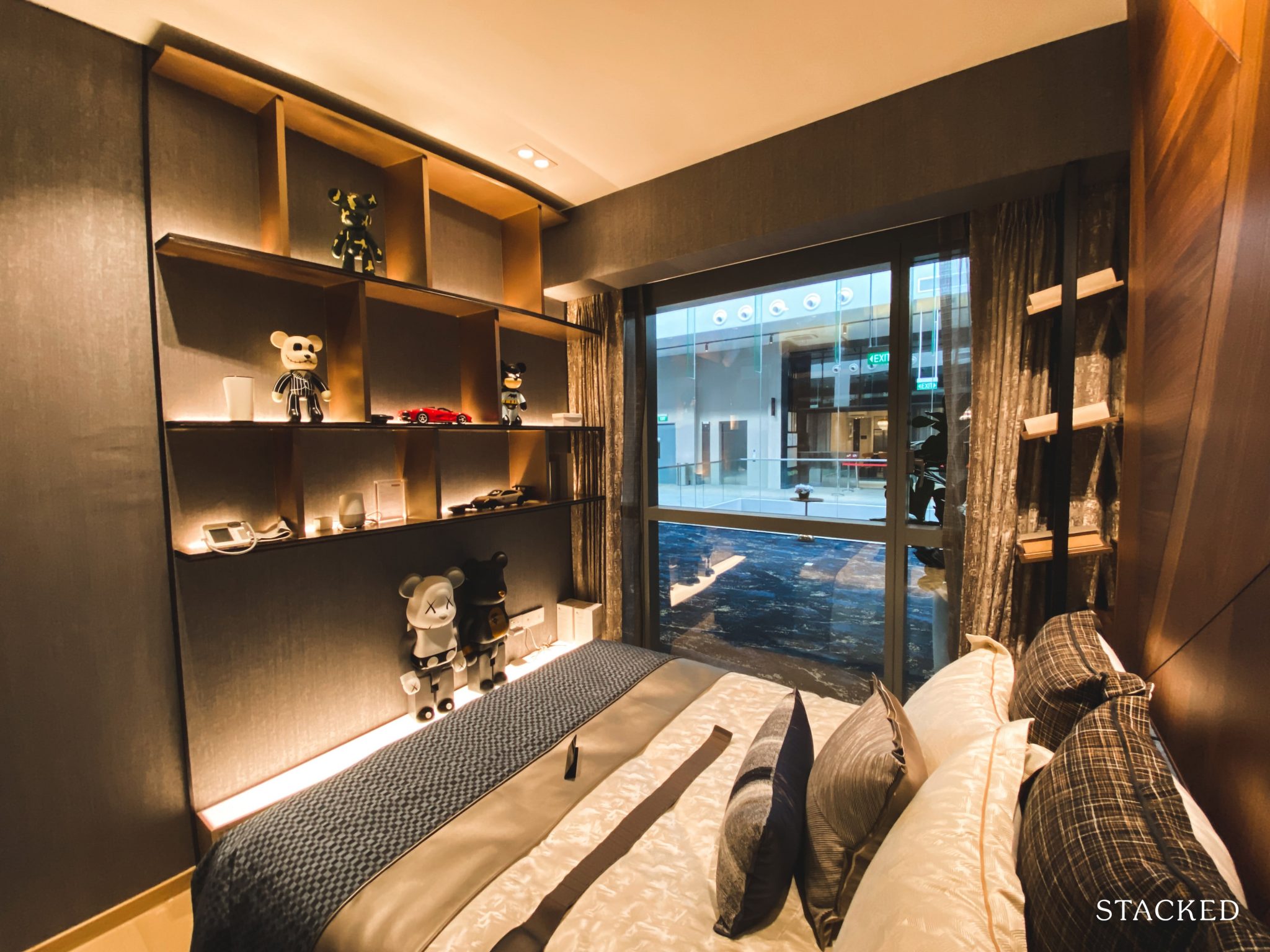 The first common bedroom is of average size, with floor finishes in the usual engineered timber.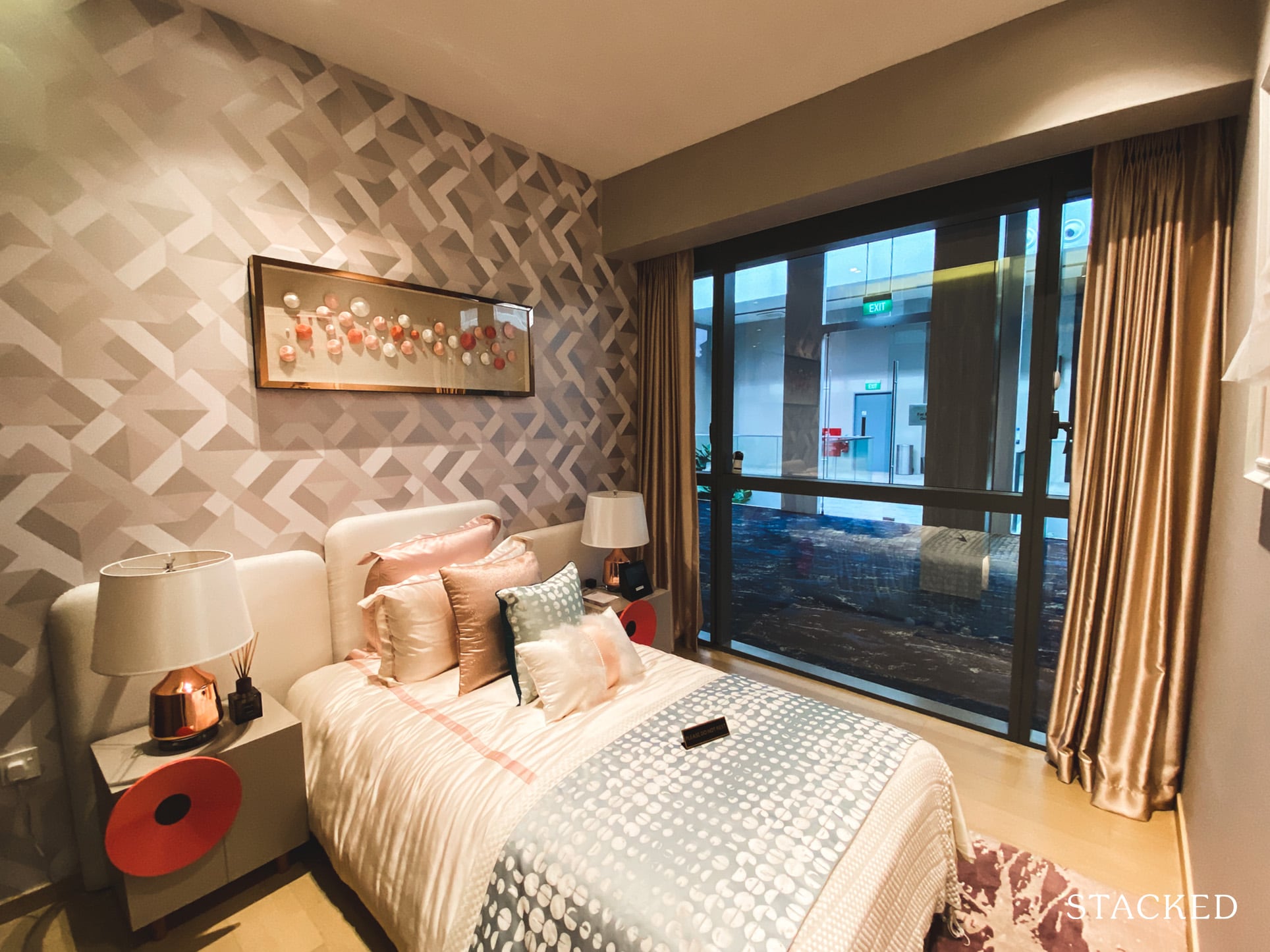 It's the same story in the second common bedroom, same size, storage compartments, and cupboards.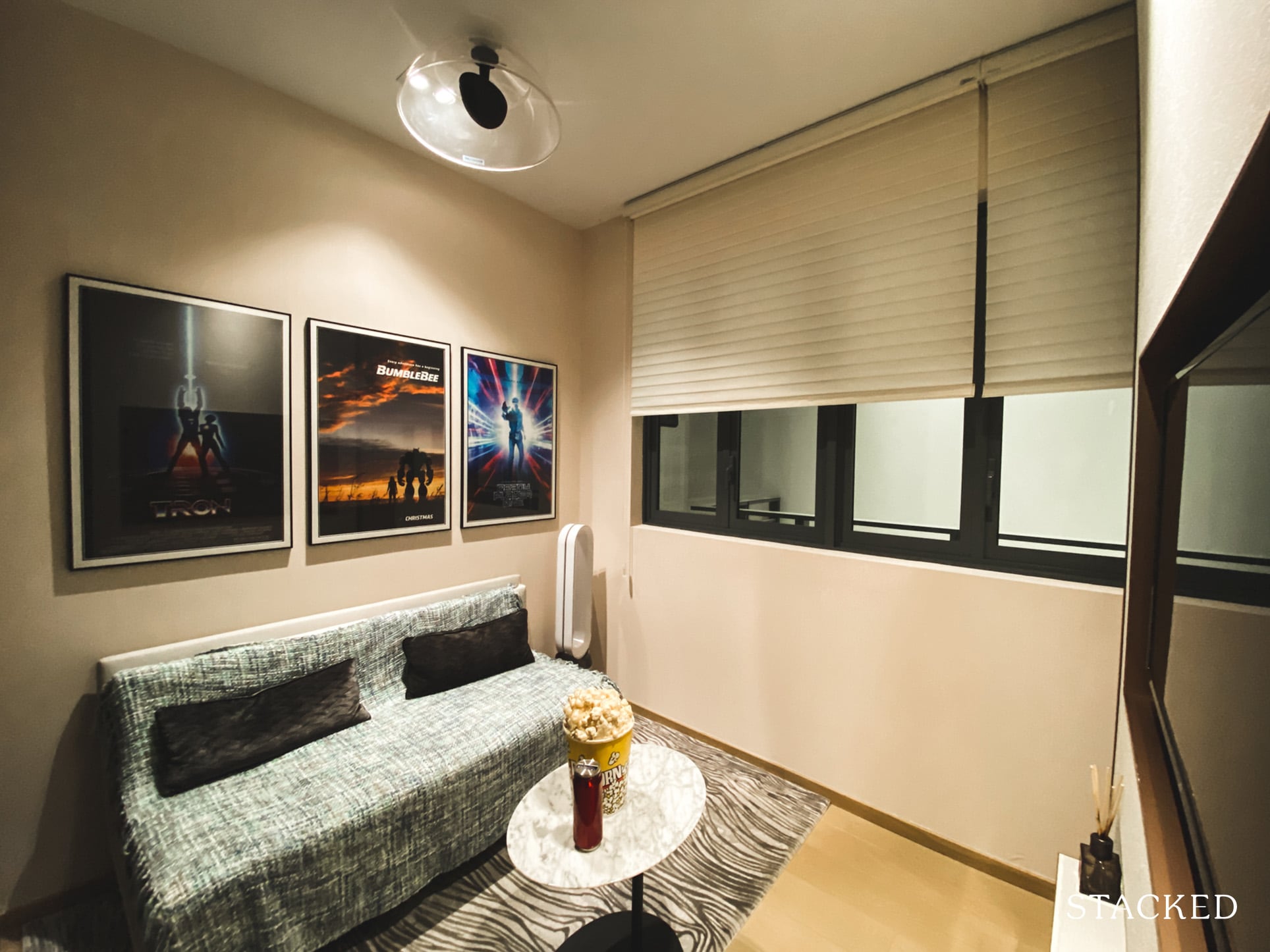 The last common bedroom is on the smaller side. This one also has the AC ledge running on the outside too, which means that you only get half length windows here.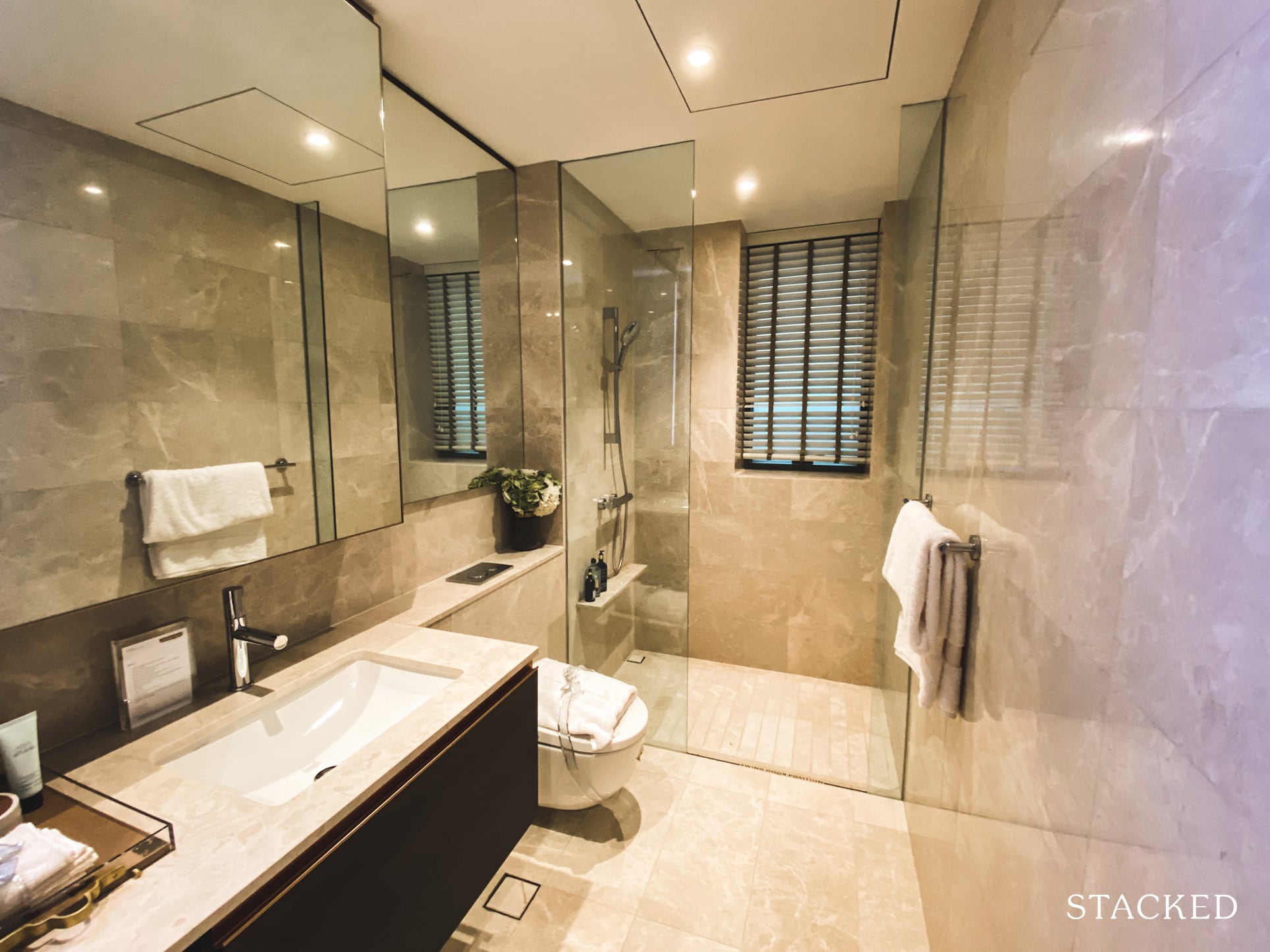 Depending on the utilisation of the common bedrooms here, this could be a dealbreaker for some because all 3 bedrooms here share the same bathroom.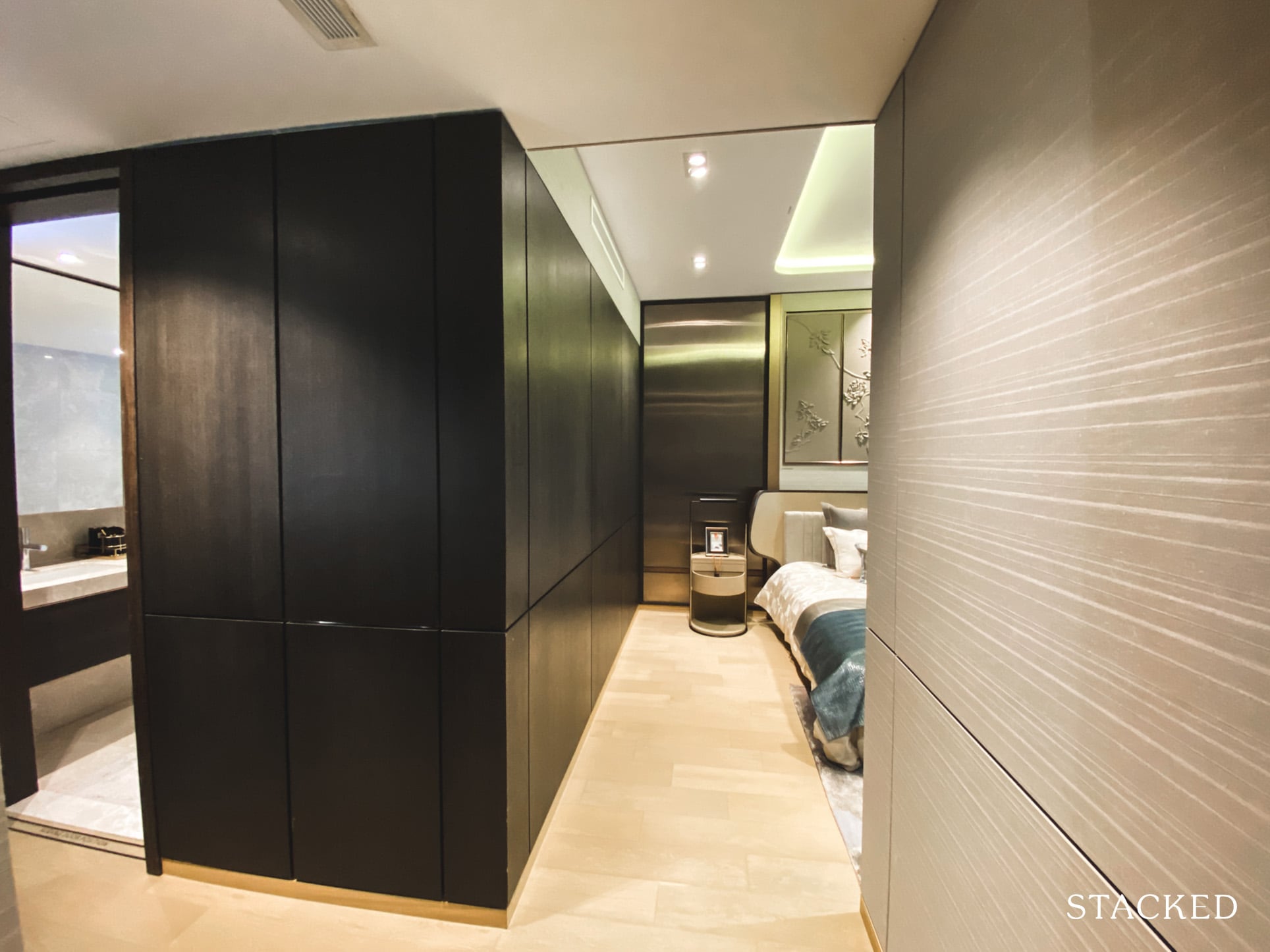 Last but not least, the real highlight for this 5 bedroom unit is the master bedroom.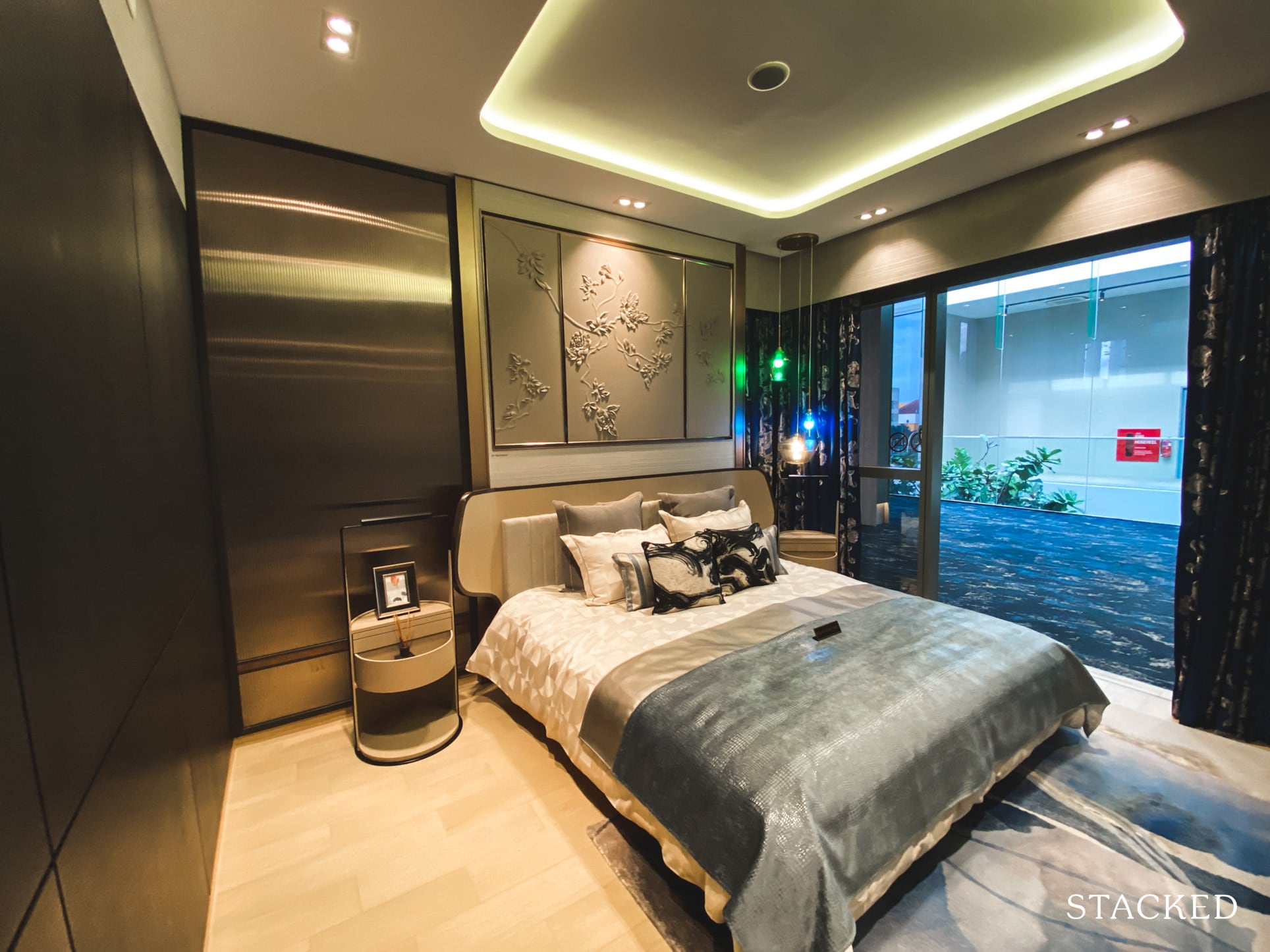 The layout is similar to the one in the 4 bedroom unit, and that's not a bad thing at all.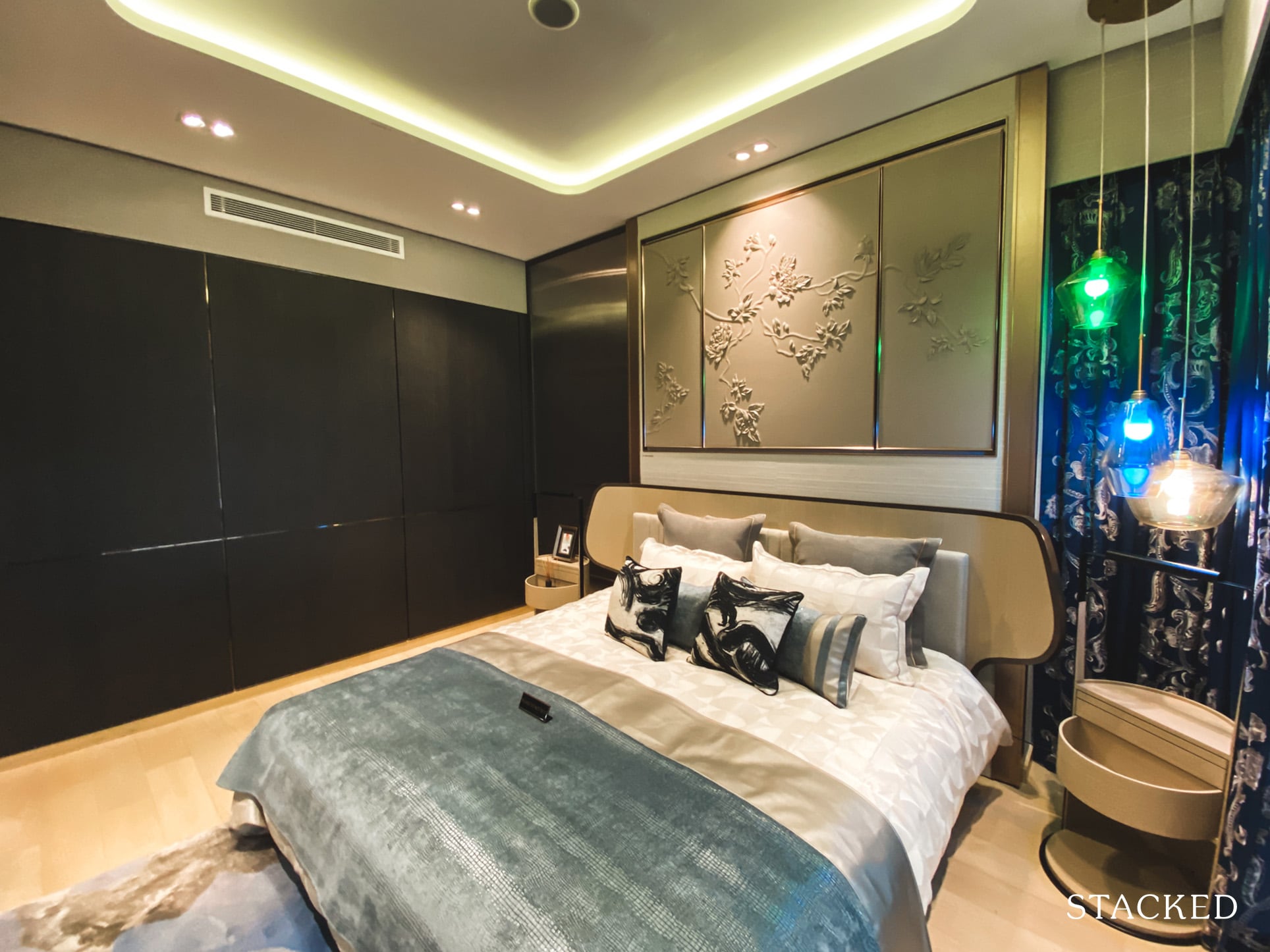 Size wise, it is really superb. There is generous space to move around the bed.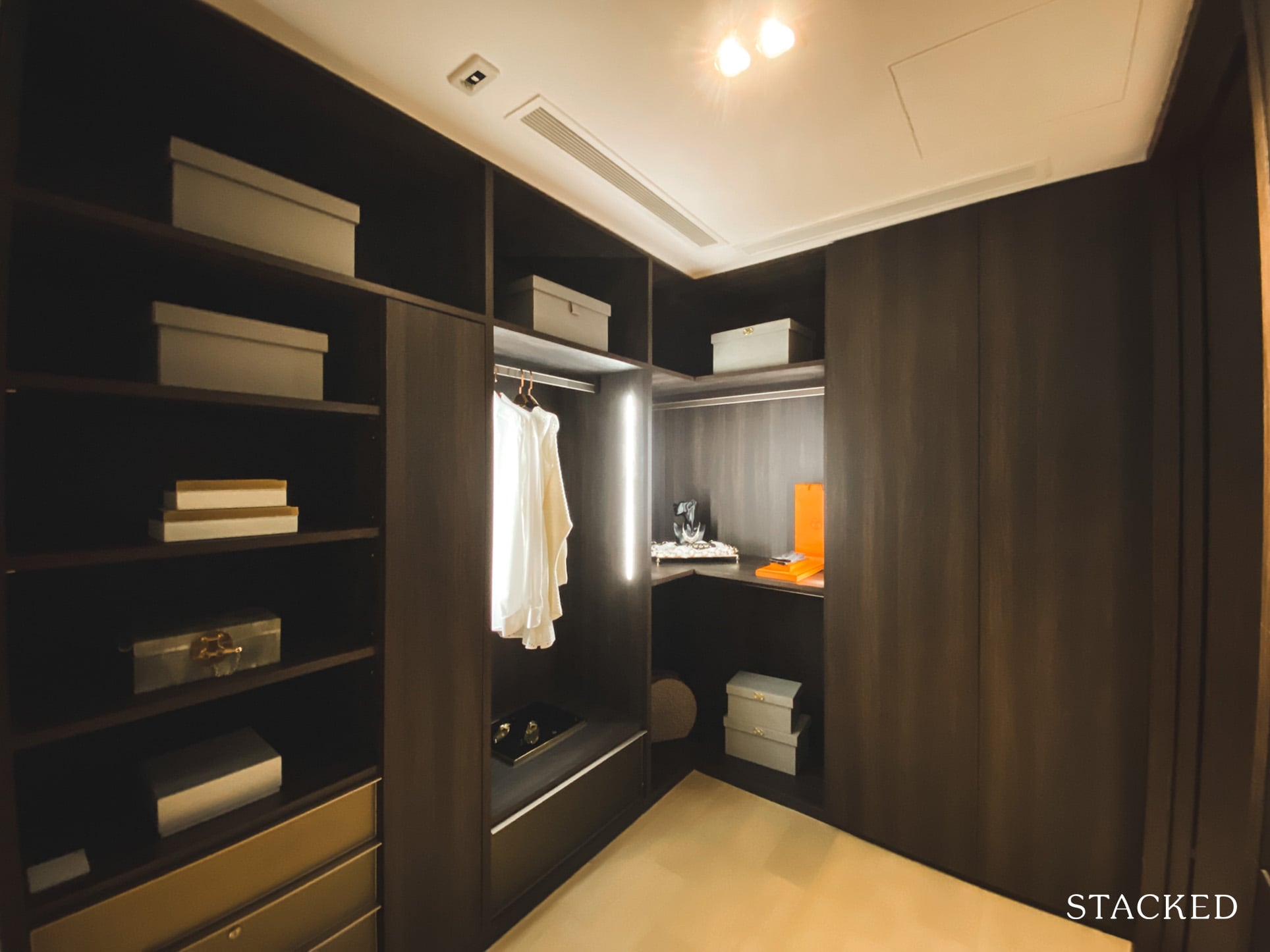 There's also an L-shaped wardrobe just before the entrance to the master bathroom. While it still isn't a proper walk-in wardrobe here, storage space is still pretty exemplary.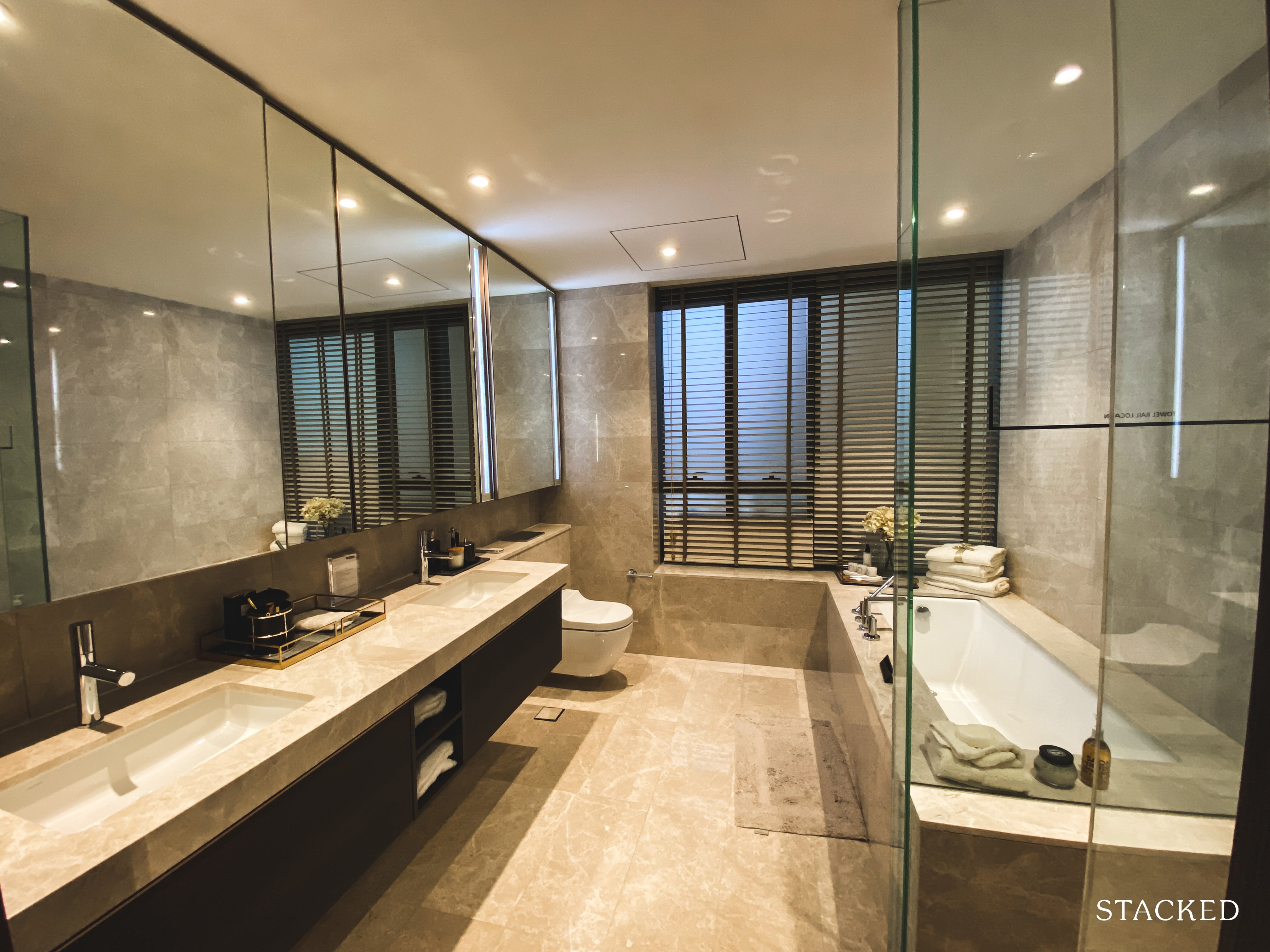 The master bathroom ticks all the right boxes. It's a wonderful size, and comes with a bathtub, standing shower, and his and hers sinks too.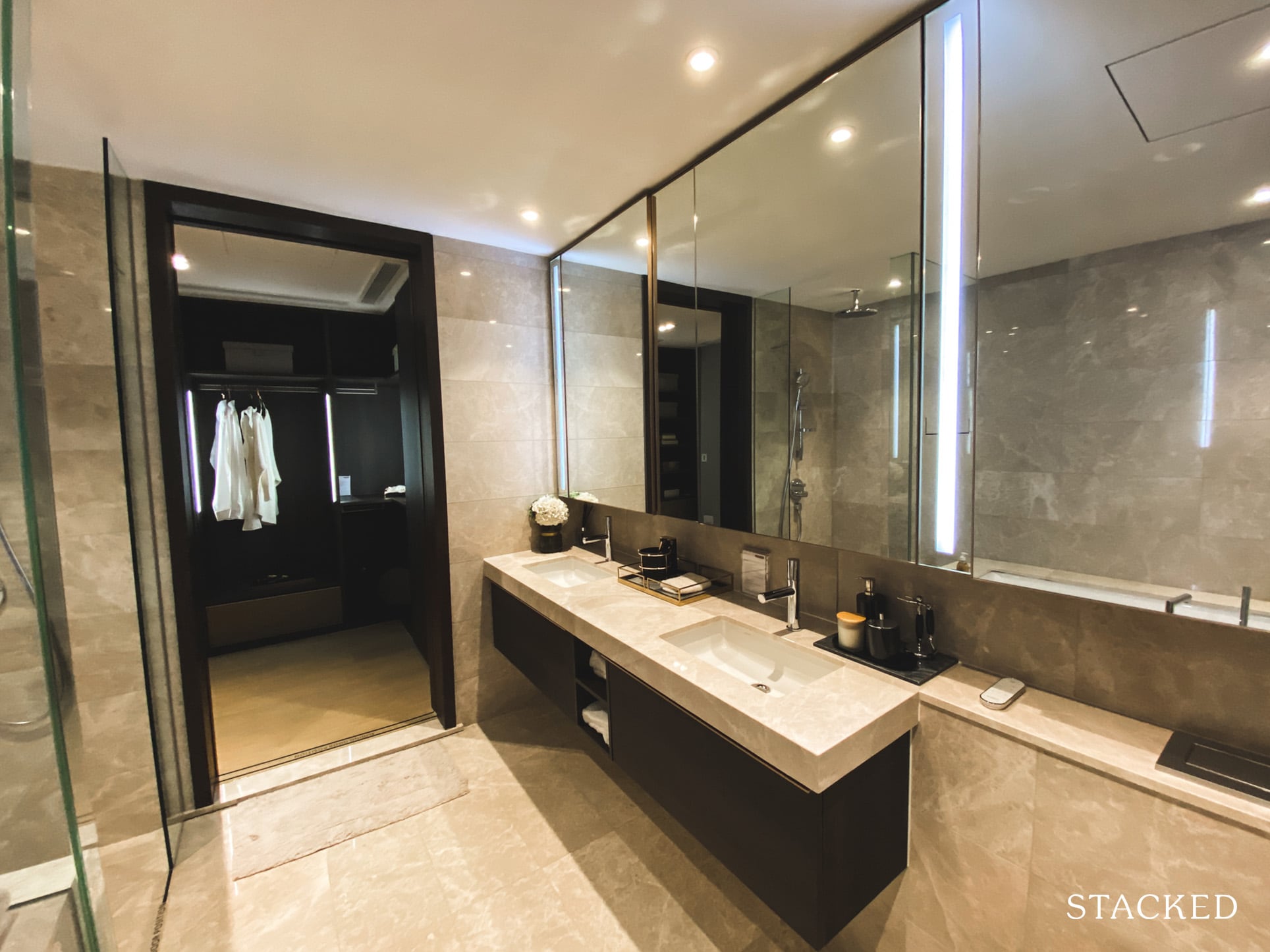 Fittings wise, there are some changes for the 5 bedroom suite. For starters, the bath mixers are from Axor, while the shower and holders are from Hansgrohe.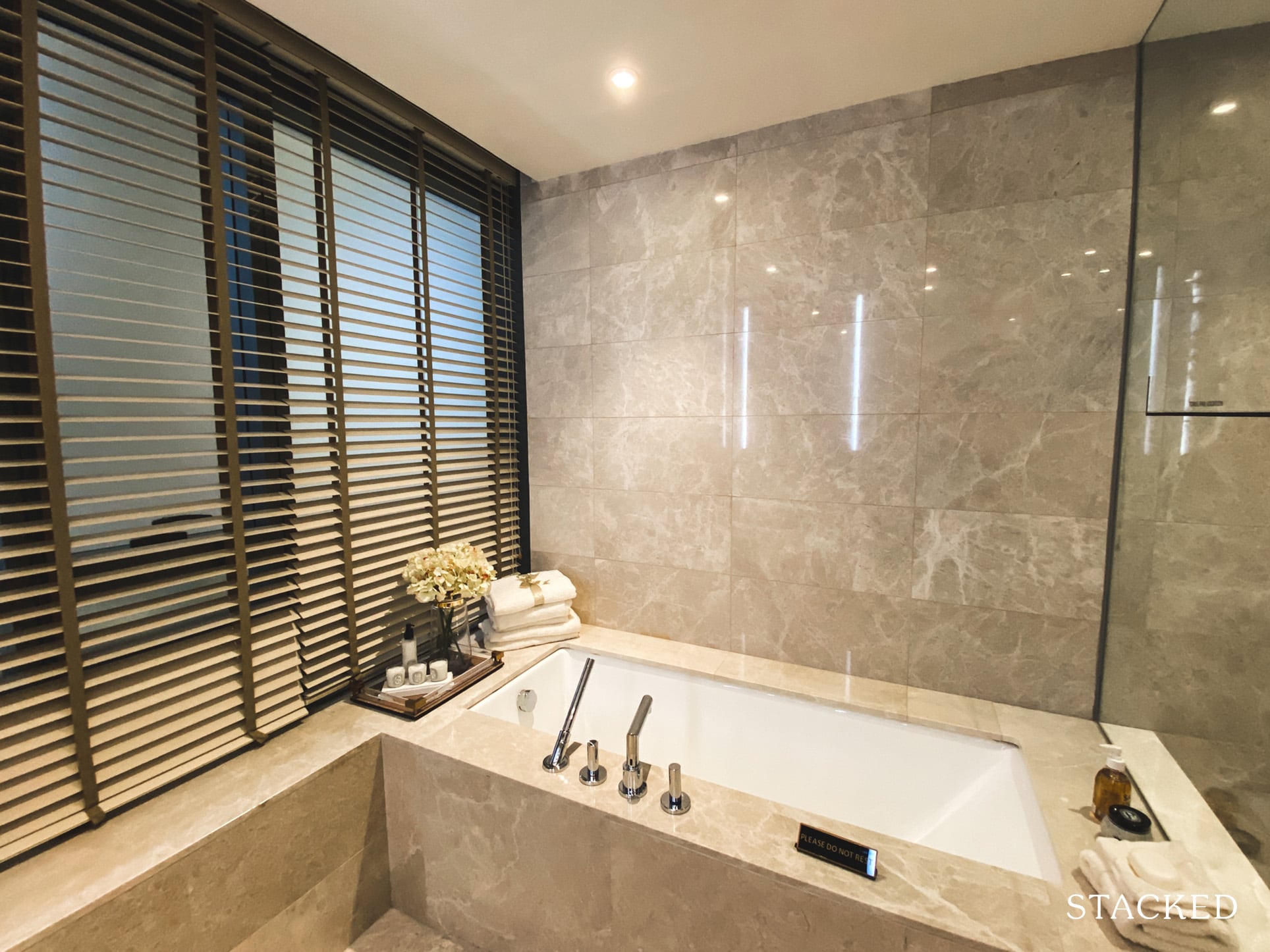 While the bathtub and sinks are from Laufen.
JadeScape Location Review
Located at the eastern tail-end junction of Shunfu and Marymount Road, the upcoming JadeScape condo is situated right across Boonview, Seasons View and Marymount View – and yes, it's a wonder (and relief) that they didn't call it Jadeview.

That said, thanks to the numerous low-rise landed clusters in the area, most residents here will be getting a panoramic unblocked view of the surrounding area which scales the higher you get.

It is also within a stone's throw of the Marymount MRT station, Thomson CC and a number of key educational institutions.

Public Transport

| | | |
| --- | --- | --- |
| Bus Station | Buses Serviced | Distance From Condo (& Est. Walking Time) |
| 'Marymount Stn' | 54, 74, 74e, 410, 410G, 851, 852 | 190m, 2-min walk |
| 'Blk 314' | 410, 410W | 150m, 2-min walk |
| 'Shunfu Est' | 52, 130, 132, 162, 162M, 163, 165, 166, 167, 855, 980 | 550m, 7-min walk |
Closest MRT: Marymount MRT – 350m, 4-min walk

Having an MRT station just 4 minutes away from your home has its pros and cons.

For one, you have unbridled convenience/access (assuming it's a straight path without any pesky overhead crossings), but you might have to deal with the noise from nearby tracks.

Thankfully, Marymount MRT is run through a series of underground tracks that make up the Circle line so the noise effects are not as potent as on the East-West line for example.

It also helps that Marymount MRT is relatively central.

It is a single stop away from Bishan MRT and a 13-minute ride (6 stops + 1 line change) to Orchard MRT.

For those working in the CBD, it is a 20-minute ride (10 stops + 1 line change) to Raffles Place MRT.
Private Transport
| | |
| --- | --- |
| Key Destinations | Distance From Condo (& Est. Peak Hour Drive Time) |
| CBD (Raffles Place) | 12.2km, 18-min drive |
| Orchard Road | 9.4km, 14-min drive |
| Suntec City | 11.2km, 18-min drive |
| Changi Airport | 20km, 20-min drive |
| Tuas Port (By 2040) | 40.1km, 40-min drive |
| Paya Lebar Quarters/Airbase (By 2030) | 8.4km, 14-min drive |
| Mediapolis (and surroundings) | 10.3km, 14-min drive |
| Mapletree Business City | 11.7km, 20-min drive |
| Tuas Checkpoint | 29.9km, 30-min drive |
| Woodlands Checkpoint | 19.3km, 22-min drive |
| Jurong Cluster (JCube) | 15.3km, 22-min drive |
| Woodlands Cluster (Causeway Point) | 12.2km, 18-min drive |
| HarbourFront Cluster (Vivo City) | 15.3km, 22-min drive |
| Punggol Cluster (Waterway Point) | 14.2km, 20-min drive |
*Note that Drive Times are calculated during Peak Hours

Immediate Road Exit(s): 2 Exits, one along Shunfu Road, the other along Marymount Road.

Summary: Relatively well-connected roads. For those heading to the west, Lornie Highway will be the first point of entry. Residents also have the nearby PIE, CTE and Upper Thomson Road connectors to contend with. Do note however that both the nearby Lornie and Braddell road are infamous for their peak hours jams, so it's best to avoid them if possible during these periods. It takes about 15-minutes via CTE to reach the CBD (Raffles Place) during off-peak hours.

Groceries

| | |
| --- | --- |
| Name of Grocery Shop | Distance From Condo (& Est. Walk Time) |
| FairPrice Finest – Thomson Plaza | 1.2km, 15-min walk OR 1.2km, 5-min drive |
| FairPrice – Bishan St. 24 | 1.2km, 15-min walk OR 1.9km, 5-min drive |
| Sheng Siong – Upper Thomson Road | 650m, 7-min walk OR 650m, 3-min drive |
Schools

| | |
| --- | --- |
| Educational Tier | Number of Institutes |
| Preschool (within 1km walk) | 5 |
| Primary (3km-drive) | 5 |
| Secondary (3km-drive) | 7 |
| International School (3km-drive) | 2 |
| Junior College (5km-drive) | 3 |
| University (5km-drive) | 4 |
| Polytechnic (10km-drive) | 1 |
Additional Pointers

A key point for every resident/investor when choosing a development is its surrounding amenities.

Granted, the mention of Shunfu Road isn't going to be turning many heads (yet). But if you were to head down to the condo's actual location, you'd find that more than just residential developments, there are incredibly diverse food options further up the road at the Shunfu Mart Hawker Centre.

Pop to the left, and you'll arrive at the Sheng Siong along Upper Thomson Road, and the numerous other shops and services that line the street.

It might seem like there isn't much in the way of entertainment, but if you appreciate relaxing recreationals, the beloved Bishan Park is just a 4-mins drive away.

What's more, with the condo's units reaching up to 23 stories-high, residents living in the north-west units here should be treated to uncontested views, both of the relatively low-rise landscape and the subsequent greenery that spans the Central Catchment Reserve area (also perfect for hikes and outdoor activities).

Surrounding Neighbourhoods
if you were to pull out the map, you'd quickly realise that those who drive (or at the very least are willing to participate in a short public transport ride) actually have access to a number of key, well-established neighbourhoods of diversified, but sizeable offerings.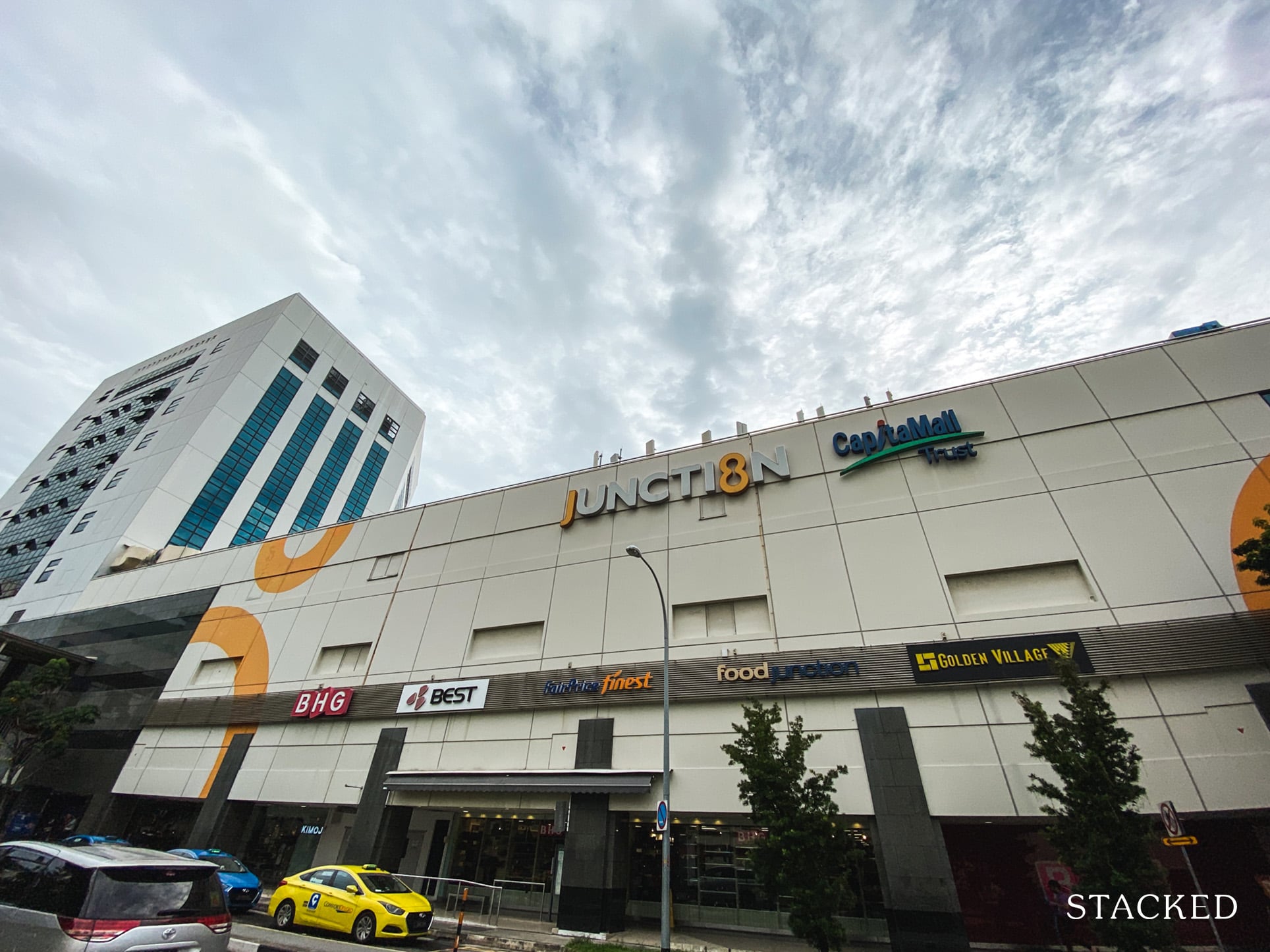 To the near east, you'd find the Bishan enclave with its famous J8 mall amongst a number of other amenities, and to the immediate west, you'd find Upper Thomson Road – which, as we know is littered with its quaint shophouses offering the most delectable of foods and the most wide-ranging of products. The Ang Mo Kio and Toa Payoh districts are also within relatively close proximity to the condo.

Perhaps the most important point for JadeScape.

If you were to hop onto the Masterplan, you'd realise that there isn't a new launch development in miles of JadeScape save perhaps for the newly completed 183 Longhaus located along Upper Thomson Road.

Even then, it offers 40 exclusive units with just the 1 unit unsold.

Naturally, this would make JadeScape the fresh jewel of the neighbourhood upon completion, with any surrounding new-launch residential developments in the near future serving to add to the price points and demand for the 1206 units here.

JadeScape Development Site Review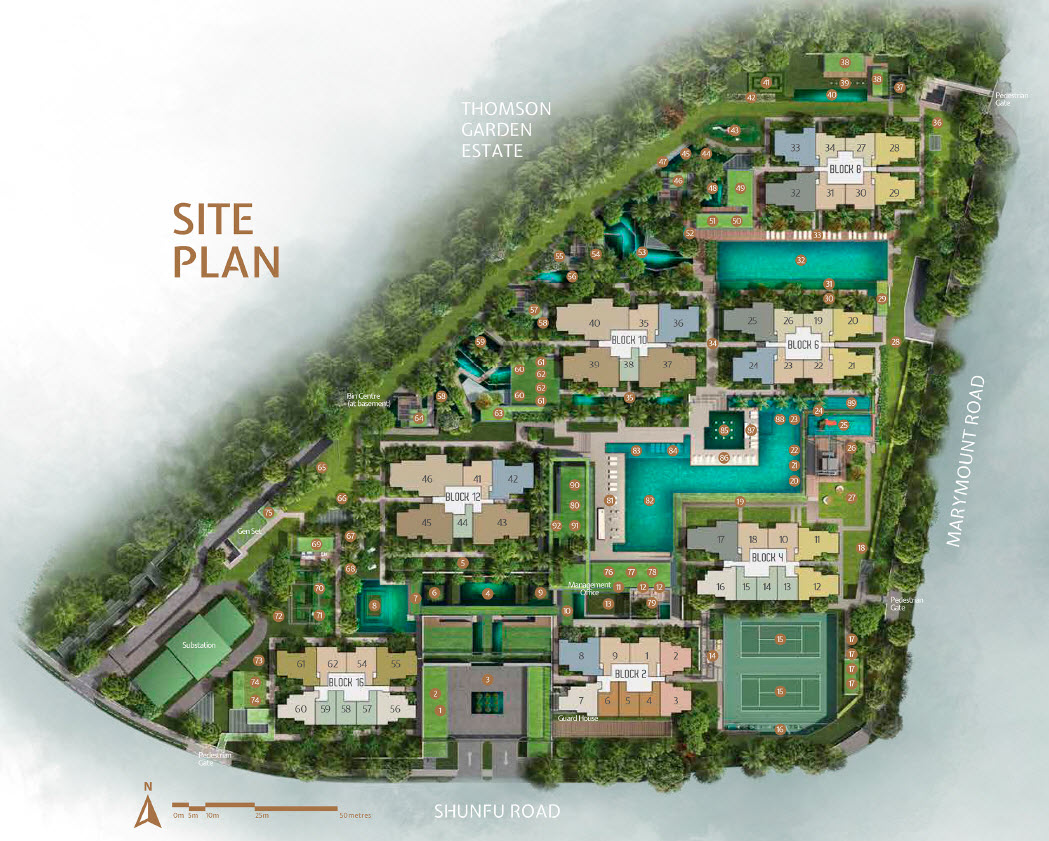 Facilities in Jadescape

| | | |
| --- | --- | --- |
| Concierge | Children's Playground | Lawn |
| Function room | Gymnasium room | Jacuzzi |
| Lift lobby | 24 hours security | Swimming pool |
| Tennis courts | Theatrette | Karaoke Room |
| Games Room | Kid's Pool | Barbeque Pits |
| Garden | Pets Corner | Foot Reflexology |
| Sauna | Virtual Golf | Jogging Trail |
The first thing that catches my eye is the foliage barrier between the residential development and its external surroundings.

Ranging from a meek 7.5m to 25m and beyond, this is an important factor to note given that most of the choice units here would have been snapped up by now, leaving (possibly) a number of opportune lower-leveled units that have not been closely examined for fear of external disturbances.

If you are a home-buyer seriously considering any of these lower-leveled units for the first time, be sure to also observe the general traffic patterns of both Shunfu and Marymount Road, and to align it with your current lifestyle (ie. will you be home during the worst points?). Also, consider peak traffic noise volumes – is it something that you are able to contend with over the years?

Secondly, JadeScape is a massive estate, as you've no doubt seen from the statistics. 1206 units across 390,000+ square feet of land.

With this sprawling space rightfully comes a number of facilities – though in this case, 'a number' seems more like 'a lot'.

My initial concern was the maintenance of these facilities over the years. With these many people forking out maintenance fees however, I do believe that the sum accrued will be more than adequate to consistently cover a number of upkeep contractors over the years.

What's more, the specialised condo mobile-app (hiLife) that the developers have promised to roll out will also come with a fault-reporting system that would (technically) allow for up-to-date and efficient ground repairs based on resident/tenant reports.

Finally, the positioning of two sky terraces on floor #13 at blocks 10 & 12 was a smart move by the developers.

Firstly, to embrace the solid views that would come from the north-west, and secondly to (relatively) reduce overcrowding during peak hours. That said, tenants/residents of the 12th and 14th floors should be cautious about possible noise disturbances during peak periods, even though the developers should take the necessary measures to reduce noise bleeds here.

Best Stacks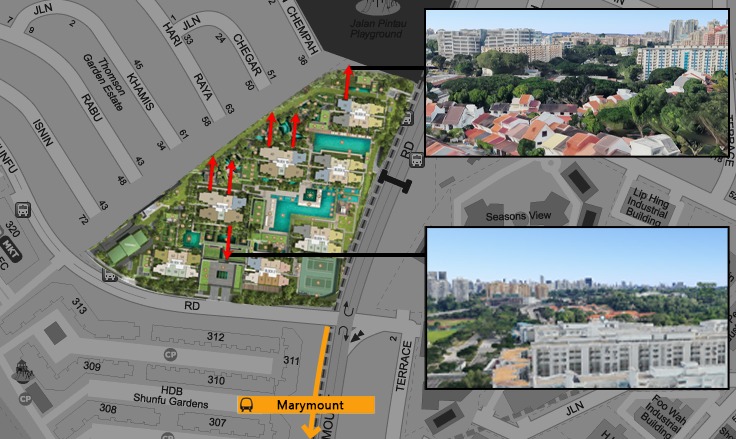 Let's take a look at what are our picks in terms of best stacks for JadeScape. It's actually quite a straightforward choice here, with most of the better stacks coming from the 2 choice blocks (10, 12).
So personally, I've gone with 46, 41, 42, 43, 40, 35, 36, and 33.
These NE facing units overlook the Thomson Garden Estate landed area, so views are pretty much unblocked for units on the higher level – plus the setback of 25m is pretty generous as well.
Not to mention, NE units don't get the afternoon sun.
Do note that stack 43 is the only one in that list that is SW facing, but you would have to choose a high floor to avoid facing the opposite HDB directly.
You could also consider 27, 28, and 34 – just be aware of possible road traffic noise from Marymount Road.
Best stacks with the least afternoon sun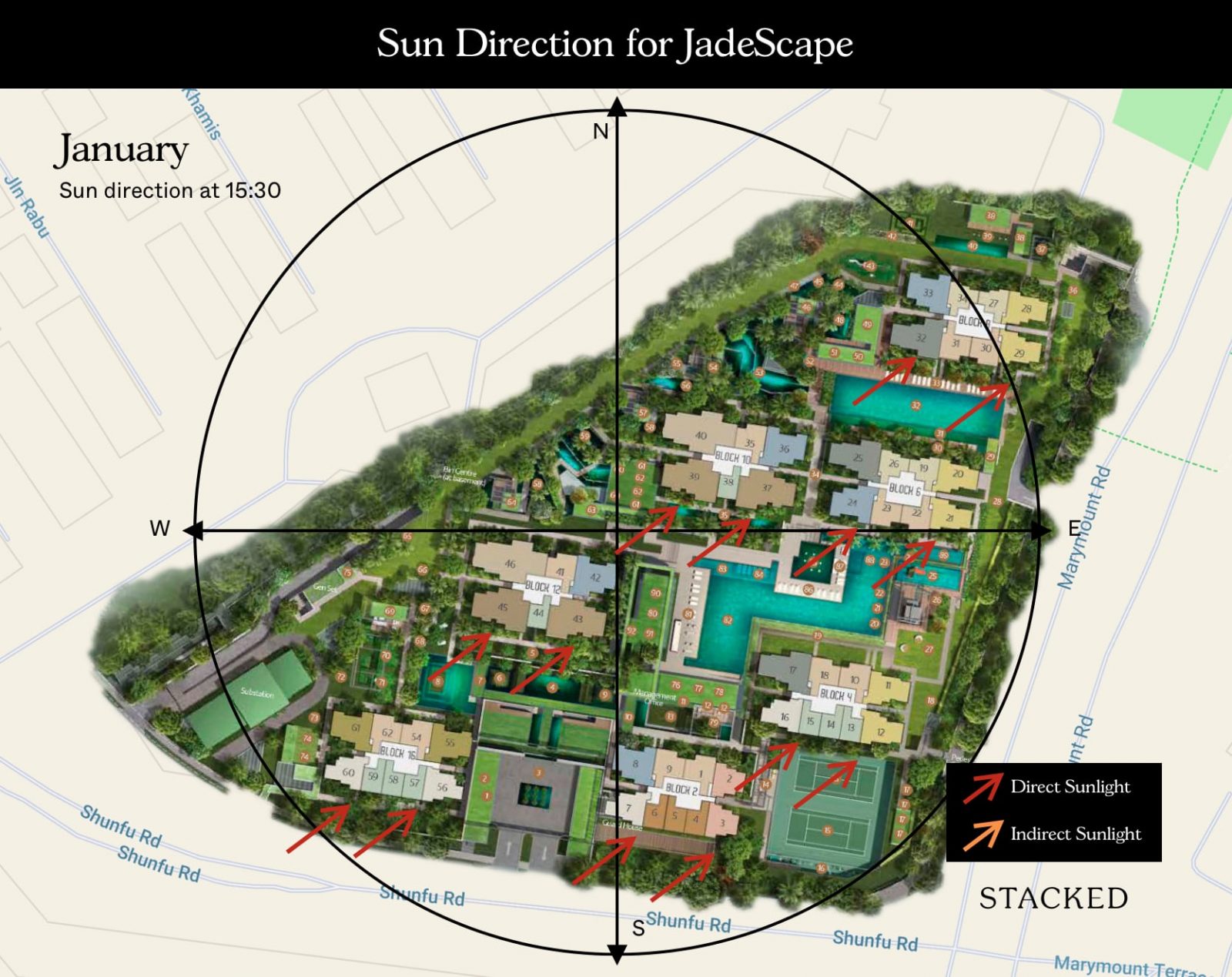 Stacks 3-7, 12-16, 21-24, 29-32, 37-39, 43,45, 56-60 bear the brunt of having the most afternoon sun all year round.
The length of the units for these stacks face the most sun from around November to January.
In the middle of the year, the remaining stacks could see some indirect afternoon sun.
Unit Mix

| | | |
| --- | --- | --- |
| Unit Type | No. Of Units | Size of Units (sqft) |
| 1-Bedroom | 236 | 527 sqft |
| 2-Bedroom | 90 | 646 sqft |
| 2-Bedroom Deluxe | 269 | 764 sqft |
| 2-Bedroom Premium | 44 | 775 sqft |
| 3-Bedroom | 86 | 904 sqft |
| 3-Bedroom Deluxe | 137 | 1,001 – 1,044 sqft |
| 3-Bedroom Premium | 42 | 1,130 – 1,152 sqft |
| 4-Bedroom | 114 | 1,249 sqft |
| 4-Bedroom Deluxe | 67 | 1,421 sqft |
| 4-Bedroom Suite | 80 | 1,647 sqft |
| 5-Bedroom Suite | 39 | 2,088 sqft |
| 6–Bedroom Penthouse | 2 | 4,198 sqft |
As you can see, a whole ton of units to choose from, with the elusive 5-bedders and even 6-bedroom penthouses coming into play. 

For those who find themselves trying to balance between space and budget, the unit variations across the 2-4 bedders offer alternatives for choice.

To further this diversity, developers Qingjian Realty had initially incorporated 63 'gold standard' varieties in the 1-bedroom units to cater to the elderly/handicapped.

These units would come equipped with anti-slip tiles and support bars in the toilets as well as a number of other modifications to ensure the safety and comfort of residents in these demographics.

Sadly, due to little to no demand for this unit type, Qingjian eventually scrapped the idea – even though it would have been a great idea had there been a market for it.

Aside from this thoughtful gesture, however, all units will come equipped with energy-saving air-con units that redirect heat from the compressors to the water heaters, not to mention smart-dishwashers that offer ultrasonic fruit and vegetable washing.

For more information on unit specifics, as well as layouts and availabilities, feel free to drop us an email at hello@stackedhomes.com
JadeScape Monthly Maintenance Fees
| | |
| --- | --- |
| Type | Monthly Maintenance |
| 1 Bedroom (Type A) | $233 |
| 2 Bedroom (Type B1, B2, B3) | $280 |
| 3 Bedroom (Type C1, C2) | $280 |
| 3 Bedroom (Type C3) | $326 |
| 4 Bedroom (Type D1, D2) | $326 |
| 4, 5 Bedroom Premium | $373 |
| Penthouse | $559 |
Prices for JadeScape
Price Breakdown (1st Property)
1-Bedroom
2-Bedroom
3-Bedroom
4-Bedroom
5-Bedroom
Price
$898,535
$1,275,116
$1,641,464
$2,317,651
$3,190,480
25% Down Payment
$224,634
$318,779
$410,366
$579,413
$797,620
Additional Costs
Buyer Stamp Duty
$21,556
$35,605
$50,259
$77,306
$112,219
Legal Fees
$2,500
$2,500
$2,500
$2,500
$2,500
Valuation Fees
$300
$300
$300
$300
$300
Stamping Fees
$500
$500
$500
$500
$500
Total Price
$923,391
$1,314,021
$1,695,023
$2,398,257
$3,305,999
Initial Investment Amount
$249,490
$357,684
$463,925
$660,019
$913,139
Return on Investment
Expected Rental Price
$2,372
$3,056
$3,542
$4,974
$7,347
Rental Yield
3.08%
2.79%
2.51%
2.49%
2.67%
Price (2nd Property)
1-Bedroom
2-Bedroom
3-Bedroom
4-Bedroom
5-Bedroom
Cost Without ABSD
$923,391
$1,314,021
$1,695,023
$2,398,257
$3,305,999
Plus: ABSD (12%)
$107,824
$153,014
$196,976
$278,118
$382,858
Total Price After ABSD
$1,031,215
$1,467,035
$1,891,998
$2,676,375
$3,688,857
Initial Investment Amount
$357,314
$510,698
$660,900
$938,137
$1,295,997
Return on Investment
Expected Rental Price
$2,372
$3,056
$3,542
$4,974
$7,347
Rental Yield
2.76%
2.50%
2.25%
2.23%
2.39%
Price Review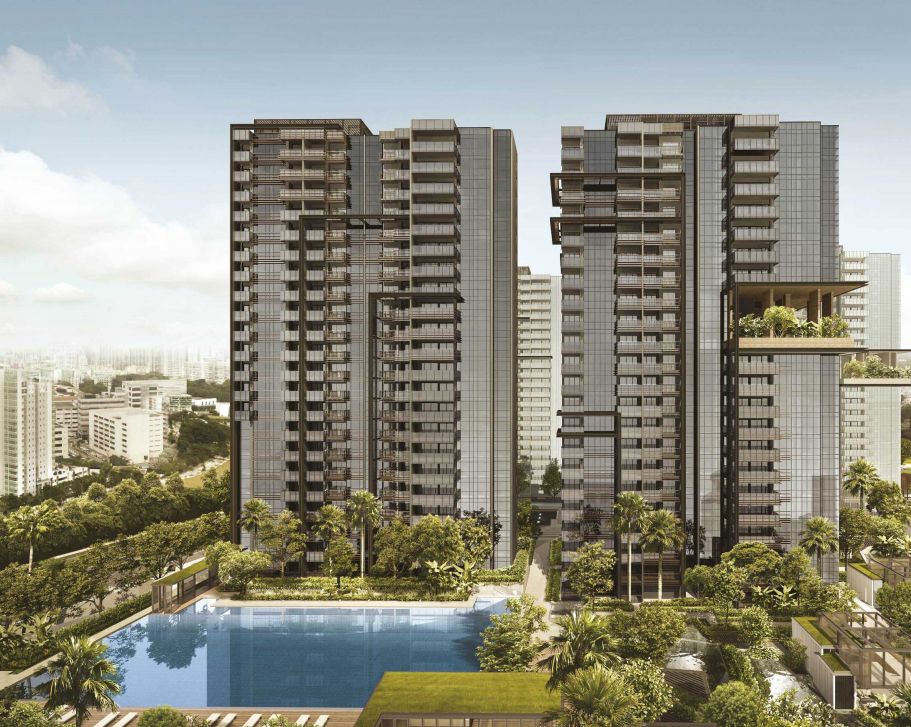 A little backstory about the initial acquisition of the JadeScape land site. Back in mid-2016, Qingjian Realty acquired an en bloc sale of the former Shunfu Ville for $638 million, just $50 million shy of its original reserve price. 

Note that this was done just before the 17/18' en bloc craze, during the tail end of property market stagnation post-2013 cooling measures.

What this meant for Qingjian Realty was that they didn't have to fork out additional cash based on momentum pricing/competition as many others did during the actual en bloc craze. In other words, their purchase was done at a steal.

It also meant that they were able to enter the resulting 'New Launch phase' earlier than most developers. This, further adding to its already unique location with no surrounding competition, allowed Qingjian Realty to price their units well with solid profits all around.

Needless to say, through solid marketing and innovative USPs, take-up was overwhelming, with 300 out of the 480 units snapped upon launch. To date (1.5 years from launch), 75% of units have been sold.

So in today's terms, how does JadeScape fare against the other 99-year leasehold (mega) city-fringe developments that are also located near MRT stations?

| | | | | | |
| --- | --- | --- | --- | --- | --- |
| Project Name | Tenure | TOP | Average Price (PSF) | Distance from MRT | Total Units |
| JadeScape | 99-year leasehold | 2023 | $1,715 | 350m, 4-min walk | 1,206 |
| Stirling Residences | 99-year leasehold | 2022 | $1,914 | 450m, 5-min walk | 1,259 |
| Park Colonial | 99-year leasehold | 2022 | $1,939 | 350m, 4-min walk | 805 |
As you can see, JadeScape is very reasonably priced (psf-wise) when compared to both Stirling Residences and Park Colonial.

Admittedly, it isn't as close to the CBD as Stirling Residence is, but JadeScape does have solid access to some of Singapore's more well-established neighbourhoods as mentioned earlier, not to mention a very central station in Marymount MRT (1-stop to Bishan for North-East line and 1-stop to Caldecott for Thomson-East line).  

I'm not going to be doing an actual price comparison between units in these developments as I feel that this might be quite a niche comparison. That being said, if you have a request regarding a specific comparison (with these developments or otherwise), do feel free to drop me a request at hello@stackedhomes.com, and I'll get back to you as soon as I can!

Now, what about the details and pricings of JadeScape's neighbours?
For those interested in the area, and possibly considering cheaper alternatives, these are your immediate options.

Interestingly enough, the only residential developments closer to the MRT than JadeScape are actually the HDB units in front of it. Further given its novelty and project offerings, it comes with little surprise that the new launch condo tops the charts psf-wise.

Also note the mix between freehold and 99-year leasehold properties here.

Finally, I've included JadeScape's neighbours to the west (Thomson area) simply for statistical purposes. While they might have more immediate amenities to contend with (ie. shops/food offering etc), they are still further from an MRT station than the other developments – at least till the Upper Thomson MRT station opens later this year as part of the Thomson East Line. 

Appreciation Analysis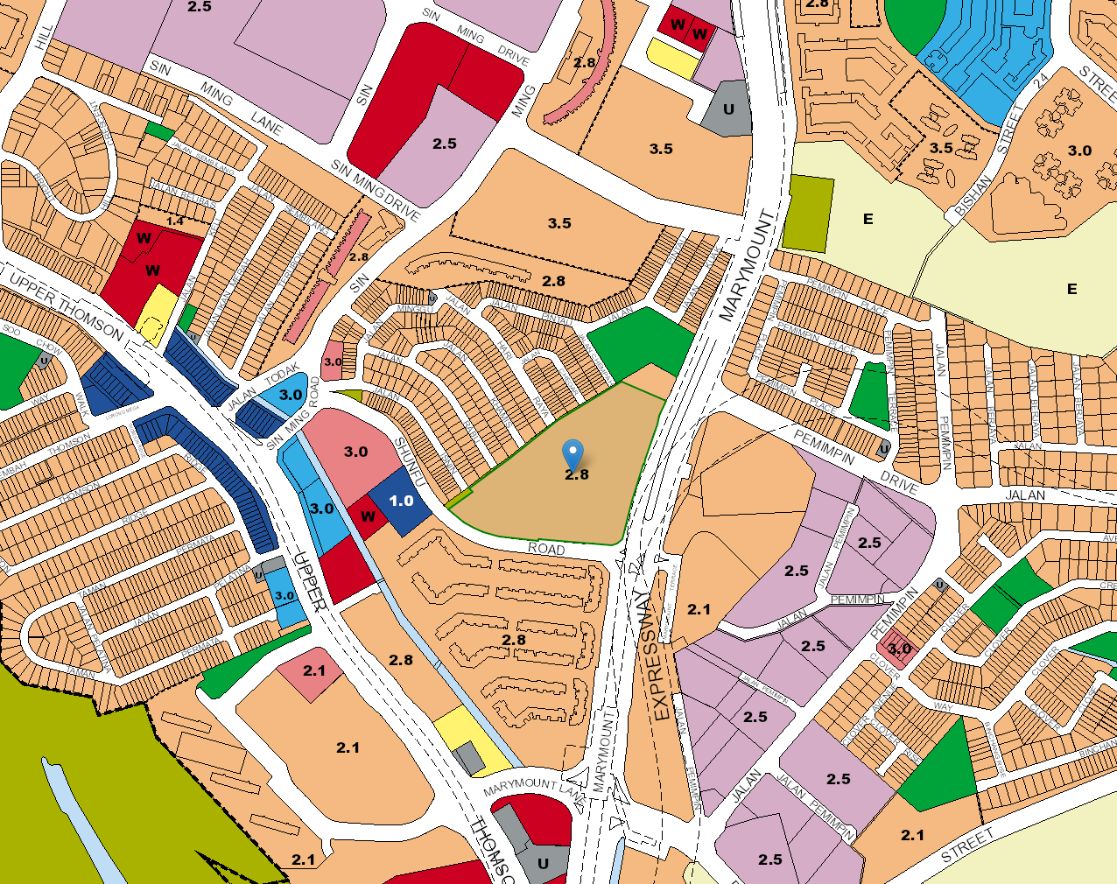 Perhaps the biggest point worth noting is that there are a number of empty residential-zoned plots along the Marymount and Upper Thomson Road areas yet to be released.

Naturally, developments in these areas would help to drive up prices for units at JadeScape.

If you were to take a look at Master Plan 2019, you'd realise that these land plots I've mentioned actually have a lower plot ratio (not to mention, land size), even if they are somewhat closer to the Marymount MRT station.

So with 'fewer total units' allowed to be eventually built here, we could see developers having to price their units higher to meet land costs and profit margins, resulting in a further price hike of the area.

All that, amidst a potentially increased demand of units here – not taking into account near/mid-term economic uncertainties.

Potential rental demand also looks healthy at current time of writing – owing to 2 main factors. Firstly, its proximity to a central MRT station and secondly, its project's novelty + offerings aspect when compared to current and potential residential developments in the area (as illustrated earlier with plot ratios/land sizings).

Yes, there are quite a number of units coming up in the project, and there will be competition between landlords, but I do feel that rental yield will match or just slightly exceed the national average at an approximate 2.9%+.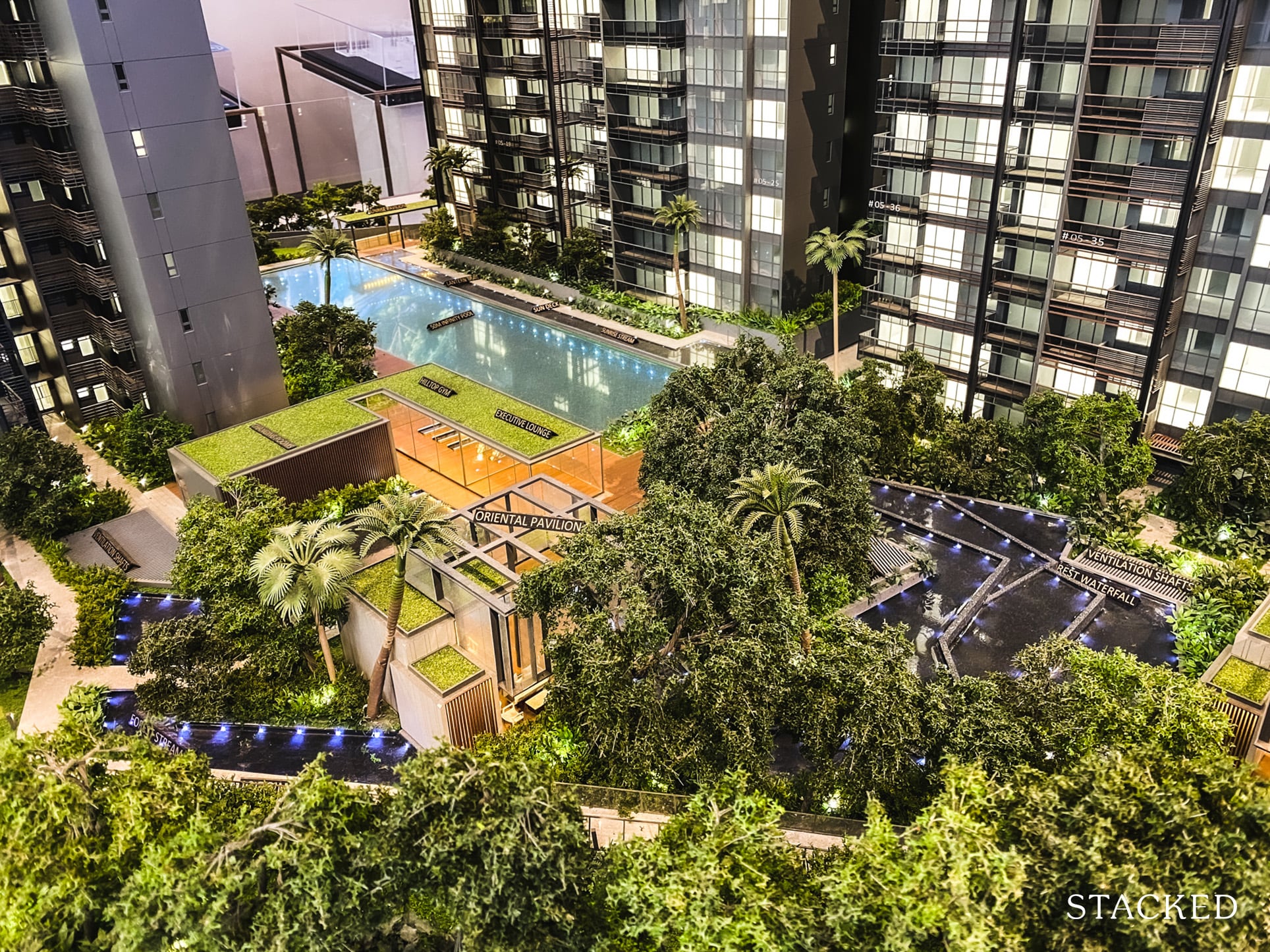 Our Take
What we like
Good facilities

Near MRT

Smart features
What we don't like
–

Possible traffic congestion

–

Traffic noise on Marymount
For those looking solely at New Launch condos, JadeScape does seem reasonably priced for its location when compared to many others (some even without nearby amenities/MRT stations).

That said, there are other older options going at almost $400 psf less in the nearby vicinity. Some of these developments are also freehold projects as compared to JadeScape's 99-year leasehold as you've seen in the pricing review list.

With JadeScape's impending arrival as well as the possibility of surrounding land purchases along Upper Thomson and Marymount Road, we could also observe an increase in unit prices of these surrounding older developments too.

Personally, I do think that JadeScape has a very solid offering, from the unit layouts, to the facilities, and even to the Smart Home capabilities. But because it is released with such a bumper crop of new launch condos, it does have a lot of competition. And not to mention, its immediate surroundings do have a couple of lower priced alternatives.

At the end of the day, be sure to factor in your budget and your residential needs/wants. Are the locational convenience, novelty and added facility offerings of the project something that you'd be willing to fork out extra for? If you have any questions feel free to reach out at hello@stackedhomes.com

Developer Notes:
Qingjian Realty is the current Singaporean subsidiary of Qingjian Group – a Chinese real estate firm established almost 60 years ago in mainland China.

The real estate arm first began its Singaporean journey in 1999 by delving into HDB sub-contracting. It was officialised as the main contractor in 2004 before entering the market first in 2008 as DBSS developers and subsequently in 2011 as developers of the Punggol EC projects.

Unfortunately, both these periods coincided with bad financial periods locally – resulting in low initial unit take-ups. Coupled with the unfamiliarity of foreign Chinese developers and a number of infrastructure incidents involving RiverParc Residence (Punggol EC), the company faced tough initial years as a real estate developer in Singapore.

Through the years, however, the company has grown from strength to strength, and with pure grit and determination has not just withstood these challenges, but in the face of fierce competition, also emerged a multi-award winner of top accolades both locally and regionally.

Famous for their smart-home implementations and lauded for their determination to succeed in new markets, one could think of Qingjian Realty as a forward-thinking developer with a keen eye for successful and in-demand innovation that sets their current new launch projects apart from the rest.
What this means for you
You might like Jadescape if you:
• Appreciate Massive Developments:

Massive land space, massive unit numbers, massive facility offerings. Everything about the Jadescape screams 'big is better'.

• Embrace Efficient Smart-Home Tech:

Yes, this is something you could install manually, but how many of us would actually go to that extent? Having the specialised condo app helps too.
You might not like Jadescape if you:
• Prioritise Affordable Options:

There are many surrounding developments with better tenures and unit pricings that fit the bill provided you are comfortable with residing in older projects.

• Crave Privacy:

With 1,206 units here, it would be nearly impossible to avoid a certain amount of interaction with neighbours or noise disturbances from the condo grounds.
End of Review
Join our Telegram group for instant notifications
Join Now
Reuben