Advice

Is A 1 Bedroom At Parc Riviera Or Parc Rosewood A Better Choice For A Rental Investment?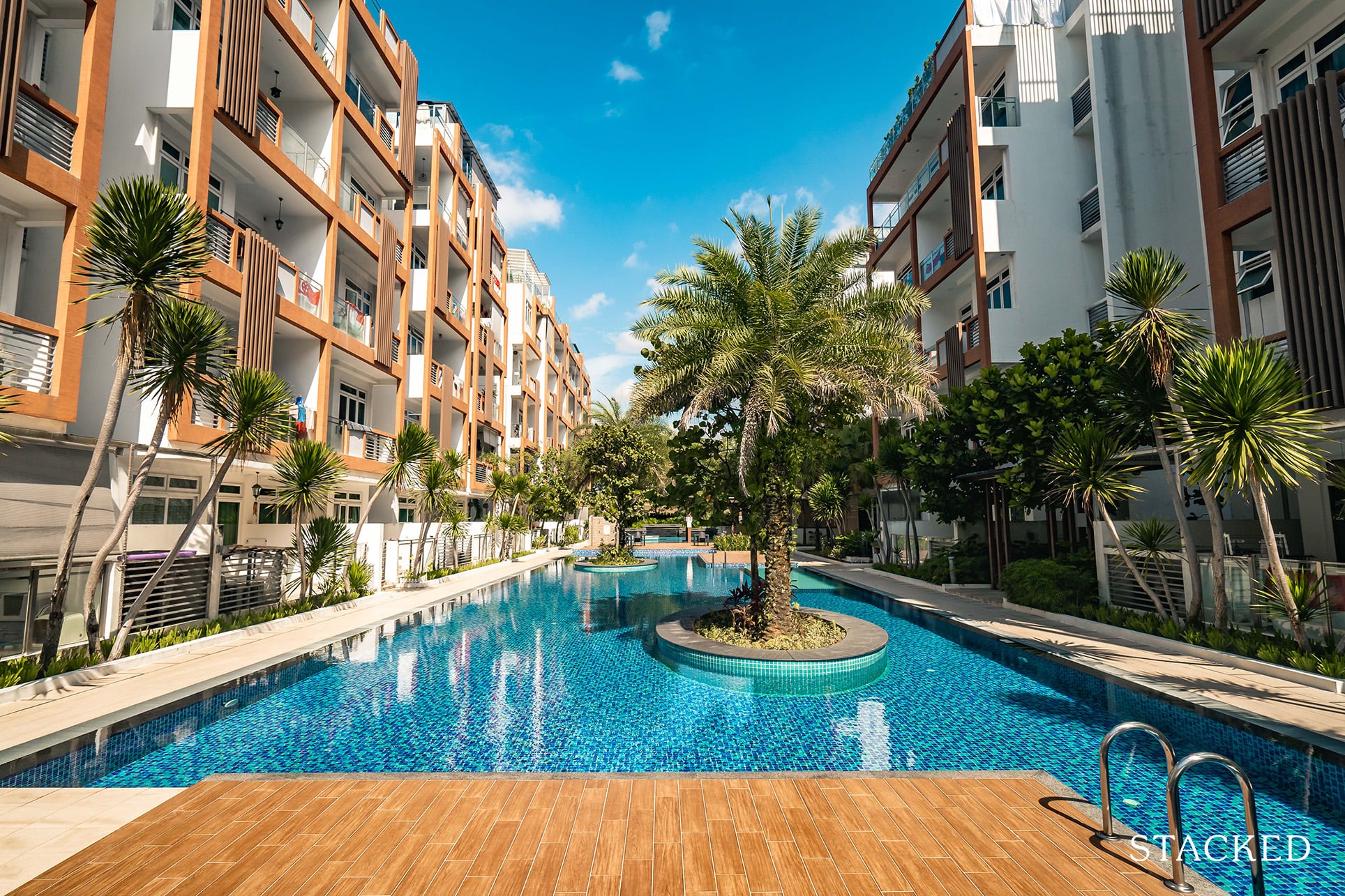 Hi Stacked Homes team!
Thank you always for the detailed reviews you do on homes.
I'm a single looking for a property for rental (and probably own stay in future)
I sold my HDB last year but couldn't really go viewing due to HA2 (and yes, laziness)
My criteria are:
1 bedder, good airflow, brightness but not the scorching sun (if you get what I mean), prefer detached bathroom
for rental, exit probably in 5 years with appreciation but ok to rent on / own stay in future but if there's appreciation, ready to resell
Preferably in the west
in the consideration that this would be my second home loan (the first was with the CPF board), would this be 50% or 75% of the LTV amount? (this would affect my budget)
I'm looking at Parc Riviera and Parc Rosewood. I would like to get some advice from you on the comparison of these two, or if you have any other suggestions.
Thank you!
Regards
---
Hey there,
Really appreciate the kind words – we try our best! Totally understand your feelings of laziness when it comes to property viewing, sometimes it can be more work than people might imagine! Now I'm not sure if it's by chance or if you've done your homework, but both developments that you've narrowed down to are located in two distinct districts which are undergoing a major transformation under the recent Urban Redevelopment Authority (URA) Master Plan.
We'll get to the meat of the reply in a bit, but do correct me if I am wrong. From the information provided, you currently do not hold any property on hand since you sold your flat last year.
If so, that means you are categorised as a first home loan buyer; eligible for a 75% LTV since it will be a private property purchase. Also just for your information, factors such as age will affect the loan tenure and LTV amount and since it is a private property purchase; you will obviously be taking a bank loan. If you haven't done so already, you should check with your preferred banker on the loan eligibility, and it's really best to get an IPA ready prior to house viewing. This is to have a gauge on your maximum loan amount eligibility and it directly helps to set your budget for the property purchase.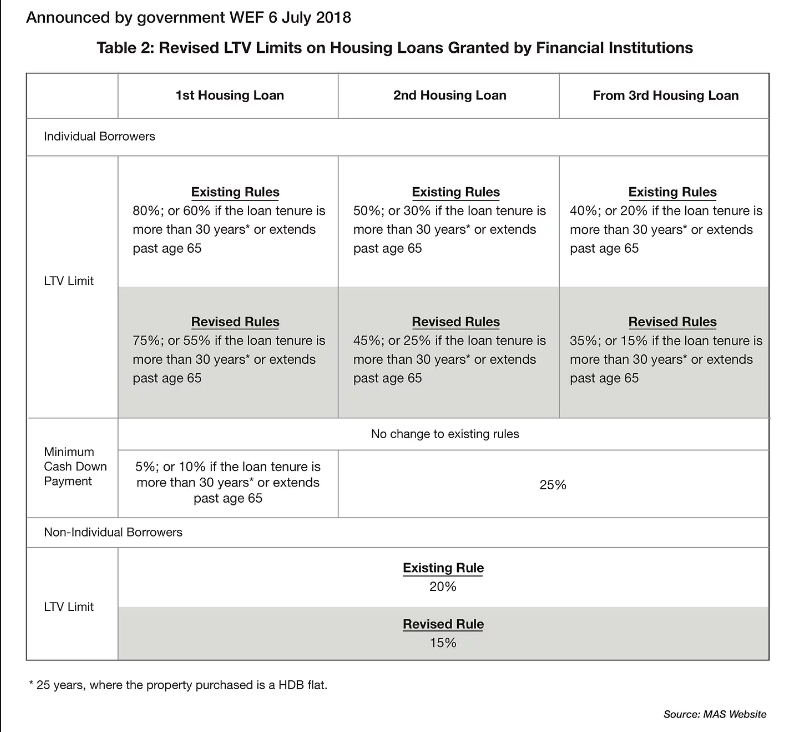 Now let us highlight our views on both developments and their future potential.
Let's start with Parc Riviera.
Parc Riviera
Parc Riviera is one of the three trios of condos located in the deeper end of West Coast Vale.
Spanning a total land size of 203,533 sq ft with 752 units, it is quite dense. Just for your comparison, its neighbours Whistler Grand is slightly bigger at 210,883 sq ft with 716 units, and Twin VEW has 176,293 sq ft with 520 units. So it doesn't take a maths whizz to figure out that Parc Riviera fares the worst here!
Having TOP-ed back in 2019, Parc Riviera is a relatively new project (although it is the oldest among the trio) and offers a full range of facilities including a tennis court and a few half courts; great for sports enthusiasts. Personally, we do like the sky parks located on the top floor (36th floor) of each of the tower blocks. It's always a great facility for residents to enjoy the breeze and panoramic view of the vicinity – especially so if you've purchased a lower floor unit. In terms of amenities, it is quite a distance away though there is a Fairprice Xpress in Twin VEW for basic necessities. For more amenity options, West Coast and Ayer Rajah are located slightly further away. In terms of major malls and MRT stations, Clementi and Jurong East is still a bus ride away and not at a walkable distance. You are close to the AYE entrance though, so at least you've got road connectivity going for you.
As it is located right next to AYE, do be mindful of traffic road noise since all four stacks of the one-bedroom units face the AYE directly. Price-wise, it has appreciated well over the years with its current average of $1,4xx PSF and is currently transacting at a low $7xxk on average with a gross rental yield of 3.9%; which is quite commendable for a shoebox unit type. Notably, only 3 out of 30 resale transacted this year comes from the one-bedder unit type, which could point to good rental demand, but is more likely due to the fact that the one-bedroom is the smallest in terms of its unit mix. You'd want to be mindful of the supply of one-bedroom units in the area though as there will be further supply from Twin VEW and soon to TOP Whistler Grand which has already seen a few sub-sales transacted.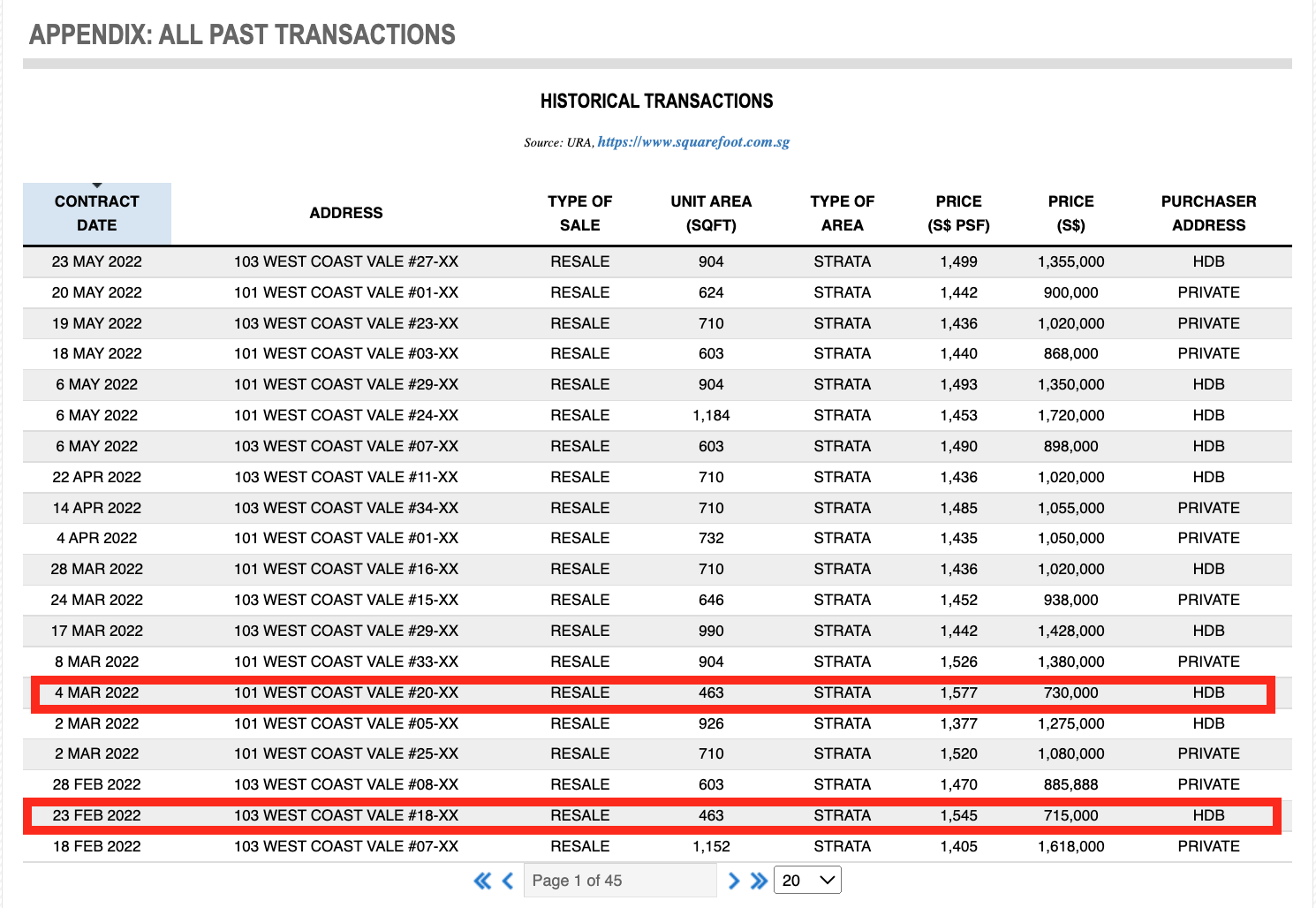 Layout Analysis: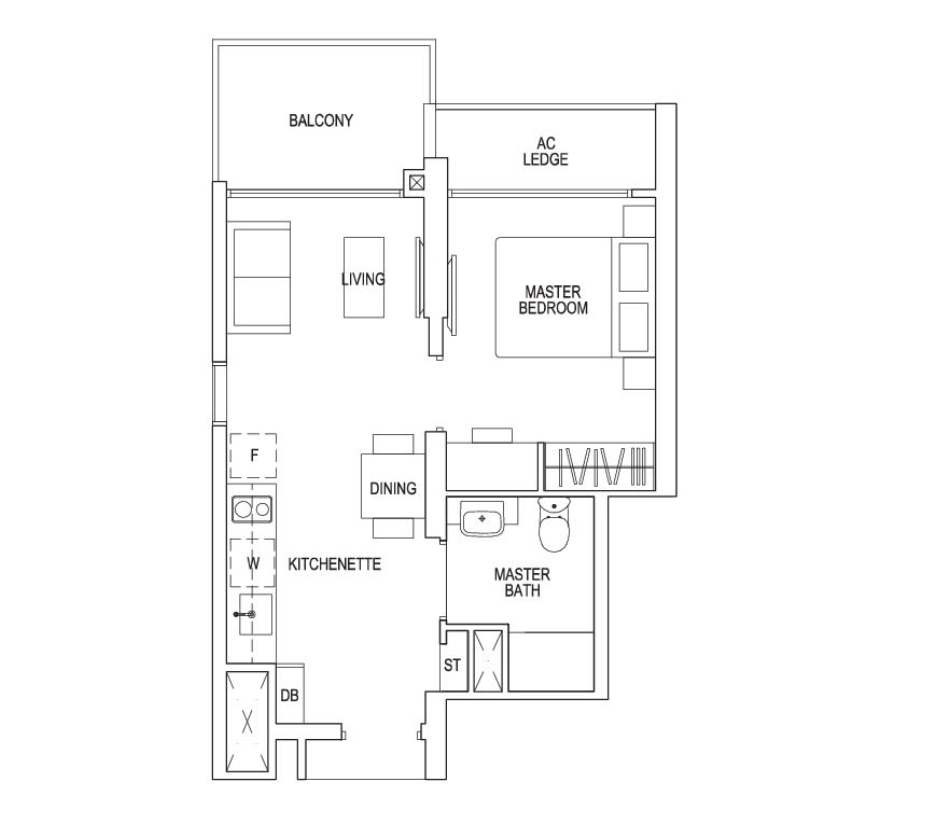 At 463 sq ft, it is well laid out and efficient in terms of liveability and practicality – at least, as much as a unit of this size could possibly be. Like most one-bedder unit sizes in recent years, the main door opens straight to the kitchen area with decent countertop space and a detached bathroom which is one of your main criteria for unit consideration.
Personally, we do like the attention to detail that the developer has looked into designing this layout. Firstly, additional storage space is provided tucked at the main entrance. Secondly, despite the size, an empty area right next to the bedroom wardrobe allows for the flexibility of an additional storage space/dresser or even a study table! Lastly, the unit also comes with an additional window panel right next to the suggested sofa set-up which allows for natural light.
Some of the less ideal points for the layout are the A/C ledge is located on the front side of the unit; this hinders the bedroom view hence the half-length window configuration. Additionally, the bathroom lacks ventilation windows for natural ventilation and the dining area is pretty tight, especially if you were to host guest(s) over for gatherings. Its location by the wall is also limiting as you are bounded by the entrance to the bathroom or the bedroom. However, at the very least the size of the balcony area allows for an alternative al-fresco dining option.
Parc Rosewood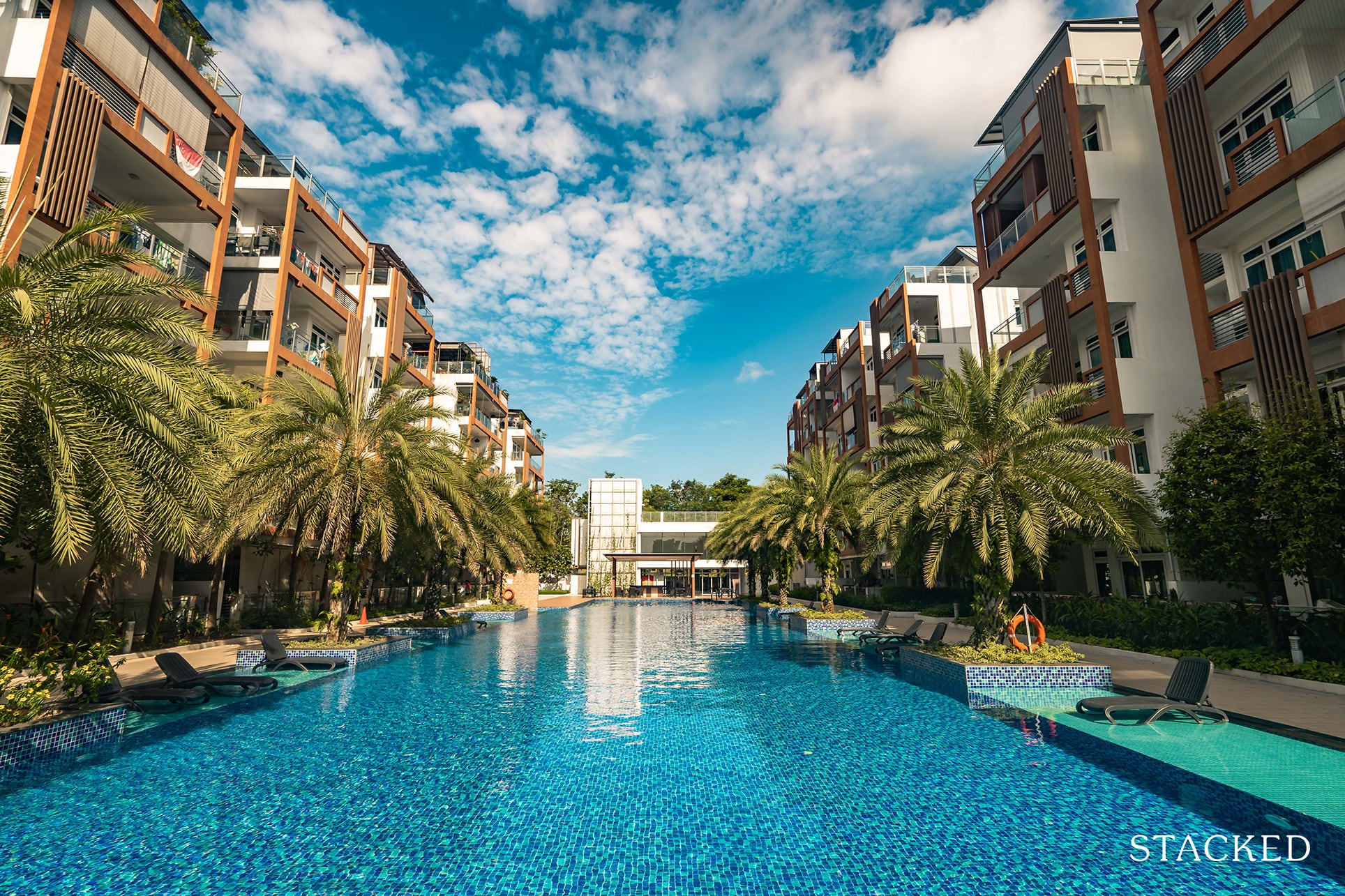 Spanning a total land size of 300,000 sq ft, Parc Rosewood is a low rise development condo development with a full range of condo facilities including its own minimart, hair salon, tennis court and believe it or not, 10 swimming pools of different sizes, which is one of the main selling points here. On a side note, we have done a full review on Parc Rosewood 2 years back.
Of course, do note that the resale market sentiments may have changed over the years, especially for its attractive quantum for the one bedder (Non-PES) units.
This is further backed by data that over 94 units entered the resale market just last year and to date in 2022, 25 of them have been resold, with 7 of them the non-PES one bedder unit type; this indicates healthy demand for the development. PSF$ wise, it has risen slightly only in recent years. But you should note that there is quite a few penthouse unit mixes here (a common issue for low-lying developments with many blocks) which indirectly pulls down the whole development PSF$ hence it may not be a good comparison. The one-bedroom units here do offer a great rental yield of 4%, as this is due to its low entry price.
However, the development is located right at the end of Rosewood Drive, which is quite a distance away from amenities and the dual-Line Woodlands MRT Station. Similar to Parc Riviera, the development is located along an expressway, SLE. As a result, certain stacks may face direct traffic noise from Woodlands Avenue 2 and SLE. In addition, with over 15 low-rise blocks, inner stacks may be too close to opposite blocks hence privacy may be an issue here.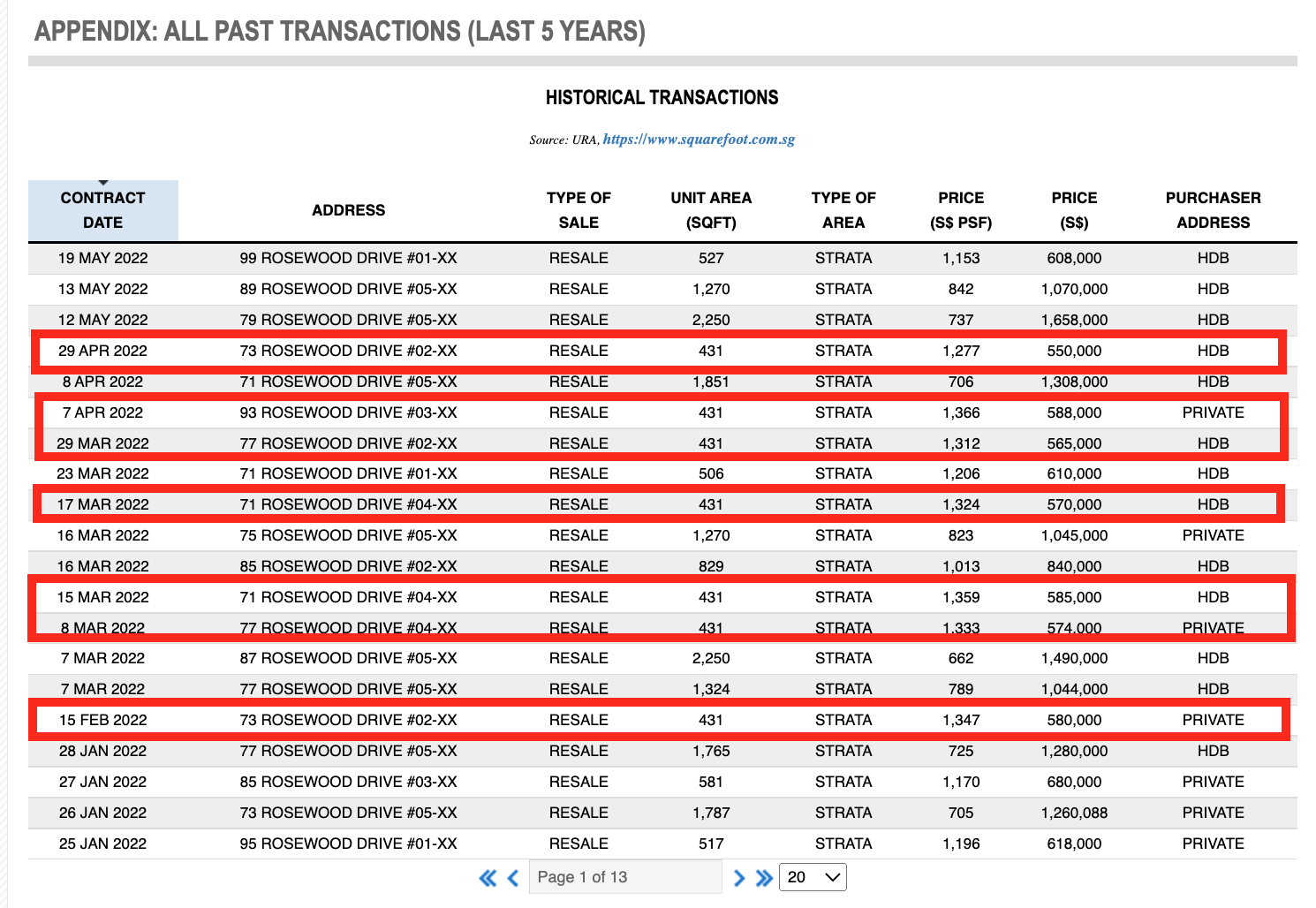 Layout Analysis: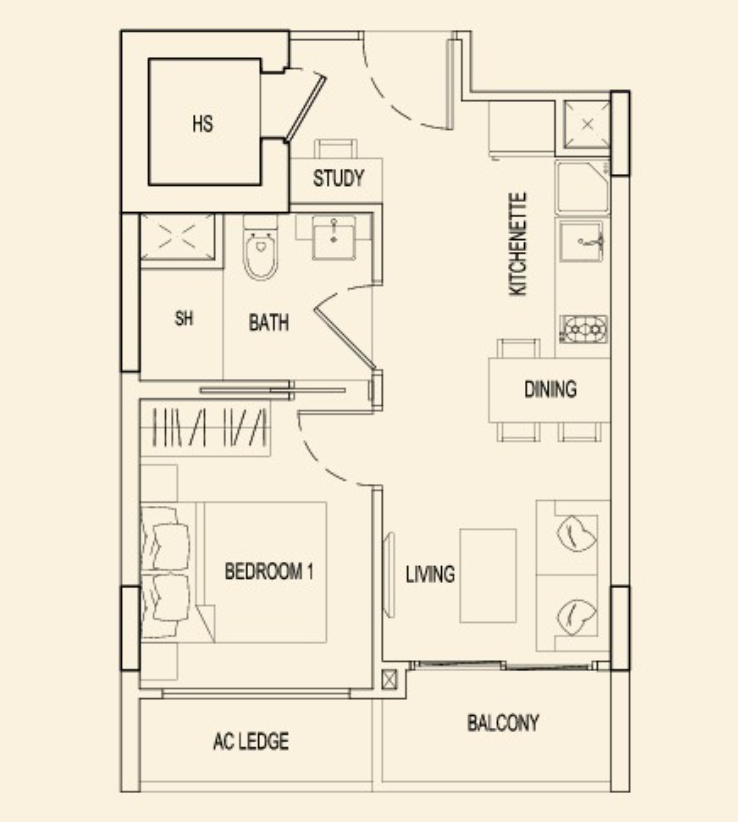 There are a few unit layouts for the one-bedder units here, both of which are 431 sq ft in size and are equally efficient and squarish.
The common layout here (above) opens directly to the kitchen area and an-in household shelter located on the left side of the unit. For its small size, it is quite astonishing to see how the developer is able to fit in a household shelter. That said, while this is great for storage space not many people may be happy with this given the already small size of the apartment. Additionally, the front foyer area could potentially fit in a study area or a shoe cabinet space.
On another note, this layout comes with a Jack & Jill bathroom set-up, this is a compromise of a detached bathroom but at the same time, it provides great convenience for toilet access via the bedroom.
Similarly, the A/C ledge is located on the front side of the unit; which hinders the bedroom view hence the half-length window configuration.
Last but not least, the bathroom lacks ventilation windows for natural ventilation and the dining area is pretty tight, which is less ideal for a 4-seater dining set.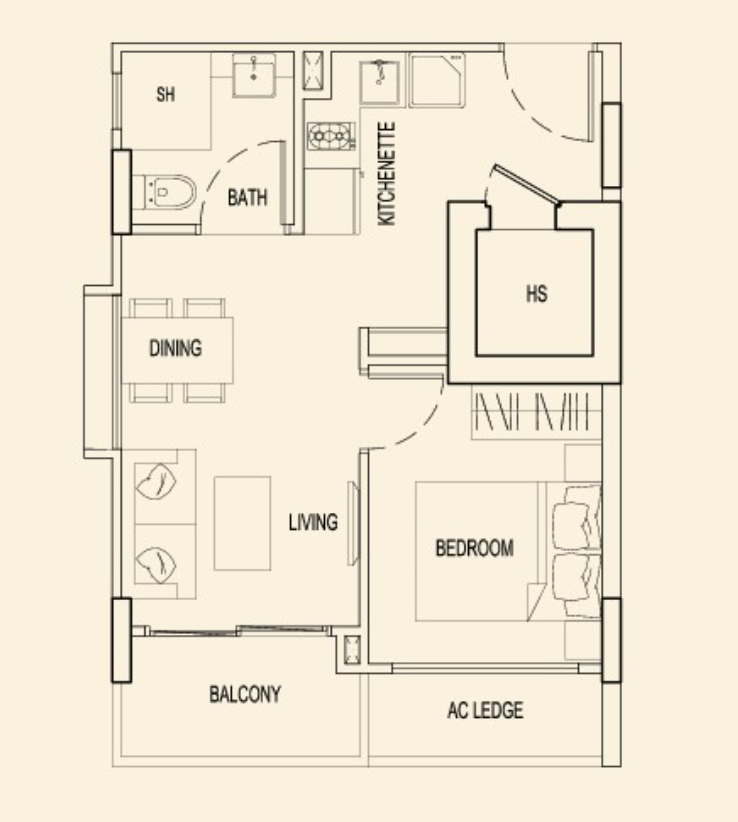 Another option that ticks most of the boxes for unit functionality and layout efficiency is the corner unit layout (few stacks only) which allows for privacy too. The unit opens to an L-shape kitchen area, though we must highlight it lacks countertop space. It also comes with an in-unit household shelter which could be used for storage and there is a proper DB box cabinet provided by the bedroom access which lacks in the other layout.
With a compromise in kitchen space and a suggested study area, it allows for a decent size living and dining area – which could fit in a 4-seater dining set rather comfortably. It also ticks your box for a detached bathroom layout and in addition, the bathroom comes with a proper ventilation window – a rare commodity for a one-bedder unit. Certain corner stack also comes with additional sliding window panels which allow for cross ventilation and more natural light into the unit.
Future Potential:
Western region potential
Based on the latest master plan, there are plans added in the western region.
As most would know by now, The Jurong Lake District (JLD) will be the largest mixed-use business district outside the city centre.
With plans to offer quality offices, housing, amenities, and abundant green spaces, the space will be quite a bit different in the future. This in return, will likely push up the prices for resale developments in the district as the population grows as more people move closer to their workplaces – this is great for a future exit strategy. However, as always do take note that the full potential of JLD will likely be beyond 2030.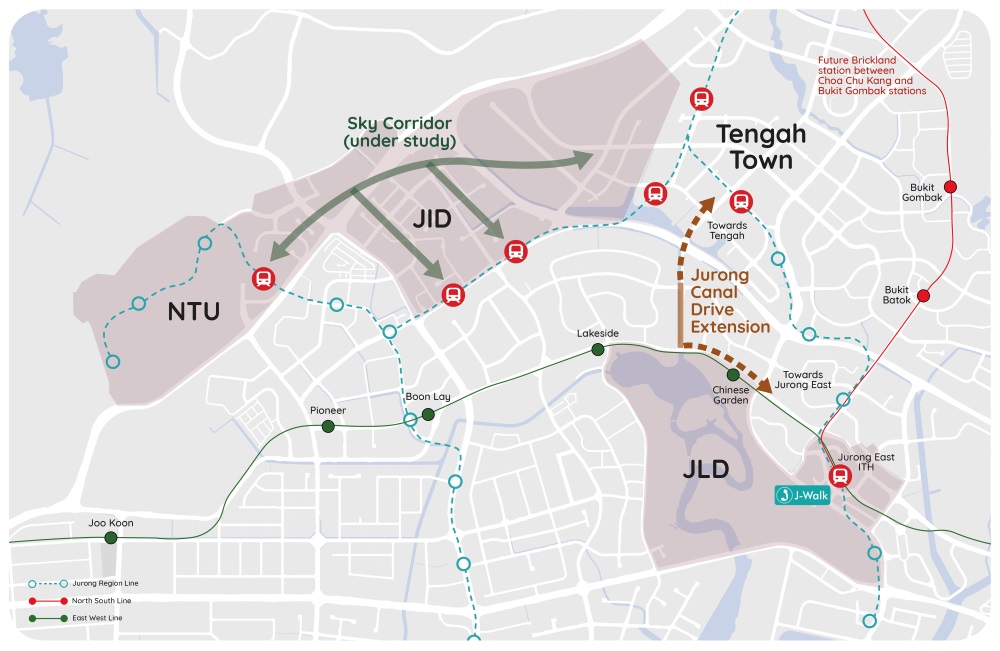 Cross Island Line (Potential):
In recent years, LTA has released its latest Land Transport Master Plan (LTMP 2040) for better connectivity with the Cross Island Line in the plans. Though it is still under planning for the western phase, we do hope for a possible MRT Station nearby since the CRL's main purpose is to serve existing and future developments in the Eastern, Western, and North-eastern corridors, connecting major hubs such as Jurong Lake District, Punggol Digital District, and Changi region.
If it materialises with a possible station is built in the West Coast district, Parc Riviera will definitely benefit from it. The new line will improve public transport connectivity for the West Coast Vale cluster, which is in dire need of one. This could indirectly give a price boost to the area in years to come and it works well since you are looking to exit sometime in 2030 when the first phase of the line will be up and running.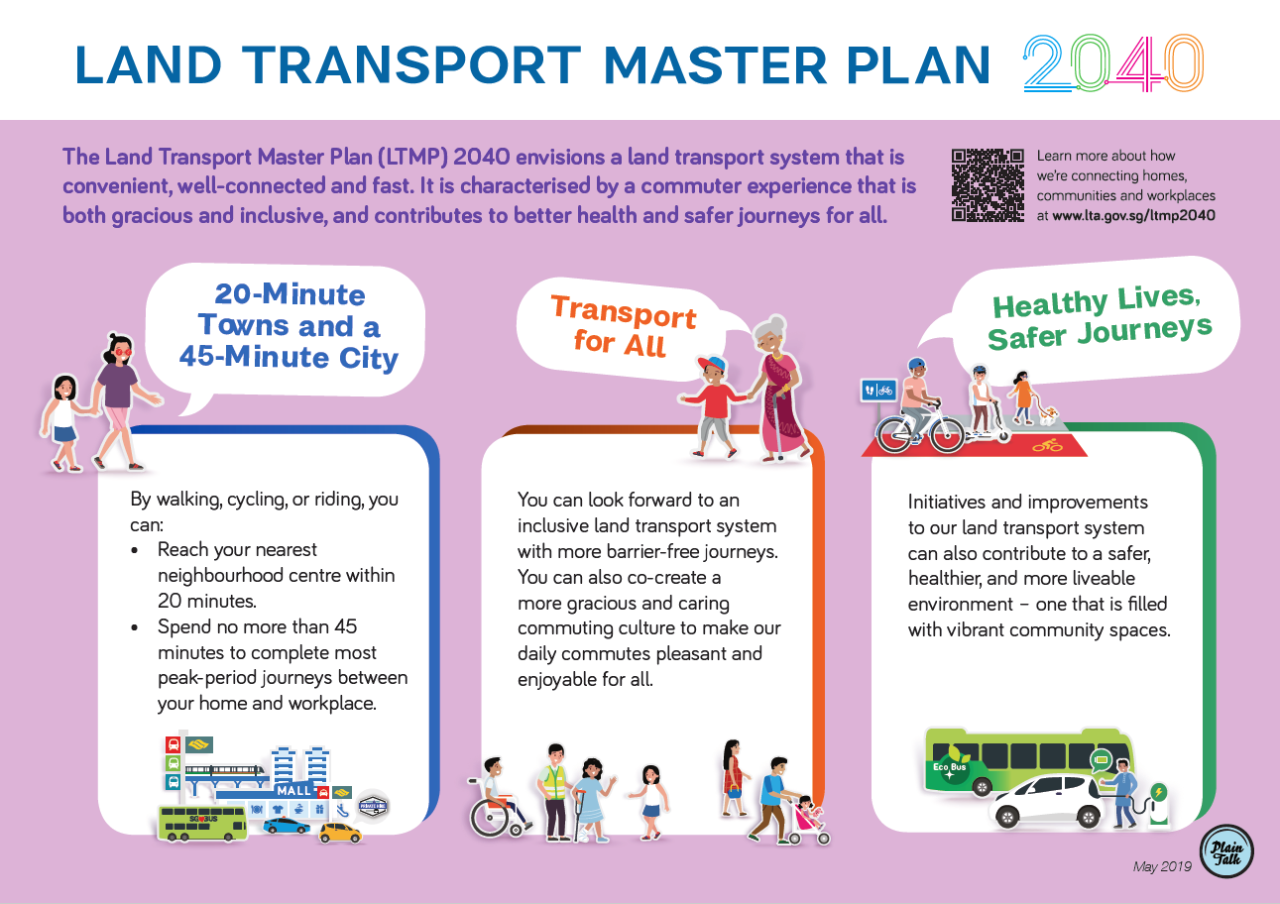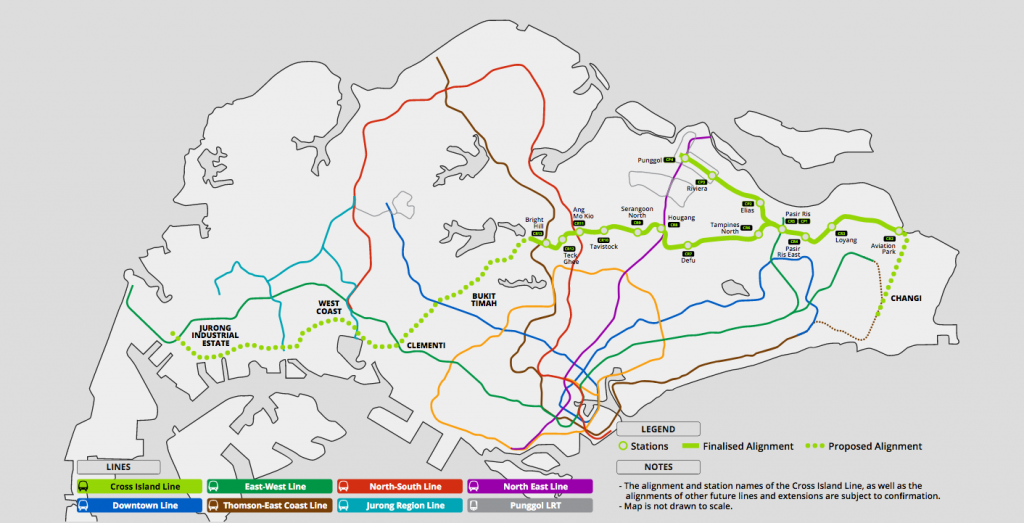 Star destination of the North:
And over at Woodlands, the area will see new developments added into the neighbourhood over the next 15 years. There are plans for new spaces for business, industry, research & development, and learning & innovation will be introduced to Woodlands Regional Centre. This will integrate the mix of uses in the north and connect the future Agri-Food Innovation Park and Woodlands Regional Centre.
There is also the Woodlands Health Hub to look forward to in 2023, as job opportunities will be added to the area. And with more job opportunities, these lead to potential tenants, and added to the lack of supply of new launches in Woodlands, there will be good support for the demand for the current resale developments in the district. Hence, we foresee a stable rental market over in Woodlands fuelled by demand from potential tenants that are looking for rent closer to their workplace.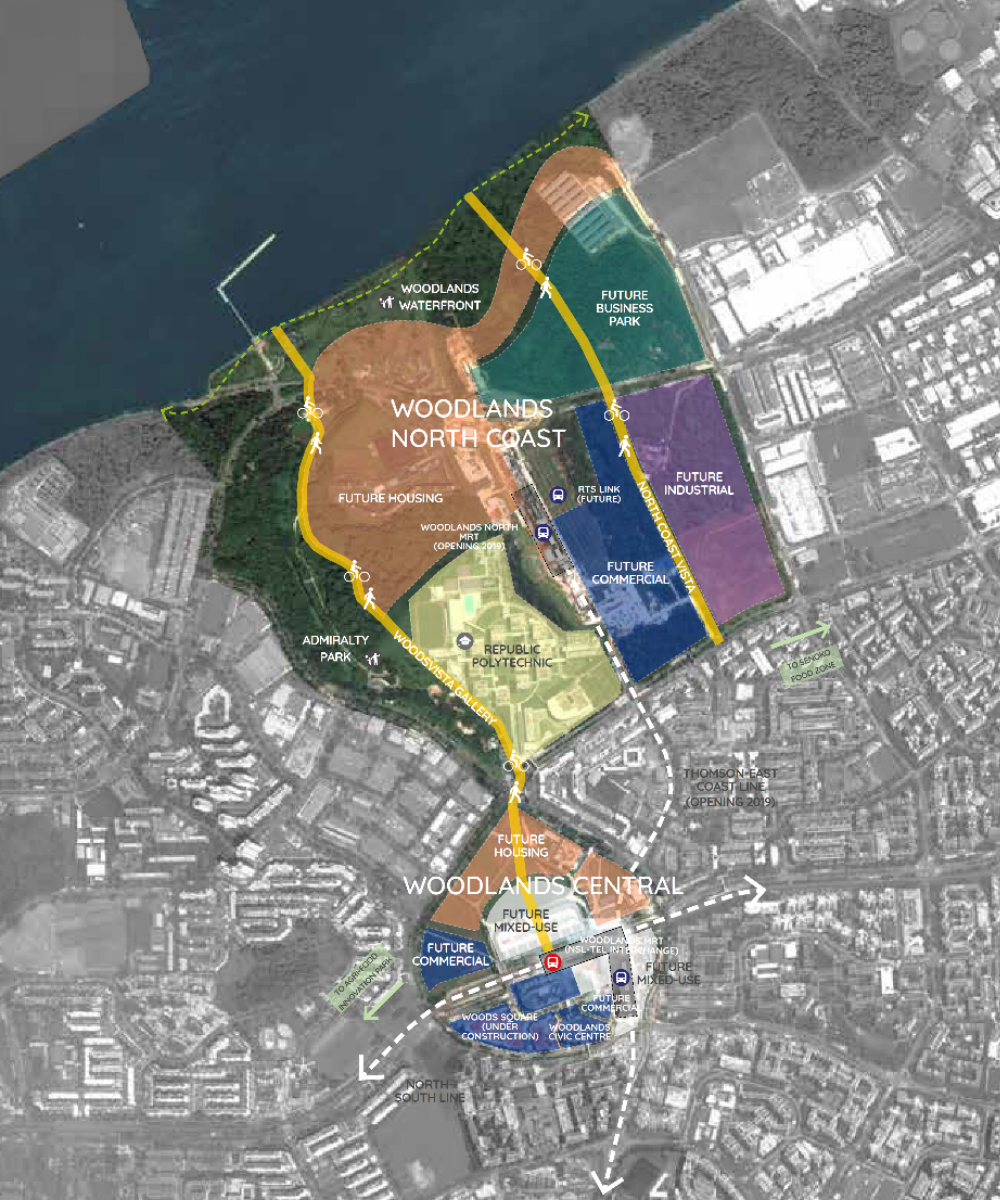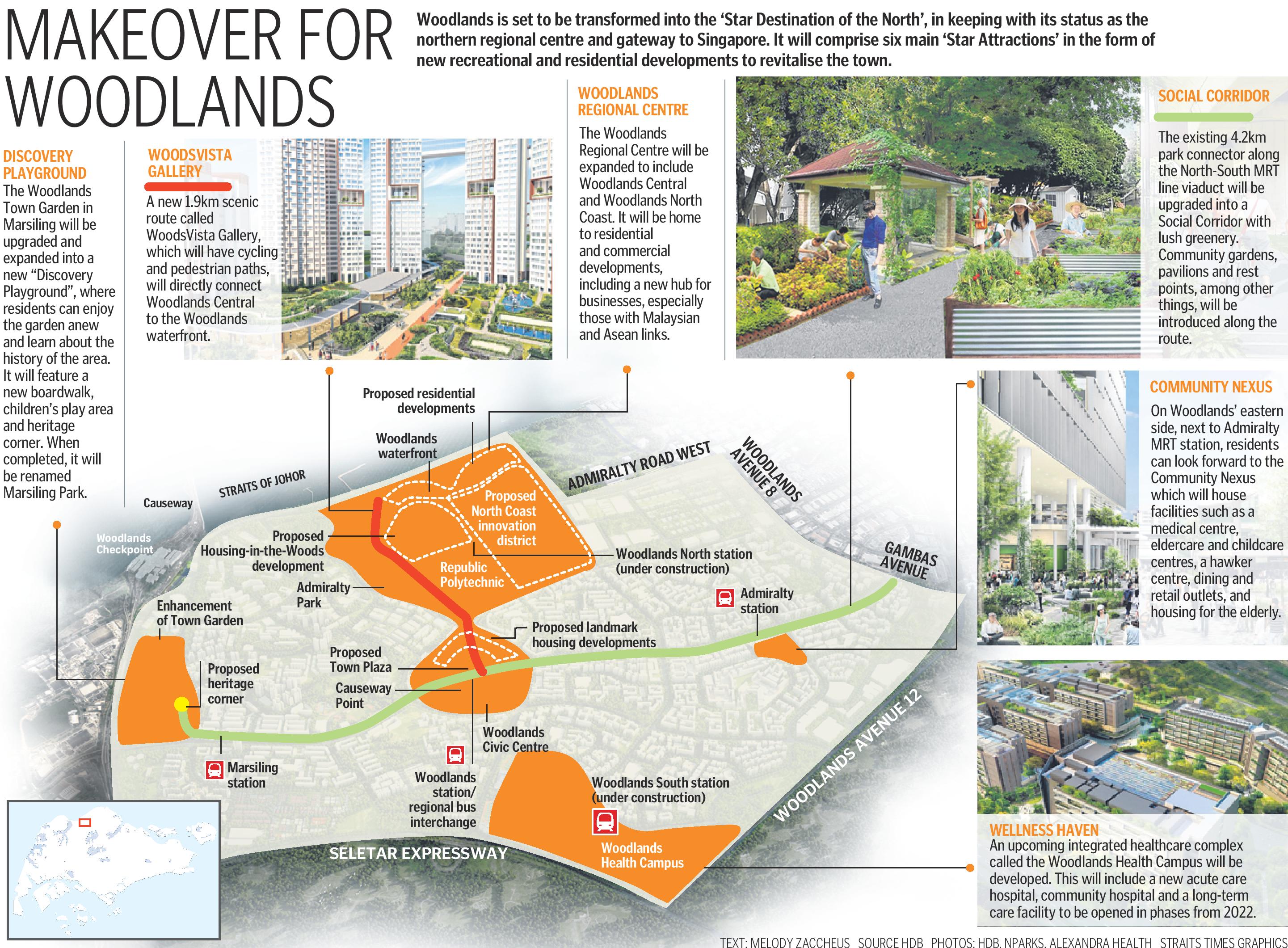 Conclusion:
Given you do prefer the West, and that this purchase could double up as an own stay option for you in the future, we'd say that it makes more sense to choose the option that you prefer the location of – as it is quite a coin toss between the 2 at the moment.
Between the two, Parc Rosewood ticks the box if you are looking for great rental and potential for a slight uptick in the short term due to the limited supply of private developments in the district. This is because potential buyers/investors can only opt for the resale developments including Parc Rosewood. However, while you could face more competition internally when it comes to rental and future exits as there are over 400 one-bedder units in the development itself you do have to note that on the other hand, there are not many one-bedder unit types in District 25 as a whole. For example, Woodhaven located close by has mostly loft unit types and is not as relevant.
As for Parc Riviera, well, it is just easier to recommend as it is your preferred locality in the west. It also offers a decent rental yield of 3.9% for the one-bedder unit type. However, the transformation of the JLD is something that could take a longer time to materialise. Hence, your 5-year exit plan (we aren't sure how strict that is) could be a cause for concern here given that the JLD is mooted to likely take place in 2030 and beyond.
In short, we'd say that as of now Parc Rosewood may suit your timeline more, but Parc Riviera will probably be a better bet if you can hold for long as it is newer and has a greater potential in the future due to the upcoming JLD.
Alternatively, if you are not in a rush to purchase the investment unit, you may like to consider a Whistler Grand sub-sale unit since you do prefer the West side. Soon to reach TOP Whistler Grand offers a good range of facilities and is the newest among the trio developments along West Coast Vale. Developed by a reputable developer, CDL and in terms of price quantum, it is worth pointing out that the one-bedder units here are transacting just slightly higher ($745,000 – $770,000) as compared to Parc Riviera ($712,000 – $730,000) in the sub-sale market based on this year's transactions. Added with an upper hand of being a new novelty, depending on the overall outcome of the product – potential tenants may be willing to pay a higher premium for new units when it comes to rent, which would be a better yield.
For exit strategy, Twin VEW with the only stack of one bedder with direct West facing is already transacting in the $8xxk range in recent months which sets the threshold mark for one bedder units in the West Coast Vicinity. Hence, Whistler Grand may have the upper hand of another price uptick if you were to enter the sub-sale market as it is newer and has a decent entry price – a new condition development as compared to a 3-year old development in Parc Riviera.
Whistler Grand Sub-Sale: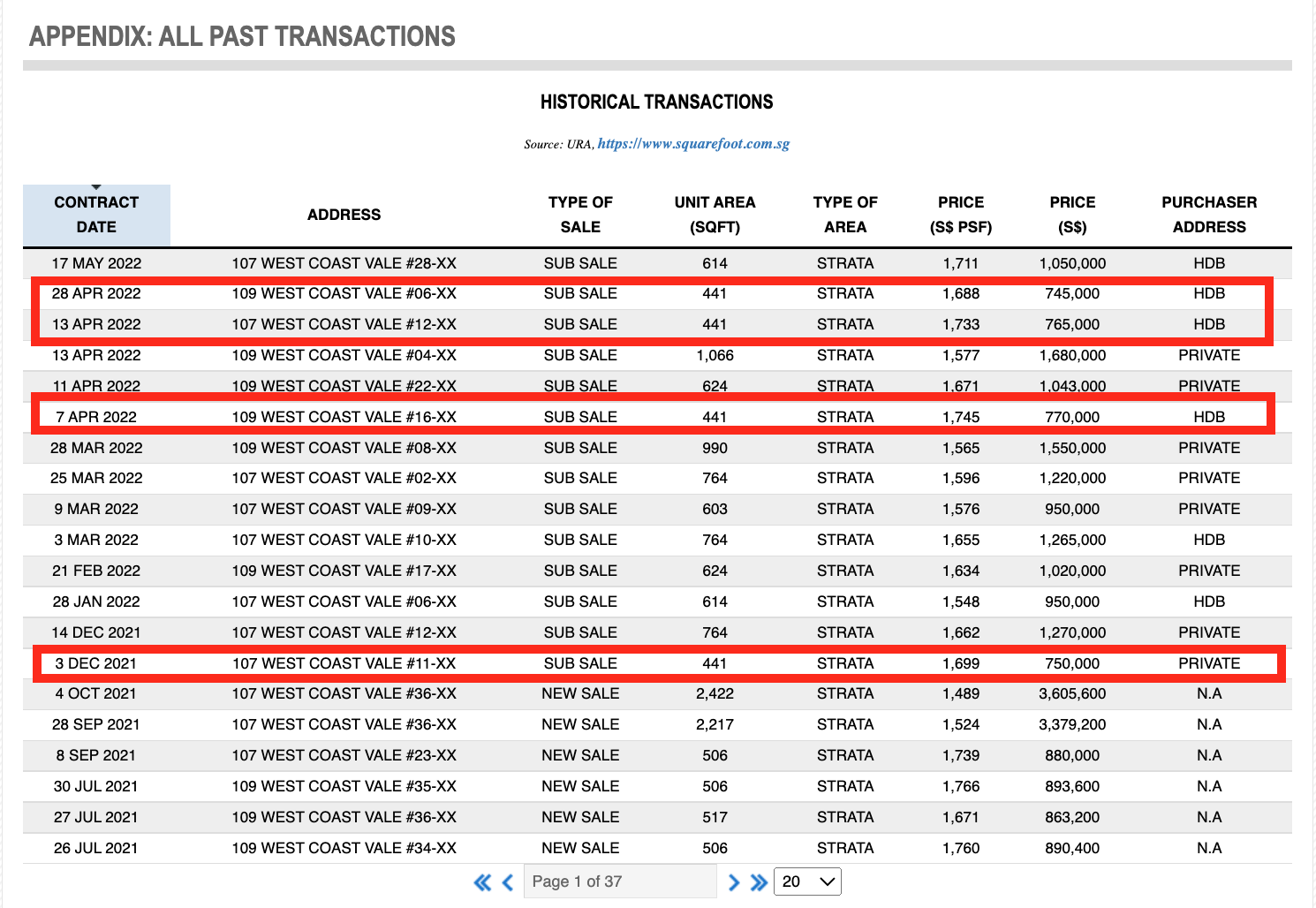 Parc Riviera Resale: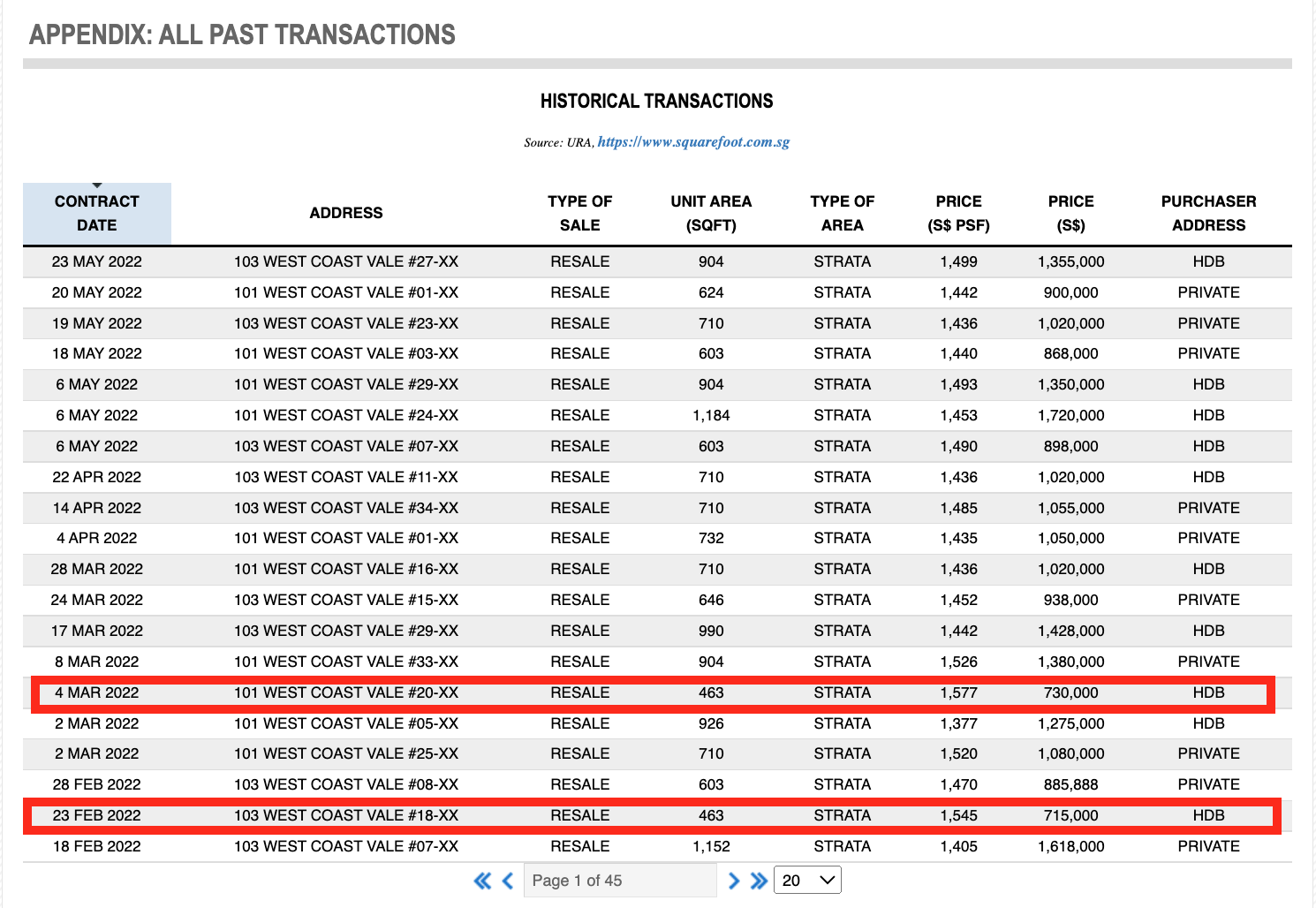 Twin Vew Sub-sale:

Layout analysis:
Layout-wise, despite its small size of 441 sq ft, it is relatively efficient and decent.
The unit opens up to an open kitchen with ample countertop space and a neatly tucked DB box and storage cabinet. As shared, with a Jack & Jill set-up, it is a compromise of a detached bathroom but you could potentially seal one door off if need be. The dining and living area is pretty wide for a one-bedroom unit and based on the plan here, you could fit in a 4-seater dining set but it is going to be quite cramped overall.
However, the bathroom lacks ventilation windows for natural ventilation and like most one-bedder units in recent years, the A/C ledge is located on the front side of the unit; hence the half-window setup.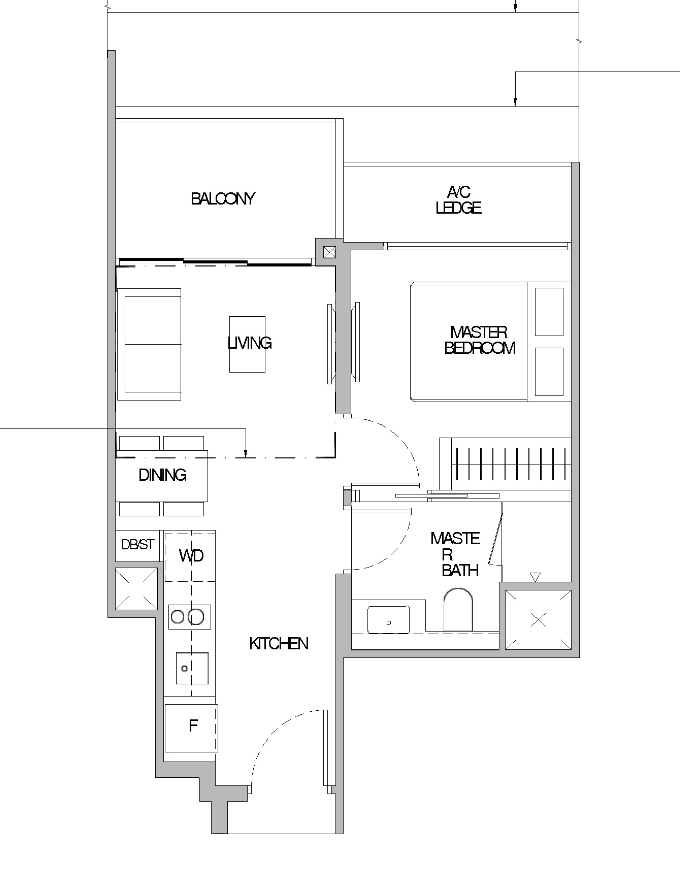 It's been quite a long one, but we hope this has gone some way to help!
With this, we hope that this would prove useful in your decision-making.
Have a question to ask? Shoot us an email at hello@stackedhomes.com – and don't worry, we will keep your details anonymous.
Looking for a home? Feel free to reach out to us here for a more in-depth consultation.
For more news and information on the Singapore private property market or an in-depth look at new and resale properties, follow us on Stacked.