Advice
I'm Looking For A 3 Bedroom At Parc Riviera, Twin VEW, Whistler Grand Or Lake Grande. Which Is A Better Choice For $1.5 Million?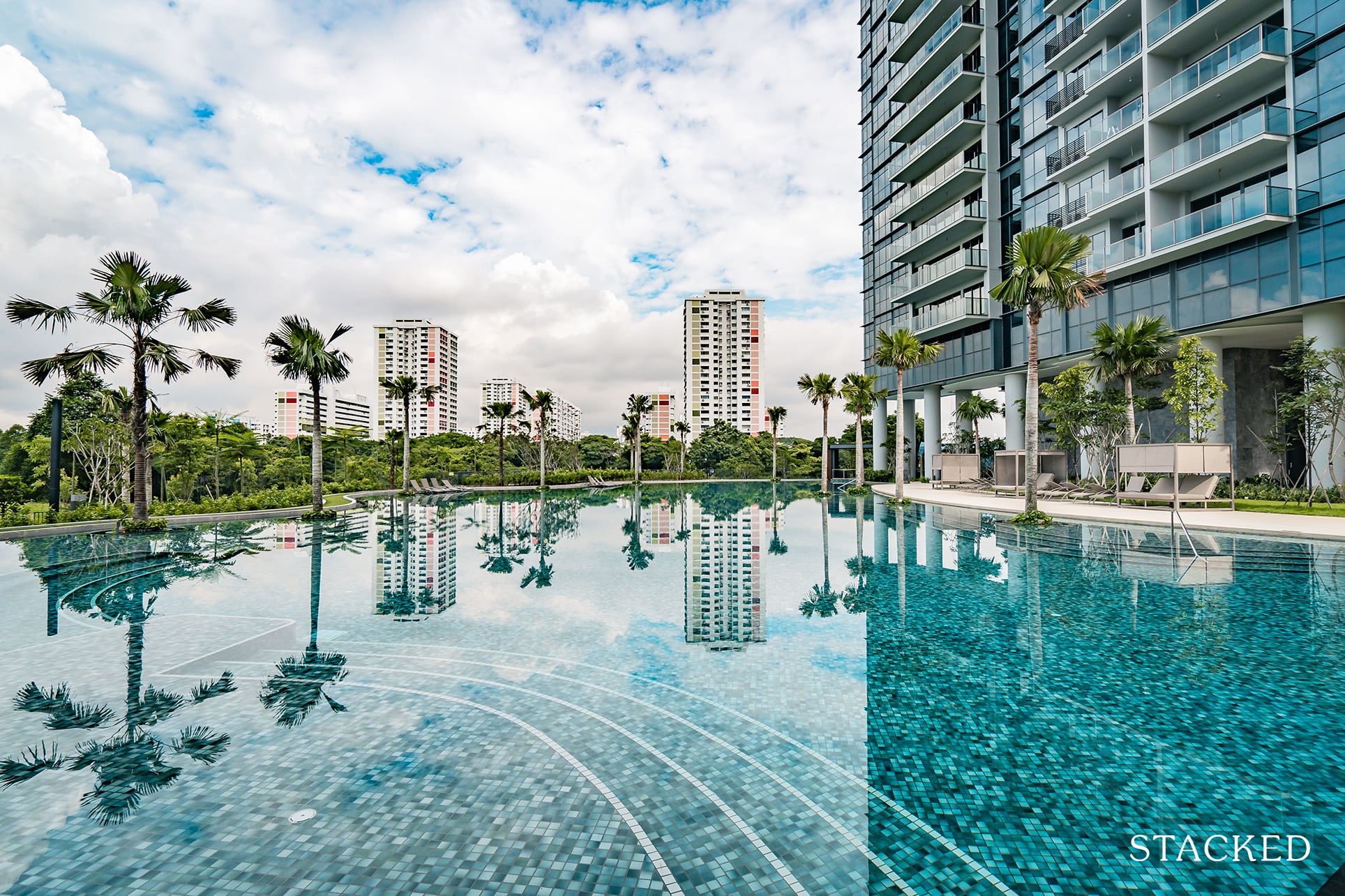 13
min read
Hi there Stacked Team!
We are a couple in our early 30s and firstly we just want to thank you for all the great articles that you have been writing on a regular basis. They really helped to educate us on the property market in Singapore.
We are now looking for our first matrimonial home and we are looking at the West Coast area; specifically Parc Riviera, Twin Vew and Whistler Grand. We are also interested in Lake Grande since it TOPed recently. Our criteria is:
at least 3 bedrooms and 2 bathrooms
High floor with good air-flow for balcony
Looking to exit in 2030 with some appreciation
Budget of max 1.5M (but we are open to stretching this if a good unit comes up)
We would like to know your thoughts on which development would be best for us. Thanks!
---
Hey there,
Thank you for writing to us and thanks for your kind words and support.
The West Coast area is a great place to live in, as it is still not as dense as some other areas in Singapore. The three that you've picked in the West Coast Vale cluster (Parc Riviera, Twin VEW, and Whistler Grand) are very similar developments, with smaller land plots and distinct high-rise towers.
In terms of amenities, it is quite a distance away though there is a Fairprice Xpress in Twin VEW for basic necessities. For more amenities options, West Coast and Ayer Rajah are slightly further away. For major malls and MRT stations, Clementi and Jurong East is still a bus ride away.
In terms of road connectivity, the AYE entrance is located right at the corner. However, do take note that the stacks that are located along major roads/expressways will get affected by traffic road noise.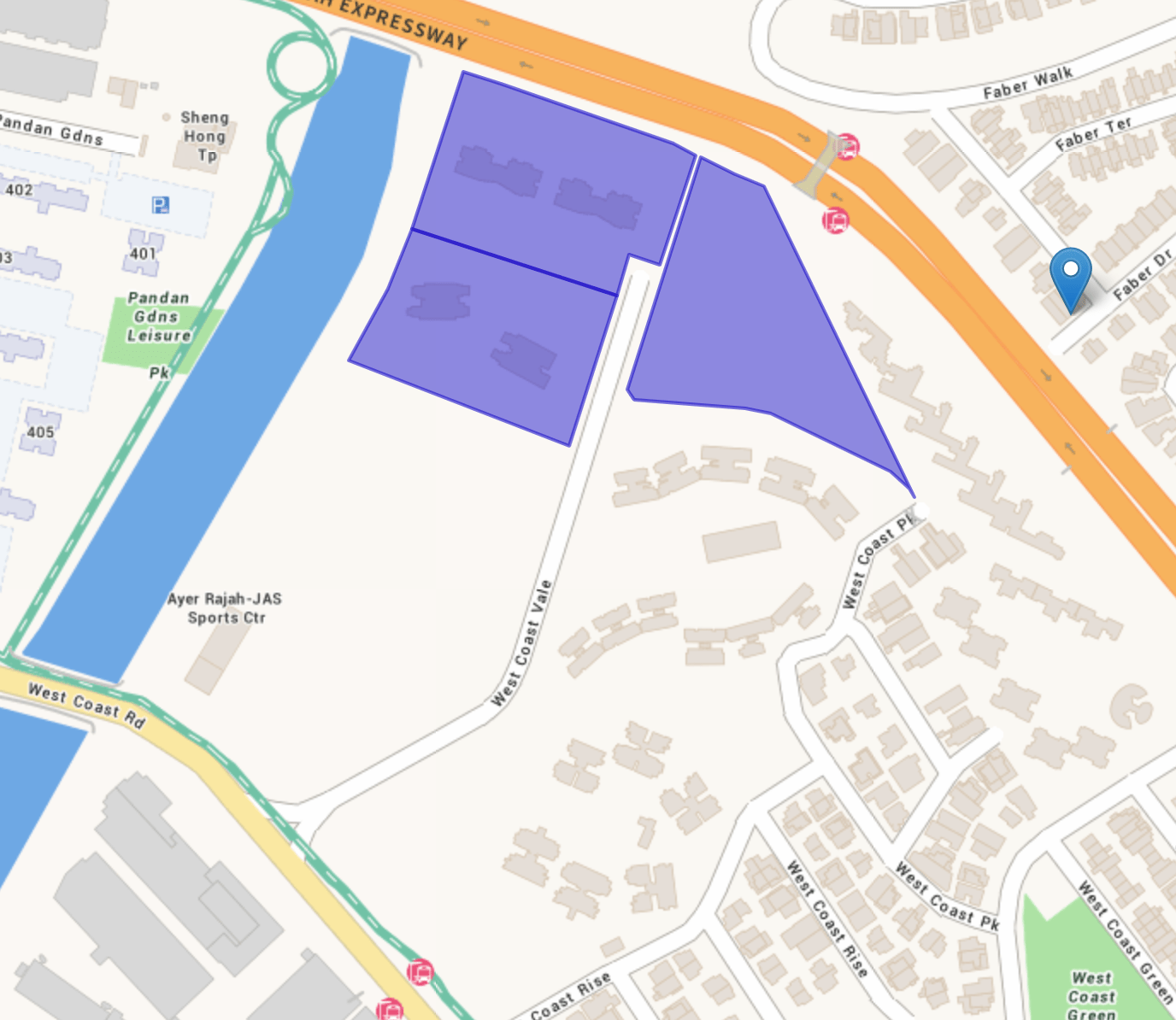 Lake Grande on the other hand offers convenience to Lakeside MRT station and amenities over at the HDB estate. It also offers a scenic Jurong Lake view for most of the 3 bedrooms stacks.
Parc Riviera:
Let's start with the oldest development of the trio – Parc Riviera. It was completed in 2019, so Parc Riviera is a relatively new project. With a total of 752 units, the development does offer a full range of facilities including a tennis court and a few half courts for sports enthusiasts. Additionally, there are also sky parks located on the top floor (36th floor) of each of the tower blocks for residents to enjoy the breeze and panoramic view of the vicinity, although if you are after views Twin VEW is the better-located development as it isn't blocked by any tall development in the front of it.
In terms of land size at 203,533 sq ft it comes in the middle of the trio in terms of size, but it does also have the most number of units.
As it is located right next to AYE, stacks facing the expressway will face road noise. Price-wise, it has appreciated well over the years with its current average of $1,5xx psf, and based on your budget of $1.5m, you are able to get the larger 3 bedroom unit (990 sq ft) with a pool view. In addition, the larger 3 bedroom unit comes with a 'Flexi' space with an attached WC.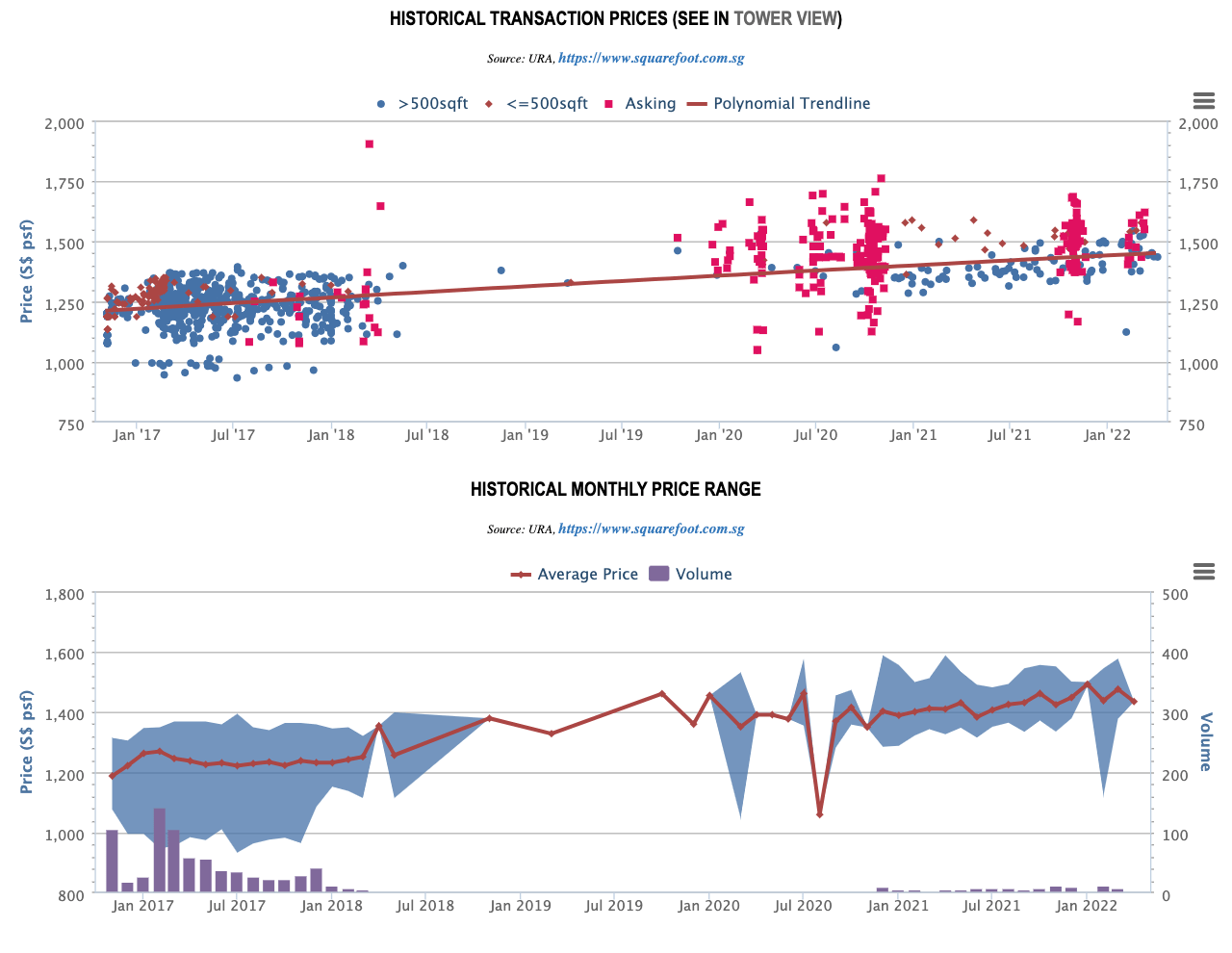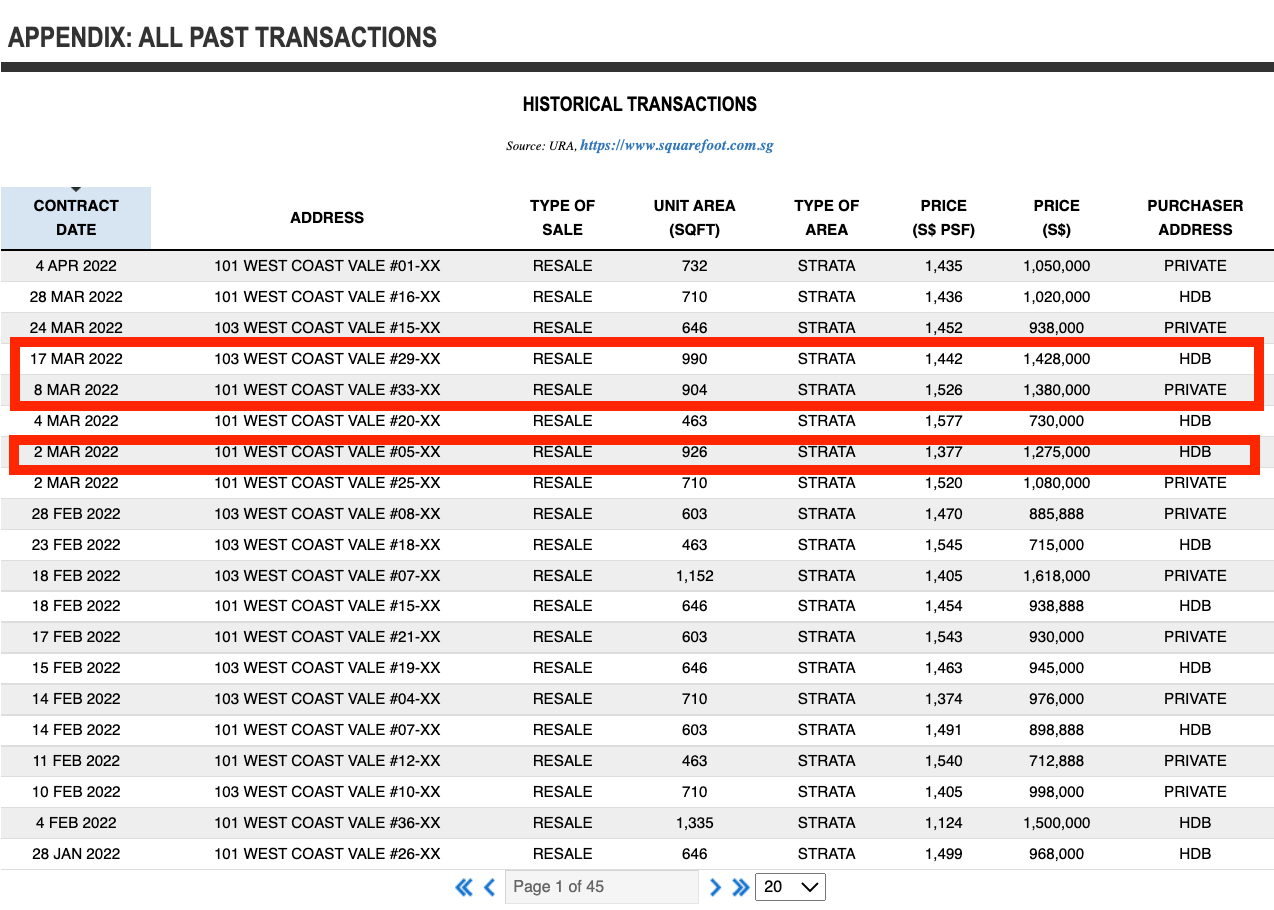 Layout Analysis:
At 990 sq ft, the 3 bedroom layout is quite regular, and within reasonable expectations of developments of this vintage. To be honest, it is one of the better layouts that we have seen so far in terms of functionality and layout efficiency for recent new launches.
The unit opens to a small foyer area where you do get a certain sense of privacy before entering the enclosed kitchen which is decent in size. With its enclosed design with a window panel, it is suitable for those that do heavy cooking. We do like the storeroom space which comes with an attached WC and a window panel for ventilation. The extra area allows great flexibility for homeowners to use it as a potential study space, helper's room, or s storage area (you can never have enough).
The unit also comes with decent-sized bedrooms (in the new launch context) with an additional window panel in the master bedroom which allows for natural light and cross-ventilation. Additional storage space is also provided right at the entrance of the Master Bedroom, a thoughtful design by the developer! Lastly, all bathrooms and WC come with ventilation windows which is great for naturally airing the space.
Some of the less ideal points for the layout are the unit comes with an overly large A/C ledge and a long walkway which is slightly less efficient. The dining and living area may come in tight, especially for families. Adding on, it lacks a proper yard area for laundry hence the balcony space has to usually double as a laundry space too.
Twin Vew:
Newly TOP Twin Vew offers a great frontage of the Pandan Reservoir for half of the units here. It offers great facilities which include a huge swimming pool, and multiple dining options that overlooks the Sungei Pandan. We actually did a full review (attached) and we do particularly like the cascading landscaping here, and would overall rate the estate here as a better choice over Parc Riviera for the design and openness of the space.
The land size here is the smallest at 176,296 sq ft, but it also does have significantly fewer units, with just 520, as compared to the more than 700 units of the other two. So if you are after something a little less crowded, this may be the better choice.
Price has risen over the years since its launch back in May 2018 with the current average $1,6xx psf.
Quantum-wise, it is on the higher side and you may have to stretch your budget here depending on how high you go.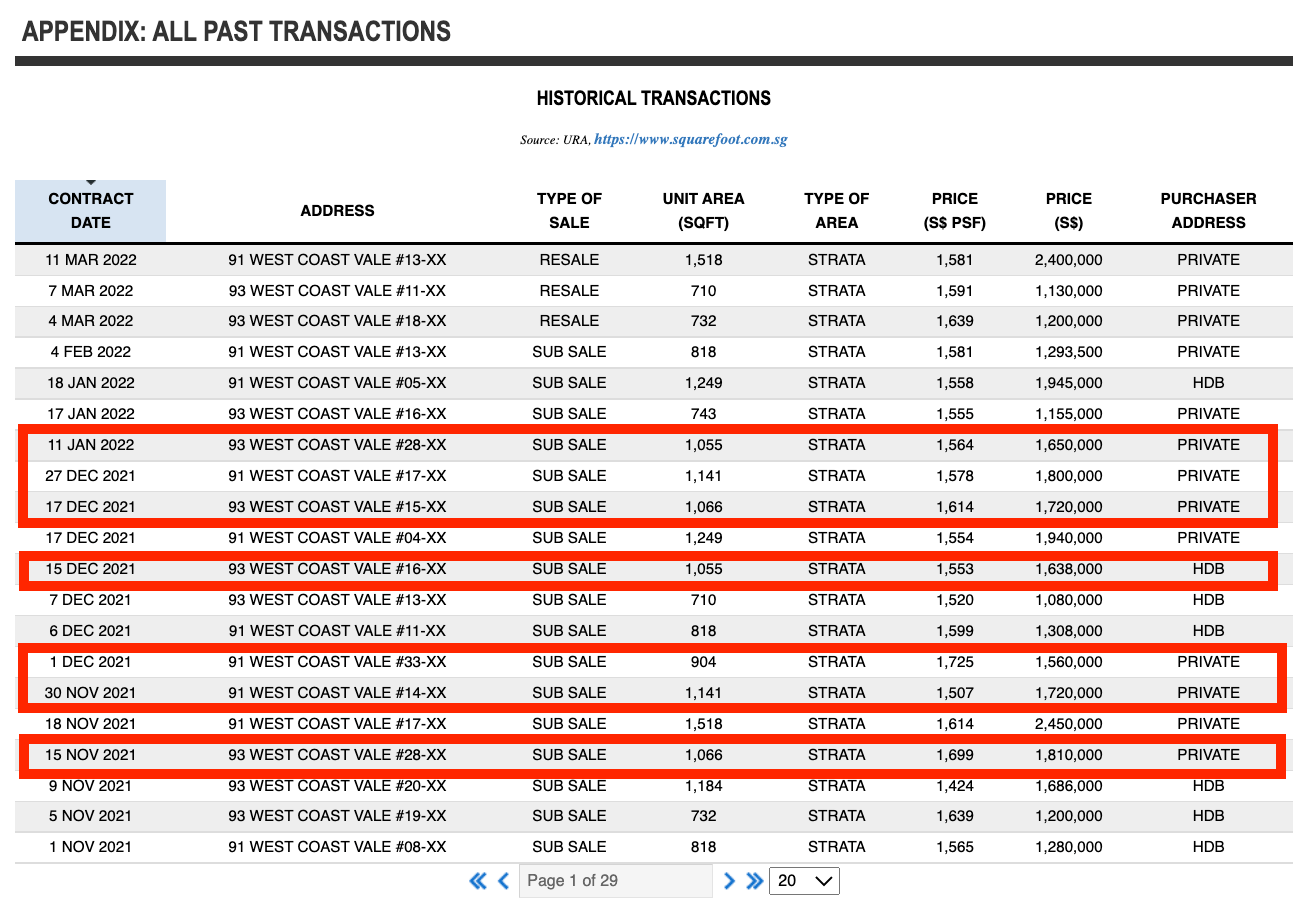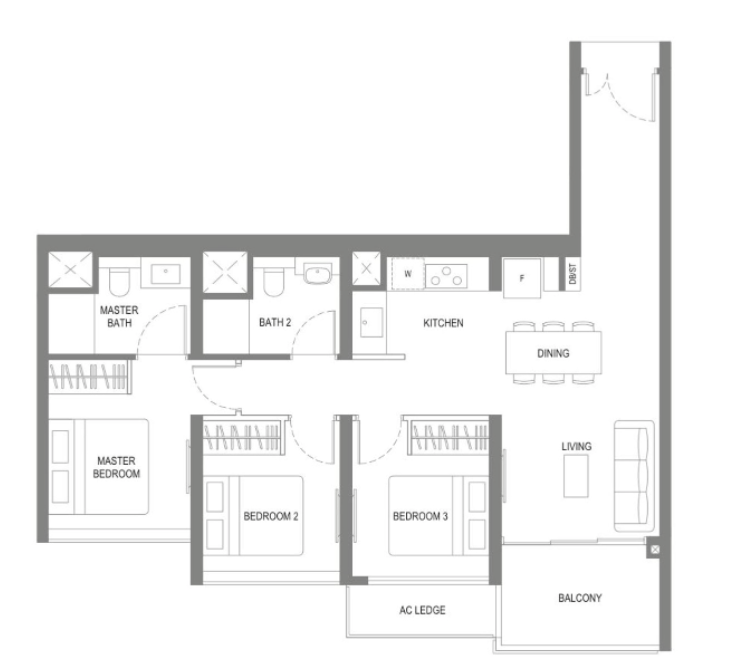 Layout analysis:
At 904 sq ft, it is decent in size but more on the compact end of things for 3 bedroom units today. The unit opens up to a long walkway entrance, which provides some privacy but in this case, it does take up a lot of unnecessary space at this price point.
For a 3 bedder unit size, which is targeted towards families, the open layout plan will likely cater to a more niche group of buyers.
And so while the space may feel bigger overall with the open concept, the kitchen area lacks a ventilation window; a downside especially if you do heavy cooking.
The bedrooms are decent in size which can fit a queen size bed in all bedrooms, but it's nothing remarkable.
As this is a non-corner stack, the bathroom lacks ventilation windows. Additionally, the A/C ledge is placed right at the front side of the unit thus one of the common bedrooms comes with half-height windows. Similarly, the area lacks proper yard area hence balcony space will be used to hang out laundry.
Whistler Grand:
Soon to TOP Whistler Grand is developed by one of the renowned developers in Singapore, CDL. With 716 units, it offers the widest range of facilities here including sky terraces in both blocks. There are other highlights such as the cantilevered gym over the lap pool, but the main selling point probably is the kid-focused facilities here, with a flying fox, kids play pool, water slides, sports pool, climbing wall, and trampoline (just to name a few). As a young couple looking for a 3 bedroom unit, we'd suppose kids are on the horizon, and facilities-wise, Whistler Grand is a standout.
Price-wise; it has risen over the years in the past 3 years with a few sub-sales transacted till date though no 3 bedroom unit transacted so far.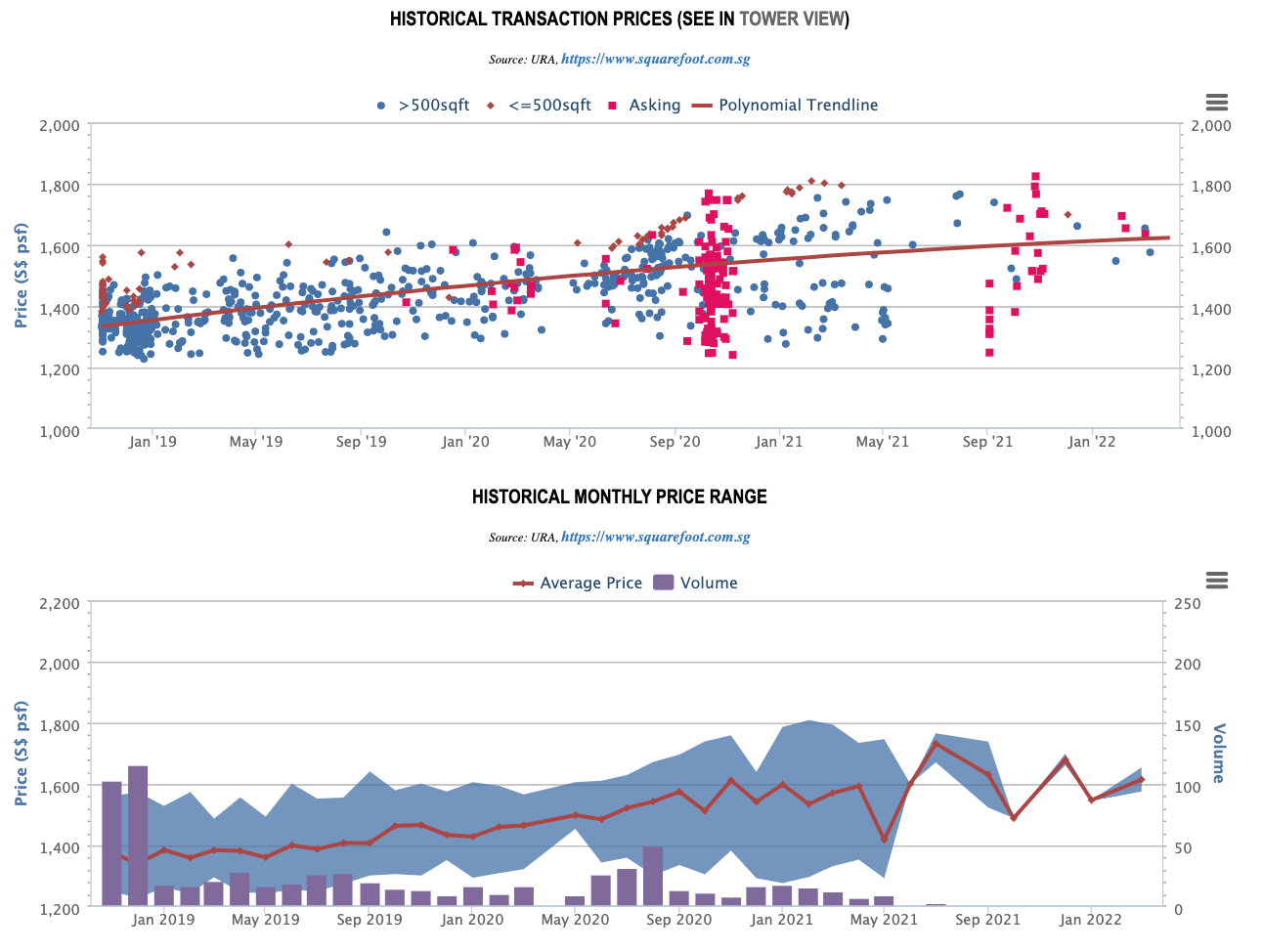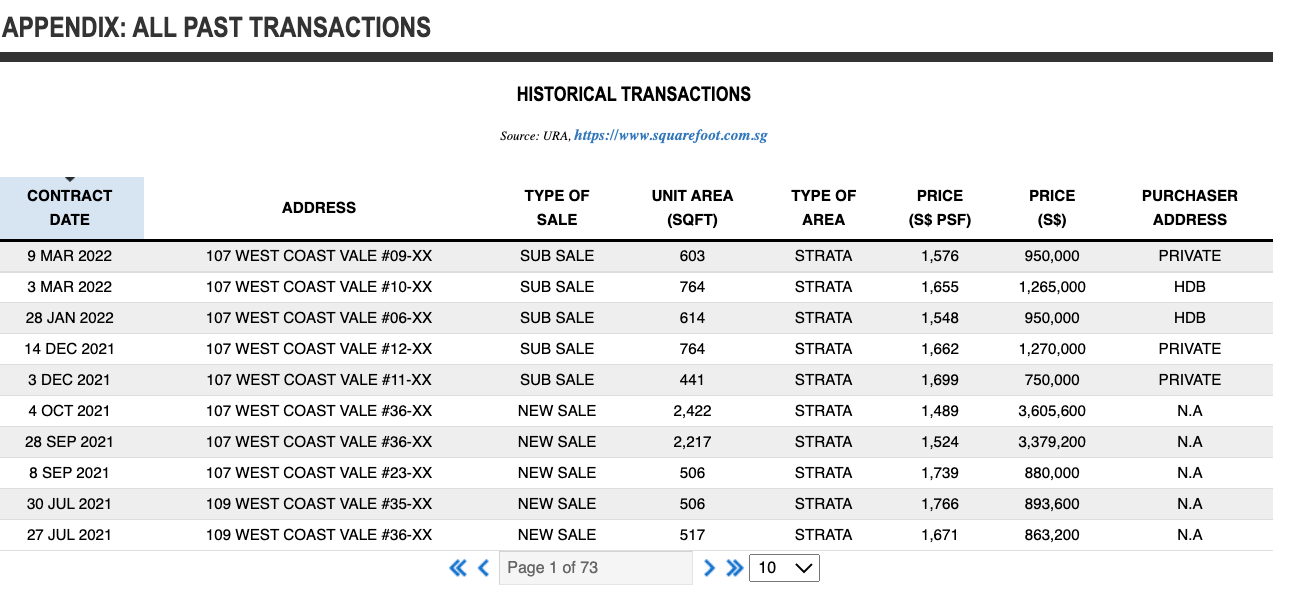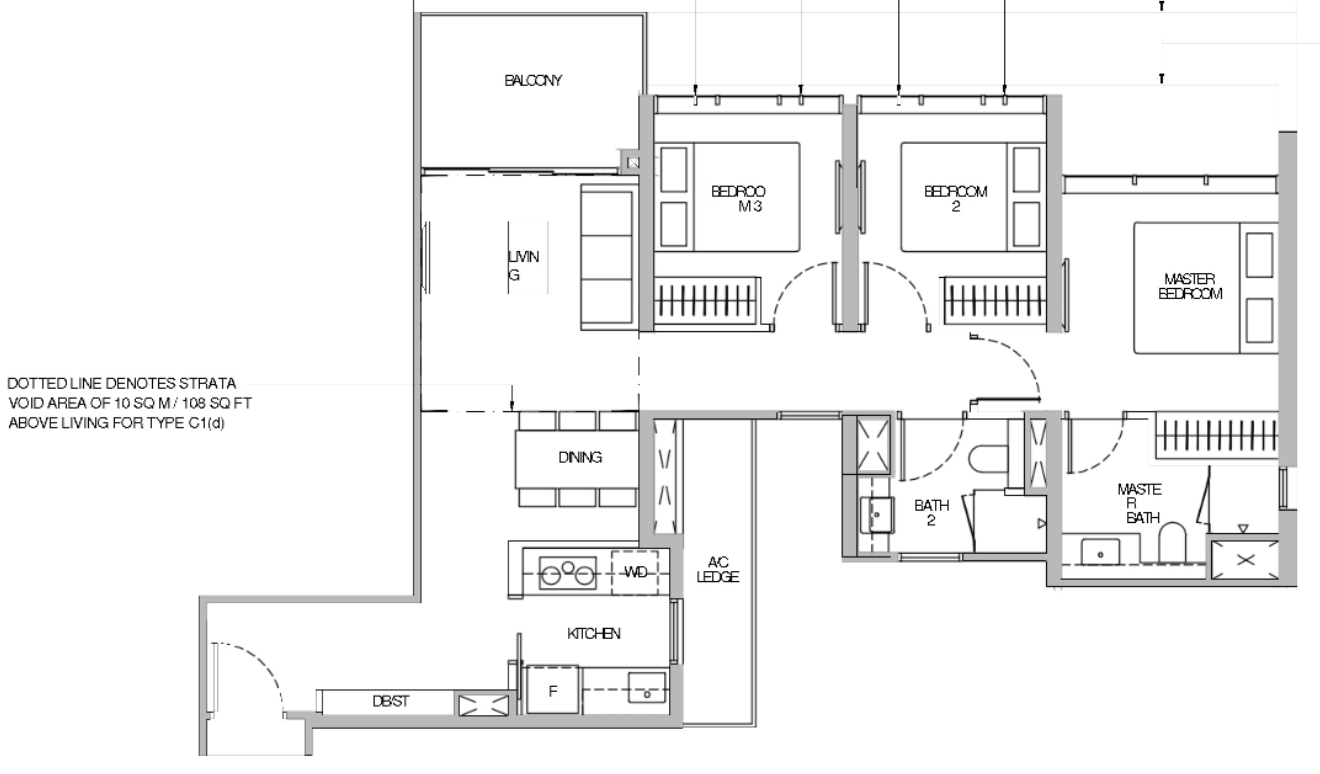 Layout analysis:
At 958 sq ft, the unit is decent in size. For Whistler Grand, all 3 bedder stacks are corner stacks hence this allows for ventilation windows added for both bathrooms, kitchen, and an extra window panel in the bedroom hallway which is great for cross ventilation and natural light to penetrate into the hallway. The entrance walkway does take up space though this one does provide the best form of privacy among the 3. Though that said, the developer has provided storage cabinets along the hallway hence maximising the area to a certain extent. Similarly, the area lacks proper yard area hence balcony space will be used to hang out laundry.
Lake Grande:
Having been completed in 2020, Lake Grande is a relatively new project with most of the 3 bedders stacks enjoying scenic Jurong Lake views. It is located within walking distance to Lakeside MRT station along with basic amenities and a market right across the street.
However, it comes at the expense of traffic and MRT noise, so do watch out for the facings.
The development sits on a 191,637 sq ft plot of land, so it is about par with the West Coast condos, with 710 units.
The development is seeing price appreciation in recent years, with the average price of $1,5xx psf; a decent entry price for a relatively new project within walking distance to basic amenities and an MRT station.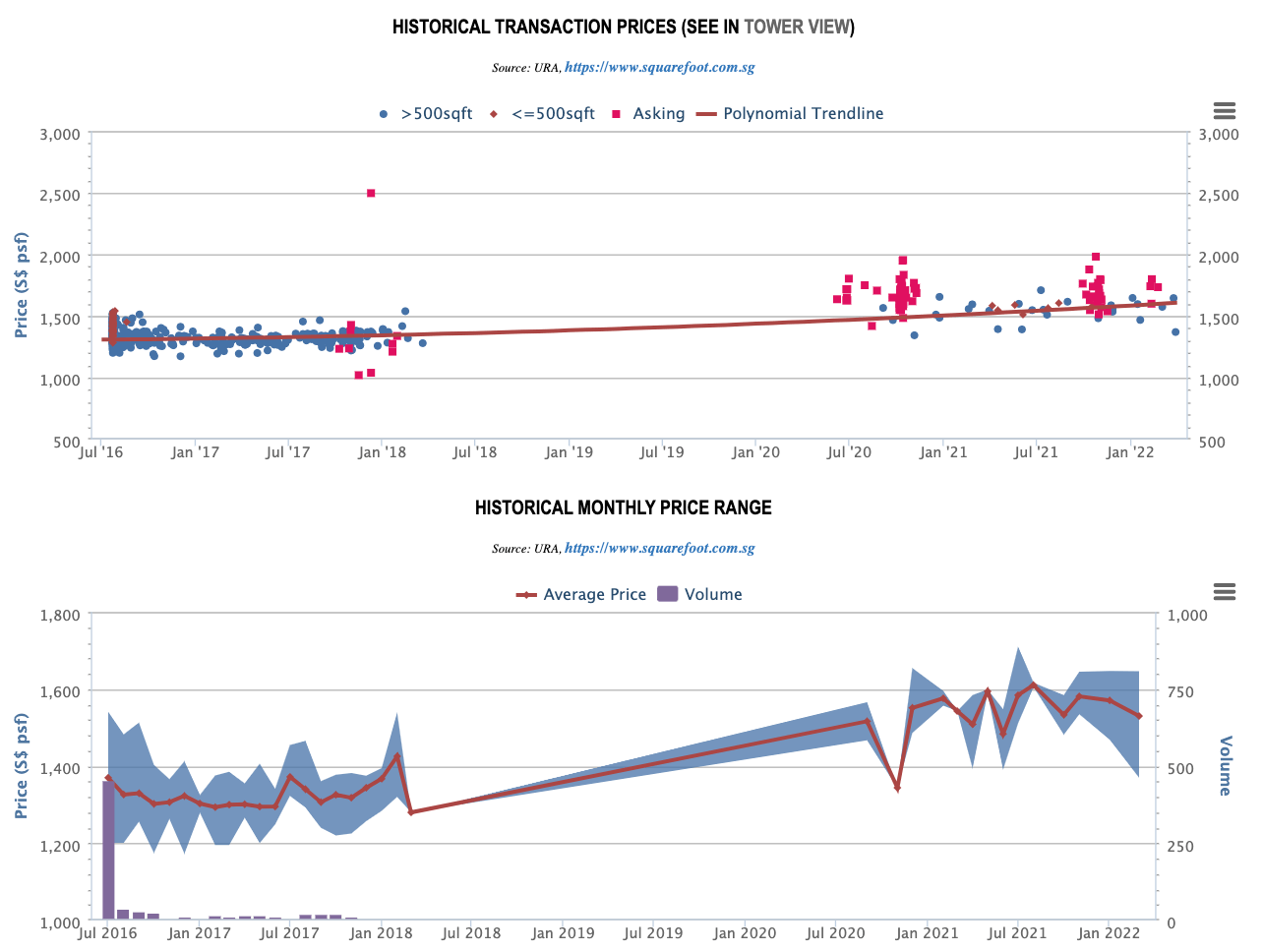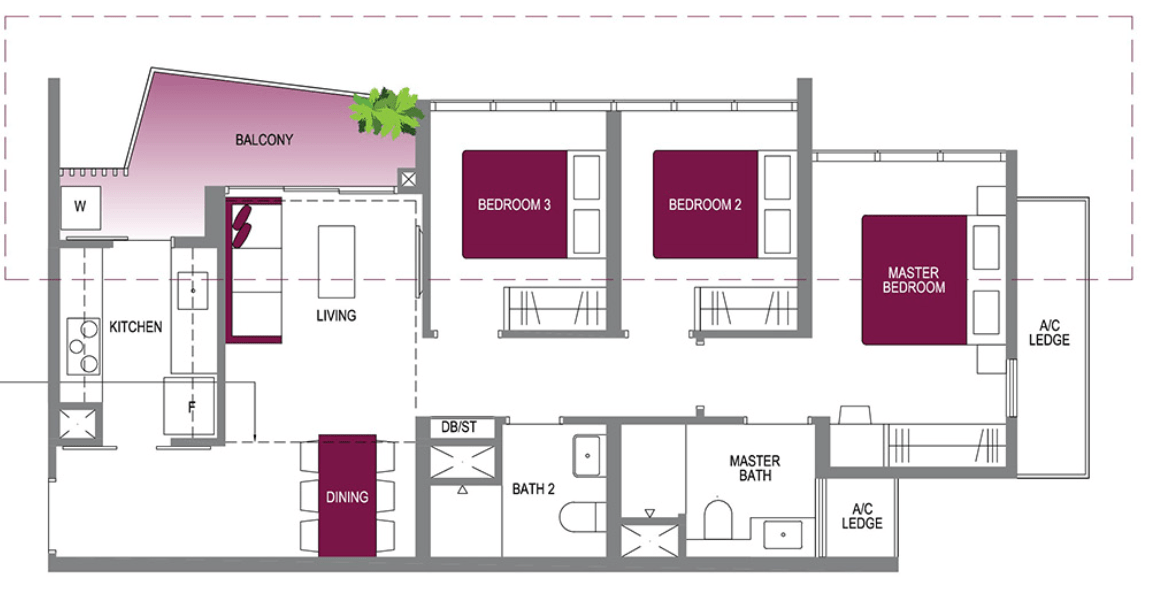 Layout analysis:
At 904 sq ft, the layout is fairly efficient and offers quite a different layout to the rest. We do like the small foyer area that provides some privacy though the dining area is still visible. There is a good-sized enclosed kitchen area with ample countertop space with direct access to the balcony, which also means that the balcony space doubles as the yard area for laundry and washer placement. This is probably the best arrangement, and yet offers views out of the kitchen as you cook – quite a nifty setup.
The dining and living area is decent, and there's not much to complain about at this size. All bedrooms are able to fit in a queen size bed minimally. You do have a good-sized master bedroom that could accommodate a king-size bed with some walkway space. Similar to Parc Riviera's master bedroom, it comes with an additional window panel; allowing cross ventilation and natural light in. We personally like the neatly flushed master wardrobe with a dedicated space for a study/dresser.
However, some of the downsides are, that only the master bathroom comes with ventilation windows and an irregular balcony space which may be deemed inefficient.
Western region potential:
Based on the latest master plan, there are plans added in the western region.
As most would know by now, The Jurong Lake District (JLD) will be the largest mixed-use business district outside the city centre.
With plans to offer quality offices, housing, amenities, and abundant green spaces, the space will be quite a bit different in the future. This in return, will likely push up the prices for resale developments in the district as the population grows as more people move closer to their workplaces – this is great for a future exit strategy. However, do take note that the full potential of JLD will likely be beyond 2030.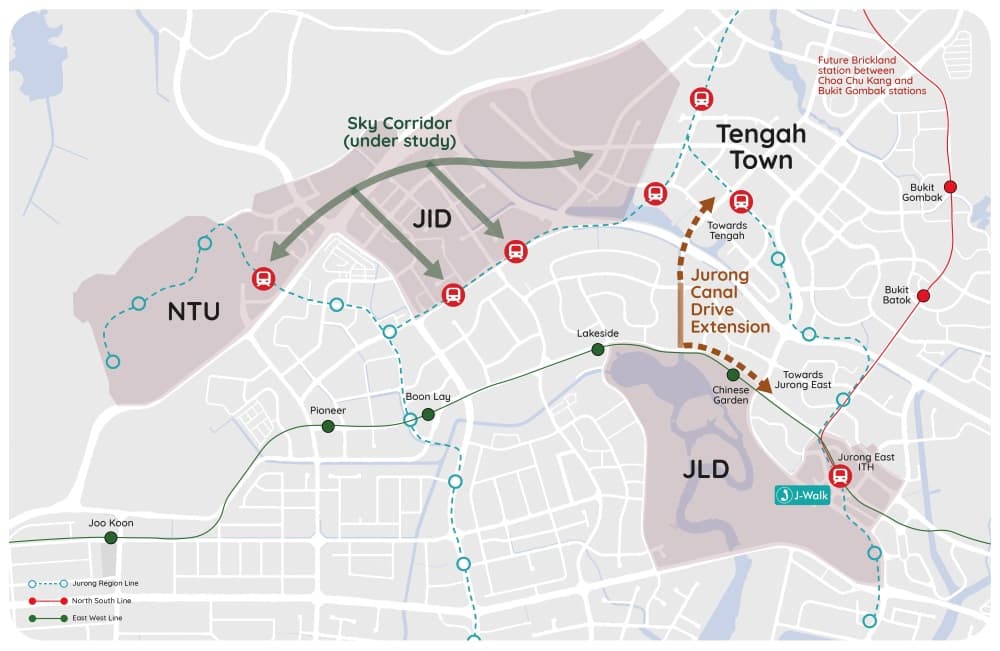 Cross Island Line:
In recent years, LTA has released its latest Land Transport Master Plan (LTMP 2040) for better connectivity with the Cross Island Line in the plans. Though it is still under planning for the western phase, we do hope for a possible MRT Station nearby since the CRL main purpose is to serve existing and future developments in the Eastern, Western, and North-eastern corridors, connecting major hubs such as Jurong Lake District, Punggol Digital District, and Changi region.
If it materialises with a possible station to be built in the West Coast district, the three developments will benefit from it. The new line will improve public transport connectivity for the West Coast Vale cluster, which is in need of one. This indirectly gives a price boost to the area in years to come and it works well since you are looking to exit sometime in 2030 when the first phase of the line will be up and running.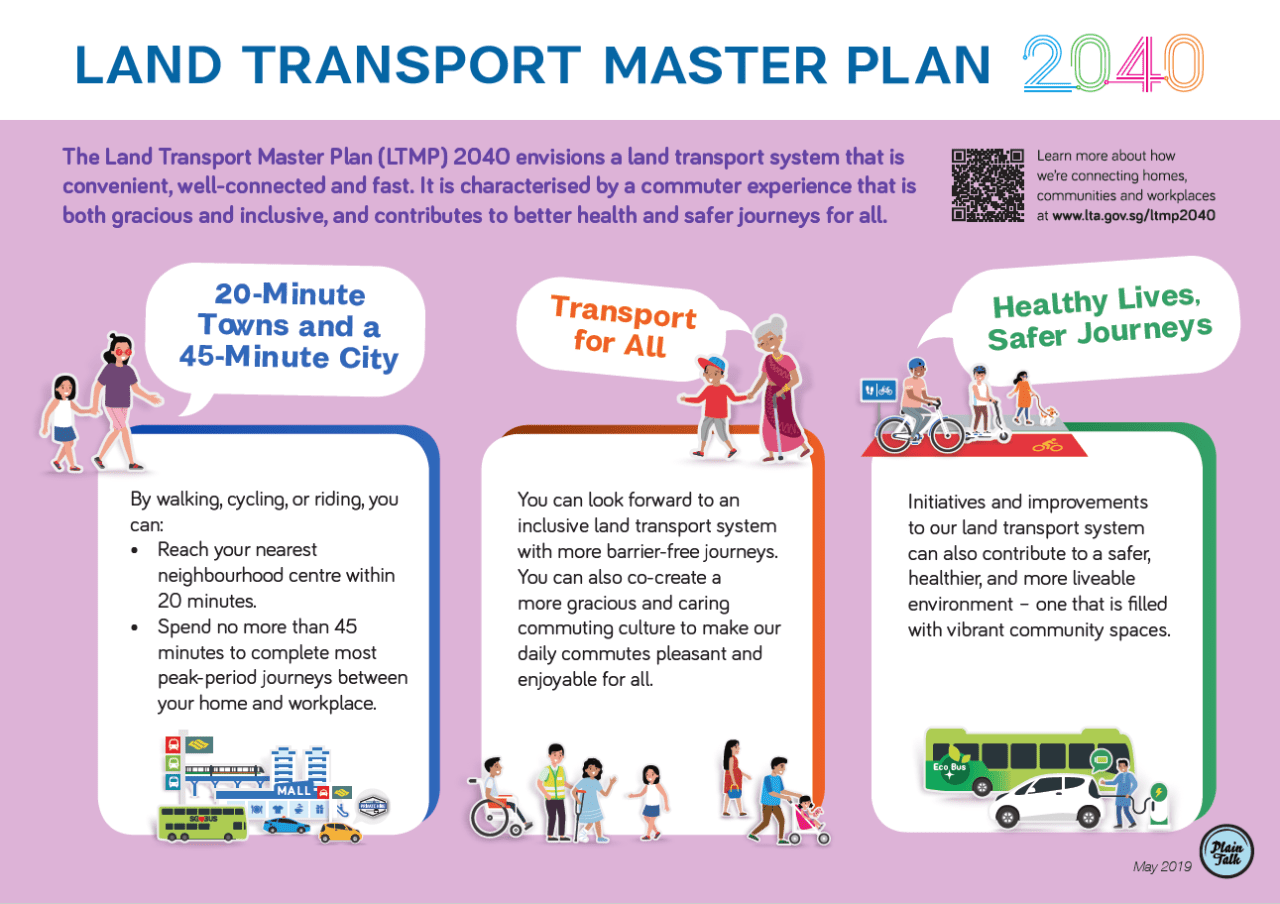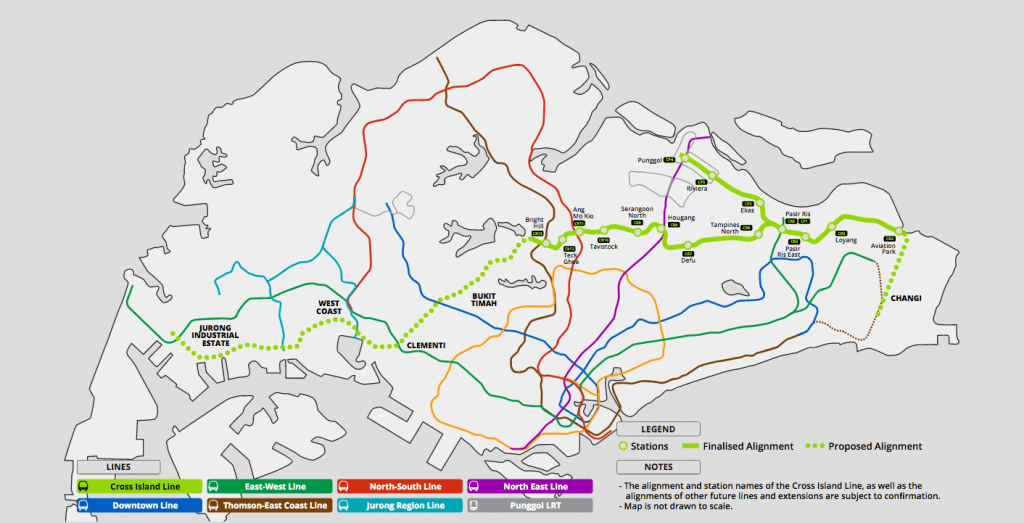 Conclusion
All in all, if we were to pick among the three condos in West Coast Vale from a price standpoint, Parc Riviera will be our top pick for its affordable entry price with a decent size added with an efficient unit layout. In this case, its layout stands out among the rest. A safe layout that is likely to attract family/upgraders profiles.
If you are willing to stretch your budget more, Whistler Grand for a newly minted unit where you can renovate it to your own liking. It will enjoy the newest kid on the block status among the three condos along the stretch, and it is always nice to enjoy new facilities. If kids are on the horizon, you could want to take a more serious look at this, as having such facilities for young children can really be a significant advantage (just ask friends with kids, they will tell you).
As for Twin VEW, we view it as the space more for grown-ups even though it does offer some kid-related facilities, just not to the same extent as Whistler Grand. For adults, the lagoon-like pool, and dining pods overlooking the Sungei Pandan is a real attraction, as with the gym with a view of the water. However, it comes with a high price tag added with the least favourable layout (as long as you are looking at the smaller 3 bedroom unit). It's something to be mindful of when it comes to future exit, especially since 3 bedroom units cater to a family profile hence layout efficiency is equally important besides facilities. By 2030, all three condos will be an older resale anyways and since you will be staying in the unit for the next 8 years, so layout efficiency is important.
Finally, Lake Grande is quite a different proposition altogether given the location. If the convenience factor is the most important, this would probably be your best bet at this point, with the convenience of amenities, MRT station, and the lake frontage view. In the long run, it is likely to see potential with the developments in the area. Given the current entry price, it is attractive- but given your exit timeline, the full potential of the JLD might not be fully realised here.
Have a question to ask? Shoot us an email at hello@stackedhomes.com – and don't worry, we will keep your details anonymous.
Looking for a home? Feel free to reach out to us here for a more in-depth consultation.
For more news and information on the Singapore private property market or an in-depth look at new and resale properties, follow us on Stacked.