39
min read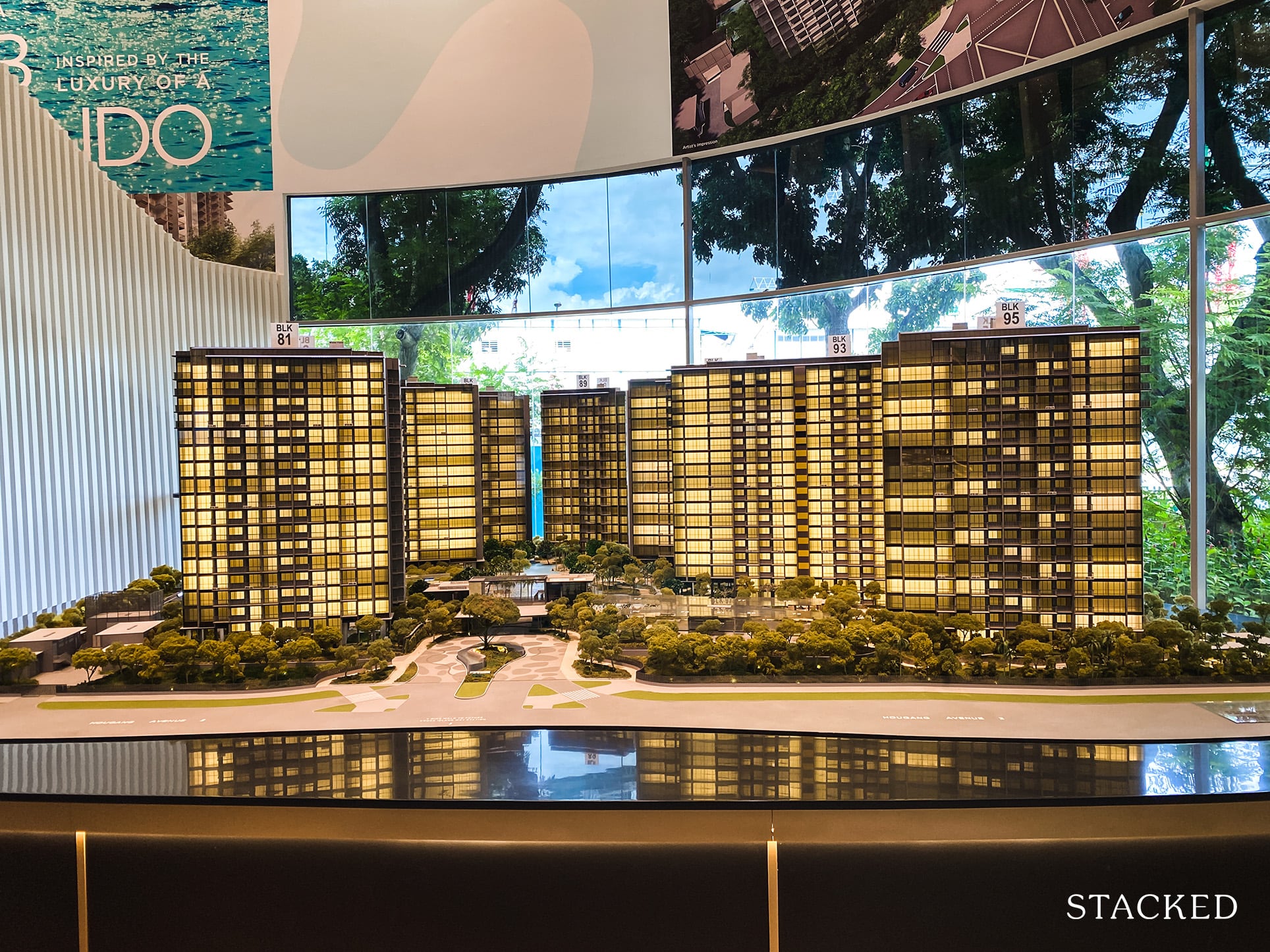 Great for families
Florence Residence presents itself as a great condo for those with families looking for an own stay project due to its 1:1 carpark ratio, proximity to schools and food as well as a full range of facilities.
| | |
| --- | --- |
| Project: | Florence Residences 悦湖苑 |
| District: | 19 |
| Address: | Hougang Avenue 2 |
| Tenure: | 99-year leasehold commencing from 24 Dec 2018 |
| No. of Units: | 1410 |
| Site Area: | 389,239 |
| Developer: | Florence Development Pte. Limited (Logan Property) |
| TOP: | 31 March 2023 |
Lifestyle of a club, luxury of a condo.

If you're wondering what that's all about, it's actually the main marketing tagline of The Florence Residences. Clearly, the facilities and lifestyle seem to be their main selling point for the development – of which we will definitely be looking at in closer detail further below.
So if its sales figures are anything to go by, it does seem that Singaporeans see potential in this 1,410 unit mega-development. Comprising of 9 blocks standing at 18-storeys tall, The Florence Residences was one of the top-selling new developments amidst the COVID-19 pandemic, moving 78 units in July 2020 alone at an average of $1,559 psf. This figure is even higher than the 54 units sold during its launch weekend in March 2019 at an average price of $1,450 psf – which frankly speaking was quite poor all things considering.
So why is it that sales are still moving at The Florence Residences? This, despite high competition in the area – Affinity at Serangoon, Riverfront Residences, and to a lesser extent- The Garden Residences.
As usual, before we get into the comparisons – let's get on with the insider tour.
The Florence Residences Insider Tour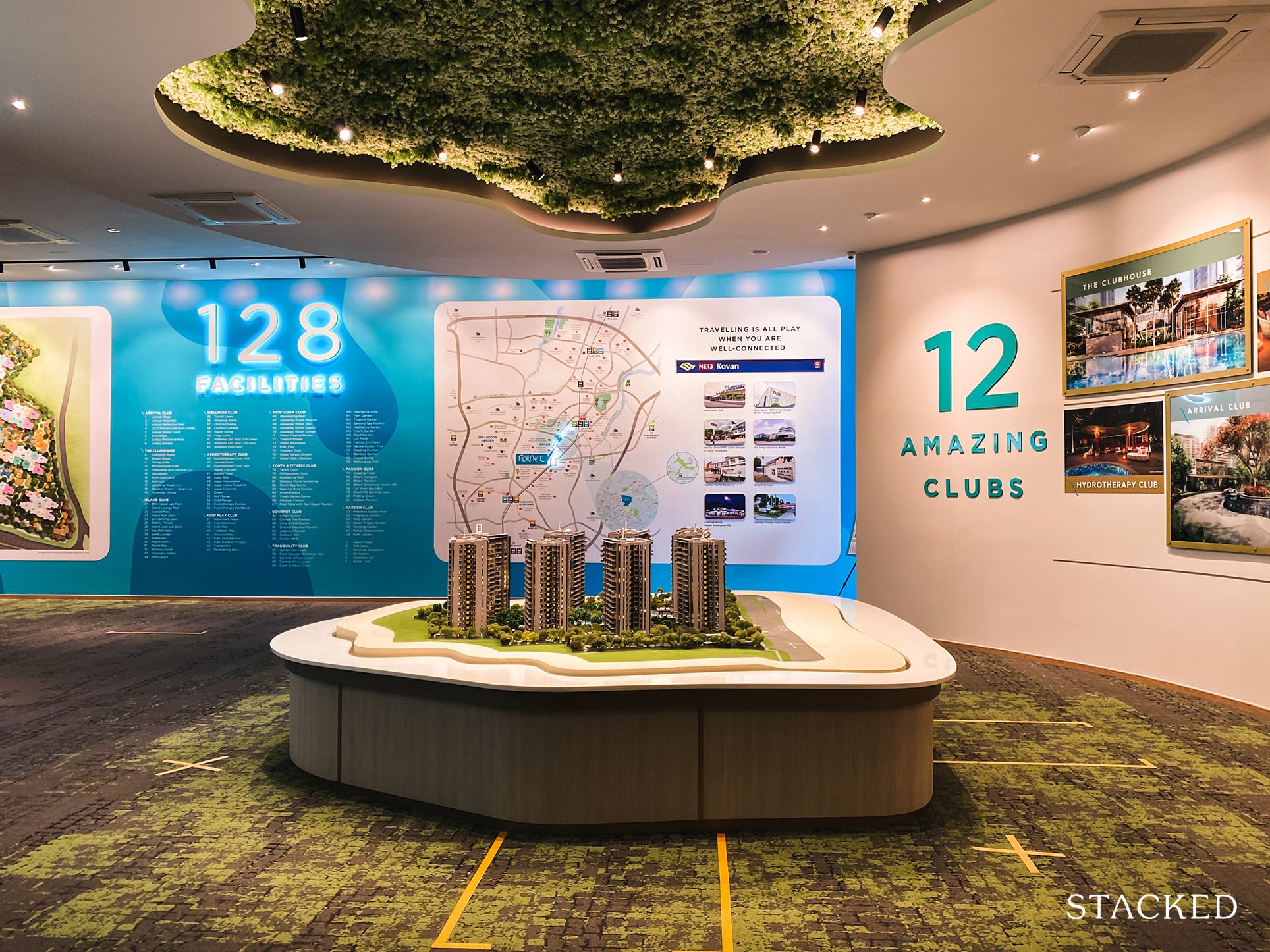 Make no mistake, The Florence Residences is as big as they come when you look at the current crop of new launches in Singapore. While it still doesn't come as close to the gargantuan Treasure at Tampines, it is usually mentioned in the same breath as other mega new launches like the JadeScape, Parc Clematis, and Parc Esta.
As with its marketing tagline, it is deeply apparent of the condo lifestyle element that the developers are trying to push – as flanking the (mini) showflat model are the words 128 facilities and 12 amazing clubs. With a good proportion of the current sales being contributed by HDB upgraders, it is a smart move no doubt.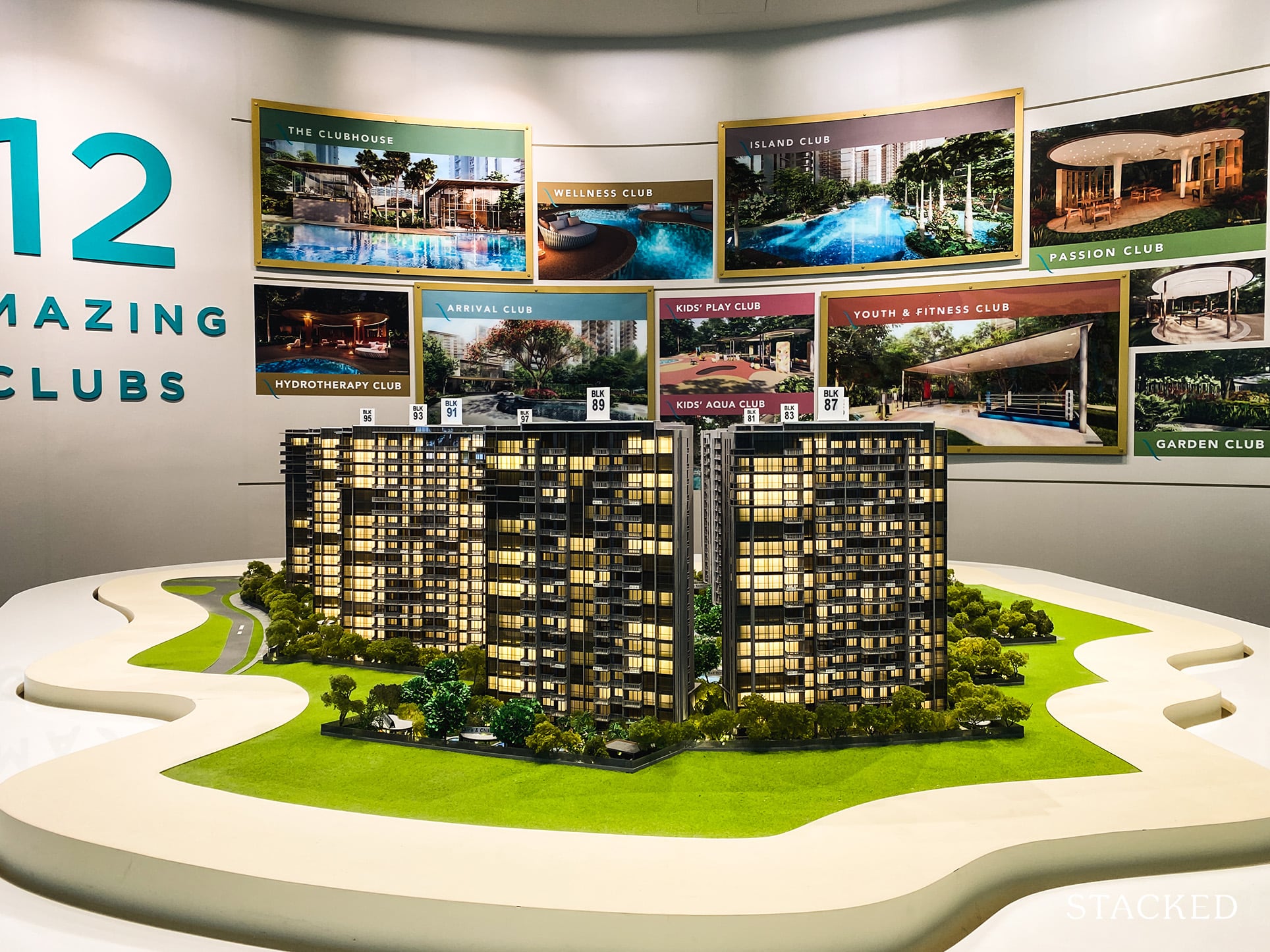 But before we delve deeper into the site plan and showflat units, let me give you some background about this project. This plot of land was formerly known as Florence Regency, a 336-unit former HUDC estate – it was sold en bloc in 2017 for $629 million.
The development's name actually comes from the neighbouring Florence Road, an estate with mainly landed homes and some small apartments. I'm glad they chose to keep their association with Florence Road because some developers do struggle a little in coming up with suitable new names. (Fun fact: check out some of the more interesting ones mainstream media has spotted).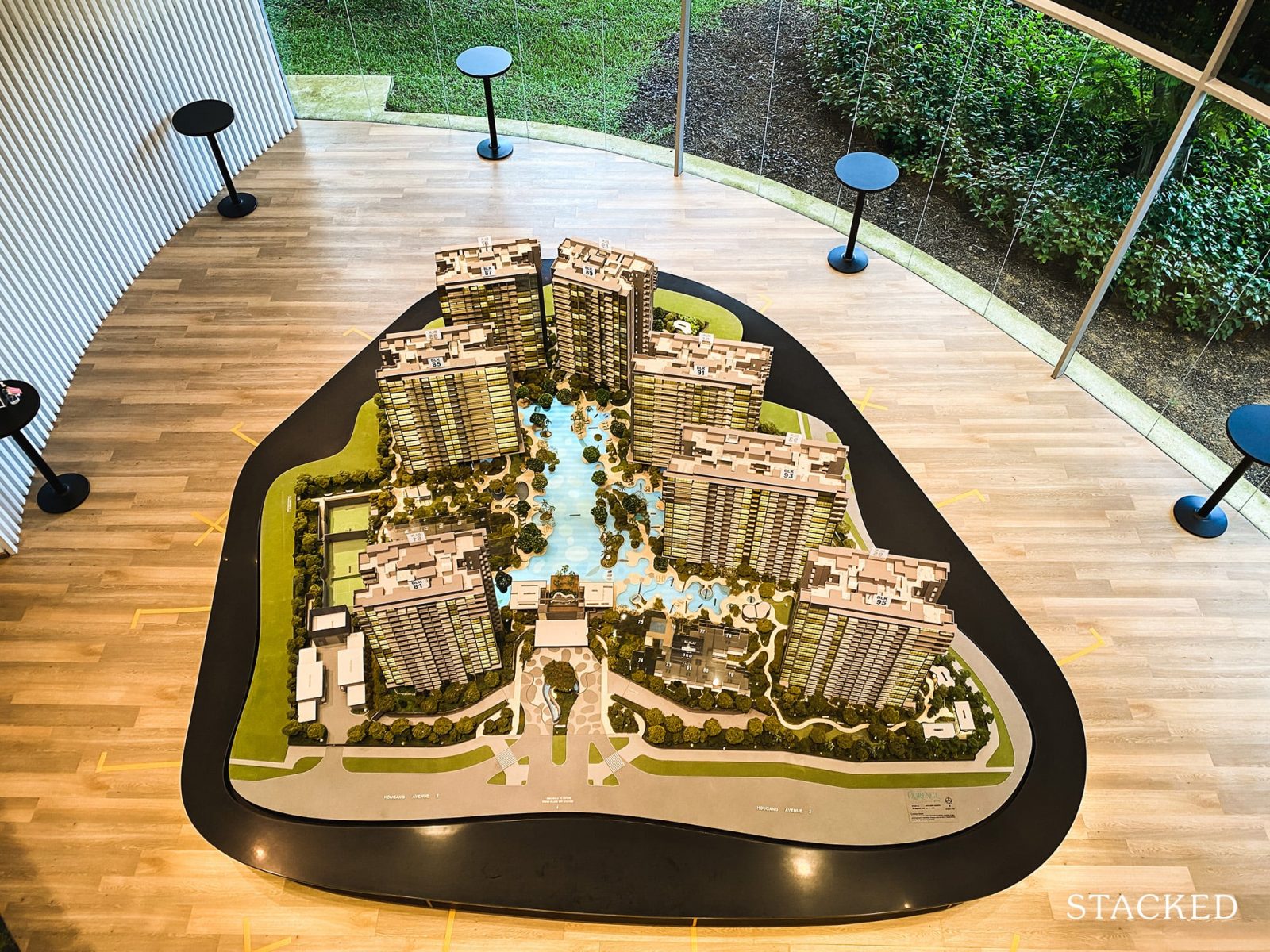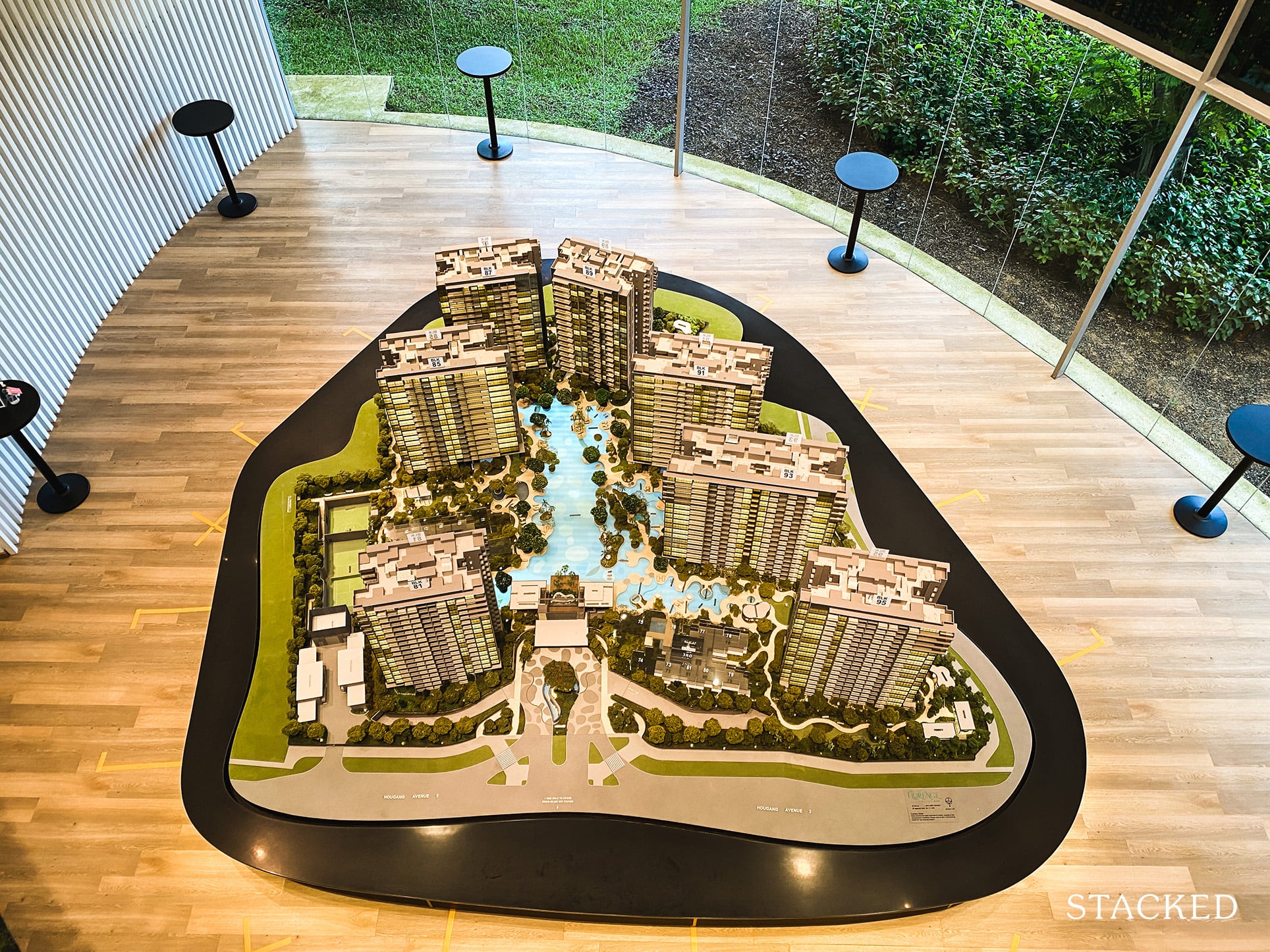 Given the size of the project, perhaps it's best if I start off with a brief orientation of the site. Located directly opposite the development at Hougang Ave 2 is Hougang ActiveSG – where you will be able to find a stadium, swimming complex and other sports facilities. The Florence Residences is also flanked by HDB flats along Hougang Ave 2, the former Serangoon Junior College and landed properties along Florence Road.
The varied surroundings plus the many different stacks and characteristics will definitely make choosing the right unit in this development all the more important.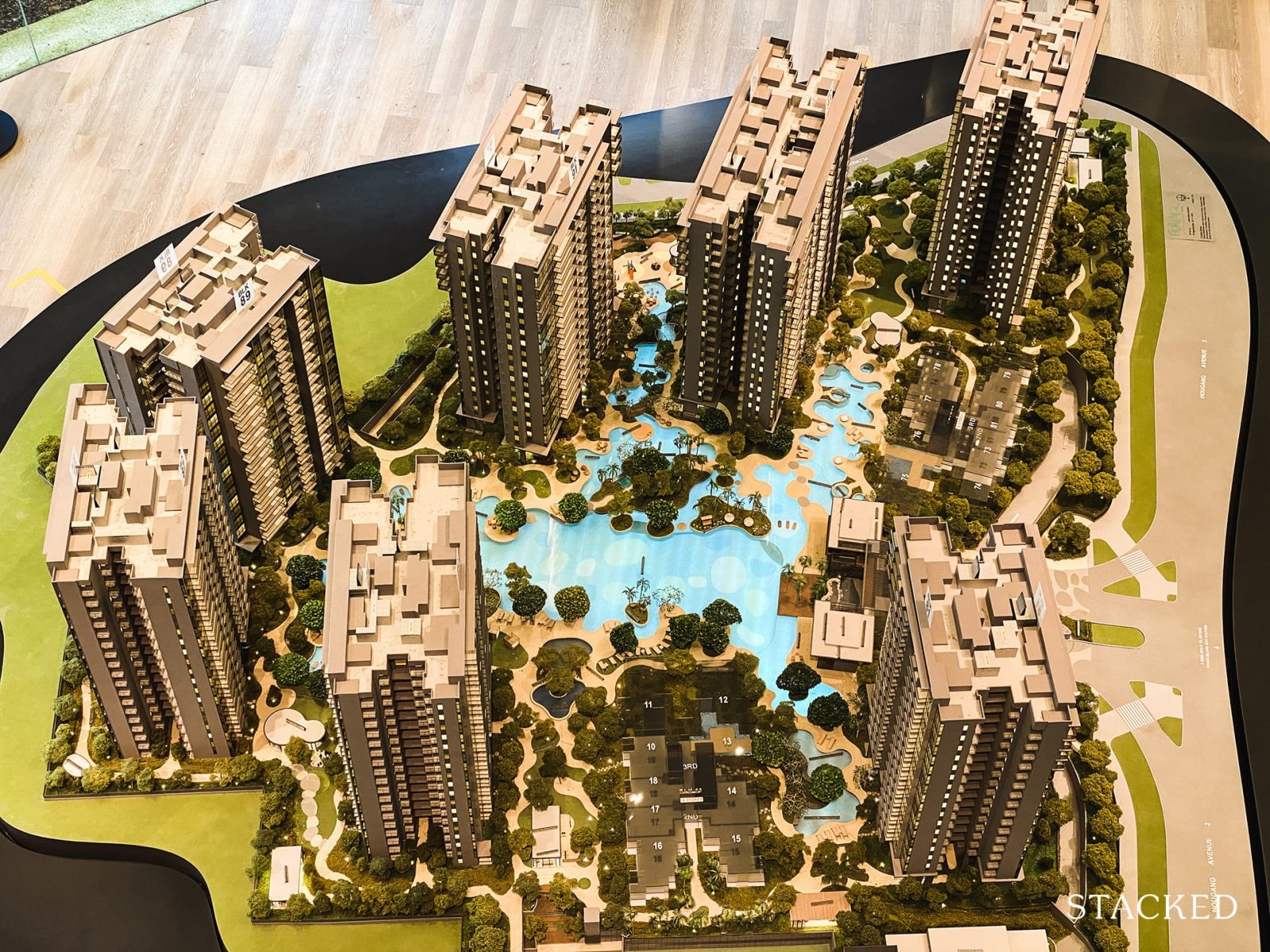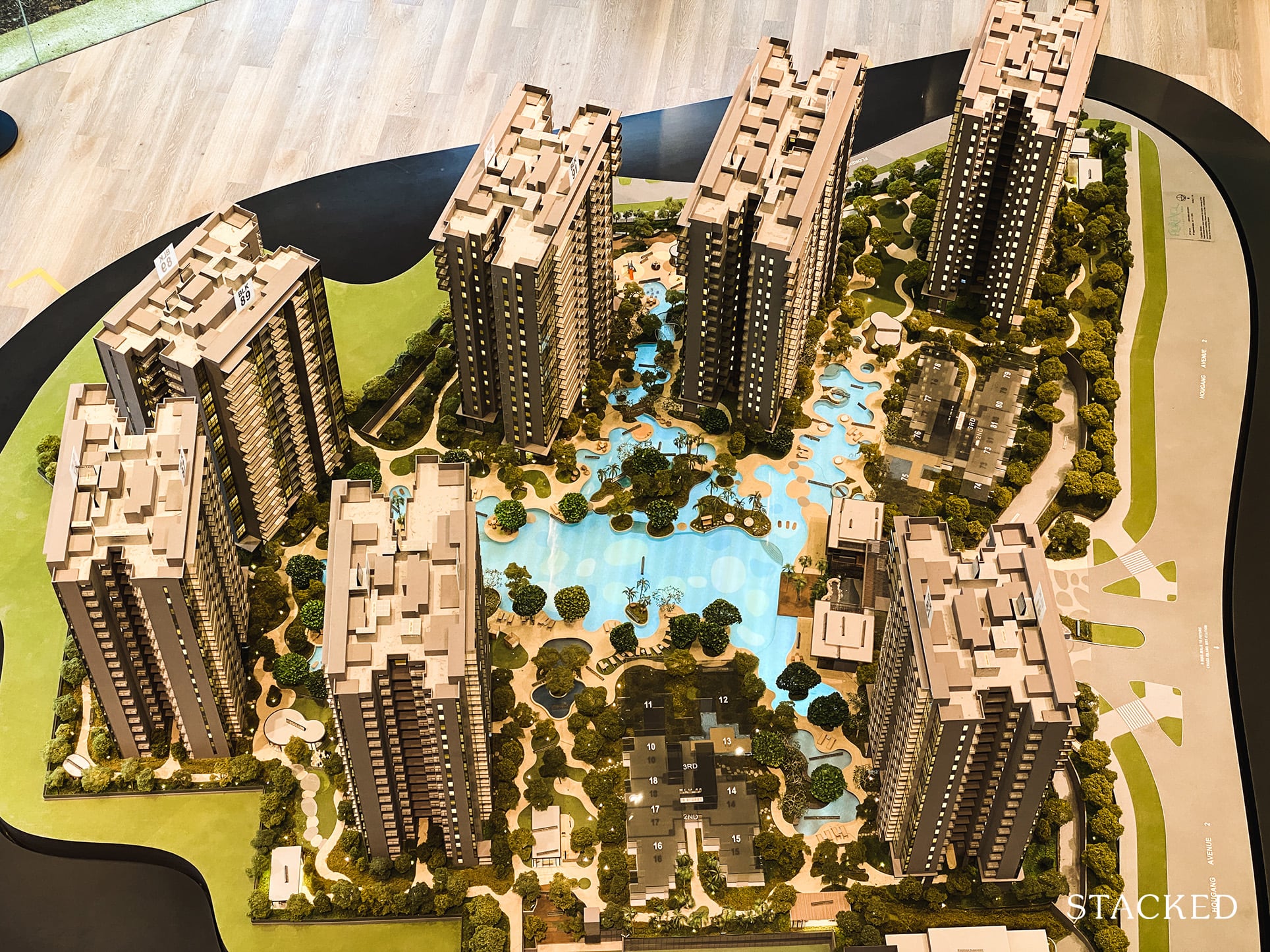 As mentioned earlier, this project is made up of 9 blocks of 18-storey buildings.
What struck me first was how close some blocks actually are to each other. This is actually made worse because the developer decided on tilting some of the blocks slightly, causing some stacks (Stacks 30 and 41, I'm looking at you) to be as close as 6 metres apart. The average, however, is between 18 to 23 metres, which makes it fare slightly worse than Treasure at Tampines, which I would count as one of the densest new condo projects in Singapore right now.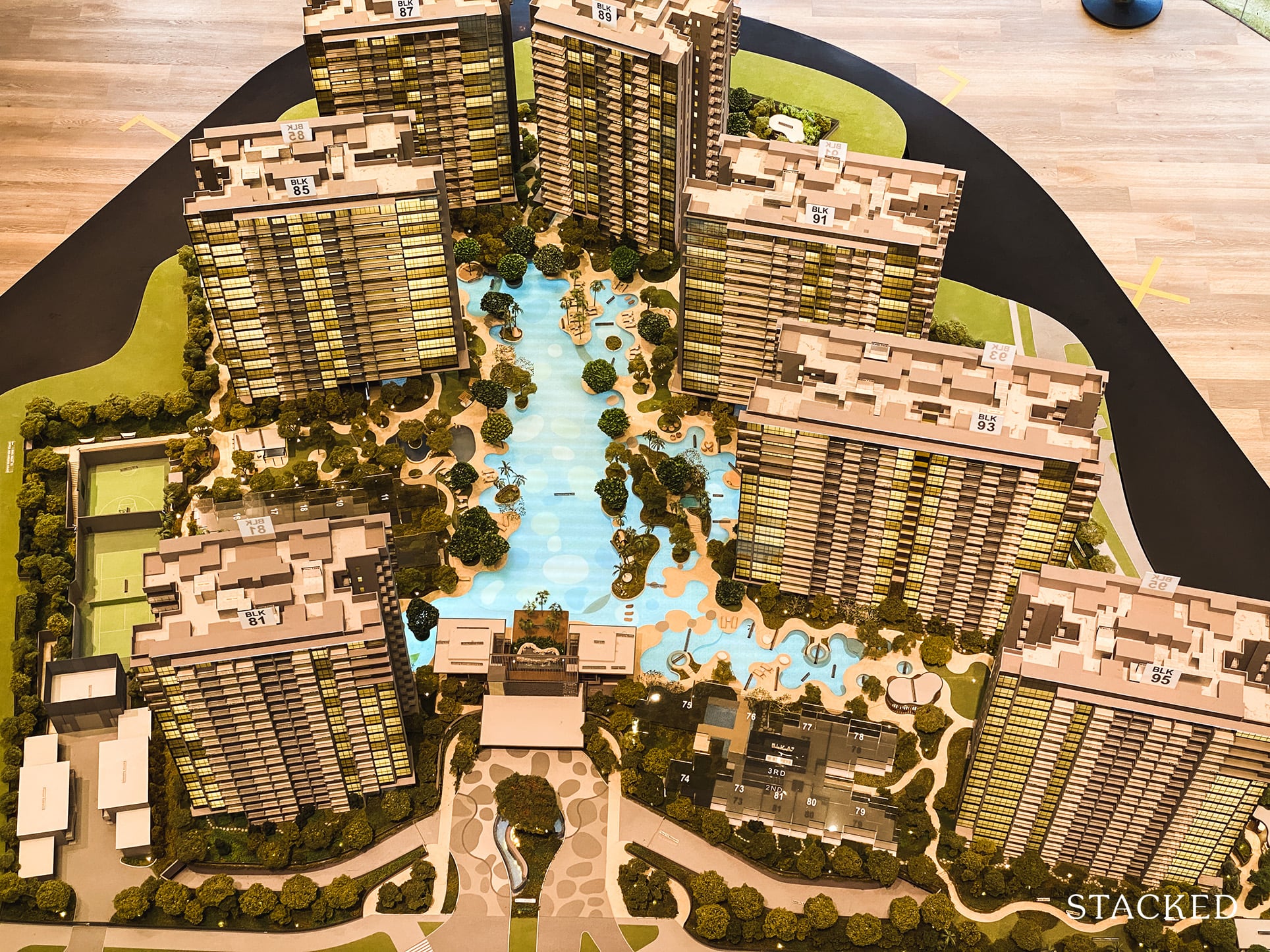 But to make this a fairer comparison, let's see how it actually fares against its similar-sized competitors.
JadeScape: 397,823/1,206 = 330 sqft per unit
Parc Esta: 376,716/1,399 = 269 sqft per unit
Parc Clematis: 633,644/1,468 = 432 sqft per unit
Florence Residences: 389,239/1,410 = 276 sqft per unit
So as far as land space per unit goes, it definitely is on the lower end of the spectrum. Parc Clematis is by far and away still the market leader when it comes to land space for mega mass market projects.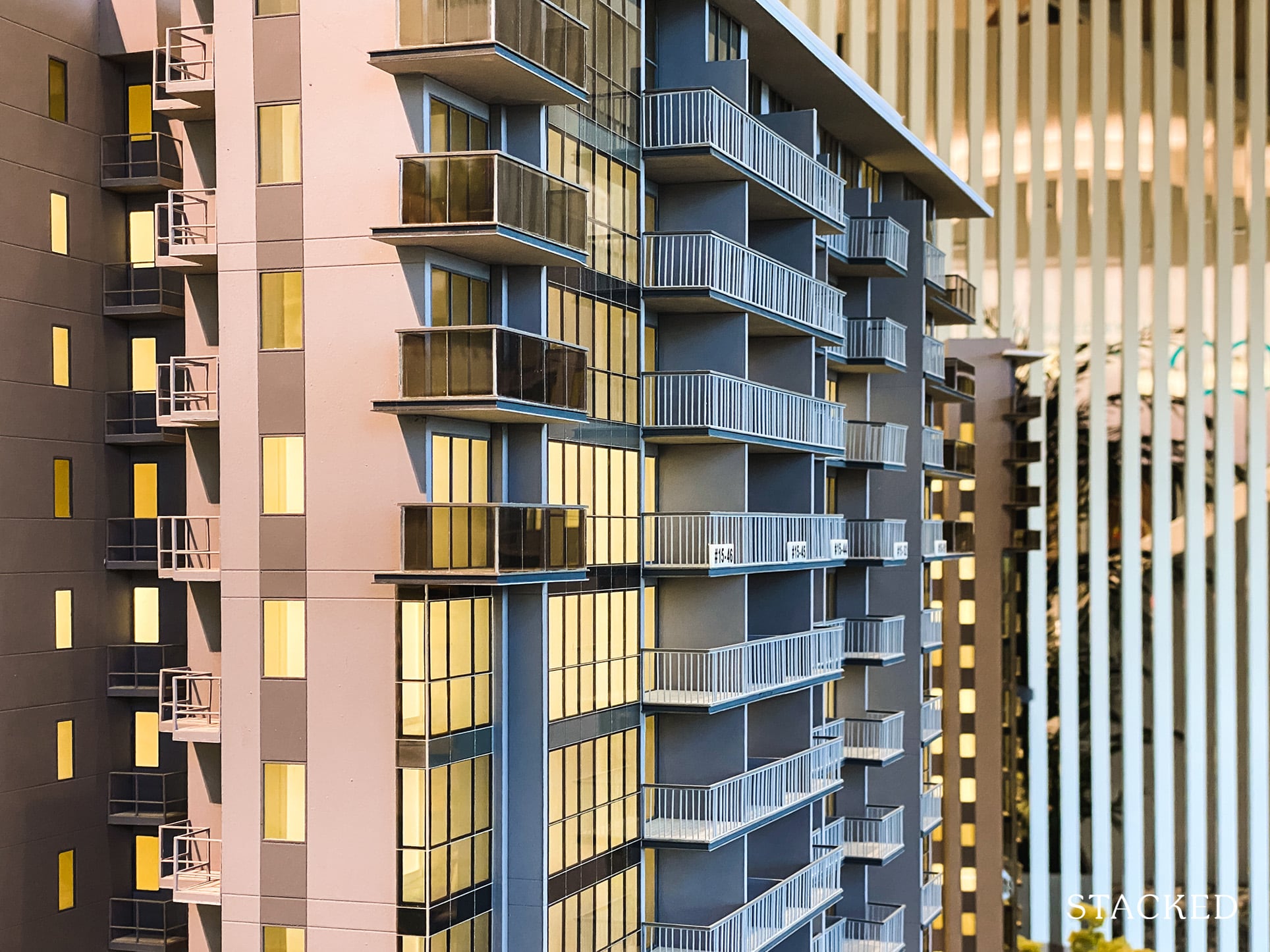 Similarly to Treasure at Tampines, the Florence Residences isn't going to win any awards with its design. The architects, P&T Consultants, are the same guys behind Forett at Bukit Timah and Stirling Residences, amongst many others. Architects are creative folks, but I'm sure they have their hands tied when they need to fit in 1,410 units and have a budget to work with.
And it is totally understandable as well. While having a cutting edge exterior is a nice want, it shouldn't feature so high on a list of priorities for homeowners, especially where the price point is the main concern.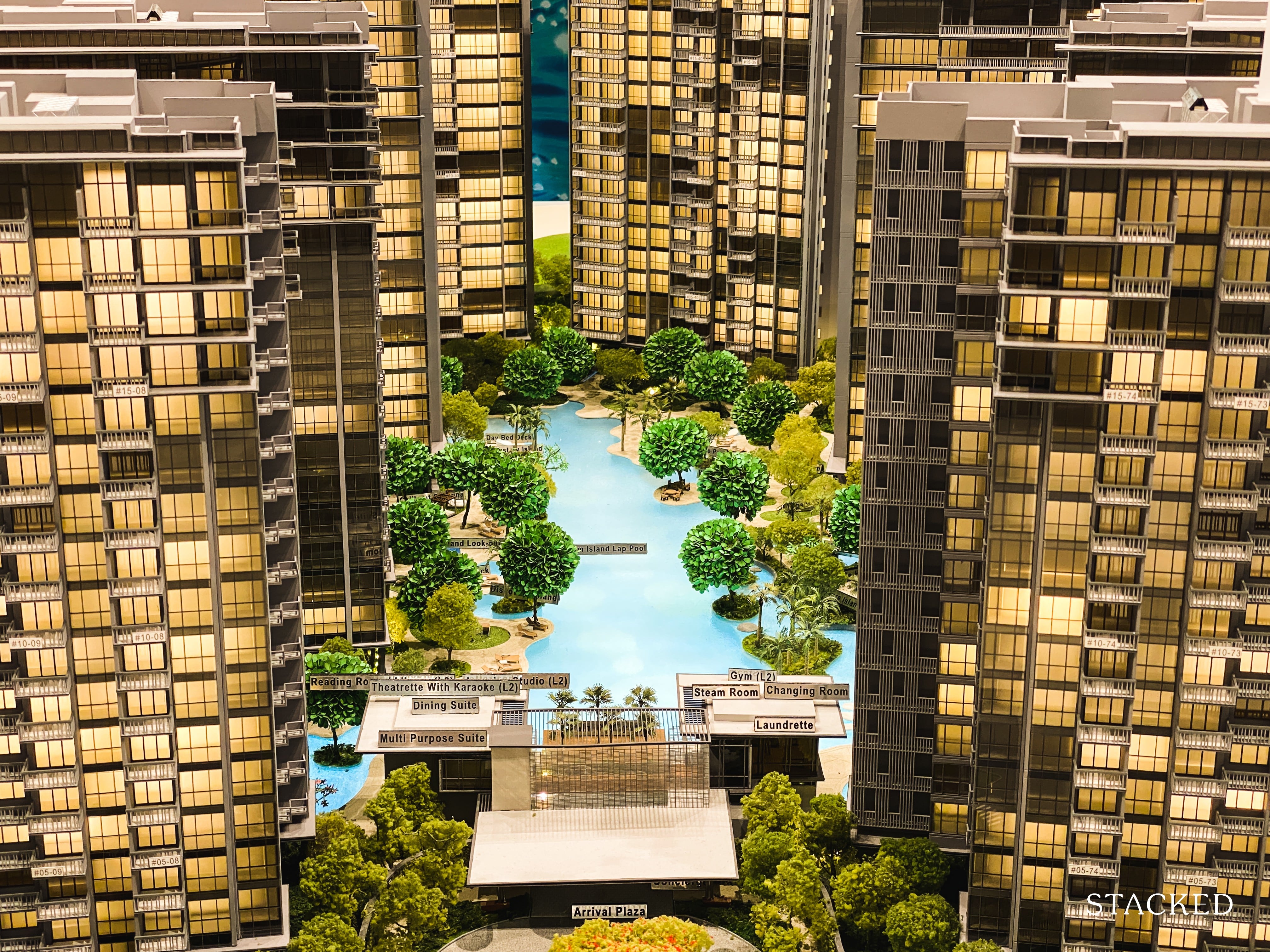 Remember how I started this review by mentioning that The Florence Residences boasts of 12 'clubs'? Well, they aren't actually 12 different clubhouses (there's in fact only 1). It's just a fancier term for 12 different zones with 128 different facilities aiming to cater to all residents, regardless of age, shape and interest.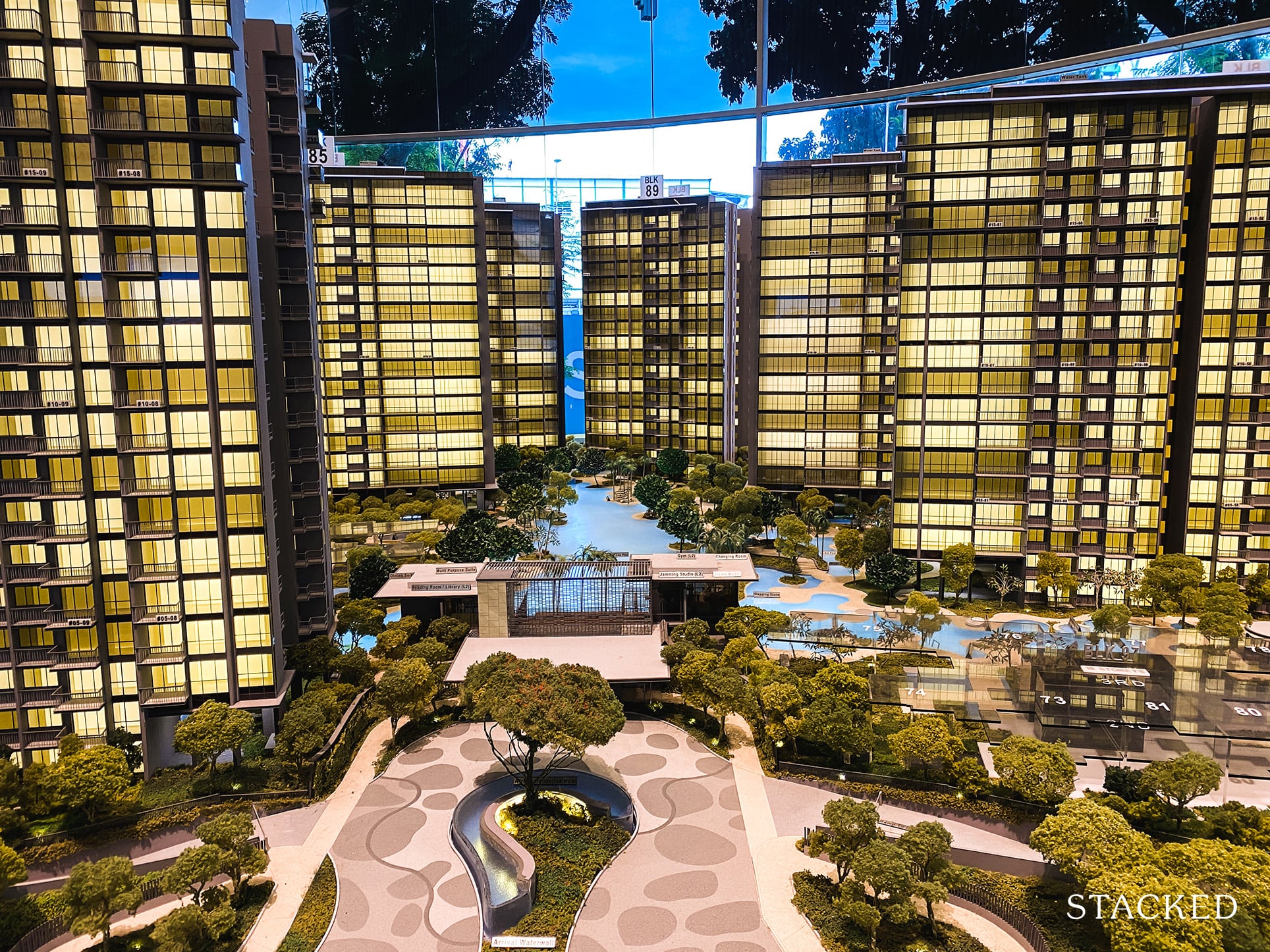 I mean, just in the arrival plaza alone you have a laundrette, dining suite, multi-purpose suite, and a theatre with a karaoke room.
Speaking of which the arrival court looks to be quite an impressive one. As with many other new developments, emphasis is placed on the aesthetics of the arrival plaza and I quite like it. What greets you at the roundtable is a waterfall and the presence of water elements should calm your soul after a long day at work. There's even a concierge at the entrance! Given that this is a mass-market condo, that's definitely a nice touch of luxury right there.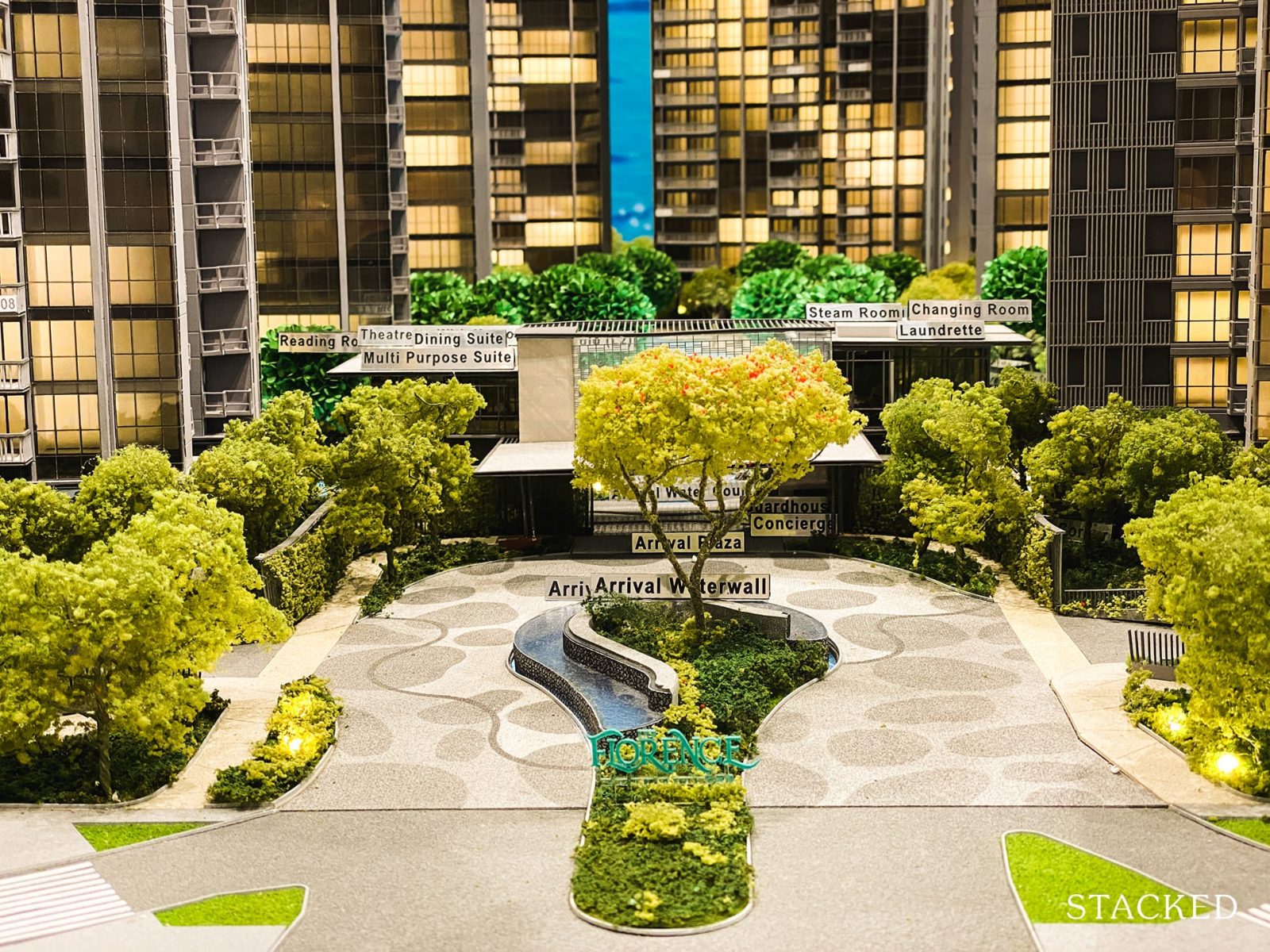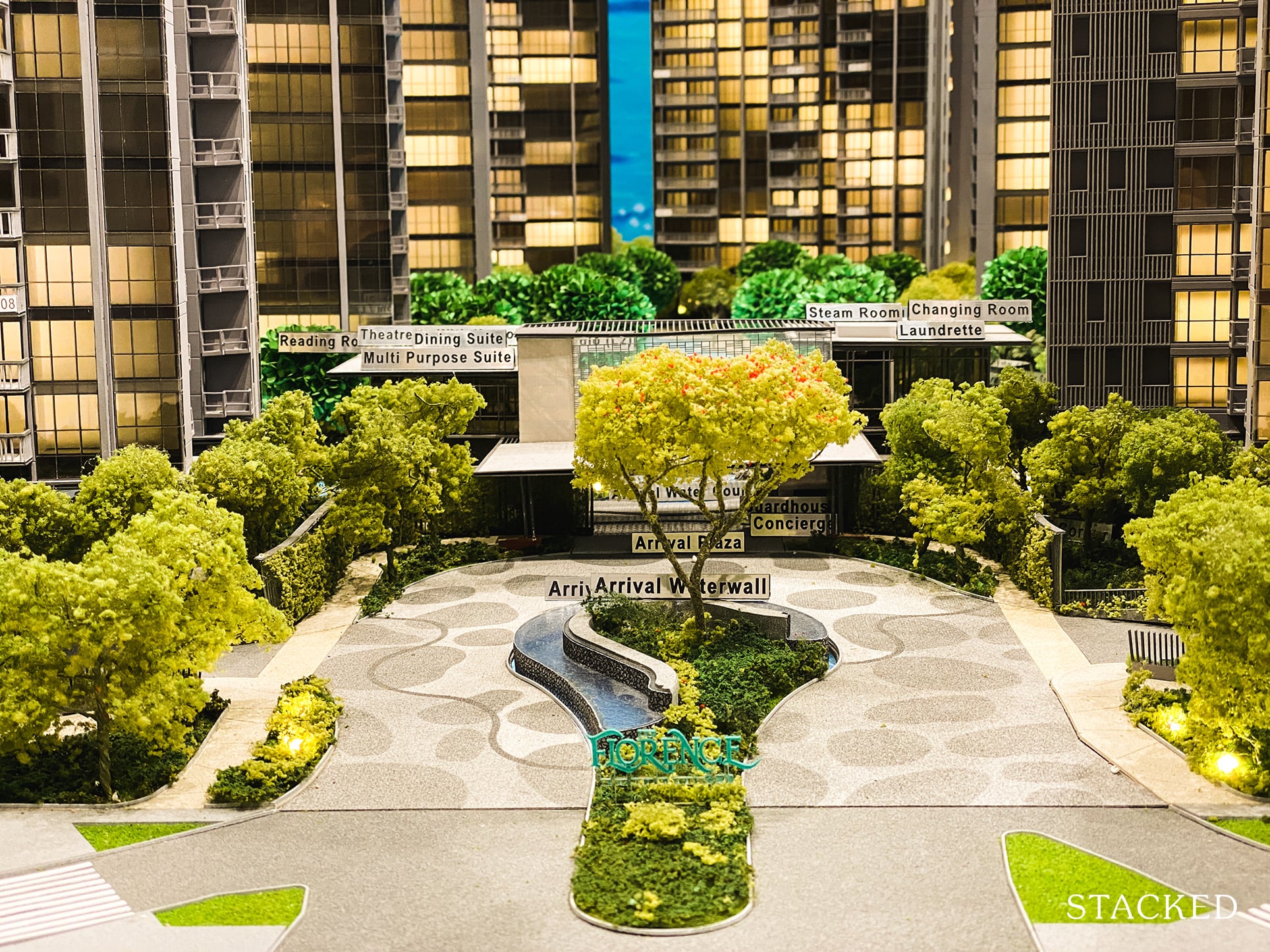 What you might want to note, however, is that this is the only entrance and exit to the development. With 1 parking lot allocated to each of the 1,410 units, there might be a beeline to enter and exit during peak hours. Which is probably not the most pleasant experience when you are rushing for time. The last mega-development I've seen with just one entrance and exit is the Interlace, and there is definitely traffic buildup during peak hours.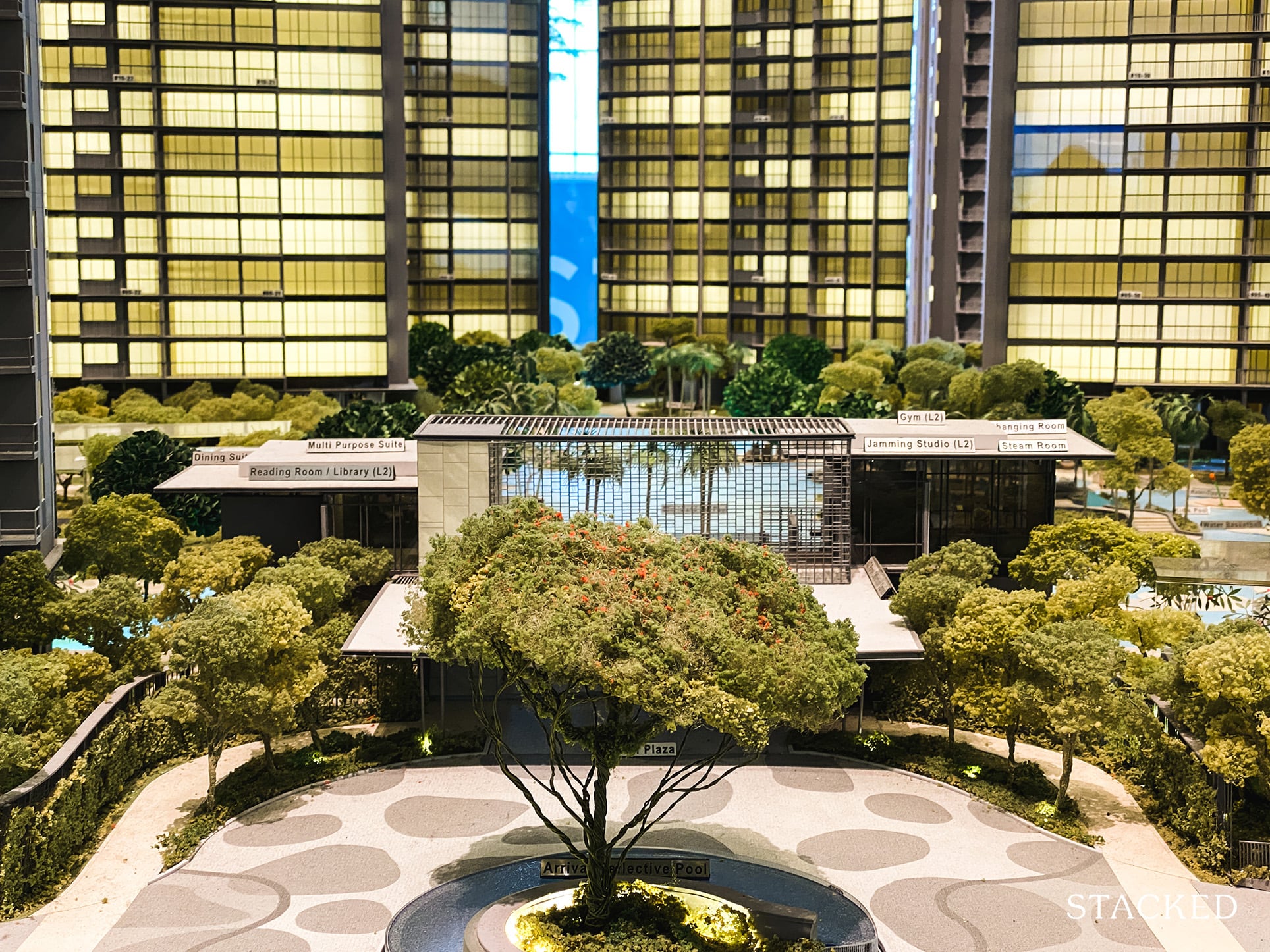 Walking through the arrival plaza will take you to the 2-storey Clubhouse. This is where you will find other facilities such as a jamming studio, a karaoke room, a library and a gym, which overlooks the full length of the 80m lap pool. That's a well thought out plan for the gym, I must say, and might be quite a sight! From the pictures alone, I suspect the gym isn't particularly huge and will probably be really crowded during peak hours, especially when you have 1,410 units here.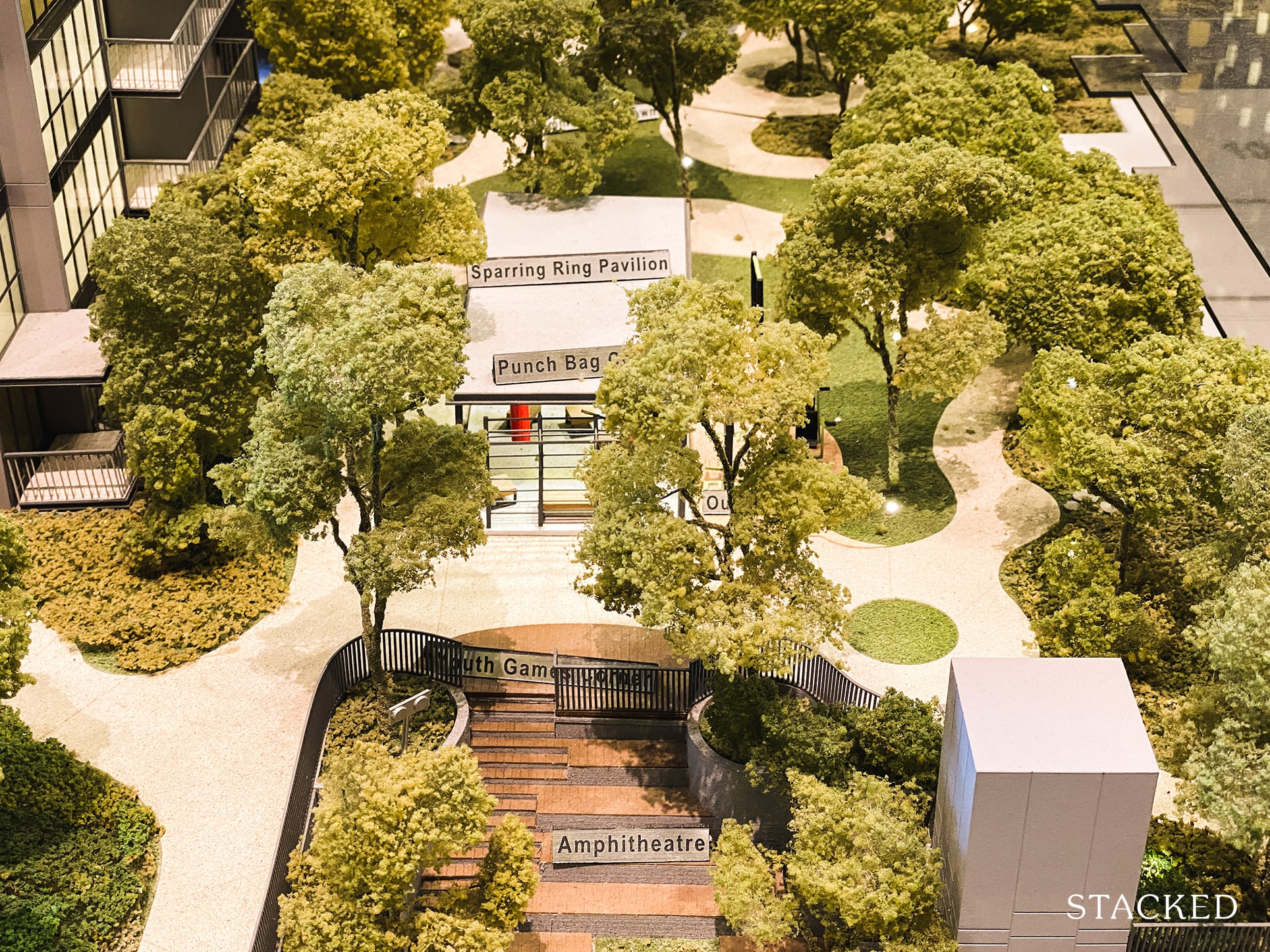 I must say though, they do have quite a unique array of facilities from a sparring ring pavilion and bouldering wall for the fitter folks to water jets and water spouts for the little ones. They definitely did their best to cater something for everyone.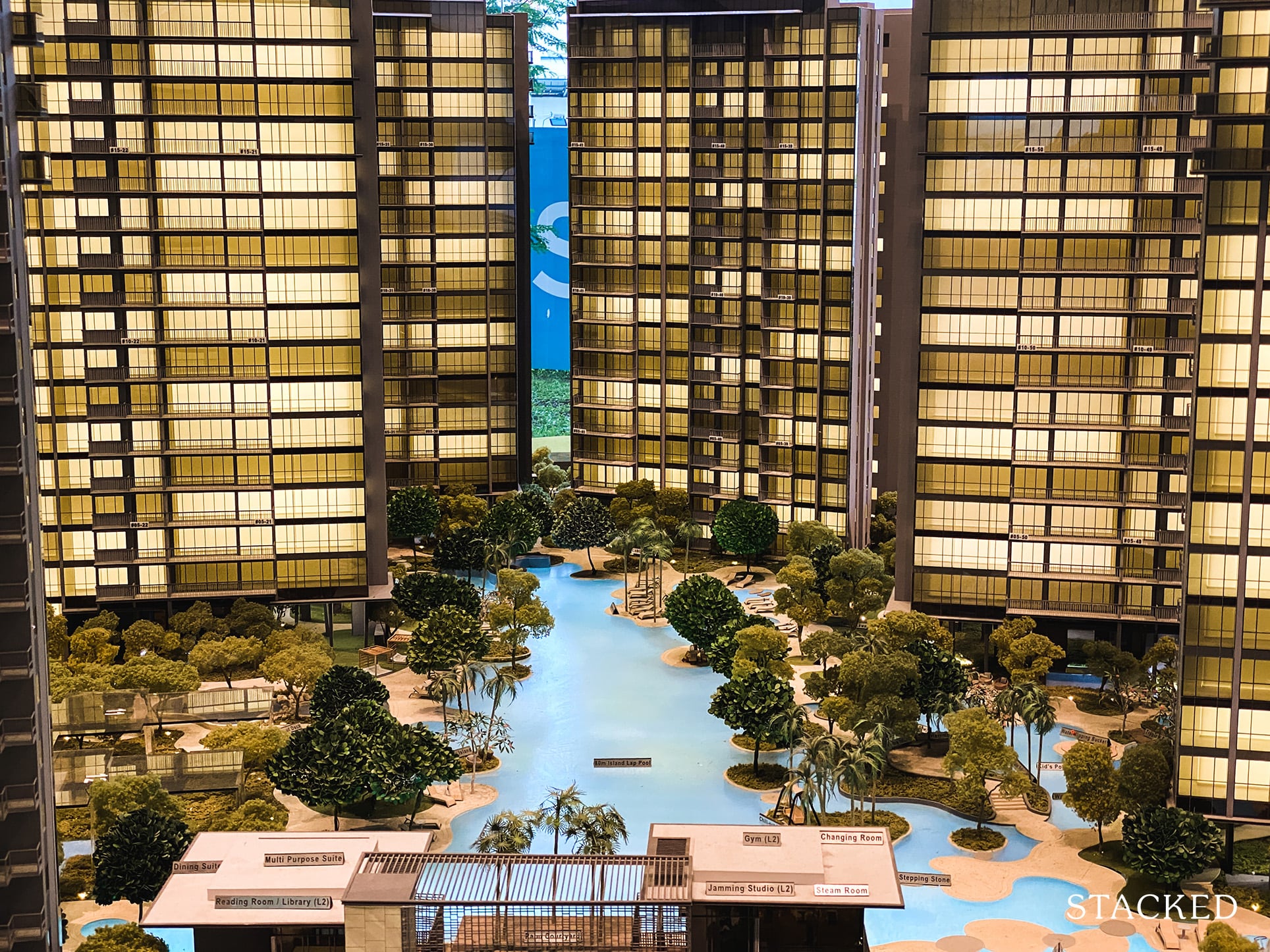 Given the number of units on hand, I think most people would expect to have a good-sized swimming pool(s) as a minimum requirement. It's quite a whopper, spanning a length of 80 metres as it takes up the centre stage of the Florence Residences.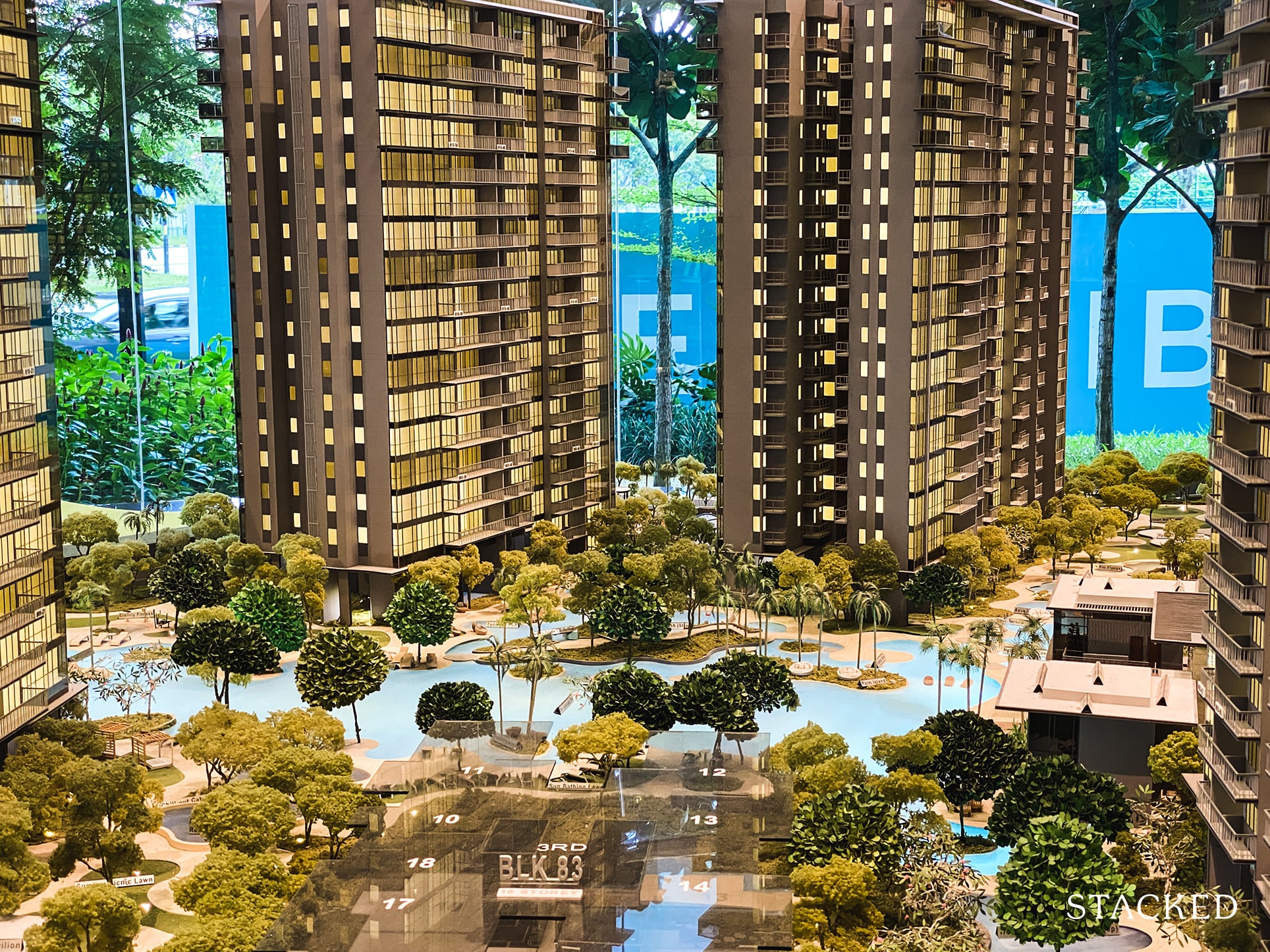 But as big as it may sound, it still falls short of the behemoth of a swimming pool at the Parc Clematis (100m in length). And that's not even taking into account the other 3 50 metre swimming pools at the Parc Clematis as well.
So given that both projects have 1,400+ units, it's pretty clear which project comes up top in terms of land size and facilities.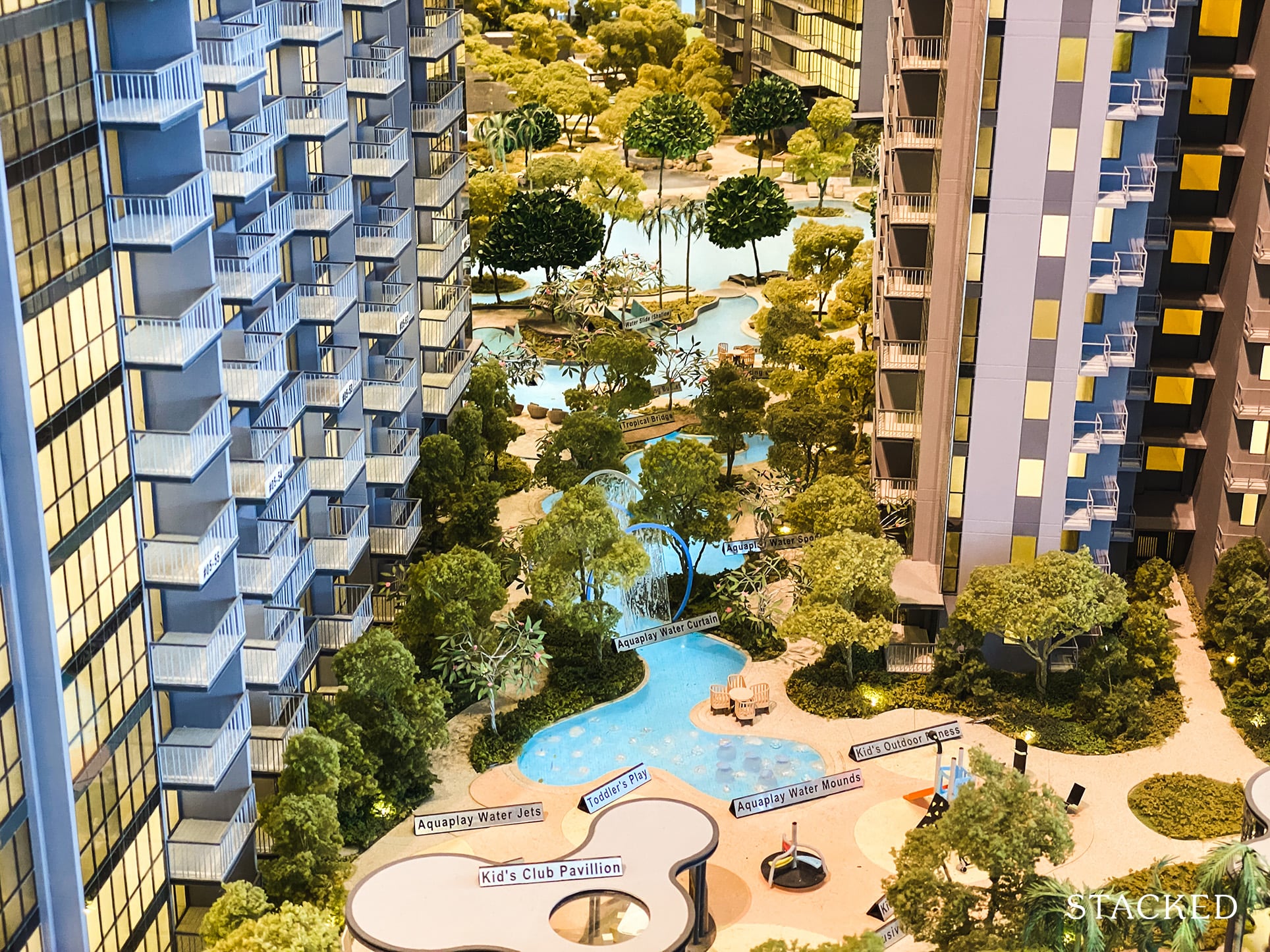 To be fair, there are smaller streams and pools that flow to different blocks, which does form mini pool enclaves of their own. These include a salt pool, hydrotherapy pool, meandering pool, and kids pool.
The question is – would this be adequate for 1,410 units? It's a tough one. I would say that without the example of Parc Clematis it seems as if they've just about done enough. But seeing the extravaganza there does make this pale in comparison. My gut is that it is still going to be quite packed on the weekends.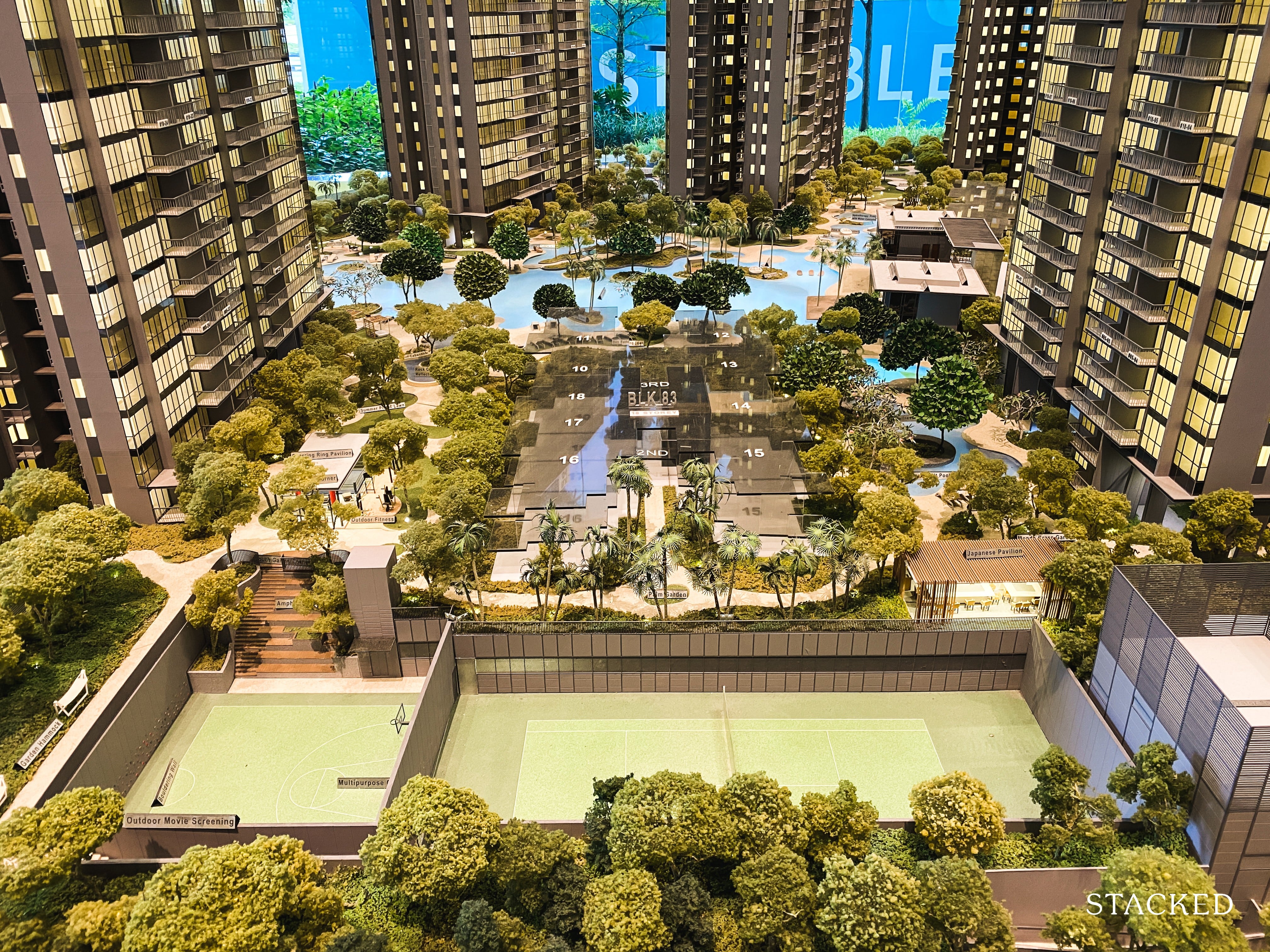 Here comes the real bugbear – no matter which way you look at it, one tennis court is definitely not enough to fulfil the demands from a 1,410 unit strong development. It's safe to say there will certainly be a tough competition for slots during the prized weekends and public holidays.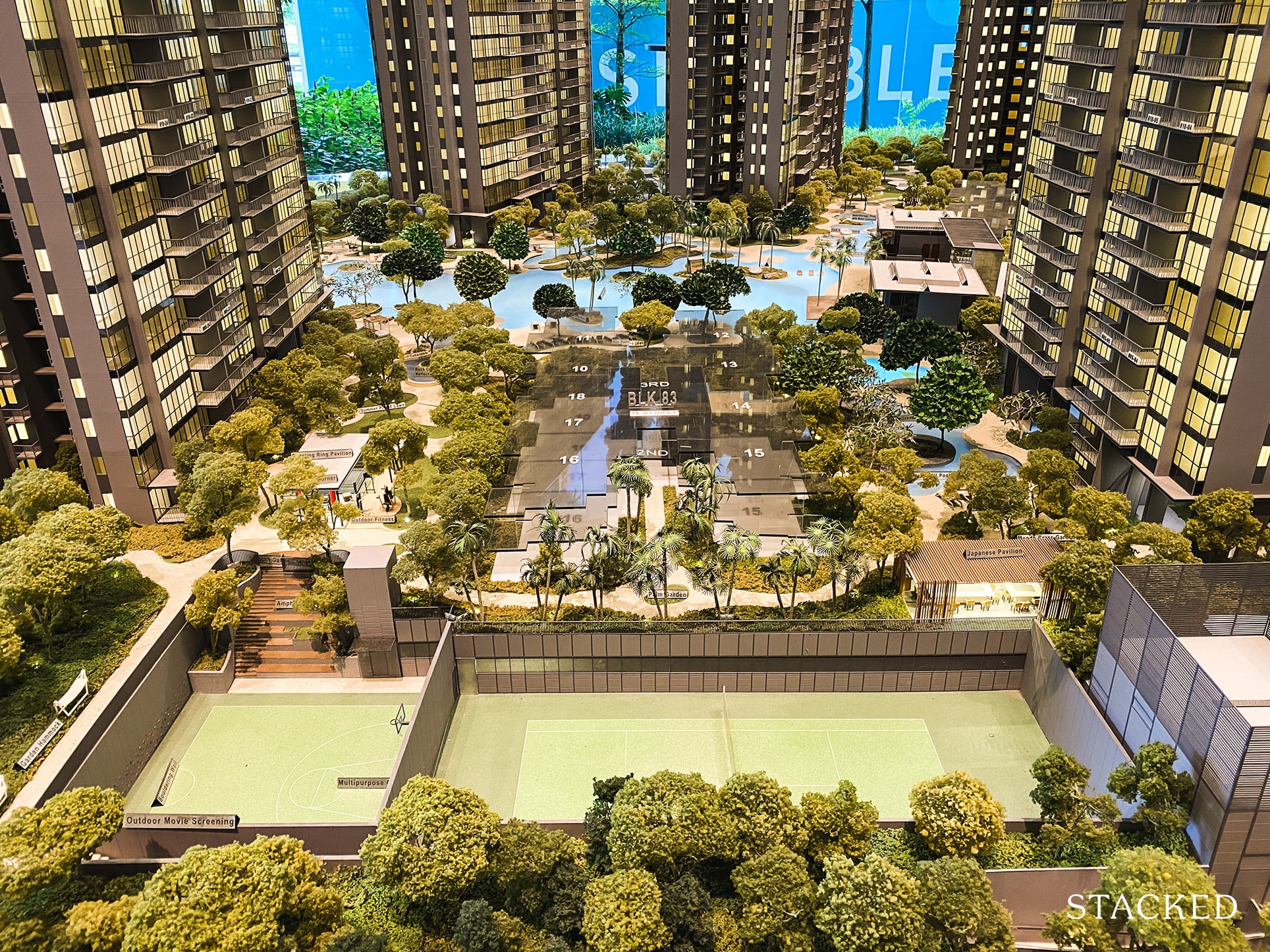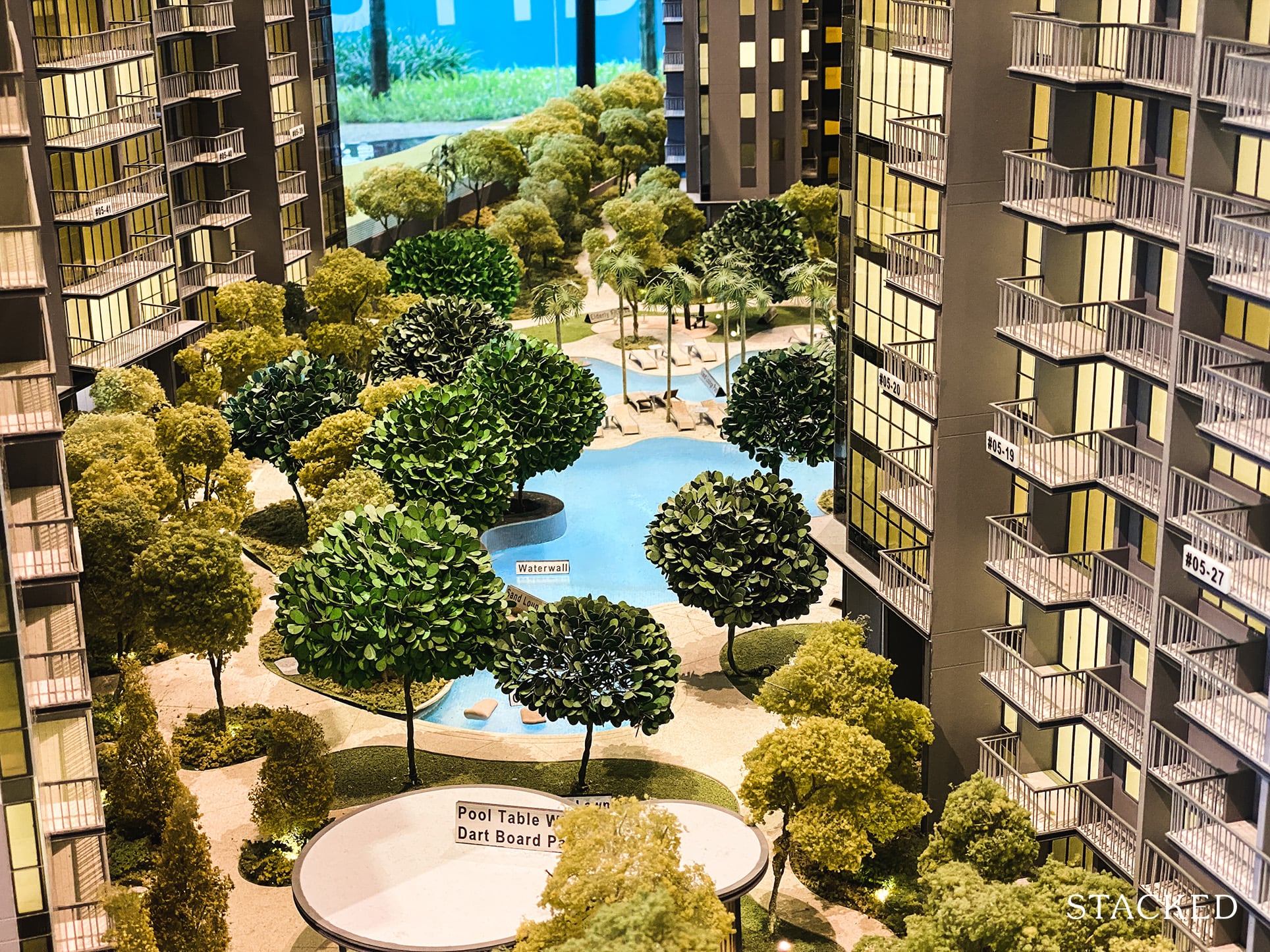 That said, I do think their goal was basically to supplement these inadequacies with a wider array of facilities – with some unique ones such as a punch bag corner, pool table and dartboards, bouldering wall and sparring ring pavilion among other sports-like facilities.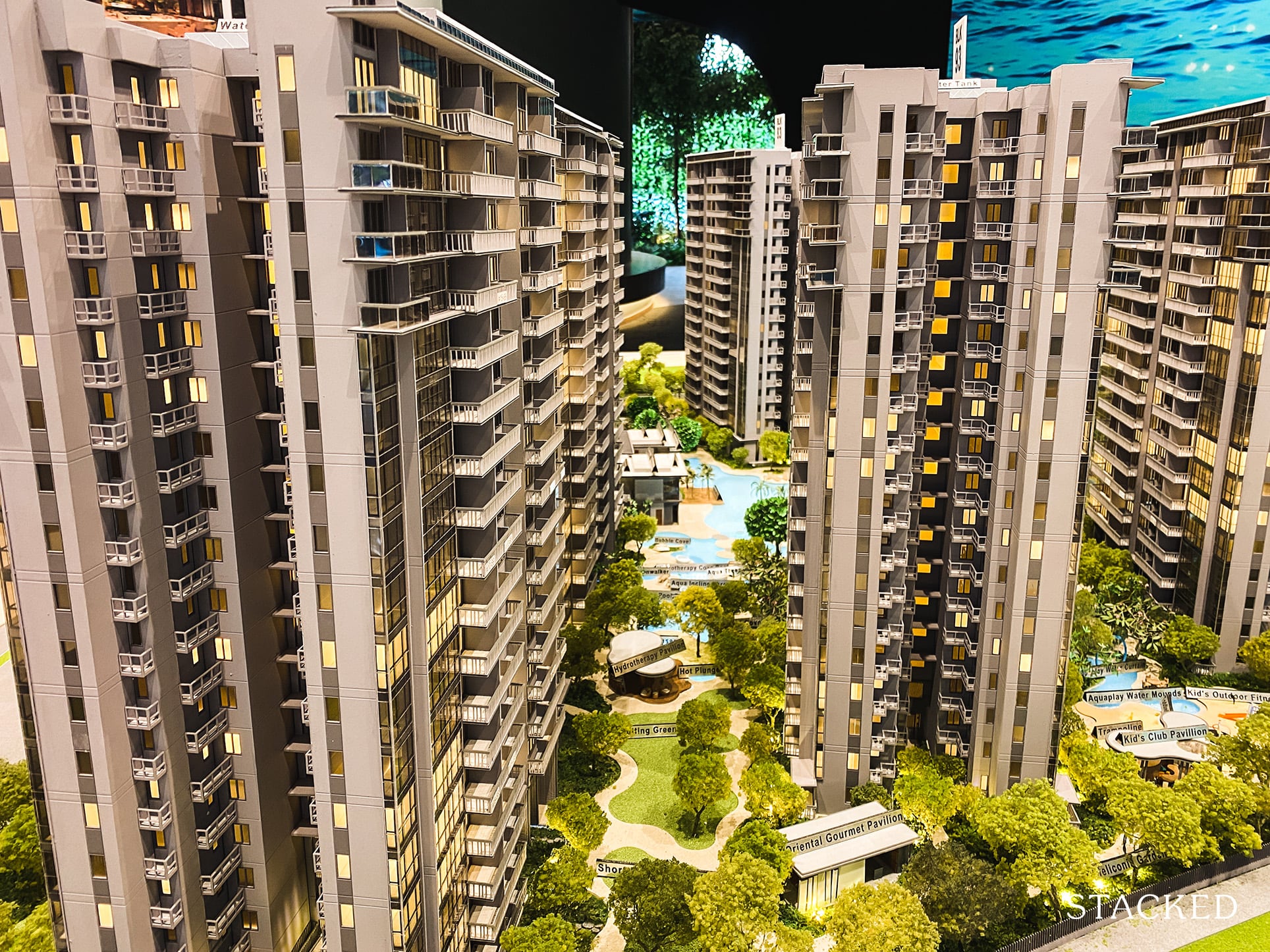 Its other facilities are revolved around lawns, pavilions and chill out spots, all termed differently in order to form the 128 facilities in total. Rather interestingly, Treasure at Tampines also boasts of exactly 128 facilities.
128 facilities do seem like a lot, but when you delve deeper into the details, many are just marketing speak – would you really count 10 different lawns as separate facilities? Well, nothing against them of course, since it's common market practice to have this laundry list of facilities.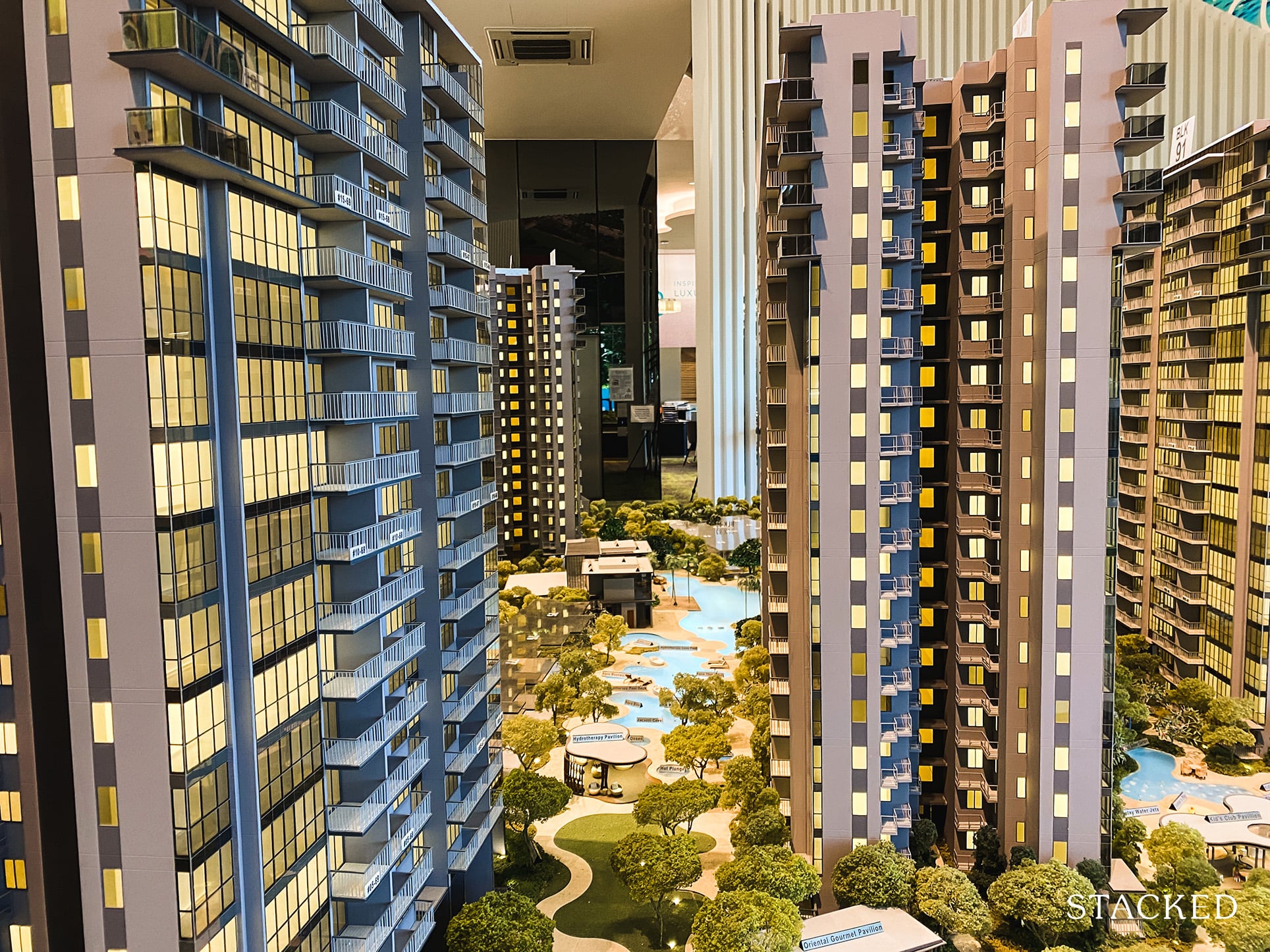 To round up, I would say that I like the wide variety of facilities in this development but I find the actual number of the individual facilities such as the pool (still up for debate), gym and tennis court among others to be lacking.
If you think these condo facilities are something that you will use often, do keep these points in mind.

Matt K
The Florence Residences 1 Bedroom + Study Review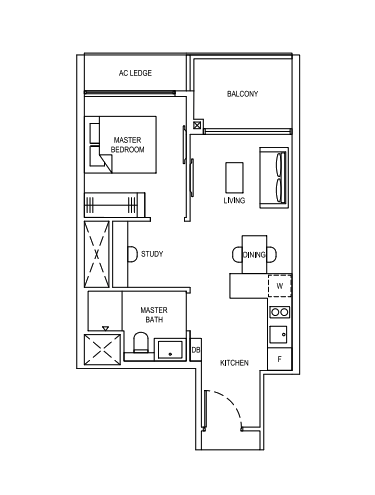 At 527 square feet, this 1 bedroom plus study unit is the largest 1 bedroom layout the project has to offer as it comes with an additional study. Size-wise it is definitely above average in the 1 bedroom category, with most units usually coming under the 500 square feet mark.
The general layout of this unit is quite typical of a 1 bedder, but I did find some differences that make it less ideal than others in the market. All units (except 5 bedroom) in this development will have porcelain tiles as the flooring for the common areas and engineered timber for the bedrooms. Many mass-market condos have now gone with marble as the default but there are still a handful of projects such as Treasure at Tampines that have still stuck to the more wallet-friendly porcelain tile.
As with almost all 1 bedroom units, the entrance brings you directly to the open kitchen, which is fitted with an induction stove and other electrical appliances by Electrolux, a Swedish brand with more than 100 years of history. It's not an 'atas' brand by any measure, but it is in line with what you might expect in a mass-market condo.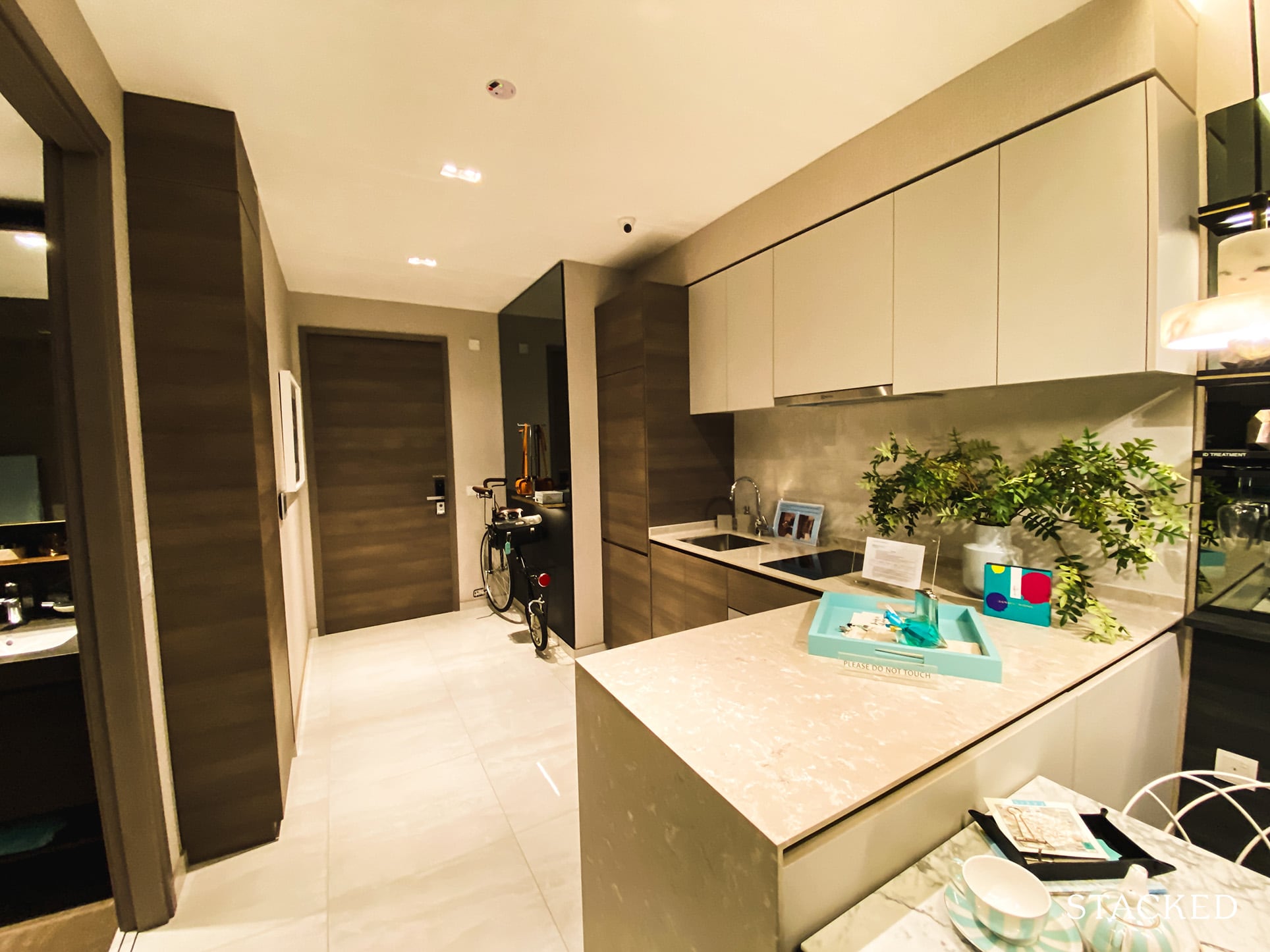 It's a common pet peeve of mine, but the entranceway, in this case, is quite a wasted space. Sure, you could use the space on the left to store a bicycle (as shown in the showflat unit), but I think most people could easily do without it as well.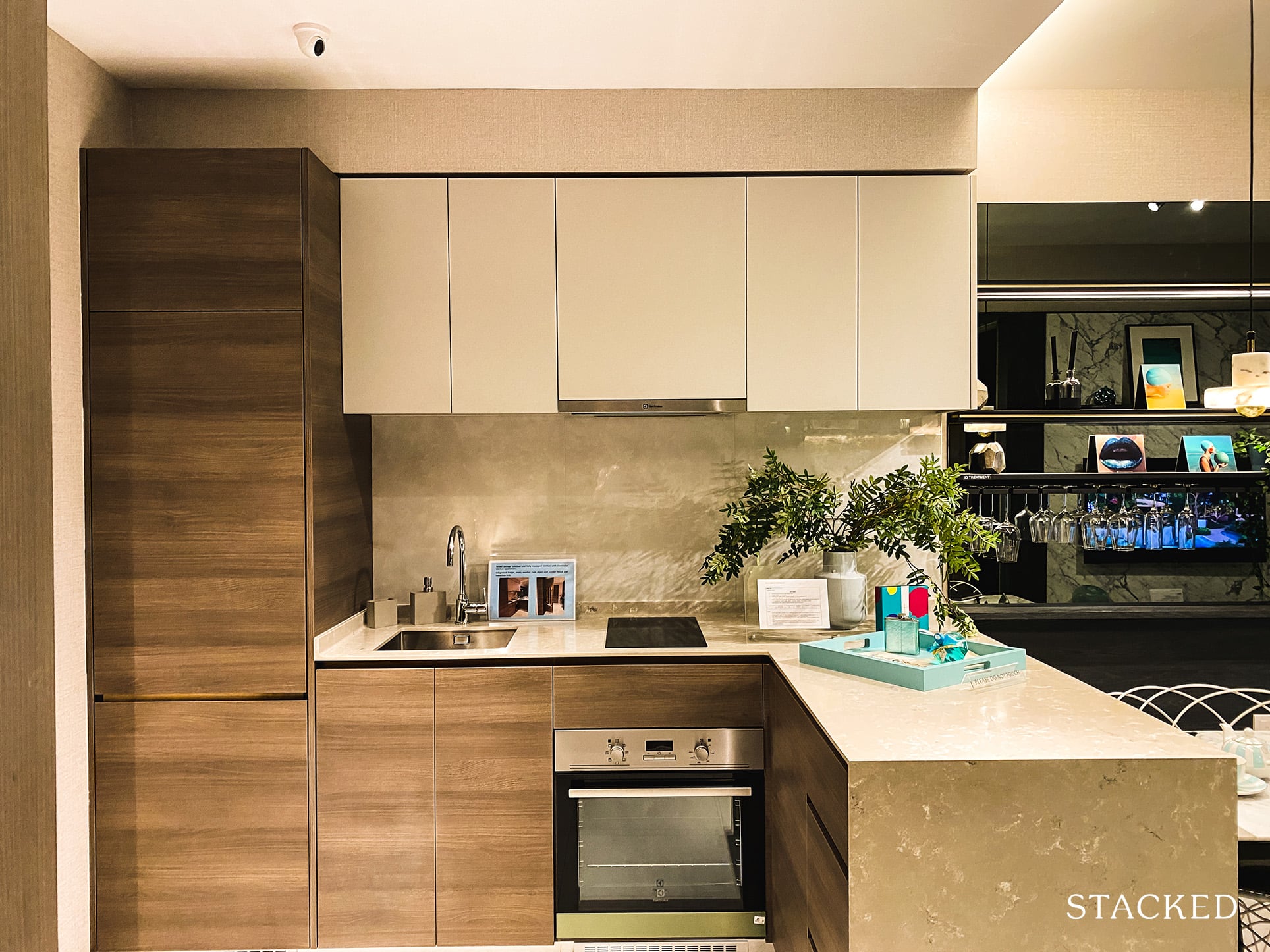 The kitchen is a good size for a 1 bedroom apartment. But what I especially like is the L-shaped counter, which offers more storage spaces below and countertop space above. This is not a common design found in a 1 bedroom unit, so I do appreciate the thought process behind this. In fact, if you wish, the little nook could probably double up as your dining table for 2 or a bar countertop with some minor renovations.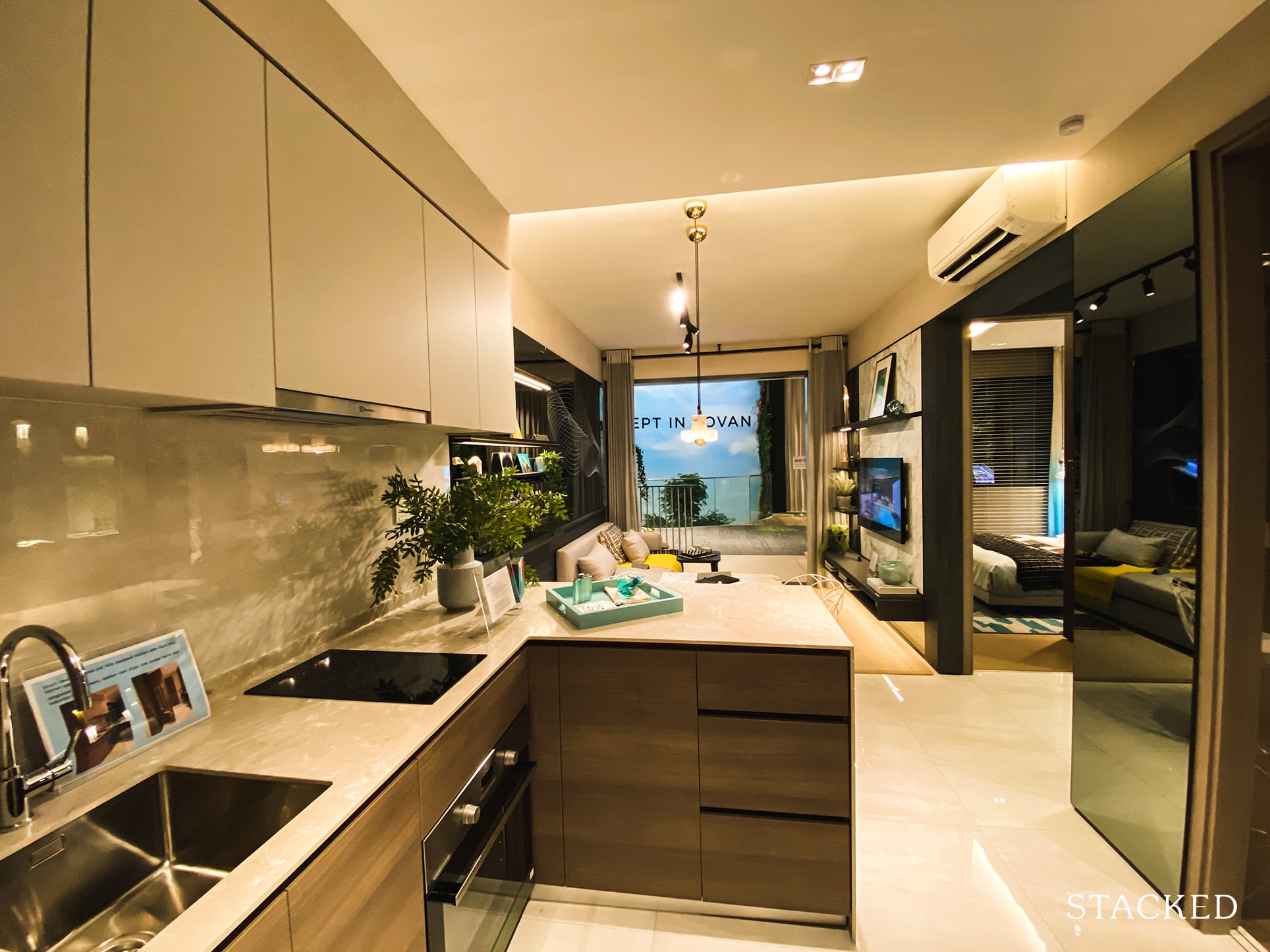 Of course, the L-shaped kitchen counter does mean that your walkway space is now compromised, so this might be something you'd like to take into consideration too.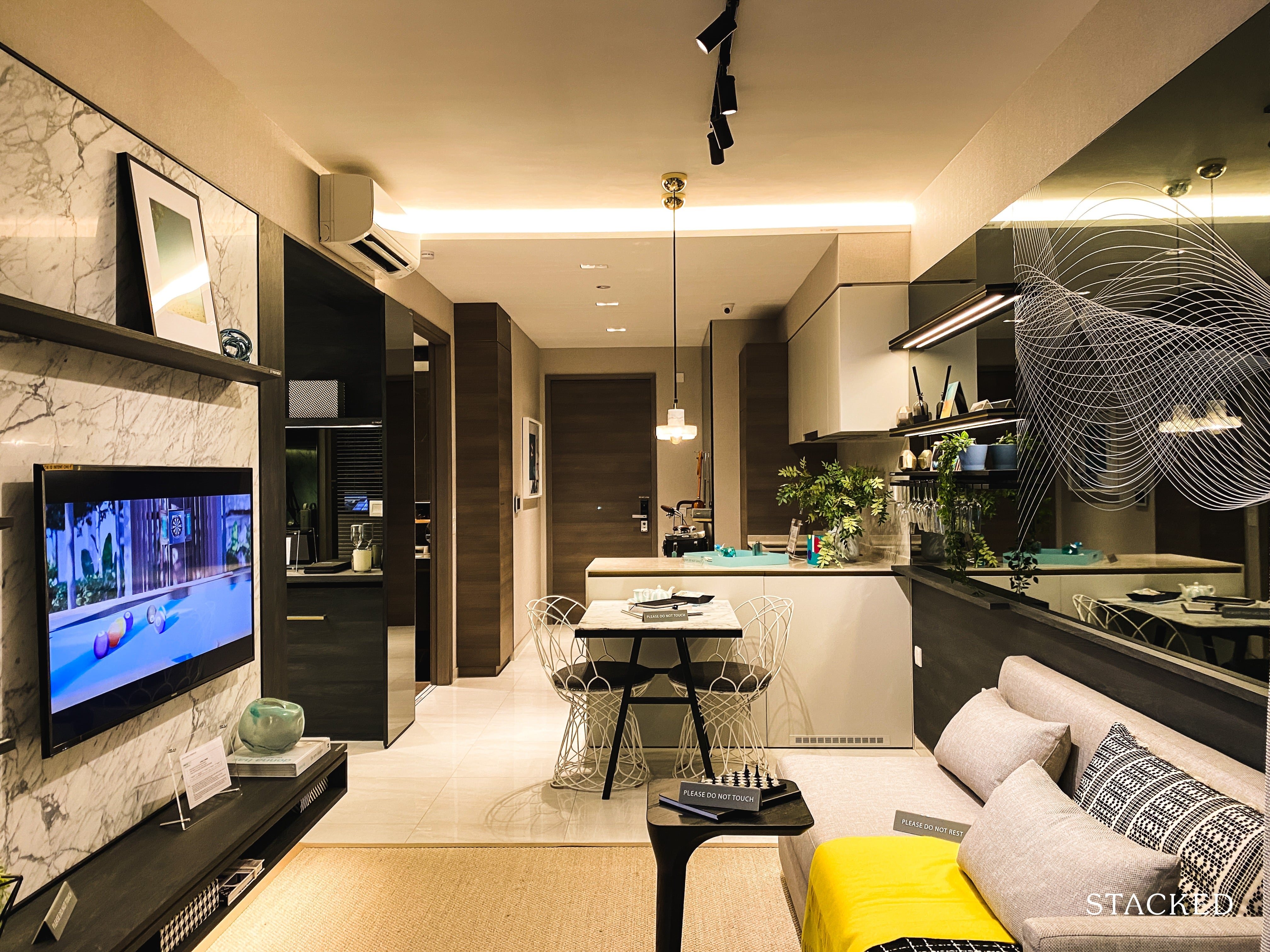 In this show unit, they have placed a small 2-seater dining set, which is just about right. On paper, the dining area is actually not a bad size at all.
But in reality, it's a different story. If you were wondering why the dining set was not flushed to the end, it is because of where the washer-dryer is – which I personally find to be in a rather awkward position as it now impedes the dining area.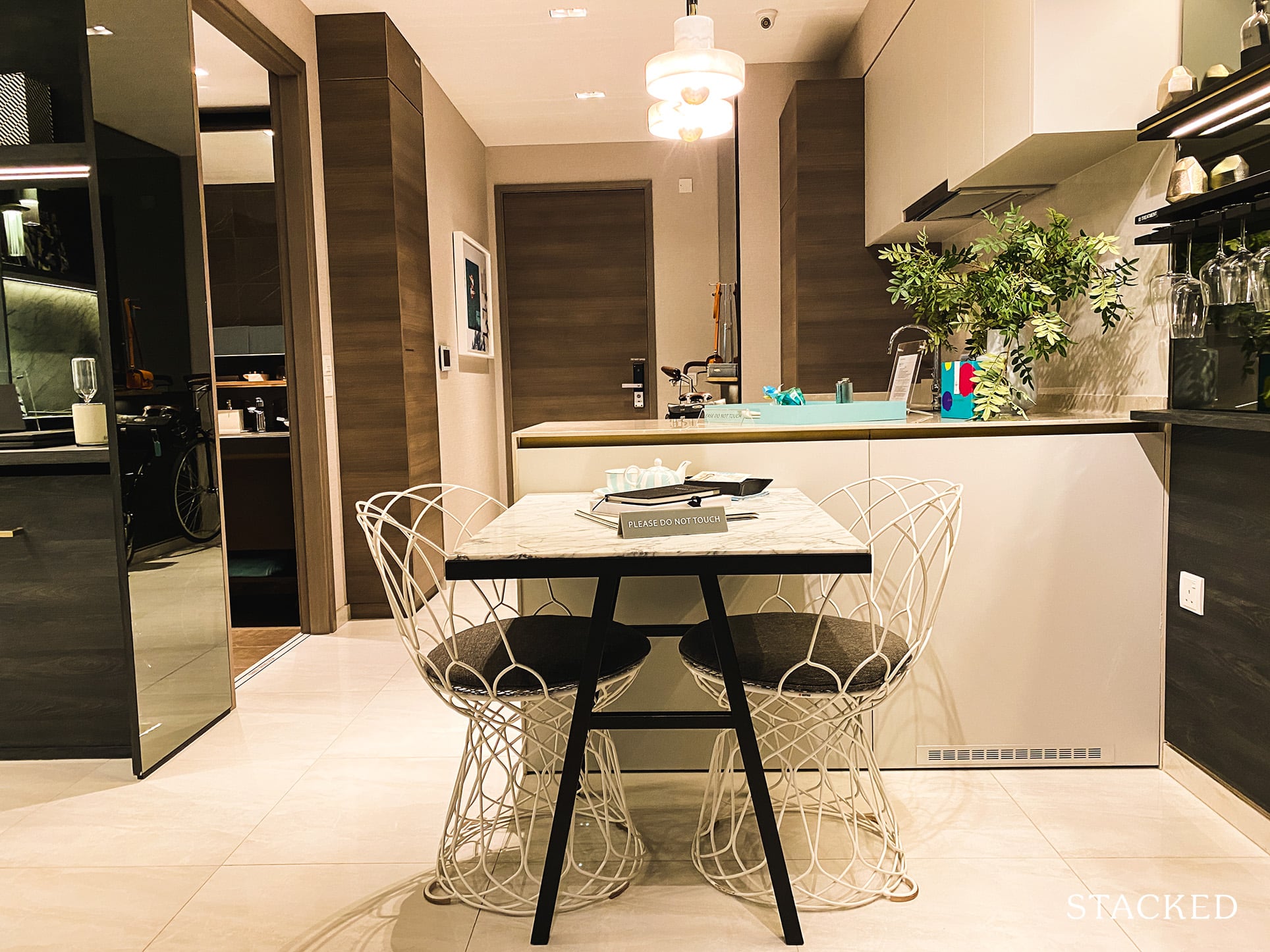 As you can see from here, you are very much limited by the size of the dining table – plus every time you want to do laundry you will have to tuck in the chair completely. It isn't the most ideal scenario.
Alternatively, you could use the island as a dining table instead – giving you more space for your living area as well.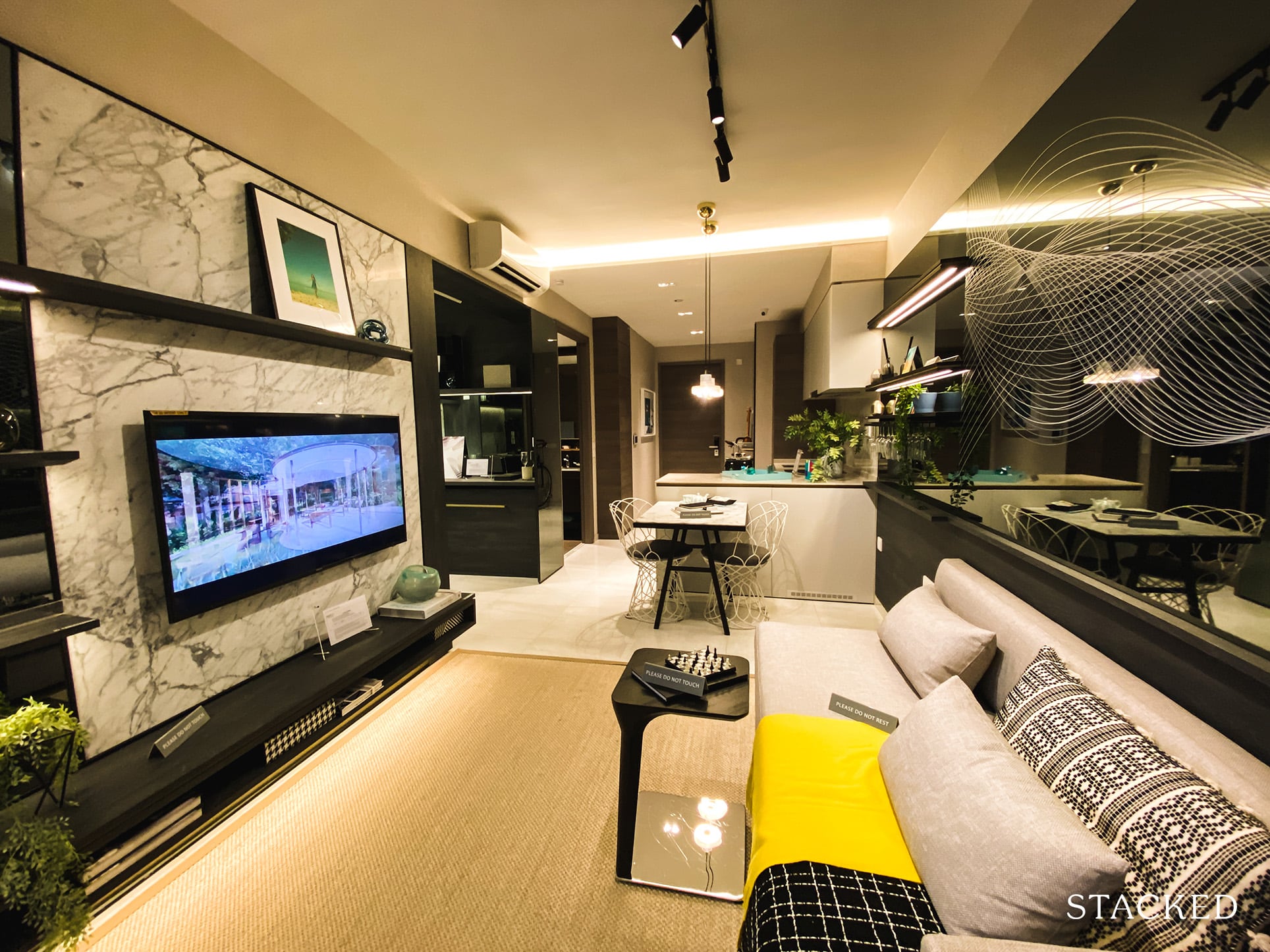 The living area is decent. It should comfortably sit a 2 to 3-seater sofa, and the distance from the TV is also relatively wide for a 1 bedroom unit.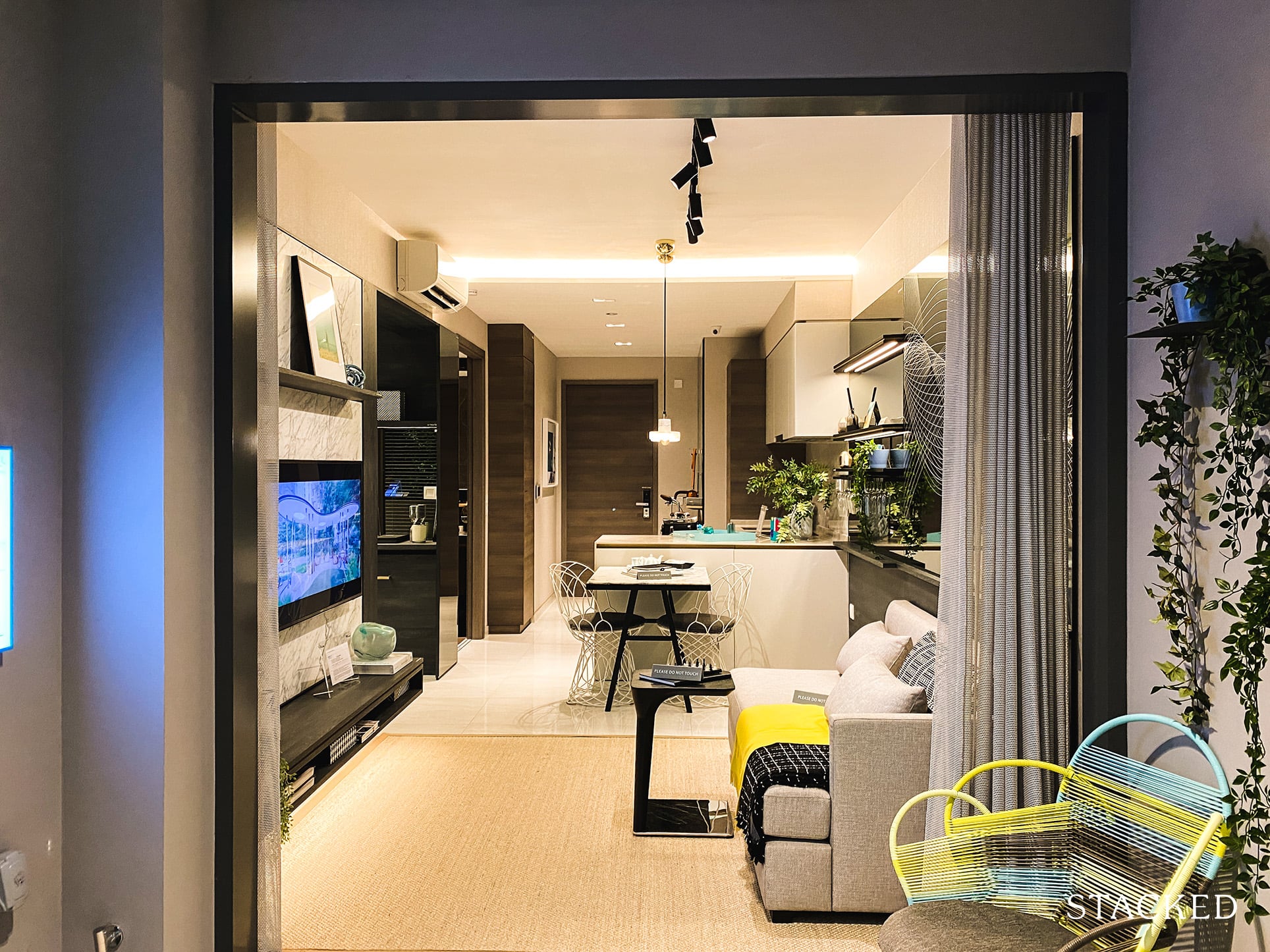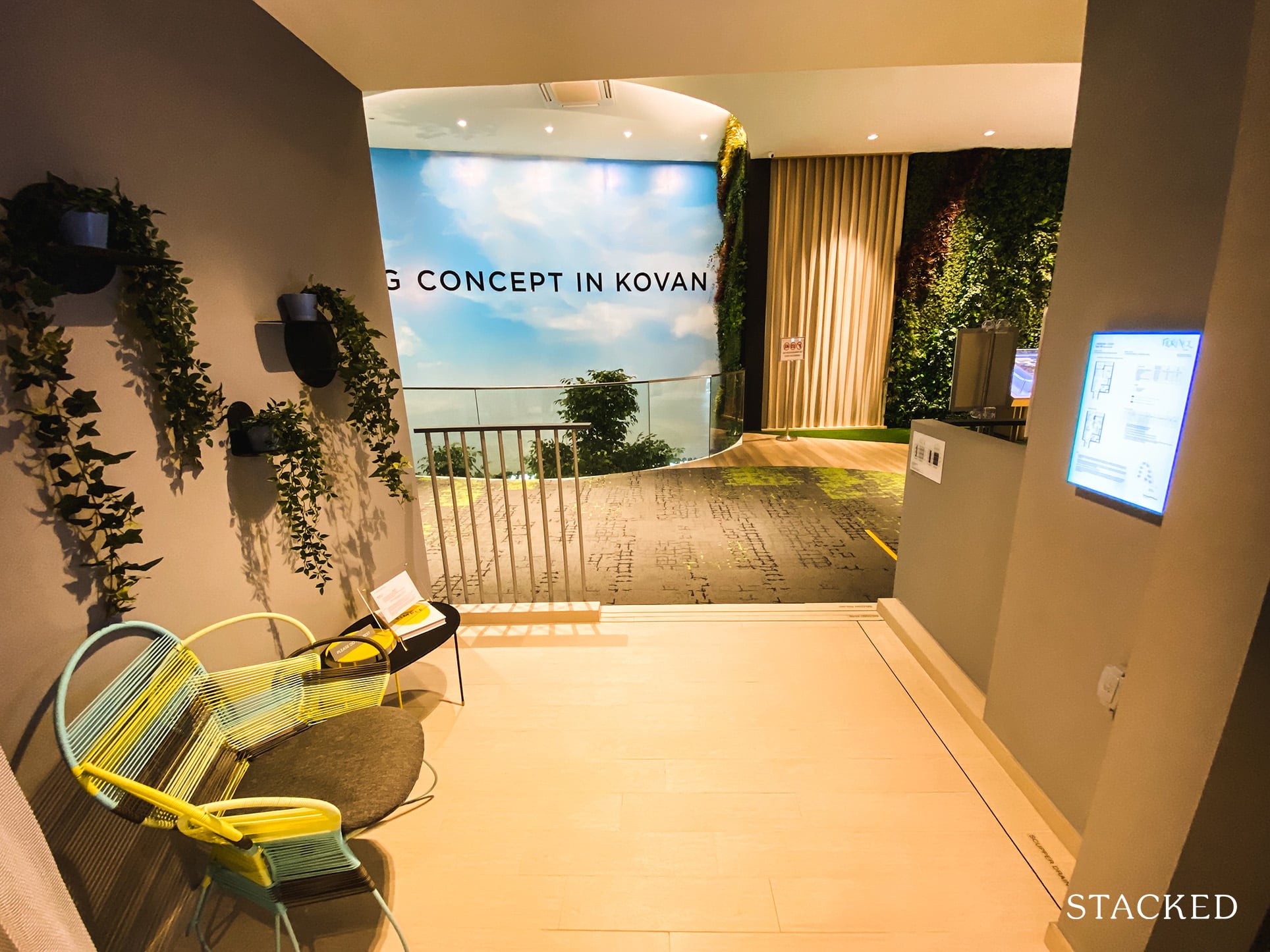 The balcony is squarish in shape and is actually bigger than the main dining area, so you can have an al-fresco dining set there if you prefer. It will probably fit more people than your dining area anyway!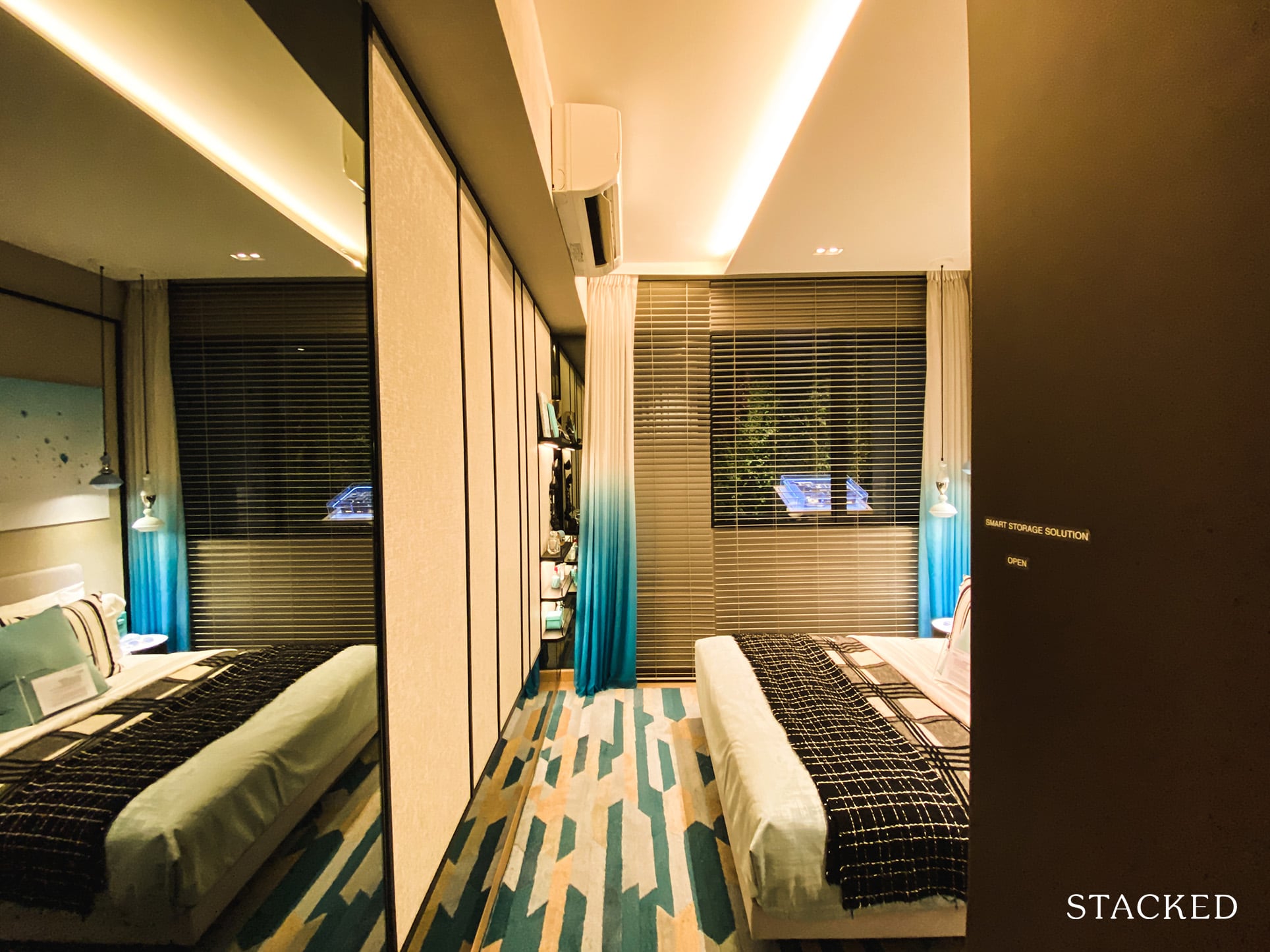 Coming to the master bedroom, which comes in at 9.7sqm (107sqft), it will fit a queen-sized bed as displayed here but really… it's not going to fit anything much beyond that.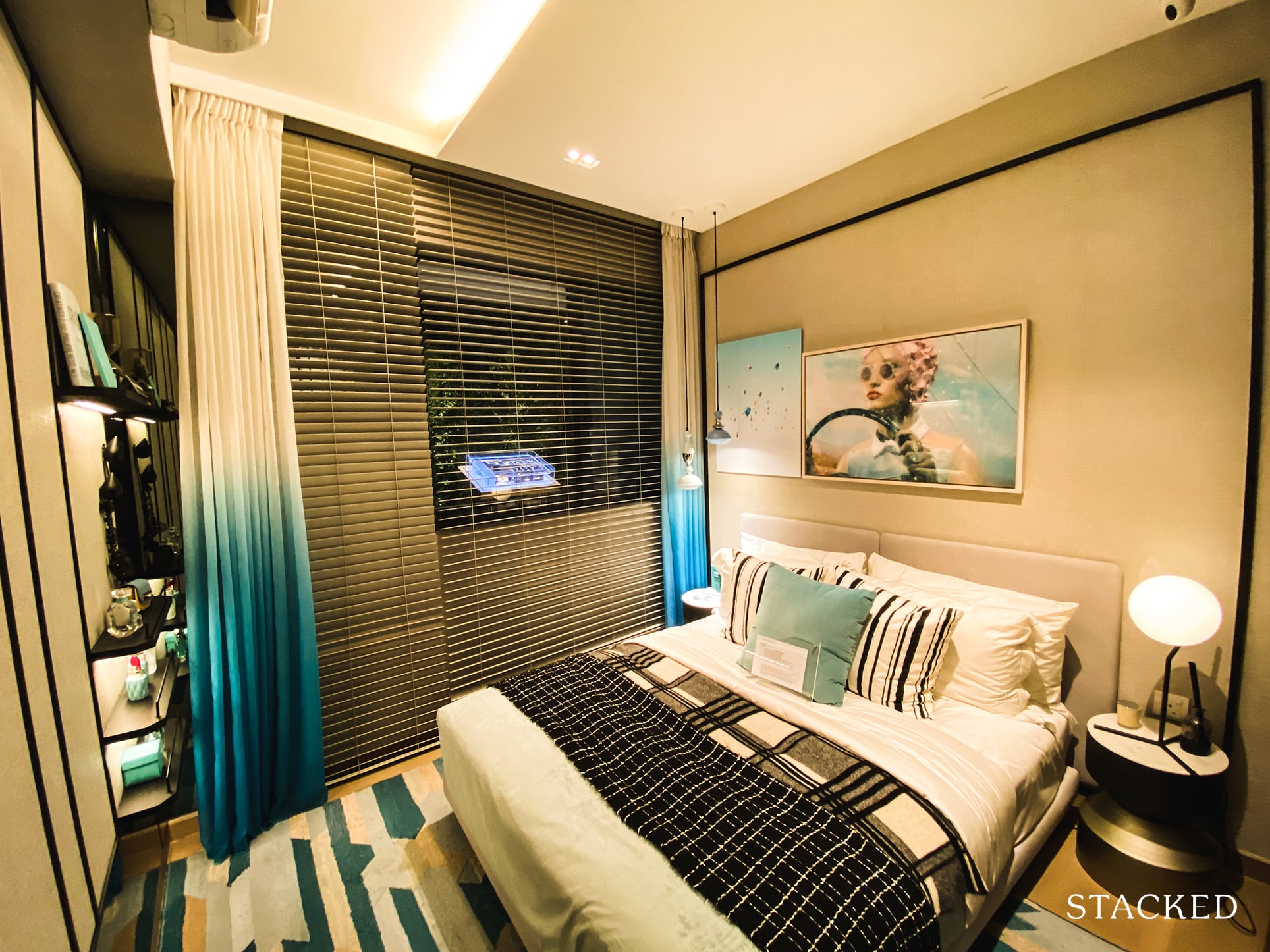 Additionally, do note that the windows in the Master Bedroom will be half-length as the air-con ledge will be situated just outside. While it is not ideal, it's actually quite common for 1 bedroom units given the lack of space anywhere else. The room also comes with a typical 2-panel wardrobe which has smart storage at the side, allowing you to place more accessories such as scarfs and necklaces.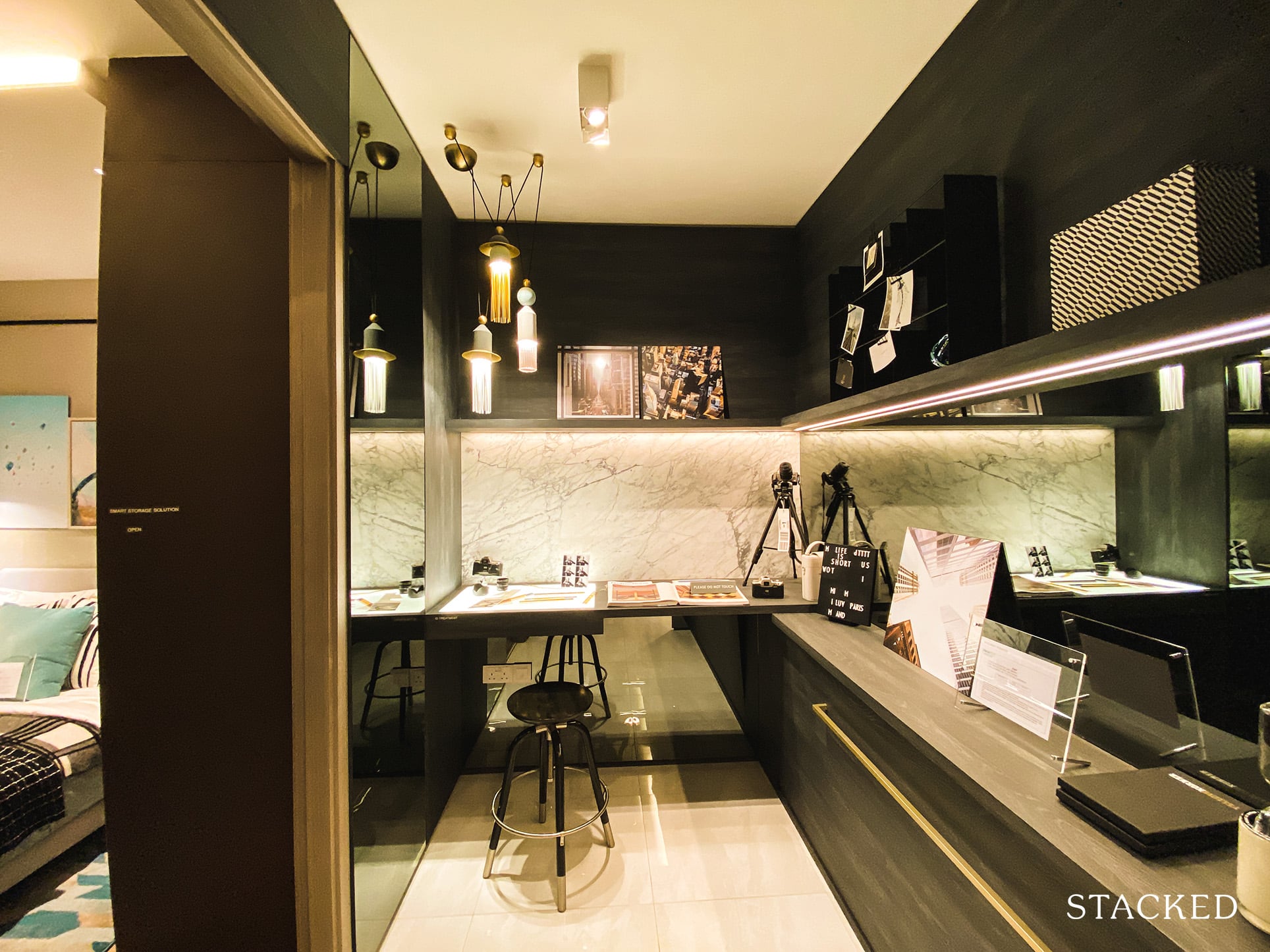 The study is quite a decent size – save for the lack of any windows. The bigger problem here is really regarding the layout of the unit.
Personally, I find that the developer has gotten the placement of the bathroom and study mixed up. The master bathroom (as evident from its very term) ought to be connected to the master bedroom, but this was unfortunately far from the case here. Instead, the bedroom is actually linked to the study, which is fine space-wise and is especially helpful now, when most of us are still telecommuting.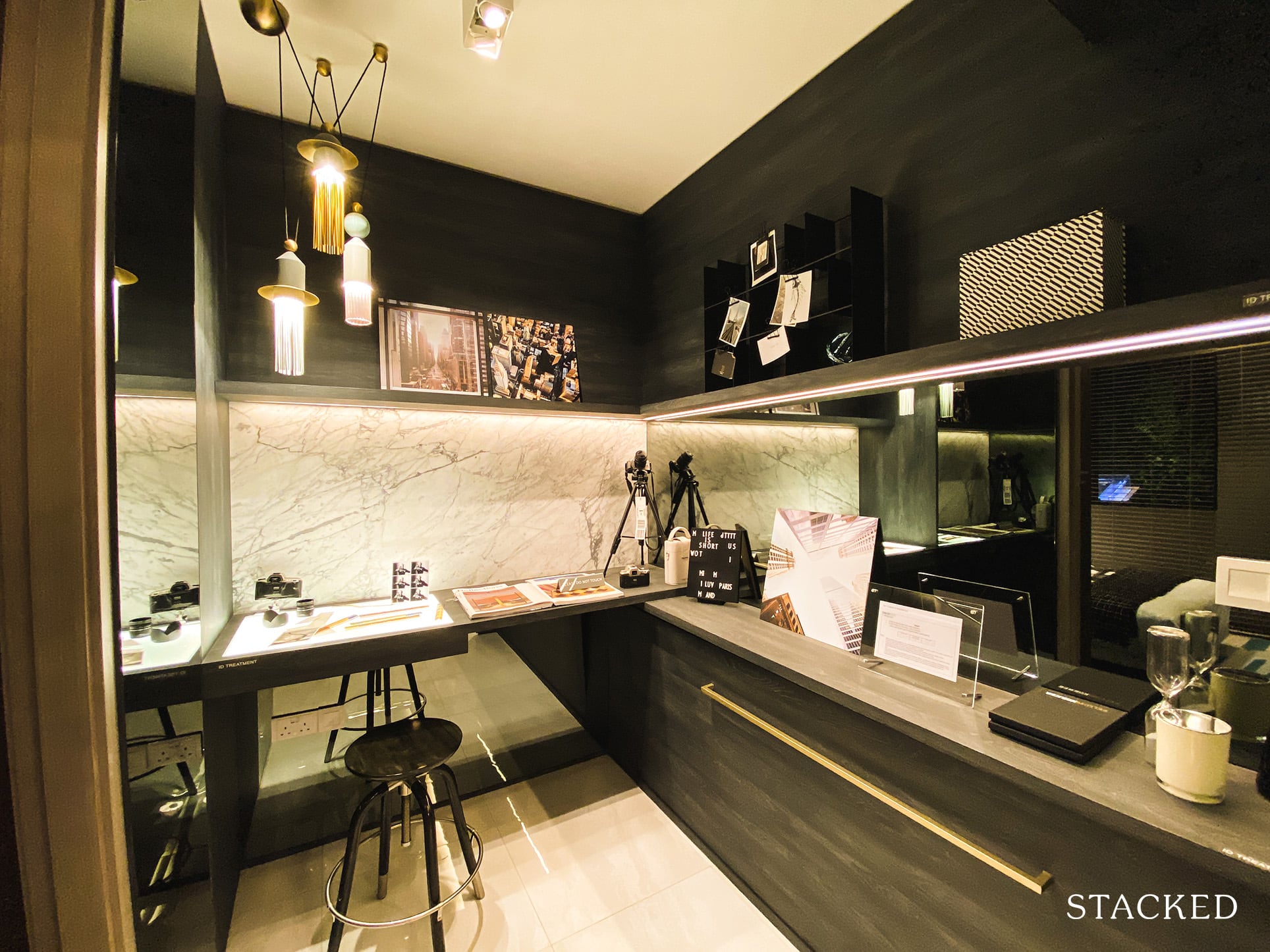 However, during normal times, the study can sometimes double up as an ad-hoc bedroom. Don't take my word for it, the interior designers themselves have included a murphy bed model here.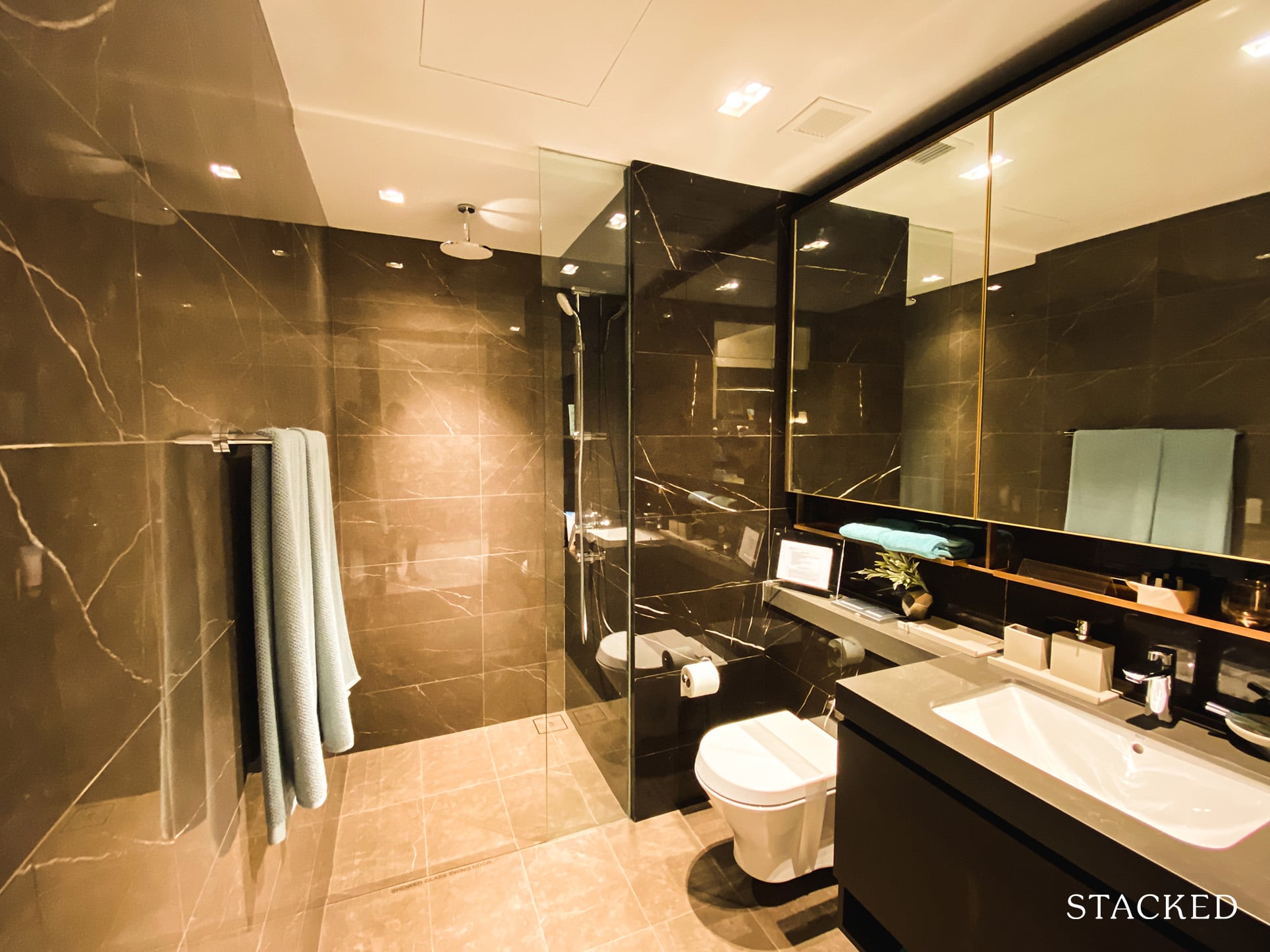 Now, where then is the Master Bathroom? It actually opens up to the kitchen, which is not a bad idea where you have guests over.
In my humble opinion, the 1 bedroom plus study unit at the M features a more sensible layout. It is exactly the same size at 527 sqft and espouses the concept I was speaking about earlier – a jack-and-jill bathroom and a study which is separate from the bedroom itself, giving parties (where there is a guest over) more privacy.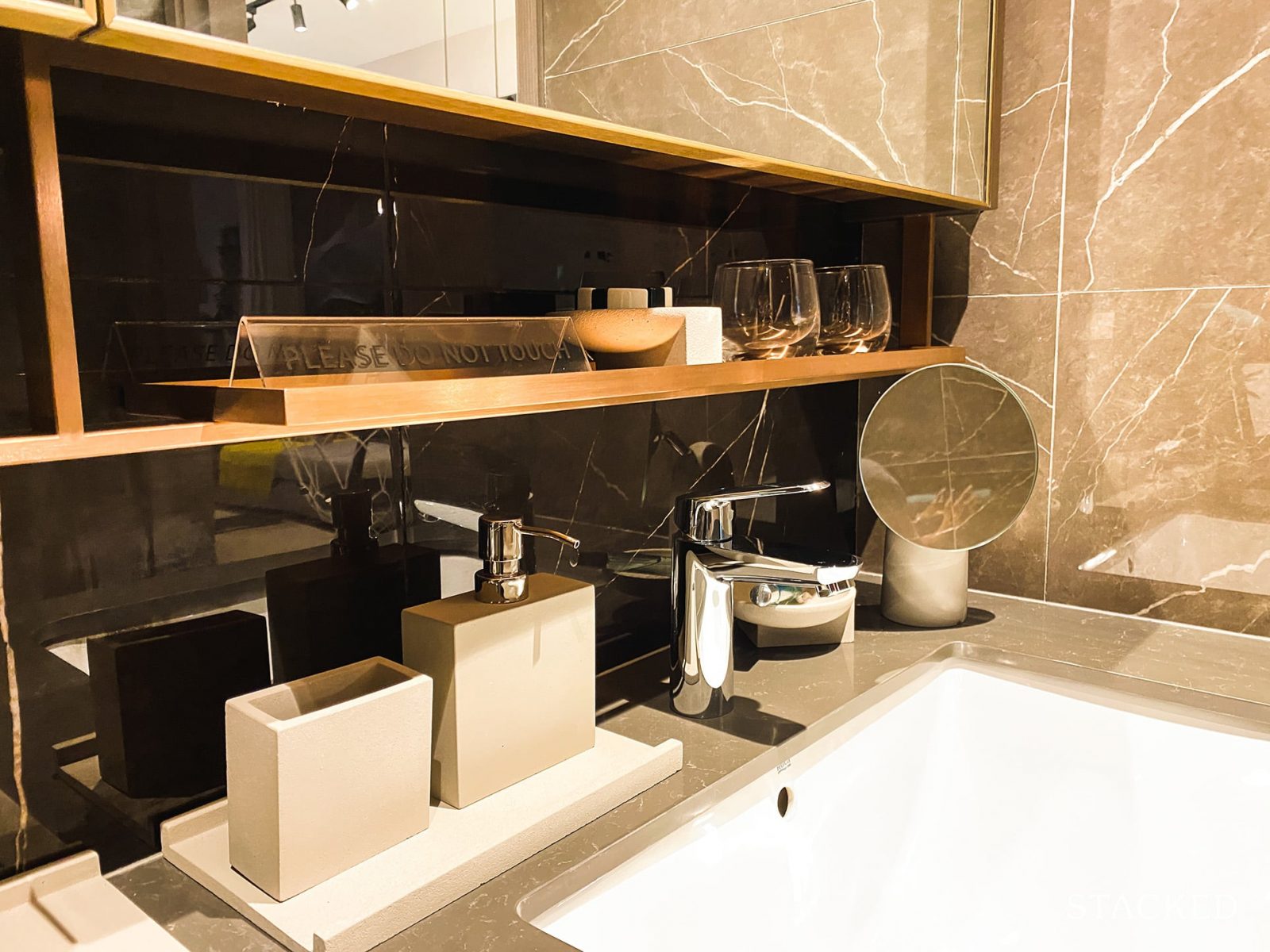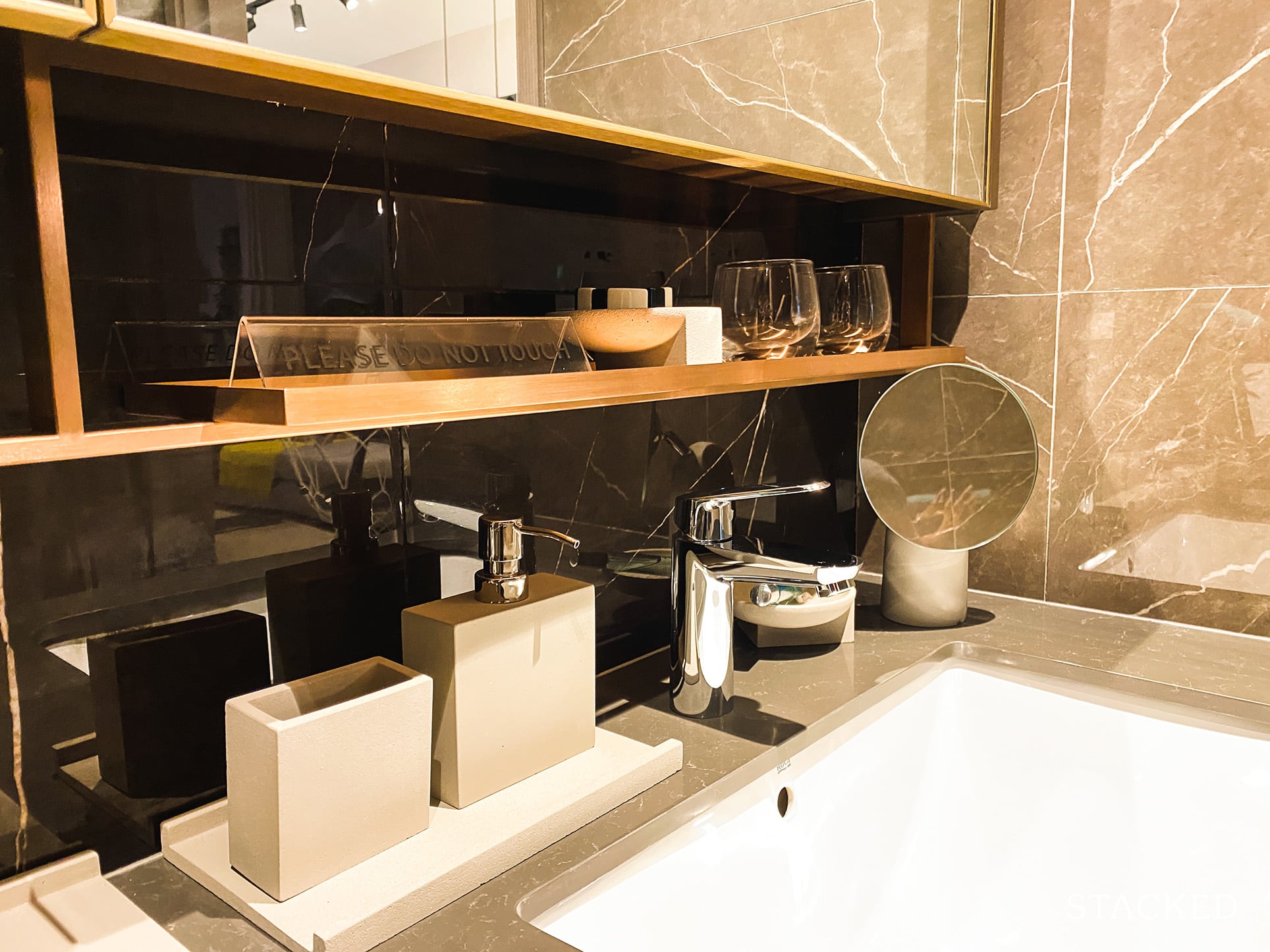 Onto the bathroom itself, it's of a good size and comes with quality fittings such as a Grohe rain shower and tap, Roca wall-hung toilet bowl and Geberit flush-plates. As much as it is one of the more affordable condos in the market, I appreciate the touches of luxury put into this project. Rain showers and wall-hung toilet bowls are always a nice touch to the unit. Don't assume it's a given because common bathrooms in a more expensive project such as Mayfair Modern do not come with either so kudos to the developer here! 
Last but not least, I do also like the in-built brass coloured storage options here. It looks classy and makes good use of the space above the tap – which is rarely utilised anyway.
Read this next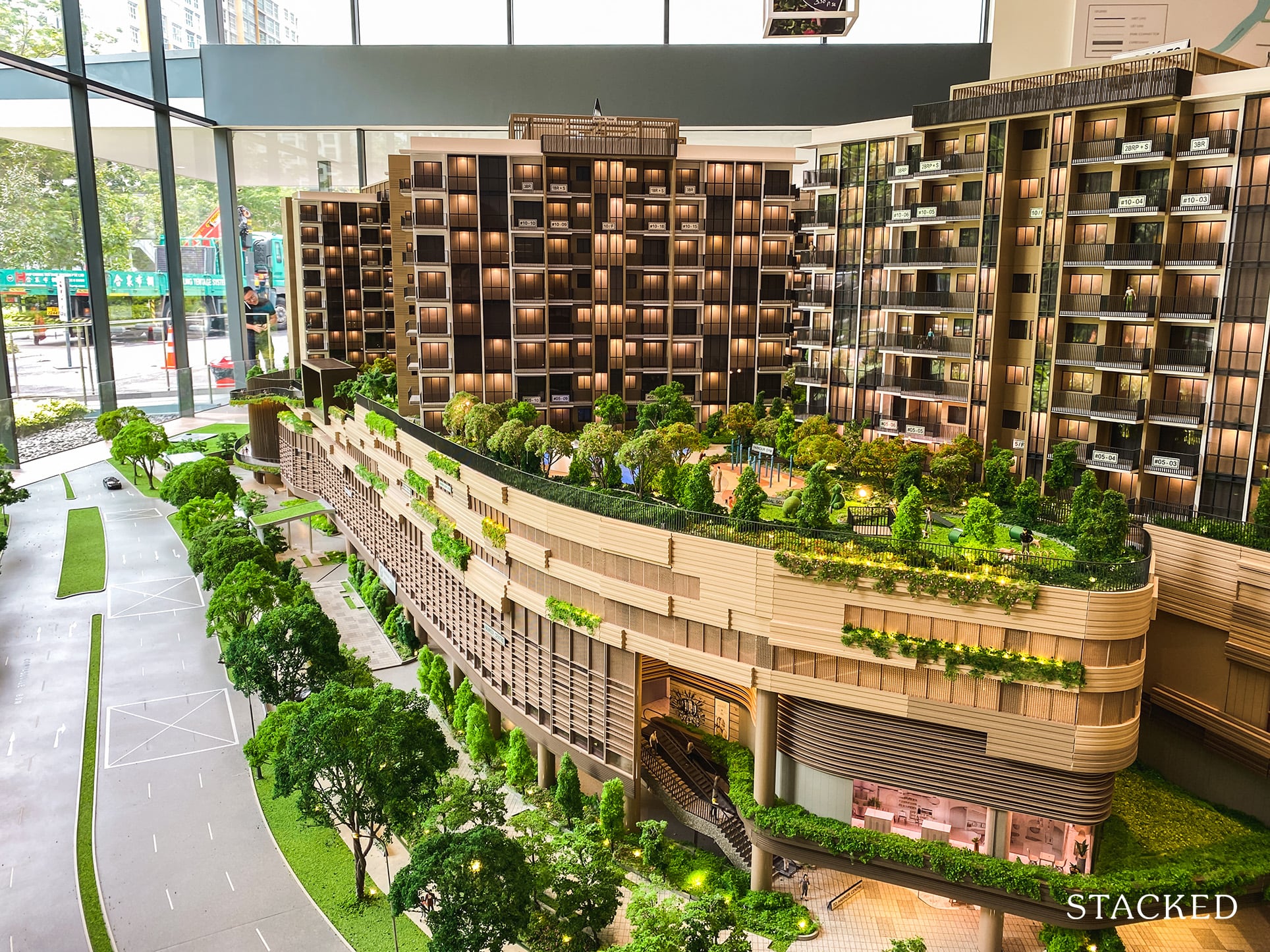 Florence Residences 2 Bedroom Deluxe Review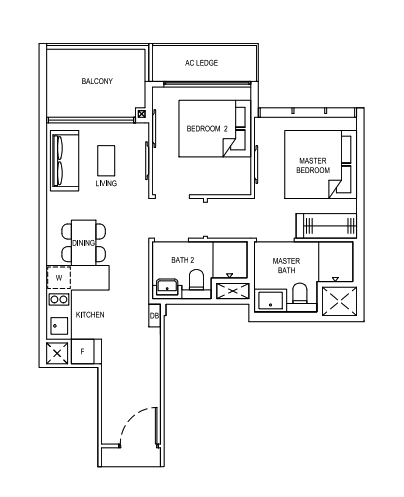 At 667 square feet, this is a pretty average size for a new launch these days. Being termed a 2 bedroom deluxe here basically means it is a 2 bedroom and 2 bathroom unit, rather than the 2 bedroom classic units which just have the 1 bathroom.

All 2 bedroom units will have porcelain tiles as flooring for the common areas and engineered timber for the bedrooms. It's quite common for mass-market condos to feature porcelain tiles, as much as buyers would definitely prefer marble flooring.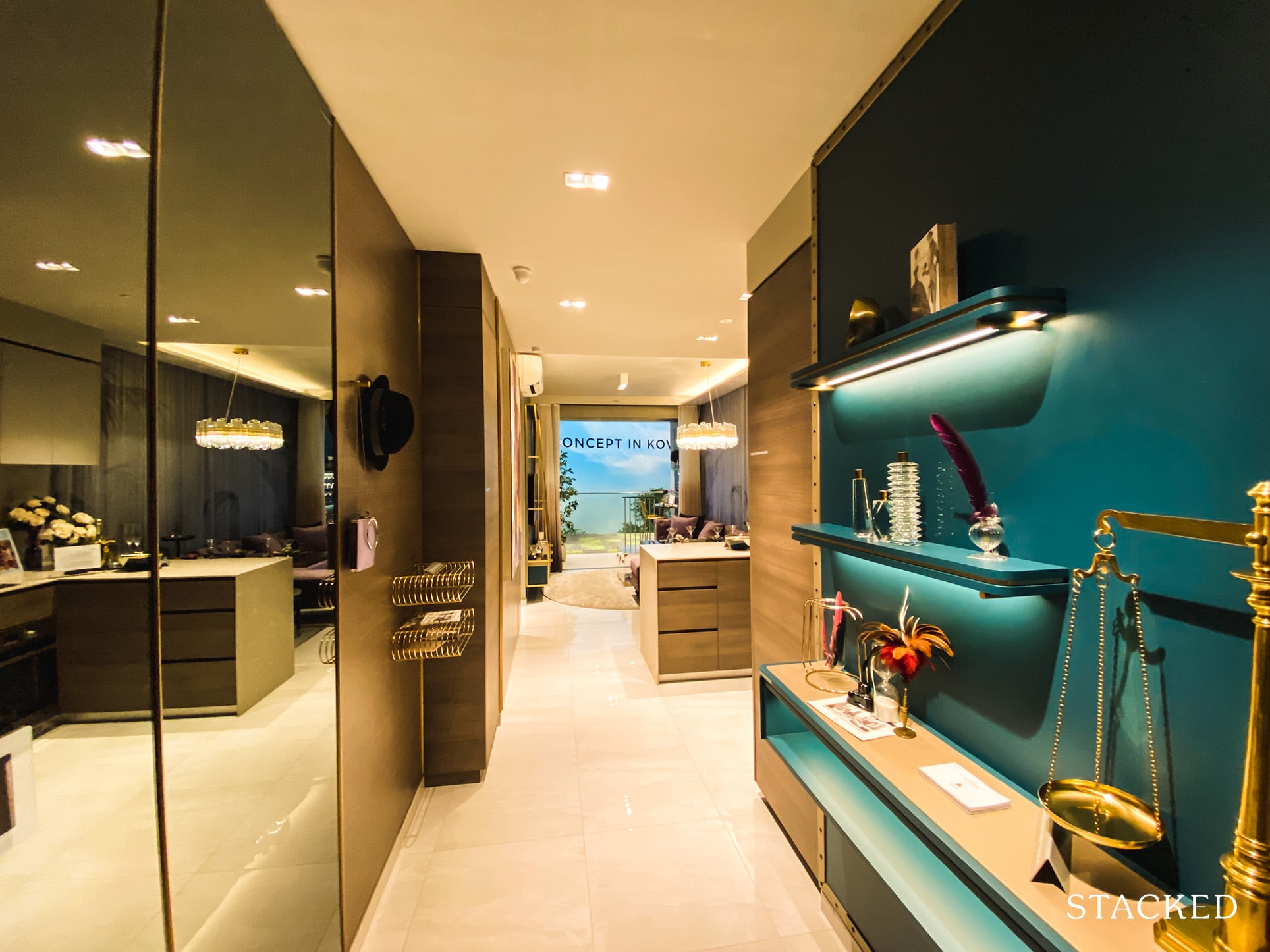 For starters, I would have preferred a dumbbell layout which I find to be a more efficient use of space. Thankfully, you will have that option available in other deluxe and classic units. Unfortunately, this show unit, as with many others (Van Holland, as an example), has fallen into the trap of the needless walkway.
While the walkway here isn't as long as Van Holland's, I still consider it to be quite an inefficient use of space – and it's even more apparent in a unit that stands at only 667 sqft. Perhaps one way to fully utilise it would be to build built-in shoe cabinets or extra shelving, depending on what your needs might be.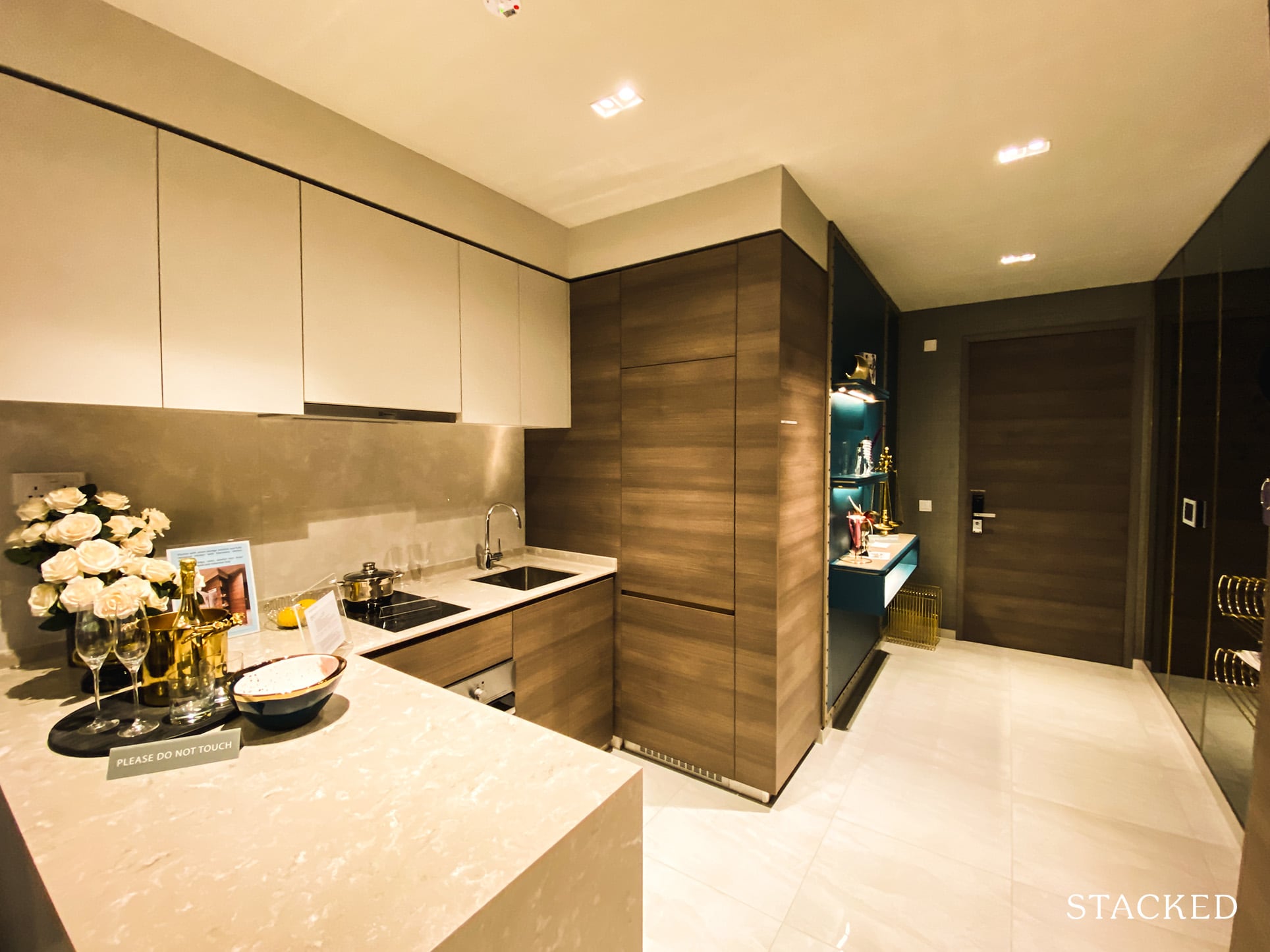 Stepping further in will take you to a U-shaped kitchen, with the Electrolux fridge nicely integrated with the wooden panels. I like how it is sleekly flushed in, which is a good thing when new – but not so much come replacement time.
Funnily enough, the fridge here opens into the sink area, which isn't really the best design practice – especially if you are using the sink while wanting to grab something from the fridge.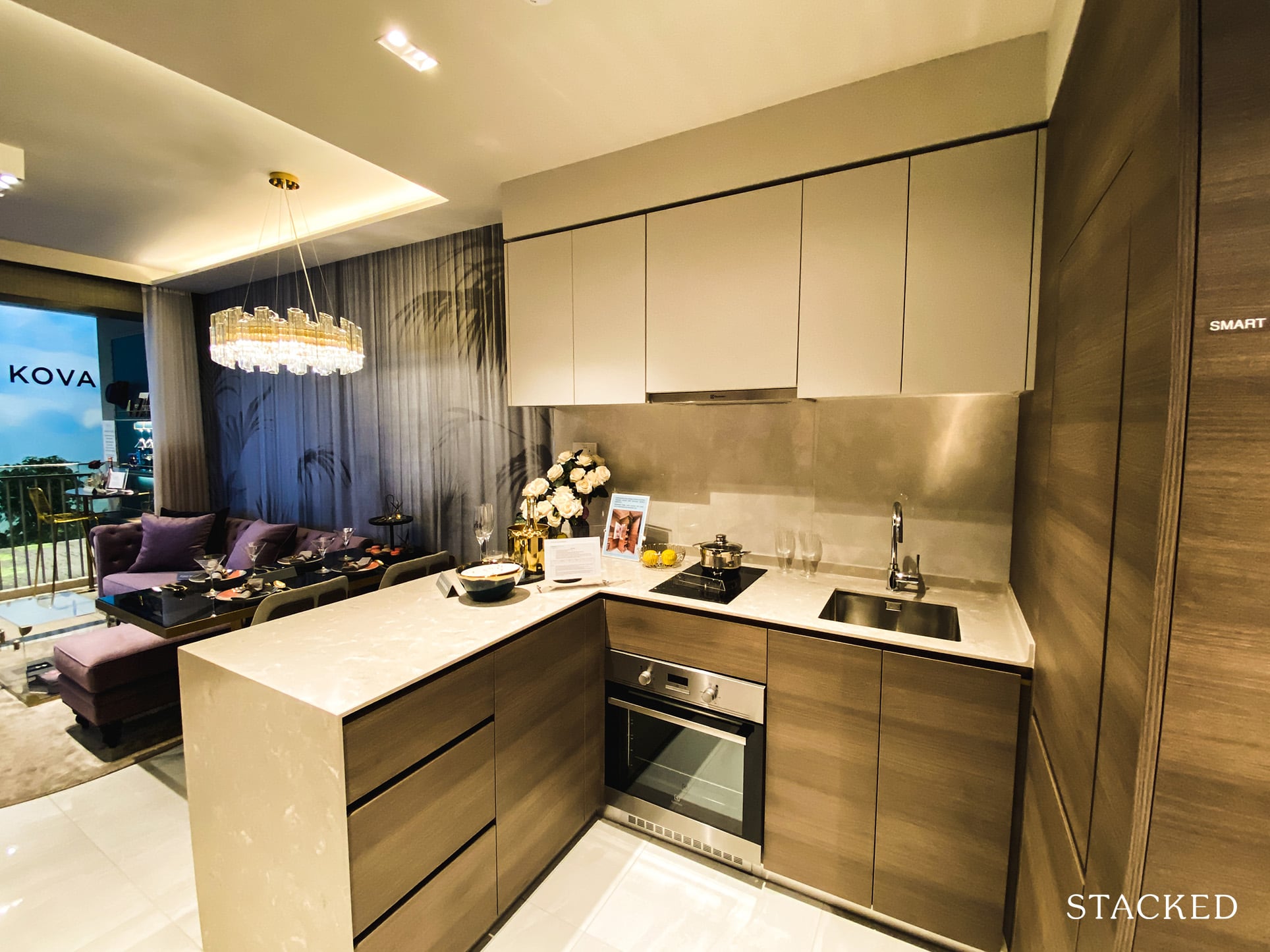 As with the previous 1 bedroom unit, the L-shaped kitchen countertop design is practical, albeit slightly longer and larger, offering more storage and space in the process. I like this concept as it can also double up as a dining area for a bachelor or a couple.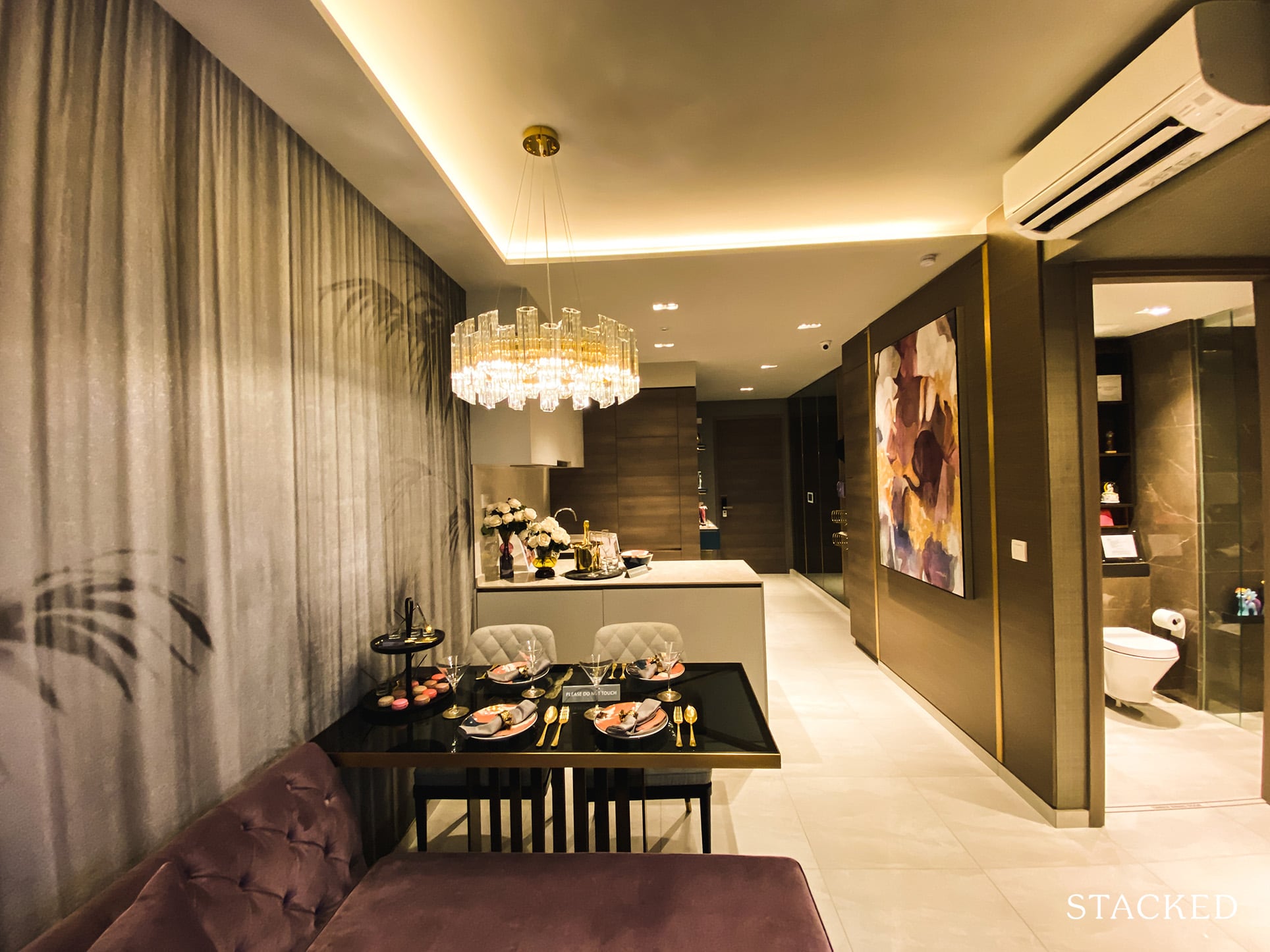 The dining area is not great, to say the least. I mean, it's doable for 2 people, but if you are fond of hosting, it will be a squeezy affair.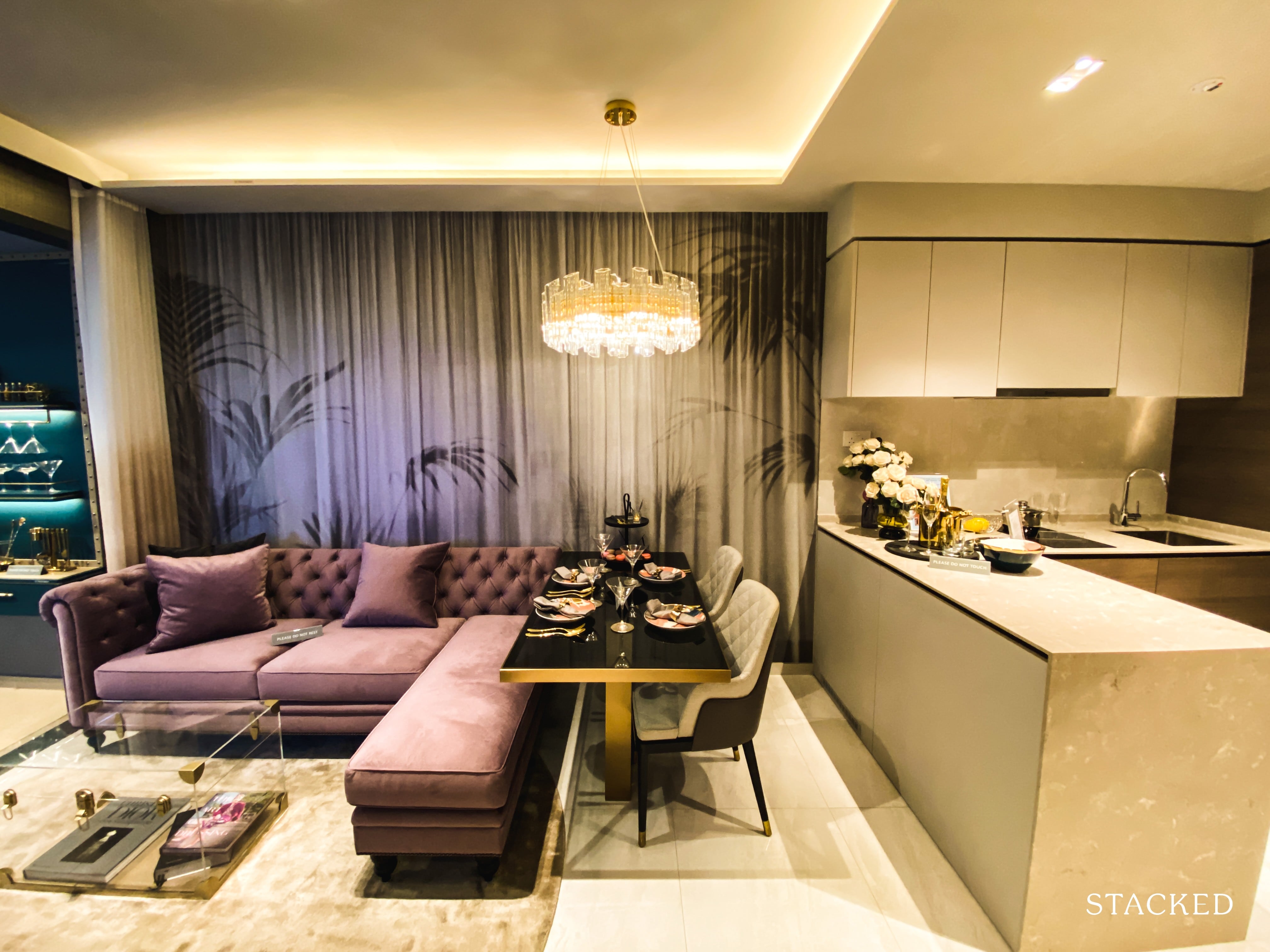 Plus, it still has that awkward placement of the washer-dryer, which swings outwards to the living area thereby infringing on the dining area. Again, this means that you will be limited in the placement of the dining table – which already isn't a fantastic situation, to begin with, because of the size.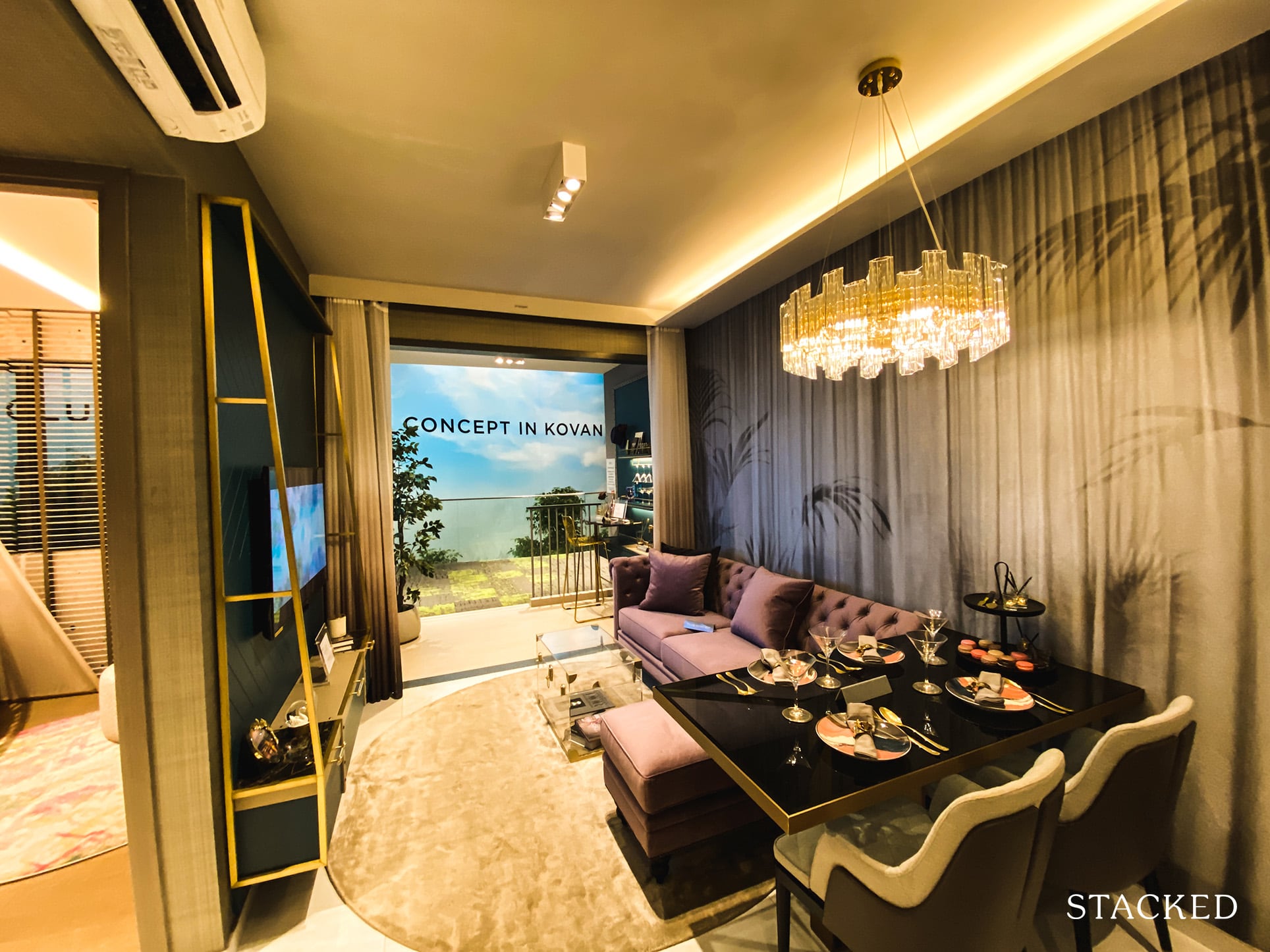 The living area isn't great on the size front too. Honestly speaking, the ID here (showcasing the living and dining) leaves much to be desired as I feel it actually amplifies the shortcomings of the space even more.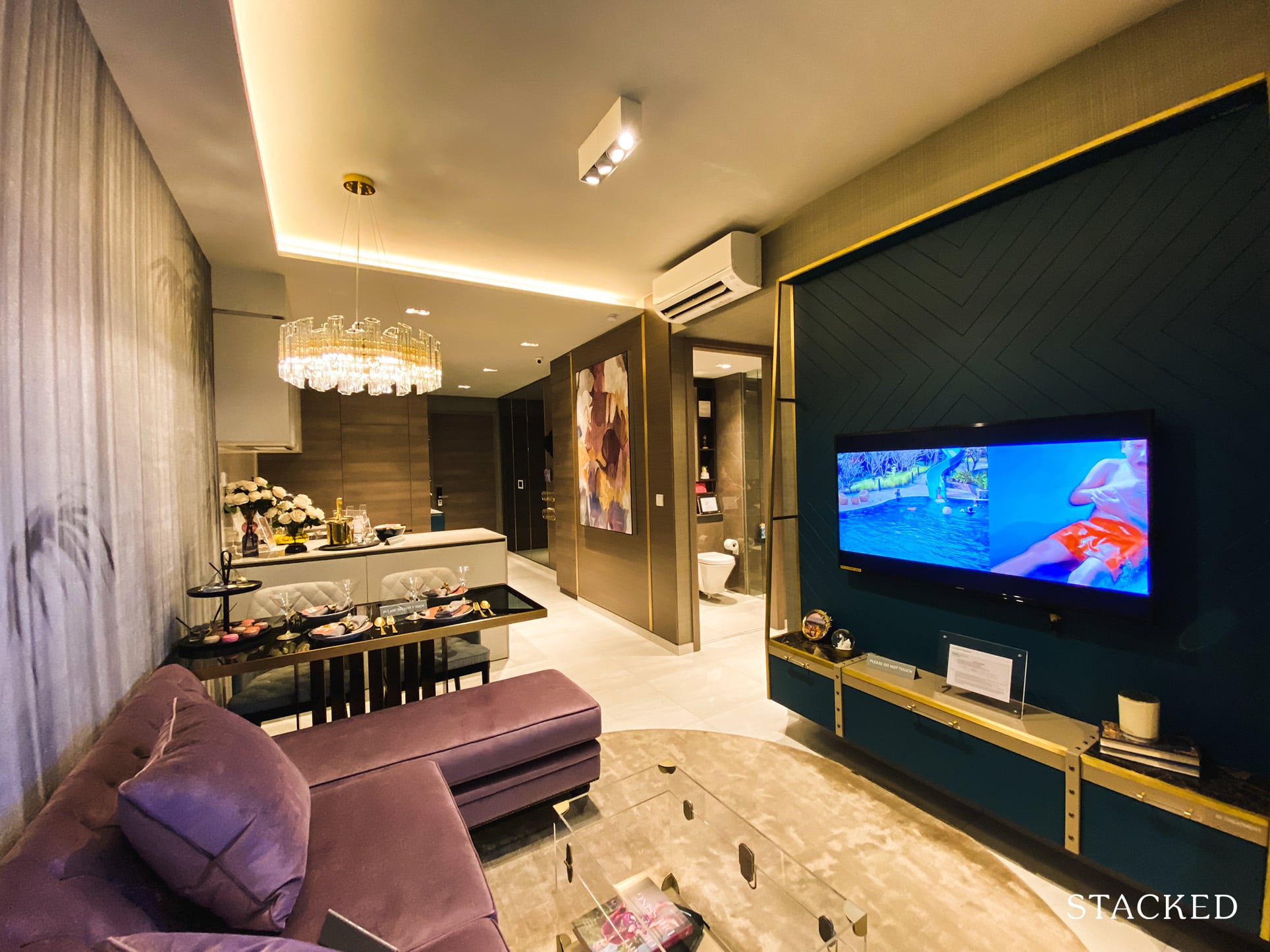 As you can see from here, the tight space means that you have to be very deliberate with the size of the sofa, coffee table and TV console (best to mount the TV, especially with size constraints).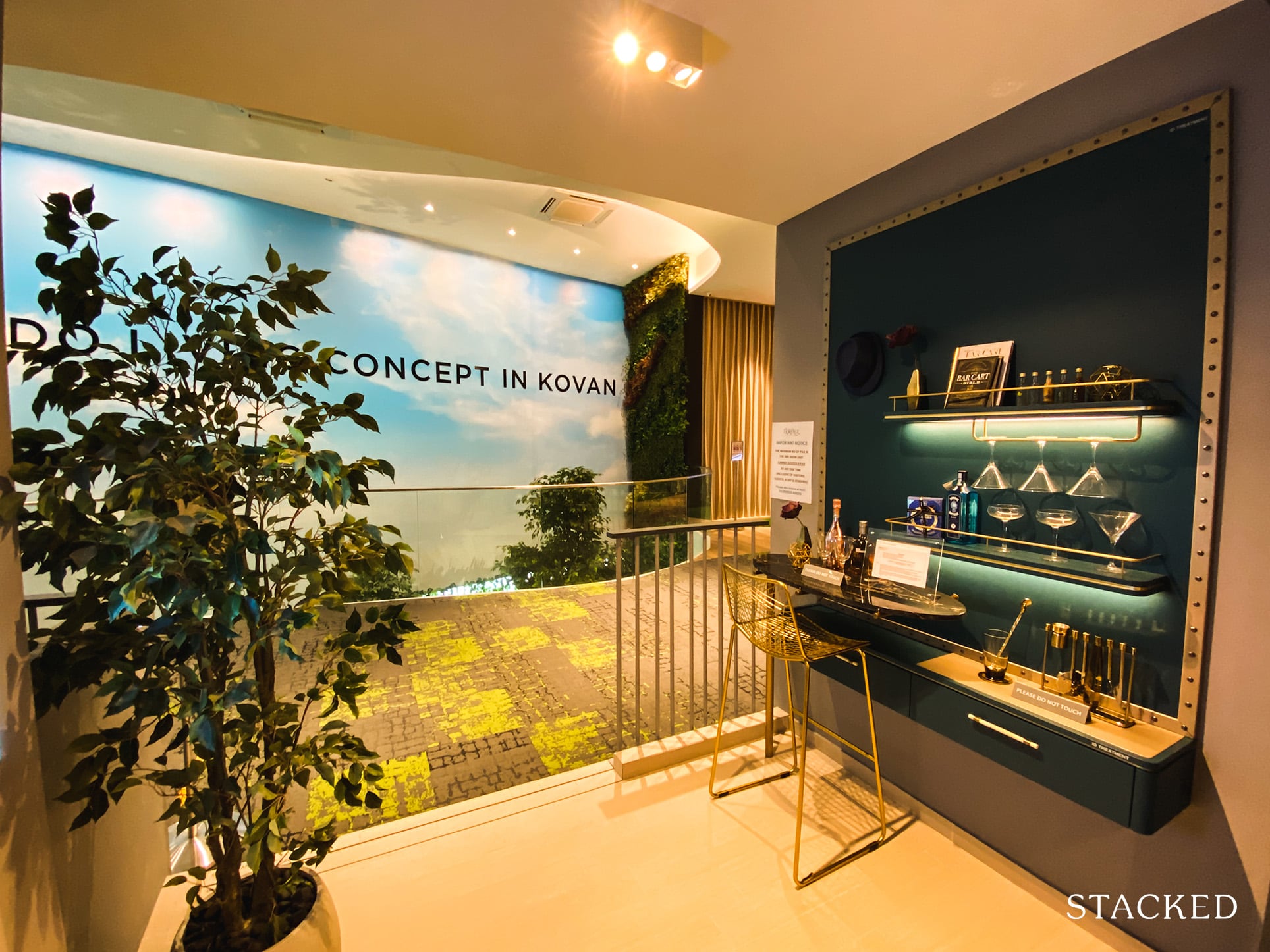 The balcony here is an average size in comparison to the rest of the unit. Do note, however, the potential for some noise disruption as the air-con ledge is located just beside.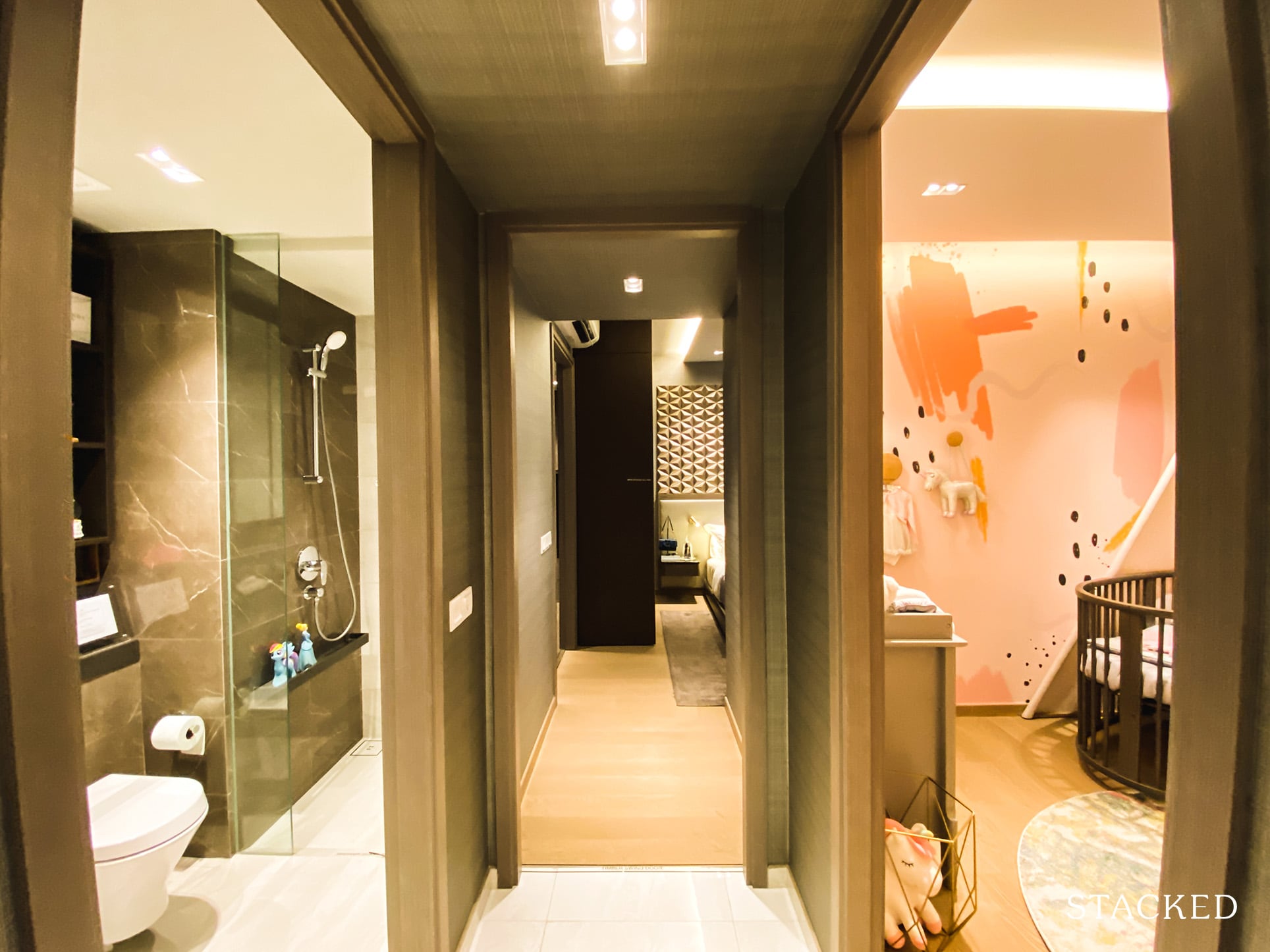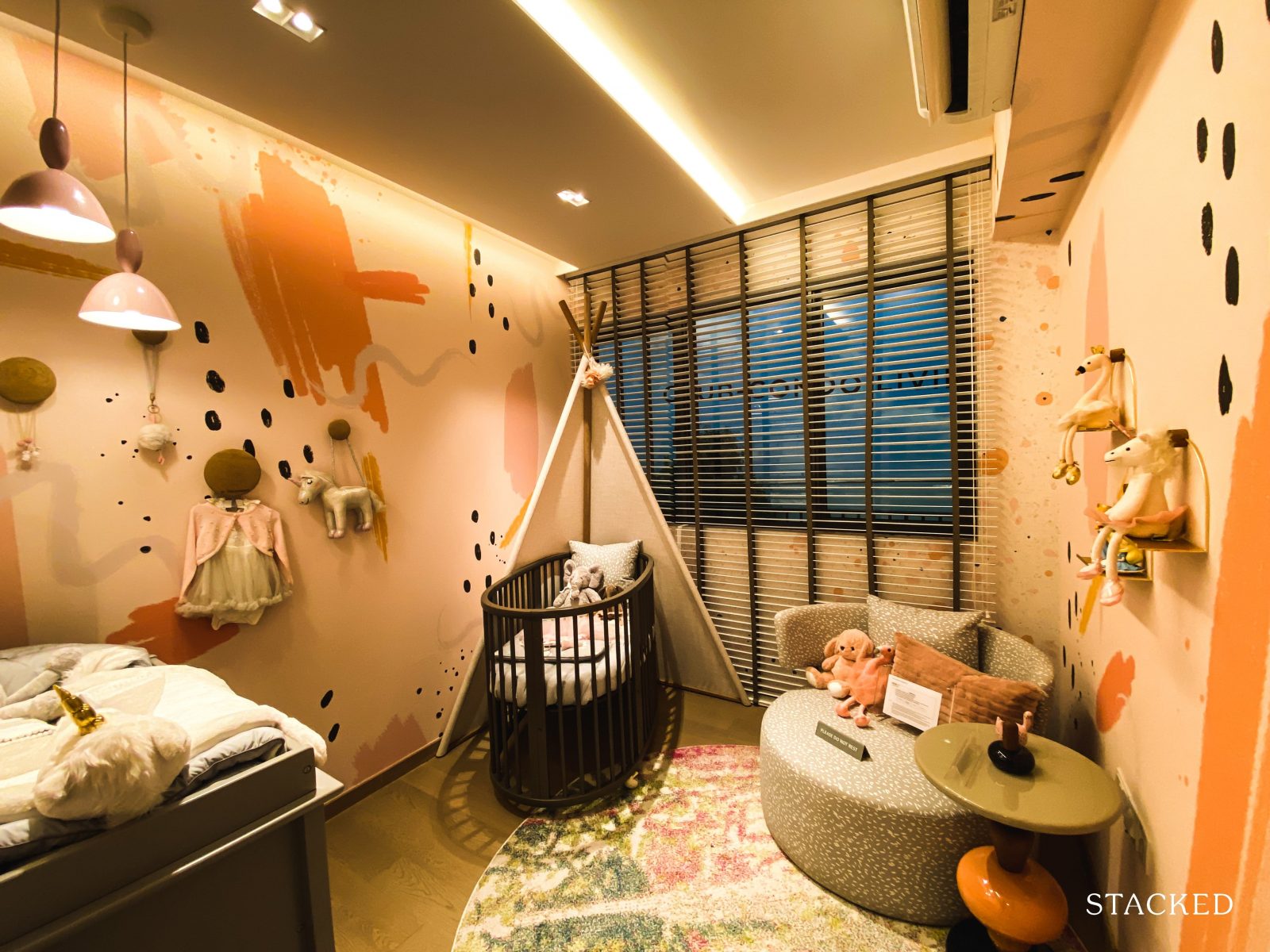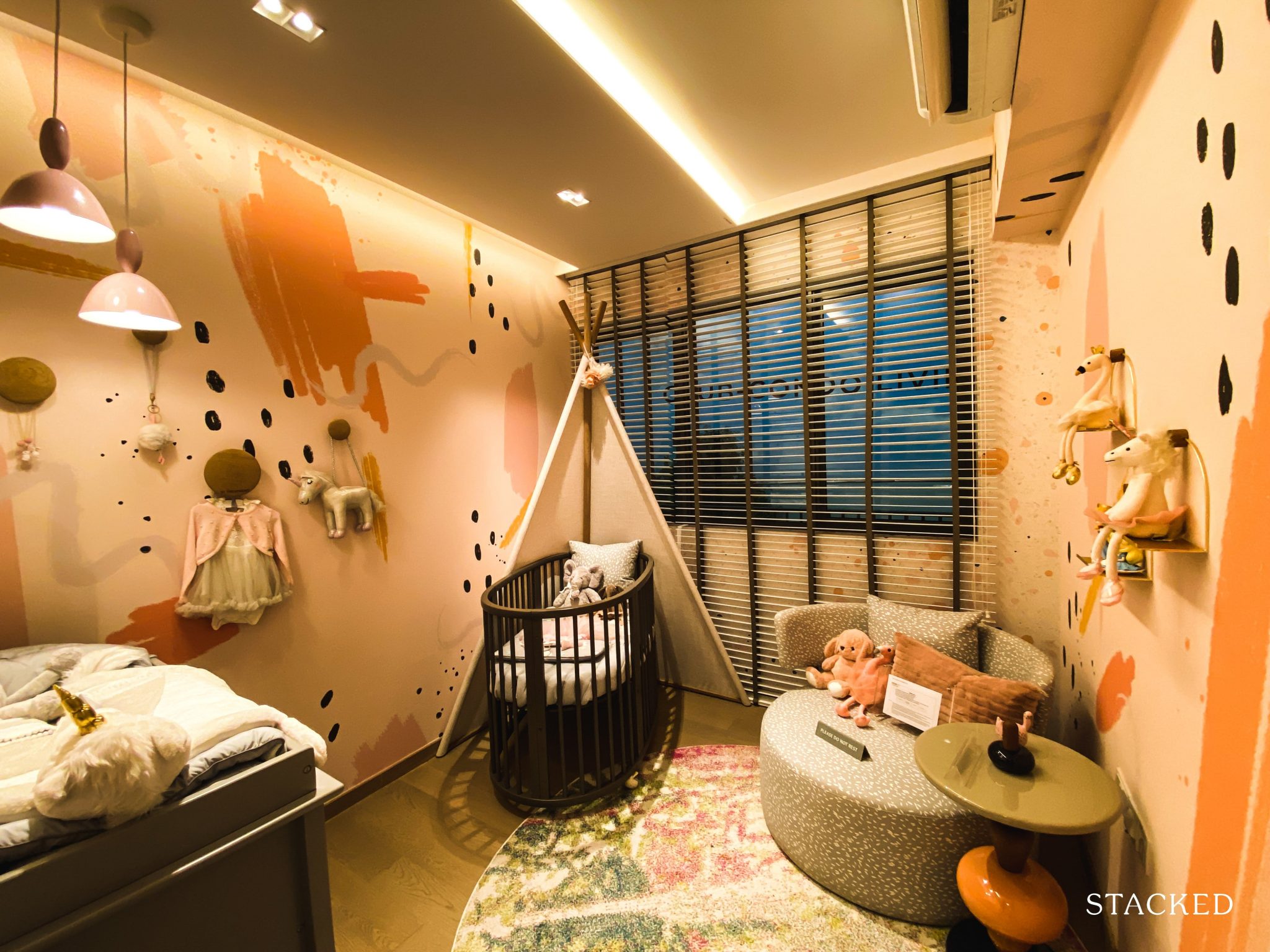 Moving on to the common bedroom, the first thing you will realise is that they have done this up as a kid's room – without a built-in wardrobe. The room measures 8.2sqm, which means you can fit in a queen-sized bed if necessary (but it is going to be a tight fit).
The AC ledge is located on the outside, hence the limitation here in the size of the windows.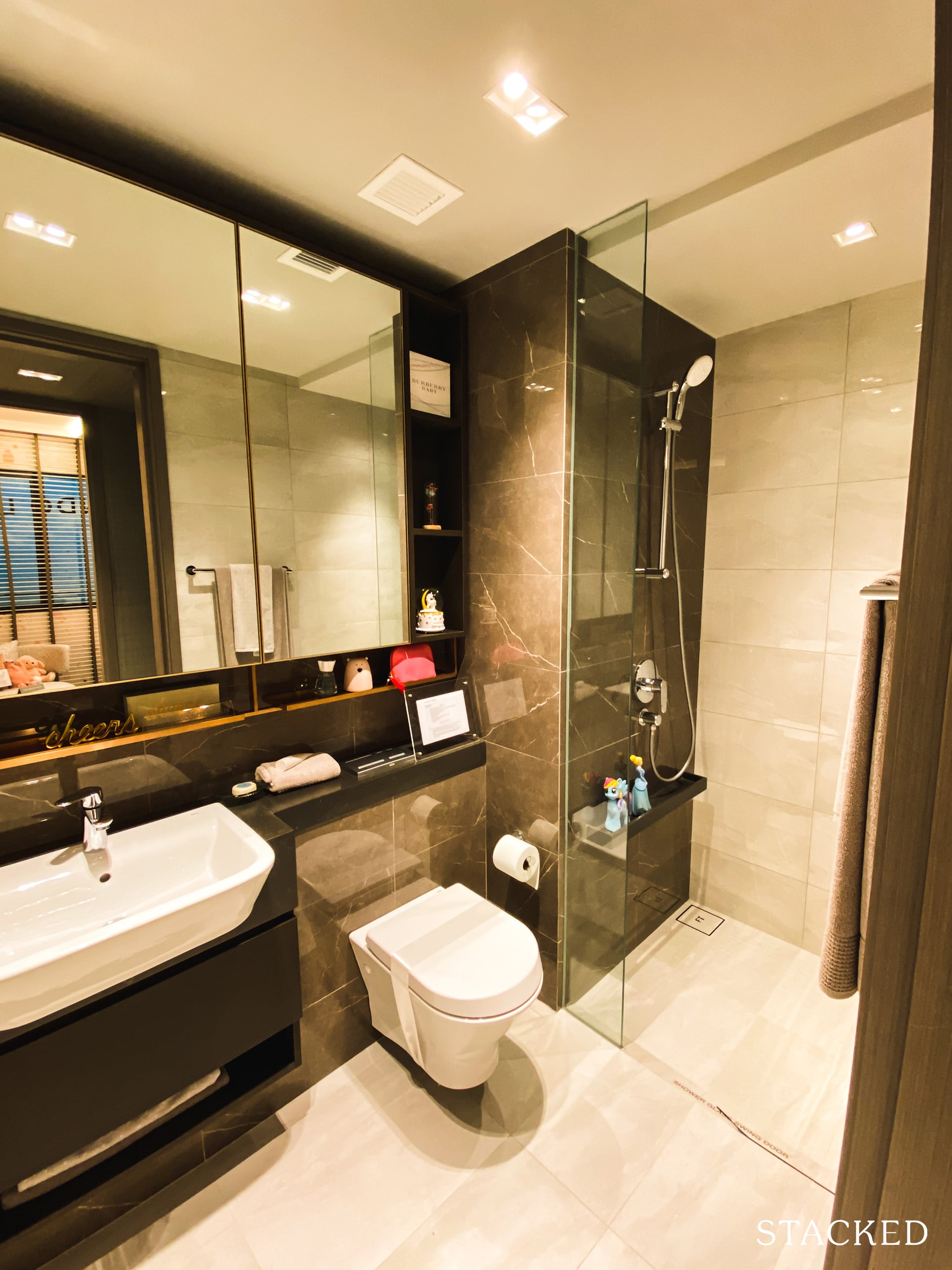 The common bathroom is located conveniently across the common bedroom, which is always great. Size-wise, I have no complaints, and it does come with that useful under storage below the mirror.
Given its common bathroom status, it surprises no one that it doesn't come with a rain shower. Bathroom fittings are provided by Grohe, while the wall-hung toilet is from Roca – which gives this bathroom a slightly more premium touch.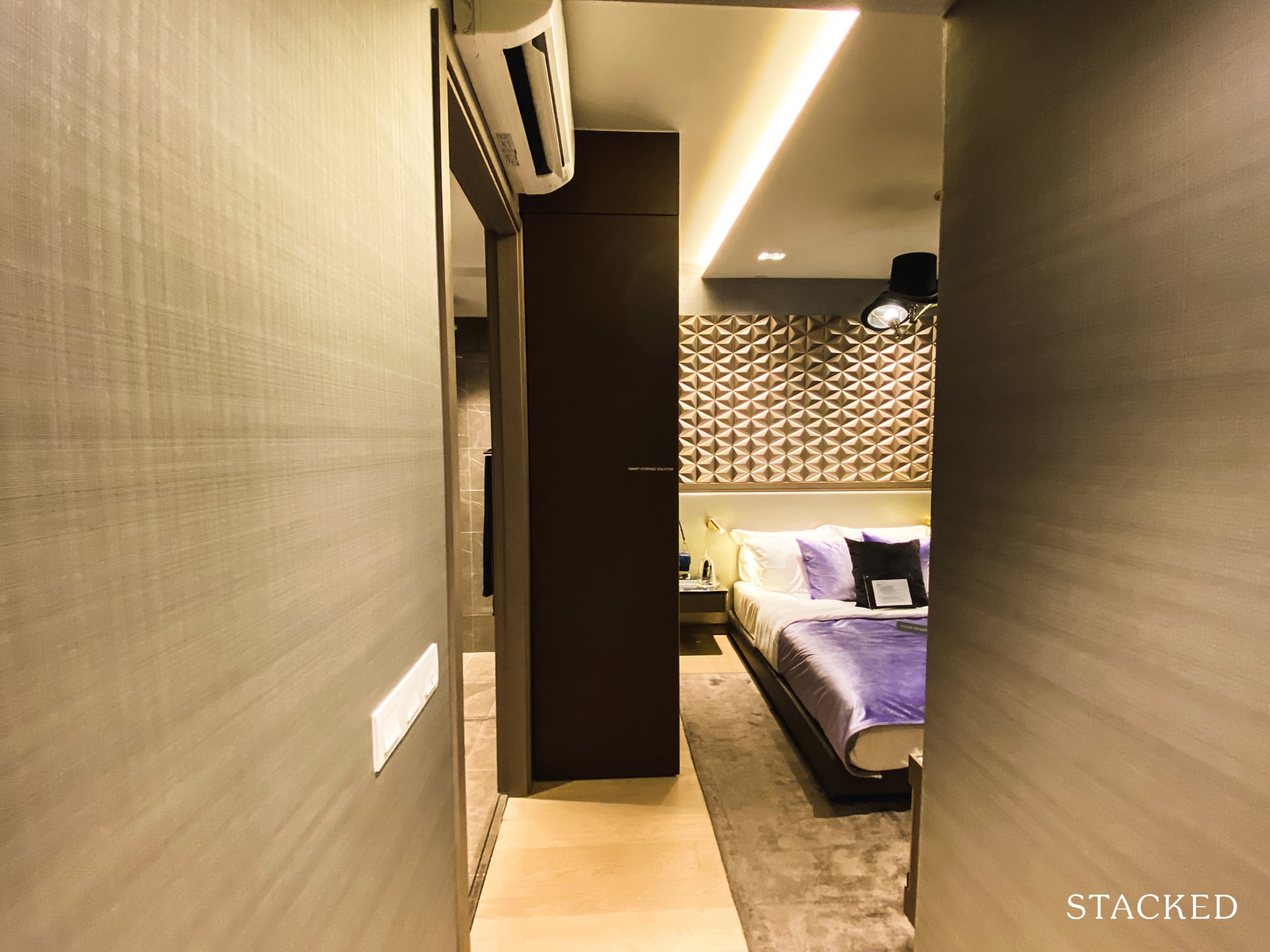 At 11.4 sqm, the master bedroom is definitely much more comfortable compared to the common bedroom. It will comfortably fit in a Queen-bed with one or two side tables.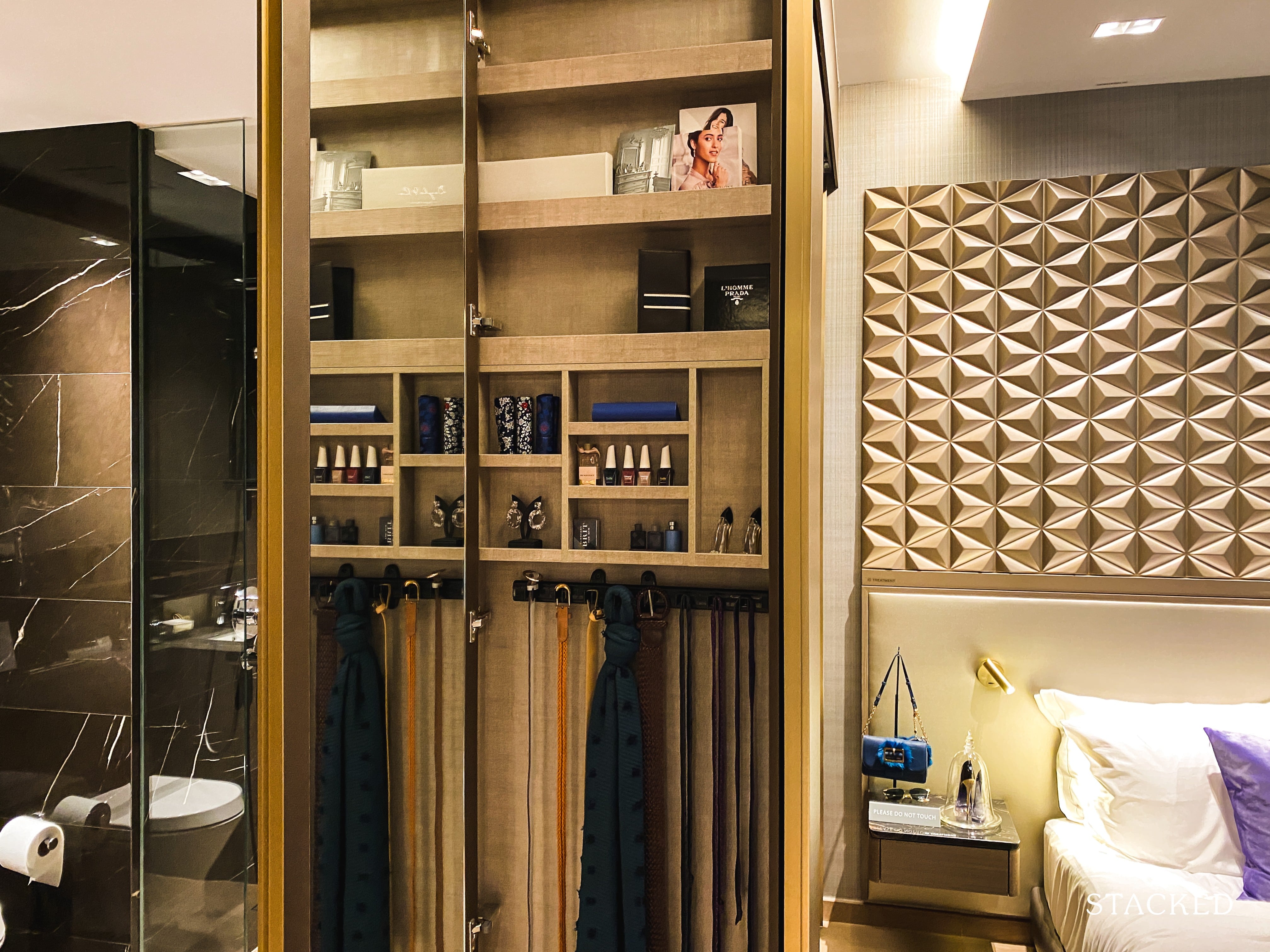 But what I especially like is the smart storage option – an increasingly popular concept for you to place your accessories. It's in a convenient spot, and as it doesn't even take up much space to begin with – it really is quite a worthwhile addition to the space.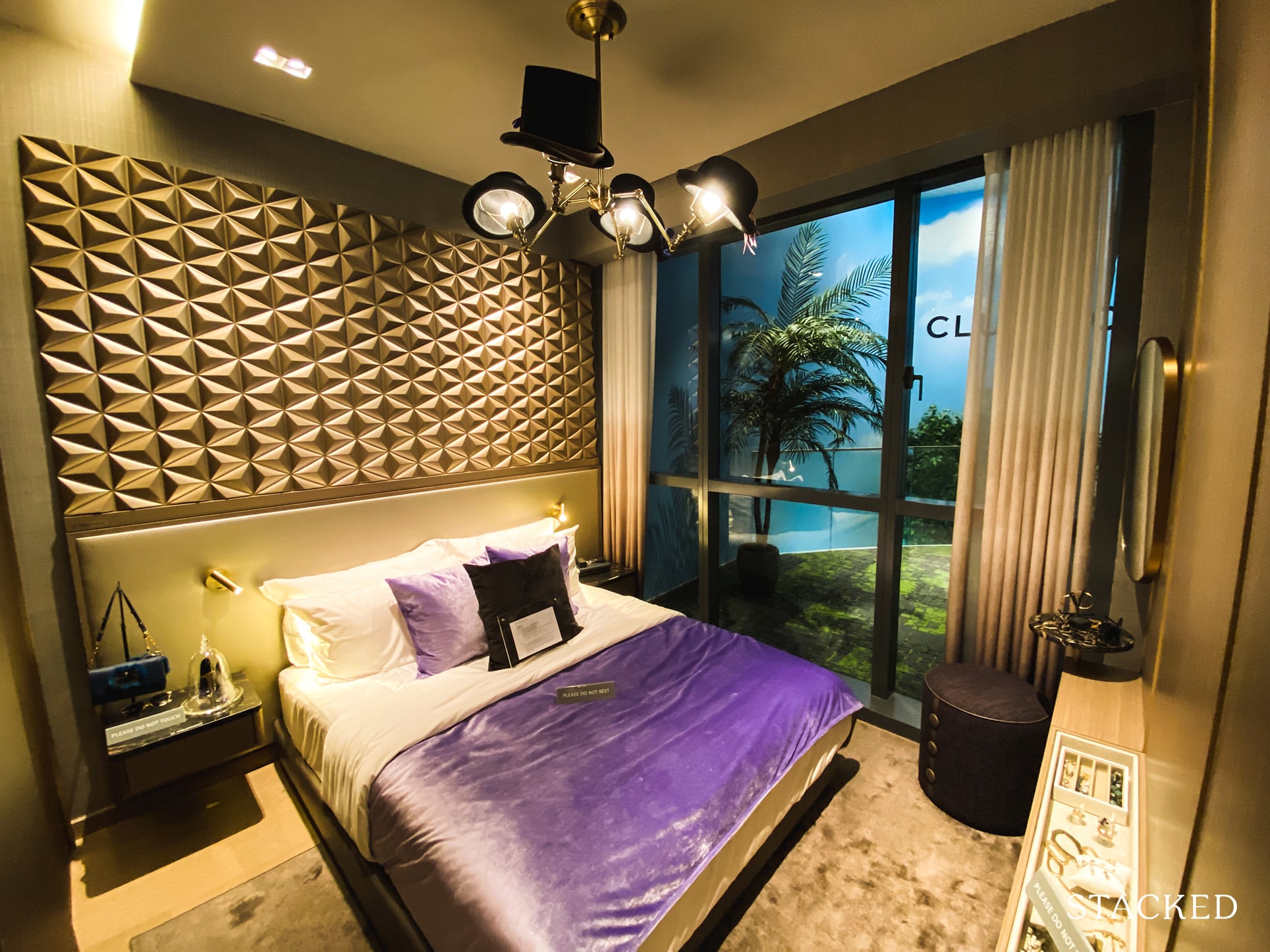 At the very least, the master bedroom does offer floor to ceiling windows.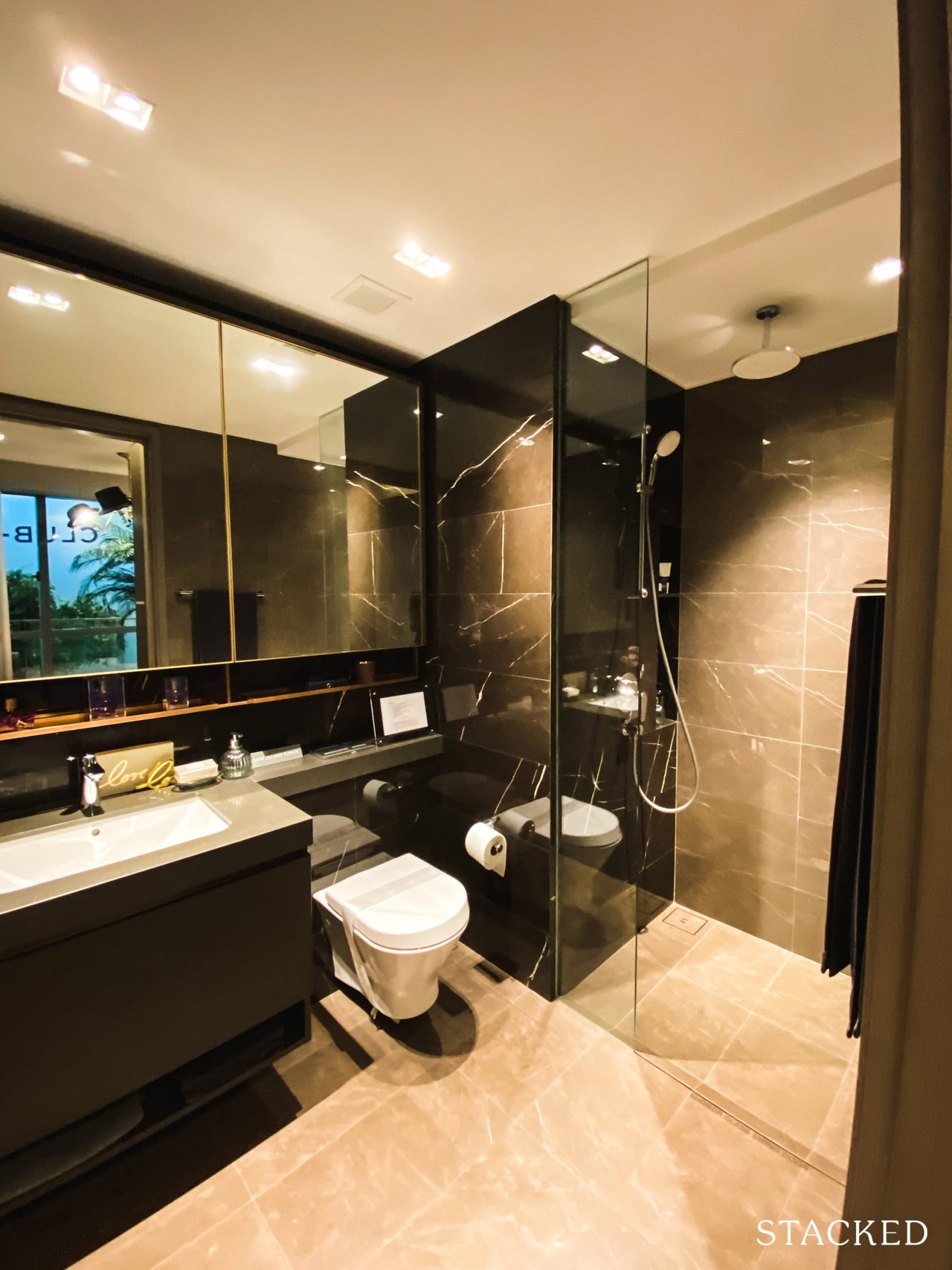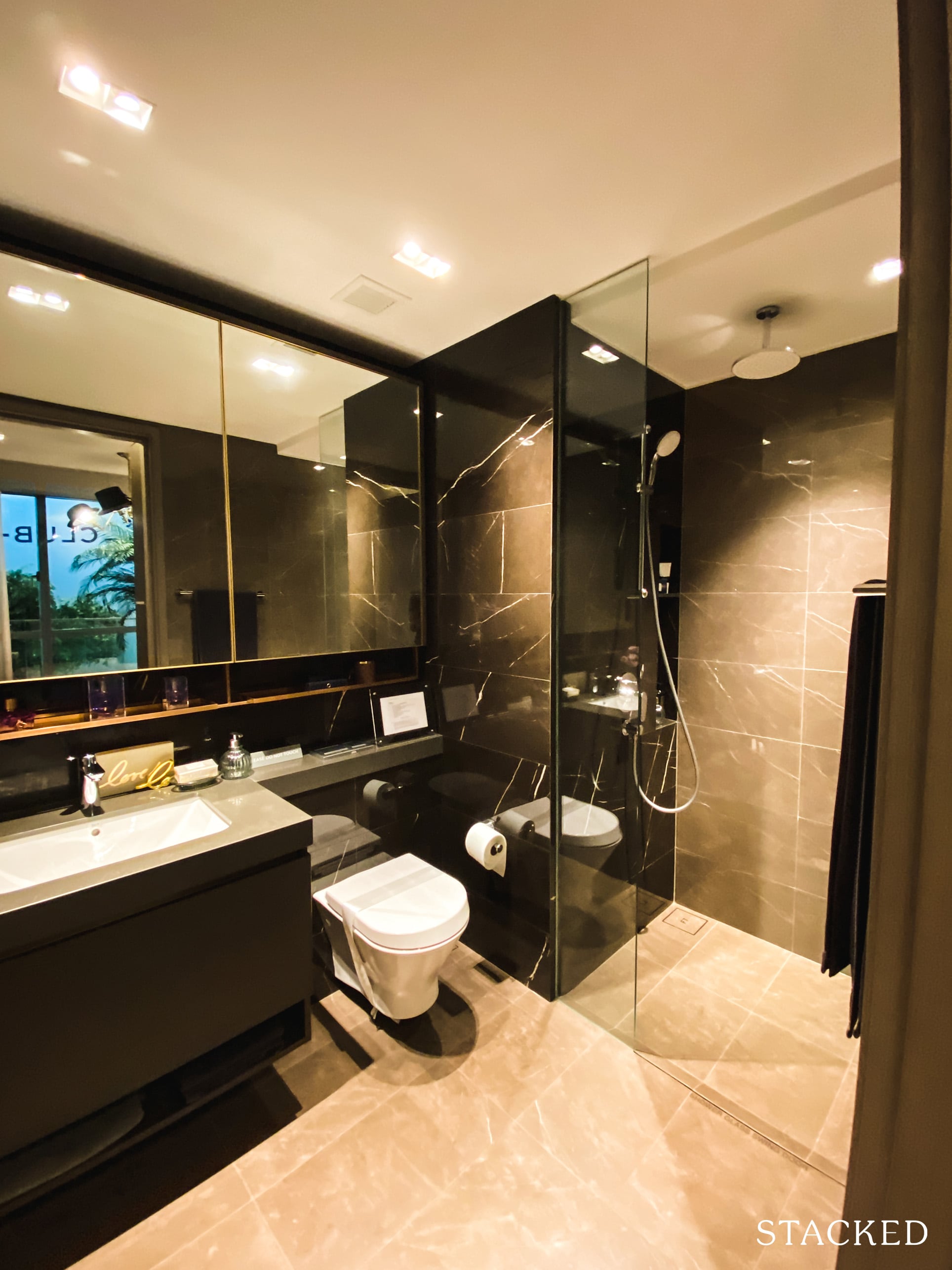 You will also find the master bathroom to be slightly larger than the common bathroom. Beyond the size and the additional rain shower, the colour scheme and fittings are similar to those found in the common bathroom.
The Florence Residences 3 Bedroom Classic Review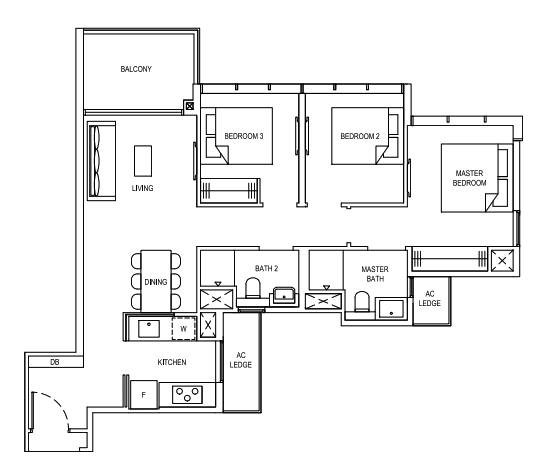 At 926 square feet, this 3 bedroom unit comes in on the smaller side than those currently on offer in the market. For those looking for a more liveable space (helper's room/yard and bigger space), this probably wouldn't be a great option for you. However, for those on a budget but require 3 bedrooms, this might be doable – albeit with a few sacrifices.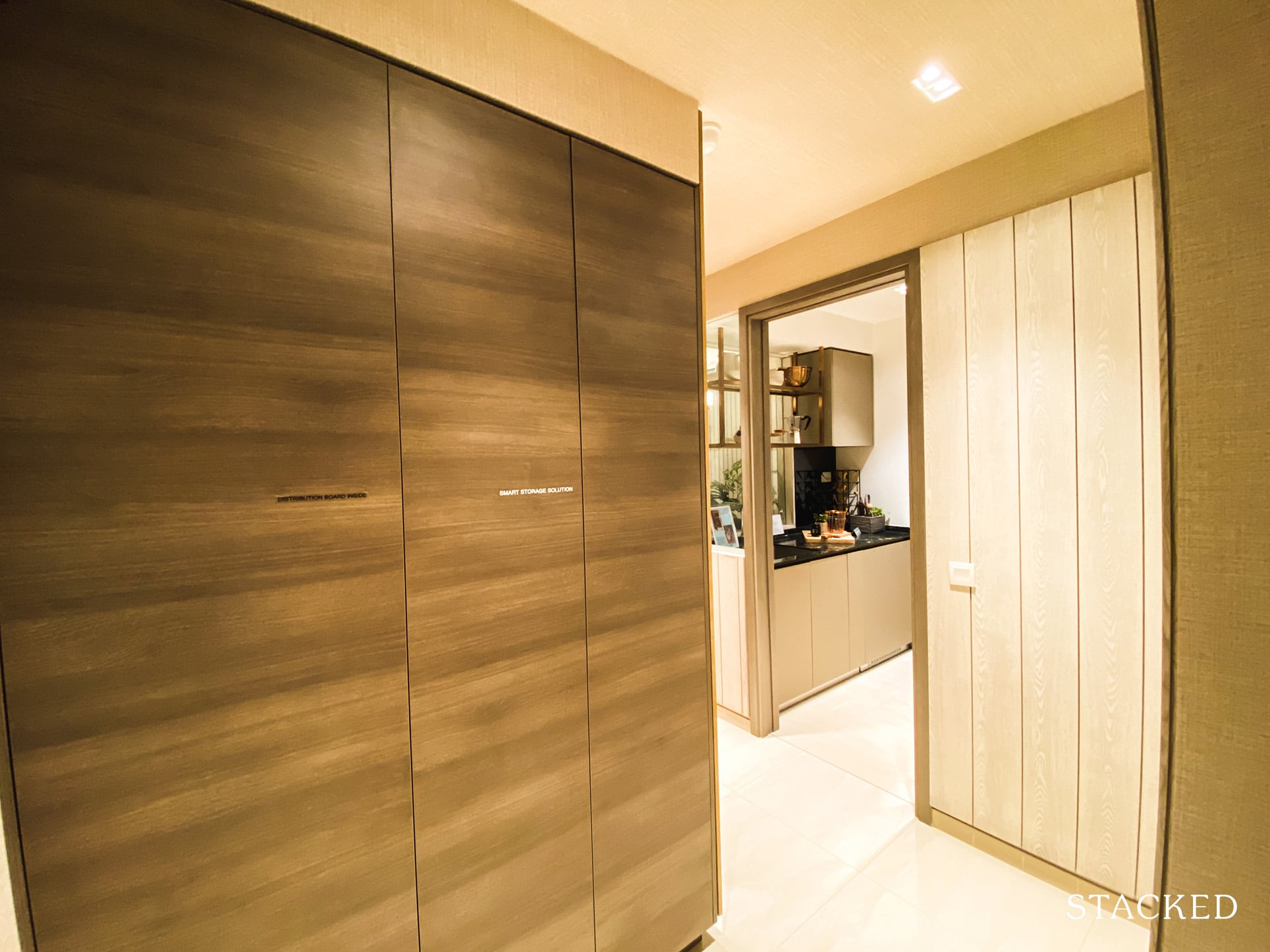 I've mentioned it before (and this probably wouldn't be the last), but I find entrance ways redundant in units where space is already at a premium.
The saving grace here though is the smart storage that has been built into this space, flush against the wall. This allows buyers to store away their cleaning equipment and the like efficiently. That's actually a pretty important consideration for me in a unit without a yard or a bomb shelter. Given that 3 bedroom units are typically aimed at families, the lack of either might be a point of consideration for you as well.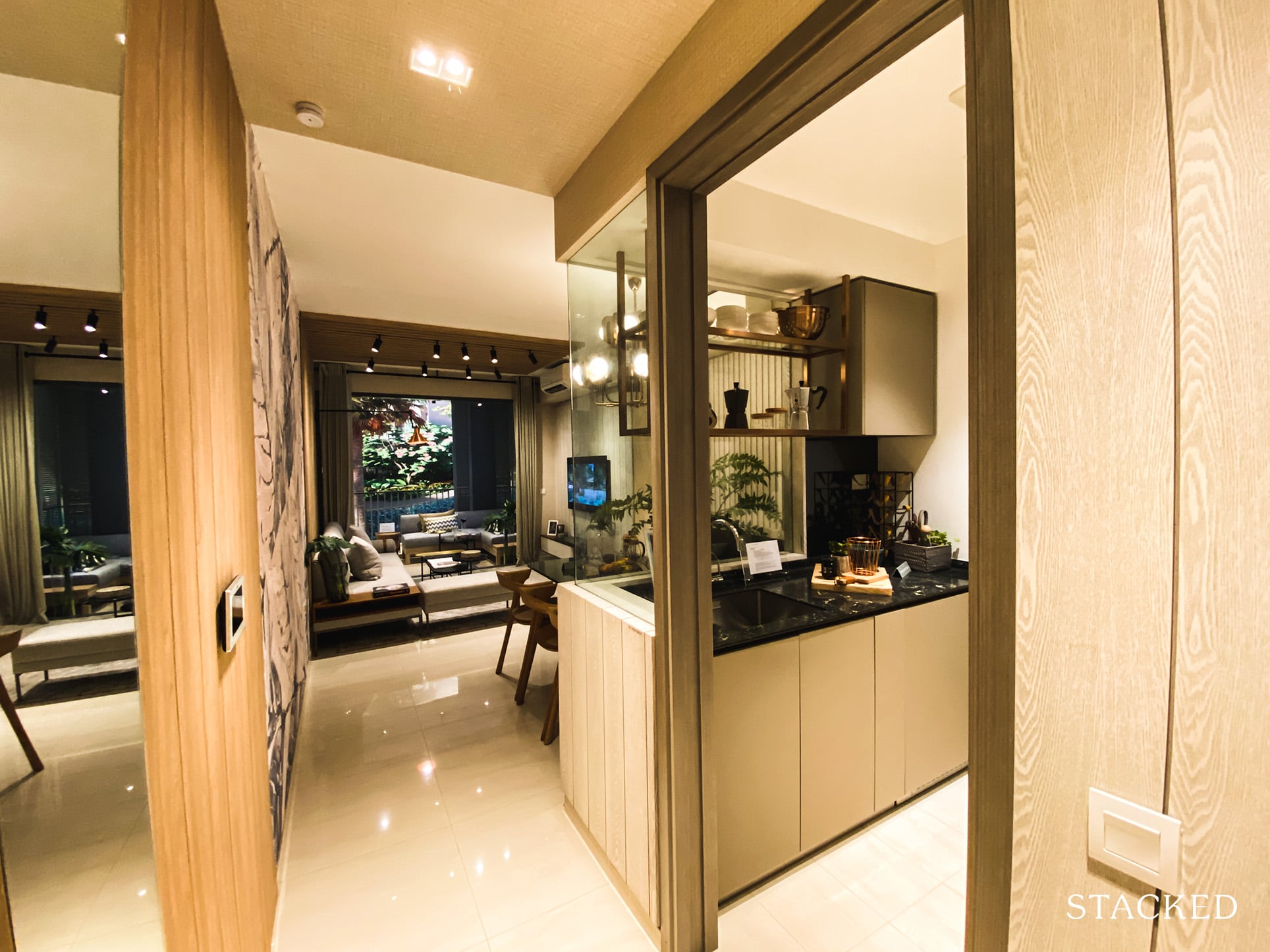 Of course, I do know of buyers that prefer an entranceway for privacy – but it does come at a high cost.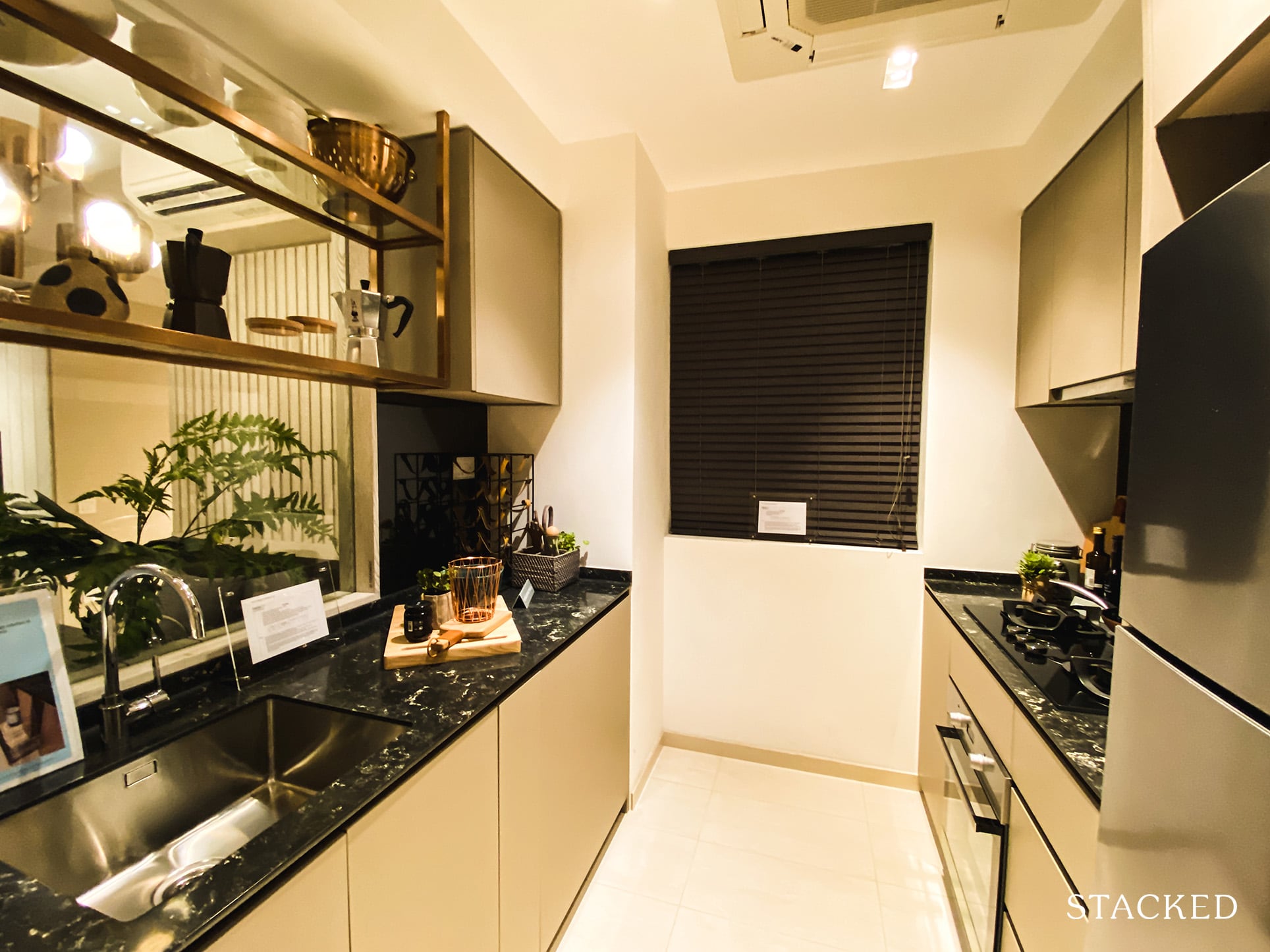 Given the small size of the unit, the kitchen naturally suffers in terms of space. But at the very least, the kitchen is enclosed – which is always the more desirable choice especially if you engage in heavy cooking. The gas burners and windows are also always plus points for me as they ensure that the kitchen is well-ventilated.
As with the rest of the units, the kitchen appliances are provided by Electrolux. Do note that only 3 bedroom and above units come with gas hobs while the smaller units will have induction hobs instead.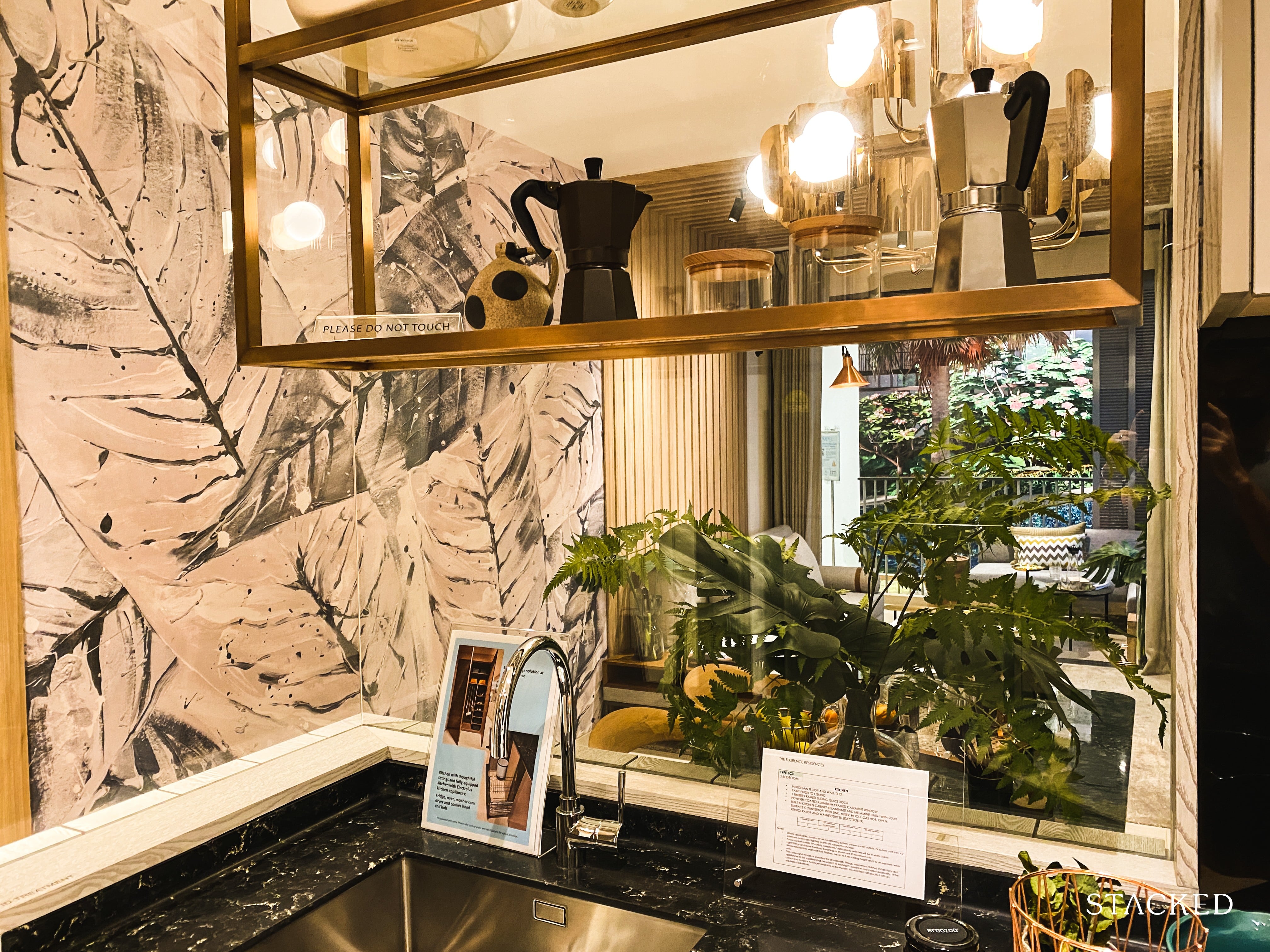 Again due to the limitations of space, countertop space to work with isn't fantastic. That said, the cabinets are on both sides of the kitchen, so it should be sufficient in terms of storage.
One major plus point here is the addition of the angled glass panels, which overlooks the dining and living spaces. The glass panels will help to brighten up the kitchen by letting in more light and also allow you to keep an eye on your little ones while you are preparing your meals.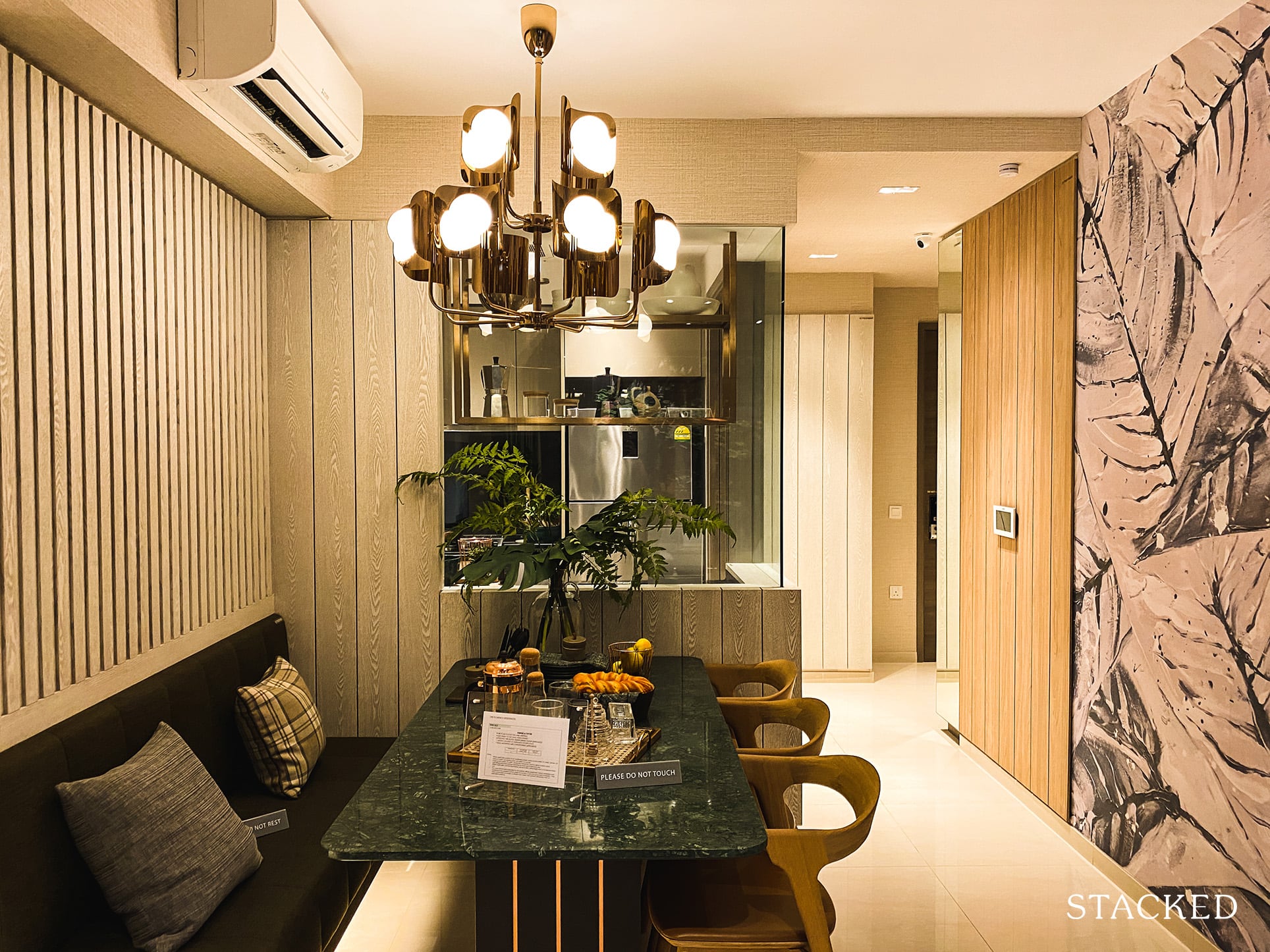 Considering how this unit is only 926 sqft, I do think that the dining area is pretty decent. They have managed to fit in a 6-seater set here, but as you can see, the folks sitting inside won't be too pleased if the table is actually placed as such. This means that the seats will invariably eat into your walkway during meal times. Frankly, you really can't complain much here as it's not easy for practicality to meet the budget all at the same time.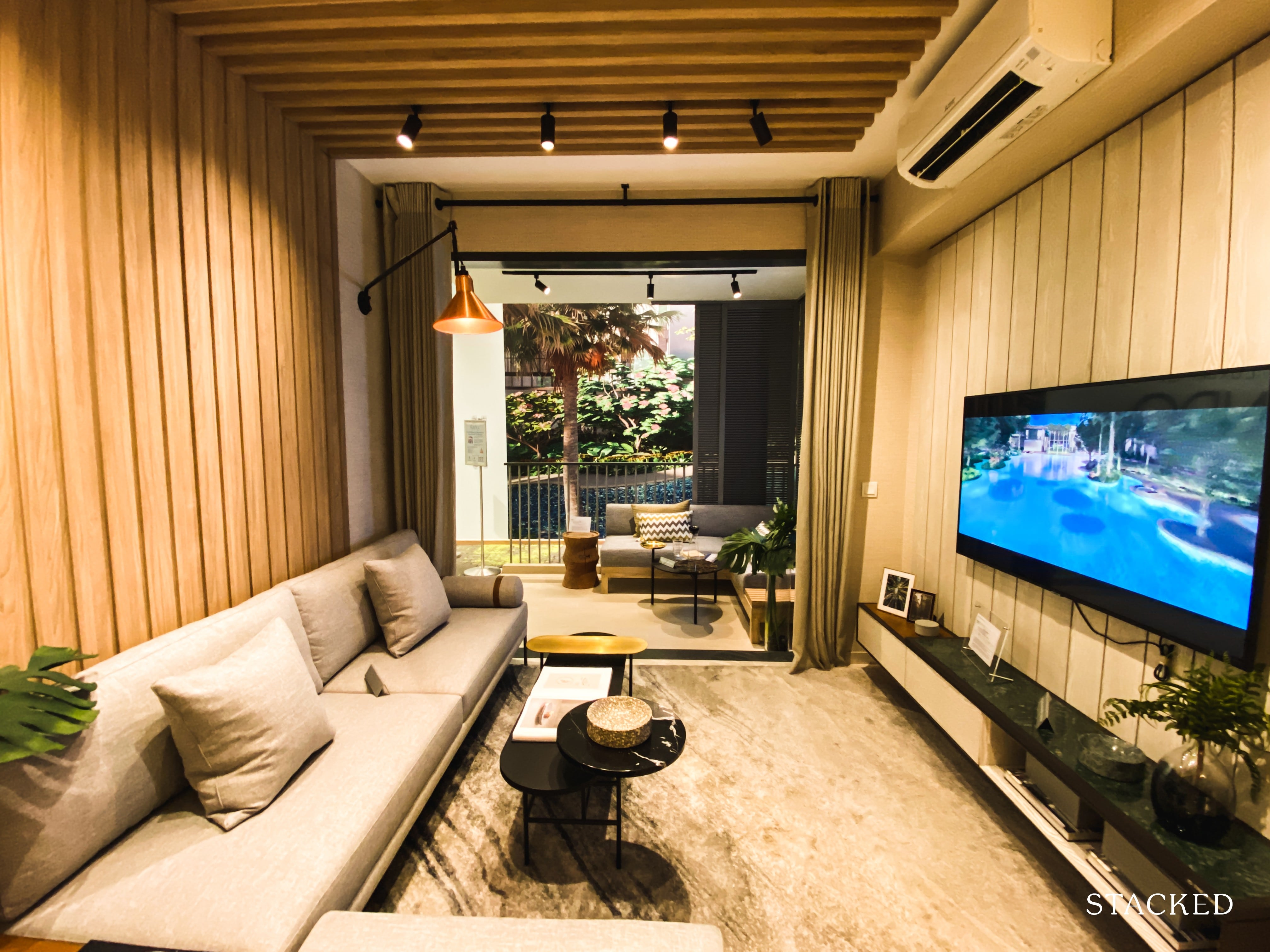 As displayed, the living area can fit in a 3-seater sofa with a coffee table and ottoman at the side as well. I think that's acceptable by today's standards and fares slightly better than some in the market right now (for its size).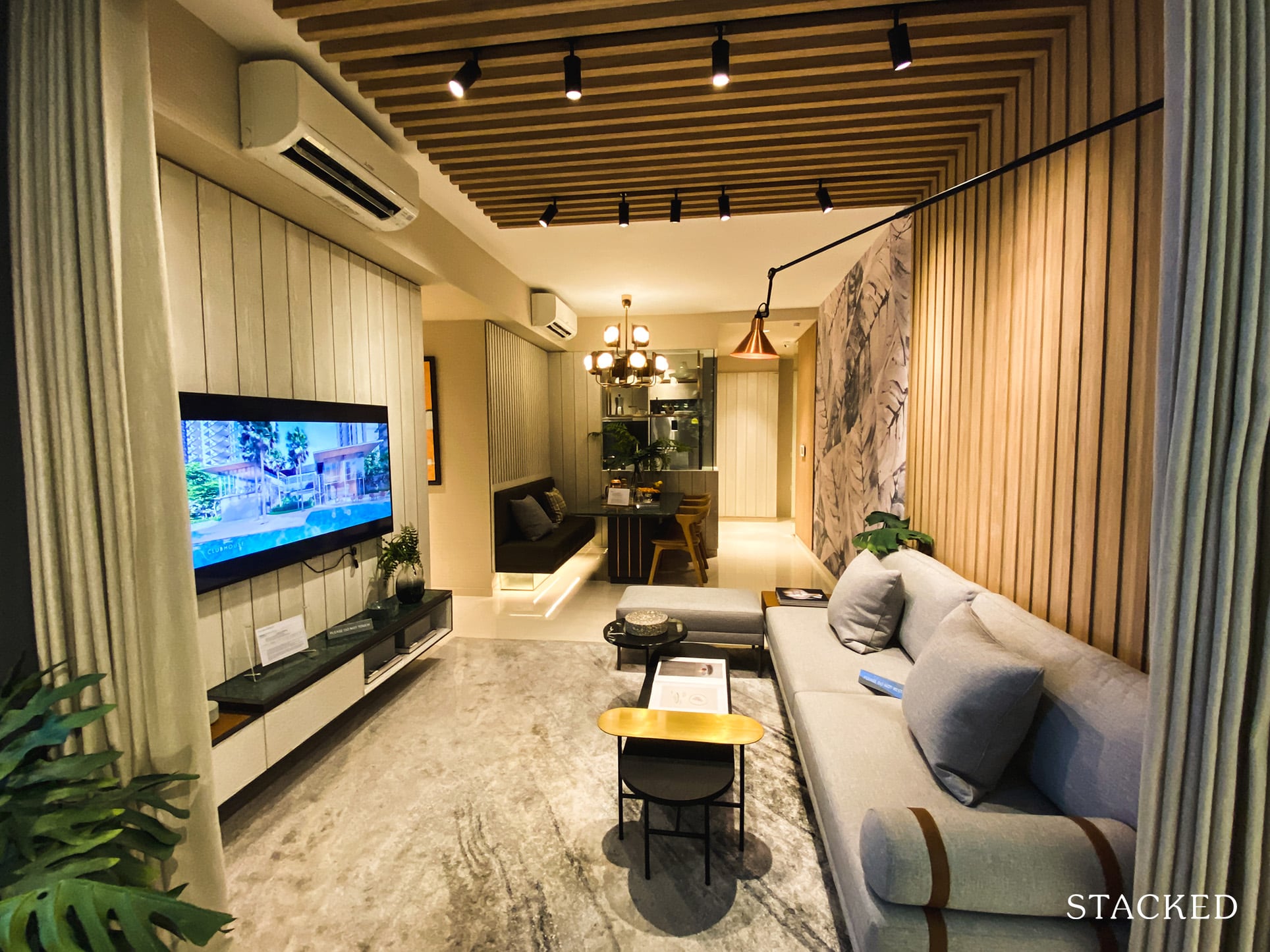 The distance between the TV and sofa set is also adequate. It's not a world-beater by any means, but my litmus test for this is the ability for someone to walk past comfortably after the coffee table, sofa, and TV console are in place.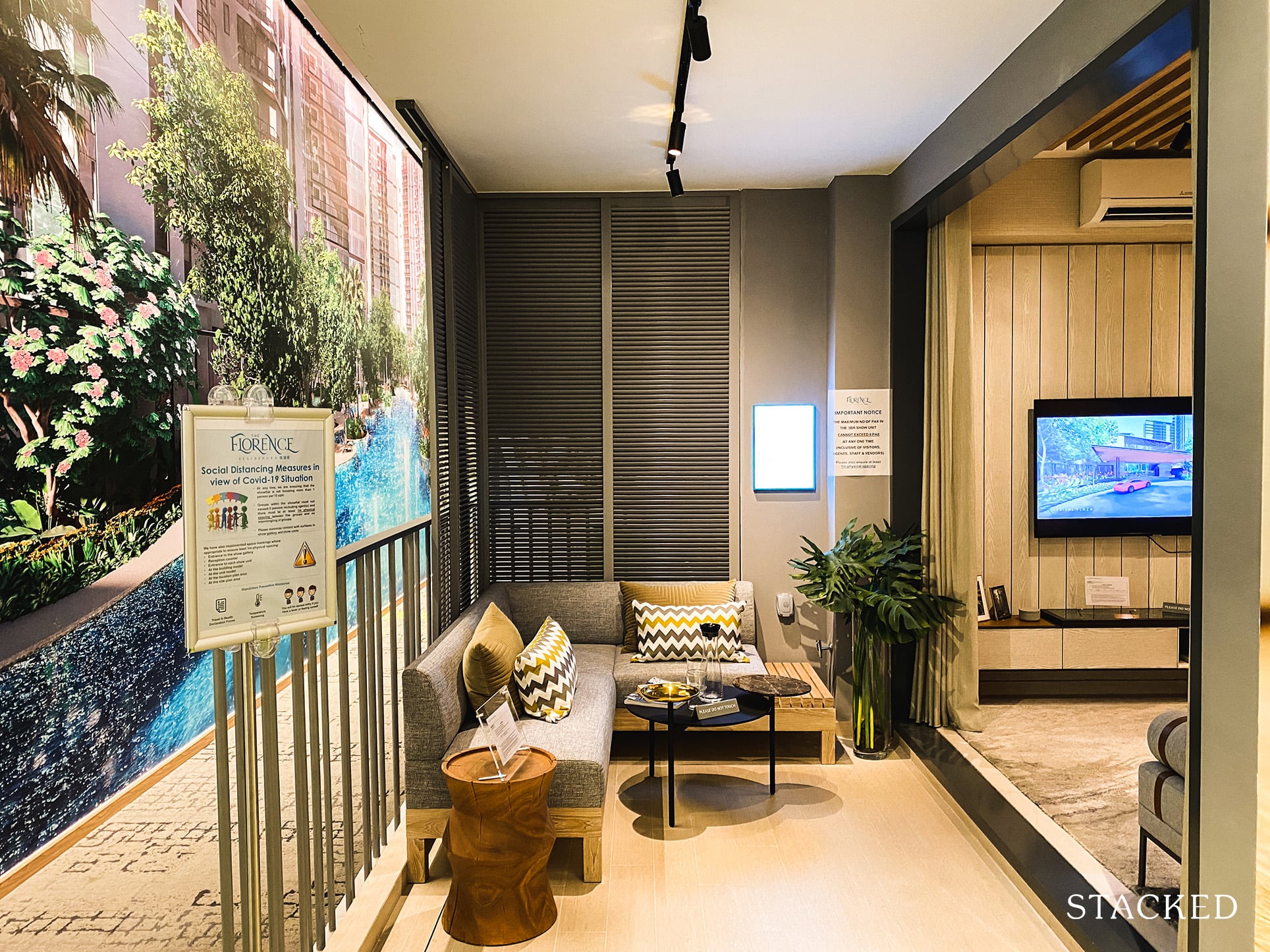 For those who prioritise indoor spaces, you'll be happy to know that the balcony here is practical but not exceptionally large. You will still be able to fit in some chairs and a small coffee table for you to enjoy the view (if you pick a unit with one).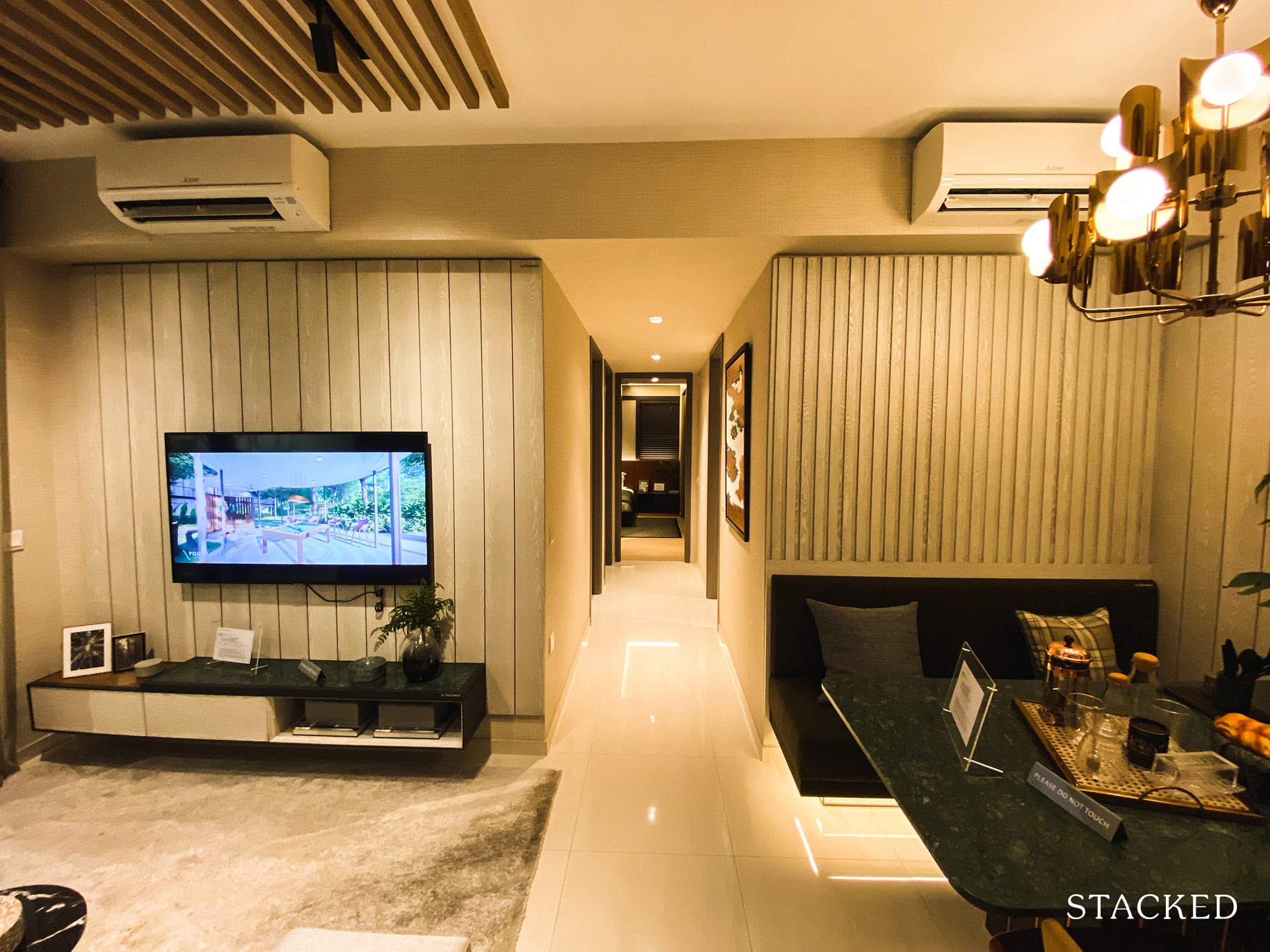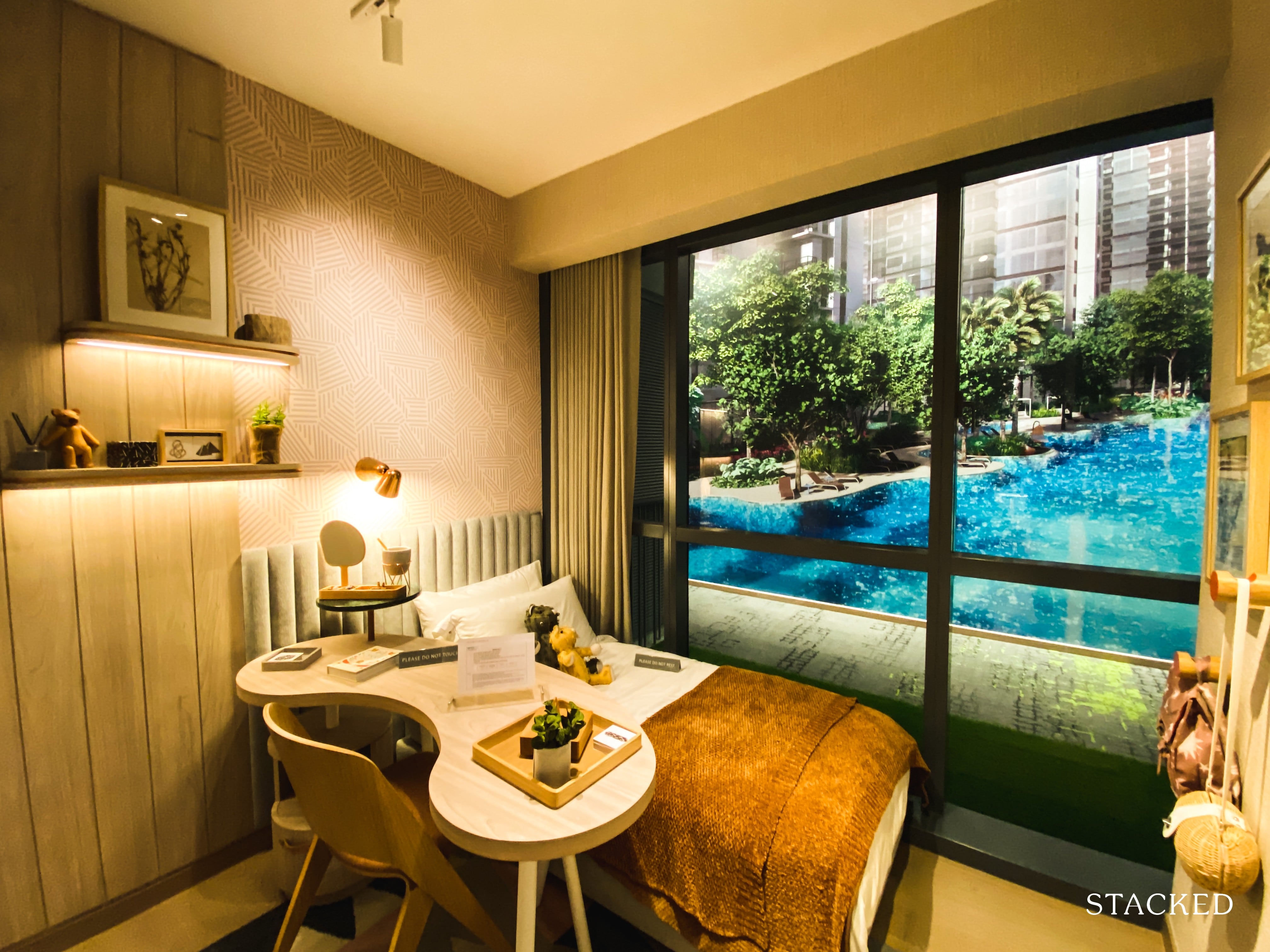 Both the common bedrooms measure at 8.8 sqm, which is larger than the common bedroom in the 2 bedroom unit reviewed above. To me, every sqm counts so it's good that the rooms are slightly larger here.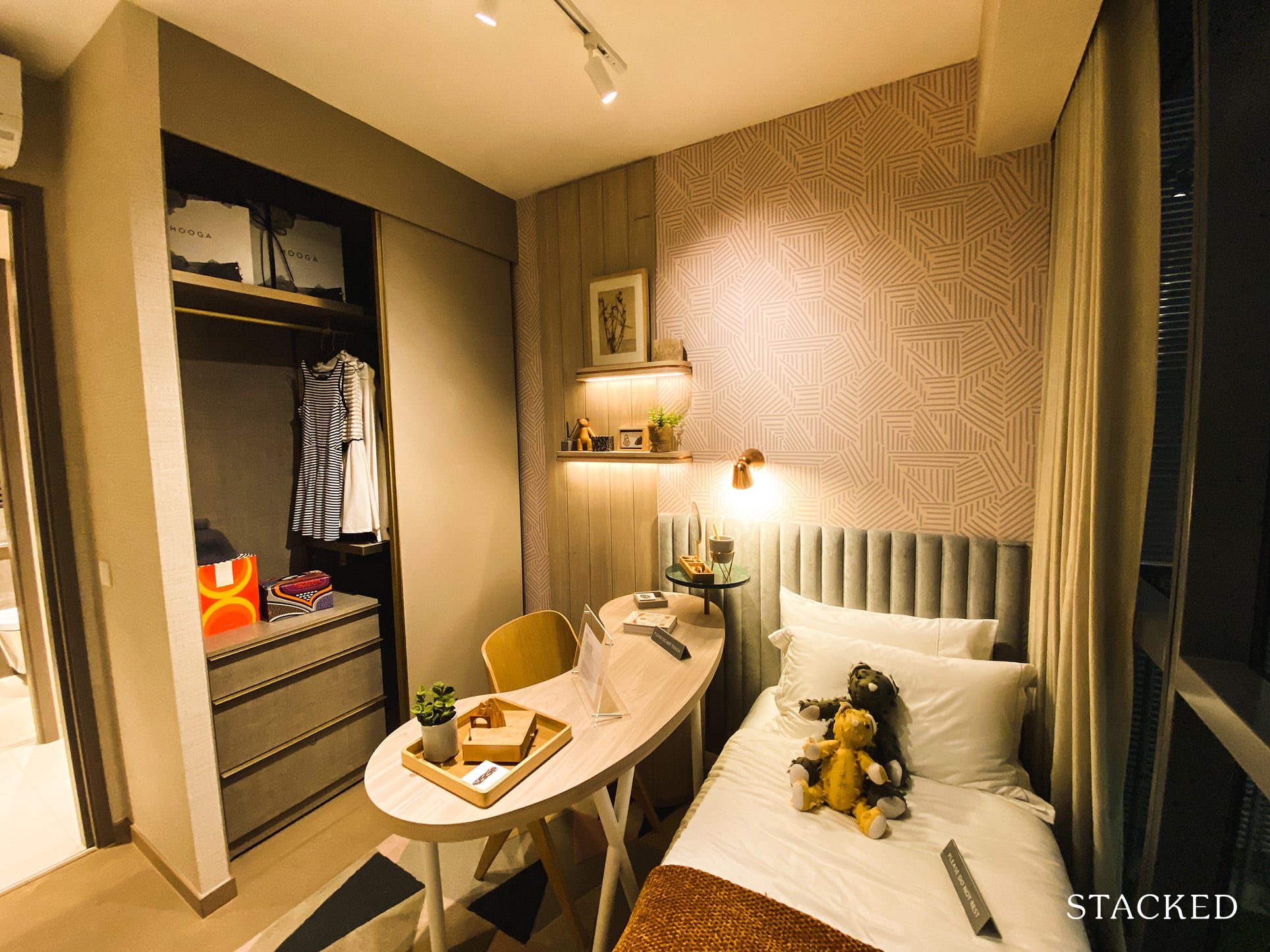 You will also find a 2-panel built-in wardrobe and a single bed with a small study. Despite the 0.6sqm of additional space, there is unfortunately not much more you can fit into this room. At the very least, you do have full-length windows as the aircon ledge is placed strategically beside the kitchen.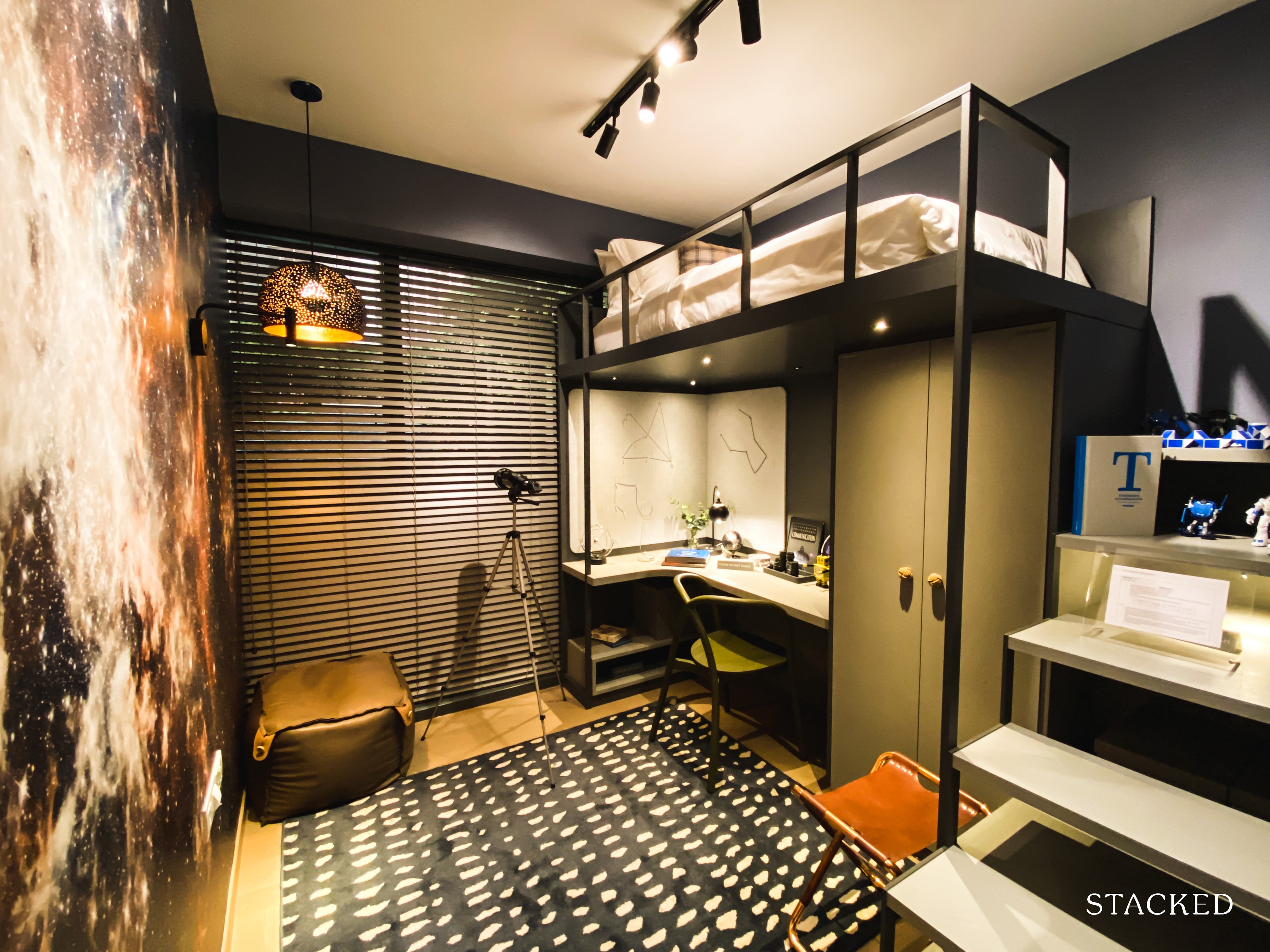 Moving on to the other common bedroom, they have actually done away with the wardrobe to show how 'big' the room is. In its place is a mini furniture deck which is only applicable if you have very young kids given the ceiling height at Florence Residences is only 2.7m, which is slightly below the 2.8 – 2.9m average.
Kids will enjoy climbing up to their bed on top, but I can't say the same for myself. Of course, with this concept, you will be able to fit a study below a lot more comfortably with room for other miscellaneous items around.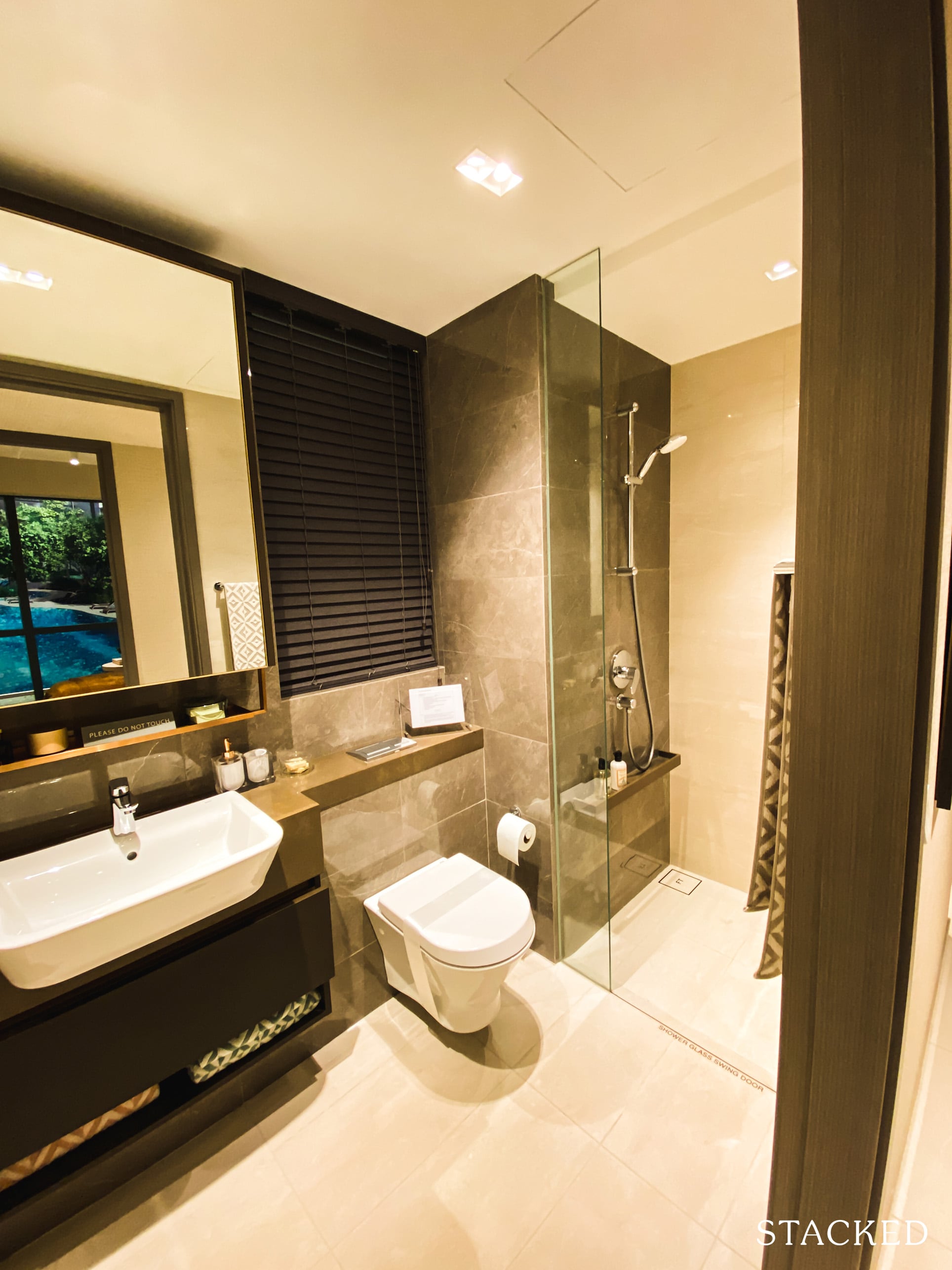 The common bathroom is of a comfortable size and comes equipped with quality fittings from Grohe and Roca. For this particular stack, it's also great because there's a window right in the bathroom, which helps to naturally eliminate moisture.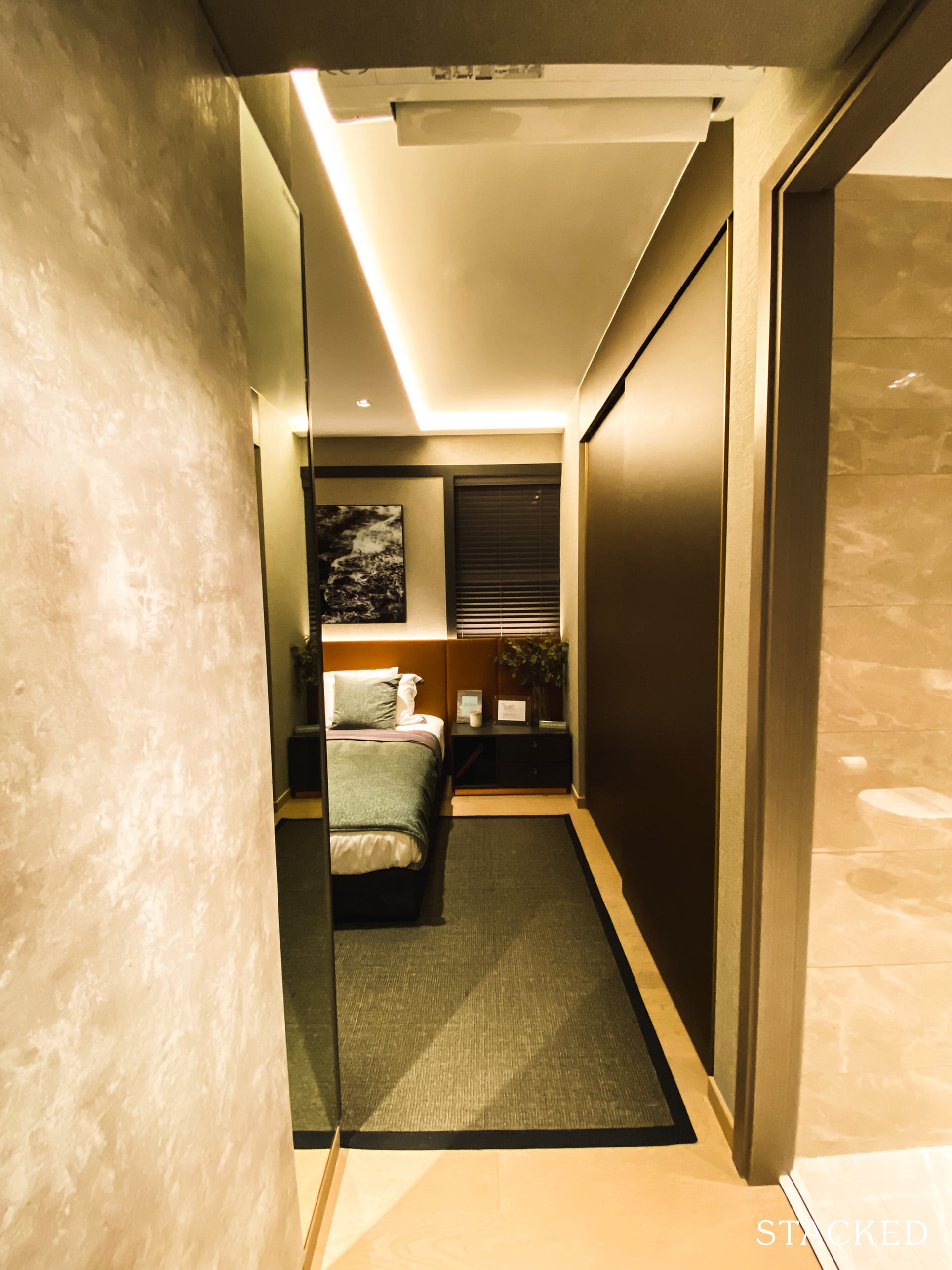 At first glance, you may not notice this, but a keen eye will tell you that the built-in wardrobe in the master bedroom is actually flushed against the wall – a concept that I wish was more prevalent in new launches today. This is actually a really sleek concept because the wardrobe does not protrude out, leaving you with a very usable layout for the rest of the room. The wardrobe is also pretty sizeable and larger than those found in the other bedrooms.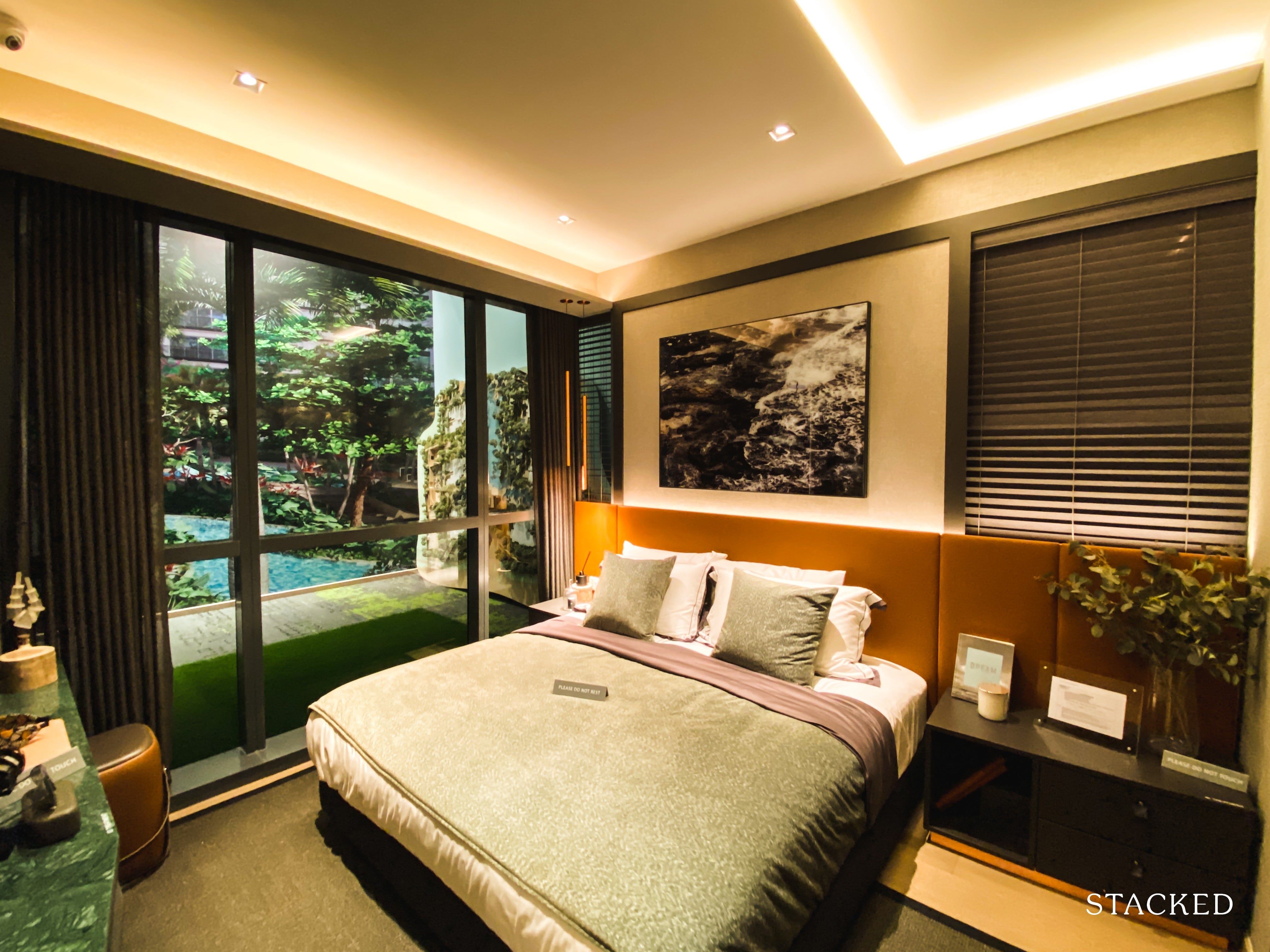 Personally, this room looks bigger than its 13.5 sqm size, mainly because of the flushed wardrobe in place. You will be able to fit a Queen bed with 2 side tables without much of a problem.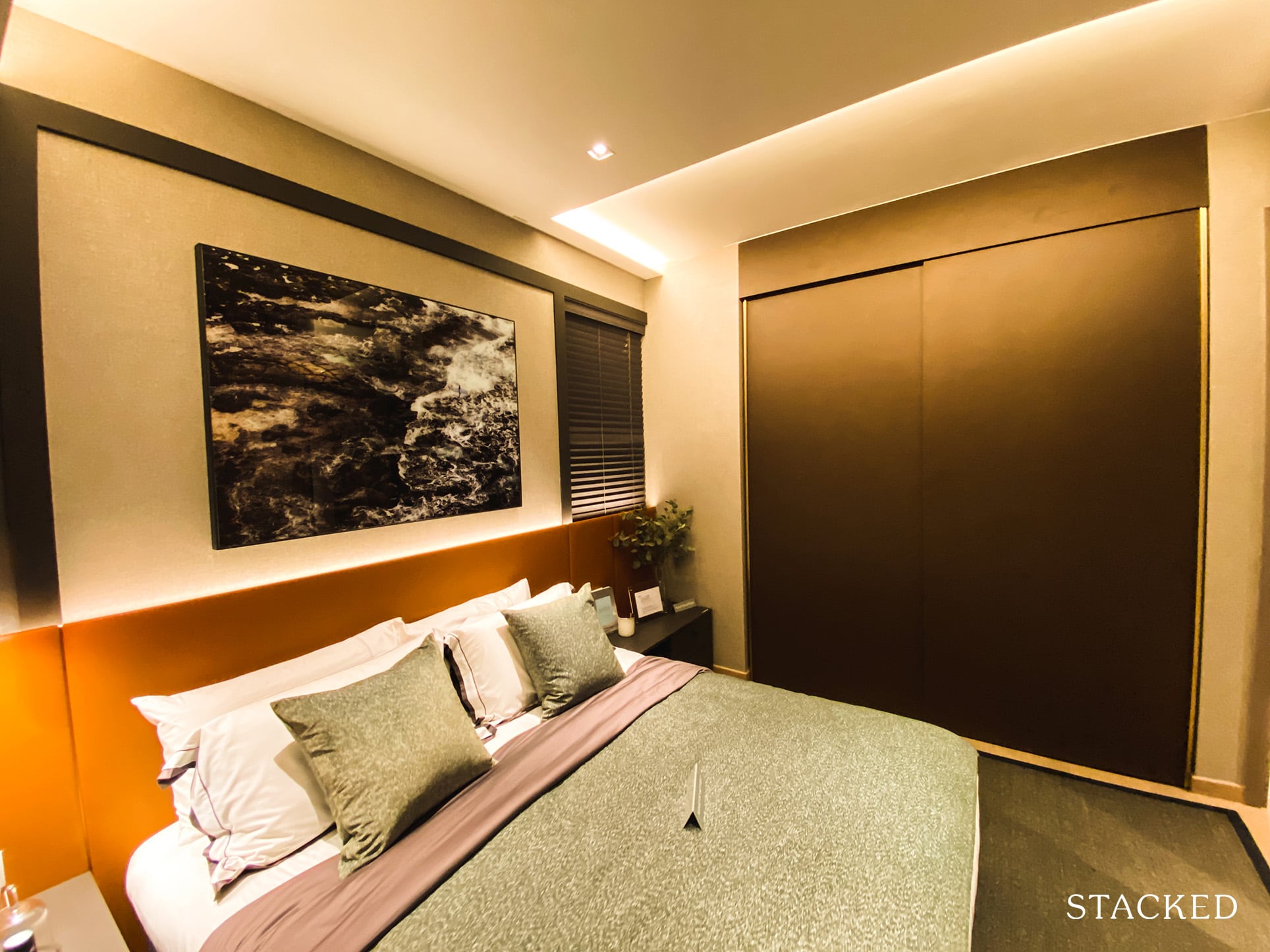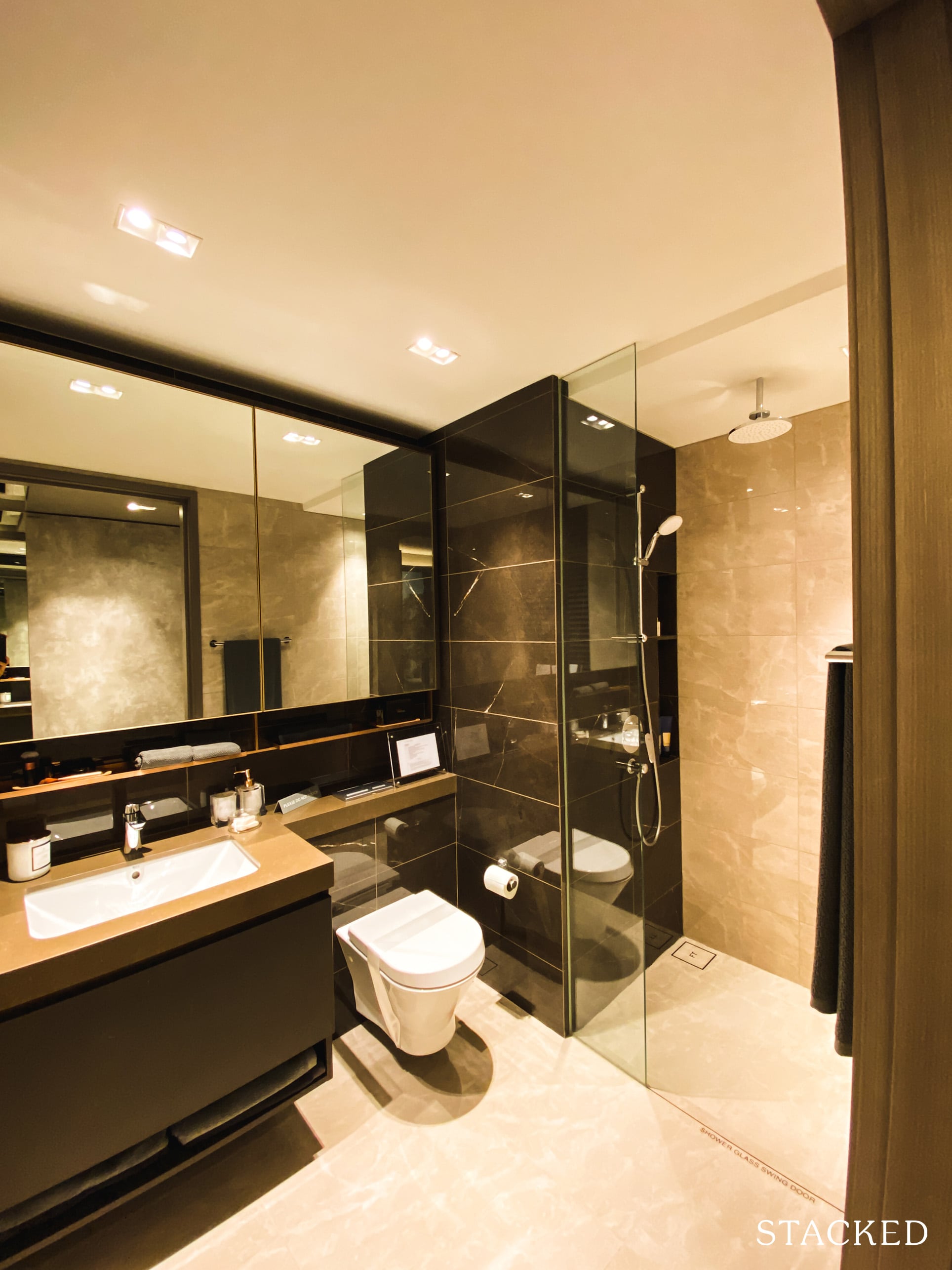 It may be a small point but I also like where the ensuite toilet is placed. It's not within the main 'square' of the master bedroom so any unwanted smells will be further away from you.
The master bathroom is ever so slightly larger than the common bathroom. Even though you have a window in the common bathroom, you will unfortunately not find one here, so the remnant moisture might be something you will want to pay attention to. As with the rest of the master bathrooms so far, you do get a rain shower with the same fittings from Grohe and Roca.
The Florence Residences 5 Bedroom Review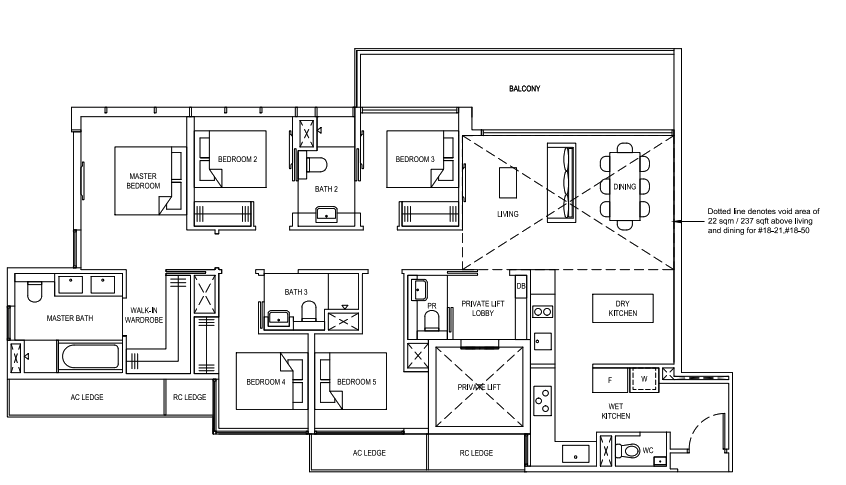 The 5 bedroom here is the largest unit available here at The Florence Residences. However, don't be fooled by the size of this unit. Even though on paper it is 1,916 square feet, this showflat is a top floor (#18) unit. This means that it has a double volume ceiling, adding 237 square feet of void space in the process. The other 5 bedroom units in this stack on the lower floors will be at 1,679 square feet instead, which is smaller than its 5 bedroom peers reviewed in JadeScape and Treasure at Tampines.
So, how does it stack up against its peers then?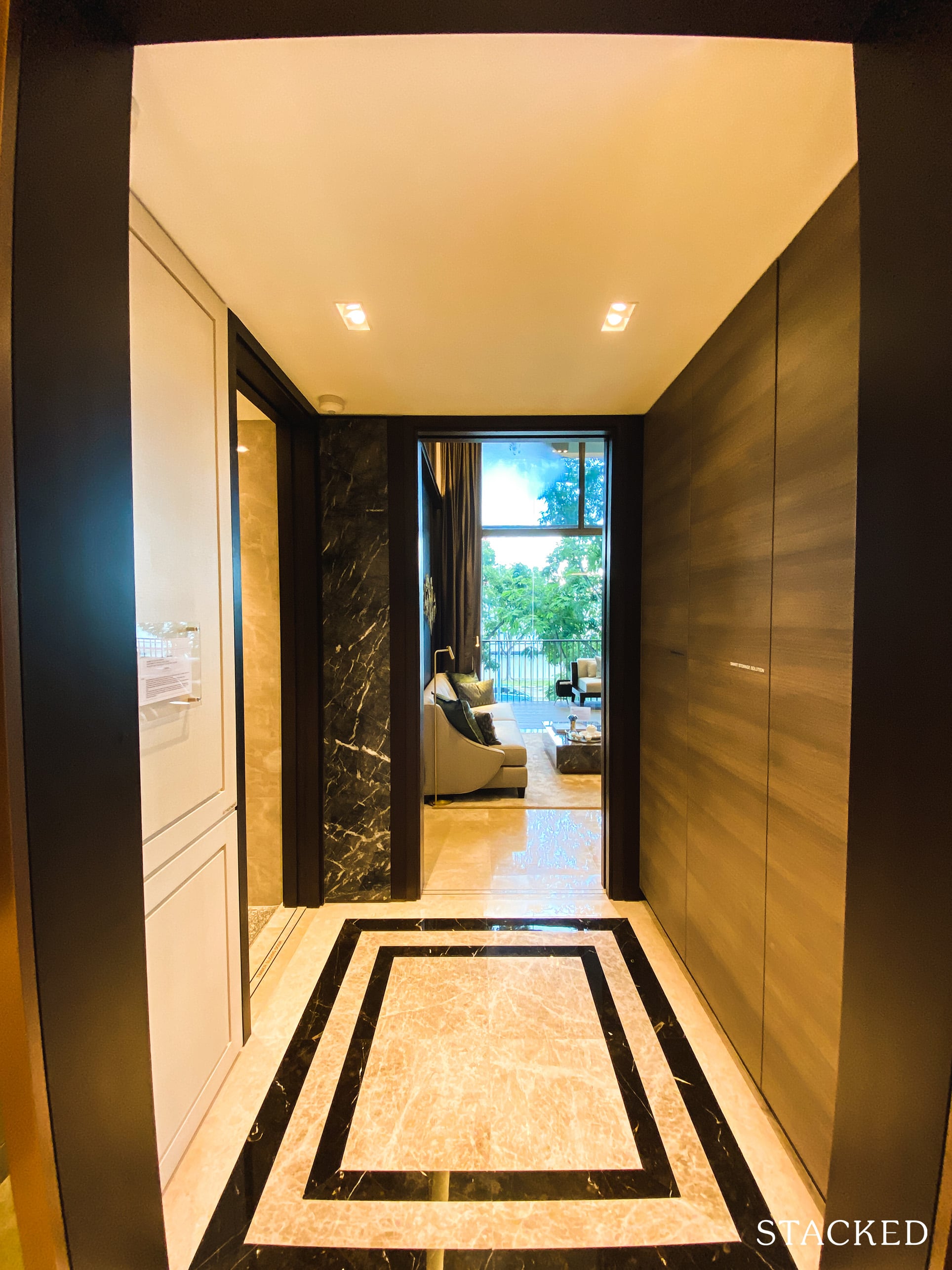 For starters, I like that this unit includes the luxury of having its own private lift, which was not the case for Treasure at Tampines. As this is only reserved for the 5 bedroom units here, it does go some way into making the residents here feel extra special.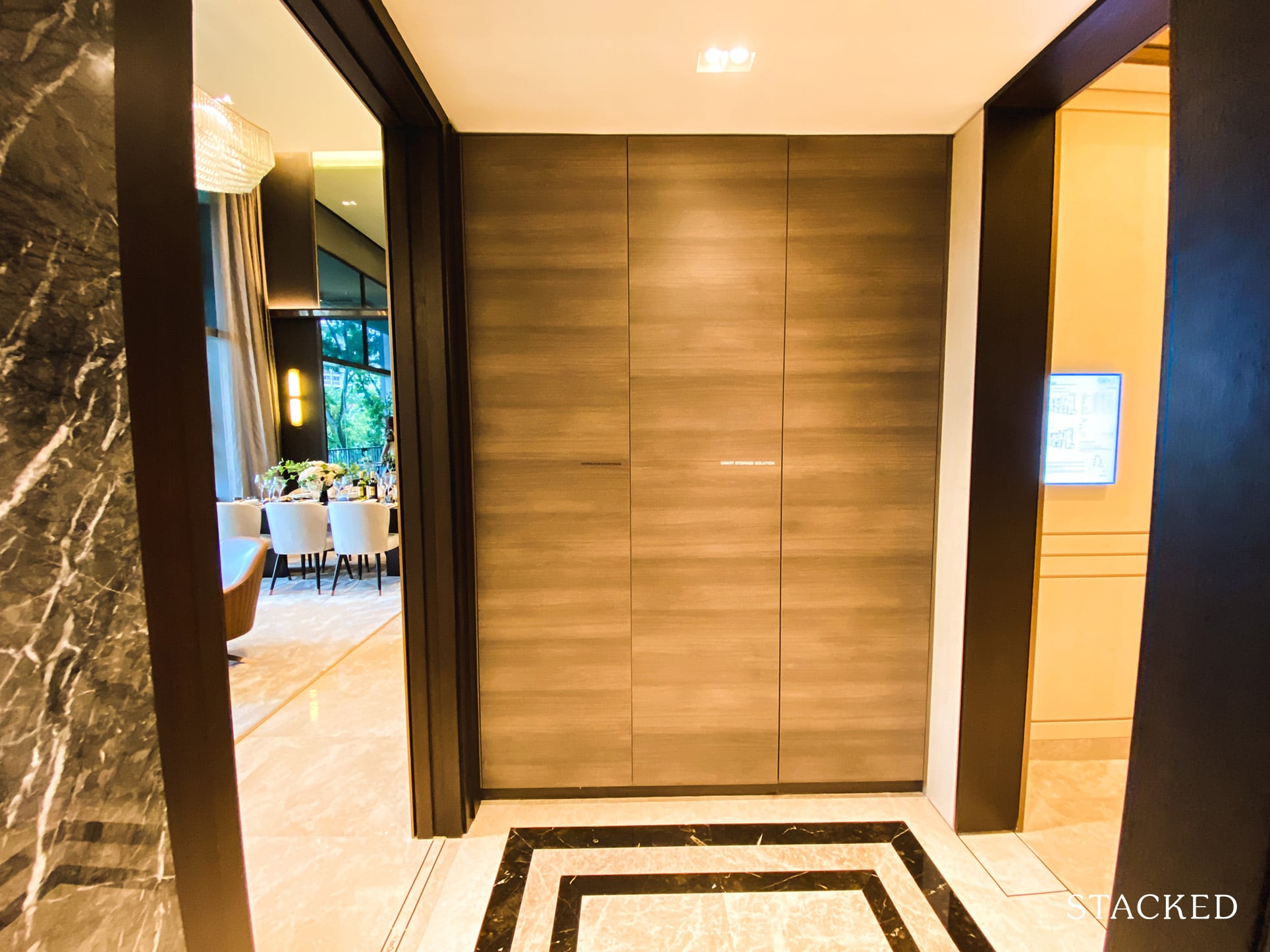 Once you step in, this unit is greeted first by a private foyer (where there is powder room beside) before it opens up to the living area, which is the most expansive area in this unit so visitors can be wowed by the sheer size of it (if it's sizeable enough of course).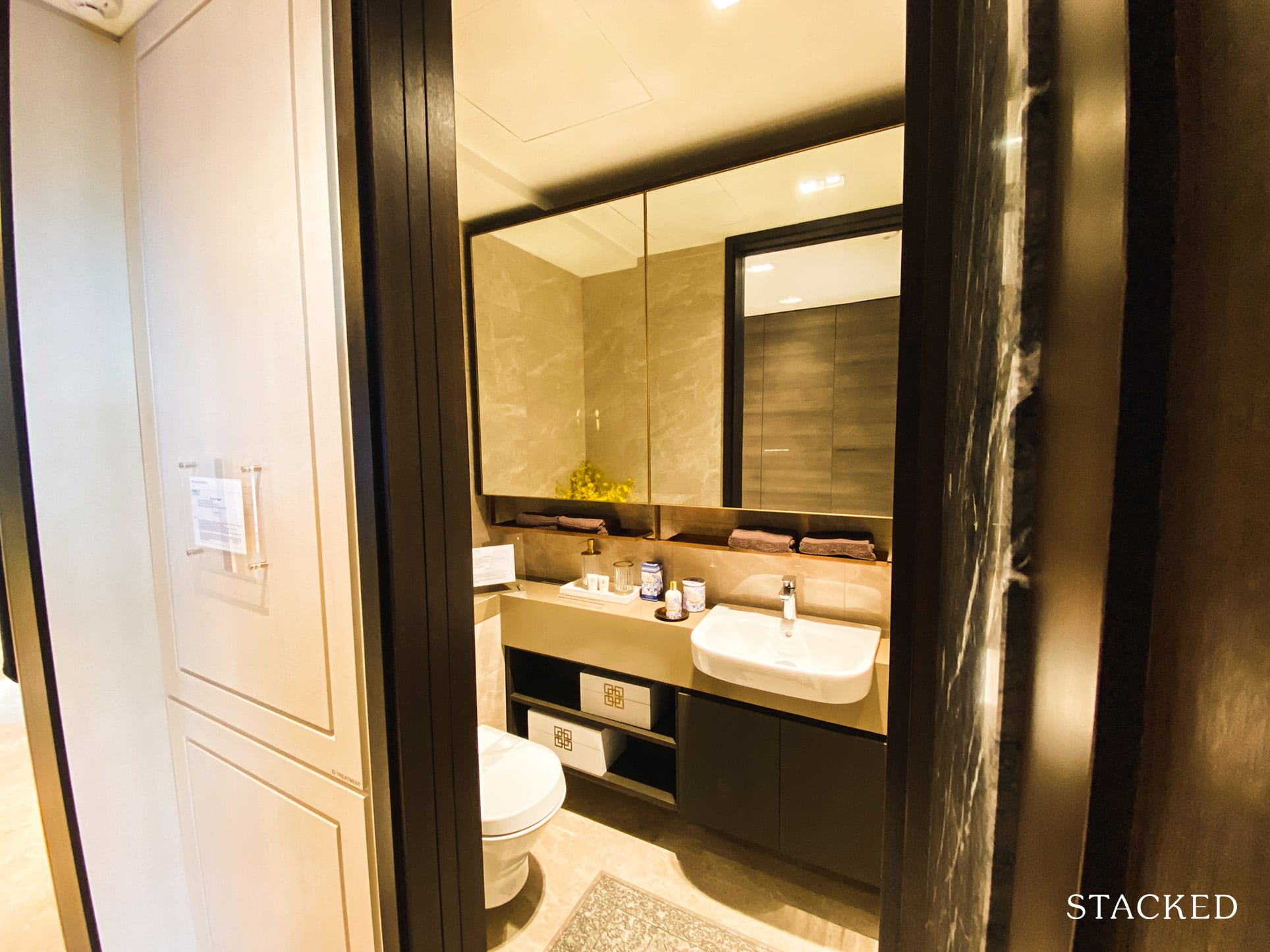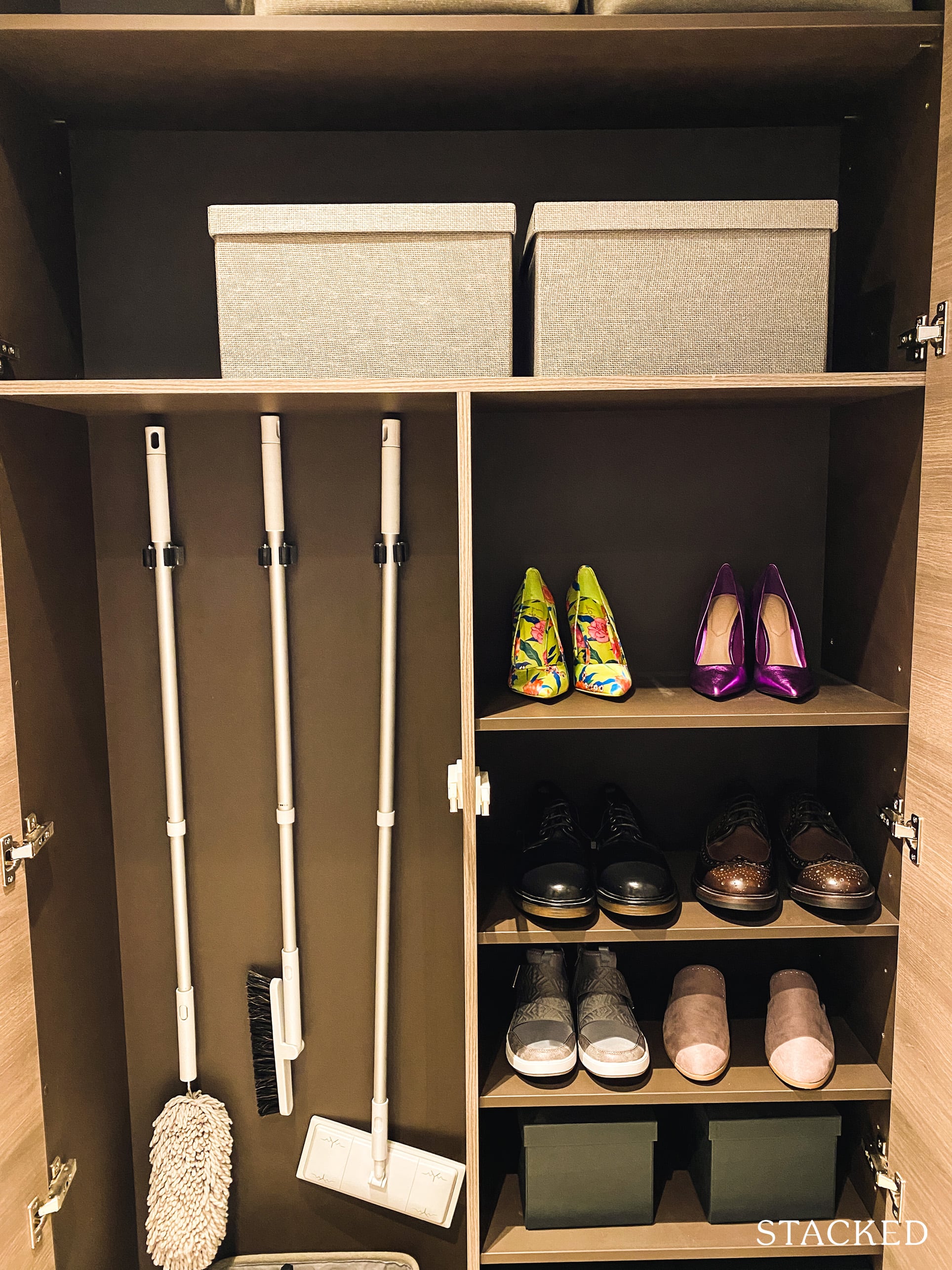 Opposite the opening of the private lift, you'll find the smart storage feature. It's a common complaint in new developments (the lack of storage space) – so it is good to see some usability here.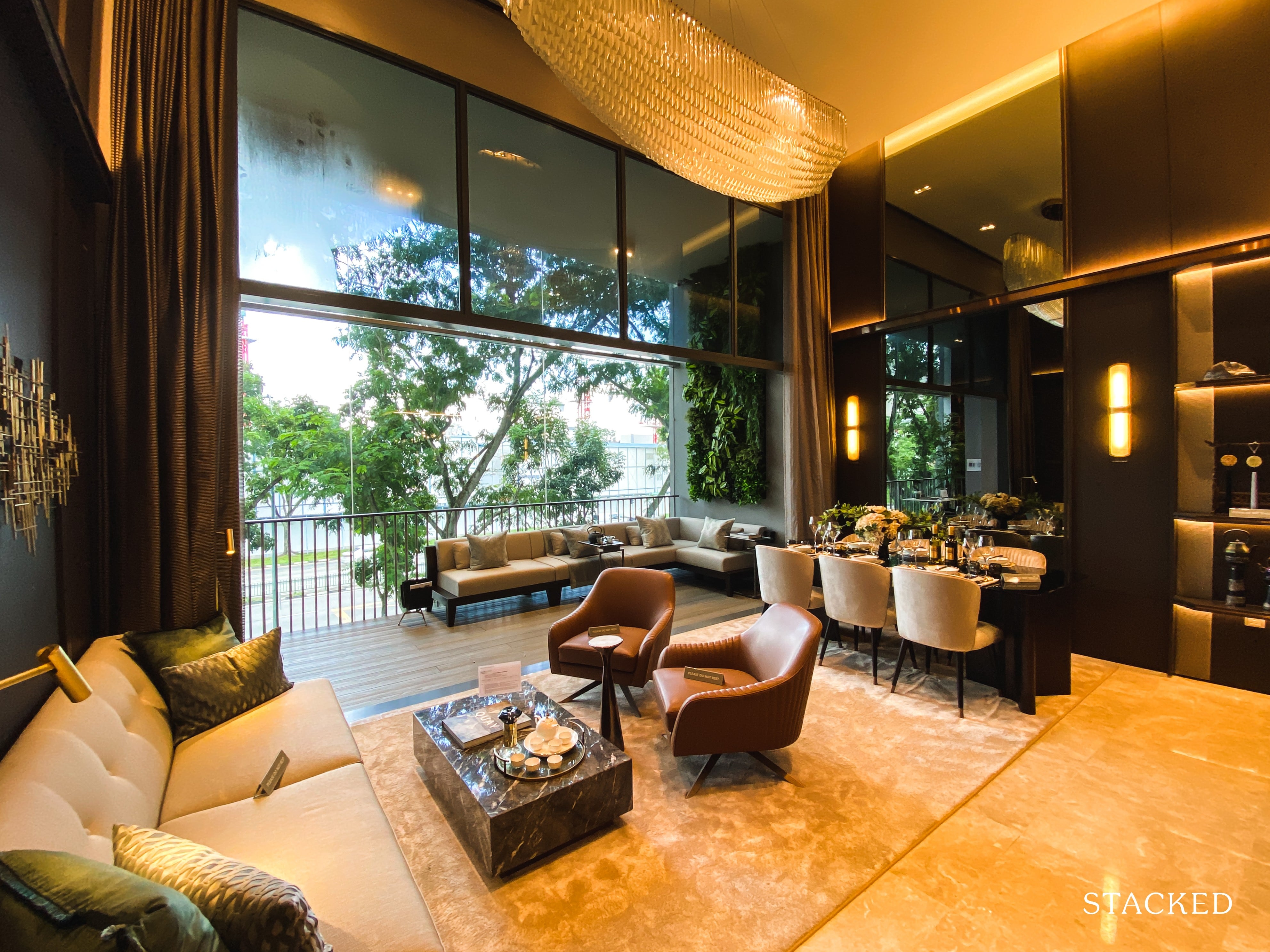 As far as I'm concerned, double volume living areas always give off that wow factor. So this unit is definitely helped here by the double volume ceiling (4.6m), which accentuates the grandeur further.
Do note that the 5 bedroom is the only unit in the development to be adorned with marble flooring in the common areas. For the bedrooms, the choice of material will be engineered timber.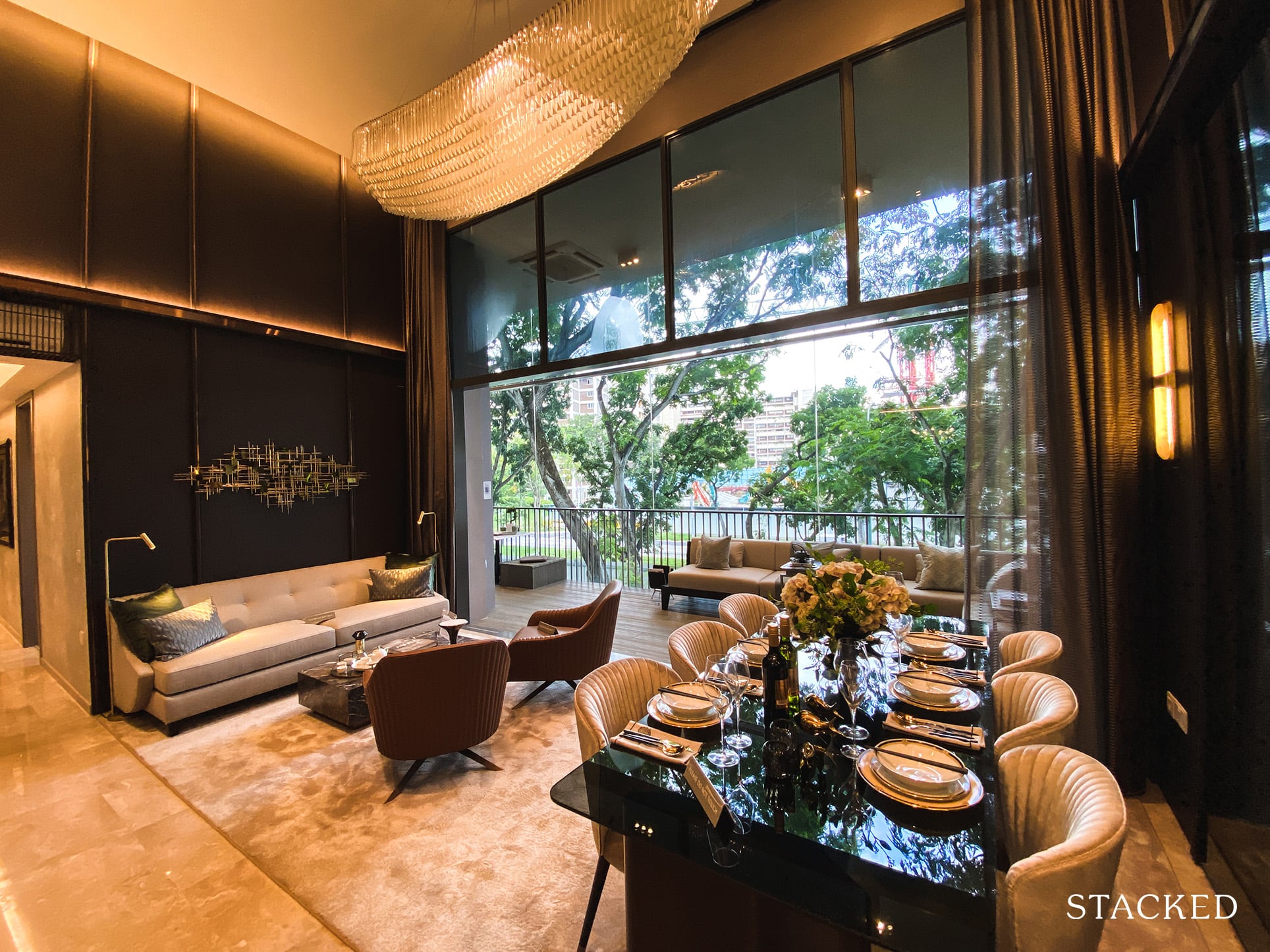 Coming into the living room, you can immediately see that it isn't particularly wide, as they have gone with quite a sizeable balcony instead. Widthwise, they have only managed to fit in a 3-seater without compromising on the walkway, which I thought was rather poor given that this is 5 bedroom unit.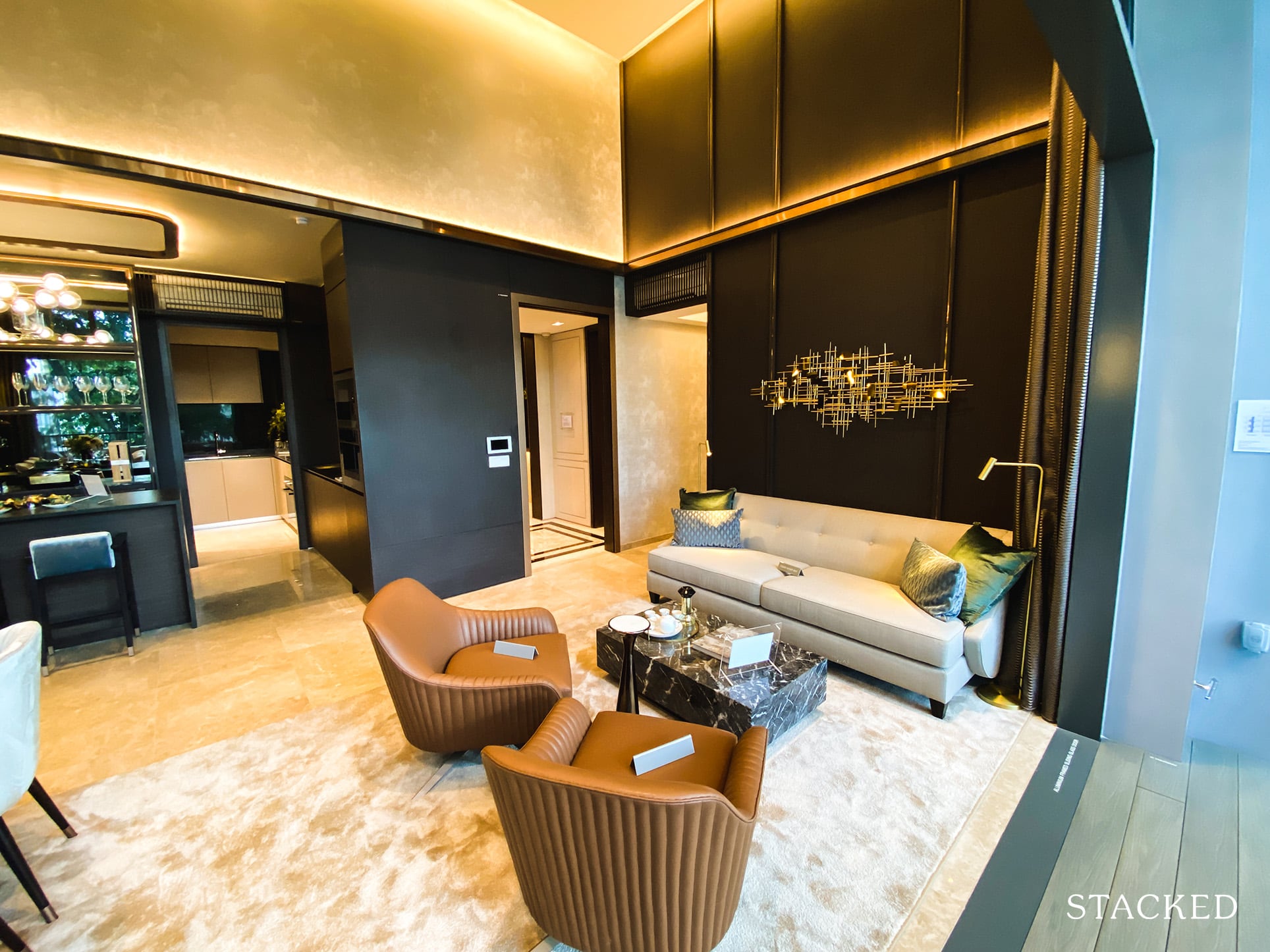 It's honestly not a great set up for a 5 bedroom unit, I can only imagine how much smaller it would feel for the regular 5-bedder. Let's also not forget that this set up doesn't include a television, something that I'm sure most households will want to incorporate.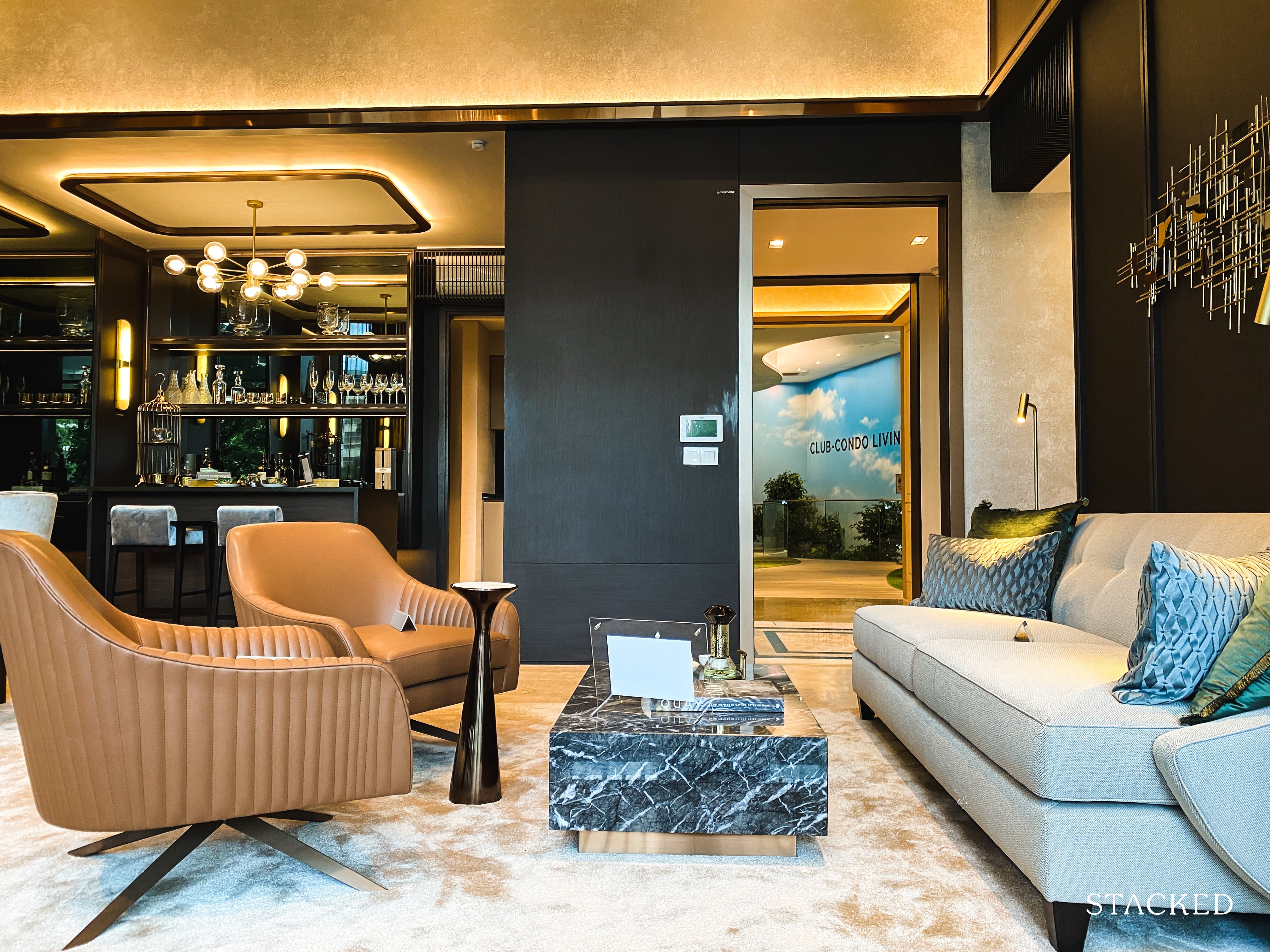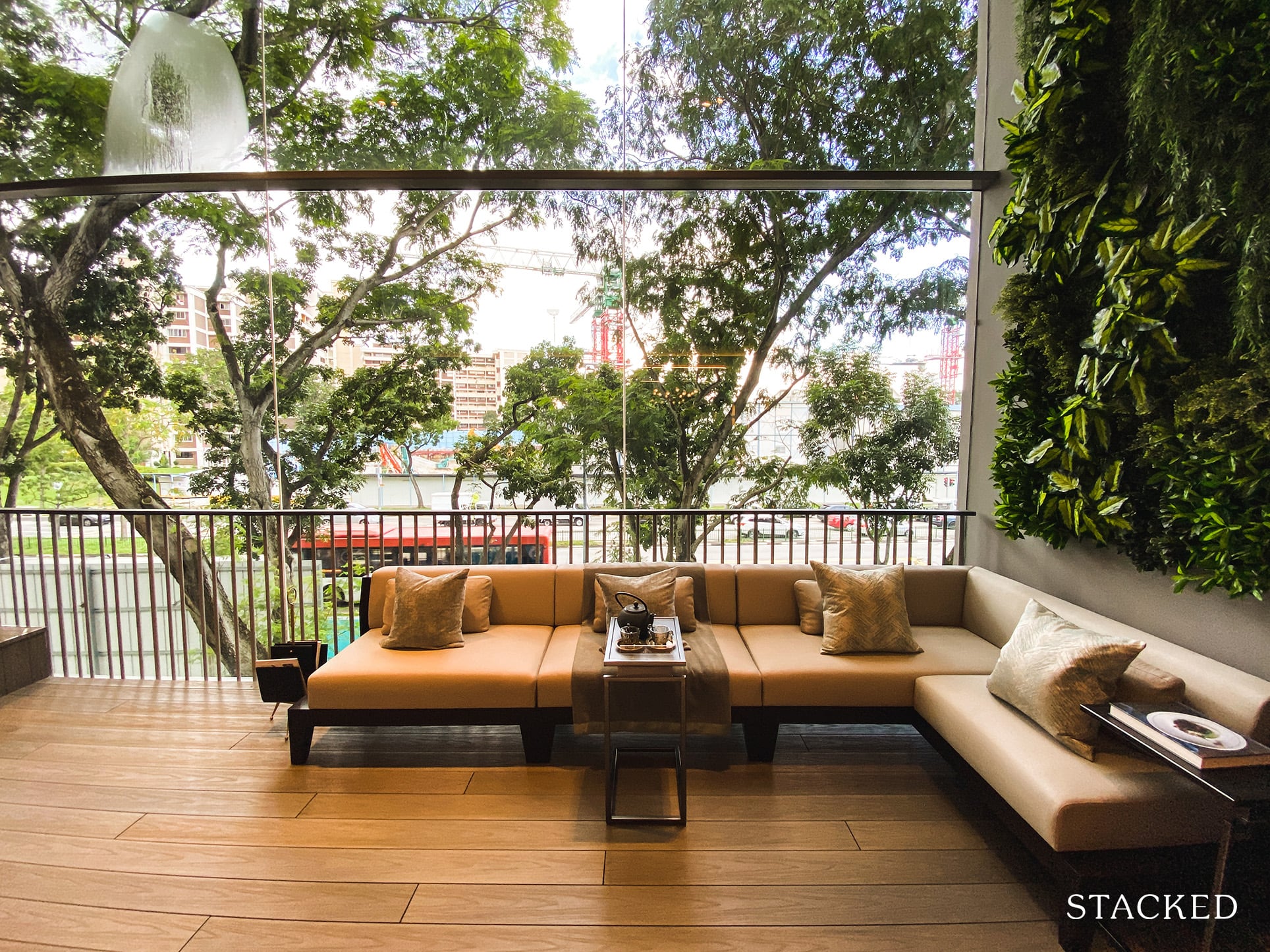 However, if you are one for the alfresco concept, you will be able to place additional furniture in the balcony, which will ease the problem when you have guests over. For example, they have placed an L-shaped sofa here on the balcony, which should fit at least 6 people. The balcony extends to one of the common bedrooms, making it rather long and rectangular in shape. It's not great space efficiency to extend it to the common bedroom in my opinion, unless you intend to knock down the walls to extend the living room further.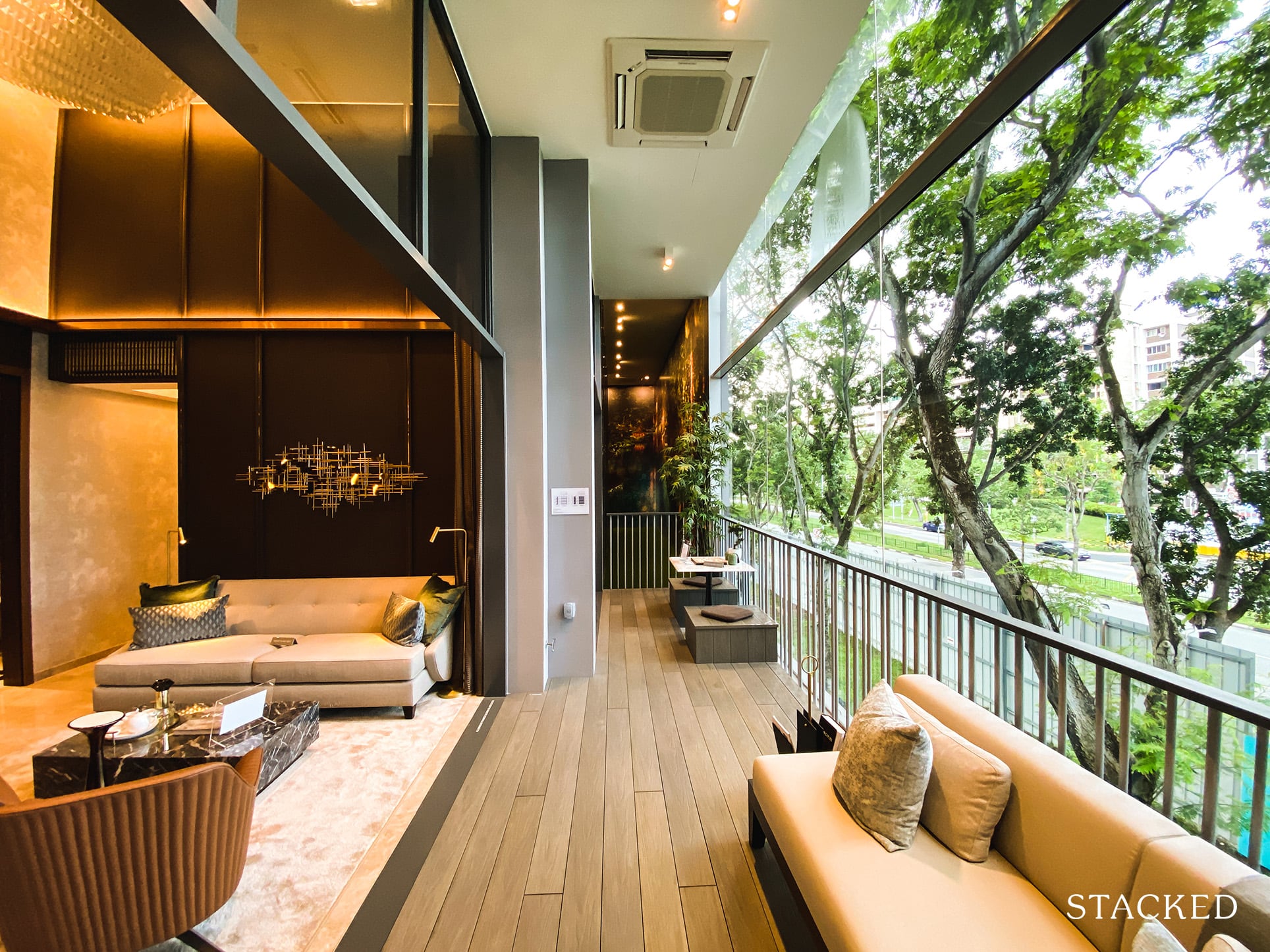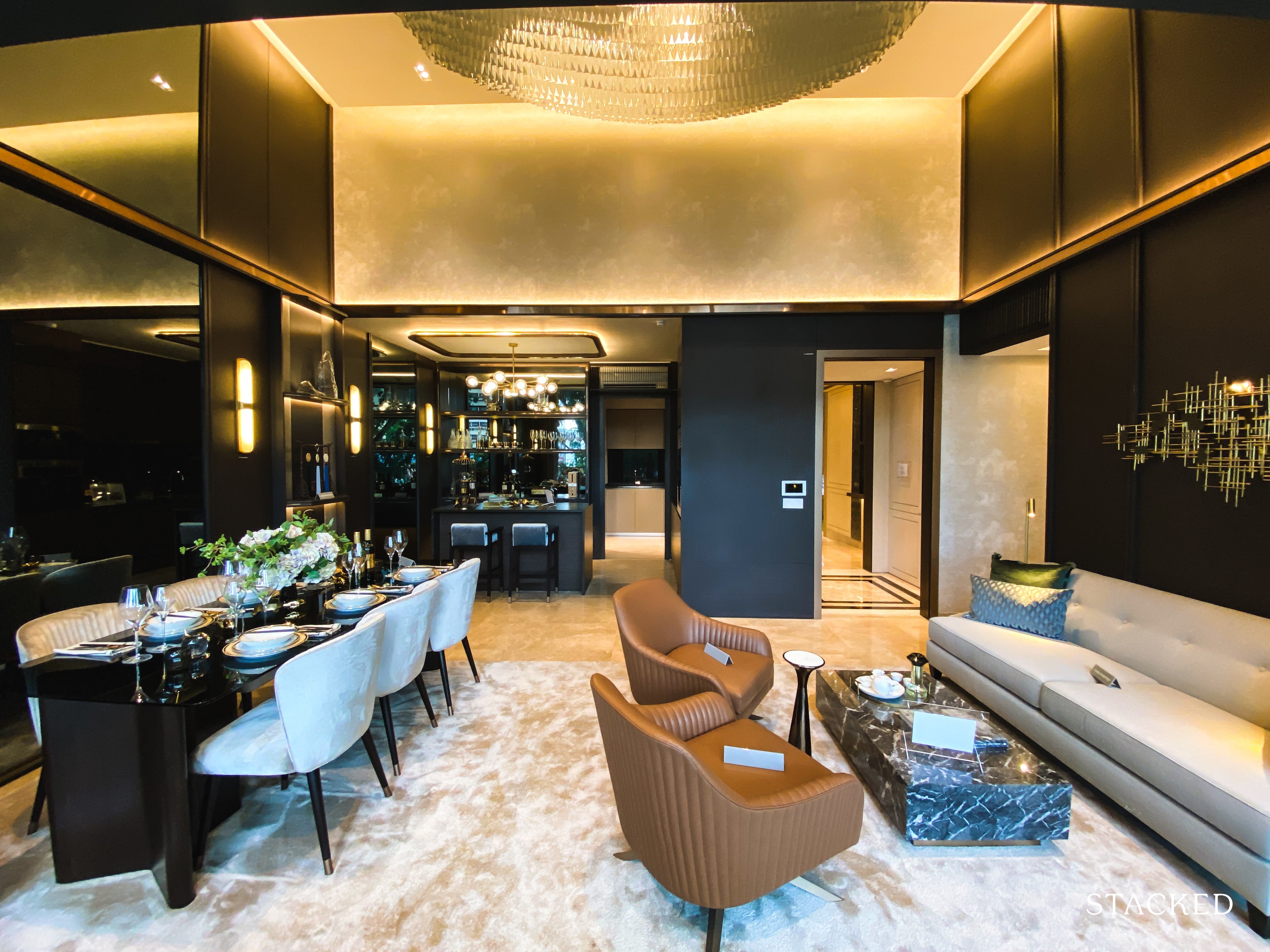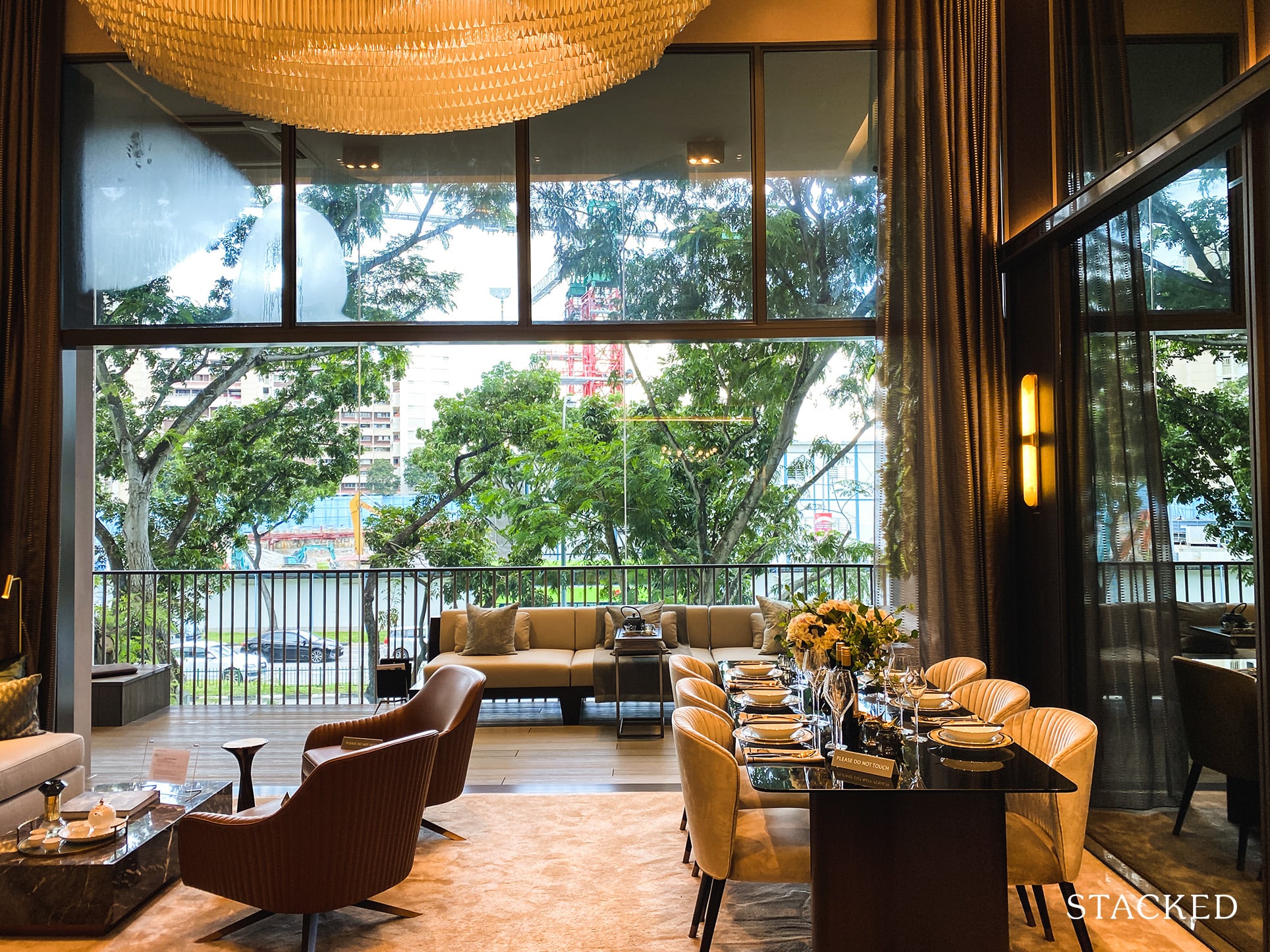 As expected, the dining area is way more comfortable than those seen in the earlier units. I always prefer the dining set to be placed this way, where there is still a lot of walking space around the 6-seater set. Of course, this is a real privilege in the private condo space these days.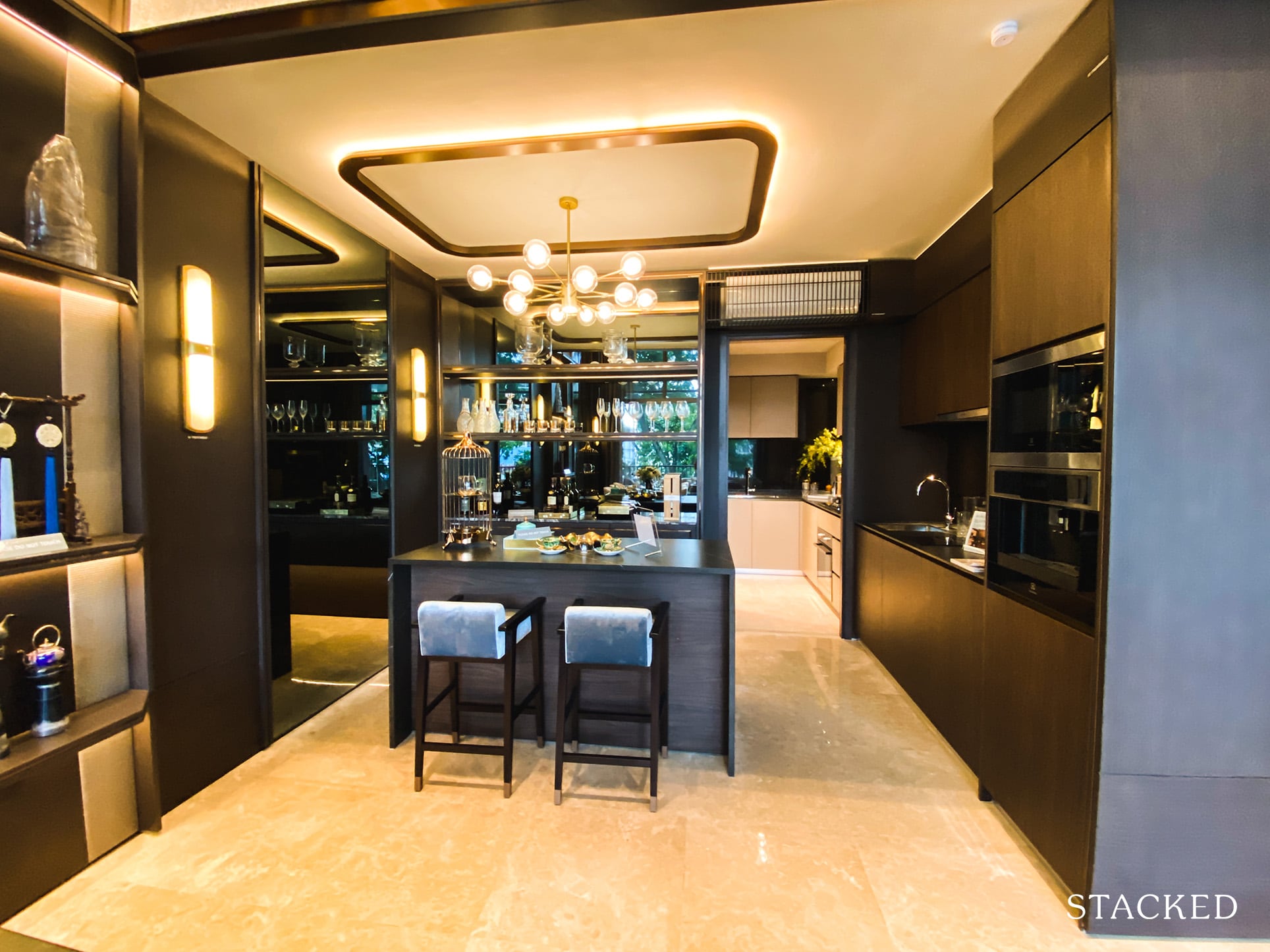 Where this unit excels is in the kitchen area, more specifically, it features a wet and dry kitchen. While this isn't an unexpected find for 5 bedroom units, the size allocated here is quite impressive.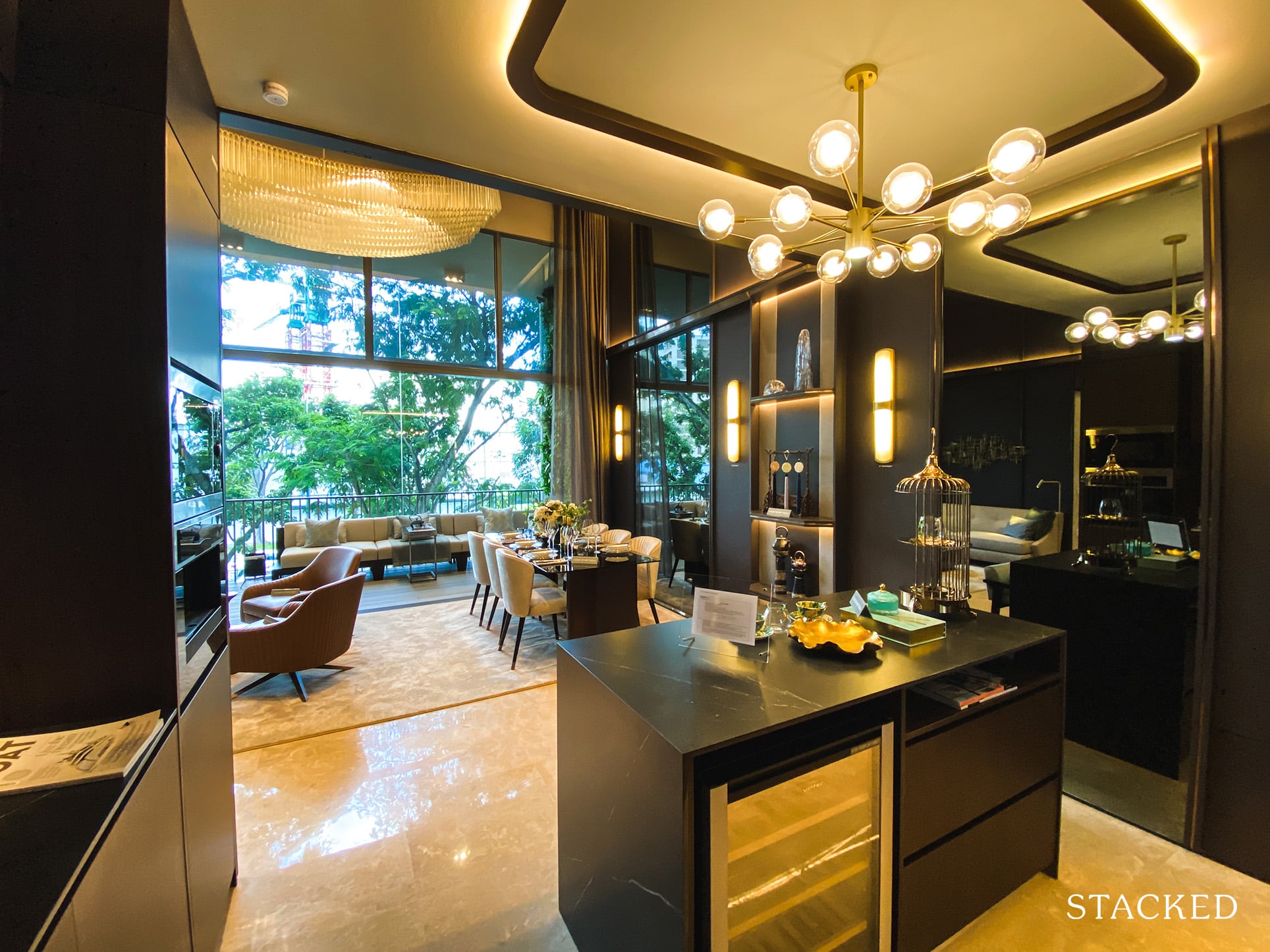 Unlike some of the dry kitchen concepts I've seen, this one comes with a proper kitchen island, think extra storage and a wine chiller below.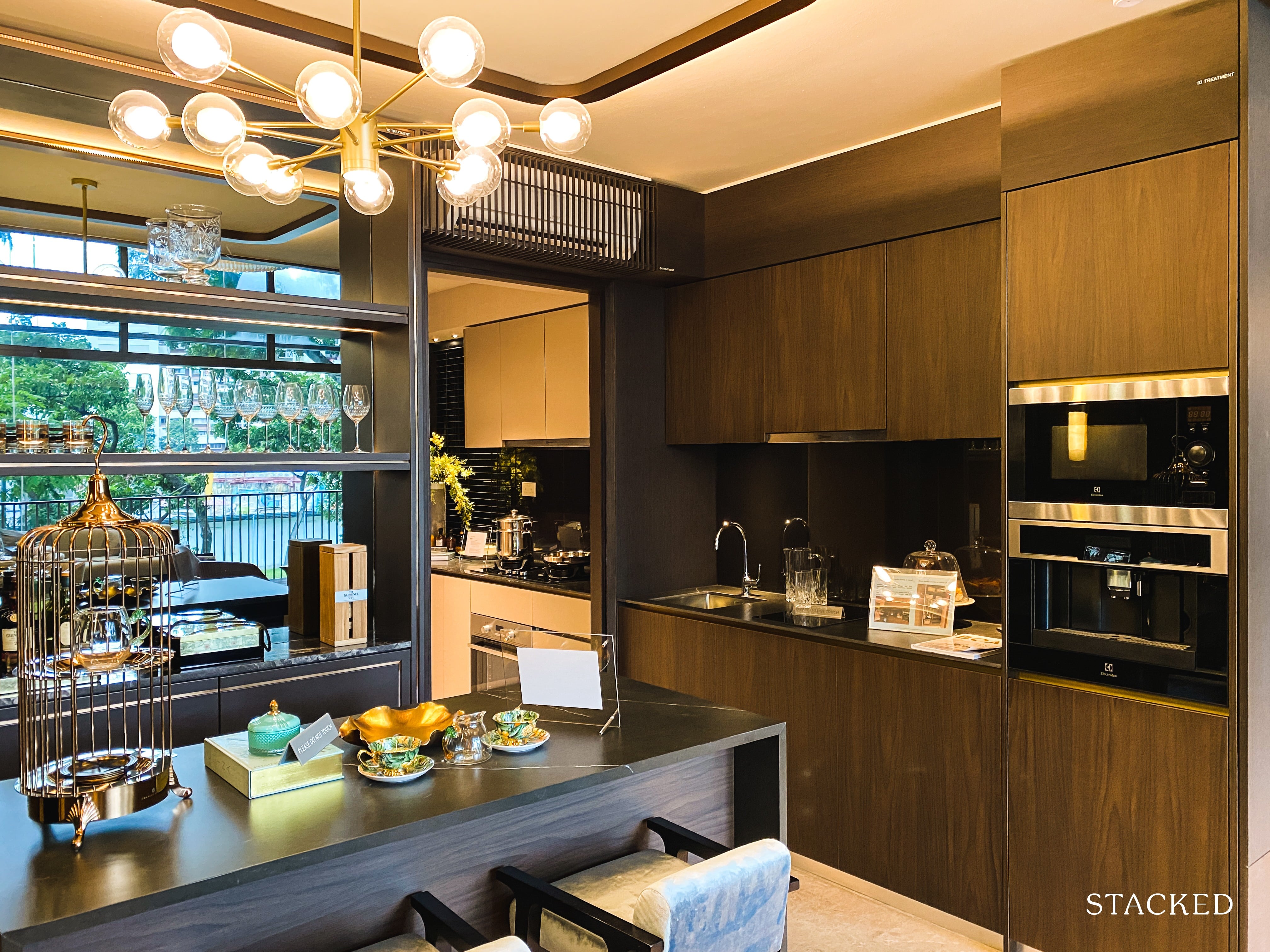 There is also a sink and an induction cooker, coupled with a coffee maker and microwave oven by Bosch.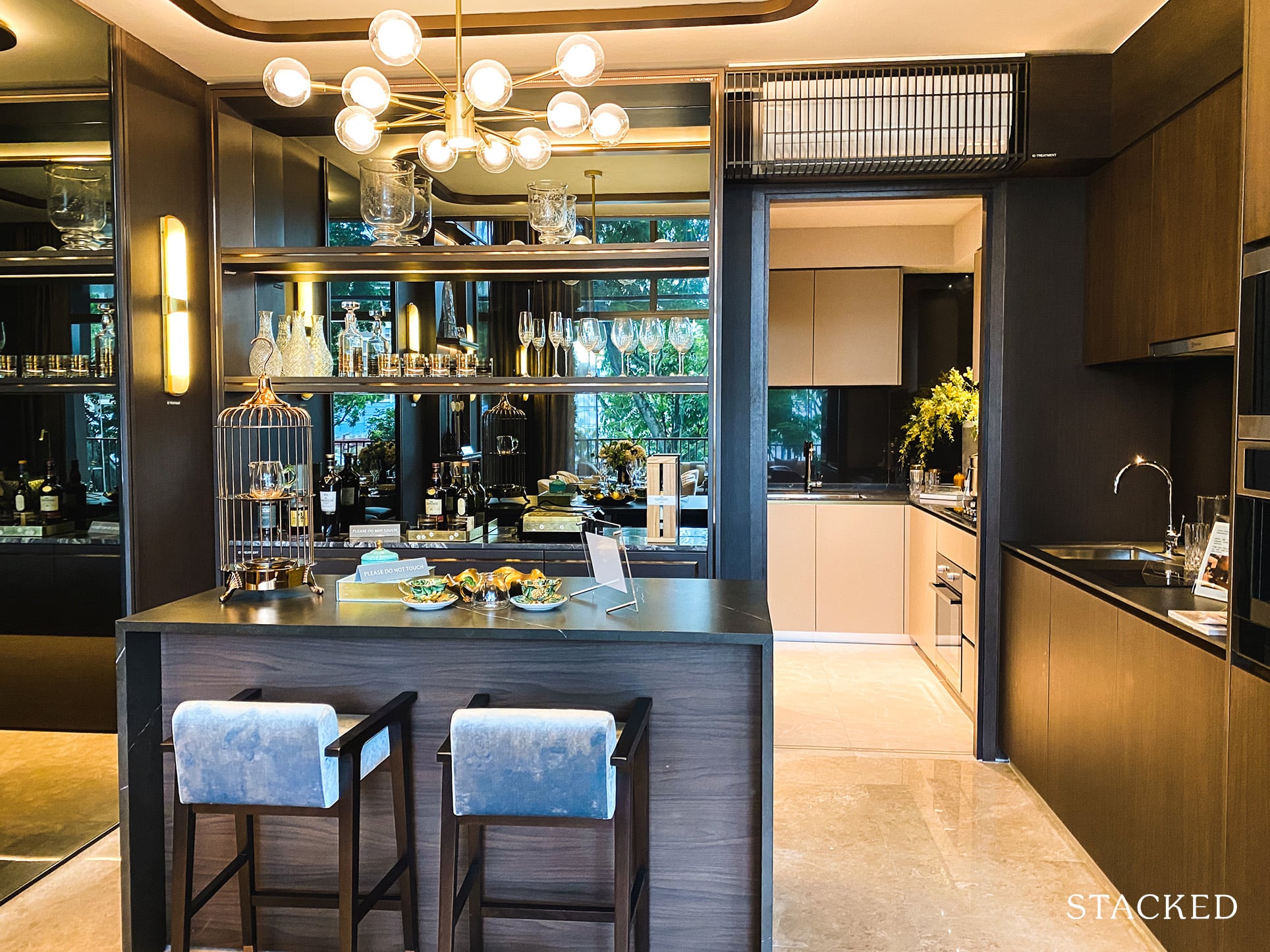 You could also use the space to double up as a bar counter, especially so given that there is still countertop space behind the island.
On the other hand, the enclosed kitchen space isn't particularly great. For a 5 bedroom unit, I think there simply needs to be more countertop space. It's an L-shaped countertop in the enclosed kitchen and after deducting the space used for the 3-stove burner and sink, countertop space here is really pretty limited. Ventilation could also be an issue here as there is only a small window opening up to the aircon ledge.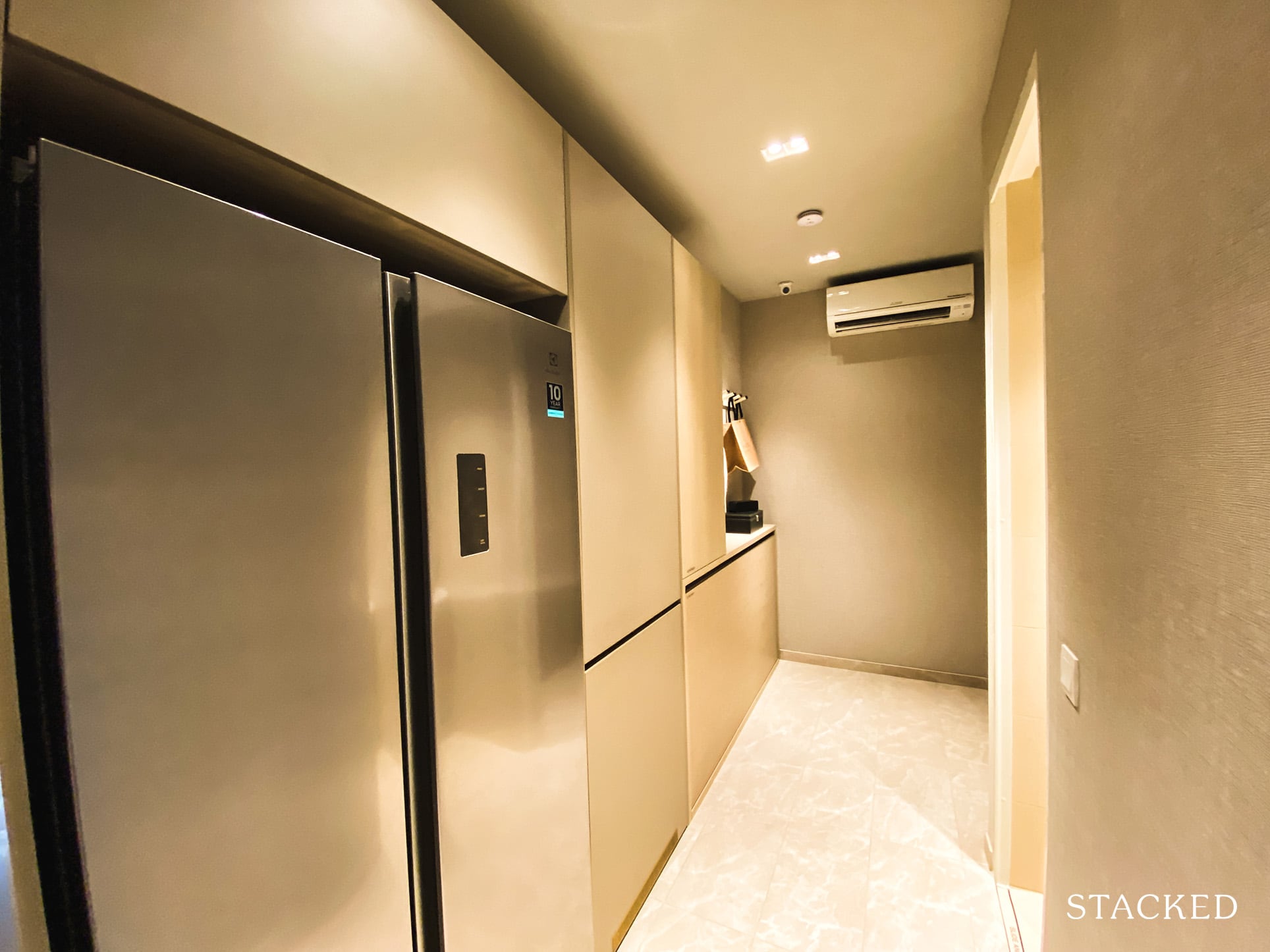 There's also quite a bit of walkway where the two-door fridge and washer-dryer are located and that's wasted space that could have been better reconfigured for more countertop space. You will also find the backdoor leading to the common lift lobby at the end of this walkway.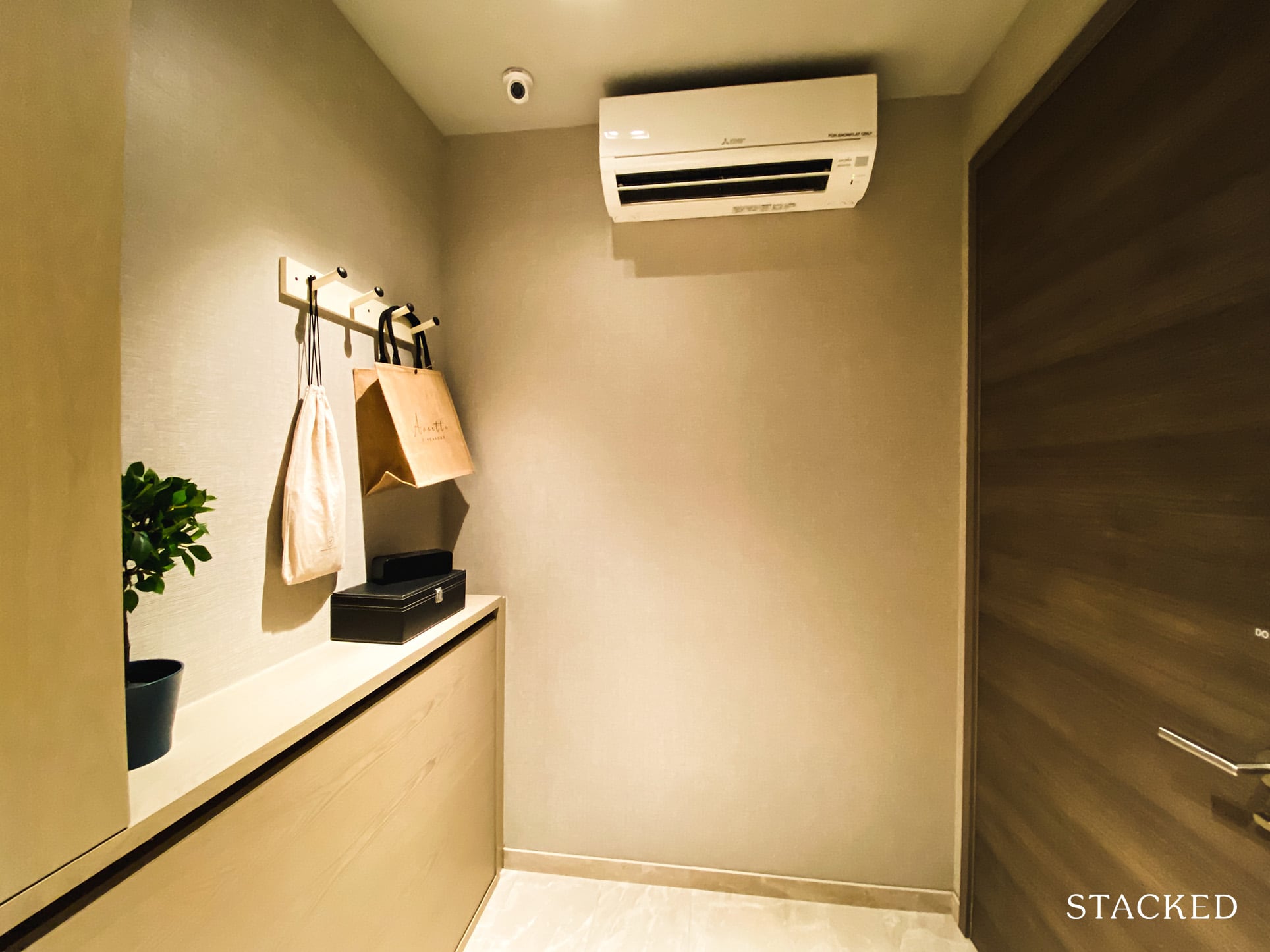 You'd normally find a yard area and a helper/store room here, but as you can see – this is something that is sorely missing in this unit. Sure, those who only require 4 bedrooms could possibly repurpose one of the rooms, but for those that really need a 5 bedroom unit, the lack of a yard and utility room is a big downside in my opinion.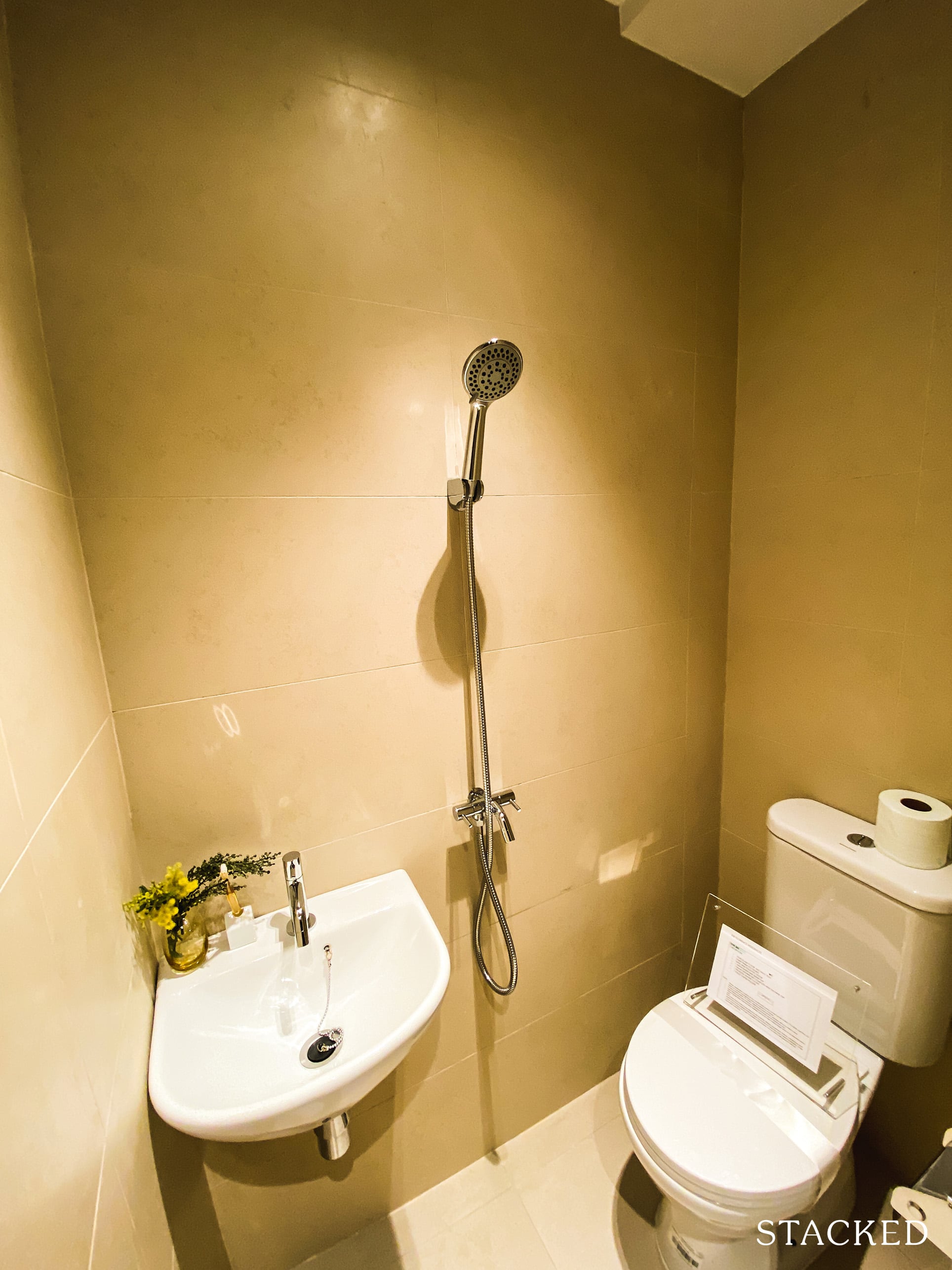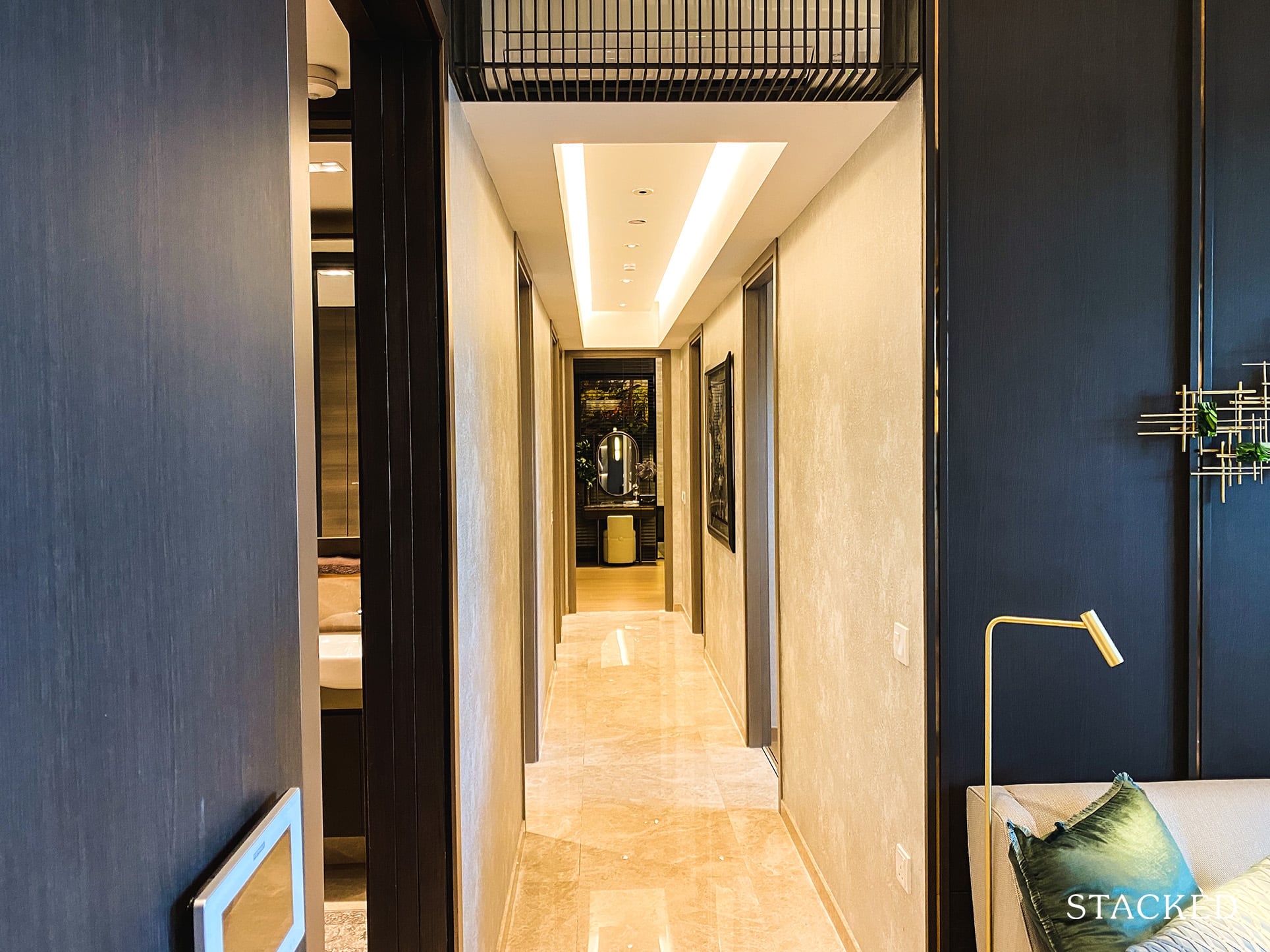 I usually favour the layout where there are bedrooms on both sides of the unit so there can be more privacy if it happens to be a multi-generational family. However, in this case, the bedrooms are placed together, which may get squeezy.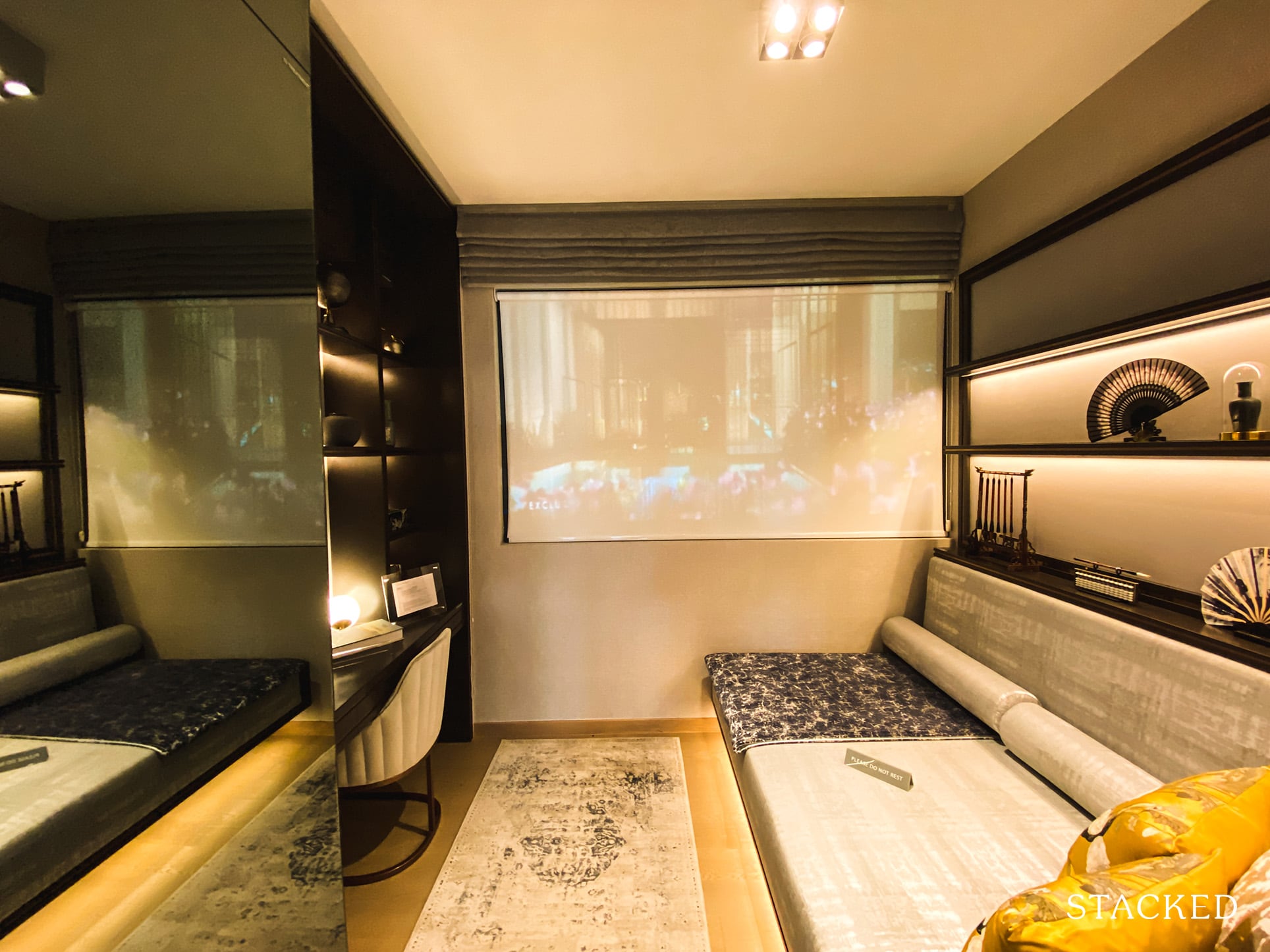 The first bedroom comes up on your left of the hallway, the only bedroom without an attached bathroom. It actually stands at 9.7 sqm, larger than bedrooms 2 and 3. Despite its larger size and the lack of a wardrobe, it doesn't actually feel bigger because of its walkway leading into the room, which unfortunately doesn't serve any purpose.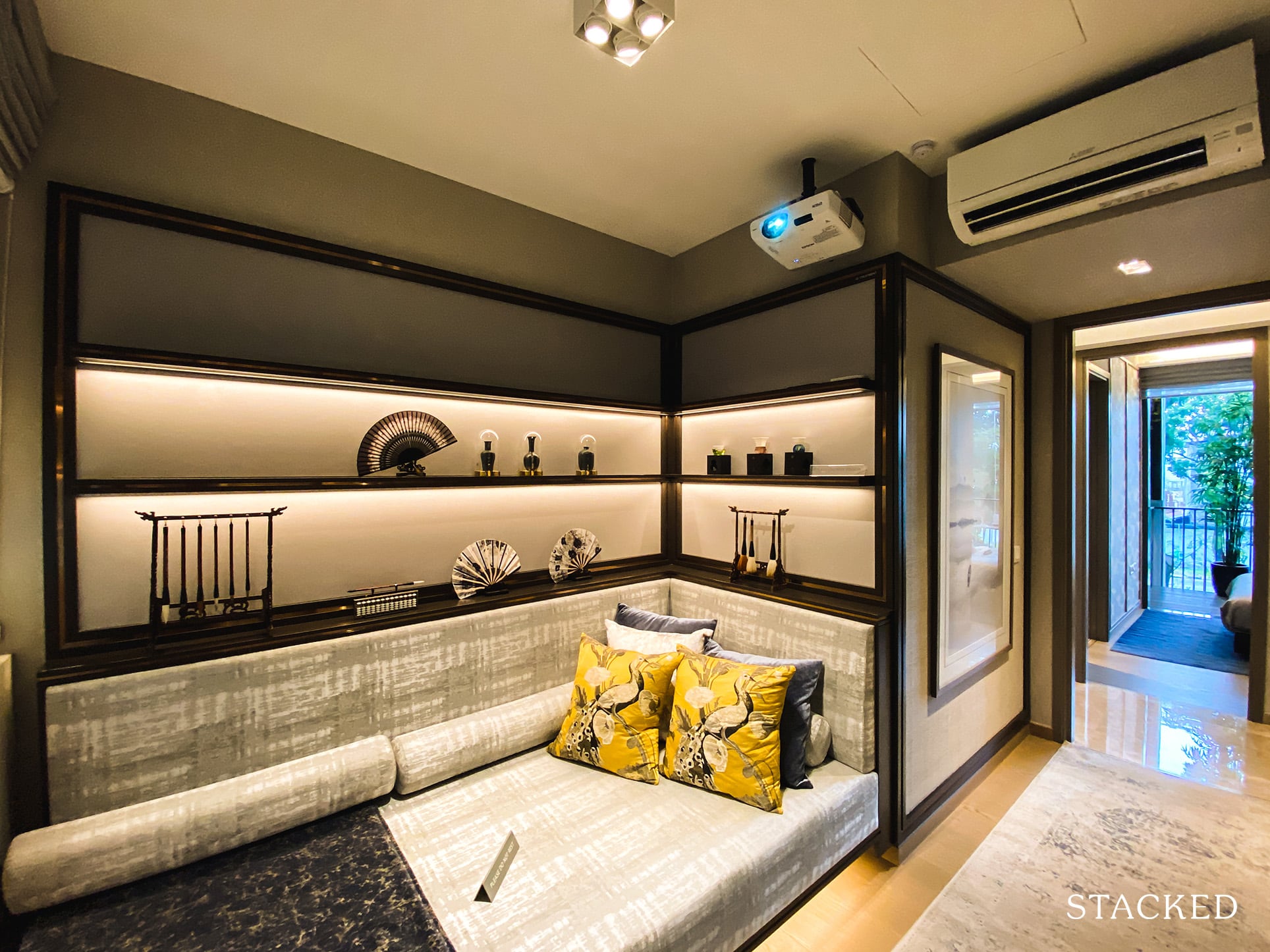 Displayed here is a single-bed with space for a study, which is more preferable personally as having a queen bed would look slightly odd in a rather odd-shaped room. Do also note that the aircon ledge is located outside of this bedroom, so windows here will only be half-length at best.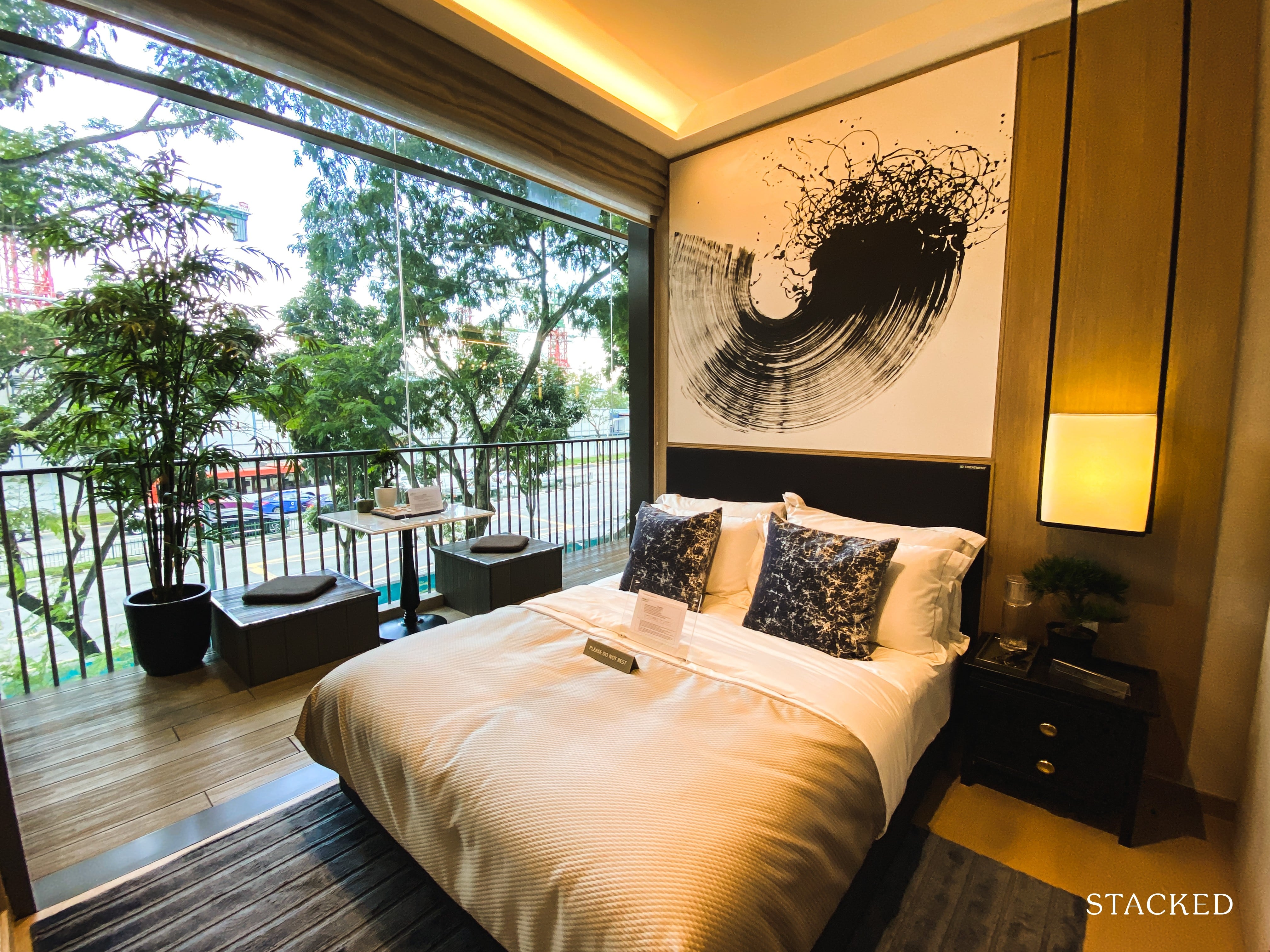 The next common bedroom is on the opposite side – with this being the only bedroom that comes with balcony access.
That said, it is the smallest of the 5 bedrooms at 8.6 sqm. This will just about fit in a Queen bed with a tiny side table coupled with a 2-panel wardrobe.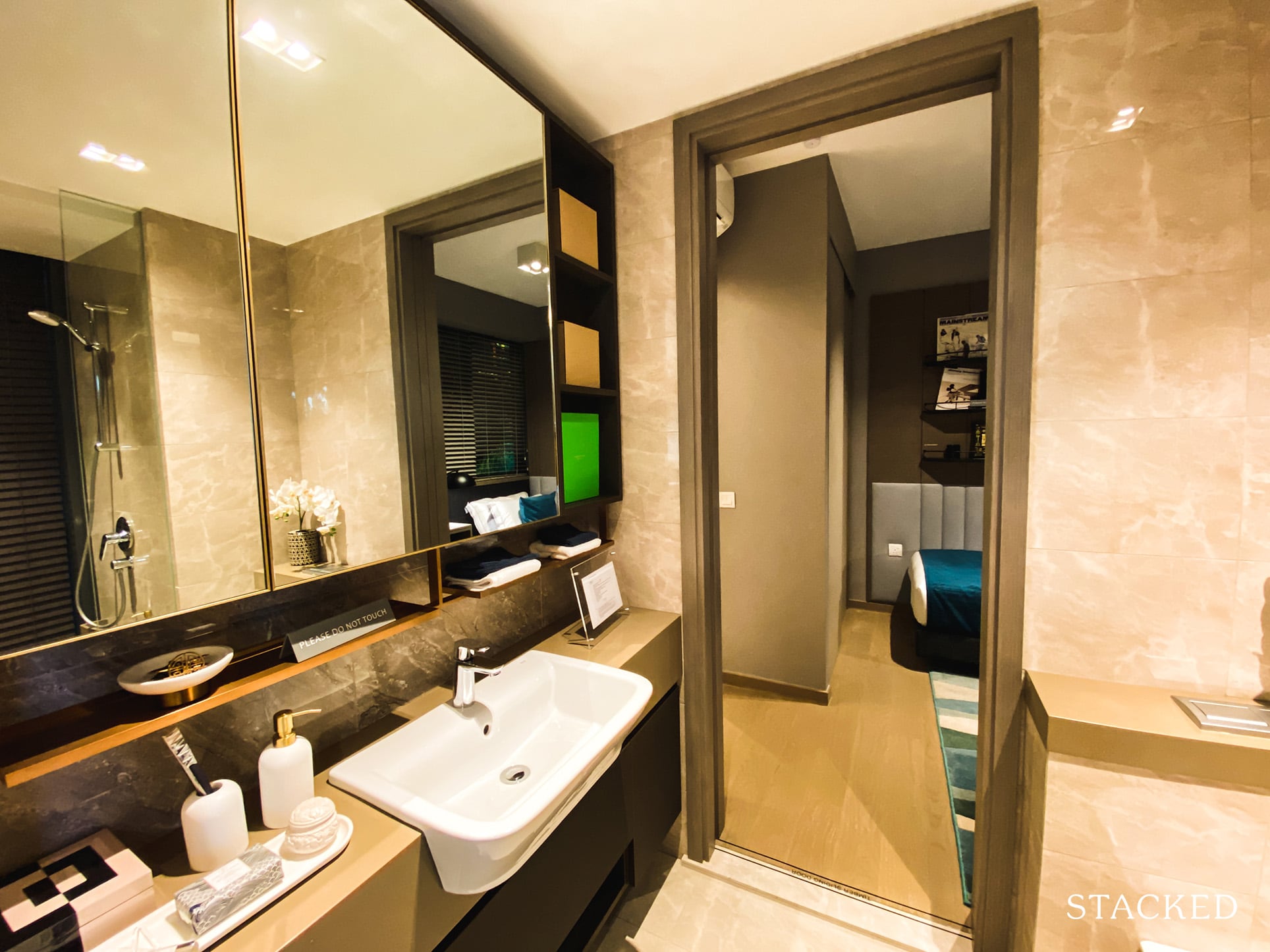 It shares a common bathroom with bedroom 2, which is ever so slightly larger at 8.9 sqm. This jack-and-jill bathroom concept is great as it effectively makes both rooms ensuite.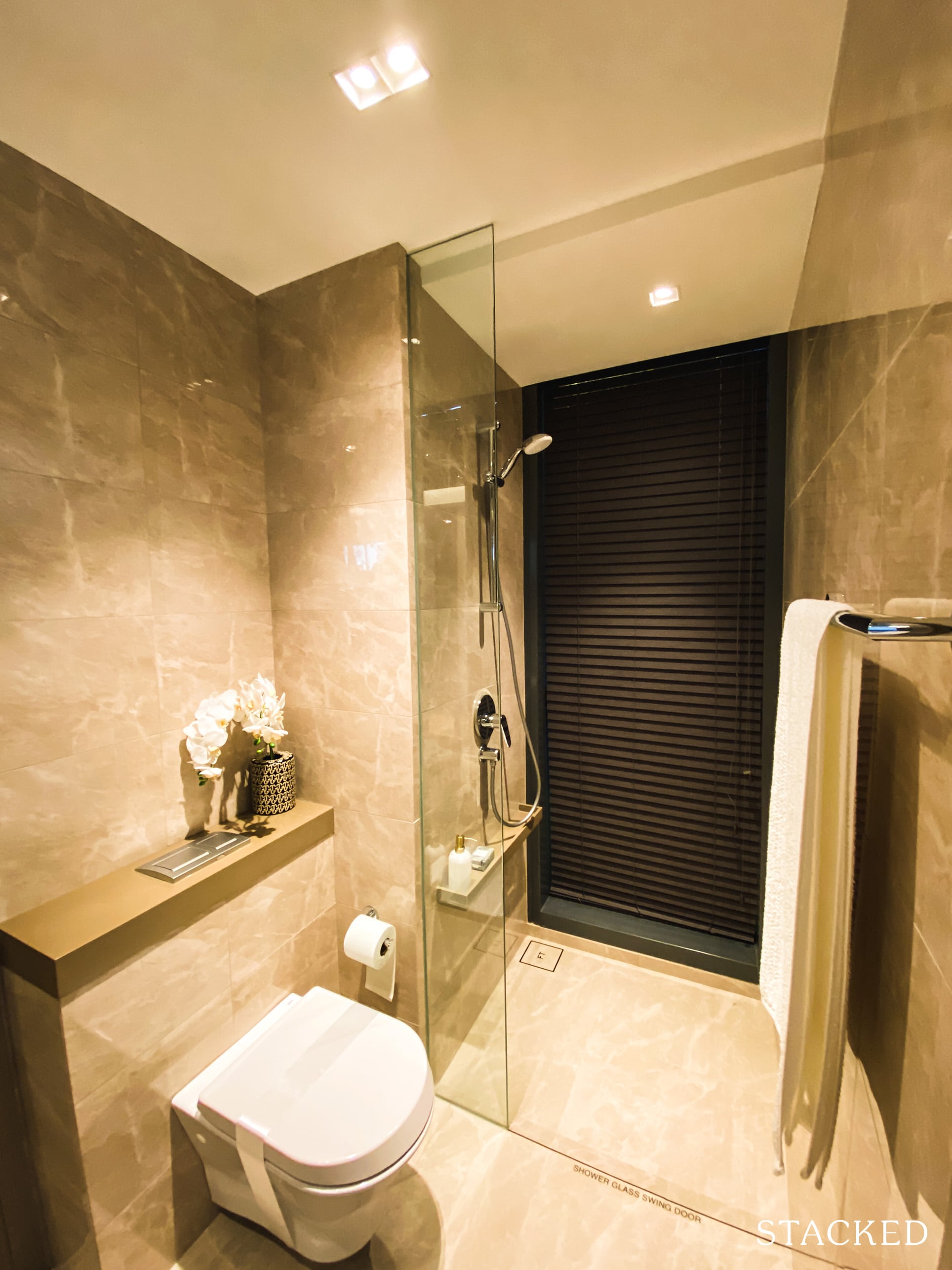 With regards to the size of the bathroom – it's adequate. No rain shower to speak of, but it does feature that same wall hung toilet bowl from Roca with the other fittings from Grohe.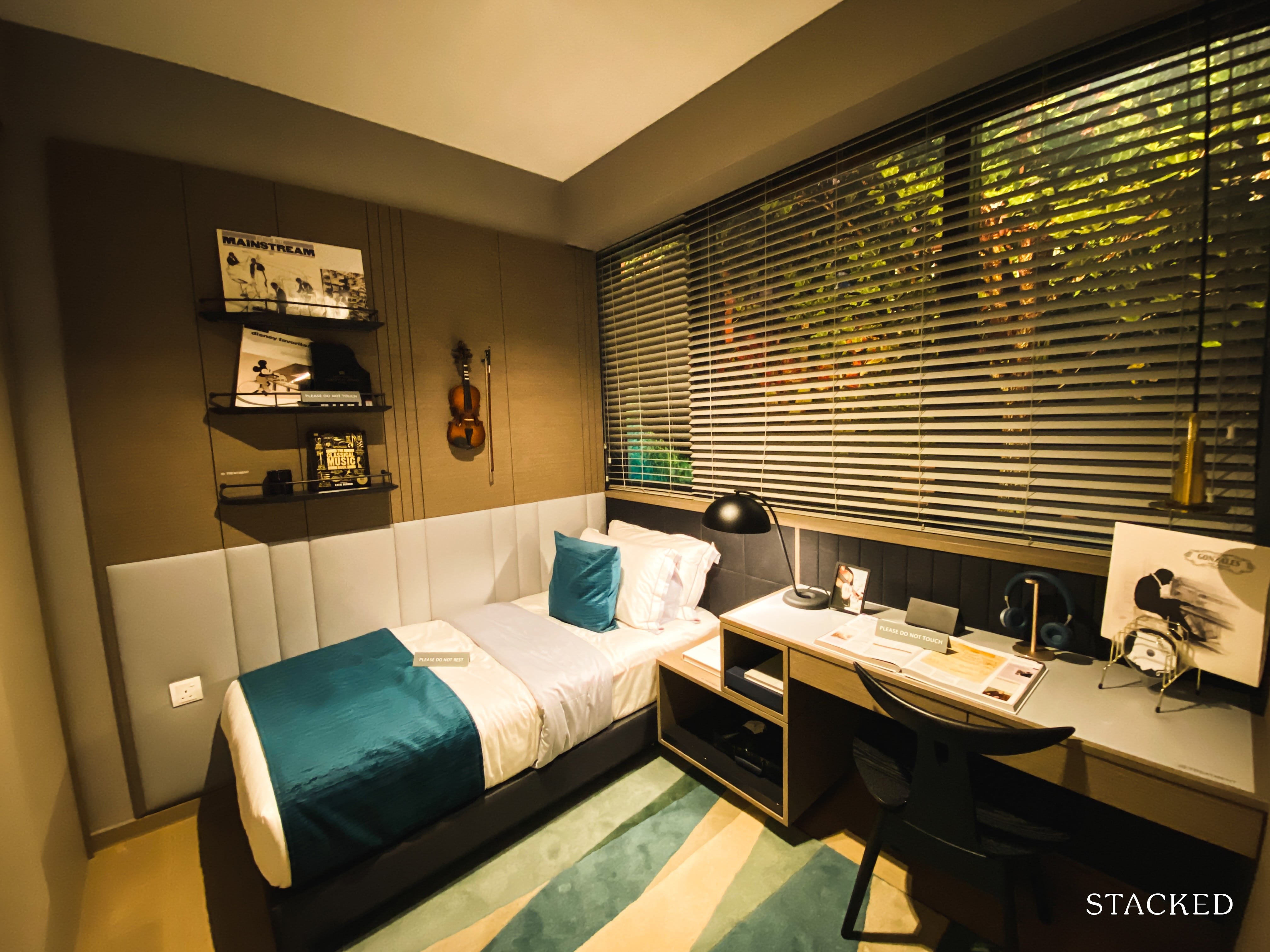 At 8.9 sqm, Bedroom 2 is of a similar size as the common bedrooms in the 3 bedroom unit reviewed above. However, because they have only placed a single bed in this show unit, they were actually able to fit in quite a good-sized study to my very pleasant surprise.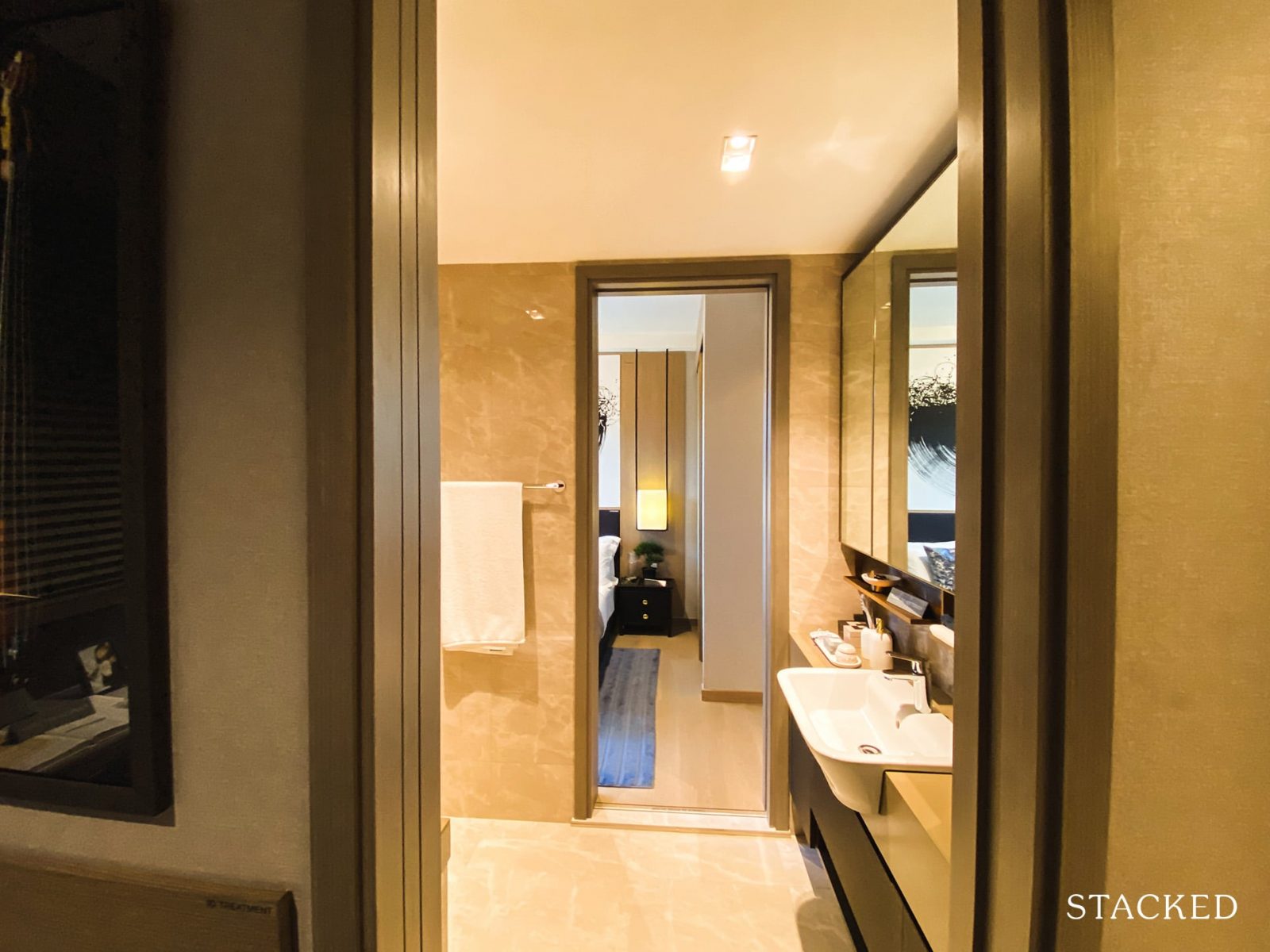 Bedroom 4 has the best layout among the 4 common bedrooms in my opinion. If you had to select one to be a junior master in this unit, this would be it.
At 9.7sqm, this is actually the same size as Bedroom 5 but what this room has is 2 additional features – firstly, an ensuite bathroom that also opens out to the main hallway for guests when you have them over.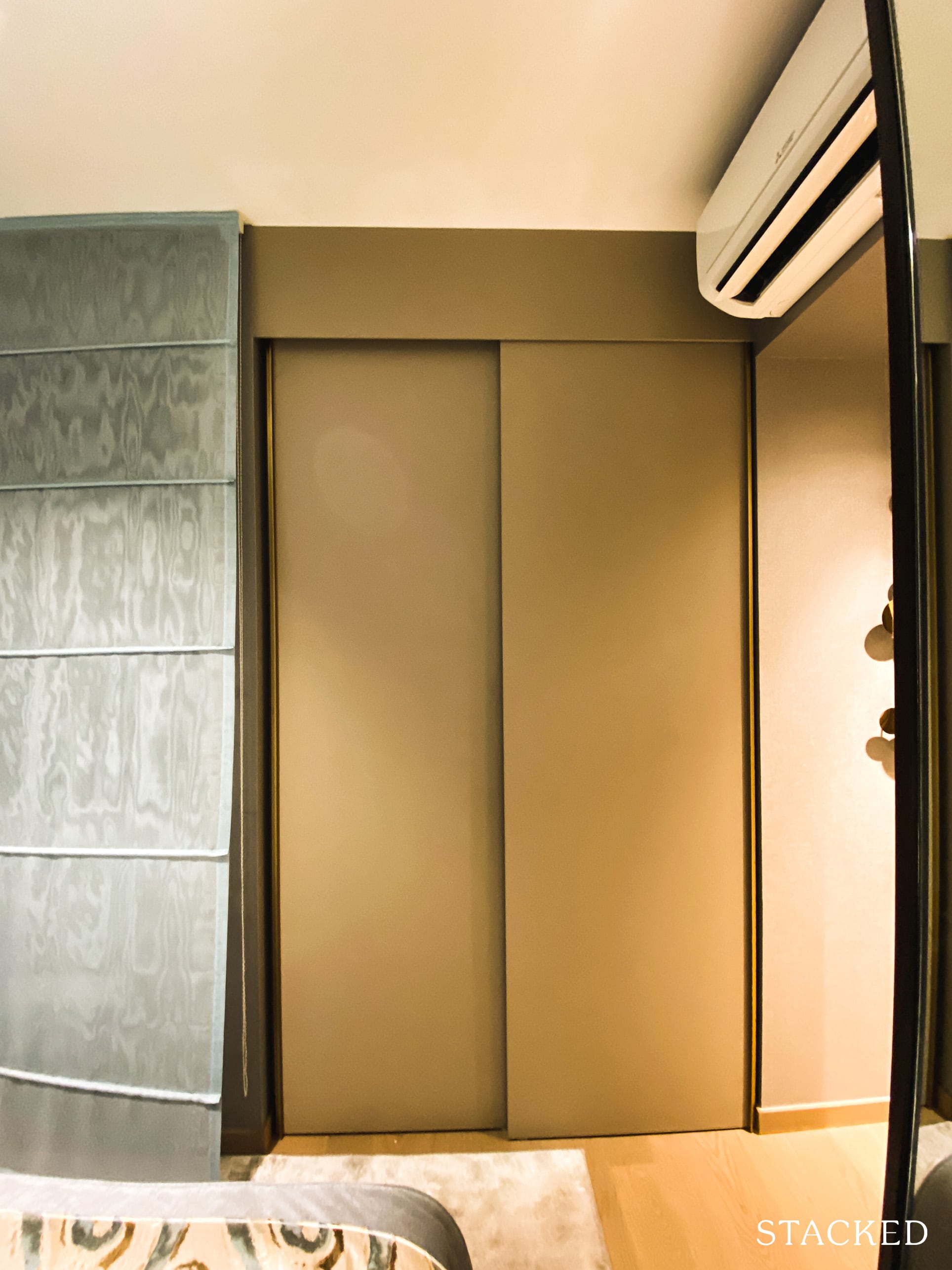 Secondly, a built-in wardrobe is flushed against the wall, making the room really squarish and usable. It has that same needless walkway as Bedroom 5 but I'm more amenable to this room since it actually has a door leading to the bathroom here.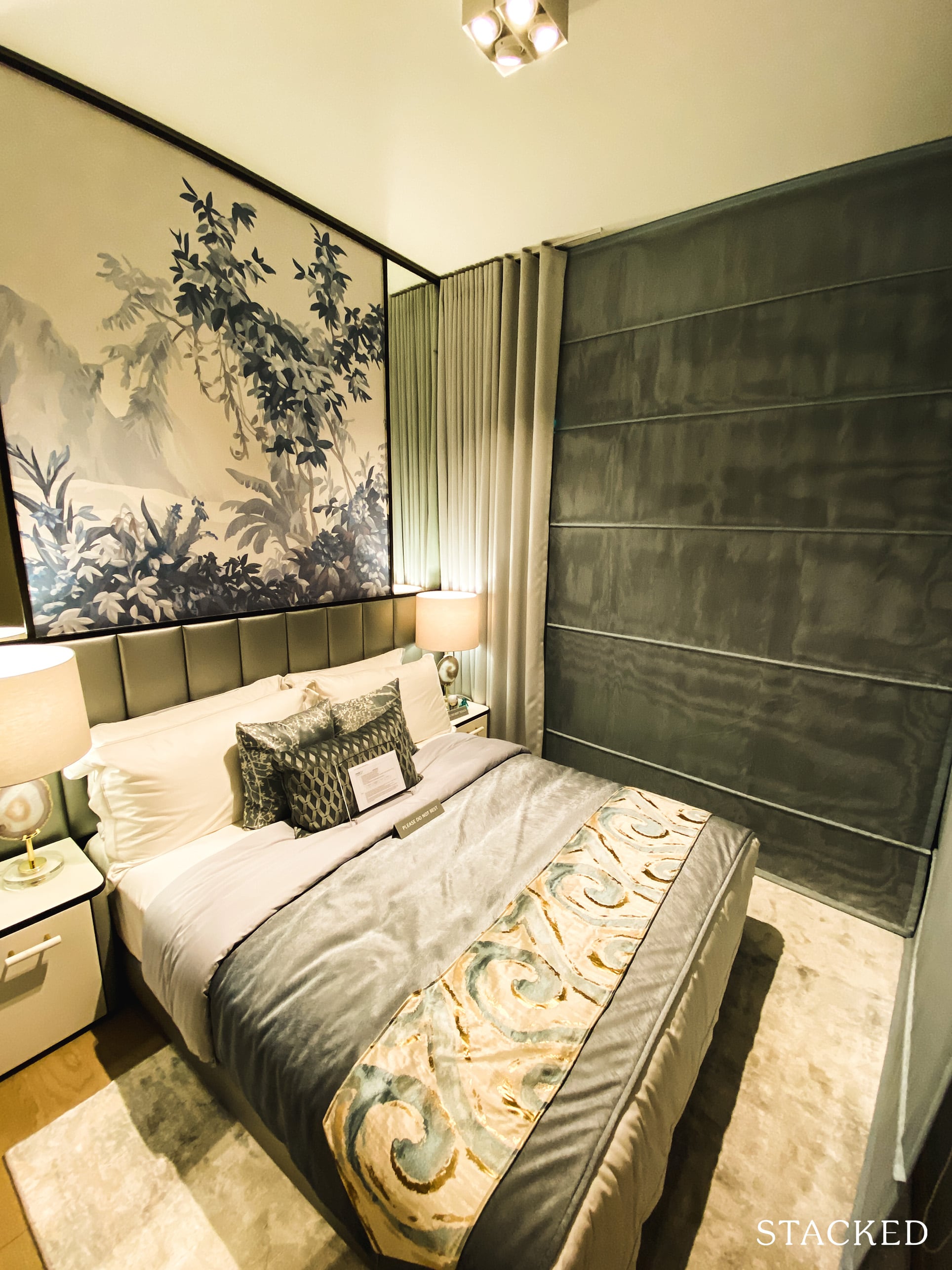 I do also like the right-angled windows here – although the view of the RC and AC ledge isn't exactly inspiring.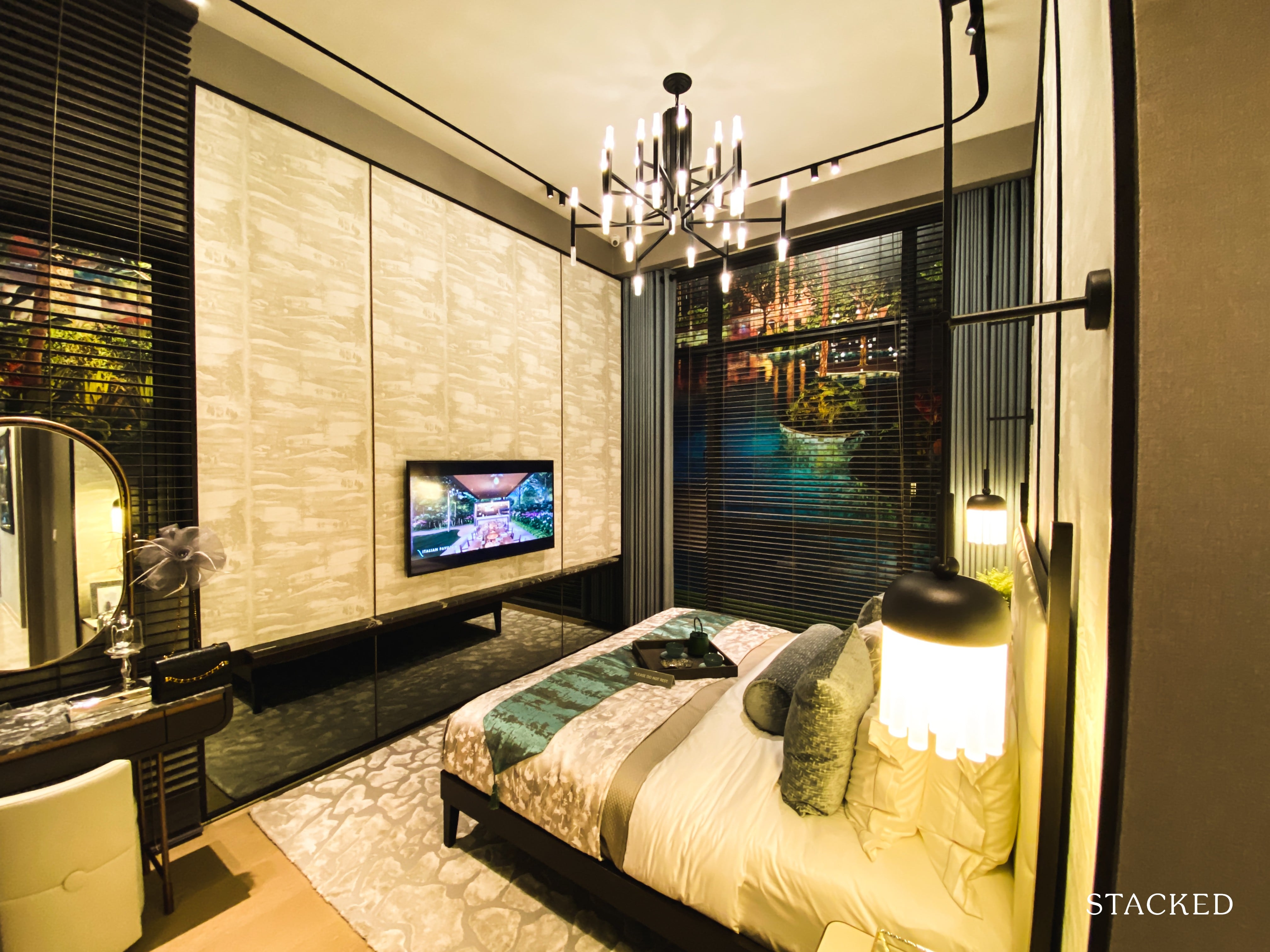 Now, moving to what is meant to be the most impressive bedroom of them all – the master bedroom! Perhaps it's the dark colour scheme that was used, but I couldn't feel the full extent of its 19 sqm size.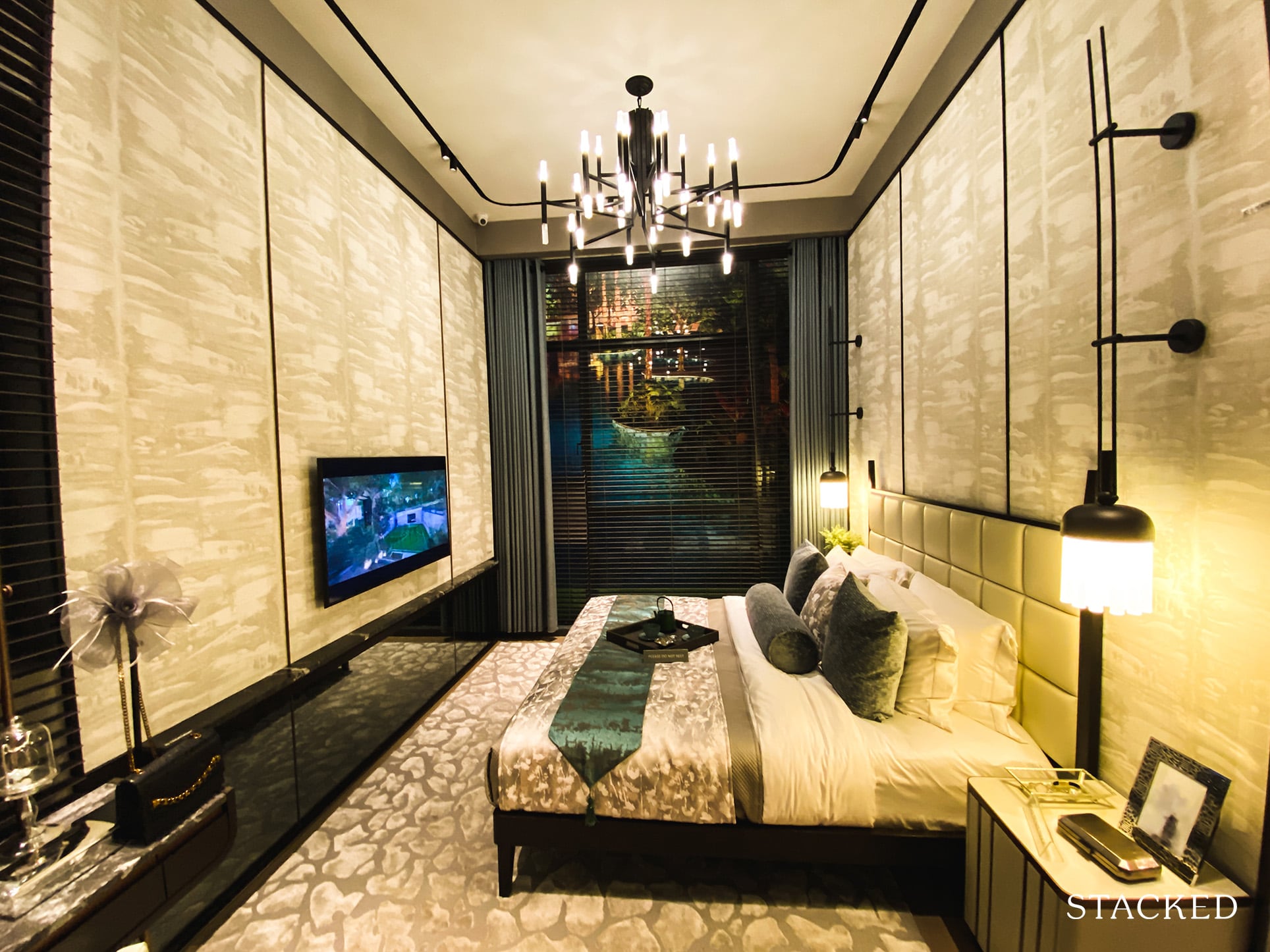 Lengthwise it's pretty good but I think where it compromises a little is the width of the room. Nevertheless, it is after all 19 sqm, so it will fit in your king-sized bed and even a dresser at the corner.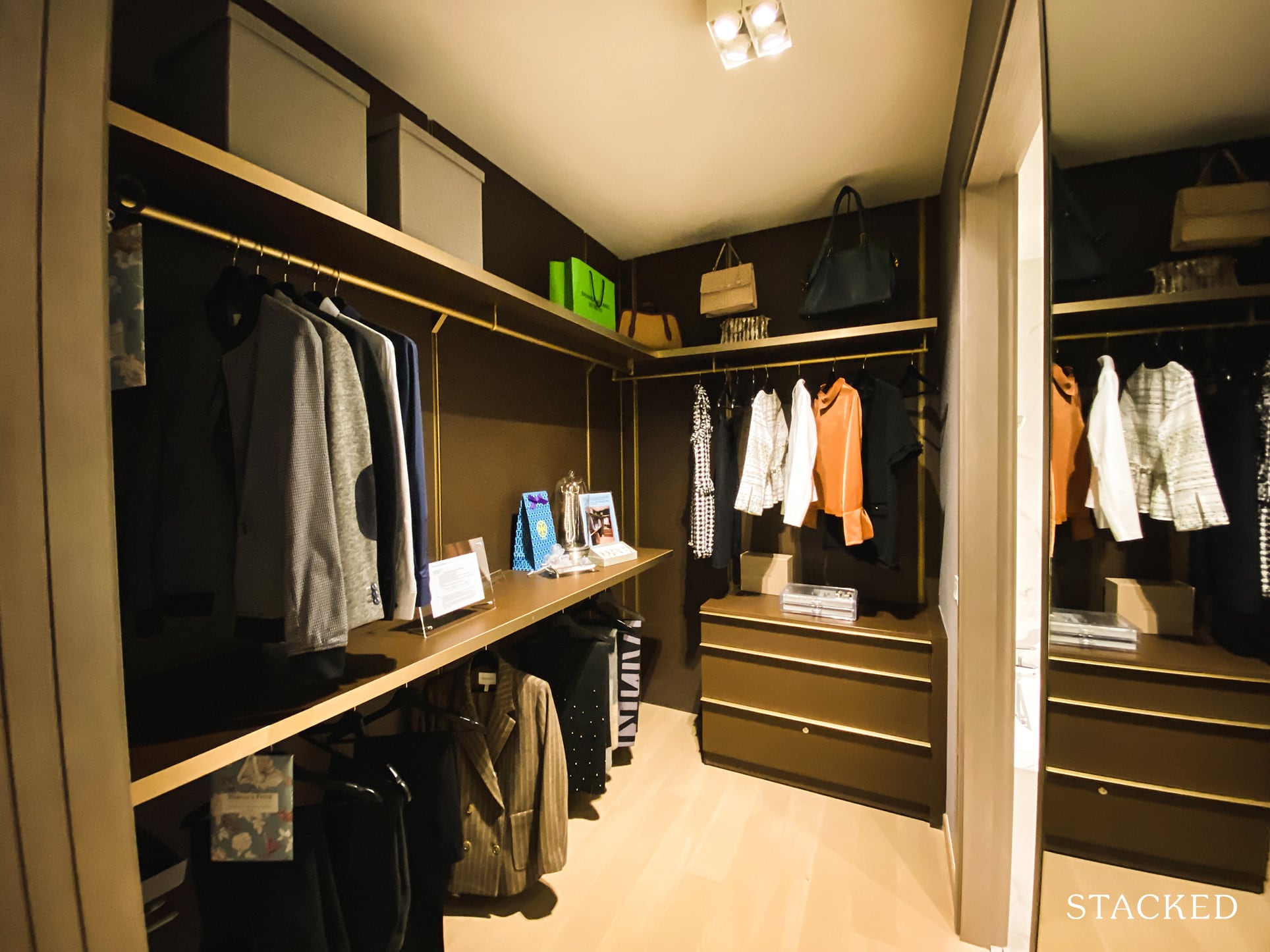 You will also find a walk-in wardrobe in this room, beside the master bathroom. Seeing as how a lack of storage is a common complaint in many new developments, the added storage here will definitely be a pleasing sight for most people.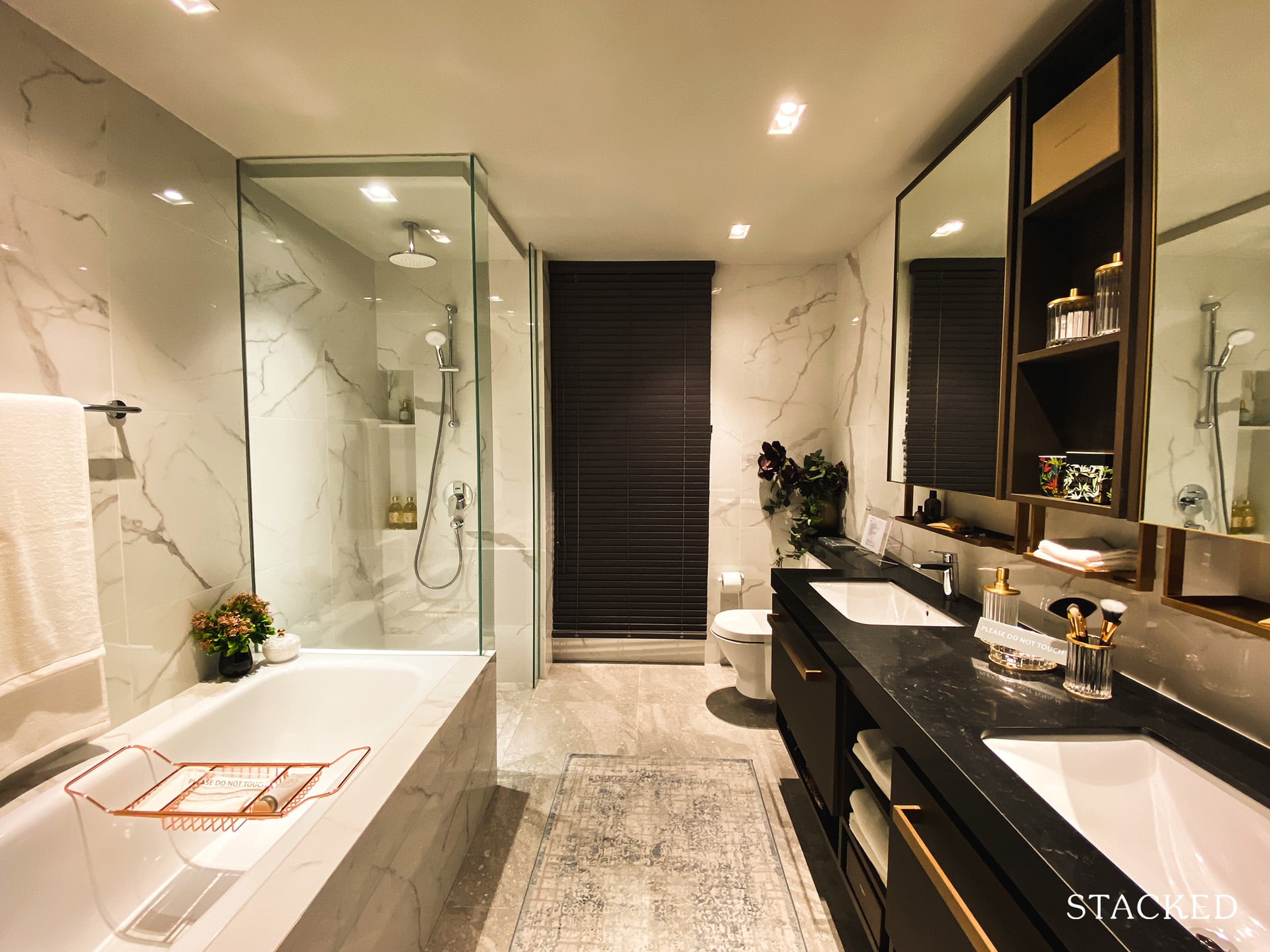 I wouldn't describe the bathroom as palatial, but it is big at 8.2 sqm – basically the size of the smallest common bedroom here. I do quite like the fit and finish here, it looks classy and more upmarket than the development suggests.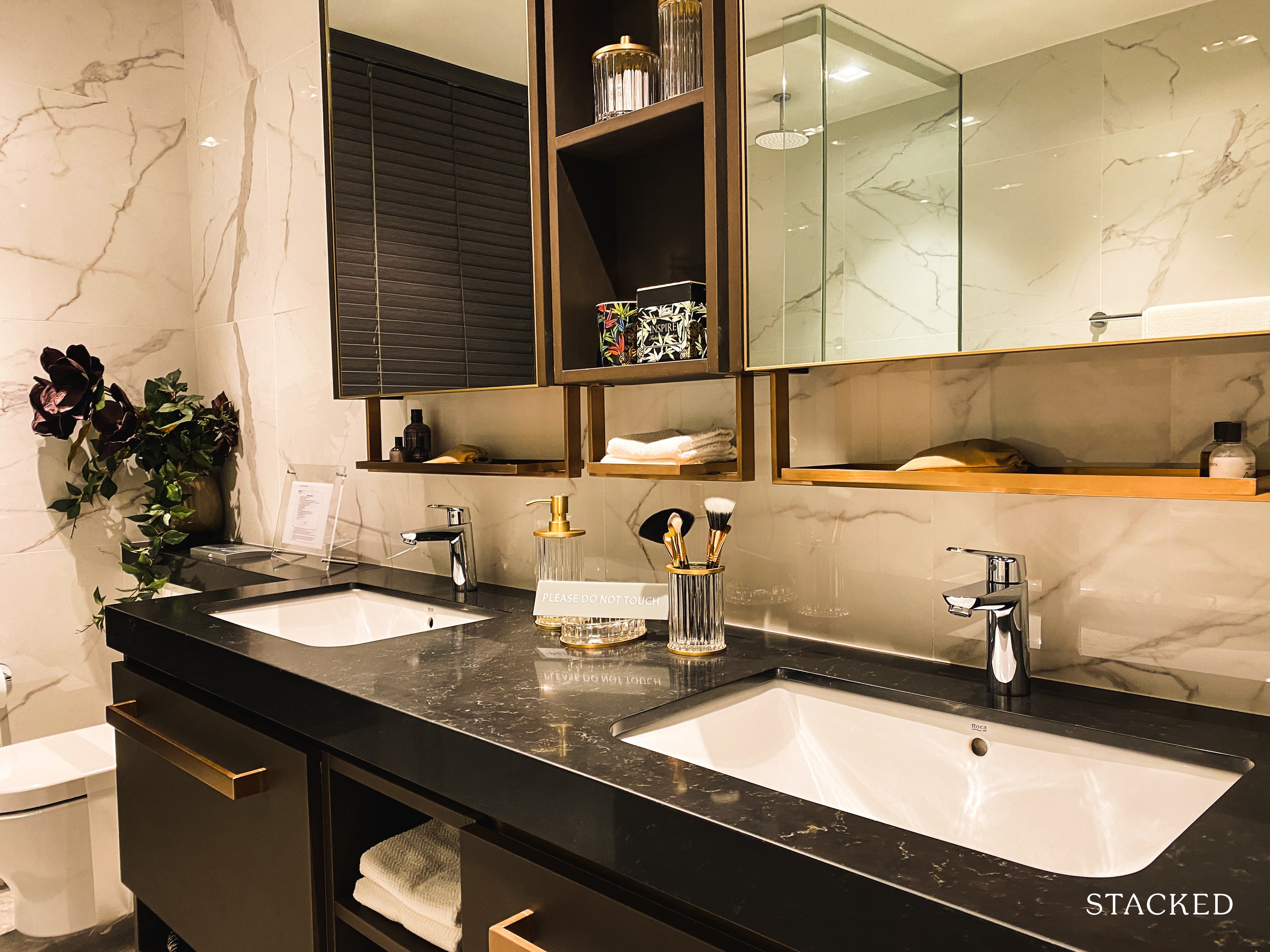 Here, you will find his-and-hers basins, so you won't need to tussle over brushing your teeth in the morning. There is also a bathtub for you to soak in, which really can only be found in 4 and 5 bedroom units these days, as well as a rain shower when you are rushing for time.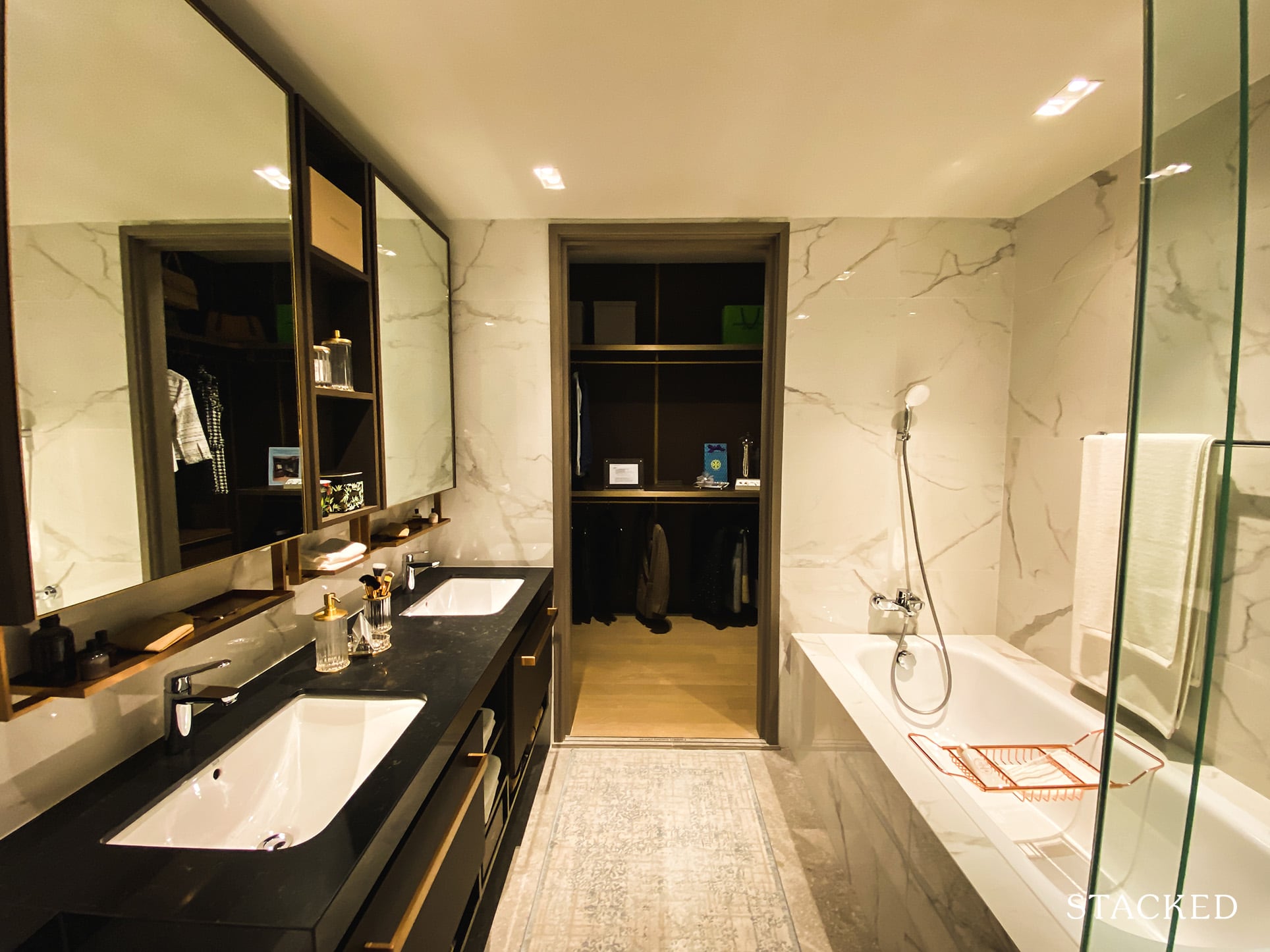 Basins and the wall-hung toilet bowl are from Roca while the other accessories will be provided for by Grohe.
The Florence Residences Location Review
As shown on the Florence Residences location map, Florence Residences is located along Hougang Avenue 2, which is right opposite Hougang Stadium and Hougang Swimming Complex. Its placement in the vicinity to mature estate in Kovan and Hougang, ensures that future residents will have whatever they might need in proximity.
While it is between two MRT stations (Kovan and Hougang), they are both on the North-East Line so there isn't a real difference other than the walking times to both.
To be honest neither is particularly near but if I had to pick one, I do prefer the walk to Hougang MRT. Florence Residences is also located a short drive from the central expressway (CTE).
Public Transport

| | | |
| --- | --- | --- |
| Bus Station | Buses Serviced | Distance From Condo (& Est. Walking Time) |
| 'Blk 708' | 25, 55, 62, 82, 107, 107M, 112, 113, 132, 325, 854 | 240m, 4-min walk |
| 'Opp Blk 709' | 25, 55, 62, 62A, 82, 107, 107M, 112, 113, 132, 325, 854, 854E | 200m, 6-min walk |
| ' Opp Hougang Swim Cplx' | 62, 62A, 82, 107, 107M, 113, 325 | 240m, 11-min walk |
Closest MRT: Hougang MRT – 900m, 11-min walk

I know I mentioned that The Florence Residences on the fringe of the Kovan estate. However, the closest MRT station is actually Hougang, which is about 11 minutes away (give or take). Kovan MRT station, on the other hand, is about 14 mins, or 1.1km away.
Taking a bus could also be an option, although it would take you 3 minutes to walk to the bus stop at Hougang Swimming Complex before another 4-minute walk after you alight. After factoring in the waiting time for the bus, you might actually be better off walking to the MRT station.
At Hougang MRT, you will find Hougang Mall to meet your daily needs. On the other hand, if you choose to head to Kovan MRT, you will find Heartland Mall there. While these are not big malls, it's convenient to know that there is a mall just around the corner.
From Hougang MRT station, Serangoon (Circle / NE Lines) and Dhoby Ghaut (Circle / NE / NS Lines) MRTs are just 2 and 8 stops away respectively. It will be 1 less stop each if you were to take it from Kovan MRT.
For those of you working in the CBD, Downtown MRT is 12 stops away while Raffles Place is 10 stops away. Both will require 1 transfer along the way.
That being said, there will be a shuttle bus service that will get you to Hougang or Kovan with an availability every half an hour for the first two years.
Private Transport

| | |
| --- | --- |
| Key Destinations | Distance From Condo (& Est. Peak Hour Drive Time) |
| CBD (Raffles Place) | 15.6km, 24-min drive |
| Orchard Road | 12.9km, 21-min drive |
| Suntec City | 12.9km, 18-min drive |
| Changi Airport | 14.5km, 18-min drive |
| Tuas Port (By 2040) | 50.0km, 60-min drive |
| Paya Lebar Quarters/Airbase (By 2030) | 4.8km, 12-min drive |
| Mediapolis (and surroundings) | 21.5km, 31-min drive |
| Mapletree Business City | 23.5km, 32-min drive |
| Tuas Checkpoint | 40.4m, 45-min drive |
| Woodlands Checkpoint | 21.9km, 30-min drive |
| Jurong Cluster (JCube) | 23.0km, 37-min drive |
| Woodlands Cluster (Causeway Point) | 18.6km, 27-min drive |
| HarbourFront Cluster (Vivo City) | 20.3m, 26-min drive |
| Punggol Cluster (Waterway Point) | 5.7km, 19-min drive |
Immediate Road Exits:

Summary: Being located in the North-East of Singapore, the Punggol Cluster and Paya Lebar Airbase are just a short drive away. CBD and other more centrally located landmarks should also take you less than 20 minutes during off-peak hours.

Groceries

| | |
| --- | --- |
| Name of Grocery Shop | Distance From Condo (& Est. Walk Time) |
| NTUC Fairprice (Hougang Blk 682) | 1.2km, 15-min walk |
| Cold Storage (Heartland Mall) | 1.1km, 14-min walk |
Schools

| | |
| --- | --- |
| School | Distance |
| Xinmin Primary | 640m |
| Monfort Junior | 780m |
| Holy Innocents Pri | 780m |
| Xinmin Secondary | 740m |
| Monfort Secondary | 780m |
| Bowen Secondary | 1.14km |
Additional Points
Cross Island Line at Hougang MRT
Without a doubt, this will be the point that all real estate agents will bring up when discussing the future upside potential of this project. The new MRT line will be up and running in 2029 and the first phase will connect Bright Hill at Upper Thomson to Aviation Park at Changi with an estimated initial ridership of 600,000 daily. 

While I do think that this will definitely bring up additional connectivity, it doesn't actually bring the MRT station anywhere closer to Florence Residences – ultimately it does still remain a not-so-short distance away.
Food Choices In The Area
The Kovan neighbourhood is quite a popular foodie haven so if you're one, you'd be delighted! Kovan Market and Food Centre right beside the Kovan MRT is a popular choice among nearby residents while you can find many other food joints along Upper Serangoon Road as well. Some examples include Lola's Café, Ponggol Nasi Lemak and Heng Long Teochew Porridge.
The Florence Residences Development Site Review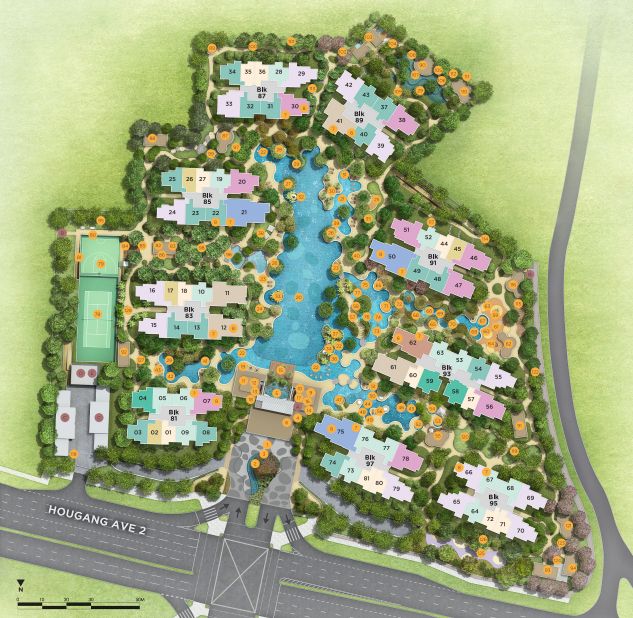 Facilities in Florence Residences

| | | |
| --- | --- | --- |
| 24/7 Parcel Collection | Concierge | Changing Room |
| Steam Rooms | Dining Room | Multipurpose Room |
| Theatrette with Karaoke | Laundrette | Gym |
| Jamming Studio | Reading Room | Verandah Dining |
| 80m lap pool | lounge pool | sun bathing lawn |
| elderlyl fitness | sand lounge | Tai Chi Lawn |
| Stepping stones | Yoga Lawn | Welness Salt Pool |
| Jacuzzi Cove | Aqua Gym | Onsen |
| Kids Playground | Trampoline | Kids Pool |
| Toddlers' Pool | Tennis Court | Multipurpose Court |
| Bouldering Wall | Outdoor Movie Screening | Punch Bag Corner |
| Amphitheatre | Outdoor Fitness | Pool Table |
| Dart Board Pavilion | Barbeque Pits | Hammocks |
| Garden Trails | Putting Green | |
From a bird's eye view, you will notice how close some of these blocks are to each other. In fact, some stacks are really too close for comfort. Noisy weekends could potentially be an issue in this development, especially since it is catered more towards family-friendly living.
The 12 different zones in this development aim to target different groups of residents – from Kids to Youth and Fitness to Wellness and Gourmet related themes. These facilities will cater to residents with different interests, so I think that's thoughtful of the developer to do so. However, as I have mentioned earlier, I think the key facilities like the gym and tennis court will be insufficient for 1,410 units of residents.
The different pavilions for BBQs and the like are placed all around the development, so residents from the different blocks do not have to walk exceptionally far just to get to one. In addition, there are also different smaller water streams that are part of the Hydrotherapy club which can be chillout spots for your family and friends.
My main concern is the vehicular entry and exit for this development – during peak hours there is only 1 leading out to Hougang Ave 2. Given the family-oriented nature of the development plus 1:1 car park lot allocation – I'd say that this could definitely be an issue to look out for.
As for pedestrians, there are 2 side gates – 1 leading to the HDB blocks at Hougang Ave 2 for everyday conveniences and the other leading to Florence Road, which will allow you to shorten your walking distance to Kovan MRT. Otherwise, you may also use this exit for a nice evening stroll around the low rise neighbourhood.
Best Stacks

Unit Mix

| | | | |
| --- | --- | --- | --- |
| Unit Type | Min Area (sqft) | Max Area (sqft) | No. of Units |
| 1BR | 474 | 603 | 216 |
| 1BR+Study | 527 | 556 | 72 |
| 2BR Classic | 624 | 807 | 264 |
| 2BR Deluxe | 646 | 915 | 292 |
| 2BR+Study | 700 | 926 | 52 |
| 3BR Classic | 893 | 1206 | 232 |
| 3BR Deluxe | 990 | 1281 | 154 |
| 4BR Classic | 1270 | 1582 | 64 |
| 4BR Deluxe | 1389 | 1701 | 16 |
| 5BR | 1668 | 1916 | 48 |
| Total | | | 1,410 |
No prizes for figuring out which are the most common unit types. 2 bedroom units make up 43% (608 units) of the development while 3 bedroom units make up another 27% (386 units). These figures should not come as a surprise as they are very typical of mass-market and large developments.
As you may have noticed, the 2 bedroom units with 1 bathroom start from 624 square feet here, which makes it slightly smaller than average. Remember that it's often a quantum game for developers, so the implication of having a smaller 2 bedroom unit coupled with an affordable psf price would mean you could get a 2BR unit here for less than $1mil. Doesn't sound too bad for a young couple vying for their matrimonial home yeah?
This fits in well with the target market of The Florence Residences. Given its focus on family-friendly facilities, the developers clearly believe that young families will be the likeliest of buyers. And this presumption does make sense, I think it's a worthy upgrade to consider for those whose BTO has reached its MOP in neighbouring Punggol town or for young couples looking for their first home. I would think that the 3BR units will appeal more to the former while the latter may consider 2BR units as they are just starting out.
Best Stacks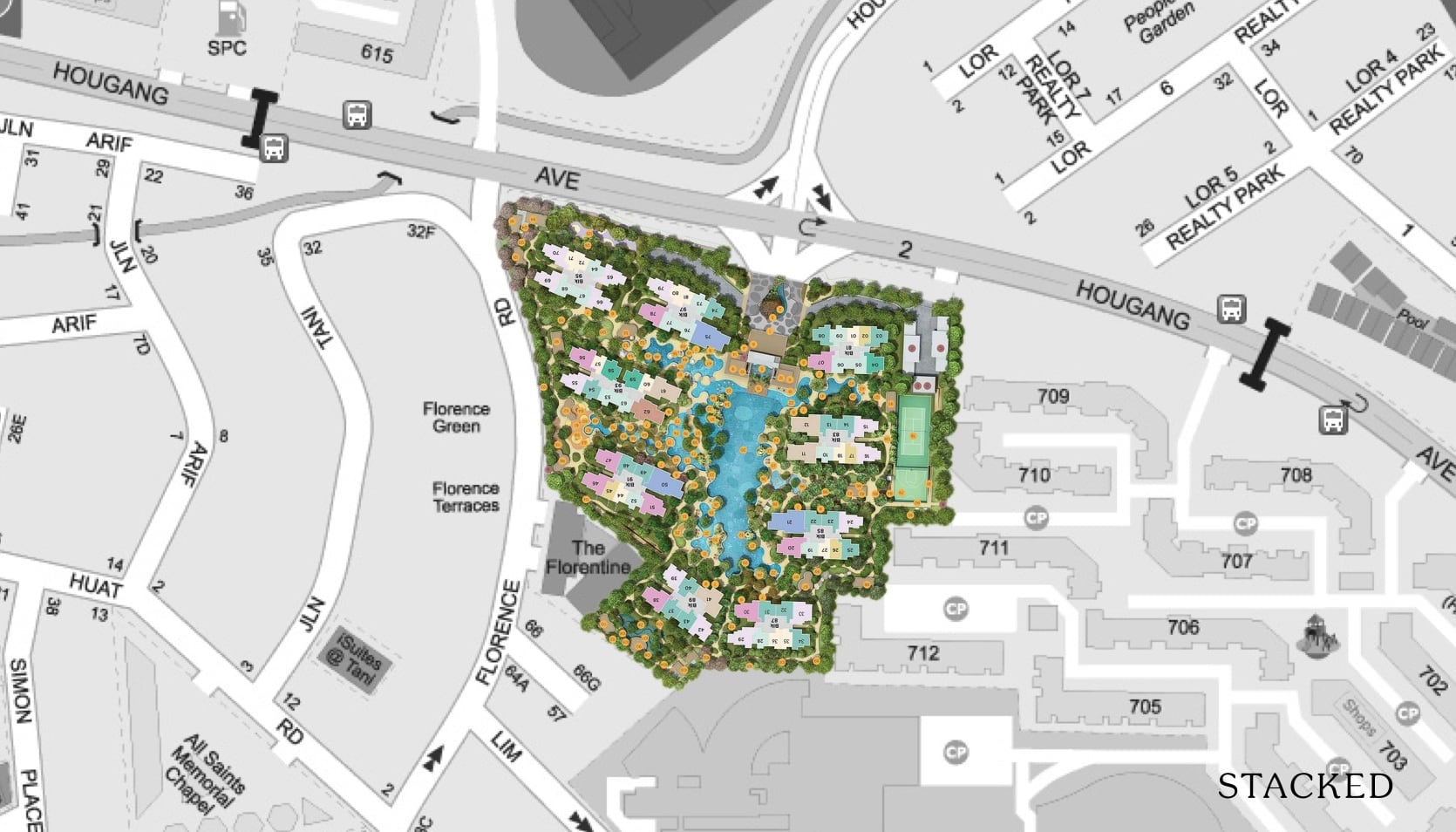 It's rare to find a plot of land that is primarily North-South facing and this happens to the case here. This facing is the most desirable for homebuyers in Singapore as it avoids the morning and afternoon sun while benefiting from the wind during different times of the year.
That said, the developer decided to tilt Blocks 89, 91, 93, 95 and 97 either to create some variation or allow for better views of the neighbourhood. As such, these blocks will face now South-West as a consequence. Additionally, this slight tilt has also caused some stacks to be closer than they already are! For example, the distance between Stacks 30 and 41 is a mere 6m. On average, the distance between blocks will vary between 17 to 23m, which does make for quite a dense project.
Ordinarily, I would have excluded the South-West facing blocks automatically from the best selection. However, as I have mentioned earlier in this review, there is a spectrum of views in this development and there are some which I personally find to be more premium than others.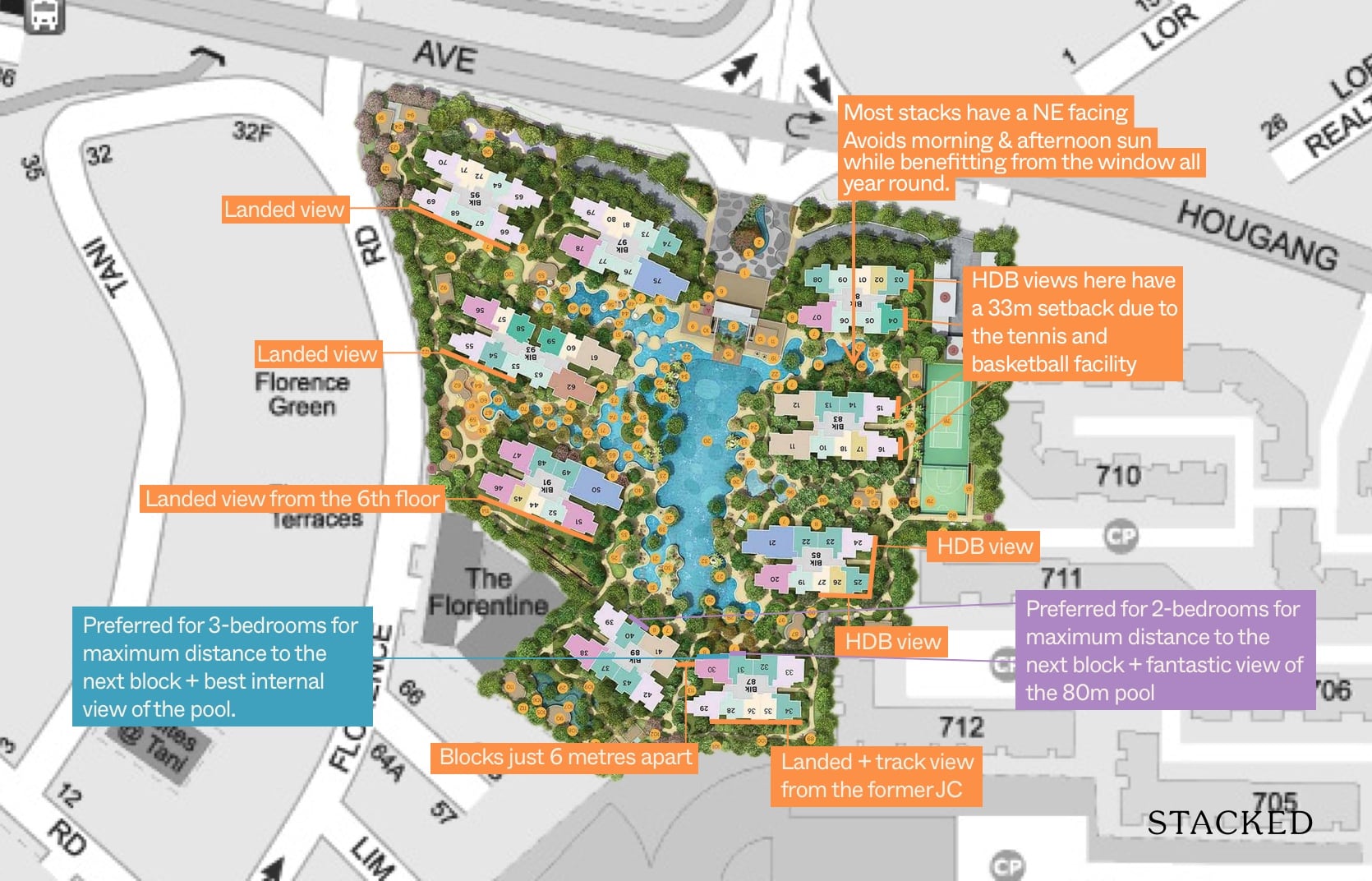 These blocks will face the landed neighbourhood at Florence Road and beyond and you should get unblocked views from the 6th floor and above. Having unblocked views is great because of that top of the world feeling (especially in a lower rise area), but also have more ventilation for your unit. Do note that the blocks facing Hougang Avenue 2 will have unblocked views of the Hougang Stadium and Realty Park but I'm not fond that it's closest to the main road, which can make your unit noisy and dusty throughout the day.
Blocks 81, 83 and 85 will face the HDB flats at Hougang Avenue 2 but the developer did try to ensure a distance by strategically placing the tennis court and bin centre there, creating a distance of about 33m from the condo boundary.
Blocks 85 and 87 will get the running track view of the former Serangoon Junior College. Whilst it's not the prettiest of sights, at least it will ensure that your unit is unblocked and gets the ventilation it deserves.
Given the size and variety of units, let's take a closer look for the different category of buyers:
If given a choice for a 2 bedroom unit, I would consider Stacks 31 and 40 to ensure a maximum distance from the next block while getting a fantastic view of the 80m pool. If you are not particular about the west sun, you can also consider Stacks 37 and 43, which faces the landed estate.
Following the same train of thought, I would go for Stack 30 for a 3 bedroom unit. The view looking out to the 80m pool head-on from the balcony should be the best internal view you can get. If you would like a view of the landed estate, you may consider Stacks 38, 46, 51 and 55.
You won't have many options with the 4 and 5 bedroom stacks as there aren't many of those units around. I would consider Stack 41 for a 4 bedroom unit and either Stack 21 or 50 for a 5 bedroom.
For 1 bedroom units, if it is for investment, you could consider the cheapest unit available to maximise your rental yield. However, for your own stay, you might want to consider Stacks 35, 36 or 44.
Afternoon sun movement analysis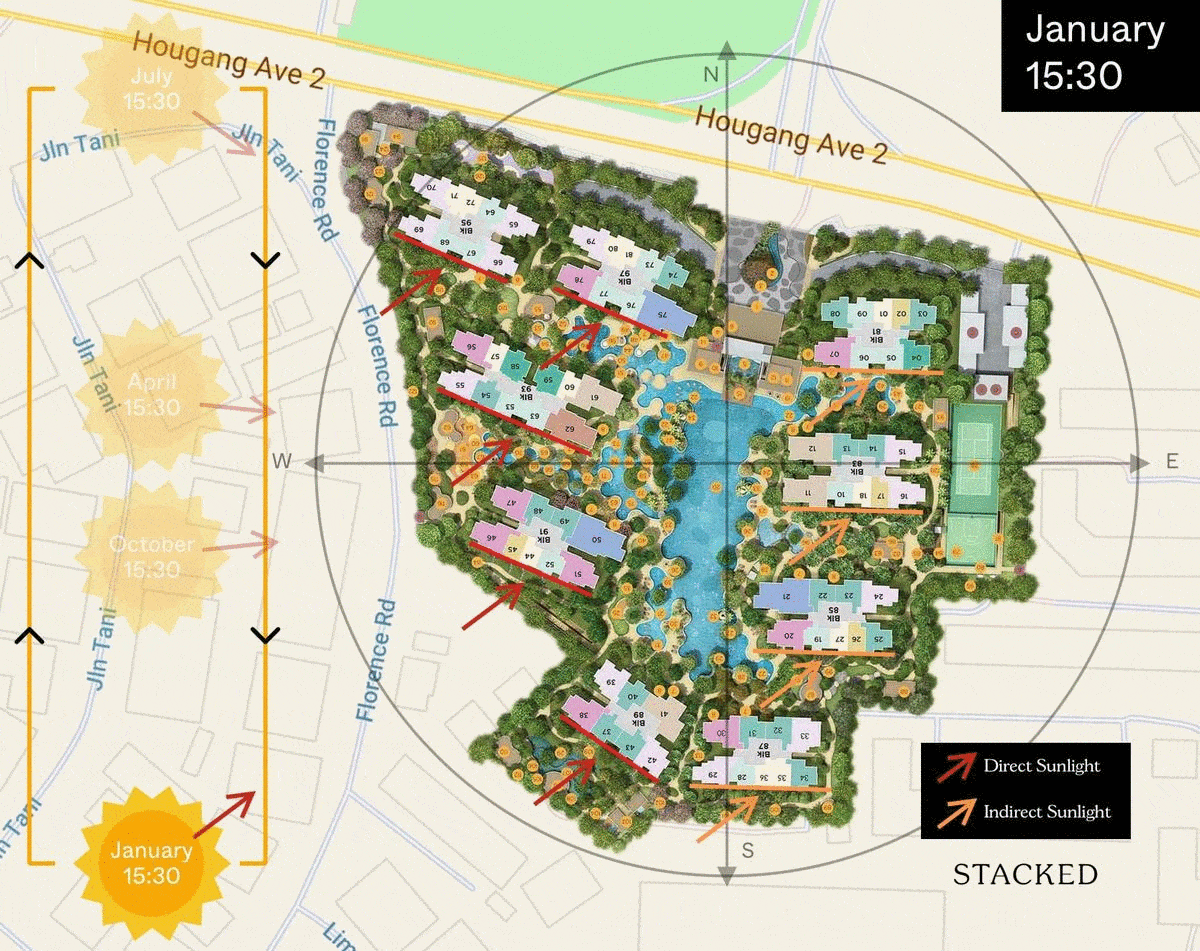 If you are deathly afraid of the west sun, then avoid stacks 69 – 70, 78 – 79, 55 – 56, 46 – 47 and 38 – 39. These are located in blocks 89, 91, 93, 95 and 97. Given the angle at which the blocks these stacks are facing, the west sun will be penetrating units in these stacks throughout the year.
Stacks with the least afternoon sun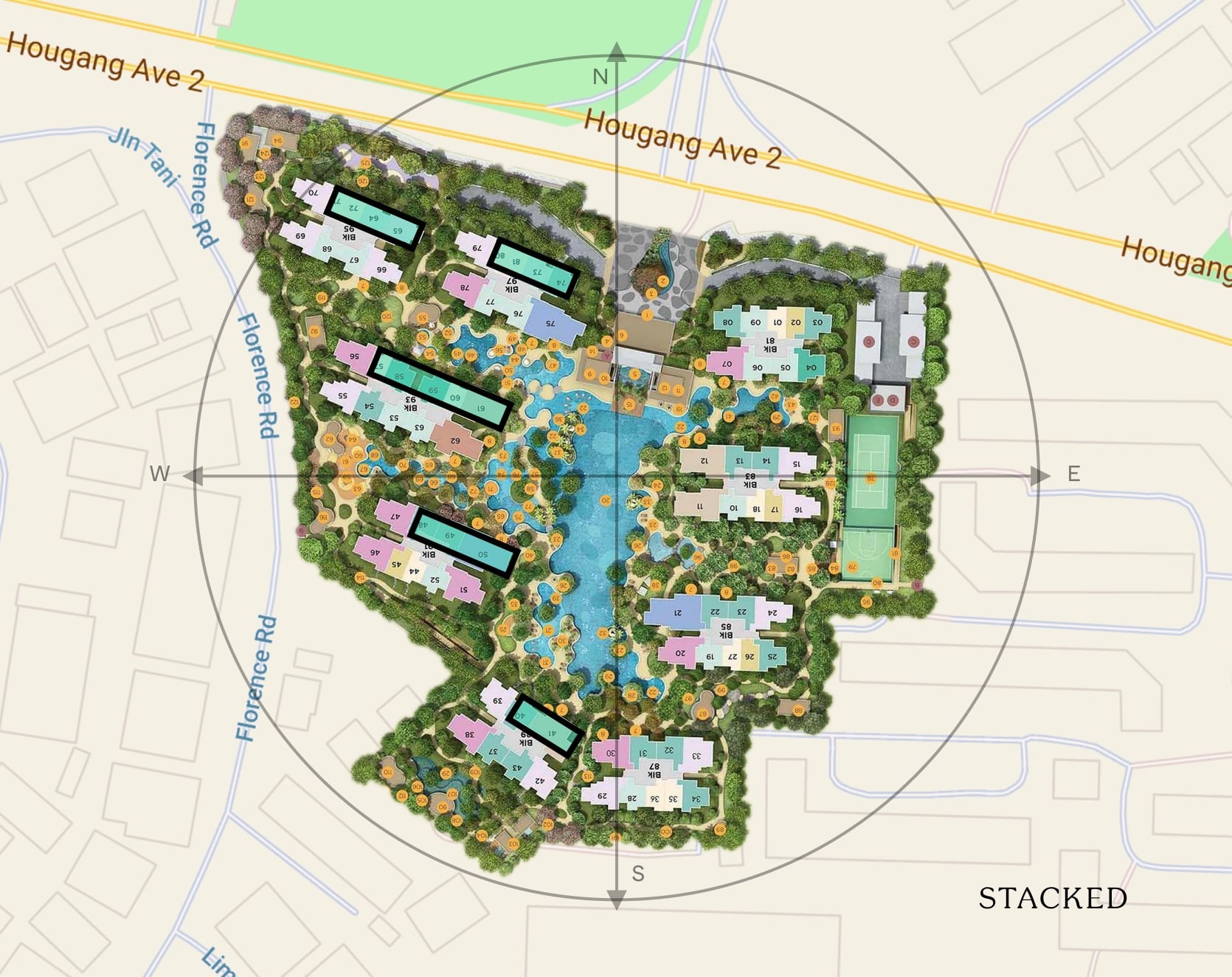 Highlighted in blue are the stacks with the least afternoon sun. Given the way these blocks are angled, it also receives very little afternoon sun, even in July. The north-facing stacks in blocks 81, 83, 85 and 87 do get some indirect sunlight in the July period and hence weren't included as the best stacks with the least afternoon sun.
Price Review

If you are considering The Florence Residences, you will undoubtedly compare it against its fellow new launches in the vicinity. So here is how it stacks up!
These are the more prominent new launches in D19, near Kovan and Hougang MRTs but none of them is actually close to The Florence Residences. Price-wise, with the exception of Riverfront Residences, there is actually little to set the others apart. Distances from their respective MRTs are also similar. If anything, it is The Florence Residences which has the average here as it is between 2 MRT stations. So, it's safe to say that the price or the distance from an MRT line are not its unique selling points.
I have also included several resale condos in the comparison. The Florentine is a small freehold boutique development located just beside The Florence Residences and being a small apartment, does not have many facilities to speak of. Its last transaction in August 2019 only fetched $997 psf for a 3 bedroom unit. Kovan Melody and Kovan Residences, on the other hand, are 99-year projects which are just a stone's throw from MRT and are transacting at about 25% discount from The Florence Residences. This would ordinarily make The Florence Residences quite a value buy if the location were similar, but you have to also account for the further distance this project is from the MRT compared to them.
But as always, comparing purely by just psf between a new launch and an older development may not be the best choice because of the different rulings back in that era. For example, if we were to compare to the 2 bedroom units in an older resale like Kovan Residences, you'll find that the overall quantum for these older projects are actually higher because they are bigger in size. More importantly, they do have the existing issues that plague older developments with bay windows and planters – you are effectively paying for these "unusable" spaces.
Ultimately at $1,500+ psf, it remains one of the more affordable new developments out in the market right now. However, I do find that the prices are a little steep in general for this district as the developers seem to be playing up the upside of the Cross Island Line. Hougang / Kovan is a nice neighbourhood to live in but you have to decide whether the upside potential is indeed present given how this development is actually some distance away from the MRT transformation.
Appreciation Analysis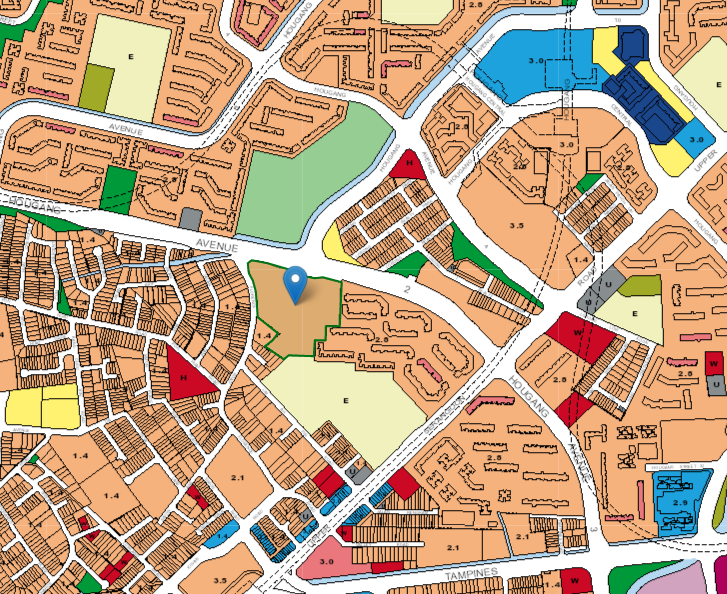 Located at the fringe of the Kovan and Hougang estates, one of the reasons for its healthy 2020 sales figures can be attributed to the announcement of the Cross Island Line in January 2019. This means that Hougang MRT is set to be an interchange (North-East Line and Cross Island Line) upon the latter's completion in 2029.
As mentioned above, the location is in a neither-here-nor-there type of situation. It's marketed as being close to 2 MRT stations (Kovan MRT station and Hougang MRT station), but the truth is that it requires quite a walk to get to both. And it is pretty telling too, hence the decision to include a 1:1 carvpark lot ratio – something getting increasingly rare in new launches these days.
Another means of its future price appreciation could come down to the number of HDB upgraders in the area. Generally, people do like to move close to the area that they are familiar with, so with a relatively affordable quantum plus its family-friendly facilities, you can see the attraction for upgraders in the area in the future.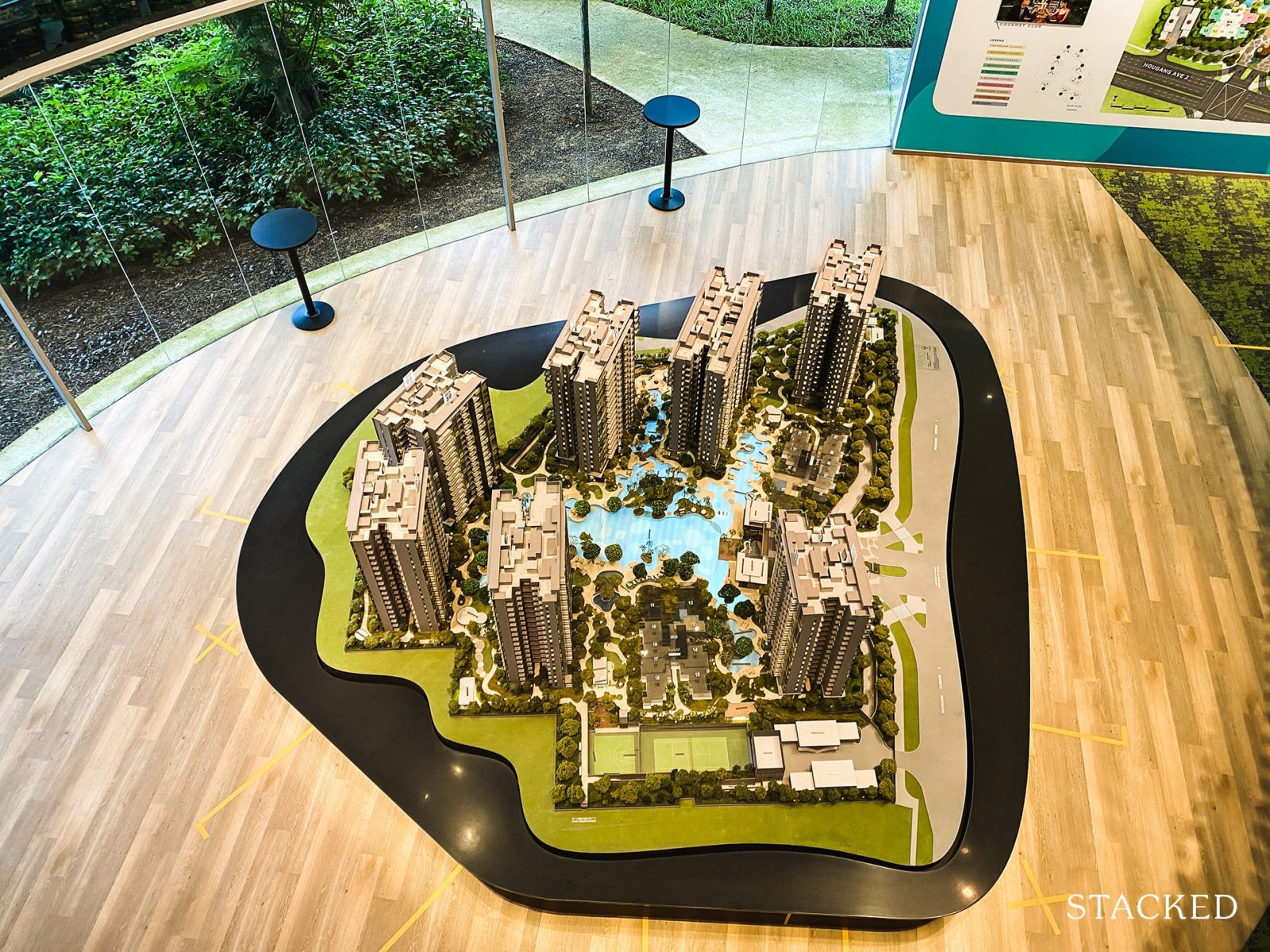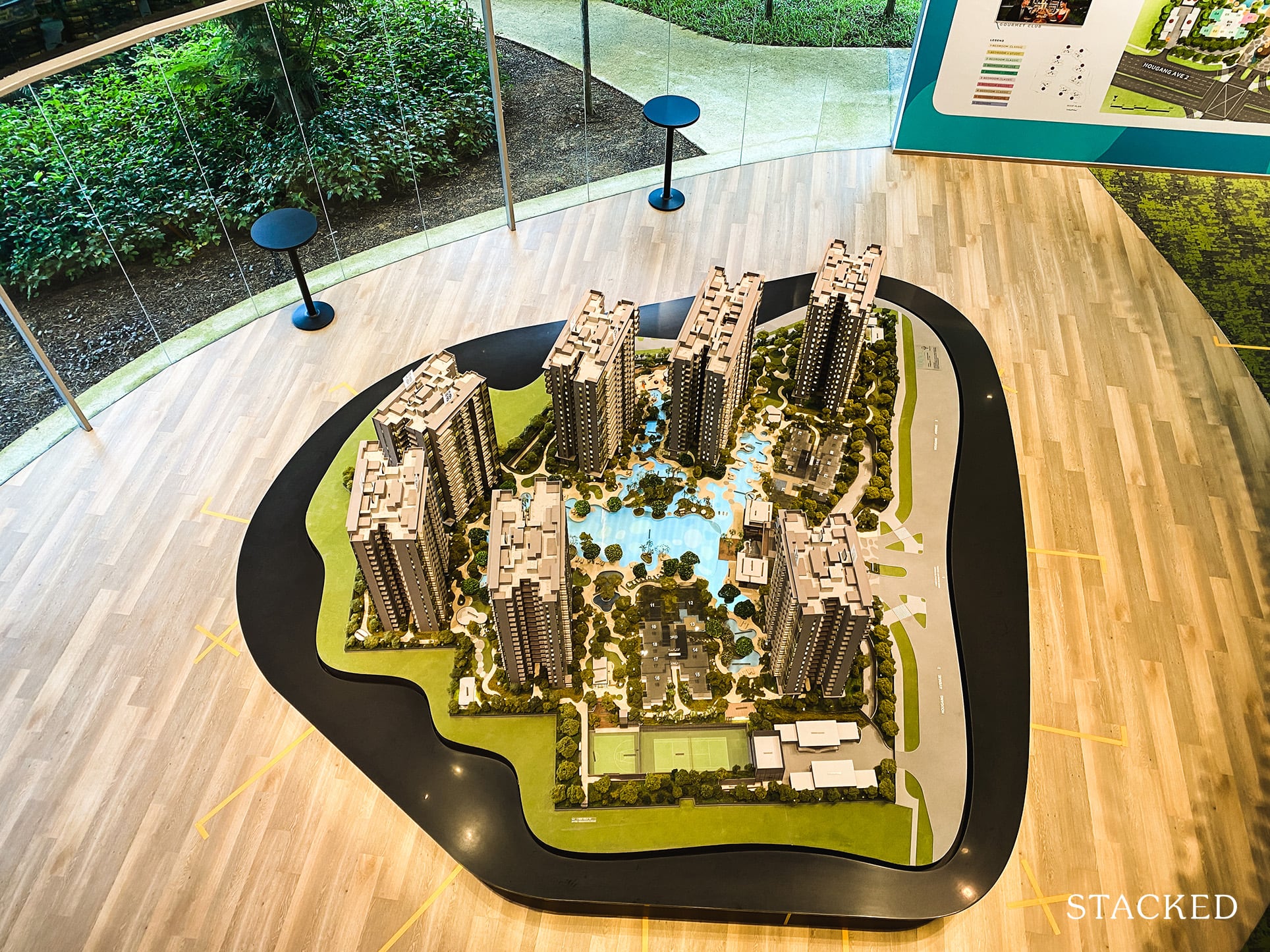 Our Take
What we like
Plenty of food options nearby

Within 1km of 3 decent primary schools

Potential benefit from upcoming Cross Island Line
What we don't like
–

Clustered blocks

–

Crowded facilities

–

Distance from MRT
At the end of the day, there must be a reason why buyers have taken to this development positively. Perhaps it's because of the upcoming Cross Island Line or perhaps people who have grown up in this Kovan / Hougang neighbourhood are fiercely loyal to this area. Or perhaps there are just a big pool of upgraders from the neighbouring HDB towns to form a steady stream of buyers.
Ultimately, every project has its own pros and cons. This is fundamentally a mass-market mega-development, with 1,410 units and this will not appeal to everyone, especially those who value more privacy at home. But a large development also means that there is a bigger community within, which can make home a nicer place if you do manage to forge bonds with your neighbours.
My advice? Look at this as an own stay project for your family and you can't really go too wrong here. Of course, it isn't the best in class when it comes to facilities among the mega-developments, but if the Kovan/Hougang area is home to you already, I would say the wide array of facilities and proximity to good food are pretty attractive reasons for a young family to build their first home.
For investors? Well, I do question the upside potential owing to the Cross Island Line given its distance from the MRT and the abundant competition from condos and HDBs closer to the MRT station. 
Developer Notes:

If this developer sounds foreign to you, you are probably not alone. The Florence Residences is only Logan Property's second development in sunny Singapore. It does, however, have an impressive portfolio from 24 years of history and has been listed on the Hong Kong Stock Exchange since 2013. It primarily develops properties in the Guangdong-Hong Kong-Macau Greater Bay Area and has built over 110 residential projects over the years.
It seems that Logan Property has a thing for mega-developments in Singapore. Its maiden project here is Stirling Residences, which has a whopping 1,259 units. Of course, they bettered themselves with their second development – The Florence Residences, which has 1,410 units. They probably thought they could achieve better economies of scale this way. Wondering if they considered the developer ABSD deadline and the hefty cost that might ensue though… that said, Stirling Residences is almost 90% sold so perhaps one could say it was good foresight on their part? Perhaps it might be second time lucky for them with this project too? 
Amongst its many awards, Logan Property was also ranked 29th in China's Top 100 Real Estate Developments, 3rd in Top 10 value investment stock and 295th in Fortune China's Top 500 Enterprises in 2017. Frankly, Chinese developers do not have the best reputation in Singapore, especially after this was tarnished further by the shoddy workmanship by Kingsford Huray in their Kingsford Waterbay and Kingsford Hillview Peak projects. Nevertheless, the accolades given to Logan Property look commendable and this should give buyers some confidence that Logan Property will deliver to the standards of their showflat.
What this means for you
You might like The Florence Residences if you:
• Are Looking For A Family Own Stay Project

1:1 carpark lots plus proximity to food and schools means that it is an appealing own stay project for families

• Enjoy the Luxury of Full Facilities.

It truly has quite a wide spectrum of facilities, from an open air movie screening to boxing, there are a load of facilities that aren't as commonly seen in other developments.
You might not like The Florence Residences if you:
• Prioritise a Closer Proximity to the MRT

While it is in the middle of Kovan and Hougang MRT station, it isn't necessarily a close walking distance to either. If you use the MRT a lot to get around, there are better placed projects.

• Like Privacy

As always, with large scale developments, privacy would always be an issue. With 1,410 units, those who are seeking peace and quiet would be best placed to look elsewhere too.
End of Review
Join our Telegram group for instant notifications
Join Now
Matt K