Condo Reviews

Bullion Park Review: 'Ulu' With Unblocked Views And Feature Packed
Reuben
March 17, 2020

21

min read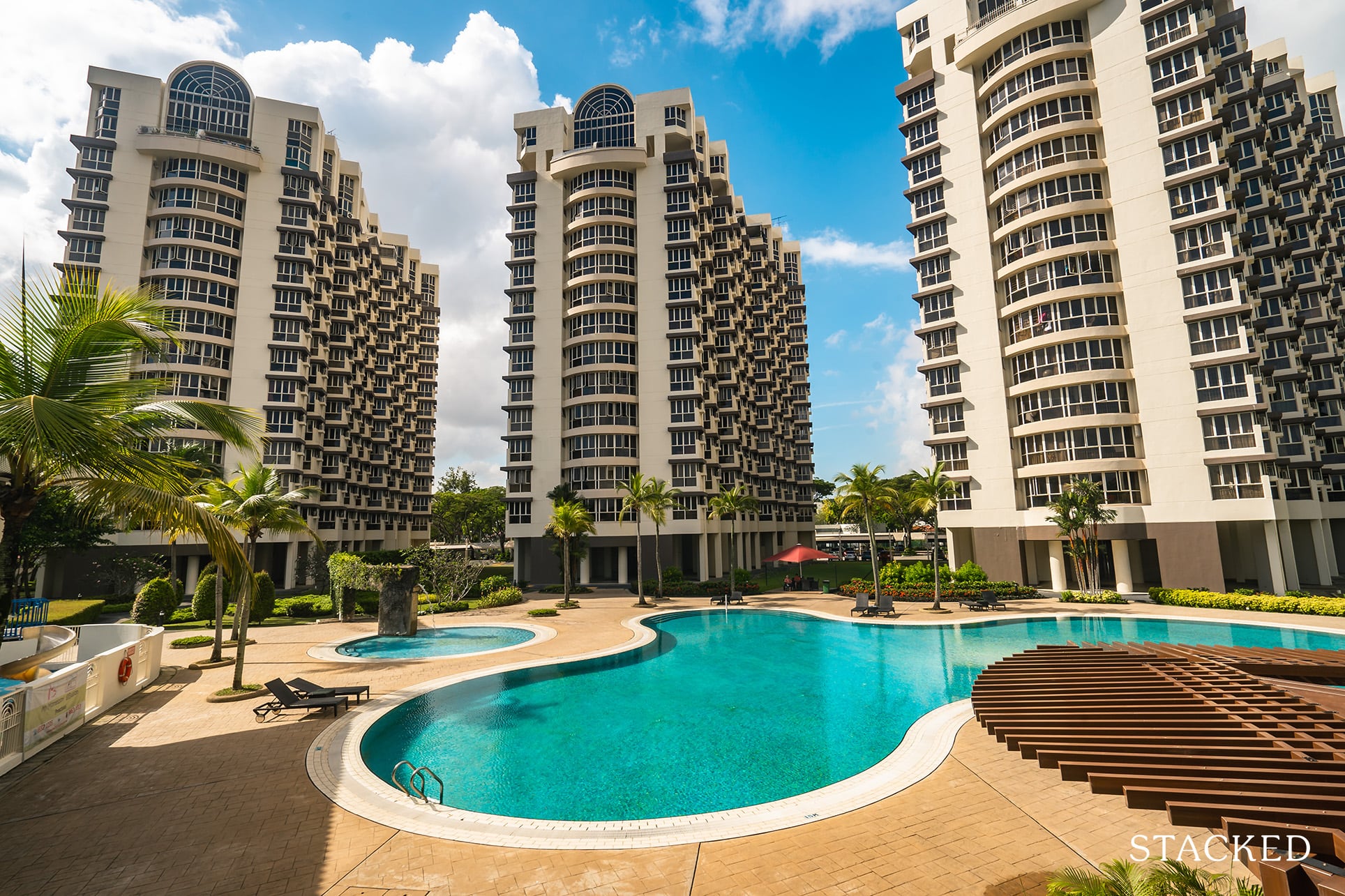 Bullion Park, like any older development, is perfect for those who love inner condo space and a large (but diverse) unit size. However, if you work in the CBD, you might want to give this condo a miss as it takes 30-40 minutes on average to reach the CBD, regardless of private or public transportation.
Reviewed by Reuben on March 17, 2020
What we like
Fantastic gym

Huge space

Well-maintained

Unblocked views
What we don't like
—

One entrance to the development

—

Transport links
21
min read
| | | | |
| --- | --- | --- | --- |
| Project | Bullion Park | District | 26 |
| Address | Lentor Loop | Tenure | Freehold |
| Site Area | 515,171 sqft | No. of Units | 472 |
| Developer | Far East Organization | TOP | 1993 |
'It's in the middle of nowhere!'

And it's old. And sure, it does get a tad of feedback from all those planes taking off from the Seletar Airport nearby.

But why do residents at Bullion Park like it so much – and why has it seen such a healthy quantum appreciation growth through the years?

Well, for one, it does span a massive area.

Sitting on a staggering 515,171 square feet of land with just 472 units spread across it, it's definitely a contender for those who prefer a relatively peaceful and expansive abode.

That said, you'd probably need a car if you'd want easy access to any surrounding amenities (they aren't exactly the closest!). Also note the added bonuses of having the SLE just 'next door' and the generally lower volume of immediate daily traffic here.

Now there are a couple other pros and cons that make Bullion Park an interesting one to review, but we'll save them for the analysis section.

For now though, let's have a 'quick' look at its immense grounds!
Bullion Park Insider Tour
Facilities in Bullion Park
Tennis Courts
Barbeque Area
Covered Car Park
Mini-Mart
24-Hours Security
Swimming Pool
Wading Pool
Billiards Room
Clubhouse
Playground
Squash Court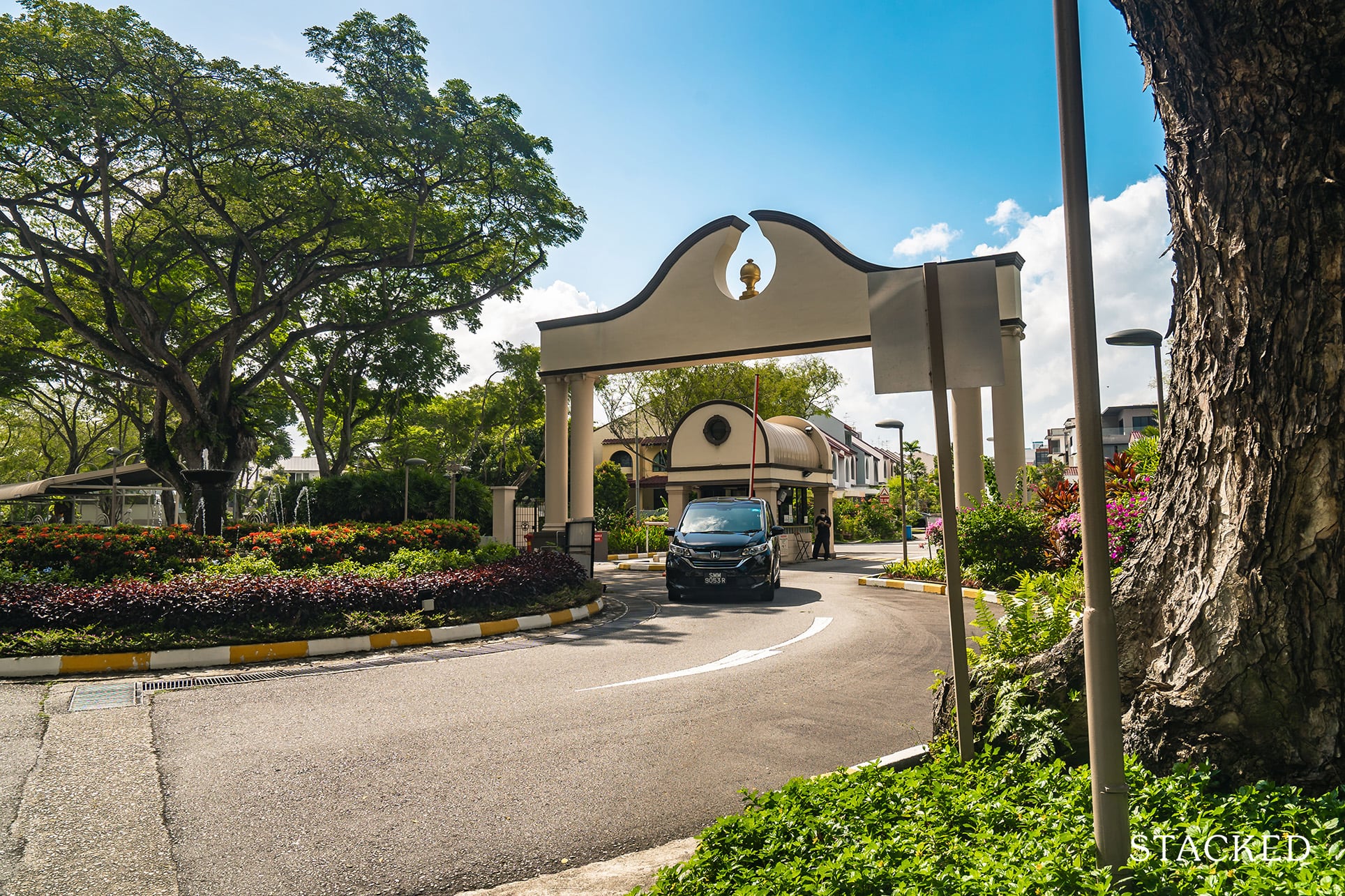 Bullion Park was built in 1993 – which let me remind you, is now 27 years ago. As with most developments of that era, it admittedly now looks quite dated. In a way, these buildings serve as a reminder of the past, and how much Singapore has progressed since then.
Back in the day when Singapore had a lot less people (and a lot more space too), condo developments were on much bigger plots of land, with less units too. Developments with a similar offering include (Sommerville Park/Pandan Valley), although to be fair to Bullion Park these look even older!
Just to put things into perspective, Bullion Park currently sits on a humongous land size of 515,171 square feet with a total of 472 units. Sounds spacious, doesn't it?
Contrast that to a present-day new launch like Parc Esta with 376,716 square feet and 1,399 units. It's on a smaller piece of land yet has nearly triple the number of units.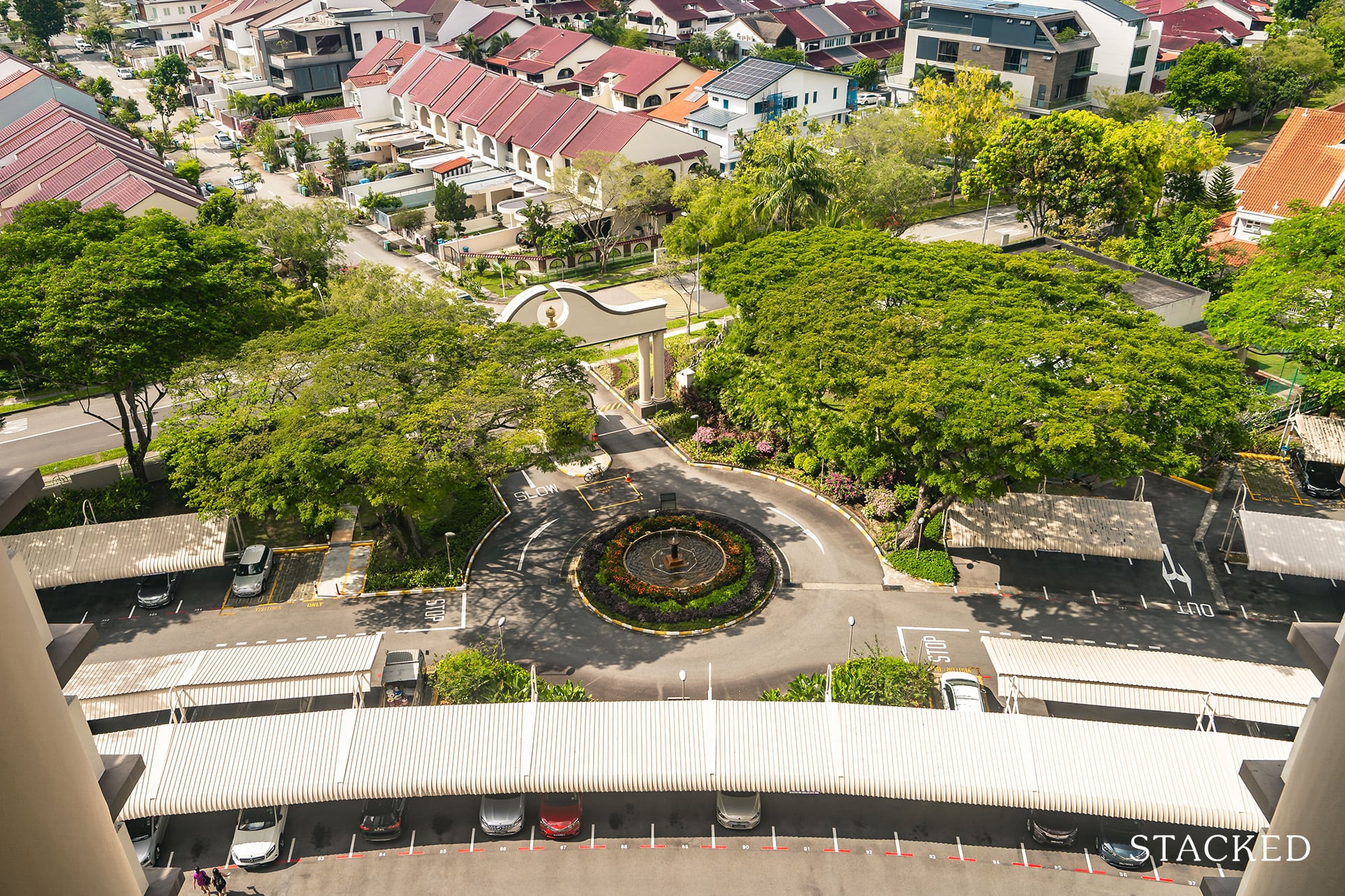 Now, despite the huge land size of Bullion Park, there is only one entrance to the development. And in what is a bit of an oversight – there is also only one driving lane to enter. Although I've heard from residents there that this is almost never an issue.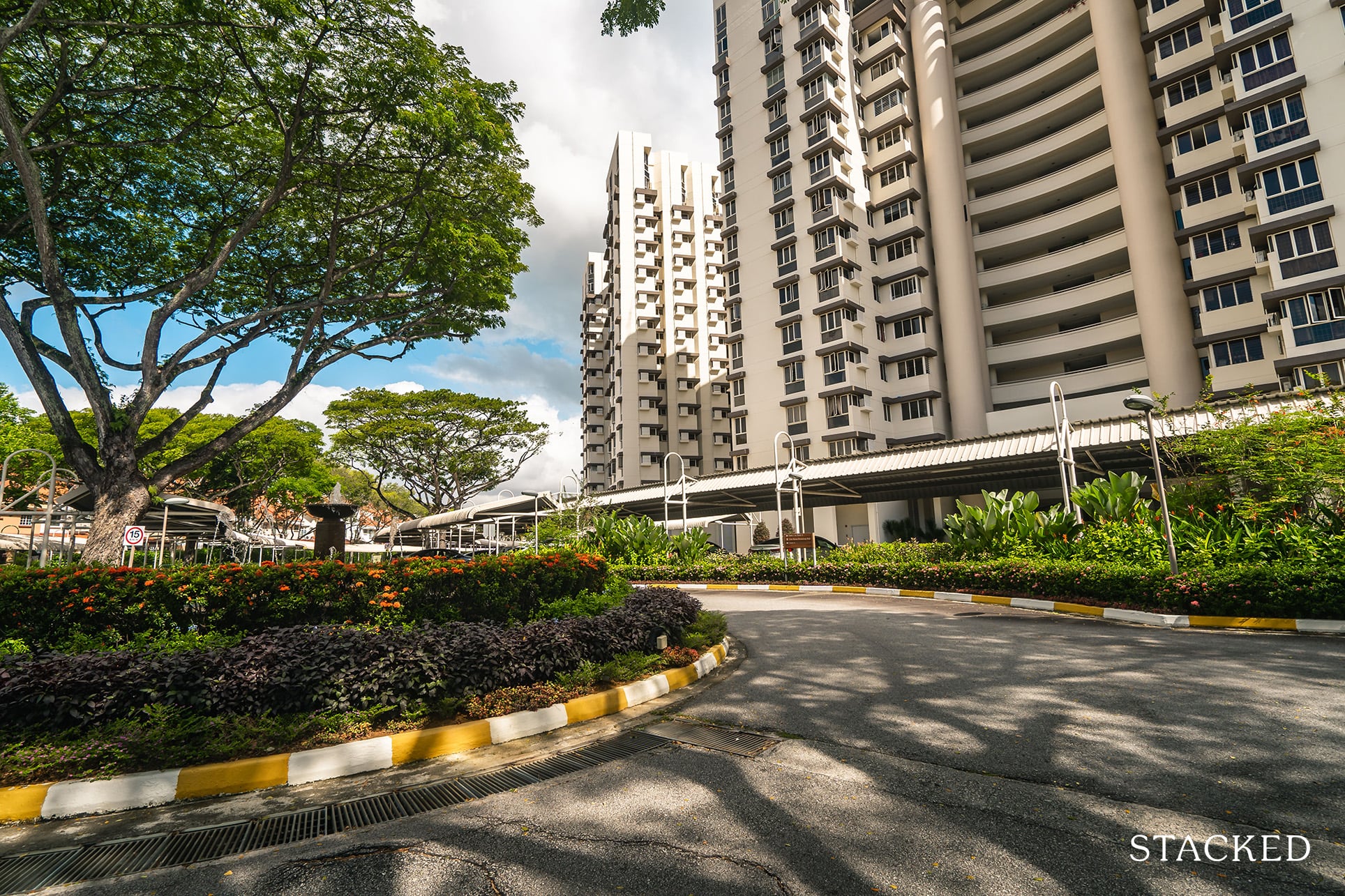 Once you get in, it is an immediate roundabout to filter you to the difference parts of the estate. Despite the size of the place, it's not that you really need much direction as it has quite an unorthodox layout. The roads actually don't circle round the development – instead it is shaped like a long race track. There are 6 blocks in total so as you can imagine, it is one lengthy road that stretches past all the blocks.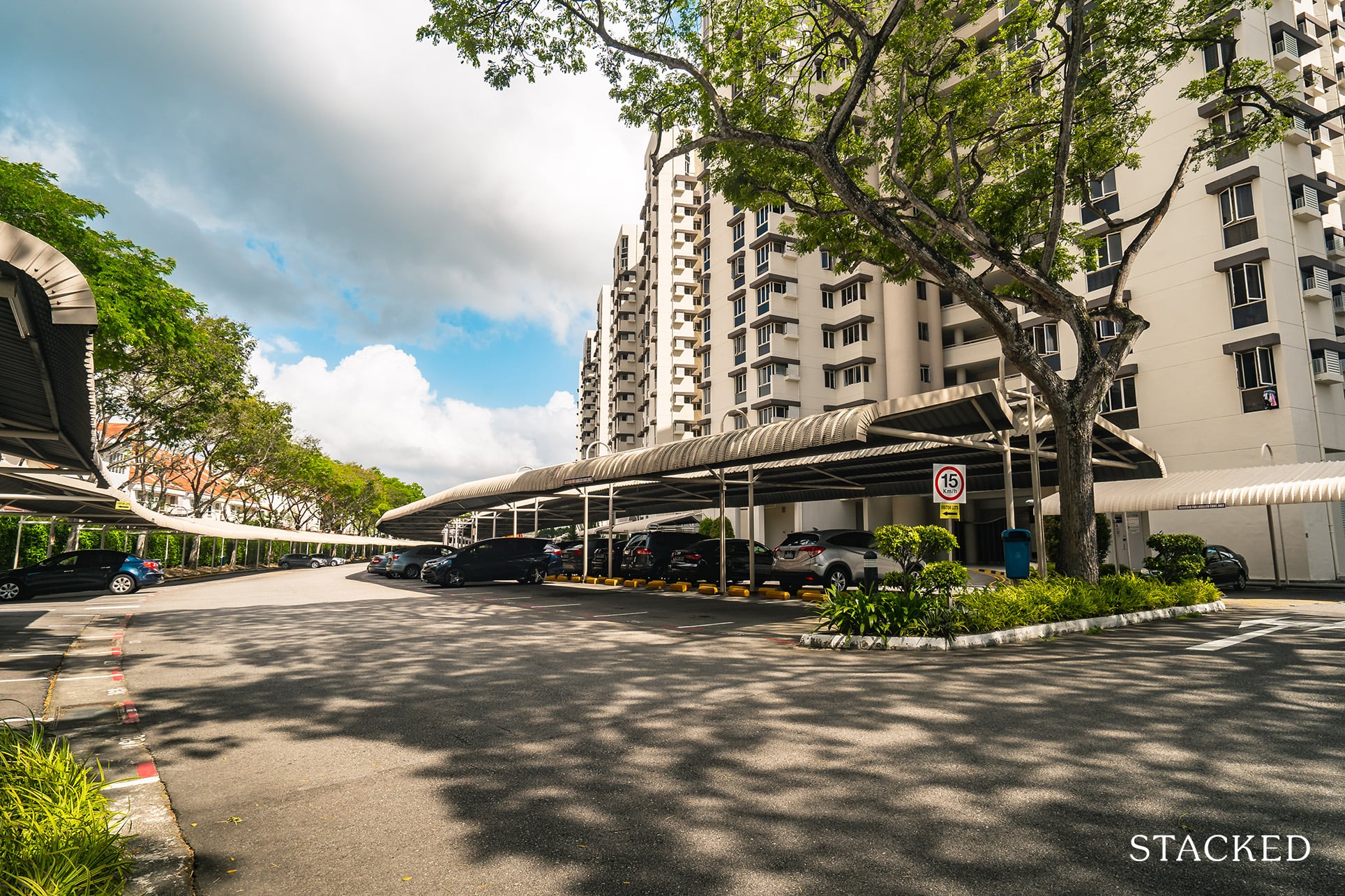 In what is a pretty common sight for older developments, the carparks here are all surface ones. Yes, this means that there isn't an underground carpark.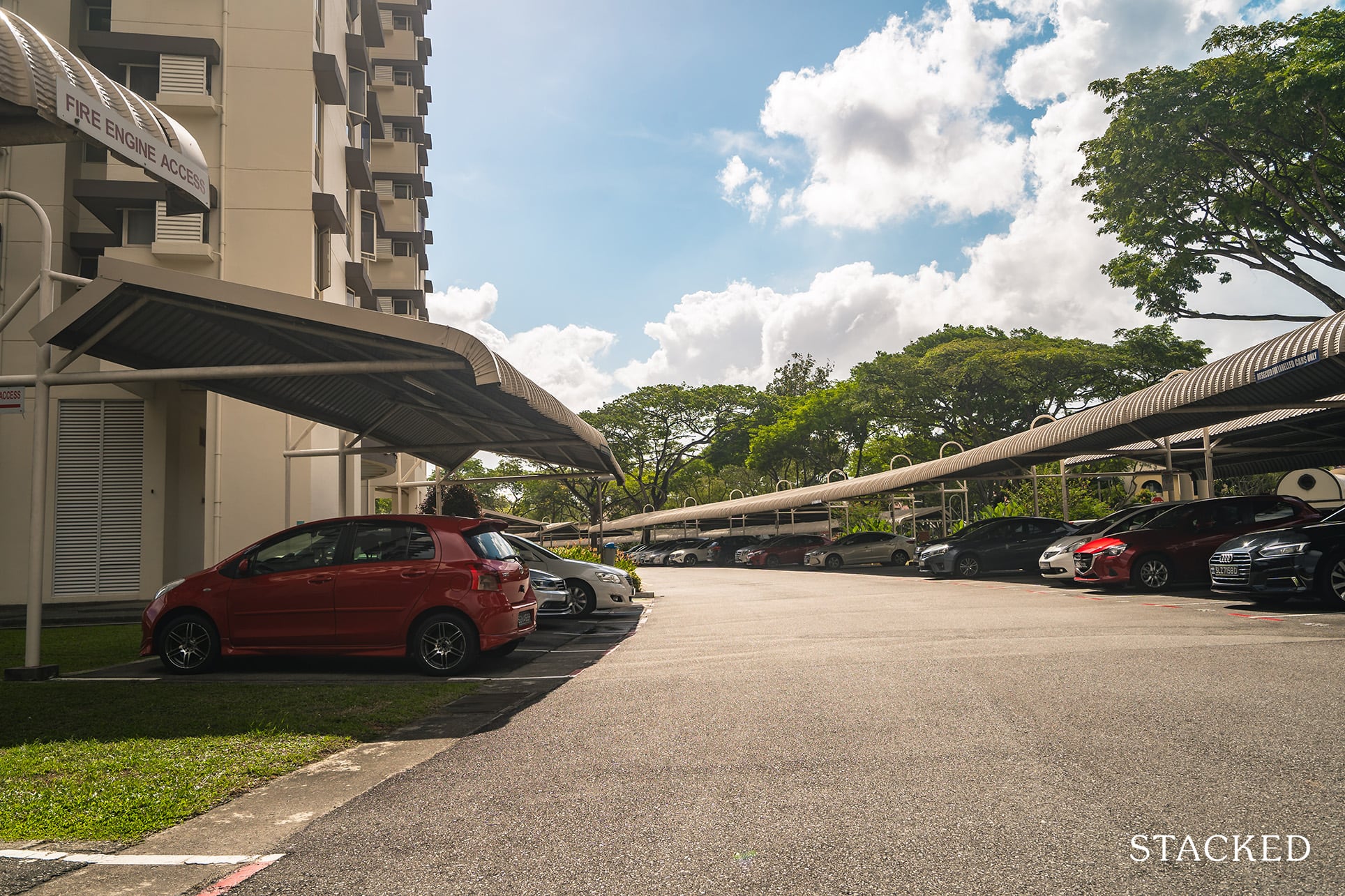 This approach means it is really a glass half full type of situation, depending on how you look at it. On the positive side, all carpark lots are sheltered. However on the negative side, this only shelters the car, so you'll still require an umbrella to get to and from your car in a rainy situation.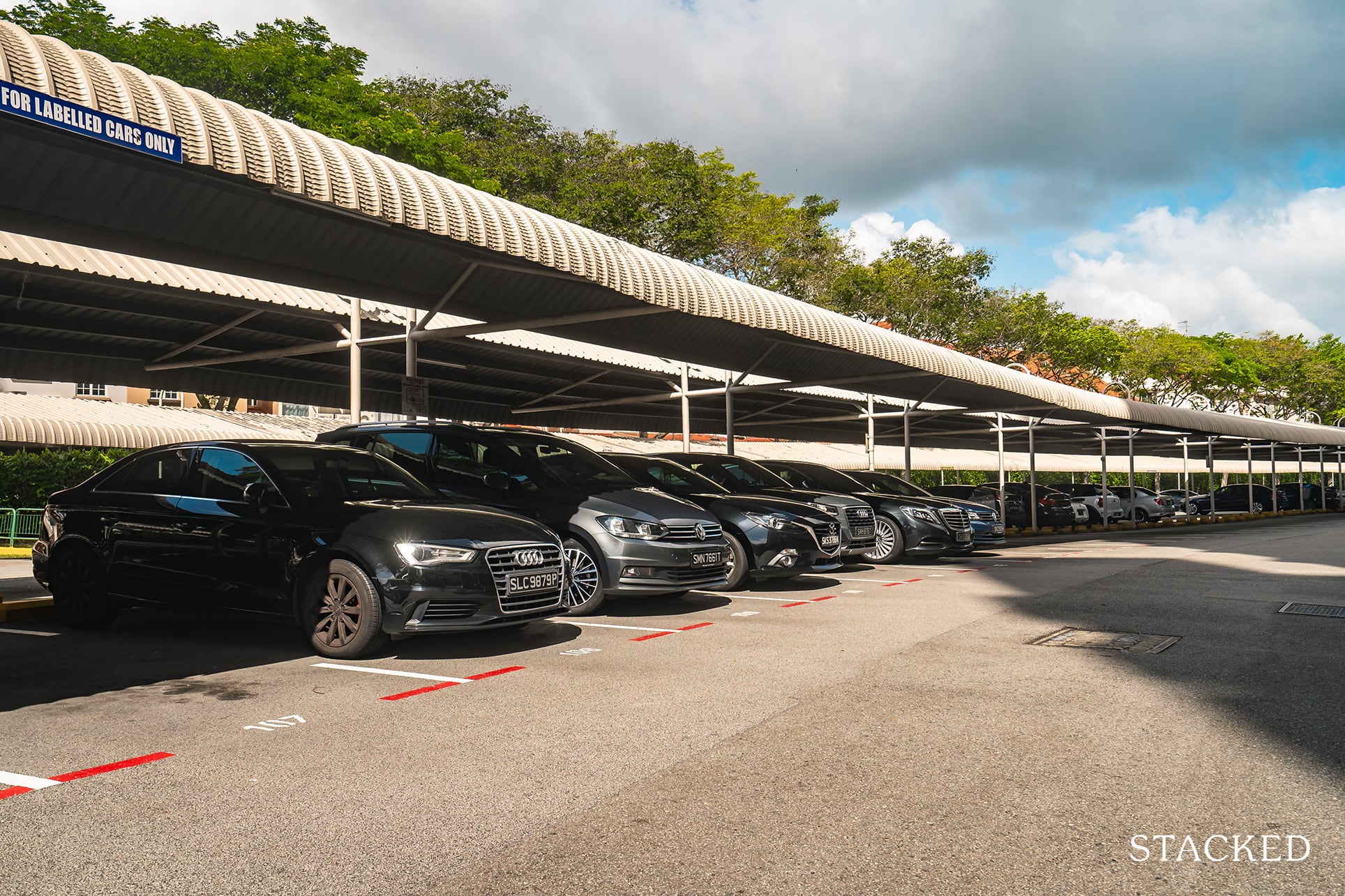 As spacious as the carpark is because it is all on the surface, you don't get as many carpark lots here as you'd like. Also because it is more of an own stay development, the carpark lots here are actually quite packed.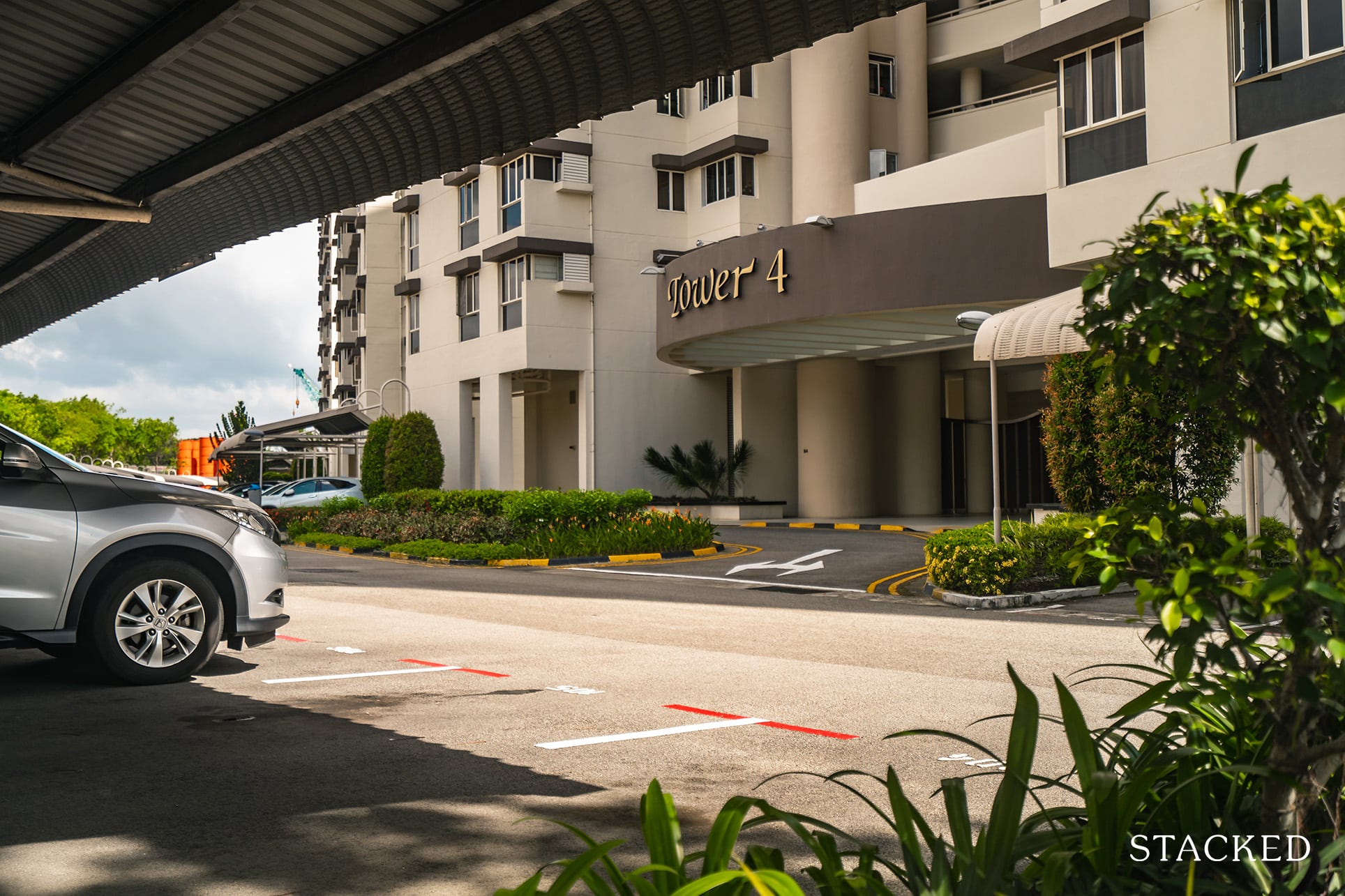 Unfortunately for those with longer cars, it's bound to stick out beyond the shelter a little.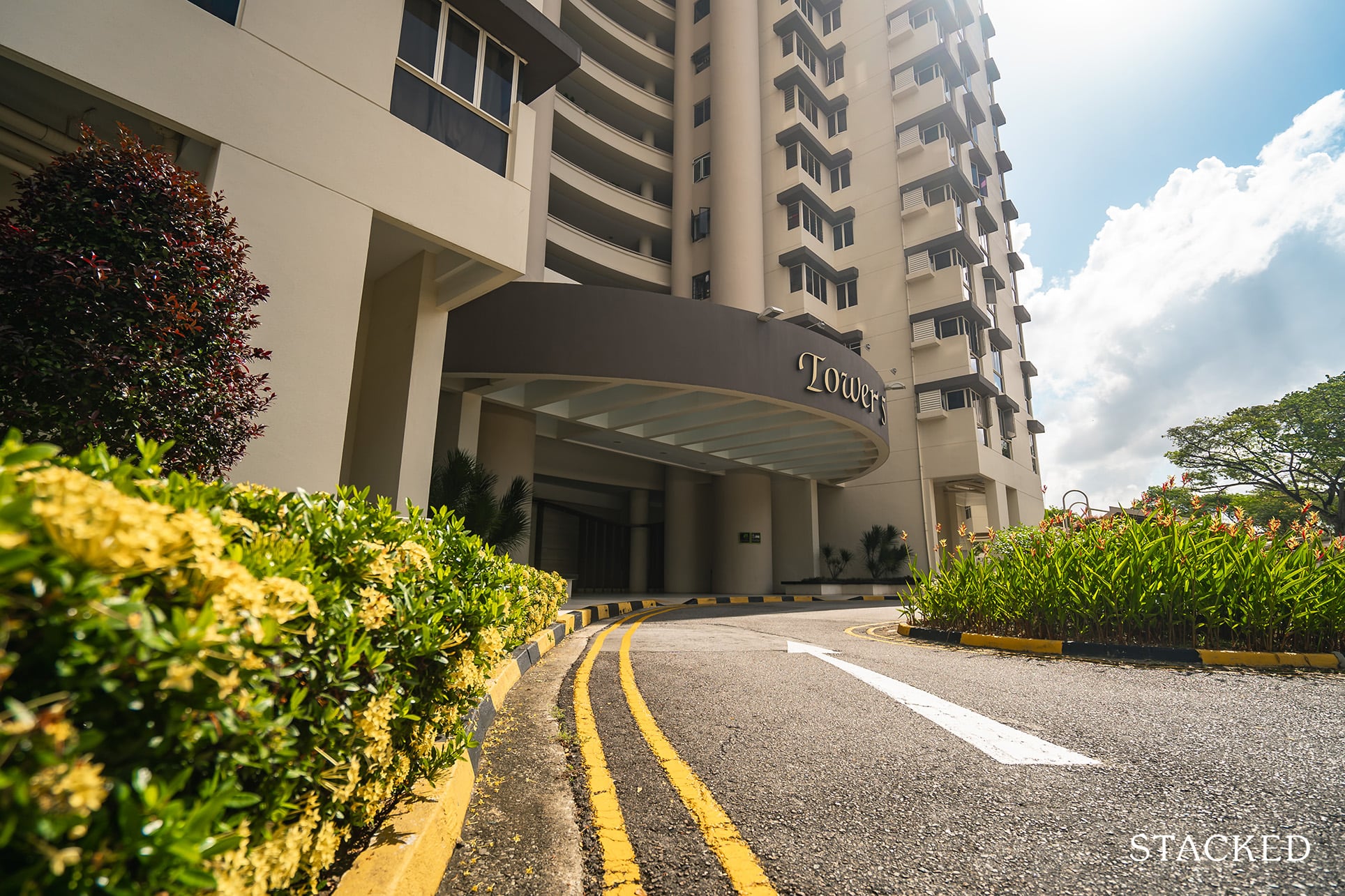 Each tower has its own drop-off point. Again, because there isn't any underground carpark the shelter at each tower is a more important fixture than you'd think.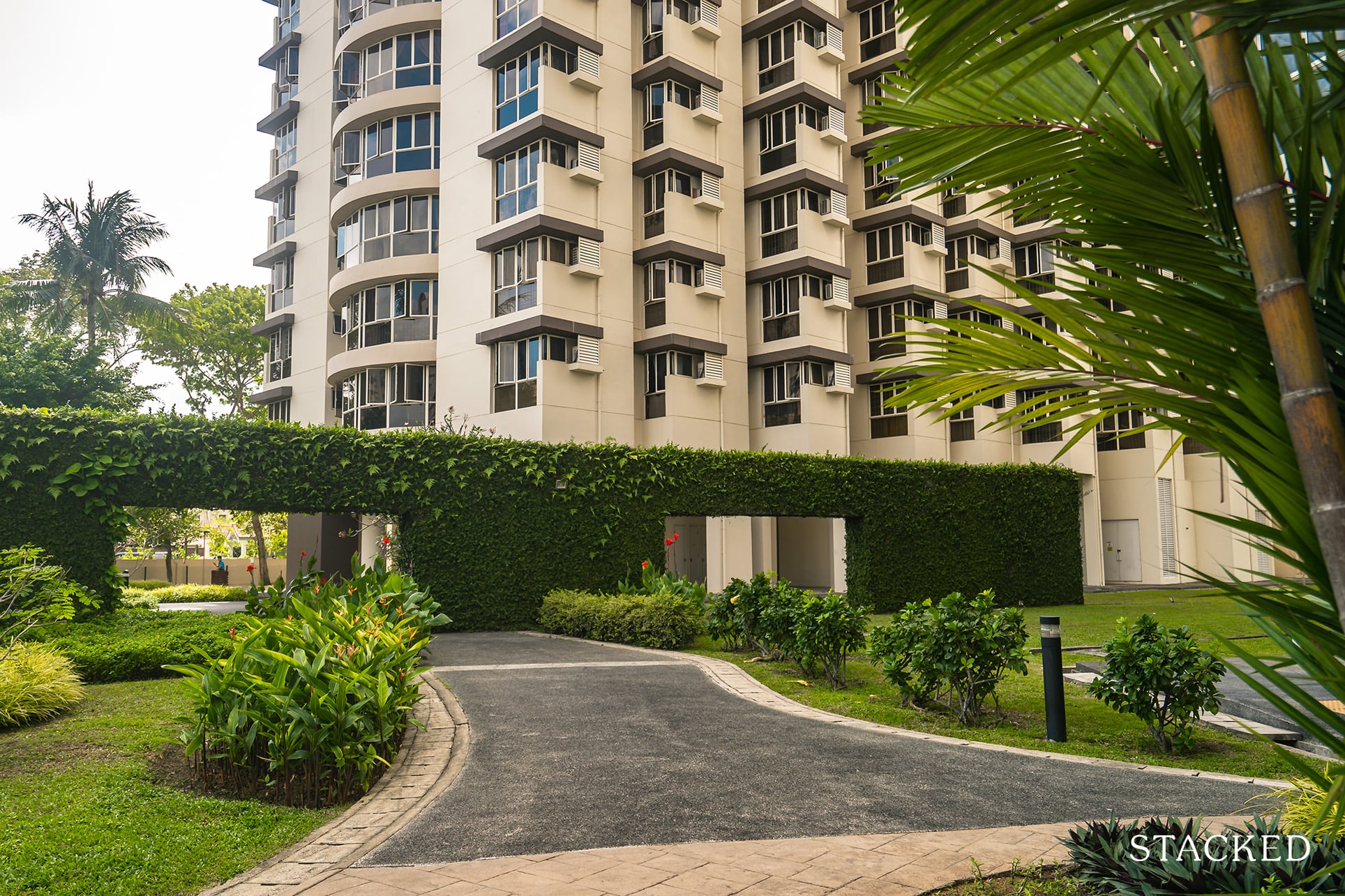 You can usually tell how well maintained a development is from its landscaping. For a condo of this age, the grounds are wonderfully well kept. There is a lot of plants, shrubs, and flowers planted around – I'm no gardener, but I'm sure it's not an easy task to maintain as there is plenty of it.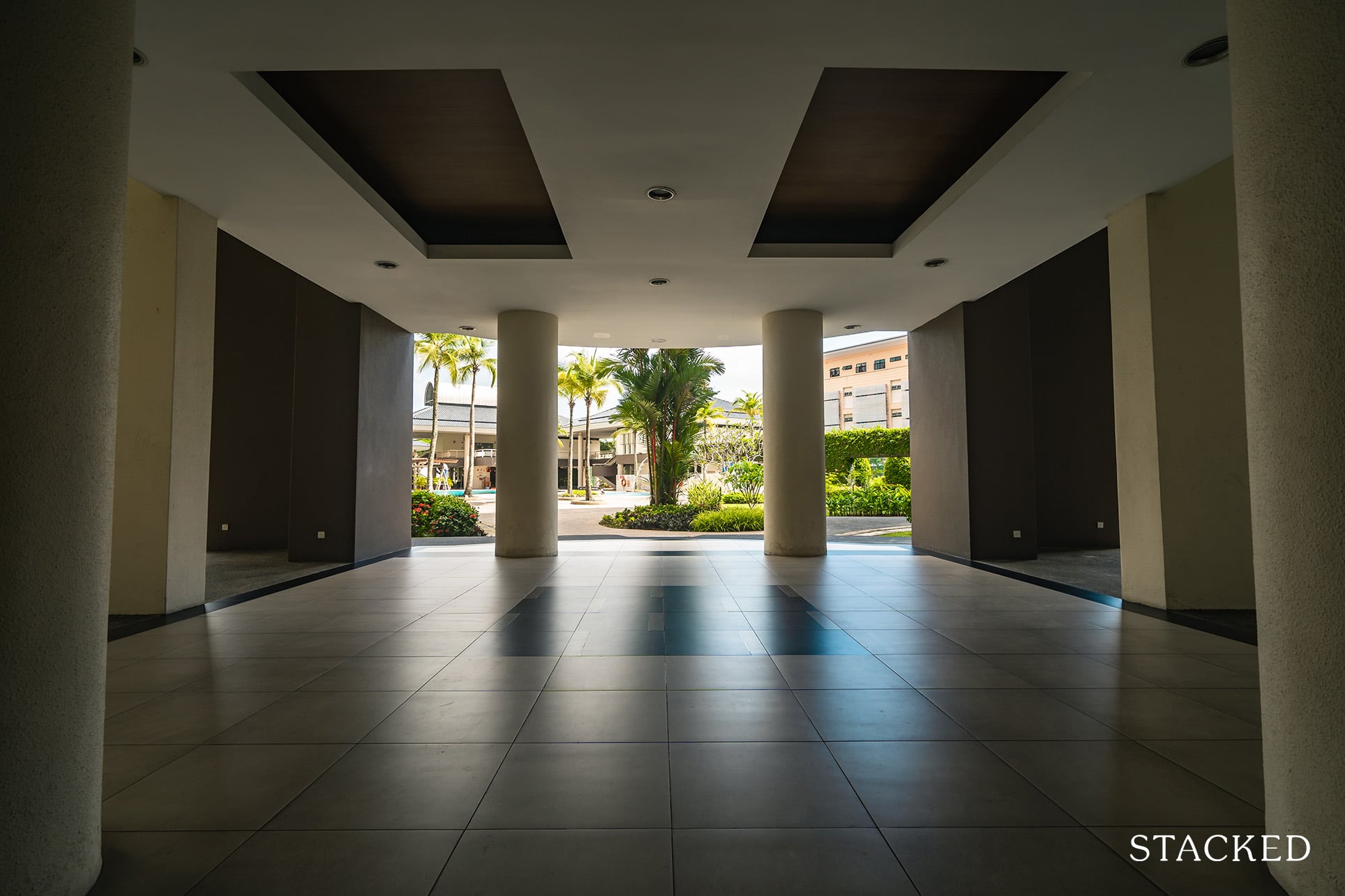 The lobby is a spacious one and typical of the look of older developments. A ton of space, but not very well utilised in my opinion – a couple of seats would have been nice!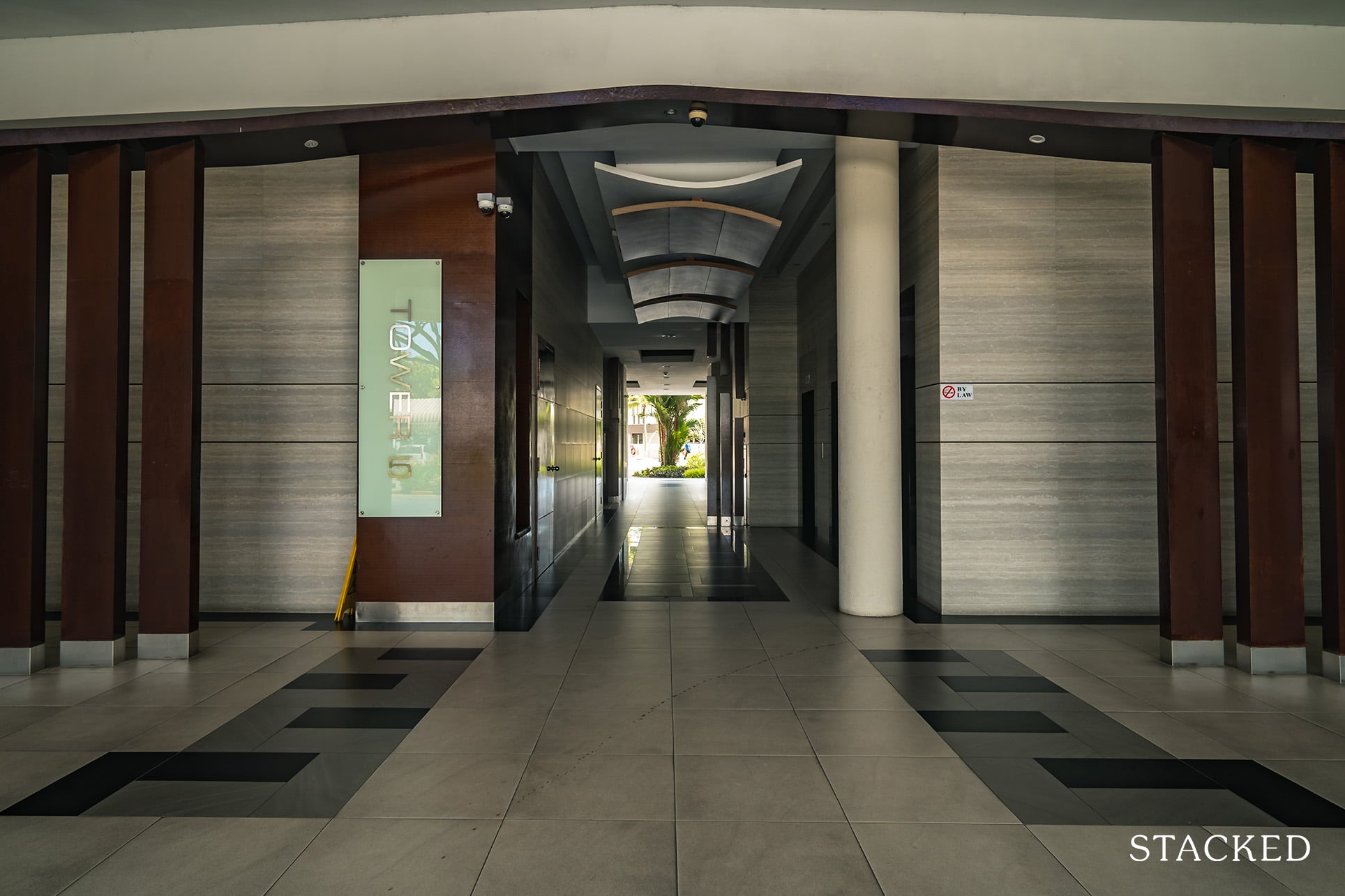 You aren't going to get your air-conditioned, security gated lobby here. It's simple and to the point – no frills at all.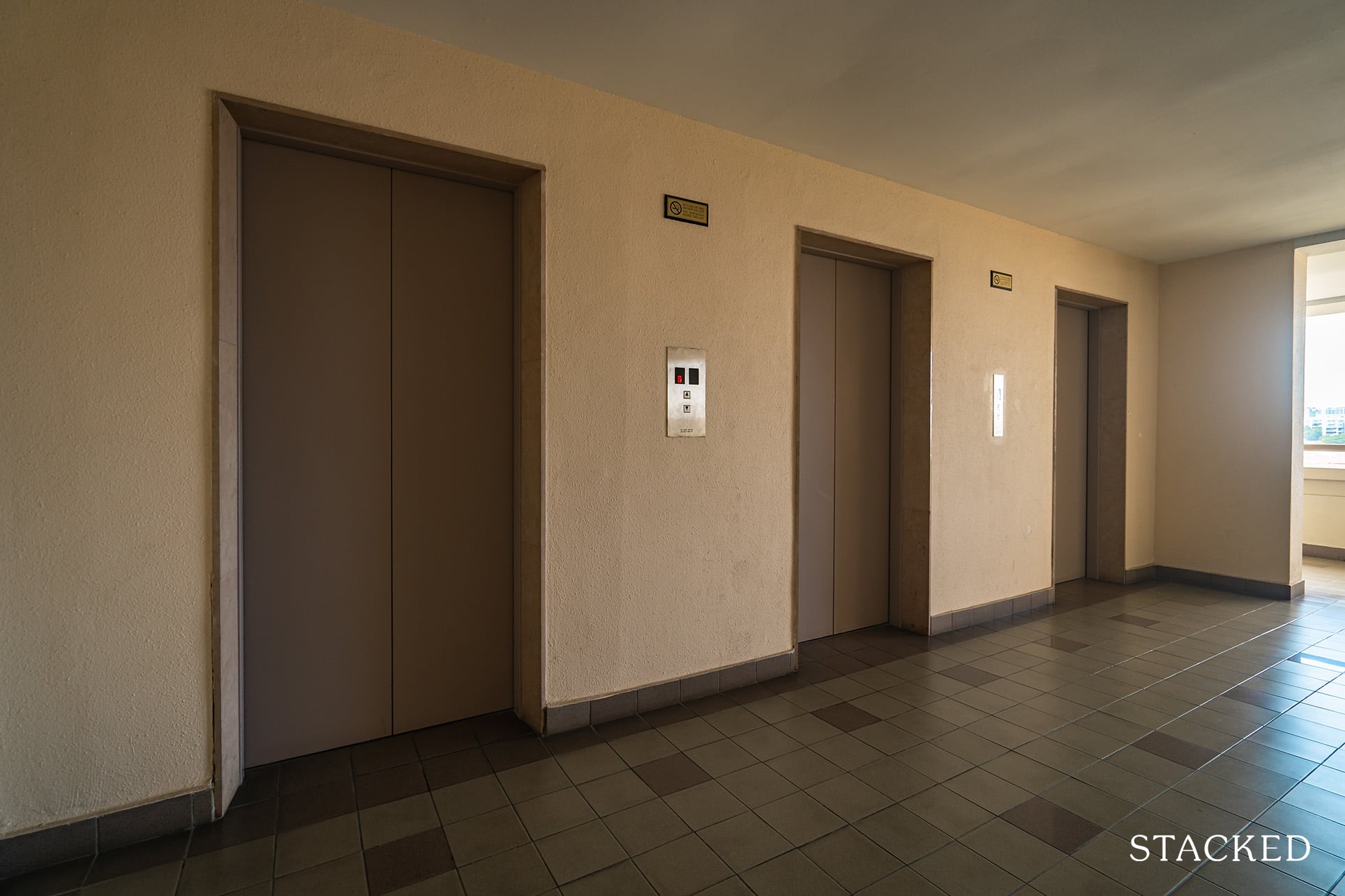 Some people might not like the spartan look, but it's one of those places where you'd have to look past some of the external flaws to appreciate the other aspects of the place. For one, the place is seemingly kept very clean.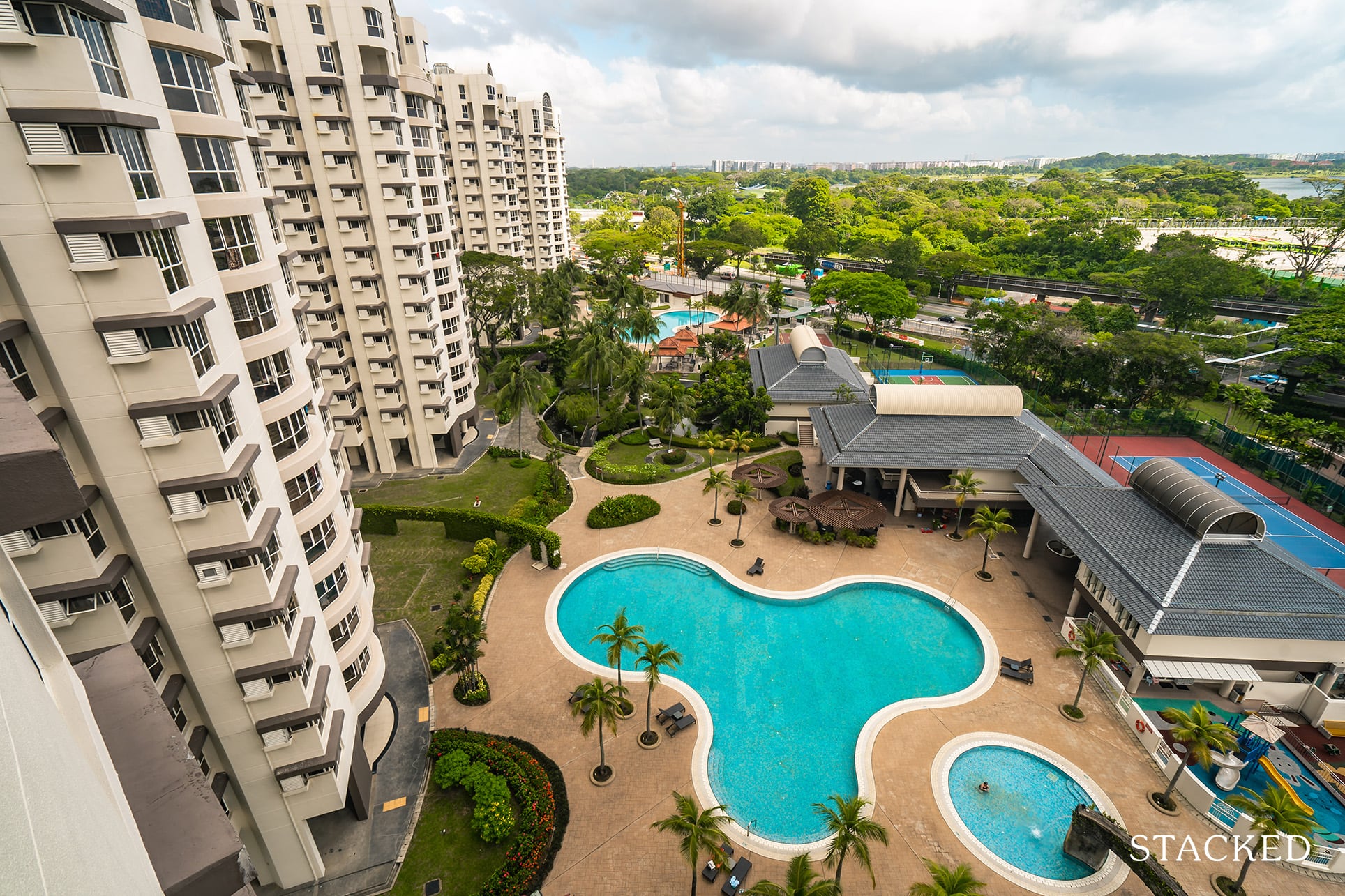 One of Bullion Park's strongest suits is probably its unblocked views. Because of the way the blocks are laid out, half of its units will enjoy greenery and water views (if you are high enough) of Lower Seletar Reservoir.
The other side faces the landed enclave of Lentor. In fact, Bullion Park is almost completely surrounded by landed housing – so it is pretty awesome to be able to boast of such unblocked views in land scarce Singapore. If anything, I can see why people would appreciate living in this part of town. Central Singapore feels positively overcrowded and overbuilt compared to this nirvana.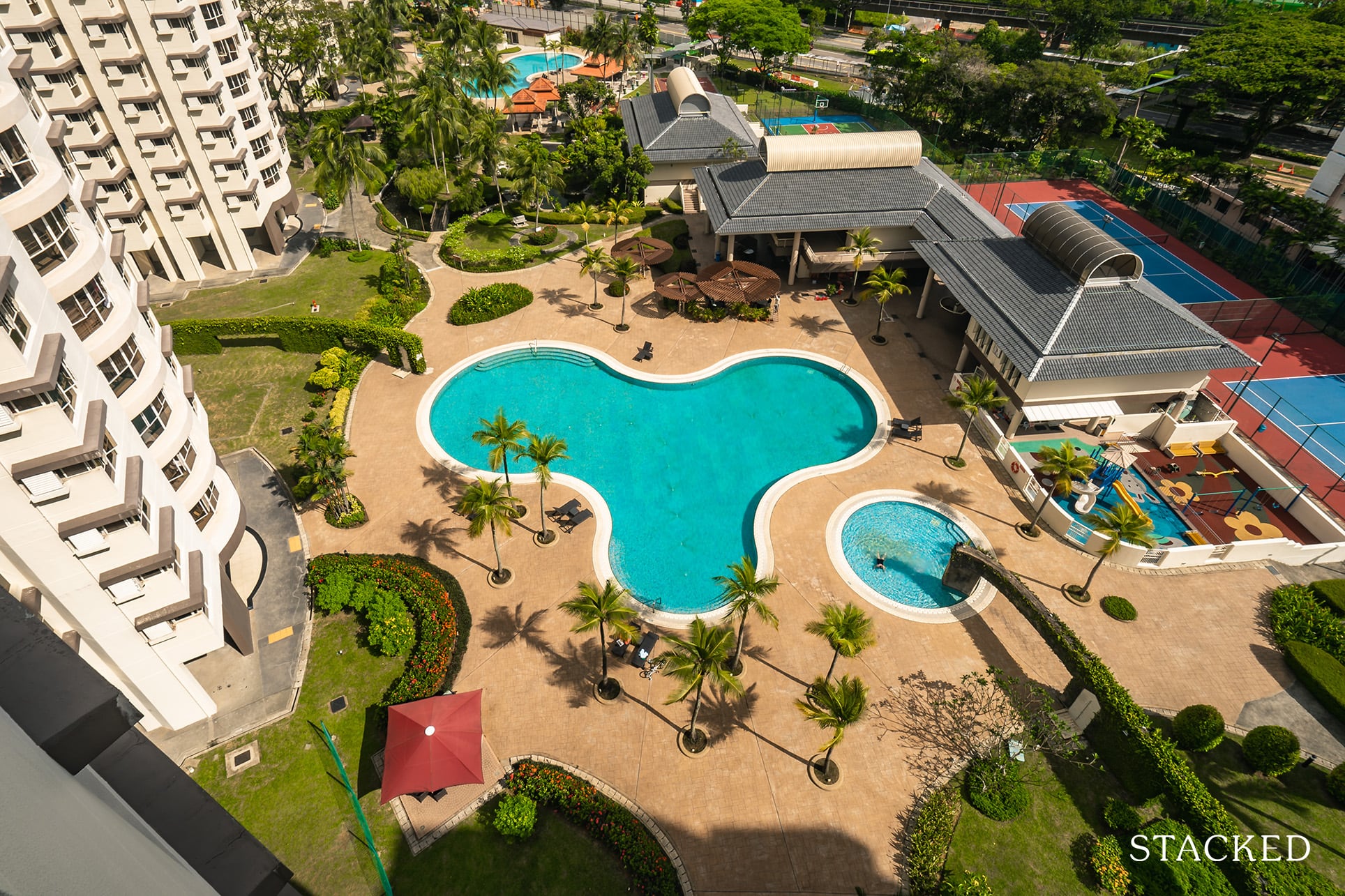 Just to give you a clearer idea of how the facilities are laid out – two identically sized swimming pools, clubhouse/garden/pond in the middle, and flanked by the tennis/basketball courts.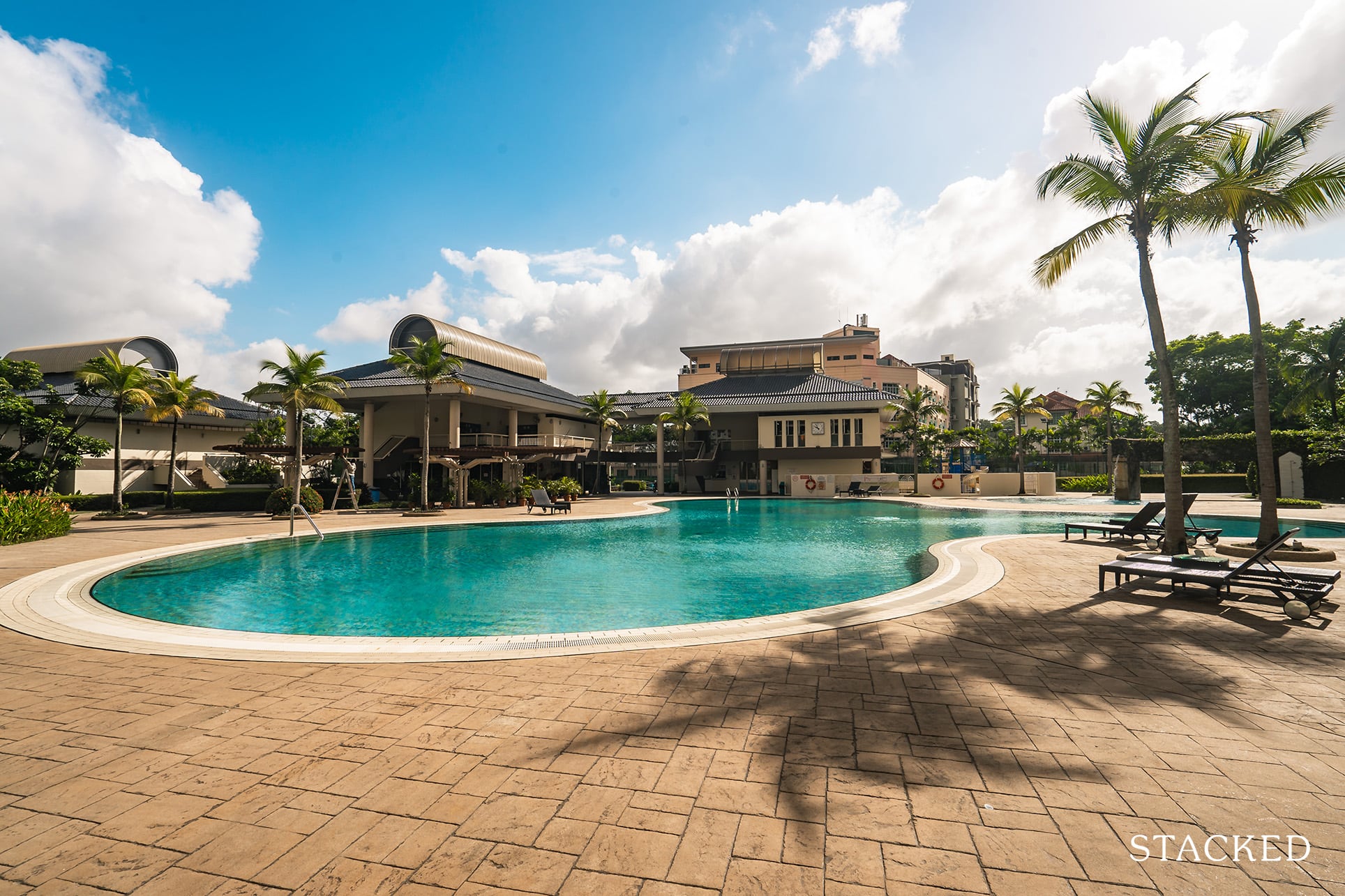 Let's begin with the swimming pool first. Similar to the layout of the development, the swimming pools here are of an unusual shape (to mimic a lake, I suppose). It's a trend that was popular all those years back, but it certainly contributes to the dated look of the estate.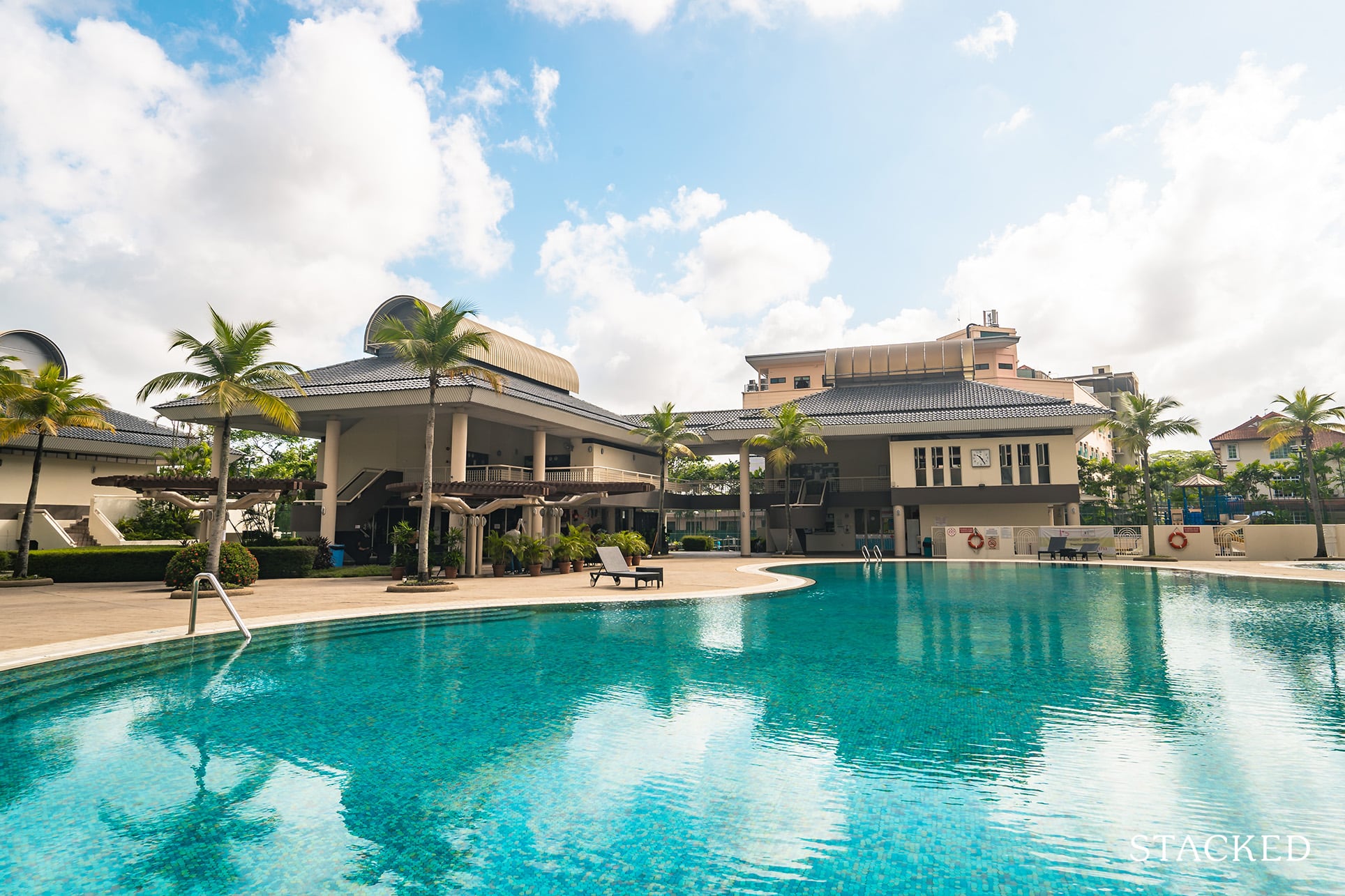 When you see a pool like this, basking and relaxing in the sun is probably the only thought that comes to mind. That doesn't mean you can't swim laps, it is still quite long length wise.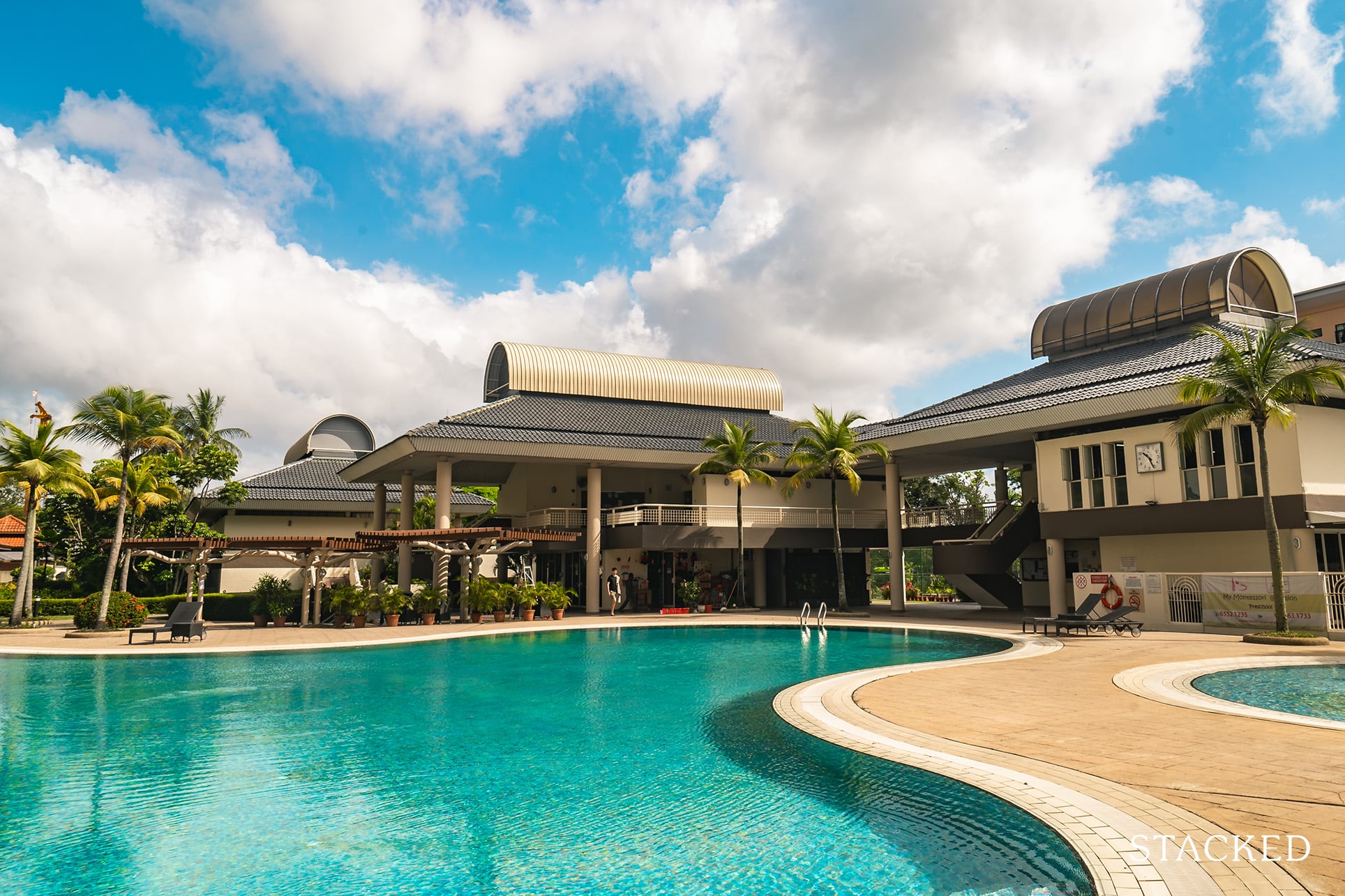 I can't confirm at this point that the swimming pool has been re-tiled. But either ways, it is an extremely positive sign. It's either the maintenance here is super up to mark and the pool looks wonderfully new for 27 years, or yes, it's been re-tiled and you can feel at ease that the management is proactive in constantly improving the development.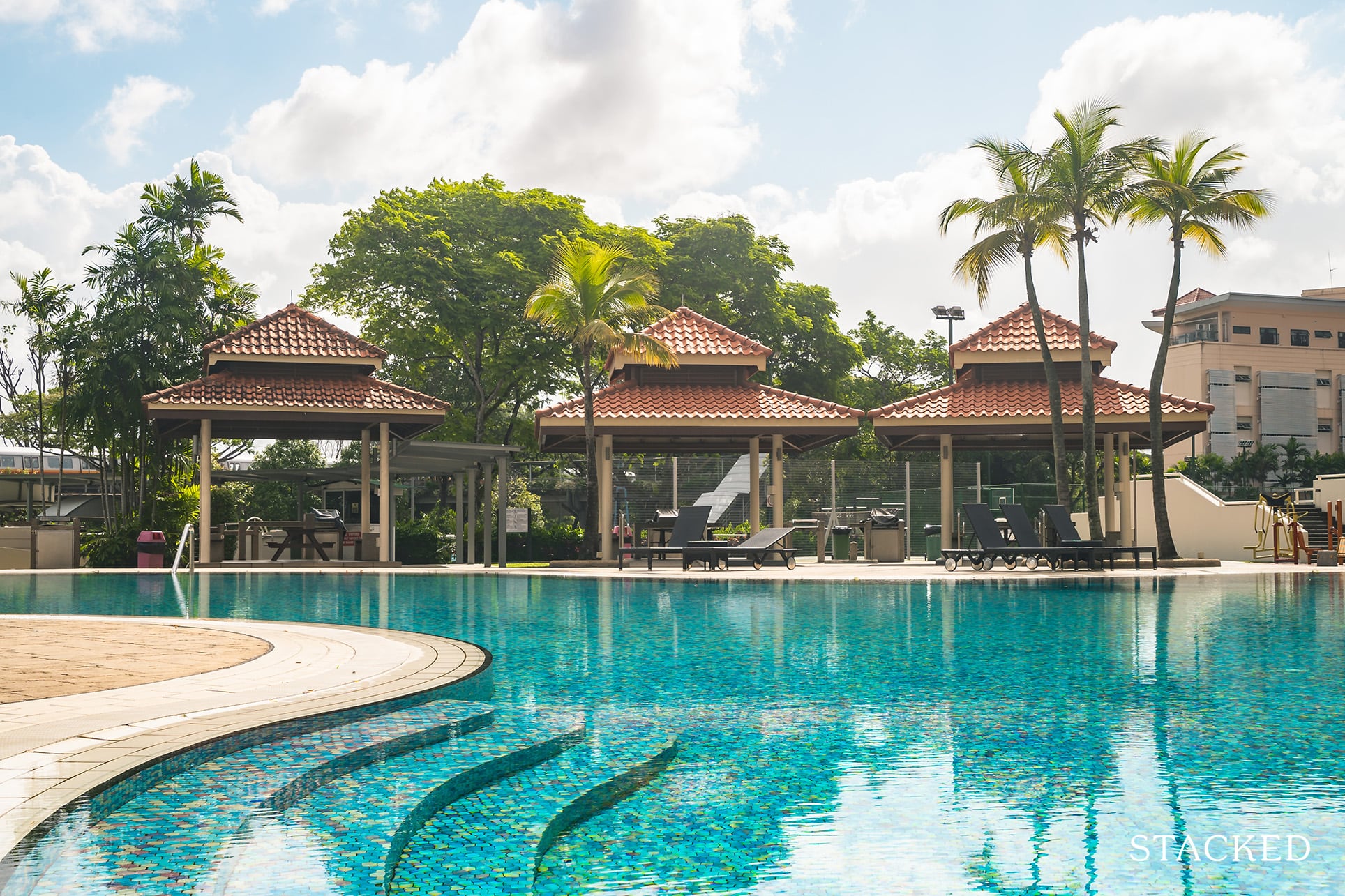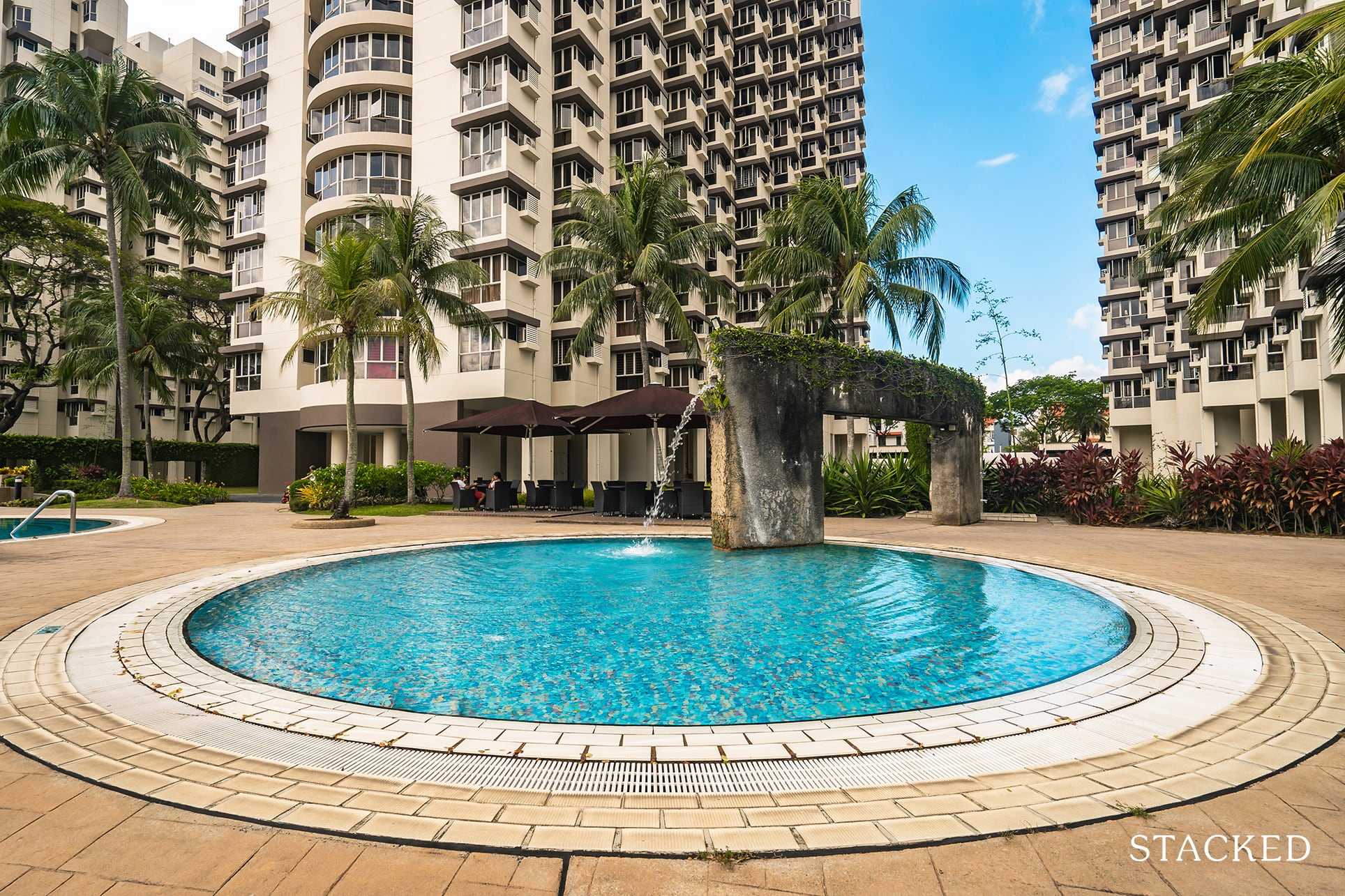 Both swimming pools has its accompanying kids pool. Other than the little water fountain, there isn't much to speak of here.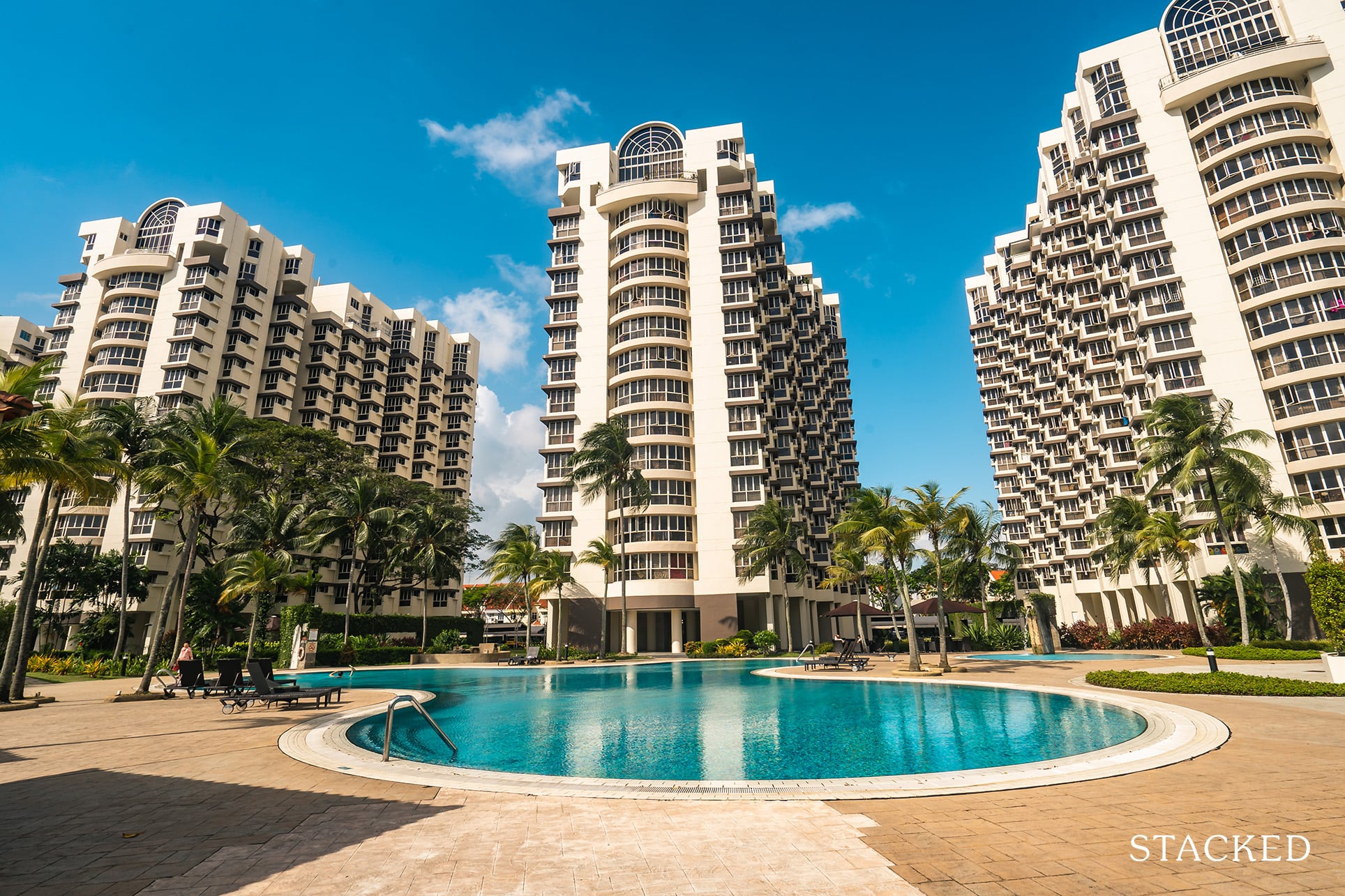 Even though these aren't the prettiest designed buildings you'll see in Singapore, the space does have quite a relaxing ambiance about it.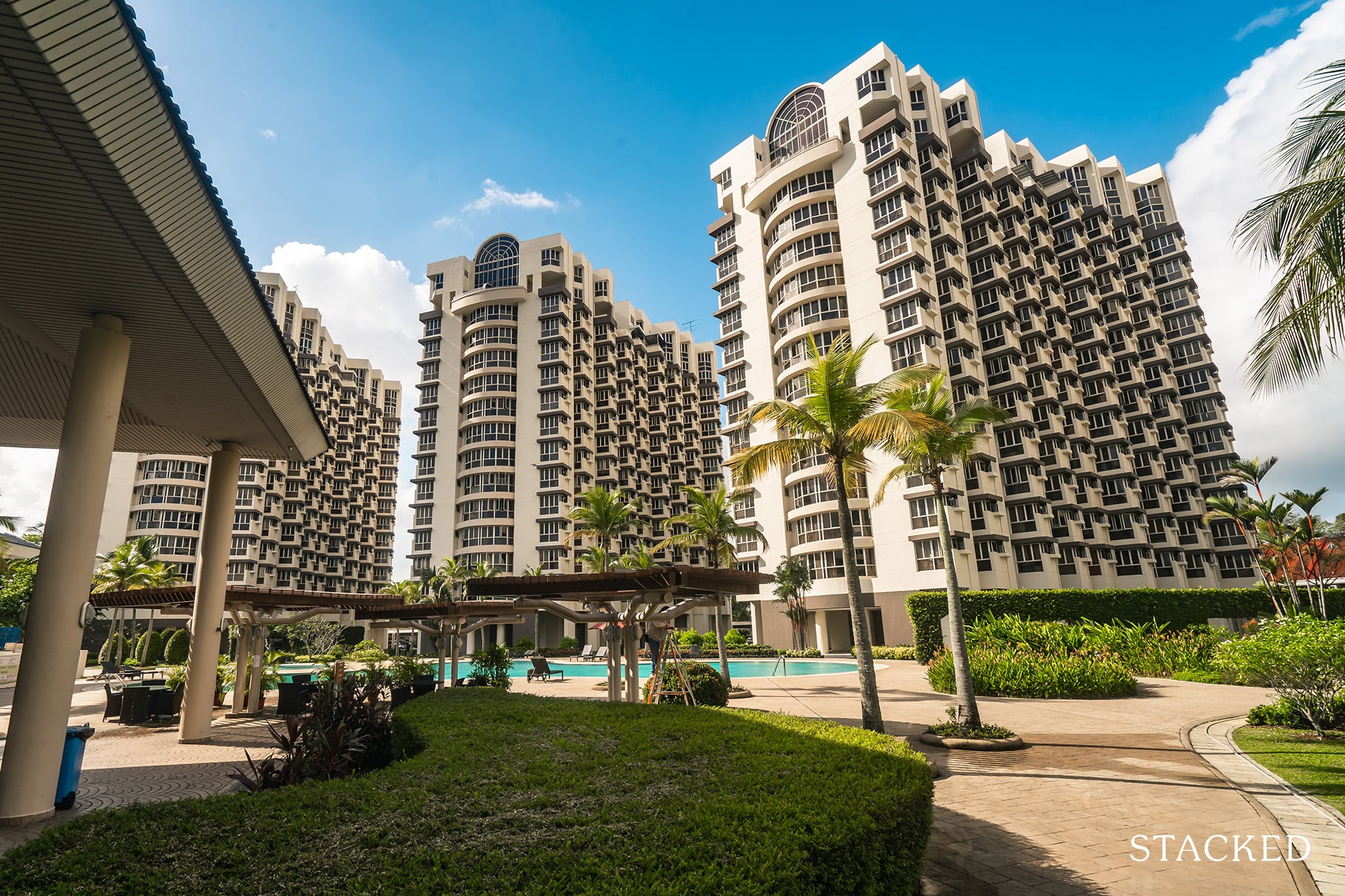 It's hard to put it into words exactly, but there is something very pleasant about a living environment like this. It's not luxurious living, but it is very very comforting.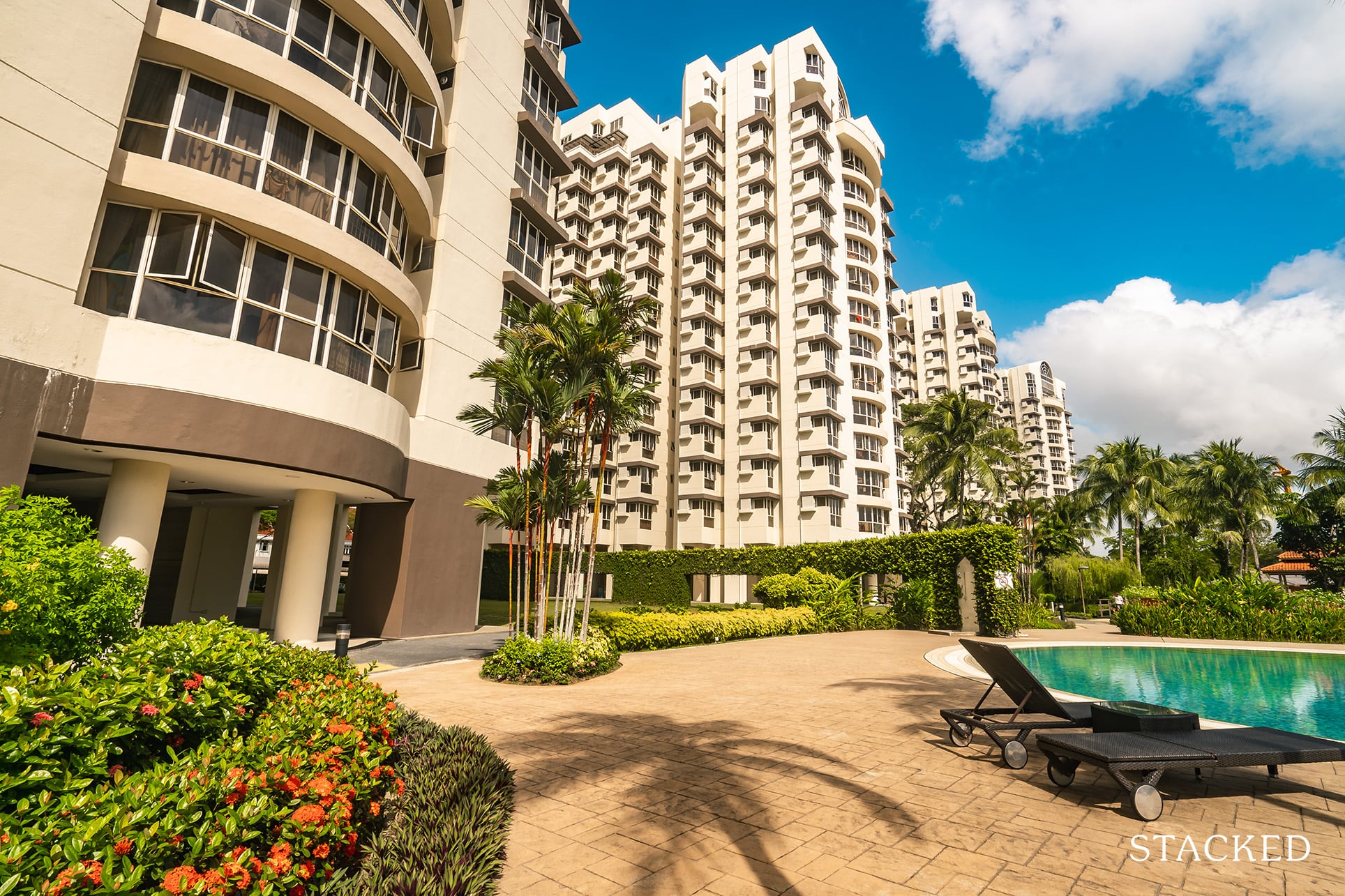 But if space is luxury in your books, then Bullion Park is an ultra luxurious one. And that's why I think most people would be attracted to living here. Sure, the location is not for everyone – but if you have been living in the area it is surely worth a shout.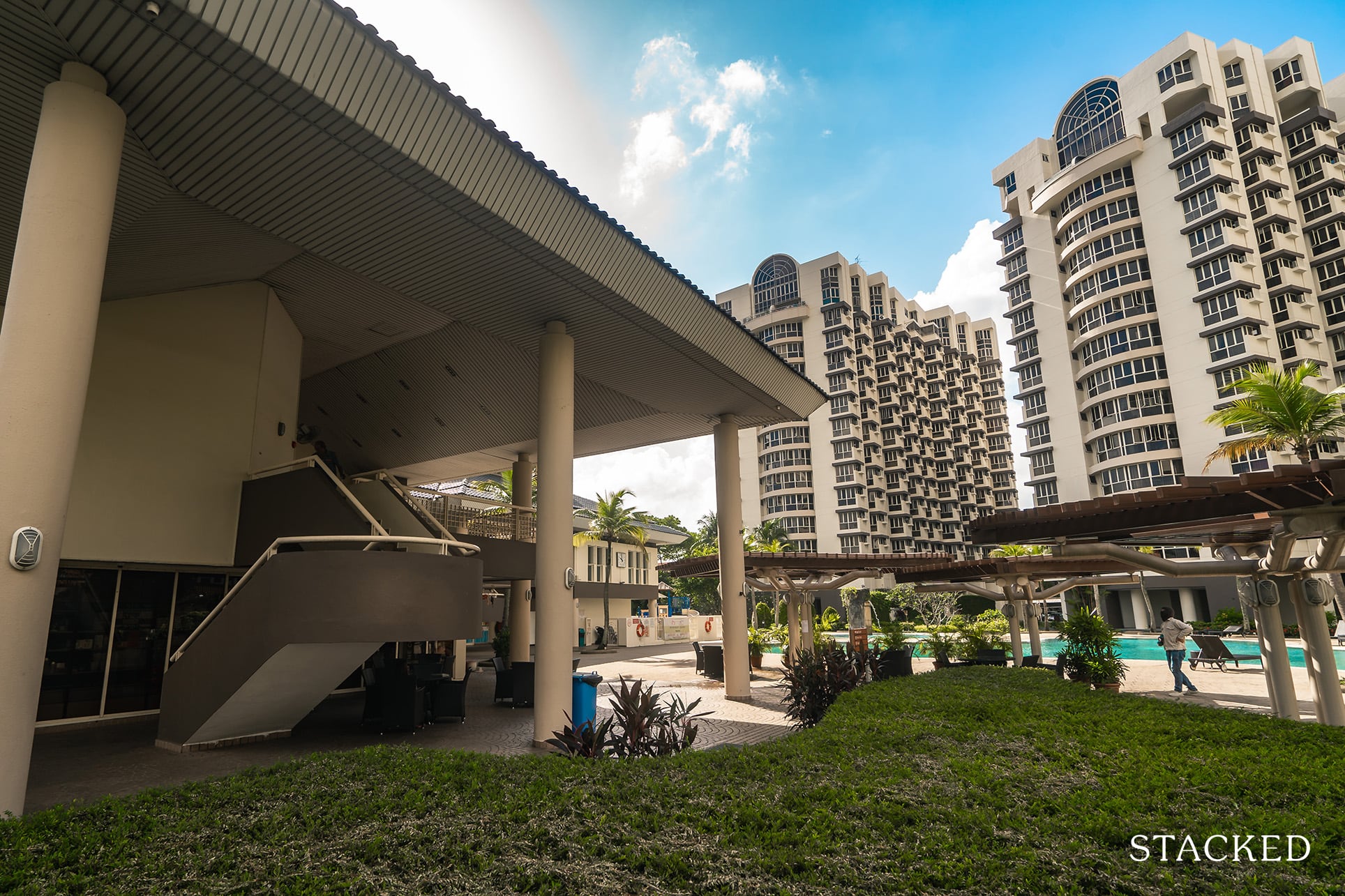 If I'm perfectly honest, the clubhouse is quite unattractive looking. It has a similar vibe to a primary school built in the 1990s – it's dull and not appealing at all.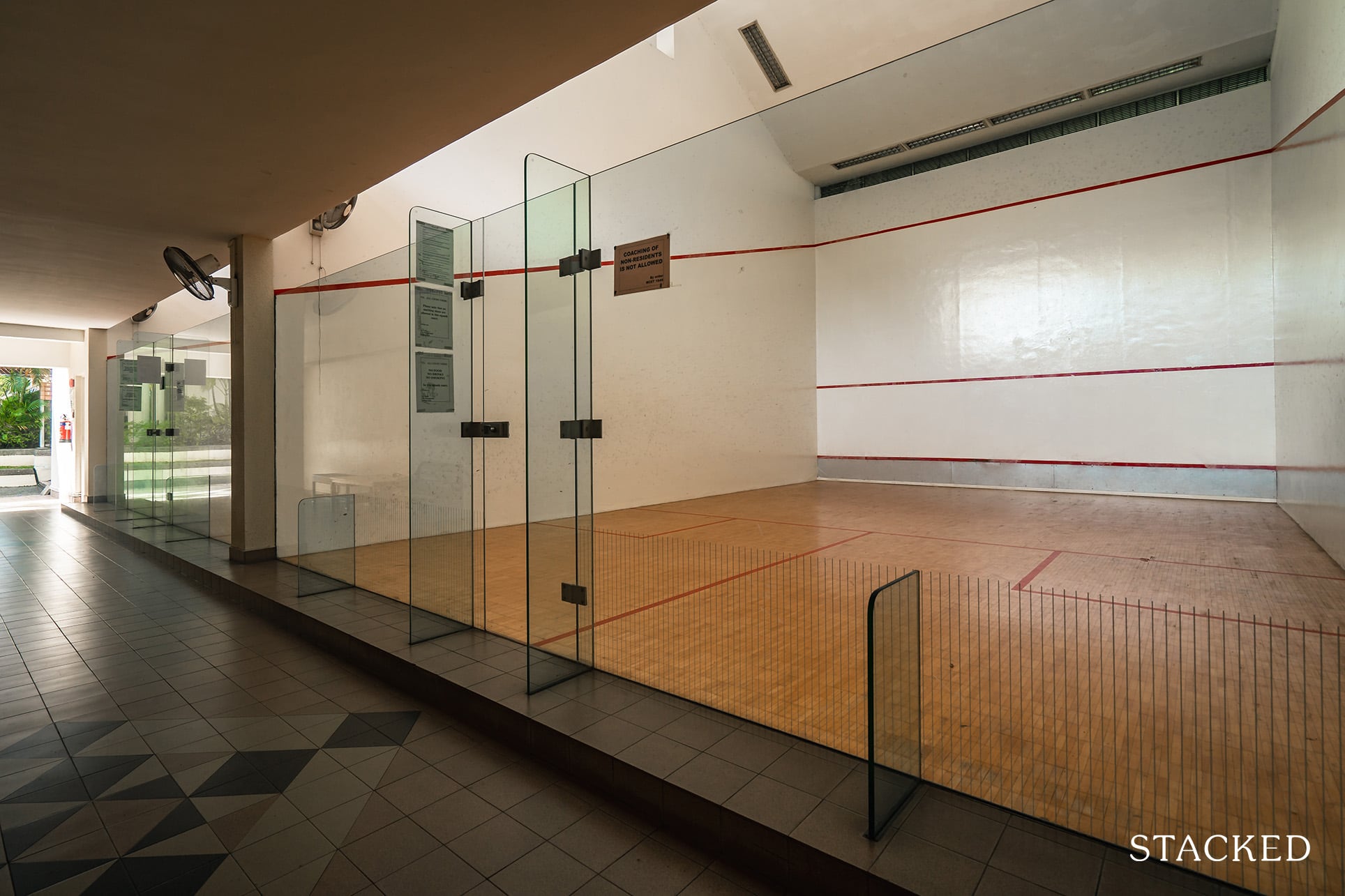 But even its plain vanilla exterior cannot detract from the fact that it has a good range of facilities. First up, two indoor squash courts.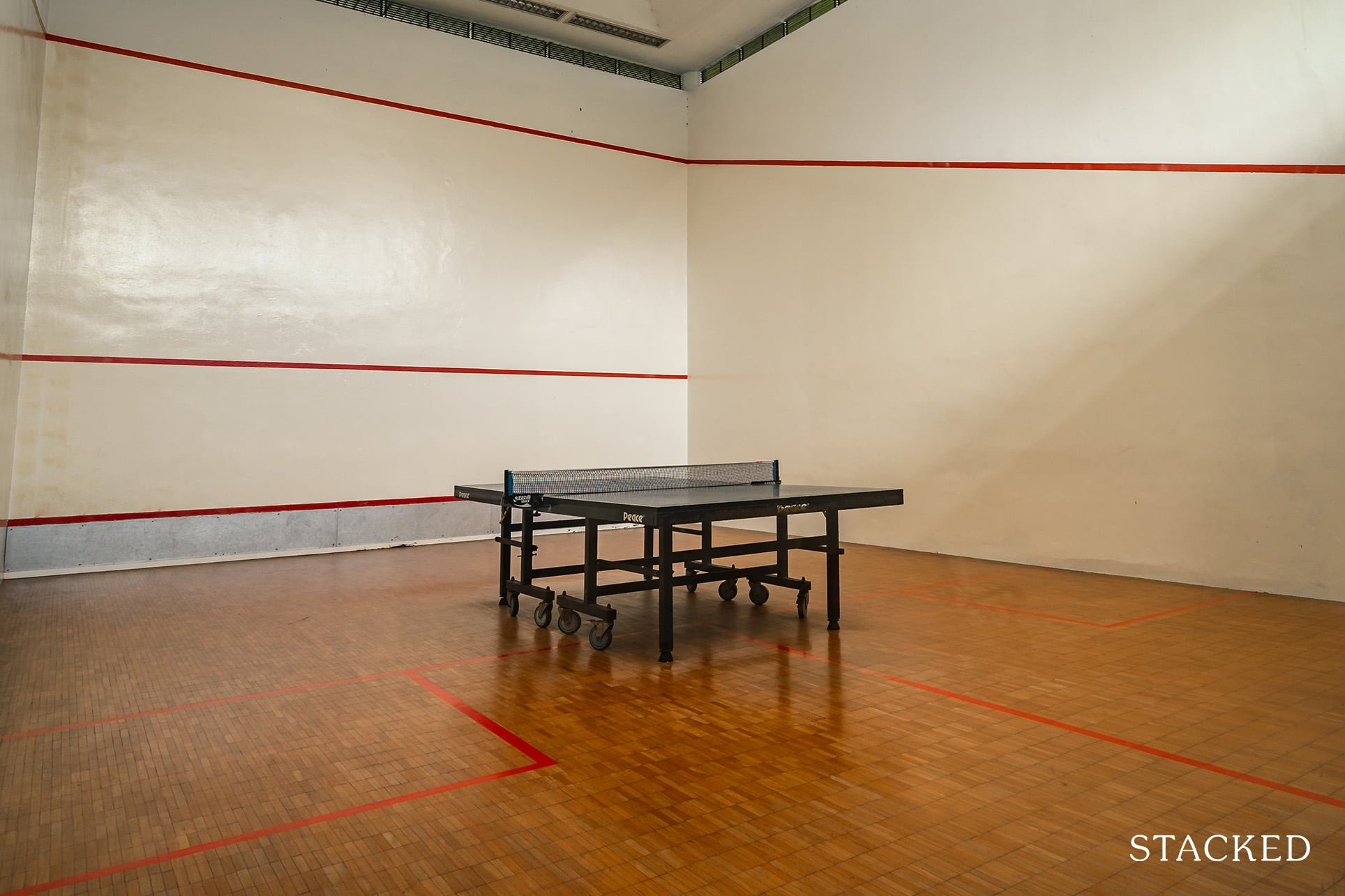 It seems as if the residents have decided that squash is a dying sport in Singapore – as such, a Table Tennis table has been placed inside instead.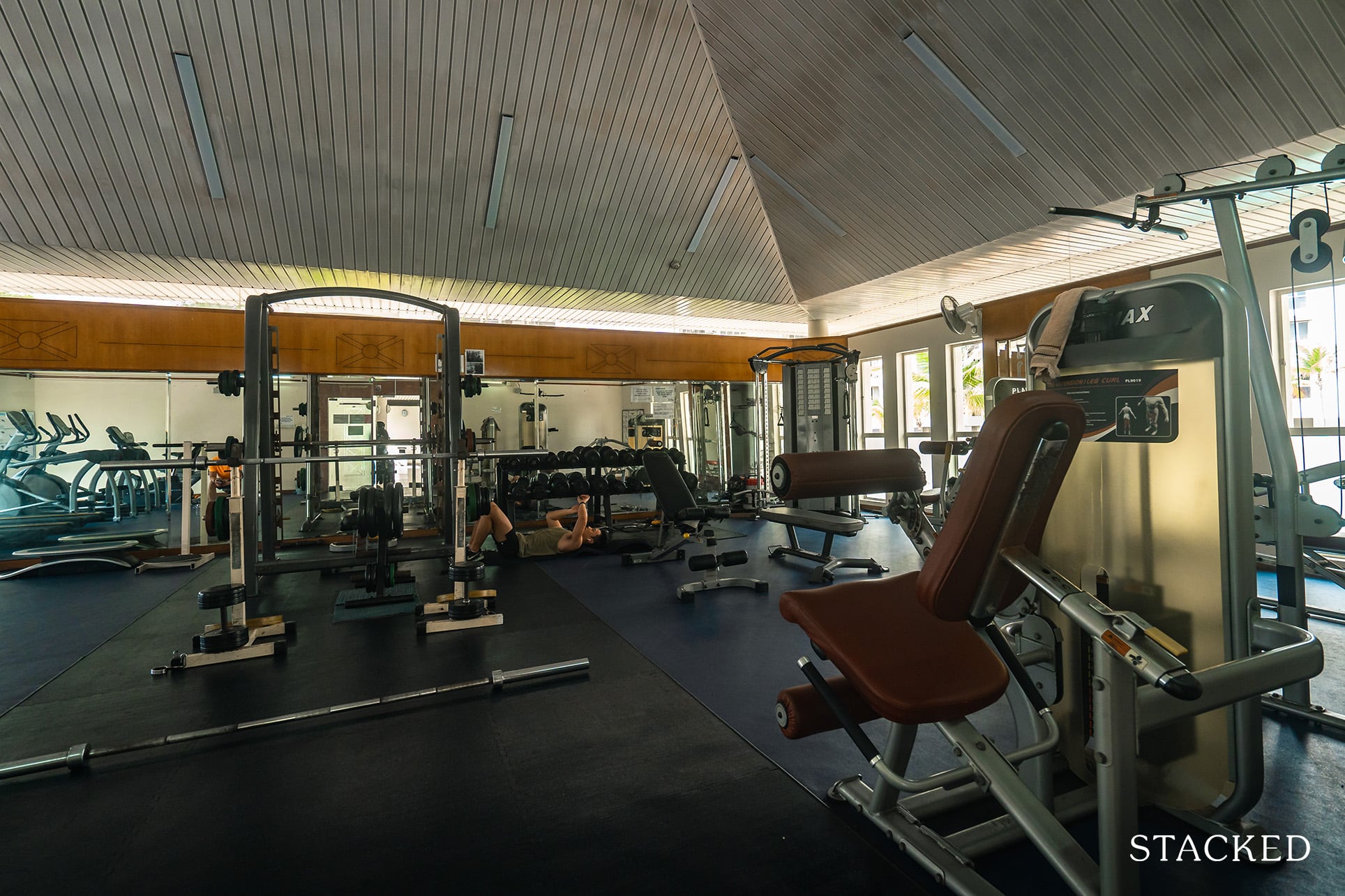 Once again, the gym here has gently reminded me to never judge a book by its cover. If you love to work out, the gym here has everything you probably need. Aerobic equipment, exercise machines, and a good range of free weights – it is serious stuff.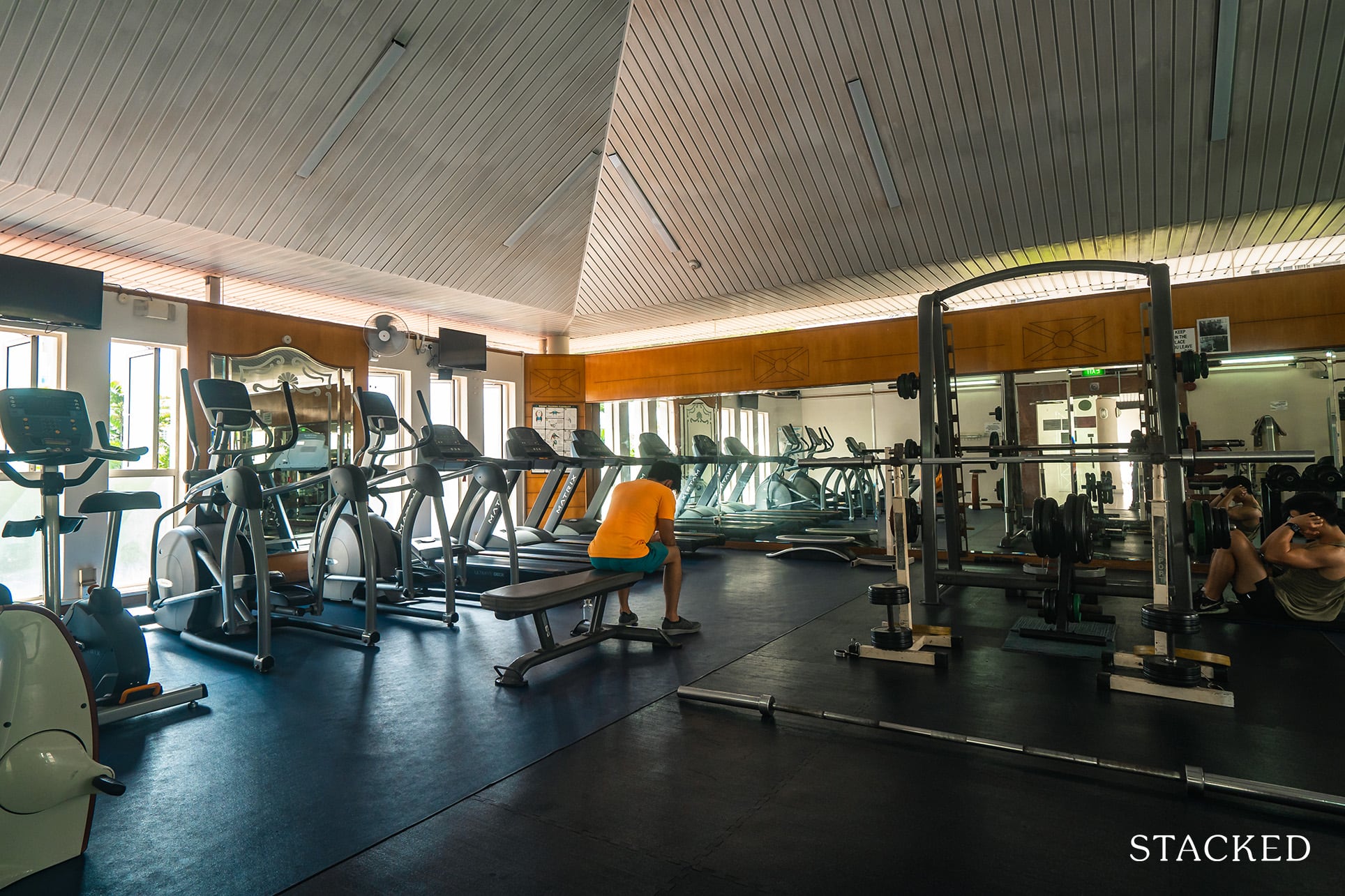 I really like the high ceilings here too, it really goes a long way into making the gym feel that much more spacious.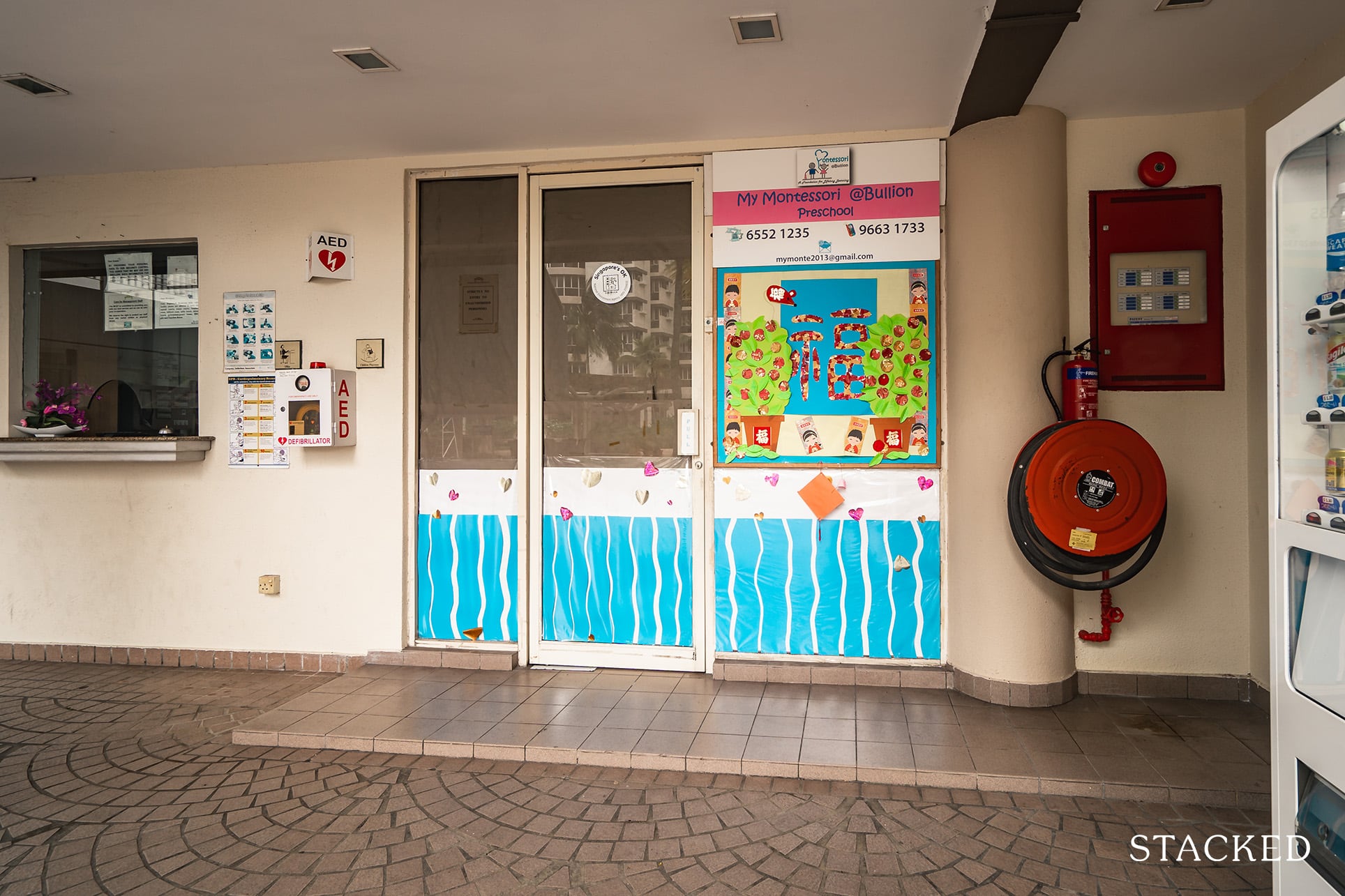 And that's not all – there is even a Montessori preschool situated here.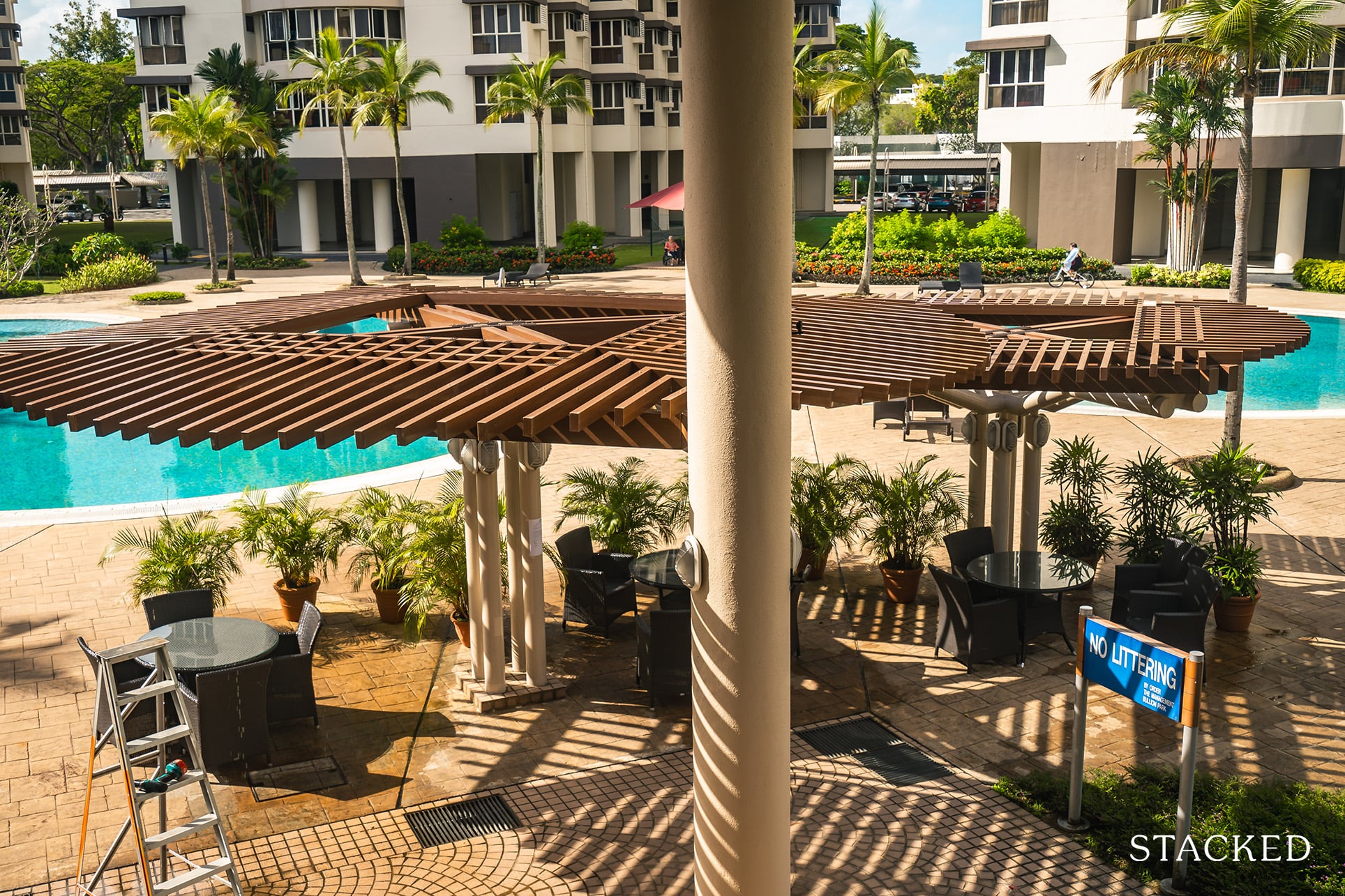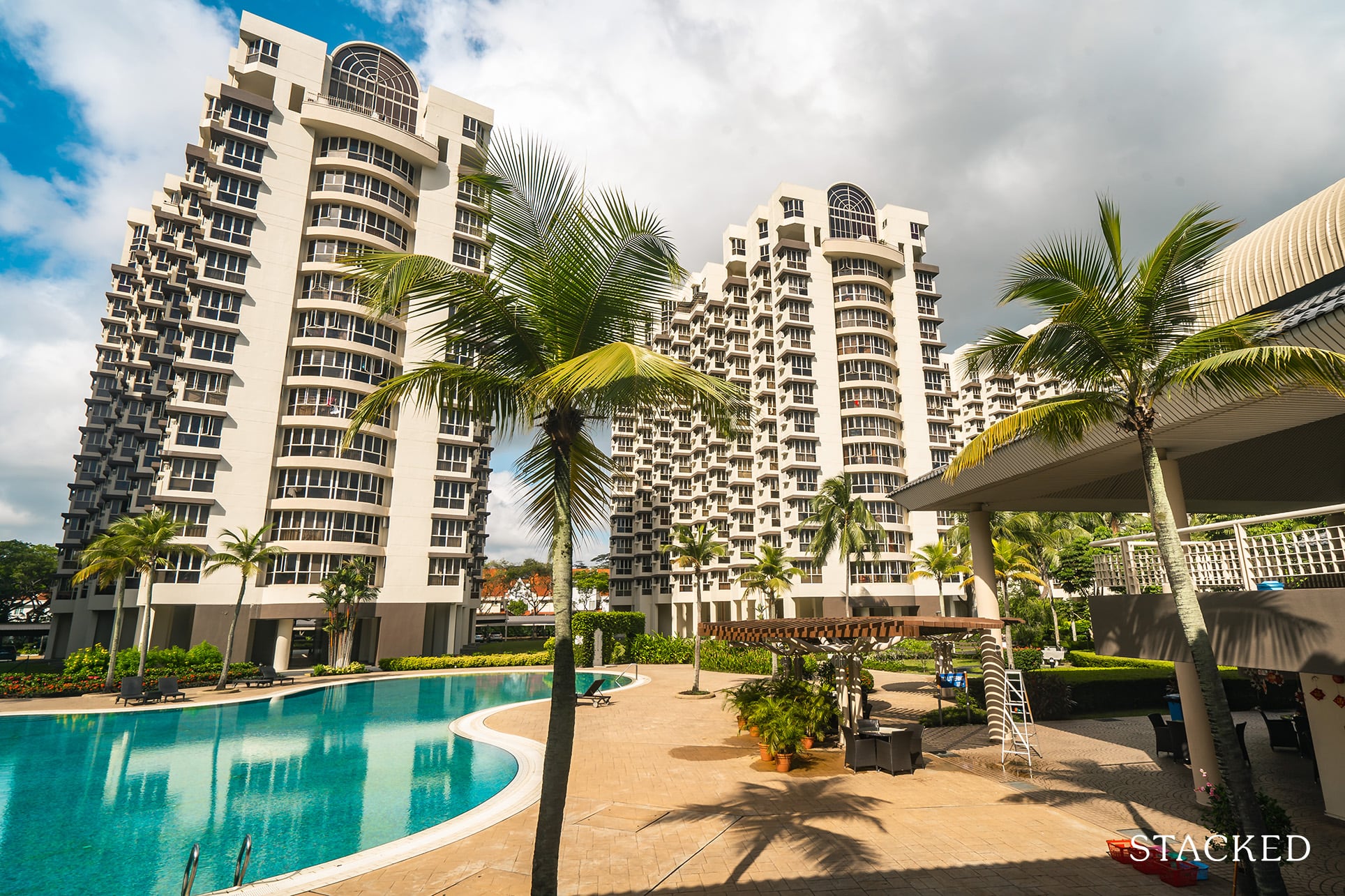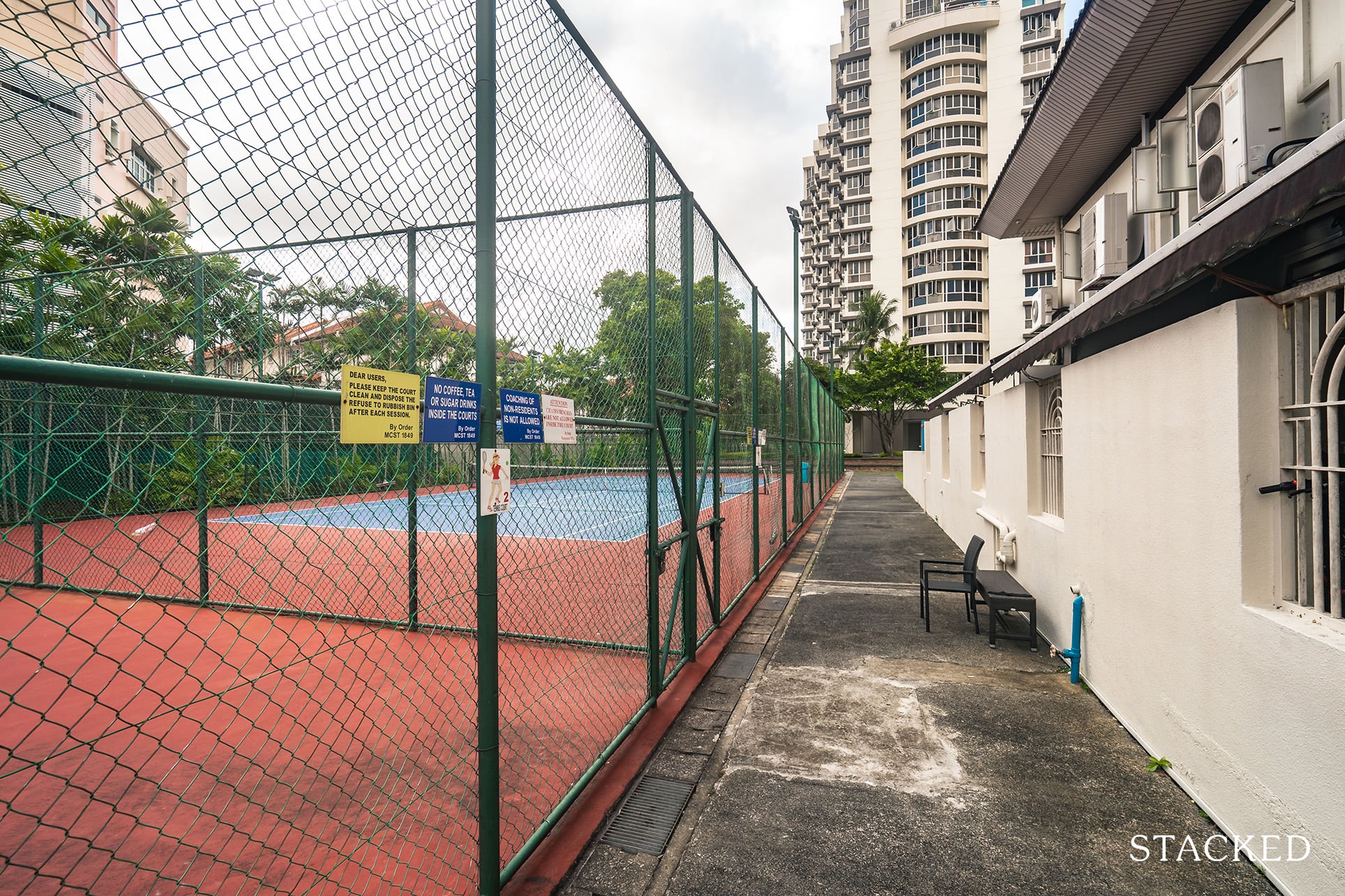 Beside the clubhouse are the two tennis courts. Here's a bit of a history lesson for you – in the early days they used to have 3 tennis courts. As much as Singaporeans love their tennis, even 3 is a bit of an overkill for a development of this size. So they've very cleverly turned that into a basketball court instead.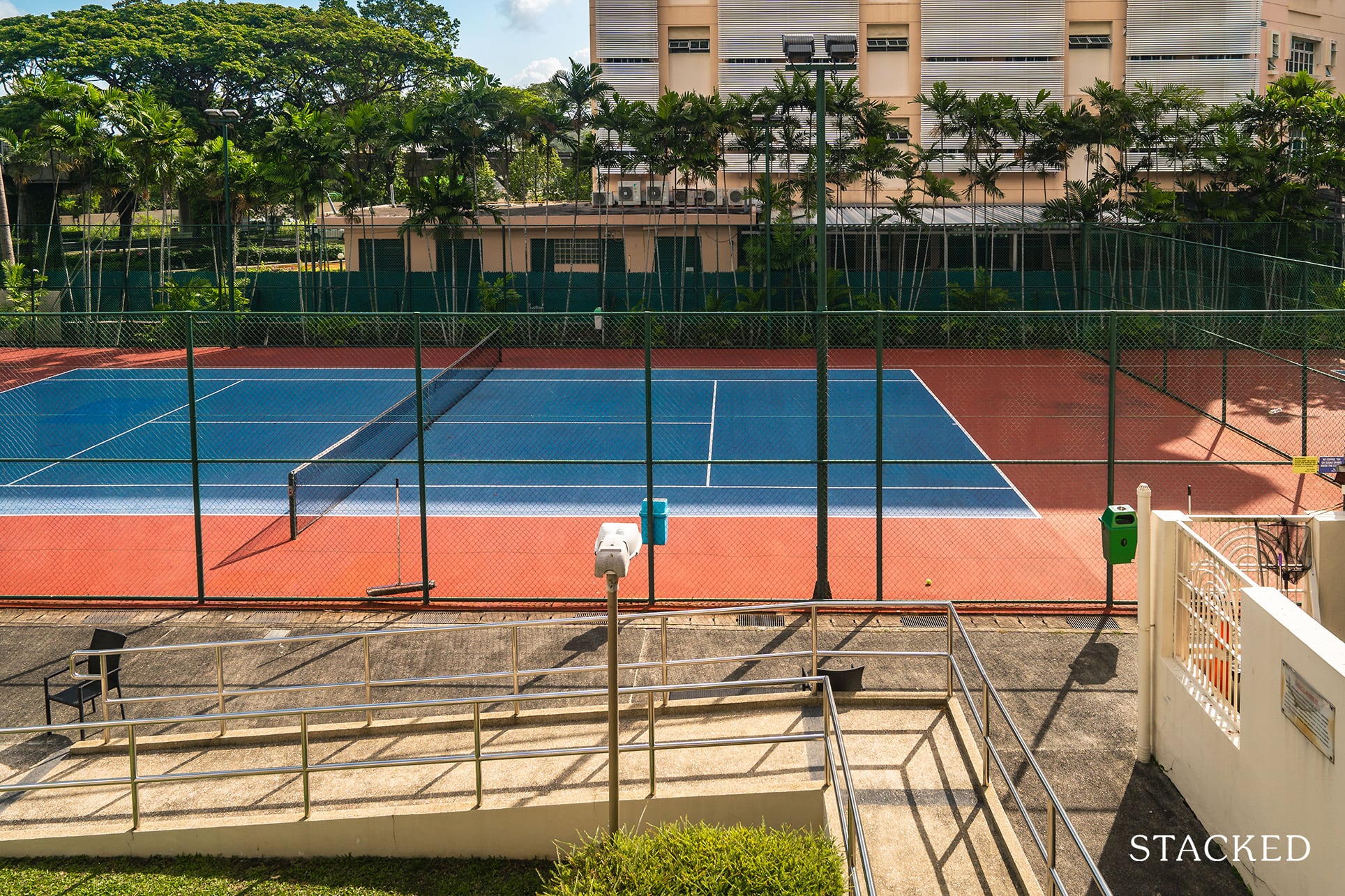 The tennis courts were just resurfaced recently, so this should last a good number of years more.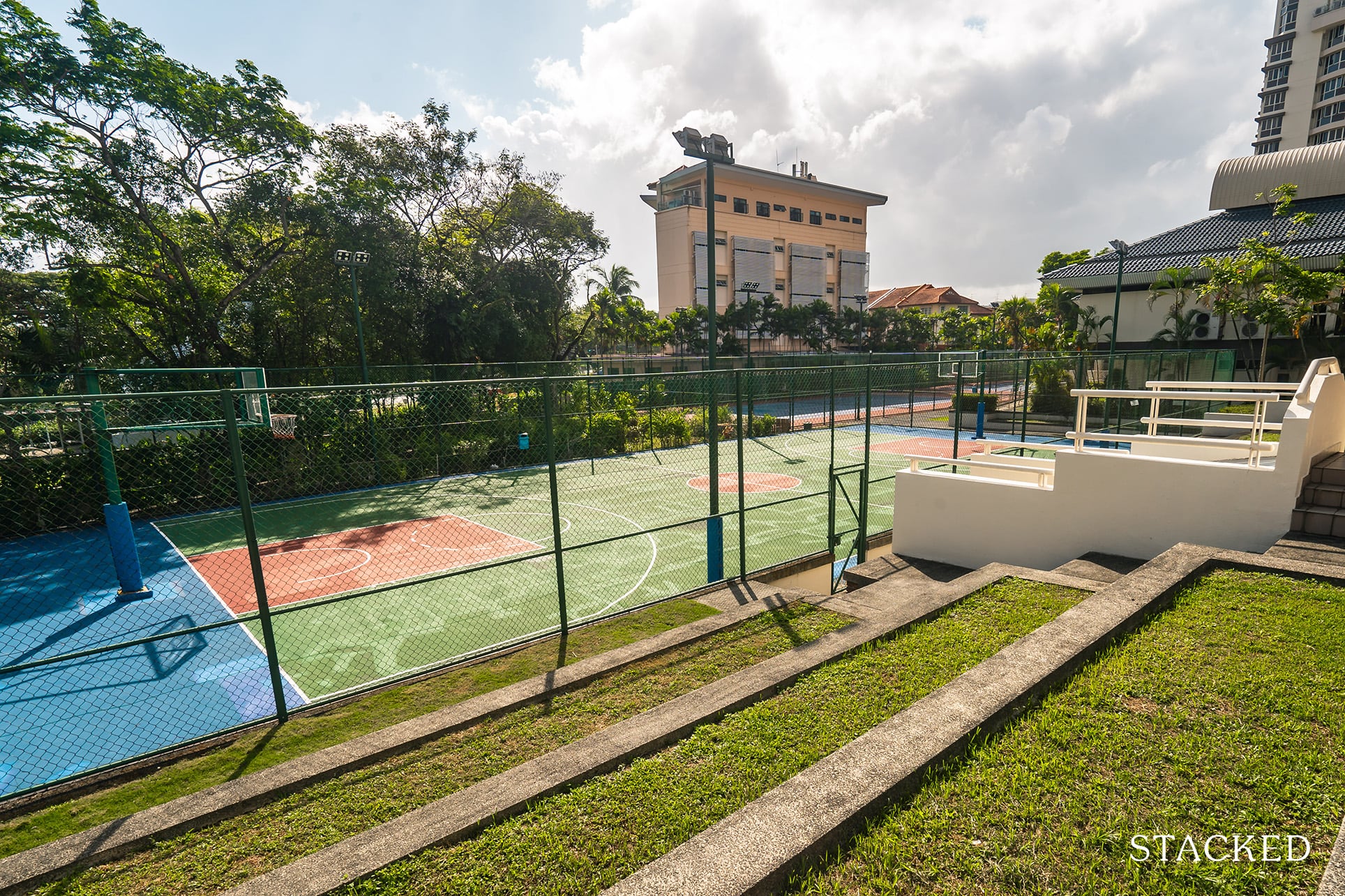 This is the repurposed tennis court – it even comes with its own bleacher style "seats".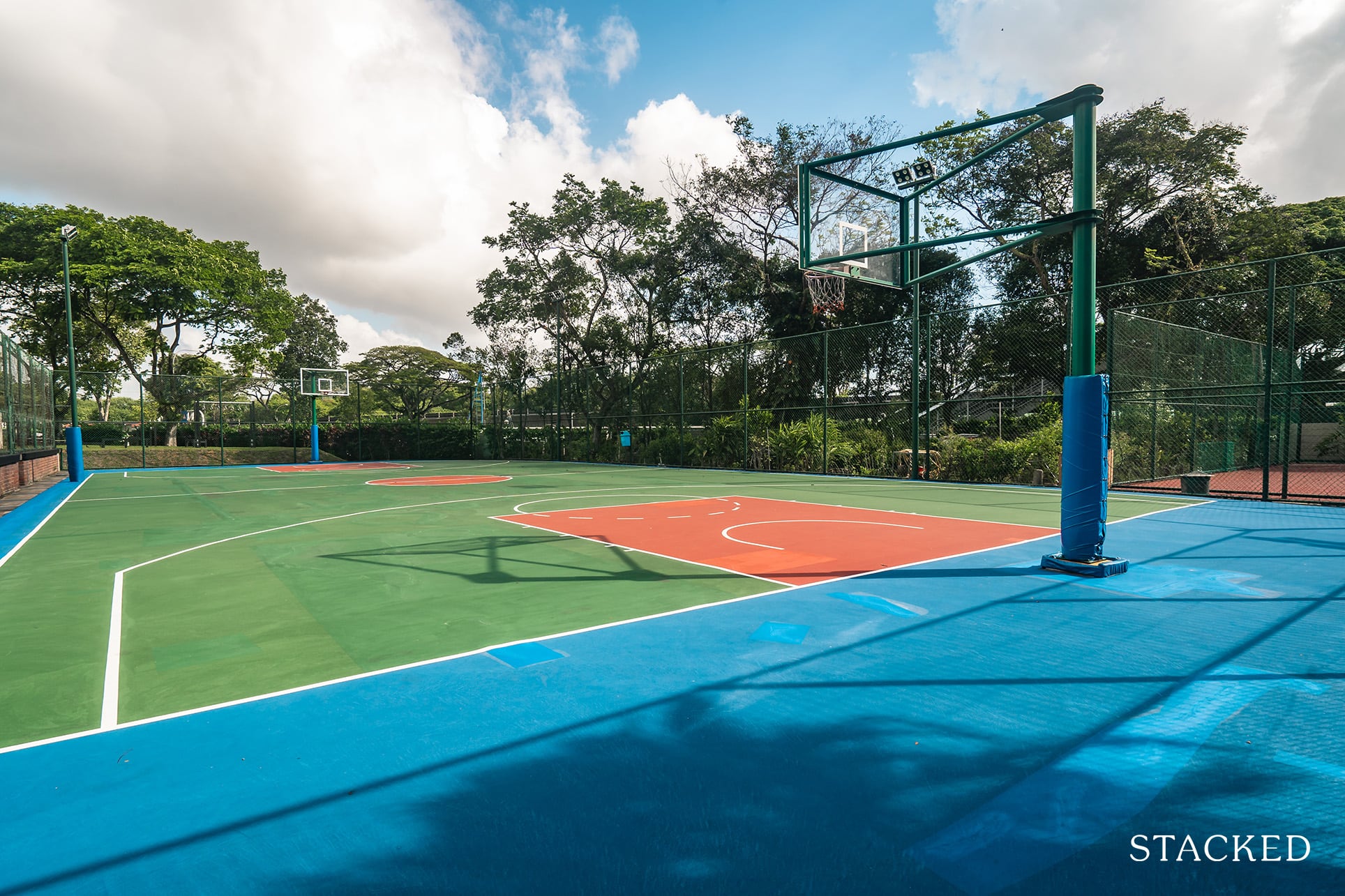 So because this was formally a tennis court, it resulted in a pretty massive basketball court. All that's missing are football goal posts!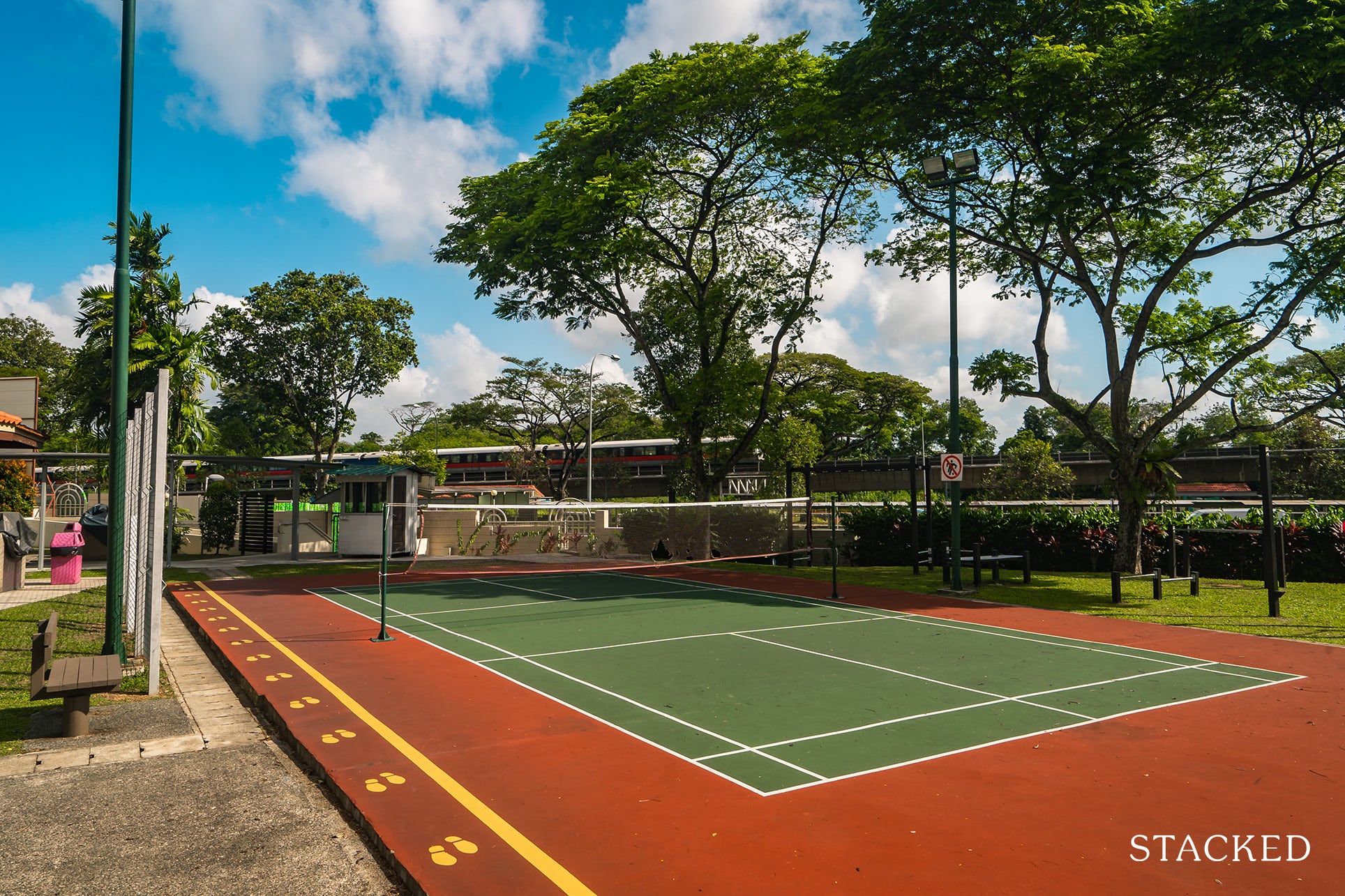 With the generous land, there is even enough space for a multi-purpose court. In this case with the net, you could use it for a round of badminton – or for the traditional at heart – sepak takraw.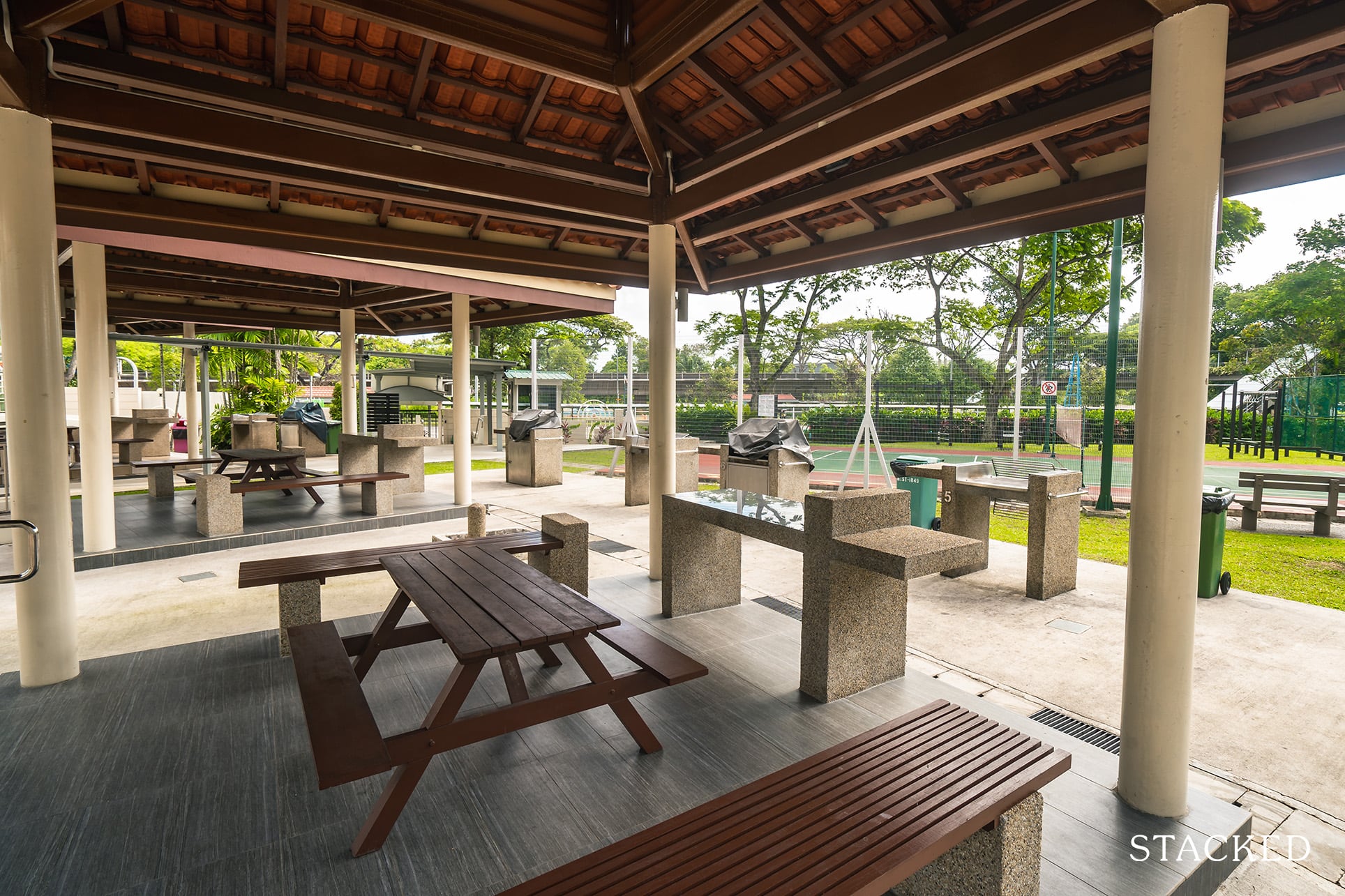 Of course, you have your usual barbecue areas. With the tiled sloping roof, it does give off a very chalet-styled vibe.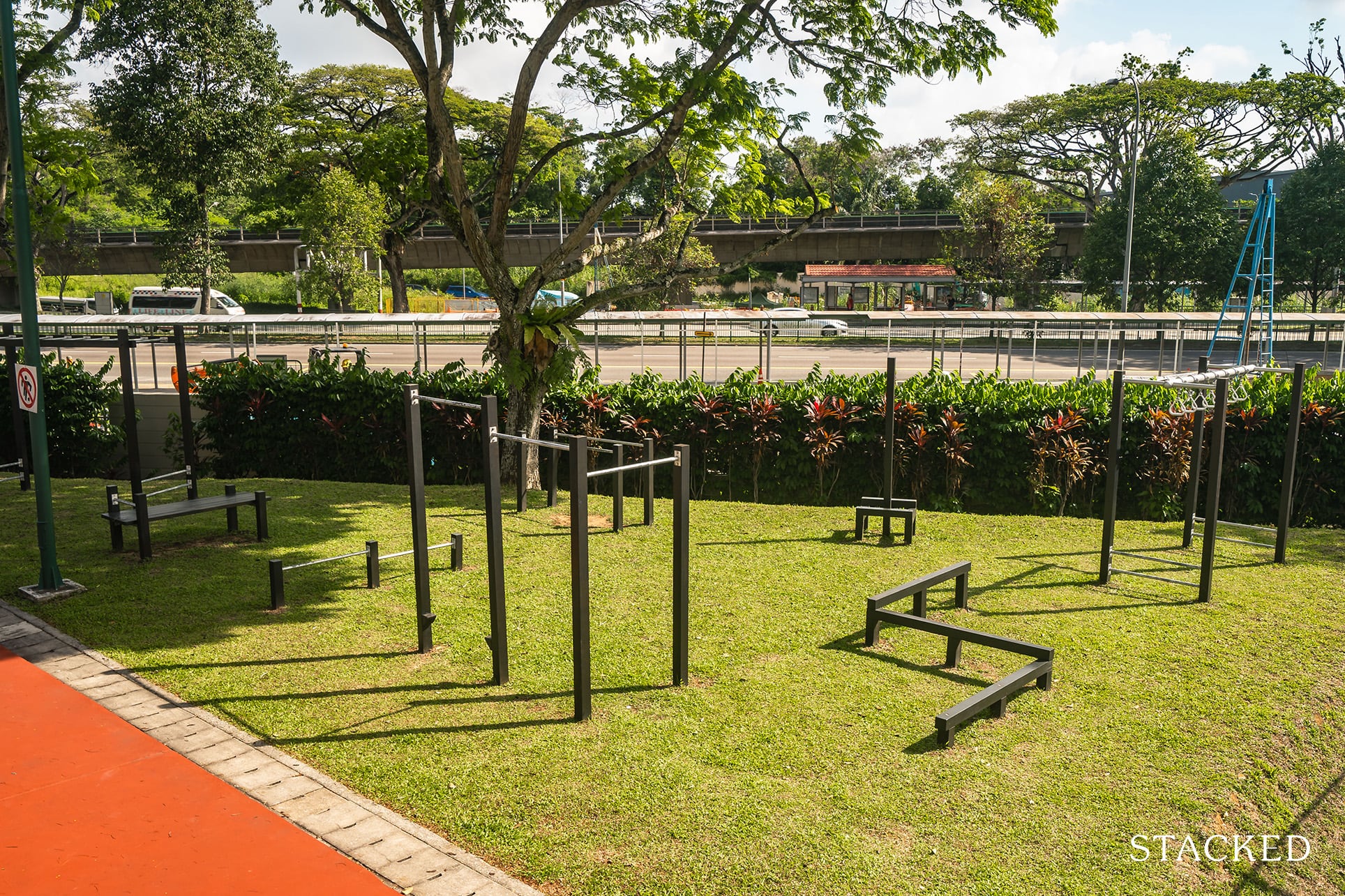 The barbecue area faces the outdoor fitness station. It looks very old school – it certainly wouldn't look out of place in an army camp!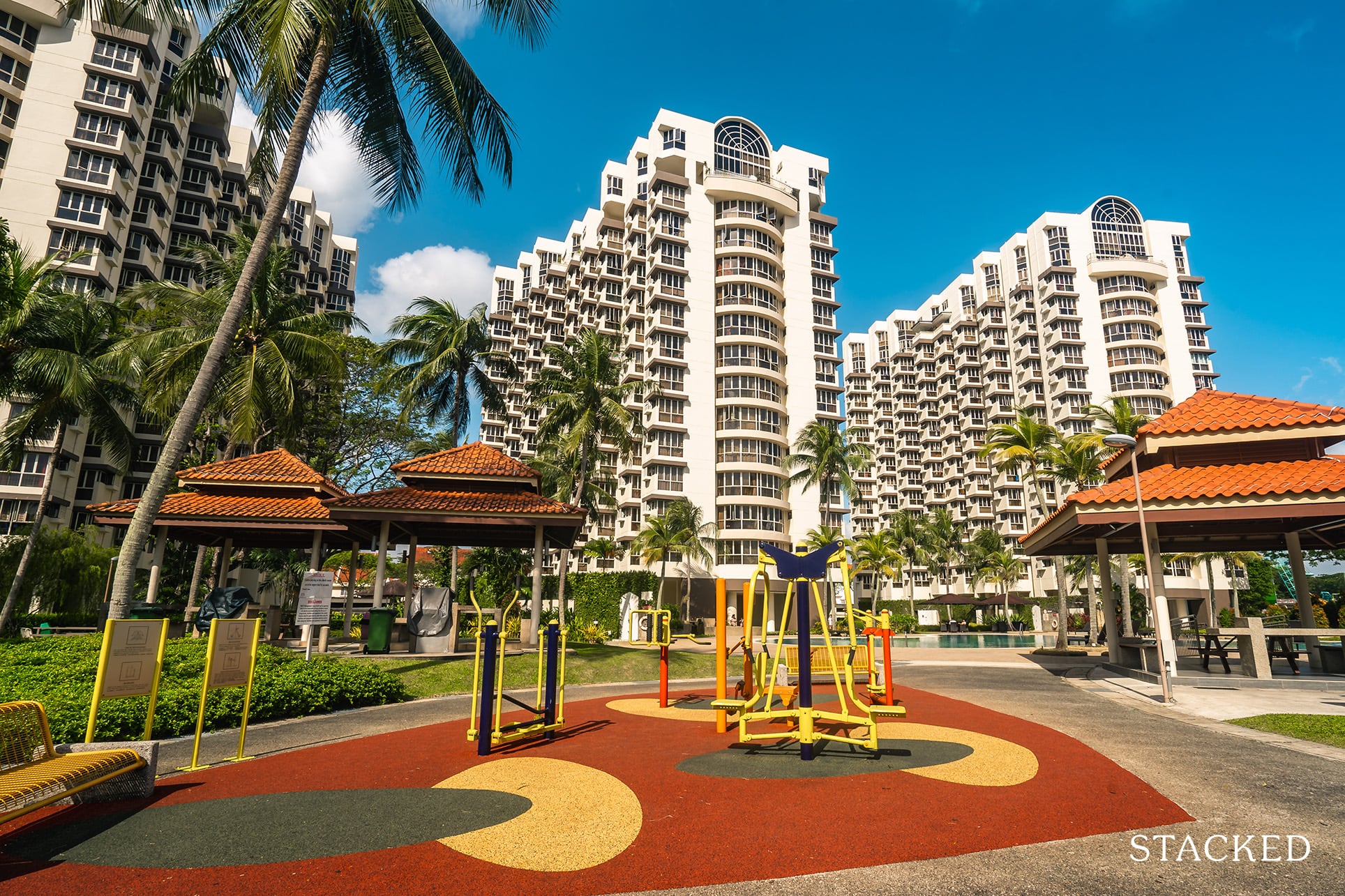 You do get a newish looking fitness station area too.
And what has become pretty much a prerequisite for condos in Singapore now – a children's playground. You can see the clear contrast between this and all the other facilities – this one is showing its age. The rubber flooring and slides have very obviously faded due to the many years of hot sun.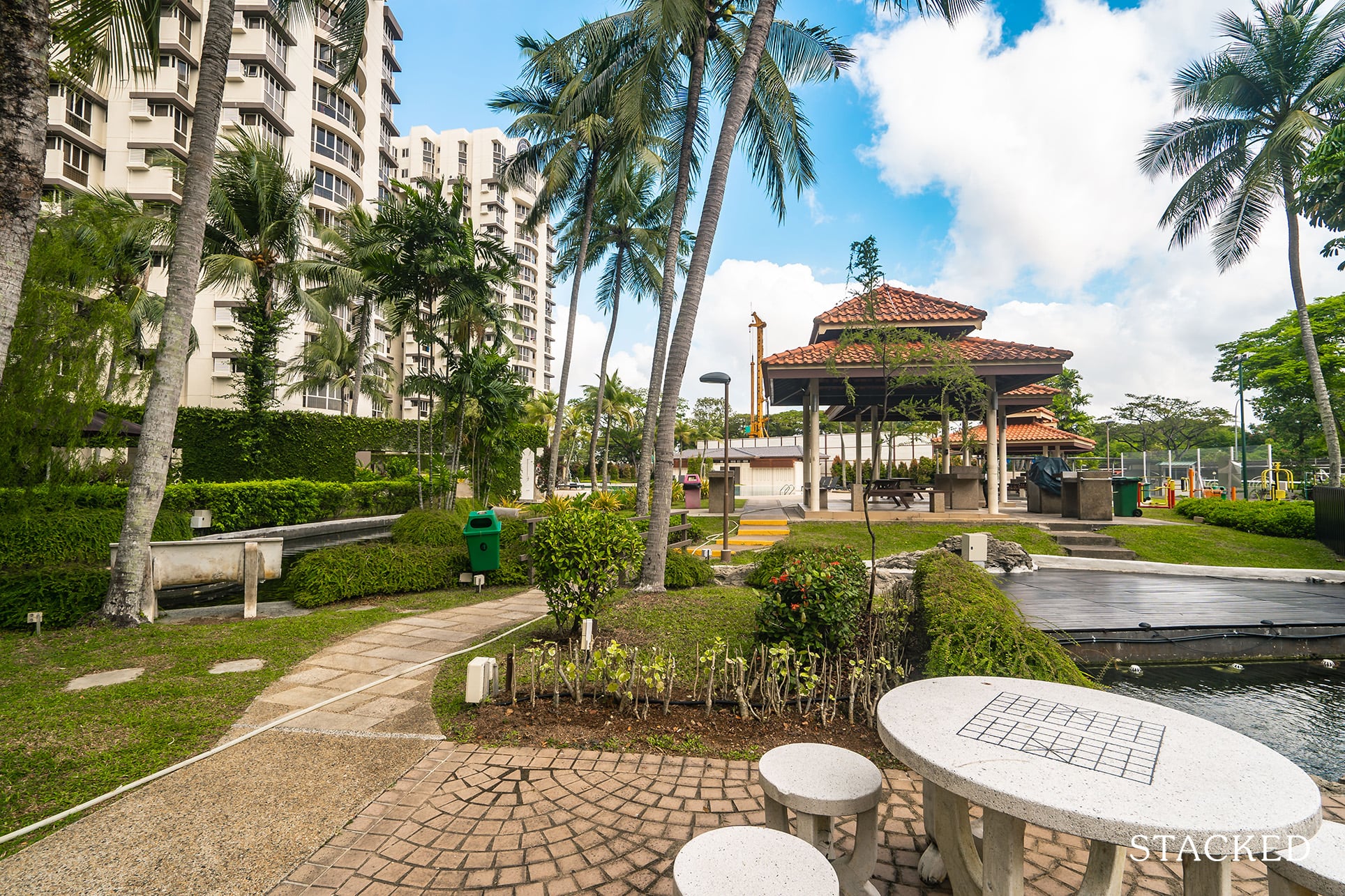 Last but not least, there is a sizeable plot in the middle that is dedicated to a garden space.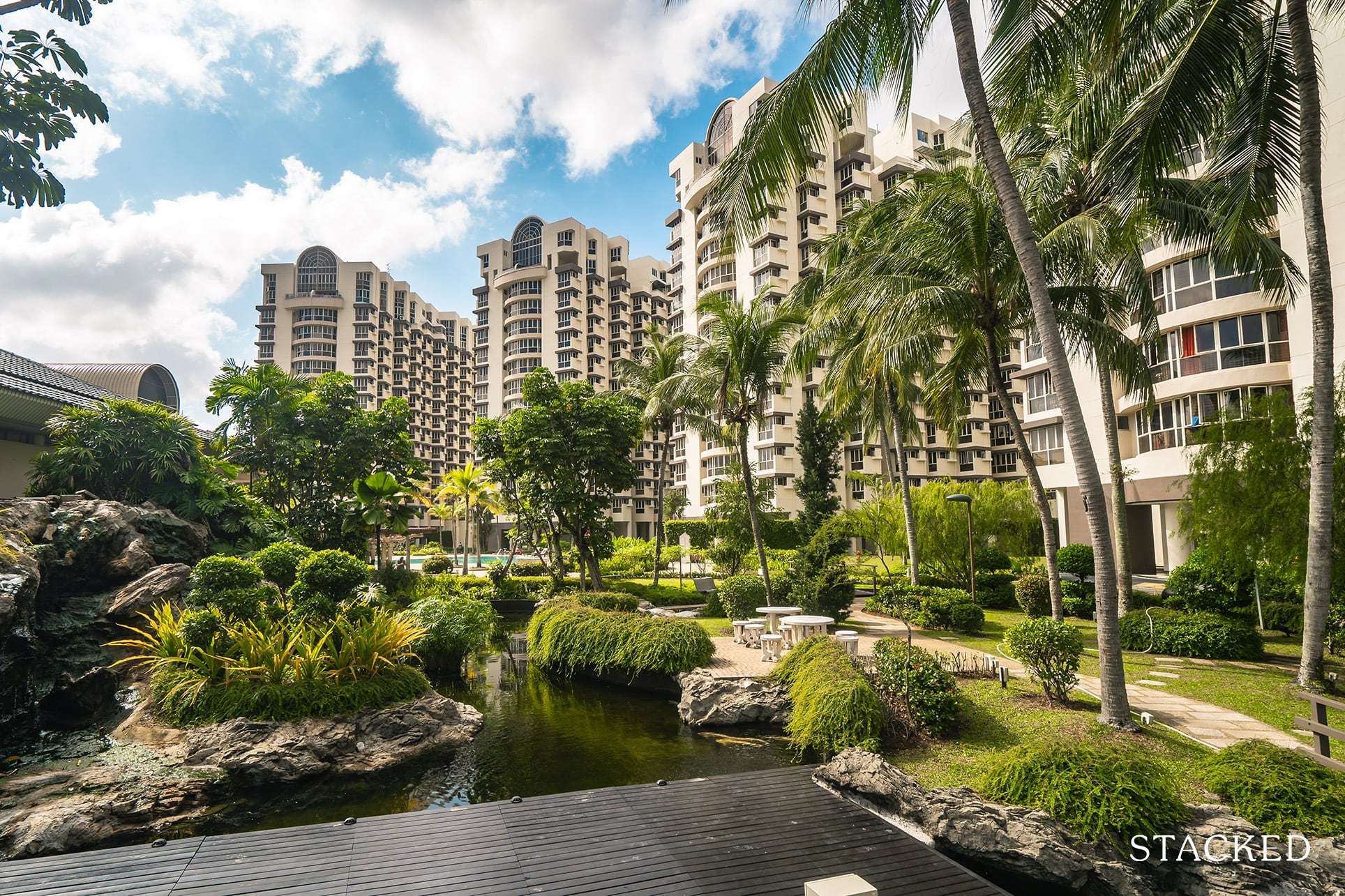 It's like having your very own park in the middle of the development. Whether it be to walk your dog, have a private chat, or just daily morning walks – it is a really serene space.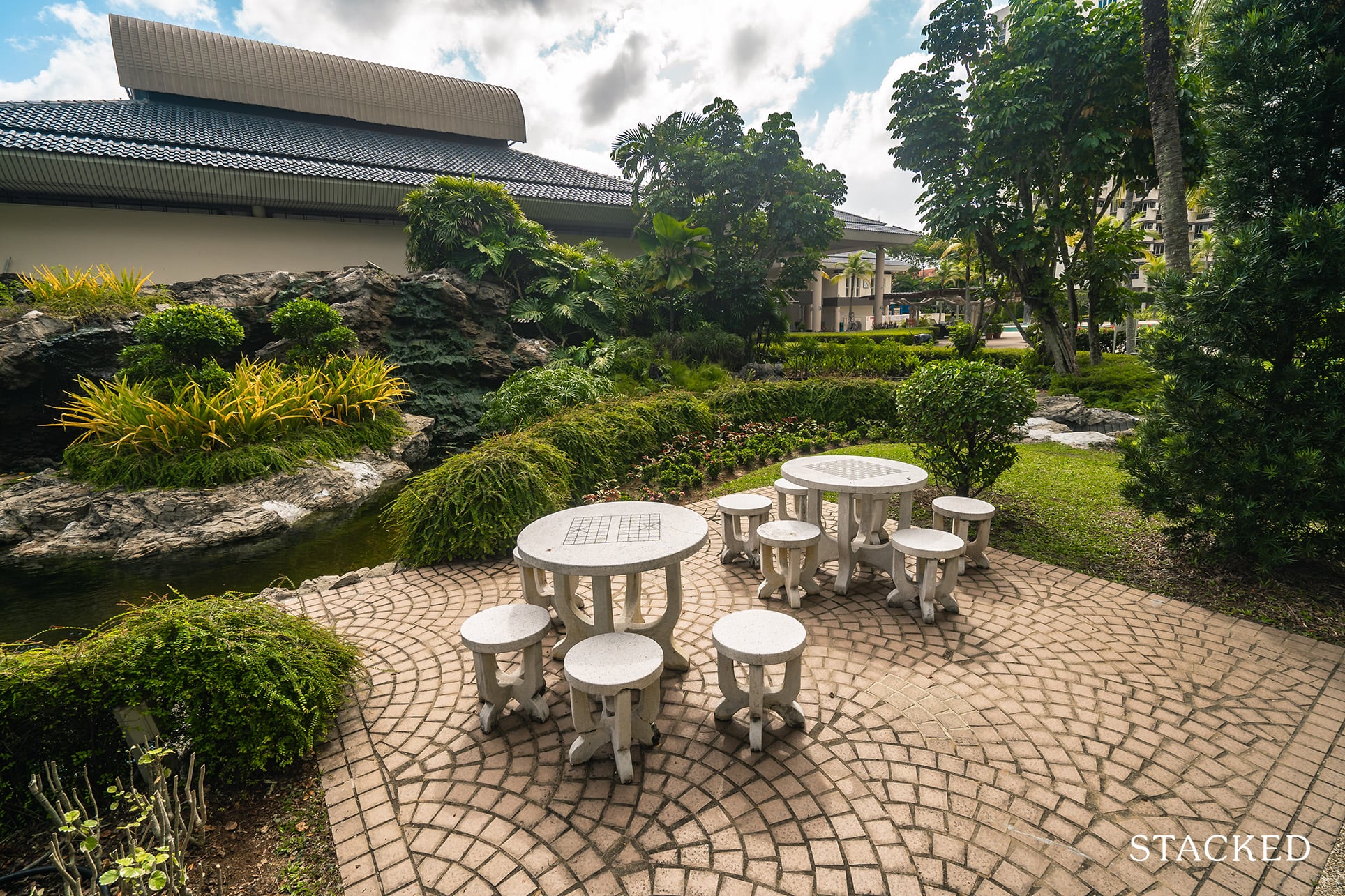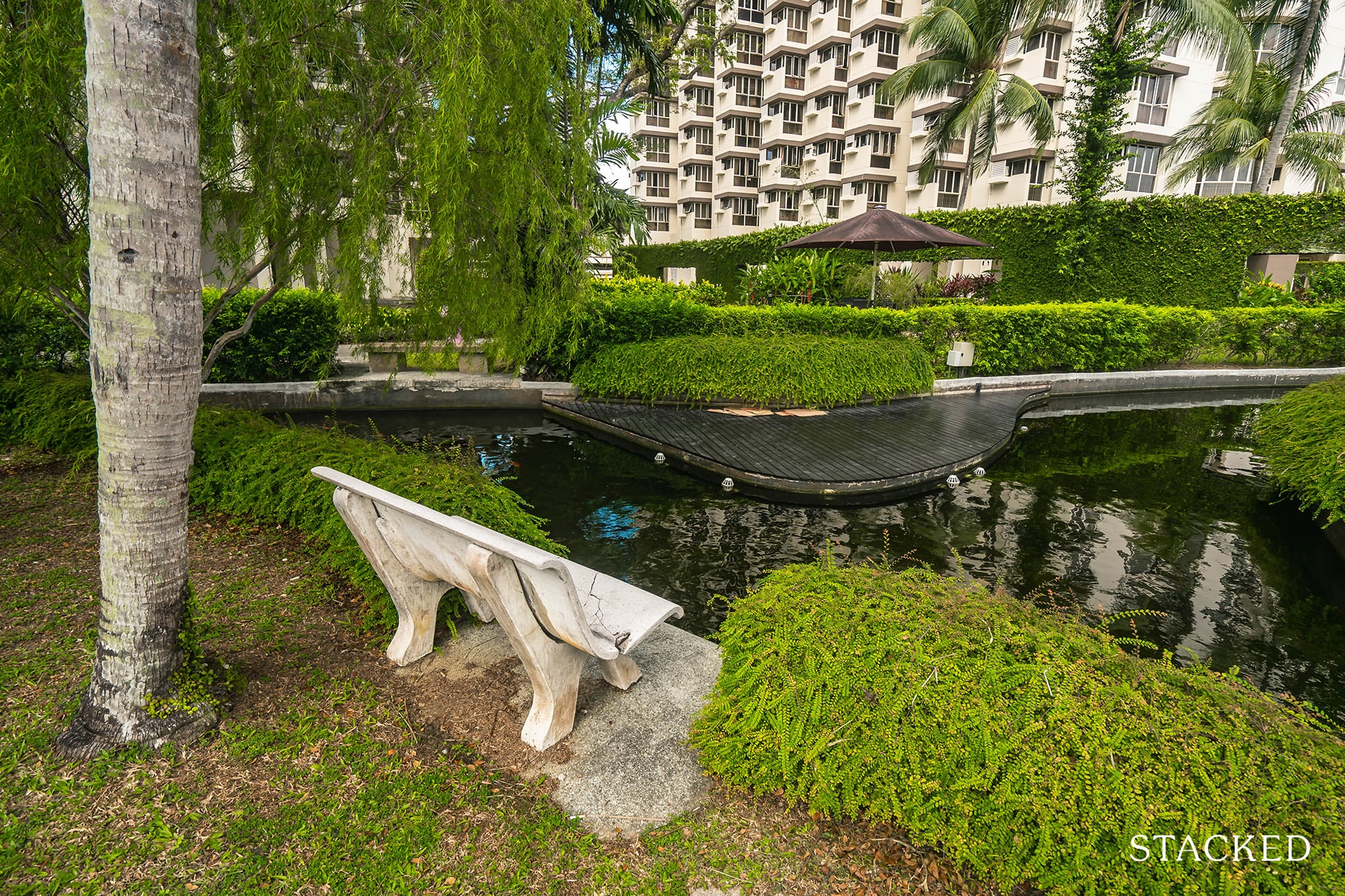 There's even a pond!
Bullion Park Location Review
Bullion Park is located at the north-end of the Yio Chu Kang housing clusters.

It borders Singapore's 2nd biggest stretch of natural land (Upper Seletar Reservoir area down to Central Water Catchment) that has not yet been fully developed.

Nestled in an incredibly peaceful locale, it is unfortunately dampened by the lack of closeby (walking distance) amenities.
Public Transport

| | | |
| --- | --- | --- |
| Bus Station | Buses Serviced | Distance From Condo (& Est. Walking Time) |
| 'Bef Bullion Park' | 825 | 200m, 3-min walk |
| 'Countryside Est' | 851, 852, 853, 853M, 854, 855, 857, NR1 | 550m, 7-min walk |
Closest MRT: Yio Chu Kang MRT – 1.8km, 23-min walk

Let's face it. 23-minute daily walks to the MRT is probably not going to cut it for most – especially now that e-scooters have been completely banned from footpaths.

So what most residents at Bullion Park do, is hop onto bus 825 at the 'Bef Bullion Park' bus stop (3-min walk) for a 10-12-min ride to the Yio Chu Kang MRT station.

It's not the most convenient/budget friendly (for those who aren't on concession pass), but it sure beats that 23-min walk.

Accessing the Orchard Road MRT station from the Yio Chu Kang MRT station then takes 14 minutes across 7 direct MRT stops.

For those heading to the CBD (Raffles Place MRT), it takes 21 minutes across 11 direct MRT stops.

The future is bright, however, as the Lentor MRT station on the Thomson-East Coast Line is scheduled to be completed in 2020. Although it isn't directly at your doorstep, it is just about an 11 minute walk away.

Private Transport
| | |
| --- | --- |
| Key Destinations | Distance From Condo (& Est. Peak Hour Drive Time) |
| CBD (Raffles Place) | 18km, 35-min drive |
| Orchard Road | 14.7km, 30-min drive |
| Suntec City | 15.8km, 30-min drive |
| Changi Airport | 20.5km, 25-min drive |
| Tuas Port (By 2040) | 44.9km, 50-min drive |
| Paya Lebar Quarters/Airbase (By 2030) | 12.7km, 30-min drive |
| Mediapolis (and surroundings) | 15.7km, 35-min drive |
| Mapletree Business City | 17.2km, 40-min drive |
| Tuas Checkpoint | 34.1km, 40-min drive |
| Woodlands Checkpoint | 14.4km, 20-min drive |
| Jurong Cluster (JCube) | 27.7km, 35-min drive |
| Woodlands Cluster (Causeway Point) | 11.4km, 18-min drive |
| HarbourFront Cluster (Vivo City) | 20.6km, 35-min drive |
| Punggol Cluster (Waterway Point) | 9.7km, 15-min drive |
*Note that Drive Times are calculated during Peak Hours

Immediate Road Exit(s): 1 Exit onto Lentor Loop

Summary: Location at northernmost point of Yio Chu Kang cluster means increased distance from central/CBD area, which naturally exponentiates due to traffic along the way. Good for those working in north regions (Woodlands, Yishun etc.), especially given proximity to SLE/Lentor Avenue.

Groceries

| | |
| --- | --- |
| Name of Grocery Shop | Distance From Condo (& Est. Walk Time) |
| Giant – Ang Mo Kio Ave 4 | 2km, 25-min walk OR 2.9km, 9-min drive |
| FairPrice – Ang Mo Kio Ave 6 | 3.1km, 40-min walk OR 3.4km, 10-min drive |
Schools

| | |
| --- | --- |
| Educational Tier | Number of Institutes |
| Preschool (within 1km walk) | 0 |
| Primary (3km-drive) | 2 |
| Secondary (3km-drive) | 2 |
| International School (3km-drive) | 0 |
| Junior College (5km-drive) | 1 |
| University (5km-drive) | 2 |
| Polytechnic (10km-drive) | 1 |
Additional Pointers

Importance of Private Vehicle/Concession Pass
A quick look at the nearby amenities list and you realise that Bullion Park is, as most Singaporeans would describe it, 'quite ulu'.

With the nearest MRT and grocery point (Giant @ Ang Mo Kio Ave 4) a solid 23-25 minutes walk away, the obvious solution is to invest in a car. Either that, or get a full concession pass due to the frequent switch between buses and MRT transport services you'll be facing.

That being said, grocery runs can easily be mitigated with online delivery services or with the 'Convi Store' located in the condo itself – so there are definitely ways to work around the issue.

Incredible Nature/Recreational Access
One of the biggest perks of living at Bullion Park is the peacefulness of the area.

A factor that is further manifested by the amount of nature to Bullion Park's North, East and West.

The condo also overlooks the Lower Seletar Reservoir – which further serves as a solid recreation option for those interested in watersport activities. For those who prefer to stay dry however, the Seletar and Orchid Country to either side of the river provides plenty of other fun and interesting options.

As does the Singapore Zoo and Night Safari (15-min drive) along the Upper Seletar Reservoir to its west.

Those who've lived in the Yishun area will be familiar with the Khoo Teck Puat Hospital, which is adjacent to the Yishun Community Hospital (10-min drive).

There are also a number of clinics in the Ang Mo Kio district (and the Thye Hua Kwan Hospital – 5-min drive away) to the condo's south that has quite a range of specialisations (general practitioners to optometrists to dentists etc.).

Now considering that it'll be mostly retirees who would prefer a peaceful/non-central abode like Bullion Park, this perk could very much be a 'life-saver' for many residents here.

Bullion Park Development Site Review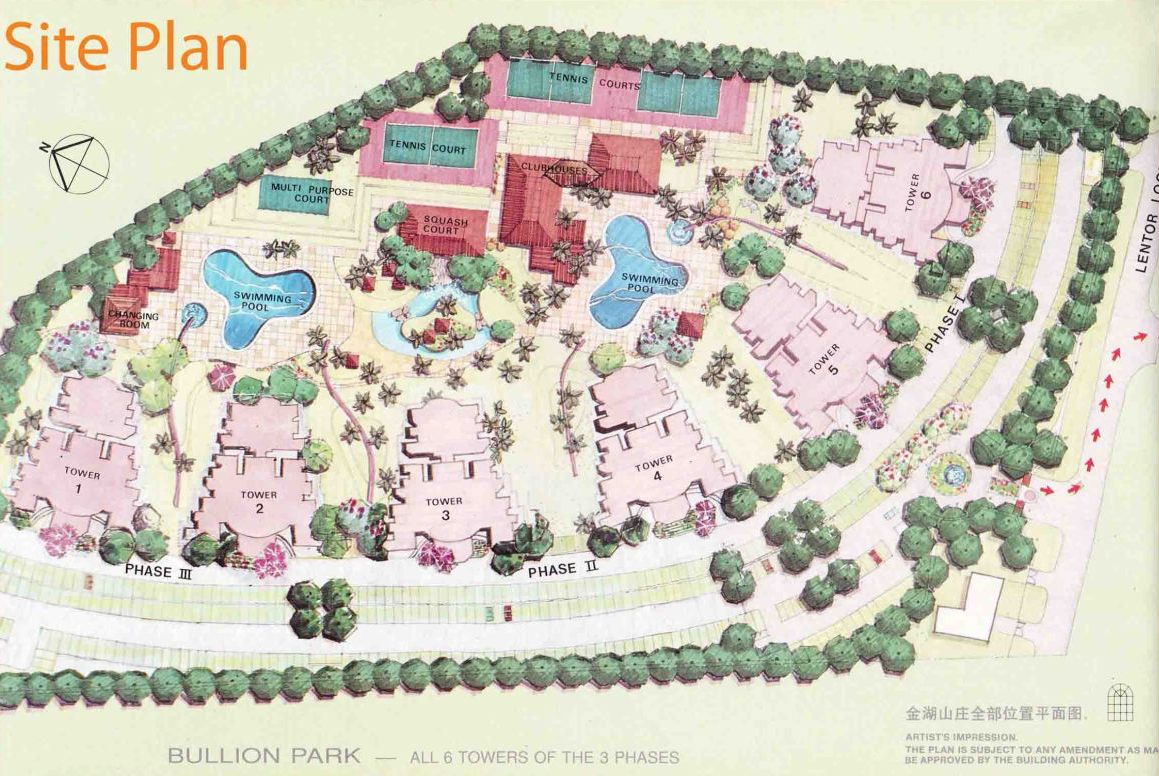 Given that the condo was built in 1993, it's quite a pleasant surprise that we managed to find such a new and digitalised site plan as this one (further testament to the public's interest in the place).

And as you can see from the get-go, the facilities at Bullion Park are very different from most of the New Launches. Where there is now usually a sky deck/'infinity pool', the condo instead offers a solid number of 'sport courts' for residents to choose from. 

2 tennis courts, a dedicated indoor squash facility and the classic changing rooms are available here alongside a clubhouse and 2 swimming pools.

There aren't any fancy sections or mini children areas that have been termed here, so the rest of the intricate designs/'mini facilities' (like the playground and billiards room) simply fall into the 'landscaping' sections as was the way most of the older condos were built (aka minus all that modern day marketing fluff).

Old school also meant a delightful amount of space in most condos, and Bullion Park doesn't disappoint with a heartening 1.6 plot ratio amidst a 515,171 square feet land area.
Best Stacks

Unit Mix
| | |
| --- | --- |
| Unit Type | Size of Units (sqft) |
| 2-Bedroom | 807 sqft |
| 3-Bedroom | 1,238 – 1,873 sqft |
| Penthouse | 2,002 sqft |
The unit sizes here do not come as a surprise – given that most older condos are generous in terms of unit space. That said, the 2-bedders is quite small in size when compared to its peers.

The diversity of unit space (1,238 to 1,873 sqft) in the 3-bedders definitely comes as a bonus for those who are having a tough time deciding between budget and spatial priorities.

Adding on to that, the Penthouse option does actually seem like quite an affordable upgrade – given that it spans just 200-ish square feet more than the larger 3-bedders here.

Finally, do note that the towers here stretch up the 15 storeys high (which is quite a bonus given the proximity of the Seletar Airport and the age in which the condo was built).

And given that there are units that have a solid view of the Lower Seletar Reservoir and the surrounding tranquil green areas, it is natural that those units will sit in the higher quantum ranges.

Best Stacks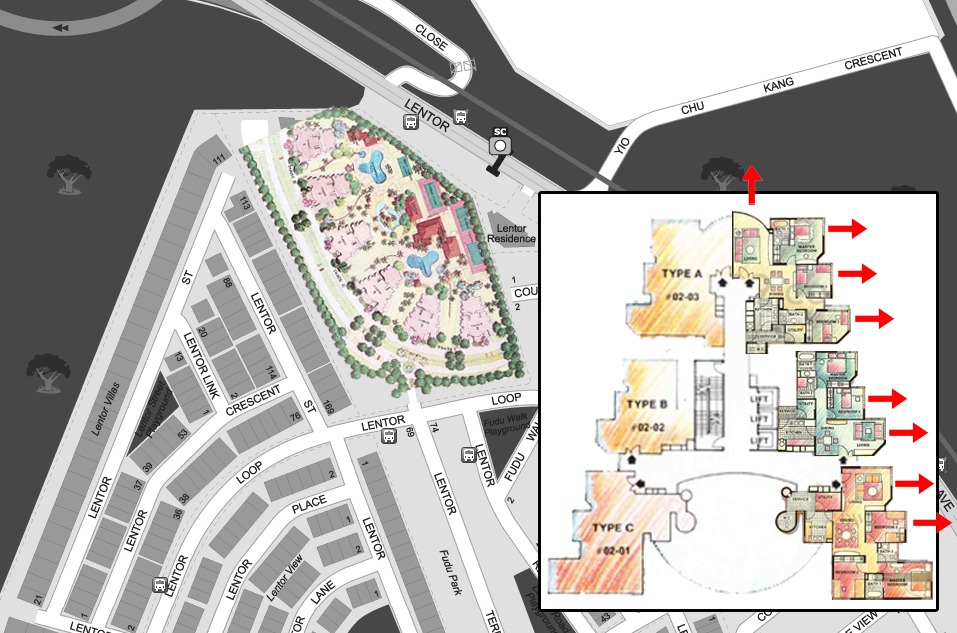 Truthfully, you can't go wrong with all the stacks here if you are concerned about views, as a high enough level over the landed housing means it is unblocked views all round.
But if we had to pick, both stacks at the far ends will be a good choice given that they are both NE facing.
Bullion Park Price Review
| | | | | |
| --- | --- | --- | --- | --- |
| Project Name | Tenure | TOP | Average Price (PSF) | Comparison Point |
| Bullion Park | Freehold | 1993 | $1,154 | |
| Castle Green | 99-years | 1997 | $872 | Proximity/Age |
| Seasons Park | 99-years | 1997 | $861 | Proximity/Age |
| The Calrose | Freehold | 2007 | $1,209 | Tenure |
Geographically speaking, Bullion Park is the only condo in its immediate area. It is surrounded by a number of terraced houses in a rather isolated spot.

Given its age and tenure, we weren't able to get direct comparisons, but we've shortlisted some of the nearest condos in the same district that come close.

Plotting Bullion Park (472 units across 515,171 square feet with 1.6 plot ratio) against Castle Green (664 units across 421,417 square feet with 2.1 plot ratio) and Seasons Park (390 units across 259,044 square feet with 2.1 plot ratio), we see that the former commands nearly $300 average psf more than the latter two.

This, despite the fact that both Castle Green and Seasons Park are much closer to important immediate amenities like the Ang Mo Kio 628 Market/Food Centre and the Yio Chu Kang MRT.

We'll also ignore the fact that Bullion Park is 4 years older than these two projects given the relative seniority of the developments.

Why then is Bullion Park able to command nearly one-third more than both Castle Green and Seasons Park?

Well that's mostly due to the difference in tenure. And as we've recently discussed in our Leasehold Vs Freehold article, the value of leasehold developments tend to fade as age catches up with them.

Also note the difference in plot ratio. An important point to consider for those who are looking at these developments mainly based on their peace/isolation factor.

Interestingly enough, if you were to have a look at The Calrose (421 units across with 369,686 square feet of land with 1.4 plot ratio), it matches Bullion Park in terms of tenure, and beats it hands-down in terms of age and proximity to amenities.

Yet it commands a mere $50 average psf more than Bullion Park.

Could this be due to the fact that Bullion Park has nearly 150,000 square feet more of land than The Calrose and is in a more 'peaceful' area with an inner-condo commercial shop of its own?

Absolutely.

That, and the fact that many longtime residents at Bullion Park share a much greater sentiment to their units (given the number of years they have lived there) and are therefore prize their homes at a higher quantum, citing the incredible peacefulness and serenity of the condo as their biggest USP.

Appreciation Analysis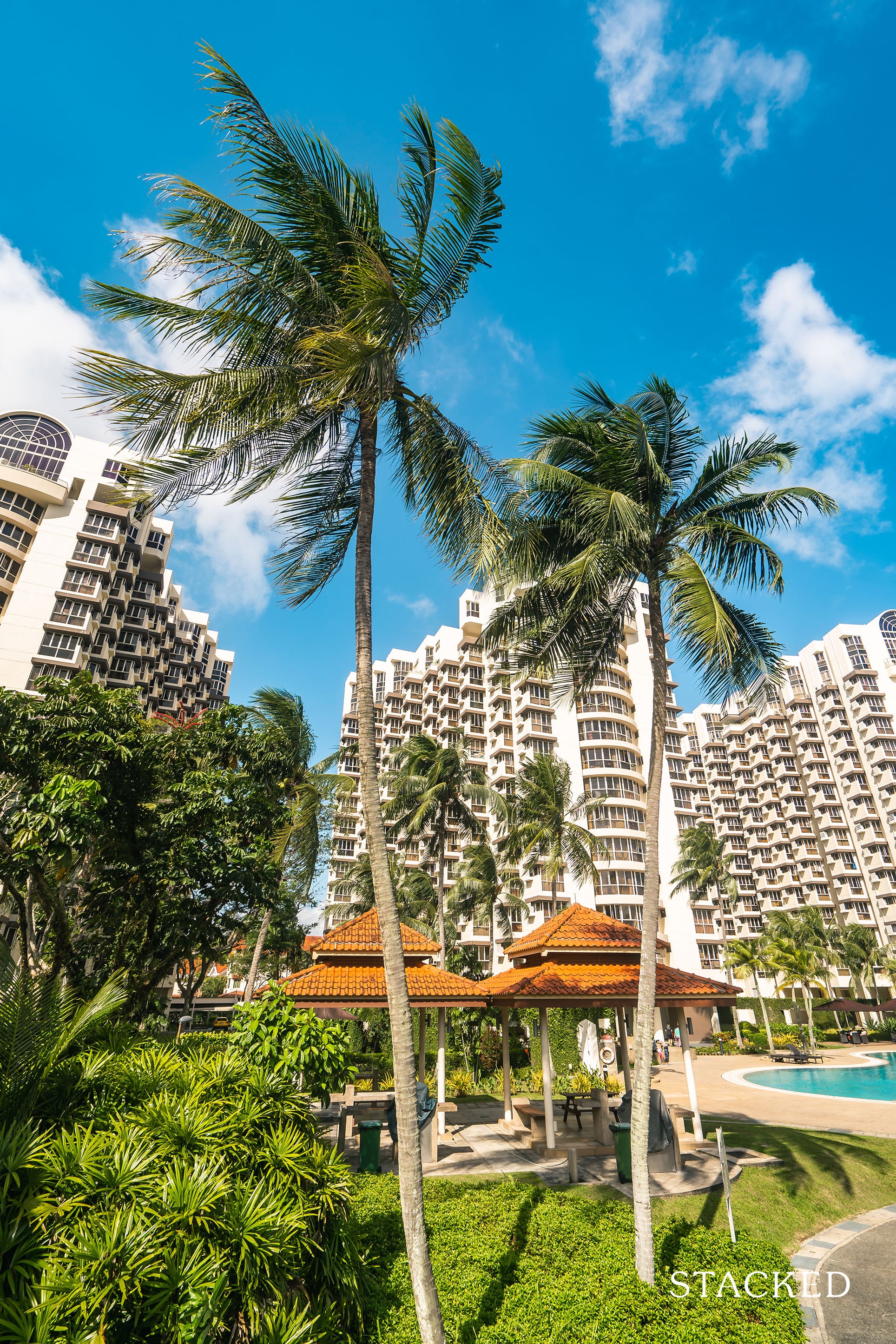 One thing that has greatly aided Bullion Park in its positive appreciation history is its freehold tenure.

Alongside that 'no end-date' factor to ownership of units here (amidst a relatively well maintained facility), there have been no other causes for concern which could have resulted in a serious appreciation dip over the years.

Instead, if you were to look at the figures, the quantums of units here have gradually risen over the years (since its completion in 1993), in tandem with Singapore's economy/property market price trends, without any noticeable sudden/isolated price hikes and falls.

Now if you had a look at our highest appreciating districts list, you'd realise that D28 was ranked #1 appreciator while its neighbour, D26 (which is where Bullion Park resides) ranked #13.

Given the government's emphasis on decentralisation, it wouldn't be surprising if we saw continued appreciation of these OCR districts over the years given the still relatively 'low' quantum figure of these condos when compared to many other private developments.

Our final point is based on land developments.

If you were to sneak a peek at the Master Plan 2019, you'd realise that the entire massive green space to the west of the condo has been reserved for residential developments (currently subjected to further detailed planning), while the entire region to its east has been put as a reserve site. 

Naturally, any new condos in these areas would push prices up for units here at Bullion Park, and possibly result in the construction of new surrounding amenities (grocery/food options) – which would further benefit residents here in more ways than one.

Add in the spaciousness (which is fast becoming a prized asset in Singapore) of Bullion Park, and things in the appreciation sector do look very promising for residents here.

Our Take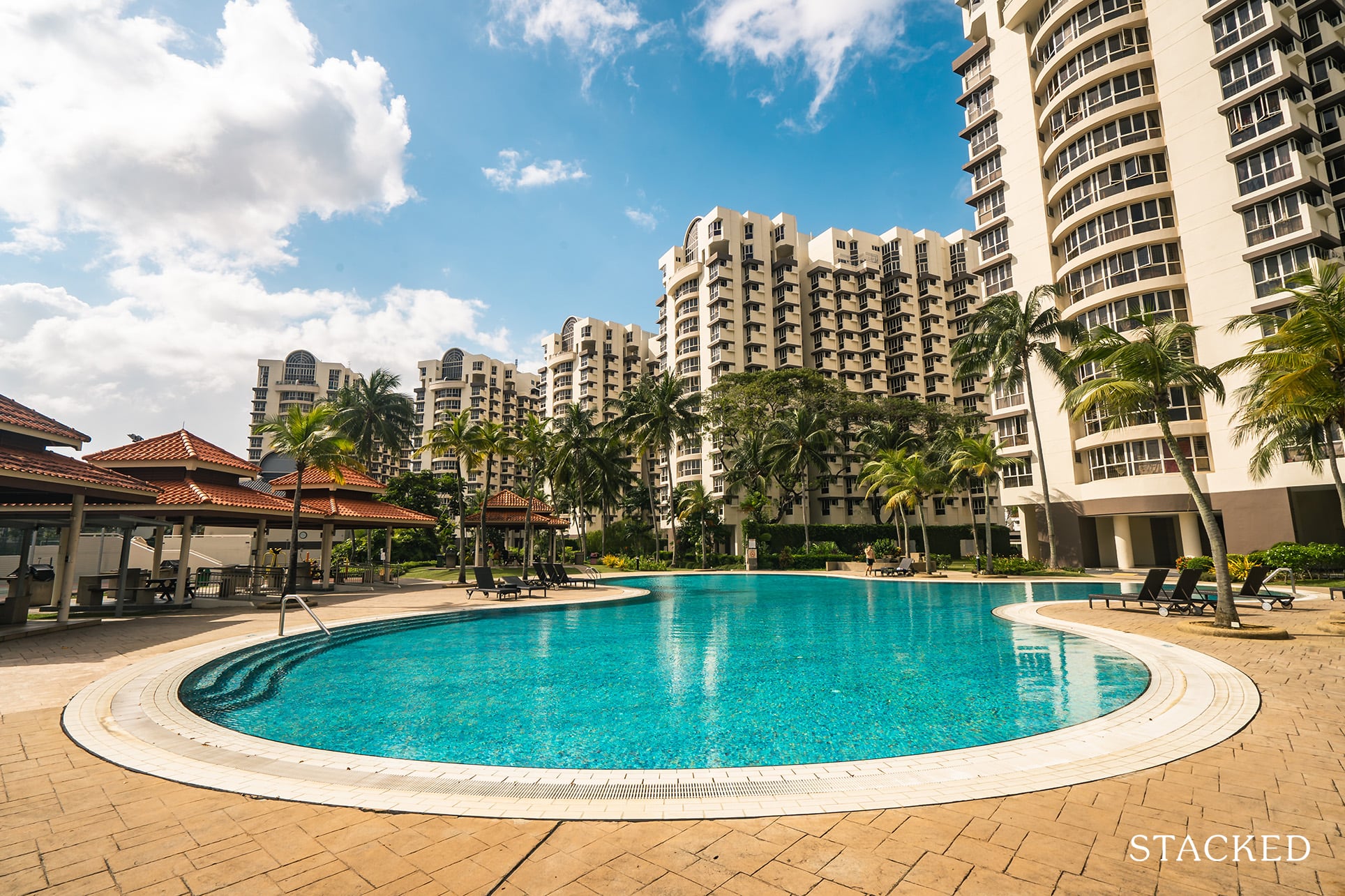 The case of Bullion Park seems relatively simple.

It's best assets are its current peacefulness/isolation (which could disappear if construction begins on nearby reserve sites), large inner-condo space + unit size and presence of fast disappearing facilities like the squash and (2) tennis courts.

Its cons are really just a lack of any immediate amenities and the relative non-centrality of the location.

And in that sense, it means that Bullion park does suit a niche target audience.

Given the rarity of its offerings and good long-term appreciation potential however, those who fall in that demographic will find the project a very solid fit for themselves (barring any further needs/wants).

All this, when you consider the current quantum rate of units here as compared to many others in Singapore.

What this means for you
You might like Bullion Park if you:
• Appreciate Large Spaces:Massive inner condo space and large (but diverse) unit sizes makes it a peach for those who desire spacious living areas.
• Crave Serenity/Peace:Close proximity to nature areas amidst a relatively low-populated immediate area makes Bullion Park a very peaceful abode (for the time being).
You might not like Bullion Park if you:
• Work in the CBD:It takes on average 30-40 minutes to reach the CBD regardless of private or public transport.
• Prefer Convenience:A lack of any immediate important amenity points makes owning a car for those who crave convenience, but insist on living here, an absolute must.
End of Review