Condo Reviews

Amber Skye Review: Doorstep MRT + Majestic Sea Views
Matt K
September 17, 2020

47

min read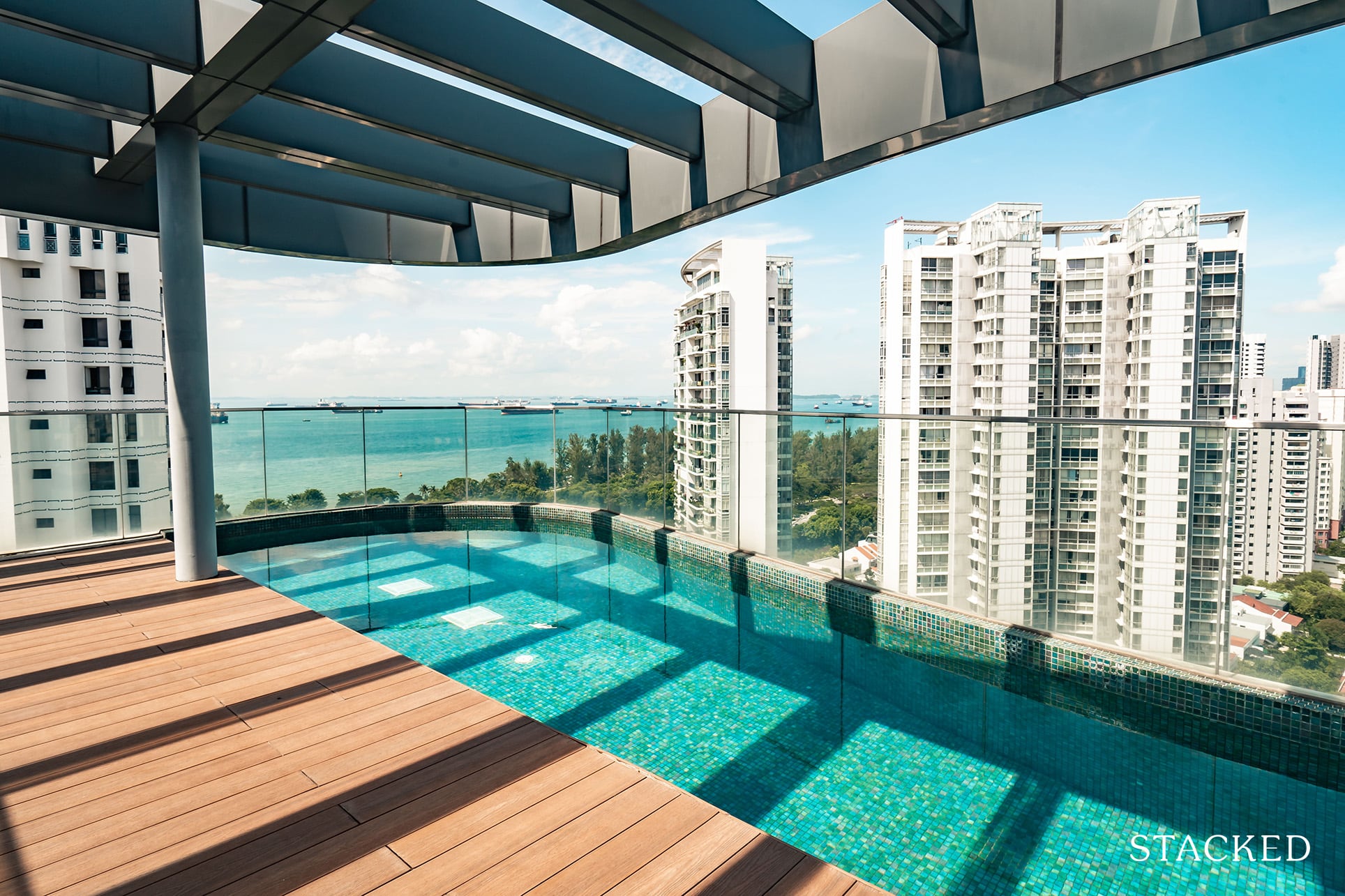 Amber Skye is great for those who want to enjoy a seafront lifestyle while enjoying the convenience of a good location and an MRT on your doorstep.
Reviewed by Matt K on September 15, 2020
What we like
1 min to upcoming Tanjong Katong MRT

Proximity to East Coast Park / CBD

Attractive PSF

Good facilities for the size of the project
What we don't like
—

Tight entrance

—

No unblocked sea view units

—

Lift access to only lower level of penthouse units
47
min read
| | |
| --- | --- |
| Project: | Amber Skye |
| District: | 15 |
| Address: | 8 Amber Road |
| Tenure: | Freehold |
| No. of Units: | 109 |
| Site Area: | 40,708 sqft |
| Developer: | CS (China Sonangol) Land |
| TOP: | 2017 |
If you were wondering why District 15 has traditionally been a highly sought residential area alongside Districts 9, 10 and 11, look no further than Amber Skye at 8 Amber Road (auspicious address too, if you're into that sort of thing). 

Because it's really all about that seafront lifestyle. East Coast Park is just a 5 minutes (400m) walk away. Getting to work? Marina Bay Financial Centre is a mere 10 minutes by car and if you're jetting off on a business trip (not now of course), Changi Airport will take you the same amount of time in the opposite direction. For everyday conveniences, Parkway Parade and eateries along East Coast and Tanjong Katong Road are just around the corner. Eng's Wanton Mee anyone?

Arguably, there really aren't many other areas in Singapore that can offer you that level of convenience and lifestyle. Having lived in District 15 all my life, you could say I am biased but I can also personally attest to the accessibility and seafront living that is unlike any other.

One of the most common gripes residents here have over the years has been the lack of an MRT station – but even that is about to change with the upcoming Thomson-East Coast Line (TEL), which is set to be completed in 2023.

Perhaps due largely to this, there has been a flurry of new launches in the Amber Road precinct in recent years – starting with the launch of Amber 45 in 2018 and followed shortly by Amber Park, Coastline Residences and Nyon, all of which were acquired via en bloc sales.

Amber Skye, the project we are reviewing here, is set to be a huge beneficiary of TEL by literally being at the doorstep (no exaggeration) of the upcoming Tanjong Katong MRT station. It is also the newest project in the vicinity, having TOP-ed only in 2017 – something that could be an attractive point for those who have time constraints.

On that note, let's find out if the other features of this freehold development will make this a worthy development to consider.
Amber Skye Insider Tour
Facilities in Amber Skye
25m Lap Pool
Barbeque Area
Clubhouse
Jacuzzi
Lap pool
Pavillion
Pool Deck
Playground
Gymnasium room
Sky Terrace
Steam Room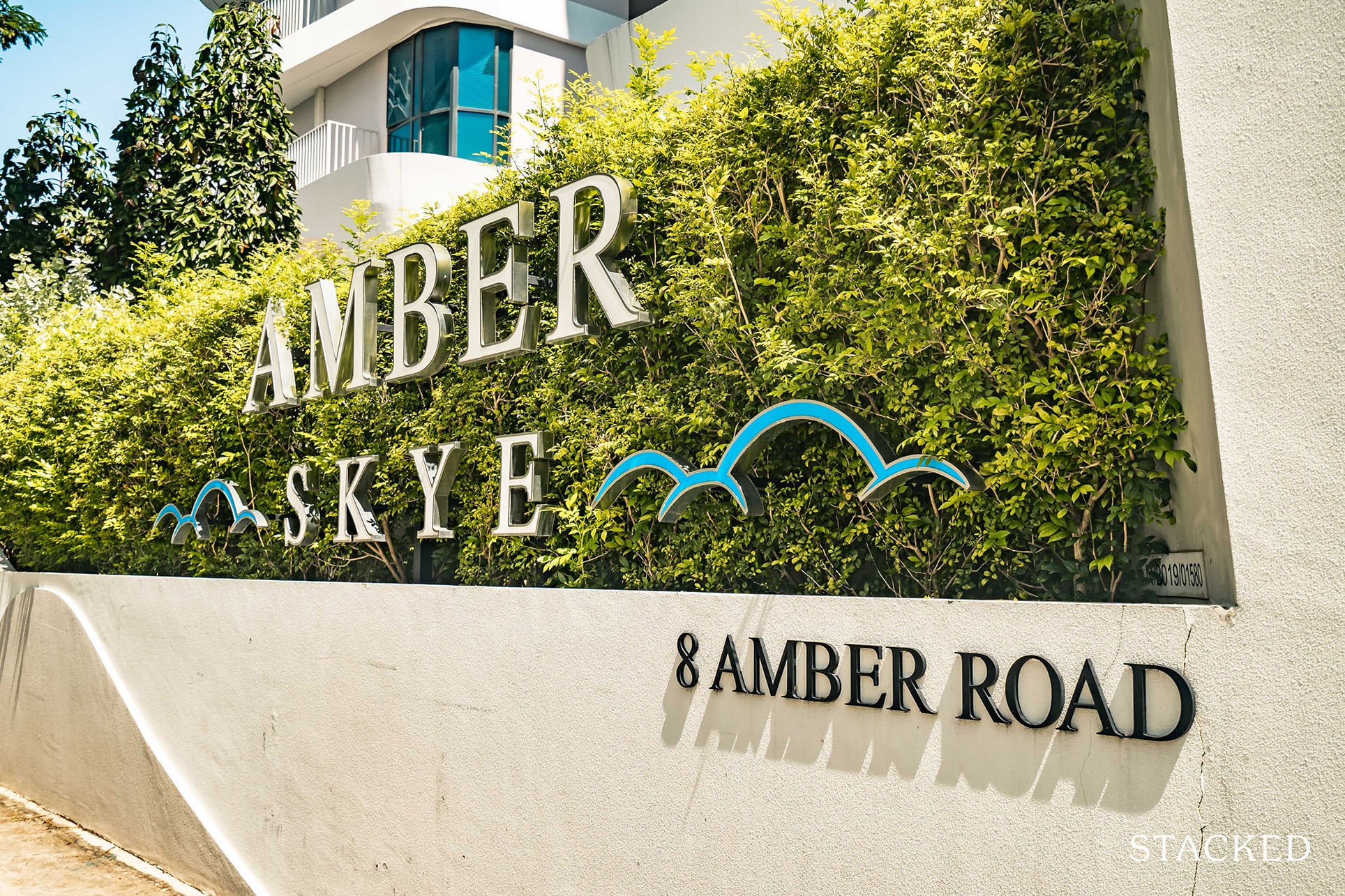 The Amber precinct is actually quite small, comprising just 2 parallel roads (Amber Road and Amber Gardens) of about 500 metres each with high-rise condominiums dotting the entire area.

Amber Skye is a 109-unit development situated at the very end (or the start, depending on where you drive from) of Amber Road and just beside Nyon, a 92-unit new project by Aurum Land.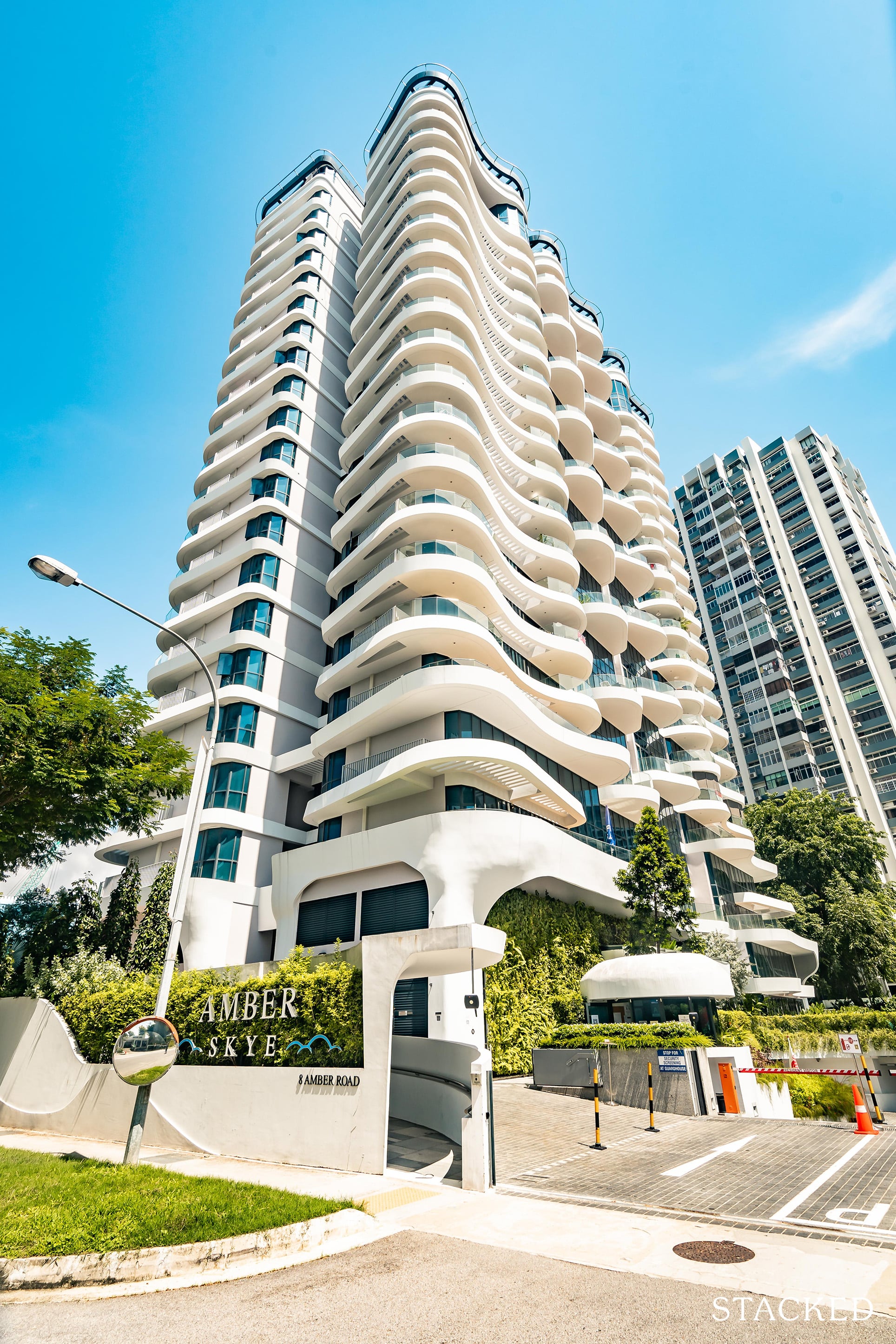 At first glance, you will notice that Amber Skye has been designed with those wavy balconies that resemble the ocean waves. Even the windows have been given the blue tint treatment! That's really cool because it fits in really aptly with its location given the project's proximity to East Coast Park.

As with most novel designs, the unconventional shapes do pose some usability problems – but I'll touch more on that later.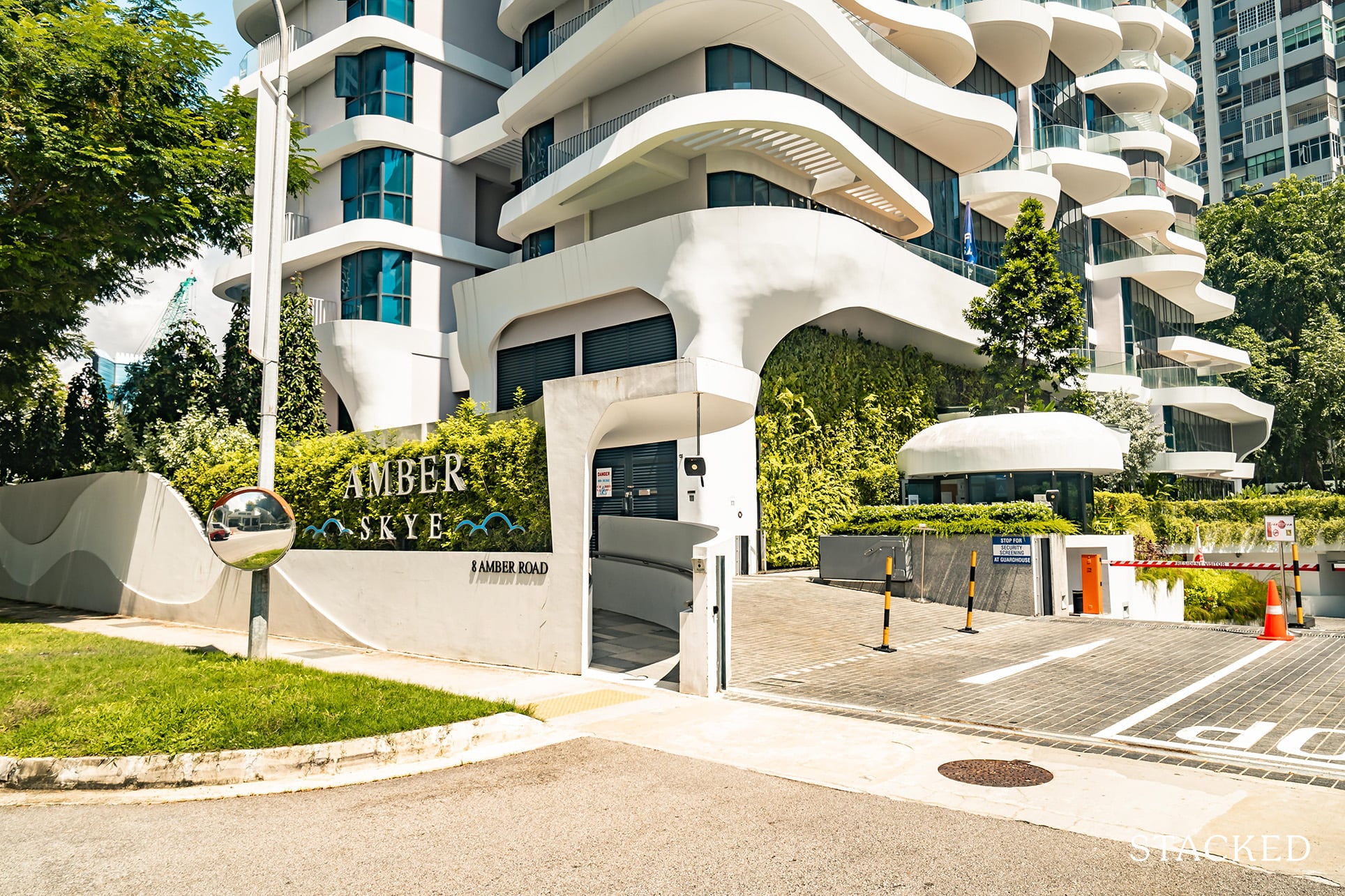 At just under 41,000 sqft, Amber Skye is dwarfed by the likes of Amber Park (213,675 sqft), One Amber (249,212 sqft), The Esta (174,419 sqft) and The Seaview (377,657 sqft) and this is evident from the main entrance, which is not the most spectacular by any measure.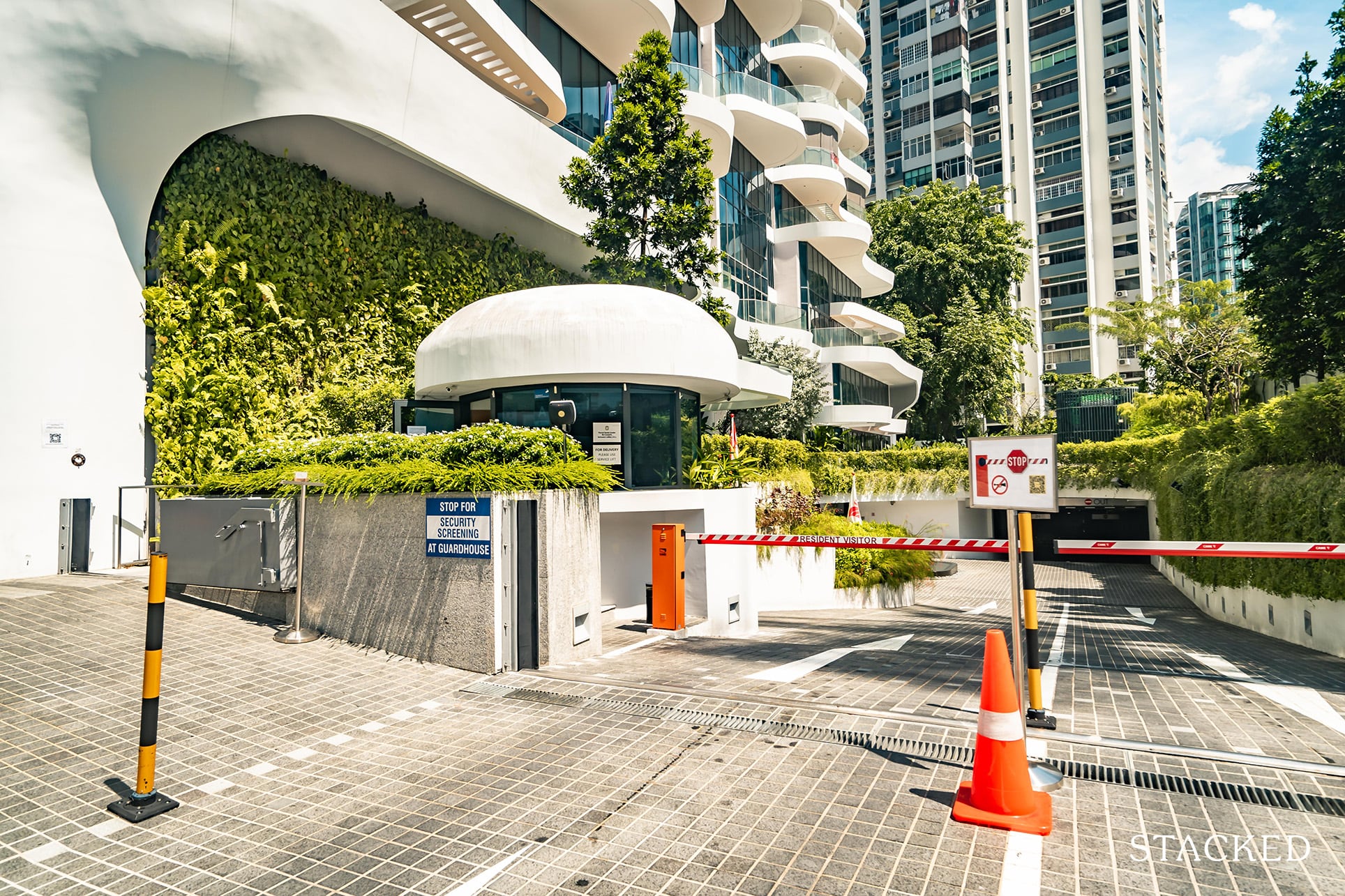 I know with just 109 units, vehicular traffic might not pose much problems, but I'd still rather much prefer 2 lanes – one for visitors, and one for residents. On a particularly delivery/visitor heavy day, it would be annoying to be stuck while waiting for security checks to clear – especially if you're in a rush.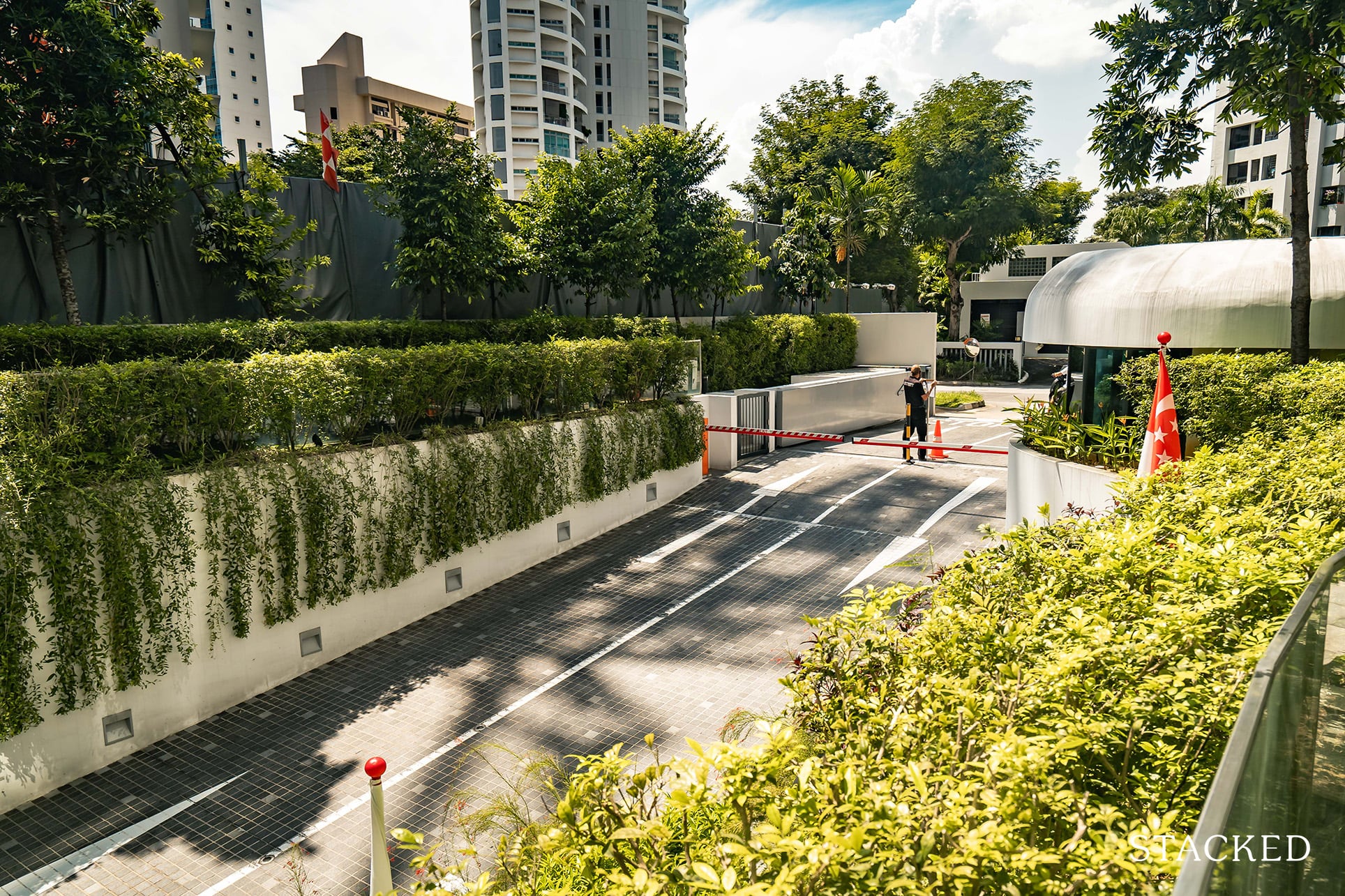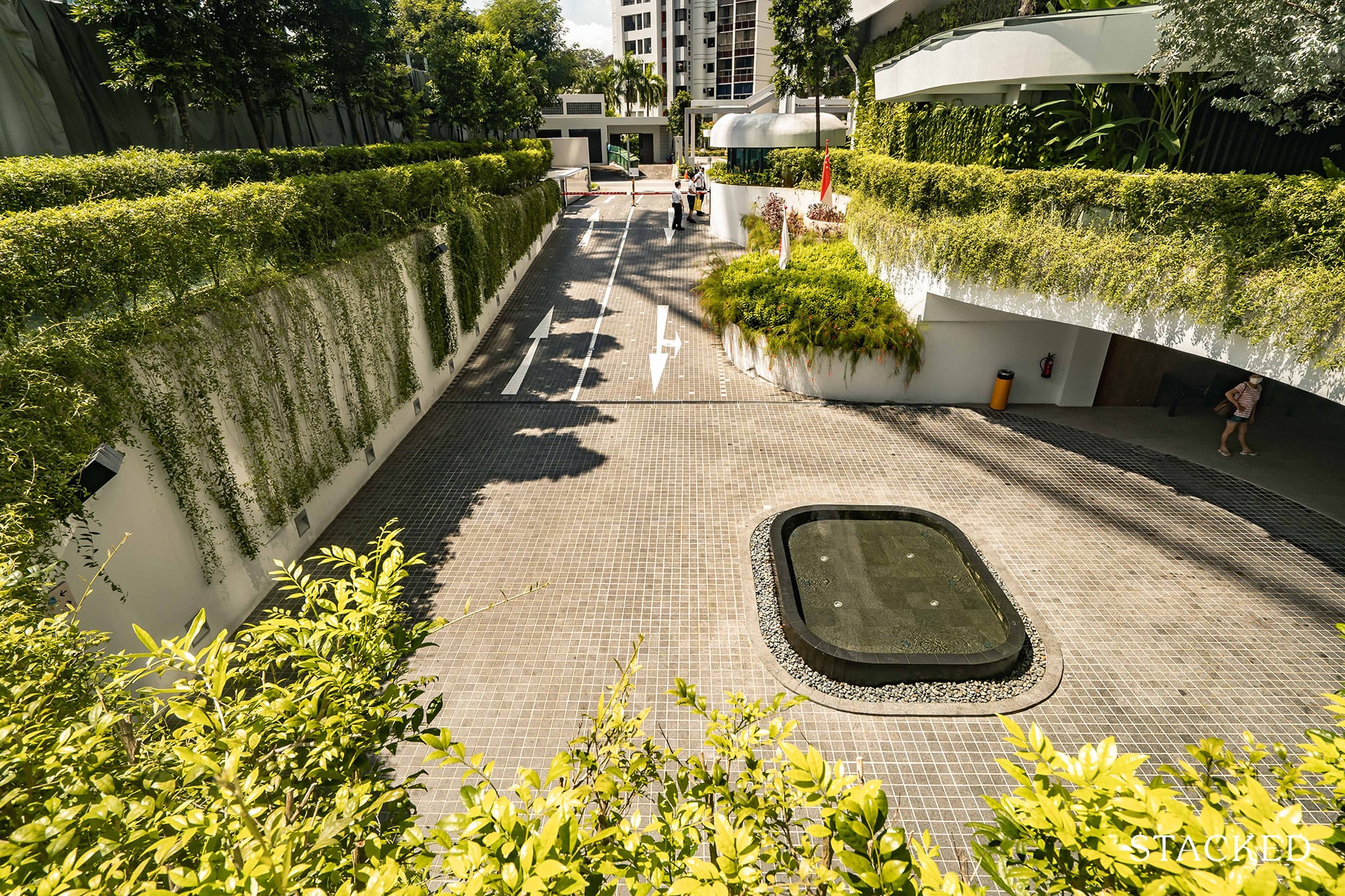 Because of its slightly tighter plot, the drop-off and waiting area are located down the slope just before the basement parking. It's not the grandest drop off and is actually quite small but considering the number of units, it can probably be considered decent.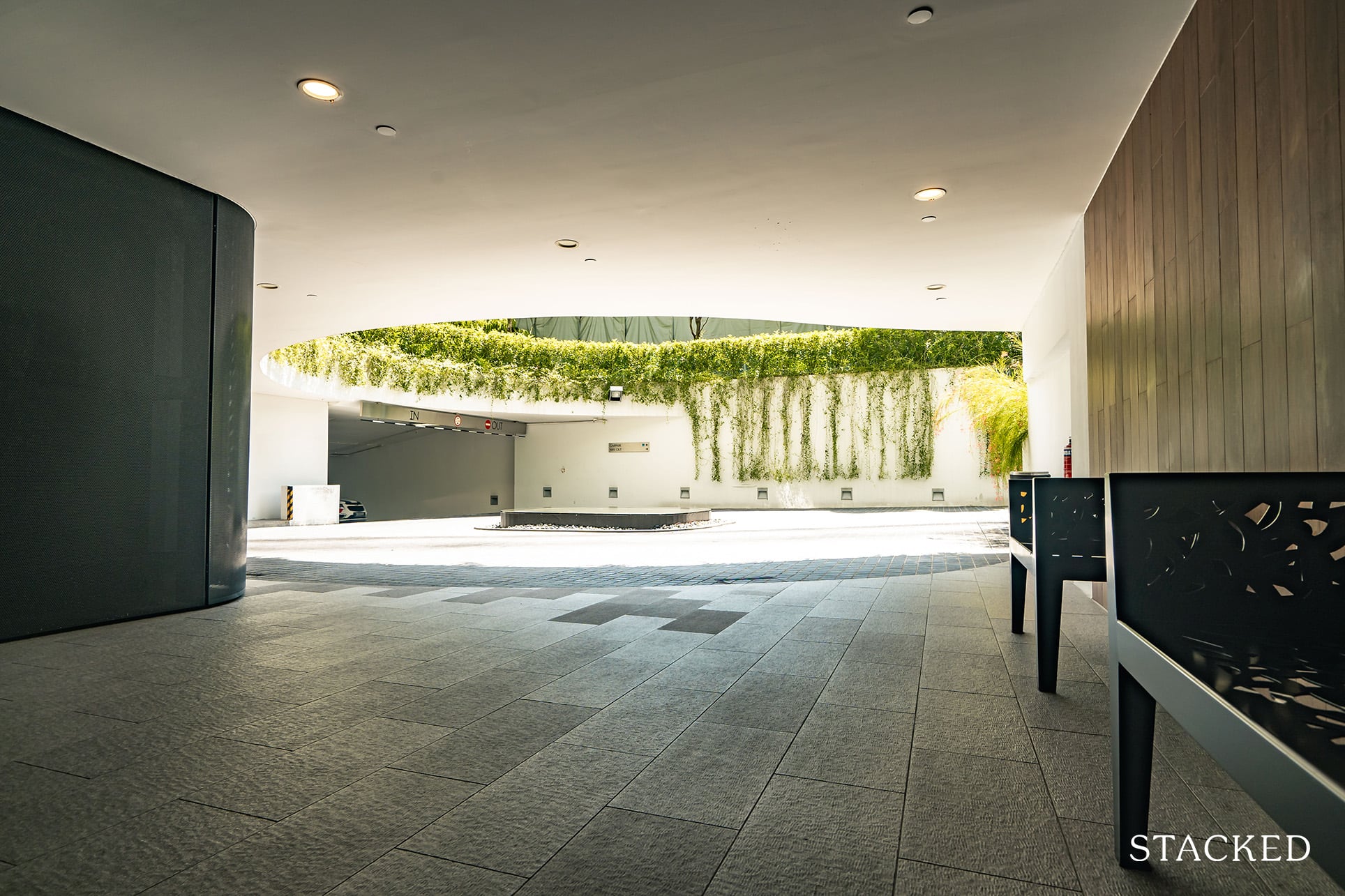 While it does look a little dark from certain angles, it will do its job of shielding you away from the elements (sun and rain). The cascade planter landscaping around it and small water feature in the middle also help to add a more cosy vibe to this drop off area. Considering how the project is only 3 years old at this point, everything looks expectedly well-maintained – which bodes well for the future.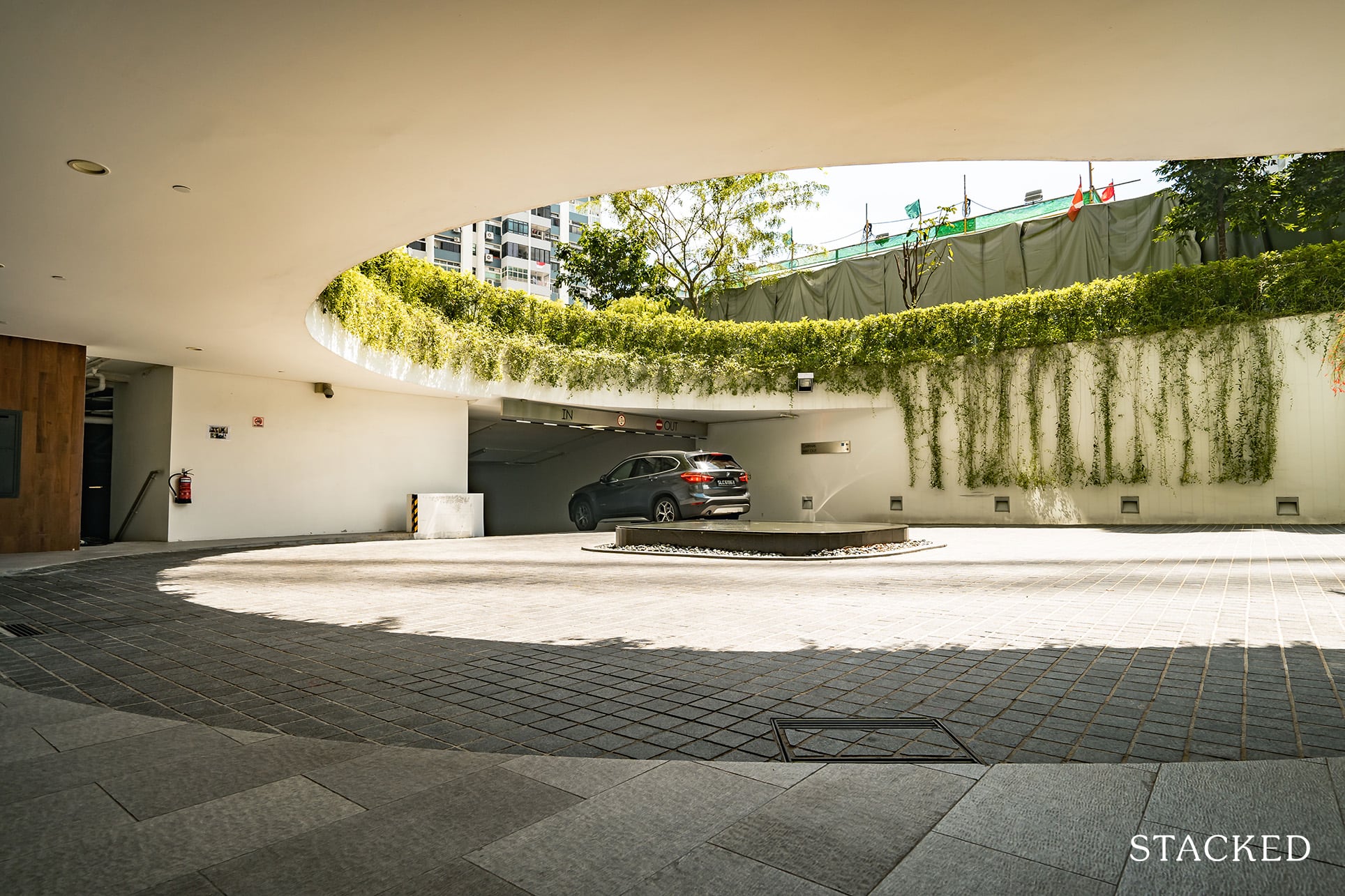 There are 2 levels of basement parking with 112 lots in total. With the upcoming Tanjong Katong MRT at its doorstep, expect more units to be tenanted so parking lots should be aplenty for those who drive.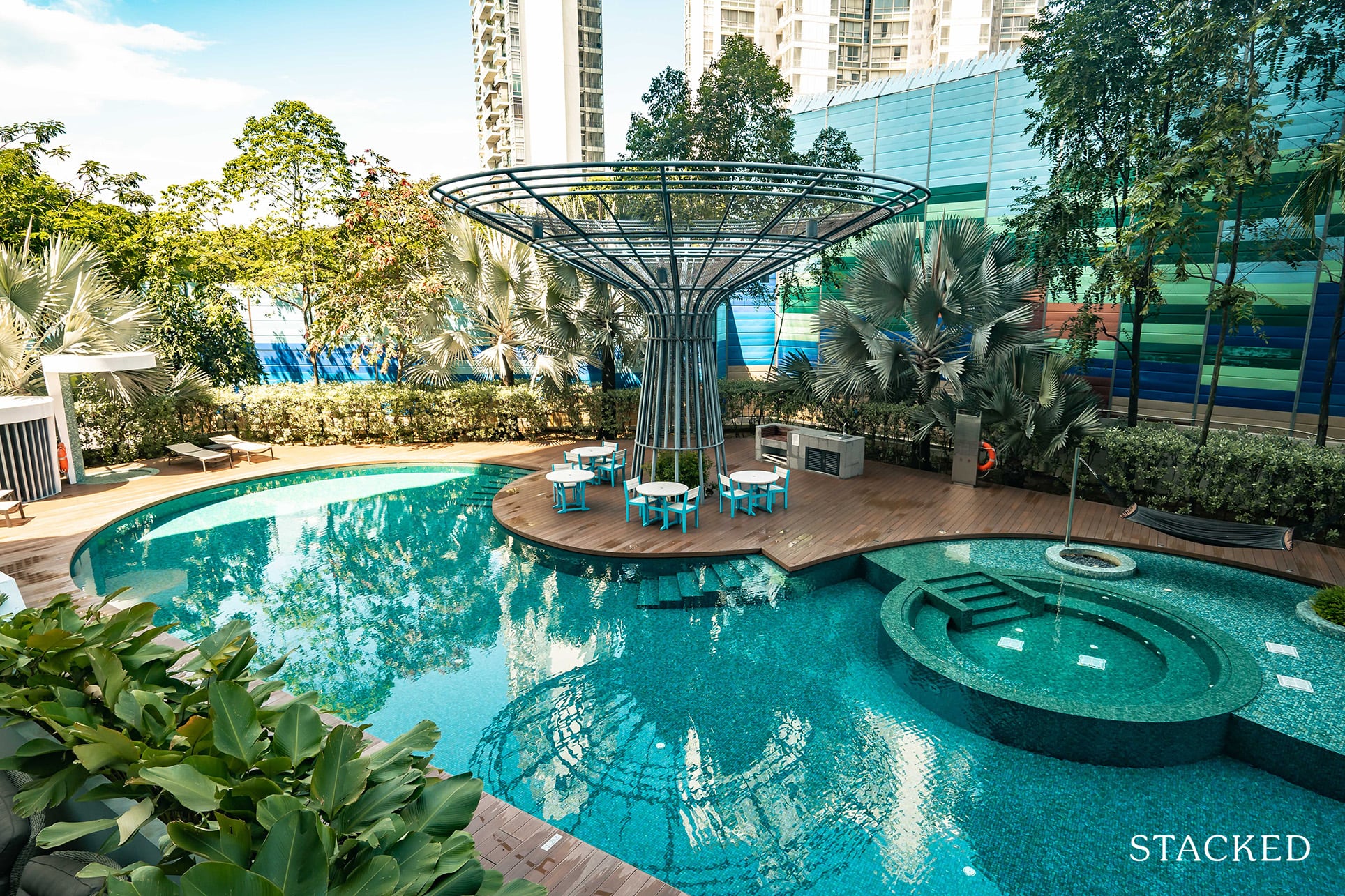 For a project of this size, I am actually pleased that they have gotten the priorities right in terms of facilities.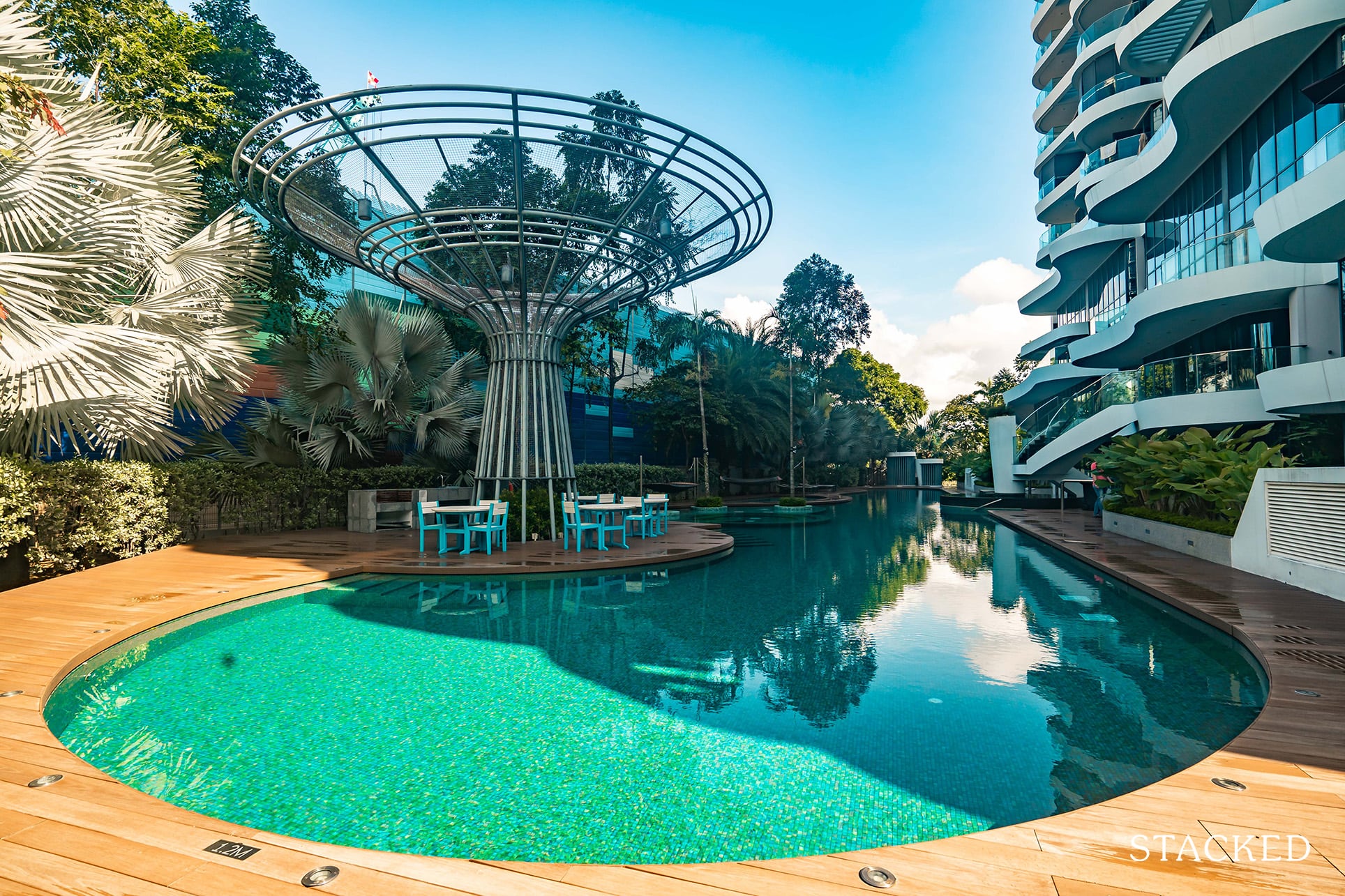 The highlight is really the 48-metre lap pool – kudos to the developers for squeezing in an (almost) Olympic length pool (also shaped like the ocean waves) to a 109-unit development.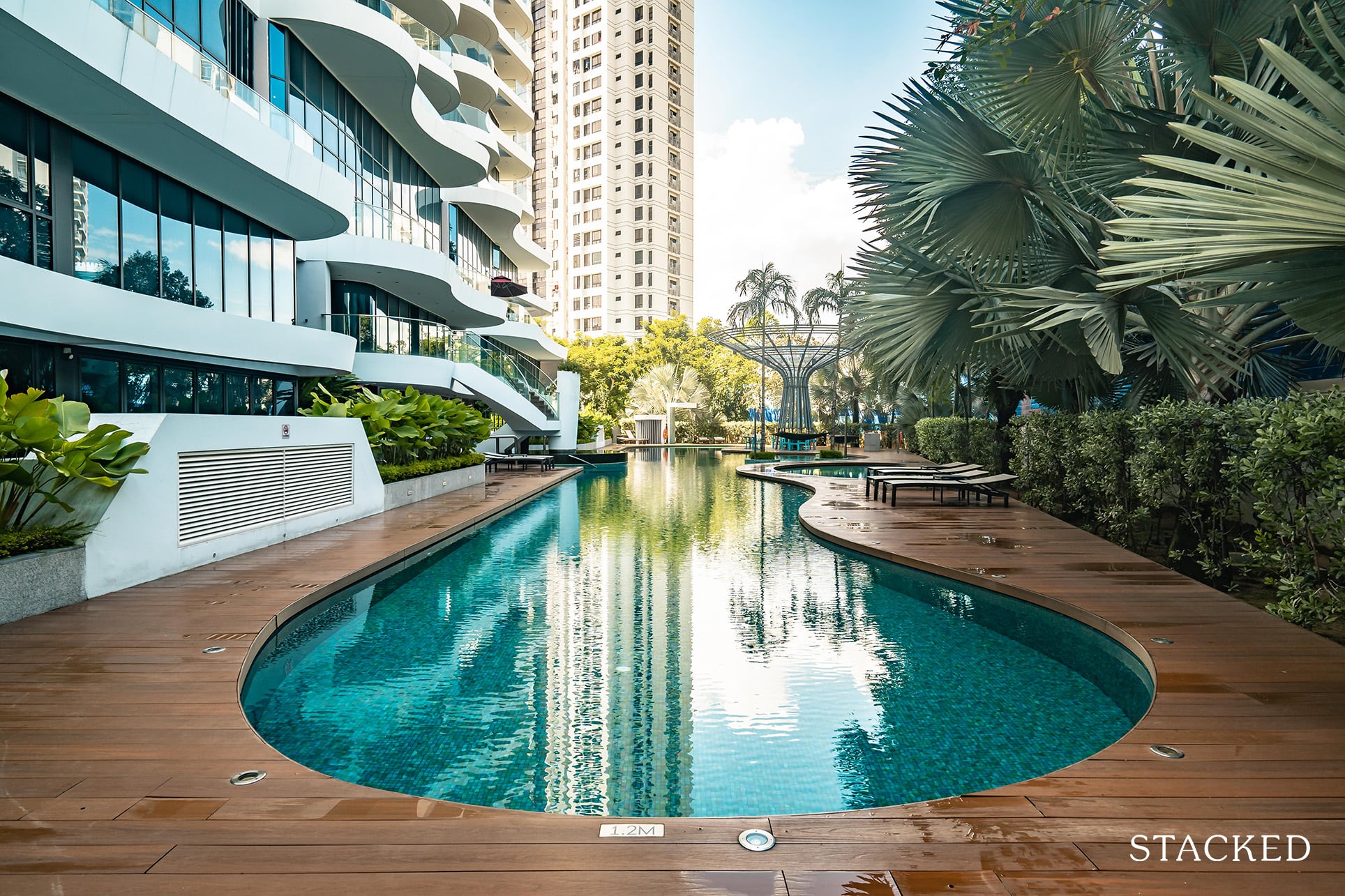 While it is really only wide enough to accommodate 2 people swimming side by side comfortably (4.5 metres in width at its narrowest), I reckon the pool wouldn't be too crowded – given how we didn't see a single soul hanging around the facilities deck throughout the entire morning we spent at Amber Skye.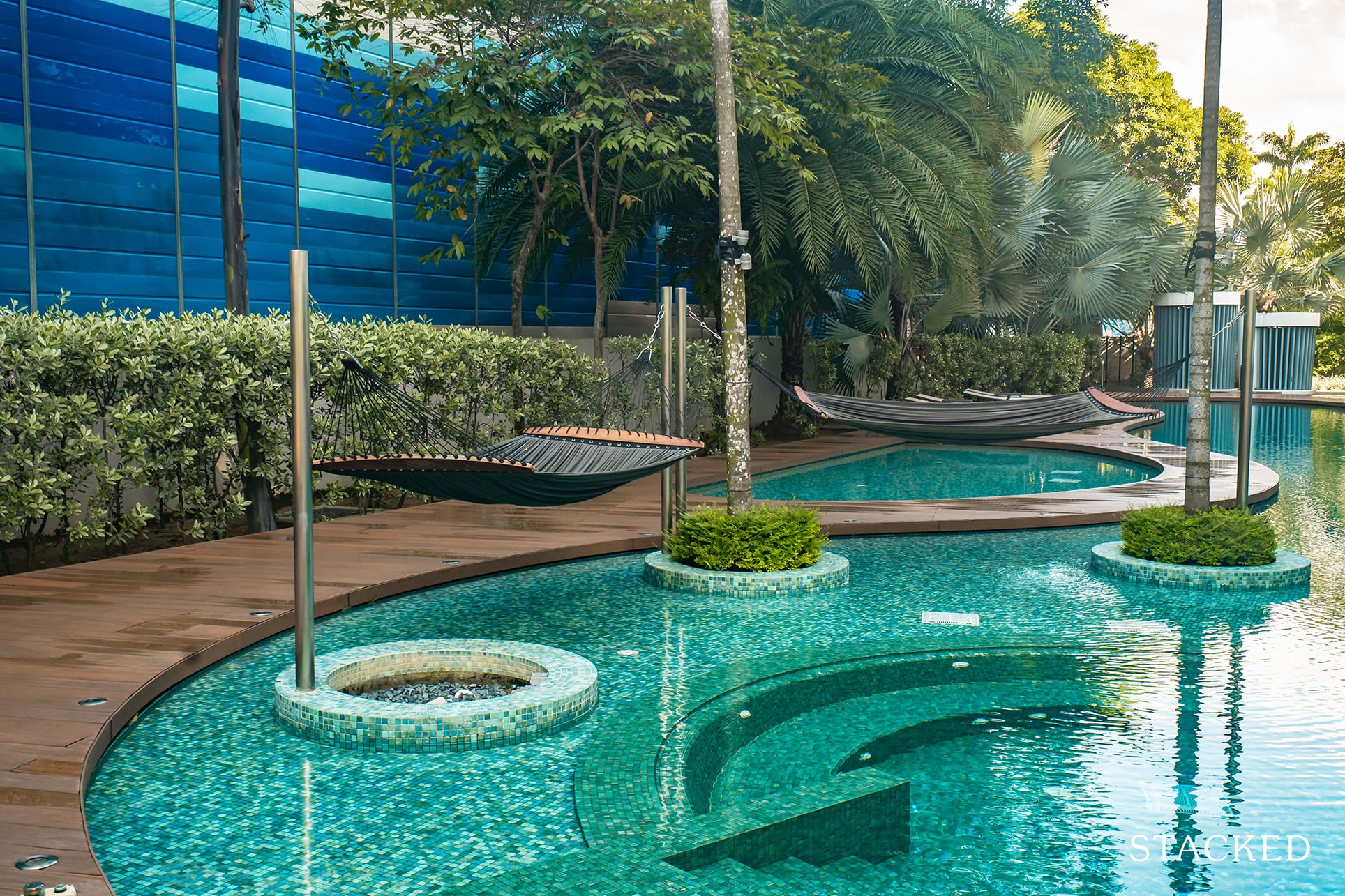 That said, given this is the main common area, you may find it to get a little more crowded on the weekends. You will also find ~10 deck chairs and 2 hammocks around the poolside.
As a side note, I actually quite like this hammock by the pool feature! It takes up less space by the deck, and definitely gives off a relaxed lazy pool vibe.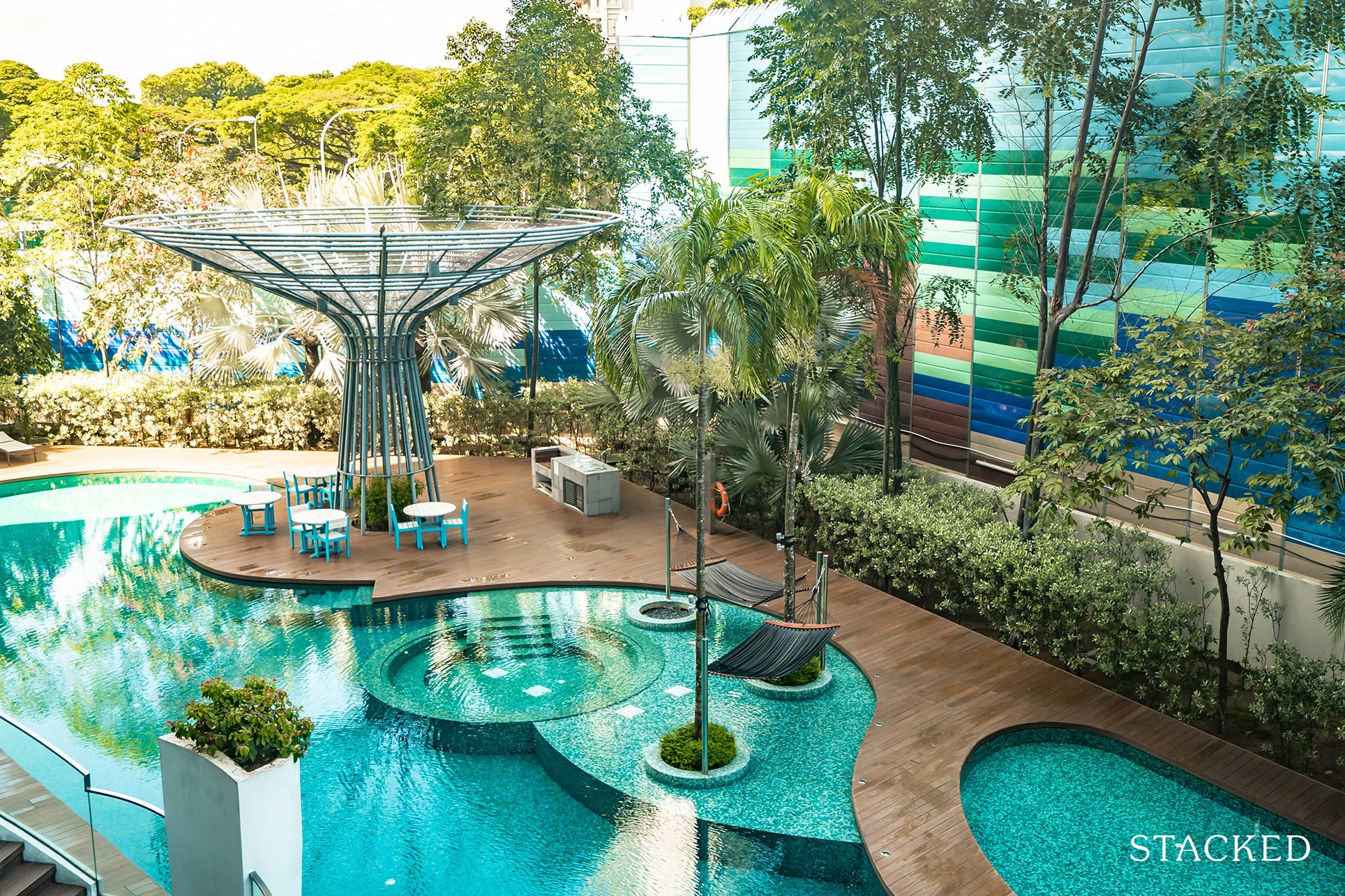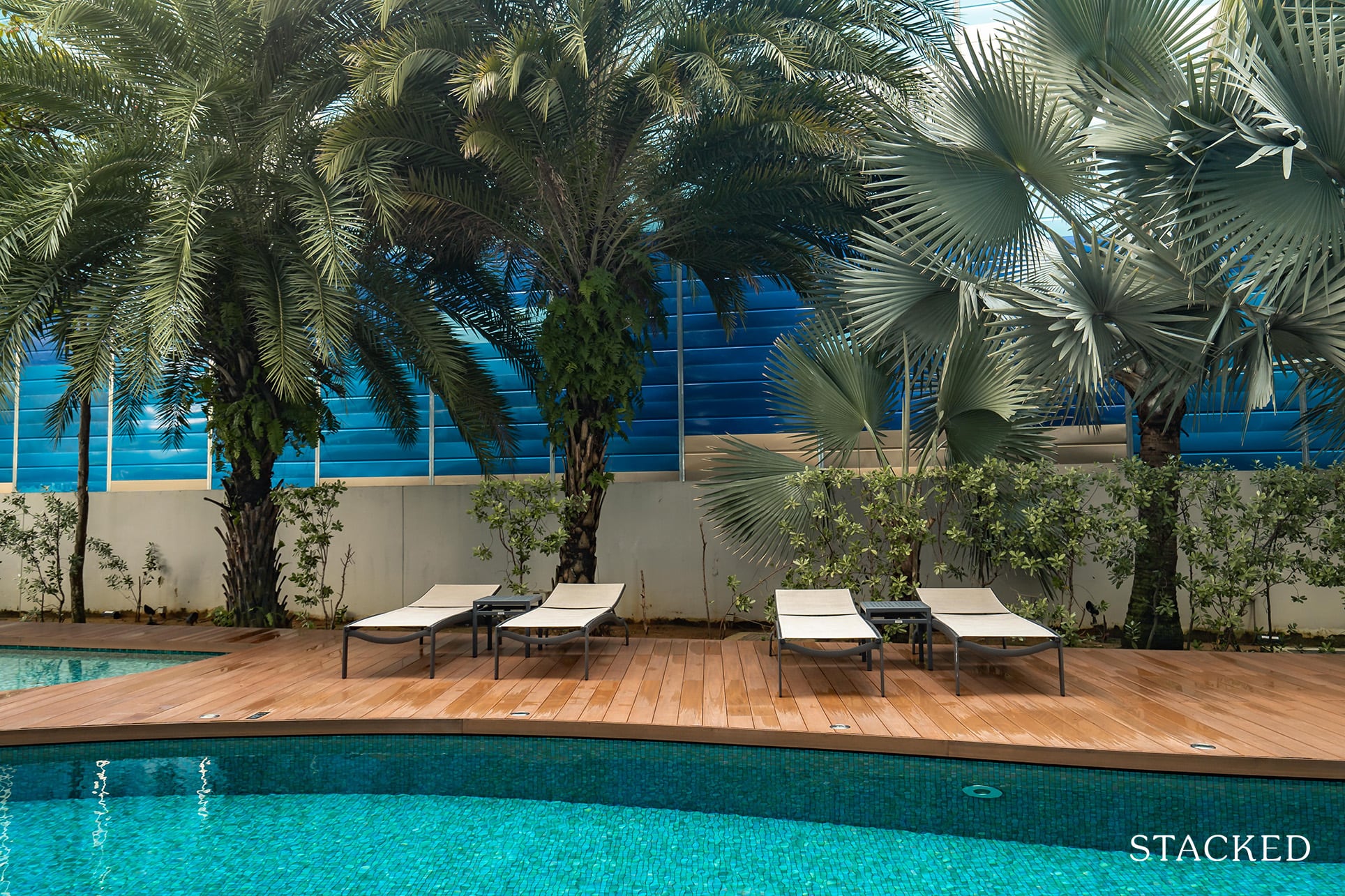 If you want to know just how close the upcoming MRT station will be, just have a look at how close those unsightly blue boards look in the background. The side gate at the corner of the development will take you there in less than a minute. But really, it's just a short term (~3 years) inconvenience in exchange for many years of greater connectivity!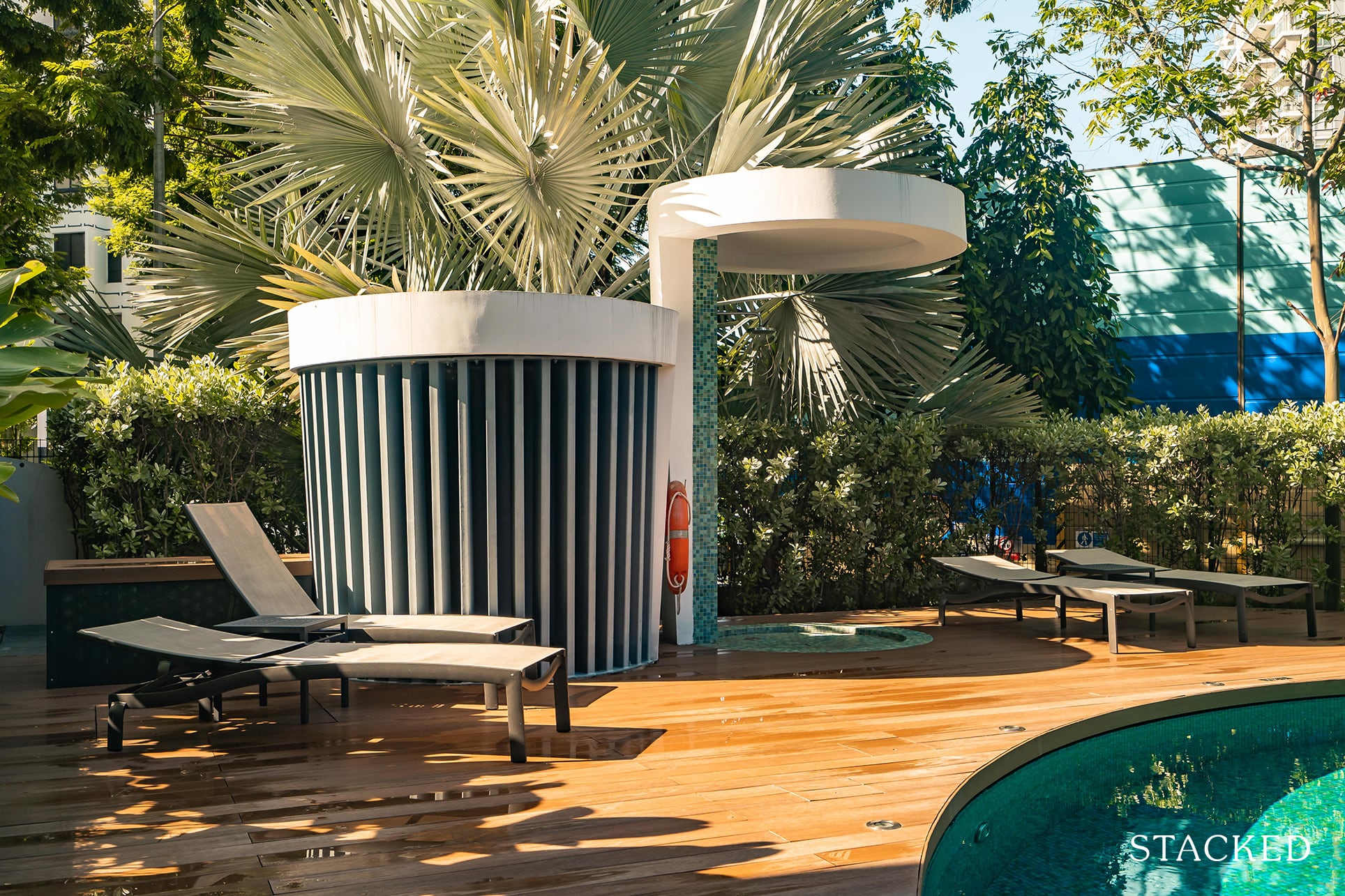 The strategic location of the facilities also sets the single 22-storey block slightly further away from the main road, which is always a good thing.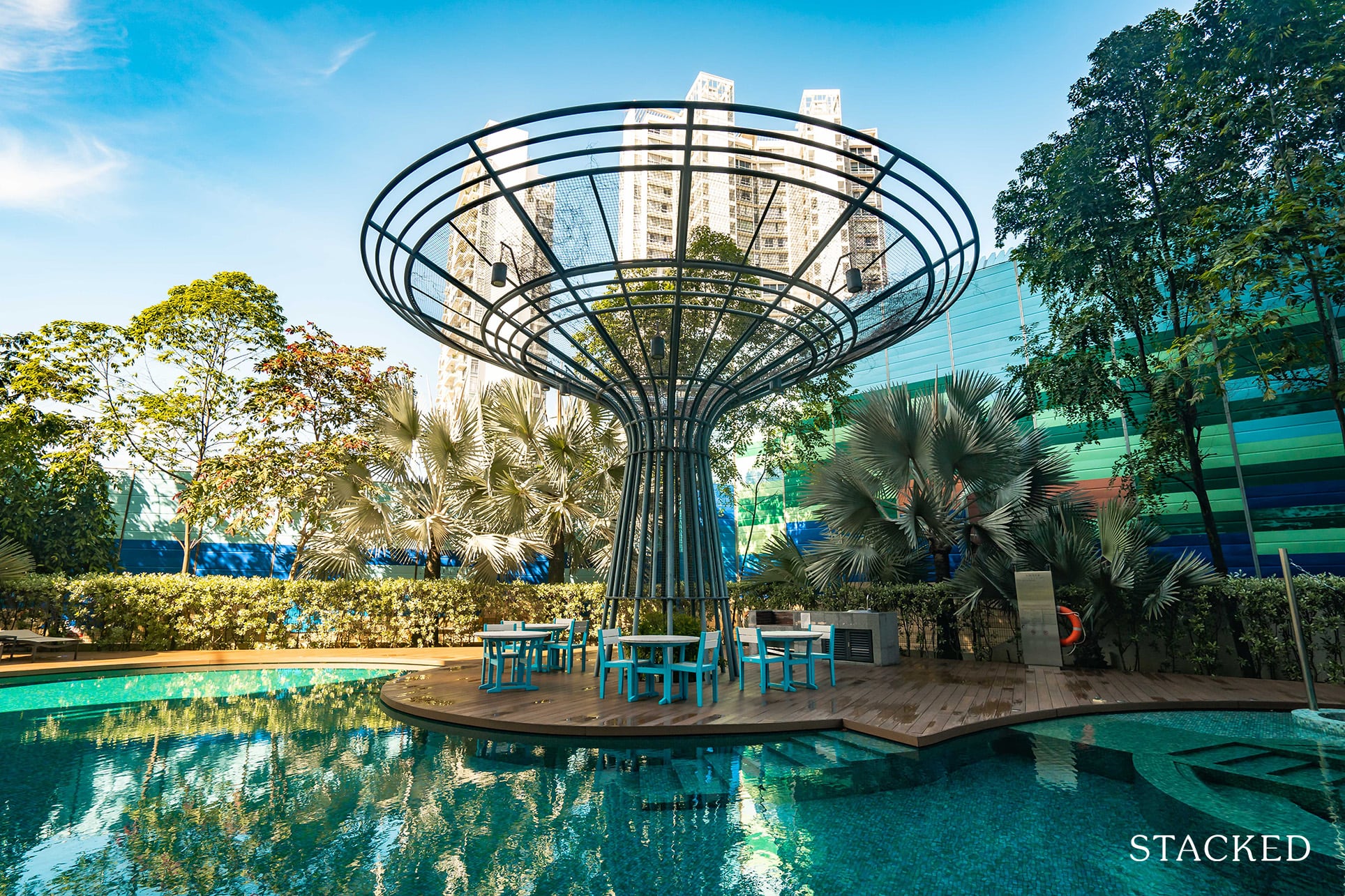 Besides the pool, you will also find a BBQ area floor housed under… a fake tree? I'm struggling to find a suitable term for this structure but I believe it was inspired by the Supertrees at Gardens by the Bay, except that this is much less inspiring take of it. In fact, I have walked past this multiple times at night and this one here doesn't even light up!
Which is a bit of a missed opportunity in my opinion, throw in some soft hanging lighting here and it can easily transform this into a cosy hangout spot at night.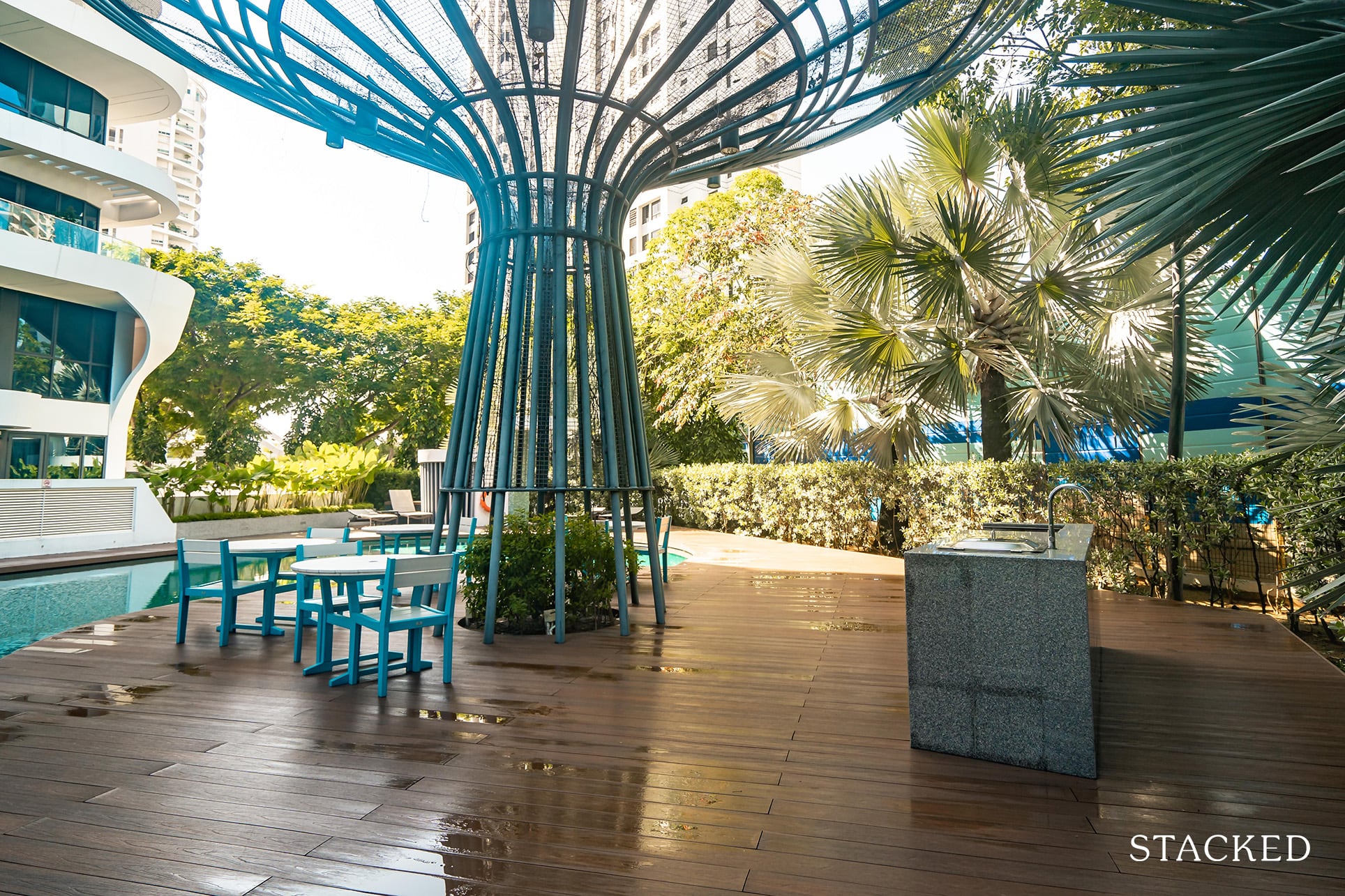 But on a more positive note, there are about 8 chairs and 4 tables around the BBQ pit, all in blue and white. It does fit in rather aptly with the whole ocean theme the developers were trying to do here.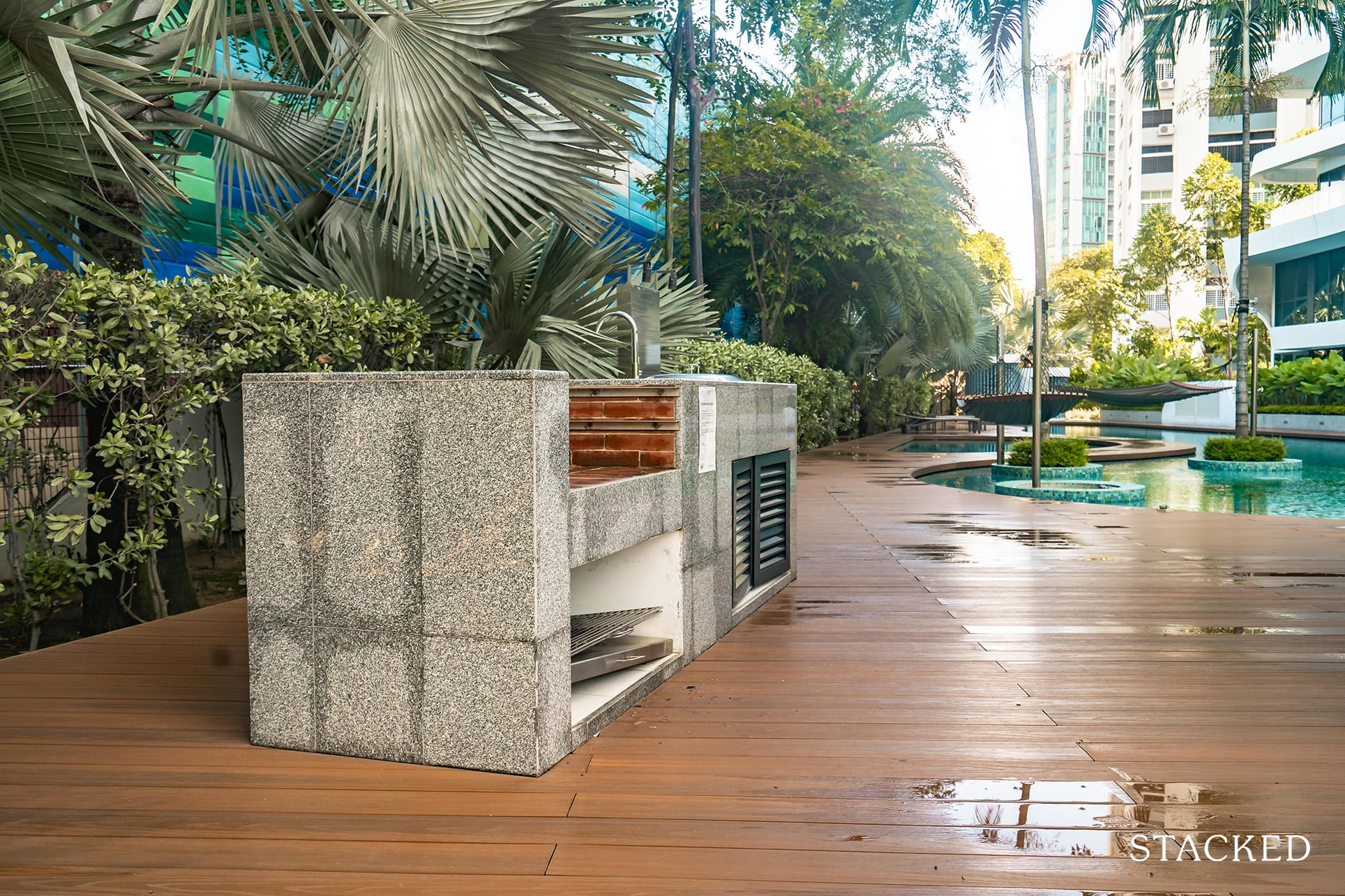 But coming back to the BBQ pit, I would have preferred more BBQ pits (I expect it to be really popular during weekends / public holidays) and a 'pavilion' of sorts to shield me from some of the weather elements.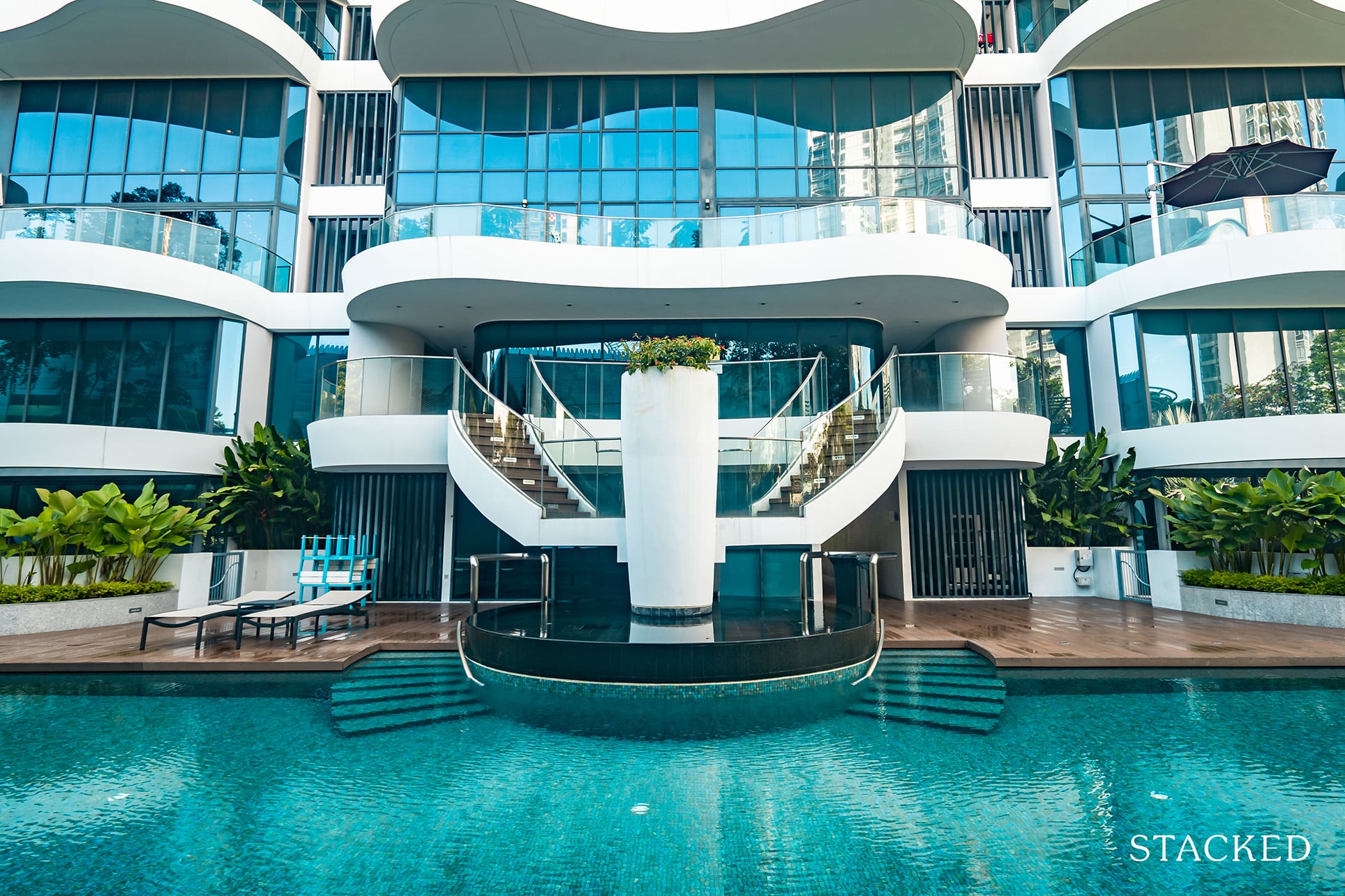 Located between the villas facing the pool is the clubhouse. Frankly, I thought the clubhouse is quite big for a development of this size.
The units you see on the ground floor (both sides of the clubhouse) are actually the 3 units of 3-storey villas ranging from 4,629 sqft to 5,177 sqft (4 and 6-bedrooms) and each villa has its own private pool. All 3 units are still available for sale by the developer (at the time of writing).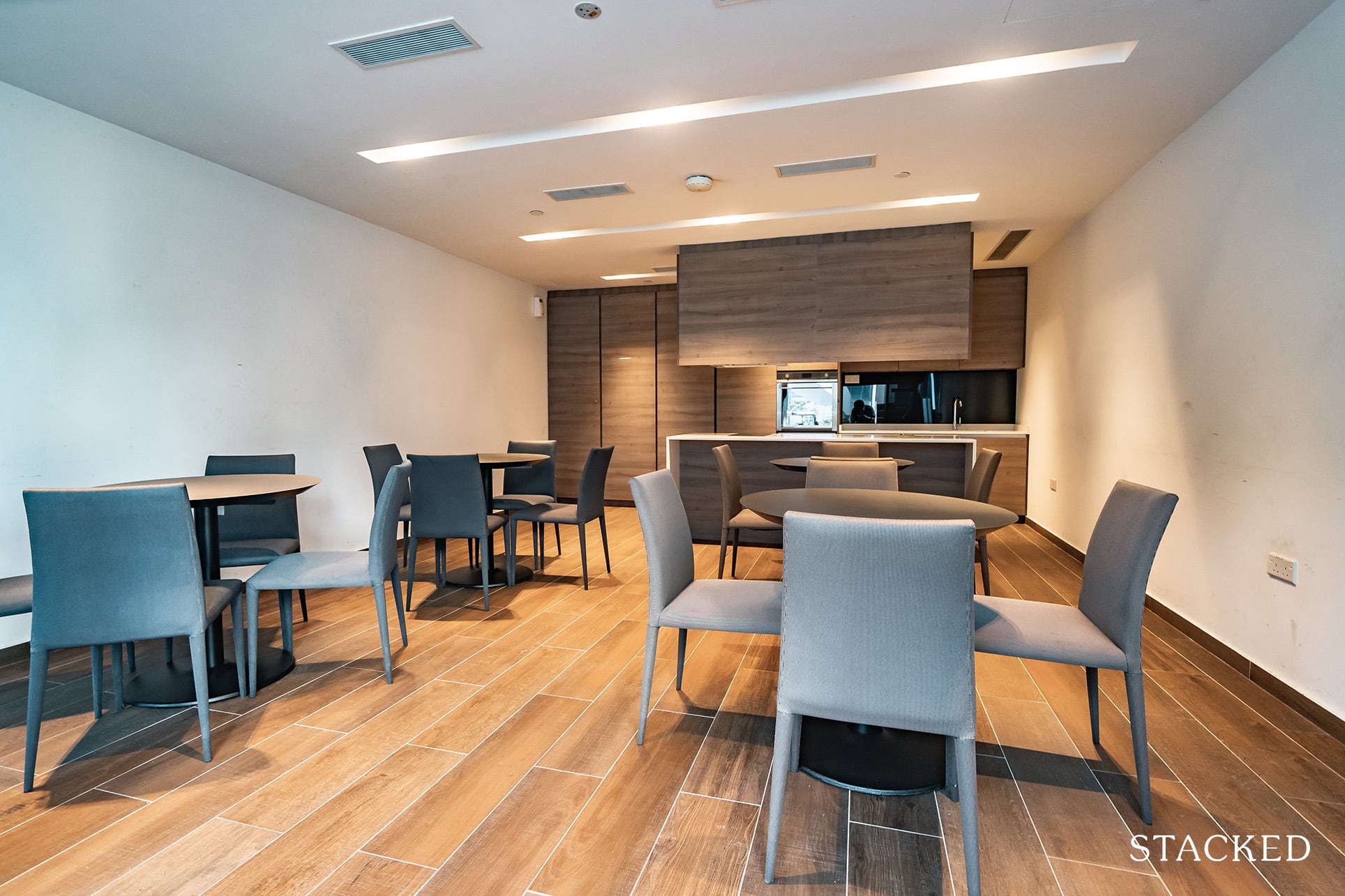 On the inside, the placement of the tables and chairs do look quite utilitarian (reminds me a bit of showflats where the agent sits you down to discuss the pricing after viewing the show units).
But there is more than meets the eye here as the clubhouse is actually functional as well. There's an induction stove, oven and kitchen sink/tap for you to whip up some dishes and the room is really spacious enough to host a family gathering of more than 20 people over a dinner buffet. The only thing lacking is the pool view but really, you can't have the best of both worlds.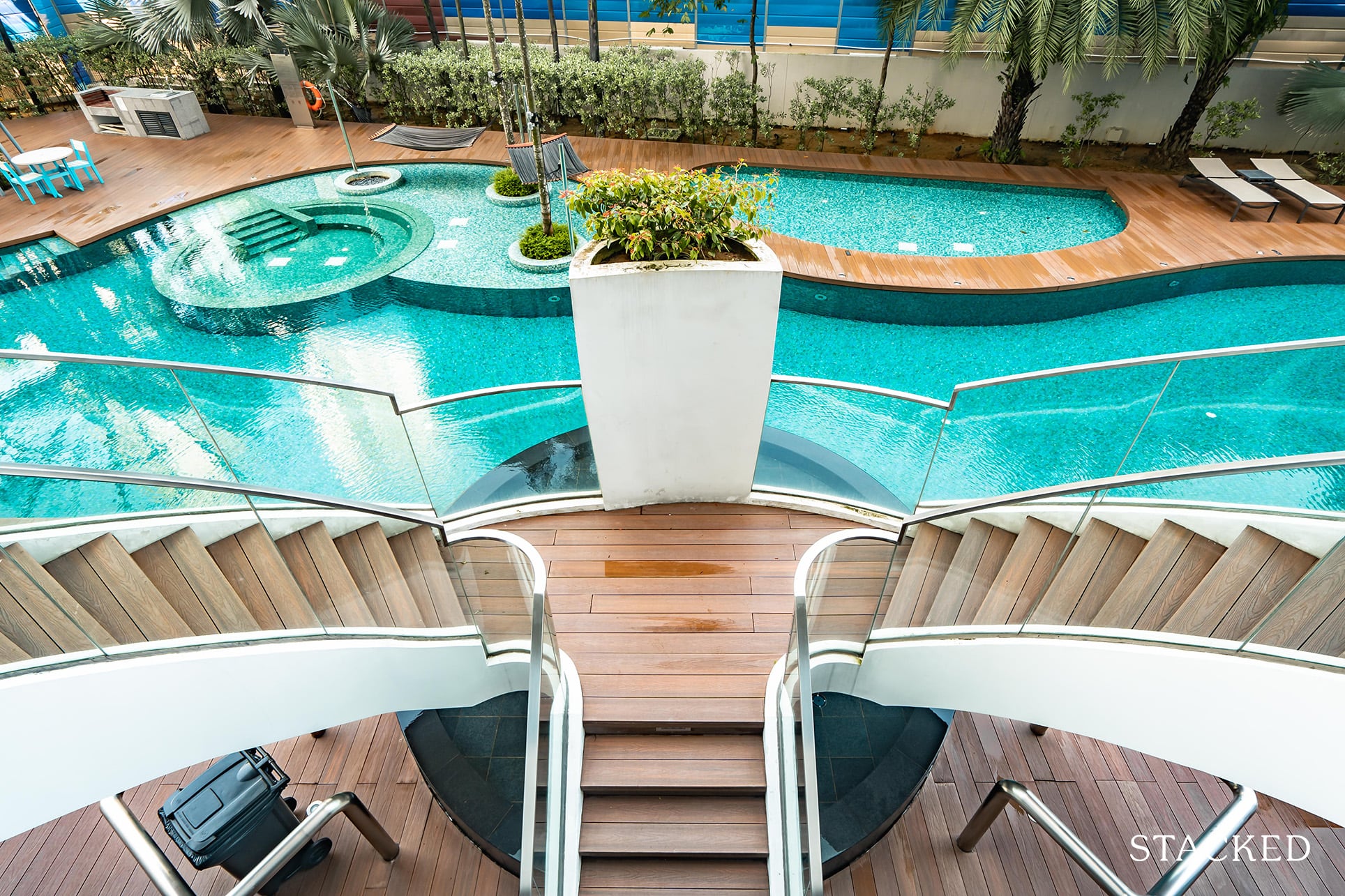 Maybe it's the kid in me, but this totally looks like an ideal spot for a slide into the pool.
Fantasy thoughts aside, this flight of stairs will lead you up to the gym and steam room. Again with just 109 units, I didn't expect to see a sprawling gym.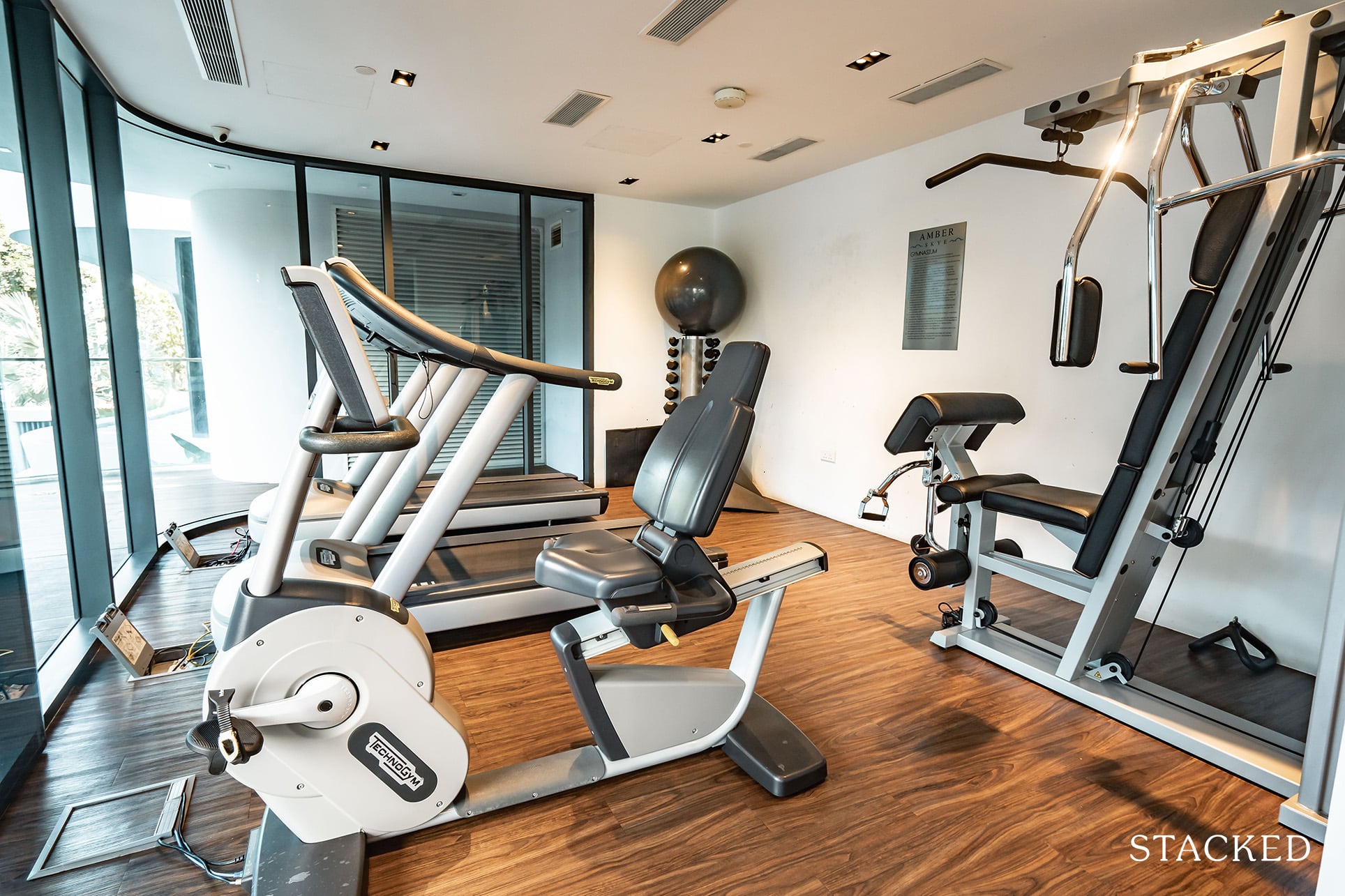 So it was a pleasant surprise to see 6 machines and a small dumbbell rack complete with 1 shower stall and 2 steam rooms just behind.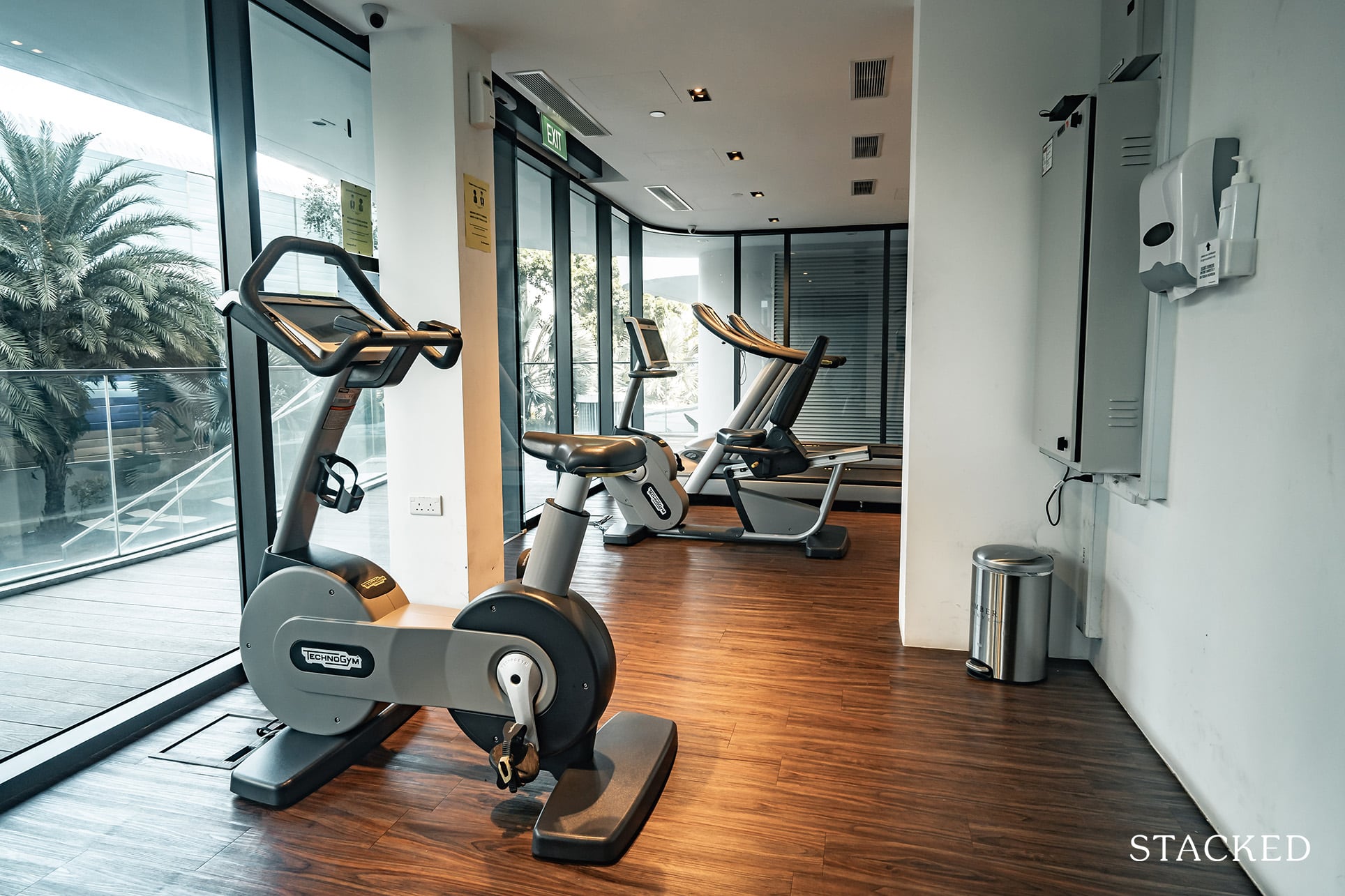 It isn't the widest of spaces however, but it is quite long.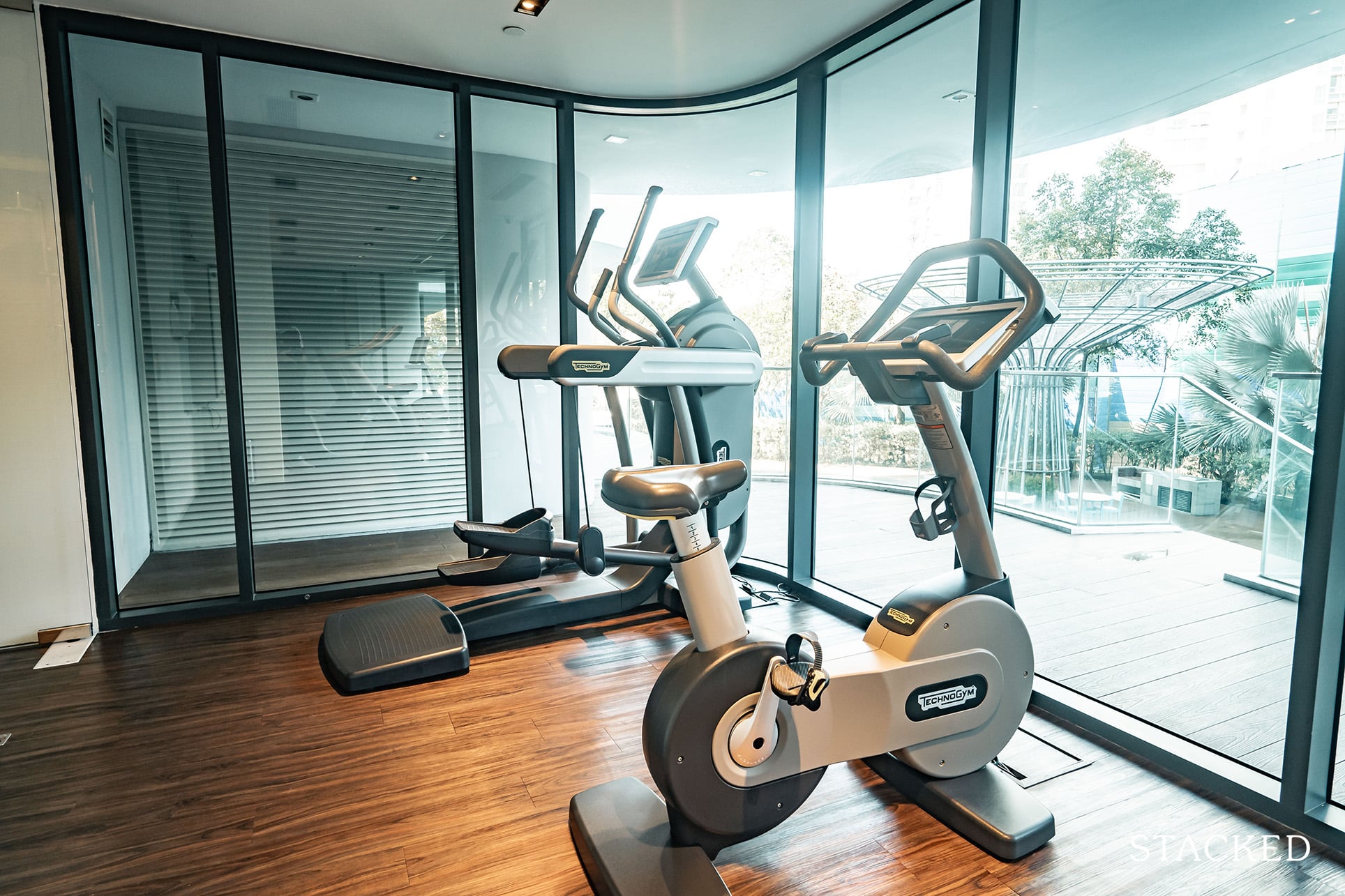 And it does provide a certain level of views all around, with the floor to ceiling windows letting a lot of light in – which is more than I can say for a lot of other places, where the gym seems to be an afterthought.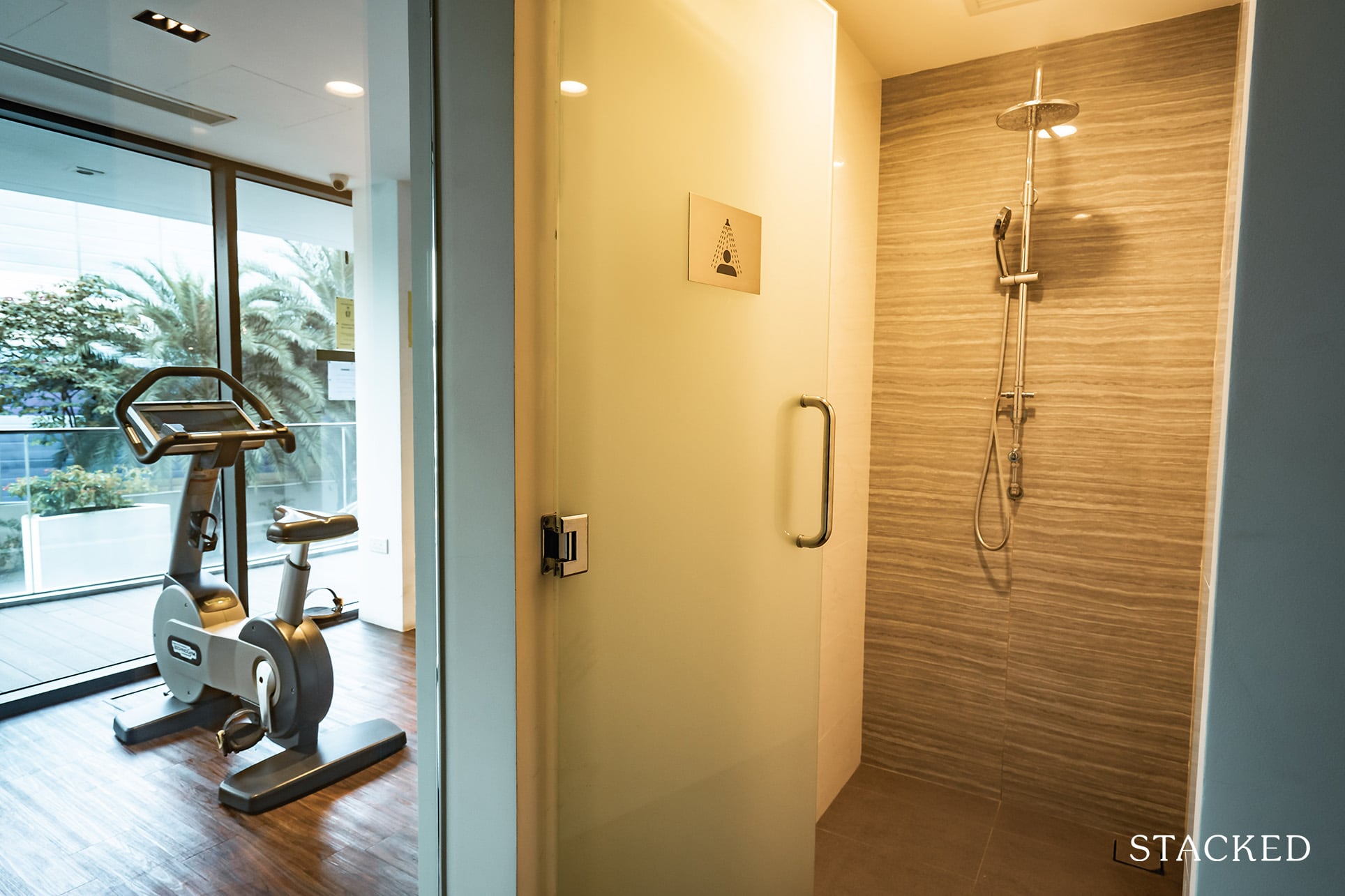 In fact, for the number of units, the size of the gym is really generous. So I can't say I was too surprised at how none of these facilities were used during lunch hour on a weekday – no worries about jostling for equipment here most of the time.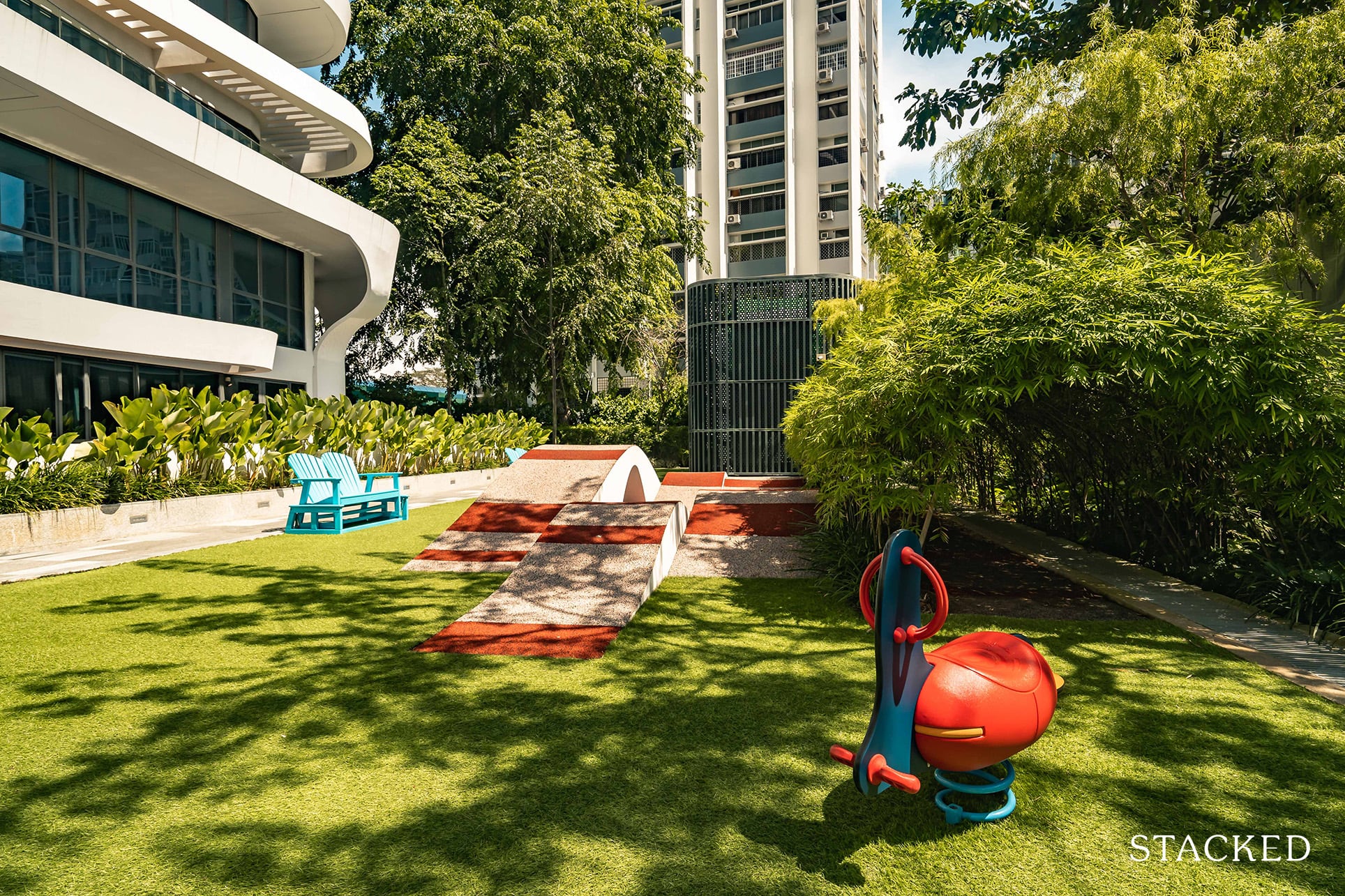 As for the kids, there's a small kid's pool beside the main pool and a Children's Topo Playground at the back of the development.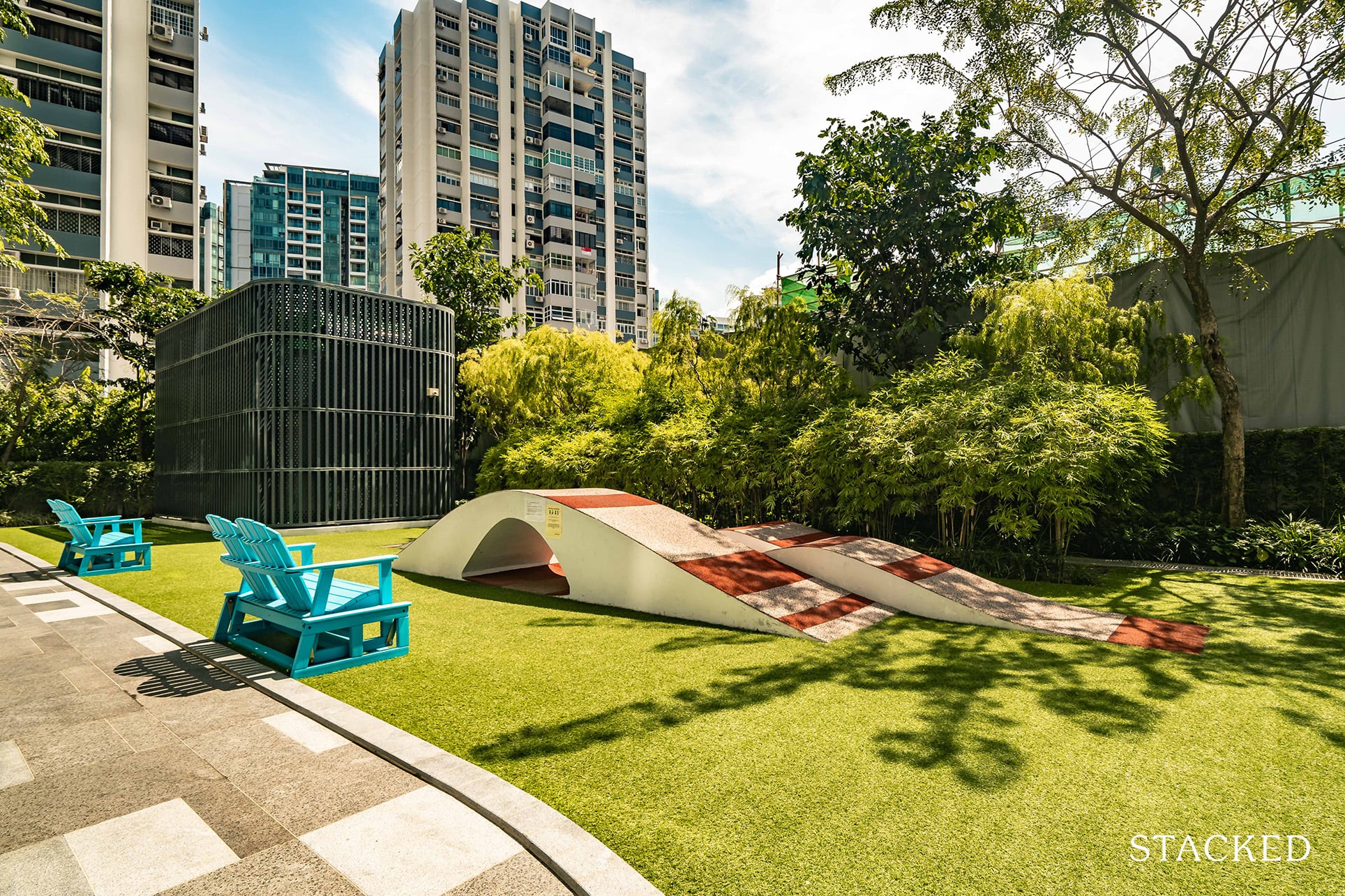 The playground looks virtually untouched but that may also be because of how boring it looks.. it's really just 3 undulating slopes and 2 spring riders.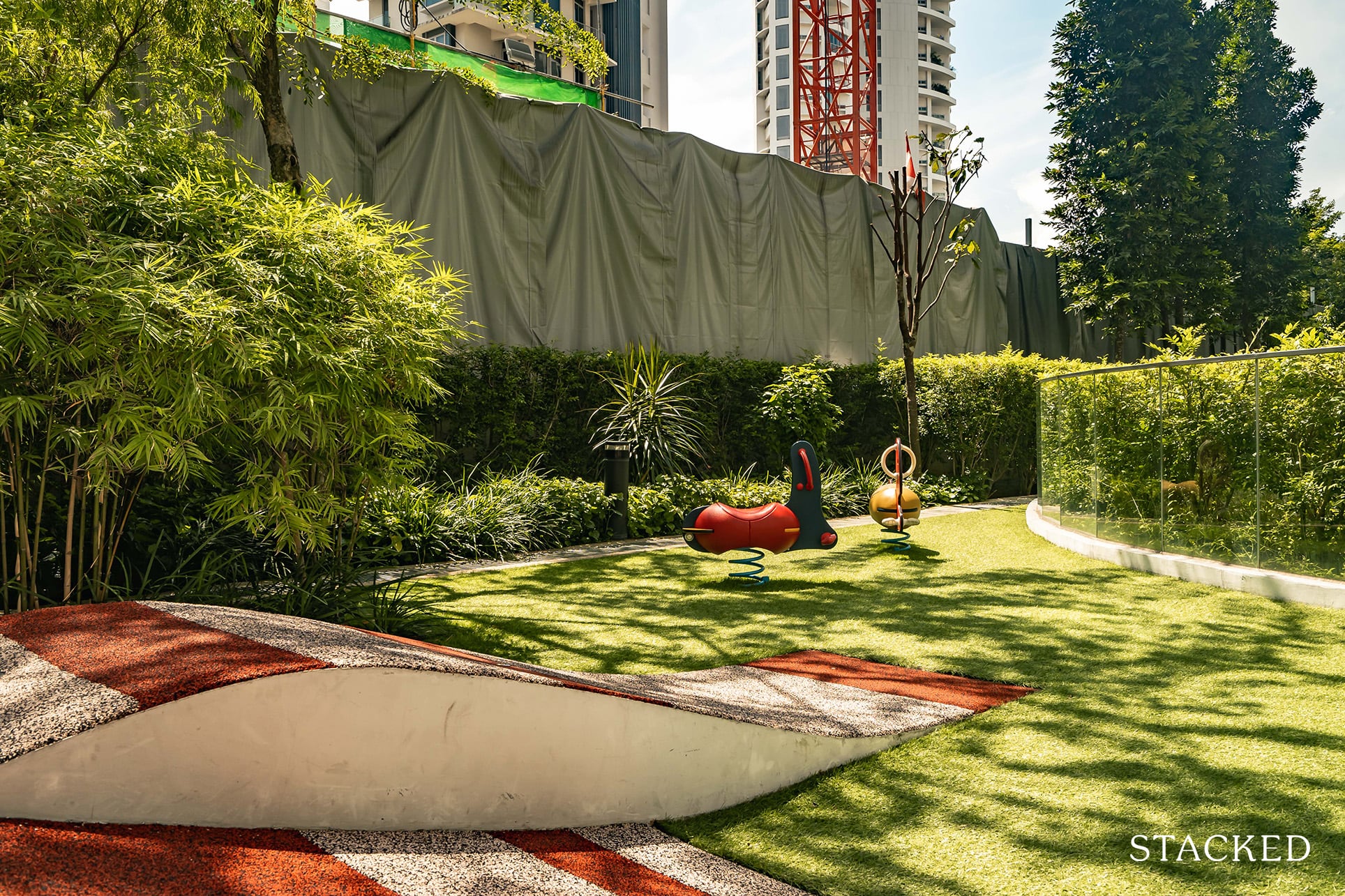 Even though this is a small development, Amber Road is actually quite popular with families so I'm sure parents with young kids here at Amber Skye will have to look for other ways to entertain them.
Then again, I would say Amber Skye isn't really for families with young kids – it does give off a more adult-ish vibe.
I'm usually excited whenever there's a sky terrace in a development because I feel that this gives residents on the lower floors the opportunity to enjoy the views without forking out more for their unit. However, sadly this is personally one of the more underwhelming parts of Amber Skye.
Perhaps it's because of how small the Sky Terrace actually is but I think it's mainly because of how they impeded the view by placing plants and a hard wall which is quite high. And it's not that Amber Skye doesn't have a view – one side even faces the sea!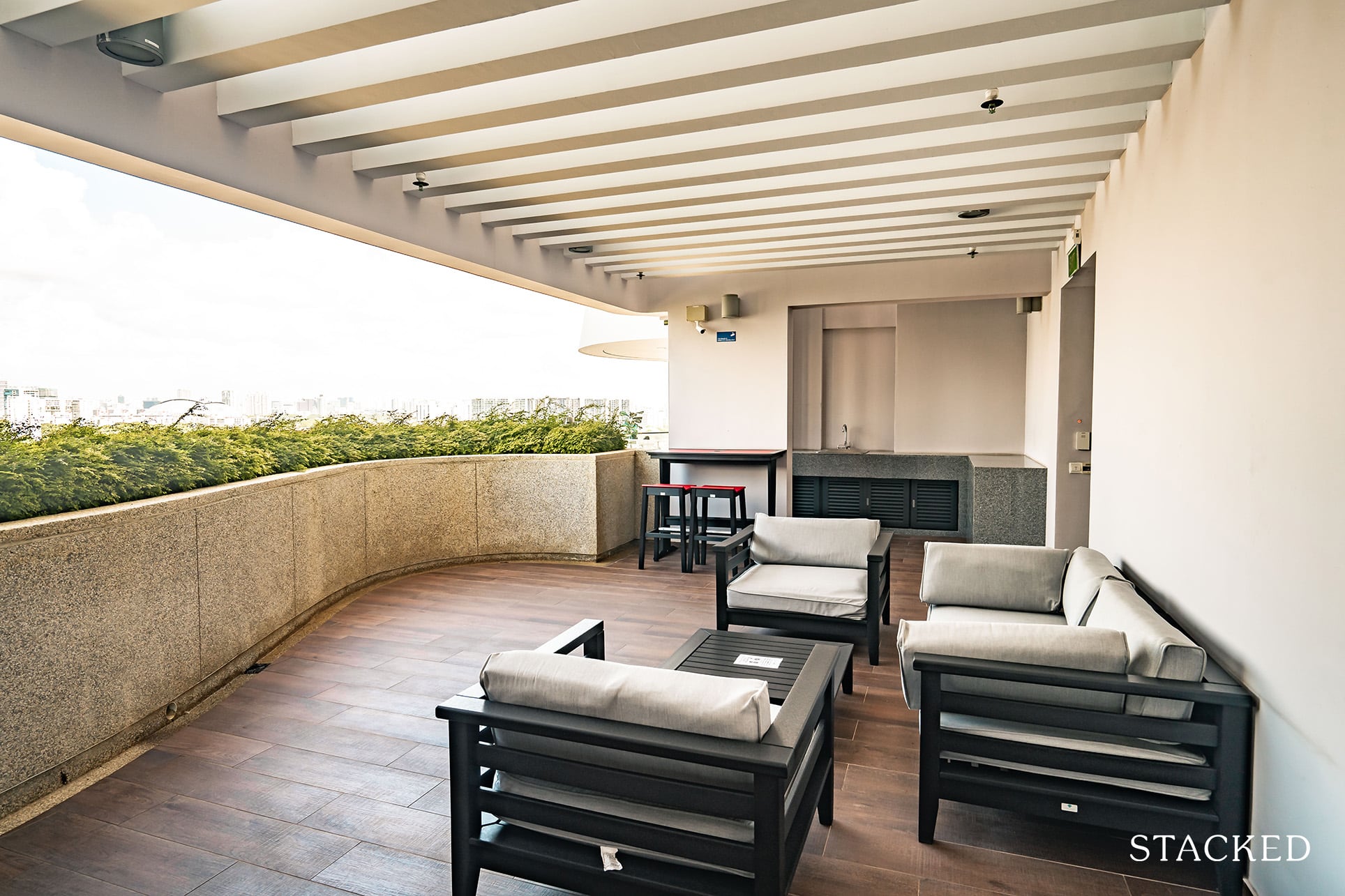 So this area just seems like some outdoor furniture for you to chill and relax – rather than a spot to admire the views. Glass railings here would have been perfect to accentuate it, but maybe its because it would spoil the exterior of the building – so perhaps it's just a case of form over function.
Views aside, it is still a useful space for hosting guests, with a buffet counter installed in view of holding private functions here.
Again, I can't help but feel it was a missed opportunity here. As an example, take a look at the ones at Cyan and Espada and just see how much more you can take in. Plus, I think most would agree with me that the views here are infinitely better.
Amber Skye 2 Bedroom Loft Review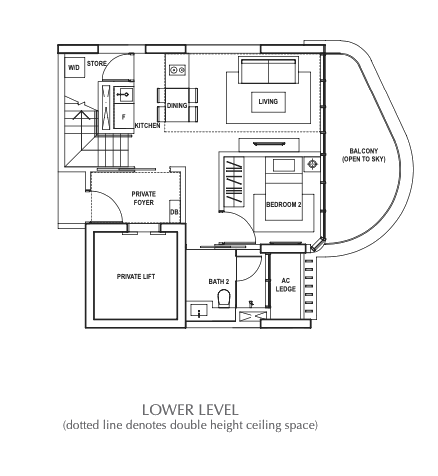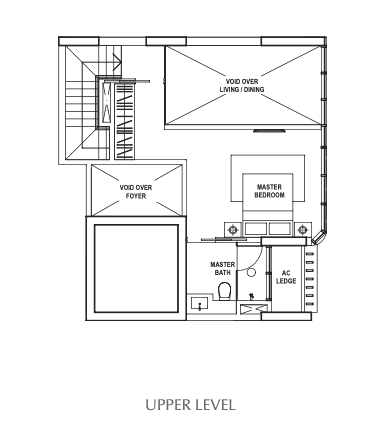 By all accounts, 1,216 square feet is big for a 2 bedroom unit – although you will have to take into account the private foyer and void areas as wasted space (although this unit does have something special up its sleeve).
All units in this project come with a private lift lobby, even for the smaller 1 and 2 bedroom units. For a boutique project at this price point, I think Amber Skye is off to a good start in promoting that tinge of exclusivity.
I actually viewed this exact unit type back in 2014, and visited their (empty) showflat launch. I recall my mum and I really liked the cosiness of the whole unit so let's see if the actual unit lives up to my memories of it.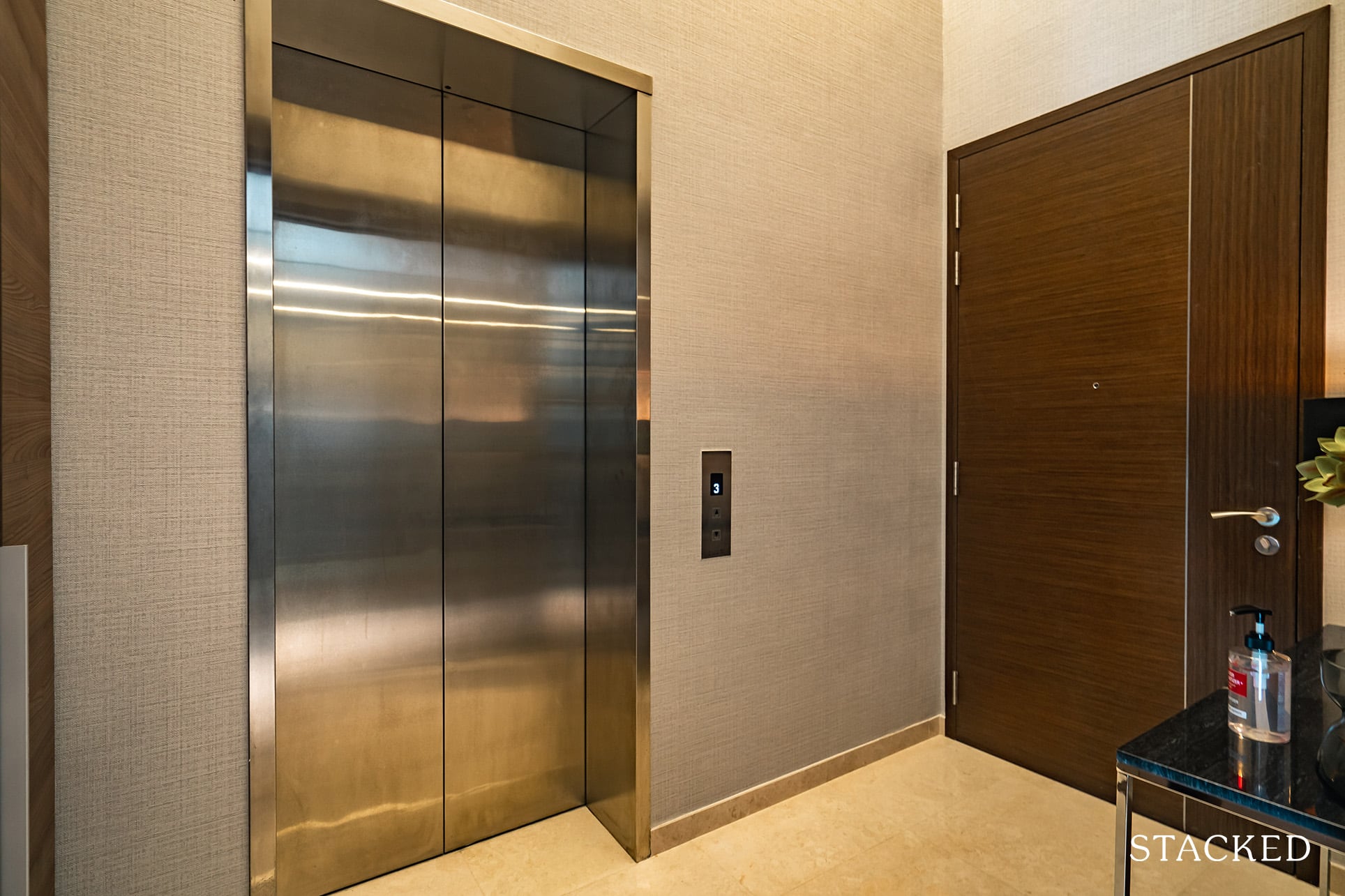 I don't know about you, but I've seen several projects where the private lift opens right into your unit and frankly I'm not a fan of that. I like it when there's a private foyer that allows a degree of privacy – and the one here at Amber Skye's 2 bedroom loft fits the bill.
Stepping out of the lift, you will have a holding area where you can showcase a painting, some plants or just have your shoe cabinet/console installed. To the left of the lift is actually the door that leads to the common lift lobby in case your private lift breaks down or in times of emergency (or where deliveries would usually come from).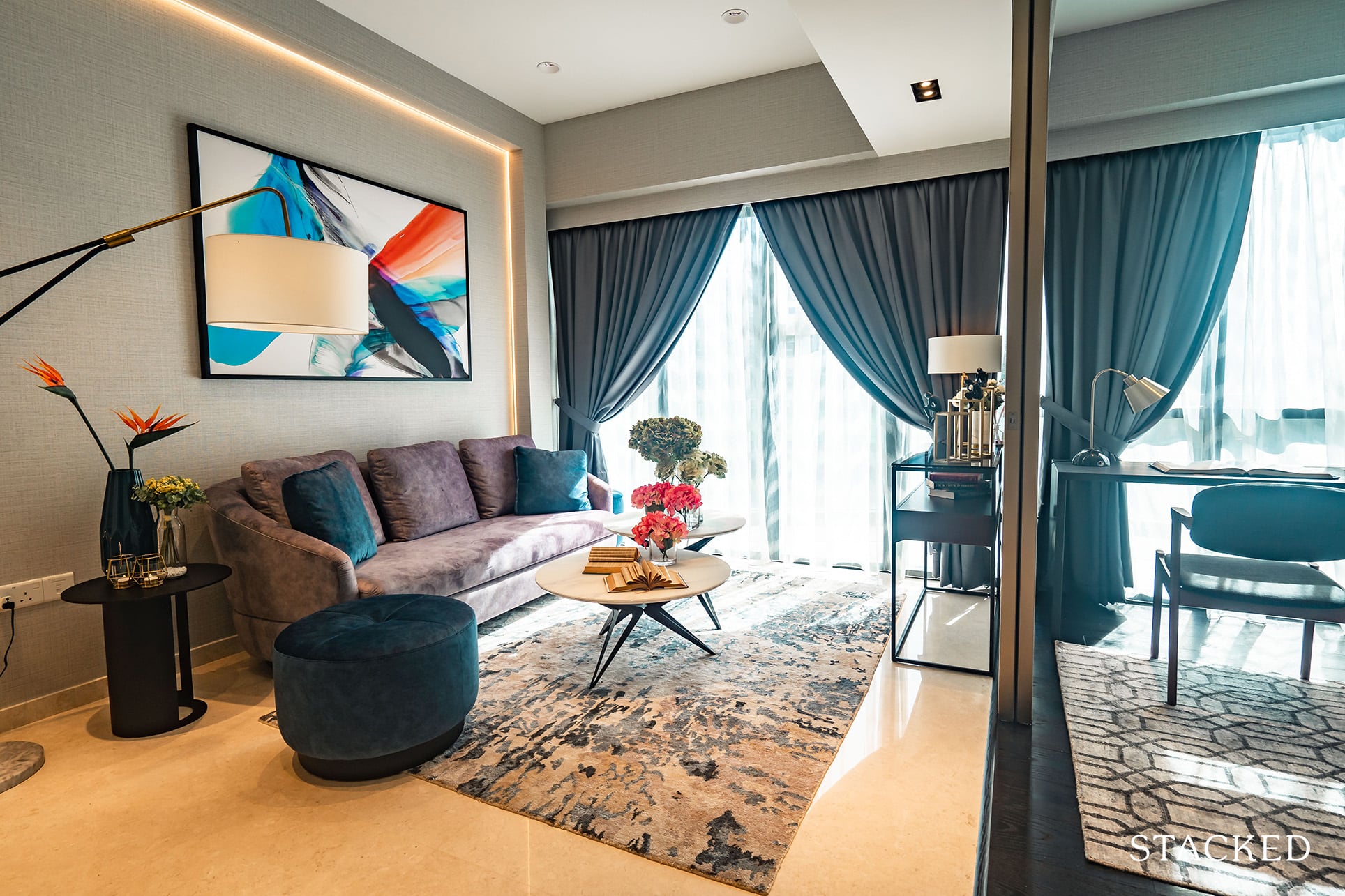 Stepping into the unit itself, this is actually a duplex unit so the floor area of 1,216 sqft is spread across 2 floors, and that includes 75sqft (7 sqm) for the private foyer (price to pay for exclusiveness!) and another 75sqft (7sqm) for the staircase itself. I reckon the actual liveable space per floor is around 500+ sqft and you can perhaps think of it as a culmination of 2x 1-bedroom units with some interesting spaces built-in (read: storeroom).
As expected for a development at this price point, all units come with marble floors in the common areas and timber in the bedrooms, which is generally more premium than engineered wood although it can be more difficult to maintain.
For the living room and master bedroom, the air-conditioning is actually ducted and this is really the classier and more premium option out there (although servicing will cost slightly more).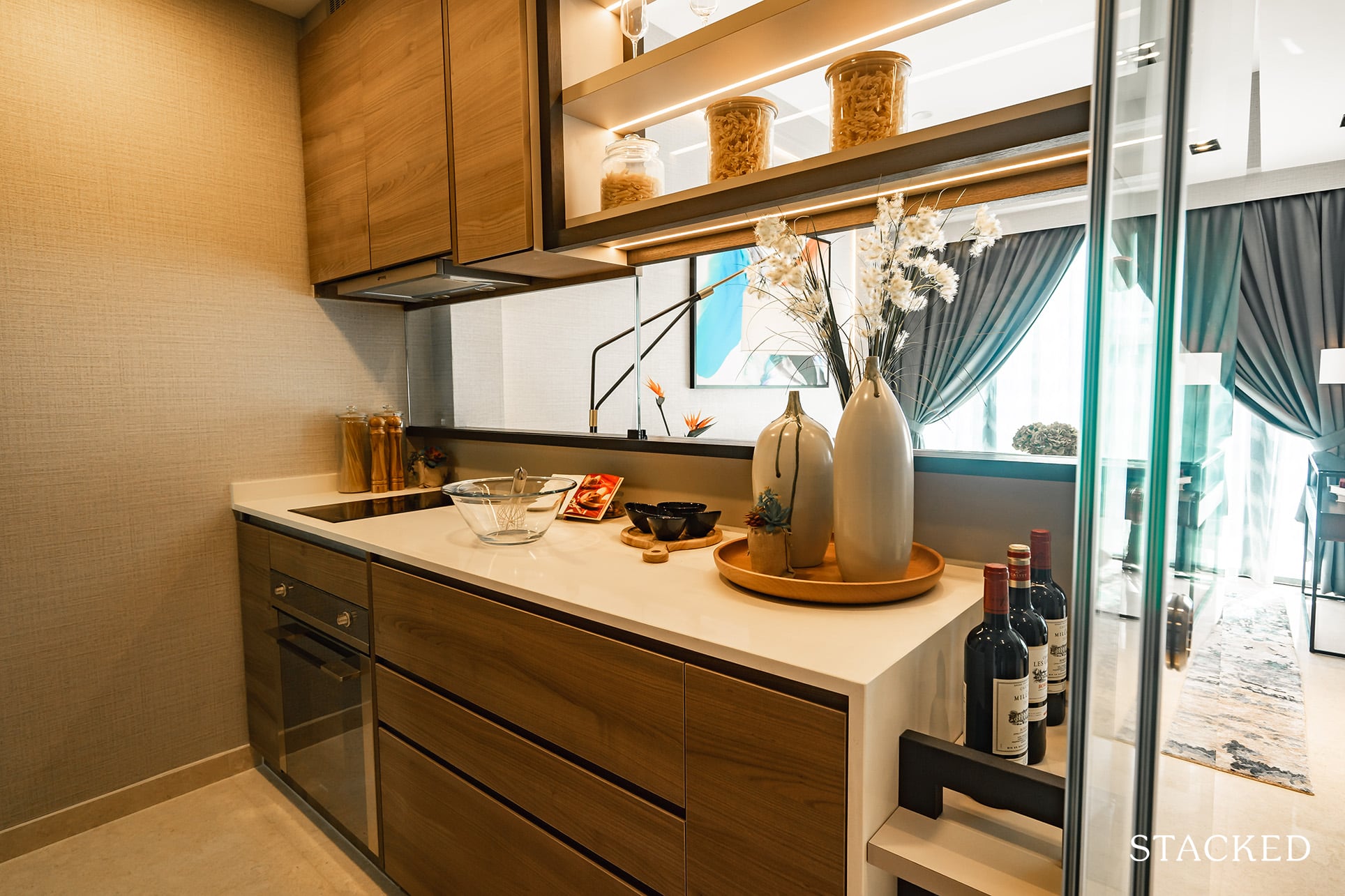 Let's start with the kitchen. Incredibly, they have managed to fit in an enclosed kitchen (do note that the glass sliding door is ID treatment) and a very decent countertop, top and bottom cabinets built-in and some shelving provided as well. The word cosy comes to mind here.
The fridge is also concealed behind the wooden panels, which makes it sleek although it can get troublesome when it needs replacing. There is also an induction cooker and oven provided. All electrical appliances will be provided by Smeg.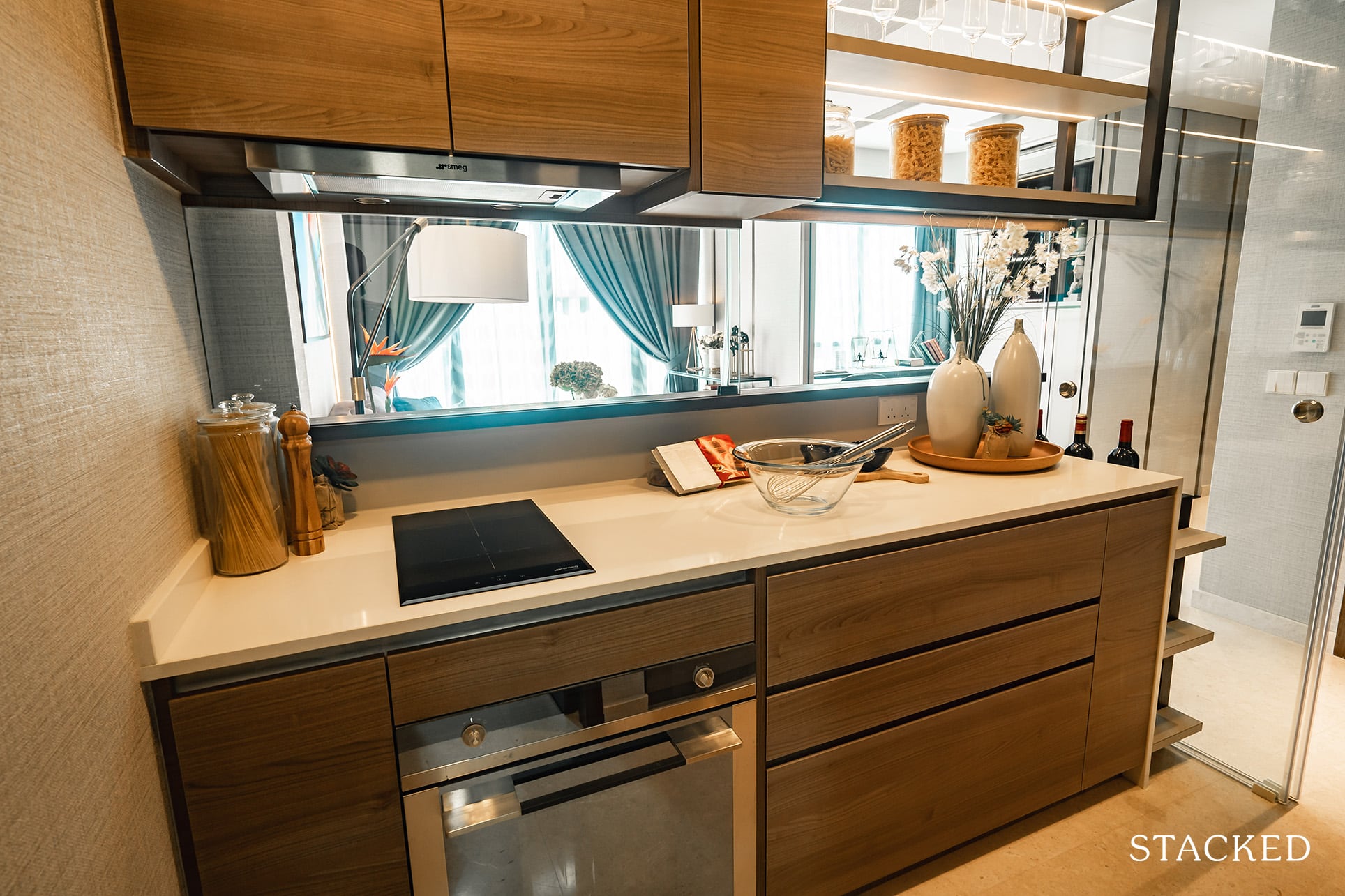 Interestingly, what I observed over the last decade of viewing showflats was that there is a different season of popularity for brands. For a period of time, it was commonplace to see Gaggenau for more premium new launches, whereas these days – De Dietrich or V-Zug seem to be the flavour of the month.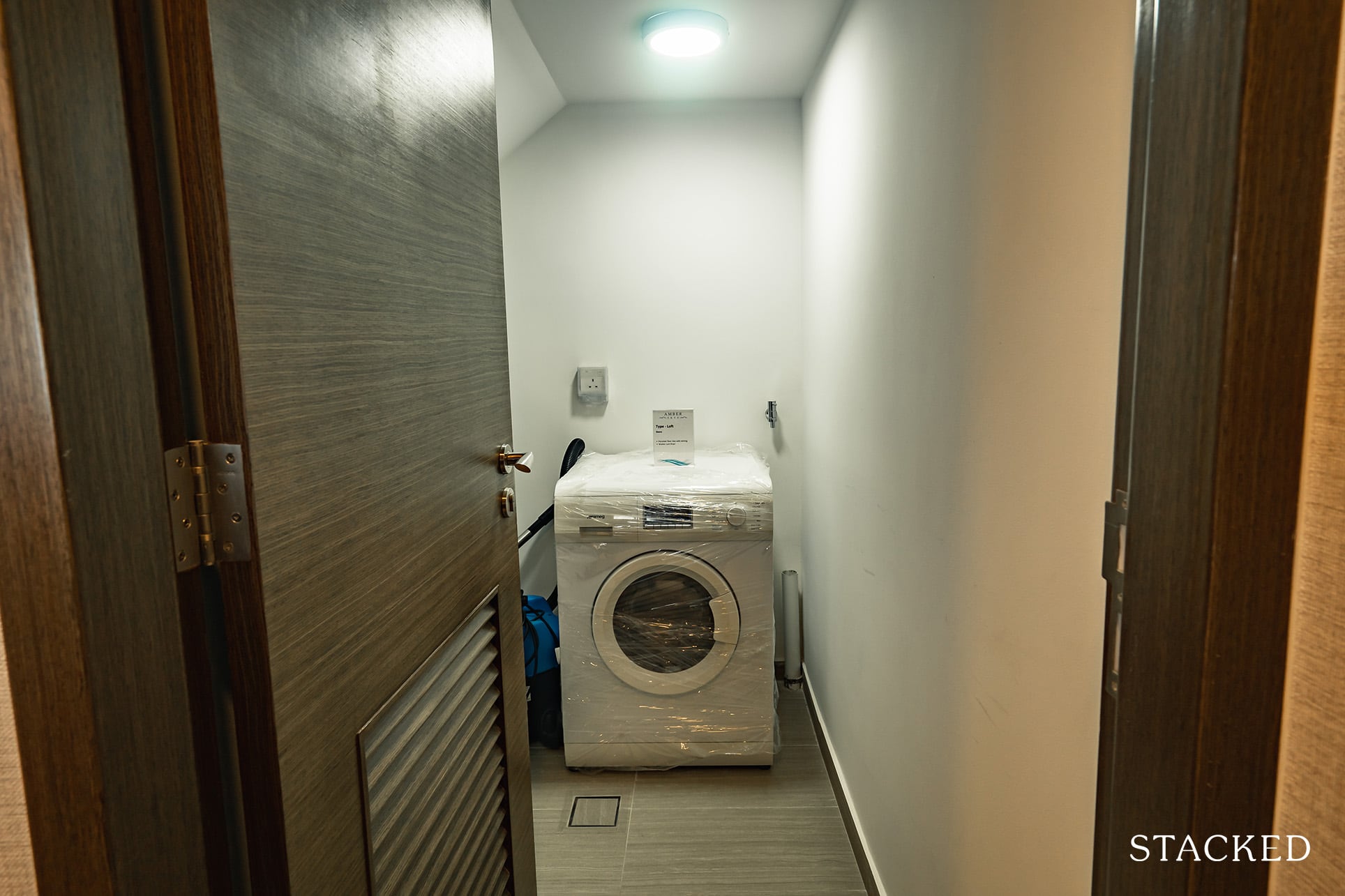 Coming to the most interesting part of the kitchen.. it is actually the store! They managed to use the void left empty by the staircase to create a mini storeroom of sorts. This is really unique and incredibly useful because you don't find many new launch 2 bedroom units with additional storage space nowadays.
It's honestly something many people tend to overlook, so I'm happy to see the provision for it here.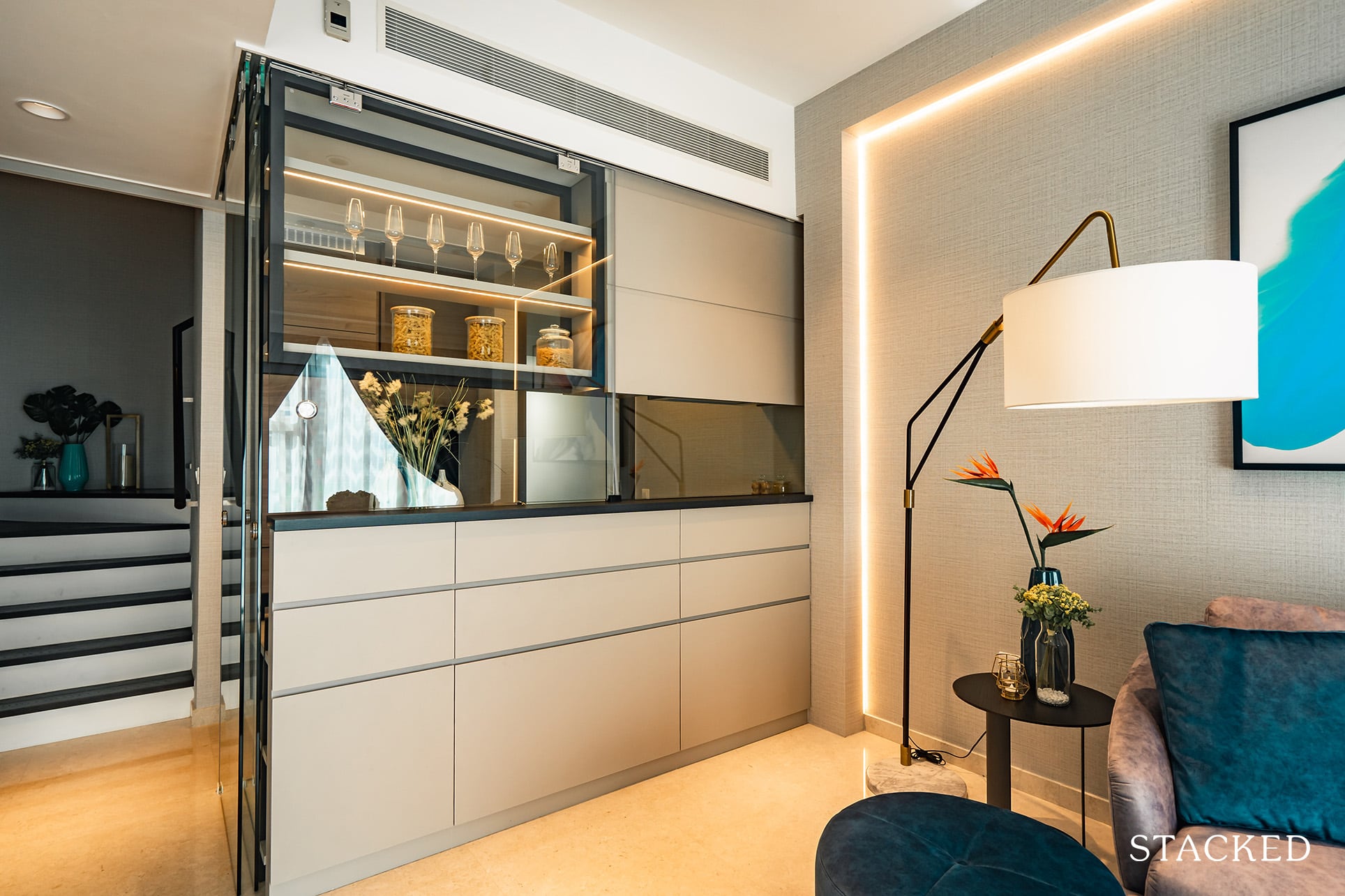 As for dining, the original layout was meant to include an open kitchen where the countertop space would double up as a dining area for 4. However, with the kitchen now enclosed, the area available for dining is actually pretty limited. As part of the ID treatment, they have included a foldable (we didn't fold it down) table where it will accommodate a party of 2 (is that even a party?). If you intend to have friends over for meals often, this is probably not the best unit for you.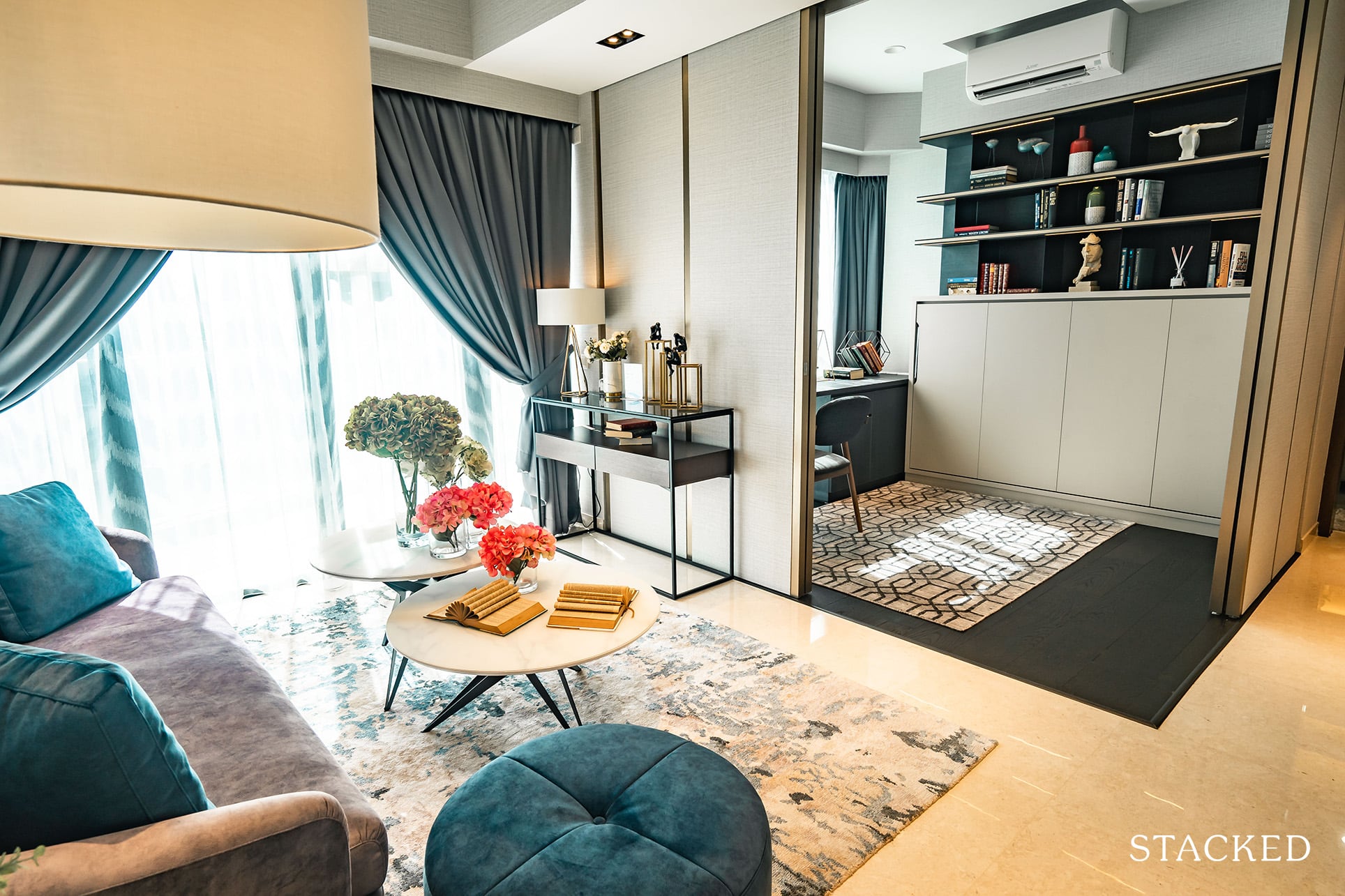 It's very much the same for the rest of the living room – neither the width or length is impressive but you will be able to get a 3 seater couch in here. Do note that they have actually hacked the wall to Bedroom 2 as part of the ID treatment so the actual product (should you pick the non-ID unit) might look squeezier than that.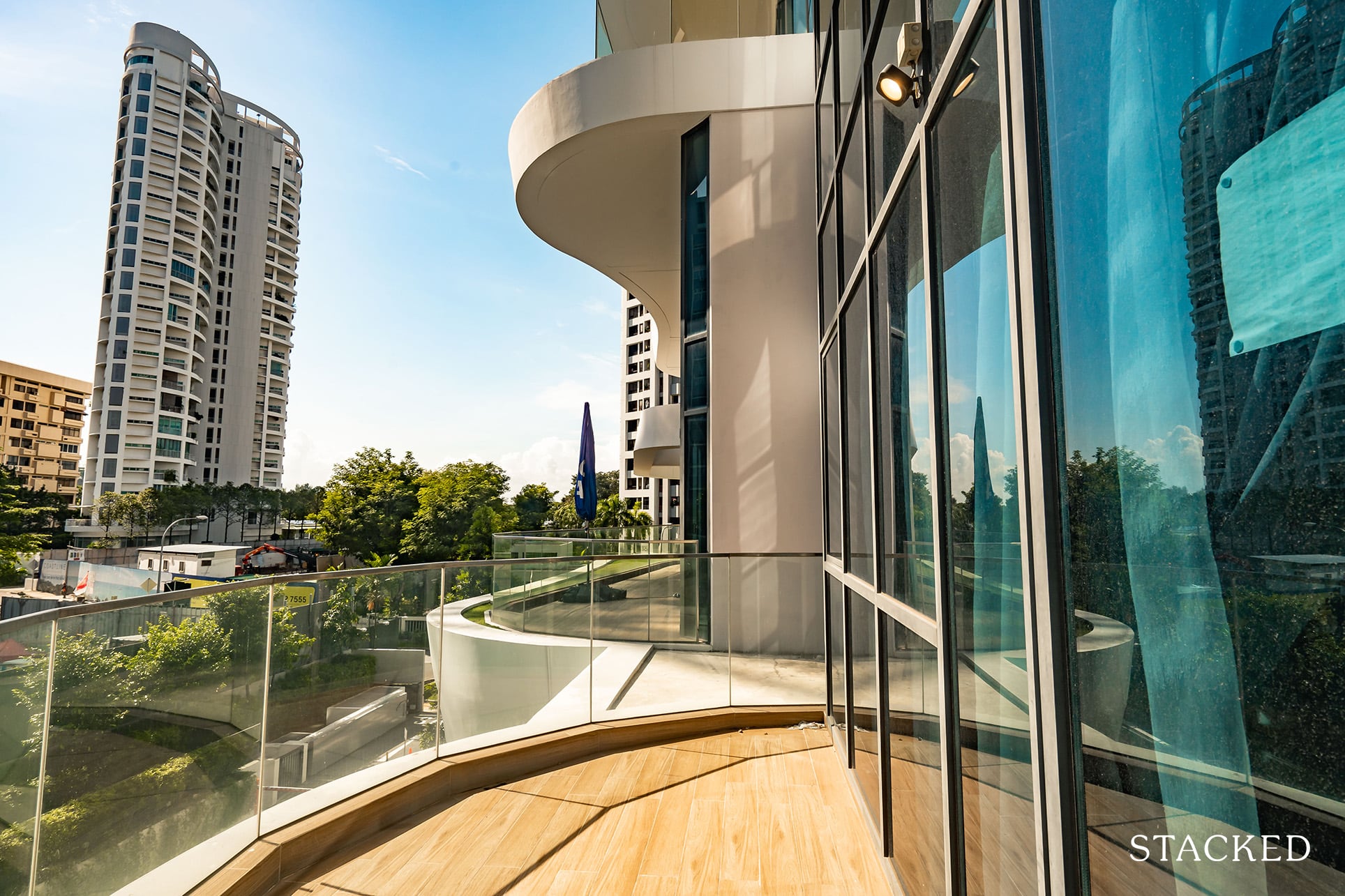 I must say, the balcony doors do a fantastic job of keeping out the sound – especially with the construction noise going on next door.
Where quite a sizeable amount of space has been allocated to is the balcony (107 sqft) which is even larger than the common bedroom for context. If anything, you might be better off placing a dining set here instead.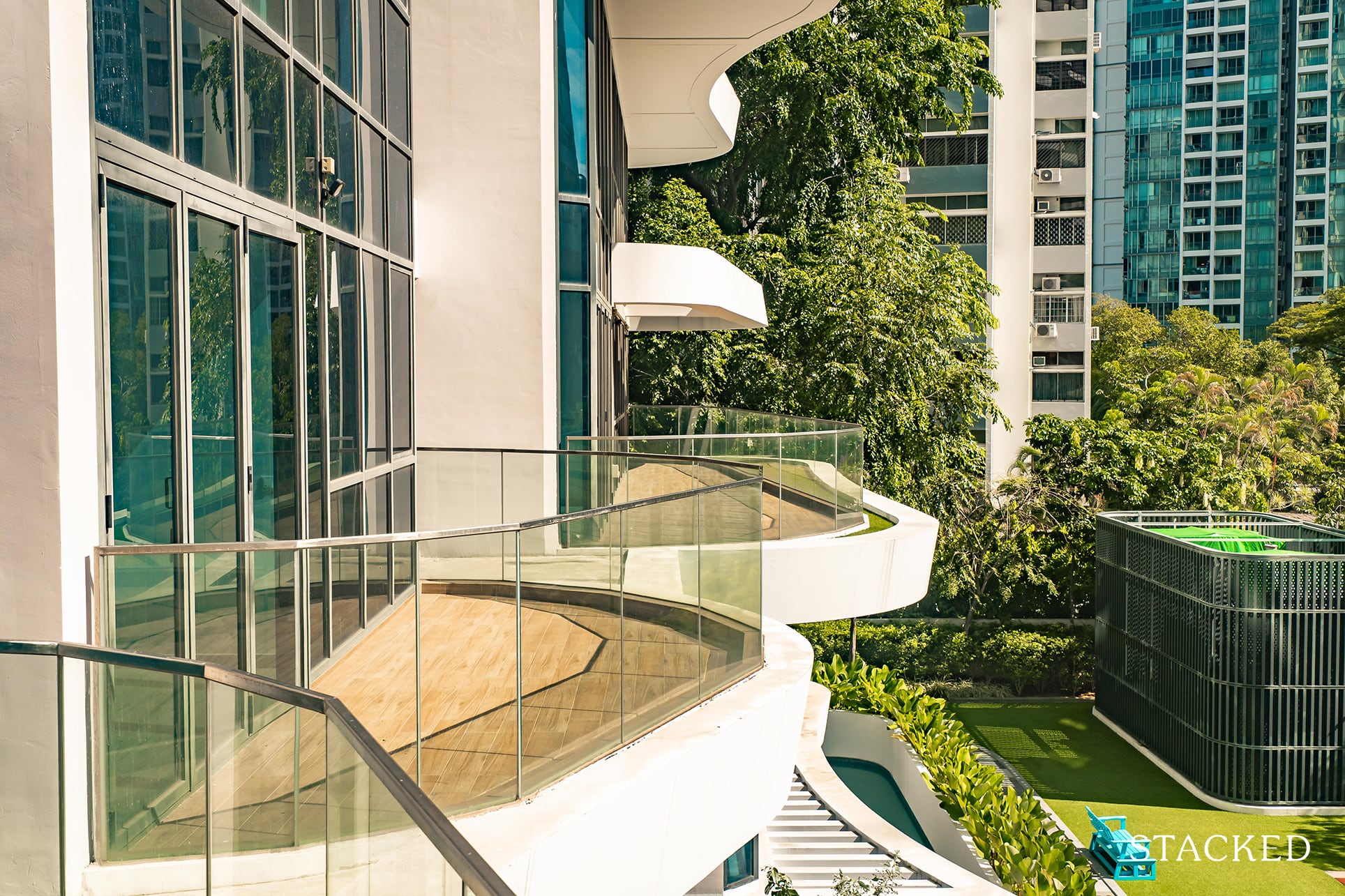 However, you will have to contend with the odd shape (wavy design remember?) of the balcony when choosing your outdoor furniture. Even installing a ZipTrak here is probably going to be a hassle too…
Speaking of which, the glass railings here really do befuddle me on why this couldn't have been done for the sky terrace as well – it looks so much better in my opinion.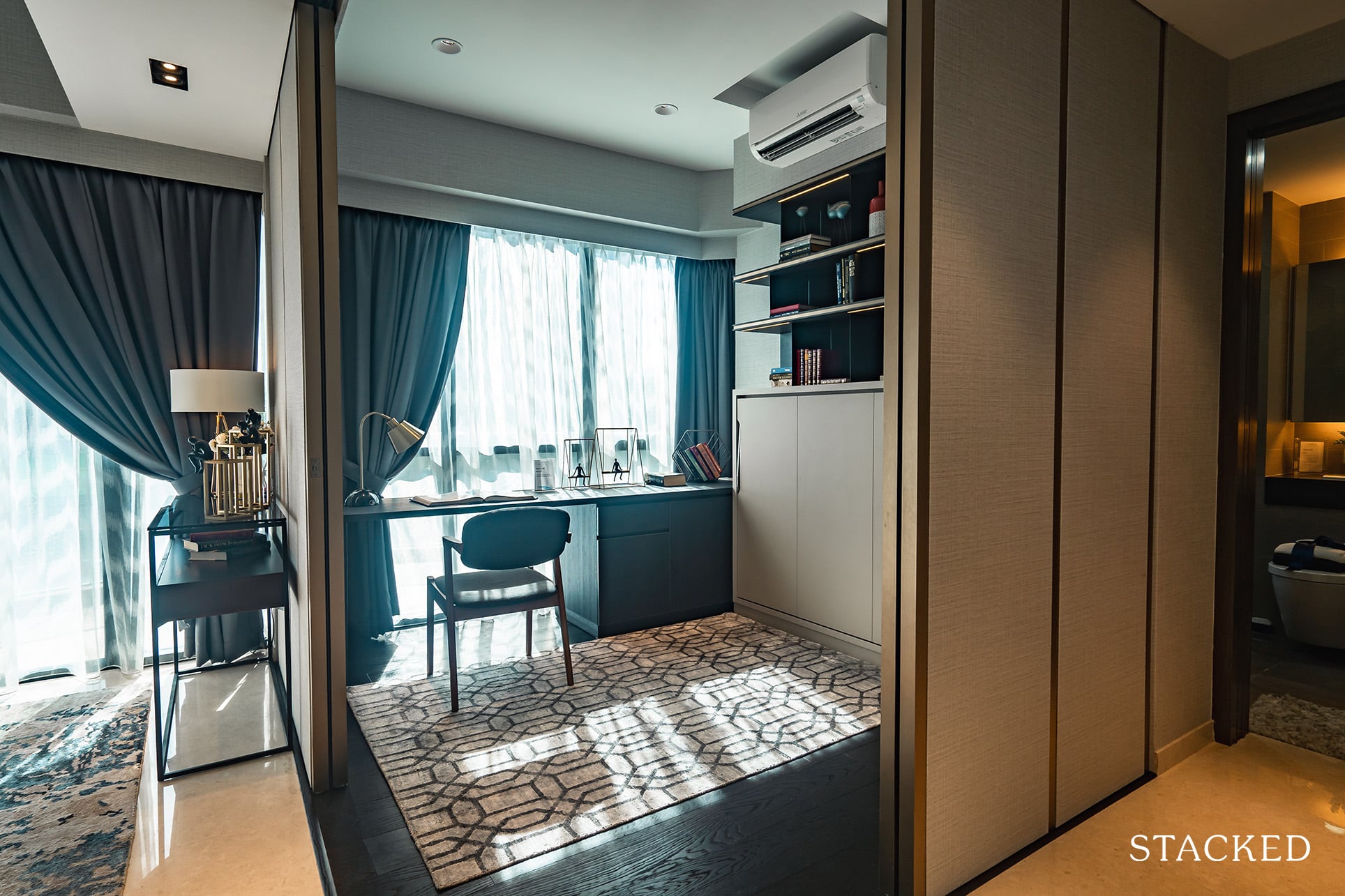 Moving on to the common bedroom, which at 97 sqft (9sqm) is just a tad larger than the average these days. They have actually knocked down the walls and converted it into a study, with a fold-down bed.
You could also go with the conventional bedroom layout, with a built-in wardrobe and a single bed with a small side table.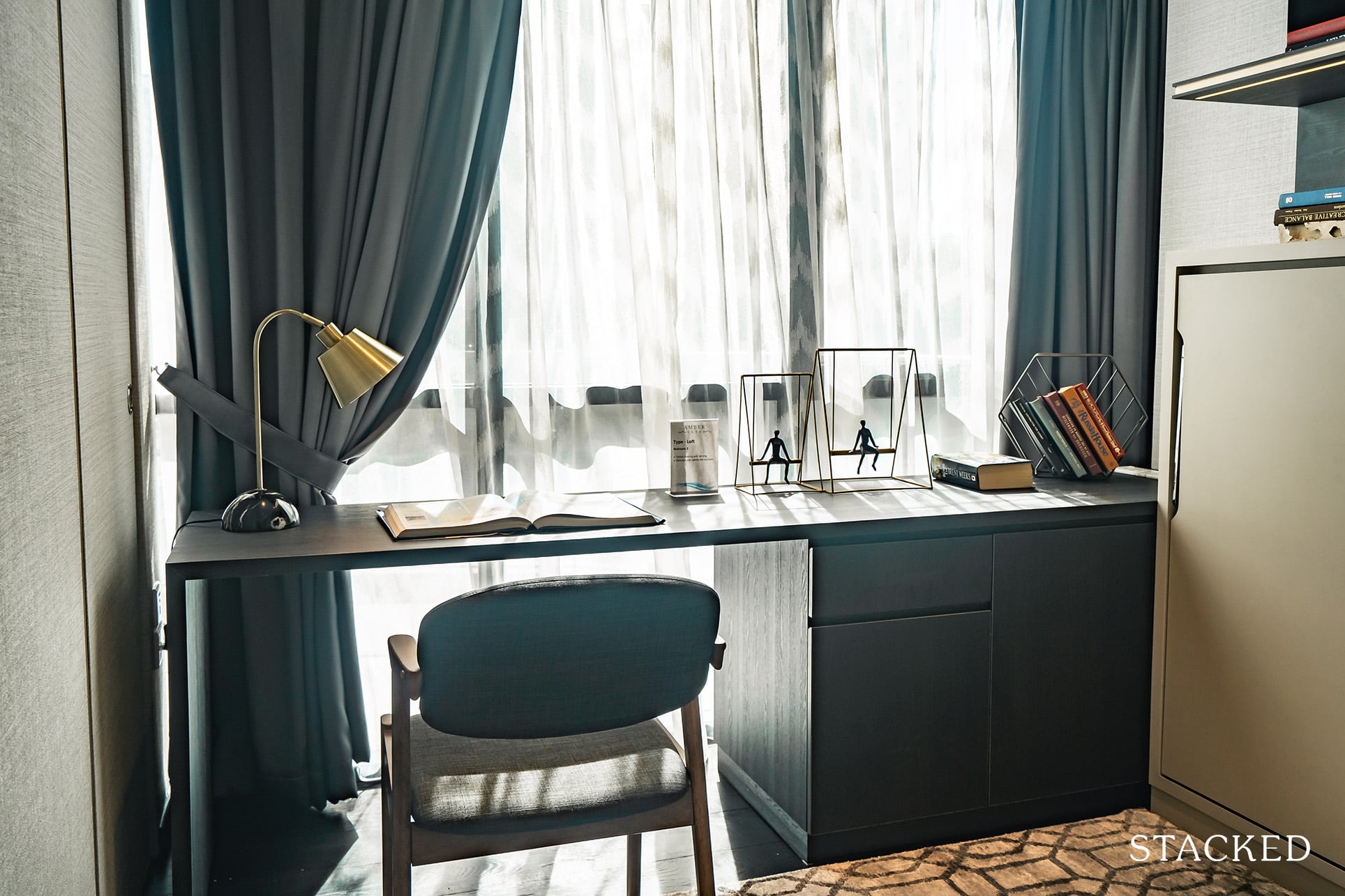 At least the layout of this room is square and regular so you can be free to exercise your creativity with the space.
For many 2 bedroom units in the new launch market these days, the aircon ledge is actually beside the common bedroom, thereby impeding the window lengths. However, because they've moved it beside the common bath, you are able to enjoy full-length windows here instead.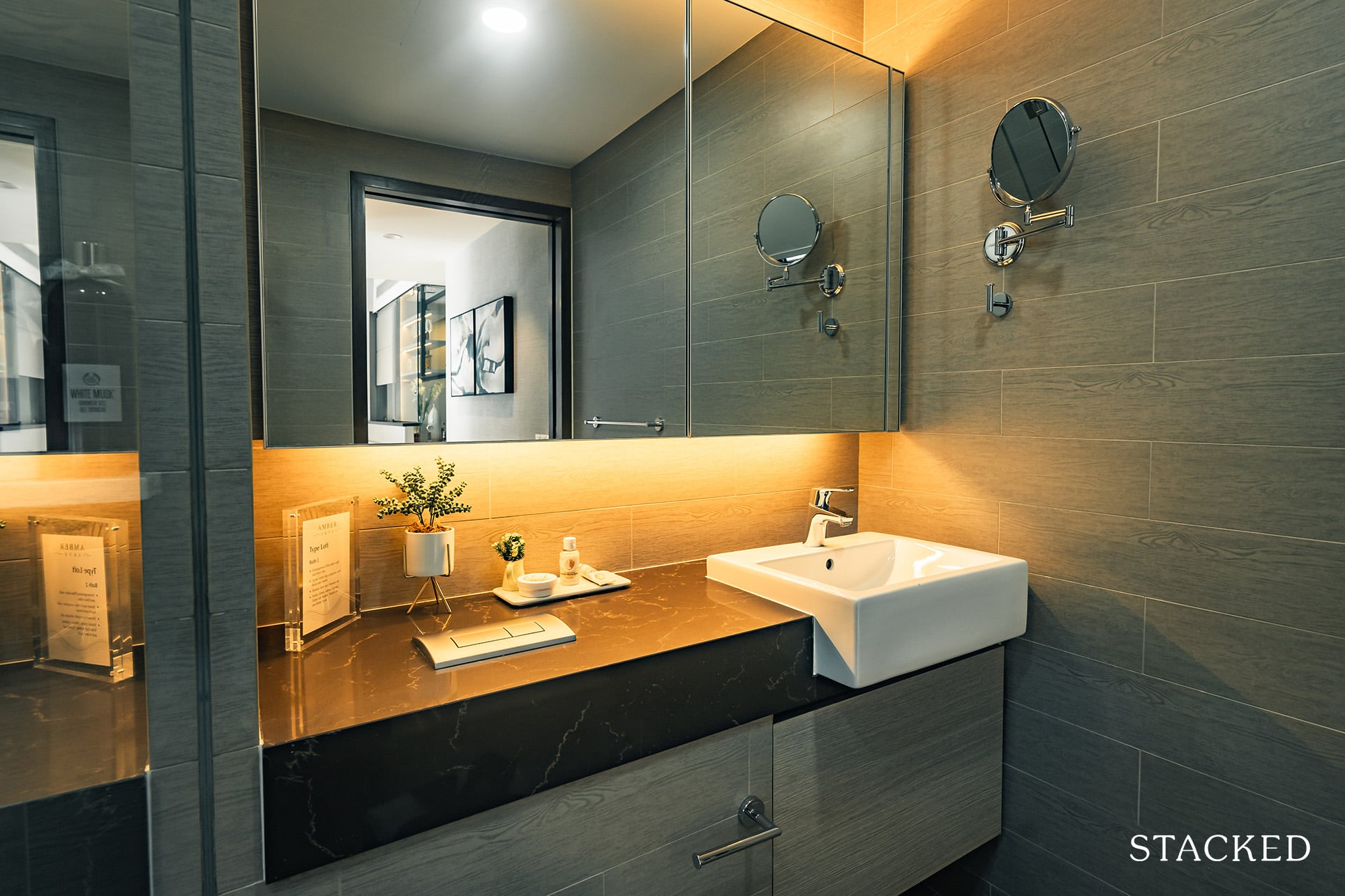 The common bathroom here is actually quite a fair bit bigger than its competition and comes will quality fittings such as Hansgrohe shower and tap and wall-hung Bravat toilet bowl and sink. No rain shower to be seen here though.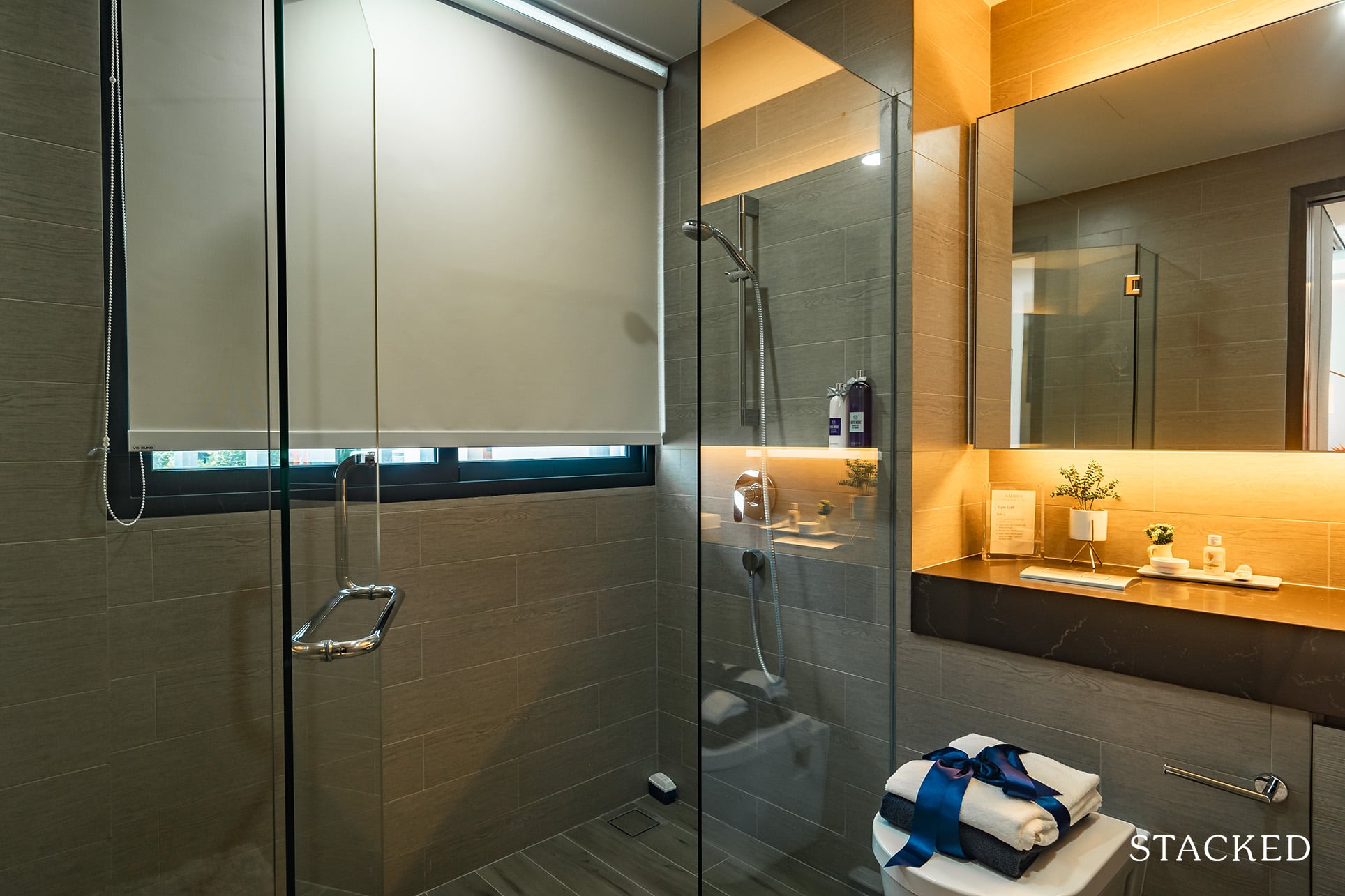 Because there's just 1 bedroom per floor, you could even reconfigure and make the common bathroom here an ensuite for this room.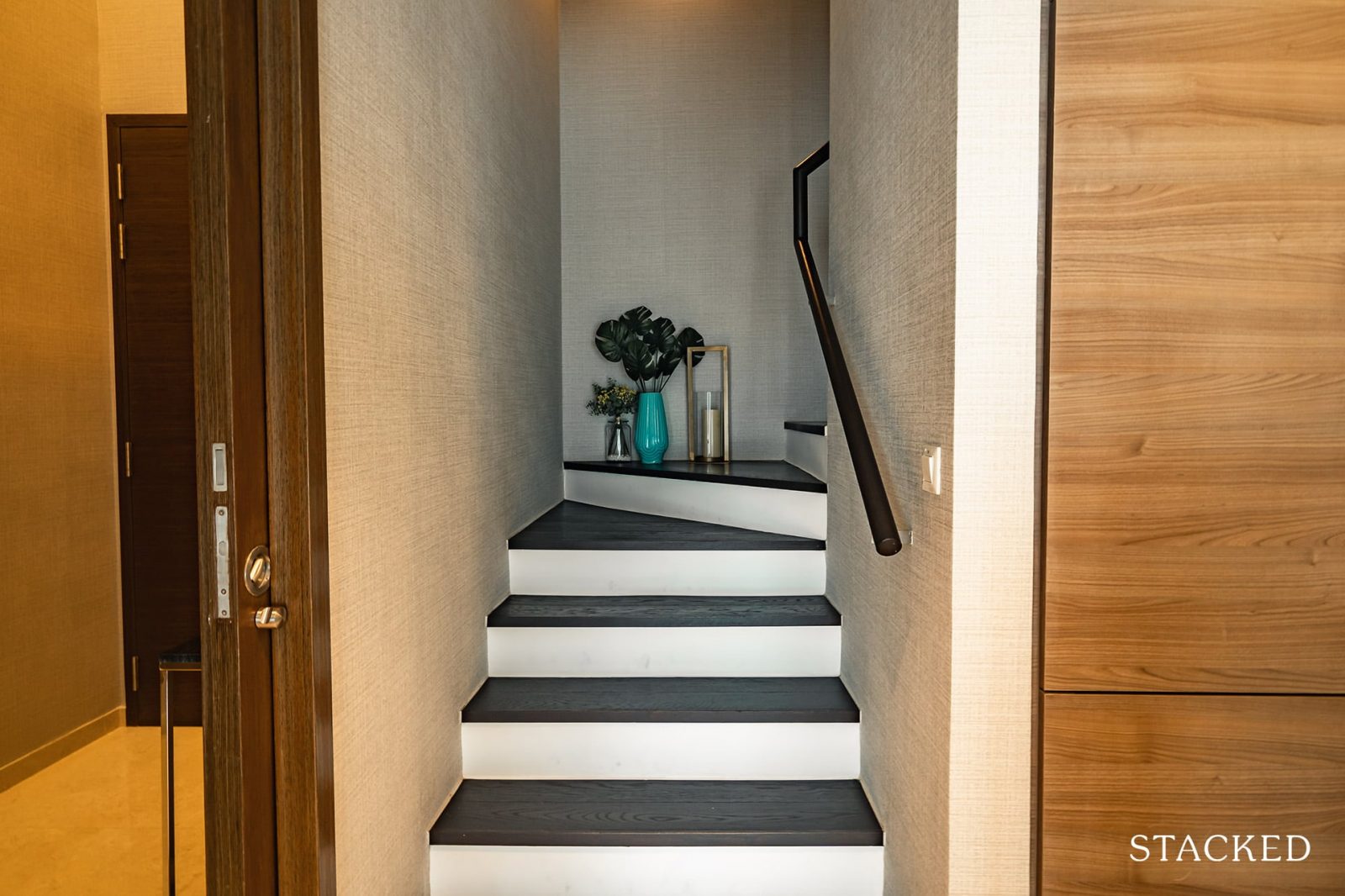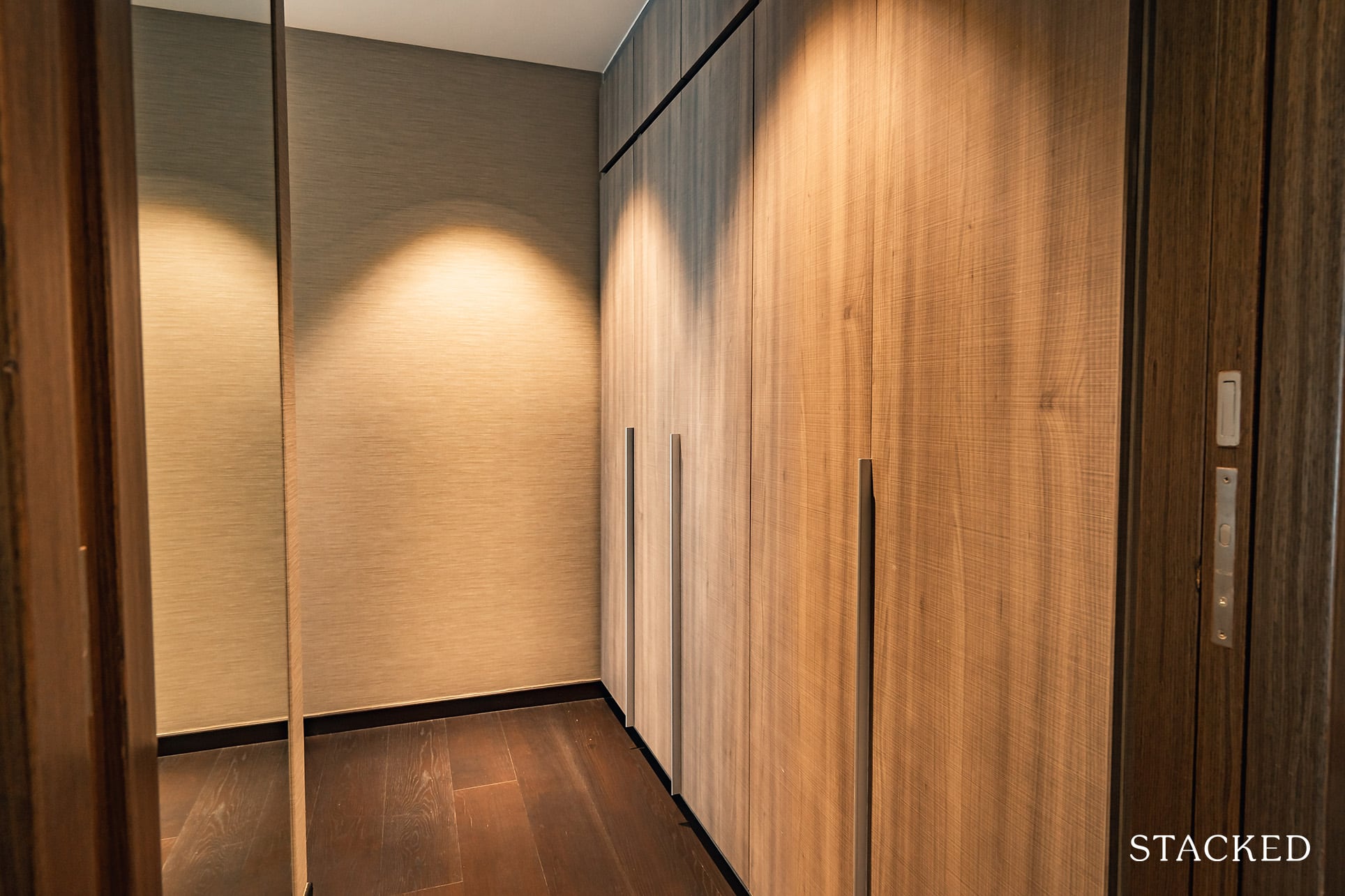 The master bedroom here actually has quite a long walkway where you will find a really good sized wardrobe built-in – so thumbs up for that.
As mentioned earlier, the air conditioning in this bedroom is ducted, adding a touch of luxe to the project.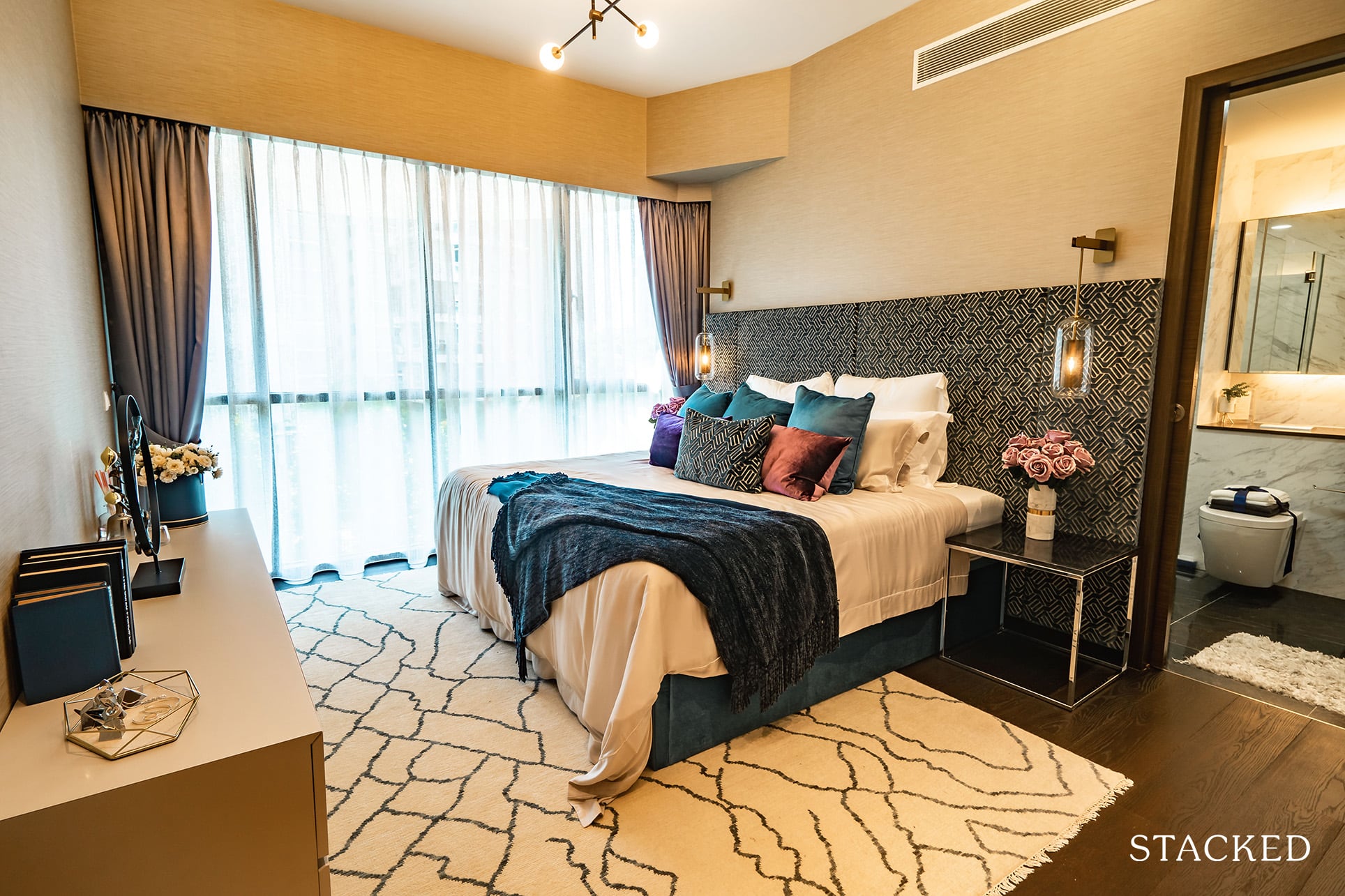 The master bedroom and bathroom stand at 269sqft (25sqm) which is sizeable for a 2 bedroom unit! And because you already have the wardrobe built-in at the door, you will be able to fit in a King-sized bed easily with space for 2 small side tables.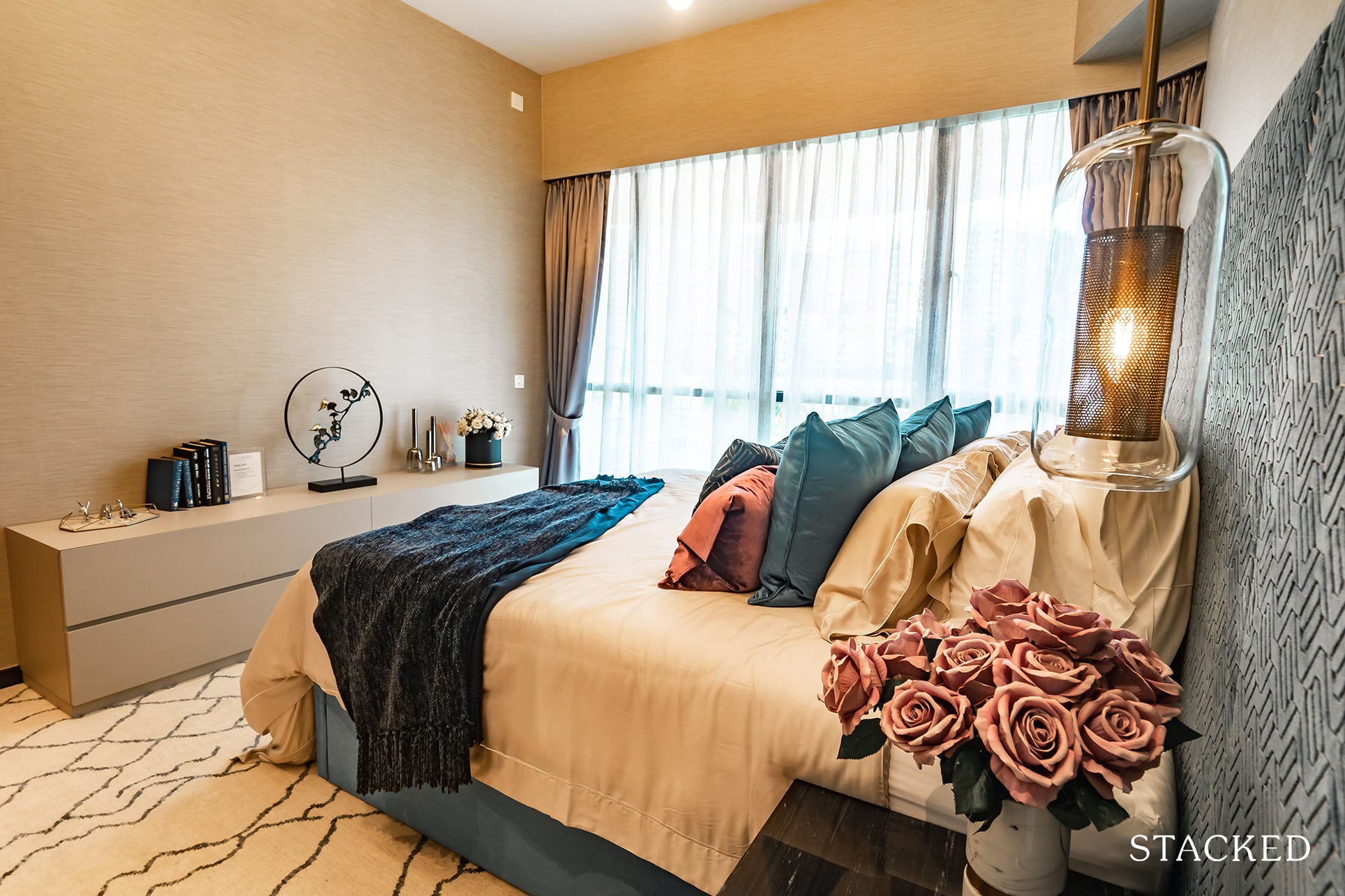 As far as master bedrooms go, this is definitely quite an impressive one.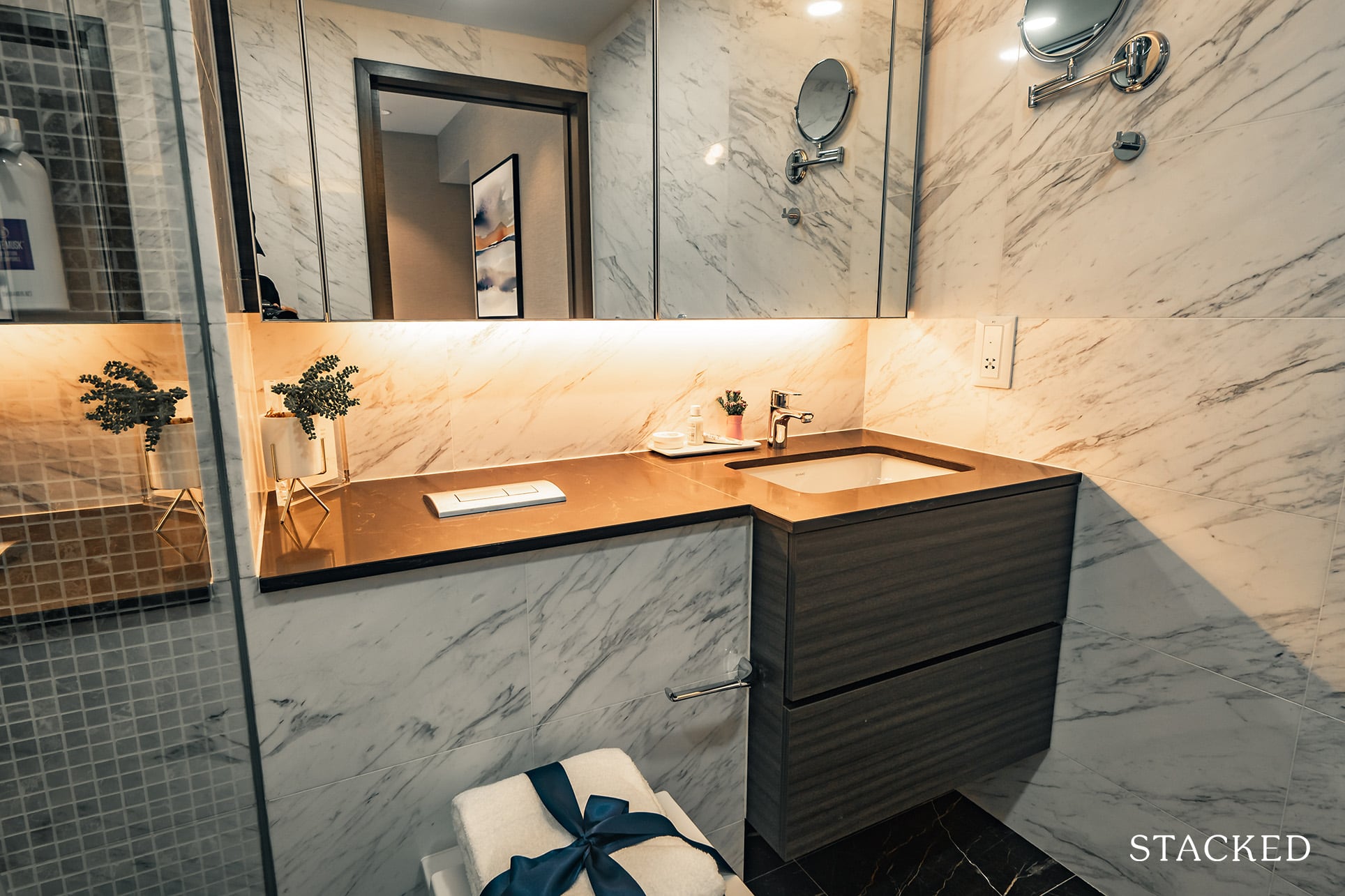 The master bathroom is actually decked out in marble, which shows how much effort CS Land put in to ensure that this project feels premium enough for its target audience.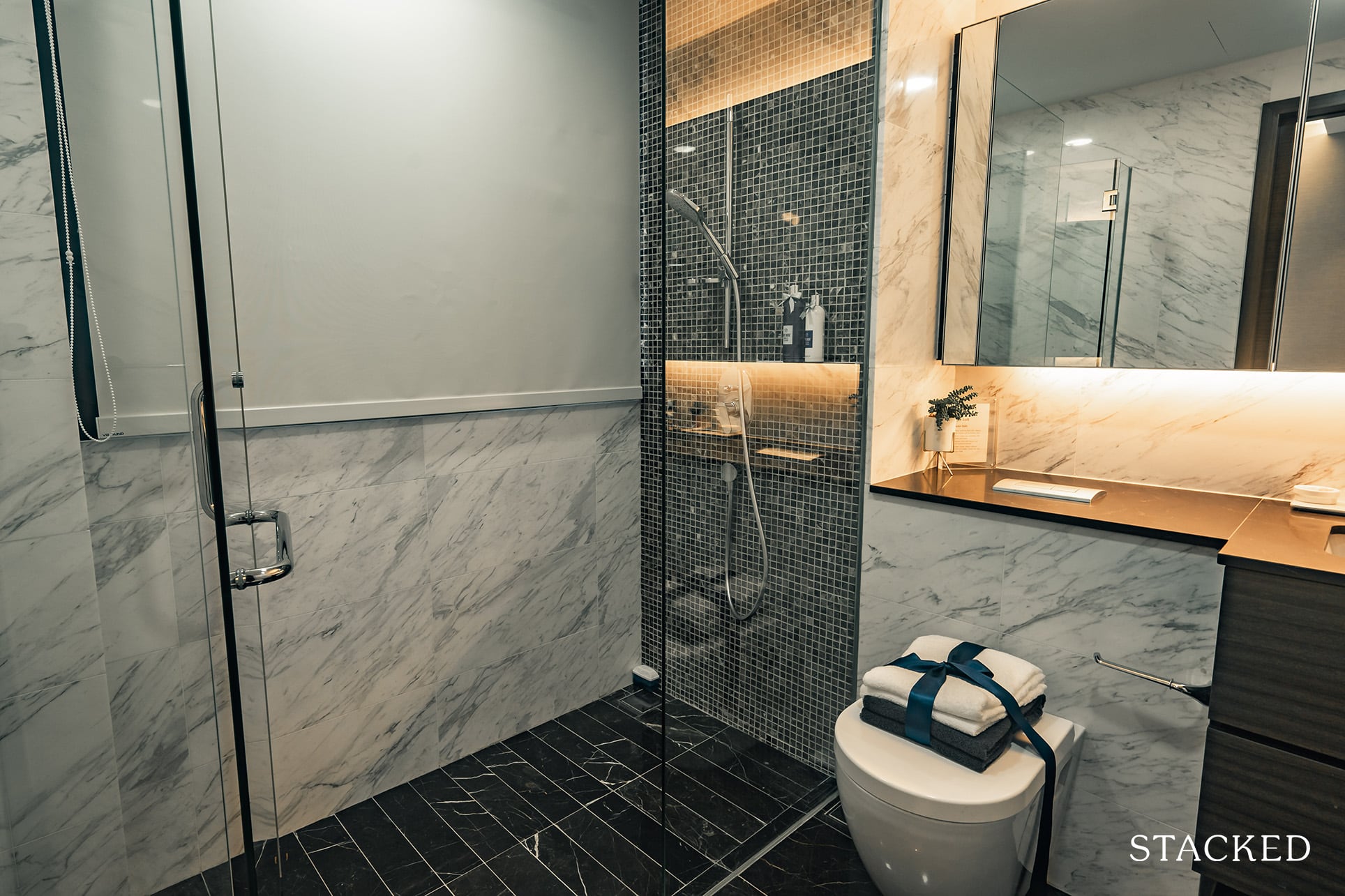 However, somehow I felt that despite the materials used, it didn't come across as particularly luxurious to me. The size is large though, so space shouldn't be an issue here, especially when you compare it to those you will find at Amber Park or Nyon. You will also find a wall-hung Bravat toilet bowl and sink as well as Grohe rain shower and taps.
Depending on which floor and stack you pick, there are 4 such lofts still available directly from the developer and they will range from $2.435 million to $2.479 million ($2,002-$2,038 psf) before further discounts. So whilst new launches such as Amber 45, Nyon and Amber Park have gone with the quantum game, keeping their 2 bedrooms slightly below $2 million, their size is correspondingly smaller, from 700 to 800+ sqft generally.
Amber Skye 4 Bedroom Grandeur Review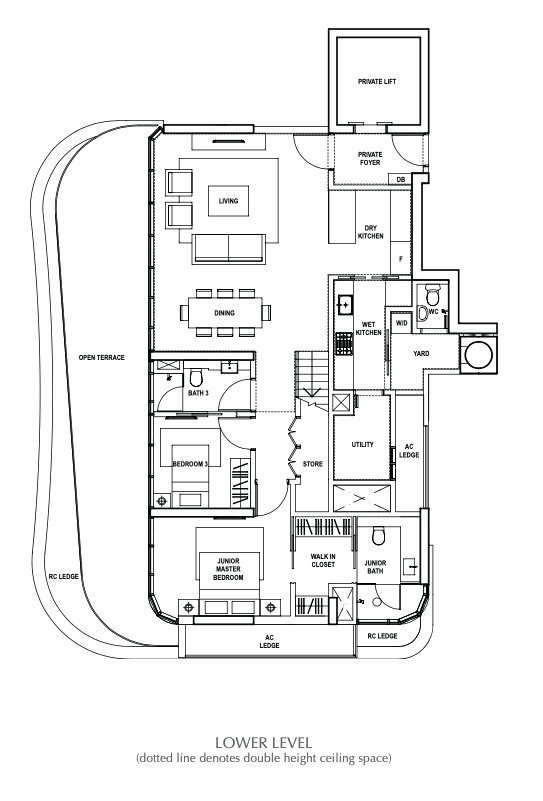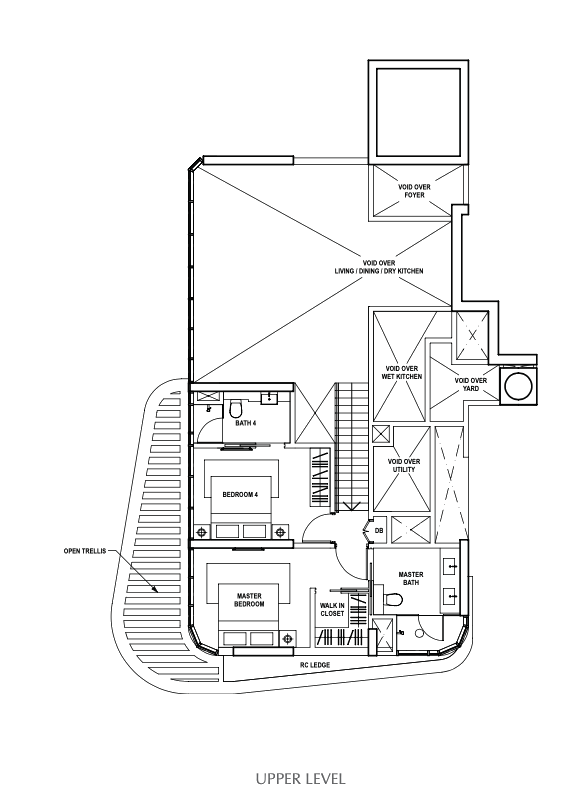 A 4 bedroom unit at 2,982sqft is massive and definitely a rare commodity in the market these days. Floors here come with marble for the common areas and solid timber for the bedrooms. Aircon comes ducted for the living room, junior master and master bedrooms, which looks more premium and classy.
These days, you will only find high ceiling units on the ground and top floor of developments. So it's refreshing to know that at Amber Skye, the 4 Grandeur units are on the 3rd floor and are all duplex loft units. This particular unit that we are reviewing here has a list price of $6.344mil ($2,127psf) before discounts so you do need to have a pretty deep wallet before considering this.
Well, you know what I think of double volume ceilings – I personally adore them especially when the space is accentuated so let's see how this one looks.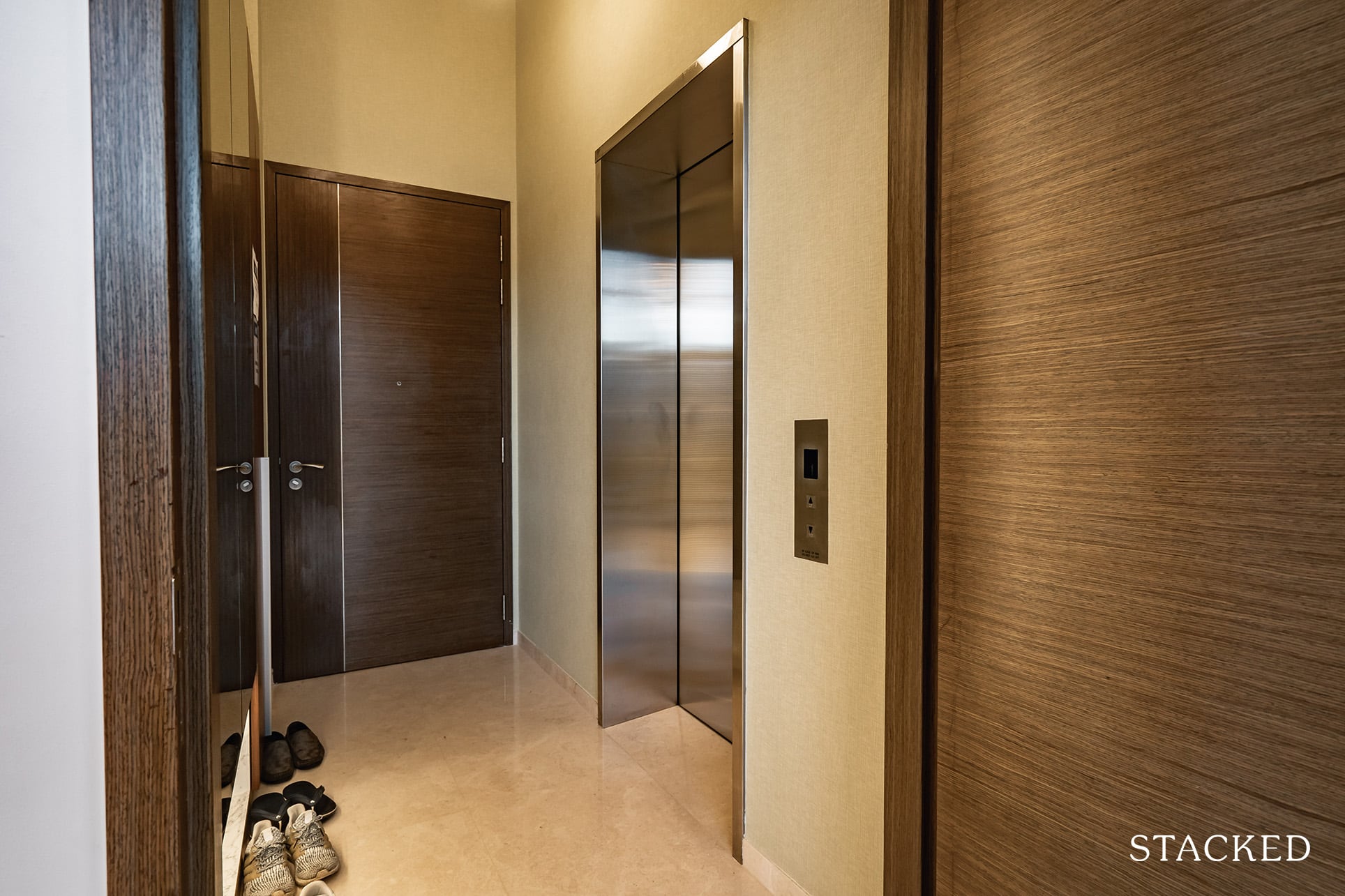 Here, your private lift will take you to your private foyer (54sqft) which is ironically slightly smaller than the one you will find in the 2 bedroom loft unit. That aside, I really liked what I saw the moment I stepped into the unit.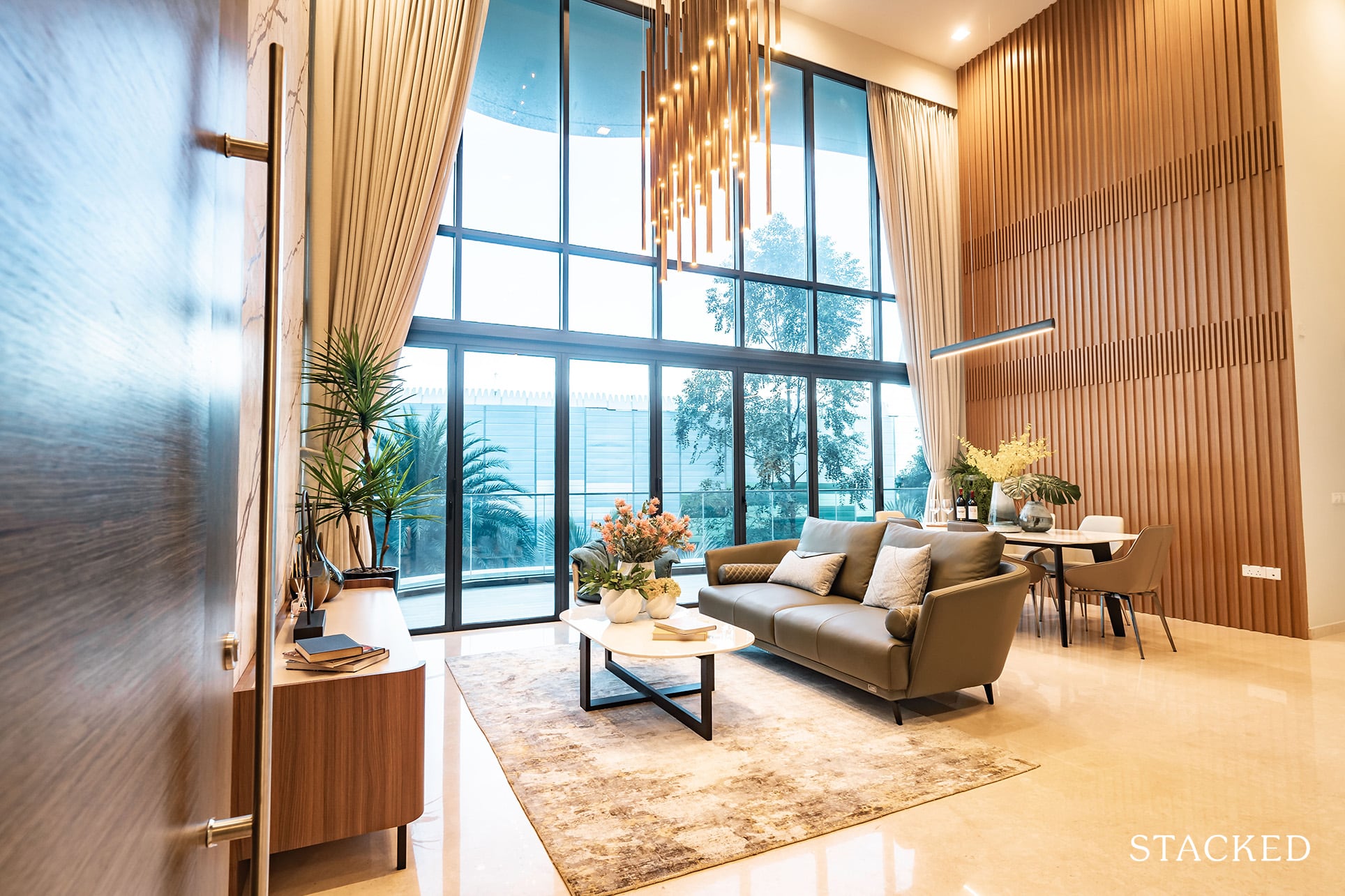 The 6-metre high ceiling really brought about that illusion of space and grandness to the unit. It's just one of those wow-type situations once you see it.
You could just feel how big this entire space is – and of course, it isn't just because of the double volume ceiling. The living and dining areas, coupled with the dry kitchen occupies 516 sqft (48sqm) of space (which is larger than the average 1 bedroom units in the market) and this is helped further by the extensive balcony (open terrace) space but more on that later.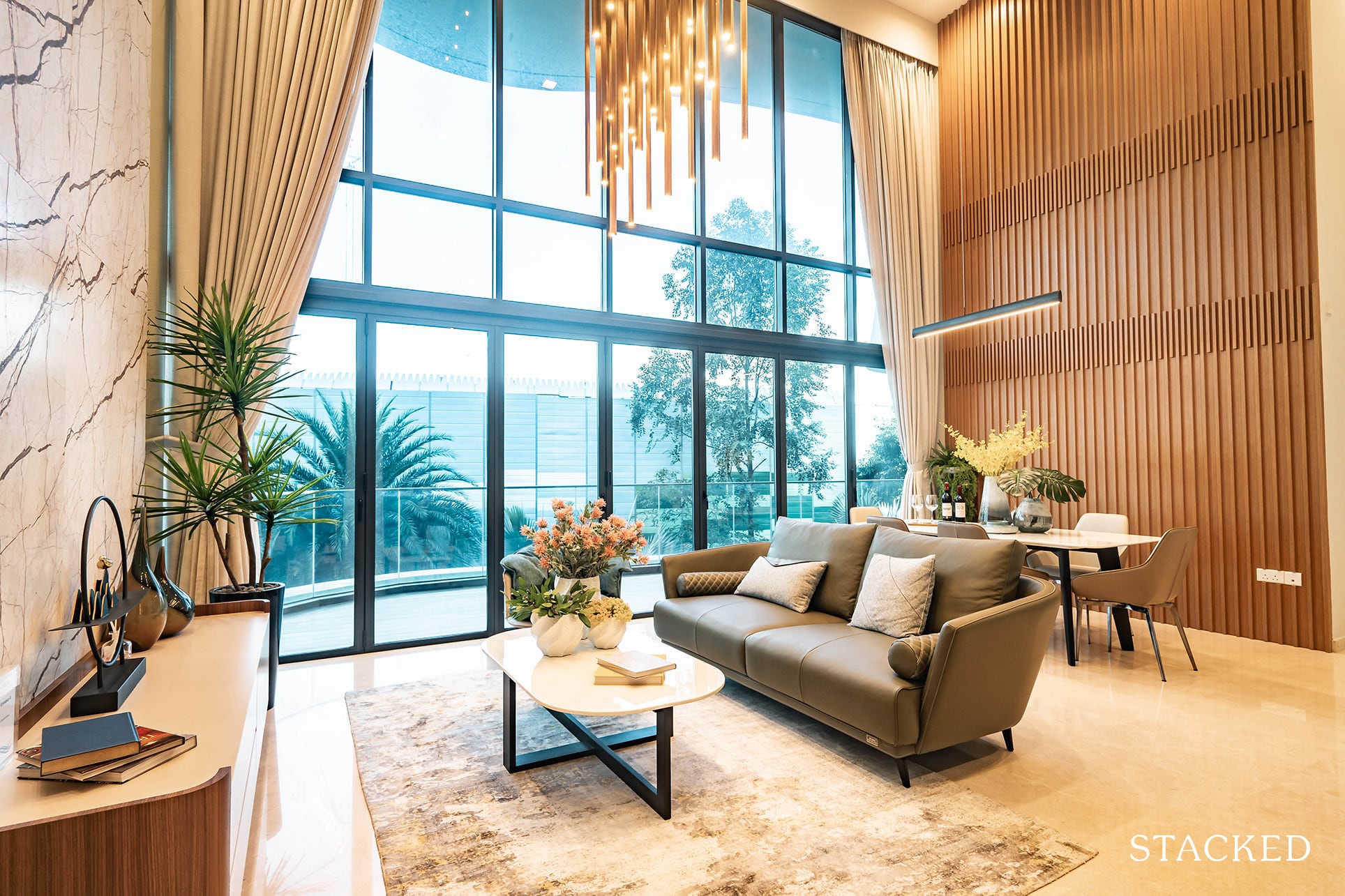 I'm not one to embellish my words too much, but it really is quite a stunner of a view. That expansive space that you feel isn't something that is easy to come by in today's market.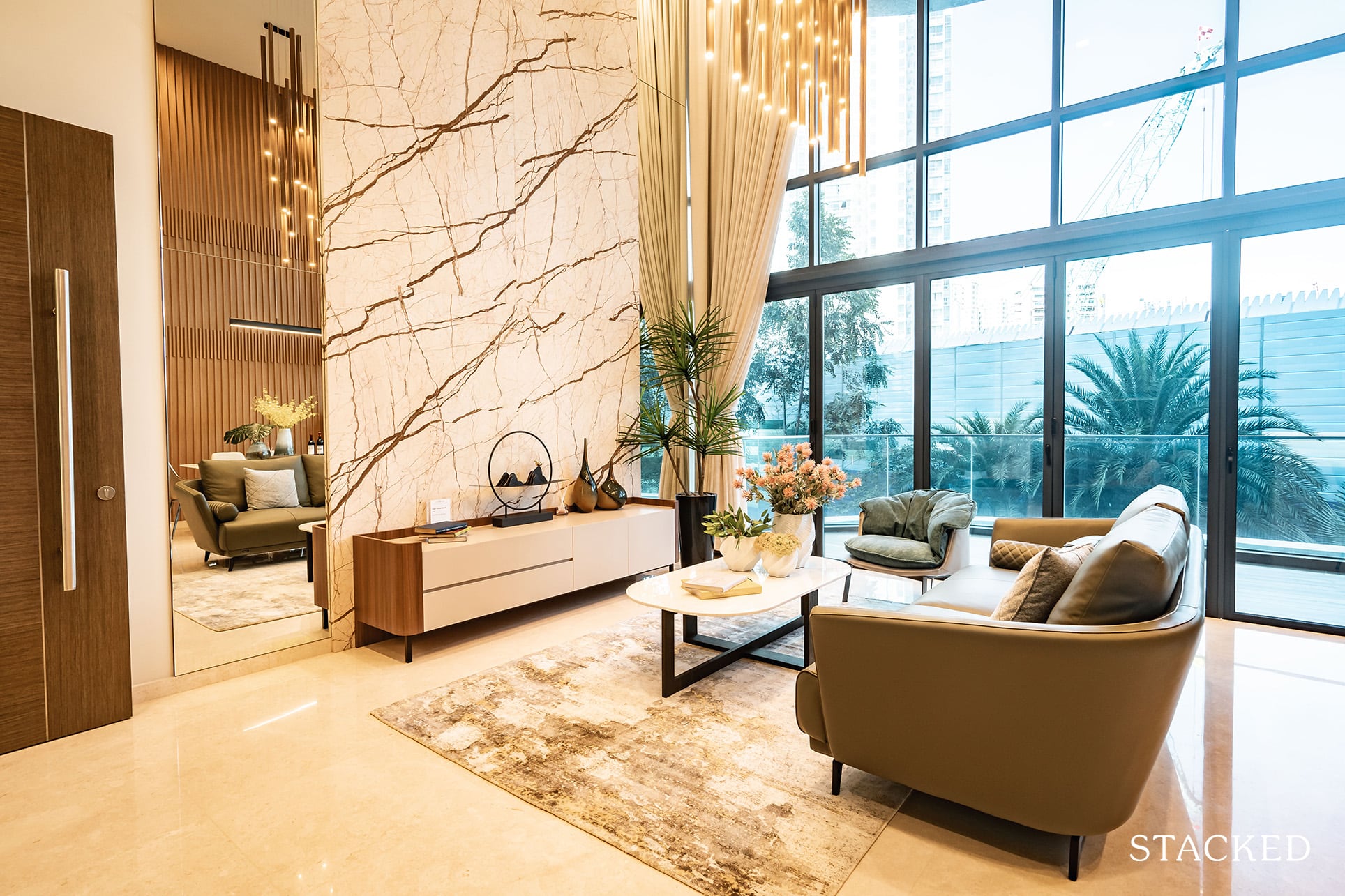 While the interior designers have only placed a 2-seater couch here, I do think that it should fit a 3-seater set with two more 2-seaters by the sides. The distance between the sofa sets and TV console area is also quite comfortable.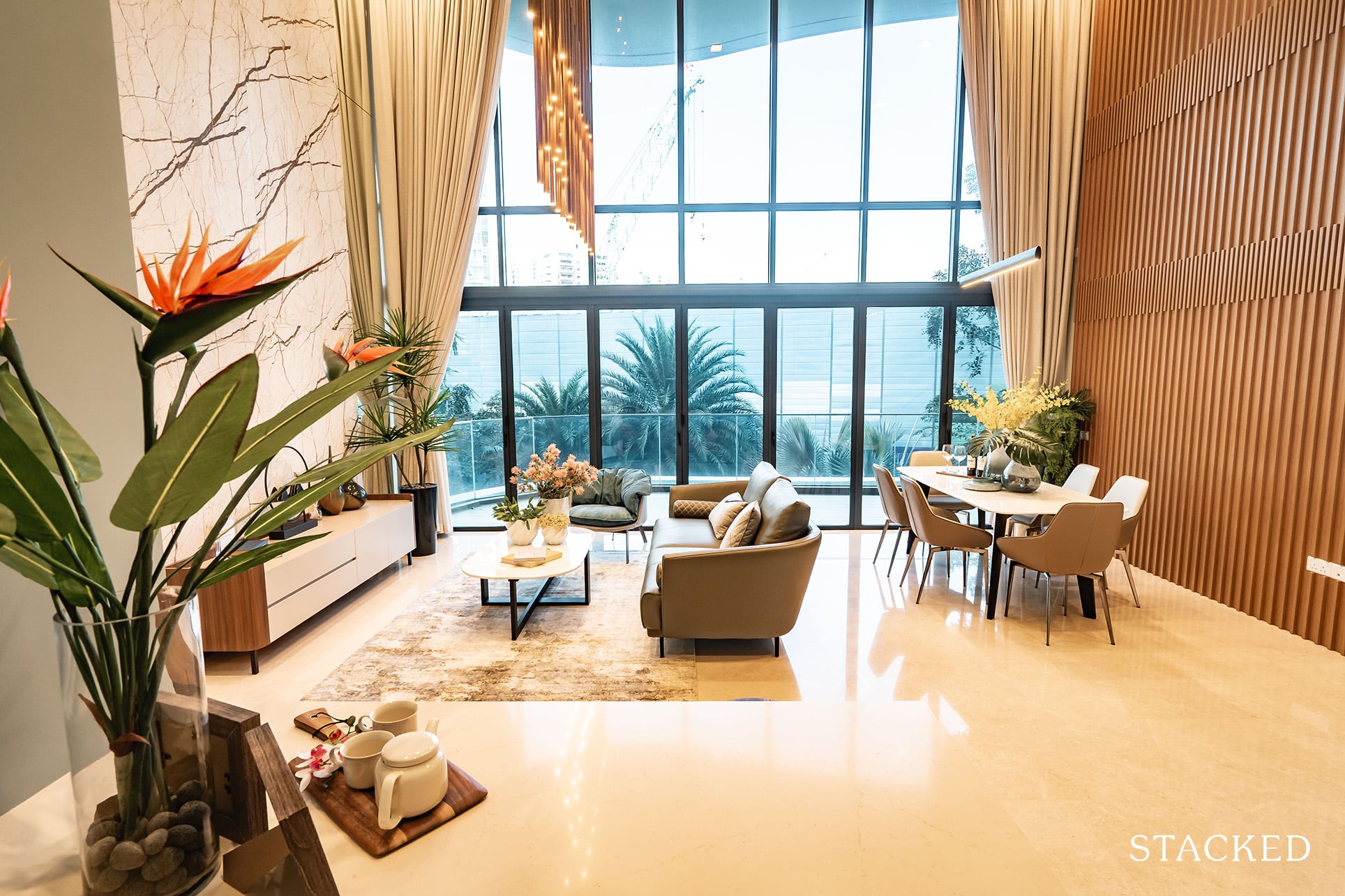 I like it when the living and dining areas are both parallel to each other, especially when you have a balcony. This usually means a longer dining space and the opportunity to enjoy the breeze from the balcony on a windy day. As you can see, they have gone quite conservatively with a 6-seater dining set here but looking at the available space around it, I believe an 8-seater is definitely doable here. 10 might be a squeeze but it really depends on how big your dining set is.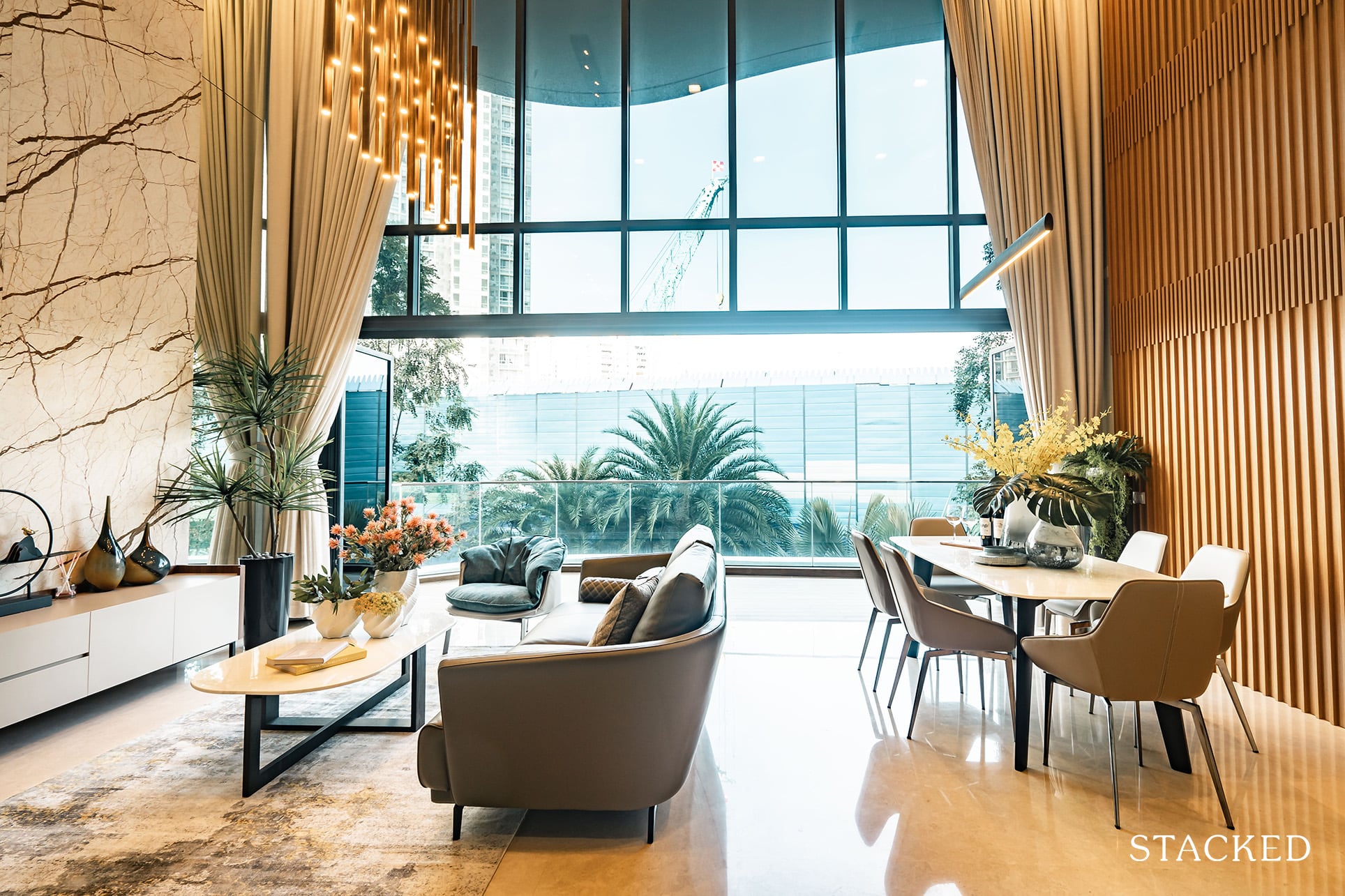 What I really like, however, is the space when the balcony is opened up. Although the current views aren't incredible (that blue boards are a real eyesore), the space feels even bigger when it is fully opened up.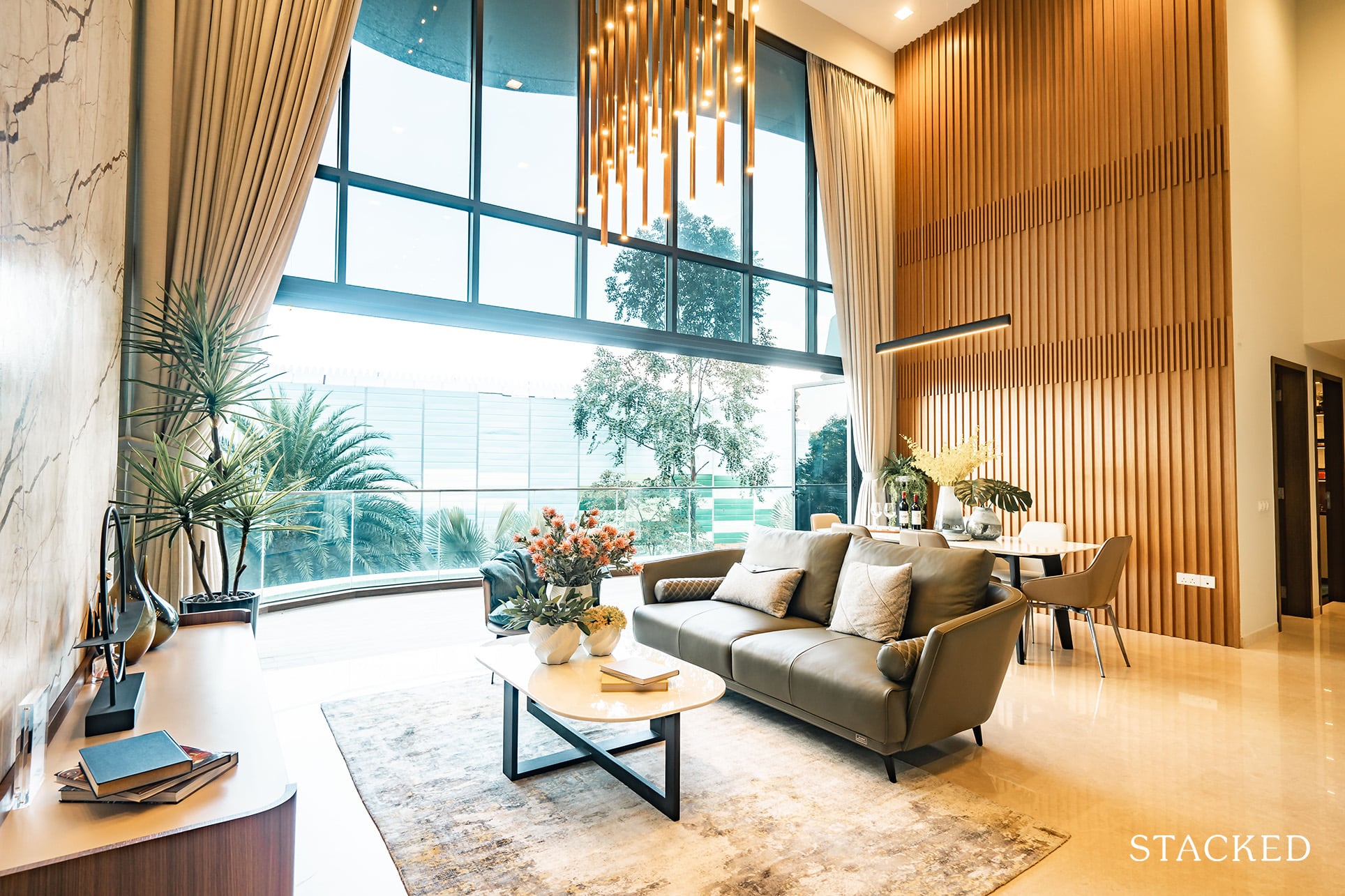 Again, the balcony doors do a wonderful job of screening out the noise – there's such a difference with them open and closed.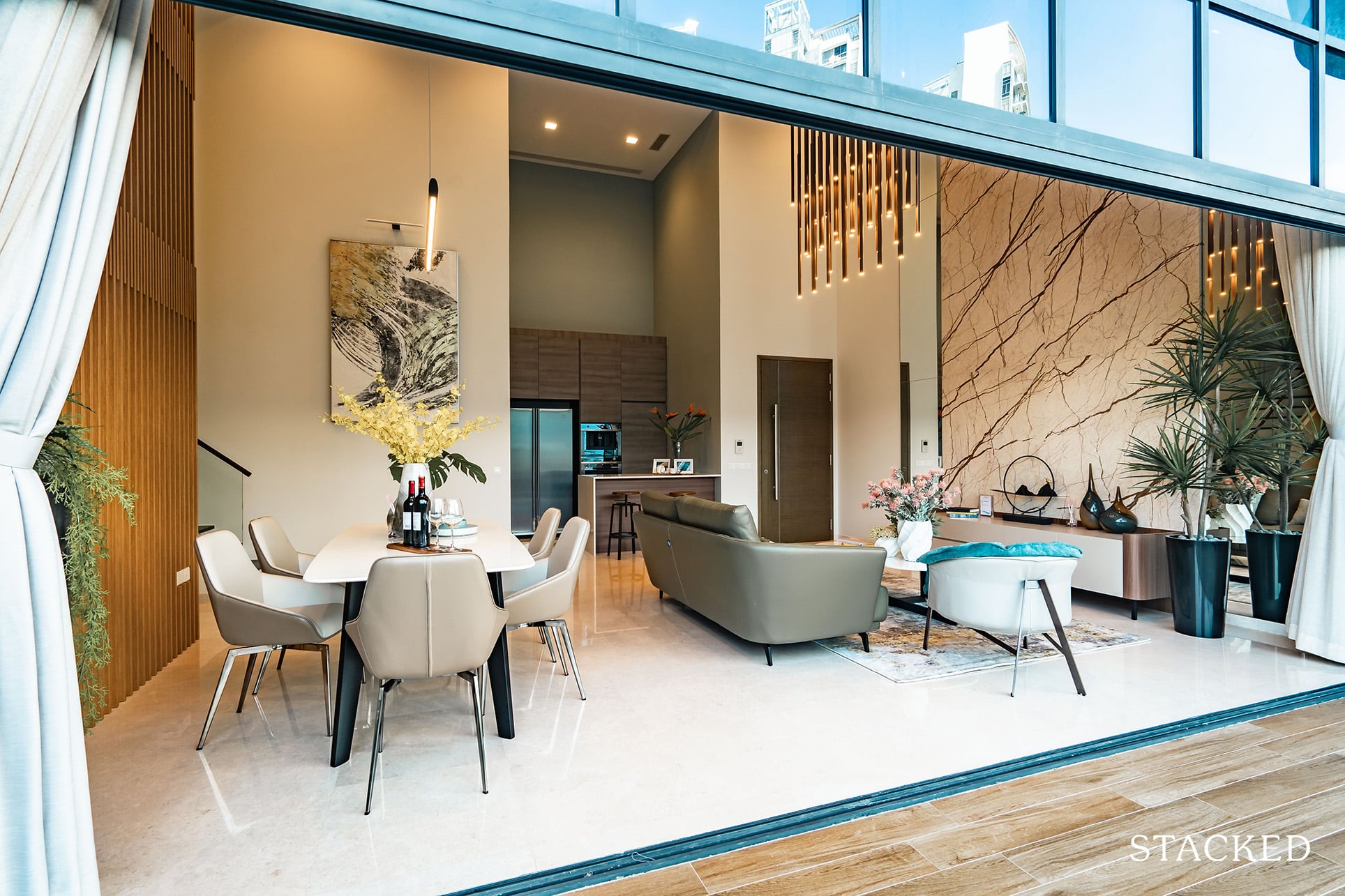 Moving on to the absolutely huge balcony, the options are endless. It's actually almost 400 sqft worth of space so you can even have a mini playground for your kids here. And for even more living space, you could easily move your dining table outside as well.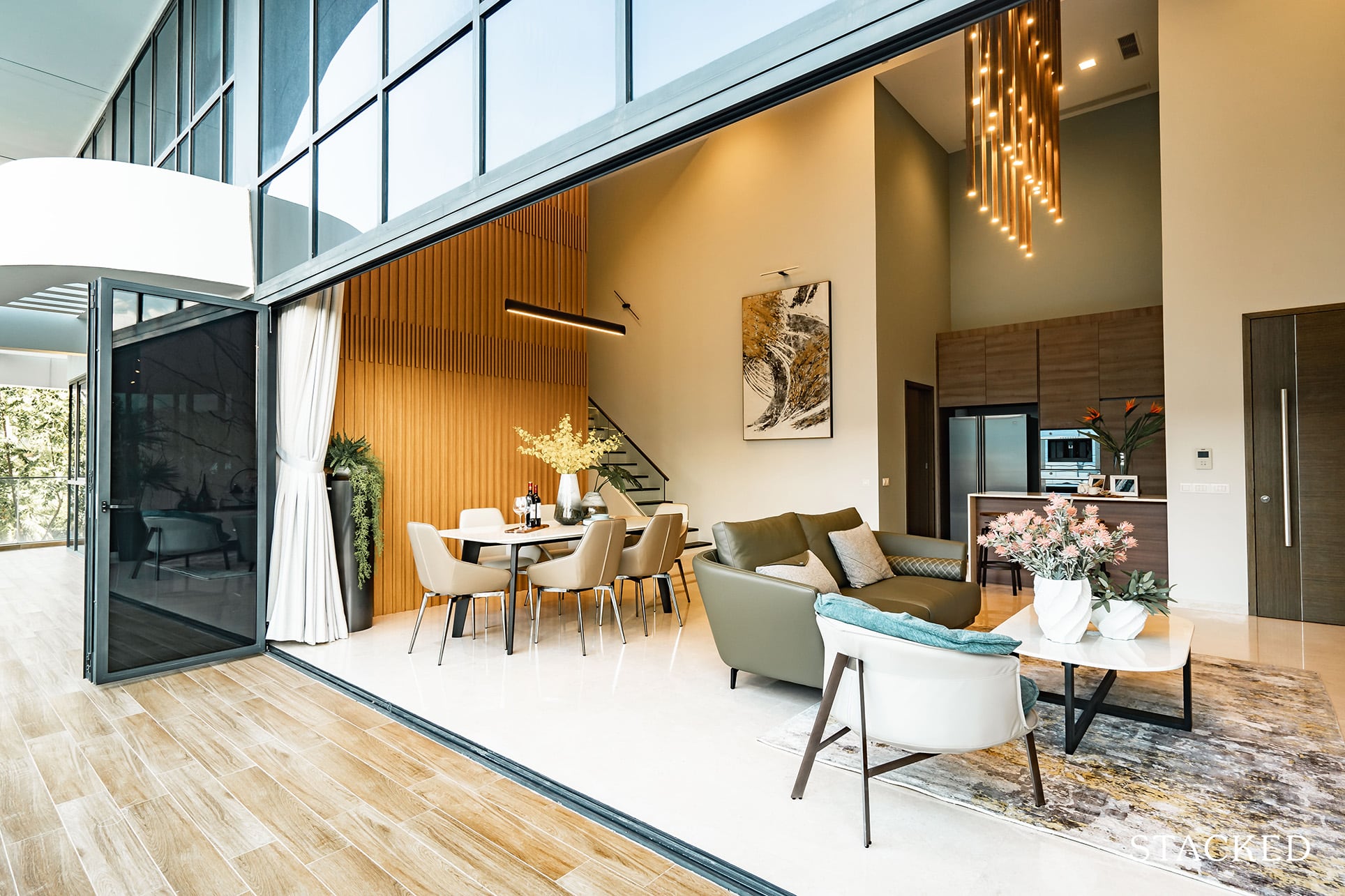 This balcony also actually stretches from the living room across the junior master bedroom, common bedroom and common bathroom.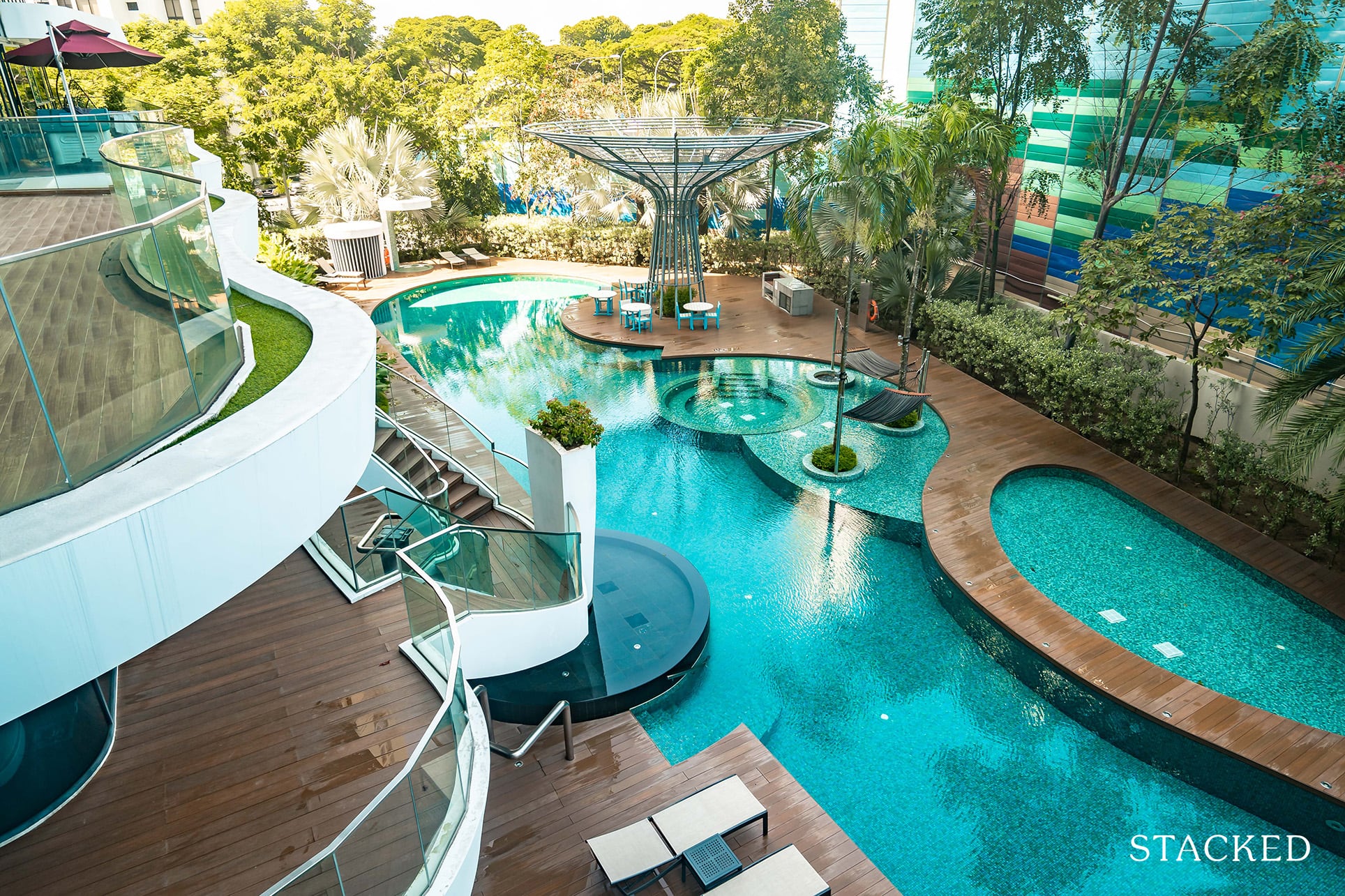 This unit actually faces the pool so once the construction is complete, at least you can enjoy the pool view without the unsightly blue boards behind.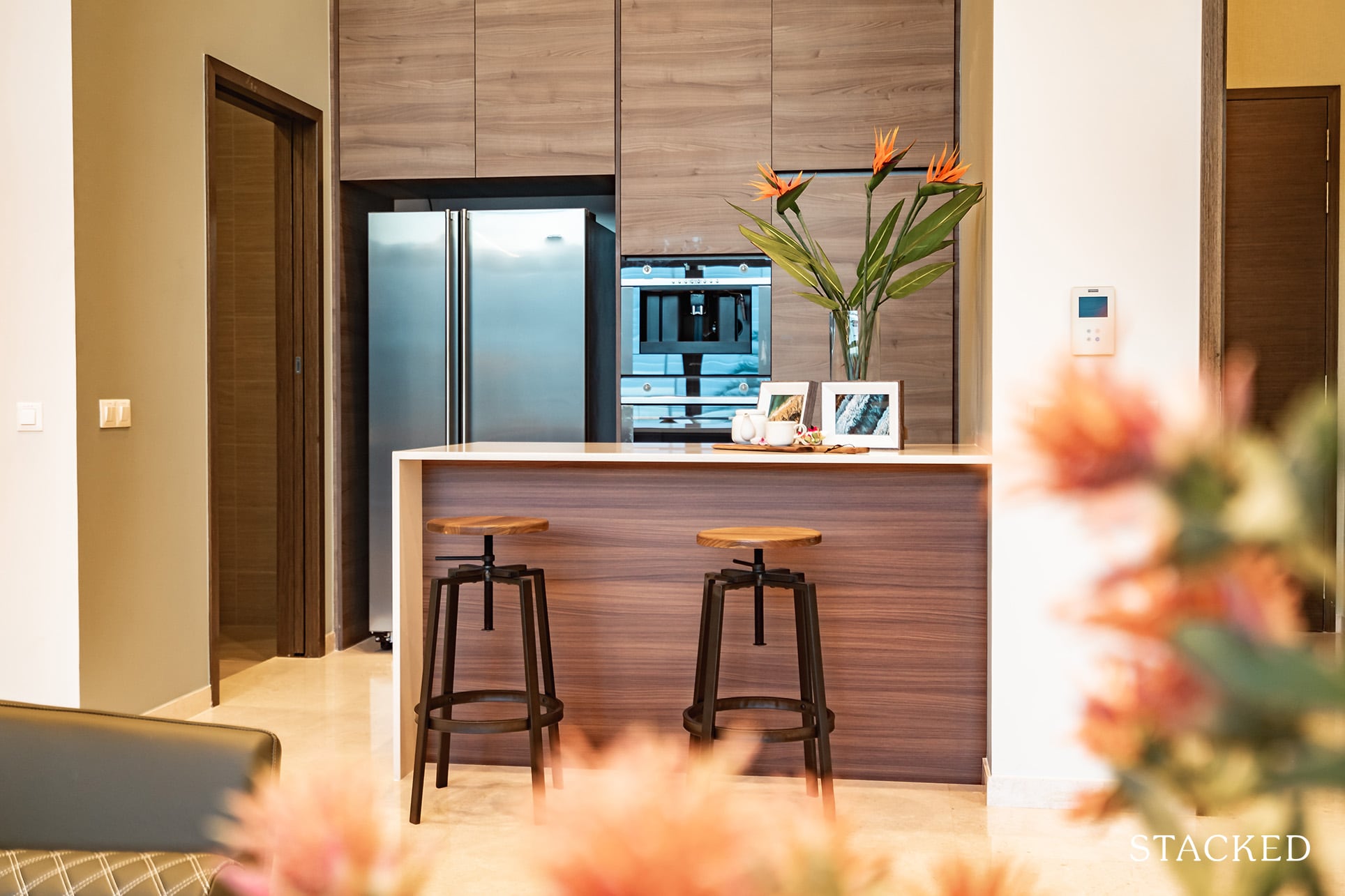 They have a wet and dry kitchen concept here and I think the long, rectangular layout is actually pretty space-efficient with no odd corners. Granted, this dry kitchen here is nothing to shout out with just a small countertop and 2 bar stools for your quick breakfast before work. They have also included a 2-door fridge, coffee machine and an oven here in the open kitchen.
As per the other units, all appliances are from Smeg. The plus point here is that there are lots of storage cabinets here in the open kitchen!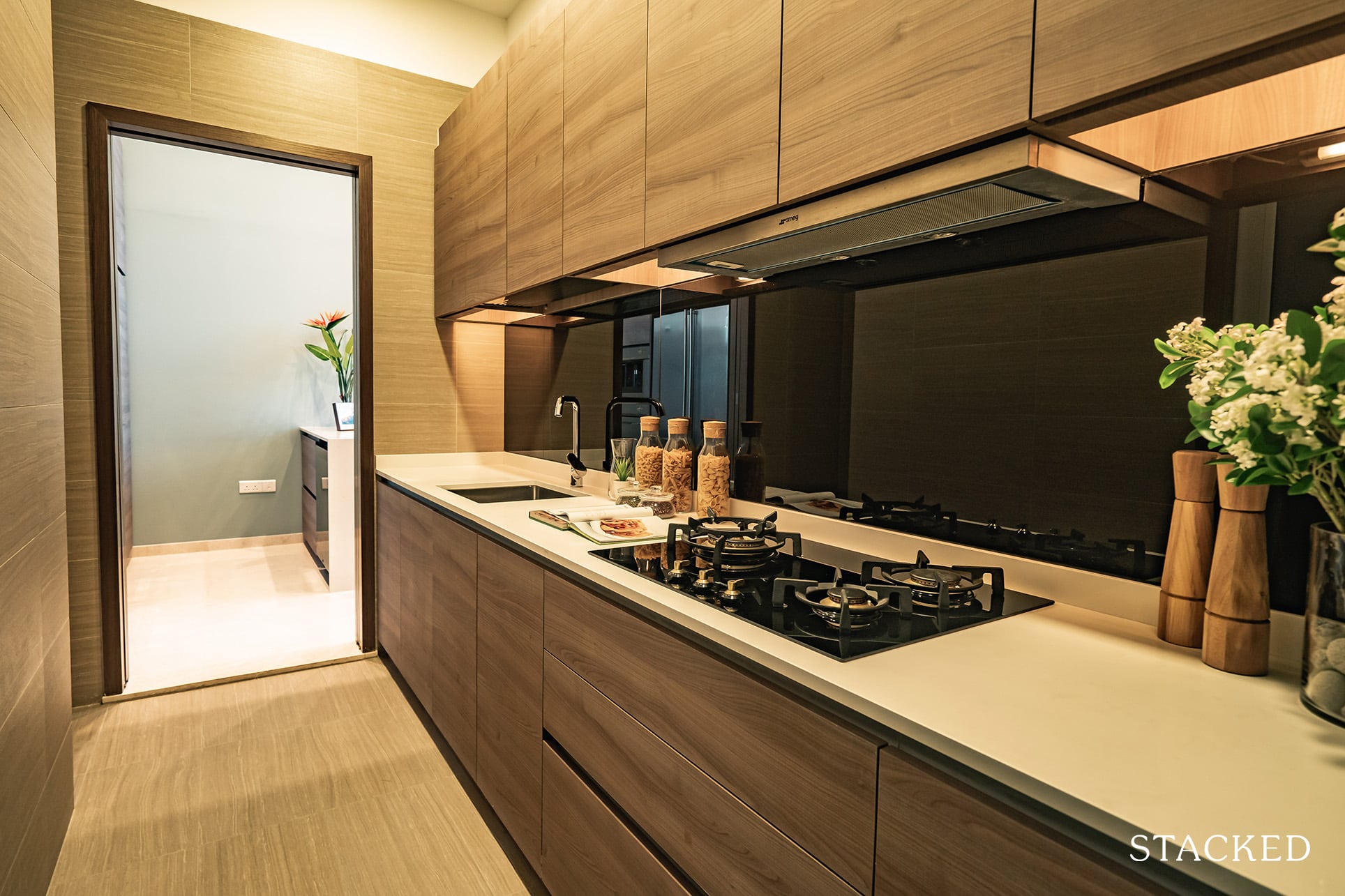 In the wet kitchen, it has a pretty long countertop with 3 gas burners from Smeg. I think it's imperative to have gas burners in the larger units as they tend to be larger families who might prefer cooking up a storm especially during special occasions. Even though it's a long countertop, it's still not fantastic because it's only on 1 side of the kitchen but you can, of course, supplement it with the one at the open kitchen if necessary.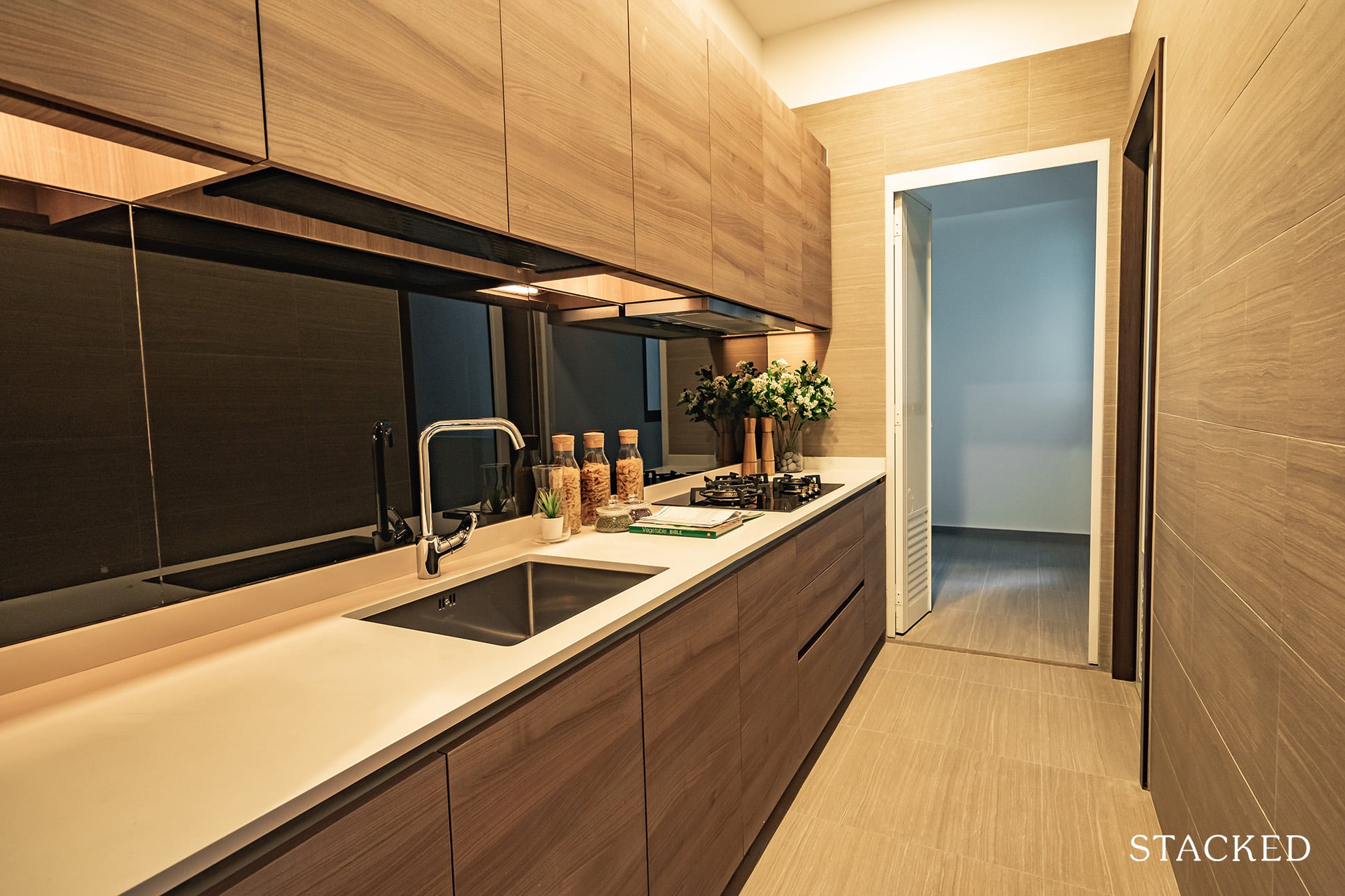 More disappointingly, however, I think the sink here is totally inadequate. It's literally a 1 bowl sink for a 4 bedroom unit of almost 3,000 sqft… what this means is that after a nice evening of hosting friends and family, you will probably have to pile the plates up by the side with very little space to do your dishes. What should be minimally expected is really a 2 bowl sink in the wet kitchen and perhaps even 1 more in the dry kitchen. It's quite an oversight in my opinion.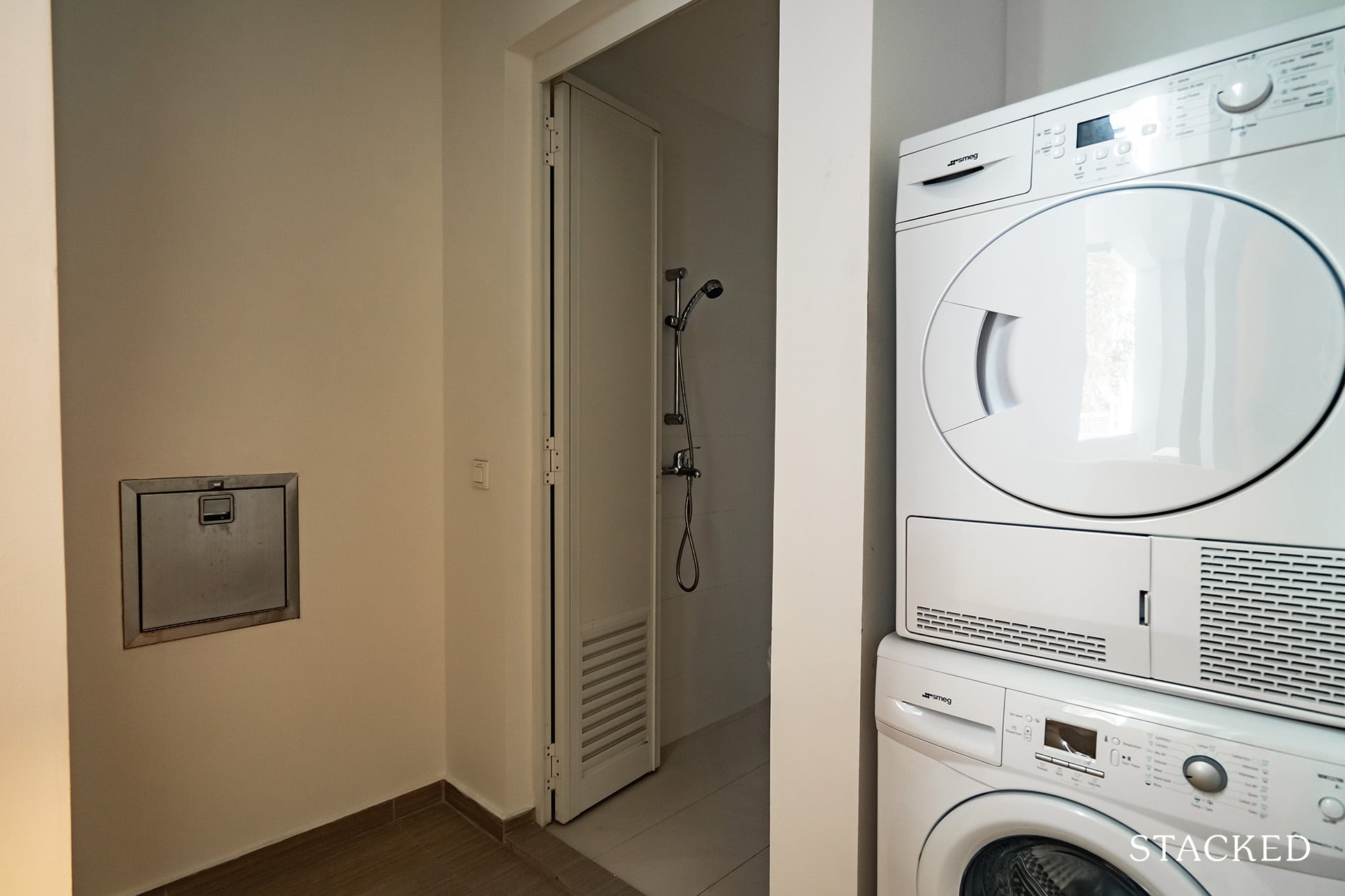 Further in, you will also find a yard with your W/C and washer-dryer as well as a decent-sized utility room. All these are pretty essential for the target audience of such a unit – you'd expect them to have a helper and to be able to hang dry your clothes.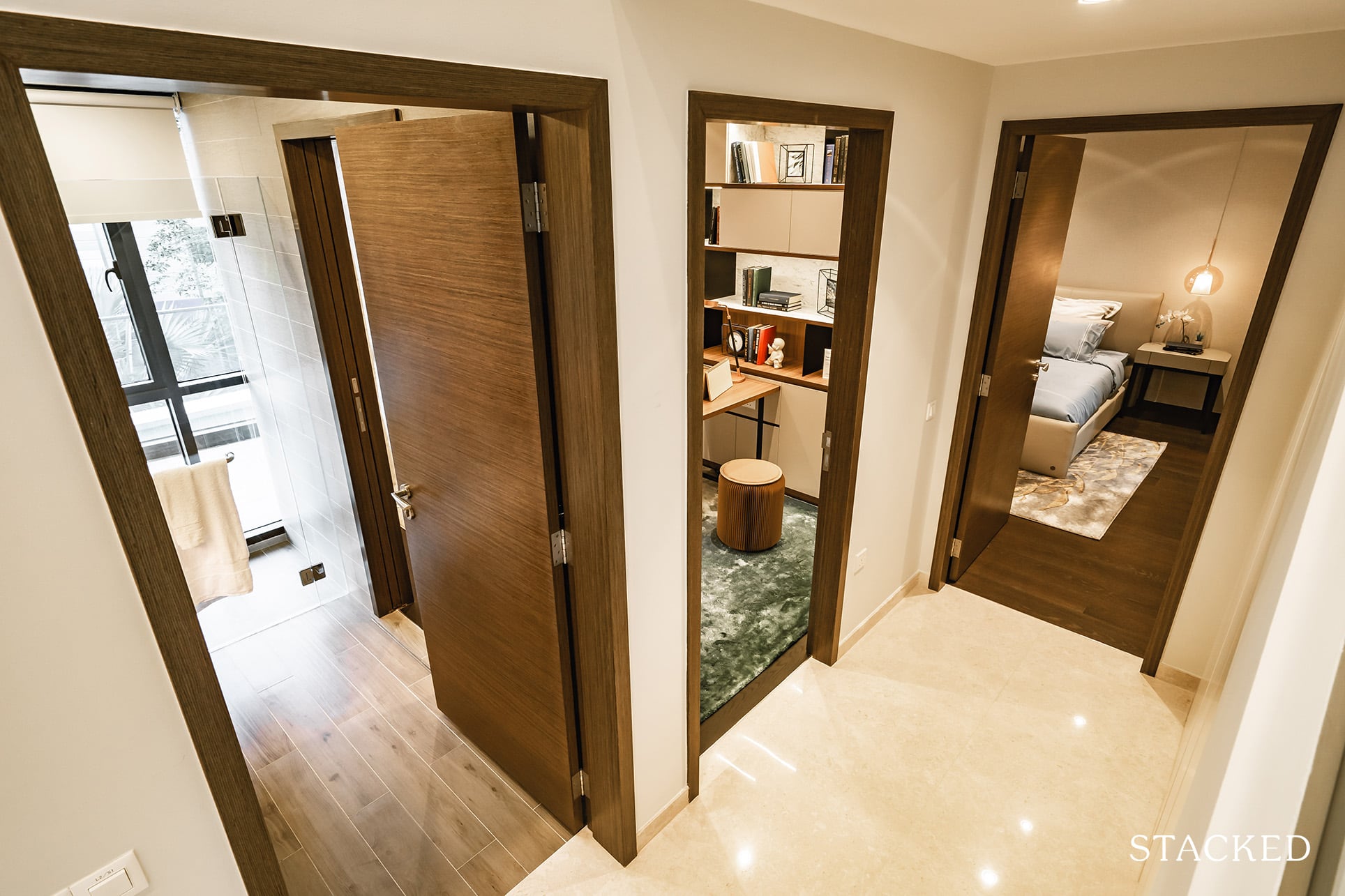 Let's move onto the bedrooms on the lower level first.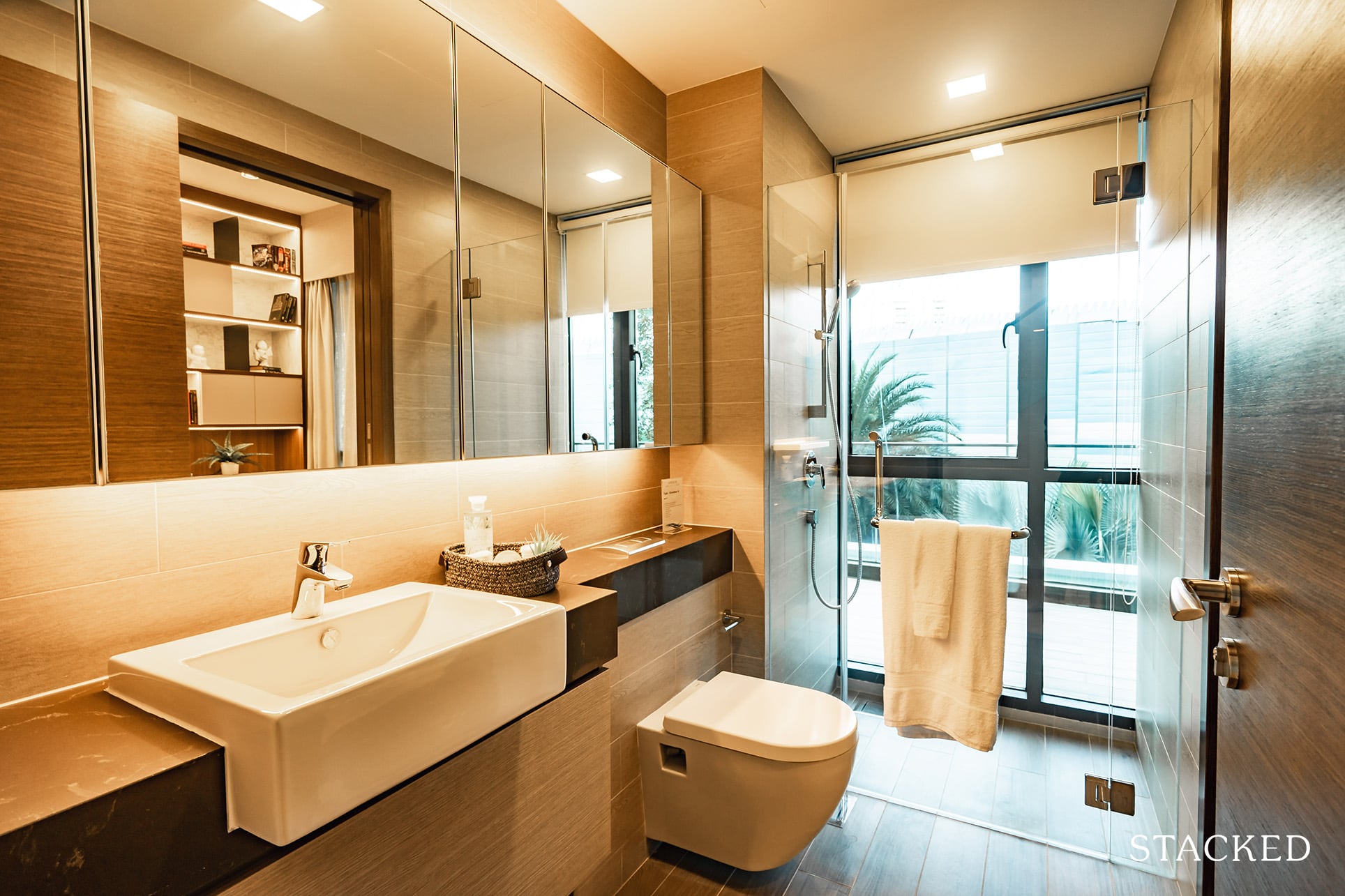 The common bathroom is a jack-and-jill, making it an ensuite for Bedroom 3 as well as the main bathroom for guests. It comes with a sink and equipped with a wall hung toilet bowl from Bravat and tap and shower from Hansgrohe.
On the downsides, there is no rain shower in the common bathroom and no marble features unlike those found in the master and junior master bathrooms. As mentioned earlier, the main gripe I have here is how exposed you are because the balcony is right beside you so the blinds will have to be down all the time. But the plus point here is that you get natural ventilation to air the moisture away.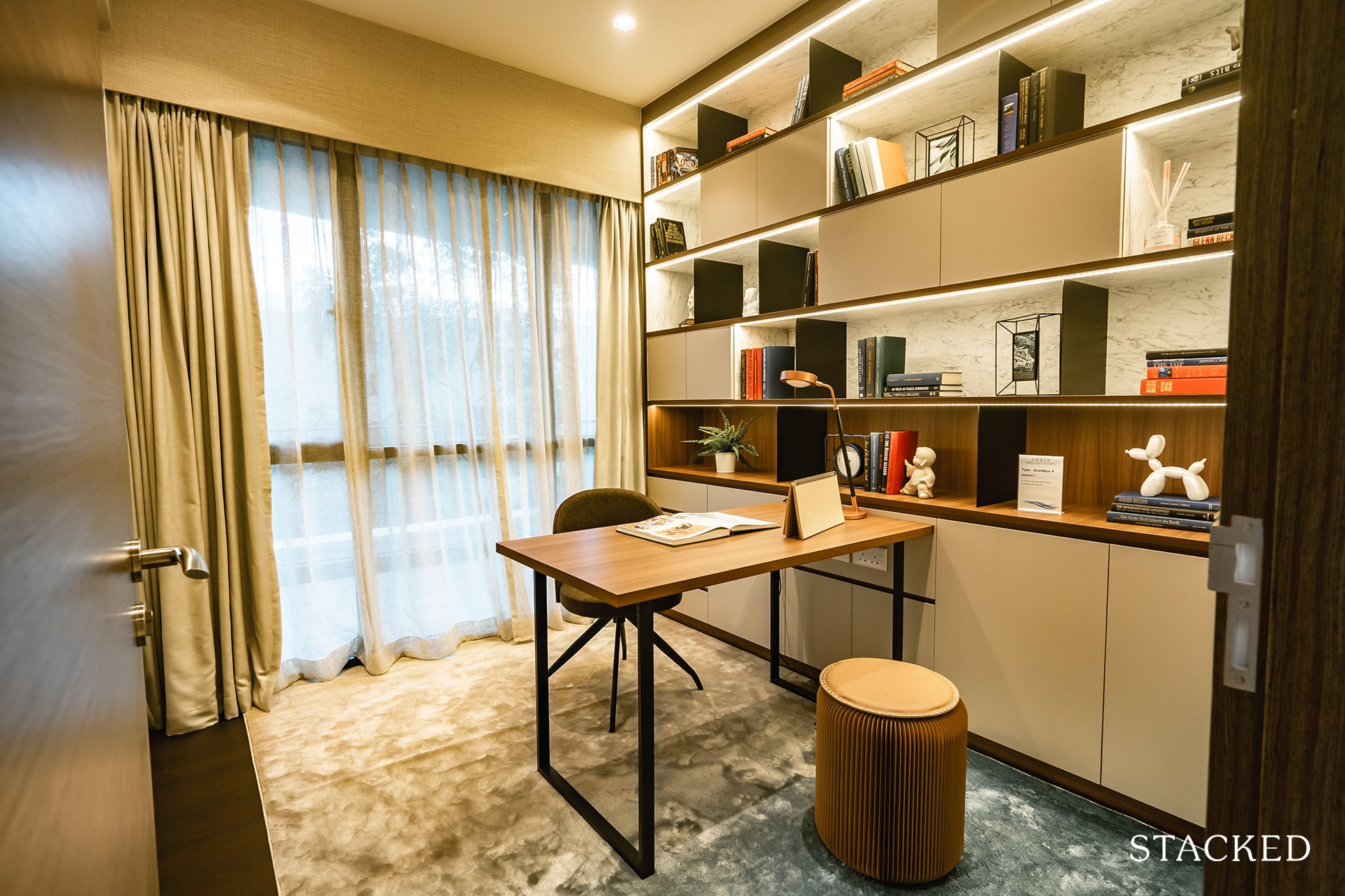 As you can tell, this common bedroom isn't very large and I think it was wise of the developers to showcase this as a study instead. Otherwise, you can probably fit a single bed and a wardrobe in this room.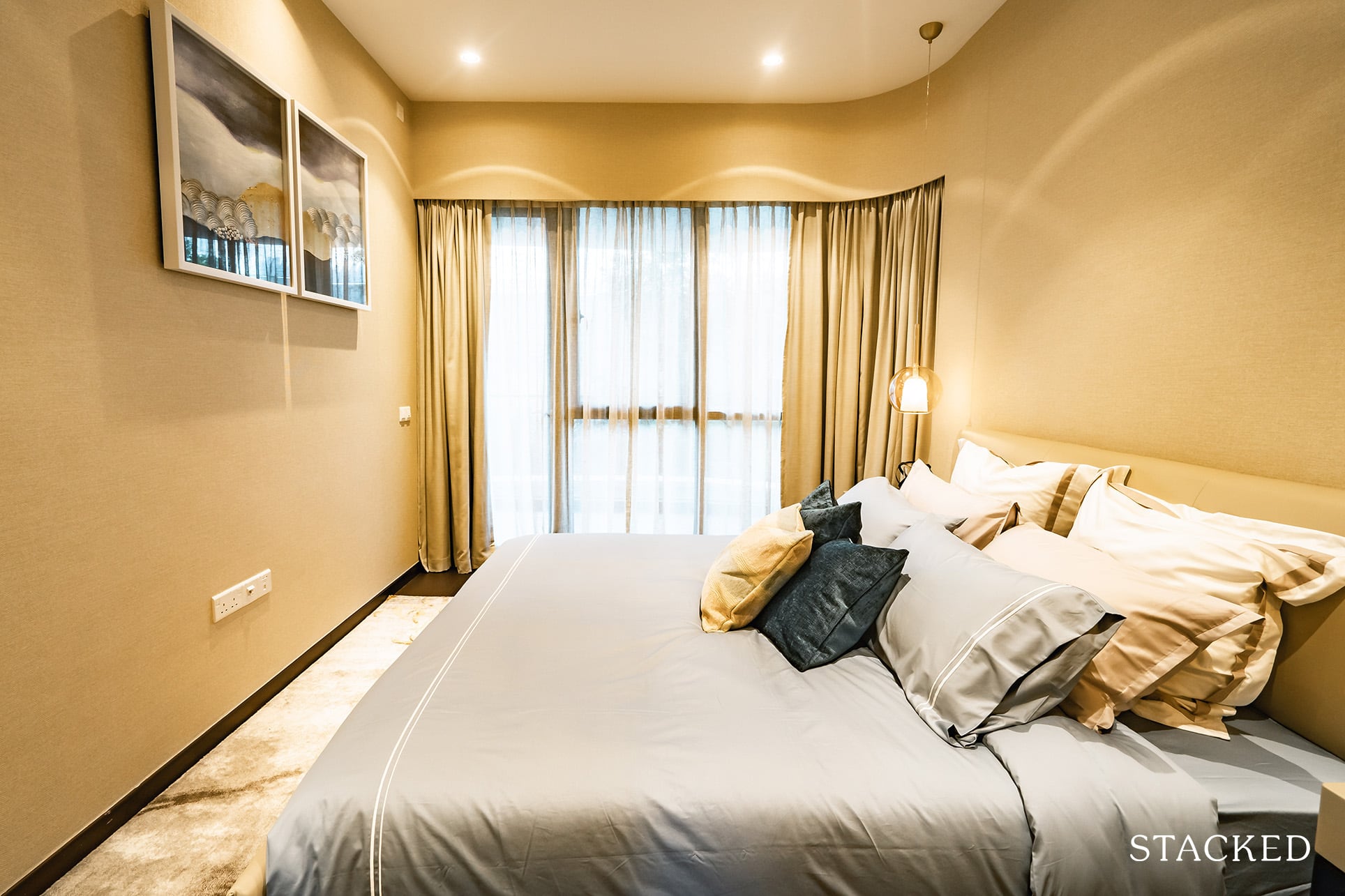 There are 2 bedrooms and 2 bathrooms on each floor, effectively making every room an ensuite. I actually like the layout of the junior master more than the master itself and in fact, the junior master is actually slightly larger at 291 sqft (27sqm) compared to the master bedroom plus bath at 280 sqft (26sqm).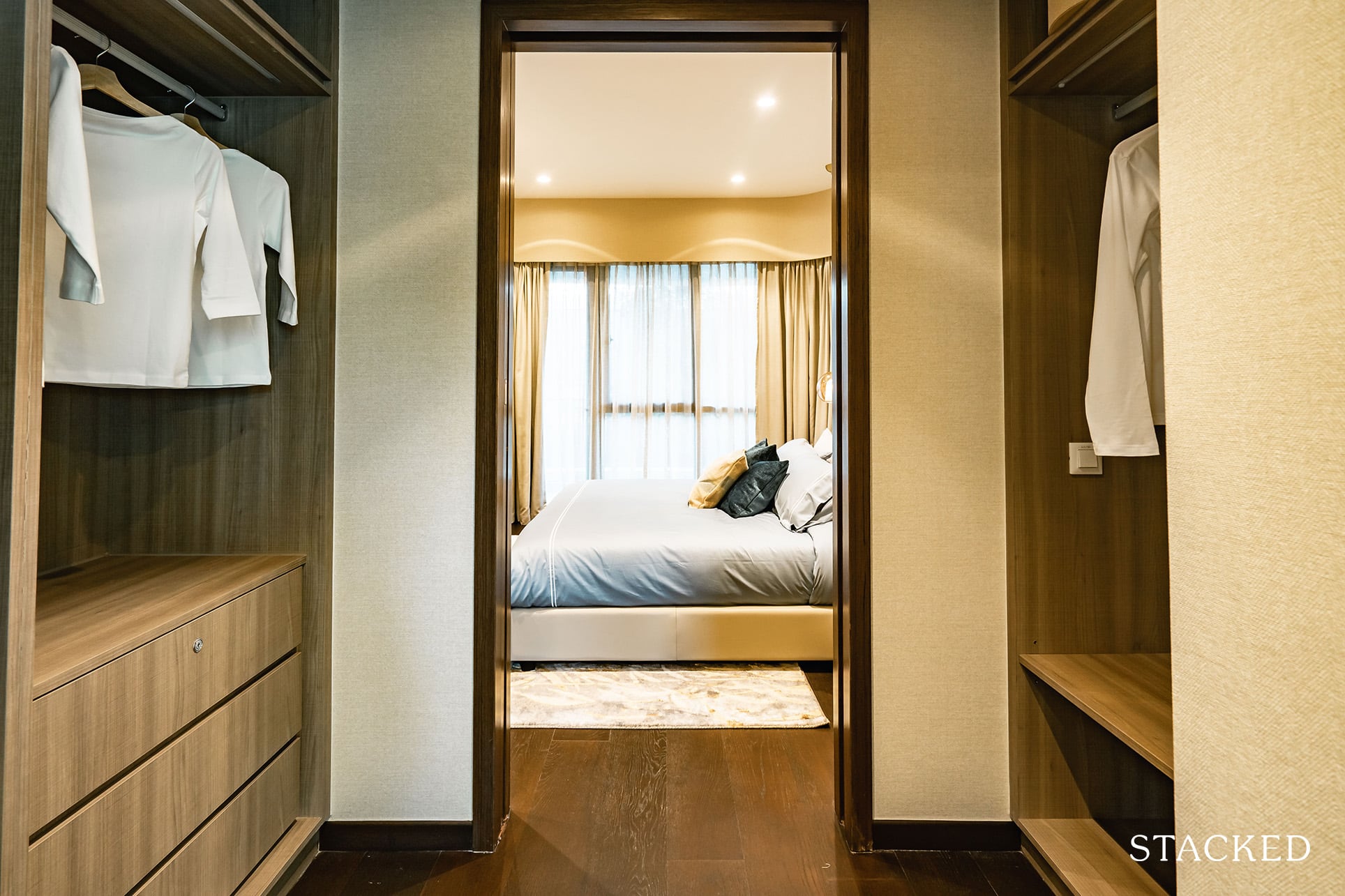 Of course, all this is on paper and you can just swap it around as you see fit. For example, this could work well in a multi-generation family, where the elderly parents stay below (to avoid the stairs), and the younger couple stays up top.
In general, you will find that it is very comfortable width-wise and will be able to fit in a King-sized bed. Alternatively, you could do with a Queen and include a dresser at the side. Length-wise is also adequate with space to saunter around.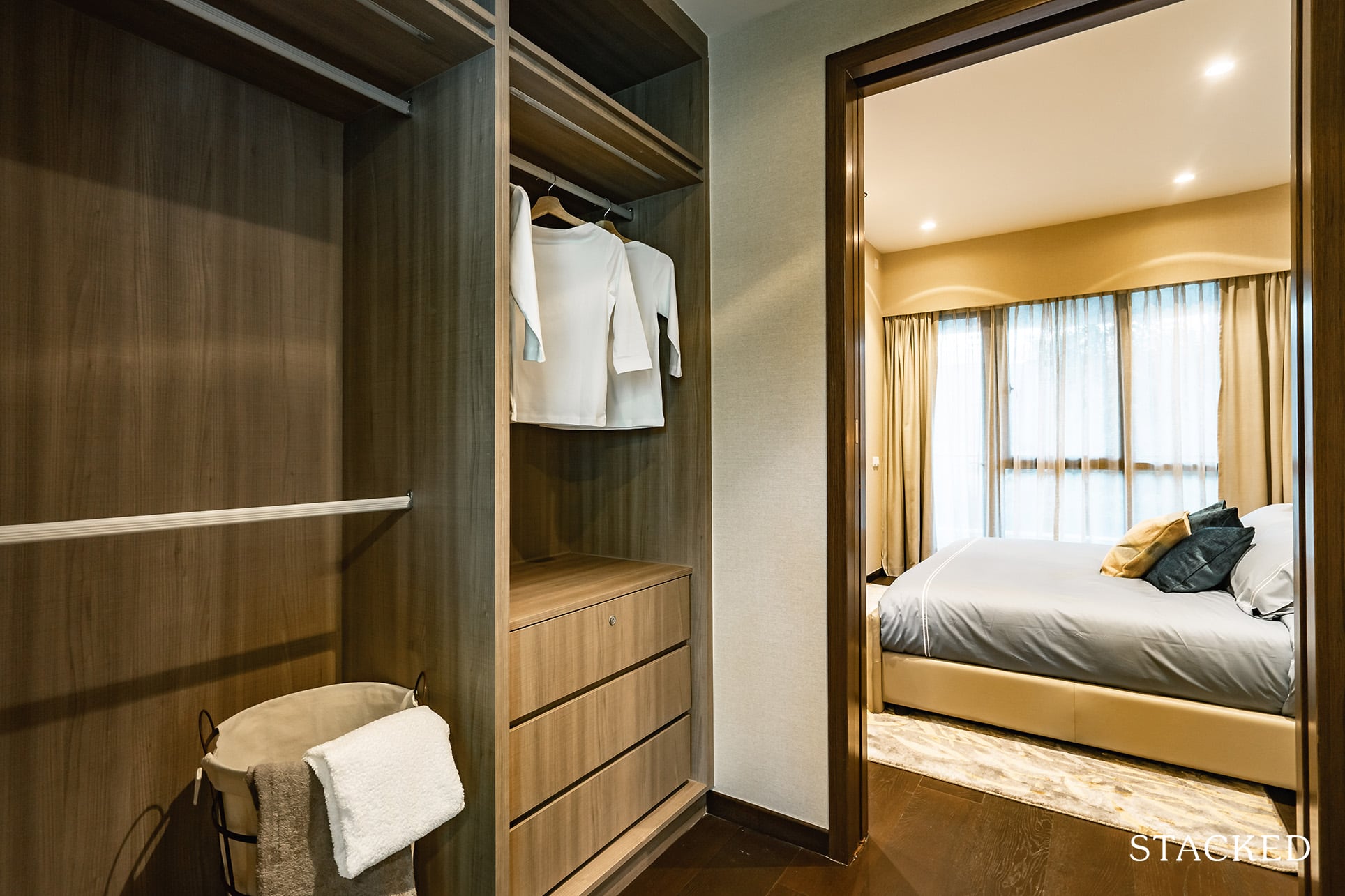 There's also a walk-in wardrobe leading to the junior bathroom and the layout of this walk-in is what tips the scales for me (when compared to the one found in the master bedroom itself). With wardrobe space on both sides, it creates some distinction between 'his' and hers' – which is useful.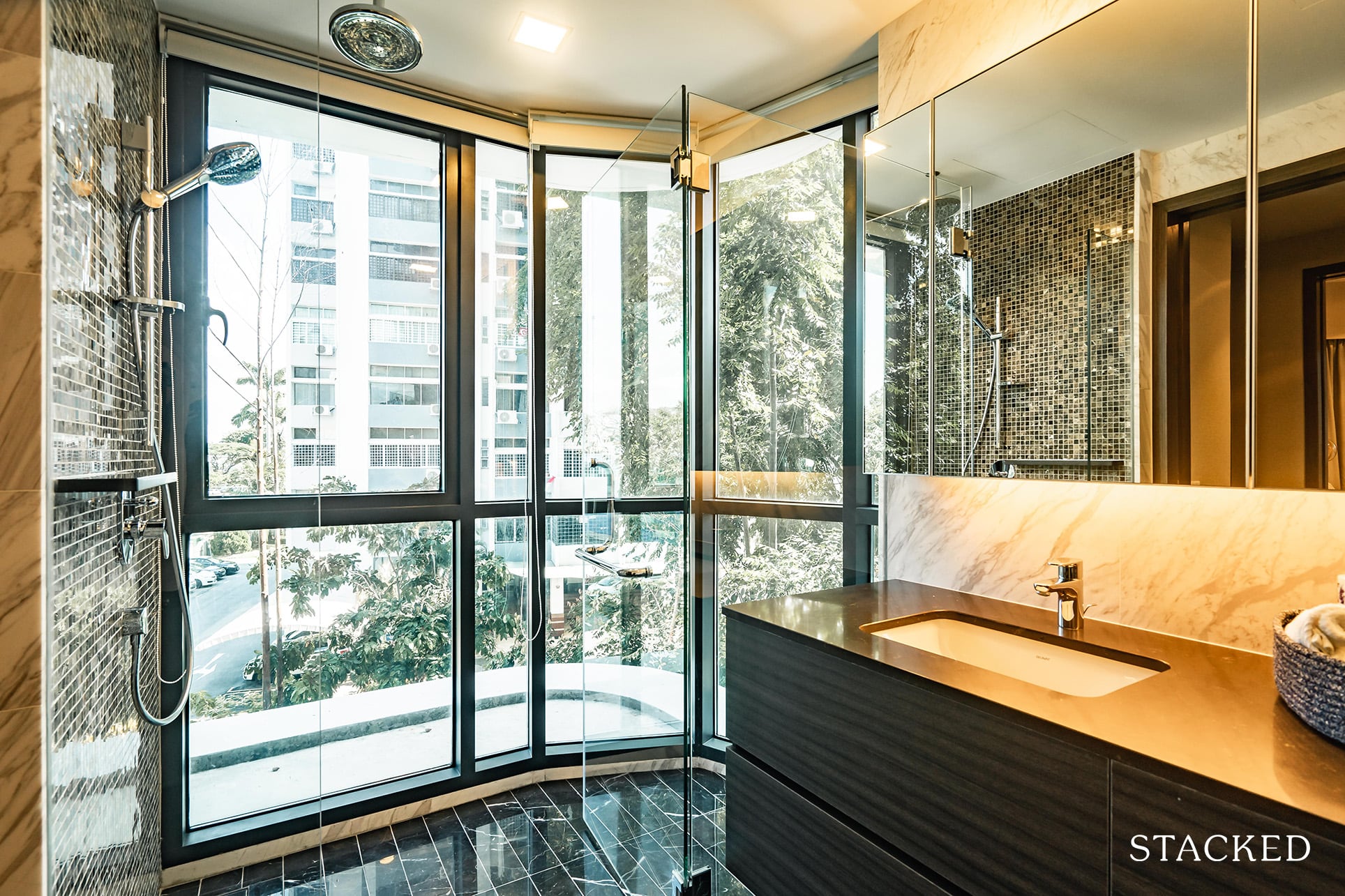 The junior bathroom here is actually quite big and you can tell just by looking at the number of mirror panels! And if you compare it with the common bathroom, you will also tell the difference in terms of how it is decked out. Here, you will find a more luxurious marble finish and a rain shower will also be provided by Hansgrohe, as with the tap. Wall hung toilet bowl and sink will be from Bravat, and the flush plate from Geberit.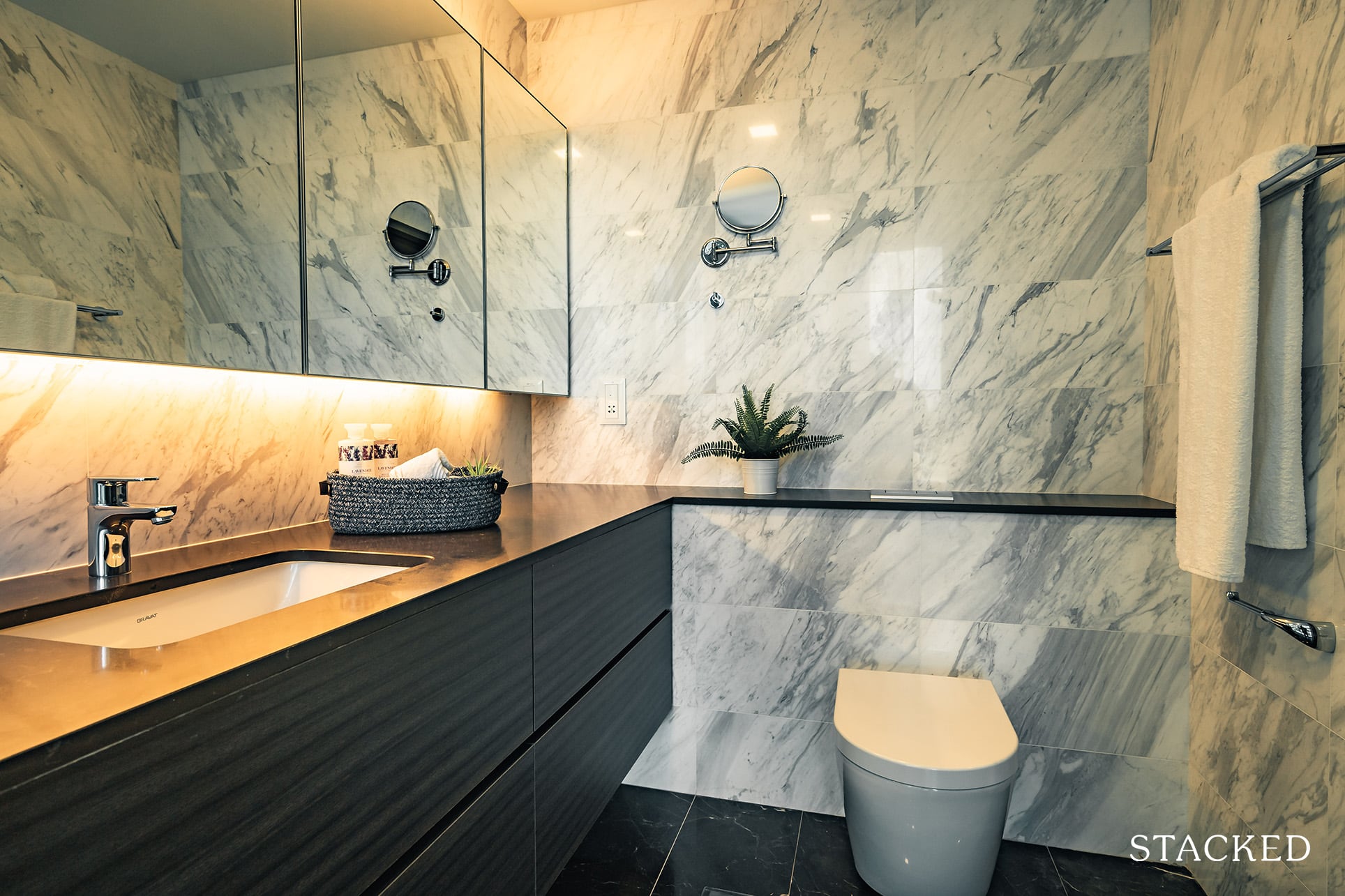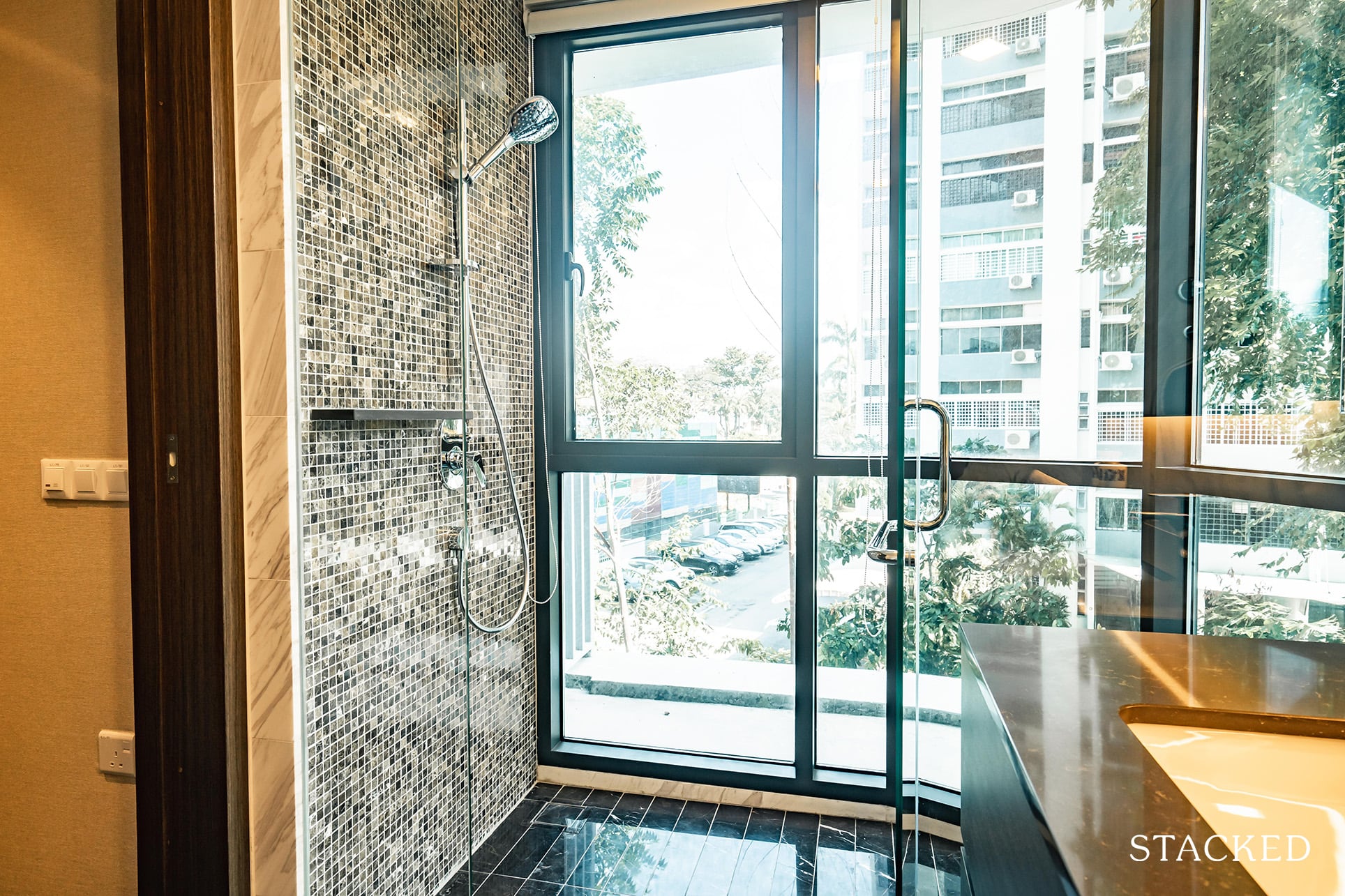 While the floor to ceiling windows look lovely, you'd probably have to keep the blinds down all the time for reasons that need not be said.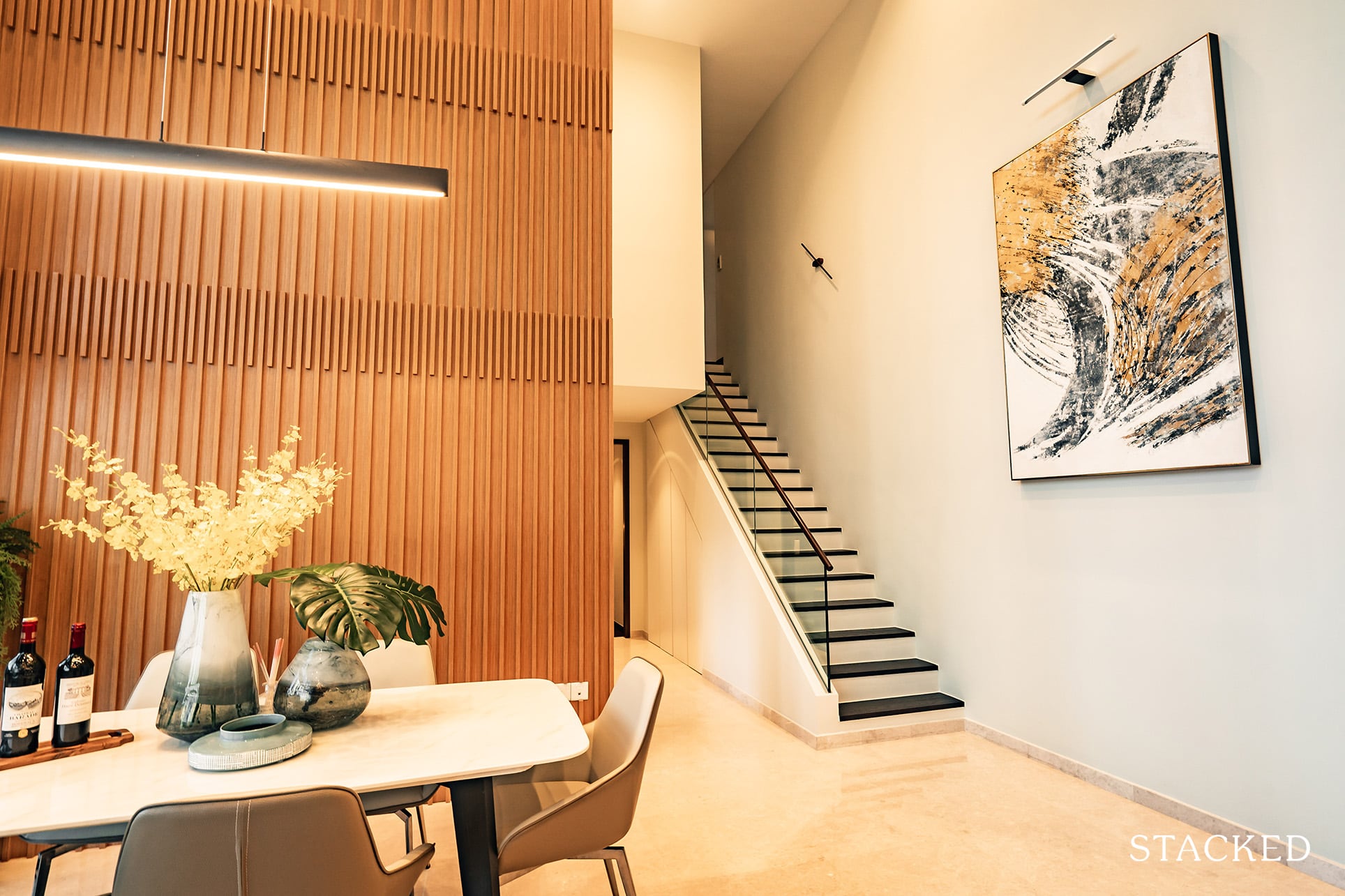 Going up the flight of stairs will take you to the other 2 bedrooms – the master bedroom and bedroom 4 and their respective bathrooms.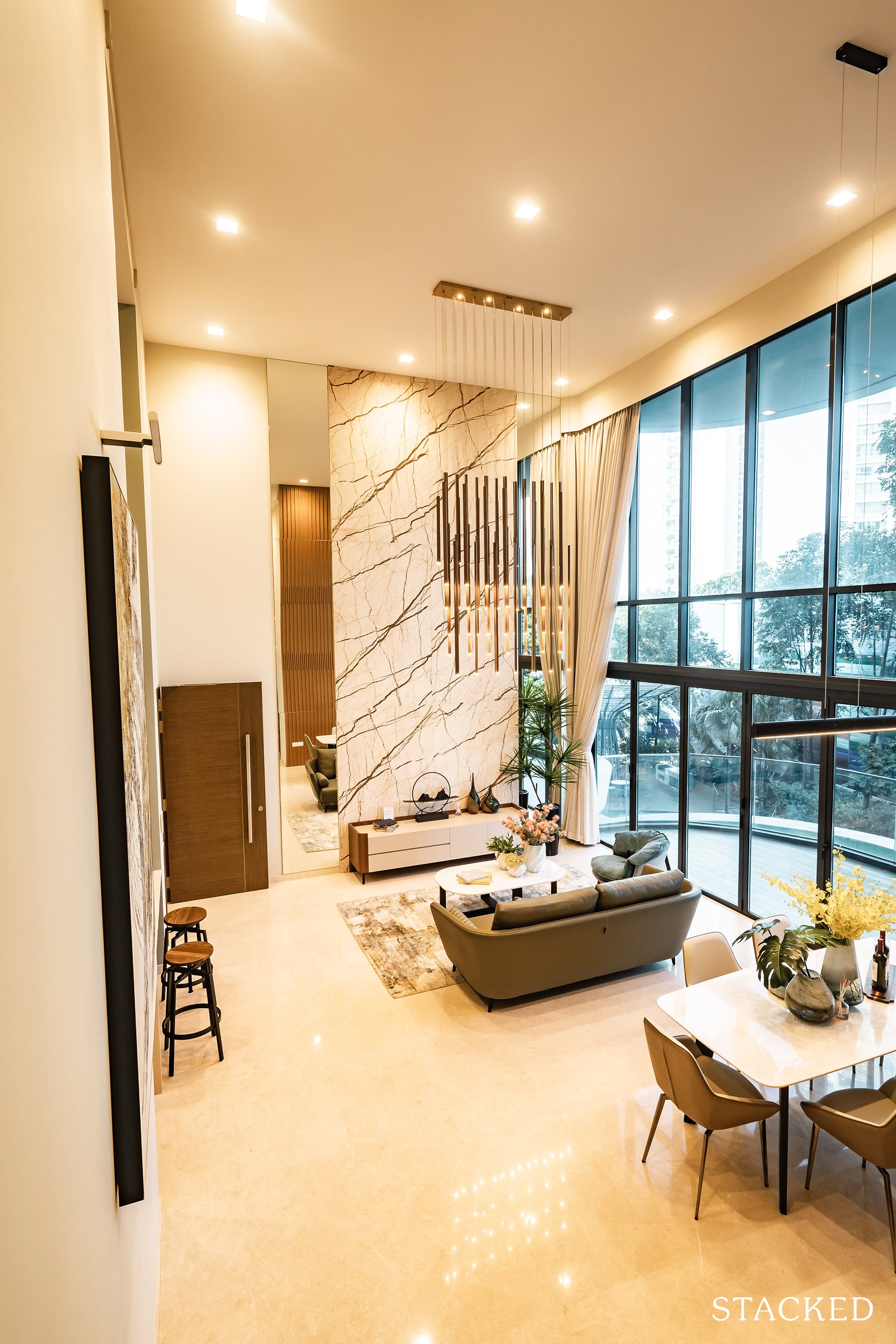 It's hard not to look back and admire the double volume ceiling and space.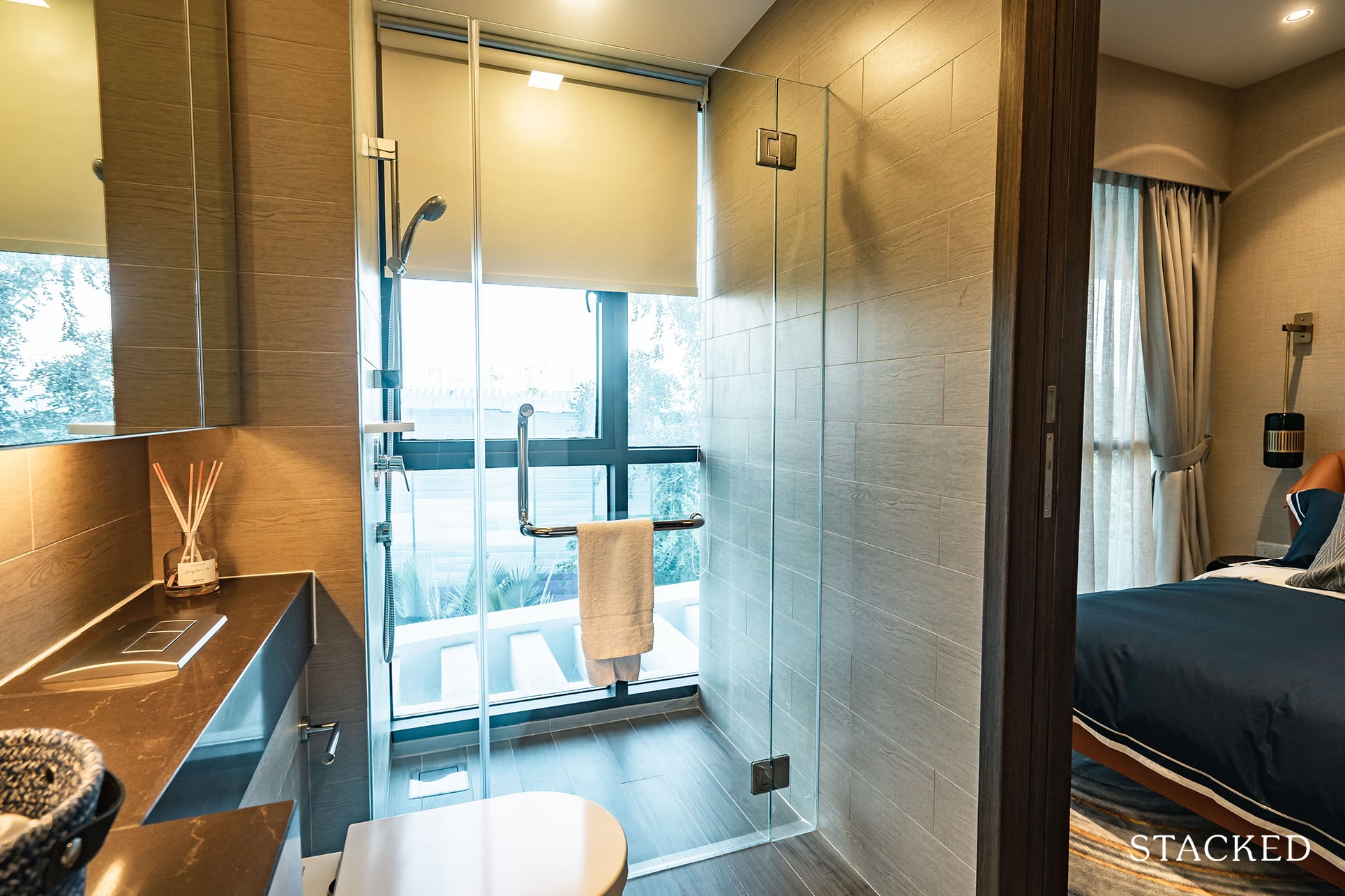 The common bathroom 4 here is also a jack-and-jill and provides guests with an additional bathroom to use when the other one downstairs gets too crowded. Of course, you actually still have a W/C (albeit much smaller and more plain-looking) in the kitchen if absolutely necessary.
It's also a similar size to the one found downstairs and comes with the same features – a sink and wall hung toilet bowl from Bravat and tap and shower from Hansgrohe. Again, the common bathroom is of standard fare – there is no rain shower and no marble features like those in the master and junior master bathrooms.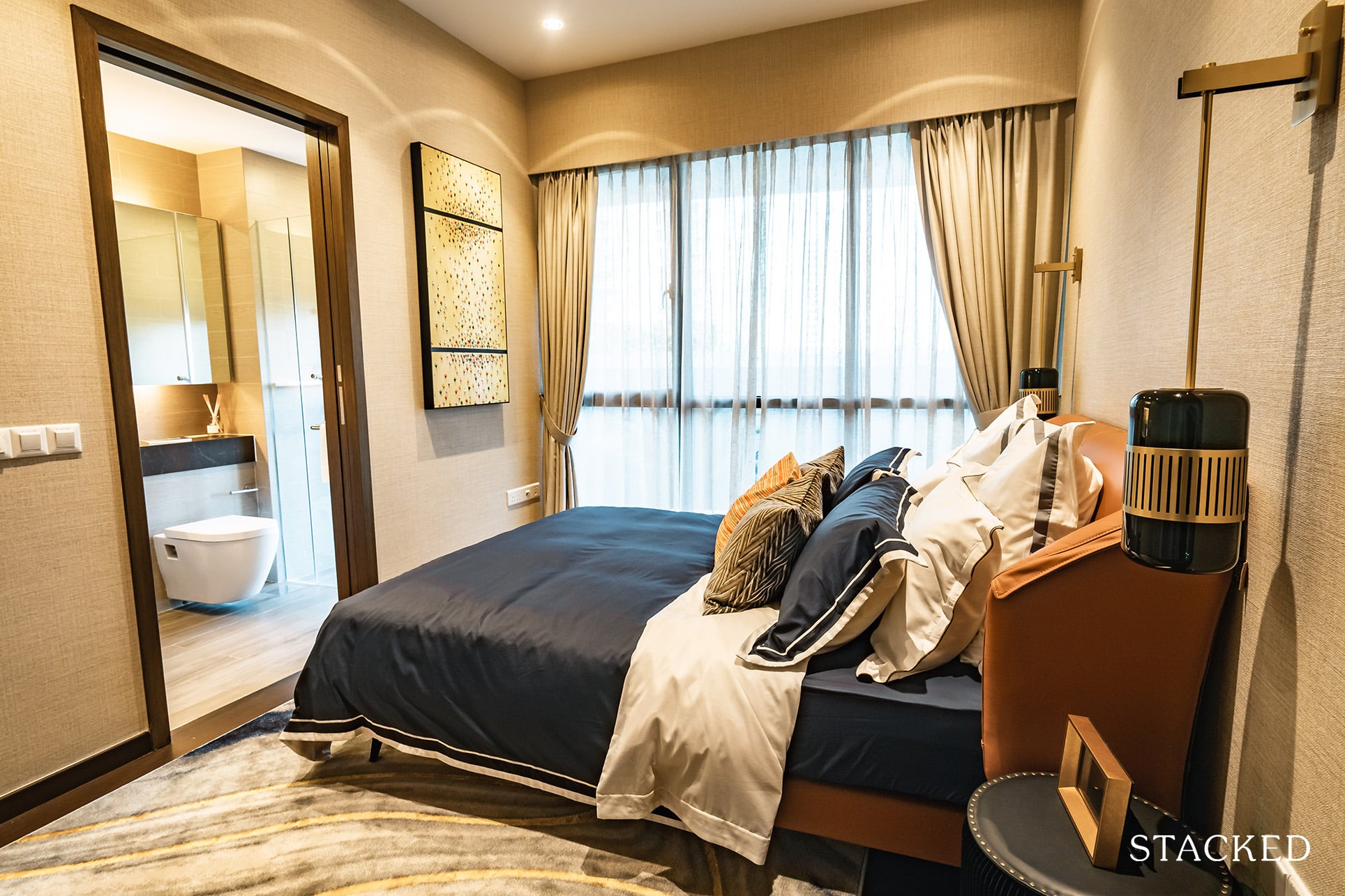 Bedroom 4 here, however, is actually about 40sqft (4sqm) larger than Bedroom 3 downstairs and because that's pretty significant, you can tell that the moment you step into the room. You will find a Queen bed comfortably placed here with a built-in wardrobe included as well.
The total size of this bedroom and bath is 194sqft, which is not too shabby at all. The bed and bathroom will overlook the open trellis i.e. the balcony from downstairs.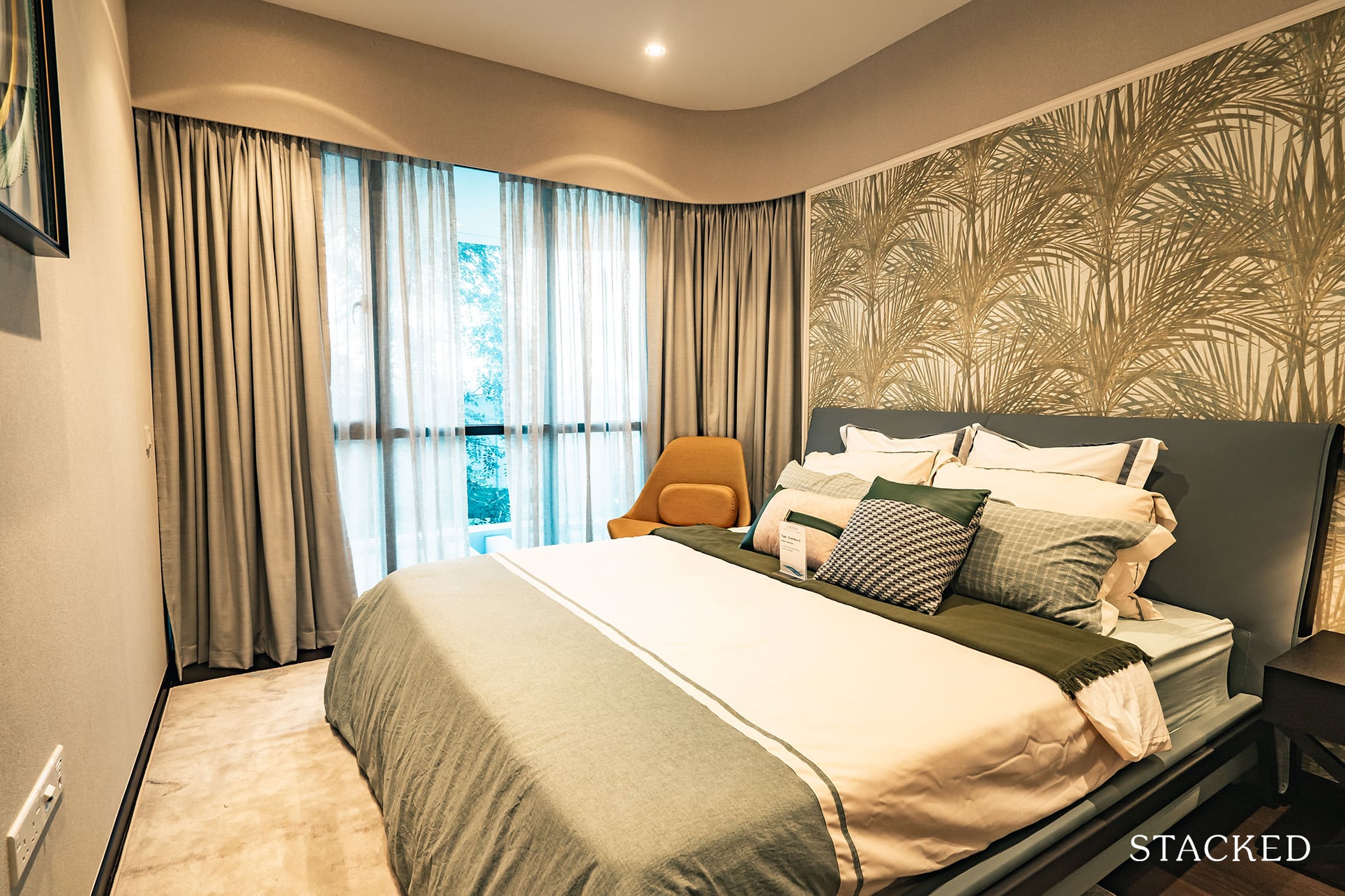 Coming to the Master Bedroom at 278sqft, (26sqm), you will be able to fit a King bed without issues. If you want a dresser by the side, it will probably be less of a squeeze with a Queen instead. The master bedroom comes with ducted air conditioning and solid timber flooring, which tends to be the more premium option out in the market.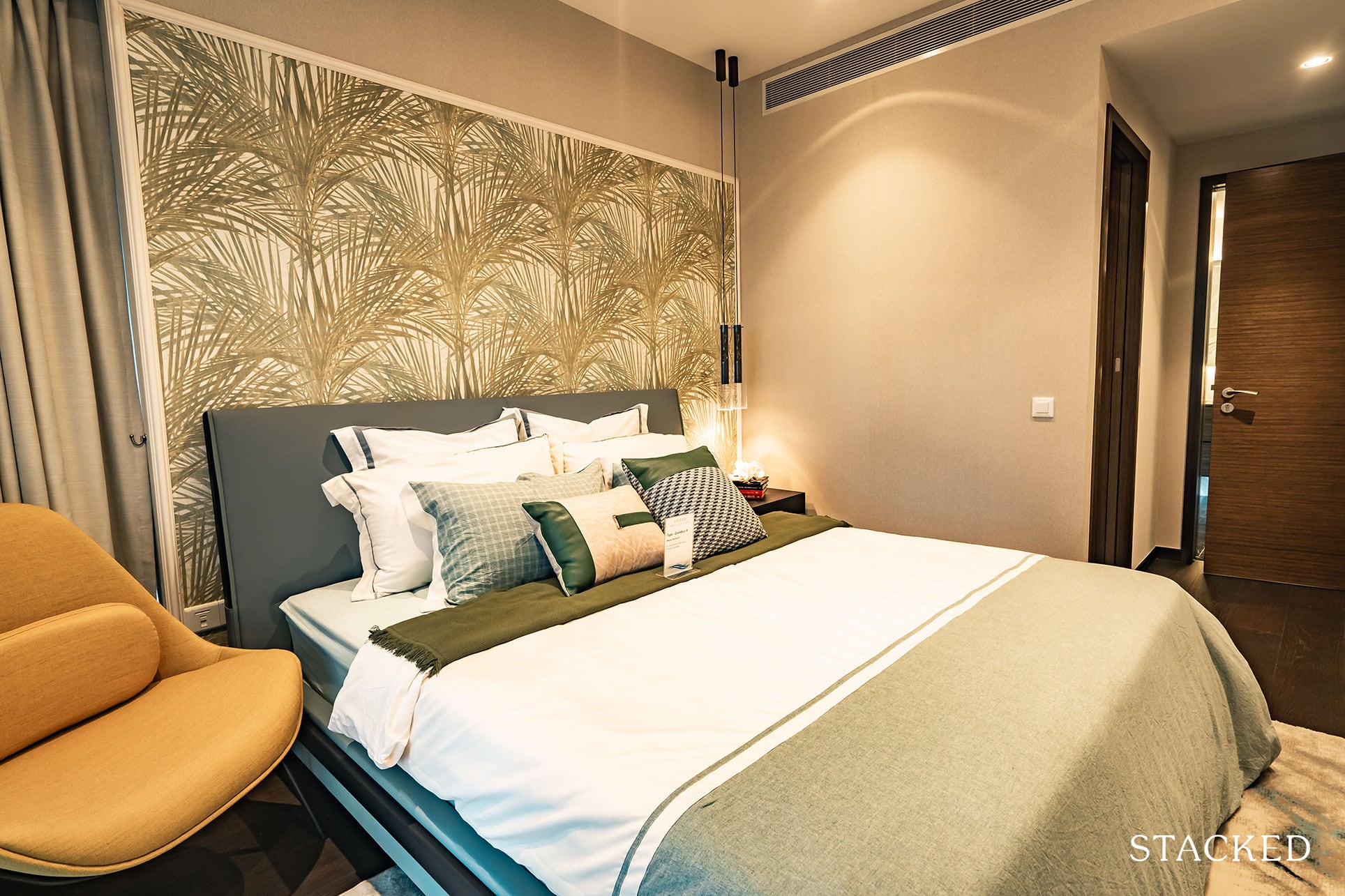 Although I have to confess that I was initially expecting more from the master bedroom, given the relative extravagance from what has been displayed from the unit so far.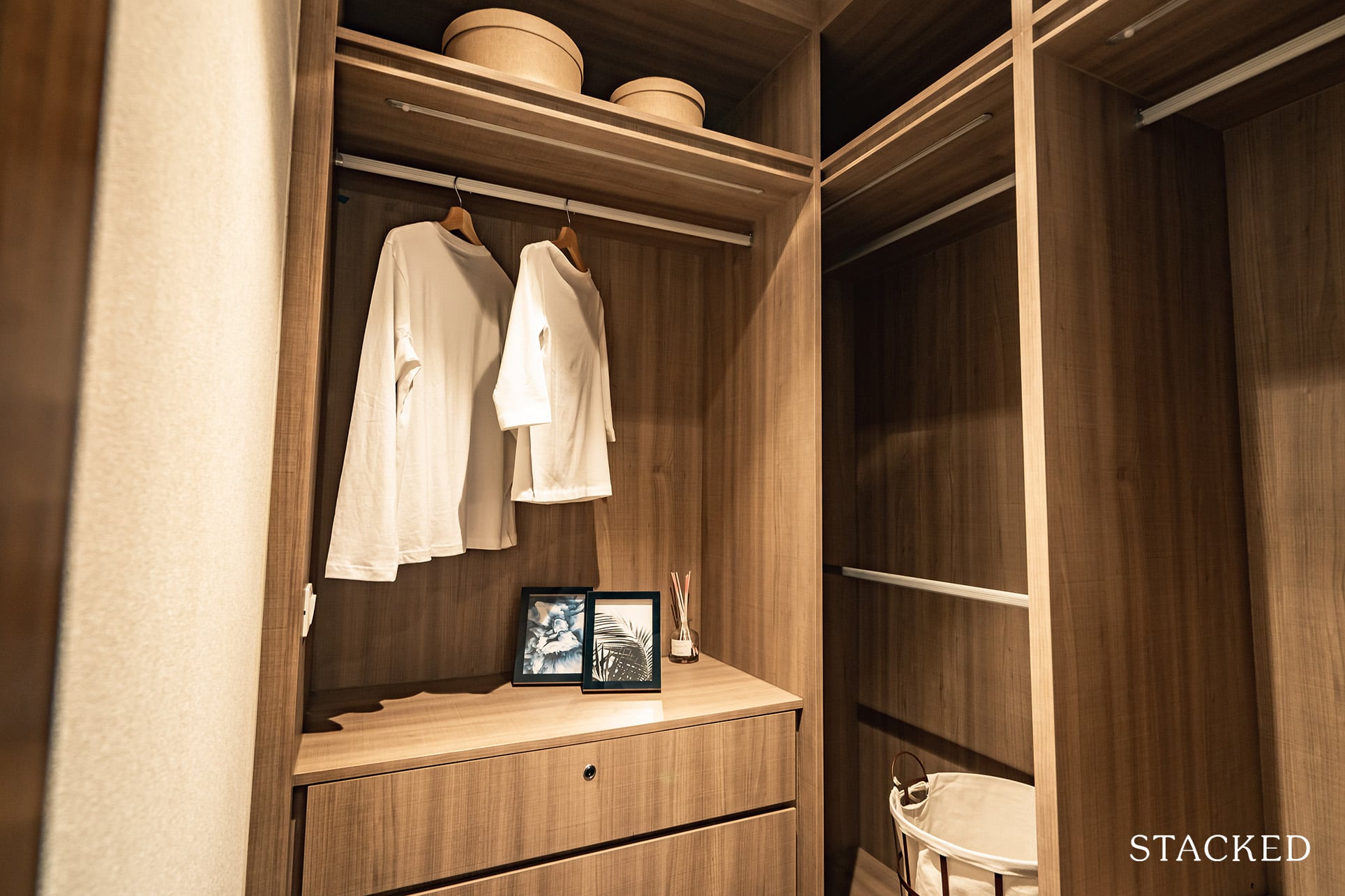 As mentioned earlier, I prefer the Junior Master over the Master Bedroom primarily because of the layout of the walk-in wardrobe so allow me to explain myself. So instead of having a walk-in wardrobe with shelvings on both sides, it is an L-shaped layout here – and that's not necessarily always the poorer option. However, in this case, it looks cramped because it's in a mini-room of its own and there are some awkward hanging spots because of the L-shaped layout. Might not be that pleasant having to reach in for your dress which you haven't worn for years.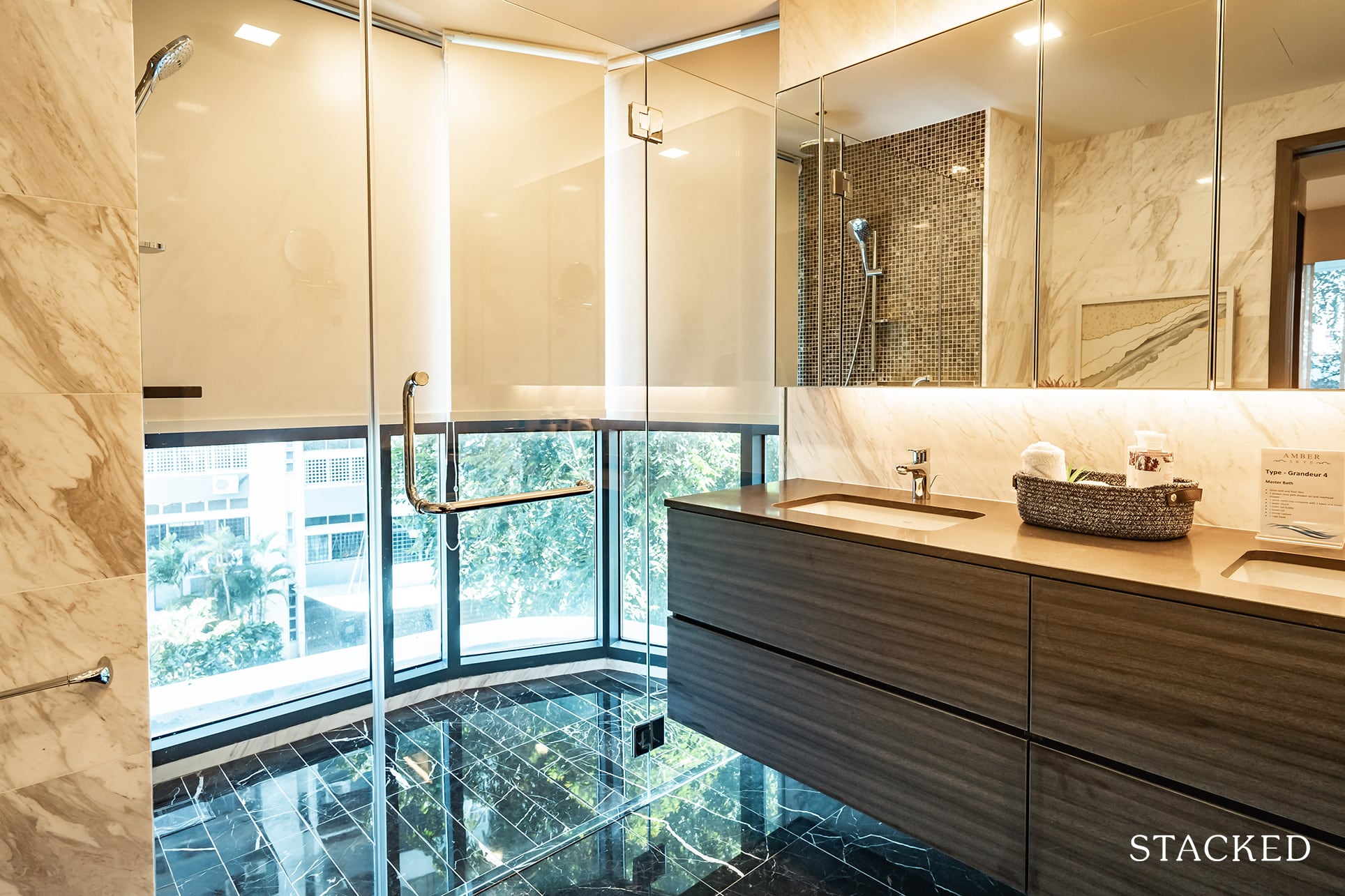 The Master Bathroom comes with marble tiles just like the ones come in the Junior bathroom, making them more luxe than their common bath peers. There is also a 'his' and 'hers' sink so you and your partner can wash up in the morning and evening together.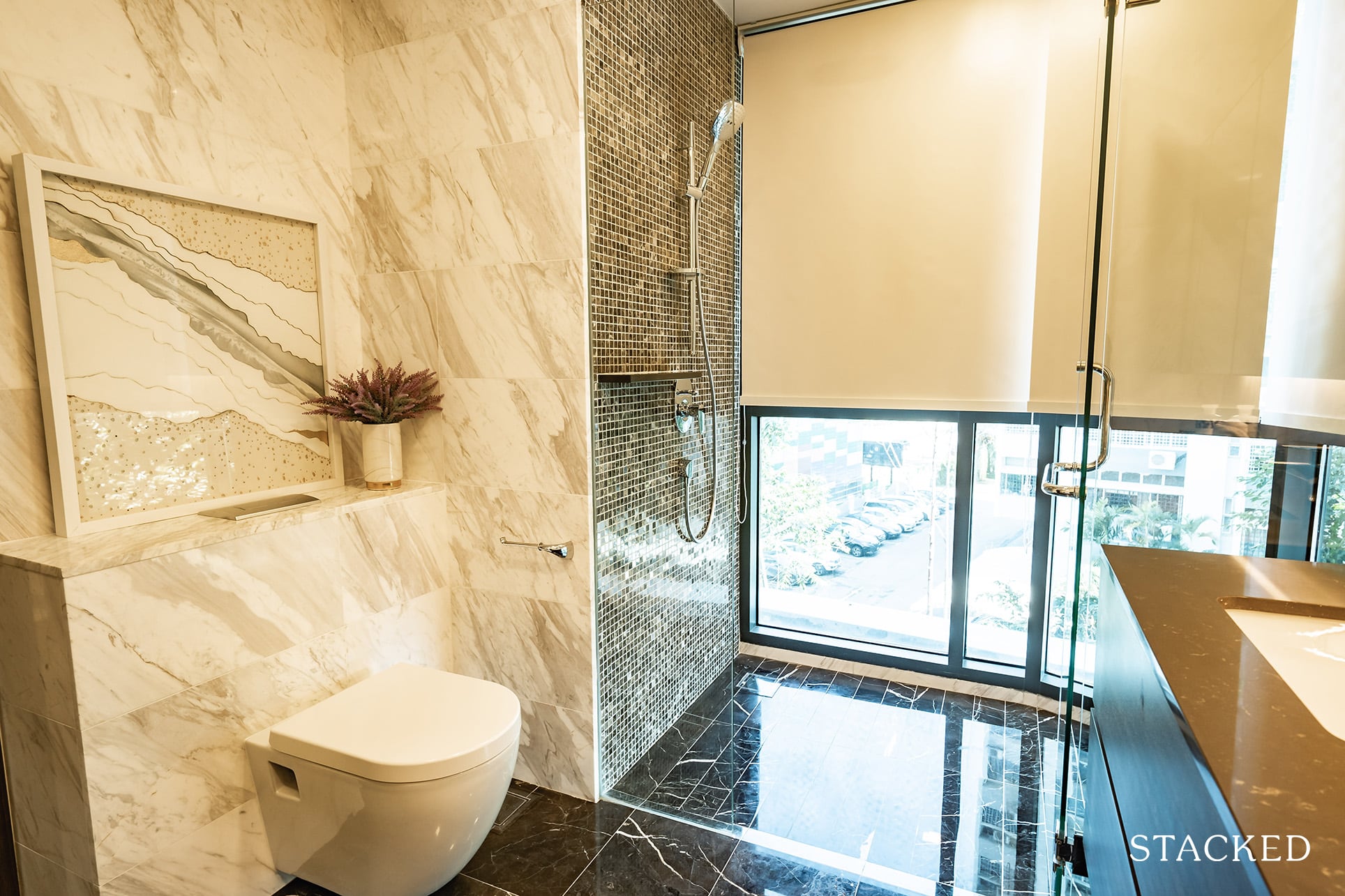 You might be surprised to know that even for such a large unit, there isn't a bathtub, which is disappointing for some. However, if you have been on the property market for some time, these things can be part of a trend that ebbs and flows. Just like how balconies were gone for a period of time but have now returned – so it's the same story with bathtubs.
Nevertheless, this means that the space can be used elsewhere and this bathroom is definitely still comfortably large.
This 4 bedroom Grandeur unit is undoubtedly a unique concept in today's market. You have a 2 storey unit with a very substantial floor area, especially in the living room and balcony. If hosting parties are for you, this might be something you would like to consider. Do realise of course, that you are also paying for the 'air space' i.e. high ceiling, which makes up a whopping 710 sqft but ultimately, this may be a small price you pay for its bragging rights. 
Amber Skye 4 Bedroom Penthouse Review
At an extravagant 4,101 sqft over 3 storeys, even calling this unit luxurious might be an understatement. At a list price of over $7mil before discounts, the target market for such a unit will also be considering the landed properties in the surrounding areas.

What differentiates this unit from the landed homes then is the sweeping views of the sea and the landed Mountbatten estate, essentially making this a bungalow in the sky. However, the layout of this unit isn't perfect – biggest bugbears being the lack of lift access to every floor and an impractical balcony.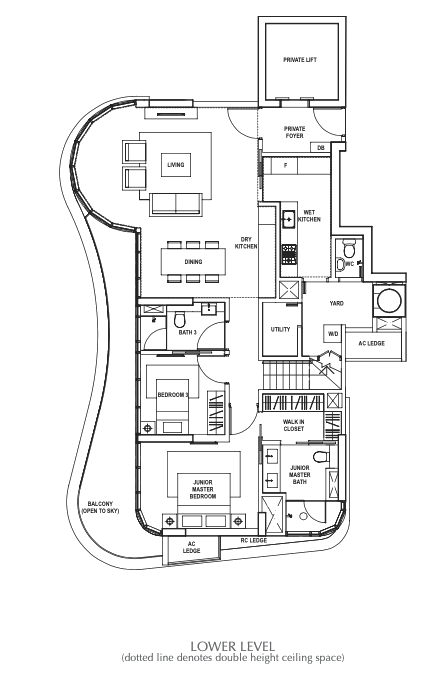 As this is an unfurnished unit, I will be breezing (like the sea breeze or was that a bad pun?) through the unit and provide highlights along the way.
The private foyer here stands at just 54 sqft (5sqm), which is the same as the 4-bedroom Grandeur unit and once again, ironically smaller than the one found in the 2 bedroom loft unit we reviewed earlier.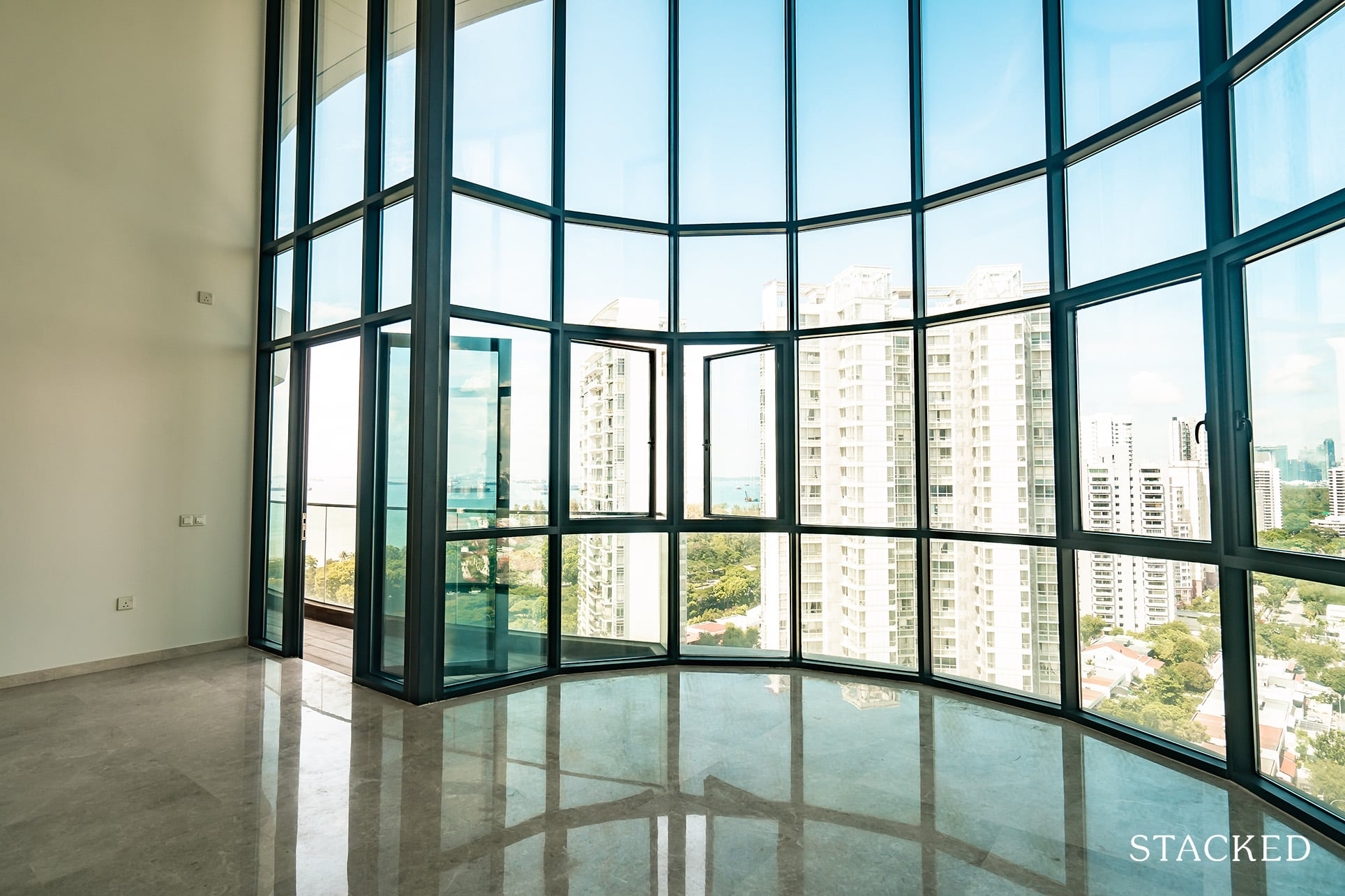 First impressions count, so stepping into this unit, you will once again be greeted by the 6-metre high ceiling which can exude a level of luxury when the ID is done well (so your ID matters!).
However, the living space here is actually an eighth (65 sqft) smaller than the living room found in the Grandeur unit. It felt smaller to me because this unit didn't have the extensive balcony to compliment the living space. Moreover, you will have to contend with the curvature that comes with the architecture of Amber Skye. Nevertheless, at 452 sqft (42sqm), it will still fit a 6-8 seater dining set easily and a good-sized couch.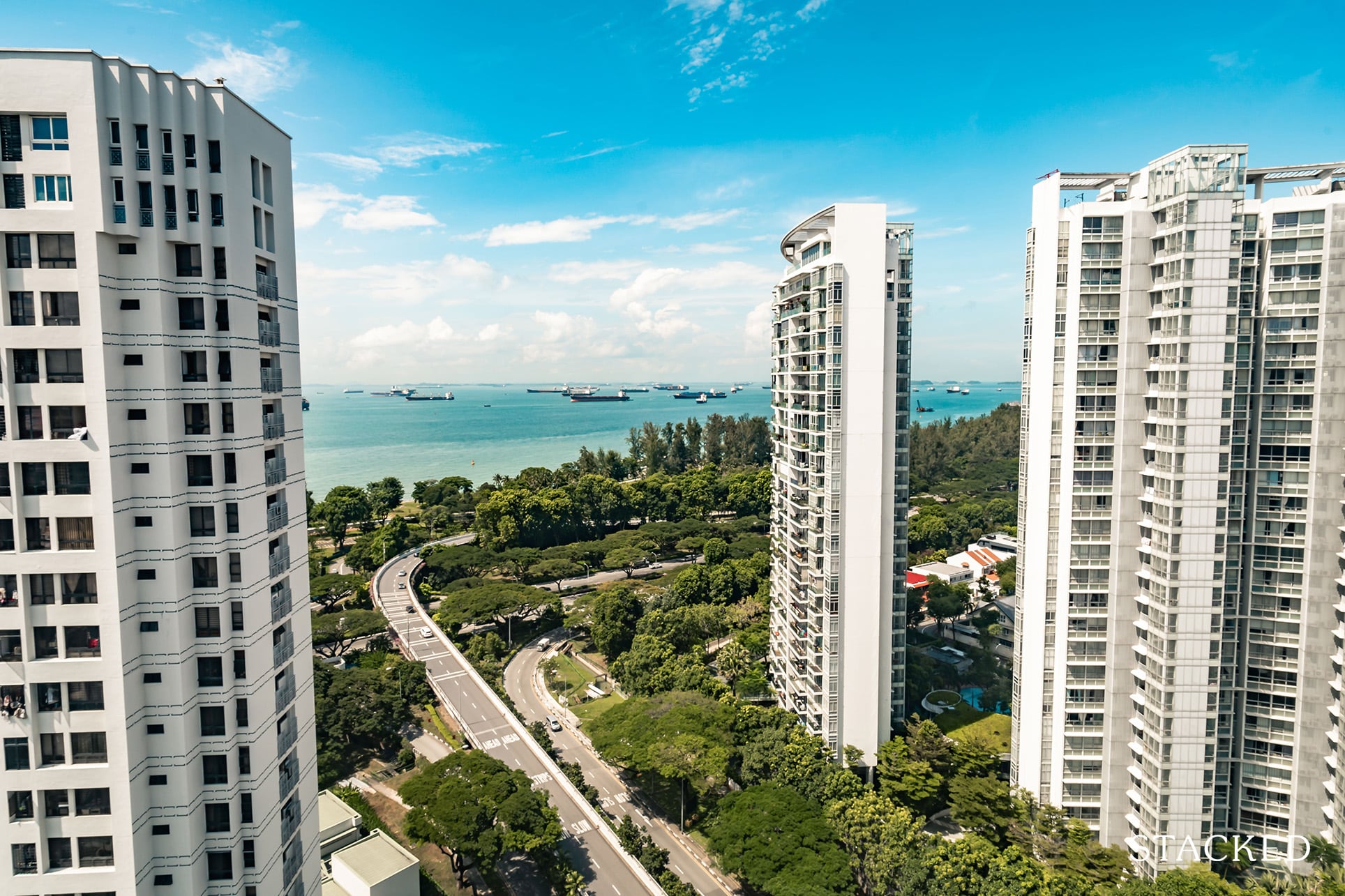 Well, let's not get too caught up with the space and forget the biggest highlight here – the views. From the living room, you will get sweeping views of the extensive Mountbatten landed estate and you will be able to see as far as Suntec City and the Concourse.
The best part? Unless the road is ever removed, this would more than likely remain an unblocked view for years to come. Of course, you will also notice that you don't get the entire full-width view here, with nearby condos Amber Point and Aalto really getting the best views.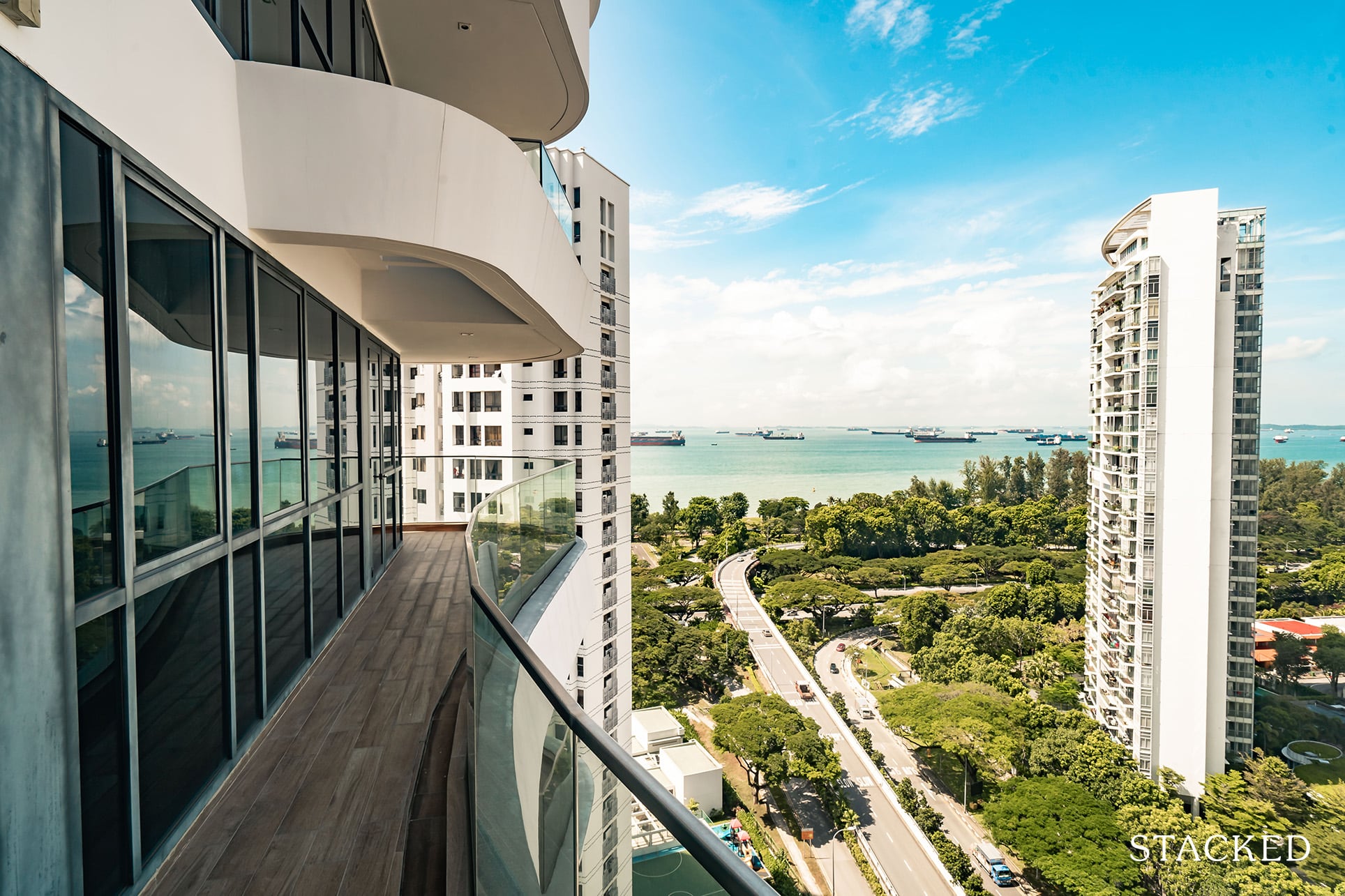 There's actually a balcony in this unit leading from a small door in the living room and extending to the Bed and Bathroom 3 as well as the Junior Master. Because of the curved shape, you will notice that most parts of the balcony are actually not very practical save for the widest end. It wouldn't even fit a chair frankly. Only practical use I can think of is a putting mat for golfers.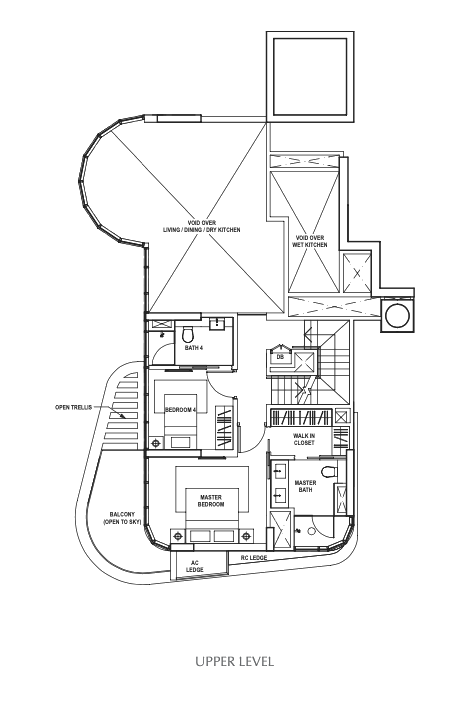 In terms of how the bedrooms are laid out, you will find 2 bedrooms and 2 bathrooms on level 1 and a similar format on level 2. The Roof Level at Level 3 is really the highlight of this penthouse – and really the reason why you would even consider this unit!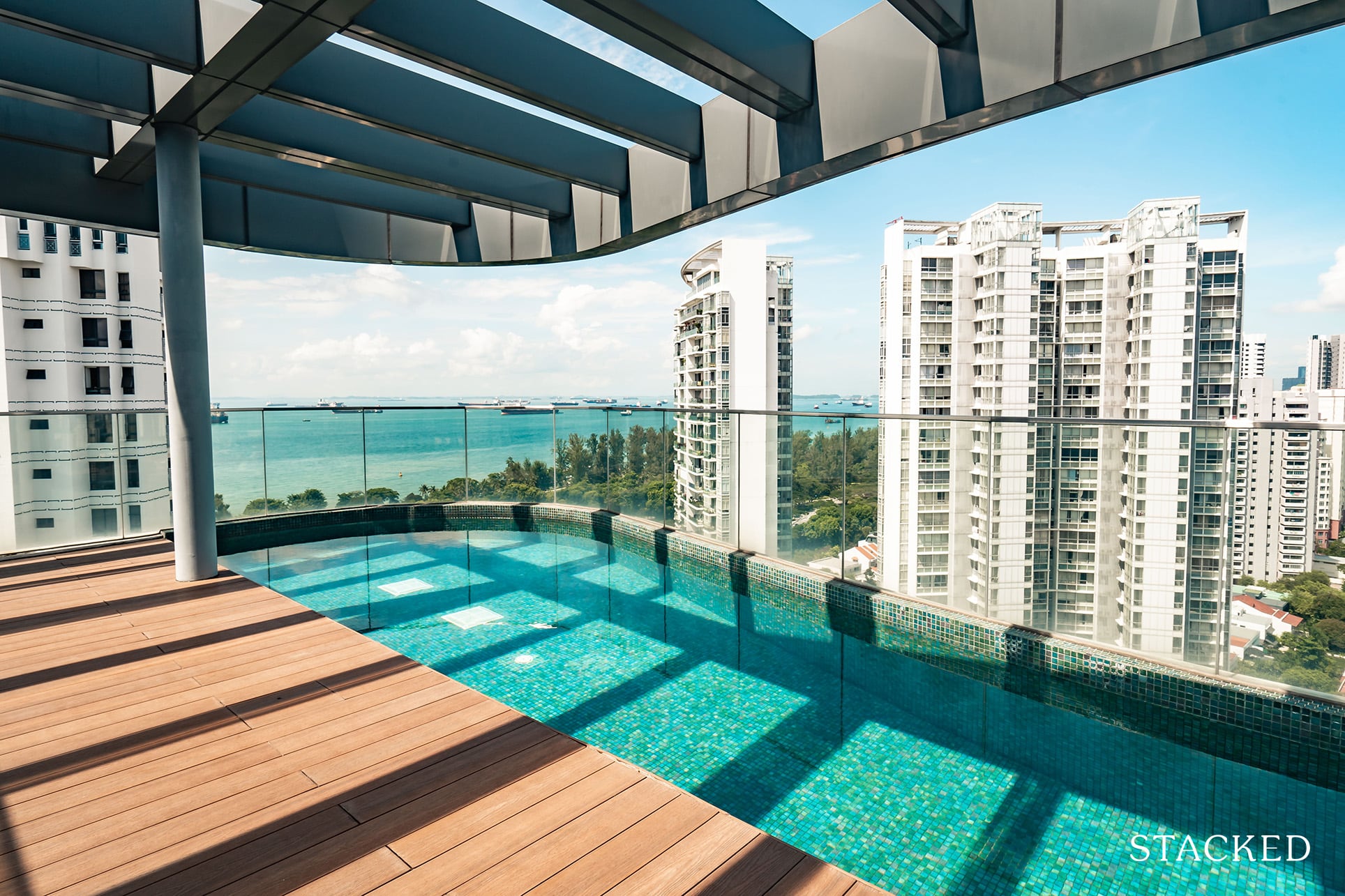 This Roof Terrace itself is a whopping 1,270 sqft (118sqm) and comes with a gorgeous private pool. The pool combines the views of both the landed estate and the sea and is easily the pièce de résistance of this unit. Needless to say, the views here are infinitely spectacular, especially so if you are soaking in the comforts of your own pool.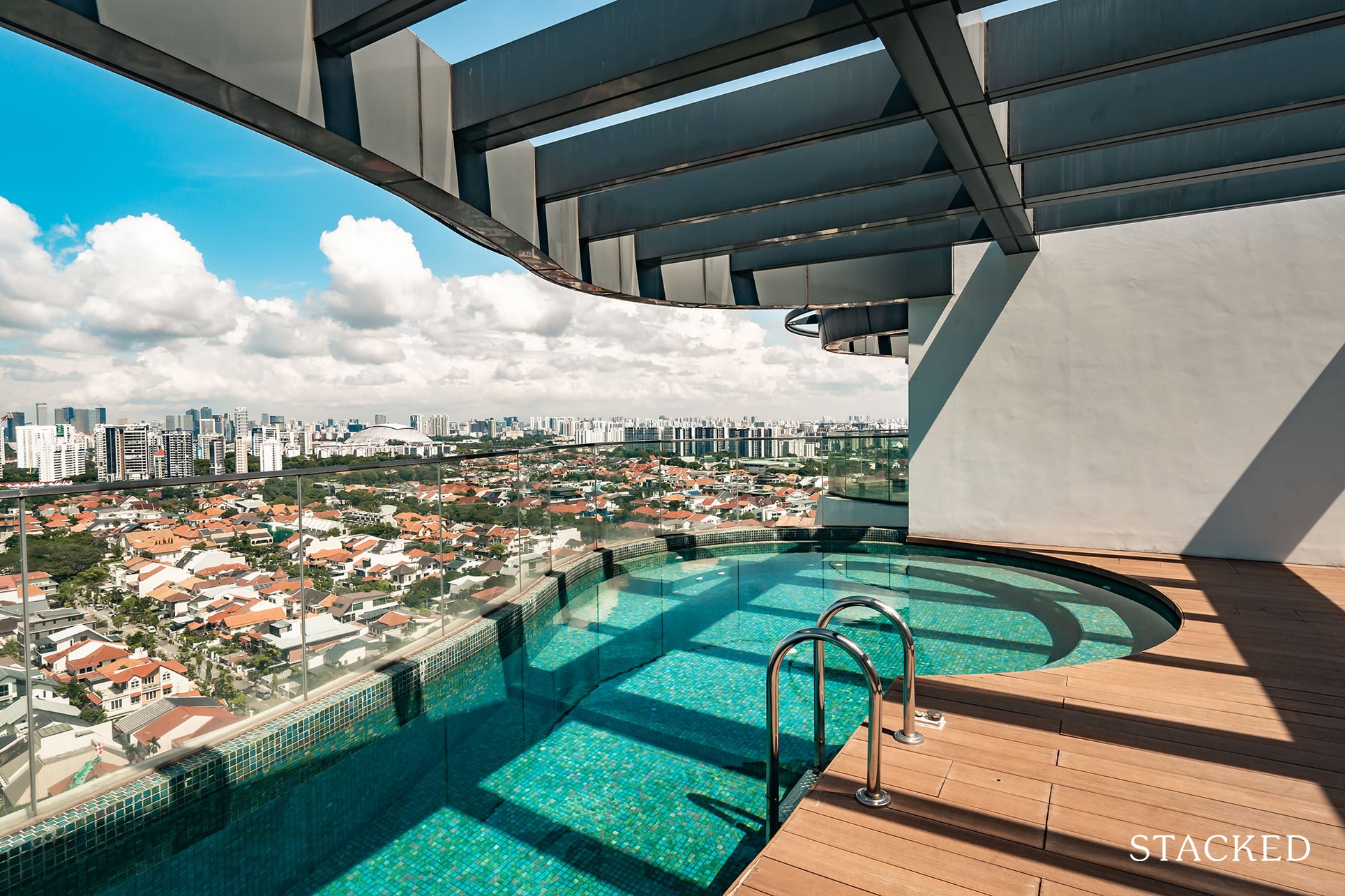 From a practical perspective, there is also a tap, sink and some countertop space for you – just right for a party although one isn't encouraged at this point in time… There is also a door which leads you to the common lift lobby, but do note that one of our gripes about this unit is the lack of private lift access to each individual floor.
Overall, this 3 storey penthouse unit is somewhat in a league of its own. There aren't many projects around this vicinity which can boast of a private pool with views of the sea and the nearby low-rise estate. If you can look past the lack of lift access to each floor and the odd-shaped balcony on the first floor, this is something that might interest you.
Amber Skye Location Review
The highlight for Amber Skye is the fact that Tanjong Katong MRT will literally be at your doorstep.

However, there is actually much more to this location. Located in District 15, Amber Skye is part of the wider Katong / Mountbatten area, a neighbourhood traditionally associated with seafront bungalows for the wealthy Eurasians, Peranakans and Indo-Chinese back in the 19th and 20th centuries. Unfortunately, most have since been demolished to make way for these high-rise condominiums we see today.

Nevertheless, this area remains highly popular amongst buyers – a 2019 PropertyGuru survey found that 1 in 3 buyers expressed a desire to purchase a property in District 15.

District 15 actually stretches from Siglap (we covered the 'ancient' Mandarin Gardens) all the way to Dunman Road and Tanjong Rhu, comprising of a total of 6 MRT stations along with the future Thomson-East Coast Line. It is predominantly a private estate, with the exception of the ~8,000 HDB flats at Marine Parade built in the early 1970s on reclaimed land and a couple more blocks at Haig Road. 

In terms of condominium developments, the 3 most prestigious areas in District 15 are namely Tanjong Rhu, Meyer and Amber. Of the 3, Tanjong Rhu and Meyer Road are closer to the city and have the most number of full seaview facing units but many of the projects at Tanjong Rhu are 99-year leasehold.

While Amber Skye is further from the city, it's only a mere 10 minutes drive from Marina Bay Financial Centre and is actually closest to an ECP exit. Getting to Bugis Junction or Suntec City will also take you no more than 10 minutes during off-peak hours.

Public Transport

| | | |
| --- | --- | --- |
| Bus Station | Buses Serviced | Distance From Condo (& Est. Walking Time) |
| 'Opp Tg Katong Rd Sth P/G' | 36, 48 | 160m, 2-min walk |
| 'One Amber' | 10, 10e, 12, 14, 14A, 14e, 32, 36, 36A, 36B, 40, 48, 196, 196A | 450m, 5-min walk |
Because it is still about 3 years before the Tanjong Katong MRT is ready, the only mode of public transport for the CBD crowd (which is really the main group of residents in this area) will be via bus. The closest bus stop which has 36 and 48 will bring you onto the ECP and take you to Suntec City, City Hall, Dhoby Ghaut and Newton among others.

For the Downtown crowd, you will have to contend with walking slightly further to the bus stop outside One Amber where many bus services will take you to Raffles Place and Shenton Way, where MBFC and Asia Square will just be a short walk away.

In the future, it will take you 7 stops (est. 14 mins) on the TEL to get to Shenton Way station, where you will find Grade A offices such as Marina One and UIC Building and 4 stops (est. 8 mins) to get to Gardens by the Bay, where you will be able to check out the original Supertrees, not the lacklustre one found here.

Private Transport

| | |
| --- | --- |
| Key Destinations | Distance From Condo (& Est. Peak Hour [0830] Drive Time) |
| CBD (Raffles Place) | 11.0km, 15-min drive |
| Orchard Road | 12.4km, 19-min drive |
| Suntec City | 8.5km, 10-min drive |
| Changi Airport | 11.5km, 10-min drive |
| Tuas Port (By 2040) | 48.2km, 50-min drive |
| Paya Lebar Quarters/Airbase (By 2030) | 7.3km, 22-min drive |
| Mediapolis (and surroundings) | 19.1km, 20-min drive |
| Mapletree Business City | 17.8km, 19-min drive |
| Tuas Checkpoint | 38.0m, 35-min drive |
| Woodlands Checkpoint | 31.8km, 31-min drive |
| Jurong Cluster (JCube) | 26.1km, 28-min drive |
| Woodlands Cluster (Causeway Point) | 30.9km, 31-min drive |
| HarbourFront Cluster (Vivo City) | 14.4km, 15-min drive |
| Punggol Cluster (Waterway Point) | 24.1km, 27-min drive |
Immediate Road Exits: 2 exits – 1 leading directly to ECP (Changi) and the other will take you along Amber Road, where you can make 2 left turns to Amber Gardens to reach ECP (Changi). Otherwise, you will also be able to get to Tanjong Katong and Marine Parade from here.

Summary:
Because ECP is literally just beside Amber Skye, the drive times from the development to most locations are actually pretty impressive – especially to the areas near the Downtown Core.

People often praise areas such as Ang Mo Kio and Toa Payoh for being central but what they don't realise is that being geographically central may not always be the most convenient. Singapore's Downtown Core is very much down south, which makes Amber Skye a really convenient location, especially by car.
Food Options
The start of Tanjong Katong Road is a mere 5 minutes walk away (350 metres) and you will find the original many popular food joints located here. Amongst them are Eng's Wanton Noodles (and its rival branch just opposite but won't go into that dispute here), Punggol Nasi Lemak, Heng Long Teochew Porridge, and many more.

So it all depends on which direction you are walking towards because walking 10 minutes (700 metres) in the other direction will take you to East Coast Road, where of course you will find Delicious Boneless Chicken Rice (Katong Shopping Centre), 328 Katong Laksa and Petit Pain Bakery (heard their croissants are to die for) amongst others a short stroll or drive away. So, foodies… you will really never run out of meal options here!

Shopping Malls and Amenities
The most popular mall in the vicinity is undoubtedly Parkway Parade, which is a 5-minute drive away. There you will find grocers such as Cold Storage and NTUC to meet your daily needs. Interestingly, there are 3 NTUCs within a 500m radius, with the other 2 at Marine Parade Central and Katong V Mall respectively.

You will not be short of retail banking options in the Parkway vicinity too. My mum likes to praise how you can literally find every deposit-taking bank at Parkway Parade or very close by. In the shopping mall itself, you will find UOB (including Wealth and Privilege Banking), DBS (including Treasures), OCBC Premier Banking, HSBC and Citibank. In the vicinity, you will also find OCBC, Maybank, Standard Chartered and surprise surprise, State Bank of India and Bank of China.

For children's enrichment, fret not because Marine Parade is an enrichment cluster and full of tuition centres – trust me, I spent most of my weekends attending them here since I was 5.

The nearest mall to Amber Skye is actually Katong Shopping Centre, which was actually Singapore's first air-conditioned mall when it opened in 1973, but is now more famous for maid agencies and the now-shut Teo Heng KTV.

Schools
For parents with school-going children, you'll be delighted to know of several Montessori and kindergartens in the vicinity. The Canadian International School and Tanjong Katong Primary School are both within 1km of Amber Skye.

For District 15 residents, the primary school to gun for is usually Tao Nan School (a proud alumnus here) but Amber Skye, unfortunately, falls within the 1-2km radius, as with CHIJ (Katong), Haig Girls School, and Kong Hwa School.

For pre-university, you will be glad to know that both Victoria School and Victoria Junior College are 3 minutes away by car while Dunman High School (once again, a proud alumnus here) is a 5-minute drive away.
Additional Points
Amber Road used to be home to several prominent bungalows.
The only remnants of this distant memory are the clubhouses for 2 developments. At The Sea View, the clubhouse was ironically only an annexe to the Neo-Classical Mandalay Villa, built by Lee Cheng Yan (founder of Straits Steamship Company – Keppel Corporation today) back in 1902. Fun fact: Lee Kuan Yew had mentioned in his 2015 memoirs that this was where he proposed to Kwa Geok Choo after they attended a party there. Imagine how different Singapore might be if she had said no…

The clubhouse at The Aristo @ Amber used to be a part of the Butterfly House, designed by the esteemed R.A.J Bidwell (Raffles Hotel and Victoria Concert Hall among his claim to fame) in 1912. Unfortunately, the "Butterfly" – a crescent-shaped verandah – is now a 17-storey condominium, despite some protest to conserve it back in 2007.

Foodie and Cultural Haven
There's no denying that Katong is rich in heritage and Amber Skye is in the middle of it all. On the one hand, you have traditional Peranakan shophouses close by at Joo Chiat / East Coast Road (good photo opportunites there – you will usually find tourists posing pre-Covid) and on the other hand, you will find the original branches of 328 Katong Laksa, Eng's Wanton Mee, Awfully Chocolate and many more good food nearby as well.
Amber Skye Development Site Review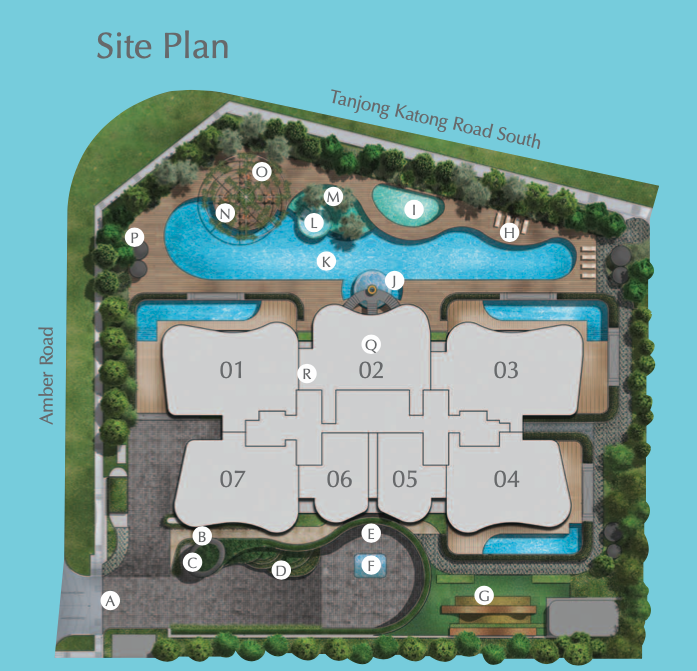 Amber Skye won't win any awards for their facilities but I do think that they have achieved most of the important must-have facilities.

With just 109 units on a 40,000 odd sqft of land, Roger Federer wannabes will be disappointed at the lack of a tennis court in the development. Crazily enough, Espada managed to squeeze in one at a land size smaller than Amber Skye! But frankly, there's nothing to complain about when Amber Park is more than 5 times larger and doesn't have one either. If you really do require one, you could consider joining Chinese Swimming Club (CSC), which is a 5 minutes walk away and has 3 tennis courts amongst many other sporting facilities.

Amber Skye's main facilities will come in the form of its 48m lap pool (quite impressive for a 109 unit project), a more than decent-sized gym and clubhouse. It also has a BBQ pit and some deck chairs surrounding the pool.

On Level 13, you will also find the Sky Terrace with 2 sitting zones, although none really accentuates the view that this development actually boasts of because of the lack of a glass see-through railing.
Unit Mix

| | | |
| --- | --- | --- |
| Unit Type | Size | No. of Units |
| 1BR | 527-635 sqft | 10 |
| 2BR | 990-1,281 sqft | 43 |
| 2BR Loft | 1,216 sqft | 12 |
| 3BR | 1,335-1,528 sqft | 30 |
| Grandeur (4BR) | 2,540-2,982 sqft | 5 |
| Villa (4BR, 2x 6BR) | 4,629-5,177 sqft | 3 |
| Penthouse (3BR, 4x 4BR) | 3,315-4,112 sqft | 6 |
As you can already tell, the units here are generally larger than the market average in 2020. Given that this project is actually only 3 years old, it is crazy to think about how unit sizes have shrunk so significantly over the last couple of years!

The 16 units available for direct developer sales are all 2 or 3 storey units with some degree of a high ceiling or void space. It's unsurprising that these units are harder to move as they cater to a niche client segment who don't mind paying for the additional 'air' space.

You can see that the developer could have easily gone with building more units at an average of 1,000 sqft but chose instead to go a little upmarket with Amber Skye by catering to those who are looking for more spacious homes. What you will get, therefore, is a more exclusive development here at Amber Skye.
Best stacks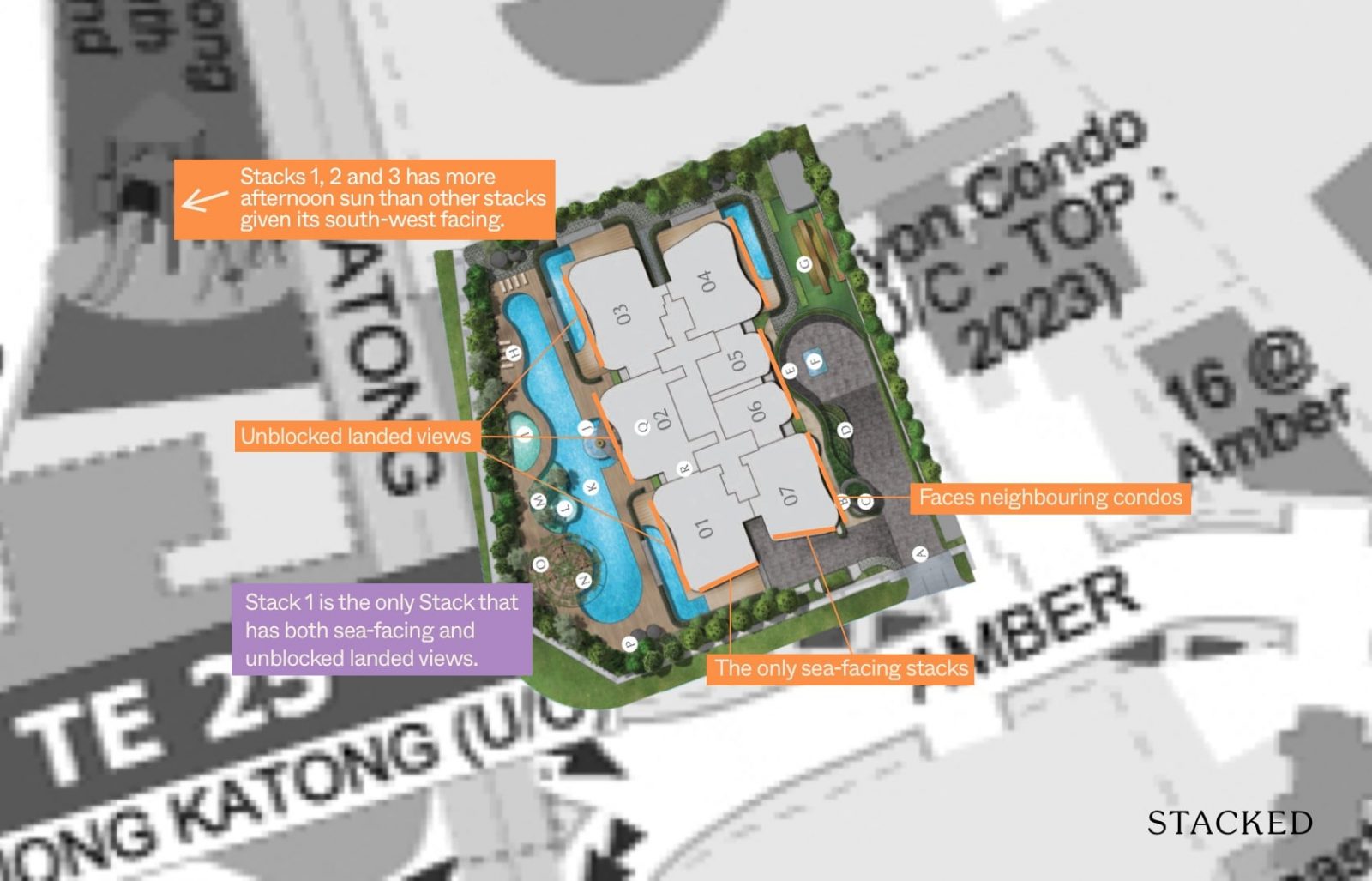 There is only a single block of apartments here, with 7 stacks in total. Stacks 01 to 03 will generally face South-West while Stacks 04 to 07 will have the North-East facing.

Ideally, of course, many Singaporean buyers would try to avoid the west sun, especially for units they intend to stay in. However, you will have to weigh up your priorities in terms of views versus facing.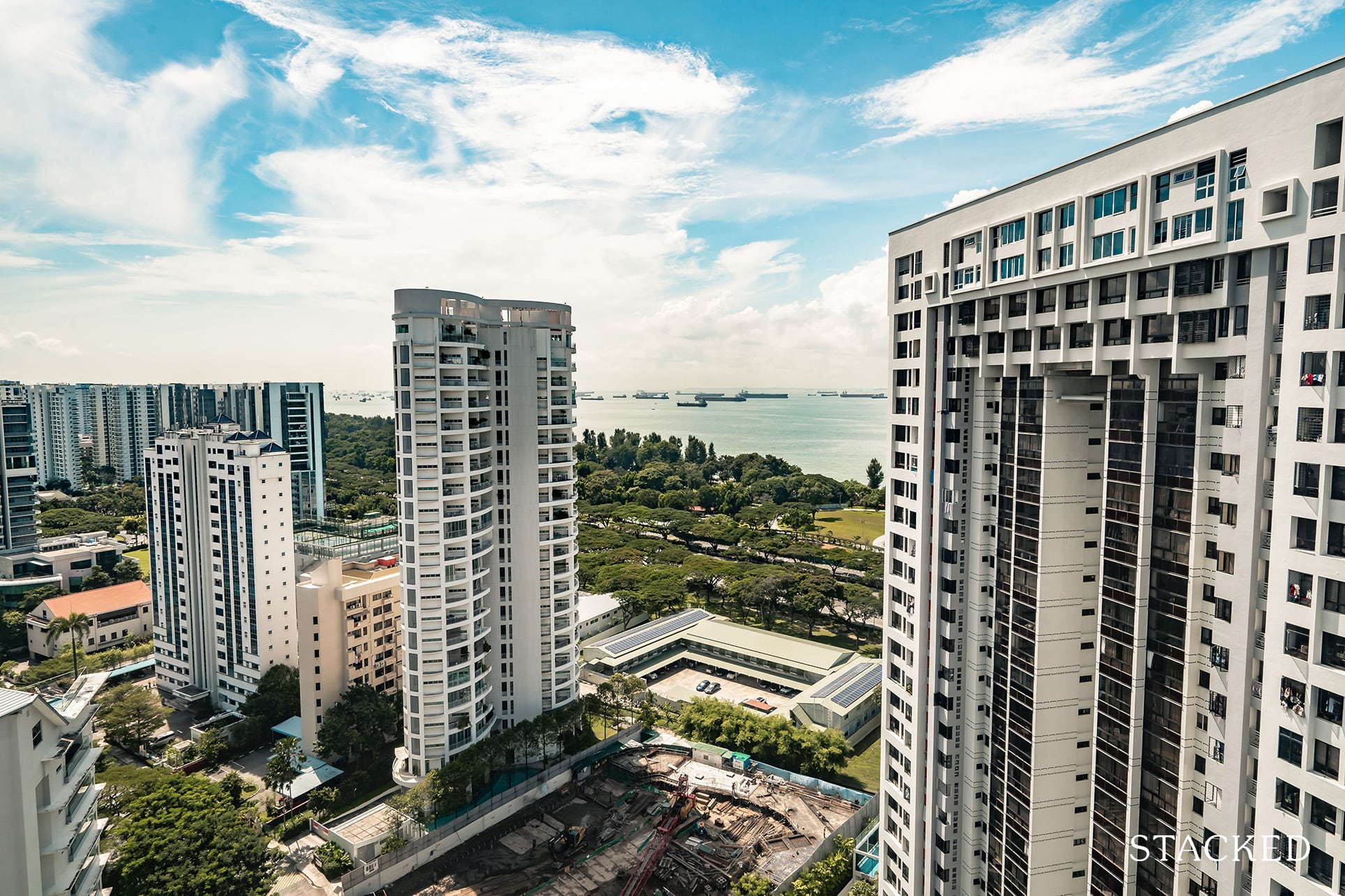 For the best views, only Stacks 01 and 07 will be able to offer you the sea views which you can see in our review earlier, with Stack 01 also having the unblocked landed housing views. 

Stack 07 on the other hand, is less ideal, as you will have to contend with views of the neighbouring condos with sea views only from the side. This will be hampered further when Coastline Residences is up – a new launch project which is unabashed about their unblocked sea views, proudly marketing their project as "The One With The View".

That said, Stack 01 will be in the North West direction so if you do end up choosing it, do remember to coat your windows with UV film – they had it in the Grandeur 4 bedroom unit we reviewed and it does seem to block out the sun quite well.

Amongst the other stacks, you will probably not get any sea view but you can always head to Sky Terrace for a glimpse of it. Stacks 02 and 03 will grant you unblocked views of the landed estate, which in turn should give you better ventilation (albeit facing North West) while Stacks 04, 05 and 06 will face the other condo developments. Right now, there's some distance between Amber Skye and the next project, 16 @ Amber but this won't last for long once Nyon is built.
Price review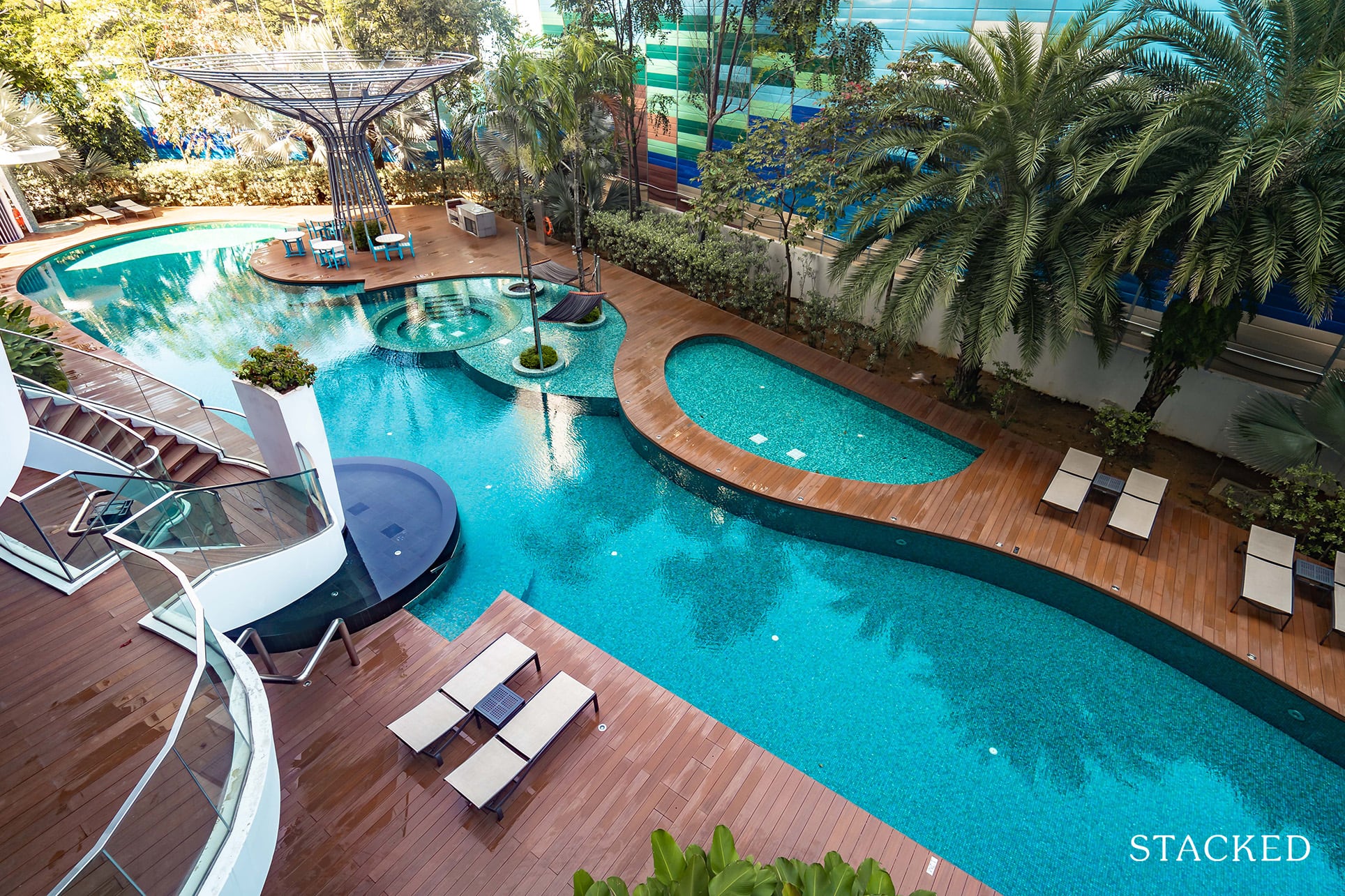 If you are considering Amber Skye, you will undoubtedly compare it against the new launches in the vicinity. So here is how it stacks up!
I have included the average psfs of the 4 neighbouring new projects in the Amber precinct as well as Amber Skye's 2 more prominent neighbours in The Esta (400 units) and One Amber (562 units) which I believe are good bellwethers for this area.

As for Amber Point and King's Mansion, they are actually Amber Skye's direct neighbours but both are starting to look their age now. The lower psf for King's Mansion is mainly due to its lack of (any) facilities and more tired looking (looks more like HDB point blocks unfortunately) buildings.

Amber Skye's average psf sits snugly between the true 'resale' developments and the new launches so it really depends on which angle you are coming from. It is, after all, only a 3-year-old project and developer units are still available. Its average psf is 20% higher than The Esta and 10% lower than Nyon. Moreover, do remember that units at Amber Skye are much larger on average compared to the new launches, so the absolute quantum would be higher as well. At first glance, it puts Amber Skye in a 'neither here nor there' spot.

However, there is an extensive range of units available at Amber Skye (from 1 bedroom to 6 bedroom villas) – hence the actual transacted psf prices will actually vary quite widely. For example, the sale of a 4 bedroom penthouse spread over 3,315 sqft across 3 levels earlier in August went for $1,532psf while a 2 bedroom 1,119 sqft unit was sold for $2,113 psf. So whether you see this project is value for money is really dependent on the unit type you are considering.

What we do think is that for whichever unit type should you are looking for in the Amber area or District 15, you should give Amber Skye a look at the very least. Given that there are still developer units available at a good discount, you never know – you might just walk away with a bargain.

Our Take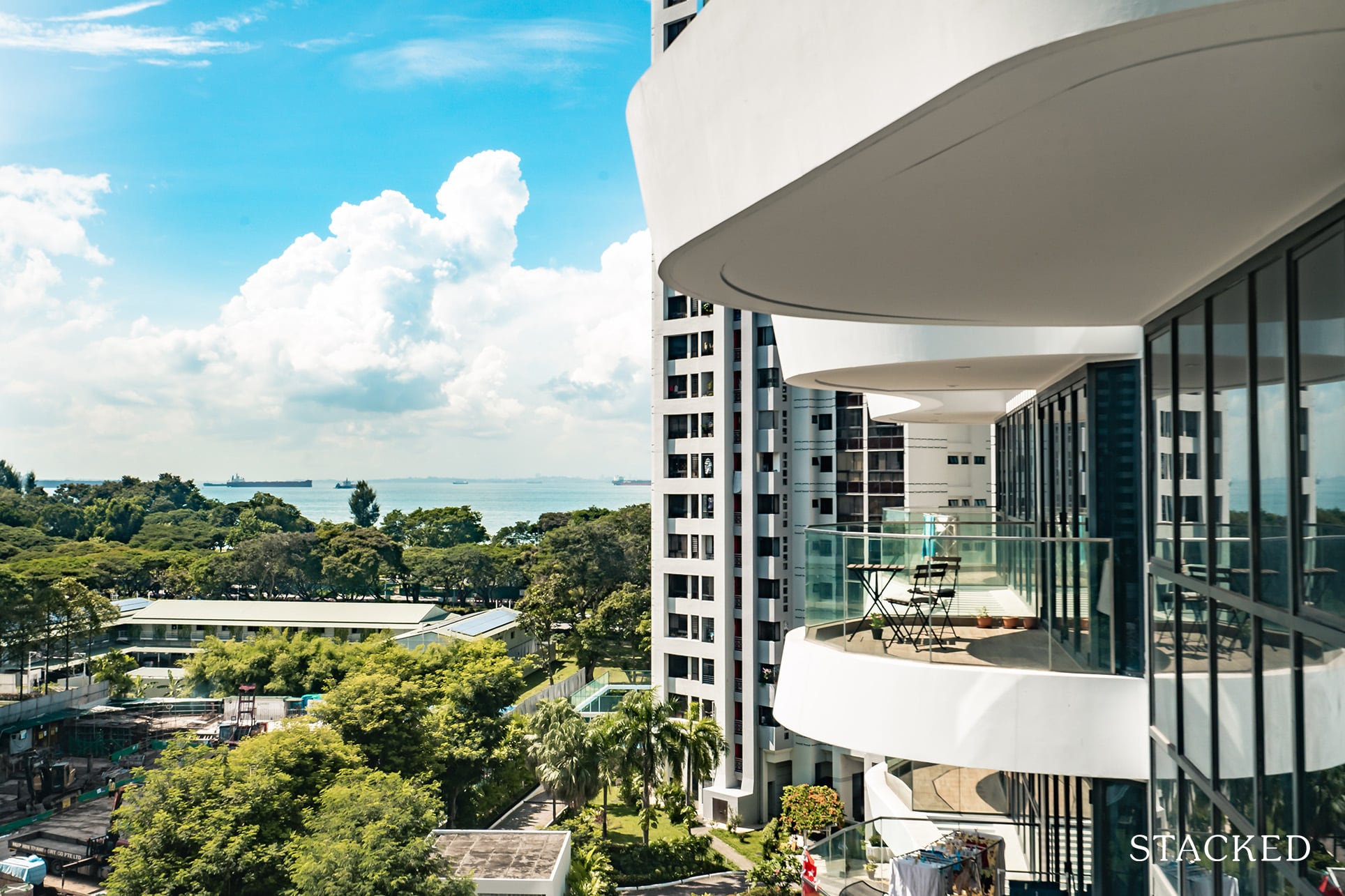 There's no denying that Amber Skye's location is enviable. Of course, having lived in various parts of District 15 all my life, you could argue that my views are slightly biased.

But with an upcoming MRT at its doorstep, coupled with an already extensive bus network and easy access to the CBD and beyond, this project is undoubtedly in a good location.

Throw in the 5-minute walk to East Coast Park, where you will be able to chill by the sea on evenings or weekends, and it all sounds pretty good to me.

Facilities at Amber Skye are also pretty good for a boutique project, especially since it comes with a 48-metre lap pool, a good-sized gym and clubhouse.

That said, there are plenty of options in the vicinity, especially at these price points. Amber Road and Meyer Road have many projects, new and resale, vying for your attention. Many will also come with unblocked sea views, where I can assure you, is simply breathtaking.

But when all is said and done, buying a home is often an emotional purchase (as much as people like to be completely rational). Aside from all the rational factors, one thing that stands out to me is the emotional appeal of the units.

Yes, it is niche, but for certain buyers out there looking for a home that is distinctive, this could very well be something worth looking at.

Developer Notes
Amber Skye was developed by CS (China Sonangol) Land.

In the past 10 years, we have seen an increasing number of Chinese developers stepping onto our shores – Qingjian Realty, Nanshan, MCC Land amongst many others.

What sets CS Land apart is that firstly, it's not a pure-play property developer and secondly, not a fully Chinese one either. CS Land is the real estate arm of China Sonangol, which is primarily engaged in upstream / downstream oil & gas activities. In turn, China Sonangol is actually a joint venture between Angola's state-owned oil company and Hong Kong's New Bright International Development. Amber Skye is CS Land's 2nd and latest project in Singapore. Its first was the ultra-luxurious TwentyOne Angullia Park, which lent it great credibility as a developer in Singapore.

What this means for you
You might like Amber Skye if you:
• Love the seafront lifestyle without compromising on convenienceIt doesn't offer direct sea views for all the units, but it is in close proximity to the sea yet enjoys a very good location with the MRT at its doorstep.
• Need a ready-built project which has good facilitiesFor 109 units, it really ticks all the boxes for what most people would be looking for in a project (save for a tennis court). You really can't complain all that much here.
You may not like Amber Skye if you:
• Have a budget below $2milWith bigger than average unit sizes, general quantum here will be high, but that's always the price you pay if you prize exclusivity.
• Want unblocked sea view unitsNot all units enjoy the sea views, and even those that do, you do not get true unblocked sea view units.
End of Review