Our Verdict
Altura Executive Condo is situated along Bukit Batok West Avenue 8. Unique highlights includes its location within 1km to the future ACS Primary School, its efficient layouts and having just 360 units - resulting in a lesser-than-average density living. However, it is going to be the highest-priced EC so far, though this seems to be in line with the current new launch prices as well.
41
min read
| | |
| --- | --- |
| Project: | Altura |
| District: | 23 |
| Address: | 111 Bukit Batok West Avenue 8 S659857 |
| Tenure: | 99 Years |
| No. of Units: | 360 |
| Site Area: | 134,000 sqft |
| Developer: | Qingjian Realty and Santarli Construction |
| TOP: | Est. 2027 |
Executive Condos have always been a unique product of Singapore's real estate market. When the first EC was built in 1999 (Eastvale, in Pasir Ris), the appeal was simple: condo-standard living with facilities, at a more affordable price point.
But besides the promises of a higher standard of living, there was another upside to buying an EC. A recent piece in Business Times pointed out that the first owners of ECs have been recorded to profit at least $300K upon sale – and many potential homeowners now look at it as a means of making money, as much as it is for their own stay.
Yet today, there are some people that have proclaimed how expensive Executive Condos have gotten in Singapore. The prices for today's launch in question, the Altura EC, are estimated to range from at least $1.3 – $1.4k psf. To give you some context, it wasn't too long ago in 2018 that the average launch price for an EC just crossed the $1,000 psf mark.
But when you compare the prices to where new launch condos are at today (at least $2,000 psf), you start to understand why ECs are such attractive propositions for buyers still.
But I digress, let's save this discussion for the pricing review later on.
Not to be confused with its location, Altura is located right at the fringe of Tengah, but it's still within the Bukit Batok neighbourhood.
As the first EC launch in over two decades (with the last being The Dew launched in 2003), this project offers 360 units, starting from 3- to 5-bedroom layouts. Like most ECs, it's clear that this project would be catered to younger families and multi-gen living.
Won over by Qingjian Realty and Santarli Construction at a bid price of $661.67 psf ppr, Altura would most likely set the tone for the adjacent Bukit Batok West Avenue 5 EC site, along with the other upcoming EC projects nearby.
For those unaware, the Altura is also built by the same developer behind the successful EC launch in Tampines called Tenet last year, which has since almost sold out 618 of its units.
Without further ado, let's take a look at what Altura has to offer.
Altura EC Insider Tour
When it comes to touring new launch projects, I always look forward to deciphering the meaning behind their names. Not only does it give the project a bit more character (and make it more memorable), you will typically find some of the details and thought processes that will be anchored around the theme.
In Altura's case, it means heights in Spanish. It translates into the developers' hopes for the residents of Altura to progress and grow while staying at the project and living with dignity. While some might find this a bit of a stretch, I appreciate the auspicious blessings to the home.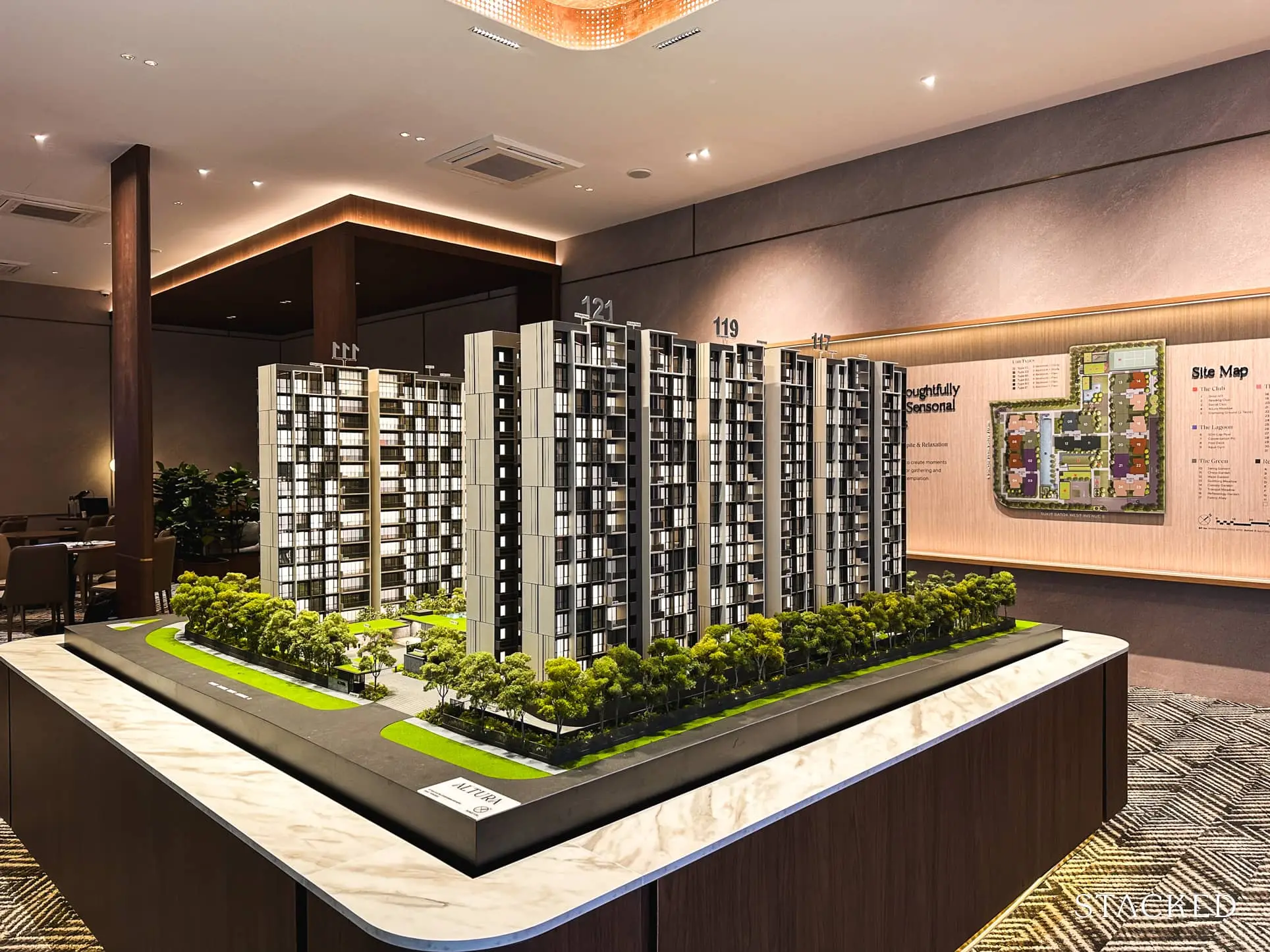 Let's start with the plot of land first. The Altura sits on a land size of 134,000 square feet, containing 360 units. This is set over three residential blocks, each of which is 15 storeys high.
This is by no means a big project when compared to other new launches this year, but seeing that there are only 360 units, you can expect a lower-than-average density living at Altura. This works out to around 370 square feet of common space per unit.
For context, The Botany at Dairy Farm sits on 168,597 square feet of land and with 386 units, each unit would enjoy around 437 square feet of common space. Another comparison buyers would likely make is with the nearby Copen Grand, which sits on a site of 237,032 square feet with 639 units (which gives each unit 370 square feet of common space to enjoy, too!).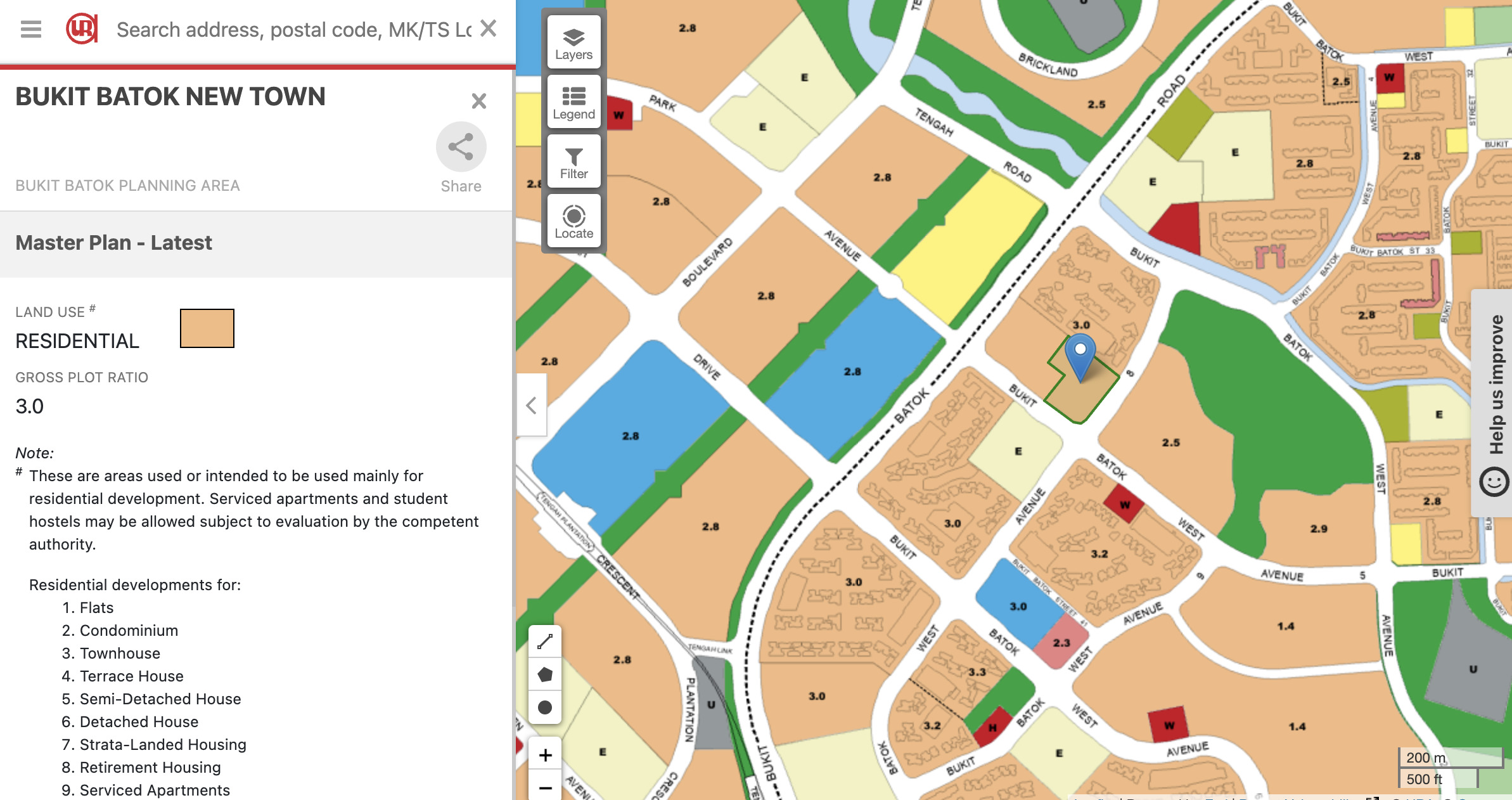 While the neighbourhood is currently largely still a work in progress, the Master Plan indicates that the majority of the skyline is catered to residential uses with a mix of upcoming BTOs and ECs.
This would mean that you won't have much in the way of views in the long run and you can expect a big pick up in traffic, especially during peak hours. However, this is quite expected of up-and-coming neighbourhoods, as we've seen in the case of Punggol.
It should also be noted that Bukit View Primary School would be relocated right across Altura, which could be a boon or a bane (depending on your circumstances).
Taking a look at the overall facade of the residential blocks, the colour scheme and simple design remind me strongly of Tenet (which is another EC project by Qingjian). In fact, you'll be quite hard-pressed to tell the difference, as a casual observer. The overall landscaping, however, is quite different in comparison.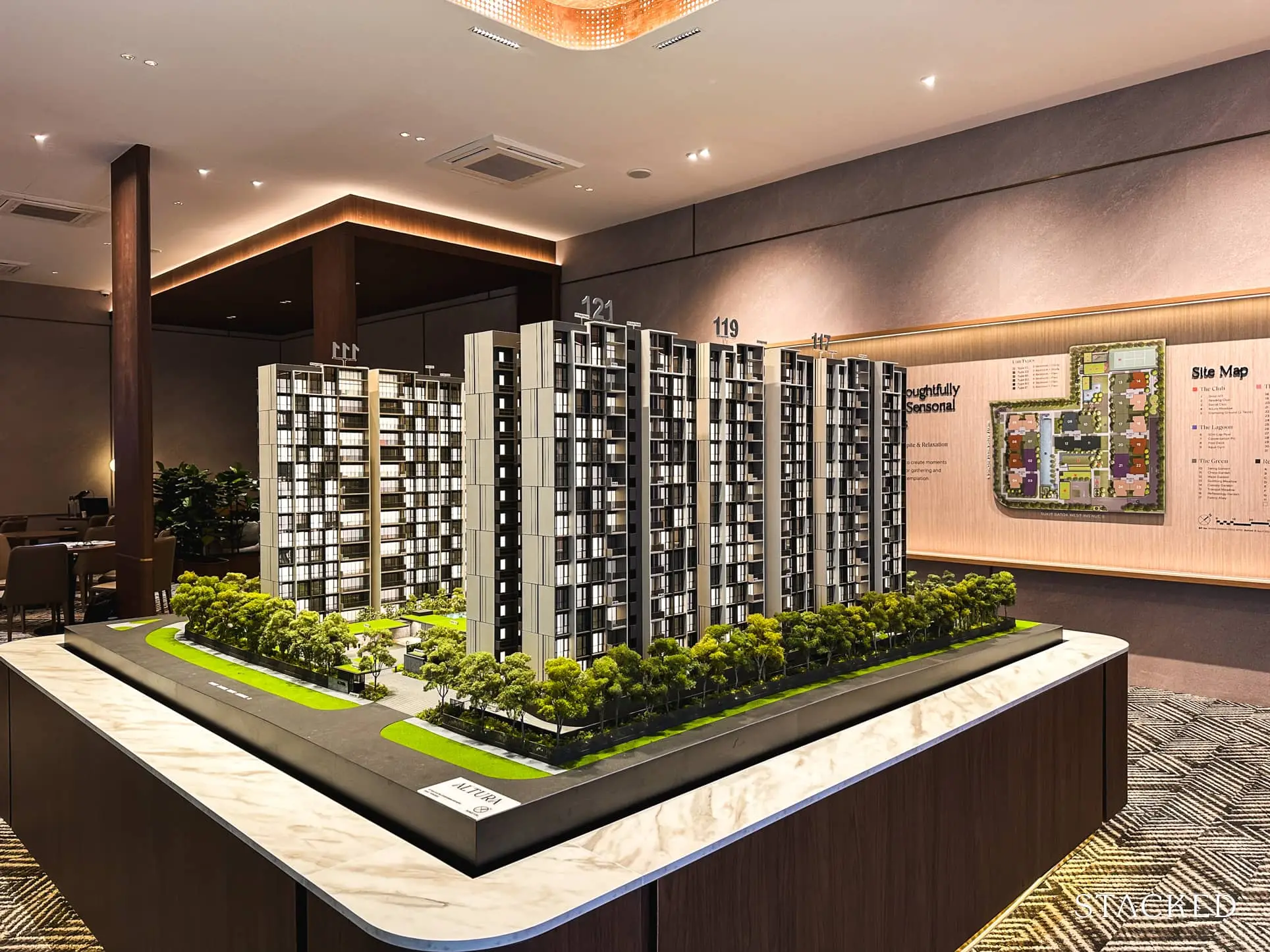 Featuring simple green landscaping enveloping the periphery of the project (which does give it a district separation from the surrounding projects), three of the blocks are facing in completely opposite directions.
This does give buyers more options in terms of choice of views – two of which are facing neighbouring projects and one towards the future Bukit View Primary School.
Nevertheless, the overall consensus is that it's a safe design choice that will appeal to the target market (given how well-received Tenet was anyway).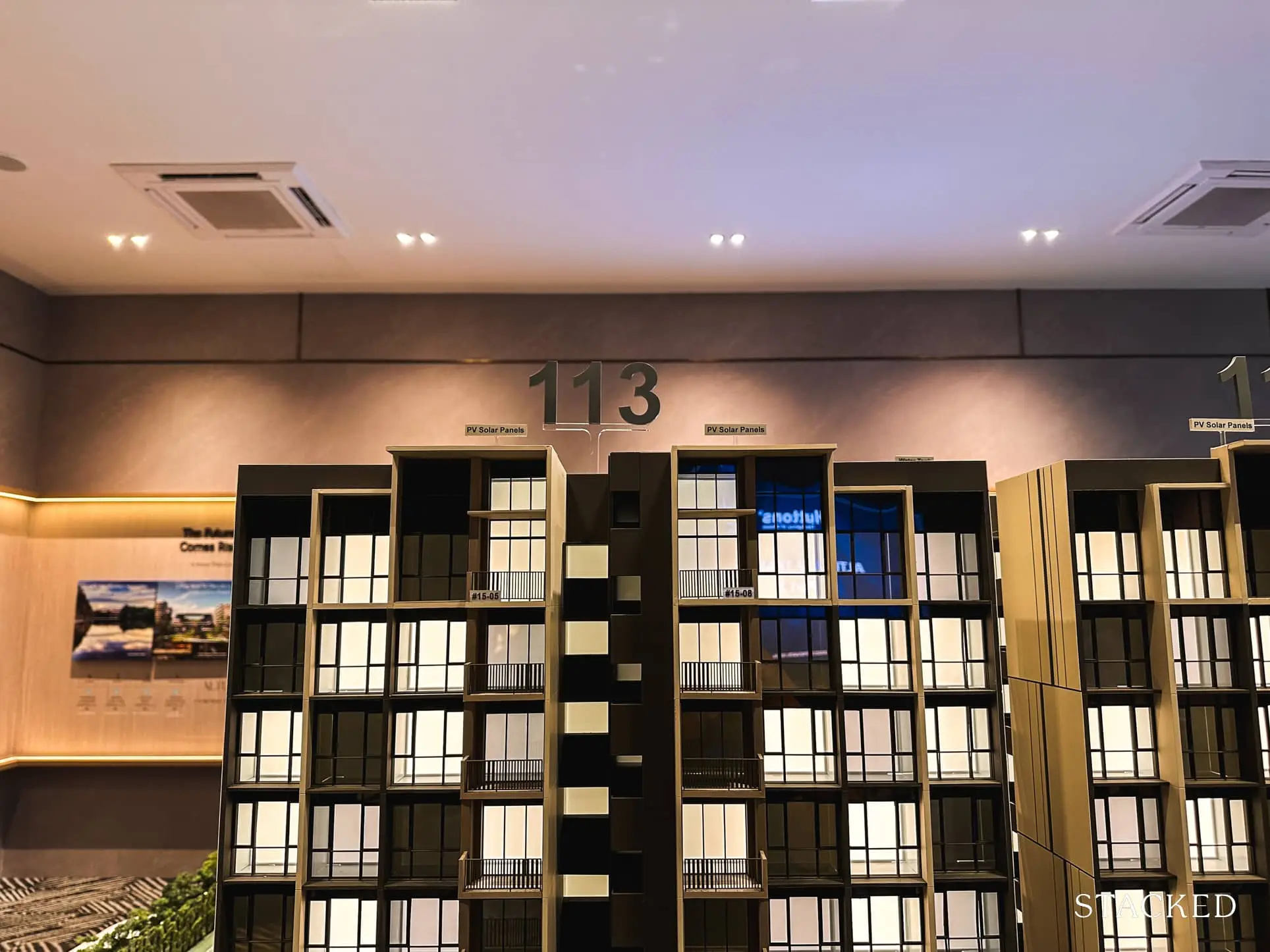 To give you a better overview, there are 3, 4, and 5 bedroom units available at Altura. Like most new developments today, only the top floor of each stack will enjoy higher ceilings.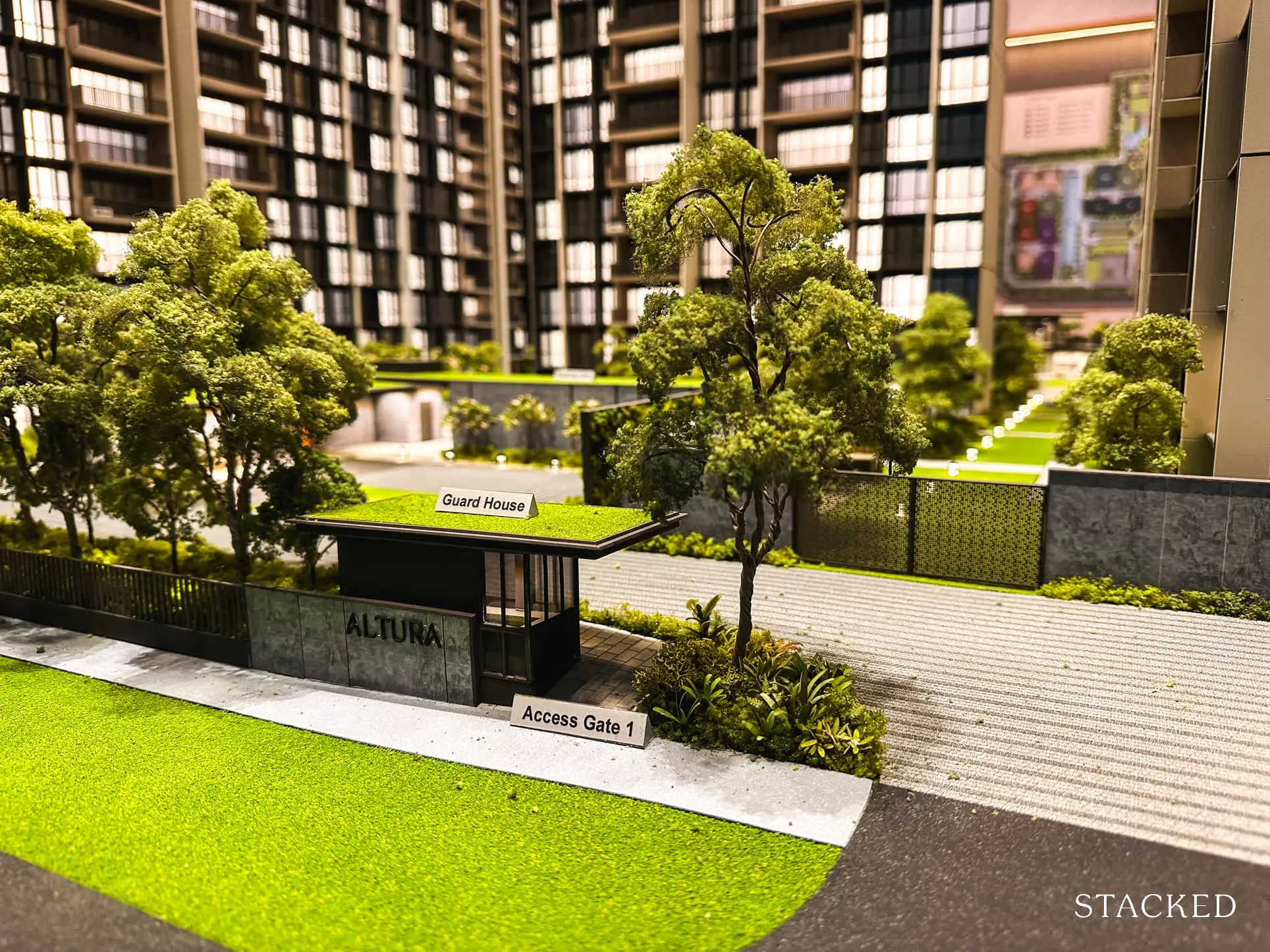 The entrance of Altura is located along Bukit Batok West Avenue 8 and features a bit of a driveway before you get to the arrival court.
There are two access gates at Altura, of which one is located at the guard house and another can be found along Bukit Batok West Avenue 5.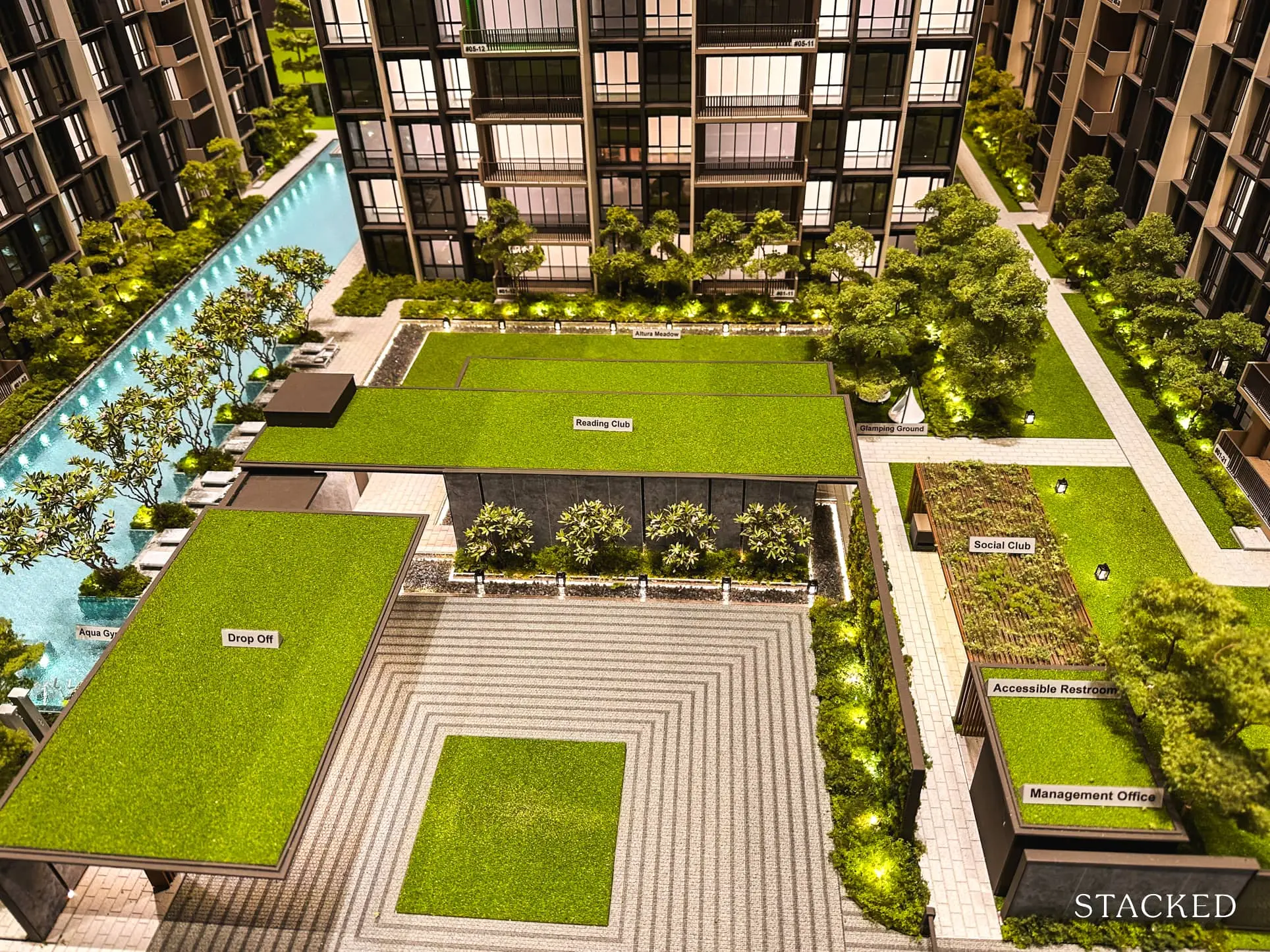 So a left turn upon entry would lead to a spacious drop-off area, which is well-sheltered and the overall design does look quite nice.
Seeing that the Altura does not sit on the biggest site, I find it quite impressive that the developers chose to allocate such a spacious area to create a better sense of arrival for their residents and guests.
You can also see that some of the amenities (like the reading and social club) are immediately accessible.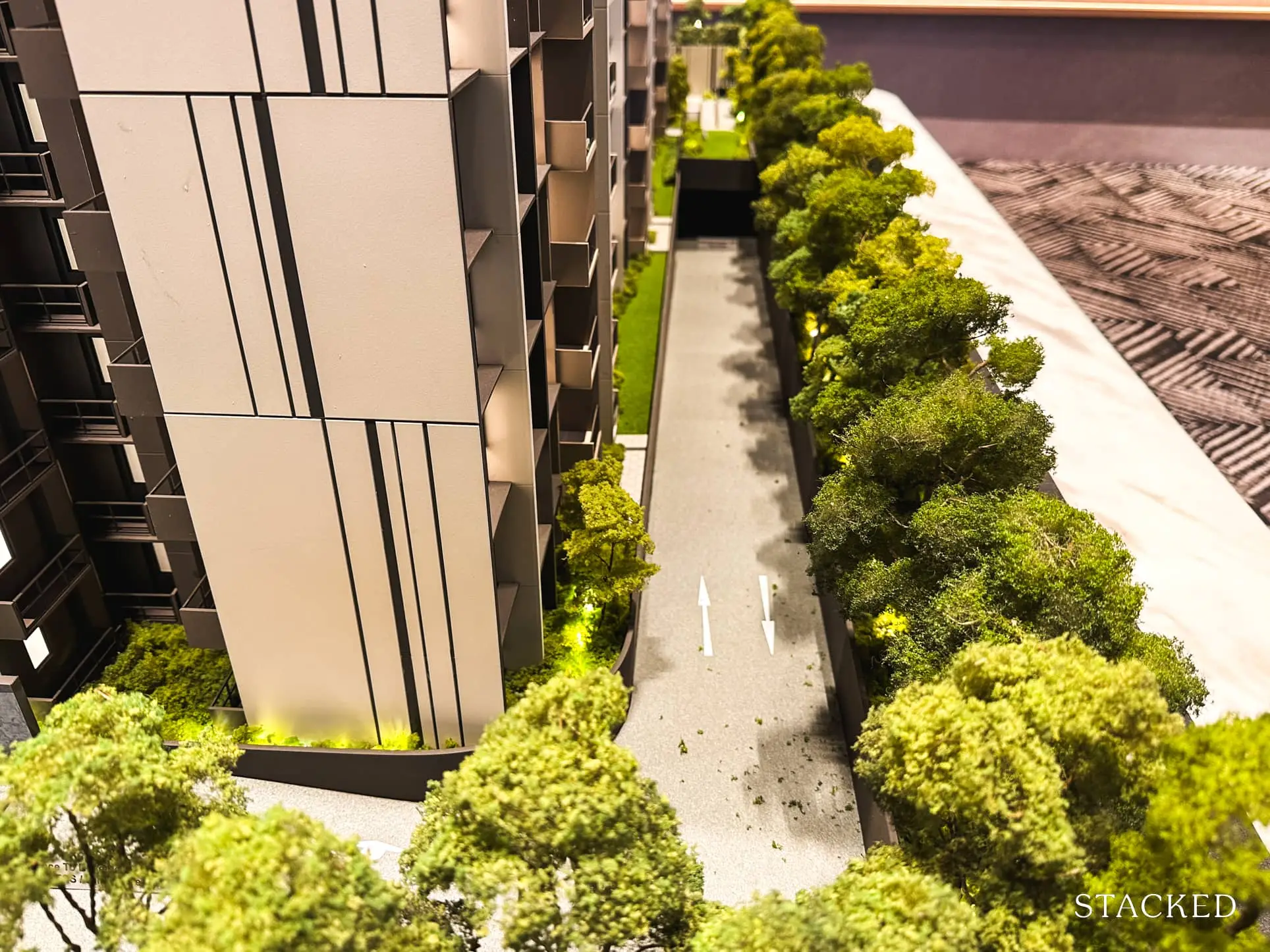 On the other hand, a right turn would lead to a long driveway towards the basement car park, which you will be happy to know that there is a 1:1 car park ratio provided. Considering the family-own stay target market, and the distance to the nearest MRT station, this is definitely a much-required feature.
Starting off the tour with the 50m lap pool, which is located in the heart of Altura and is located near the drop-off point. It's definitely a good enough size for the number of units, as I've seen bigger condos in Singapore with even smaller pools.
From here, you can also see that there's a Maze Garden and Chess Garden here too. I did find these a strange choice of facilities to have, given that these are more "frills" that you typically see in larger developments (when they've run out of ideas on what more facilities to add to the list).
Also, the position of the pool is less desirable because it's packed quite tightly between 2 blocks. This means one side of the pool is rendered unusable, so you only get a useful deck on one side (you can't place as many pool loungers).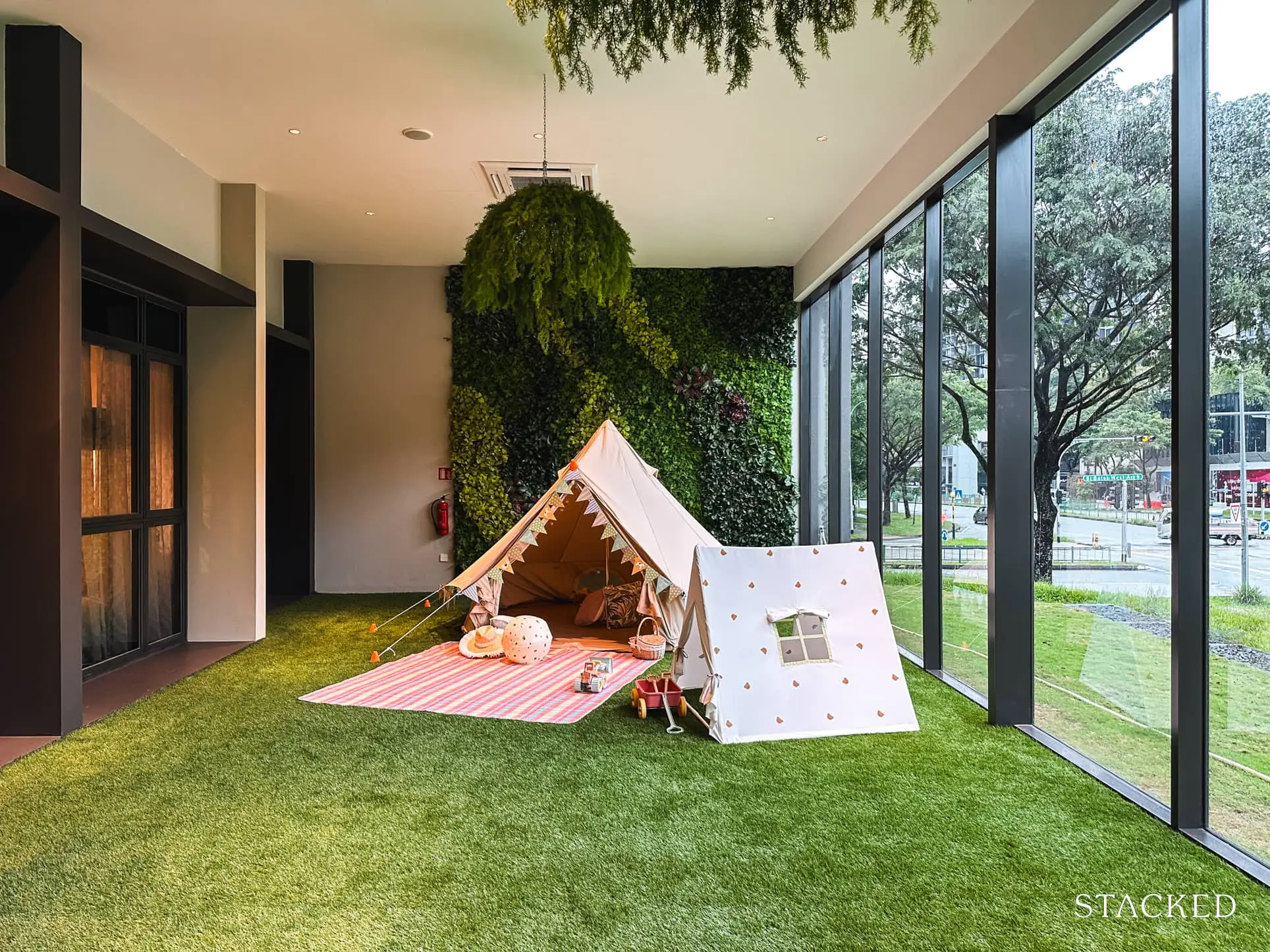 Near the pool is the Glamping Ground, which features two tents and is largely meant for families with young children to enjoy. For those wondering what it'd look like, the developers did include the life-size version in their show flat (as seen above).
I can imagine it being quite nice at night with fairy lights adding to the mood, but I do wonder how easy this would be to maintain in the long run. A tent left out in the rain or sweltering heat will surely look worse for the wear really quickly, and fewer people would be inclined to use it that way.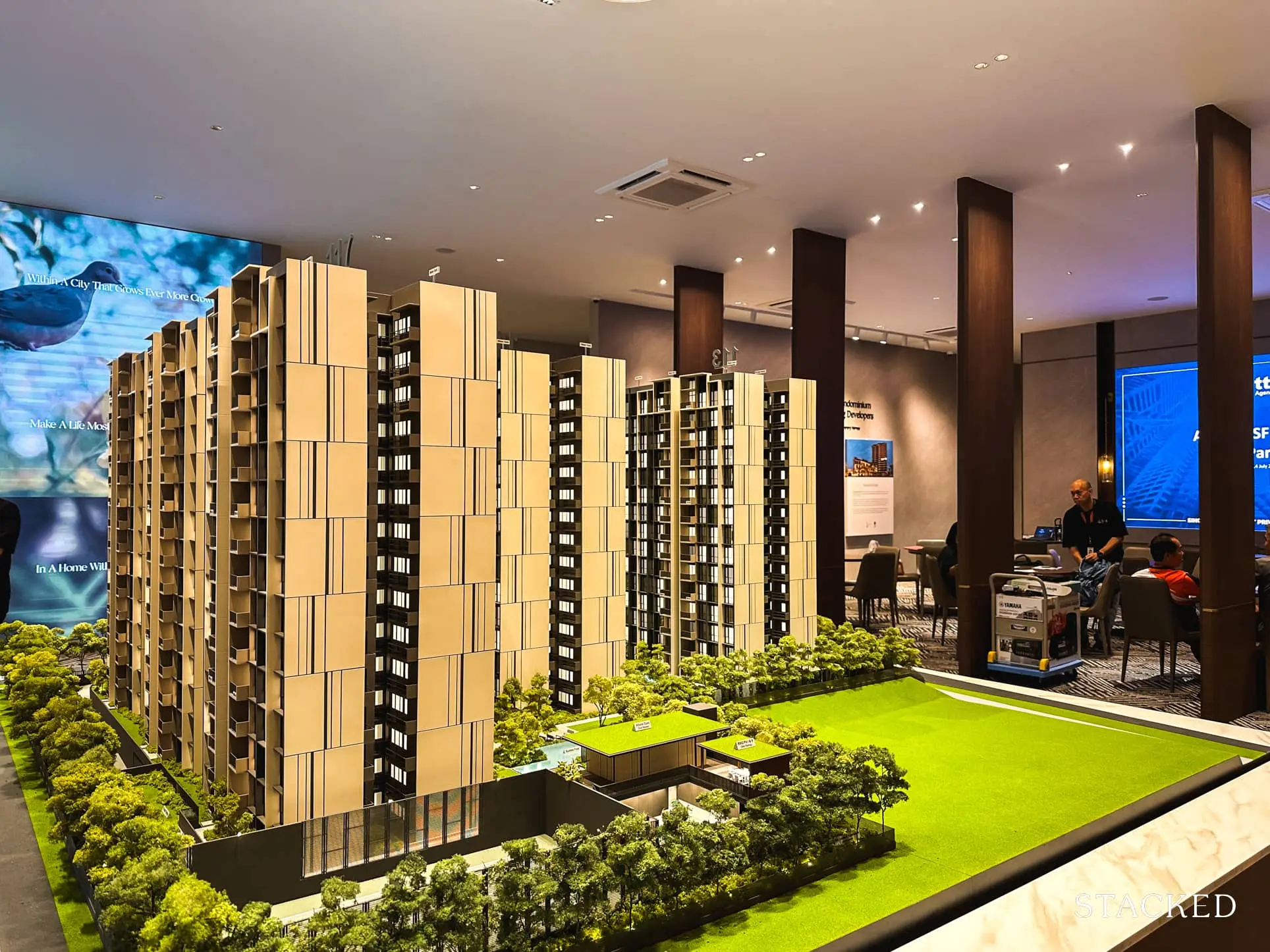 Moving on to the back of the project, it's apparent from this angle that the developers chose to stagger the residential blocks in this manner for two reasons.
Not only does it better maximise the site area (and its irregular shape), but the amenities also provide more distance between Altura's residential blocks and the nearby residential projects.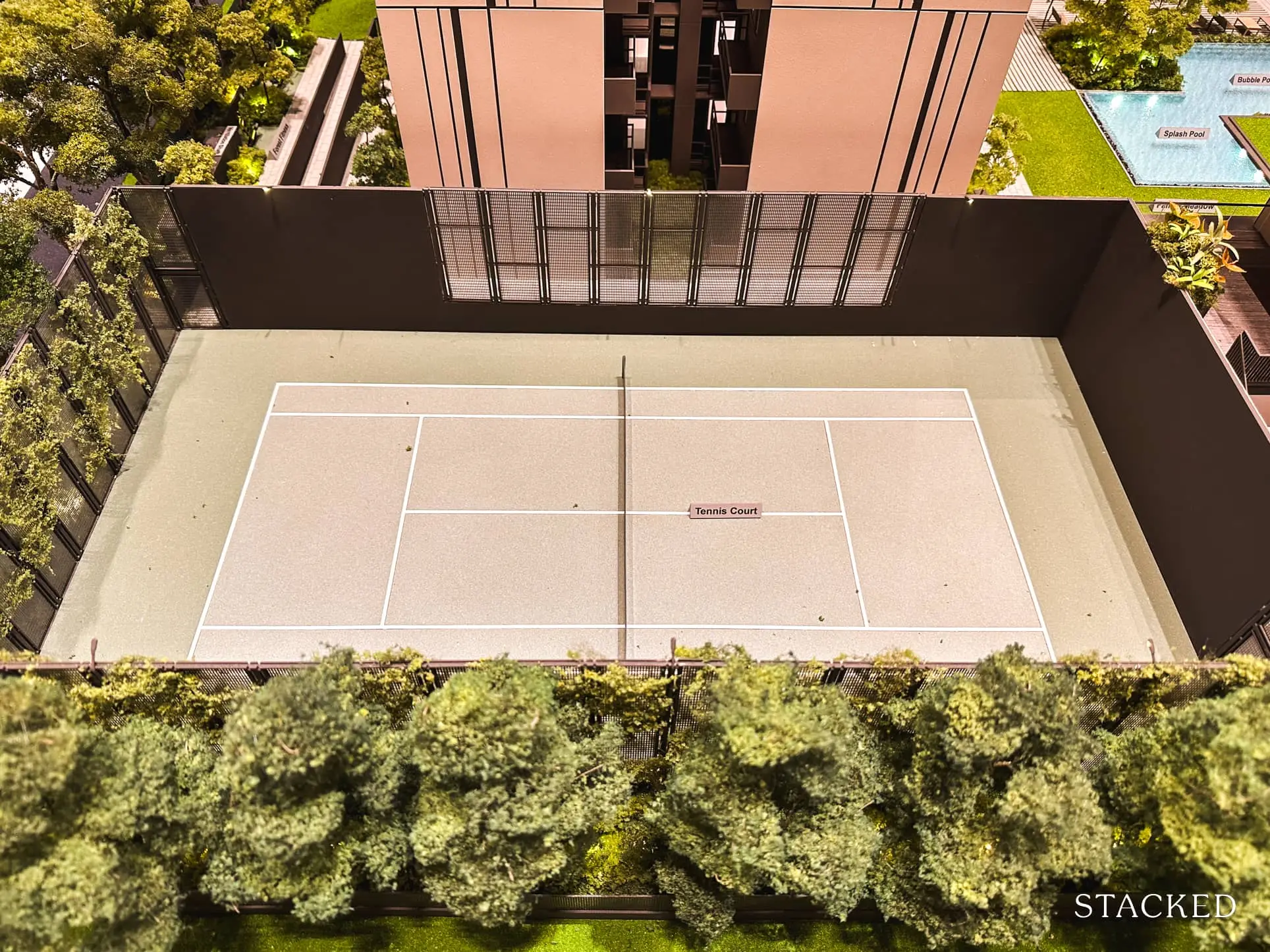 It's here that you will find the tennis court, which is in a good spot because it provides separation between Altura and the next plot. Also, you don't get any units directly facing the tennis court, which helps in terms of any noise.
And of course, the fact that it even has a tennis court for just 360 units is great. Much bigger developments like Parc Esta (which has 1,000 units more) have just one tennis court too, so this is obviously a very good addition.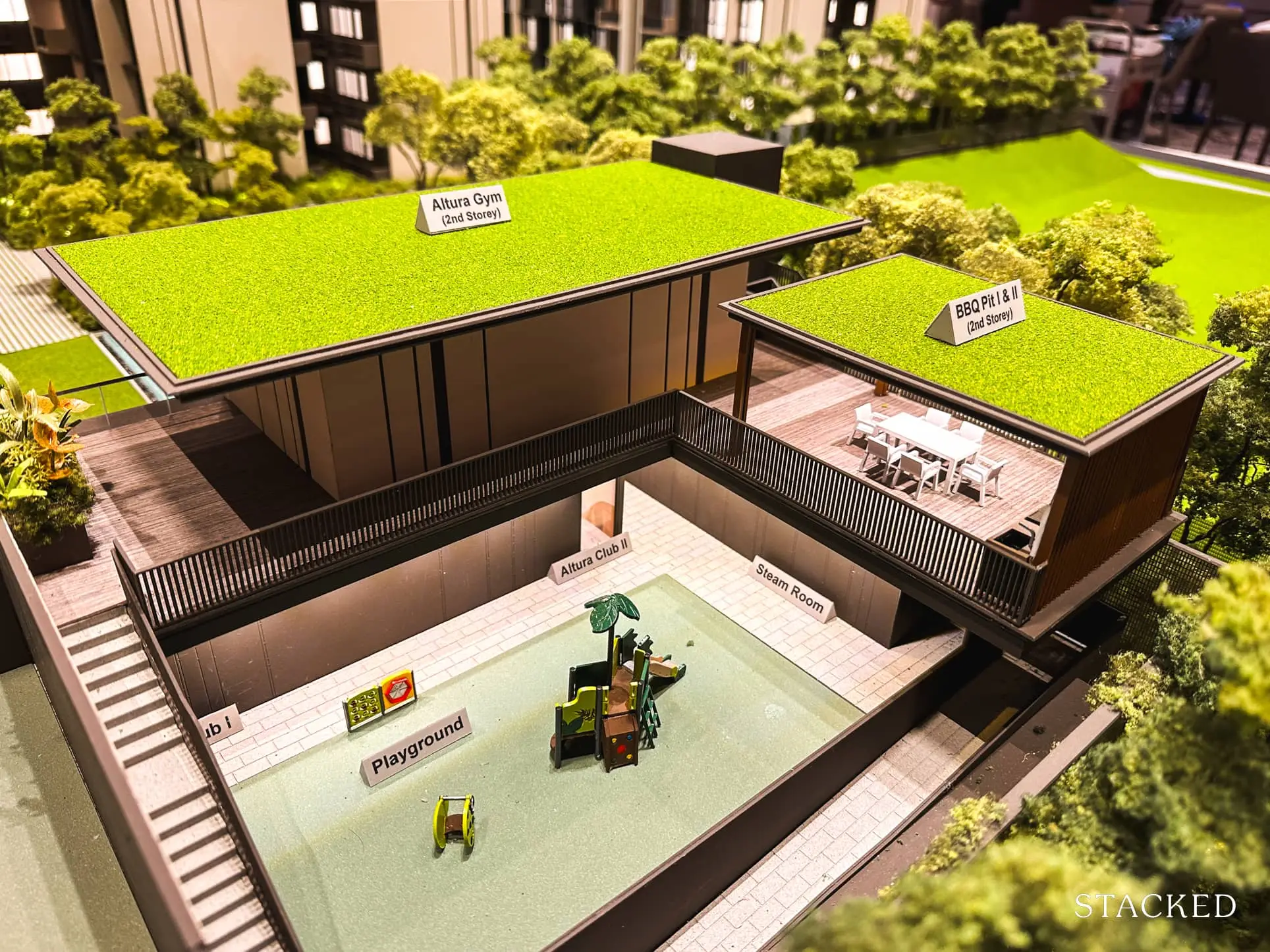 Located near the tennis court is a double-storey annexe, in which the steam room and playground are found on the first floor. On the upper floor is where the gym and both BBQ pits are located.
I must say, the playground looks like it could do with more variation or scale. Given that this project is largely targeted towards families, I would've expected more from such a facility here.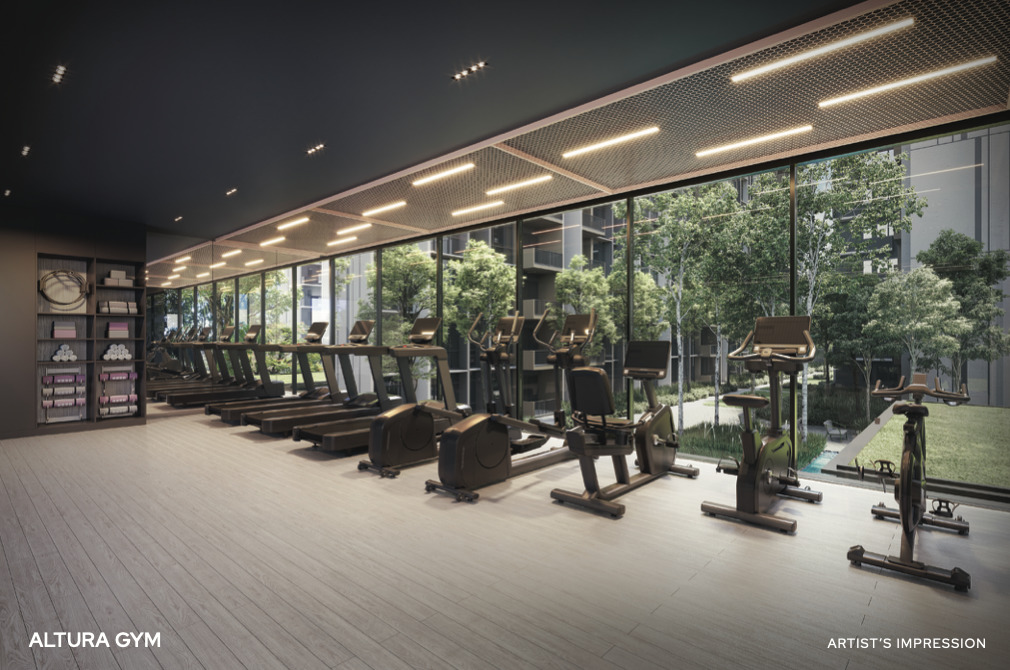 The Altura Gym is located on the second floor and overlooks the bubble and splash pool (which I'll touch on later in the post).
For 360 units, you really can't complain much about the size of the gym and the provision of workout equipment and cardio machines. I also really like gyms that have an elevated view (although this is just on the second floor), as it's really much nicer to work out to a view.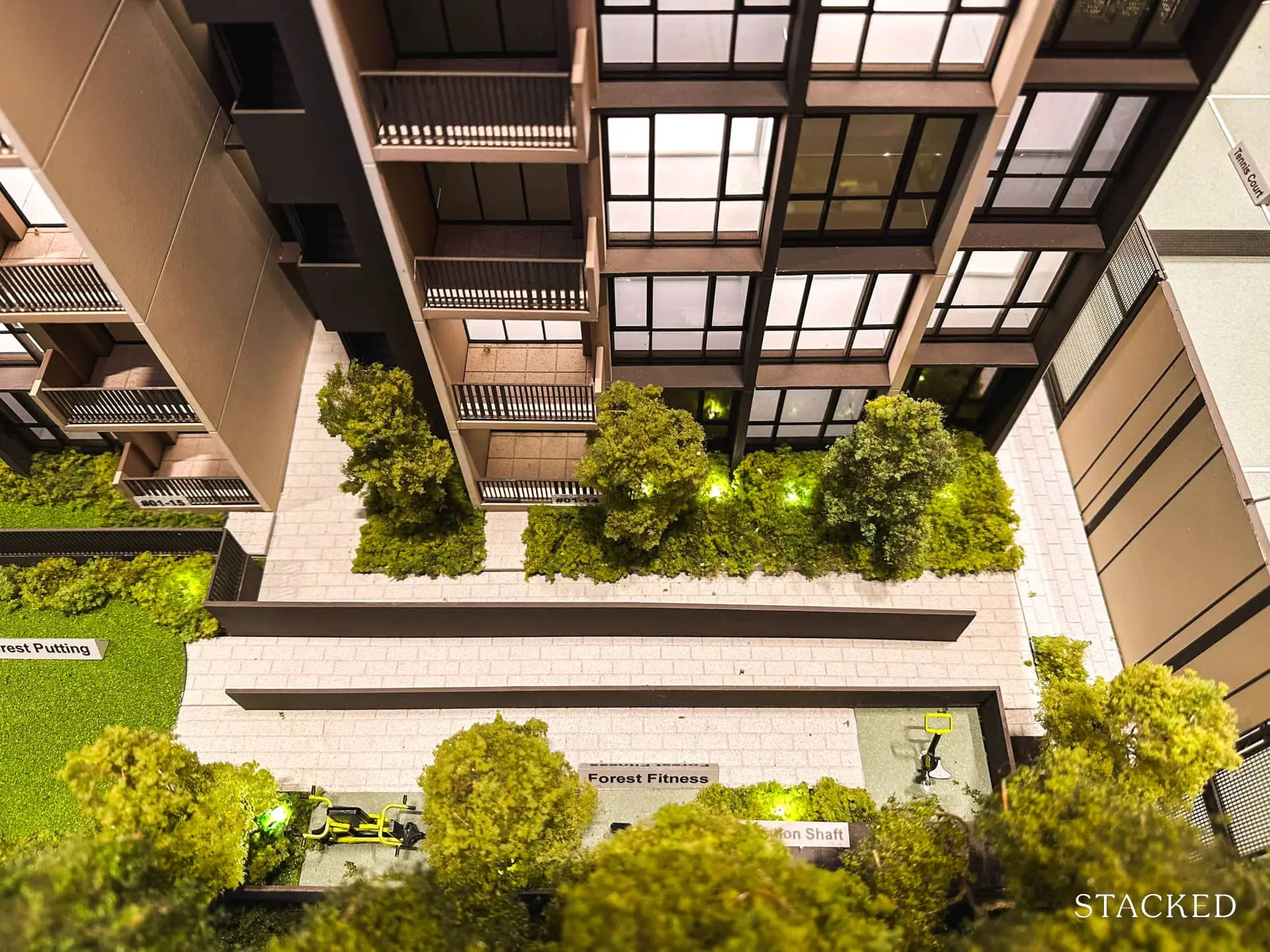 Continuing the tour on other fitness amenities, the forest fitness and forest putting are located at the other end of the project to give residents a quiet and open space to move and exercise.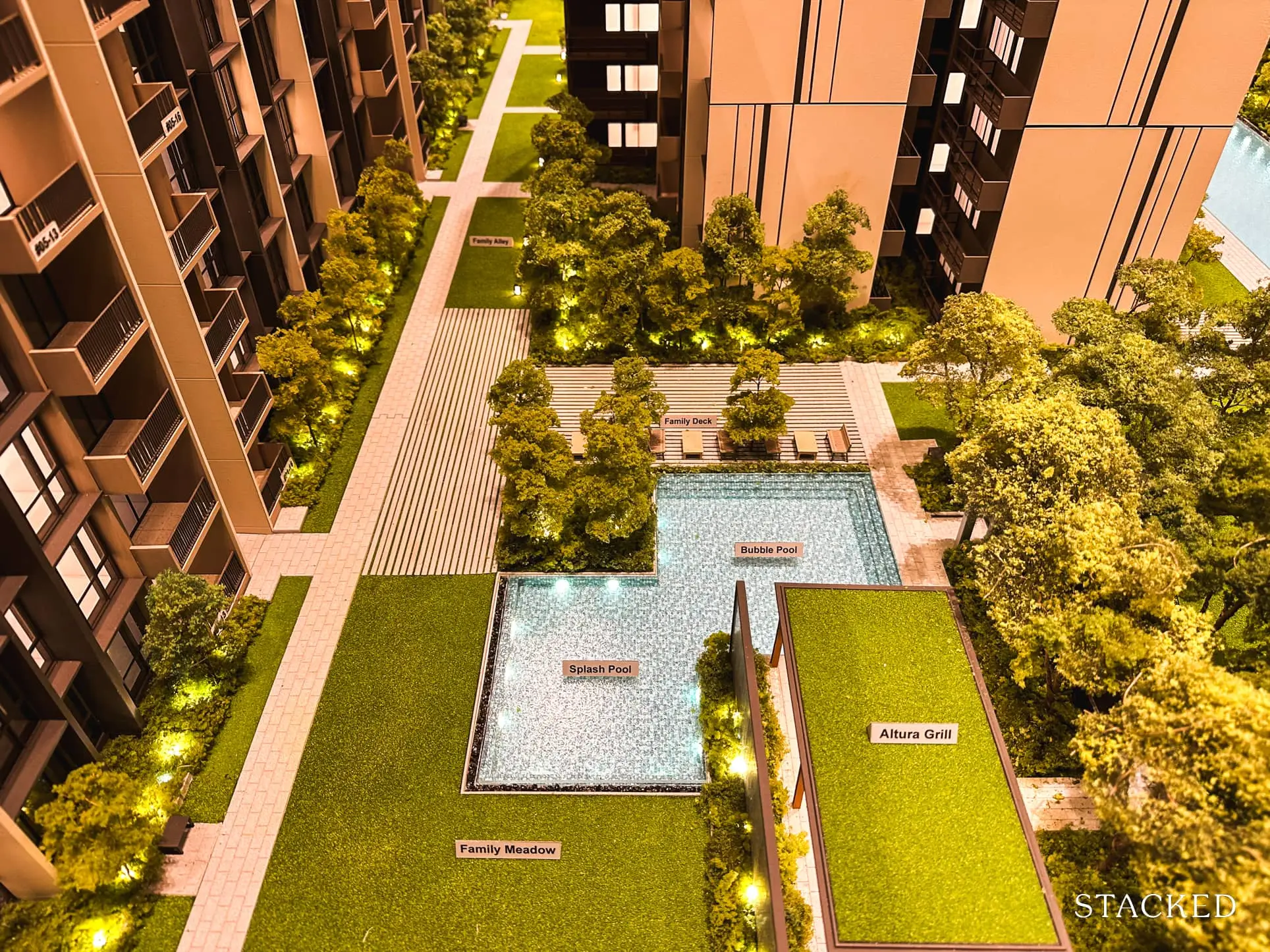 Last but not least, there is the option to take a dip in the splash pool and bubble pool for residents who'd like a casual dip. It's also children-friendly, which does give parents more alternatives to bring their children to play.
The Family Meadow and Altura Grill are also located here, which does give it a great space to host parties and guests. For the smaller units, these hosting spaces are increasingly important since having guests over might not be convenient.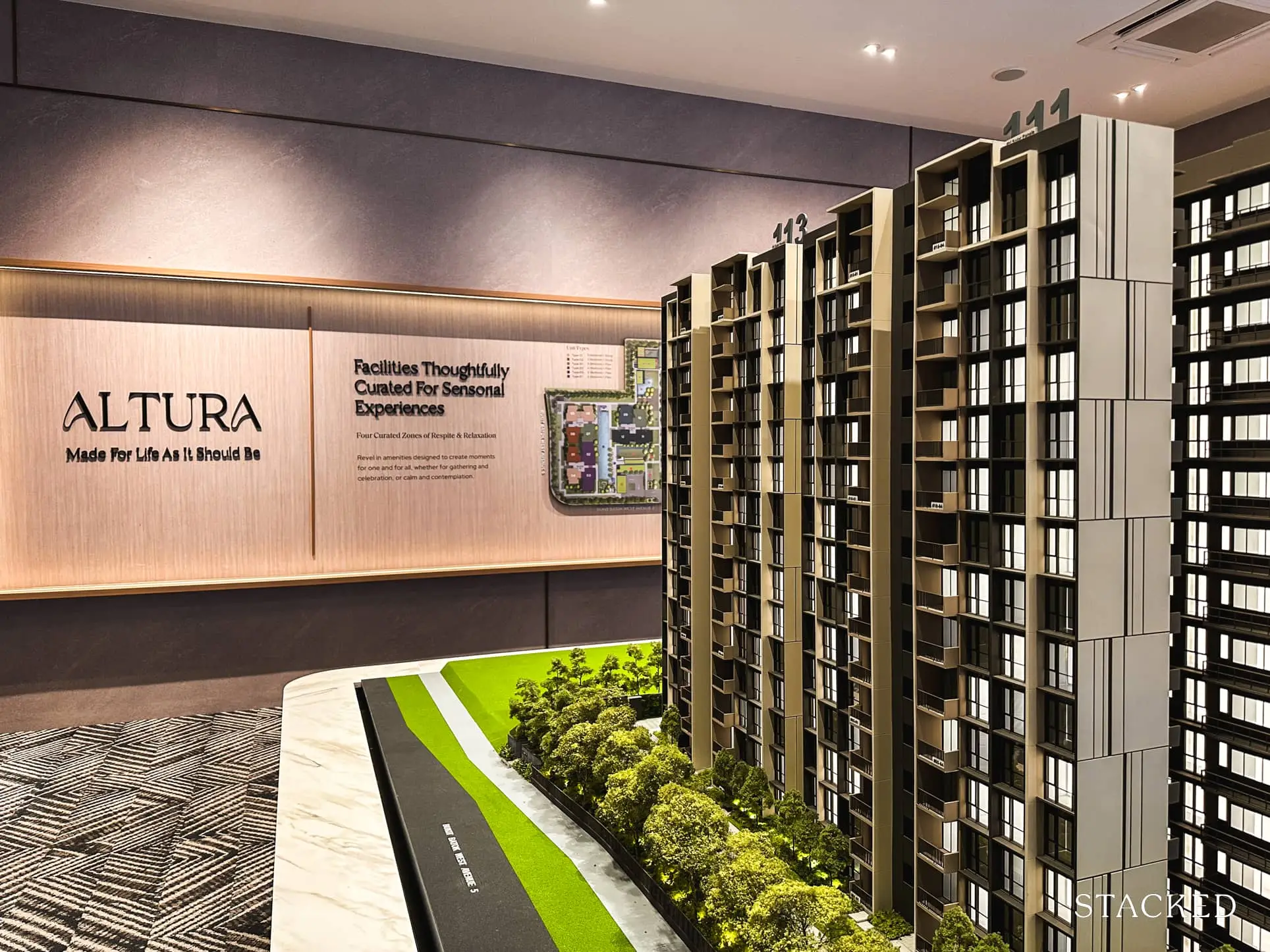 Overall, I'm quite impressed by the amenities offered at Altura, considering its size and when compared to other ECs in Singapore. While the variety might not be the most extensive, they have ticked the boxes of what most families would require in a modern condo today.
And with this, let's move on to take a look at the bedrooms of Altura.
Altura EC – 3 Bedroom Premium + Study Type C2 (92 sqm/990 sq ft) Review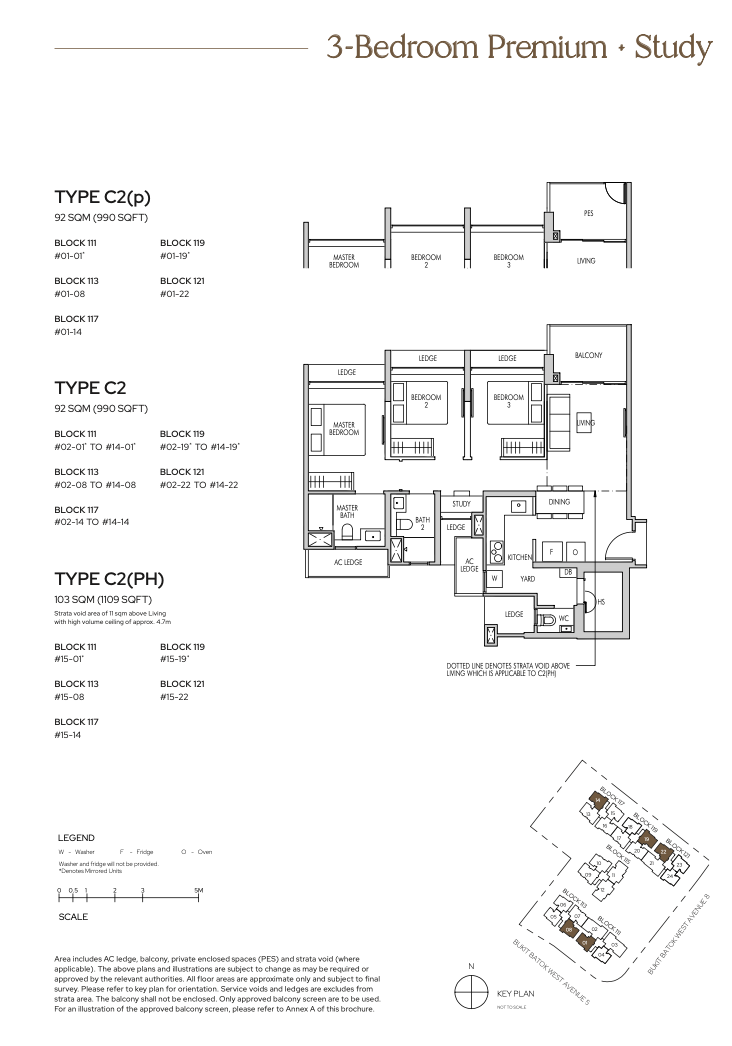 For those looking at the 3-bedroom units, there are two variations in the form of the 3-bedroom premium + study layouts. Including the top-floor units, the sizes range from 980 – 1,109 square feet.
The slight difference between the layouts is a result of the position of the AC ledge, which marginally affects the study and the kitchen. Type C1 would have less of a counter space in the kitchen and the study alcove would not have a window, though I doubt these differences are major deal-breakers.
As standard, all the common areas come with porcelain tiles, and vinyl flooring in the bedroom and the ceiling height ranges from 2.4 to 2.8m high.
The one at the show flat is the Type C2 unit, which is the biggest 3-bedroom unit offered that is sized at 990 square feet without the strata void. Those interested to see what Type C1 would look like can take a look at our Tenet tour, which shows the same design.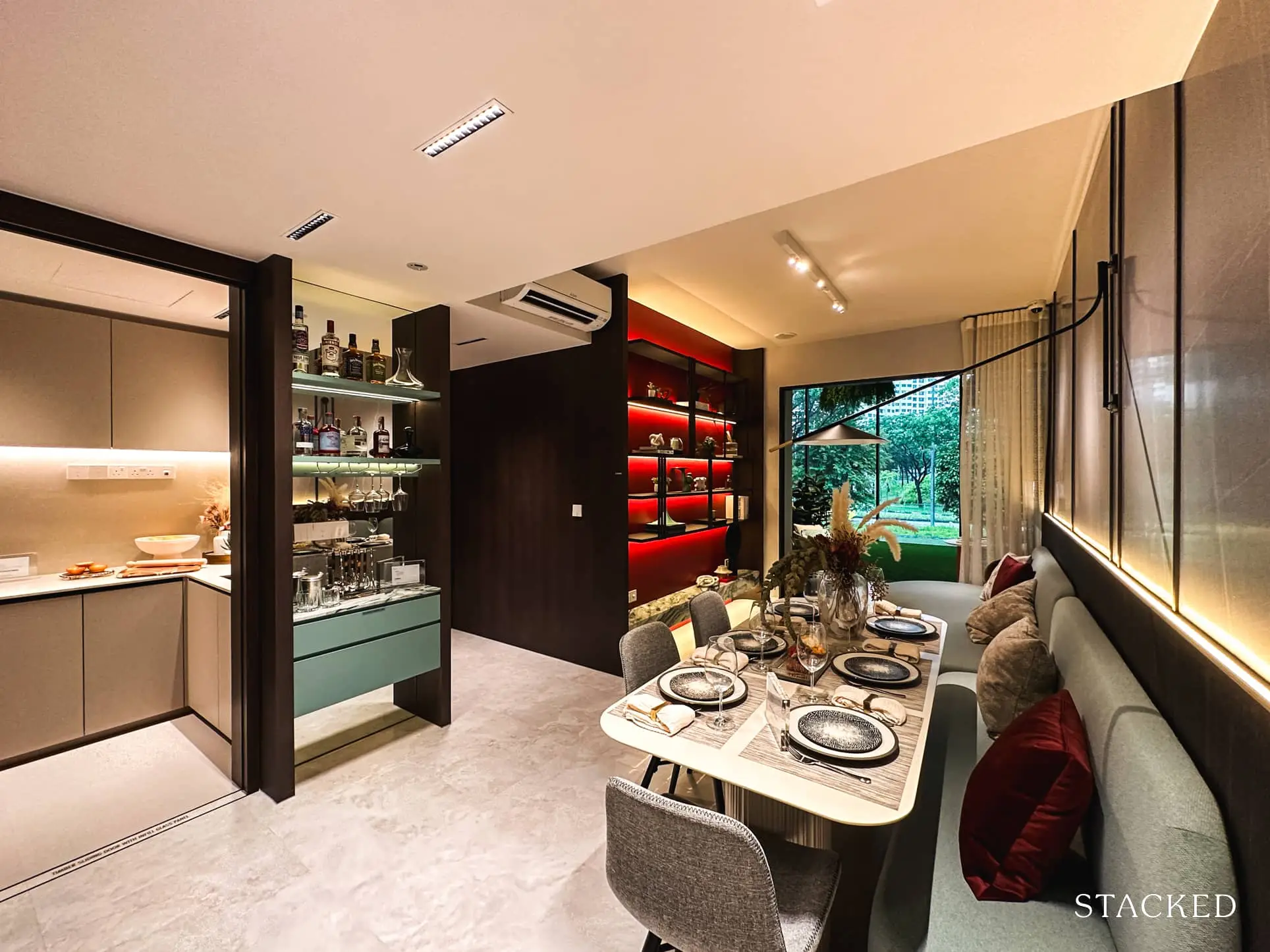 Instead of a long foyer (which has always been a topic for debate when it comes to space efficiency), you're immediately greeted by the living, kitchen area and balcony upon entry.
The living and dining area is sized at around 27.1 sqm, and while it's not the biggest, this is what you'd reasonably expect for a compact 3 bedder unit today.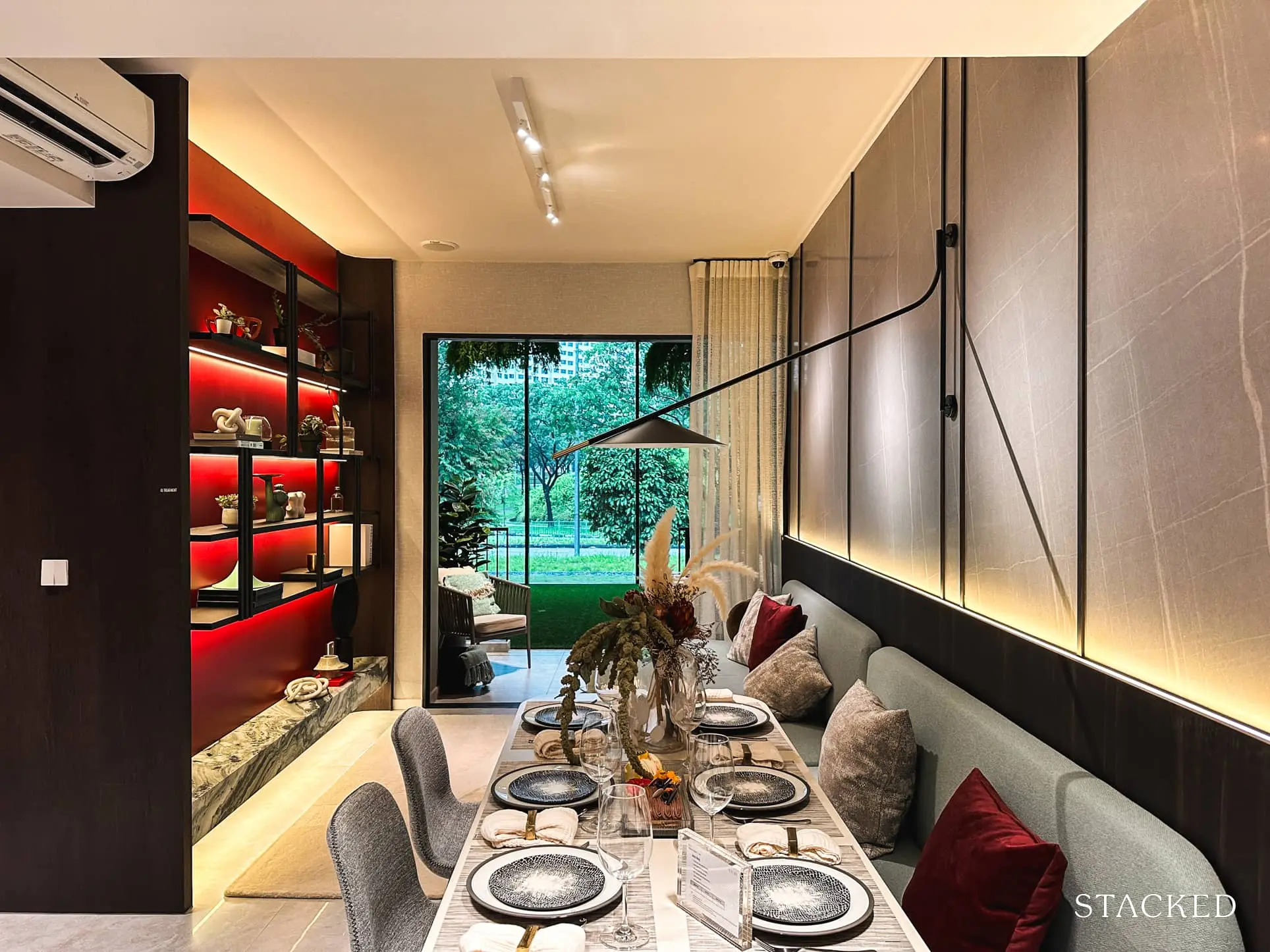 If you've been to Tenet, you'd see that the design of the dining area is something that we see mirrored at Altura too. Instead of having a separate dining space, they chose to connect the two areas via a long bench-type sofa.
Seeing the original position of the dining table in the floor plan, I do prefer this layout. It's less restrictive, as your dining chairs in the original layout would block both the entrance to the hallway and the kitchen.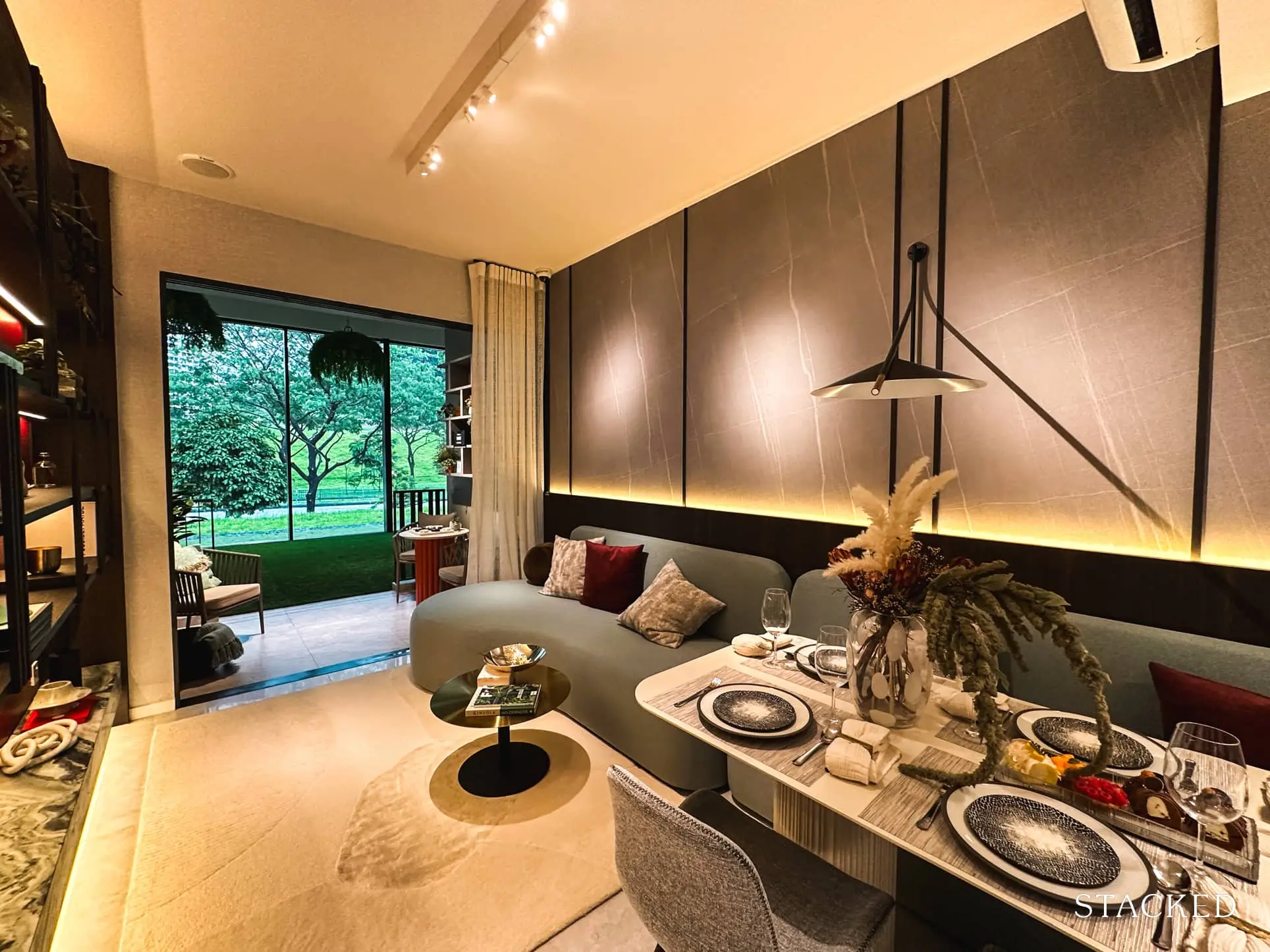 As for the living, homeowners would be able to fit most of what is typically required in the space, including a sofa, small coffee table and TV console.
Do note that the shelving that you see here is part of the ID treatment, so the living room is a little wider than what you see in the show flat.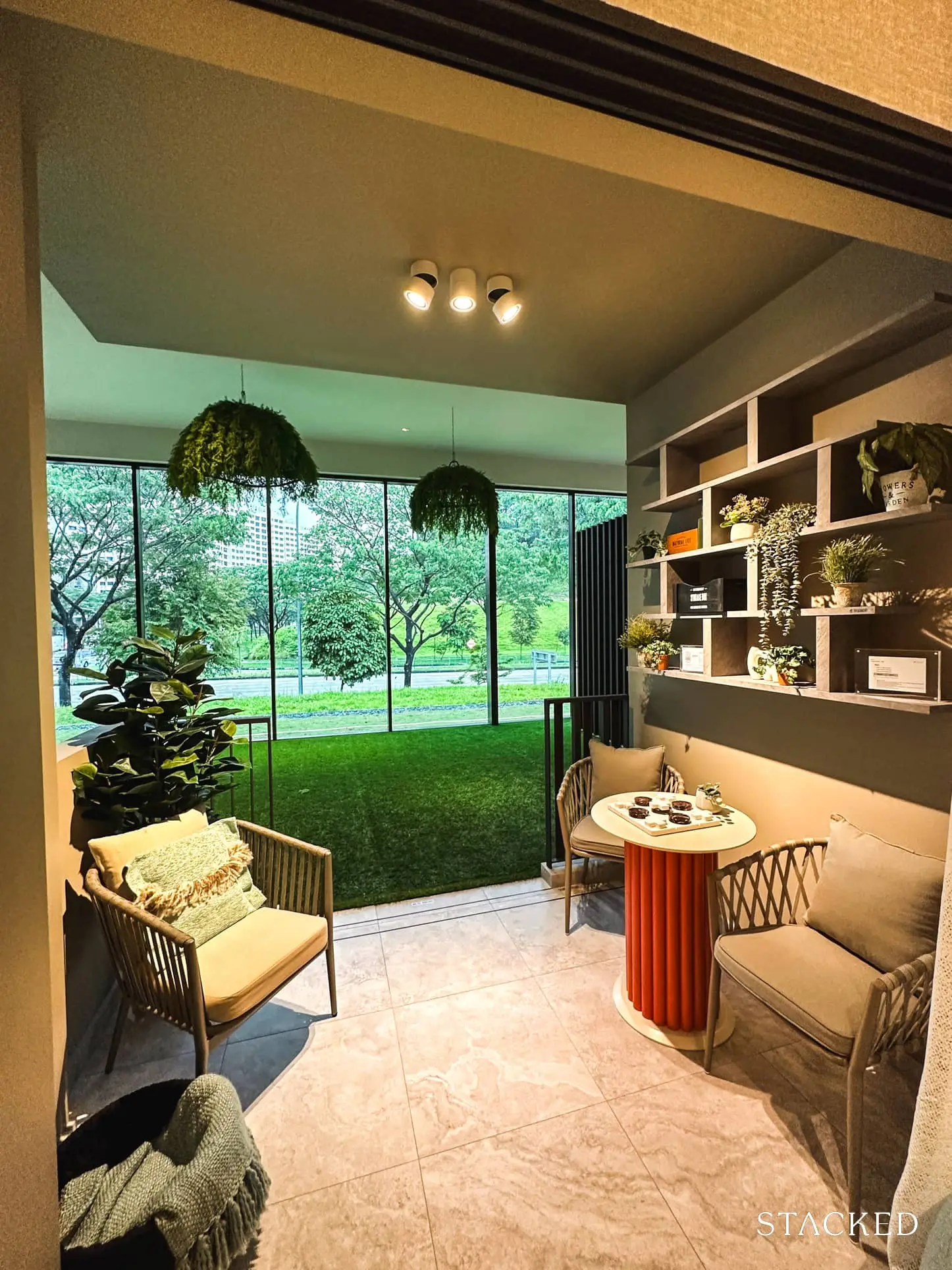 The 3-bedroom units come with a balcony (5.5 sqm) which is within the typical size that we see in condos. You can incorporate a small dining set here, which would just be enough for afternoon tea or a drink before dinner.
All balconies come with an electrical point, though water points are only available for patio units. While this is not that big of a downside, it might be more troublesome for homeowners who have a lot of plants.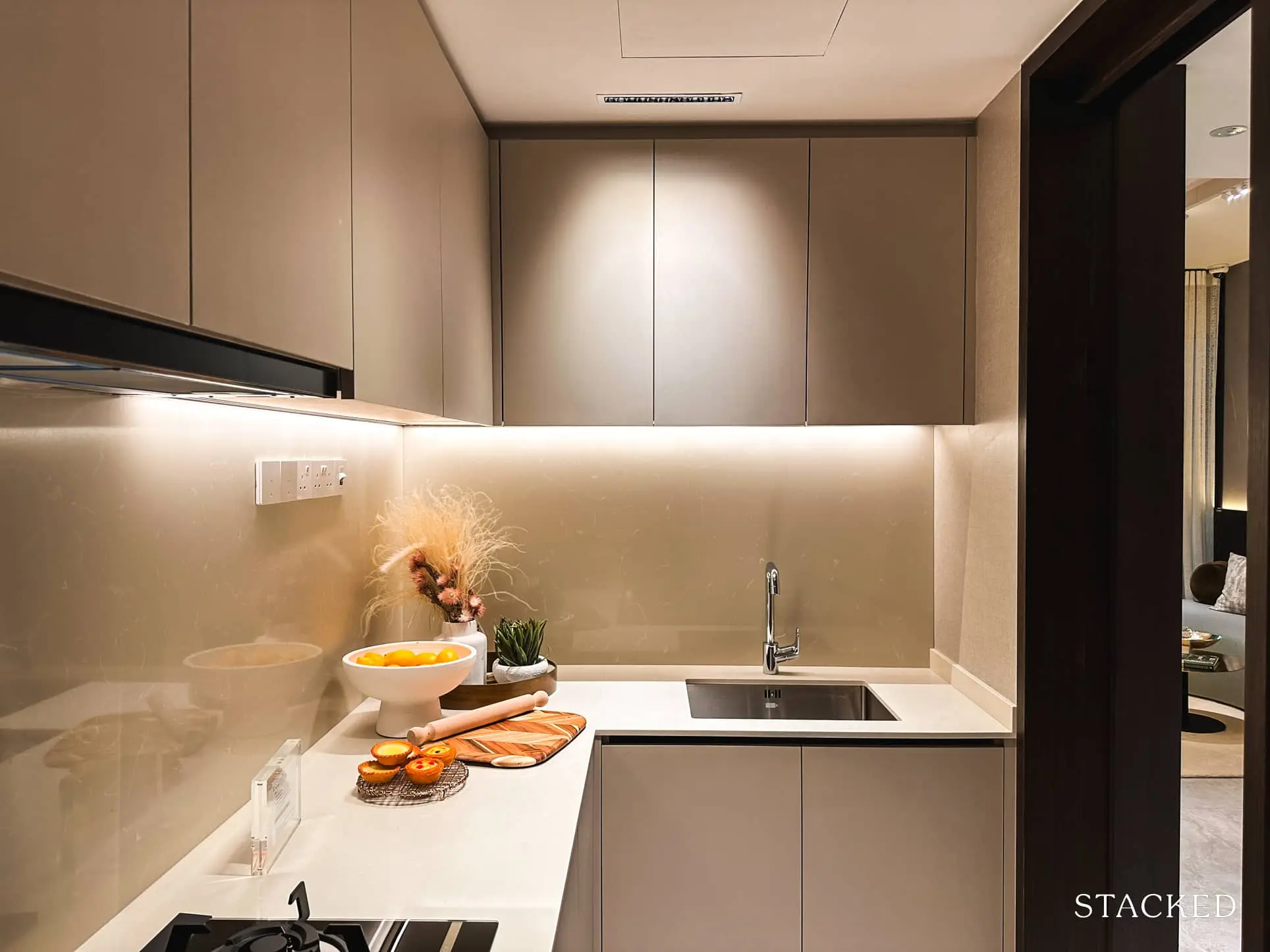 Turning our attention back to the kitchen and yard area (which is sized at 8.6 sqm), it's definitely on the compact side.
This layout would have more countertop space as compared to Type C1, as there isn't an extra pillar located near the sink. Apart from that slight difference, all the white goods provided are the same, including the stainless-steel sink from Franke and the mixer from Hansgrohe.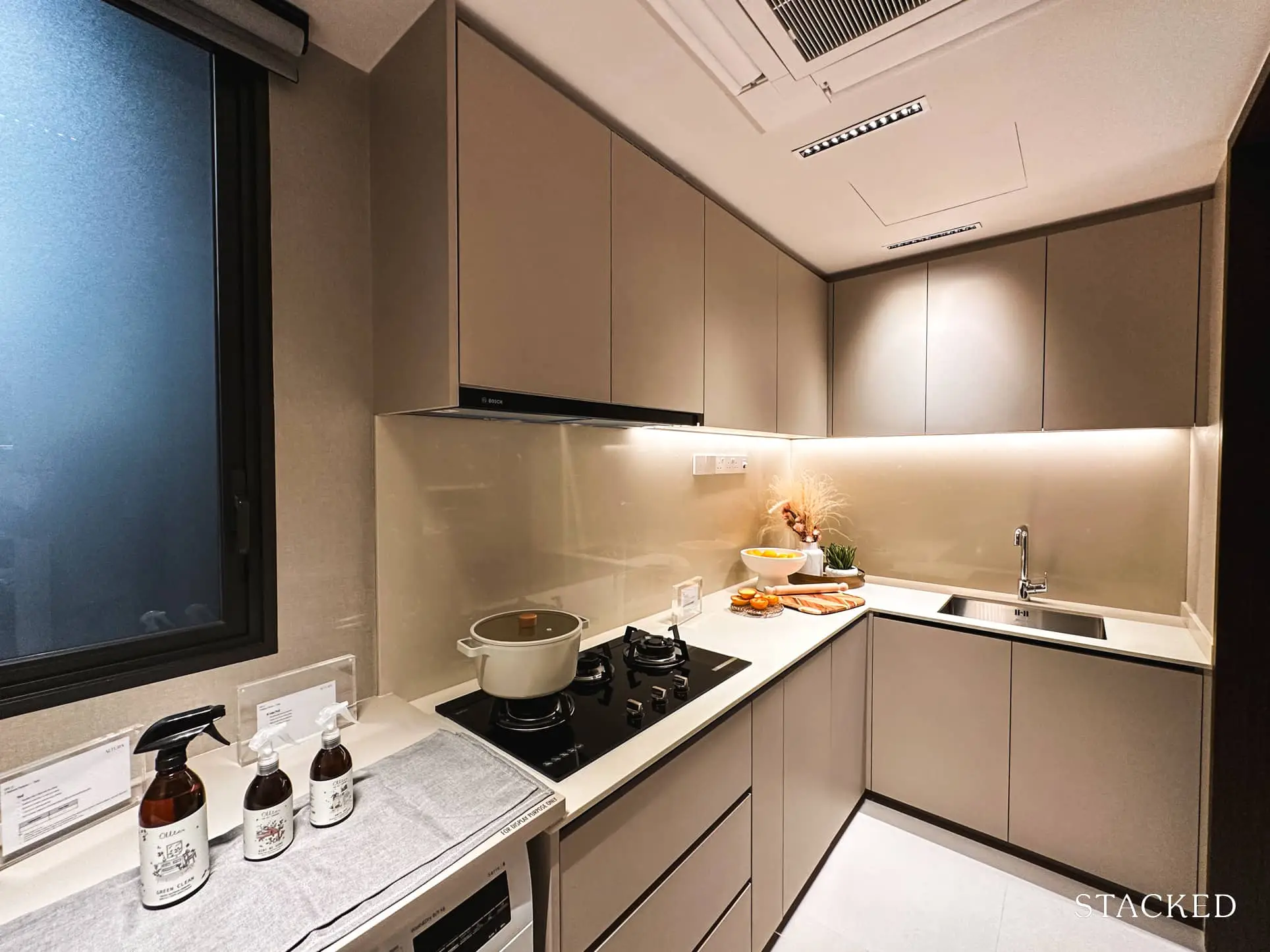 As for the backsplash and countertop, they are made of quartz material for easy maintenance. Seeing that there's only one colour theme available, it's great that the developers went for a more muted and neutral colour palette to suit most people's tastes.
In terms of the other provisions, the gas hob and integrated cooker hood are from Bosch, which is known to be a fairly high-end brand.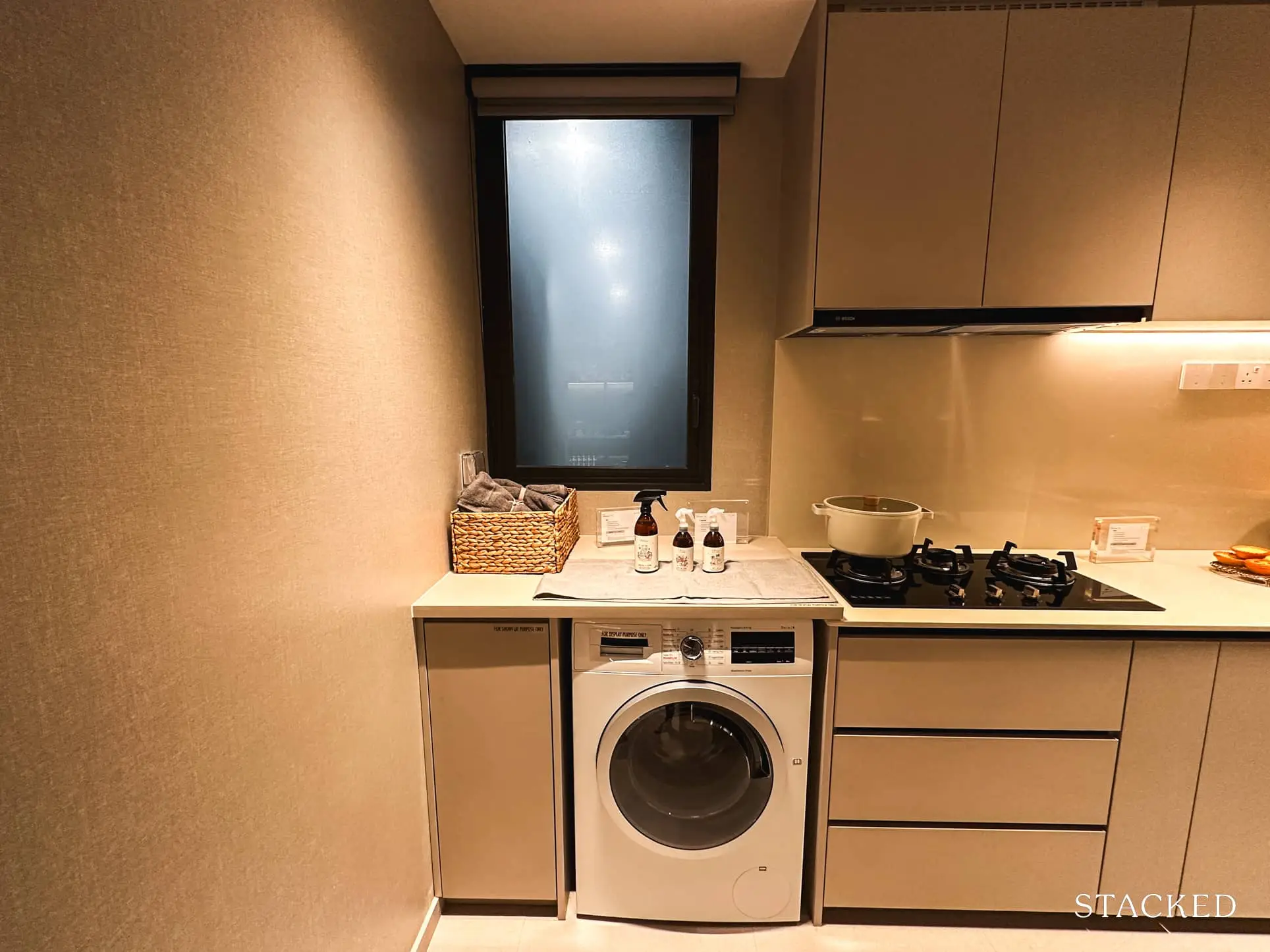 The yard area is a small spot located beside the gas hobs (which I'm happy to see here instead of the induction cookers), that conveniently comes with a large window for natural ventilation.
However, it should be noted that the washer cum dryer is not included in the set of provisions (most people expect this for an EC anyway).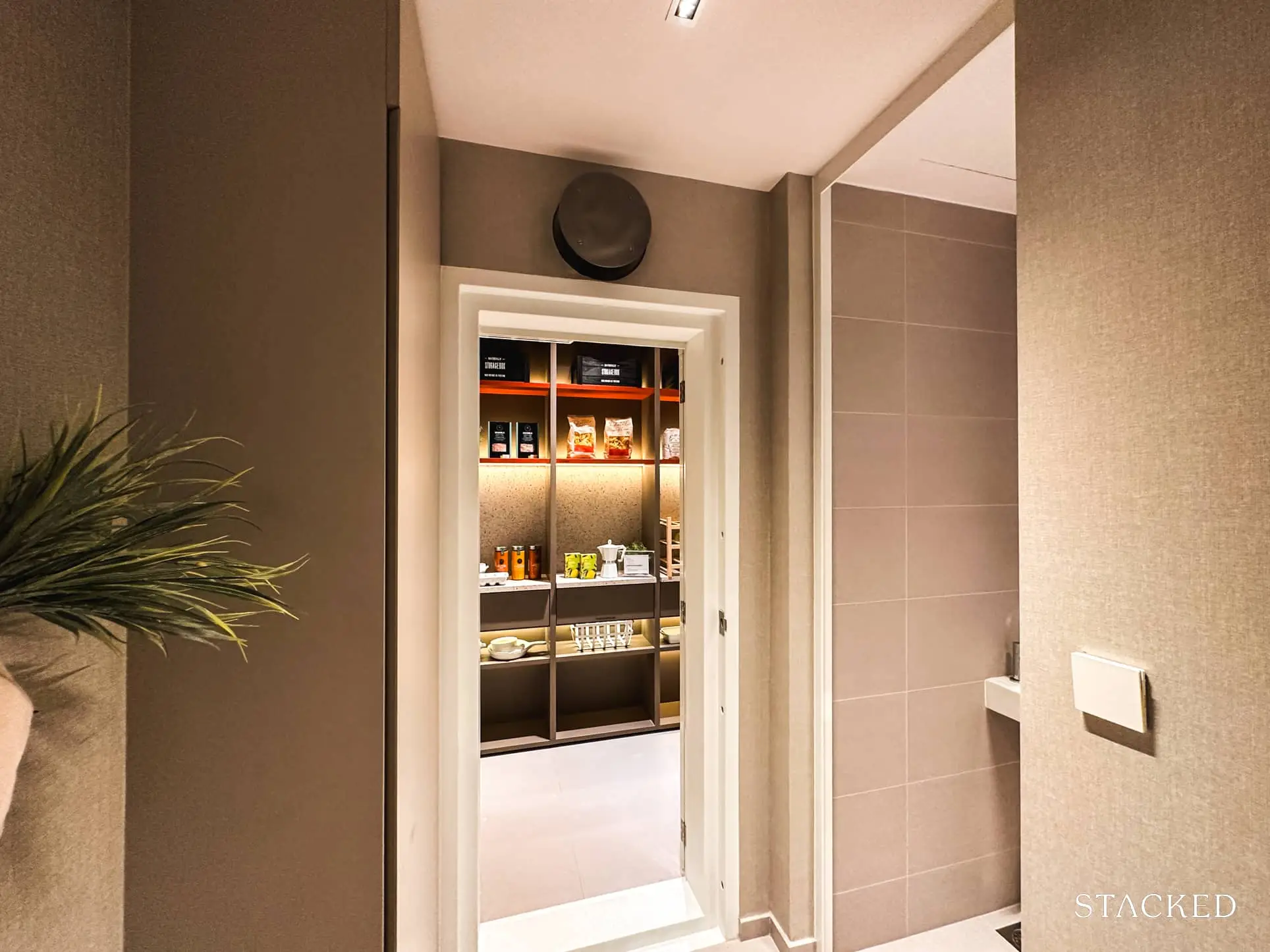 Moving deeper into the kitchen area is where the home shelter and w/c are located.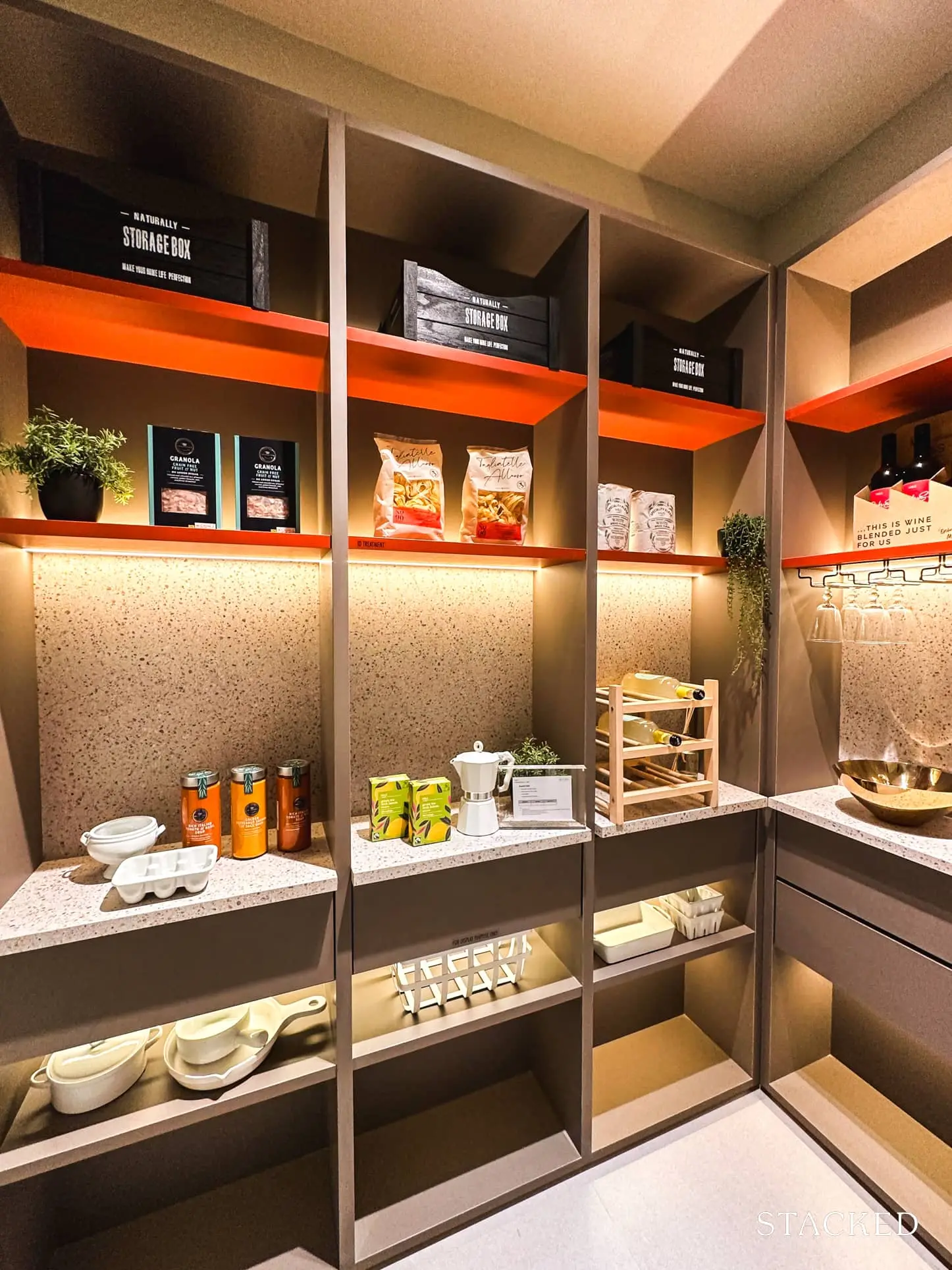 As with most Singaporeans who live with a helper, the home shelter (3.9 sqm) does come in handy, along with the WC (1.5 sqm). This makes this a functional unit for a family, despite the compact size of the unit.
Otherwise, the area can be converted into a systematic storage space, as seen here.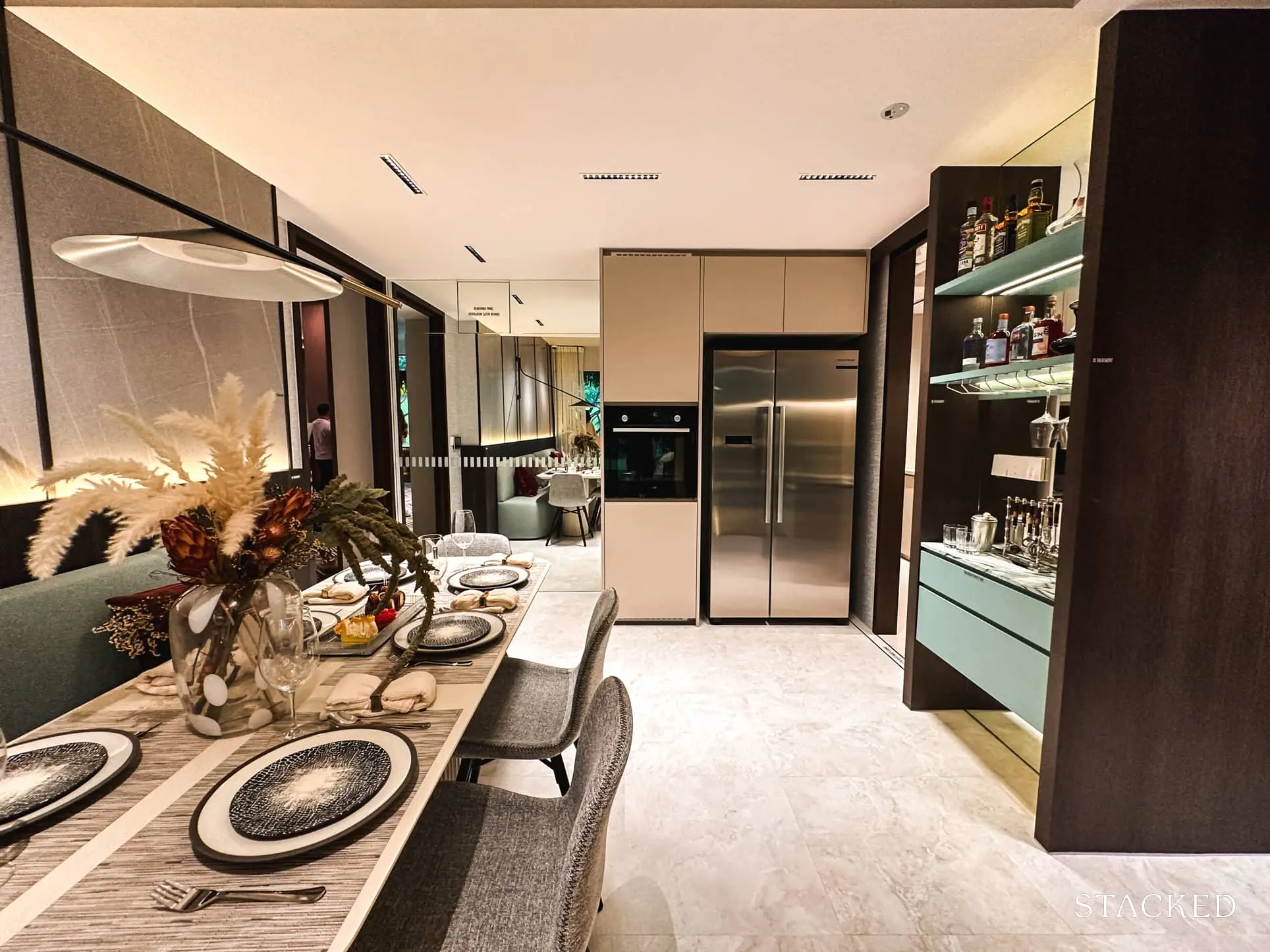 For those wondering where is the fridge (do note that this won't be provided) and built-in oven, these appliances have a designated spot in the living area. Personally, I would have preferred for these appliances to be located in the kitchen since that would make storing groceries and cooking much more convenient, but I do understand the constraints of the size and layout.
One option could be to include a small island right outside of the kitchen area (instead of the shelving area that the IDs have chosen to include).
Similar to the hood and gas hob, the built-in oven provided is also from the brand Bosch.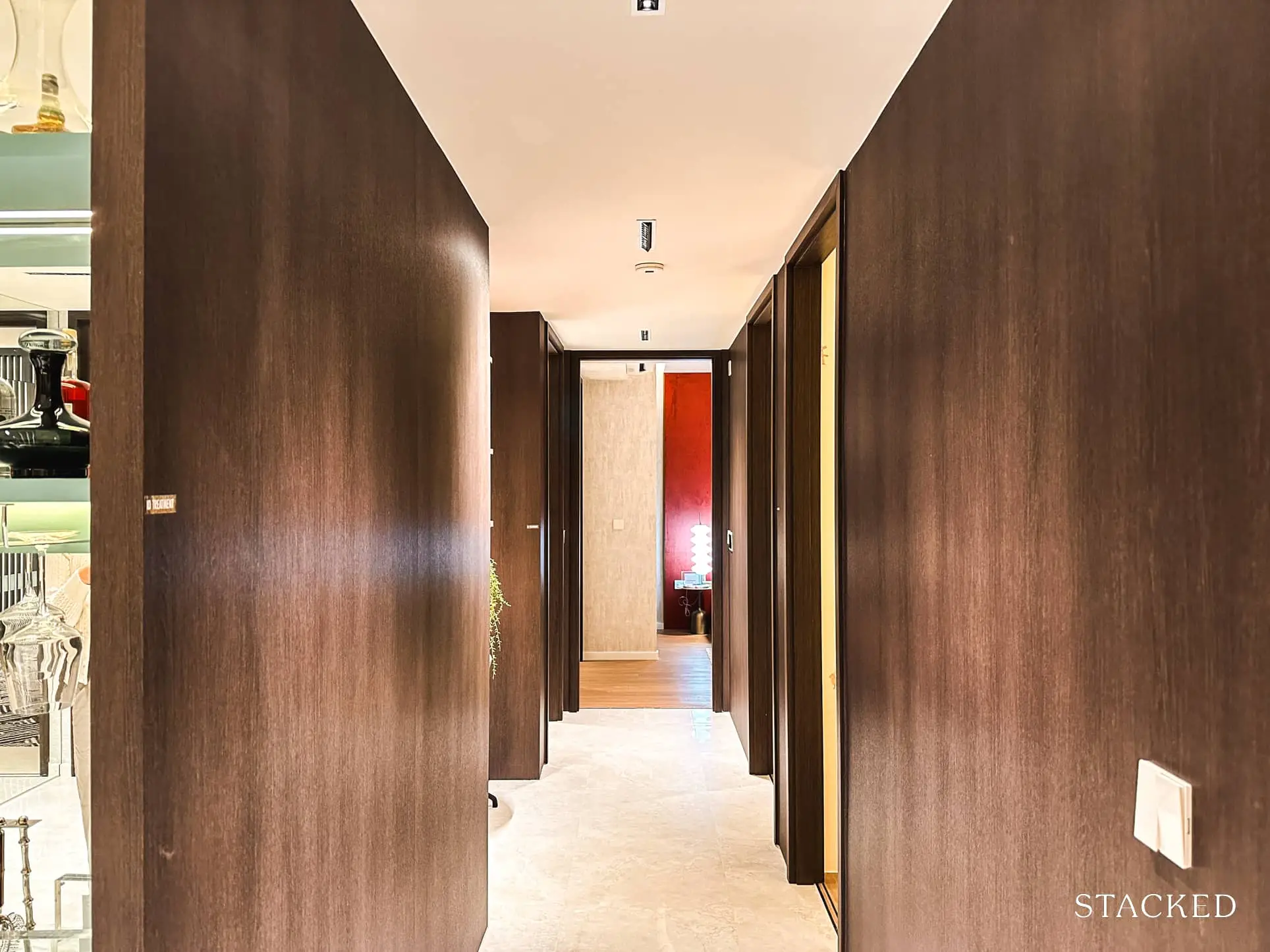 Let's move on to take a look at the rest of the bedrooms and study alcove.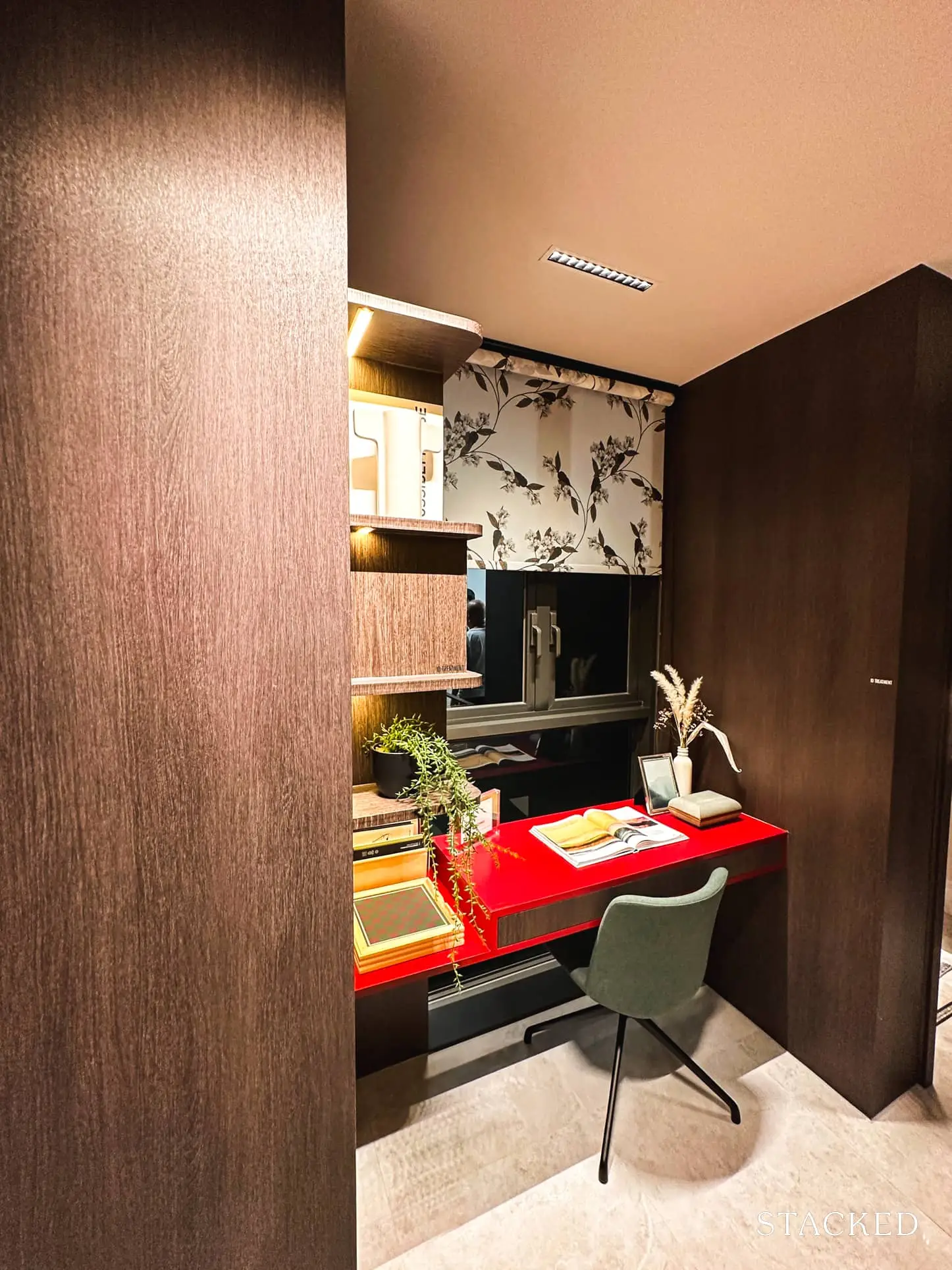 Similar to what they have done at Tenet, the 'plus study' component is located along the hallway, which shows an alcove that is spacious enough to accommodate a table, chair and desktop. This is smart as it does make better use of the hallway space.
The difference between Type C1 and this layout is observable here, too. The study in this layout faces a window (which is great for natural light), whereas the study in C1 faces the wall (which would require additional lighting to brighten up the space).
Homeowners can also include a sliding door (similar to what they've done at Tenet) to block off and make the area more private when not in use.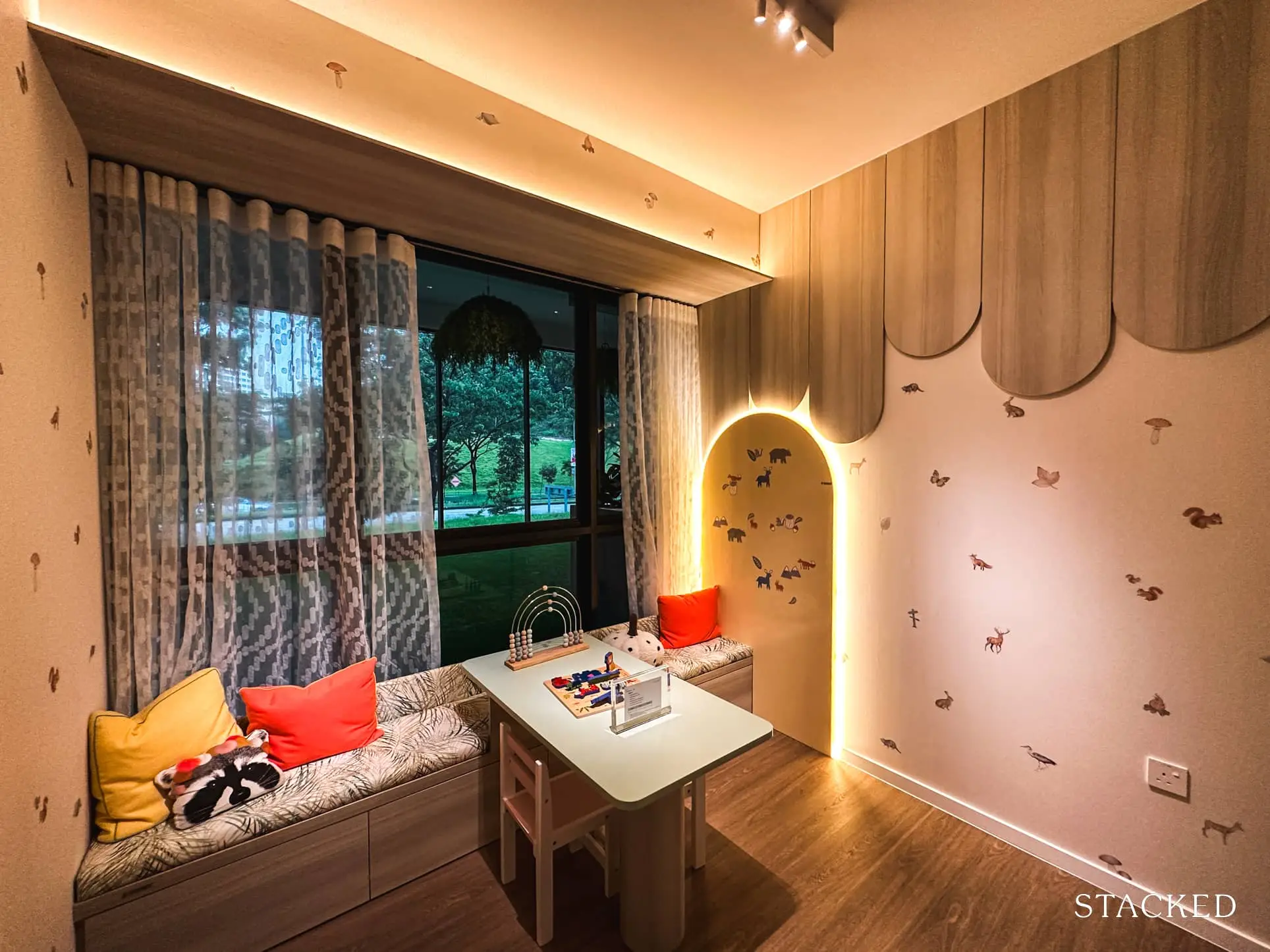 I always look forward to seeing how the IDs decorate the bedrooms as it helps provide ideas as to how you can decorate your future home (even if they may not always be the most practical). In this case, the IDs chose to connect both common bedrooms. This certainly helps to elevate the sense of space, but may not be the most feasible option for most homeowners.
So what we're seeing in this shot is Bedroom 3, which is sized at 8.8 sqm and has been converted into a play-study area for the children. The floor-to-ceiling windows will bring more light into the space, which also helps the space to appear bigger.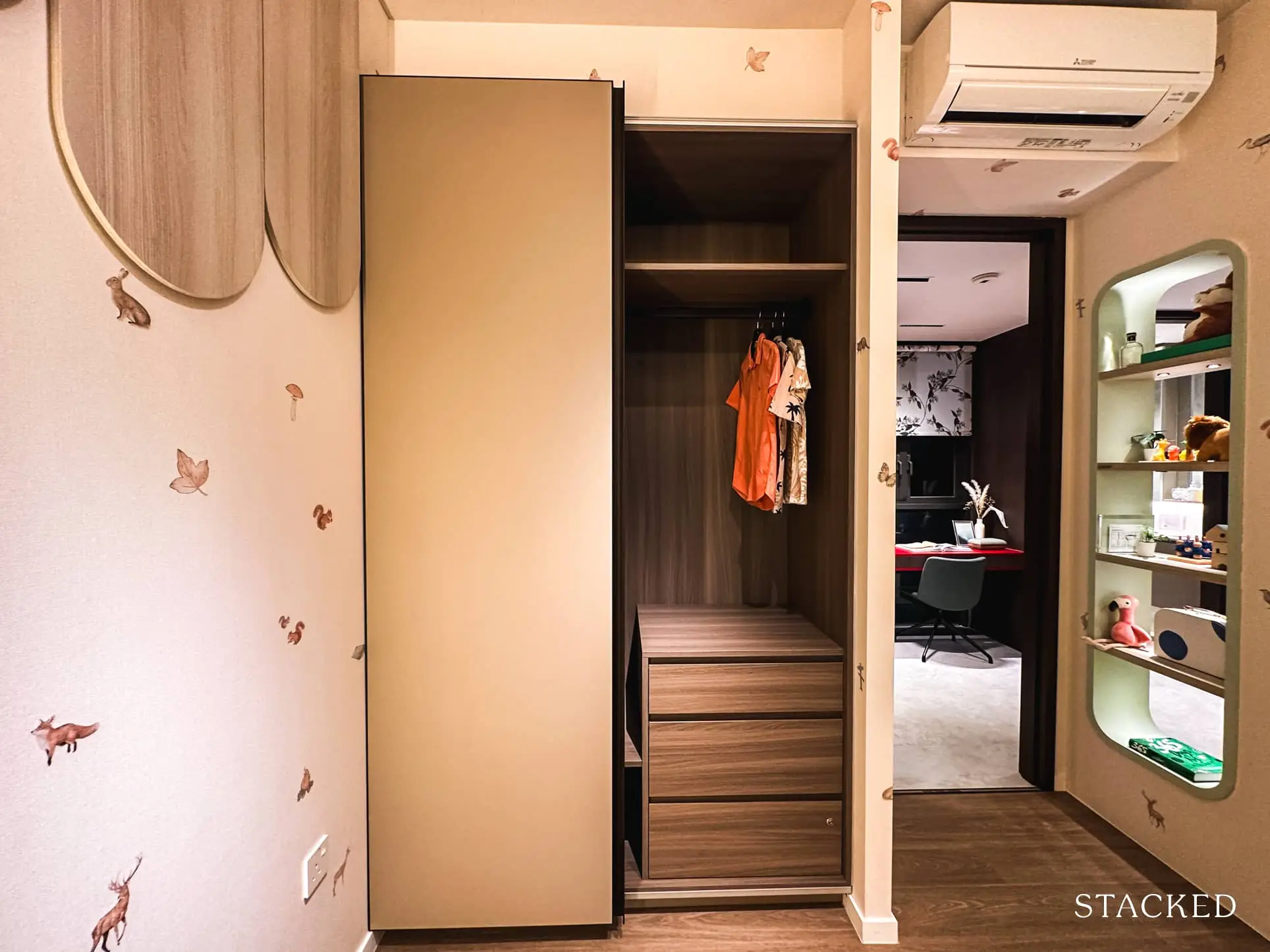 As standard, each bedroom comes with a built-in wardrobe with sliding doors.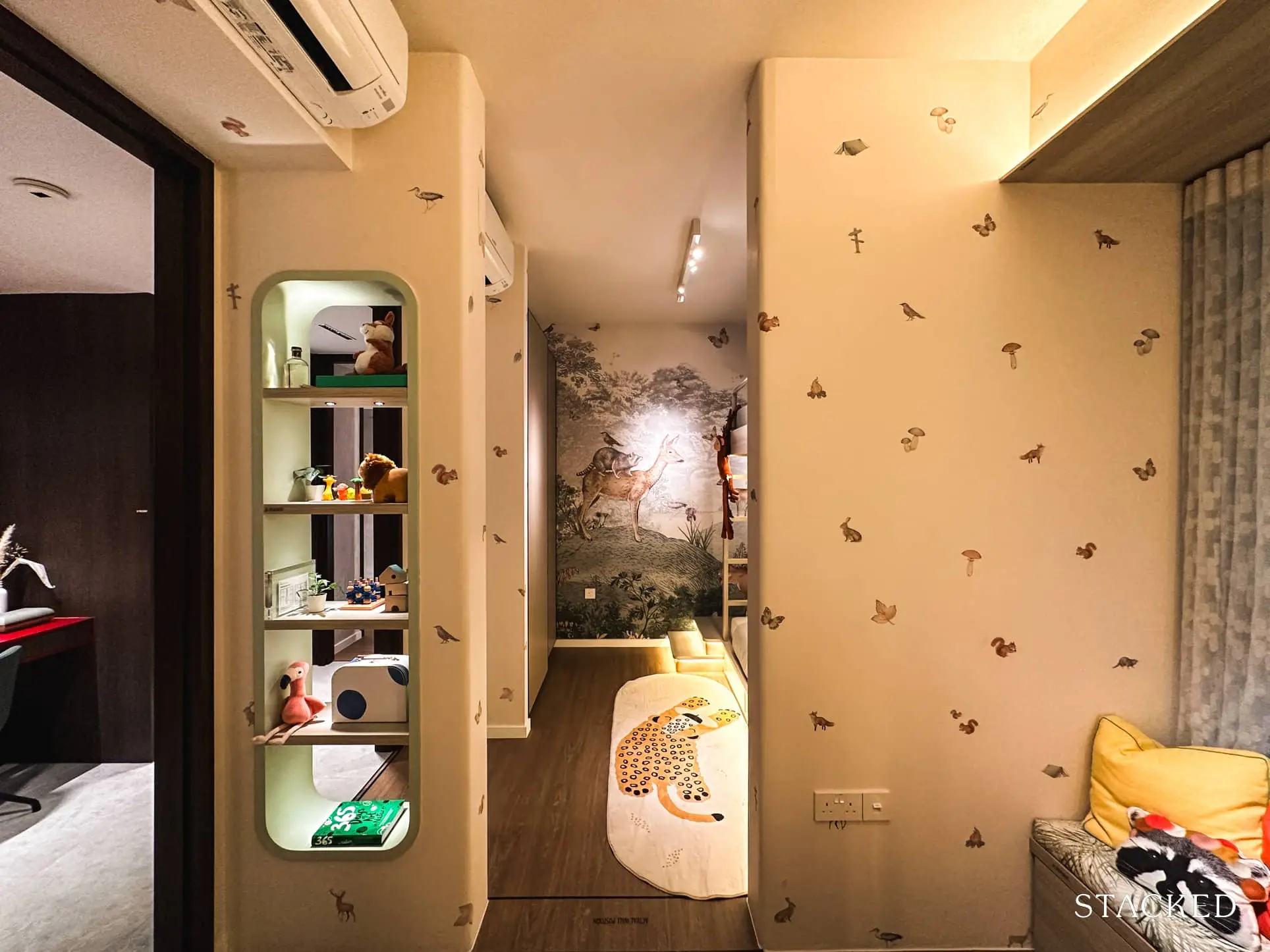 One of the highlights of Altura units is the walls can be knocked down and homeowners have the flexibility to reconfigure the space. Not only does this mean that the unit can adapt to the growing needs of the family, it allows more interesting designs for creative homeowners.
As seen here, the IDs have chosen to knock down the walls between Bedrooms 2 and 3 to add shelving for more storage.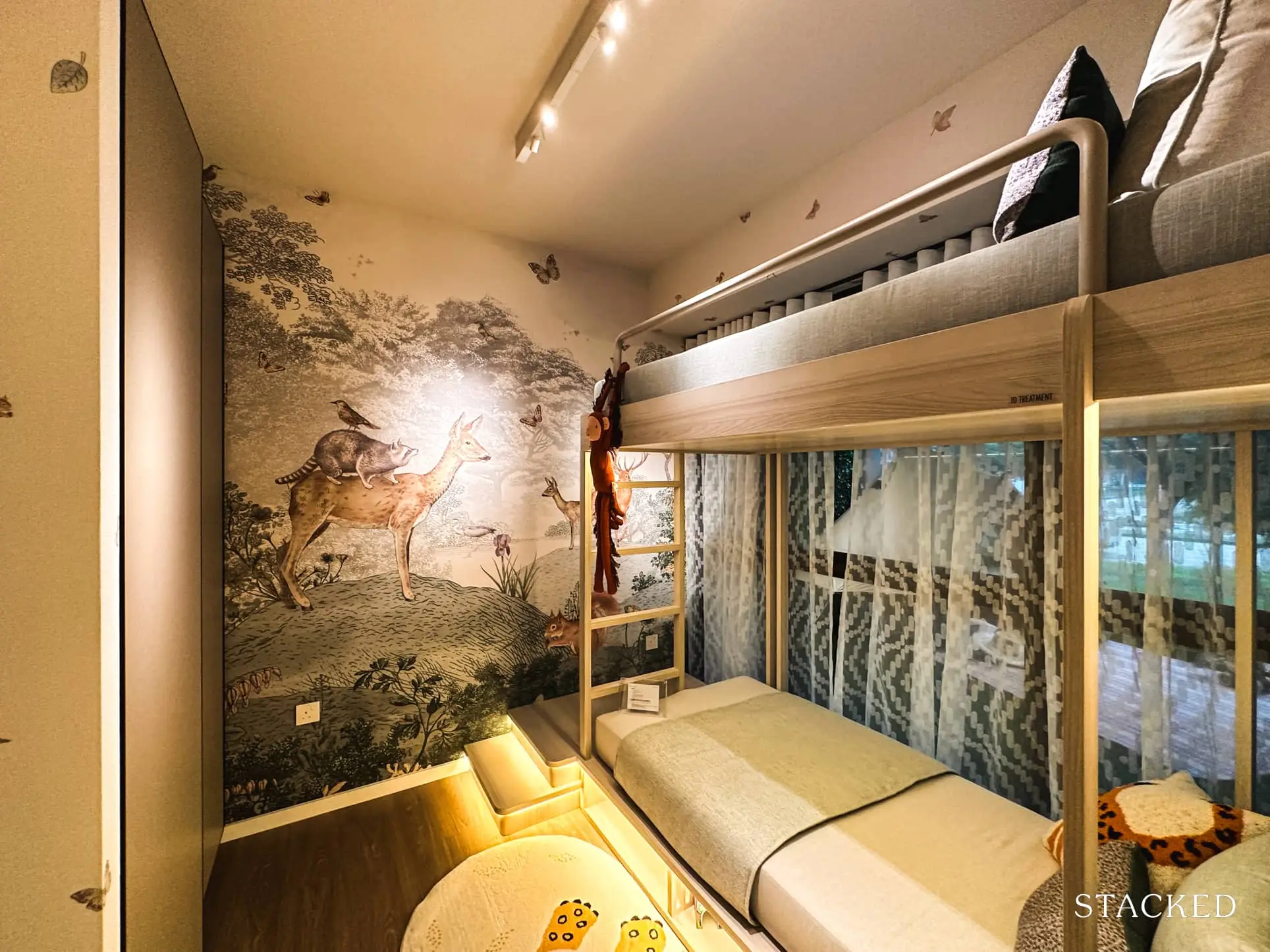 Bedroom 2 is sized at 8.9 sqm and also has floor-to-ceiling windows for more natural light.
Apart from the standard built-in cabinet, it is furnished with a bunk bed and is clearly meant to be the sleeping area for both children. Otherwise, it can also fit up to a queen-sized bed without infringing upon the walkway area.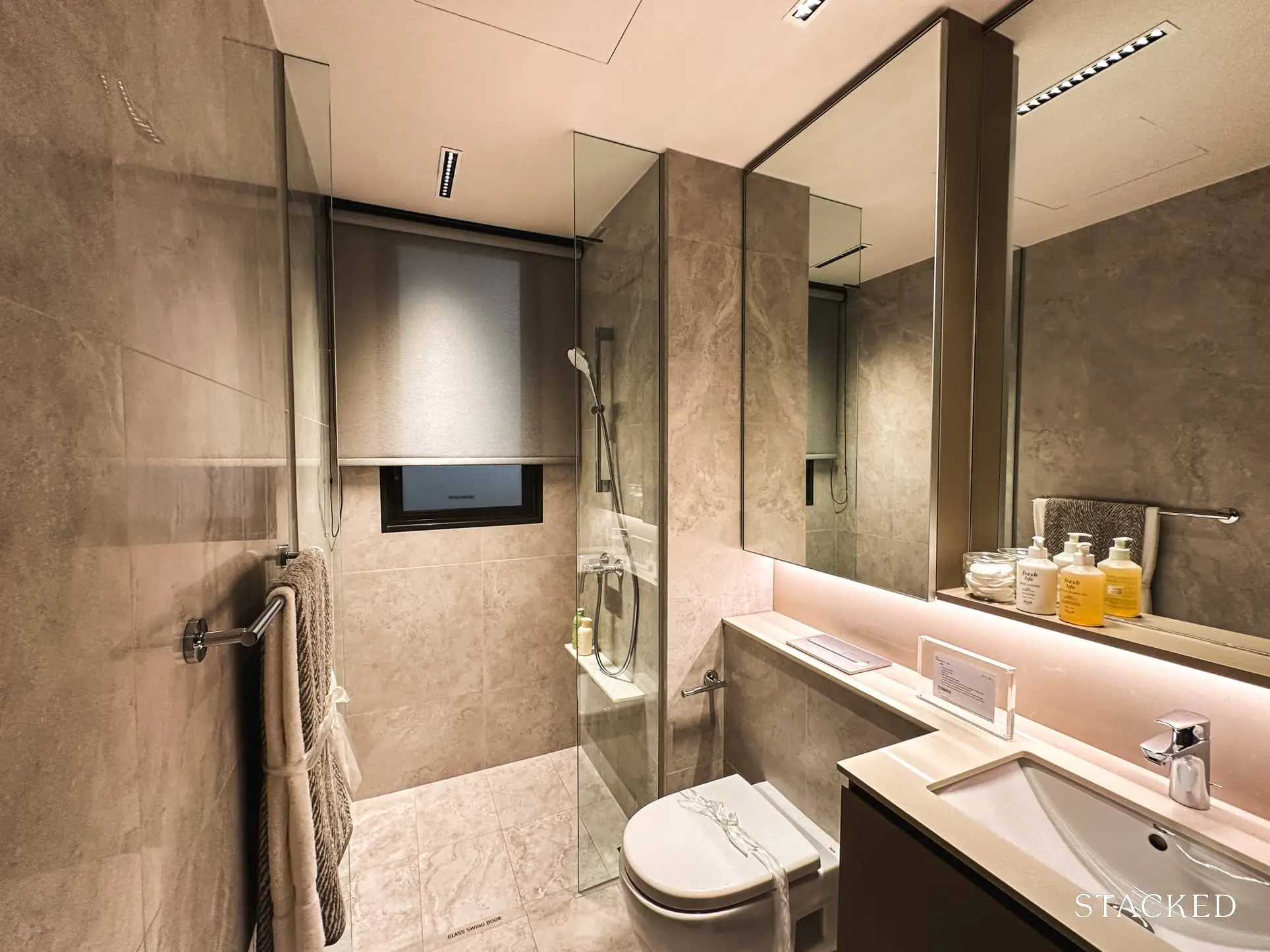 Bedrooms 2 and 3 would be sharing the common bathroom, which is sized at 3.9 sqm. As usual, I like that there's a sizeable window in the shower area for natural ventilation. Porcelain tiles are used in this bathroom, accompanied by some storage area behind the mirrors and under the sink.
As for the fixtures provided, the wall-mounted WC and basin are from Roca, whereas the shower mixer set is from Hansgrohe. Seeing that many new condo launches also use these brands, it does show a high level of standards at Altura, despite it being an EC.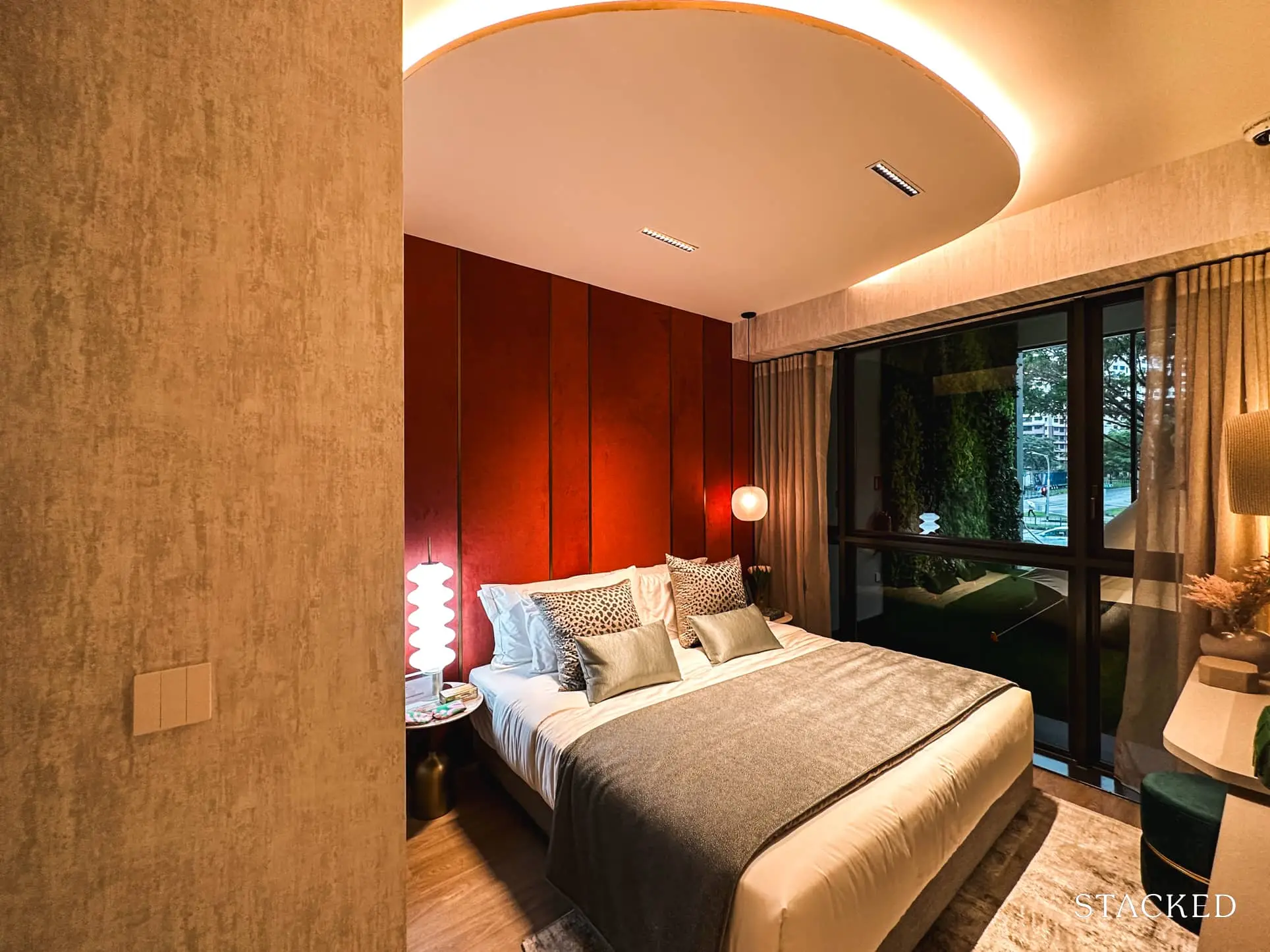 Together, the master bathroom and master bedroom are sized at 16.8 sqm, which is quite decent for new launch standards today. It can comfortably fit a King-sized bed, a built-in wardrobe, two small bedside tables and even a small vanity area.
And of course, you get floor-to-ceiling windows here as well.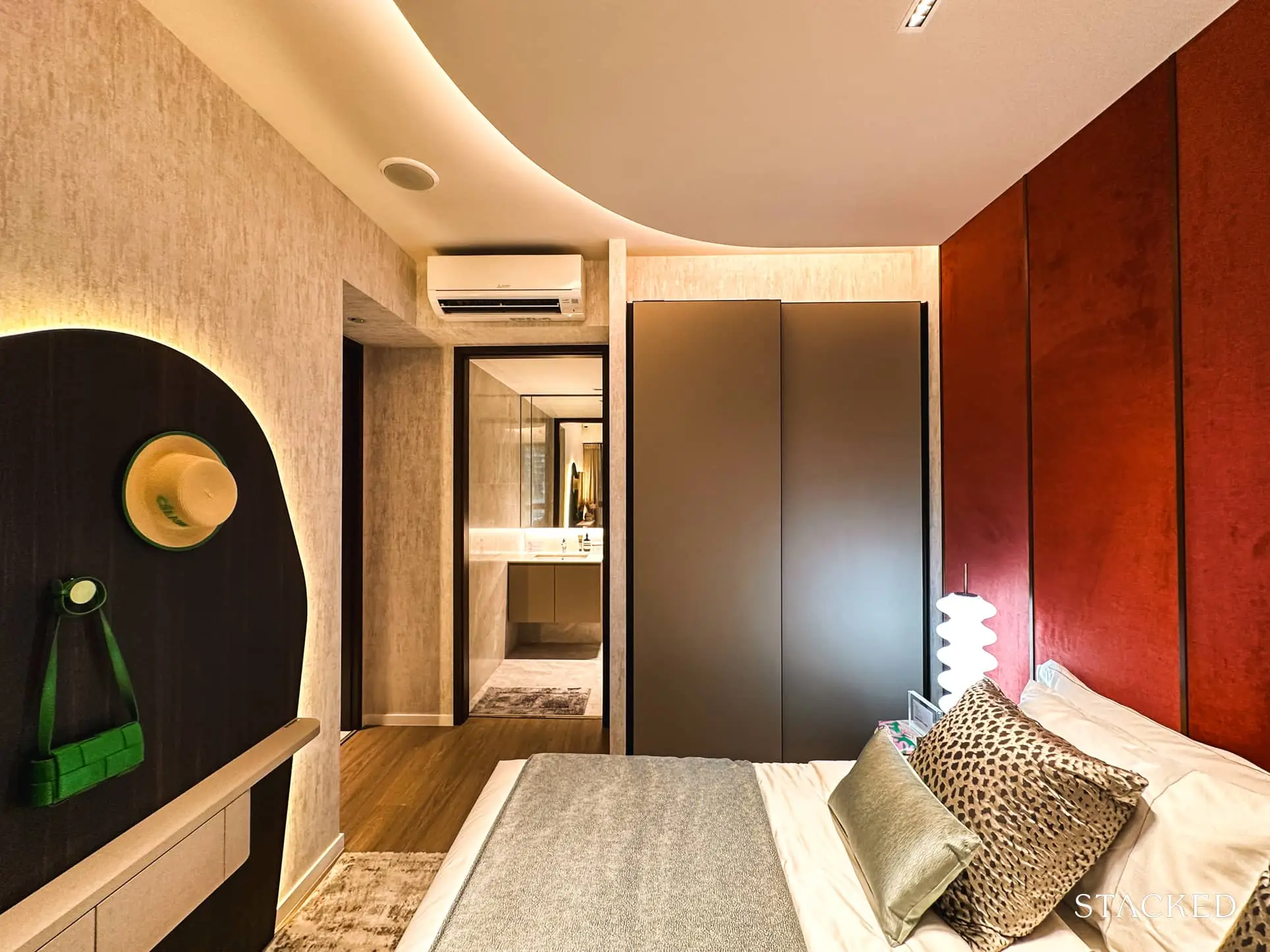 The wardrobe features the same laminate as the common bedrooms, with lockable drawers included as well. However, if you're like me and have quite a sizeable wardrobe, the two-panel built-in wardrobe would not be sufficient to store two people's worth of belongings.
Nevertheless, this is an issue that all new condos face today. So if you've been shopping around, this shouldn't come as any surprise.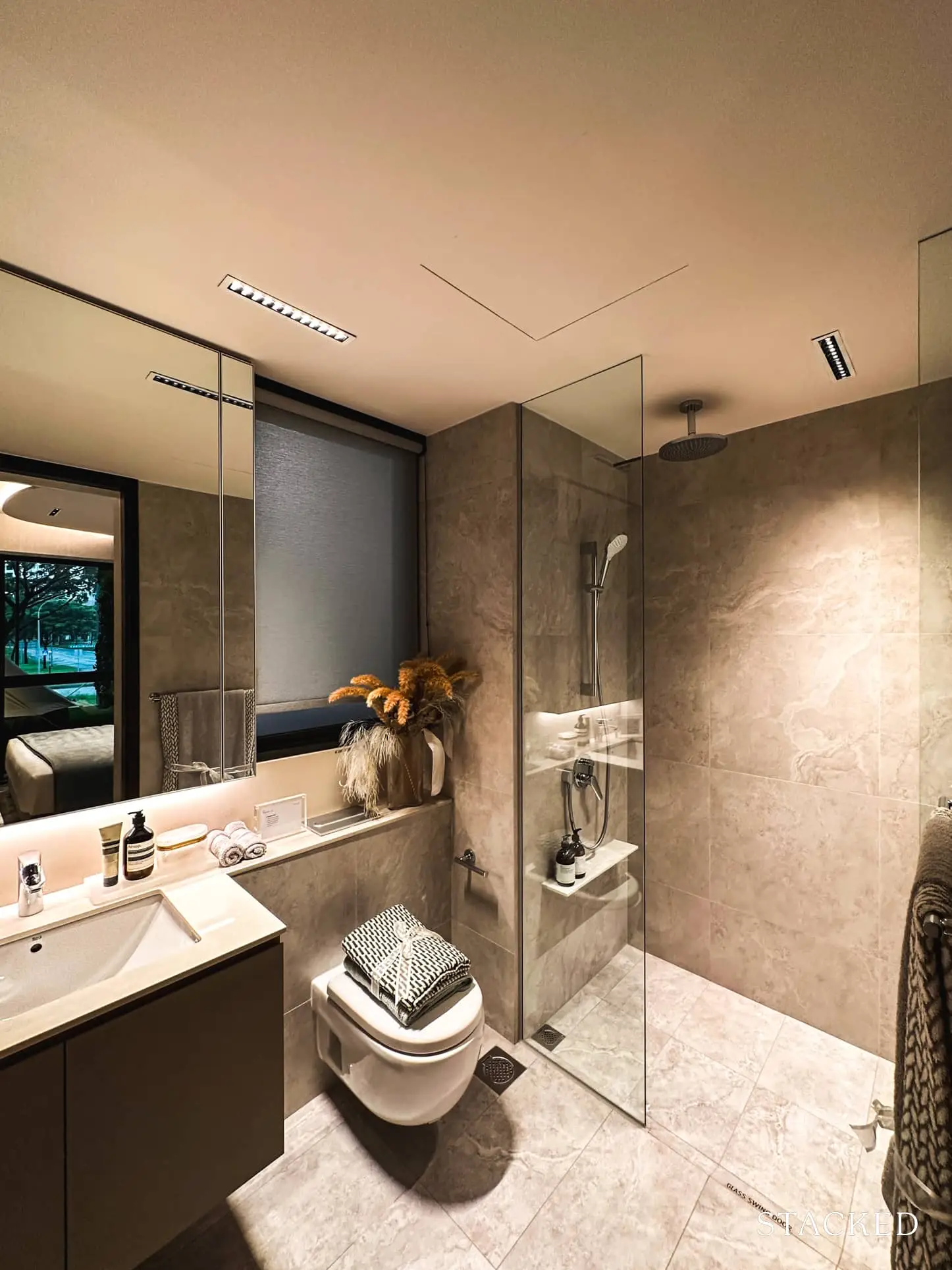 The master bathroom also has the same theme as the common bedroom, with the difference of a rain shower for a better sense of luxury. I do like that the window here is larger too, but besides these two elements, it's much of the same with the wall-hung WC and basins from Roca and the mixer and rain shower from Hansgrohe.
And with that, let's move on to take a look at the 4-bedroom unit tour.
Altura EC – 4 Bedroom Premium Flexi Type D3 (133 sqm/1,432 sq ft) Review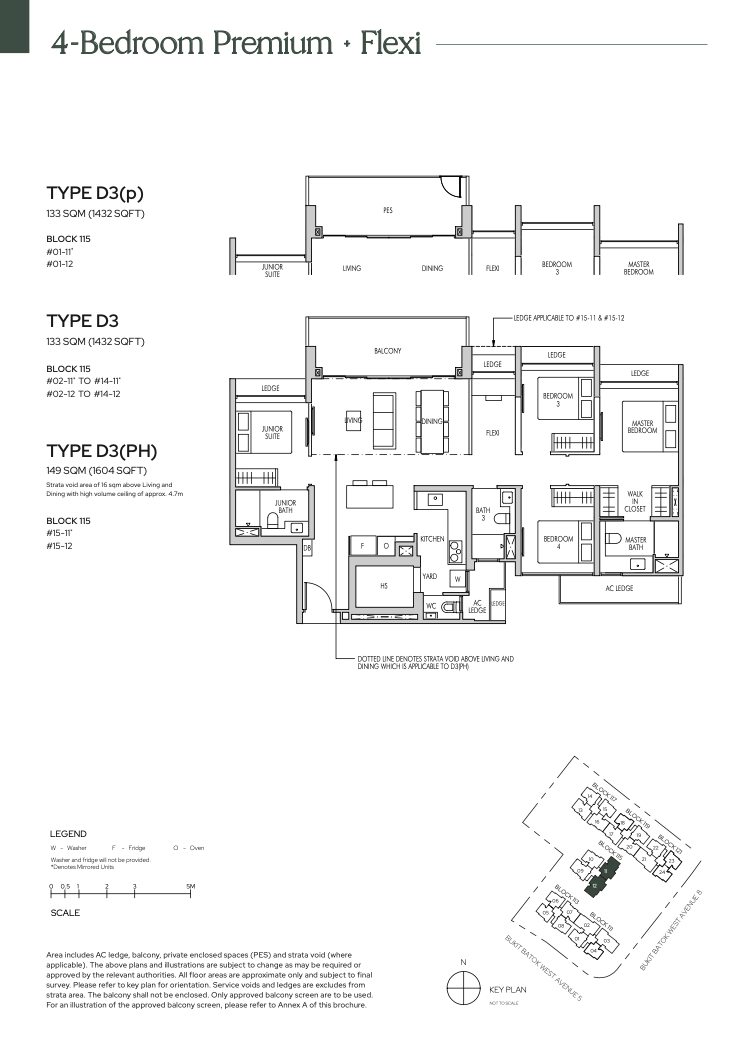 With 145 4-bedroom units on offer at Altura, there are three different variations to the layout and the sizes range from 1,206 – 1,604 square feet (including the top floor units with the added void space).
All variations are themed as the premium flexi units as they all have several hackable walls to make the configuration more flexible and personalised for the homeowners – something I'm sure every growing family would appreciate.
Due to the placement of the AC ledge, there's a slight difference in the yard area for Types D1 and D2, otherwise, both layouts are almost the same – offering three common bedrooms and one master bedroom. On the other hand, the show flat unit Type D3 is quite different as compared to D1 and D2. It offers a dumbbell layout with two ensuite bedrooms, making it more appropriate for multi-generation living.
As for specs, the show flat Type D3 units are sized at 1,432 square feet and the common areas use porcelain tiles, whereas bedrooms use vinyl flooring. The height ranges from the typical 2.4 – 2.8m throughout the unit.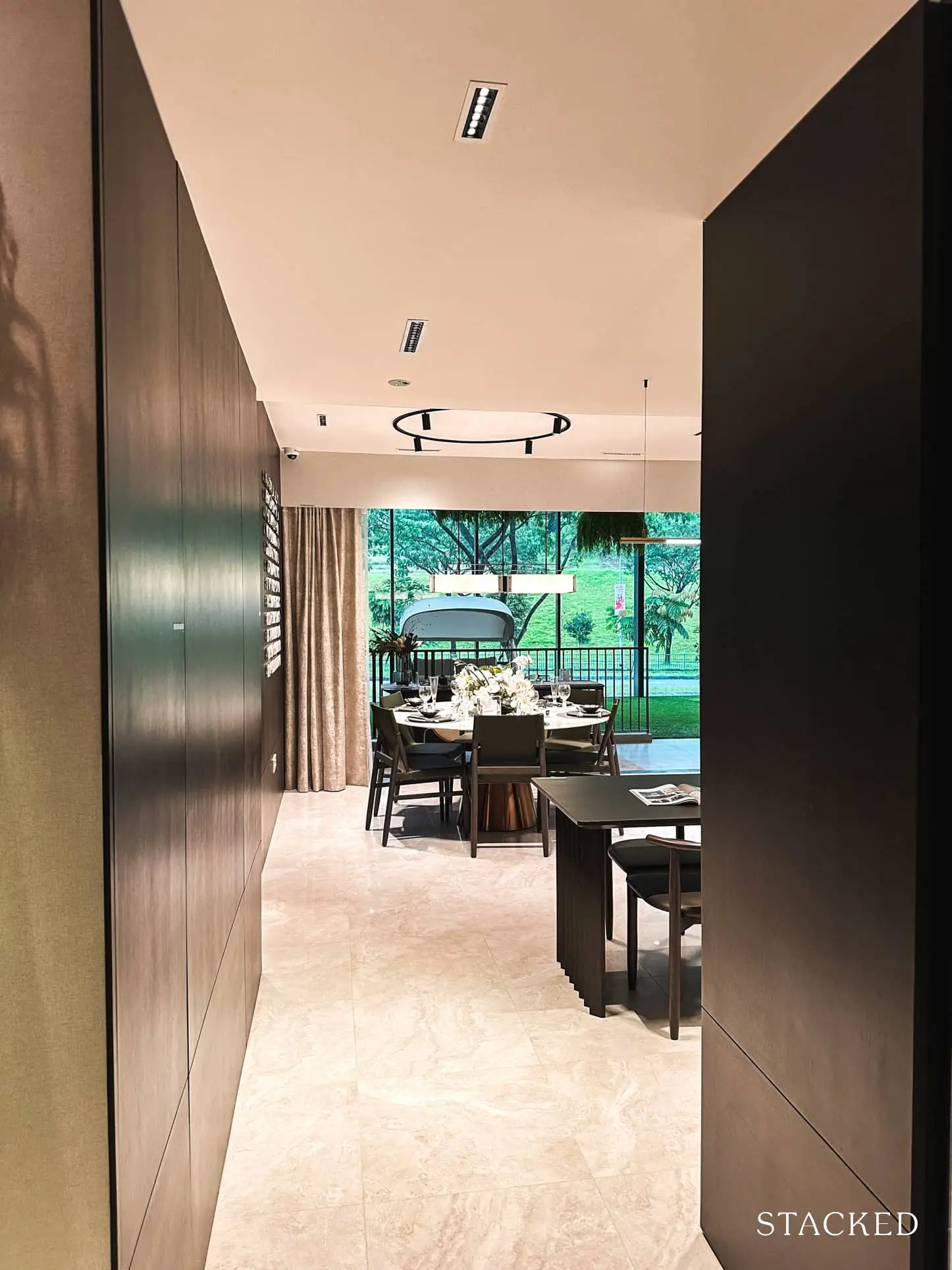 As expected, there is a foyer upon entering the unit that connects to the dry kitchen on the right and common areas.
For bigger units, my stance on including a foyer has always been a positive one, since it does give a bit of separation between the unit and outside areas. Not only that, there's also space to include shelving to store shoes – a win-win for me.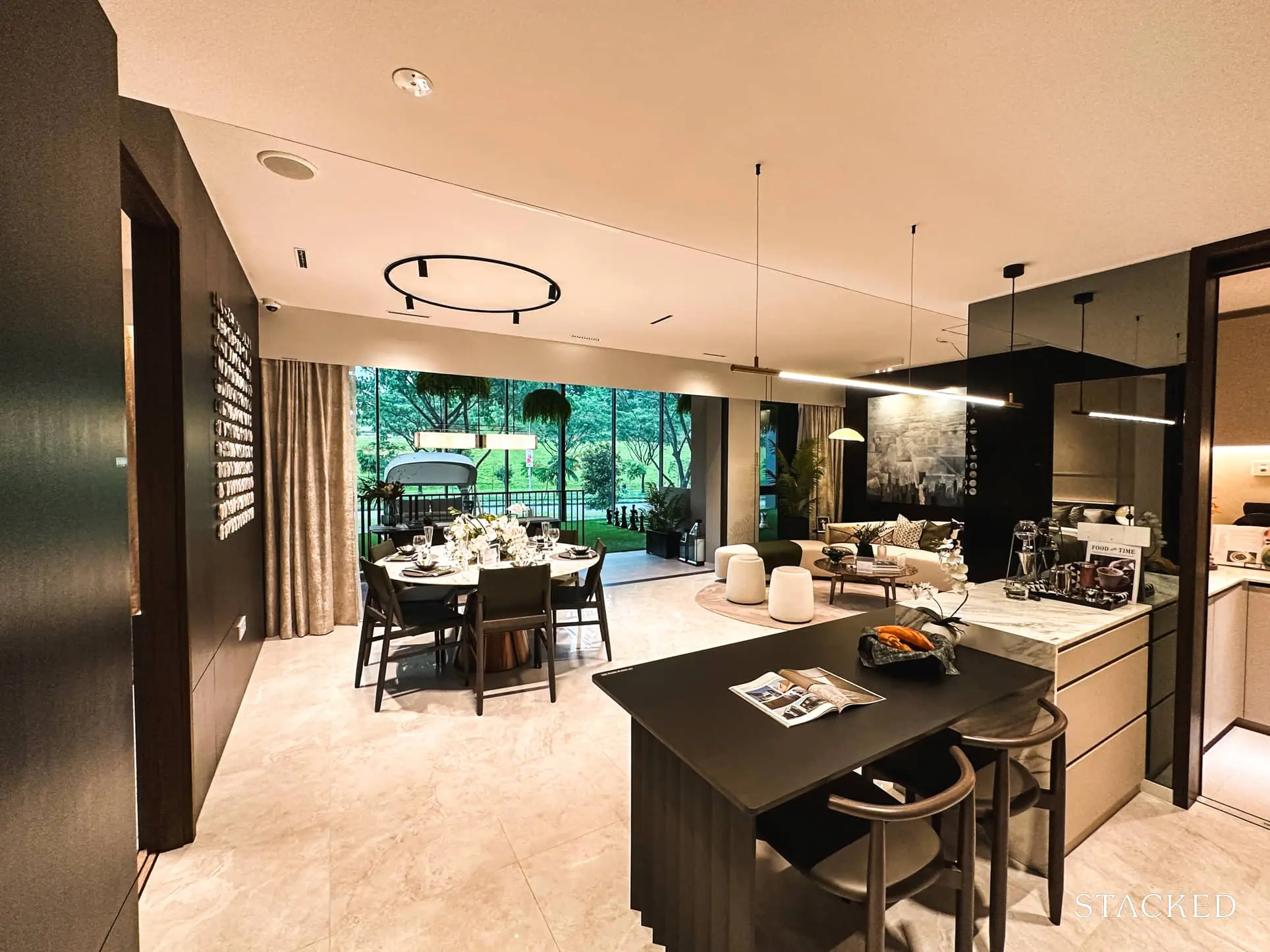 Once you step in, you will definitely be surprised at the size and scale of the place. The dining table looks positively small, and being able to see so much of the floor here is definitely a luxury.
Of course, this is only because the flexi-study area was knocked down to enlarge the space. But given how impressive it looks at first sight, I think many homeowners would be inclined to do the same.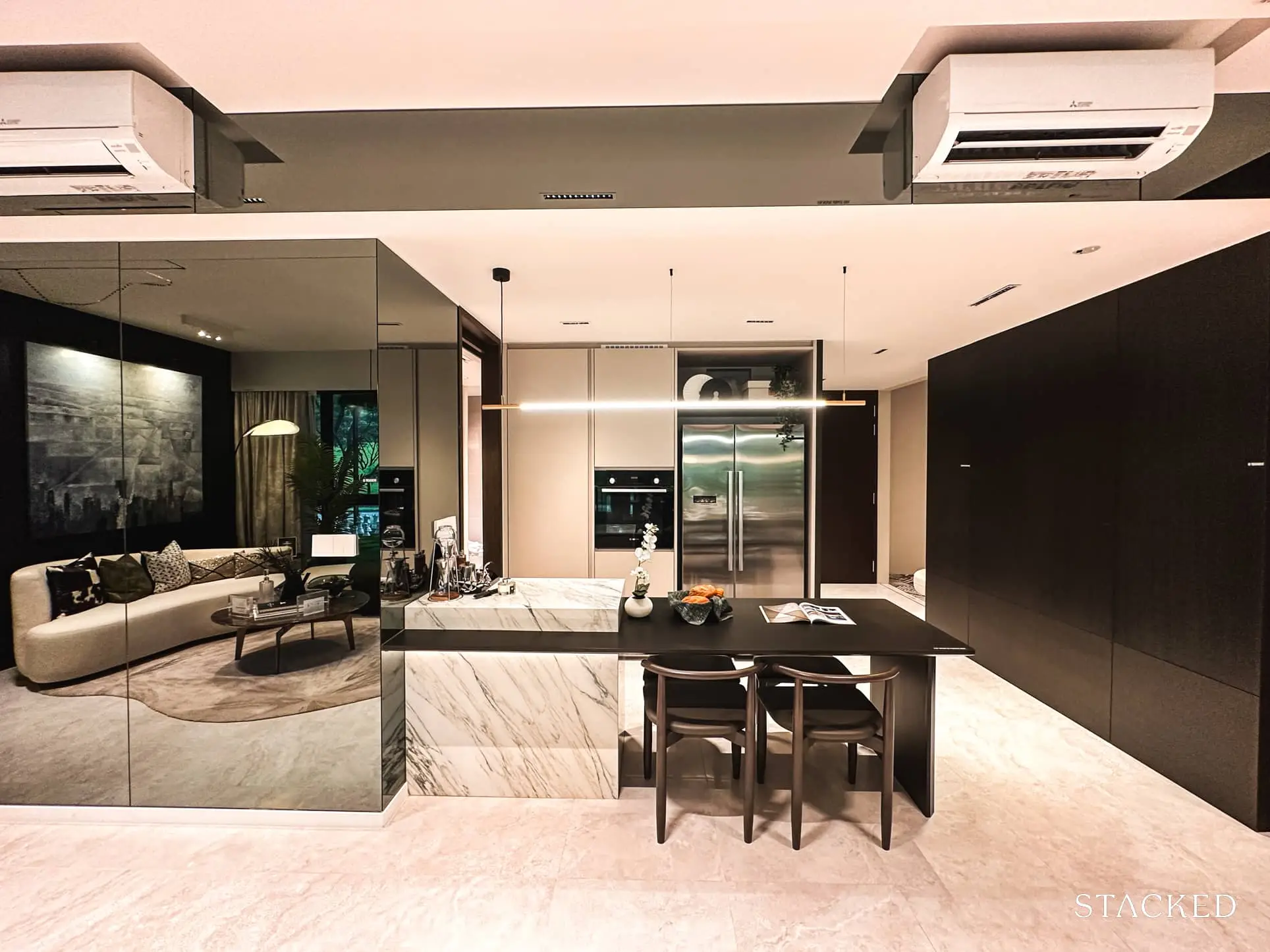 The 4-bedroom premium unit includes a dry kitchen area, where a small island, seating area, built-in oven (from Bosch) and a nook for the fridge can be found. As previously mentioned, the fridge is not included in the standard provisions which on the positive end of things, lets homeowners choose the brand of their liking.
(Do note that the island area is an ID addition and not part of the standard offering).
Personally, I think this configuration is very functional since it's handy for putting away groceries upon entering the unit and a great nook for prepping food or as a breakfast counter.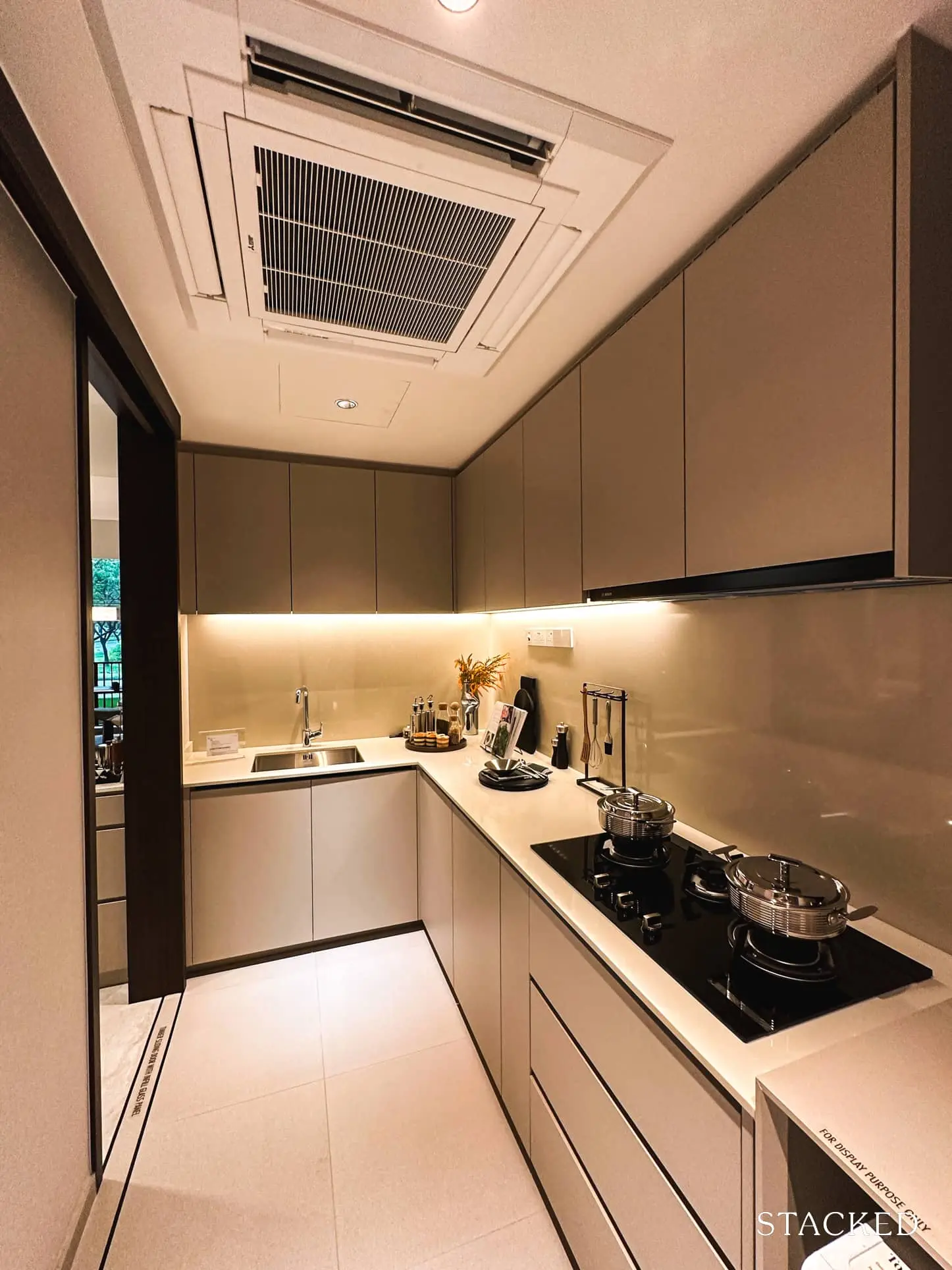 Sized at 7 sqm, the kitchen is connected to the yard area in the form of an L-shape and shares a window for natural ventilation. The kitchen space has a good amount of countertop space, along with cabinets and drawers to put away any ingredients of kitchen appliances.
Similar to the 3-bedroom + study unit, the standard of brands used here is of a high standard, with the stainless steel sink from Franke and the mixer from Hansgrohe. For easy maintenance, the countertop and backsplash are made of quartz.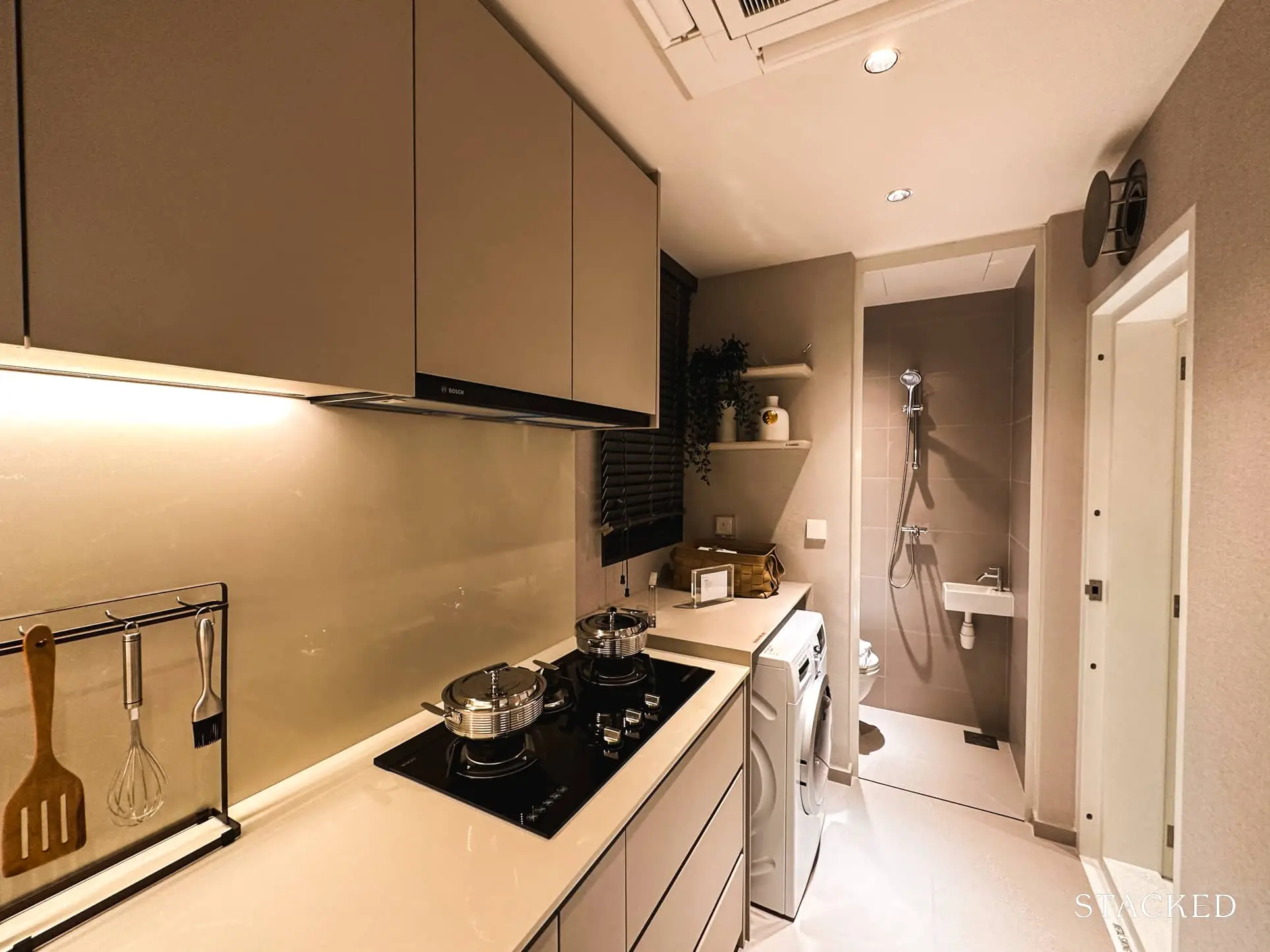 The yard area, along with the window, is located near the gas hobs, which is great for ventilation for most Asian families who use open flames to cook. As standard, the gas hobs and hood are from Bosch. However, the washer cum dryer is not provided, although there is a nook to fit in your washer of choice.
For a four-bedroom, I would have expected the yard area to be more spacious, so folks who prefer a bigger yard area to do their laundry should take note.
The WC and home shelter are located at the back, too.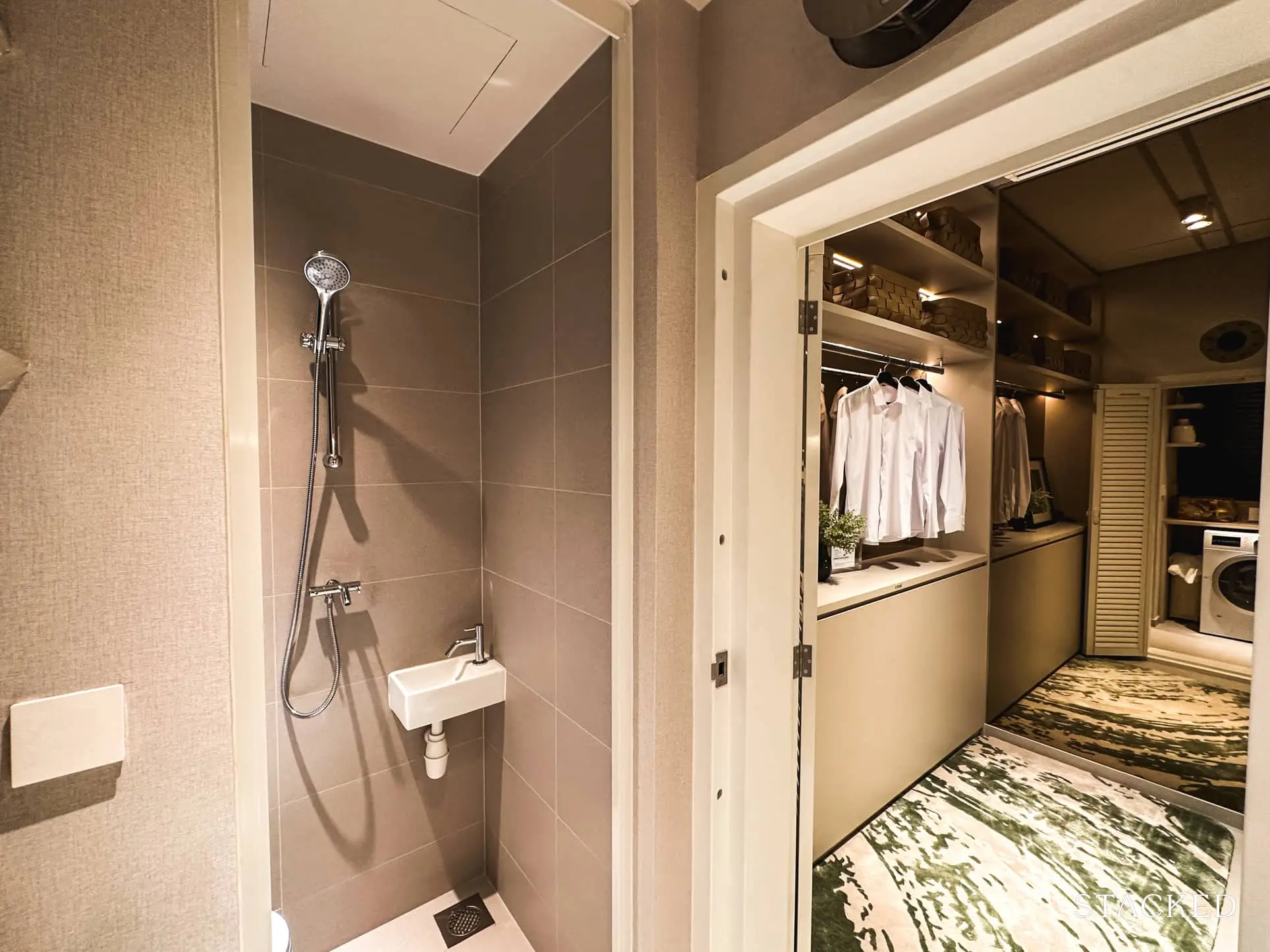 Typically, the home shelter (4.1 sqm) is used as sleeping quarters for families who live with a helper. There's also the option to convert it into storage space or an extension of the yard (as the IDs have done here). The WC (1.5 sqm) is also located close by for easy access.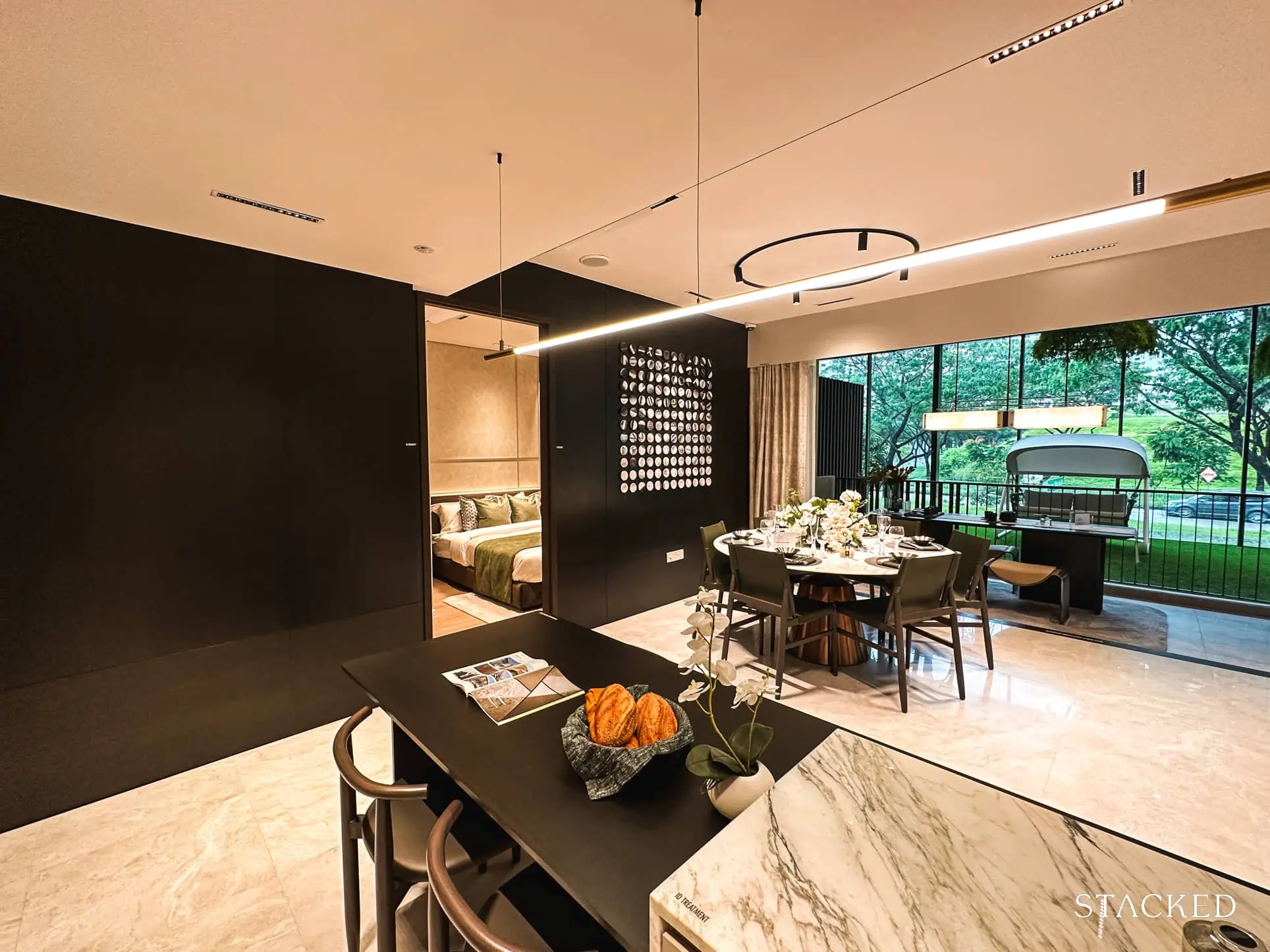 Here's the view of the dry kitchen, which overlooks the dining area and balcony. Before we tour the common areas, let's first take a look at the junior suite, which is located right next to the dining area.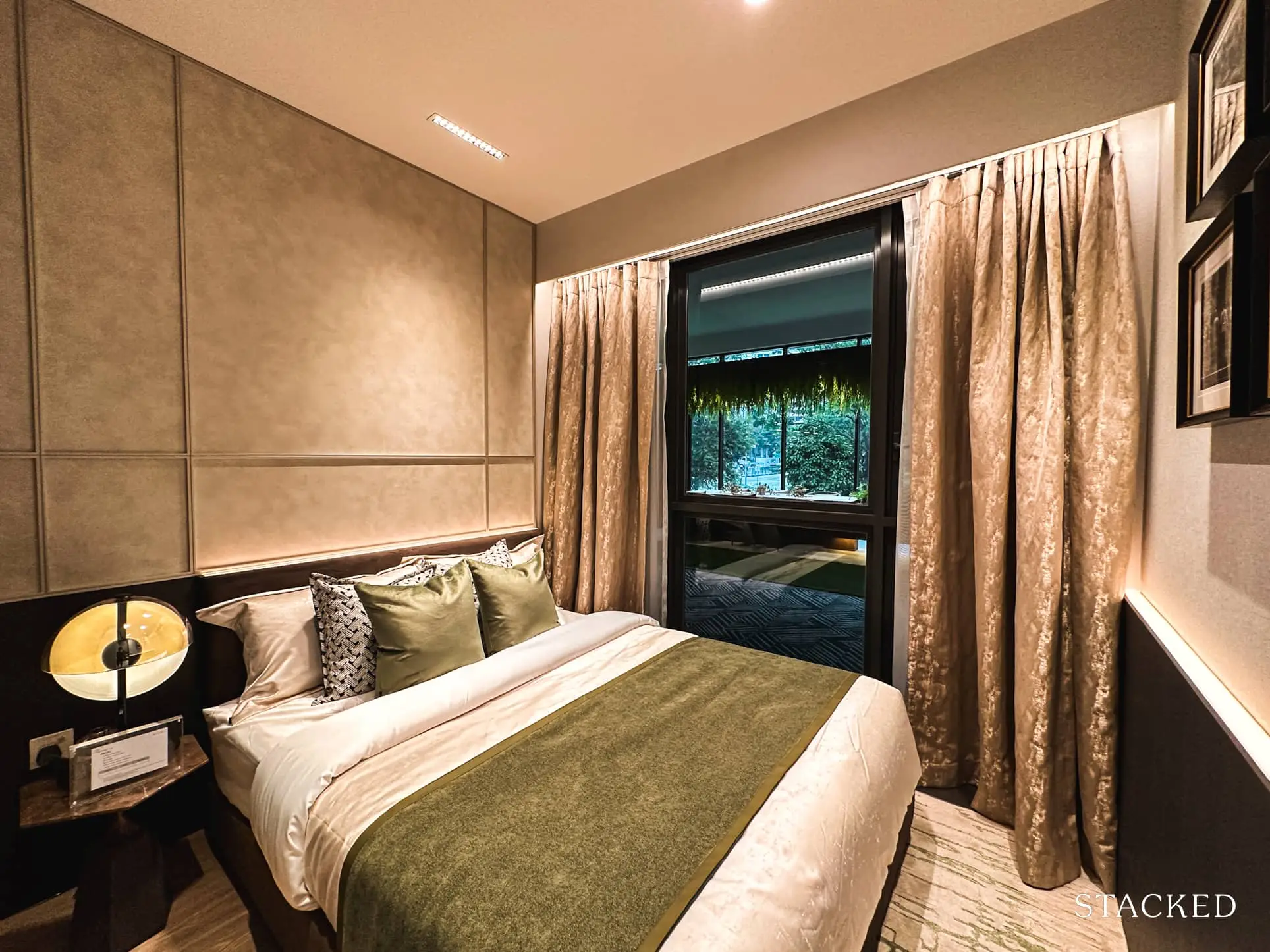 As previously mentioned, this layout has two ensuite bedrooms – which are the master bedroom and the junior suite. Together, the junior suite and the junior bath (as seen in this photo) are sized at 13.8 sqm, which is reasonable when compared to most new launches.
In this case, it comes with floor-to-ceiling windows for natural lighting and can accommodate a queen-sized bed, a built-in wardrobe and a bedside table comfortably.
For those living with their parents or in-laws, this junior suite is definitely suitable as the location is set away from the other bedrooms.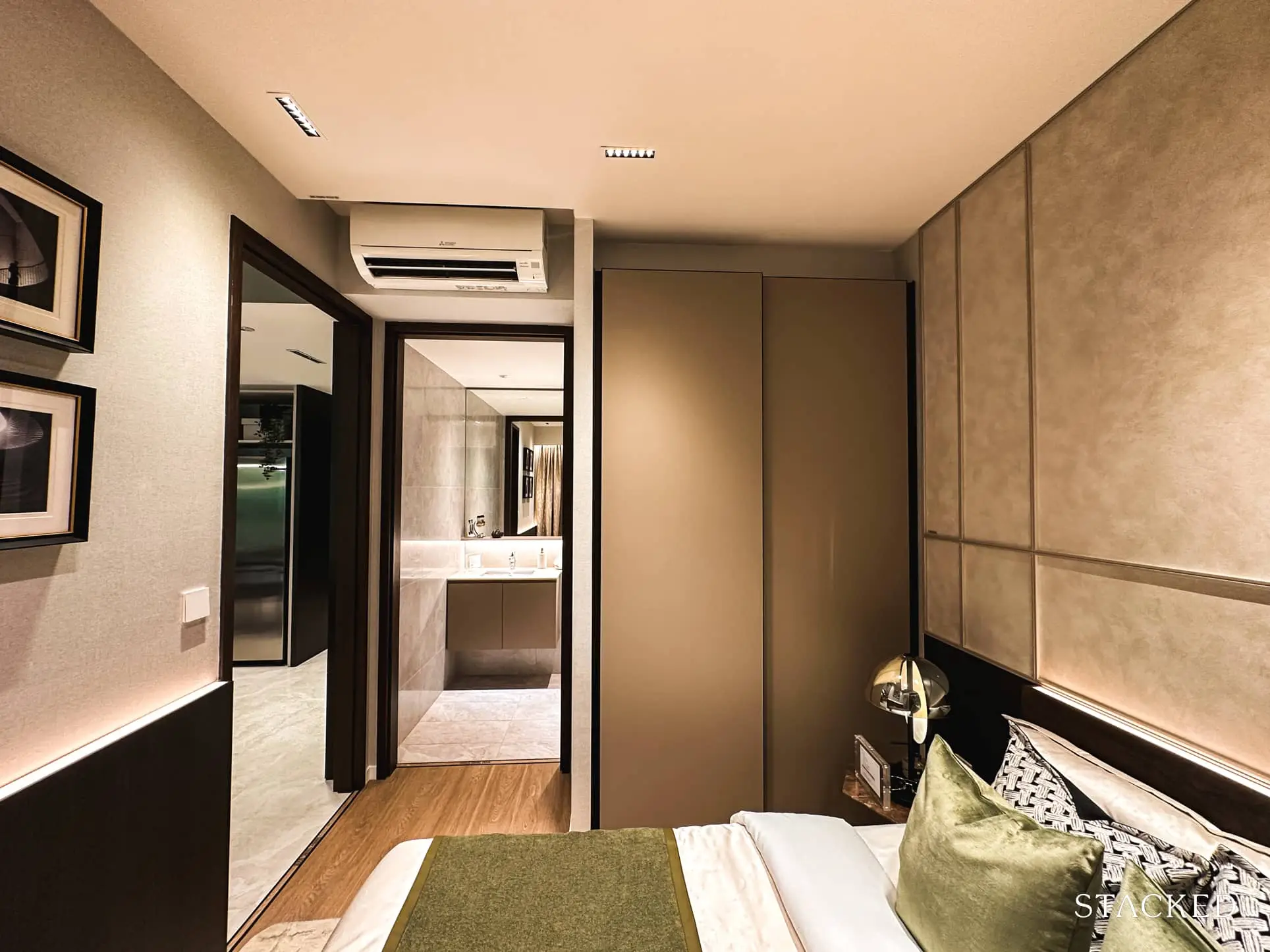 As standard, the two-panel built-in wardrobe is provided in the junior suite, too.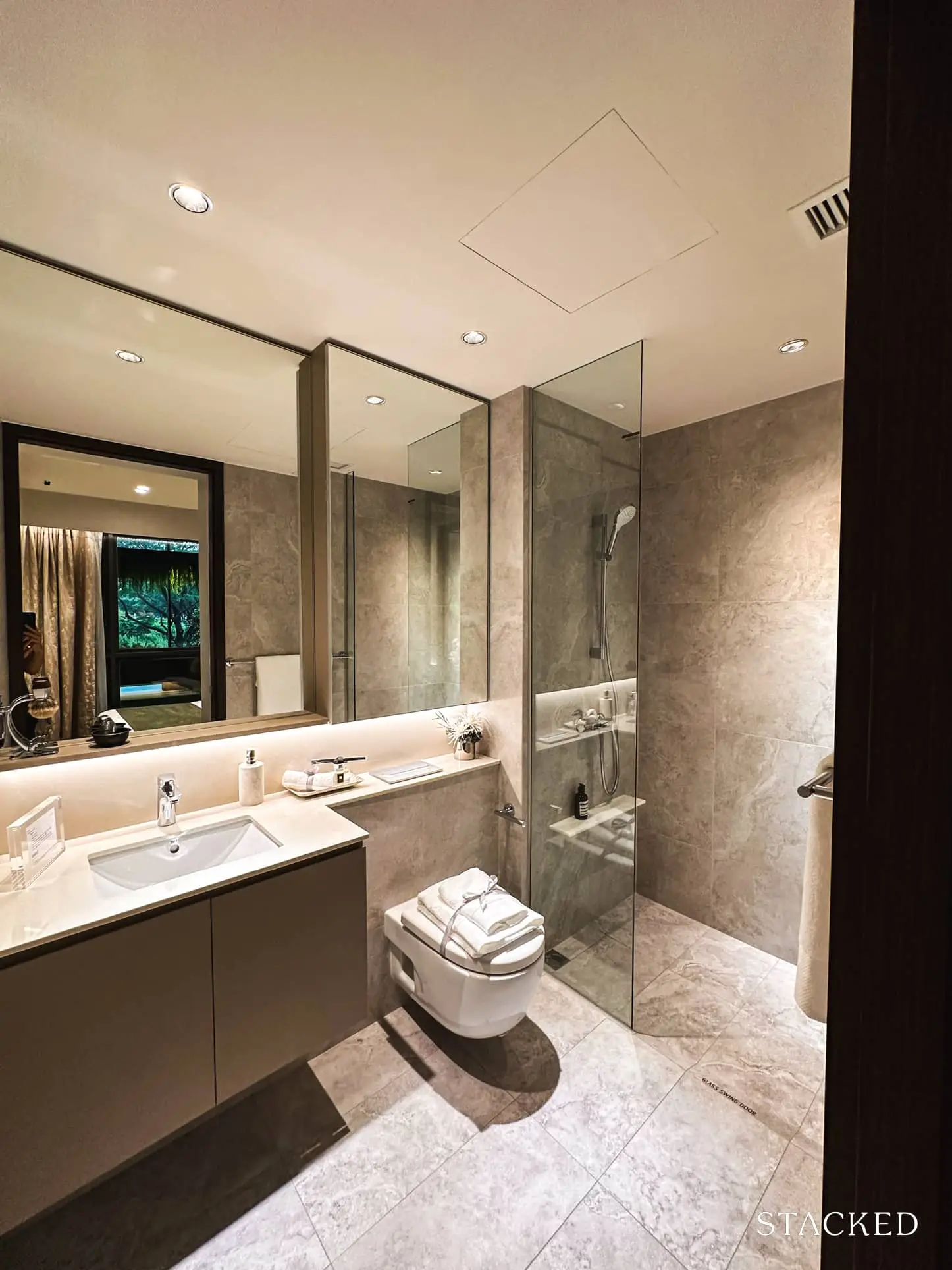 Taking a look at the junior bath, it does not have any windows, which unfortunately means that it would have to rely on mechanical ventilation. The wall-hung WC and basin are from Roca, whereas the shower mixer is from Hansgrohe.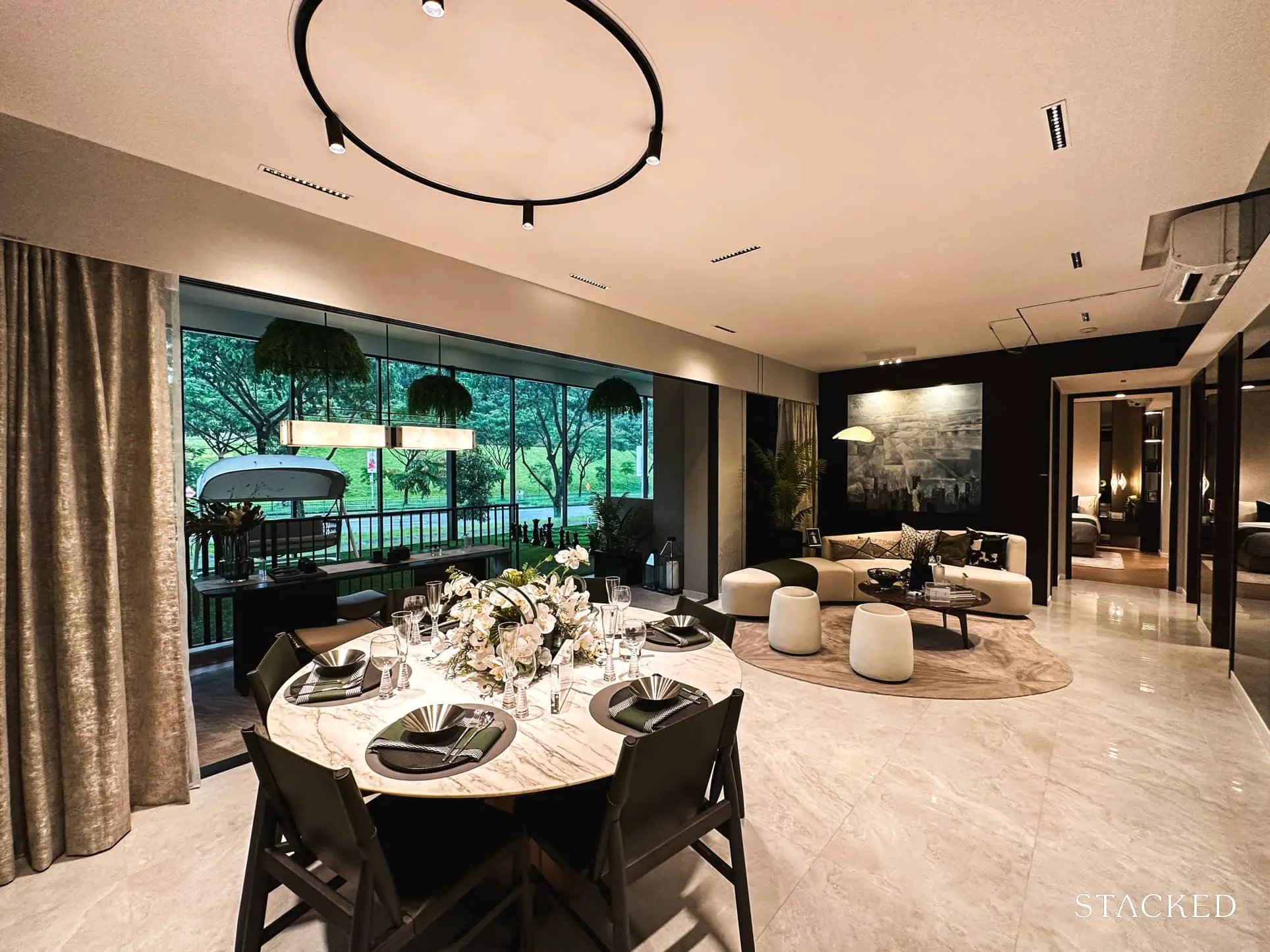 Now let's move back to the common area. From this angle outside the junior master, you can see just how large the common living/dining area is.
But as mentioned, this was because the IDs chose to knock down the flexi area (4.9 sqm) and combine it with the rest of the living and dining area (40.3 sqm). This gives it 45.2 sqm of common space, which is quite impressive, even for condo standards.
The landscape layout, accompanied by the spacious balcony, does a good job at making the space perfect for huge families and can accommodate a 6-seater dining set and huge sofa set without making it feel cluttered.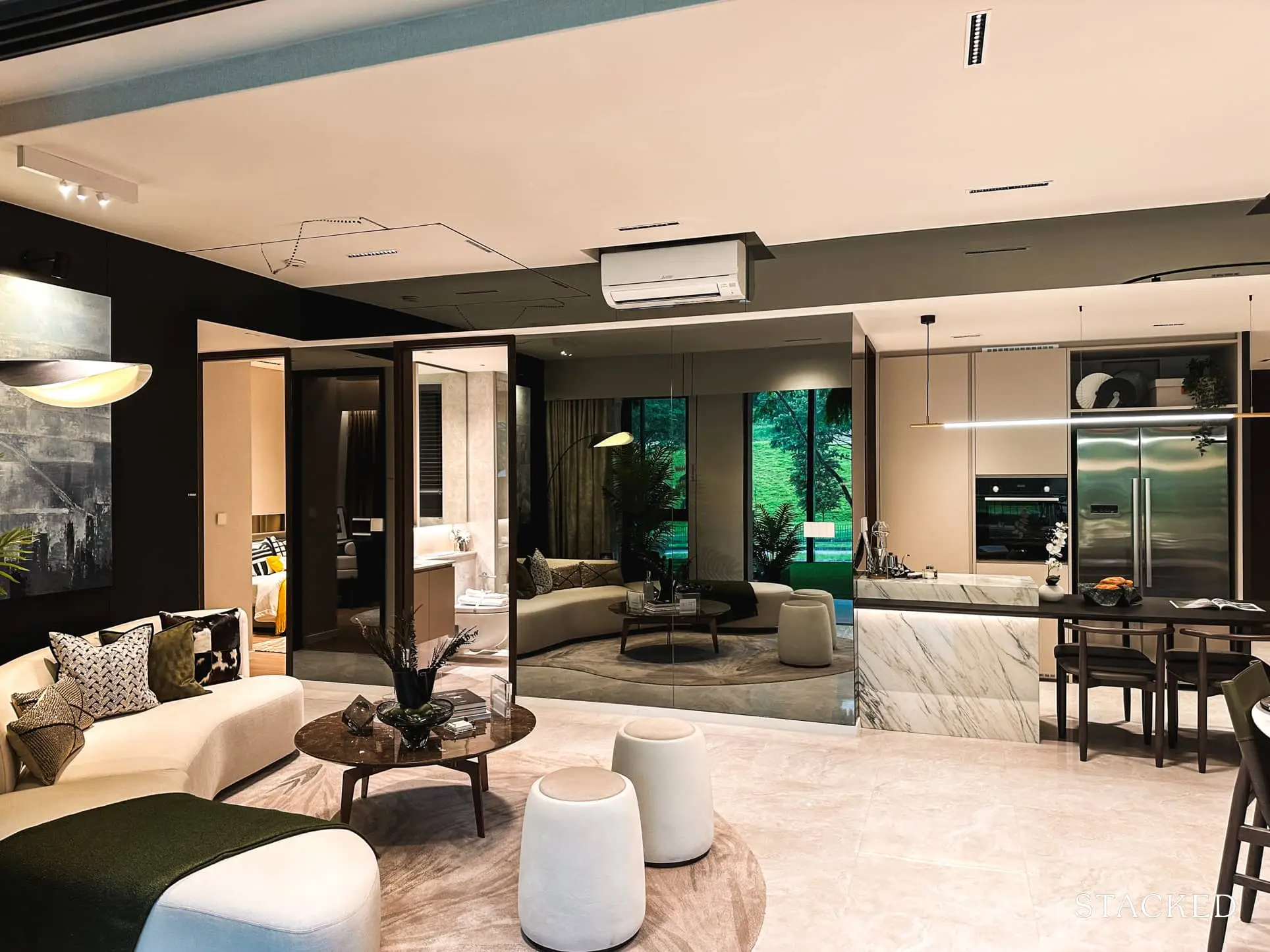 Of course, for homeowners who choose to retain the flexi area, the space would be smaller than this, but I think the IDs did a good job at showcasing the space's potential.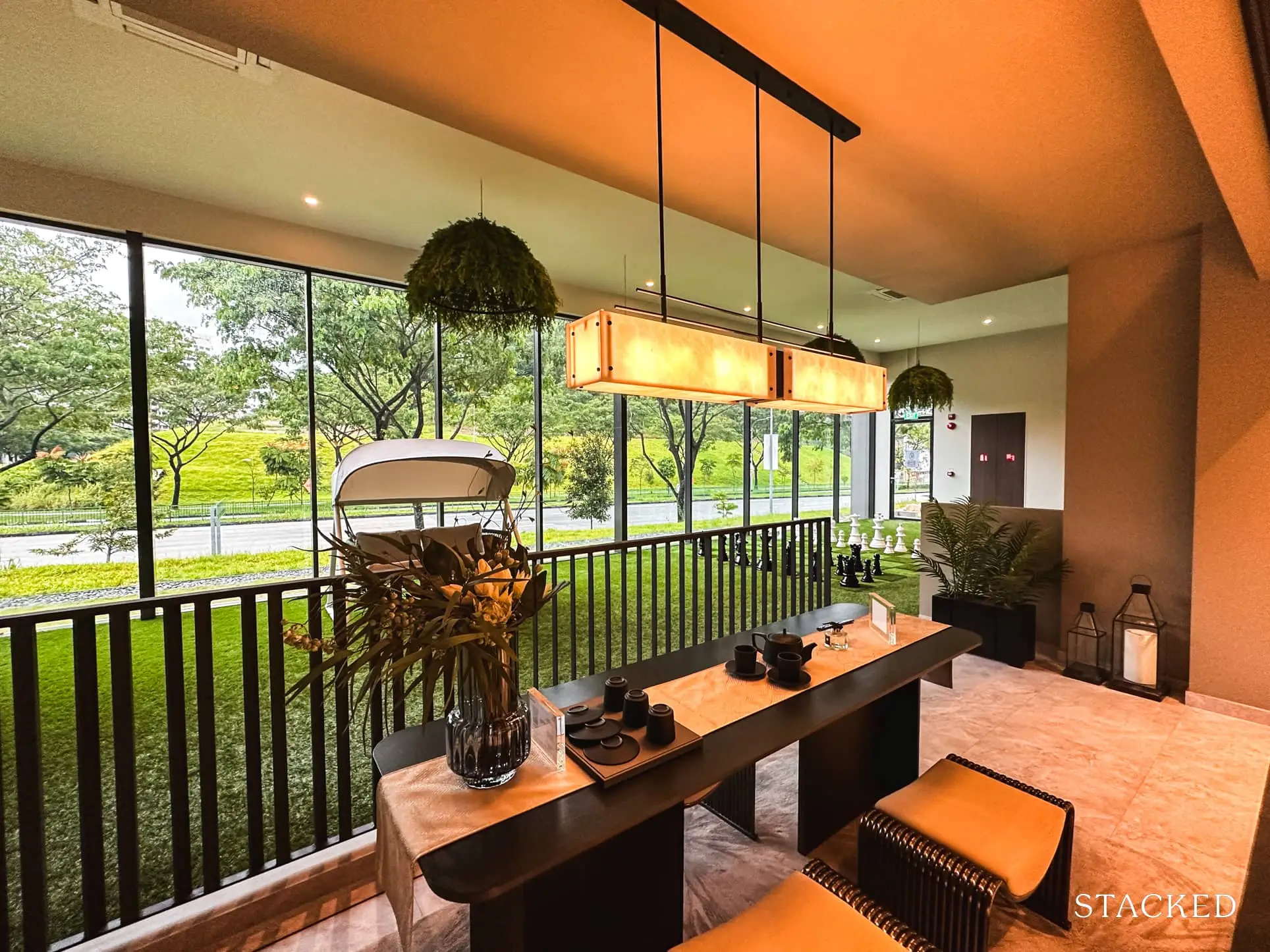 The balcony also plays a part in elongating the space since it spans from the dining to the living area. Sized at 11.6 sqm, this space is great for creating a chill-out spot (like what the IDs have done here) or even a cook-out area for families who frequently host parties.
All balconies do come with an electrical point but again, water points are only available in patio units.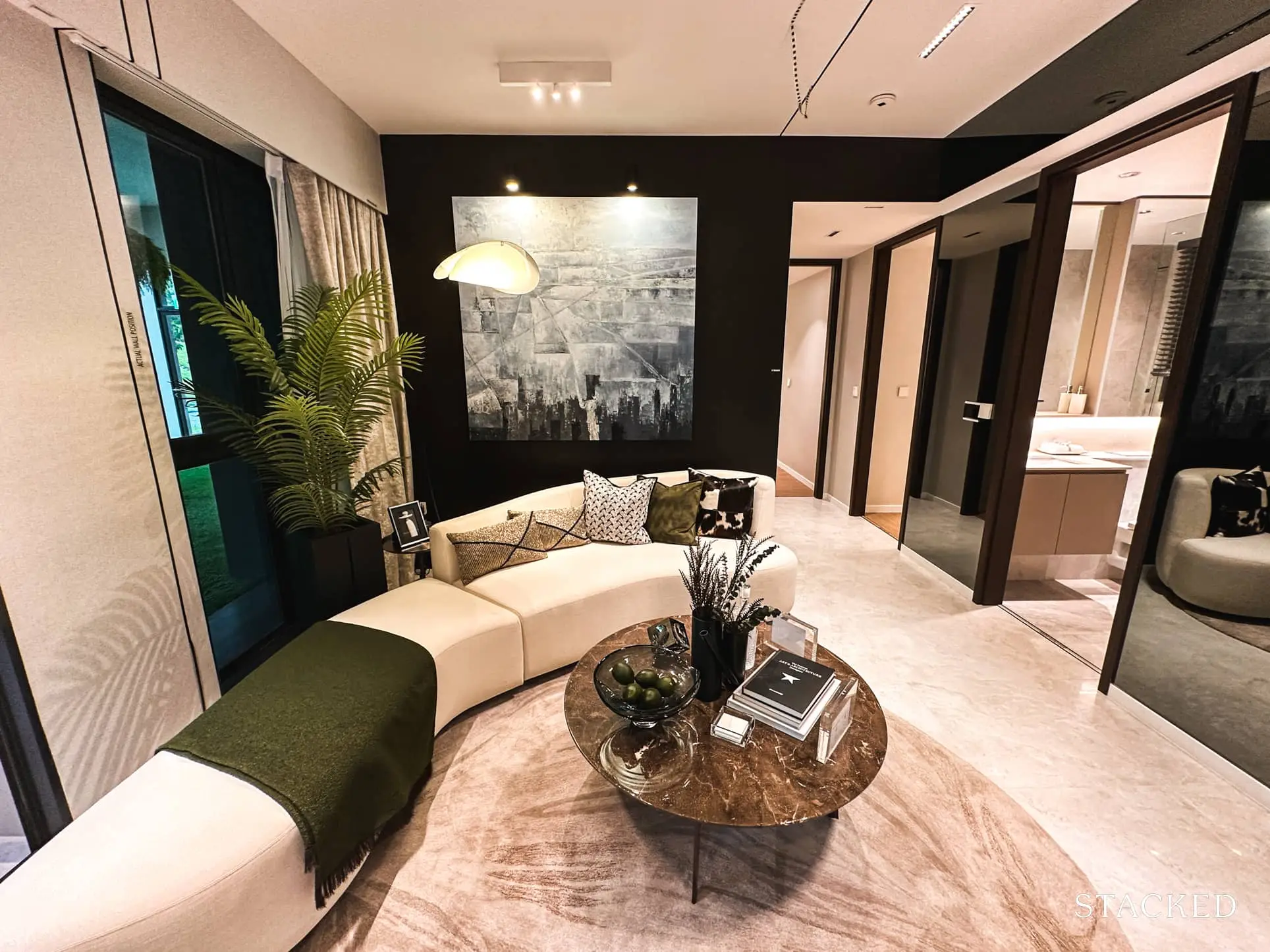 As for the living area, again you should note that this is supposed to be the Flexi area and that the sofas are flushed into the walls to maximise the space. Furthermore, with this layout, there isn't a wall to place the TV console.
Seeing that the area is quite spacious, homeowners should have plenty of space to play around to create a sensible living space to accommodate the entire family.
Let's move on to take a look at the common bathroom, which would be shared amongst Bedrooms 3 and 4, as well as guests.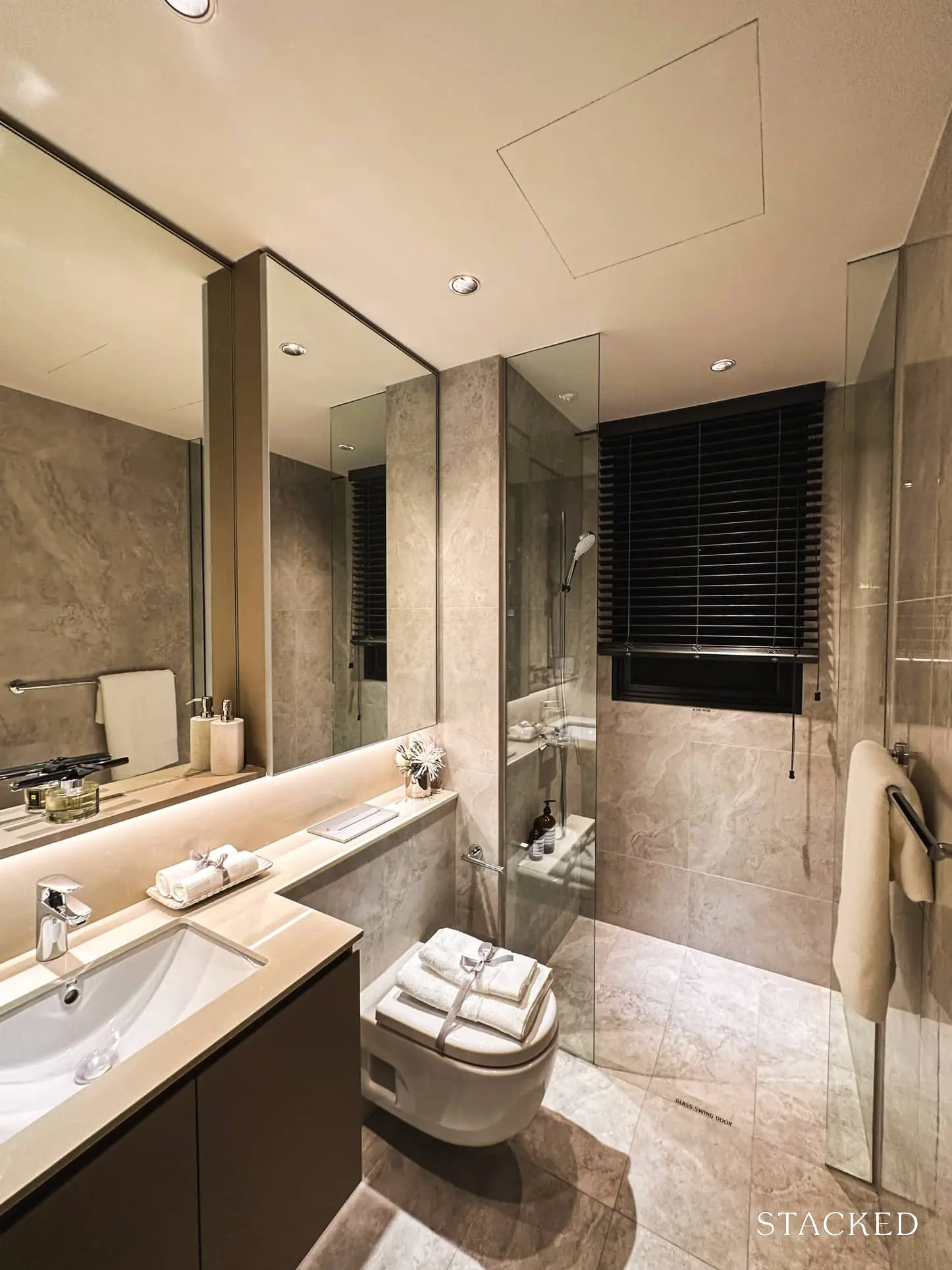 Sized at 4.1 sqm, it has a similar theme to the Junior Bath, with the addition of a window for natural ventilation. There's storage behind the mirror and under the sink to stow away any sundries, too.
As standard, the wall-hung wc and basin provided are from Roca, whereas the shower mixer is from Hansgrohe.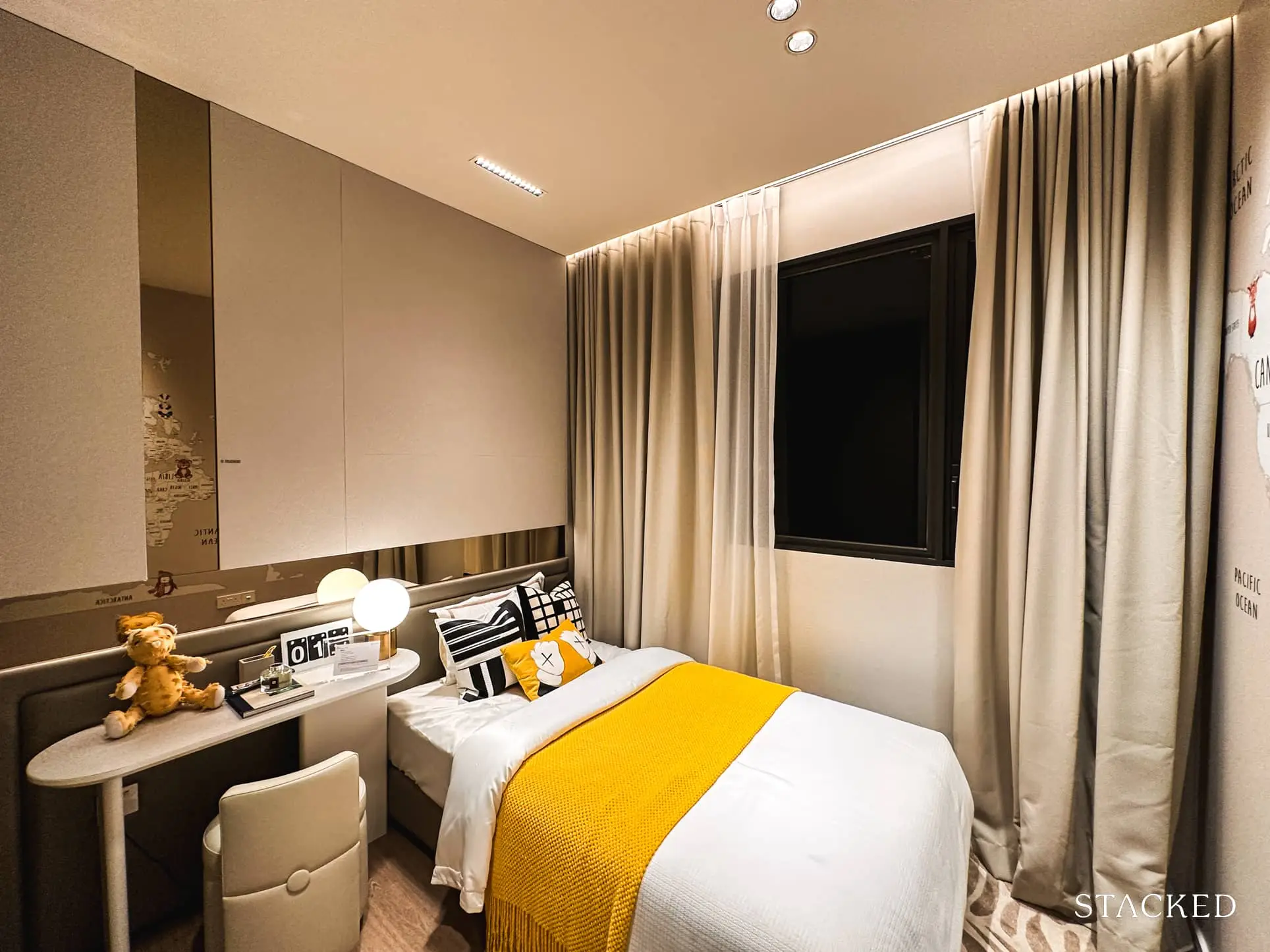 Bedroom 4 is sized at 8.7 sqm, which is within the usual standards of new launches today. On a less positive note, the AC ledge is located at the windows, so you won't get to enjoy the full floor-to-ceiling windows.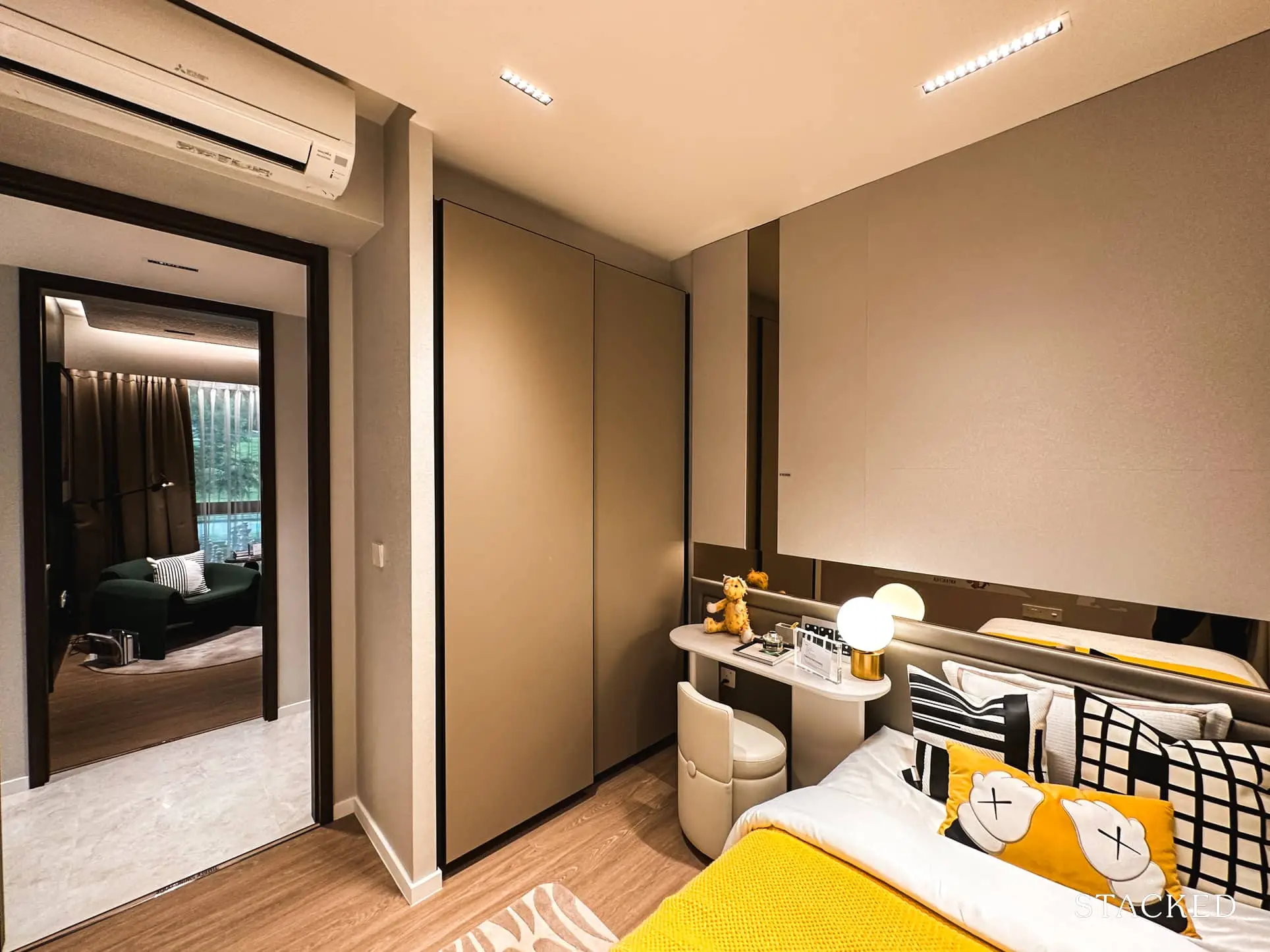 While this is a common ID style that I've seen in many other show flats, I notice that with this layout it might be tough to access the wardrobe, so it's really not the most practical.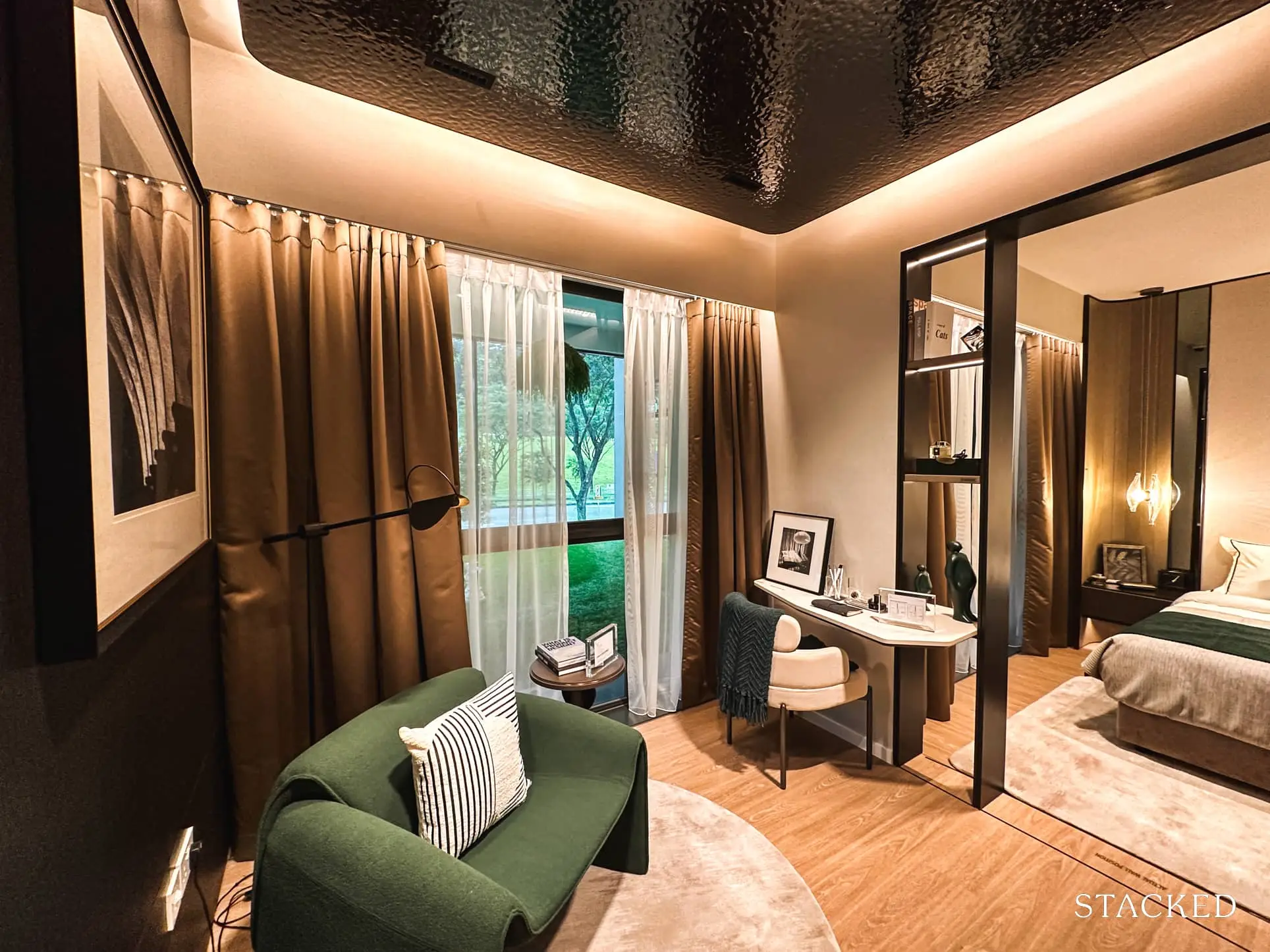 On the other hand, Bedroom 3 is sized at 8.9 sqm and is marginally bigger than Bedroom 4. However, seeing that it has floor-to-ceiling windows, it would help to bring more light to the room.
The IDs have chosen to combine this bedroom with the master bedroom and it serves as a relaxing cum vanity area for the homeowners, which works well for those who like to enjoy a bigger space.
The flexible nature of the layout also means that you can reconfigure the space to your needs. Seeing that Bedroom 3 is also located next to the Flexi area, there's also the option to combine those two spaces together and create a bigger bedroom.
As standard, a double-panel built-in wardrobe (similar to the common bedroom and junior suite) is provided, too.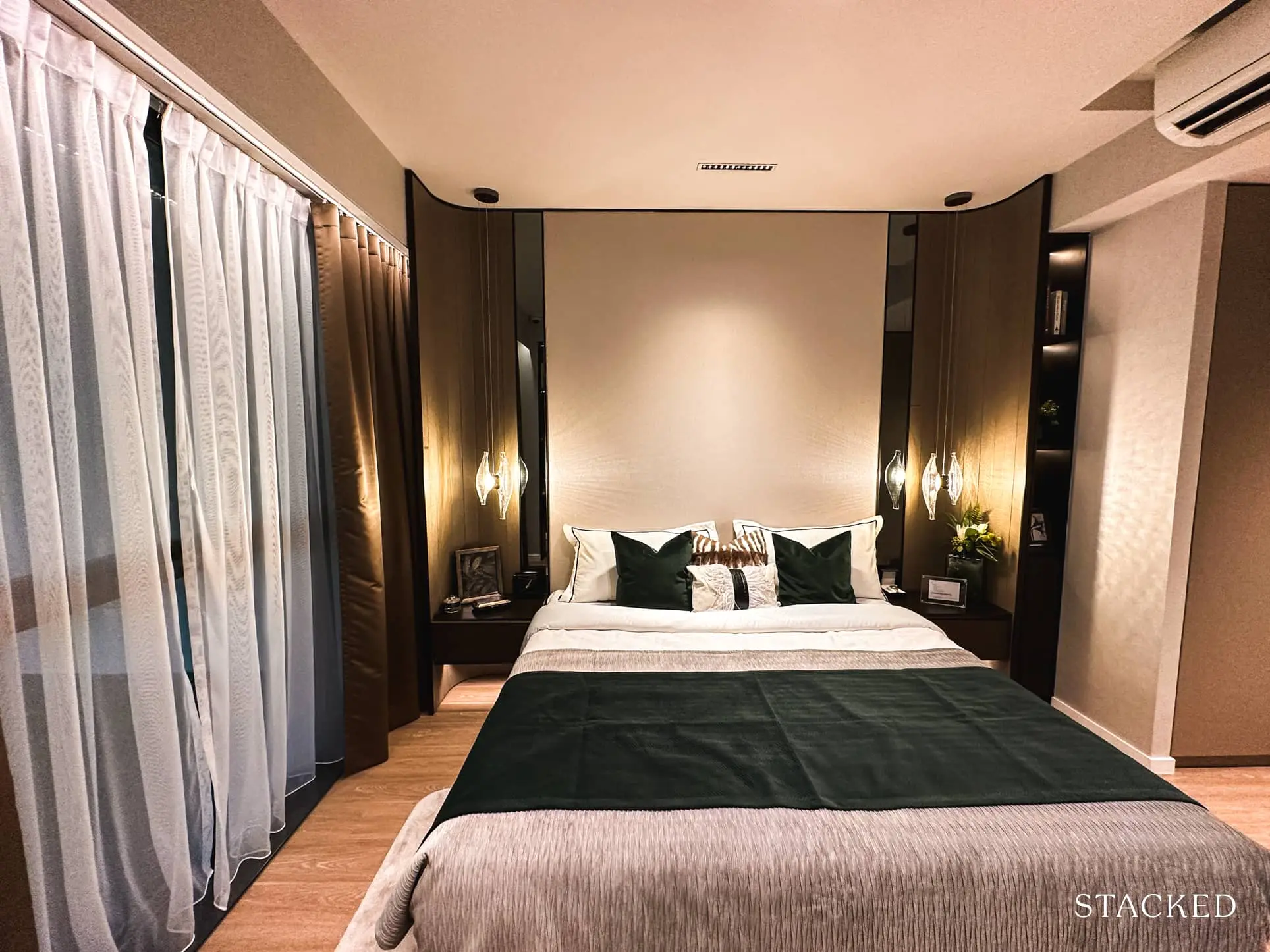 Last but not least, let's take a look at the master bedroom.
Along with the master bathroom, it is sized at 20.7 sqm, which is spacious for today's new launch standards. It can fit a King-sized bed, two bedside tables and even a walk-in closet.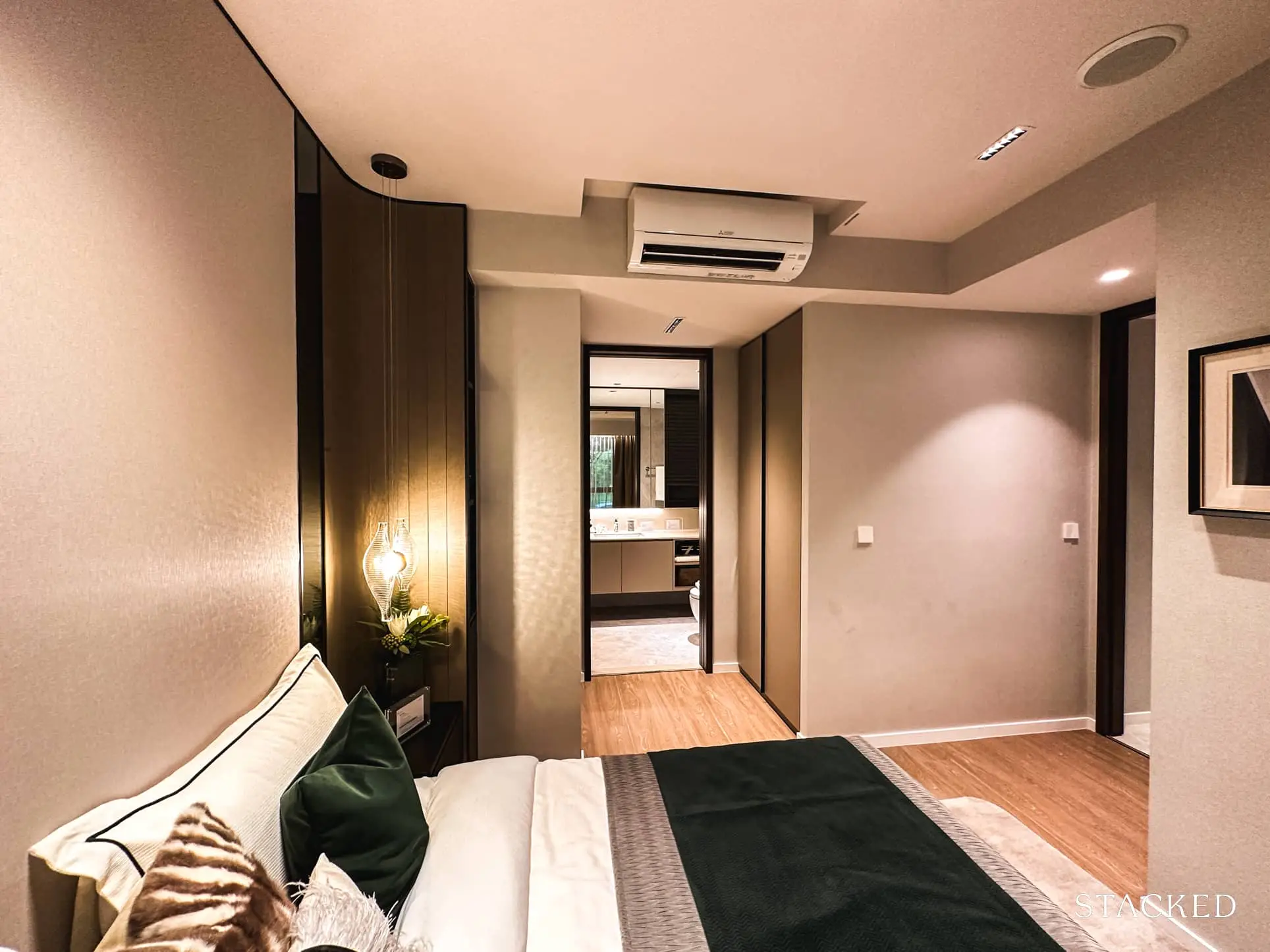 I like the concept of the walk-in wardrobe in front of the bathroom as it does make getting ready in the morning more seamless. Having a his-and-hers area is also great for homeowners who like a little bit of individuality in their space.
On the same note, the finishing for the closets is the same as the common bedrooms.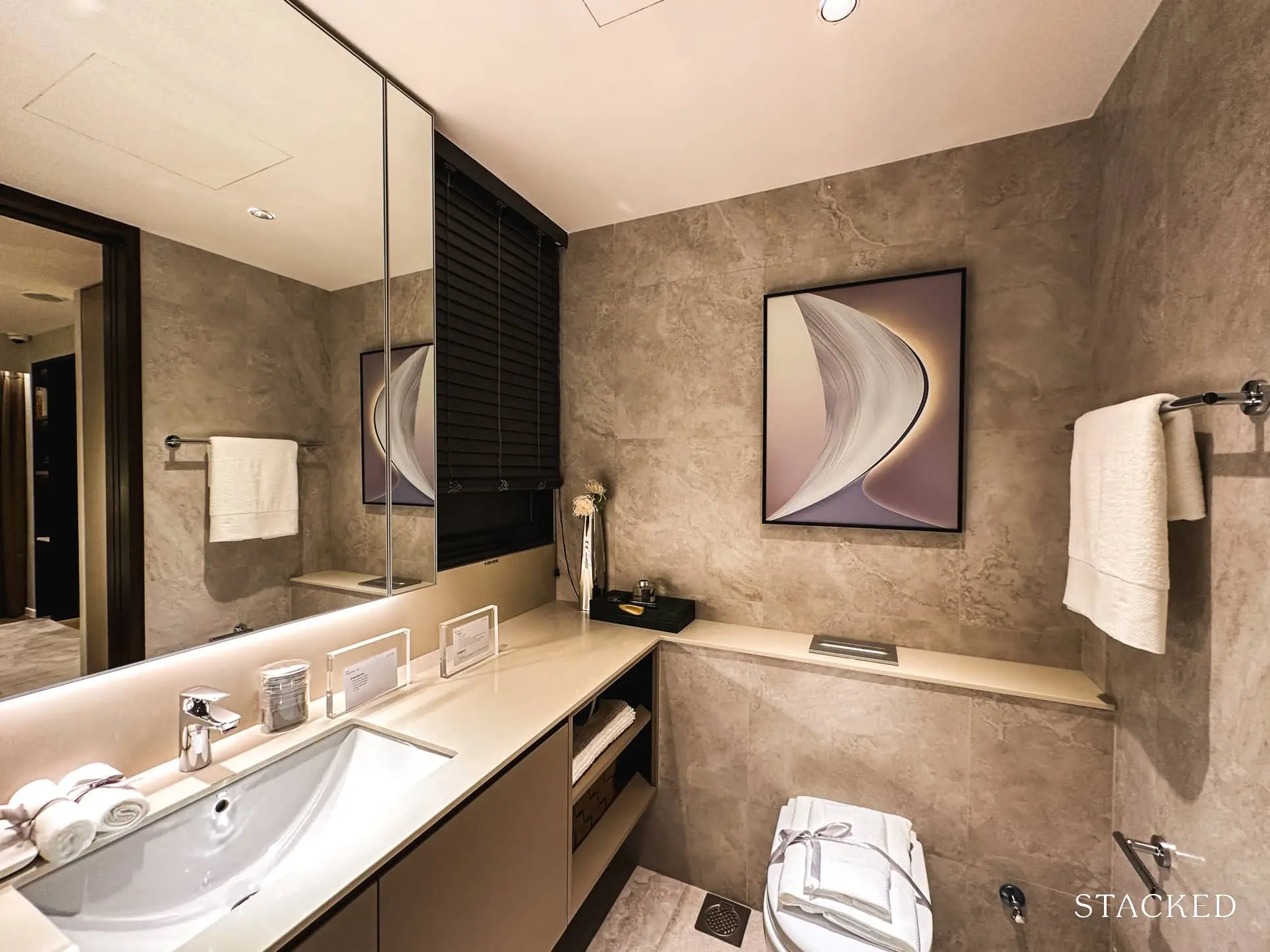 Lastly, let's step into the master bathroom.
The clever design chosen by the developers has been optimised to maximise countertop space and storage areas. Notably, the storage extends deep into the corners – perfect for keeping bulky items conveniently out of sight.
There is also a small window near the WC that provides a source of natural ventilation and there is an elevated touch with the inclusion of a rain shower.
As a standard, the bathroom is equipped with a wall-hung WC and basin from Roca, complemented by a high-quality rain shower and shower mixer set from Hansgrohe.
Altura Location Review
When it comes to ECs, it's often expected that at such price points, they would not be the closest located to an MRT station. And for Altura's case, it is no exception.
Currently, the nearest MRT station is located at Bukit Batok MRT (North-South line), which requires around a 6-minute drive. With that being said, it is one train stop away from Jurong East Station (North-South and East-West line), which does give it access to plenty of amenities and malls like JEM and Westgate.
Once the Jurong Region line commences in 2030, the nearest MRT station would then be at Tengah Plantation MRT, which is around a 15-minute walk away. Another alternative can be to take the bus, which connects to landmarks like Bukit Batok Interchange, Bukit Gombak Station and Choa Chu Kang Interchange.
While it's not necessarily close to other parts of Singapore, the location would be best appreciated by those who frequent Jurong and the West side of Singapore, seeing that Jurong Lake District is less than a 10-minute drive away.
Some convenient options nearby to grab necessities like food and groceries would be at Le Quest Mall, West Mall and the upcoming Harmony Village Hawker Centre.
In terms of schools, the neighbourhood has quite a few exciting additions, including the relocation of ACS Primary and Bukit View Primary, making both schools within 1 km of Altura.
This would be a big draw for young families who are looking to enter either school. It should also be noted that once the Jurong Region line is ready, access to the famously secluded NTU would be much more convenient, too.
Last but not least, the neighbourhood is near Bukit Batok Hillside Park. Although there won't be any unblocked views to enjoy, it gives residents a good option to enjoy the outdoors.
Public Transport
| | | |
| --- | --- | --- |
| Bus Station | Buses Serviced | Distance From Condo (& Est. Walking Time) |
| Opp Blk 465aID: 40371 | 991 | 150m, 2-min walk |
| Blk 464AID: 40369 | 991 | 187m, 3-min walk |
| Blk 467 CPID: 40379 | 991 | 237m, 3-min walk |
Nearest MRT:
Tengah Plantation MRT (Jurong Region line), 970m, 15-min walk
Bukit Batok MRT (North-South line), 1.6km, 20-min walk
Bukit Gombak MRT (North-South line), 1.6km, 20-min walk
Schools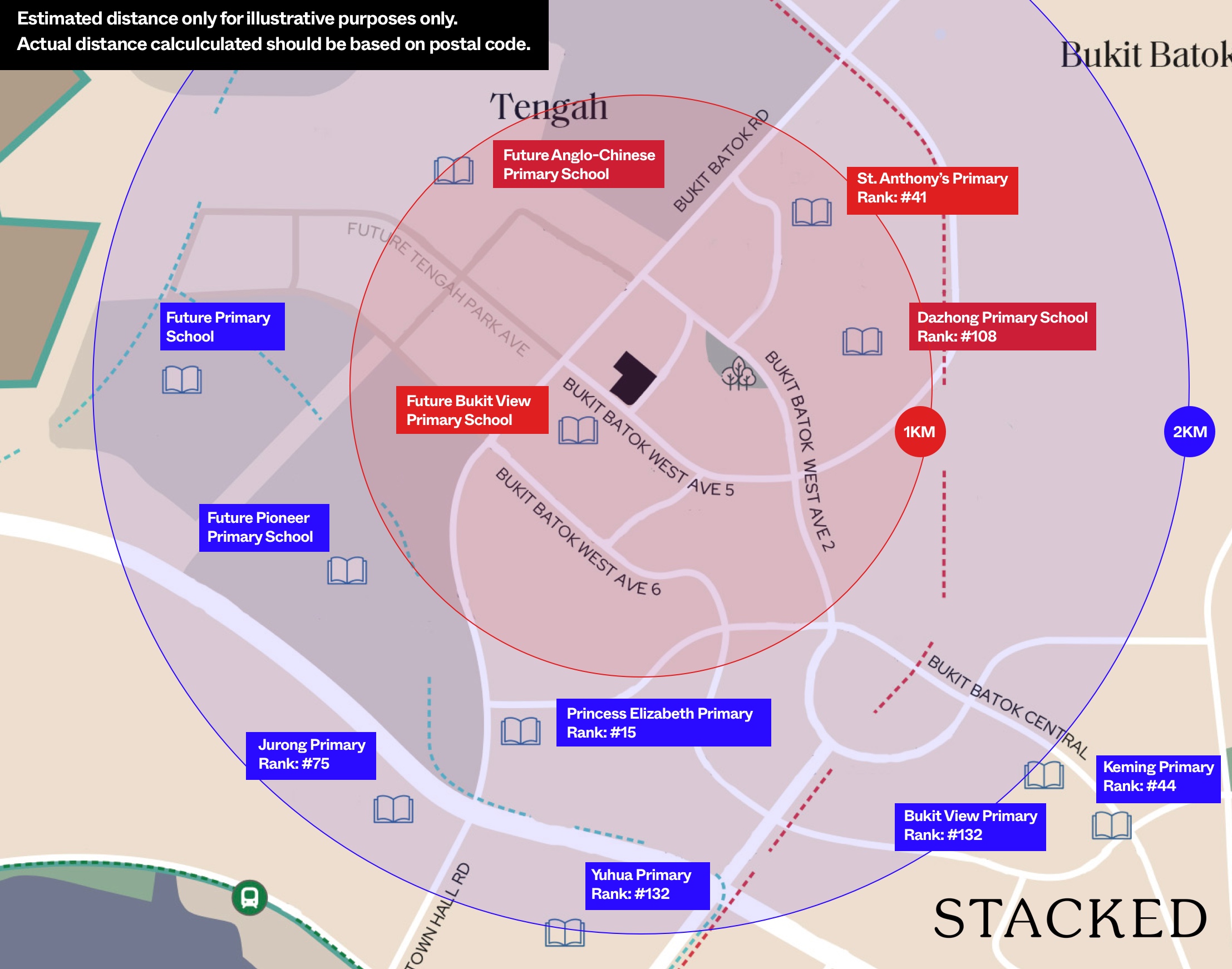 | | |
| --- | --- |
| School | Distance From Condo (& Est. Walking/Driving Time) |
| Future Bukit View Primary School (Relocated) | Within 1km, 1-min walk |
| Future Anglo-Chinese Primary School (Relocated) | Within 1km, 8-min walk |
| St. Anthony's Primary School | 1.6km, 4-min drive |
| Dazhong Primary School | 2.2km, 6-min drive |
| Princess Elizabeth Primary School | 2.5km, 5-min drive |
| Lianhua Primary School | 2.9km, 7-min drive |
| Yuhua Primary School | 3.6km, 8-min drive |
| Swiss Cottage Secondary School | 1.9km, 5-min drive |
| Bukit Batok Secondary School | 2.6km, 6-min drive |
| Hillgrove Secondary School | 2.9km, 7-min drive |
| Bukit View Secondary School | 3.2km, 8-min drive |
| Dunearn Secondary School | 3.8km, 8-min drive |
| Millennia Institute | 2km, 5-min drive |
| Dulwich College (Singapore) | 2.8km, 6-min drive |
Malls / Amenities
| | |
| --- | --- |
| Destination | Distance From Condo (& Est. Driving Time) |
| Le Quest Mall | 500m, 7-min walk |
| West Mall | 2.5km, 6-min drive |
| Bukit Batok West Shopping Centre | 2.8km, 6-min drive |
| Tengah Town Centre (Upcoming) | 3.5km, 8-min drive |
| Hillion Mall | 3.8km, 8-min drive |
| Westgate | 4.8km, 10-min drive |
| JEM | 5km, 10-min drive |
Private Transport
| | |
| --- | --- |
| Key Destinations | Distance From Condo (Fastest Time at Peak Hour [0830] Drive Time) |
| CBD (Raffles Place) | 21.3km, 28 – 65-min drive |
| Jurong Lake District | 4.8km, 9 – 22-min drive |
| One-north Business Park | 14km, 20 – 45-min drive |
| Mapletree Business City | 16.6km, 24 – 50-min drive |
| Orchard Rd | 18km, 22 – 50-min drive |
| Harbourfront Centre (Vivo City) | 18km, 24 – 50-min drive |
| Suntec City | 24.7km, 30 – 55-min drive |
| Paya Lebar Airbase (by 2030) | 25.3km, 30 – 60-min drive |
| Tuas Port (by 2040) | 28km, 30 – 55-min drive |
| Changi Airport | 33.8km, 35 – 60-min drive |
Immediate Road Exits:
Turn right along Bukit Batok West Avenue 8 and turn right onto Bukit Batok West Avenue 2
Turn left along Bukit Batok West Avenue 8 and turn right onto Bukit Batok West Avenue 5
Altura EC Developer Review
Altura is a 99-year lease development designed for families and functional living and is a proud product of the joint venture between Qingjian Realty and Santarli Realty.
In fact, this is not the first time both companies have worked together, with the highly-received Tenet EC under both of their belts.
Part of the Hong Kong-listed CNQC Qingjian Group, Qingjian Realty has an extensive global footprint in the real estate segment across countries like Singapore, Hong Kong and Macau.
As one of the pioneers that spearheaded smart living and Flexi layout options in Singapore, Qingjian Realty has launched Singapore's first ECs that offer smart homes. Some of their notable projects include The Visionaire, JadeScape, Tenet and Forett @ Bukit Timah.
Unit Mix
Unit Type
Type
Size (sq ft)
No. of Units
Percentage
3 Bedroom Premium + Study
C1, C2
980 – 1,109 sq ft
180
50%
4 Bedroom Deluxe + Flexi
D1, D2
1,206 – 1,346 sq ft
105
37.5%
4 Bedroom Premium + Flexi
D3
1,432 – 1,604 sq ft
30
5 Bedroom Premium + Flexi
E1
1,539 – 1,711 sq ft
45
12.5%
Offering a total of 360 units, the unit types range from 3 to 5-bedroom apartments, with 50% of the unit mix catered to the 3-bedroom + study apartments. Like most EC products, there are not many variations to each unit type, with only the 4-bedroom layouts offering either a deluxe or premium unit type.
Considering that it's an EC targeted at young families and nearby HDB upgraders, it's not surprising that Qingjian went ahead only with bigger units for this project.
One highlight at Altura is that they have a flexible layout with many hackable walls. Not only is this meant to adapt to the homeowner's growing needs, but it's also great for those who like to have a tighter reign on the design of their homes.
Altura EC Stack Analysis
Development Site Plan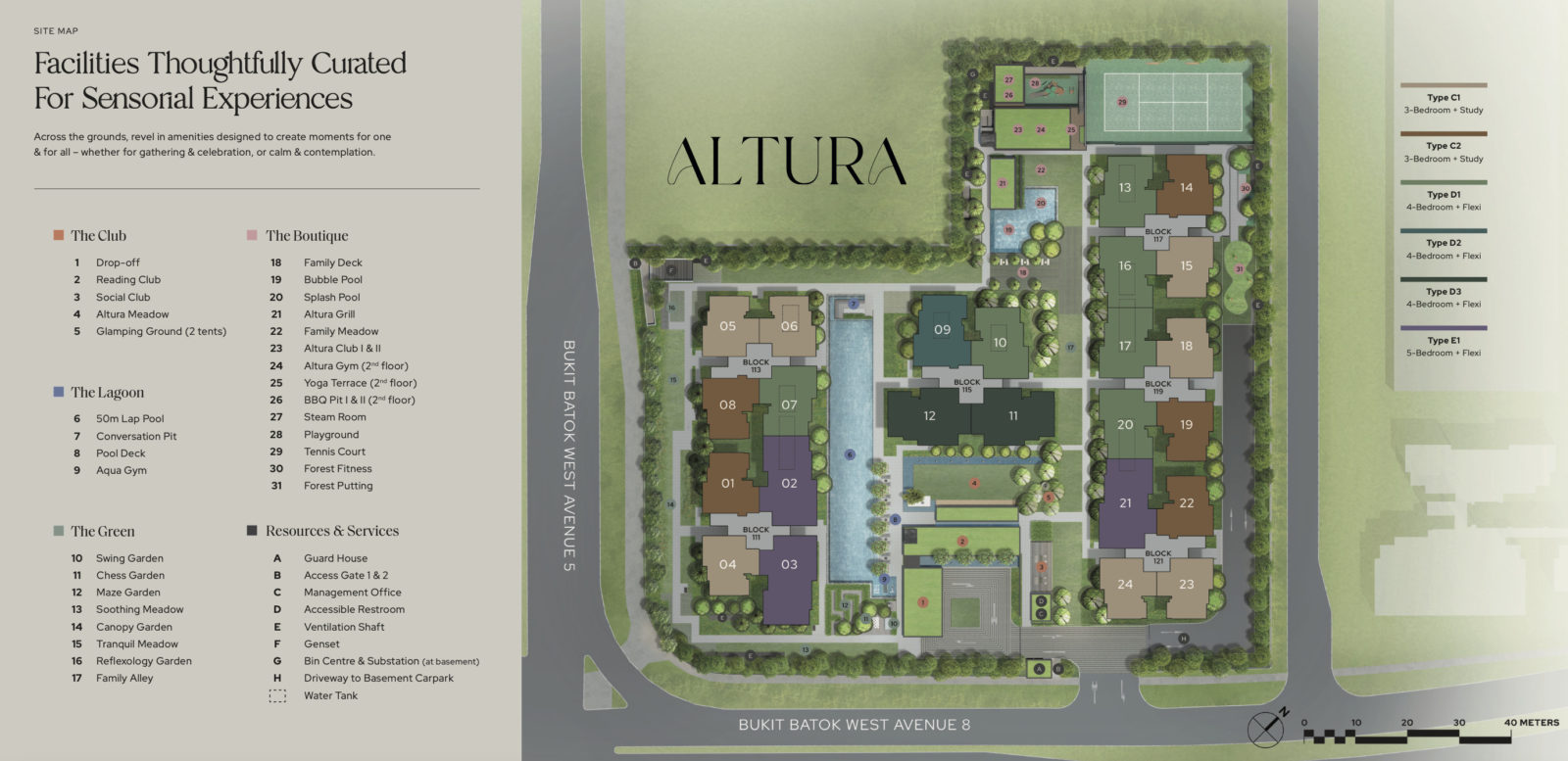 Sitting on a largely squarish plot of land sized at 134,000 square feet, the ingress and egress of Altura is located along Bukit Batok West Avenue 8, which would be shared amongst the neighbouring projects.
As previously mentioned, there are 360 units offered at Altura which spans across three residential blocks that are 15 storeys high.
These blocks face either along Bukit Batok West Avenue 5, Bukit Batok West Avenue 8 (another residential project) or towards the HDB located beside the site – either way, views will be limited for this project.
Understandably, the developers would like to maximise the site area while making the space feel as private and spacious as possible. As such, they have chosen to stagger the residential blocks in the shape of the letter 'H' while distributing the rest of the amenities in between the blocks.
The distance between Block 111/113 and 115 is around 18.7m, whereas blocks 117/119/121 are an estimated 54m. On the other hand, block 115 is around 13.7m away from block 117/119/121.
In terms of what's near you, a 7-storey multi-purpose car park and 17-storey HDB would be located right beside Altura and is located at least 21m away.
Regarding parking, the project features a basement car park with 360 lots (1:1 ratio) and 4 EV charging lots. Seeing that public transportation is not the most accessible, it's normal to assume most units would own at least one car.
There are two side gates at Altura, which can be found at the main entrance along Bukit Batok West Avenue 8 and another one is located along Bukit Batok West Avenue 5.
Best Stacks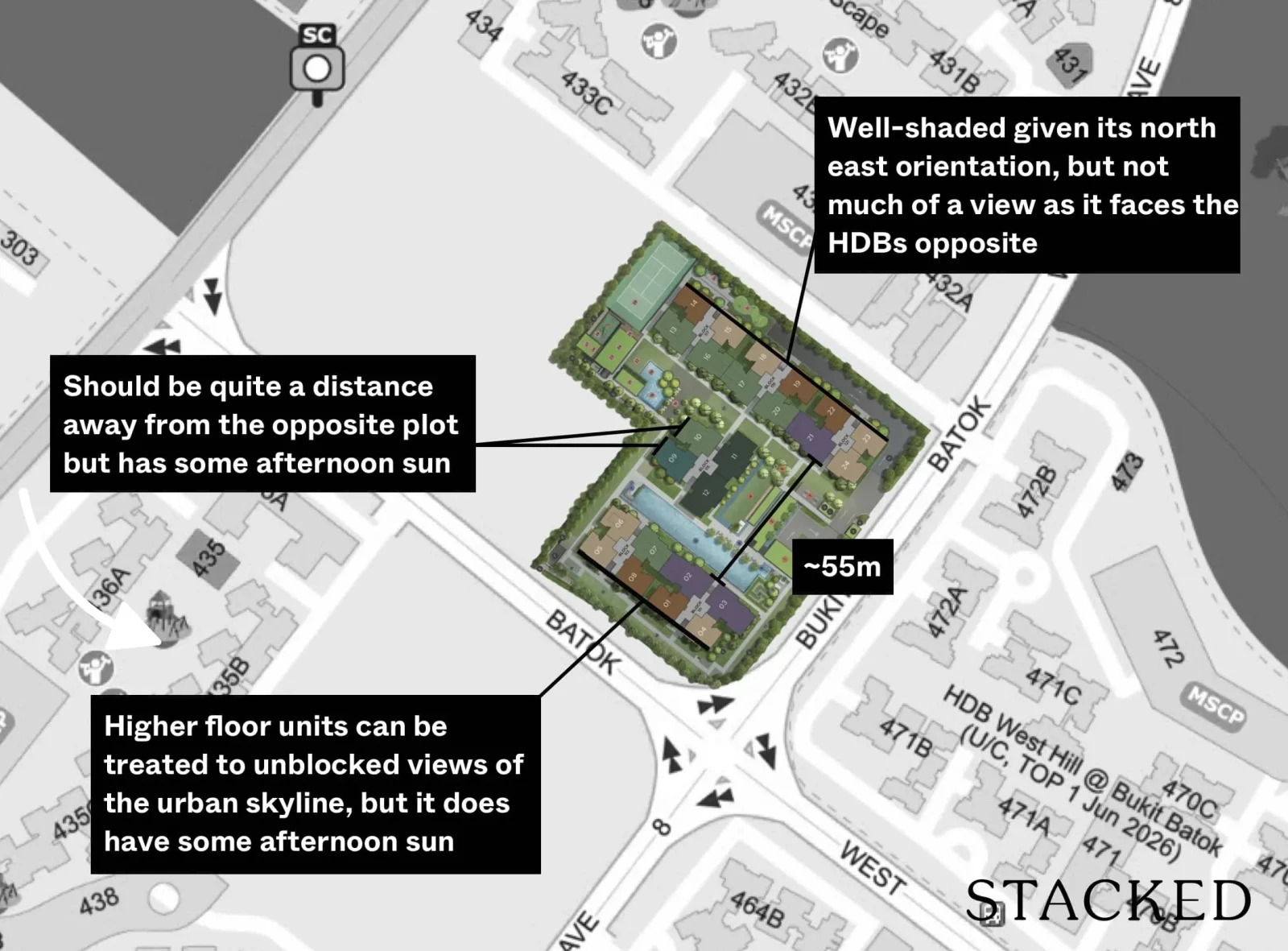 Like most developments, choosing the best stack would ultimately boil down to personal preference and three key variables, namely: views, afternoon sun and privacy.
While the majority of the neighbourhood is still undergoing massive development, it's noted on the Master Plan that Altura would be surrounded by other high-rise residential buildings. As such, it's important to manage expectations when it comes to views.
Block 111 & 113 – Stacks 01, 04, 05 & 08
These stacks are a mix of Type C1 and C2 units and overlook into the South-West direction. This means that these units would likely be exposed to some intensity of afternoon sun – homeowners who are more particular about this should take note.
In terms of views, it faces the main road of Bukit Batok West Avenue 5, which is directly adjacent to a plot zoned for education. For higher-level units, you might enjoy unblocked views of the urban skyline, which also translates to more privacy.
On the downside, since it does face the school, the roads would likely be busy and noisy during peak hours. Homeowners particular about noise and prefer a serene environment might want to take this into consideration.
Block 111 & 113 – Stacks 02, 03, 06 & 07
On the other hand, these stacks look inwards towards the facilities and 50m lap pool in the North-East direction.
Due to the placement of the blocks, Stack 6 would likely face the balcony of the opposite block & Stack 7 would be facing the plain facade. Stacks 2 and 3 (the 5-bedroom units) would enjoy around a 55m distance to Block 121 and enjoy views of the facilities and drop-off point.
The upside to this is that exposure to afternoon sun would be minimal for these stacks.
Block 115 – Stacks 09 & 10
Both stacks look towards the North-West direction towards the back of Altura and immediately beside a neighbouring project.
While there's no mention of the distance between these stacks and the next plot, it should be quite a gap away. Due to its orientation, it might have some exposure to the afternoon sun, too.
I reckon, especially for higher floor units, these stacks would have quite a good amount of privacy. Lower floor units might be more susceptible to noise from the facilities nearby.
It should also be noted for those who are looking at Type D2 layouts, Stack 9 would be your only option, so there's really not much to choose from.
Blocks 115 – Stacks 11 & 12
Looking towards Bukit Batok West Avenue 8 in the South-East orientation, these two stacks face the ingress and egress of Altura. Beyond that, it also faces another high-rise residential project, but the good thing is that it's quite a distance away.
Homeowners who prefer a more private environment can opt for higher-floor units as the lower floors would be quite close to either the lap pool or the common pathways.
Furthermore, both stacks are the only options available for homeowners interested in the Type D3 (the 4-bedroom Showflat unit), so there really isn't much option to choose from.
One upside is that these units would have minimal exposure to direct afternoon sun.
Block 117, 119, 121 – Stacks 13, 16, 17, 20, 21, 24
Let's move on to the third annexe of Altura, in which these stacks look inwards in the South-West direction. With that being said, these units would likely experience a certain exposure to the afternoon sun, so homebuyers looking for a cooling home should take note.
Stacks 17 and 20 in particular are facing the opposite block 115, which means they won't be able to enjoy unblocked views and would have neighbours facing into their units. The rest of the stacks, on the other hand, would face towards the general facilities of Altura.
Blocks 117, 119, 121 – Stacks 14, 15, 18, 19, 22, 23
Last but not least, these stacks look towards the upcoming residential projects in the North-East direction, making the units cooling and well-shaded. Stacks 14, 15 and 18 would be facing a seven-storey Multi Storey Car Park with a 27m distance, whereas stacks 19, 22 and 23 would be facing a 17-storey HDB block, which means that there won't be much of a view to enjoy.
Higher units would likely be able to enjoy more privacy, too.
Afternoon Sun Analysis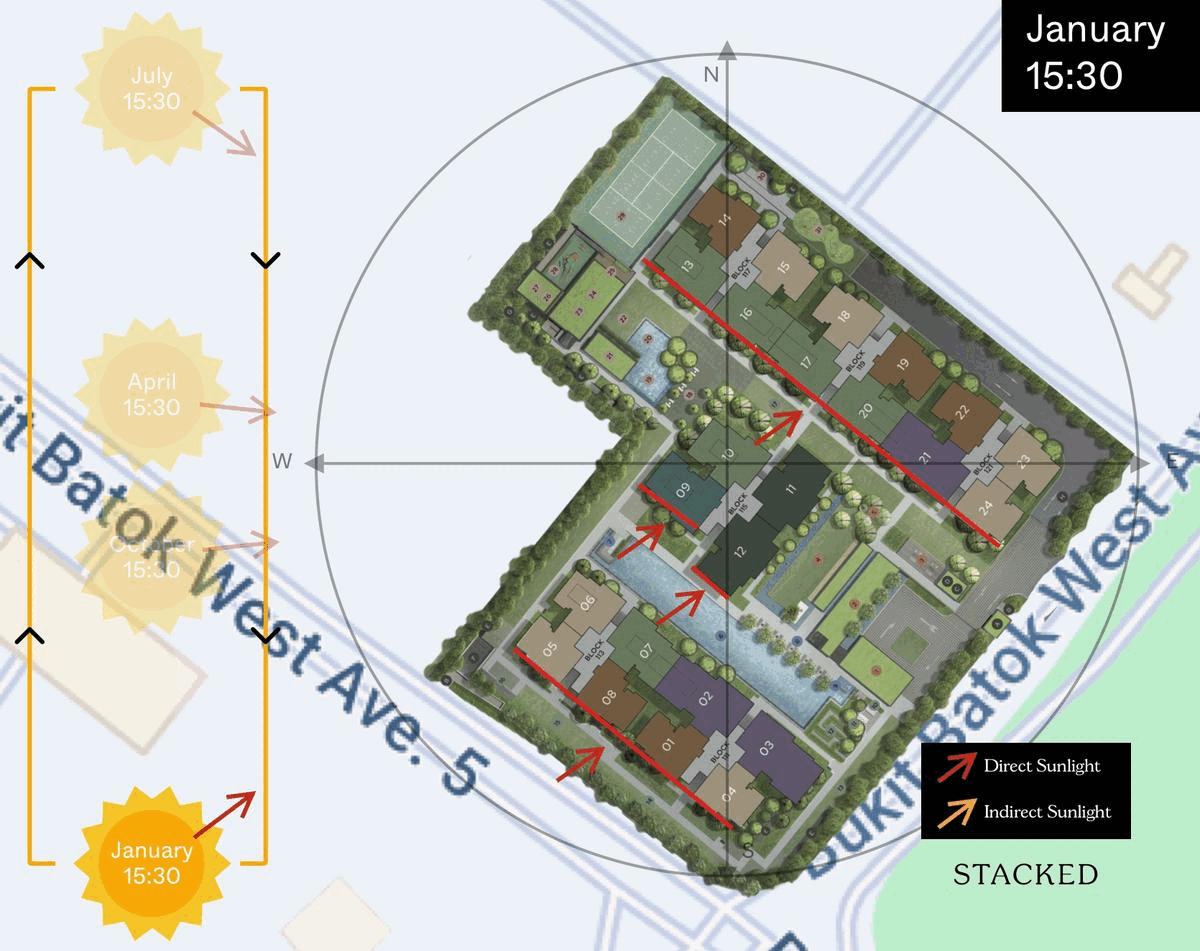 Altura Price Analysis
| | | | | | |
| --- | --- | --- | --- | --- | --- |
| Development | District | Average Psf | Completion | Units | Price Gap |
| Altura | 23 | $1,400 | 2027 | 360 | – |
| Copen Grand | 24 | $1,339 | 2027 | 639 | 4.4% |
| North Gaia | 27 | $1,285 | 2027 | 616 | 8.2% |
| Tenet | 18 | $1,380 | 2026 | 618 | 1.4% |
| Provence Residence | 27 | $1,346 | 2026 | 413 | 3.9% |
| Parc Central Residences | 18 | $1,208 | 2025 | 700 | 13.7% |
| Parc Greenwich | 28 | $1,319 | 2024 | 496 | 5.8% |
| Piermont Grand | 19 | $1,351 | 2023 | 820 | 3.5% |
| Ola EC | 19 | $1,364 | 2023 | 548 | 2.6% |
| Parc Canberra | 27 | $1,253 | 2023 | 496 | 10.5% |
As the first EC launched this year, Altura has the highest asking price out of the lot, though the price gap honestly is not that much of a difference. Regardless of location, most of the ECs are priced at a similar bandwidth, with Altura as the first project to likely cross over the $1,400 mark.
However, it is the smallest project with only 360 units, which does make it hard to compare the developments without accounting for other variables like living density and the range of facilities offered.
The biggest price gap would be with Parc Central Residences (which is located in Tampines) which has 700 units, though the difference is at an underwhelming 13.7%.
With several other upcoming ECs (one each in D23, 24 and 18) to look forward to, it's interesting to see how the average price for the project will react to the market.
Indicative Prices
Prices at Altura EC would start from $1,375 psf. As hard as it is to believe, the starting $PSF pricing only goes up the bigger the unit gets so the bigger bedroom types would not only cost more overall, but on a per square foot basis!
| | | | |
| --- | --- | --- | --- |
| Bedrooms | Size Range | Est. Price | Est. $PSF |
| 3 Bedroom Premium + Study | 980 – 1,109 sq ft | $1,347,500 | $1,375 |
| 4 Bedroom Deluxe + Flexi | 1,206 – 1,346 sq ft | $1,668,000 | $1,383 |
| 5 Bedroom Premium + Flexi | 1,432 – 1,711 sq ft | $2,188,000 | $1,528 |
Altura EC Indicative Prices
I reminisce the times when the OLA Executive Condominium, touted as a luxury EC which is at least within walking distance to an LRT, priced its 3 bedder at just over $1 million. It's insane that people questioned back then whether or not it "can make money" given the nature of how ECs are subsidised. Today, buyers of OLA are sitting on good paper profits even before moving in.
So for me to see prices starting at $1,347,500 really drives home the point of how much prices have risen in just a few years. How fast times have changed, huh?
For this review, I'll be looking at:
How it compares to new launch ECs today
How it compares to new condos today
How it compares to the nearest resale condominium, Le Quest.
New Launch ECs
Frankly, there aren't a lot of options left in the market – hence why Altura can be priced as such. Given how ECs are subsidised and are the cheapest new option today for buyers who qualify, we aren't surprised at the limited supply. This is why Altura being the only EC launch of 2023 is such a big deal to the sandwiched class.
| | |
| --- | --- |
| Project | 3 Bedroom Min Price |
| North Gaia | $1,142,000 |
| Altura | $1,347,500 |
In terms of 3-bedroom units left, North Gaia is the only contender here. There's quite a number of units left. Here's a breakdown of the 3-bedders remaining:
| | | | | |
| --- | --- | --- | --- | --- |
| North Gaia | Units Remaining | Total Units | % Remaining | Min. Price |
| 3 Bedroom | 116 | 164 | 71% | $1,142,000 |
| 3 Bedroom With Yard | 75 | 176 | 43% | $1,199,000 |
| 3 Bedroom With Yard And Study | 88 | 178 | 49% | $1,316,000 |
Given how North Gaia has been selling since April 2022, the results here are quite poor. This is against a backdrop of low supply and high housing prices.
With Altura priced from $1,347,500 which is more than the lowest price of North Gaia's biggest 3-bedder, then it's really stretching it here. The question is – would buyers bite the higher price the developers are asking for?
To find out, let's consider Copen Grand which is in the neighbouring estate of Tengah (it's only a few minute's drive away). Note, this EC has already sold out all its units:
| | | | | |
| --- | --- | --- | --- | --- |
| UNIT TYPE | LOW PSF | HIGH PSF | LOW PRICE | HIGH PRICE |
| 2 Bedroom + Study | $1,351 | $1,463 | $1,090,000 | $1,181,000 |
| 3 Bedroom Deluxe | $1,157 | $1,500 | $1,180,000 | $1,433,000 |
| 3 Bedroom Premium | $1,178 | $1,481 | $1,284,000 | $1,504,000 |
| 4 Bedroom Deluxe | $1,204 | $1,492 | $1,426,000 | $1,766,000 |
| 4 Bedroom Premium | $1,229 | $1,478 | $1,576,000 | $1,921,000 |
| 5 Bedroom Premium | $1,224 | $1,480 | $1,900,000 | $2,247,000 |
Its first sale was in October 2022 and ended on March 2023 – meaning it took just 5 months to fully sell out.
What does this show? Prices at Copen Grand were possibly underpriced in that market condition.
The developers of Altura EC probably looked at the success of Copen Grand as a strong indication that demand in this area is good, and so we can expect starting prices of 3 bedders to be higher. At a starting $1,375 psf, this would certainly be the case.
Take a look at this PropertyGuru article written in October 2022 that pointed out the typical cost of an EC for 3 bedders: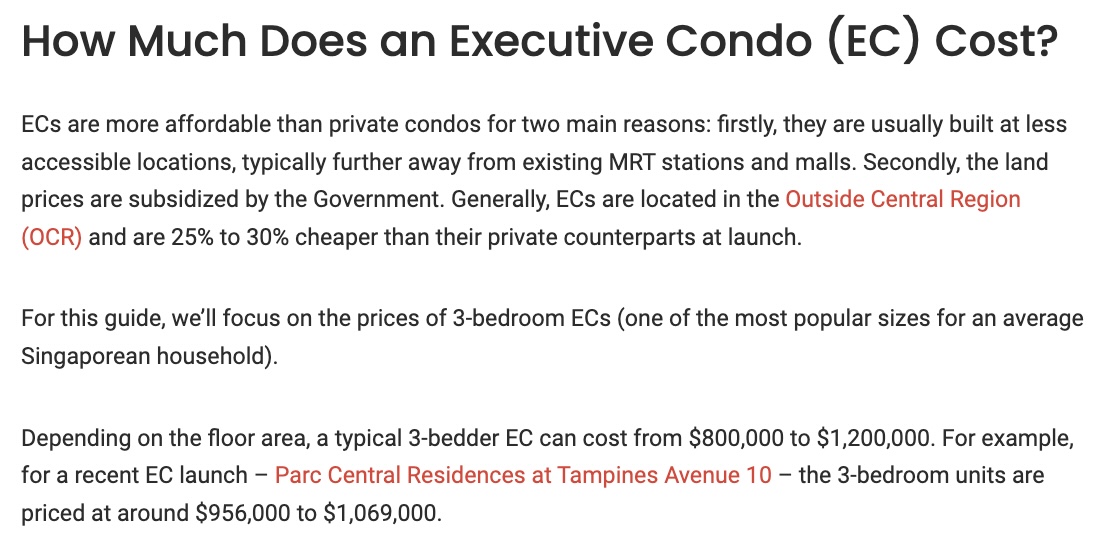 Notice the 3-bedder EC range which goes up to $1,200,000. This is $147,500 less than the starting price at Altura. They've also written that generally, OCR ECs are 25% to 30% cheaper than their private counterparts at launch. I'll examine this further when looking at Le Quest.
Why is this high price concerning? New ECs are meant to cater to a specific group of buyers – the sandwiched class. These buyers don't qualify for BTO due to their high income, but aren't earning enough to buy a decent family home in the private segment. It also falls under the purview of HDB and buyers must not exceed the household income cap of $16,000 per month.

If we consider the MSR of 30% and the medium-term interest rate framework MAS set at 4% in calculating mortgage payments, then the maximum amount an EC should be charged is around $1,340,552 before the buyer has to put down more than the 25% requirement. This assumes a 30-year loan.
$1,340,552 is the magic number. The starting price of Altura EC is $1,347,500. This means that on top of the usual 25% downpayment (a mix of cash + CPF), the lowest top-up a buyer has to make here is $6,948 – and it can only be higher.
This means that every buyer of Altura is expected to put up more than the typical 25% downpayment.
Considering this, perhaps the income ceiling is really inappropriate now (or prices are, however, you see it).
While Copen Grand managed to sell out in 5 months, North Gaia struggled. This is likely due to the location and shows that just because there is a new subsidised EC doesn't mean it'll sell out quick (although now it could mean some attention would be diverted to North Gaia).
One could argue that perhaps, Altura isn't unaffordable considering how there is the option of North Gaia. It could still be down to choice – and if Copen Grand's success says anything, it's that there is demand in this area.
And Altura EC is banking on that.
There's no question that North Gaia is situated in a very inconvenient part of Yishun, which is already seen to be a pretty inconvenient estate.
Moreover, there are not as many prospects for growth in the area given it's already built up. The only growth prospect here is the Northern Corridor/Woodlands Regional Centre, which I wouldn't give too much weight to as most people buying an EC see this as more of an own-stay-home considering the Minimum Occupancy Period of 5 years (MOP) in place.
Sure, Copen Grand's location is not exactly fantastic too. But its location in the west benefits not only from the Jurong Regional Centre and improvements in connectivity, many who have families in the west would want to stay nearby. The success of Tengah HDB sales is a testament to that given Jurong doesn't see many BTO launches, and so developers can also depend on this group of buyers to sell.
As such, middle-income earners who say, make $14,000-$16,000 a month, may not want to compromise so much and stay in an EC like North Gaia due to the reduction in the quality of life despite the affordability.
In this sense, a household earning this amount could actually own a young HDB in a more central area, sometimes with great views and connectivity.
The question is: would they really want to sacrifice so much for that condo status?
And if we talk about daily convenience, Altura wins here. It's got Le Quest shopping mall that's just about a 5-minute walk away. Sheng Siong supermarket is only a 4-minute walk away too. Not to mention it's right next to Tengah which would have its own set of amenities once it's up, which would be by the time Altura is built given some BTOs in Tengah are done.
Our writer Ryan in his newsletter has also written about how he's noticed buyers that are in their 20s are likely relying on parental help to make these down payments. This would likely be the case for younger sandwiched buyers looking to upgrade to an EC too.
What about 4-bedroom units?
| | |
| --- | --- |
| Project | 4 Bedroom Min Price |
| North Gaia | $1,608,000 |
| Altura | $1,668,000 |
In terms of 4-bedders, you can see that Altura's starting price gap with North Gaia isn't as big as it was for the 3-bedroom.
This could be due to the price sensitivity ECs face – it can't go too high because the amount of cash required as a downpayment becomes even more exorbitant which alienates a lot of buyers.
After all, we've already determined that the maximum property price you can afford before having to put more money down is $1,340,552. This means a buyer earning $16,000 paying $1.668m would have to work out over $327,448 more apart from the 25% downpayment.
And since this is the case, it would seem that Altura is now more attractive relative to North Gaia as the starting price isn't too far off now.
In total, North Gaia still has 47 out of 84 4-bedrooms left. This is more than half of the remaining units. The cheapest unit goes for $1,608,000 while the most expensive goes for $1,828,000!
In comparison, Copen Grand saw 4-bedders that went from as low as $1,426,000 to as high as $1,921,000. Needless to say, this is a price range that buyers have demonstrated to be fine with – so if Altura's price starts from $1,668,000, this seems to be within reasonable expectation.
Finally, the 5-bedders:
| | |
| --- | --- |
| Project | 5 Bedroom Min Price |
| North Gaia | $1,990,000 |
| Tenet | $2,120,000 |
| Altura | $2,188,000 |
Altura has the most expensive 5-bedder on offer now
In this case, you'll notice that Tenet comes into the picture. There are only 4 units left in Tenet (out of 45 available). Considering how Tenet has sold multiple 5-bedroom units above Altura's estimated starting price, I do think that what Altura is asking for isn't that unreasonable too: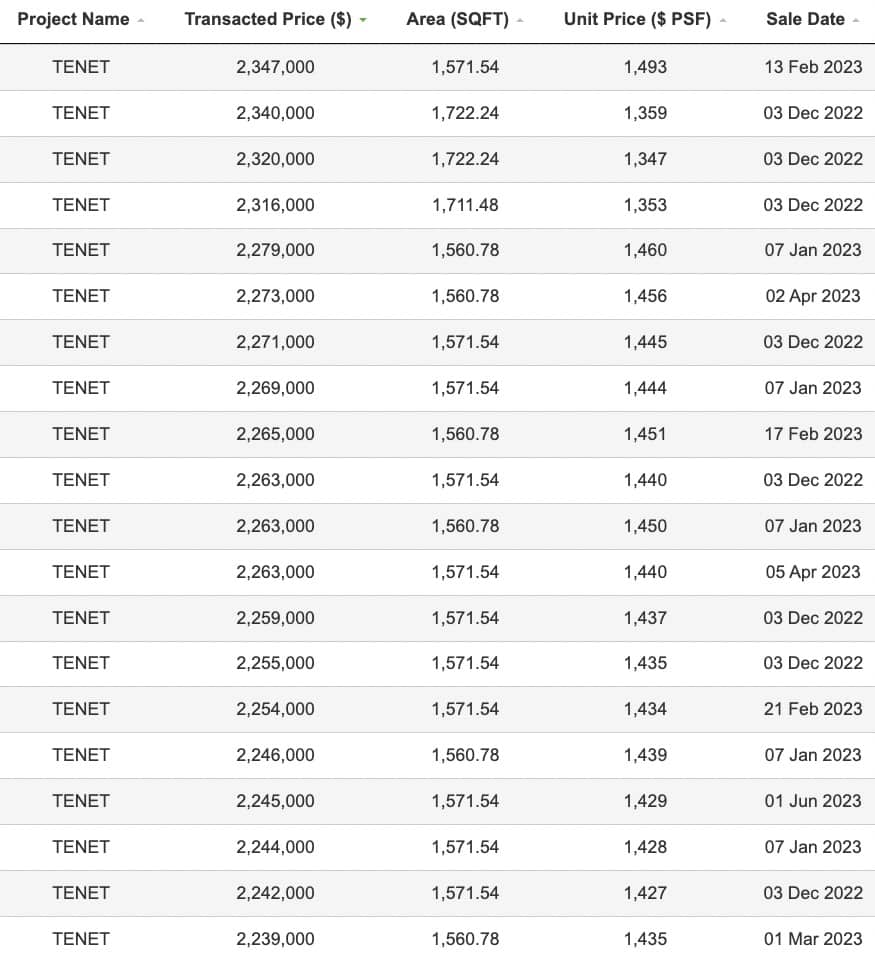 Comparison with other new launches
For those looking at fully-private condos too, here's a comparison of where Altura EC stands based on other new launches starting minimum price.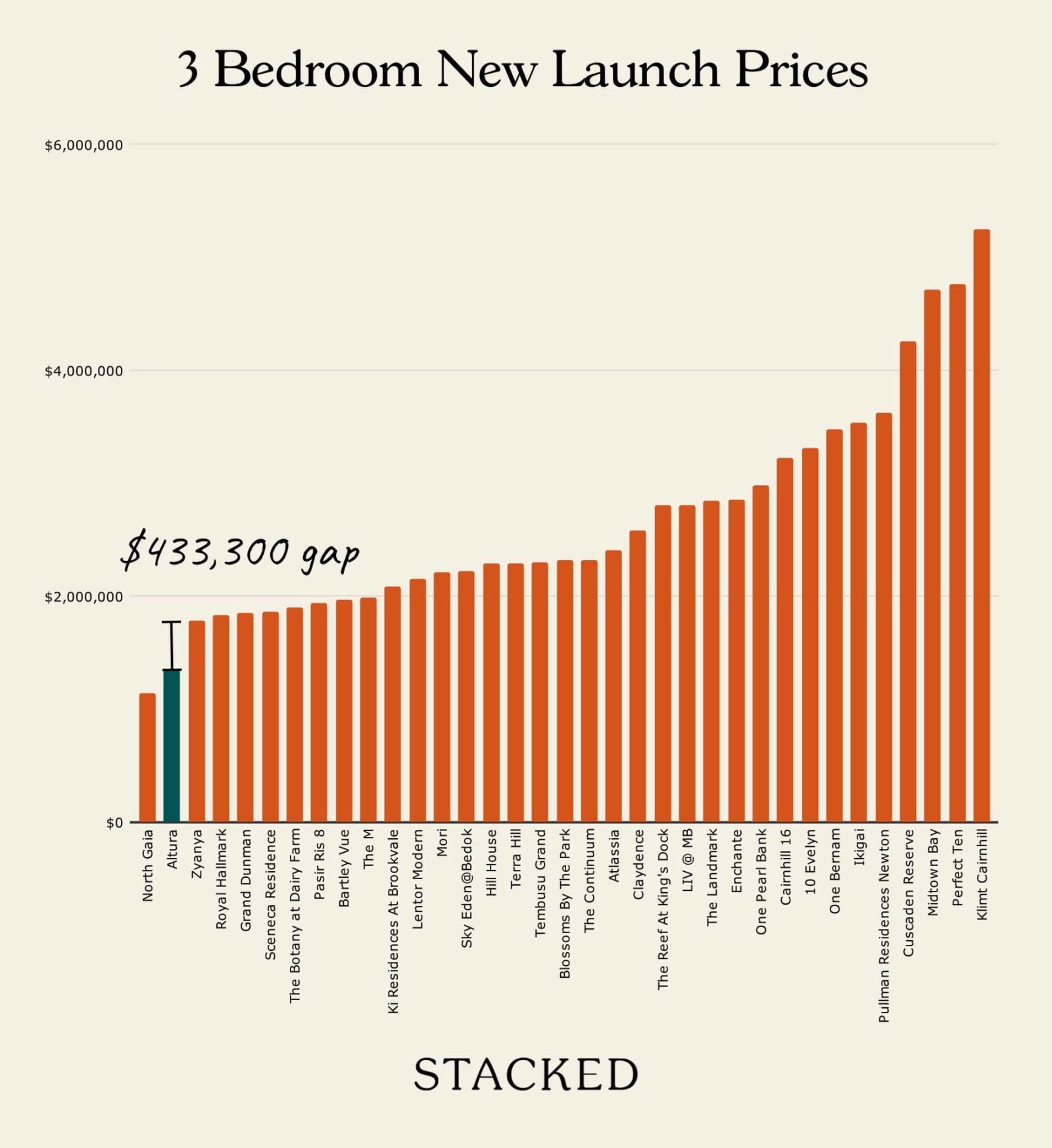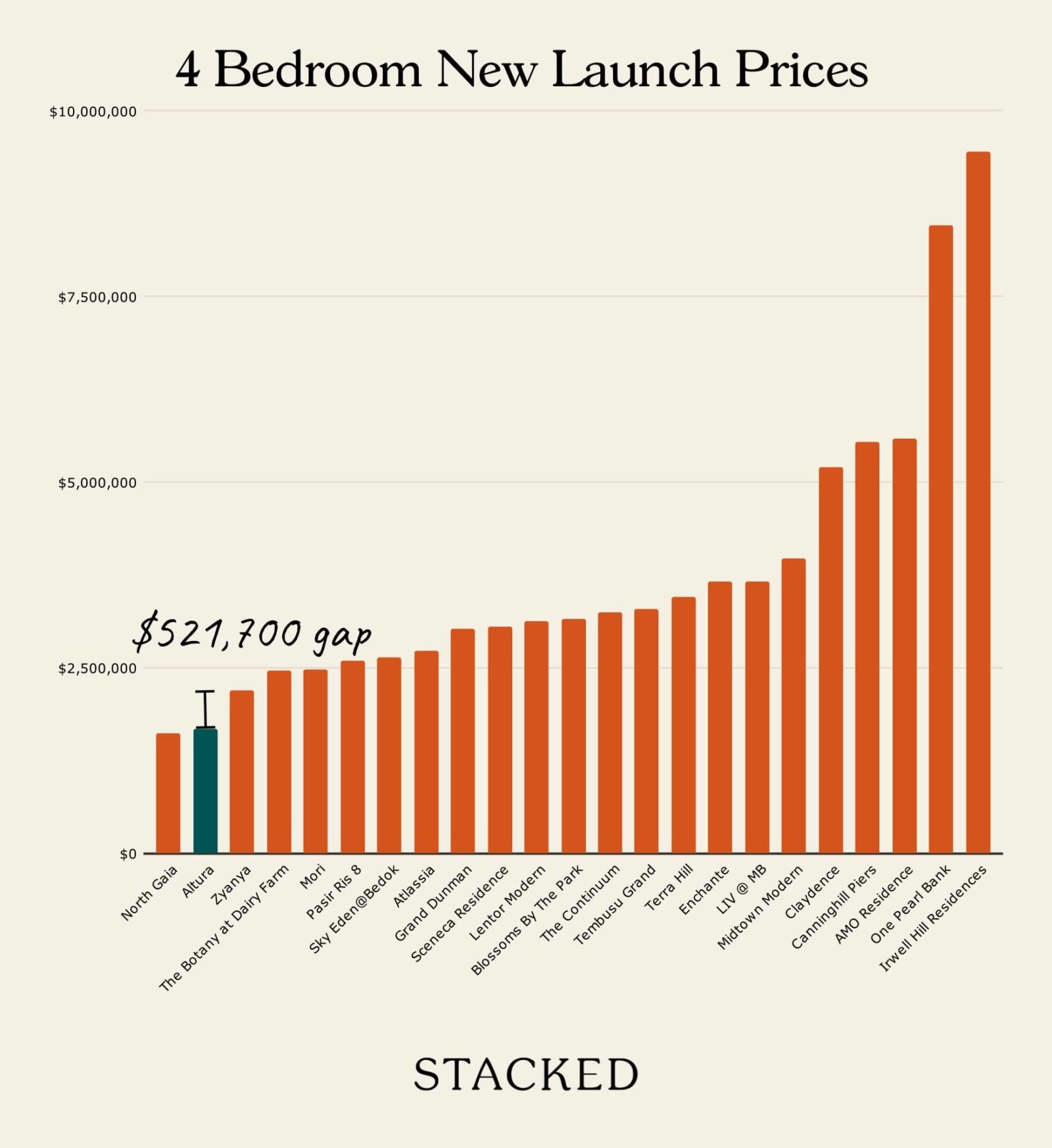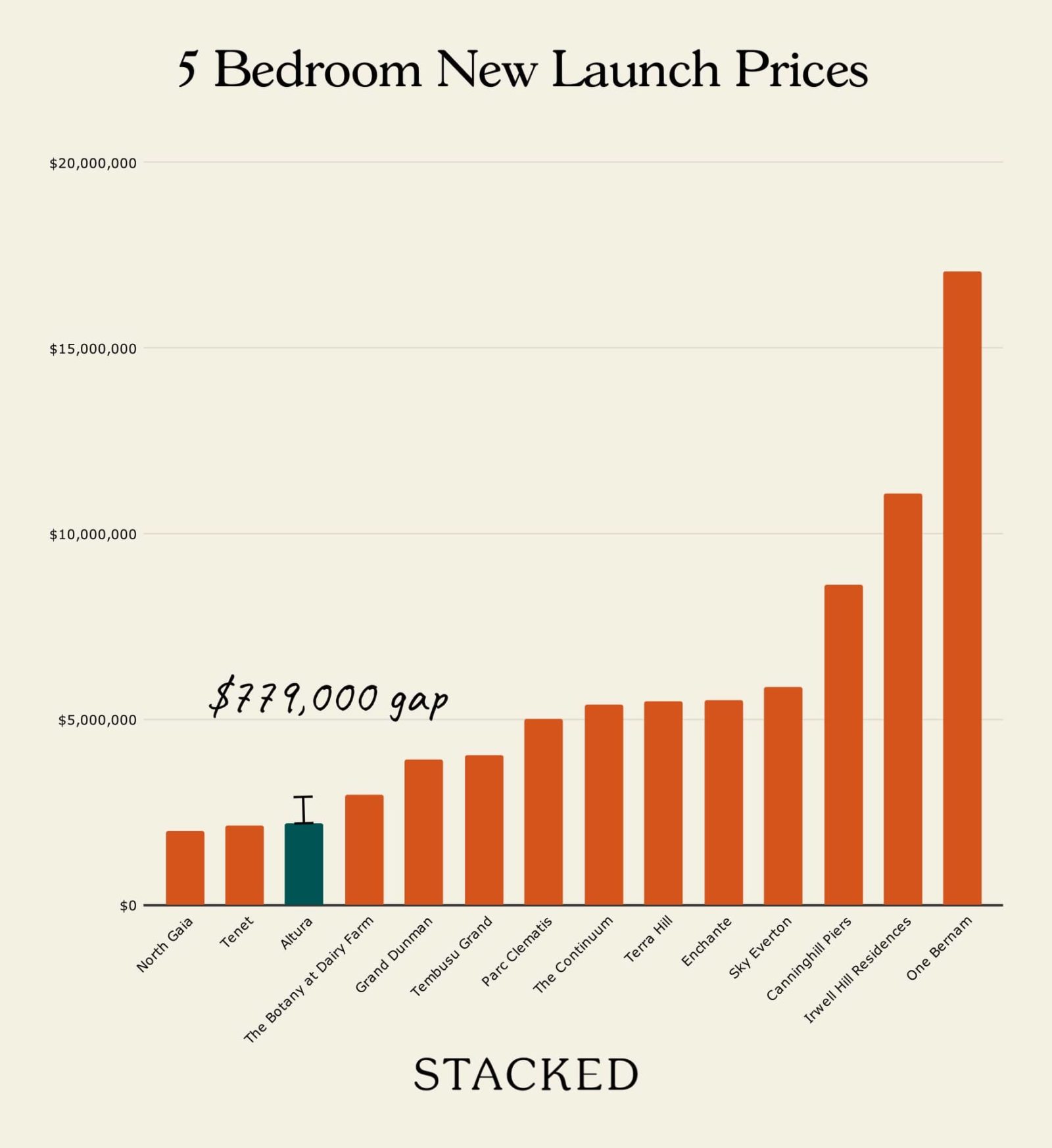 Executive condominiums, being a subsidised product, is expected to be cheaper than every other private condo new launch. The question is just how much cheaper would it be compared to the next cheapest new launch.
In the 3 and 4-bedroom category, that would be Zyanya. The price difference goes up to a good $433,300 which is very significant, about 26% cheaper than at Zyanya.
What's also noticeable is that the gap increases with bedroom type. This is related to the income cap that developers have to work with as they cannot price their biggest units too highly or no one can afford it.
What this also means is that the gap between a 5-bedroom EC and a 5-bedroom resale is huge, which points to positive implications for buyers of the EC given the large disparity.
Comparison with Le Quest
Finally, I'll take a look at the nearest resale condo in the vicinity – Le Quest.
Le Quest is a mixed-used development given it has a shopping mall below. In total, there are 516 residential units and it's a full-fledged condo given it has a 50m lap pool, gym and a tennis court.
Do note that it's also a 99-year leasehold development, similar to Altura. Its lease start year is in 2016 which makes it 6 years older than Altura which has a lease period starting in 2022.
Here's what prices look like over the past 6 months:
| | | | |
| --- | --- | --- | --- |
| Type | Size (Sq ft) | Average Price | Average $PSF |
| Studio | 431 | $693,750 | $1,611 |
| 1 Bedroom + Study | 495 | $751,313 | $1,518 |
| 2 Bedroom | 592 | $918,000 | $1,551 |
| 2 Bedroom Deluxe + Study | 710 | $1,138,800 | $1,603 |
| 2 Bedroom Premium | 700 | $1,128,200 | $1,612 |
| 3 Bedroom | 818 | $1,226,000 | $1,499 |
| 3 Bedroom Deluxe | 980 – 1,023 | $1,600,000 | $1,599 |
| 3 Bedroom Premium | 936 | $1,524,963 | $1,628 |
| 4 Bedroom + Study | 1130 | $1,680,000 | $1,486 |
| 4 Bedroom Deluxe | 1313 | $1,915,000 | $1,458 |
Average prices of Le Quest from January to June 2023
Given Altura only has 3-5 bedroom units, we'll ignore the studio, 1 and 2-bedroom prices.
For the 3-bedroom, you can see that Le Quest has a really compact version at 818 sq ft. This translates to an average price of $1,226,000 which is lower than the anticipated starting price of Altura.
This isn't a really fair comparison though, as Altura's smallest size is 980 sq ft.
Here's a comparison between the two: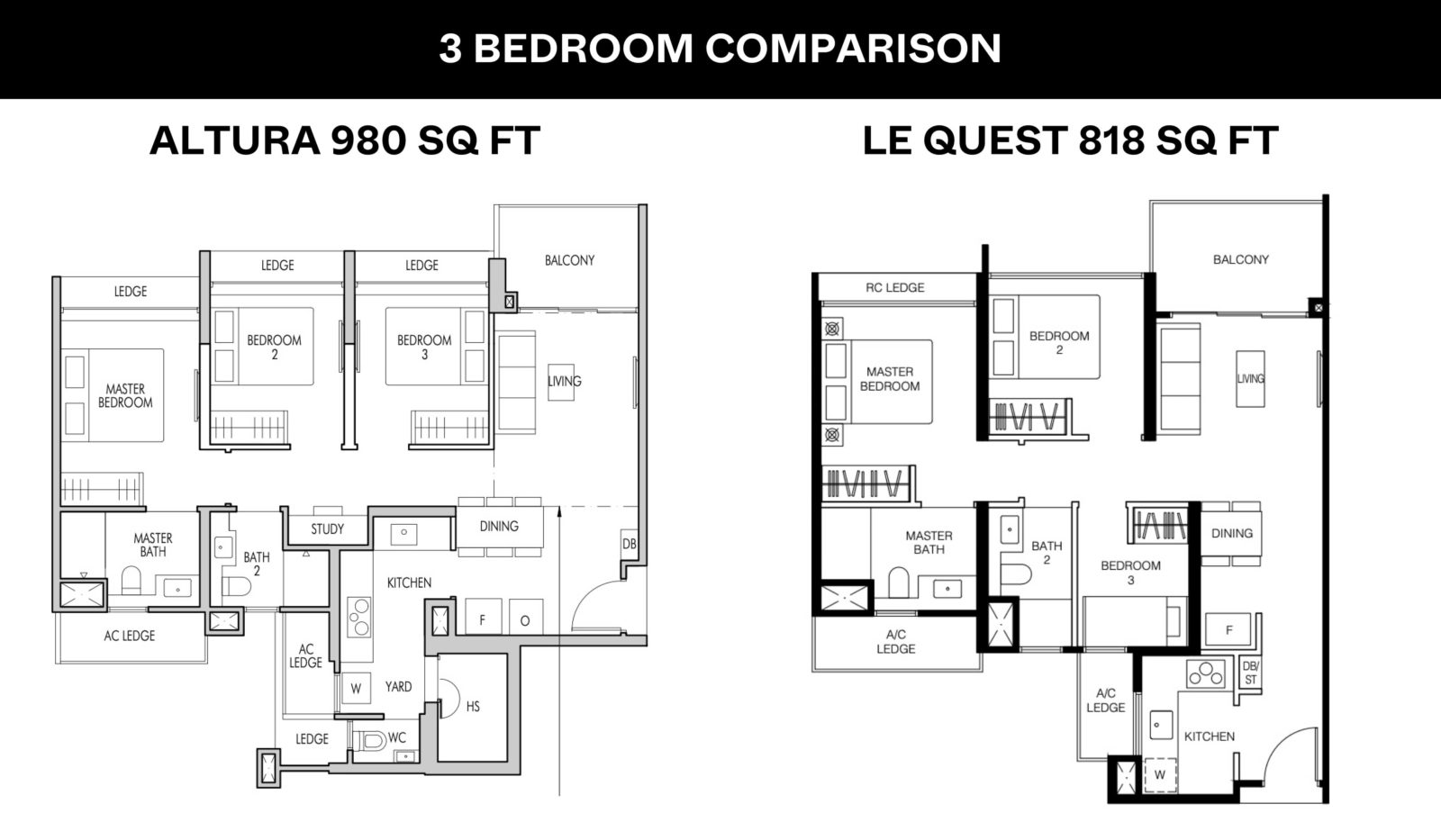 Right off the bat, you'll see that both are quite different. Altura's 980 sq ft actually comes with a yard, WC and a household shelter. This makes it very functional for families which ought to be the case given it's an EC.
Le Quest's 818 sq ft is pretty much the definition of a compact 3-bedroom unit – it has 3 bedrooms, but it doesn't have a yard, WC or utility room. Its common bedroom is also really small, thus the floor plan indicates a single bed which, by the way, is separated from the AC ledge by a narrow window.
As such, while Le Quest is cheaper in this regard, it's not exactly an Apple-to-Apple comparison.
A more accurate comparison would be with Le Quest's 3-bedroom 980 sq ft layout which at least comes with a utility room and a WC. This unit went for $1,600,000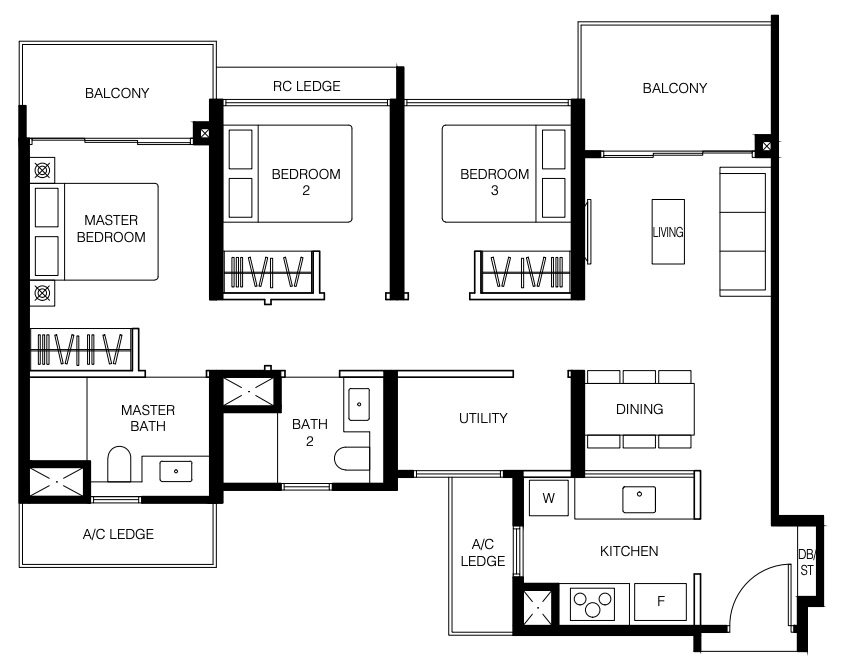 There was 1 transaction for the 980 sq ft so far in 2023 which was on the 15th floor. If we added another $7,500 per floor from the lowest price in Altura, it comes up to $1,452,500.
This is still around 9% cheaper than its private condo counterpart. At this rate, the discount doesn't seem as steep.
And this is where I circle back to the PropertyGuru article that mentioned discounts are typically 25%-30% more than their resale counterpart. But Le Quest is not a comparable resale counterpart as it's older. Still, 9% is a far cry from 25%.
Still, there really isn't much to complain about here. Given it's subsidised, the odds of losing money are extremely low. So long as we know there is a gap, it should grow closer to its resale peers which is Le Quest in this case since it'll be newer on the market, albeit less convenient.
When it comes to the 4-bedroom, you'll find that its pricing is quite similar. This is peculiar, but if we consider the $PSF, Le Quest averages around $1,472. This is around 6% more than the starting $1,383 psf for Altura. However, Le Quest's 4-bedroom + study comes in at a compact size of 1,130 sq ft. Here's a comparison of the layout: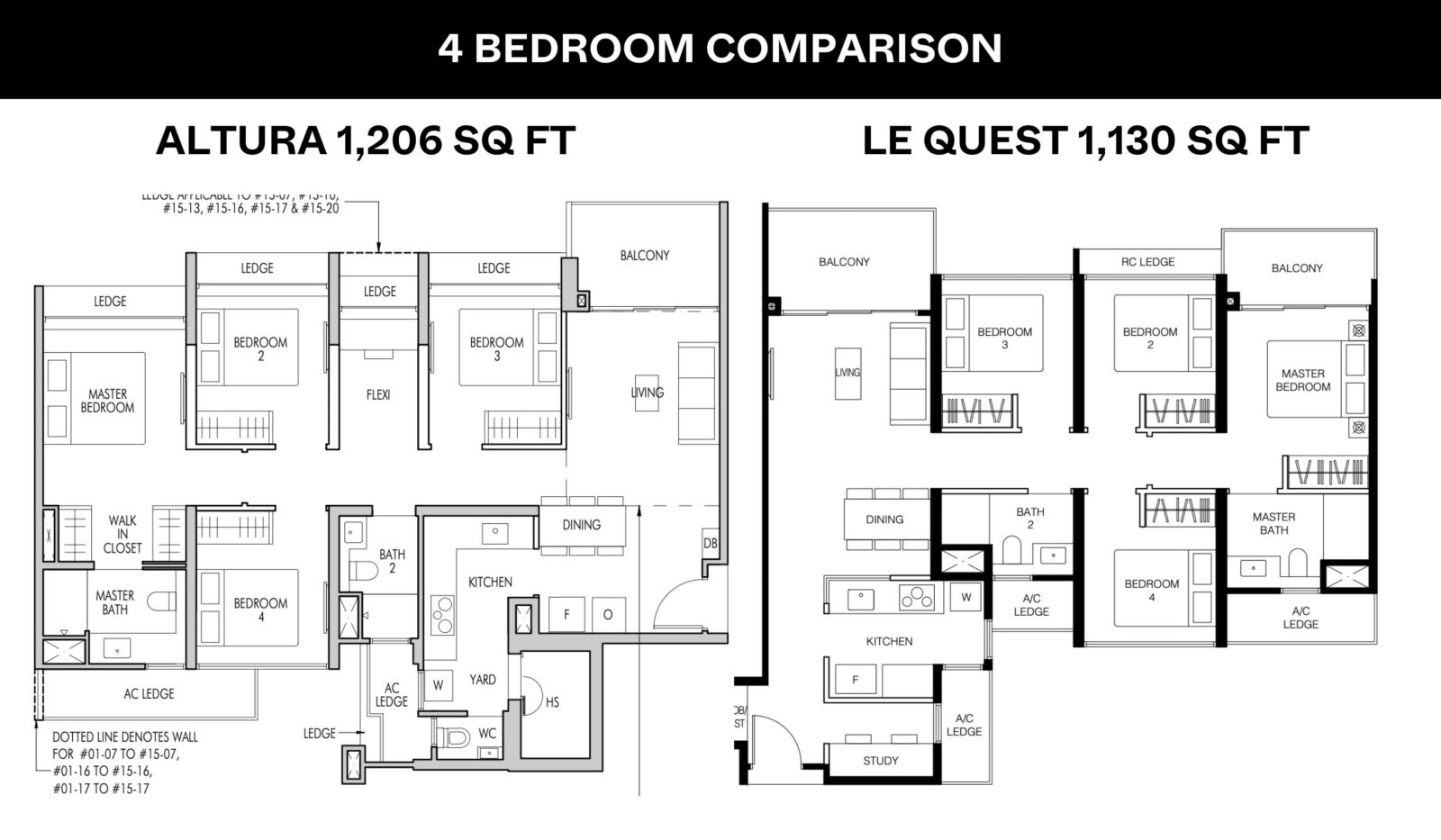 Altura's 4 bedroom starts at $1,668,000 which is close to the only 1,130 sq ft transaction which went for $1,680,000.
While the prices would look similar, Altura's layout is certainly better and also bigger by 7 square metres.
The 4 bedder comes with a yard, WC and a household shelter. There's also a flexi space which competes with Le Quest's study area, and the master bedroom has a walk-in wardrobe. As such, buyers would see Altura's layout to be more practical for a family.
And anyone upgrading from an HDB would understand the value of having a household shelter/yard, especially those looking to expand their family and have a helper with them.
As such, while prices of the subsidised, new EC are close to its resale competitor, I still think pricing here is okay. Not great, but not terrible either.
Overall, Altura is certainly priced at where the market is now considering the high property prices and lack of new EC supply. Compared to other new launches, it's still very affordable given the income ceiling, and its pricing also makes sense compared to its resale competitor Le Quest. However, it's certainly going to be the most expensive EC to date, but that's to be expected given how high private condo prices are at this point anyway.
Altura EC Appreciation Analysis
Other New ECs, Residential Projects and HDBs To Support Housing Demand in the Neighbourhood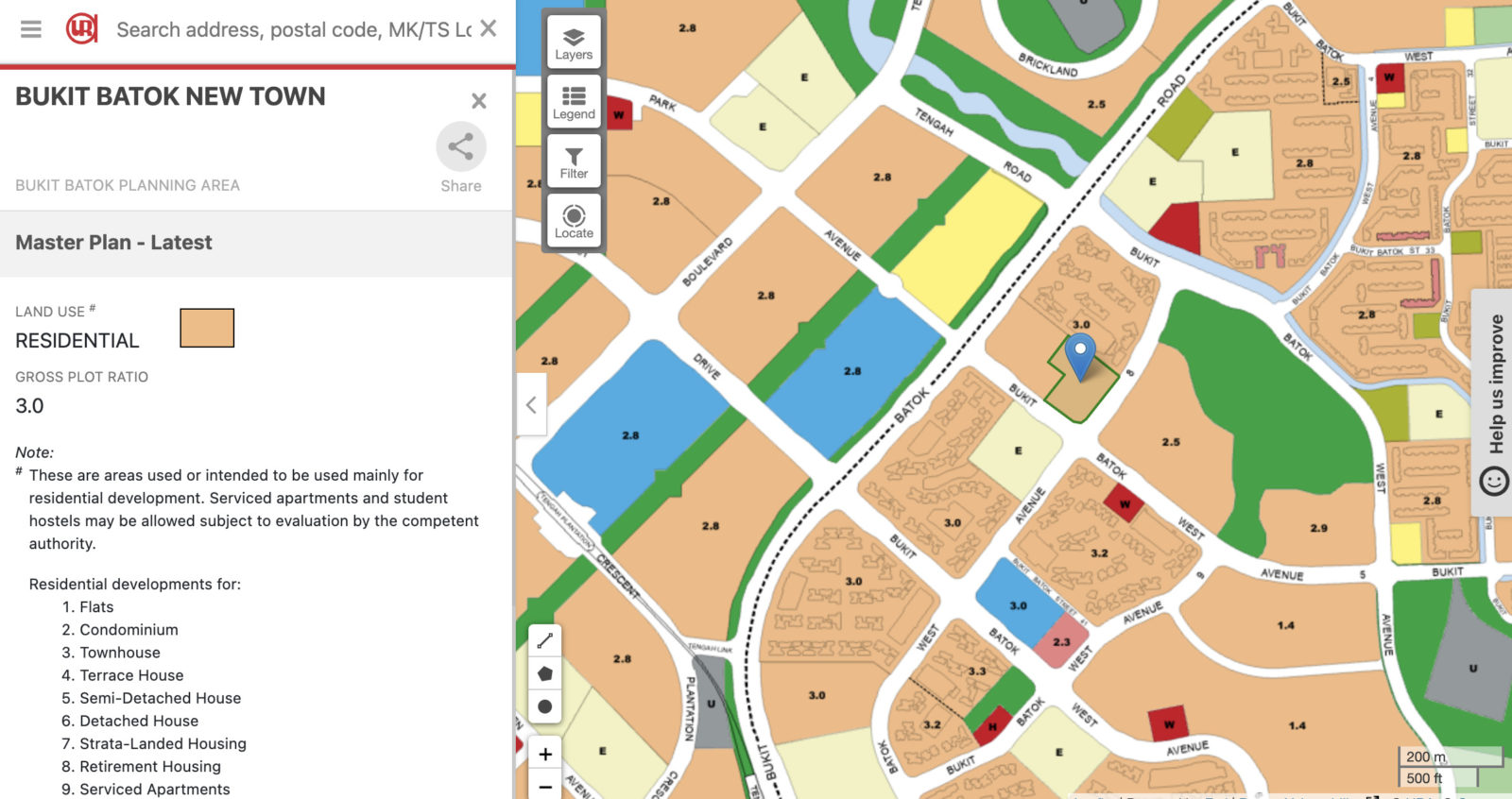 For the most part, the Bukit Batok neighbourhood has been earmarked primarily as a residential-dense area, as seen from the Master Plan. Apart from Altura, there are several other upcoming projects that we can expect to add to the neighbourhood's skyline.
On top of the Bukit Batok BTOs announced in 2021 and 2022, Harmony Village @ Bukit Batok (near Le Quest) is expected to TOP in 2024 and it's a housing block integrated with a hawker centre, community garden and senior activity centre to make it more inclusive.
Furthermore, the empty plot of land direct beside Altura (located on Bukit Batok West Avenue 5) has been earmarked as another upcoming EC residential project (with 495 units and a slightly bigger land plot as compared to Altura).
The nearby Plantation Close EC would also be another project to look out for and it'll be the second EC in Tengah after Copen Grand. This project is estimated to have 495 units.
Relocation of Anglo-Chinese School (Primary), Bukit View Primary and Pioneer Primary School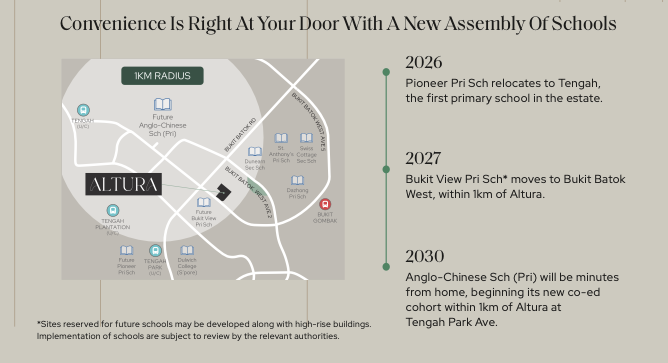 For young families, the vicinity of key Primary Schools is often a very important consideration and there is exciting news for the Bukit Batok and Tengah neighbourhood.
As the first Primary School to support the upcoming demand, Pioneer Primary School will relocate to Tengah in 2026.
Following that, Bukit View Primary School will move to Bukit Batok West by 2027 and is within a 1 km radius of Altura. Seeing that the project is also estimated to TOP in 2027, the timelines coincide well for buyers.
Last but not least, the relocation of ACS Primary from Barker Road has been highly anticipated news and it's also within 1km of Altura. However, the shift would only commence in 2030.
Even so, this influx of schools to support the neighbourhood amenities would be great news for Altura and its future property prices.
Close Proximity to Tengah Forest Town & Influx of BTOs Recently Released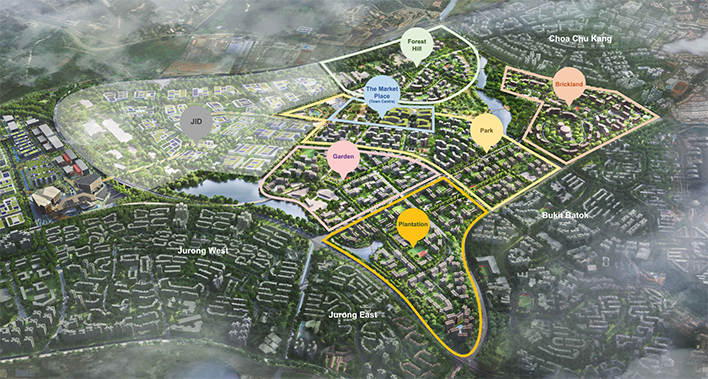 Image Source: HDB
Envisioned by URA and HDB to become a 'Forest Town', Tengah is an up-and-coming neighbourhood that will provide plenty of green spaces, and new homes (almost 42,000 units!) and is supported by the upcoming Jurong Region Line.
In fact, HDB has recently launched Tengah's biggest BTO project earlier this year, comprising about 1,980 units.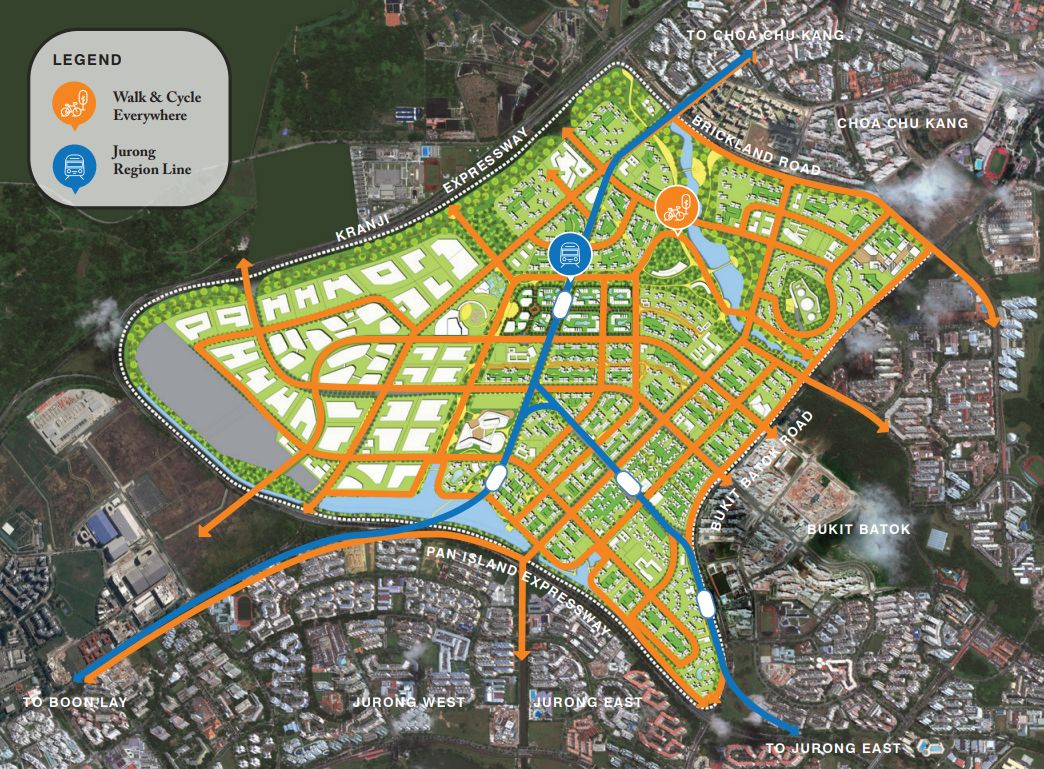 Image Source: HDB
The neighbourhood has been designed to be car-lite, focusing on sustainability and environmentally friendly features, such as having more trail walks and pedestrian-friendly roads.
In Altura's case, the project is a short walk away from the neighbourhood which can help provide price support in the form of upgraders in the future.
Upcoming Jurong Region Line for Better Connectivity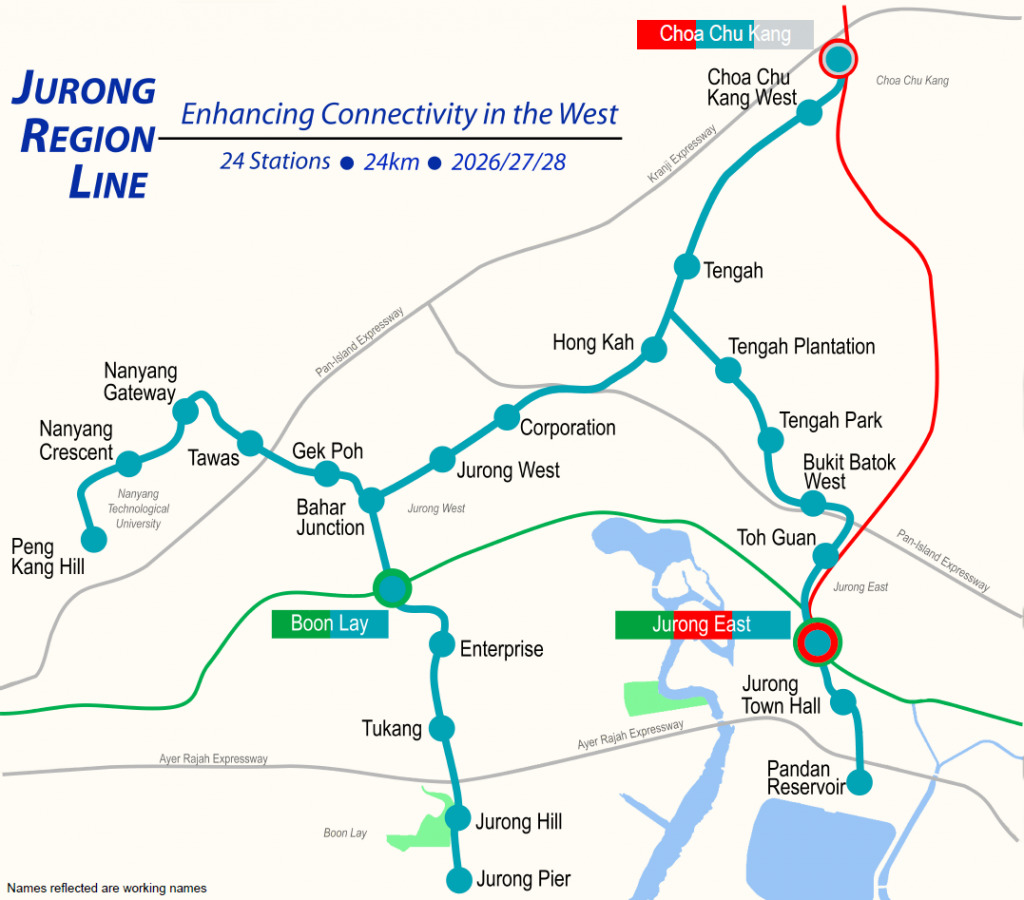 As previously mentioned, the Jurong Region Line is a big project to improve the liveability and connectivity of these up-and-coming neighbourhoods.
Stipulated to open in 2028, the Tengah Plantation MRT Station on the Jurong Region line would be the nearest MRT to Altura once available.
Accessible to up-and-coming Jurong Innovation District & Jurong Lake District
Coined as Singapore's second CBD, the Jurong region has been in the spotlight in terms of growth and neighbourhood offerings. The big plans for Jurong Innovation District and Jurong Lake District have attracted many homeowners to consider housing within close proximity.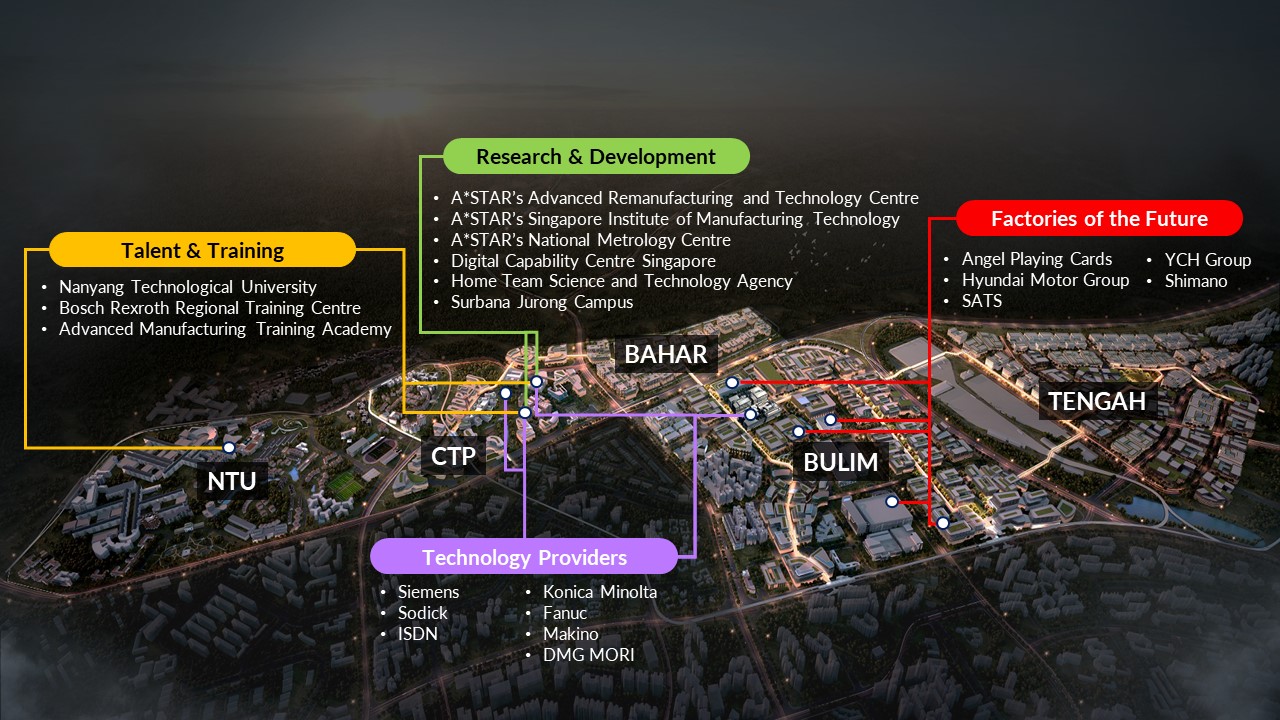 Image Source: JTC
Spanning 600 ha, Jurong Innovation District is Asia's leading advanced manufacturing hub and is projected to create over 95,000 new jobs. This would translate to higher demand for housing nearby.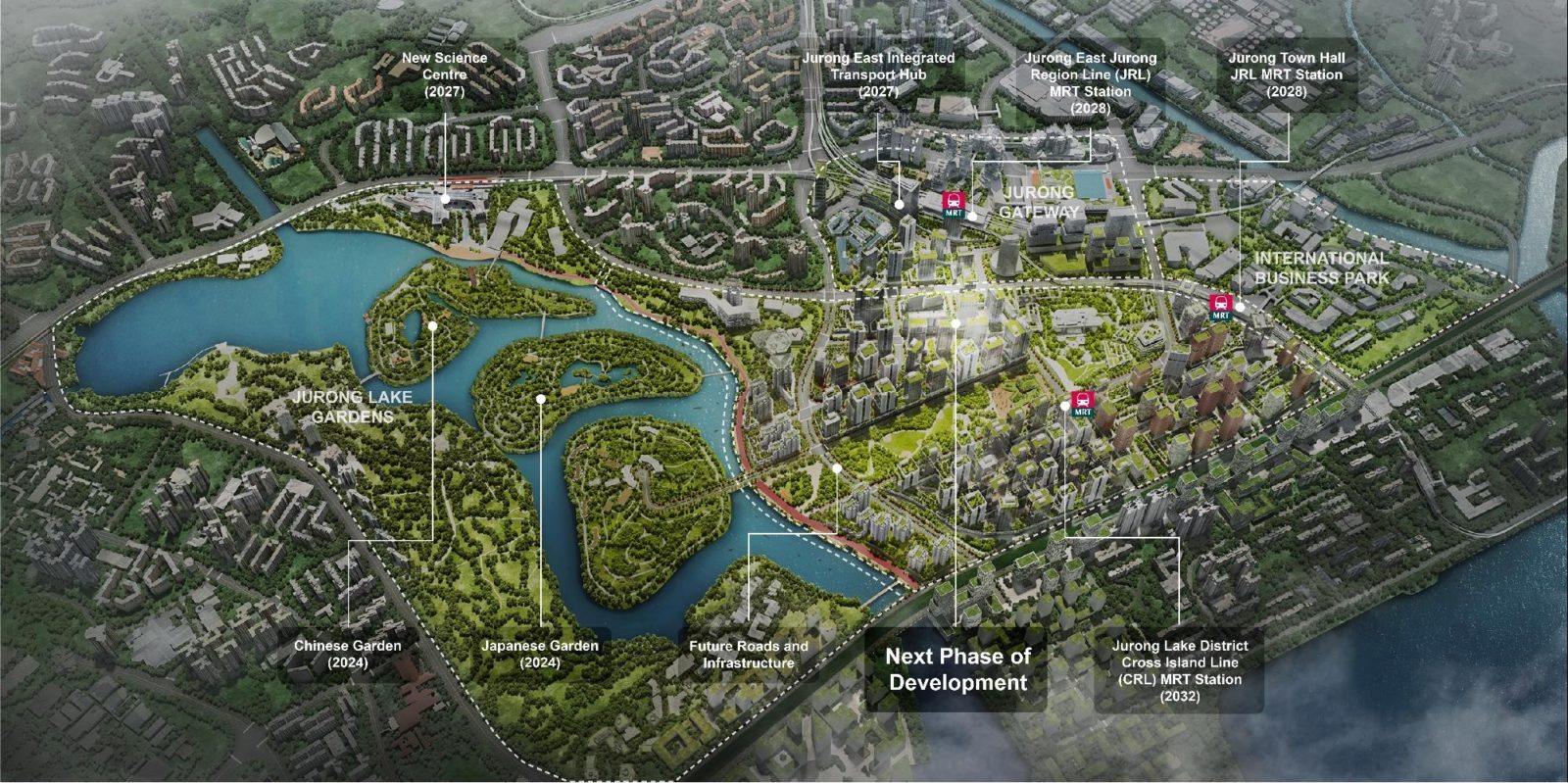 Image Source: JLD
On the other hand, Jurong Lake District is poised to become Singapore's second-largest CBD. With over 120 ha of new developments in the next three decades, the neighbourhood hopes to create more than 100,000 jobs by 2050.
Since Altura is a short 10-minute drive away from these hotspots, there's certainly benefits to enjoy being in such a location.
What we like
Efficient layouts

Tennis court for just 360 units

Near future ACS Primary
What we don't like
–

Not close to MRT

–

Pool located a little close to blocks
Our Take
On a final point, I did hear that there were some buyers who weren't able to secure a unit at Tenet and were now looking at Altura as a possible home.
Given that the locations are vastly different, it does reveal a telling point. The appeal of an EC to this sandwiched group of buyers is unmatched, and they are almost willing to move all around Singapore in order to secure such a lifestyle.
Of course, some people may bring up North Gaia as an example – but the locational attributes between Altura and North Gaia are very different. Yishun is generally seen as a town that's not really going to attract buyers from elsewhere unless you've already been staying there, whereas Tengah is seen as an up-and-coming estate.
So to wrap up, here's what I liked about Altura: It's got an efficient set of layouts, 360 units is a good size where you don't get the sense of overcrowdedness, and you've got all the facilities down for a family-centric development (swimming pool, gym, tennis court, and playground).
And of course, being near the future ACS Primary is the cherry on top.
There are some obvious less positive points that you'd have to live with, including the facing of some stacks (some face the side of the middle block), and it's not the closest EC to an MRT station.
But the biggest contention for buyers here would probably be the price point.
When taken out of context, some people may take issue with buying the most expensive EC ever. And that was exactly the same case for buyers of Piermont Grand in 2018, when it was recorded as the first time that EC prices surpassed $1,000 psf.
However in today's environment when most new launches are launching close to or past $2,000 psf, it's not surprising that we see an EC priced as such. Perhaps the only relevant takeaway here is that it's time to revisit the $16k income ceiling – it's starting to look outdated.
What this means for you
You might like Altura EC if you:
Are looking to upgrade from an HDB:

As the first EC launched in Bukit Batok in the last two decades, Altura is a great opportunity for folks who are looking to upgrade from an HDB but are priced out from a condo.

Require a flexible layout:

Altura offers decently-sized units and the customisable layout makes it great for families who plan to adapt the space according to growing needs. 
You may not like Altura EC if you:
Need close access to the MRT station

Even with the upcoming Tengah Plantation MRT that is ready in 2028, it's still quite a far walk away. For those who prefer living close to the MRT might not find this project suitable.
End of Review
Join our Telegram group for instant notifications
Join Now
Cheryl