22
min read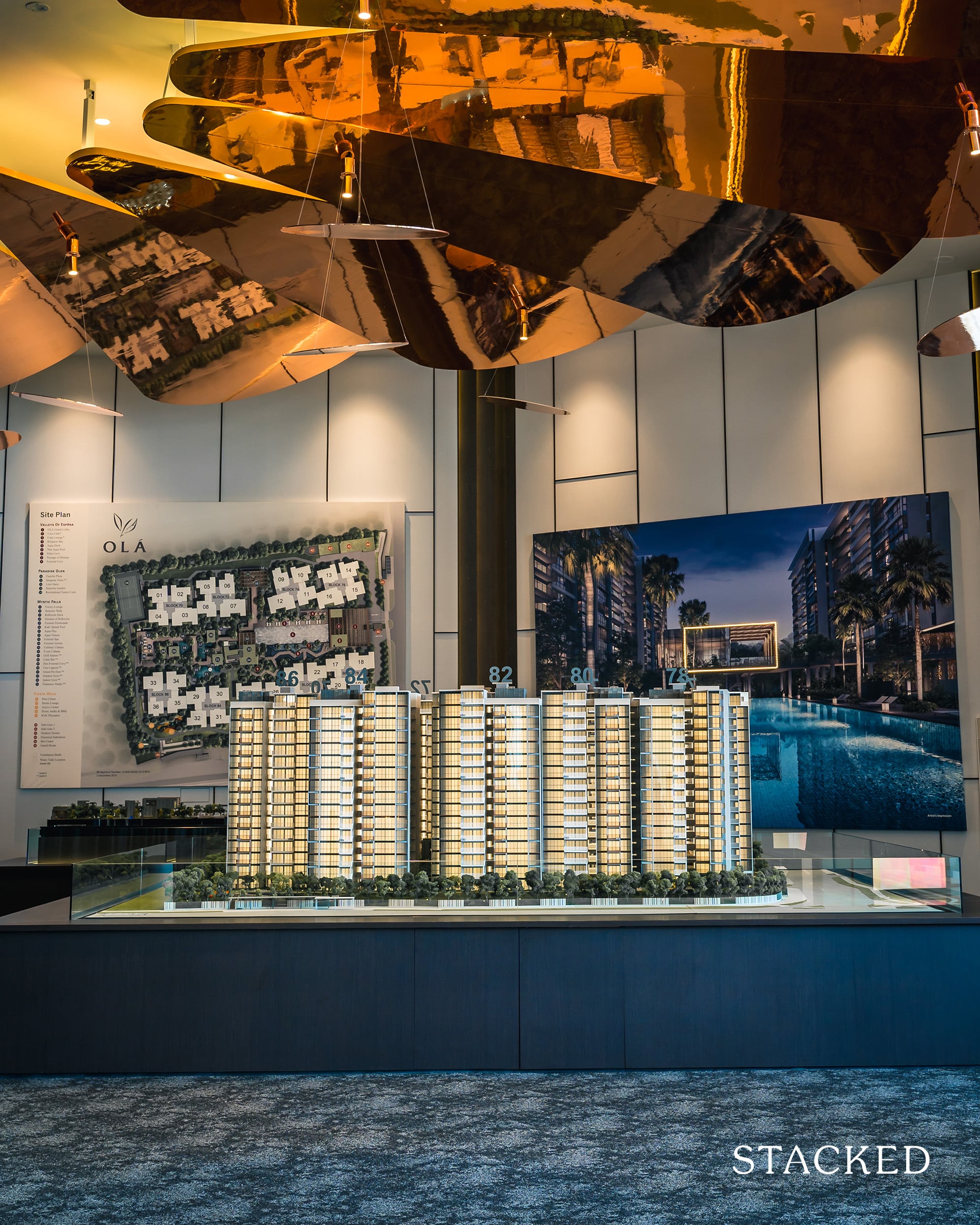 An ideal home for those with young kids
From our tour, it's clear that Ola's diverse recreational offerings in the surrounding area, as well as the educational institutes and entertainment options makes it a great place to raise young children.
| | | | |
| --- | --- | --- | --- |
| Project: | Ola | District: | 19 |
| Address: | Anchorvale Crescent | Tenure: | 99-Year |
| Site Area: | 184,465 sqft | No. of Units: | 548 |
| Developer: | Anchorvale Pte. Ltd. | TOP: | 2023 |
Nature, food, schools, malls… it's all a little less caged-in over at this new Sengkang EC.

And it's not just any EC to be fair. It's Singapore's first Luxury-EC (if you could call it that).

The north-east has witnessed massive redevelopment over the years, and it seems like Gamuda Land and Evia Real Estate are joining the fray with their latest project, the OLA Executive Condo @ Anchorvale.

Set to feature 548 units across 184,000+ square feet of land, the new-launch development's biggest crowd-pleaser comes from its unique, albeit incredibly diverse and convenient amenities.

From top-notched schools to abundant malls, nature routes to gastro-encounters, the condo's locale offers an entire plethora of recreational activities to choose from – all this, whilst still providing the essentials of everyday life.

For those who crave less of that incessant hustle and bustle of the 'city' life, OLA could just be that gem you've been waiting for.

Especially if luxury-like fittings (in line with its Spanish theme) and over 500 hours of complementary courses tickle your fancy.

Find out more in our showroom tour and locale analysis, coming right up.
Ola EC Insider Tour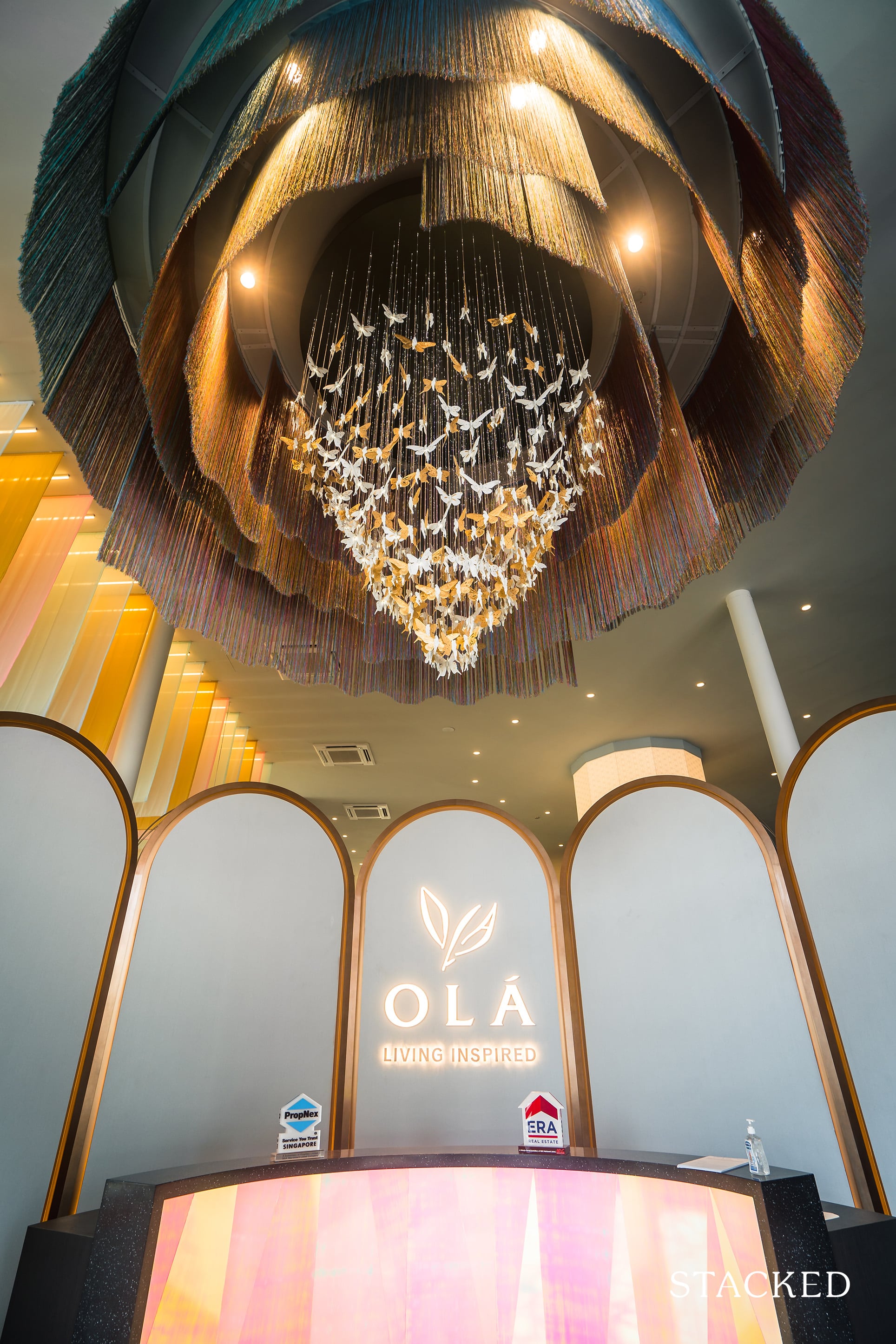 An impressive entrance
From the onset, it seems as if the developers have set out stall to impress as the first thing you'd see once you walk in is this dazzling chandelier. As a result of their tie up with Lladró (famous for high-end pottery in Spain), the chandelier you see here is made out of 300 handmade butterfly fairies. And as if that isn't enough, it's accompanied by light optics that further serve to magnify the details.
Sounds intricate?
You bet it is.
At a cost of $500,000, this clearly isn't just going to be showcased at the showflat – it will be painstakingly moved to the lobby of the Ola EC once it's built.
And this was just a sign of more things to come.
If you haven't quite caught on yet, the Ola EC is basically a Spanish inspired development. Besides Lladró, they've also partnered with Eva Armisén to showcase her whimsical illustrations. As you'd expect, there will be an exclusive artwork created by her which would be showcased at the Culinary Cabana once the Ola EC is built. You'll see her artwork too at all the 9 different blocks.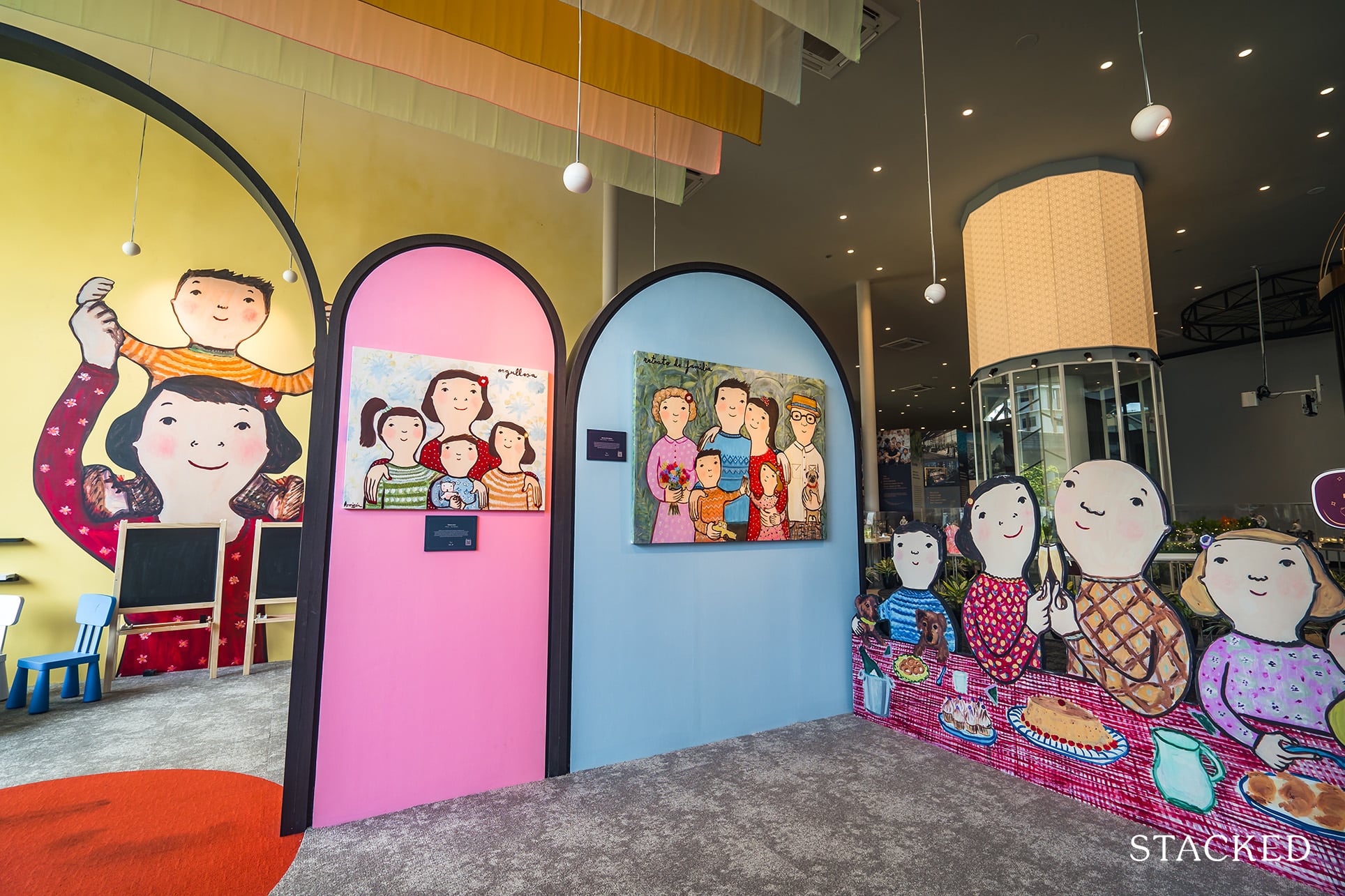 Art is a subjective thing after all, so I can't say that this is something that everyone will love. But you can't deny that it brings about a very cheery homely feel to the place.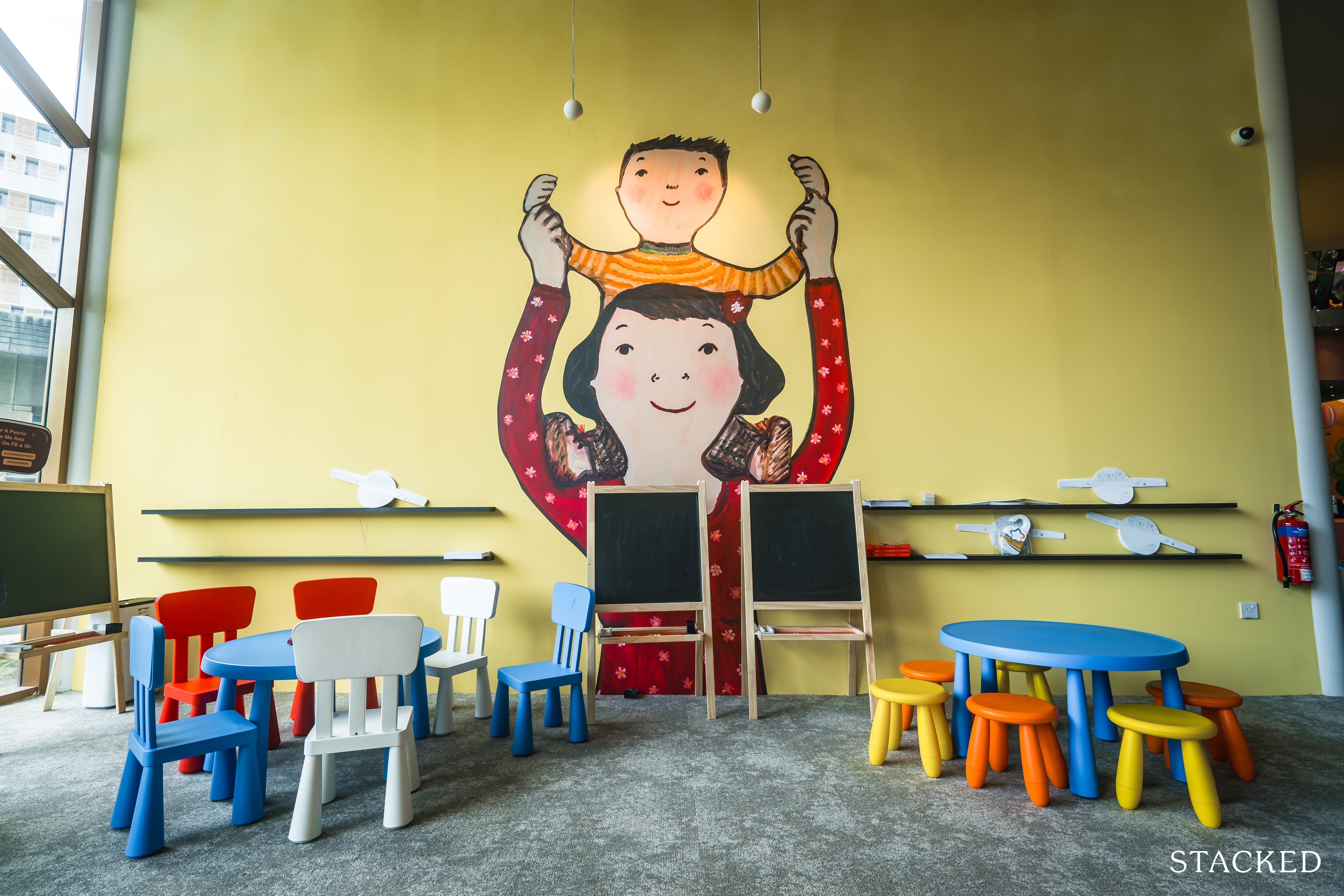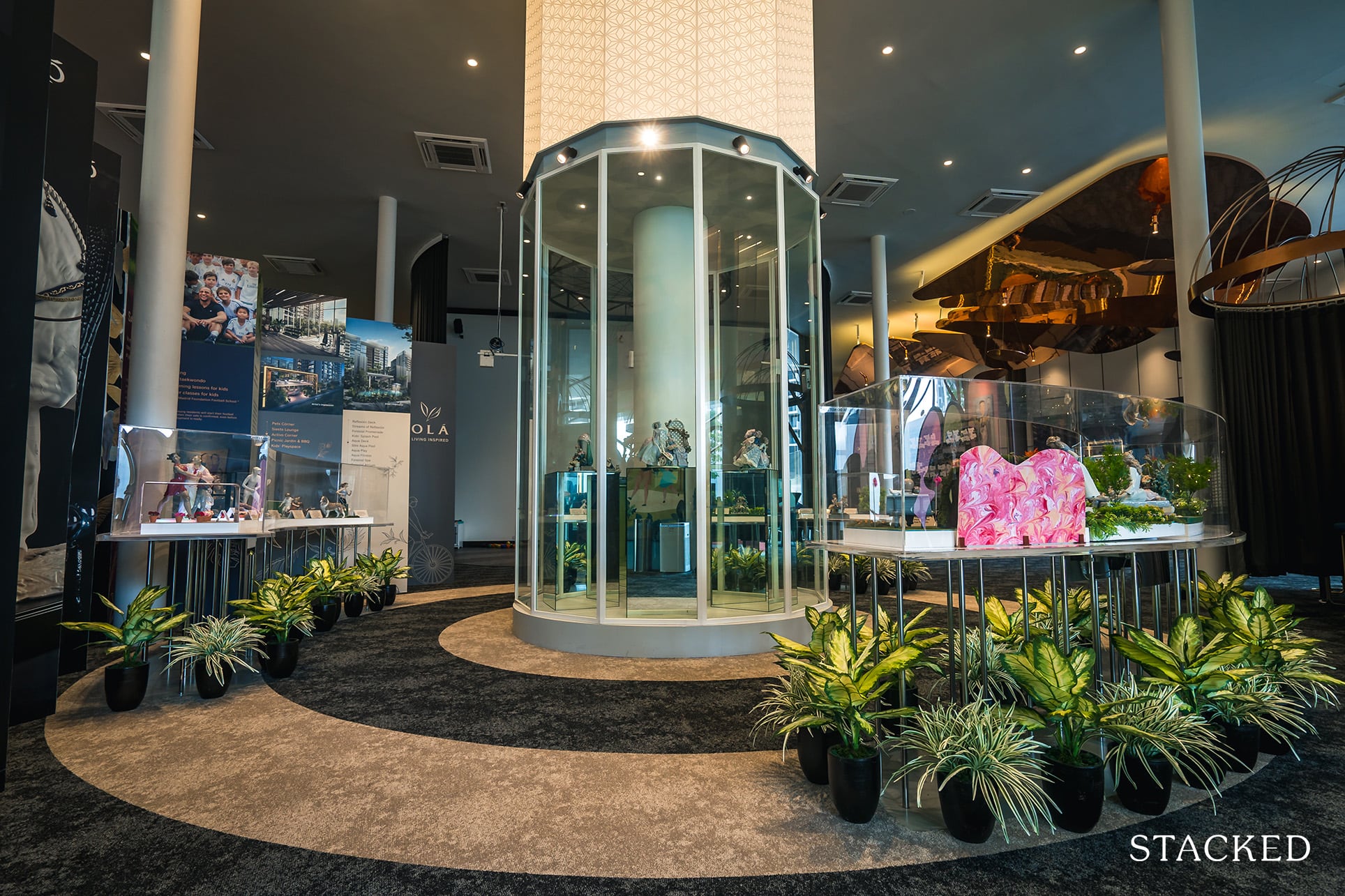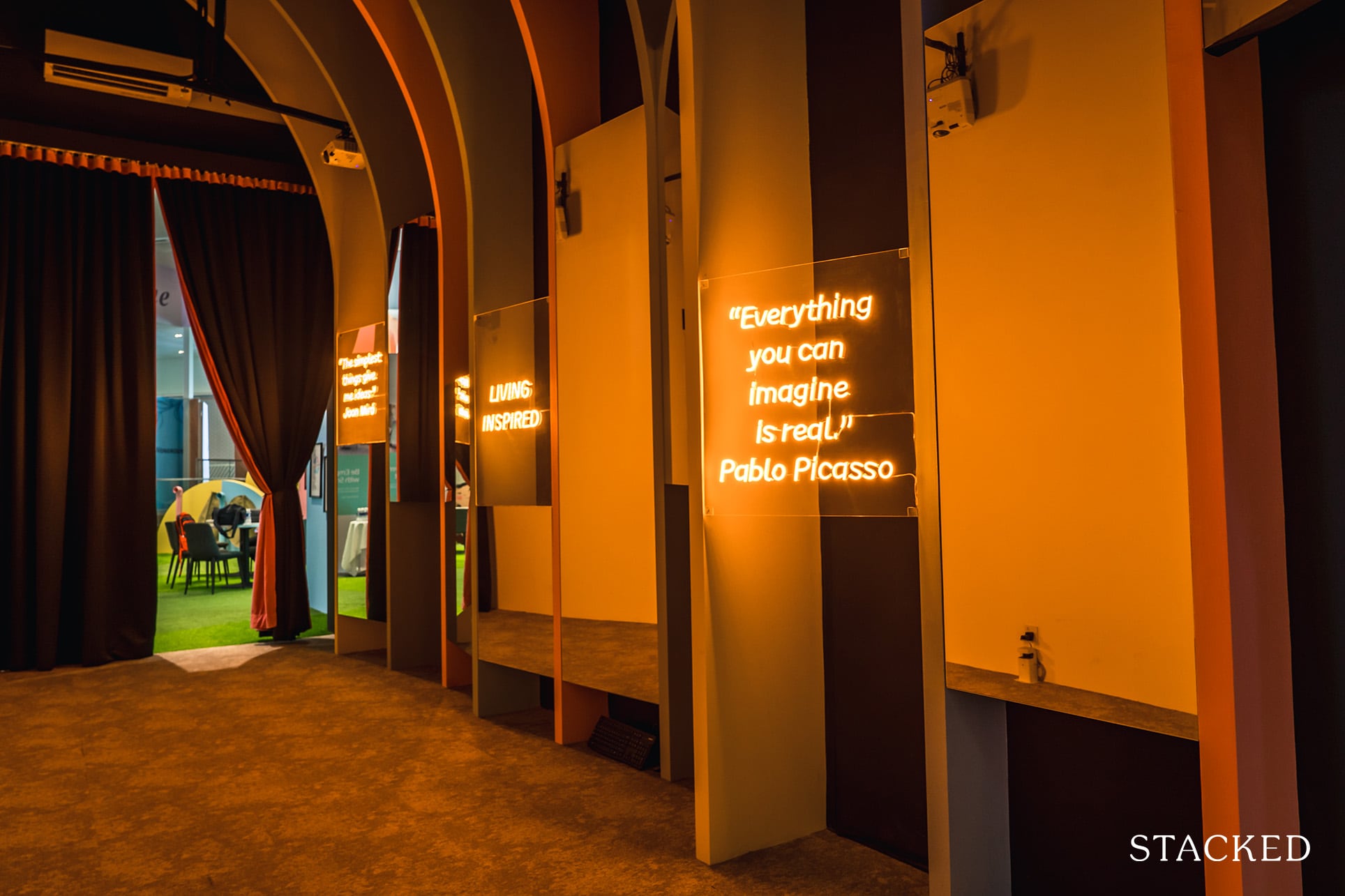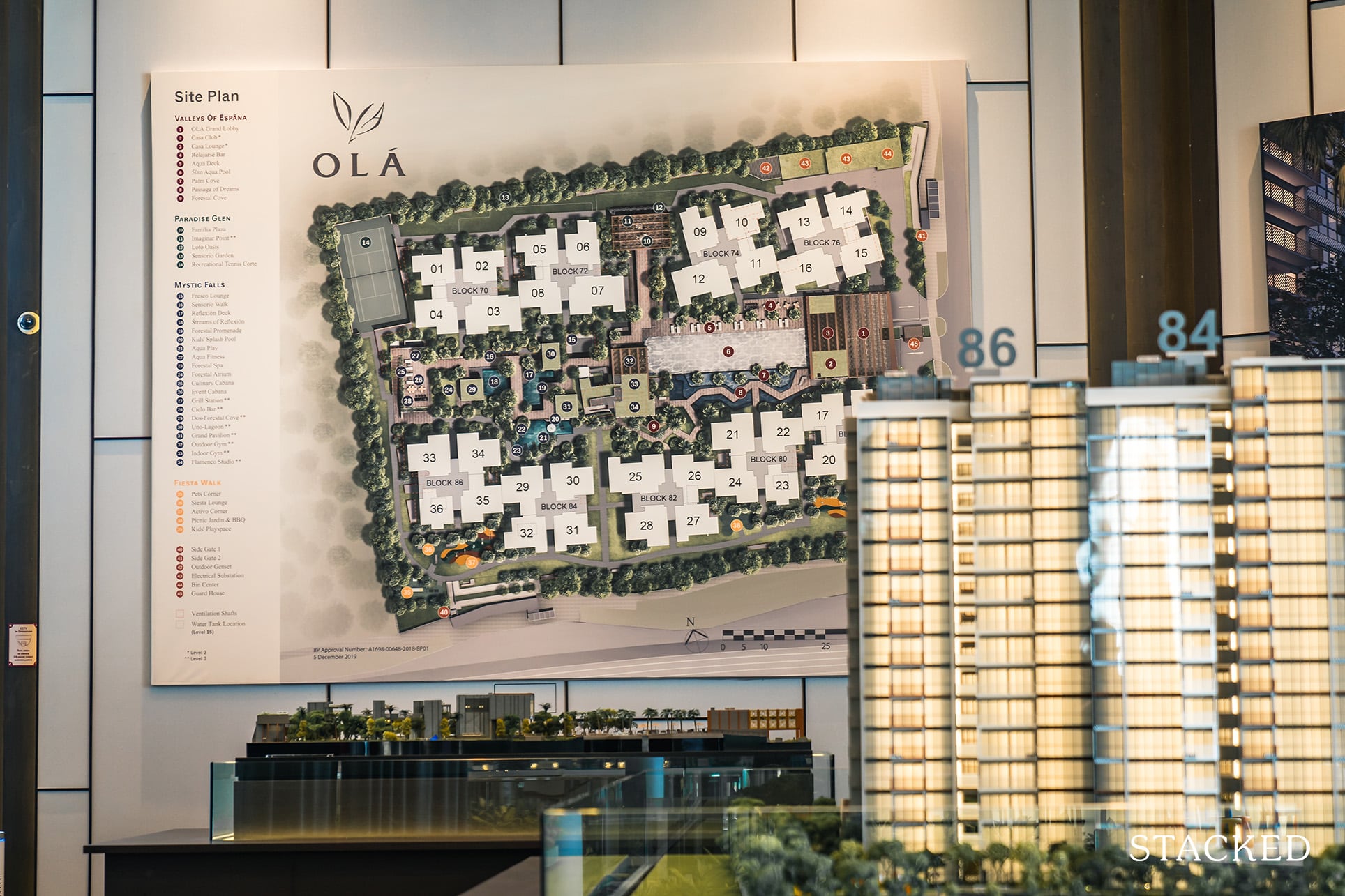 With a total of 548 units, the Ola EC is not a bad size at all. It sits on a land area of 184,461 square feet with a total of 9 blocks.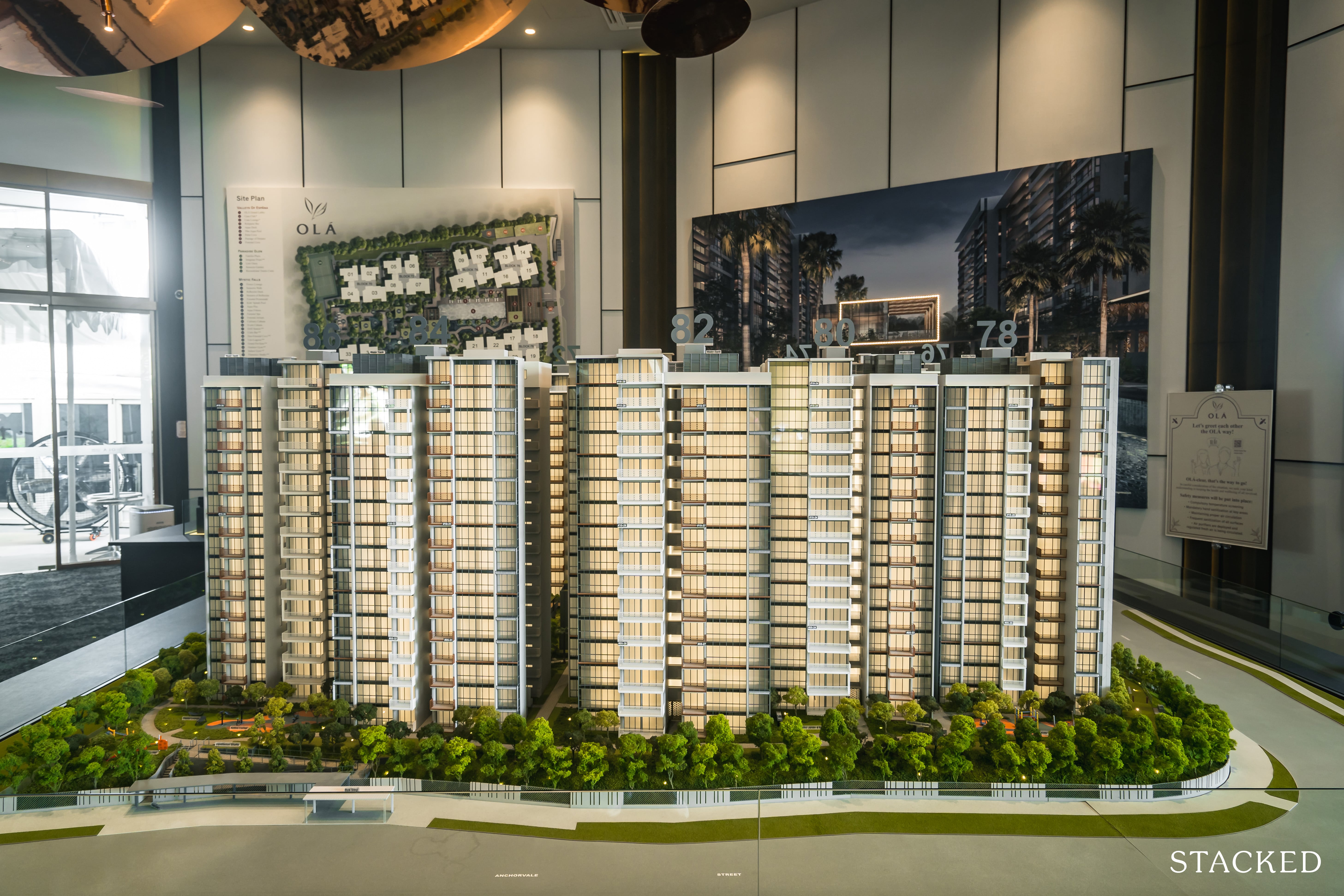 From far, it doesn't have the most distinctive design. In an era where the trend is a much darker colour palette, the Ola EC looks like it's going back to the more traditional white based look.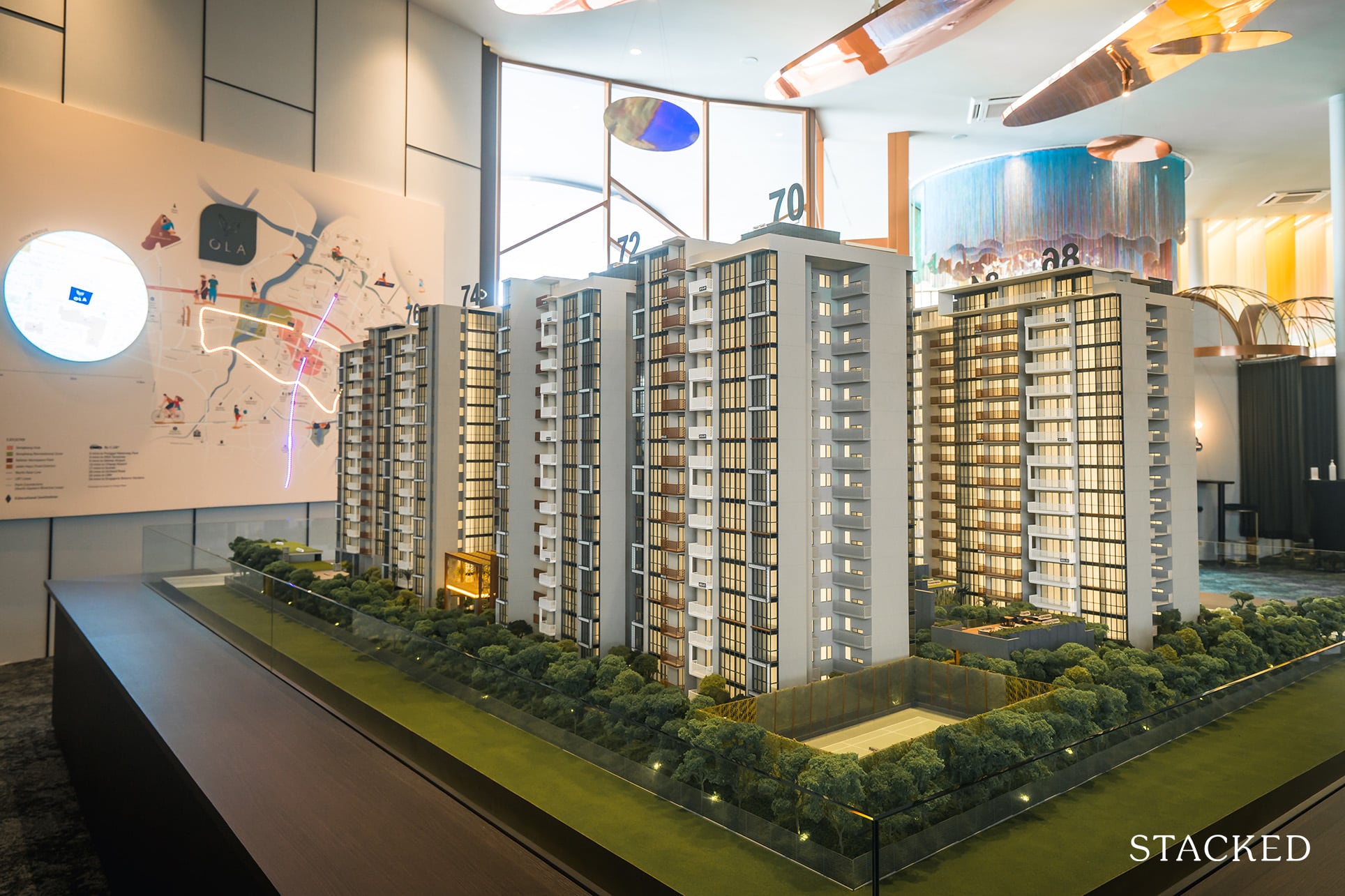 That's not to say it's a bad thing as it is very much inline with the homely laid-back vibe they are trying to go for.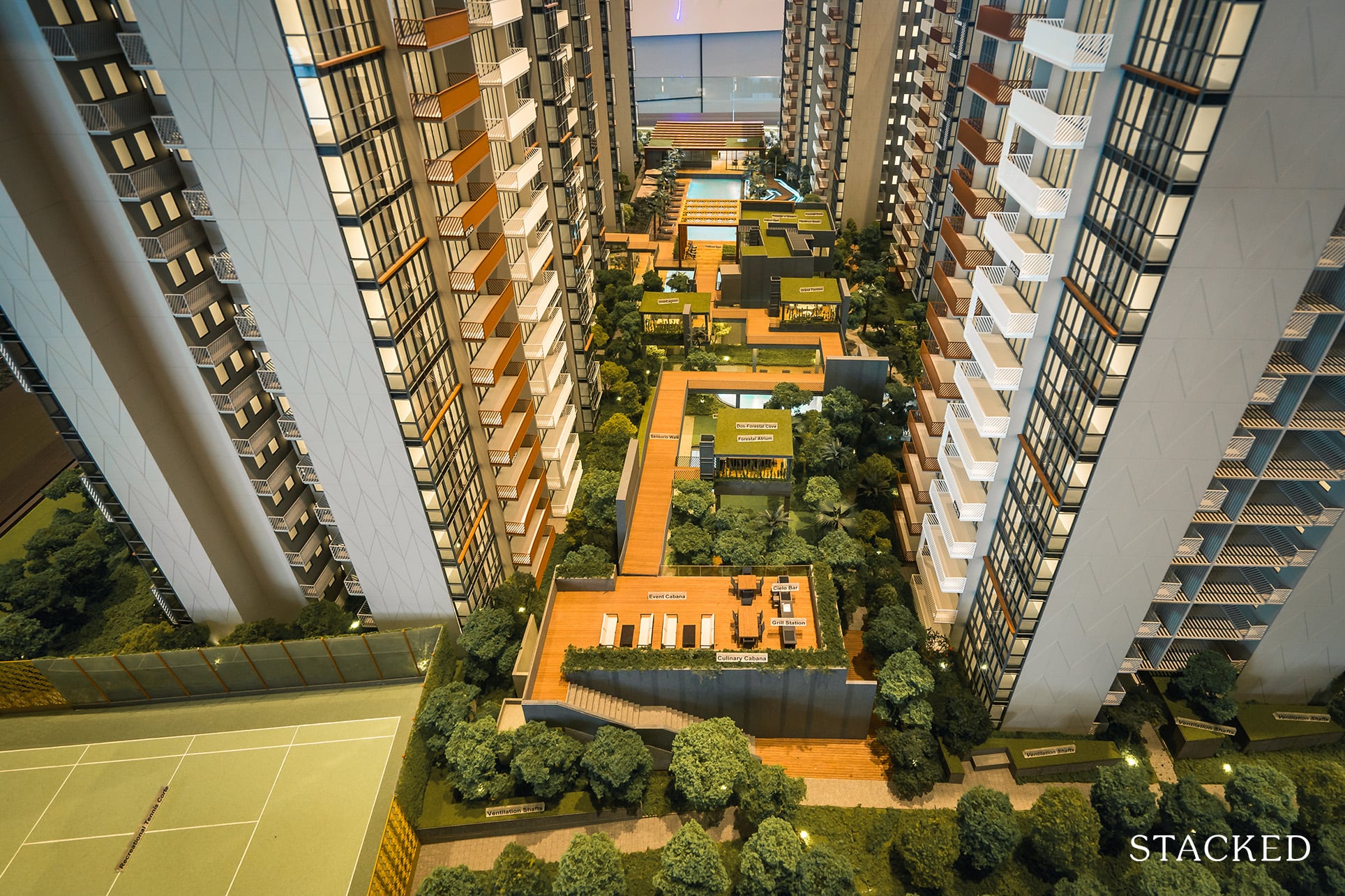 But if you look closely, there are different intricacies in the design that I quite like. For one, they've developed a signature motif that is displayed in various prominent sections of the estate. I would have figured the balcony grills might be a good place to feature it too – but those are currently just a striped bronzed colour or white.
There's a patterned finish on the vertical lengths of the walls too – again, something different and it does add to the visual appeal.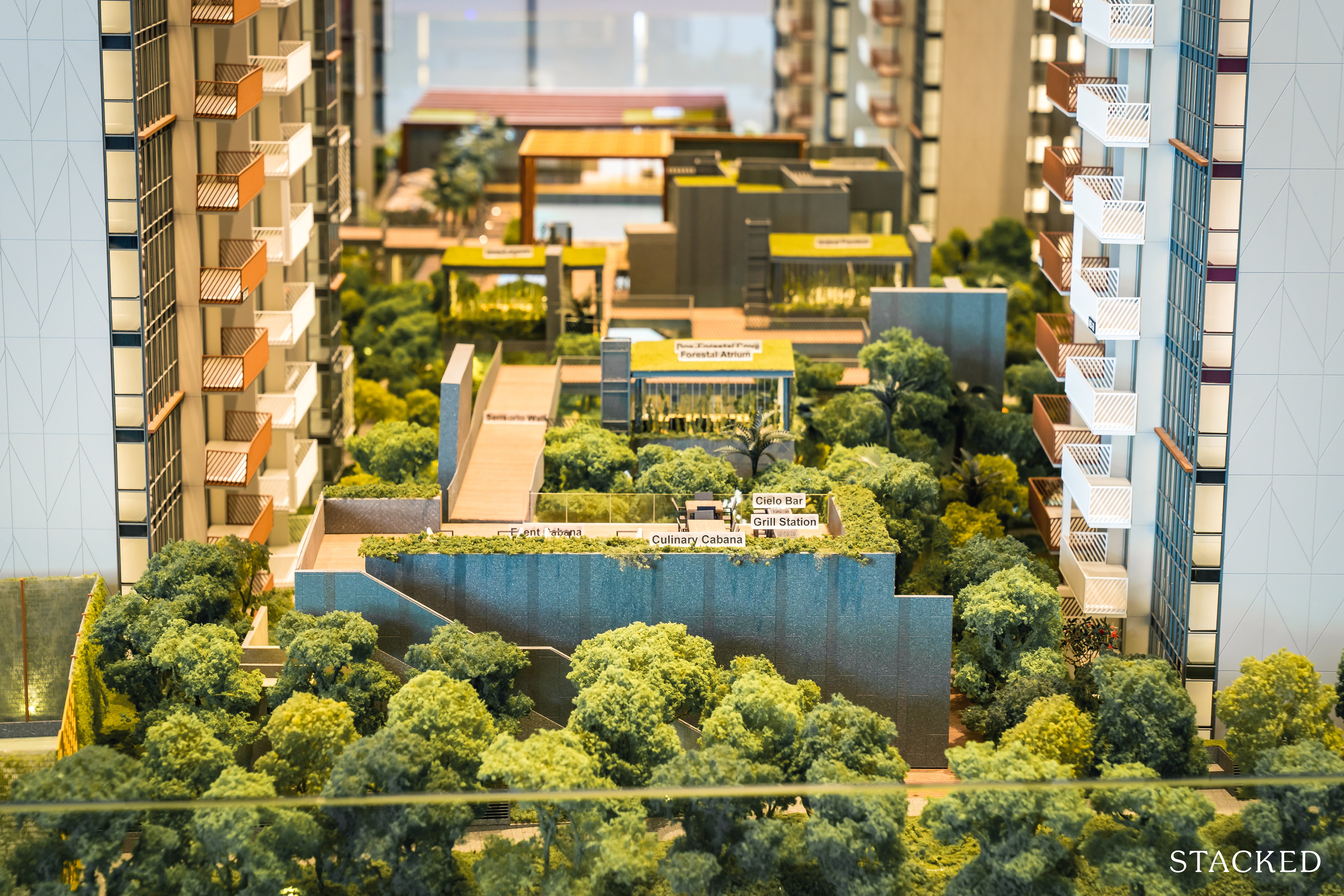 As with most developments, the facilities are really the main highlight. In fact, for some people the quality of the facilities could even make or break their decision to purchase the place.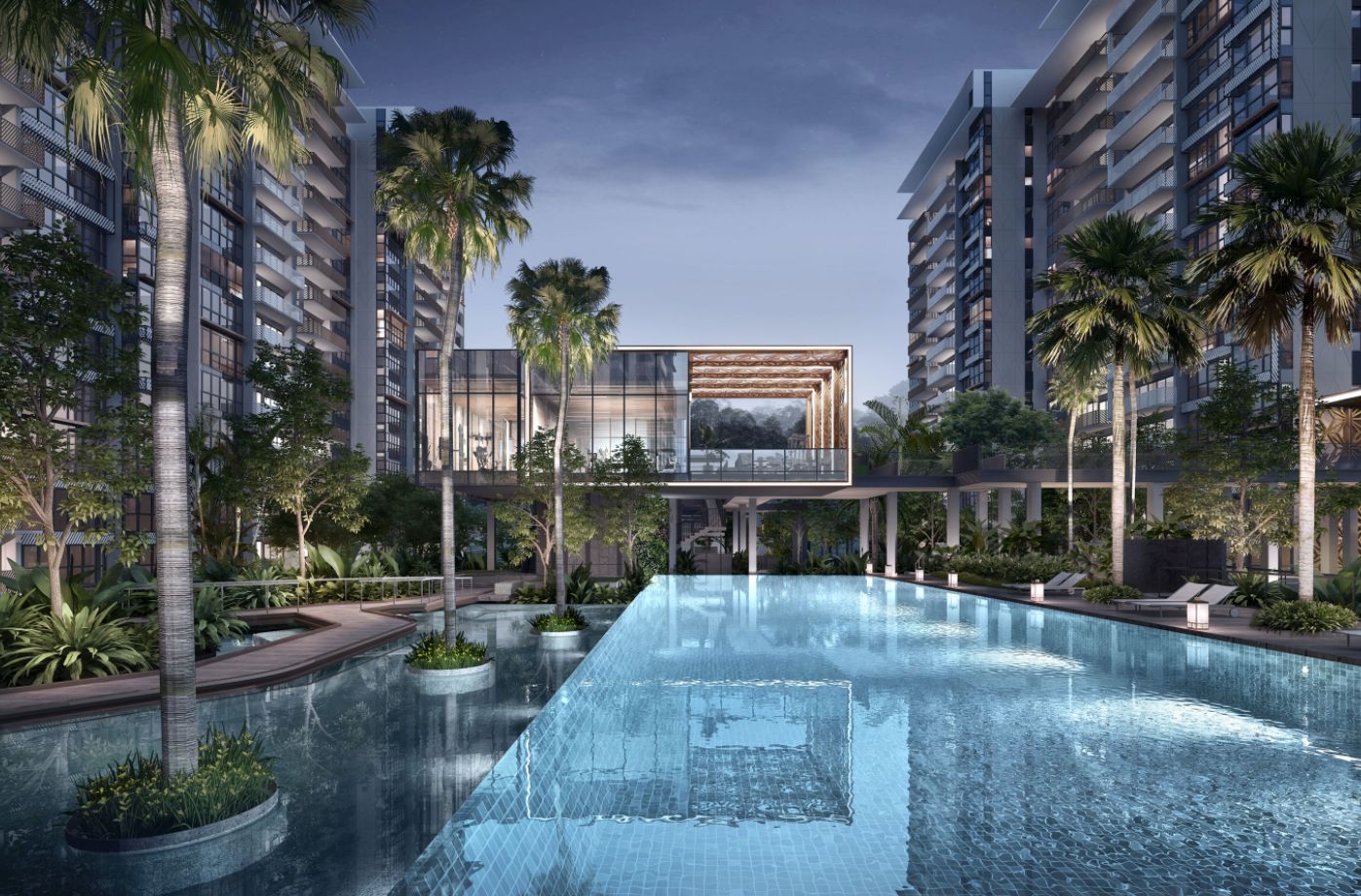 So on that front, you do get the usual 50m lap pool, gym, barbecue and dining areas.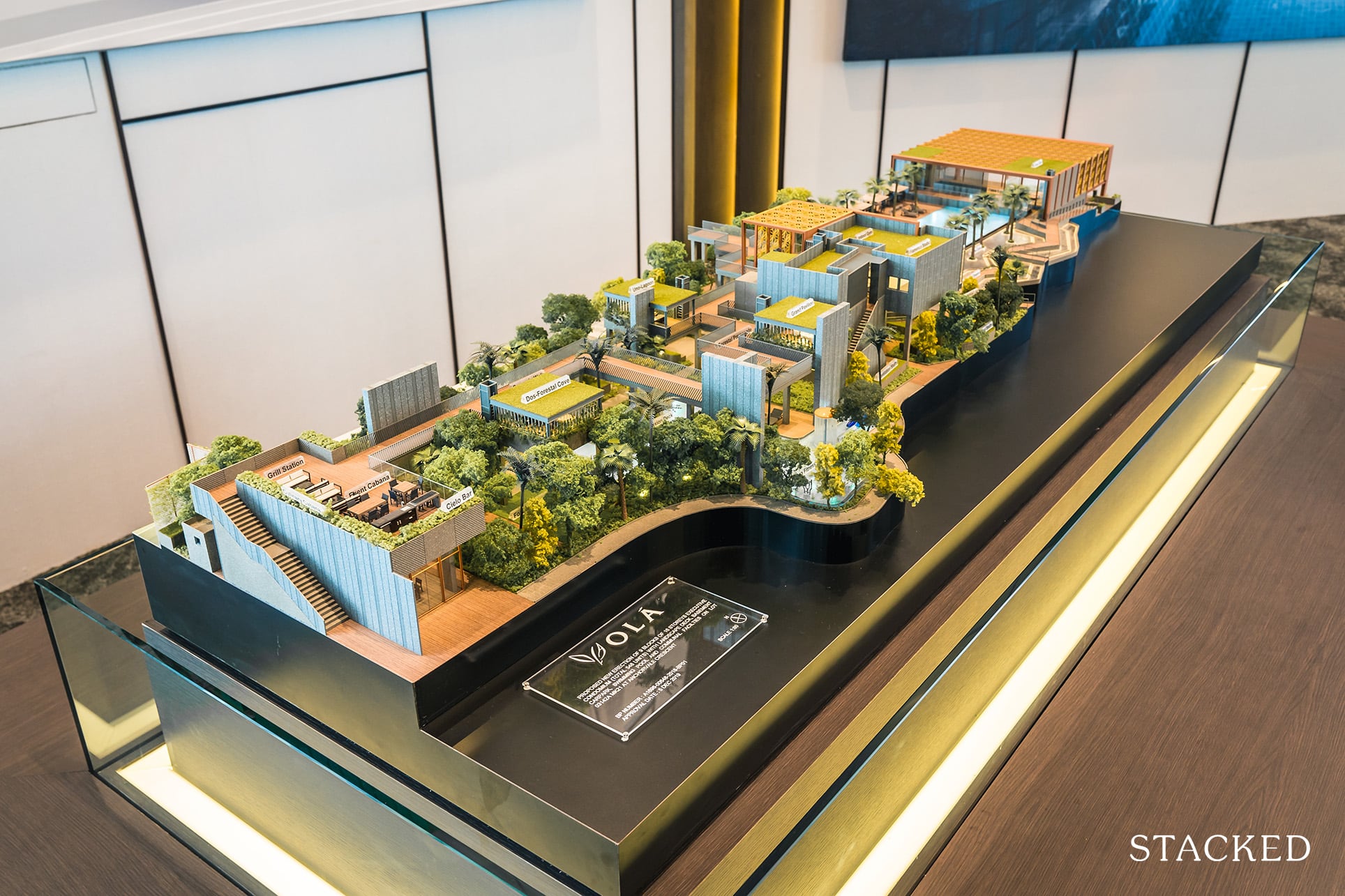 The length of facilities actually stretches out the entire length of the estate (with the exception of the tennis court) – so its clear that a substantial amount of space has been dedicated towards the facilities and activities for its residents.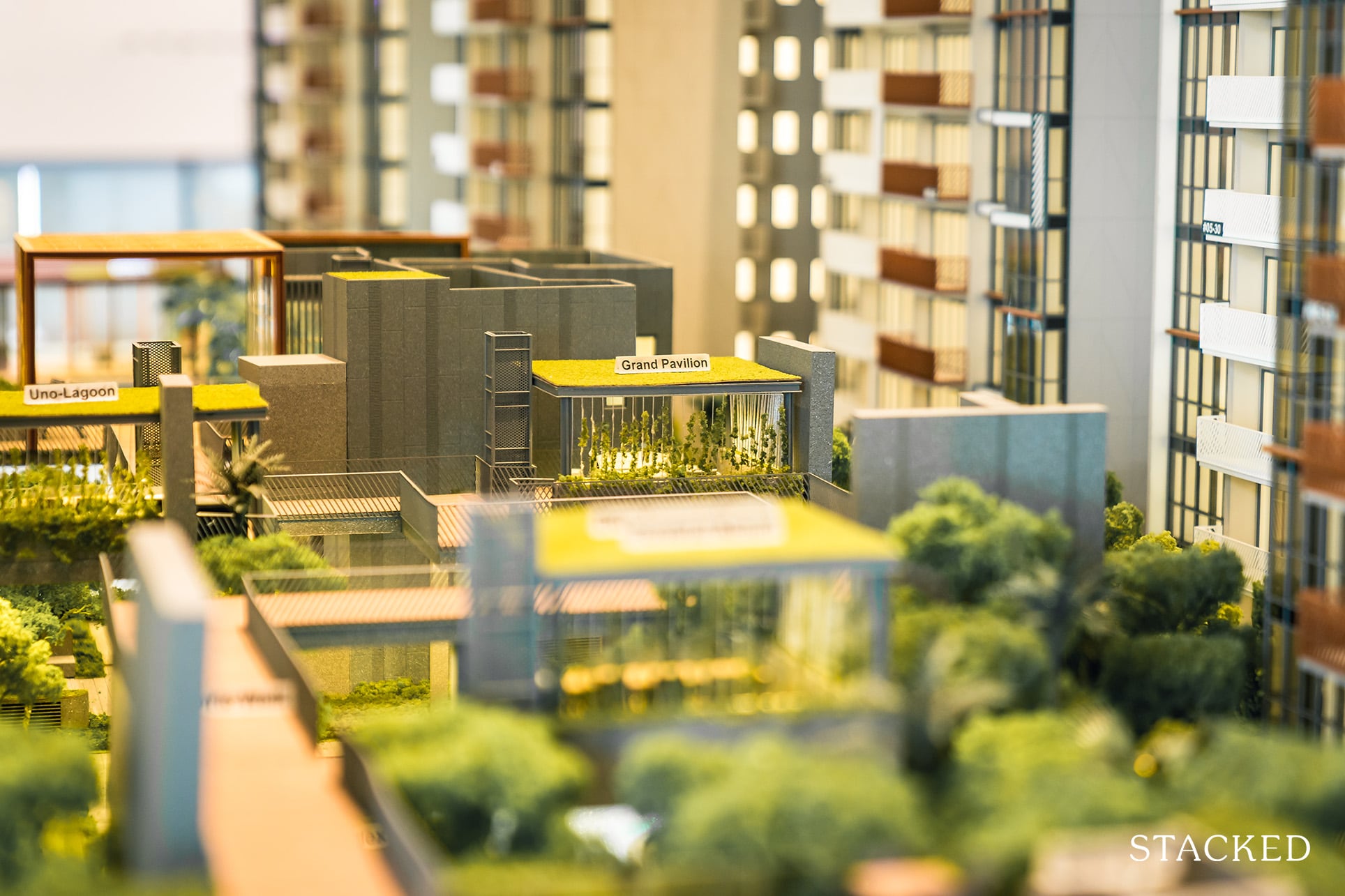 While I wouldn't say any of the facilities are particularly unique, where the Ola EC does stand out is in its execution of it. I love that they've created different levels and structures that are connected by elevated walkways. It makes for such an interesting and varied landscape – for those living on the higher floors the view towards this "valley" should be a really stimulating one.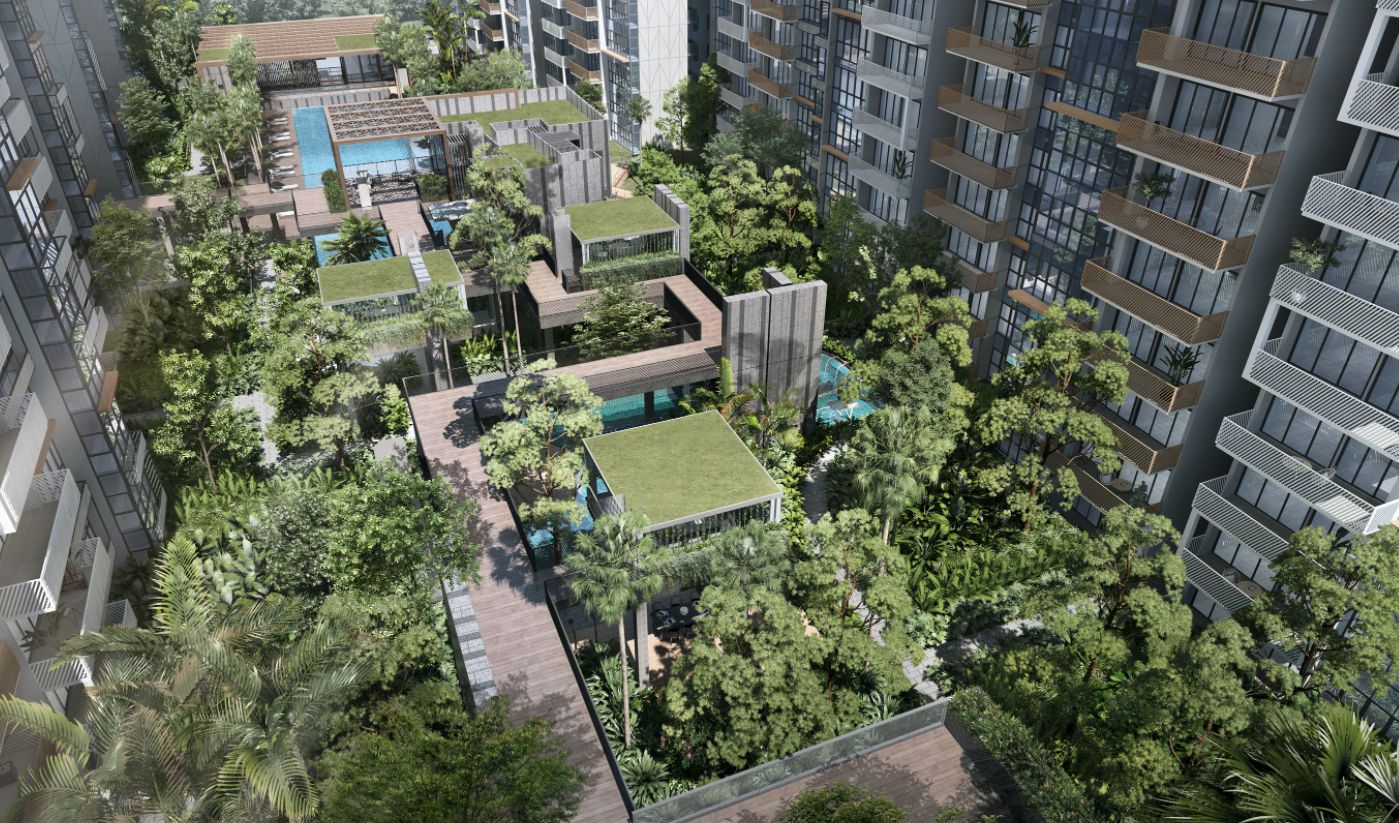 That said, those on the lower ground floors might have a blocked view depending on the location – so keep a watch out for those.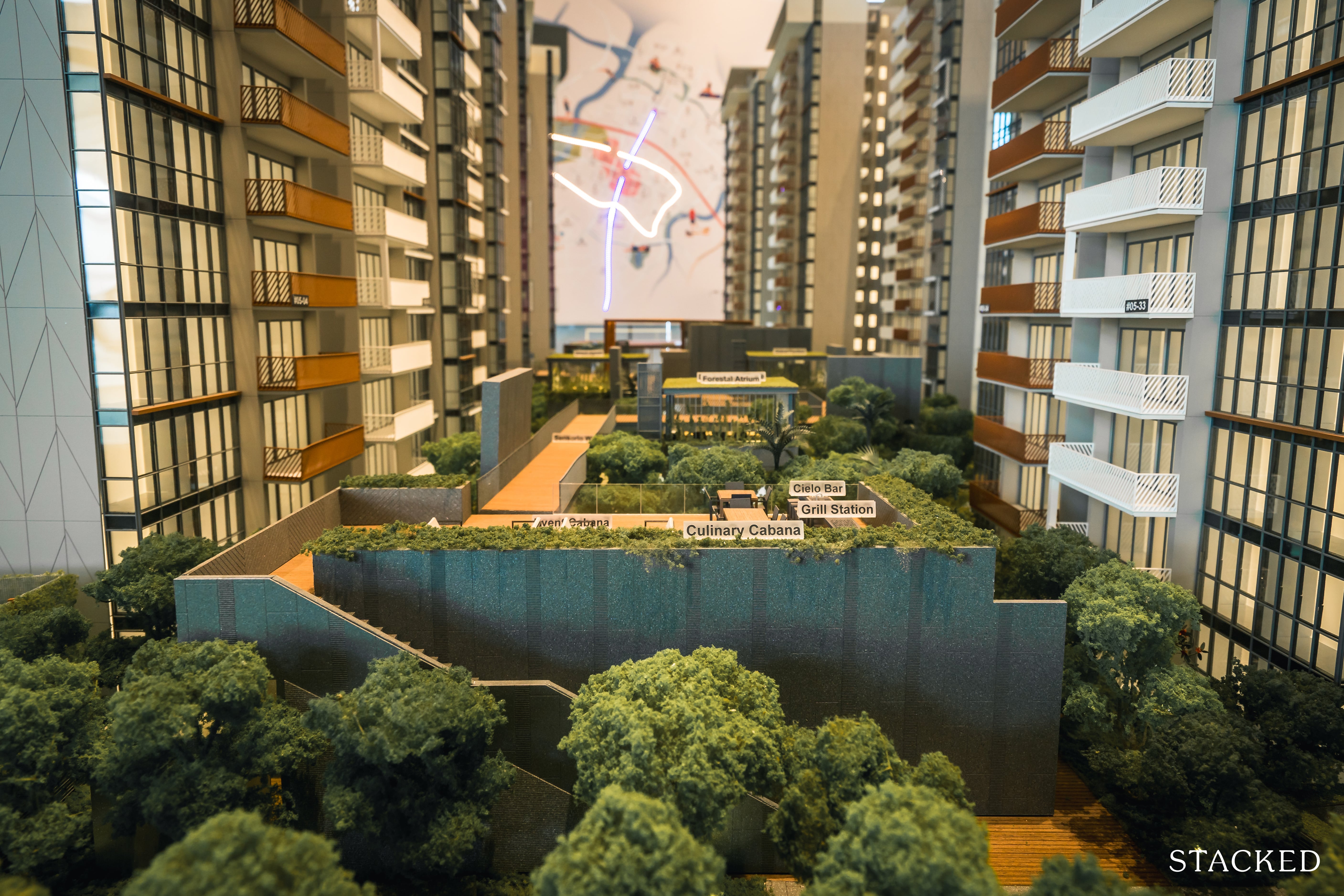 The biggest difference that the Ola EC has introduced though, is the number of activities that residents will get to enjoy. As part of the Spanish theme, kids between the ages of 6 and 16 will get a whole year of football classes – courtesy of the tie up between Ola and Real Madrid Football School.
Of course, it's not just football that residents will get to choose from. There is a whole range of other activities such as aqua zumba, skincare, baking, dance, and yoga classes – a total of 500 free hours will be offered.
And that's not all.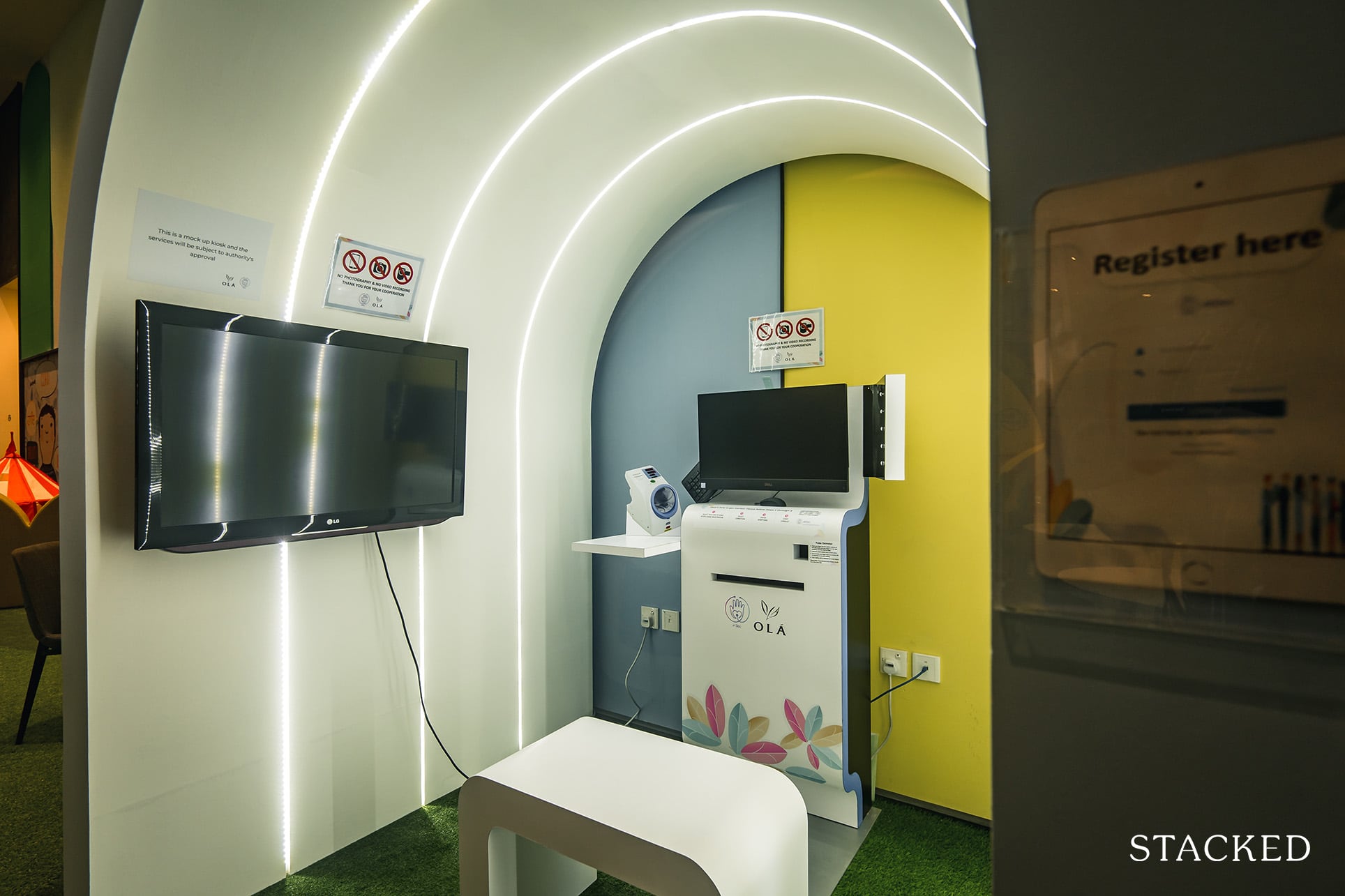 Despite Sengkang Community Hospital being located directly opposite, Ola has also partnered up with HiDoc to set up a physical kiosk. While I can't testify to the usefulness of telehealth right now, I do think that it will be the way things will be run in the future – so it's great that some thought has been put into future trends. Consultation fees will be waived for the 2 years – so residents will only have to top up for medicine and delivery fees.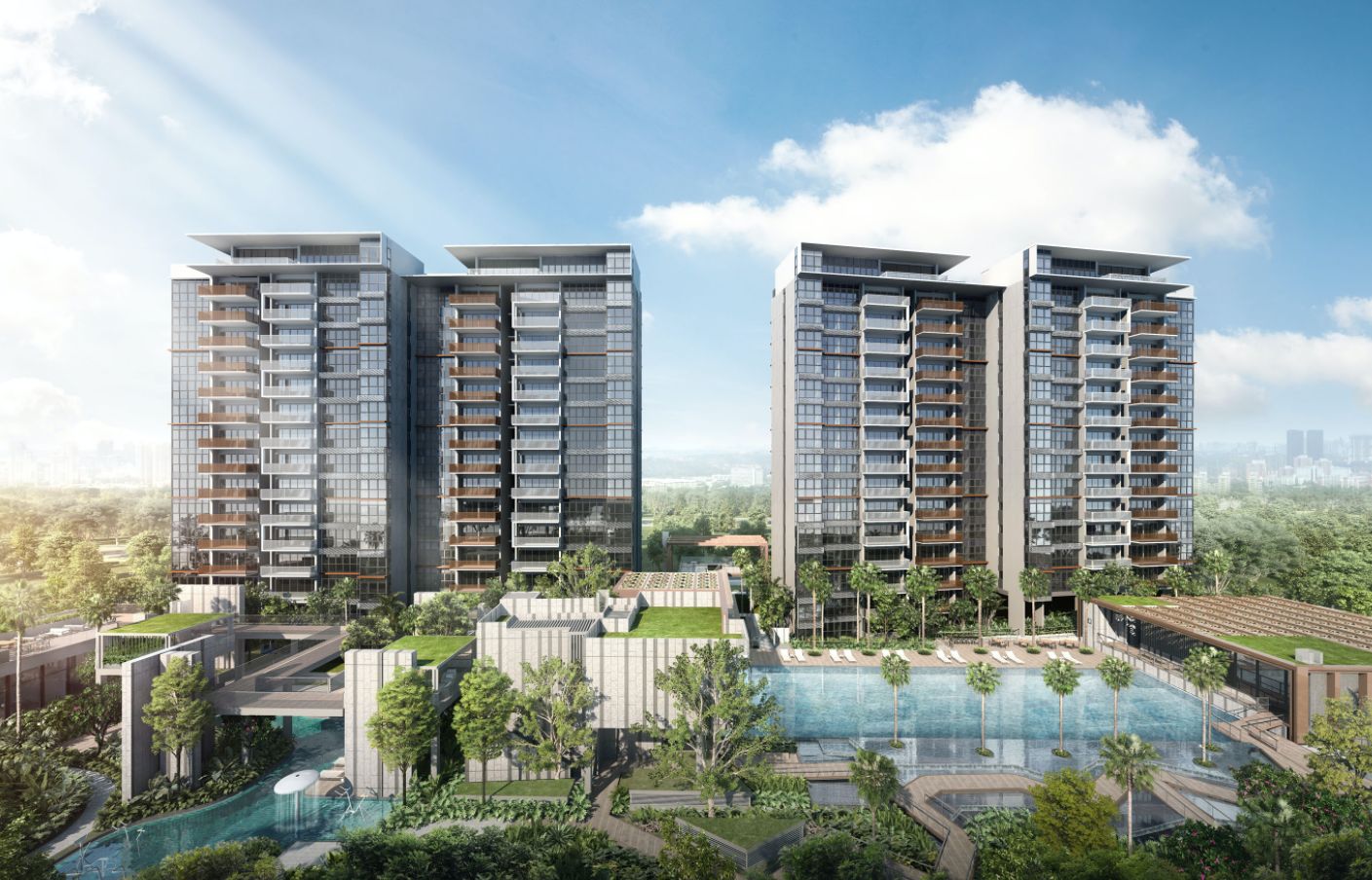 Ola EC 4 Bedroom Review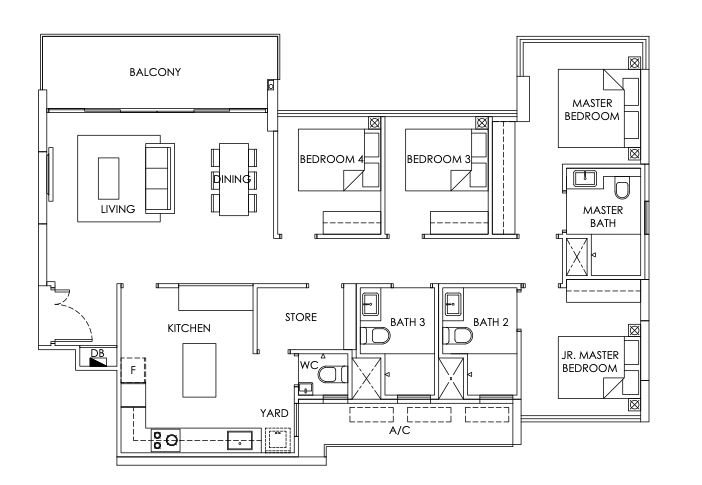 At 1,389 square feet, the 4 bedroom unit at the Ola EC is a fairly decent size. It's quite well laid out, with minimal outdoor space – as most families would appreciate any extra indoor space they can get.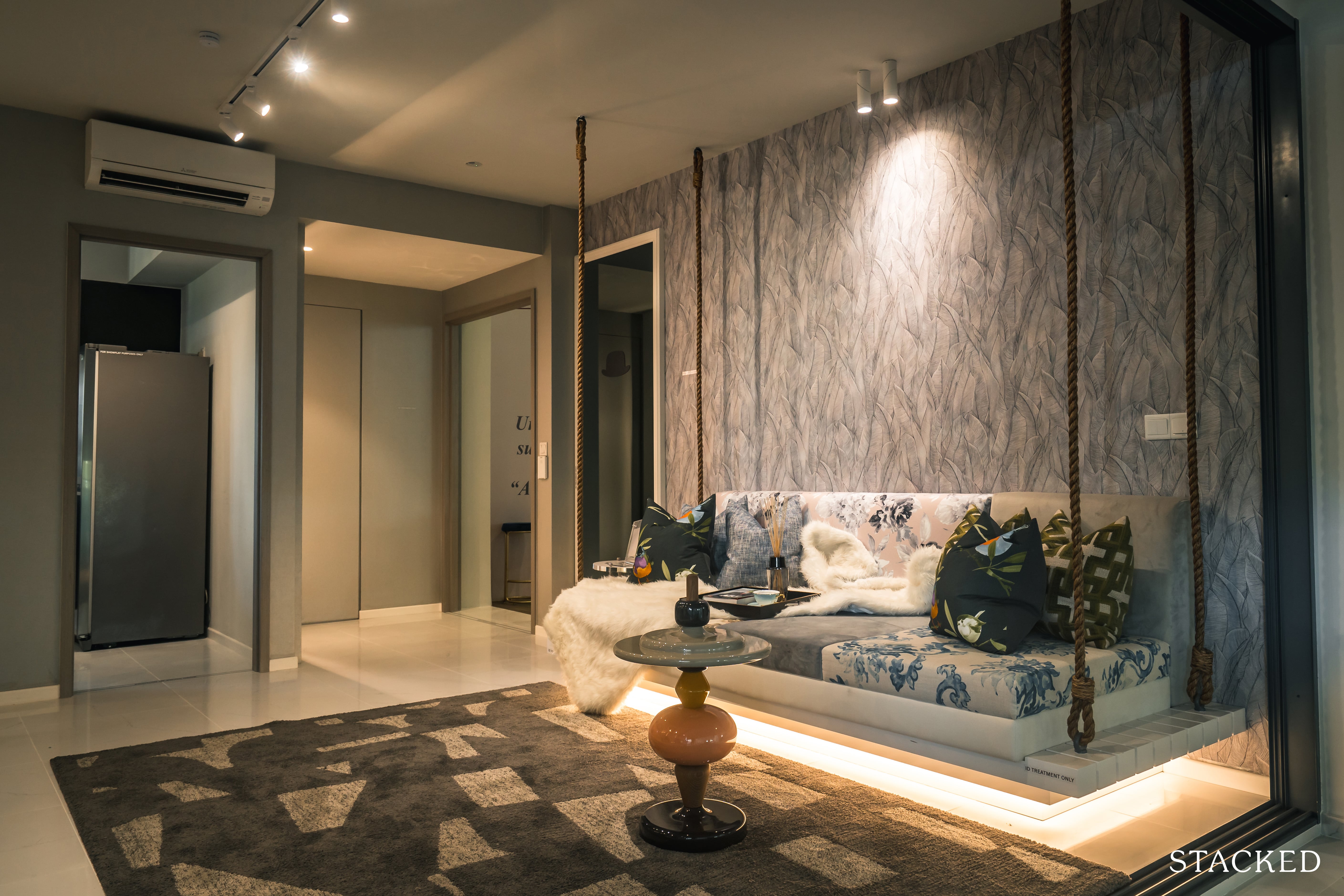 Instead of a consistent theme throughout – the Ola EC strays away from convention by implementing a different theme for each showflat type. In the case of this 4 bedroom unit – they've decided to go for an Alice in Wonderland theme. While I appreciate the creativity, it was slightly too whimsical for my liking and slightly distracting.
For all of the bigger units (basically everything except the 2 bedroom units), the design incorporates a small lobby at the front door. So instead of opening up directly to the unit, you have a corner for a console table before turning into the unit itself.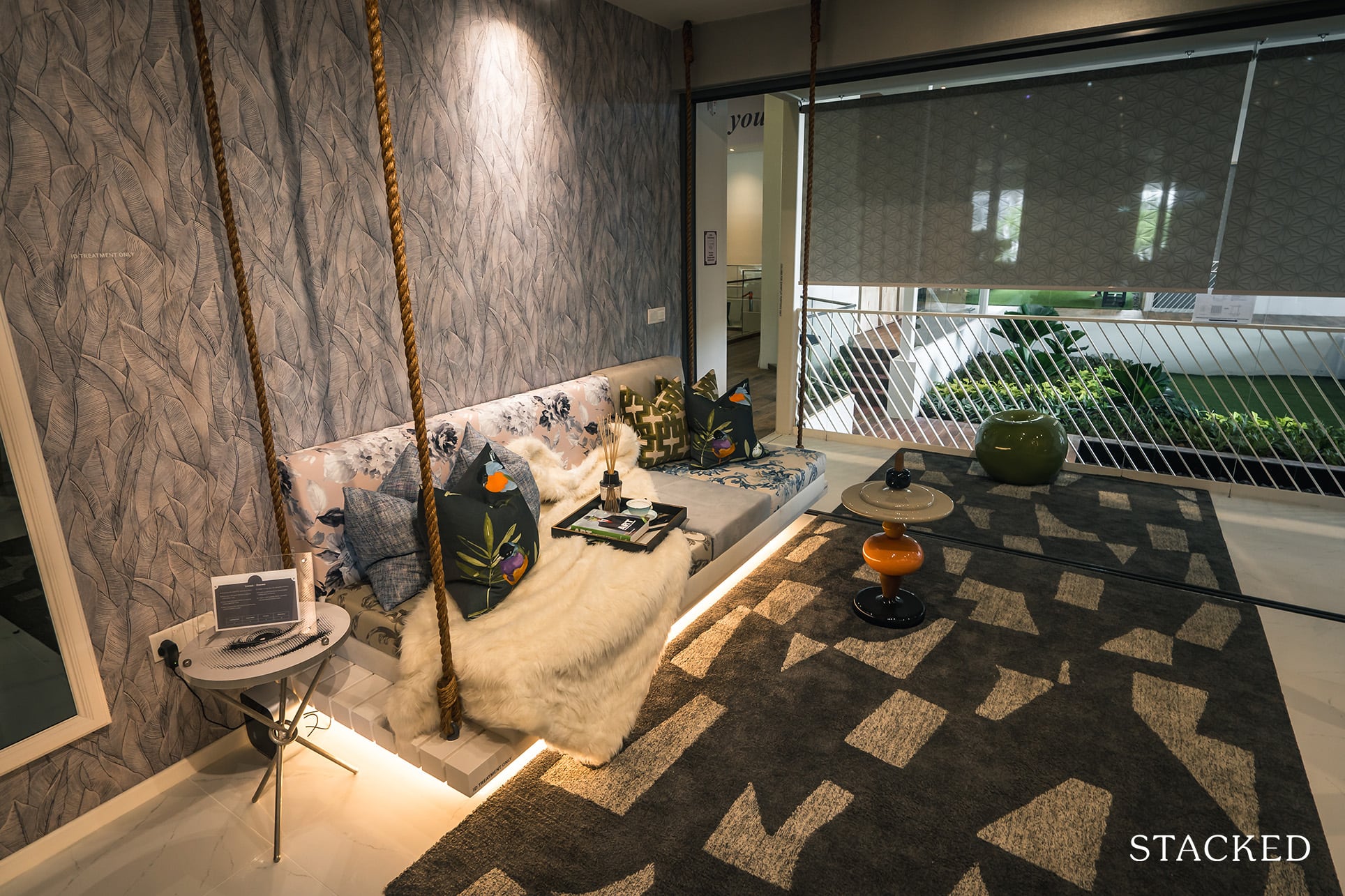 Living room space is very decent – especially if you follow the ID in flushing both the sofa and dining table towards the wall at each end.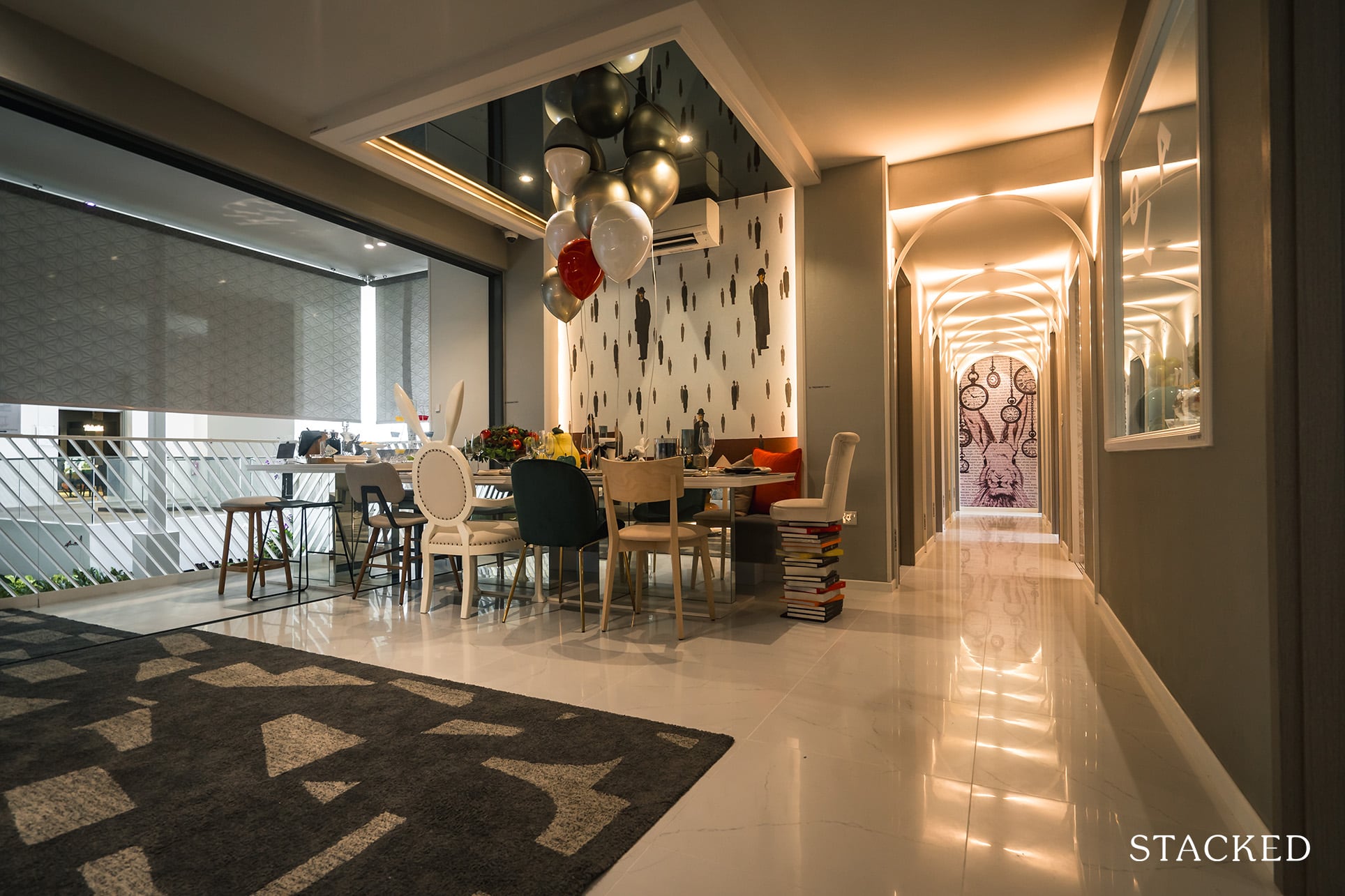 The result creates an open space in the middle which allows the living and dining areas to feel a lot more spacious. Of course, this layout doesn't account for the position of a TV so you'll have to take that into consideration.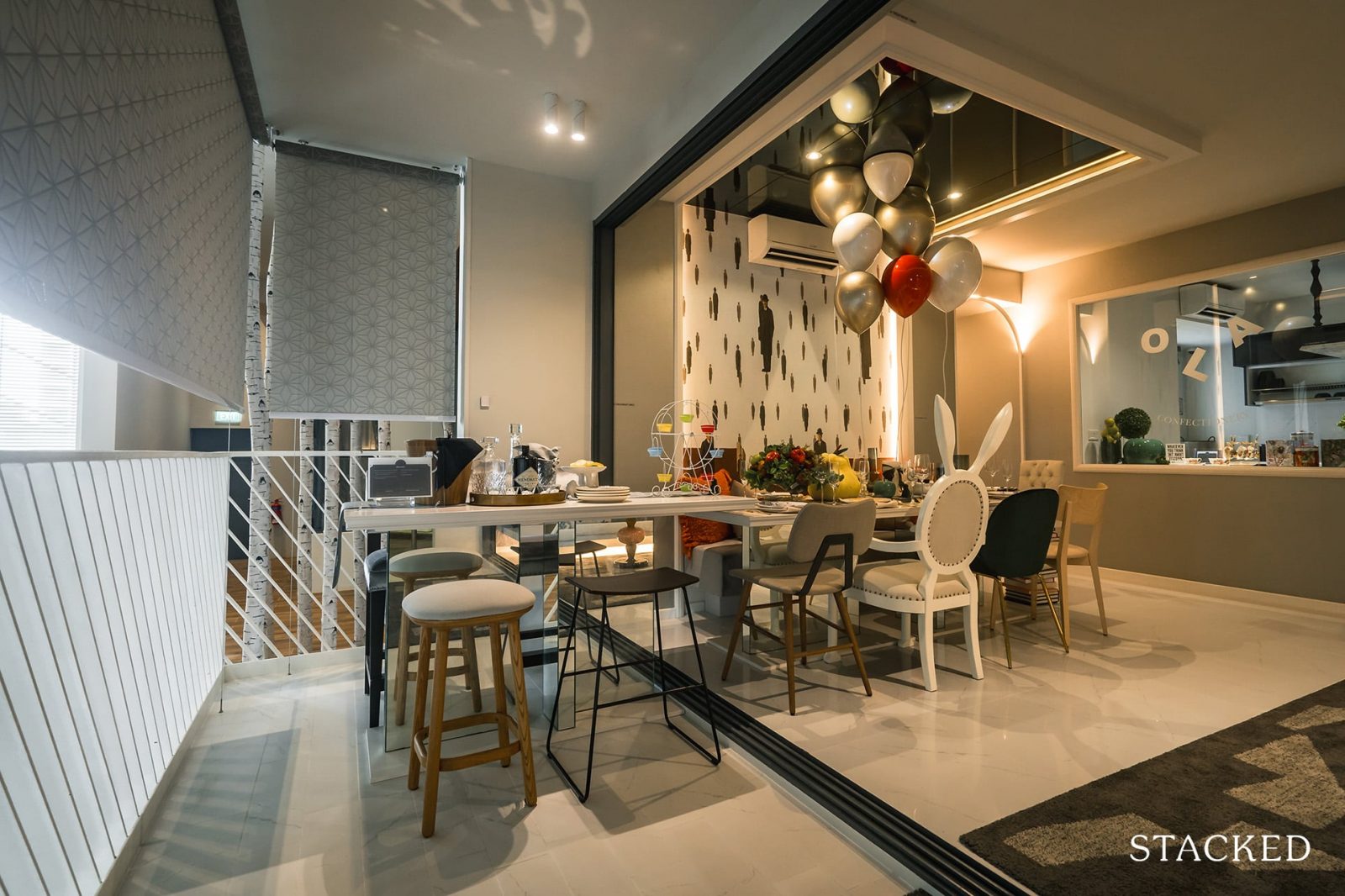 The developers have also included motorised blinds with the special motif created just for Ola. You have the option of upgrading to a motorised zip track by Le Gate – which allows you to make full use of the balcony rain or shine. Hence the extension of the dining table into the balcony.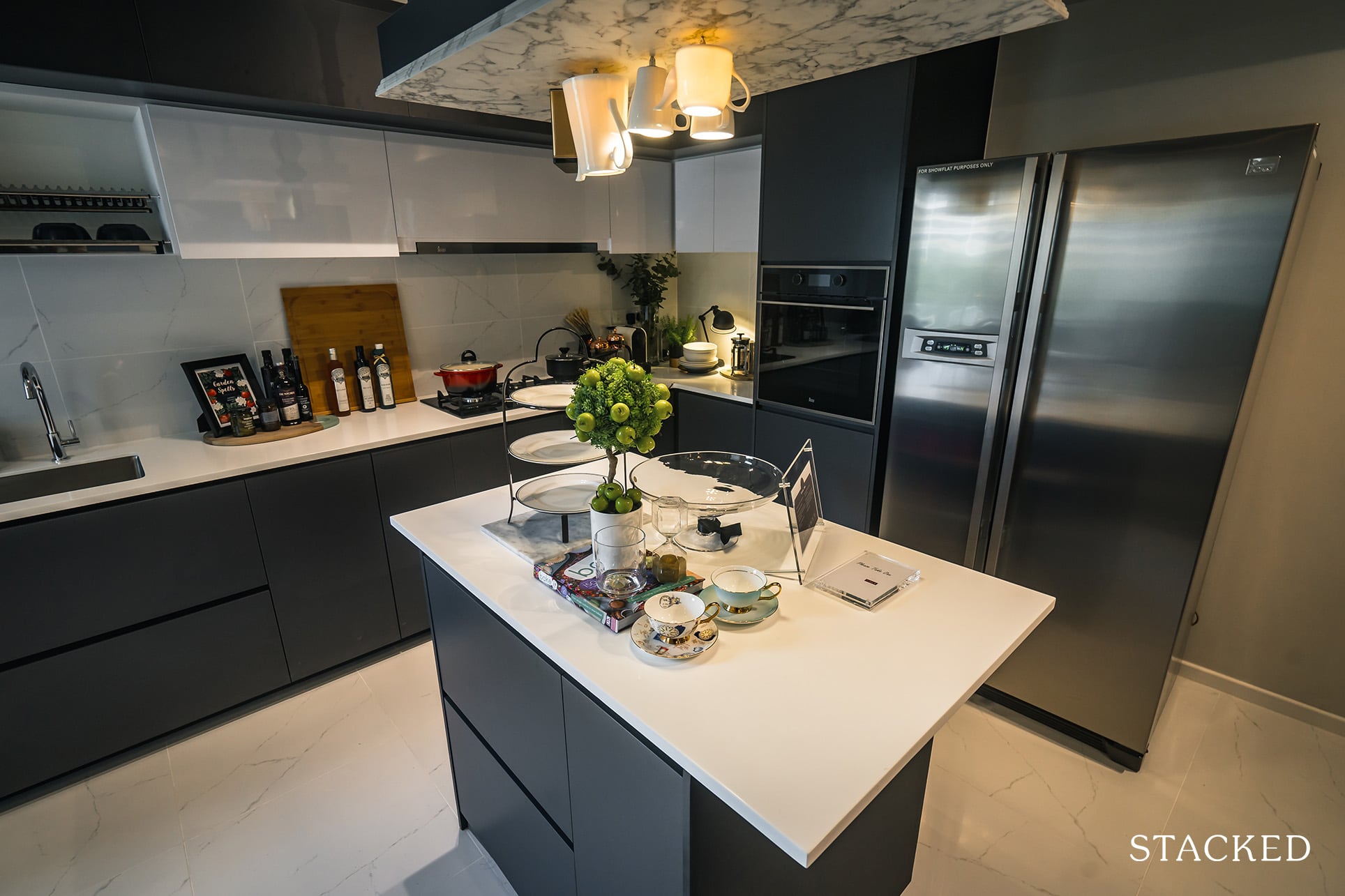 The most impressive room in the house definitely goes to the kitchen. It's a fantastic size, with a kitchen island in the middle and plenty of storage and counter space.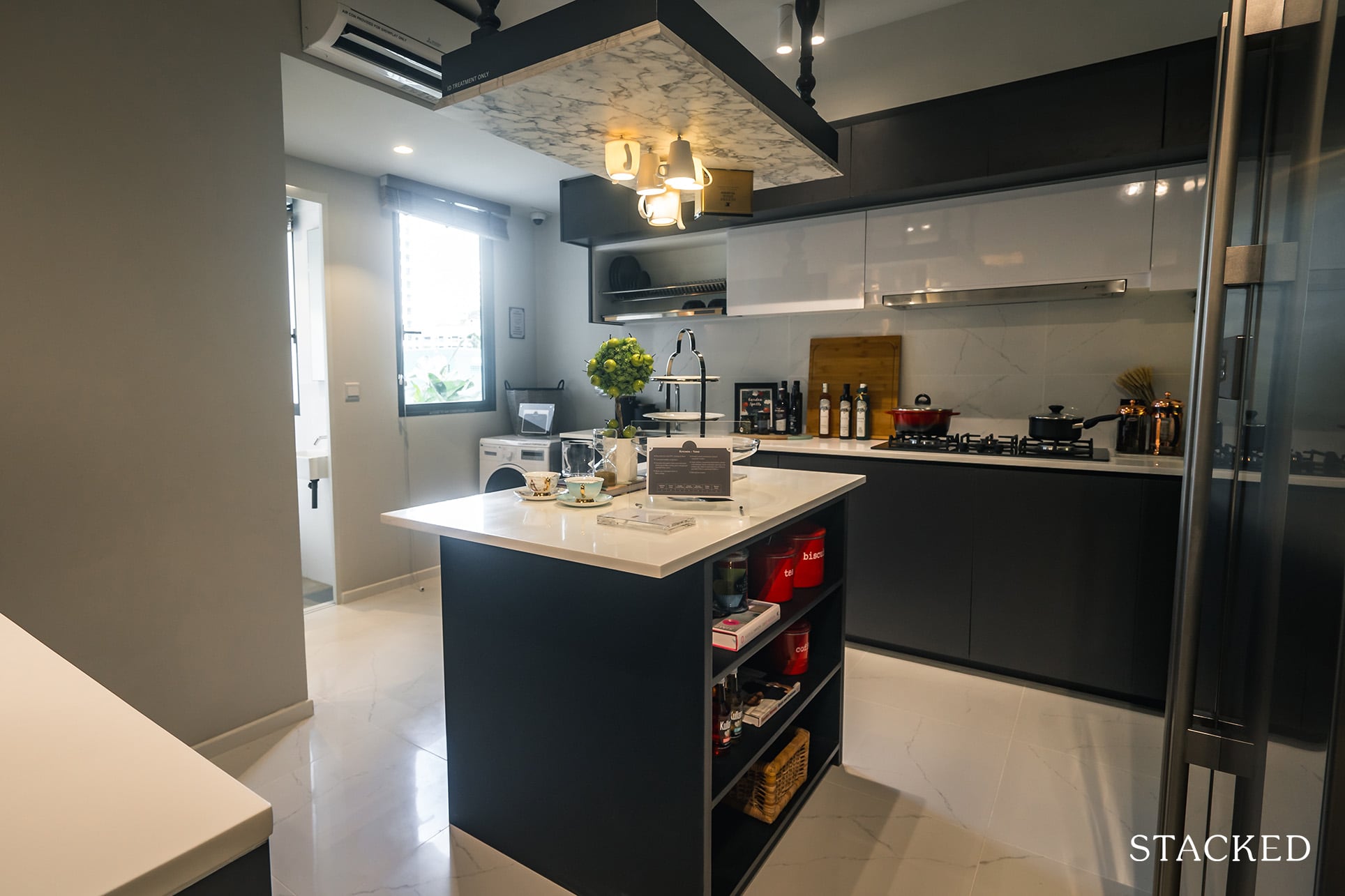 Because the fridge isn't in-built, you do have the flexibility of upgrading to a larger-sized fridge in the future. I think for most families, you really wouldn't have much to complain about the kitchen – it's very impressive. If you cook/bake a lot you'll definitely appreciate the space.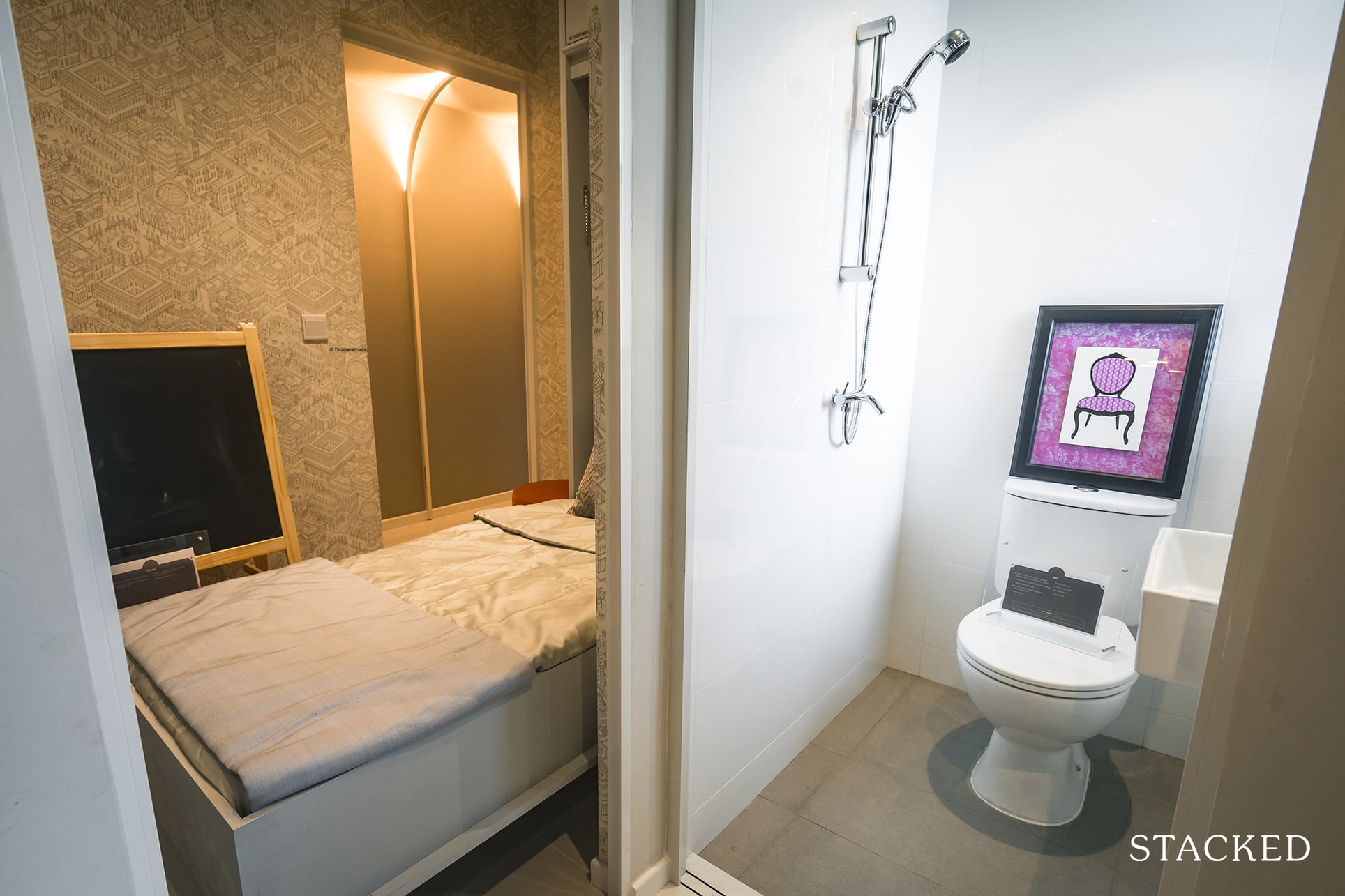 While on the floorplan it does demarcate a yard space here, it's really just a space to place your washing machine and dryer – it isn't as useful as a separate outdoor yard for sure. The store/helper's room is located here too – which has another opening that leads to the hallway.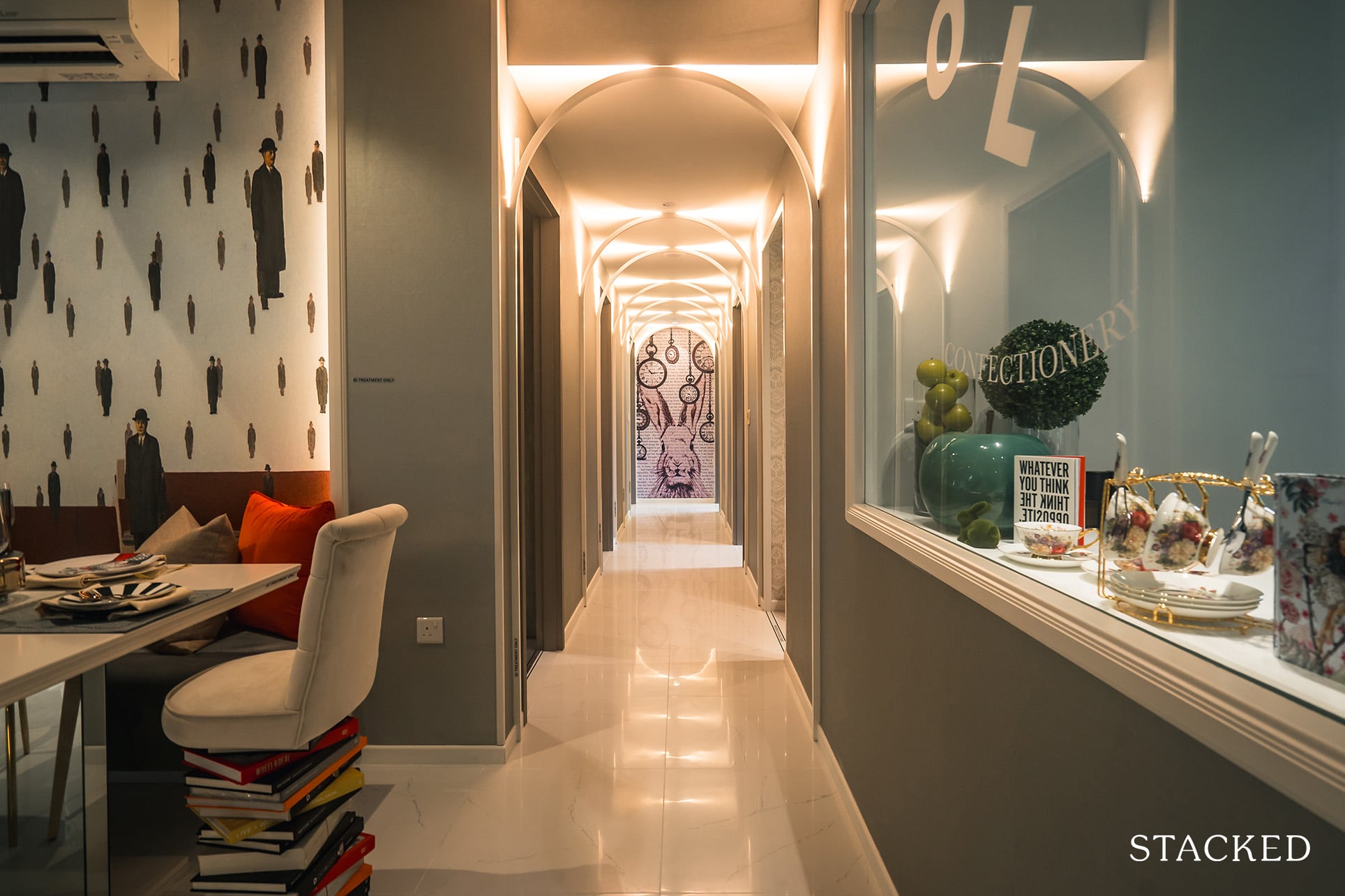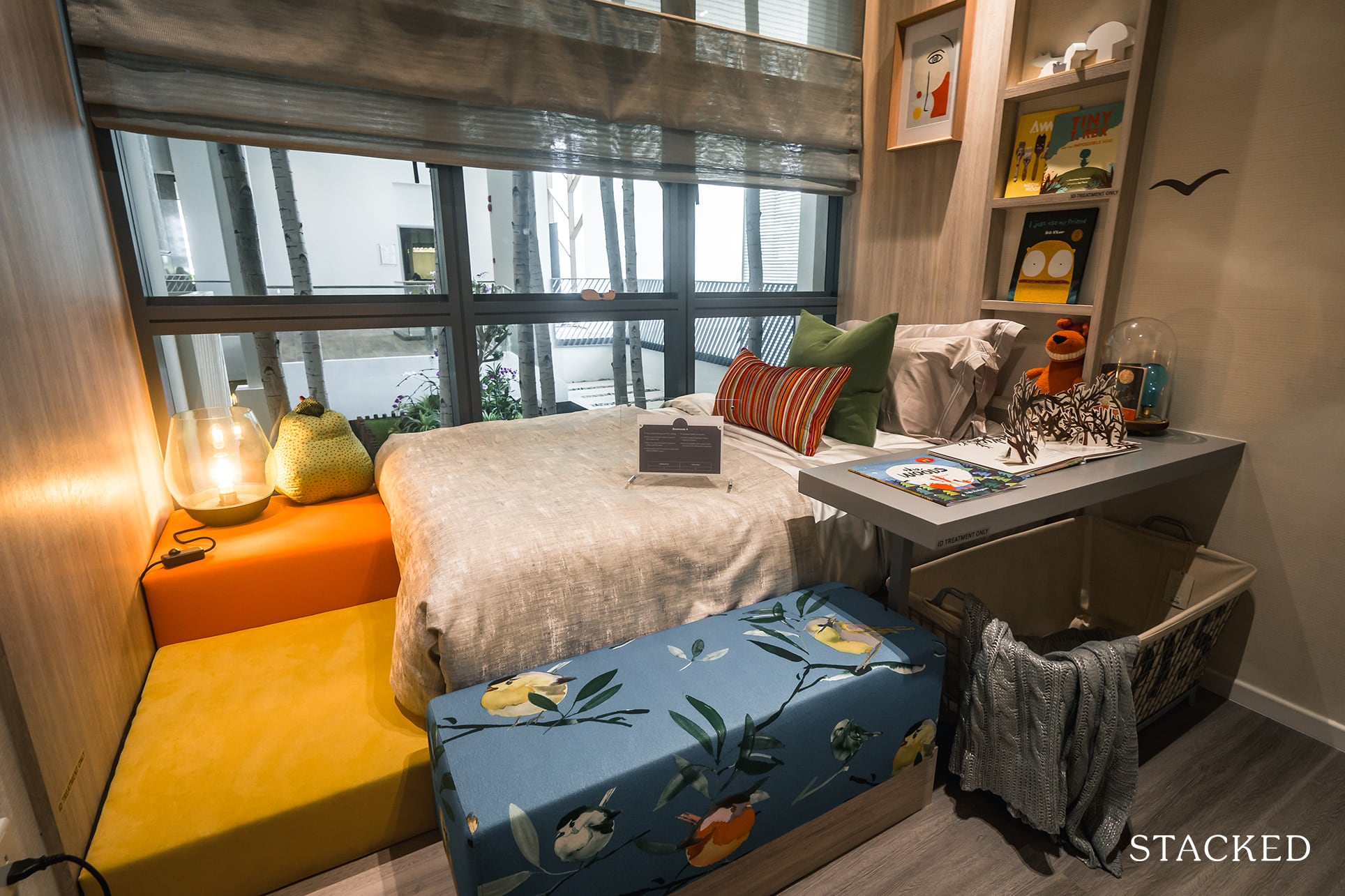 Both common bedrooms are similar in size. While they are on the small side there is definitely adequate space for your children.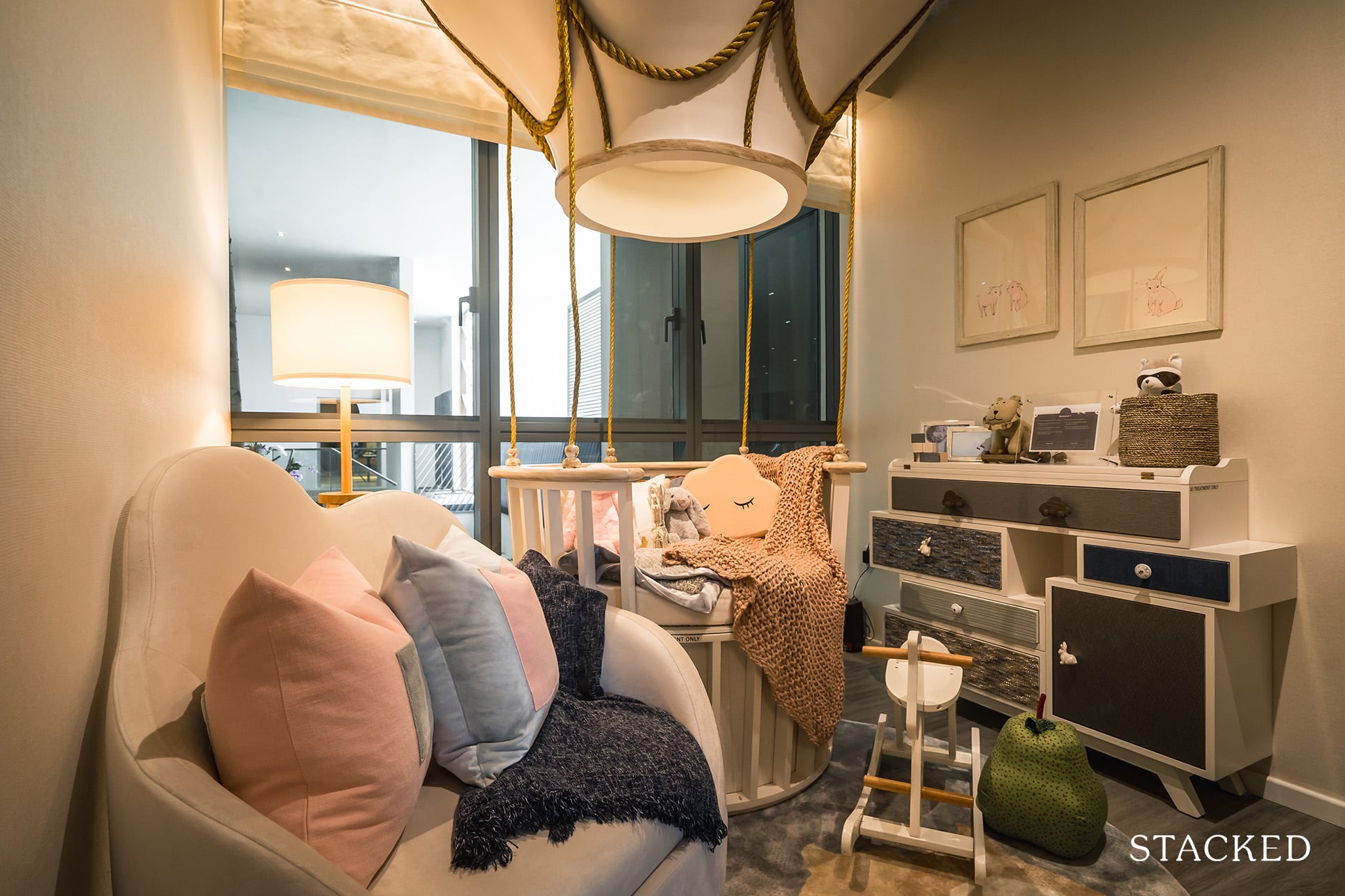 As far as nursery rooms go, the design in this one really takes the cake. Although extravagant for sure (the little one will outgrow it in no time), any parent would love this for the Instagrammable opportunities.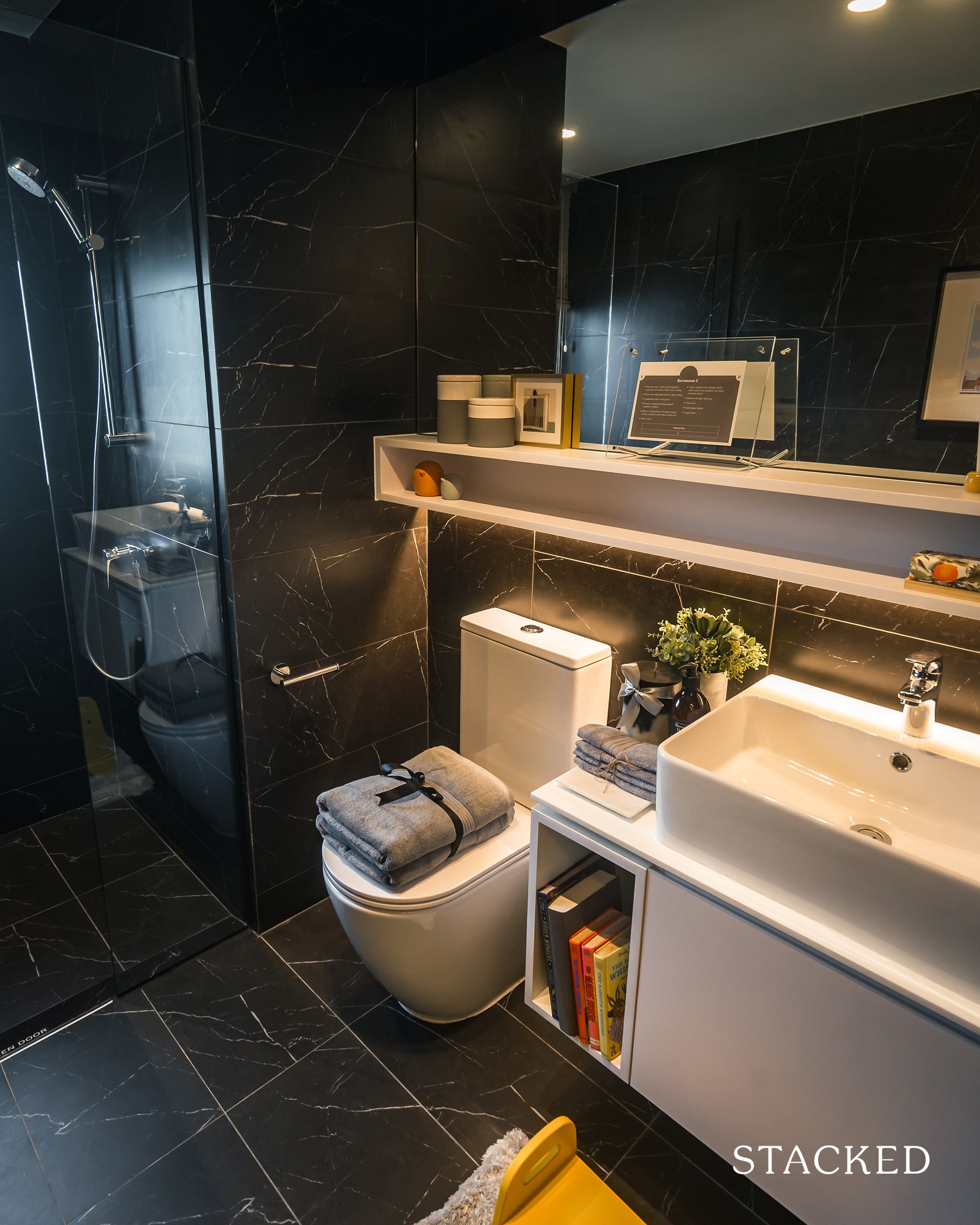 Neither of the common bedrooms are ensuite – so this common bathroom will be shared by both occupants and guests. It's a good size – although the black tiles do make it feel smaller than it actually is.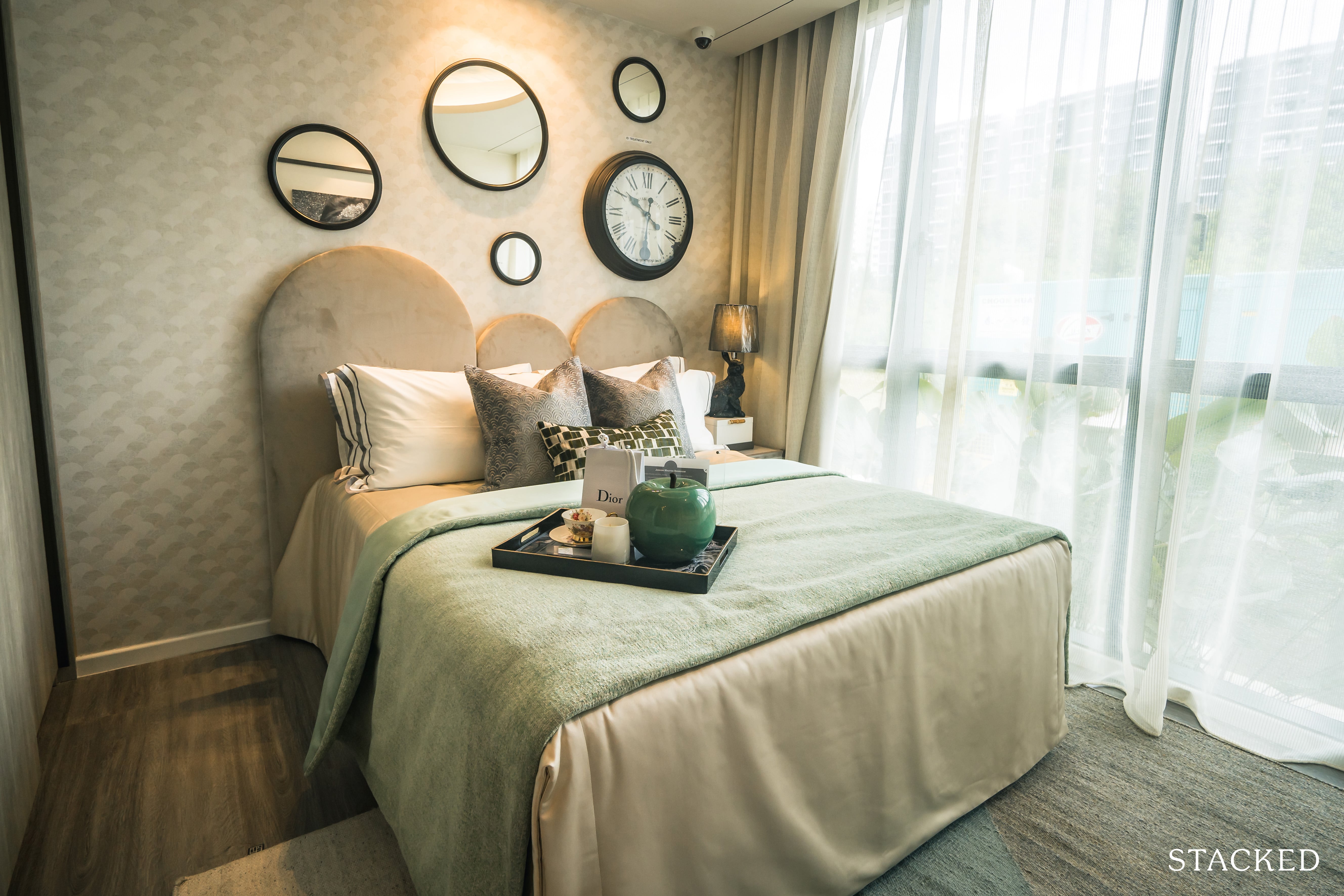 The junior master bedroom is a great size – and I really like the floor-to-ceiling windows here too.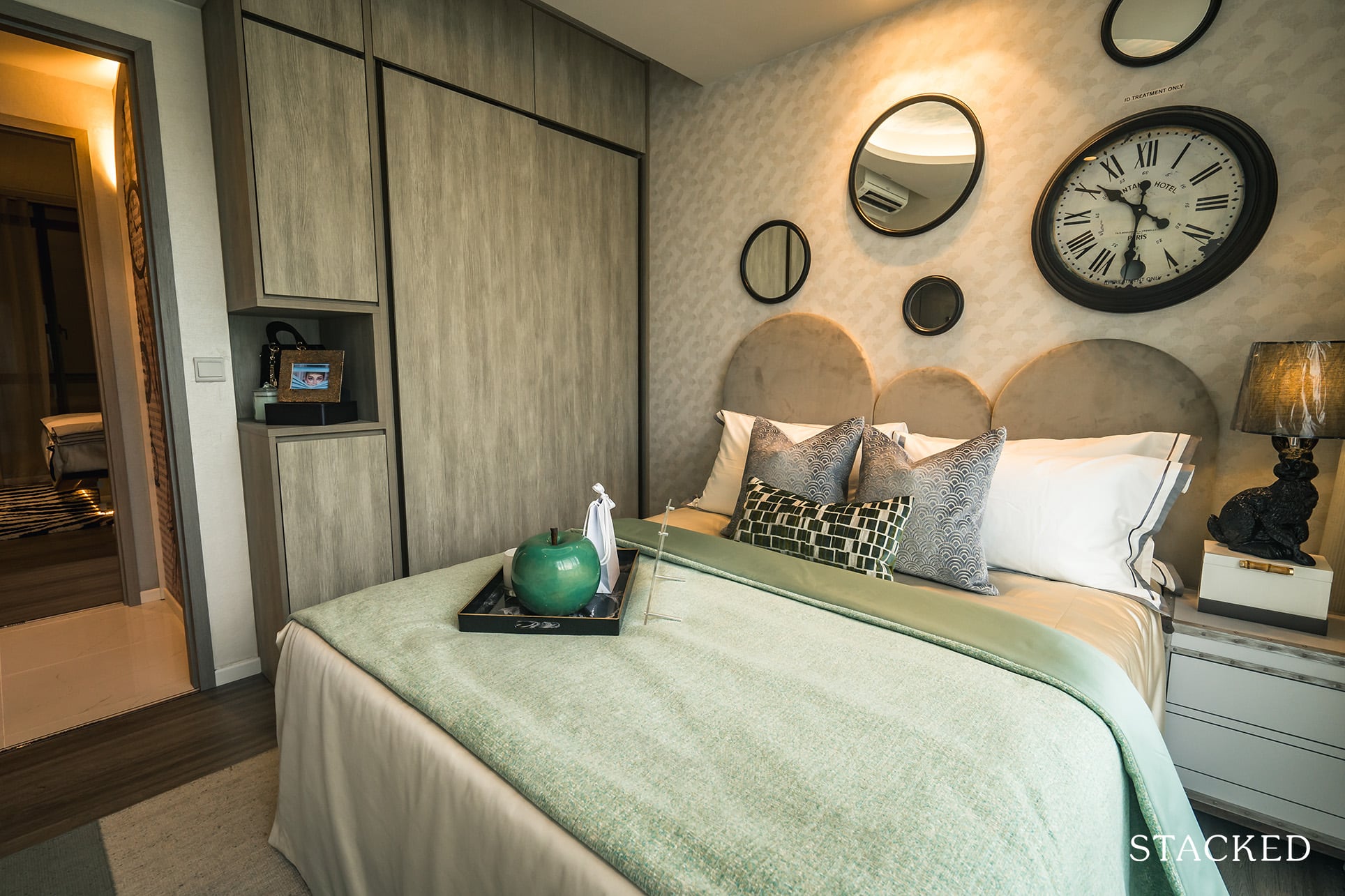 With regards to storage space, it's set further into the wall so it isn't as shallow as it looks.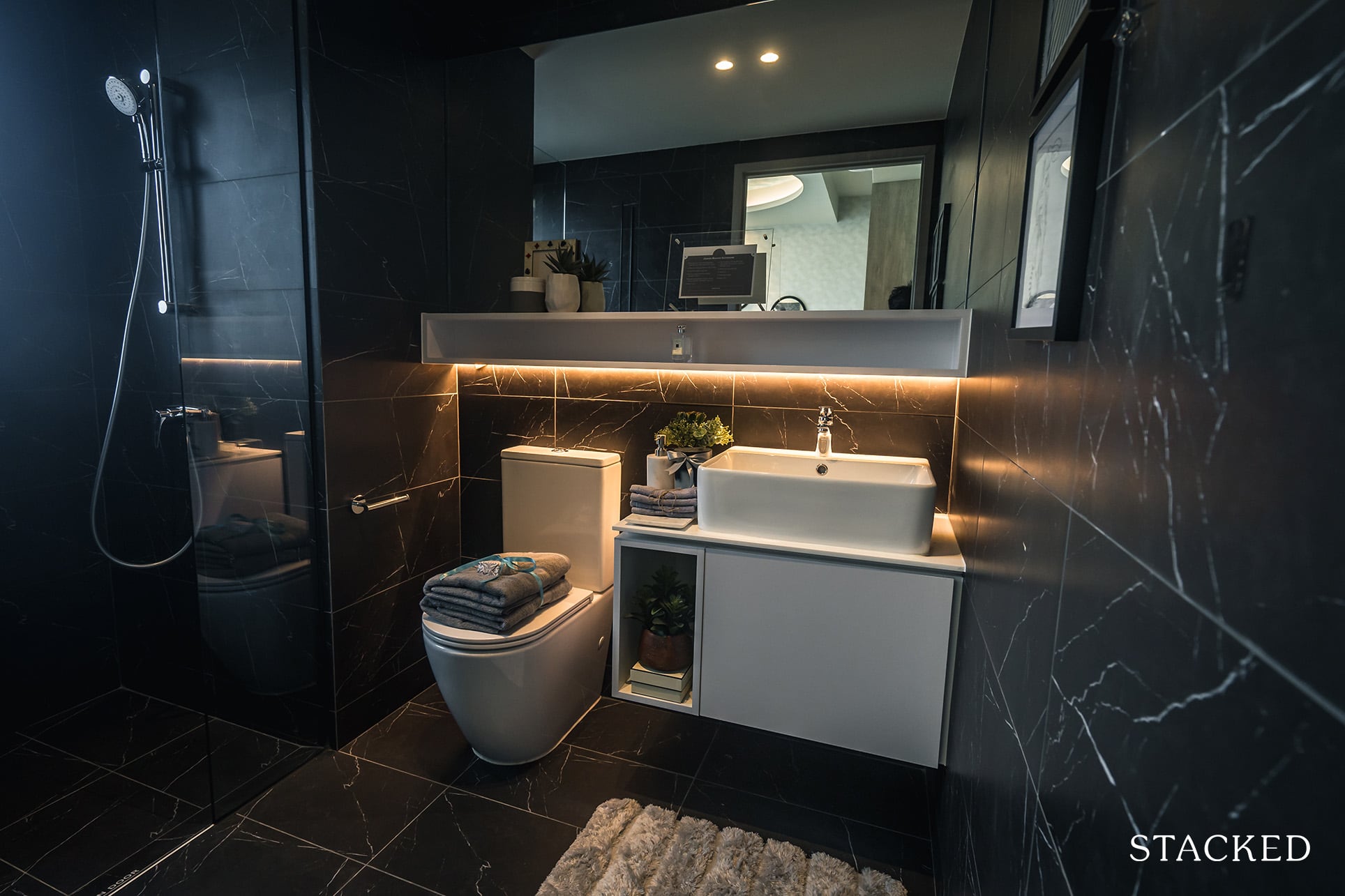 Of course, as the junior master bedroom – it comes attached with a bathroom similar in size to the common bathroom.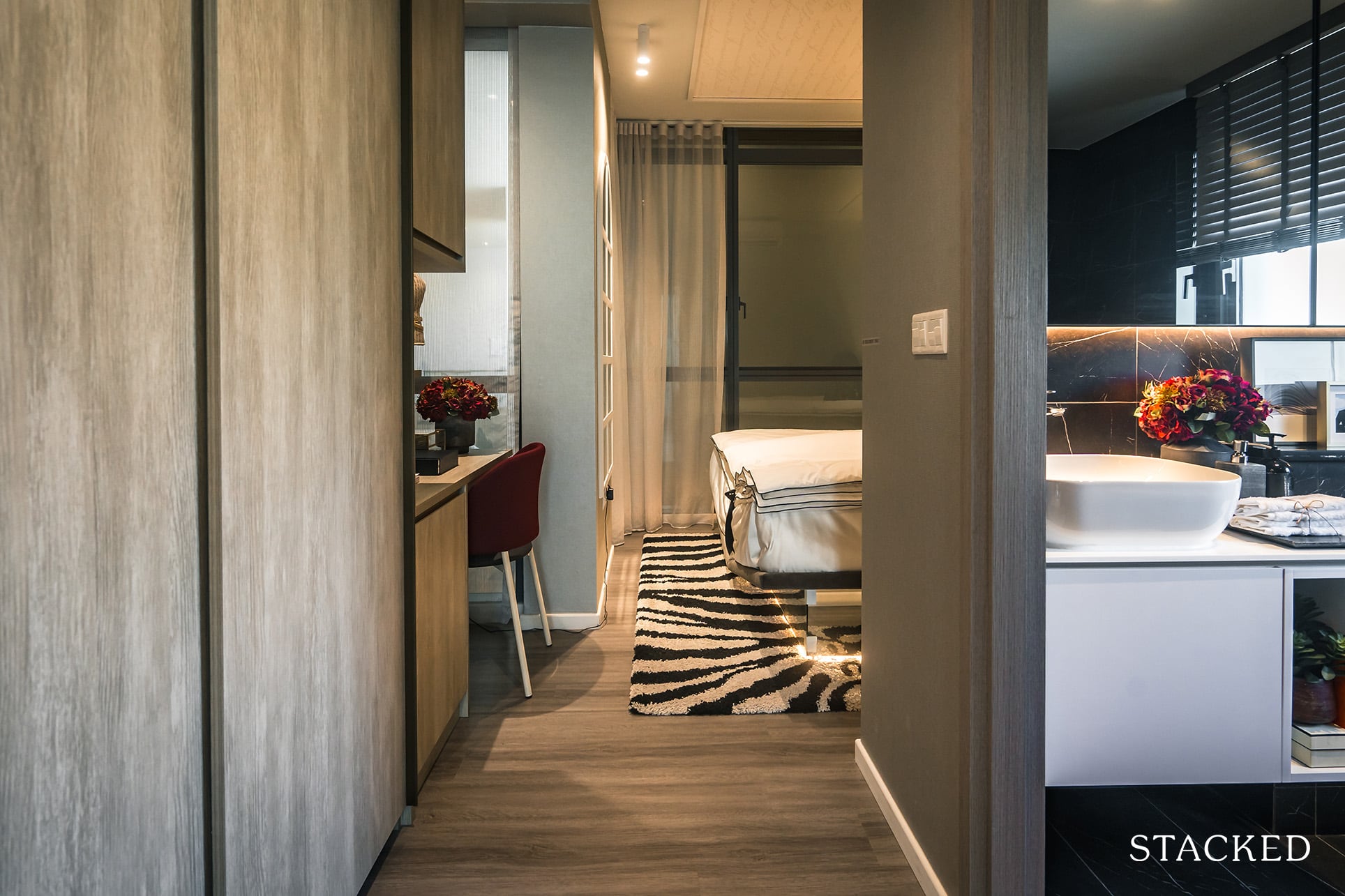 Last but not least, the master bedroom. Comparatively size wise, it's not the biggest – but with this wide entrance way they have managed to create a good amount of storage plus provision for a small study table.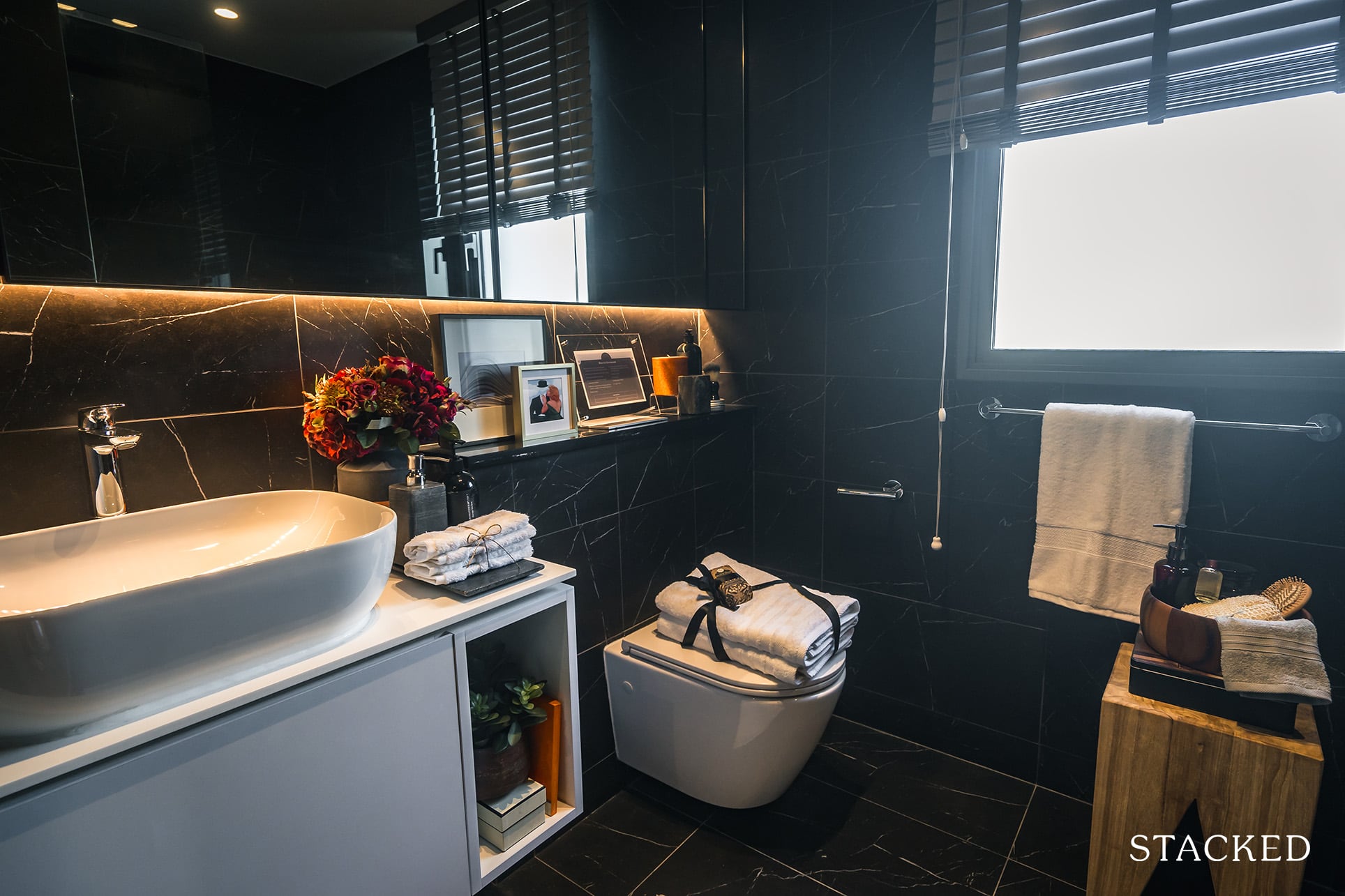 The master bathroom is a bit disappointing. While it is still very much usable, it's not very spacious at all.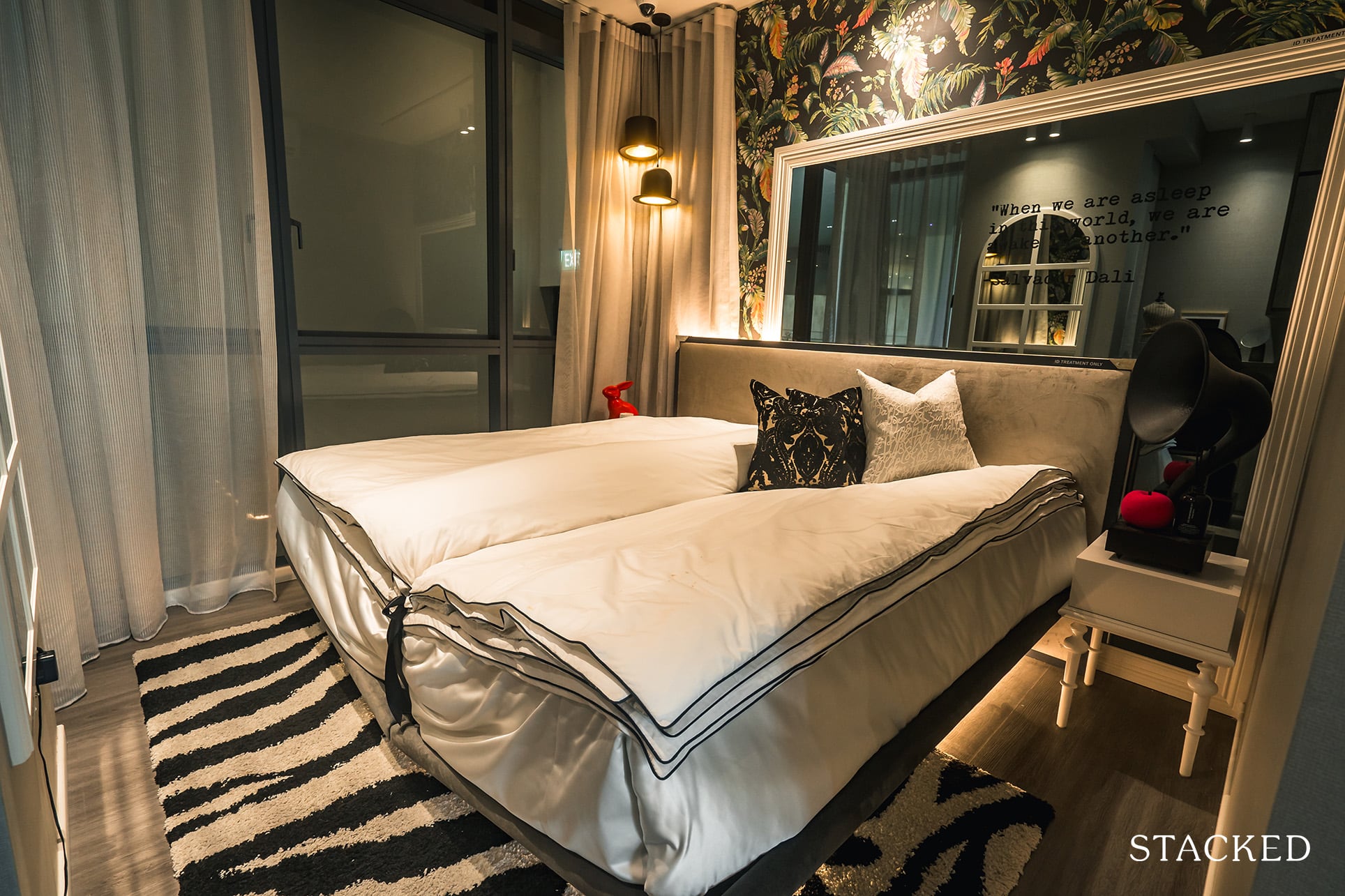 If I were to disregard the wardrobe space, the actual area afforded to the bed is actually quite similar to the junior master bedroom. So for a master bedroom, it's not all that impressive in size.
Ola EC 3 Bedroom Premium Review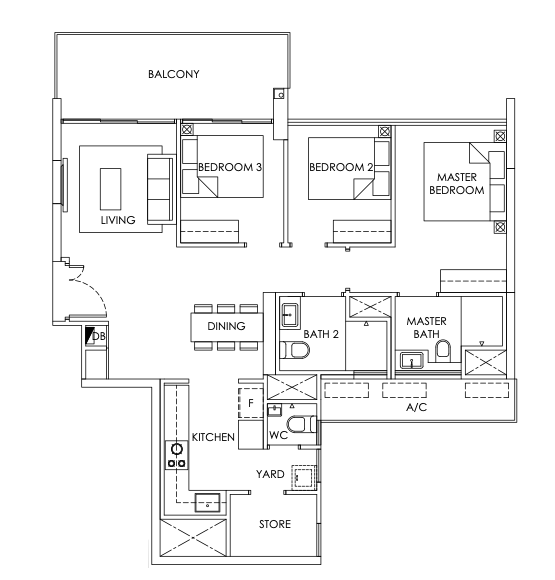 At 1,055 square feet, the 3 bedroom premium is just slightly bigger than the regular. That additional size has gone to a bigger balcony and additional store room. As a matter of fact, the developers expect this to be the most popular unit – with a total of 211 of this unit type up for sale.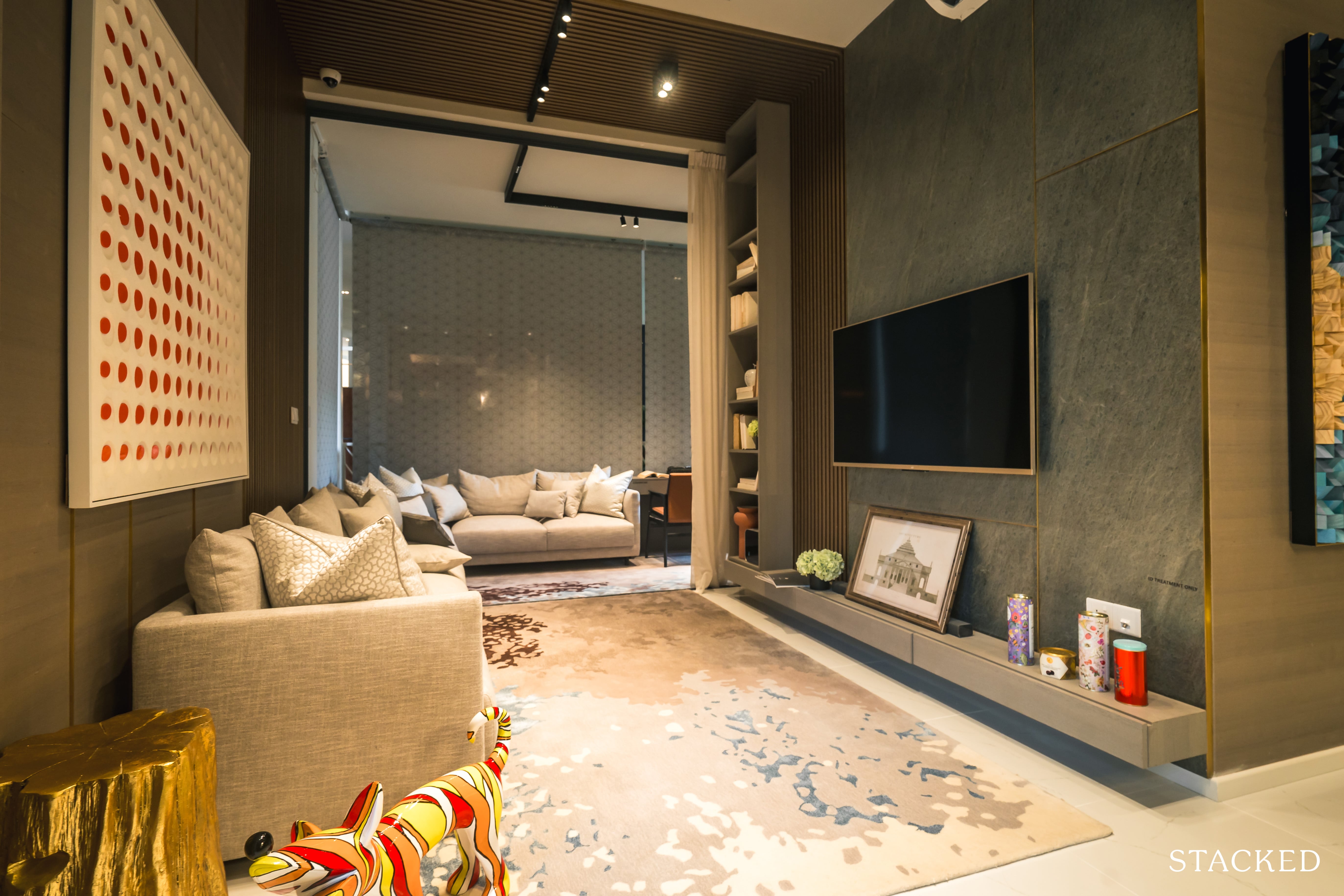 The styling in this 3 bedroom premium unit does look more upmarket for sure. The special motif created for Ola on the motorised blinds certainly fits the look too.
If you add the motorised zip track by Le Gate it allows you to create a similar look to the ID in this showflat unit – where the boundaries between outdoor and indoor almost becomes synonymous.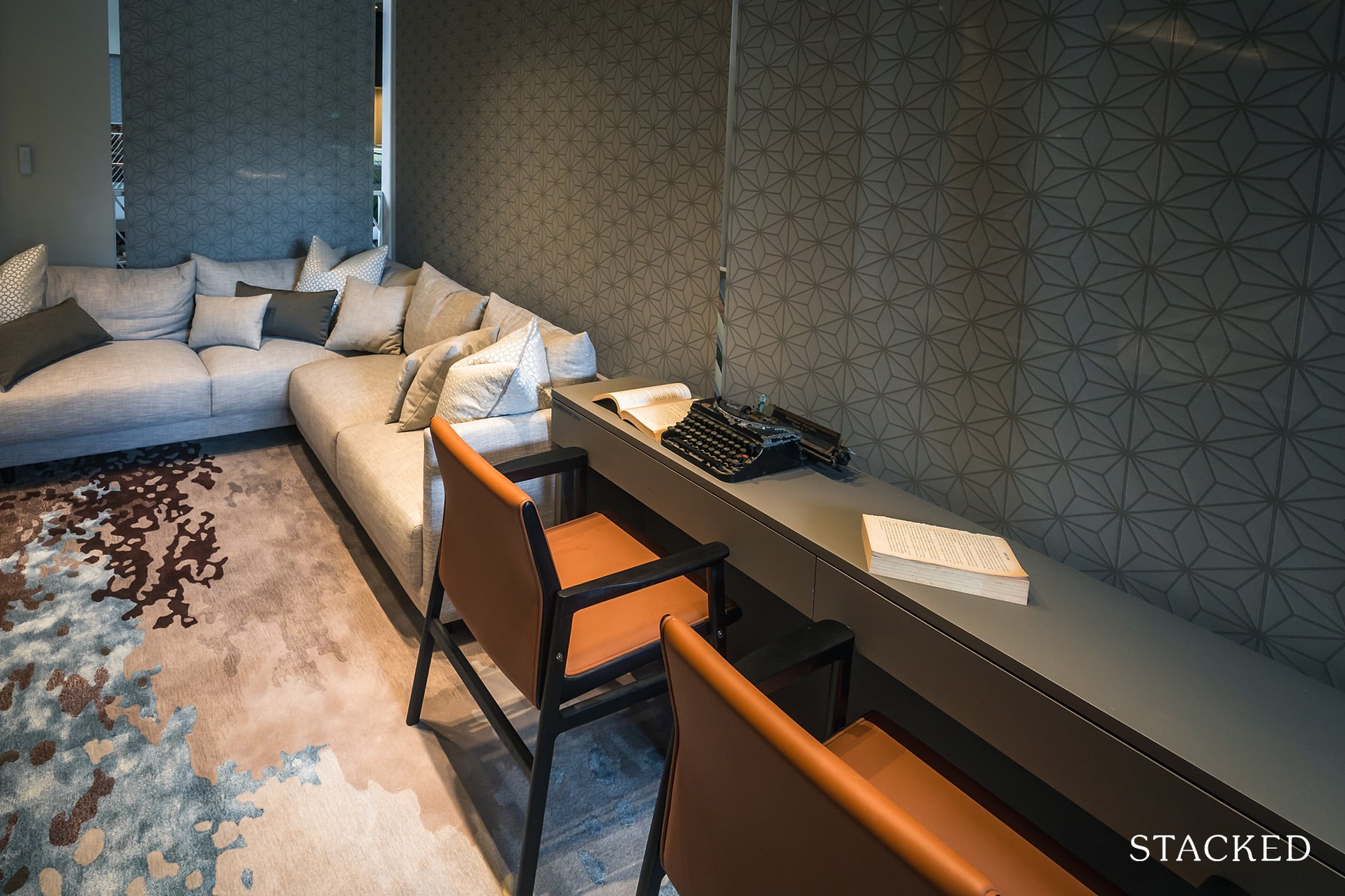 As you can see, unlike the rest of the units, a bigger emphasis has been given to the balcony here. If I were to purchase a unit here, this combination of seating plus reading table does look a good combination of cosy and functional.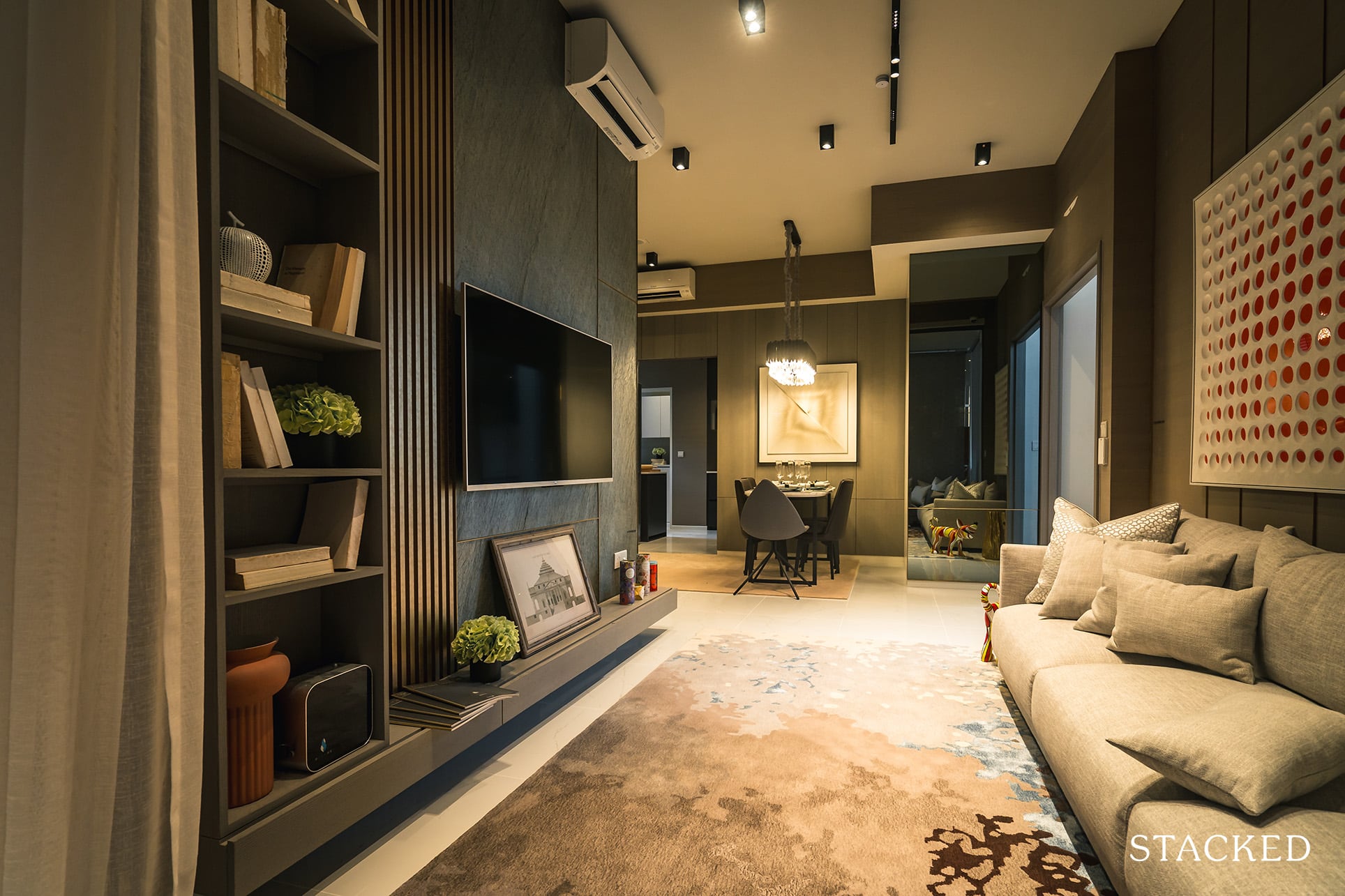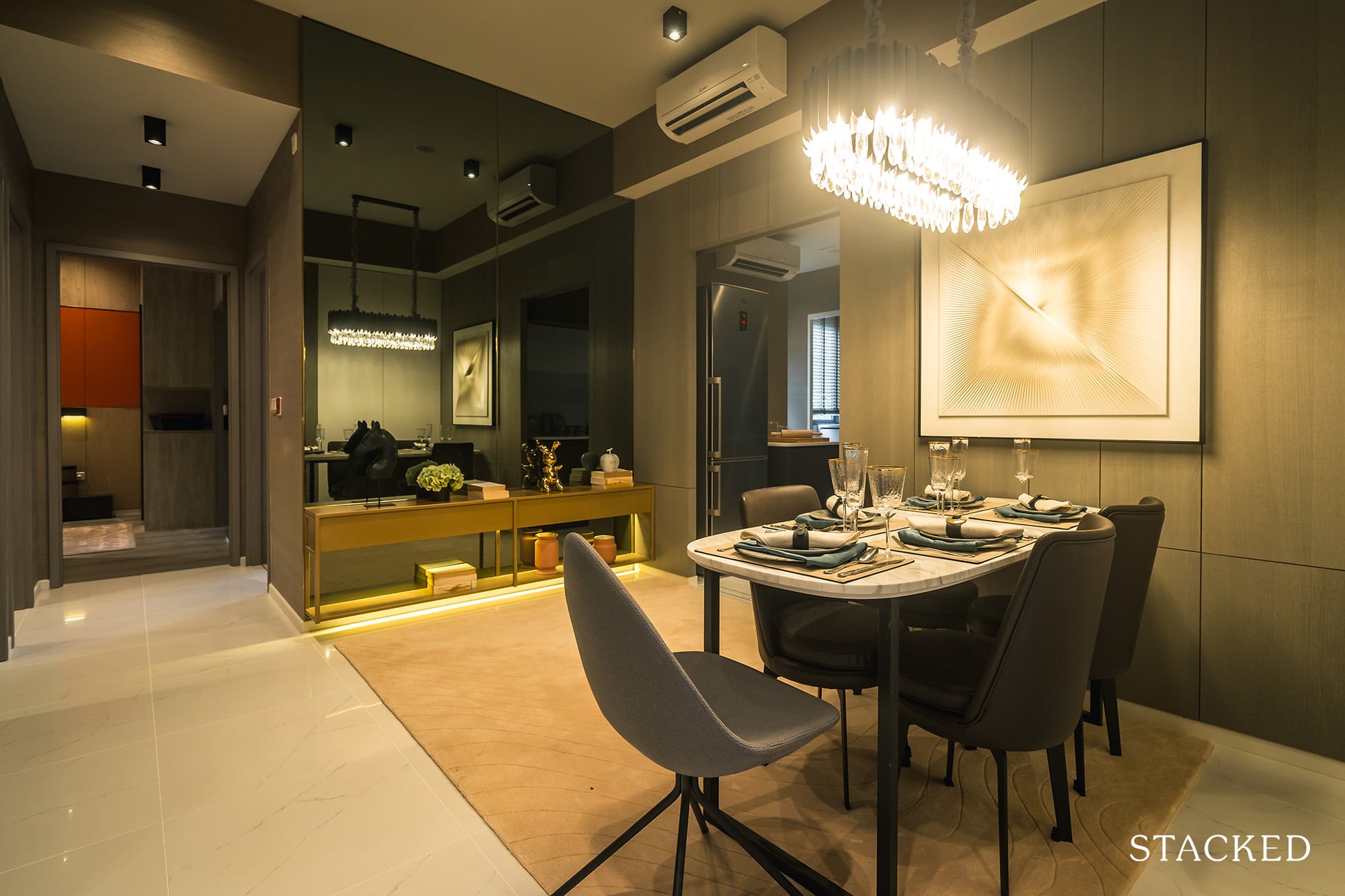 The dining area here is well sized – depending on where you'd like to place the table.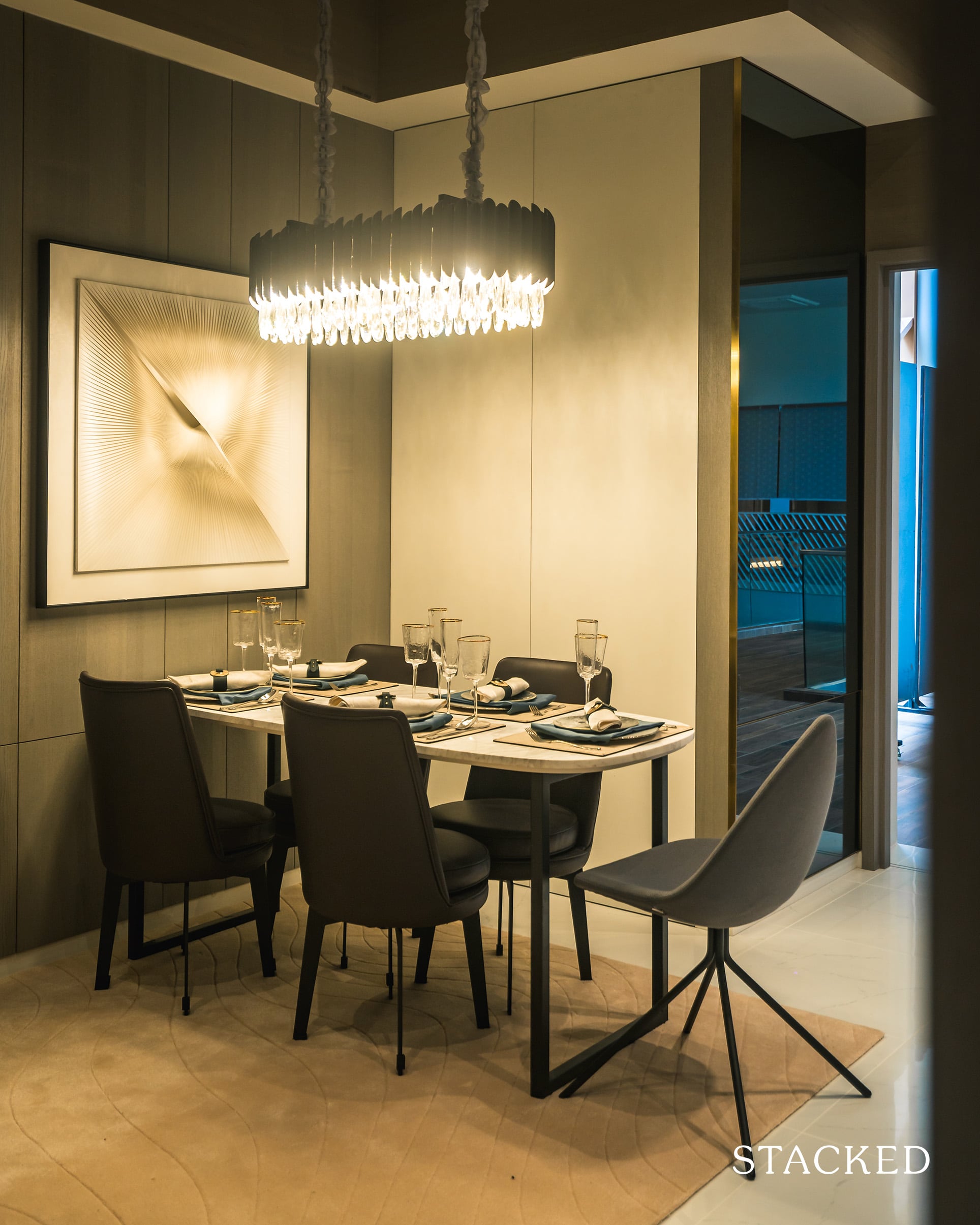 You could do with a circular table instead, making it easier to move around to the different areas of the house.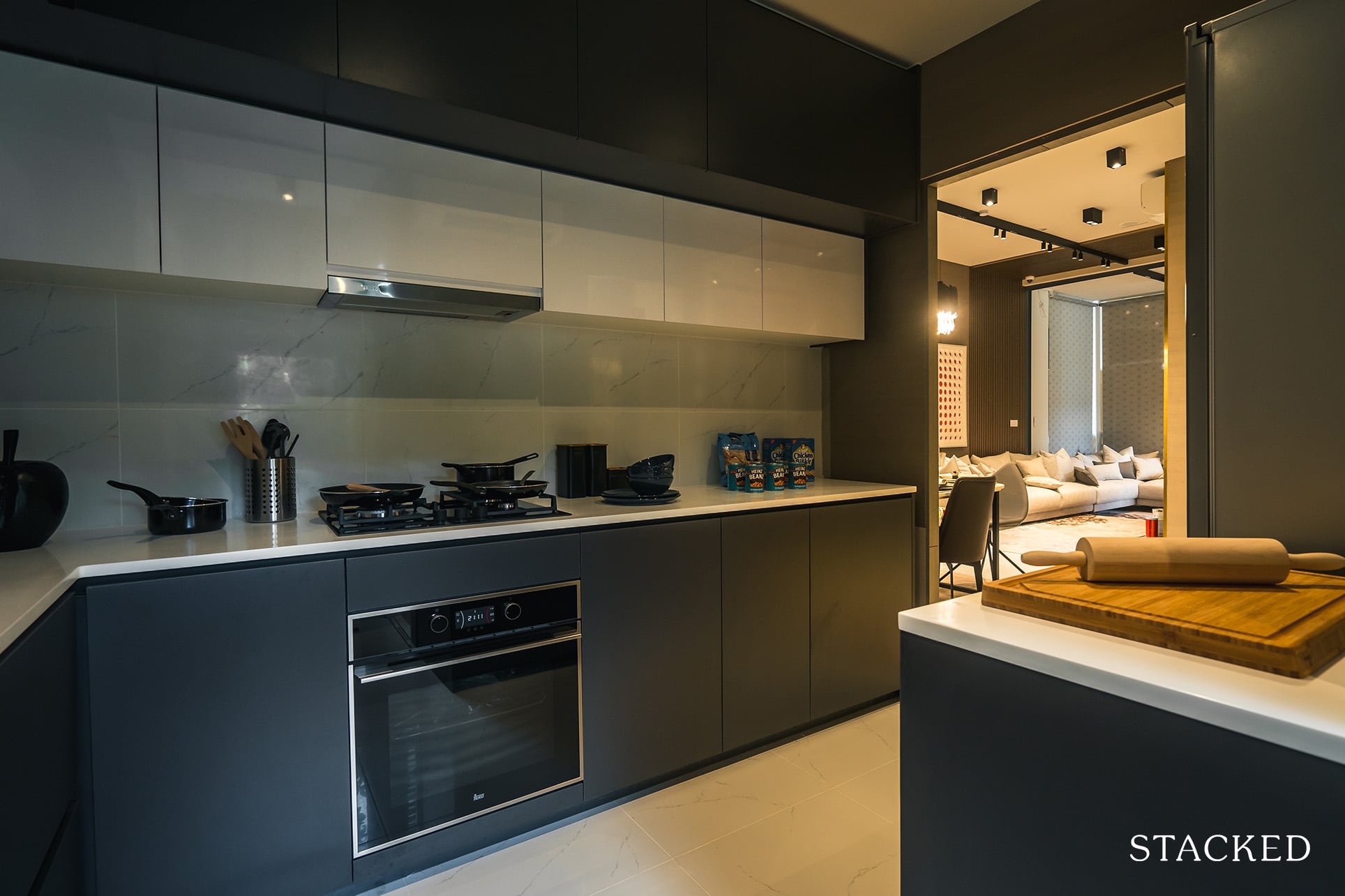 The developers have placed a clear priority on kitchen space at the Ola EC, with all the units so far having very well sized kitchens. Good counter top space and storage is always important and this 3 bedroom premium unit scores well in that department.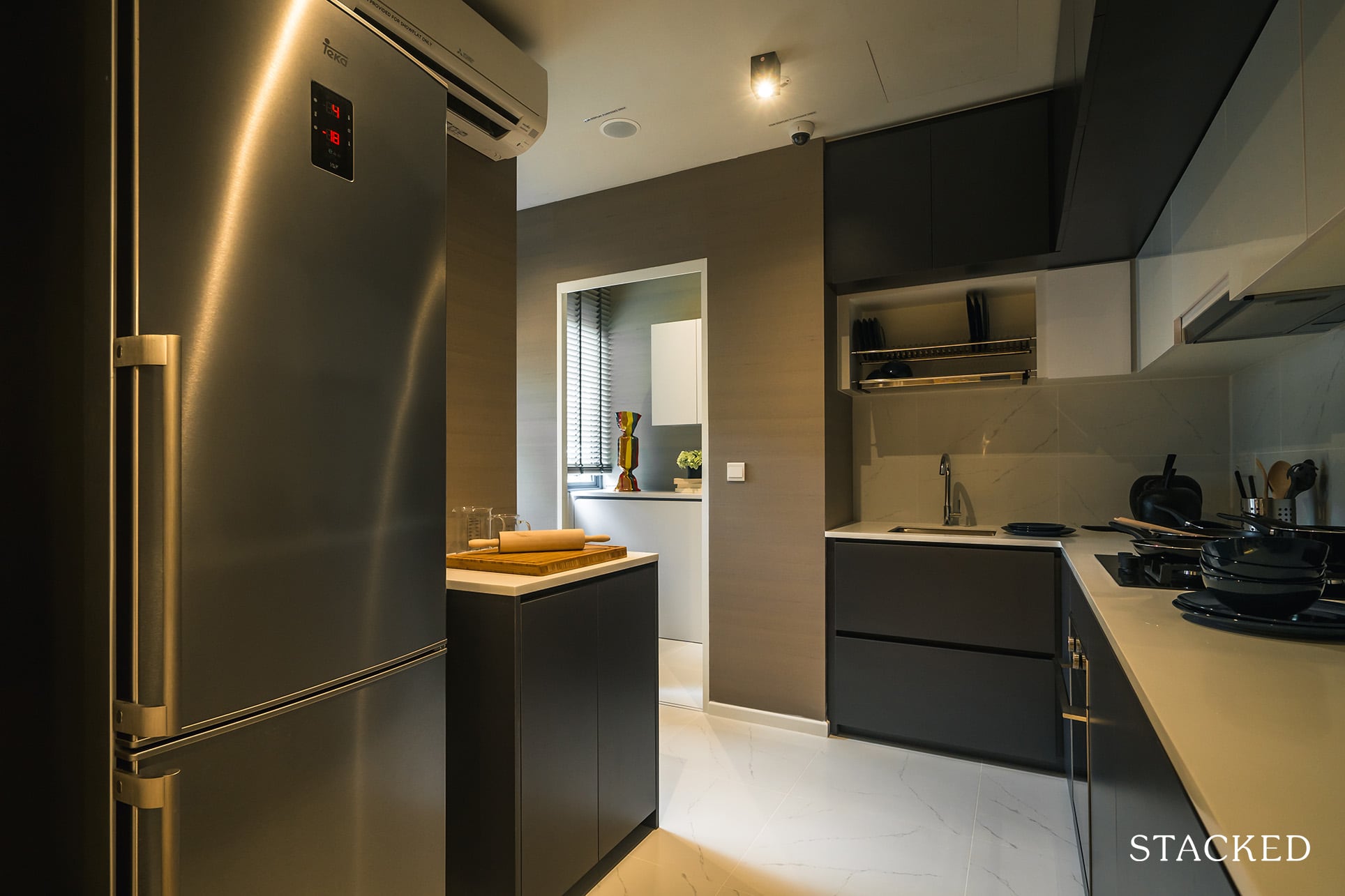 Again, unlike many of the other new launch developments – the fridge here isn't in-built. While the overall look isn't as cohesive, this means future upgradeability is a lot more flexible.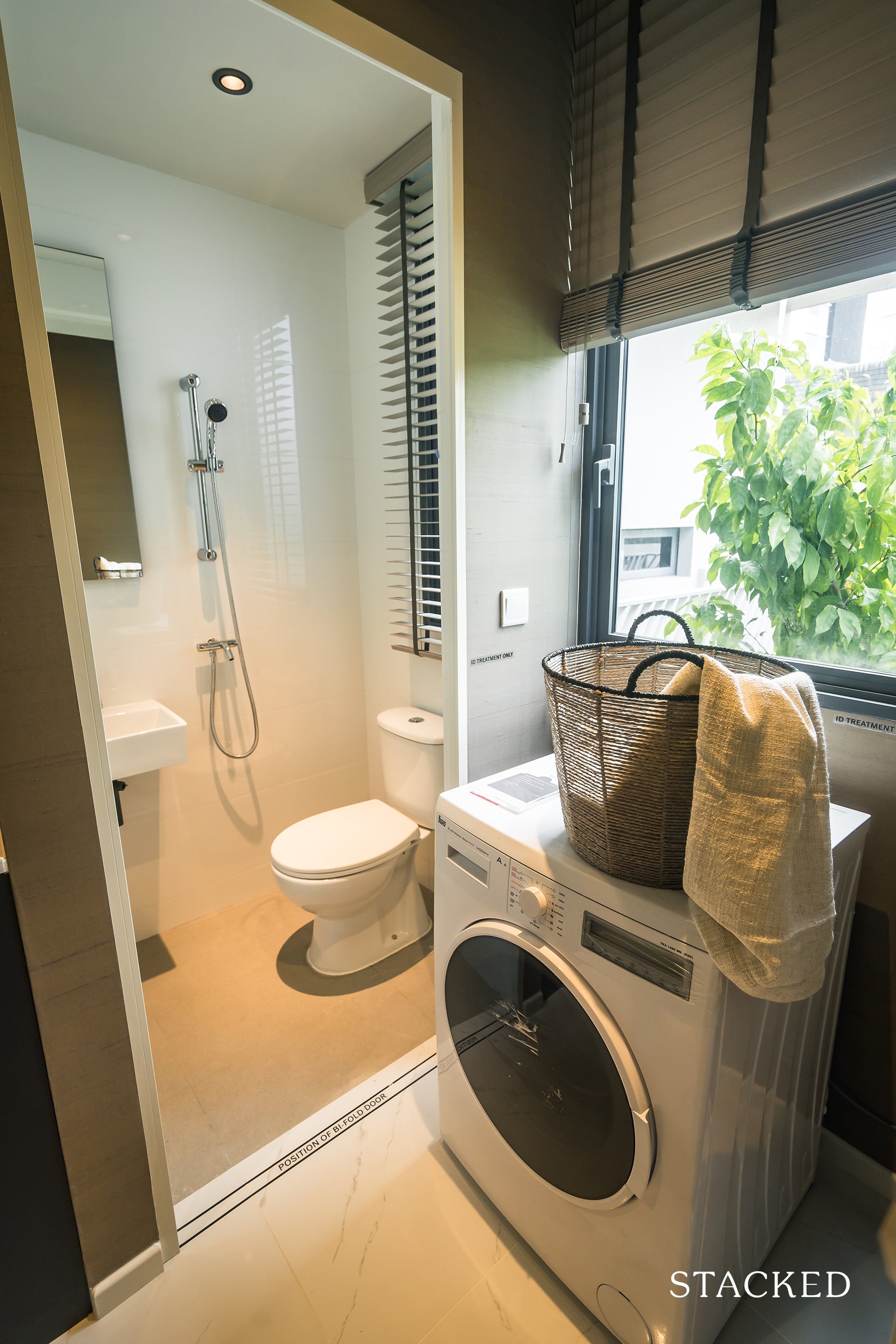 Like the 4 bedder unit, there is a small yard space that does make this unit more practical.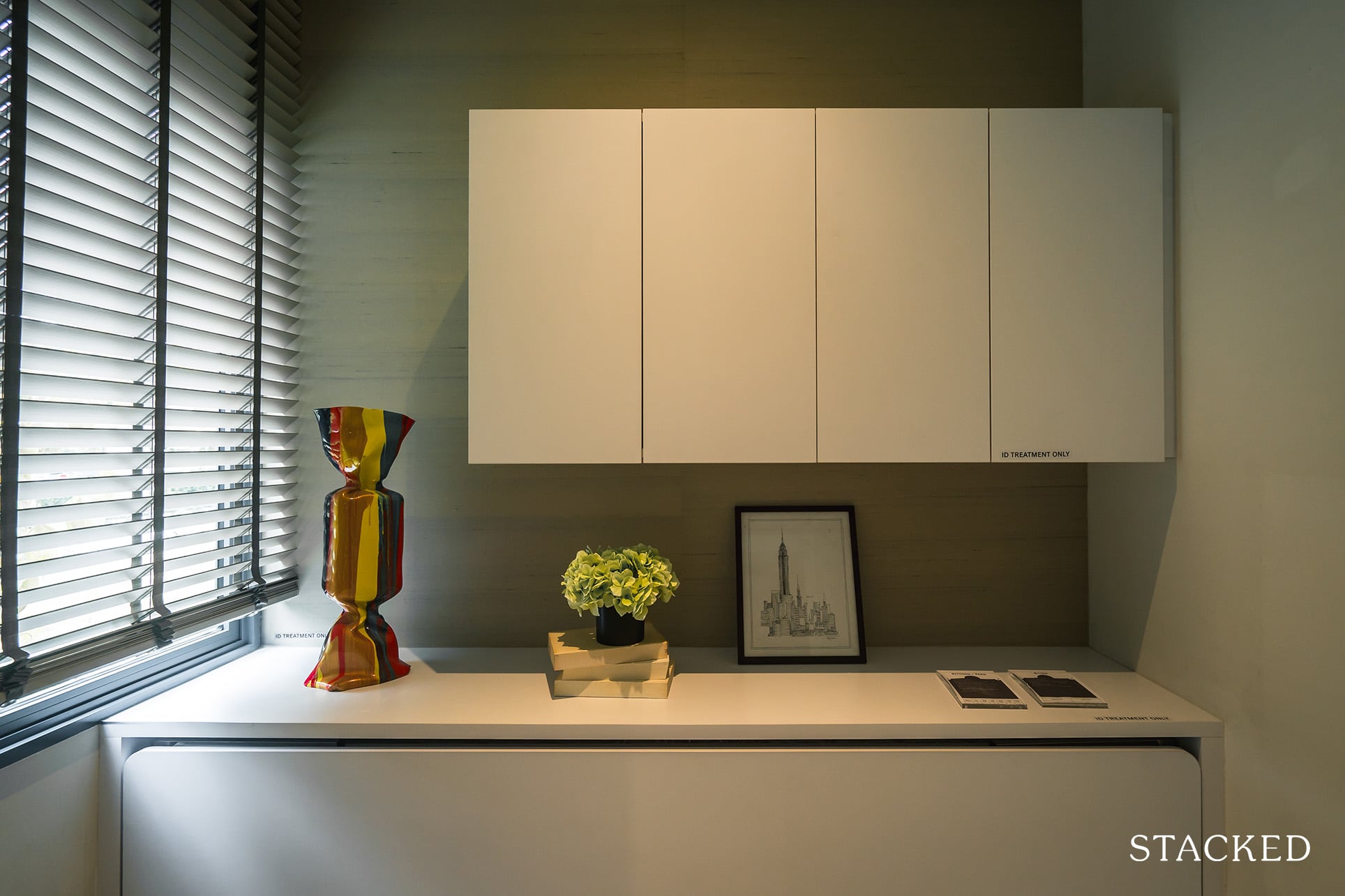 For those families that require a helper, this 3 bedroom premium unit would be a worthy upgrade over the regular because of the addition of this store/helpers room.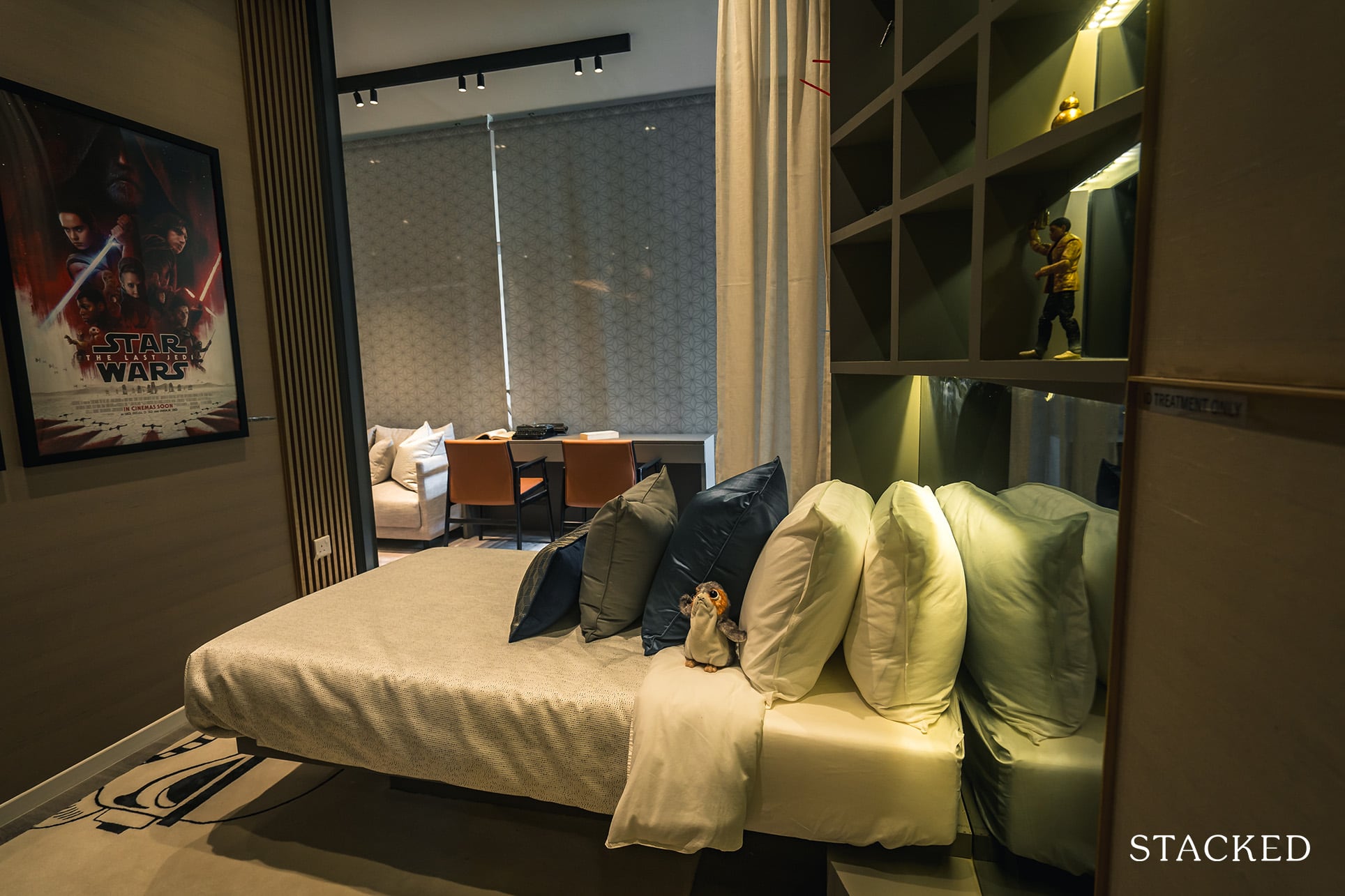 The common bedrooms in this unit are all on the small side – this one has the advantage of balcony access though.
Star Wars fans would love this room – lots of interesting details in the room. The eagle eyed among you would have probably noticed the stormtrooper carpet!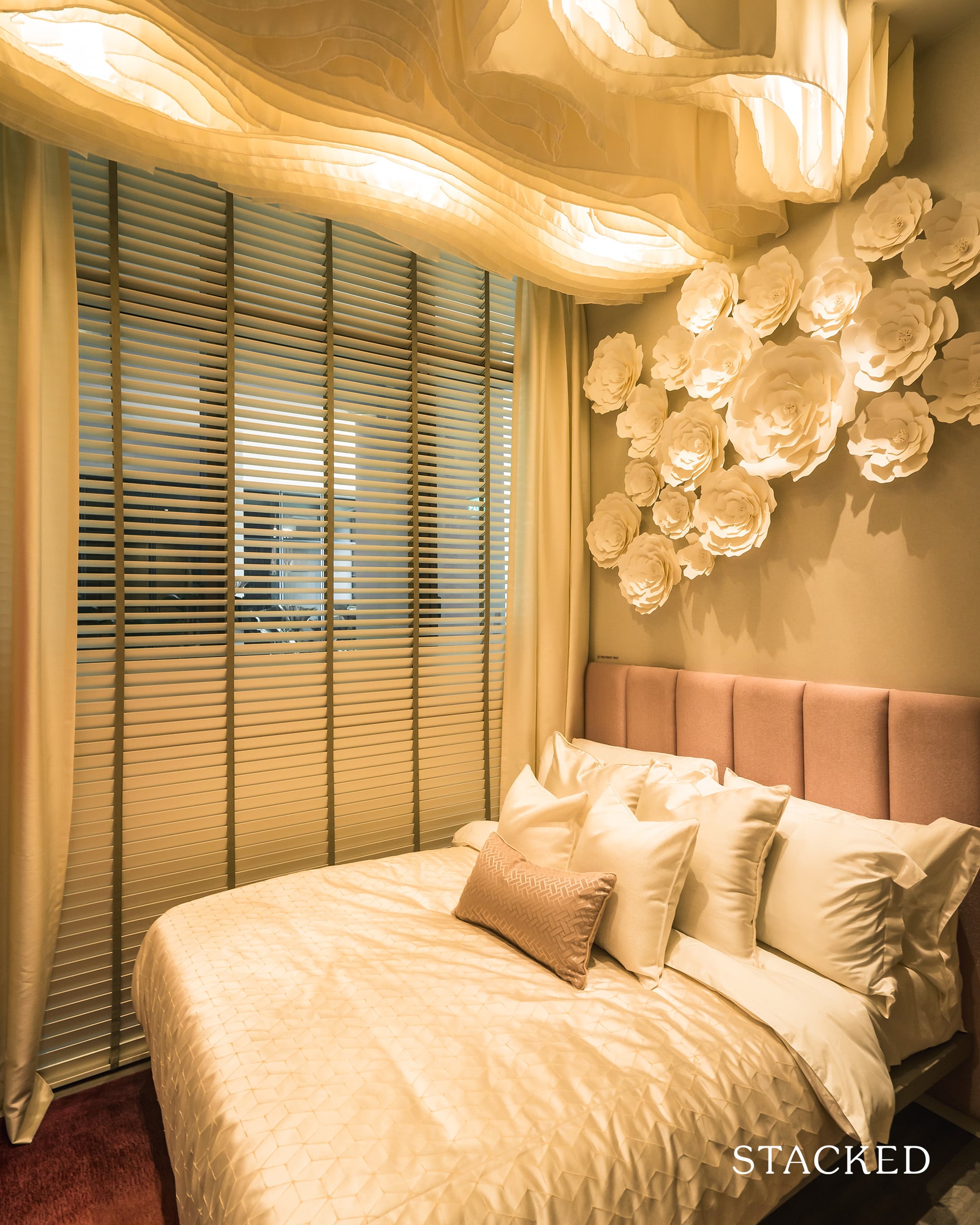 The second common bedroom is of the same size as the first – except without the balcony access this time.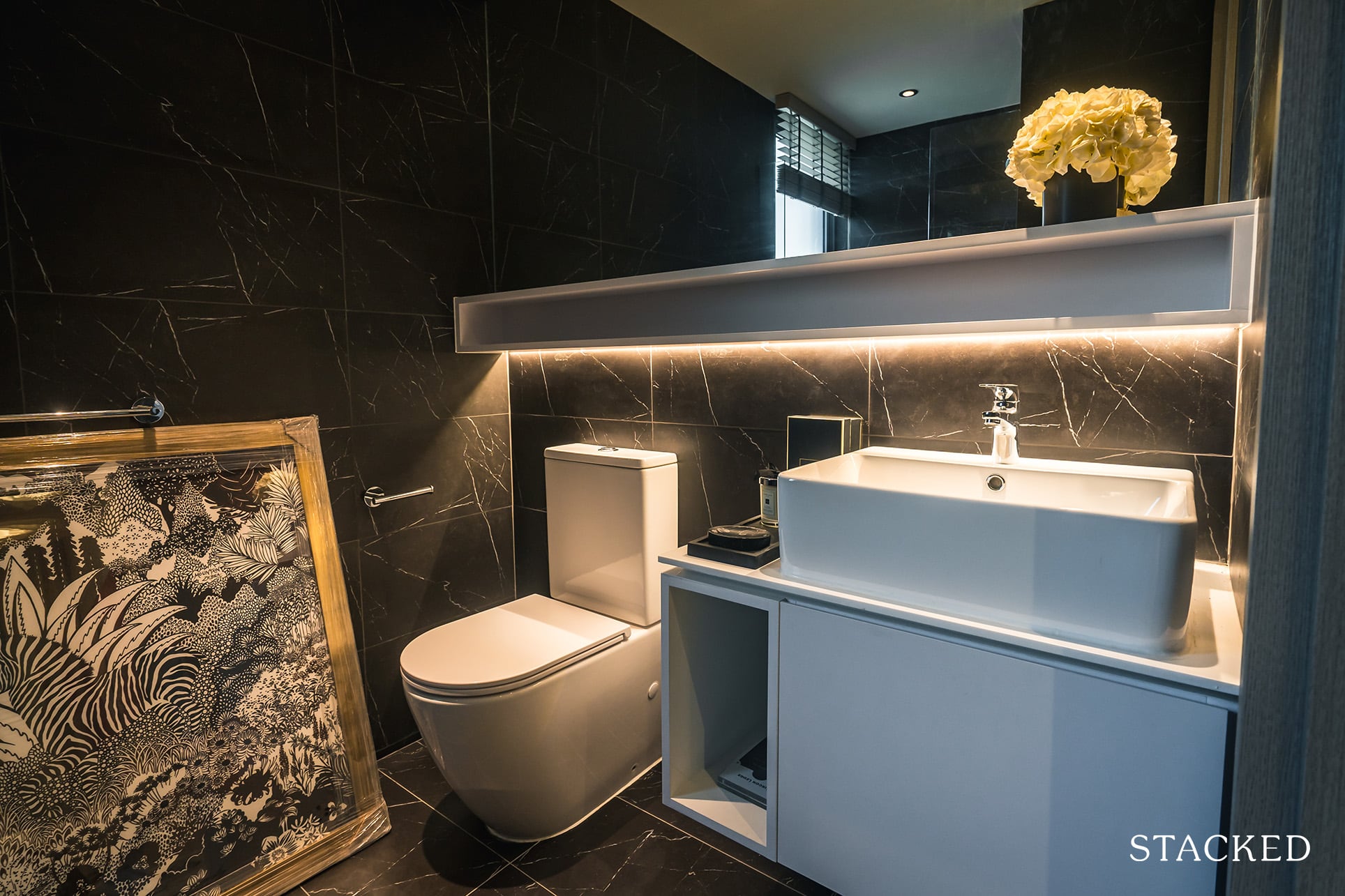 Both common bedrooms here will share this bathroom.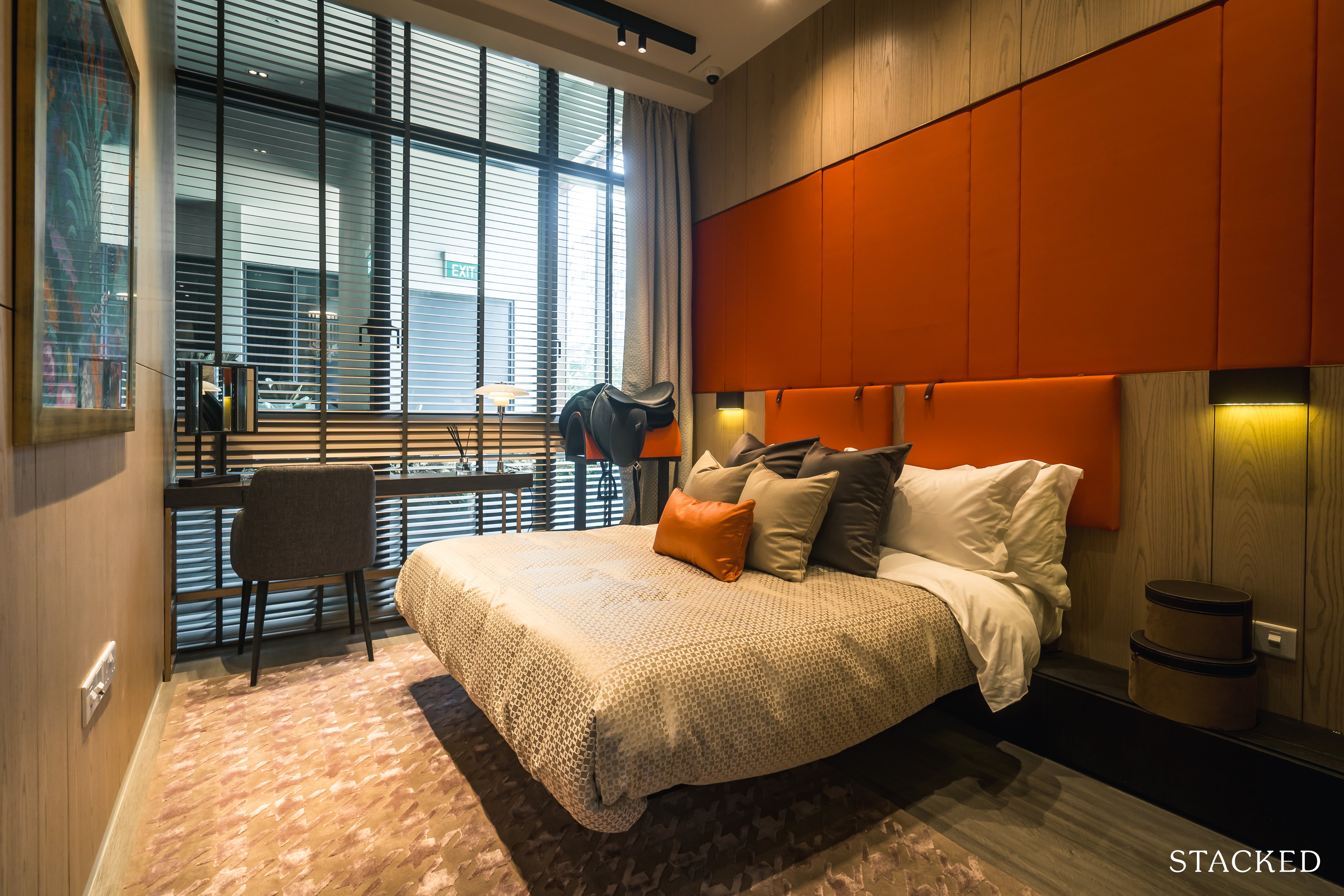 Thankfully, the master bedroom fares a little better size wise.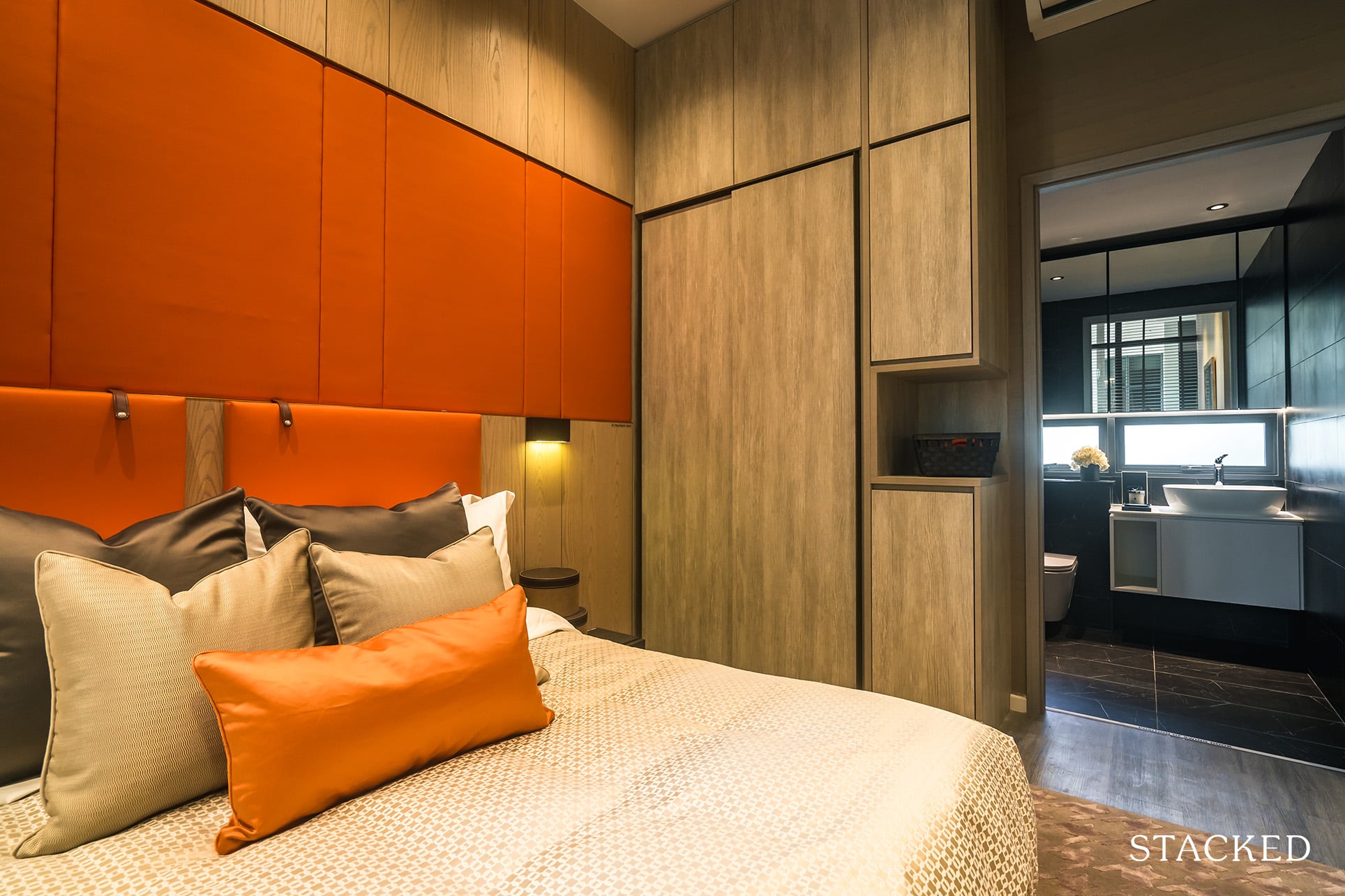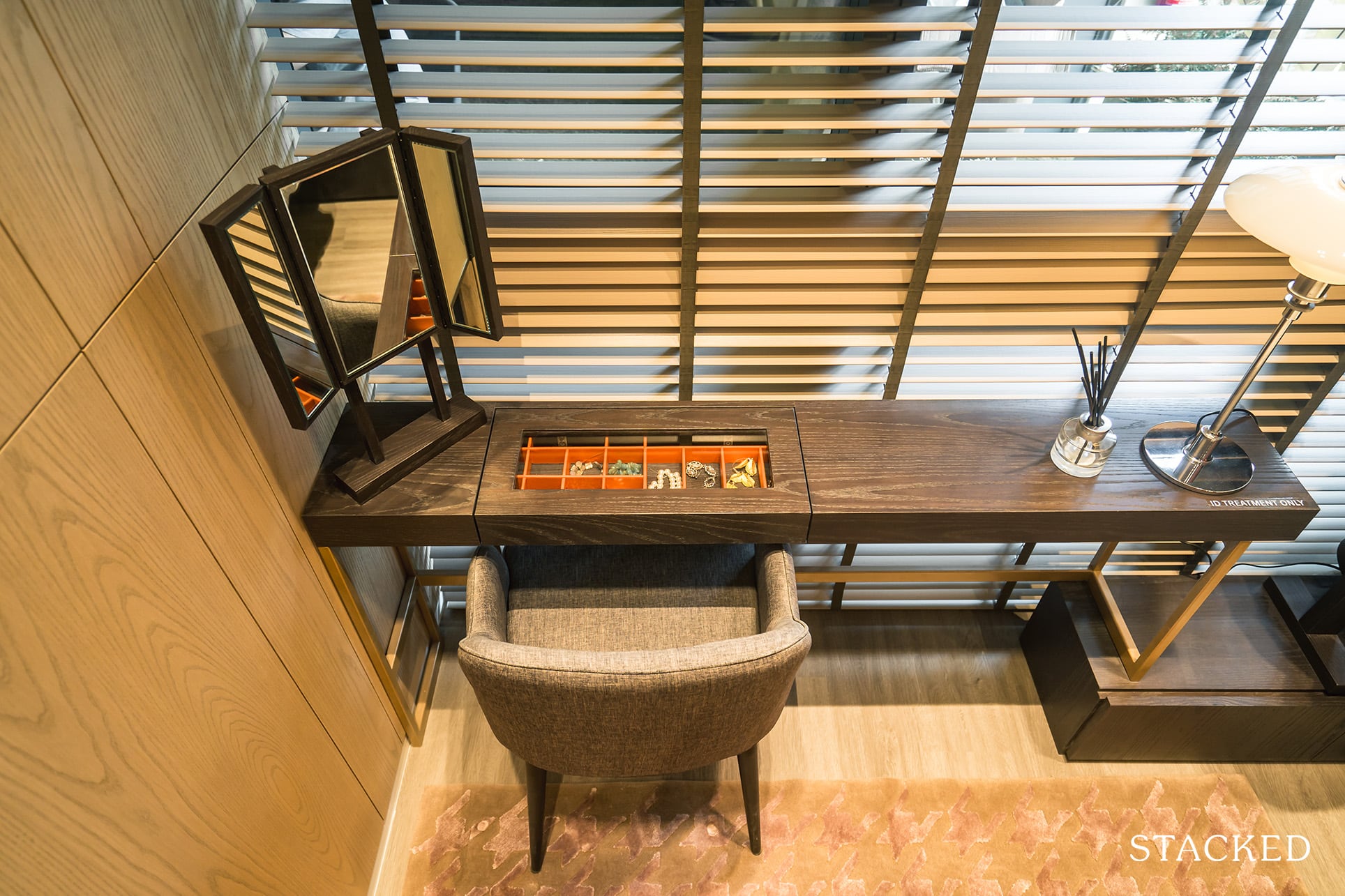 You could also squeeze in a little sliver of a dresser table along the side.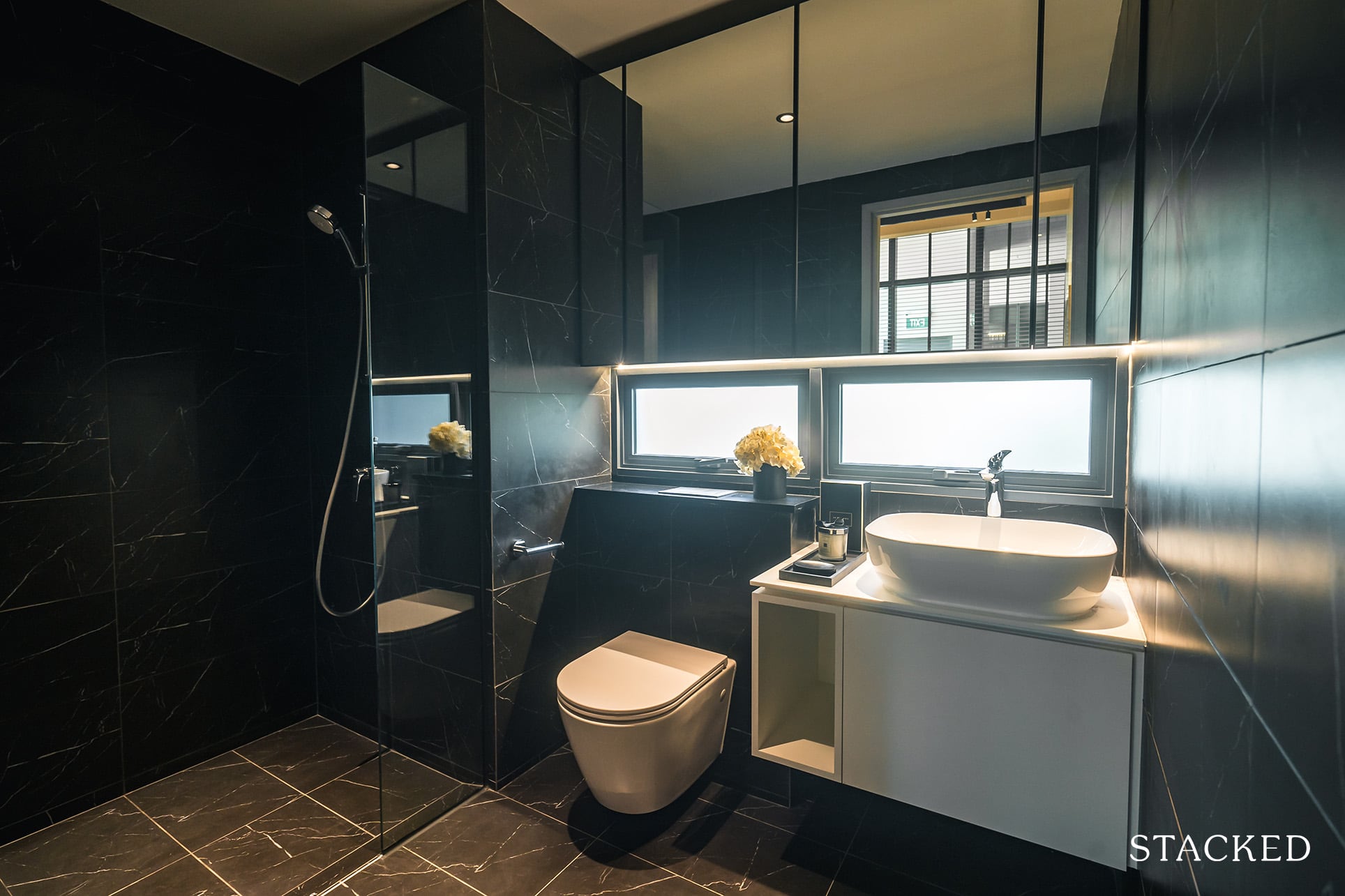 In what is a usual departure from the windows at the bathroom, the ones here are located just above the sink! The master bathroom is actually about the same size as the common bathroom – while not a dealbreaker it is a little disappointing for a "premium" unit.
Ola EC 3 Bedroom Review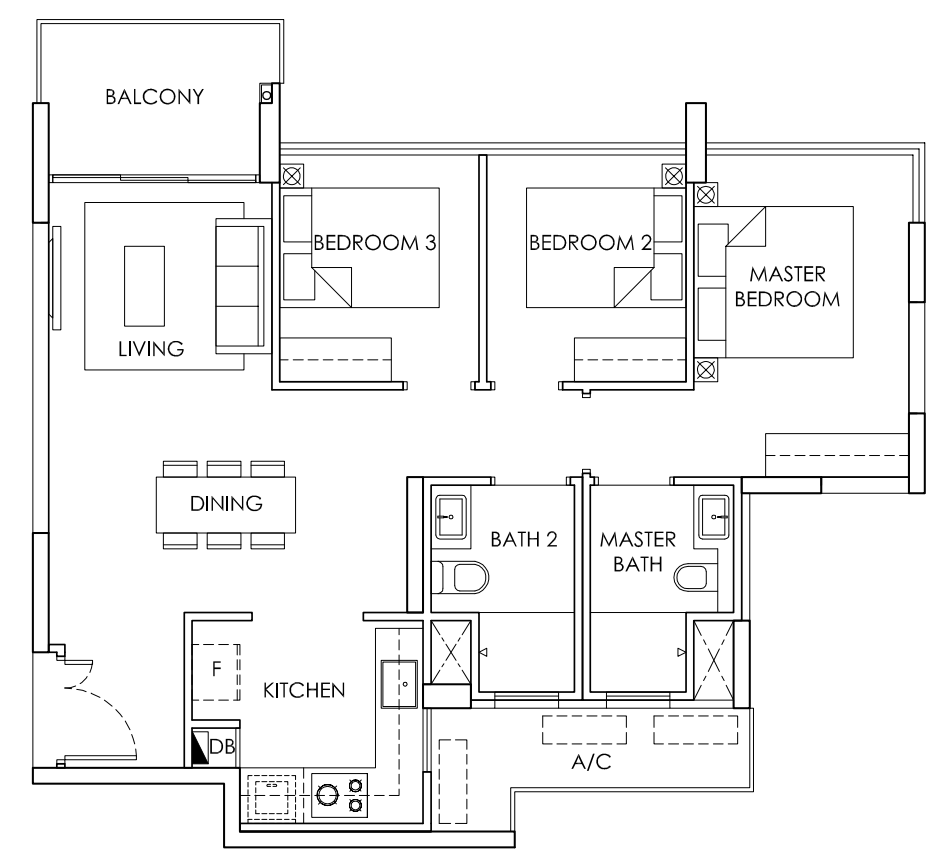 At 926 square feet, the 3 bedroom unit at the Ola EC is on the small side. On the other hand, it's functional and well laid out – which should be a good fit for most families. Unsurprisingly, these units are looked on as the volume sellers, as they form a big chunk (196) of the total units.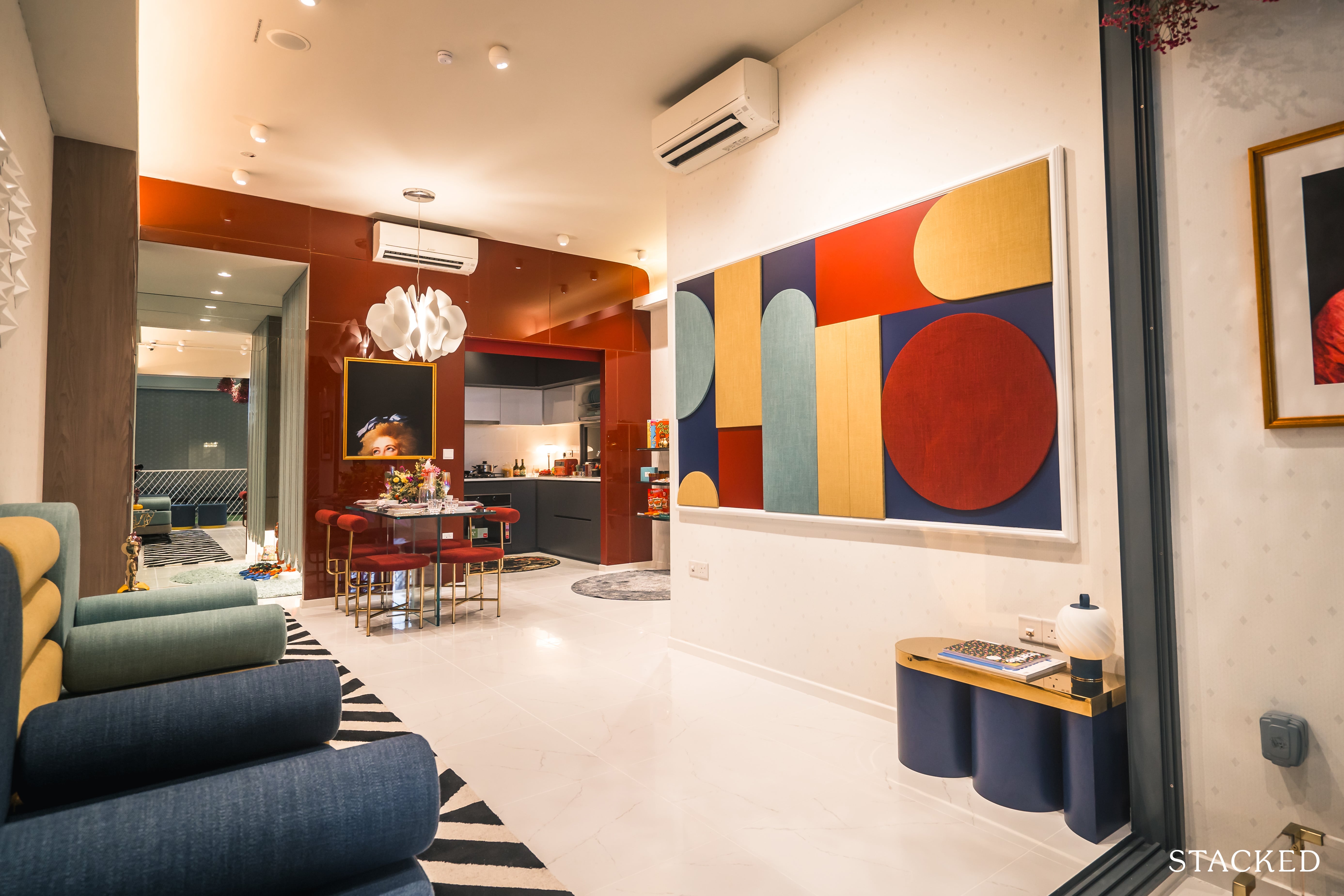 Similar to the 4 bedroom unit, the entrance of the 3 bedder has a small lobby area, before opening up to the living and dining spaces. The living itself is quite wide – so it does look quite spacious.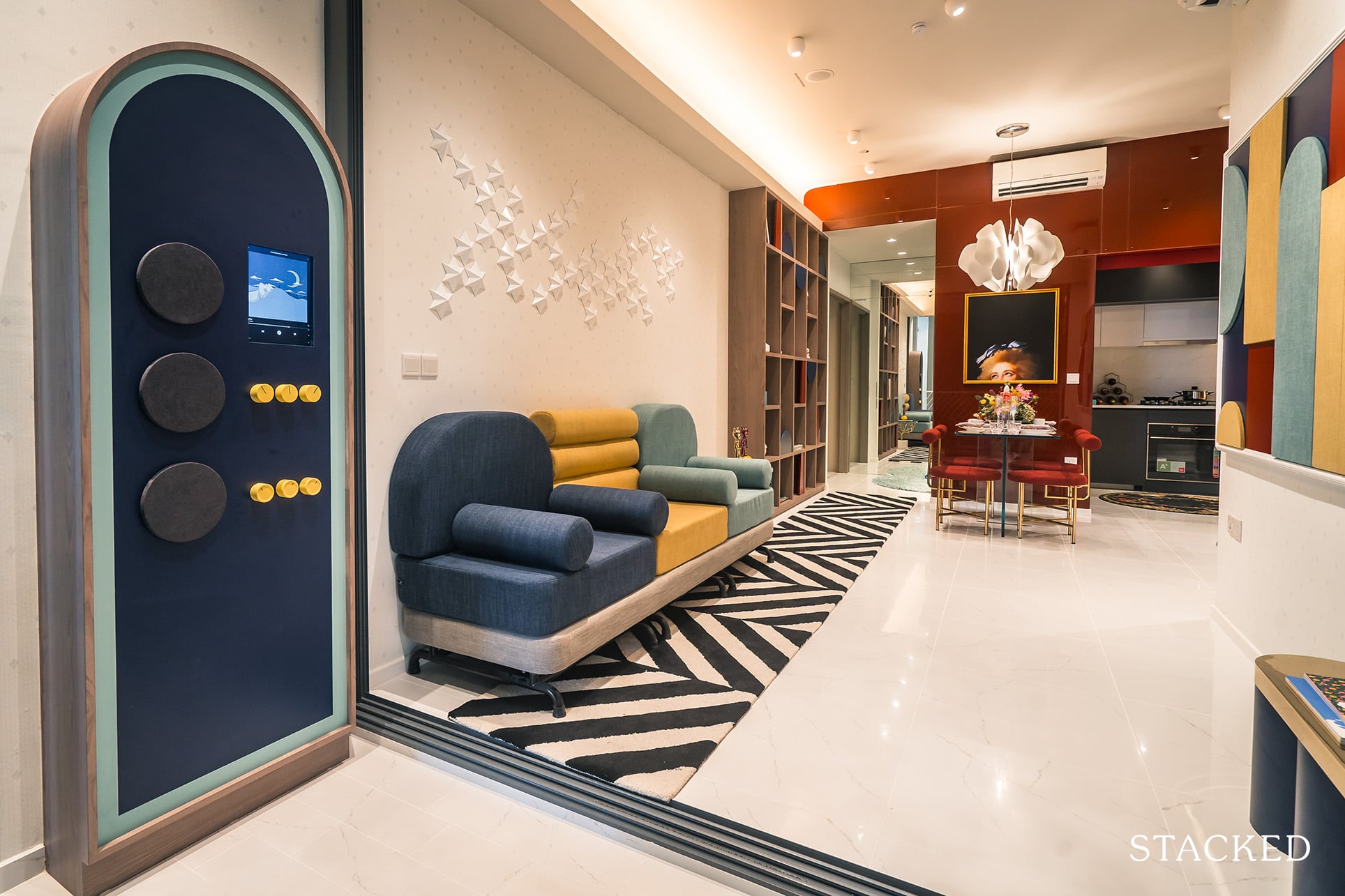 For those who prefer a maximised indoor living space would be happy here as the balcony is kept to a minimum.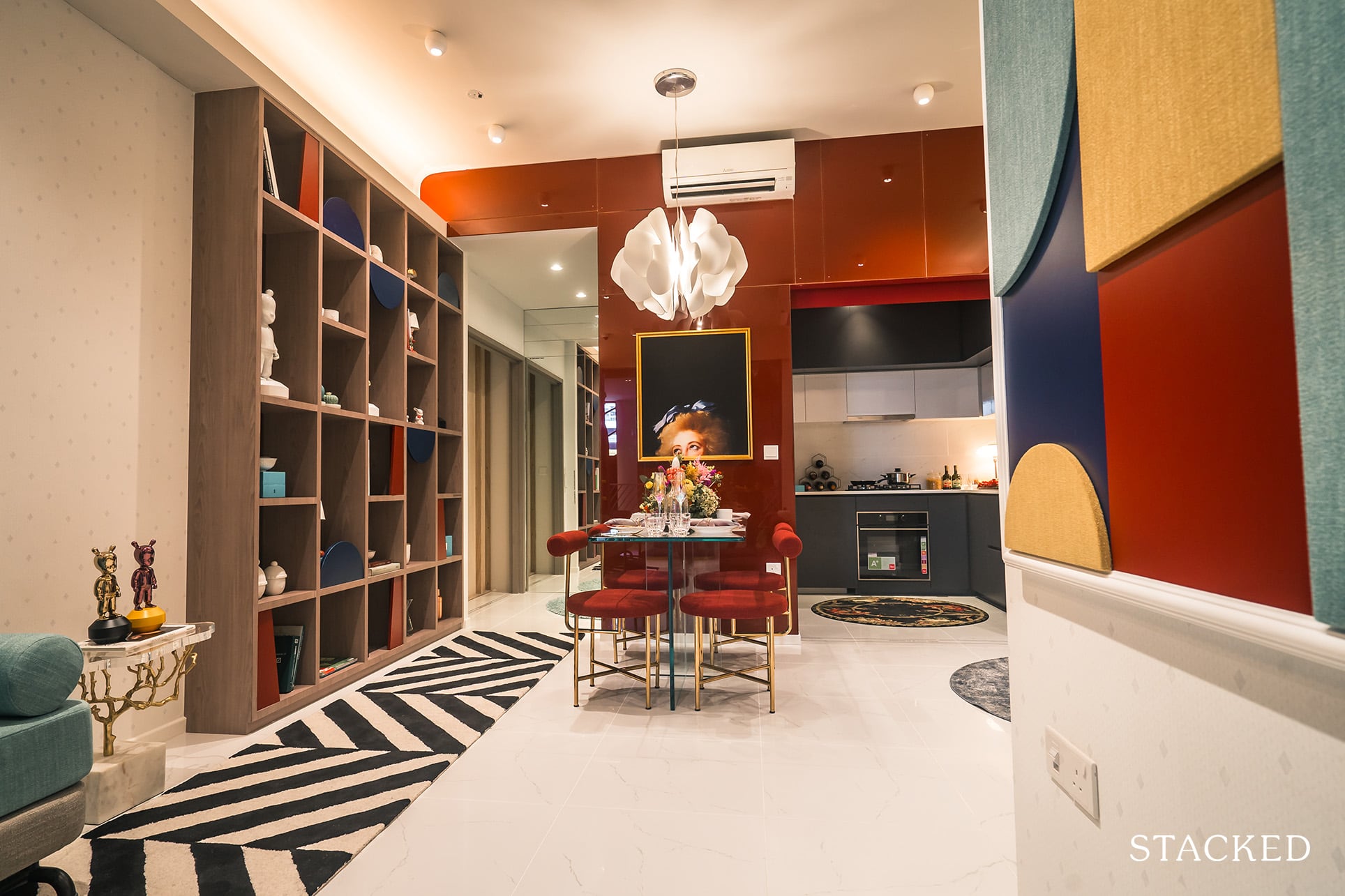 In the showflat, the dining table is quite small which I'm sure would not be feasible for most. Even so there is enough space for a decently sized dining table.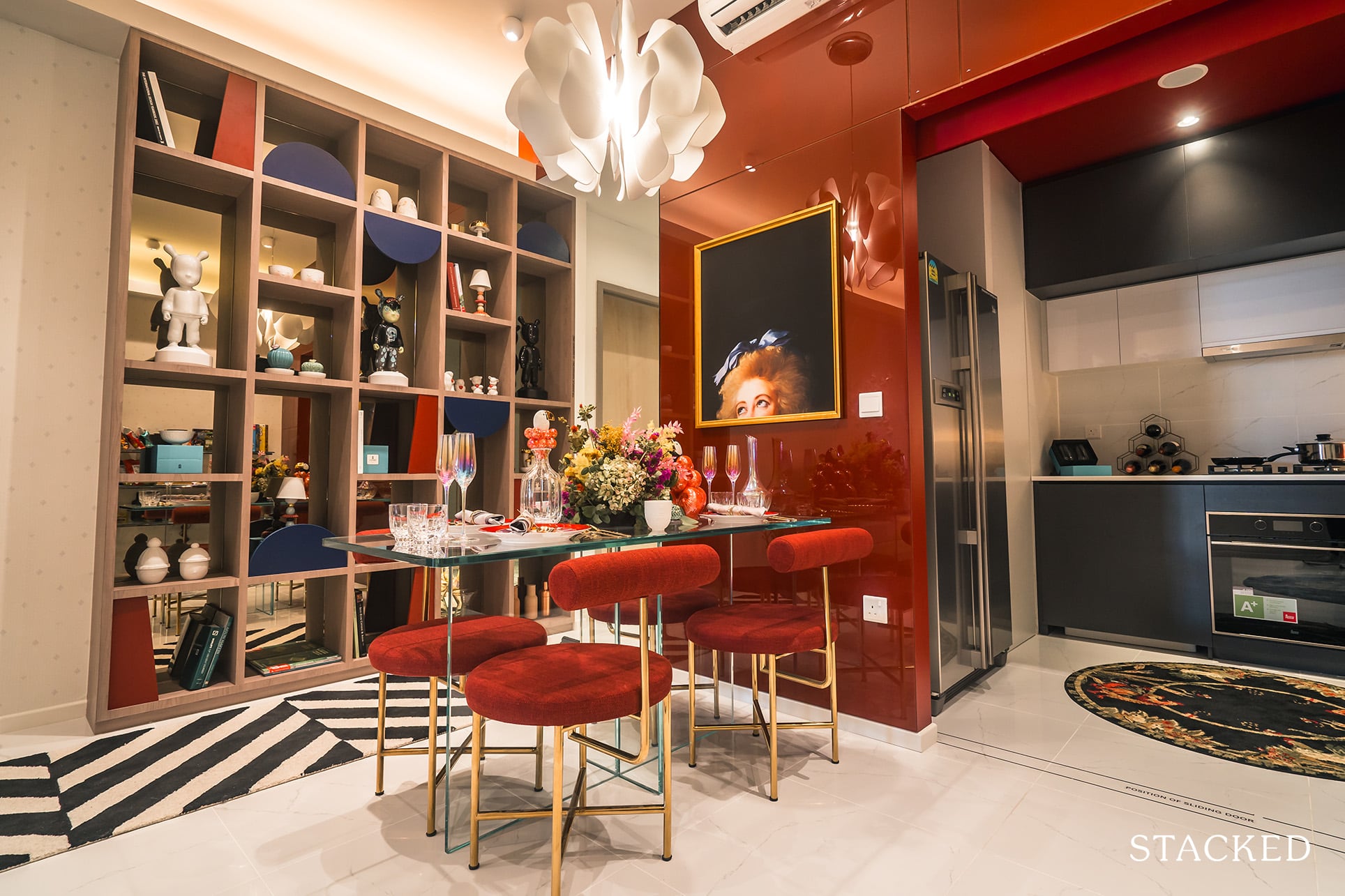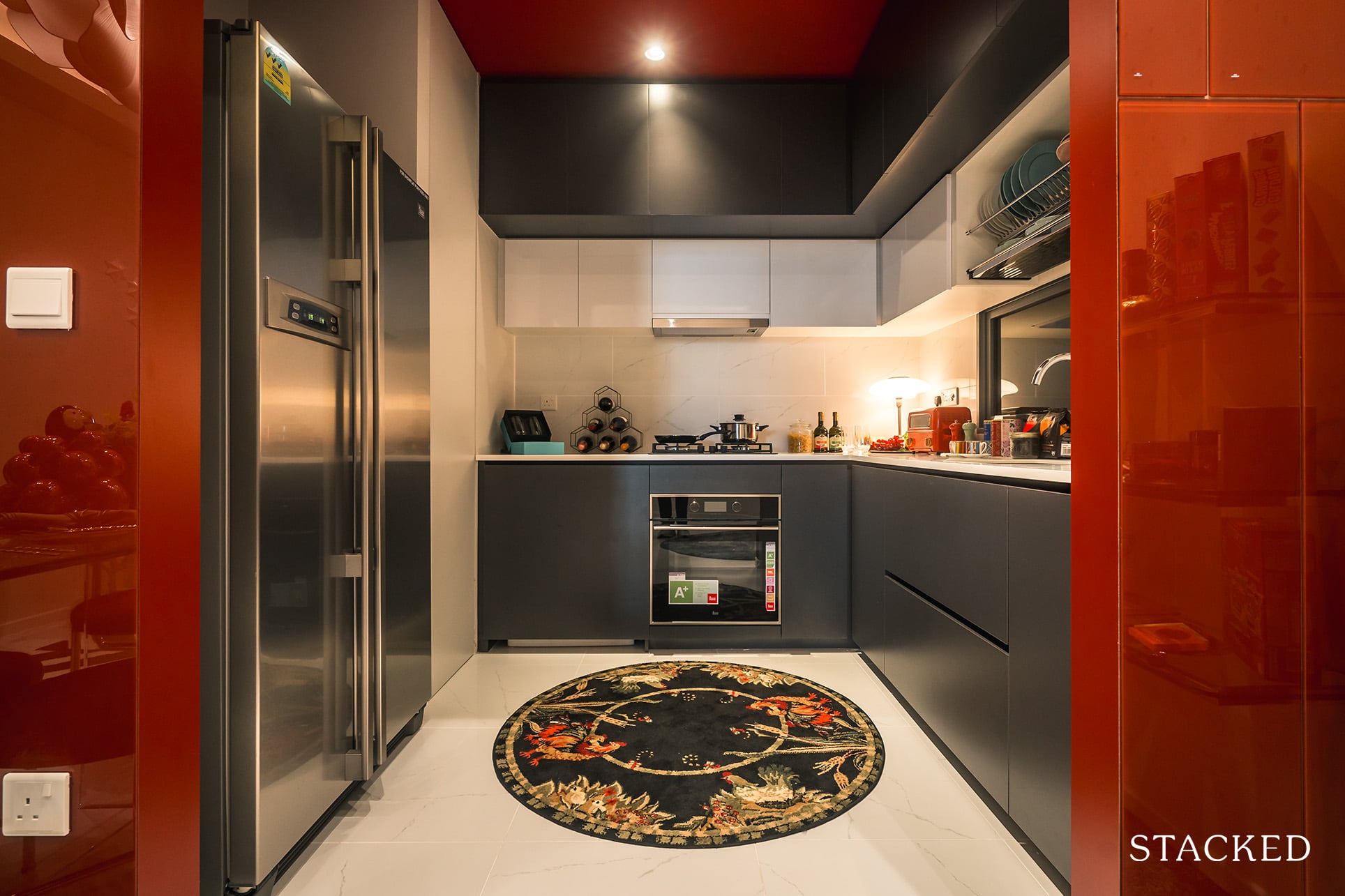 In a similar story to the 4 bedroom unit, the kitchen in this regular 3 bedroom unit is a good size. Long counter space and adequate storage means most people should be happy with a kitchen of this size. You can even fit a proper wide fridge here, unlike some other competing developments that I've seen.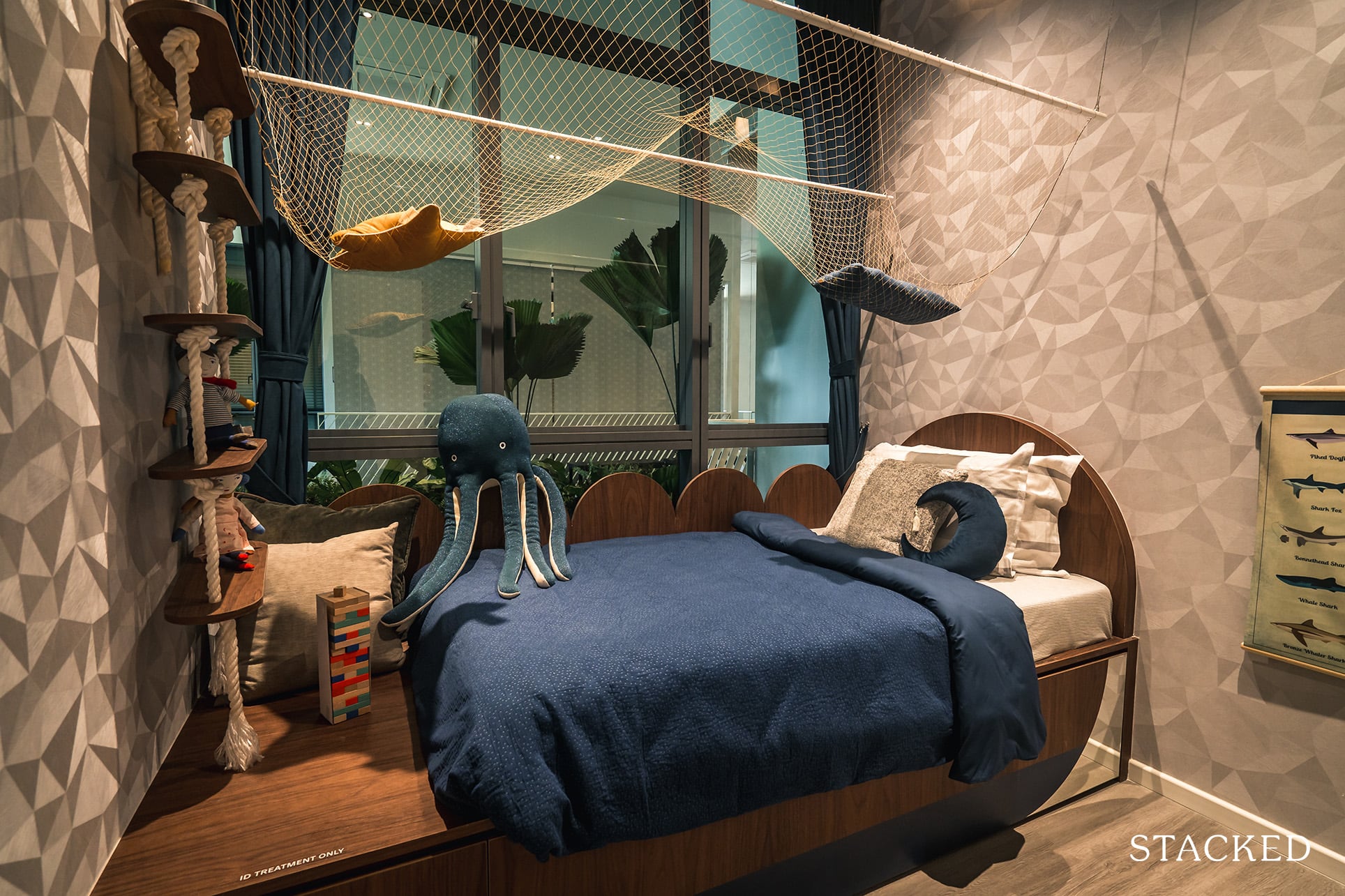 Floor-to-ceiling windows are a standard throughout all the bedrooms – which is always a good thing. Don't expect to have big bedrooms here given the total size of the unit.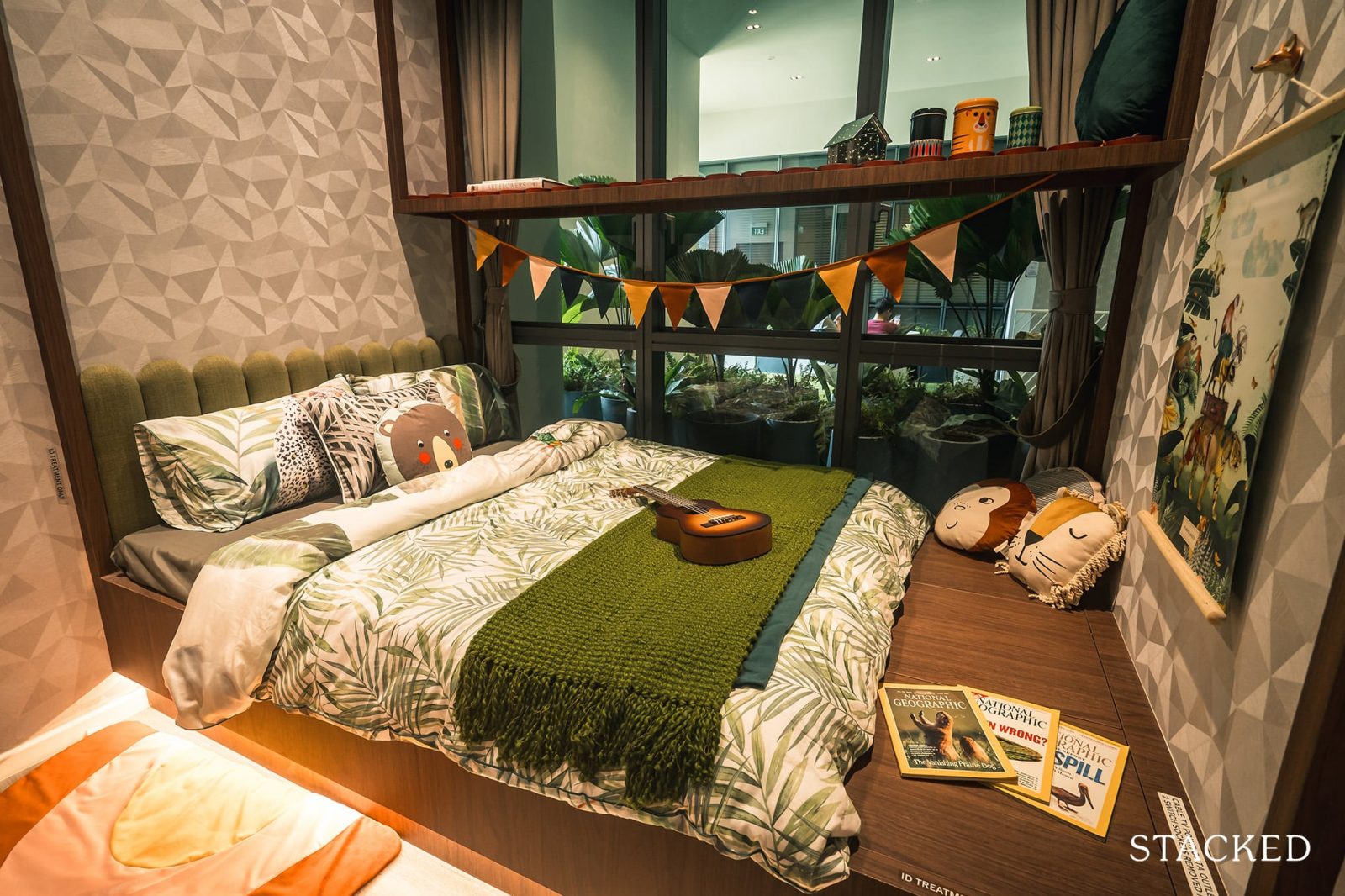 While it isn't big, I think most families with 2 young children will be perfectly happy with the overall size of the unit.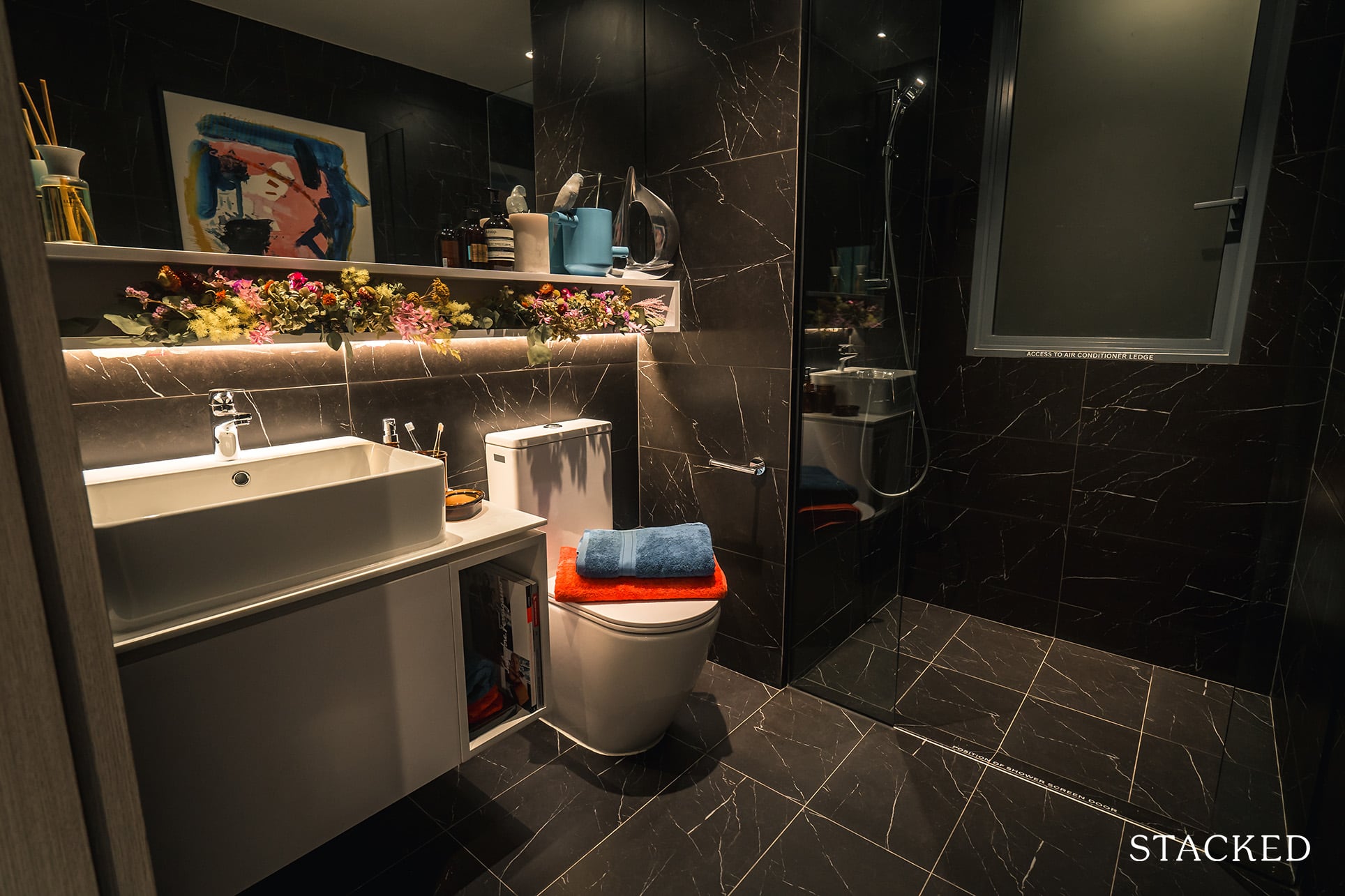 The bathroom is not bad at all for a common bathroom. This will have to be shared amongst the 2 common bedrooms and any guests that visit.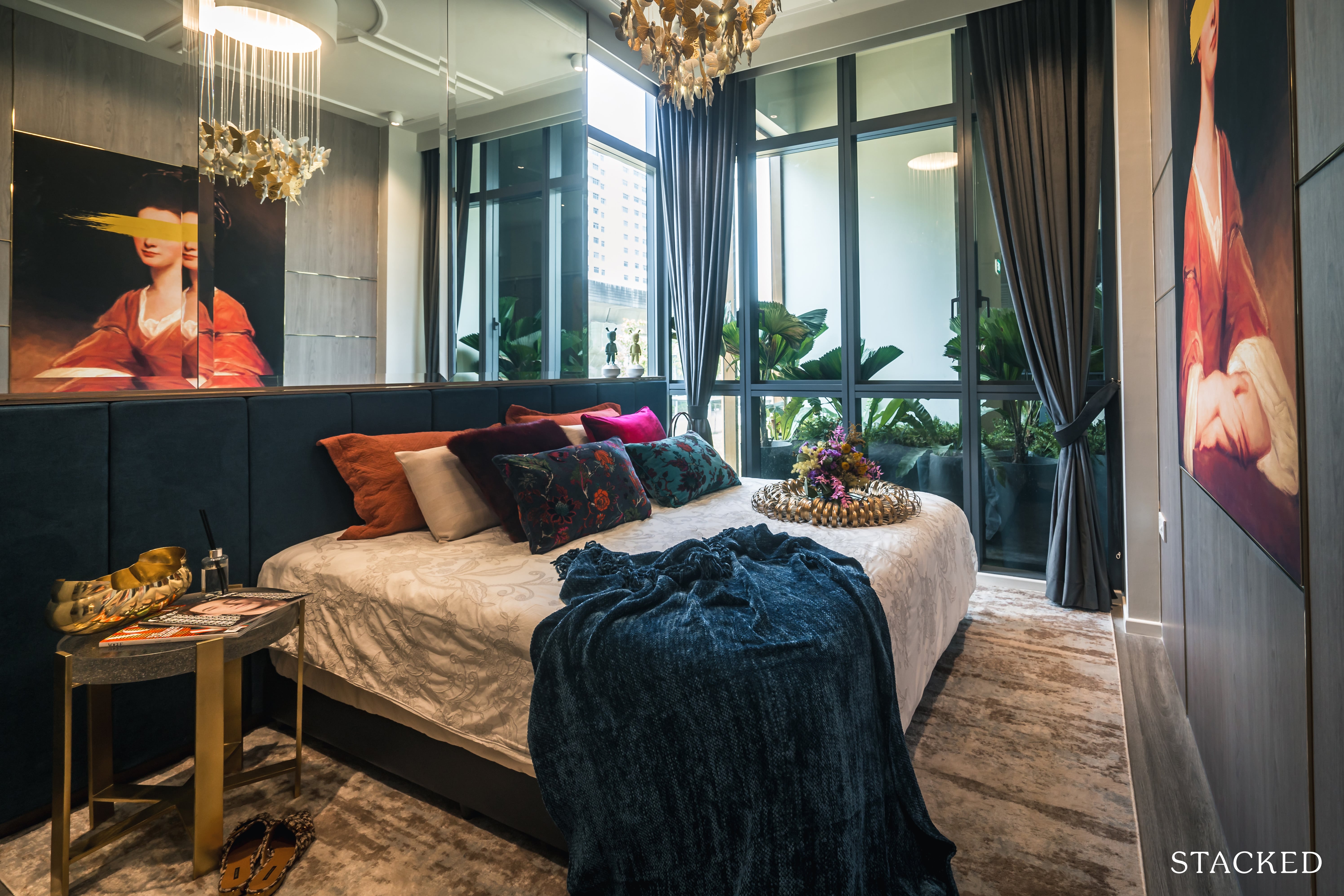 To be honest, I was expecting the master bedroom to be quite small. So I was pleasantly surprised to see that it was competently sized. The corner windows in this layout is a nice touch too – you don't see this very often.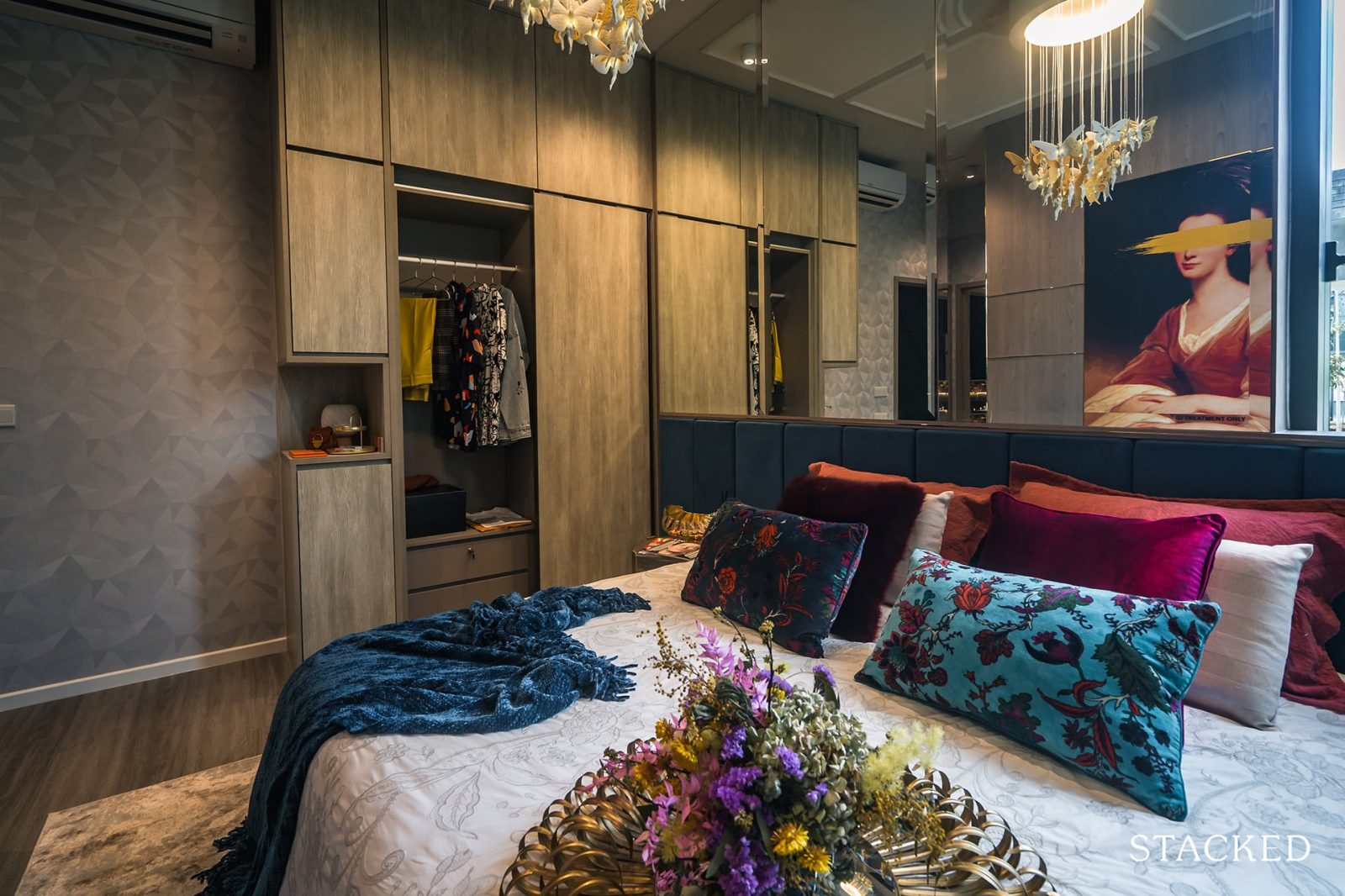 Ola EC Location Review
Those who've been to the north-east over the past 2 decades would attest to the dramatic change it's seen over the years.
With the revamp of Compass One (formerly Compass Point) to its east, and the works to the long-standing Sengkang Riverside Park now completed to its west, residents at the OLA will be moving into a fully furnished, yet relatively novel neighbourhood with plenty of distinct, nearby amenities.
Having Sengkang General Hospital right opposite Ola can be a boon or a bane depending on how you look at it. For those who work here, the location is a no brainer – but for those sensitive to noise, you might have to put up with the sounds of the ambulance throughout the day.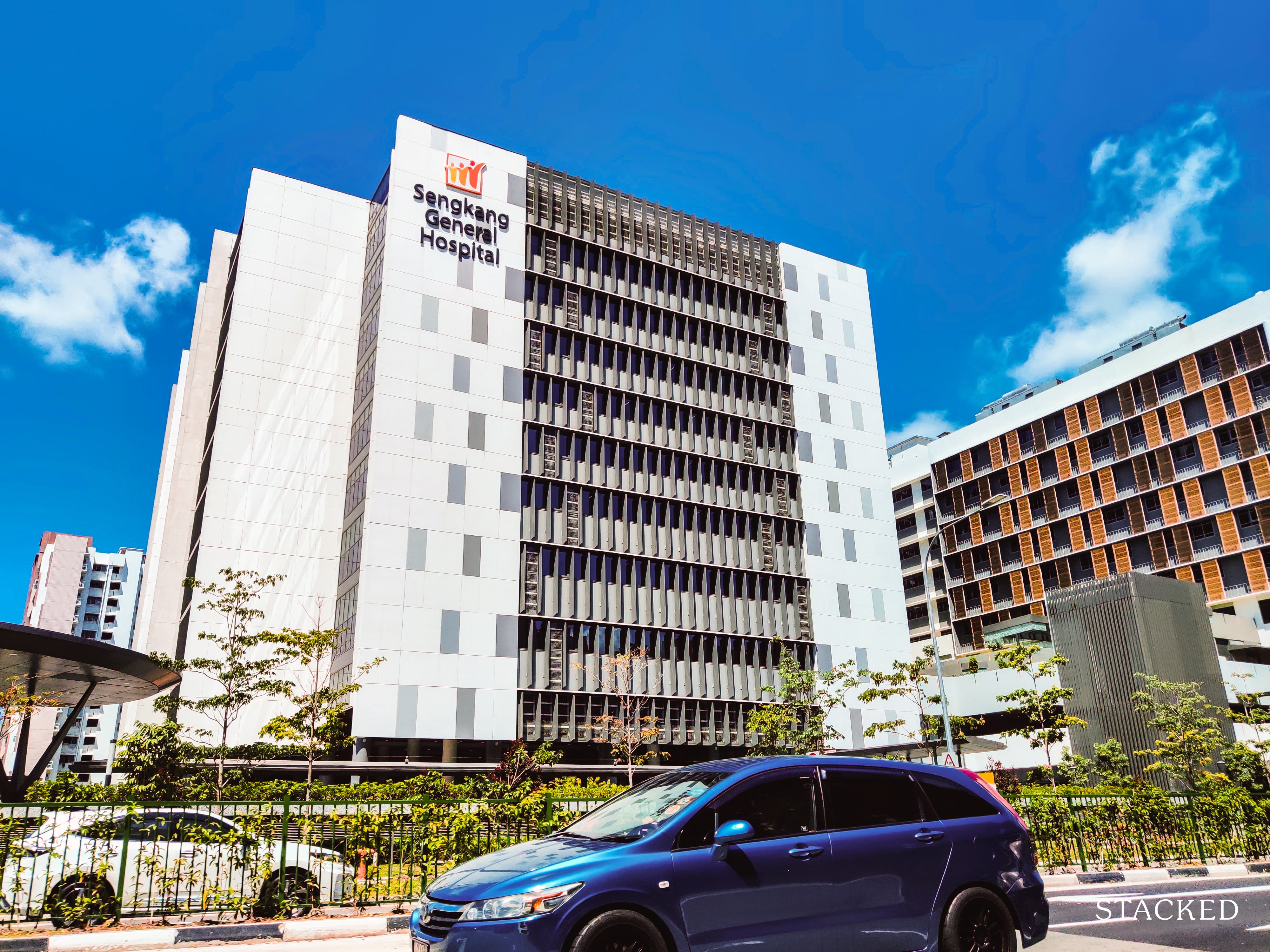 Public Transport

| | | |
| --- | --- | --- |
| Bus Station | Buses Serviced | Distance From Condo (& Est. Walking Time) |
| 'Aft Anchorvale St' | 374 | 200m, 2-min walk |
| 'Cheng Lim Stn Exit B' | 110, 654 | 300m, 4-min walk |
Closest MRT: Sengkang MRT/LRT – 1.1km, 14-min walk

The Sengkang MRT station is just under 15-minute walk away from the condo, and can also be reached by boarding the Cheng Lim LRT station (3-minute walk from OLA).

For those new to the North-East, you'd be pleased to find that public transport around the general (and surrounding) neighbourhood(s) is well sorted out with a well-supplied network of bus and LRT services.

Of course, the Punggol/Sengkang region is quite a distance away from central regions.

It will take 12 stops to reach the CBD/Raffles Place MRT (25 minutes ride), involving a single line change along the way at Dhoby Ghaut MRT.

Accessing the Orchard Road MRT station would take the same time and number of stops.

Private Transport
| | |
| --- | --- |
| Key Destinations | Distance From Condo (& Est. Peak Hour Drive Time) |
| CBD (Raffles Place) | 20.8km, 30-min drive |
| Orchard Road | 17.5km, 25-min drive |
| Suntec City | 17km, 20-min drive |
| Changi Airport | 12.7km, 18-min drive |
| Tuas Port (By 2040) | 50.4km, 55-min drive |
| Paya Lebar Quarters/Airbase (By 2030) | 12.3km, 20-min drive |
| Mediapolis (and surroundings) | 26.1km, 30-min drive |
| Mapletree Business City | 27.7km, 30-min drive |
| Tuas Checkpoint | 40km, 40-min drive |
| Woodlands Checkpoint | 19.9km, 25-min drive |
| Jurong Cluster (JCube) | 29.8km, 35-min drive |
| Woodlands Cluster (Causeway Point) | 22km, 17-min drive |
| HarbourFront Cluster (Vivo City) | 24.4km, 28-min drive |
| Punggol Cluster (Waterway Point) | 2km, 5-min drive |
*Note that Drive Times are calculated during Peak Hours
Immediate Road Exit(s): 1 exit @ Anchorvale Cres
Summary: Given the locale, it would make sense that most residents here would own cars – and thus vehicle owners across the 548 units might face peak hour congestions when getting out of the single exit onto the one-laned Anchorvale Cres. It is relatively close to the TPE, with continued access to both SLE and KPE.
Groceries
| | |
| --- | --- |
| Name of Grocery Shop | Distance From Condo (& Est. Walk Time) |
| Prime Supermarket | 550m, 7-min walk |
| Econ-Mart Sengkang | 900m, 12-min walk |
| Cold Storage – Compass One | 1km, 13-min walk |
Schools
| | |
| --- | --- |
| Educational Tier | Number of Institutes |
| Preschool (within 1km walk) | 5 |
| Primary (3km-drive) | 11 |
| Secondary (3km-drive) | 13 |
| International School (5km-drive) | 1 |
| Junior College (5km-drive) | 0 |
| University (5km-drive) | 0 |
| Polytechnic (10km-drive) | 2 |
Additional Pointers
If you consider that OLA isn't actually anyway near the city centre, the whopping 11 primary and 13 secondary schools within a 3km driving radius from the condo makes the stats look way more impressive.
Especially when you consider that the presence of mission schools in this range including Nan Chiau Primary & High (2-4min drive) and CHIJ St. Joseph's Convent (5-min drive).
Granted, there aren't many tertiary options, but those leaning towards the Poly route will be interested to know that both Nanyang & Temasek Polytechnic are within the 10-km drive radius.
Widespread Recreational Activities
Ranging from communal to individual activities, the general locale of OLA caters to a range of recreational escapades.
A host of water-related activities like kayaking through the inlet of water alongside the Sengkang Riverside Park, wakeboarding from the pier of the Marina Country Club and prawn-fishing at the nearby Hai Bin Punggol spot are on offer here.
As are an unending option of on-land activities that include kite-flying and jogging at the nearby parks to community organised sports at the nearby community centres and clubs.
And this isn't even including the 500 hours of activities that the developer has included!
With over 7 shopping malls in the general area, residents will not only be spoilt with entertainment/shopping options but also be presented with a diverse range of restaurants and eateries to choose from.
Not into the usual shopping mall dine-ins? No problem!
An entire selection of food courts, cafes and special hideaways (like the container park at Hai Bin Punggol for example) will both tease your tastebuds and richly diversify your gastronomic hunts.
Ola EC Development Site Review
Facilities in Ola

| | | |
| --- | --- | --- |
| 50M Lap pool | Grand lobby | Lounge |
| Aqua Deck | 50m Aqua Pool | Gym |
| Garden | Kid's splash pool | Spa |
| Cabanas | Grill station | Outdoor gym |
| Pets corner | Picnic area | Kid's Playspace |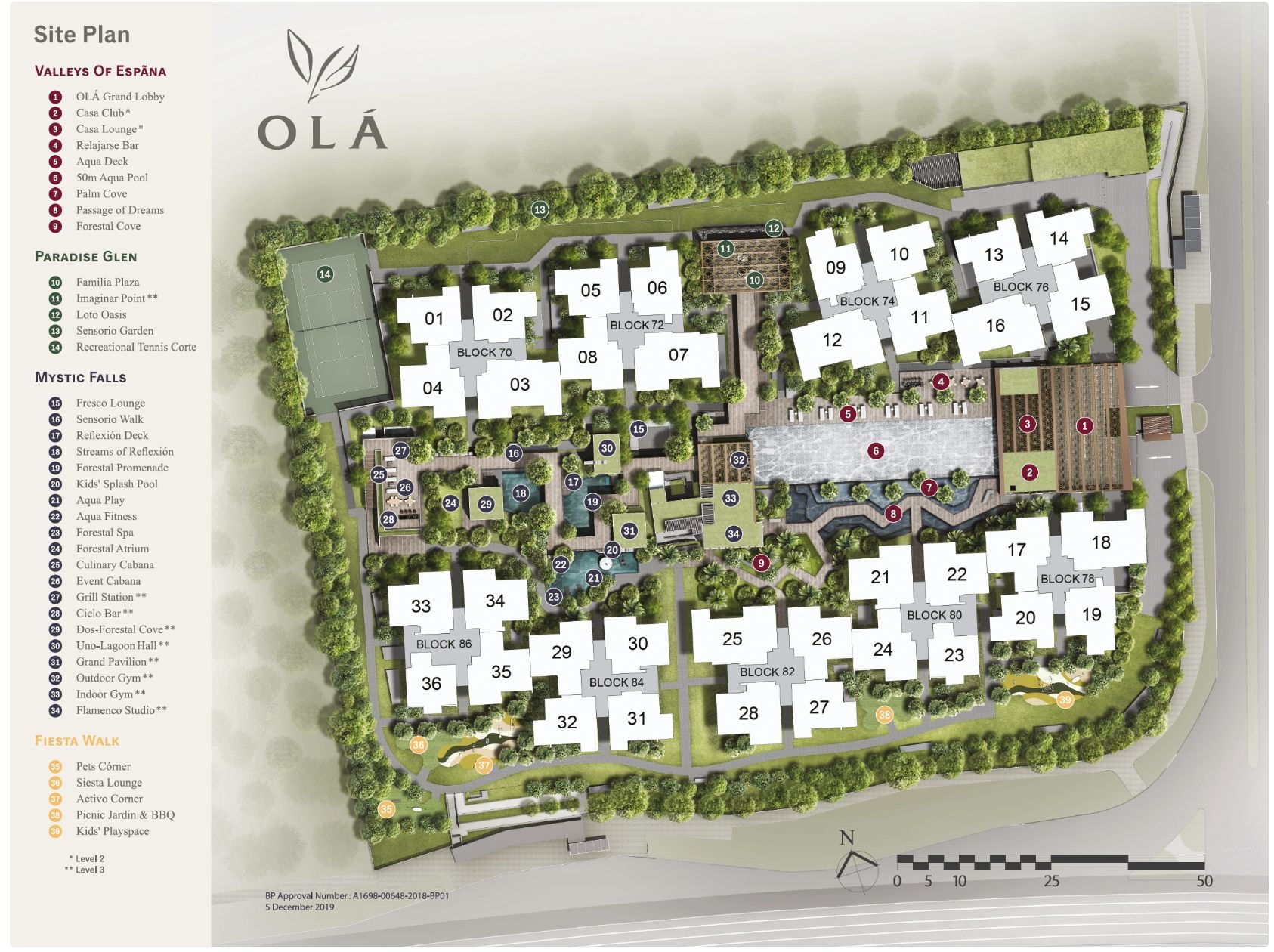 For those wondering, the 548 units at OLA will be spread across 9, 16-storeyed blocks.
4 distinct zones will come fully equipped with a diversity of modern facilities.
Valleys of Espana being the first place that most visitors would set foot in, a combination of the OLA's grand lobby (featuring a $500,000+ chandelier) alongside a bar, lounge, club, and a 50m Aqua Pool.
Move on through the development and a number of resting enclaves/lounges appear. The Flamenco studio does raise some eyebrows, but given the Spanish-themed nature of the condo, I suppose it does seem fitting to an extent.
Of course, one would expect it to later be used as a multi-purpose room as the initial sentiments begin to fade.

The kids' playspace is positioned in a rather secluded spot at Block 78, so residents who are considering a low leveled unit in said block should be cautious of potential noise disturbances in the evenings.

All in all, the facilities of OLA do seem well thought-out and supplied, even if some of them might observe lower-than-average usage over the years.
Unit Mix

| | | |
| --- | --- | --- |
| Unit Type | No. Of Units | Size of Units (sqft) |
| 2-Bedroom | 30 | 775 sqft |
| 3-Bedroom | 196 | 926 – 947 sqft |
| 3-Bedroom Deluxe | 15 | 1,001 sqft |
| 3-Bedroom Premium | 211 | 1,055 sqft |
| 4-Bedroom | 87 | 1,389 sqft |
| 5-Bedroom (Penthouse) | 9 | 1,722 sqft |
Fitting 564 units into 184,000+ square feet of land would either mean building upwards or architecting smaller units in general.
And given the cap of 16 storeys, it looks like unit sizes have paid the price to an extent.
To be fair, they aren't the smallest units we've seen, and while it is also true that smaller units generally mean having to fork out less on the PSF payment scheme, those who crave larger unit spaces in the higher tiered units will be in for a disappointment.
The omission of 1 bedders doesn't go unnoticed, further adding to the condo's status as a family condo. Given the generally low rental demand/yield here from bachelors, I'd say that it was a good move from the developers to do so. Not to mention, it is quite rare for ECs in general to have 1 bedder units.
With a majority of units built falling under the 3-bedder category, it isn't surprising that we see more diversification of layouts in this tier with the Deluxe and Premium units coming into play, though the biggest variation of it currently stands at a mere 1,055 square foot.
It'll be interesting to see who snaps up the 5-bedroom penthouses here given that based on the estimated breakeven price the quantum will be close to the $2 million mark.
Best Stacks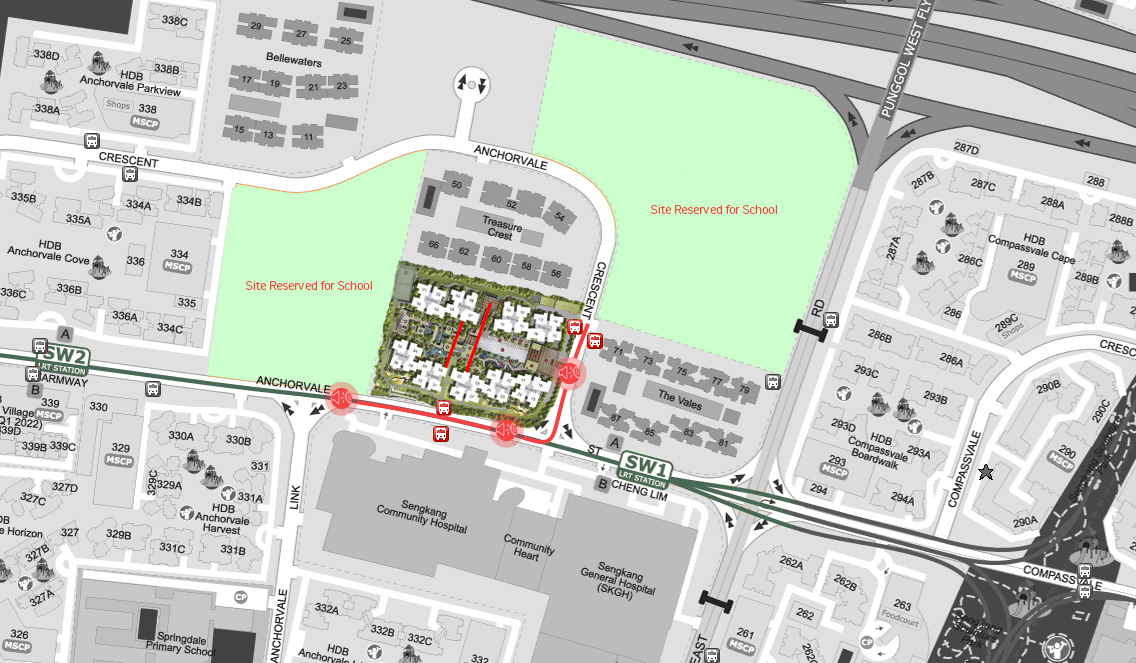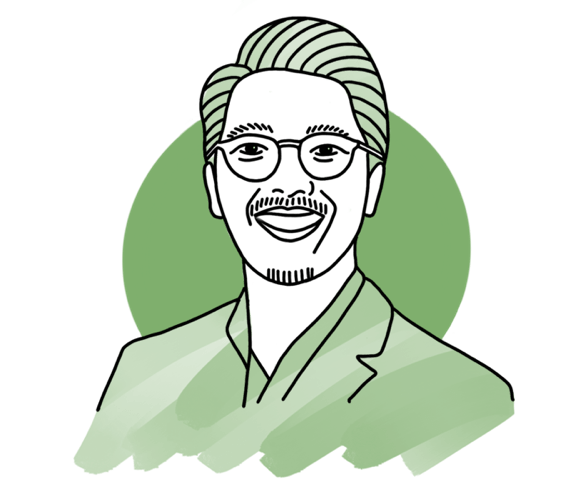 Insider Tip
Because the Northeast Monsoon occurs from December to early March, Stacks 25 and 30 are well positioned to enjoy the wind flow.
Ryan Ong,
Real Estate Specialist
Looking at the development plan, you can see that both plots of land next to the Ola and along Anchorvale Crescent are reserved for schools under the Master Plan.
While that would be a good thing for residents in the future, in the near term you might have to contend with construction noise. Stacks facing the main road will have to take note of traffic noise as that area can get quite congested during peak hours.
So because it is already surrounded by Treasure Crest, the Vales, and Sengkang General Hospital, our pick of the best stacks will have to be 25 and 30.
These face the sculptured inner grounds of the Ola, a wide distance between the blocks (with 25 enjoying the biggest gap), and are North/NE facing with no afternoon sun.
Stacks with the least afternoon sun
As mentioned, the North-East blocks have no afternoon sun – namely blocks 02 to 06, 10 to 14, 34, 29, 30, 26, 22, 17 and 18.
All other blocks have some variation of afternoon sun, with blocks 36 and 04 bearing the most afternoon sun all-year round.
Price Review
| | | | | |
| --- | --- | --- | --- | --- |
| Project Name | Tenure | TOP | Average Price (PSF) | Comparison Point |
| Ola | 99 years | 2023 | $976 – $1,154 (starting from) | |
| Treasure Crest | 99 years | 2019 | $1,097* | Nearby EC |
| The Vales | 99 years | 2018 | $912* | Nearby EC |
| Bellewaters | 99 years | 2013 | $945* | Nearby EC |
| Piermont Grand | 99 years | 2023 | $1,091 | Competing EC new launch |
| Compass Heights | 99 years | 2002 | $916 | D19 Condo |
| La Fiesta | 99 years | 2016 | $1,202 | D19 Condo |
| The Luxurie | 99 years | 2015 | $1,214 | D19 Condo |
*Based on a small sample size of transactions

As of the time of writing, this is the current price list released.

– 2-Bedroom (total 30 units; 775 sqft ) – S$1,100 psf
– 3-bedroom and 3-bedroom + 1 premium (total 422 units; 926 – 1,055 sqft) – S$999 psf
– 4-Bedroom (total 87 units; 1389 sqft) – S$976 psf
– 5-Bedroom (total nine units; 1722 sqft) – S$1,154 psf
If we were to compare to the current resale prices at the Treasure Crest, The Vales, and Bellewaters, prices are actually quite comparable given that the Ola is new plus its standing as a "premium" EC.
Of course, bear in mind that these prices stated are all starting prices – the prices definitely do go up depending on the premium of the stack that you are choosing. At those price points it hinges on whether it is worth that premium to you over competing condos in the vicinity like La Fiesta and The Luxurie – which by the time the Ola is built would be a 7-8 year age gap.
For those interested, prices for the 9 penthouse units are currently priced at around $2 million. With the current MSR of 30%, I can't see many people being able to afford this. At the same time, those with a higher purchasing power would probably be shopping around more premium districts as well.
It will be intriguing to see if there are any takers for these units – if they do sell well it will certainly speak volumes of the attractiveness of the offerings at the Ola.
Appreciation Analysis
There are those that buy an EC for a more affordable entry into the lifestyle that a condominium offers, and there are also those that see an EC as a way for potential capital appreciation.
Let's look at the Vales next door to see how they've fared.
| | | | | | | | | |
| --- | --- | --- | --- | --- | --- | --- | --- | --- |
| Date | Address | Unit Area | Sale Price | Bought on | Purchase Price | Profit | Holding Period | Annualised |
| 22 APR 2019 | 75 ANCHORVALE CRESCENT #06-11 | 1,410 | 960 | 7 SEP 2016 | 734 | 319,298 | 957 | 10.8 |
| 18 MAR 2019 | 85 ANCHORVALE CRESCENT #01-32 | 915 | 836 | 19 NOV 2016 | 796 | 37,000 | 849 | 2.2 |
| 25 JAN 2019 | 71 ANCHORVALE CRESCENT #11-02 | 1,033 | 939 | 11 APR 2016 | 780 | 164,112 | 1,019 | 6.9 |
| 25 JUN 2018 | 71 ANCHORVALE CRESCENT #09-04 | 915 | 939 | 8 NOV 2016 | 842 | 89,000 | 594 | 7.0 |
| 22 JUN 2018 | 73 ANCHORVALE CRESCENT #06-07 | 1,033 | 908 | 18 DEC 2015 | 801 | 110,000 | 917 | 5.1 |
| 18 JUN 2018 | 79 ANCHORVALE CRESCENT #08-18 | 764 | 900 | 29 NOV 2015 | 873 | 20,740 | 932 | 1.2 |
| 14 MAY 2018 | 71 ANCHORVALE CRESCENT #13-04 | 915 | 909 | 21 AUG 2016 | 846 | 57,800 | 631 | 4.3 |
| 12 FEB 2018 | 75 ANCHORVALE CRESCENT #09-10 | 904 | 850 | 4 MAR 2016 | 817 | 29,968 | 710 | 2.1 |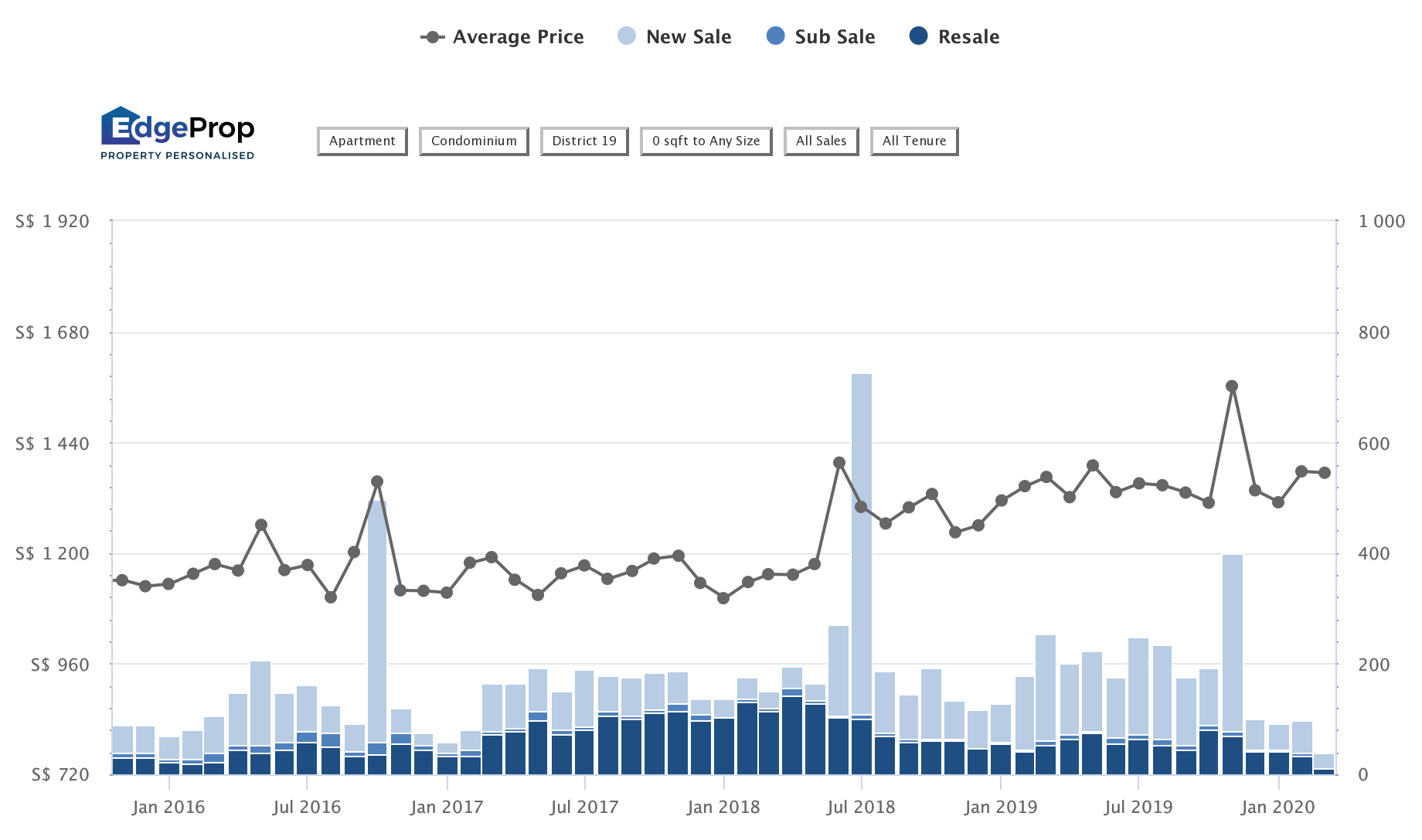 Let's look at the biggest appreciation so far in the list, which was purchased on the 7th of September 2016. At that same point in time, the average PSF of District 19 was $1,202 for private condos and apartments, and a higher $1,335 for only new sales. This represents a price gap of $468 and $601 respectively.
Contrast that to today with average PSF for District 19 being at $1,374 for all private condos and apartments, and $1,504 for just new sales. Based on the current starting price of a 4 bedroom unit at $976 PSF, that represents a price gap of $398 and $528 respectively. So you can say that the price gap between an EC and private condos are starting to narrow a little.
So at that selling price of $960 PSF, the District 19 average in April 2019 was $1,321 PSF – a difference of $361. The question is, will we be able to see that gap maintained in the future?
Our Take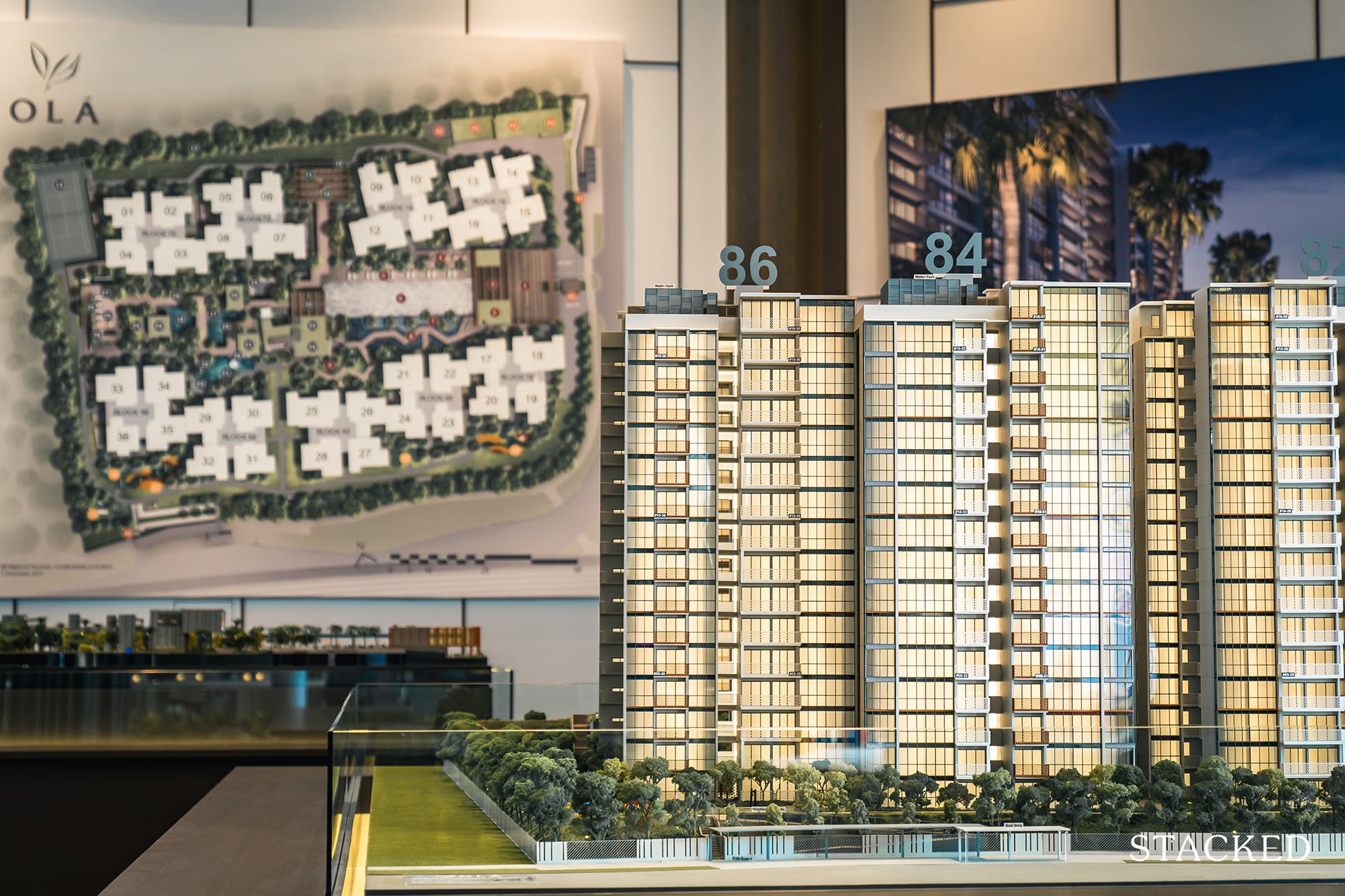 At the end of the day, you can't help but think that the developers have put together a well-thought-out project.

Like it or not, people will form an impression based on the very first impression that they encounter.

And it's with Ola, that developers Evia Real Estate and Gamuda Land are trying to stand out from the competition.

As you can imagine, people are bombarded with different condo names all the time and rather than stick to that same old something something "residences" I'm quite happy to see that they've tried something different here.

The value is that a good name starts the right conversation.

And it is from this choice of the name that has permeated down to the rest of the development.

You can see it from the tie-ups with Lladró, paintings from Eva Armisen, that they've really pulled out all the stops to create a unique product.

Its tough to fully conclude this project without seeing the official prices as of yet – but with decent layouts and facilities rivaling, if not surpassing some other condo developments – it is quite the compelling package thus far.

To conclude, if you are looking more for a home and own stay option and are looking to settle down for an extended period and are able to snag a unit at those starting prices the Ola represents quite good value for the lifestyle and amenities that it offers. Especially when you consider that the quality of its offerings surpasses even some of the private condos that are on the market at the moment.
But if you are looking from the perspective of solely capital appreciation, there could be better options out there at the moment.
What this means for you
You might like OLA if you:
• Value Your Recreational Activities:

An abundance of land, sea and communal recreational activities in the area will prove useful to those who will utilise them.

• Have Young Kids:

Apart from the recreational offerings, a diverse amount of educational institutes and entertainment opportunities make it a great place to raise kids.
You might not like OLA if you:
• Crave Large Unit Spaces:

Unfortunately, the largest variation of unit areas for the 2,3 and 4 bedders are set at a mere 775, 1,055 and 1,389 square feet respectively.

• Prefer A More Central Location:

While the North-East line does provide a straight route to central areas, those who prefer immediate central access should look elsewhere.
End of Review
Join our Telegram group for instant notifications
Join Now
Reuben