Buying
8 Overlooked Factors Your Property Agent May Not Mention When Choosing Your Home In 2023
Ryan J
May 10, 2023

8

min read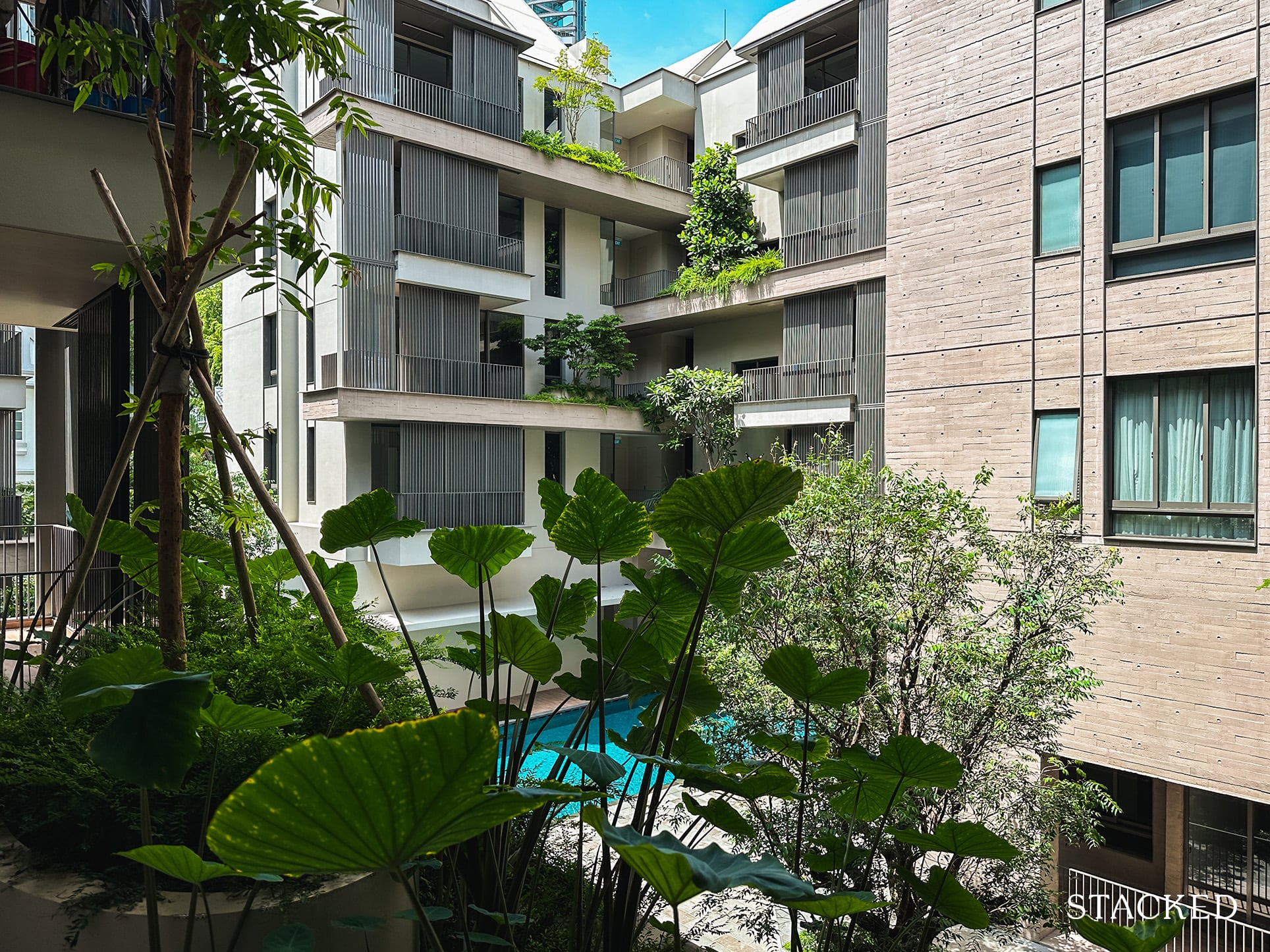 8
min read
There have been some changes to marketing strategies over the years, and it pays for home buyers to know them when picking units. While we've somewhat covered this topic before, consider this an update based on what we're increasingly seeing in show flats, and during viewings (for resale). Here's what you need to look out for in 2023:
1. There's some discrepancy involving strata void space
The definition of "Gross Floor Area" has recently been redefined, and now excludes strata void space – this is the empty space between floor and ceiling the normal ceiling height and the space above, which is not actually liveable.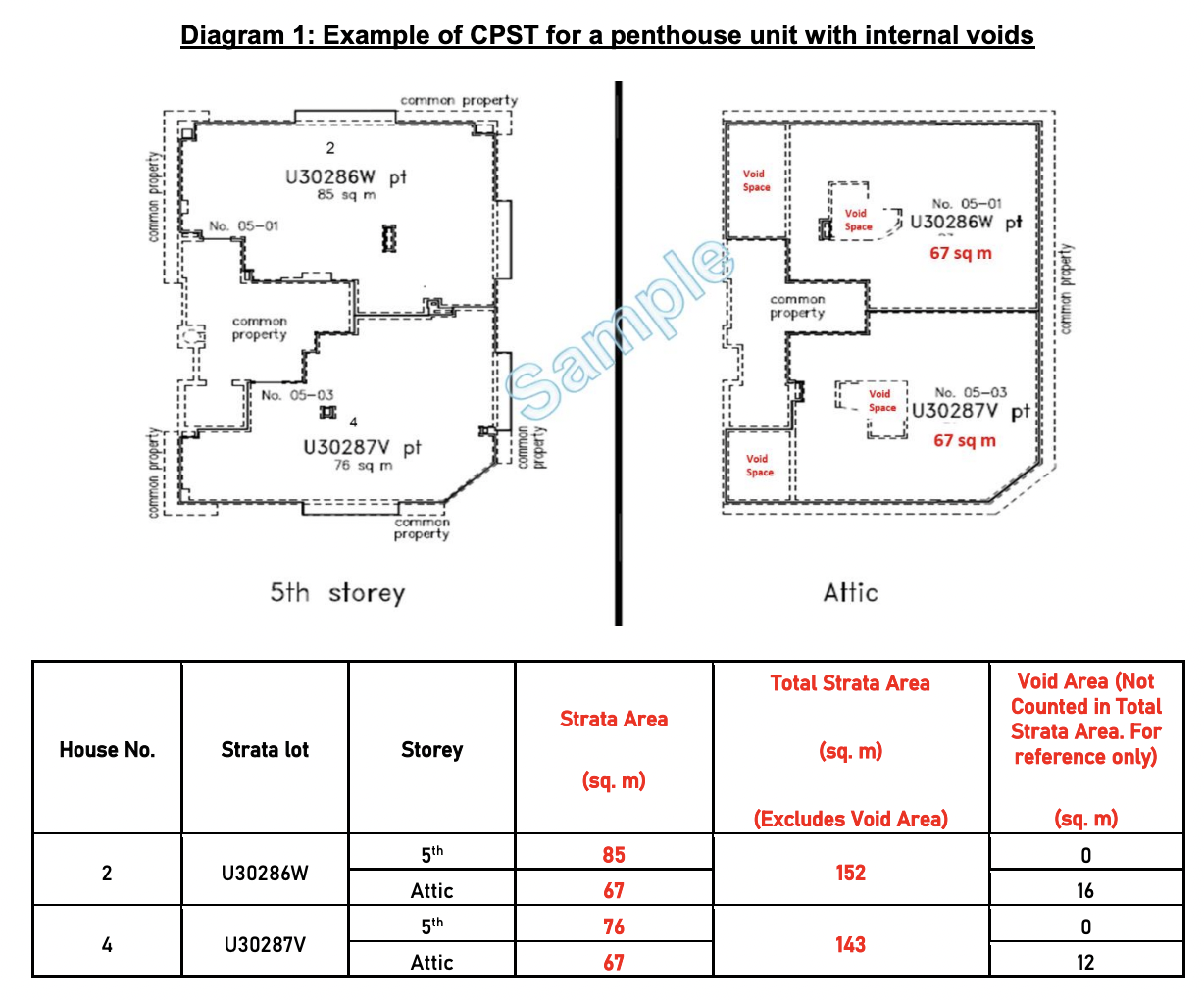 However, while new launch condos will adhere to the new rules, some confusion still exists for resale units. Owners of older properties may still be including strata void space in their listing descriptions; so a 1,000 sq. ft. unit with 200 sq. ft. of floor-to-ceiling space may still be listed as 1,200 sq. ft.
(Note that as an effect of this, the price per square foot may seem lower)
This is rarely an attempt to cheat anyone; it's just that sellers tend to follow the same size description they were given when they purchased the unit.
Over the coming years, we expect this will be rectified. But if you're buying a resale unit right now, especially one with a high floor-to-ceiling ratio (they often have descriptions like "loft apartment"), it's best to check if the given square footage includes void space.
2. Check the flexibility of the floor plan
It's become trendy for developers to offer "flexible room" plans. This is typically when a single space – such as the living room – is supposedly designed to accommodate an extra study or bedroom if you choose.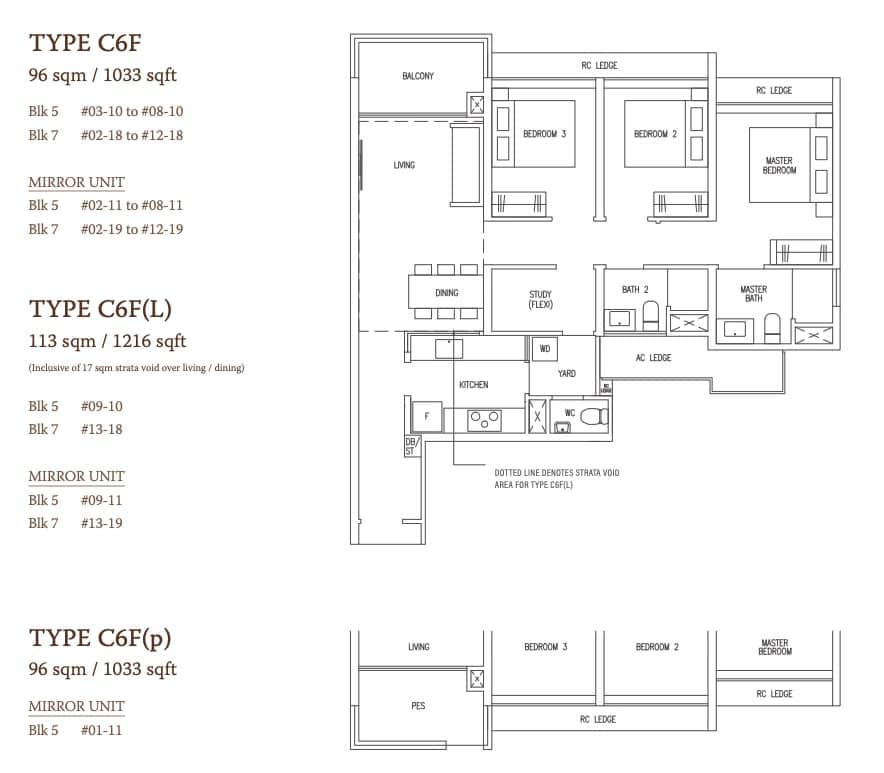 In our experience, this "flexibility" has been of significantly different quality, in various projects. Some layouts become very inefficient if you add the optional room; they form corridor spaces, odd corners, or just block the natural flow of light. As the optional room is not always visible in the show flat (developers usually show the most spacious layout possible), you may not notice this until you attempt the renovations.
We'd suggest talking to a contractor or Interior Designer before you buy – they can help you to determine if the "optional" extra room would be a bad idea.
3. Efficiency of the kitchen space
Those who spend a lot more time in the kitchen tend to prefer two or three walls of cabinetry and appliances. Likewise, more families these days are installing kitchen islands – so it's a bonus if the condo unit happens to come with one.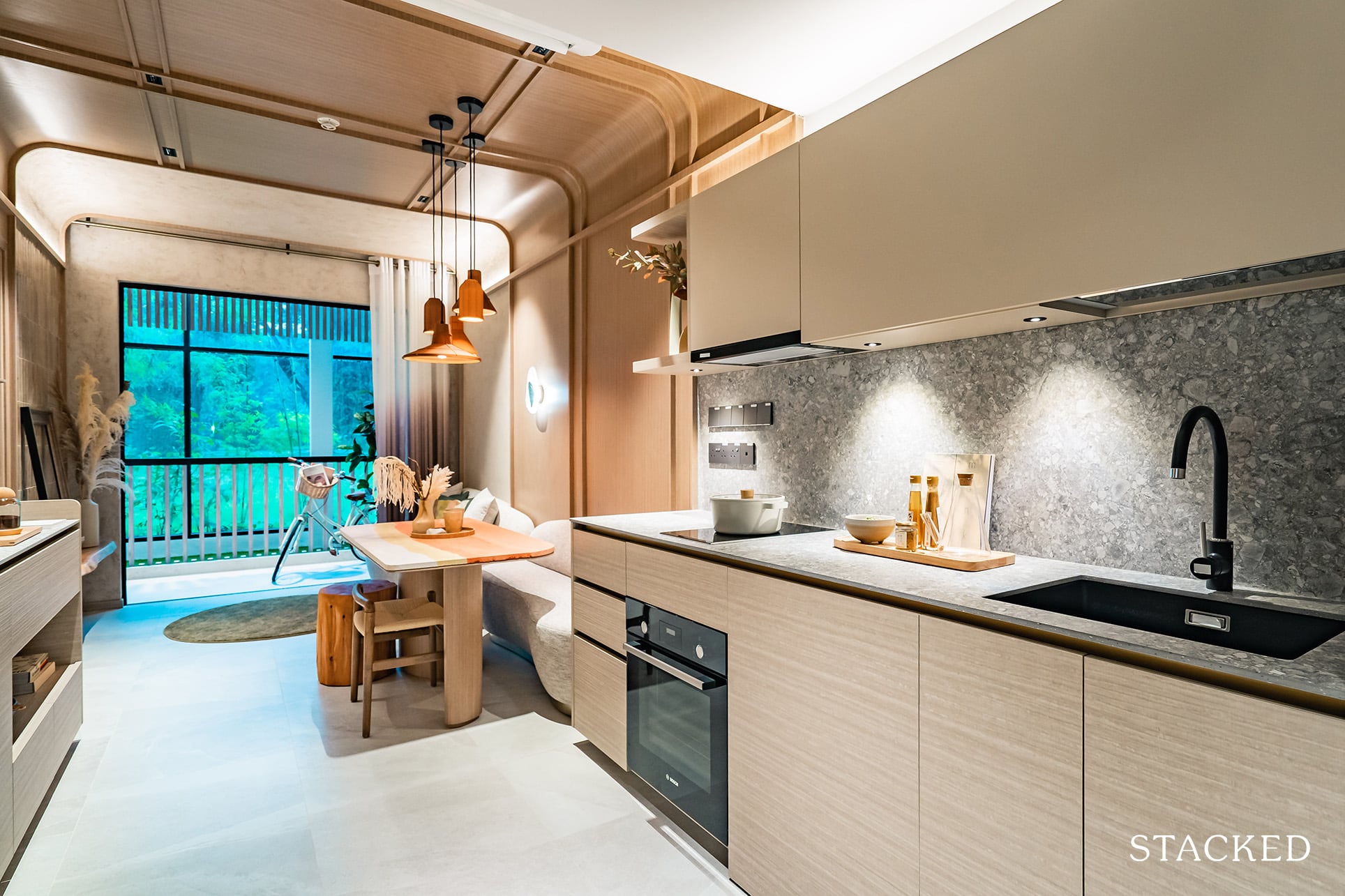 For smaller units though, we're starting to see more open kitchen plans, where only one wall of the kitchen has available counters, sinks, and appliances. This is often frustrating to serious home cooks, as the preparation space becomes very limited.
(If you rarely cook at home though, this may be a non-issue).
Another thing to watch for is the size and position of the service yard if one is available. If your plan is to dry clothes by air instead of a dryer, for example, a service yard that's blocked from the sun isn't very useful.
Also, check the size of the service yard – some developers attempt to squeeze too much into the adjoining kitchen space (e.g., a room for domestic helpers and an extra toilet as well), which can shrink the yard to little more than a large balcony.
4. Account for pet and gardening considerations
In some condo units, the ground floor has no enclosed lobby. This is riskier if you have mischievous pets you want to keep indoors. With many ground-floor units, dogs or cats can run right out if they slip past the front door. But if you live on a higher floor, the lift provides a natural obstacle (unless your pets find a way to work the lift buttons!)
In condos, any common stairwells are usually behind closed doors, so your pets probably can't get beyond the common corridor.
For gardeners, you may want to check if the ground floor unit has a Private Enclosed Space (PES) like a patio; this may "extend" the square footage you can use for gardening. Some condos are relaxed enough that – so long as your plants remain sightly – they may even allow you to go a little past the patio.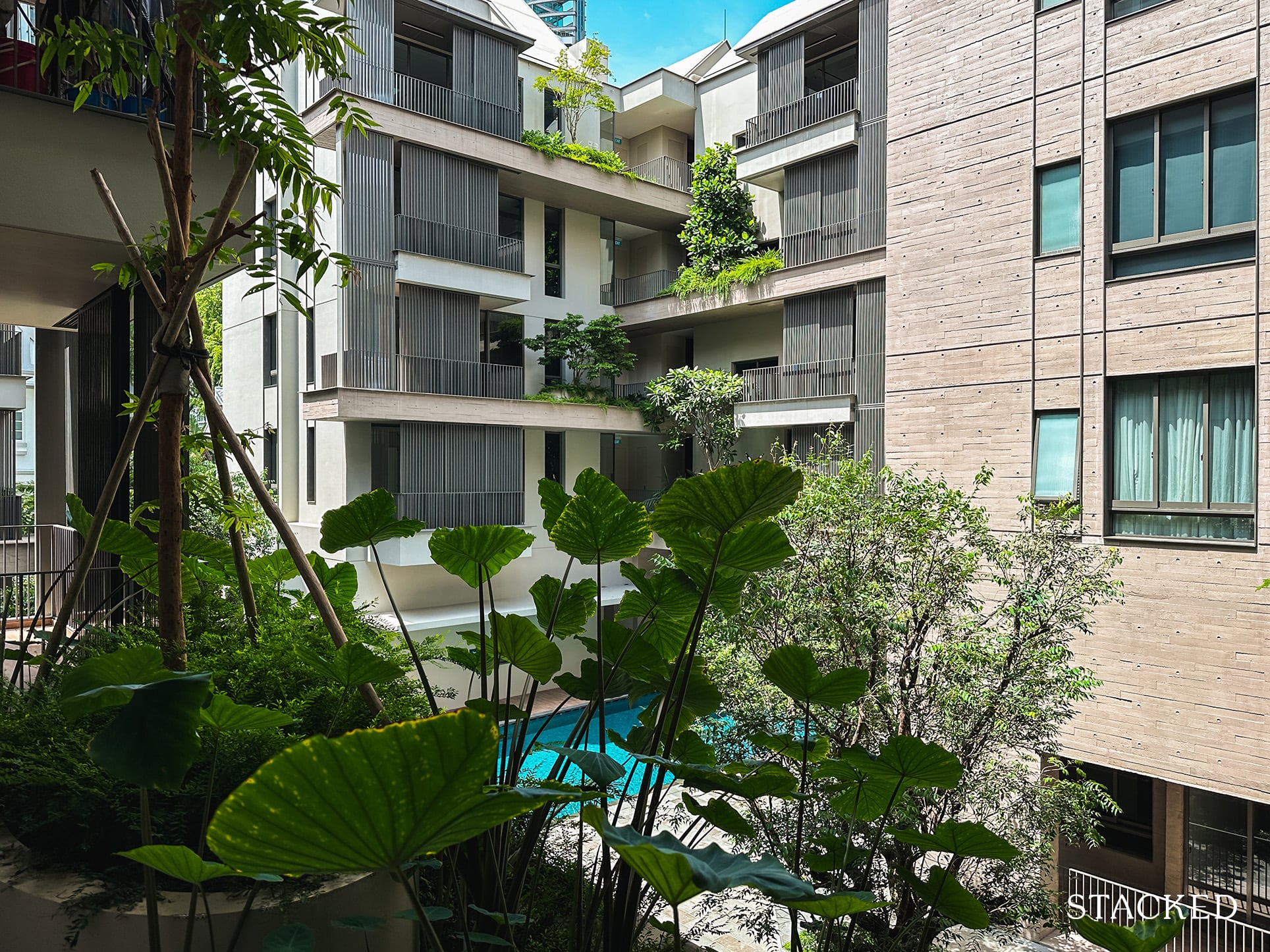 Even without patio space, most condos will allow you to have plants on your balcony, window, and service yard ledges. On higher floors, that can't be allowed as they become potential killer litter.
Alternatively, you can get a condo unit with a planter box, but most homeowners consider it a waste of square footage.
5. Make sure the air-con ledge doesn't become an unsightly view
It's not that air-con units are somehow unpleasant to look at; it's that air-con ledges tend to become disgusting collections of bird poop, dead insects, falling litter, etc. until the annual cleaning (or whenever the management committee arranges for it).
Most homeowners prefer the air-con ledge be tucked out of line-of-sight, rather than in view of a main balcony or bedroom window.
6. Some floors are closer to above-ground facilities
Finding stacks close to the pool, BBQ area, etc. is a well-known tactic; but don't forget above-ground facilities like sky gardens or horizon pools. If you expect to use these facilities, you'll want to search for a floor closest to them (if not the same floor, then one floor above or below).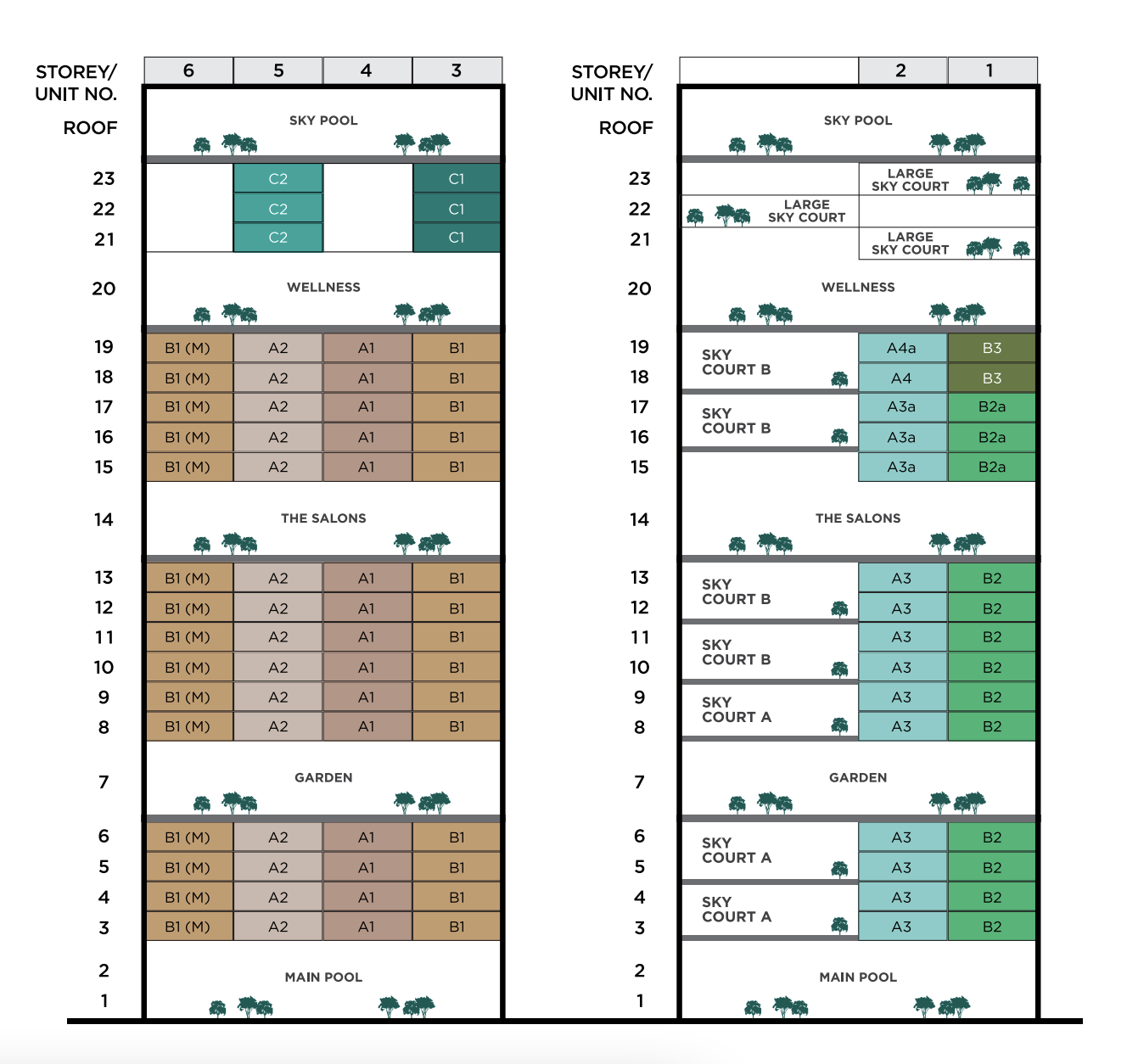 For example, the 2 units on floors 21 to 23 of 3 Cuscaden will enjoy the large sky court right outside their unit. Given there are multiple sky courts throughout, this would likely nearly be your own private space to use.
Conversely, we've heard some homeowners swear off proximity to such facilities. A common complaint is that noise filters down or up to the unit, especially when there are communal activities like Zumba classes or festive celebrations. Note that newer condos tend to be much more active in organising these, compared to older ones (some even include free classes as part of the purchase).
Another common complaint, where above-ground pools are involved, is wet lifts. Some residents don't bother to towel off fully, stepping into the lift when dripping wet. This makes the elevators unpleasant and slippery.
7. Check the proximity of outside lighting to your unit
Some condos like to light up their facades at night or have brighter lamps in some common areas (especially near stairs, car park entrances, etc. to ensure you can spot them).
This can be a problem if a strong light source happens to be located right outside your window. This is typically a lower-floor problem, but we've heard even higher-floor owners complain from time to time (e.g., powerful track lights reaching as high as the fifth or sixth-floor living room windows).
Some older condos seemed not to have considered this at all. We have seen one older project where a strong external light – illuminating the garden area – was right outside a ground-floor bedroom window. The owner had to use thick curtains to block off the light at night.
8. Check the positioning of utilities like the wet riser
These may be located right outside your condo door. In some cases, they are angled or distanced such that the homeowners can place shoe racks, umbrella stands, etc. outside the unit with no issues. In other cases, there's no way to place such items without blocking access.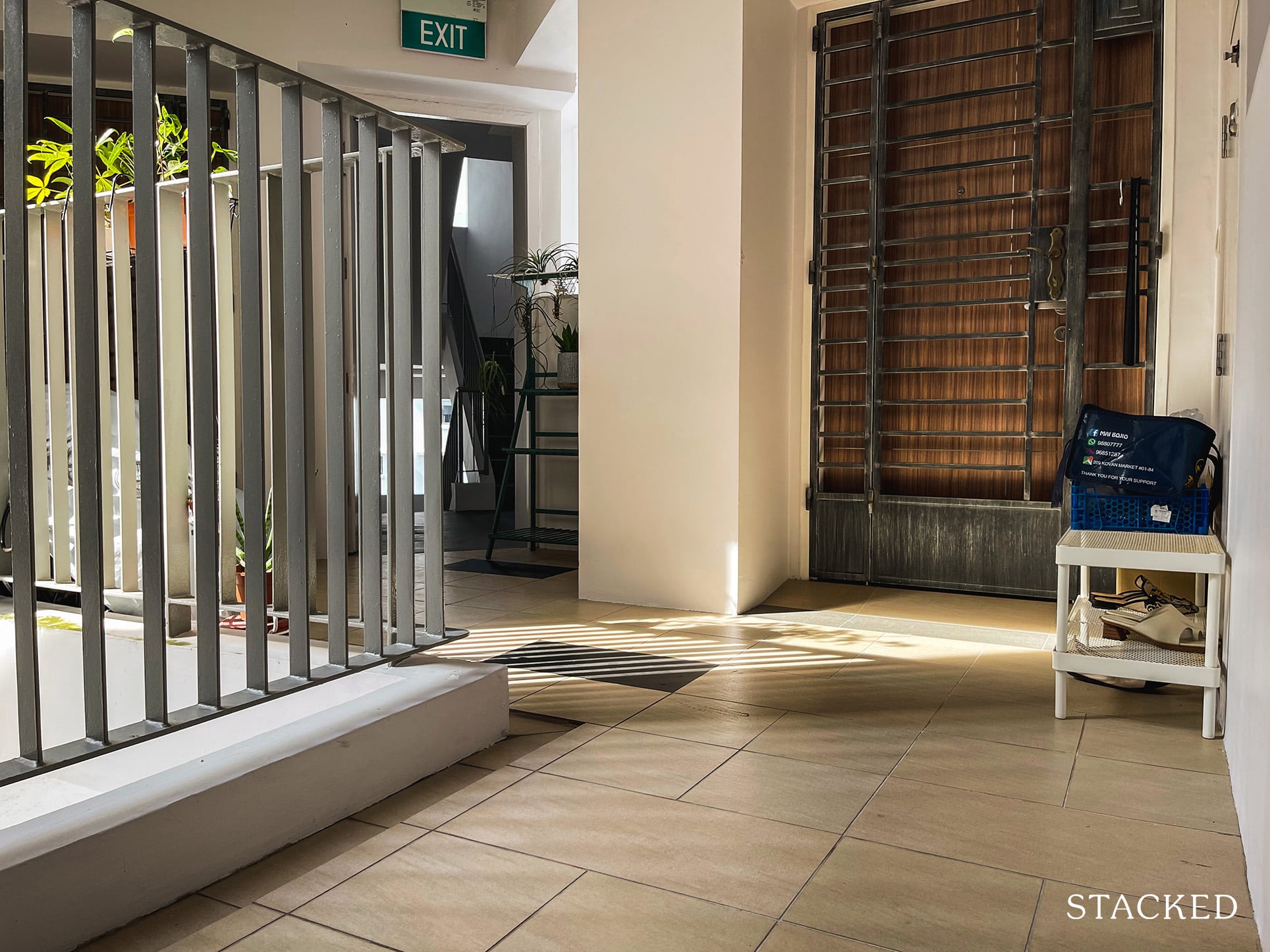 The positioning isn't always "fair" to each unit on the floor. In some projects, you may find the neighbour has room for shoe racks, a bicycle, a potted plant, etc. whereas you can't place anything without blocking the utilities.
None of this is visible in a show flat by the way, so you'll need to ask the sales team what's immediately outside the front door.
For more tips and strategies on picking your unit, follow us on Stacked – we have in-depth reviews that cover both new and resale condo projects. Alternatively, reach out to us directly with your questions.