Units Of The Week

5 Tastefully Renovated 4-Bedroom Units Under $2.3 Million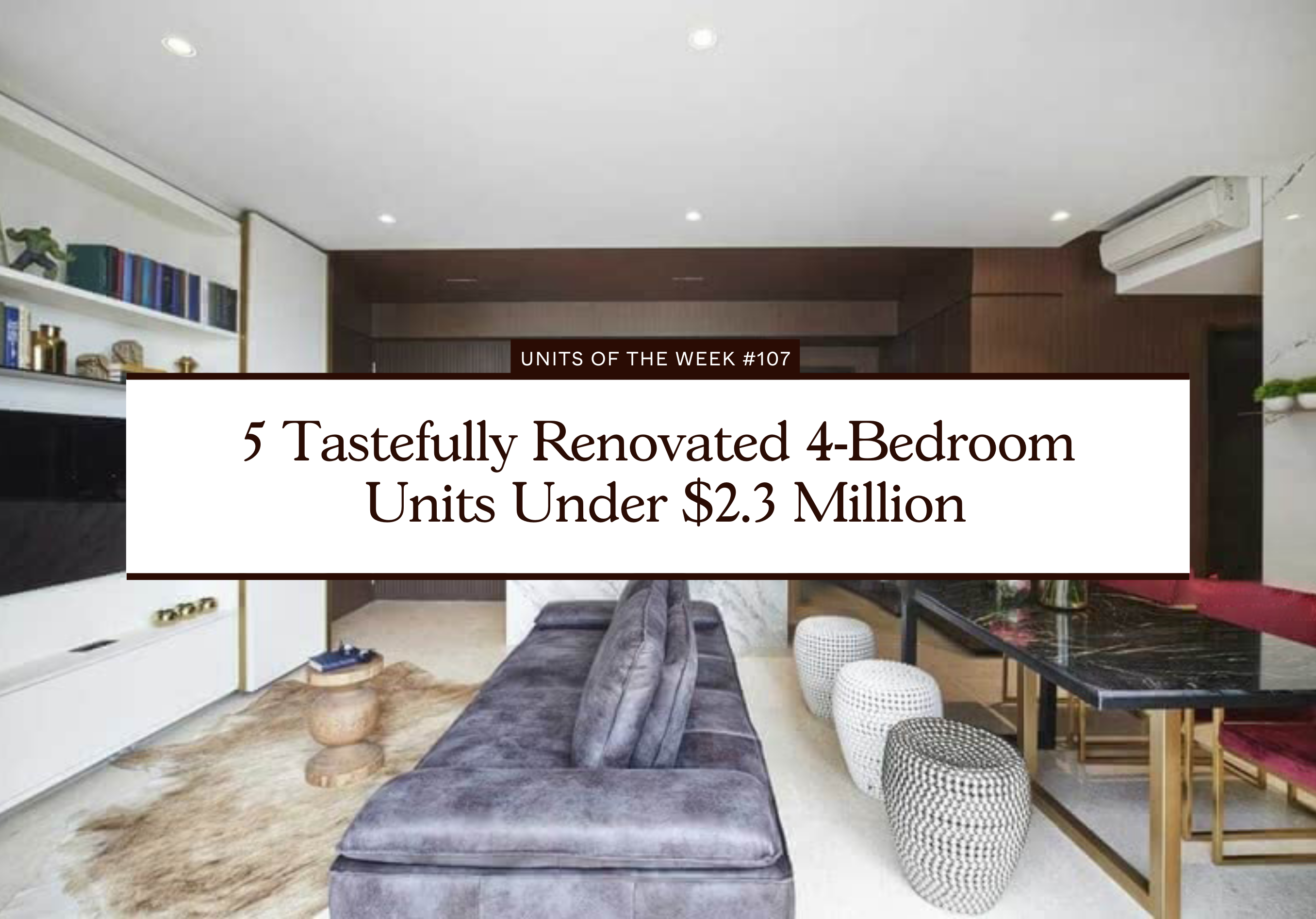 For bigger families, 3 bedroom units are definitely a no-go. Once you have 3 kids (even if 2 were to share one room), it may only be feasible when they're young, but once they get bigger living conditions may start to get more stressful than you think.
If anything, the demand for 4 bedroom units has also been increasing because of the pandemic. Where families previously only required 3 bedrooms, if Work From Home is a permanent fixture for both parents, it may make sense to have a dedicated study/office at home for more conducive working conditions.
This week, we take a look at 4 bedroom units that are well-renovated, for those that are looking for a category upgrade.
Missed last week? You can view the previous issue here.
You can also join our free weekly newsletter so you stay up to date on our latest curations weekly.
Now let's get on with the list of curated units this week!

1

Faber Crest
$1,980,000
| | |
| --- | --- |
| Address: | Faber Crest |
| Tenure: | 99-year leasehold |
| Size: | 1,776 sqft |
| $PSF: | $1,114.86 PSF |
| Developer: | City Development Limited |
| TOP: | 2002 |
Why I like it
We recently covered Faber Crest, as one of those bigger developments around that boasts of a sizeable land plot, but with much fewer units than you might think.

In short, Faber Crest sits on a spacious 392,460 sq ft piece of land with just 360 units. While it may not be freehold, let me try and give you some idea of just how much more dense newer condos are today. As a more extreme example, Stirling Residences has a smaller plot of land at 227,221 sq ft. That and it also has 3.5x the number of units (1,259 units).

For those that need MRT access, this isn't one to look for either. Although to make up for it, you do have water front views, and quick access to the park connector.

This unit is a 4 bedroom one with a good size of 1,776 sq ft. It does come with a minimal outdoor area, and 2 ensuite bedrooms out of the 4. The bonus? It's very nicely renovated, with the soft colours creating a very soothing look.

– Ryan

2

Sims Urban Oasis
$2,280,000
| | |
| --- | --- |
| Address: | Sims Urban Oasis |
| Tenure: | 99-year leasehold |
| Size: | 1,206 sqft |
| $PSF: | $1,890.55 PSF |
| Developer: | Sims Urban Oasis Pte. Ltd. |
| TOP: | 2017 |
Why I like it
Sims Urban Oasis enjoys a convenient location as a city fringe development. Aljunied MRT on the East West line is about an 8-minute walk away, and for those who work in the CBD, it's just 5 stops away from Raffles Place, and 7 stops from Orchard. Bugis is even closer, at just 3 stops away (about a 6-minute ride).

One of the main downsides of Sims Urban Oasis is that its immediate location isn't the most scenic. It is still mostly industrial, and so the scenery really isn't for everyone.

Aside from the location, this unit is a 4-bedroom that is adequately sized at 1,206 square feet. It's definitely not as big as older condos, and in line with what you'd expect for a newer and modern development. There's been extensive renovation done in 2018 though, it looks great – modern and luxurious.

– Druce

3

Waterfront @ Faber
$2,120,000
| | |
| --- | --- |
| Address: | Waterfront @ Faber |
| Tenure: | 99-year Leasehold |
| Size: | 1,388 sqft |
| $PSF: | $1,527.38 PSF |
| Developer: | World Class Land Pte Ltd |
| TOP: | 2018 |
Why I like it
Waterfront @ Faber is a development next to Faber Crest. It's a much newer development, having been built in 2018. It's on a smaller plot too, with just 210 units. The plot of land isn't as elongated, so not as many units will enjoy the waterfront views of Sungei Ulu Pandan.

The unit is a decent 1,388 square feet for a new-ish 4 bedroom unit. To take advantage of the views, you do have a balcony at both the living area, and the master bedroom. 2 out of 4 of the bedrooms are ensuite as well, so you wouldn't face any bathroom sharing issues here. Lastly, the ceiling here is higher than average, so you do have more space in the bedroom to build a mezzanine floor. It's not high enough that you can stand on the platform comfortably, but as an additional sleeping space it could suffice.

– Reuben

4

Nuovo
$2,250,000
| | |
| --- | --- |
| Address: | Nuovo |
| Tenure: | 99-year leasehold |
| Size: | 2,443 sqft |
| $PSF: | $921.00 PSF |
| Developer: | City Development Limited |
| TOP: | 2004 |
Why I like it
Nuovo is a 99-year leasehold development built by CDL in 2004. It's got a great location as it is within walking distance to 2 MRT stations, Yio Chu Kang MRT on the North South line and Lentor on the Thomson East Coast line. Yio Chu Kang is slightly nearer at about 5 minutes, while Lentor is about 8 minutes walk away.

This is a penthouse unit at 2,443 square feet. As per usual, not everything is interior space, as it does feature a rooftop terrace on the second floor. The bedrooms are split too, with 2 bedrooms on the first floor, and the master bedroom and family room on the second. Because the second floor is accessible from the common lift as well, this could also function as a unique dual-key layout – should you need additional flexibility from the unit.

– Stanley

$1,280,000
| | |
| --- | --- |
| Address: | Symphony Suites |
| Tenure: | 99-year leasehold |
| Size: | 1,021 sqft |
| $PSF: | $1,253.67 PSF |
| Developer: | EL Development (Yishun) Pte. Ltd. |
| TOP: | 2019 |
Why I like it
Symphony Suites is a rather new development to the Yishun area, having only been built in 2018. It's a mid-sized one, with 660 total units. It's definitely not an ideal choice for those that are reliant on the MRT as a daily transport, as the nearest MRT station (Yishun) is located more than 1 km away.

Size wise, it is considered compact for a 4 bedroom unit as it comes in at 1,021 square feet (the size and price does mean that you are getting a much lower quantum from the rest on this list). Layout wise, I do like that one bedroom is set away from the rest, which is kinda like a dumbbell unit, but you should note that the 3 common bedrooms will be sharing one common bathroom here. Besides that, you do have a yard and utility area, so it is still considered useful enough for family living.

The unit itself is nicely renovated, so not much needs to be done on that front before you move in!

– Sean