Units Of The Week

5 Most Affordable 5-Room HDB Flats In Central Singapore Under $700,000
Stacked
December 15, 2022

8

min read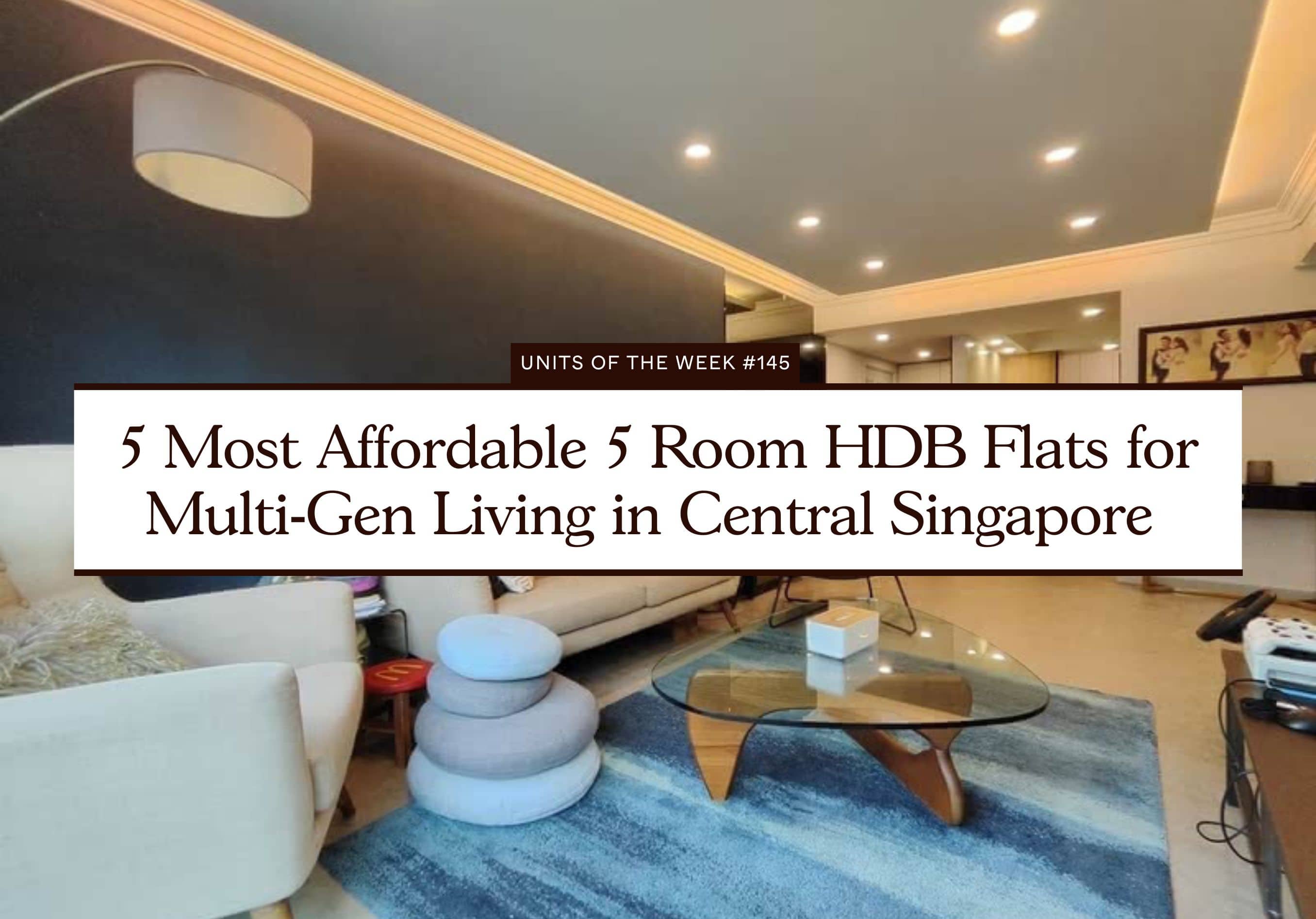 While the opinion on affordability might differ across individuals, we can all agree that size always matters – the bigger the space, the better.
Especially for those who have a bigger family, not only is the number of rooms an important factor, but so are costs, amenities, and location.
However, the main issue is finding one that is within budget.
This week, we have shortlisted a few of the most affordable 5-room flats that are located in some of Singapore's well-loved mature estates, with neighbourhoods including Bishan and Ang Mo Kio.
Missed last week? You can view the previous issue here.
You can also join our free weekly newsletter so you stay up to date on our latest curations weekly.
Now let's get on with the list of curated units this week!

1

306 Ang Mo Kio Avenue 1
$600,000
| | |
| --- | --- |
| Address: | 306 Ang Mo Kio Avenue 1 560306 |
| Tenure: | 99-year Leasehold |
| Size: | 1,324 sqft |
| $PSF: | $453.17 PSF |
| Developer: | HDB |
| TOP: | 1976 |
Why I like it
For those who are on a hunt for big units that have superb amenities in its vicinity, it might do you good to start your search from Ang Mo Kio. After all, it does have its fair share of great food outlets, schools and accessibility.

This particular unit is sized at 1,324 square feet and has 3 spacious bedrooms, 2 bathrooms and a huge living space.

What I like about it is that it has a squarish and efficient layout that makes furniture placements easy. Not only that, the living and dining areas are neatly segregated, and the dining space can be converted into an additional bedroom if so desired.

Furthermore, it is a door-to-door unit, which means that homeowners get to enjoy more privacy as there's only one other neighbour opposite the unit.

The nearest MRT station is located about a 8-minute walk away at Ang Mo Kio MRT Station (North-South Line and Cross Island Line) which is also connected to Ang Mo Kio Hub. Alternatively, it's a 7-minute walk to Teck Ghee MRT Station, though that is only ready in 2030.

However, residents need not walk all the way to the MRT for dining options. Teck Ghee Court Market is around a 5-minute walk away for affordable eats. Other amenities within walking distance includes Ang Mo Kio Secondary School and Bishan-Ang Mo Kio Park.

– Ryan

2

229 Lorong 8 Toa Payoh
$620,000
| | |
| --- | --- |
| Address: | 229 Lorong 8 Toa Payoh 310229 |
| Tenure: | 99-year Leasehold |
| Size: | 1,258 sqft |
| $PSF: | $492.85 PSF |
| Developer: | HDB |
| TOP: | 1976 |
Why I like it
Another door-to-door option, this unit is located in Toa Payoh and is sized at 1,258 square feet. It has 3 bedrooms, 2 bathrooms and a huge living space.

For those who value good views, it has unblocked green views in the North-South facing direction. The fact that it has ample sunlight, located on a high floor and windy all year round is also a big plus point. Similar to the previous unit, there's a clear distinction between the living and dining area – future owners can choose to convert the dining space into an additional bedroom if needed.

Under a 10-minutes walk are two markets and food centres – 22D Lorong 7 Toa Payoh and 210 Lorong 8 Toa Payoh for affordable eats and grocery shopping. Otherwise, there are several neighbourhood shops available just opposite the block.

The biggest draw to this unit is probably its accessibility to key schools. It is within 1km to the popular Pei Chun Public School and St Andrew's Junior School, which makes it suitable for young families to raise their children.

– Druce

3

141 Bishan Street 12
$688,000
| | |
| --- | --- |
| Address: | 141 Bishan Street 12 570141 |
| Tenure: | 99-year Leasehold |
| Size: | 1,313 sqft |
| $PSF: | $523.99 PSF |
| Developer: | HDB |
| TOP: | 1987 |
Why I like it
This unit located in Bishan is within walking distance to many key amenities and landmarks of the neighbourhood.

For one, it is a 13-minute walk to Bishan MRT (North-South Line and Circle Line) and Junction 8 for more dining and shopping options. Those who do not mind breaking out a sweat during your meal or grocery runs can head to the wet market and eateries that are located adjacent to the block. Finally, Pei Chun Public School is within a 1km walk away.

The unit itself is not shabby either. It is a 5i unit of 1,313 square feet and comes with a shelter (which is handy for storage) and its layout is reguarly sized to maximise space.

It offers 3 bedrooms, 1 study room, balcony and a humongous living room, which is a great layout for multi-gen living. On the matter of bathrooms, future homeowners have the option to create a jack-and-jill bathroom setting for convenience sake.

– Reuben

4

437 Ang Mo Kio Avenue 10
$698,000
| | |
| --- | --- |
| Address: | 437 Ang Mo Kio Avenue 10 560437 |
| Tenure: | 99-year Leasehold |
| Size: | 1,292 sqft |
| $PSF: | $540.25 PSF |
| Developer: | HDB |
| TOP: | 1978 |
Why I like it
Featuring the second unit in Ang Mo Kio that we've picked out this week, this 1,292 square foot unit offers a very private setting as it's a point-block and corner unit.

Not only that, it is located on a high floor, which means that residents would be able to enjoy unblocked views, more natural sunlight and ample ventilation.

With 3 sizeable bedrooms and 2 bathrooms, this unit is perfect for a growing family. What stood out to me was a cozy alcove situated between the master bedroom and common room, which has the potential to become a beautiful study space.

Location wise, it is about a 6-minute stroll away to Ang Mo Kio MRT Station (North-South Line) and Ang Mo Kio Hub. Alternate food options are also abundant in the area, with Cheng San Centre, Chong Boon Centre and Teck Ghee Court within its vicinity for more affordable grocery runs.

Nature lovers and pet lovers would also find the nearby Bishan-Ang Mo Kio Park a great addition to the neighbourhood.

While this could be a pro or a con depending on your situation, there are many schools located nearby, with Deyi Secondary School just a 2-minute walk away. Other schools nearby include Teck Ghee Primary, Anderson Secondary, Nanyang Polytechnic and Anderson Junior College.

– Stanley

5

114 Depot Road
$700,000
| | |
| --- | --- |
| Address: | 114 Depot Road 100114 |
| Tenure: | 99-year Leasehold |
| Size: | 1,259 sqft |
| $PSF: | $556.00 PSF |
| Developer: | HDB |
| TOP: | 1976 |
Why I like it
Saving the most tastefully-designed unit of the week for the last, is a 1,259 square foot unit located along Depot Road. Since it has been recently renovated, the next homeowner can probably save up a fair bit on the reno costs.

This house features 3 spacious bedrooms, 2 bathrooms and an enlarged living room space. If you so desire, a fourth bedroom can be built at the flushed balcony space. I also appreciate that it is a point-block unit, which means more privacy. One thing that stands out the most to me is that the kitchen comes with a dedicated wash area, which is the perfect spot for doing laundry!

Amenities are decent within the neighbourhood. Depot Heights Shopping Centre (which has a FairPrice and food court for grocery and dining options) is a short 5-minute walk away. Alternatively, ABC Brickworks Food Centre and Alexandra Village Food Centre is located nearby.

– Sean