Buying

5 Commonly Overlooked Factors When Buying A Resale Condo
Ryan J
March 19, 2021

9

min read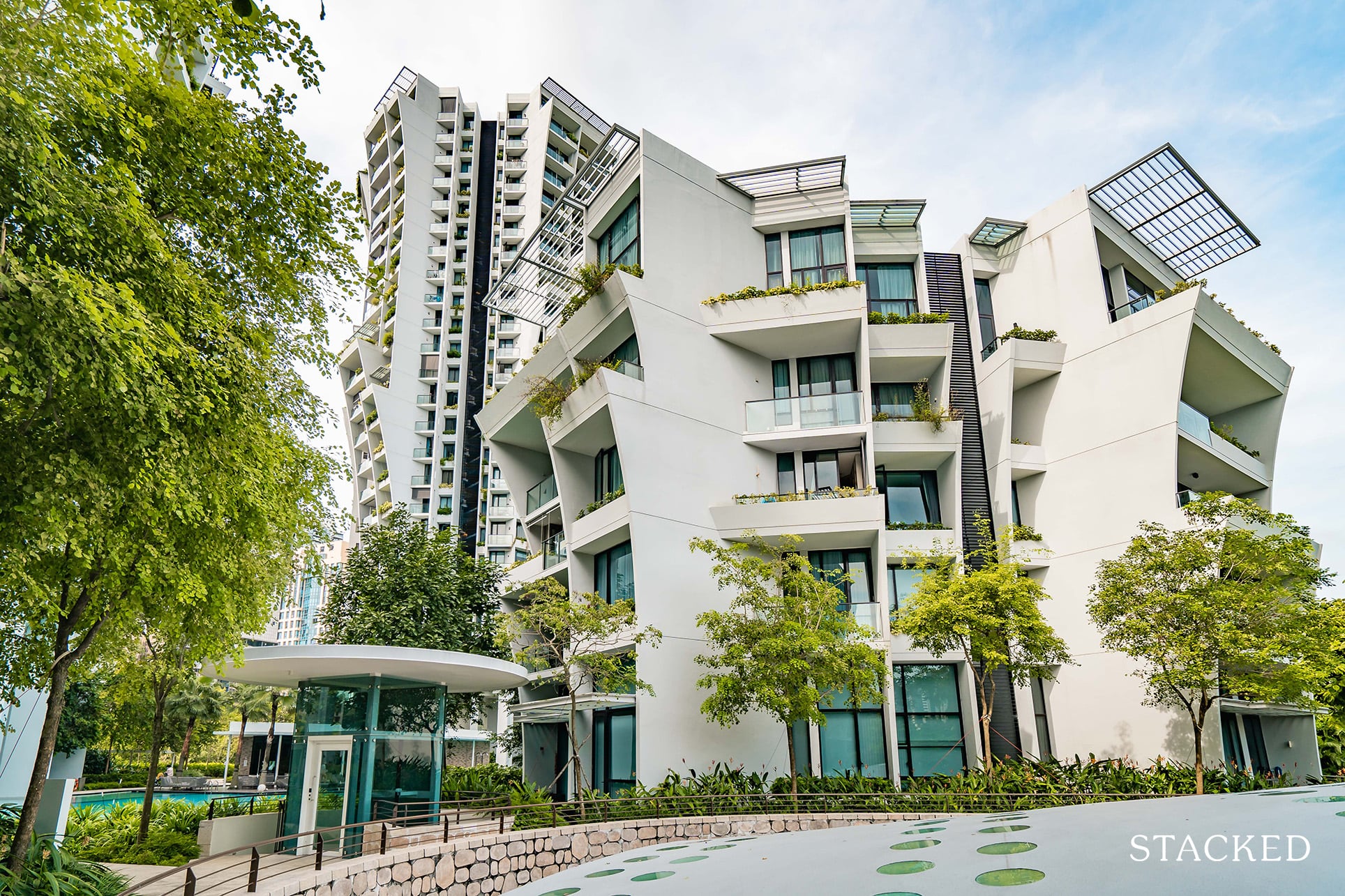 One of the most common questions from new home buyers is "will there be gains?" This usually sets off a long spiel on where the closest MRT station is, how many malls are nearby, etc. We probably don't need to touch on those as you've heard them a million times. Rather, let's take a look at some important yet mostly overlooked considerations:
It's not just about MRT stations and malls
If you go back to the 1980s, you'll find that having a bus stop outside of your home was a big deal; and people tended to look at bus interchanges the way we obsess over MRT stations now.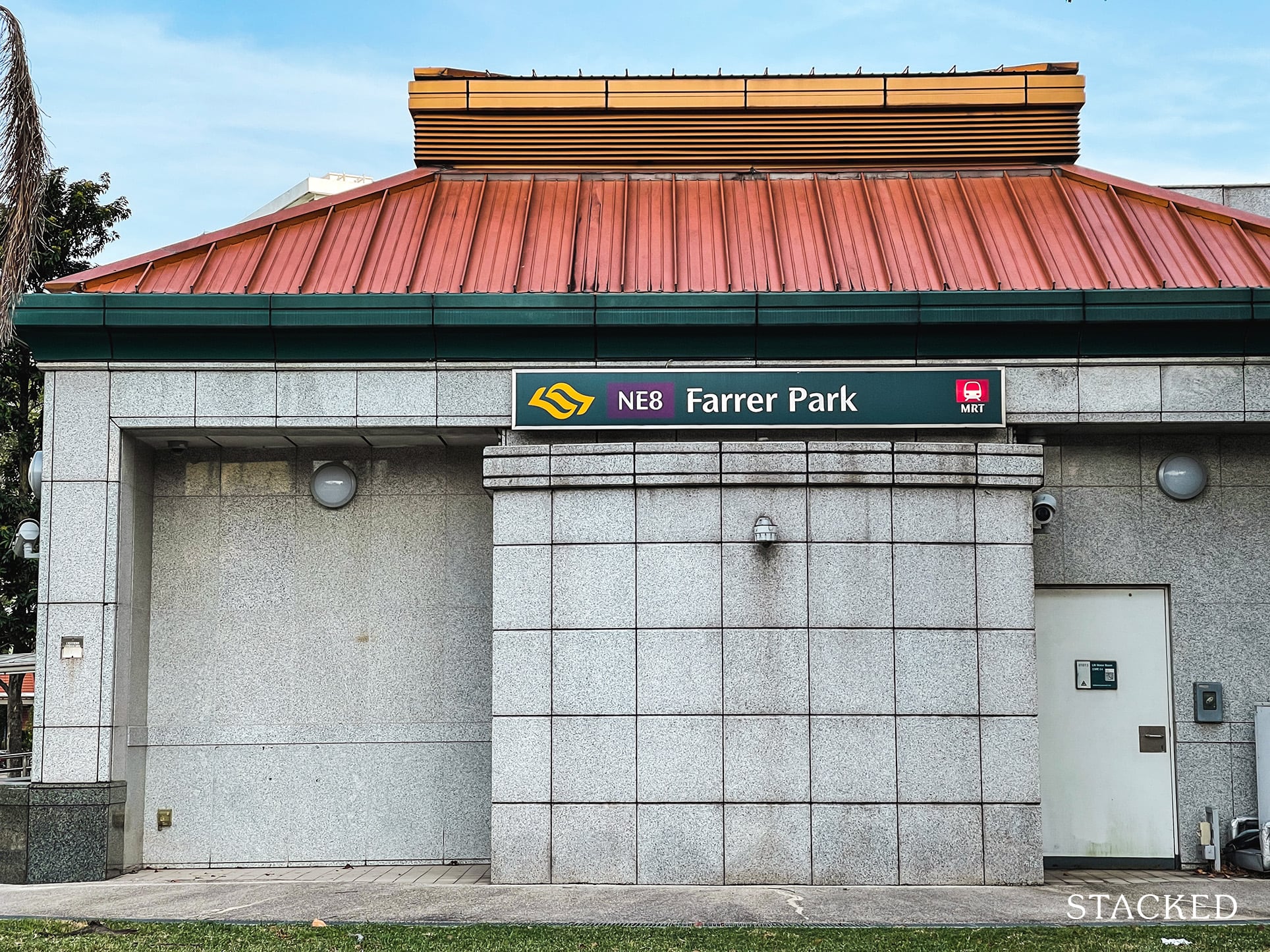 What happened to the value-boosting power of bus stops and interchanges? Simply put, it stopped mattering as much; partly because almost every block of flats or condos is assumed to have a bus service in reach (if not a bus stop then a shuttle bus). 
Given the rate at which we're building new neighbourhood malls and MRT stations, it's becoming less important – over long-term projections – to consider these the biggest factors for gains. With Singapore being tiny and decentralised, it will be unusual to not have a nearby LRT / MRT or mall somewhere.
As such, do look beyond the usual issue of "where will the mall or MRT be", and consider the following as well:
Financing issues for future buyers
Management committee performance (for resale)
Number of units
Transaction volumes within the area
Versatility of the unit
1. Financing issues for future buyers
Willing buyers don't always come with willing banks. There are many examples of properties which have several interested buyers; many of whom can't make the purchase because the bank restricts financing.
This could slip your notice if you use limited financing (e.g. you can afford a big down payment, or have collateral far exceeding the value of the property) – your smaller loan means you may not have experienced any issues, but future buyers might.
A good example of this are properties in Geylang, close to the vice area (between Lorong 8 to 24). Properties close to this area have low vacancy rates, are about a 10-minute drive to the CBD, and have a mix of amenities (supermarkets, food, retail) that many would love to have across the road. And given that large swathes of Geylang will no longer be zoned for residential, there's a real scarcity value to these remaining properties.
But that alone doesn't make an easy investment decision. Future buyers will likely have to use cash, private contracts, or high-risk non-banking institutions for loans; all of these will drive prices down, making the area hazardous for new investors.
Factors that influence financing include, but are not limited to:
Location
Lease decay (it's not possible to get a loan for properties with 30 or fewer years on the lease, and the maximum financing can decrease even if it's down to 50 years)
Size of the property
Specific types of floor plan (yes, you can get a lower valuation because of a unit with too many strange corners and angles)
Reputation of the property (some older properties, like Golden Mile or People's Park Complex, have negative reputations despite good location).
As such, always consider the implications for your future buyer, if you sell the property 10 to 15 years down the road. This is especially the case with older properties such as walk-up apartments.
Even if there are people who will want to live there, they may not be able to pay what you want.
If you're not sure about future financing considerations, tell us about the property; we can help you identify if banks are likely to take issue with it.
2. Management committee performance (for resale)
A condo's MCST is often invisible until something goes wrong. Sometimes these are dramatic – as with Pine Grove in 2020 – other times it's money management, ala Neptune Court.
These issues do affect resale prospects, as one of the most basic first steps is to Google the condo name, where the incident will show up. That said, the dramatic incidents are seldom the most damaging to resale gains.
Instead, issues like malfunctioning gym equipment, unusable pools, facilities that have been shut down for years (this often happens to the sauna for some reason) all pile on to detract from property value. Remember that your future buyer isn't necessarily a home buyer – a landlord may want to buy to rent it out, and poorly maintained facilities make it harder to find tenants. 
As such, buyers should not only inspect the specific unit, but also the common facilities. Where possible, try to determine the quality of the MCST by talking to residents, and looking for upgrades.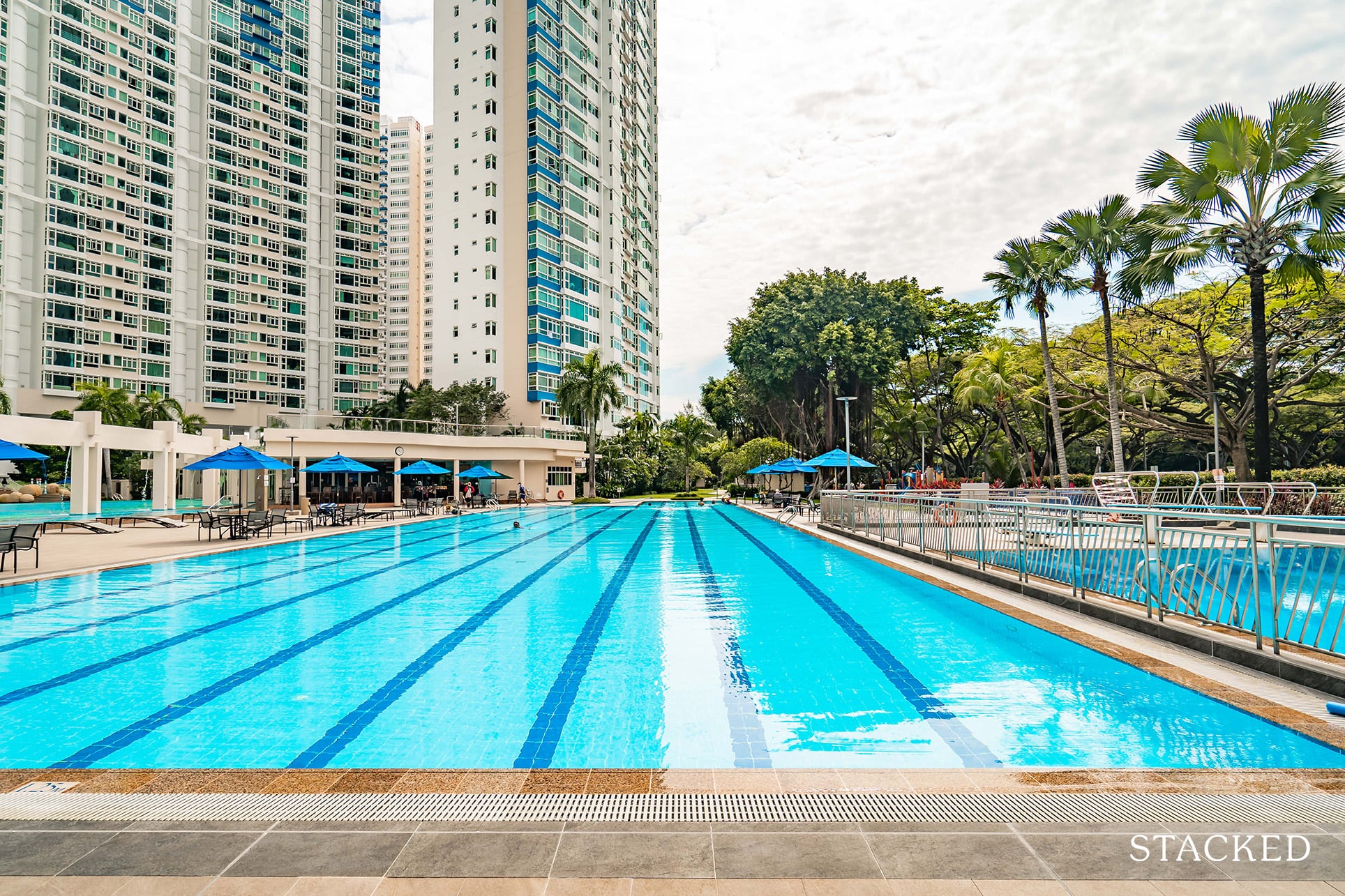 (One of the sure signs that an MCST is good is when a condo has new facilities it was never built with; upgrades indicate surplus funds and good management).
3. Number of units
Big or mega-developments – usually defined as 1,000 or more units – have a lot of advantages. They tend to have bigger facilities, lower maintenance fees, and lower overall costs. Some examples of this include Treasure at Tampines, Normanton Park, and Parc Clematis.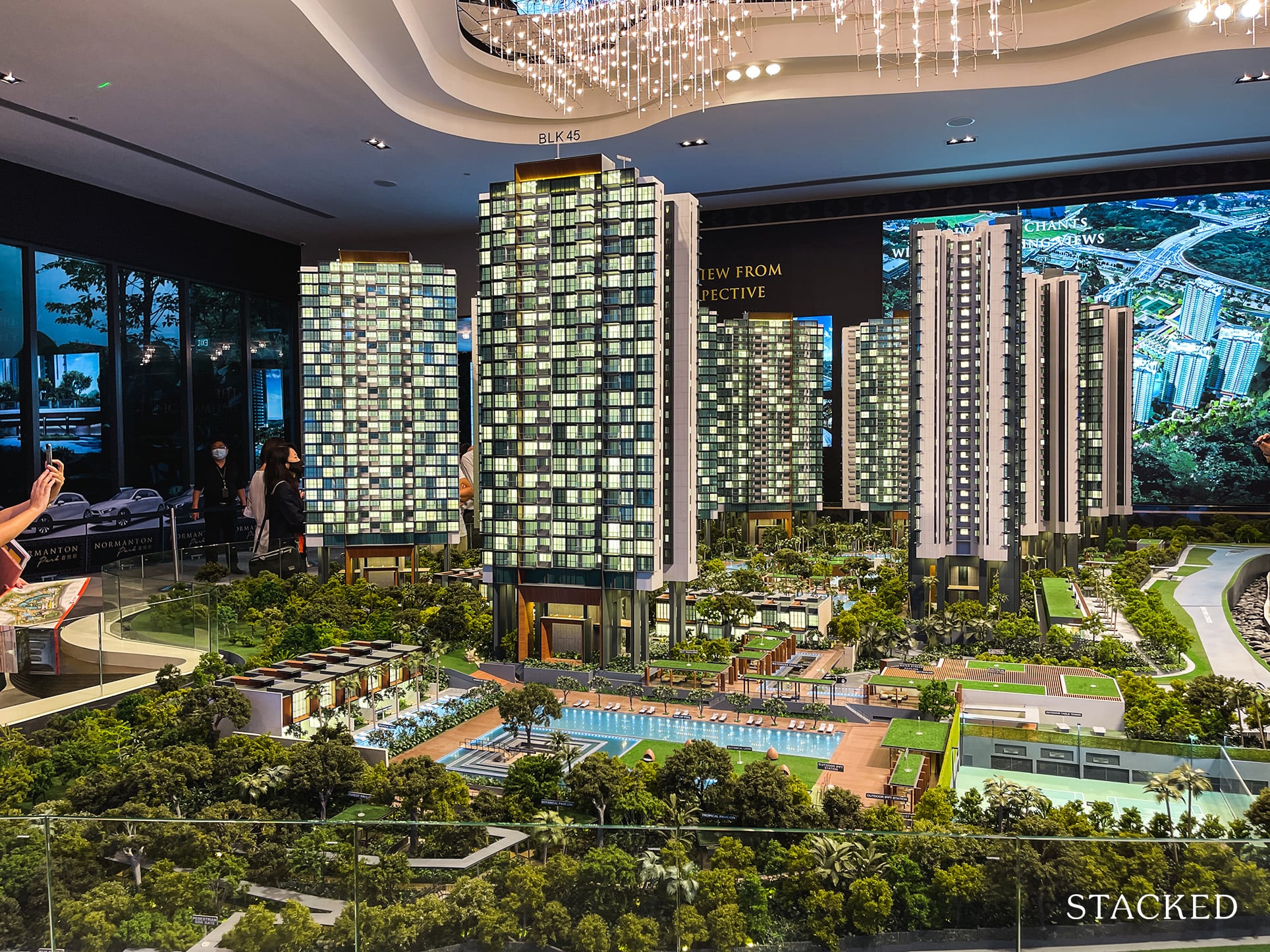 However, having so many units packed into a single development can also be a problem. With over 1,000 units, chances are high that someone in a nearby block is also selling, at the same time you are. In a worst-case scenario, you could end up in a situation where large numbers of owners have all planned to sell at the 10-year mark, resulting in a slew of listings competing with yours.
Also, while we discourage anyone from counting on an en-bloc sale, you should know that bigger developments have lower en-bloc prospects (as long as the ABSD rule remains as such too). This is partly because it's harder to reach the required 80 per cent consensus, when dealing with more owners; but it's also because developers have a five-year ABSD deadline to complete and sell projects. This is regardless of the development's size, so most developers today prefer smaller plots. 
To be clear, this doesn't mean big or mega-developments are bad investments. They still have the advantage of lower prices and recurring costs. You just have to temper your expectations of gains, and consider if these advantages justify the future competition.
Read this next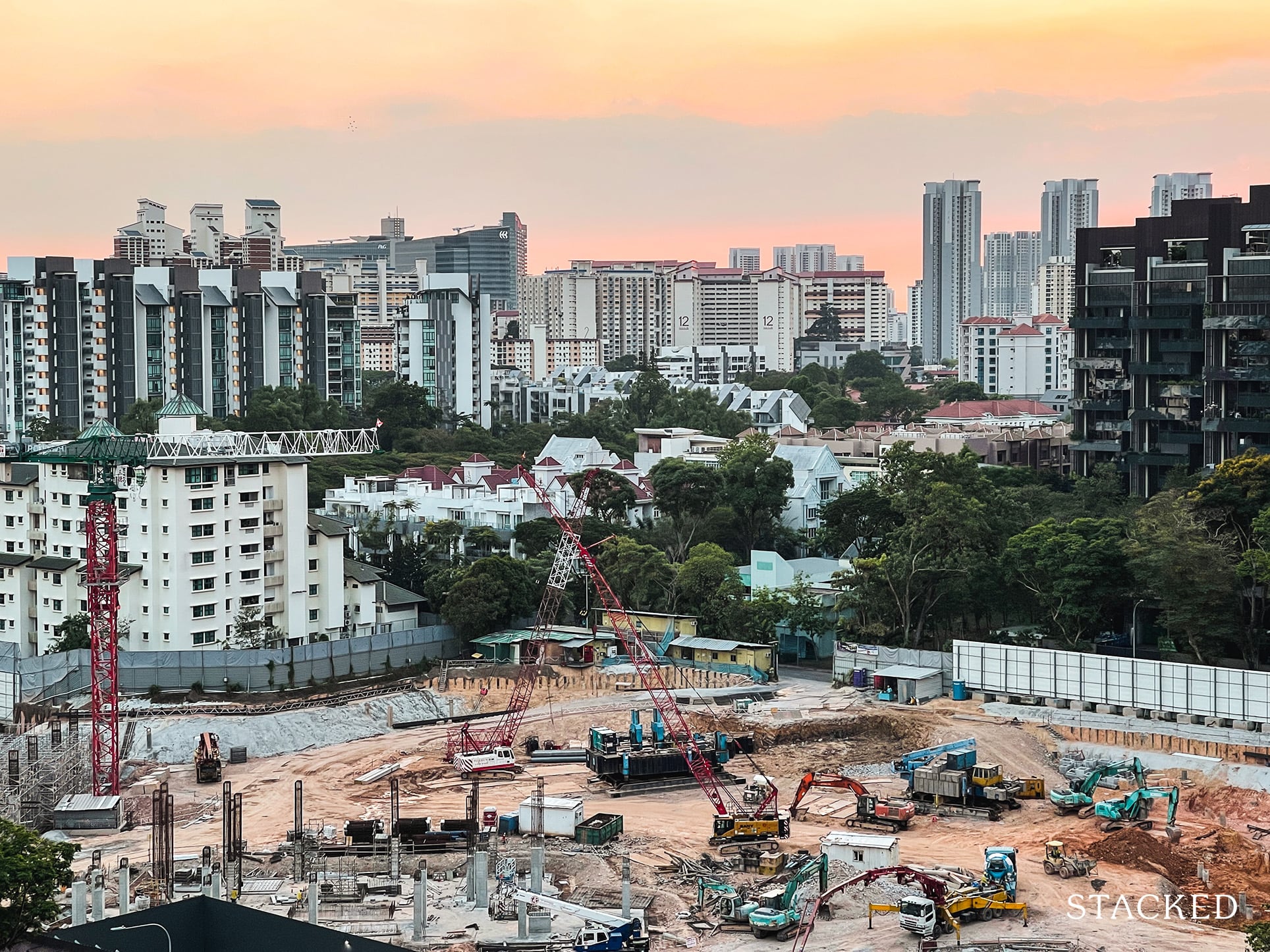 4. Transaction volumes within the area
The lower the transaction volume, the more unpredictable the price movement becomes. One property that famously drives analysts up the wall is Peace Mansions – this ageing property has a fantastic location along Middle Road, but draws constant arguments as to whether it has resale value or en-bloc potential.
There are many reasons for this – from the surrounding KTVs to the property's age and maintenance – but one factor is that the price data is vague:

Each data point represents only one or sometimes two transactions, spread out over the years. Till today, it's hard to know if you'll make money buying a unit here; it may be a windfall or it may be a complete dead-end (it is a nice place to rent if you prize location over fancy facilities, though).
5. Versatility of the unit
One issue with shoebox units (500 sq. ft. or less) is the question of who will buy them when it is time for you to exit. An HDB upgrader, with a family of four, certainly has no use for it; and this restricts potential buyers to other investors, lifelong singles, or some retirees.
As this is not currently the main buyer demographic (HDB upgraders are the main force today), this could hamper later resale value.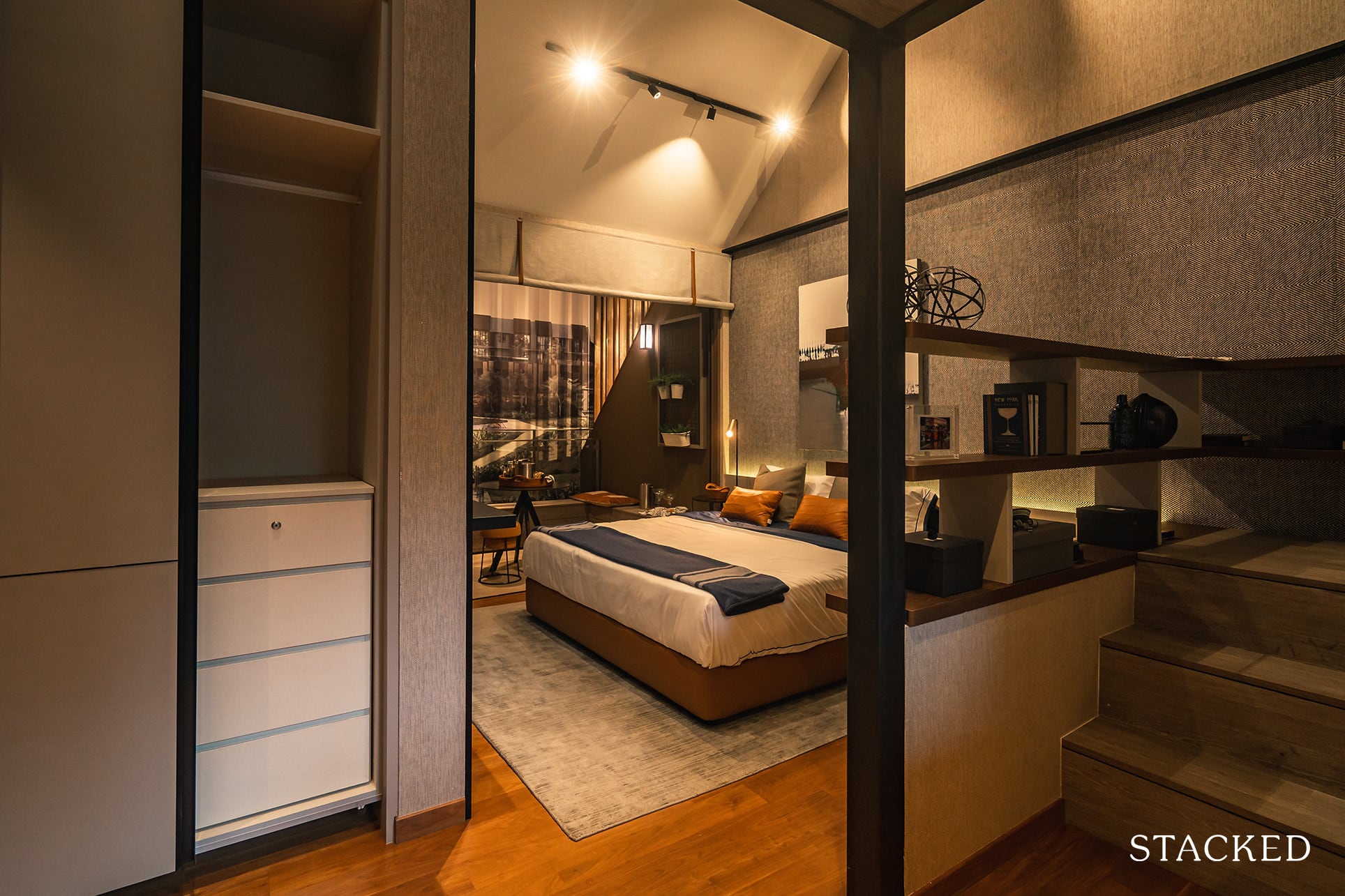 Likewise, units with unusual configurations – such as dual-key units – need to be considered with care. While these may be great for renting out, future buyers may have no desire to lose living space for the sake of an extra pantry, or fully divided sub-unit. Given that dual key units tend to cost more than equivalent sized-counterparts, this could also impact eventual gains.
Remember things can change with regards to buyer trends more quickly than you might expect. Now with the work from home and Covid-19 scenario, having a study room in your unit may be a bigger deal than you might expect – a year ago this feature was hardly considered to be as in demand as it is today.
Overall, buyers who want an easier time upon exit should aim for versatile units – ones that offer a lot of room for renovation, and are big enough to accommodate a wider range of buyers (this is one reason why new investors are sometimes told to pick two-bedders over one-bedders; small families could conceivably fit into a 700 sq.ft.  two-bedder).
All of this is one factor in your overall investment concerns
The above are mainly focused on the issue of gains; but bear in mind there are investment concerns besides this. For example, a dual-key or shoebox unit may still be a good investment overall, if your focus is more in cash-positive properties or rental income, rather than capital appreciation.
But if your end-goal are gains, be it to upgrade further or retire, look beyond the claims of "future MRT station at XYZ". Such amenities do help, but can't be the sole (or sometimes even main) factor on which your investment decisions pivot.
For more on issues affecting property investment, or in-depth reviews of new and resale properties, follow us on Stacked. If you're pondering the future gains of your property purchase, do reach out to us for a proper consultation.