Tour A 4-Storey Multi-Generational Home Transformation: How A Couple Mixed An Aussie Aesthetic With Japandi Style
Home Tours
Tour A 4-Storey Multi-Generational Home Transformation: How A Couple Mixed An Aussie Aesthetic With Japandi Style
WRITTEN BY Stacked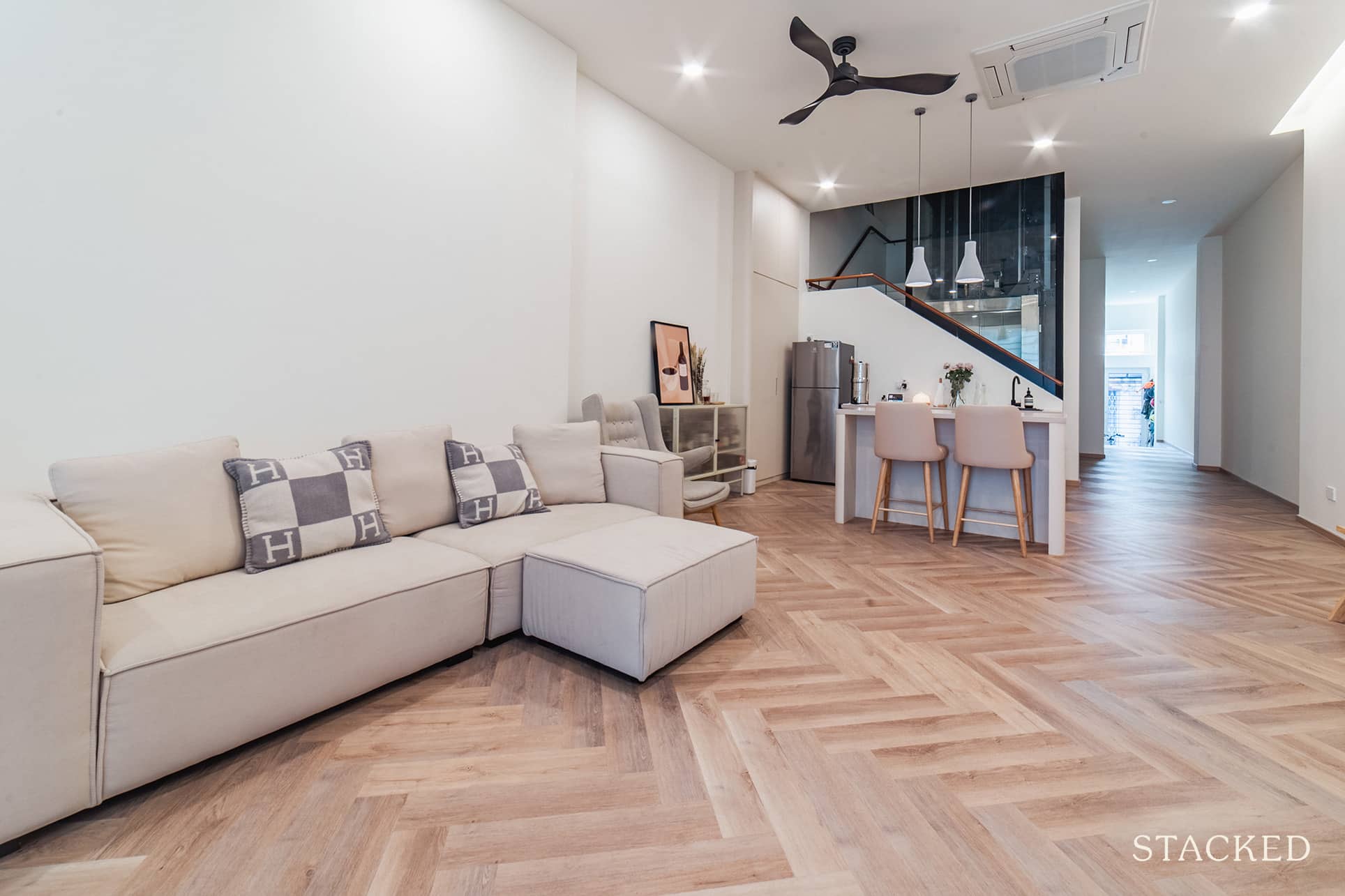 10
min read
Designing a multi-generational house has always been a challenge as it needs to cater to both the individual and collective needs of the residents.
There are many nuances to consider. Do you create separate entrances for more privacy? How do you ensure that staircases are kept safe for the elderly as well as for growing kids?
When it comes to the design, that may also open up a whole host of issues as everyone naturally has very different tastes and preferences. Do you design it in a consistent style? Or let everyone choose how each part of the home would look?
Lynn and her husband had to ask themselves some of these questions when they decided to rebuild their home in District 15 near Katong.
Their house was meant to be a multi-generational home. "I was going to move my parents in with me," Lynn said. "We would need at least five bedrooms and a home lift."
Currently, there are seven of them residing in the house. She and her husband, their two kids, her parents, and a helper.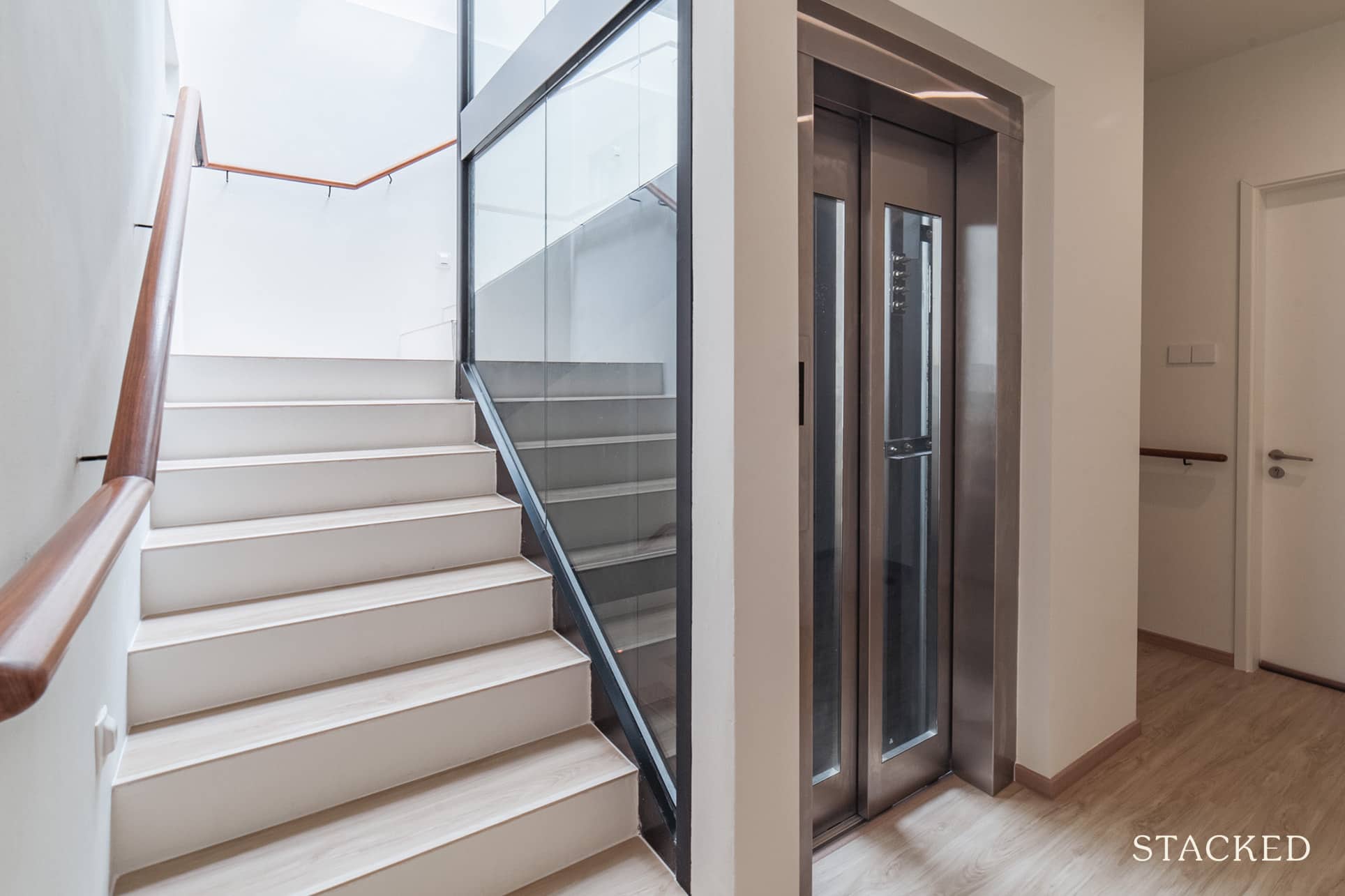 Their house was formerly an inter-terrace but was rebuilt in 2016 to become a 4-storey house. The land is not huge, but the built-up is more than 3,600 square feet.
Lynn said she and her husband viewed more than ten houses before they found their current house. They even had a list of non-negotiables, one of which was the location.
Let's join Lynn as she shares their reno journey and the outcome of their home project.
How The Renovation Journey Turned Out
Renovating a home this size is no small feat. As such, the couple had to allocate a budget of $200K for the entire project. However, Lynn disclosed that they had to add more because of some inevitable factors.
COVID was one of the culprits, affecting the cost of manpower and the increase in raw material costs. Then there's the general increase in the prices of everything. Lynn admitted that she also went down the rabbit hole of wanting more things done.
As Lynn's husband is Australian, they would spend some time back in Melbourne every year before the pandemic. This was what inspired her to add an Aussie aesthetic to their home design – one that's usually clean and bright.
Also because this was going to be their home for the next decade, she wanted to have a style that was both classic and timeless. And so she decided to add the wood and neutral hues commonly found in the Japandi style.
So because every square foot is very well planned and well utilised, they did not have to make extreme changes to the original floor plan. The previous owners had the kitchen located on the top floor, and the couple decided to go with it as well.
In their IG account, @the_kims_residence, they were asked about the kitchen's interesting setup being on the top floor. Lynn replied that the previous owners took their inspiration from their trip to Nepal. She said that this setup now makes more sense to them because both their kitchen and dining are light, breezy, and have a good view.
If she were to describe a major layout change, that would be the location of the stove and sink in the kitchen. They wanted to create a clean line from the entrance of the kitchen to the dining, so they moved it to the opposite side.
To get a better feel of how their reno journey turned out, let's take a tour of their home.
Living Room
The main door was facing the back door directly, and anyone who is into Feng Shui would see this as a less than ideal layout. Lynn and her husband believed this as well, so they removed the main door and replaced it with glass blocks. The side entrance is now their main entrance.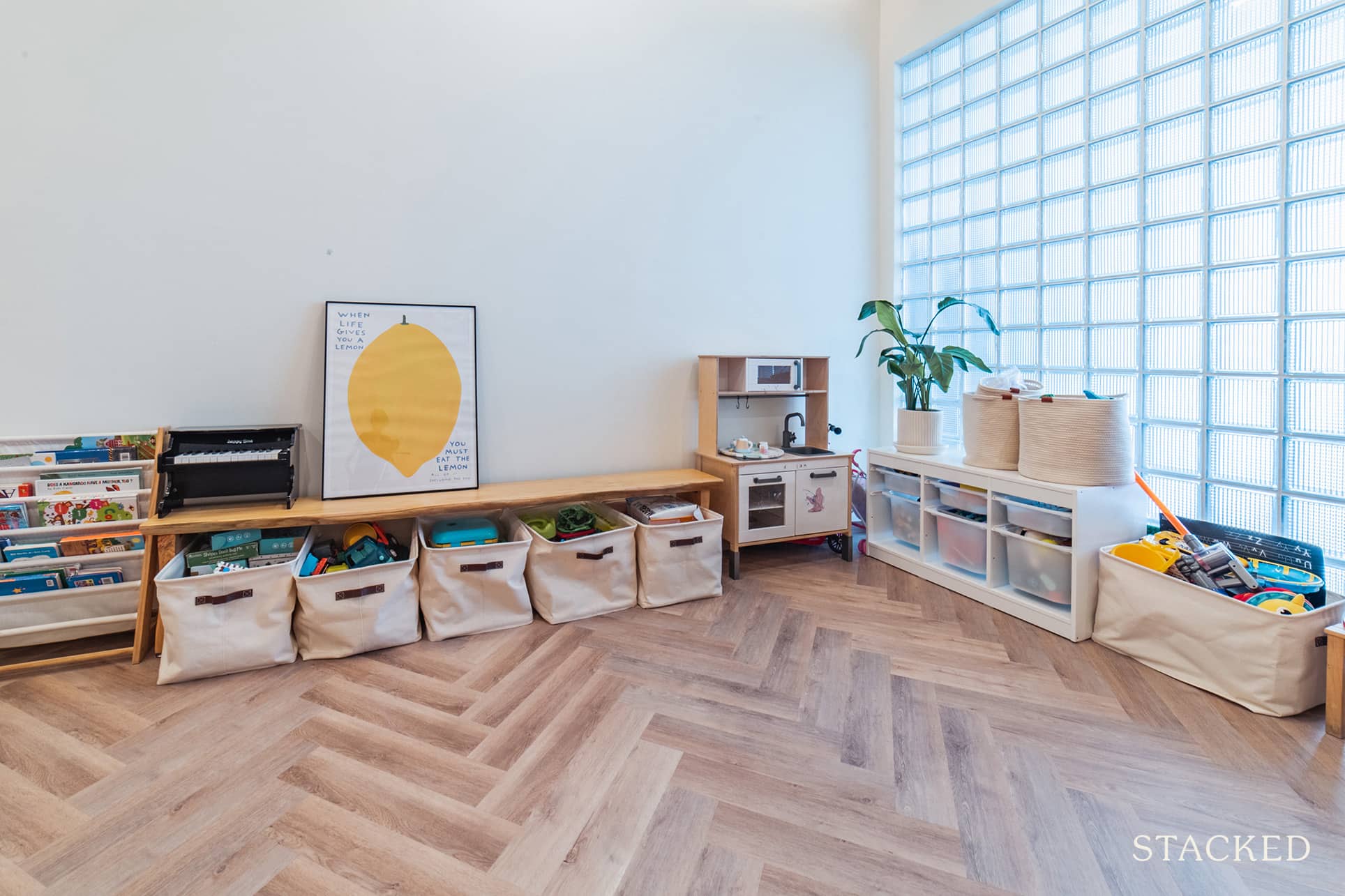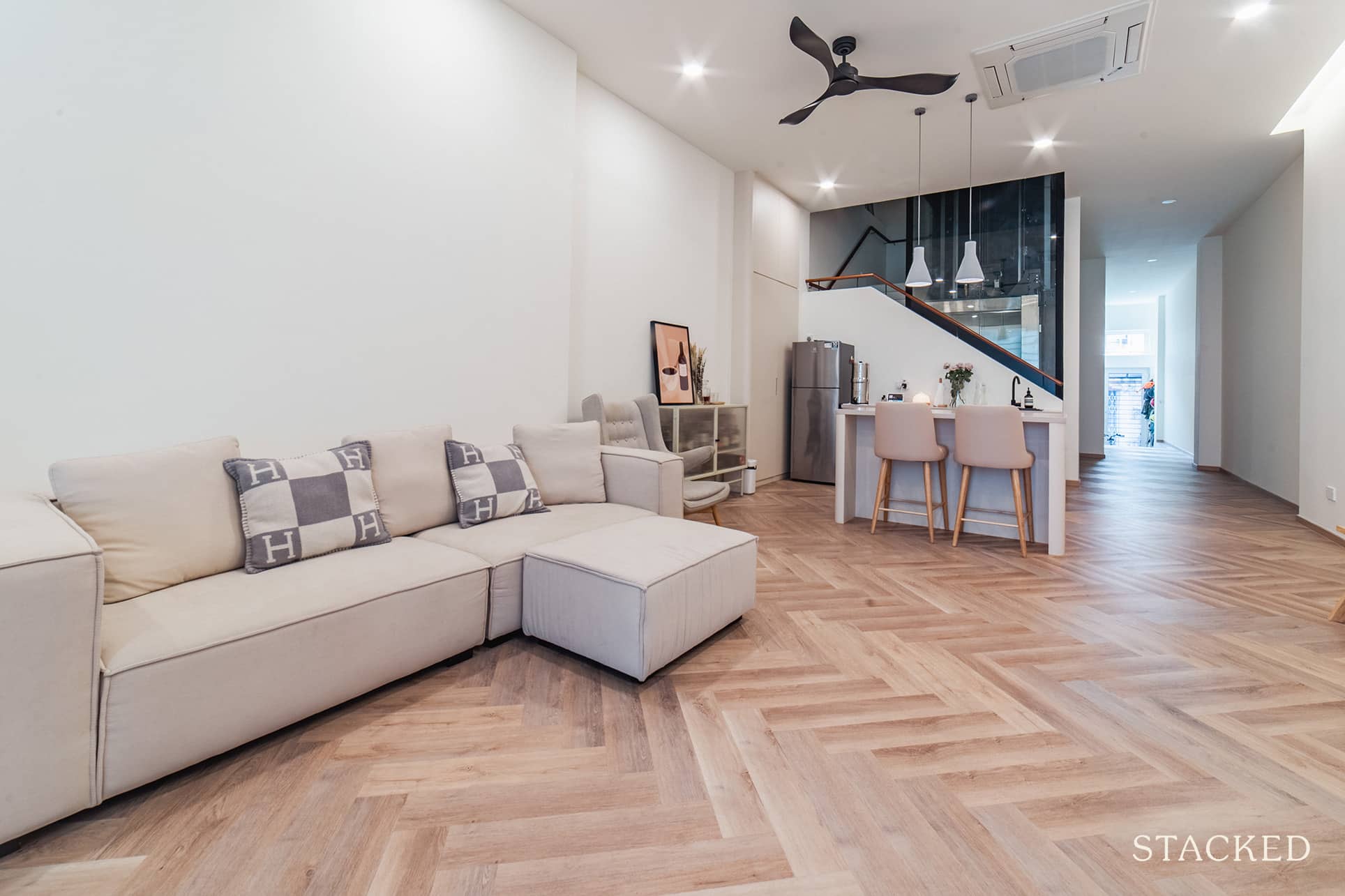 The flooring was previously homogenous tiles, but they replaced it with herringbone vinyl flooring. This pattern not only enhances the style of the space but also creates an illusion that the area is bigger because of the illusion of movement.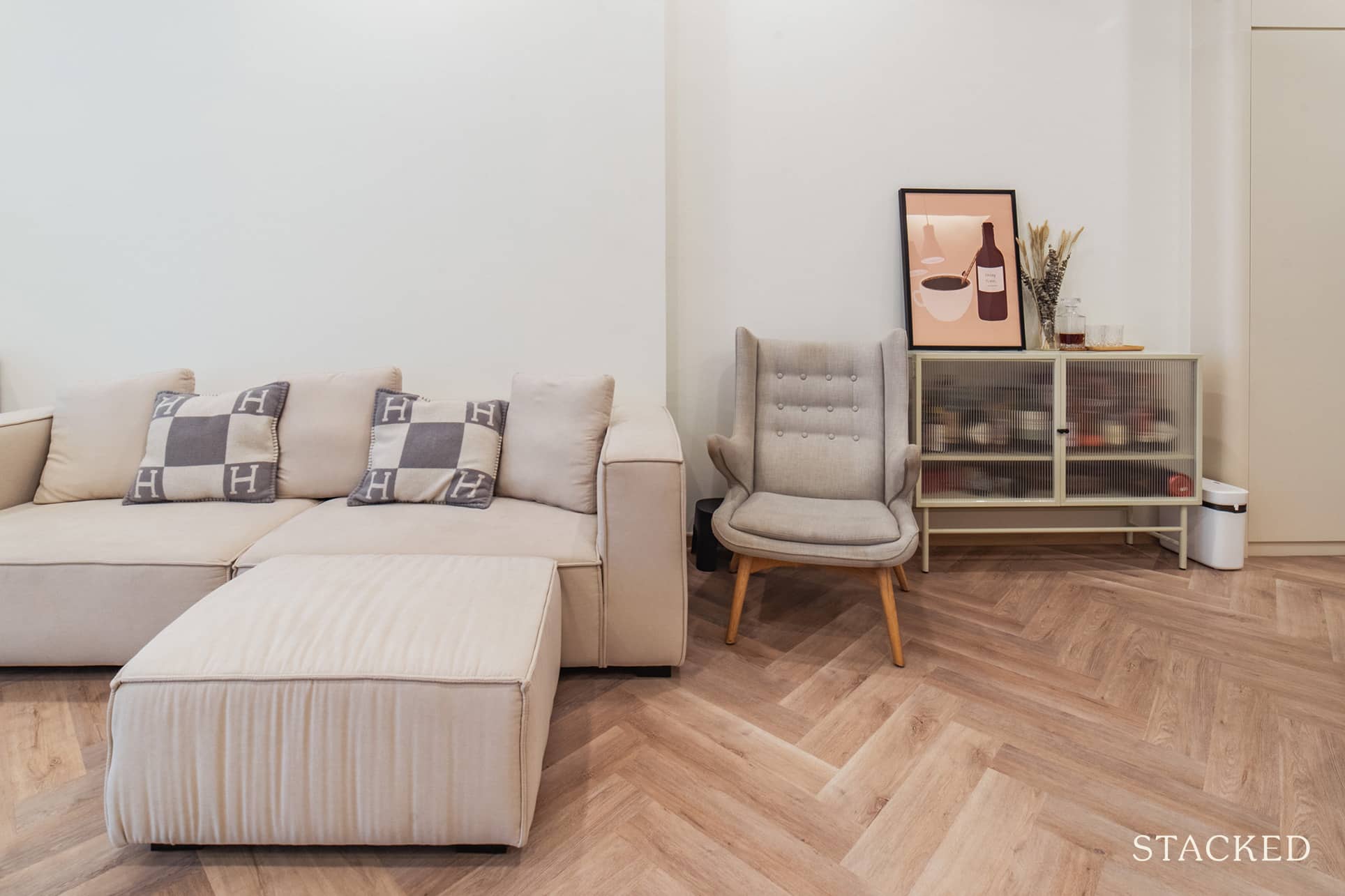 Since their kitchen is located on the 4th level of their house, the couple decided to put a new pantry area in the living room. The pantry has a fridge, an island, and a sink they bought from Taobao.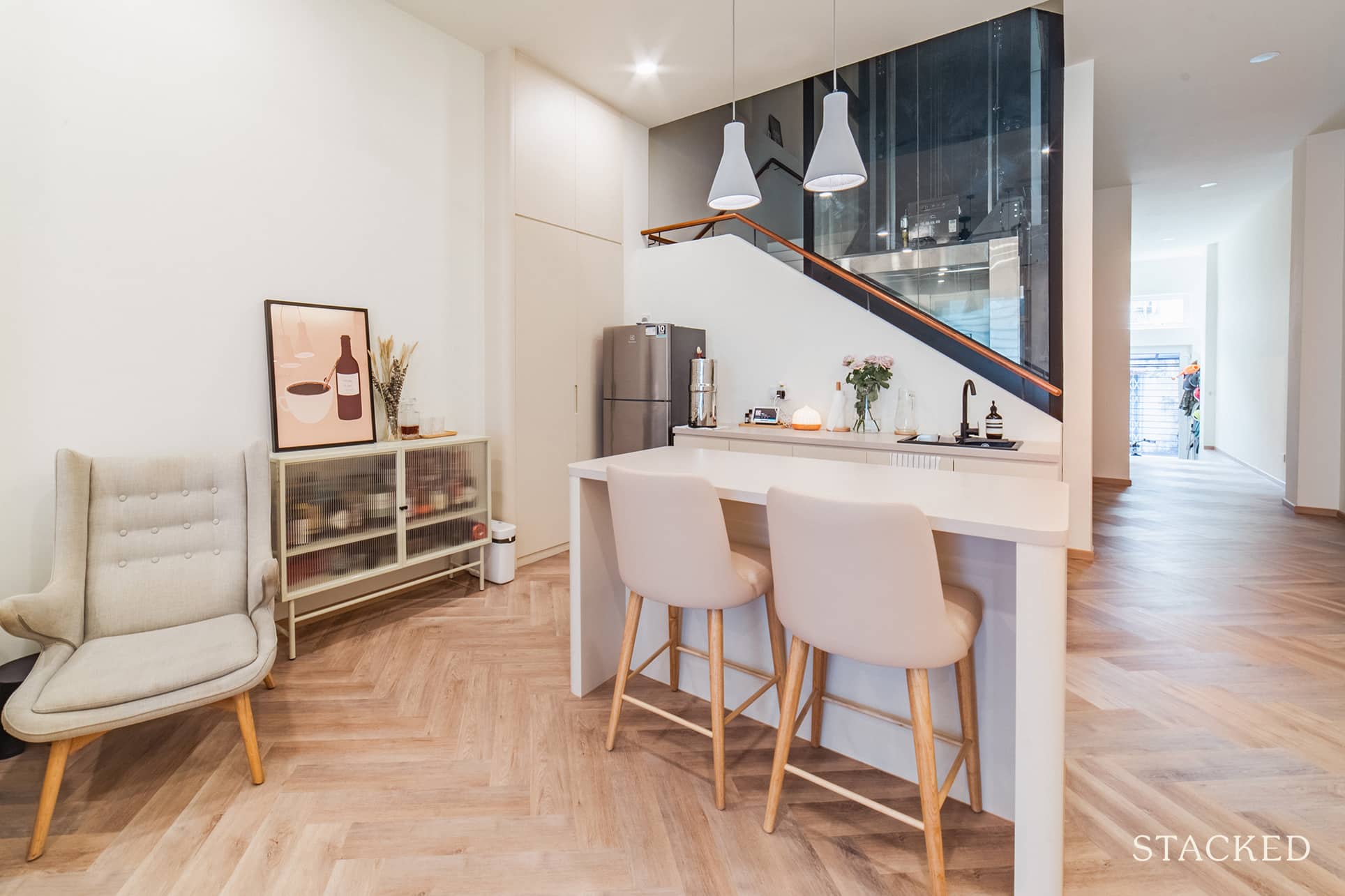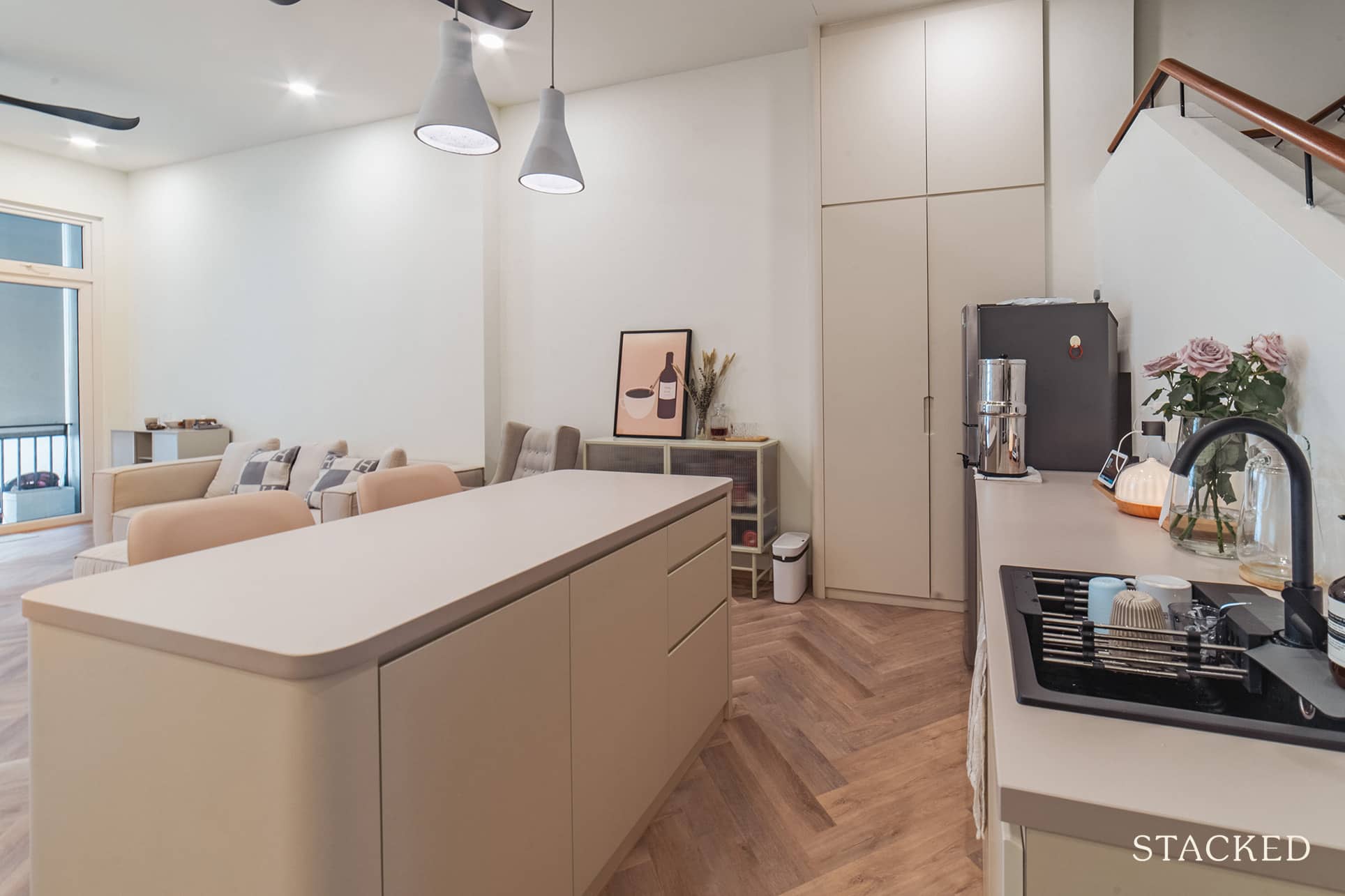 Dining Room
Their dining room is also on level 4 of the house, but it's not as inconvenient as anyone would think because they have a home lift. "It makes a lot of sense," Lynn said, "because we cook and host a lot so the entire level 4 is where we do both." It's unconventional, but it works well for their needs.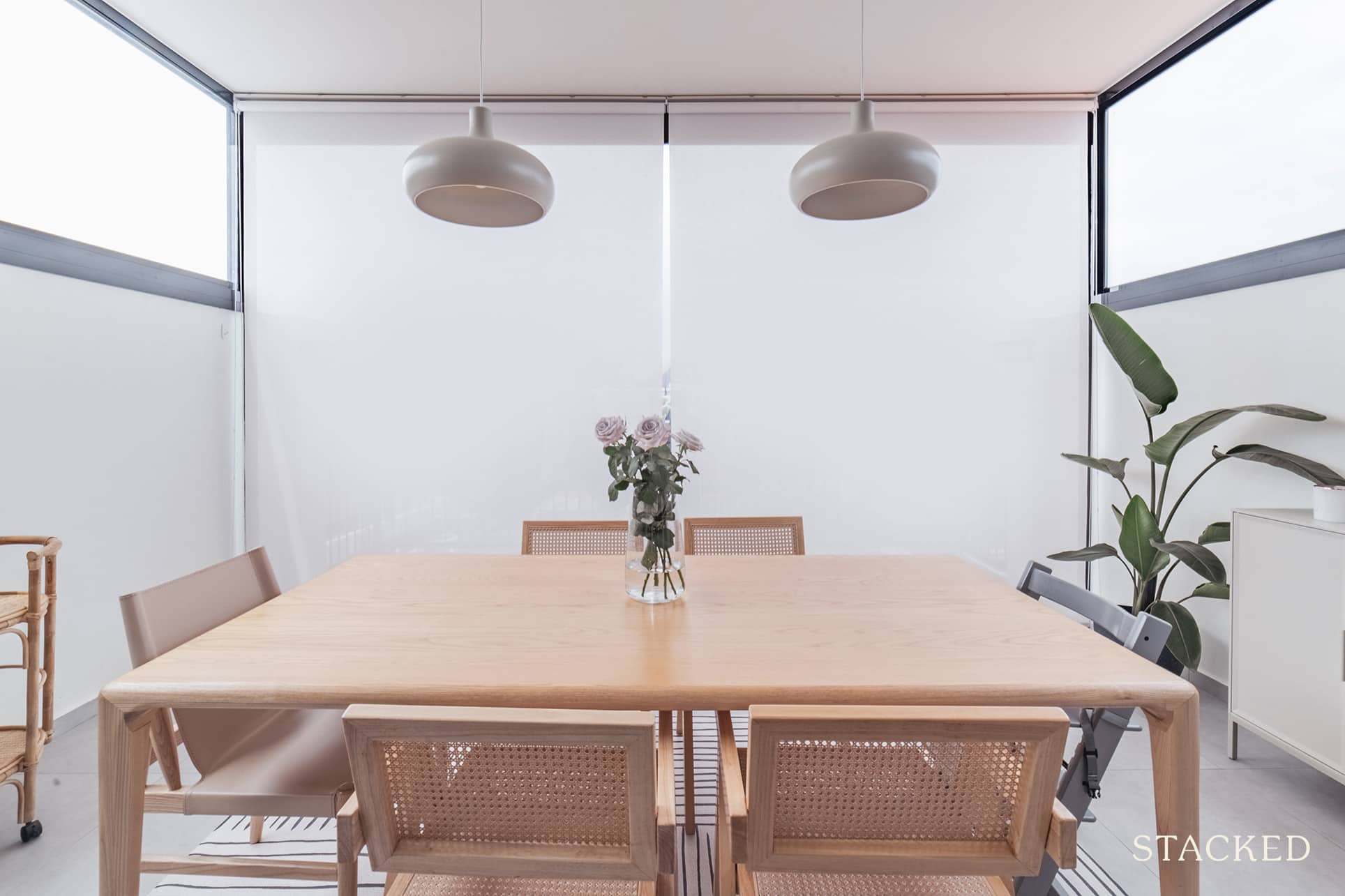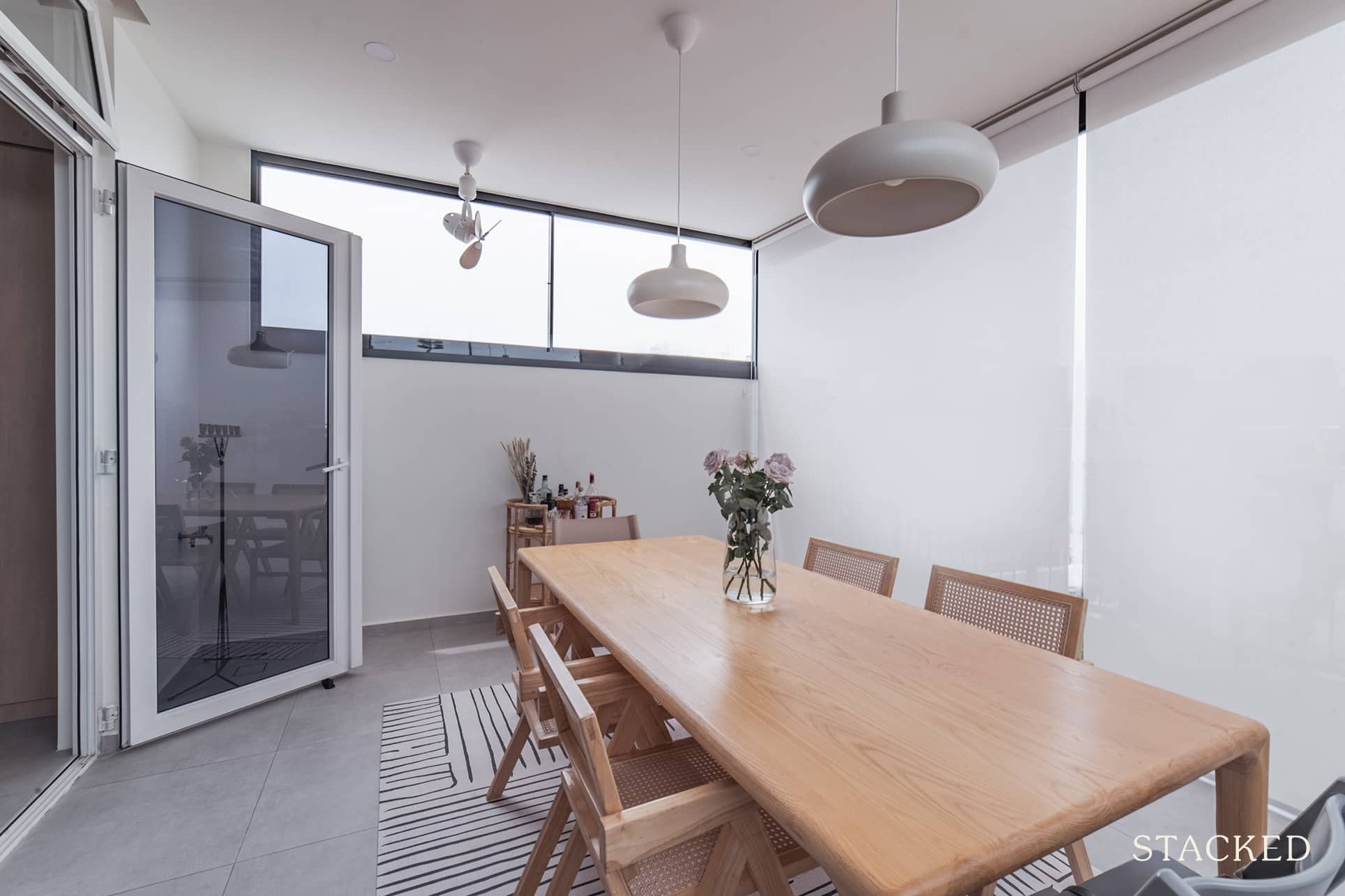 The dining area faces west, so they get a lot of sunlight and amazing sunset views. Consequently, it's also great for laundry. It's also just off the kitchen and can be set up to either an al fresco or an indoor area.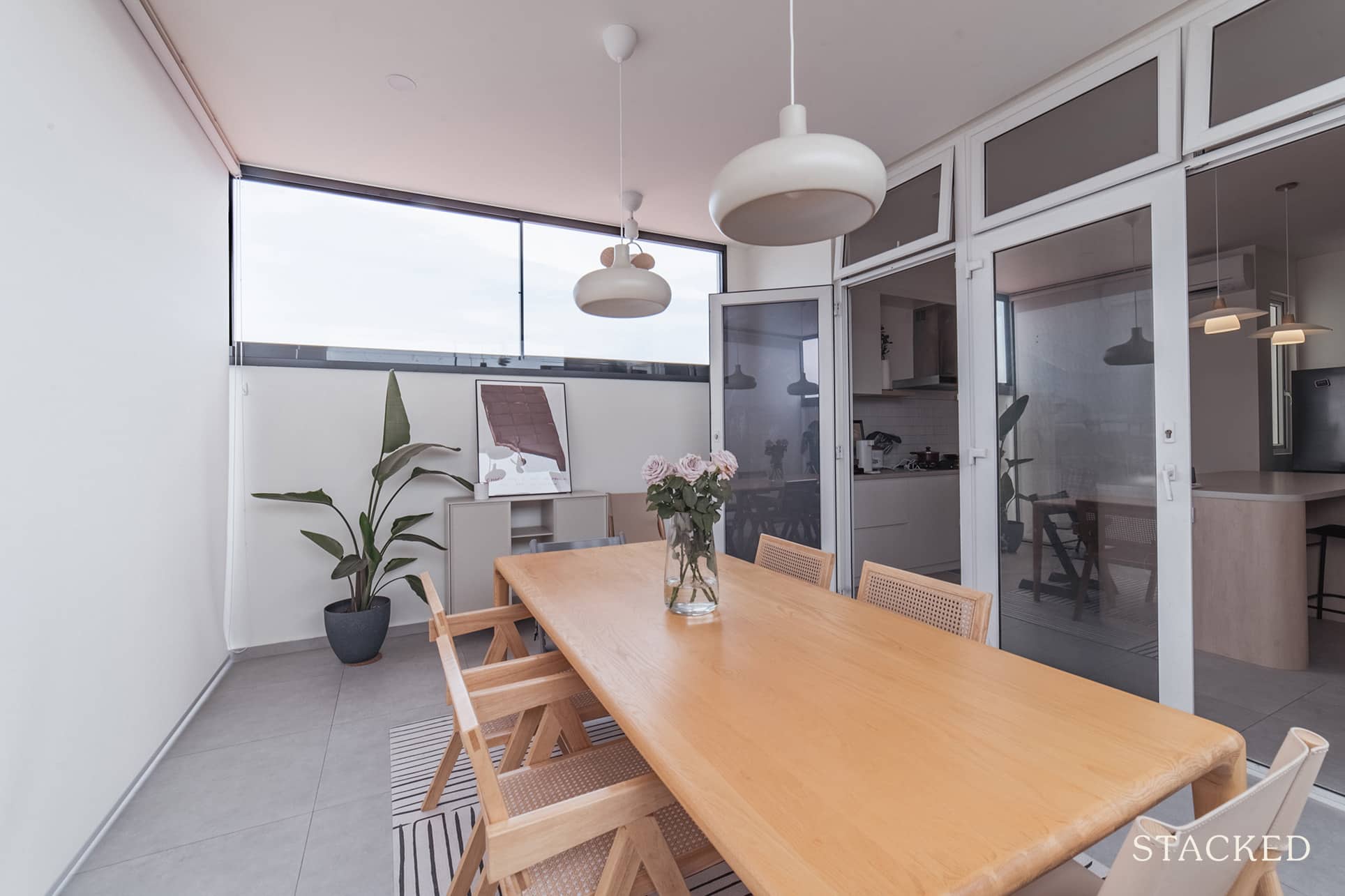 Kitchen
Also located on level 4 beside the dining, Lynn said they had to make a major adjustment by switching the wall where the stove and the sink are located. As a result, they had to re-run the piping as well. They also redid all the carpentry works and made sure they had a big island for food prep and hosting.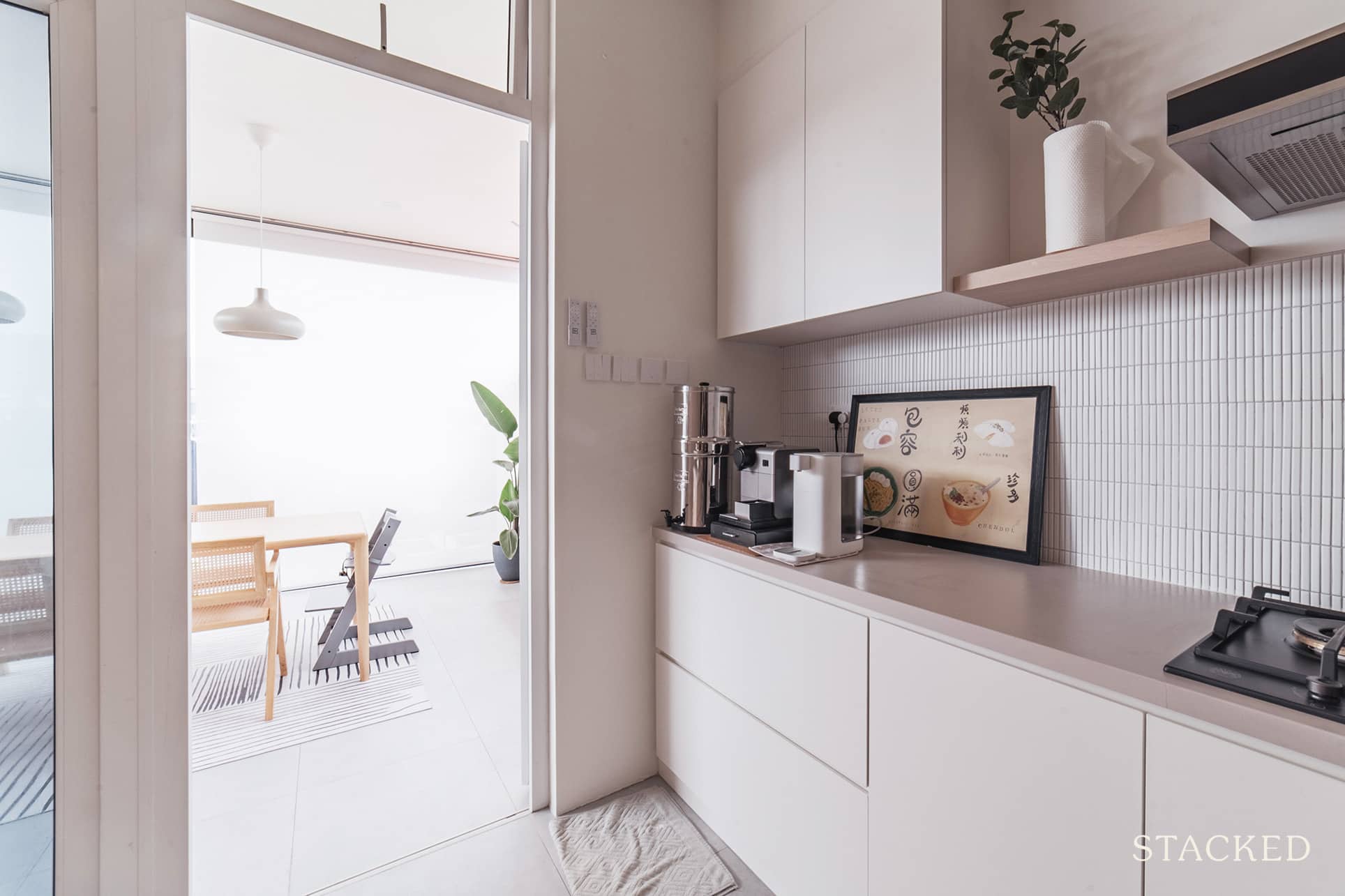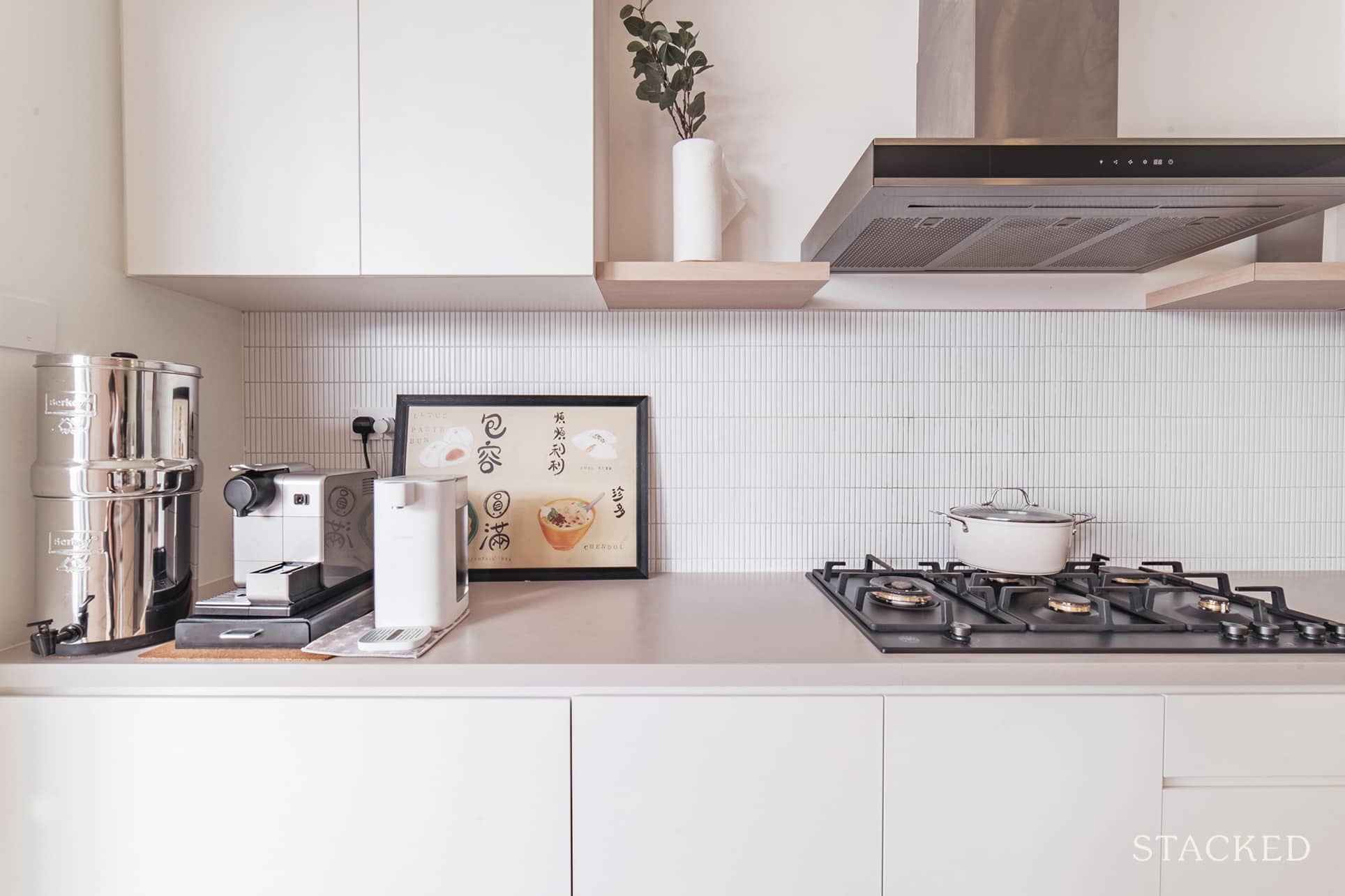 They both love coffee which is why they have a coffee station with pocket doors. She also bought a steam oven from Taobao, so they now have two ovens stacked on top of each other. To make things convenient, they had a dishwasher installed under the island too.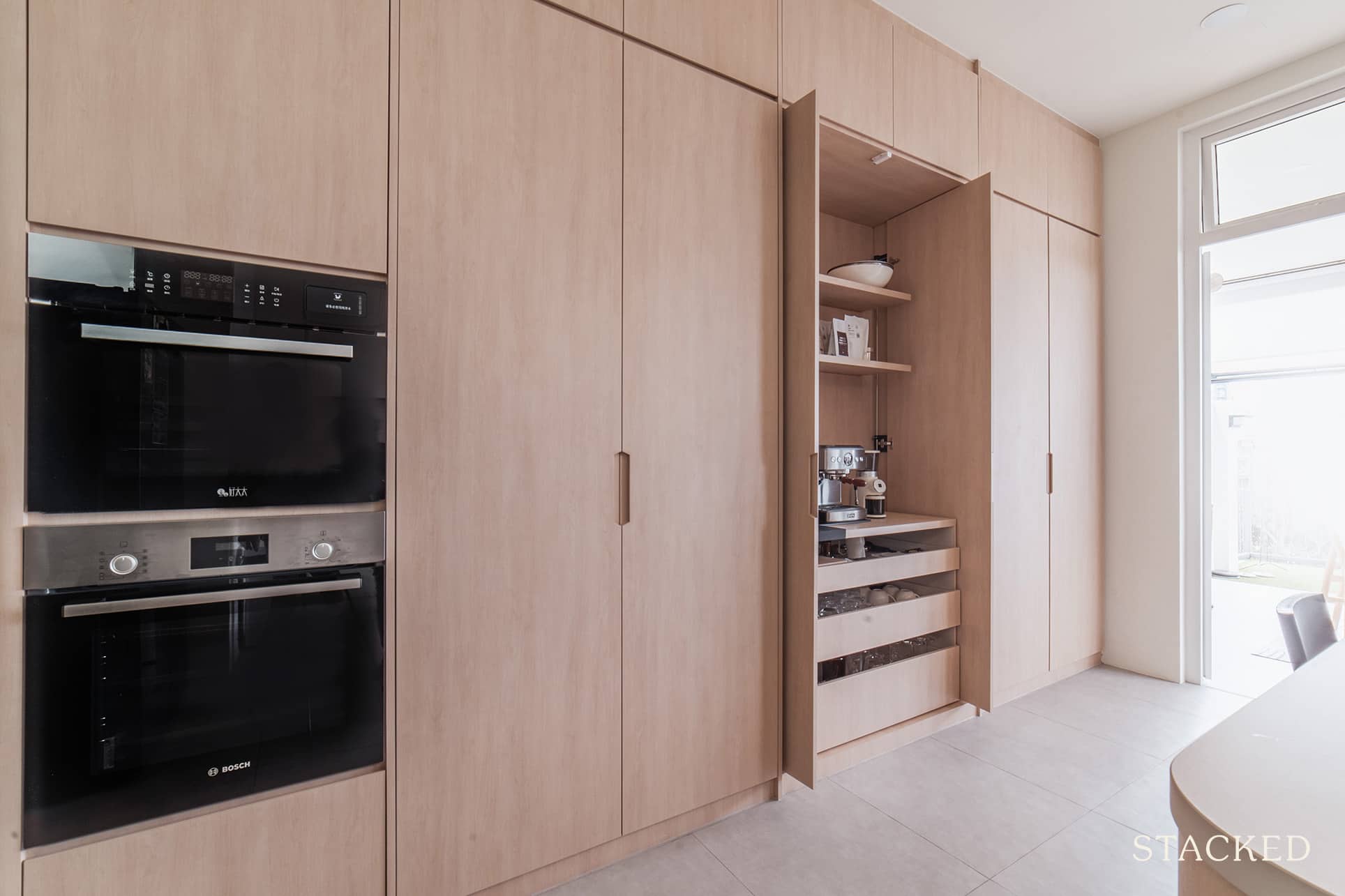 Bedrooms
The house has a total of 6 bedrooms, excluding a helper's room. They used 4 of the rooms as bedrooms, one as a guest/study room, and one as a media/karaoke room. They also redid all the flooring and the carpentry work.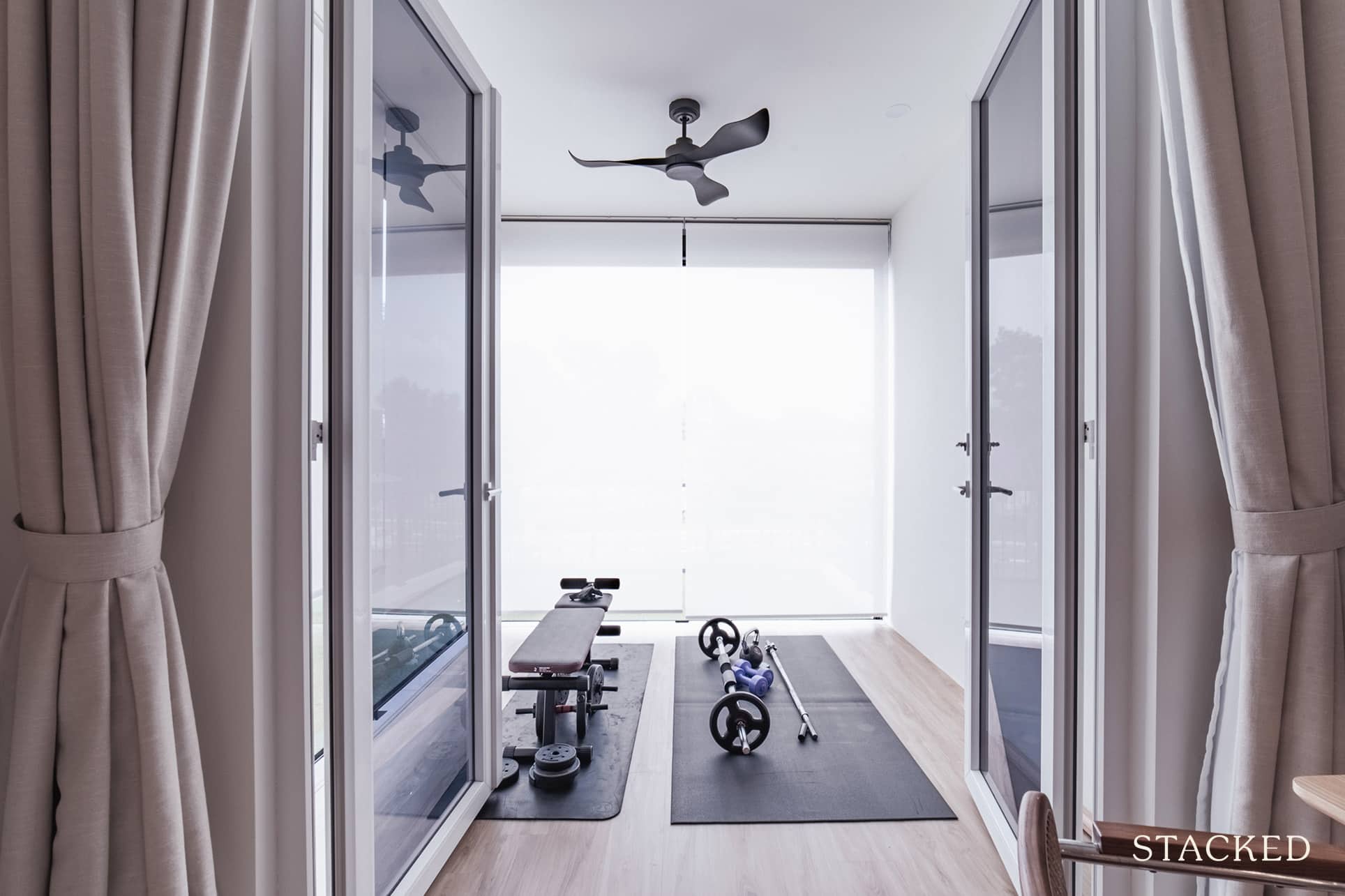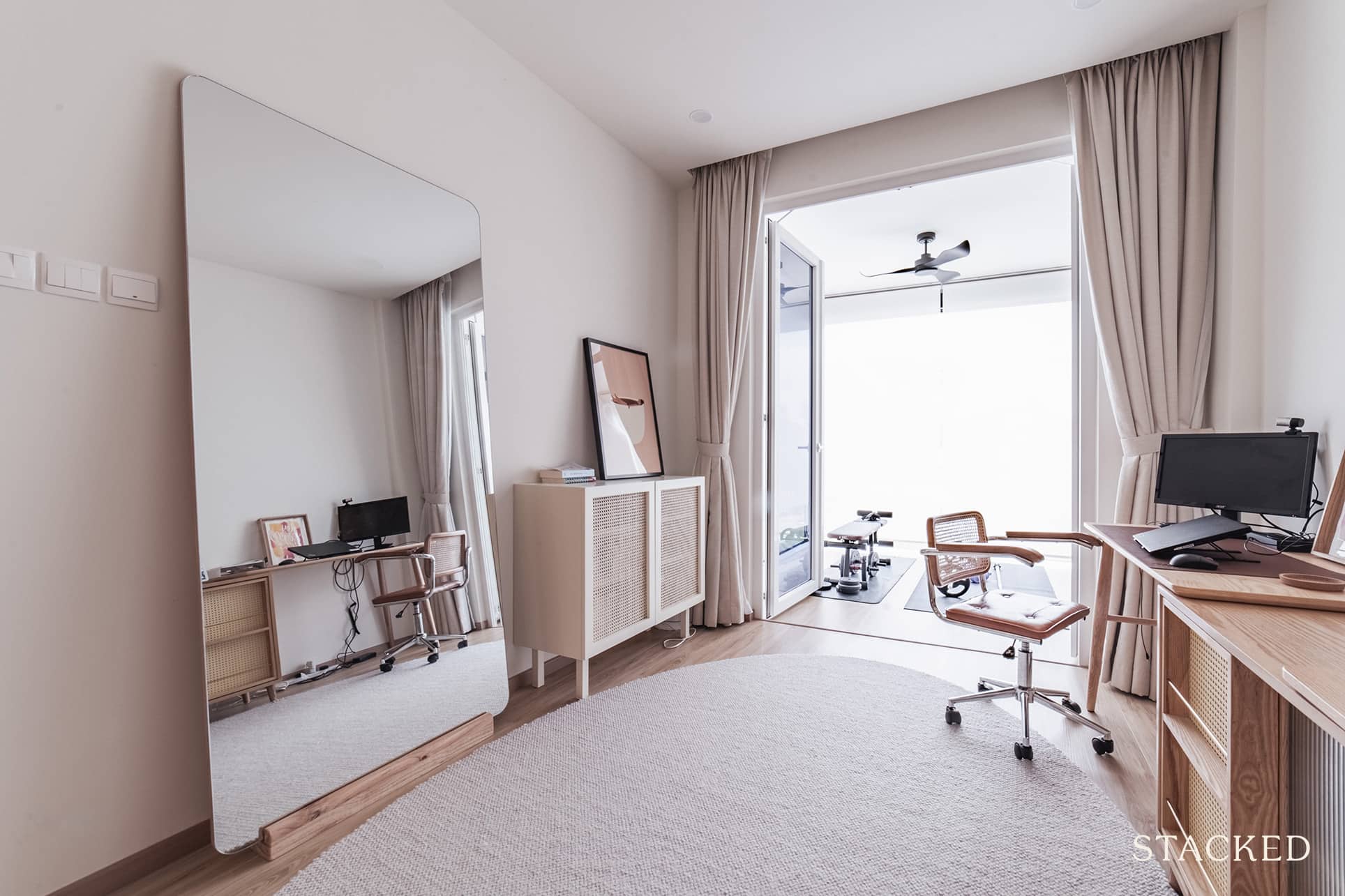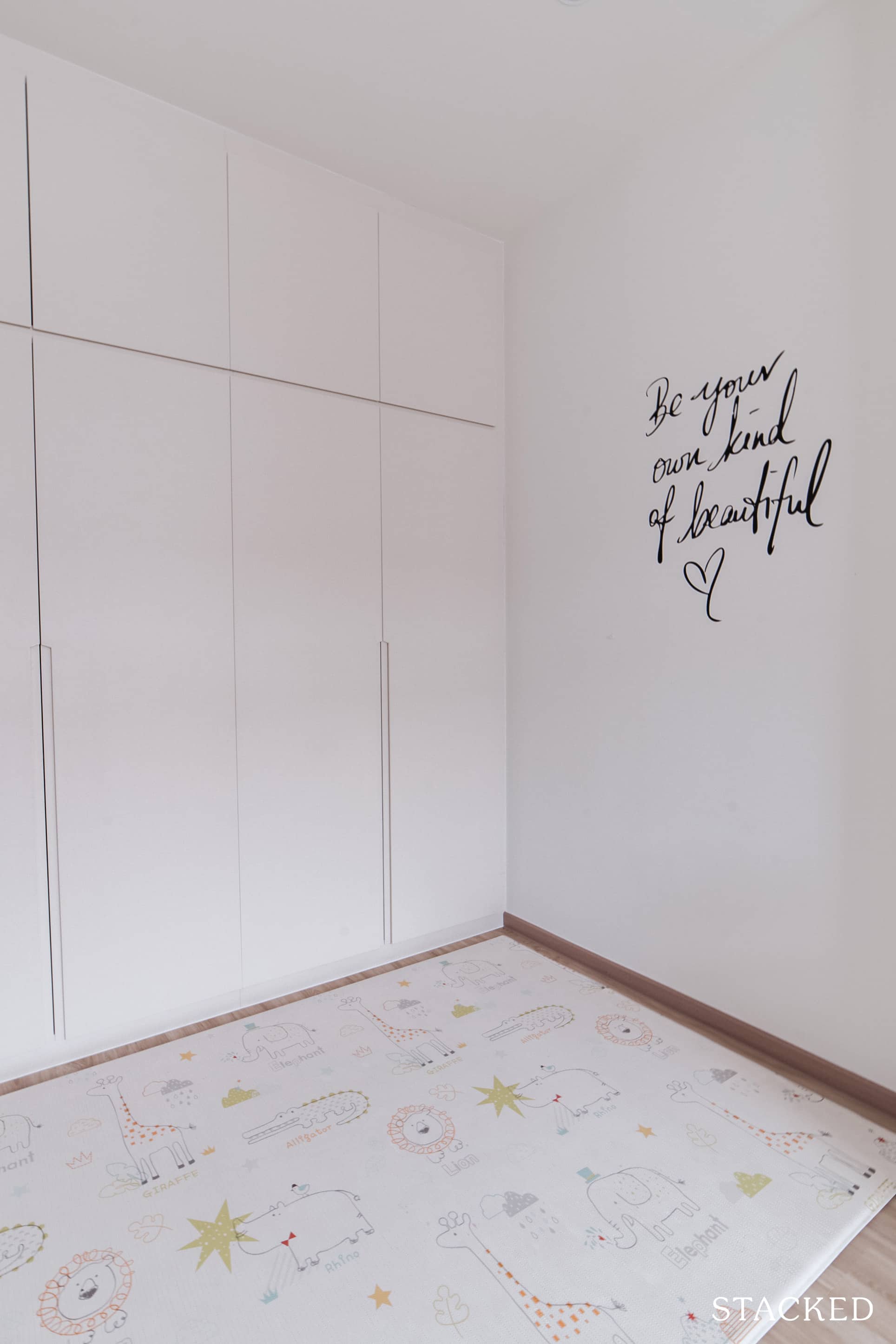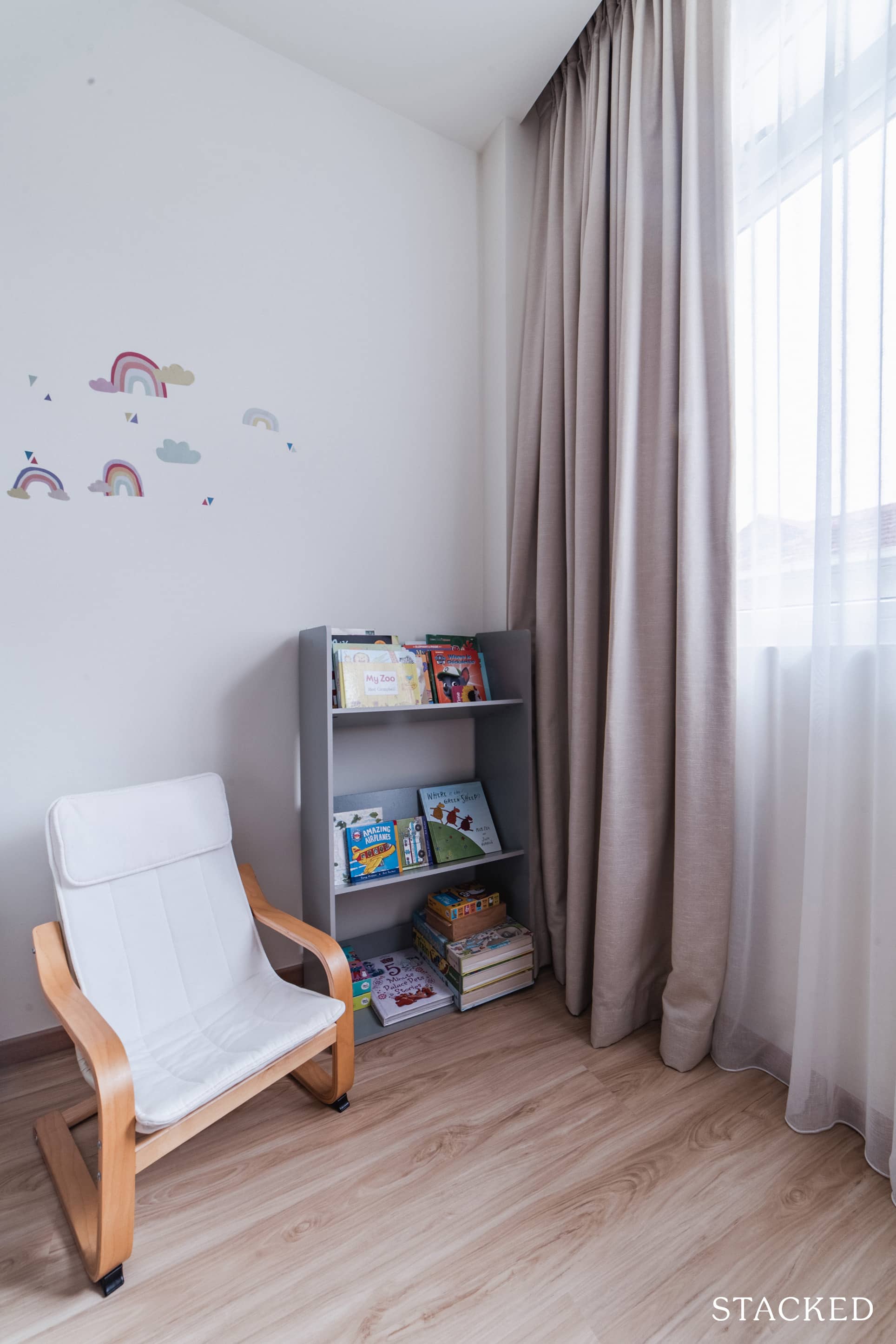 For the guest room, they customised a murphy queen-sized bed that can be pulled when they do have guests.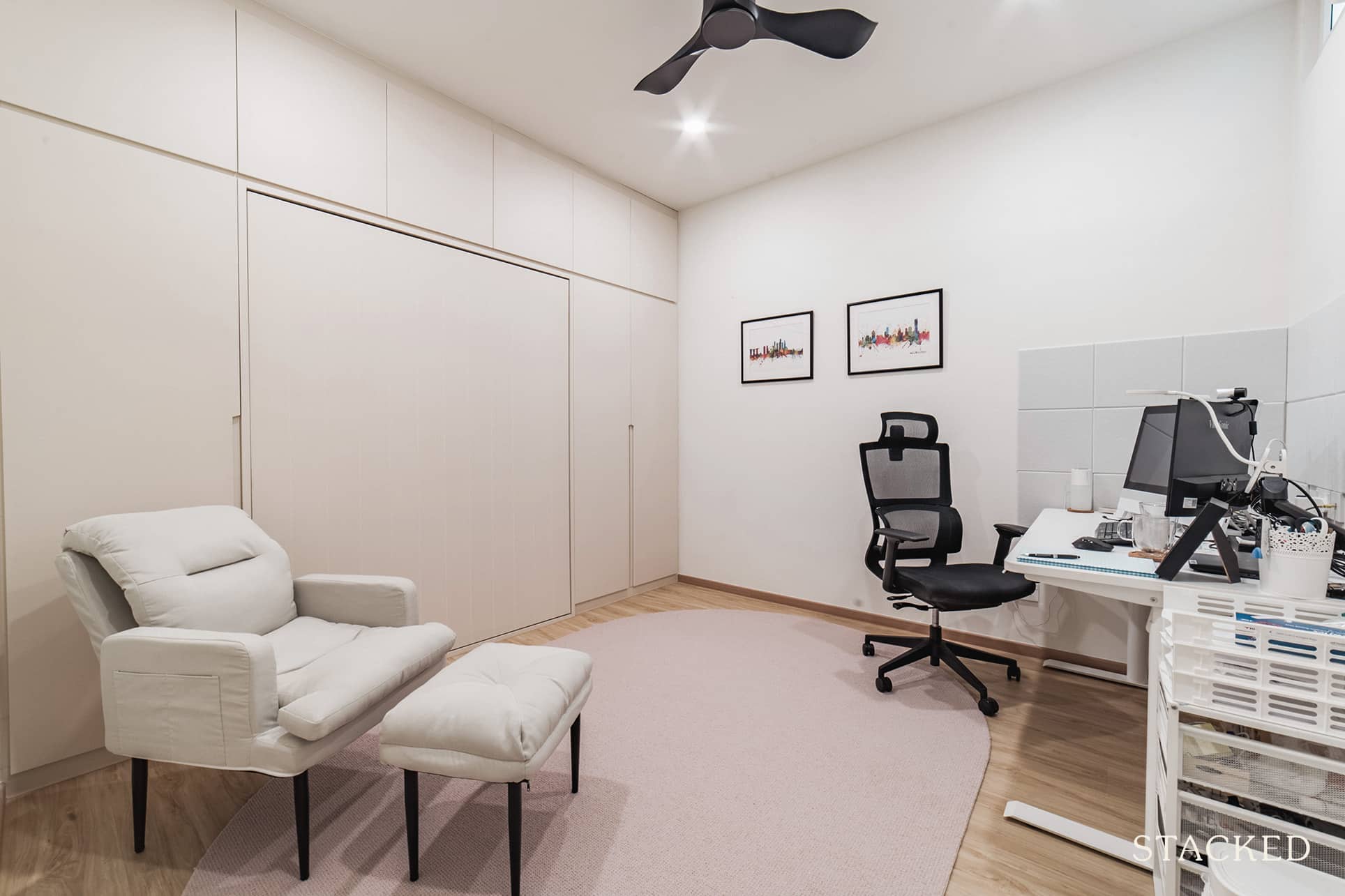 Bathrooms
There are 6 bathrooms in the house – 3 ensuites and 3 common bathrooms. Lynn said they redid all the tiling and floorings, and changed out all the toilet bowls. They bought all 6 vanity sets, shower sets, and bathroom accessories, such as towel racks and toilet paper holders, from Taobao which helped to keep the costs manageable.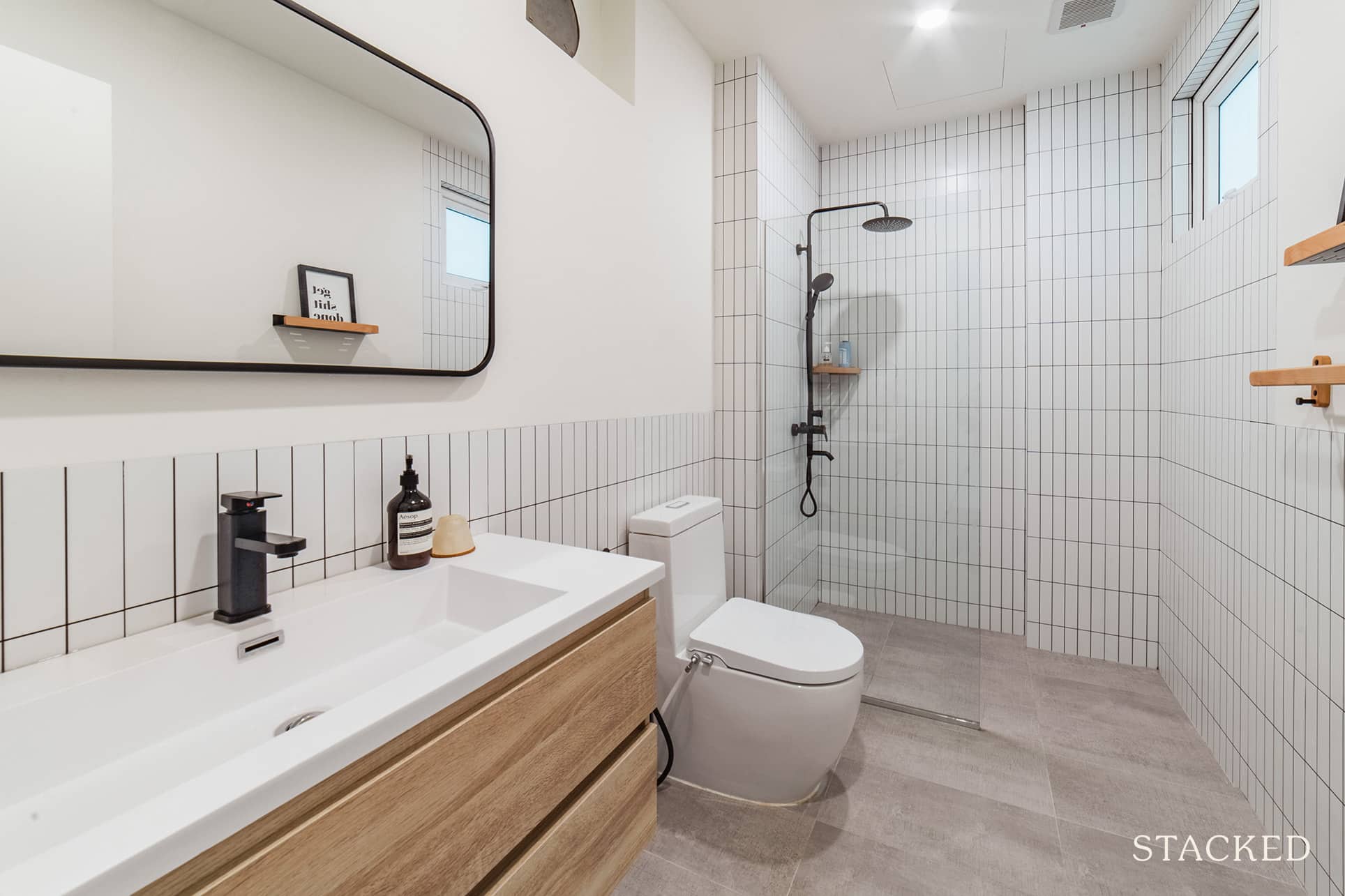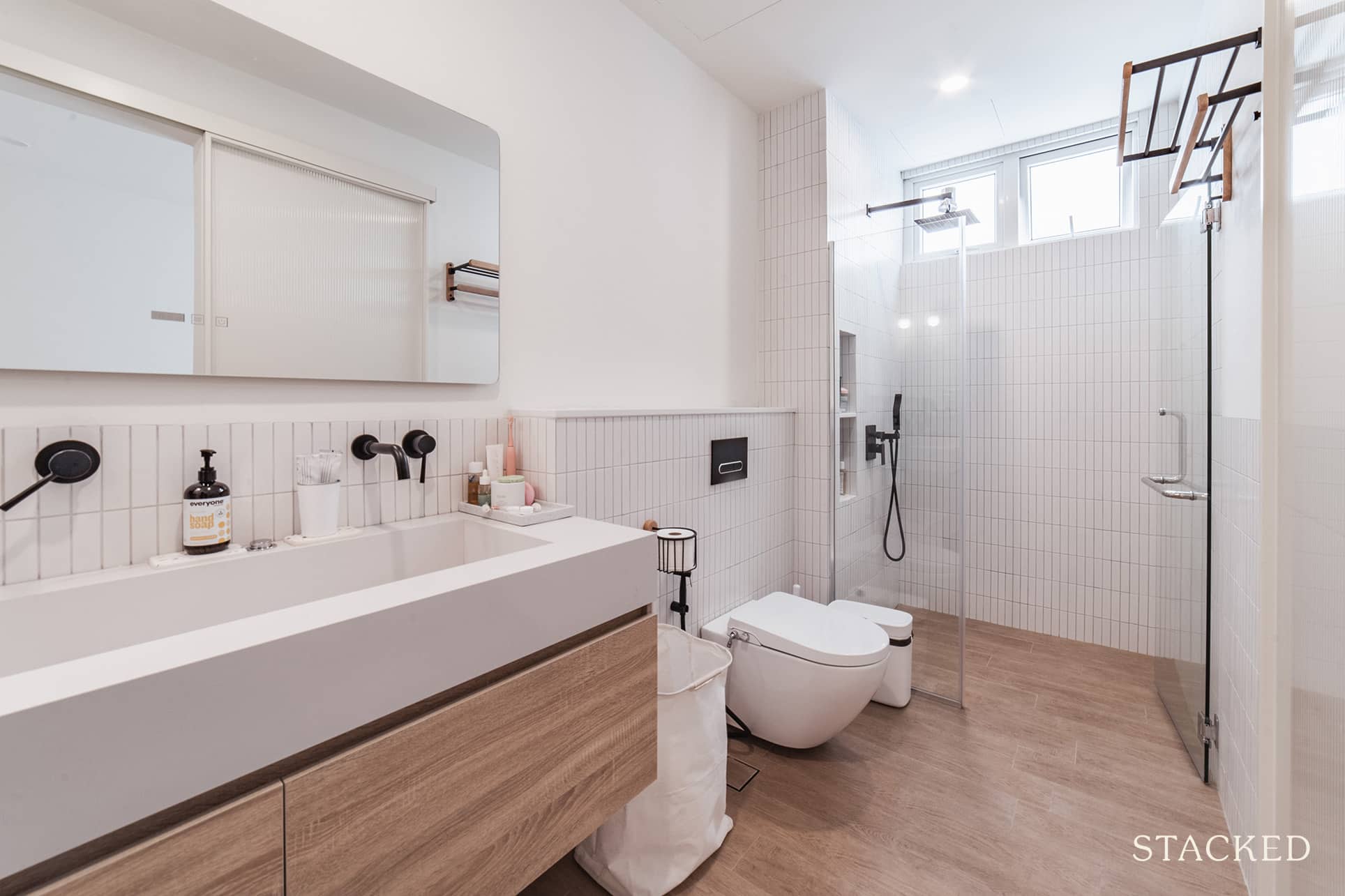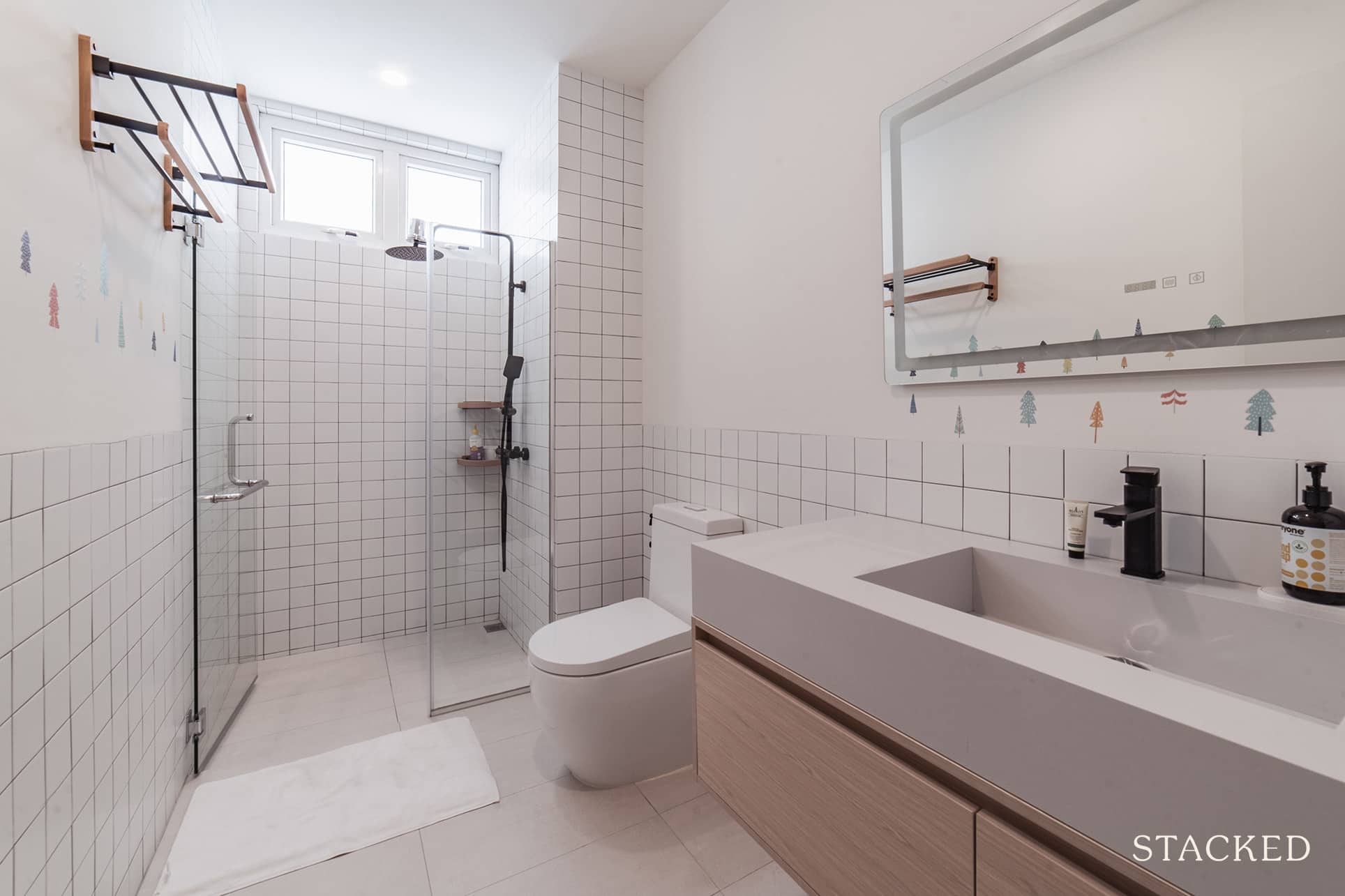 Bringing The Vision To Reality
So were they able to get the outcome they wanted? Lynn said, "Pretty much. I would say 90%, as I did change my mind about certain things during the process."
Unlike most people though, Lynn decided not to go with an ID. She used mood boards and was quite clear on her own aesthetics before starting the renovation project. As such, they did the entire project with the help of their main contractor, sub-contractors, and Taobao.
Take note, though, that this was not Lynn's first reno project. It's not even her first time working with her main contractor. It's the reason why she was able to pull off such a huge endeavour.
"I have worked with my main contractor for many years. This is our 4th project together," she said.
They have already undertaken two home renovations in the past five years. Lynn also personally did a commercial renovation in 2018 when she had a side business. She said she chose her contractor based on three factors: price, vibes, and experience.
When we asked her about her furniture sourcing process, she answered it was mainly via Taobao.
"I would say close to 80% of our furniture and fixtures are from Taobao." It's a long list, including their sofa, bed frames, bedside tables, study tables, lights, bathroom vanity sets, shower sets, bar stools, mirrors, rugs, etc.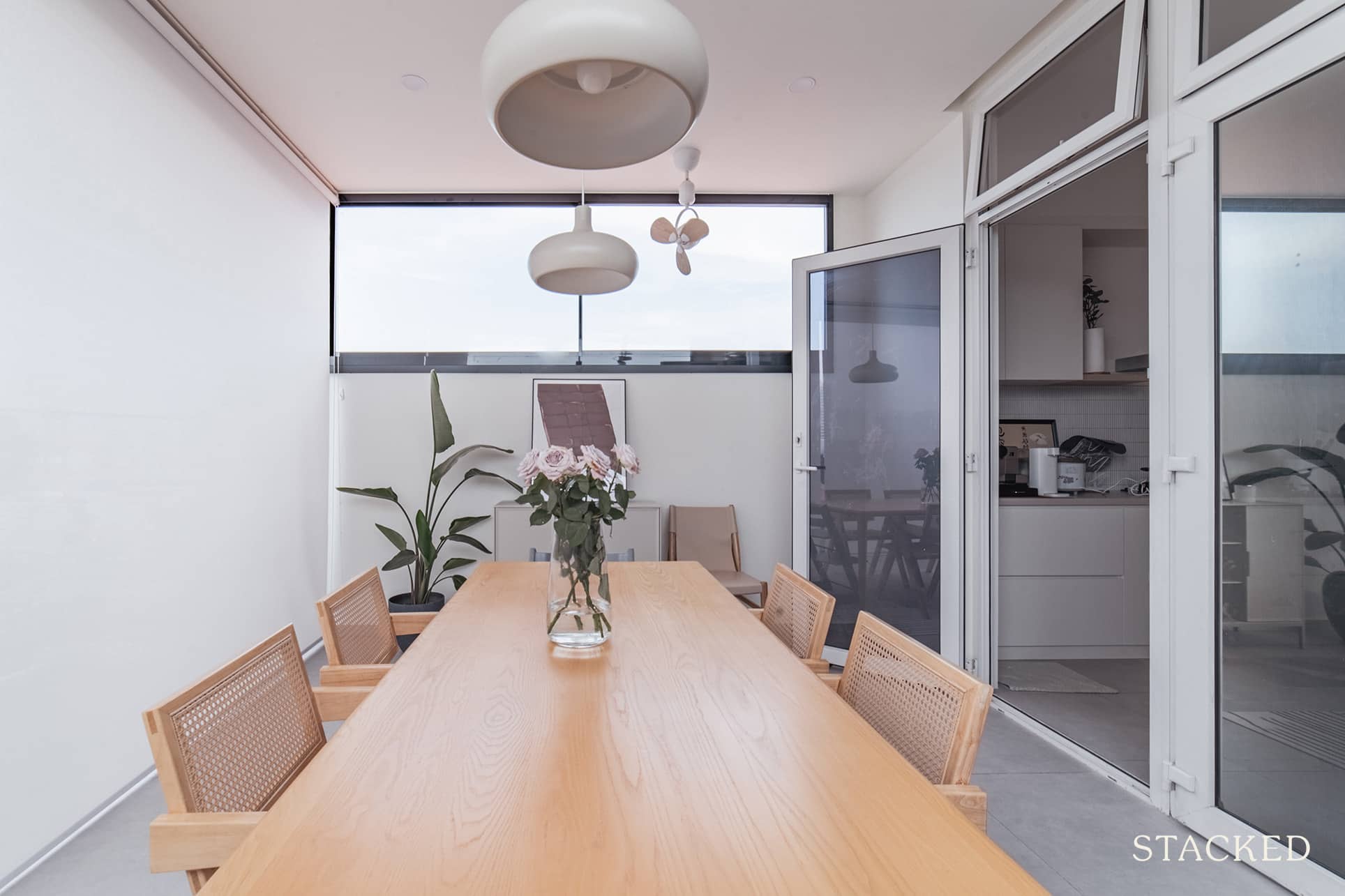 Lessons Learned From A Successful Reno Journey
Lynn can name three of the greatest challenges they encountered during the reno journey, and they all revolve around management. One is about managing parallel timelines. Then there's the budget, and lastly, it was about the people.
Managing parallel timelines involved moving out of their previous unit, at the same time, managing the reno of their current house. And COVID didn't make this easier. It caused delays in the timeline.
"We had to make decisions to give up on certain wants," she recalled. "For example, the particular brand of paint that we wanted was not available as the shipment from the US was delayed by a month." They didn't have a month to wait for it to arrive, so they had to compromise and settle with an alternative brand.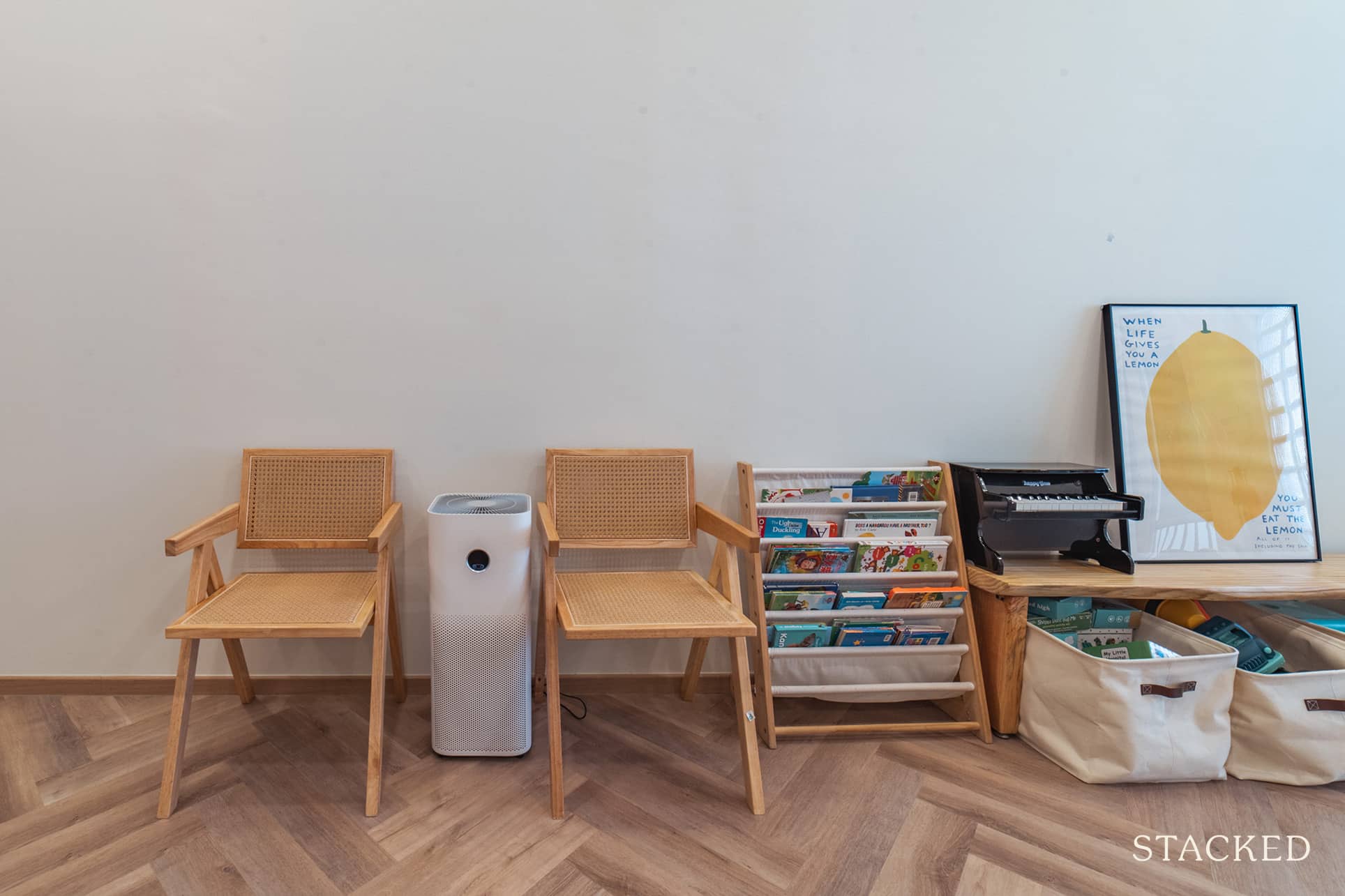 Managing the budget is another thing. While the couple's initial budget was not that low, they still needed to stick to it. As such, they decided to forego having an ID to save on the premium. They also subcontracted out major works, such as vinyl flooring and painting, to save on costs. Plus, buying the majority of their furniture from Taobao (including their steam oven) helped them to remain consistent.
Since they had to subcontract some of the tasks in order to work within the budget, they also had to deal with people management and quality control issues. Without an ID to do project management, this job fell squarely on them. Lynn said that since both of them work full-time and have demanding jobs, it was very stressful.
"Thankfully, our new place was just a 5-minute drive from our old place. So in between my meetings and calls, I would drive over to the project site to ensure that everything was ok," she added.
Lynn said the greatest lessons they learned from this experience are more about managing their expectations and being adaptable. Due to forces beyond their control, there were times when they had to compromise and be creative about their decisions.
Since she considers everything as a learning point, there are no mistakes in the reno journey per se.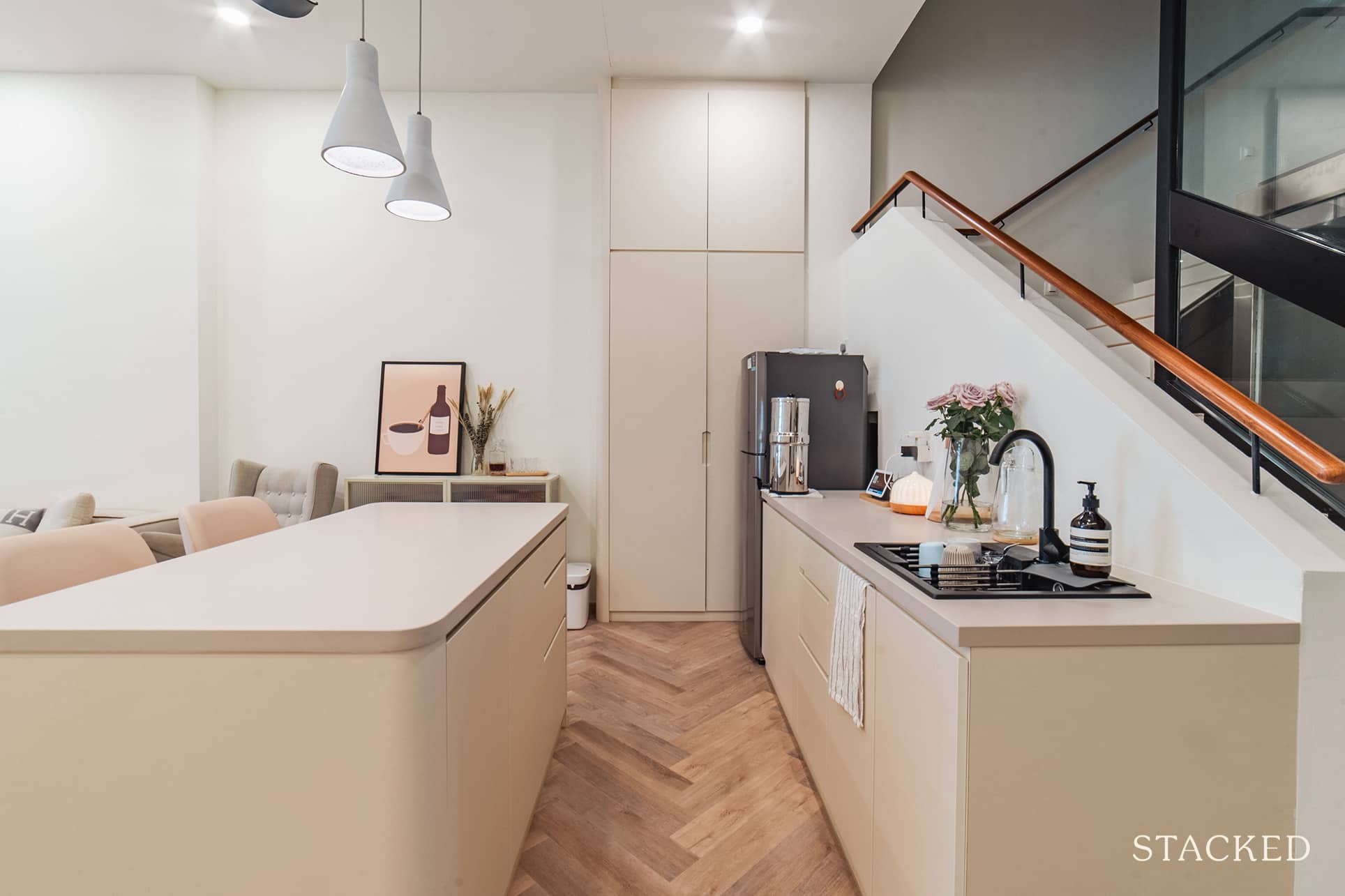 We now end this piece with Lynn's advice to new homeowners who are planning to spruce up their homes.
"Plan by setting aside a budget and sticking to it. Communicate with your other half or whoever else is invested in the process. Then execute your plans by picking the right people. Most importantly, have fun!"
SHARE