Inside A 52-Year-Old HDB Makeover: How A Couple Created A Stylish Parisian/Hampton Home With $48k
Renovation Journeys
Inside A 52-Year-Old HDB Makeover: How A Couple Created A Stylish Parisian/Hampton Home With $48k
WRITTEN BY Stacked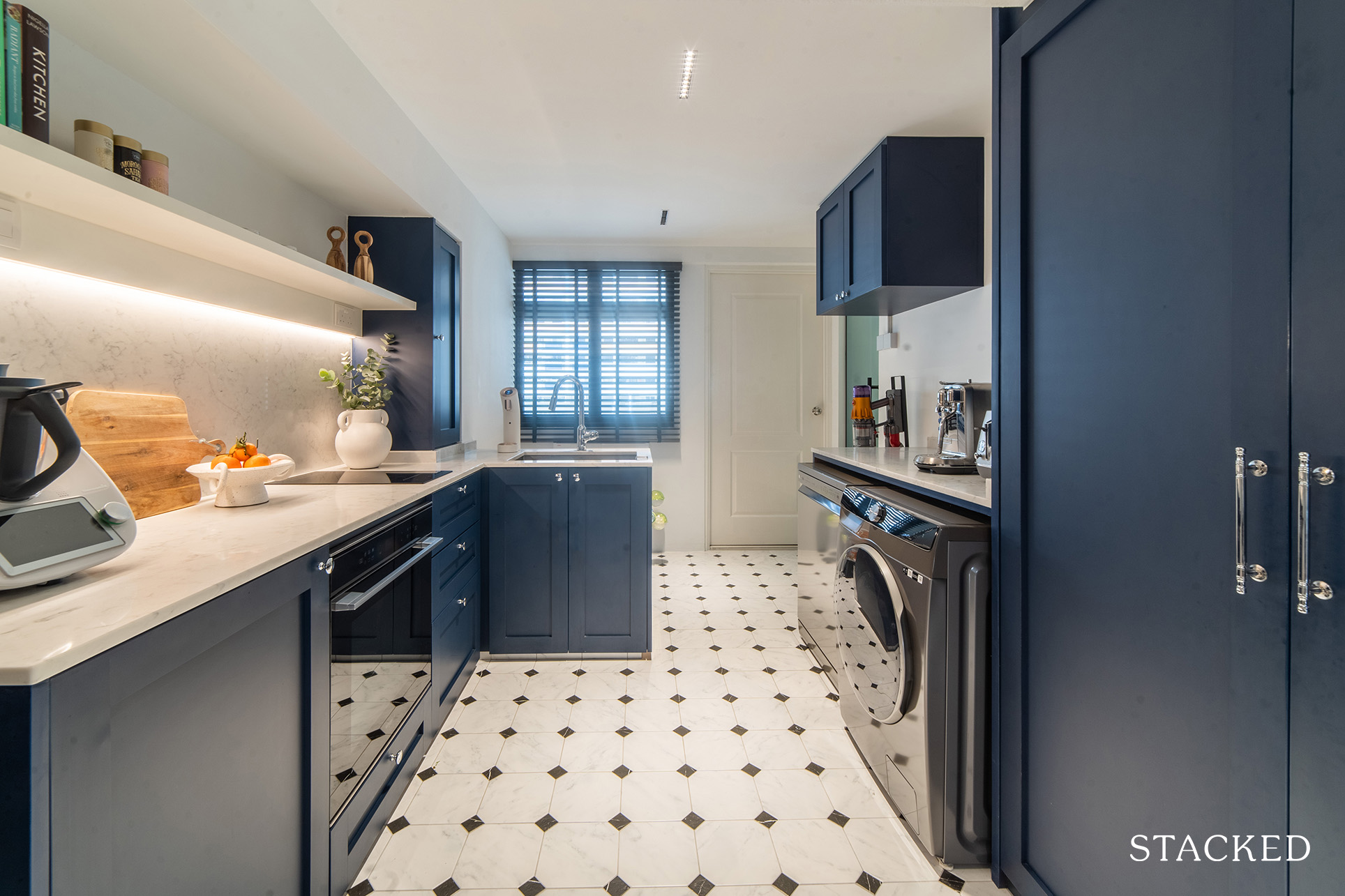 7
min read
After a 10-year long stay in their Woodlands BTO, Kathy (*not her real name for privacy reasons), and her spouse (@maison.hv) decided it was time for a change. For their new home, it would have to be centrally located, accommodate their lifestyle and budget, and importantly, be within proximity to reputable schools.
Their house-hunting journey led them to several resale flats around Holland Village, but one HDB flat on Holland Avenue particularly caught their eye. "This was the best-priced option that also boasted an appealing interior," Kathy explained.
Though the flat wasn't new, it was fresh off a renovation in April 2021 by its previous owner. It sported brand-new homogeneous tiles for flooring, lending it a contemporary and stylish appeal. And as it was on a high floor near the corner unit, it is pleasantly airy, even on hot sunny days. It was, however on the older side of things. Constructed back in 1973, this HDB flat had a 50-year lease left on it.
According to Kathy, the locale was a significant selling point. Nestled in District 10, the flat was just a stone's throw away from the Holland Village MRT station, with easy access to amenities, Orchard Road, and Tanglin. Proximity to notable schools and the vibrant food scene of Holland Village, with its array of charming cafes and gourmet restaurants, was another big plus.
In terms of decor, the couple chose a harmonious blend of the classic and chic Hampton style with a hint of Parisian romance, that encapsulates their personal aesthetic.
Currently, the couple shares their new home with their two children, aged 10 and 7. Let's delve deeper into their successful home transformation journey.
How The Renovation Journey Turned Out
The initial budget they had for their renovation was in the range of $40K to $50K.
"Luckily for us," Kathy said, "we didn't have to top up more for our renovation. Our renovation costs us around $48,000 excluding fittings and furnishings."
She revealed that their inspiration came from home interior magazines and home designs she sees on Instagram.
"I would say my style is a mix of Hamptons and Parisian style decor. It's reflected on the selected colour schemes that you see all throughout my home, the furnishings, shaker door cabinets, and open shelvings in the kitchen."
A Hamptons style is often associated with the luxurious beachfront communities in the Hamptons – an affluent neighbourhood on Long Island, New York. The aesthetic is both refined and casual, incorporating natural materials as well as light and neutral colours.
Parisian style, on the other hand, is obviously inspired by the city of Paris, France. So, one can expect a charming appeal incorporated into its ornate and decorative elements.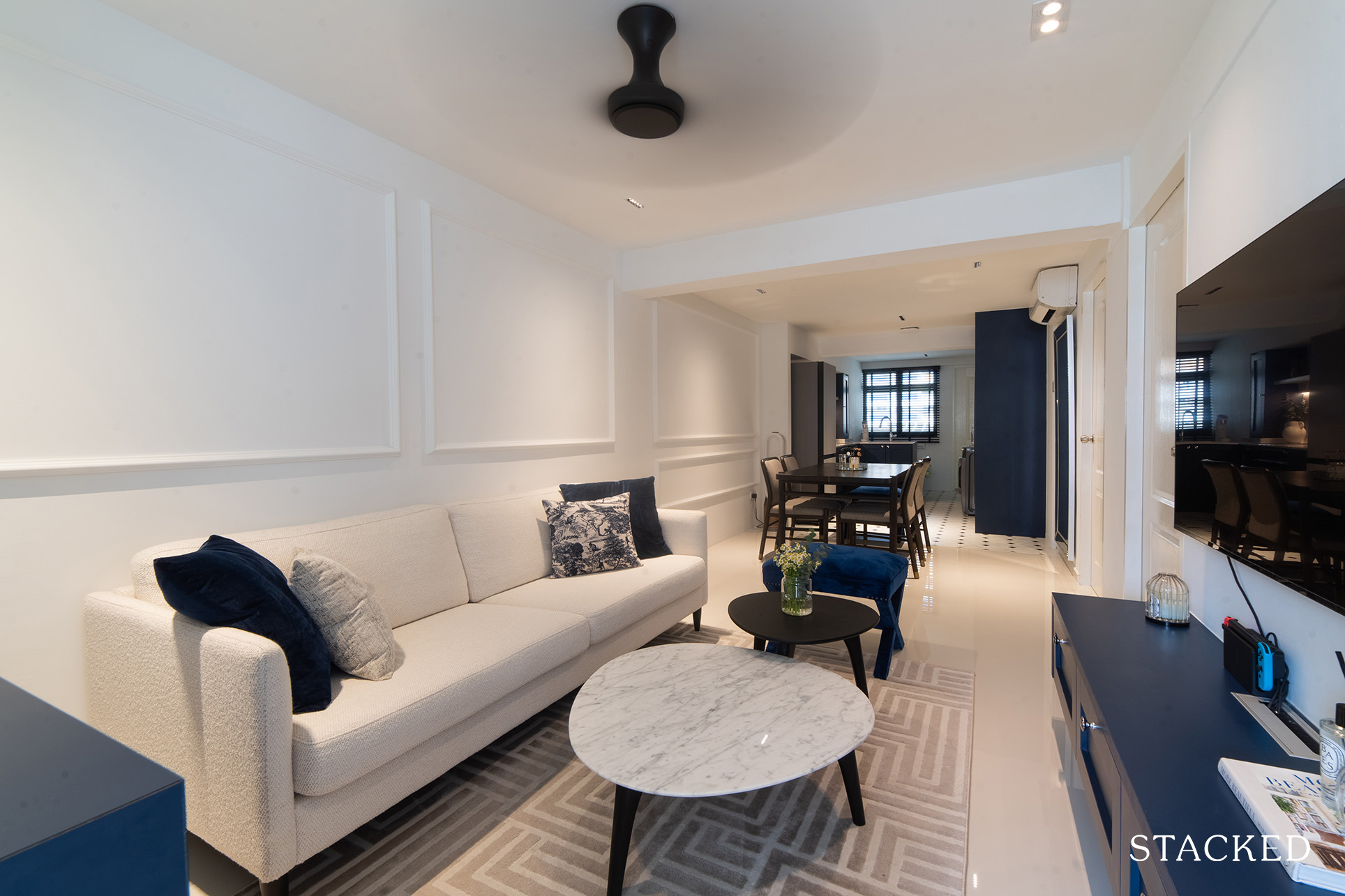 To accomplish this, Kathy and her husband had to make some major changes to the home.
"We didn't stick to the original layout of the home," she recalled. "We decided to hack the wall between the dining and the kitchen to open up the space and make it more airy and spacious."
They also relocated the entry door of their bathroom from the kitchen to the master bedroom as they needed that specific area to build a full-height cabinet and space for their washing machine and dishwasher.
Let's take a tour of their renovated home.
Living Room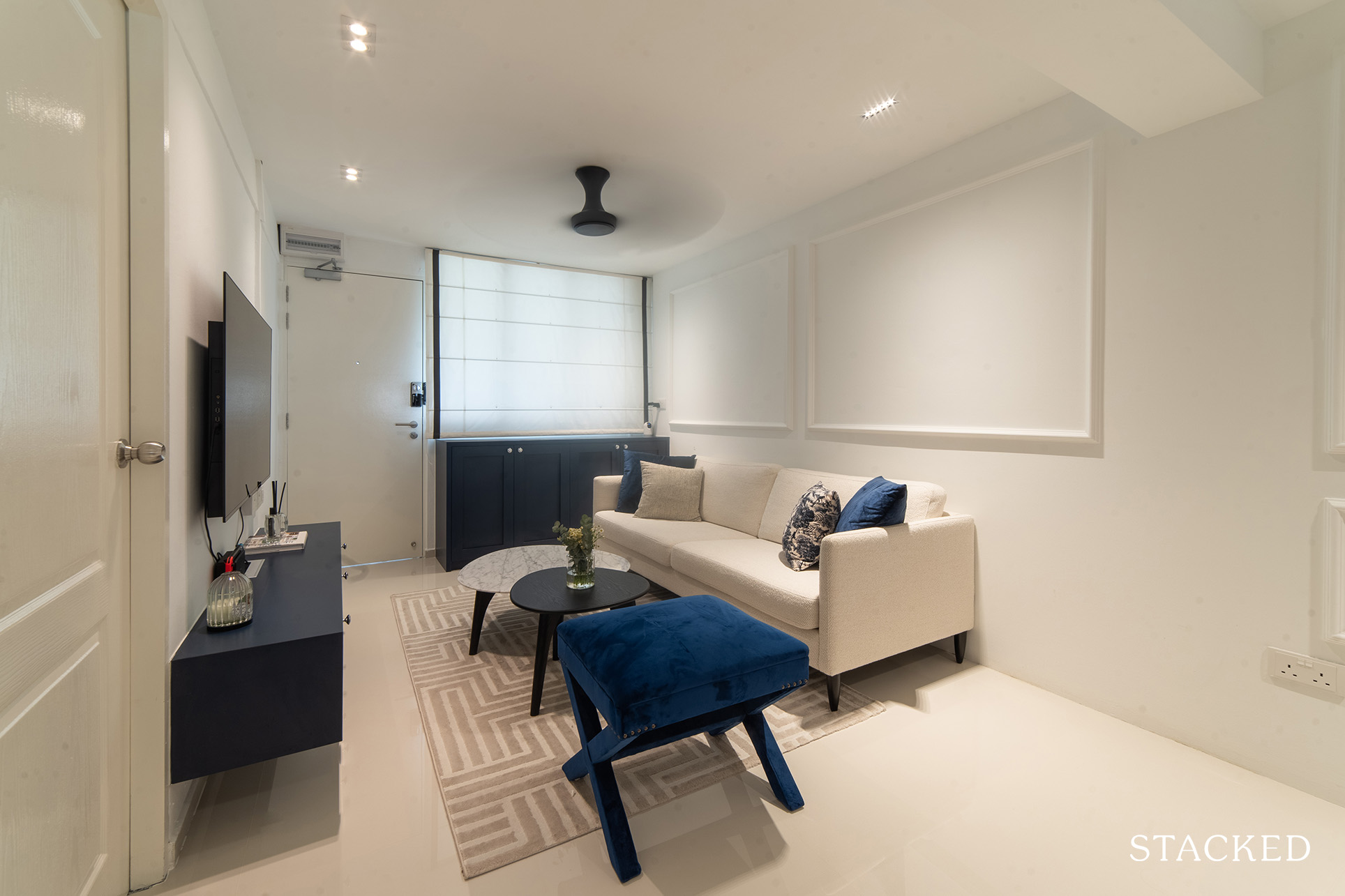 To create a greater sense of space, they decided to remove all existing window grills in the house. They also had shoe cabinets by the entrance and a TV console built in.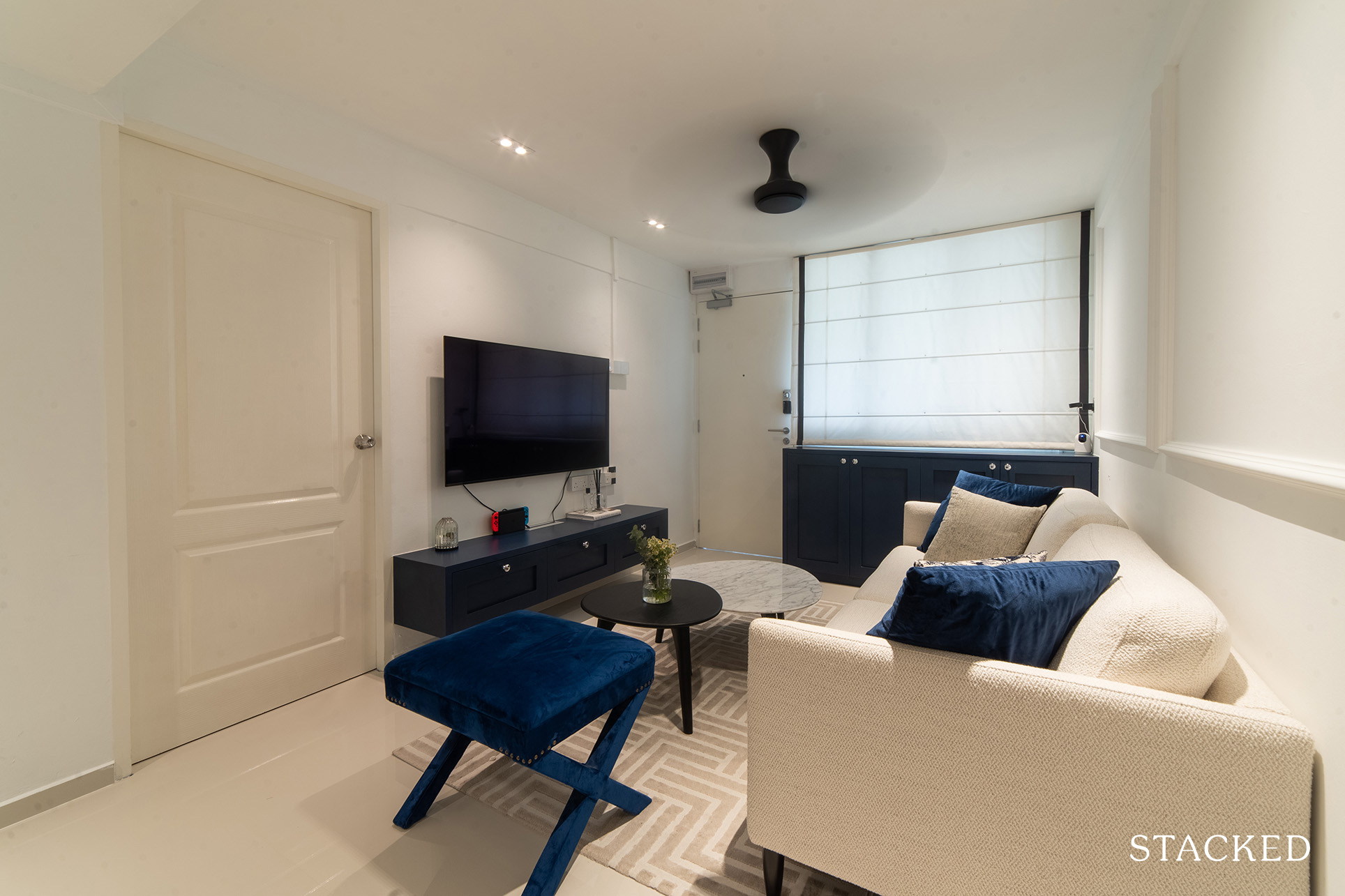 Dining Room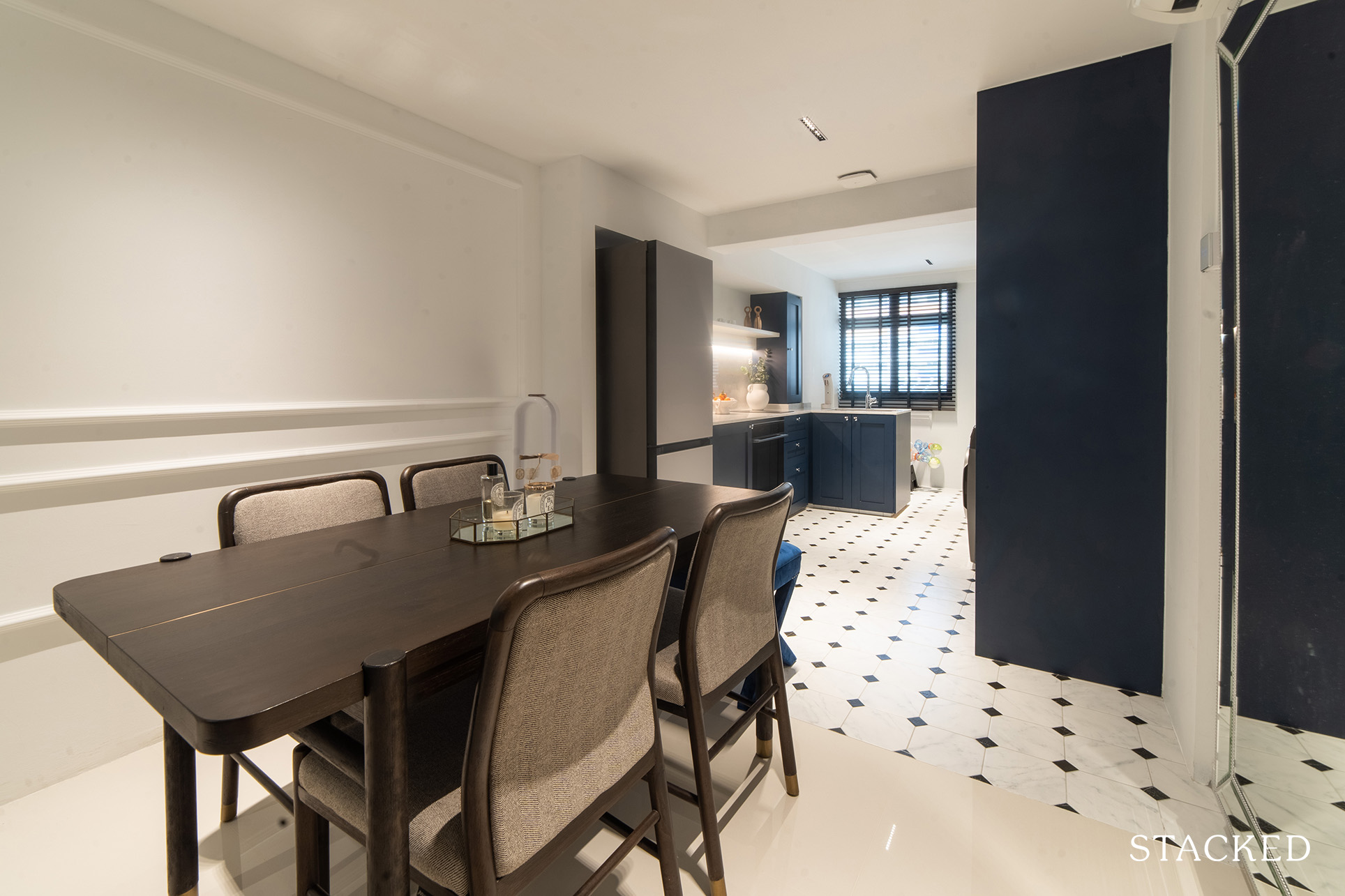 Besides the living room, the picture frame molding continues as an accent wall to frame the dining room. The overall look is kept elegant, with the kitchen demarcated by different floor tiles.
Kathy said they hacked the existing wall that divides the dining and kitchen to make an open-concept design that flows seamlessly among the living, dining, and kitchen areas.
Kitchen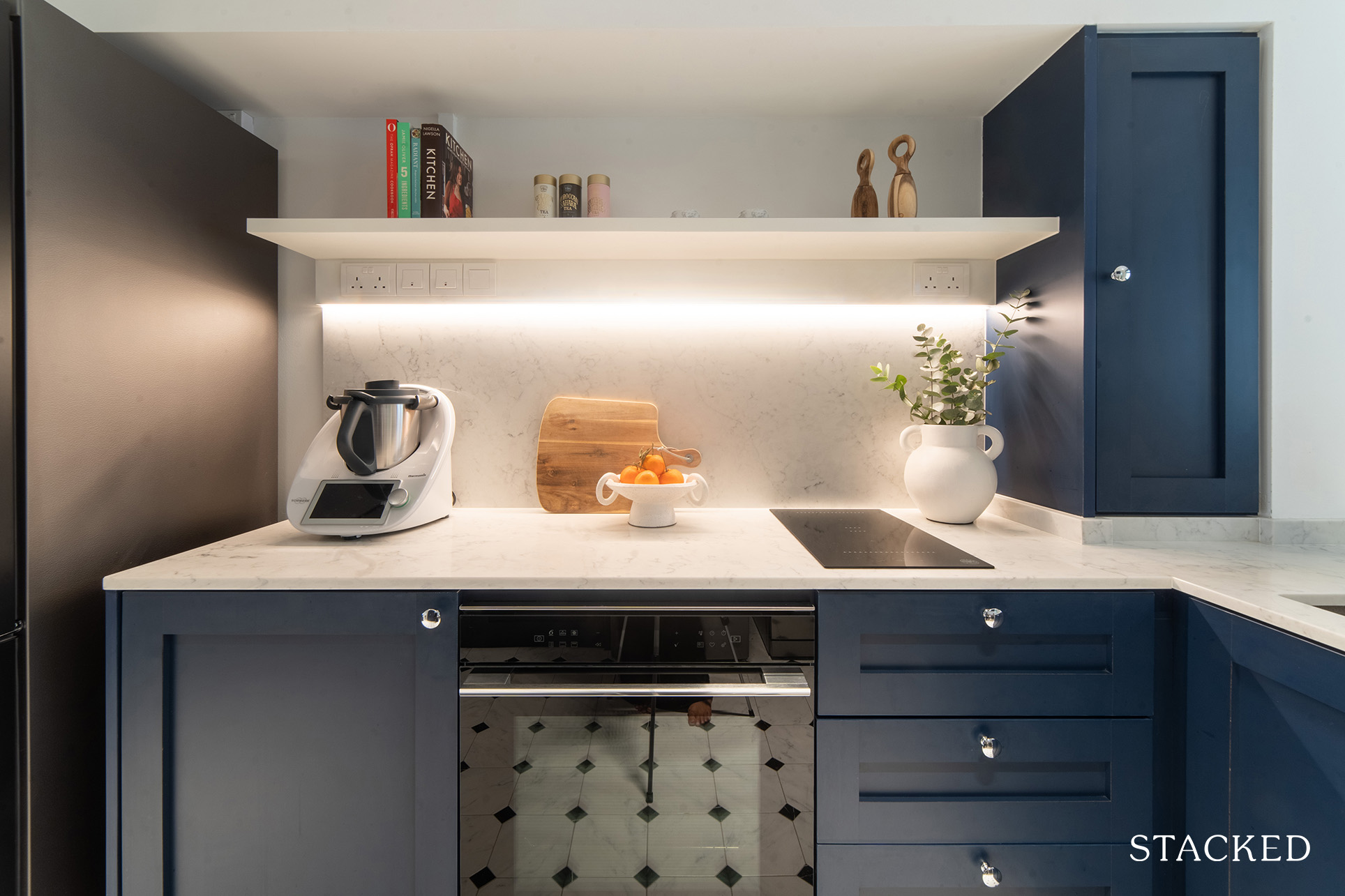 The kitchen went through a major overhaul where they removed all existing kitchen cabinets and replaced them with shaker door cabinets, as well as a quartz countertop and a new backsplash. She said they also opted for open shelving to make the kitchen look more Parisian-like. The shade of blue is particularly beautiful, and really helps to anchor the space.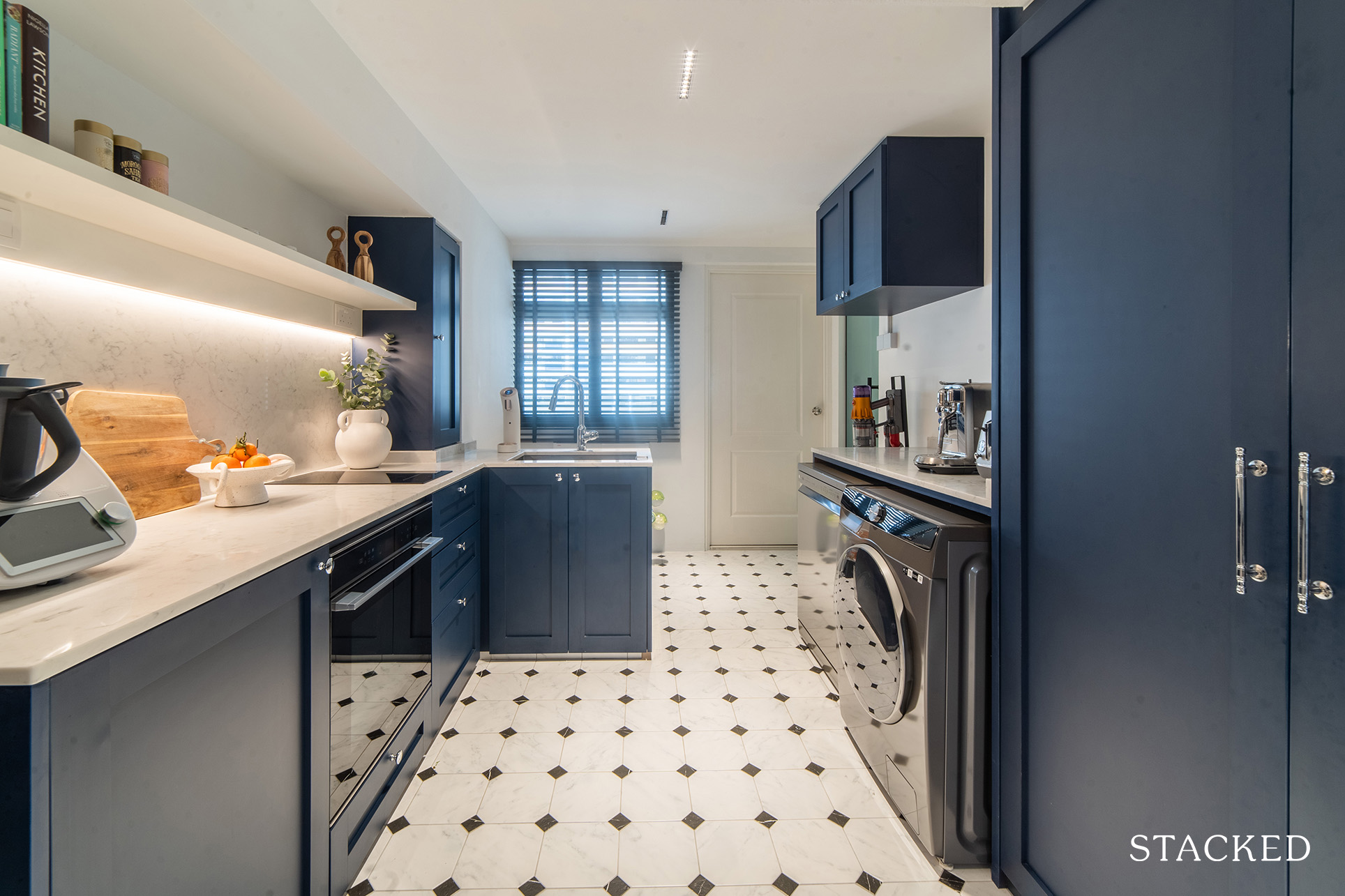 The right side of the kitchen wall was used for full-height cabinets & placement for the washing machine & dishwasher. To do this, one bathroom door was sealed up. "The kitchen is the only area where we removed the existing floor tiles and replaced them with Victorian floor tiles," she added.
Utility Room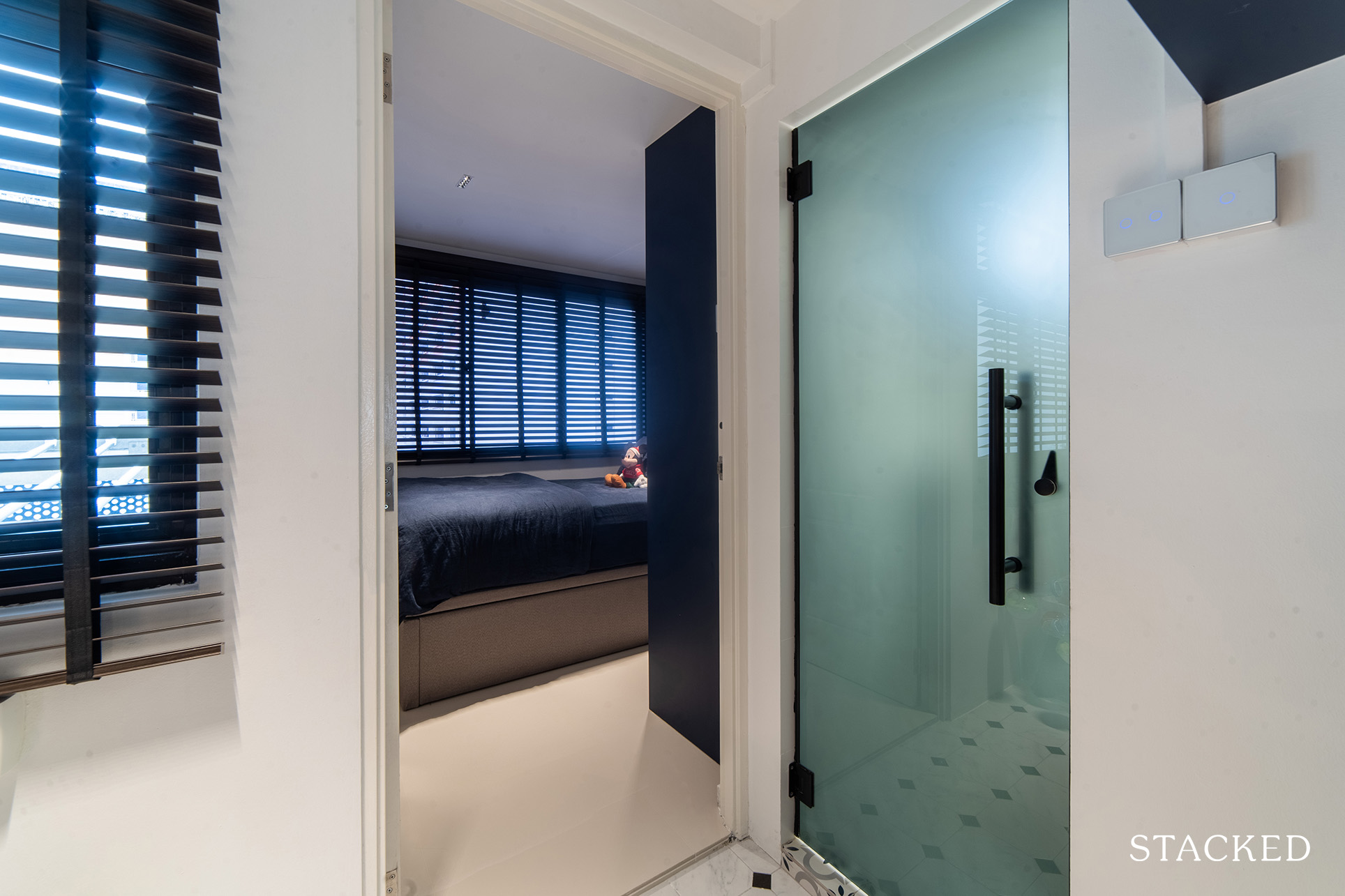 Previously a utility room, the couple converted it into their son's bedroom where a super single bed and a 2-door wardrobe could amazingly fit.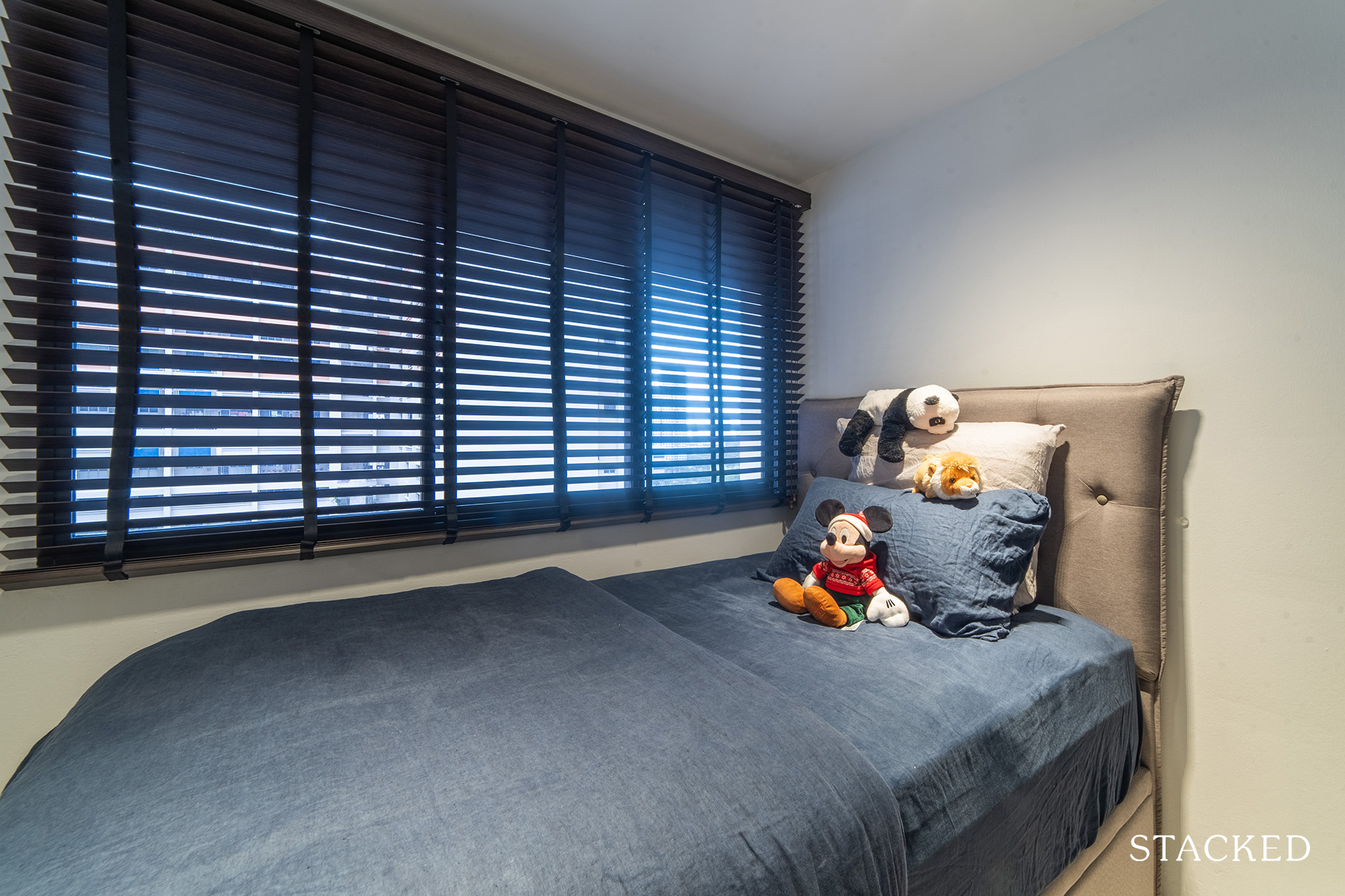 Bedroom/s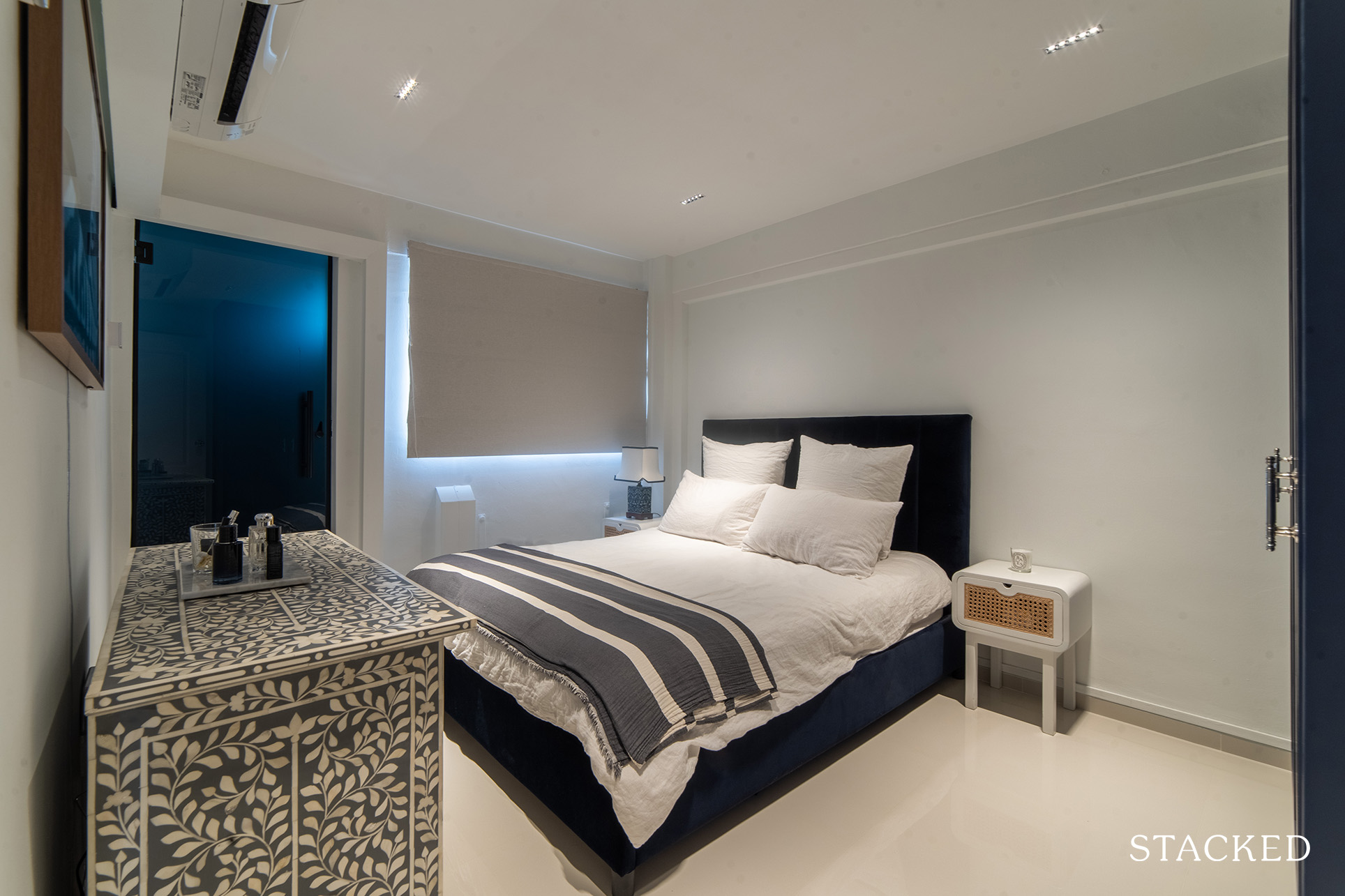 For the master bedroom, they had to hack a wall to make way for a new bathroom door entry. In keeping with their Hamptons style, the walls are painted white, and the bedroom door carries an accent of blue.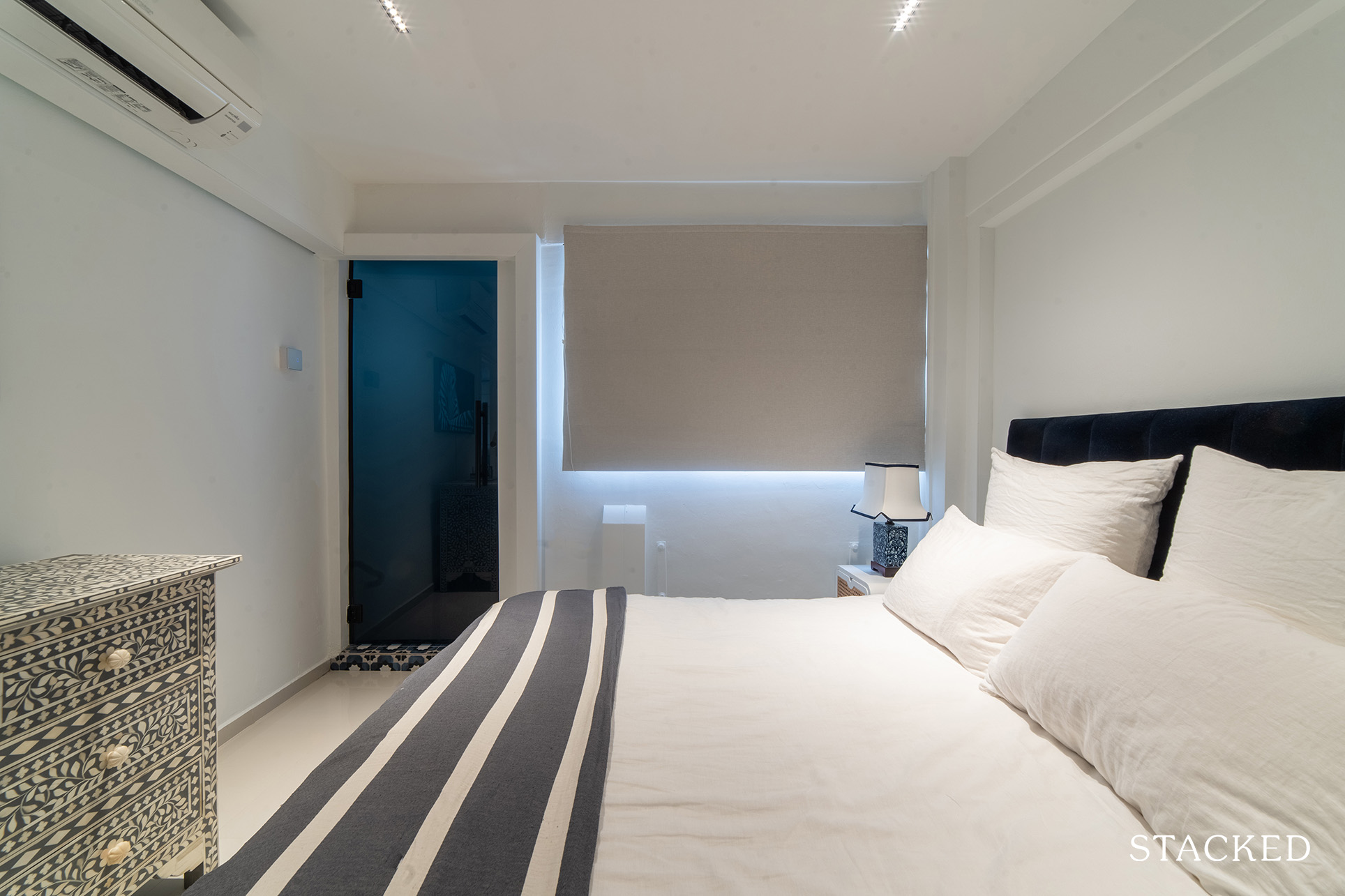 Bedroom 2, on the other hand, has a built-in study table and a large wardrobe for clothes and storage.
Bathroom/s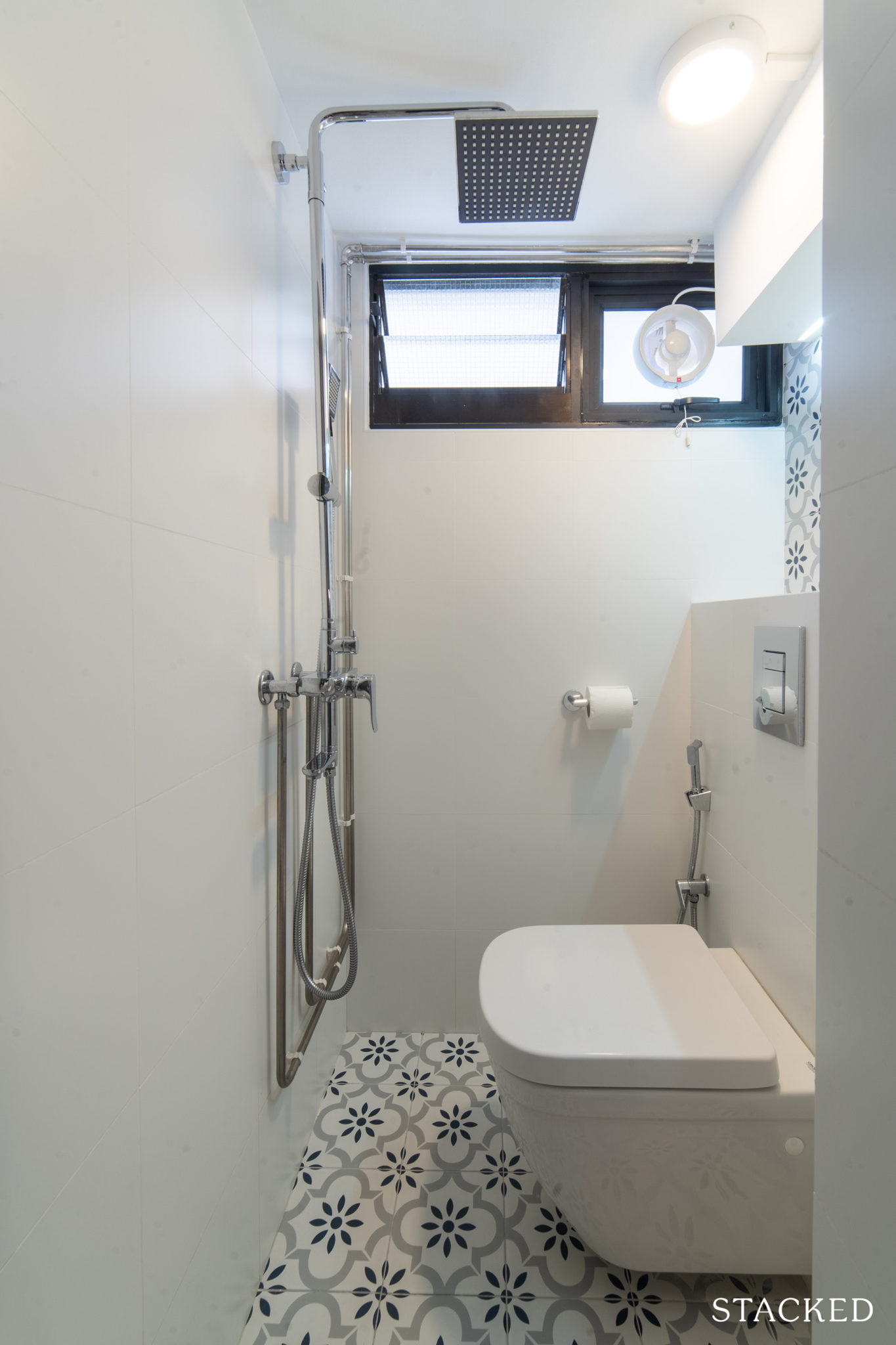 The common WC was overlaid with new floor and wall tiles, plus they also installed a wall-hung toilet bowl. For the master bathroom, new wall and eye-catching floor tiles were also overlaid, and they added wall niches that are designed for everyday use. There's also a rain shower for that hotel feeling, as Kathy puts it.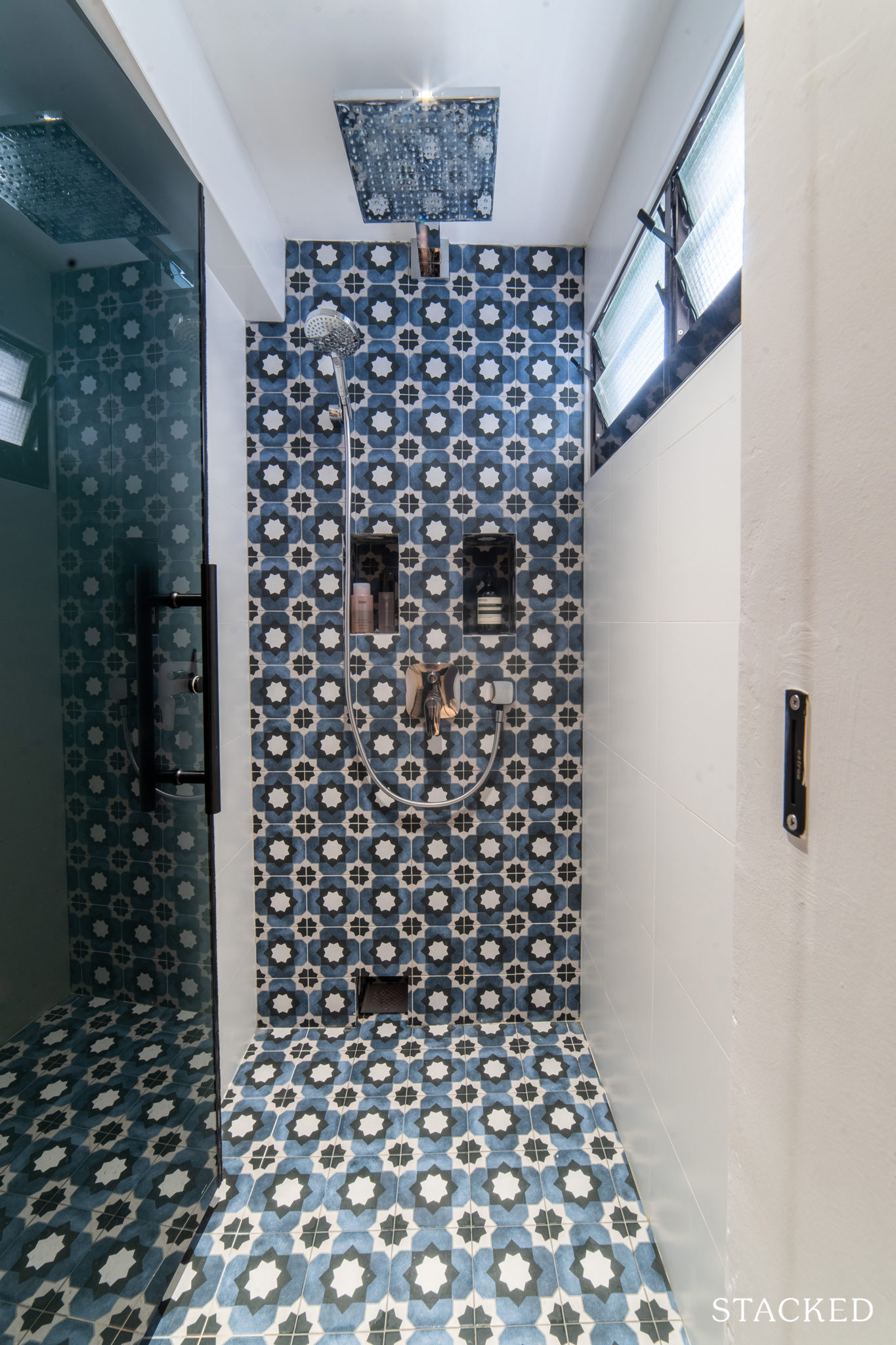 Bringing The Vision To Reality
The couple chose to go with The Local INN.terior Pte. Ltd. to help them realise their vision for their home. Kathy said she chose them as they'd seen their works on social platforms and really liked that each house has its own unique style. "It's not all cookie-cutter designs," she added.
She liked how they were willing to listen to their design ideas and input, plus the ID's designs were really what Kathy had in mind as well. When they sent their mood boards, the ID came up with great selections for their home colour schemes and tiles.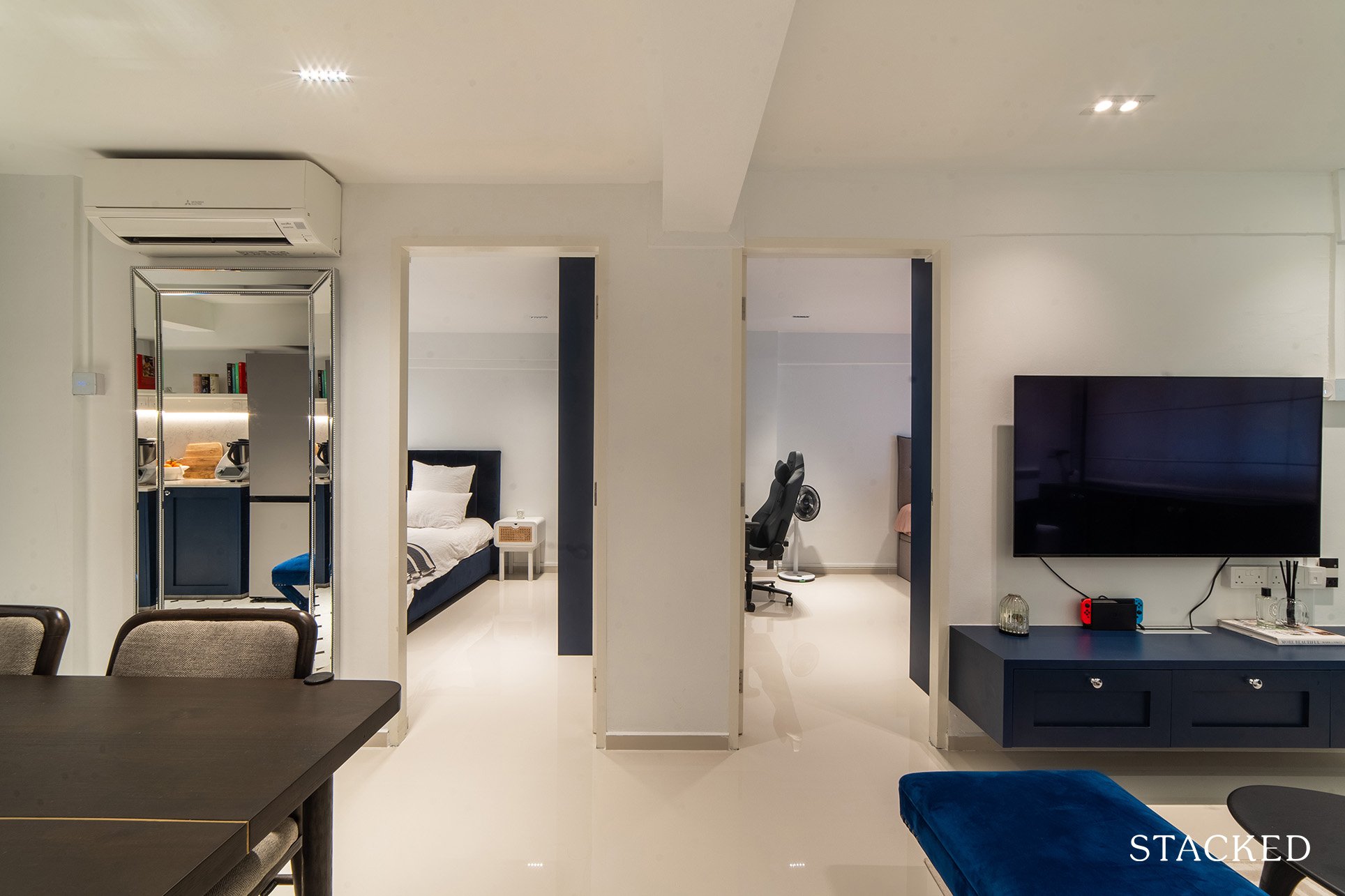 When it comes to sourcing furniture, Kathy said they decided to get everything in Singapore.
"We got our ideas from social media accounts and visualised it by creating our own moodboards to see if it fits our design concept. Once finalised, we went furniture shopping in-store to see the furniture ourselves and order it."
Their living room sofa by BoConcept was a customised design as they needed the sofa to fit four persons without taking up space. They didn't stick to one furniture brand, though, as they bought the rest from other companies too. What helped make their furniture sourcing process yield great results was that they didn't rush to buy them.
As for the best area of their home, she replied that their best makeover would be the kitchen area.
"When guests came over, they were in awe of the design concept, too, as I managed to have a full-height pantry cabinet to store all my baking equipment, homeware, and ingredients. It is a fully functional kitchen for home cooks like me with space to move around without feeling in a tight space."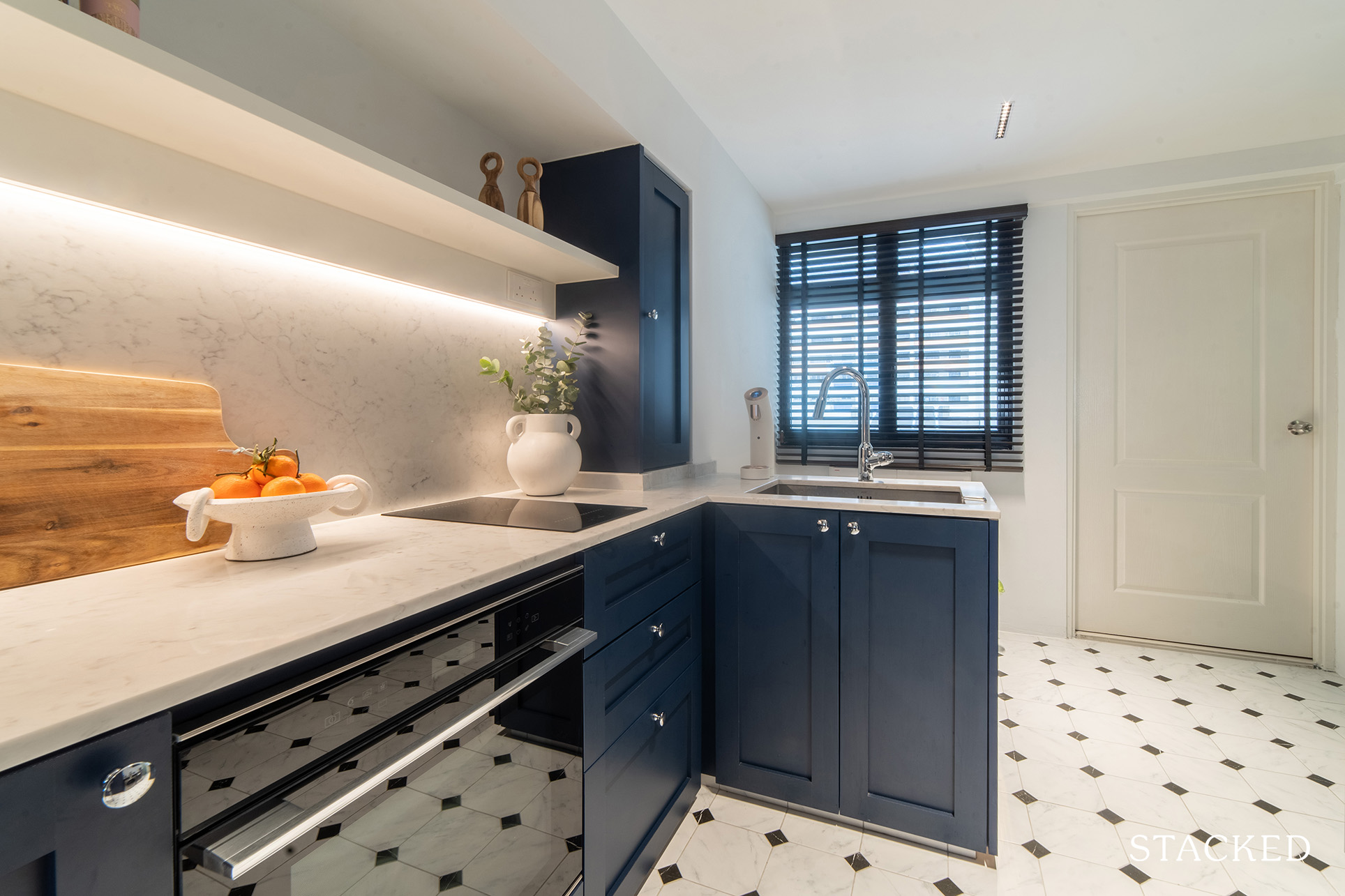 Lessons Learned From A Successful Reno Journey
Time, or lack thereof, has proven to be a common adversity to those who went through a reno journey, and the couple had to face this as well. They had to finish the renovation in time, as their extension was expiring soon.
To add more fuel to the flame, their renovation was also done during the COVID pandemic period when the Malaysia/Singapore borders were closed, resulting in contractors being short on manpower.
While there had been delays, the contractor managed to finish the job in 3.5 months instead of the agreed three months.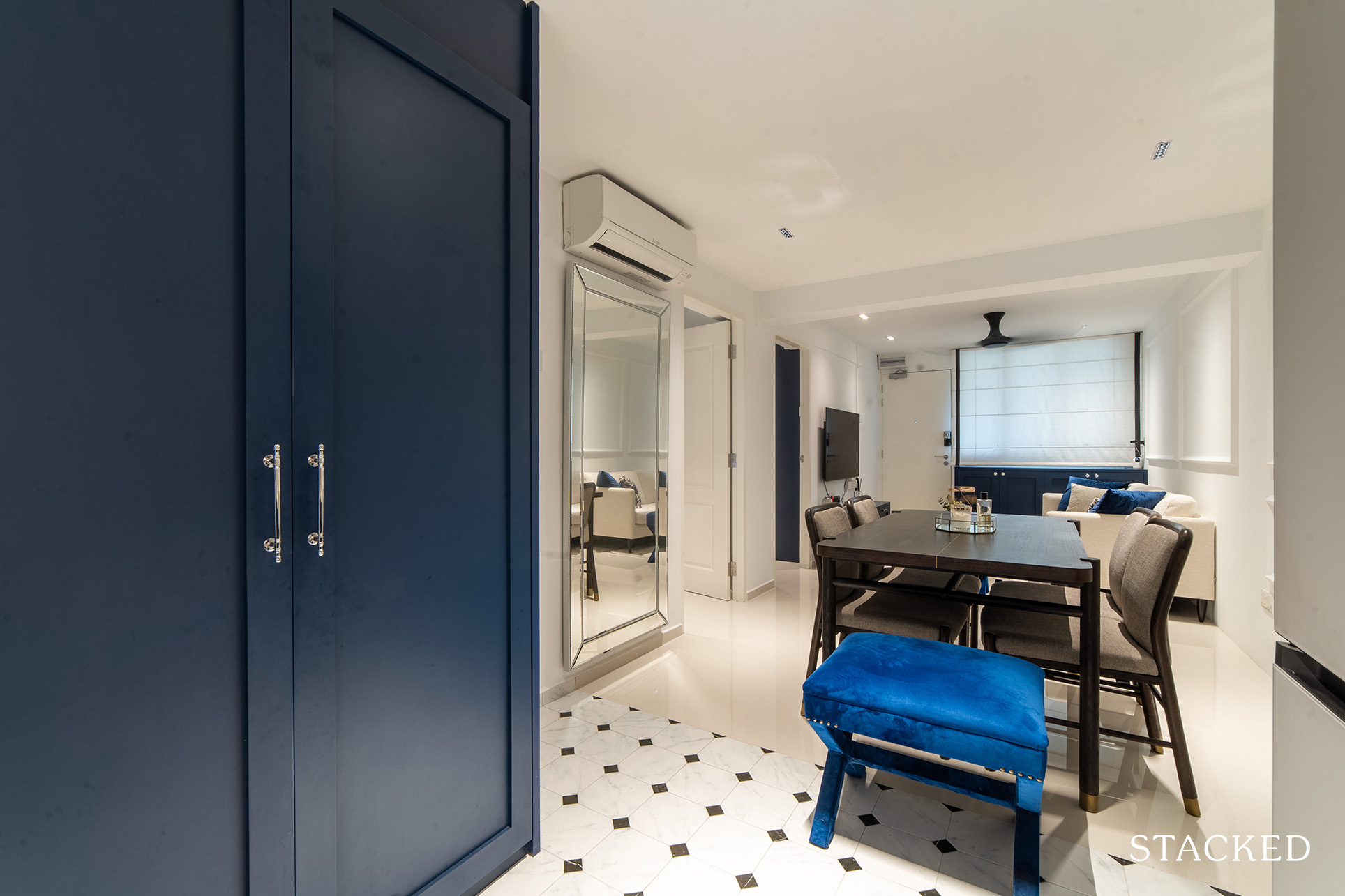 As this was Kathy's second time doing a home renovation, she learned that choosing the right contractor takes time and research. It's also very crucial to have patience, especially when timelines are not met.
Finally, Kathy ended with some advice for homeowners.
One was about choosing the right ID. "New homeowners should at least go to 3 different ID companies before choosing the one. Choose an ID that you think you can get along with on the first meeting and read up online on reviews on the contractor company."
And the budget also plays a big part. "Set a budget and do not go overboard with the renovation, as you still need to buy your fittings & furniture."
SHARE