A 20-Year-Old Tampines Condo Gets A British-Inspired Transformation Into A Cosy Home
Renovation Journeys
A 20-Year-Old Tampines Condo Gets A British-Inspired Transformation Into A Cosy Home
WRITTEN BY Stacked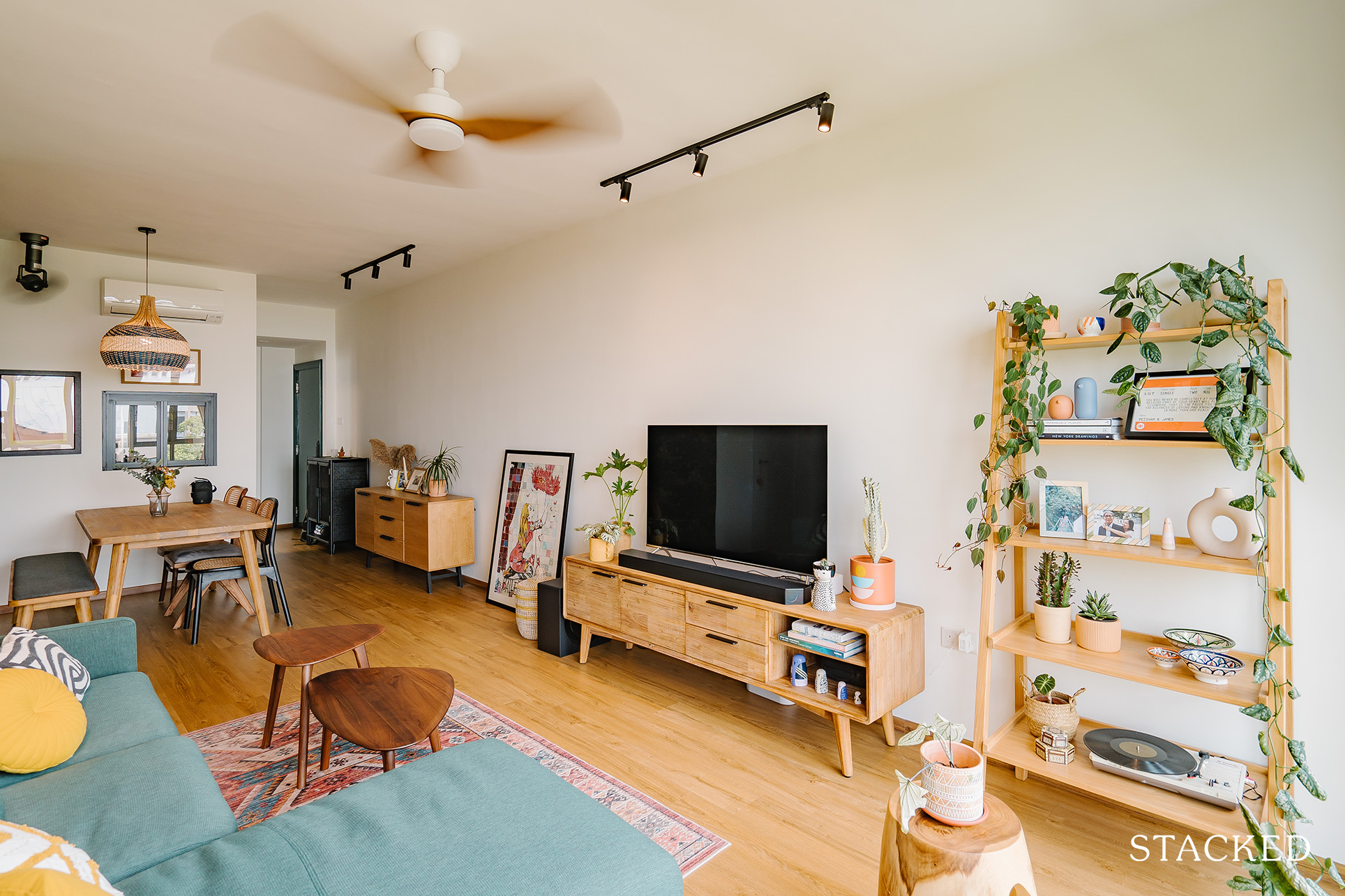 10
min read
With a strong sentimental value behind their stay in London, it's only natural that Peishan and James decided to bring along the ambience to their home renovation.
"I'm from Singapore and James is from the UK. We met in London and lived there together for a few years before moving here," Peishan explained.
Their place is a 20-year-old condominium in Tampines. "We moved back from London to Singapore to take care of my dad and spend more time with him so we bought it to be close to family," she said.
If you're looking to get inspiration from the UK or just want to add a touch of comfort to your home, you'll find the reno journey that the couple shared here very helpful. Let's see how their home project turned out.
How The Renovation Journey Turned Out
$50K was the couple's initial budget allocation for the project, but like many other first-time homeowners, they soon found out that it wasn't enough. With their condo being two decades old, it actually needed a bigger overhaul.
"The quoted work was closer to $60K," Peishan revealed, "but went up to $67K as we needed to replace the original doors and do some soundproofing with double-glazed windows."
As for their design inspiration, this came from their stint in the UK.
"We had been renters in London previously, so we weren't able to decorate those homes to our tastes. When we bought this place, we decided we should hang all our artwork up and paint the walls in whatever colours we wanted – which we couldn't do previously without worrying about losing our deposit."
They were inspired by the eclectic textures, patterns, and colours of East London homes and Kit Kemp interiors, which are both bold and whimsical. The pair wanted their home to feel warm, cosy, and a sum of their experiences and artefacts that they have collected throughout the years.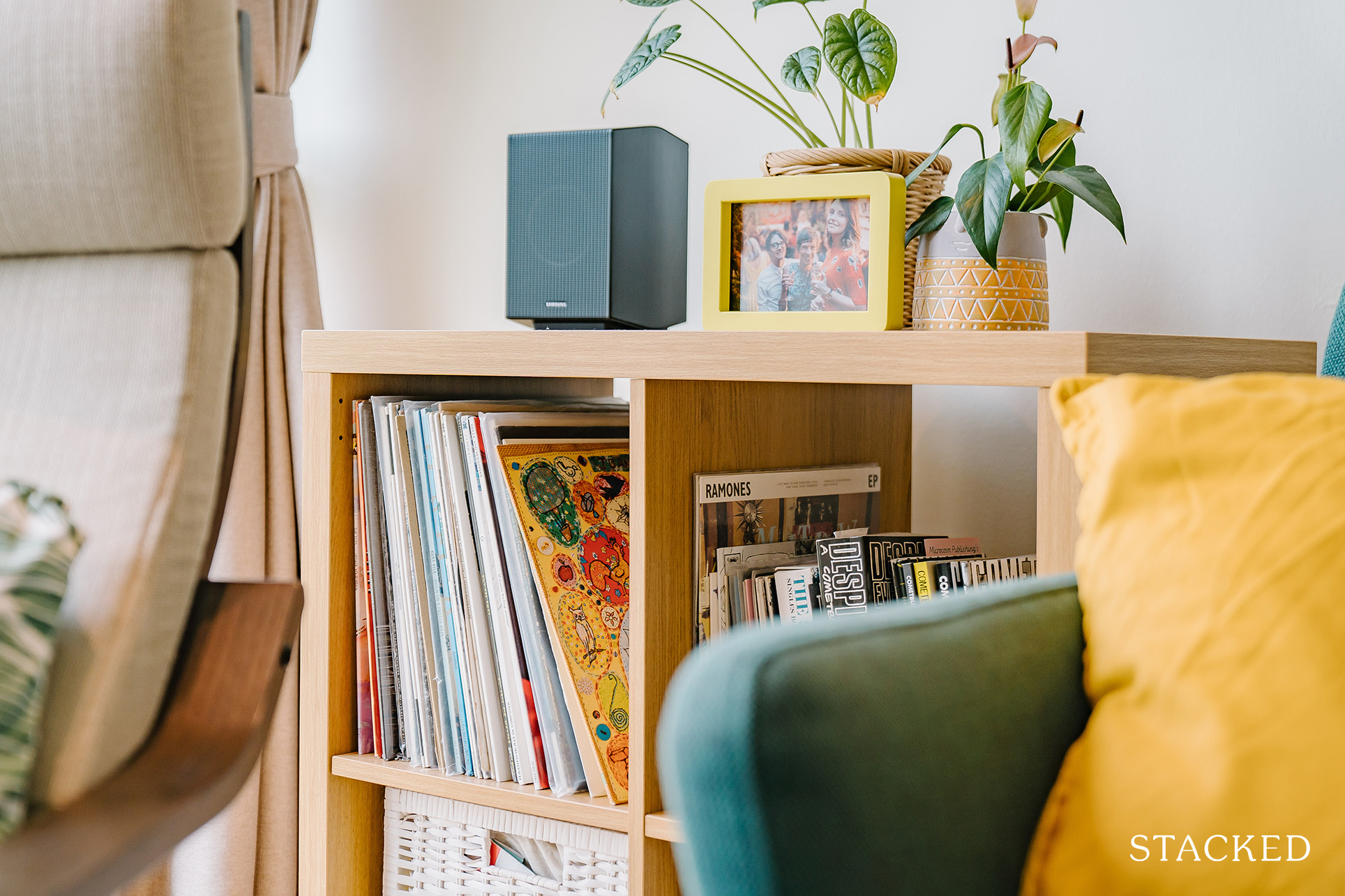 As for the furnishing, they made sure that their loose furniture pieces were mostly made of wood so they would feel warm and cosy and complement their plants. "They are a mix of mid-century modern and rustic Balinese pieces," she summed up.
"We were happy to finally showcase the large Faile artwork that I had for years but didn't have space to put up previously, along with other art created by friends or from our collections throughout the years."
The layout remained the same as the original floor plan, as they both agreed that they liked it the way it was. They even kept the window that peeps into the living room from the kitchen as they found it a cute feature – even though they had to replace the original wood frame.
The couple cook quite often, but they don't want their whole house to constantly smell of food, which is why they decided to keep the kitchen walls in their place. So as much as they liked the look of a kitchen island, an open-concept kitchen is out of the question for them.
Here's how they changed the rest of the home:
Living Room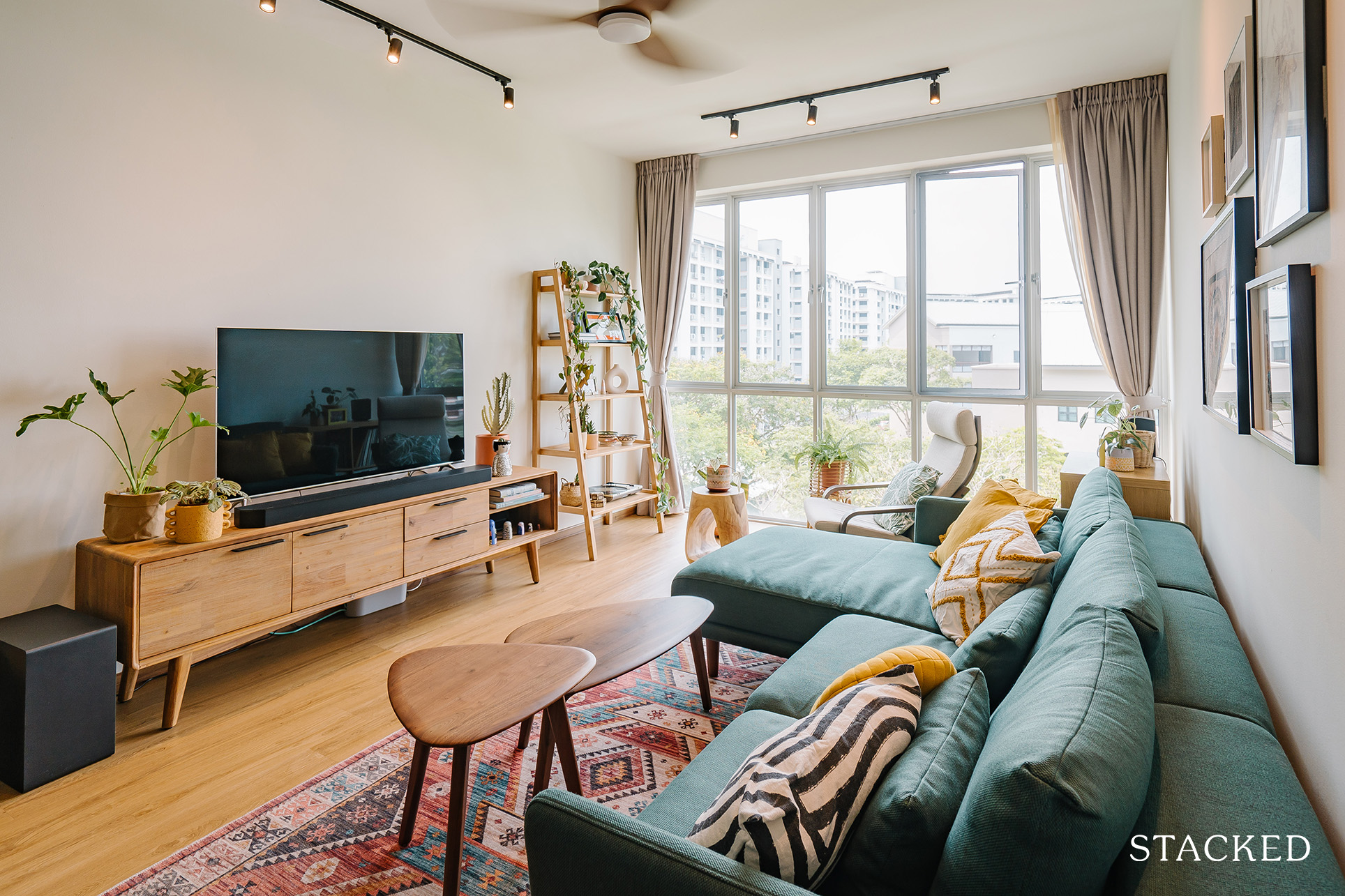 Peishan said that the living room actually had the least changes done to it as it just had a fresh lick of paint. "The floors were originally marble but we wanted the house to have a more warm feeling so did vinyl flooring throughout, except for the bedrooms for which we just re-varnished the original parquet flooring."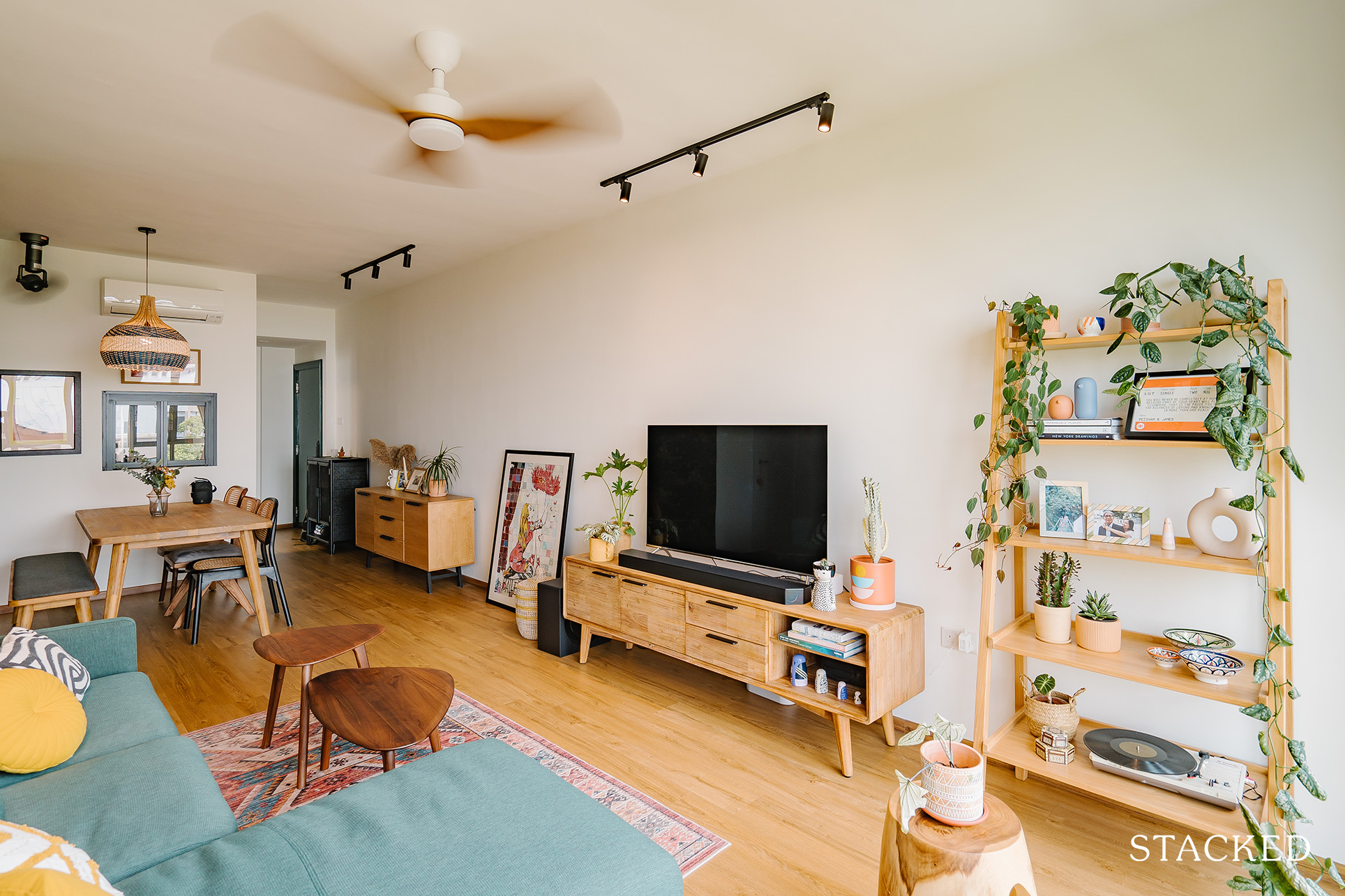 Dining Room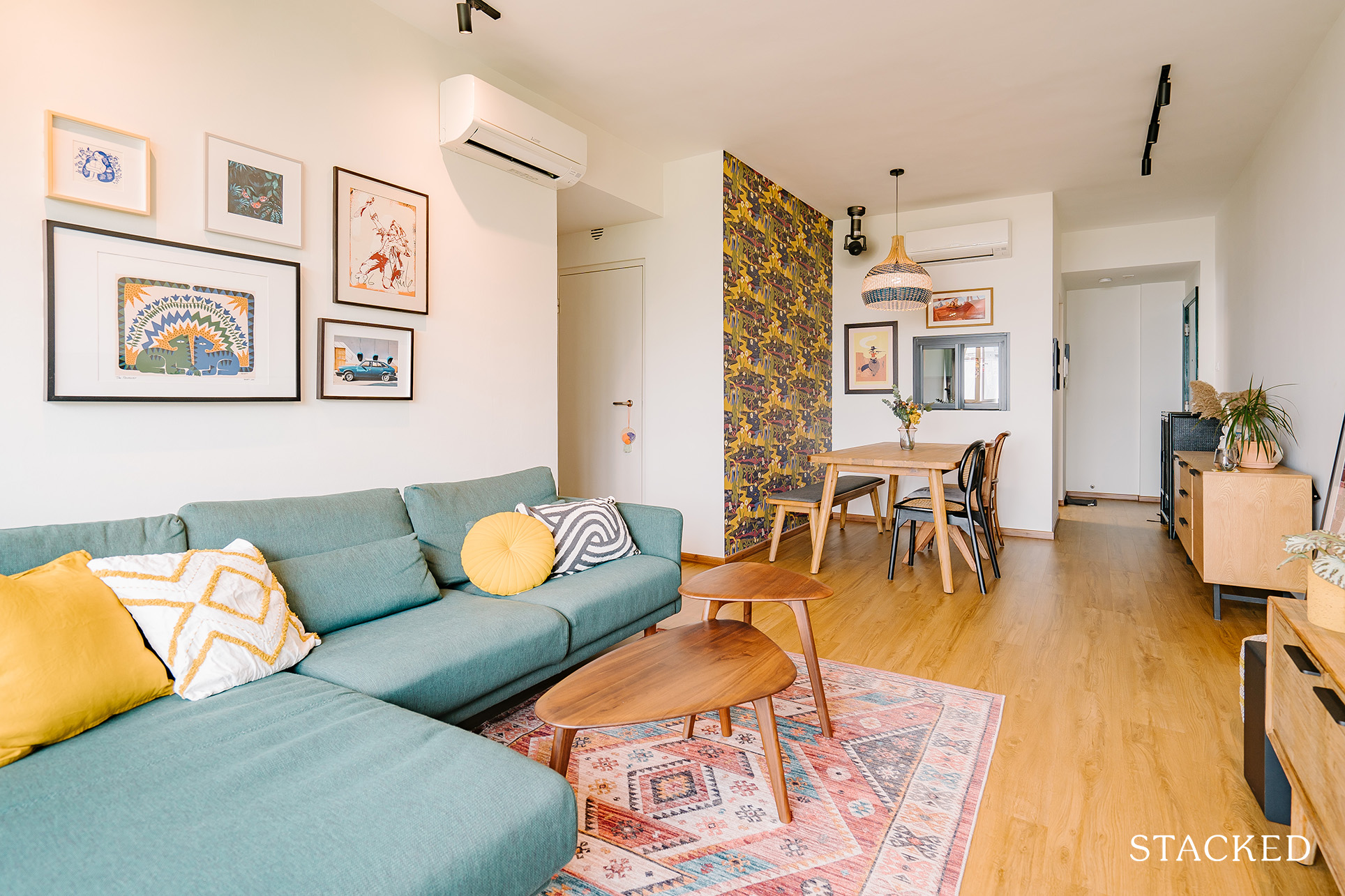 As for the dining, the wall was adorned with colourful wallpaper, which is a popular design choice in the UK.
"We originally painted the accent wall mustard yellow but it didn't feel quite right, so we went with a more striking wallpaper."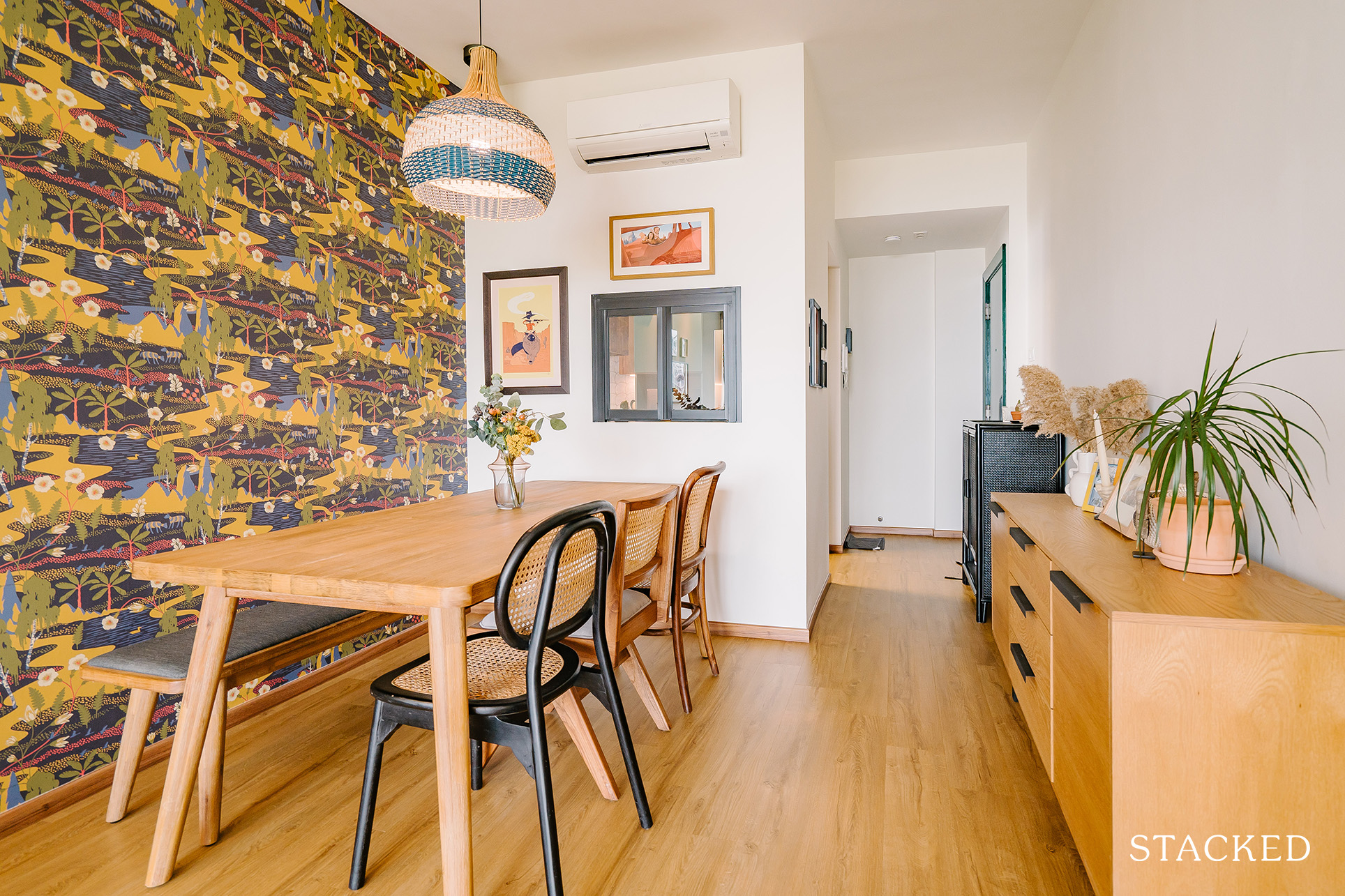 Other interesting design choices would be the mismatched rattan chairs along with a hanging pendant lamp.
Kitchen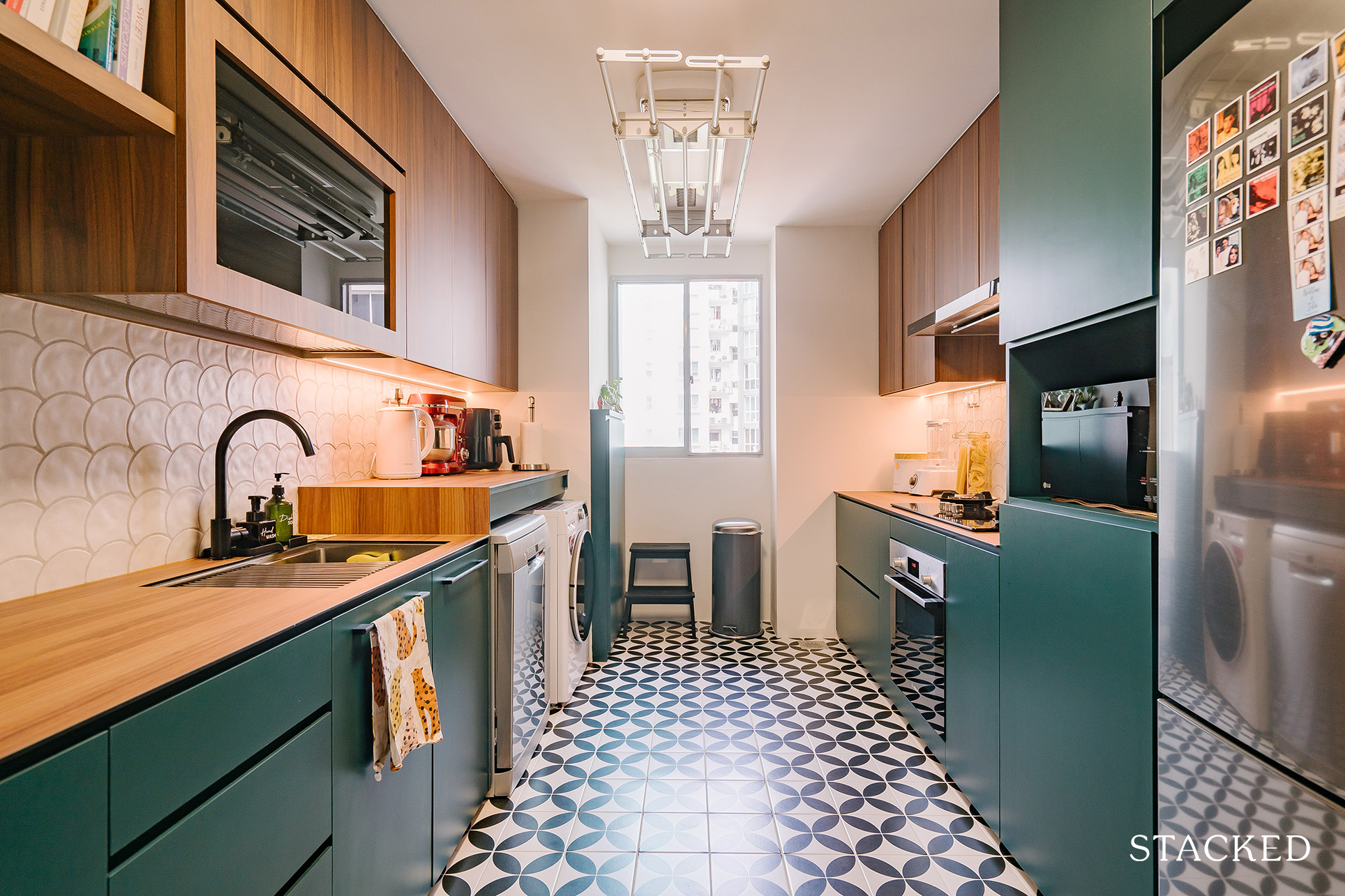 As the couple loved to cook, they wanted to have more space to prepare and store food, as well as some shelf space for their cookbooks. "We also wanted to cover up the unsightly rubbish chute with a skinny cupboard."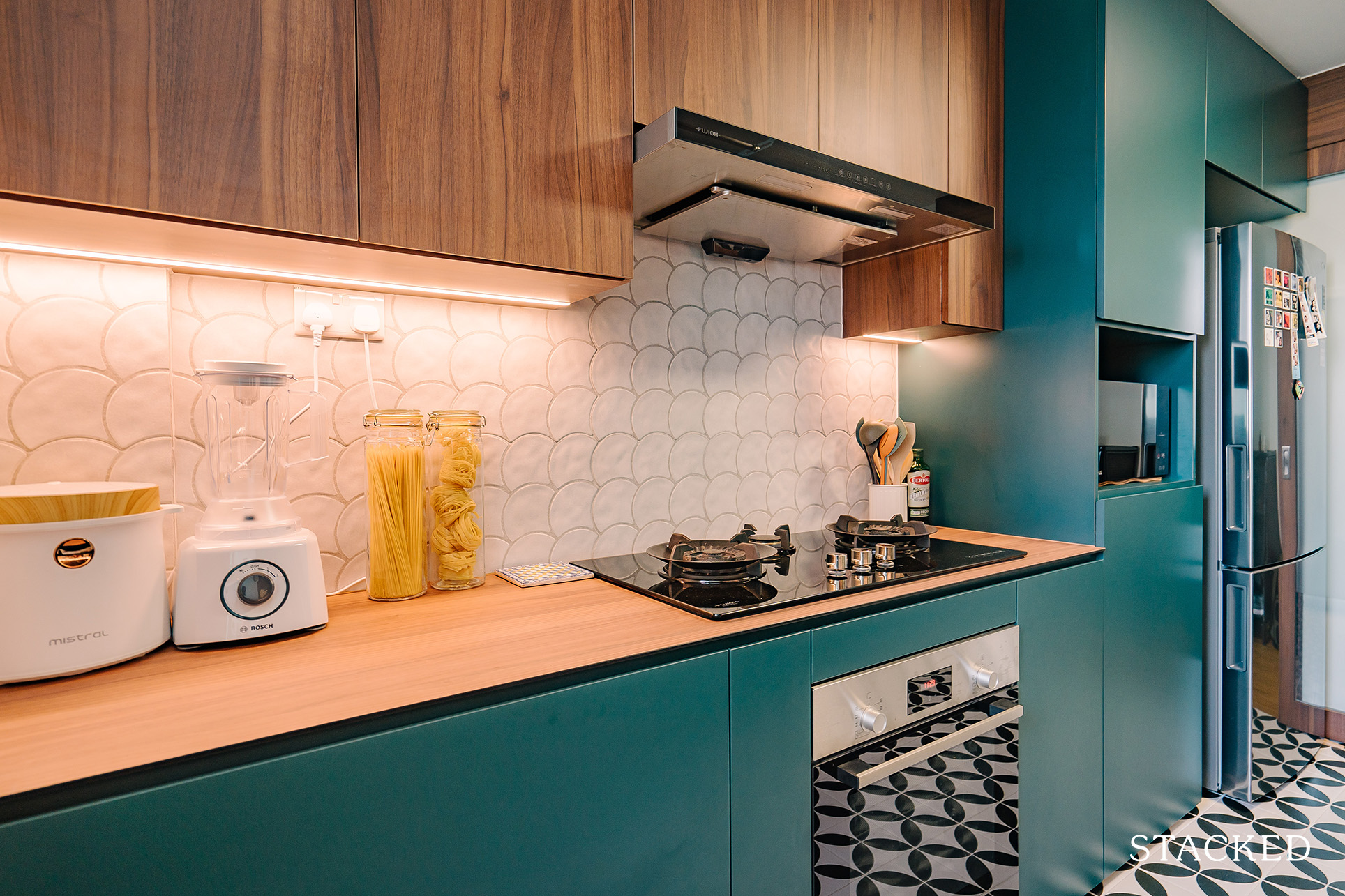 Peishan and James wanted forest green cabinets and patterned tiles. It was hard for them to find laminate that was dark enough, though. "But the ID pulled through in the end," she said.
Bedroom/s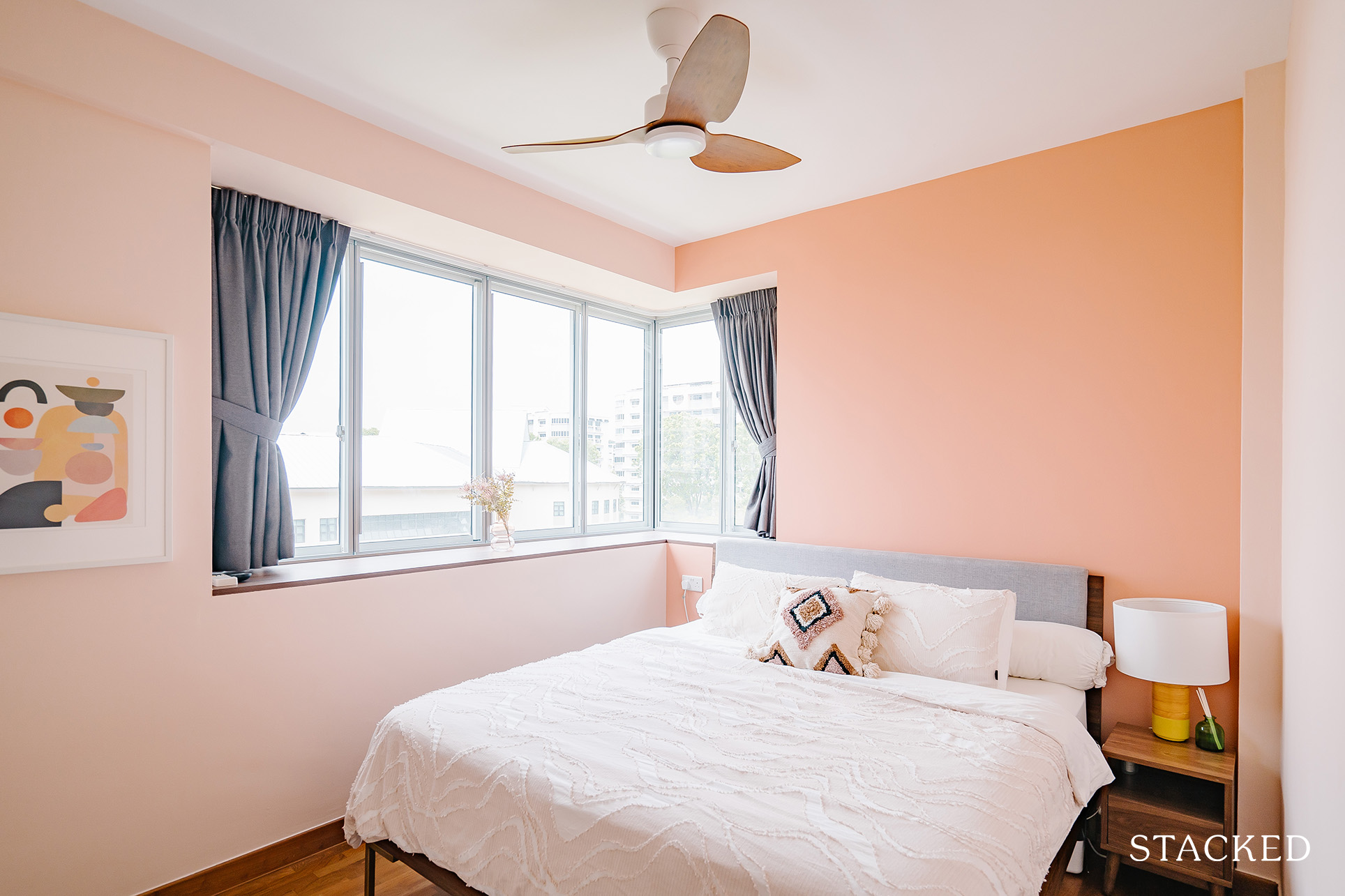 For the master bedroom, they wanted it to be a calming space, but getting their preferred tones of coral and blush was challenging. They also have a built-in wardrobe as they wanted to maximise the storage space.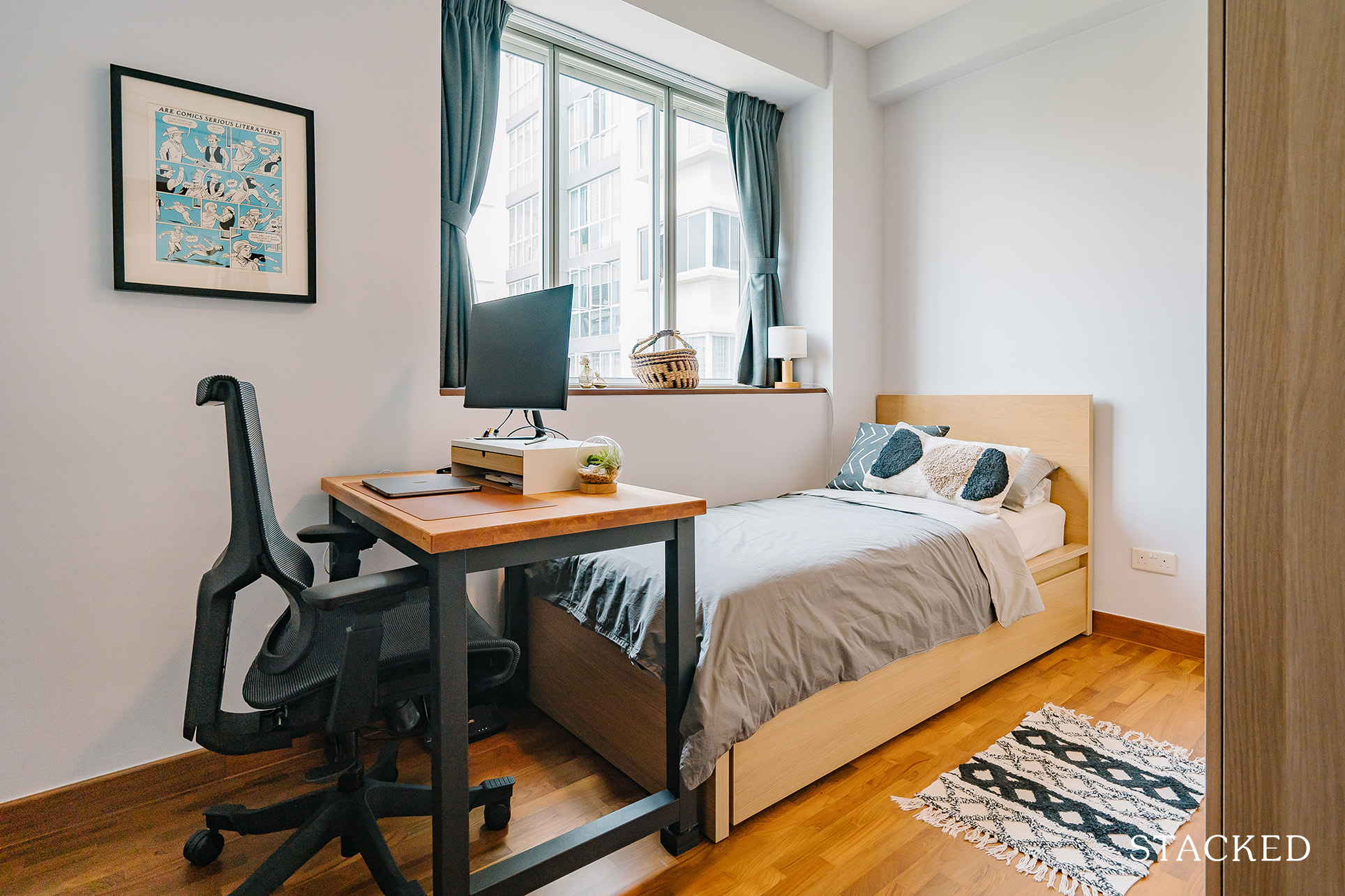 The guest bedroom functions as an extra workspace and a comfortable guest room. "As it's for our guests, we wanted the colours to be more neutral and calming. There's not much change here, as it's all loose furniture."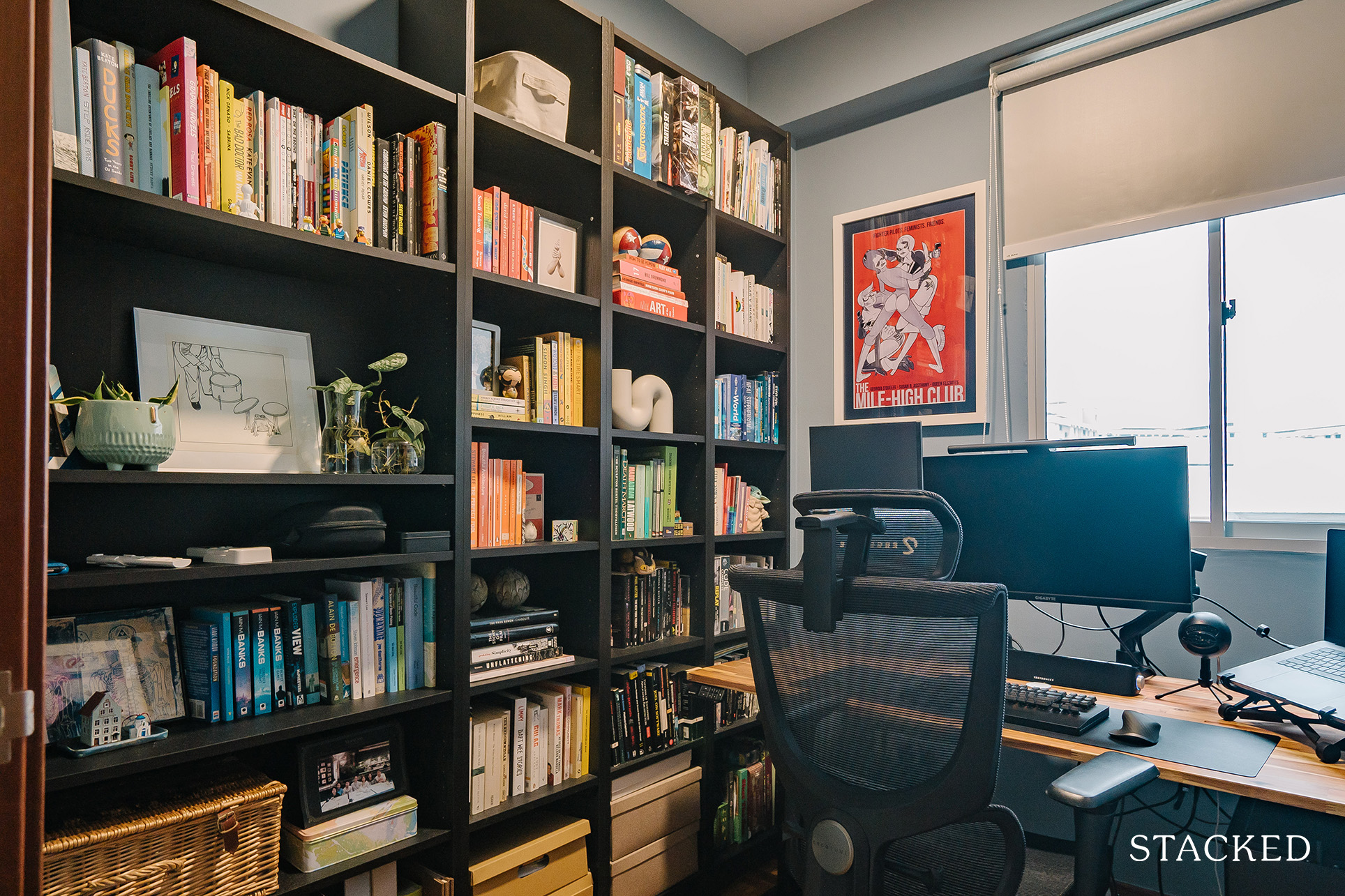 "We also kept the study as it is as we work remotely from home most of the time, and wanted a cave for James to work and play games in," she said.
Bathroom/s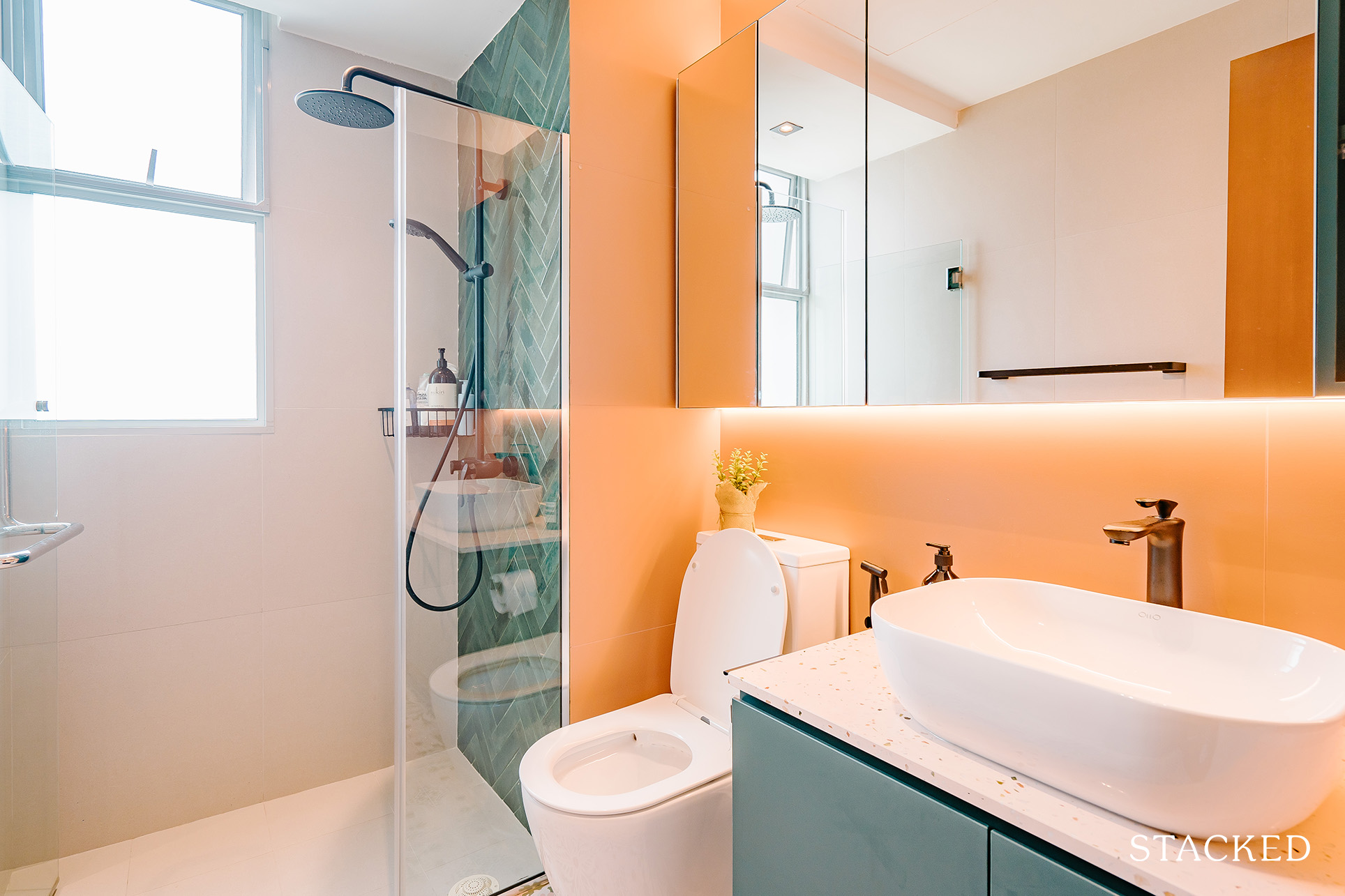 She wanted a tropical vibe for their master bathroom, with blush and green tones. "We went with the green vintage-looking tiles in the shower and floral patterned tiles to achieve this look."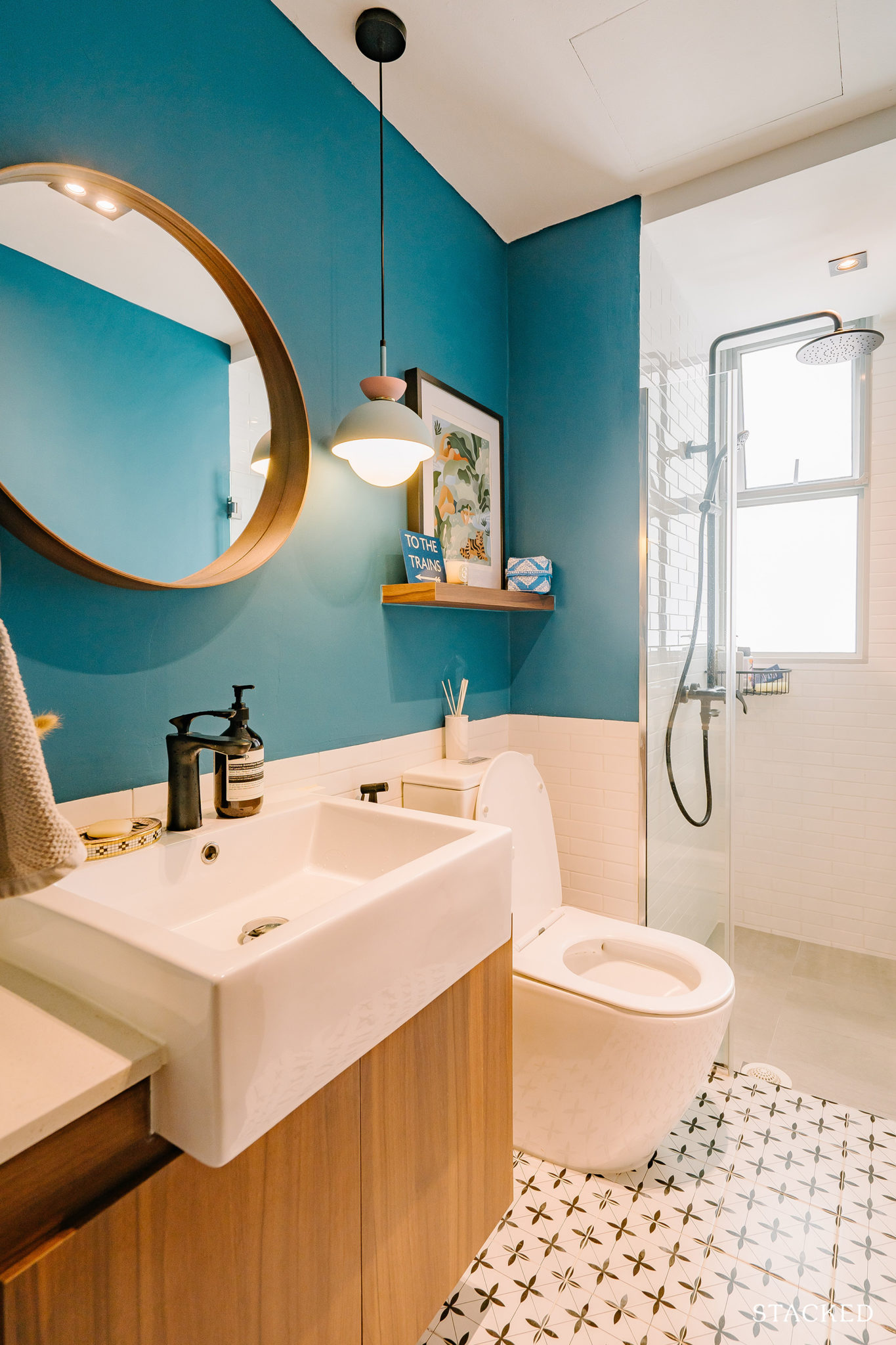 Their guest bathroom was meant to be a cool and colourful space for their guests. They wanted a teal wall but couldn't find tiles that were as dark, so they decided to only half tile the bathroom and paint the top half of the wall with the colour they wanted. "Most English bathrooms have a half-wall look, so we felt at home with that," she recalled.
Bringing The Vision To Reality
Peishan recalled that before they met with their potential IDs, they created brief detailing requirements for each room, including a colour palette and expected furniture.
She said that what they needed most from the ID was advice on how to get their plans executed. This includes the sizes of furniture and fixtures that best fit the room and managing the contractors to ensure the renovation goes according to plan.
The couple met with a few IDs before finally deciding to go with Swiss Interior. "There was good chemistry and they were always helpful," she elaborated, "and they had great patience with our questions." She also said the company has a 5-year warranty, so they felt they could trust them to do a good job and will continue to help them with issues even after the handover.
As for their furniture sourcing process, they used Miro to visualise the space and put up pictures of potential furniture.
"We browsed books, websites, Pinterest and social media. We traversed up and down Tan Boon Liat building a few times and lugged back soft furnishings from overseas trips."
They also explored Taobao but felt it was too risky as they couldn't tell the quality or feel of furniture based on pictures only.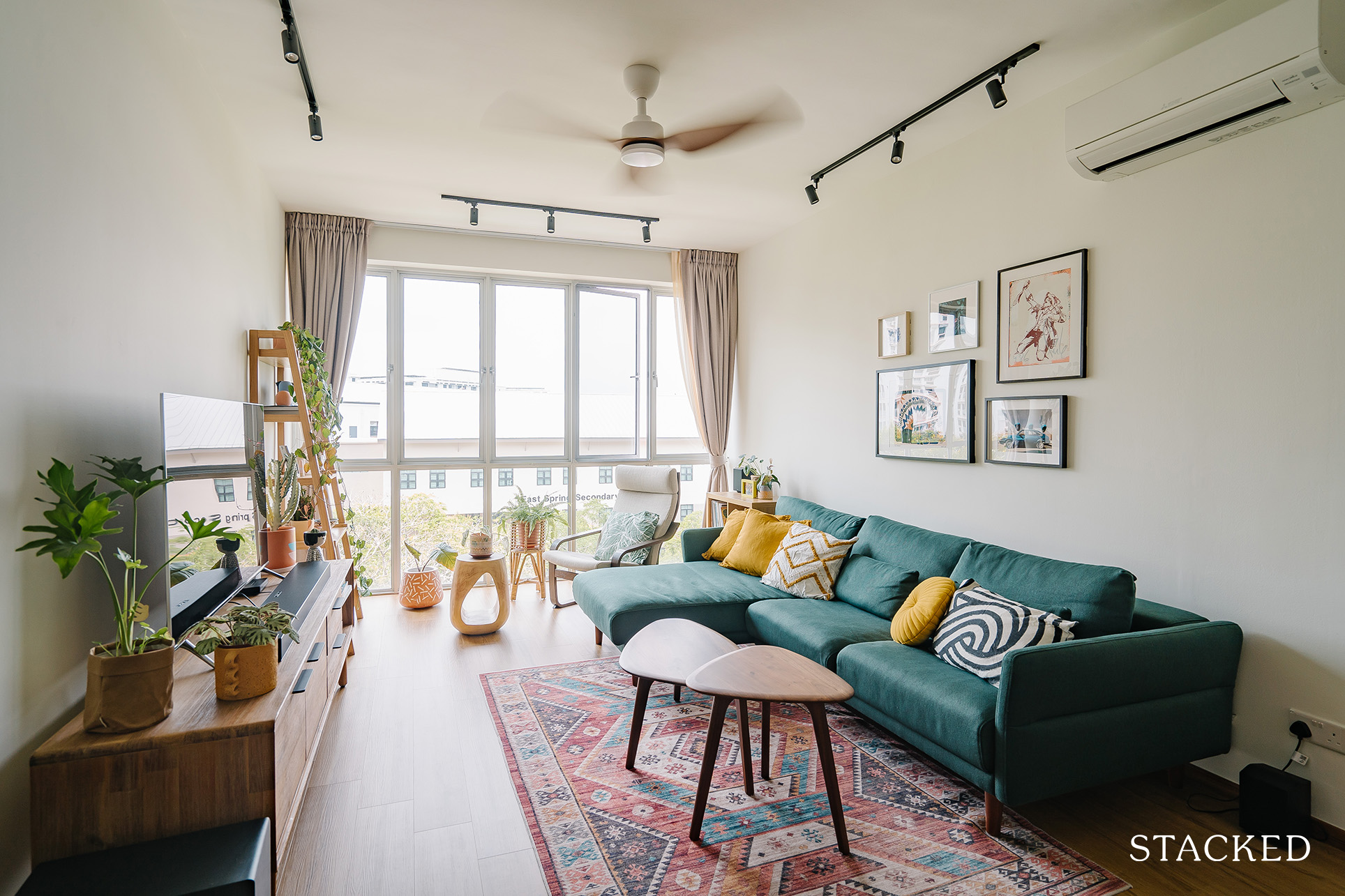 "We really wanted a dark green couch to be the centrepiece of our living room and were happy to find that Commune could make it in this colour," she shared. As you may have already noticed in the photos above, the dark green colour is reflected in other areas of the house.
They also wanted wallpaper that would unify the living room and dining space together but couldn't find the right print locally. Eventually, they found one online, shipped it in themselves, and found a contractor who was able to put it up.
As for their favourite areas of the home, they both picked the living room and kitchen.
She said that the living room is a relaxing place where they spend most of their time, plus it showcases their favourite plants, artwork, and items.
"We are also happy to have a kitchen with all the countertop and storage space we need to make cooking easier. We installed a little fan in the corner of the kitchen which helps when it gets too hot in there."
Lessons Learned From A Successful Reno Journey
Peishan and James are first-time homeowners, so it's quite common for them not to be very definite when looking for specific fixtures and fittings, thus their need for an ID to guide them.
One challenge she recalled was doing repeat visits to the tile shop as they couldn't decide on which tiles to go for. This was during the pandemic – when there were supply issues, so some options were not in stock.
And then, they also had to deal with uncertainties but were able to push through.
"At times it felt like the flat might turn into a carnival house with too many colours. We were initially hesitant to add wallpaper on top of everything, but I met with an architect friend who advised me to just let my creative freak flag fly, so decided to go with it."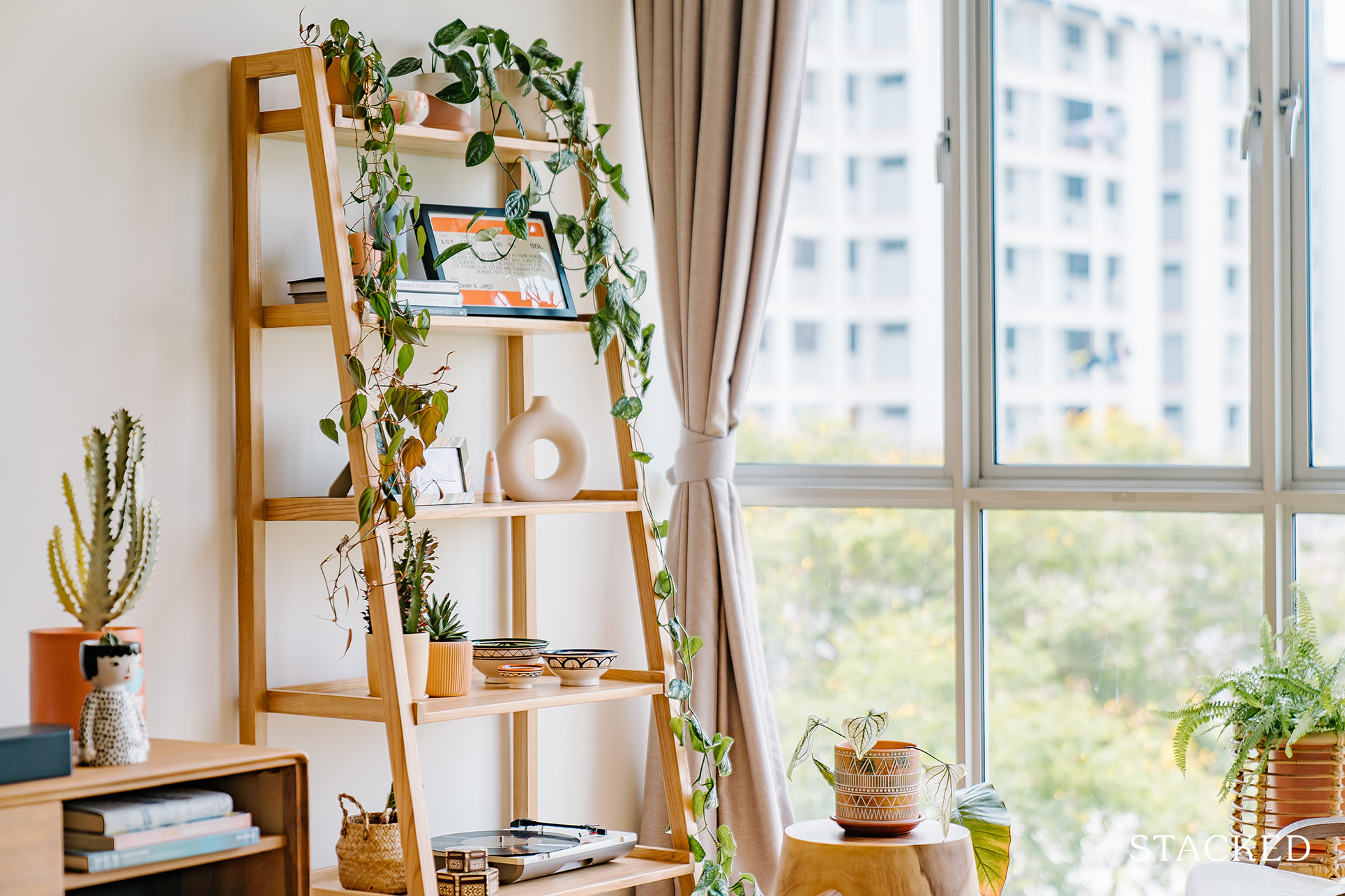 Like most renovators, they also had budget constraints, so they juggled their priorities without straying too far from their projected costs. As a project manager by profession, Peishan kept an eye on the overall timeline and budget but trusted their ID to manage the process and details.
Their renovation also happened during a difficult time of her life, when she had to support her dad through various medical appointments.
"While I wished I had more time for the renovation, I just didn't have the capacity. I did a lot of my research/planning at night and entrusted our ID to execute. Thankfully, our ID was always very helpful and supported us during this difficult and busy period."
Whether you're a first-time renovator or not, the journey is always a learning process. The couple had a few things to share they learned from honest mistakes, and one is with their paint choices.
"One thing we didn't consider was the impact of sunlight on paint, which can change the look of the colour at different times of the day."
Their master bedroom was originally a darker shade of coral, but in bright sunlight, it looked like salmon. In the end, they had to re-paint some rooms to get to the right tones, which incurred additional costs.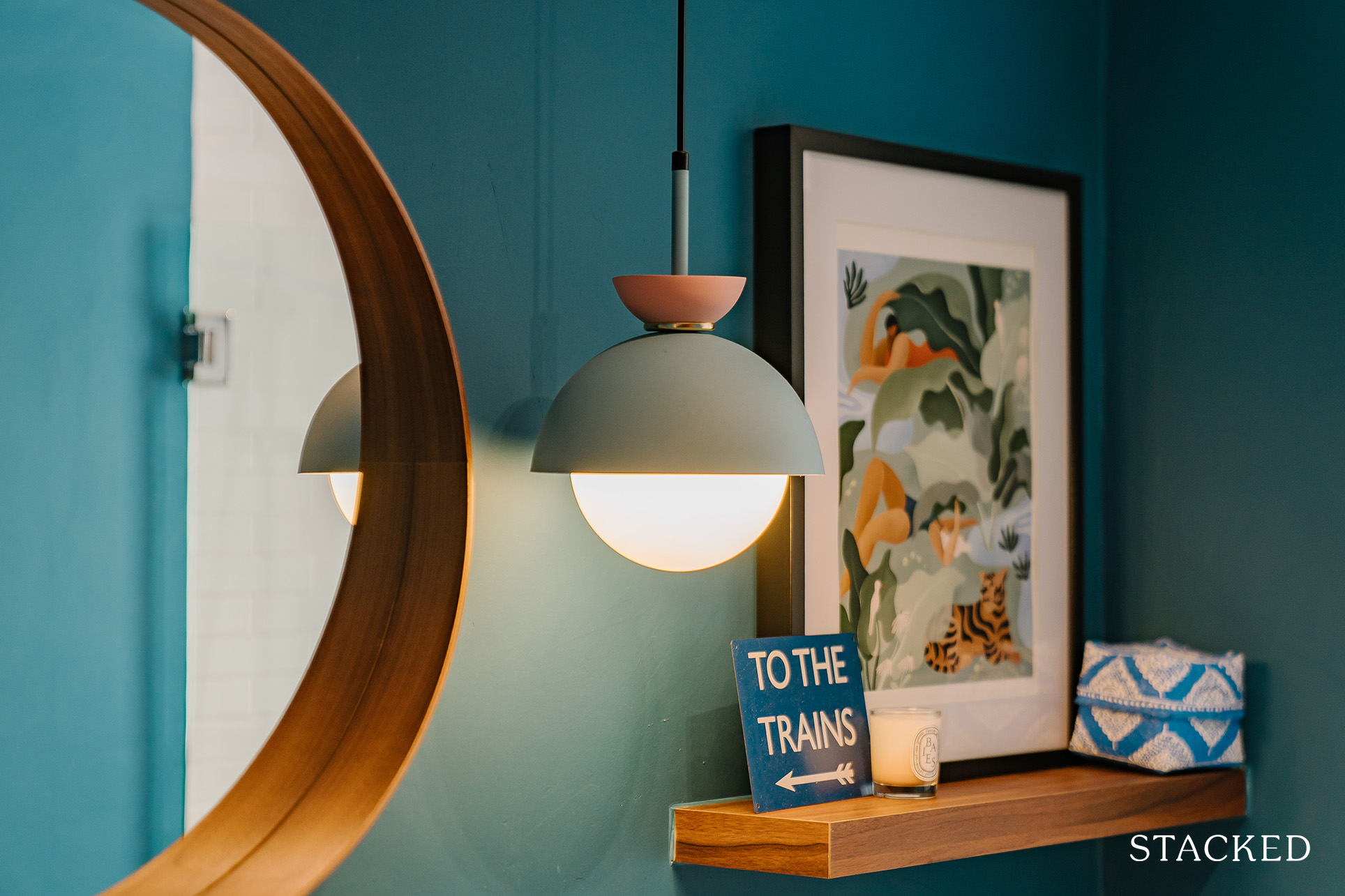 Right from the start, they were planning to add more smart home features, like automated curtains. However, it was only after re-wiring that they realised they were out of their budget. As such, they didn't go with the automated curtains, but the outlets on the walls are left to stay. "It might be good to have made a decision about this earlier, but again, this happened while we were busy, so there wasn't enough time to juggle it all."
On a good note, they still have the option to add them later, as the wiring is already in place. "In the meantime, I can just ask James to open them. I guess it's voice-activated for now," she said jokingly.
For those who are planning to go on a renovation journey as well, Peishan leaves us with this wonderful statement:
"Understand your priorities, enjoy the process, and when in doubt, go with your heart!"
SHARE