Advice
Will euHabitat, Villa Marina, Or The Bayshore Be A Better Choice For A 3 Bedroom Unit?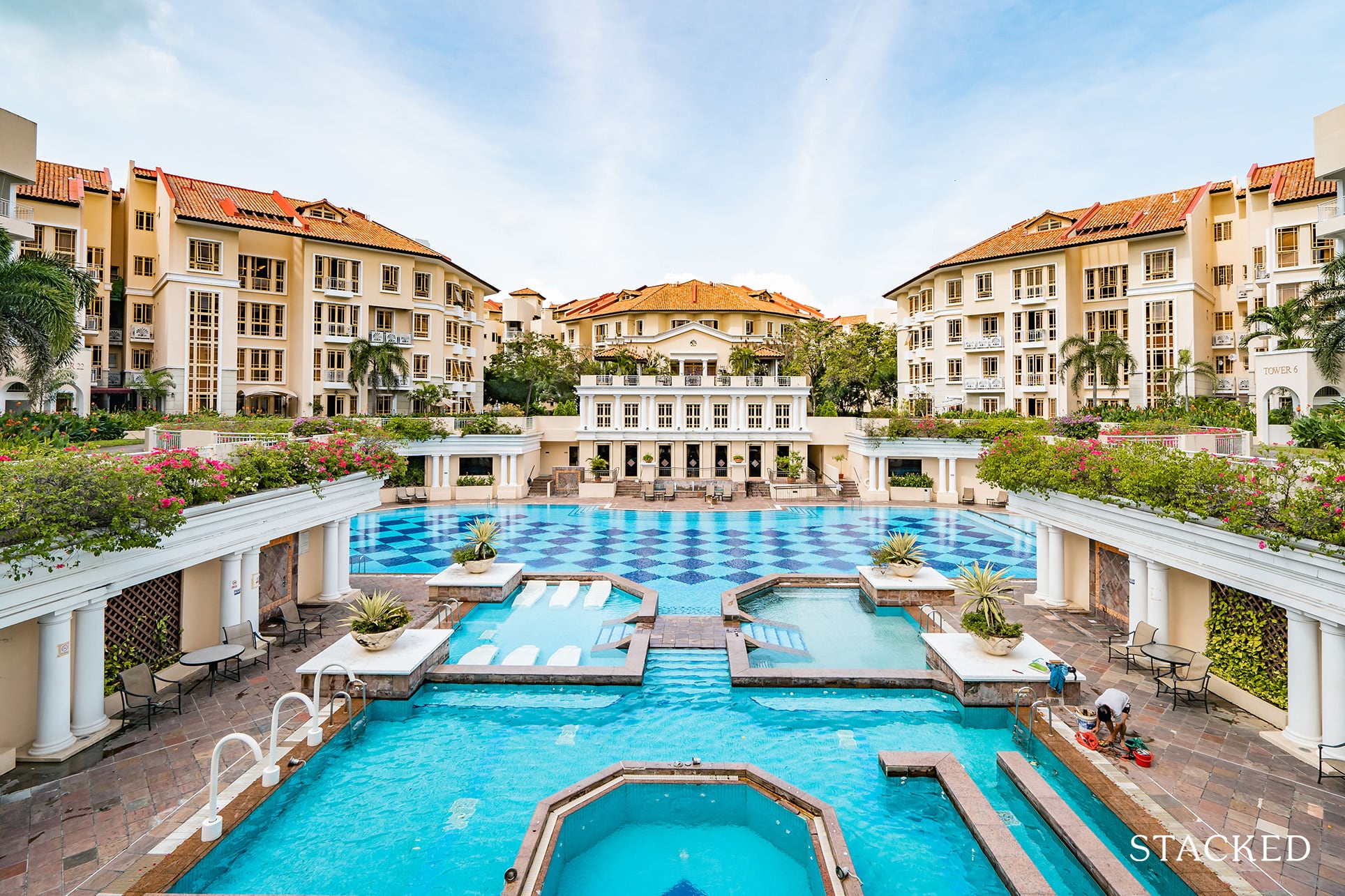 15
min read
Hi Stacked Homes,
I really enjoy your articles and have been following your website diligently for the past couple of years. I would greatly appreciate any advice that you may have!
As background, we are a family in our late 30s comprising of my and my spouse, 2 young toddlers (2 and 4 years old) and a helper. We are currently renting and are looking to purchase our next home to stay for approximately 10 years, sometime in the 2nd half of next year. As we are looking for a 3 bedroom unit to stay either near my in-laws place in Marine Parade or near my kids future school at Maha Bodhi, based on our budget of $1.6mil, we have shortlisted 3 condos for their lifestyle element for the kids – 1) Euhabitat, 2) Villa Marina, 3) The Bayshore (unfortunately the D15 FH condos are not within our budget and the boutique projects along Telok Kurau do not possess that lifestyle element and are not preferred).
Would be grateful for your advice on how these 3 condos compare and which you would recommend. I do not expect much capital appreciation, but ideally, I would not want too significant property depreciation to set in, given these 3 condos are LH.
Thank you!
---
Hey there,
Thank you for writing to us and we truly appreciate your support!
Thanks for sharing your intended purchase plan added with criteria for us to analyse further based on you and your family's needs. Since you have narrowed down your options to the 3 developments in Eunos and Marine Parade precinct, we will share some of our thoughts on each of the shortlisted developments.
Both Eunos and Marine Parade precinct are located on the East side of Singapore where the area is pretty well built up and has undergone some uplifts to cater to the population growth and needs.
All three developments were built in two different eras (the 90s and post-2010s). Each development has its own unique design, and layout and offers a different range of facilities.
Most importantly, all three developments tick the box for the lifestyle element for families that you mentioned since all are full-fledged condominiums offering a full range of facilities – so on the surface these are all suitable choices for family living.
Interestingly, all 3 developments that you've chosen were developed all by the same developer, Far East Organization.
euHabitat
Having TOP-ed in 2015, euHabitat is the newest development among the three shortlisted condos. With an extensive land size of over 444,129 square feet with a total of 697 units, it offers a few ranges of facilities including a tennis court and more than 10 swimming pools.
You probably know this already, but for the sake of those who are unfamiliar, these aren't tiny pools either. There are 4x25m lap pools, a 50m lap pool, 40m lap pool, and a 30m lap pool (the rest are children's pools and the like). Perhaps great if you like to exercise by swimming but not the best for younger kids presently because the pools are "boring".
Also, the other issue is that while the land is pretty huge, there are 29 low-lying towers so the residential blocks take up more space than you might imagine. The result is that there aren't really a lot of open spaces, and the blocks are located quite close to each other so privacy is a concern. Of course, resulting noises from those swimming and playing in the pool will be another point to look out for here.
On another note, euHabitat may be slightly away from amenities and an MRT station but to be fair, the area is well connected with ample bus services plying along Jalan Eunos and Bedok Reservoir Road. Additionally, the PIE is located nearby which is a plus if you drive but there's no question that expressway road noise will be a problem to contend with since quite a long stretch of the development is located along the expressway after all (these will mainly be Tower 16, 17, 18, 19, 20, 22, and 23). Hence, inner-facing stacks will be preferable for an easier exit in the future.
Price-wise, it has risen in recent years to an average of $1,2xx PSF as a whole added with a slightly healthy resale volume (22 units resold thus far this year); thus there is some indication of demand here. On a quantum basis, it is on the higher side but is still within your budget of $1.6m.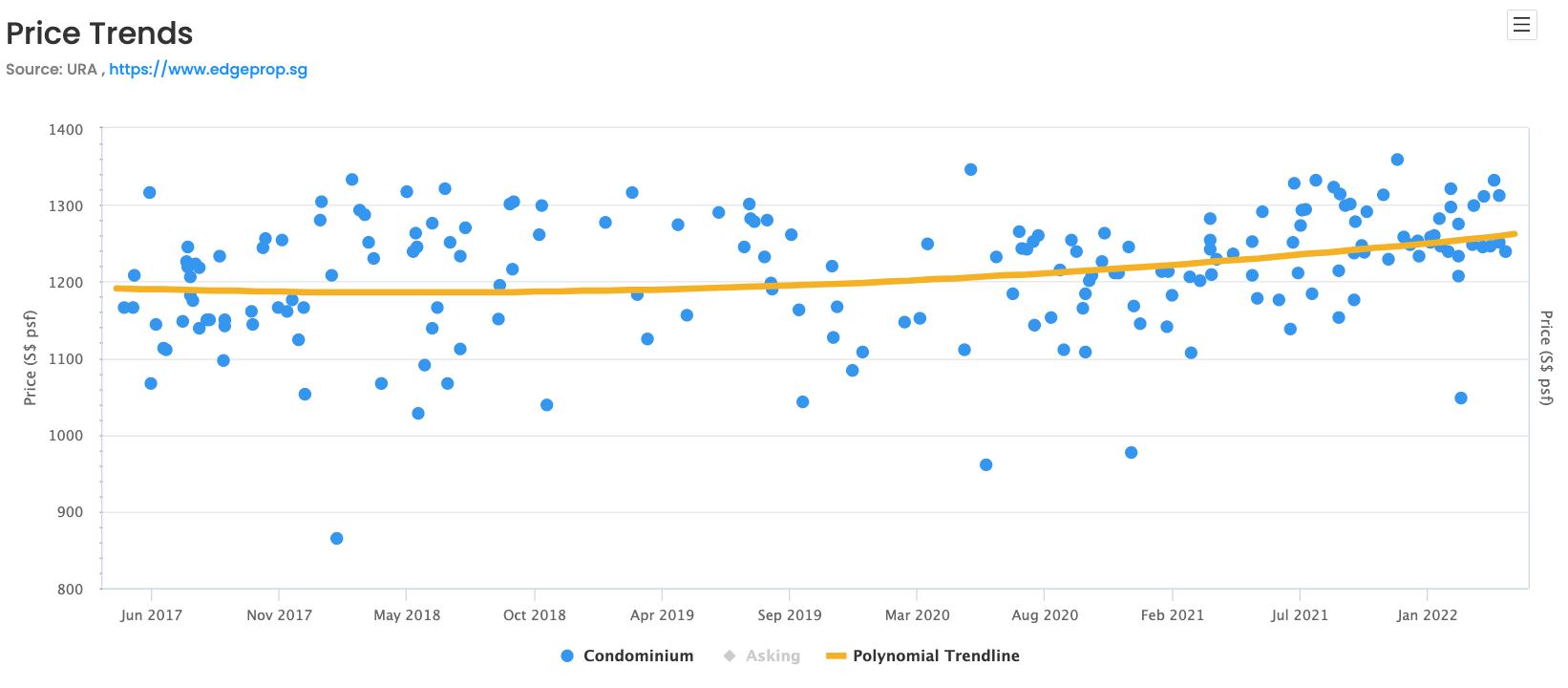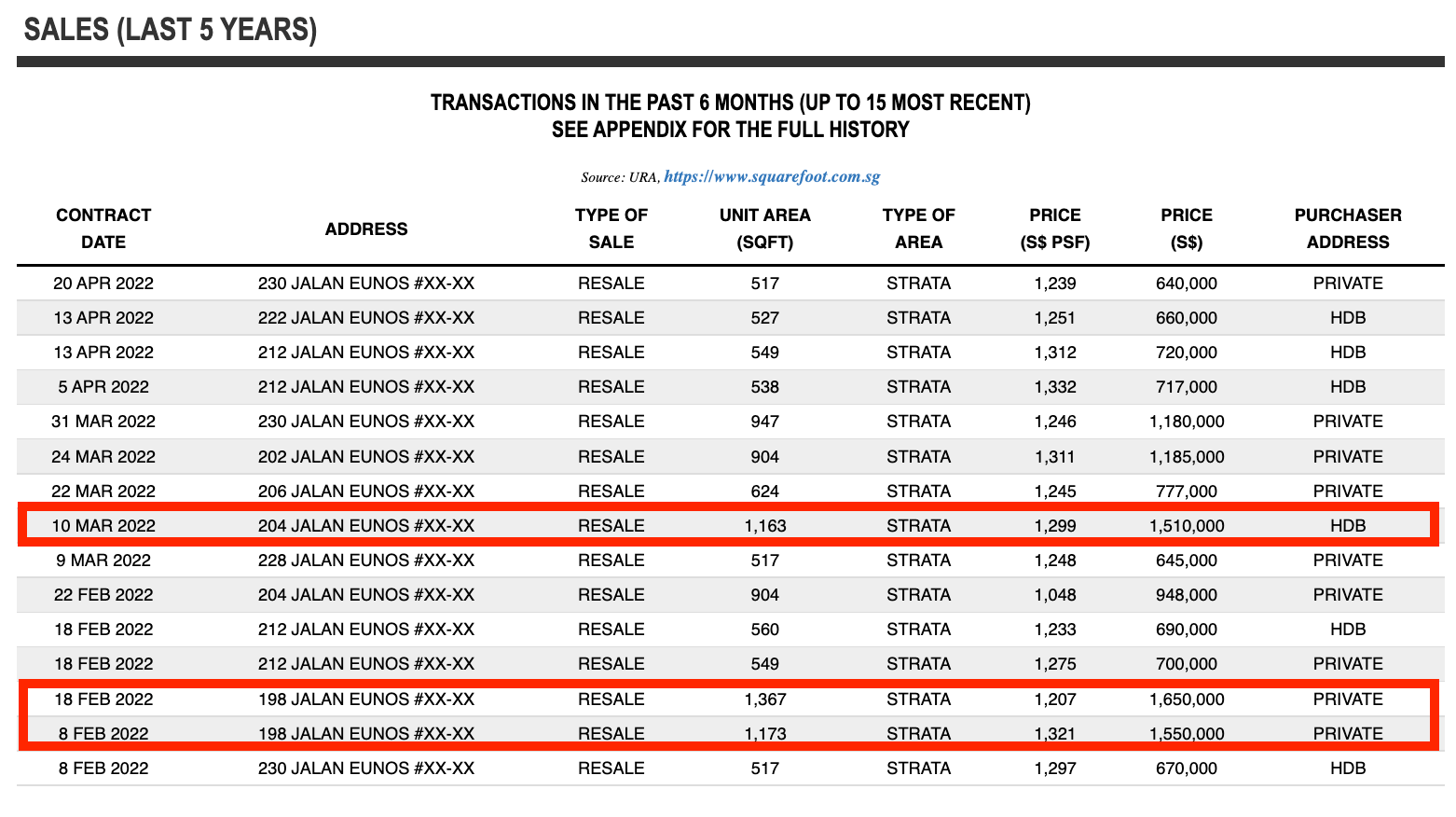 Additionally, euHabitat is located within 1Km proximity to Maha Bodhi School, one of the main considerations for the purchase. This is great for you and your family; the convenience of staying near your preferred primary school is a huge plus here.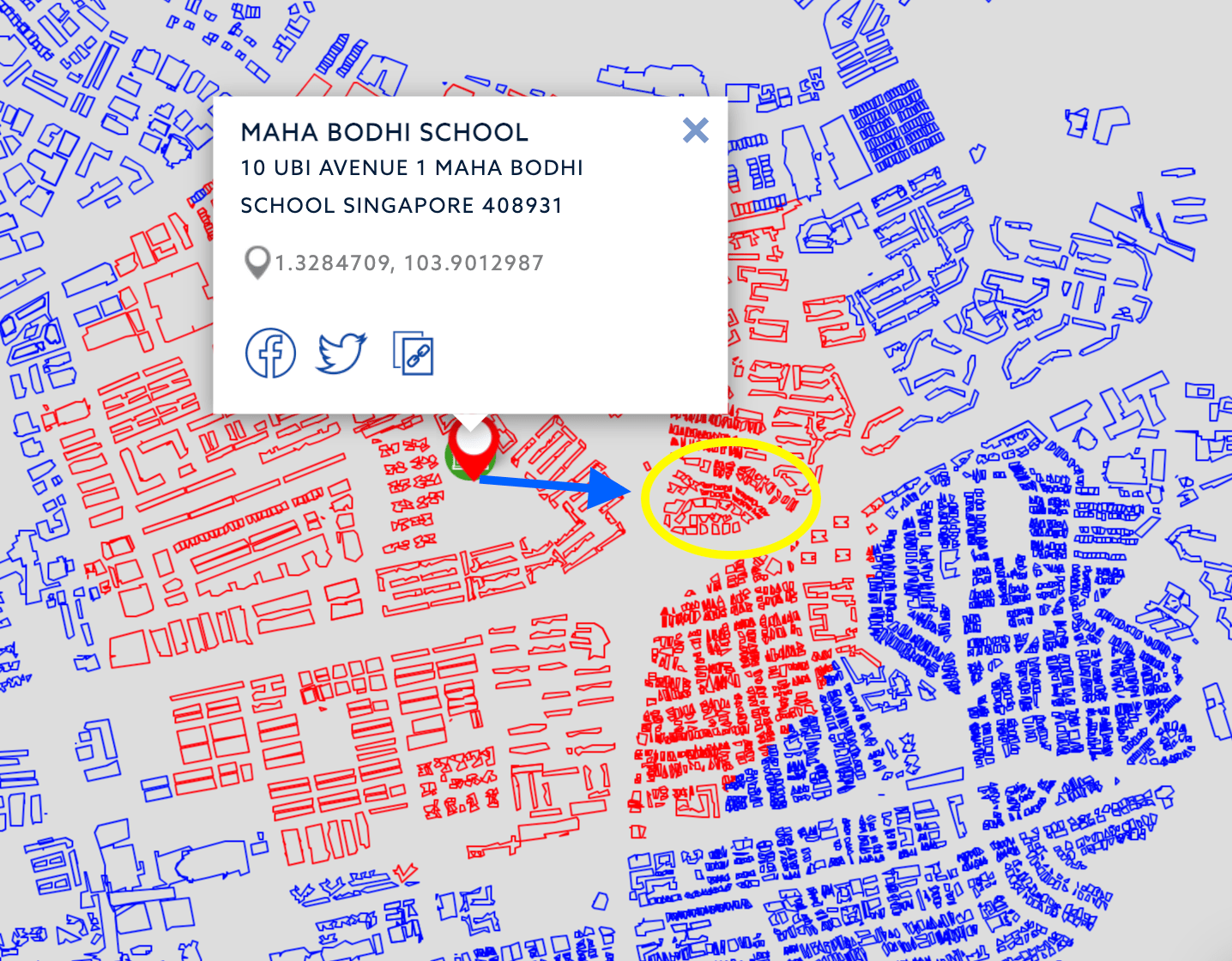 Layout Analysis: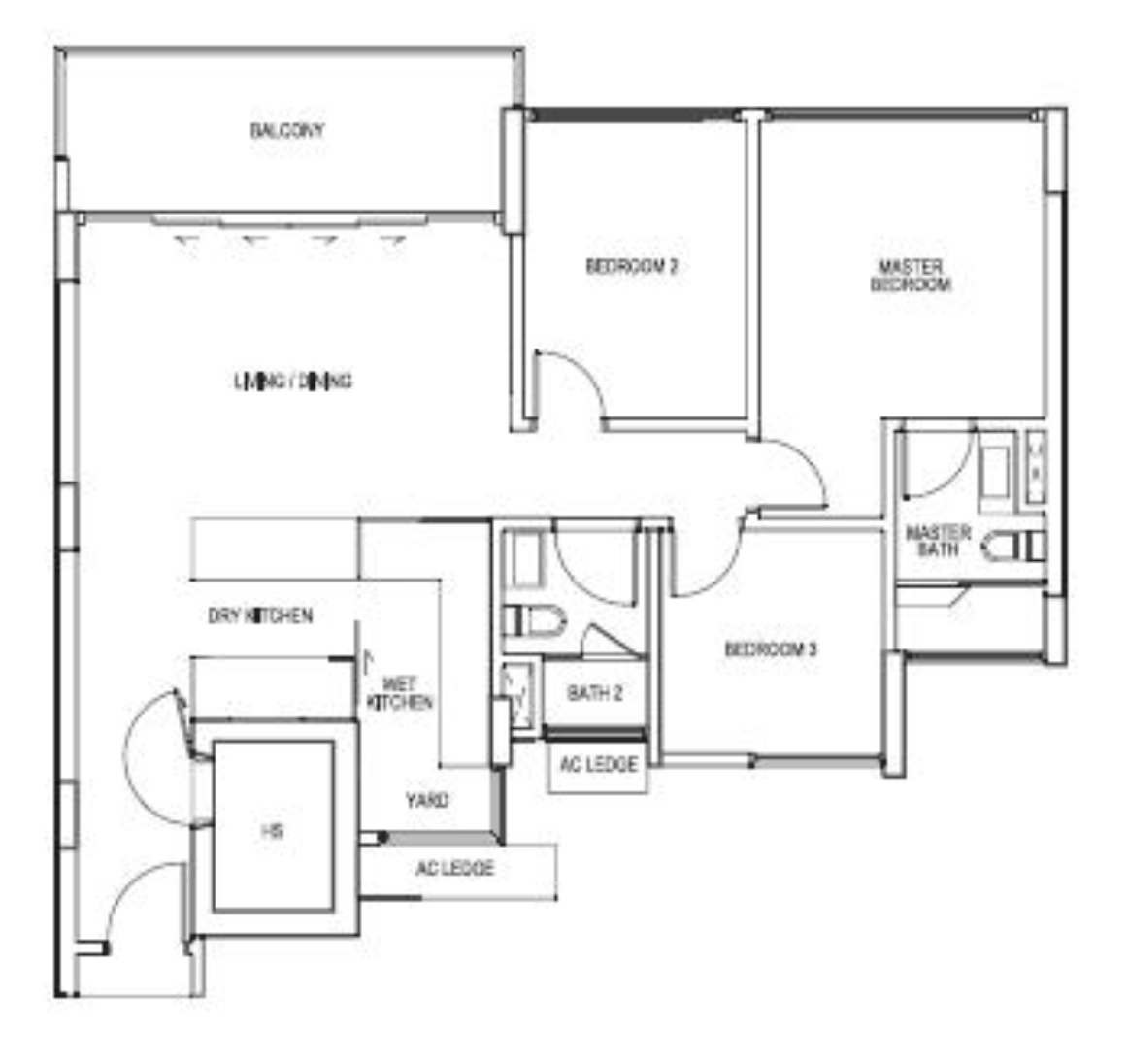 At 1,130 sq ft, the 3 bedder units here are decent in size with squarish and efficient unit layout – a safe layout per se.
The unit opens up to a long walkway entrance which does take up space but it provides a sense of privacy. It also comes with an in-unit household shelter which is great for storage – particularly important for families but the location of it isn't the best in that regard. Since you have a helper though, this would unlikely be a place that you can use for additional storage.
Personally, we like the kitchen set up here. There is a great provision of both a wet & dry kitchen area with a good amount of cabinet space for storage and countertop space which is great for both food preparation and entertaining (in the dry kitchen). The dry kitchen countertop also serves as a serving area. To top it off, the space comes with a yard for laundry with natural ventilation too, reducing the need to use a dryer which can be costly in the long run.
The unit also comes with a horizontal living and dining layout which allows for more natural light and ventilation in the unit. If you do an open-kitchen concept, you'll greatly improve the cross ventilation from the living area through the yard as well. The huge balcony area could potentially be used for an el-fresco dining area or an extended living space given its rectangular layout.
Additionally, all bedrooms are decent in size though we must highlight that one of the common bedrooms is on the smaller side than the other bedroom. Nonetheless, it is suitable for a single bed, though you'd have to get creative if you wish to include a study area in that room. We also like that the master opens up directly to a wall which does improve privacy, as opposed to opening up right into the bedroom. Do note that both bathrooms also come with natural ventilation which is a huge plus.
Villa Marina
Having TOP-ed in 1999, Villa Marina is an older resale with a design theme that is really unlike the rest. With an extensive land size of over 460,695 square feet for a total of 432 units, it offers a range of facilities including a tennis court, unique swimming pools in a courtyard style, lawn spaces for children to play freely, and multiple playgrounds. In short, it offers great facilities if you have young children – which sounds like a good setup for you. We did a full review on Villa Marina earlier this year and we do like the design of the Swimming Pool.
The biggest drawback for many people is probably its specific design; it's less timeless looking. Of course, design is subjective since some people like that Villa Marina has a more opulent look to it. However, due to its design, the layout may be less desirable with sharp edges making the area inefficient. You either love it or hate it, but they've really tried to replicate that the Mediterranean feel here, unlike some other half-baked types we've seen elsewhere.
At $1,0xx PSF though, prices have remained stable in recent years. On a quantum basis, Villa Marina still offers an affordable quantum for spacious unit sizes. For the budget of $1.6m, you could potentially get a good-sized 3 bedder unit here.
In general, the location offers basic amenities and is located in close proximity to East Coast Park for the beach and park. Public transport connectivity will improve further with the opening of the TEL Siglap station which is slated to open sometime next year.
You also are a short walk to the East Coast Road stretch of cafes, and East Coast Park isn't too far away as well, which is another great spot for your kids.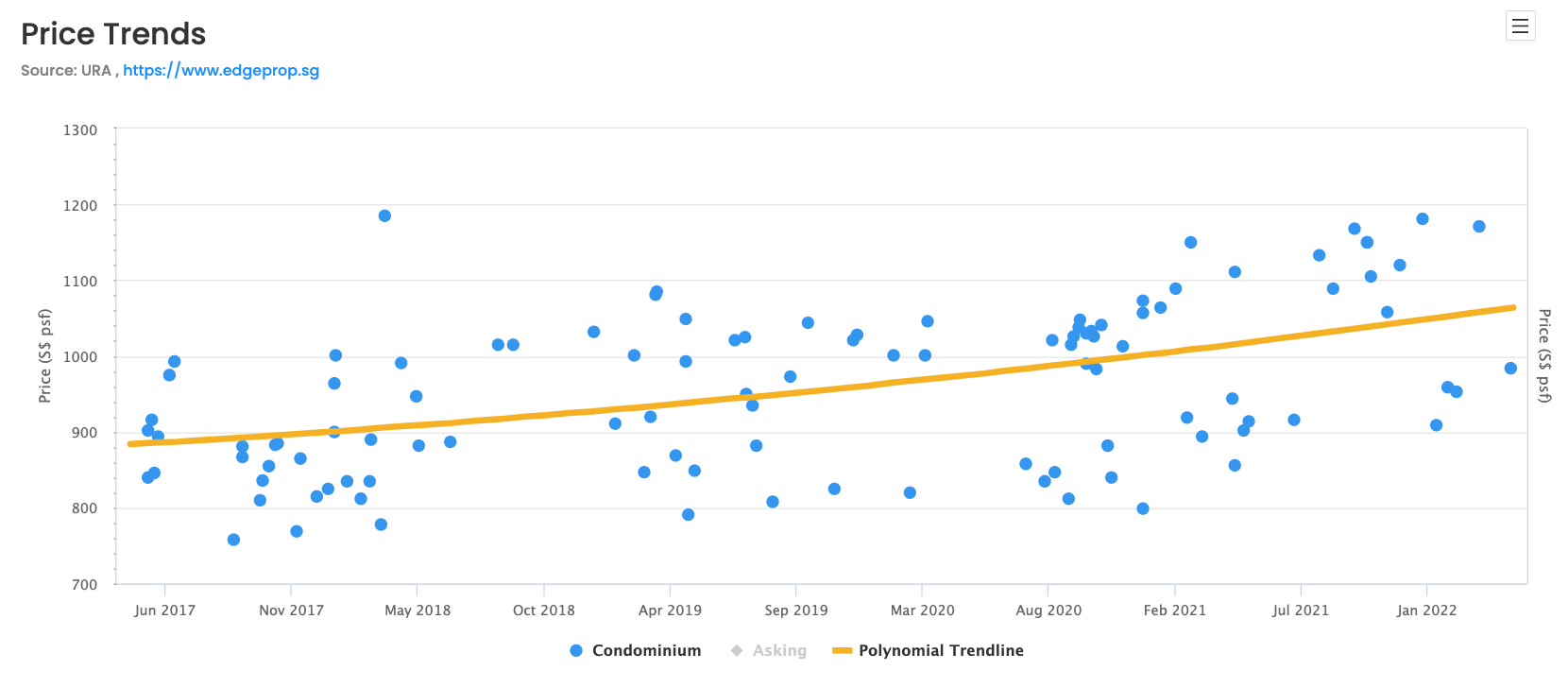 Layout Analysis: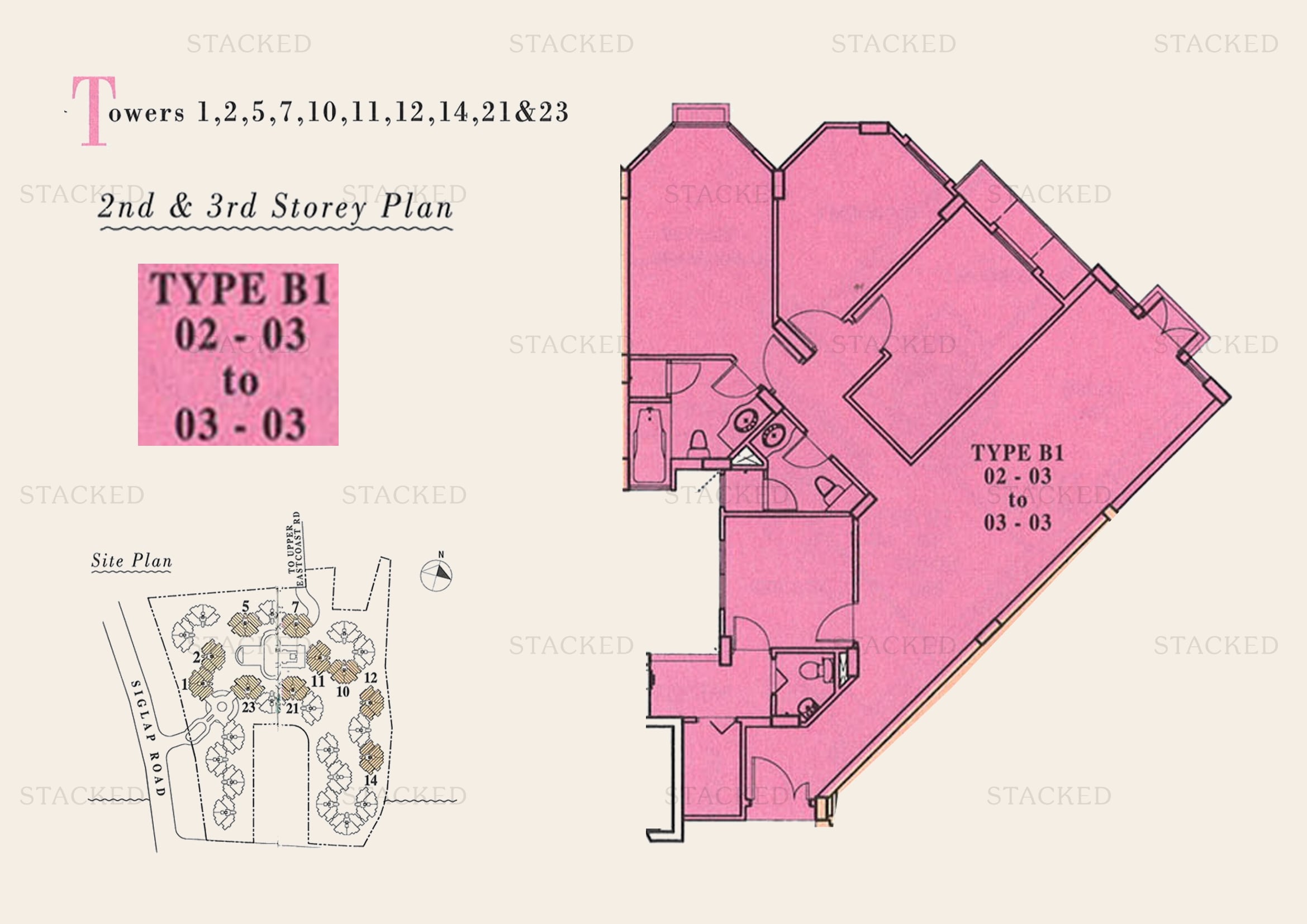 At 1,131 sq ft, the 3 bedders here are spacious in size though we must say that it comes with a rather peculiar layout. Similarly, the unit opens to a long walkway entrance, and while it does take up space, it provides a degree of privacy from neighbours peering into the unit. Undeniably, a Juliet balcony area allows for a spacious living and dining area. This is a good space, especially for families with young children where they could play in the living/dining area freely.
The positioning of the kitchen allows you to create an open plan kitchen which is something that is usually desired by the younger generation, and you do also have the plus points of a proper yard area for laundry added with WC and a utility set up. The utility area can be used for either a storage space or as a helper's room which would no doubt be used for that intention here. And just like with euHabitat, having an open kitchen here would allow for direct cross-ventilation, improving wind flow in the unit.
On another note, with the odd shape of one of the common bedrooms, bathroom, and master bedroom; the area may be less efficient as compared to a squarish and proper unit layout. One has to work around these odd shapes to maximise the area.
The Bayshore
Having TOP-ed in 1996, The Bayshore is the oldest among the three developments highlighted here. With an extensive land size of over 414,522 square feet with a total of 1,038 units in tower blocks, it is pretty dense out of the 3 that you have chosen – although because the towers here are much higher, you do get quite a lot of open land space here (as compared to EuHabitat). Similarly, it offers a good range of facilities that is family-friendly. You have 3 swimming pools here (plus water fountains which kids will enjoy) and multiple tennis courts which are generous indeed.
The huge plus here is that the higher floor units enjoy the panoramic sea view, although the biggest drawback may be the less efficient layout which makes it difficult to place the furniture. At $1,0xx PSF though, prices have remained stable in recent years. On a quantum basis, the Bayshore offers an affordable quantum for spacious unit size and is still within your budget.
In general, it is located in close proximity to the ECP entrance and public transport connectivity will improve with the opening of TEL Bayshore station in the coming years (it's right outside the development). Additionally, the area will see more amenities added with the developments around the Bayshore precinct right next to the development.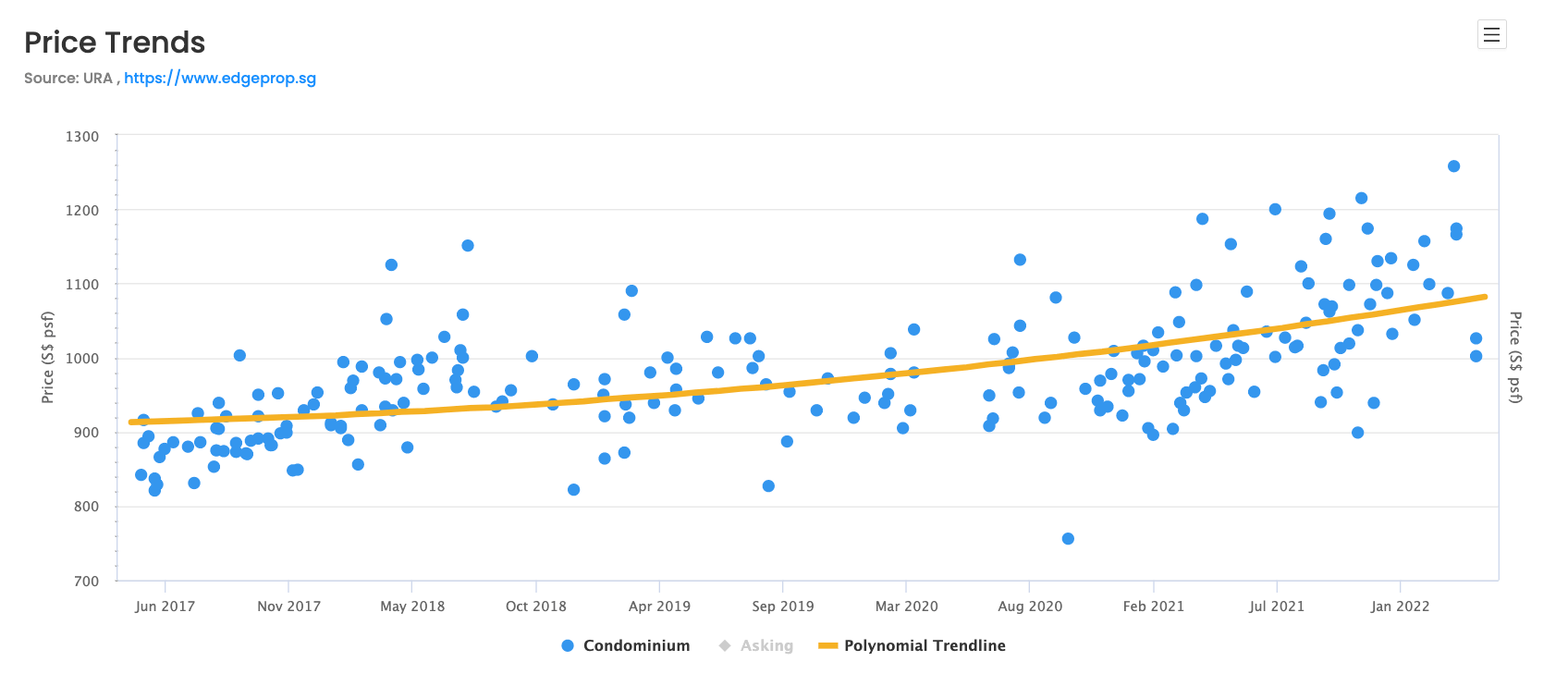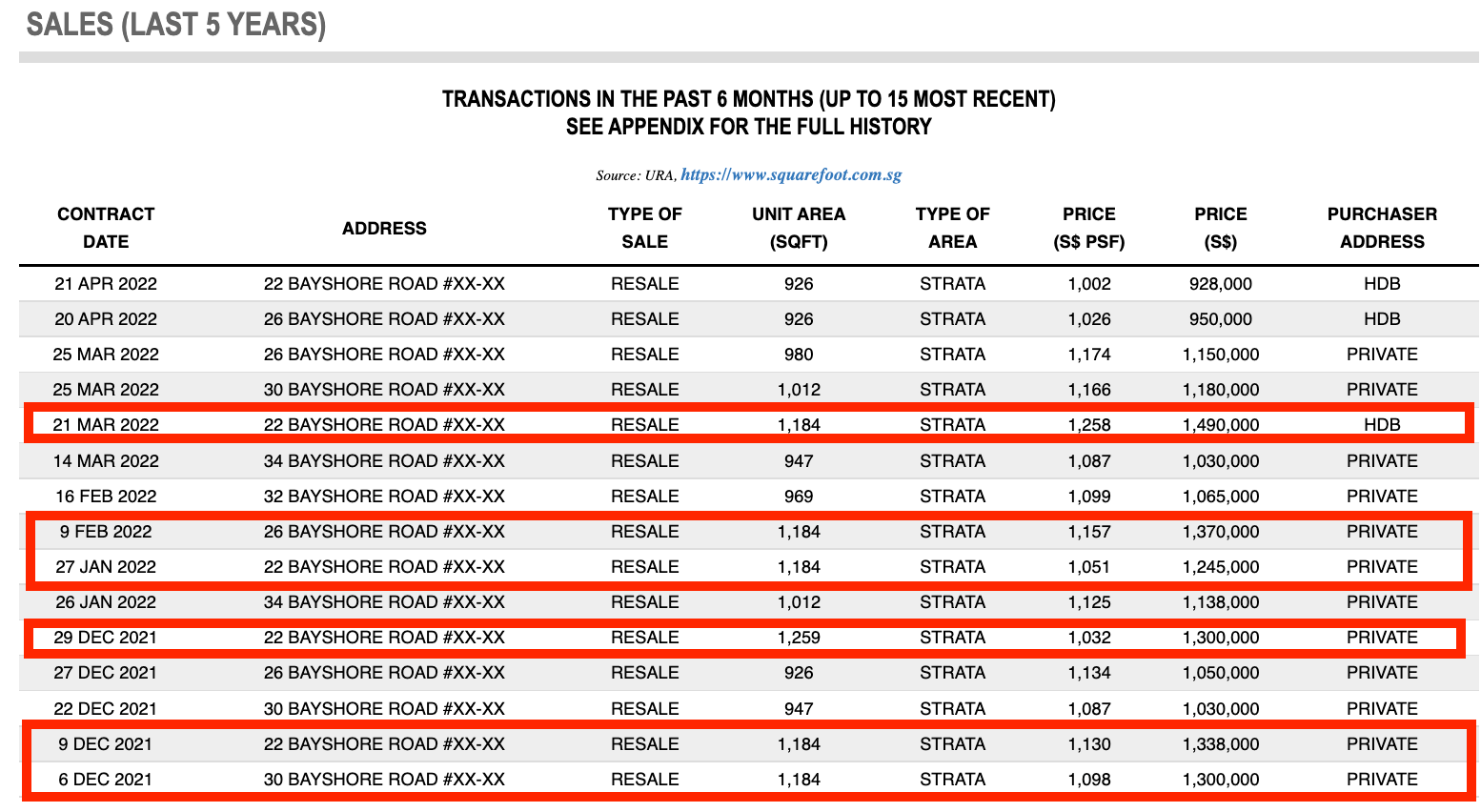 Layout Analysis: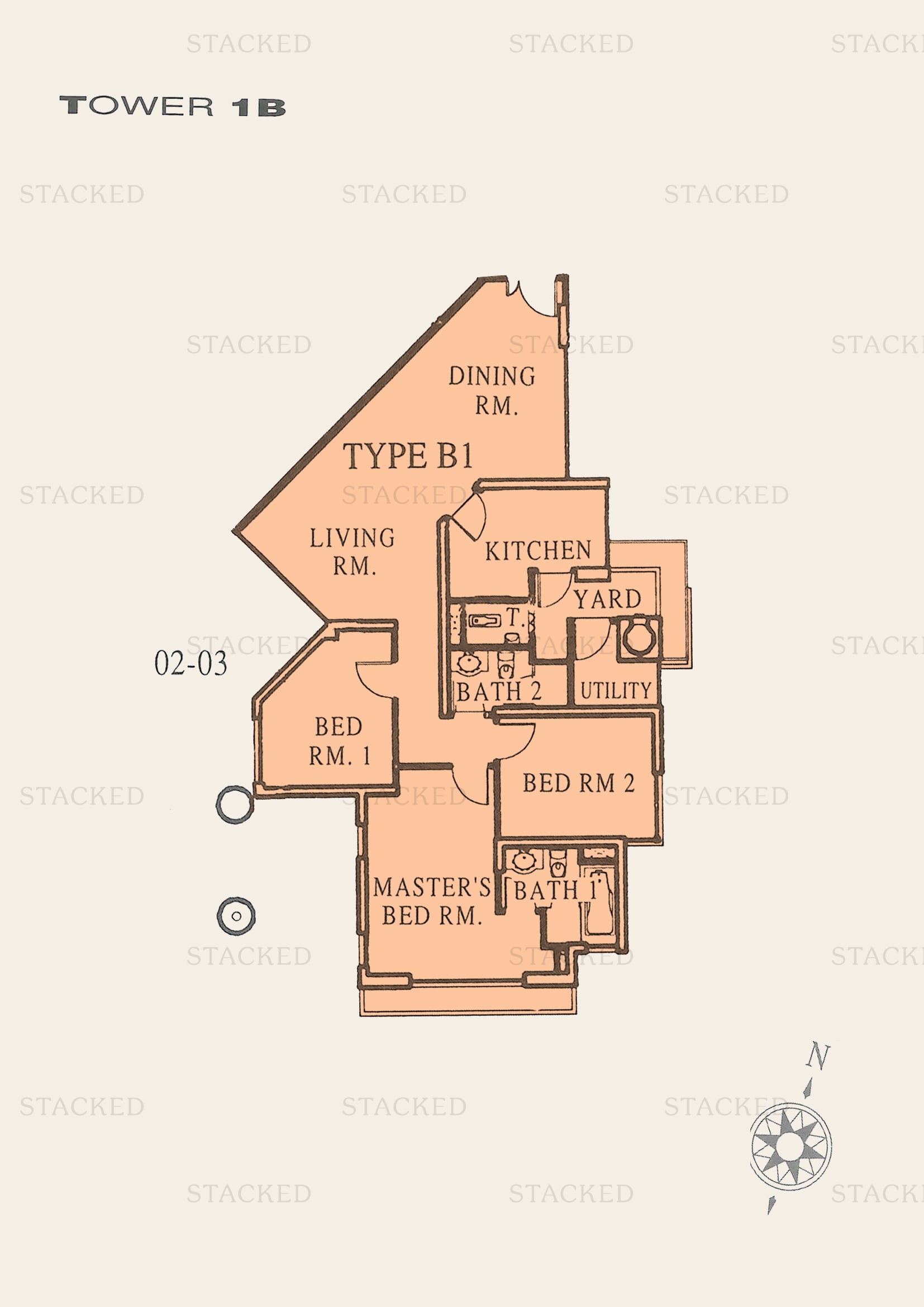 There are a few 3 bedder layouts for The Bayshore due to its unique facade design. Most of the stacks lack a proper balcony space hence it may come as a downside if you are one that values some outdoor space area to unwind; especially for sea-facing units.
The unit opens straight to the dining area followed by a rather odd shape living space; making it hard to place furniture with odd corners. It has a decent-sized kitchen with the provision of a proper yard area for laundry. Similarly, it comes with a WC and utility room which could be used for storage or a helper's room. All bathrooms and kitchen area comes with an enclosed window panel; which is great for natural ventilation.
The bedrooms are all decent in size, notably, one of the common bedrooms comes with an irregular shape but we do like the spacious master bedroom with a good-sized bathroom which comes with both a shower and space for a bathtub. If you have no use for that, having a bigger sized master bathroom is always a good luxury to have.
Appreciation potential:
All three developments are located in the eastern part of Singapore, hence it will benefit from the upcoming developments in the region.
Based on the latest master plan, when Paya Lebar Airbase land is freed up in 2030, more developments including offices will be developed in the area, hence we do foresee the area to see some population growth and family choose to settle in the area to be closer to their workplaces. This may lead to a positive impact on resale euHabitat, especially with Maha Bodhi school located within the 1 km range, which will likely attract an upgrader family profile when it comes to future exit. Of course, do note that it may take beyond the 10 years timeline for Paya Lebar Master Plan to materialise.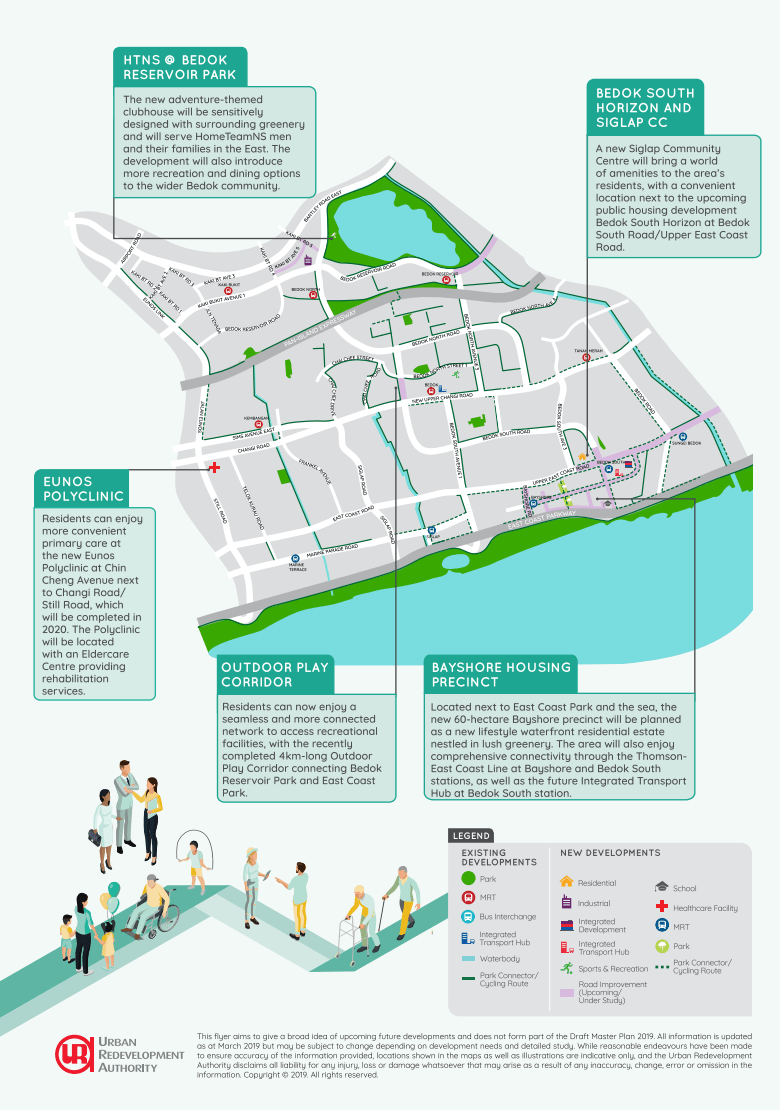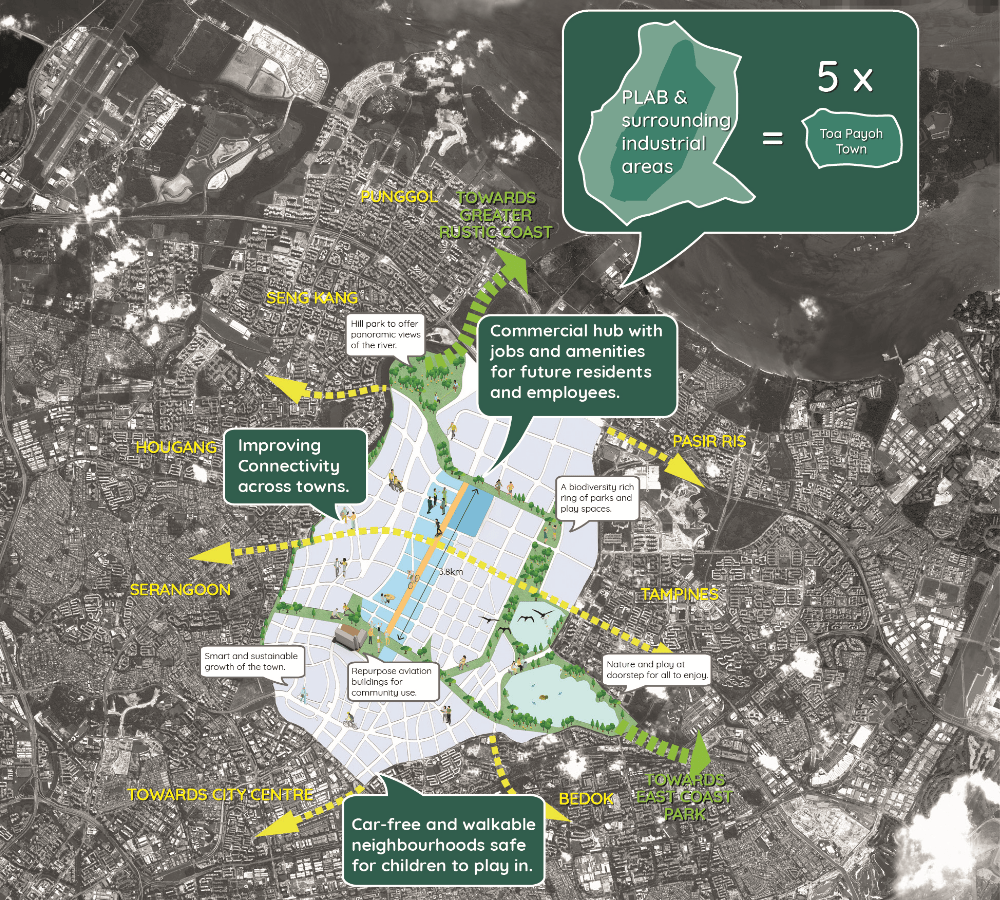 Connectivity-wise, Villa Marina will benefit from the upcoming TEL Siglap MRT station with a station entrance located nearby. Villa Marina will likely attract buyers that prefer a small community with a Mediterranean-style home added with its spacious unit size at an affordable quantum. Additionally, Villa Marina is located closer to amenities along East Coast road as compared to the Bayshore precinct.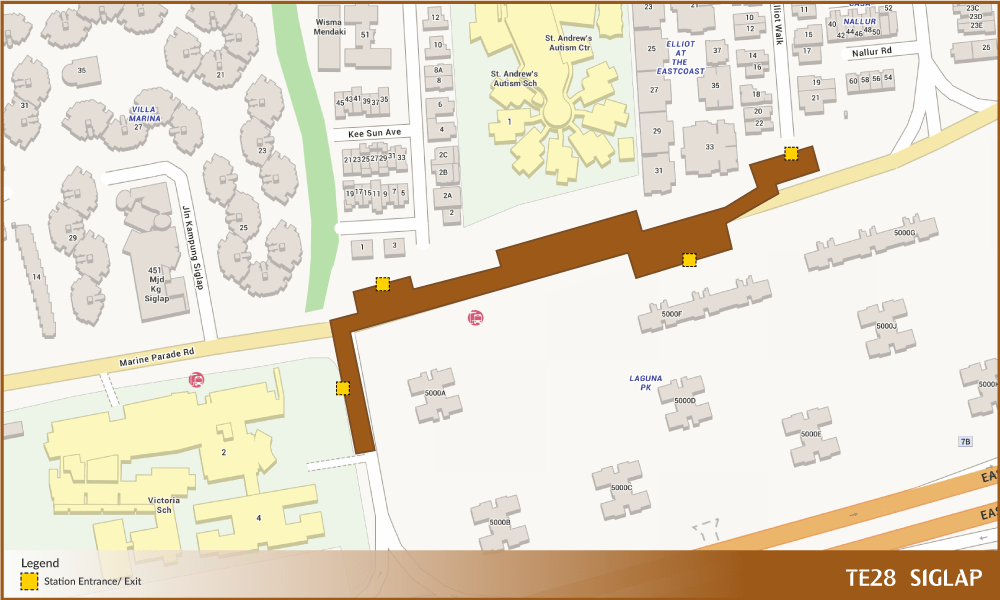 Similarly, The Bayshore will also benefit from the TEL line with a station entrance located just across the development. URA has also released the master plan for the upcoming Bayshore precinct with more residential plots and amenities added to the area.
The area will see vibrancy with more residential developments (Mix of Public and Private housing), though it adds to the competition in the area when it comes to future exit, it will also indirectly help to push up the resale prices in its direct vicinity.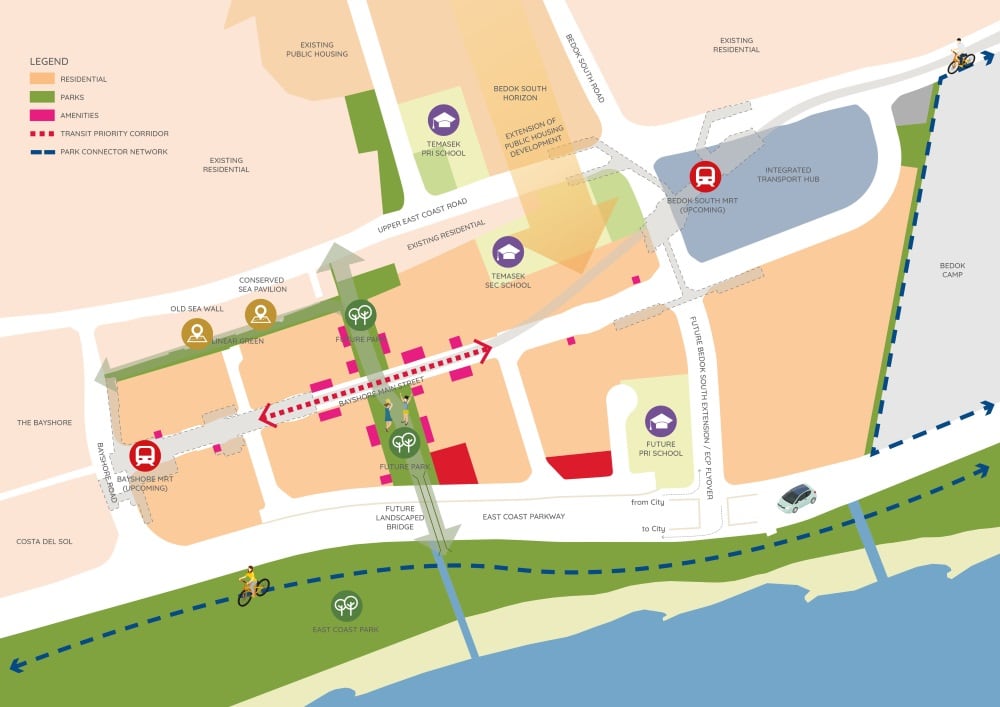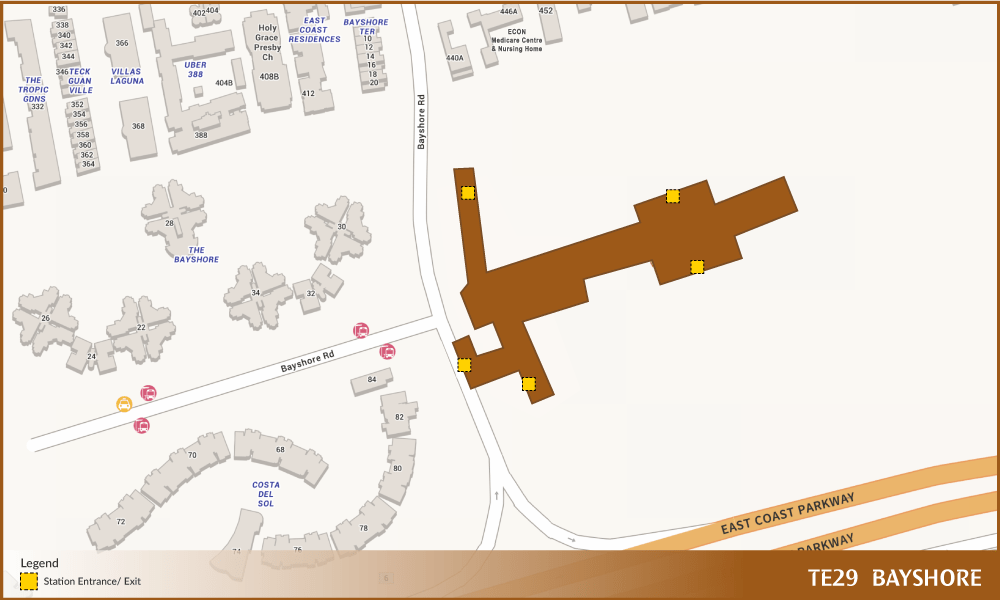 Now if you notice all three development's average $PSF, you'll find that despite its leasehold nature, the development continues to post new highs (although this could also be attributed to the entire property market in general). This is a good sign for an old leasehold development, as there is at least some glimmer of hope that you can still see capital appreciation since new highs indicate it is still in demand. This is likely due to the improvements in connectivity from the Thomson-East Coast Line. Moreover, the area has many boutique projects, but the 3 developments highlighted here are bigger and hence, have better facilities, so buyers that fit the family profile would continue to seek such developments in the area. The only alternatives would be the newer developments here that would either be too expensive if it's spacious or too small if it has a competitive quantum compared to these older developments.
Conclusion:
Personally, given the options, we would pick euHabitat for the newer facilities and proximity to Maha Bodhi School. To be honest, a 10-year timeline is a long period of time and with 2 young children entering primary school in the next few years, the convenience of staying near to the choice of primary school is a huge plus. In this case, Maha Bodhi School is located within walking distance, I could not speak for your children but as a former student myself, the convenience of staying near to my school is a huge plus!
In addition, among the three developments, euHabitat has the safest layout which caters to most family profiles. We believe a squarish layout is more efficient compared to an odd layout which may deem as inefficient with dead spaces.
Perhaps the biggest drawback currently would be the noise from the PIE which could be a disturbance to your kids' sleep in the afternoon (so be careful which stack you pick). Also, the lack of privacy between blocks, and there is not as much open space for kids to run about as compared to the other 2 options.
The other 2 developments are quite similar in terms of the more irregular layout, more open land space, a good selection of facilities, and close proximity to the upcoming TEL line, plus a walkable distance to East Coast Park.
It boils down to a choice between possible sea views at The Bayshore plus perhaps more upside potential given the entire empty plot of land next door is zoned as 4 residential plots of plot ratio 3.5, or the slightly more "boutique" charm of Villa Marina as a lifestyle choice.
Ultimately for us, while The Bayshore and Villa Marina have the more attractive estate for young kids to grow up in, the proximity to school in the long run is a convenience that is hard to ignore.
Have a question to ask? Shoot us an email at hello@stackedhomes.com – and don't worry, we will keep your details anonymous.
Looking for a home? Feel free to reach out to us here for a more in-depth consultation.
For more news and information on the Singapore private property market or an in-depth look at new and resale properties, follow us on Stacked.