Advice
Which Thomson Condo Within 1KM Of Ai Tong School Is Better With A Budget Under $1.5 Million?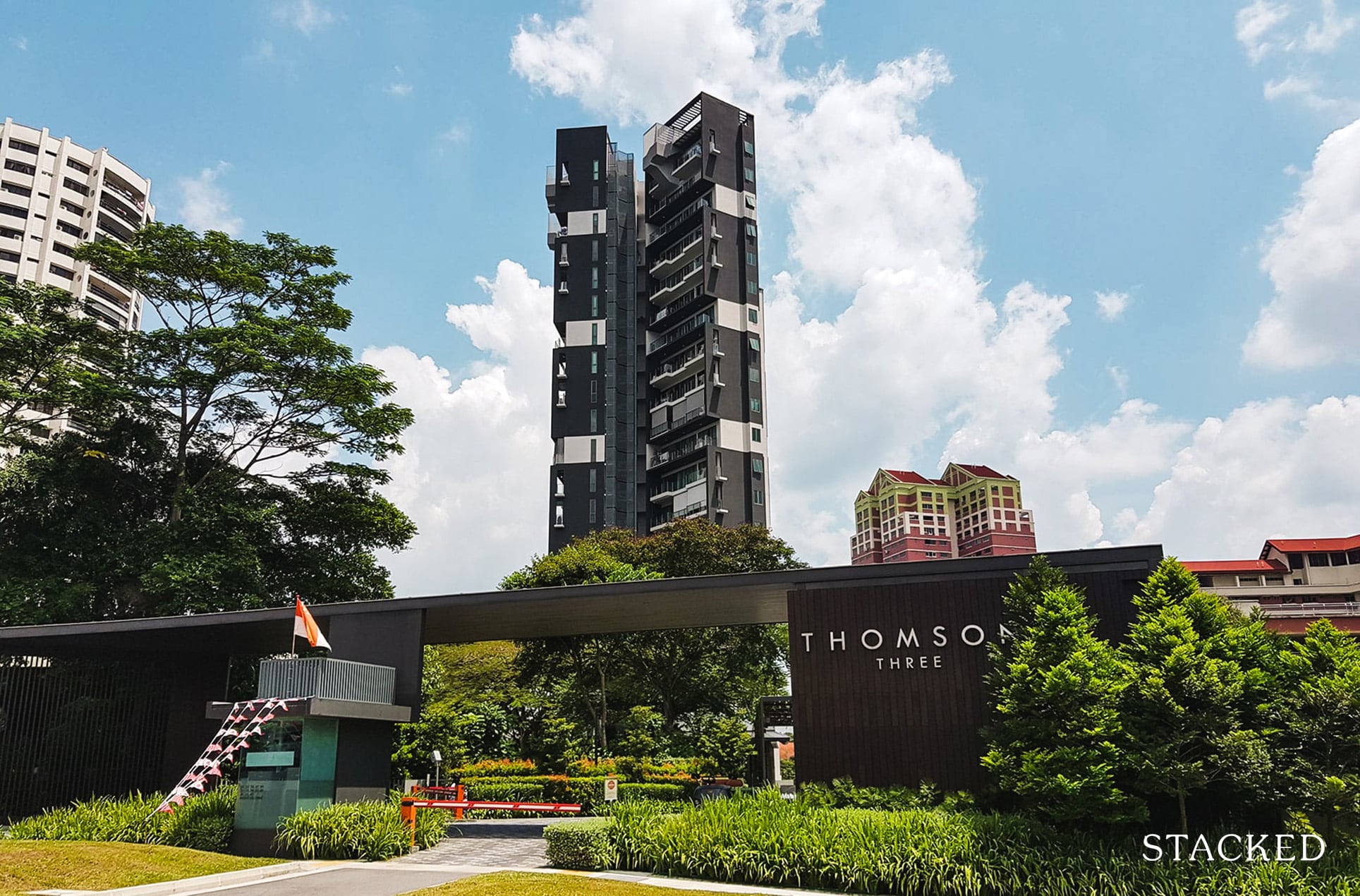 16
min read
Hello Stacked team!
Firstly, I want to say a great job on the extensive property content across the site and YouTube videos. We have benefited much from the vast knowledge and insights shared.
I would like to seek your views on a suitable choice of a 2 bedder condo within 1 KM of Ai Tong School for primary school balloting and ease of travel when my kid goes to Primary 1 in two years' time. We have been looking around the few newer developments such as Thomson Three, Thomson Impression, Thomson Grand, and Three 11 while also considering older ones like Bishan Point. Our time horizon for staying there will probably be until the kid finishes primary school (around 8 years from now) and while capital appreciation is not the priority, we also hope to not lose a lot of money from this.
We like the lower price and larger size of Bishan Point (and it's right beside the school) but are a little cautious about the lease decay and impact on eventual sales as it's an older development. We love the Three 11's 2 bedder layout (even though it's small), proximity to Thomson Plaza, and quietness as a boutique development, but wonder if it's worth paying extra with our short time horizon due to it being freehold and a low number of transactions (which may impact eventual sales). The layout of Thomson Three's 2 bedders is not our favorite but it is close to school options and Thomson Plaza while being quite new and cheaper than Three 11.
Would love to hear your thoughts on what might be the considerations and better choice between the few condos above, with a budget of $1.3-1.5M.
Thanks and appreciate your help in advance!
Best Regards
---
Hey there!
Thank you for writing to us and it's lovely to hear that our content has helped you in some way! There's no question that primary schools are a huge draw for parents and it's great that you have focused your purchase in the locality of Ai Tong School as your main criteria. The area has seen some changes over the years with the opening of the Thomson-East Coast Line (TEL) which brings much-needed connectivity to the area, connecting the district with other parts of Singapore.
Accessibility wise, it will further improve over the years with the opening of the North-South Corridor (NSC) come 2027.
In this response, we will share our opinions on each development that you have highlighted and hope it will help you in your decision-making for your own stay unit.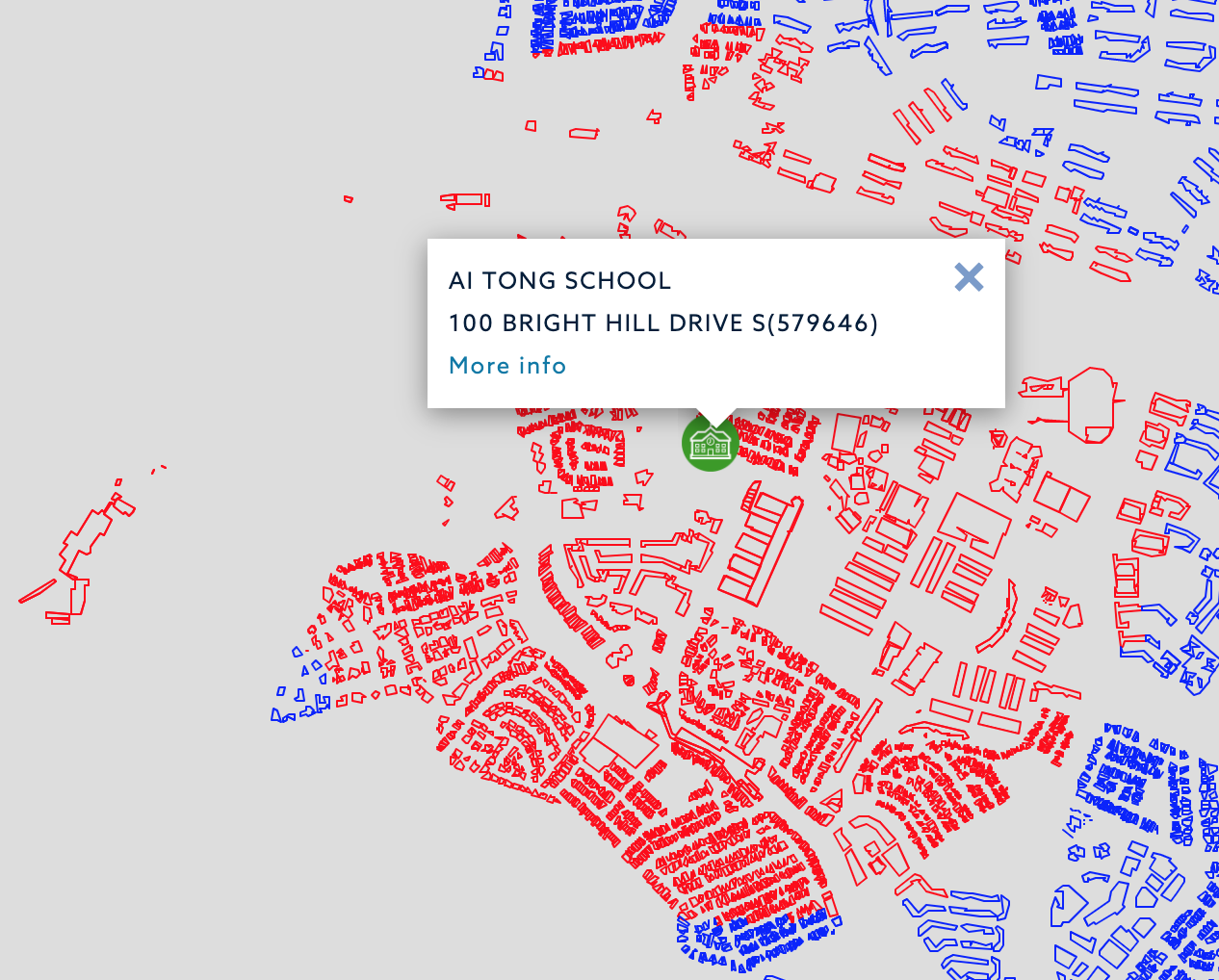 Thomson Three
Thomson Three is a mid-sized development with 445 units which offers nearly a full range of facilities – tennis lovers will be disappointed though. It does sit on a rather narrow plot of land, so to some people, it may not seem as spacious as it is on paper. It does offer great convenience to the TEL Upper Thomson MRT station with a sheltered walkway linking the development direct to the station entrance and it is also within walking distance to Thomson Plaza for amenities.
As the construction works are still ongoing, Upper Thomson Road is still pretty much jammed during peak hours, so hopefully, the upgrades to the area will improve this in the upcoming years.
The price has risen over the years with the current price at $1,7xx PSF. However, it is still within your budget range as this is due to the smaller unit sizes as compared to an older resale development.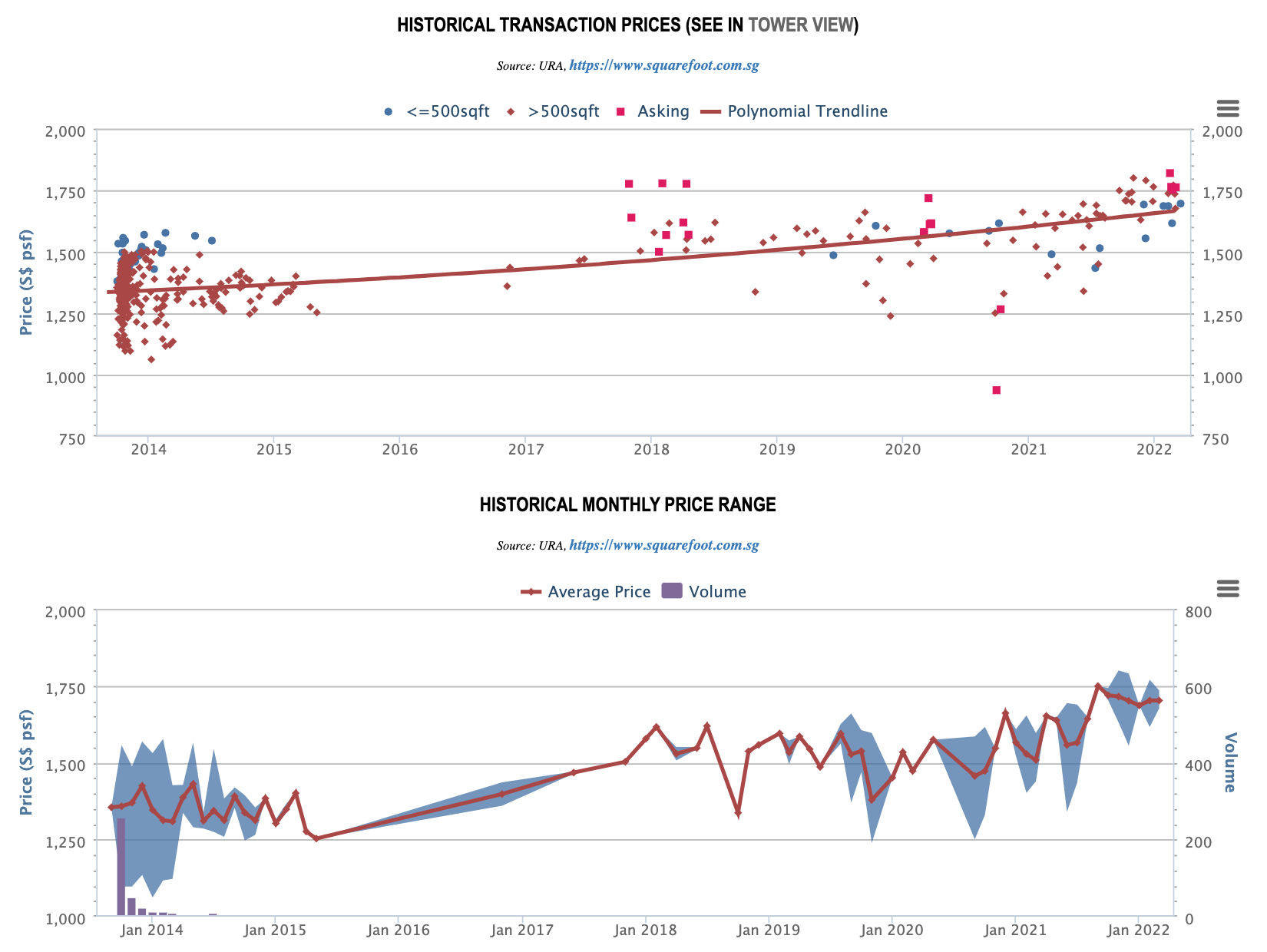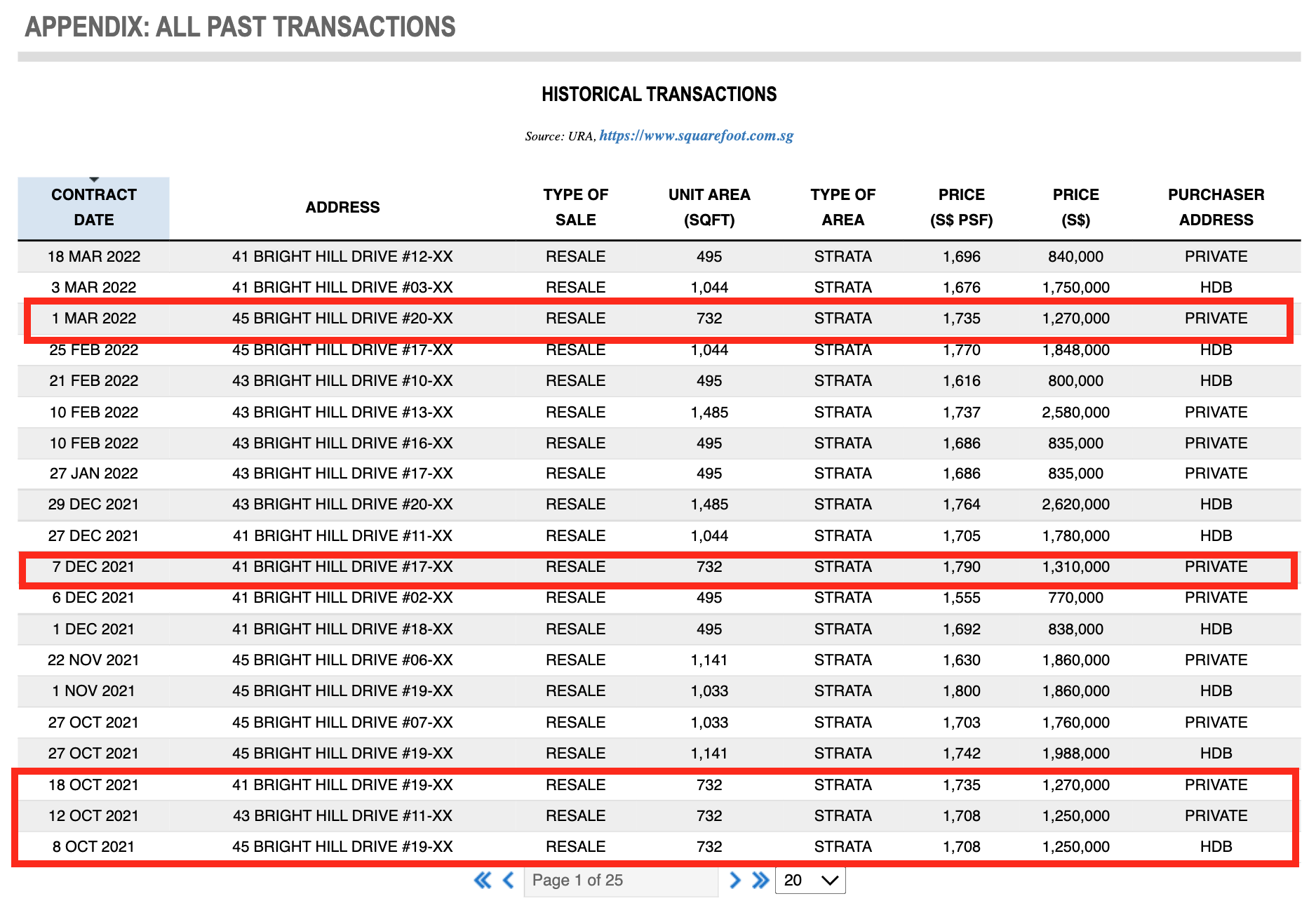 Layout analysis: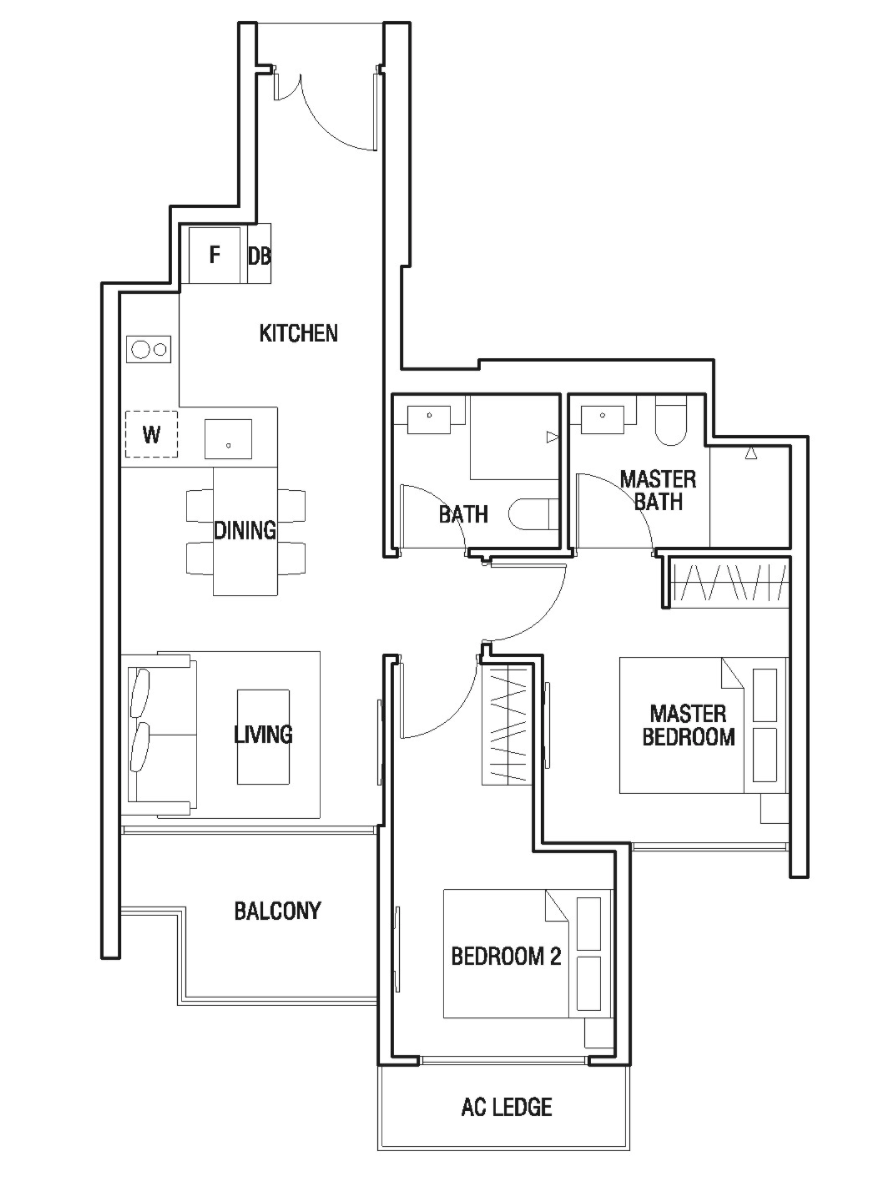 At 732 sqft, it is decent in size for relatively new development (most newer projects would come in at less than 700 sqft). It is regular and well laid out with decent-sized bedrooms. Though with 2 bedrooms even at this size, the living and dining areas may come in quite a squeeze, especially for a family. As you can see from the layout, a 4-seater dining area sort of encroaches into the line of sight of the hallway. Another concern here would be the lack of natural ventilation in both bathrooms. However, again, these are pretty common downsides to 2-bedroom layouts in newer developments.
The open kitchen concept also means that heavy cooking would result in smells going through the dining and living quite often as that is the only outlet for natural ventilation. Some people may have to resort to keeping their main door open when cooking to get rid of the fumes.
That said, getting cross-ventilation in this layout is difficult as there is only one opening on the other end – the main entrance door, and this opens up to the living area so that is a privacy concern you need to think about unless you do not intend to rely on cross-ventilation as much.
There is also a lack of a service yard – very common for new 2-bedroom developments, but there's only one space allocated for a washer. Hence, you're likely going to have to dry your clothes out on the balcony.
While there is a walkway in the common bedroom which is, in some sense, inefficient, there should be enough space for a study table on either side of the room if a single bed is used here for your kid.
Thomson Grand
Thomson grand is a relatively new development which offers a good range of facilities and is pretty well-maintained from my last visit a few weeks back. With only 339 units, it offers tranquil living, slightly away from amenities. Prices have generally remained stable in the $1,5xx PSF region in recent months. Quantum-wise; you do get a good-sized 2 bedder unit with a private lift setting well within your budget.
TJ recently did write about Thomson Grand, so let me lift some of what she wrote here as well:
Judging from the sculptures dotted around the grounds (which measure 224,406 sq ft), the golf simulator, cocktail lounge, and Fendi, Armani/Versace furnishings in the clubhouse, and private lifts, it seems that Thomson Grand is aiming for a semi-luxurious feel. It's worth noting that recently the MCST filed a lawsuit against the developer, and the two contractors (Lian Beng Group and Paul Y. Construction and Engineering) accusing them of a breach of warranties and negligence.
I've lifted this part from Mingtiandi: "Homeowners in Thomson Grand said common property defects in the 99-year leasehold complex include deficiencies in the lap pool, car park, driveways, roof, staircases and lift lobbies."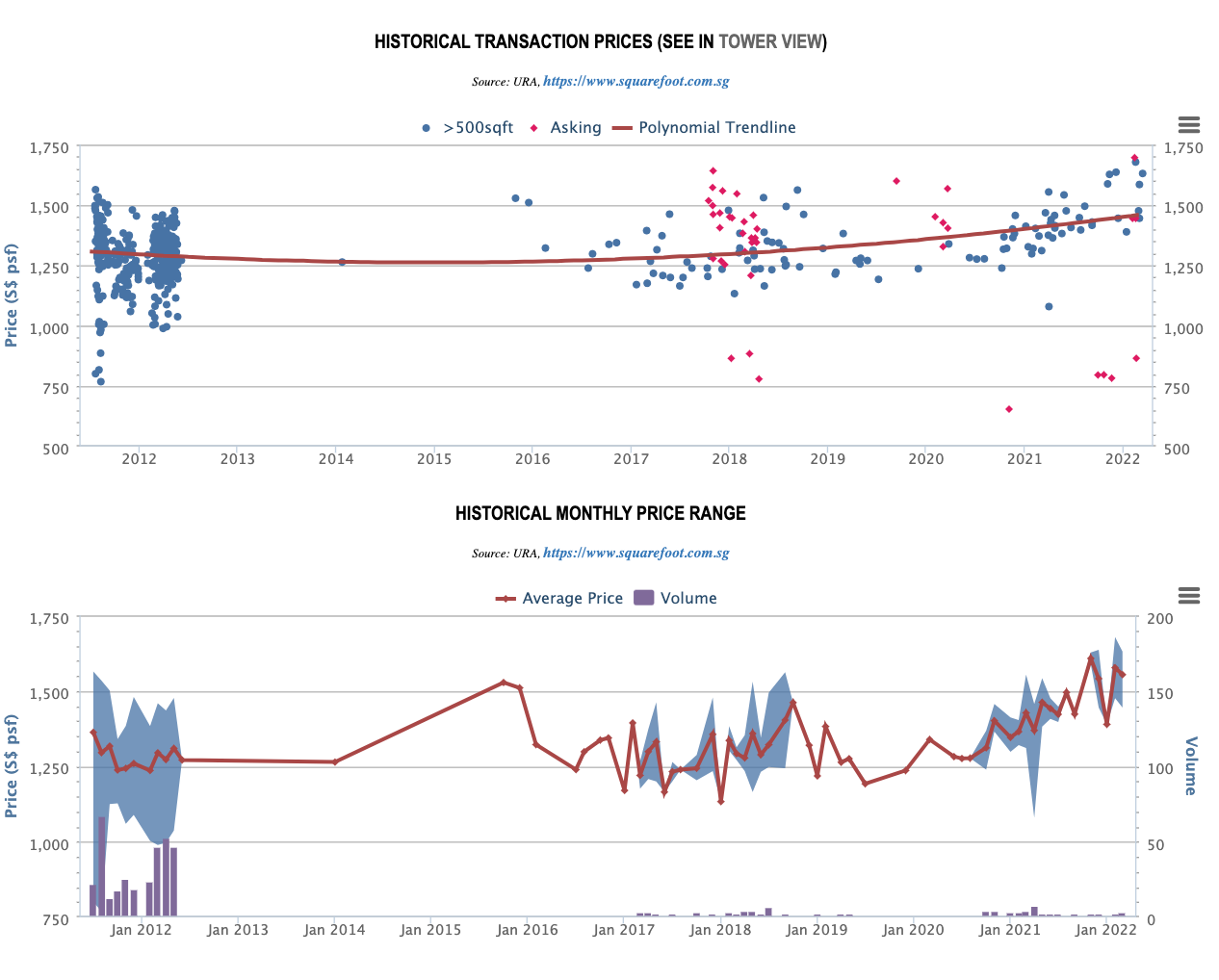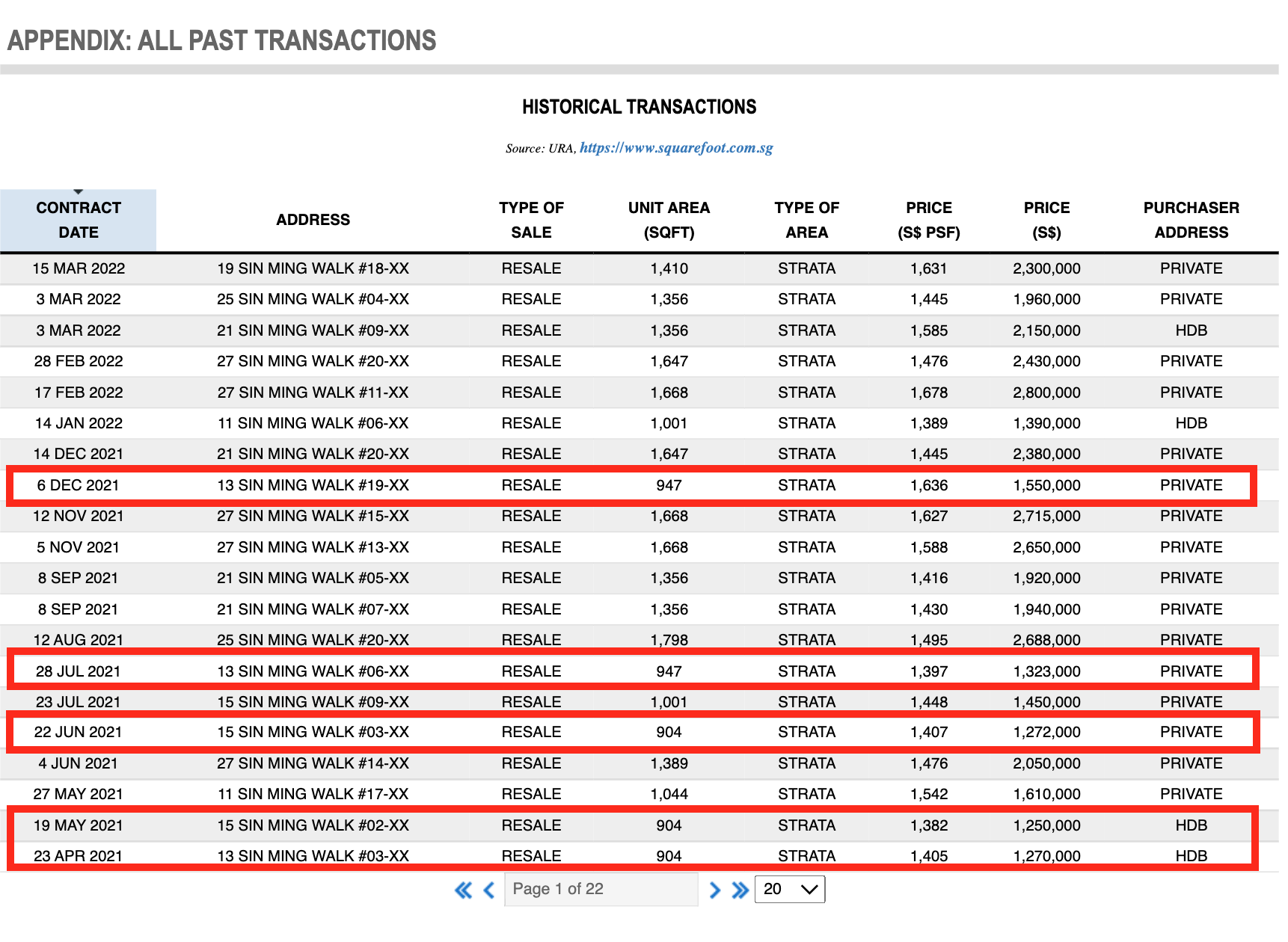 Layout analysis: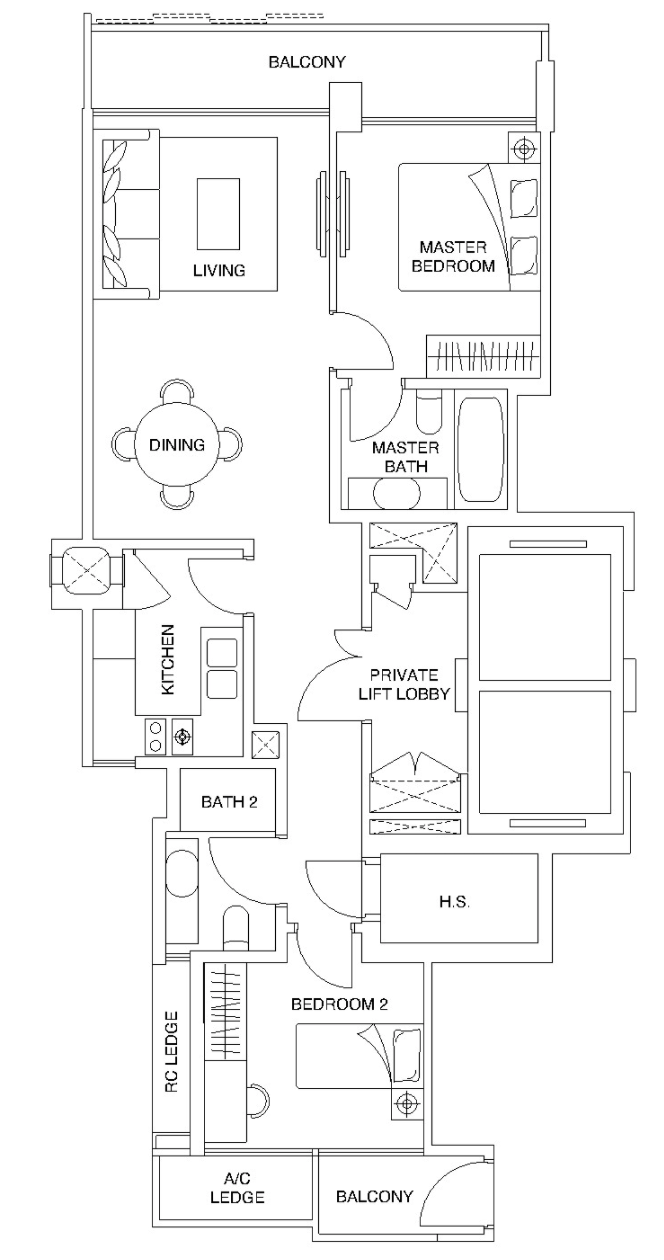 At 947 sqft, it is a good-sized 2 bedder in what is usually the size of a small 3-bedroom in recent new launches. The unit is divided into 2 different spaces with the centre area dedicated to the enclosed kitchen space, perfect for those that do heavy cooking considering the presence of a window inside. It is quite an unorthodox layout, and while it does offer privacy, it does come with its own quirks.
The common bathroom and bedroom are tucked on the left hallway of the unit, a rather private setting but on another note, the master bedroom is located right next to the living and dining area. This is, in our opinion, a less ideal situation especially if you have guests over and your partner is resting in the master bedroom, hence privacy may be an issue here. The placement of the common bedroom is a better one, that's for sure.
Do also take note that while the common bathroom has some natural ventilation, the master bathroom has no windows. This layout does allow cross-ventilation from one end to another, assuming the door of bedroom 2 is open.
The unit also comes with an in-unit Household Shelter which is great for storage purposes.
Another thing we like is the size of bedroom 2 which has space for a decent study table – perfect for your kid.
We do like the provision of a private lift setting in this case, though I must add that this is more of a luxury than a need (rather inefficient if you think about internal practical space for a family). Hence this is my reservation on the layout as you are paying for something that isn't as practical to your needs.
Thomson Impression
Thomson Impression is a relatively new development that TOP-ed in 2018. Thomson Impression certainly lives up to its name of being impressive to be able to offer a good range of facilities including a tennis court, which is today a rarity for development with just 288 units. Prices have risen over the years, to its current $1,7xx PSF, which may be on the higher side as compared to its neighbouring resale development. Similar to Thomson Three, it is still within your budget range based on a quantum basis. This is due to the smaller unit sizes as compared to the older resale development.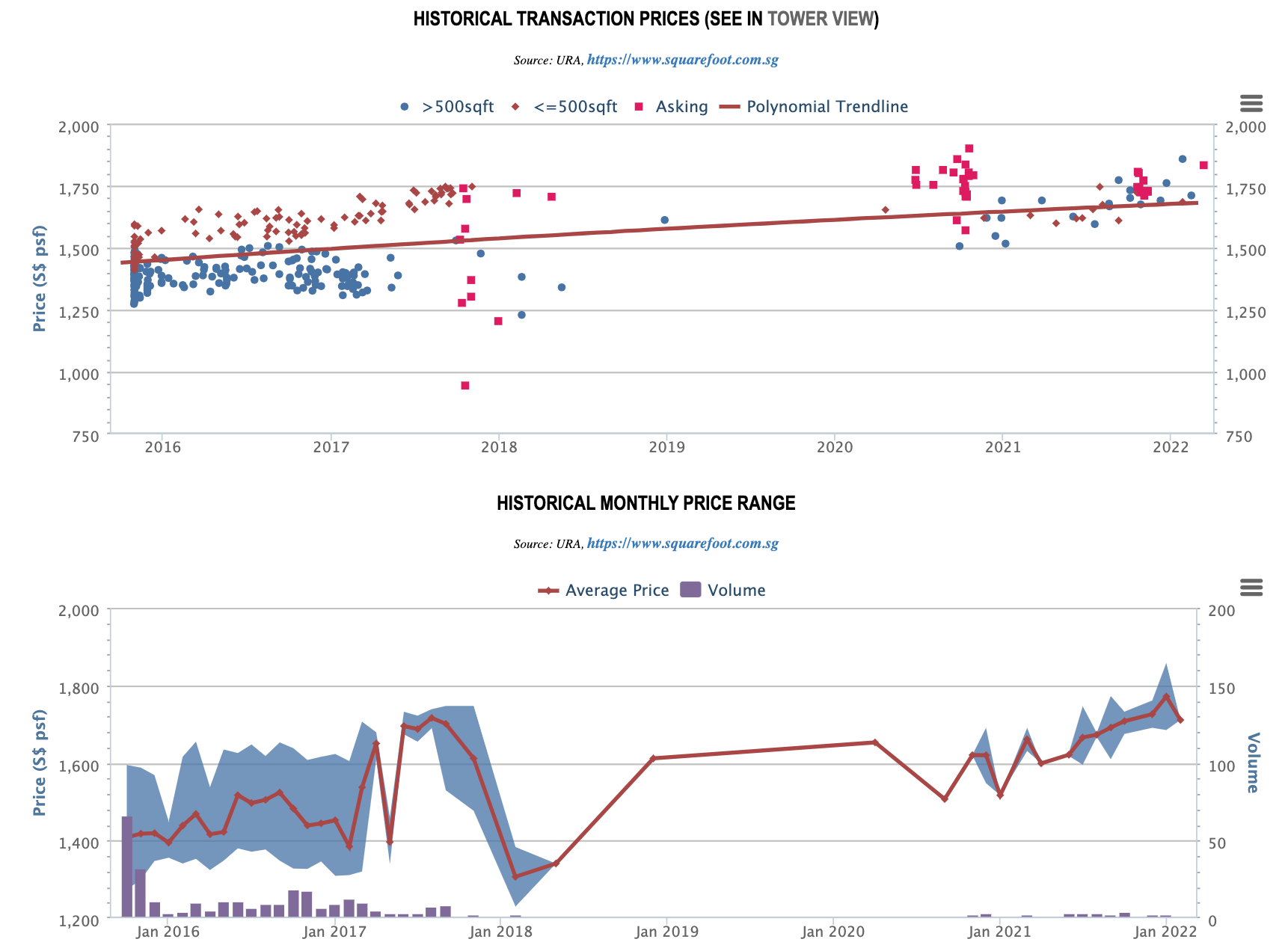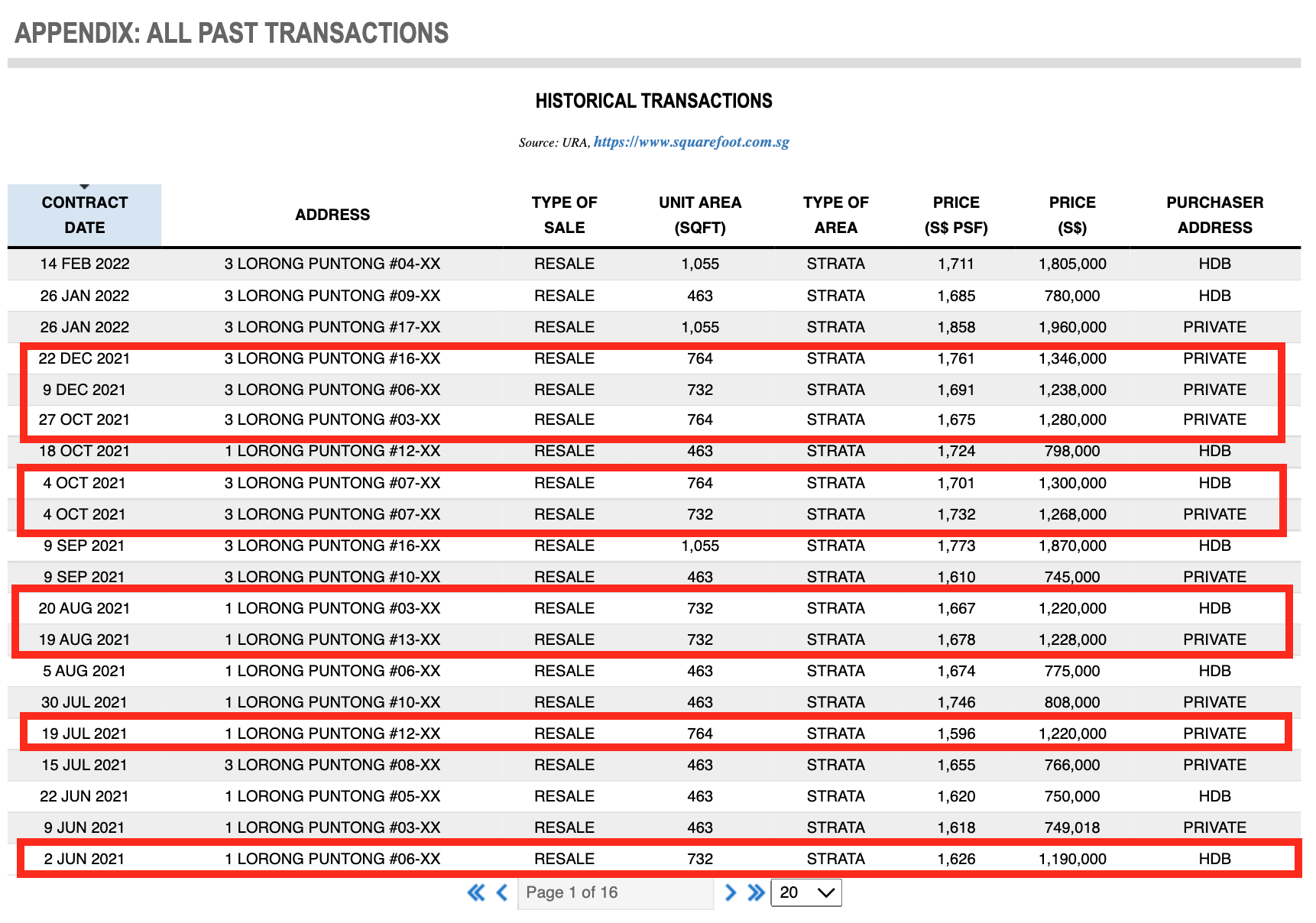 Layout analysis: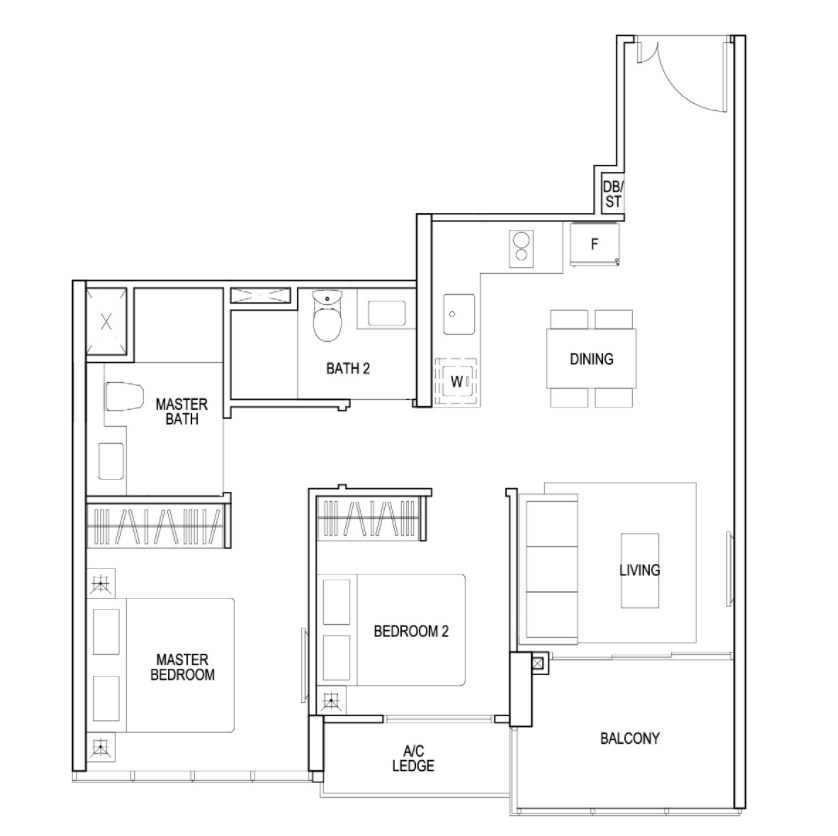 At 732 sqft, it is decent in size for a new-ish development. It has a regular unit layout, but there is also an entranceway here which some may regard as a waste of space. The unit opens up to an open layout plan and a decent-sized living area, so it would look like one of the more spacious units compared to the rest given this open layout. Both bedrooms are decent in size and are able to fit in a queen-sized bed minimally.
I do have reservations on the dining cum kitchen which seems very squeezy. Given the sink and hob area, there isn't much more countertop space, and you'll have to be quite selective with the appliances you use here too since a large portion of it is taken up by the washer.
Like Thomson Three, both bathrooms do not come with natural ventilation, so the only way to get cross-ventilation here is by opening the main entrance which can result in a lack of privacy. The balcony is quite a sizeable one too and is likely the source of clothes drying given the lack of space here.
Three 11
Three 11 is a small boutique development that lacks facilities. Located within walking distance to Thomson Plaza for amenities and TEL Upper Thomson MRT station, it ticks the boxes for convenience to amenities and transportation. As it is a small development, the transaction volume is on the lower side with only two 2 Bedder units sold so far, this may put an impact on the valuation for the development when it comes to future exit. Additionally, there are quite a number of 2 bedder unit mix in the development, which will post as competition when it comes to exiting. On another note, it does stand out against the rest considering that it is a freehold development, so if you are holding on in the long term, there is better value retention.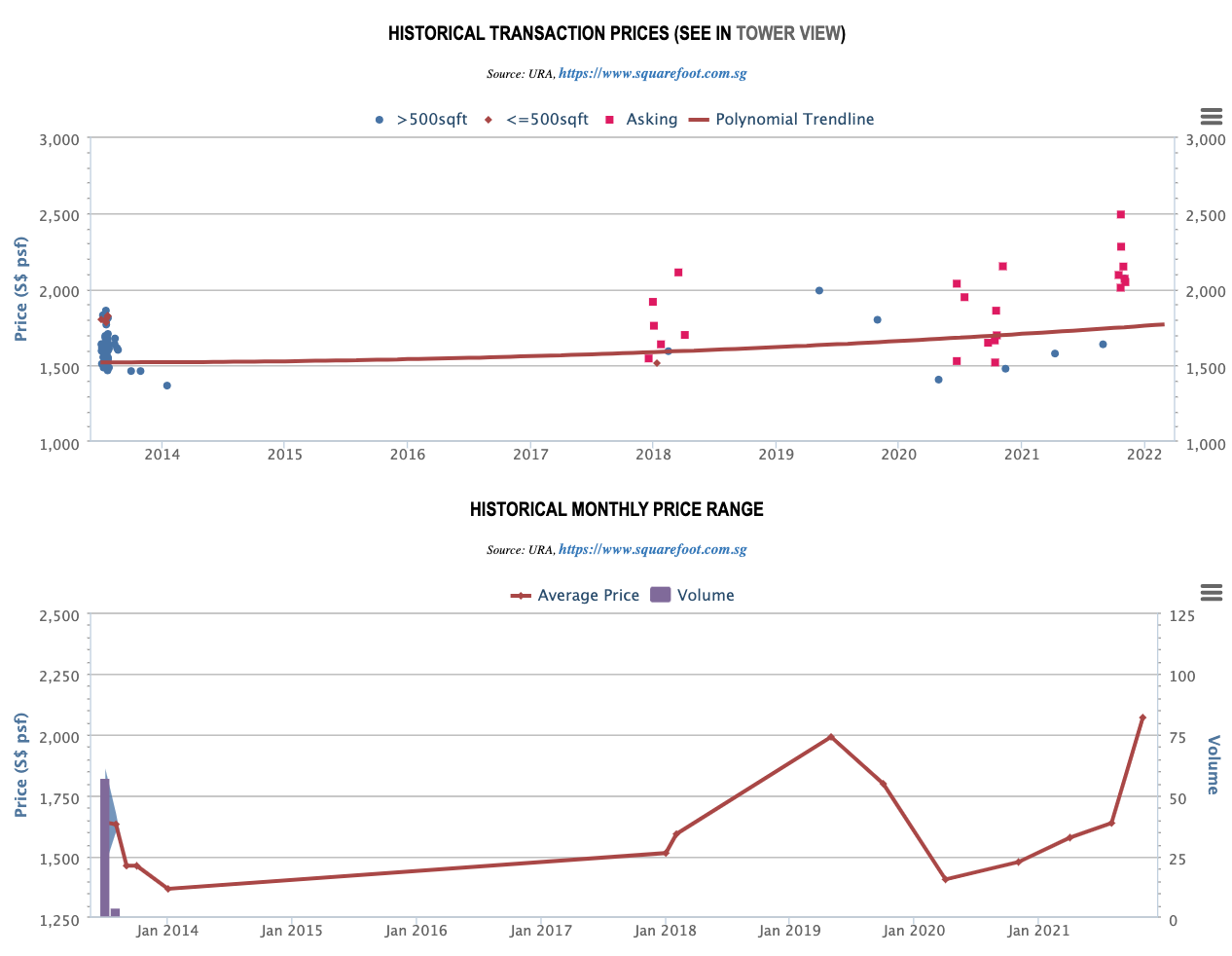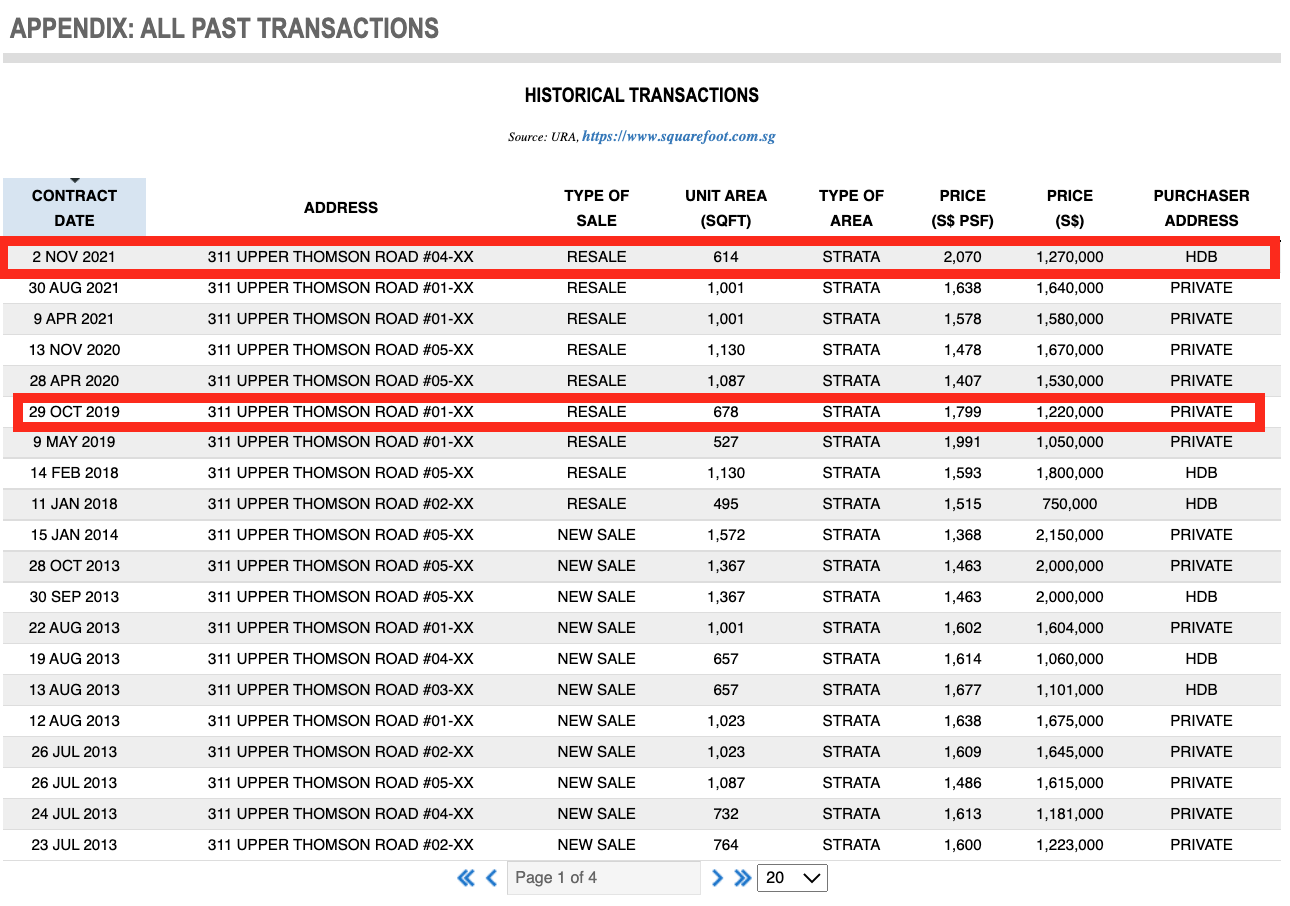 Layout analysis: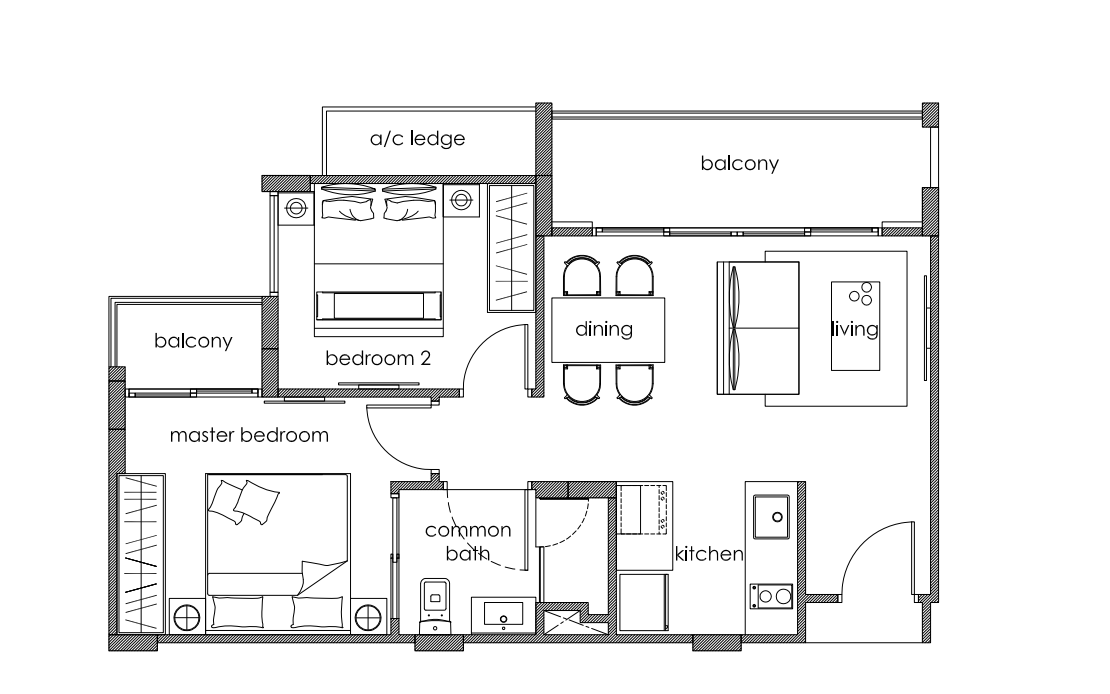 At 657 sqft, this is the smallest size of all the condos being considered here and the layout does have its pros and cons.
First – the pros. The kitchen has a squarish layout that allows for it to be enclosed with some light renovation works. Next, both the dining and living area can be tucked at one side, allowing you to flexibly configure which side you'd like for either function. Given most 2-bedrooms considered here lack a service yard, the large balcony means you'll not only have space to hang your clothes but to actually enjoy the outdoor area too. This could be important if you want to expose your kid to more outdoors.
The long rectangular shape that connects to the living/dining space, also means that putting something like ZipTrak to turn the balcony into an indoor space flexibly means the overall efficiency of the space can be increased.
As for the con, do note that there is only 1 bathroom here. For a family, this could be a little bit challenging since you'll likely have to wait at times to use it. The upside here is that it is of a Jack & Jill configuration, so it's not too inconvenient. You'd definitely feel the smaller size too, so for a family of 3, this could pose an issue.
Bishan Point
Bishan Point is the oldest development among the five shortlisted. Having TOP-ed in 2005, the locality stands out among the developments mentioned as it is located right next to Ai Tong School, convenient for you and your children. It is also a short walk to the TEL Bright Hill MRT station. It offers a decent range of facilities for a 164-unit development though it will be slightly dated. There shouldn't be a lot of question marks on the entry price, as it is an affordable quantum for a good size 2 bedder unit.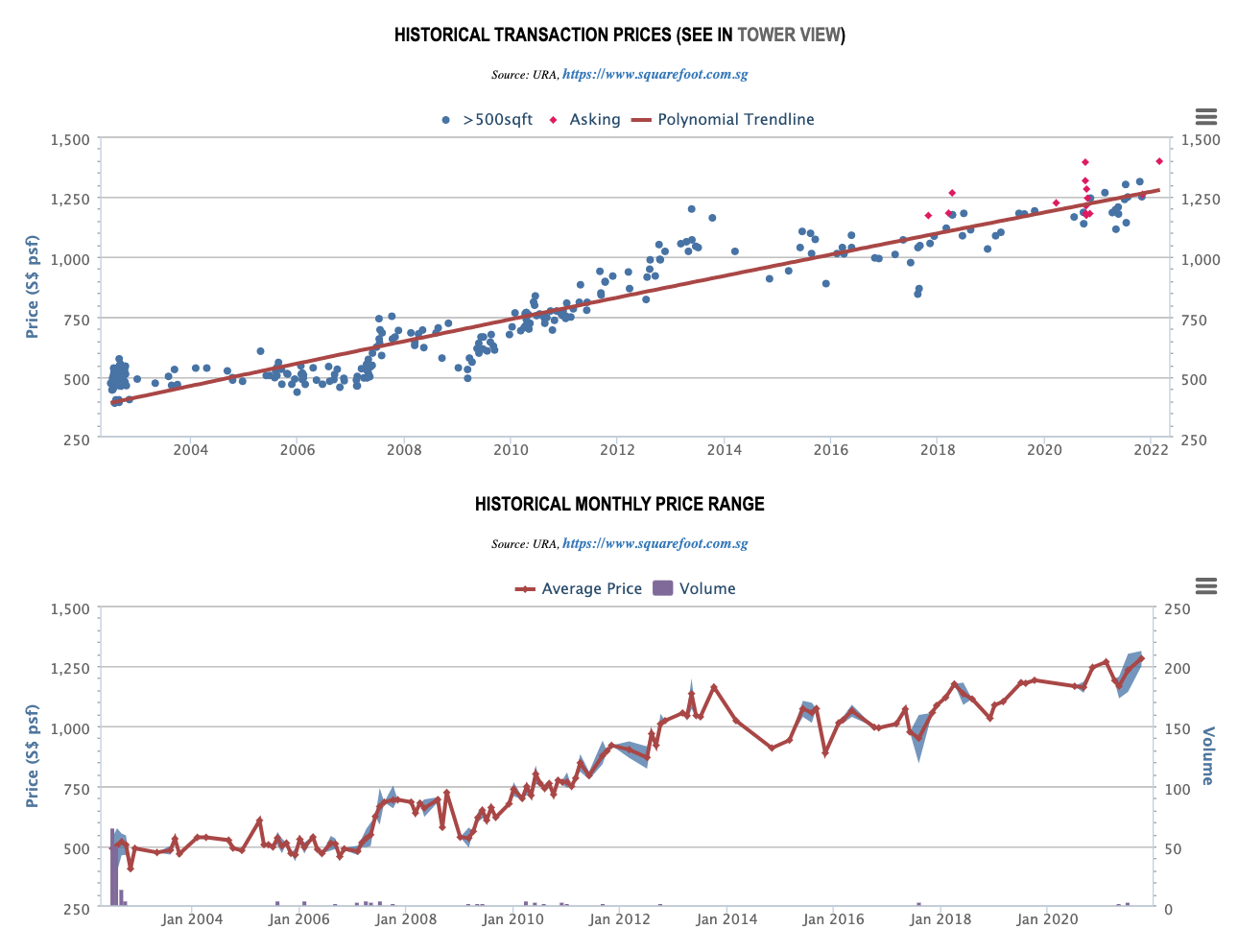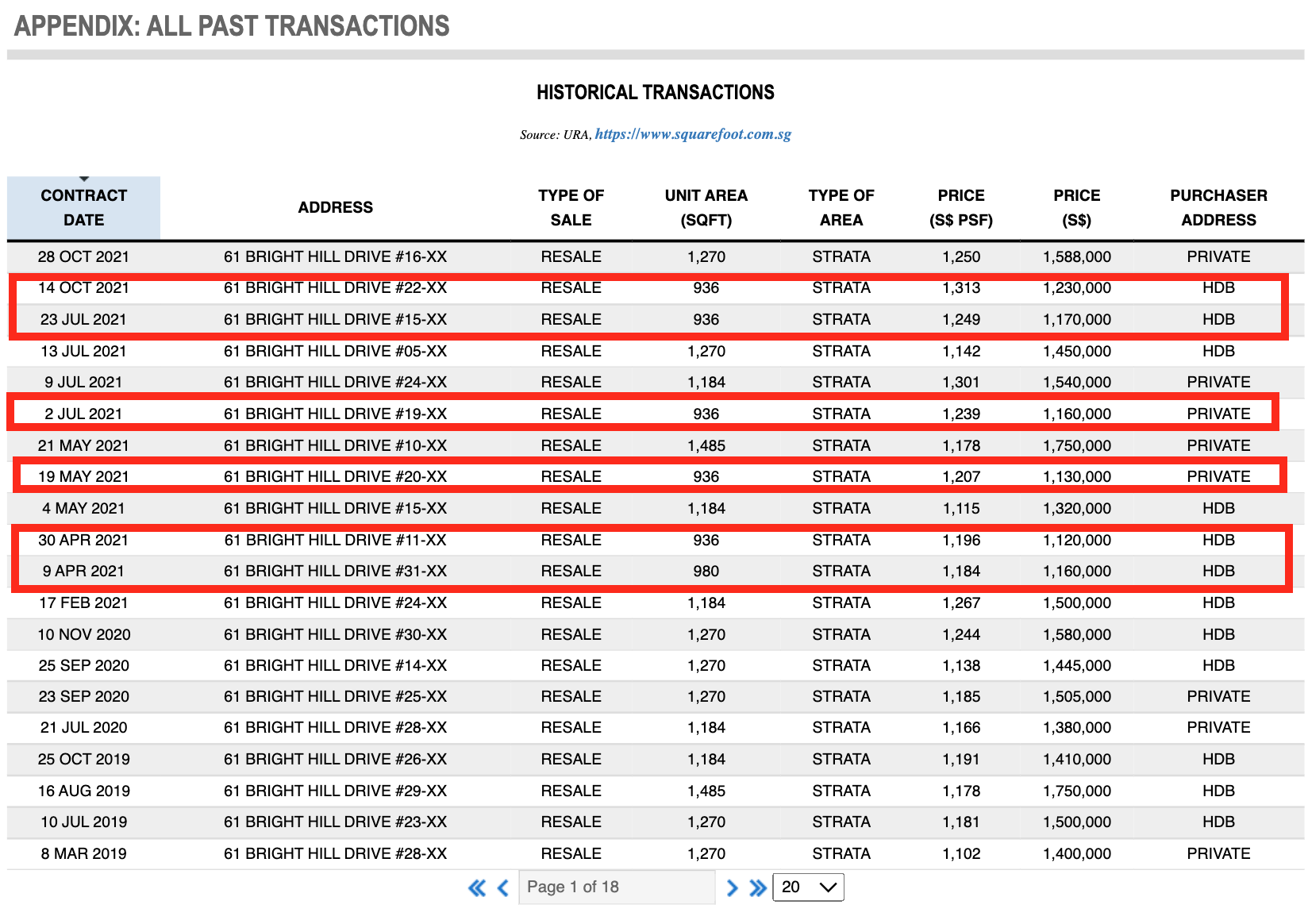 Layout analysis: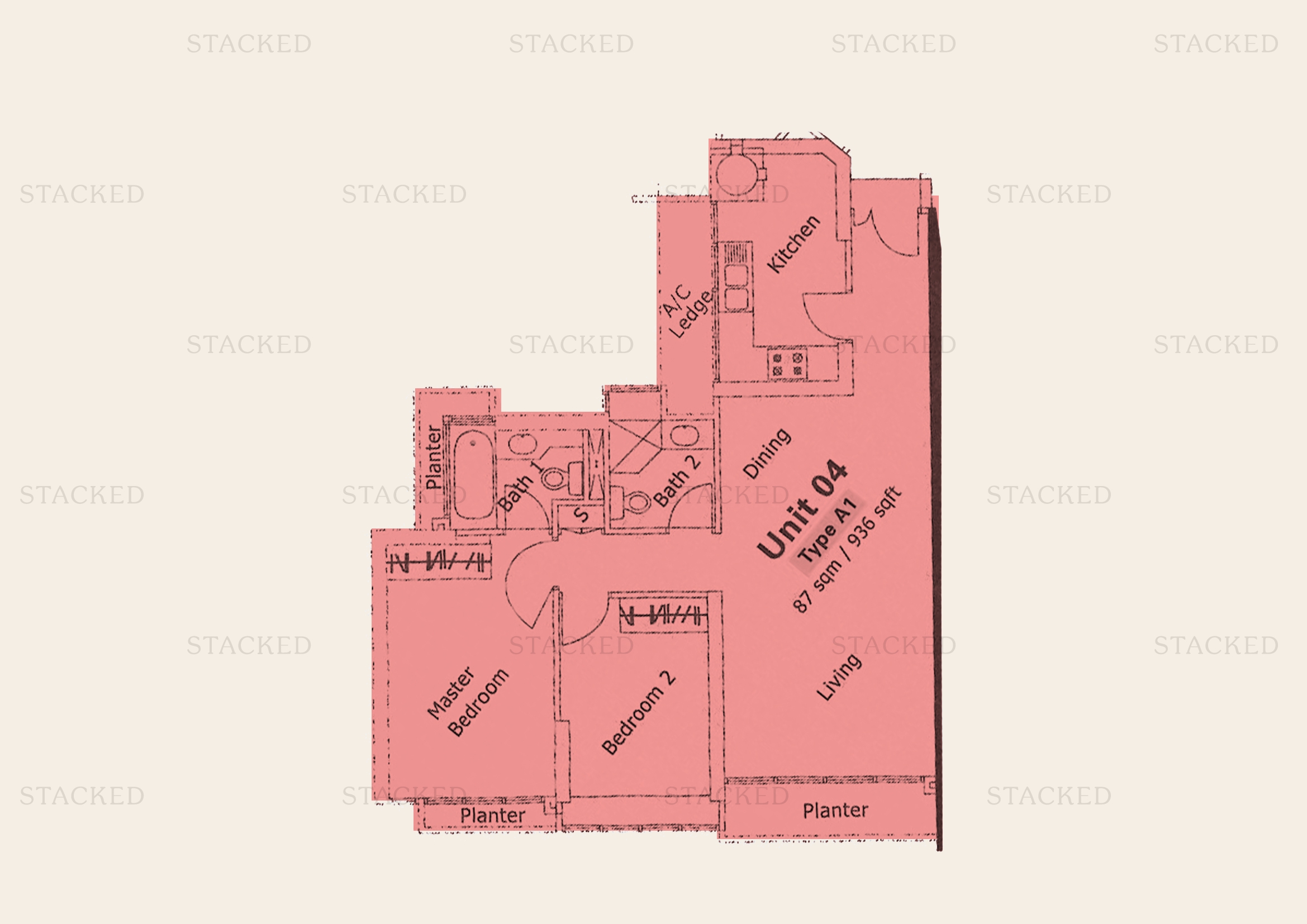 This is the biggest (especially in terms of internal usable space) layout in consideration. At 936 sq ft, it is spacious for a 2 bedder unit size. It has a squarish and efficient layout with an enclosed kitchen and a good-sized living, dining, and bedroom – nearly perfect for a family's own-stay profile (save for a yard).
The master bedroom, in particular, is big. There should be ample space for even a dresser or study even after fitting a large bed here.
Both bathrooms and kitchen area come with ventilation windows which is great for natural ventilation – and more importantly, cross-ventilation can take place here without having to open the main door.
However, the unit comes with planter boxes in the living, master, and master bathroom which takes up space. It also lacks storage space and a balcony area (a con if you particularly like to use such a space).
Capital Appreciation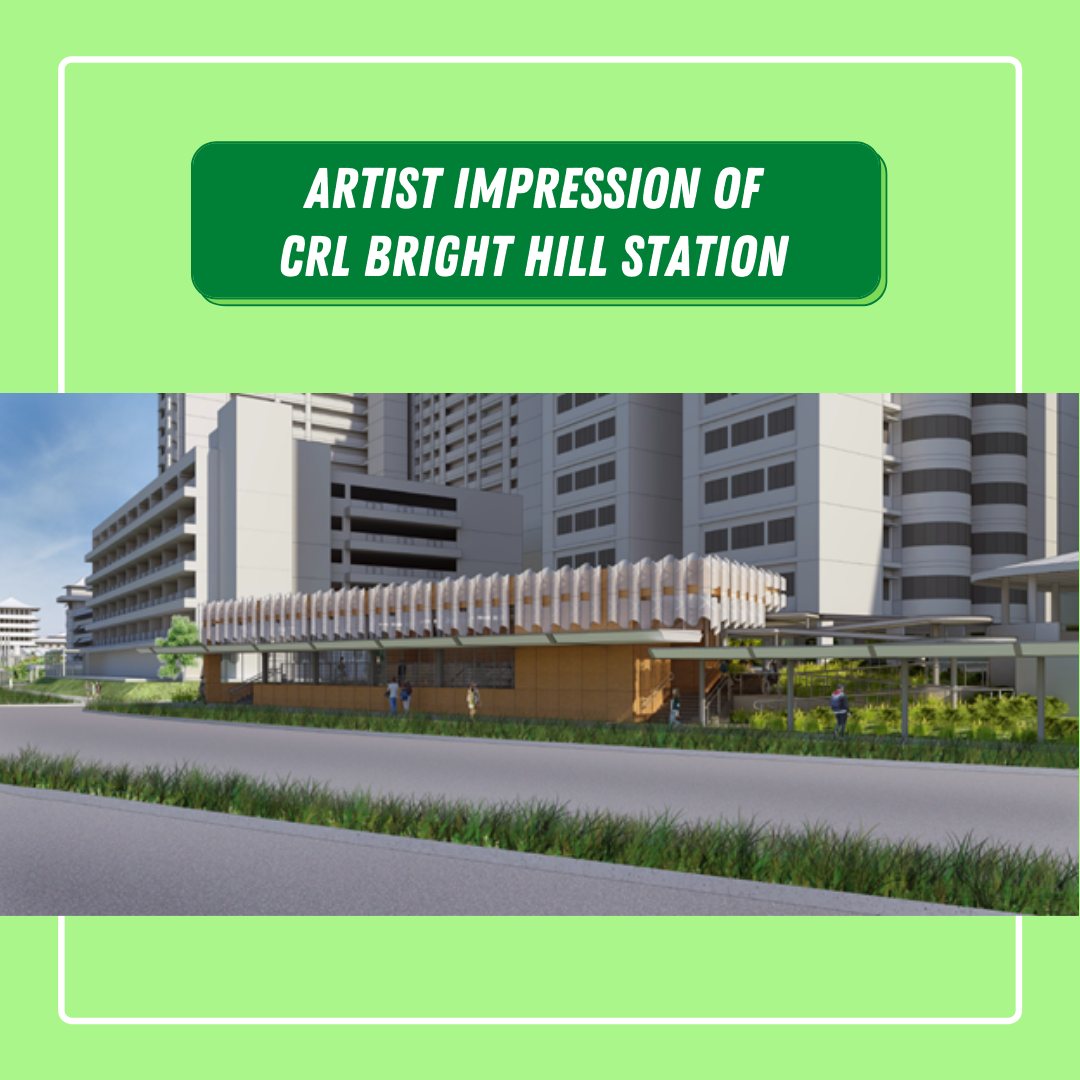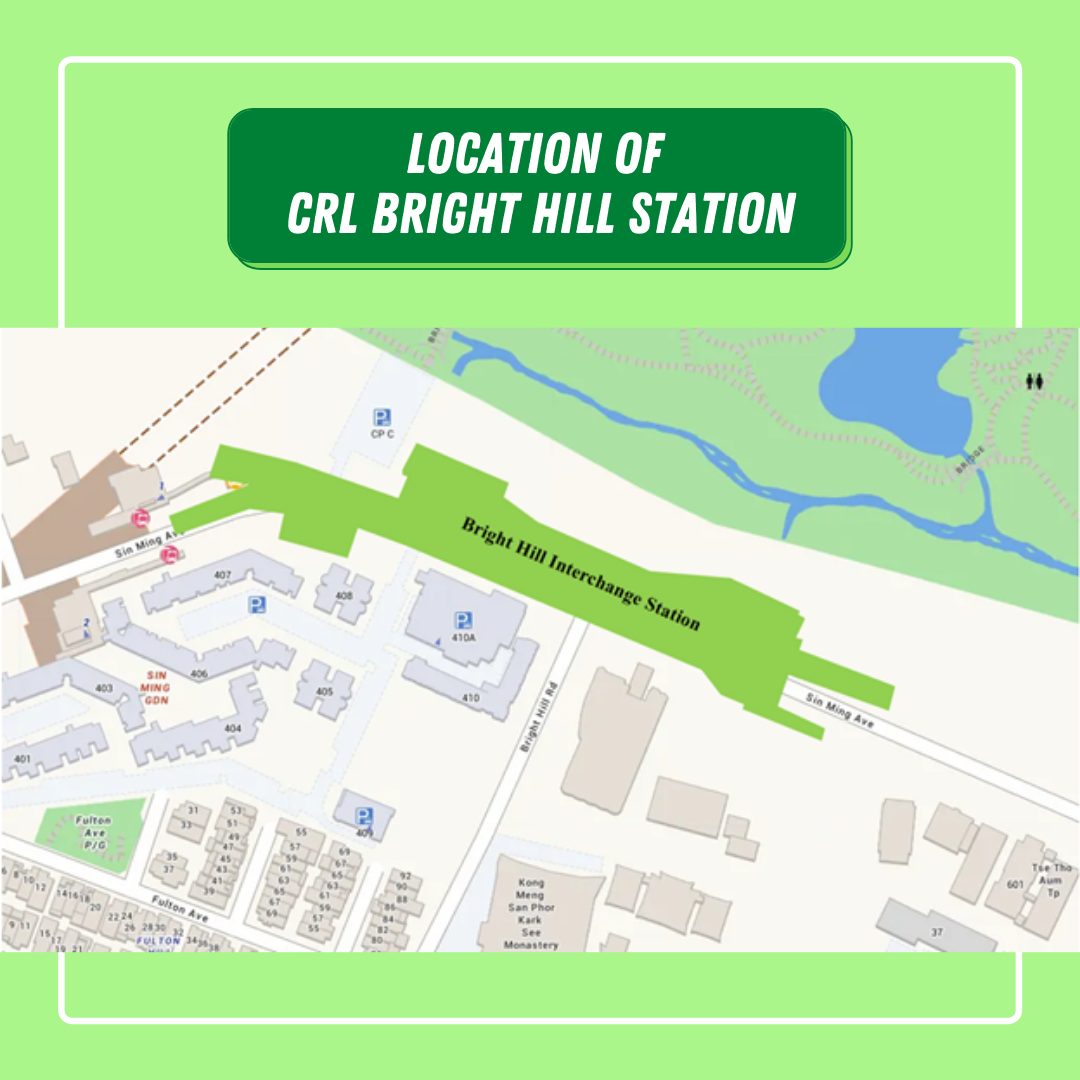 LTA has recently announced the changes to Sin Ming Area with an improvement to the current road and pedestrian along Sin Ming Avenue added with the upcoming Cross-Island Line (CRL) Bright Hill station which will make Bright Hill an Interchange station. This will further improve transport connectivity for the area in years to come.
This is great for the residents in the area, with future potential for more upside. Additionally, with the upcoming Ang Mo Kio GLS slated to launch in the next few months, so we do foresee the area will see an uptick in demand and an uptrend in price in the long run, especially for family profiles that place Ai Tong School as their main criteria.
Closing thoughts on each project
Thomson Impression will be our top pick as it ticks the boxes for a decent project which ticks the boxes for proximity to Ai Tong School, convenience to amenities, and public transportation. A relatively new project with a good range of facilities (including a tennis court, which is rare for new developments of this size!) offered for a lower density development. It also has a decent layout – though not the best, we think that with all the factors considered, it will likely remain attractive and relevant within your holding period of 8 years, especially with the newly added CRL line nearby.
The biggest point is probably it's close enough to Ai Tong that walking daily will not be an issue. This is compared to Thomson Grand and Thomson Three where the walk can be a bit of a drag.
Bishan Point for a good-sized 2 bedders at an attractive quantum but at the expense of dated facilities. However, it is convenient for your family especially since Ai Tong School is located right next door. It also has one of the better layouts considering the natural ventilation you get on both ends – plus the spaciousness of the place, however, its lease started in 1997 – putting this more than 20 years old by now. Despite the increase in prices through the past few years, it would be risky for us to say that the price can continue to appreciate or at least allow you to break even on your exit – especially with newer competing developments around.
Thomson Grand for a spacious unit size with a private lift setting at a decent quantum. While it is located slightly away from amenities, it is quite convenient to Bright Hill MRT station and Ai Tong School. My hesitation on this is the odd layout. Both living quarters are separate from each other, and you are paying for a private lift entrance which feels excessive for your profile. Of course, this is down to personal preferences, which can be subjective.
Thomson Three for a decent range of facilities added with convenience to Thomson Plaza and Upper Thomson MRT station. Located on a quieter side of Bright Hill, families looking for own-stay will enjoy the peacefulness of the area and the convenience of an MRT station and amenities. Both this project and Thomson Impression are at a similar quantum, size, and age, but we do prefer Thomson Impression over this due to the good facilities to unit ratio.
Three 11 for those that value a smaller community in a freehold development. There's definitely more value retention due to its freehold status, but for an 8-year horizon, this may not be as material as compared to a new-ish 99-year leasehold development. There are studies to show that 99-year leasehold developments can actually gain more than freehold (but of course, this really applies to those that aren't old) – and of course, the caveat is this is a very subjective thing.
Additionally, most of the 2 bedders units come with 1 bathroom – a big inconvenience, especially for a family profile. This is our main reason why we would not pick this layout out of all, despite the promise of being able to convert the large balcony into an indoor space.
Overall, we have shared our thoughts on all the developments, the capital appreciation potential of the area, each of the 2 bedder layouts as well as our pick amongst all the contenders. We hope that this would prove useful in your decision-making.
Thank you and we hope that the above pointers would help you in making your decision.
Have a question to ask? Shoot us an email at hello@stackedhomes.com – and don't worry, we will keep your details anonymous.
Looking for a home? Feel free to reach out to us here for a more in-depth consultation.
For more news and information on the Singapore private property market or an in-depth look at new and resale properties, follow us on Stacked.