BTO
We Review The November 2022 BTO Launch Sites (Queenstown, Kallang/Whampoa, Bukit Batok, Tengah, Yishun)
Ryan J
September 6, 2022

10

min read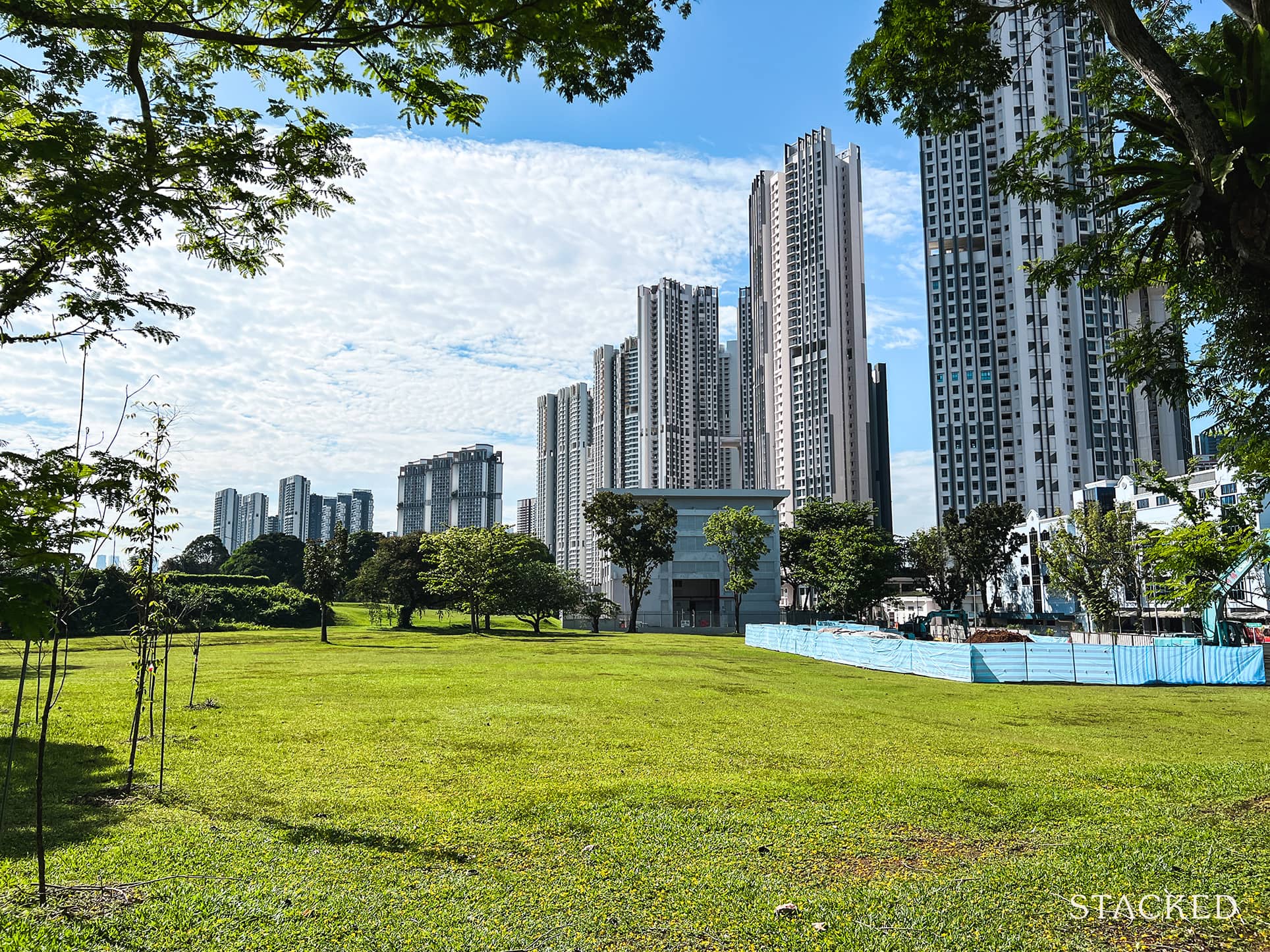 10
min read
It's only been a few days since the August 2022 BTO launch, and while we've yet to see the final response, there's never been a doubt that BTO launches are highly contested. For those who aren't quite ready this round, it may be time to concentrate on the next launch – the November 2022 BTO launch.
This time, 9,500 flats will be launched in five HDB estates. One of them in particular was quite controversial: a first-time development in Dover Forest. This previously drew a lot of protests from nature-lovers, so it seems at least half the area will be spared. Here's a quick look at all the available sites coming up:
November 2022 BTO launch sites
| | | |
| --- | --- | --- |
| Estate | Flat types | Expected number |
| Bukit Batok | 2-room, 3-room, 4-room, 5-room | 790 |
| Kallang / Whampoa | 3-room, 4-room | 470 |
| Queenstown | 2-room, 3-room, 4-room | 3,250 |
| Tengah | 2-room, 3-room, 4-room, 5-room | 2,070 |
| Yishun | 2-room, 3-room, 4-room, 5-room | 2,960 |
1. Bukit Batok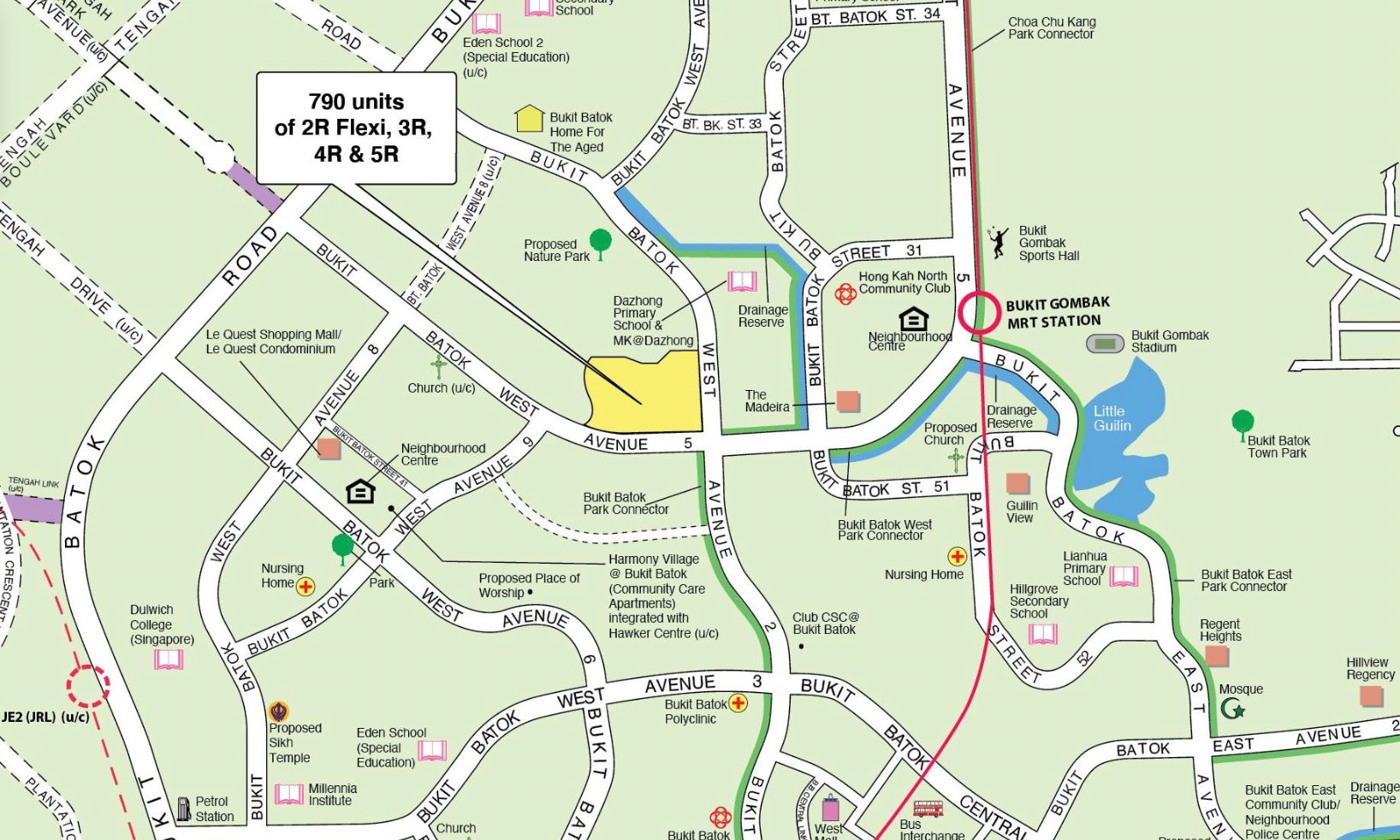 This plot is located at an intersection of Bukit Batok West Avenue 5, and Bukit Batok West Ave 2.
There appears to be MRT access via Bukit Gombak MRT (North-South Line), although it may be a bit of a long walk; possibly around 9 to 10 minutes. The Bukit Gombak MRT station is also a hub of the neighbourhood, with the usual assortment of a TCM clinic, McDonald's, minimarts, etc. There's also a Giant supermarket at Bukit Batok Street 31, near the MRT.
For those who like nature spaces, Little Guilin is just a bit past the Bukit Gombak MRT station.
(For day-to-day needs, the Sheng Siong at Block 468B may be a shorter walk – possibly just around five minutes).
LeQuest is a condo with a mall component, that's roughly 10 to 12 minutes from this site. It's not a huge mall, but it has got an NTUC FairPrice and a KouFu food court. For more extensive shopping, West Mall is about a six-minute drive from this location.
There are multiple schools that are likely within the one-kilometre Home School Distance from this site, including Dazhong Primary, Lianhuan Primary, St. Anthony's Primary, Hillgrove Secondary, and Swiss Cottage Secondary.
Overall, this is a good location for most families, as day-to-day amenities are nearby, as are schools. It may be better for those who like the outdoors though, as they will get more out of Bukit Batok's lifestyle areas like Little Guilin.
One complaint would be the lack of truly major retail malls in walking distance (though some may consider that an upside). Some residents may also consider the distance to the MRT to be far.
2. Kallang/Whampoa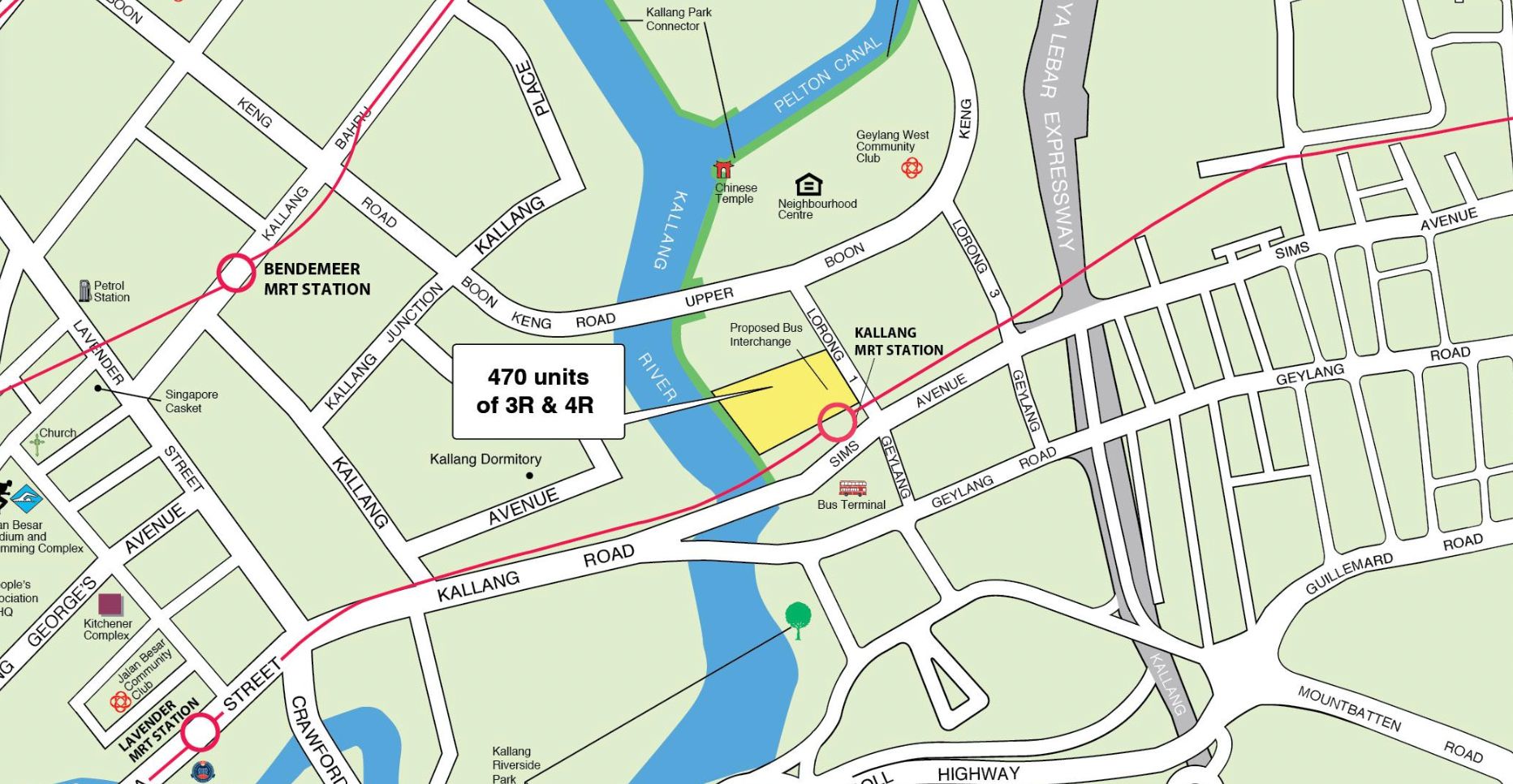 There's no question that if you are one that places convenience at a high priority, this particular plot will be of great interest to you. Although it must be said, due to its fantastic location, there's a good chance this site will fall under the PLH scheme.
For starters, this site is right next to the Kallang MRT station (East-West Line). Note that this is a mere three stops to City Hall, and four stops to Raffles Place. It's also just two stops from Paya Lebar, which is a major commercial hub. As such, this is probably the best located BTO launch site on the list.
Nearby amenities are also quite plentiful. About five to seven minutes to Upper Boon Keng Road, for example, you can find a Giant as well as an NTUC FairPrice. Walk around Geylang Lorong 1 for four minutes, and you'll hit the major stretch of Geylang Road. This entire stretch is littered with eateries, from coffee shops to restaurants; and many of them are open till 3am or later.
That said, this is quite a heavily-built up area, without much green space; some families may find it too urban. There's also a lack of nearby schools.
3. Queenstown 
Queenstown is a prime location, so there's a chance of the housing here falling under the PLH scheme. There are three BTO launch sites in Queenstown:
Between Ghim Moh Road and North Buona Vista Road
Along Queensway
Along Commonwealth Ave. West
Between Ghim Moh Road and North Buona Vista Road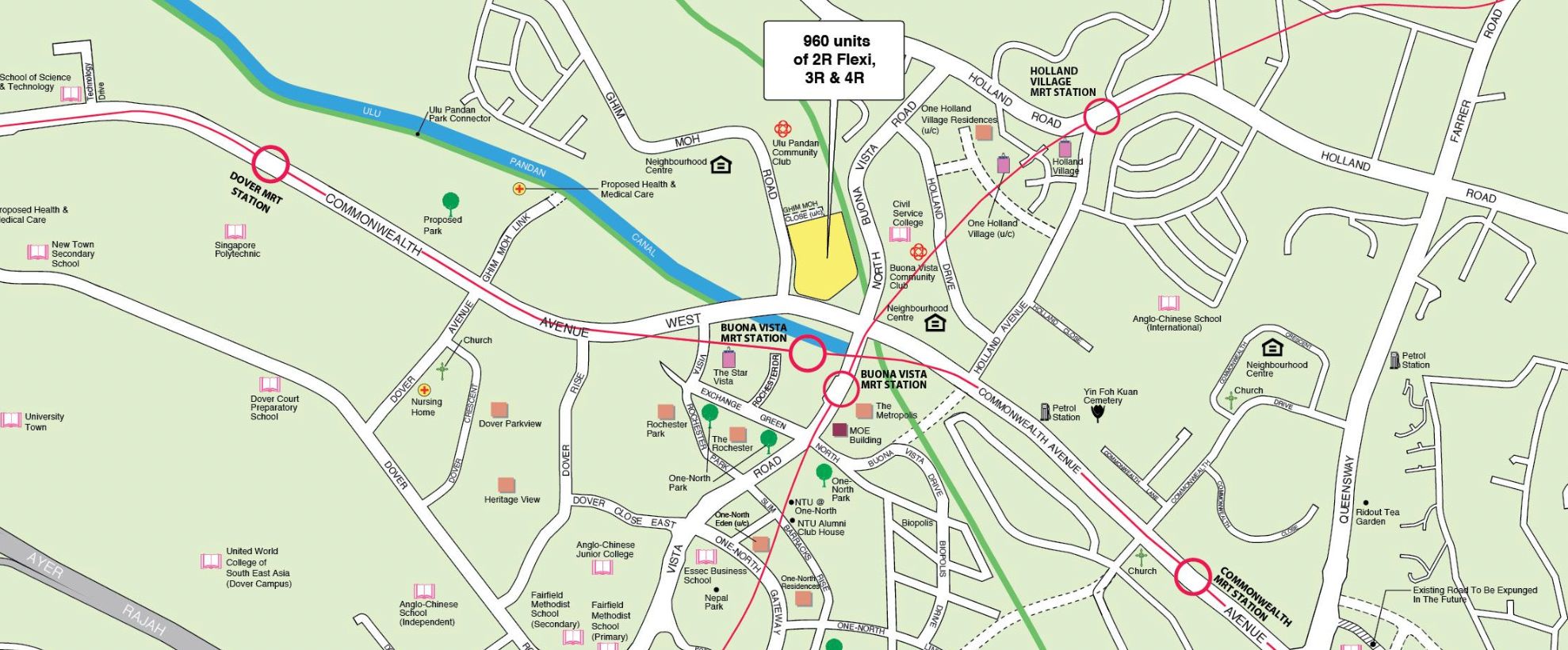 This site will consist of 960 units, of 2, 3, and 4-room flats. We'd be surprised if this area doesn't fall under PLH, as it's directly across from Buona Vista MRT station (East-West Line, Circle Line).
The Buona Vista MRT station is just across from Star Vista, the major mall servicing this area, as well as The Rochester Mall. This provides everything from a food court to a Watsons, a Cold Storage, and more. There's surprisingly quite a fair number of food options here, and there is also the upcoming Rochester Commons to look forward to.
It's also actually not a very far walk away from Holland Village, and with the upcoming One Holland Village development, the whole area is set to be upgraded even further. If lifestyle options are important to you, this location is one to note for sure.
Another major draw will also be the proximity to One-North, which is just one train stop away. One-North is a tech and media-hub, and any flats here will be highly rentable after their MOP is up.
This is a one of the better locations on the list, and we'd expect strong demand even if it does fall under the PLH scheme.
Along Queensway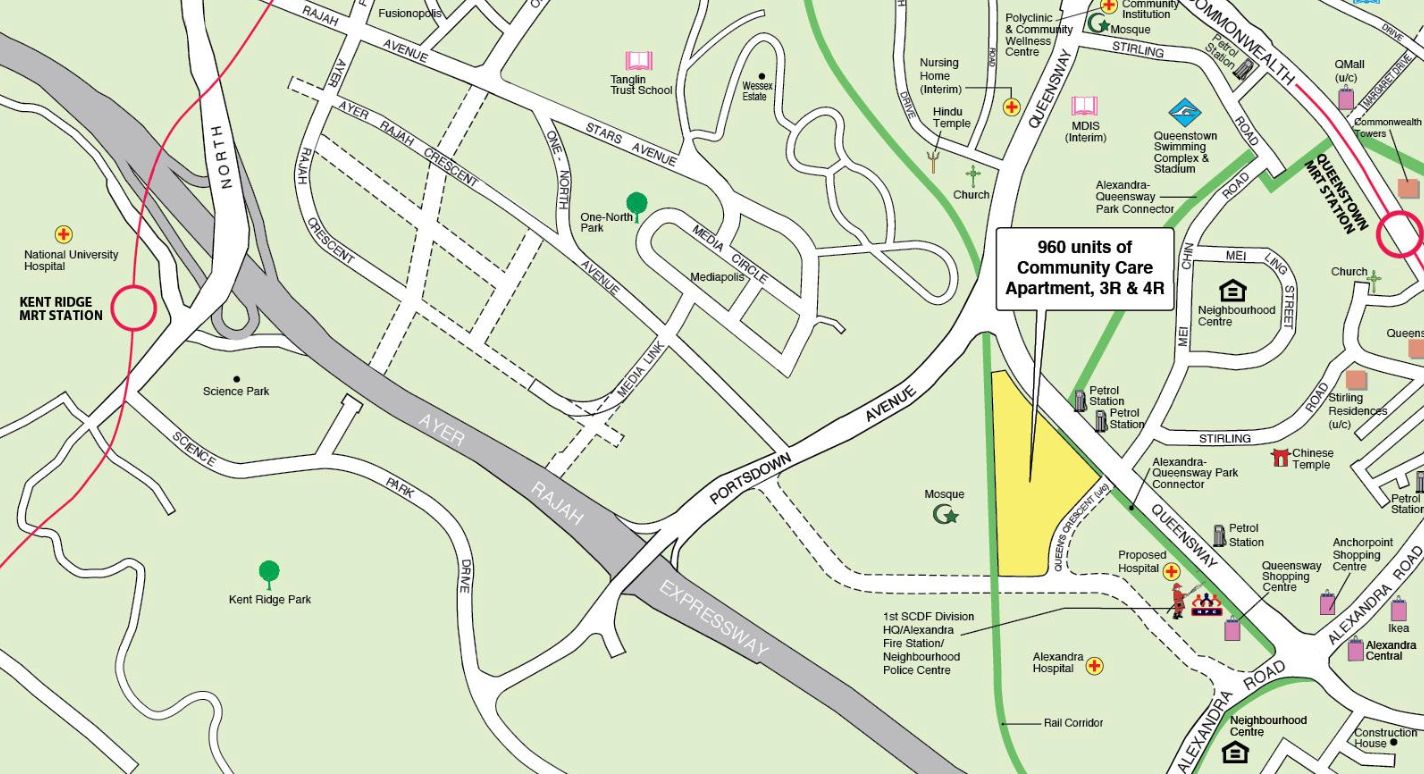 This plot is located near the intersection of Portsdown Avenue and Queensway – it's next to another development that's currently under construction, Queensway Crescent.
There will only be 3-room and 4-room flats here, although the exact number has yet to be confirmed.
This plot has the good proximity to the Rail Corridor, which runs through it – one of the access points is at the tip of the plot, at the intersection of Queensway and Portsdown.
That said this is one of the less accessible Queensway sites. It's quite far from Queensway MRT station (unless you consider a 15-minute walk to be close). At the very least, you could walk to Queensway Shopping Centre or Anchorpoint Mall, where unless you are a shoe shopping fiend you won't find too much here in terms of shopping. There is at least a McDonald's here, along with various food options at Anchorpoint, Alexandra Central and Alexandra Hawker centre. The closest spot for groceries will be the Cold Storage at Anchor Point, but for cheaper options the next nearest spot is probably the NTUC FairPrice at Stirling Road, which we estimate to still be around 10 minutes on foot.
Alexandra Hospital is nearby (next to Queensway Shopping Centre), which can be a plus or a minus. Home buyers who have certain taboos, or feel they may be disturbed by ambulance sirens in the night, may not like being so close to a hospital. But on the flip side, hospital staff have a lot of foreign workers, and those aiming to rent out their flat in future may benefit from this.
Ultimately, the area does make up for it though as it is still relatively less crowded as compared to the rest of Queenstown.
Read this next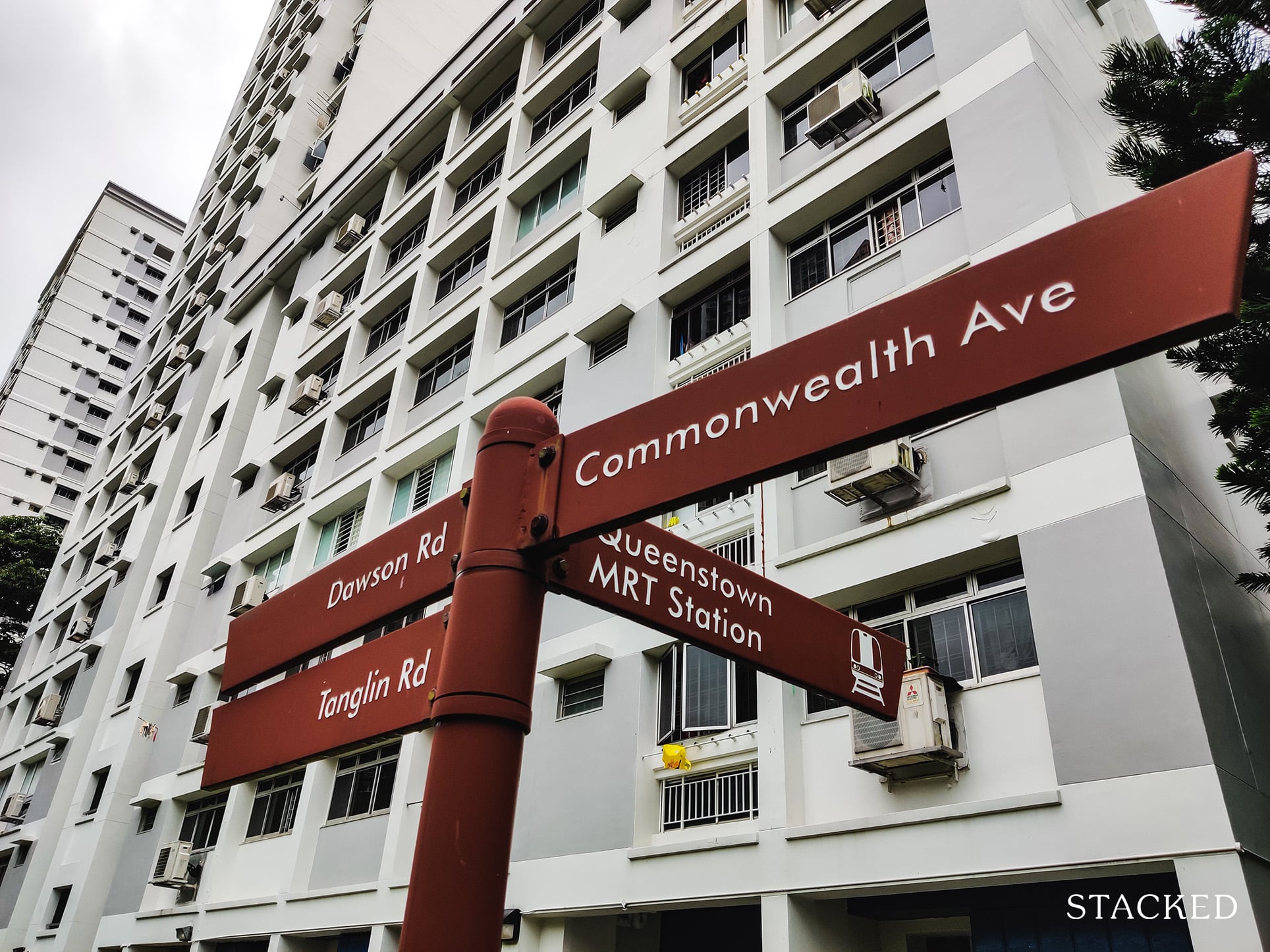 Along Commonwealth Ave. West

This site has 1,330 units of 3 and 4-room flats, and is probably the highlight of the November launch; again, we'd be surprised if the homes here don't fall under PLH.
The site is directly between the Ulu Pandan Park Connector, and Commonwealth Ave. West. This is about a four-minute walk from Dover MRT station (East-West Line), where you'll also find Singapore Polytechnic. For immediate groceries, there is an NTUC and Sheng Siong at Ghim Moh Edge/Link/Valley, and you can easily cross the bridge over to get to Ghim Moh. The market here is a hugely popular one, and getting good access to affordable food will be no issue here.
Besides this, residents will have easy access to the lifestyle hub of Holland Village, to major malls like Star Vista at Buona Vista. It doesn't matter that these aren't in walking distance, as the MRT will take you to Buona Vista in one stop, and Holland V in two stops.
Dover is also is just two stops from Jurong East, which is our "second CBD" and a major commercial hub.
This site saw some controversy in earlier years, when nature activists complained about potential damage to Dover Forest. There now seems to be a compromise, where the western half of Dover Forest will be left alone and untouched. We know a number of people were disgruntled with the decision to go ahead and demolish part of the forest; but we doubt it will slow the clamour for such a desirable spot.
4. Tengah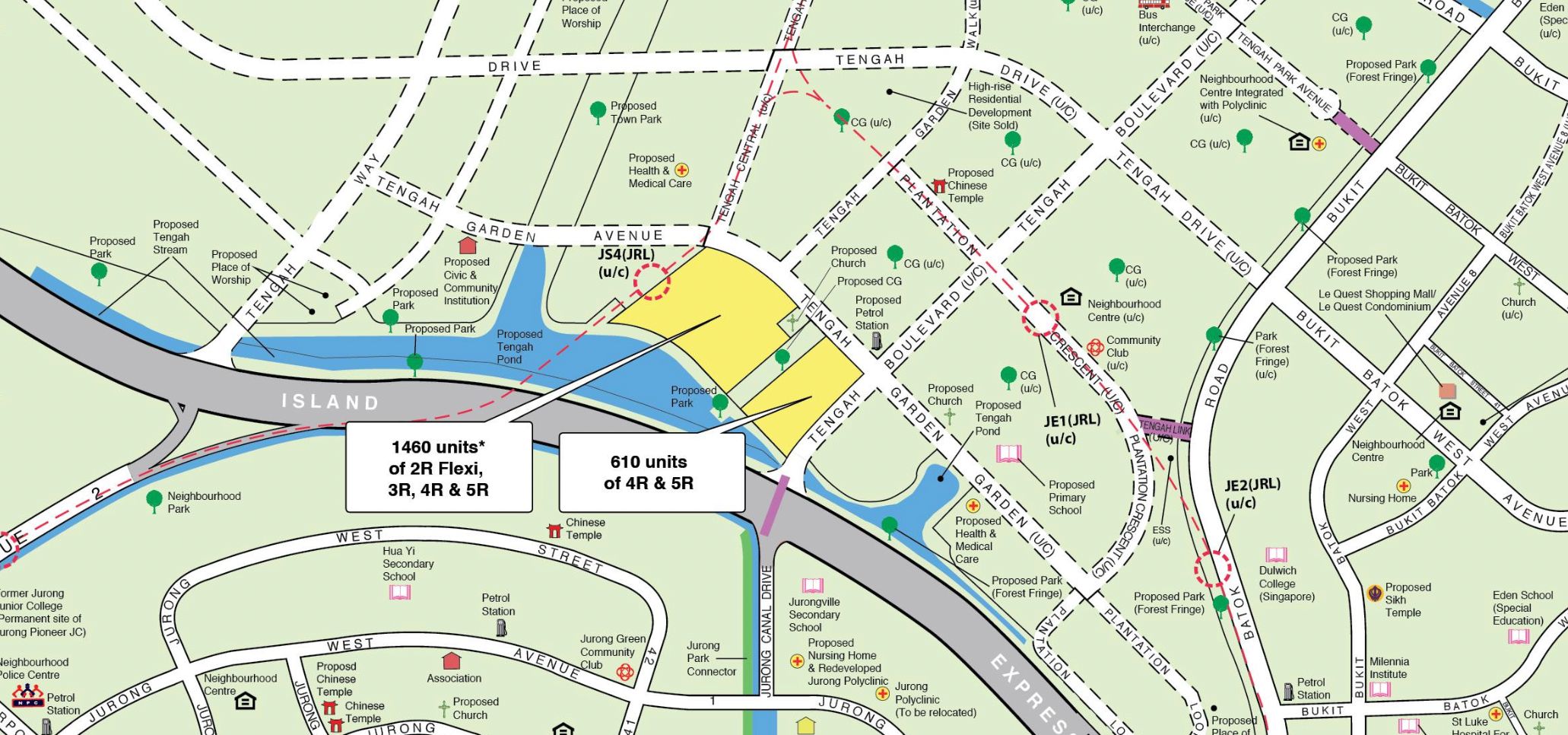 This consists of two land plots that are nonetheless side-by-side, so have broadly similar traits. The more popular of the two sites will probably be the one closer to Hong Kah MRT (Jurong Region Line), which won't be operational till 2027.
Other than that, we don't have much to say as Tengah is so new. It will take quite a few years for new amenities to spring up, so buyers should be prepared for the long haul. At present, there isn't much in the way of malls, eateries, etc., and you should expect to travel out often for your needs. It's pretty obvious from the number of the word "proposed" that you can see on the map that this is going to be one that you would have to be imaginative about the future of it.
5. Yishun 
There are three sites in Yishun, all next to each other. These are in parallel along Yishun Avenue 1.
We'd be a bit wary of the site closest to Miltonia Close (near The Shaughnessy and The Miltonia Residences). These are close to Orchid Country Club, which will see its lease expire in 2030. The government has plans for more residences in the area, which could mean a certain level of noise pollution. The views of these homes may also be affected, once other development takes place.
That aside, all three sites currently have a great view of Seletar Reservoir; and this provides a good amount of greenery nearby for families. The trade-off is the lack of MRT stations nearby – for now, residents will have to be content with the bus.
For more on the Singapore property market, follow us on Stacked. We'll also provide you with the latest changes in the Singapore private property market, and in-depth reviews of new and resale developments alike.