BTO
We Review The May 2023 BTO Launch Sites (Serangoon, Bedok, Kallang/Whampoa, Tengah)
Ryan J
April 11, 2023

7

min read
7
min read
It's almost time for the next crop of BTO flats to be launched. The last of which was in Feb 2023, with a total of 4,428 flats. This time around for the May 2023 BTO launch, three of the four options are mature towns: Bedok, Kallang/Whampoa, and Serangoon; so we're expecting more competition even though there are slightly more units (5,480 flats).
To further add on, it's been a long time since Serangoon and Bedok last had a BTO launch, so there will naturally be more demand. Tengah is also back on the launch list – maybe ACS Primary moving there will stimulate a bit more interest. Here's a rundown of the different sites:
May 2023 BTO Launch Summary
| | | | | |
| --- | --- | --- | --- | --- |
| Town | Maturity | Number of Units | Flat Types | Est. Price Range |
| Bedok | Mature | 1,630 | 2, 3, 4, 5-room and 3Gen | $450k to $550k |
| Kallang/Whampoa | Mature | 570 | 3 and 4-room | $490k to $640k |
| Serangoon | Mature | 330 | 4 and 5-room | $350k to $430k* |
| Tengah Site 1 | Non-mature | 970 | 2, 3, 4, and 5-room | $315k to $415k |
| Tengah Site 2 | Non-mature | 1,980 | 2, 3, 4, and 5-room | $315k to $415k |
*The last BTO launch in Serangoon was a long time ago, back in 2014, so we're not entirely confident about the price estimate.
Bedok BTO Launch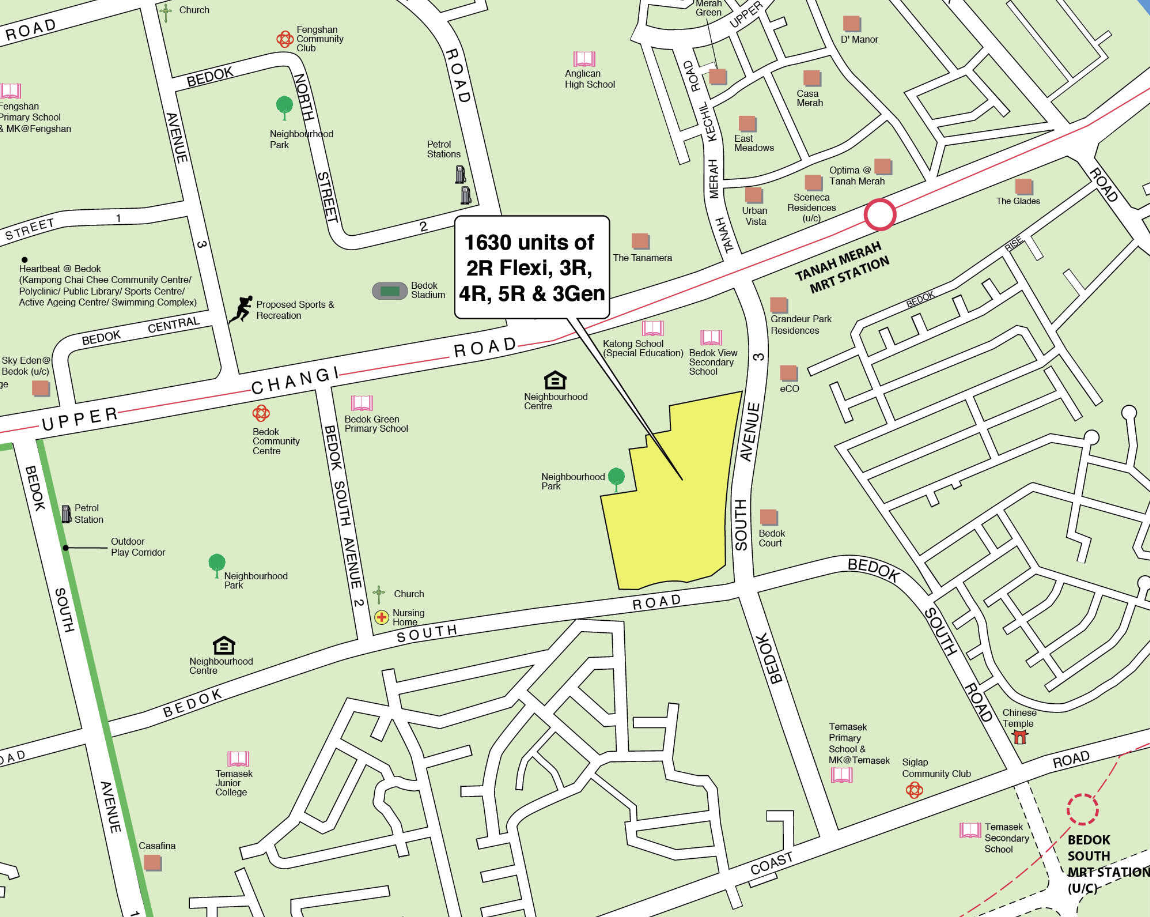 The Bedok launch site is along Bedok South Ave 3, across the road from a trio of condos (Bedok Court, eCO, and Grandeur Park Residences).
There is already a very old and established cluster of HDB blocks in this area, with some dating all the way back to 1977. As such, there are all the usual HDB amenities you'd expect – convenience stores, multiple coffee shops (some open past midnight), and minimarts.
The main highlights of this area boil down to the Tanah Merah MRT station (EWL), and the nearby schools.
This launch site is a somewhat long walk to Tanah Merah MRT (we'd roughly estimate 10 to 12 minutes), but it is manageable on foot (it also depends on the location of your unit). Besides being a link to Changi Airport, the upcoming Sceneca Residence will add retail and dining options (including a supermarket) around the station; this ends up benefitting these HDB residents too.
As for schools, Bedok View Secondary is right next to the plot, with Bedok Green Primary, Temasek Primary, Bedok South Secondary, Anglican High, and Temasek Secondary all nearby.
There will be 1,630 units here with all flat types available (2-room Flexi, 3-room, 4-room, 5-room and 3Gen units) so there will be something for everyone.
This is a very convenient and peaceful enclave, and we feel some buyers may prefer this to the noisier and packed central area of Bedok (near the Bedok MRT station).
Kallang/Whampoa BTO Launch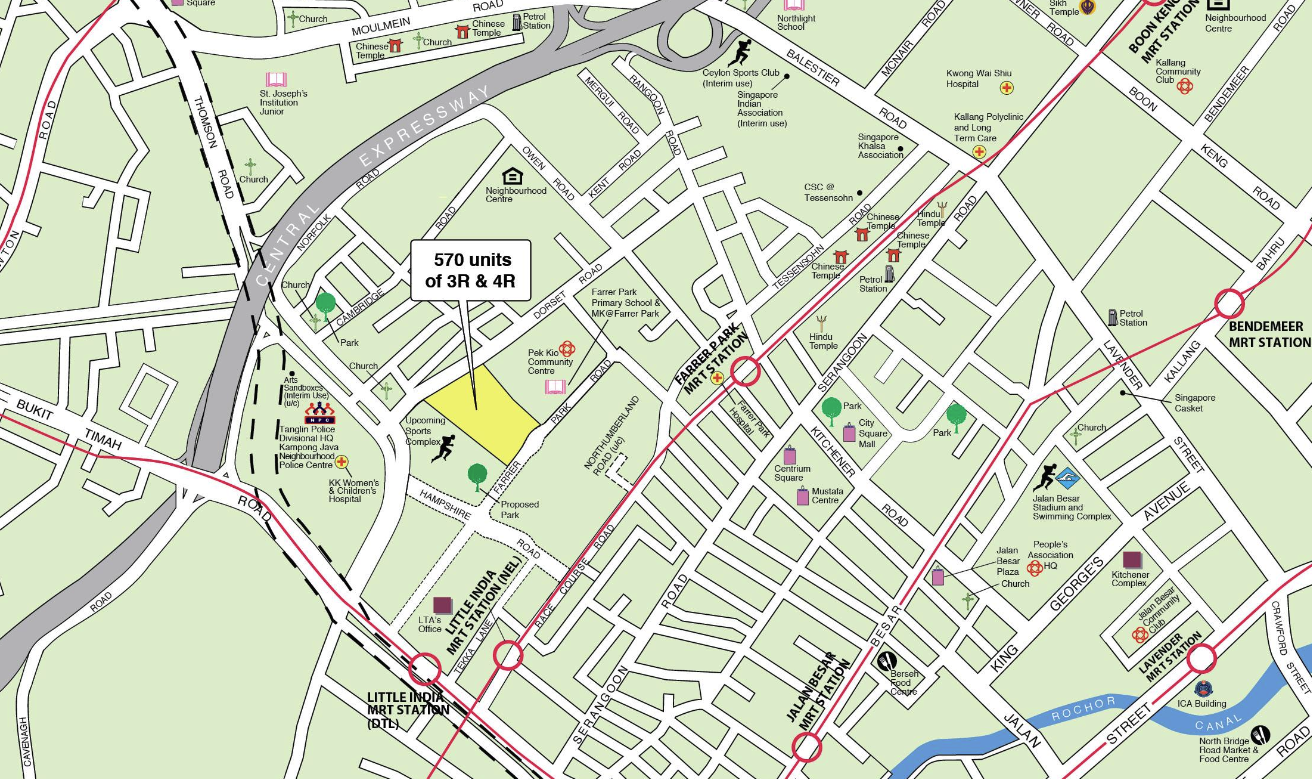 This site is located along Dorset Road, right next to Farrer Park Primary School. Like Bedok above, this is already an established HDB area, with many of the nearby flats dating back to 1979.
The highlight of this area is its MRT access – residents will be within long-ish walking distance of Little India MRT station (DTL and NEL). We'd guesstimate around 10 to 12 minutes on foot. Farrer Park MRT (NEL) is another option, but it will be slightly further than Little India station and given it is the same line anyway there won't be many benefits to walking the further distance for the station itself. You do have Piccadilly Grand to look forward to, as once built will be a commercial component called Piccadilly Galleria as well.
This means that a big plus point to living here is, well, Little India itself. If you don't mind the slightly long stroll, you can get to places like Mustafa Centre, Tekka Centre, and all the usual that Little India has to offer. And, of course, Little India station is just one stop from Dhoby Ghaut; so arguably, residents have good access to malls like Plaza Singapura as well.
You probably expect to hear the words "Prime Location Housing" for such a location, and we'd agree. It's quite probable that this is a PLH project given its strongly central location, and its make-up of 3 and 4-room flats.
Nonetheless, being able to live so close to town will be a great attraction to many. That said, given the lack of 5-room units and the proximity to many primary schools means that this is likely to be less favoured by families with younger kids.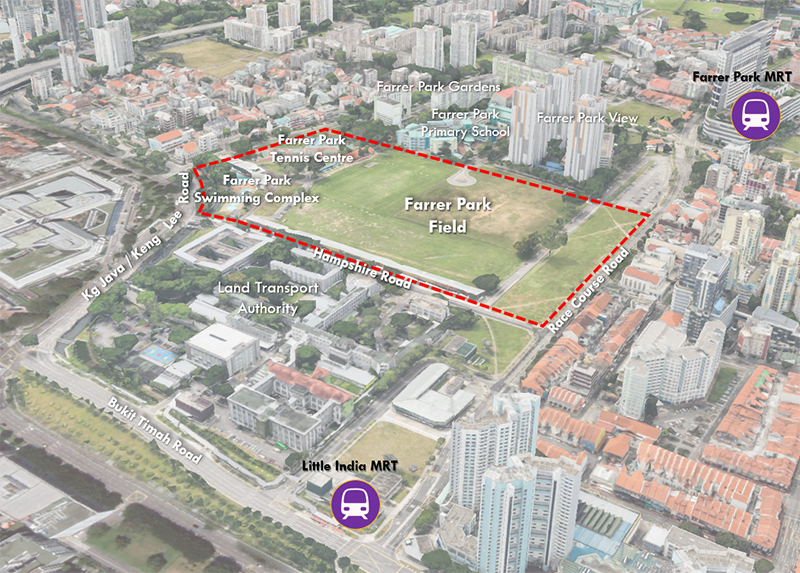 There are plans to add sports and recreational facilities such as a multi-purpose community sporting space, a jogging track, and a 1.2-hectare central green space. This is undoubtedly a great addition as the area is getting increasingly built up.
Serangoon BTO Launch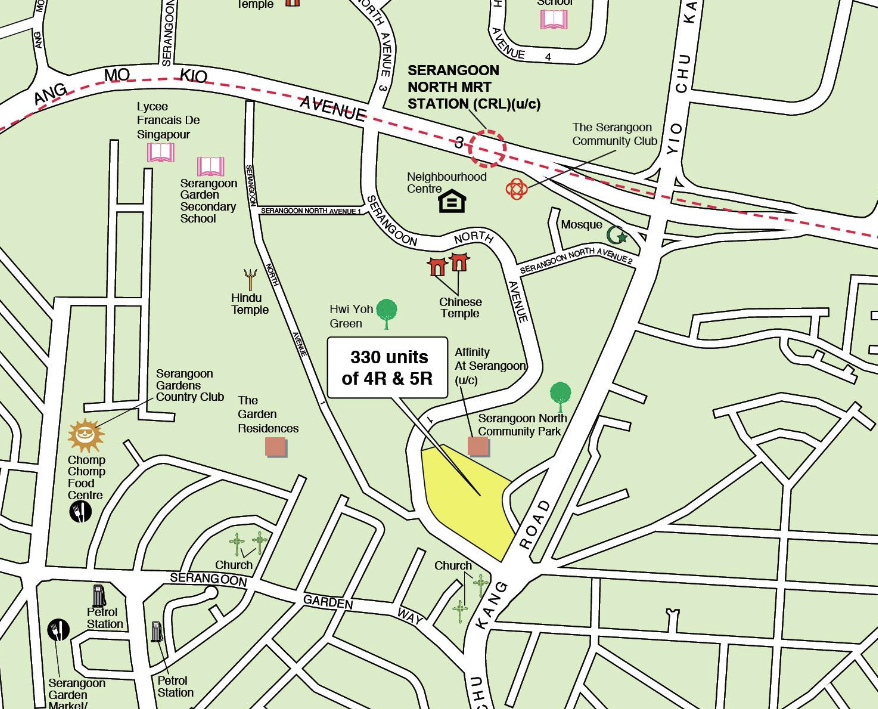 This site is next to Affinity at Serangoon condo; roughly at the juncture of Serangoon North Avenue 1 and Yio Chu Kang Road.
For now, this area is quite inaccessible, with no MRT stations nearby. The nearest will be Kovan MRT station on the North East line, and Serangoon MRT station on the North East and Circle line, but neither is near enough for daily walks. This will partially be rectified by the upcoming Serangoon North MRT station (CRL), but the station is only expected to be running by 2030. Assuming a construction time of four to five years, that's at least not too long to wait after key collection.
As for getting to the "sweet spots" of Serangoon, such as Chomp Chomp, NEX, and so forth, we estimate a roughly seven-minute drive, which is still decently close (you can also use the bus and travel just a few stops to get there).
As there are already HDB flats nearby, new residents have some day-to-day amenities within reach. Serangoon Block 152B, for instance, is within rough walking distance and has an NTUC FairPrice.
As this is a mature location with only 4 or 5-room flats, just 330 units, and the first Serangoon launch since 2014, we would expect a potentially higher quantum. We'd also say chances of landing a flat are slim, as Serangoon is a very high-demand neighbourhood.
Tengah Site 1 BTO Launch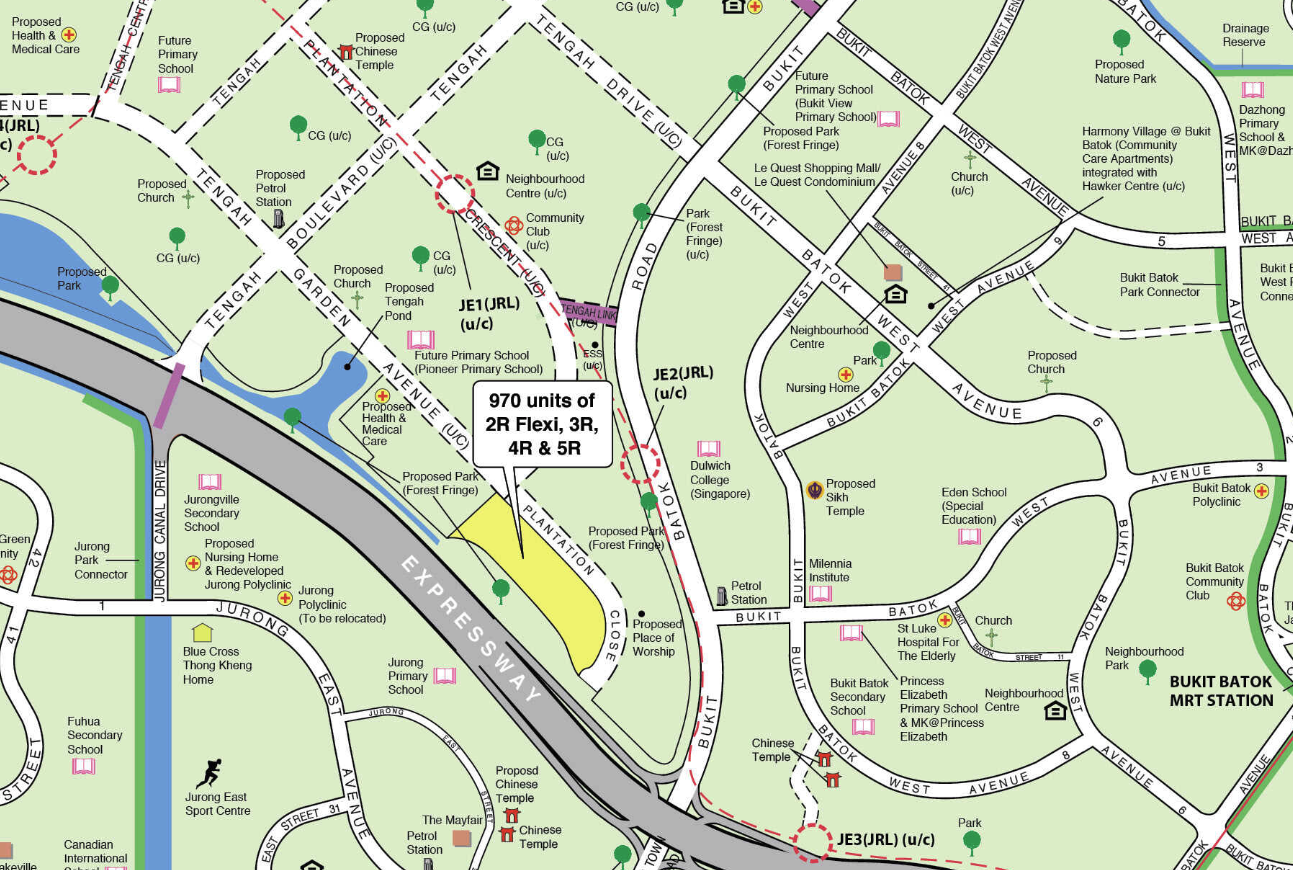 This site is along Plantation Close Road. There's nothing much here now, as Tengah is such a brand new neighbourhood; but we'd say the highlight is the Tengah Park MRT station (JEL) due in 2028 which will just be a 2-minute walk away. This will provide train access to Jurong East, which has become a retail and commercial powerhouse. We expect that most Tengah residents will mainly tap into Jurong East in the next decade or two, while their town is being developed.
Tengah Site 2 BTO Launch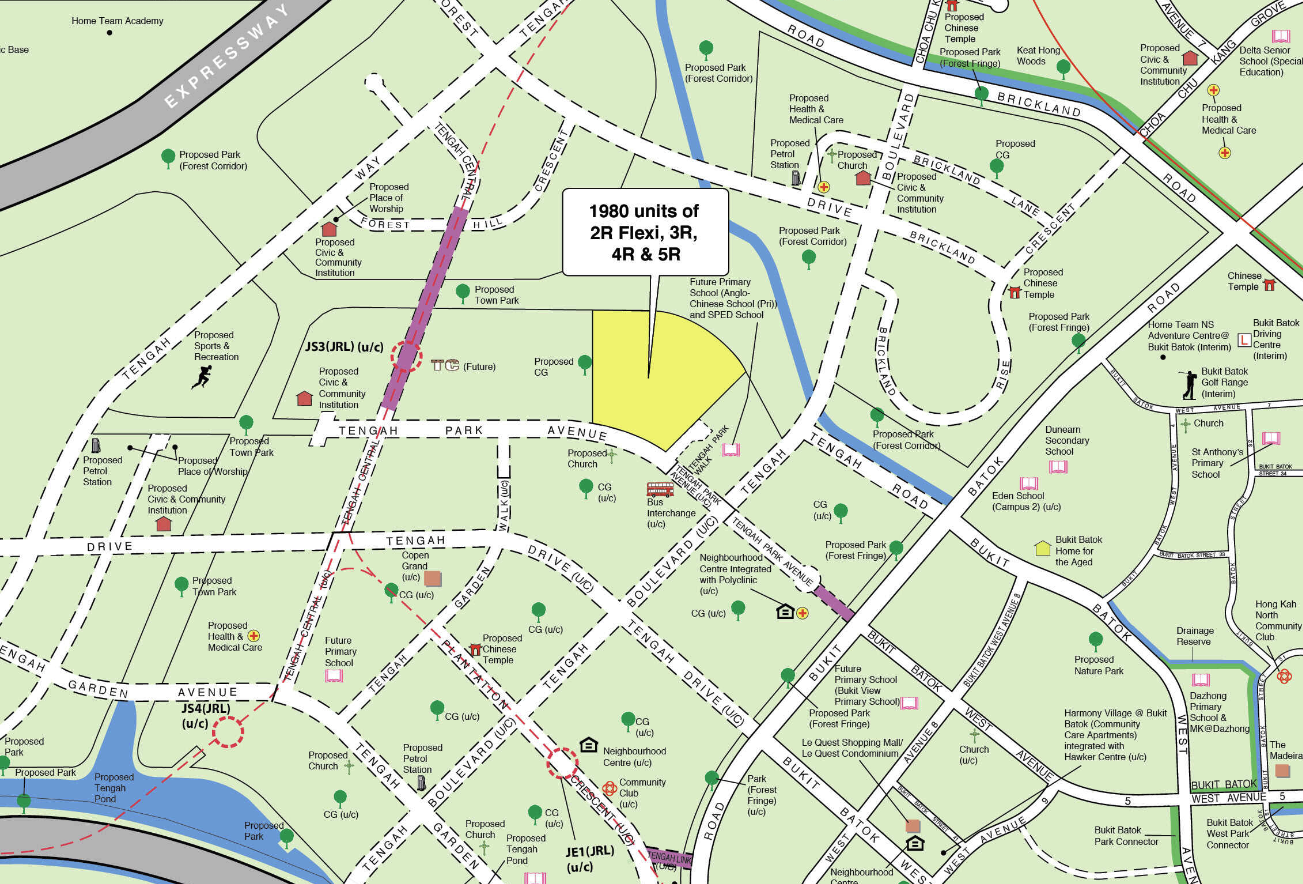 This may be the more popular site, as ACS Primary is moving to this area (sometime in 2030). This area also has an upcoming MRT station in 2027, which is Tengah MRT station (JEL).
We do think this will turn out to be the more popular of the two Tengah sites, due to the ACS effect and a few other differentiating factors from site 1.
For those who are in desperate need of a flat and don't mind non-mature locations, this is your best bet. At 1,980 flats, you have the highest chance of securing one here.
And if you want to move later, well, the MRT station should be up and running – along with ACS Primary – by the time your MOP is over. That should help in finding future resale buyers.
For more on the Singapore property market or reviews of new and resale properties alike, follow us on Stacked. We'll keep you updated on the latest trends and developments in real estate.