Our Verdict
Watten House will be the latest of UOL's series of luxury developments, boasting of rarely seen large floor plates including penthouses that span more than 4,000 sqft. Nestled in a prestigious neighbourhood and 2 top primary schools within 1 km, asking prices for some units are in excess of $10m, meaning that buyers in this category have plenty of options. Will the product here be luxurious enough to wow buyers to take the plunge?
39
min read
| | |
| --- | --- |
| Project: | Watten House |
| District: | 11 |
| Address: | 36 – 50 Shelford Road |
| Tenure: | Freehold |
| No. of Units: | 180 |
| Site Area: | 220,243 sqft |
| Developer: | JV between UOL Group and Singapore Land |
| TOP: | Est. 2027 |
Watten House builds on the success of UOL's "house" series, which first started with Meyer House, an ultra-luxurious development that was billed as the Nassim of the East. With lush landscaping, large units, a park at its doorstep, and most of all, a private lift for each and every unit, Meyer House definitely set the bar high on the standards UOL is capable of. (They were also the ones that created another luxury condo nearby, 15 Holland Hill).
Needless to say, expectations are high here, since Watten House is in Bukit Timah, a neighbourhood synonymous with old and new wealth. Most of the Good Class Bungalow areas are found within a 3 km radius, including the likes of Cluny Hill, Camden Park, and Bin Tong Park among numerous others.
In light of this, I think it made complete sense for UOL to focus its efforts on developing larger units at Watten House to plug the dearth of supply of such units in this area (there are only 3-bedroom units here and up). After all, many families who have grown up in Bukit Timah will desire to continue to live here, especially the second generation who have benefitted from the growth in asset prices here. GCB owners who may be getting on years may wish to live in a more accessible new condo unit instead.
There were signs for this demand anyway, with Royal Green selling out their 4 bedders almost immediately, and 15 Holland Hill taking some time to sell their 2 bedroom units.
The combination of large units and an expected psf of $3,200 on average means that buyers here are definitely among the most wealthy in Singapore. It would hence be interesting to see if the product developed at Watten House matches up to the expectations of the well-heeled buyer.
Without further ado, let's check out Watten House!
Watten House Insider Tour
Watten House is a 180-unit development located along Shelford Road. It's been some time since we last saw a new launch along Shelford Road and definitely even longer for one with more than 150 units, since a number of them here are more boutique developments. On the other hand, Watten Estate is probably more well-known for being predominantly made up of landed properties.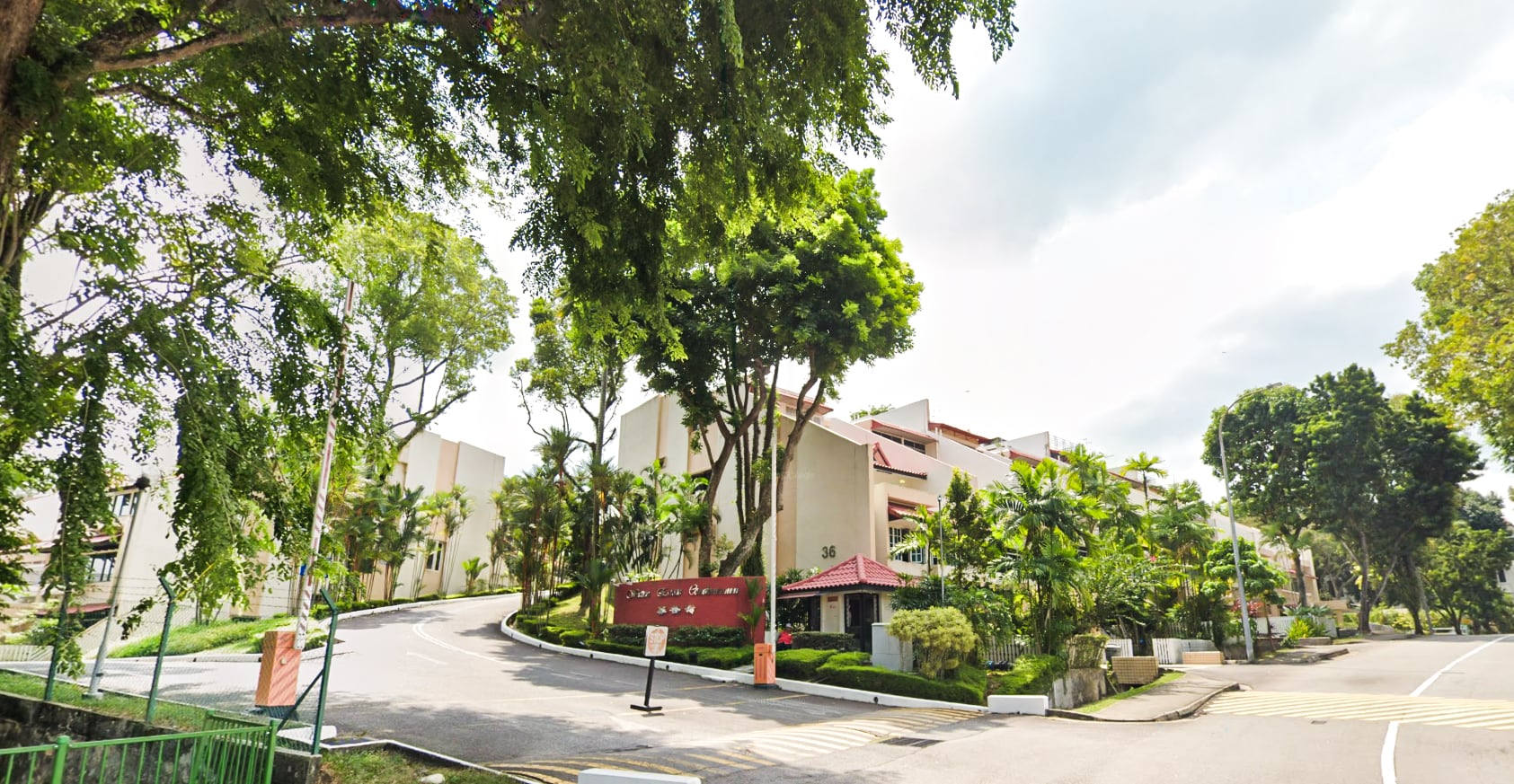 Watten House is the redevelopment of the former Watten Estate Condominium, which had 104 units and was sold en bloc for $550m ($1,723 psf ppr) back in 2021. While it could have been redeveloped into up to 286 units, UOL has decided to focus on the largest unit types instead, making it a more exclusive development with just 180 owners.
Entering along Shelford Road, you have your 2 lane ingress, single-lane egress, and a guardhouse. These will be more than sufficient to deal with the early morning rush given the low-density nature of the area. A bigger concern might be when you turn out onto the busy Dunearn Road, so setting off early is key to avoiding the Bukit Timah jam!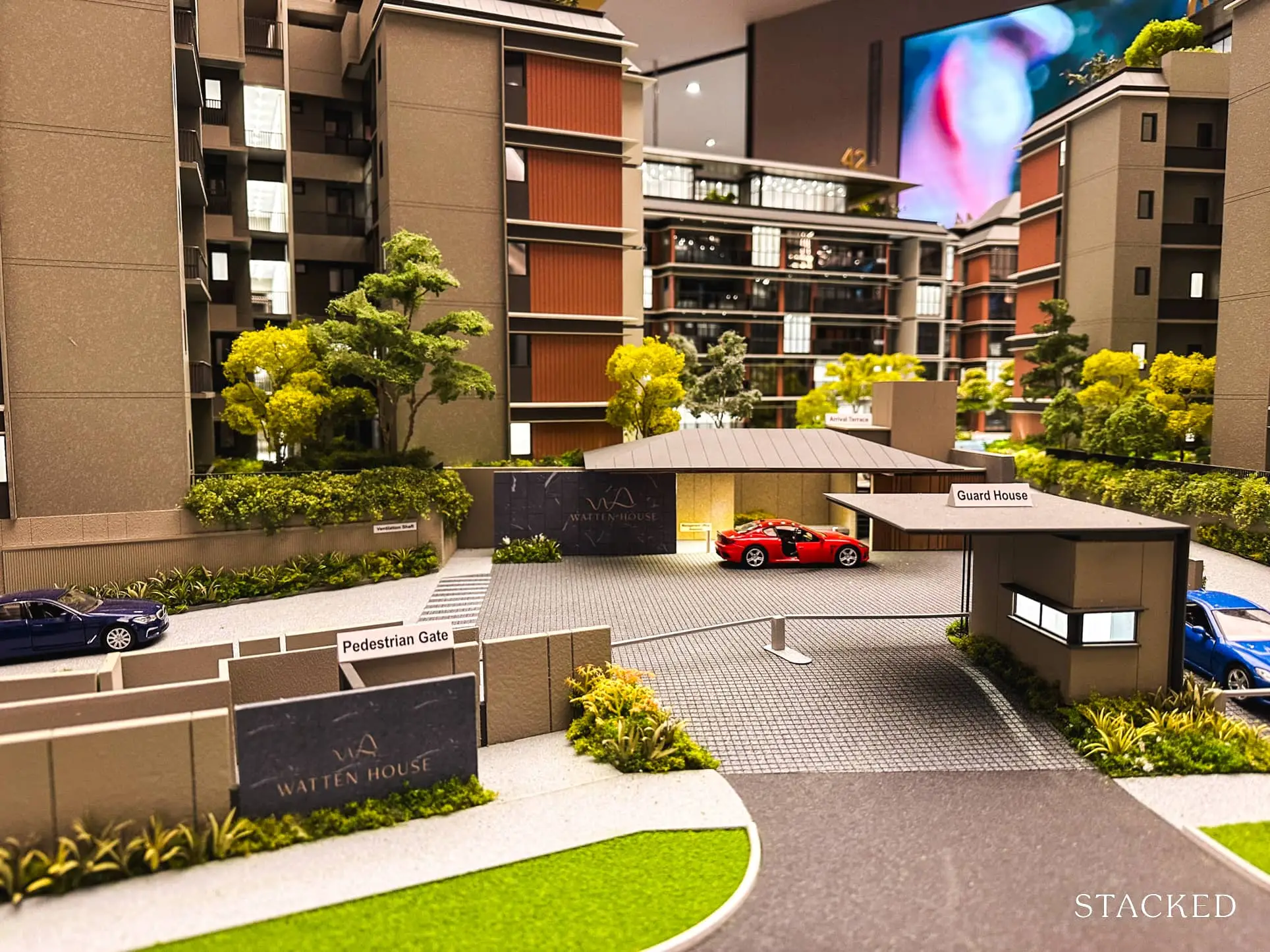 There's a sheltered drop-off point with benches while you wait for your morning ride to work. It's not a huge area but will be enough for 180 units, especially since many owners are expected to own a car.
For any additional requests, there is a Concierge available in the basement as well. A great feature to have especially considering the upmarket nature of this development.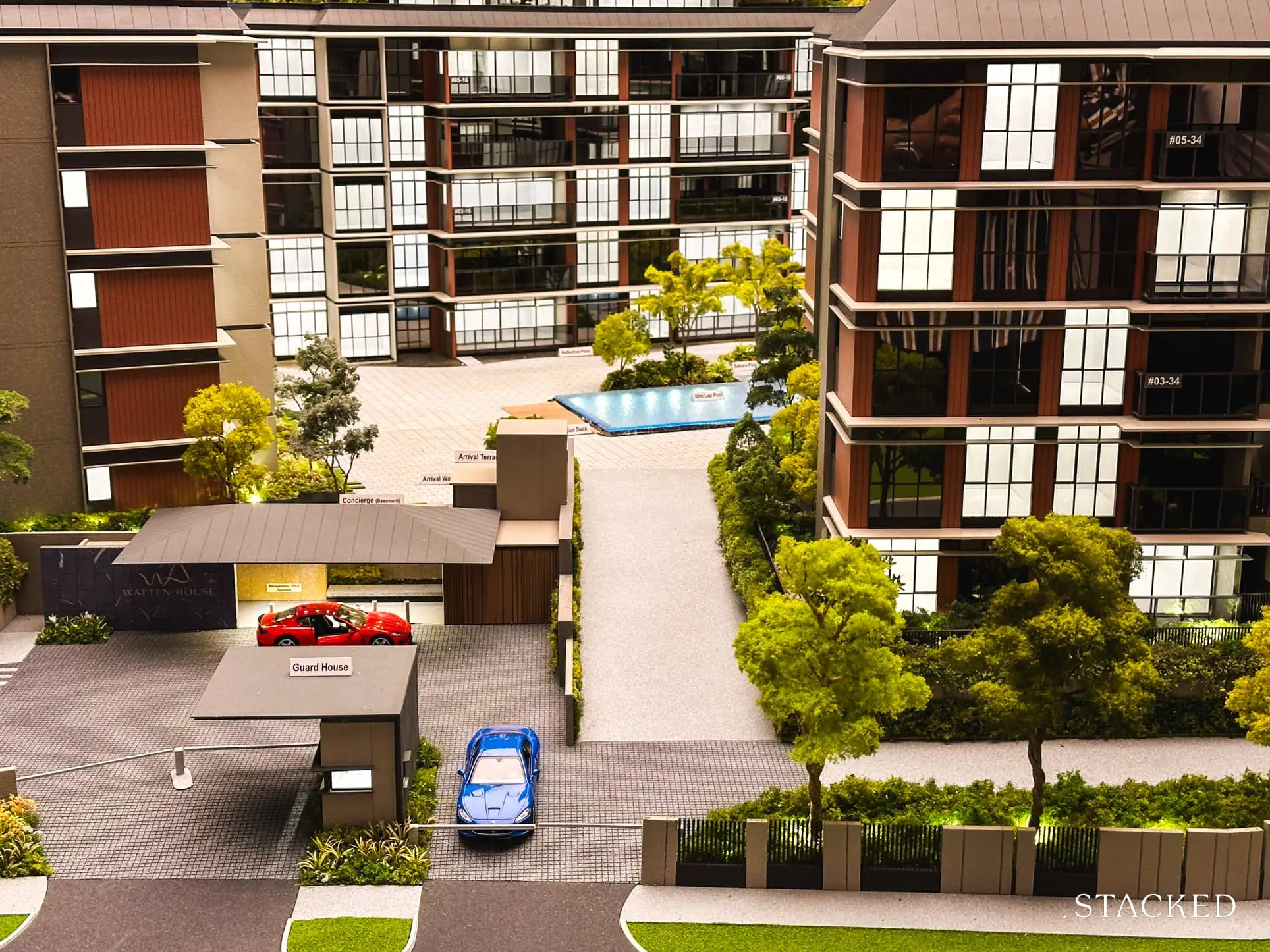 For those who drive, you will be pleased to know that there is a 1-to-1 carpark to unit ratio here. I'm not sure if this is a strict rule, but given that units will cost more than $5m on average, I would not be surprised if most families here have more than 1 car (despite the ludicrous COE prices). Hence, the number of lots may ultimately prove to be insufficient unless we make further inroads in pushing for a more car-lite society.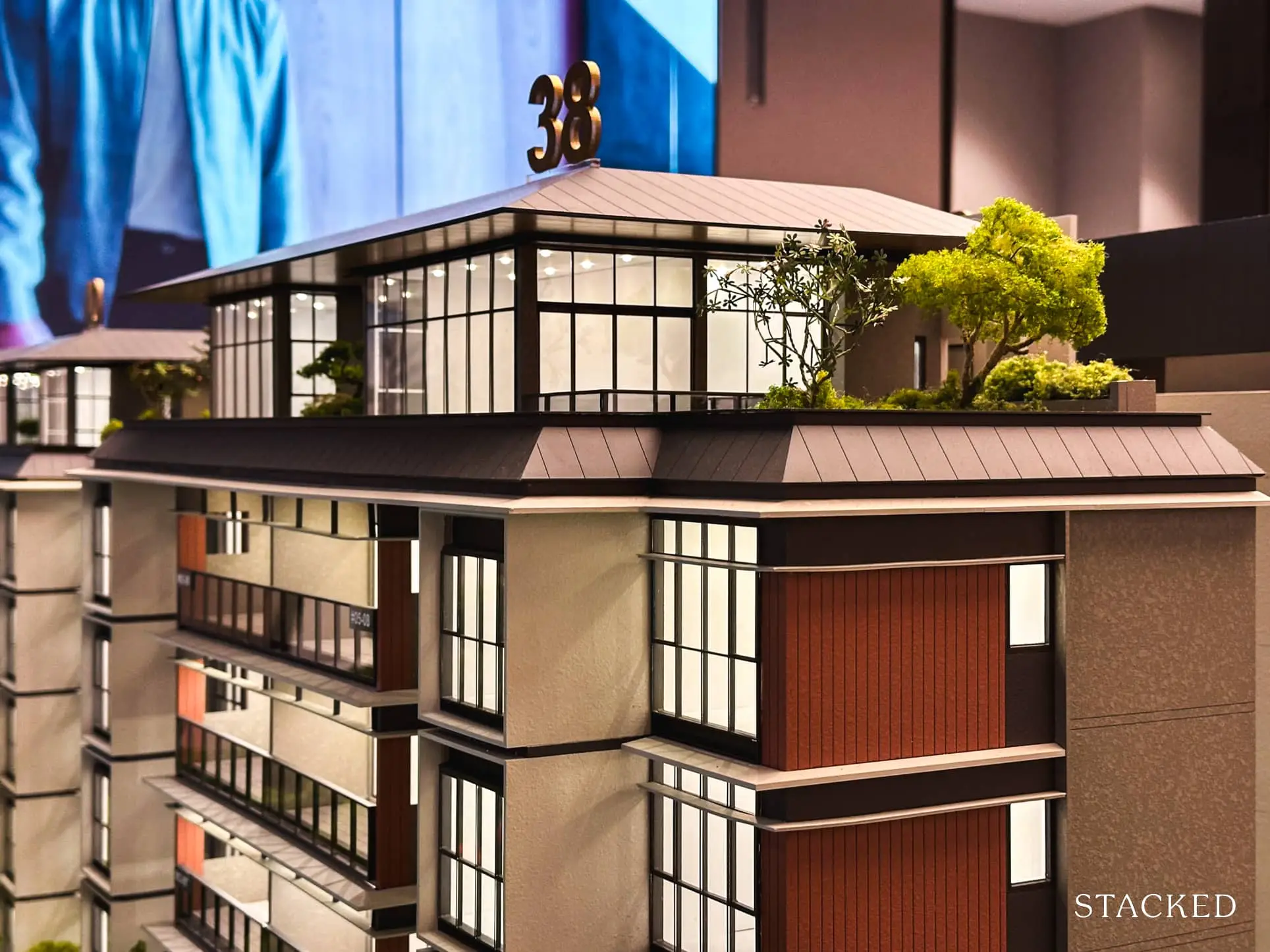 This observation is particularly relevant when considering the 6/7-bedroom penthouses, which are expected to have a starting price of $12 million. It's quite unusual to think that buyers investing in such high-end properties would be satisfied with only one parking space. This situation highlights an interesting and somewhat unconventional connection between the number of parking spaces and the size of the living unit. In other words, the allocation of parking spaces doesn't seem to be proportionate to the size of the units as they scale up.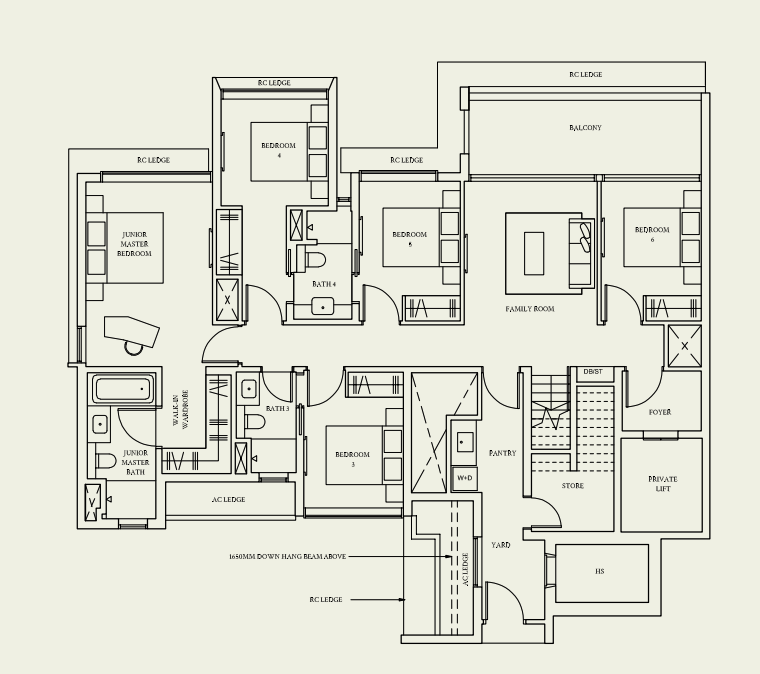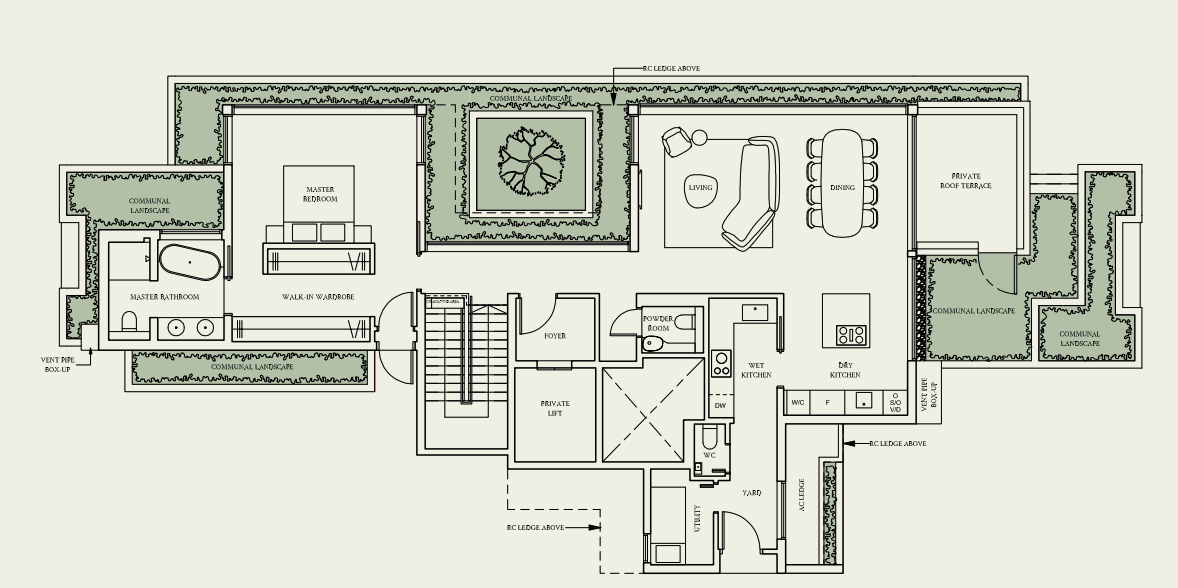 On that note, the penthouses here are quite interesting, featuring sizes from 3,412 to 4,080 sq ft. There are just 8 of these 6/7-bedroom double-storey penthouses, with the key highlight being the communal landscaping surrounding the top level.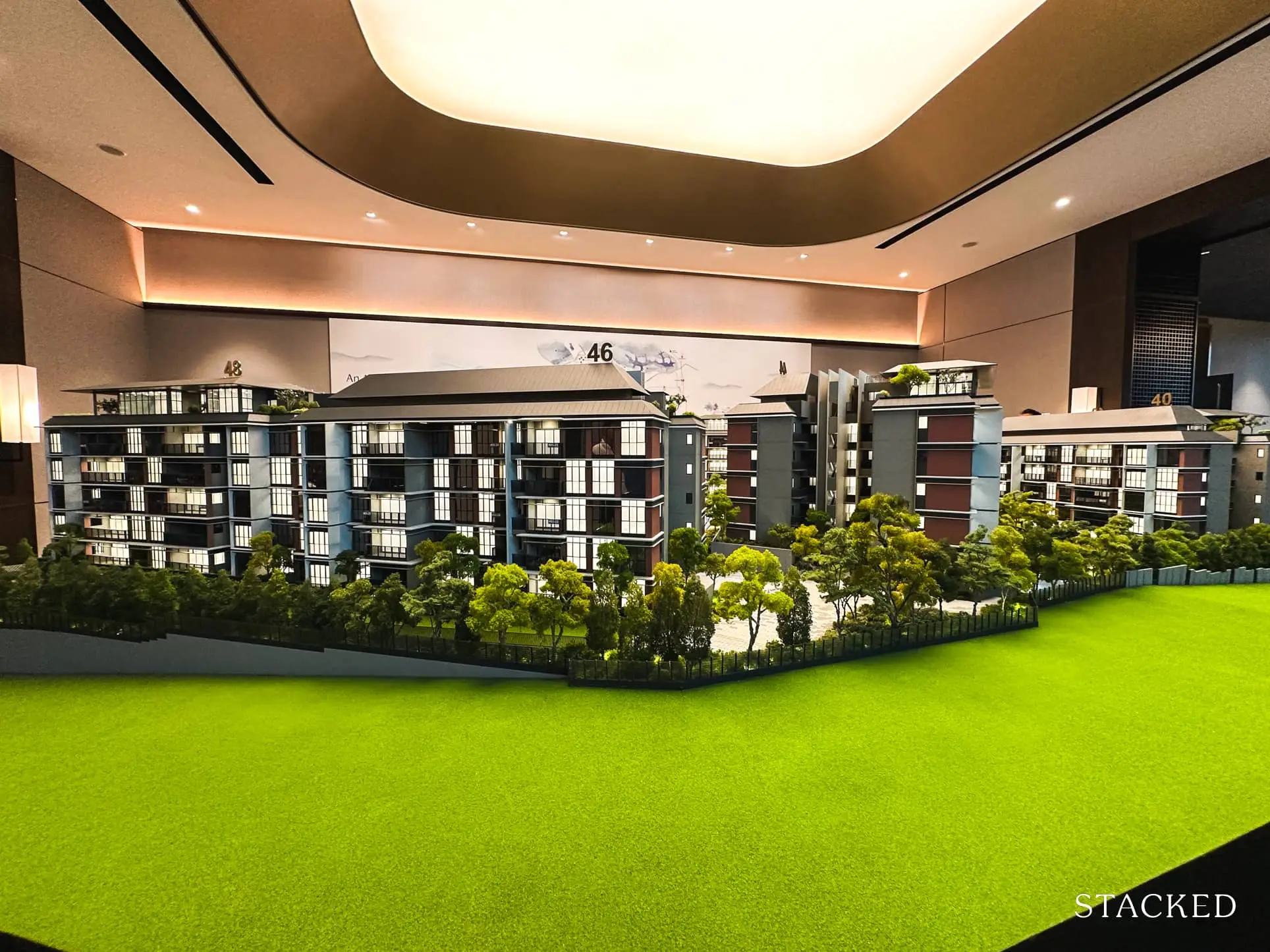 Overall, the architecture looks to take advantage of Watten House's undulating terrain to create painterly gardens and cascading ponds. The developers have emphasised that many units front greenery and/or water elements at Watten House, evoking a sense of peace and tranquility. I don't doubt the tranquility part – living in the Watten Estate means being in the midst of a low-density, landed enclave so it is definitely pretty peaceful around here.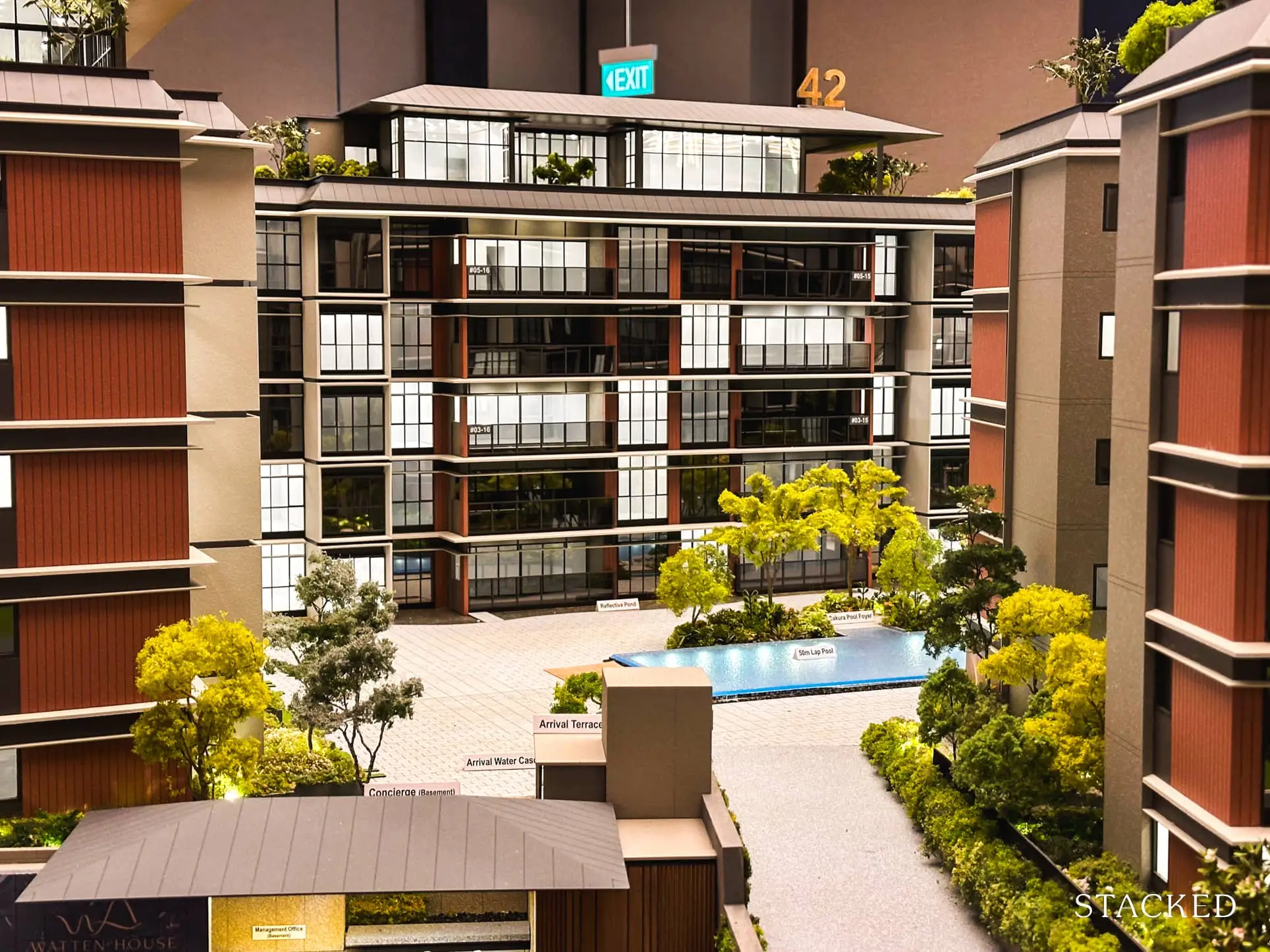 As you come into the development from the arrival point, you will walk past the arrival water cascades, an understated feature meant to provide a welcoming presence.
That said, after the water cascades, there's nothing much going on here. Honestly, I was quite disappointed at this nothingness. I felt that the architects could have definitely done more here, as it does look like a piece of unfinished business, if I were to be frank. Even the Sun Deck that is listed as part of the facilities seems out of place and haphazardly put together. The garden courtyard area at the northern end of Watten House seems to have the same fate of being an under-utilised area that perhaps could have had more greenery to spruce up the setting. Of course, this is just a subjective opinion, and it's something that would look better in reality as a show flat model can only do so much to communicate the vibe of the place. Sometimes less is more, and this could just be one of those scenarios.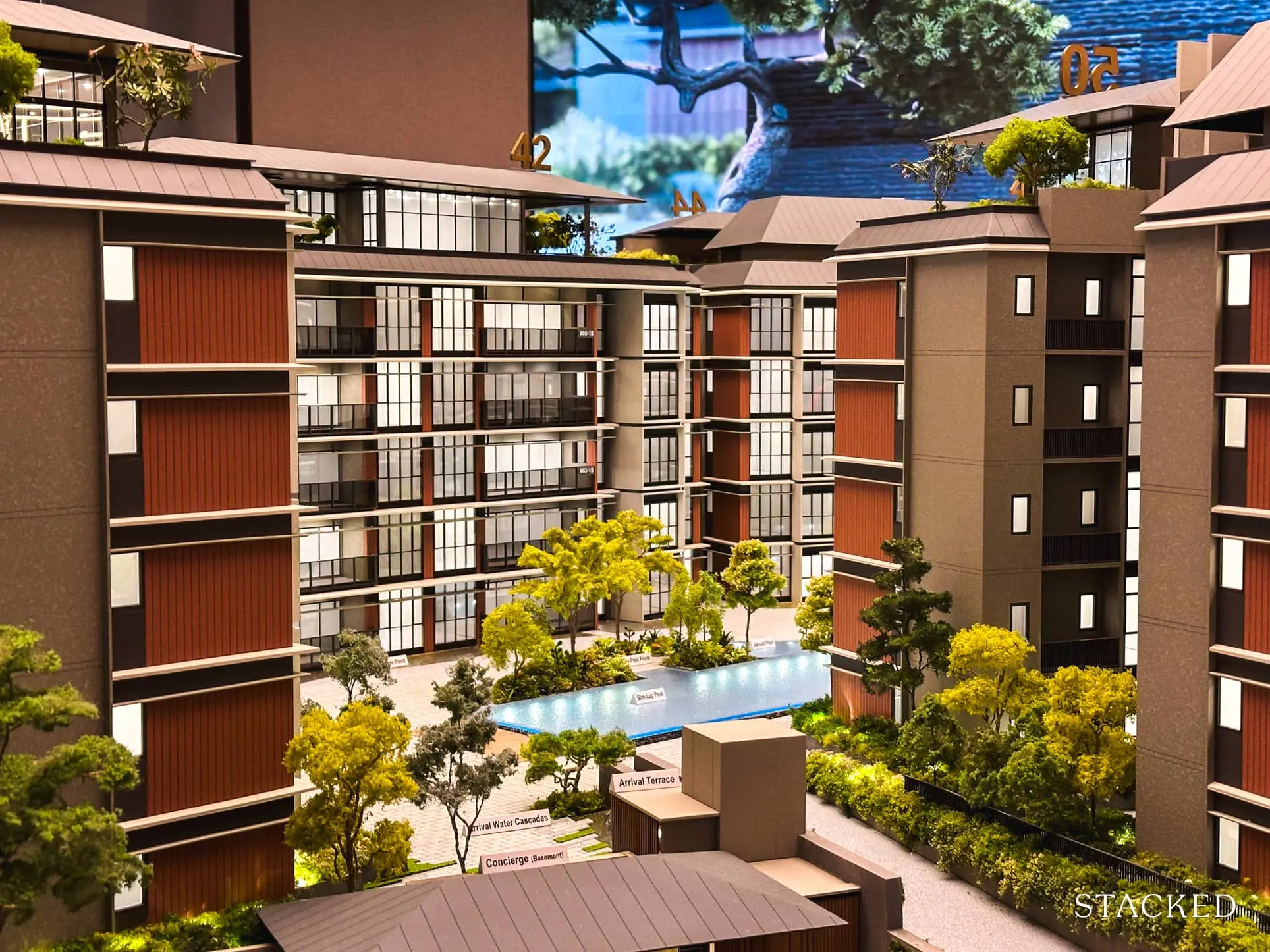 On a more positive note, you have a 50m lap pool which is pretty impressive for a 180 unit condo. Beside the pool, you also have the smaller pools for enjoyment, including the jacuzzi pool and spa pool. If you prefer to laze around instead, there are deck chairs at the poolside lounge for your enjoyment.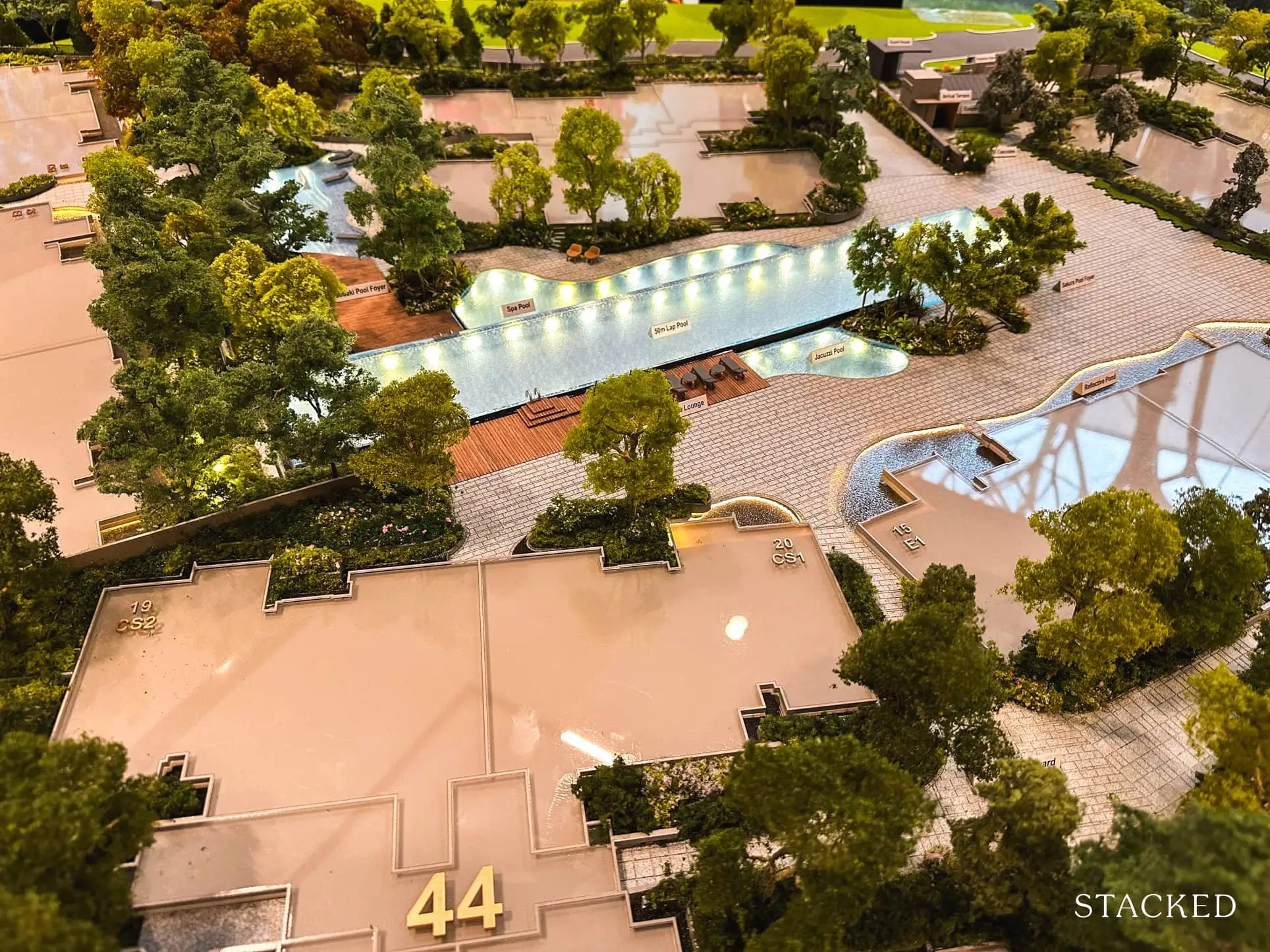 Trees will be planted along some part of the pool to provide more of a shady swim during the day. As you may know, Watten House is situated on undulating terrain and the lap pool area is at the highest point of the development.
Despite the relatively decent land size, you won't get a tennis court here, which certainly would have added to the attractiveness of the development.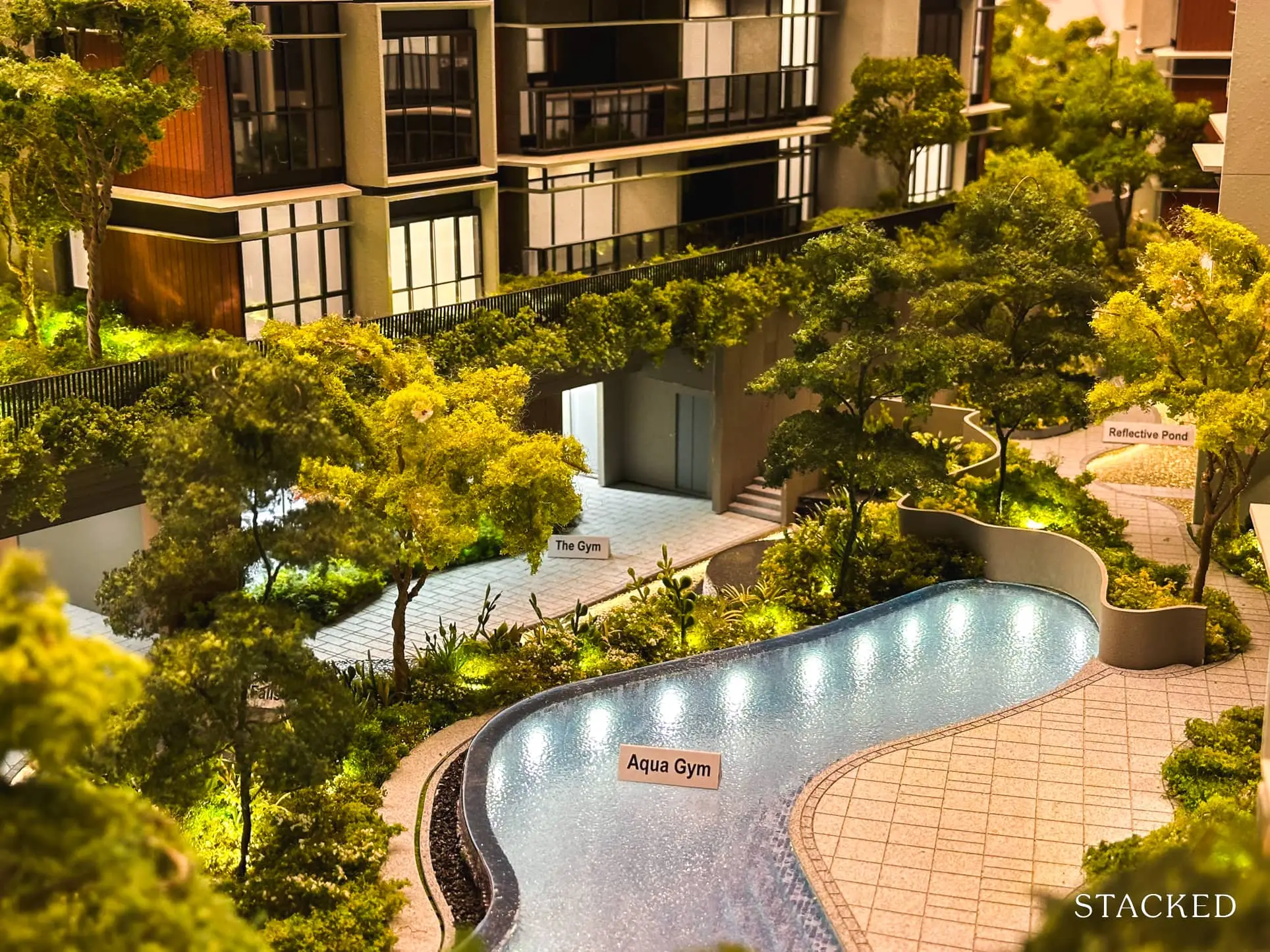 For fitness buffs, there is also a gym which will be located in the basement. Along with the gym, there's also a function room in the basement which comes complete with full cooking appliances if you have a private chef over. These are part of the must-haves of a luxury development in my opinion. The function room will be your main hosting area for larger parties and the setting will certainly wow your guests.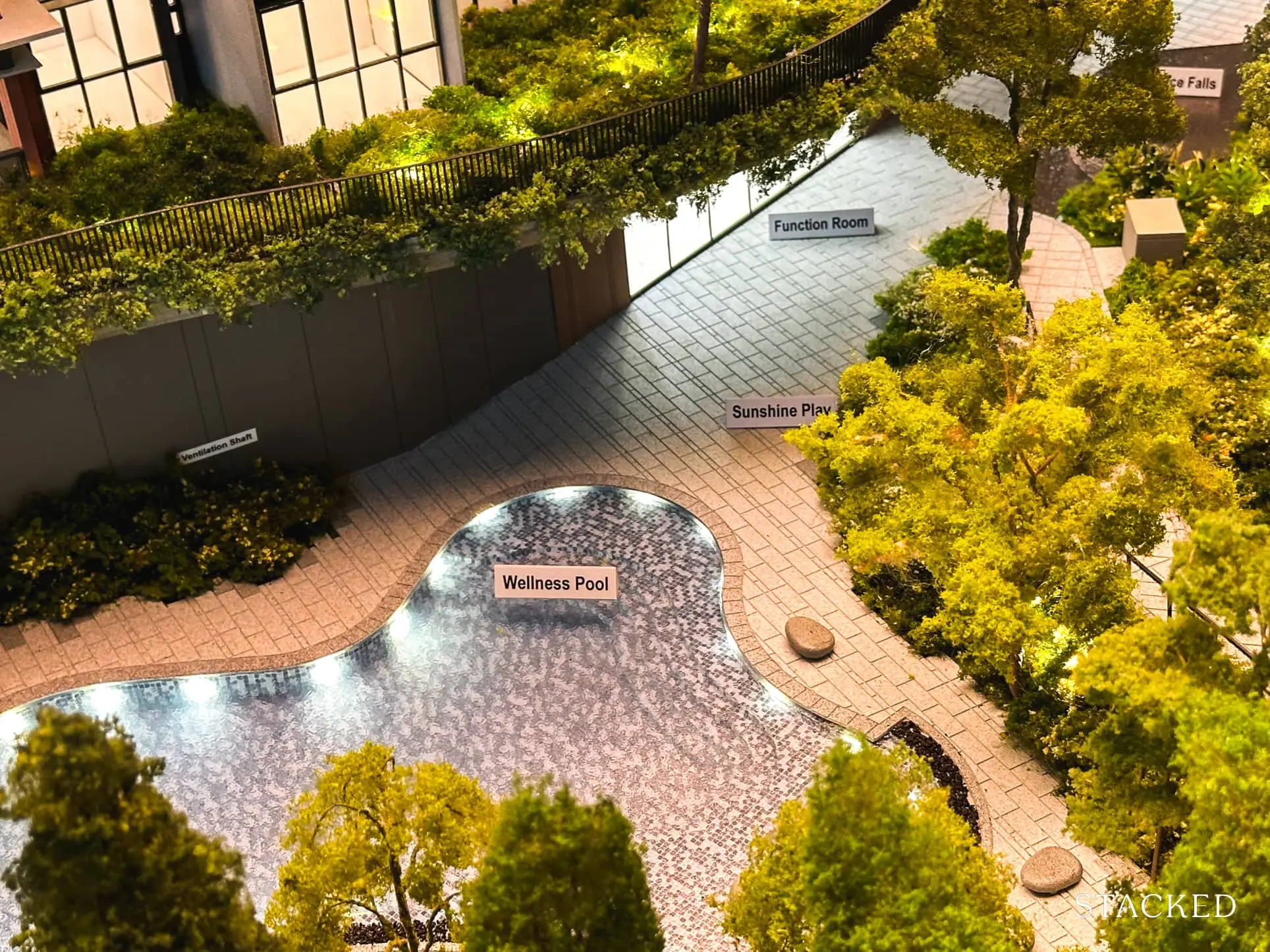 Besides these main facilities, there are also additional water features between blocks. For example, between blocks 40, 42, and 44, there are the terrace falls and aqua gym situated here. The wellness pool, play area, and reading pavilion are situated close by as well.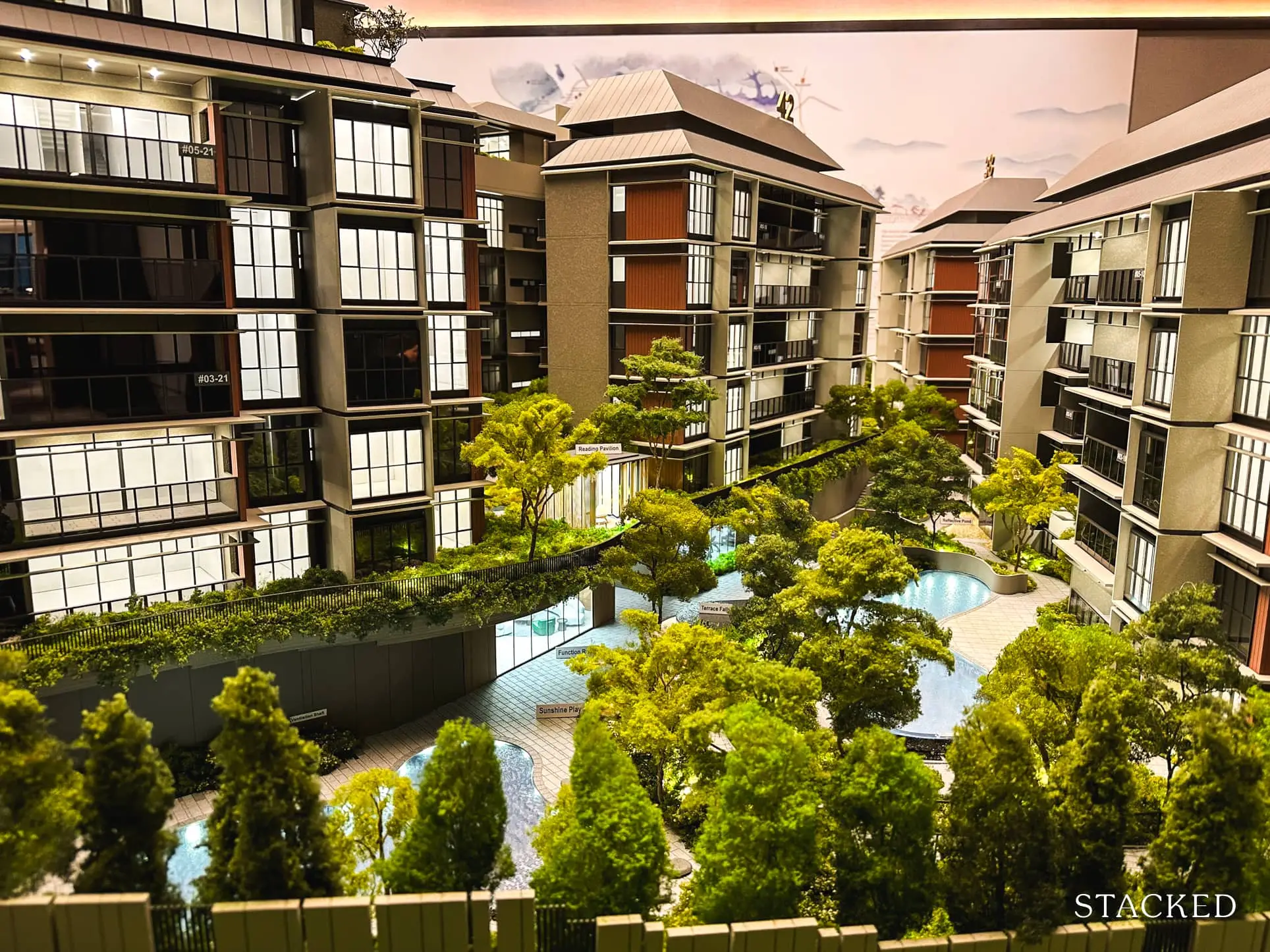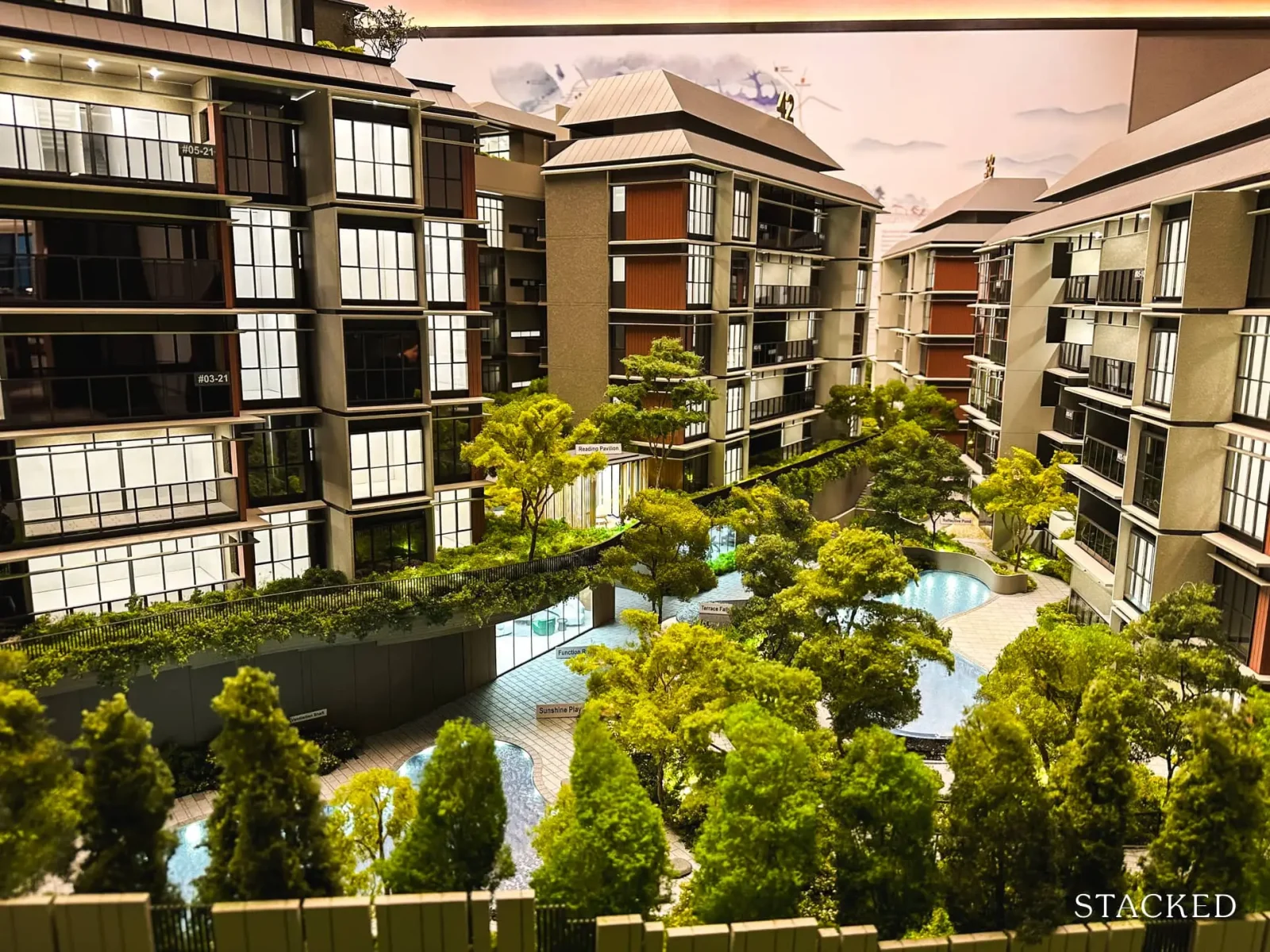 Those with young kids may be wondering where the playground is, there isn't actually one located within the grounds. Just like Meyer House, you do have one directly outside – which I suppose is good enough given the area is low-density anyway.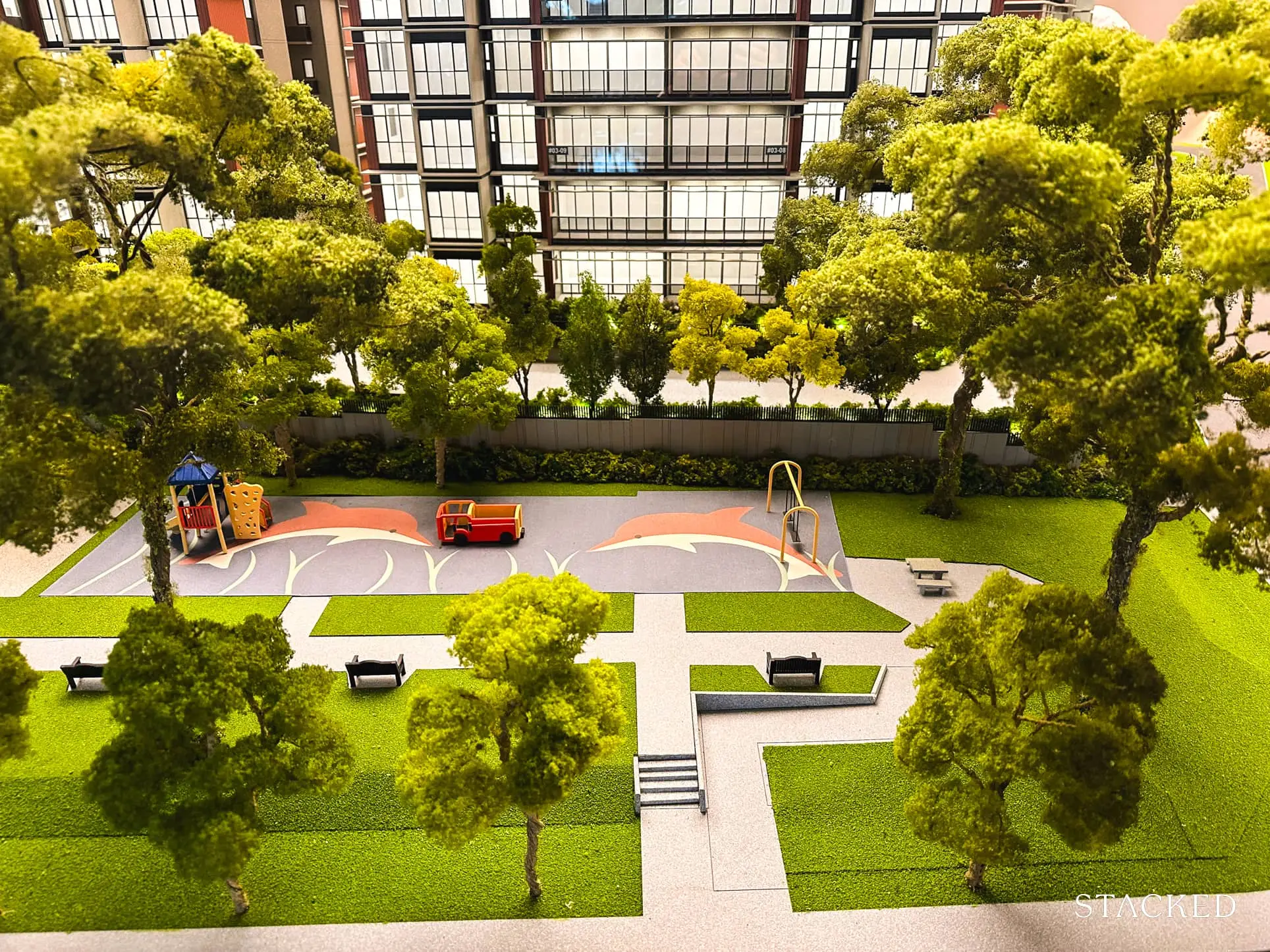 Just in front of stack 26 is where you will also find the cascading pond and aqua lounge areas and the presence of these water features will provide you with more peaceful surroundings.
You will also notice that many of the ground floor units will get a reflective pond right in front of their units, which is a nice touch in spicing up the ground floor units. On that note, all of the inner stacks will face some form of water views (which is slightly more than 50% of the overall stacks).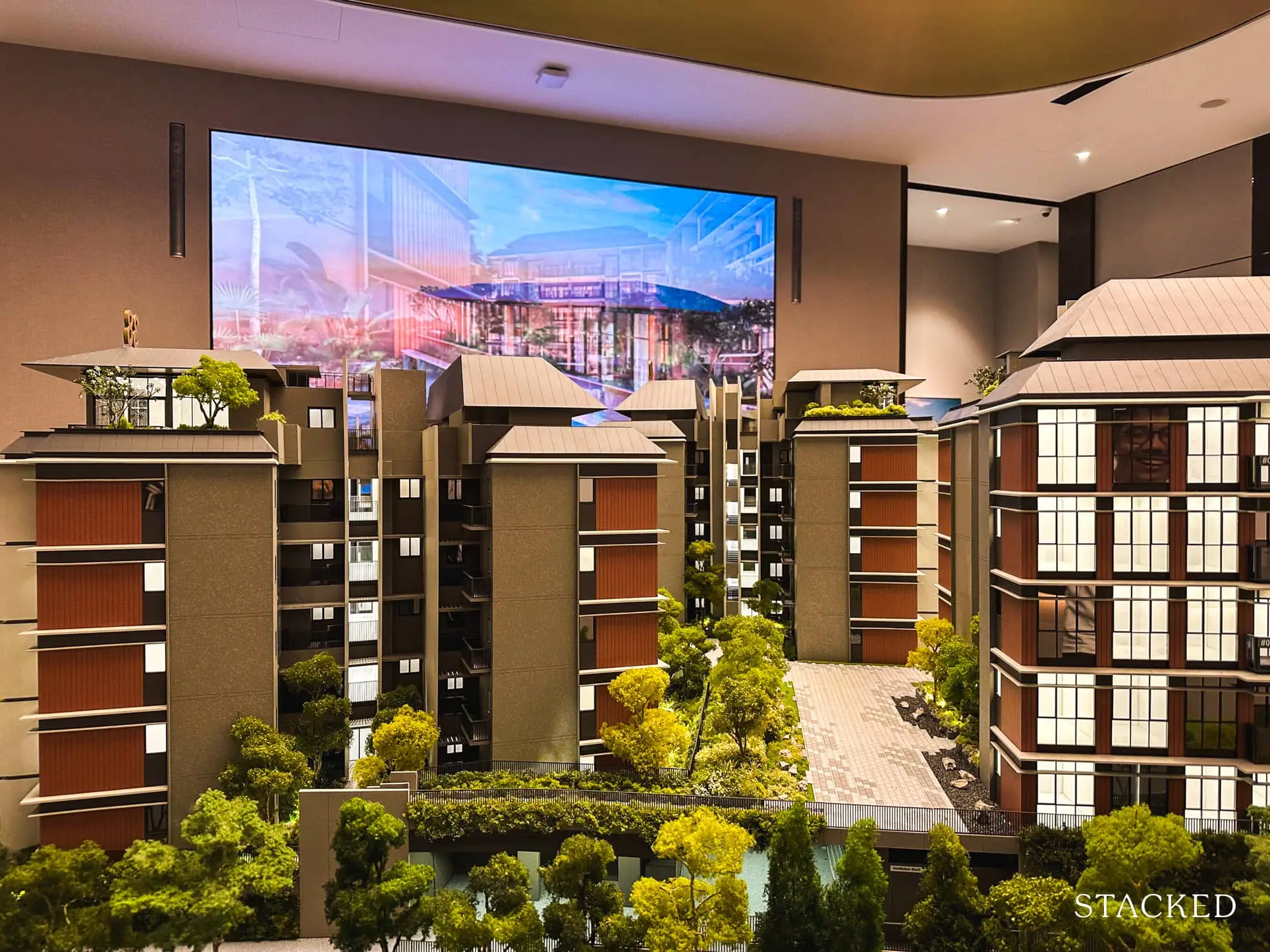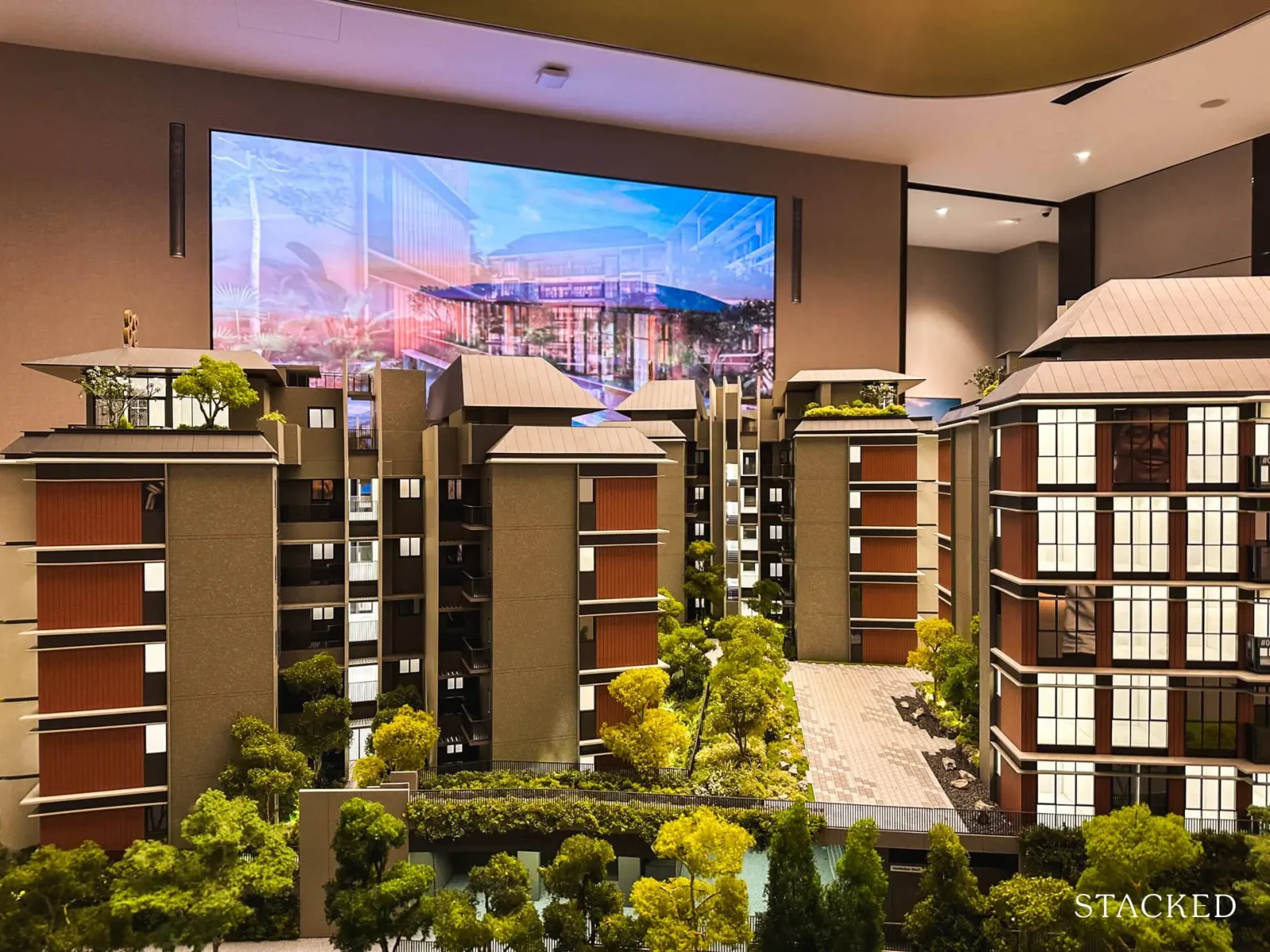 In comparison to some of their other upscale developments like 15 Holland Hill and Meyer House, Watten House appears to have a more restrained approach. For instance, at Meyer House, each unit is equipped with a private lift and lobby, adding a touch of exclusivity and convenience for residents. Meanwhile, 15 Holland Hill stands out with its substantial landscaped gardens and private lifts for each unit, offering a unique and luxurious living experience. In contrast, Watten House seems to have taken a more minimalist approach. While it does boast high ceilings in every unit, the opulent features that set it apart from the competition are not as prominent.
You can also probably tell by the number of units, as Watten House has more than triple the units of both developments.
In general, I do feel that Watten House sits on a relatively good-sized plot, and while they have included all the facilities required in a condo (and the landscaping is pretty lush), the overall luxurious effect isn't as pronounced as their previous offerings. Perhaps the location of Watten and the demand for non-landed large-format units would be an overall enough pull, but that remains to be seen.
With that, let's move to the show flat units!
Watten House – 3 Bedroom + Study Type CS1 (143 sqm/1,539 sq ft) Review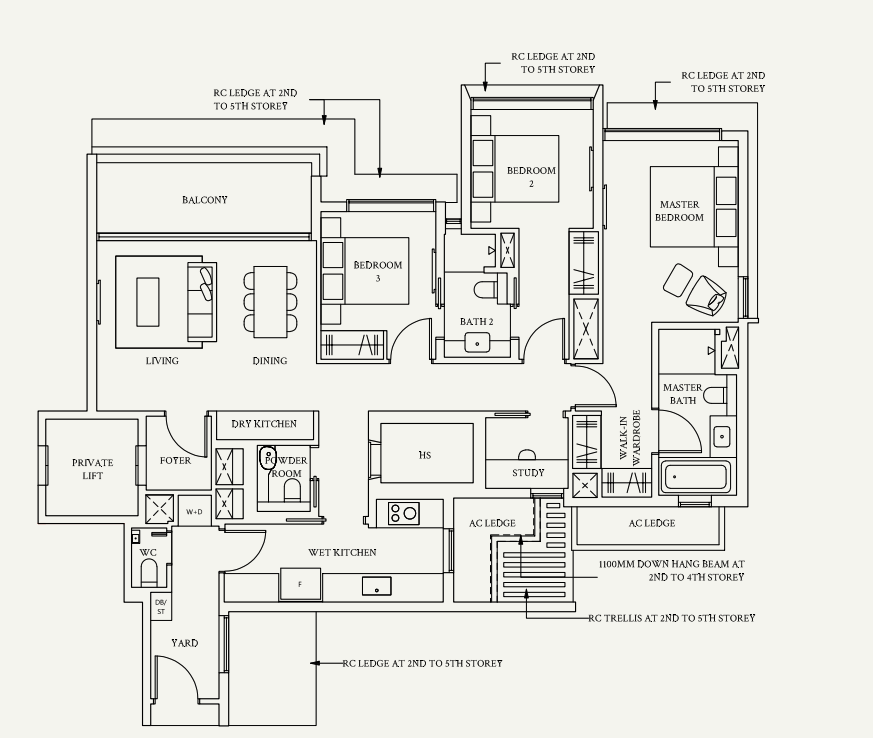 This show flat unit is 1 of 6 3-Bedroom + Study layouts, with each of them being identical in size at 1,539 sq ft with all coming with private lift access. These days, you honestly don't get these sizes around much for new developments, with the likes of 15 Holland Hill and Park Nova being the few exceptions that have a bigger 3-bedroom than this. If your budget is a little tighter, you do have the option of a regular 3-bedroom unit (with no private lift) that is between 990 sq ft and 1,163 sq ft and will cost you quite a fair bit less.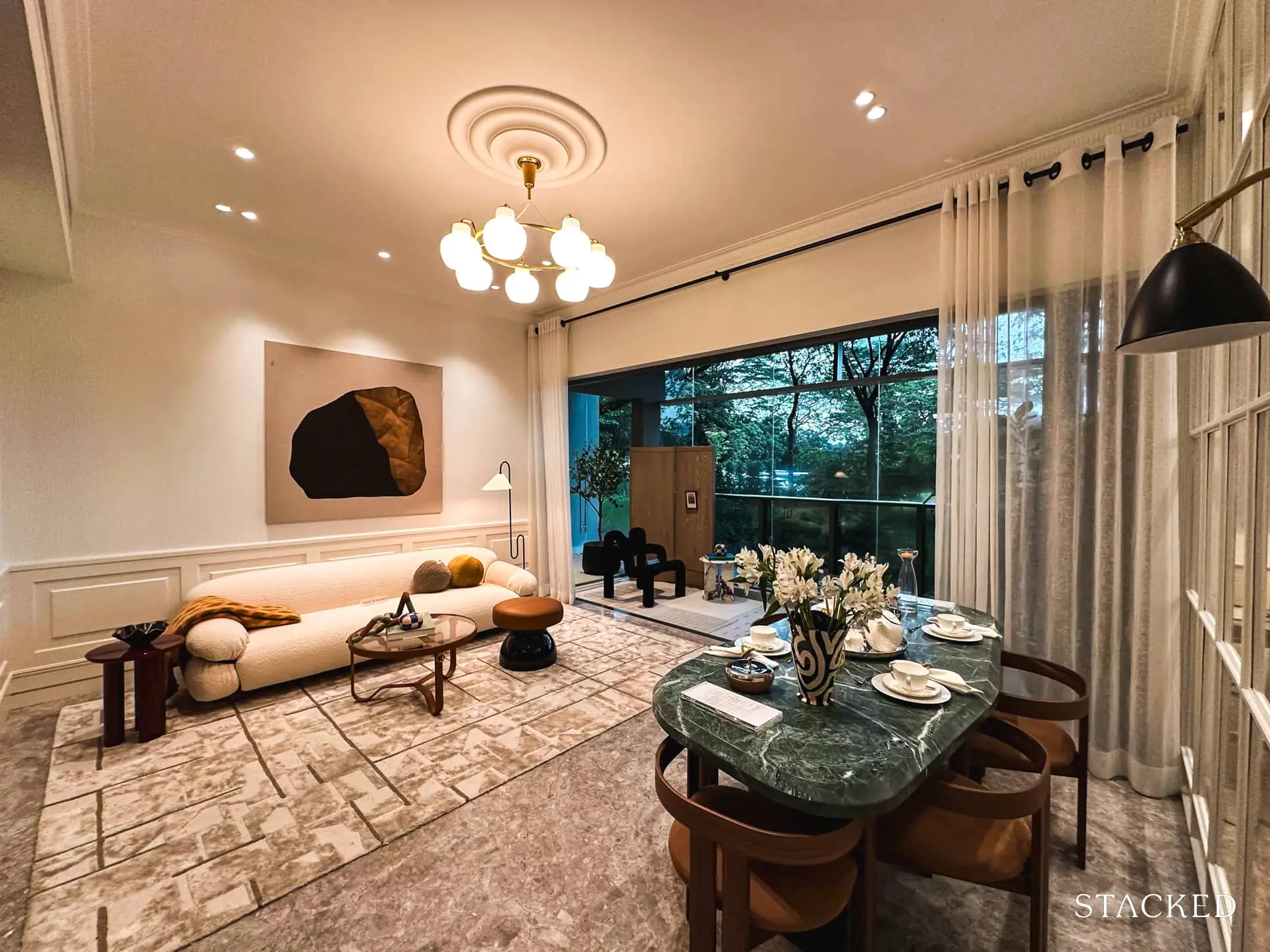 The ceiling height is at a luxurious 3.25m, an industry-leading figure among the new launches for sure (the last that had something like this was Perfect Ten). This is generally a somewhat underrated feature, as it does help to make the place feel larger than it is. Materials used throughout the unit are also top-notch, including marble for the common areas and engineered timber for the bedrooms. While these were 'default' for condo launches during the late 2010s, they have somehow been restricted to only the most luxurious launches these days.
Stepping out of your private lift, you are greeted by the 3.1 sqm foyer, which will serve as a holding area for your guests and a place to get ready to head out. While not a great deal of space, you should consider building a shoe cabinet and a bench here as none of these will be provided by the developers.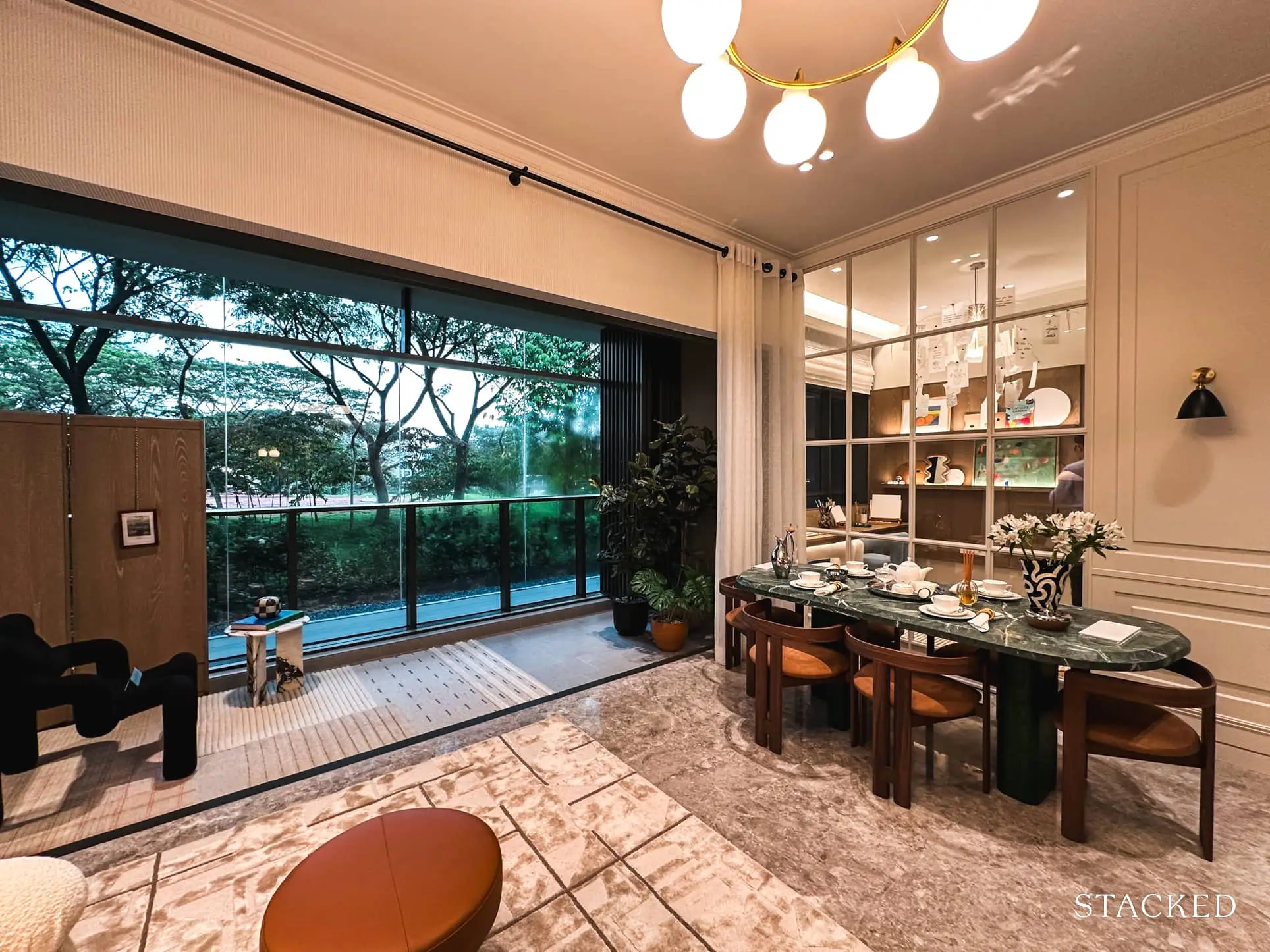 As you come into the unit, you will notice how the 3.25m ceiling really accentuates the 31.1 sqm living and dining areas. You would probably also realise that the design of the project is markedly different from your regular launches – which feels a lot more upscale, in a suitably polished manner. For those wondering, the developers have used the same designers (Massoneong) from their previous project at Meyer House.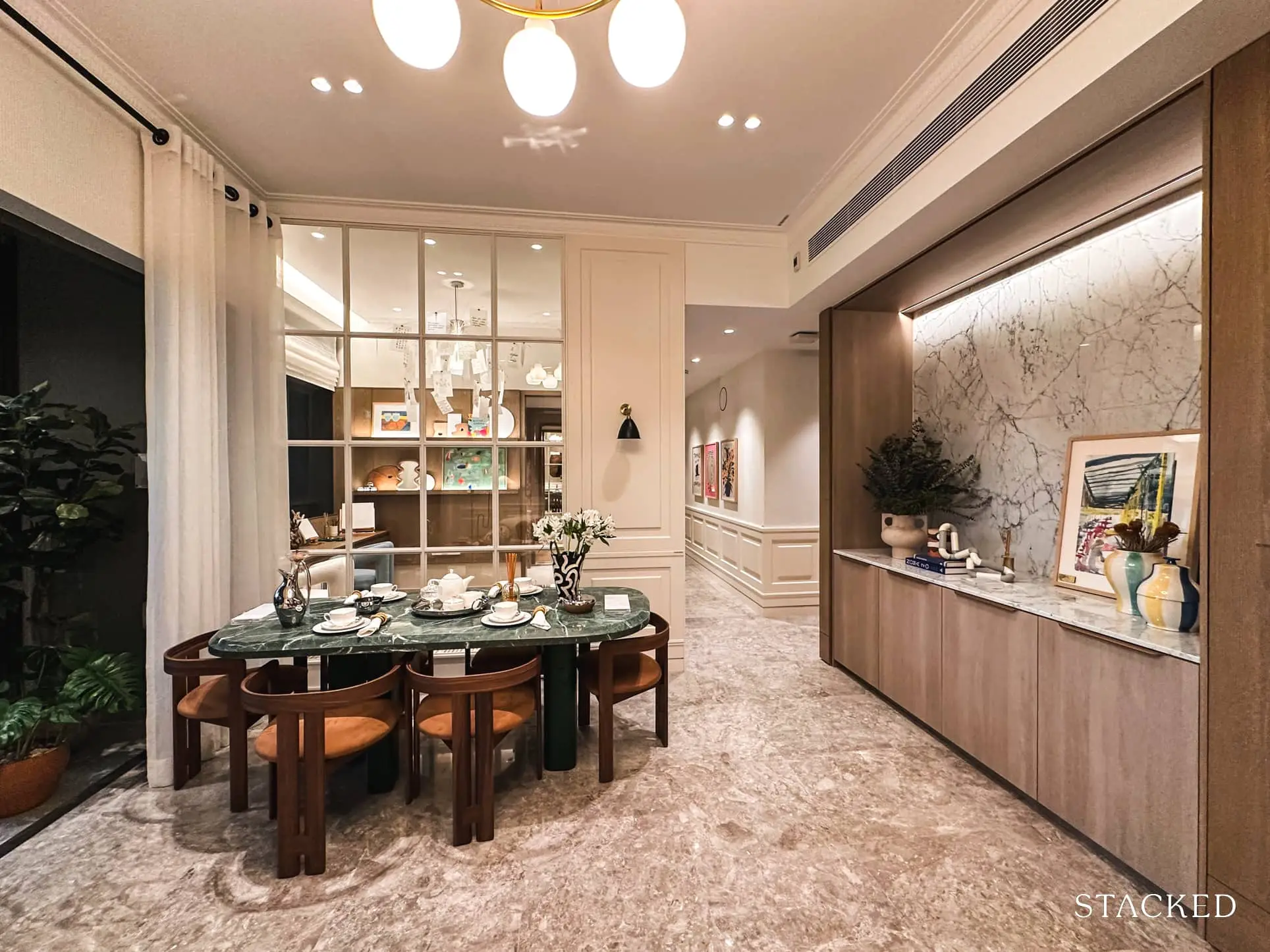 One important feature of luxury apartments is ducted air conditioning, which is far more aesthetic than our usual clunky aircon units. You get this for the living and dining areas for all unit types at Watten House. For those with a keen eye, you will notice how the IDs have gone with several upscale furniture pieces (Tacchini was a prominent highlight), which is in keeping with the luxe-feel of the development, considering how even the cheapest unit of this type will be in excess of $4.7mil.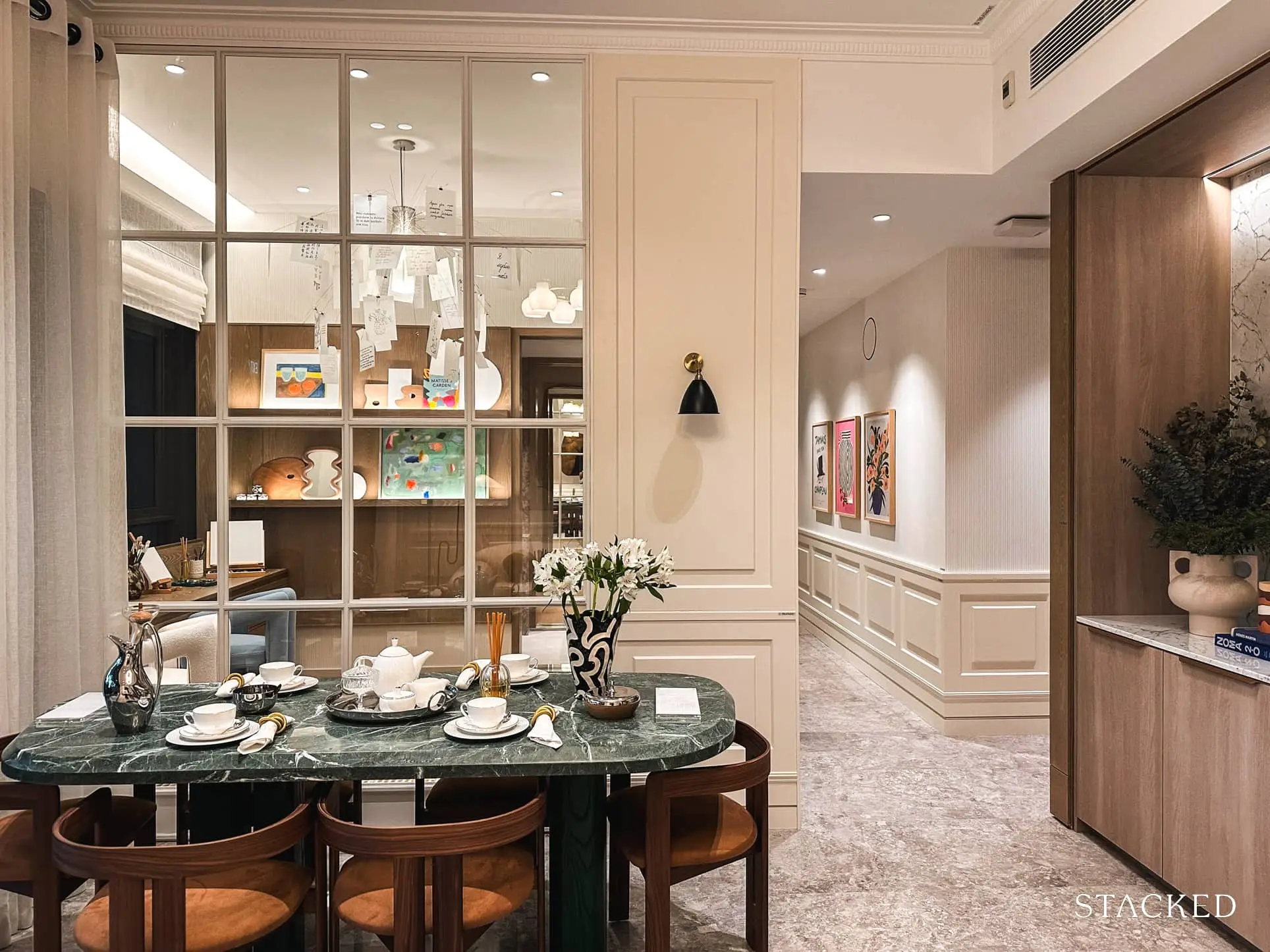 It's a decently sized living and dining area, laid out in parallel to each other with frontage towards the balcony. The dining area can allow at least 6 seats, even with more bulky chairs as seen here in the show flat. You will likely be able to fit 8 if you're going with more compact chairs instead (although the dining table here is a little small).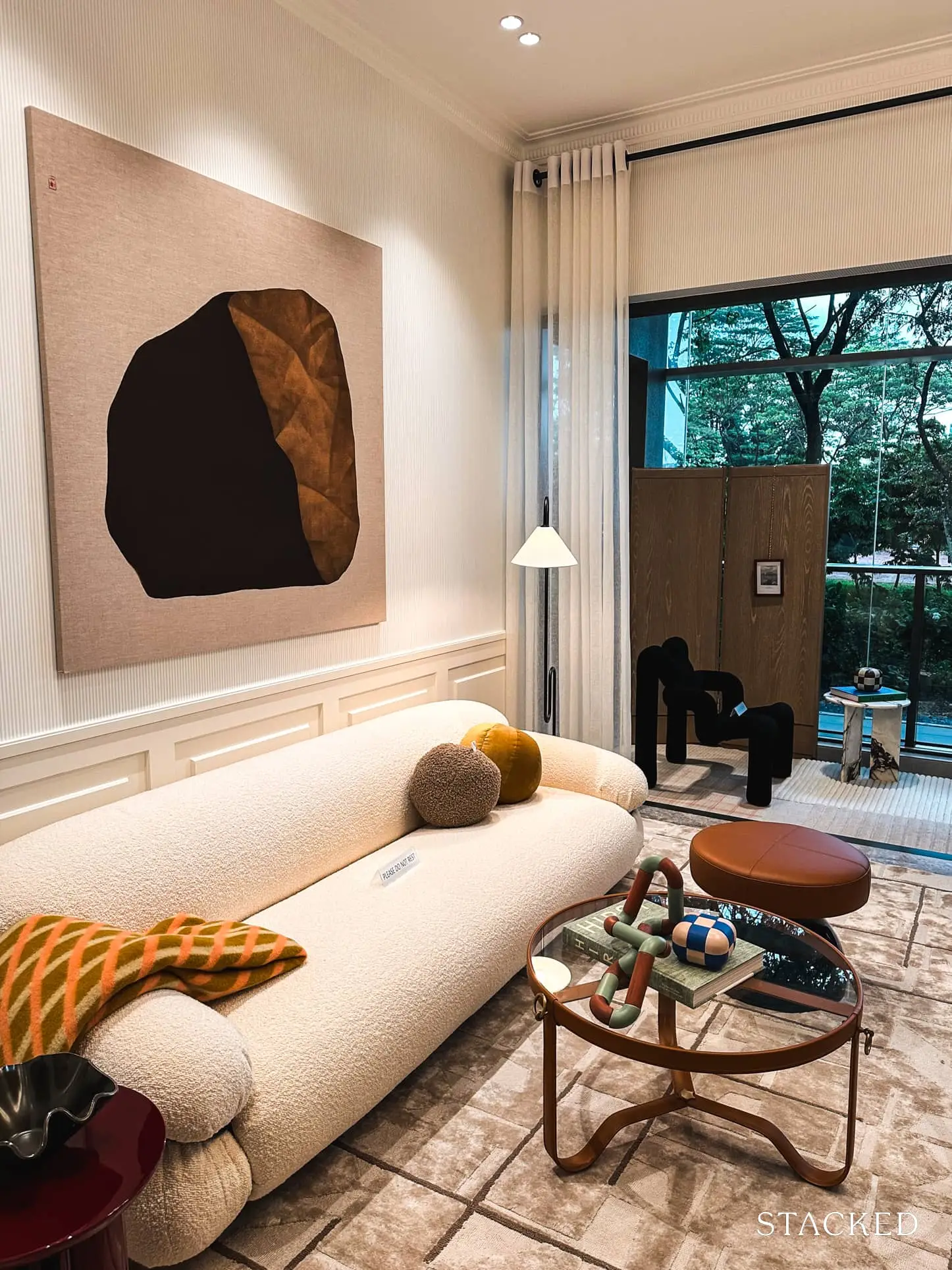 As for the living room, it's also rather generously sized and can easily fit a 4-seater couch in addition to a TV console, coffee table, etc. If you notice, when you step in through the front door, you also have a corner by the side and all of these spaces can be utilised for additional 1-seater couches if you prefer. All the benefits of living in a big unit!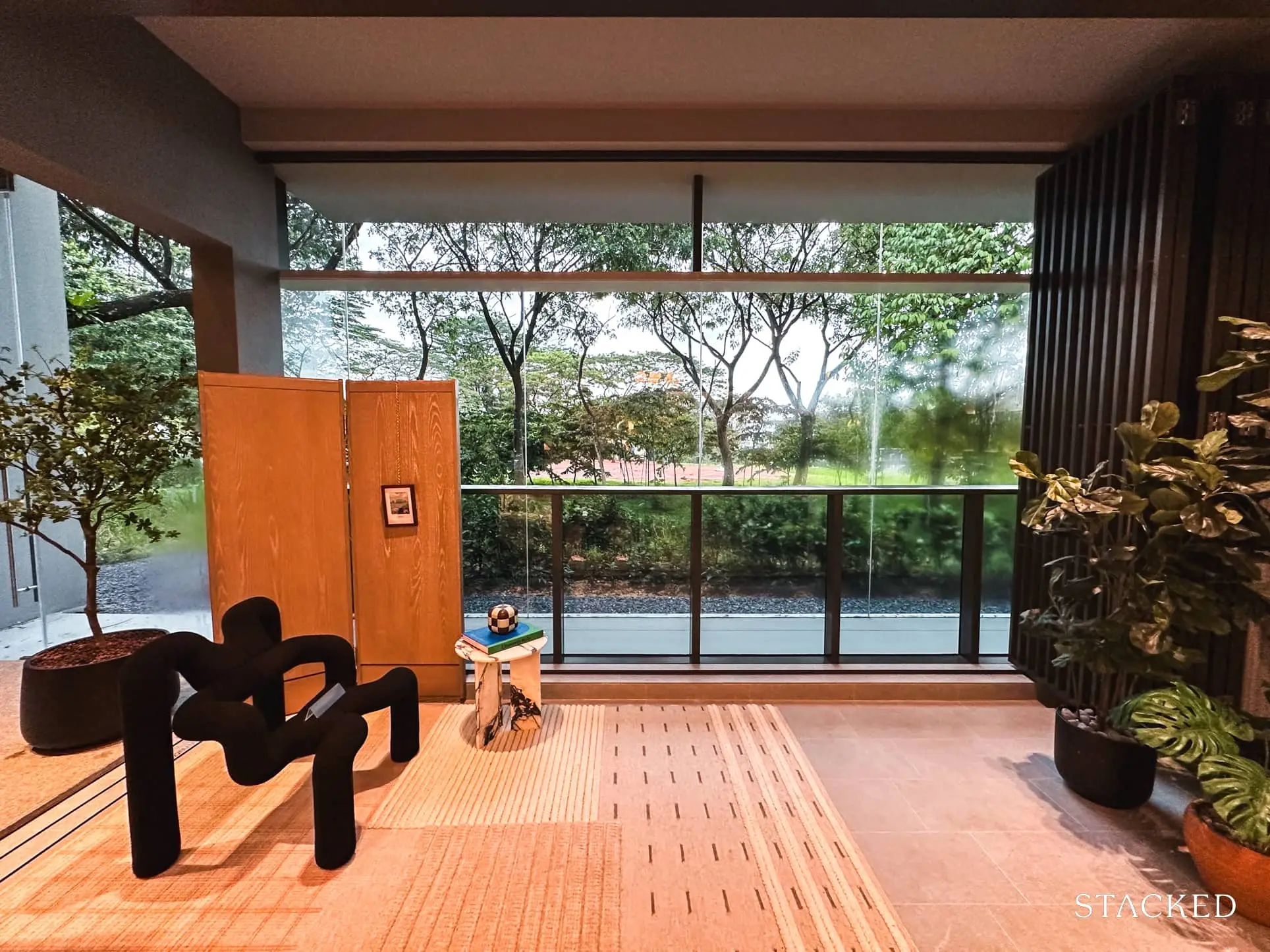 At 10.5 sqm, the balcony is appropriate for a unit of this size. It's actually of a good rectangular shape as well, as it is wide enough for an outdoor dining set with chairs. Great for those who enjoy al-fresco dining. Here, they have gone with some potted plants by the side, and a chair from Varier (that does not look like outdoor furniture), and a small coffee table.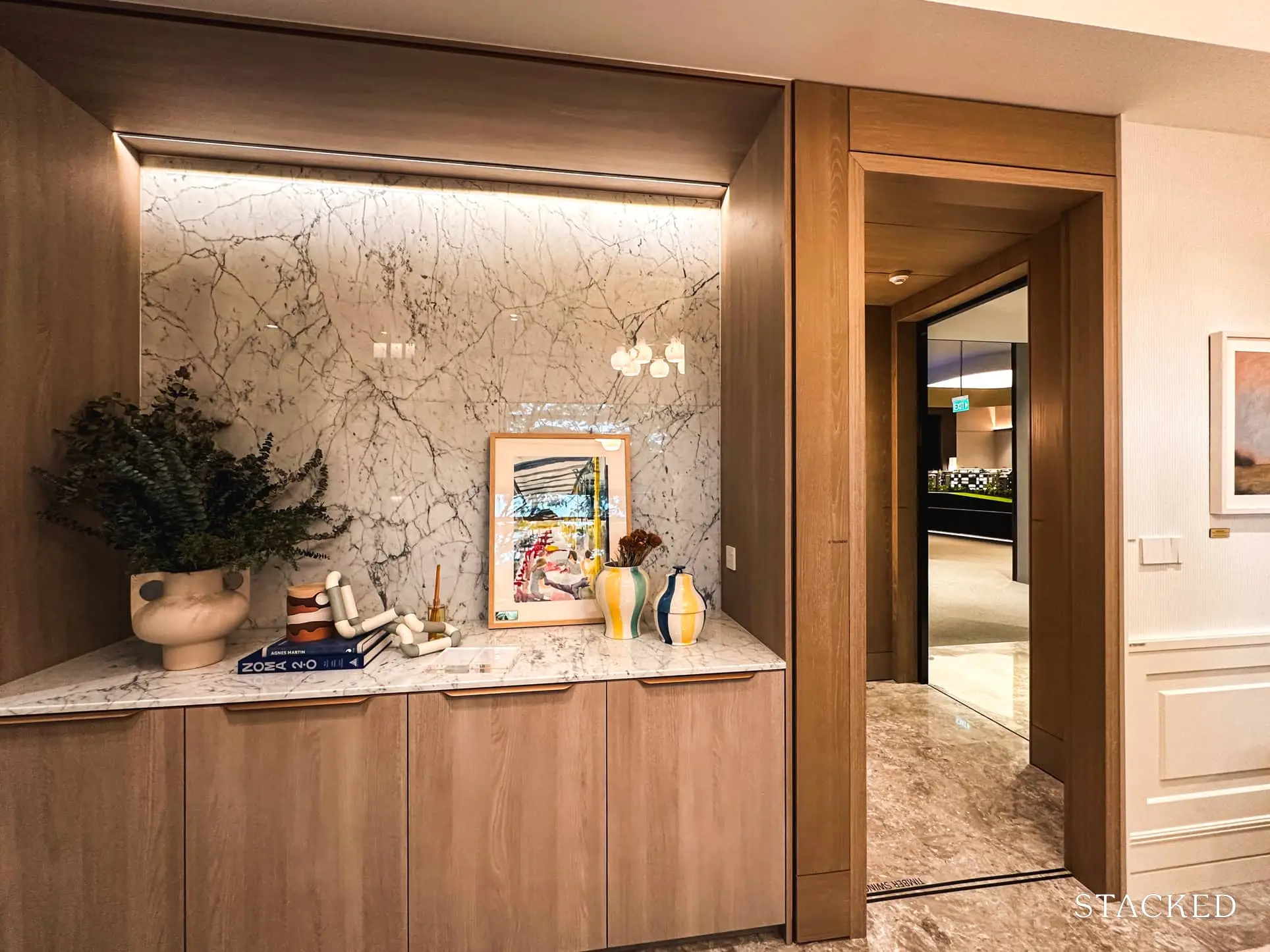 Of course, because this unit is relatively large, you have room for more bells and whistles, such as the designated dry kitchen. It's more of a showpiece area to me, with a marble feature wall and countertop designed to impress your guests. It is certainly luxurious and comes with practical aspects as well, such as the bottom cabinets to store away items. I can foresee this area to be great for your coffee machine day-to-day and a buffet line cum drinks counter when your friends come by.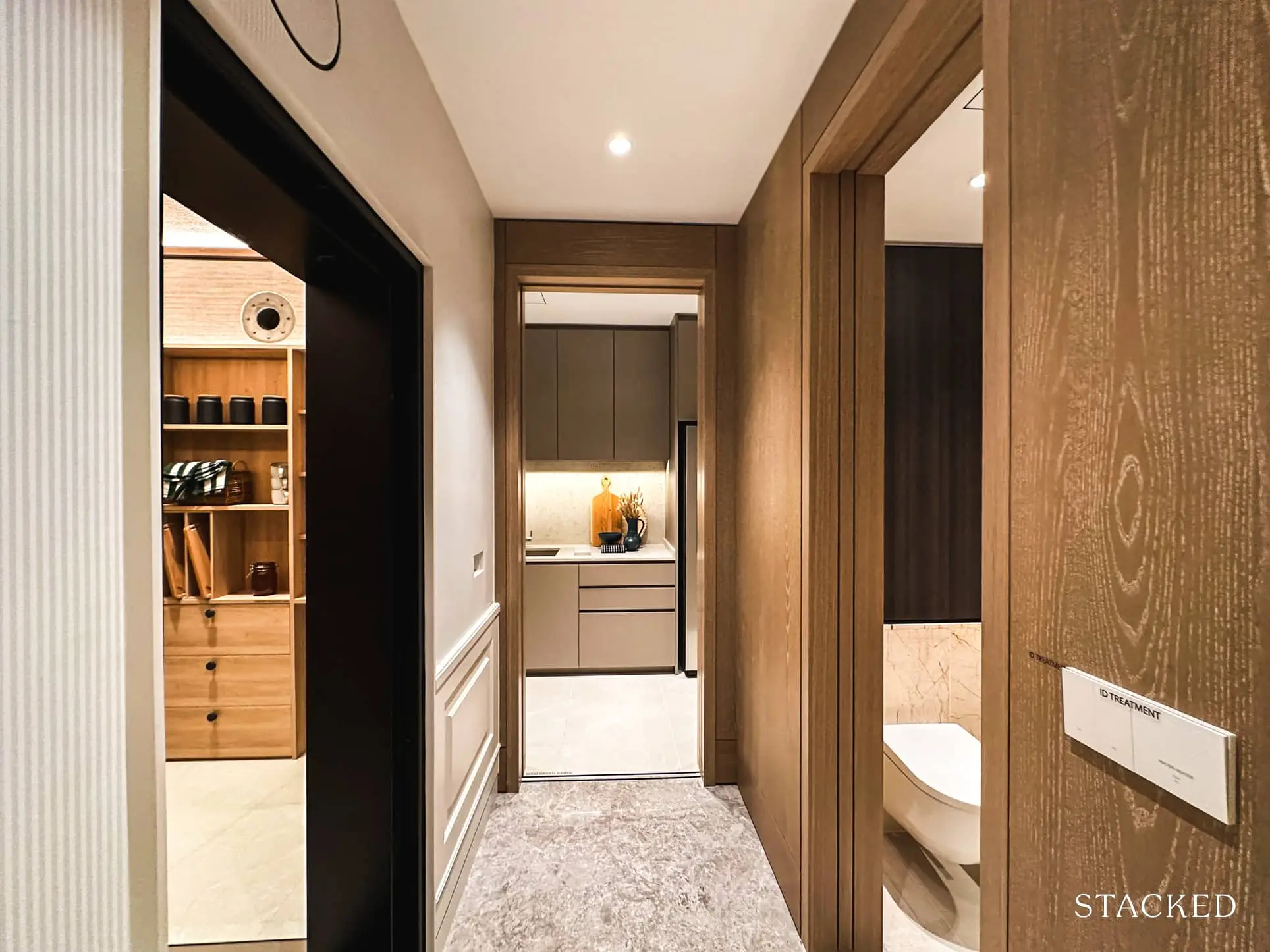 Along the walkway to the wet kitchen, you will find the home shelter to your left and a powder room to your right. I like how these have been concealed from plain sight, since these rooms are more practical in nature rather than serving an aesthetic purpose.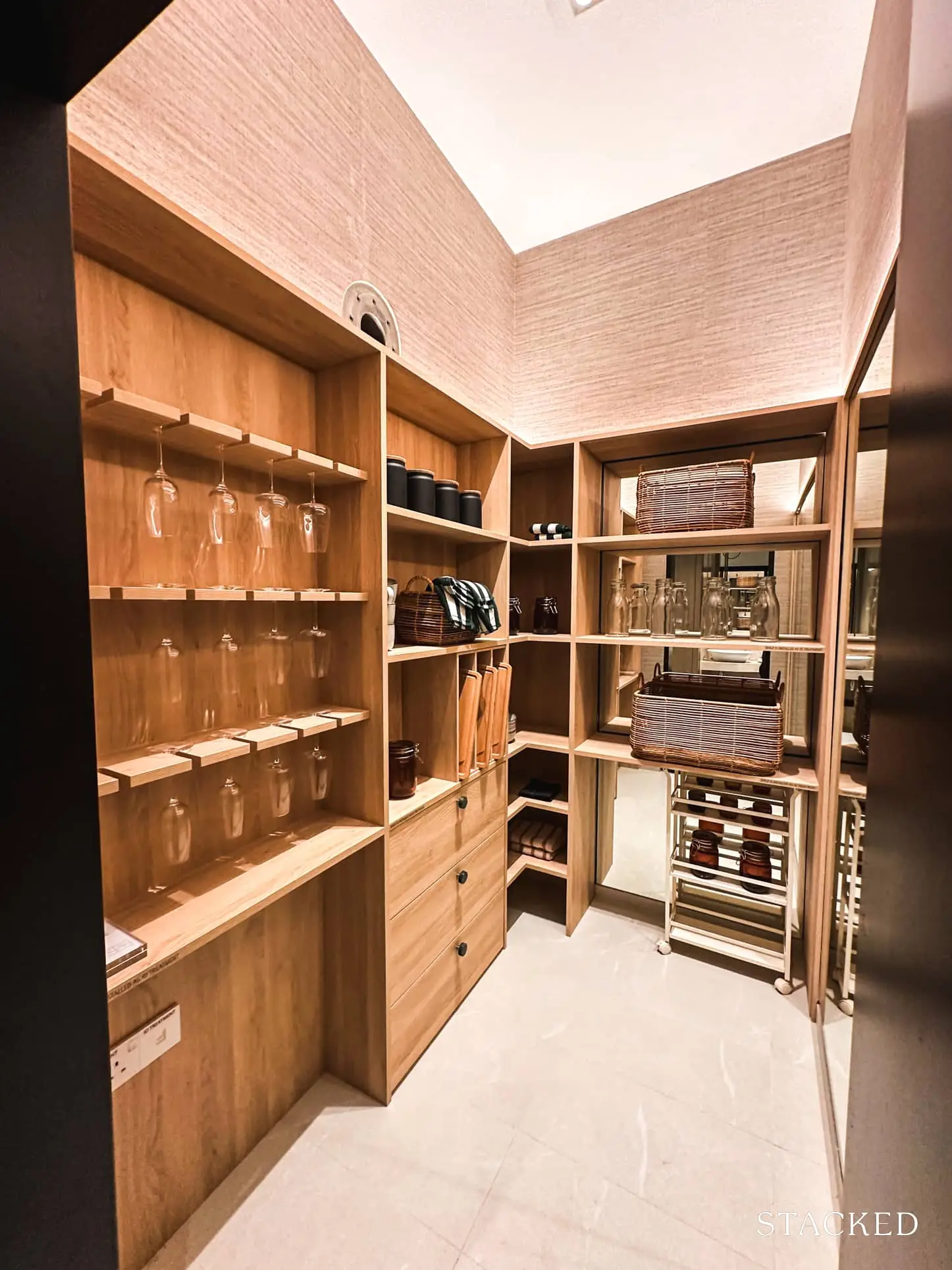 The home shelter is always a helpful space to have, especially when things start to pile up over the years. Idealistically, you can build some shelves as they have done here to store away your wine glasses and jars, etc. Practically, for most Singapore families, this will be your storeroom. It's 4 sqm so pretty standard in size.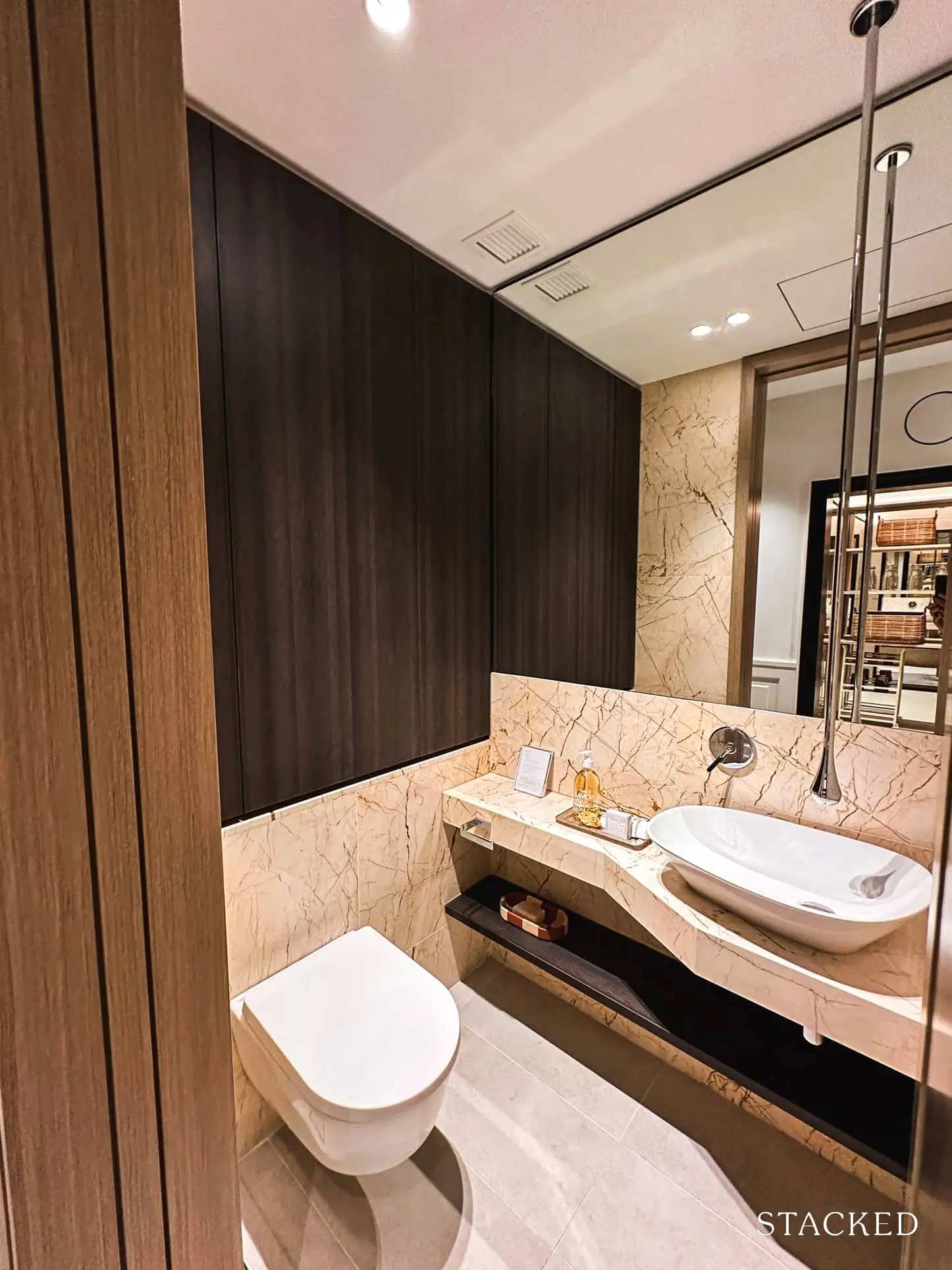 I've always appreciated the inclusion of a powder room in larger, more exclusive condos, and I'm pleased to see one here at this property. In case you're not familiar with what a powder room is, it's essentially a bathroom without a shower, designed primarily for guests. This thoughtful addition ensures that the residents don't have to share their personal bathrooms with visitors. This particular powder room spans 2.6 square meters and boasts elegant marble walls that are bound to impress your guests as they explore your home. One notable feature is the teardrop mixer from the renowned Italian brand Gessi, which is mounted on the ceiling, adding a touch of extravagance. It's becoming increasingly rare to find such opulence in new property launches, as developers tend to opt for more budget-conscious options. I admire the subtle yet luxurious design of this bathroom, and in addition to the teardrop mixer, you'll find a basin and wall-hung w/c from Laufen, a premium Swiss brand.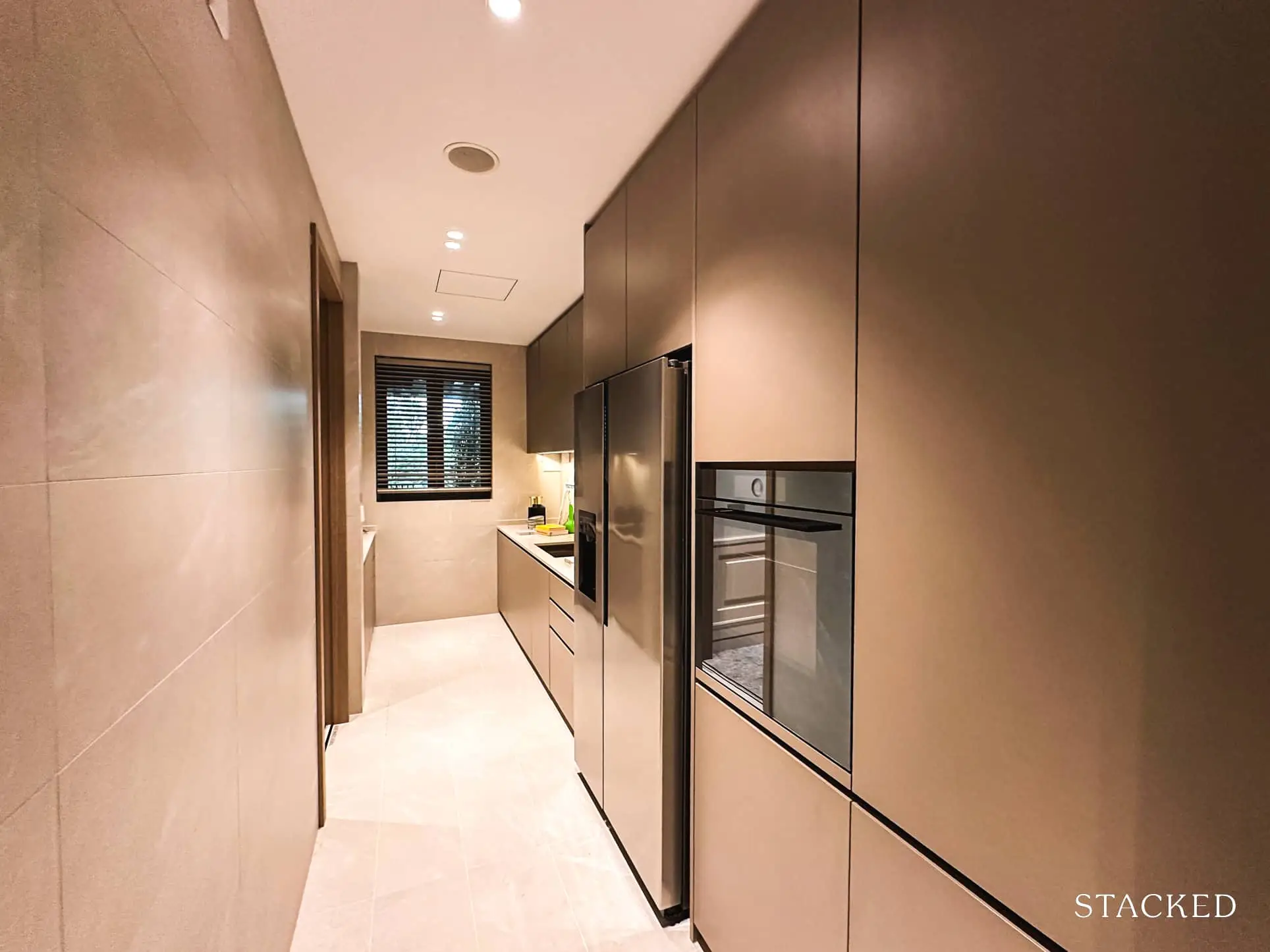 Moving into the 11.5 sqm wet kitchen, and you get top-grade appliances from the Swiss brand V-Zug. These include a 2-door fridge, 3-burner gas hob, hood, oven, and standalone washing machine and dryer. If you've been in the market shopping for these kitchen appliances, you will know that V-Zug is definitely one of the most expensive out there.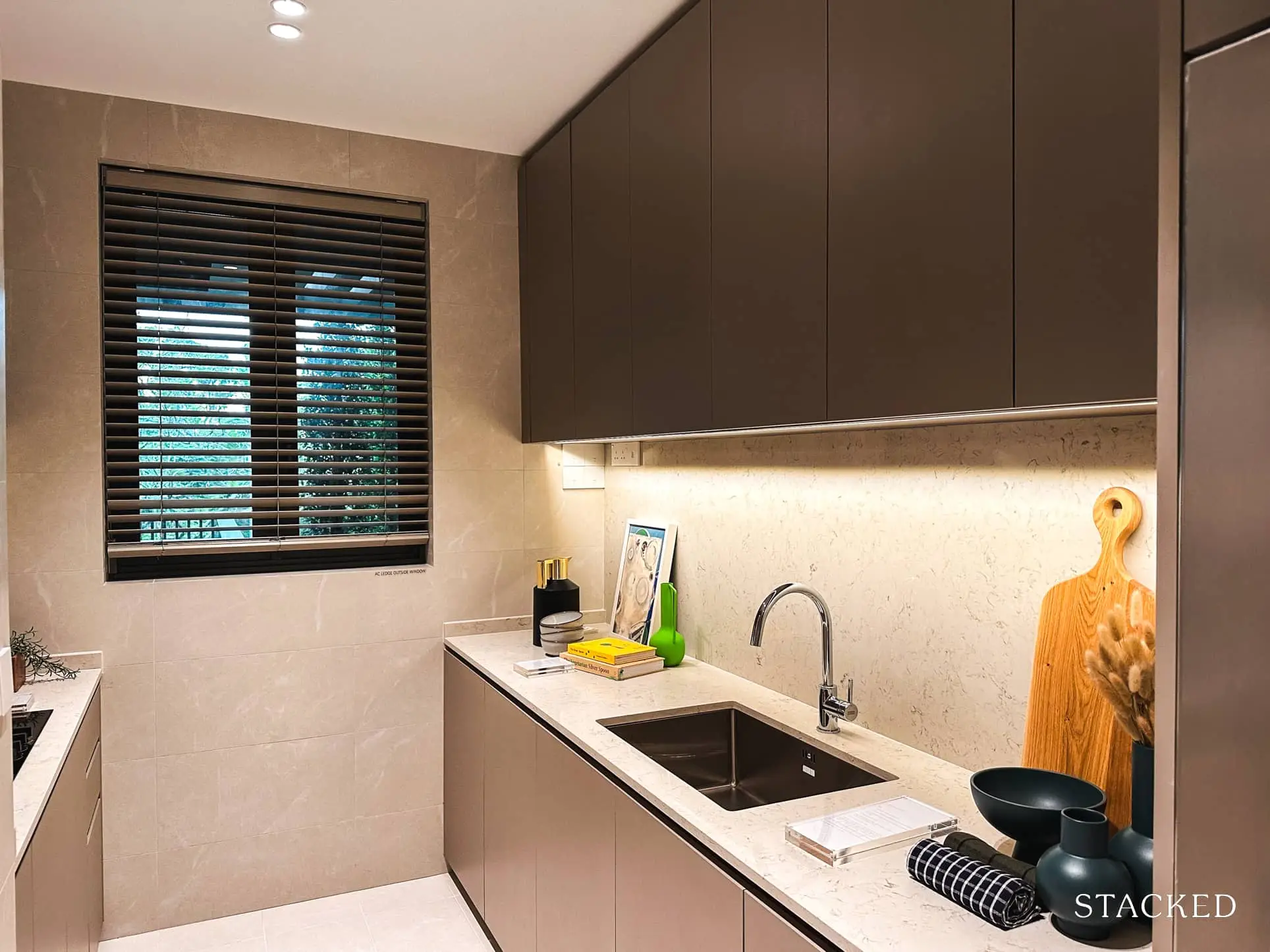 You also get built-in top and bottom cabinets across the length of the kitchen, which does add up to quite a fair bit. My only gripe is that the countertop space seems rather limited here, especially for a unit that is more than 1,500 sq ft. Notably, there are windows here for natural ventilation.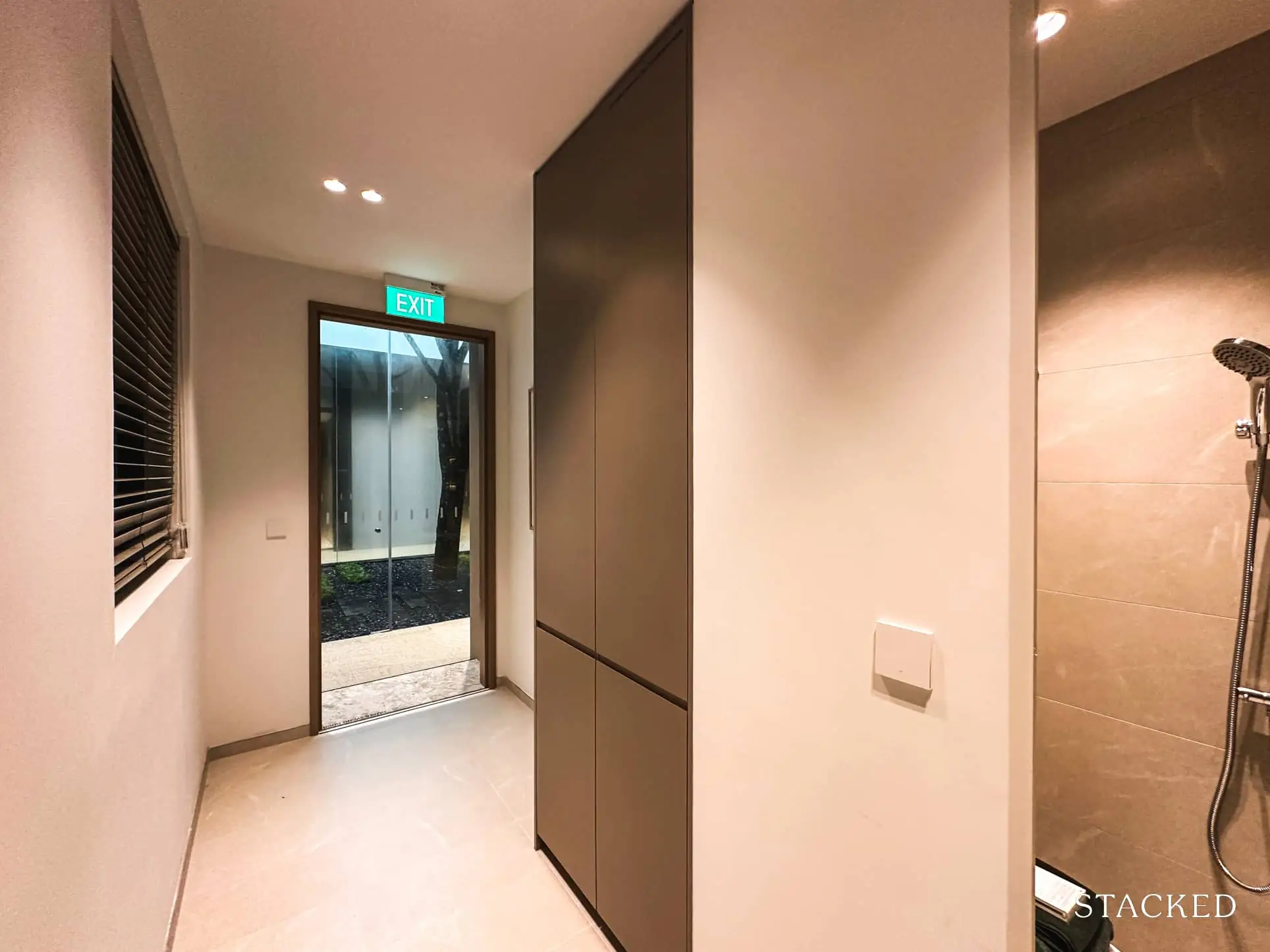 Taking a left inside the wet kitchen is a 7.9 sqm yard. Perhaps slightly excessive in space for some, but it can serve as a helper's quarters given the separate w/c here and more privacy here. It also has windows for ventilation and a backdoor that leads to the common lift lobby.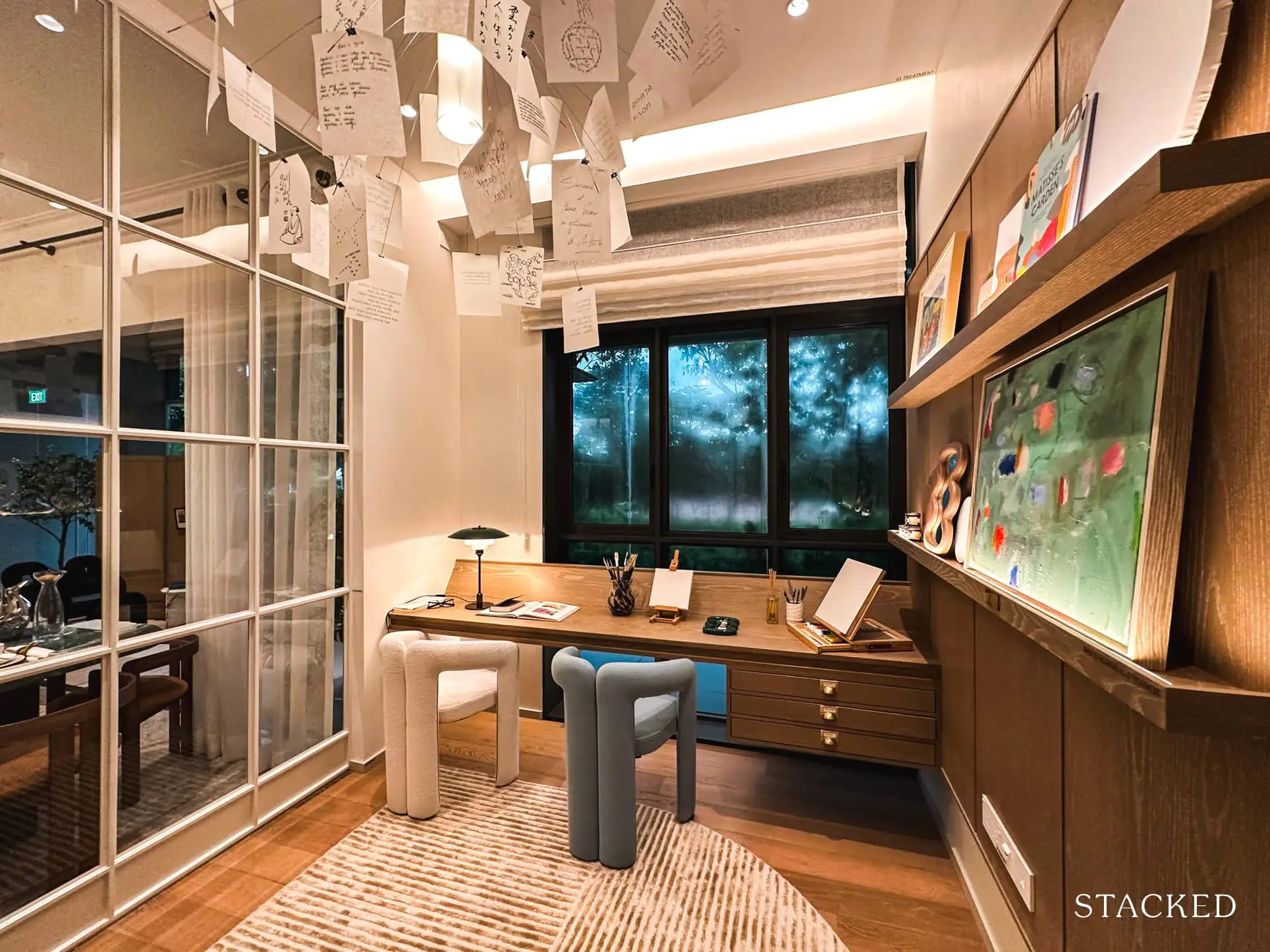 Moving on to Bedroom 3, the closest bedroom to the living and dining area. It is of a regular shape and slightly larger than average at 10 sqm. This one had its wall taken down and glass windows installed as part of the ID treatment. Because Watten House is a non-PPVC development, there is greater flexibility in taking down non-structural walls to expand the space, which is quite an underrated feature these days.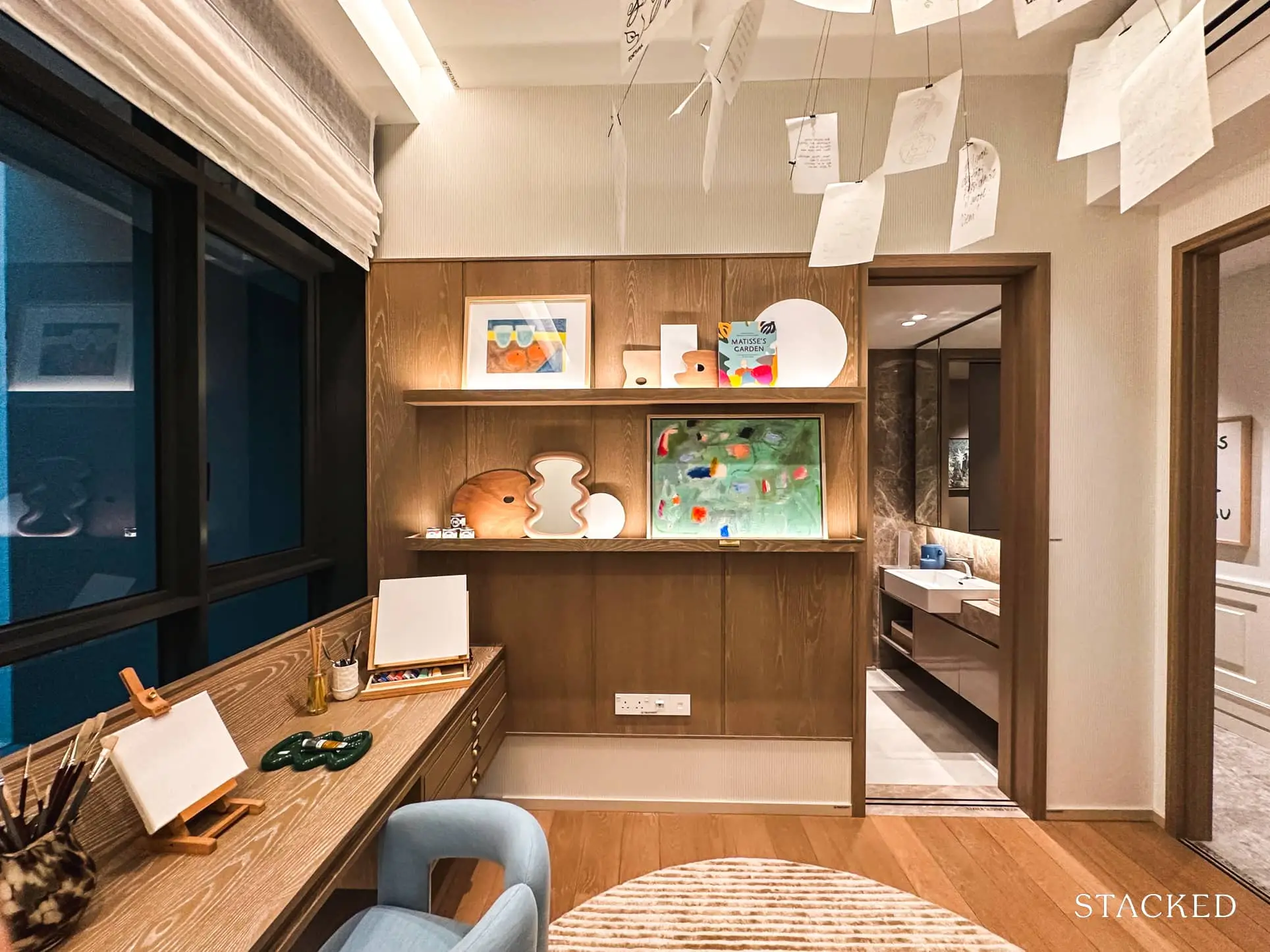 It's been designed as a sparse study here with some funky handmade-like pendant lights, but if used as an ordinary bedroom, will accommodate a Queen size bed and side tables comfortably. A 2-panel sliding wardrobe will come as standard.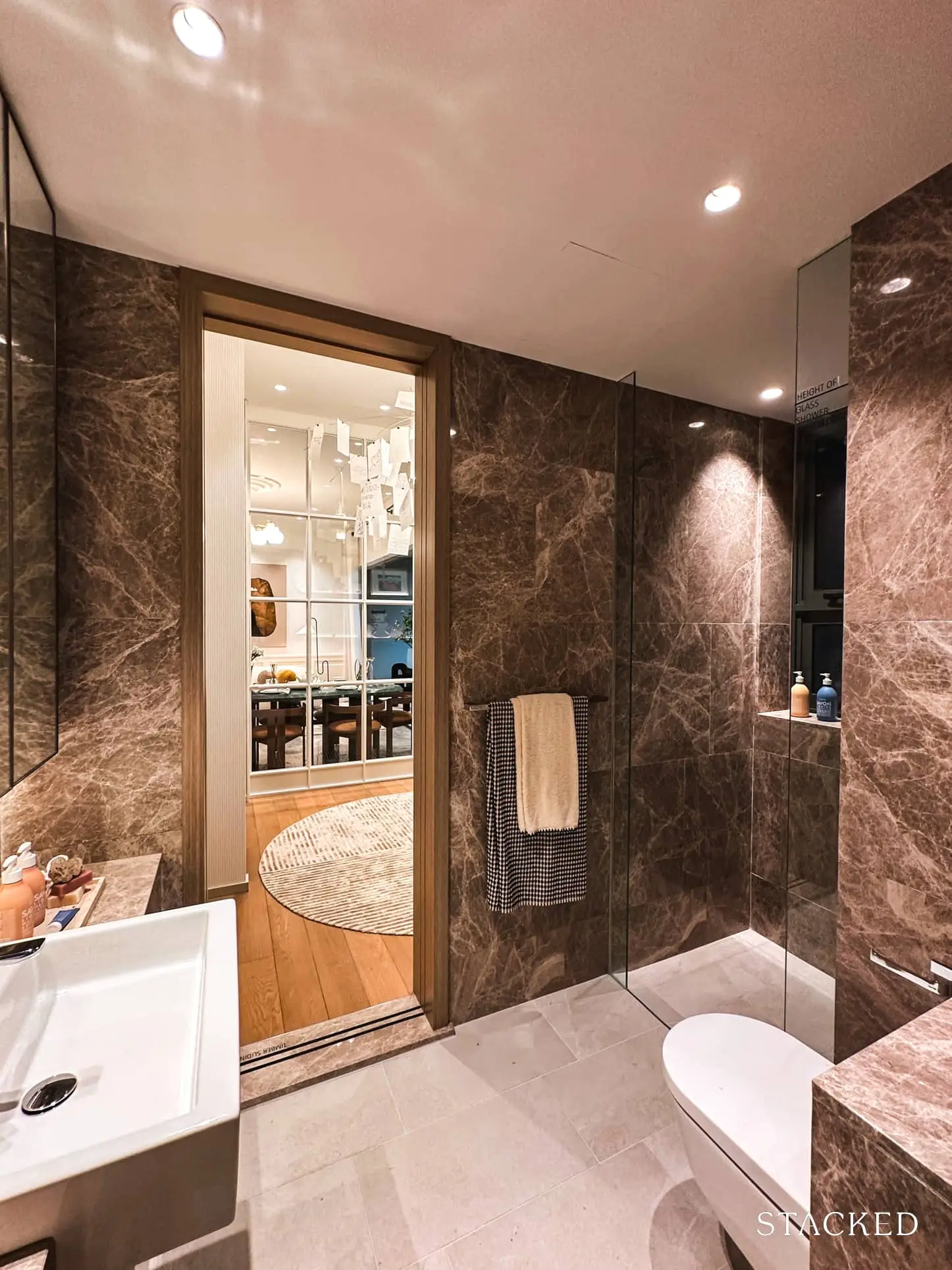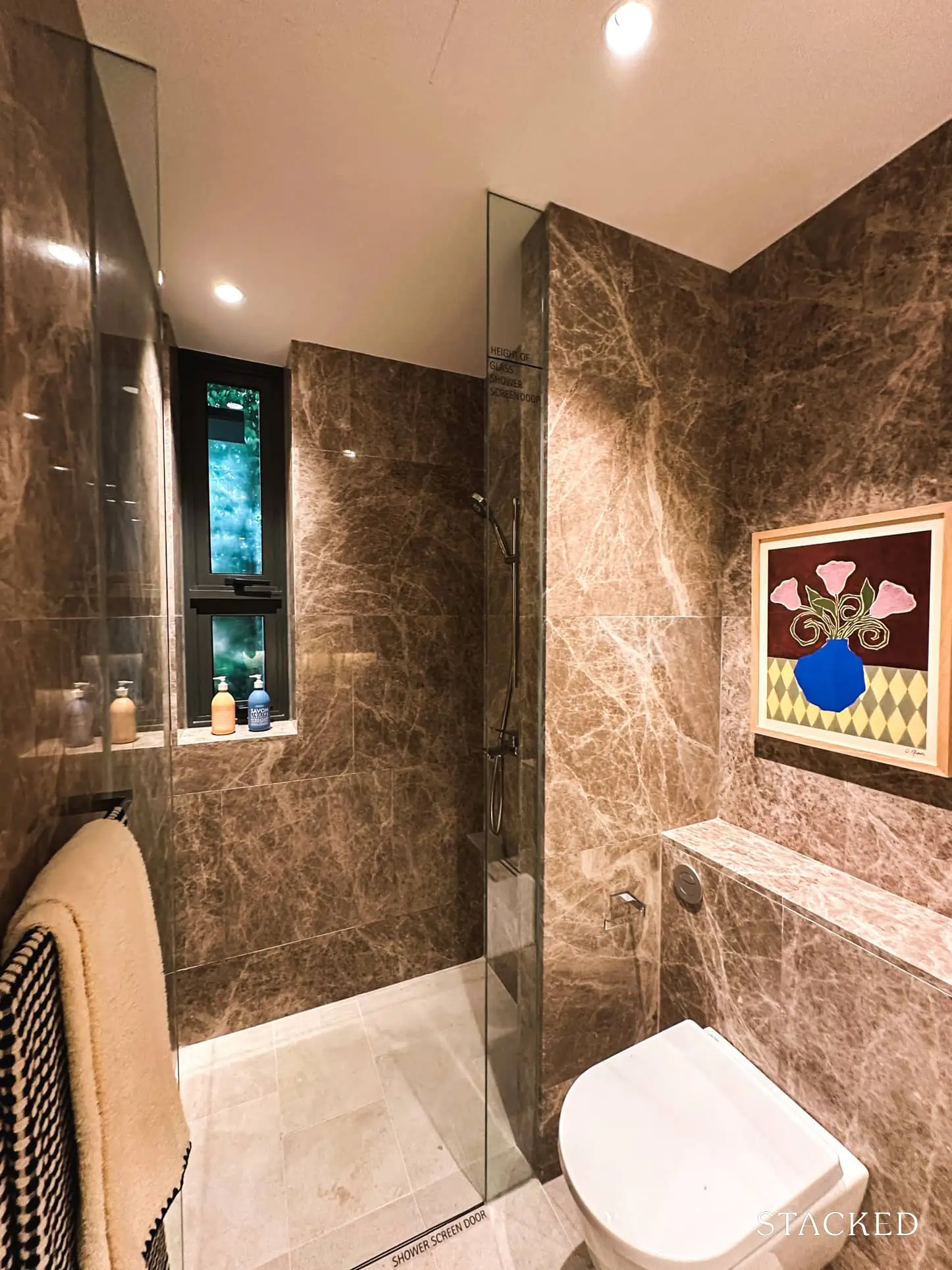 Bath 2 will only be accessible from either Bedroom 3 or Bedroom 2 via a jack-and-jill access. It's good on several fronts – firstly, both bedrooms are now "ensuite" and secondly, this bathroom is now private only for the home's occupants (guests will only use the powder room). It's of an average size of 4.9 sqm, complete with a window for natural ventilation. You get top European fittings and fixtures from Gessi and Laufen, which include the shower mixer, wall-hung w/c, and tap. As much as it is uncommon in a common bath, I was surprised at the omission of a rain shower here. After all, Watten House is one of the most expensive launches out there.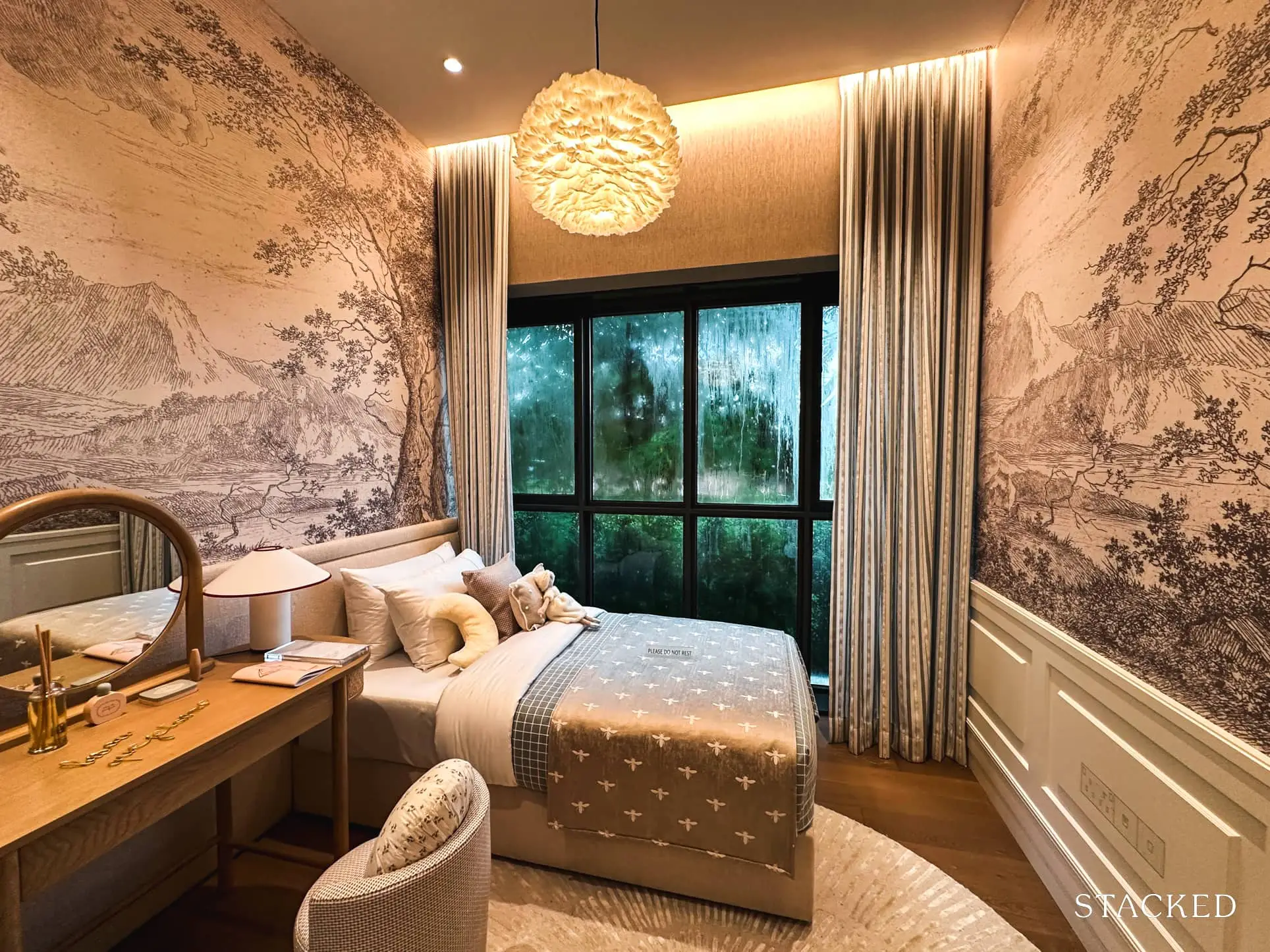 Bedroom 2 is the larger of the 2 common bedrooms at 13.8 sqm, but this is due in part to the long walkway into the main area. The good thing is that the walkway is not completely wasted, as the built-in wardrobe is integrated on the right of the walkway. This means that the 'main' bedroom area is now a nice squarish shape, which allows for a Queen bed and a larger study or dresser as they have shown in the show flat.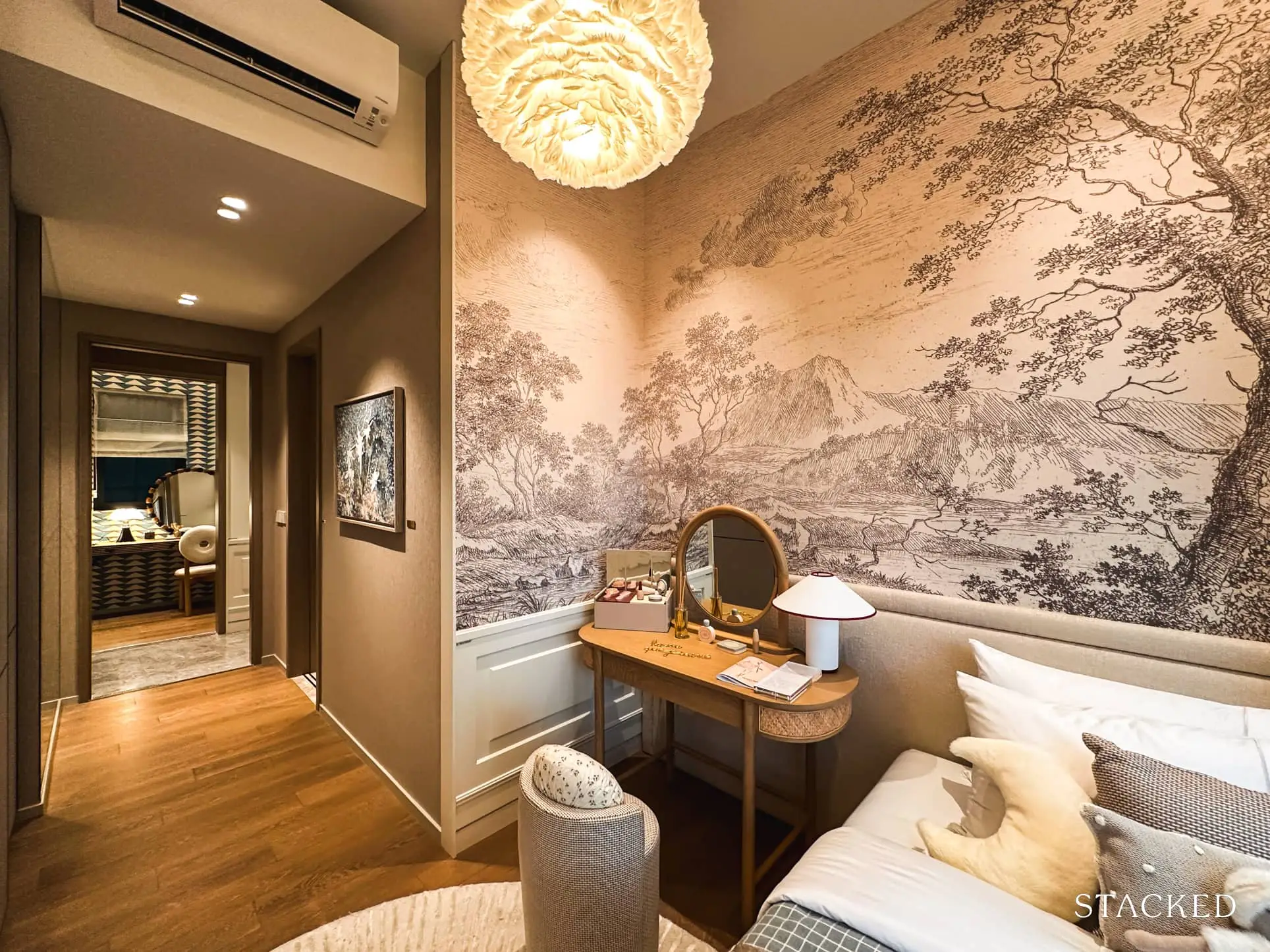 At this juncture, I would like to make a comment about the windows – these are not the type of large panel windows I would have expected from a luxury development. In fact, it reminded me of those I reviewed at Midwood, which is certainly in a much more mass-market category. The apparent reason for these smaller windows is that they fit in better with the overall design of the development.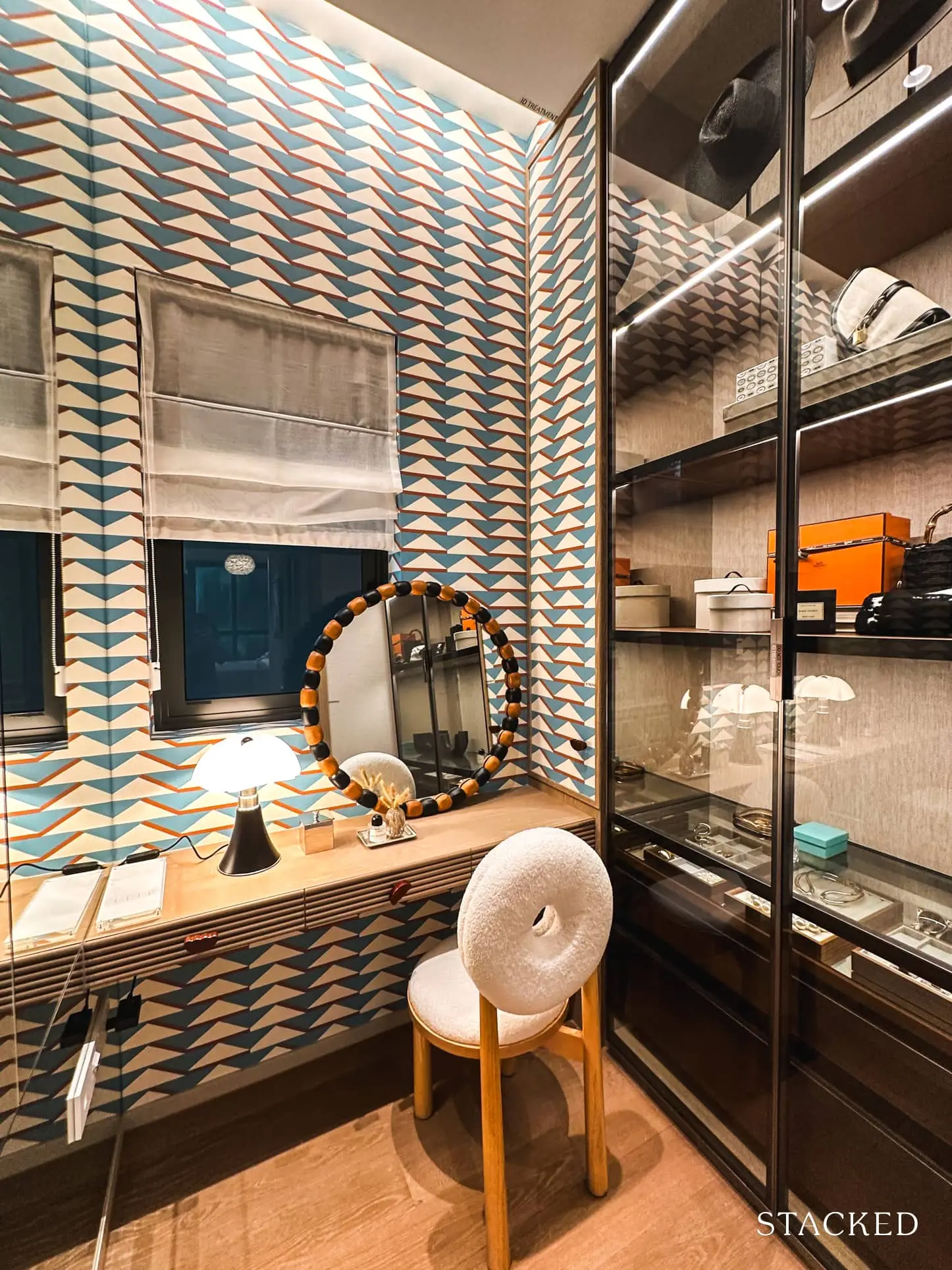 Just across Bedroom 2 is the Study. It's compact at 3.8 sqm and really too small to even consider it as a spare bedroom. Nevertheless, it should serve its purpose as a Study well and comes with its own air-con unit and windows for ventilation and more natural light.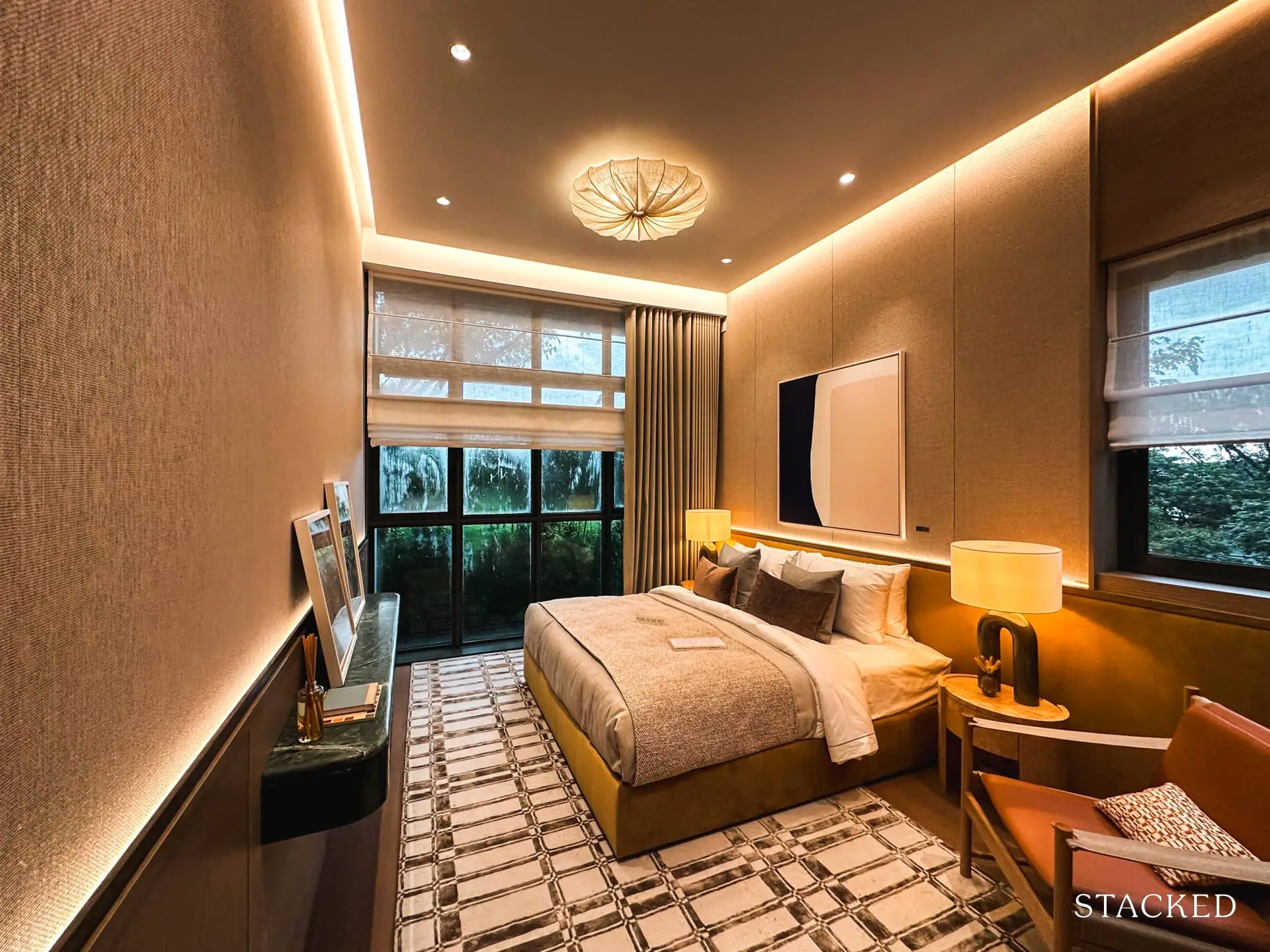 Moving lastly to the Master Bedroom. Combined with the walk-in wardrobe and ensuite bath, this space is 28.8 sqm in size, relatively substantial as you would expect.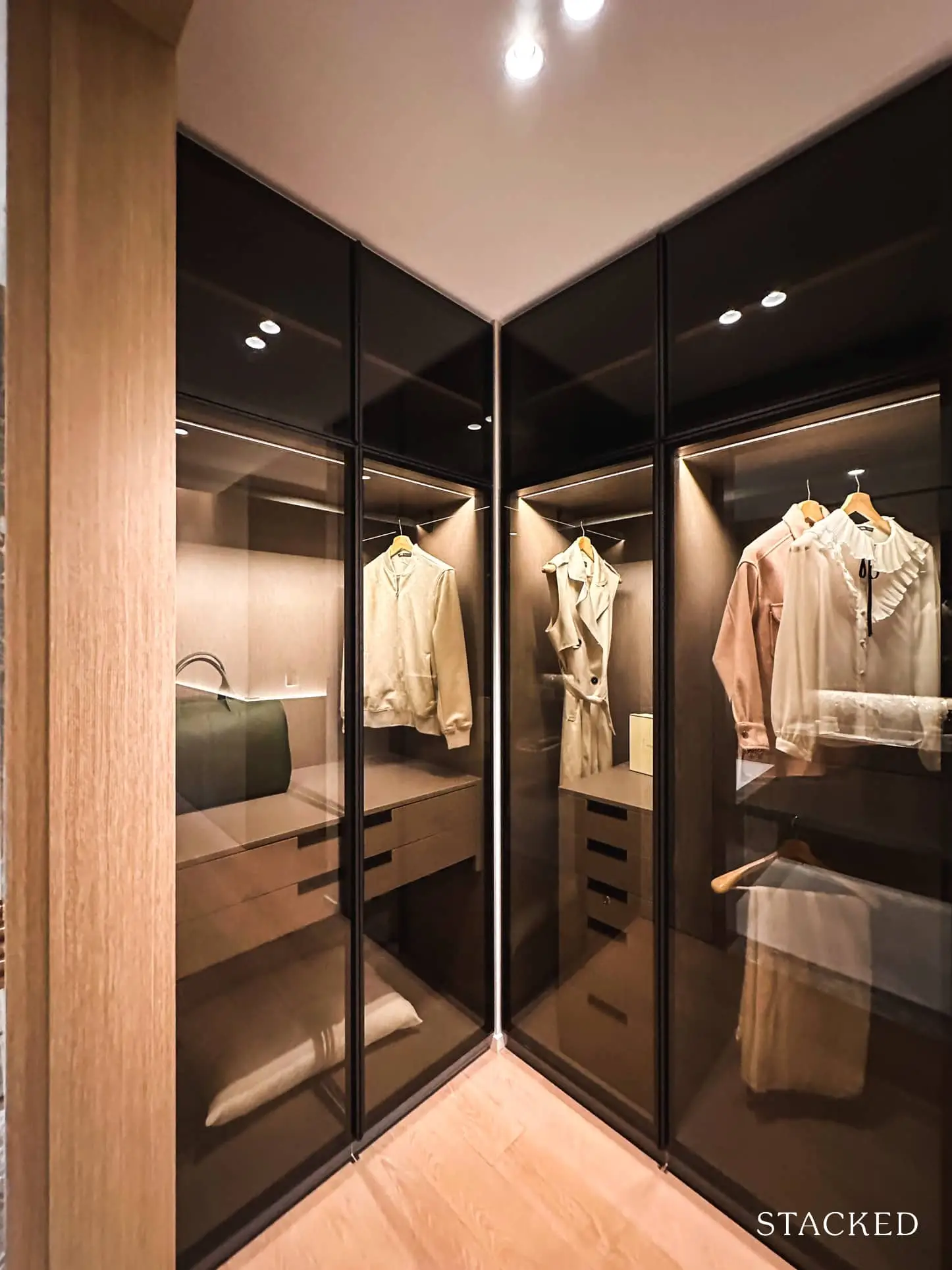 You get 4-panels of wardrobe space here, finished in the more premium, modern-looking dark metal and glass finish. Always a reminder to keep your clothes neatly arranged with such a choice of materials!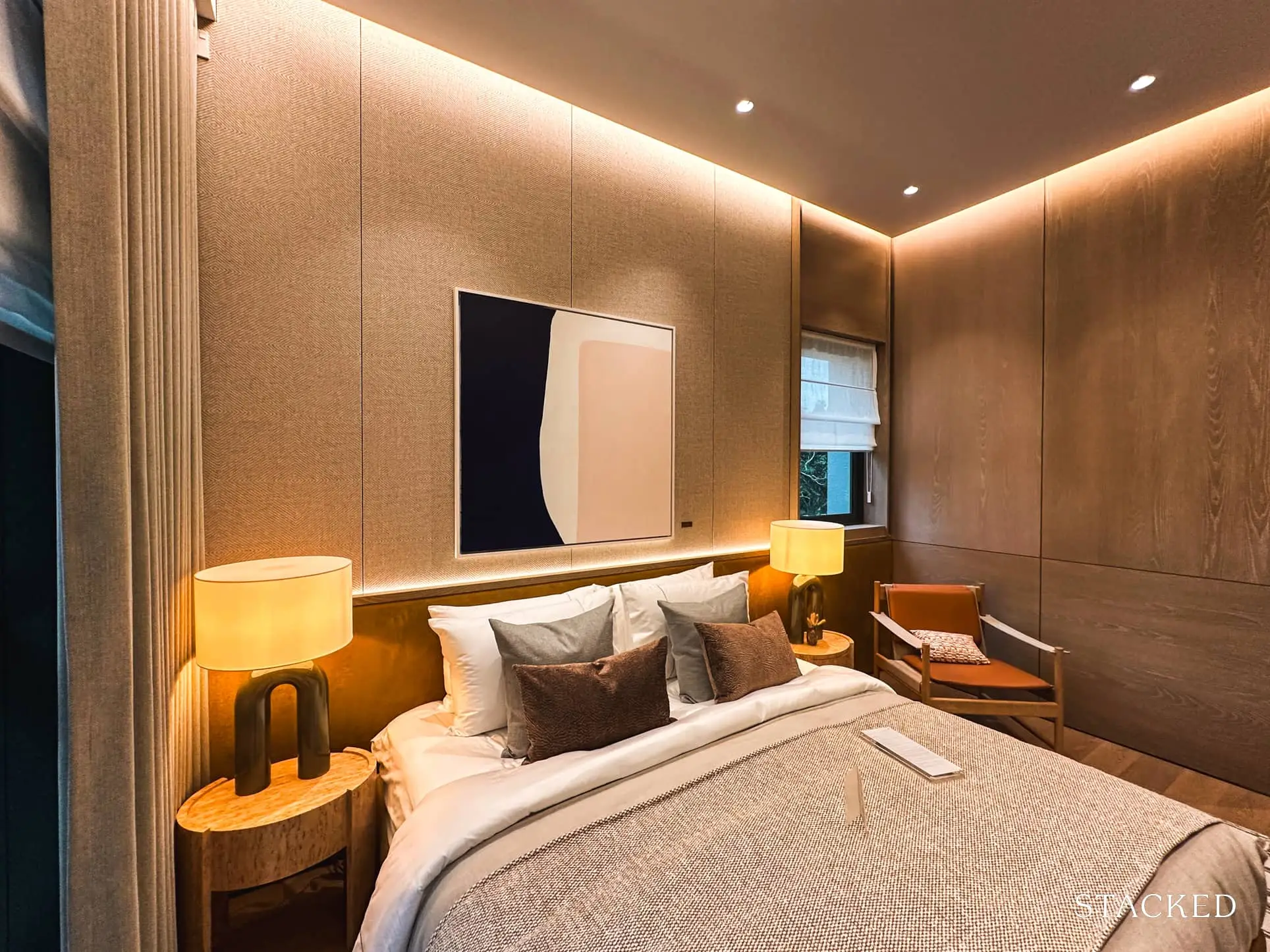 This bedroom is huge by regular standards. It's so evident that you even have the luxury of placing a one-seater chair by the side. You can certainly fit a King-size bed with 2 side tables here without thinking twice about the available space. Besides the regular windows you find in a bedroom, there's another one by the side to provide extra ventilation.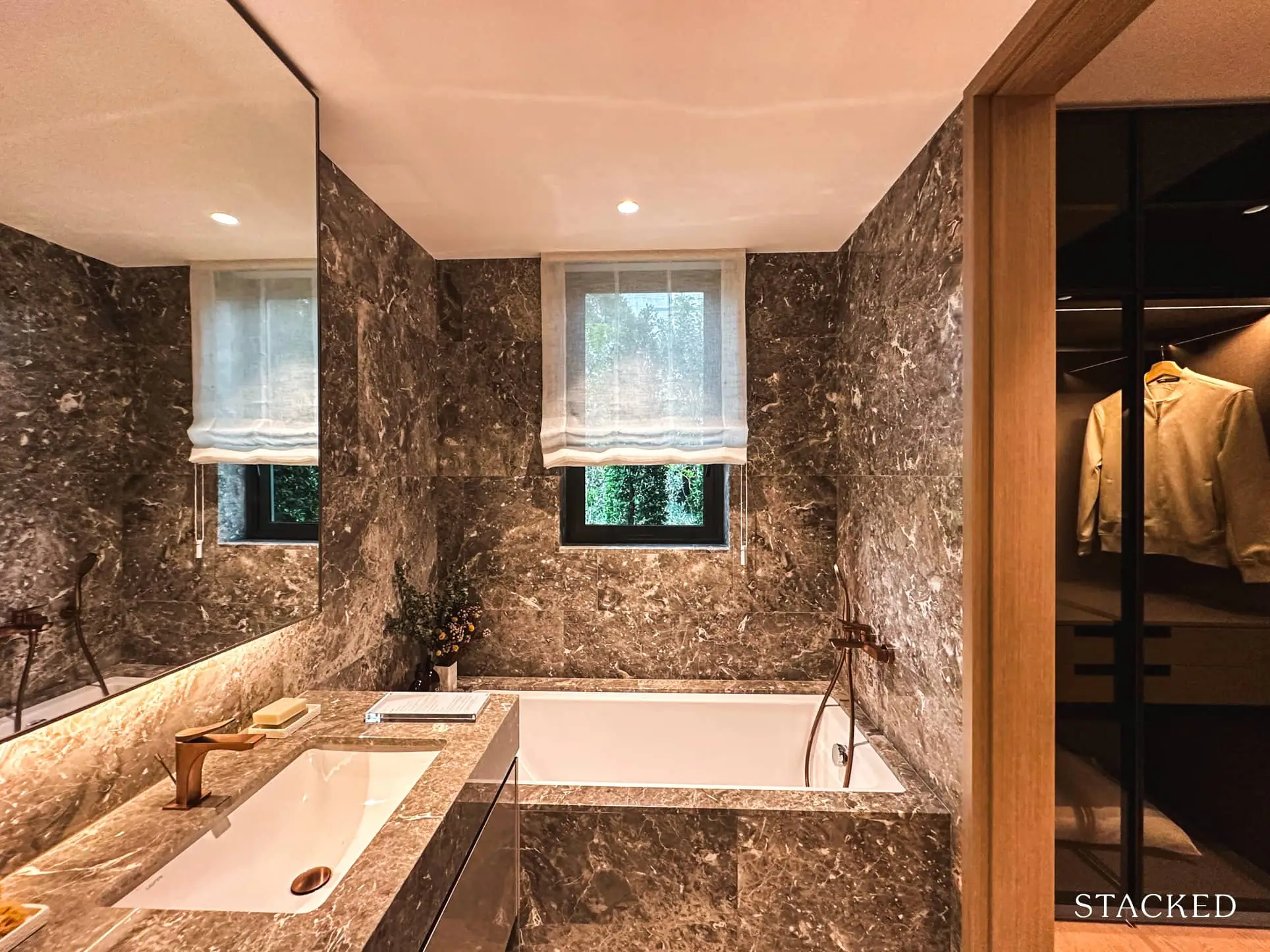 Finally, the Master Bath. I'm glad to see that the developers have gone premium here with the provision of a bathtub from Laufen with a spout and bath mixer from Gessi. Of course, you also get a separate shower stall if you prefer to take a quick rinse instead. The Gessi fittings here in the Master Bath are in bronze finish, differentiating them from the regular ones found in the common bath.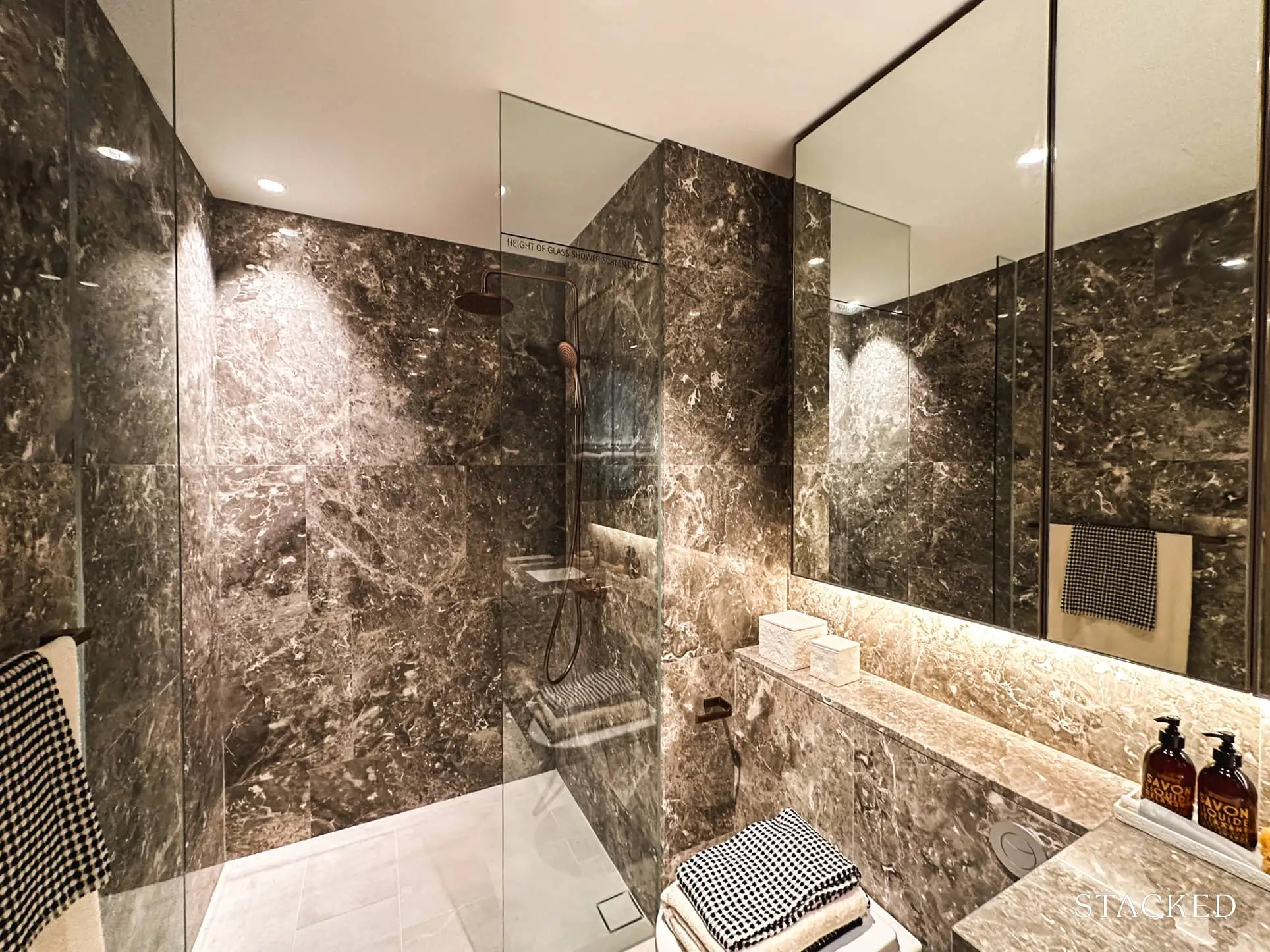 The other difference from the common bath is the rain shower which you will only get in the Master Bath. Perhaps the only thing that may be missing from a 1,500+ sq ft unit would be his and hers sink, although having the bathtub may be a more important consideration for some.
Watten House – 5 Bedroom Type E1 (220 sqm/2,368 sq ft) Review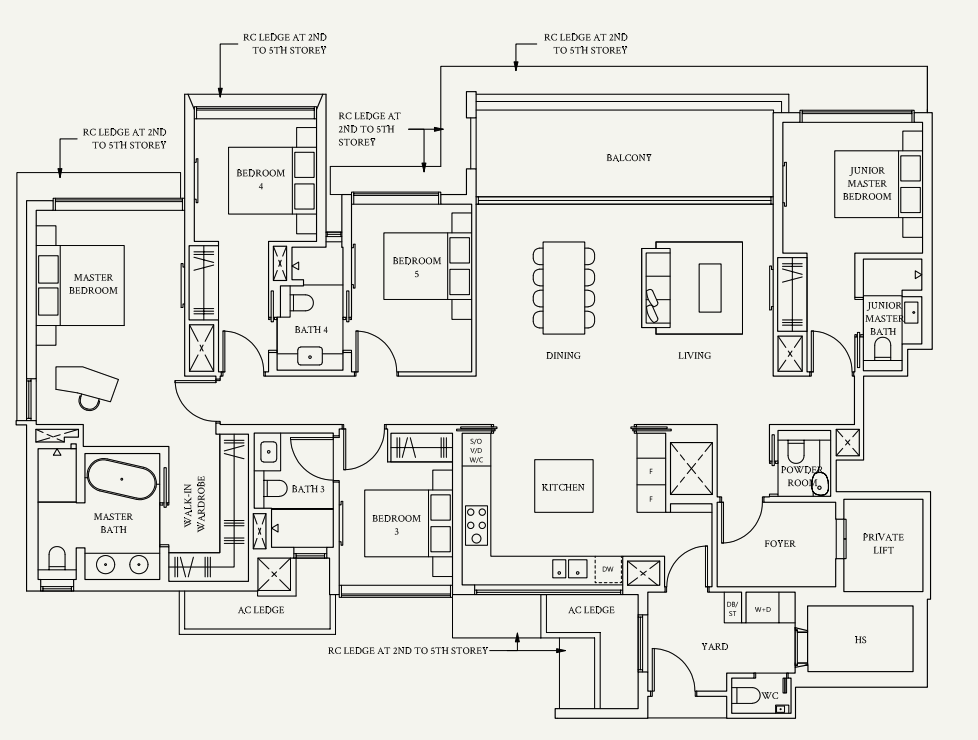 This is the only 5-bedroom unit type at Watten House and the largest unit of the development if we exclude the Penthouses. At 2,368 sq ft, even the cheapest unit will cost $7.6m ($3,209 psf) so if you are considering such a unit, you are one with options. Plenty of options in fact, unless you are specifically looking for a new launch condo. There are 36 5-bedroom units at Watten House, making up 20% of all units, so the developer is definitely banking on the rarity of such large format units.
The ceiling height is 3.25m for the common areas, which is the highest I've seen among the condos so far. This ceiling height will make the unit feel more spacious than it already is and gives you the option of building a loft in the bedrooms etc. You also get finer materials at Watten House, with marble for the common areas and engineered timber for the bedrooms.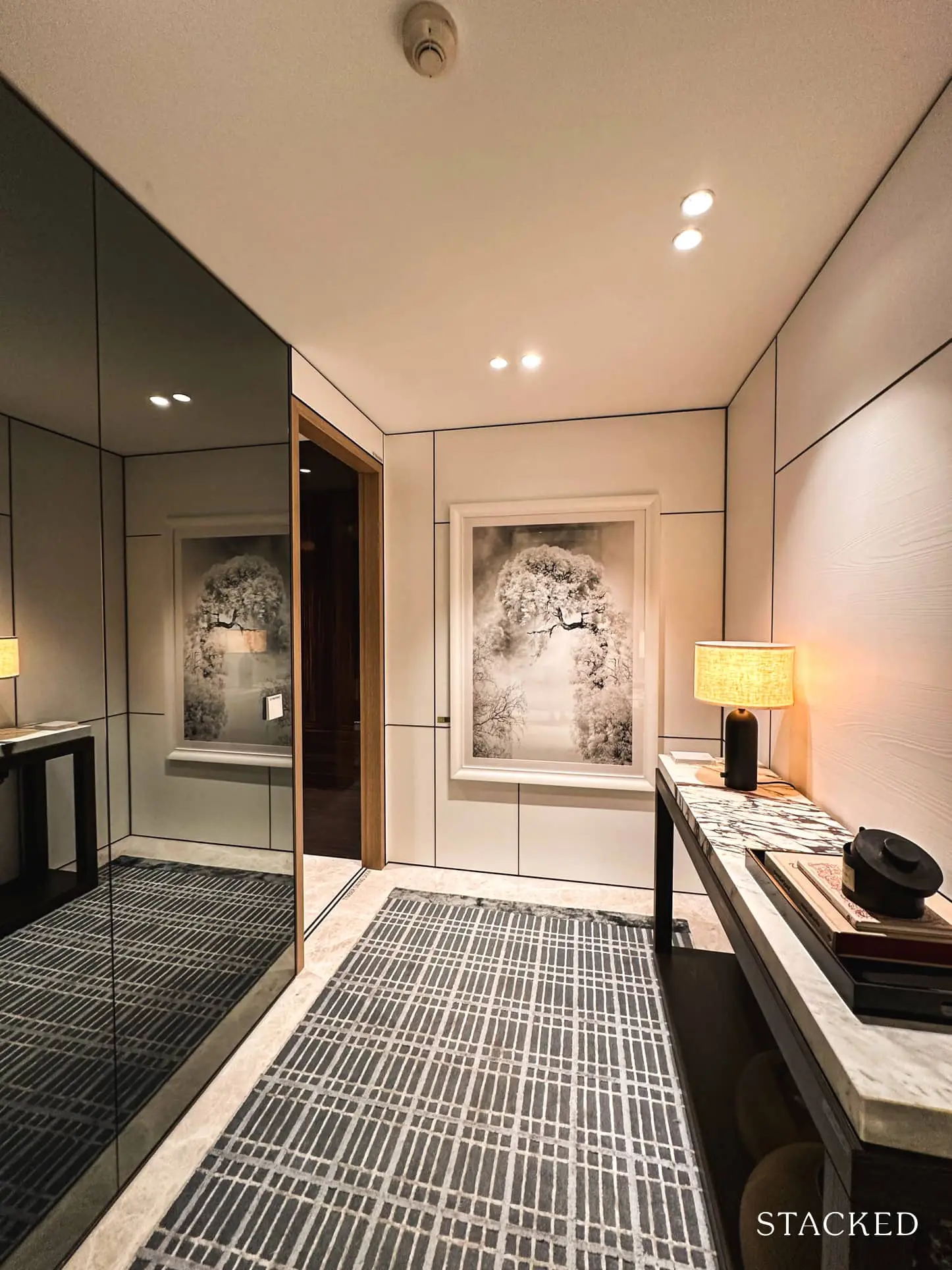 As standard, almost all units at Watten House have a private lift and it is certainly no different for the 5 Bedroom units. You are greeted by your own 6.1 sqm foyer, which is definitely a comfortable amount of space. I think the developers could have definitely built some shoe cabinets here but had opted not to – perhaps rightly so, since buyers in this category may have a mind of their own in terms of the design of their home.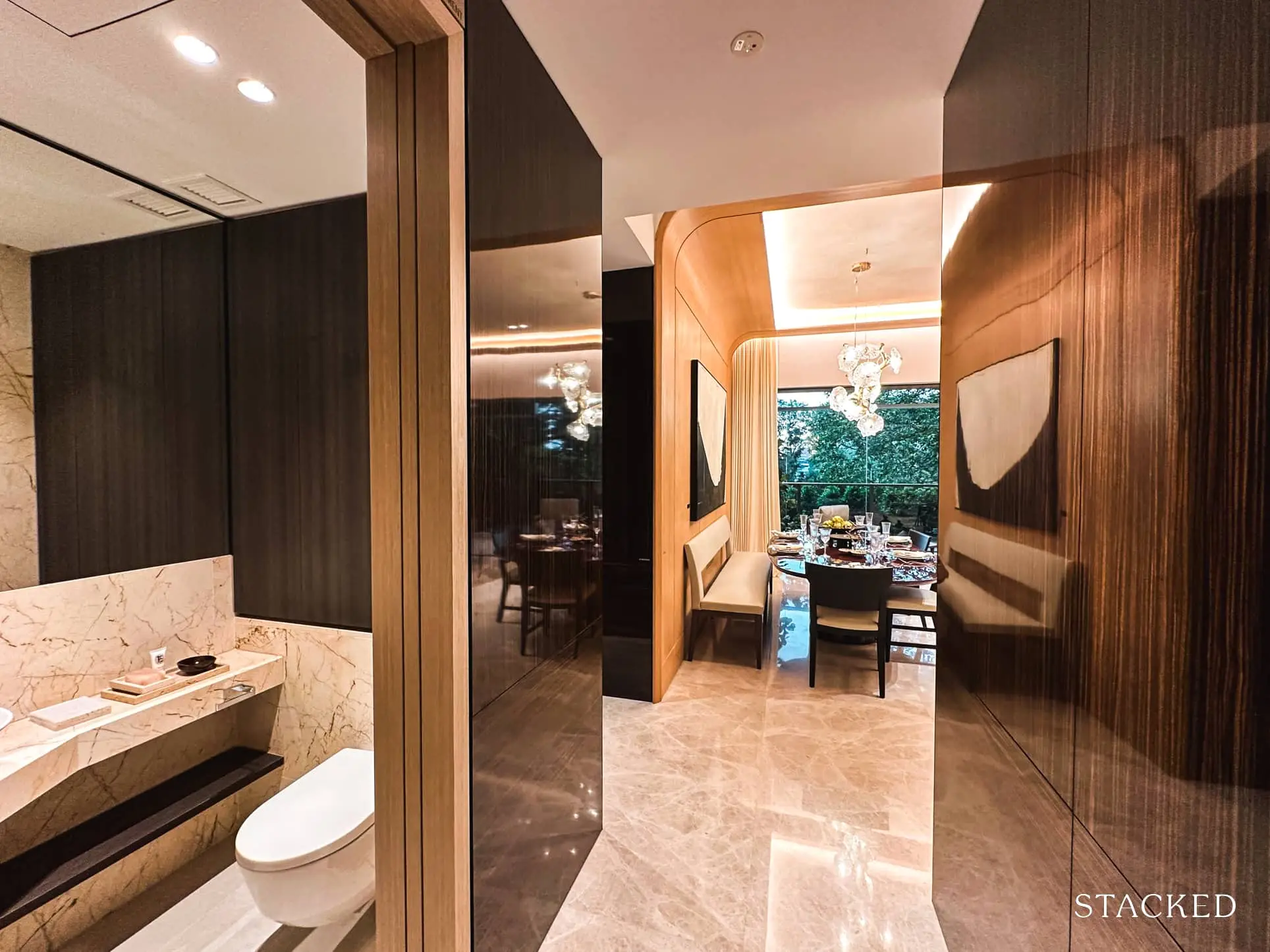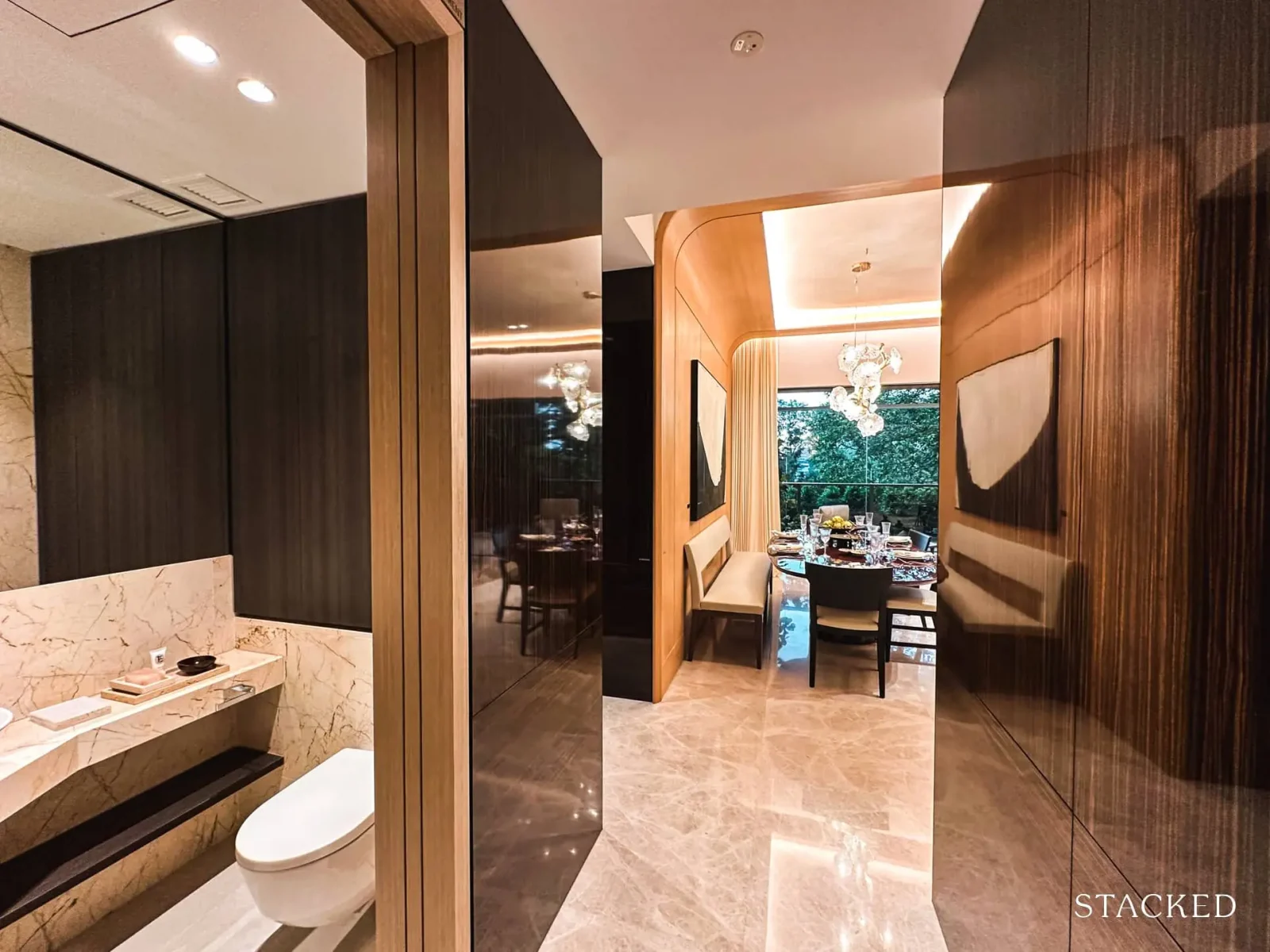 The powder room is located right after the foyer, rather similar to how they've done it at Park Nova. Some people have shared with me how they don't like a toilet right at their entrance but I think there's a good, practical reason to do so. Guests who come in sweaty and prefer to wash up ahead of interacting with the others can do so. Conversely, heading to the bathroom right before leaving would also be convenient this way.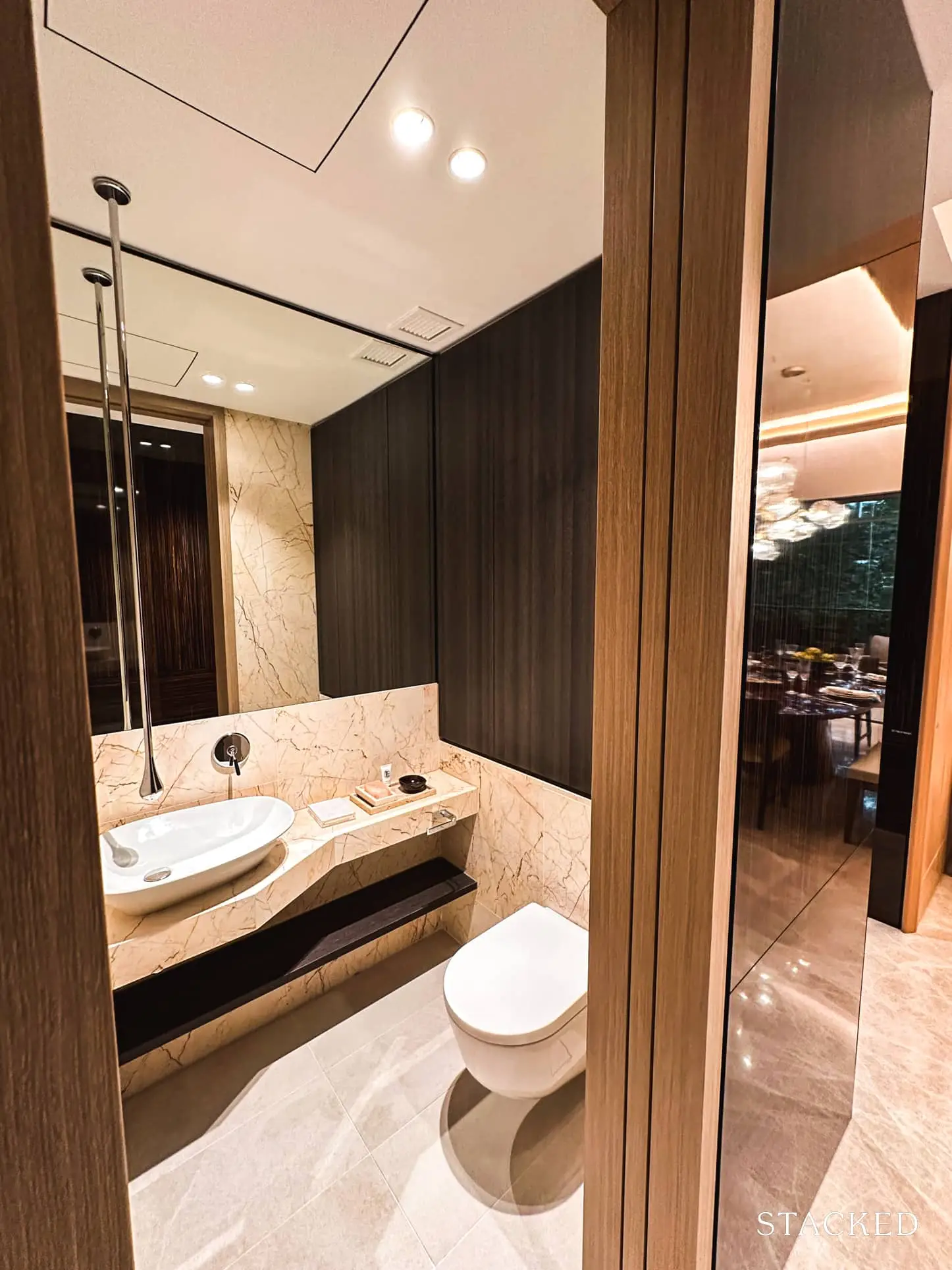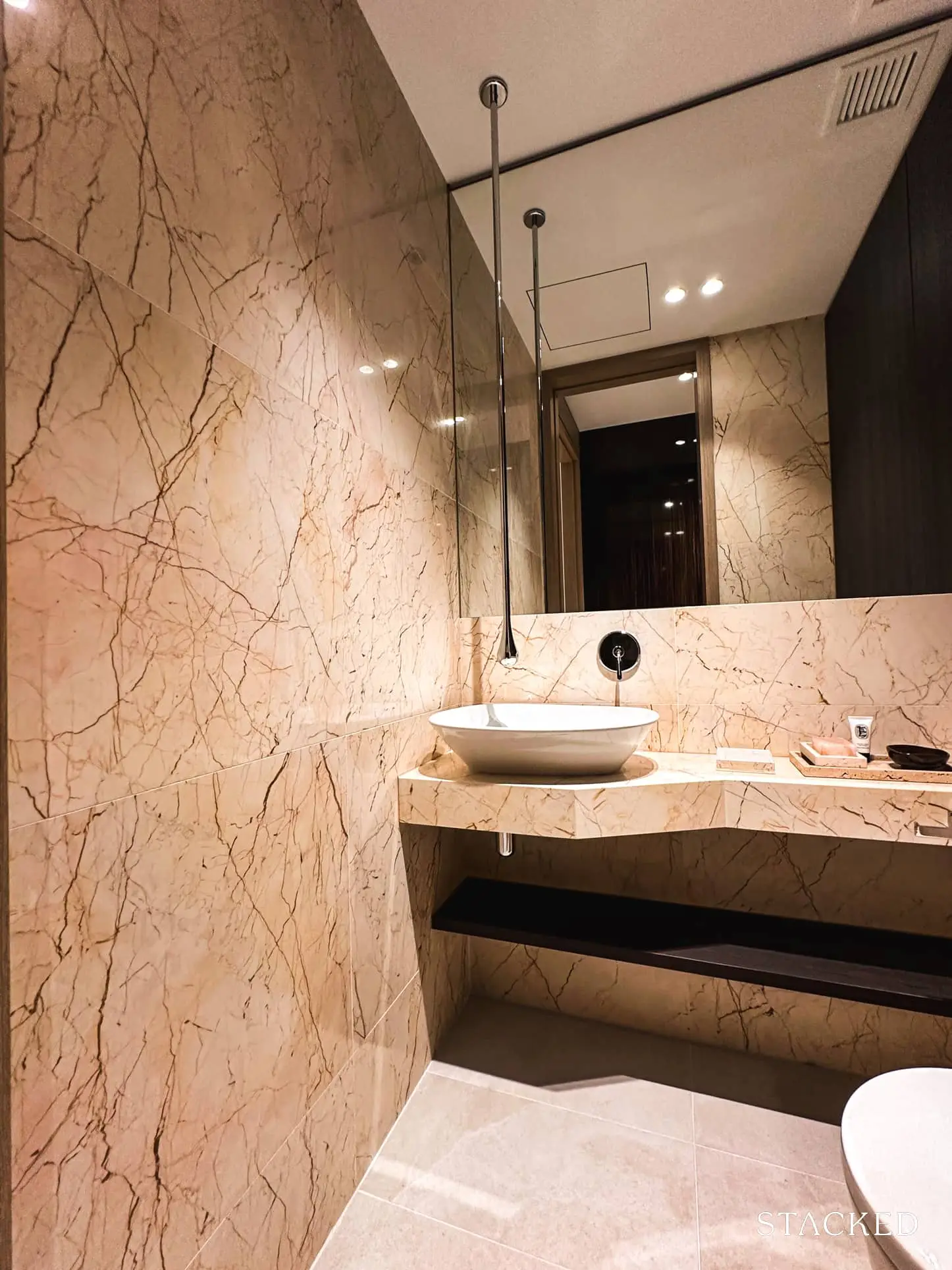 It boasts of a similar design to the powder room in the 3-bedroom show flat unit, with an understated luxurious vibe. It is adorned with marble walls and boasts European wares such as the gorgeous ceiling-mounted teardrop tap mixer from Gessi, which I do find rather elaborate. Besides the teardrop mixer, you get a basin and wall-hung w/c from Laufen, a premium Swiss brand.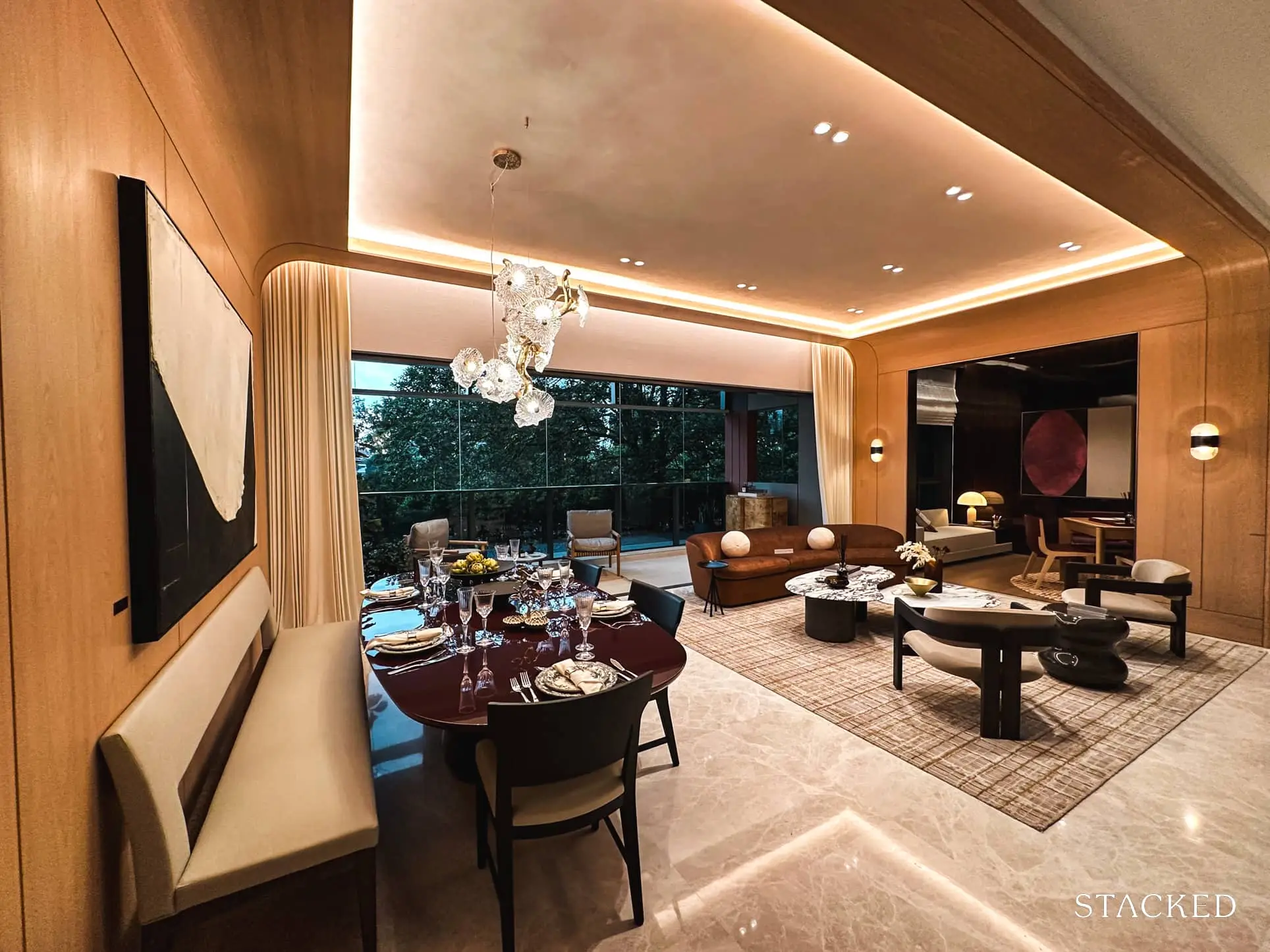 Entering the unit, you are greeted by the expansive living and dining areas, which make up 47.7 sqm of space, larger than some 1-bedroom units you have in the market. Air-conditioning is ducted, as is expected of such luxury apartments, so you have it hidden from plain sight.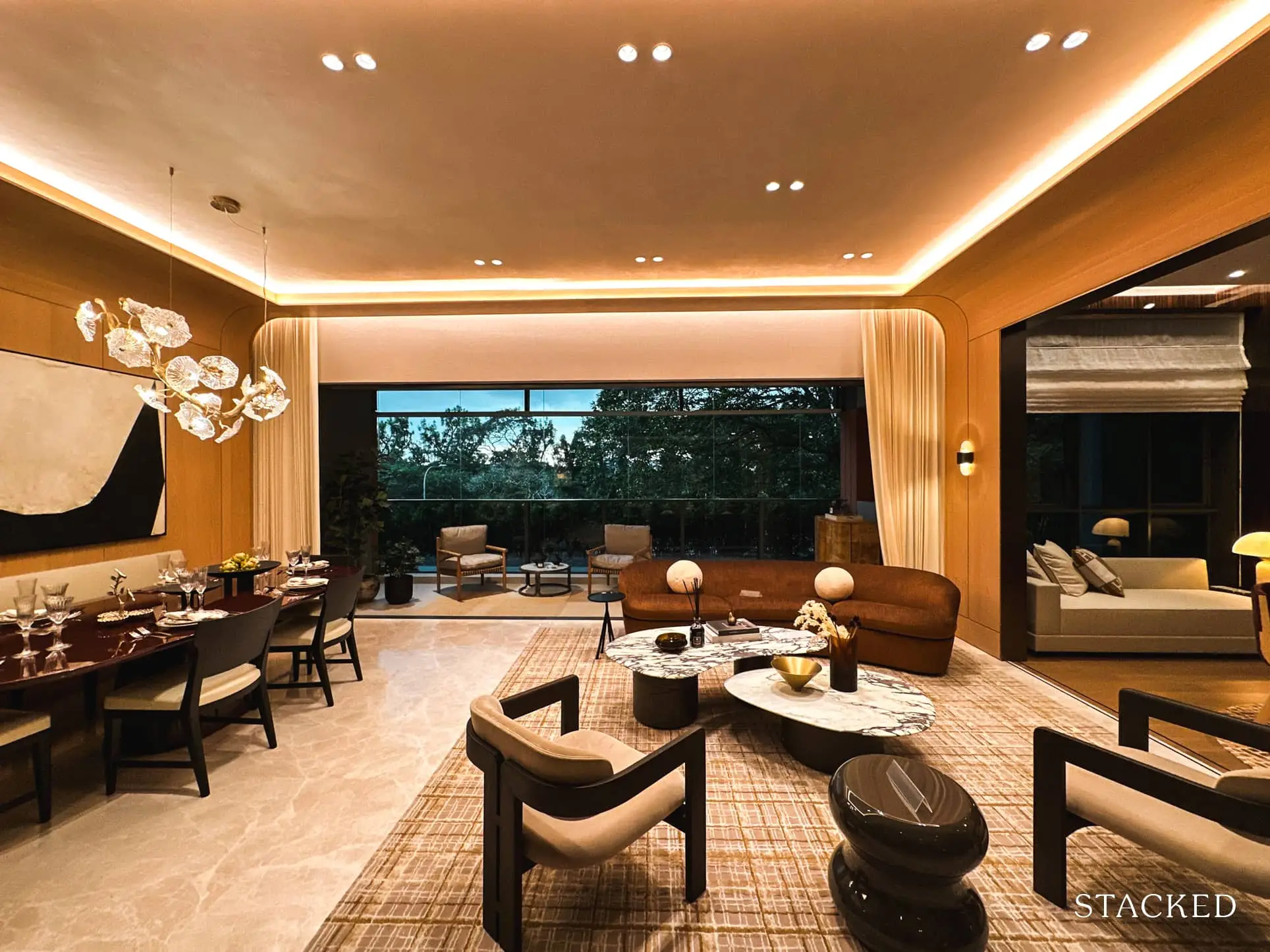 As mentioned earlier, the 3.25m ceiling brings out the grandeur of the space and grants you the option of placing eye-catching showpieces such as a chandelier perhaps.
I found the overall interior design of this 5-bedroom unit to be… interesting. The choice of furniture and panelling all seem to point towards a more old-rich, regal vibe rather than the usual modern theme most designers would probably opt for. That said, I haven't been known to be the most artsy among friends so perhaps you may have a very different opinion from me.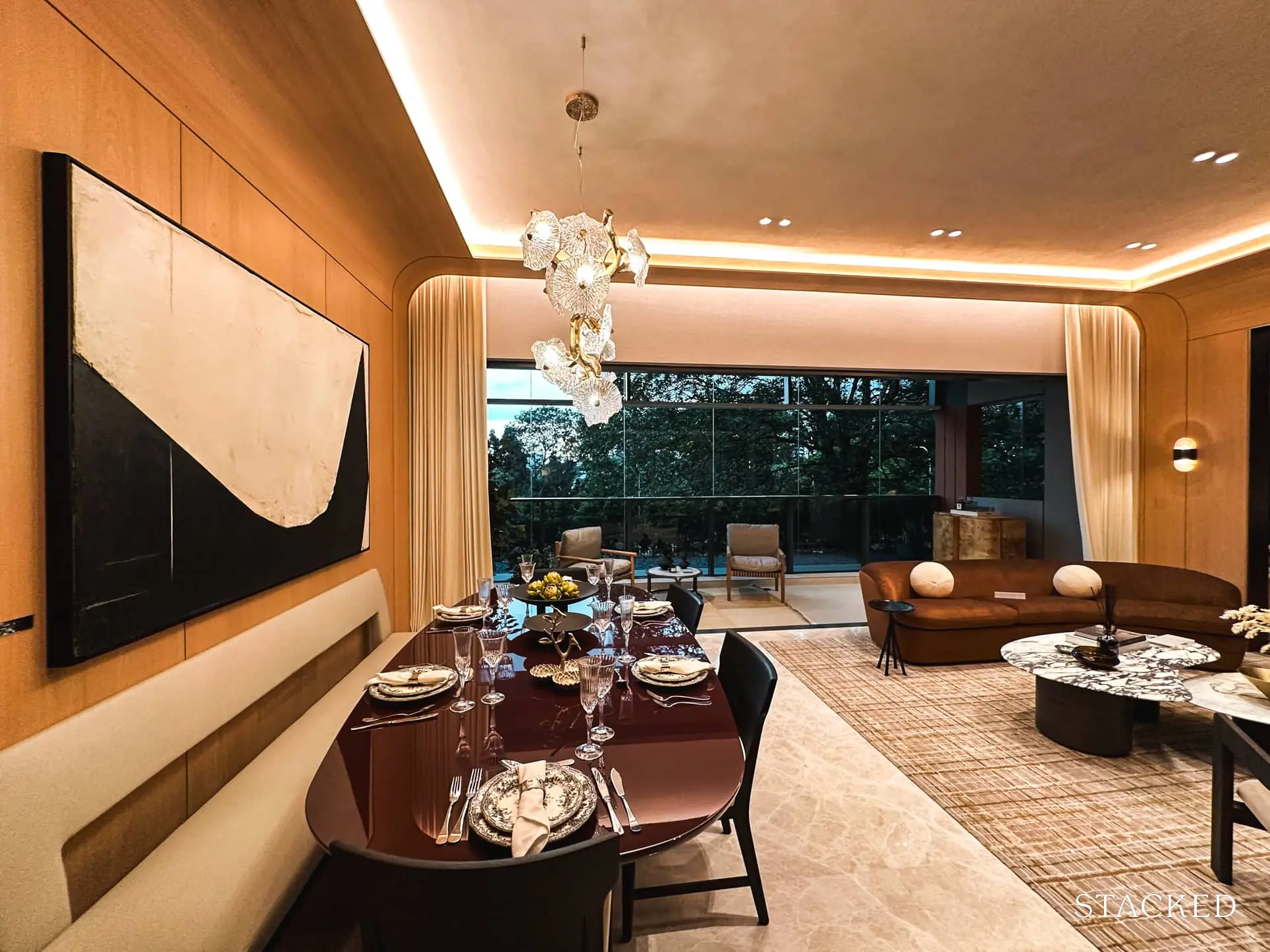 Interestingly, they have only catered for a table of 6 in the dining area, similar to what was done for the 3-bedroom show flat. This is despite having 800+ sq ft more space than that unit. Of course, if you don't mind cramming more people, you can probably accommodate 2 or more people.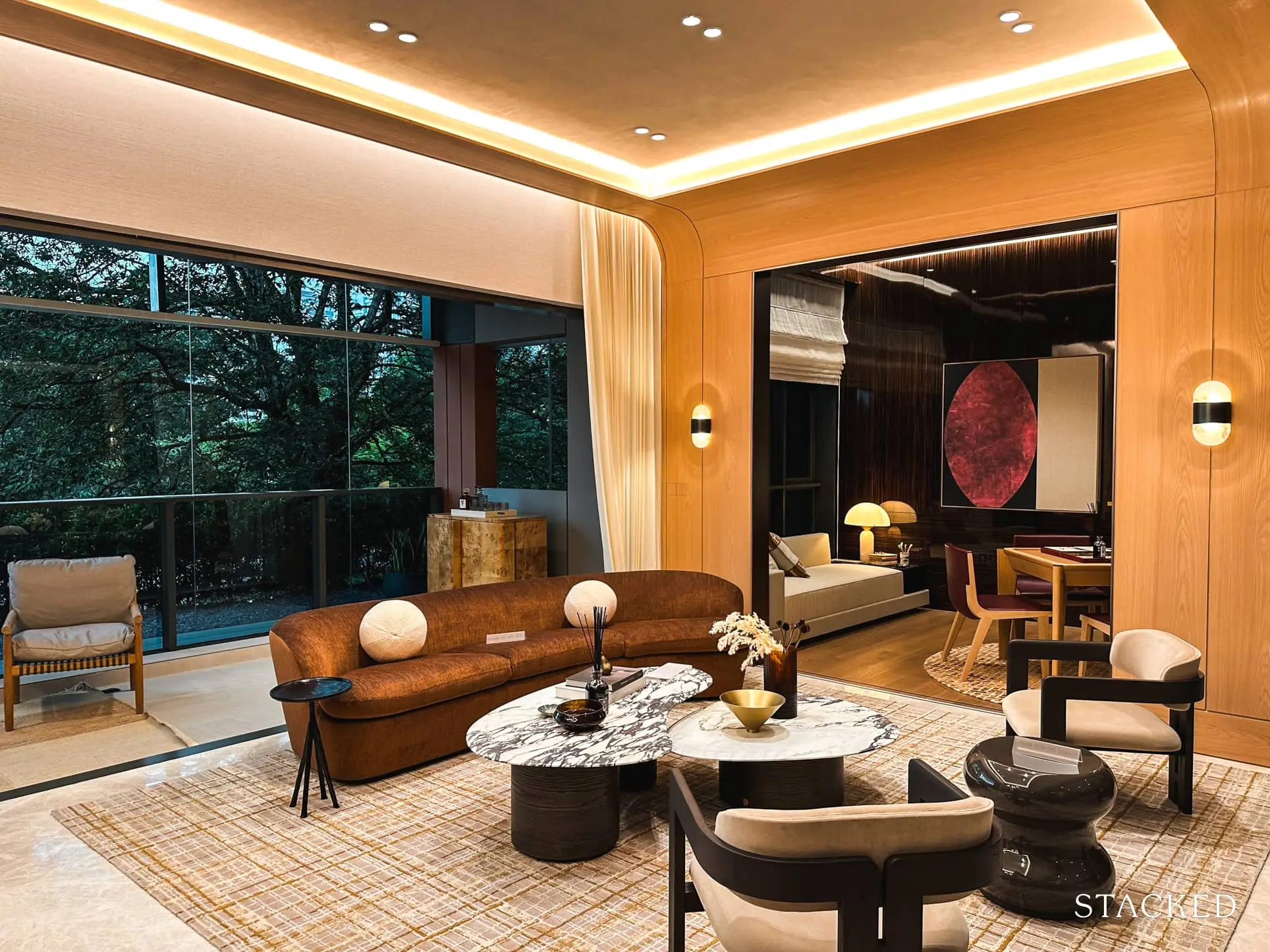 As for the living area, it is really spacious. It's quite evident from the show flat that even with a 6-8 seater couch, you can do so with another one on the other side or choose to have a combination of 1 and 2 seater couches instead. It's always nice to have this kind of flexibility of space so that your friends can sit around wherever they prefer.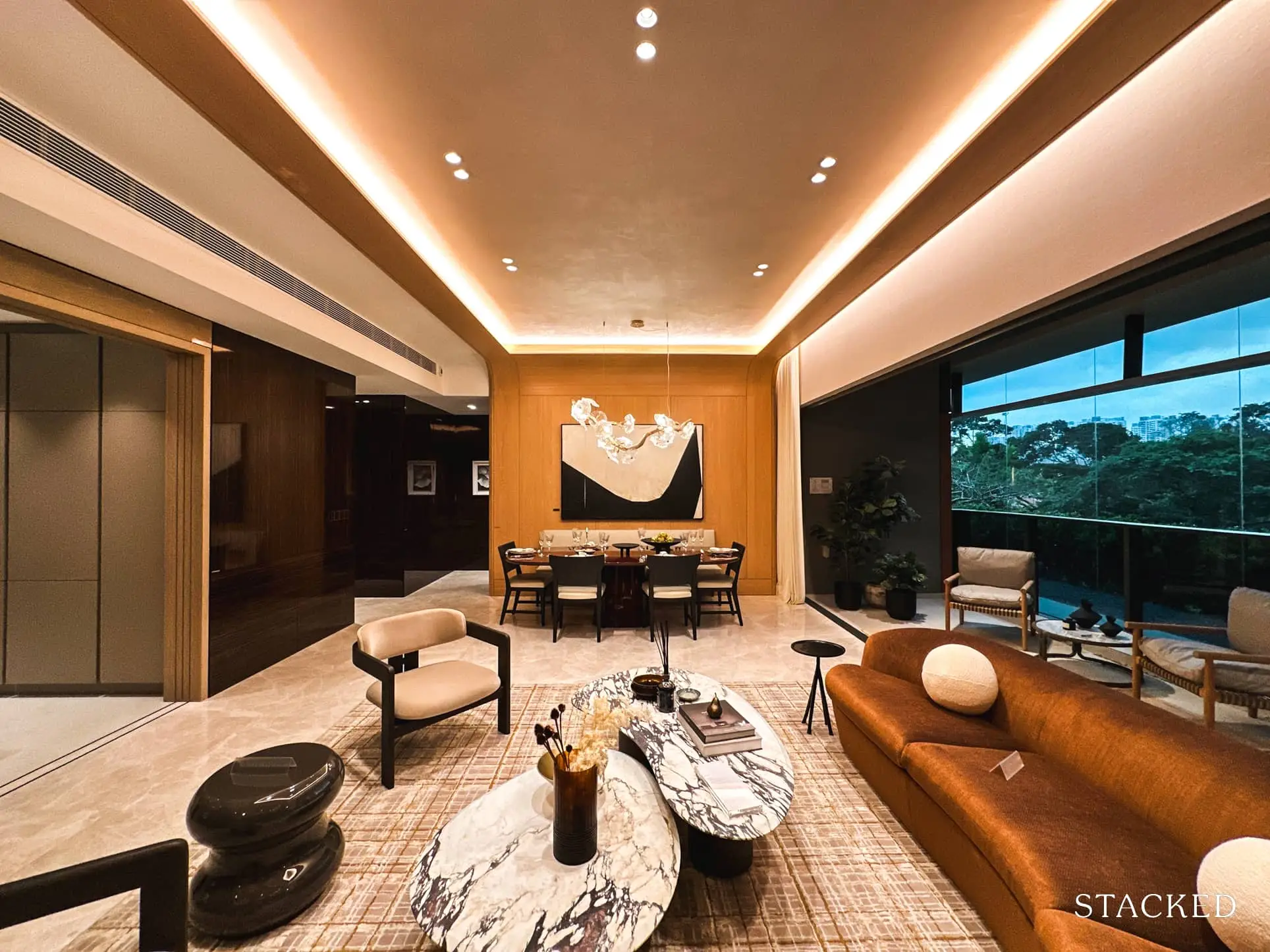 Overall, the impression of space that you get here is definitely par for the course for a unit of such a price.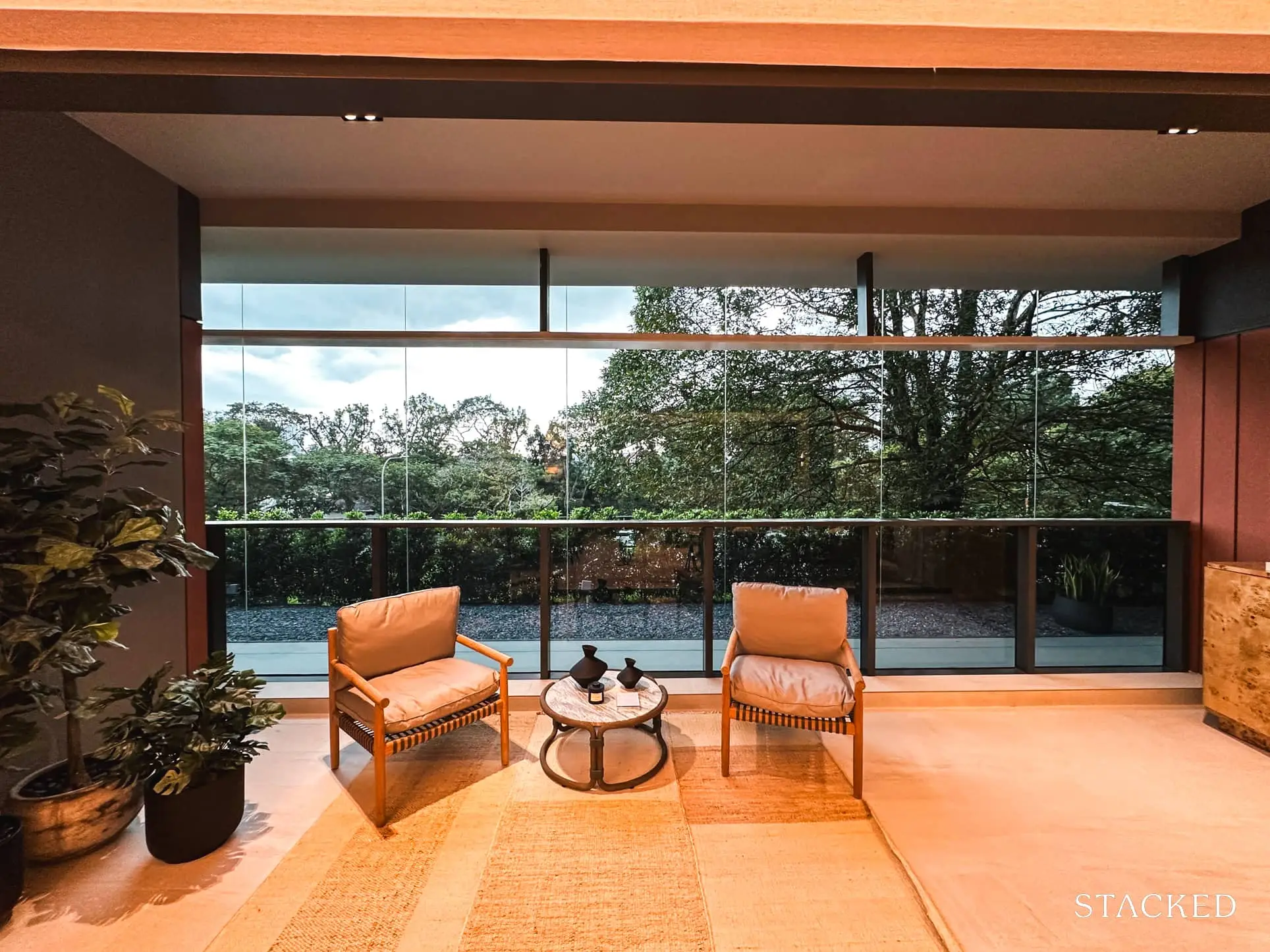 Both the living and dining areas front the 16.8 sqm balcony. If that number doesn't mean anything to you, let's just say that it is probably larger than any of the Master Bedrooms you have seen in other show flats. Just picture that.
It's been kept relatively simple here, with just 2 chairs a coffee table, and some plants by the side. Considering how large and wide this area actually is, there's definitely potential to have a small al-fresco dining area at least, or an outdoor gym if you prefer.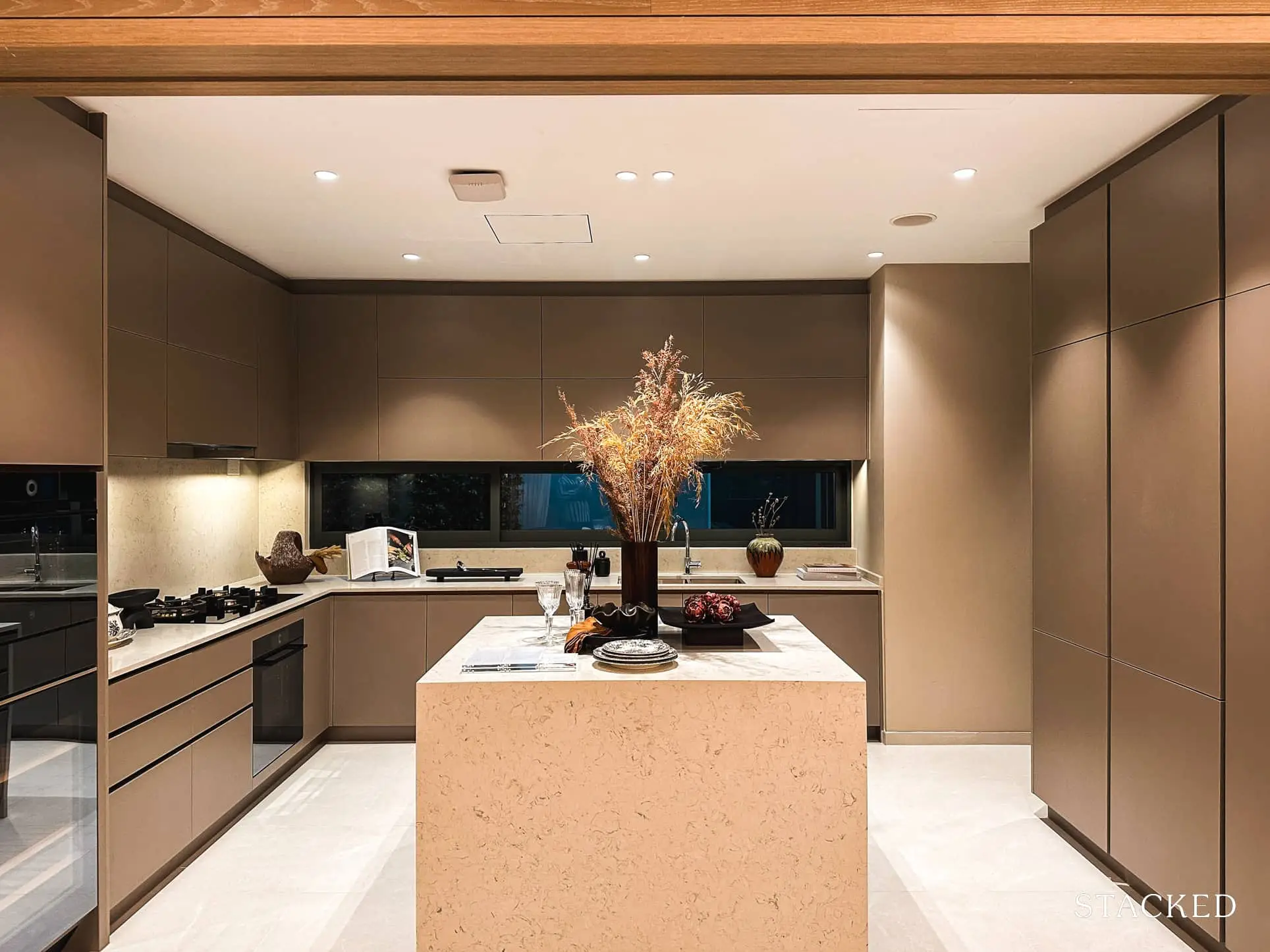 Moving next to the kitchen, and it is an encloseable space with sliding doors that gives you the option especially when hosting friends.
It has a lovely squarish kitchen island in the middle, complete with bottom cabinets for practical purposes. The kitchen countertop is L-shaped and comes with abundant top and bottom cabinets.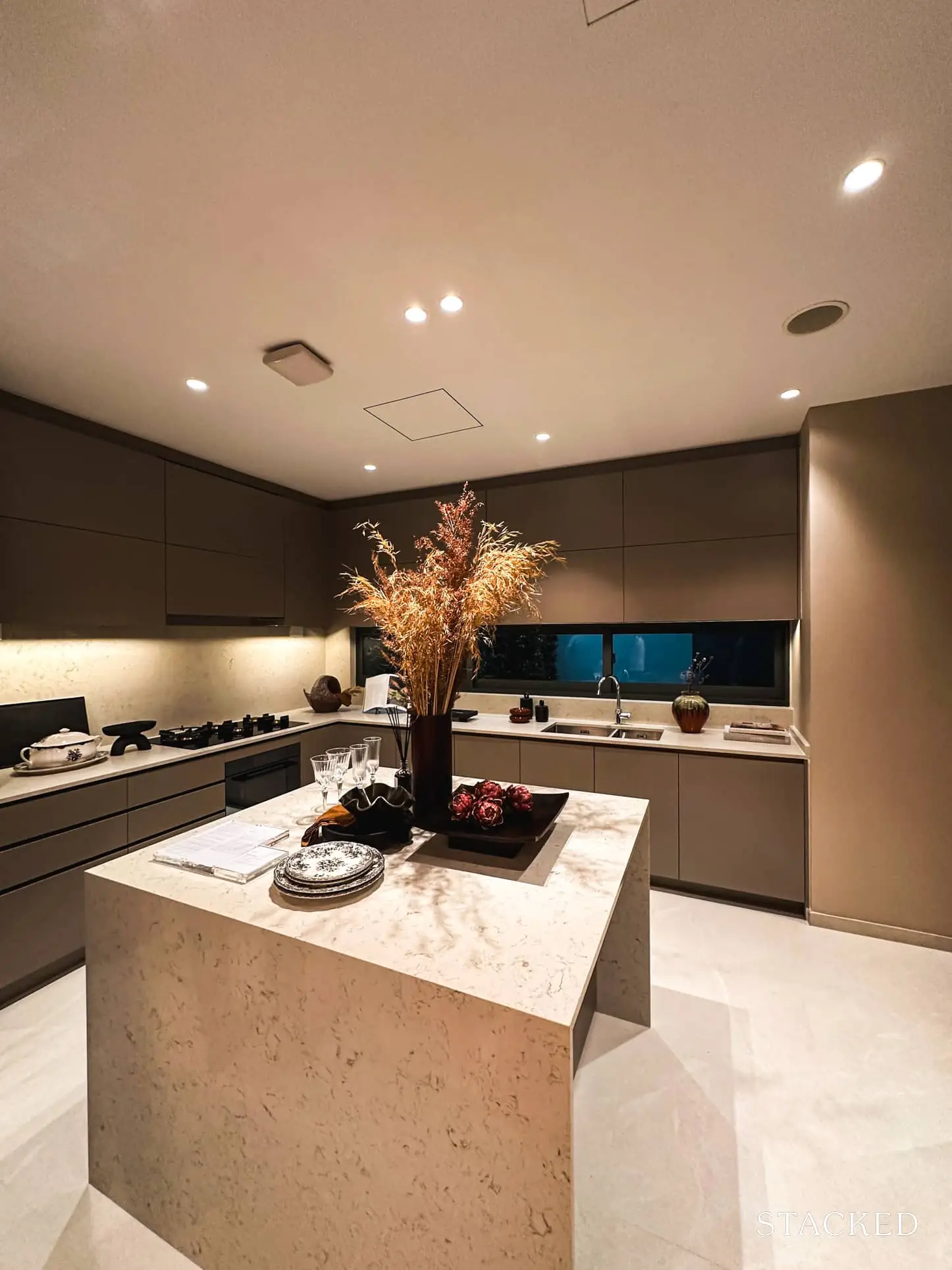 As part of the developer's provisions, a V-Zug 5-burner hob, hood, oven, steam oven, vacuum drawer, dishwasher, wine chiller, integrated fridge, and standalone washer and dryer will all be installed and provided by default. For those in the market, you will know that V-Zug is an upscale Swiss brand commanding premium prices for these appliances. There are also windows here for natural ventilation.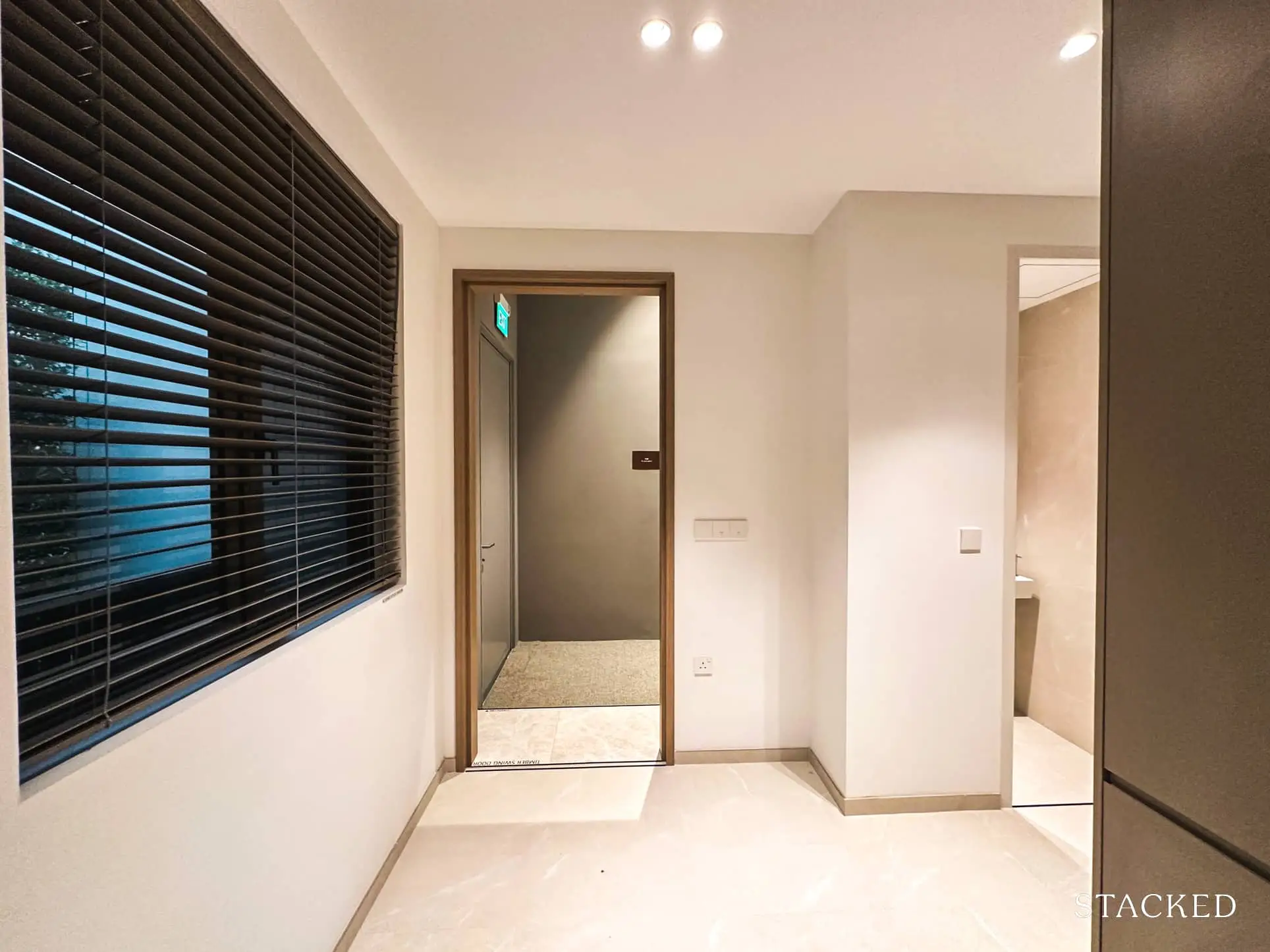 Separating the kitchen from the yard is another door and this is a relatively generous yard at 9 sqm. It's a good private space for your helper given its size, windows for natural ventilation, and a w/c here.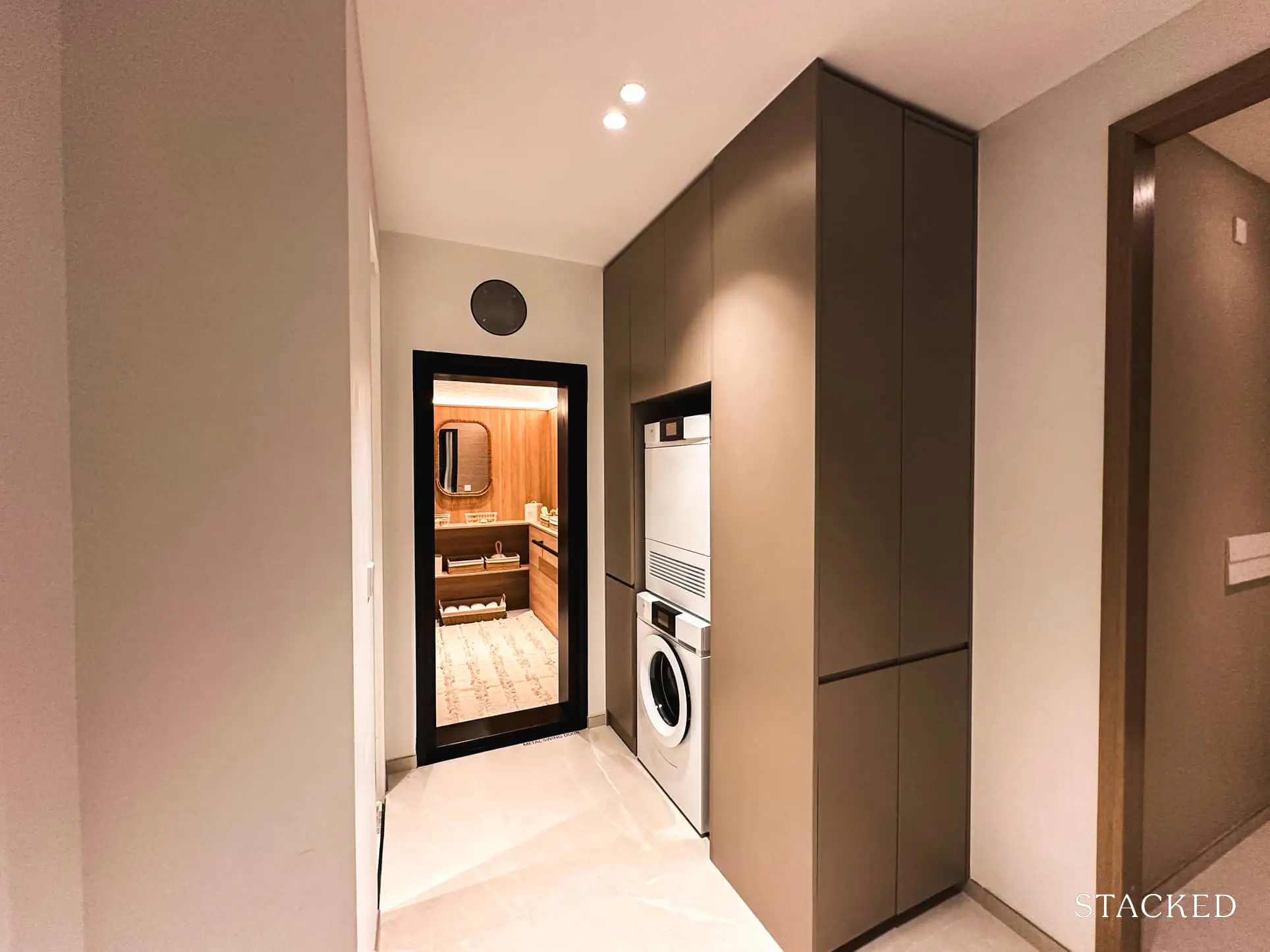 You also get the 5.3 sqm household shelter located here, a must-have for a 5-bedroom unit. The back door leading to the common lift lobby is also found here.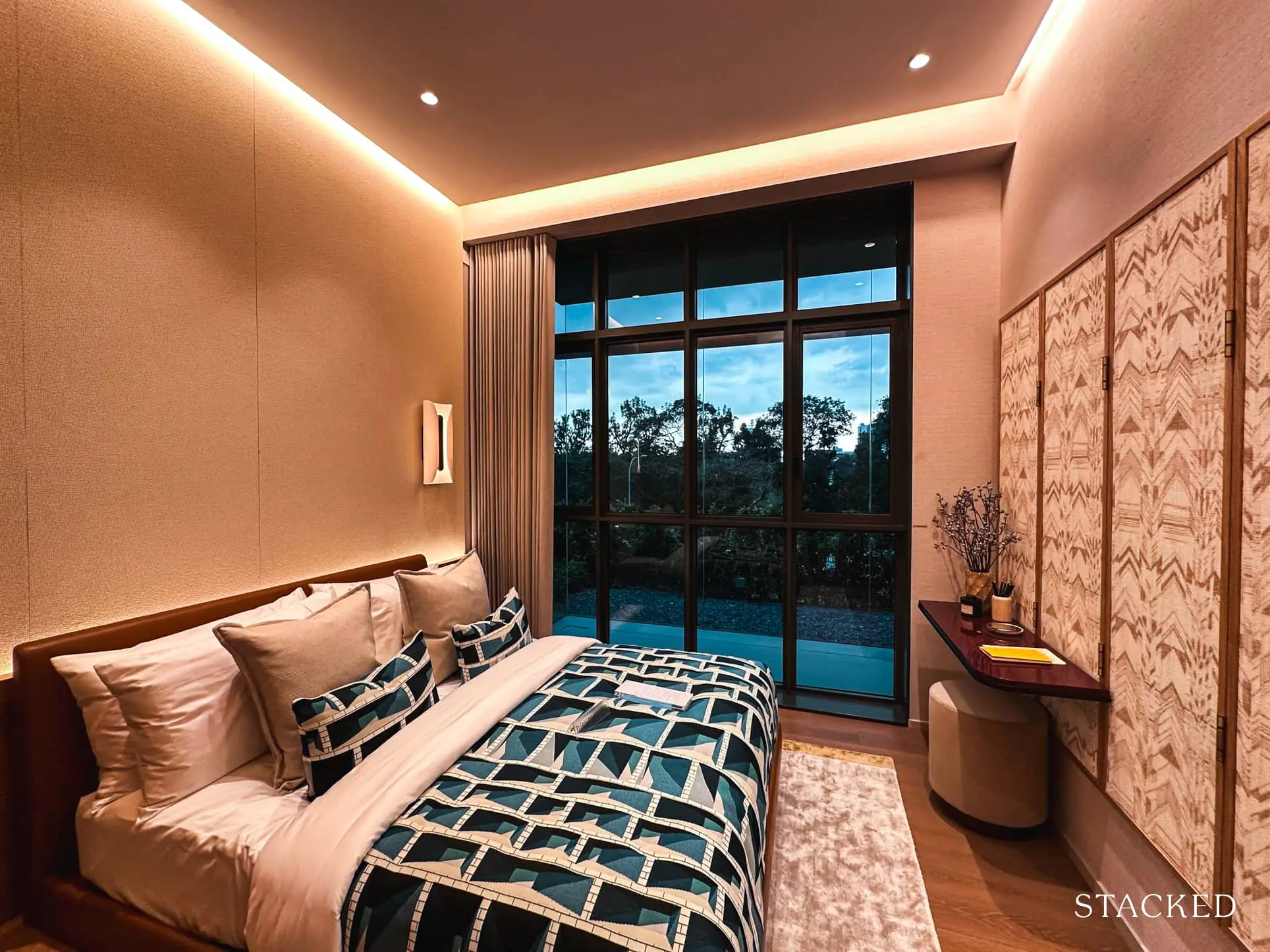 Moving on, the Junior Master is located away from the other 4 bedrooms and is closest to the powder room area. This is great for multi-generational families, as it would give its occupants greater privacy. It is 13.6 sqm in size, with the slightly larger built-in wardrobe as part of the walkway leading into the bedroom.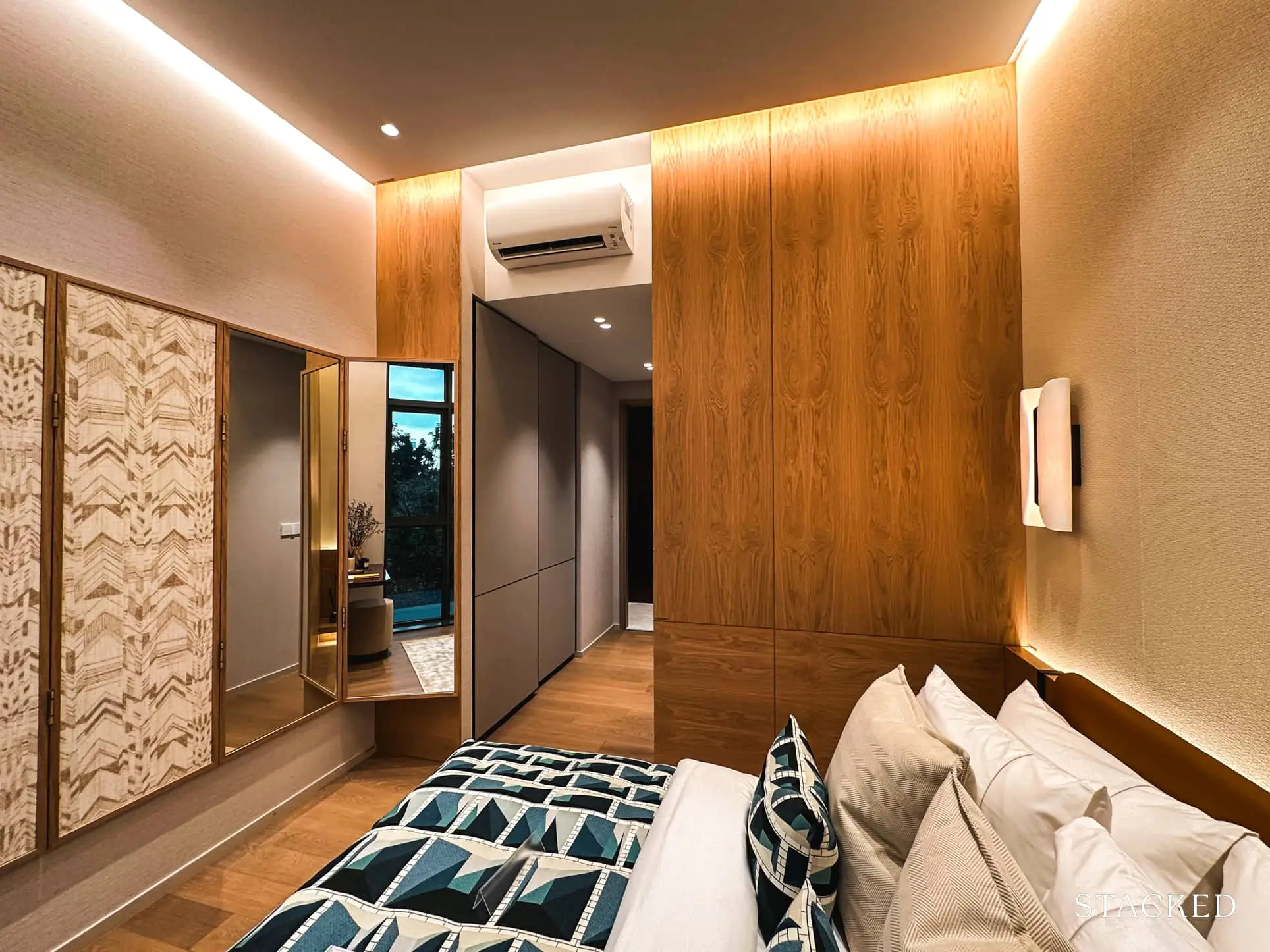 This means that the bedroom itself is an efficient squarish shape that is probably about 10 sqm. Going with a Queen-sized bed, you have room for 2 side tables and a small dresser by the corner. If your young child is occupying the room instead, you could also opt for a Single-size bed with a study table instead.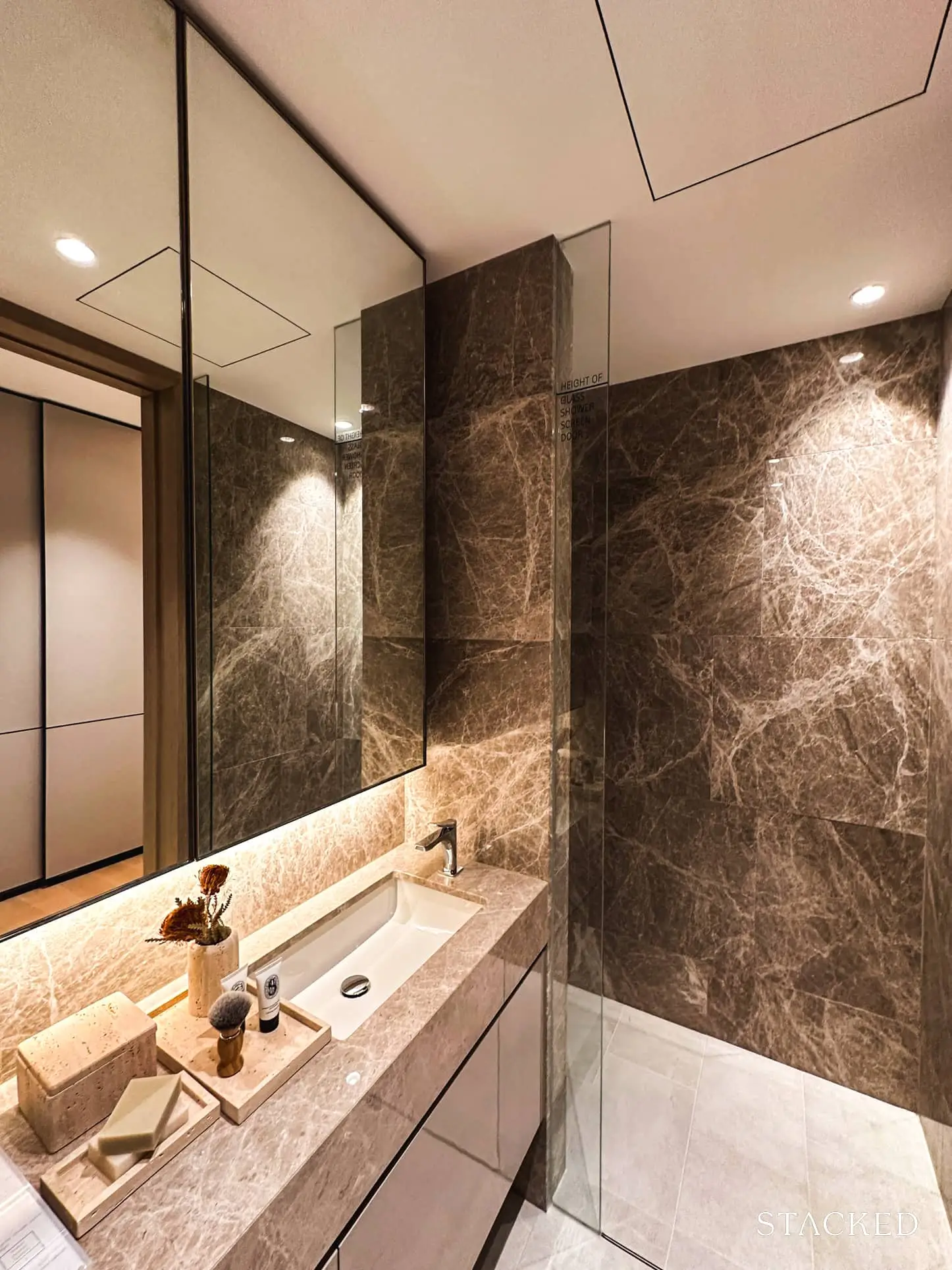 The ensuite Junior Master Bath is slightly smaller than the other bathrooms in this home (except the powder room, which doesn't have a shower stall) at 3.9 sqm. It is still functional of course, and comes with a shower mixer and tap from Gessi and wall-hung w/c and basin from Laufen. It does not come with windows or a rain shower, which the latter is quite a surprising miss given the relatively low cost of one compared to the premium psf of this development.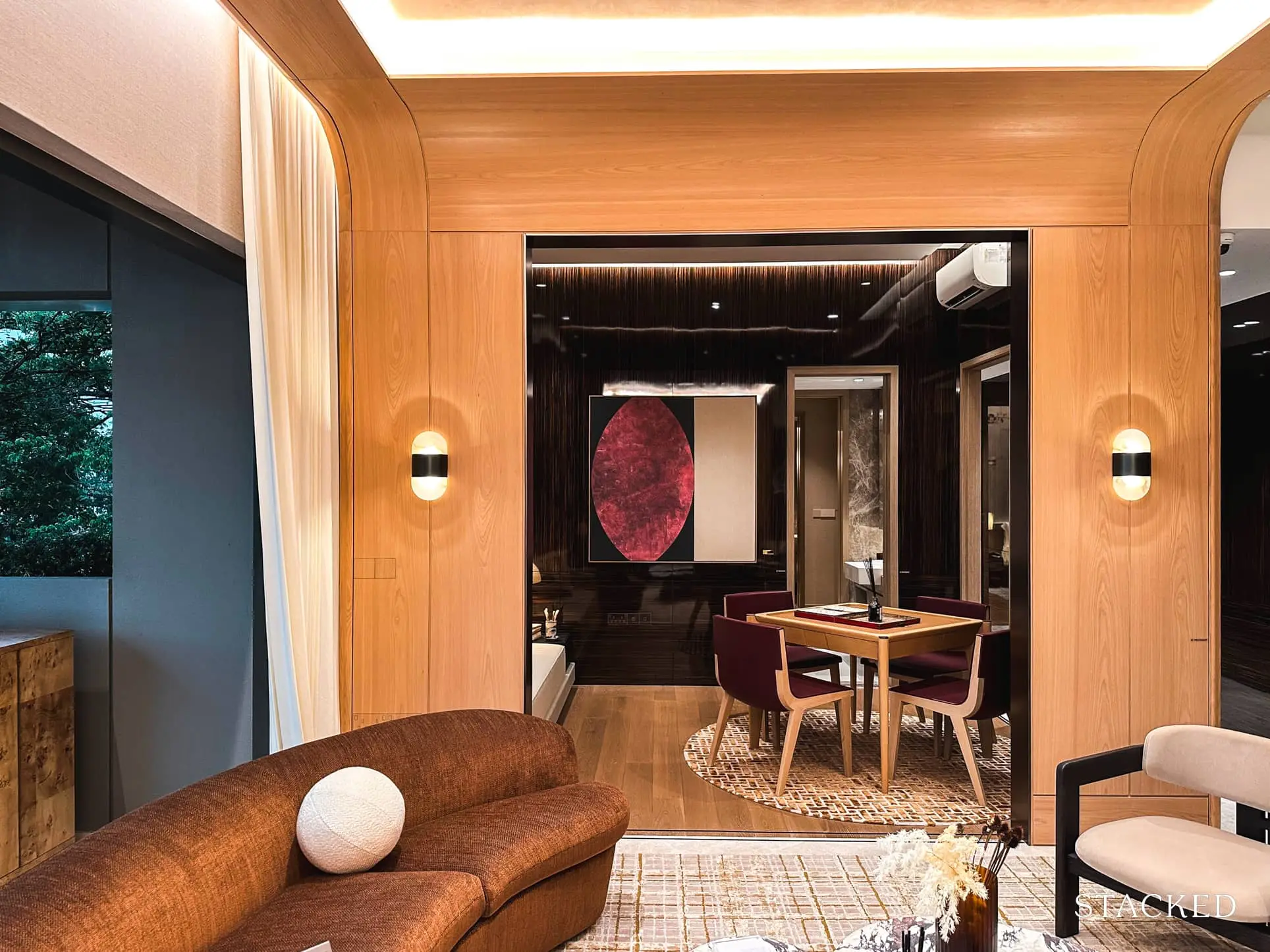 Bedroom 5 is the bedroom closest to the living room and is 11.7 sqm in size. For the show flat, they have knocked the walls down to create a lounge area of sorts, with a couch by the windows and a table for 4, great for a game of cards and drinks after dinner.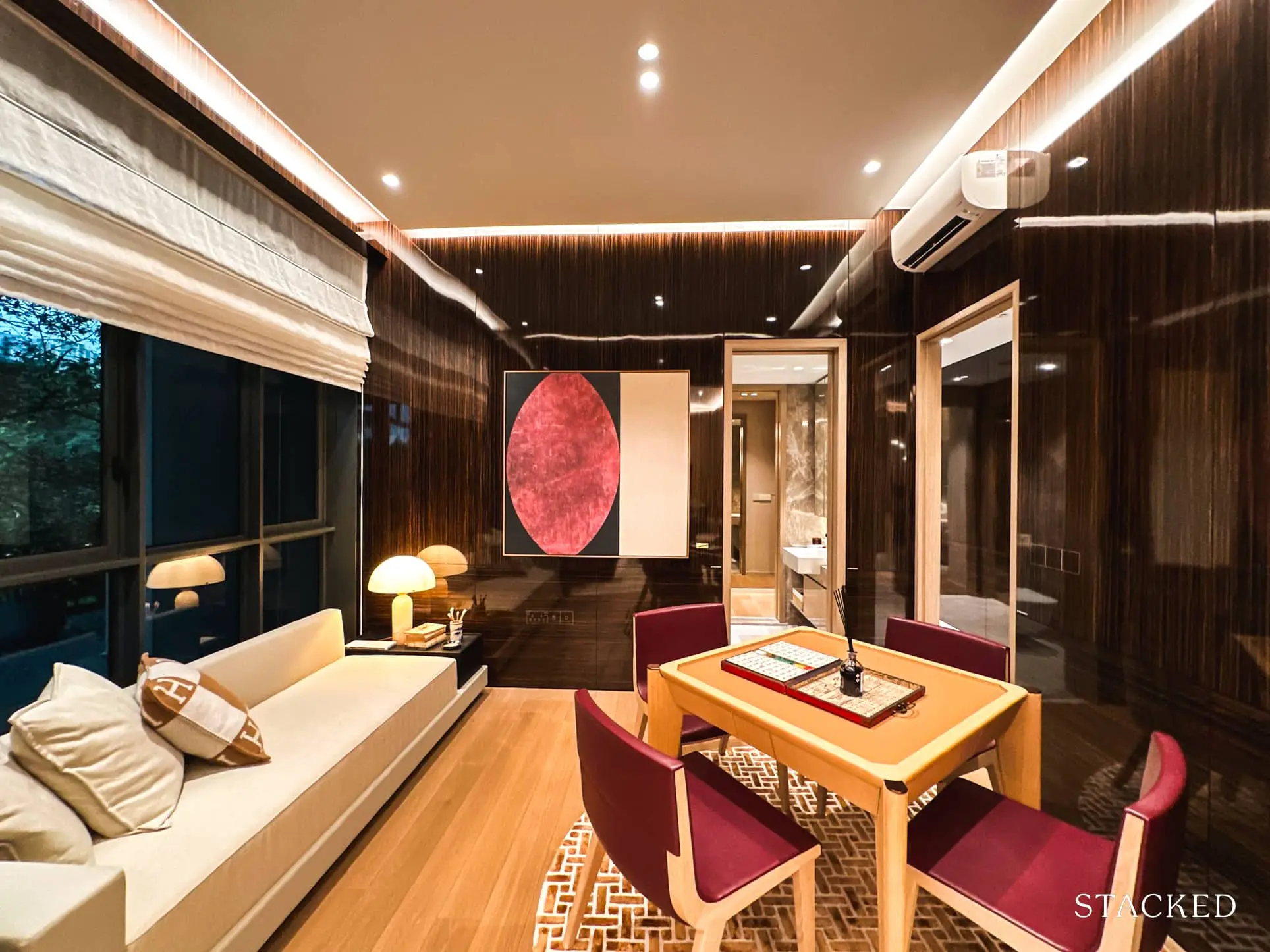 They've got this old-school glossy wood veneer look on the walls here, reminding me a little of the 5* hotel lobbies from previous generations, or even continental car dashboards. In any case, this is an ID treatment and can ultimately be designed to your preference if this doesn't suit your taste. Note that this bedroom will not come with a built-in wardrobe as per the floorplan but one can easily be built if you need.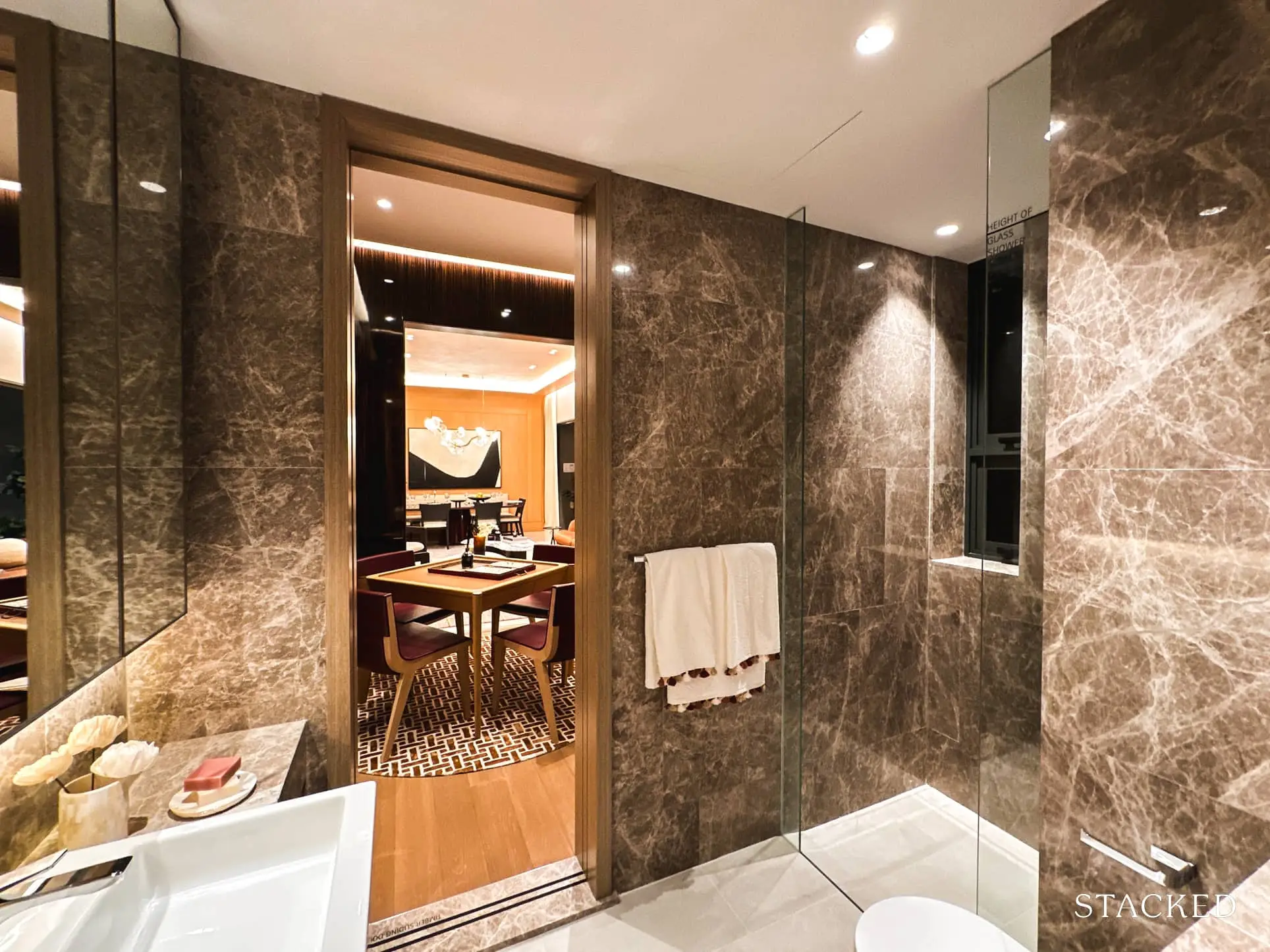 Bedroom 5 shares Bath 4 with Bedroom 4. Bath 4 is sized at 4.9 sqm, a decent size by today's standards, and will be equipped with the same European fittings found in all other bathrooms. This includes a Gessi tap and shower mixer and Laufen basin and wall-hung w/c. Once again, there isn't a rain shower provision here.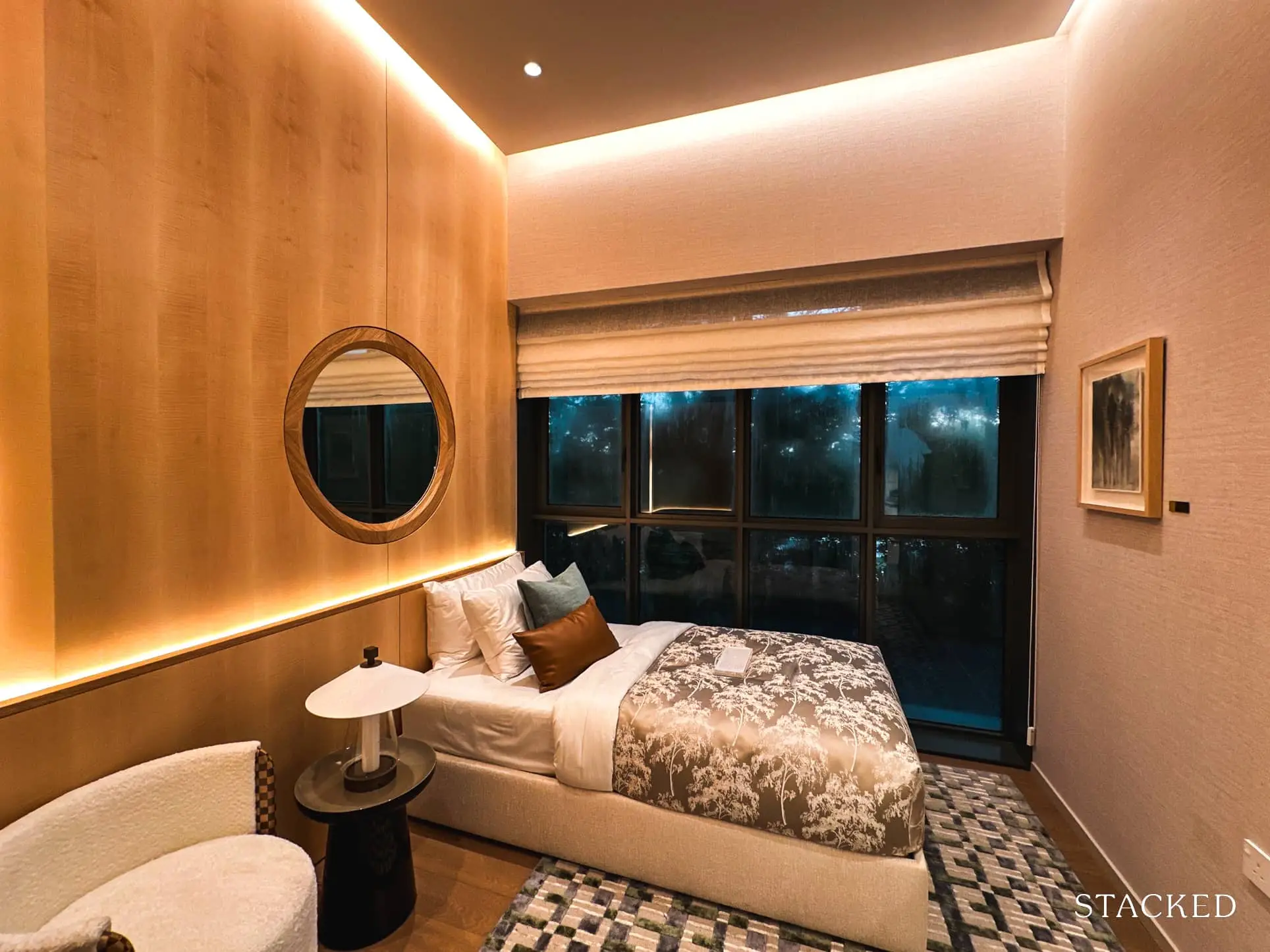 Bedroom 4 is the largest of the common bedrooms at 14.2 sqm but some of that space will be taken up by the long walkway leading into the room. We've seen this for the Junior Master and a number of other common bedrooms throughout Watten House and I do wonder if this is deliberate.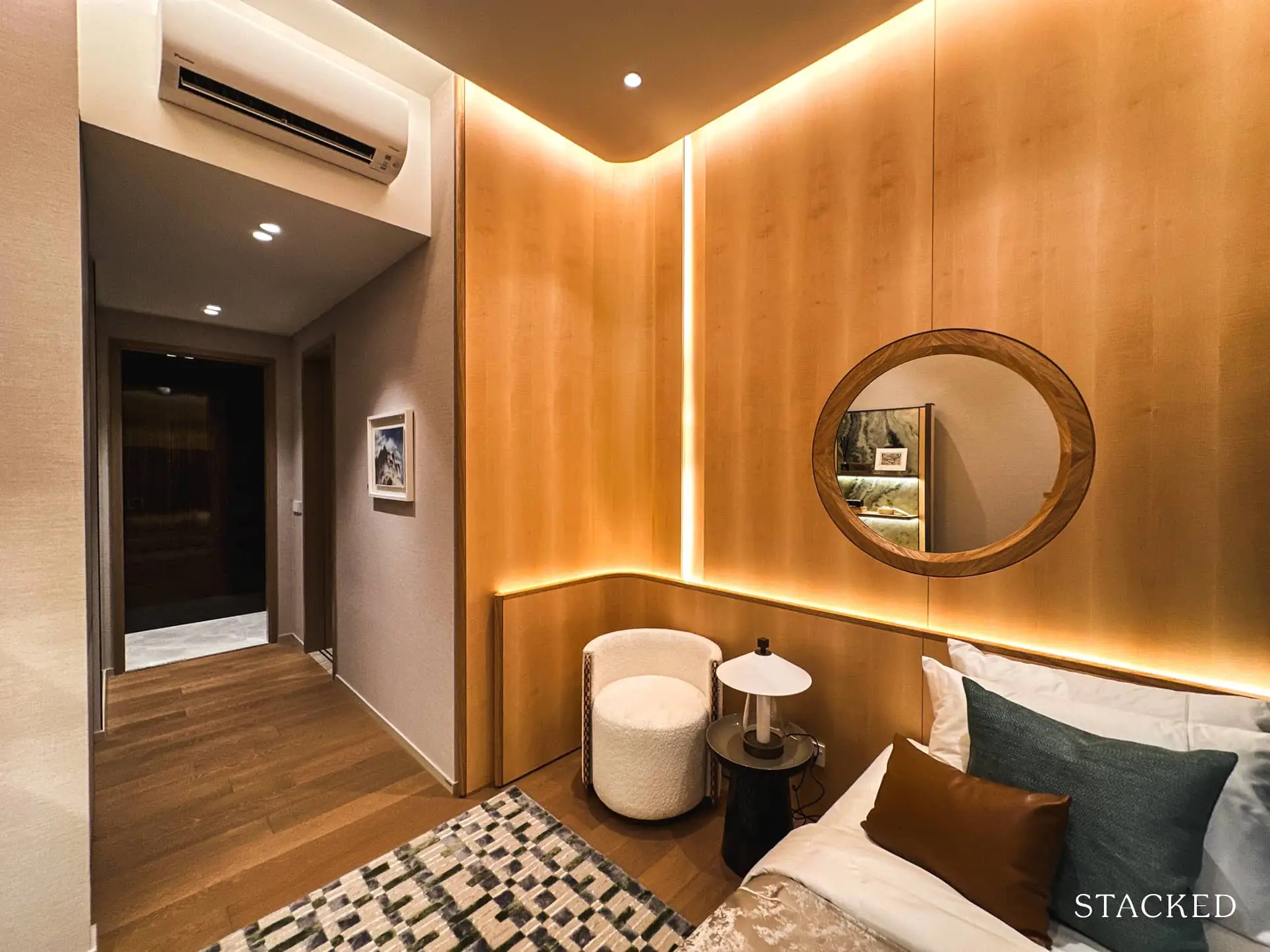 There is greater privacy as a result, but the space does feel a little wasted at times. In any case, there's a built-in wardrobe as you walk in and the actual usable area does feel fairly substantial. Besides a Queen-sized bed, there's even room for a good-sized one-seater and a coffee table so definitely a plus point for the bedroom sizes here.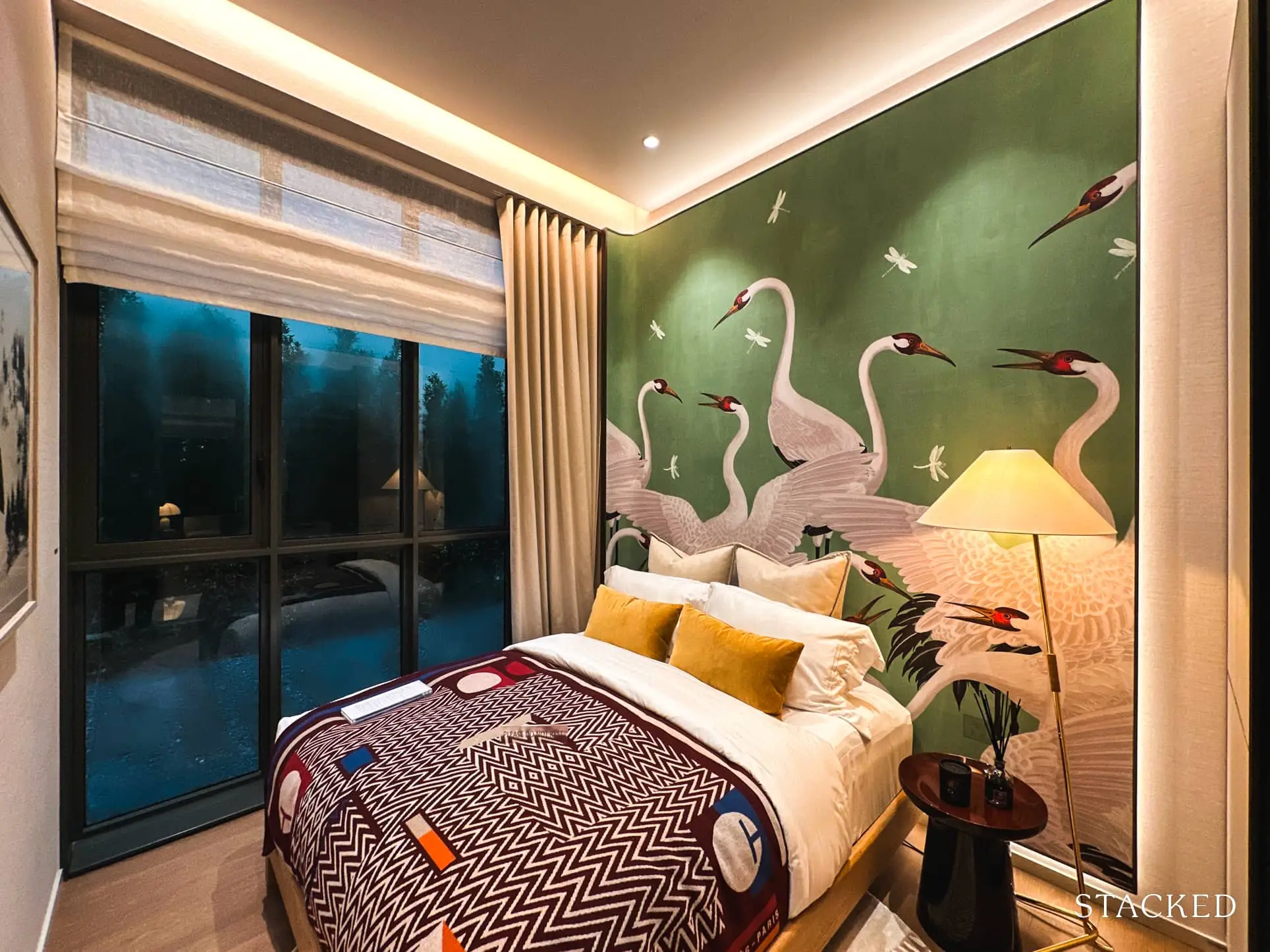 Bedroom 3 is the smallest of the common bedrooms at 10.5 sqm but the upside of this room is that its ensuite bathroom is only available to itself and has a regular shape. It's slightly larger than your usual new condo bedroom but whether that extra space can be translated into more furniture pieces is up for debate.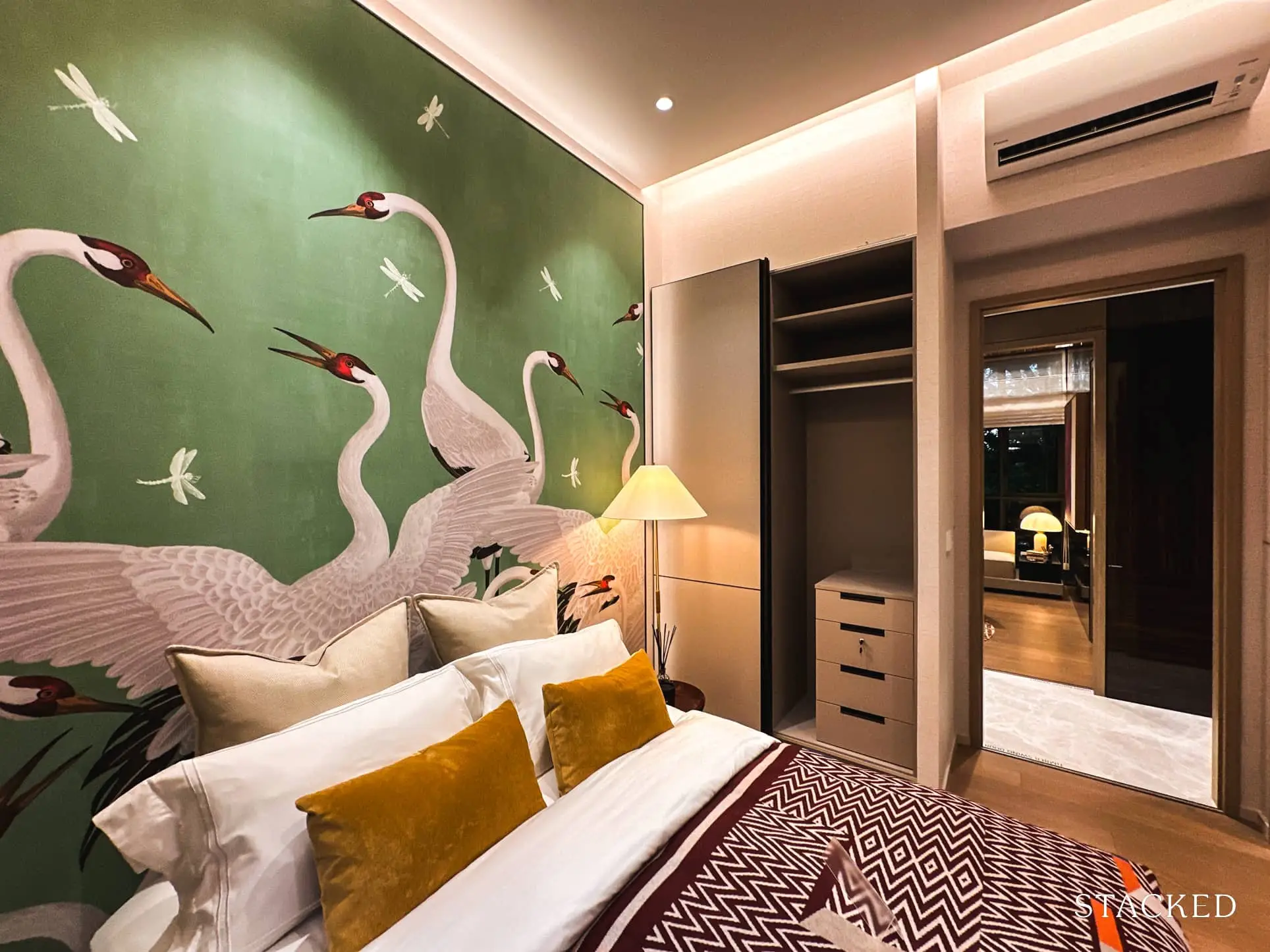 I would say that it is still best to go with either your standard Queen bed with side tables or a Single with a dresser or study. The room will feel more spacious overall, but you should consider using the other bedrooms instead if you're thinking of a massage chair, etc.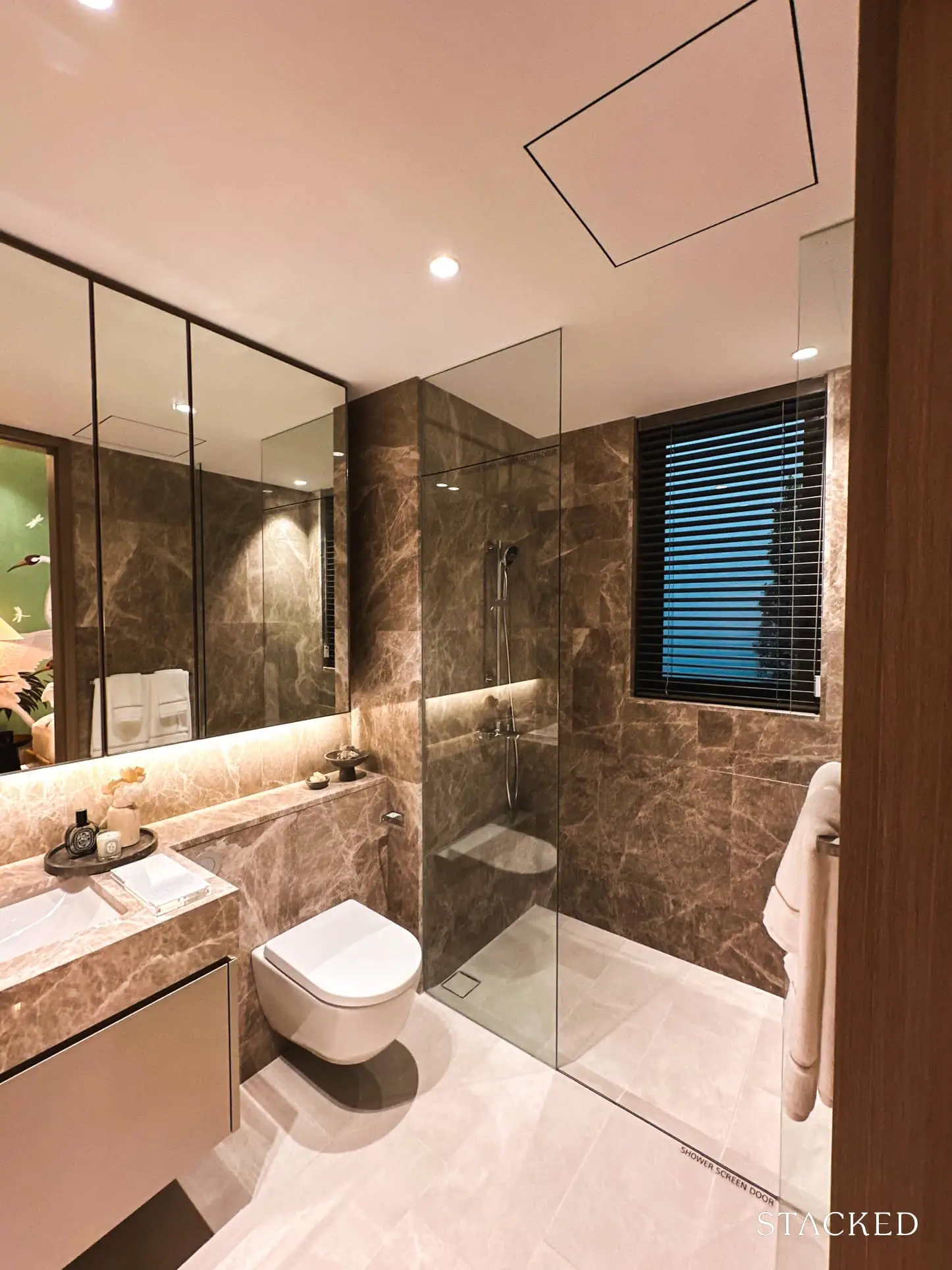 The ensuite Bath 3 is 5.2 sqm in size and comes with the same fittings and wares as the other common bathrooms. These include a Gessi shower mixer and tap and Laufen wall-hung w/c and basin. There's also a window here for natural ventilation.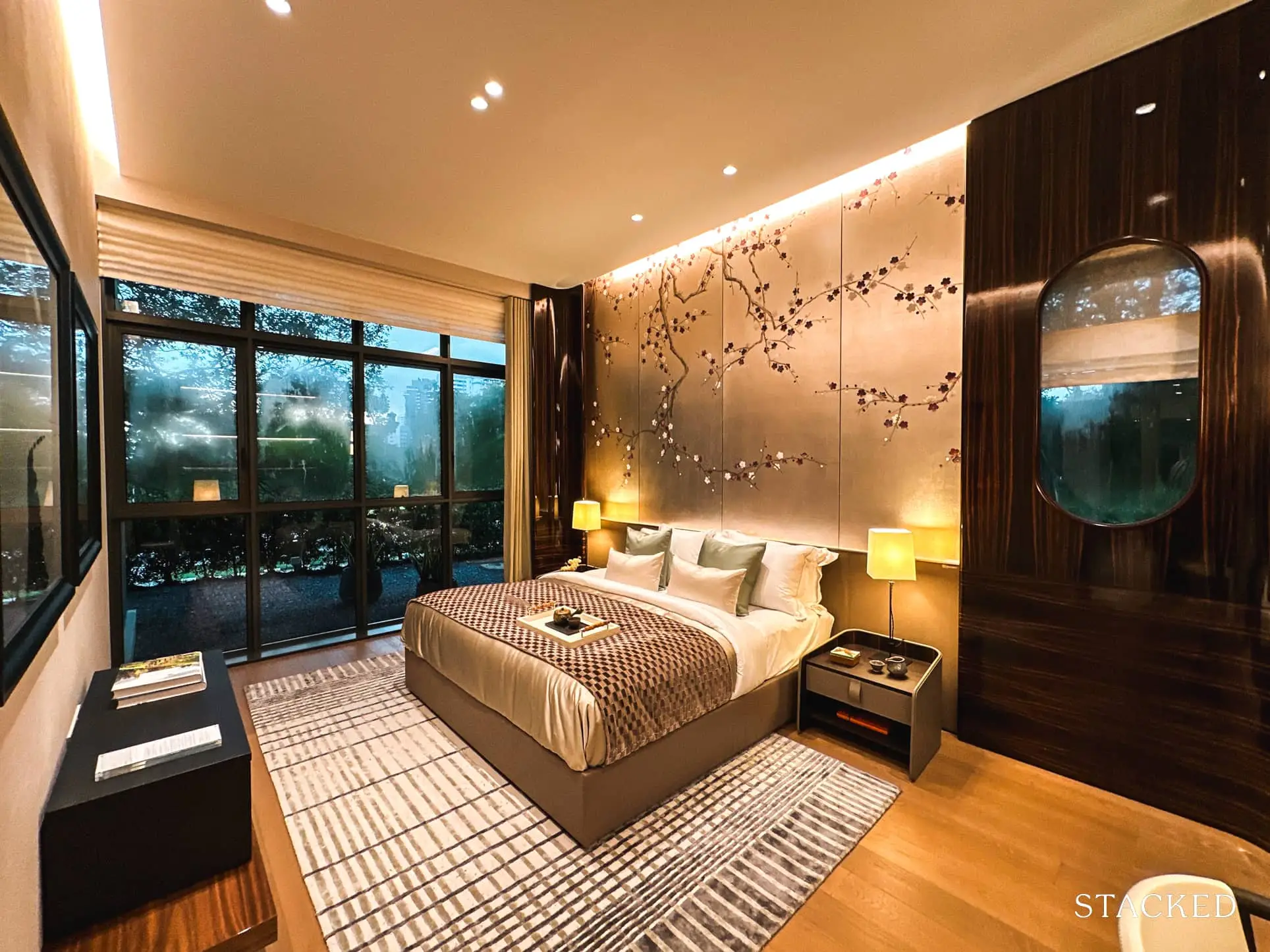 Finally, we get to the Master Bedroom. Combined with the ensuite Master Bath, this room is a mammoth 37.1 sqm.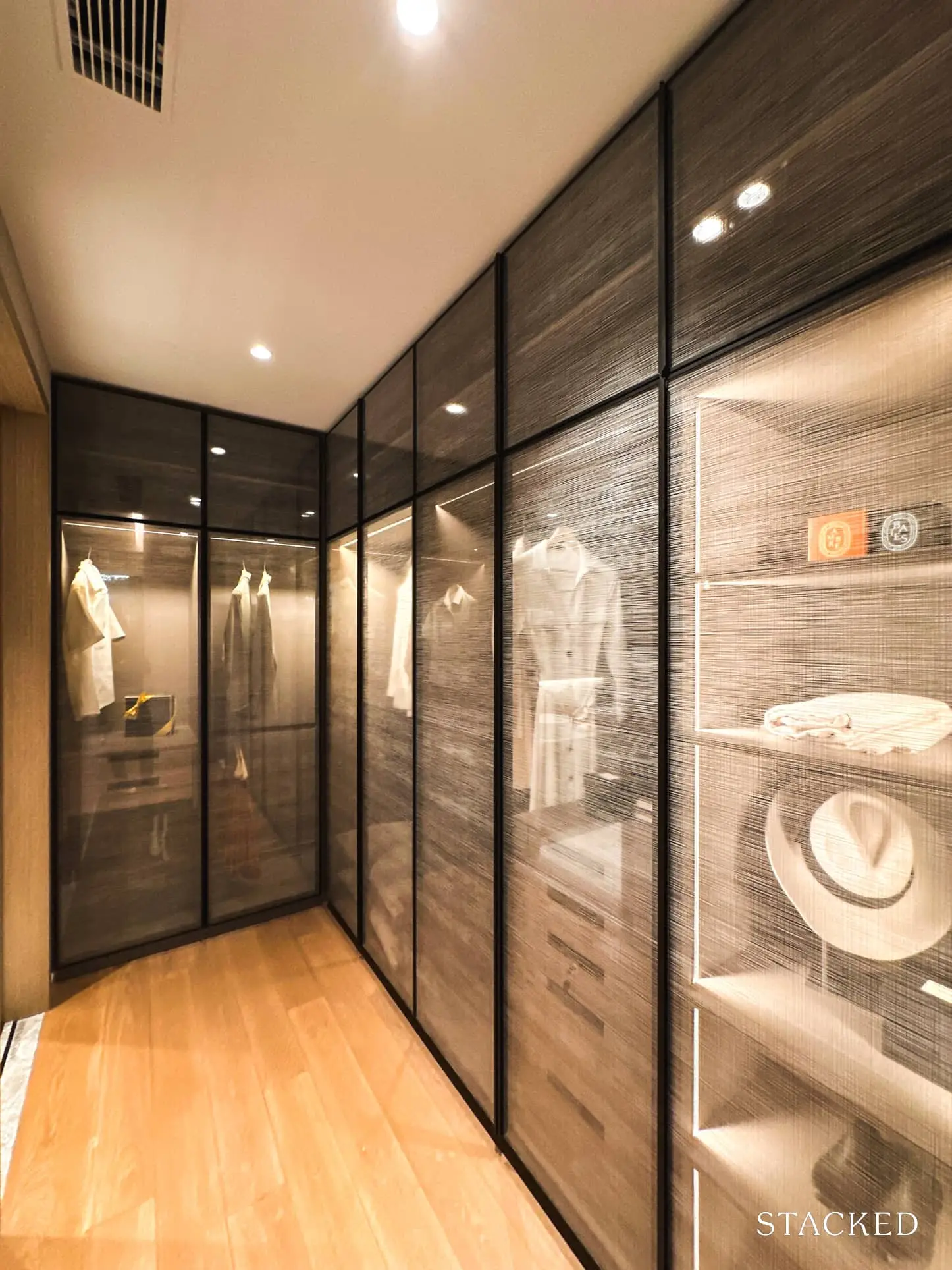 Starting with the walk-in wardrobe, you get an extensive 7 panels of wardrobe space with a metal and glass finish. There is, of course, much more storage space than your typical new launch condo so that's great on the storage front. In any case, the room has more space if you still need more storage anyway, so I don't think this is going to be any issue.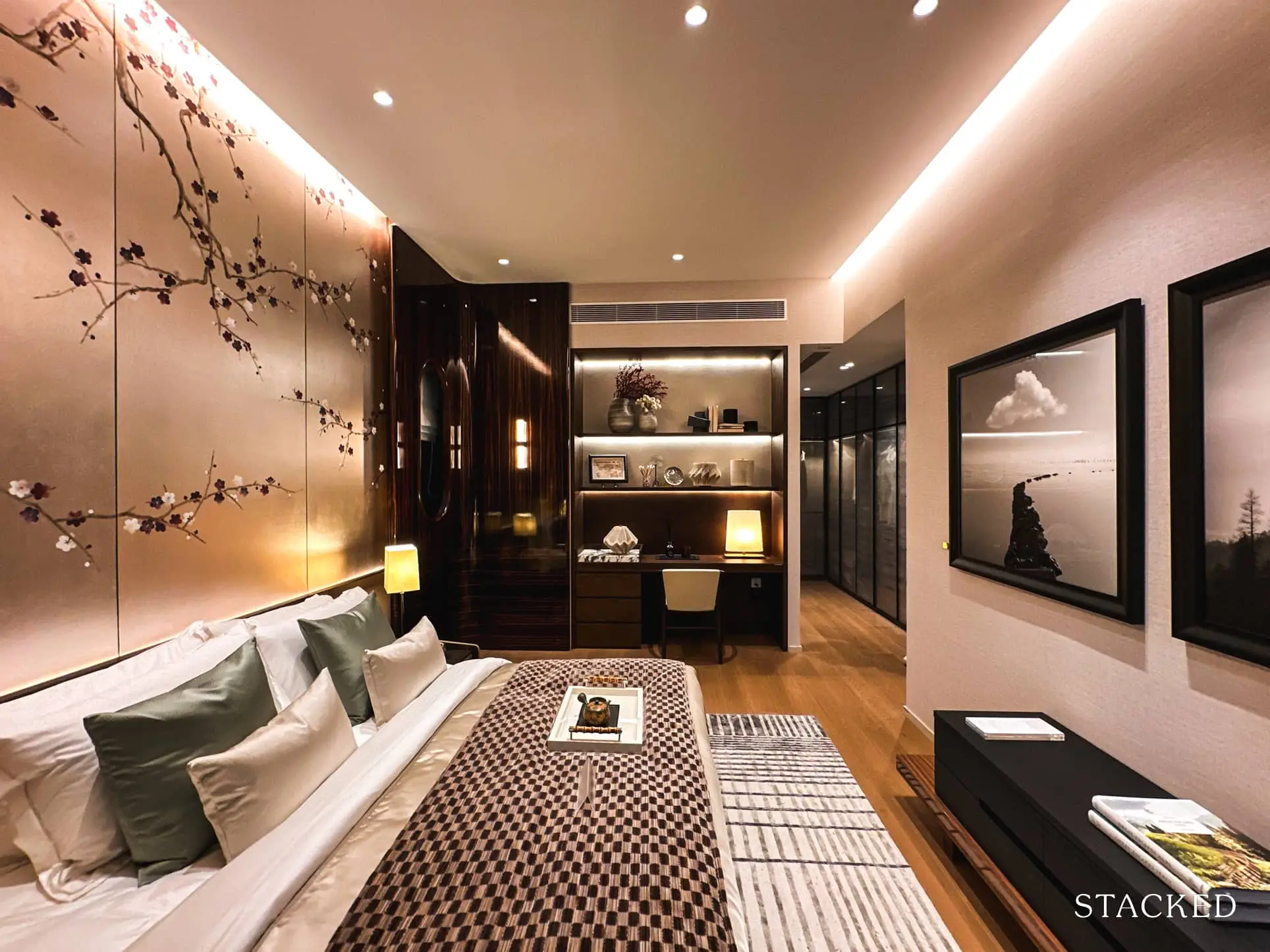 The bedroom area is just palatial, to say the least. You have ducted air-conditioning to keep up with the upscale theme of the development. There's a dedicated study cum dresser area with the ID treatment and there is quite a bit more space you can do with the room as well. A King-size bed is probably a must-have in this segment and you can still definitely do with an armchair and coffee table if you prefer.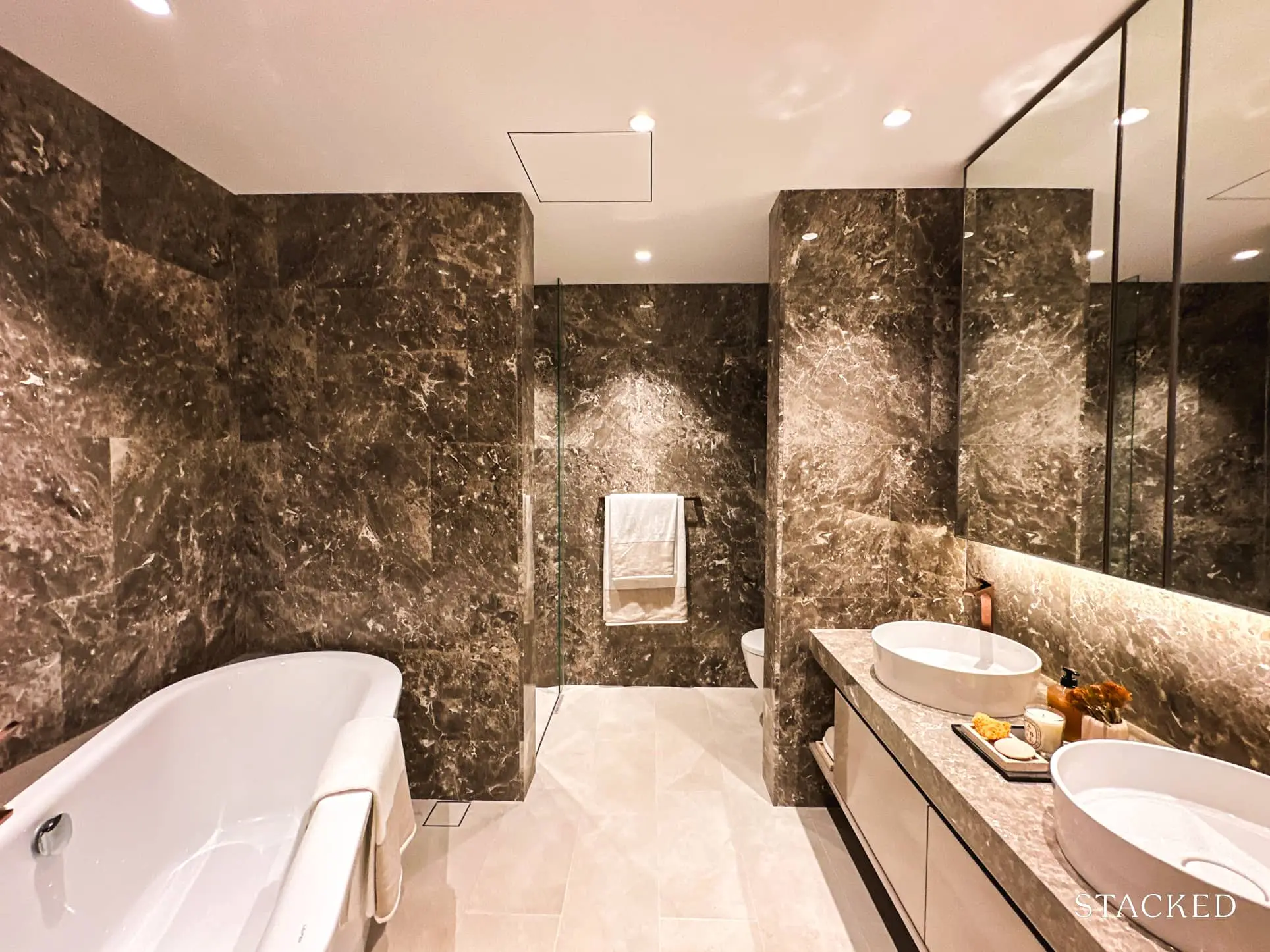 Finally, the ensuite bath is an equally lavish space. You have a standalone bathtub and a his-and-hers sink here.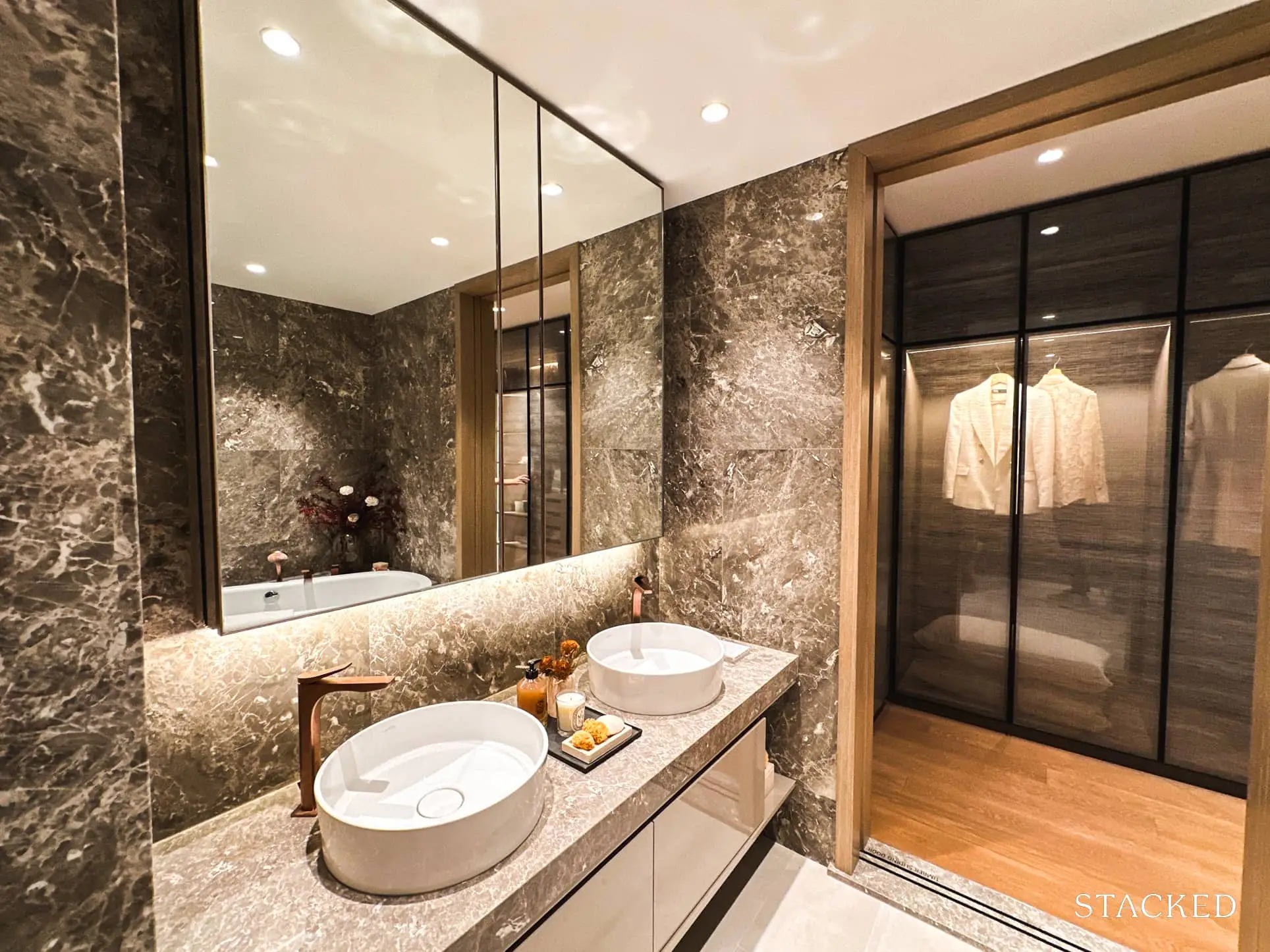 Of course, if you prefer to take a shower instead, there's also the option of a separate stall with a rain shower. As with the rest of the unit, the fittings and wares are from top European brands Laufen and Gessi.
Watten House Location Review
Watten House is located in one of Singapore's most established estates, with the bulk of Good Class Bungalows found within a 3 km radius. While the Watten estate is not a GCB area, large parts of it were developed by one of Singapore's foremost property magnates and his family home is also within this estate. From a prestige perspective, Watten House definitely ticks the box.
For parents, Bukit Timah is a well-known education paradise. Based on their MRT names, you either have Stevens (SCGS, ACS) on one end, King Albert Park (MGS, Pei Hwa) on the other end, or Tan Kah Kee (Nanyang Primary, RGPS) in the middle. Watten House, as you would already know, belongs to the last of the 3 and is within 1 km of Nanyang Primary and RGPS. It's a popular location because Nanyang Primary is the only co-ed option besides Pei Hwa in the Bukit Timah area. Staying at Watten House for years will not be an issue for parents either, since Hwa Chong Institution, Nanyang Girls High School, and National Junior College are all top institutions with 6 Year Integrated Programmes, bypassing the traditional O-Level route. These 3 schools are less than 2 km from Watten House. It may also be good to brainwash your child into a legal career from a young age since NUS Law is also located less than 2 km away.
In terms of MRT accessibility, Watten House is not the closest. It's about 8 to 10 minutes from Tan Kah Kee MRT and about 15 minutes from Botanic Gardens. The latter has both Circle Line and Downtown Lines while the former only has Downtown MRT. I generally consider a 10-minute walk to the MRT acceptable (since I live 10 minutes from one as well), especially since Watten House is within the CCR, located just 12 mins from Bugis and 18 mins from Downtown MRT stations.
As this is predominantly residential estate, I would say that where it may be perceived to fare worst is its accessibility to amenities. Depending on your threshold, Watten House is not as bad as some think. There's Coronation Plaza with NTUC, Starbucks, and some restaurants a 10-minute walk away, or Cluny Court with Cold Storage, Tiong Bahru Bakery, Plain Vanilla, etc a short drive away. The upcoming One Holland Village which is expected to be ready by year end will only add further amenities to the area.
Nearest MRT: Tan Kah Kee MRT (10 mins walk, 750m)
Public Transport
| | | |
| --- | --- | --- |
| Bus Station | Buses Serviced | Distance From Condo (& Est. Walking Time) |
| Opp Coronation PlazaStop ID: 41049 | 67, 74, 151, 154, 156, 157, 170, 174, 852, 961, 961M | 550m, 8 mins walk |
Schools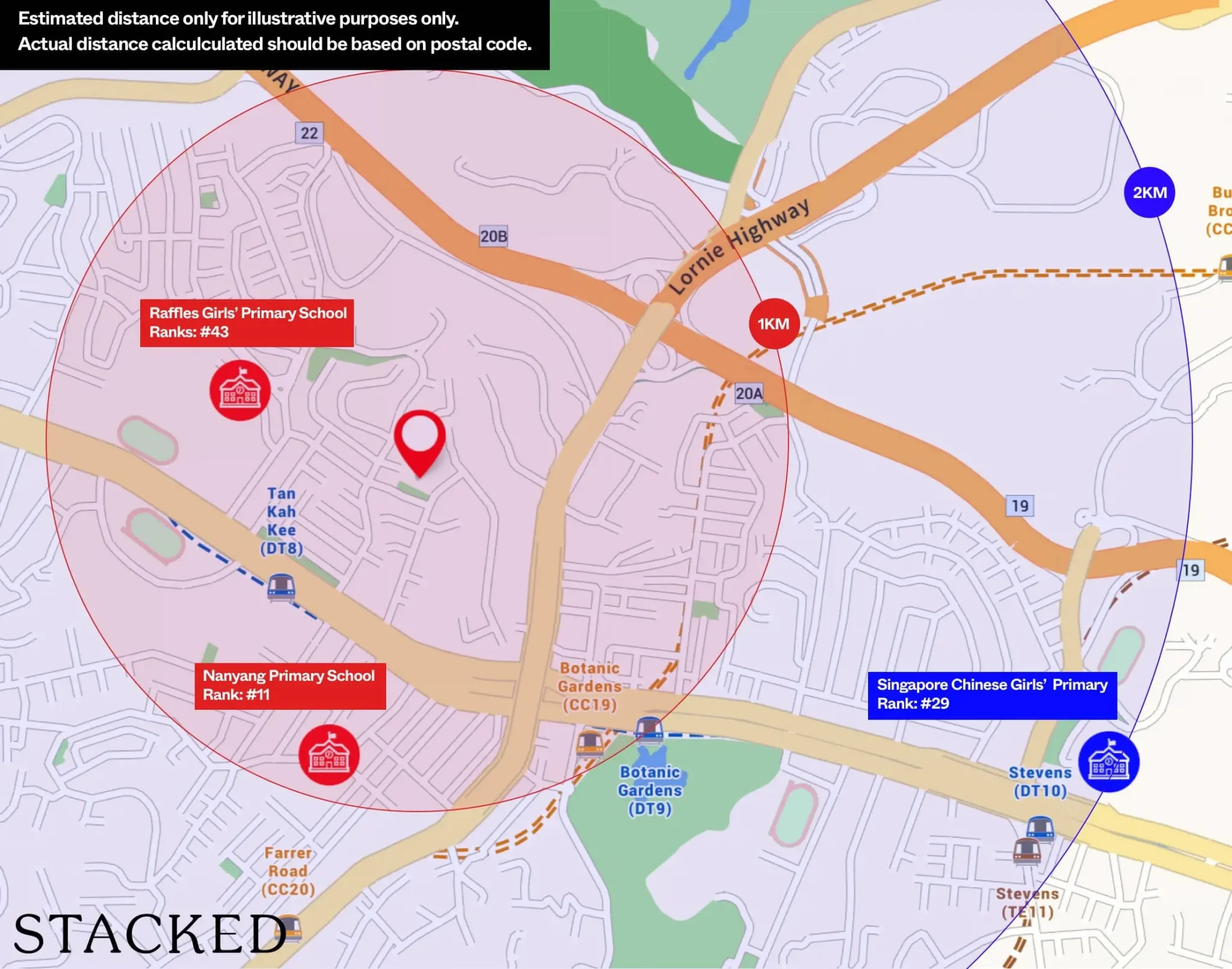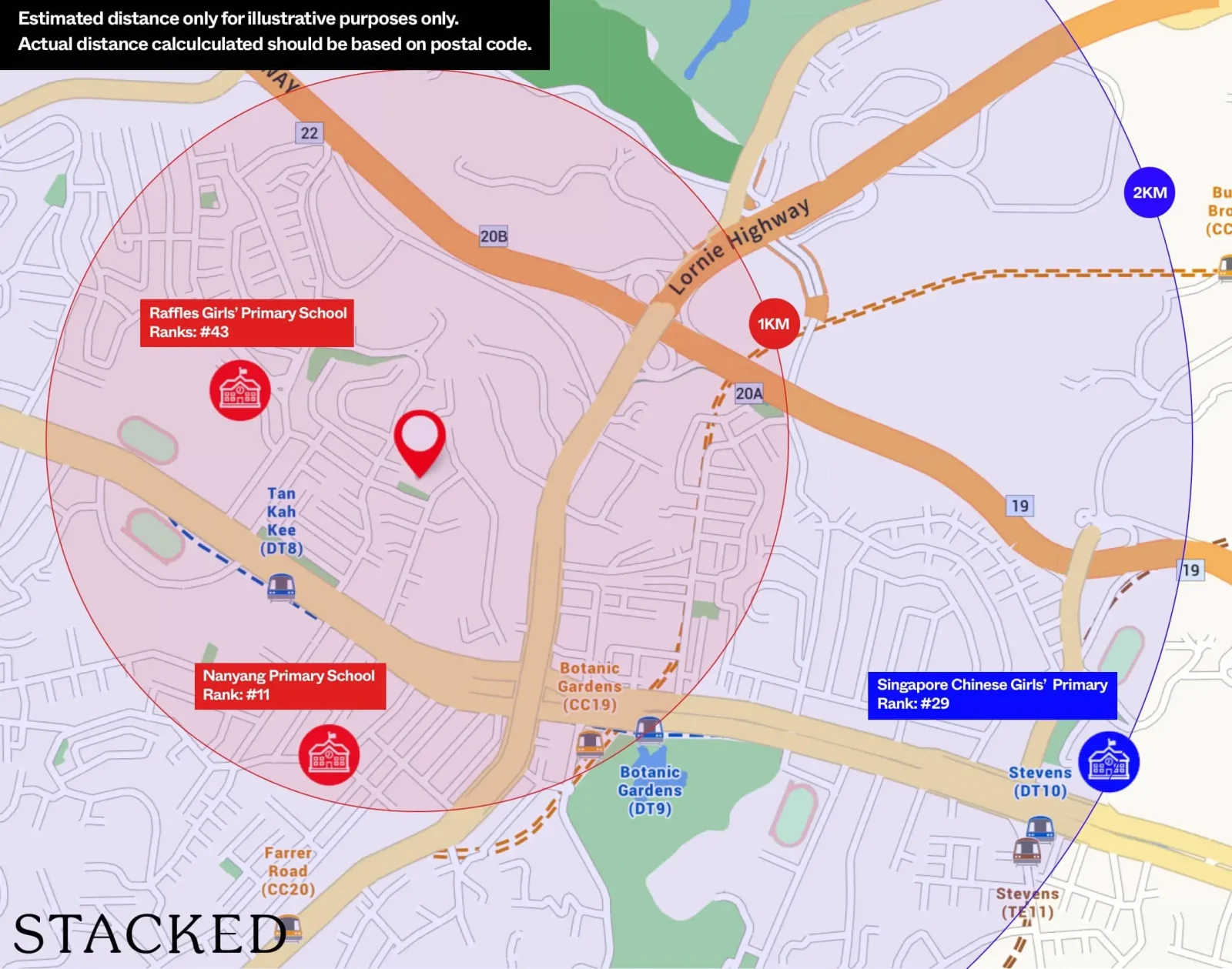 | | |
| --- | --- |
| School | Distance From Condo (& Est. Walking Time) |
| Raffles Girls Primary School | <1km |
| Nanyang Primary School | <1km |
| Singapore Chinese Girls School | <2km |
Malls / Amenities
| | |
| --- | --- |
| Destination | Distance From Condo (& Est. Driving Time) |
| Coronation Plaza | 700m, 11 mins walk |
| Cluny Court | 2.3km, 3 mins drive |
| One Holland Village | 4.0km, 7 mins drive |
| Bukit Timah Plaza | 5.4km, 8 mins drive |
| Ion Orchard | 6.2km, 10 mins drive |
Private Transport
| | |
| --- | --- |
| Key Destinations | Distance From Condo (Fastest Time at Peak Hour [0830] Drive Time) |
| CBD (Raffles Place) | 9.7km, 18 mins |
| Orchard Road | 4.7km, 8 mins |
| Suntec City | 8.4km, 14 mins |
| Changi Airport | 22.9km, 22 mins |
| Tuas Port (By 2040) | 37.8km, 40 mins |
| Paya Lebar Quarters/Airbase (By 2030) | 12.1km, 14 mins |
| Mediapolis (and surroundings) | 6.5km, 12 mins |
| Mapletree Business City | 8.5km, 18 mins |
| Tuas Checkpoint | 27.4km, 26 mins |
| Woodlands Checkpoint | 16.6km, 16 mins |
| Jurong Cluster (Westgate) | 12.5km, 16 mins |
| Woodlands Cluster (Causeway Point) | 20.6km, 22 mins |
| HarbourFront Cluster (Vivo City) | 13.5km, 18 mins |
| Punggol Cluster (Waterway Point) | 30.7km, 30 mins |
Immediate Road Exits: 1 – onto Shelford Road, which then takes you to Dunearn Road
Unit Mix (by layout and any general points about it)
| | | |
| --- | --- | --- |
| Unit Type | Size | No. of Units |
| 3 Bedroom | 990 – 1,163 sqft | 40 |
| 3 Bedroom + Study | 1,539 sqft | 60 |
| 4 Bedroom | 1,851 sqft | 36 |
| 5 Bedroom | 2,368 sqft | 36 |
| Penthouse | 3,412 – 4,080 sqft | 8 |
It is evident that Watten House's target is not your ordinary buyer in Singapore, but one who has deep pockets and is looking for a larger unit to live in or lease out. Its unit sizes put it among the largest new launches in Singapore, with most units, barring the 3-bedroom standard type, coming with exclusive private lift access.
Given the rarity of such large format units among new launches, coupled with the well-heeled neighbourhood that Watten House is in and the number of brand-name schools in the area, there is expected to be demand from nearby "downgraders" and their children.
Watten House Stack Analysis
Site Plan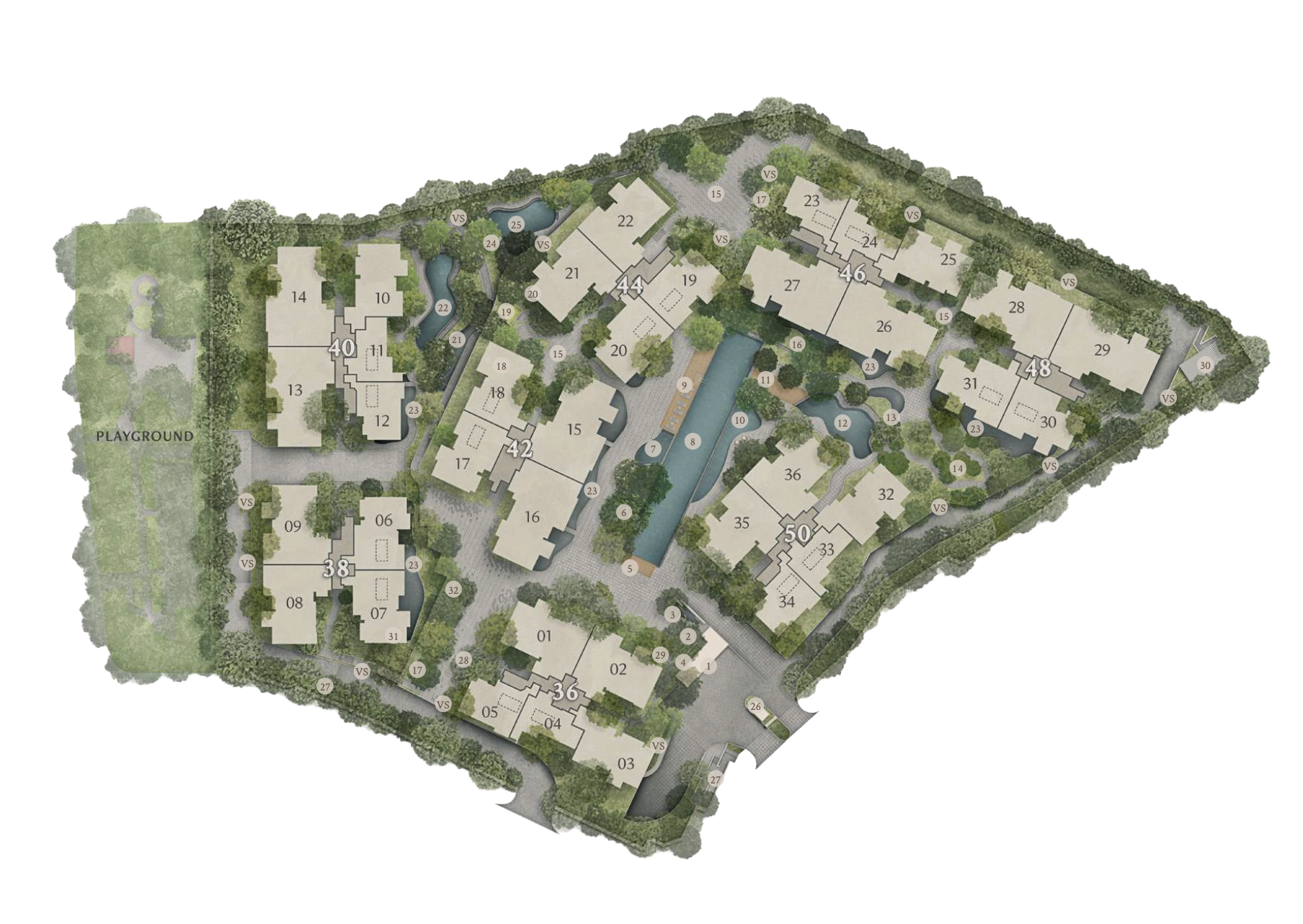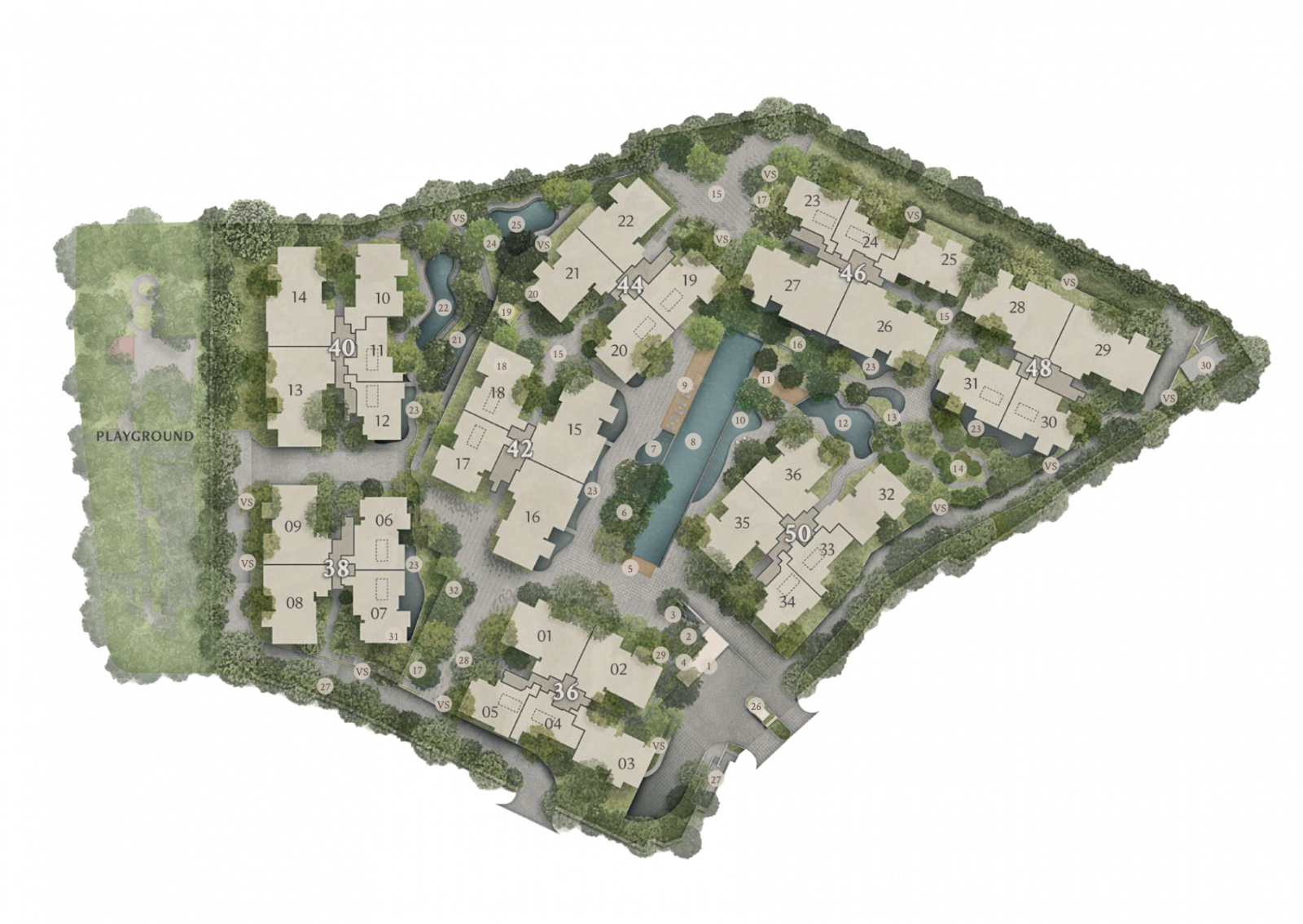 Best stacks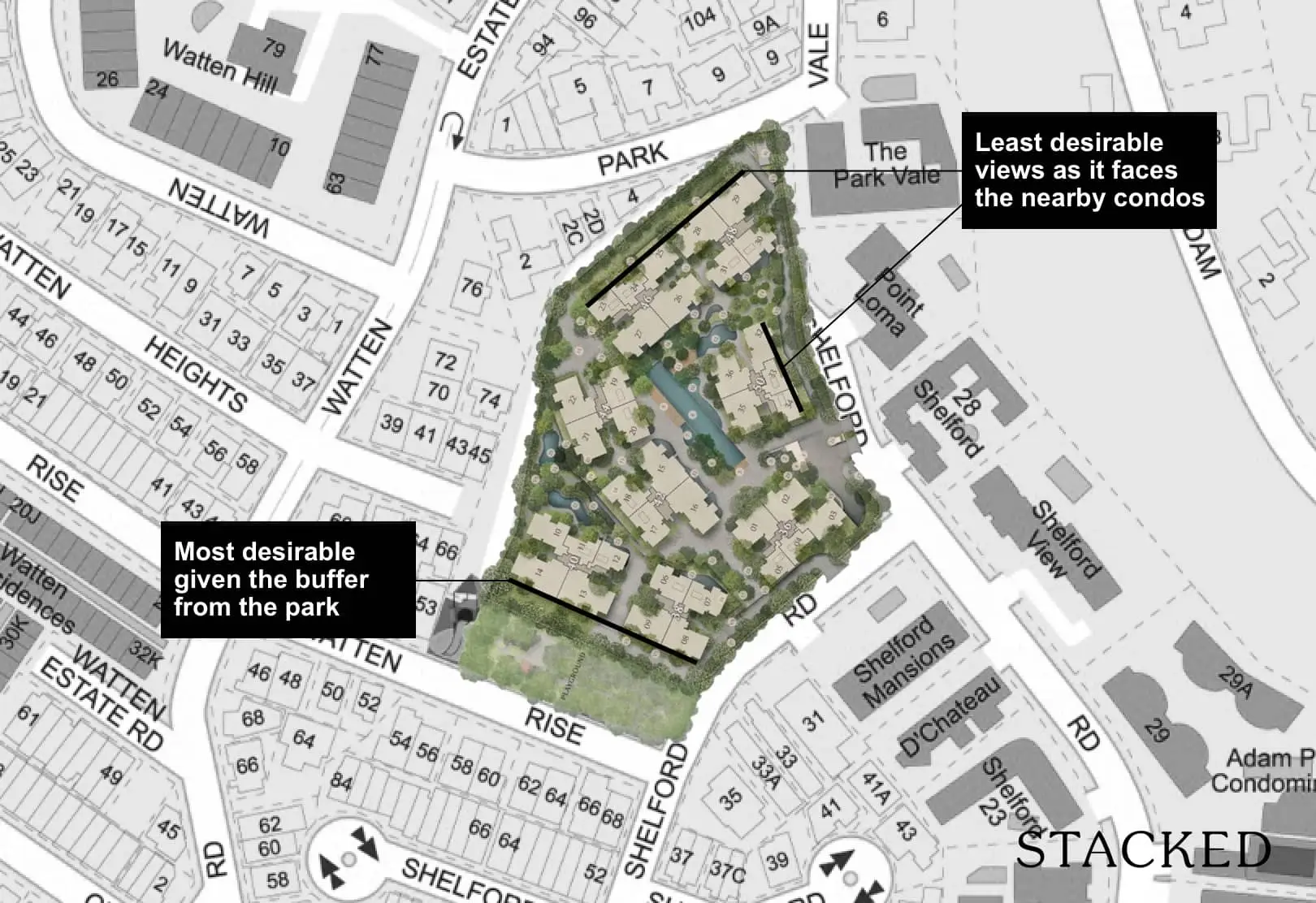 North facing (stacks 23-25, 28-29) and East facing (stacks 32-34) units will have the least desirable views as they will front the nearby condos which are similar in height to Watten House. The other facings generally front the Watten landed estate, with the most desirable ones to me being the South East facing as it will have the Watten Estate park to buffer and provide further natural greenery to your unit. As the grounds are elevated, most blocks will be slightly elevated over their surroundings, with the blocks closest to the 50m lap pool being at the highest point of the development.
Afternoon Sun Analysis
Watten House Developer Review
Developer Notes
UOL started life in 1963 as Faber Union Ltd before UOB acquired a controlling stake in 1973, renaming the company United Overseas Land in 1975. In 2018, Singapore Land became a subsidiary of UOL Group. UOL is a publicly listed company on the SGX with ~$22b in assets under management. Their core businesses are in property development, property investments, and hotel operations. On the property development front, they have been active since the 1970s with iconic projects such as Cairnhill Plaza and Orchard Bel-Air. More recently, they have been involved in a spate of new launches including Clavon, Avenue South Residence, and the ultra-luxurious Meyer House.
Singapore Land Group was formerly known as United Industrial Corporation Limited (UIC) and has been listed on the SGX since 1971. They were Singapore's first public listed property developer. Their footprint spans commercial, residential, and retail properties and hotels including UIC Building, Singapore Land Tower, Parkroyal Collection Marina Bay, Pinetree Hill, Amo Residence, and Avenue South Residence among many others.
Watten House Pricing Review
If you are considering Watten House, you will undoubtedly compare it against its neighbouring developments. So here is how it stacks up!
| | | | | | |
| --- | --- | --- | --- | --- | --- |
| Development | Units | Psf | TOP | Tenure | Price Difference |
| Watten House | 180 | $3,200 | 2027 | Freehold | |
| 15 Holland Hill | 57 | $2,826 | 2022 | Freehold | 13% |
| Leedon Green | 638 | $2,852 | 2023 | Freehold | 12% |
| The Shelford | 215 | $2,227 | 2005 | Freehold | 44% |
| Duchess Residences | 120 | $2,074 | 2011 | Freehold | 54% |
| Astrid Meadows | 208 | $2,286 | 1990 | Freehold | 40% |
Watten House Indicative Prices
| | | | |
| --- | --- | --- | --- |
| Type | Size | Price | Estimated From $PSF |
| 3BR | 990 | From 3.0xM | $3,081 |
| 3BR | 1163 | From 3.5xM | $3,052 |
| 3BR + S | 1539 | From $4.7xM | $3,086 |
| 4BR | 1851 | From 5.9xM | $3,214 |
| 5BR | 2368 | From $7.4xM | $3,146 |
| PH | 3412 – 4080 | POA | |
The estimated $PSF is purely speculative, with prices starting at the midpoint of the 'from' price. For example, a 990 sq ft unit starts at $3,050,000.
Based on this, our estimated starting price is in the low $3,000 per square foot ($3,000 PSF). Since there aren't many floors, I don't expect significant jumps in $PSF. Perhaps we'll see the average at $3,100+ for 3-bedders and $3,300+ for 4-bedders/5-bedders.
Given the price point, project features, and its location, it's clear that Watten House is primarily tailored to individuals or families seeking a comfortable residence in the area rather than those looking for an investment opportunity. The available 3, 4, and 5-bedroom unit configurations are designed to accommodate families who wish to reside in this locality without the higher costs associated with owning a landed property.
Based on the starting prices of Watten House, I am estimating a $3,200 average psf. It's not easy to have an apples-to-apples comparison for Watten House, given the prevalence of its large units. I believe that 15 Holland Hill will be the closest reference – it also boasts large units and was developed by the same developer UOL. It's a bit more boutique than Watten House given its much smaller number of units. Given the difference in era and Holland Hill's location being in an arguably less convenient location, I would say that the 13% price difference is justified.
Another condo with similar attributes is Leedon Green, which should TOP relatively soon. While it is a much larger development with a wider range of units, they too have a number of large units for consideration. The psf these days has reached heights of more than $3,300 psf at the start of 2023 for its 3 Bedroom units so for a new development at Watten House to be asking the same isn't too much of an ask in my opinion.
I've also included the nearby The Shelford, which I personally view as the best development in the Shelford/Watten estate. It is one of the few with full condo facilities such as a tennis court here, generally well maintained and closest to the MRT as it has a side gate close to the tennis court. Units are also decently sized, with 3-bedroom units at 1,399 sq ft and 4 4-bedroom penthouses being 2,411 sq ft so I find that this is also a worthwhile choice if you don't mind a resale development.
Duchess Residences and Astrid Meadows are also resale developments that have large units above 2,000 sq ft. They are relatively near to Watten House but not quite in the same area. Perhaps more importantly, especially for Astrid Meadows, which is right smack in the middle of the Queen Astrid Park GCBA, they are not that close to any MRT station. Hence, if you are looking for a development that is new and is also within walking distance of an MRT station, the price gap between these resale developments is still justifiable.
Now, let's take a closer look at some comparisons with new launches.
New launches in the area
To get a perspective of where prices are today for Watten House, it's useful to see what the prices of sold units in nearby launches are:
| | | | | | | |
| --- | --- | --- | --- | --- | --- | --- |
| Projects | 2018 | 2019 | 2020 | 2021 | 2022 | 2023 |
| 15 HOLLAND HILL | | | | | | |
| 3BR | | | | $3,006 | $3,053 | |
| 4BR | | | $2,931 | $3,079 | | |
| 5BR | | | $2,734 | $2,908 | | |
| DALVEY HAUS | | | | | | |
| 3BR | | | | | | $3,740 |
| 4BR | | | $3,210 | $3,201 | | $3,572 |
| 5BR | | | | $2,960 | | |
| HYLL ON HOLLAND | | | | | | |
| 3BR | | | $2,858 | $2,426 | $2,700 | $2,873 |
| LEEDON GREEN | | | | | | |
| 3BR | | | $2,695 | $2,718 | $2,950 | $3,105 |
| 4BR | | | $2,664 | $2,651 | $3,044 | $3,197 |
| PARKSUITES | | | | | | |
| 3BR | | | $2,006 | | | |
| 4BR | $2,231 | | | | | |
| ROYALGREEN | | | | | | |
| 3BR | | $2,709 | $2,702 | $2,739 | $2,829 | |
| 4BR | | $2,818 | | $2,788 | | |
| VAN HOLLAND | | | | | | |
| 3BR | | | $3,006 | $2,991 | $2,825 | $2,975 |
| 4BR | | | $2,773 | $2,570 | $2,851 | $2,831 |
| Average | $2,127 | $2,638 | $2,727 | $2,641 | $2,779 | $2,892 |
I've isolated just the $PSF data for 3 to 5 bedders given these are the unit types at Watten House. In 2023, the average $PSF is $2,892 which isn't too far off Watten House's $3,000+ $PSF. This puts Watten House at just around 5-10% more in terms of $PSF.
Is this pricing fair?
To determine whether paying 5-10% more in terms of $PSF compared to other recent new launches is acceptable, we should assess the demand for larger unit types in the area. To do this, let's examine Royalgreen:
The development is situated on the opposite side of Watten Estate along Bukit Timah Road, close to the main road. Its 4-bedroom units were completely sold out in 2021, and the last 3-bedroom units were sold in 2022. This indicates robust demand, especially considering that smaller units typically sell first. However, in the case of Royalgreen, the 4 and 3-bedroom units were among the first to sell out.
| | |
| --- | --- |
| Bedroom Type | Units |
| 3BR | 86 |
| 4BR | 22 |
There were a total of 86 and 22 3 and 4 bedroom units in Royalgreen. Here's how fast they sold:
| | | |
| --- | --- | --- |
| Period | 3 Bedders Remaining | 4 Bedders Remaining |
| 2019 | 70 | 15 |
| Qtr4 | 70 | 15 |
| 2020 | 49 | |
| Qtr1 | 67 | |
| Qtr2 | 65 | |
| Qtr3 | 60 | |
| Qtr4 | 49 | |
| 2021 | 17 | 2 |
| Qtr1 | 42 | 10 |
| Qtr2 | 35 | 4 |
| Qtr3 | 30 | |
| Qtr4 | 17 | 2 |
| 2022 | 0 | 0 |
| Qtr1 | 9 | 1 |
| Qtr2 | 5 | |
| Qtr3 | 3 | |
| Qtr4 | 0 | 0 |
The table displays the number of units remaining for each respective bedroom type during that period. It's evident that the majority of 4-bedroom units were sold in the last quarter of 2019, followed by a surge in sales during 2021 Q1, and the final unit was sold in Q1 of 2022.
3-bedroom units were also highly popular, with most of them being sold by 2021. Both unit types were completely sold out by 2023. This is in contrast to Royalgreen's 2-bedroom units, which were still available for sale even after TOP. This is a positive indicator for Watten House, considering its unit mix, and it's likely that the developers are aware of this as they position the project to meet this demand.
While the $PSF may seem high, with a price above $3,000 per square foot, the 3-bedroom units here are still within reasonable affordability because of their more compact size.
Here's a look at the 990 sq ft floor plan: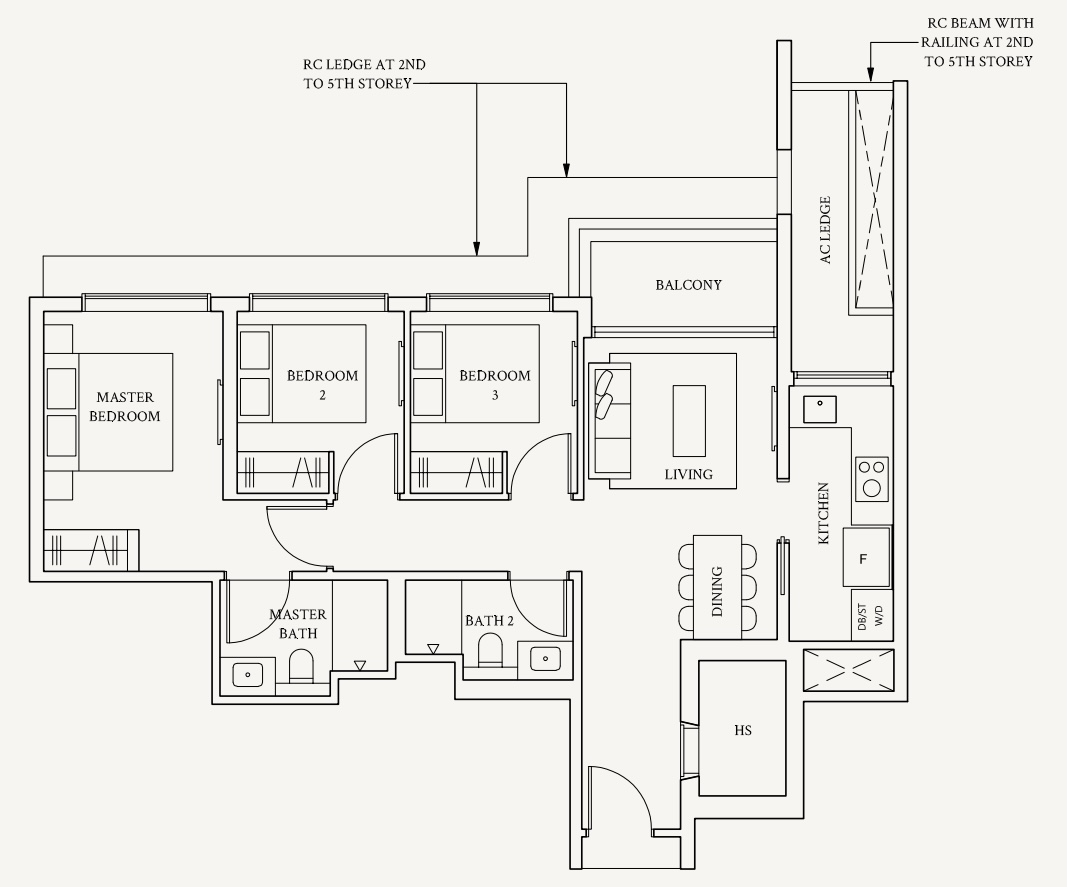 This layout is precisely what I would expect for a 990 sq ft 3-bedroom unit. It does not include a service yard, but it does have a household shelter that doubles as a utility room. The balcony isn't very large either.
What I find less appealing is that neither of the bathrooms has natural ventilation.
Let's compare this to the 990 sq ft unit in Royalgreen: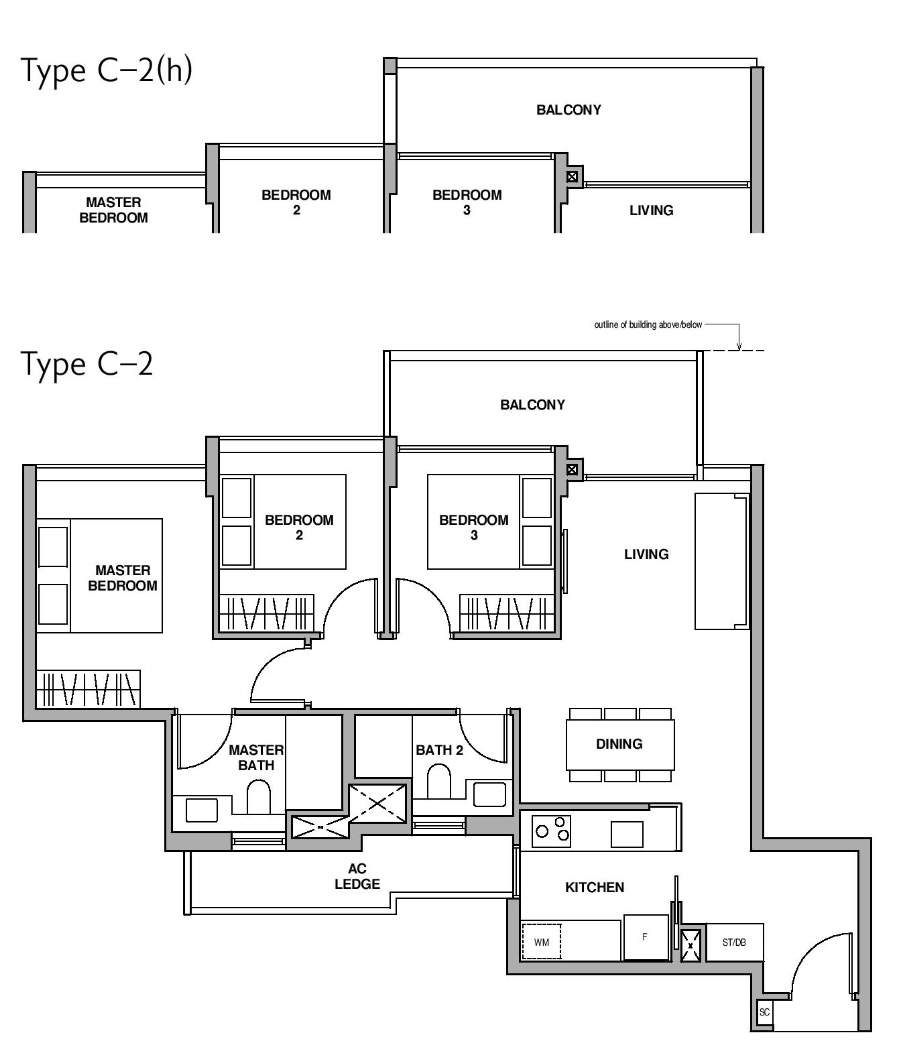 Royalgreen's 990 sq ft unit is quite similar to Watten House's 990 sq ft unit, except for the larger balcony. However, it lacks a household shelter, which some may find less functional. On the positive side, it does feature ventilated bathrooms.
In November 2022, a ground-level 990 sq ft unit at Royalgreen was sold for $2,770,000, which is approximately 10% less in terms of price. Royalgreen achieved its official completion in 2021, which would make it around 6 years older than Watten House. Considering this age difference, the premium does seem reasonable.
What about the 4-bedroom? Here's a look at the 1,851 sq ft unit at Watten House: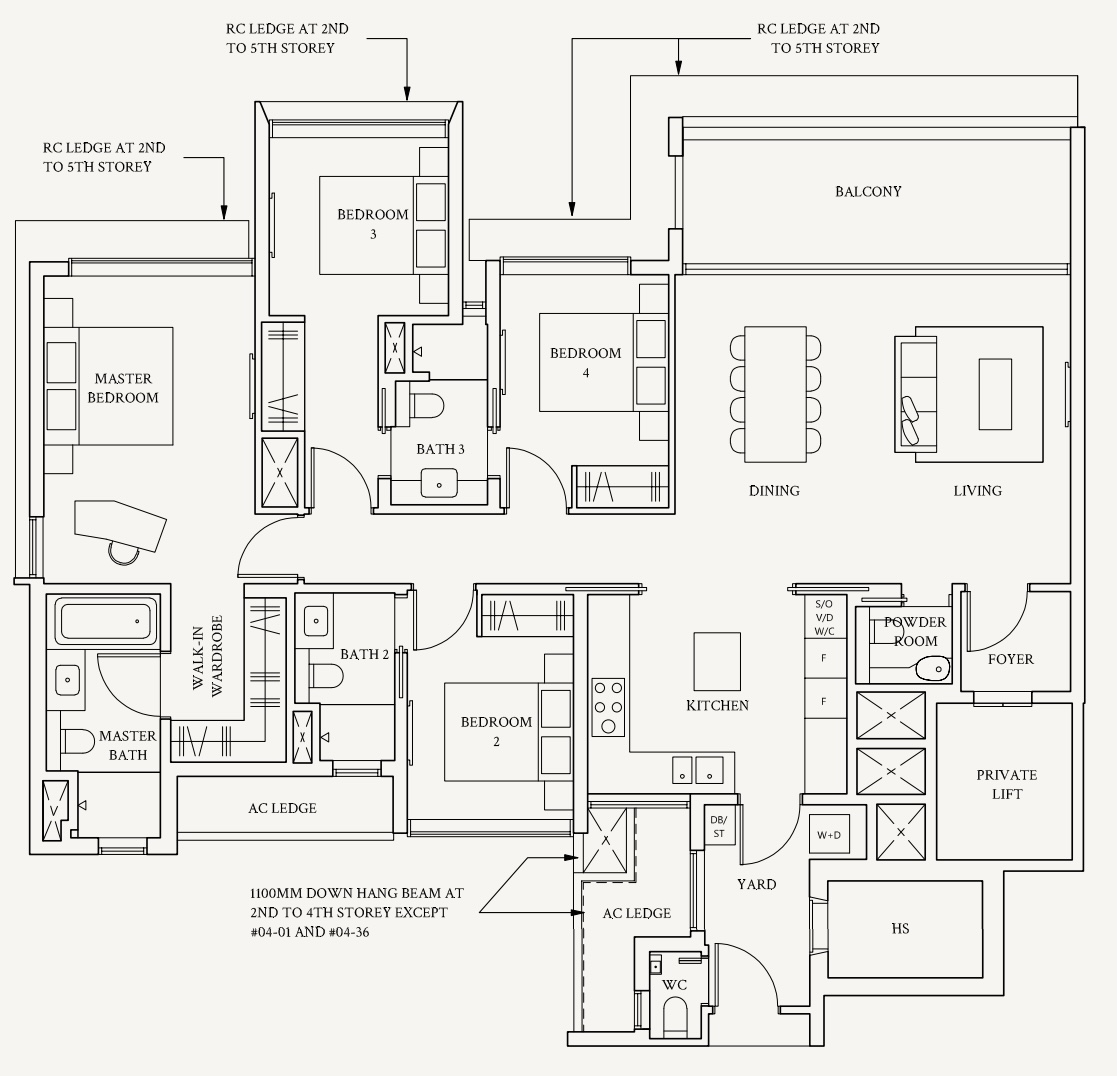 The developers didn't even attempt to create a compact 4-bedroom unit, taking the bet that those interested in this area would be willing to invest significantly in a 4-bedroom residence.
The smallest 4-bedroom unit offers everything you would expect from a premium 4-bedroom layout. It includes a private lift, a spacious U-shaped kitchen, a separate yard and WC, a powder room, a generous dining/living area, and a bathtub in the master bathroom. The master bedroom is also exceptionally spacious, featuring windows on both sides and a walk-in wardrobe.
Needless to say, it offers the complete package you'd expect from any 4-bedroom unit. So, the question is whether you should choose this or opt for a landed home in Watten Estate?
Here's what landed home prices around are like:
| | | | | | |
| --- | --- | --- | --- | --- | --- |
| Property Type | Transacted Price ($) | Area (SQFT) | Unit Price ($ PSF) | Sale Date | Address |
| Semi-Detached House | 10,800,000 | 4,002.06 | $2,699.00 | 27-Mar-23 | 16 WATTEN PARK |
| Detached House | 15,600,000 | 9,415.27 | $1,657.00 | 20-Jul-23 | 42 WATTEN ESTATE ROAD |
| Terrace House | 6,100,000 | 1,899.85 | $3,211.00 | 10-Aug-23 | 132 SHELFORD ROAD |
| Terrace House | 5,080,000 | 1,766.37 | $2,876.00 | 11-Aug-23 | 10 WATTEN RISE |
| Semi-Detached House | 10,500,888 | 4,503.66 | $2,332.00 | 17-Aug-23 | 54 WATTEN ESTATE ROAD |
| Semi-Detached House | 10,750,000 | 4,709.25 | $2,283.00 | 31-Aug-23 | 58 WATTEN VIEW |
| Semi-Detached House | 10,300,000 | 4,037.58 | $2,551.00 | 28-Sept-23 | 5 WATTEN VIEW |
| Terrace House | 5,180,000 | 1,765.30 | $2,934.00 | 13-Oct-23 | 17 WATTEN RISE |
| Semi-Detached House | 9,088,800 | 6,189.30 | $1,468.00 | 18-Oct-23 | 442A DUNEARN ROAD |
You can observe that the prices of terrace houses in this area are approximately equivalent to or, in some cases, even lower than the prices of 4-bedroom units at Watten House.
Some of you might be wondering, if you could purchase a freehold landed home in Watten Estate, why not invest a little more?
This choice ultimately comes down to personal preferences. Many Singaporeans may assert that owning the land outright is their preference.
However, it may surprise you to learn that not everyone shares this view.
Landed homes, especially larger ones, require ongoing maintenance since you own the entire building. In many cases, older terrace houses priced at $5+ million remain unrenovated or are not fully developed. Some may not even have 4 bedrooms; some have only 3. Renovating a terrace home can be a very expensive endeavour, often reaching the high six figures or even seven figures, depending on the extent of the renovation.
It's important to note that the prices of landed homes in the estate can serve as a limit or cap on the prices of the larger bedrooms at Watten House. It wouldn't make sense for the prices of Watten House units to exceed those of landed homes in this area, although there are perhaps other areas where this would have happened. Based on the indicative prices, Watten House appears to be sensibly priced, considering the factors we've discussed above. I wouldn't even consider semi-detached properties, as they are priced twice as high. Furthermore, Watten House offers additional benefits, including access to facilities that can be particularly advantageous for families.
Now let's compare this to Royalgreen's 4-bedroom that's just 1,432 sq ft in size: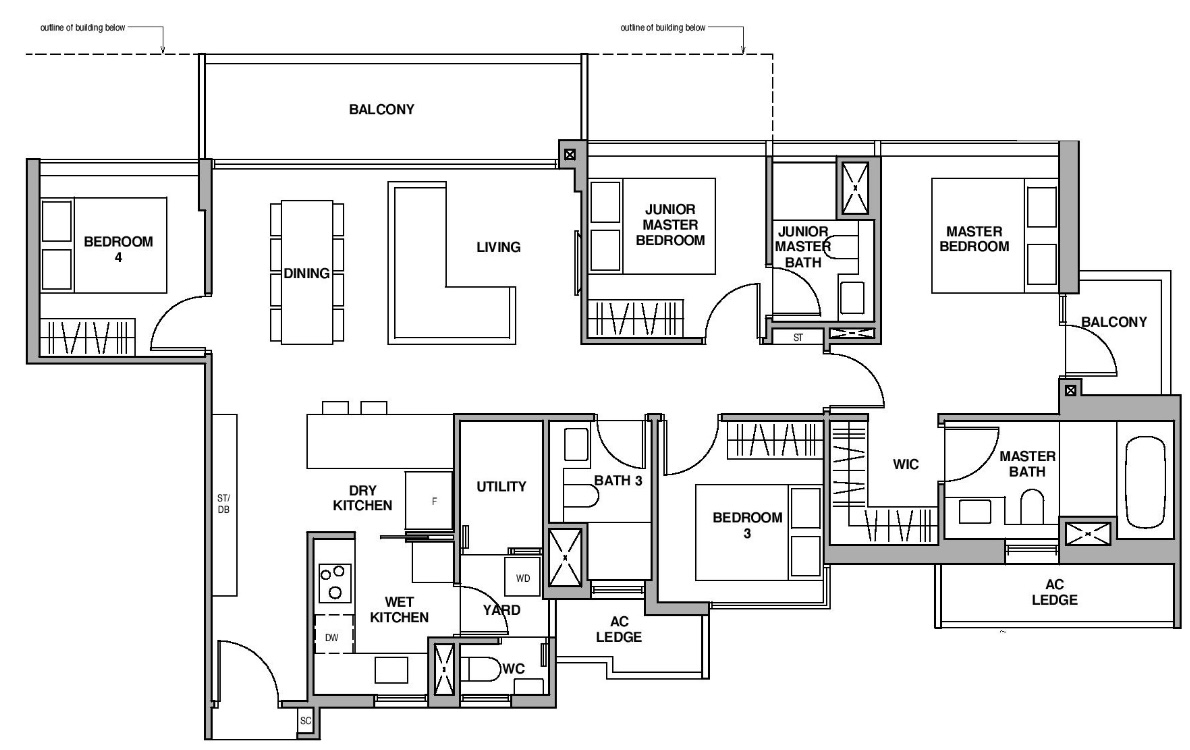 The unit is undoubtedly practical, featuring a utility room, a separate yard, and even a walk-in wardrobe in the master bedroom. The master bathroom also includes a bathtub.
However, it's not directly comparable to Watten House's 4-bedroom unit, which comes with its own private lift. The kitchen in Royalgreen is somewhat disappointing, as it doesn't differ significantly from a 3-bedroom premium kitchen unit. Additionally, the width of the dining and living area is not very generous. In other words, Royalgreen is a suitable choice for those seeking a practical yet more affordable 4-bedroom option in the Bukit Timah area. On the other hand, Watten House's 4-bedroom layout is designed for luxury, emphasising space.
For comparison, the 1,432 sq ft 4-bedroom unit in Royalgreen was last sold for $4.1 million in 2021, and it's likely worth more now due to the market's appreciation. This equated to $2,864 per square foot (psf), which isn't too far from the starting price of the 4-bedroom units at Watten House.
Considering the differences in size and budget, it wouldn't be accurate to consider these as direct competitors. It's clear that Watten House's 4-bedroom units aim to cater to buyers with more substantial means who are seeking a larger living space. In a sense, it's beneficial that developers offer these more spacious units, as individuals looking to settle in the area often have more resources and are seeking more than just a "practical 4-bedroom unit."
Finally, I'd like to take a closer look at some of the resale developments in the surrounding area. This is important because we need to understand how the nearest resale condos will compete with Watten House in the future.
Surrounding resale developments
These are some of the resale developments that transacted in 2023 that are also freehold 3 and 4-bedroom units:
| | | | | | |
| --- | --- | --- | --- | --- | --- |
| Project Name | Transacted Price ($) | Area (SQFT) | Bedroom | Unit Price ($ PSF) | Completion Date |
| D'CHATEAU @ SHELFORD | $1,940,000 | 914.9 | 3 | $2,120 | 2010 |
| THE PARK VALE | $2,000,000 | 1119.5 | 3 | $1,787 | 1997 |
| NINETEEN SHELFORD ROAD | $2,100,000 | 1065.6 | 3 | $1,971 | 1997 |
| ADAM PARK CONDOMINIUM | $2,320,000 | 1162.5 | 3 | $1,996 | 2004 |
| SHELFORD SUITES | $2,590,000 | 1270.2 | 3 | $2,039 | 2011 |
| SHELFORD REGENCY | $2,600,000 | 1280.9 | 3 | $2,030 | 1998 |
| LA SUISSE | $2,620,000 | 1657.7 | 3 | $1,581 | 1993 |
| THE SHELFORD | $2,638,050 | 1227.1 | 3 | $2,150 | 2005 |
| LA SUISSE | $2,700,000 | 1679.2 | 3 | $1,608 | 1993 |
| THE SHELFORD | $3,180,000 | 1399.3 | 3 | $2,273 | 2005 |
| SHELFORD REGENCY | $3,220,000 | 1517.7 | 3 | $2,122 | 1998 |
| LA SUISSE | $3,320,000 | 2099.0 | 3 | $1,582 | 1993 |
| THE SHELFORD | $3,380,000 | 1399.3 | 3 | $2,415 | 2005 |
| SHELFORD GREEN | $3,800,000 | 2238.9 | 3 | $1,697 | 1982 |
| THE PARK VALE | $3,500,000 | 2034.4 | 4 | $1,720 | 1997 |
| WATTEN HILL | $4,800,000 | 2669.5 | 4 | $1,798 | 1979 |
| THE SHELFORD | $5,100,000 | 2411.1 | 4 | $2,115 | 2005 |
| SHELFORD VIEW | $7,500,000 | 5134.4 | 4 | $1,461 | 1983 |
Source: URA. Disclaimer: not all units were included as some lacked information on their bedrooms.
The most affordable 3-bedroom unit transacted in 2023 was at D'Chateau @ Shelford. This can be attributed to its compact size, measuring 915 sq ft, which is slightly smaller than the one at Watten House. Additionally, it was constructed in 2010, making it approximately 17 years older than Watten House.
Here's what this unit looks like: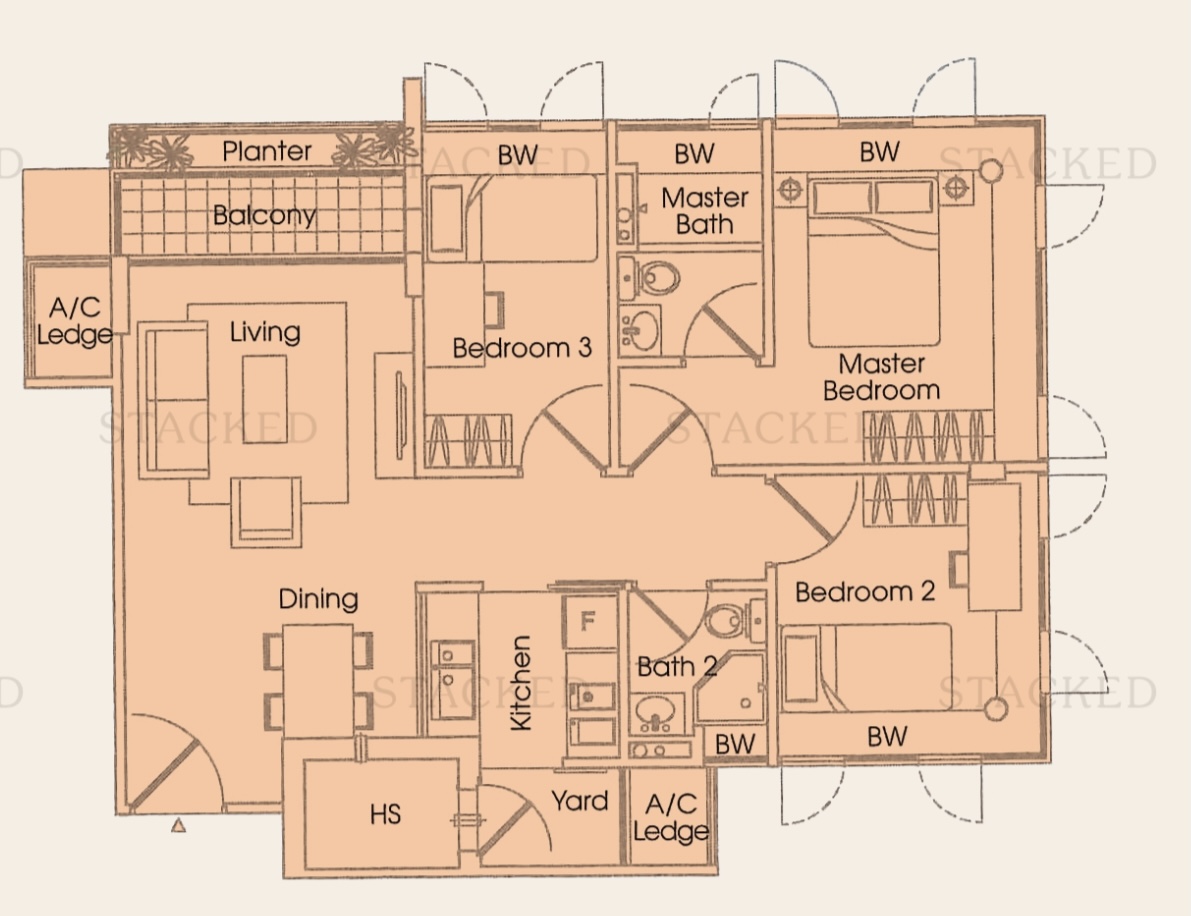 True to the classic 2010 condos, this one is adorned with bay windows and features a planter on the balcony.
As a consequence of this design, you'll notice that bedrooms 2 and 3 have limited space. Both floor plans accommodate only a single bed comfortably. Fitting a queen-sized bed in these bedrooms would be challenging due to the inefficient use of space.
While having a yard and a household shelter adds to the practicality of this layout, it comes at the expense of bedroom sizes. For small and young families seeking an affordable 3-bedroom unit in Watten Estate, this layout may make sense. However, the age, size, and less efficient layout contribute to its lower pricing.
Now, let's explore a larger unit. I've chosen The Shelford, my resale pick of the area. It's a condo completed in 2005, making it approximately 22 years older than Watten House. Here's what the 1,399 sq ft unit looks like: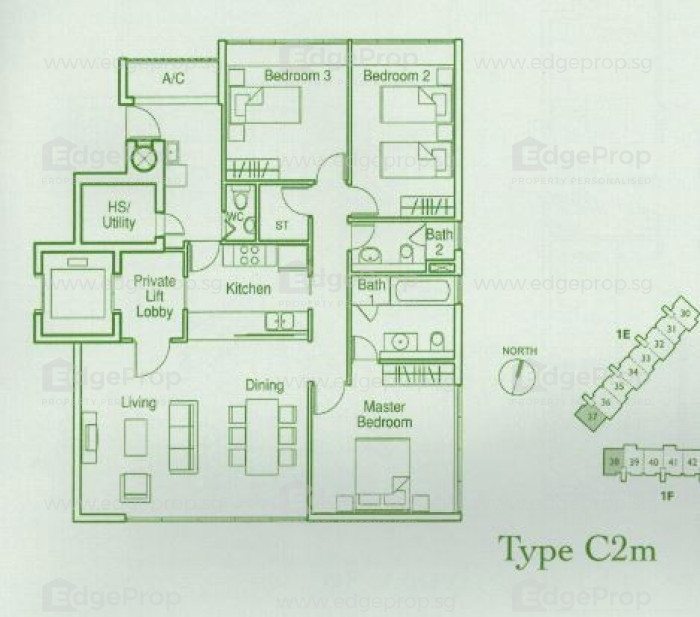 At this size, the 3-bedroom unit is essentially comparable to the larger 3-bedroom + study unit at Watten House. I believe this is a fairer comparison because the study is a complete 3-bedroom unit, similar to the layout above, unlike the larger 3-bedroom unit without a study at Watten House.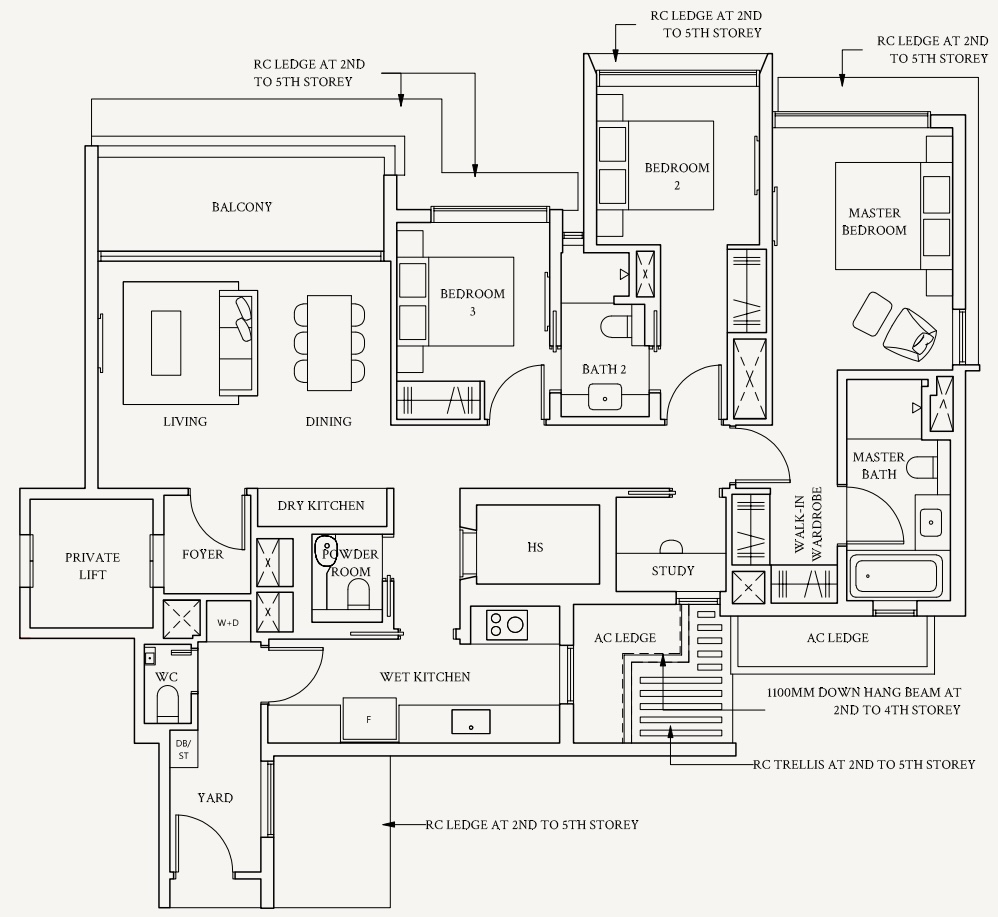 Both layouts feature a private lift, a household shelter, and a yard. The Shelford's layout also includes a store, whereas Watten House offers a powder room, and, of course, the study component, which includes a window, making it highly practical as a study room.
In both common rooms at The Shelford, there is the disadvantage of bay windows, although they are less prominent throughout the rest of the house.
Purely in terms of layout, Watten House's 3-bedroom + study unit provides better privacy for the Master Bedroom since it's not located right next to the living area but at the end of the corridor. There's also a walk-in wardrobe, which some may prefer, as well as light coming in from another side.
Watten House also includes a dry kitchen, a fantastic feature for entertaining guests. However, this is only possible due to its larger size, which also means a higher price tag.
The 3-bedroom + study unit is priced starting at $4.5 million, which is at least $1 million more than the 3-bedroom unit at The Shelford. While this might seem like a significant difference, in terms of percentage, it's a 28.6% increase for a much newer, modern, and larger unit.
In this context, the price difference between this unit and Watten House becomes more understandable.
As you go down the list, you'll notice that there are condos with larger sizes that cost less than Watten House. However, many of them are quite old. For instance, Shelford Regency would be around 30 years older by the time Watten House is built.
So, even though it offers larger 3-bedroom units, you have to consider the maintenance of the property, its architecture, and the facilities of the development to conclude whether Watten House is worth the premium.
Ultimately, this comes down to personal choice. However, if the prices of new launches in the vicinity are any indication, people in this area are willing to pay a significantly higher $PSF compared to resale condos, driven by the strong demand for 3 and 4-bedroom units in the Bukit Timah vicinity.
In conclusion, I can see why paying a low $3,000+ per square foot ($PSF) would be appropriate to buyers at this price range at Watten House. Resale alternatives are much older, while the unit mix here remains in high demand, as evidenced by nearby new launches. The future risks depend on how the development actually turns out—whether it lives up to the luxury elements it's marketed for.
Watten House Appreciation Analysis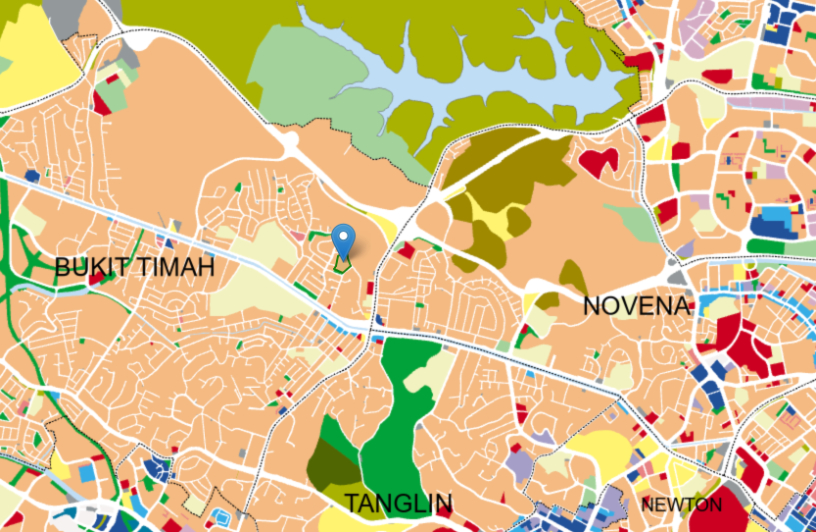 Rarity of Large Format Units
This is arguably Watten House's biggest selling point. There is simply a dearth of new launches with large format units. I put that down to 1 reason – affordability and consequently, the developer's appetite for risk. As much as Singapore is one of the most affluent countries in the world, there is only a select group of buyers who are in the $5m and above category. These buyers have a number of options to choose from and it takes a confident and financially sound developer to pull off a successful development. UOL has done it a number of times at Meyerhouse and 15 Holland Hill so this is a tried and tested playbook for them. As long as Singapore continues to grow in affluence, the rarity of these units will only add to its desirability in the longer term.
Turf Club Housing Developments
Turf Club is located relatively close to Watten House and as you might know, is currently home to a number of retail, F&B, sports, and leisure facilities that include anything from futsal pitches to restaurants and childcare. That has been the case since the Singapore Turf Club vacated the massive plot of land in 1999. However, much to the disappointment of many in the neighbourhood, the final lease extension for all these tenants will be until December 2023 before the land is prepared for housing developments.
It is a massive plot that spans almost 200 football fields so the government will need to be very cautious in ensuring that there is no sudden influx of supply in the area. Being located adjacent to the GCB estates of Binjai Park, Swiss Club Road, Raffles Park, and Eng Neo Avenue, it will be interesting to see the eventual housing mix in the area. While this will undeniably add a massive ton of supply in this area, it is also exciting as it may turn the attention back to Bukit Timah when the land is eventually launched in phases. Moreover, they are all expected to be on 99-year leases so Watten House will have the distinct advantage of being a rare full facility Freehold condo in this area.
Holland Plain Redevelopment
There are many plans around the development of large land plots in the wider Bukit Timah region. Besides the massive Turf Club plot, you also have the Holland Plain field that will yield some 2,500 units and the expansion of the park connector. It is close to King Albert Park which will add further supply to the area. If managed well, these 99-year plots will help to set new benchmarks in the Bukit Timah region, which Watten House is poised to take advantage of given its Freehold status and more complete facilities.
What we like
Rare to find such large units among new launches, meaning that Watten House will continue to differentiate itself over the years

2 brand name primary schools within 1km, plenty more top institutions to accompany your child throughout their academic journey

Industry-leading 3.25m ceiling height and top quality furnishings such as ducted aircon and marble floors
What we don't like
–

Land does not seem fully maximised to highlight the luxurious nature of Watten House

–

Overall design is not as remarkable as previous developments like Meyer House
Our Take
Watten House stands out among the new developments in 2023 – given its large unit sizes and prime location, it is one of those developments that would be out of reach for the average man on the street. Yet, during my visit on a weekday afternoon, it was packed, perhaps indicating the market's interest in such a high-end product. That said, I believe the inspiration for Watten House was to create an ultra-exclusive enclave similar to what UOL has done for Meyer House.
As such, I have to say that I was a little underwhelmed by the overall product. Perhaps that says a lot more about just how differentiated Meyer House was (and 15 Holland Hill, to a certain extent), but by comparison, Watten House just doesn't stand out as much.
Creating Watten House as a trophy asset such as Park Nova, 15 Holland Hill, and Meyer House should have been the end goal, given its affluent location. Perhaps if the market had been more exuberant, especially without the latest foreigner stamp duties in place, UOL would have gone on to create an even more exclusive development that would top anything they have created before.
Of course, make no mistake, Watten House is still no slouch in the luxury department, with top quality materials from ducted air-cons to powder rooms and marble floors to European appliances and sanitary fittings from V-Zug, Gessi, and Laufen. The average unit at Watten House will cost you north of $5m so you would definitely need to be someone with deep pockets to own a unit here.
Nevertheless, perhaps this doesn't matter as much after all, as the rarity of a sizeable new launch development in the immediate vicinity is rare enough to come by. As we've seen from the sales of close-by developments like 15 Holland Hill, Royal Green, and Leedon Green, there is demand for large unit types (where the smaller units generally took longer to sell). That, and the location near top schools, could ultimately be just enough to do the trick.
What this means for you
You might like Watten House if you:
Looking for a sizeable 3 Bedroom or larger unit:

There are barely any new condos that have 1,500+ sqft 3 Bedroom units as the norm these days and even less so 4 and 5 Bedroom units that are between 1,800 and 2,300+ sqft.

Have a growing family with young children:

One of the biggest selling points of Bukit Timah living is its presence of top schools and here, you have RGPS and Nanyang Primary within 1km radius. There are also plenty of higher education institutions in the area which will meet your family's needs over the years.
You may not like Watten House if you:
Can't afford it:

It's the tough truth. Units here start from $3m, with the private lift units starting from $4.72m for the 3 Bedroom + Study up to $12m and above for the Penthouses. Most of us simply are not within this range.

Don't think that this final product justifies its price:

Watten House has plenty of positives both within the development and the unit. However, some may feel that there just isn't enough of a luxe or differentiating factor that makes it a luxury development in this class.
End of Review
Documents
Join our Telegram group for instant notifications
Join Now
Matt K