Condo Reviews

Valley Park Review: Well Maintained, Spacious Living At River Valley
Reuben
October 7, 2020

19

min read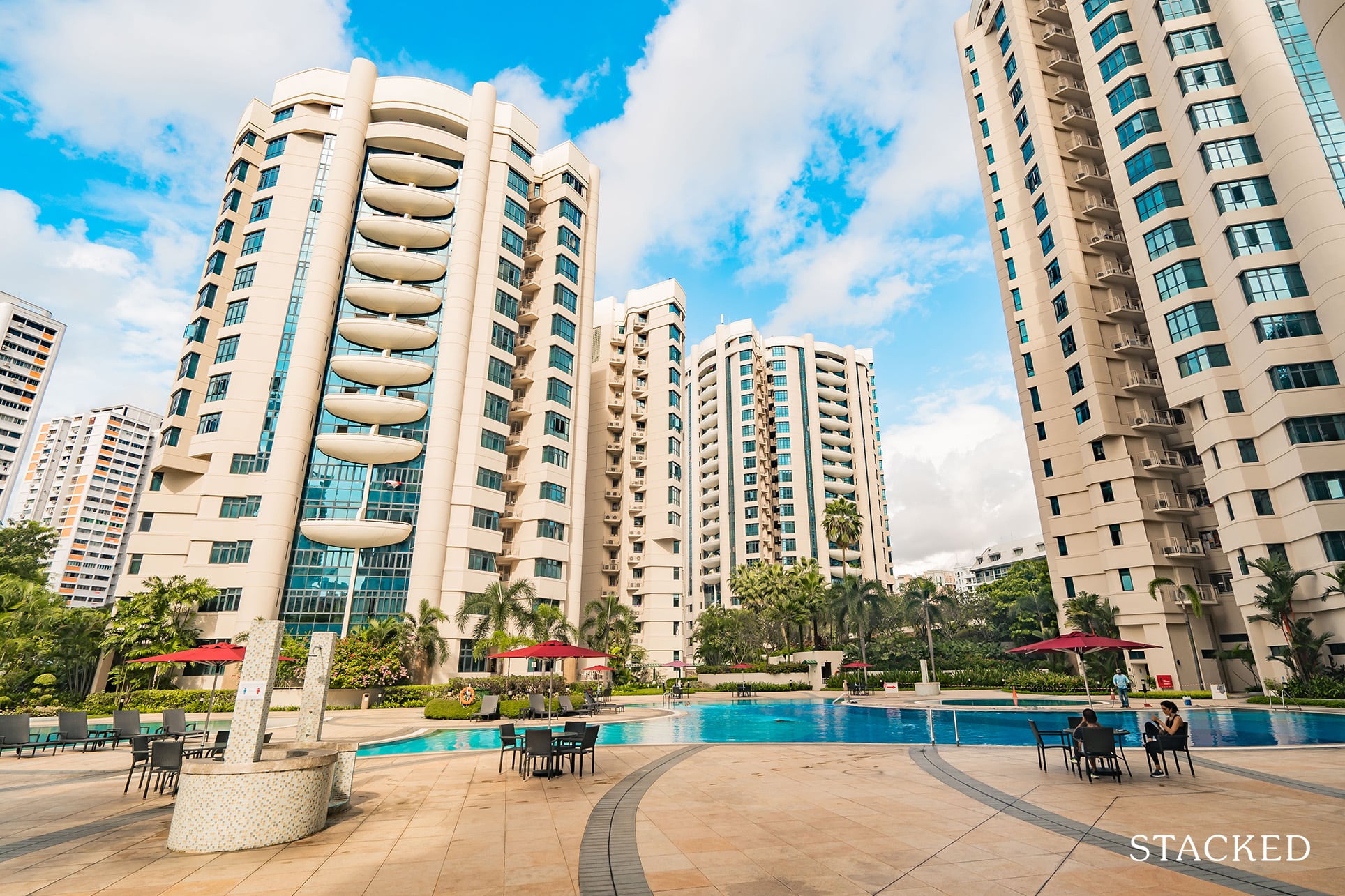 Valley Park is a condo perfect for those who want convenient access to Orchard and Tiong Bahru, as well as a full range of condo facilities.
Reviewed by Reuben on October 07, 2020
What we like
3 tennis courts

Spacious grounds

Well-maintained
What we don't like
—

Small swimming pool

—

Small clubhouse
19
min read
| | |
| --- | --- |
| Project: | Valley Park |
| District: | 10 |
| Address: | River Valley Road |
| Tenure: | 999-year Leasehold |
| No. of Units: | 728 |
| Site Area: | 430,341 sqft |
| Developer: | River Valley Properties Pte. Ltd. |
| Completed: | 1997 |
When we think of the Singapore River, most of us are reminded of Clarke Quay by night. The glittering lights and clamorous scenes reflecting on gently tided waters.

When residents here think of the Singapore River however – they think of home.

In addition to actually living next to the Singapore River, they are flanked by the immediate Valley Point shopping mall to its west (equipped with a Fairprice Finest), and the subsequent Zion Riverside Food Centre and Great World City to its east.

It isn't the newest condo by any means – having reached TOP all the way back in 1997, but the maintenance here has been immaculate through the years despite it being the oldest development in the immediate area.

While the buyer profile here is 56% Singaporeans, 13% PRs and 28% Foreigners/Companies, it is safe to say that the condo is mostly expat-run. You'll find a total of 728 units here across 430,341 square feet of land.

The condo's key central location combined with its age factor also makes it a hotpick for those looking for affordable unit/room rentals in the centre of town.

Perhaps the only main drawback for this project is the lack of any immediate MRT stations (which is set to change once Great World MRT is up) – though some optimists might argue that its geographical position on the cusp of both the Tiong Bahru and Orchard enclaves actually gives the condo its biggest USP
Valley Park Insider Tour
Facilities in Valley Park
25m Lap Pool
Barbeque Area
Clubhouse
Jacuzzi
Lap pool
Pavillion
Barbeque Area
Clubhouse
Gymnasium room
Mini-Mart
Playground
Sauna
24 hours security
Squash court
Swimming pool
Tennis courts
As much as the River Valley neighbourhood is a highly regarded area to live in, many of the developments are actually quite tightly packed. So if big sprawling grounds are what you are looking for, there are really just three developments that sit on a substantial land size in the area – Regency Park, Yong An Park, and the subject of today's review – Valley Park. (There is a case to be made for Spring Grove, but given it is a 99-year leasehold project, I'd leave that out of the conversation for now).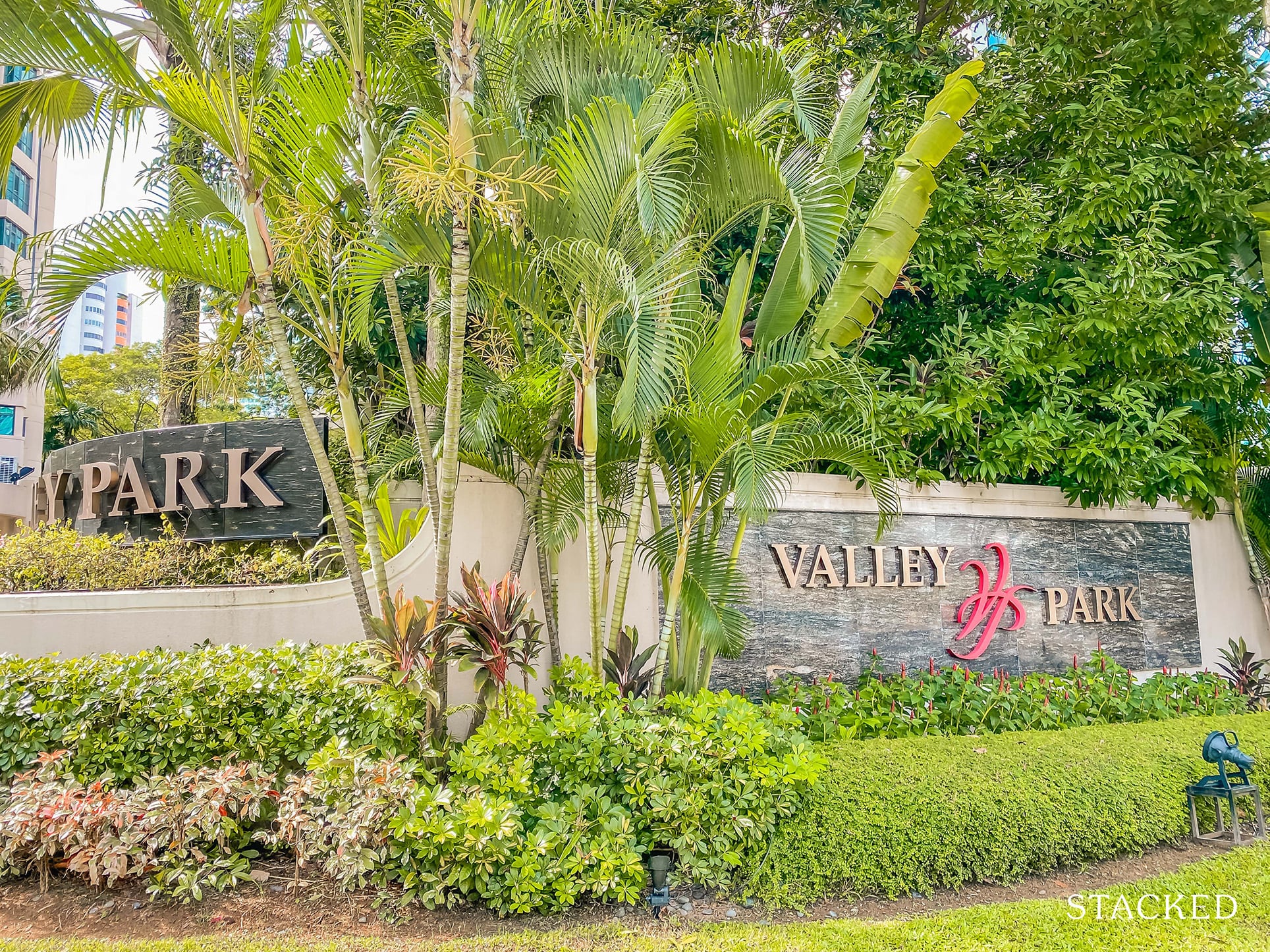 If you haven't already noticed, these developments all hailed from a time when having the word "Park" was the naming trend – just like how it is commonplace to have the word "Residence" in many new developments today.
So of the three, Valley Park does stick out like a sore thumb. It is the only 999 year leasehold development (the other two are freehold), it has the most number of units, and it is the cheapest both on a quantum and psf basis.
Put simply, if you want to stay in River Valley yet require a spacious project, this is the most affordable price point for you to enter at.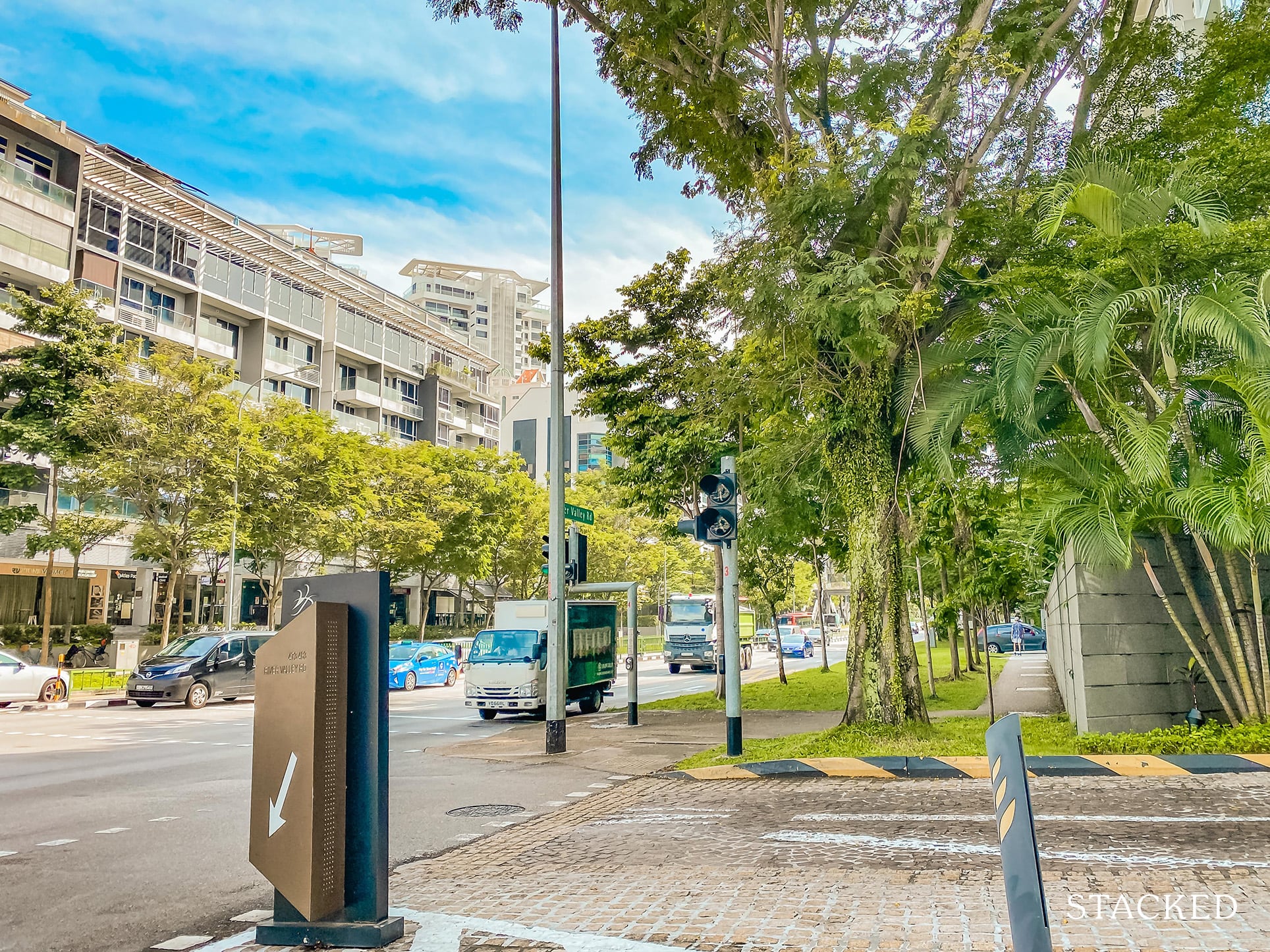 In comparison to the size of Valley Park, the entrances are relatively obscure. The main entrance is located along River Valley Road, while the second entrance is hidden at the end of Kellock Road.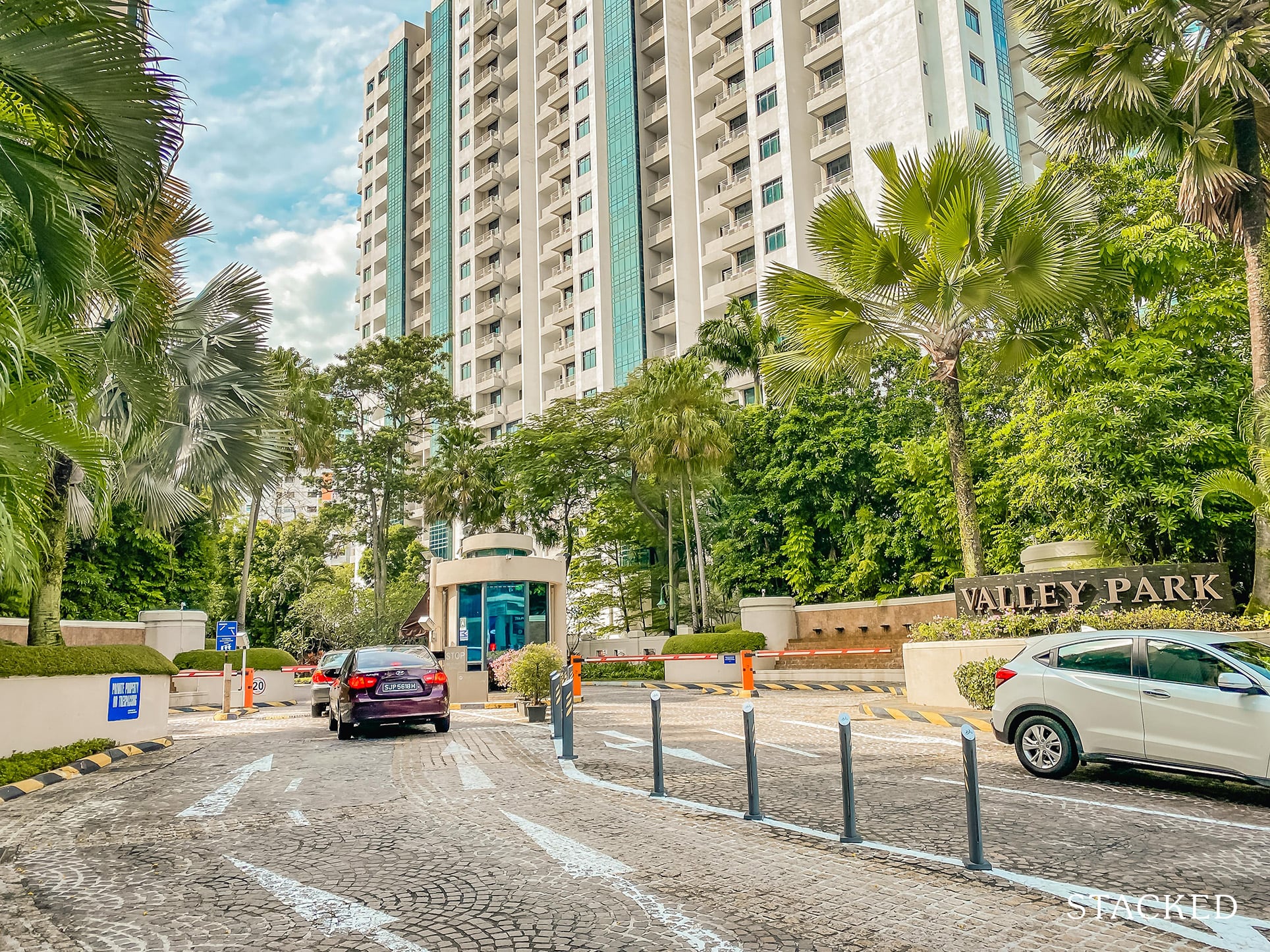 The main entrance does feature a traffic light, which comes in especially handy during peak hours to regulate traffic – otherwise it would be tough for those driving to turn out to the opposite end of River Valley Road or to get to Nathan Road.
On the flip side, when the traffic is light during non-peak hours, it could get slightly frustrating to be waiting at the traffic light to turn out of the development – although you could always use the second exit at Kellock Road instead.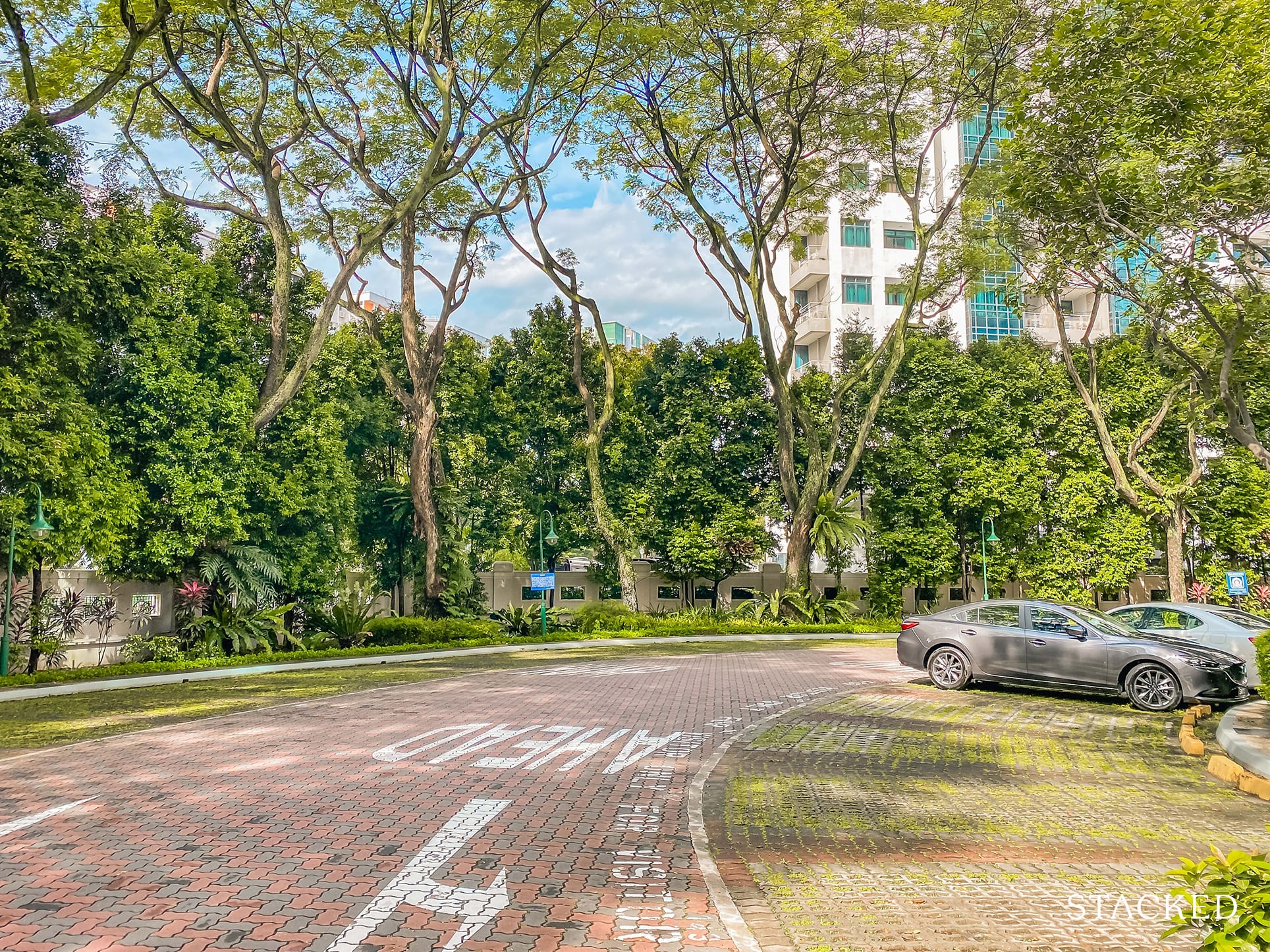 The minute you enter the development, you do get an immediate sense of the size and scale of it. At 430,345 square feet of land, it definitely is quite a behemoth.
A tell tale sign that the land is plentiful is the number of open-air carpark lots – which is something only older developments have the expanse of land to spare. Of course, the obvious downside here is a lack of shelter – rainy days will definitely be very inconvenient.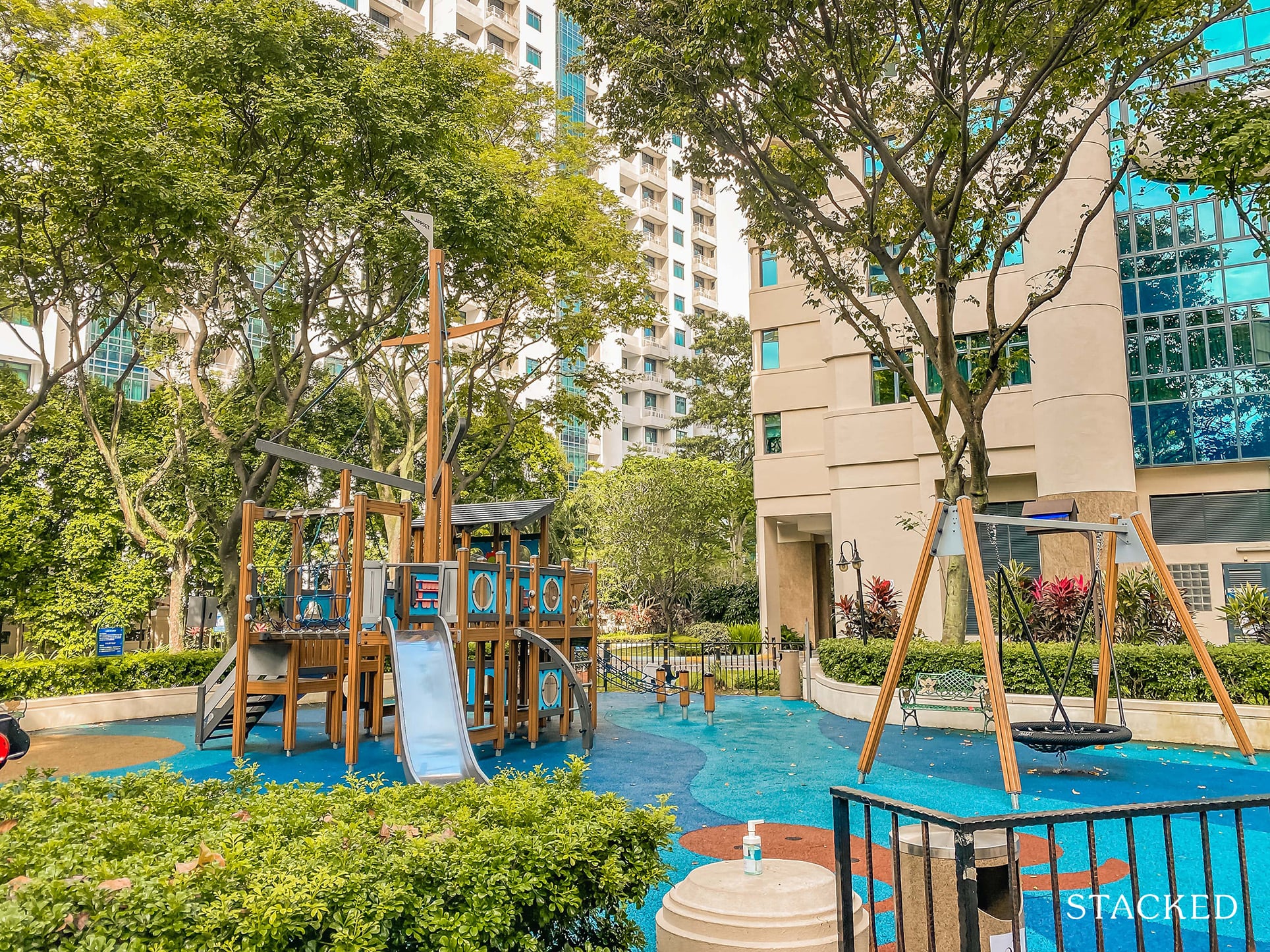 The children's playground is located just after the first block, which is in a bit of an odd location, if you ask me.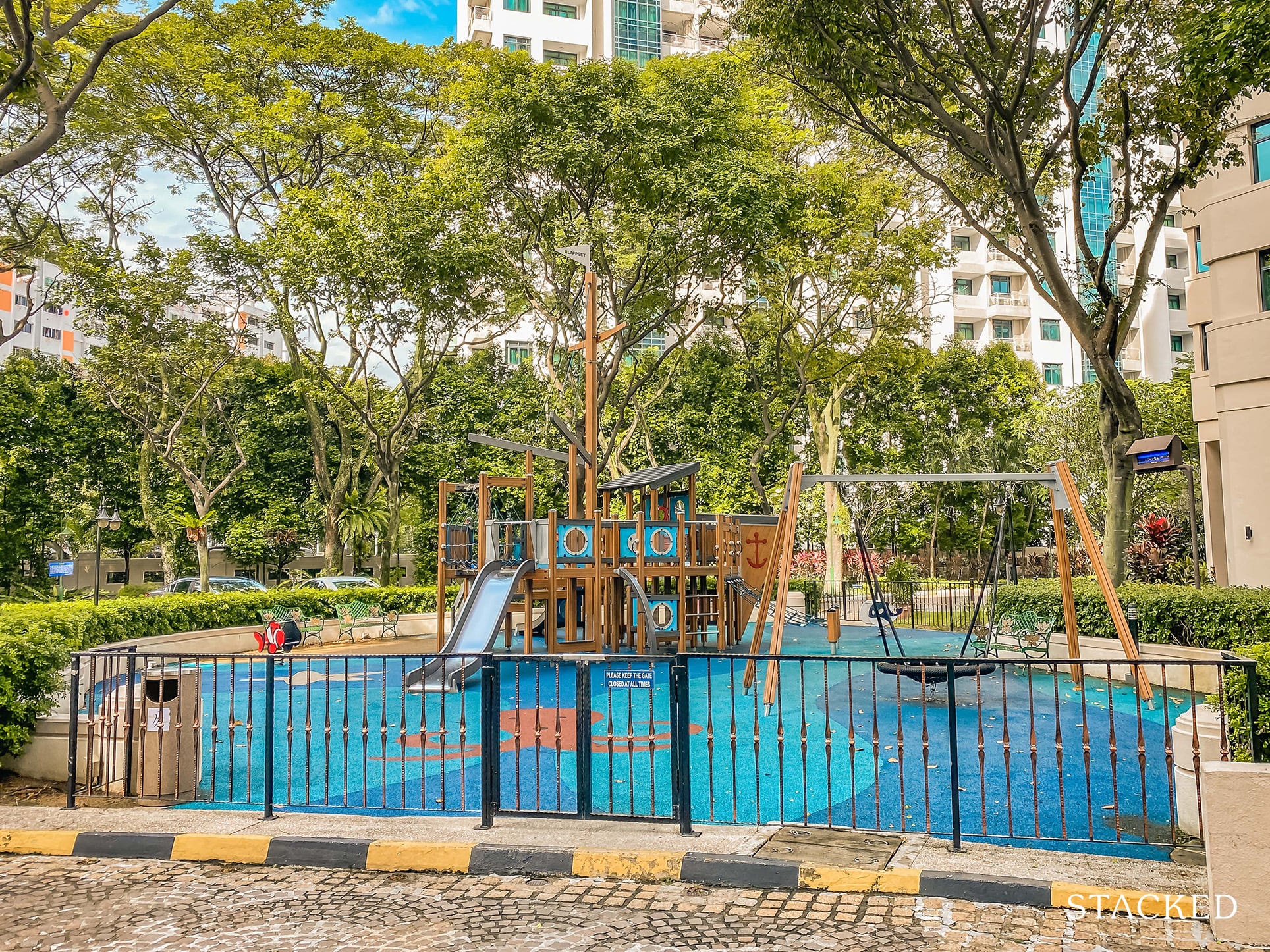 More so because it is located next to the driveway, and the curvy bend round it does result in potential blind spots for drivers – so it is great that there are gates on both sides of it to prevent children from carelessly running out onto the road.
So while I appreciate the thoughtfulness here, I would very much rather the playground be placed elsewhere as the gates do somewhat ruin the open nature of the playground.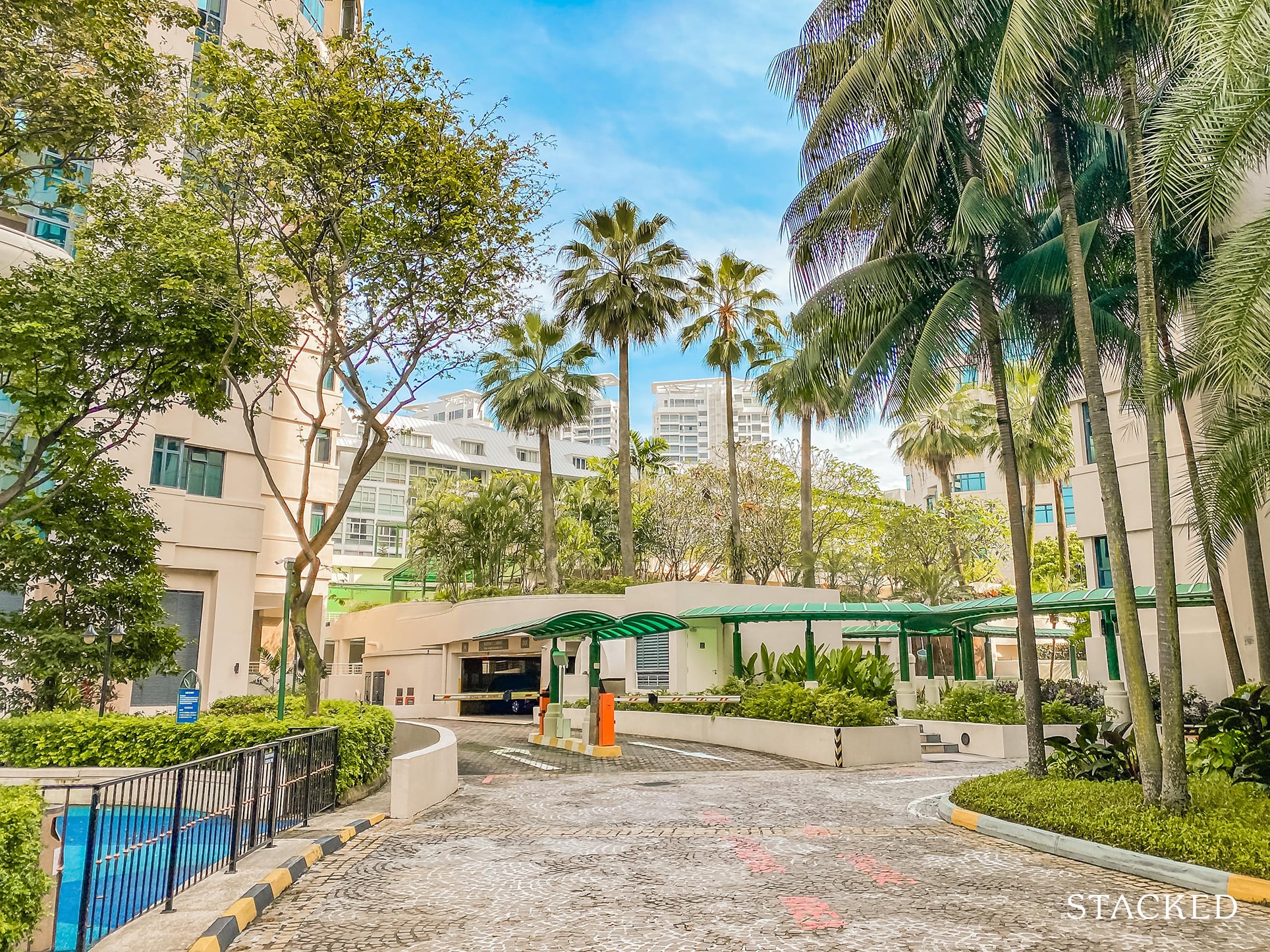 Beyond the playground is the entrance/exit to the first multi-storey carpark (there's a total of 2 in the development). Naturally, the sheltered carpark is reserved solely for residents. And they take it very seriously at Valley Park, with a barriers to prevent unauthorised access.
Which is a good thing for those who live here, as you don't want visitors to infringe on your sheltered carpark lots.
There are just 5 blocks in total at Valley Park that contains the 728 total units. Each block has its own sheltered drop-off point, with a driveway that encircles nearly the entire circumference of the development. Strangely enough, the road doesn't actually connect at the end for Blocks 475 and 477. So as an example, to get to Block 475, you'd have to drive a longer way around the development.
In other words, it isn't a complete loop, but more of a very long road.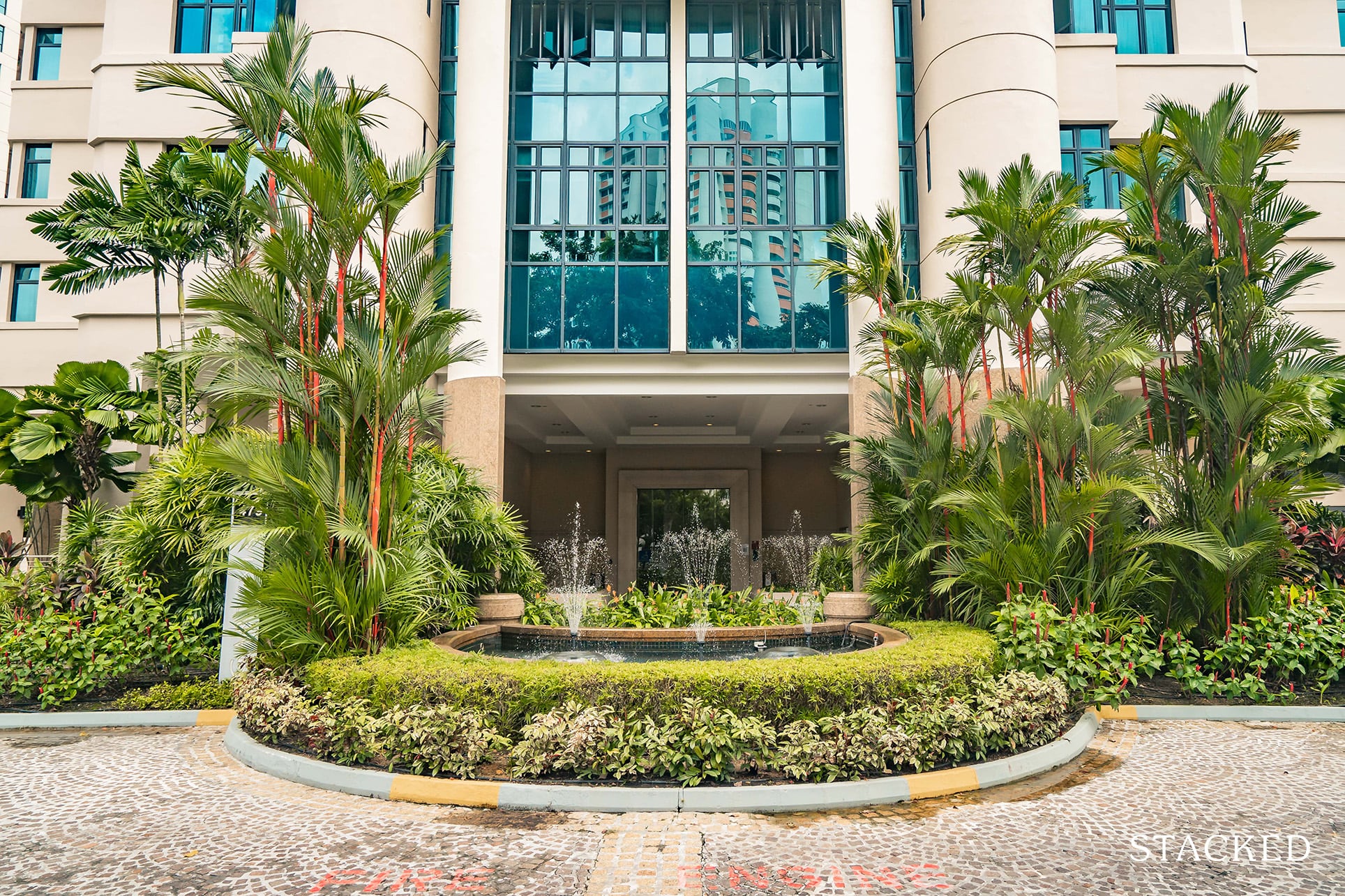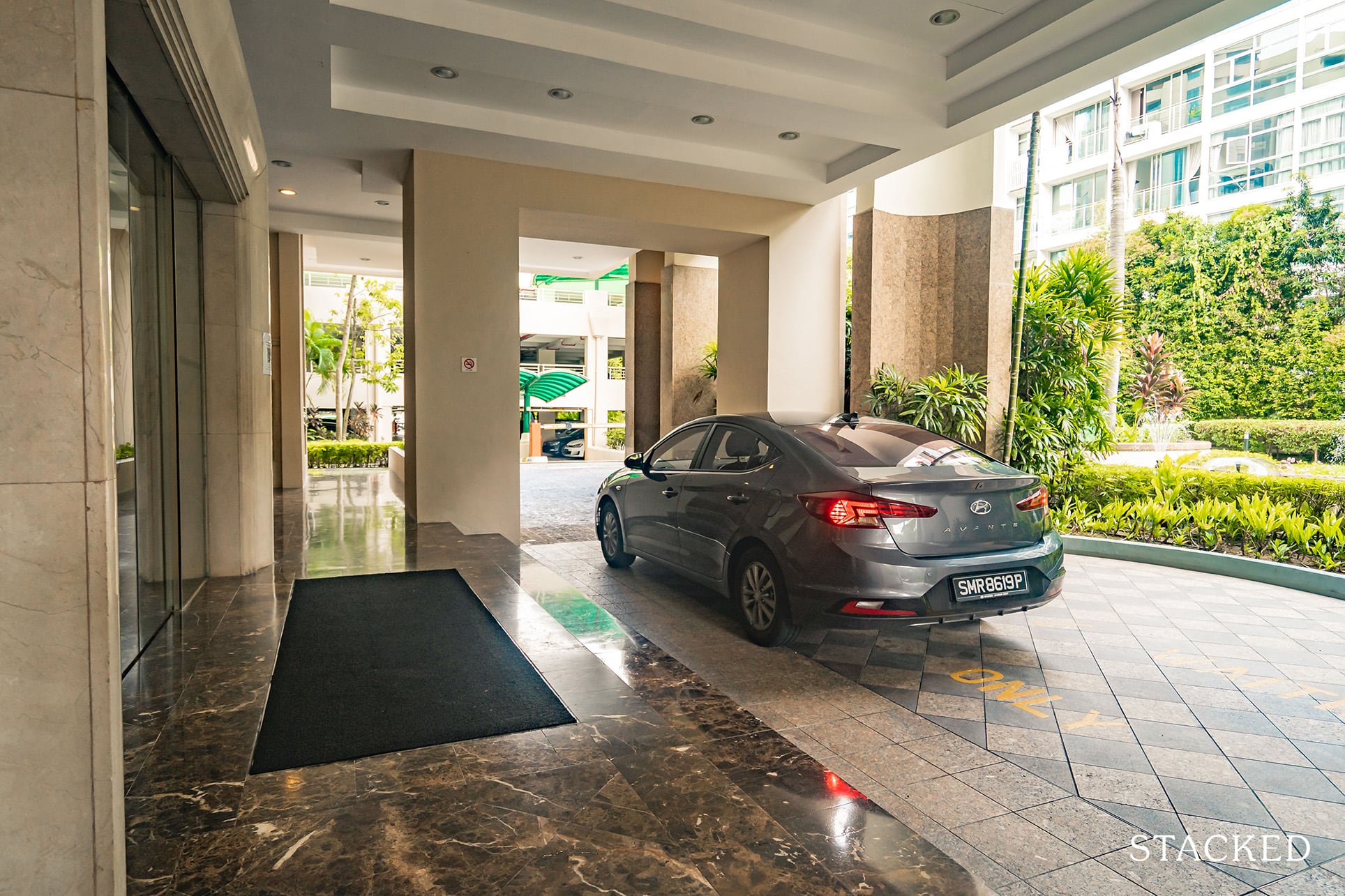 An issue that plagues many of the older developments (looking at you, Spanish Village) is the lack of a proper sheltered drop-off point so it's great that Valley Park caters for each block. The best part? It isn't one of those half-assed shelters that barely covers the car, instead it's housed under the block itself – so you are unlikely to ever get wet even on an extremely rainy day.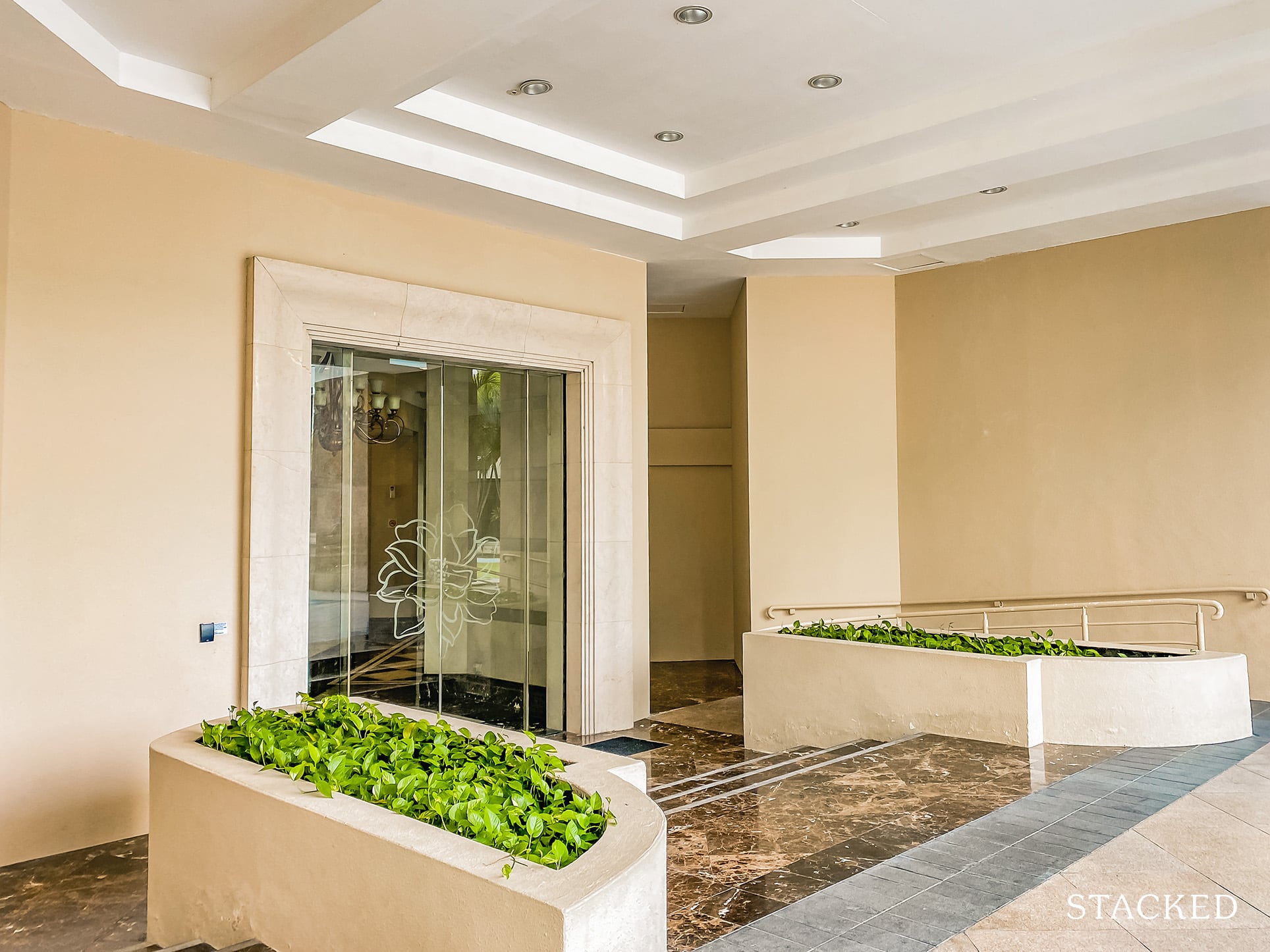 Each lobby area features automatic glass sliding doors (key card access required, for obvious security reasons), which is a nice touch. It does look fairly ordinary on the outside – which does set up the pleasant surprise once you get in.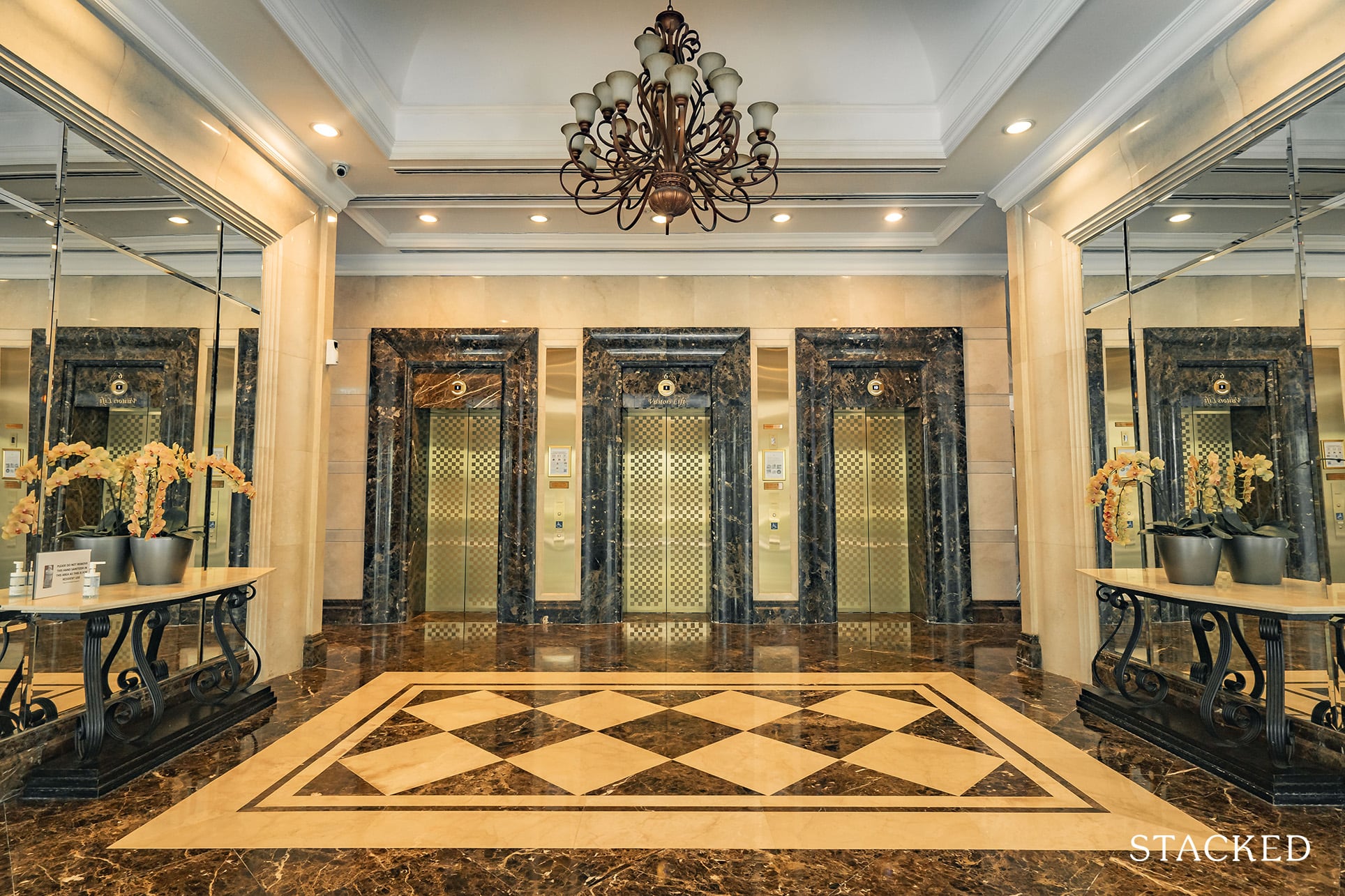 Getting into the lift lobby, you'd be as surprised as I am to see how opulent it looks. While I can't say I'm the biggest fan of the look, there's no denying the grand nature of it.
Also because the exterior facade of Valley Park is actually rather muted, so by all accounts it is nice to see the detailing on the inside.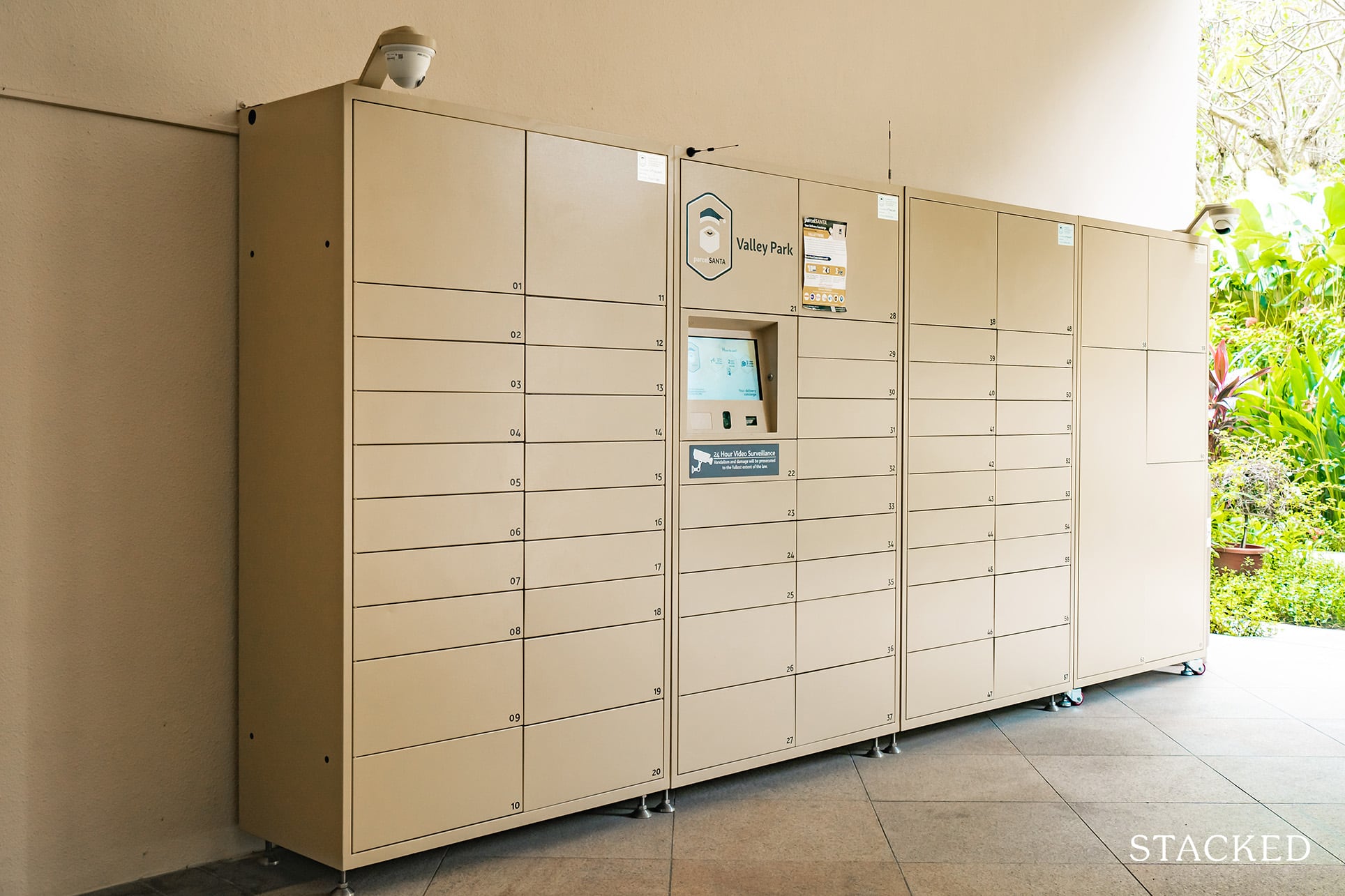 Rather randomly, there is a Parcel Santa at Valley Park – something that should be well-utilised given the rabid consumption of e commerce today.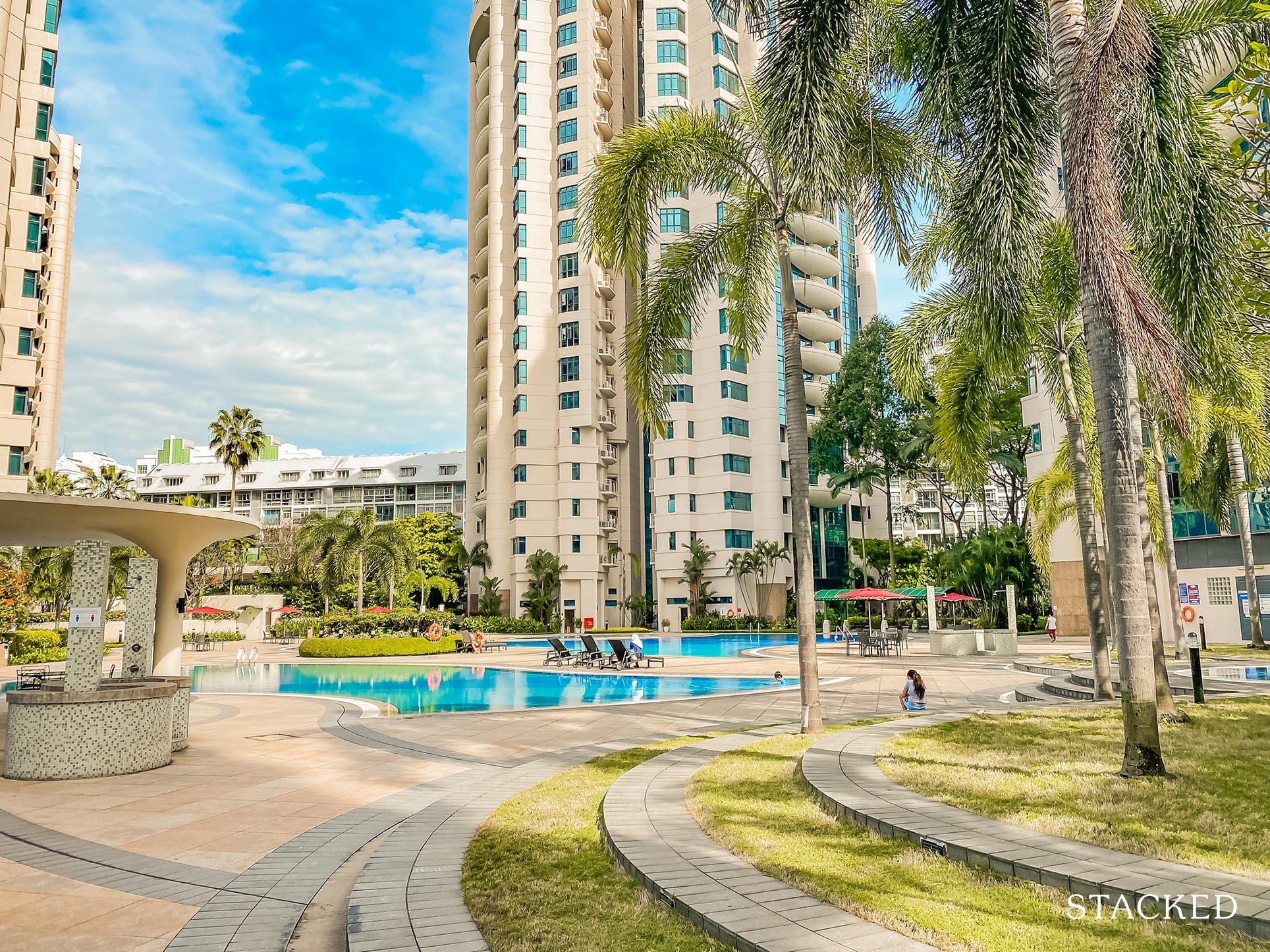 Let's head to the main common area of Valley park.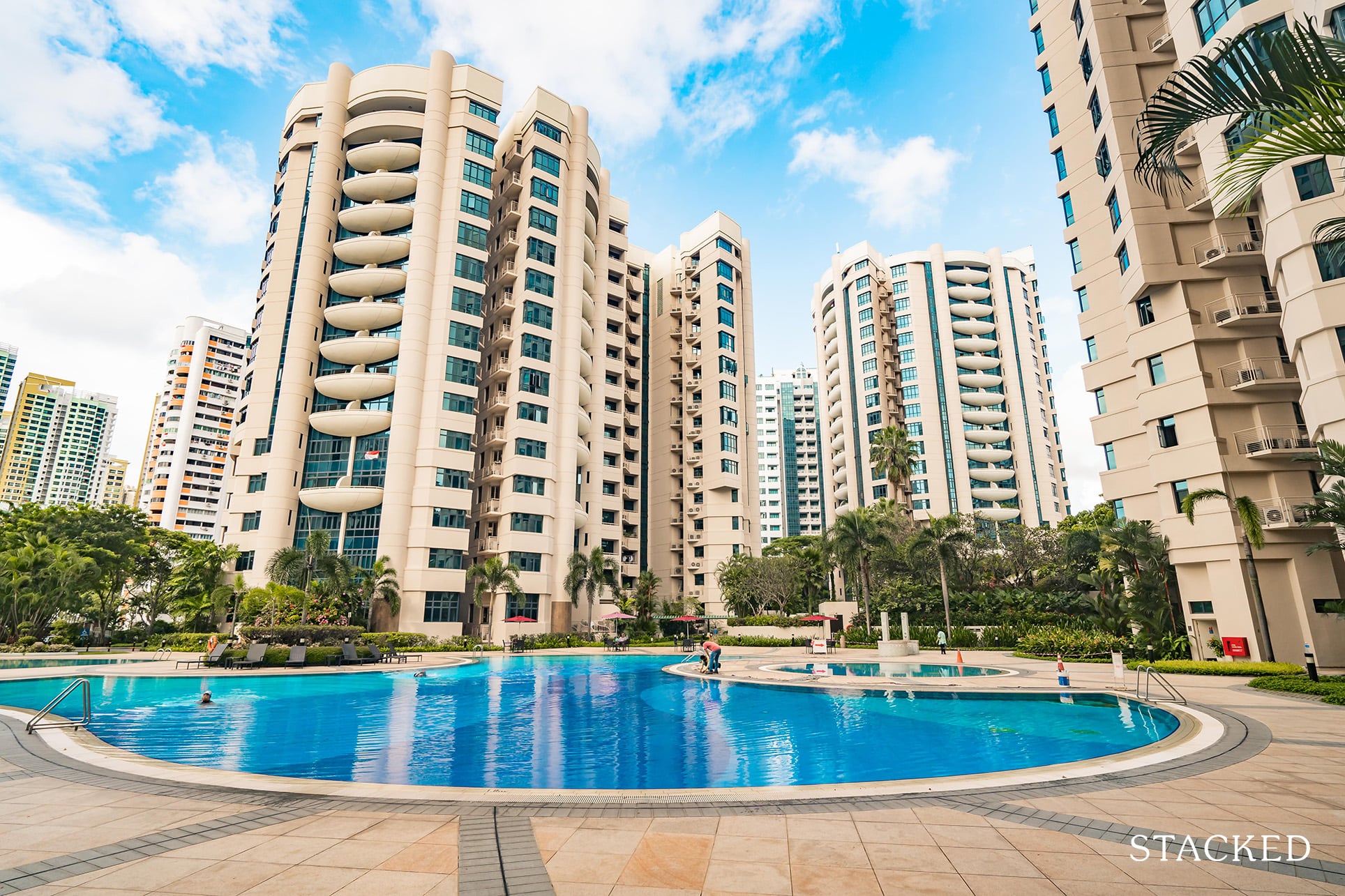 There are a total of 3 swimming pools at Valley Park, two irregular shaped ones and a small circular kids pool. This one above is the biggest pool available.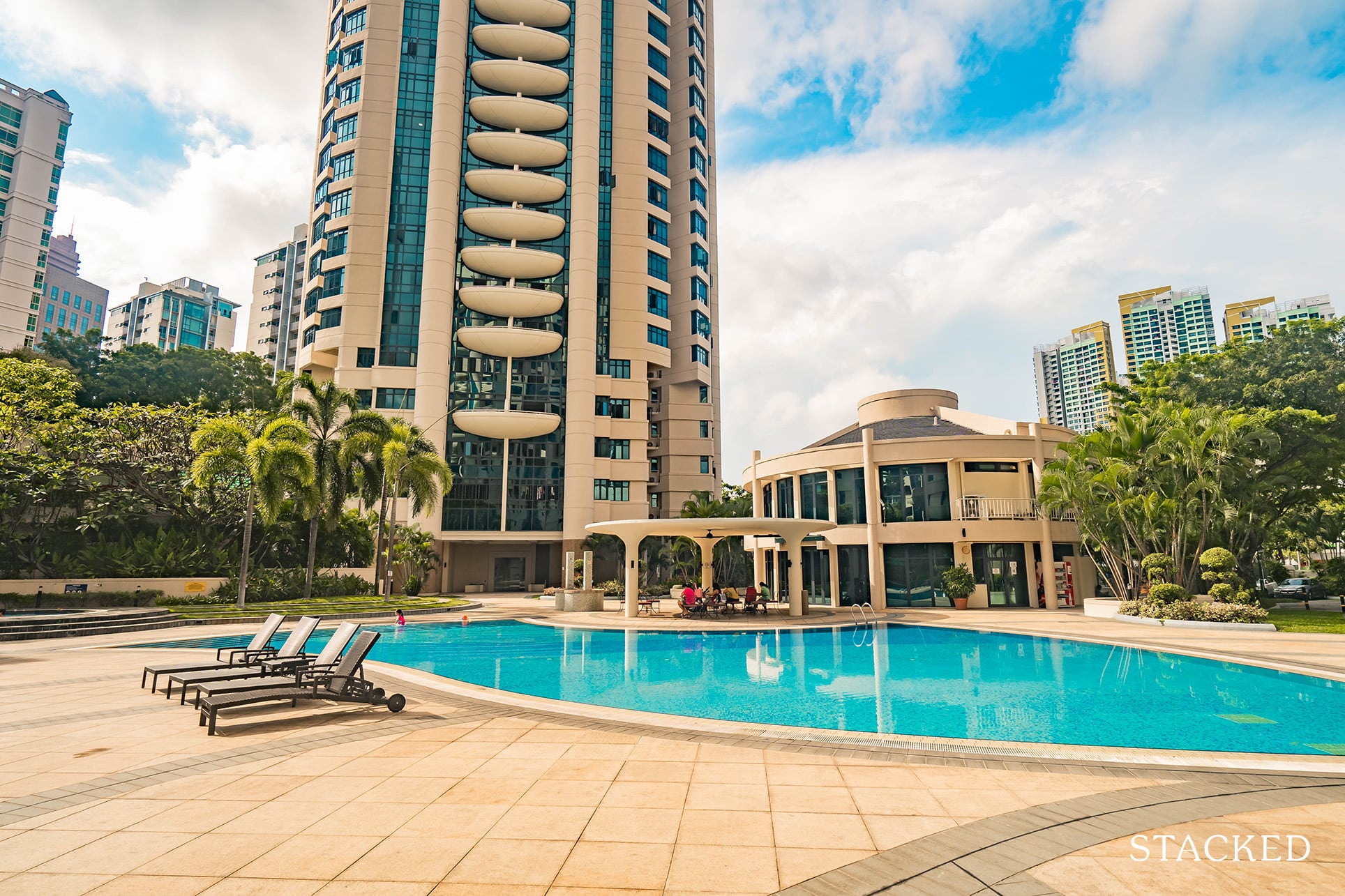 While this one above is the smaller of the two.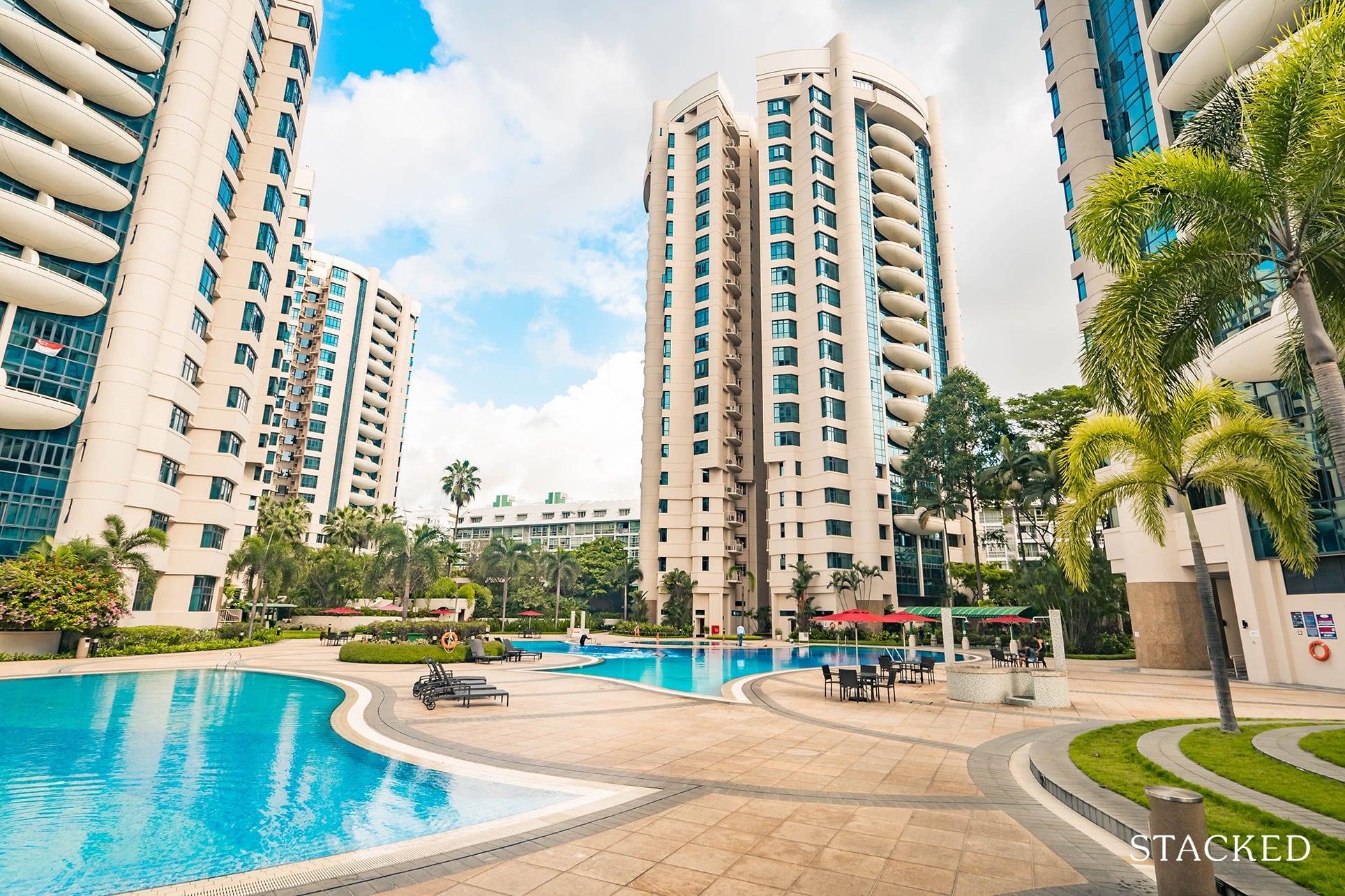 Let's talk about the positives first. Given the massive nature of the development, it does feel incredibly open and the sense of space that you get is no doubt one of the main reasons why big old developments such as this are still sought after.
Plus, there is more than enough space between the blocks and the swimming pool, so you never quite feel the boxed-in feeling that is getting increasingly common in newer developments.
And I would say taking into account its age (23 years at time of writing), the swimming pools do look to be rather well maintained.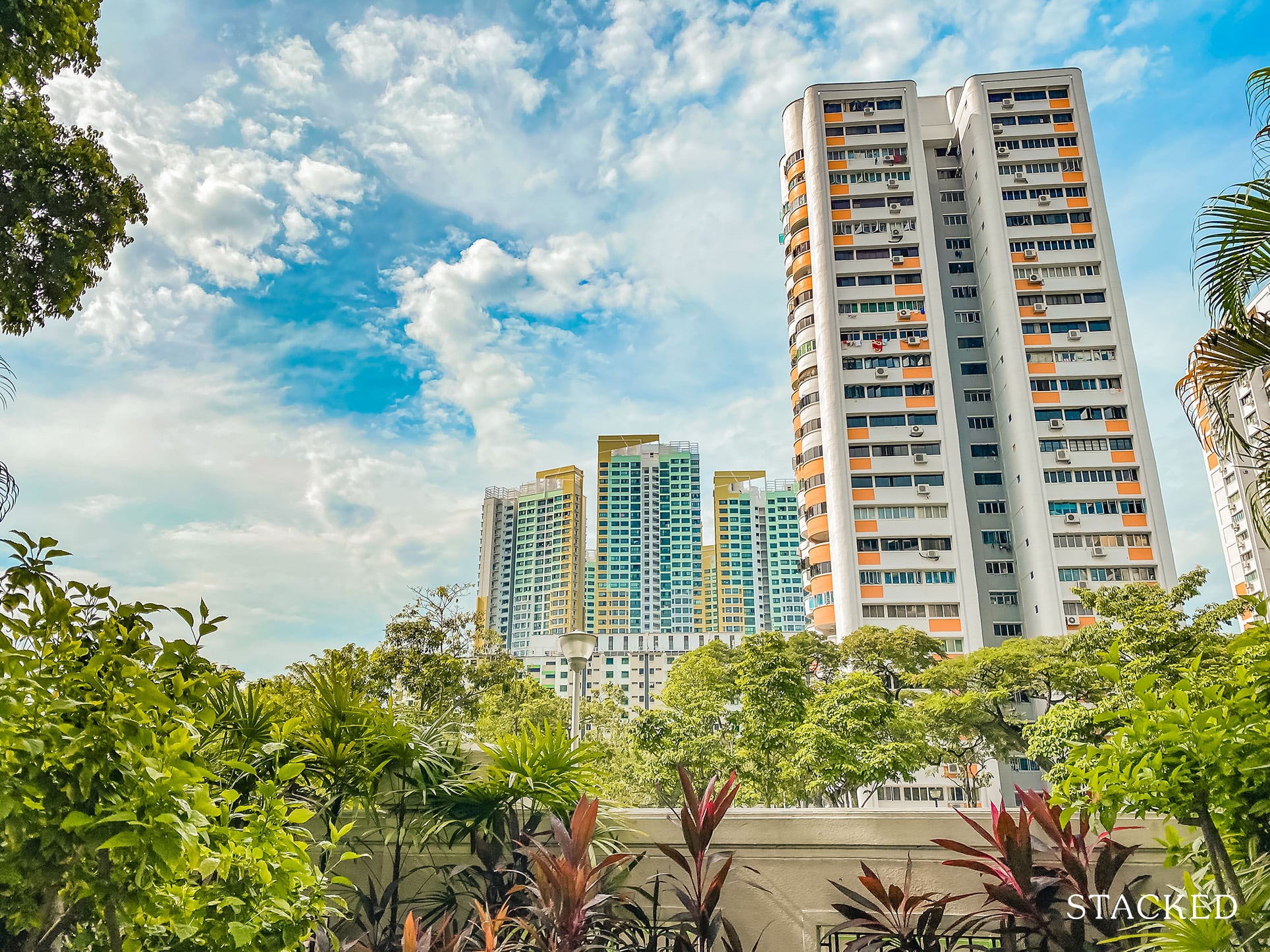 Let's also not forget the location advantage that Valley Park offers. Because it lines the Singapore River on one side, and its neighbouring developments are set quite far apart, it does contribute to the overall spacious feeling the place provides.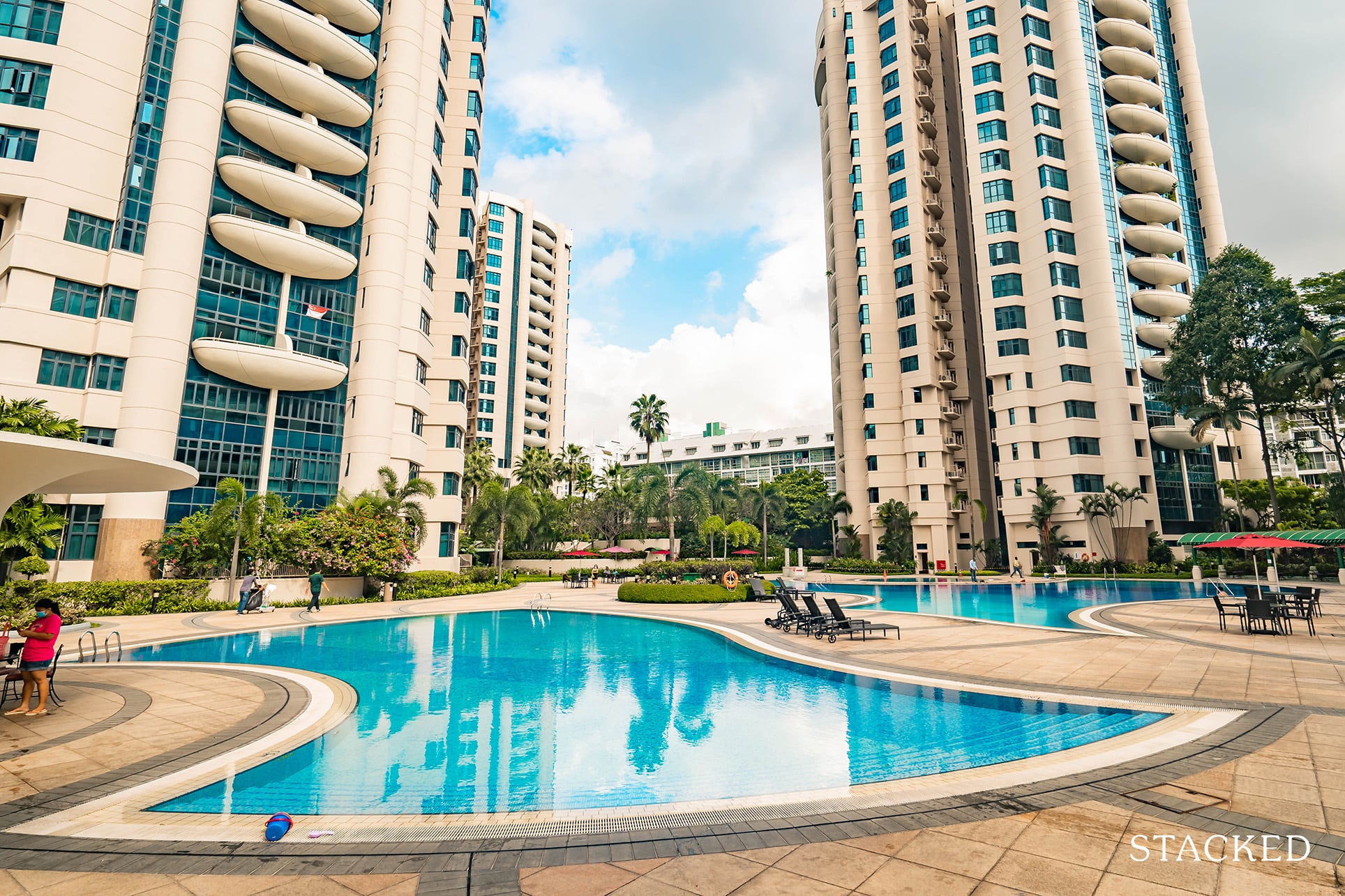 Now, for the negatives.
While irregular shaped pools do still hold a certain charm to it, it really isn't conducive for swimming laps. Even for the bigger pool, the longest width (or length?) of it isn't terribly long.
Which brings me to my next point – the swimming pools here are just not adequate enough for 728 units. Given the development's popularity with families and expats that want to live in River Valley, weekends at the pool will probably be a crowded affair.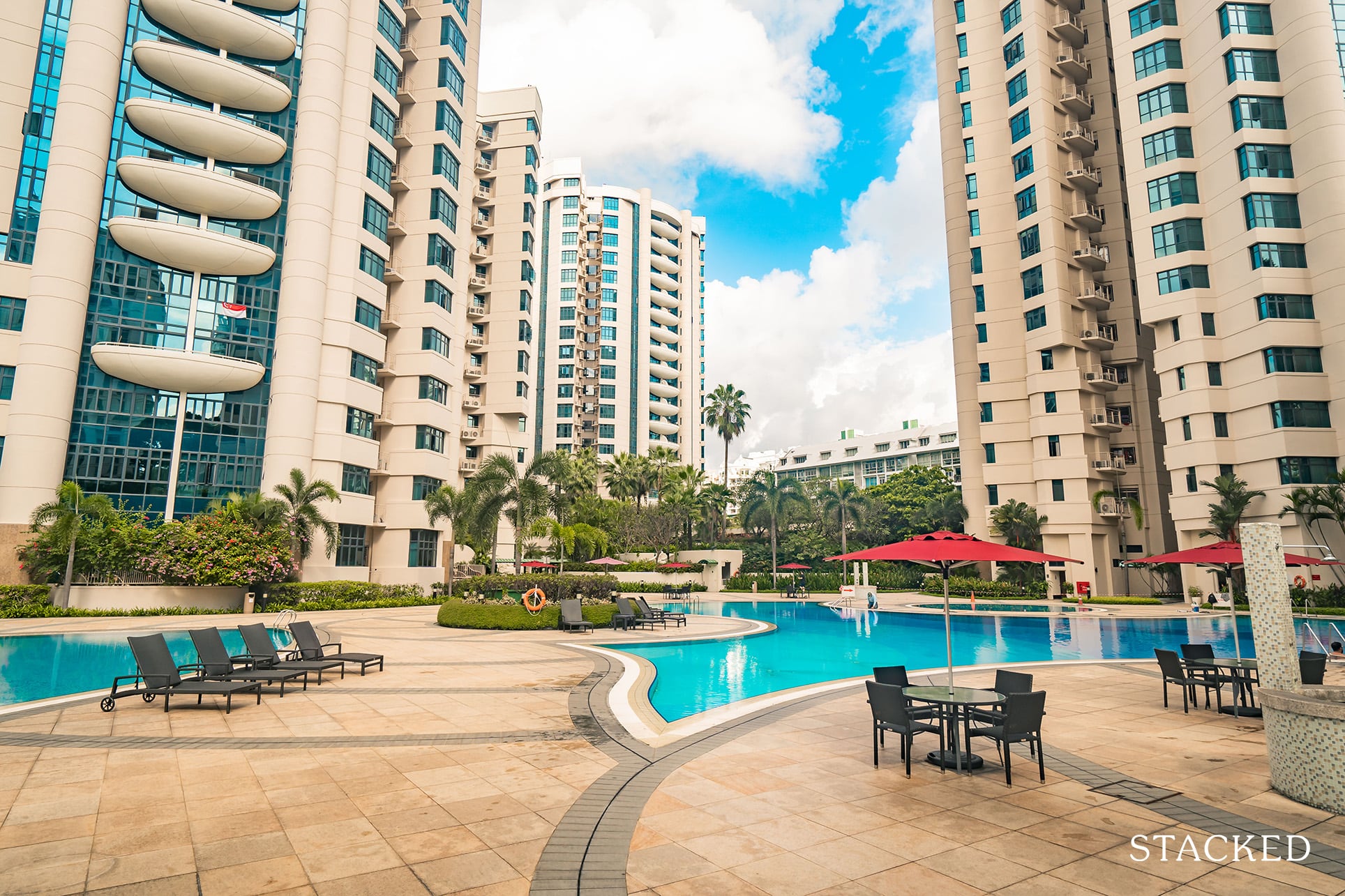 You do also get some deck chairs and table seatings with pool umbrellas. It's nothing fancy, but then again, I wouldn't be expecting too much here as it was never really pitched as a luxury development either.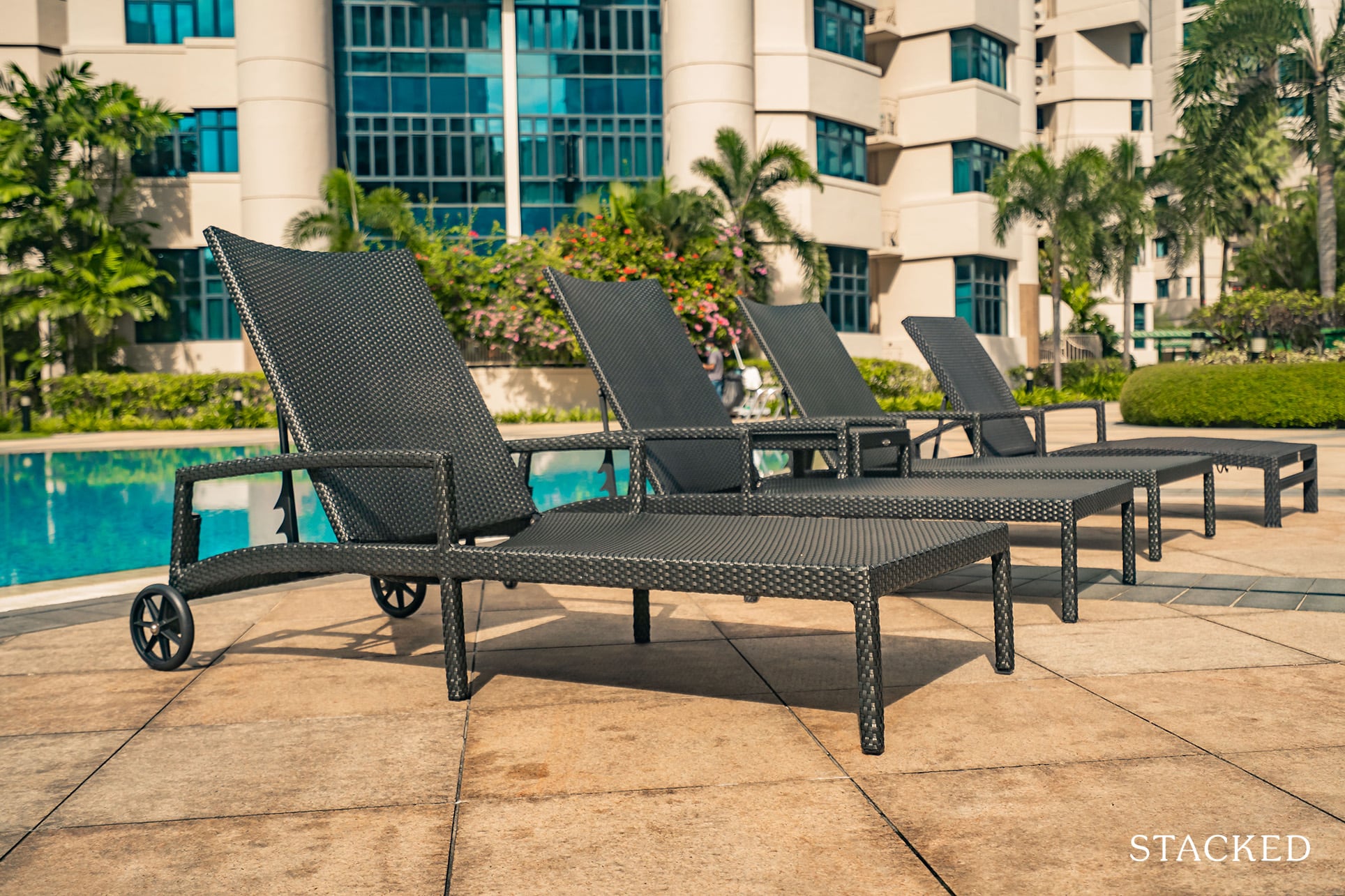 That said, one downside of the spaciousness does come at the expense of privacy – everything here feels very out in the open.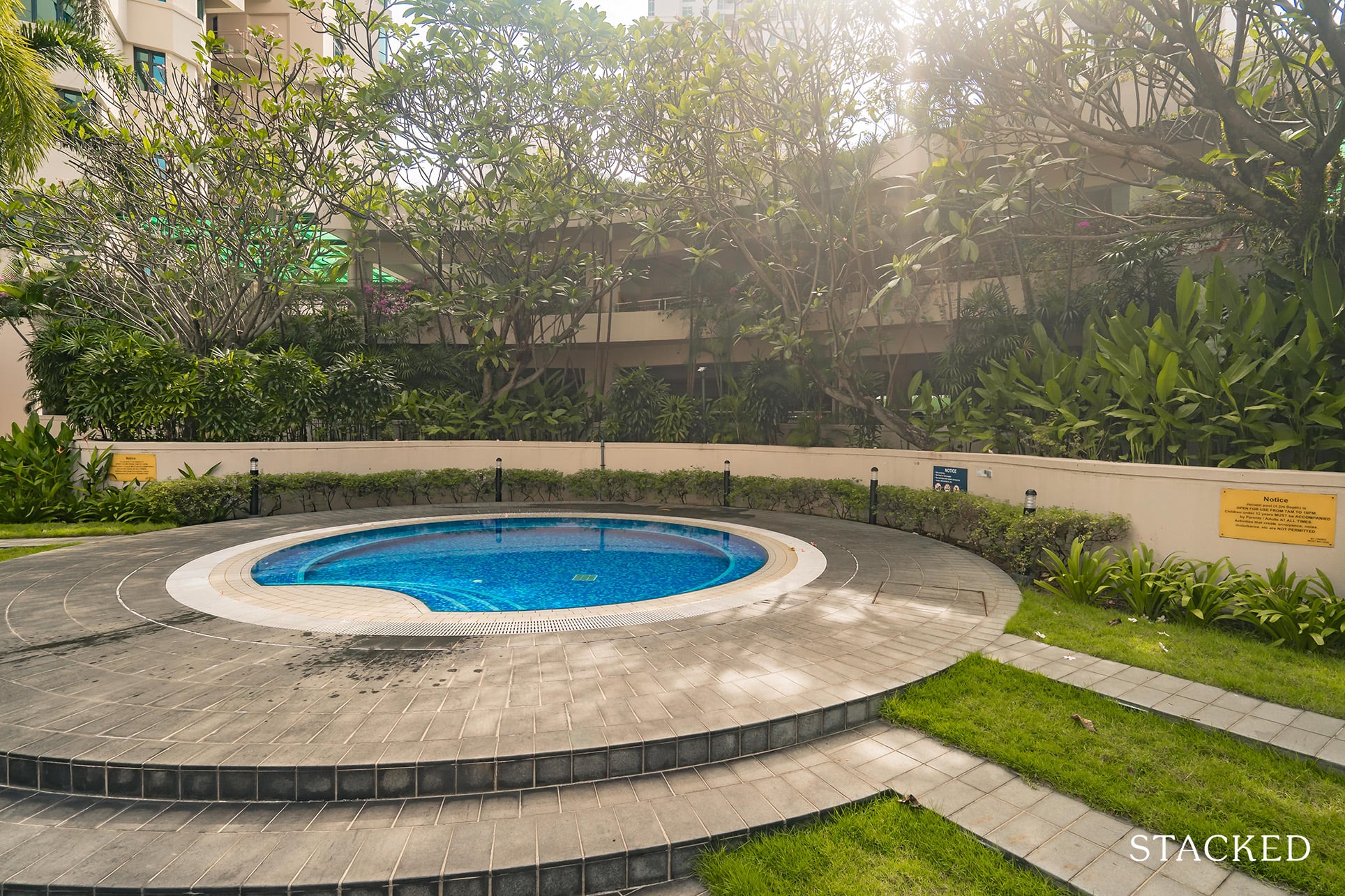 The jacuzzi is located at the side, just in front of the location of the second multi-storey carpark. Like the location of the playground, I find the placement quite strange. Normally jacuzzi area's are more private, either being placed in a corner, or having a certain level of landscaping as cover.
And that's not all, in comparison to the land space around it – the jacuzzi is really small! Just one person relaxing here, and its unlikely anyone else would be able to use it – its too close for comfort for my tastes at least.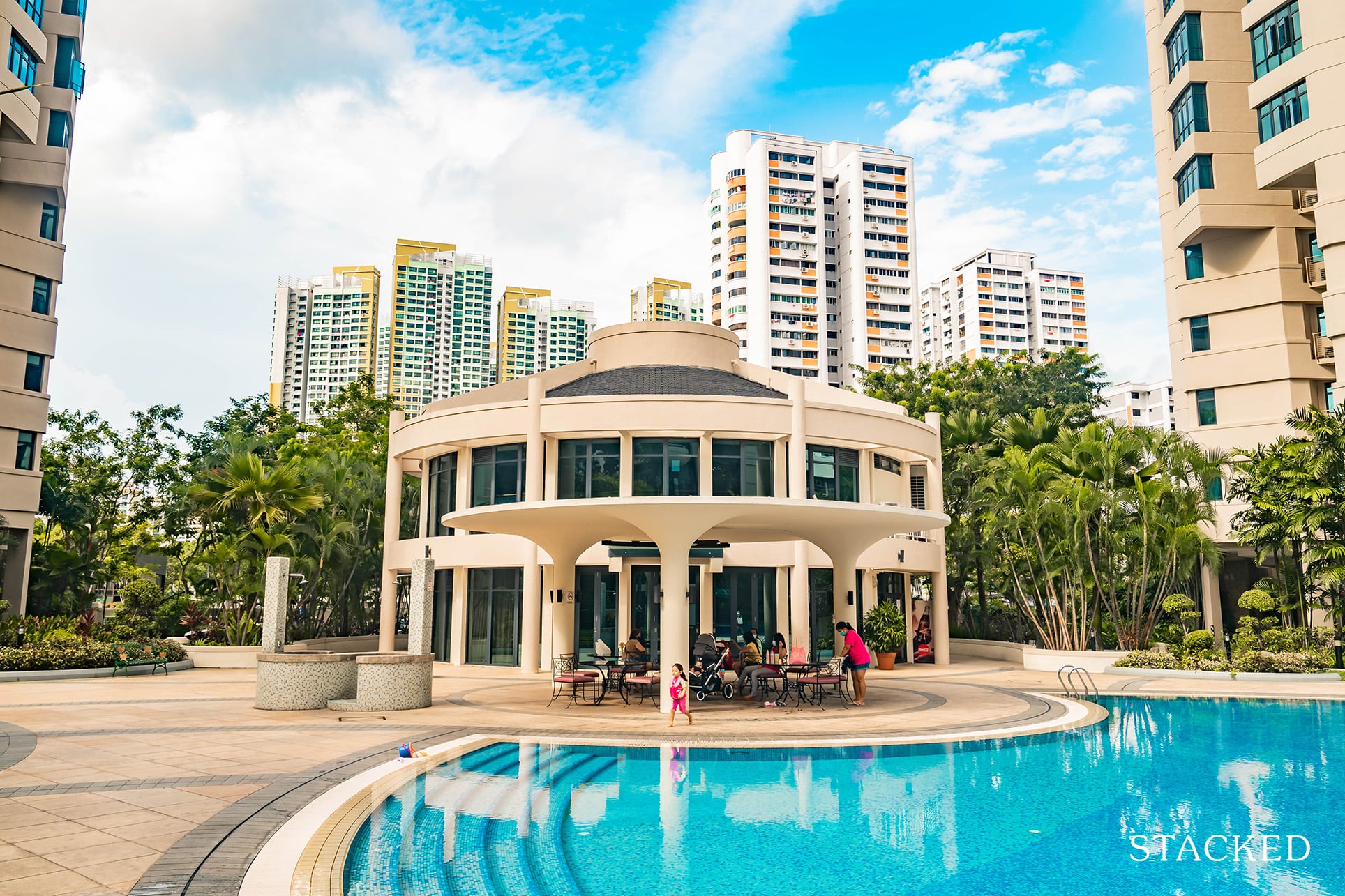 Right beside the smaller pool is the clubhouse, with a sheltered pavilion of sorts in front of it with a couple of seating options. Frankly, it isn't a great size considering the size of the development.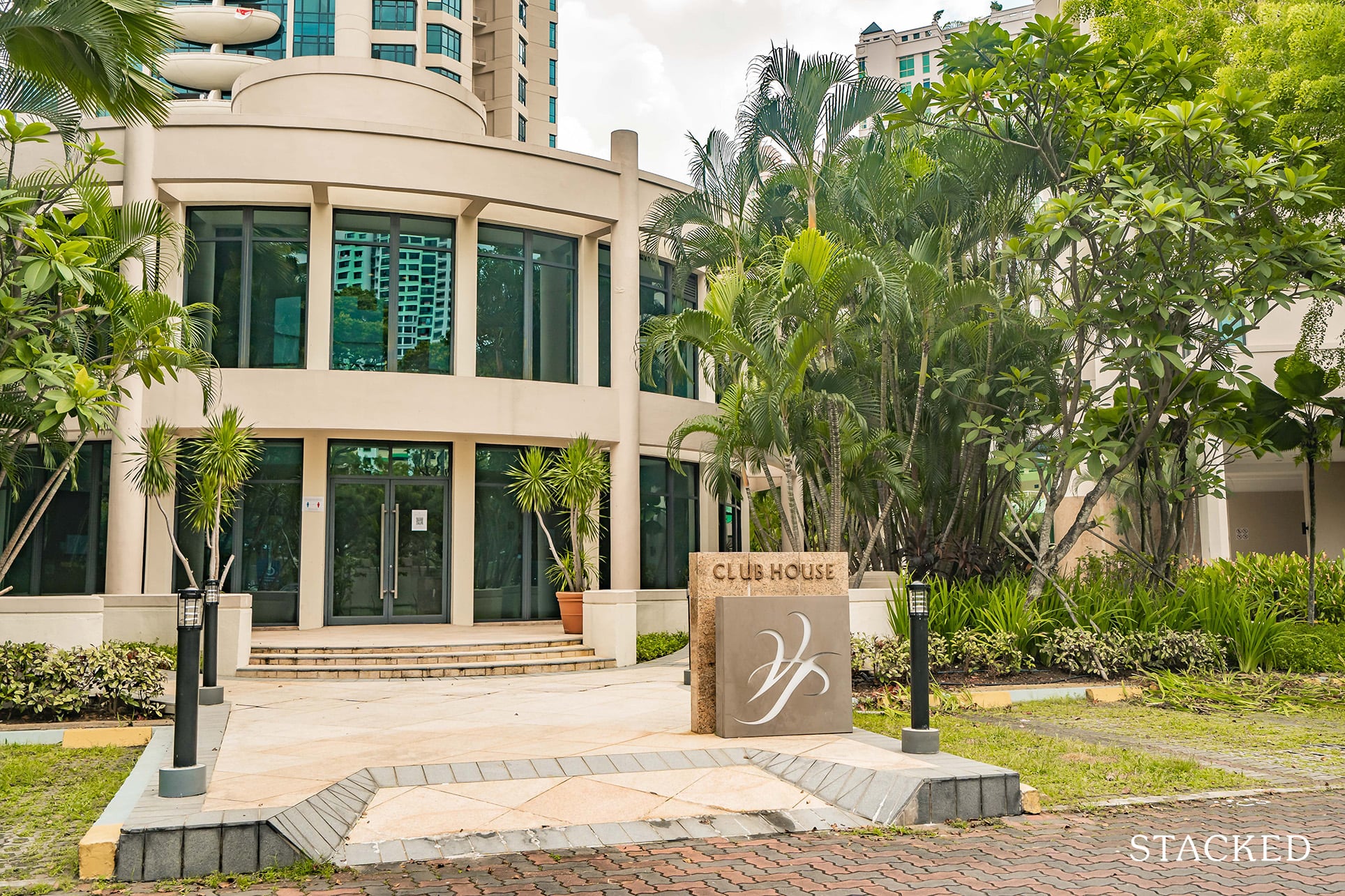 You can access it from the driveway at the back as well.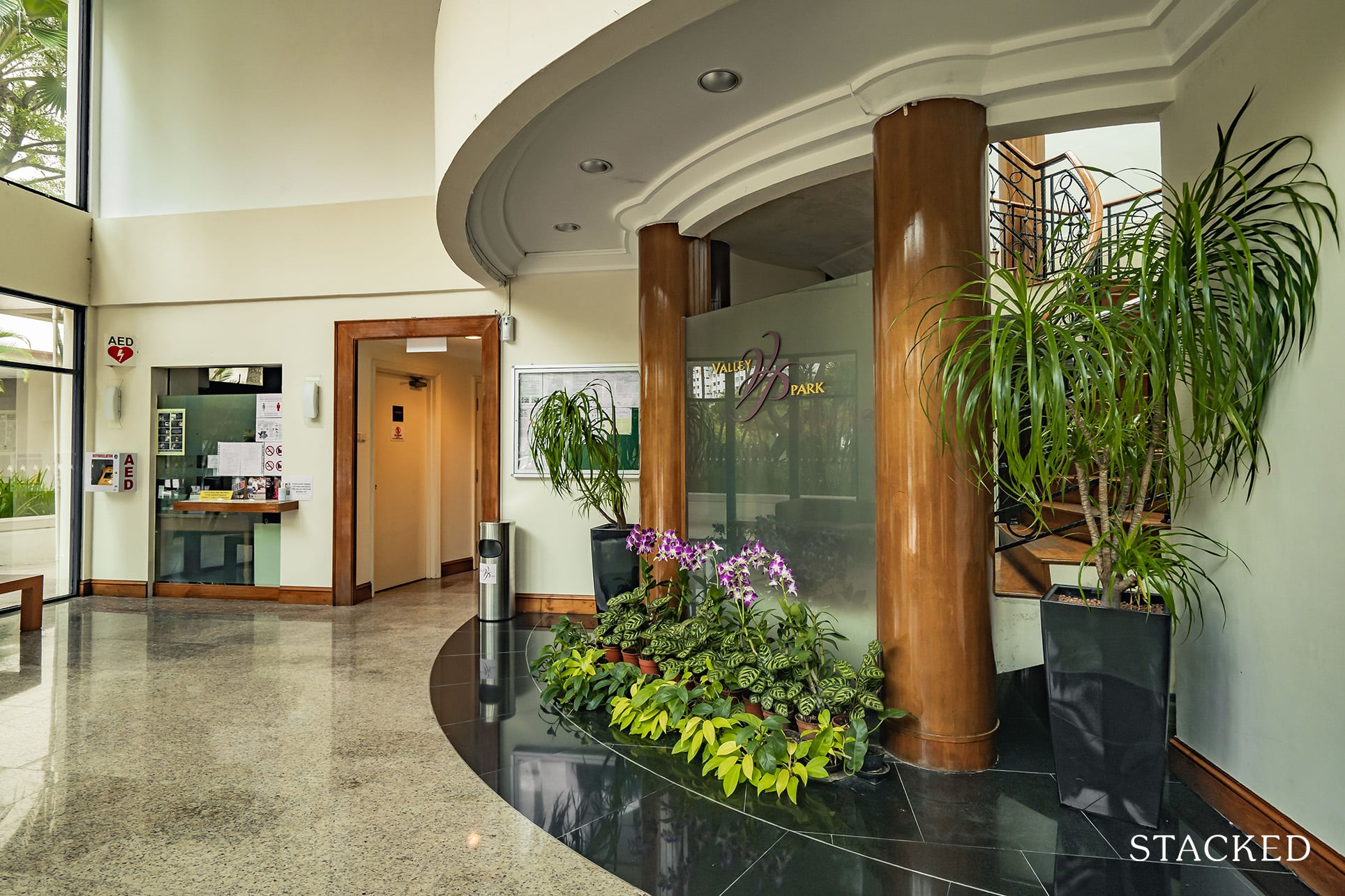 The clubhouse contains the gym (which unfortunately I wasn't able to get a shot of), and a second level with just a view of the surrounding pool – it probably isn't worth the climb up the stairs.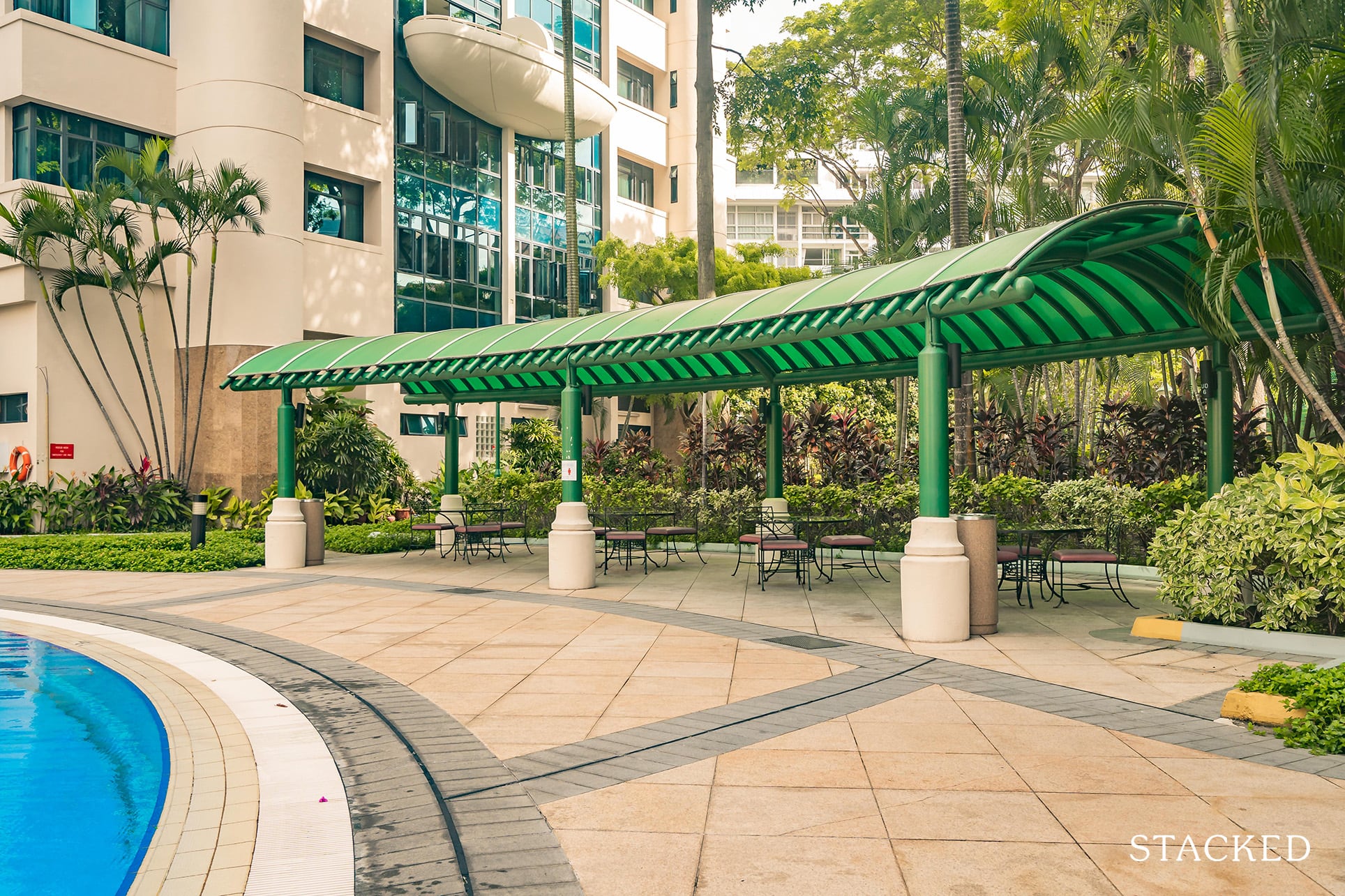 Moving along, the side of the swimming pool features a sheltered seating area.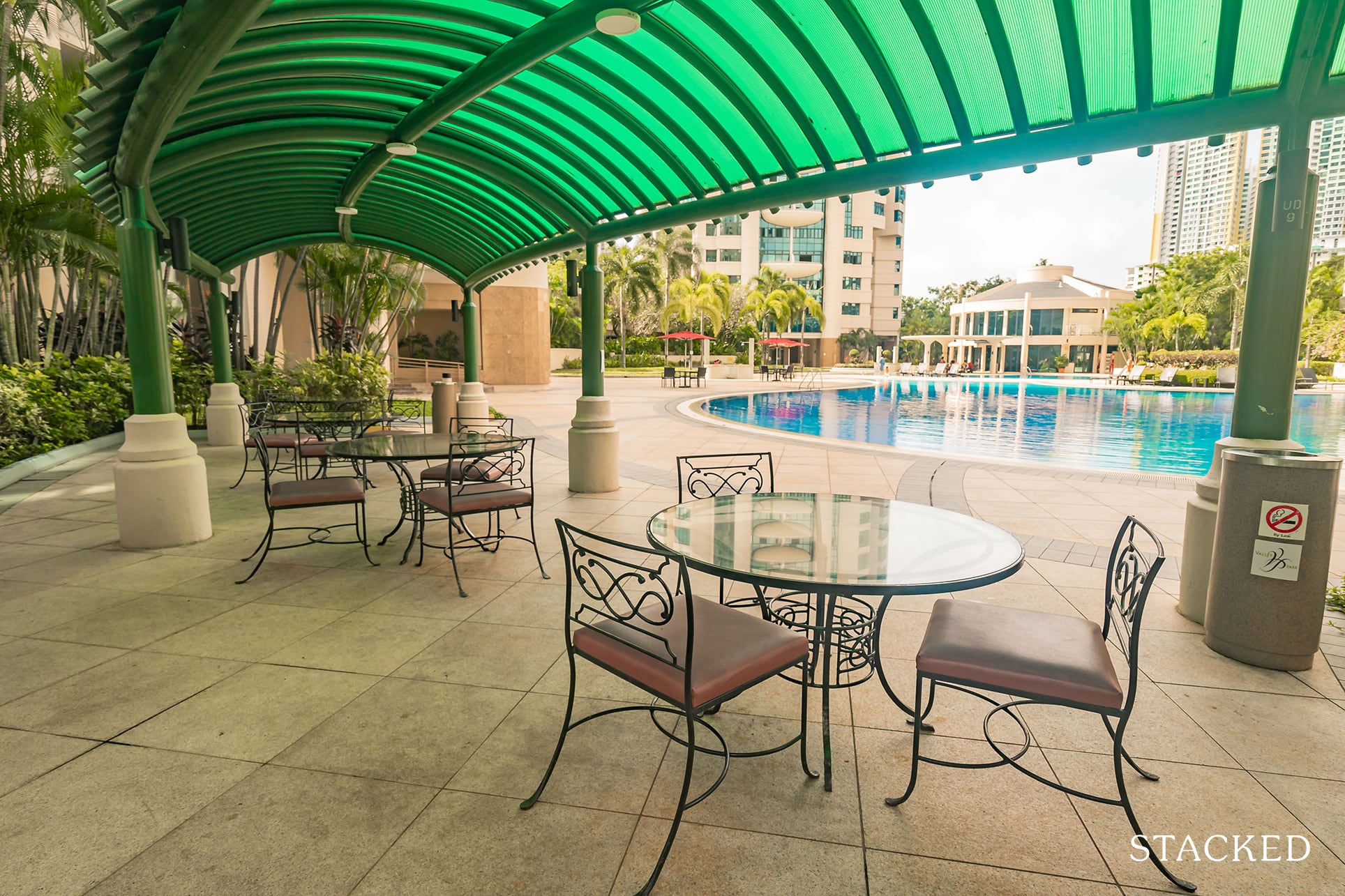 Again, it's nothing too spectacular, but having a sheltered space definitely comes in handy in Singapore's scorching (at times) weather.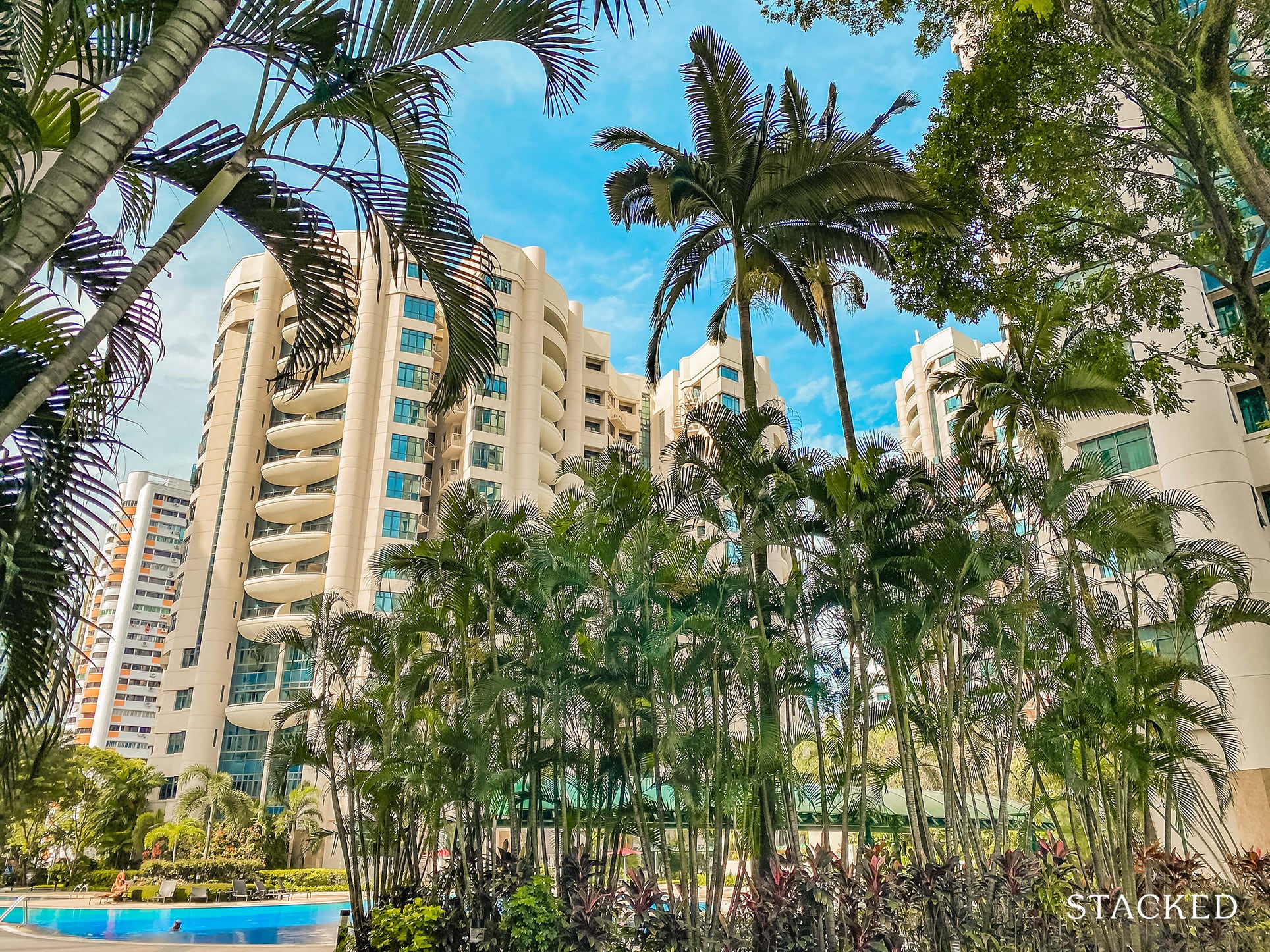 On that note, I have to say that the landscaping and general upkeep of Valley Park is super commendable.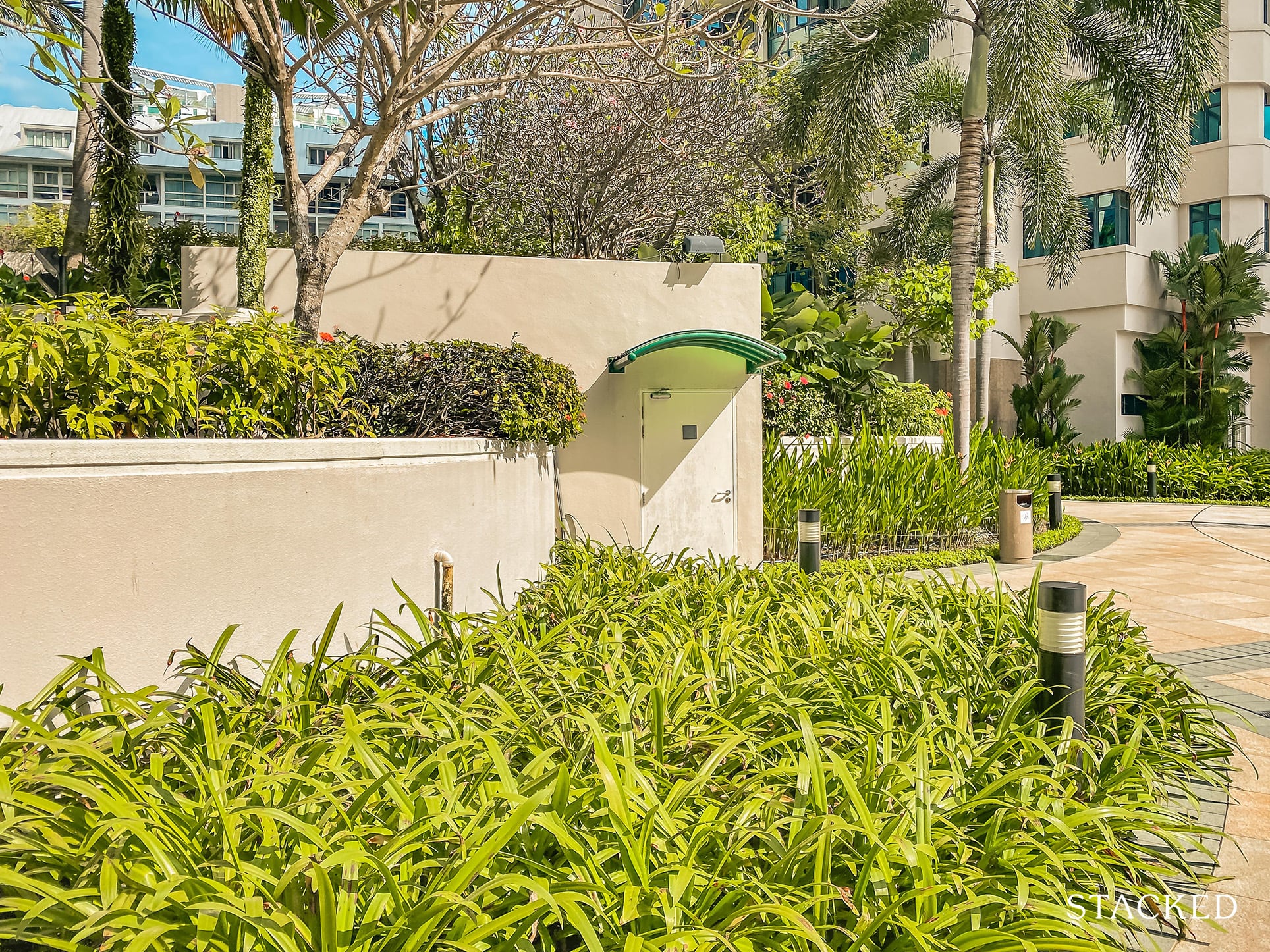 Hedges are mostly neatly trimmed, you don't find stray leaves all over the place and most parts do look rather lush and healthy. Again, for a 23 year old development, you can tell that the space is quite well taken care of.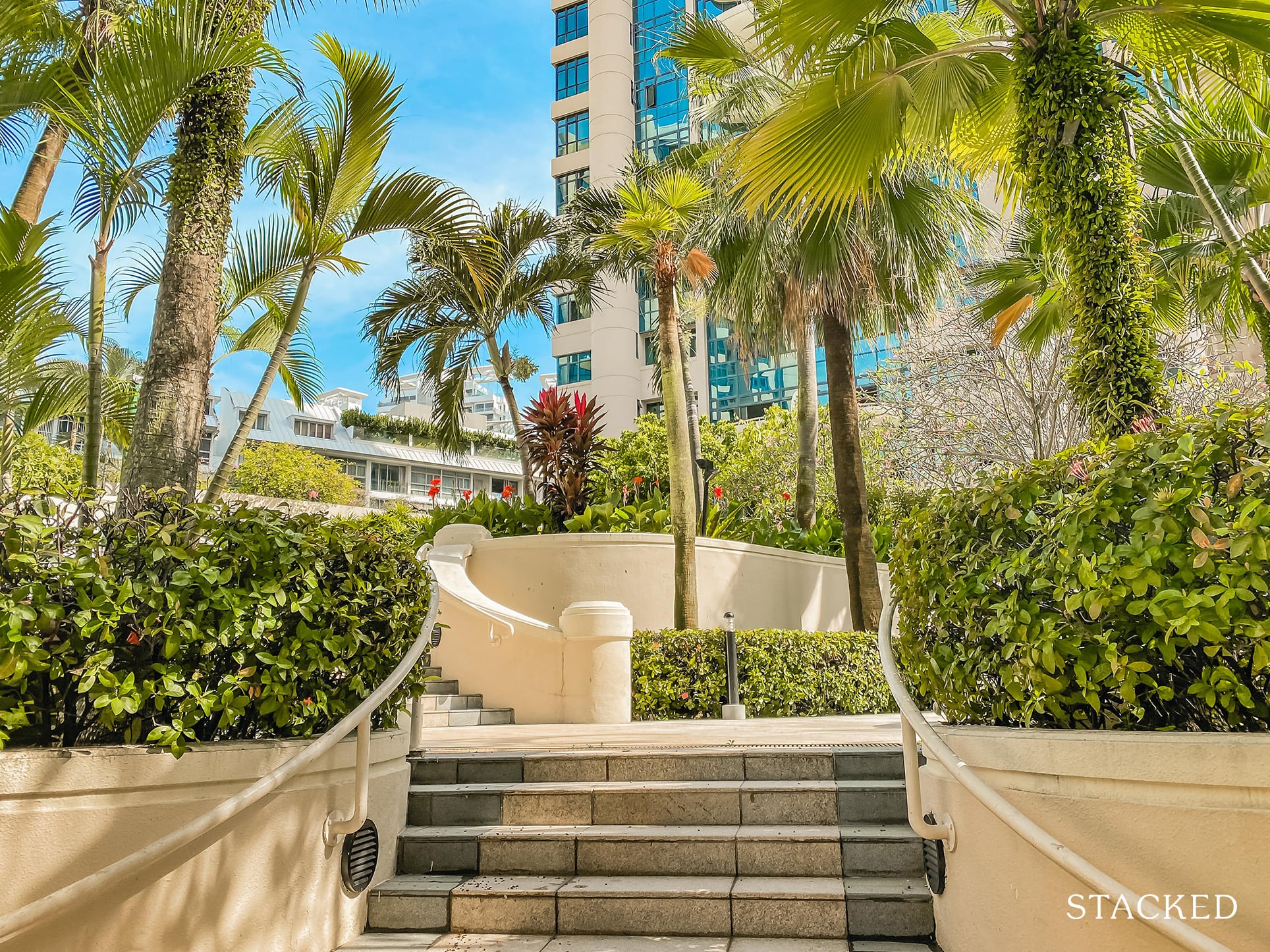 The barbecue area is set close to the first multi-storey carpark, and features different elevated decks that is quite well shrouded with shrubs and hedges. In contrast to the rest of the facilities at the pool, the barbecue area seems to be the most private space and the landscaping here is quite on point as well.
Read this next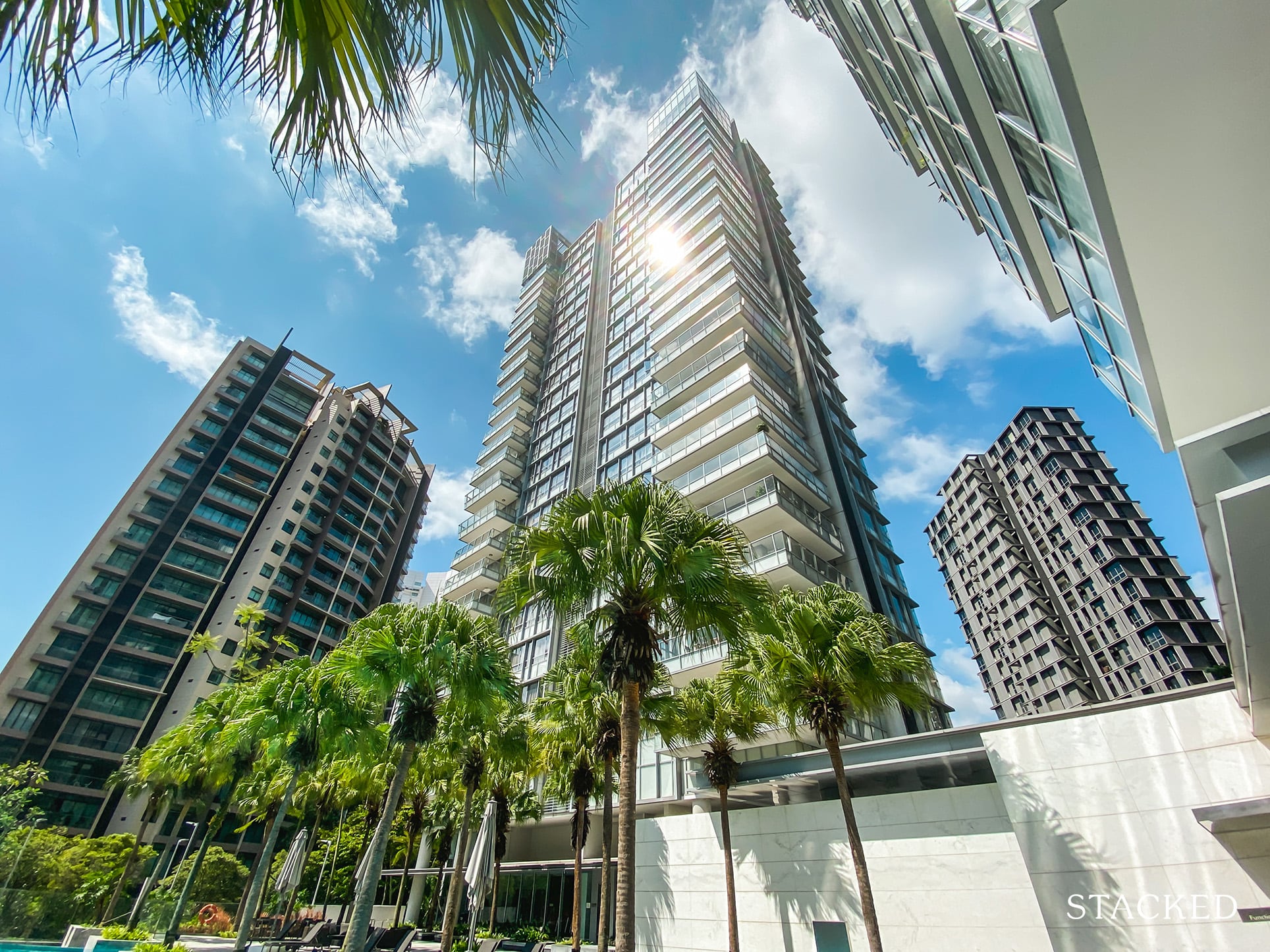 It's a pity the area was closed, so I couldn't get a good shot of it.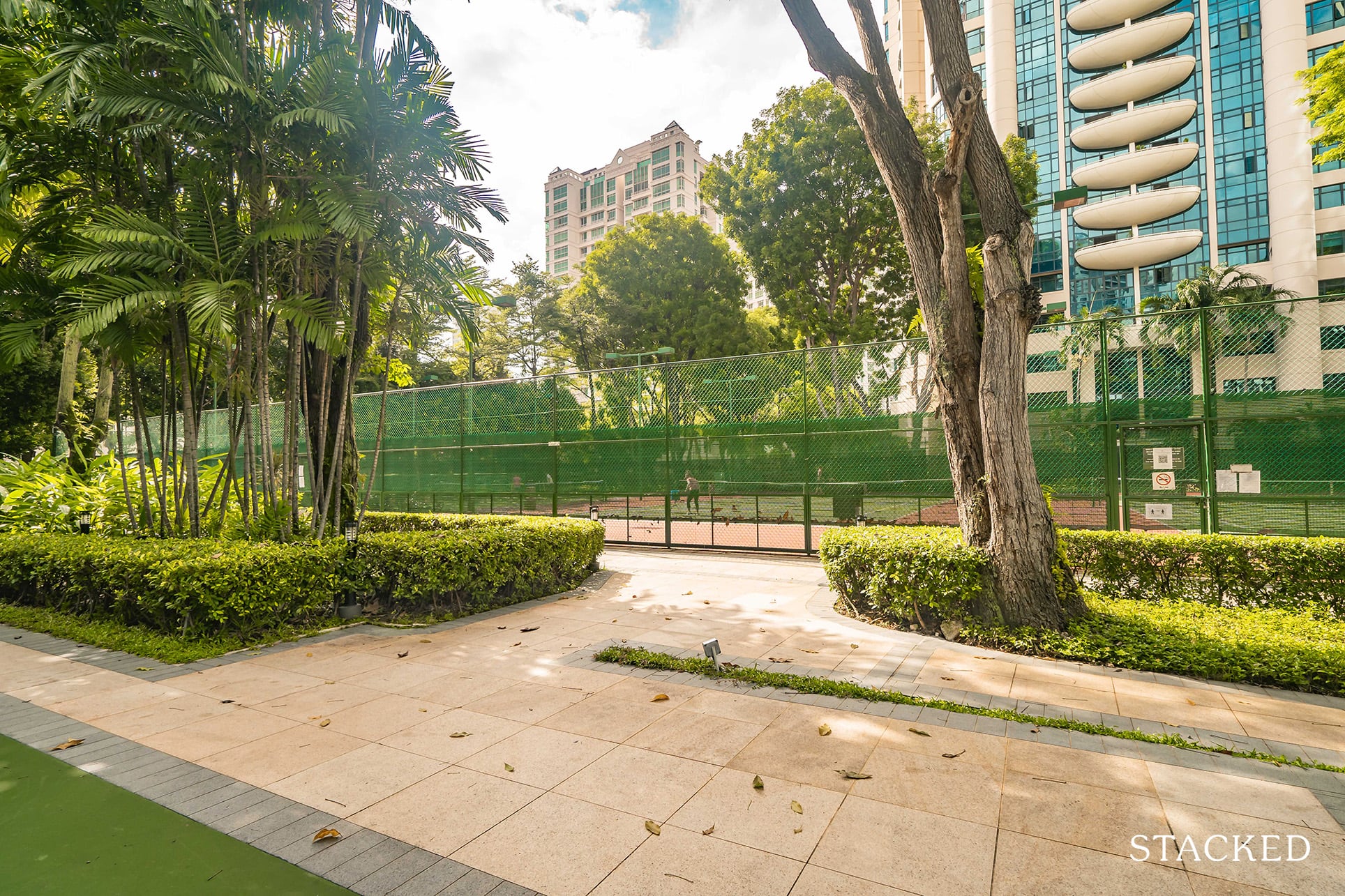 Around the back of the development, you'll find the tennis courts.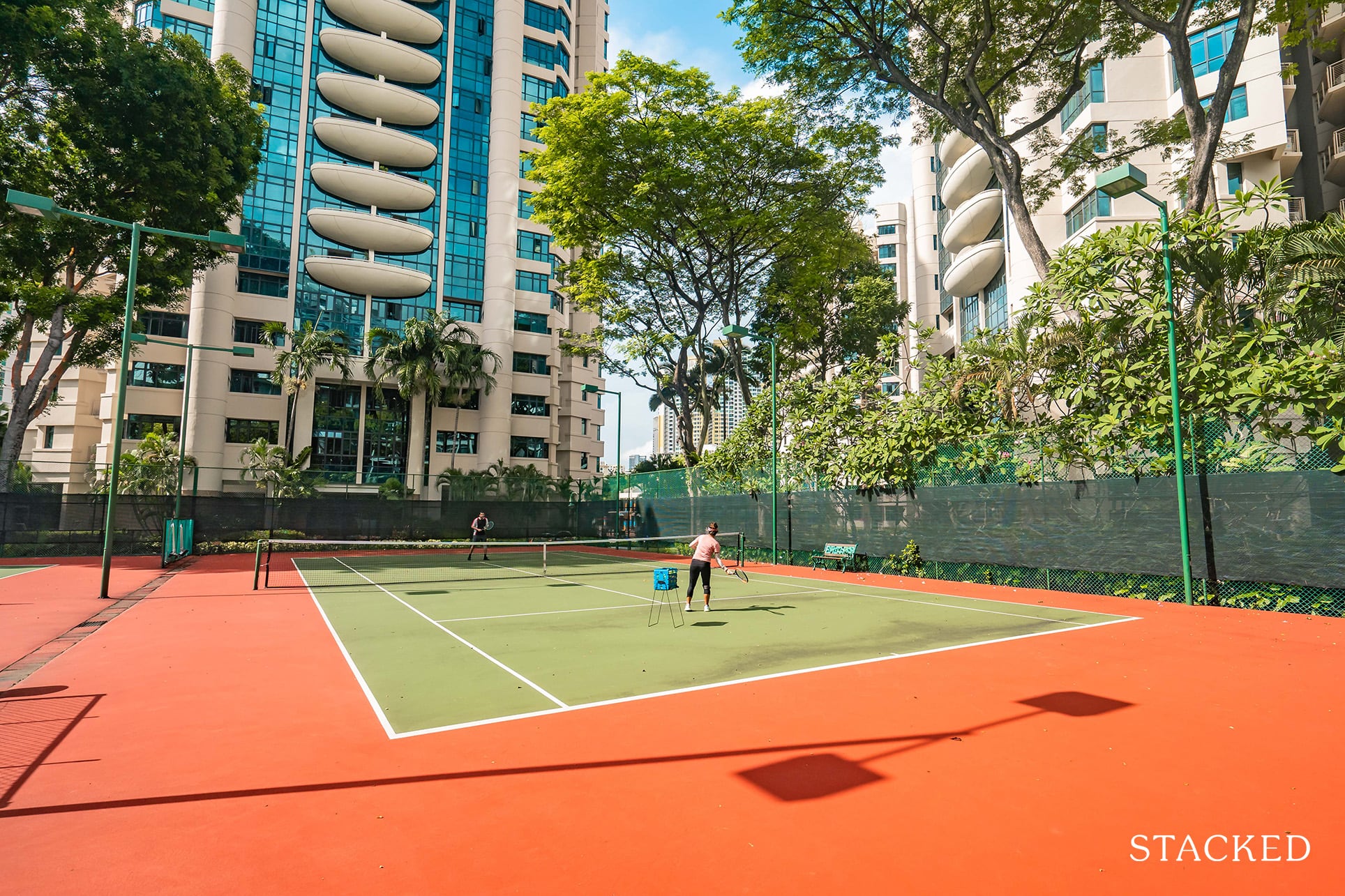 What's pretty impressive here is that there's not just one, nor two, but three tennis courts at Valley Park. For the number of units in the development, it is easily more than adequate – tennis lovers will be well pleased about this.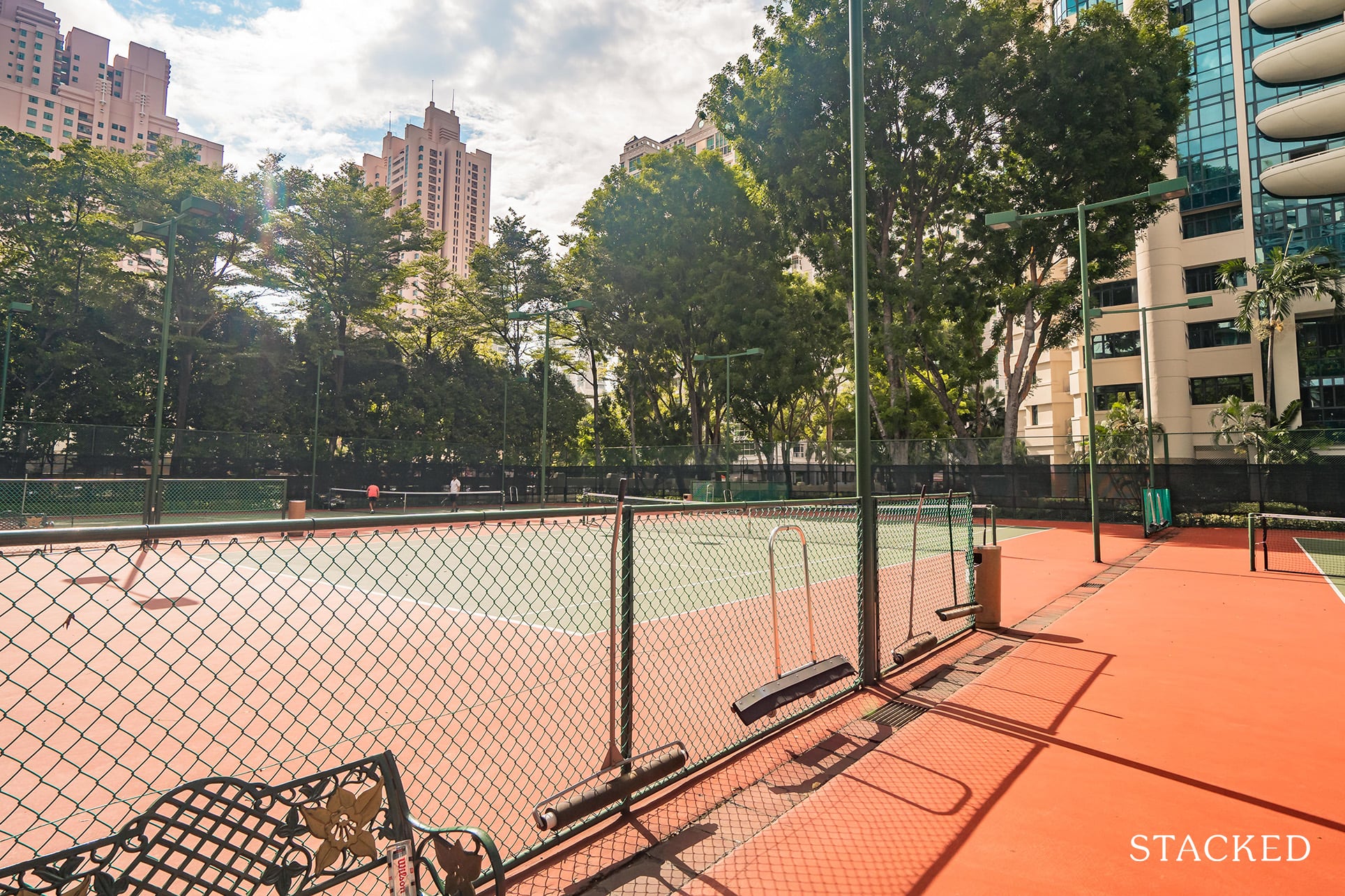 Like most of what you've seen so far, the tennis court is really well maintained – I have no complaints about it whatsoever.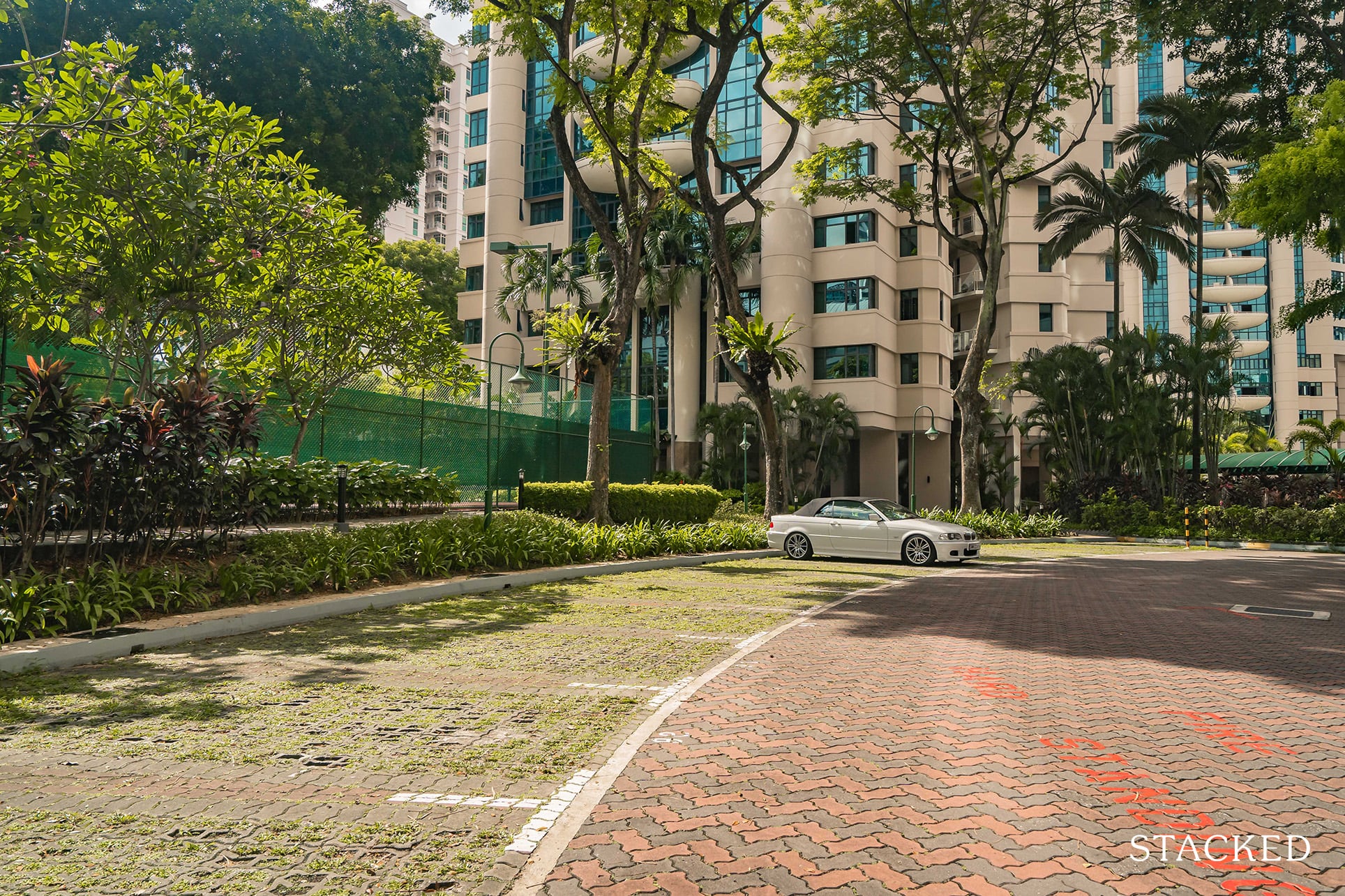 At the front of the tennis courts are more visitor lots – it truly shows the depth of space available here.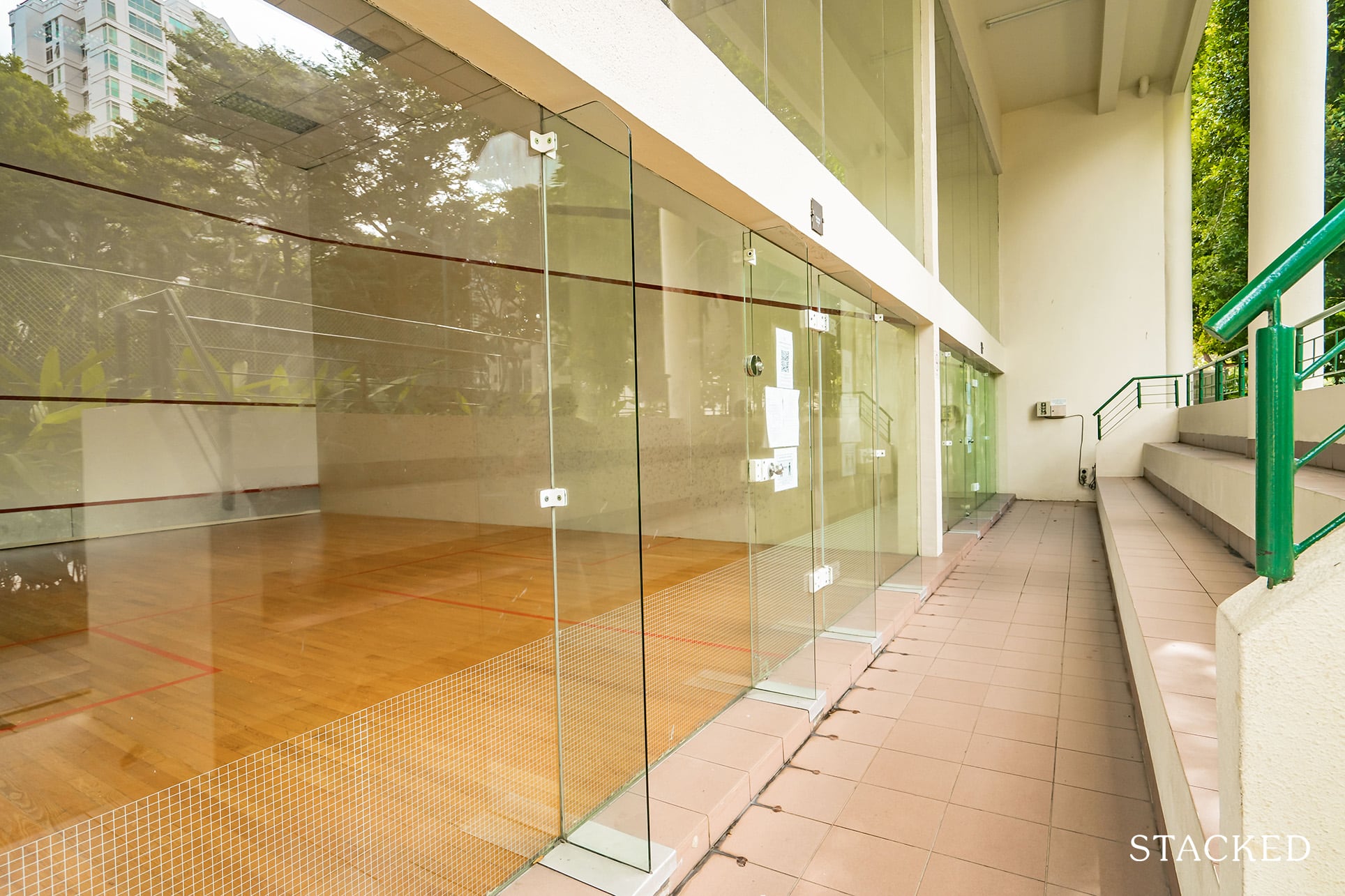 Behind the tennis courts are what I'd describe as possibly a mini-sports complex of sorts. Here, you'll find two squash courts along with "bleacher" style seats.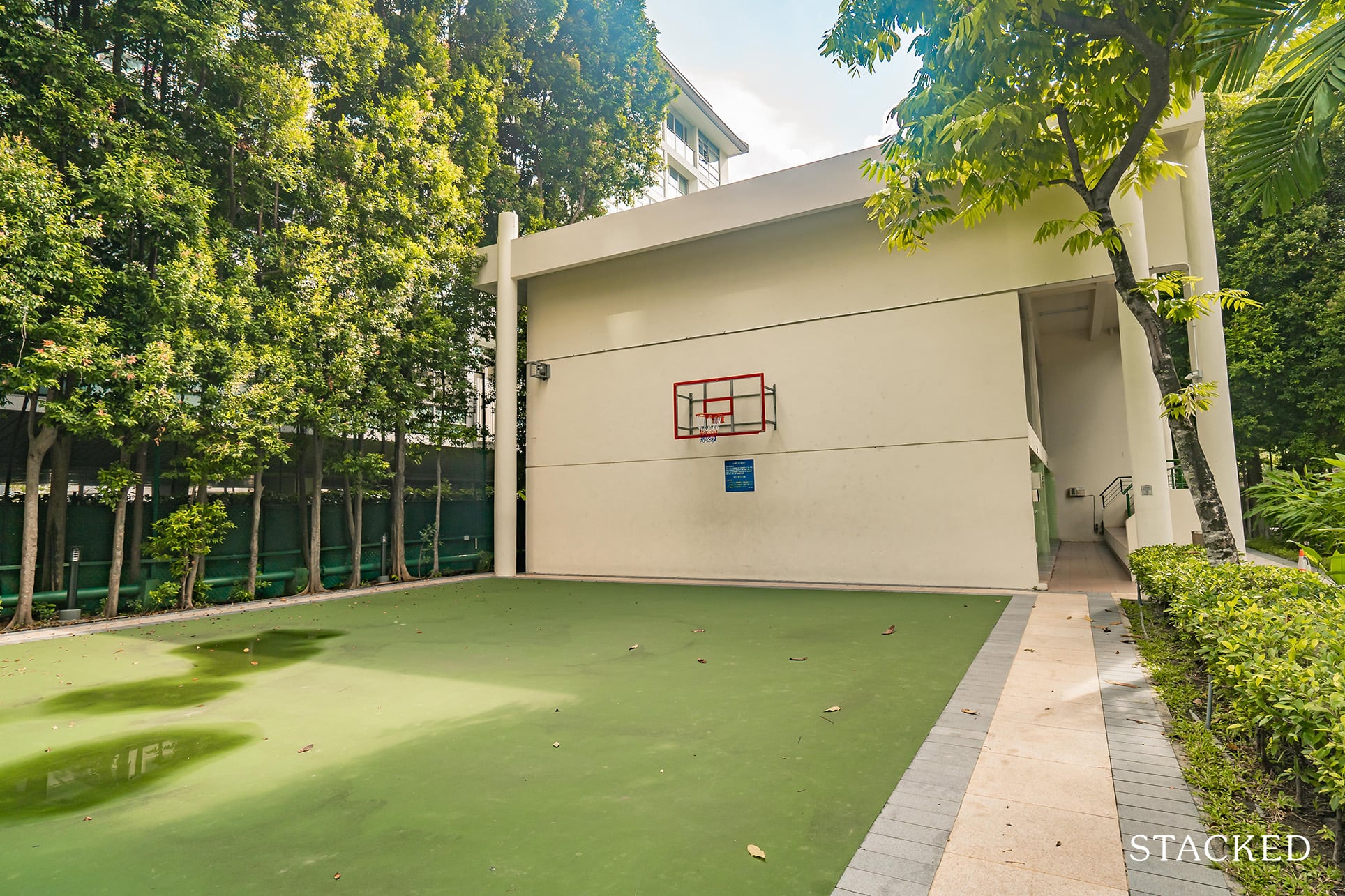 Outside the squash court is a basketball court. Although have said that, calling it a basketball court is overly generous here. It is really just a basketball hoop attached to a wall.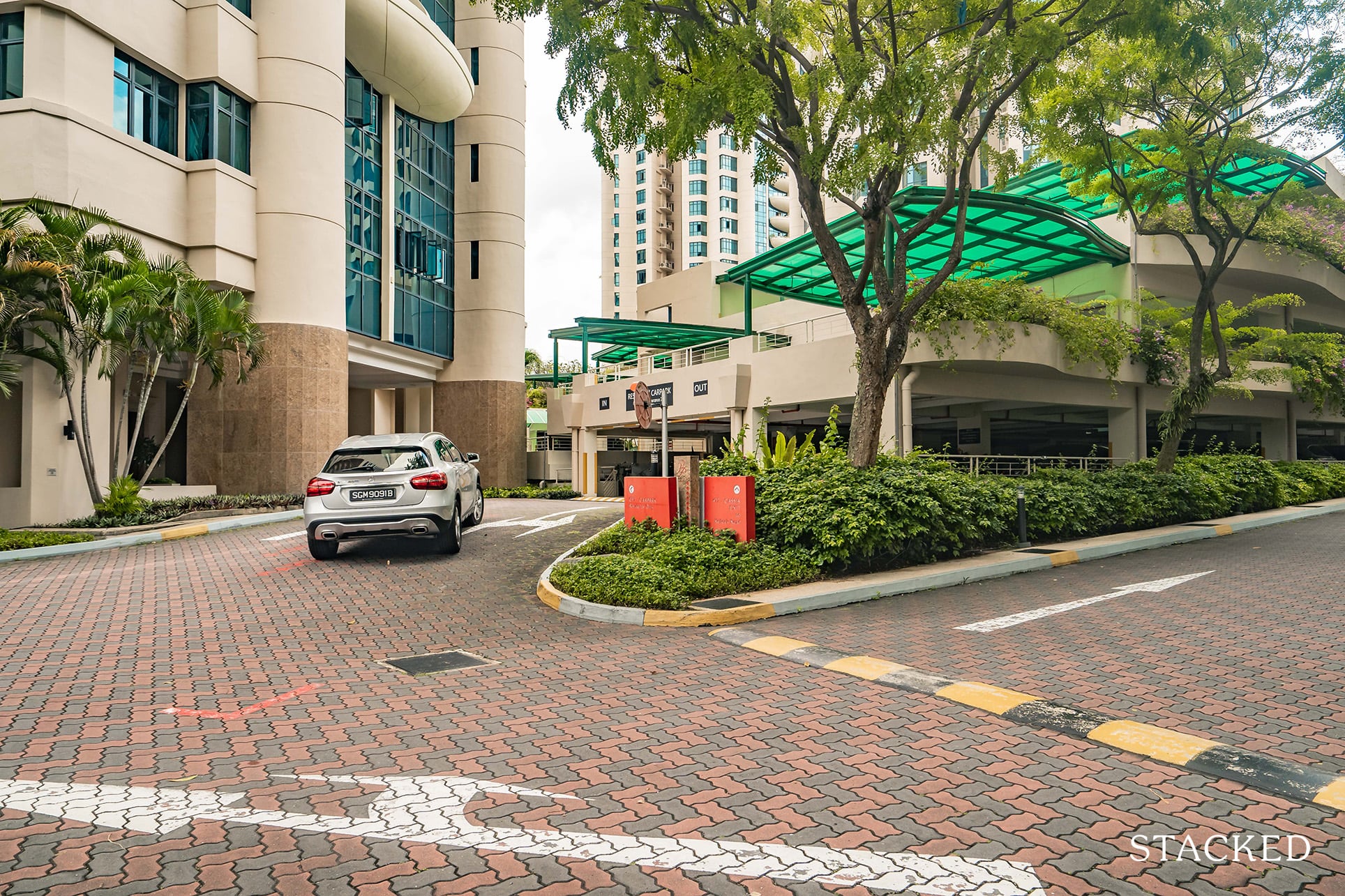 As mentioned, there are two multi-storey carparks in Valley Park. This one here above is the second.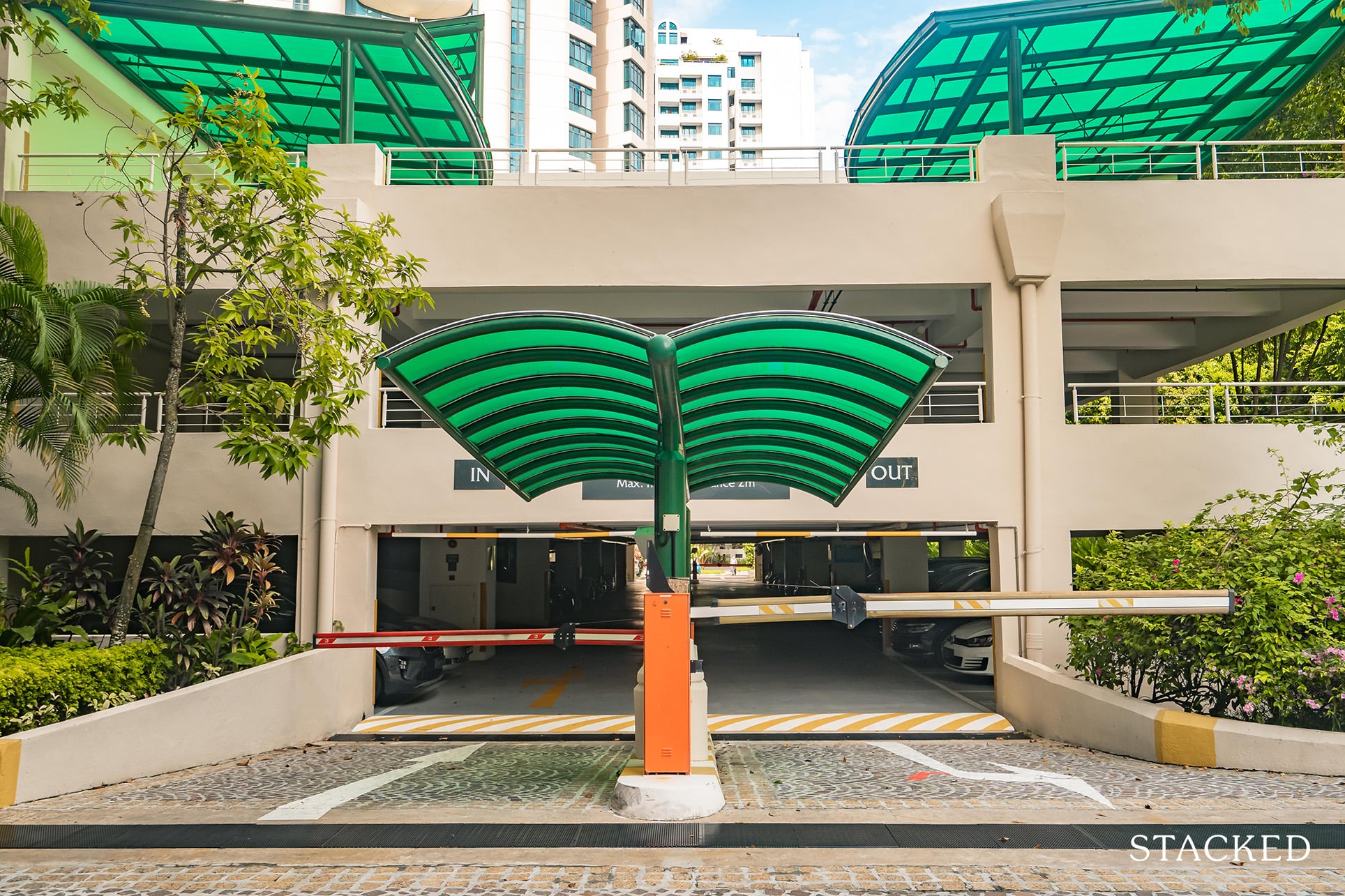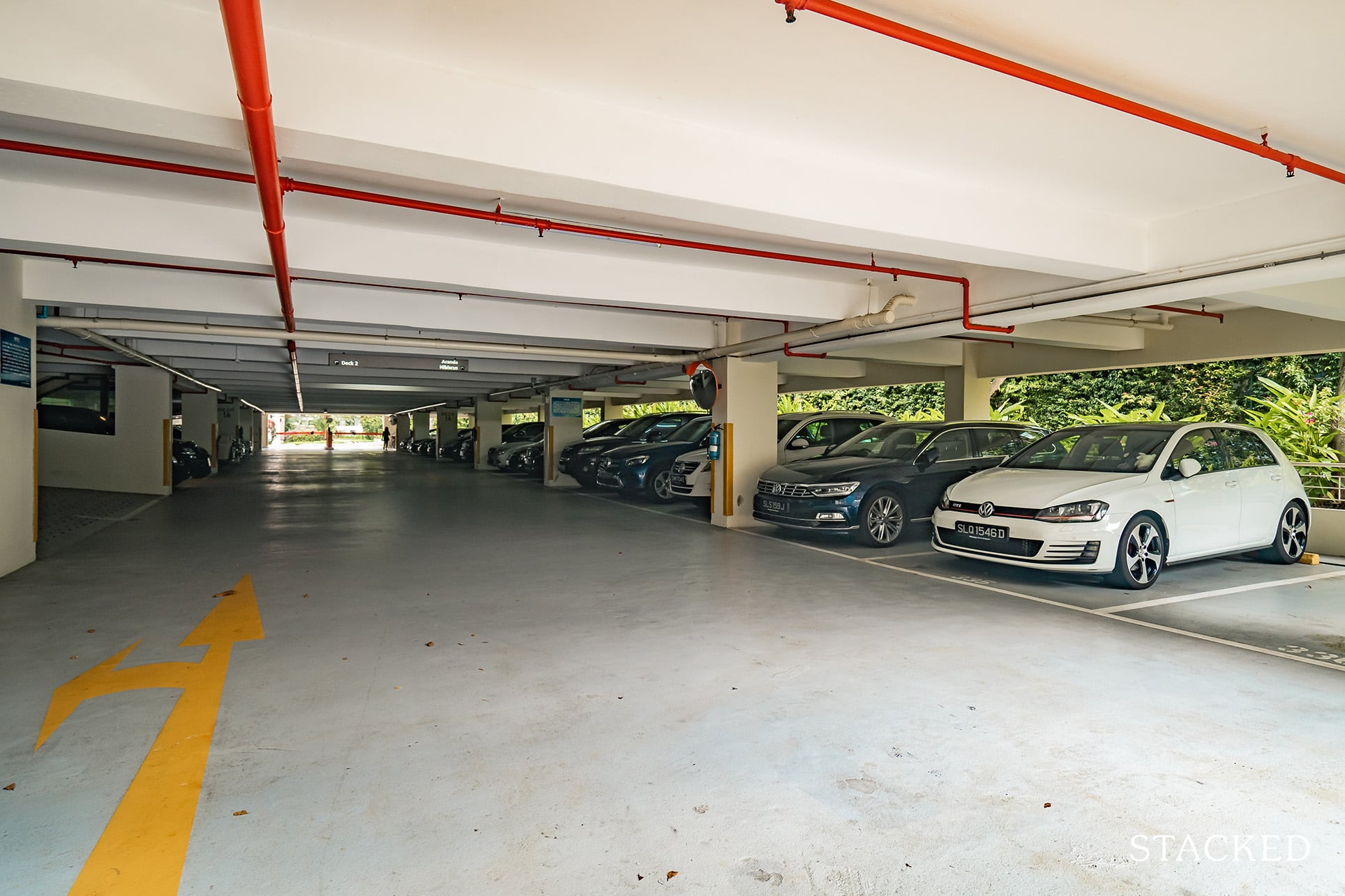 Carpark lots are plentiful, and while I'd still prefer an underground carpark for complete protection from the elements, its good that they do have sheltered carpark for residents here.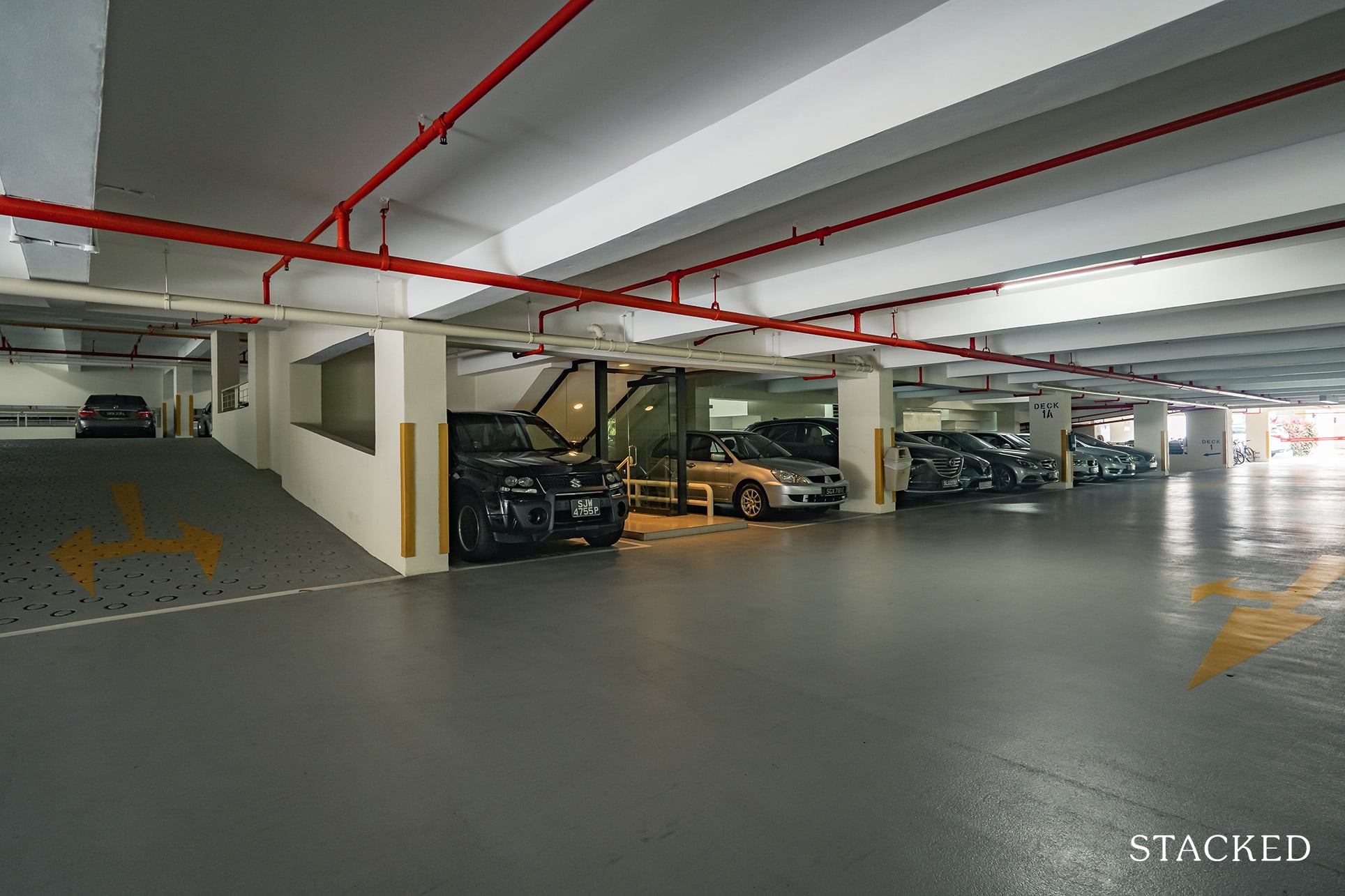 Another thing I especially like about the carpark are the wide lanes and turning ramps. Unlike some of the older developments I've been to (Pandan Valley comes to mind), even if you drive a big car here it should pose no problems at all.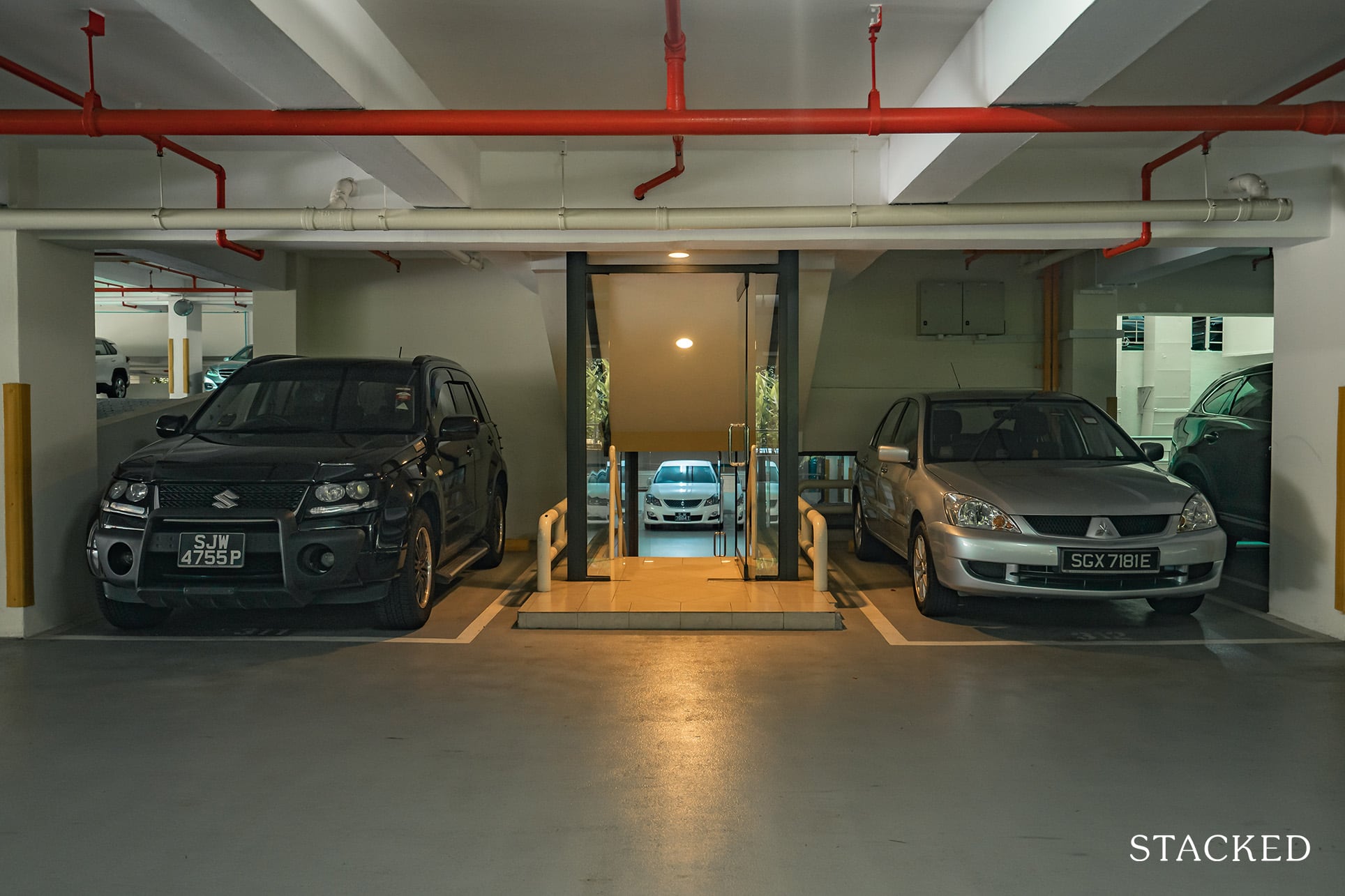 The flooring here is also well painted, and evidently kept in a good condition as well. For many older developments, the carparks are usually quite an often neglected area – so again, it does show that the general maintenance here is up to scratch.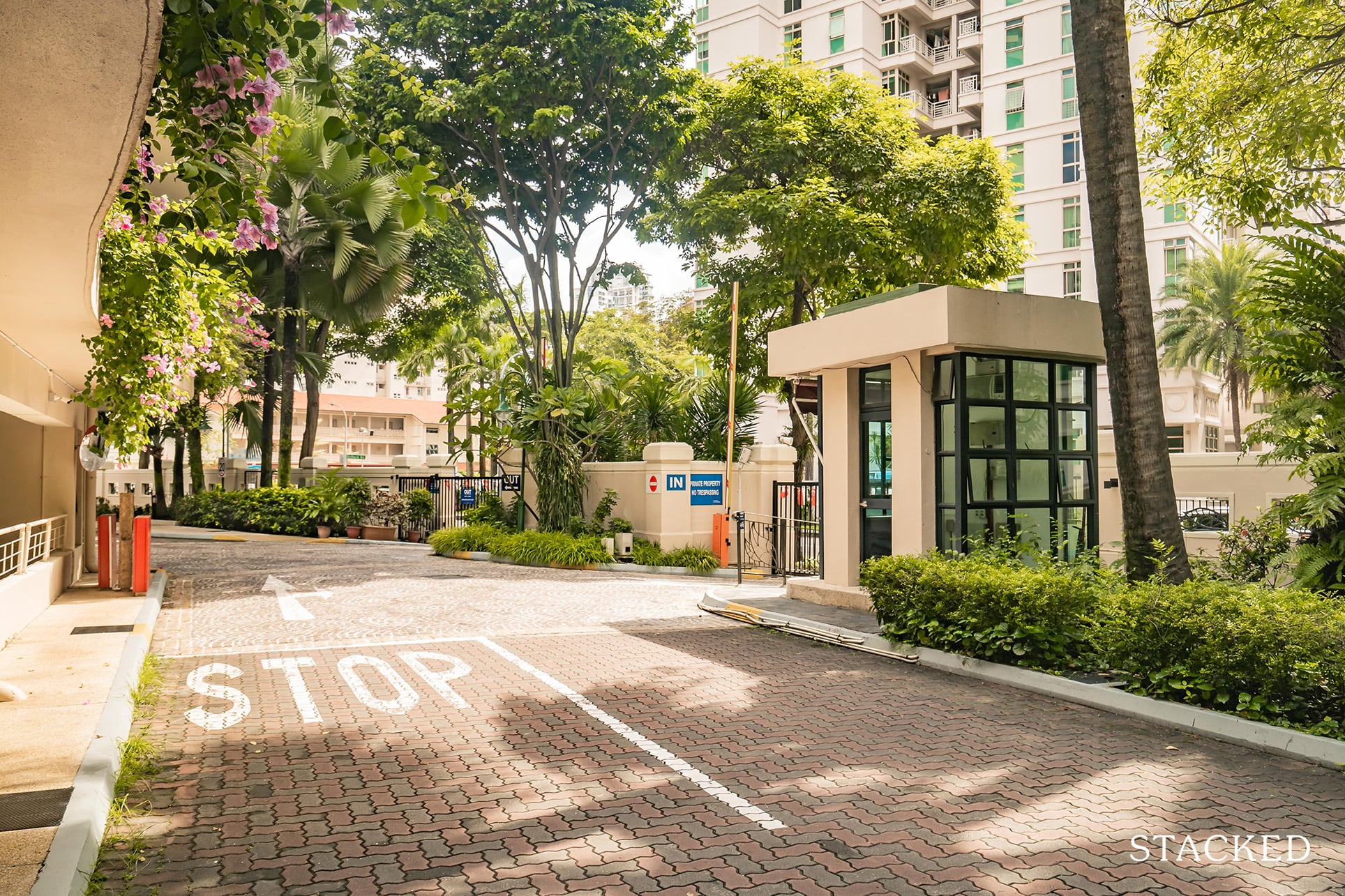 As mentioned at the beginning of the review, there is a second entrance/exit at Kellock Road.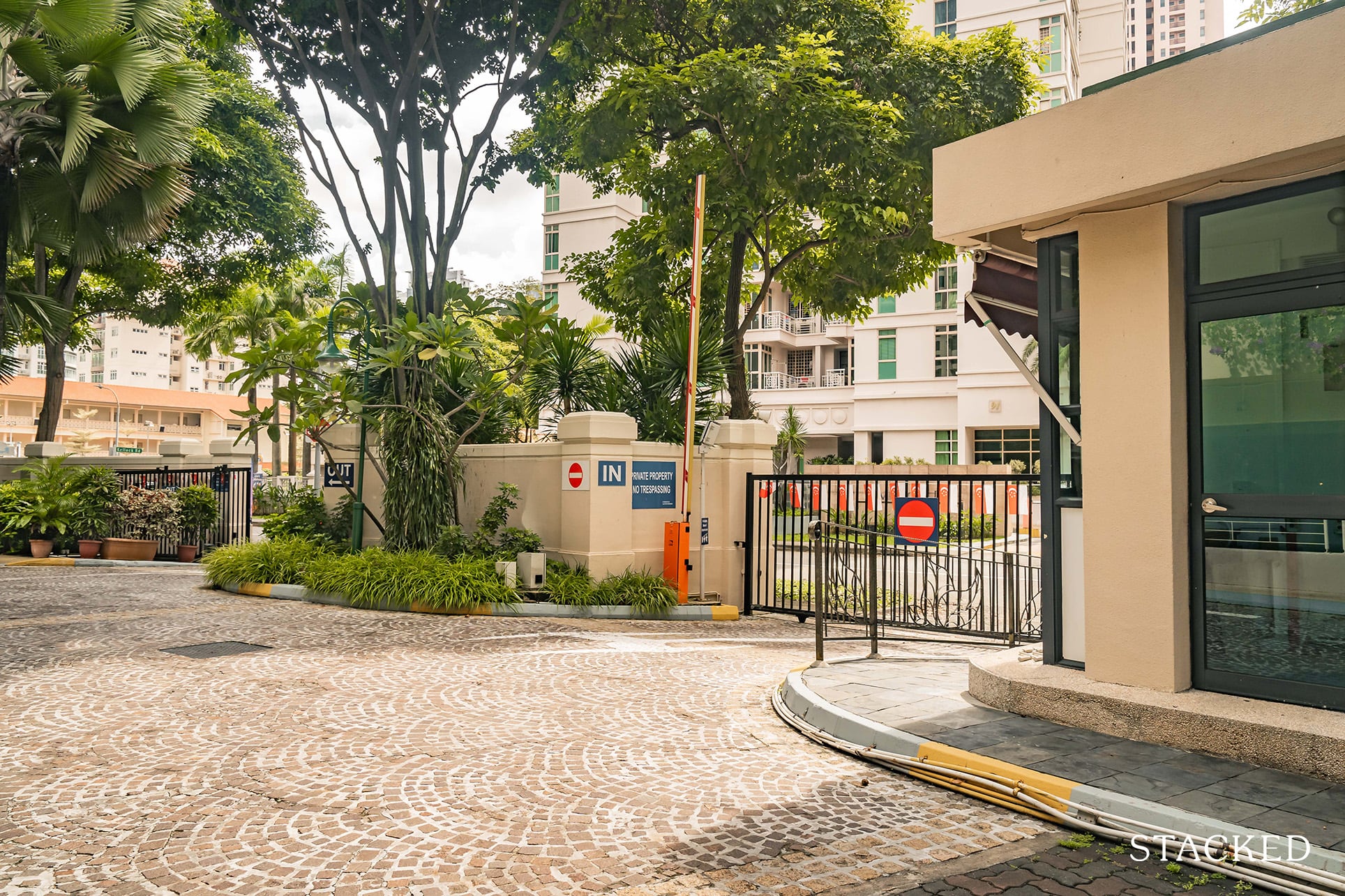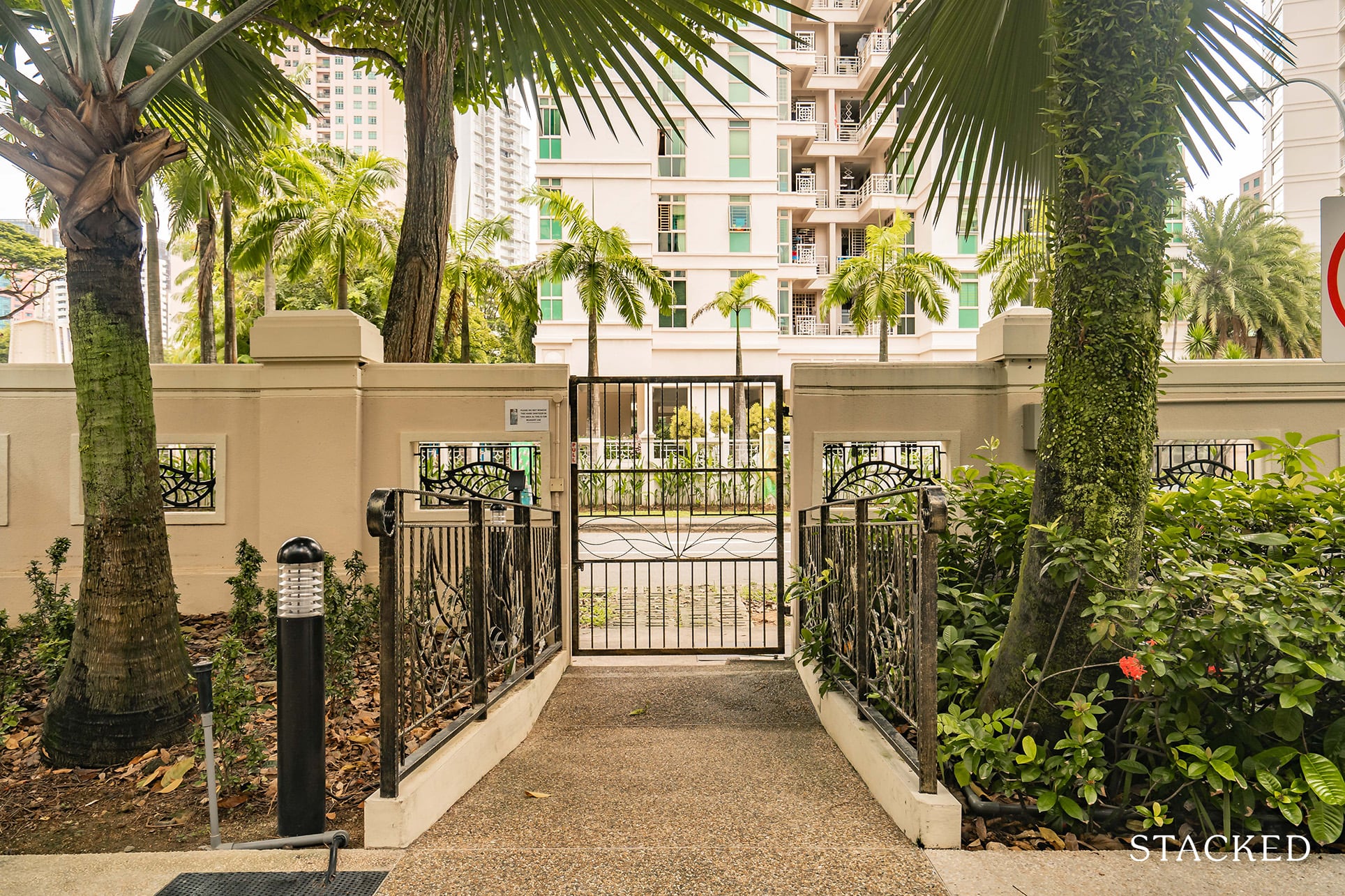 Along with a side gate that allows for easy access to Zion Riverside Food Centre, the revamped Great World City shopping centre, and the upcoming Great World MRT station that is on the Thomson East Coast line.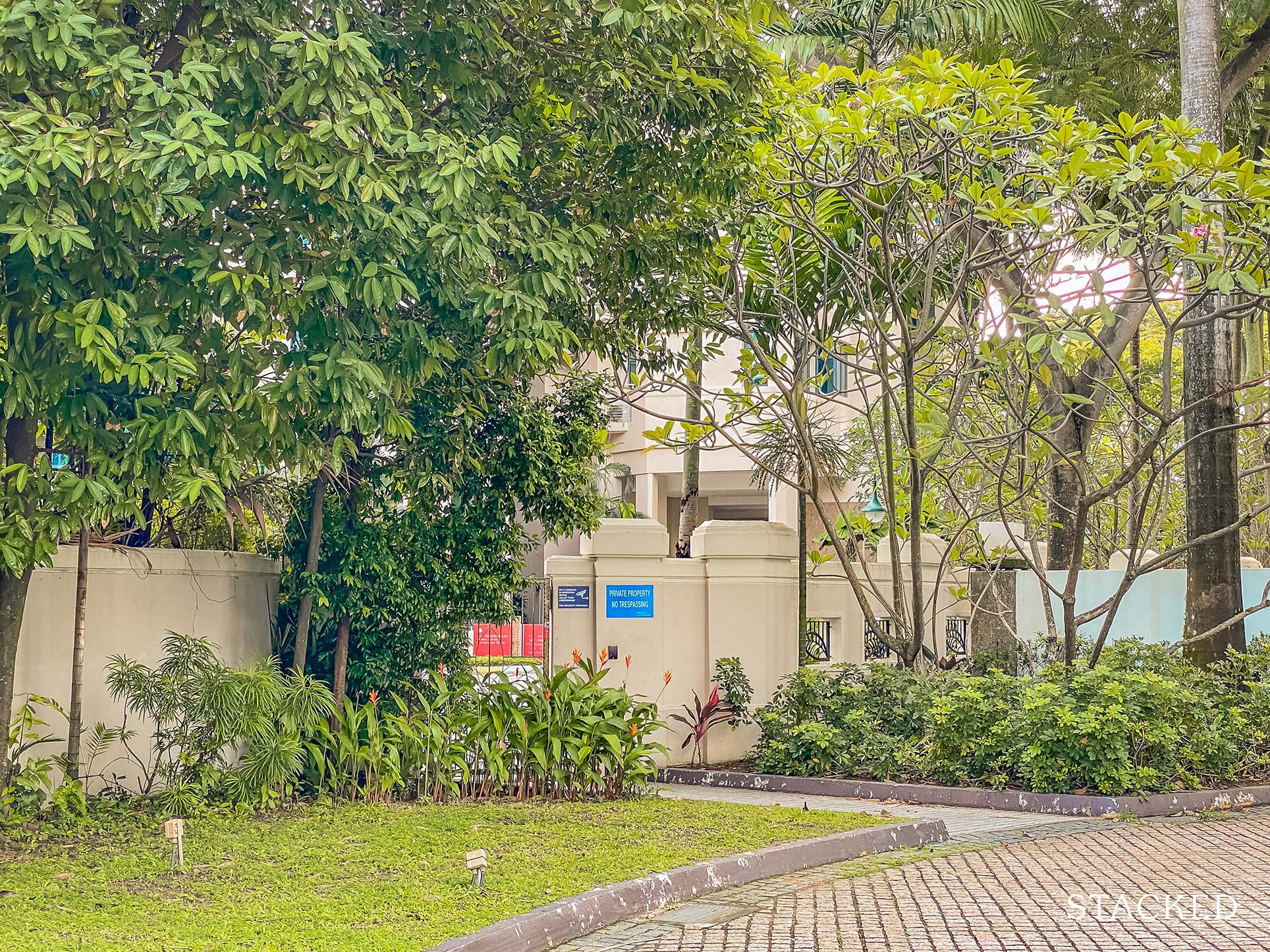 Last but not least, one of the main draws of staying at Valley Park is the close proximity to Valley Point. Unfortunately, it isn't sheltered but it is a very short walk – unless you are staying at the blocks closer towards Great World.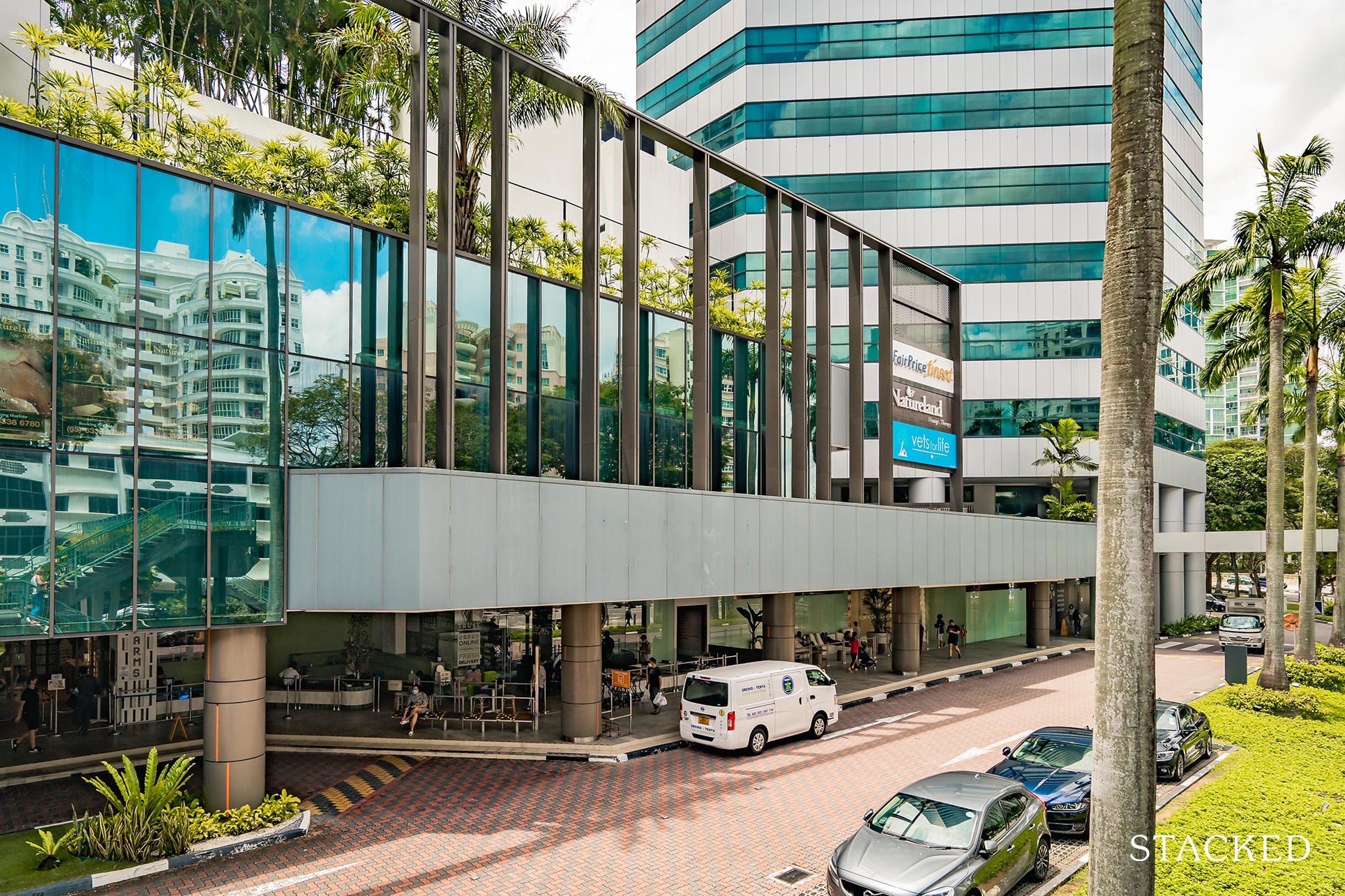 Granted, it isn't the best shopping centre out there. But there is a decent number of eateries, a Starbucks, and most importantly – a Fairprice Finest for ad hoc grocery needs.
Valley Park Location Review
One of the most important things I look out for when selecting a unit for ownstay purchase or rental-stay is really the accessibility of nearby amenities.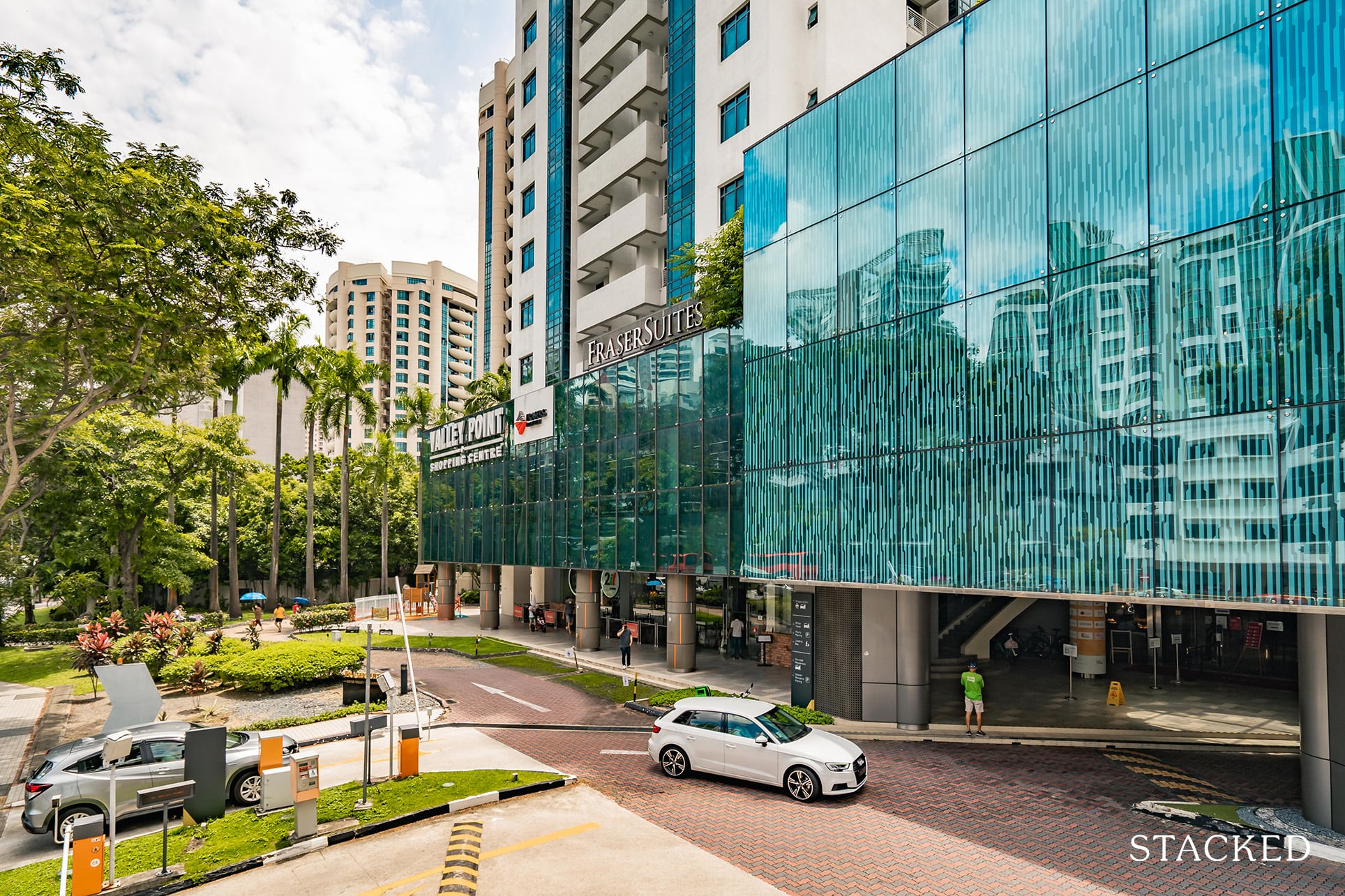 Following that train of thought, we find that the Valley Point Shopping Centre is right next door.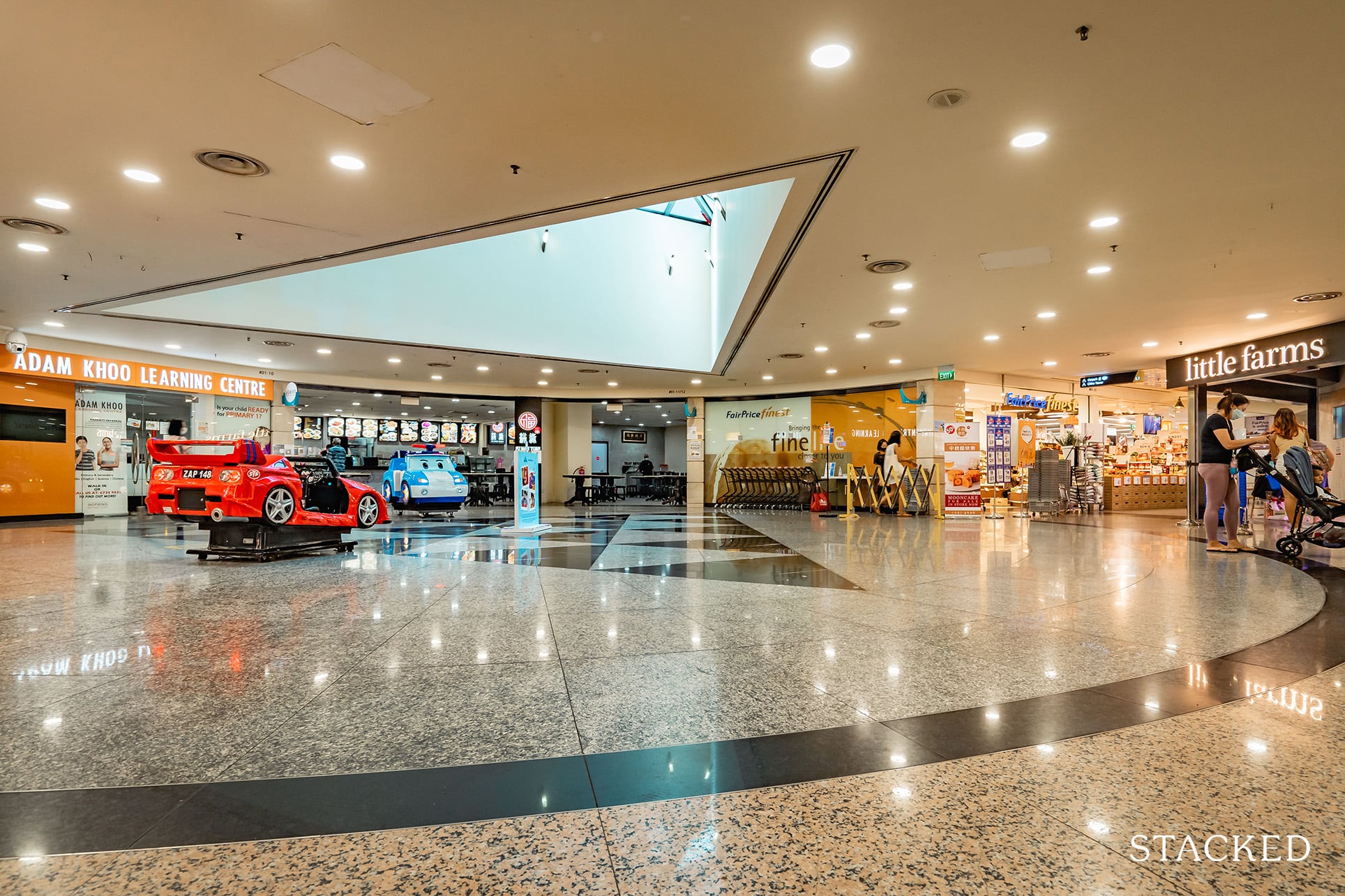 Featuring an Anytime Fitness outlet, a Fairprice Finest, a Starbucks, as well as a number of other stores which range from the healthy-eating variety to animal care, it's safe to say that residents at Valley Park are rather well stocked in the necessities-purchasal department.

The project itself is also sandwiched by the shopping centre on one end and the Melrose Park/Kellock Lodge combo on the other – meaning that there is very little road noise to the units here, save for the outer-facing units along the River Valley Road stretch (which even then are fronted by the lowrise RV Residences).

The start of the Singapore River is also situated directly behind the project.
Public Transport

| | | |
| --- | --- | --- |
| Bus Station | Buses Serviced | Distance From Condo (& Est. Walking Time) |
| 'Valley Pt' | 14, 32, 65, 139, 970 | 240m, 3-min walk |
Closest MRT: Tiong Bahru MRT – 1.2km, 16-min walk OR Orchard MRT – 1.7km, 22-min walk

By now, you would have realised that the transport options here aren't the most convenient in terms of accessibility.

Granted, the location is very central, so most city areas are a quick taxi-ride away.

Those heading to Orchard MRT will have to board either bus 14 or 65 from the 'Opp Valley Pt' bus stop, before getting off 3 stops later right before Orchard Boulevard – as opposed to walking the full way.

As for those heading to the CBD (Raffles Place MRT), your journey would involve hopping on to the 970 at the 'Stellar Rv' bus stop for a 16-min ride spanning 11 stops before alighting at One Raffles Quay.

Perhaps the biggest change here will be when the Great World City MRT station opens next year. It's located by The Trillium (which arguably has the best location in River Valley) and is a 9-min walk from Valley Park.

Private Transport
| | |
| --- | --- |
| Key Destinations | Distance From Condo (& Est. Peak Hour Drive Time) |
| CBD (Raffles Place) | 3.6km, 10-min drive |
| Orchard Road | 2km, 8-min drive |
| Suntec City | 4.9km, 15-min drive |
| Changi Airport | 24.2km, 25-min drive |
| Tuas Port (By 2040) | 36.1km, 45-min drive |
| Paya Lebar Quarters/Airbase (By 2030) | 15.6km, 22-min drive |
| Mediapolis (and surroundings) | 5.4km, 15-min drive |
| Mapletree Business City | 5.6km, 15-min drive |
| Tuas Checkpoint | 25.7km, 30-min drive |
| Woodlands Checkpoint | 20.9km, 30-min drive |
| Jurong Cluster (JCube) | 13.8km, 22-min drive |
| Woodlands Cluster (Causeway Point) | 21.3km, 30-min drive |
| HarbourFront Cluster (Vivo City) | 3.8km, 10-min drive |
| Punggol Cluster (Waterway Point) | 22.7km, 30-min drive |
*Note that Drive Times are calculated during Peak Hours

Immediate Road Exit(s): 1 exit along Nathan Road (Subsequently connected to River Valley Road)

Summary: Guardhouse/entry-point is located at the 'end' of Nathan Road itself – meaning that those entering/exiting will do so from or onto River Valley Road. Exits immediately onto a traffic light junction so great accessibility in 3 directions (Delta Road, River Valley Road and subsequent Nathan Road).

Groceries

| | |
| --- | --- |
| Name of Grocery Shop | Distance From Condo (& Est. Walk Time) |
| Little Farms/FairPrice Finest – Valley Point Shopping Center | 230m, 3-min walk |
| Cold Storage – Great World City | 800m, 10-min walk |
Schools

| | |
| --- | --- |
| Educational Tier | Number of Institutes |
| Preschool (within 1km walk) | 2 |
| Primary (3km-drive) | 5 |
| Secondary (3km-drive) | 4 |
| International School (3km-drive) | 6 |
| Junior College (5km-drive) | 1 |
| University (5km-drive) | 5 |
| Polytechnic (10km-drive) | 1 |
Additional Pointers

Not to up-sell it or anything (we all know that riverside living in Singapore isn't really that appealing as in other countries), but living next to a well maintained water entity does have its perks.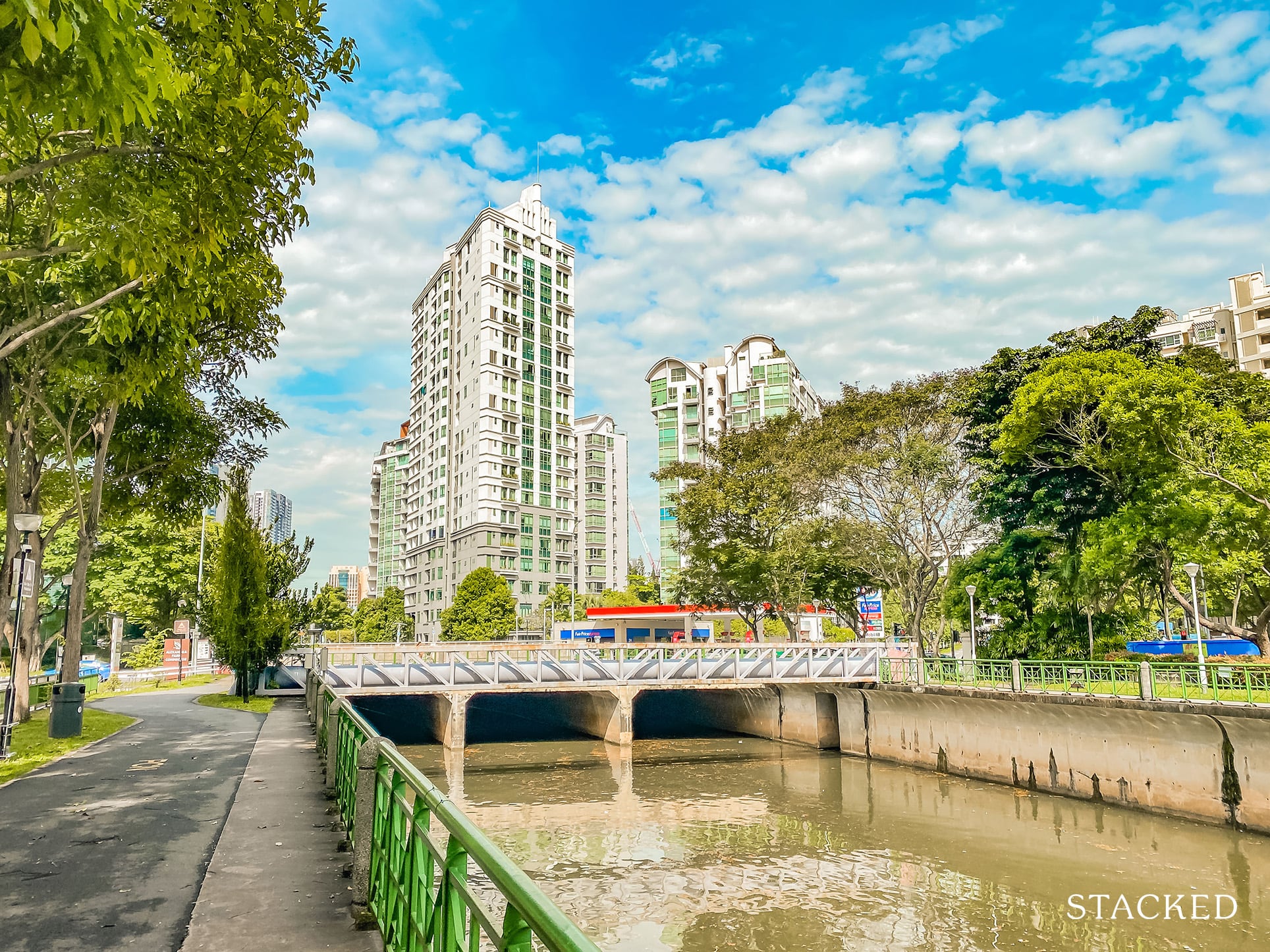 For one, it provides a change of environment to the area. Having a river (even if it isn't the most aesthetically pleasing structure) and surrounding greenery as adjacent structures almost always beats a noisy road here in Singapore.

Secondly, those who are into the occasional stroll/jog can add this 1.5km unobstructed riverside path to their routine. Following which you'll reach the naturesque Alexandra Park Connector (adjacent to Tanglin Regency). 

From there, you can move on to Robertson/Clarke/Boat Quay, and subsequently Gardens By the Bay and even East Coast Park!

As a fitness enthusiast myself, I treasure the quality of air that I breathe in when I'm working out – and being able to inhale fresh air in the heart of the city is a privilege that most central-staying folk aren't privy to.

River Valley Road Eateries
Naturally the topic of food pops to mind.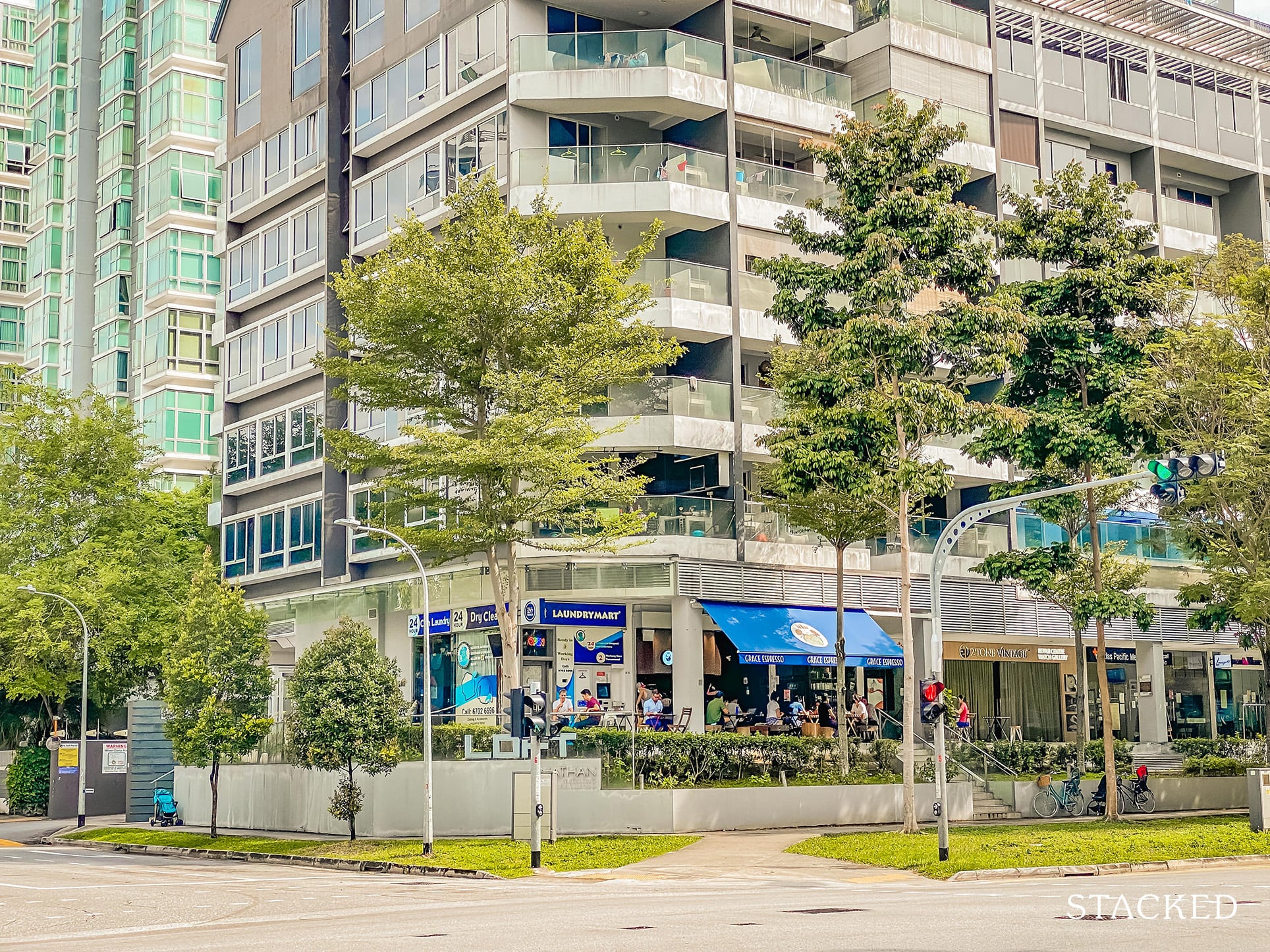 Apart from the well-diversified Zion Riverside Food Centre (which by the way, serves up some really incredible prawn noodles and dumplings at the time of writing), there are a number of 'old-school' eateries by River Valley Road.

One of which would include the famous Boon Tong Kee Chicken Rice store.

You'll also find Indian, Japanese and Western options in this same stretch.

Look no further than Valley Point Shopping Center for more comfortable dine-in restaurants.
Valley Park Development Site Review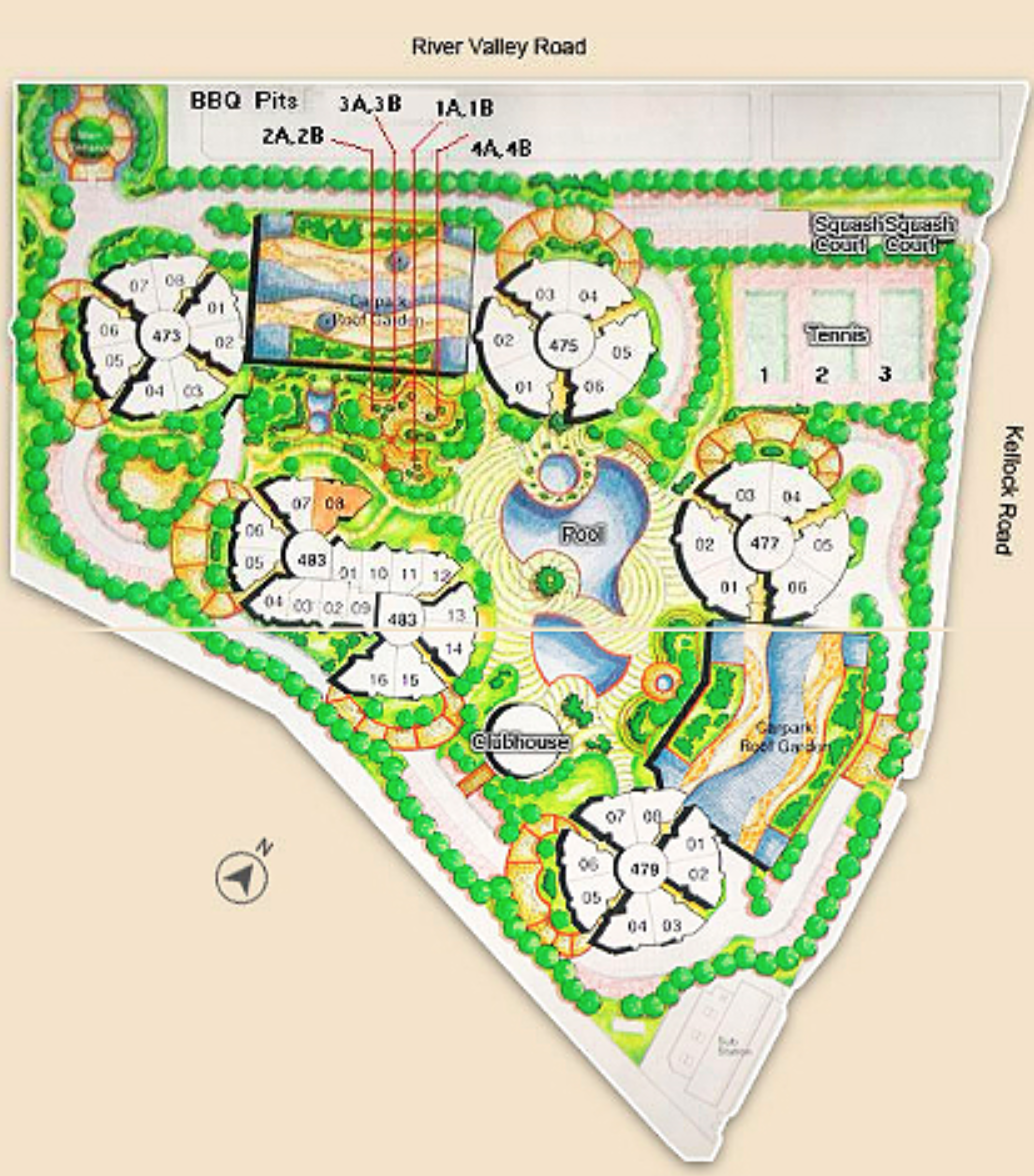 Given the age of the condo, this was the best site map we could procure.

In keeping with most older condos, you'll find a number of older facilities like the squash courts and multi-purpose hall.

For those wondering, the answer is – yes, you have to book these facilities in advance. In addition, you'll also have to pay for these bookings. You can find the respective fees here.

I know this 'paying for facilities' issue might sound outrageous to some – but the fees do seem reasonable to a number of condos that we've reviewed in the past.

Also, you might not be able to see it here, but there are 2 multi-storey car parks in the project which are reminiscent of a time in Singapore when the concept of 'under-utilised' space wasn't a frowned upon mis-opportunity.

Given that most car parks from newer developments are all underground, this could either be a welcome change of environment, or a bane, depending on how much you treasure a car-lite project.

It's also noteworthy that the blocks aren't cramped together, with ample space in between.

This space is naturally littered with greenery and the occasional facility, adding a further family-friendly/welcoming vibe to the project's spacious grounds as compared to many of the newer urban/mass-market projects we see here in Singapore.

On that note, the land space to unit ratio here is 430,341/728 = 591 square feet per unit.
Best Stacks

Unit Mix

| | | |
| --- | --- | --- |
| Unit Type | Size of Units (sqft) | Number of Units |
| 1-Bedroom | 710 – 1,001 sqft | 147 |
| 2-Bedroom | 1,109 – 1,464 sqft | 361 |
| 3-Bedroom | 1,550 – 1,808 sqft | 188 |
| 3-Bedroom Penthouse | 2,562 – 3907 sqft | 9 |
| 4-Bedroom Penthouse | 3,767 – 3,789 sqft | 6 |
As if the location, spacious development facilities and nearby amenity offerings weren't good enough, we now have ginormous units to contend with. 

Of course that isn't always the best scenario seeing how you have to fork out more for larger units based on the psf calculations.

It's also important to note that the condo is already 23 years old, so naturally what we see on the outside (ie. project grounds) doesn't necessarily reflect what happens on the inside (ie in the unit).

In that vein, be sure to meticulously check the fittings/upkeep of any unit that you might be visiting here to avoid any unnecessary hassles down the road.

Given the size of the units here, and the general expat community, co-living (ie. renting a single room and having a number of roommates) is quite a norm here.

For single expatriates currently residing in Singapore for work, this could be a great option for you – though be reminded that the minimum rental lease in Singapore for condos spans a 3-month block.
Best Stacks

Valley Park Price Review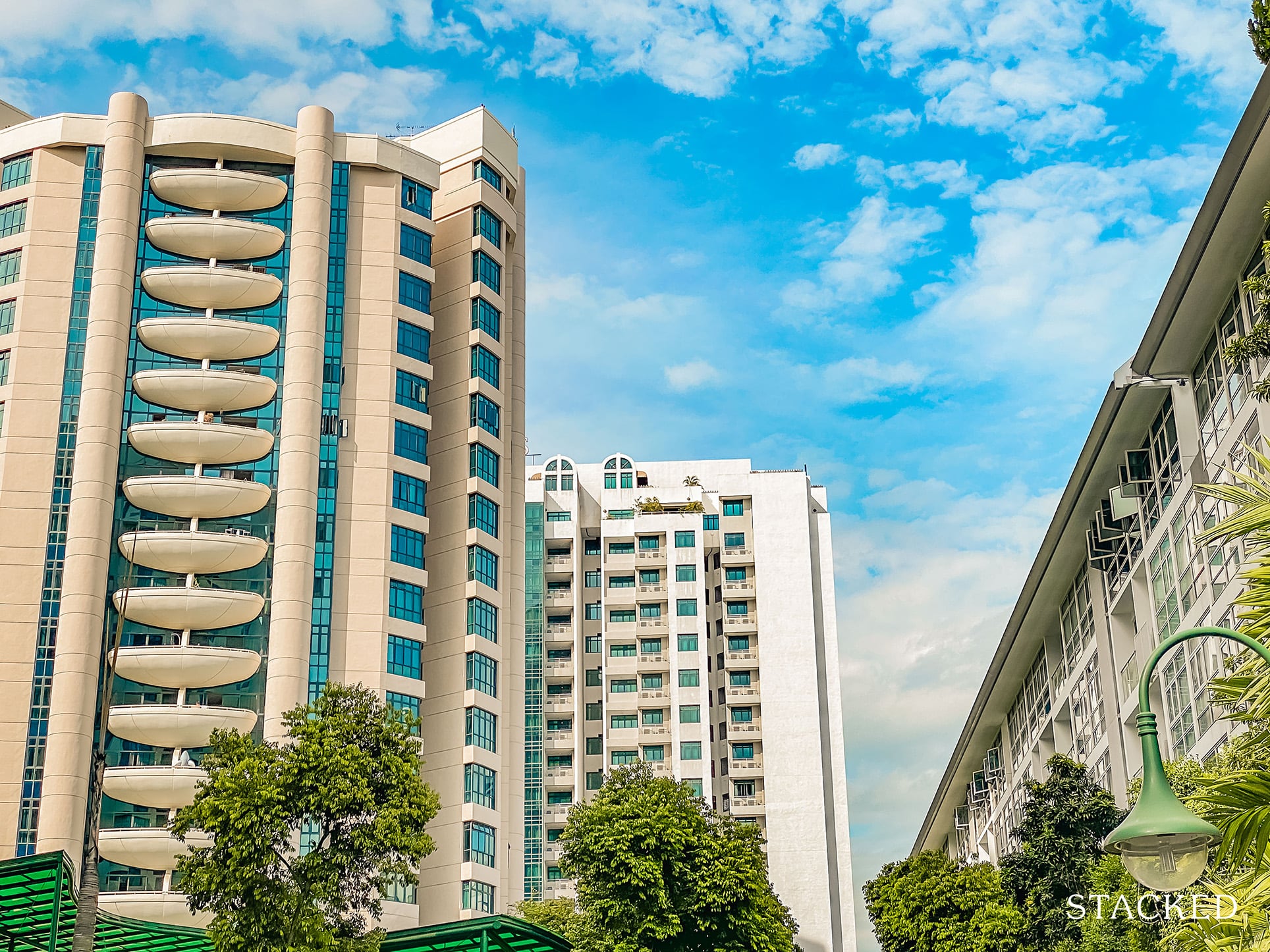 | | | | | |
| --- | --- | --- | --- | --- |
| Project Name | Tenure | TOP | Average Price (PSF) | Average Rental Price (PSF/PM) |
| Valley Park | 999-years | 1997 | $1,649 | $3.16 |
| Regency Park | Freehold | 1990 | $1,768 | $2.89 |
| Yong An Park | Freehold | 1986 | $1,413* | $2.85 |
*Do note that this is quite skewed because this is an average of the past 6 months, where just two massive units of 6,695 and 7,750 square feet were sold, which has brought down the average PSF quite a bit. If we were to go by normal units, it should be roundabout $2,000 PSF.

Those looking at Valley Park could be doing it based on location, facility/spatial-offerings, age-affordability ratio and perhaps even unit sizes.

For this price comparison, I've collated a list of older spacious developments in the River Valley area. We've also included the average rental prices to give you a rough ballpark of what to expect in the area.

In terms of location, Yong An Park is the closest development (adjacent in fact) to the Great World City MRT station, with Regency Park being the furthest.

Regarding unit to project land size ratio, this is what we observe:

Regency Park: Approx 520,000sqft/292 units = 1,781 sqft land size per unit
Yong An Park: 400,000sqft/288 units = 1,389 sqft land size per unit
Valley Park: 430,341sqft /728 = 591 sqft land size per unit

In the case of Regency Park, we find that it has approximately 520,000+ square feet of land, 320,000+ of which belongs to its gardens and facilities.

All of the developments come fully equipped with tennis courts, pools and a number of other facilities.

As for the smallest variation of 2-bedroom unit sizings and subsequent rental prices (if calculated based on average psf pm), this is what we find:
| | | | | |
| --- | --- | --- | --- | --- |
| Project Name | Smallest 2-Bedroom Unit Size | Average Rental Price (PSF/PM) | Average Unit Rental Price/month | Average Price of Unit |
| Valley Park | 1,109 | $3.16 | $3,504 | $1.82m |
| Regency Park | N.A | | | |
| Yong An Park | 1,001 | $2.85 | $2,852 | $1.41m |
As for 3-bedroom units, this is what we estimate:
| | | | | |
| --- | --- | --- | --- | --- |
| Project Name | Smallest 3-Bedroom Unit Size | Average Rental Price (PSF/PM) | Average Unit Rental Price/month | Average Price of Unit |
| Valley Park | 1,550 | $3.16 | $4,898 | $2.55m |
| Regency Park | 2,227 | $2.89 | $6,436 | $3.93m |
| Yong An Park | 1,765 | $2.85 | $4,907 | $3.43m |
Note that rental prices are subject to owner-tenant discussions and a myriad of other factors such as property market cycles and unit levels. The rental prices here are simply estimates based on past rental/sale figures.
At the end of the day, it boils down to what you prefer. If it's affordability and MRT-related convenience, then Yong An Park is the go-to option.

If its space and seclusion in the heart of Singapore, then you can consider Regency Park.

Valley Park's USP comes from its immediate amenity convenience, as well as relatively good proximity to the Tiong Bahru enclave.

If you look at the timeline of Valley Park's appreciation over the years, we realise that it's very much in tandem with the general Singapore property market pricing trends. 


Interestingly enough, Valley Park sits on F&N's first Southeast Asian factory site. In a study that they released, F&N found that the land price had increased a whopping 300 times from $640,000 to $192.6 million between 1952 and 1992.

Plans were later made to convert the entire area into a mixed development (including Valley Point Shopping Center and Fraser Suites). 

Valley Park takes up over 70% of the former factory site today.

Its psf journey since its launch back in the 1990s has taken it from a mere $830 psf to its current $1,649 psf.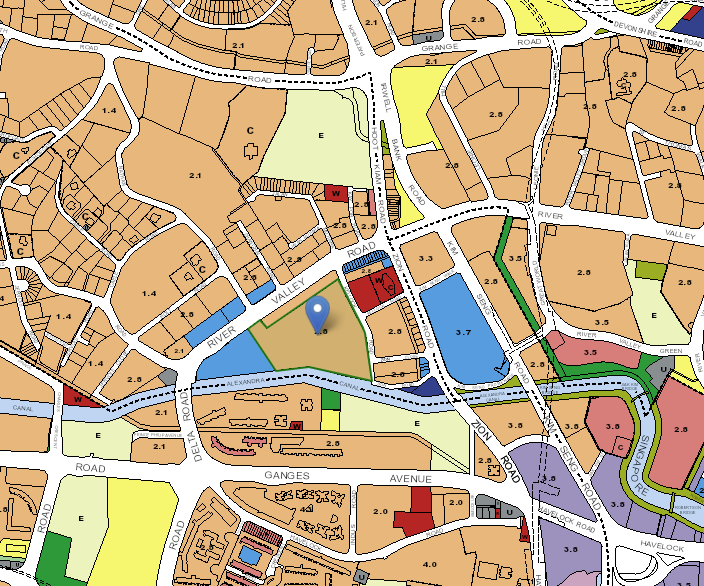 Given that most of the surrounding land plots have already been fully developed – save for some reserve sites (mostly greenery land plots) that we observe above, it's safe to say that there will be minimal reconstruction to the immediate area in the short-mid term.

Views will not be blocked and the peace of life here will not be disrupted (save for the occasional project maintenance/unit configuration).

Perhaps the biggest change in the area would come from the TEL, Great World City station once it starts operating in 2021.

From a previous study that we did on the Downtown Line, we ascertained that nearby project price hikes come mostly from the announcement periods of an impending station in the vicinity as opposed to the period where it is fully functional.

Based on that, it does seem like the biggest ship has sailed when it comes to the possibility of near-term appreciation hikes here at Valley Park.

That said, when we observe how diverse the surroundings of Valley Park are with its various commercial and recreational zones as compared to many of its general neighbours…as well as its massive land area teeming with facilities, I feel that it will, at some stage become a highly prized livability option – especially in a housing landscape where units are getting smaller by the year.

All this, provided that its residents do not give in to any potential en bloc bids down the road.
Our Take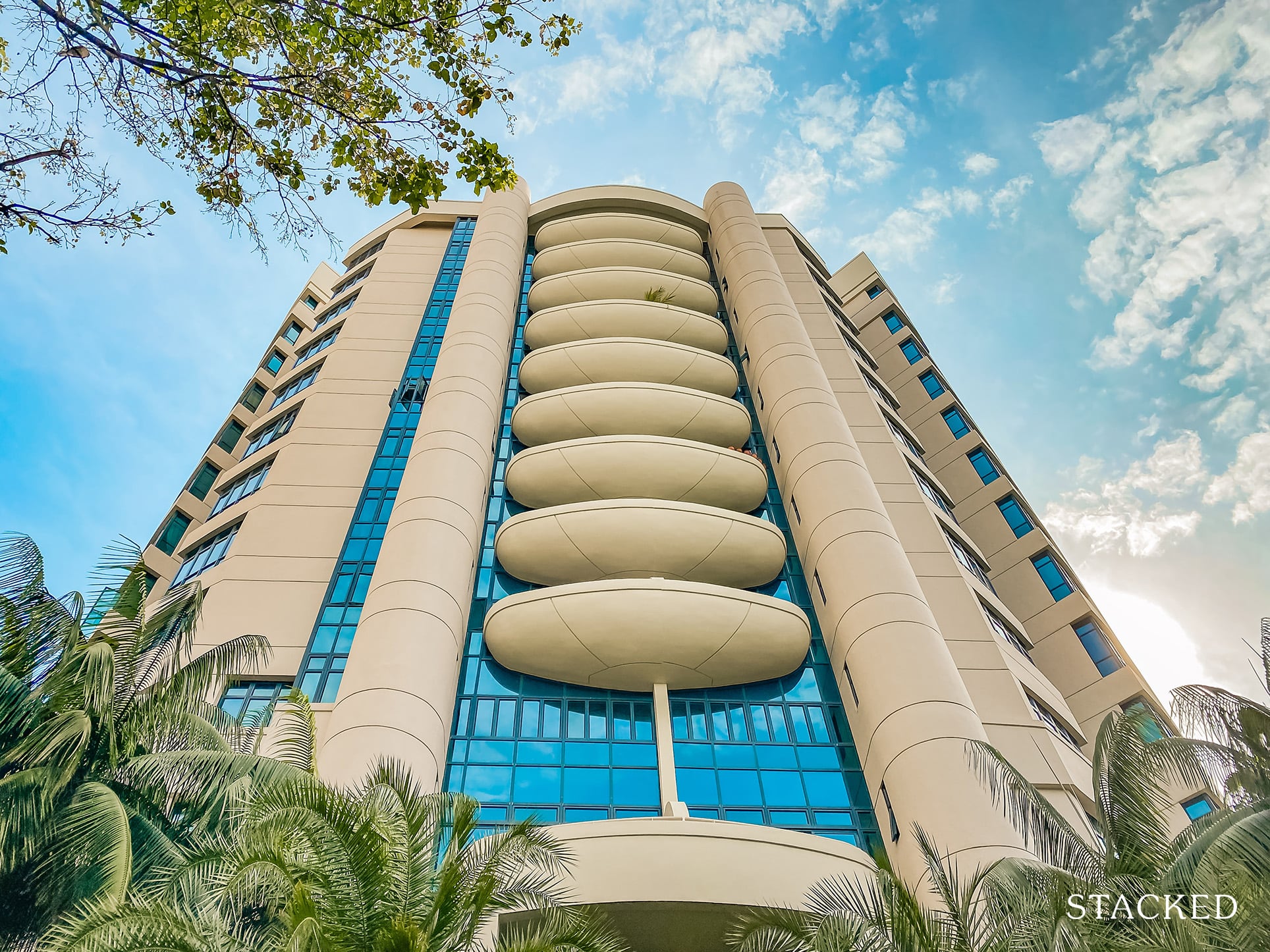 Personally, I find Valley Park to be a charming ownstay/rental option.

Granted, it isn't the newest of condos, but its key central location (on River Valley and between Orchard and Tiong Bahru enclaves) together with its wide-spread facility-offerings and immediate amenity access makes it a convenient project to live in.

Regarding appreciation gains, we should continue to see it trend in line with the general Singapore property market cycles without any anticipated pricing hikes. Rental yields-wise, we see averages of 2.3% here despite good rentability.

And so it isn't the best of investment purposes – unless you're banking on an en bloc sale in the future. In which case, it's incredibly important to dissect your risk appetite, priorities and financial capabilities before making the leap.
What this means for you
You might like Valley Park if you:
• Like an Abundance of Facilities:With 3 tennis courts, a multi-purpose hall, squash courts, swimming pools and a number of other facilities, Valley Park is well stocked in the department.
• Wanted to be situated between Orchard & Tiong Bahru:The condo is a 10-15 minute walk from each enclave – allowing for a range of consumer diversity.
You might not like Valley Park if you:
• Prefer Modern Units:As a 23-year old project, some of the units here might not be in the best condition. They also do not come with the latest home-tech, so that's something else to consider.
• Require immediate public transport access:Great location, but suffers from a diversity lack in buses, and long distances to the respective MRT stations.
End of Review