Property Stories
Touring Kovan Landed Homes: Affordably Priced From $1.7m, Well-Connected And Bustling
TJ
October 23, 2022

14

min read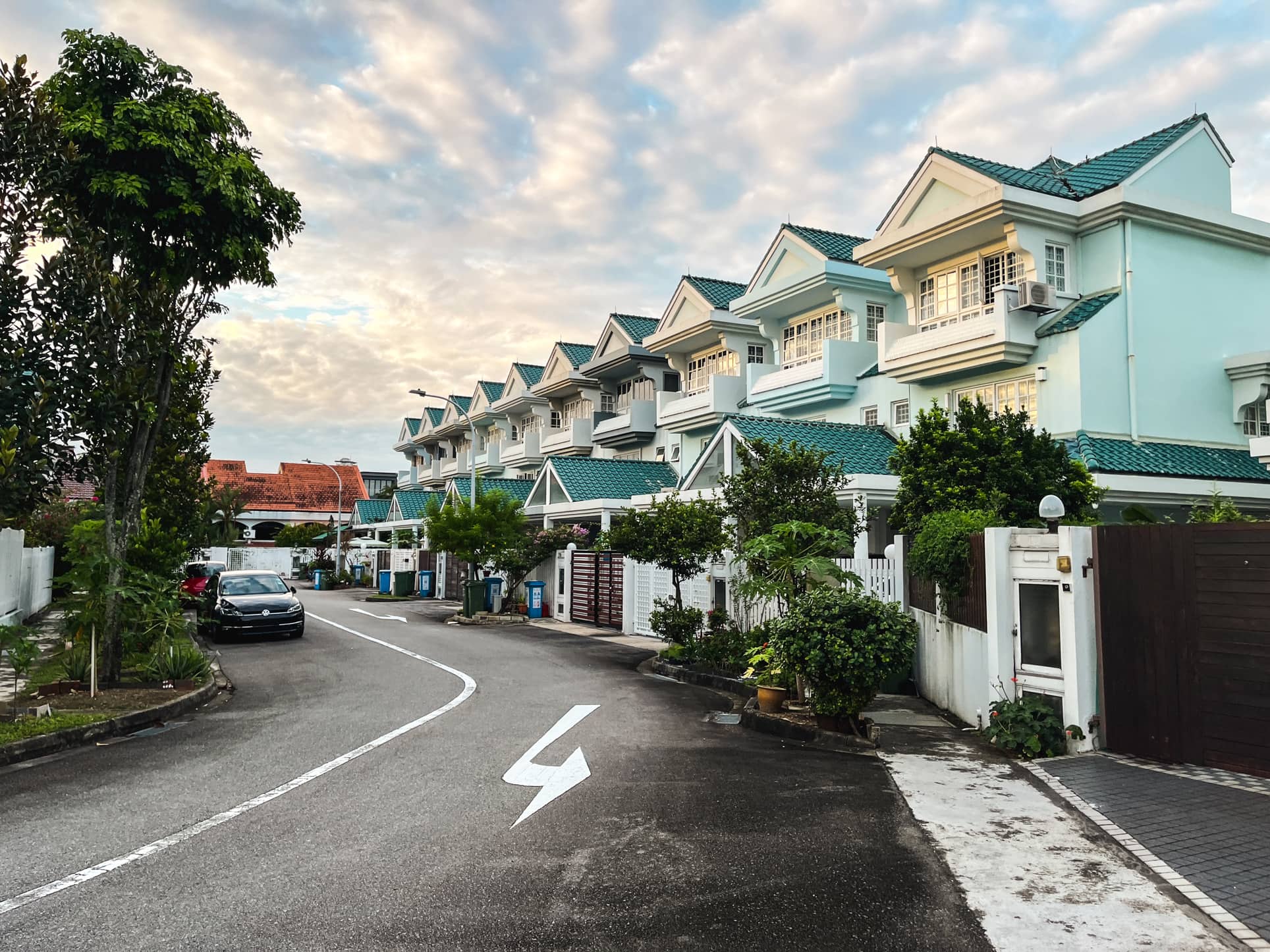 14
min read
While I've toured quite a fair number of landed estates in Singapore, Kovan has eluded my radar so far. And so when a reader asked about it, it only made sense for me to put it down as my next stop!
First things first, the landed houses in Kovan span a huge area, so let's define what we're looking at. Namely, the area between Yio Chu Kang Road, Sirat Road, Palm Grove Avenue, Flower Road and Upper Serangoon Road. You may notice that the area we are touring today isn't as rectangular as the landed enclaves we usually visit: that's because there are many short dead-end roads in this area and many of the roads don't run parallel to each other.
My overwhelming first impression of the area is: "Gosh, this area is busy!" If you're looking for a peaceful, quiet enclave, you may need to continue looking. I've never toured a landed estate where I ran into so many people walking or driving through the estate as Kovan! I think this is partly because of how well-connected the estate is. For example, from Upper Serangoon Road, you can turn into Hillside Drive and drive all the way up to Yio Chu Kang Road (and onwards again to Serangoon Gardens.)
Similarly, turn into Flower Roads off Upper Serangoon, drive onto Glasgow Road, then Rosyth Road and you reach Yio Chu Kang Road too. (This is in comparison to other landed estates where there is only one vehicular entrance and exit, so you can't enter the landed estate to get to another main road, keeping the area more private.) The plus side is that it's very convenient to drive to many places from this area!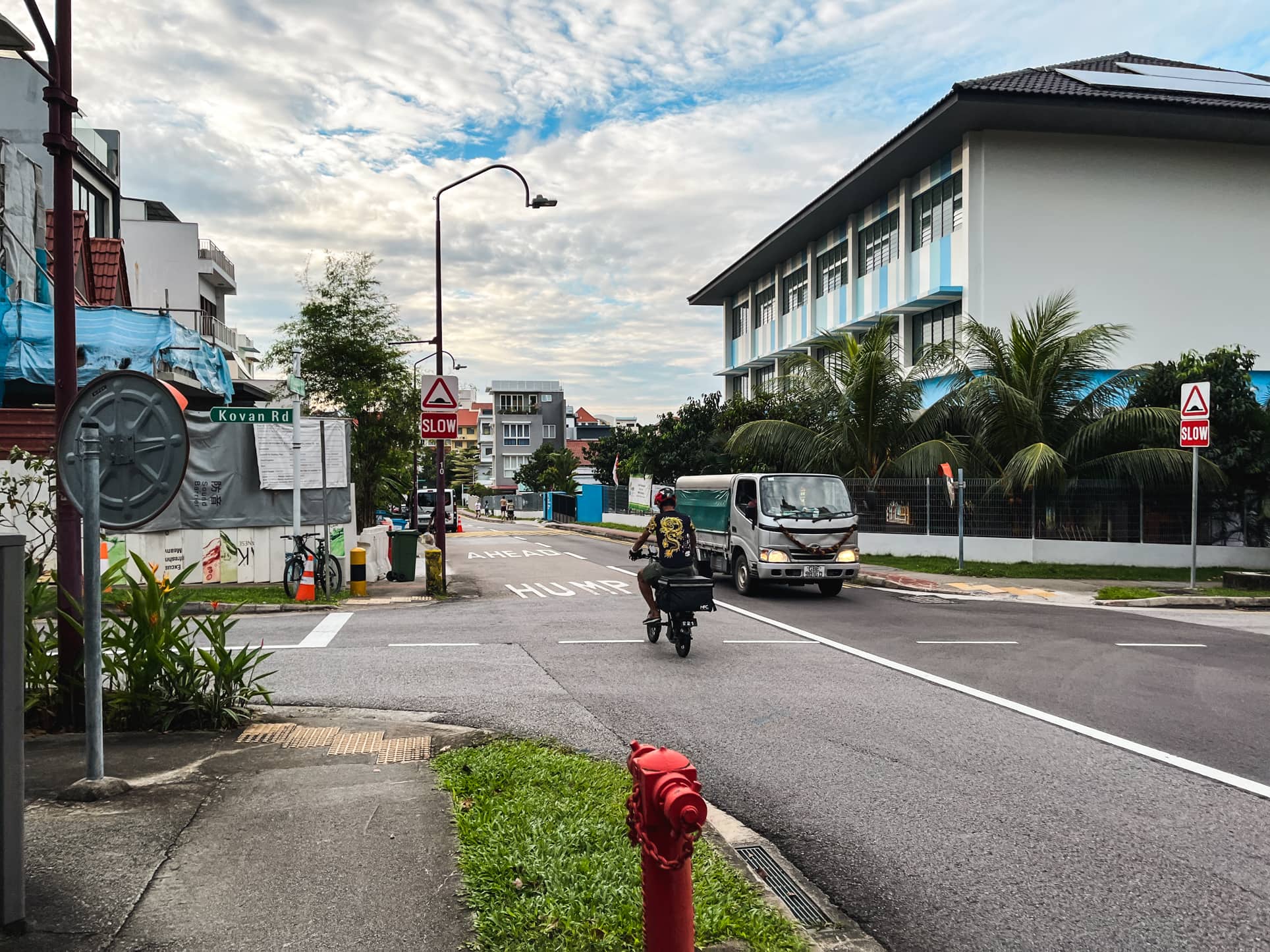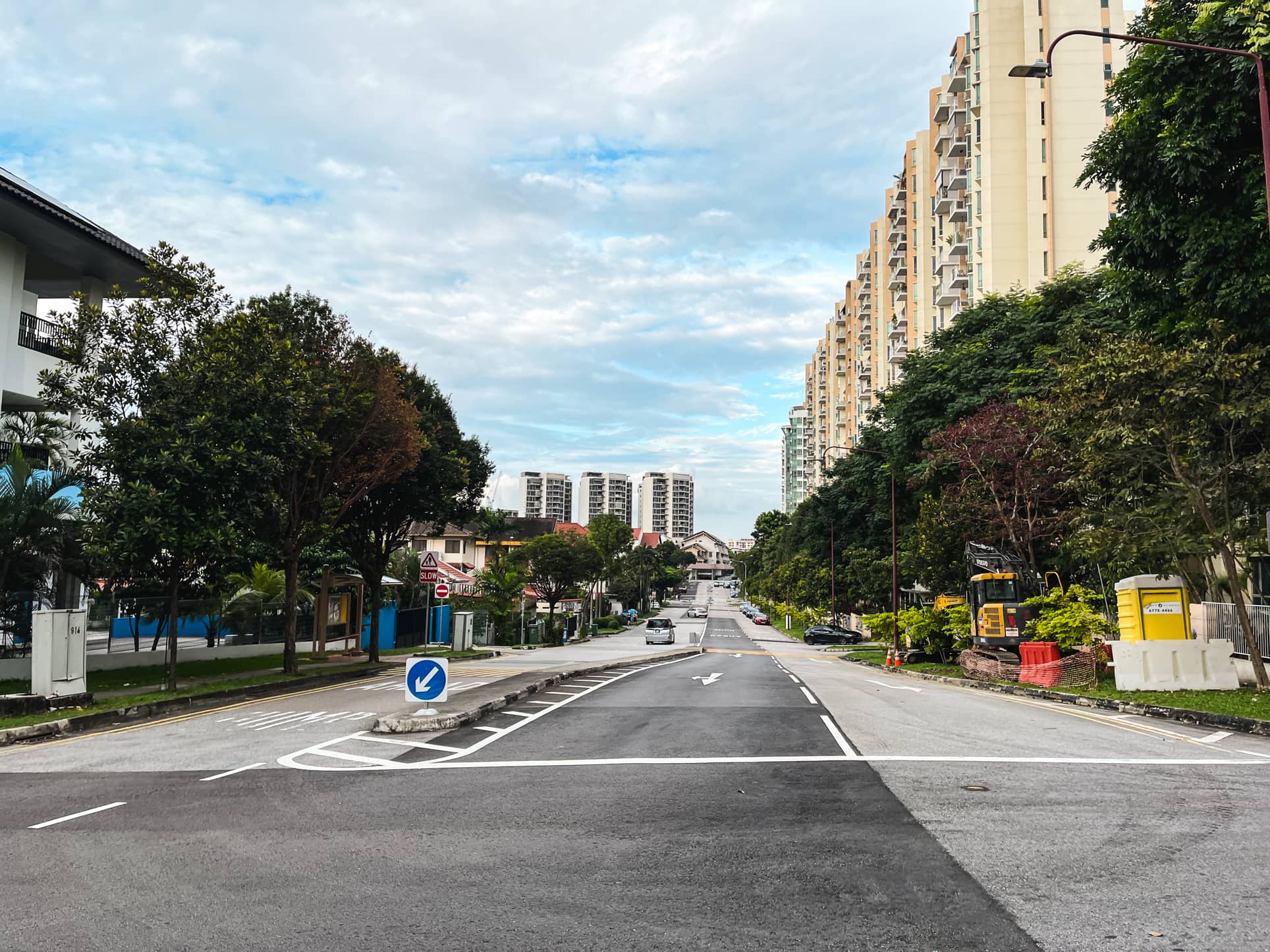 Having said that, the houses closer to Upper Serangoon Road (so along Kovan Road and Highland Road) were busier. They're also much closer to Kovan MRT station, about a 10 to 15 minutes walk depending on the house number. It wasn't as bustling deeper into the estate, so it may be a simple matter of choosing the right street to live on here, if you want a more tranquil location.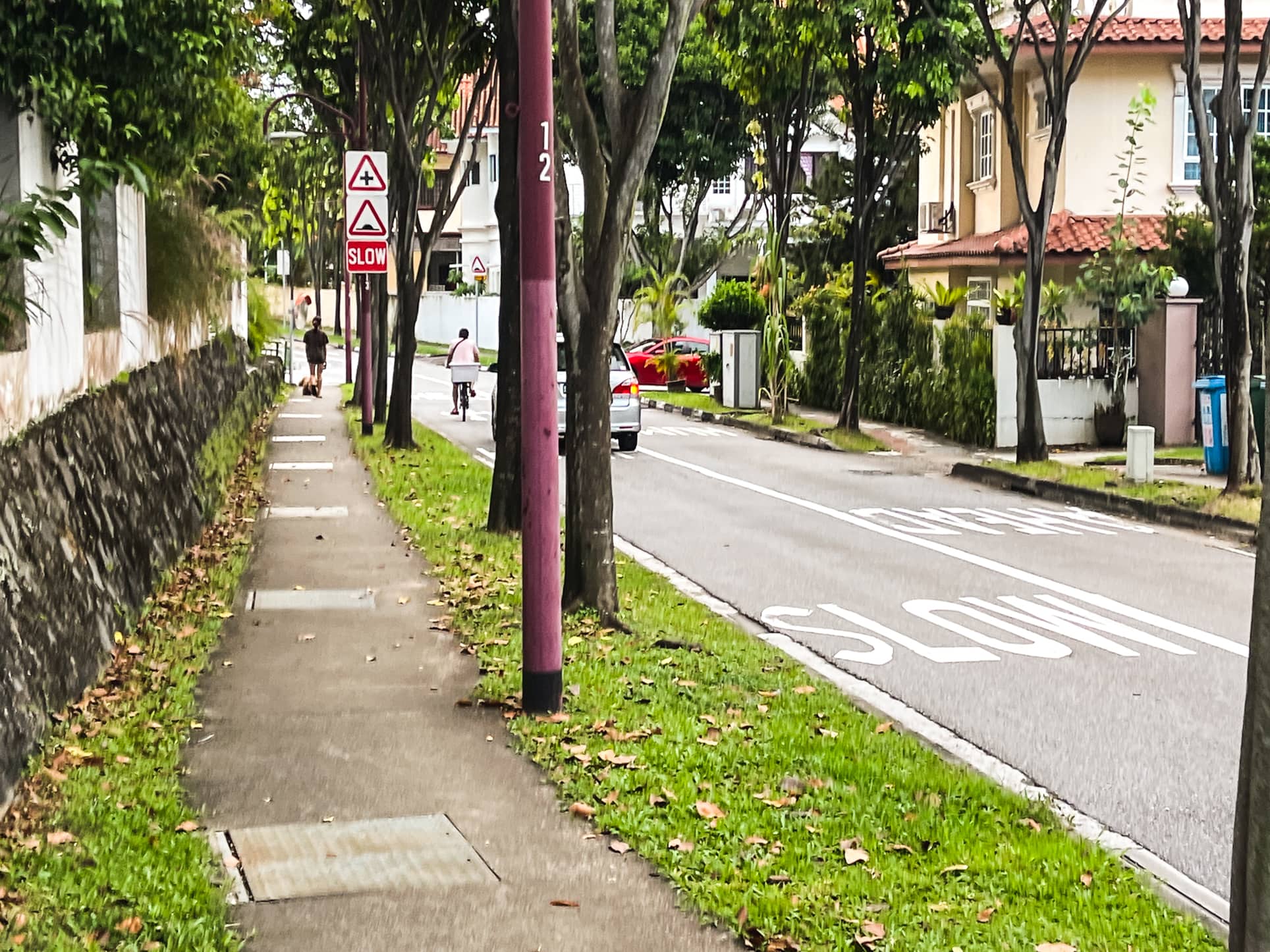 Due to all the hustle and bustle here, unlike the other estates I've toured, this area didn't feel like a landed enclave. Instead, it felt like a group of landed properties that just happened to be situated next to each other, if that makes sense. I think it's partly also because, besides landed houses, there are many other types of properties here too: condos, churches, schools, etc. (Other estates do have such non-residential properties too, but not in such large numbers as I saw here.)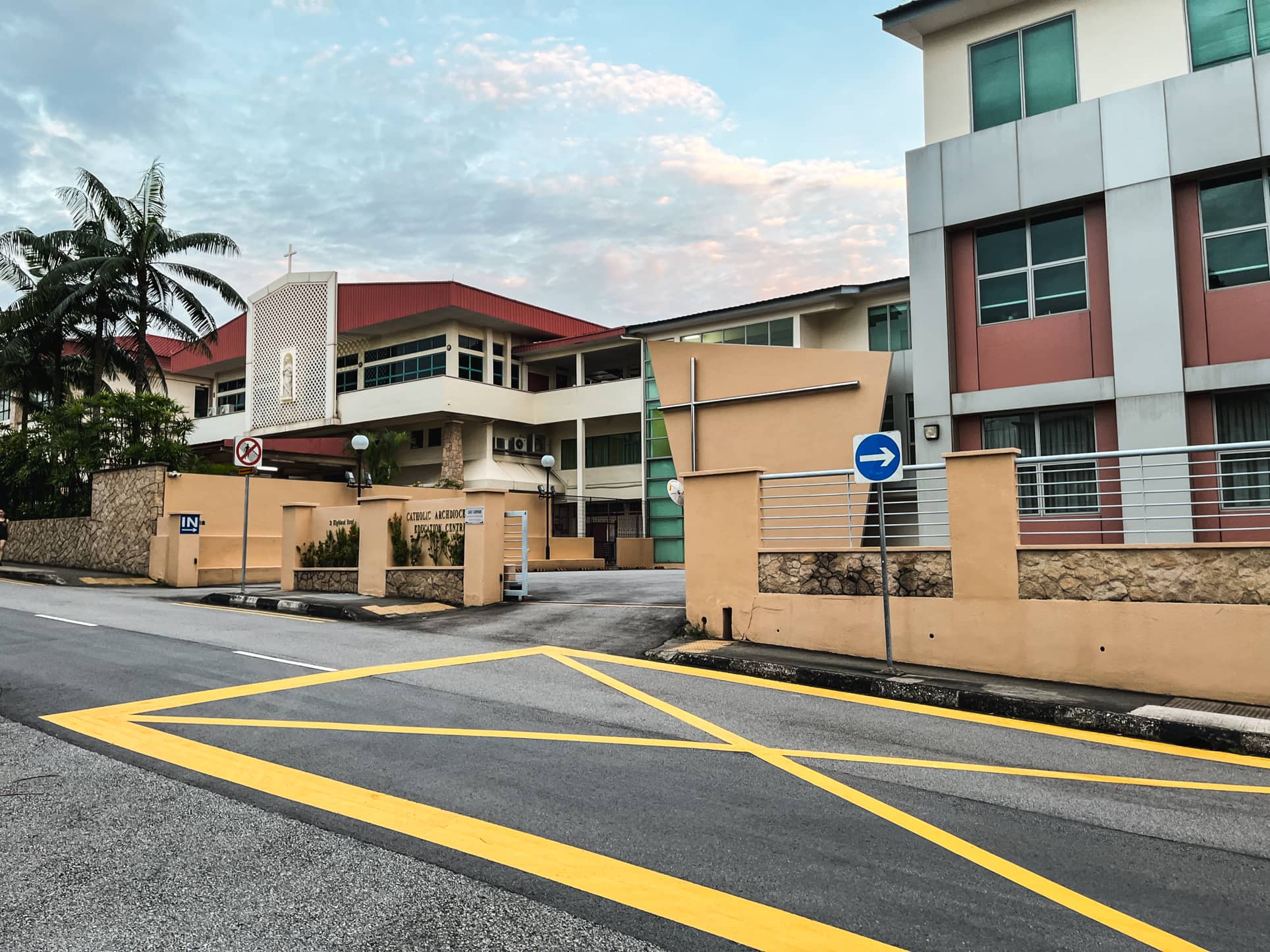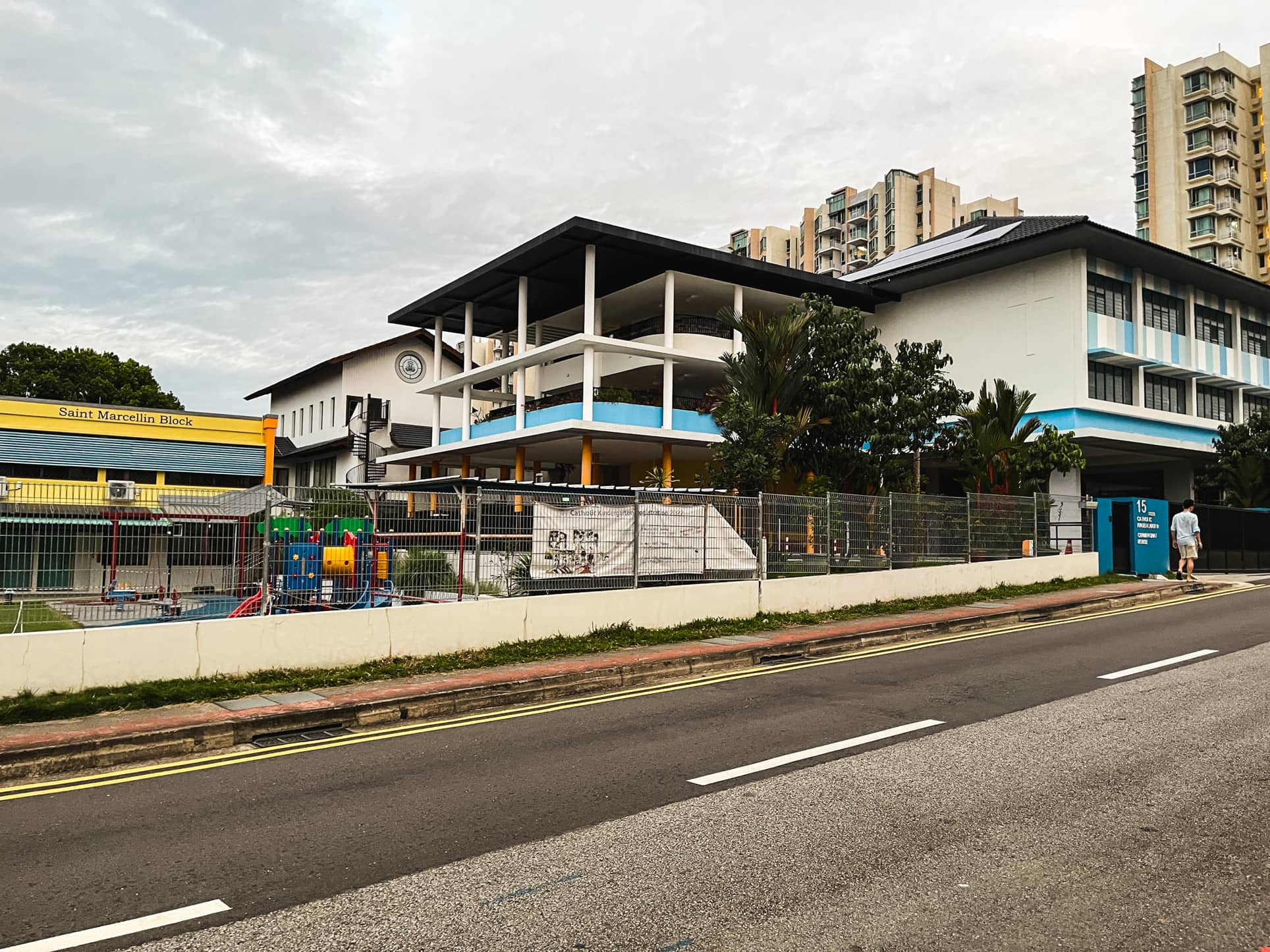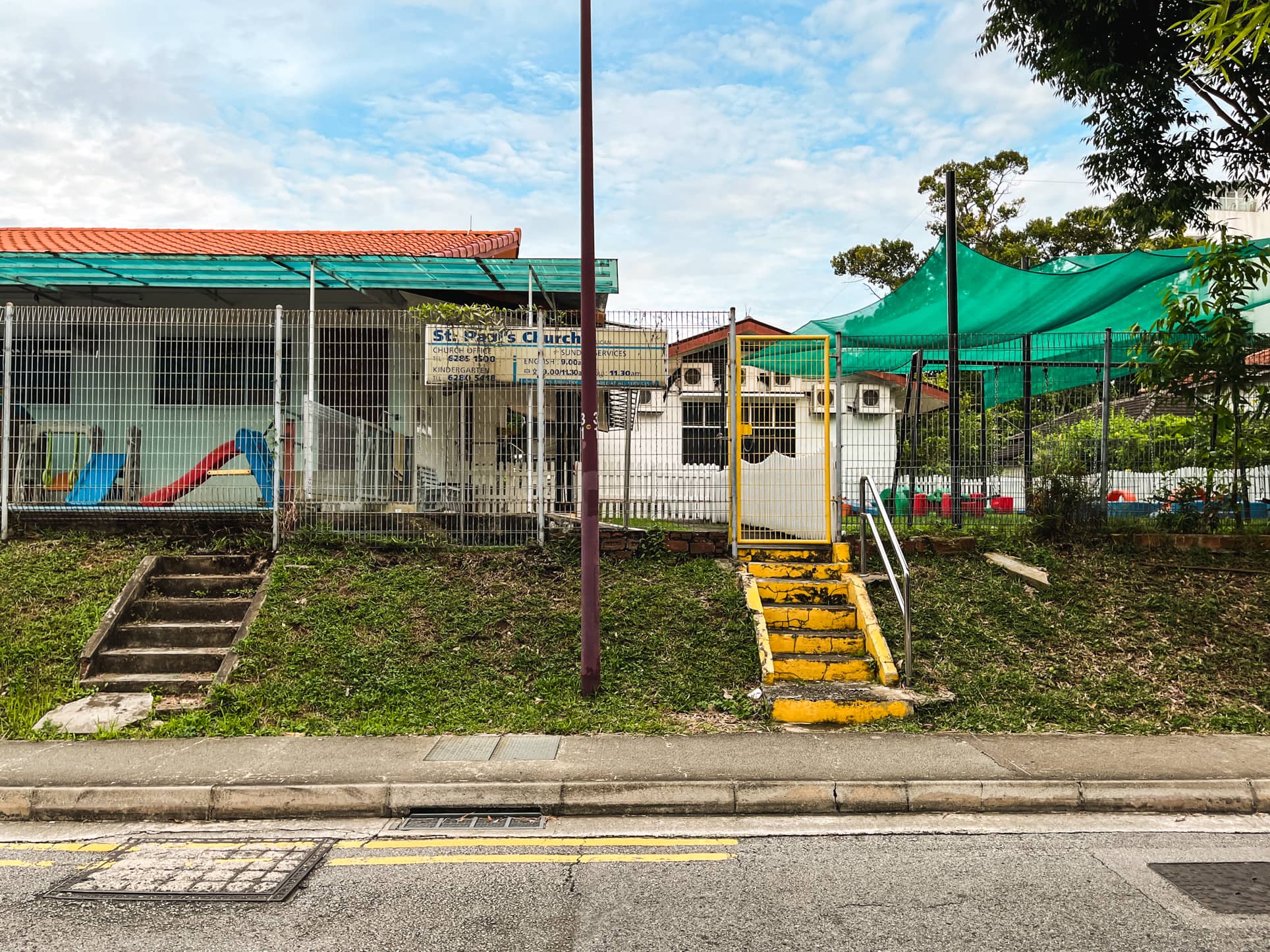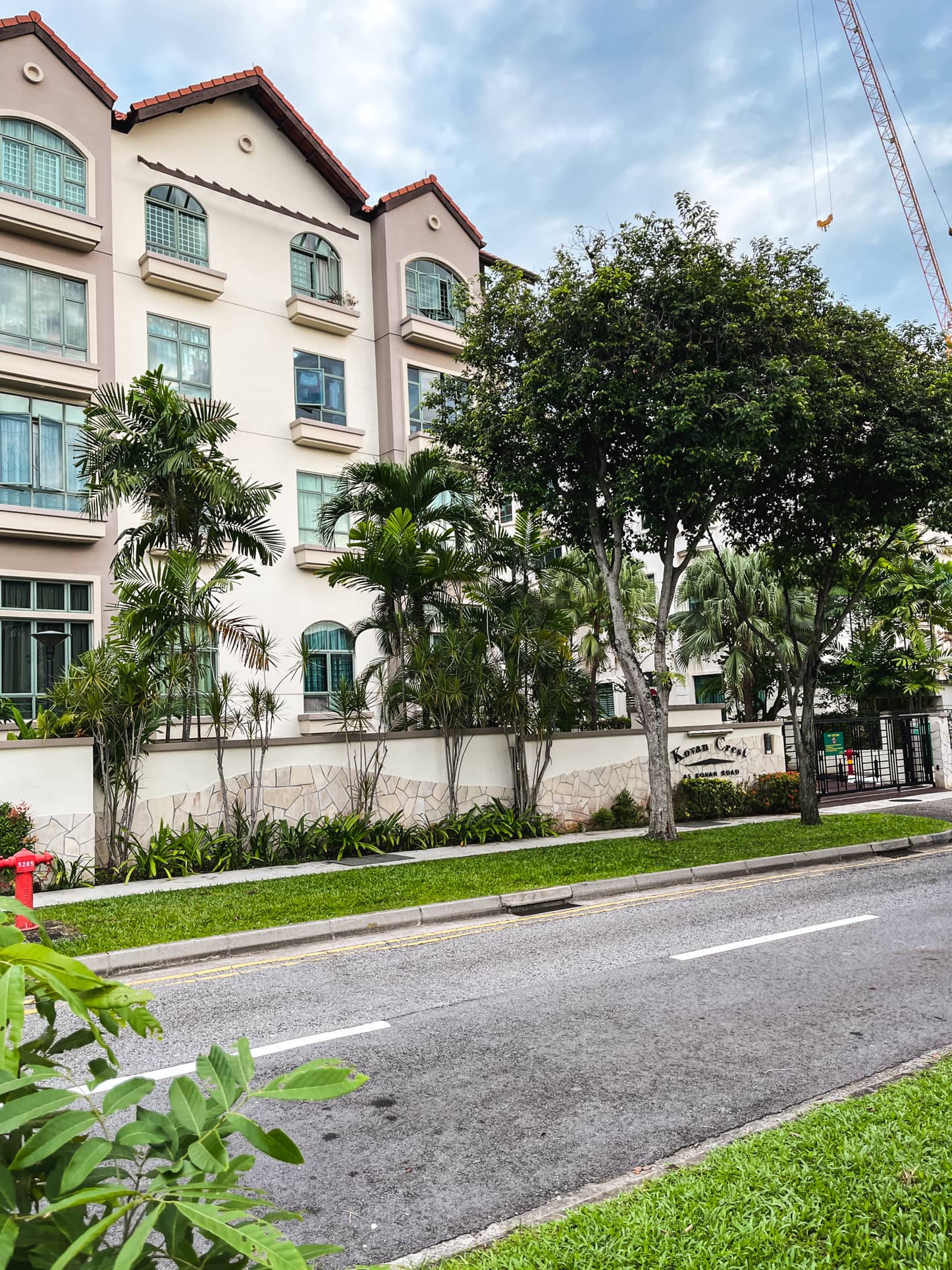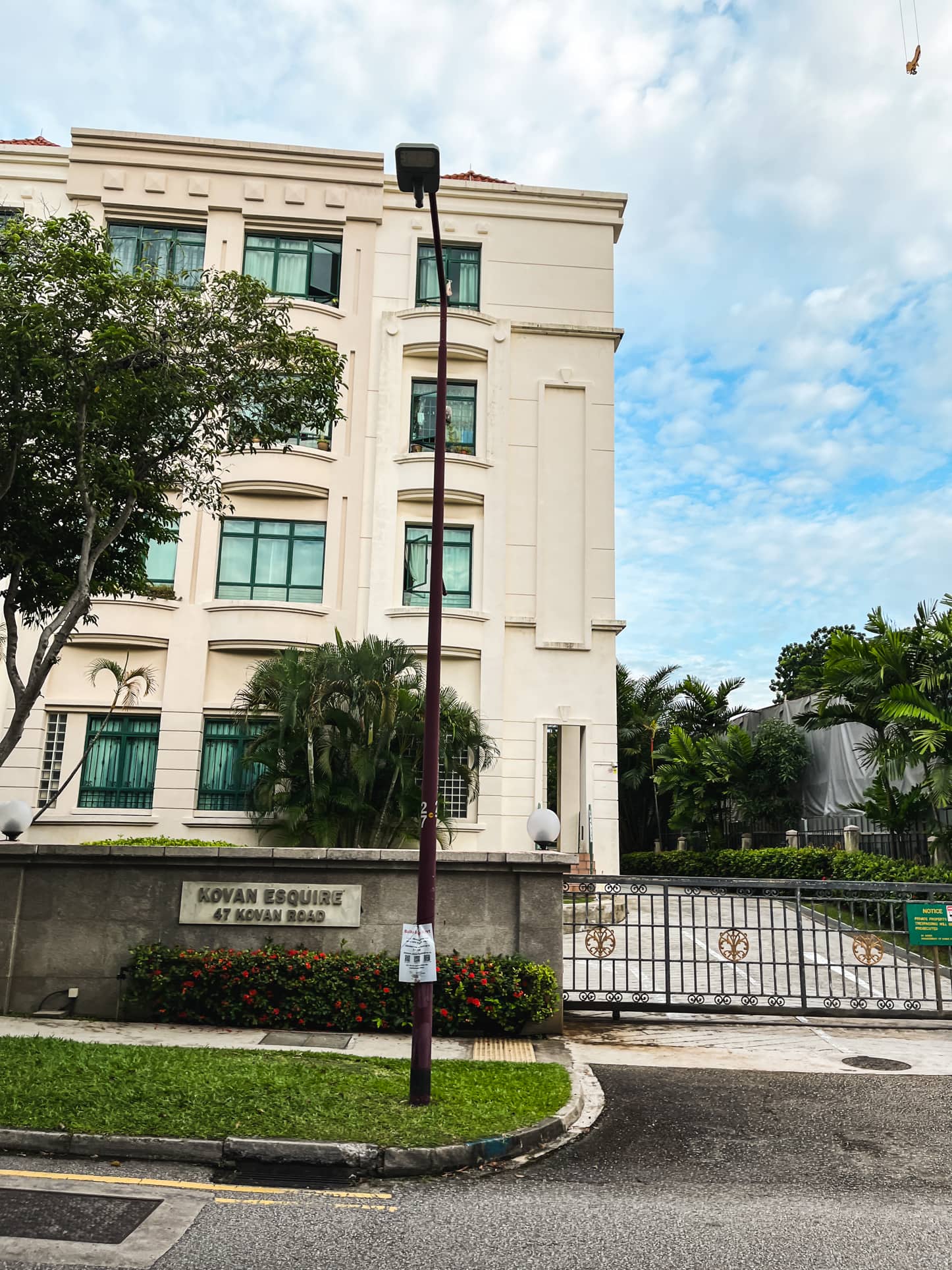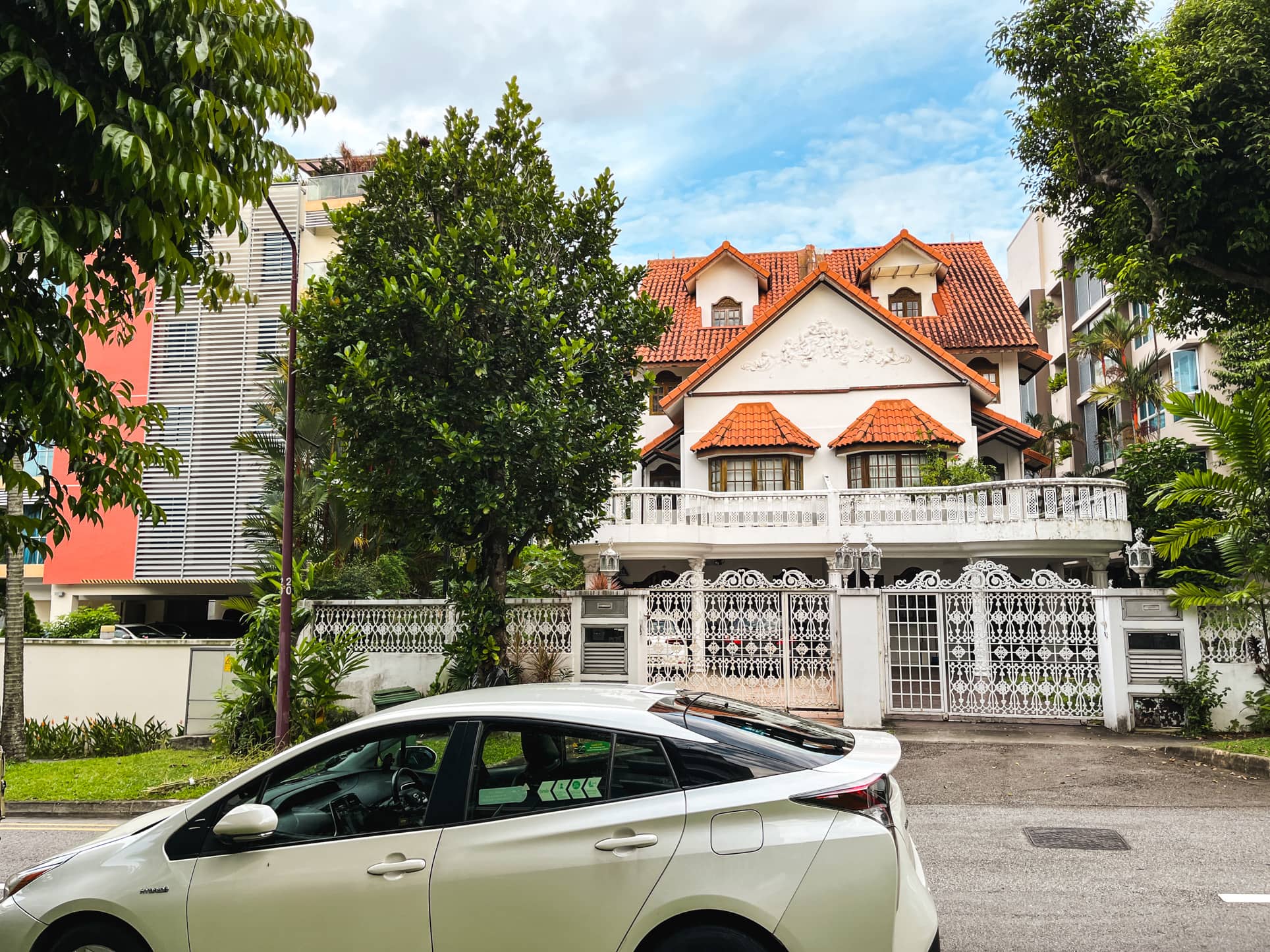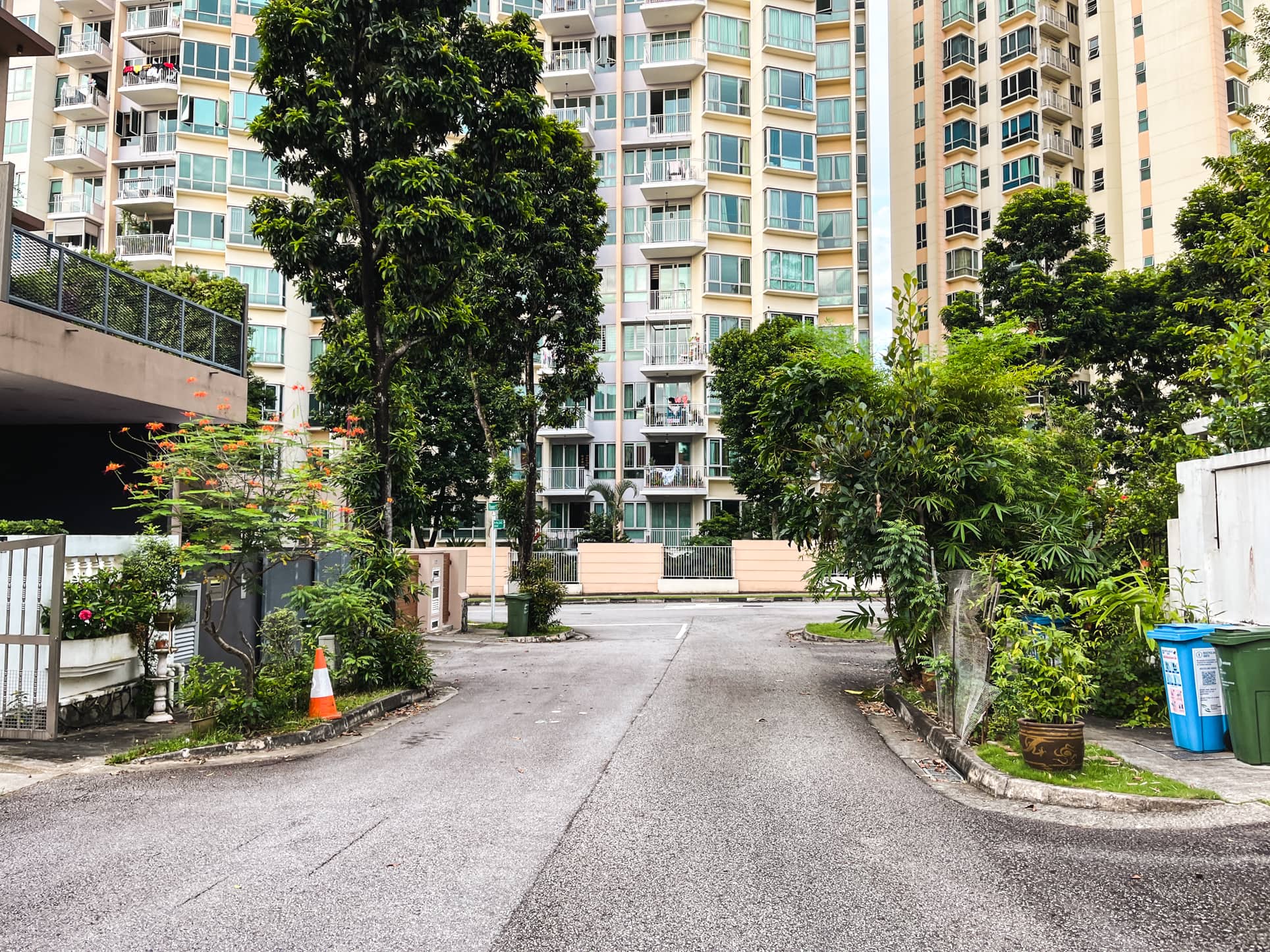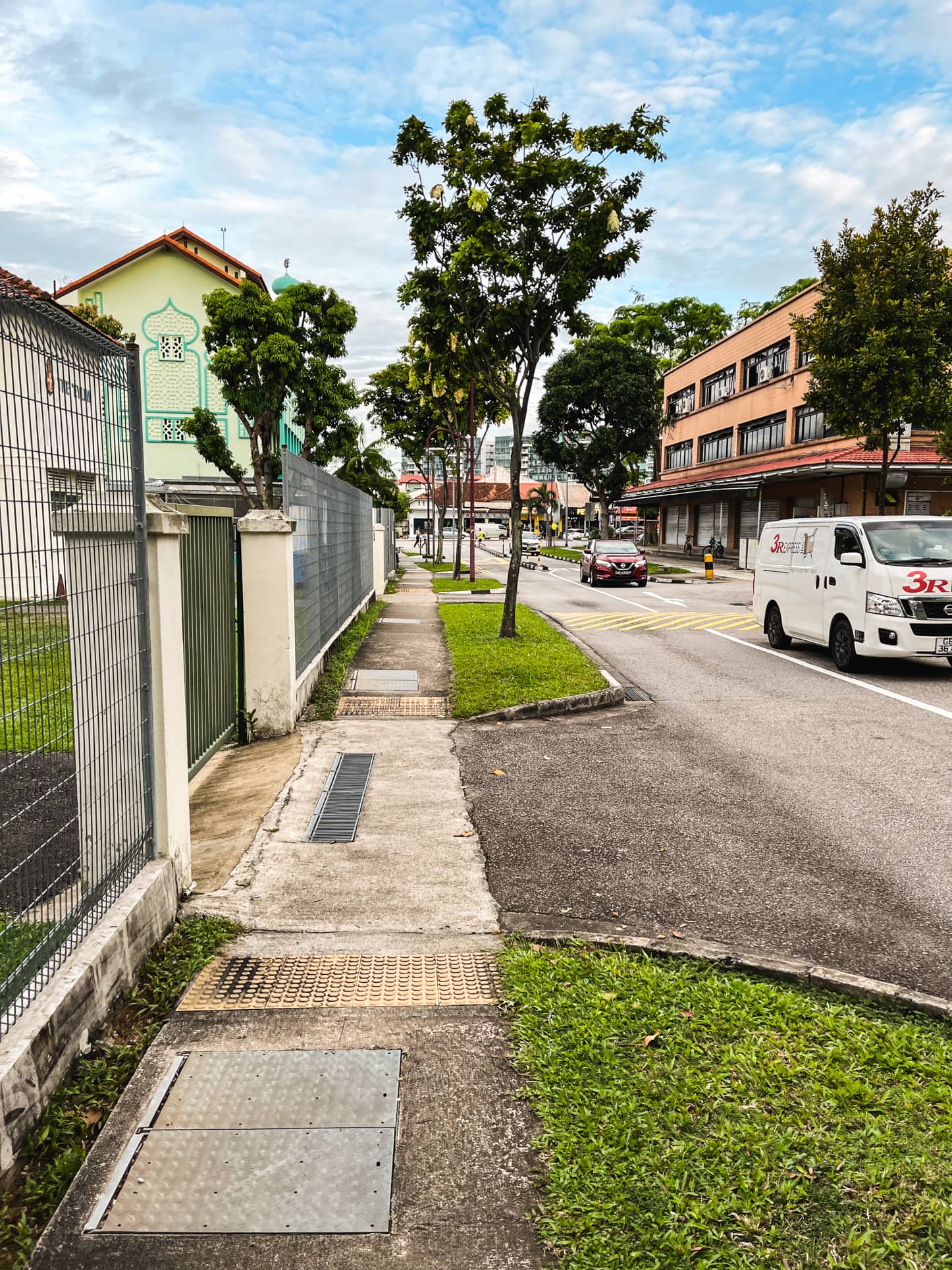 The fenced gate on my left is a rather deserted building marked "The Eylim" so it doesn't look residential. However, I couldn't figure out whether the building was in use, nor its purpose, after Googling.
To the right of the photo is a row of shophouses.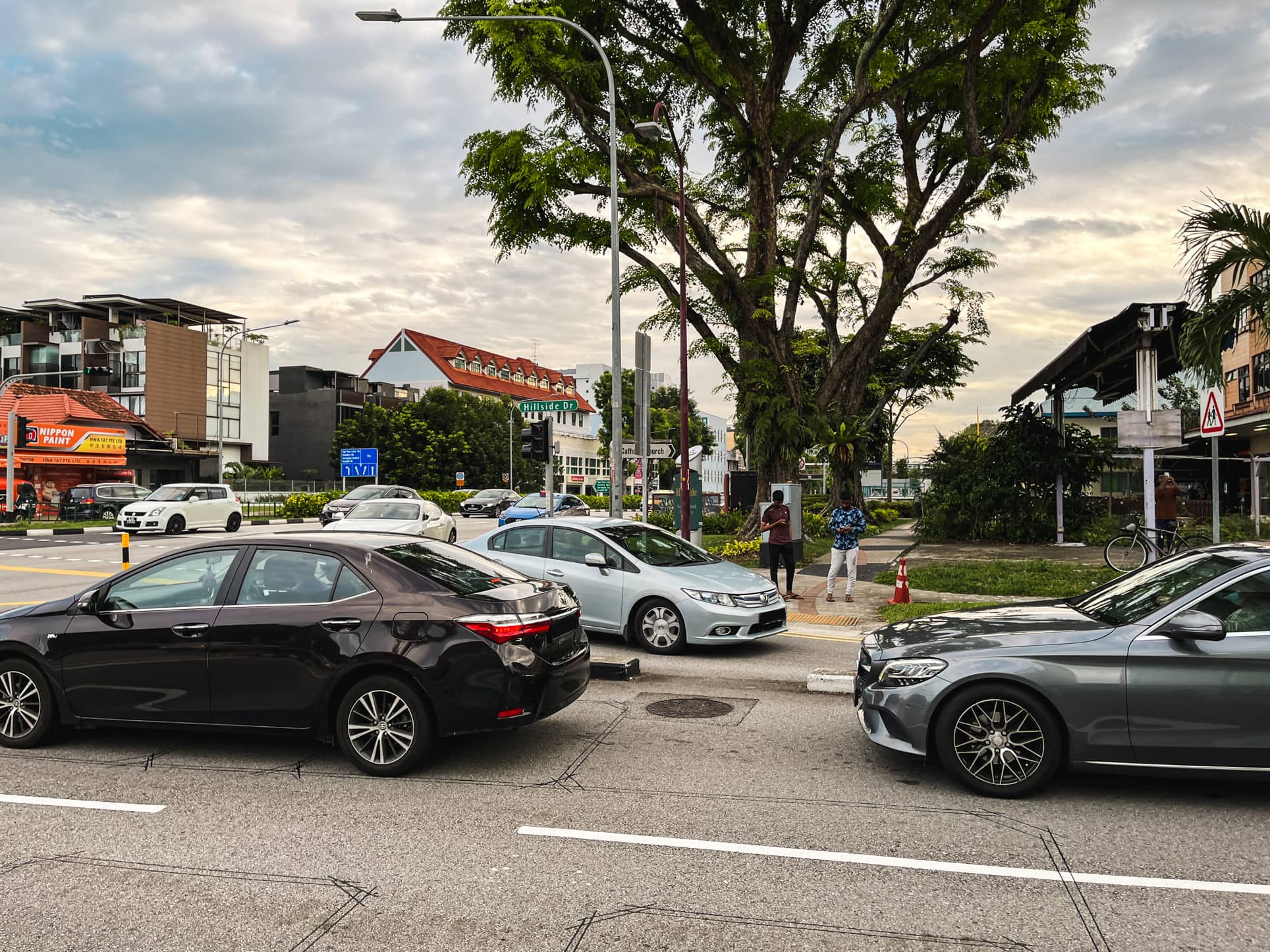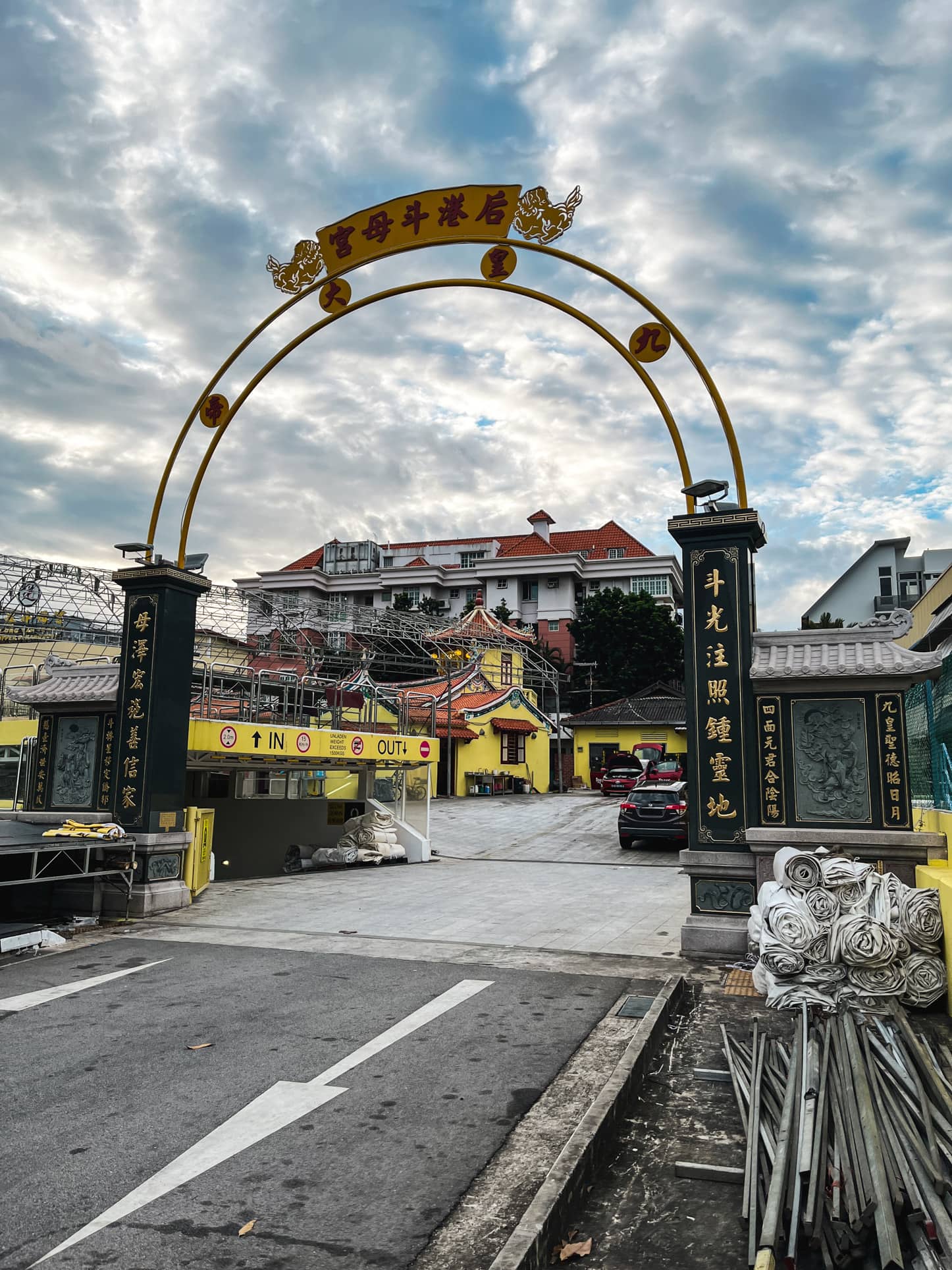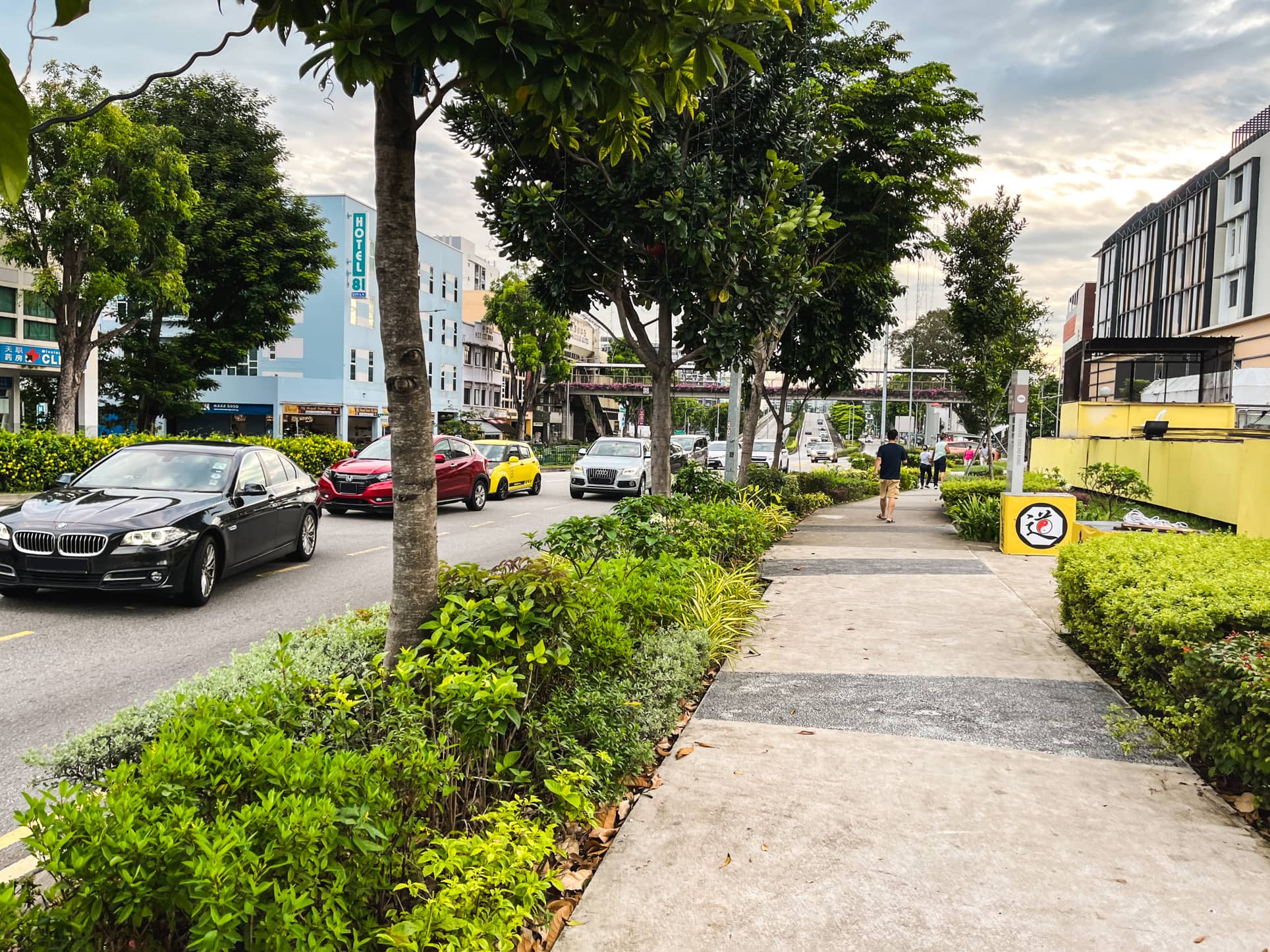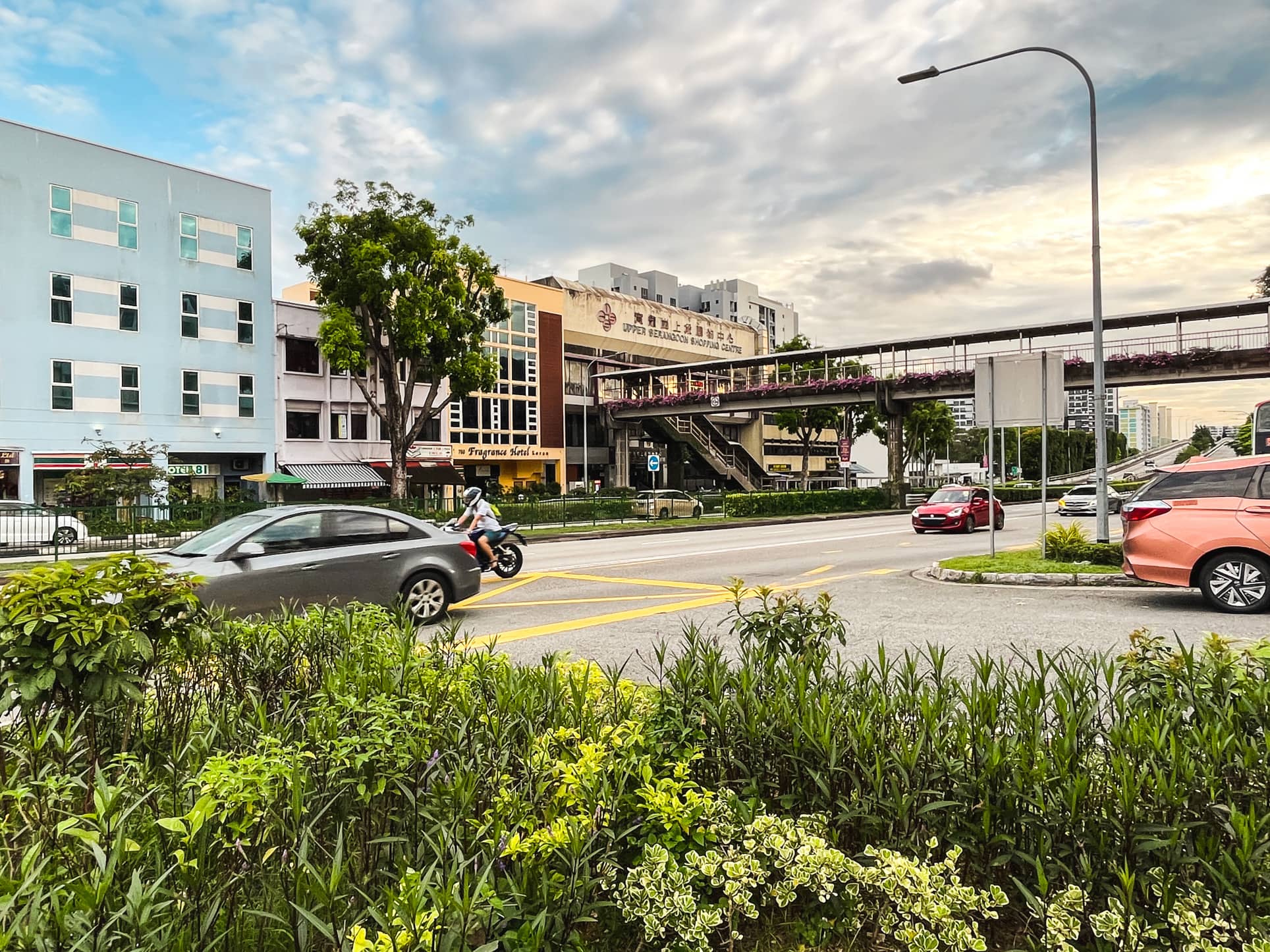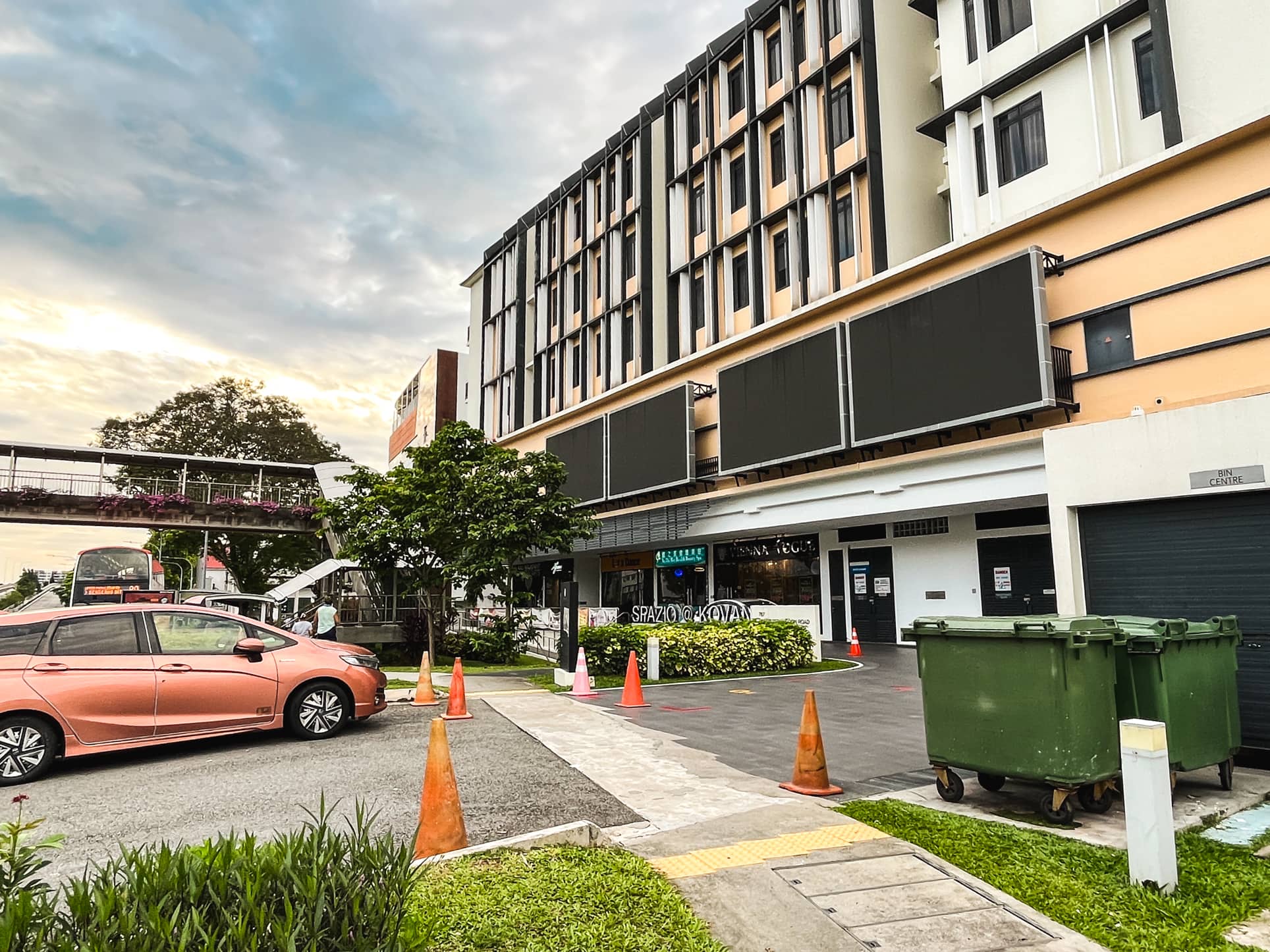 If you're looking for more mainstream shops, walking in the opposite direction along Upper Serangoon Road will take you to Kovan MRT, Kovan Heartland Mall, Kovan 209 Market and Food Centre etc. There's a NTUC Finest, a Guardian, a DBS and basically all the conveniences and amenities you could need.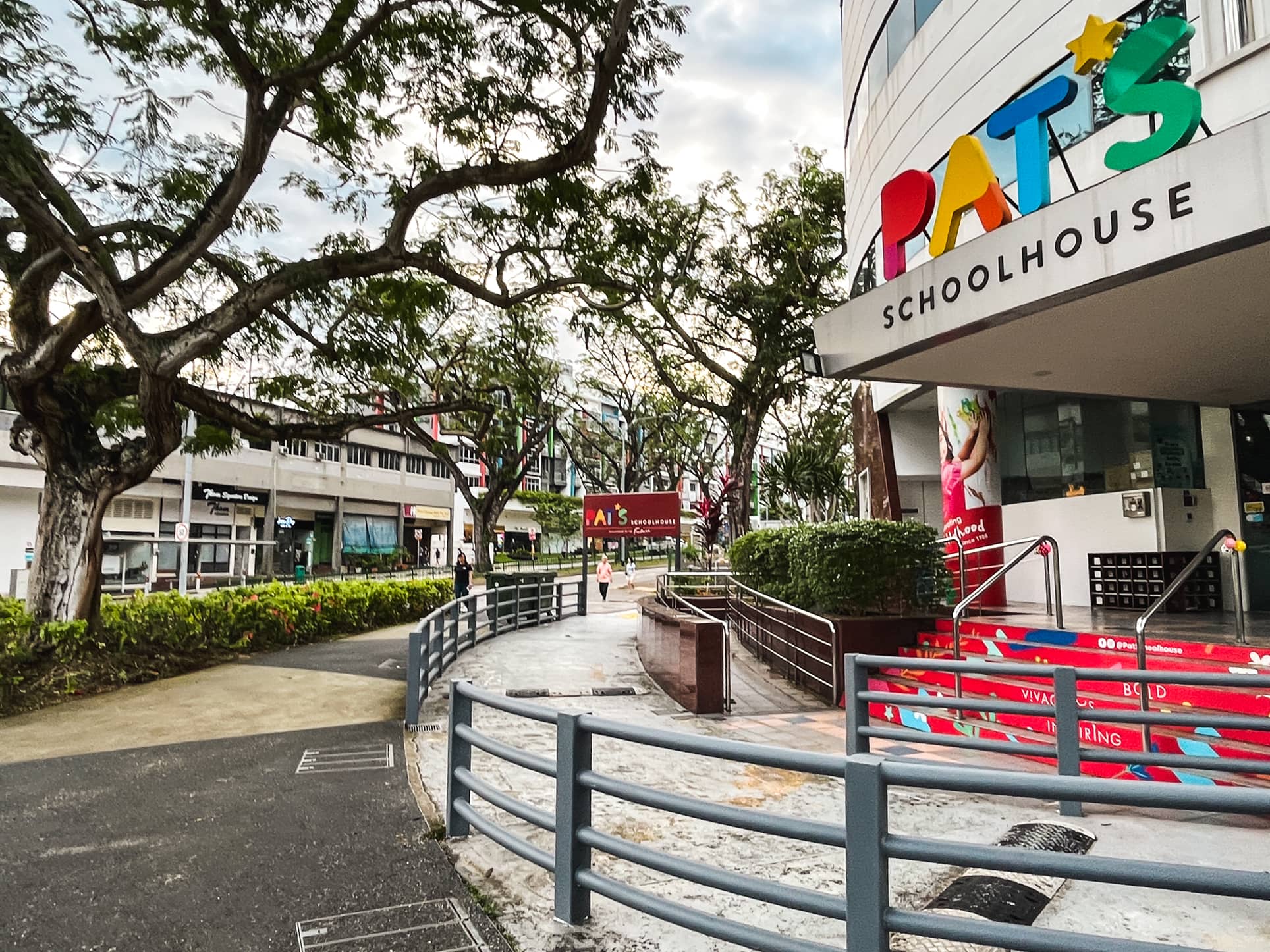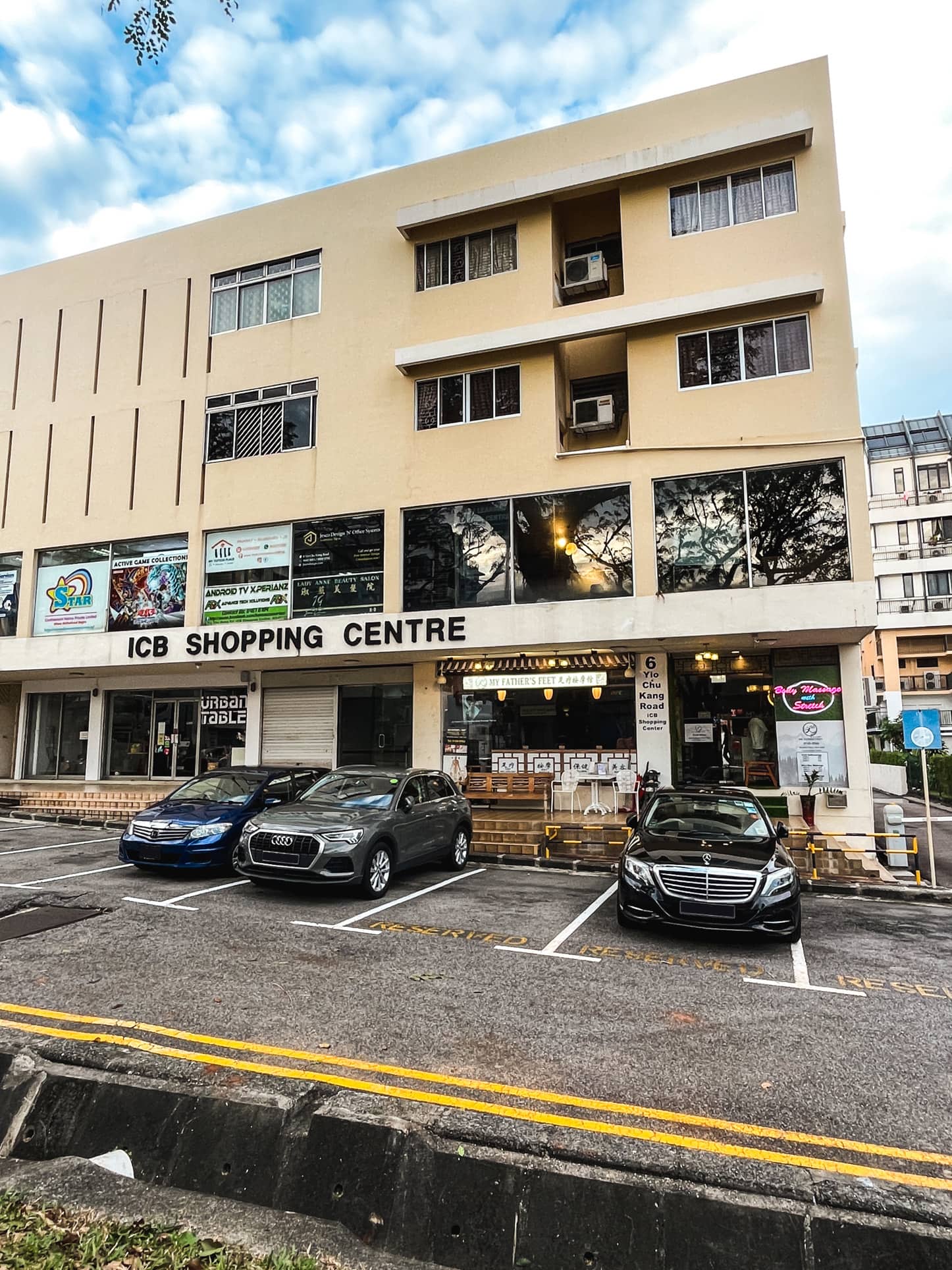 There are also a couple of pet-related shops next to ICB Shopping Centre at Vibes@Kovan. (Have you noticed how there are a lot of mixed-use boutique condos here?)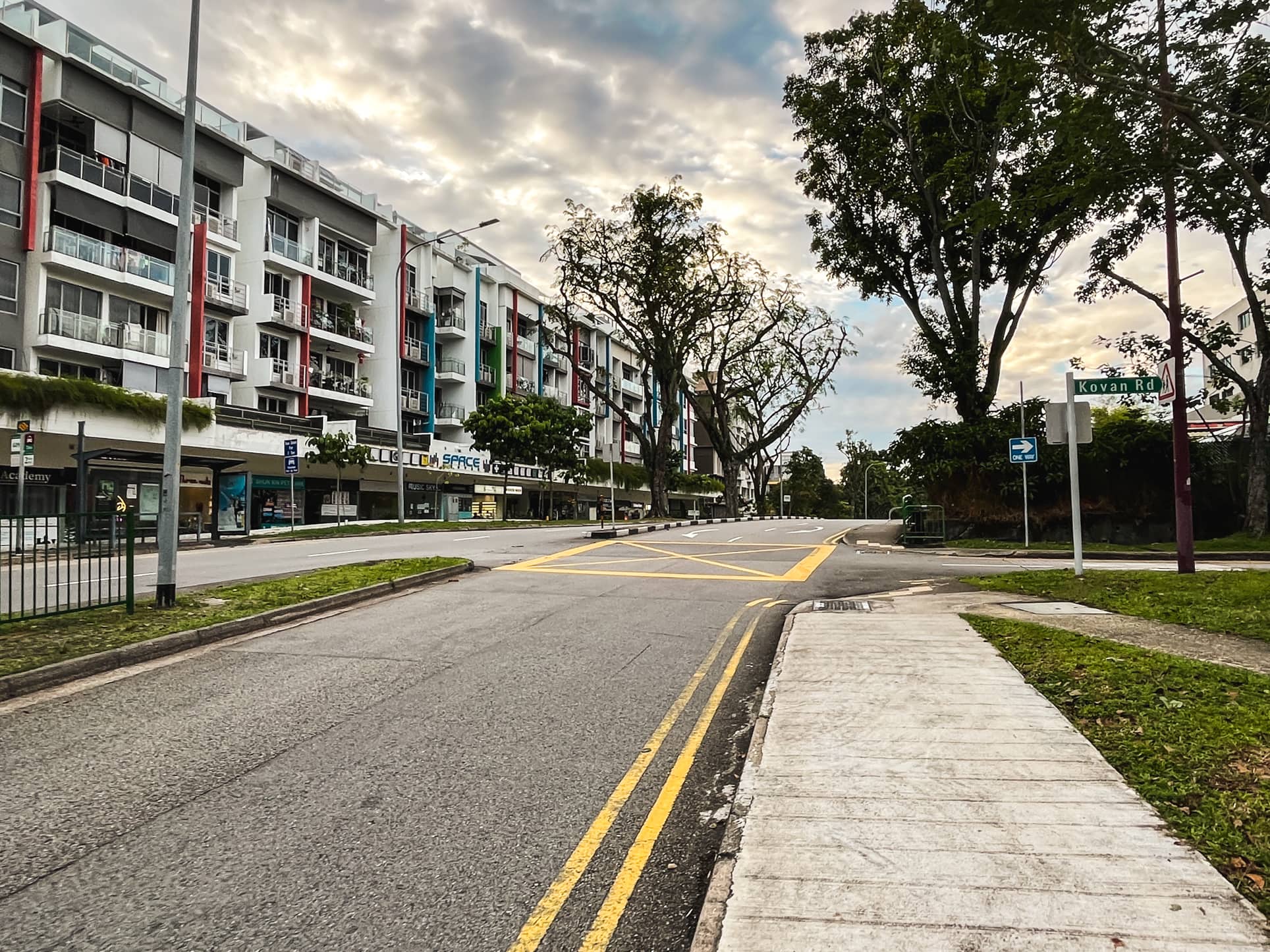 The turning into Kovan Road is opposite Space@Kovan but if you walk along Yio Chu Kang road, you'll find Serangoon Stadium. Let's head in that direction before we head back into the landed estate!
Read this next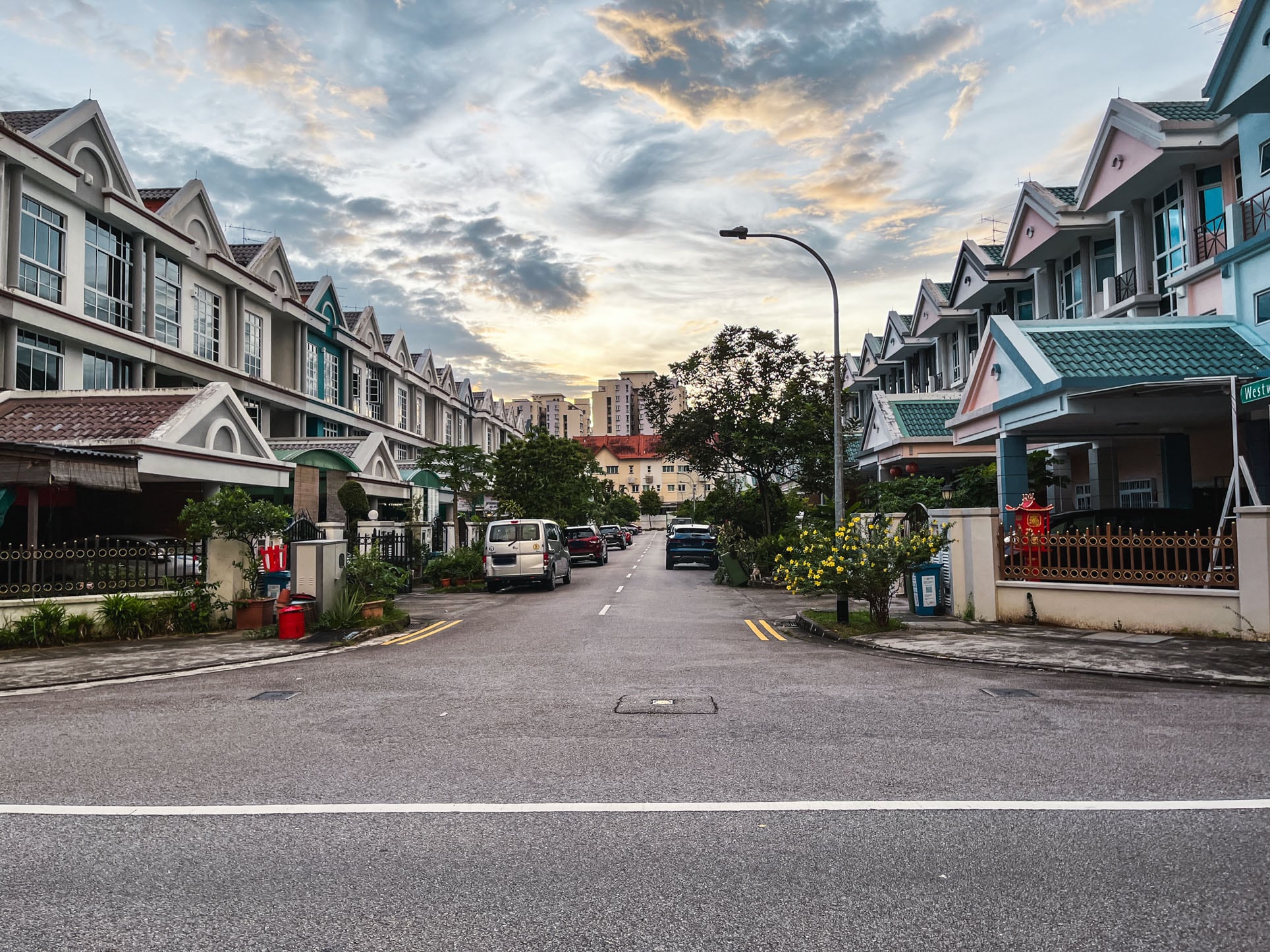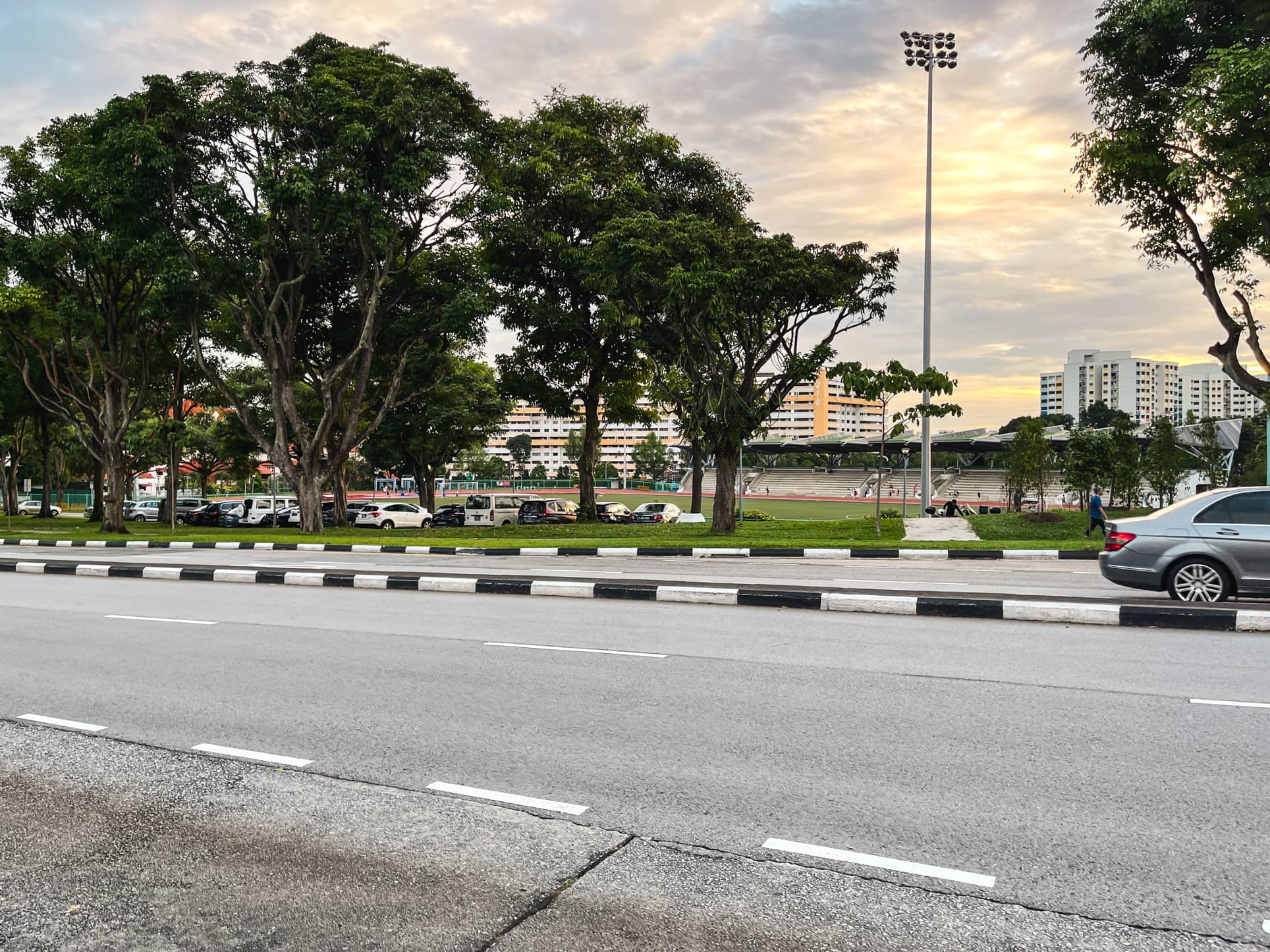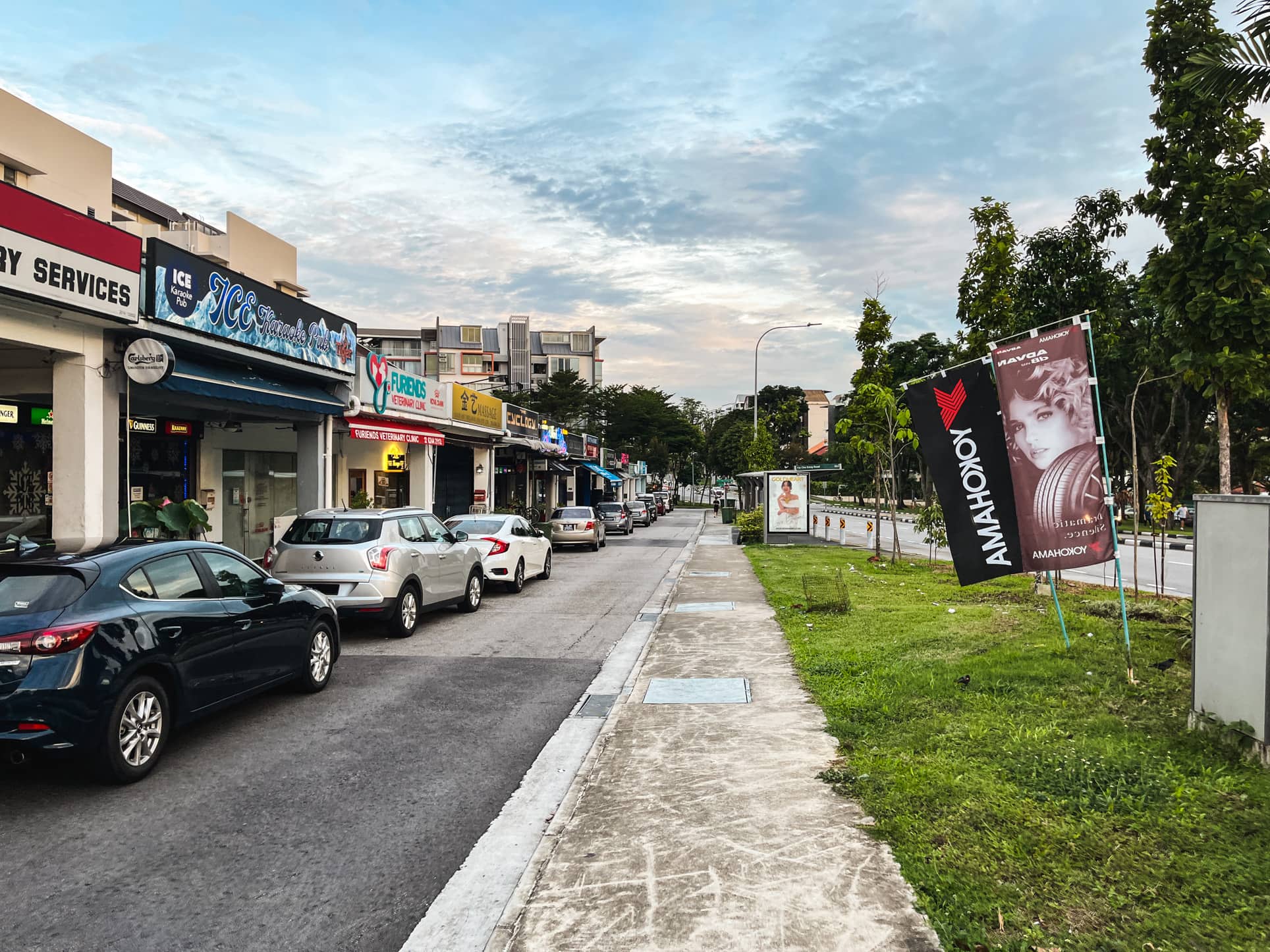 Along this row, there is Eleven Strands, a cool cafe, a Taekwondo Academy, a Baby Swimming School (the houses must be deceptively small!), a Cycling shop, a Pub and a Domino's Pizza (had the WORST experience there.)
Behind me (or behind where I was standing to take this photo), is the turn-in to the landed estate (Sirat Road) and, behind Sirat Road is a petrol station (SPC.)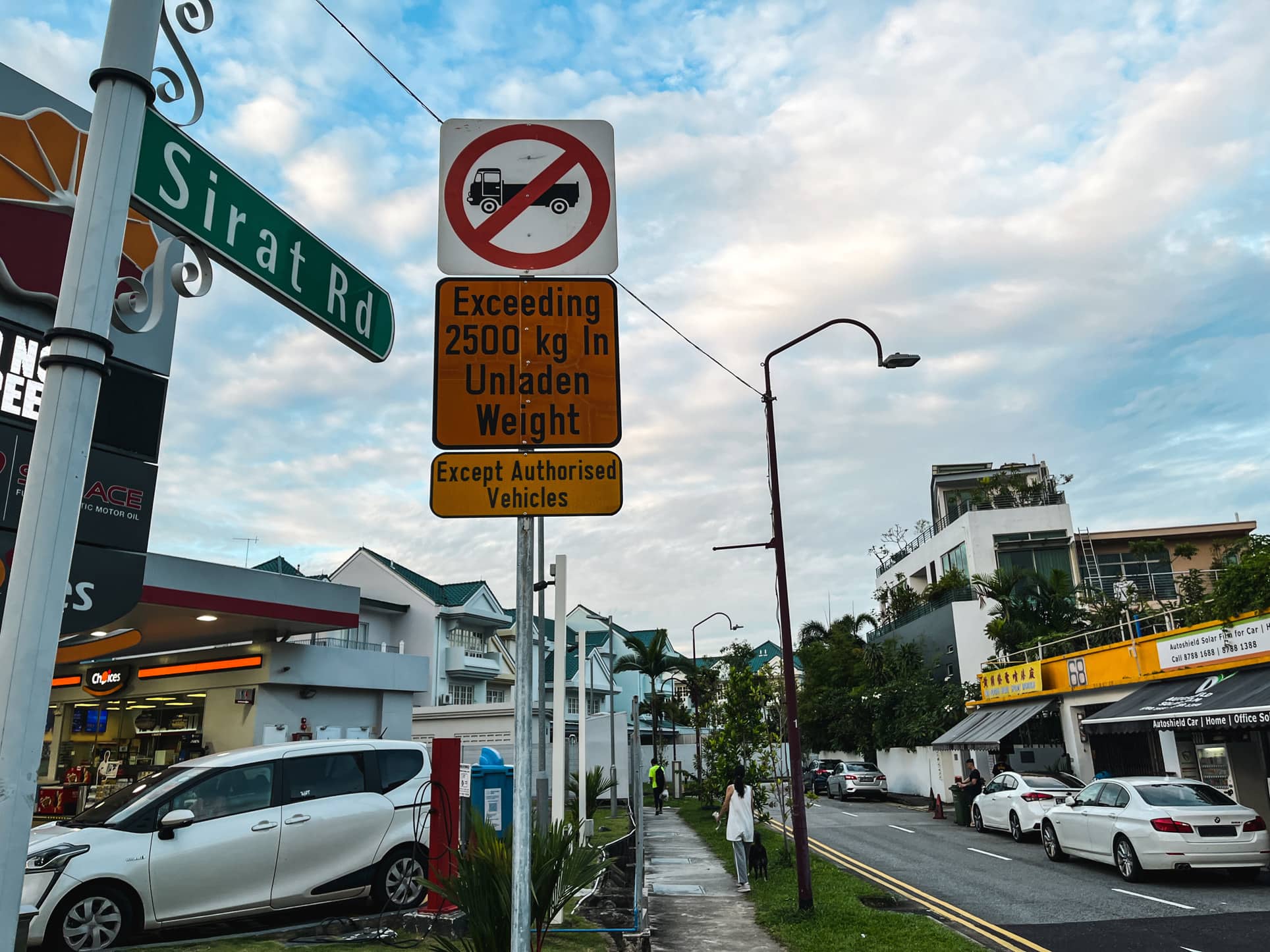 Across from SPC, on Sirat Road itself, are more shophouses but this time mostly of auto shops, so quite a niche audience! To the left of the above photo (not captured) is Song Kee Fishball, which I quite like, as well as a cycling studio etc.
Across this part of Yio Chu Kang Road is another bus stop, which I presume also only serves 1 bus. Houses along this part of the estate also have 2 MRT stations to choose from: Serangoon MRT (about a 15 minutes' walk away- that's where you find the large mall, Nex) and Kovan MRT (about 20 minutes' walk.)
Because of how quiet Yio Chu Kang Road is, I was pretty surprised by how well-linked the houses here are!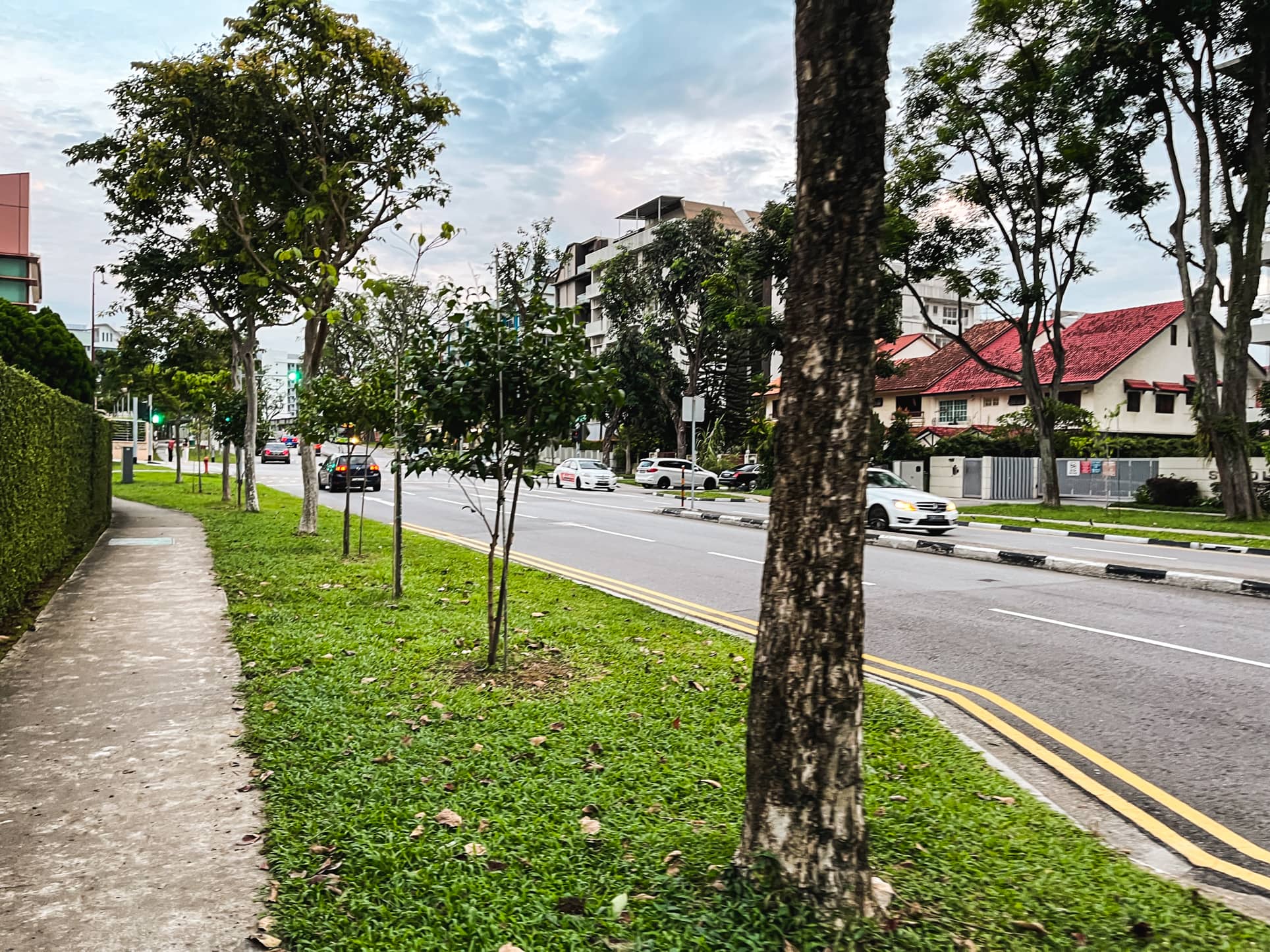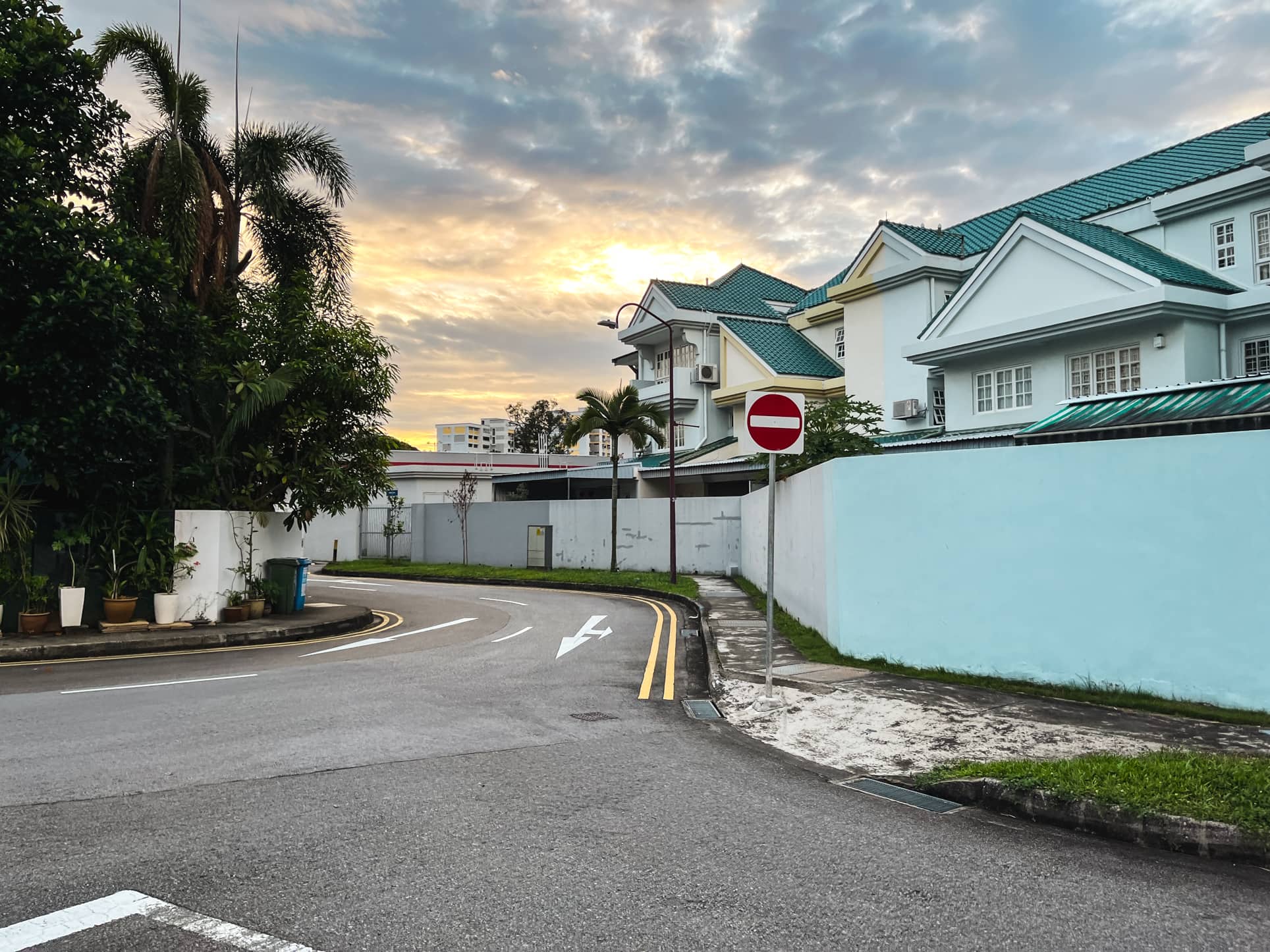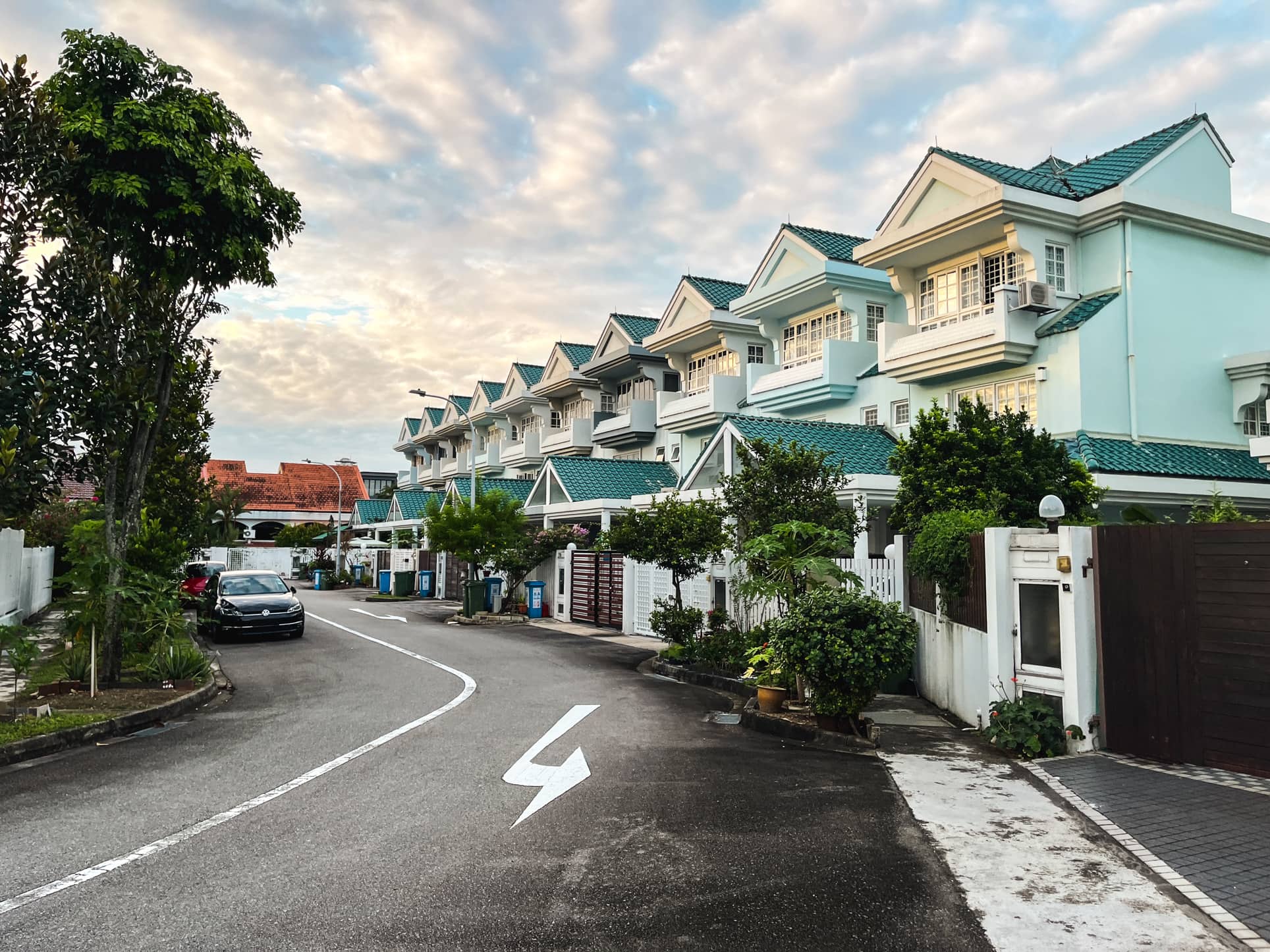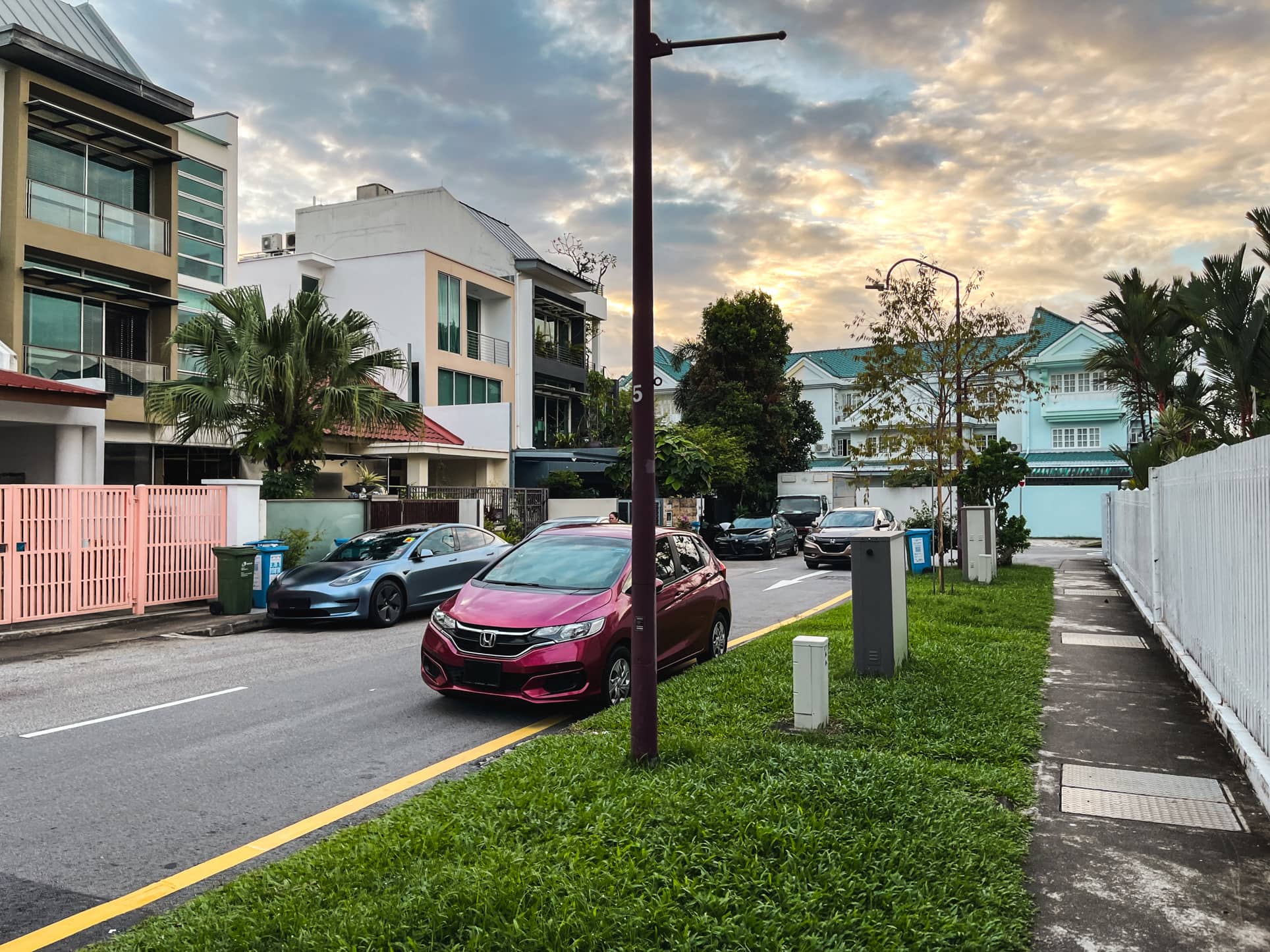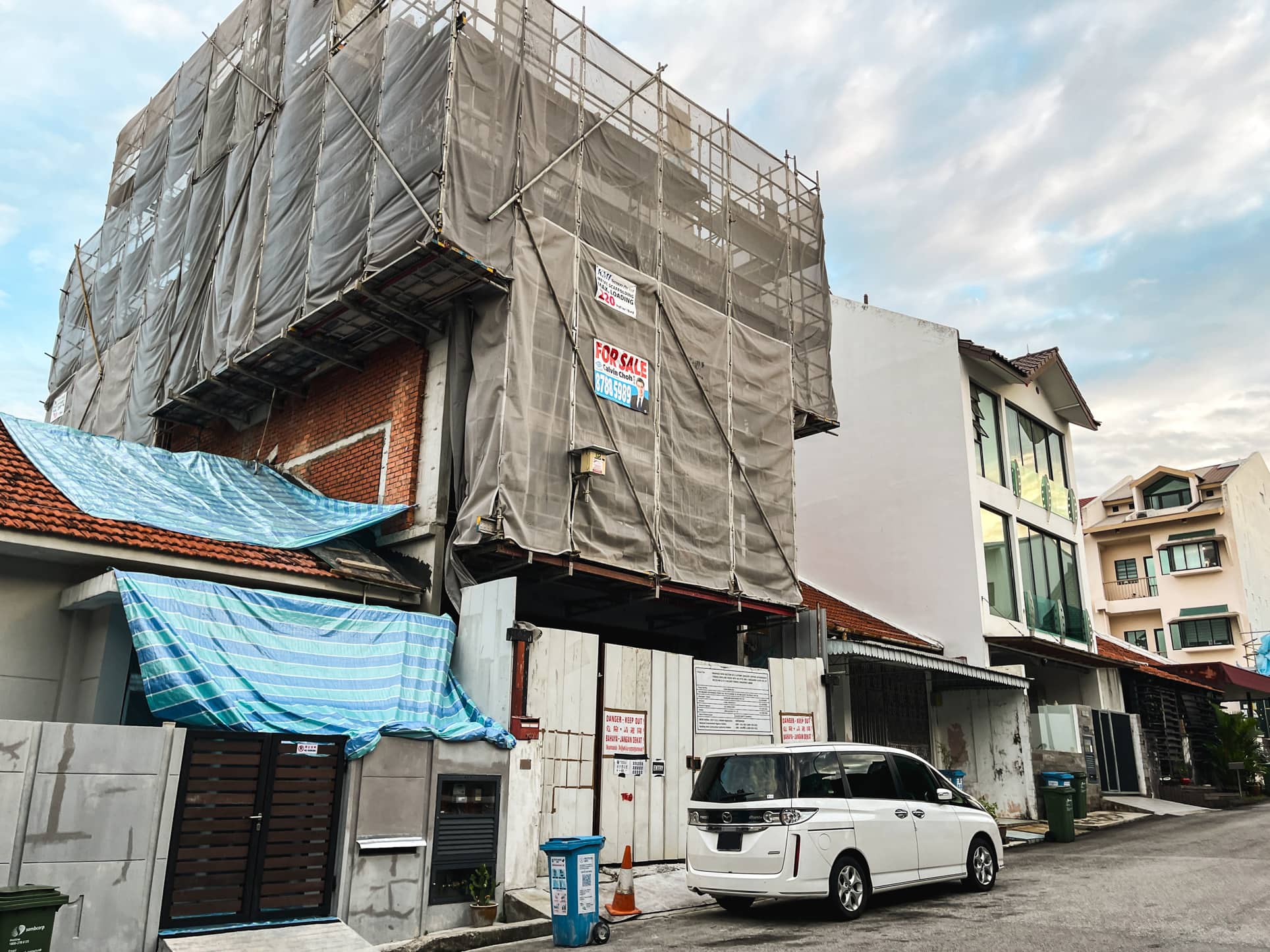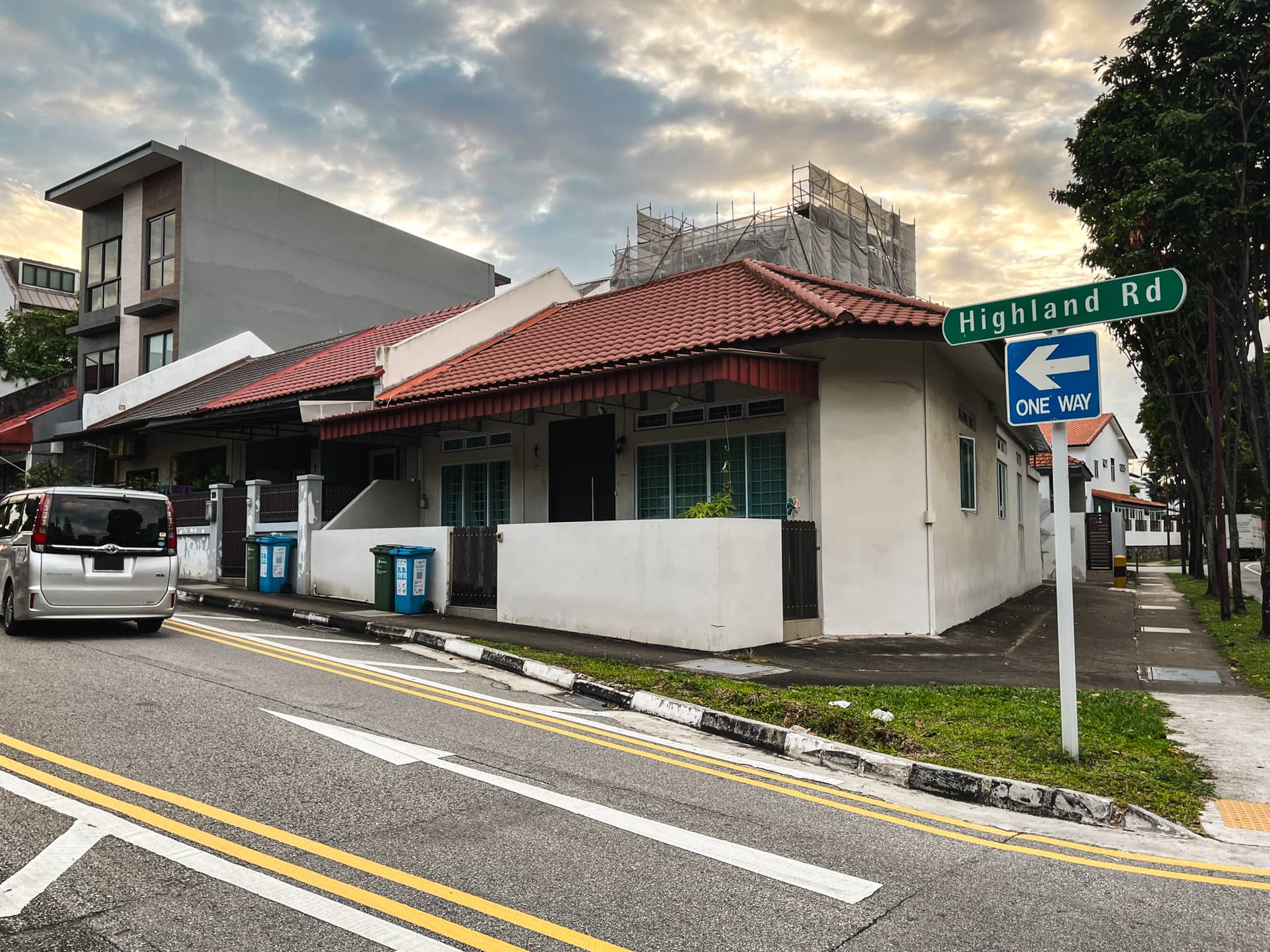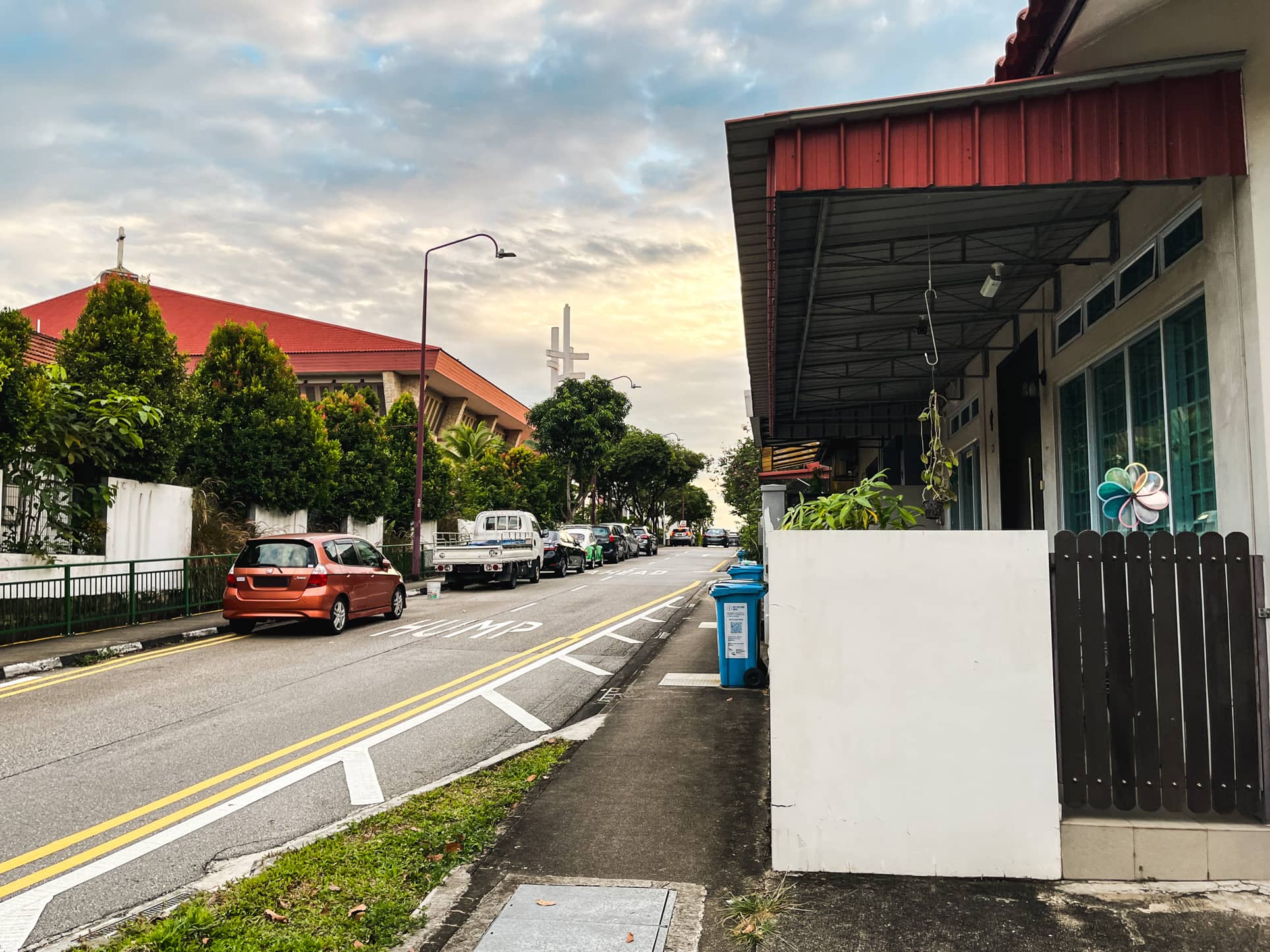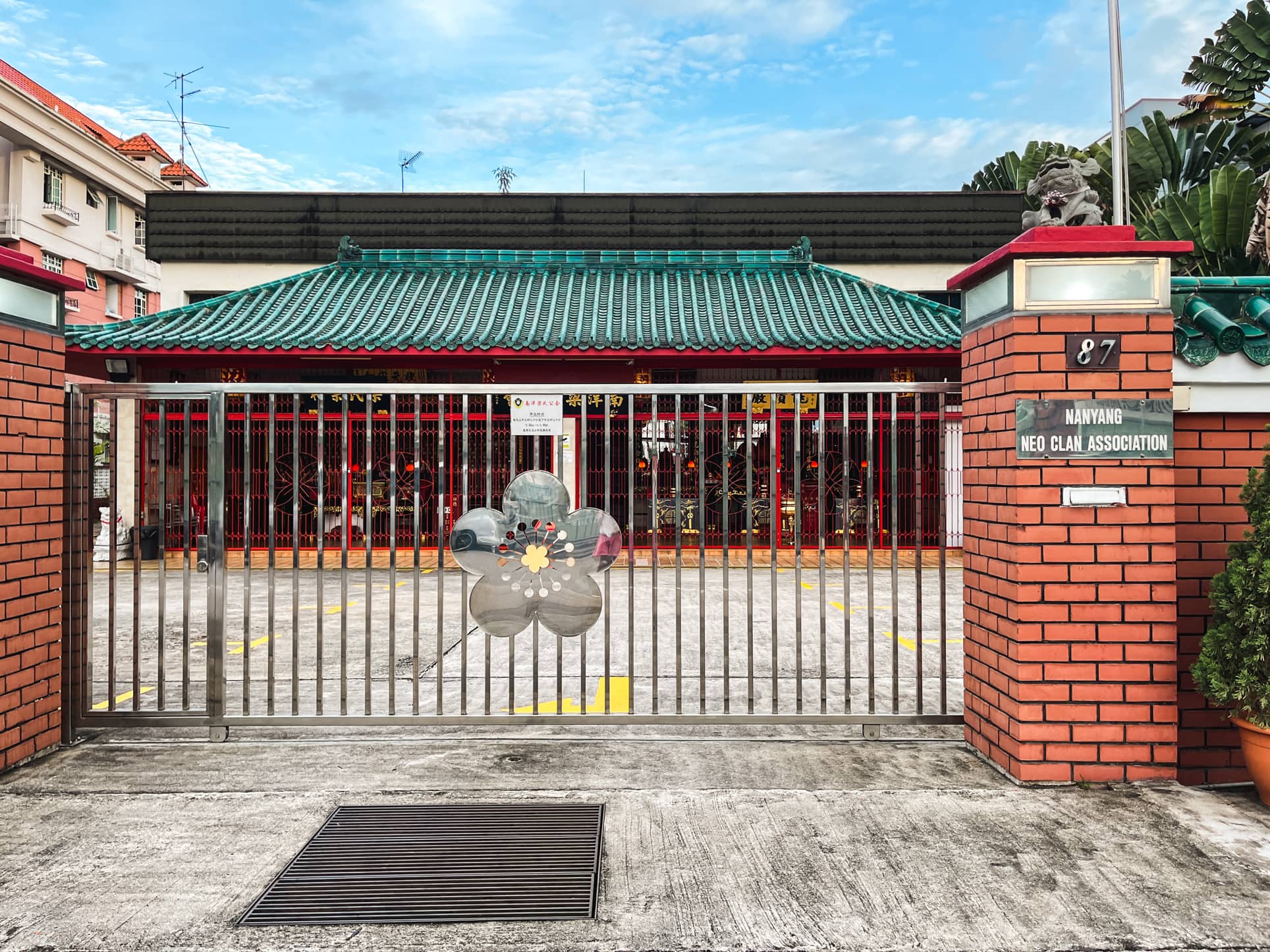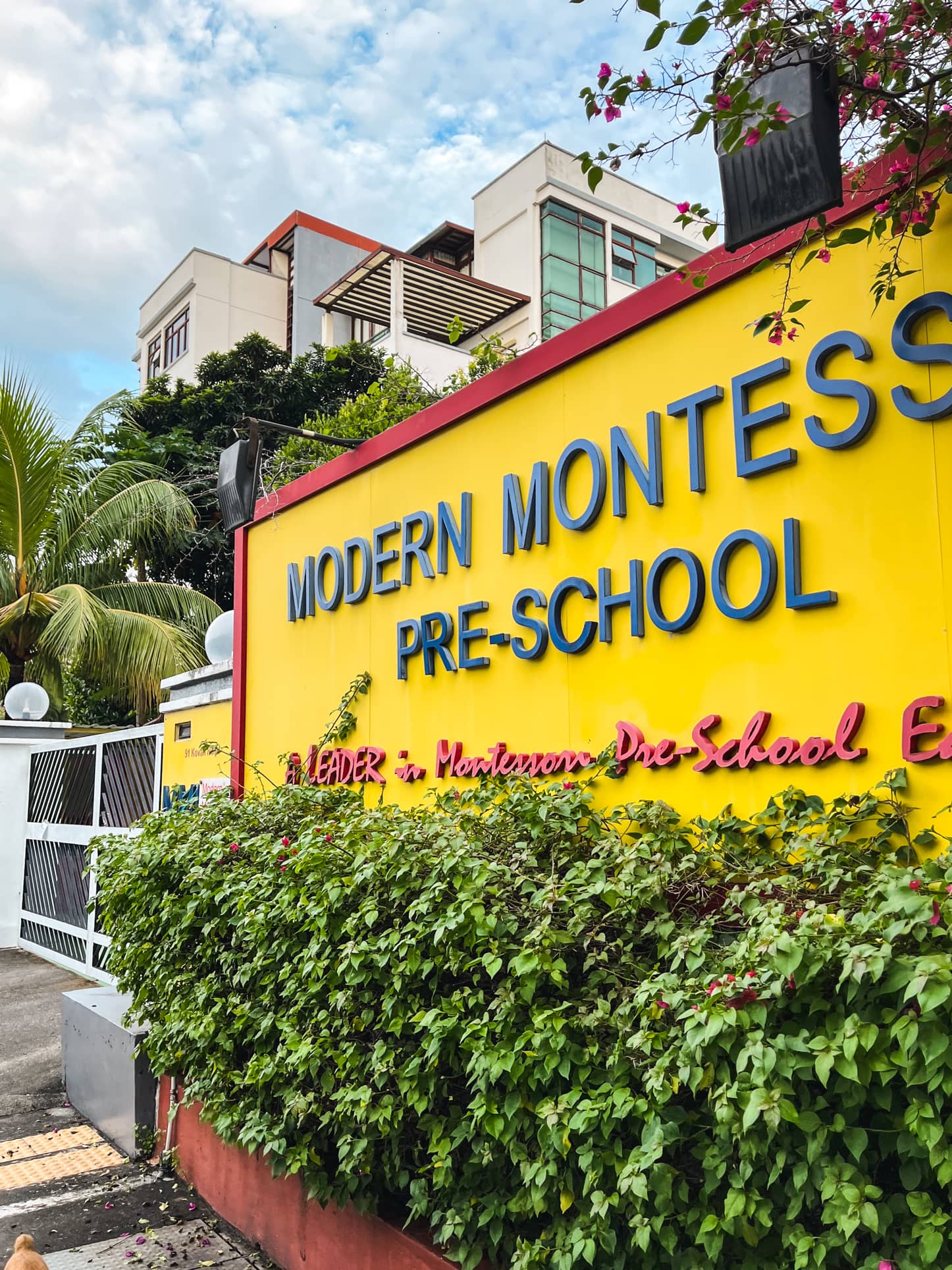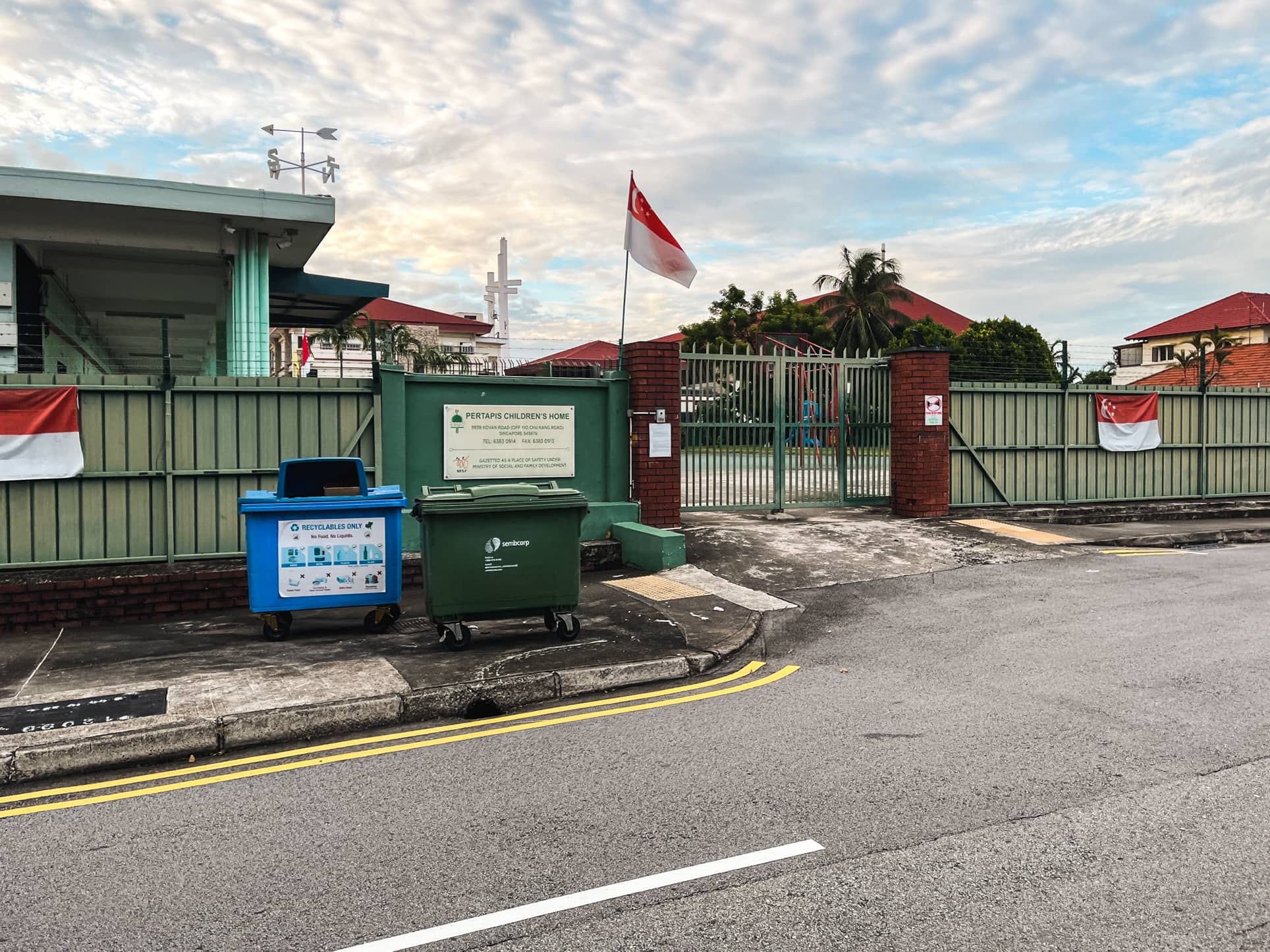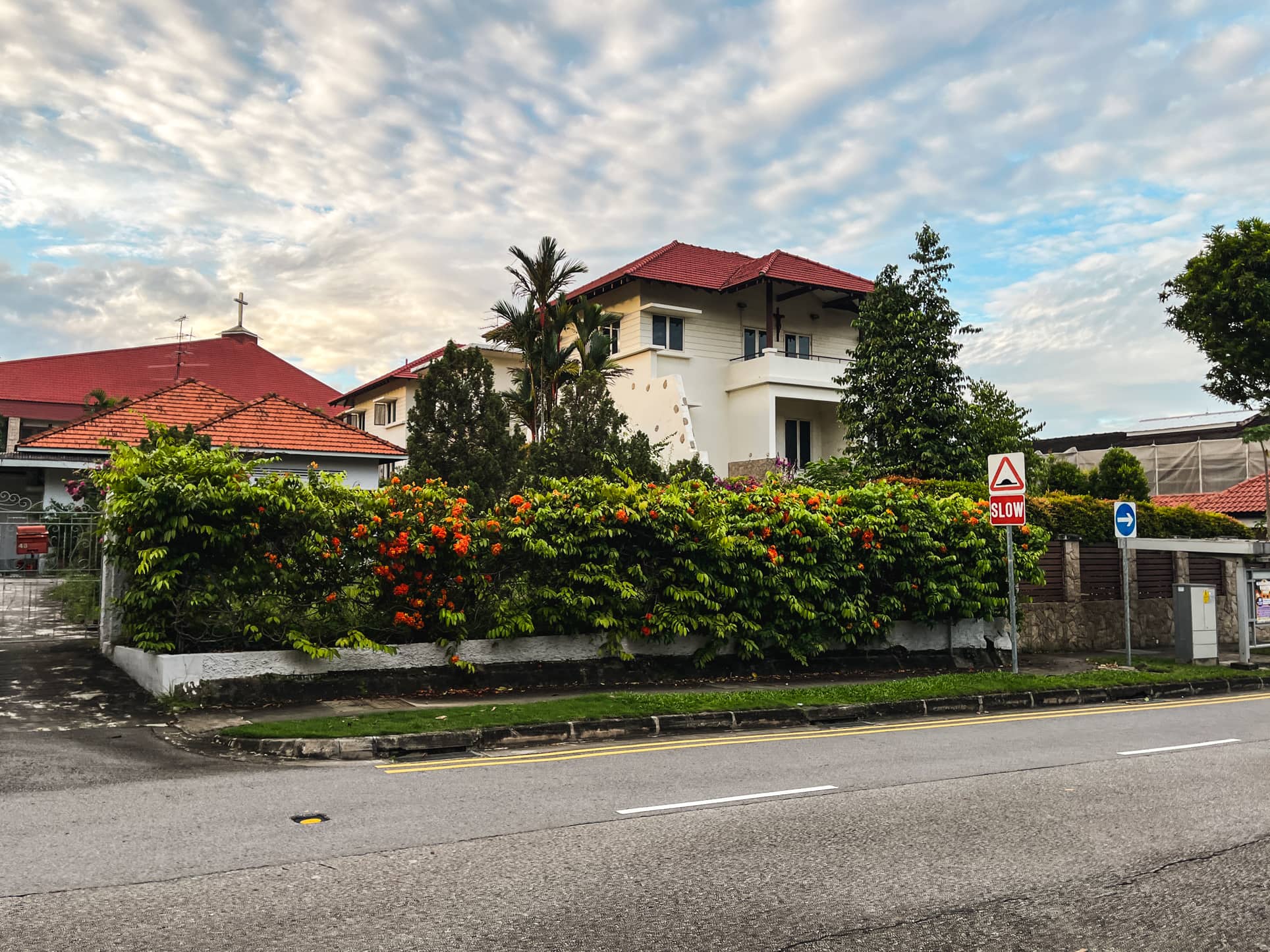 Something to note is that the landed houses in this part of Kovan range from large detached ones (as seen above), to semi-Ds (some larger than the detached houses I've seen!) and smaller terraces.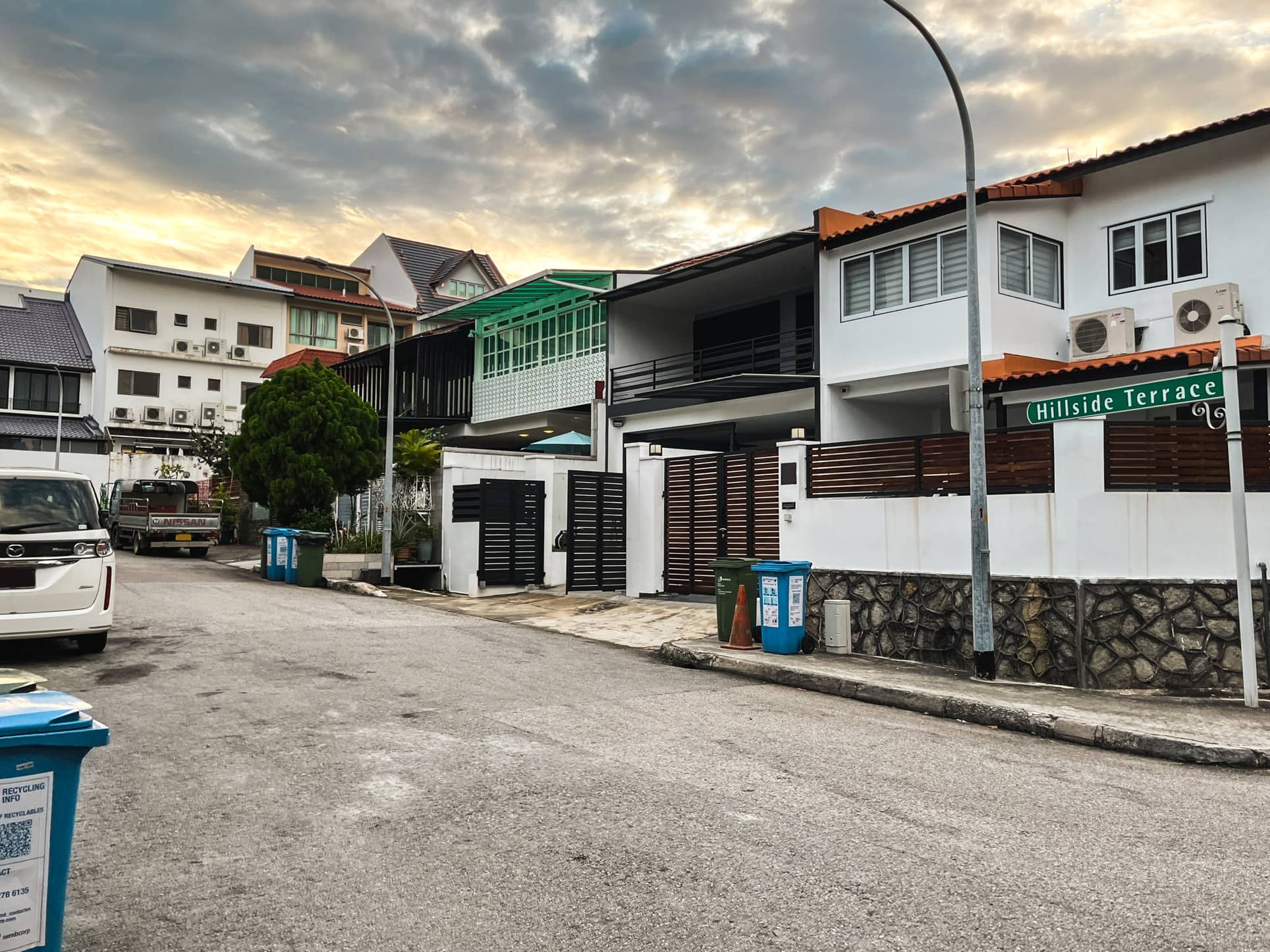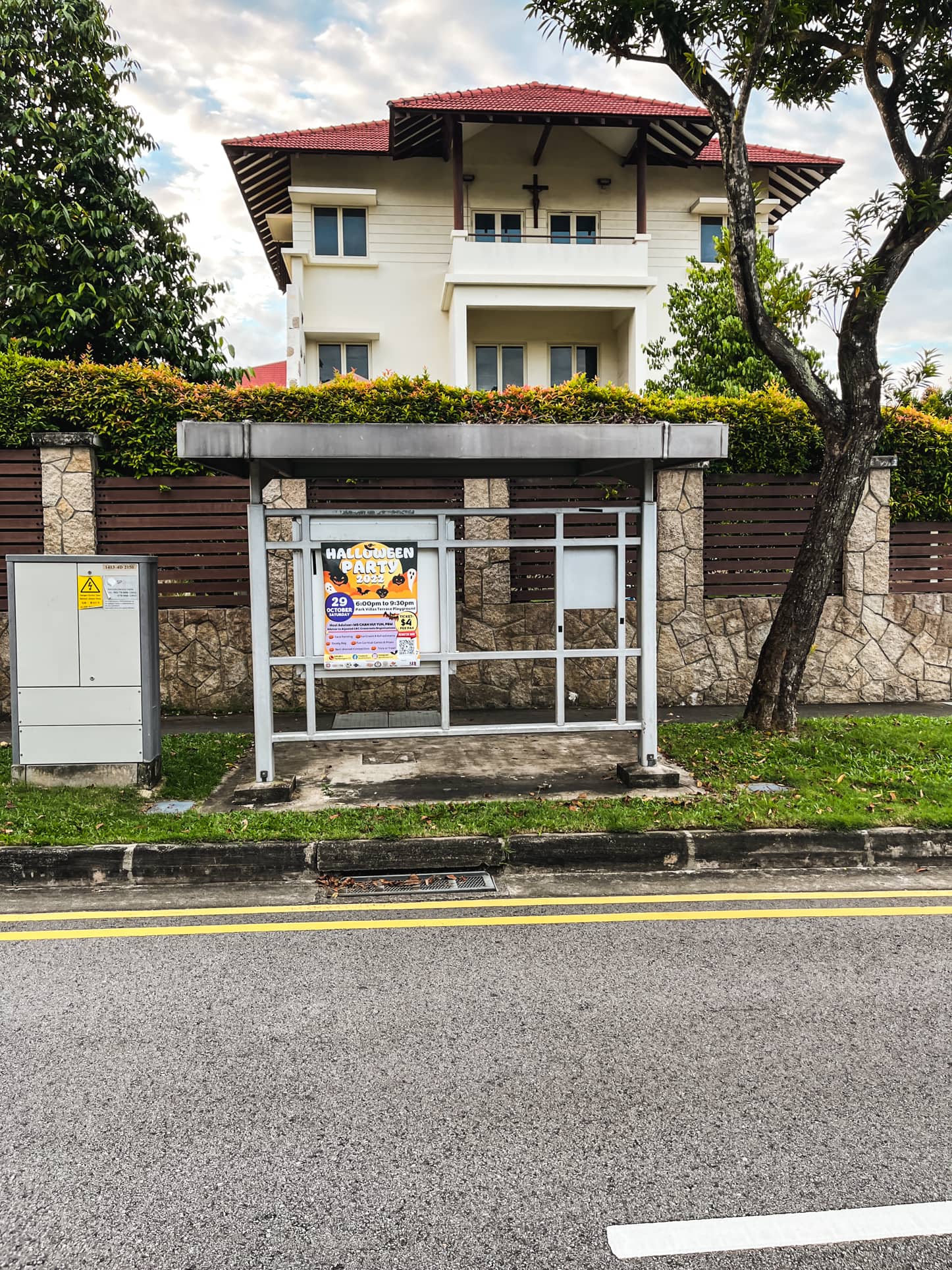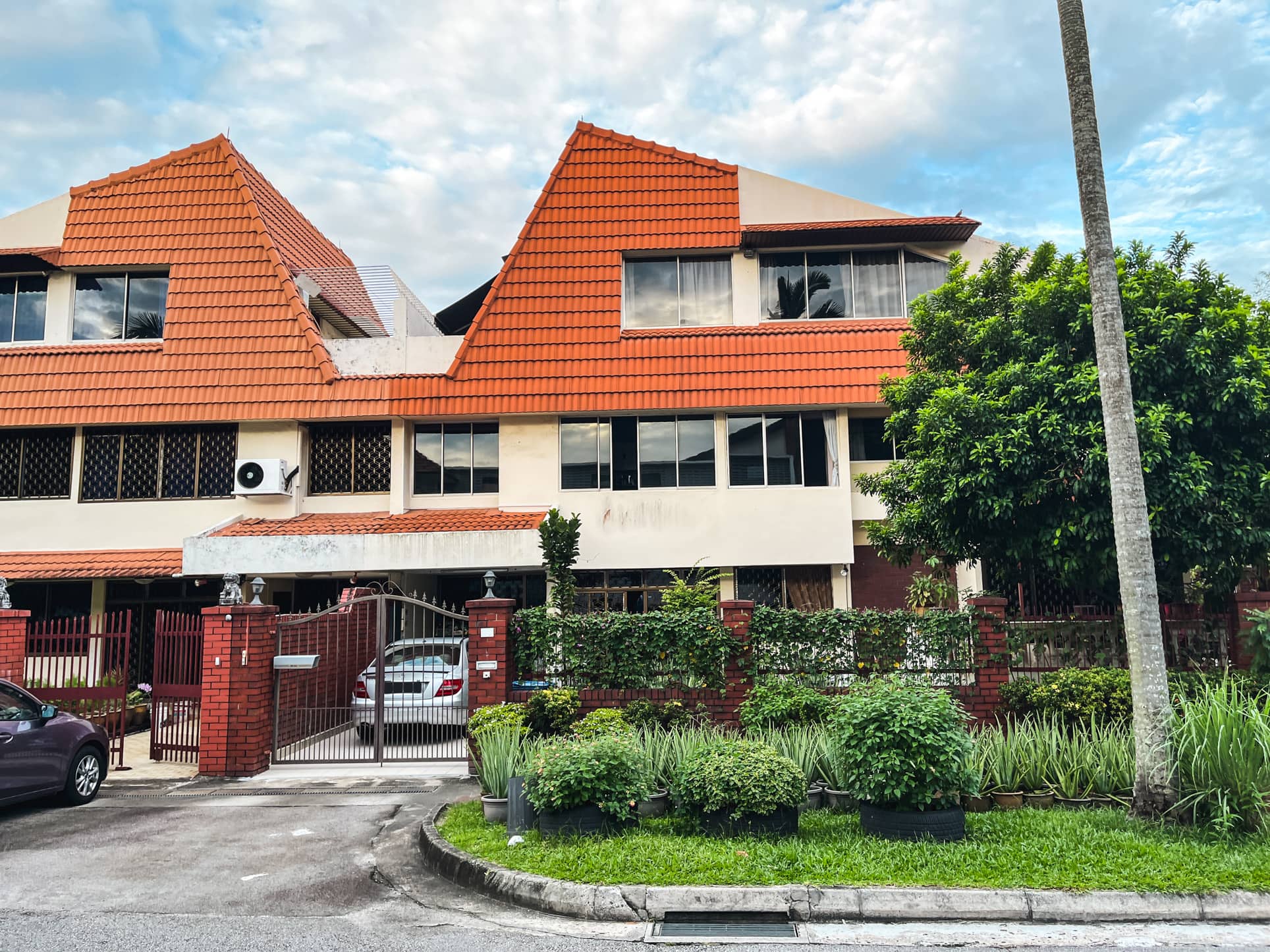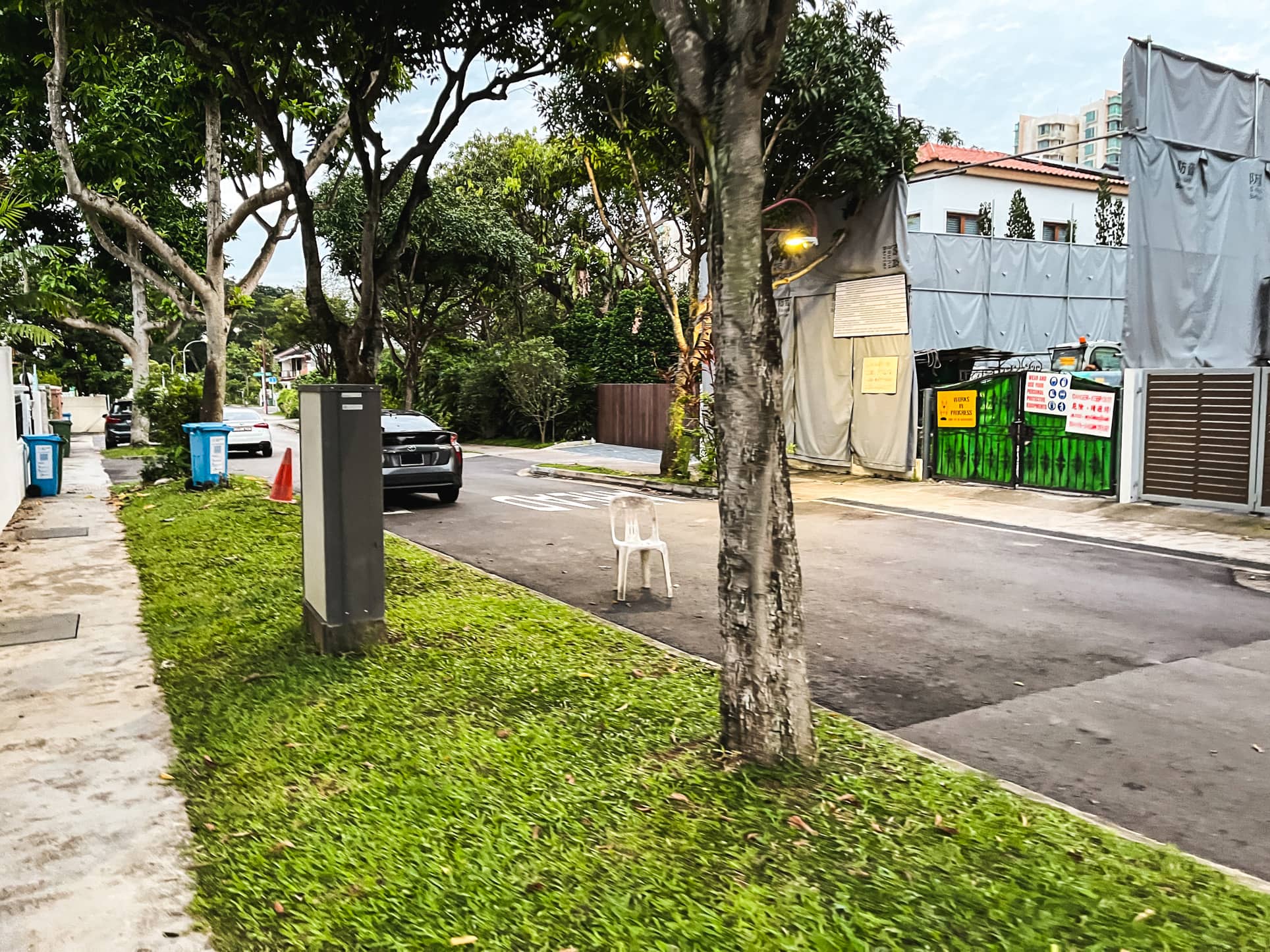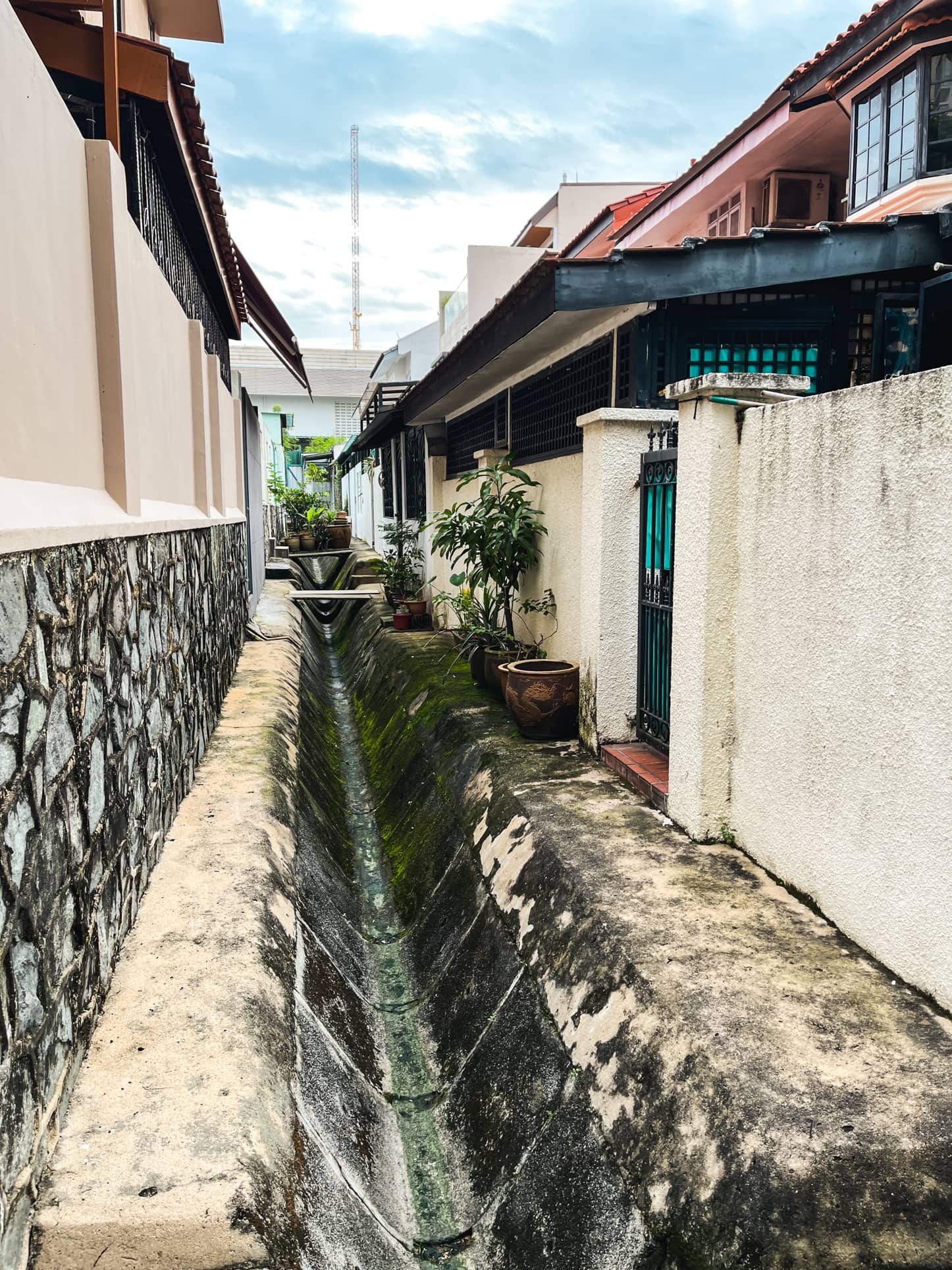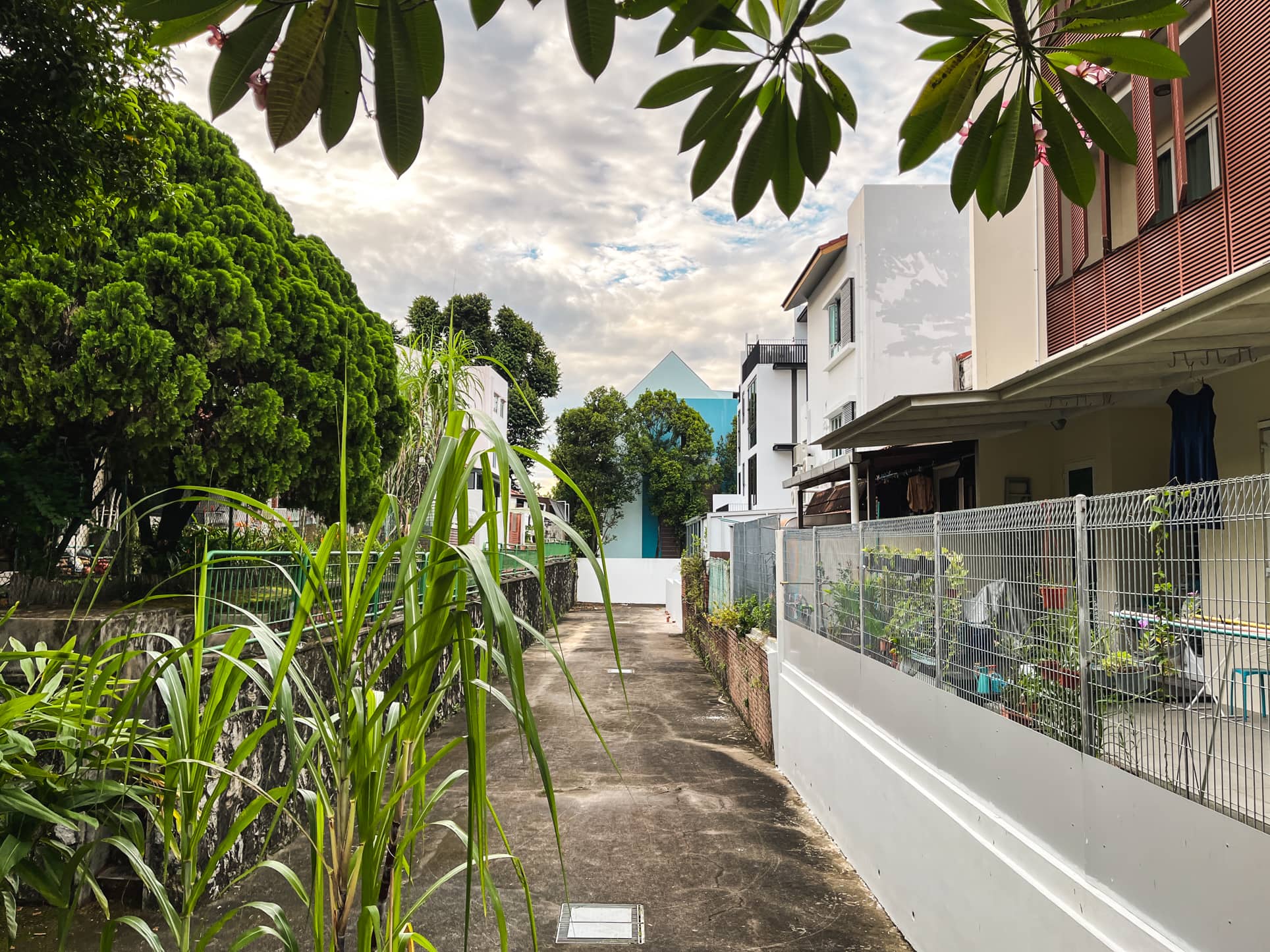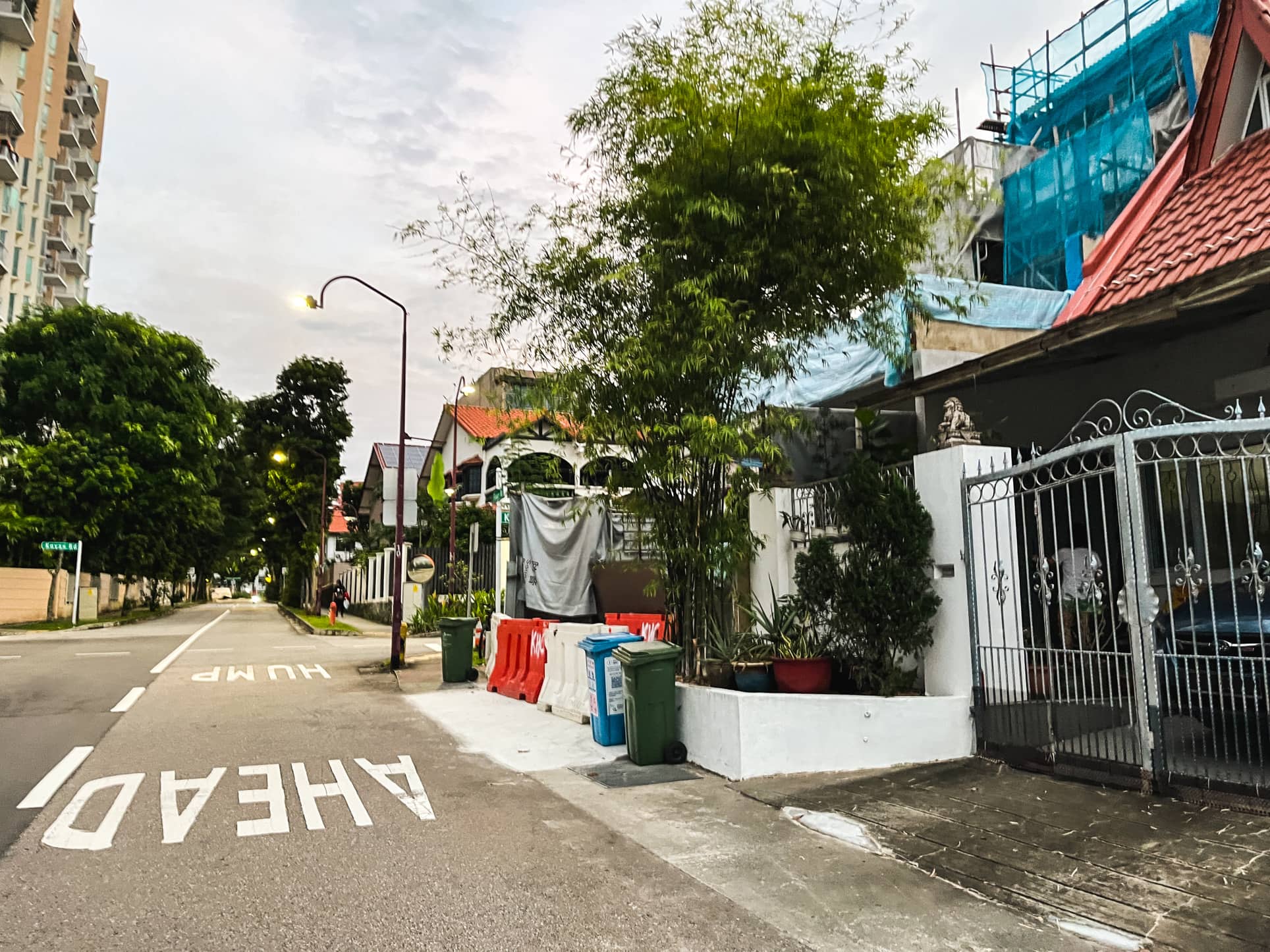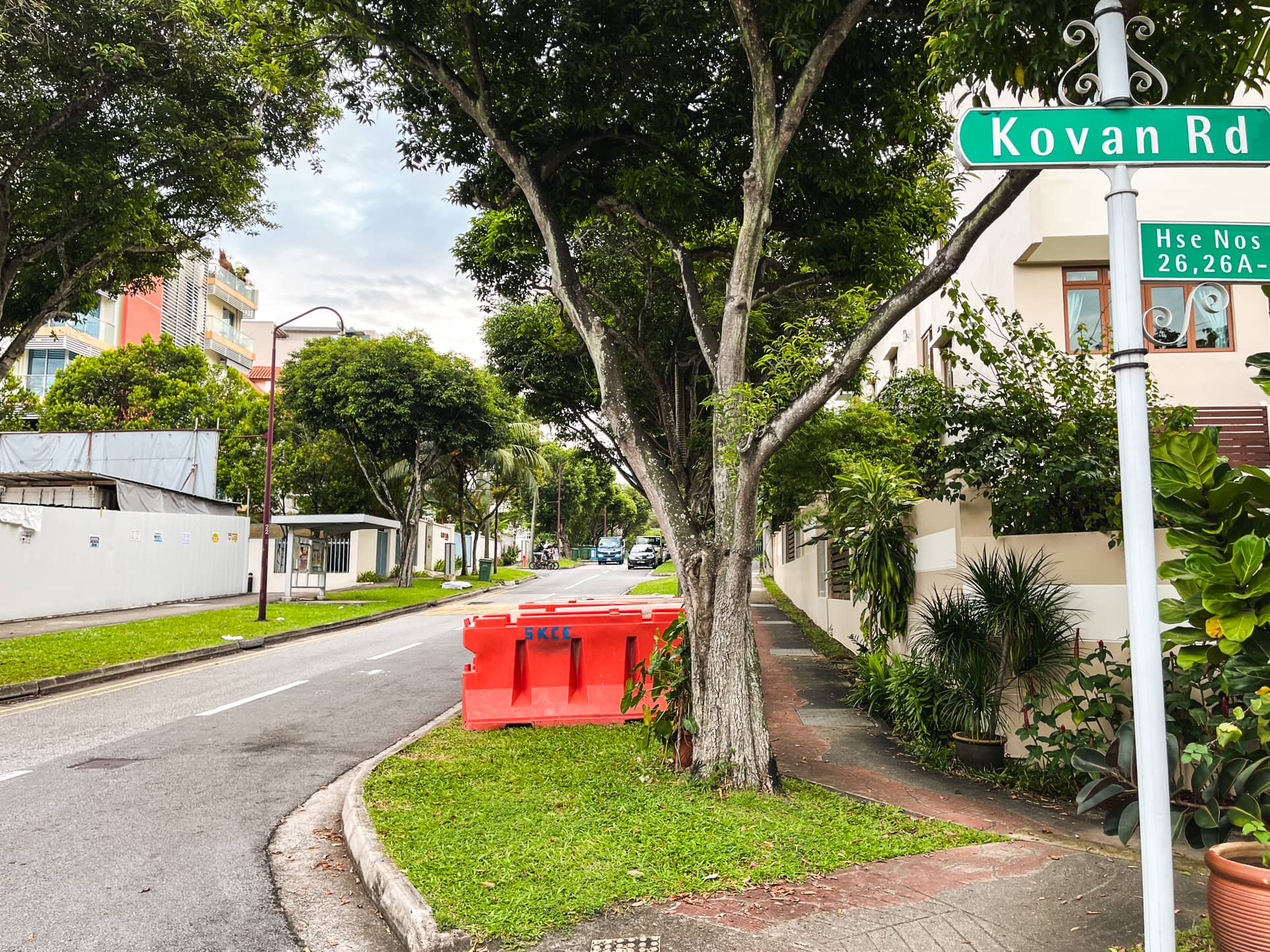 In terms of education, although the area is near Serangoon JC and Pei Can Secondary, it is not really near many Primary Schools. Depending on where your house is located along Flower Road, you just may scrape by the 1 km rule for Xinghua Primary. Alternatively, if you live along Sirat Place, you'll be within 1 km of Zhonghua Primary.
Now that we've finished our walkabout, how did you find the area?
Before we go, I've saved the best for last, so to speak. Though I believe a property should be a home first and foremost, not an asset, alas, the economic reality of living in Singapore means that we sometimes have to compromise on our ideals and consider the economics behind our housing decisions!
Looking at the URA Map of the area, there aren't that many reserved plots of land around this part of Kovan, so the supply of residential homes would be relatively limited going forward, and may potentially serve as a pricing support. (I saw limited as compared to say Windsor Park which had a large tract of undeveloped land around it that was zoned residential or Springside which was literally surrounded by large plots of reserve land when we visited.)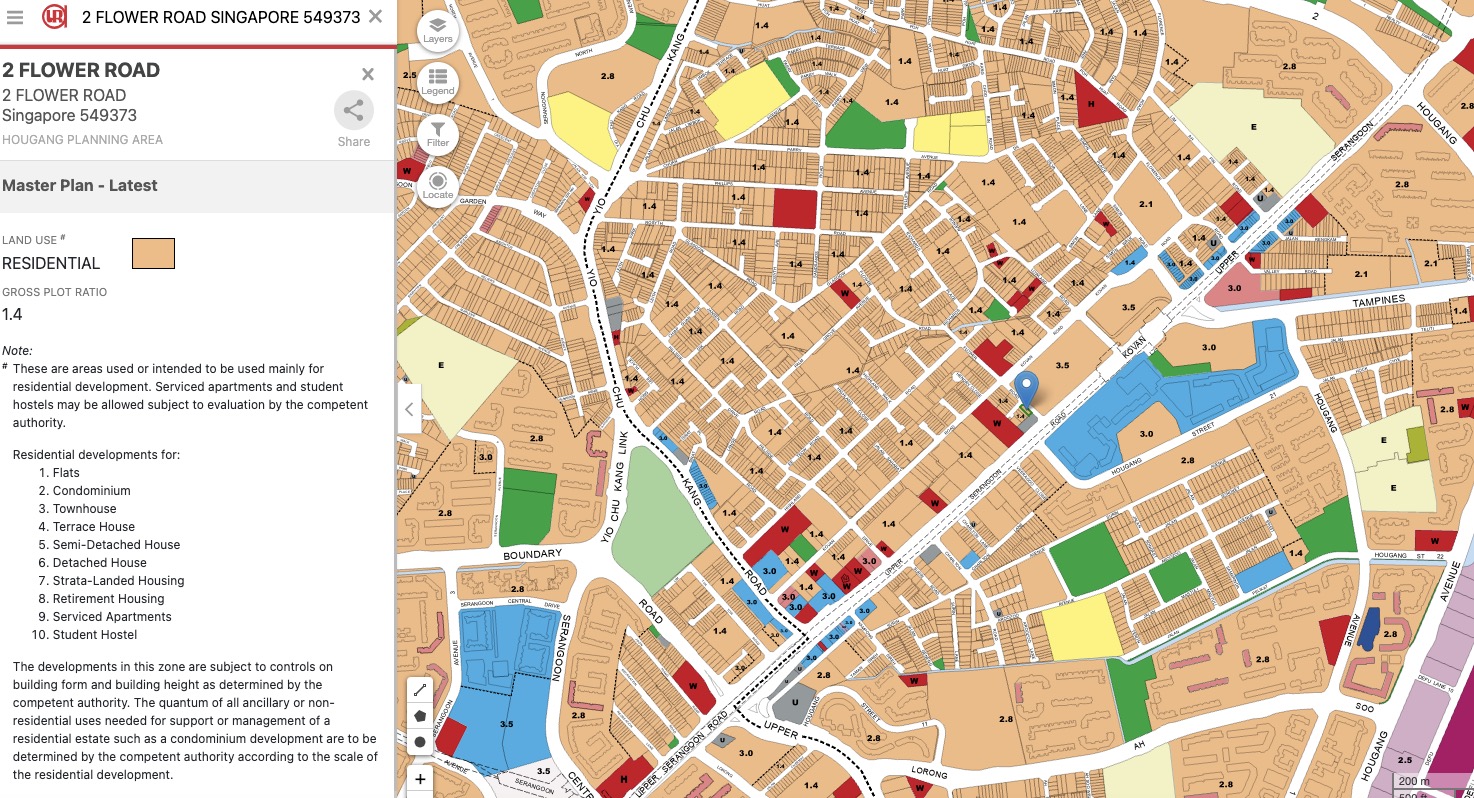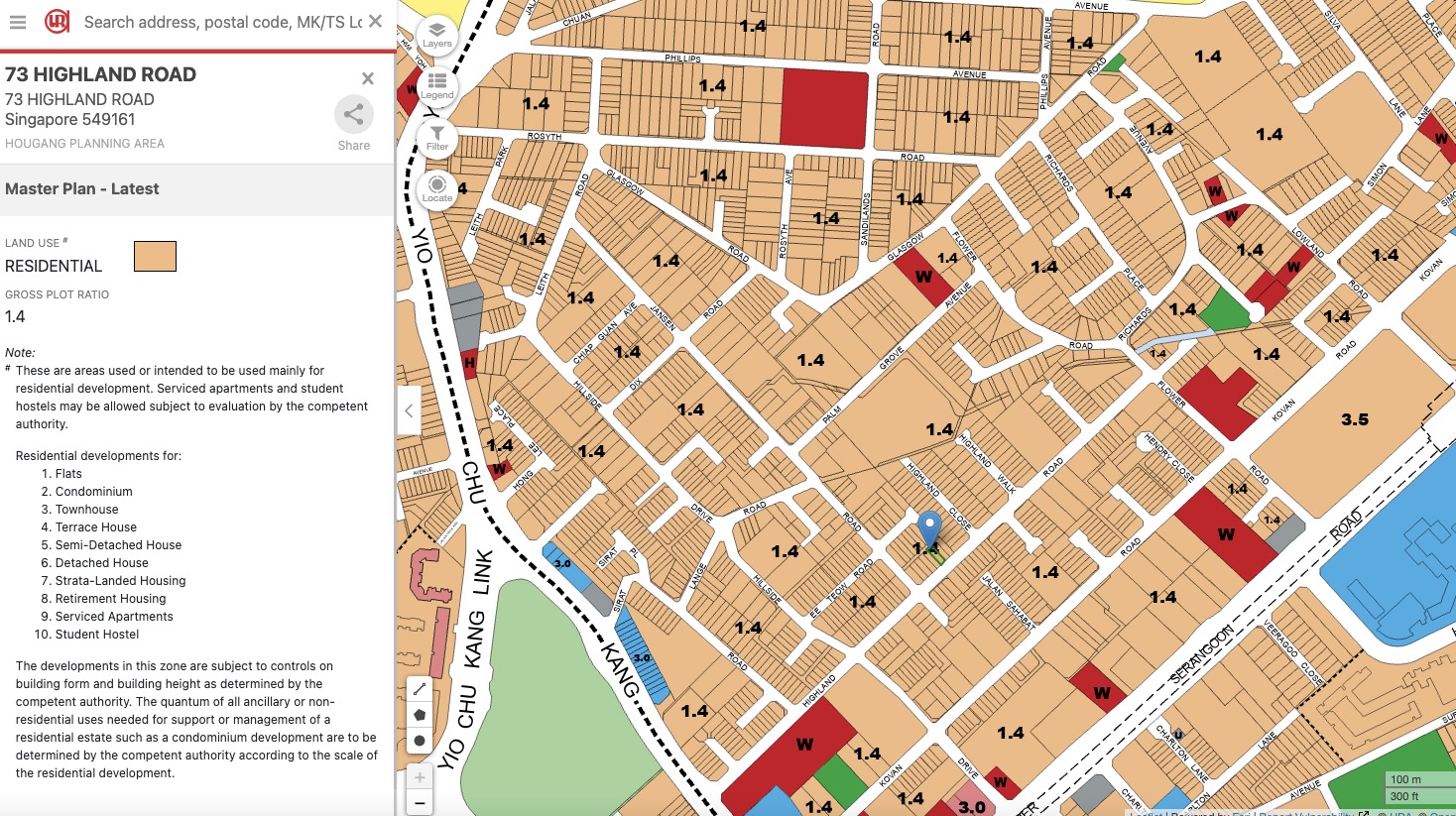 Anyway, that brings us to the end of today's tour. Let me know where else you'd like covered in the comments!