Property Stories

Touring Chwee Chian Estate: Freehold Landed Living At The Greater Southern Waterfront
TJ
November 27, 2022

14

min read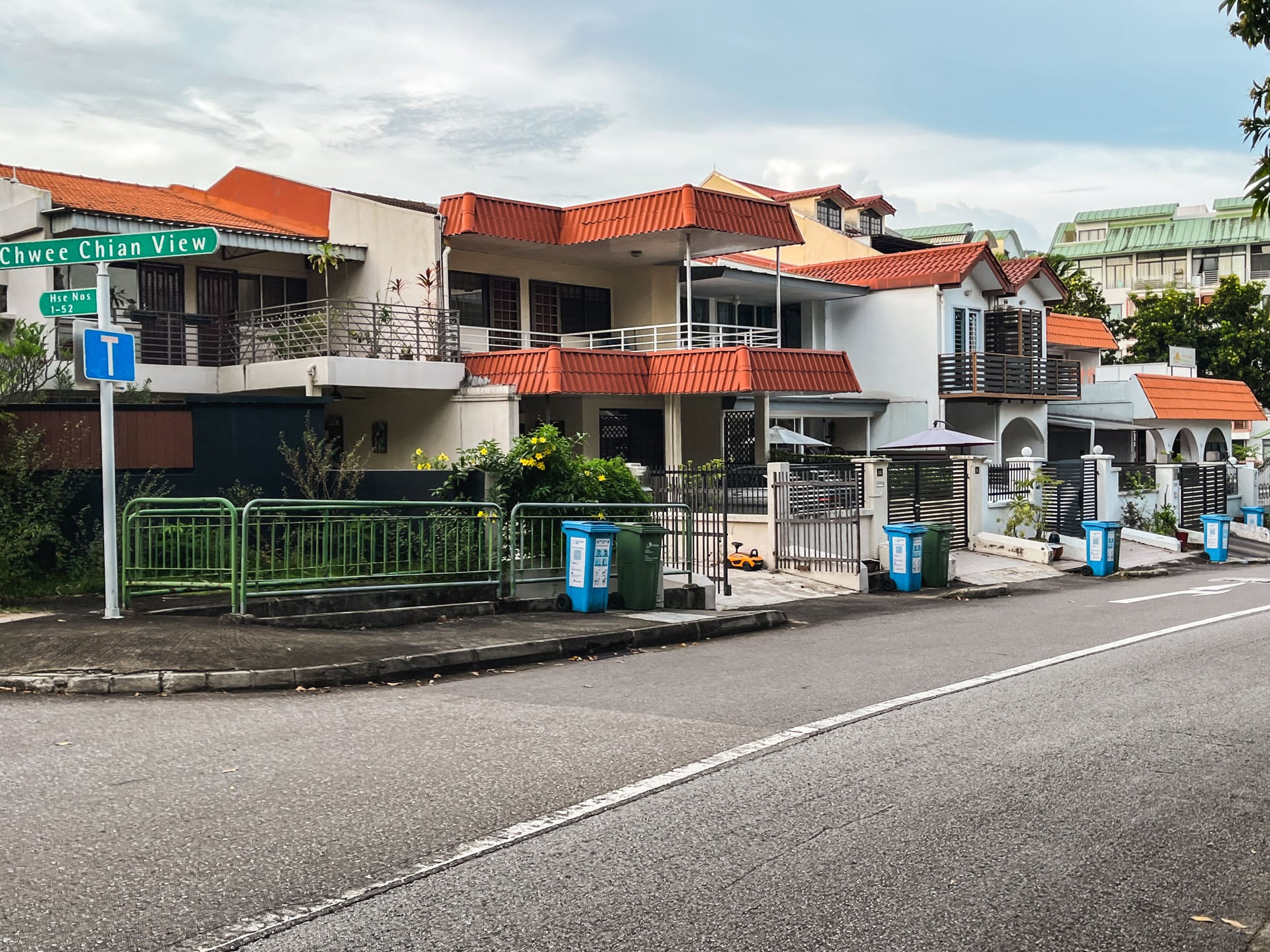 When news of the development of the Great Southern Waterfront was released, there was a lot of buzz about properties in the Pasir Panjang area, such as Kent Ridge Hill Residences. However, did you know that there is also a handful of landed properties in the area? One of the small landed enclaves in the vicinity is the Chwee Chian Estate area which consists of Chwee Chian Road (a S-shaped road off Pasir Panjang Road named after Lim Chwee Chian), Chwee Chian View, Lorong Sari, Lorong Sarhad and Siok Wan Close.
Today we'll be doing a walkabout of the enclave to see what it would be like living in the backyard of the Great Southern Waterfront (GSW)!
Note: for more info on the GSW, check out these videos by Straits Times in 2019 and 2022.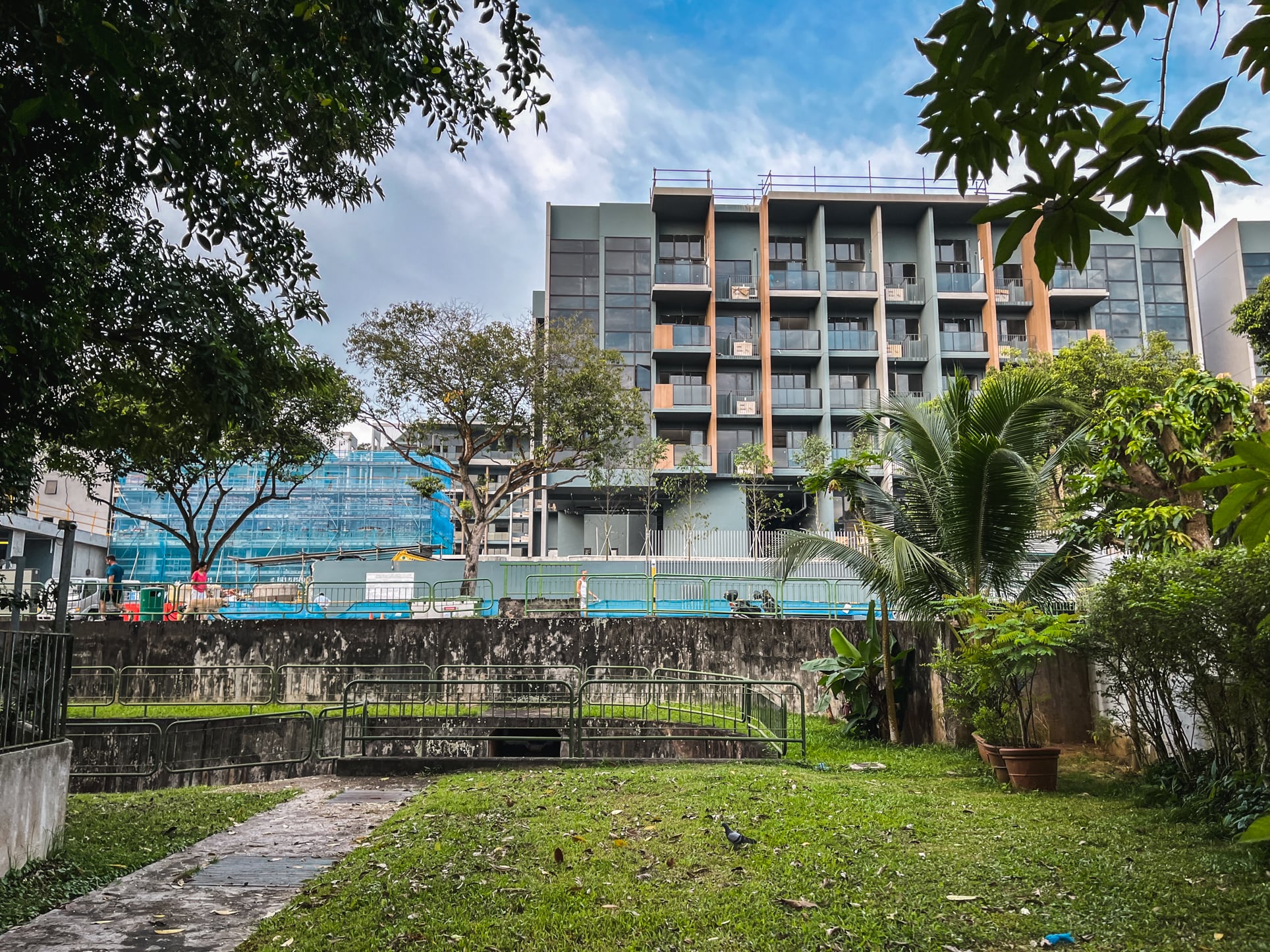 Perhaps because of the proximity of the canal, otters have been spotted within the estate.
One thing to note is that Chwee Chian Estate appears to be on lower-lying ground than the land on which Kent Ridge Hill stands on (South Buona Vista Road). However, when I googled for "Chwee Chian Road" and "flooding" nothing relevant came up, nor do I remember this estate being listed amongst the most flood-prone areas of Singapore. (The neighbouring landed estate, Jalan Mat Jambol, apparently does suffer from floods, according to the News articles that I read).
From what I could see, there is no short-cut to climb up to South Buona Vista Road from Chwee Chian – you would need to walk out via Lorong Sarhad then turn back into South Buona Vista Road.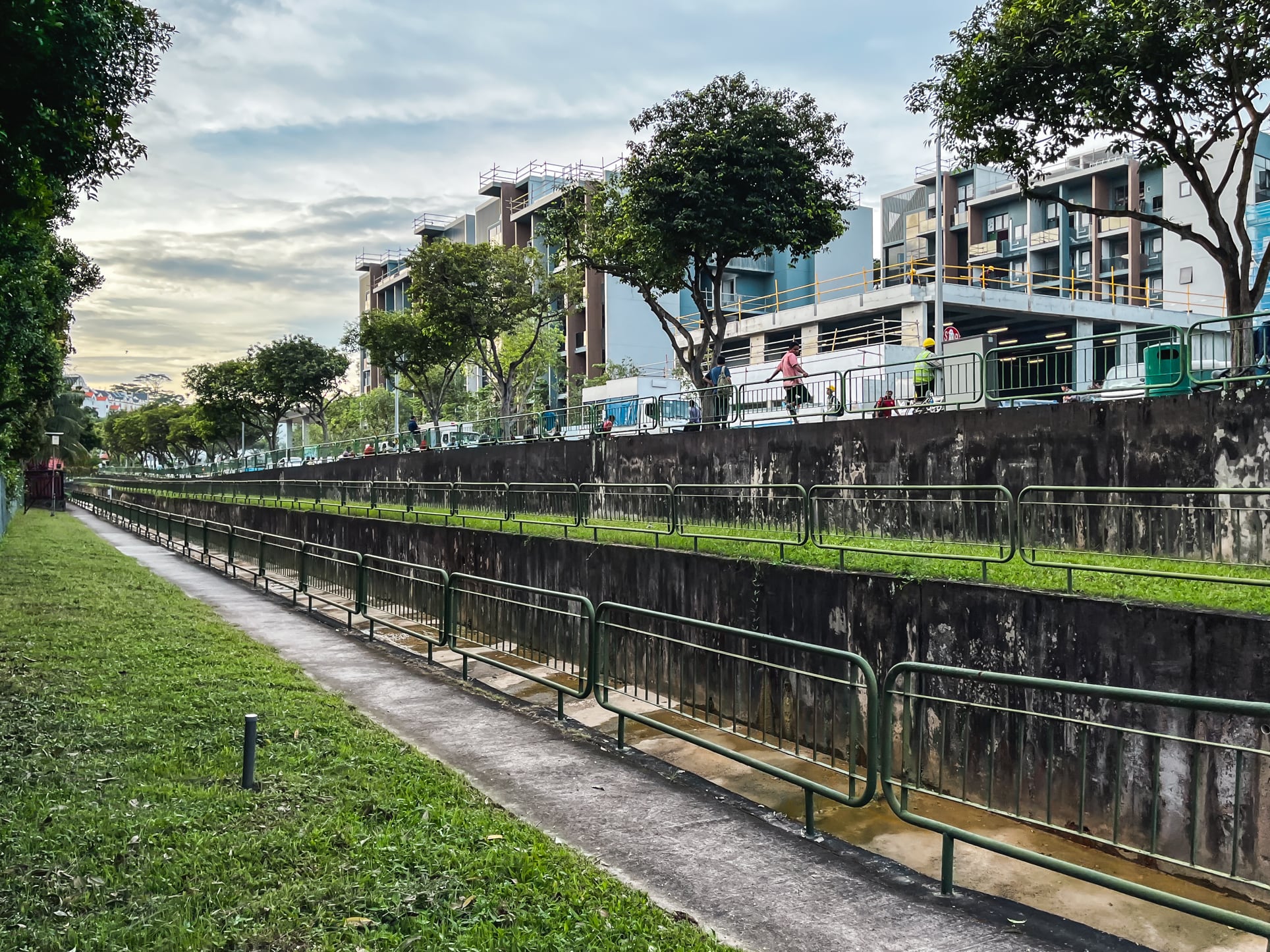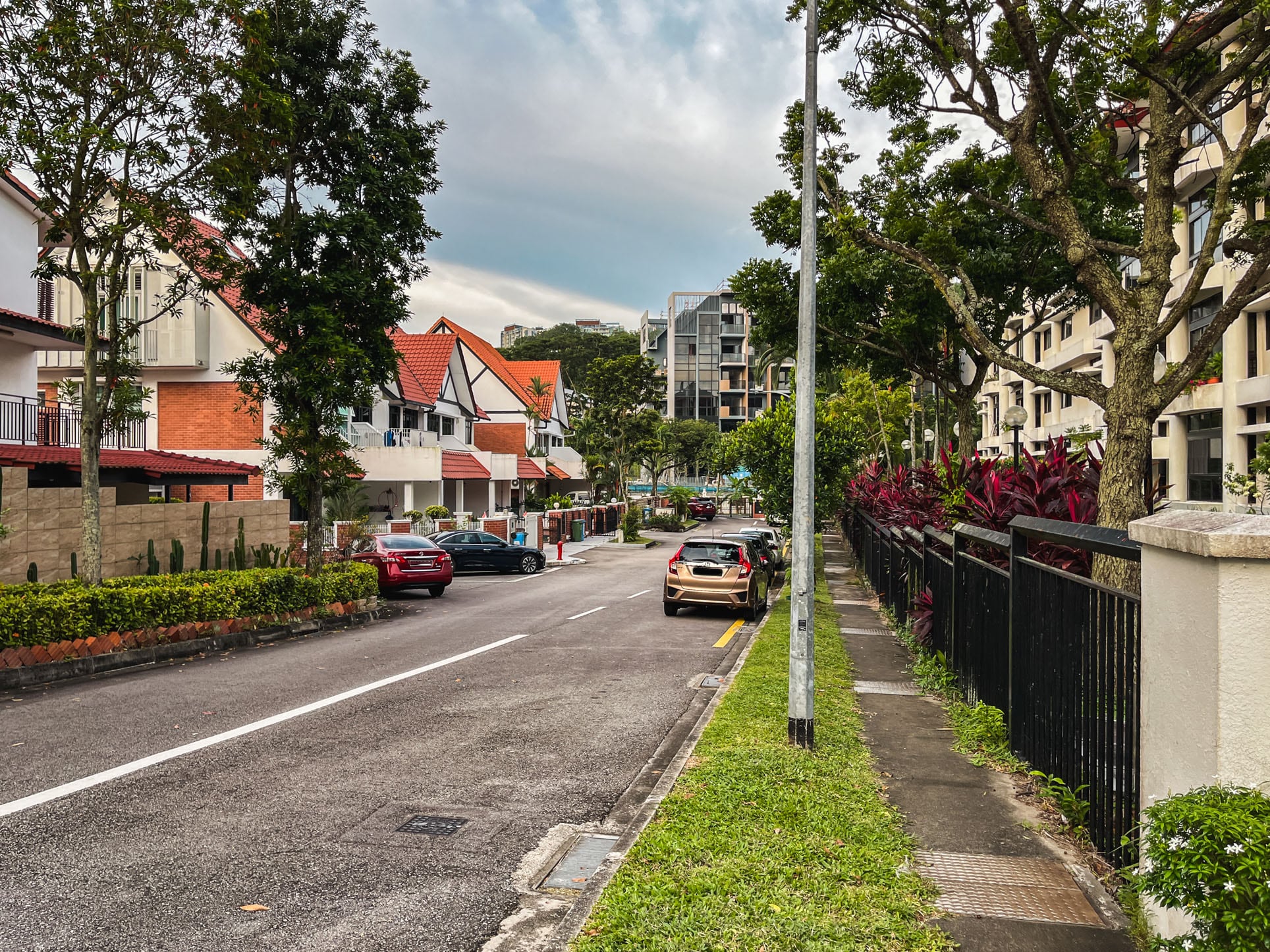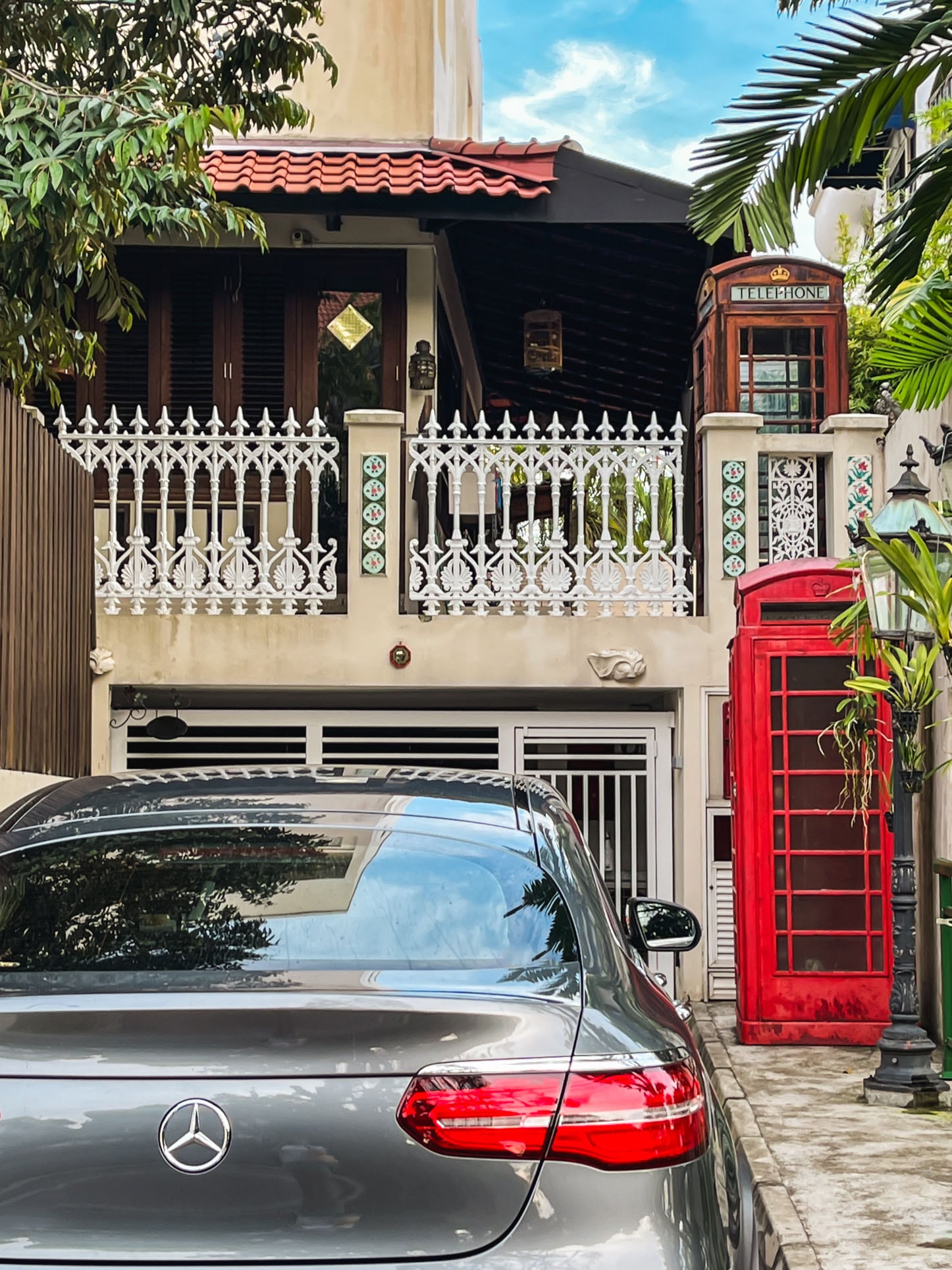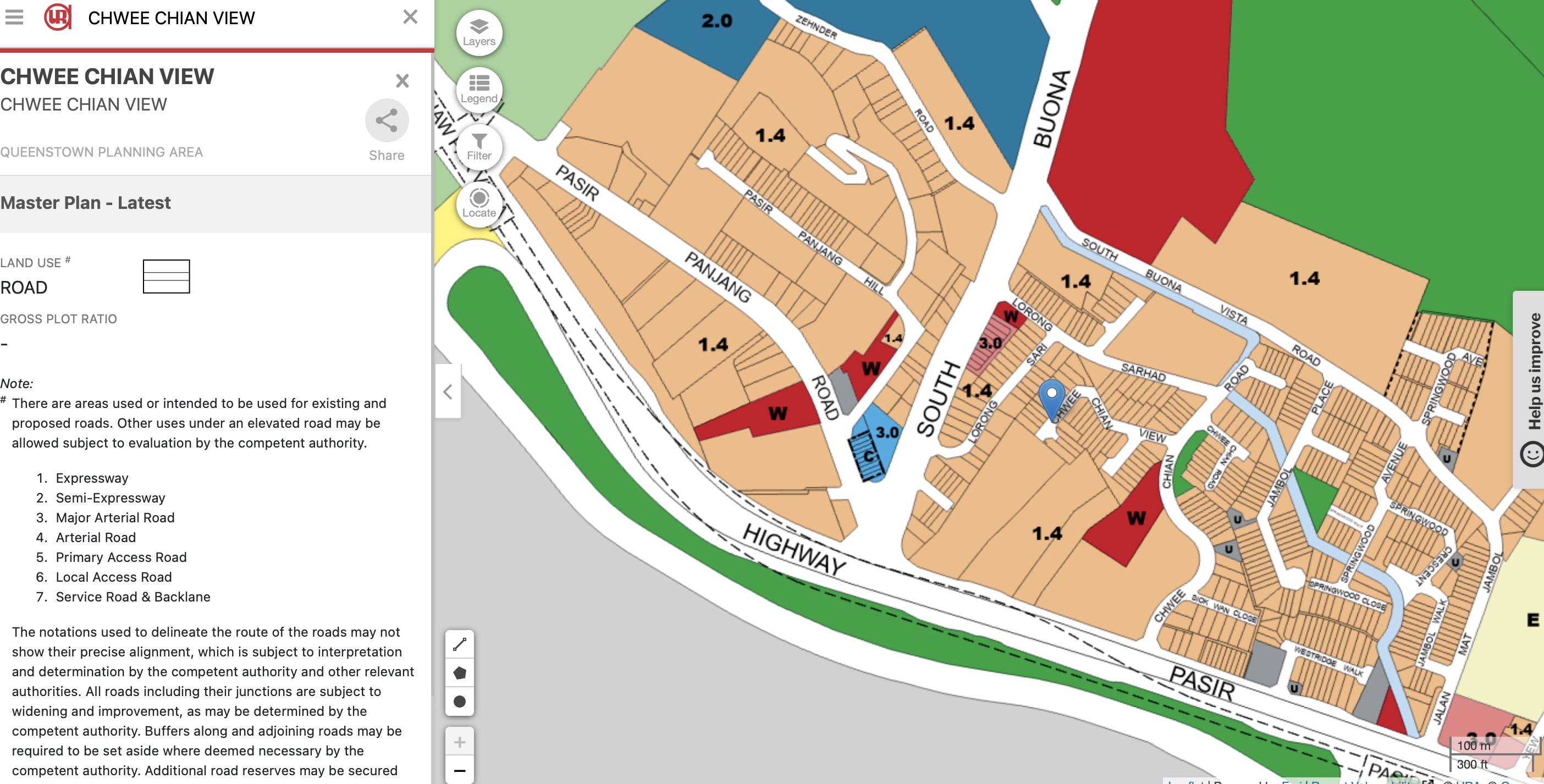 The properties within Chwee Chian range from low-rise condos (zoned 1.4 or 5-stories) to terrace houses, semi-Ds and what looks to be 1 or 2 detached homes. Something interesting to note is that the landed properties are also zoned as 1.4 so it may be possible to redevelop them into low-rise condos (in absence of other restrictions.)
Something else to note is that apart from a few houses at Vista Terrace, Lorong Sarhad and Chwee Chian View which have the prime North-South facing, most of the landed properties unfortunately are East-West facing (generally the less desired facing in Singapore as it's thought to get the full blast of the morning and afternoon sun.)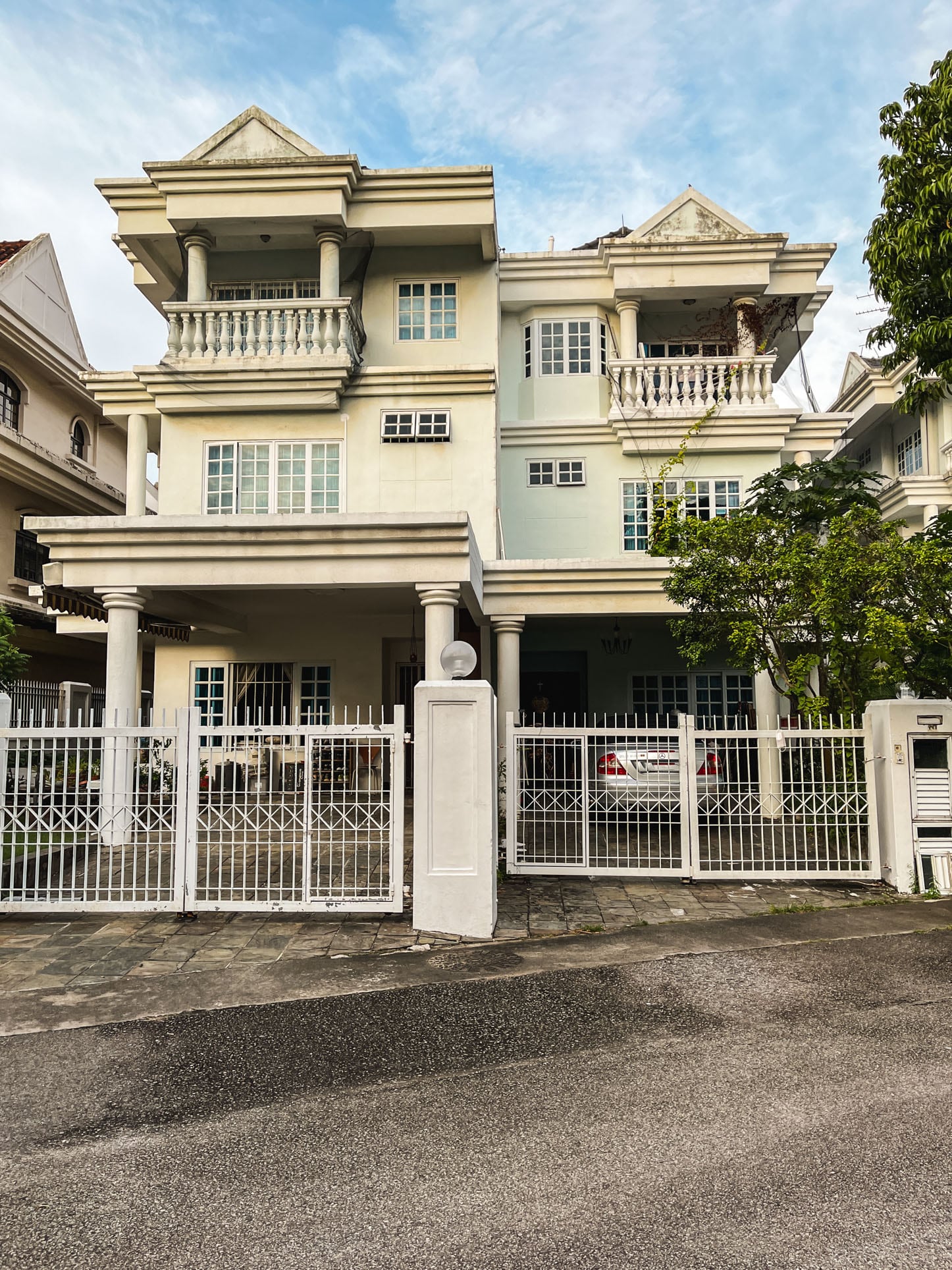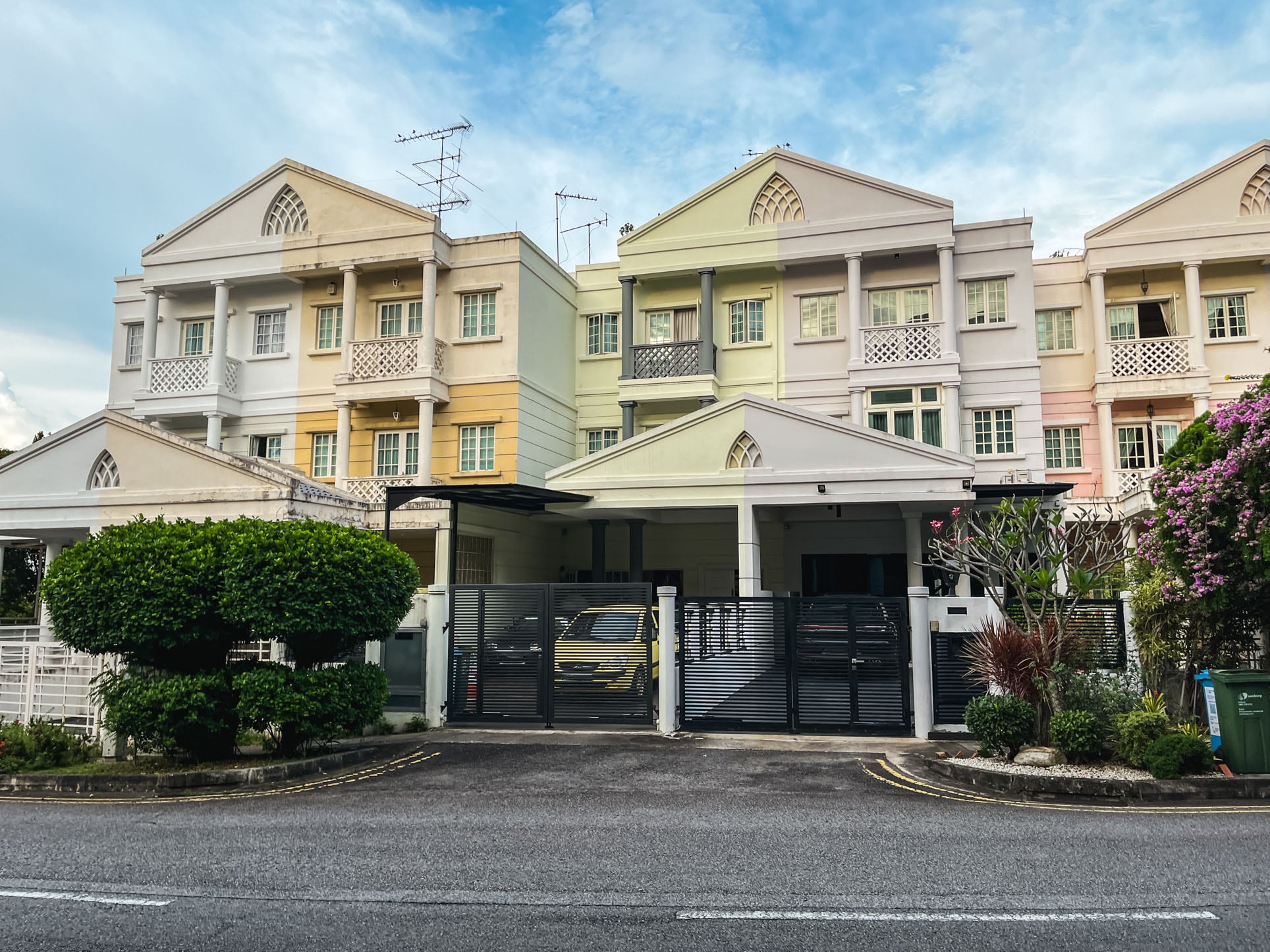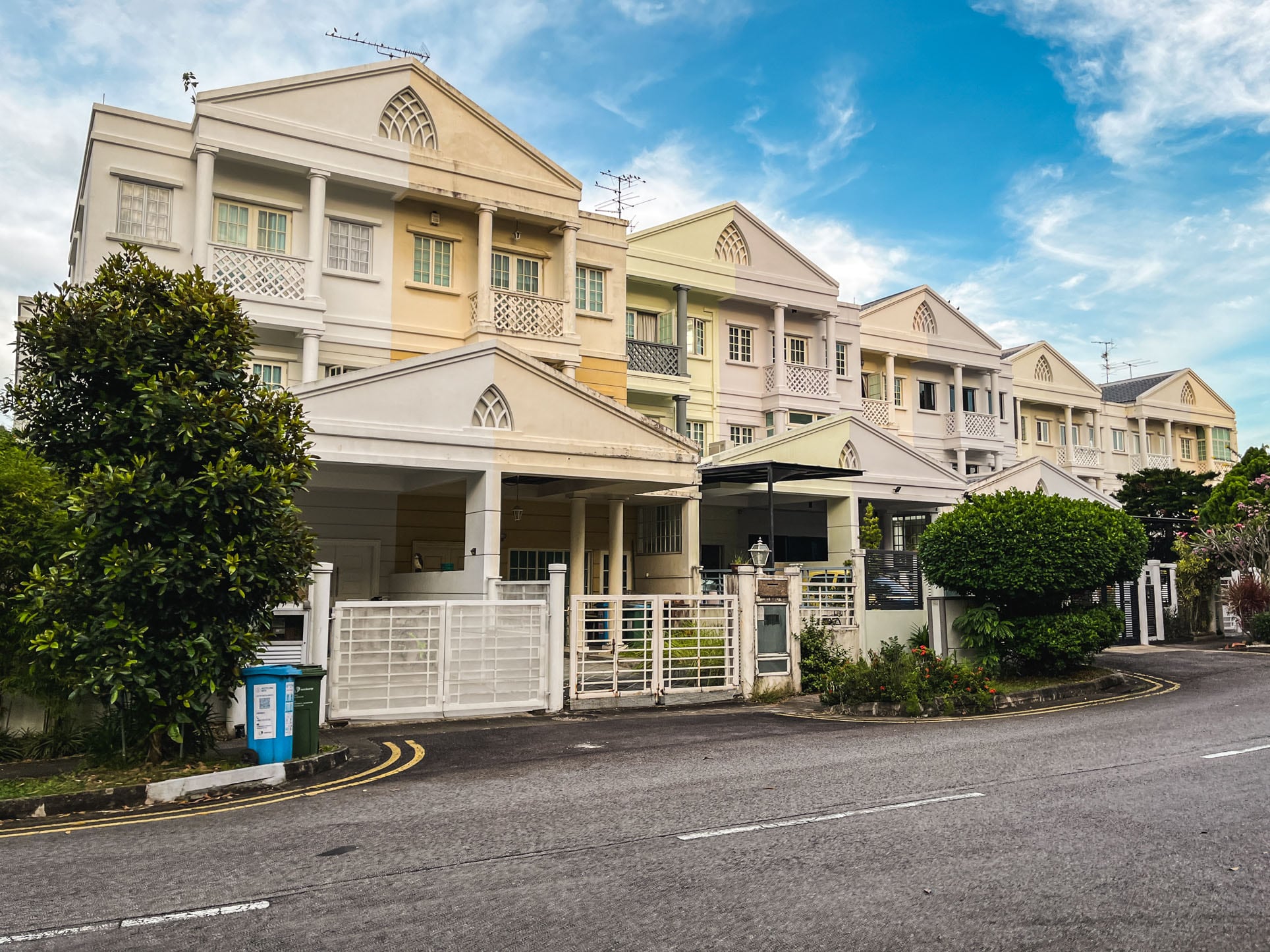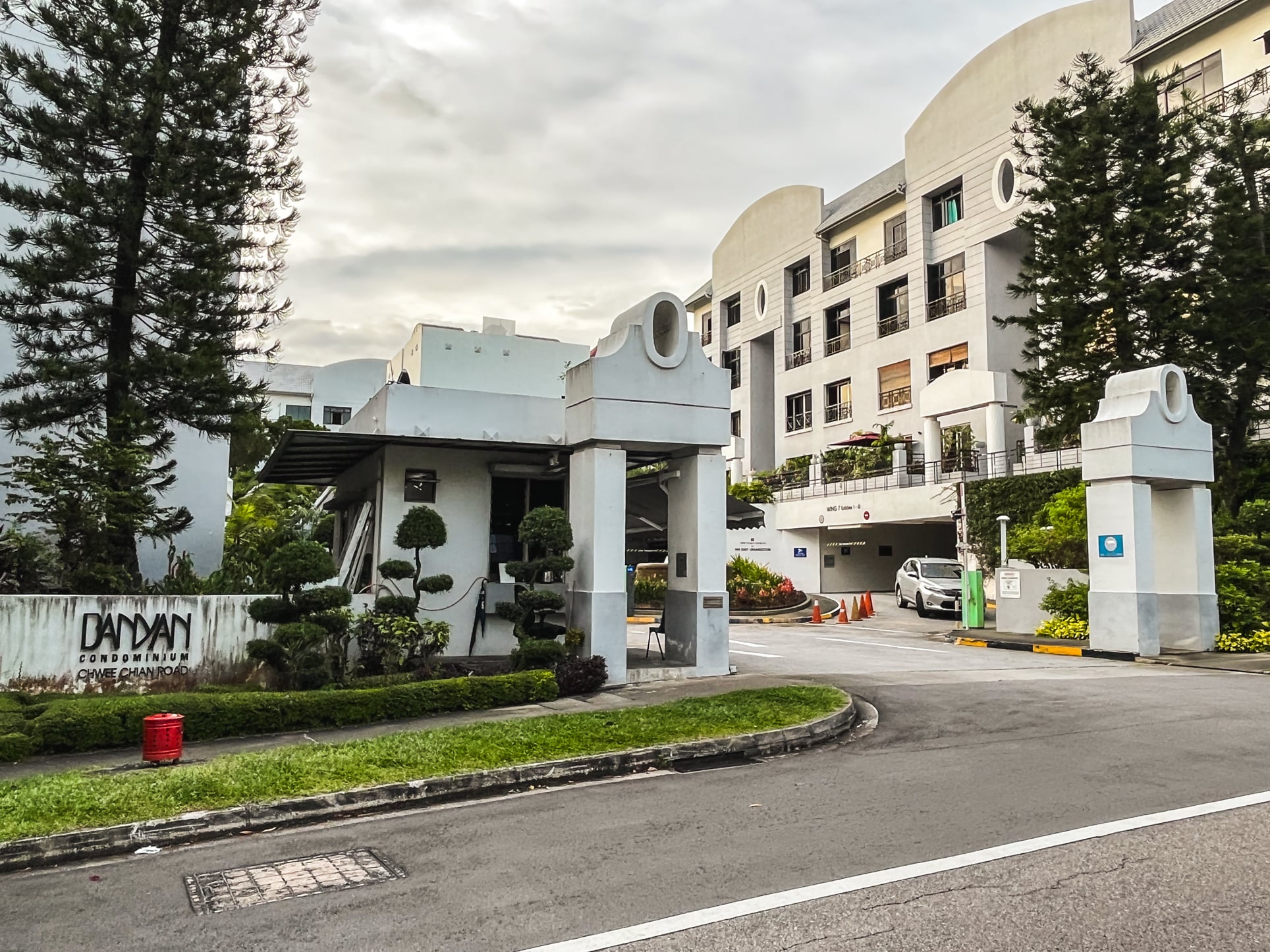 Note: for those who believe in numerology, Banyan Condo is located at 1 Chwee Chian Road! (Some people like properties with the number 1 in them.)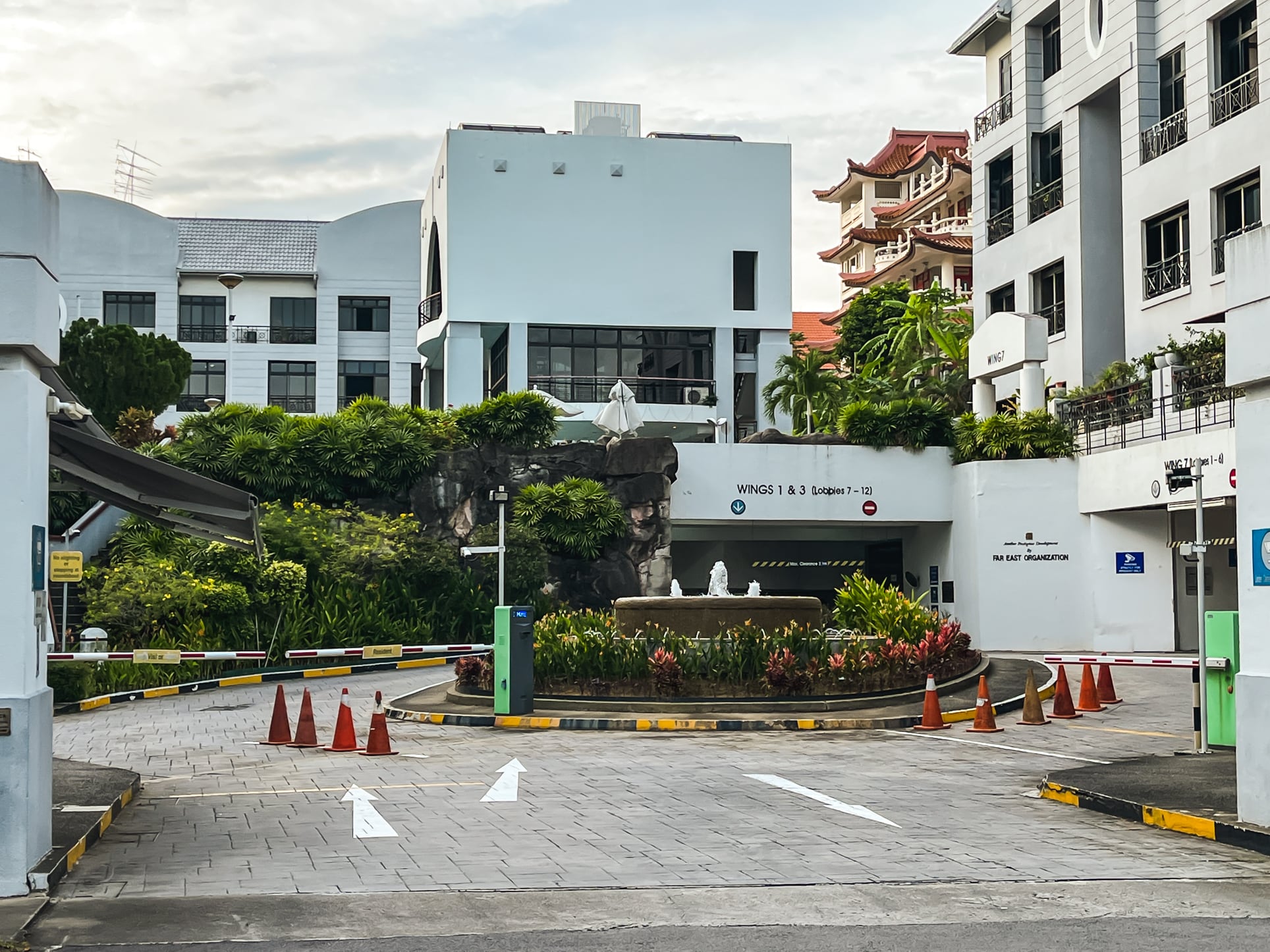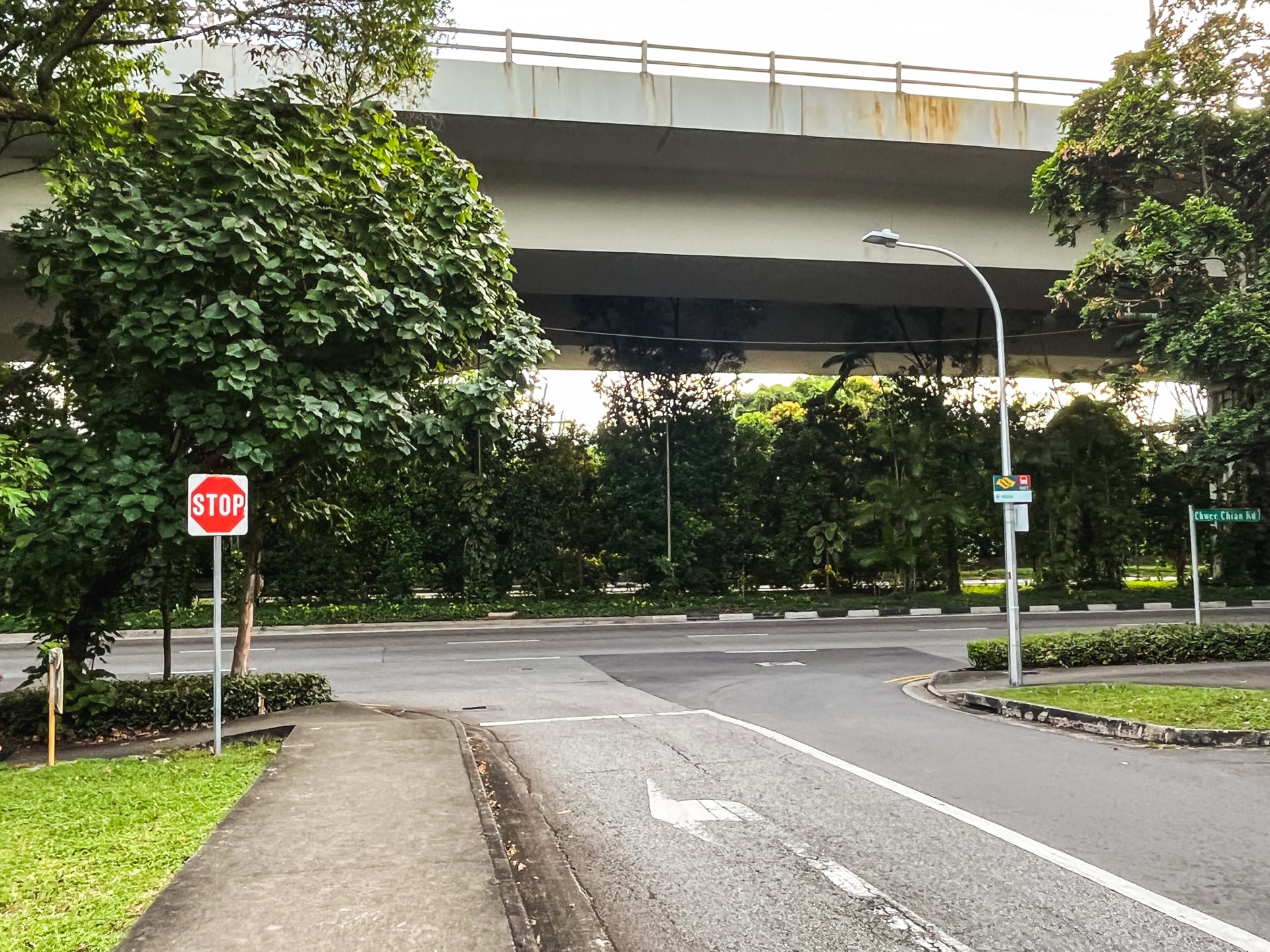 Along Pasir Panjang Road, you can find 2 MRT stations: Haw Par Villa MRT if you take the road to the right of the photo, and Pasir Panjang MRT to the left of the photo. Both are about 10-20 minutes away, depending on which street your house is located on, making the area quite convenient for public transport. (There are also bus stops, which I will cover later in the article.)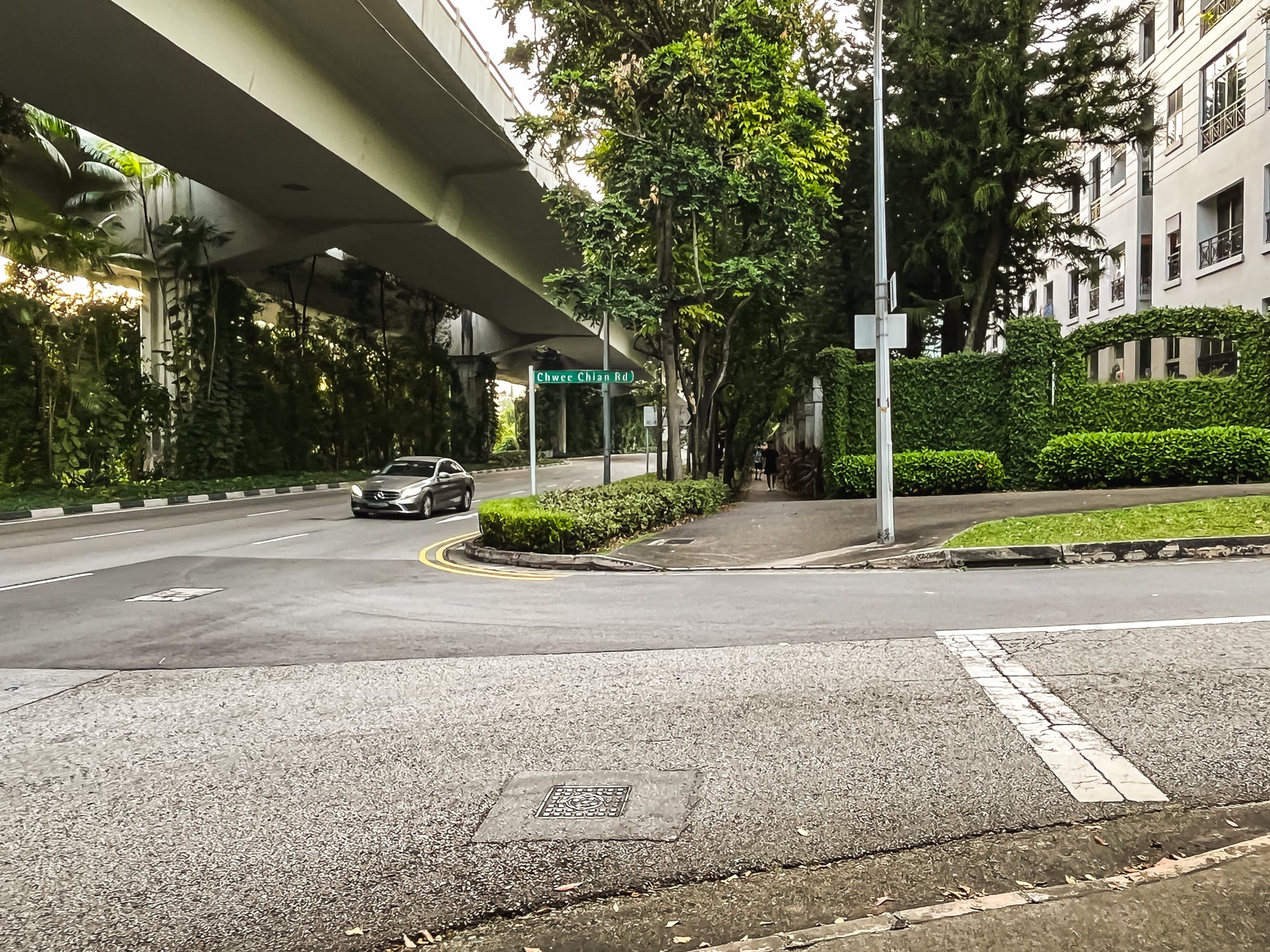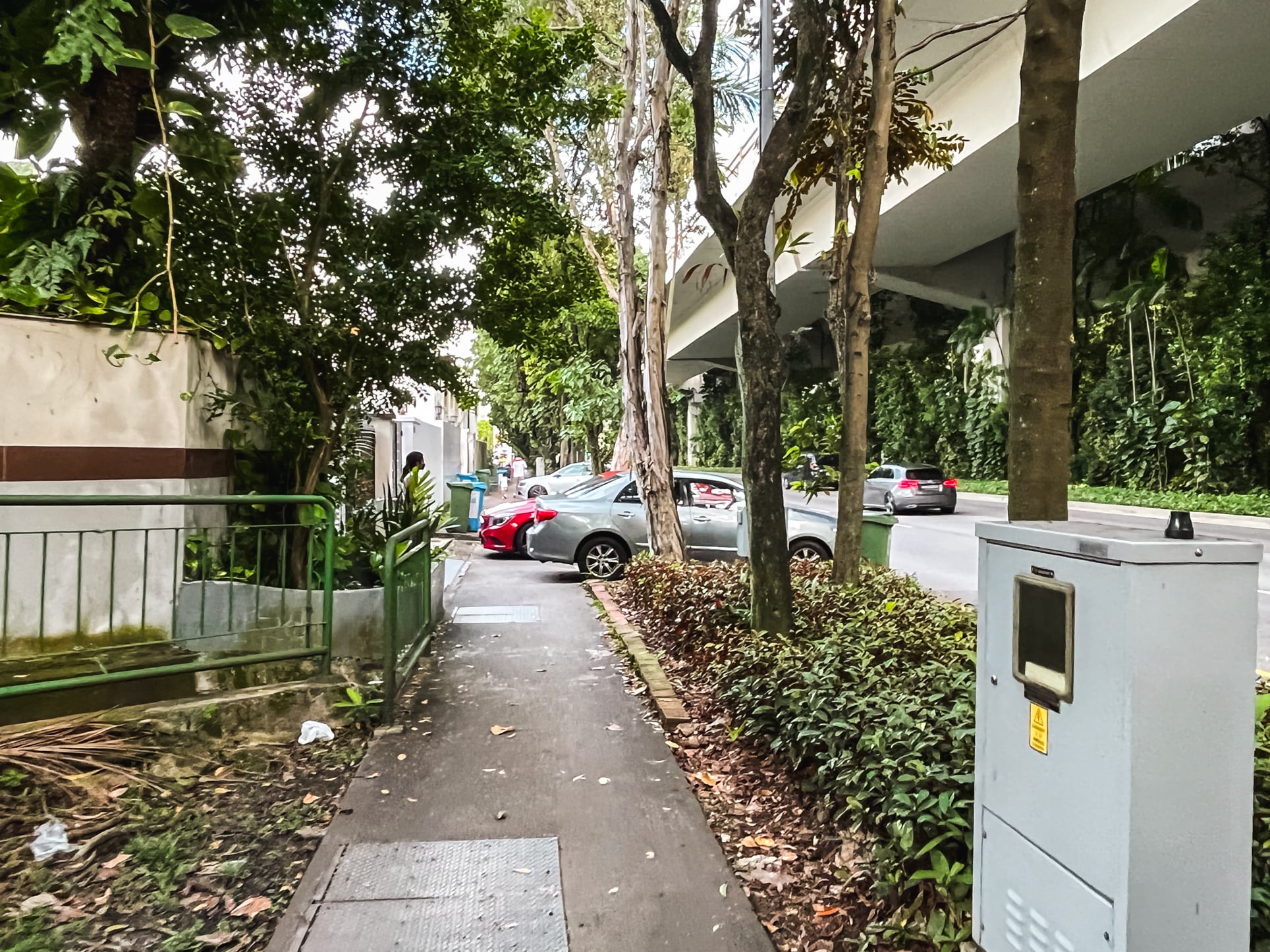 Happily, there are many more shops and eateries this way. Opposite Pasir Panjang MRT is Bijou, a mixed used condo, which has a yoga studio, an Italian restaurant, oyster place and Hao Mart.) Next to Bijou is a row of shophouses with Ashmi Indian Food, 3 Monkeys fusion food, Esarn Thai food, etc. There is even a live seafood restaurant – a boon for keen home cooks! At the foot of Pasir Panjang MRT, there is a hawker centre, so you can see you are spoilt for choice towards this end.
You are also only a few stops away from Vivo City, Singapore's largest shopping Mall (3 stops by MRT or 3 direct buses), and Sentosa.
For those who drive, there are 2 petrol stations just a stone's throw away (Shell and SPC.)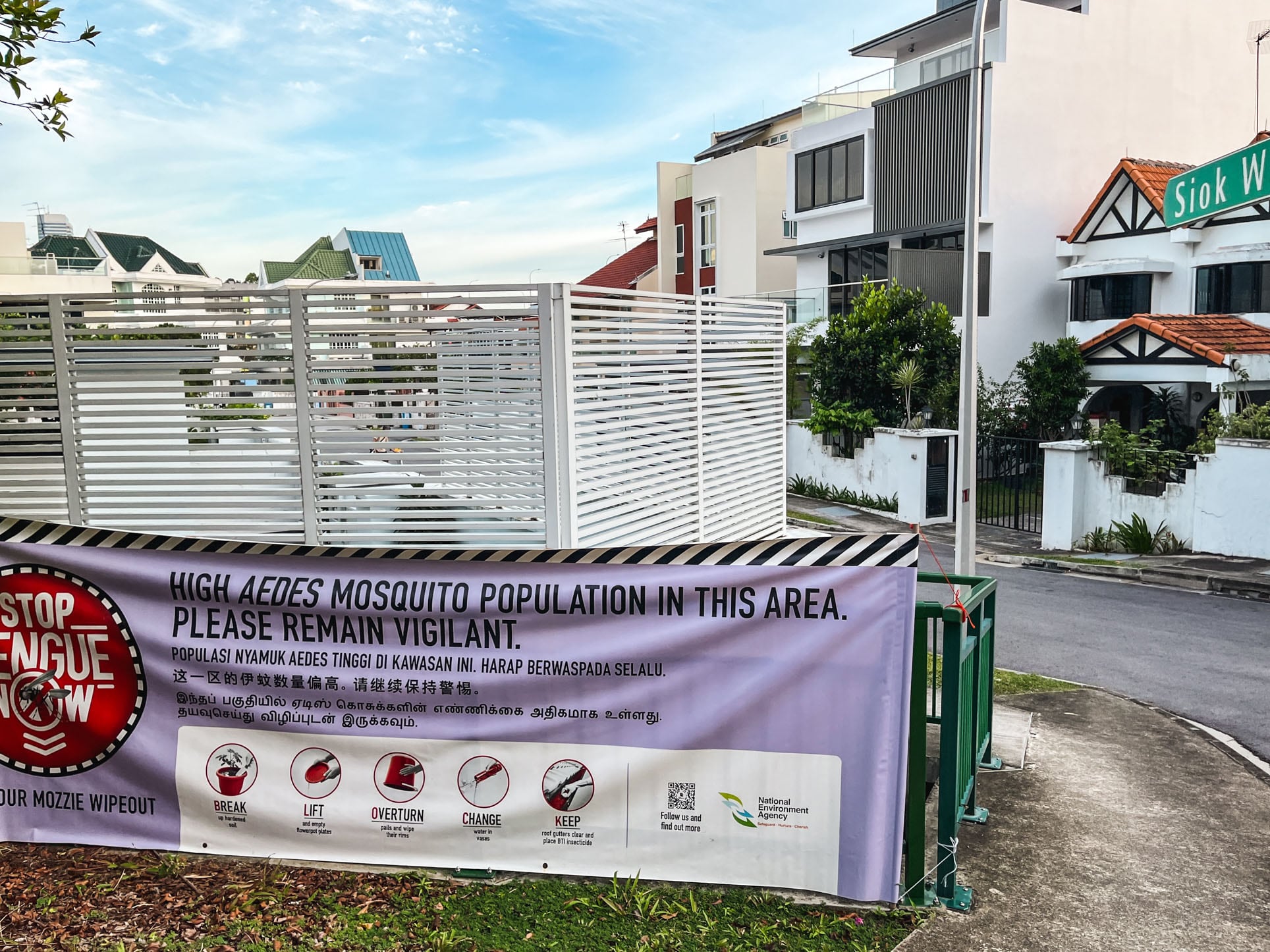 PSA: apparently mosquitos can breed in the hardened soil in your plant pots too!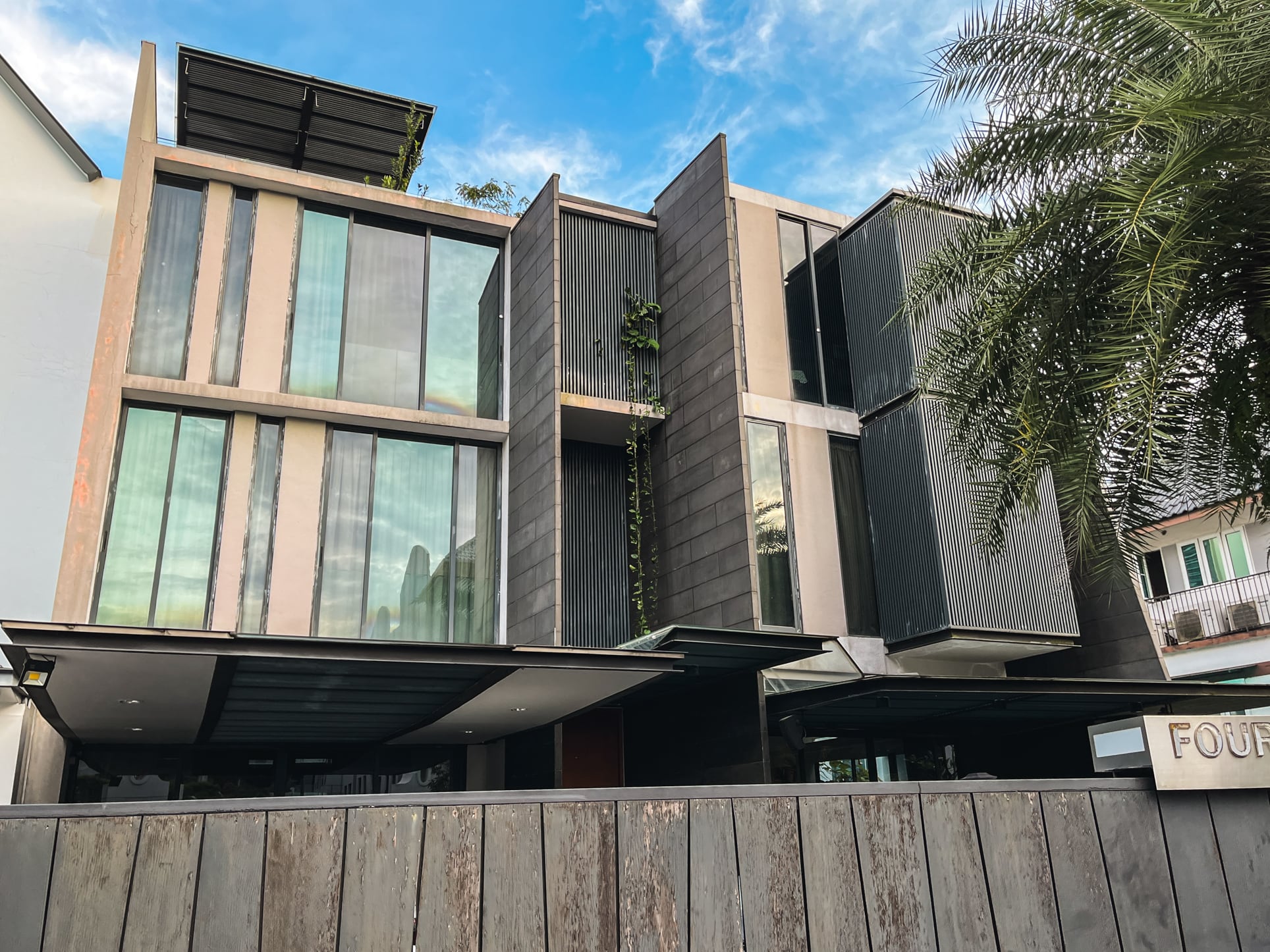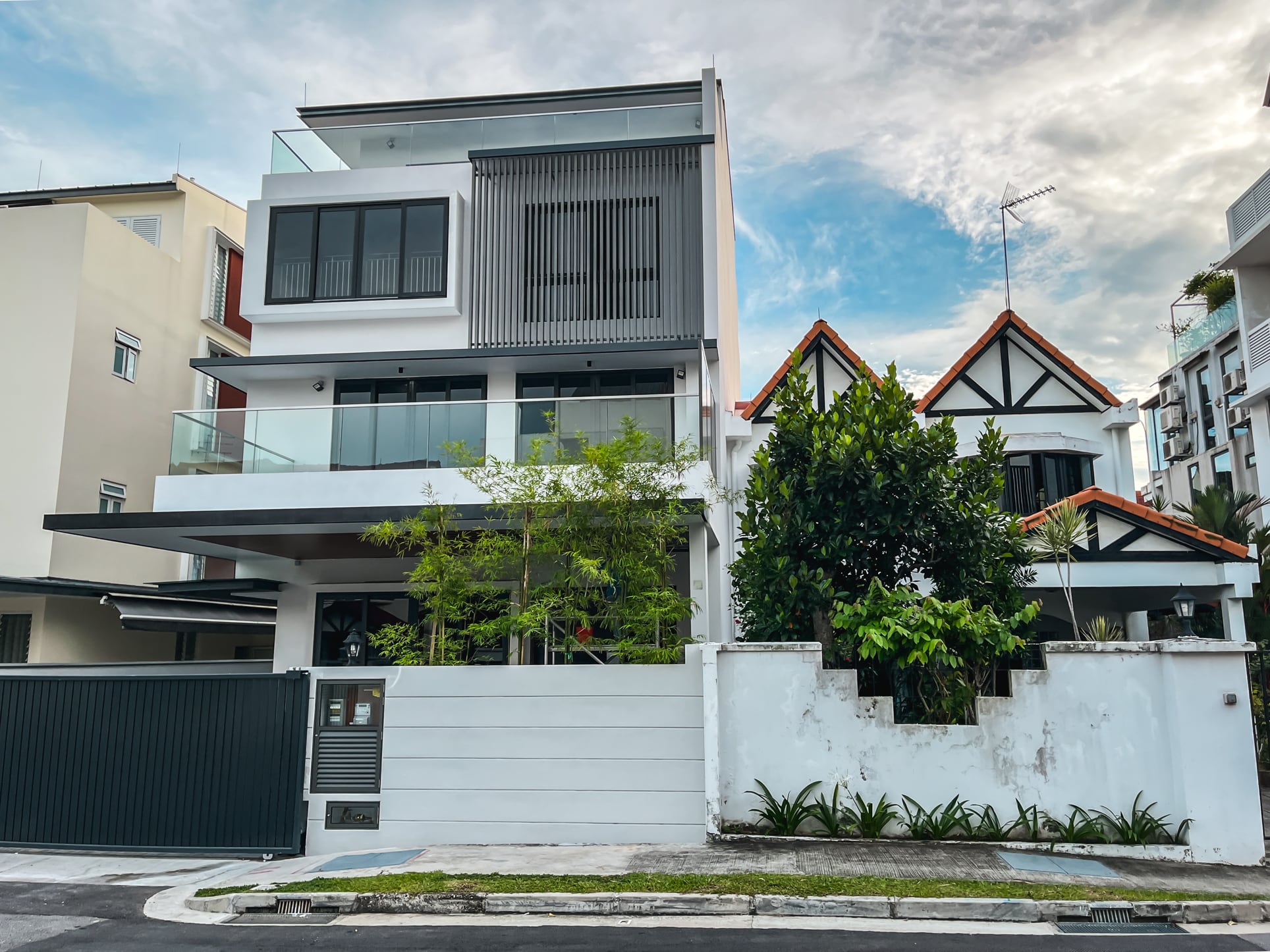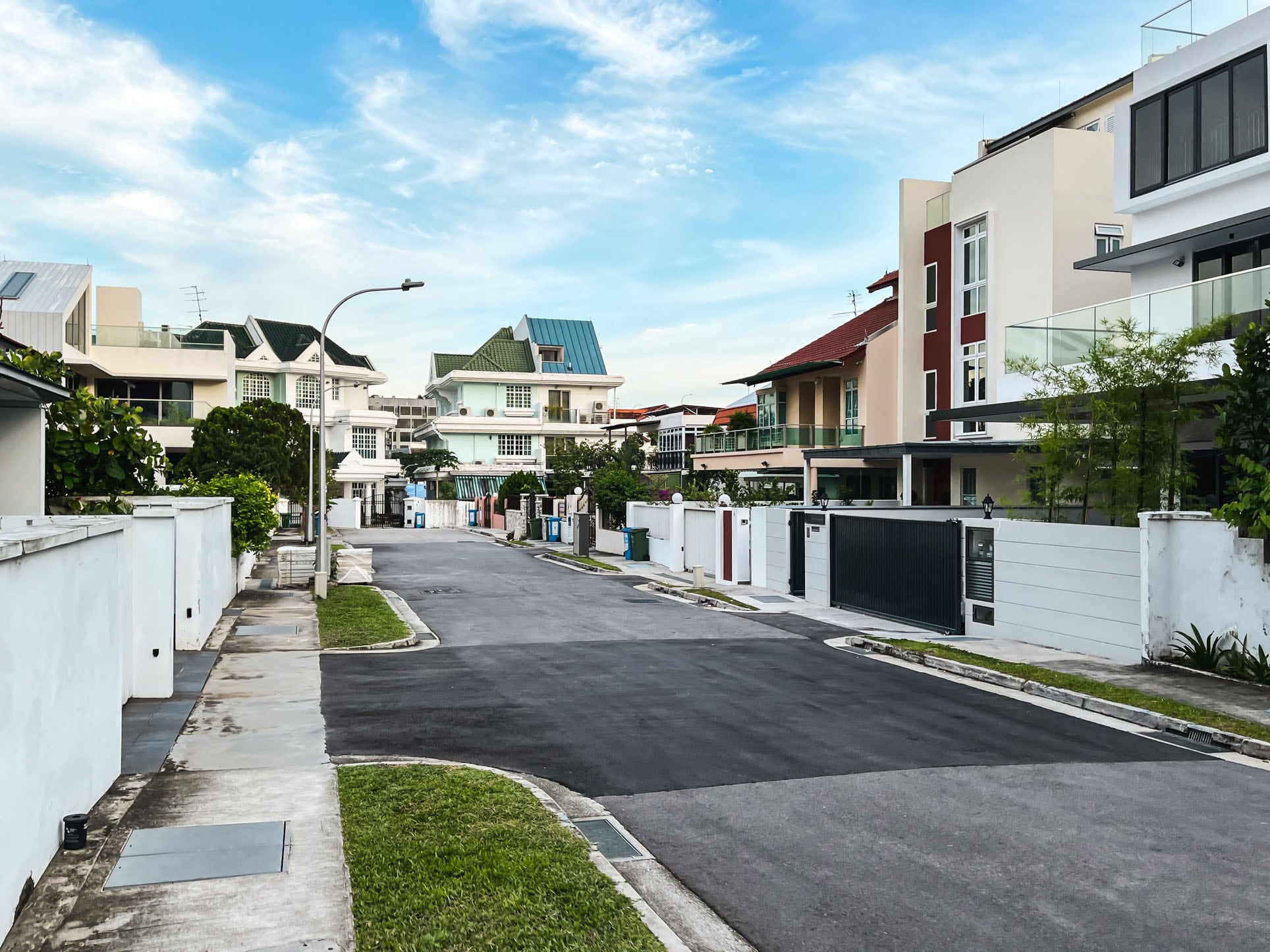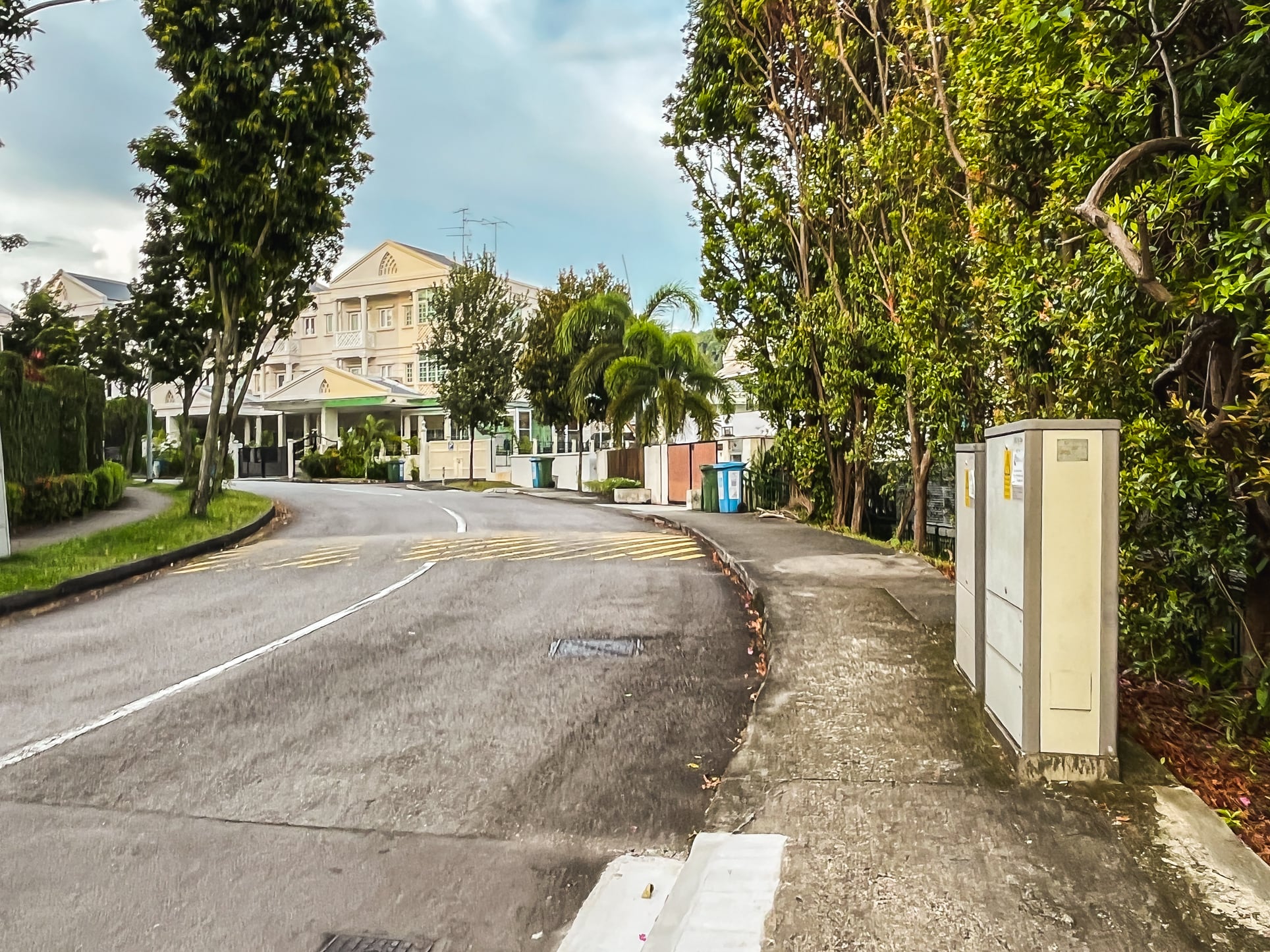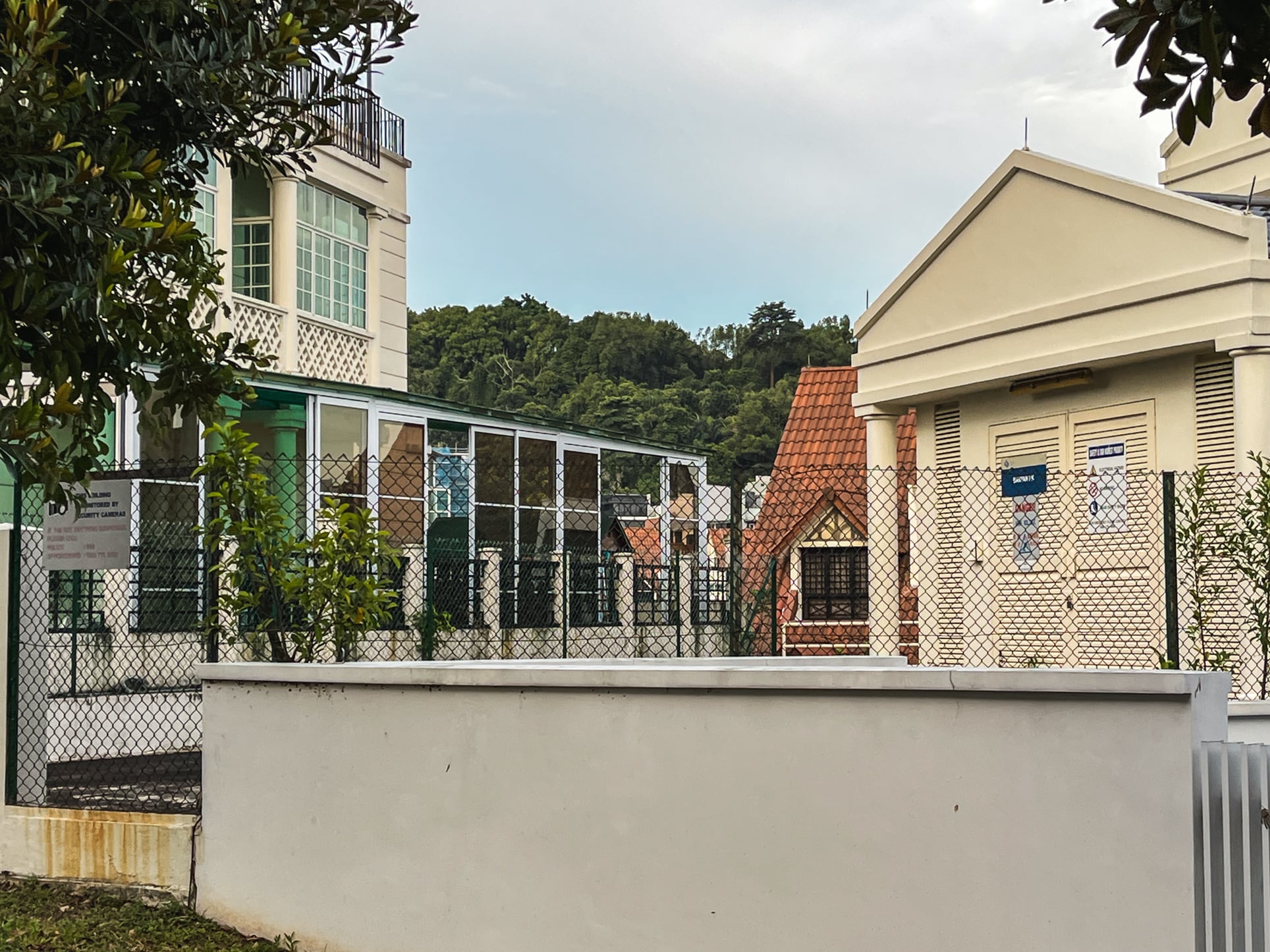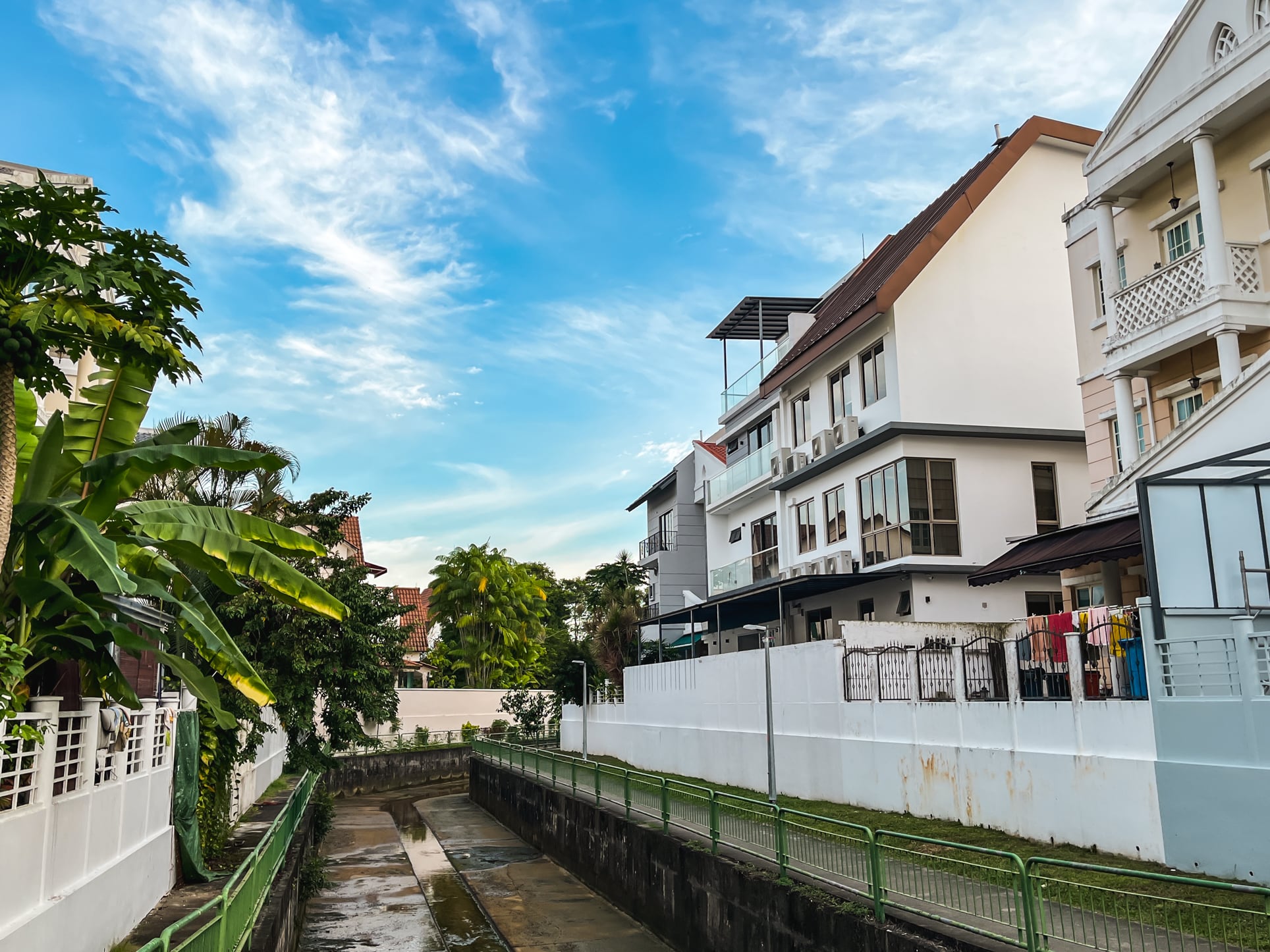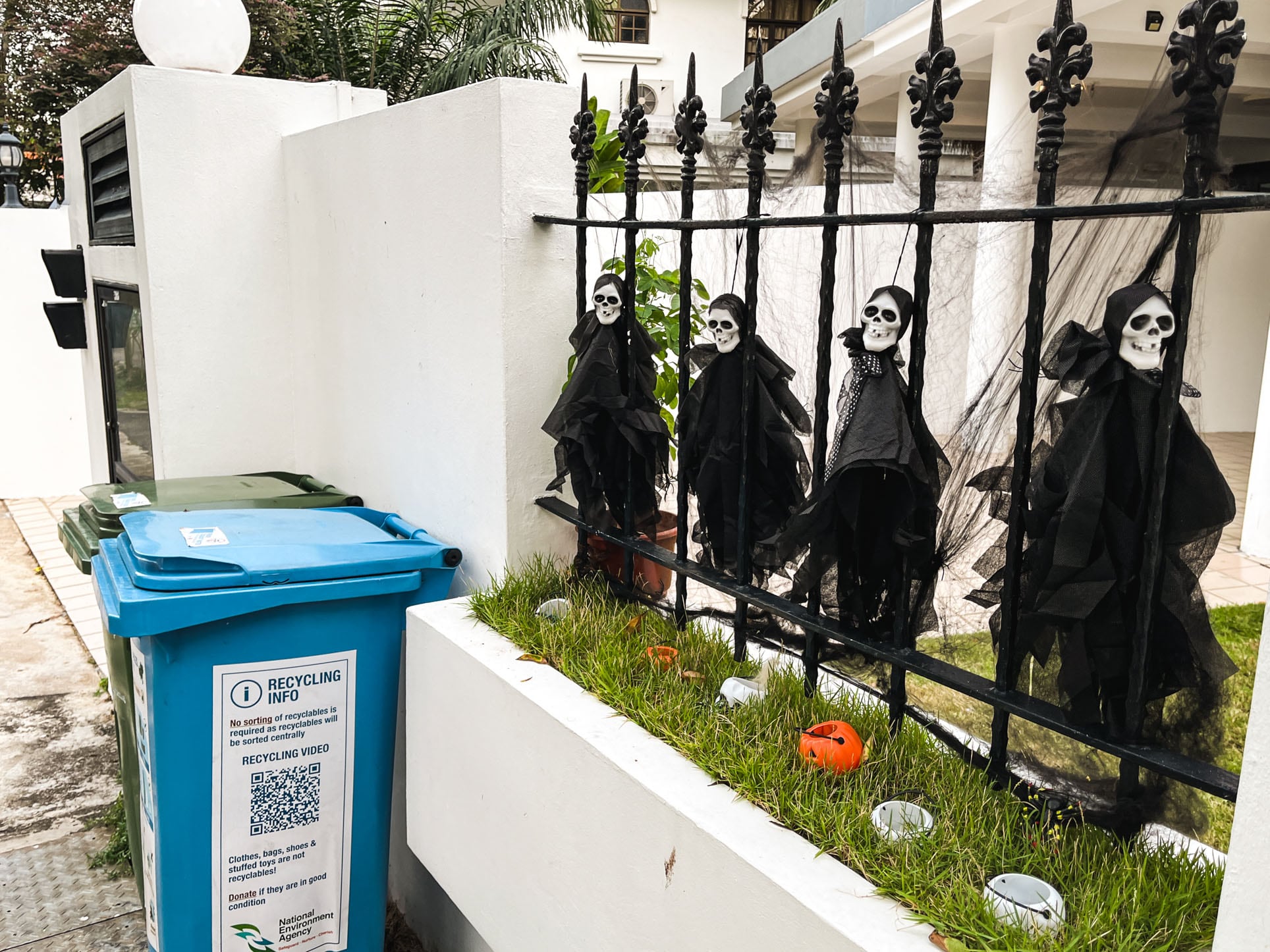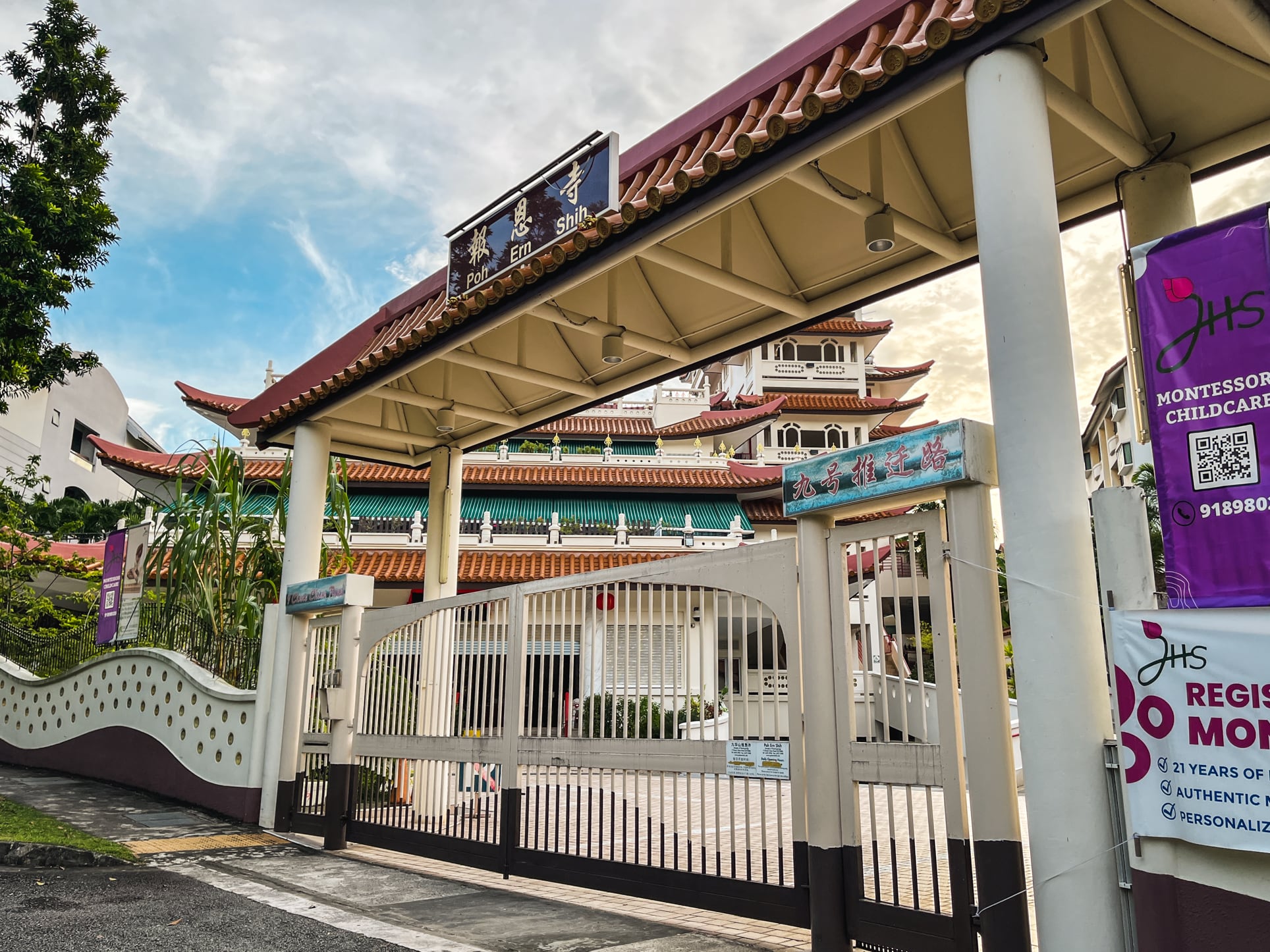 Read this next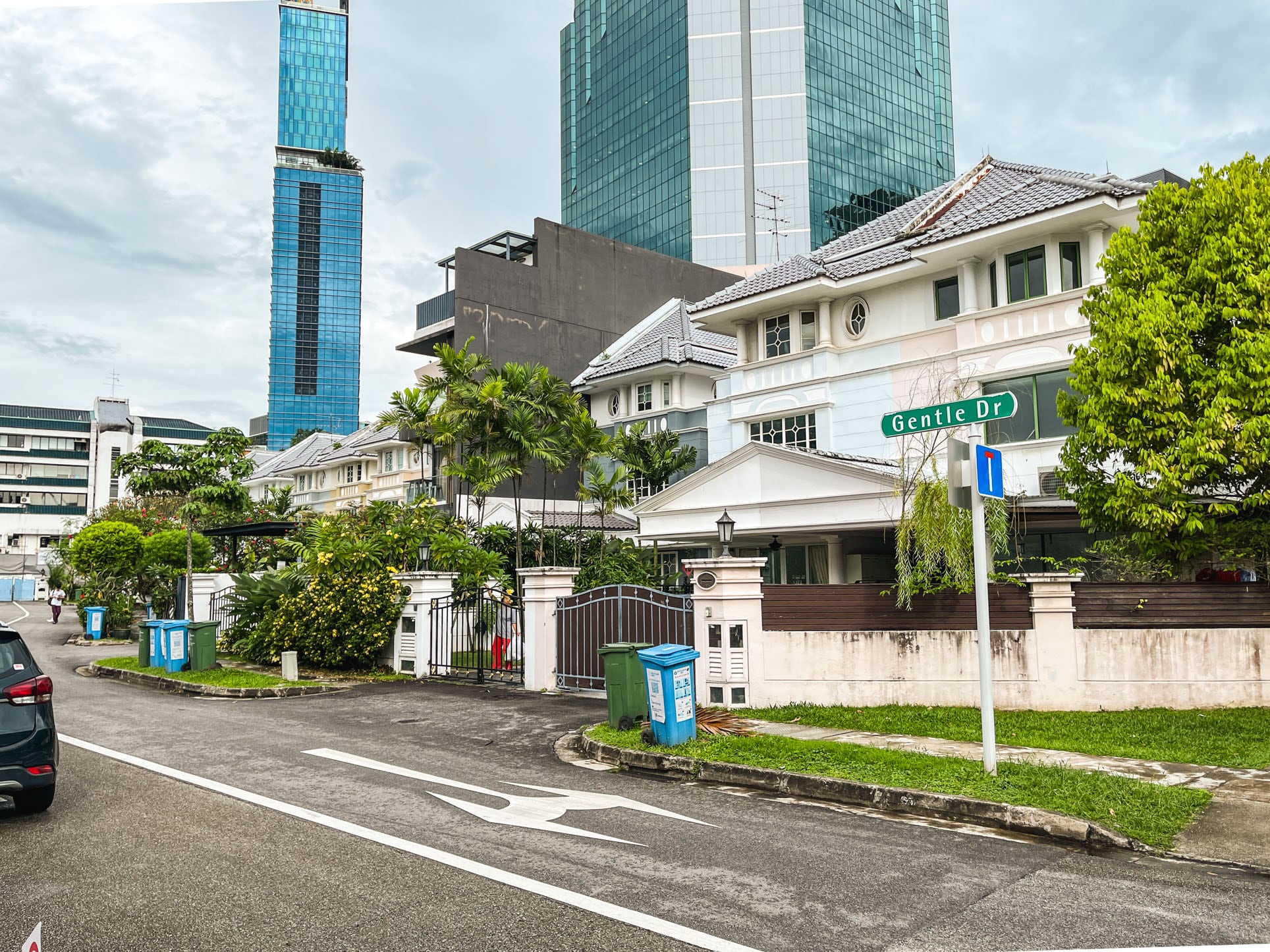 According to several reviews, it's a good place to practice mediation, so perhaps it's a quieter temple?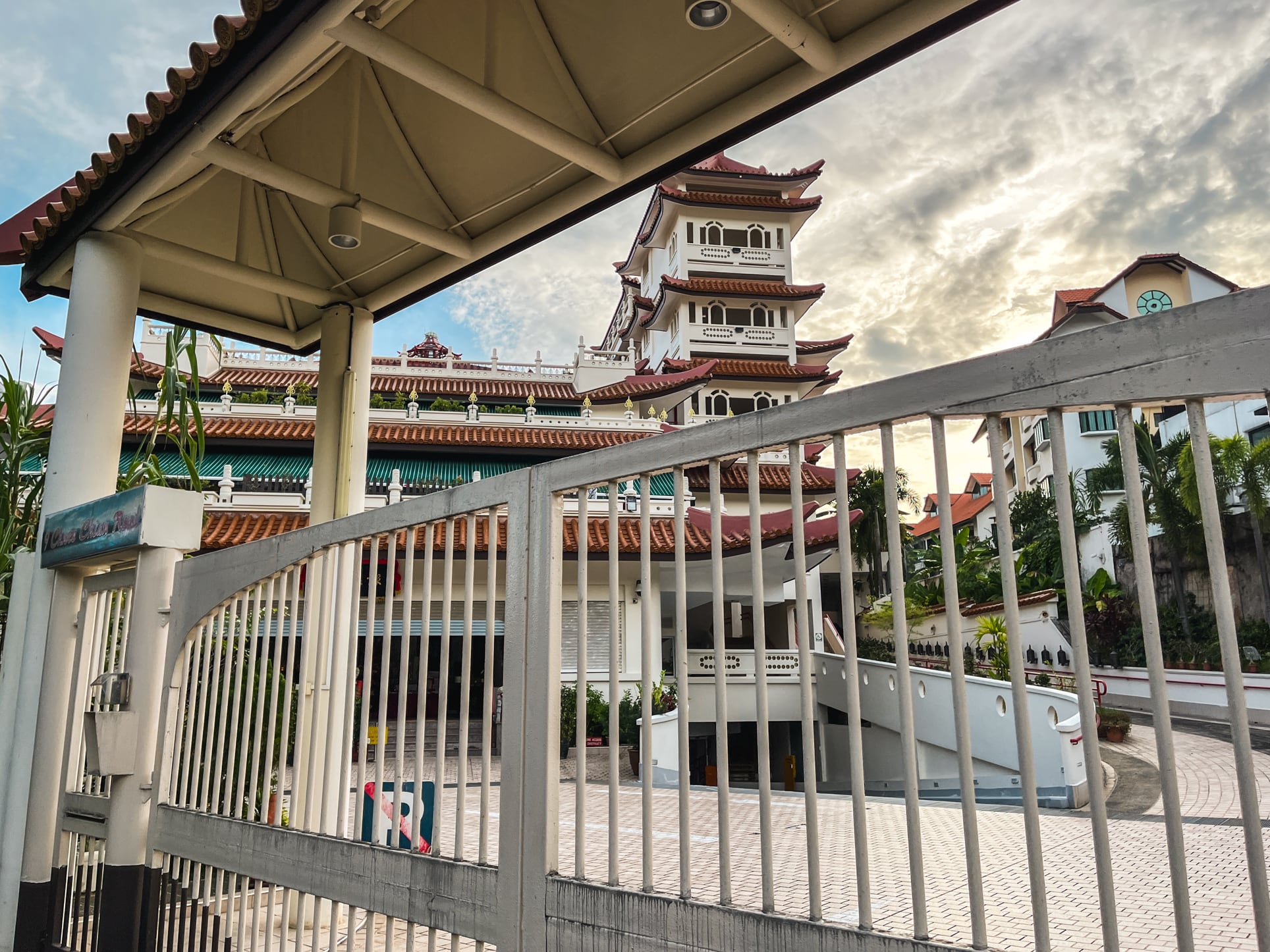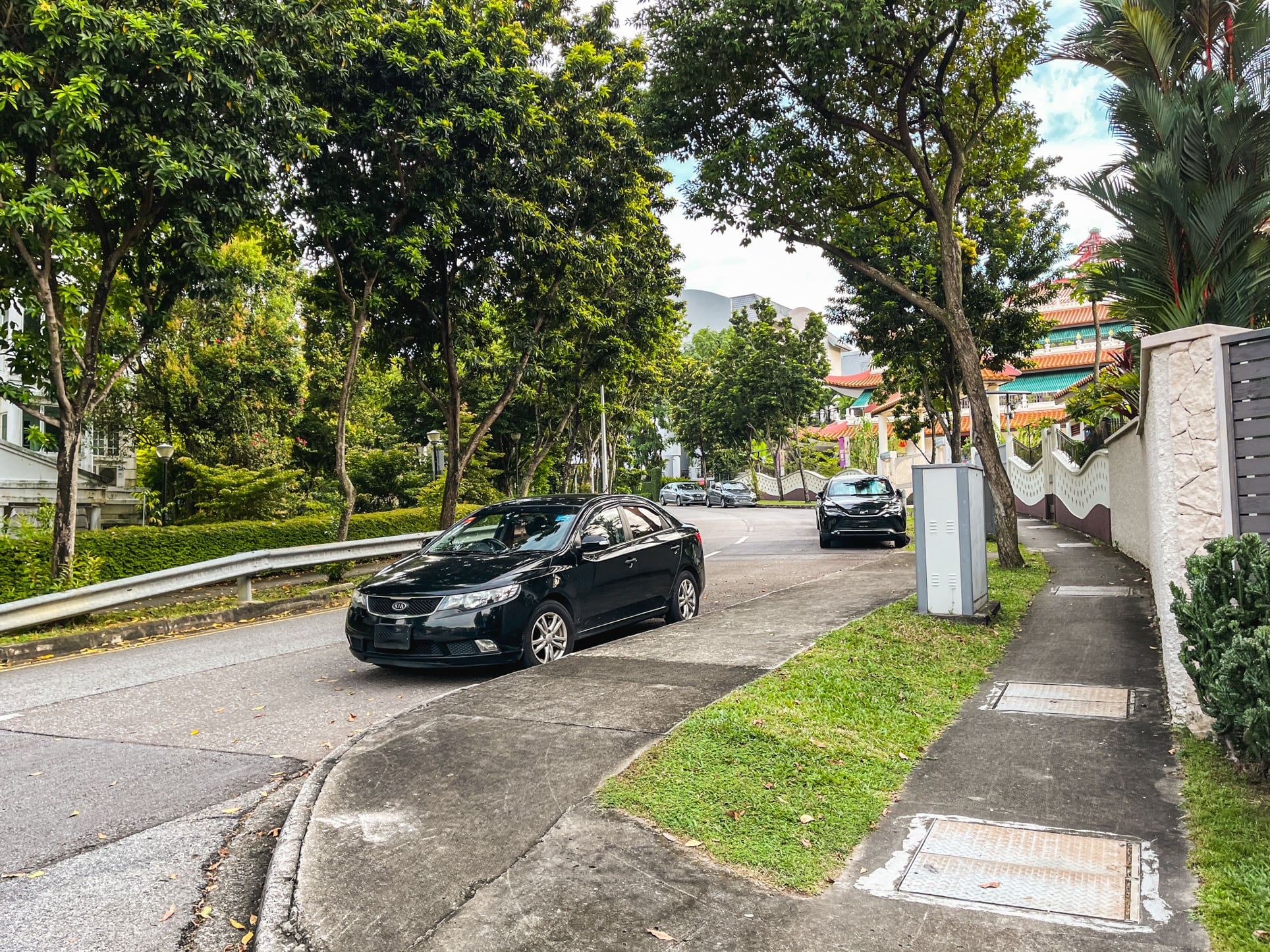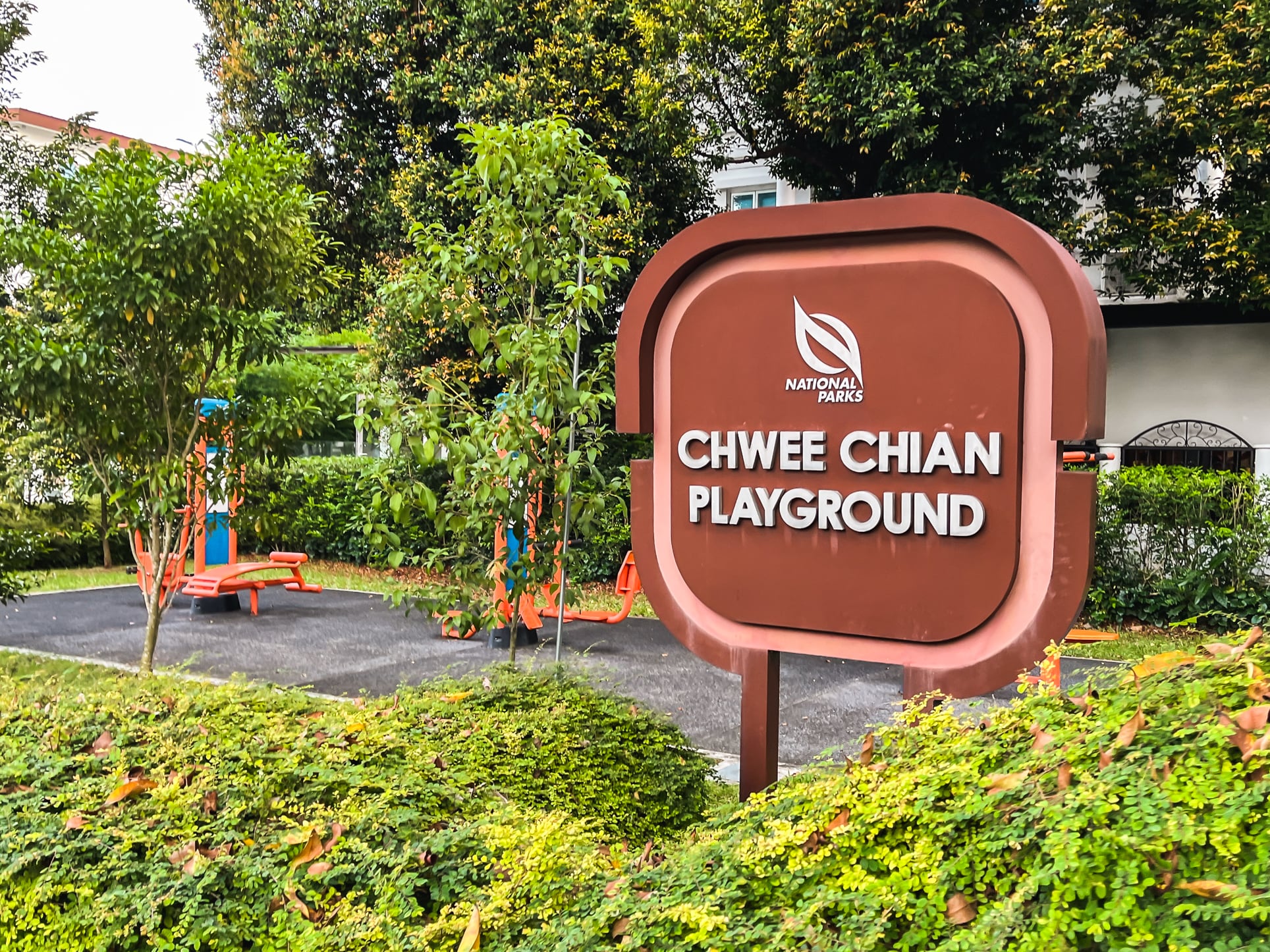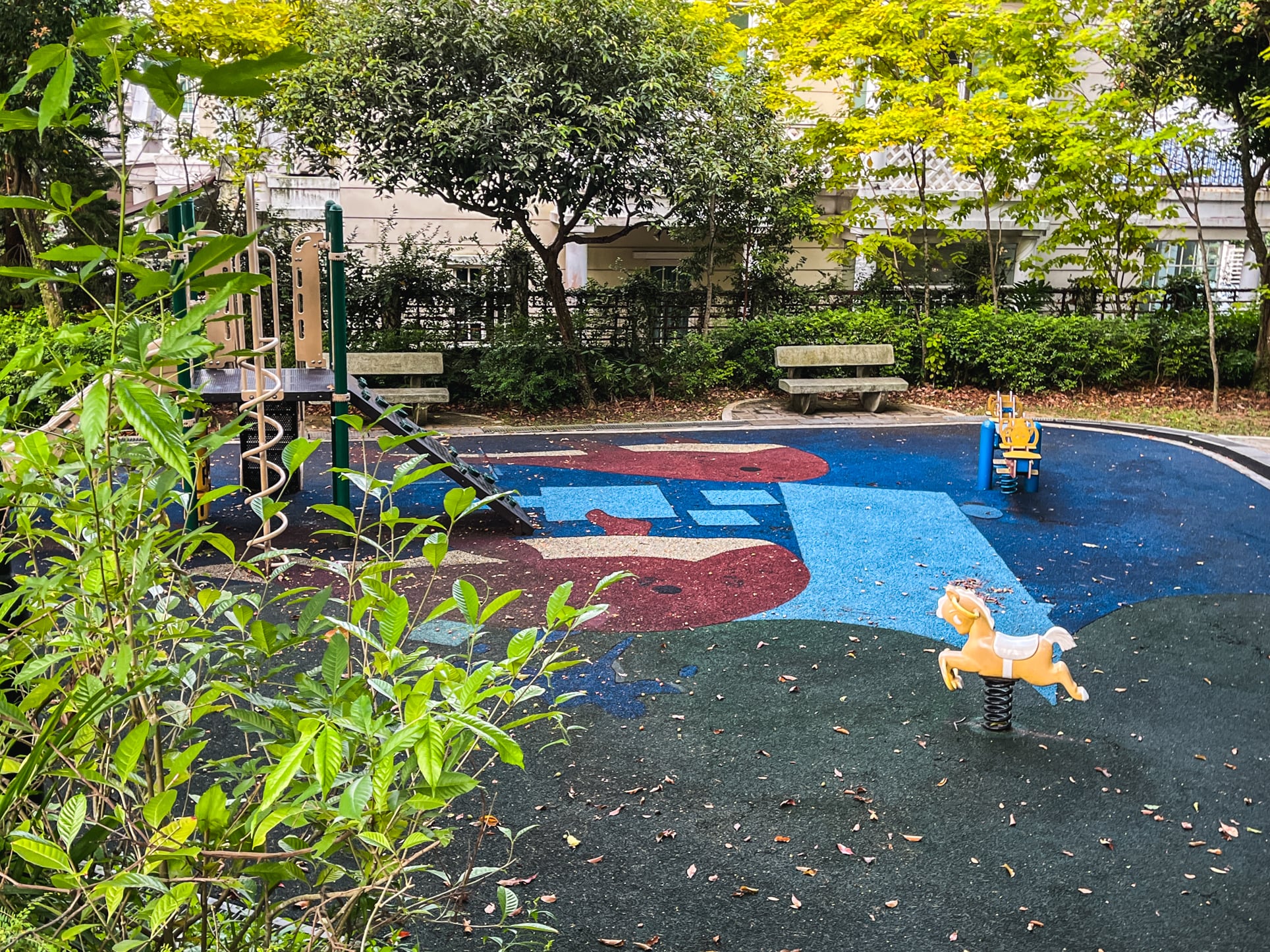 However, there is a plot of land zoned educational near Pasir Panjang MRT, so we may see more development in this area soon.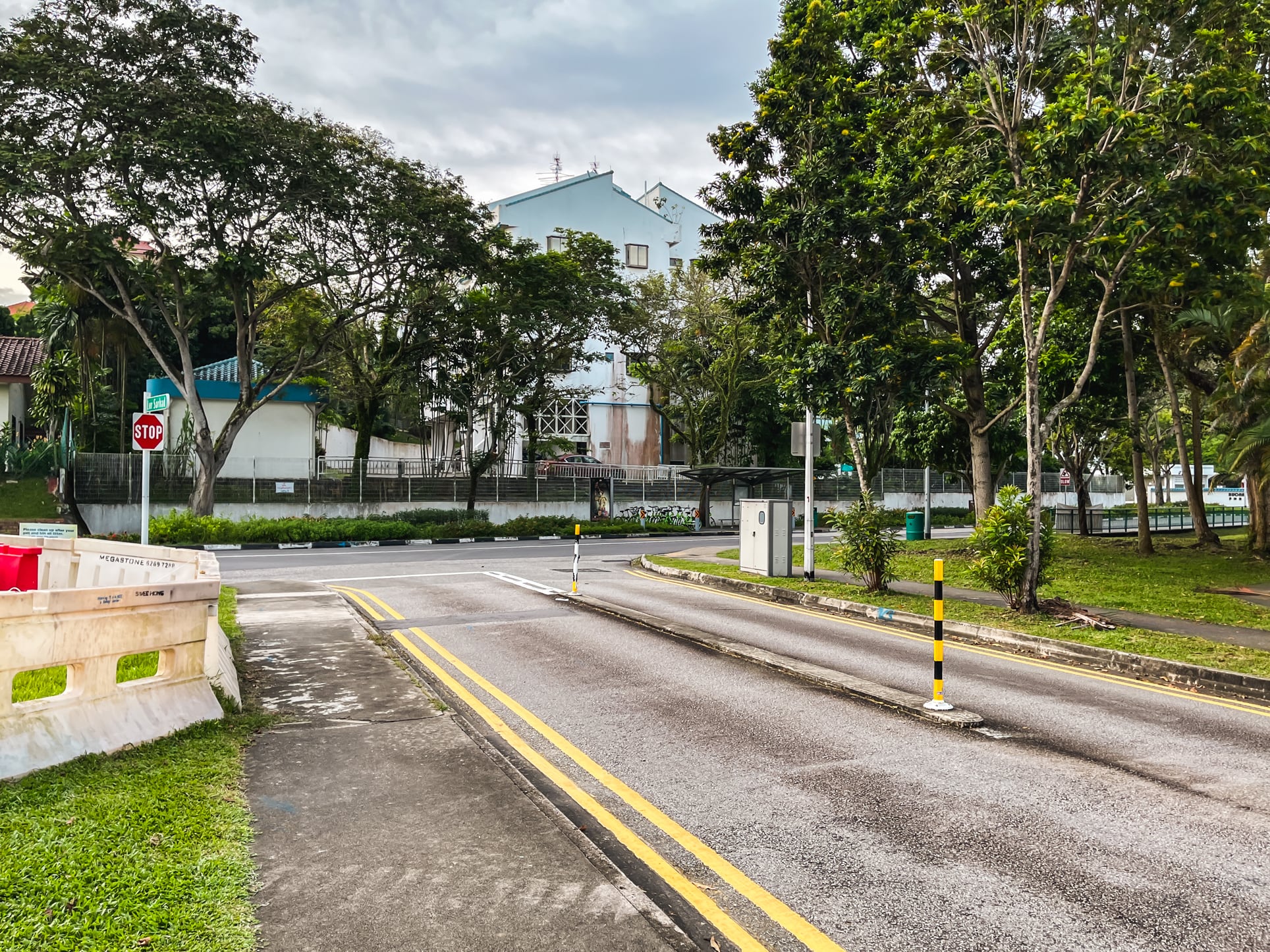 Note: there is also a bus stop located at this entrance, but only one bus (200) comes this way. The bus stop next to the Pasir Panjang Road entrance has many more choices (10,30, 51, 143, 175, 176 and 188.)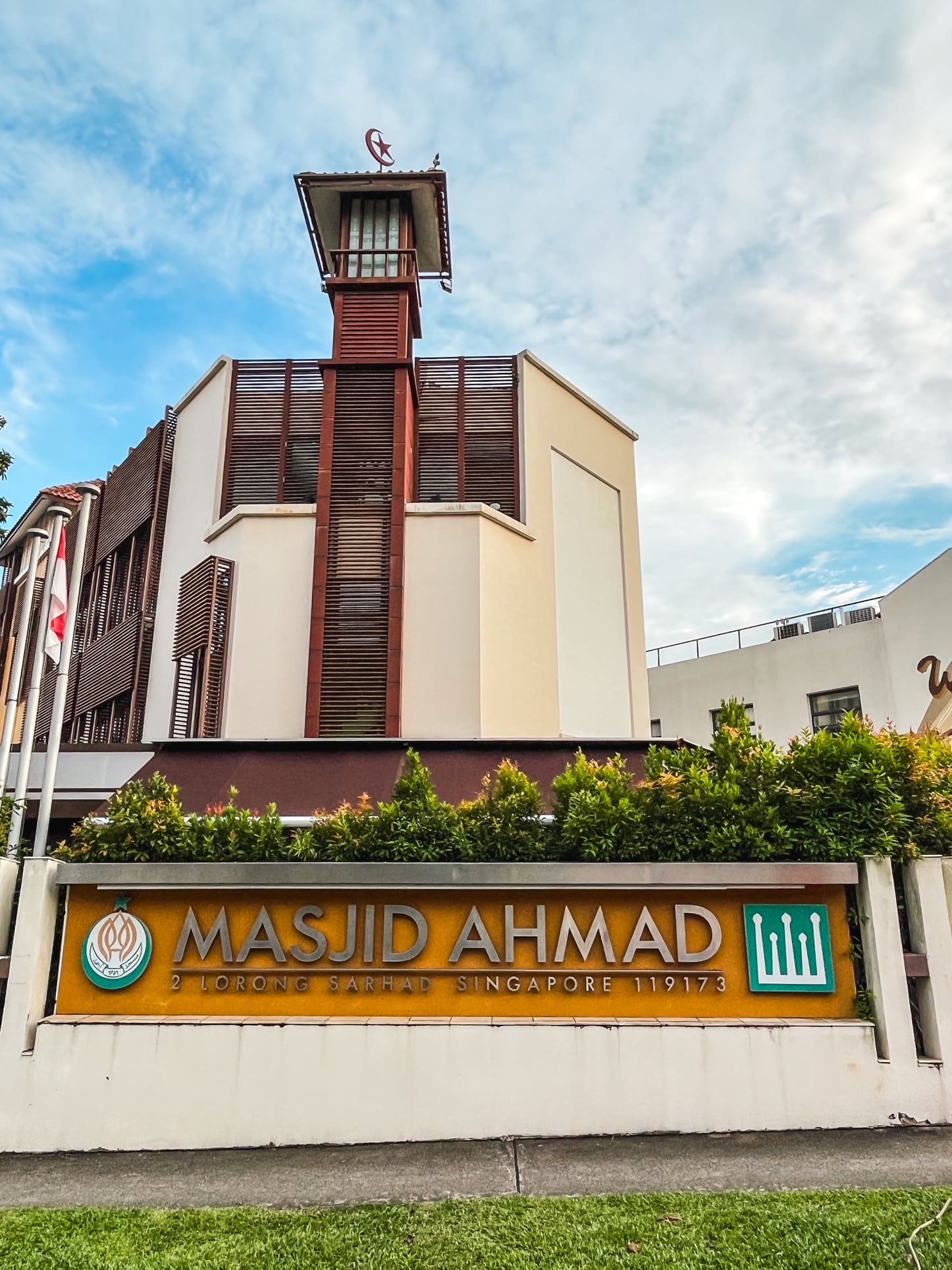 A few steps from Masjid Ahmad is a row of shophouses, which includes Baker & Cook, Plank Pizza, an Irish Pub and 99 Buona Vista Kitchen – very convenient for residents to stroll out for dinner!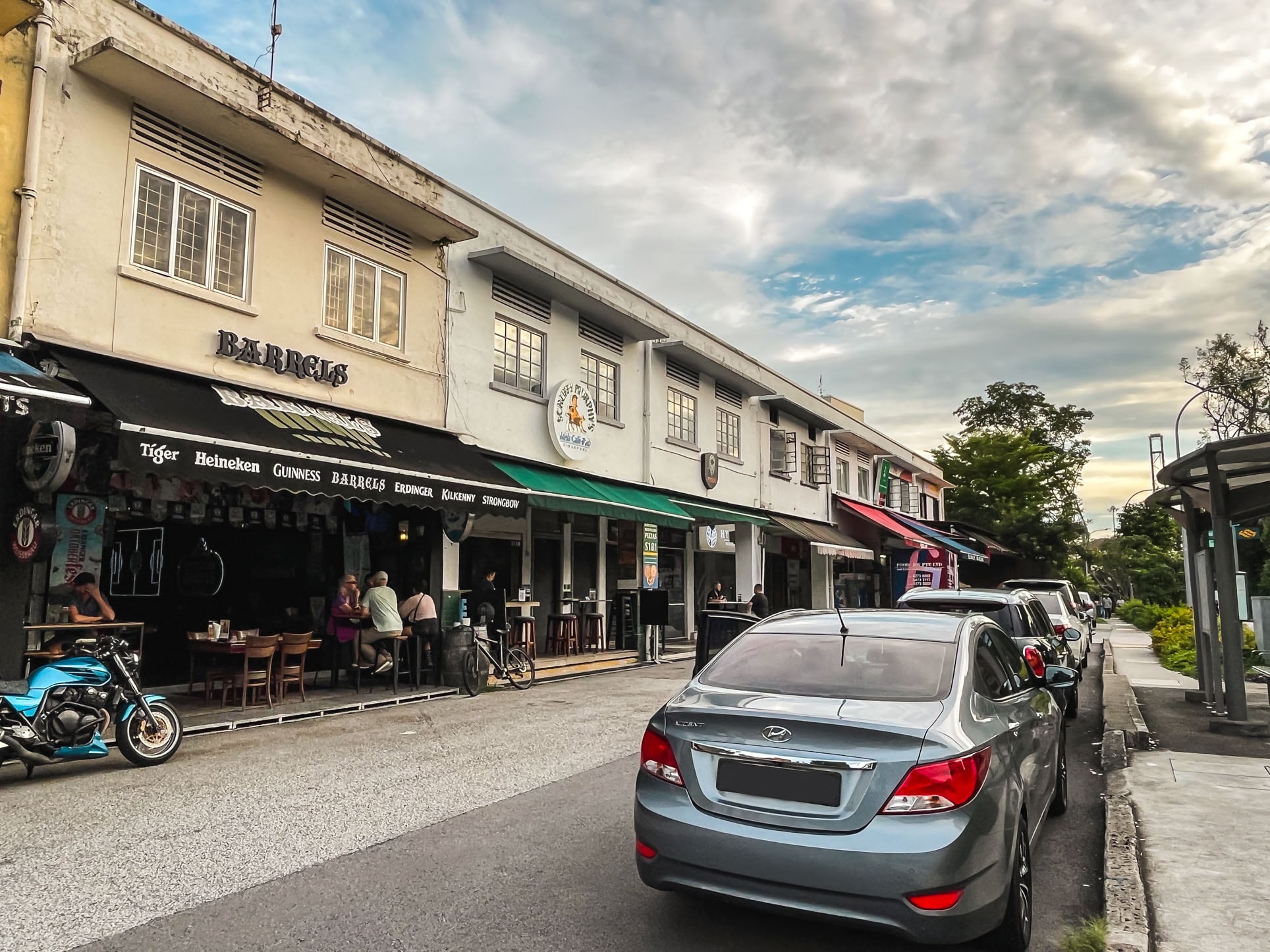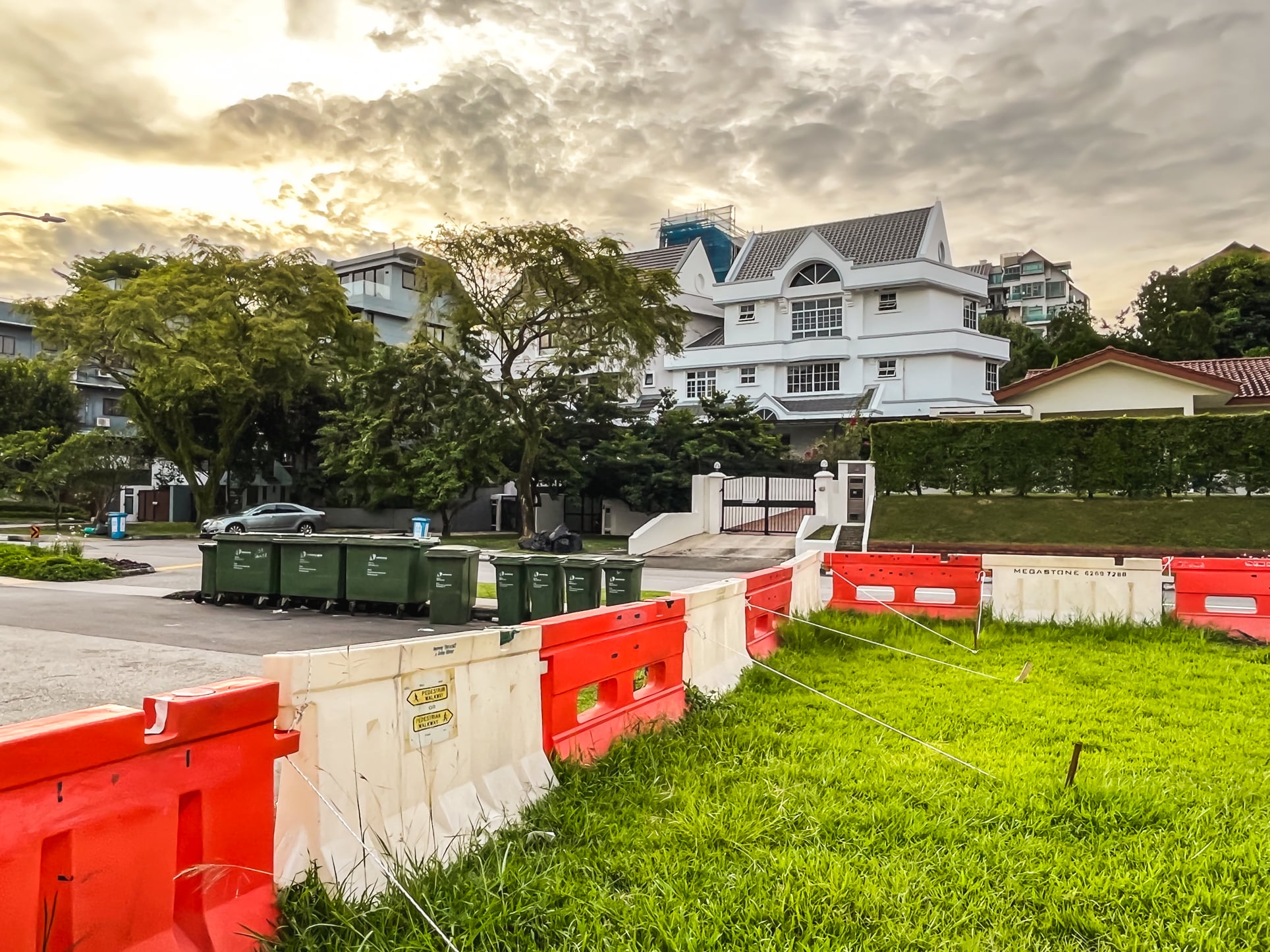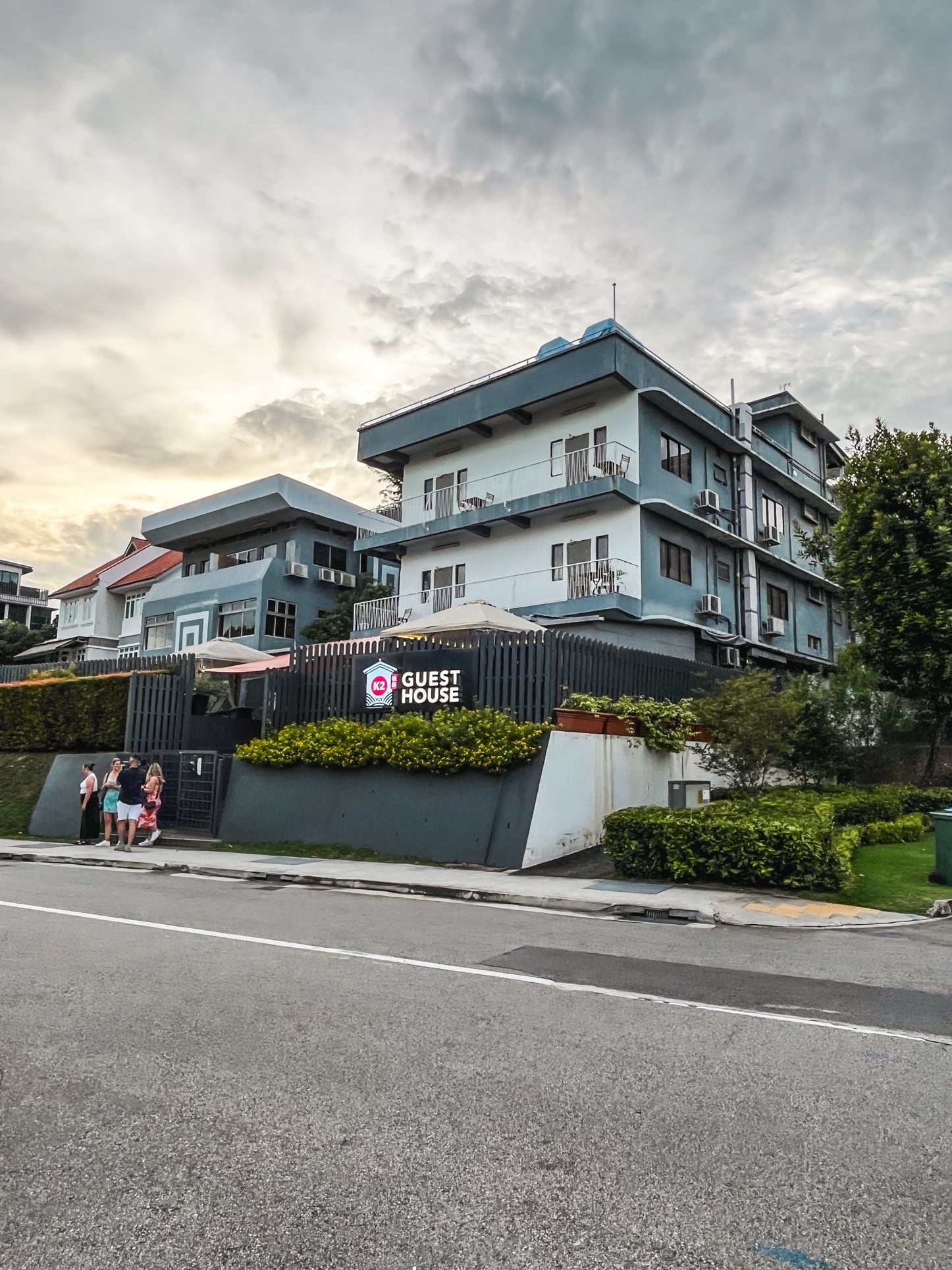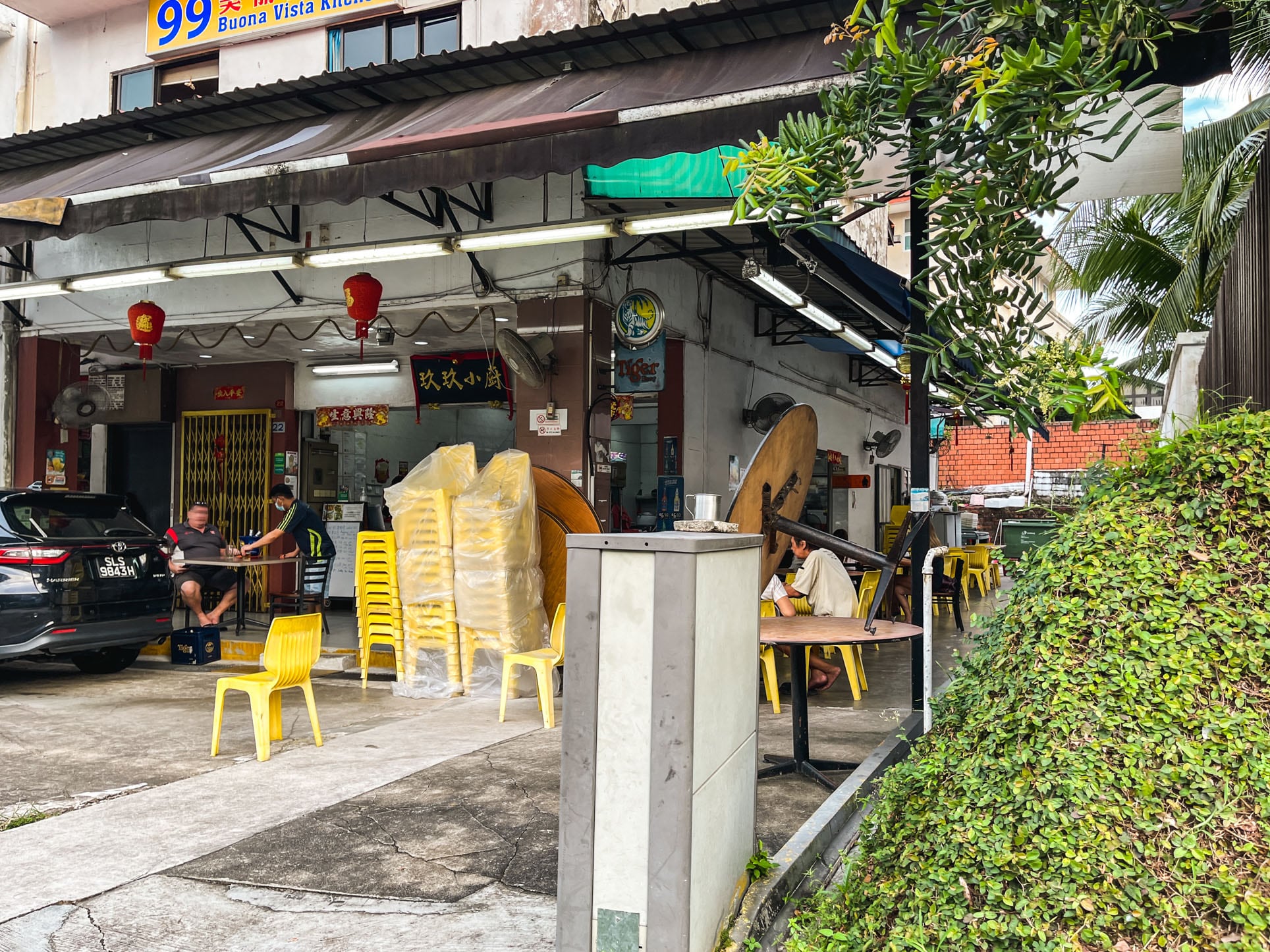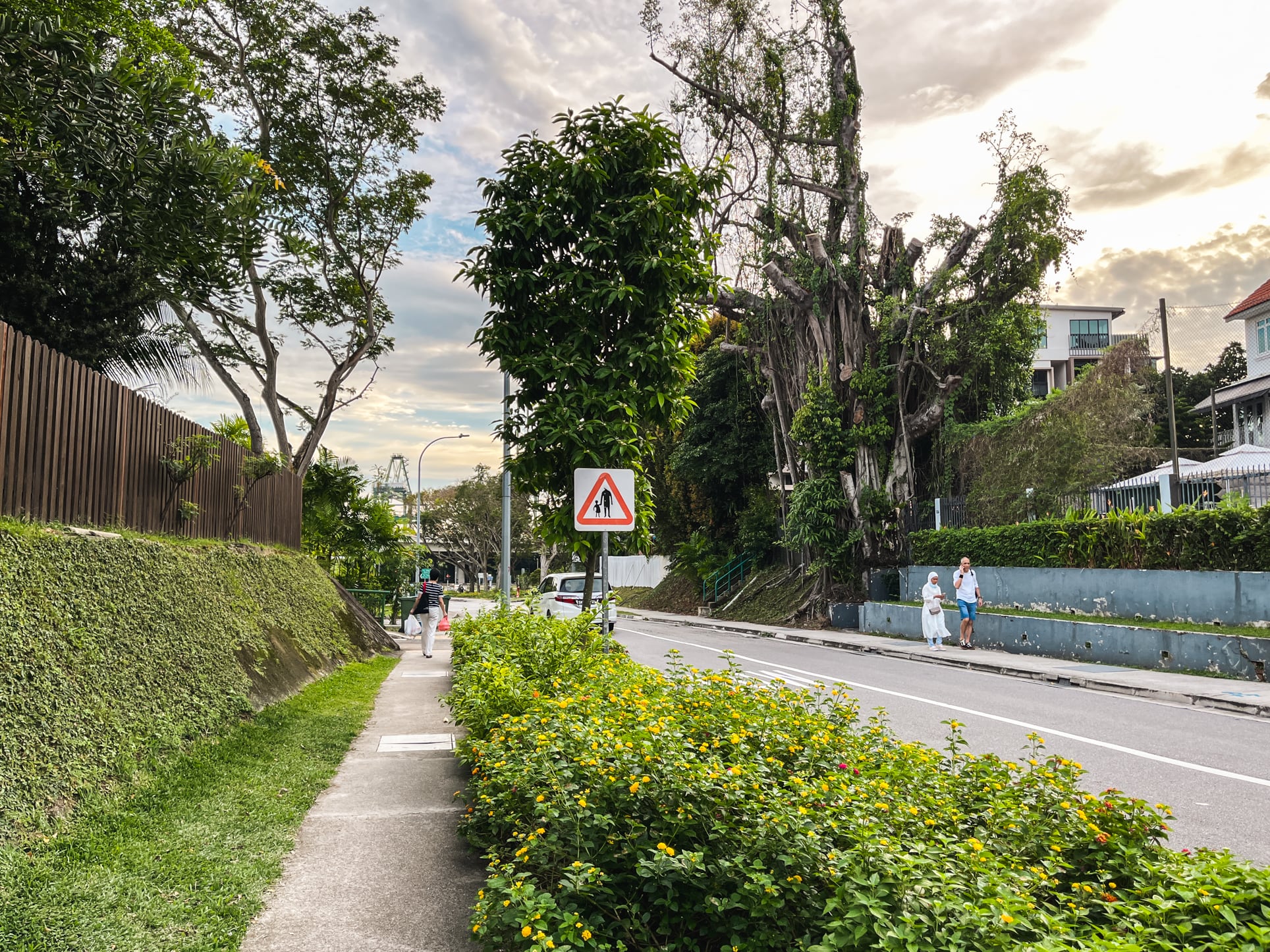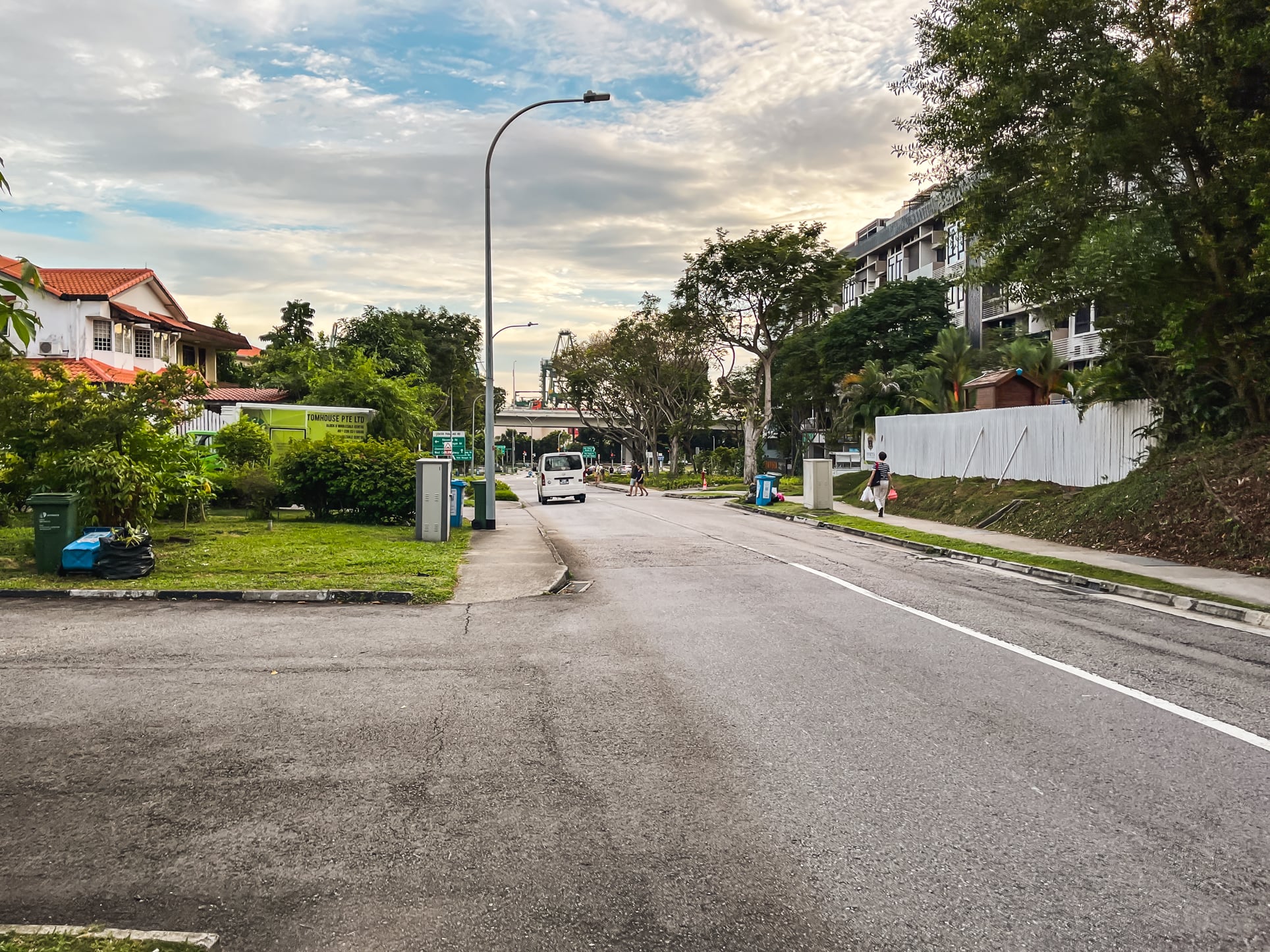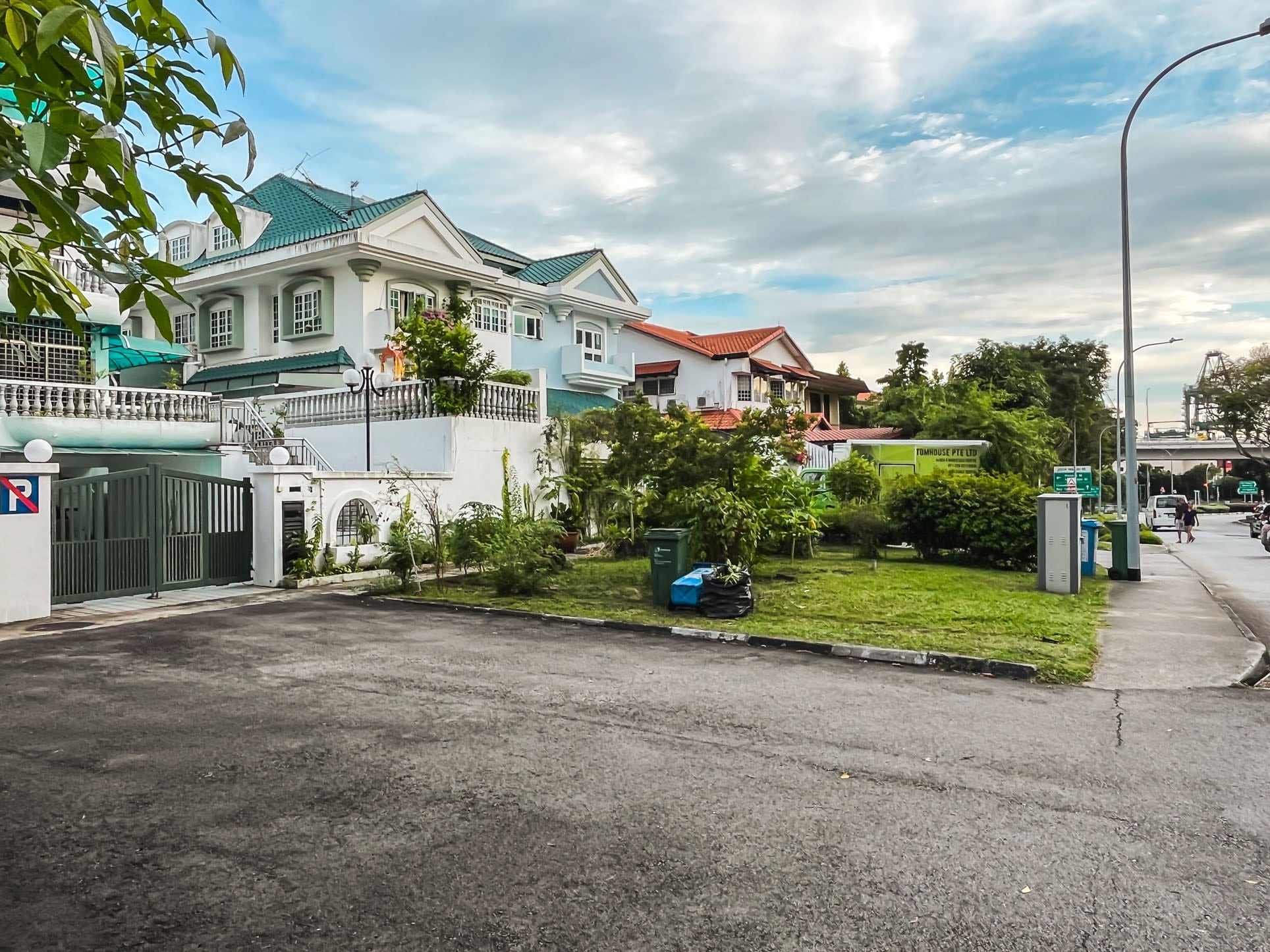 The houses are built somewhat similar to Victoria Park Villas, where the garden is located on the 1st floor and not the ground floor – I do think that is a very practical design as it would be much more pleasant sitting in an elevated garden!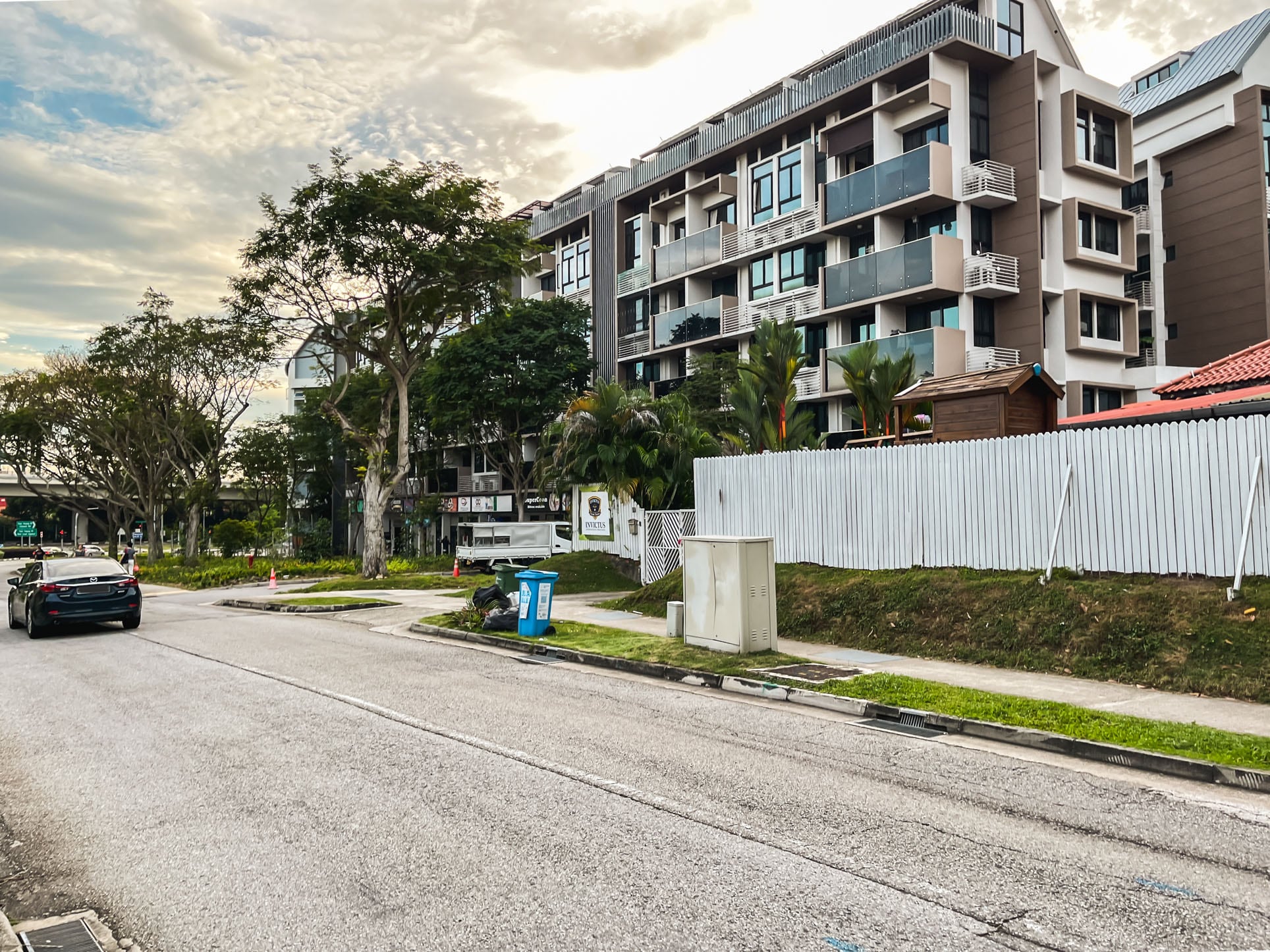 There are no big brand names here – but you can find a laundry shop, a curry place, a handbag spa, a dry cleaners, a flower shop and 2 bars which, in the words of a Google review, "open till 'quite late' if u know what i mean."
Note: there's a 3rd vehicular entrance into Chwee Chian estate located just opposite Viva Vista, which leads into Lorong Sari. I am really impressed that such a small collection of houses has THREE exits and entrances for cars!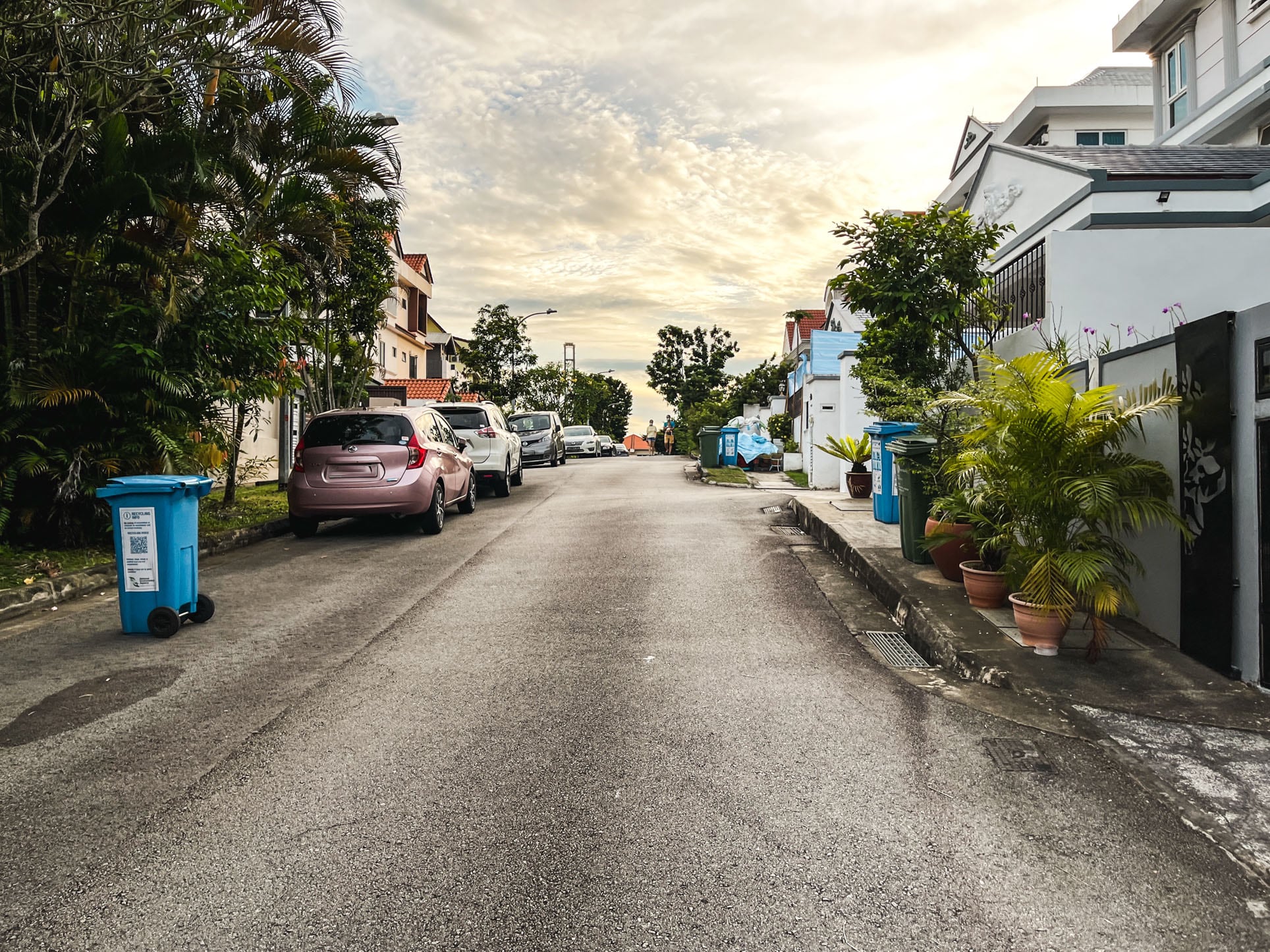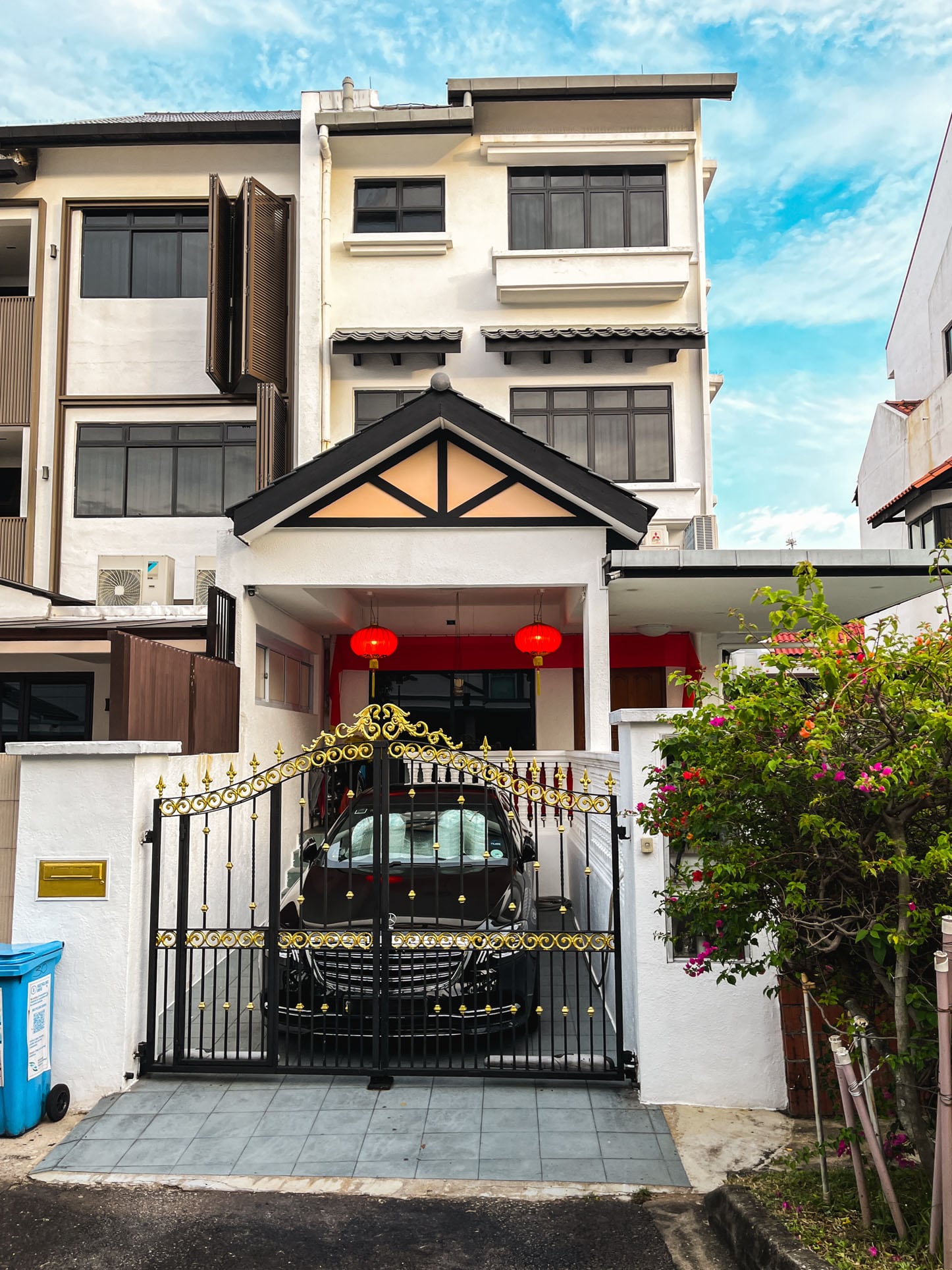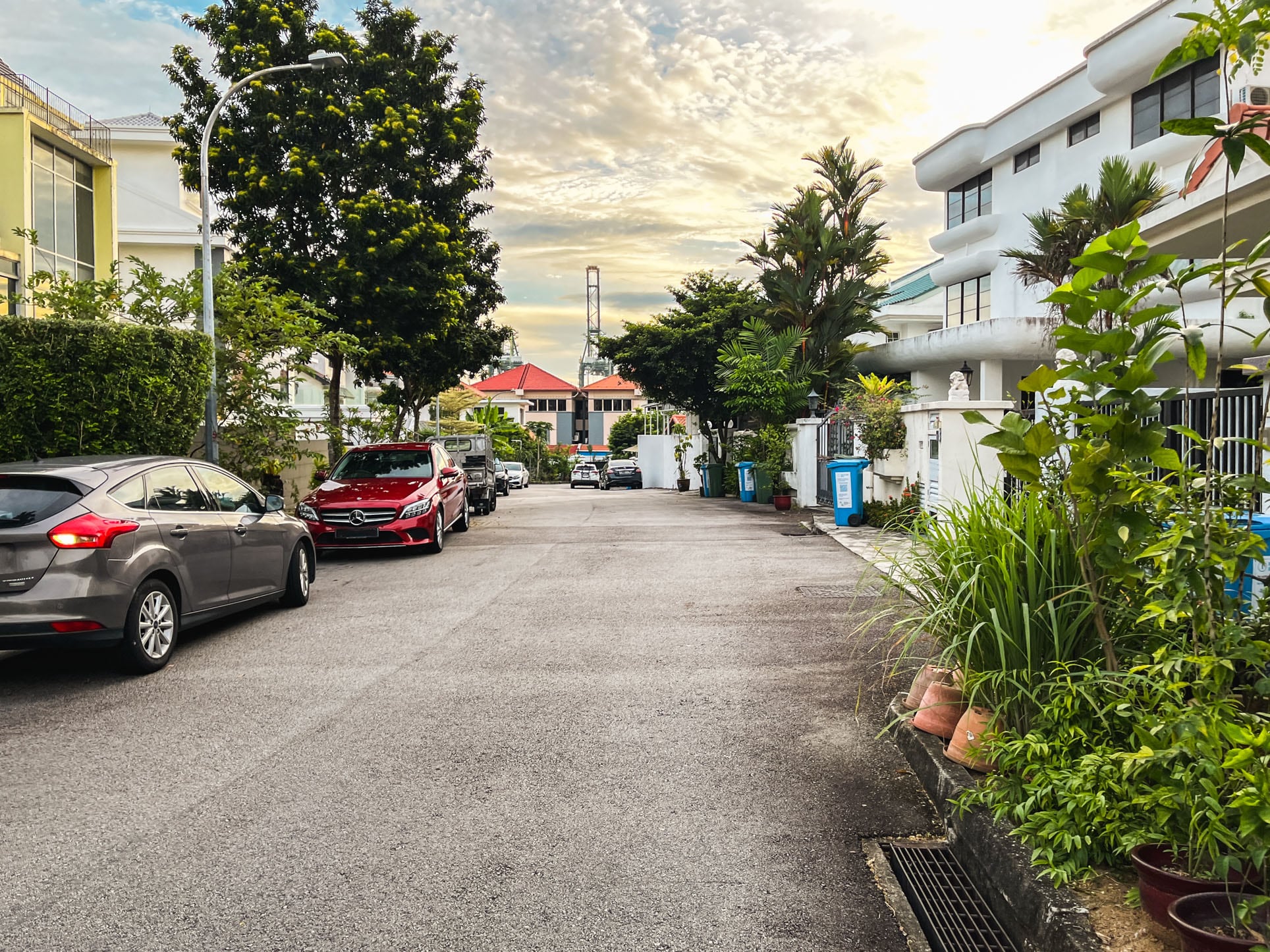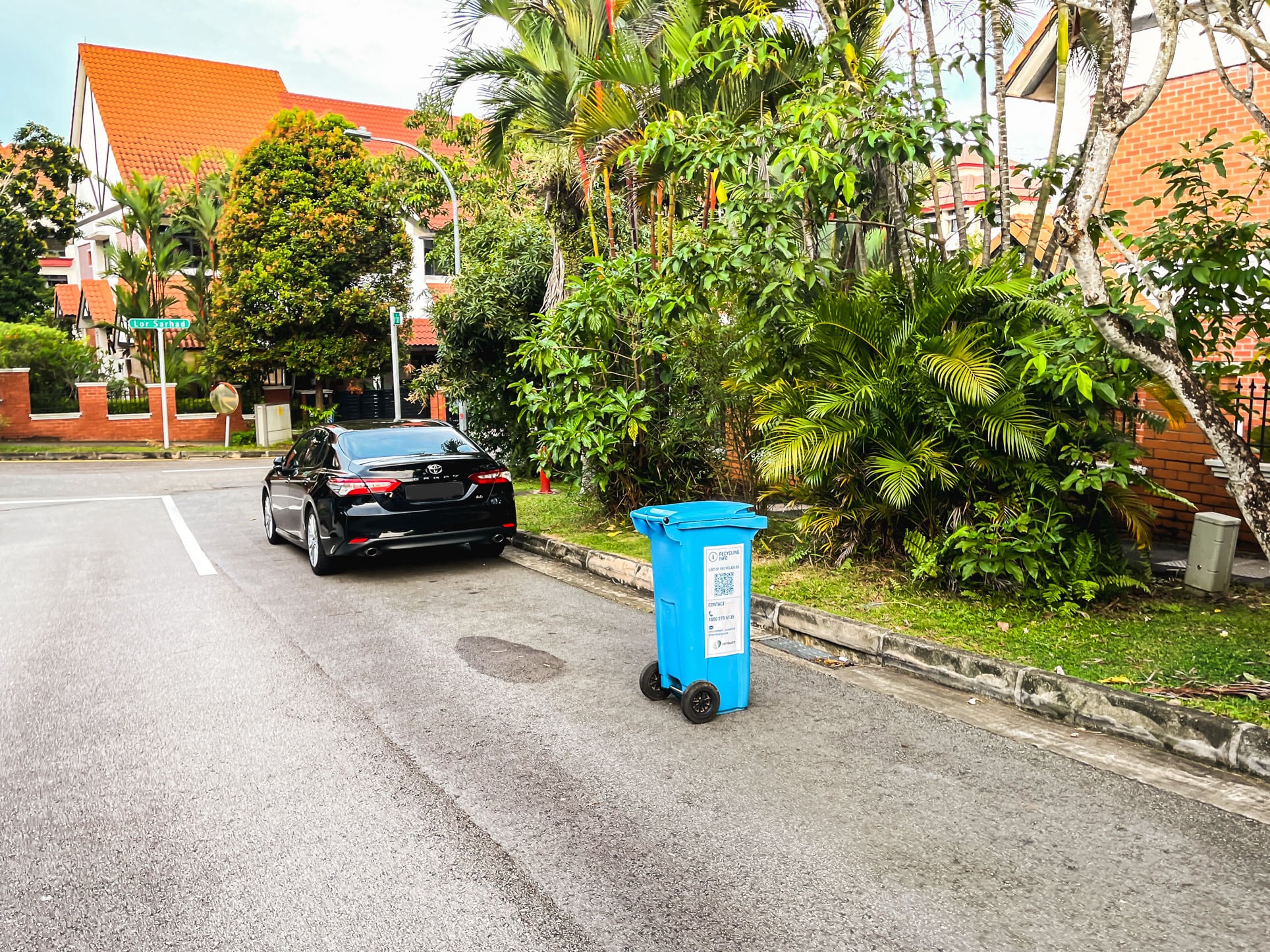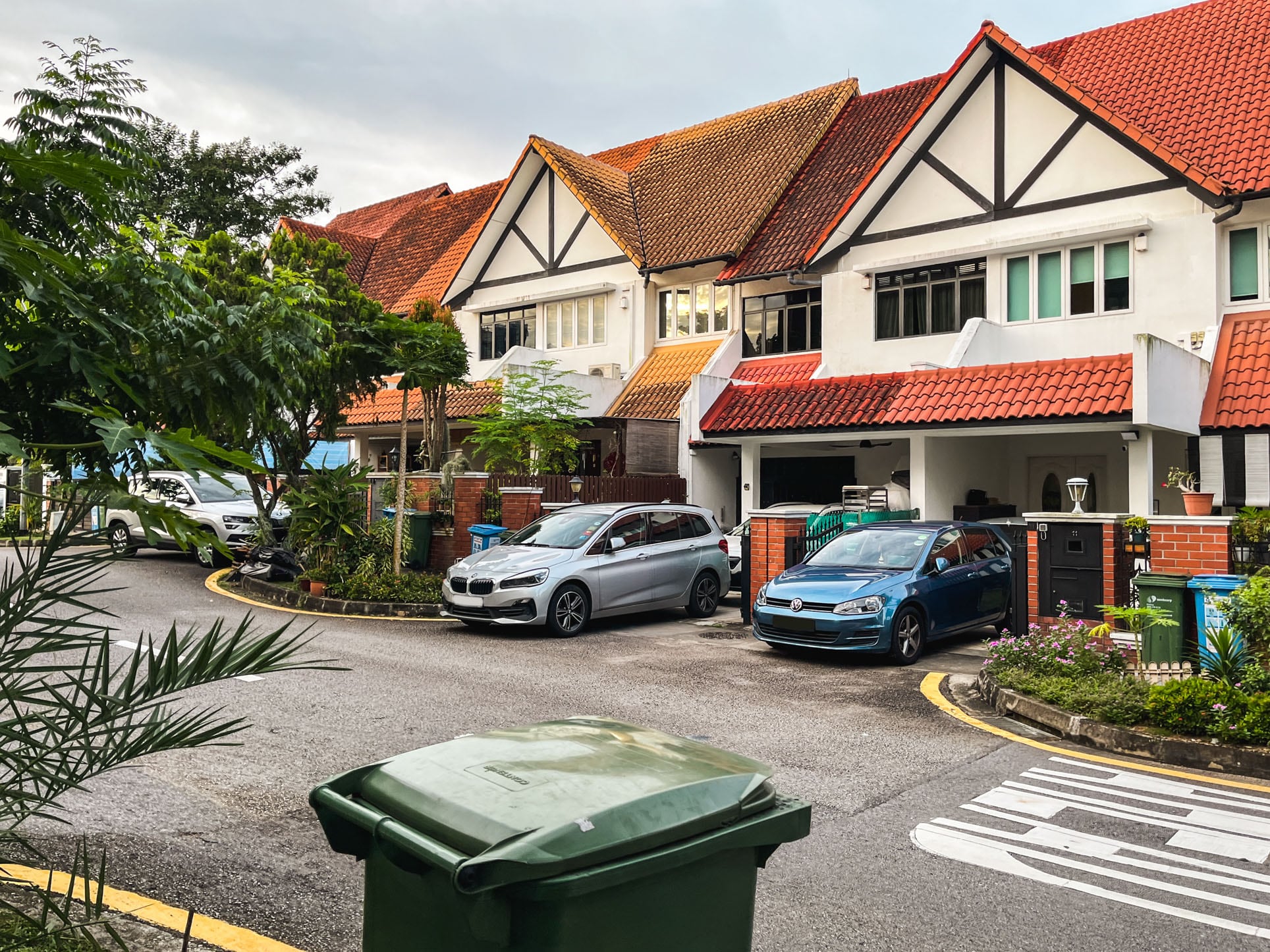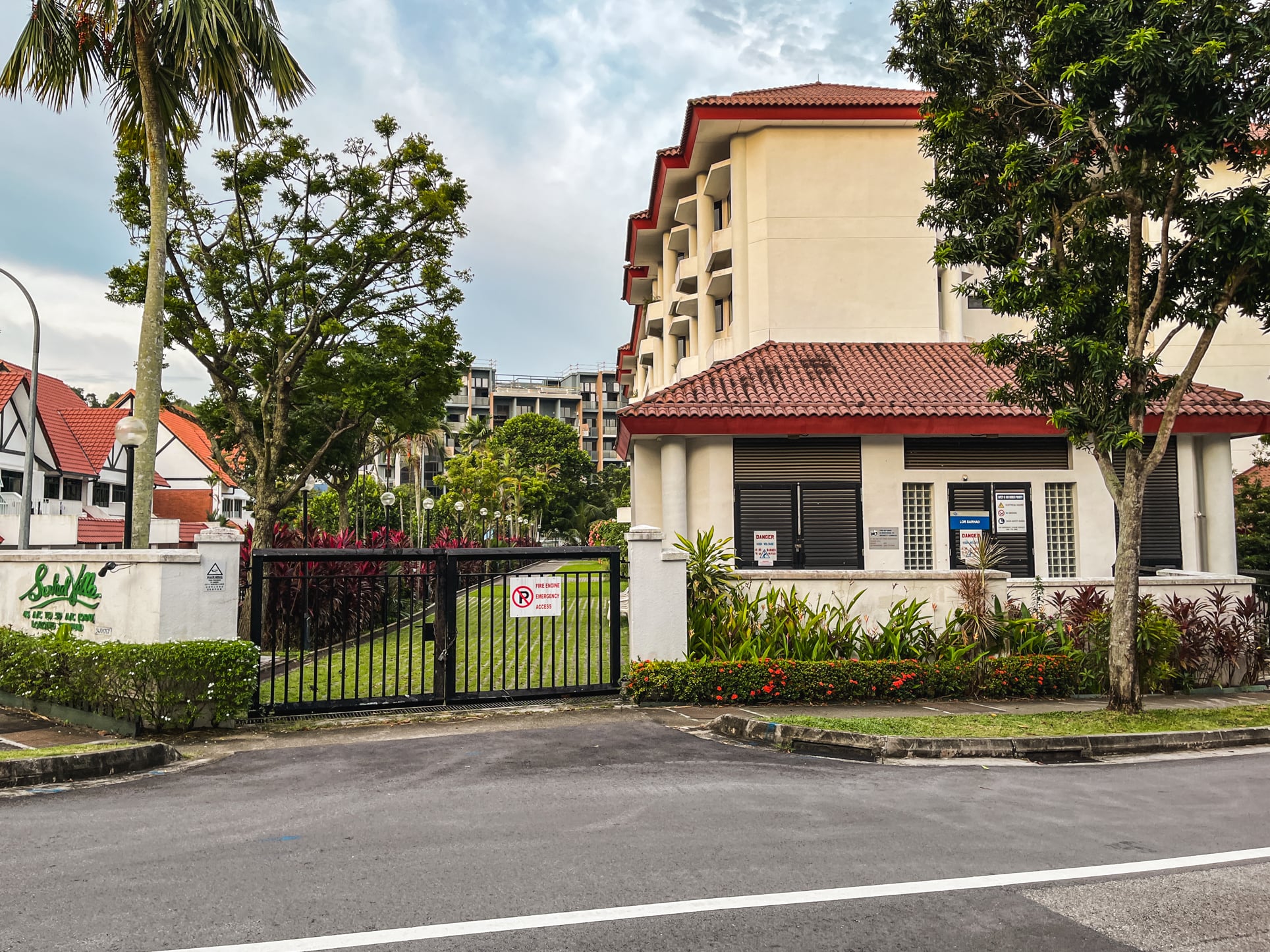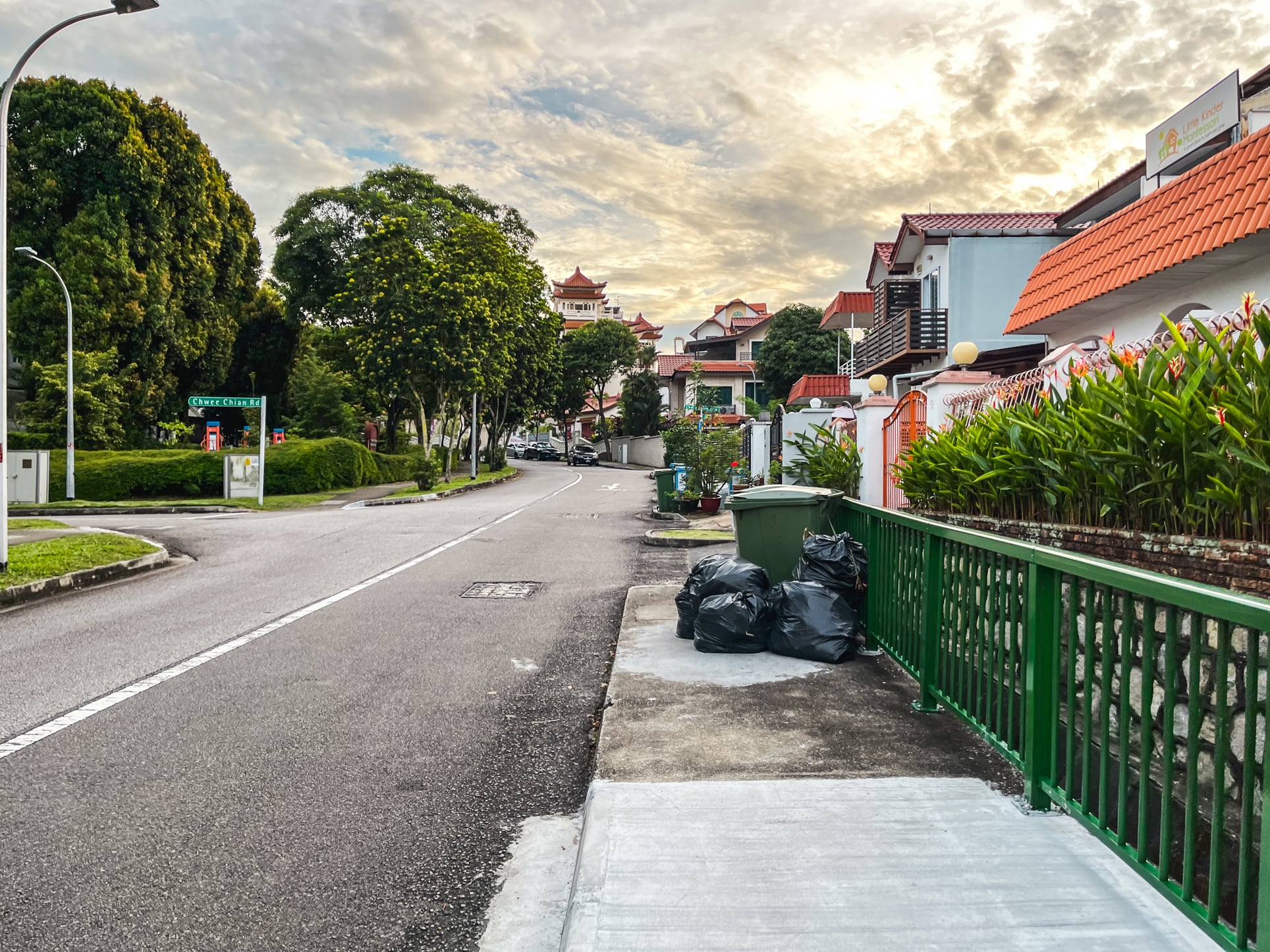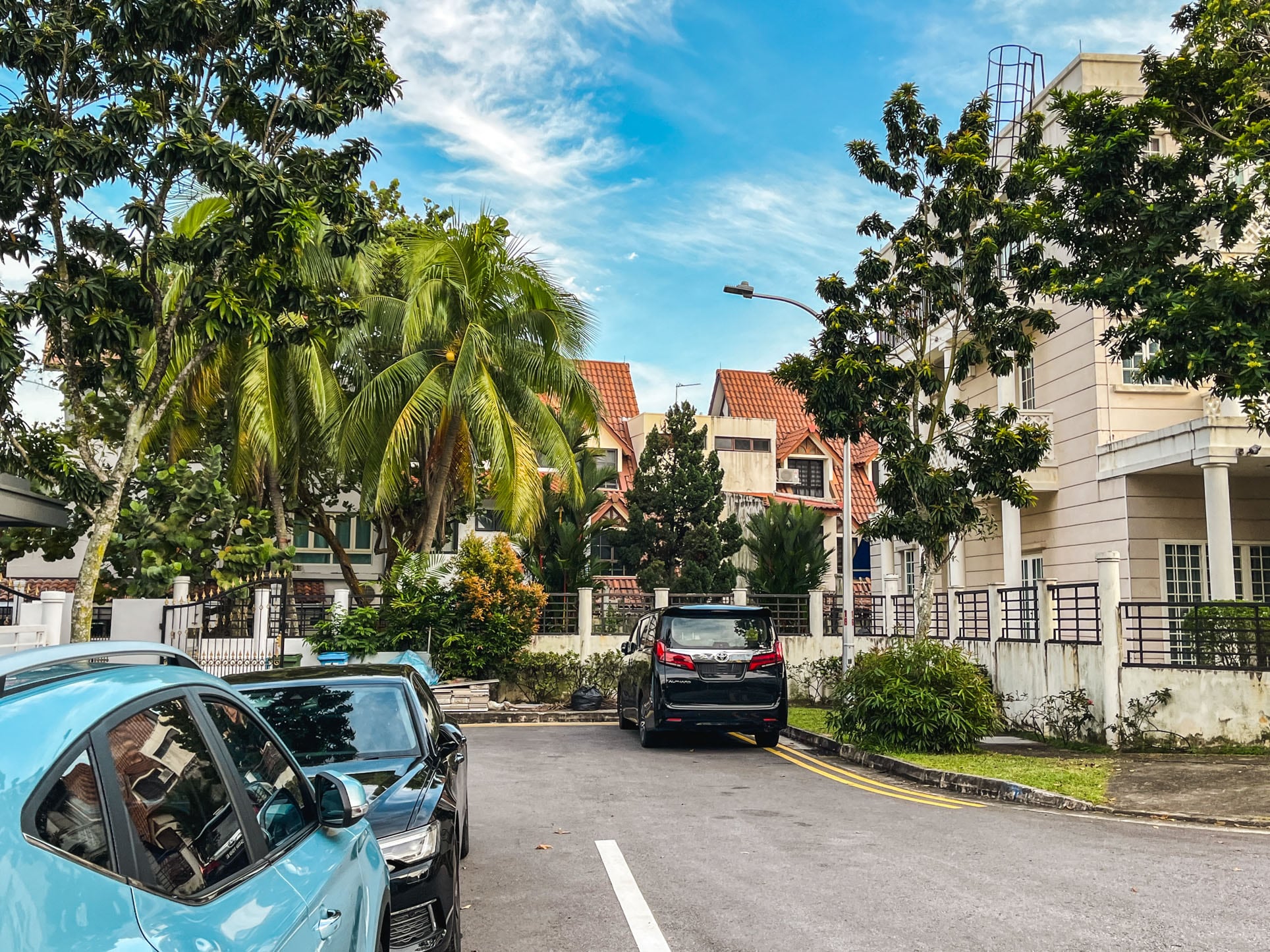 Now that we've finished our tour of the estate, how did you find it? Personally, I think Pasir Panjang is quite underrated in terms of liveability. Prices have risen a lot after the news of the GSW was released but a lot of people I speak to still think it is very far out and inconvenient. It's actually pretty central in terms of the time taken to travel to the CBD as well as many other parts of Singapore!
At the time of writing, prices here ranged from $1.8 million for a freehold condo to $5.8 and $6.2 million for a freehold semi-D and detached house respectively. Looking at sales records, there were 3 sales in 2022, all for terrace houses, which ranged between $3.7 to $5.8 million. (Note that the $5.8 million terrace house is actually over 4,500 sq ft so bigger than some detached units!) If you're looking to buy to rent out, the houses here have commanded rents from between $4,000 – $11,000 in the last 2 years (quite a wide range!)
We've now come to the end of our walkabout. Don't forget to give me a shout out in the comments below if there's another estate you'd like to see featured! I still have a couple to work my way through but promise to get round to your request as soon as possible!