Our Verdict
TMW Maxwell is an eye-catching new CBD development with staggered vertical gardens and facilities. With a focus on units that are 2 Bedrooms and smaller, TMW Maxwell will appeal to younger homeowners (read: multi-hyphenate owner occupiers and tenants), who will also benefit from the commercial units below. These restaurants and shops will add to the plethora of food options that you already have in the vicinity. 
42
min read
| | |
| --- | --- |
| Project: | TMW Maxwell |
| District: | 2 |
| Address: | 31 Tras Street S(079934) |
| Tenure: | 99 Years from April 2023 |
| No. of Units: | 324 Residential + 11 Commercial |
| Site Area: | 41,799 sqft |
| Developer: | JV between CEL Development, SingHaiyi Investments and Chuan Investments |
| TOP: | Est. 2028 |
Multi-hyphenates – this is the main word that hits you when you visit the TMW Maxwell show flat for the first time. Defined as a person with several skills and professions, this is a group which TMW Maxwell aspires to target. One who is unique, hyper-connected, wears several hats, and perhaps a little non-conformist, right here in the heart of the CBD.
TMW Maxwell is the redevelopment of the former Maxwell House and their facades could not have been more different. From the dreary building to a modern, biophilic spectacle, juxtaposed against the historic shophouses of Tanjong Pagar and skyscrapers including Guoco Tower, currently Singapore's tallest building, TMW Maxwell sits at the heart of it all.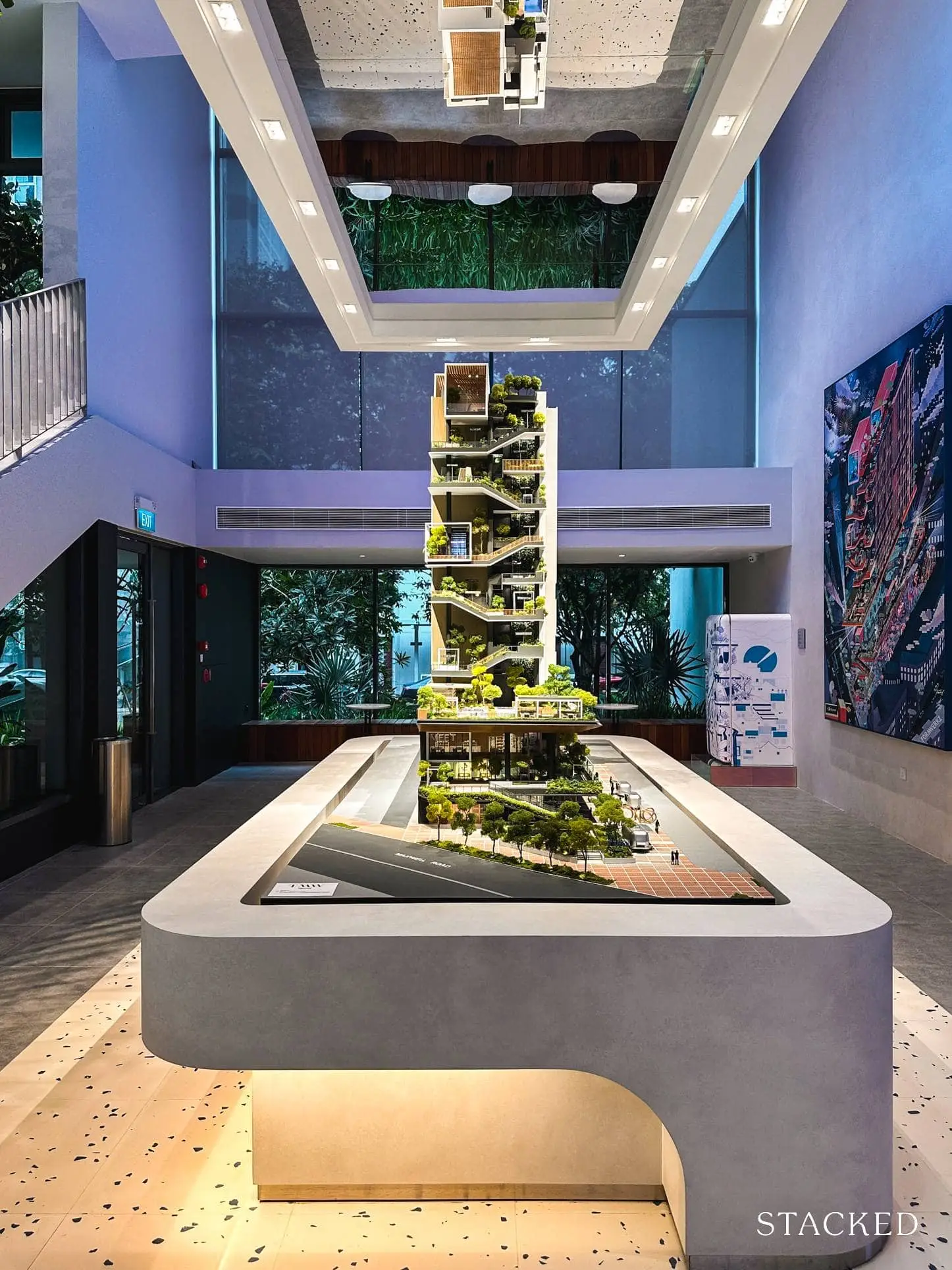 It's clear from the model that TMW Maxwell will be different. While vertically stacked gardens are not exactly an original concept, having one that is staggered creates a facade unlike any other. Community spaces also come into focus here, with the existing entrance along Maxwell Road sealed to create a full pedestrian street with shops stretching to Tras Street, where the entrance of TMW Maxwell will now be relocated to.
As a result, you may have noticed that there's been a change of address from 20 Maxwell Road to 31 Tras Street and consequently, a change from District 1 to District 2. Not that it matters practically, since the convenience remains the same – Maxwell MRT is 3 minutes on foot and Maxwell Food Centre is just across the road.
TMW Maxwell is conscious of the necessities of a modern urbanite and you will see that play out in the standard provisions of each unit (especially for its Flip / Switch layouts) and the facilities. I've been especially impressed with the former and I am certain you will be intrigued as well.
With further ado, let's go!
TMW Maxwell Insider Tour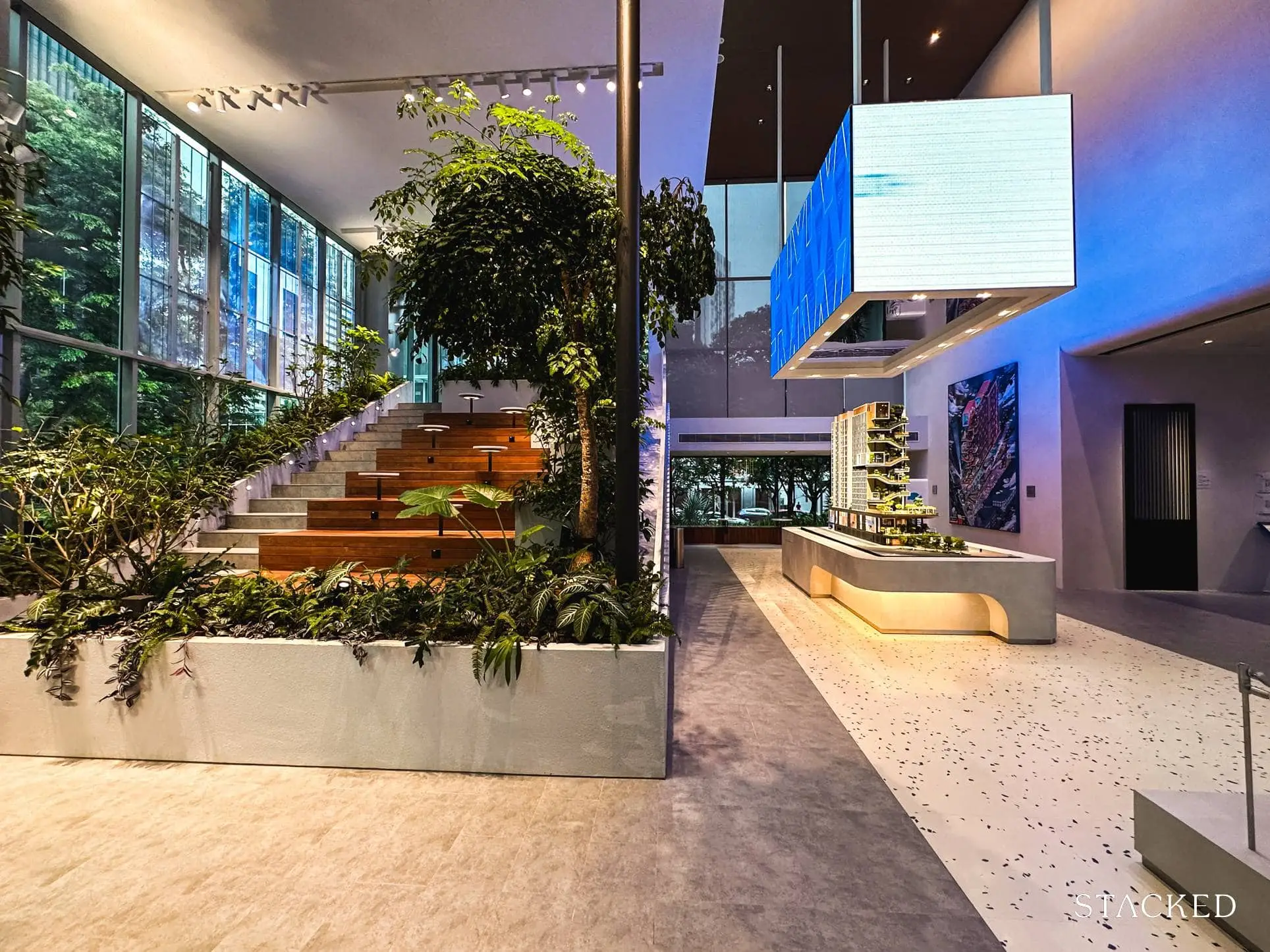 TMW Maxwell's show flat is located just across Guoco Tower and offers a distinctive show flat experience. Once you step in, it gives you more of an Apple-store vibe in my opinion, with a more minimalist atmosphere on one side and a bite-sized replica of the tiered gardens on the other. It looks and feels distinctively unlike any other show flat you would have been to, which certainly creates a unique first impression.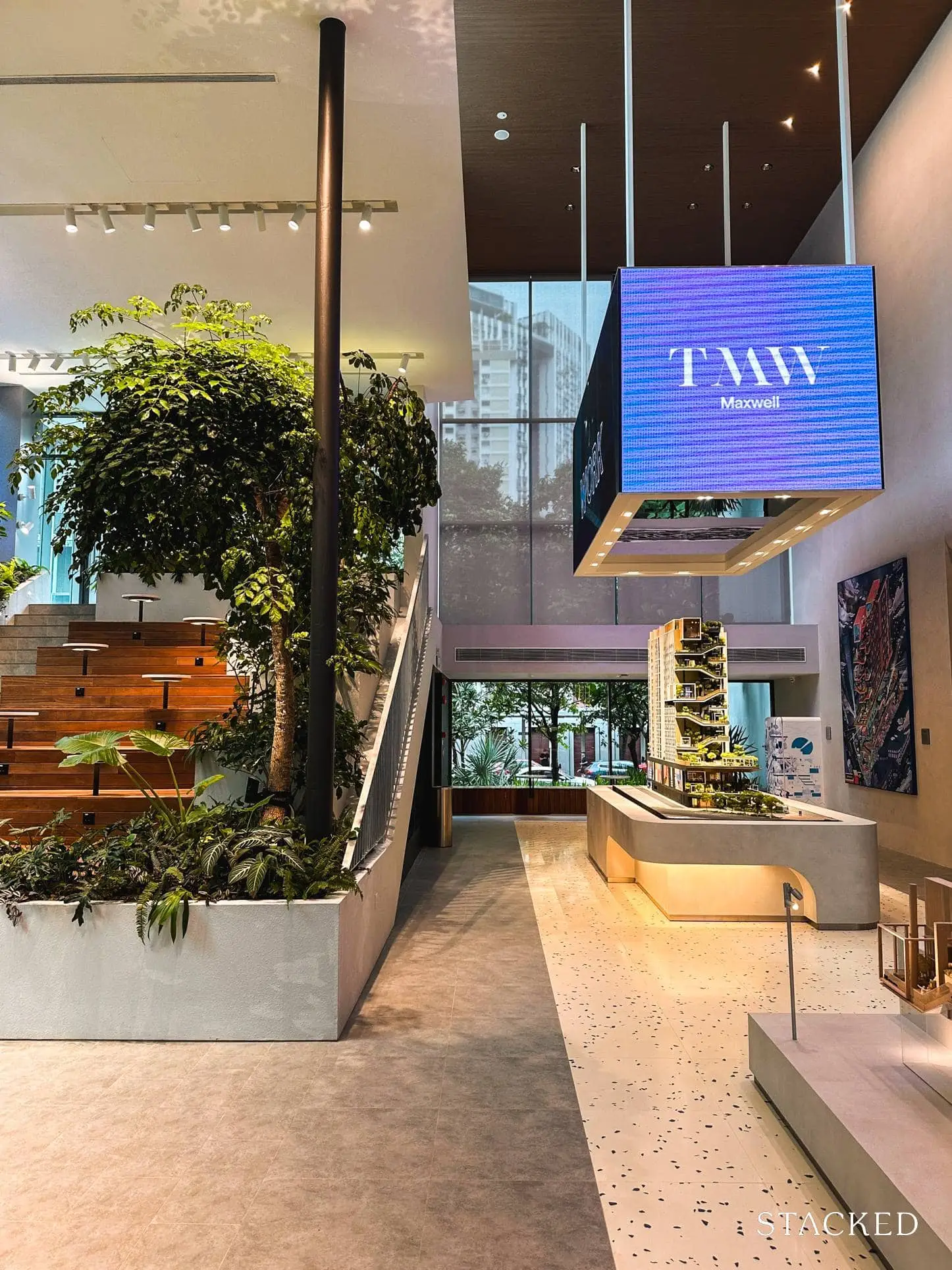 Gone are the days of the standard show flat – TMW Maxwell seems to be targeting buyers who know exactly what they want and where they are – no site plan, no enlarged map, no URA Masterplan. Instead, you have more than 10 LCD screens essentially reminding you where exactly you are. The first word that comes to my mind? Trendy. And if you still had any shred of doubt, their website will simply confirm that impression.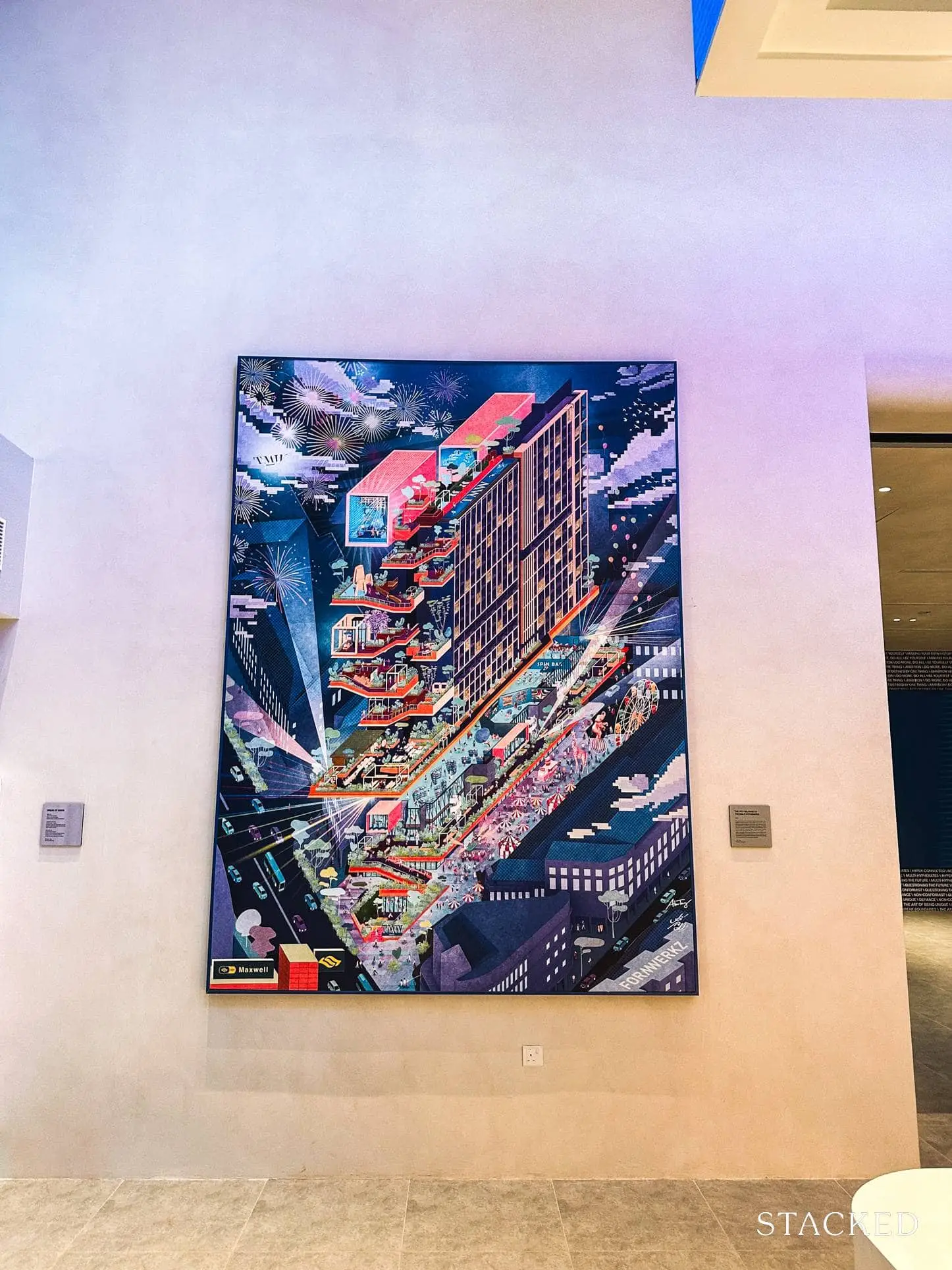 You even have a hand-drawn animation of TMW Maxwell by the corner of the show flat, highlighting the commitment to the exclusive branding of this development.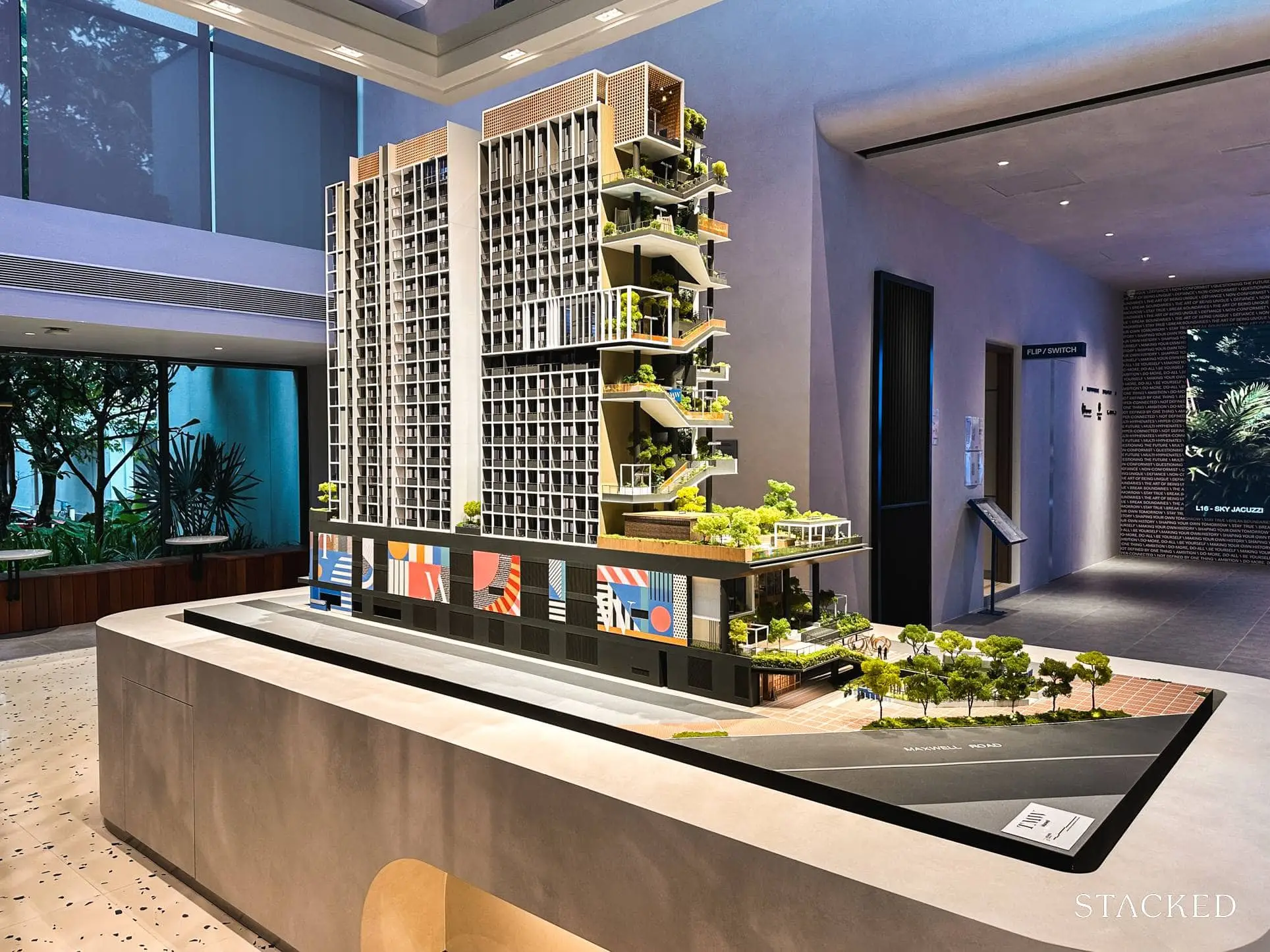 It is pretty much an all-star team that TMW Maxwell has put together. Formwerkz is the architect and while I have known them more as an architect for many GCBs, they also have a couple of small developments along Nassim Hill and Pasir Panjang under their belt. Compound Collaborative are the landscape architects, ensuring that the vertical gardens are as beautifully curated as they can be.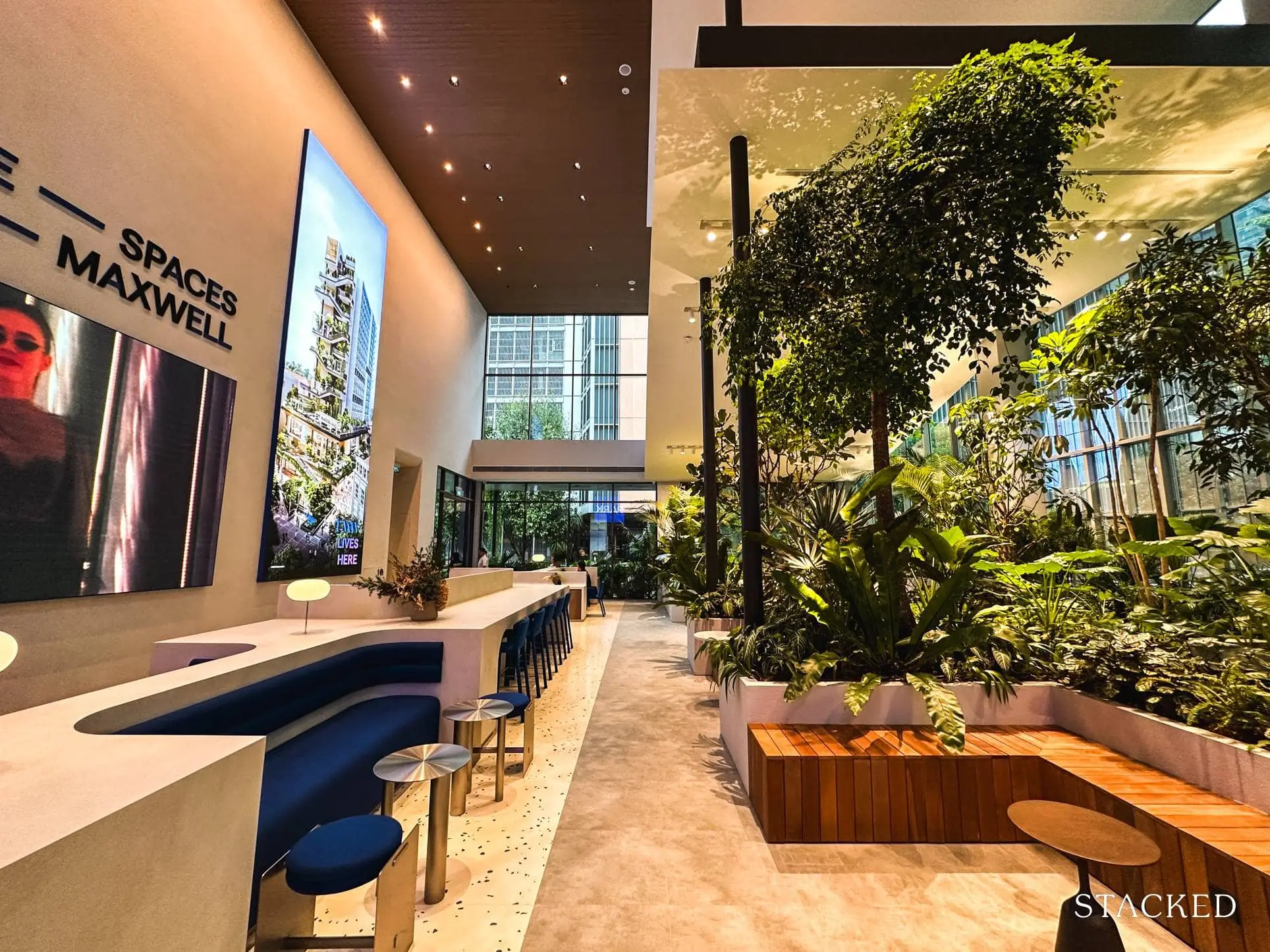 FARM is the creative folks behind TMW Maxwell's launch and is also the interior designer of the show flat gallery. I think they have done a fantastic job with the branding of the development here, seeking to create the condo's very own identity through tie-ups with brands such as 1925 Brewing Co (yes, special bottled beer) and a trendy website of their own (refer to the link above). So much so that you could have told me this was a new hip boutique hotel opening up in the CBD and I would have believed you.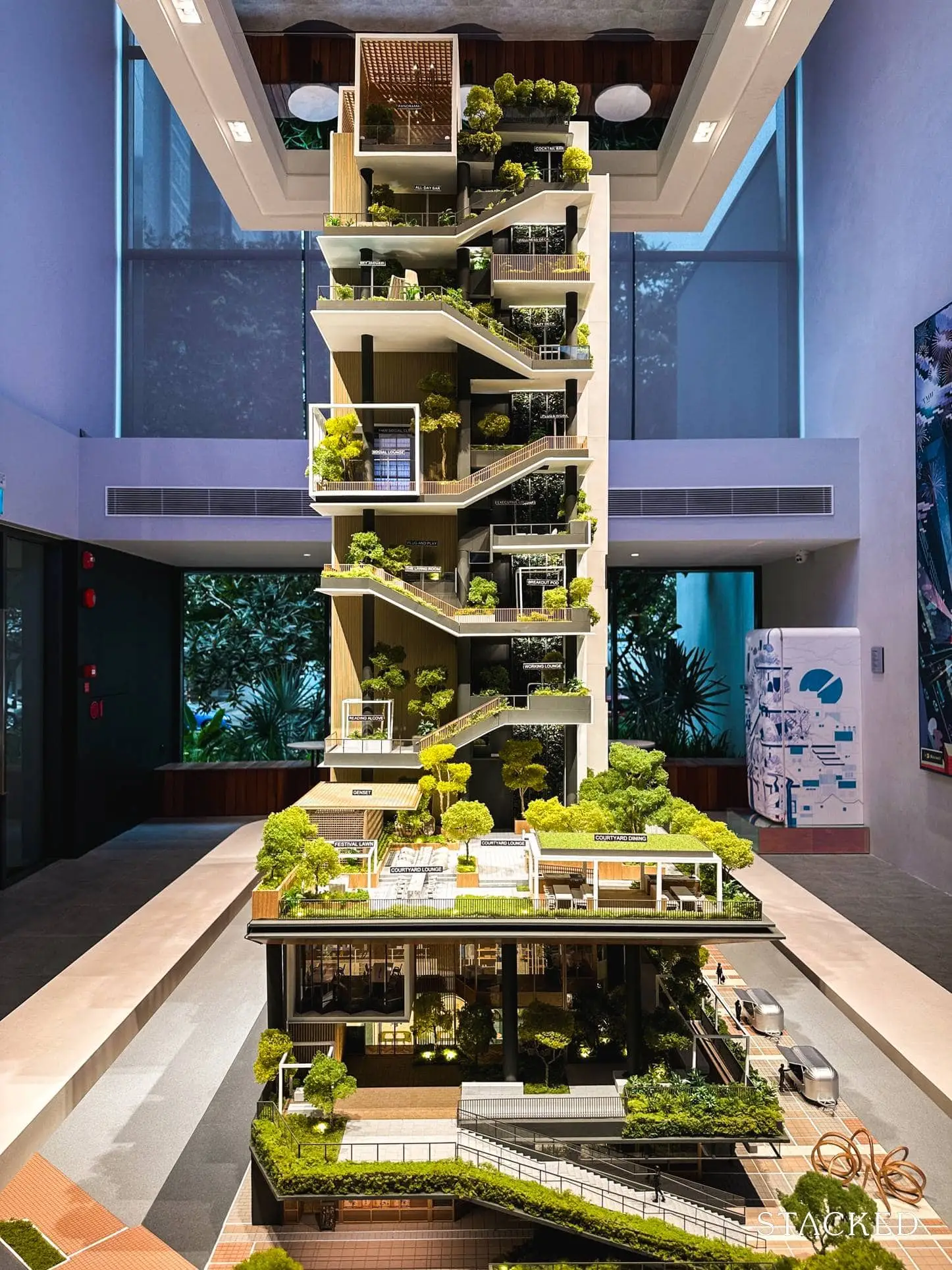 The overall design stands out pretty impressively in a sea of heritage shophouses and modern high-rise buildings. Lush greenery is the key feature here and the stacked gardens facade will certainly catch your eye. Creating a staggered garden in the sky is pretty remarkable and kind of puts it within a class of its own among the condo developments in Singapore.
Again, it does remind me of a hotel – perhaps because of similar well-known ones such as Park Royal on Pickering, which was designed to be a "hotel-in-a-garden".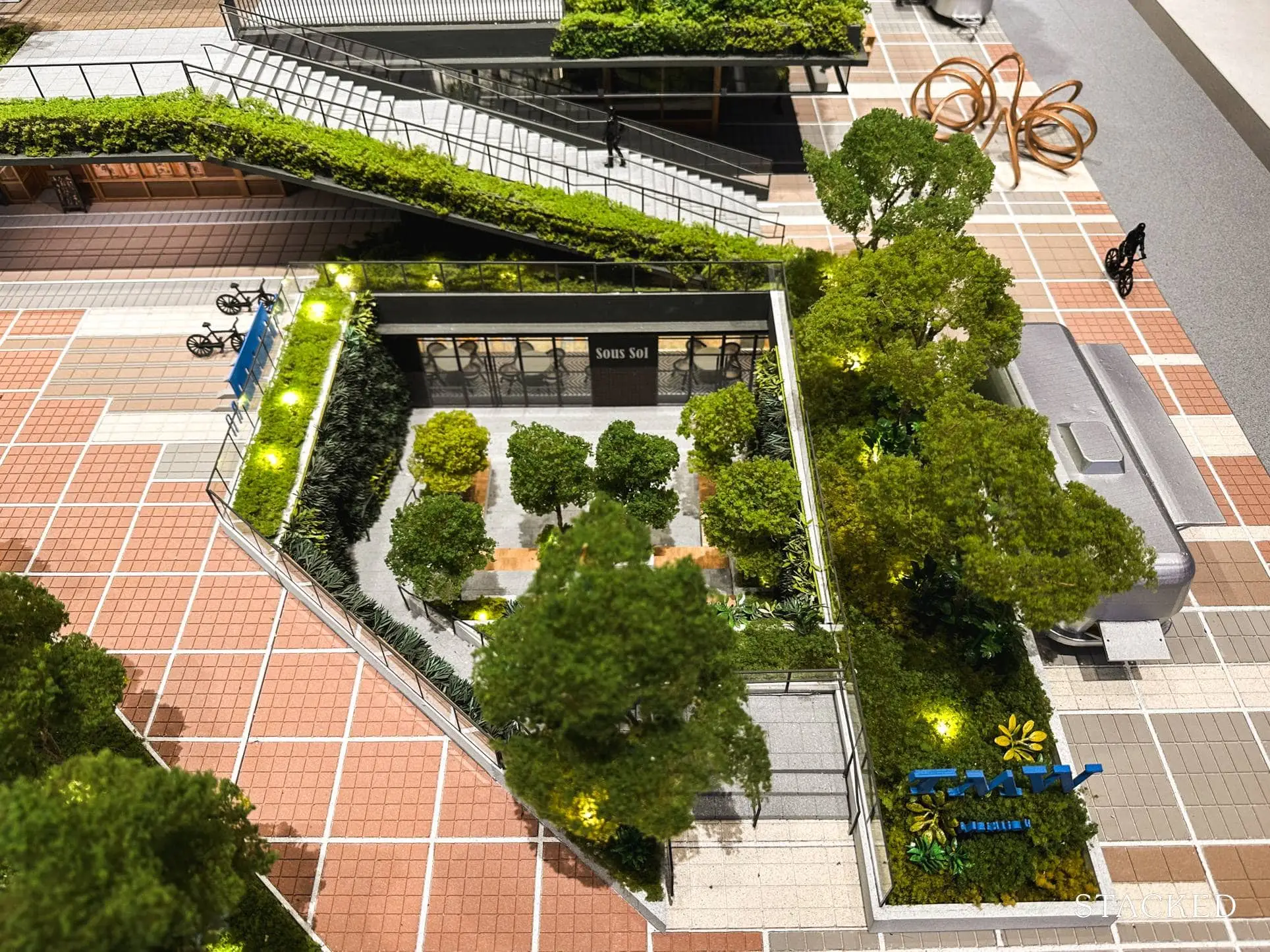 The design of the commercial floors has been envisioned to be porous and relatable to the streets. The sunken piazza in the forecourt creates a space of respite.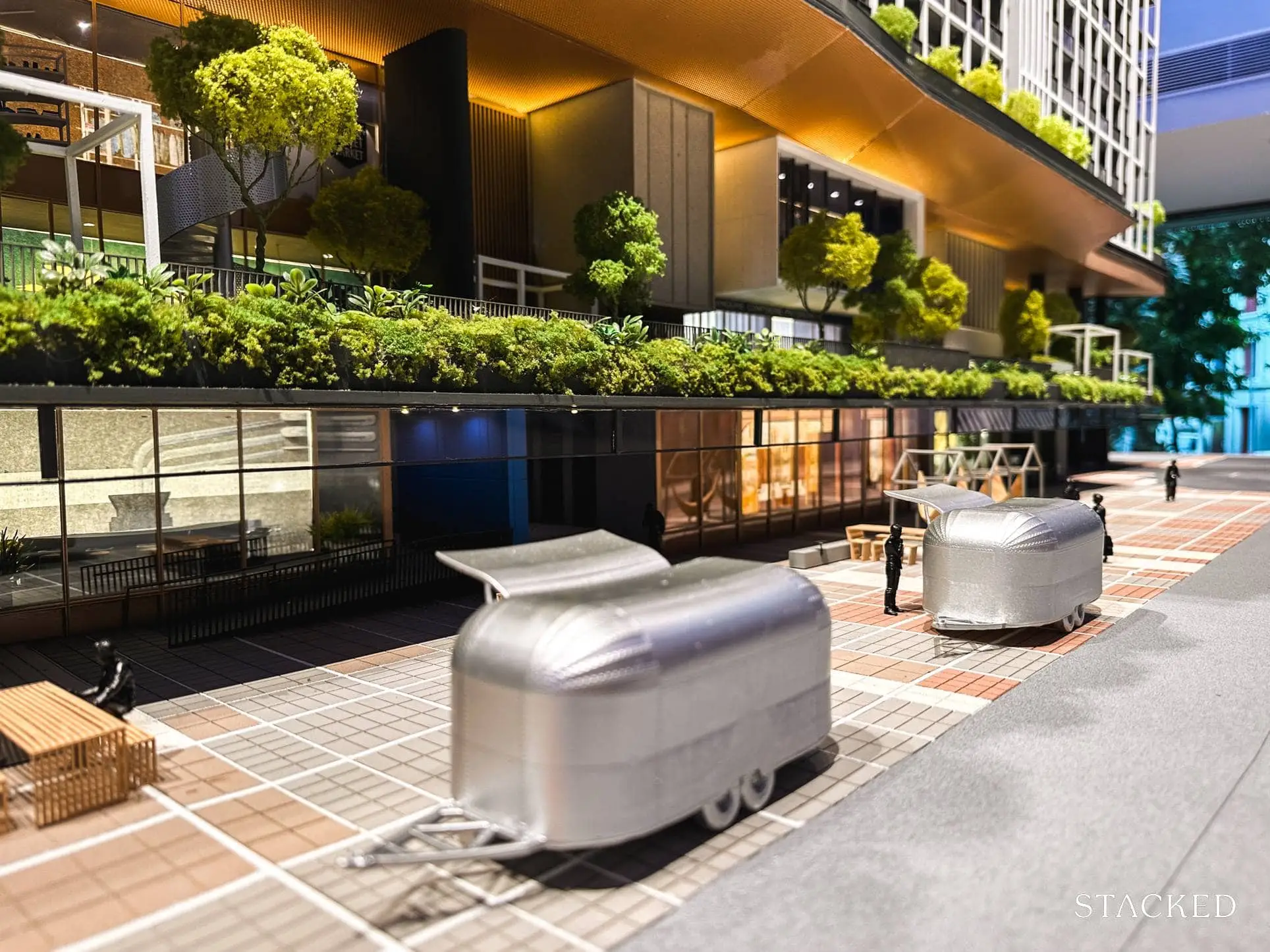 What used to be a vehicular entrance at Maxwell Road will now be a pedestrian walkway linking it directly to Tras Street, allowing more interaction between these streets. Even by the side towards the Air View Building, the TMW Maxwell signage is proudly emblazoned in an artistic manner, making this unmissable.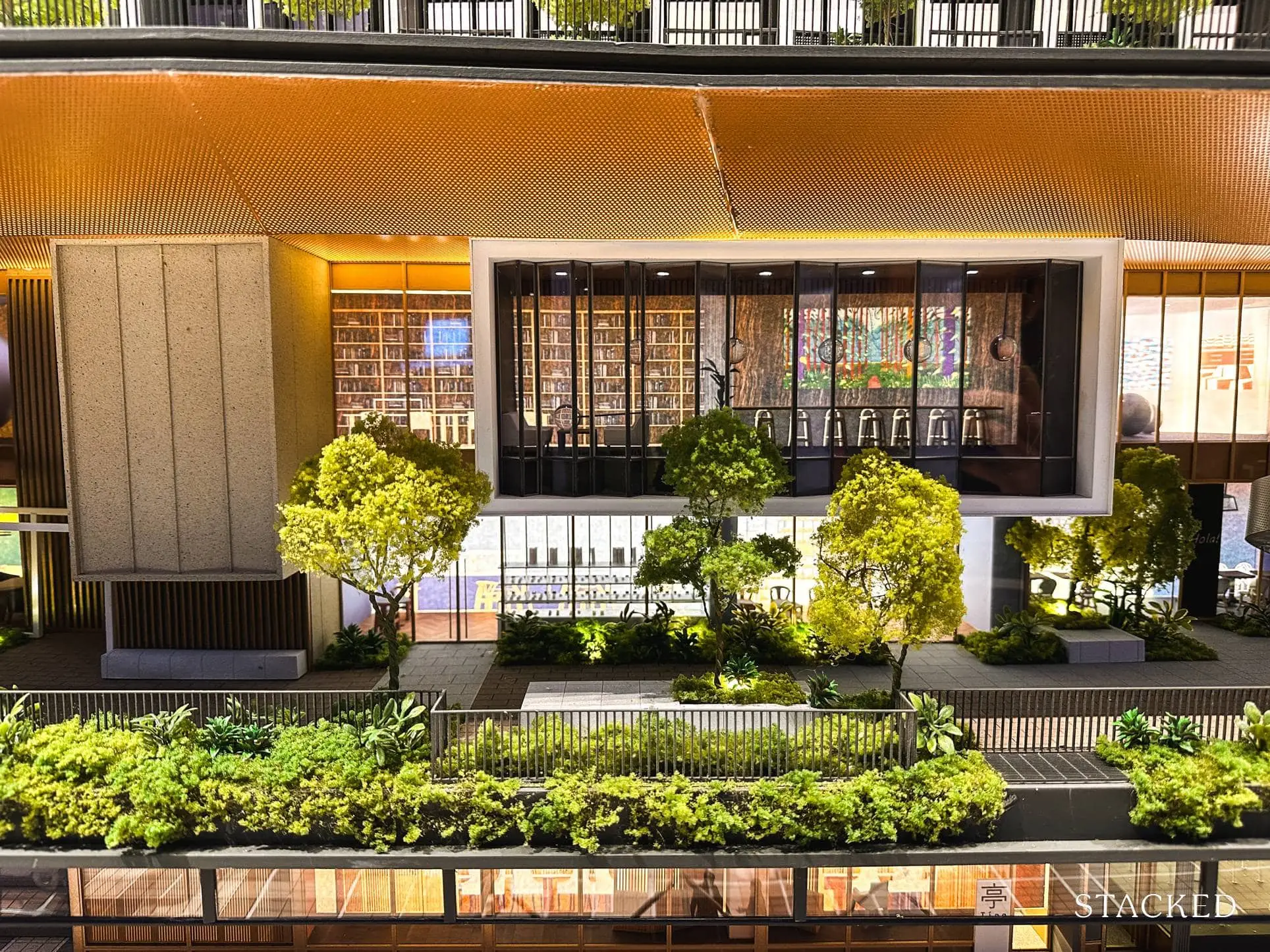 The design of the commercial units does look pretty vibrant, and although this will be subject to the kinds of tenants that are signed on, it's good to know that this will be managed by the developer. They've had a recent experience with their project at Parc Komo, so this wouldn't be anything new.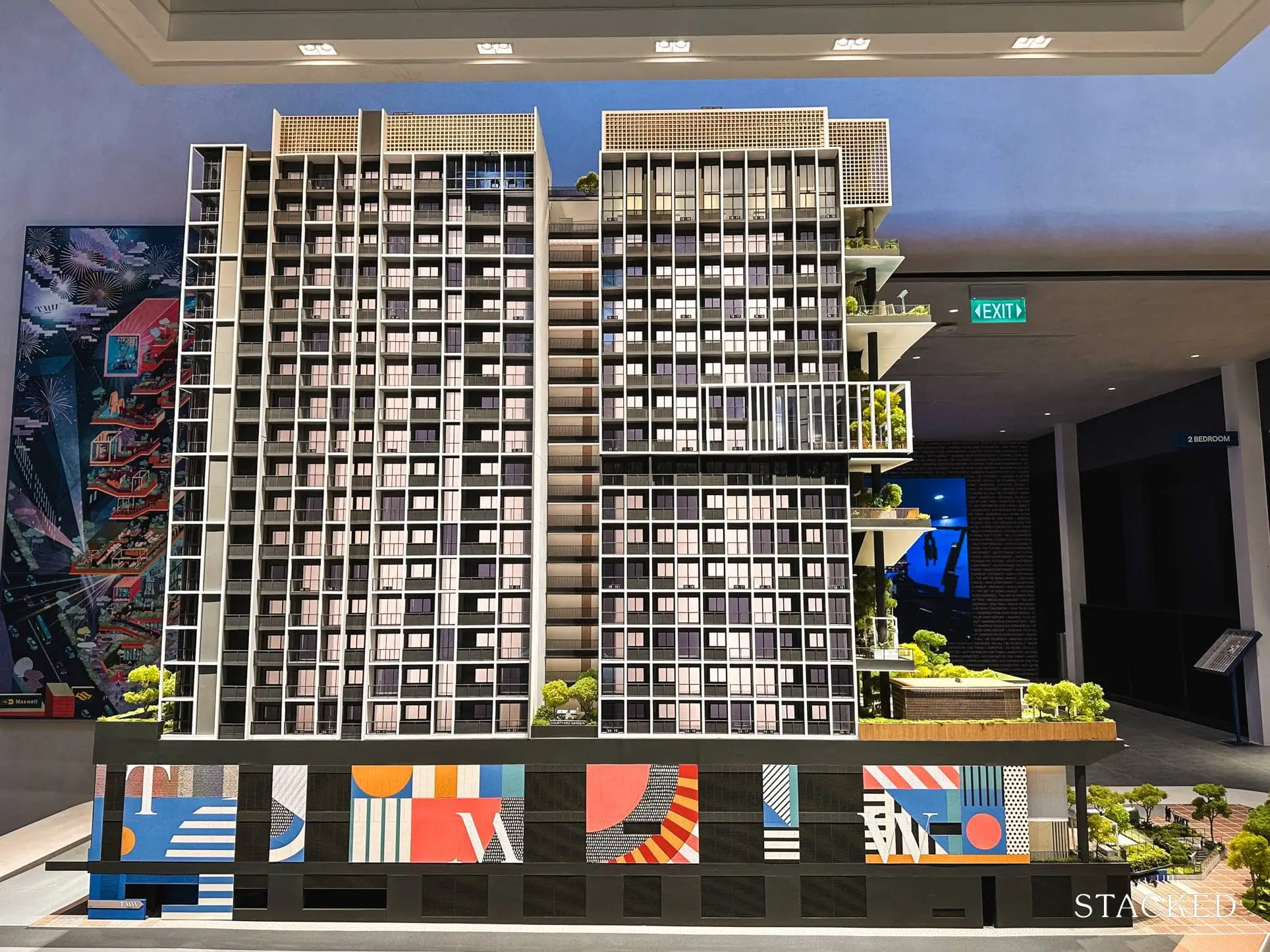 In total, there are 324 residential units and 11 commercial units, of which 8 will be restaurants and 3 will be retail shops. All housed in a single 20-storey block, with the commercial units taking up the basement to the 3rd floor and the residential units starting from the 4th floor, which should just about clear the shophouses on the one side.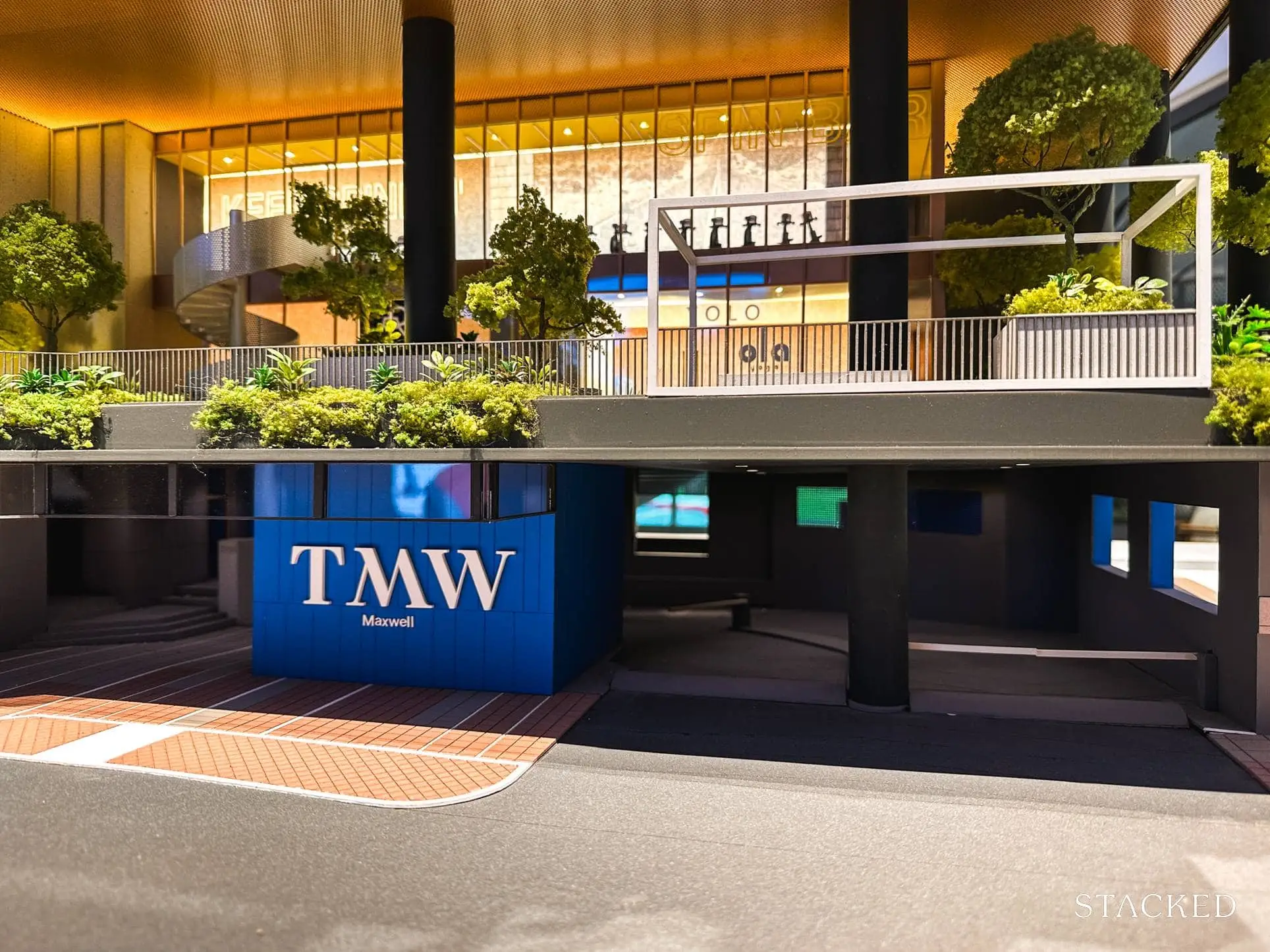 Starting with the vehicular entrance, this has been relocated from Maxwell Road to Tras Street. But do note that it is a smaller road and might be more congested coming home.
However, I doubt this would really be much of an issue given most buyers looking at such a location would likely not find a need to drive. You are really only 2 minutes away from Maxwell and Tanjong Pagar MRTs, which bring you on to the Thomson-East Coast Line and the East West Line, taking you anywhere around Singapore.
But anyway, even if you do drive, there are 184 lots and 4 additional accessible lots, sufficient for ~58% of units here. Given the small unit mix (62% of units are Studio, and the biggest unit is 2-bedders), I don't foresee this as an issue at all.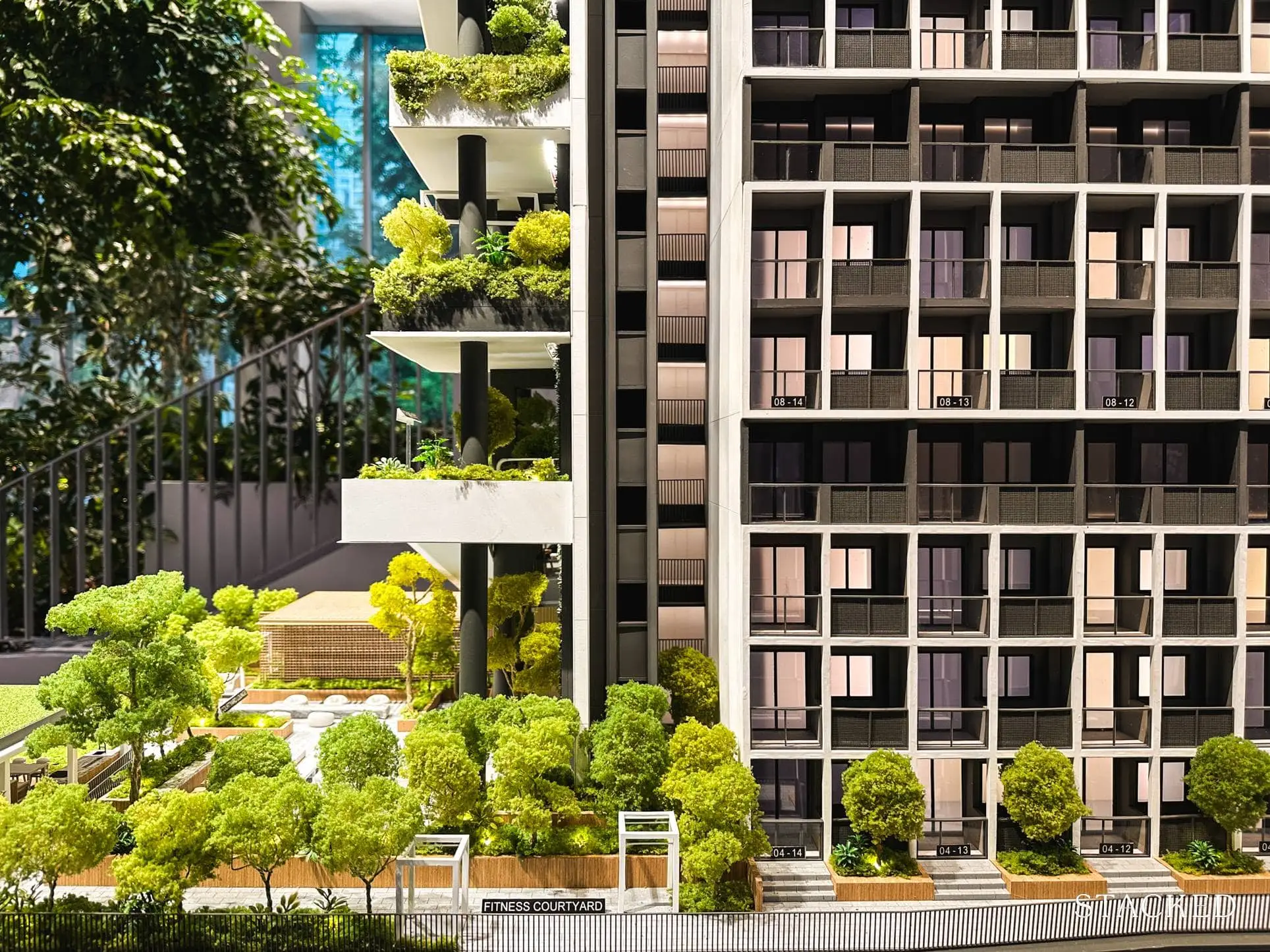 The facilities in the development are spread across a number of floors and have been deliberately designed to have the communal facilities on the lower floors before more towards more intimate ones such as the Wellness deck on the higher floors.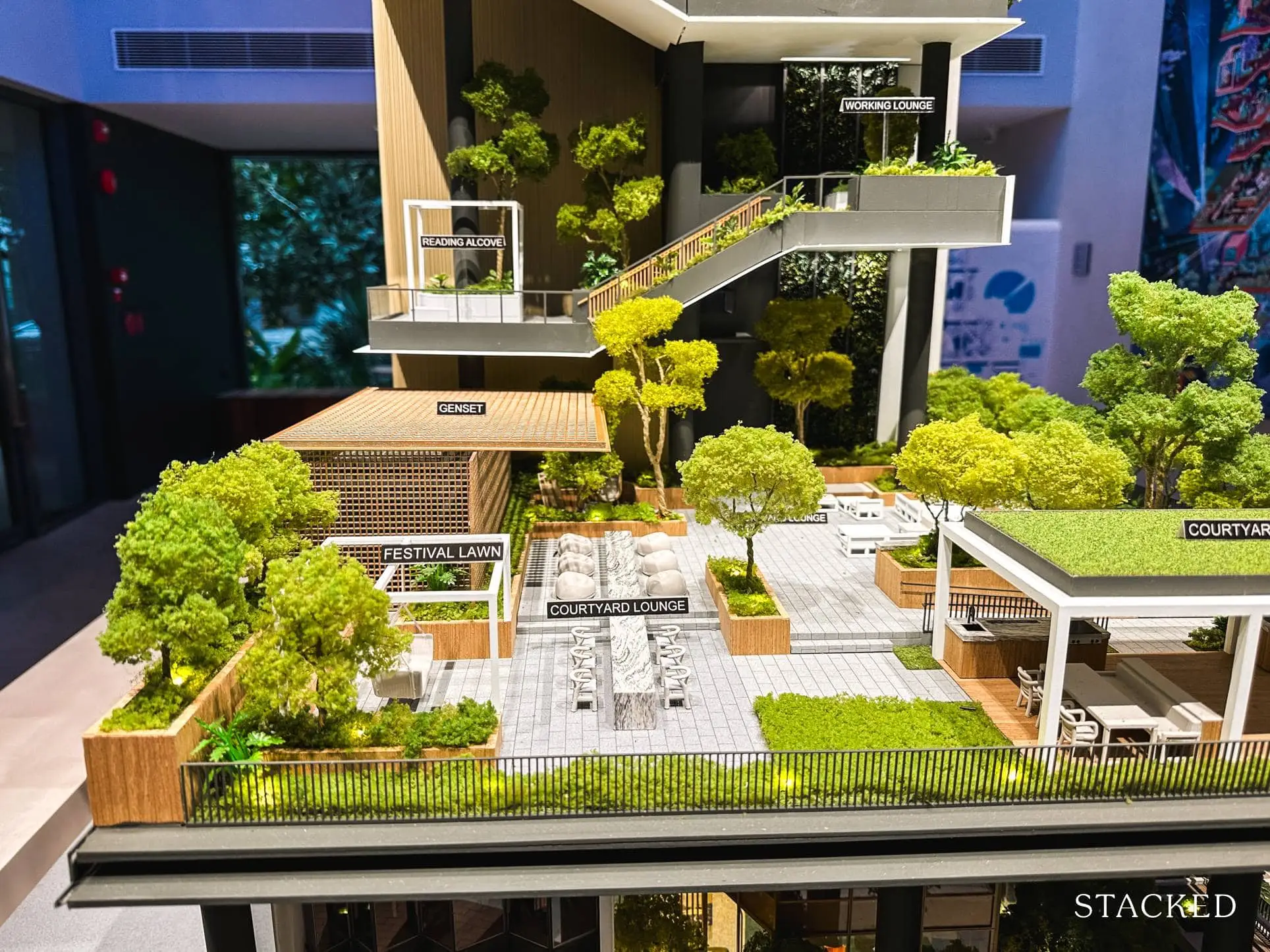 The 4th storey will feature the largest space among TMW Maxwell's facilities. It's an open-air deck that elevates you away from the hustle and bustle below and yet encourages a great deal of social interaction if you prefer. It includes the Courtyard Lounge, which has a number of separate seating areas for groups of ~6. It also features the Fitness Courtyard by the side of the development and a Farm-to-Fork Garden, which aspires to encourage residents to grow their very own herbs.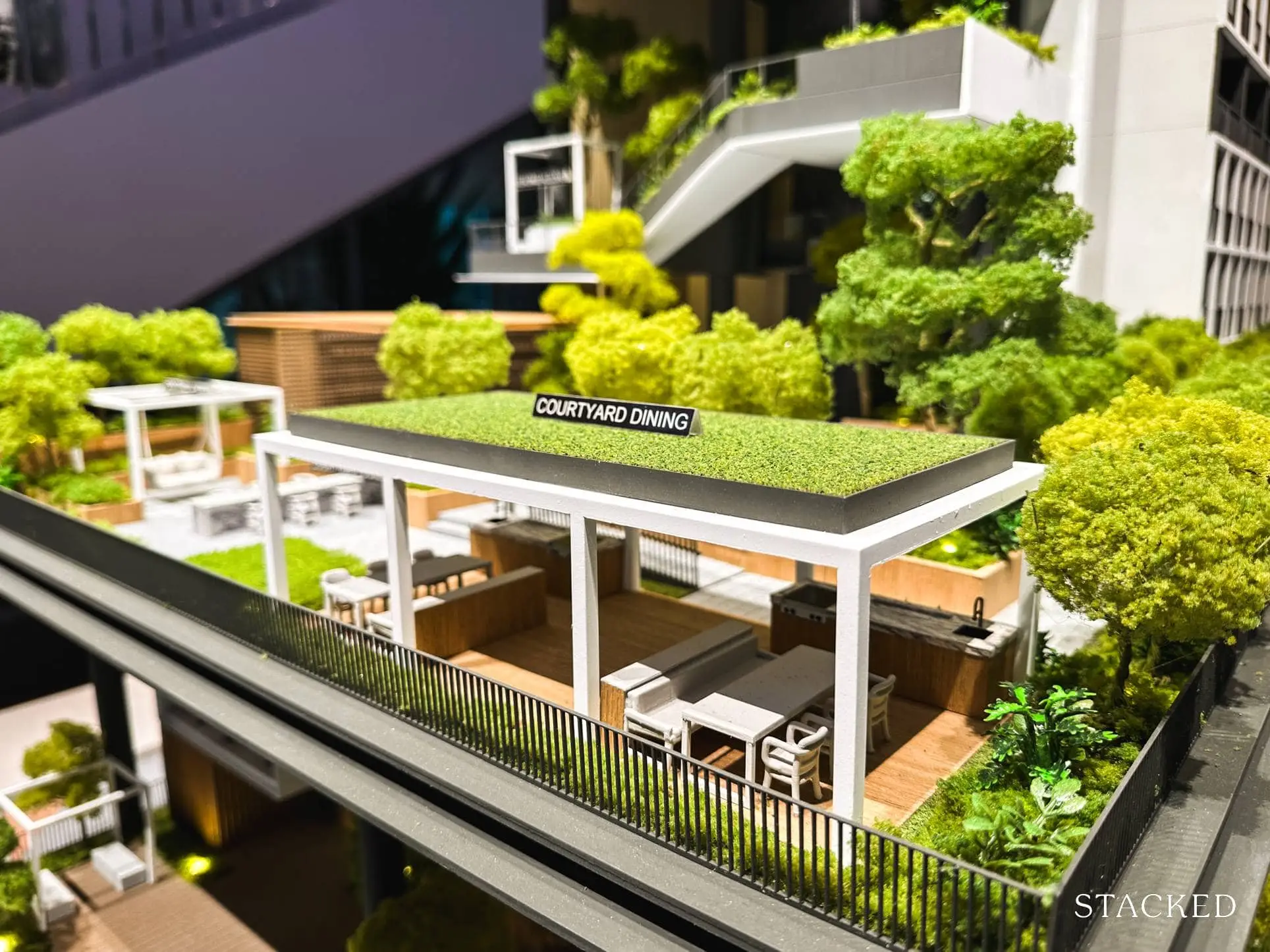 The Courtyard Dining space is the only sheltered area here, featuring what looks to be 2 sets of BBQ stations and their respective seating areas. This is certainly the most practical part, and it would have been good to see more of it. While less aesthetic compared to the outdoor seating areas, being subjected to the elements in Singapore surely won't be too fun – you either get the scorching sun in the day or rain during certain seasons.
That said, I do think that the Courtyard Lounge areas would be lovely in the evenings when things quieten down and the weather cools (or it would be great if more outdoor fan options are provided for, like the sort that you see in some open bars). The cove lighting shown in the renders will also make the mood a little cosier.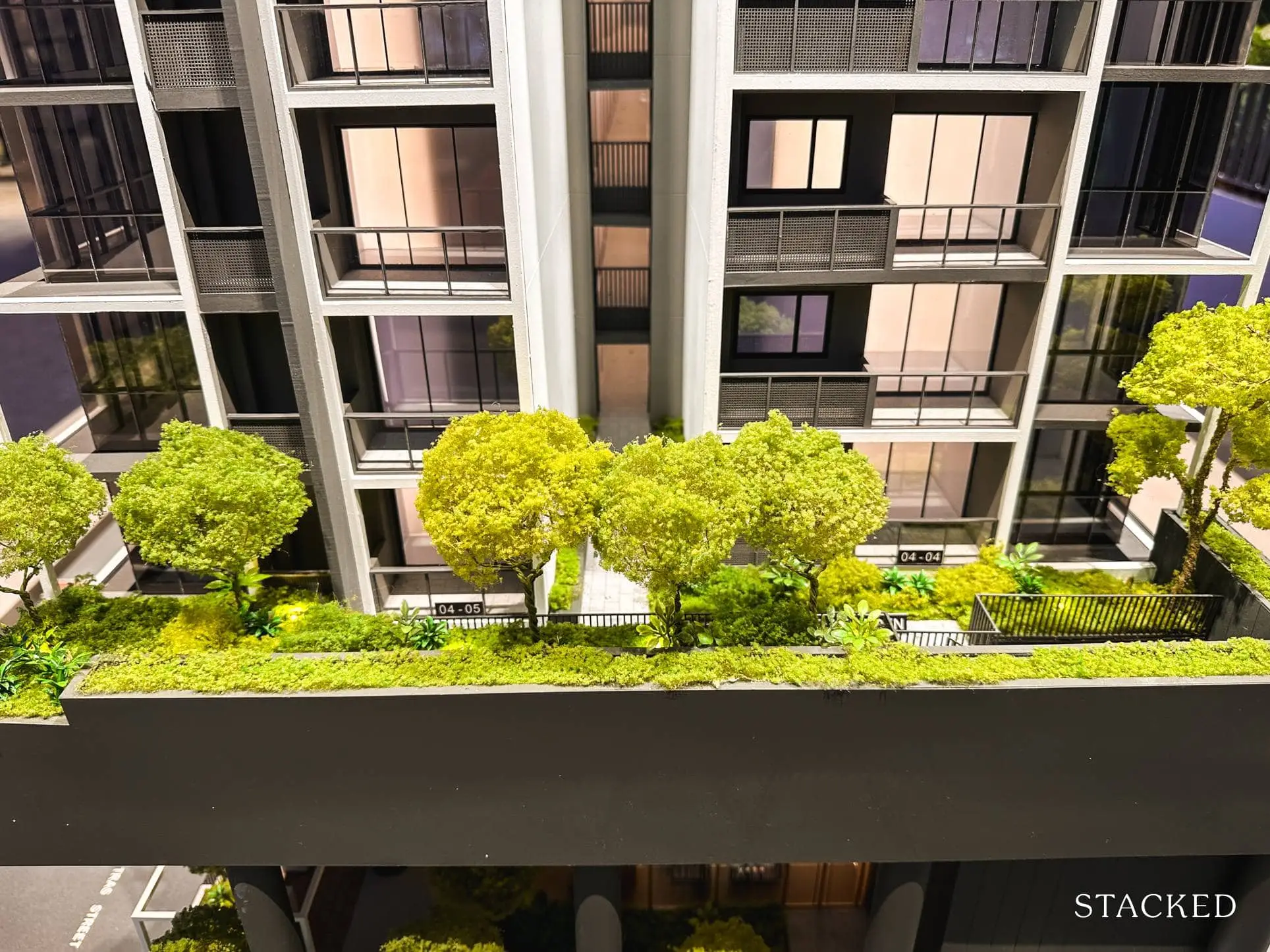 You will also notice that the 4th storey is where you will find residential units and those facing West will get to walk out to their own 'private' little corner of the development. With a small land plot, this may just be a pretty well-received asset to have.
The other facilities at TMW Maxwell are interspersed between floors, linked by the external stairwell (although still accessible by lift) to create the unique facade of interlinked vertical gardens. It's as though you have a mini vertical park of your own.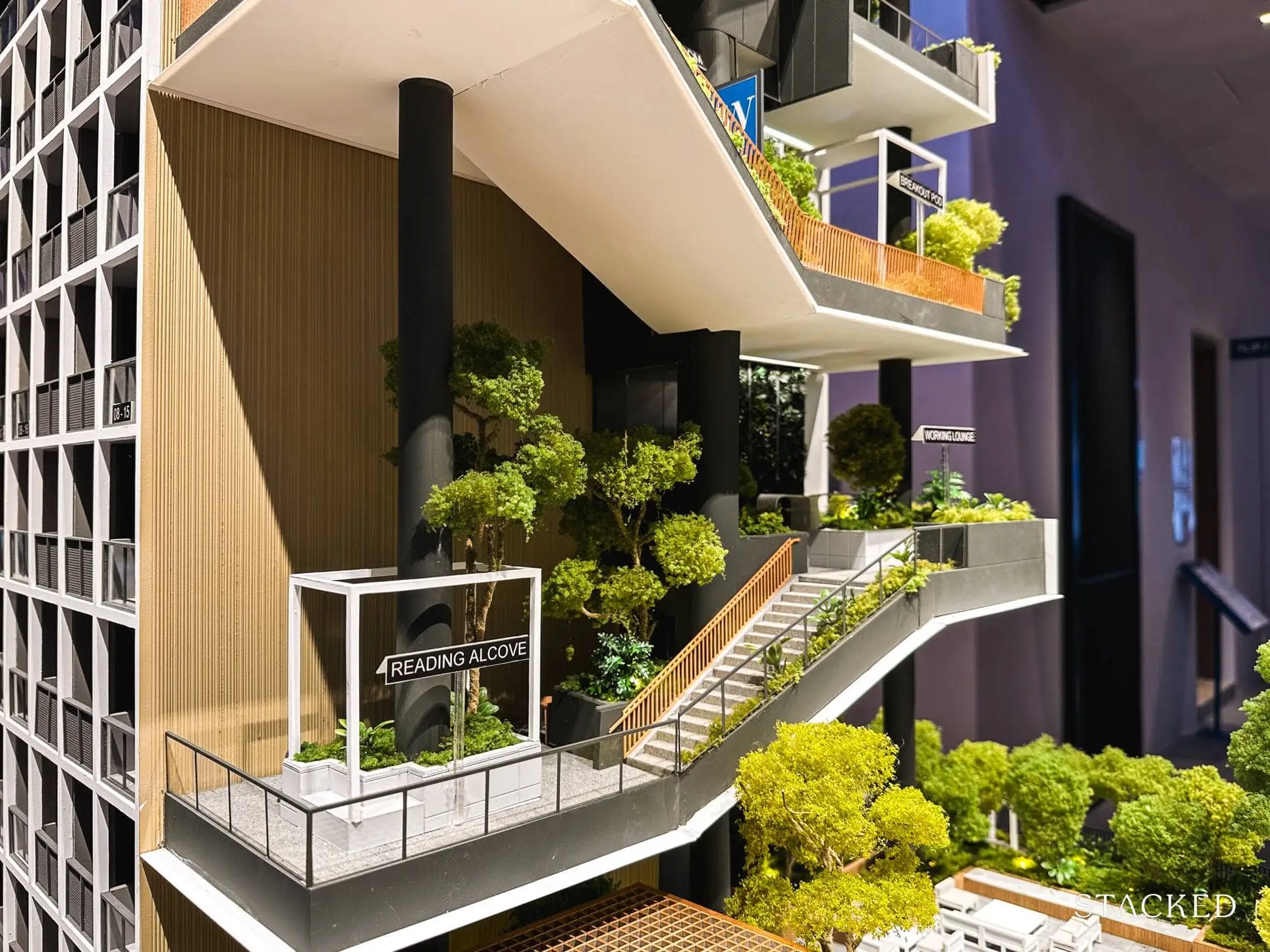 Just moving up the floors – you get the Reading Alcove and Working Lounge on the 6th and 7th storey, which are linked. As the land plot isn't big, these are not huge spaces but more "cosy corners" set aside for various purposes. The ones here are meant more for the more serious, "work" related stuff as you continue the WFH culture even though you may just be steps away from your office. Like many open-air facilities, I suppose the usability here is really weather-dependent. If you aren't the sort that likes to do things outdoors, this probably won't be the right place for you.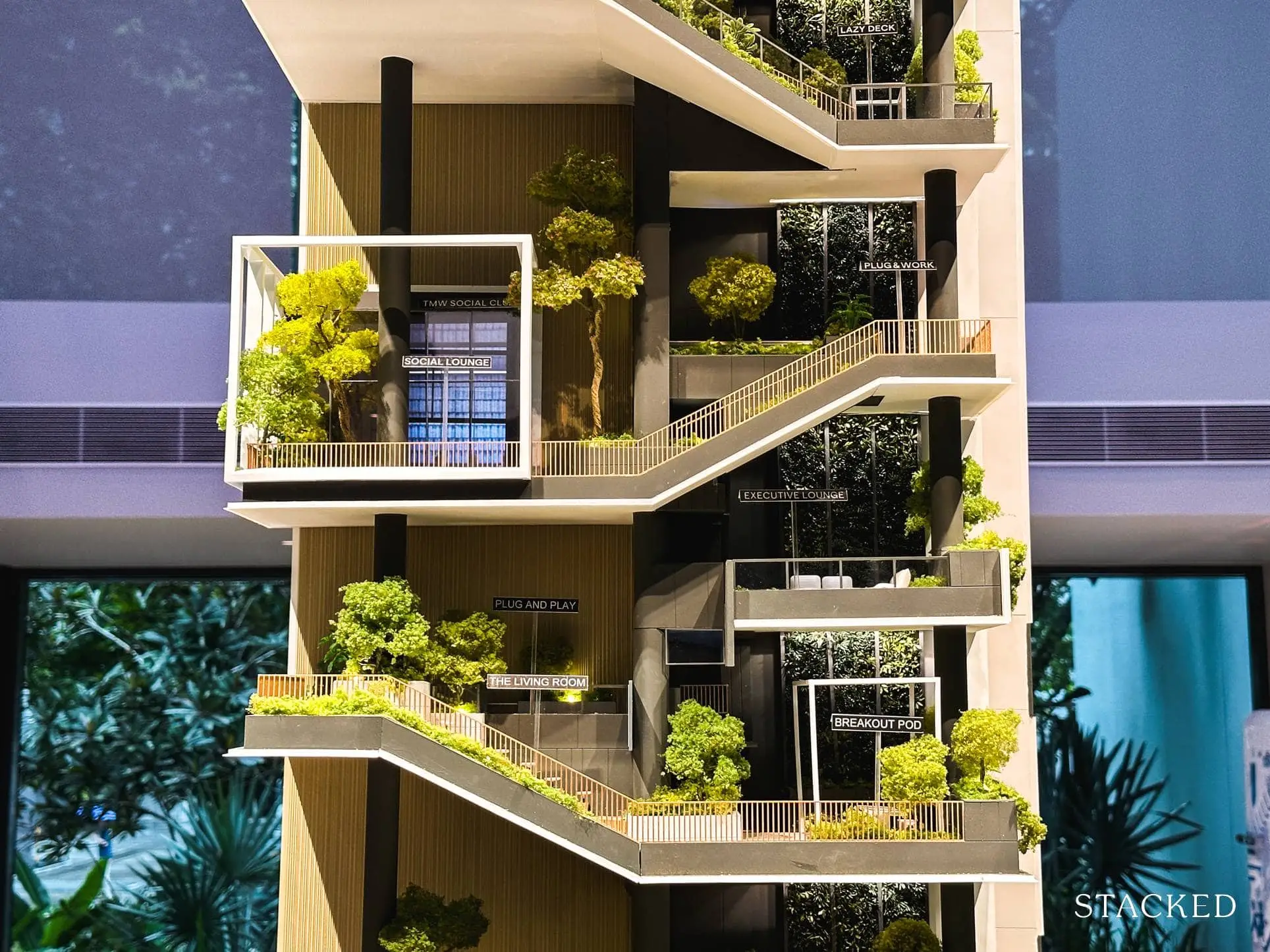 The 9-10th storey is where things get more fun. You've got the Living Room, which as the name suggests, is an extension of your home. Taking full advantage of the external steps, they have clad this with benches and a projector screen for a movie screening with your neighbours or friends.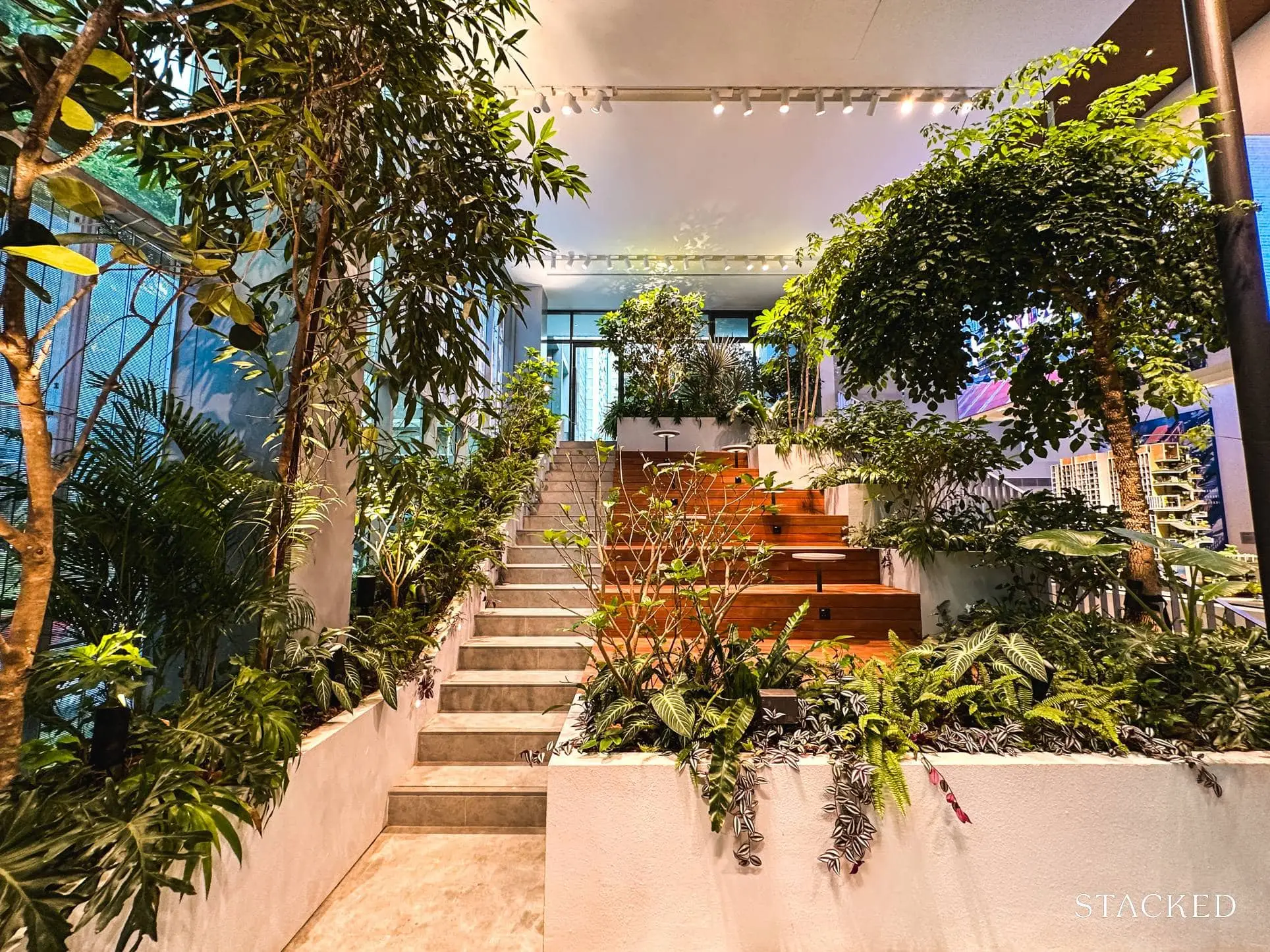 TMW Maxwell's show flat has basically created a replica of this – check out the show flat for yourself and you will know what I'm referring to. The Breakout Pod on the other hand does quite the opposite – it is a more private space for more intimate discussions or games with friends or family.
As we move up the floors, the 11th storey is a standalone one, housing the Executive Lounge. The intention is clear – it's meant to create maximum privacy without any disturbance. It would've been great if this were air-conditioned too but we'll get to some of those lounges soon. Essentially, this is a private space for gatherings if you wanted the entire place to yourself.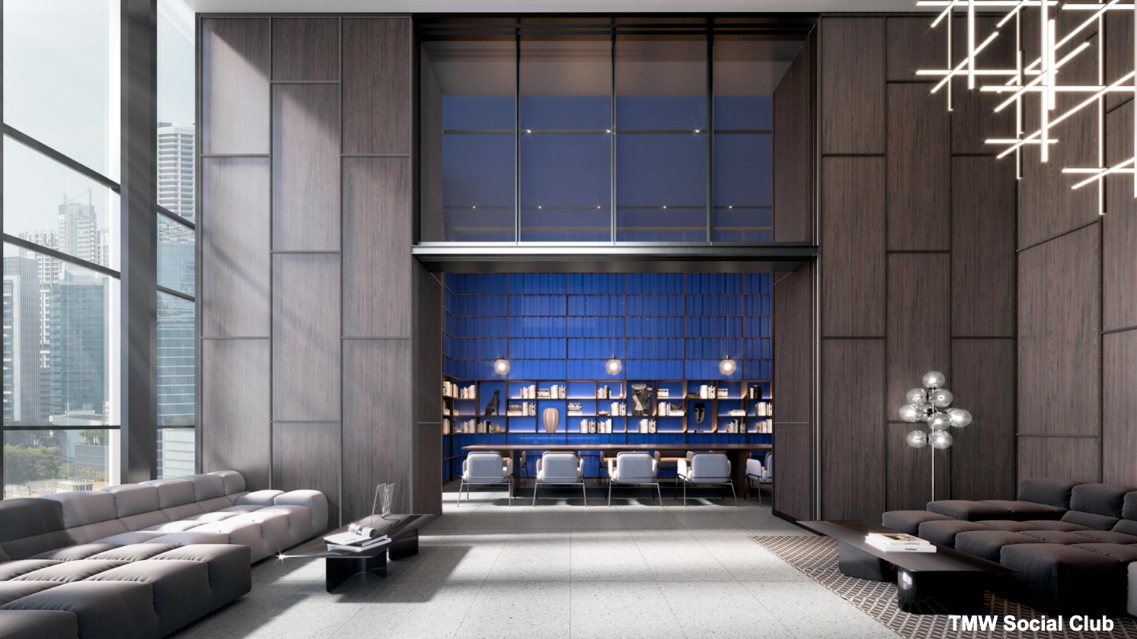 The 12th storey is where one of the highlights of TMW Maxwell is. The TMW Social Social Club, or what is basically the main clubhouse, features double-volume ceilings and a size of 100 sqm (1,076 sq ft). Needless to say, clubhouses are meant to make a strong, positive impression on your visitors and I'm sure the double-volume ceilings would give off a sense of awe and grandeur.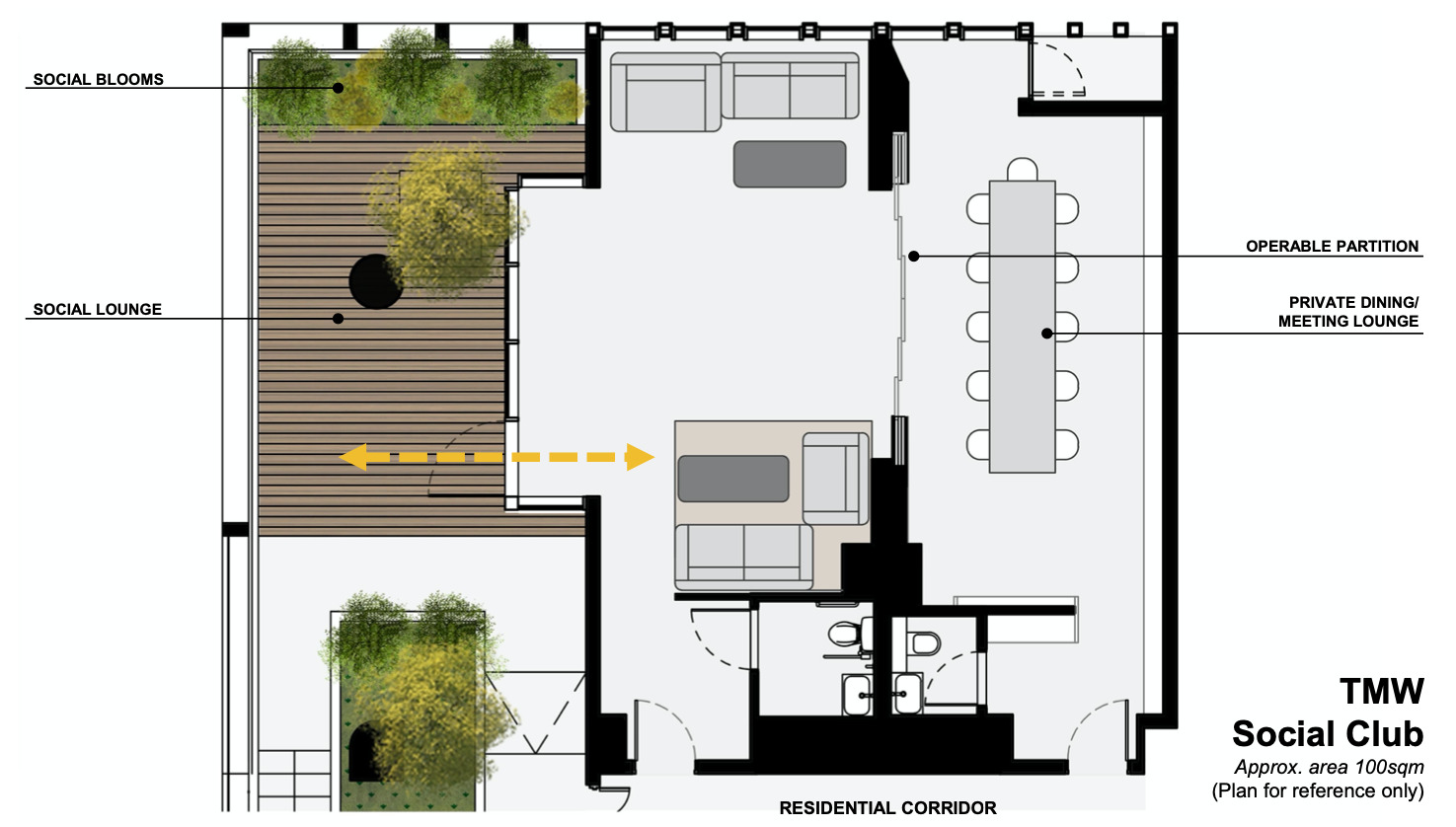 TMW Social Club features a generous seating area and an operable partition separating a ~12-seater dining/meeting lounge. Based on the renders alone, you know that there's a consistent blue and modern theme going on here and you can be certain that the developers will try to make it as chic as they can. I'm still figuring out where the cooking will take place if this is going to be a dining lounge as it doesn't seem too apparent based on the visuals.
Stepping outside the Social Club, there is still a foyer area of sorts with the Social Lounge and the Social Blooms, the latter of which is essentially added greenery in this space. It feels like a nice prelude to what the Social Club has to offer.
Moving up to the 15th and 16th storey and that is where you will find the Lazy Deck, Sky Jacuzzi and accompanying Outdoor Shower. While the Lazy Deck gives off the vibe that there are a number of deck chairs along a dedicated jacuzzi, let's not forget that this is a pretty small plot of land – the physical model seems to only suggest a lonely single deck chair.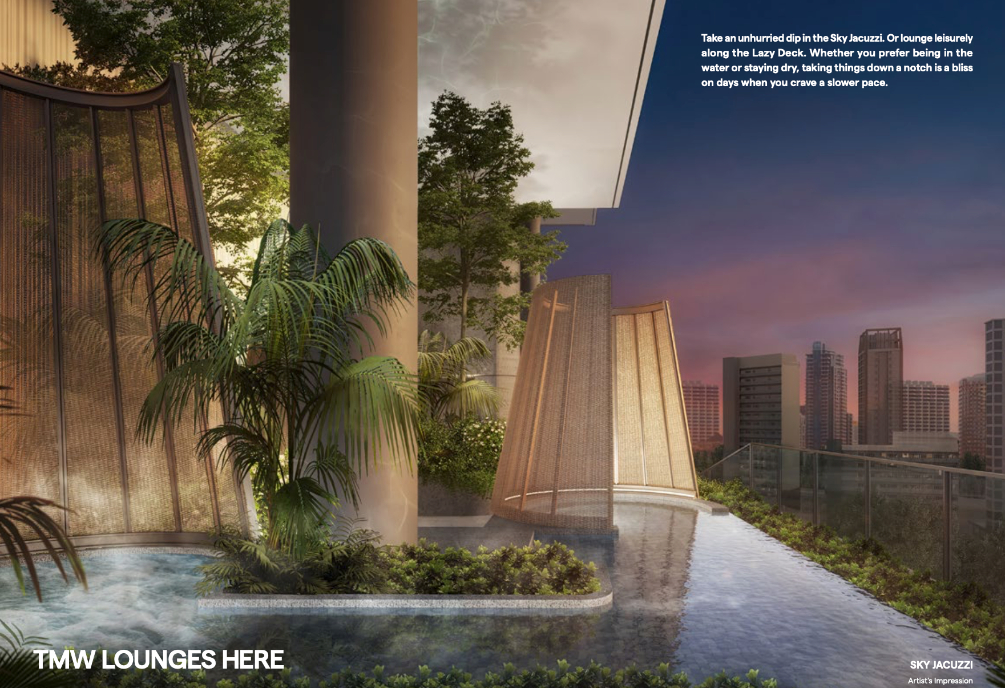 As for the Sky Jacuzzi, it's an L-shaped area so while it is small, there is a bit more privacy in case you are sharing it with someone else. The small cove-like structures will also give you added privacy.
The 17th storey is much like the 11th (Executive Lounge) and 13th (Plug and Work) floor in the sense that it is a standalone facility. Here is a wellness deck, which might just be a fancier term to call… an empty space. I guess you can't fill it up too much if you had truly intended for this to be a place to meditate and do some yoga.
The 18th and 19th storey feature an All-Day Bar and Cocktail Bar. Do note that wines, bartenders, and cocktails are not included. These are seating areas with some high stools to enjoy bottles of wine from your own private stash with your family and friends. It's one of those facilities (like a swim-up pool bar) that always sounds tantalising, but it requires other elements like an actual bartender, music, and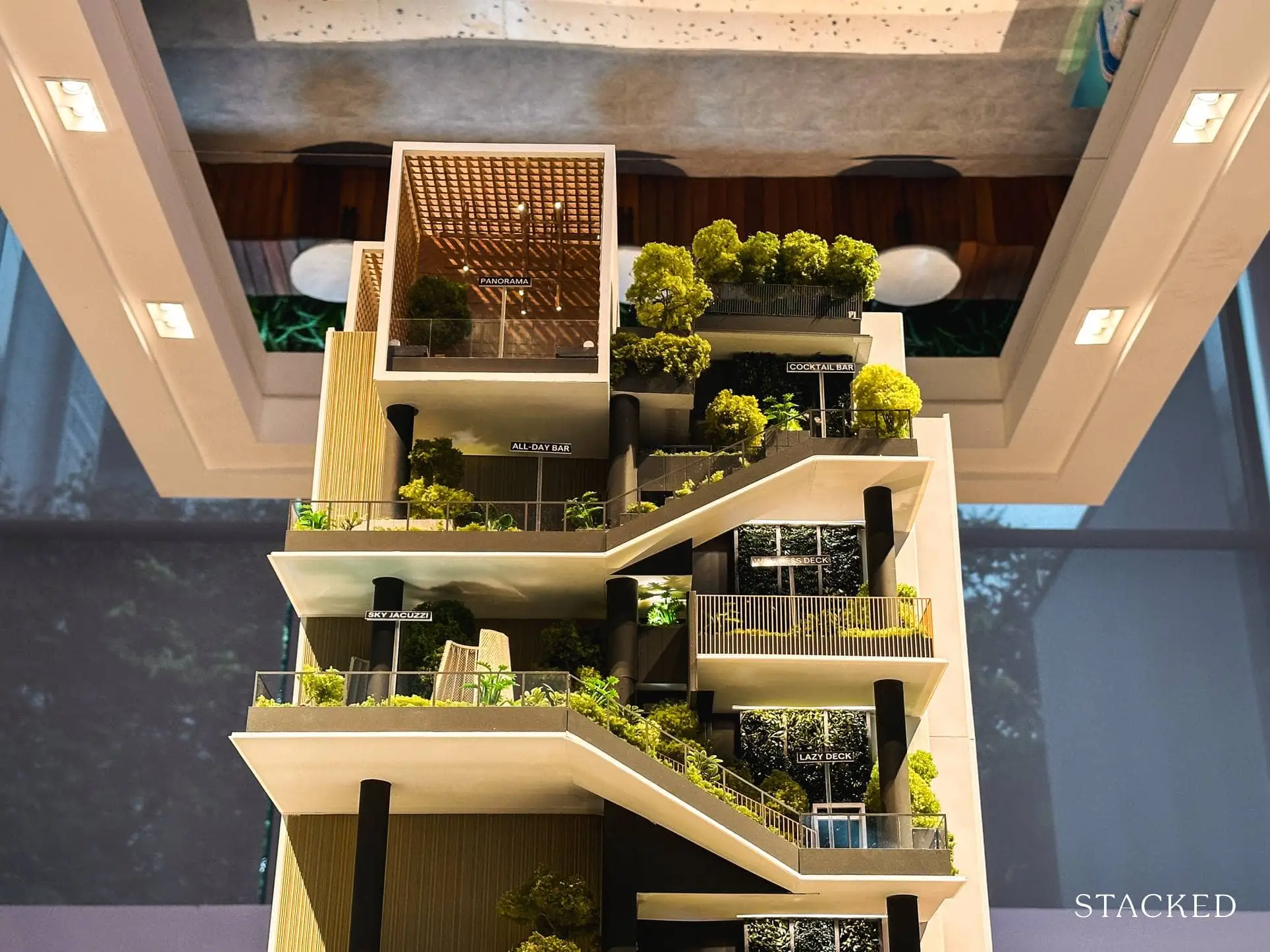 As always, towards the top is where they typically save the best for last. On level 20, you get the Panorama, which features glass ledges for you to look out and enjoy unblocked views of the shophouses along Duxton, Keong Saik, and Bukit Pasoh. It does give you the best views, and likely the best ambiance but I would have liked to see some elements of it being enclosed (so that you can enjoy it even on a hot, still night).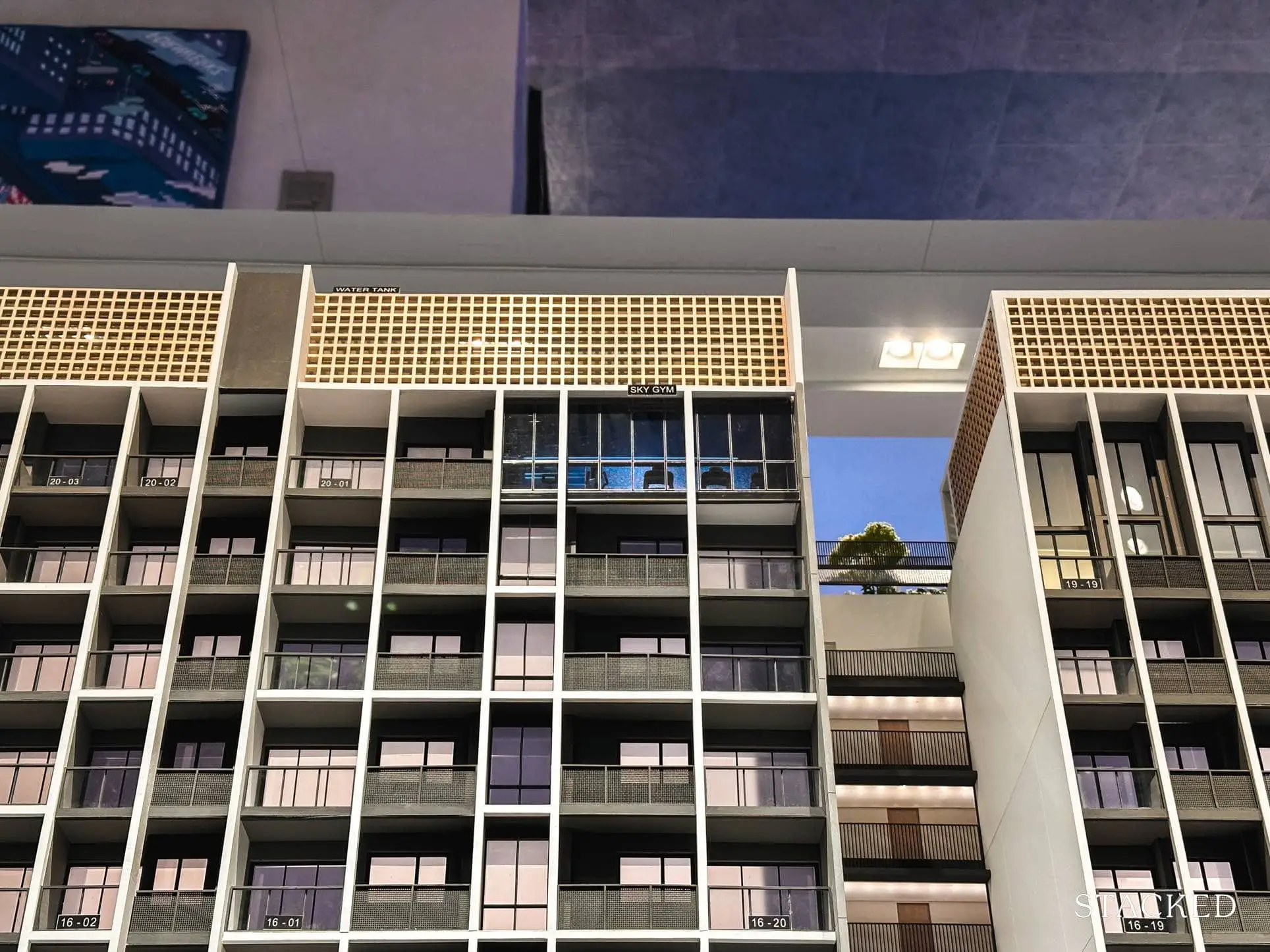 The Sky Gym has this electrifying blue light effect and is probably one of the coolest condo gyms you can find out there – it's reminiscent of some of the hip spin classes that you may have been to. And of course, I like that they've placed it as high as possible, for the best workout views.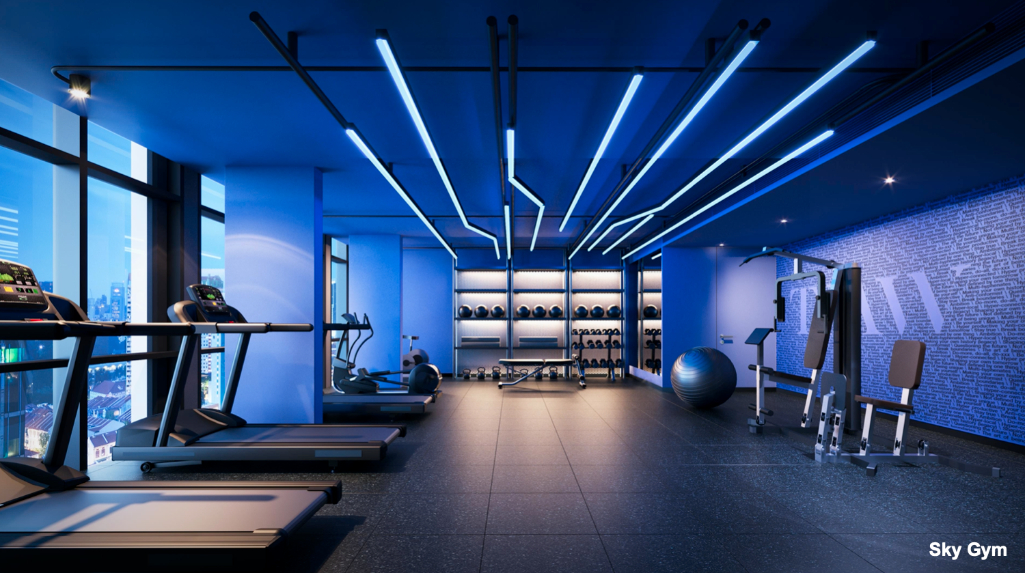 Despite being a small development, this gym is surprisingly decent in size – at about 800 sq ft, which should be more than sufficient for 300+ units.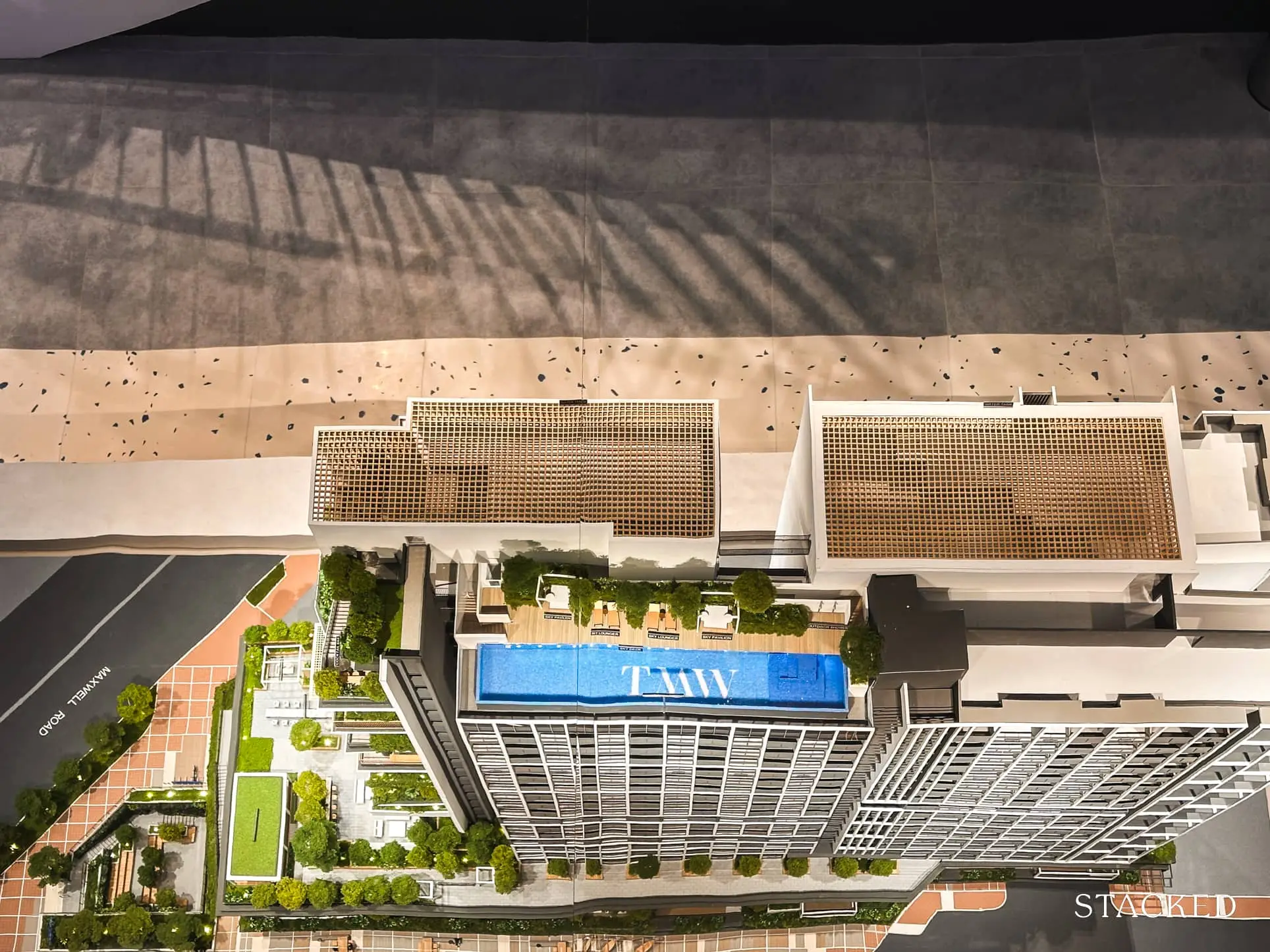 Most impressive of all has got to be the Infinity Sky Pool, located right on the very top of TMW Maxwell. Even if you are reaching Singapore by helicopter, you are reminded of the condo as these very letters TMW Maxwell will be pieced together at the bottom of the pool. It's 25m by 4m in length and width but with a relatively small land plot, I do think this is the best that can be done.
Either way, being able to sit by the pool in the middle of the city is always a luxury, so at least there's this respite on a hot weekend.
With that, let's move to the show flat units!
TMW Maxwell – Studio Type A3 (44 sqm/474 sq ft) Review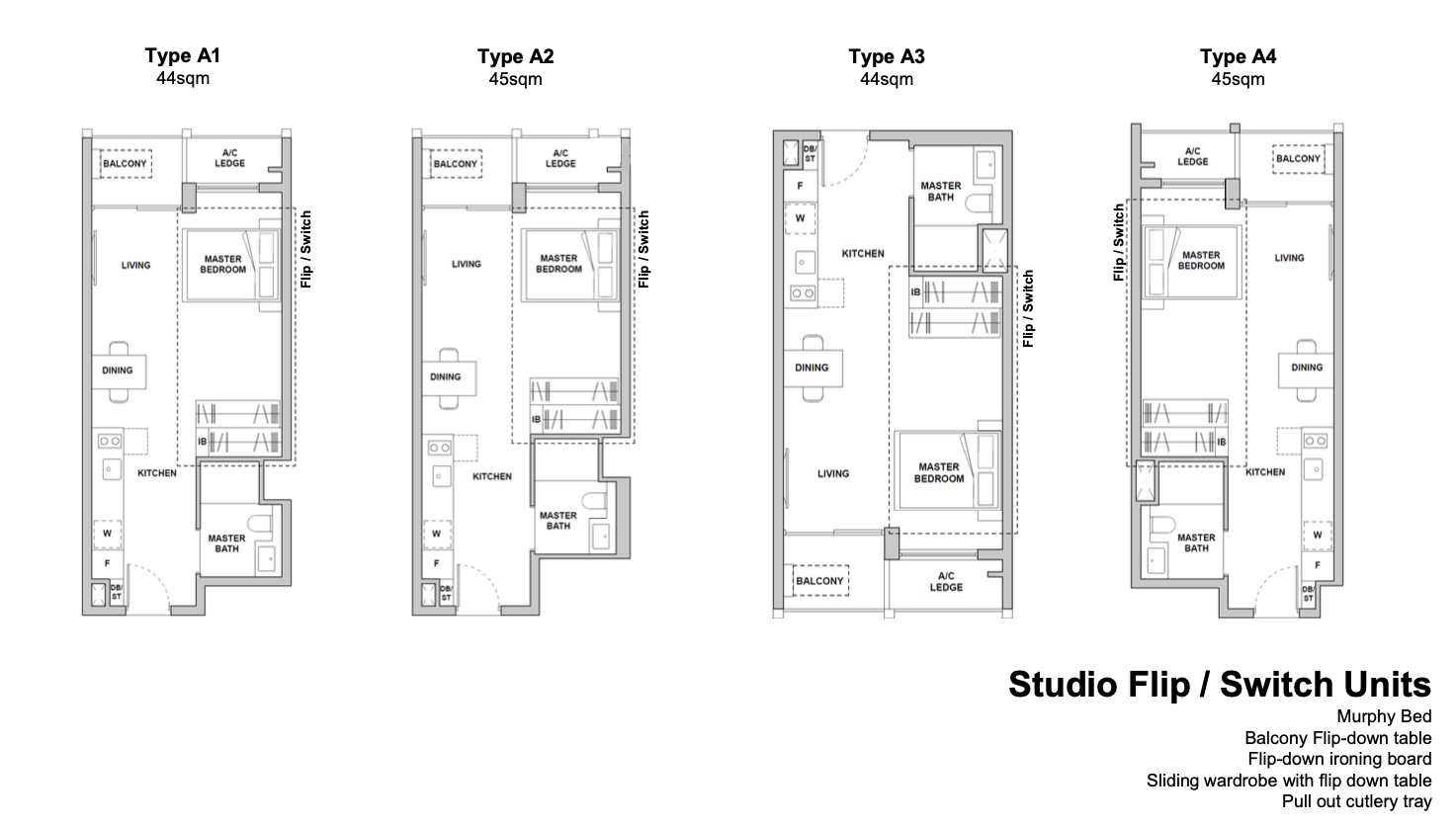 Besides the exterior landscaped gardens and modern branding, the other way TMW Maxwell is targeting the younger buyer is through useful, space-saving furniture. It's something that we see a lot in similar land-starved countries like Hong Kong, and it's about time we see some innovation in this regard here.
Flip/Switch is the innovative, new-age concept that the developers have come up with for what are essentially Studio unit equivalents. These are equipped with a number of flexible carpentry/fittings (5 in total) which will be incorporated into the unit by the developers. This makes the use of space more efficient, even if the overall space is still limited.
I'll come to those 5 different features during the course of the review below so stay tuned. There are 201 Flip/Switch units across TMW Maxwell, making up 62% of units here (of which there are 4 different layout types to choose from). Ceiling height is average at 2.9m while the units will be laid with tiles throughout the unit, which differs from the typical engineered timber in the bedrooms.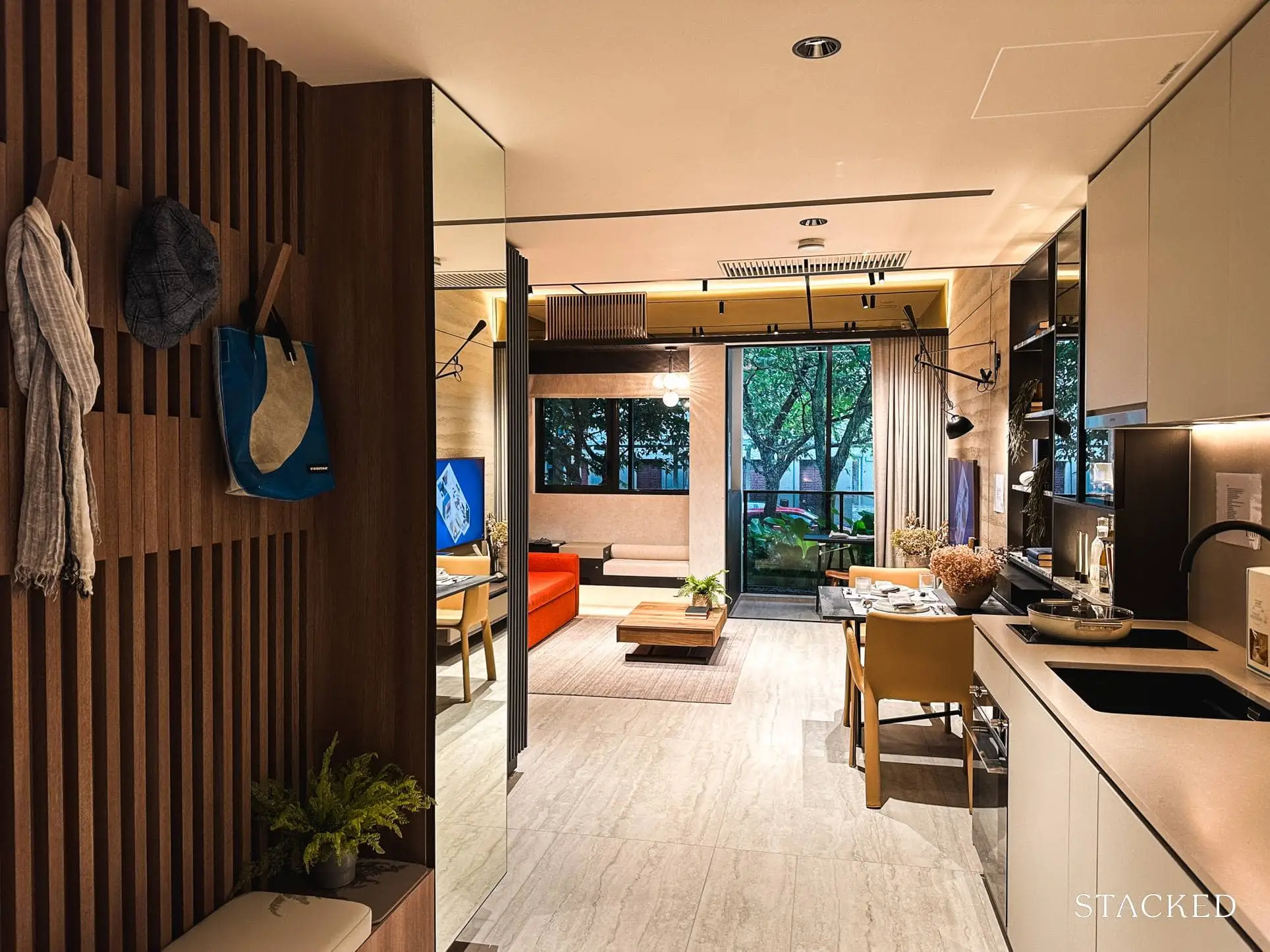 Entering the unit, you have the open-concept kitchen to your right and the Master Bathroom to your left. It's a rather wide foyer area at 2.55m, which certainly helps to make this unit look more spacious than it is.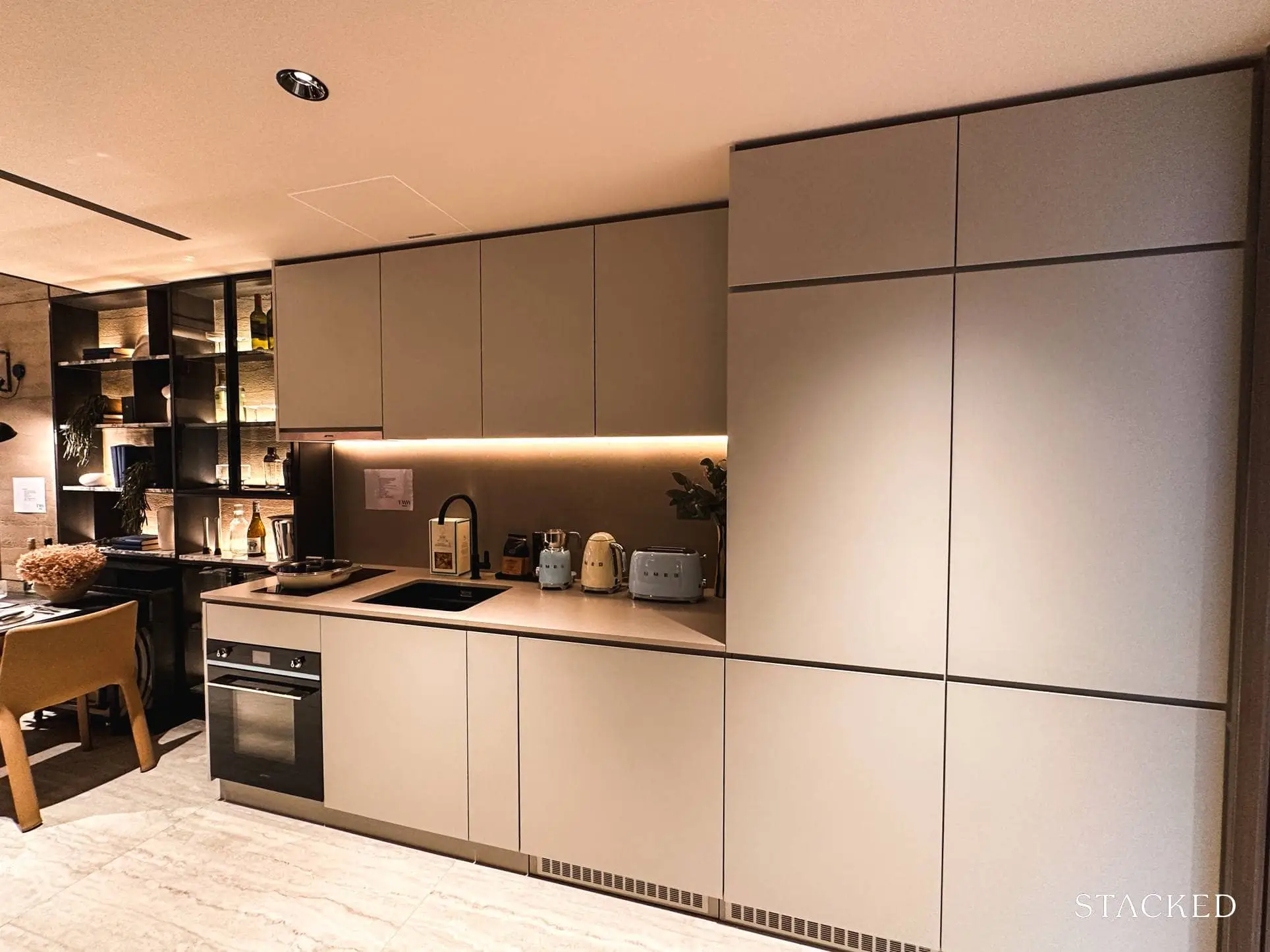 You have the option of choosing between the cooler (the one seen here) or darker tones (the one in the 2 Bedroom show flat) for your kitchen cabinetry. I do like that the cabinets are cream-coloured rather than the glossy white which was popular in new launches about a decade ago as they provide more of an understated vibe that is also more practical over the years (less yellowing if you know what I mean).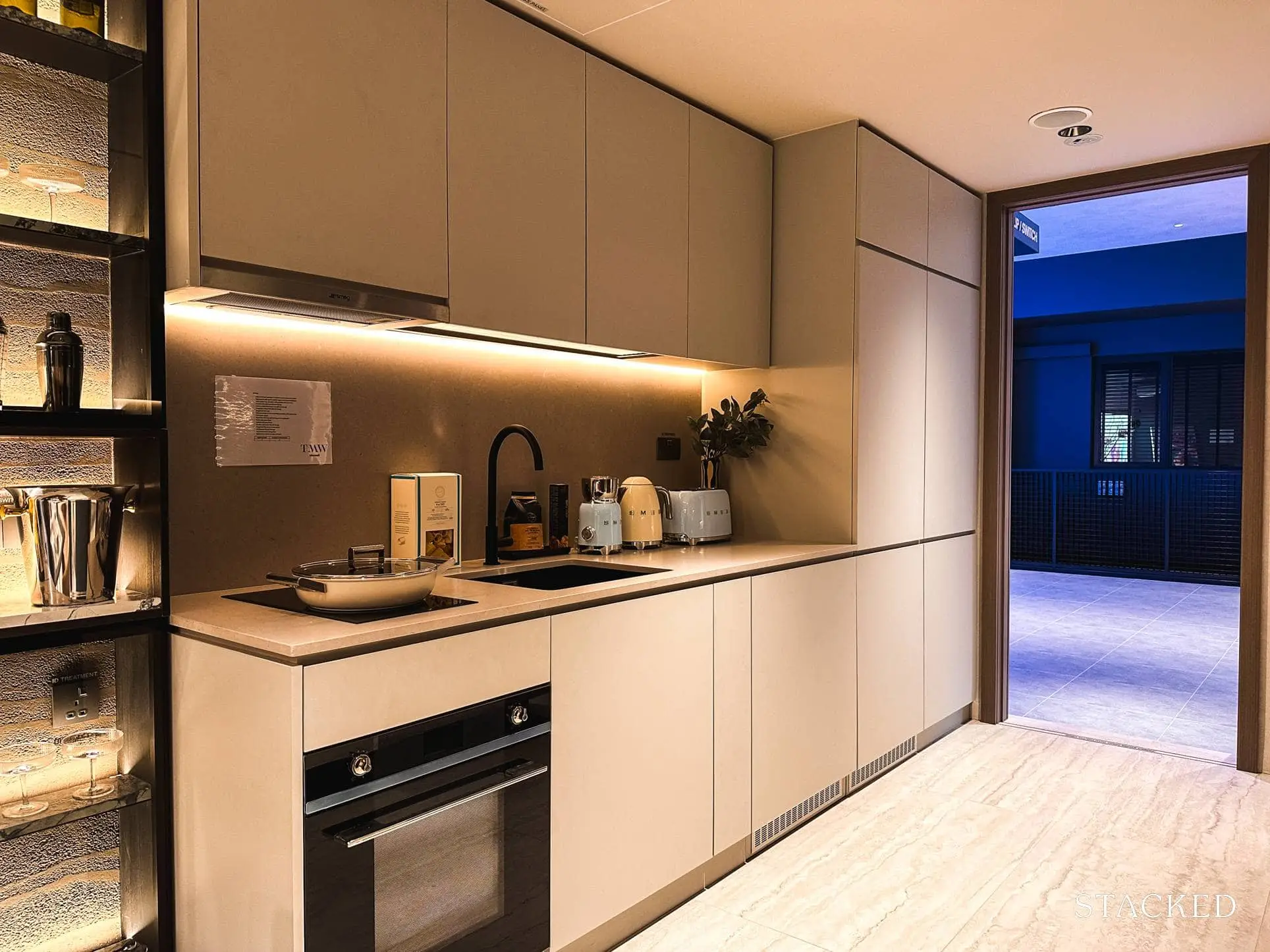 As usual, the fridge and washer/dryer are hidden behind the cabinets, making them much sleeker. These appliances, which include the induction hob, hood, and oven are all by Smeg, which is, of course, also popular for its aesthetics and European quality. The modern design theme continues with the choice of a matte black mixer and sink.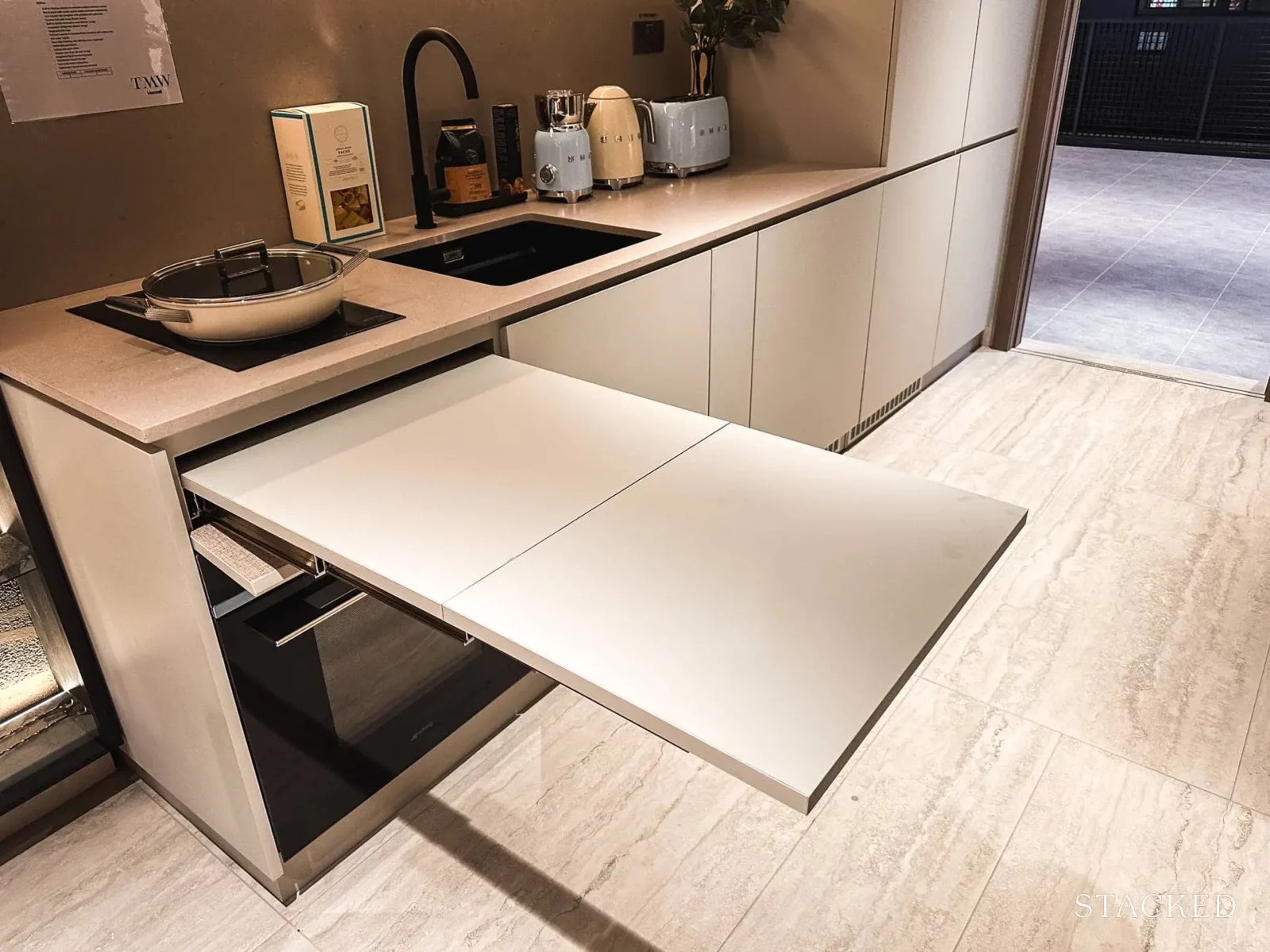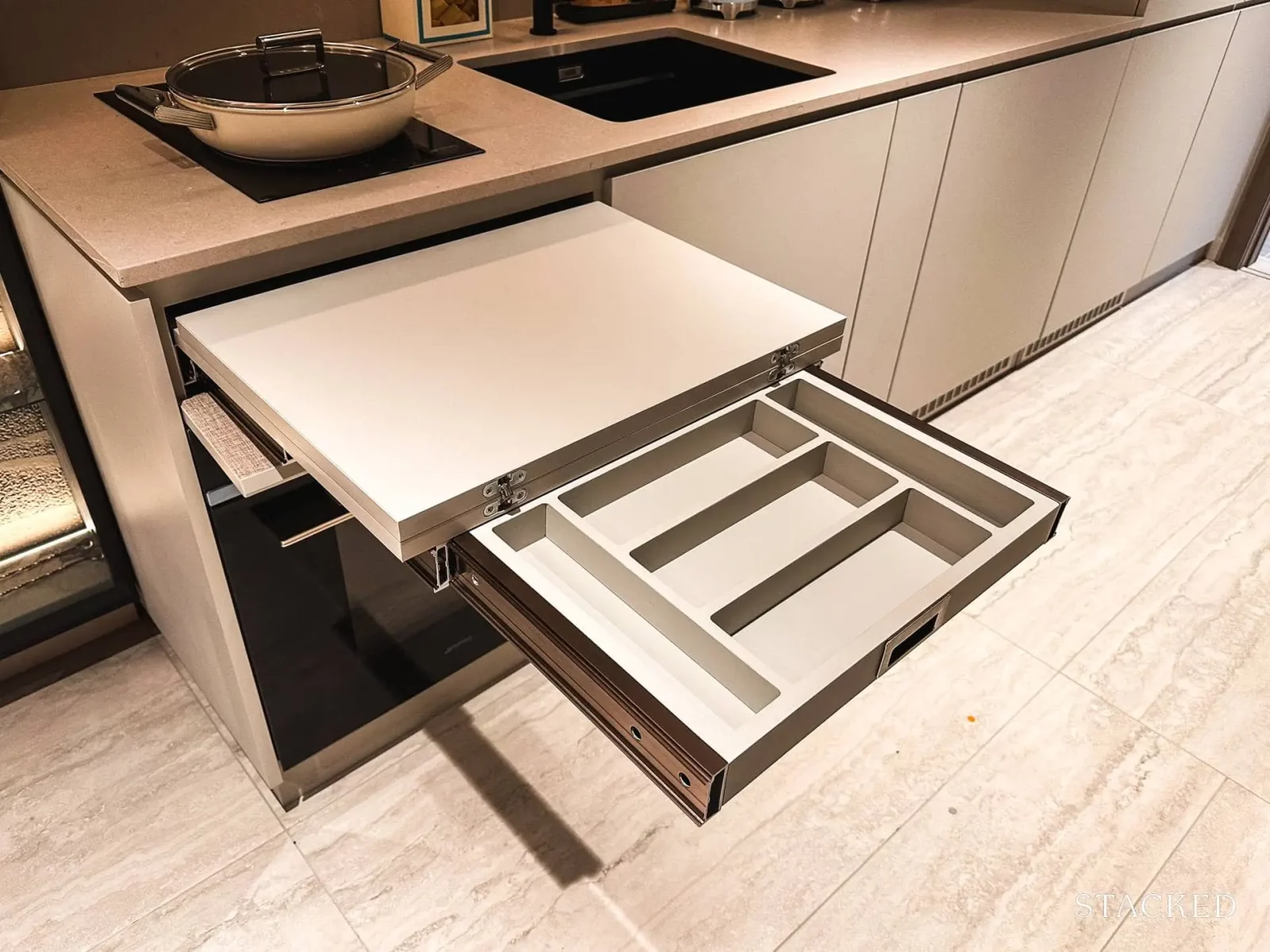 This is also where you will find the first of the 5 integrated space-saving features which the developers have incorporated into the unit. There is a pull-out counter with a cutlery tray below which gives you additional space for chopping or simply to place some food or drinks when guests come by. As useful as this is, this is not a unique feature in itself as I've seen several other new developments have this as well but still a welcome addition nonetheless.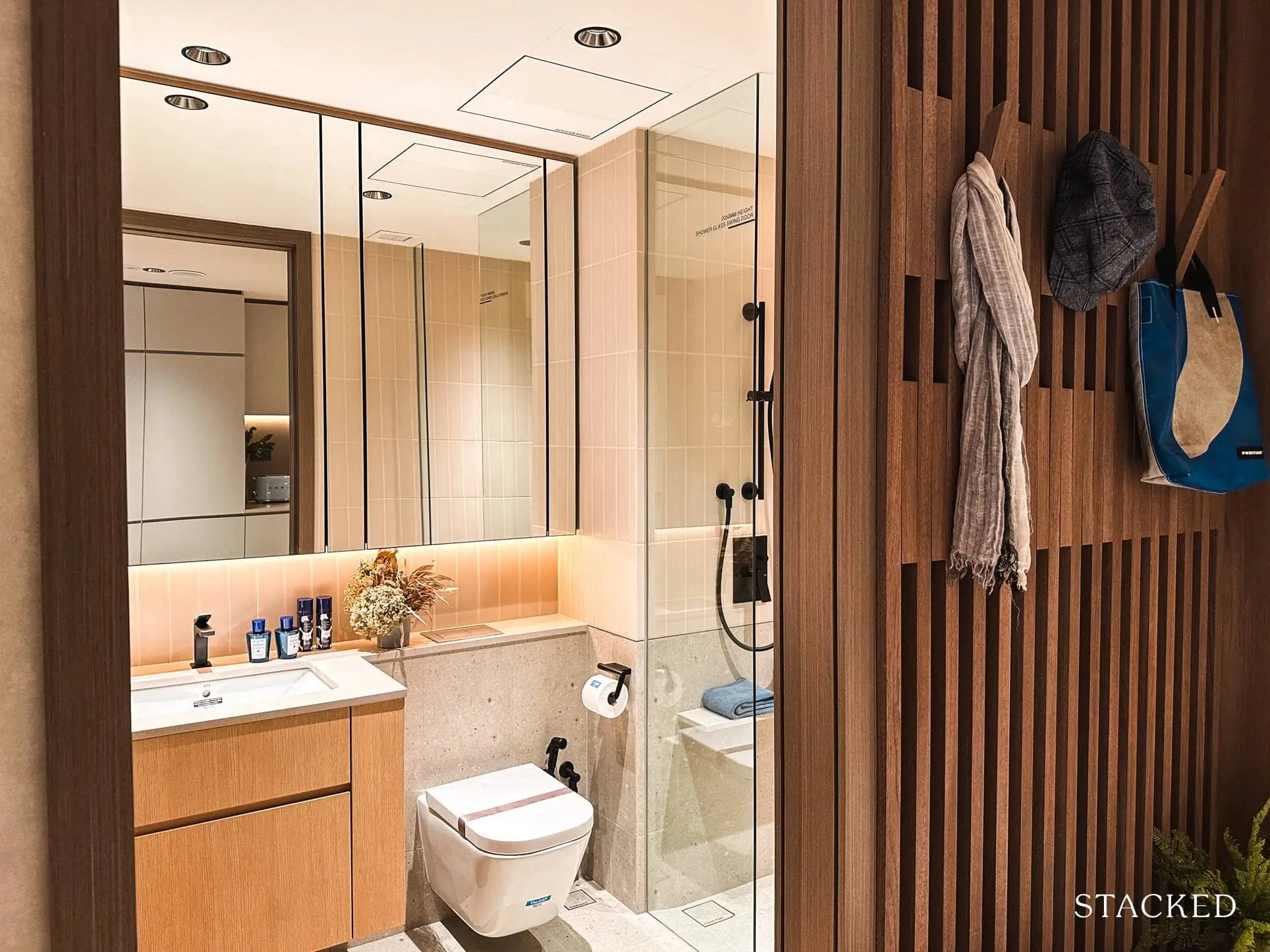 The Master Bath by the left of the entrance is 5.1 sqm and comes with your standard fixtures and fittings including some undersink cabinetry and some behind the mirrors.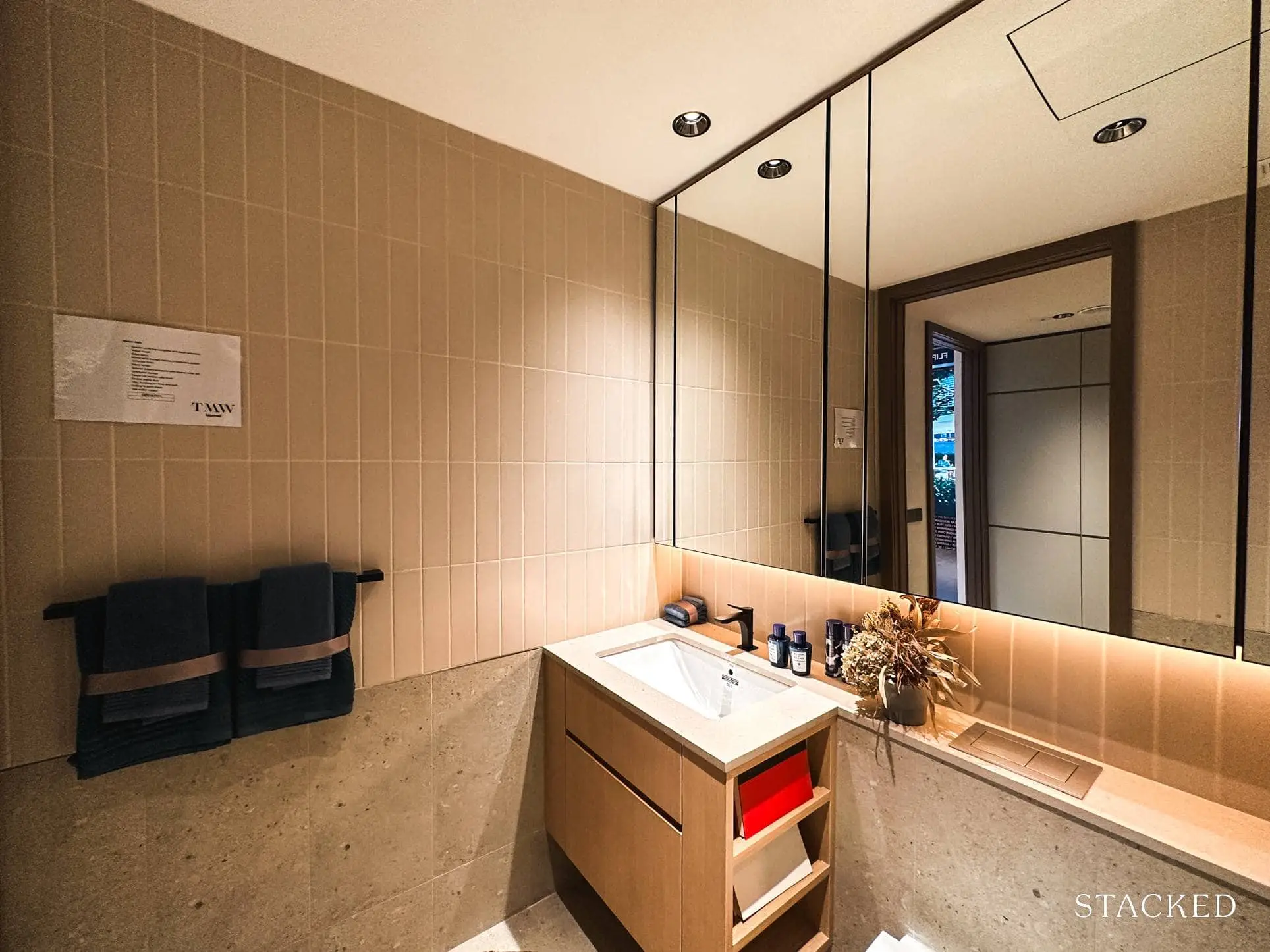 What struck me is how the developers have gone a little more creative by adopting subway tiles for the top half of the walls. I don't recall seeing much of it in show flats (the last I recall was at Olloi, which had glossier options). I find subway tiles to be more aesthetically pleasing but reckon that developers tend to steer away from them given the potentially higher build cost (more tiling for the same area) and higher maintenance for owners (grout lines etc). I do appreciate the level of detail and desire to be different at TMW Maxwell though.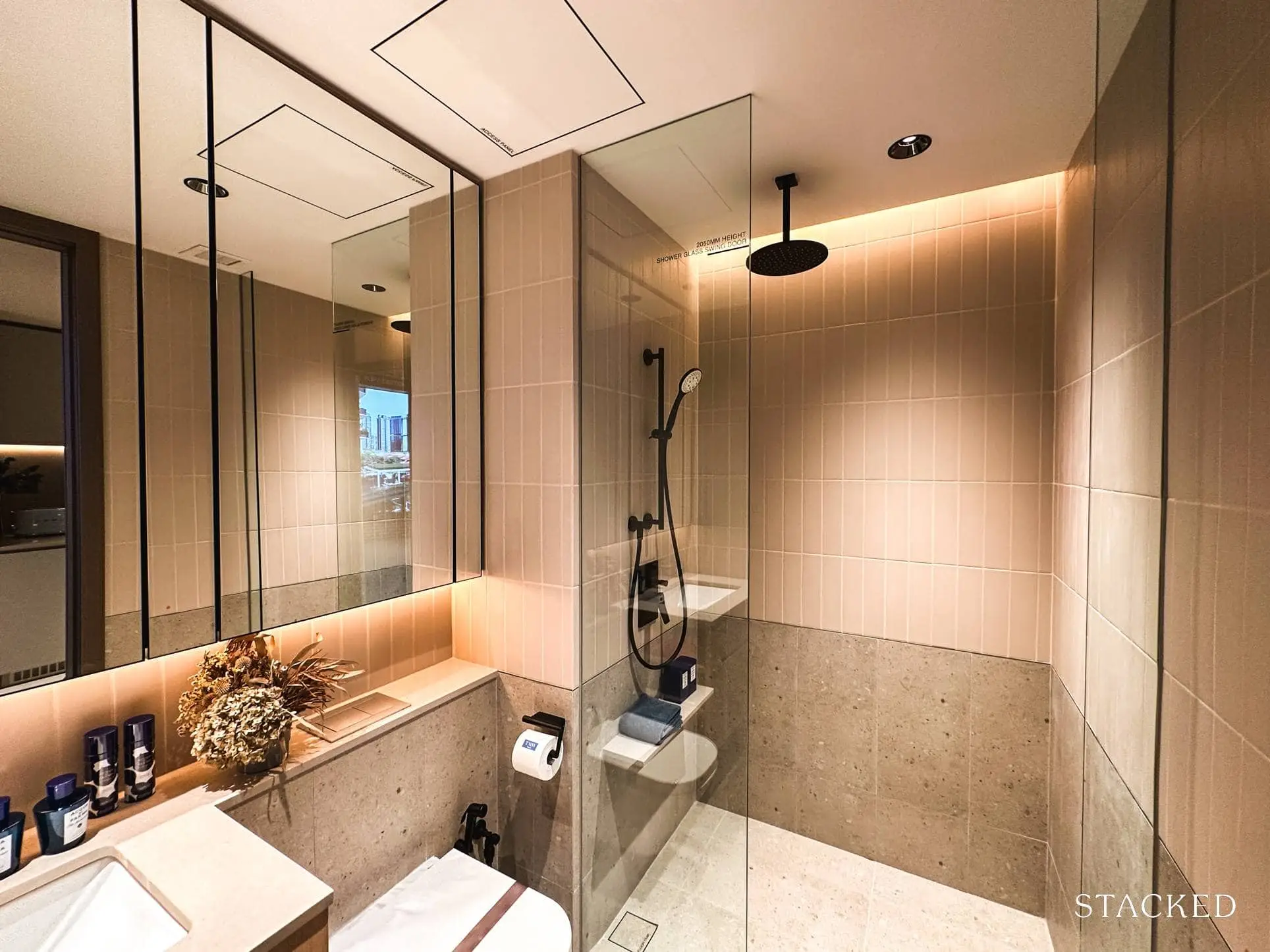 Besides this, you also have the standard fixtures and fittings such as a wall-hung w/c from Roca and a rain shower set by Gessi in a modern matte black colour. Overall, it's a differentiated look from what you usually see, and does give off a very pleasant vibe.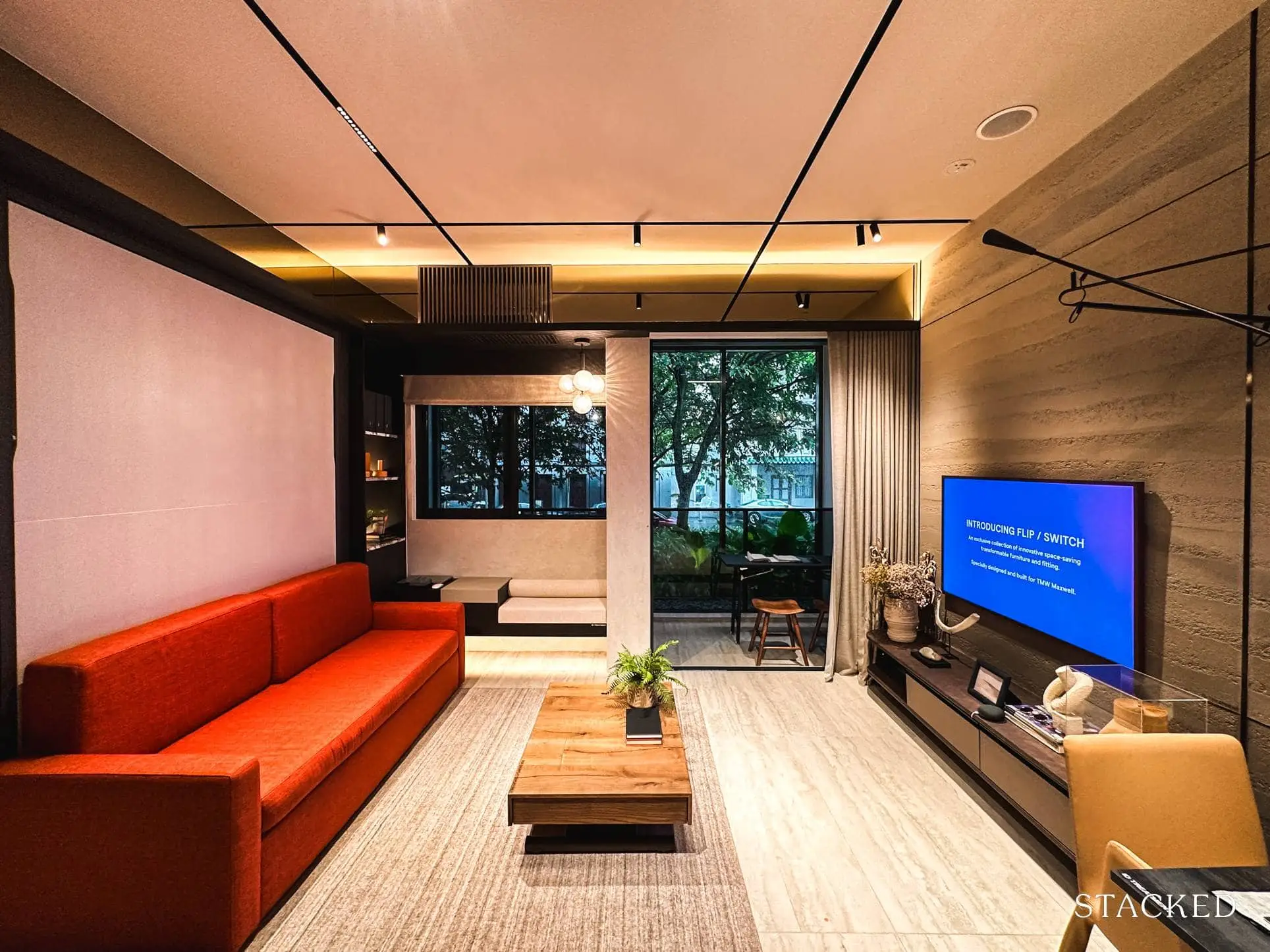 Moving back to the unit and you might notice the lack of formal demarcation of spaces here. We don't have that many Studio (or Flip/Switch in the developers' words) types of new launches in Singapore so it may be your first time seeing such a layout. Essentially, the dining, living, and bedroom areas are commingled together into one and while one may lament the lack of privacy, it can actually be an efficient use of space when done well.
You may be wondering where the wardrobe (and bed) is. Check out the tracks on the ceiling and you will probably be able to infer that this can be opened and closed as and when required. Check out the panelling at the side of this grey-themed wardrobe – this is not ID treatment but instead, a standard provision that mimics a walk-in-wardrobe experience.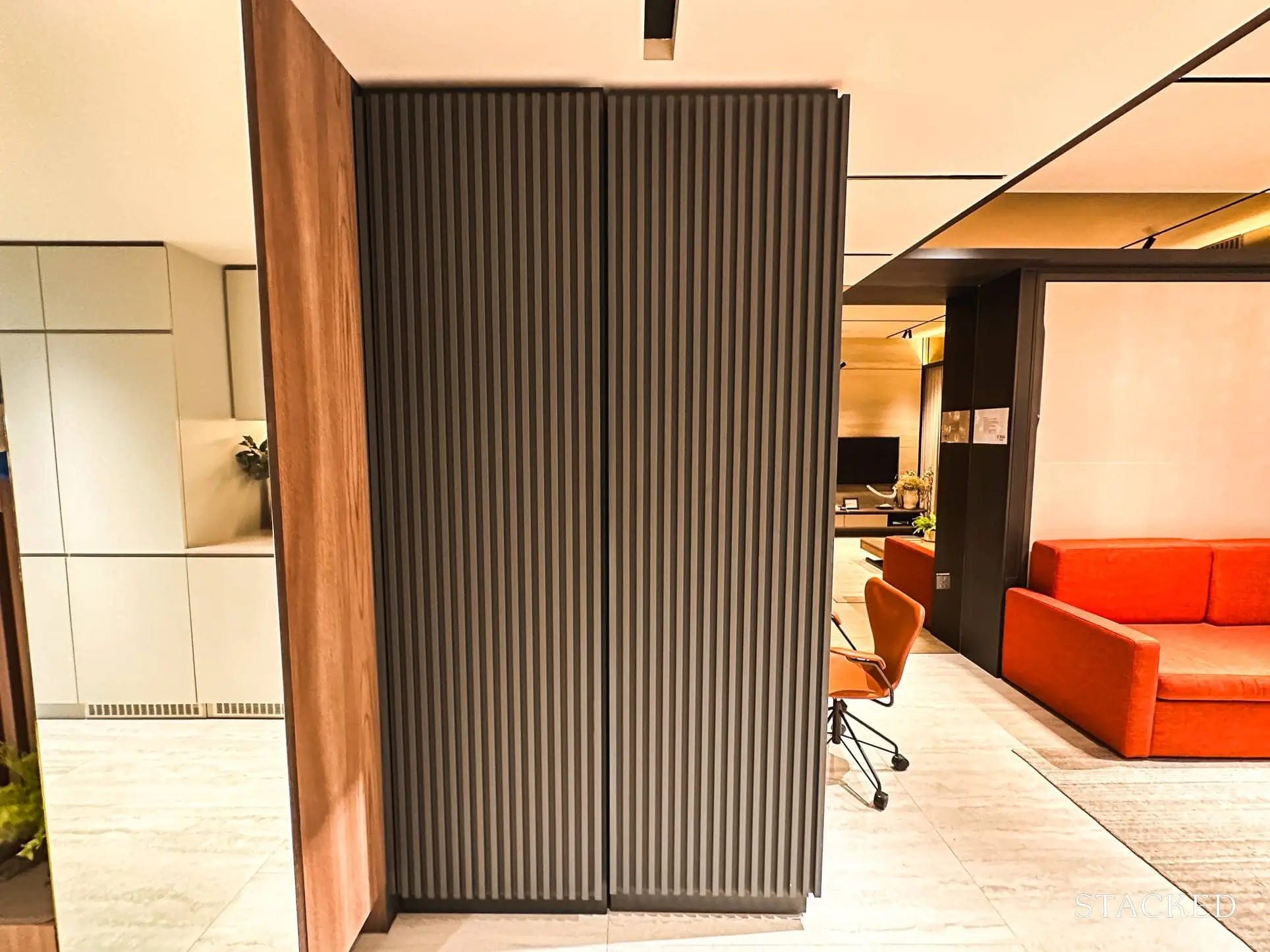 This moveable wardrobe feature was definitely an additional cost to the developers but it's such an important space-saving and space-maximising feature. How so? When you don't need your wardrobe, you can collapse it to make the unit look larger than it actually is. On the other hand, the result of this is a larger than normal wardrobe space since it occupies 2 sides and stretches pretty much the full length of the Queen size bed.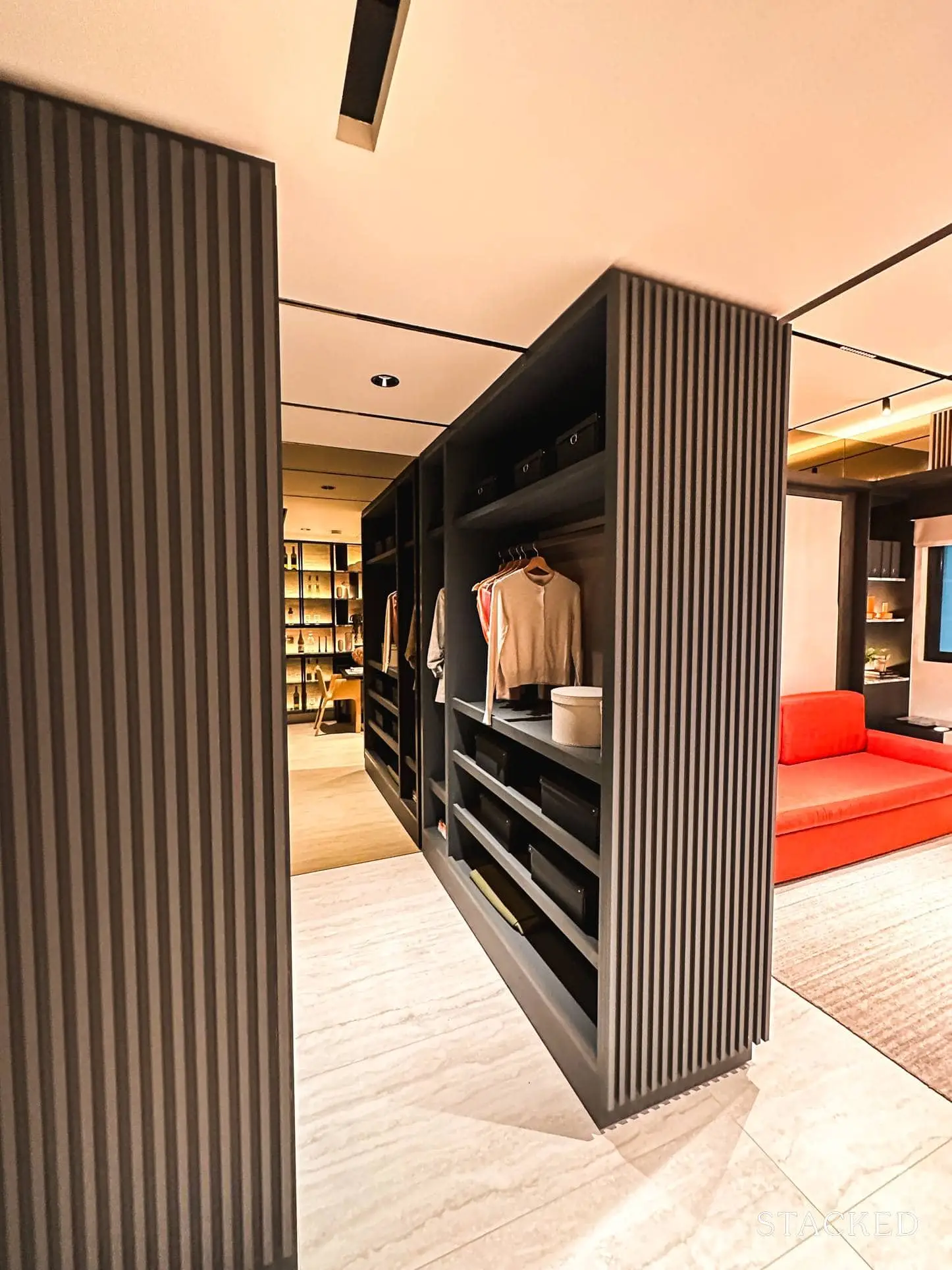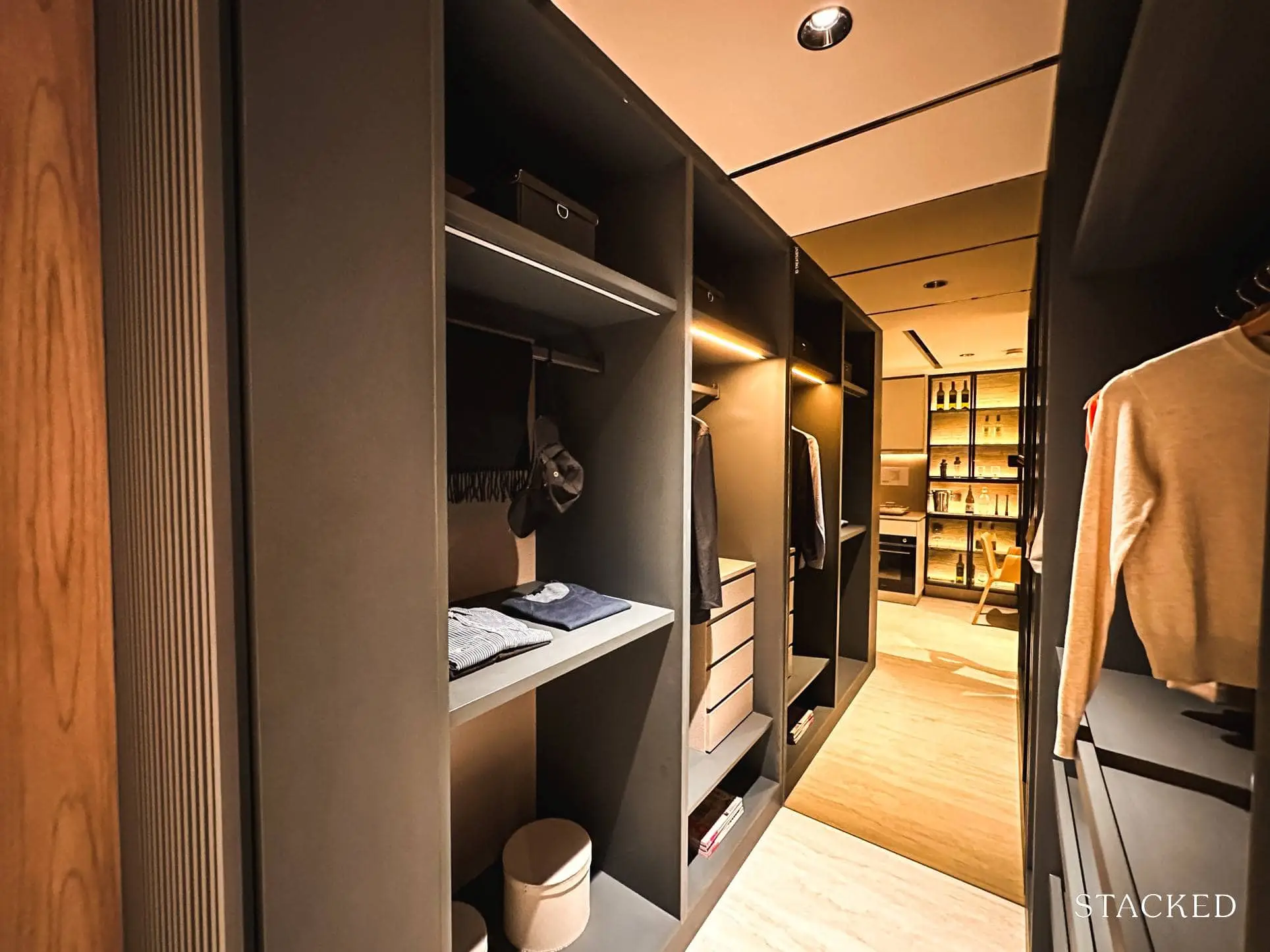 It does feel quite hefty (in a good way) to move, and having a mirror at the end of it is also a great idea.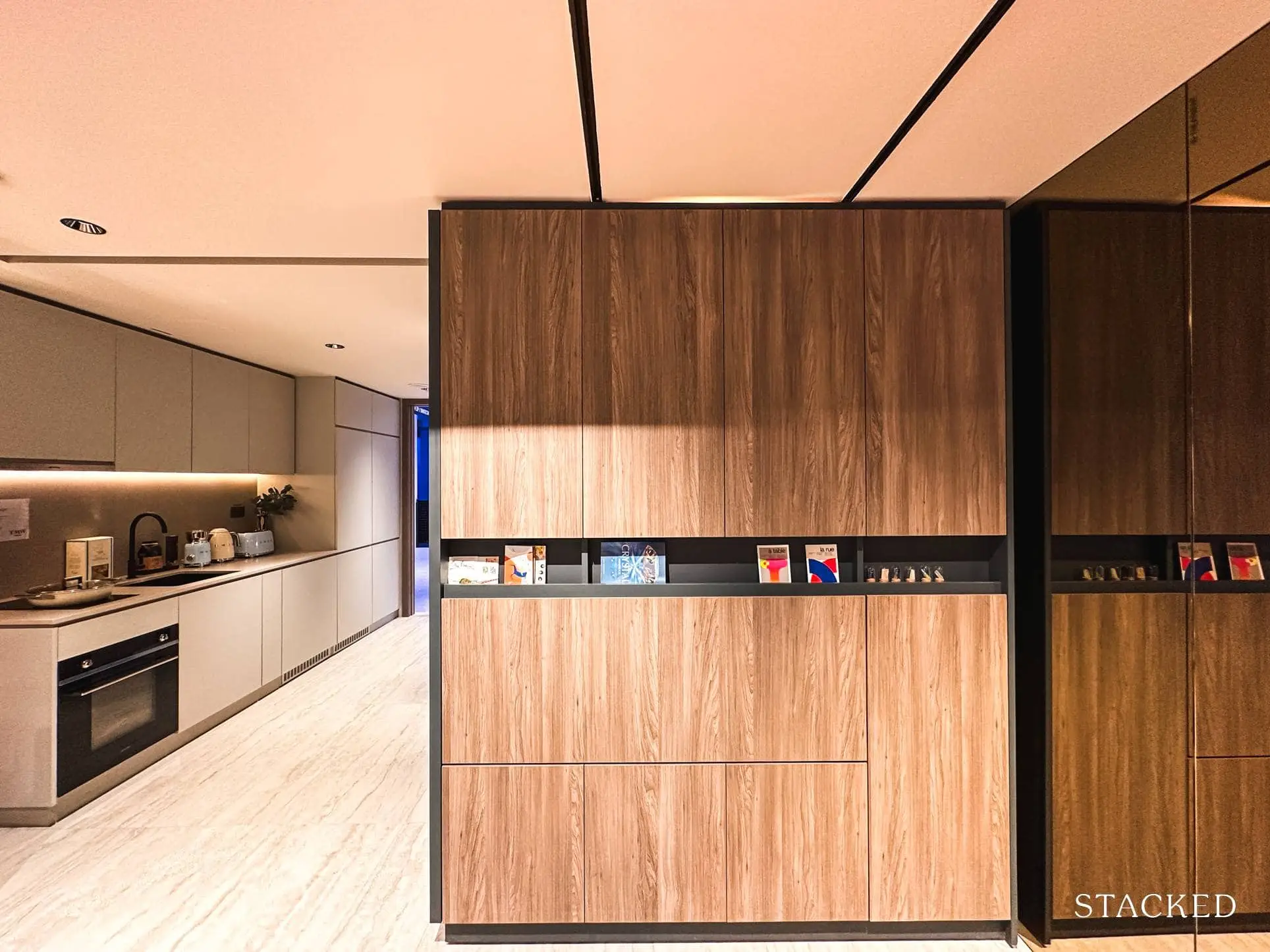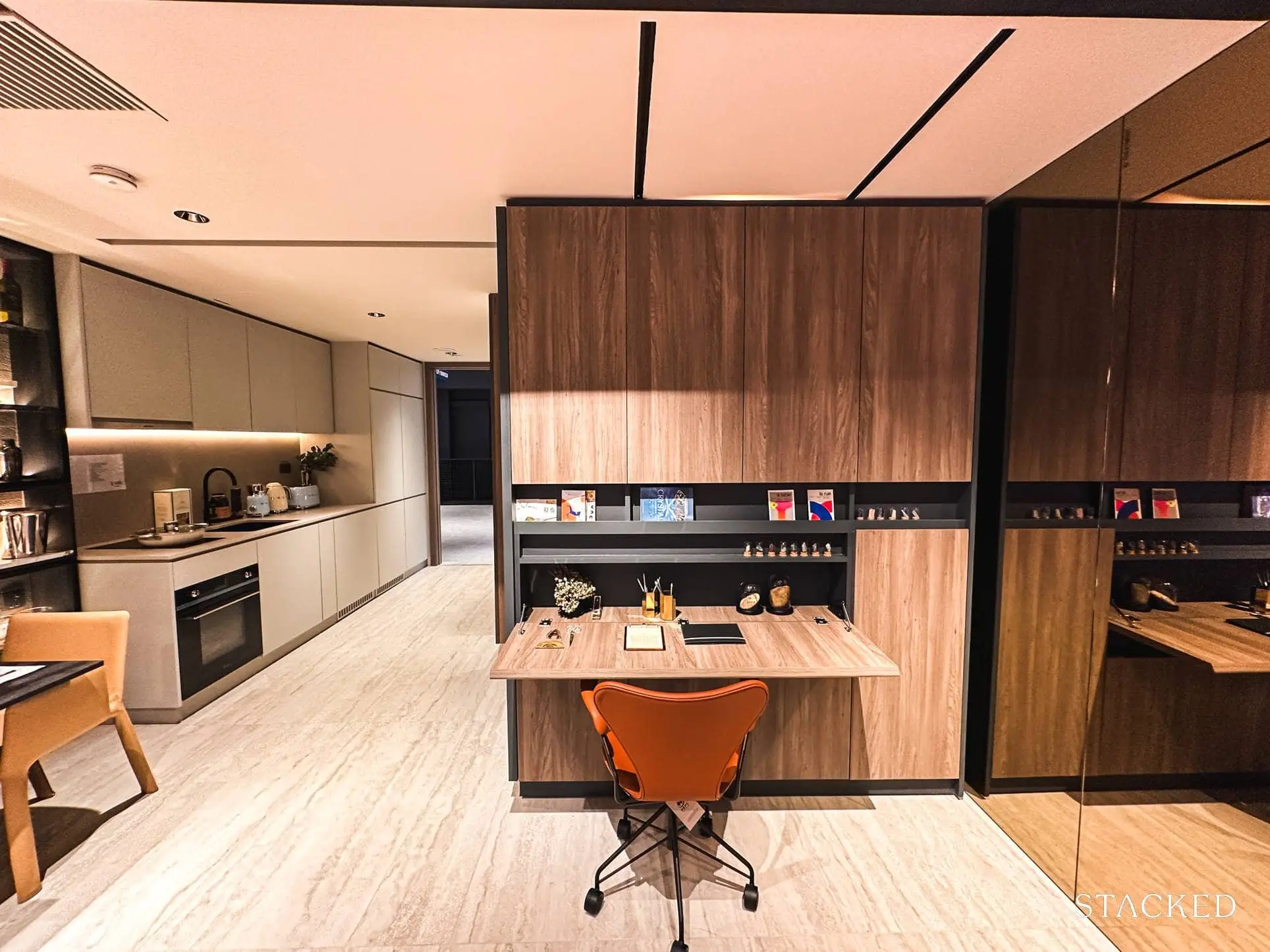 Plus, it also has a flip-down study table here too for your WFH requirements. Just like the wardrobe, it can be stored away when you don't need it.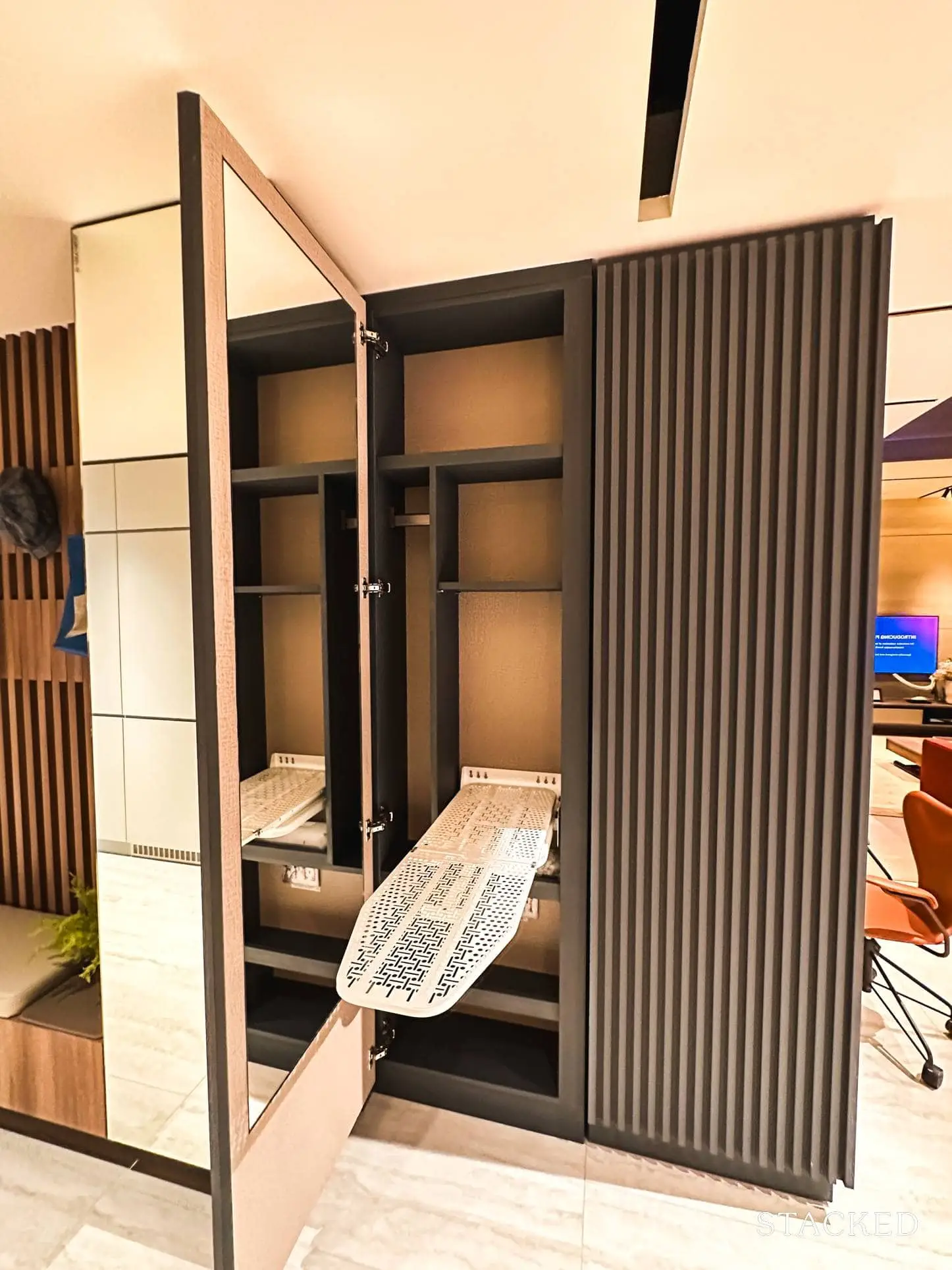 And that's not the end of its tricks. While you usually have to purchase your own ironing board in Singapore, you will know that some of the free ones that come with your iron purchase can be pretty bulky. Space is limited in this unit so it's always good to have one provisioned for – the flip-down ironing board is integrated with the rest of the moveable wardrobe space to make it doubly usable.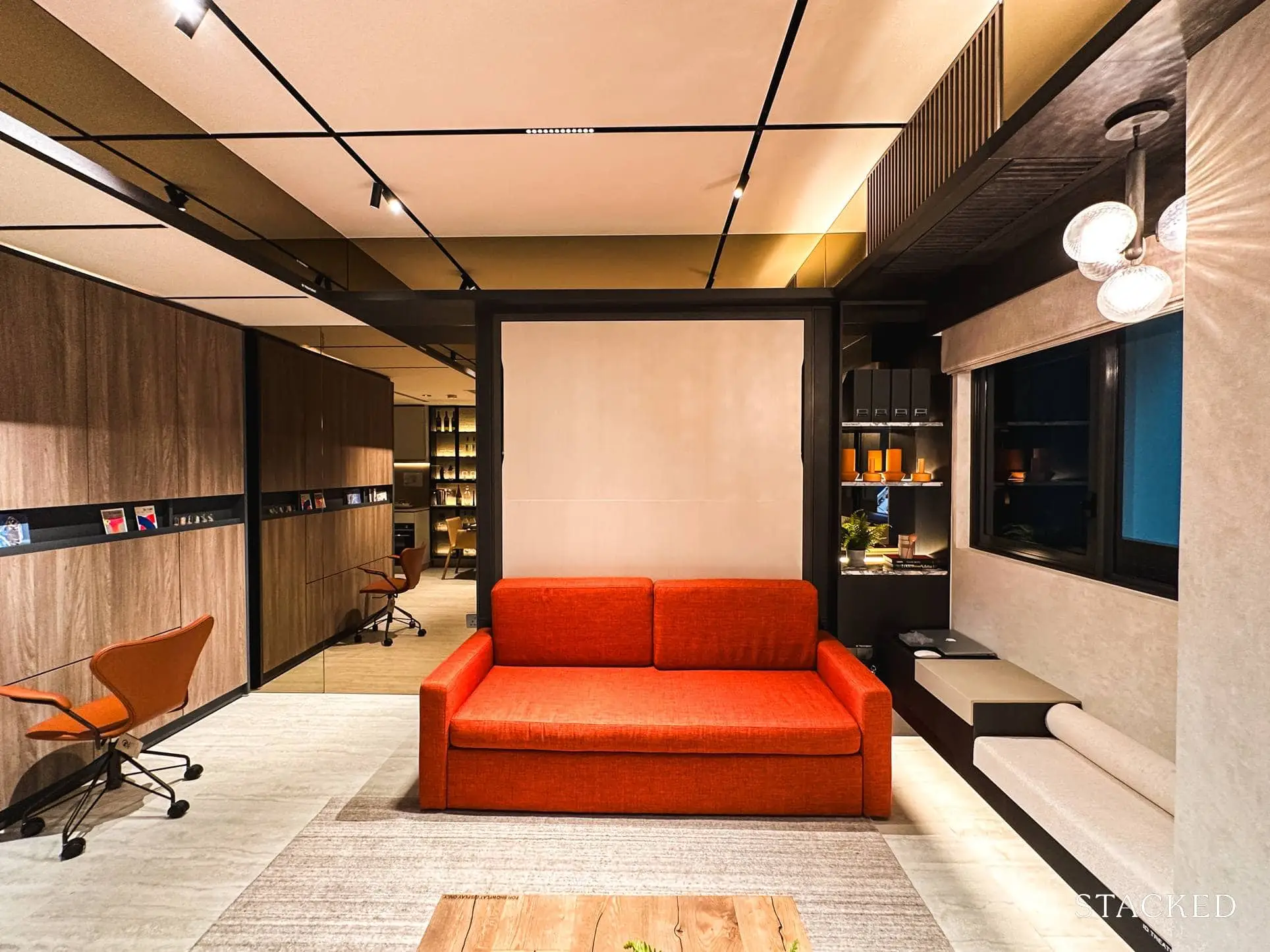 As for the bed, look at that inconspicuous orange sofa set right there. That's going to be provided by the developer which is awesome since you have one less piece of furniture to buy (although sadly, you currently do not have the option to choose between colours).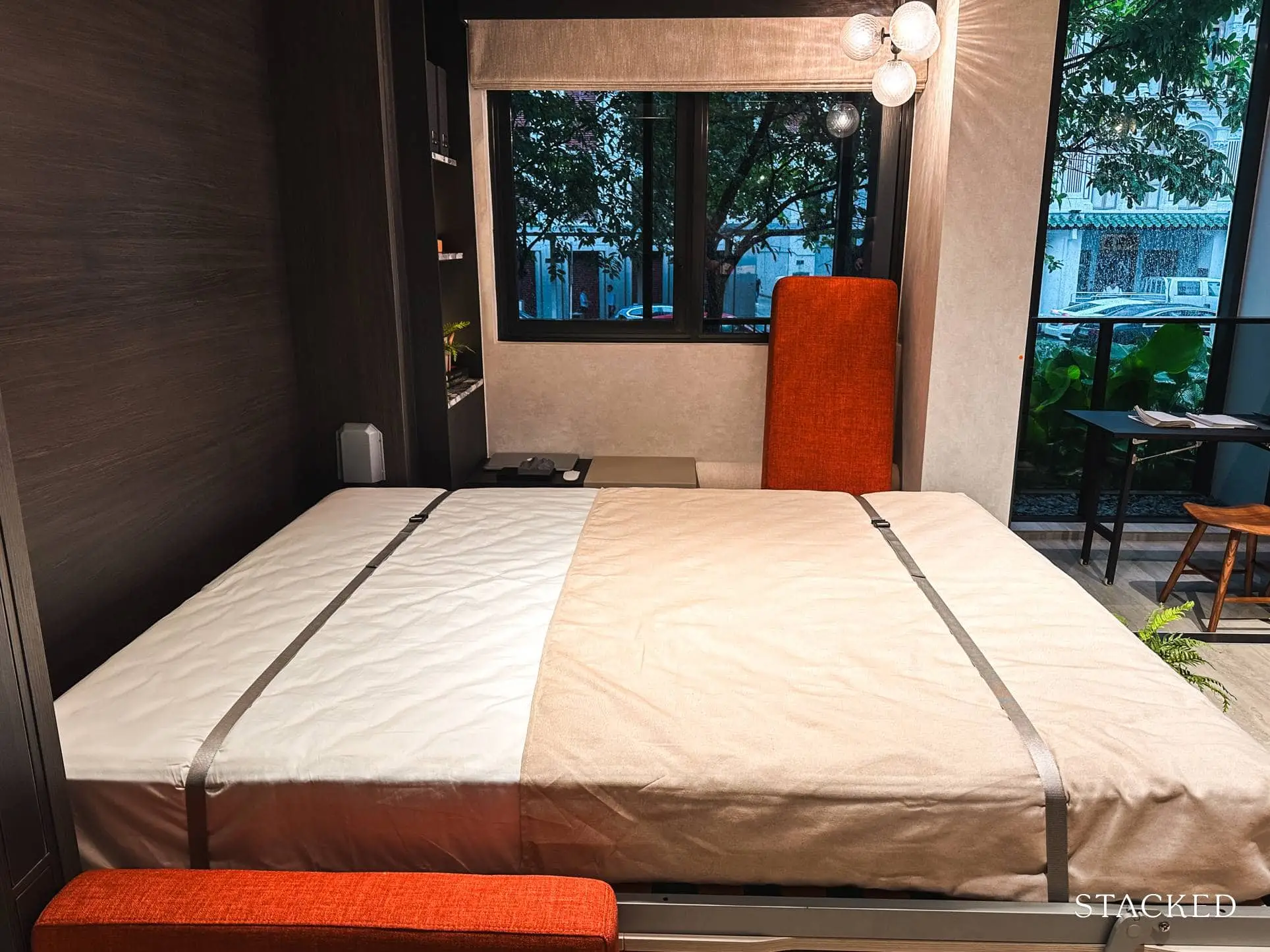 What is more awesome is that this is actually an integrated sofa with a Queen size Murphy bed that you can fold up during the day when you need the space.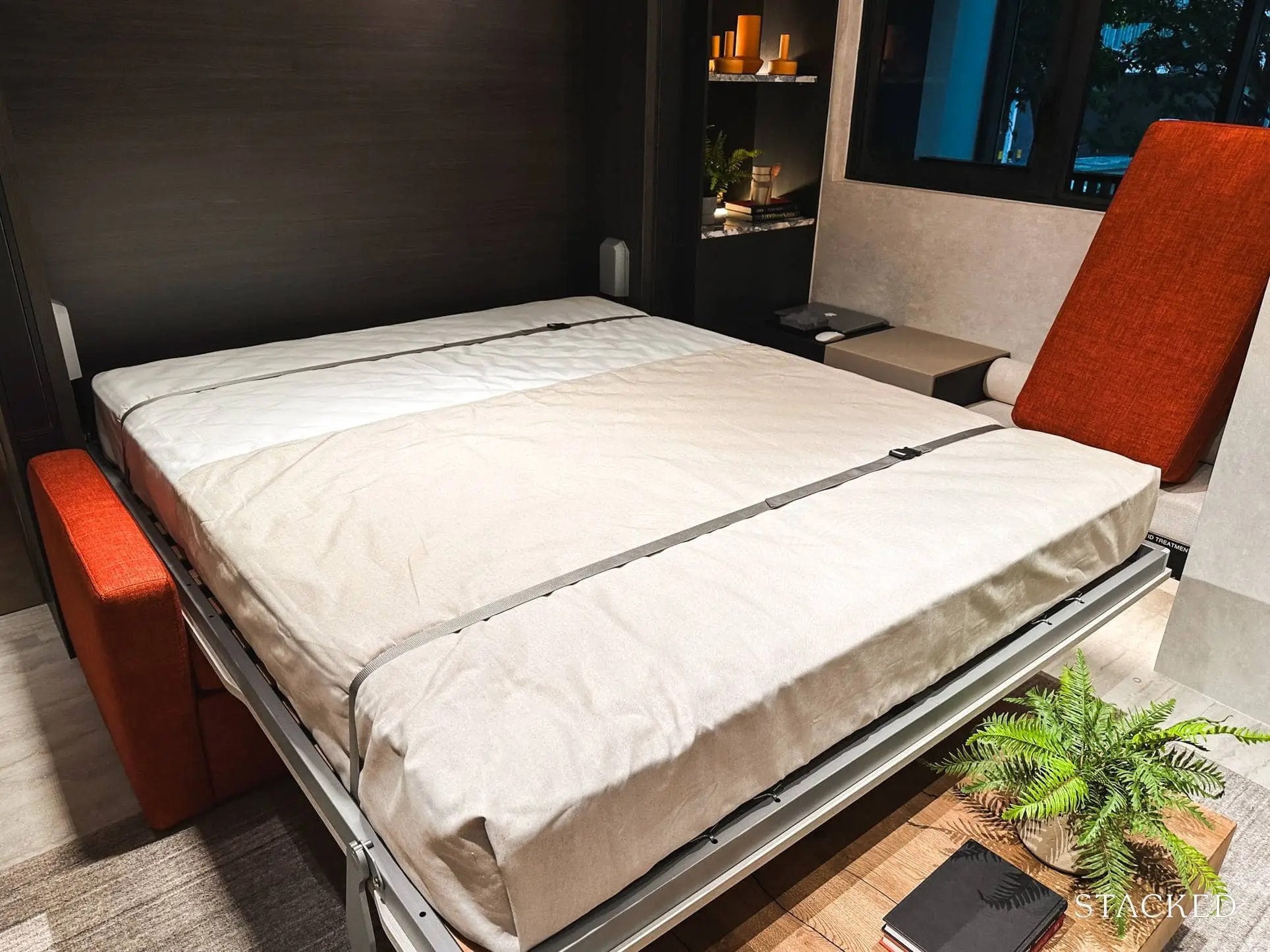 Sure, there is some hassle involved if you had to do this daily, but at 400+ sq ft of space, the last thing you want to do is to make the space look cluttered. That's a situation we've seen in Studio show flats elsewhere, such as The M when the bed and sofa are separate furniture pieces. I must say that space-saving furniture is truly the way to go as apartments get smaller.
Of course, you do need to account for storing away your own sleeping pillows and blanket, but that's always going to be a by-product of really maximising the space available.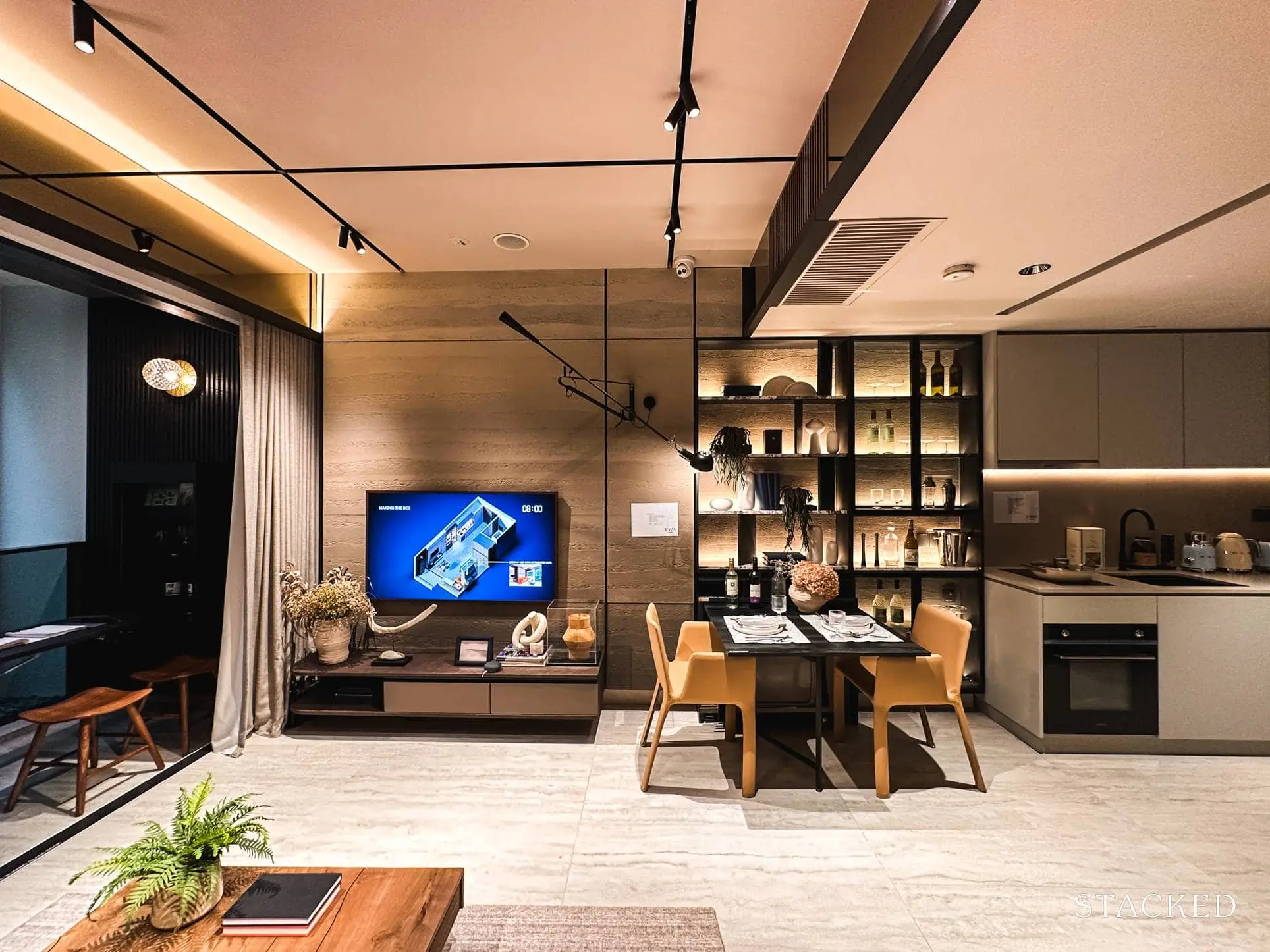 With an integrated sofa/bed feature, you now have more space in which you can play around. For the dining area, the ID treatment has included a 2 seater dining set which is also foldable. Note that this is not included in the standard provisions. While 2 is the default here (and units of this size), having an extendable table may be a good idea if you plan to have friends over often.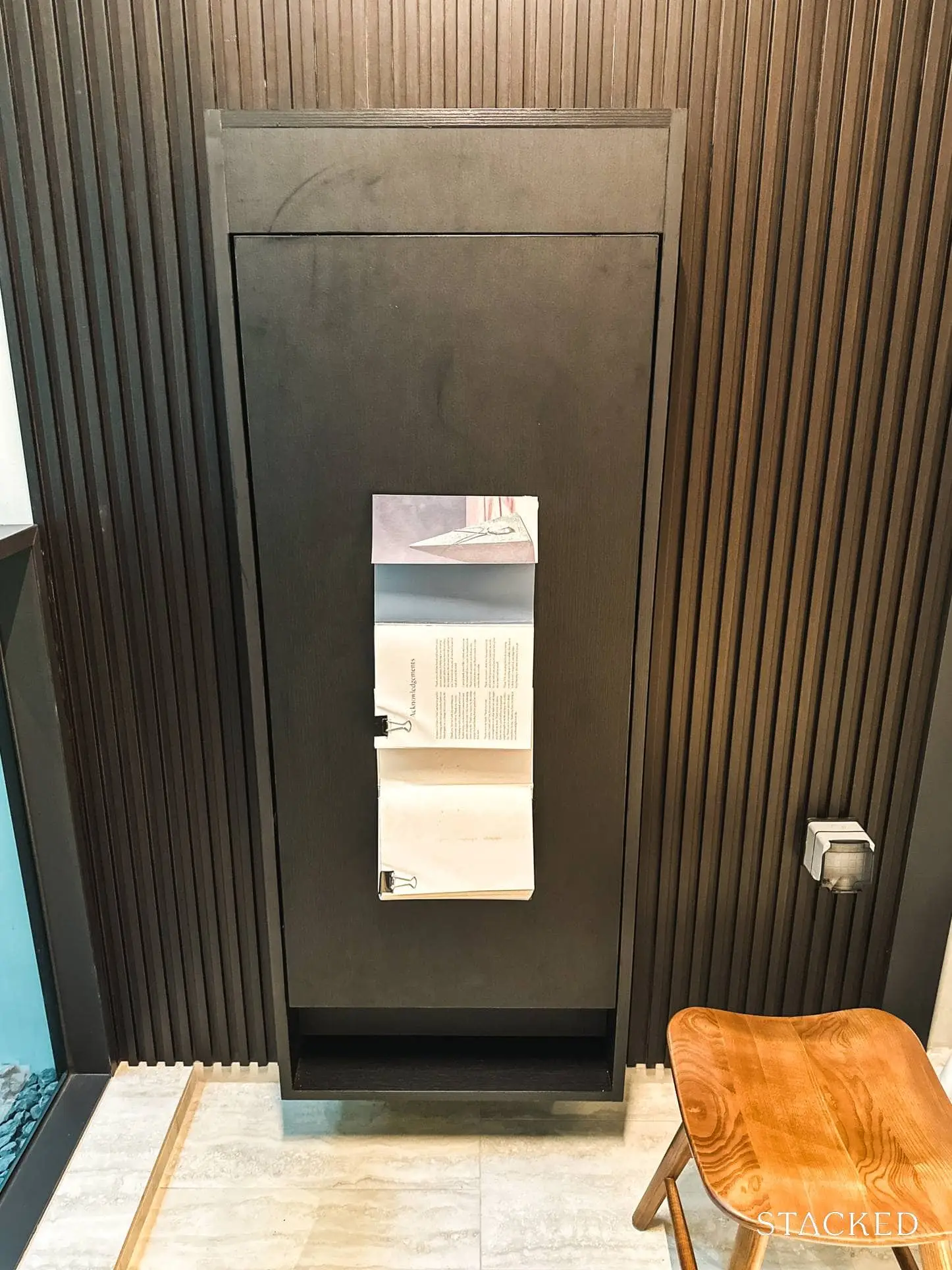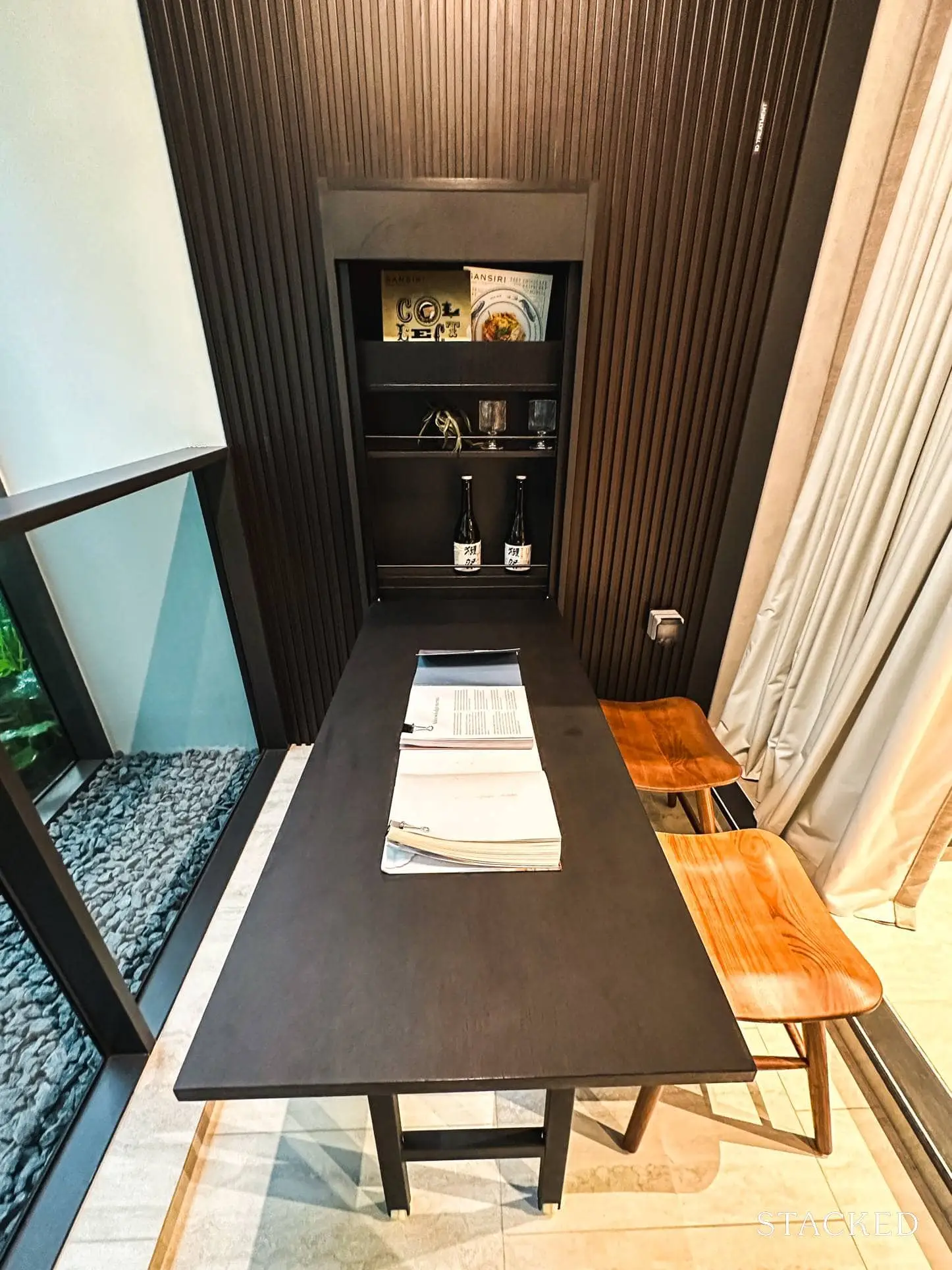 Alternatively, if you prefer a breath of fresh air while dining, the balcony offers just that. At 3.6 sqm, it is compact but sufficient for a unit of this size. More importantly, it comes with yet another built-in provision (the last one).
It is a foldable table that not only allows for the seating of 2 but also allows you to keep some drinks within the shelves of the built-in provision. Appreciate that there was this element of detail yet again so that buyers do not have to fret over the choice of furniture here. I did find this one a little harder to implement, but I'm sure it's a matter of getting used to it. In any case, out of all the useful additions, this one personally to me was a more good-to-have than a must-have. But I'm sure if you're the type that wants to do yoga on the balcony, this additional space saving would come in handy.
Overall, I really liked to see that there was a lot more emphasis on what can be done, even with a smaller space. It's a great initiative to try and incorporate more space-saving solutions, and one that I feel would stand out in a sea of small studio/1 bedroom units in the CBD.
Now, it remains to be seen just how useful some of these would be when push comes to shove daily. I have my own reservations about some of them, but I think this boils down to your own lifestyle and can be a very personal thing.
Finally, there's also a point to note about the long-term maintenance of these – moving a Murphy bed up and down daily could result in earlier wear and tear. So hopefully the build quality for these can stand up to daily rigorous use.
TMW Maxwell – 2 Bedroom Premium Type 2C1 (73 sqm/786 sq ft) Review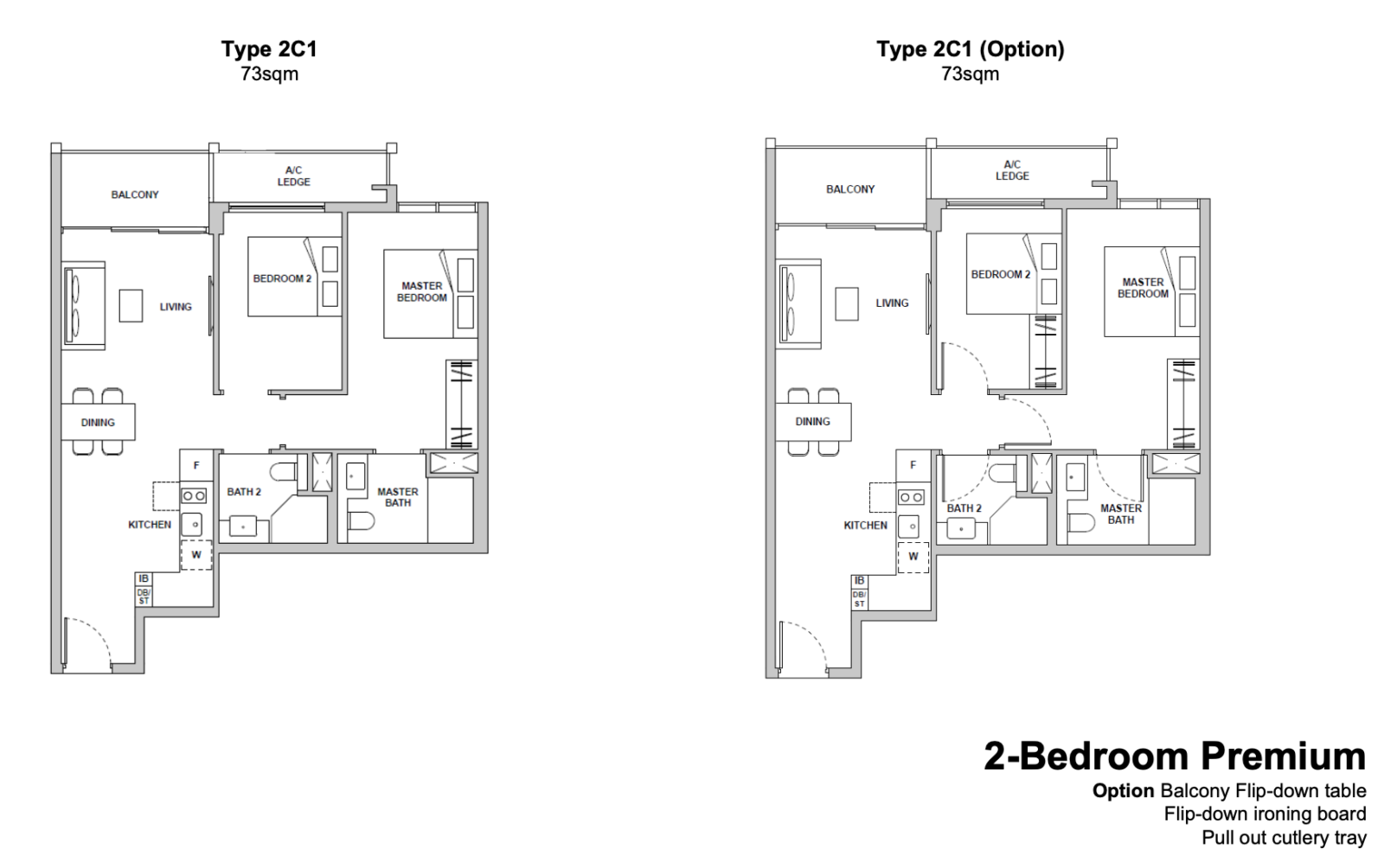 The 2 Bedroom layout at TMW Maxwell is the only standard 2 Bedroom unit in the development, occupying a single stack. Don't expect the same level of space-saving furniture in this one, as I suppose there's more space afforded here. The other units are 2 Bedroom dual-key units, which makes it the largest non-dual-key unit in the development. The ceiling height is average at 2.9 meters, and the units are tiled throughout, unlike the typical engineered timber flooring in the bedrooms.
This show flat unit is definitely one of the more intriguing ones I have seen (in terms of layout) and I do wonder how much the renovation would actually cost if the buyer actually chooses to go with a similar design. Being an en-bloc site has its advantages, as the developers do not have to use PPVC (Prefabricated Prefinished Volumetric Construction) as a construction method, giving buyers more flexibility around the hacking of walls. I'll come to that later but let's start with the entrance!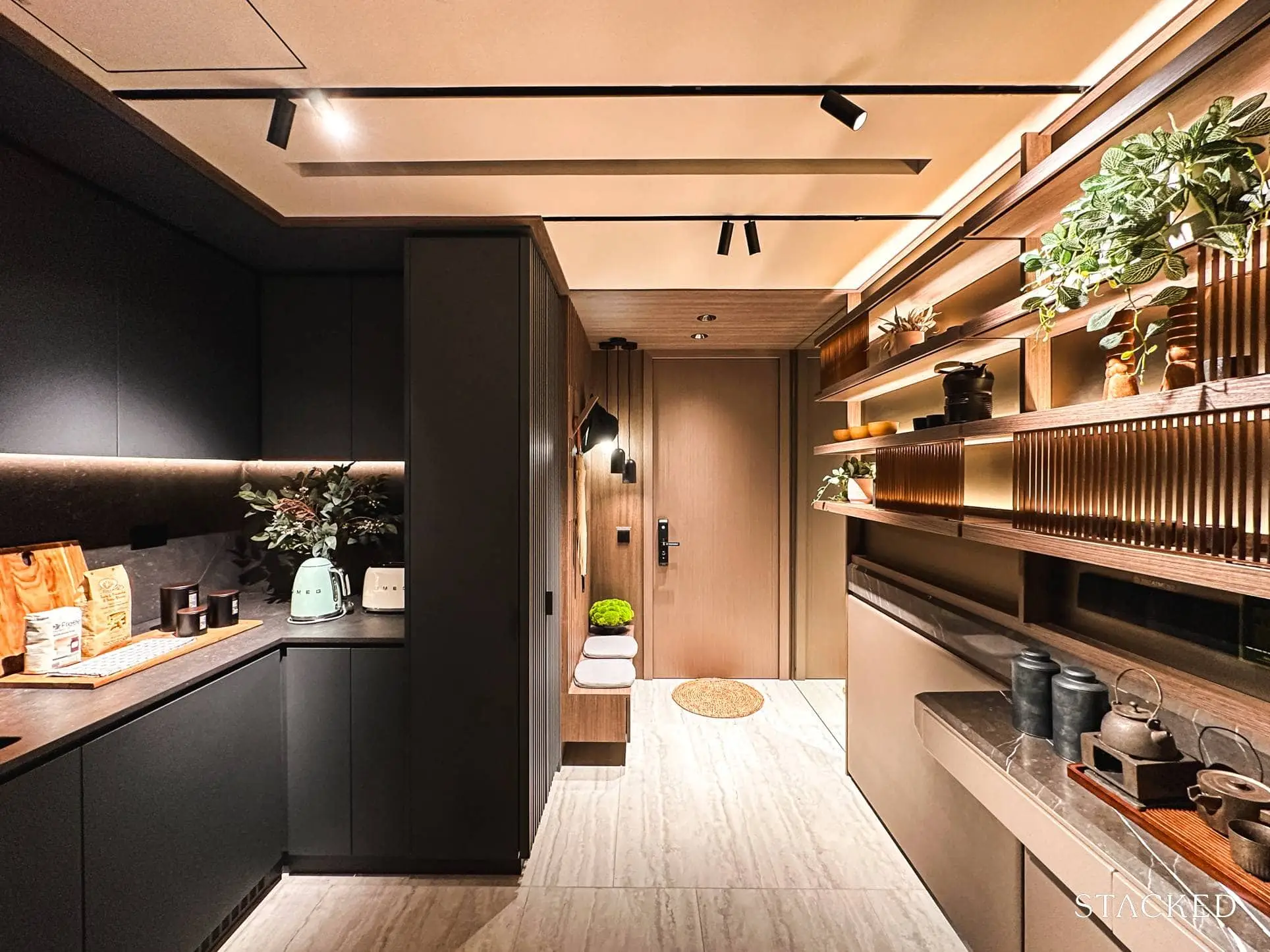 Coming in, you have a decently wide entranceway which allows you room for a bench by the side. Alternatively, you can also choose to build a full-height or off-the-rack (no pun intended) shoe cabinet instead.
As with the Flip/Switch unit we reviewed earlier, this grey-themed panelling that you see is part of the standard provisions by the developers. It's a more thoughtful provision instead of keeping the design overly plain. This is also where you can find some storage cabinets and an integrated flip-down ironing board, which is a helpful inclusion for your chores.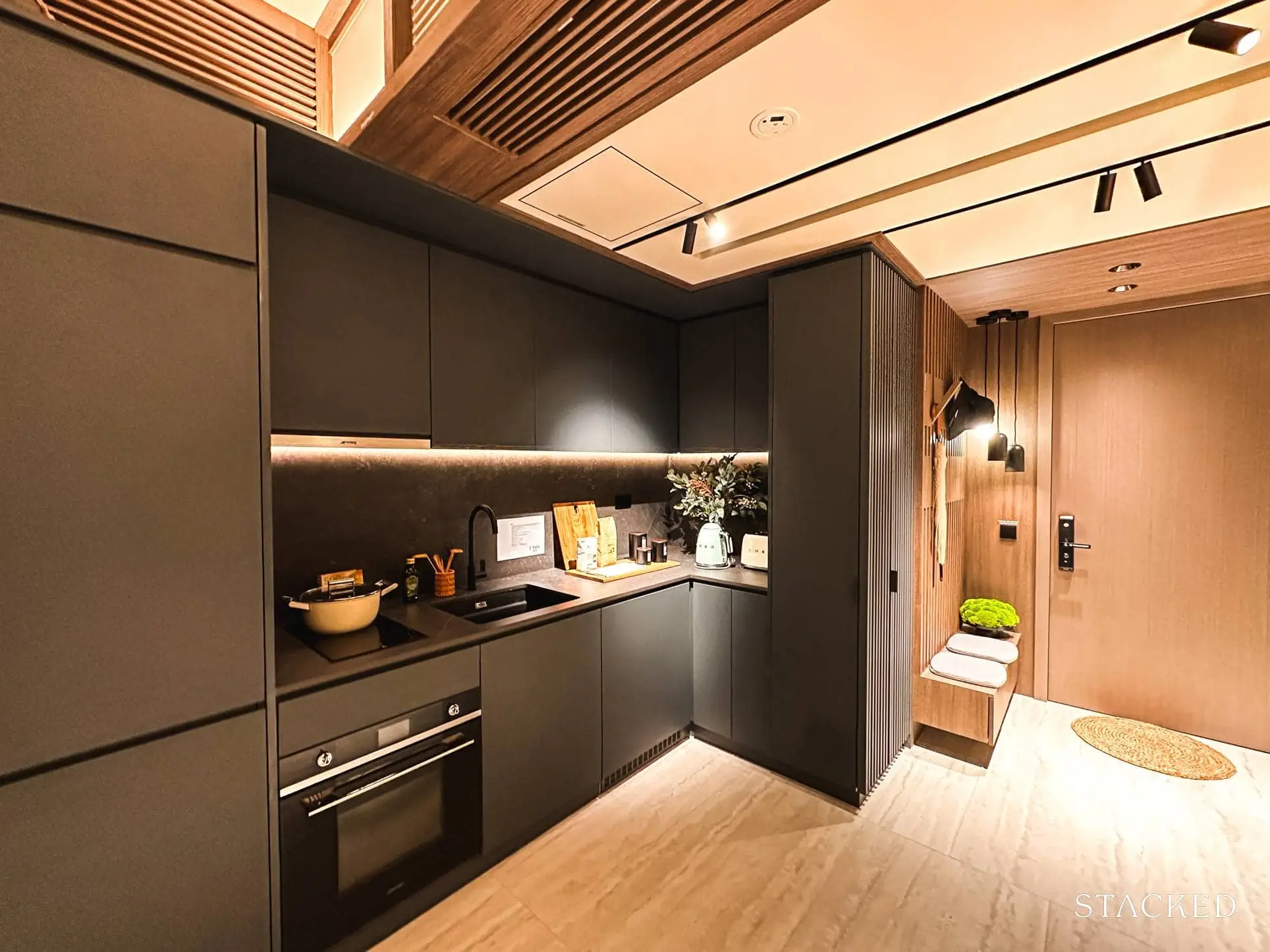 The kitchen features an L-shaped countertop in a black/dark theme. It contrasts against the cream-coloured one in the Flip/Switch show flat. Quite evident that the vibes appeal to different types of buyers – I personally dig the cream-coloured one more.
Appliances here are all from Italian maker Smeg, who are known for their stylish designs and the ones here include the combi-microwave oven, hob, hood, integrated fridge and washer/dryer. As with the Flip/Switch unit, there is also a pull-out counter with a cutlery tray for additional countertop space.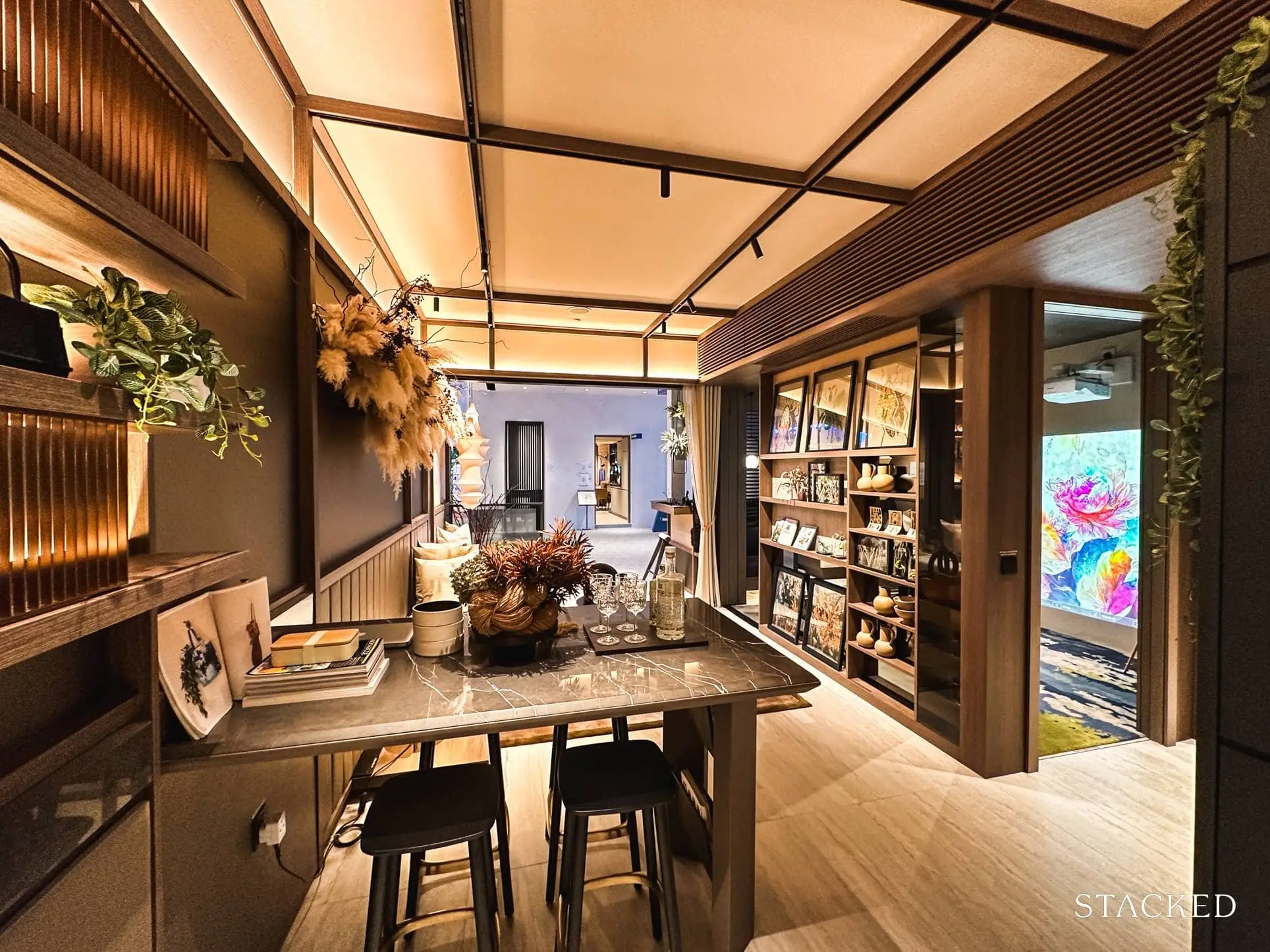 The dining area is located across from the kitchen. The 4-seater table fits comfortably in this space, which is appropriate for the size of the unit.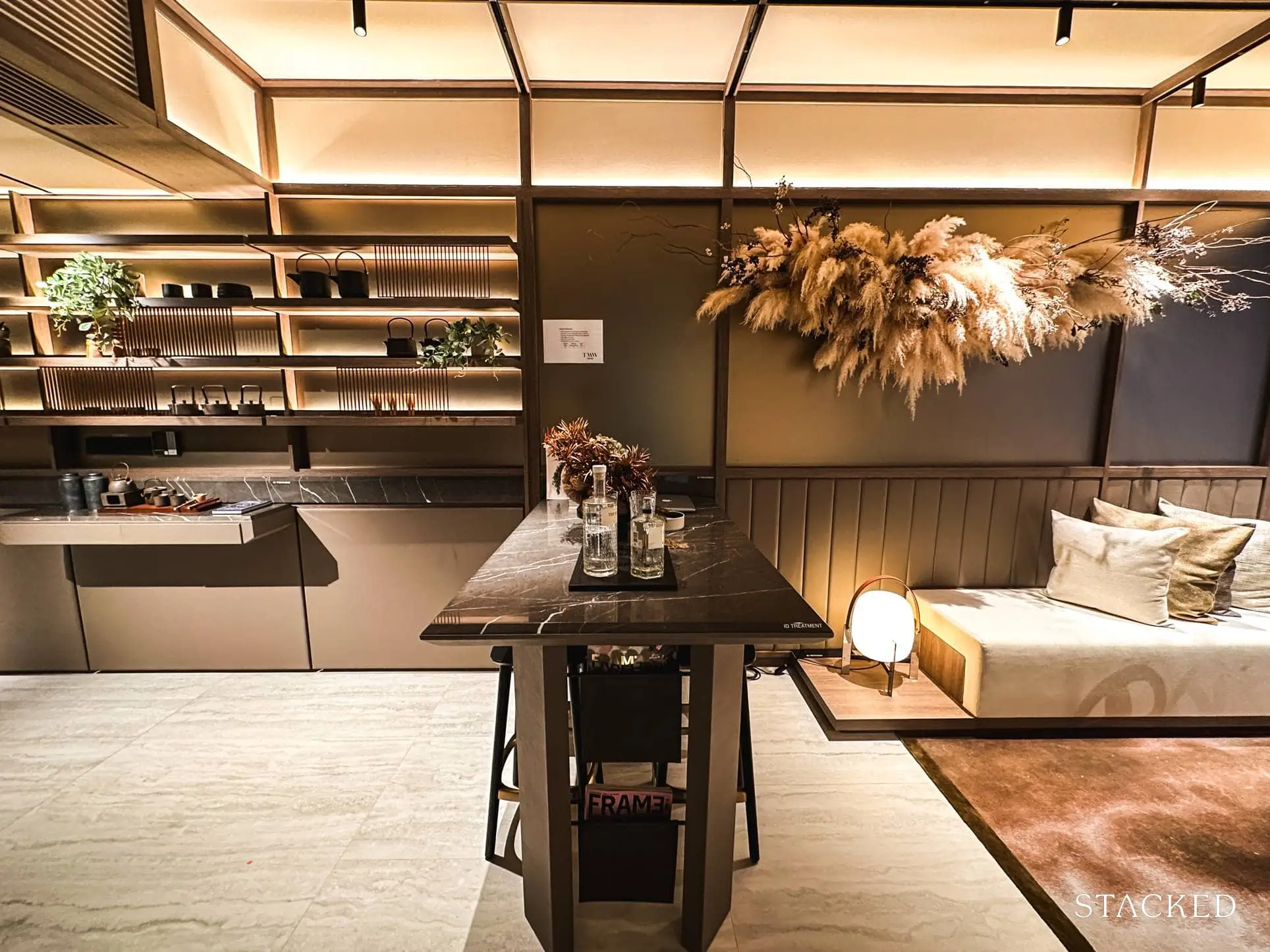 Using stools instead of chairs helps to keep the space more compact, as they are less bulky (but not everyone likes bar stools as they have no backing). Overall, I believe this is a decent-sized dining area that is comparable to others in its class.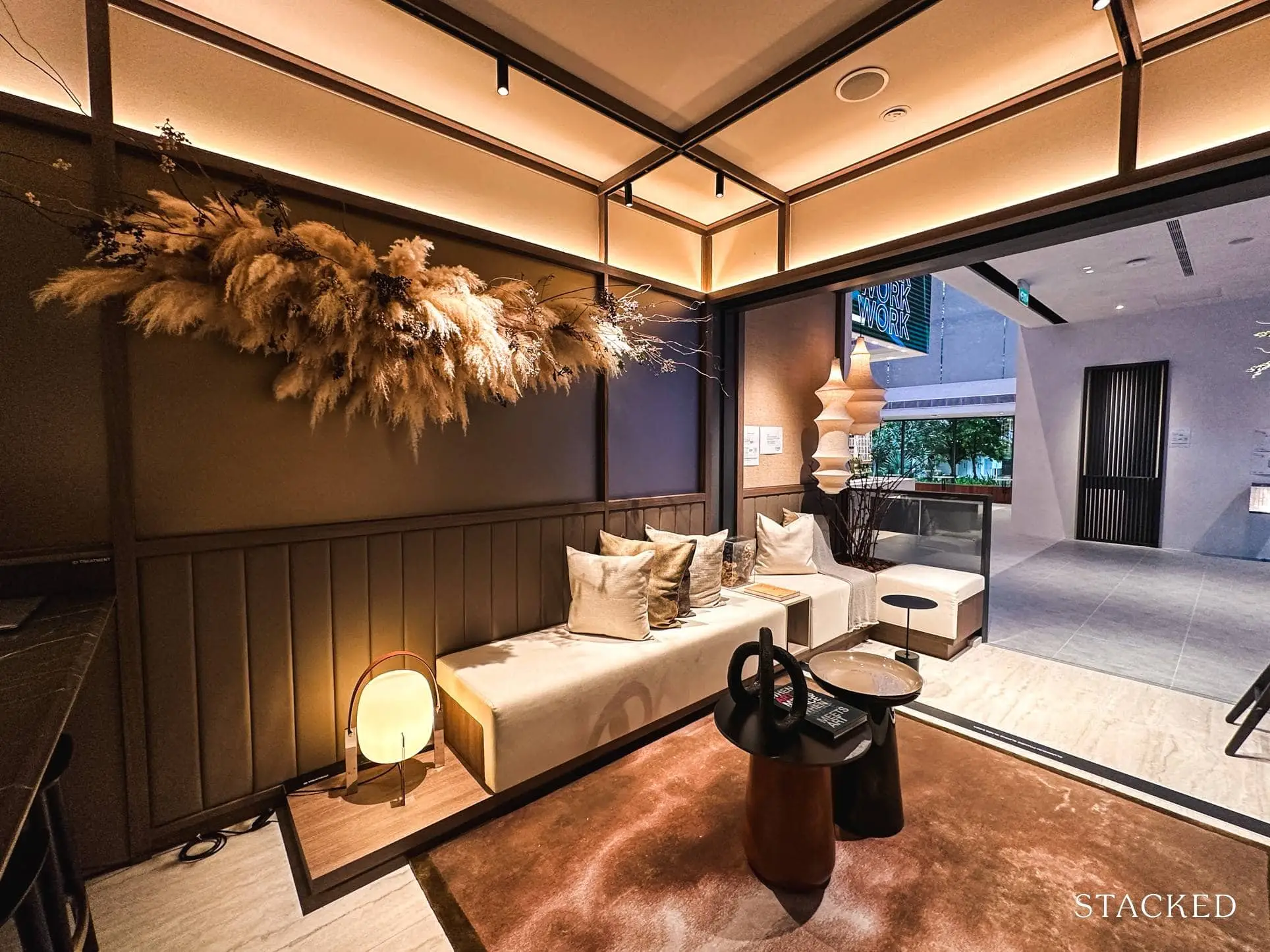 The living area is also spacious enough to accommodate a 3-seater couch, but it's kept very minimal looking with this bench seating that extends out to the balcony. It certainly helps to keep the space maximised, but not everyone would find this to be a comfortable seating arrangement.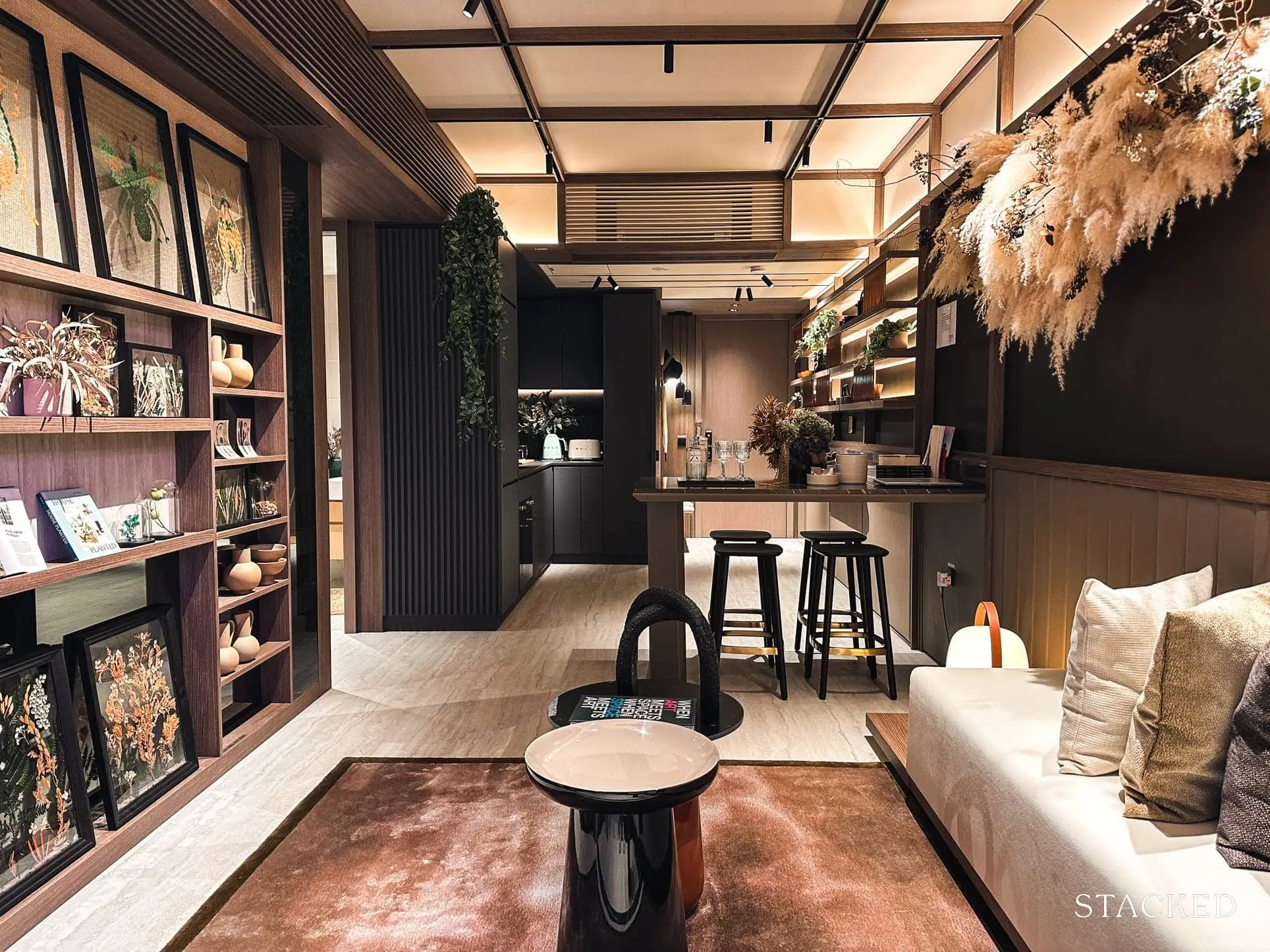 The width of the room is 3m, which is comfortable for sitting and relaxing. However, there is no TV or console in the living area, so you may want to account for this in your design for your home.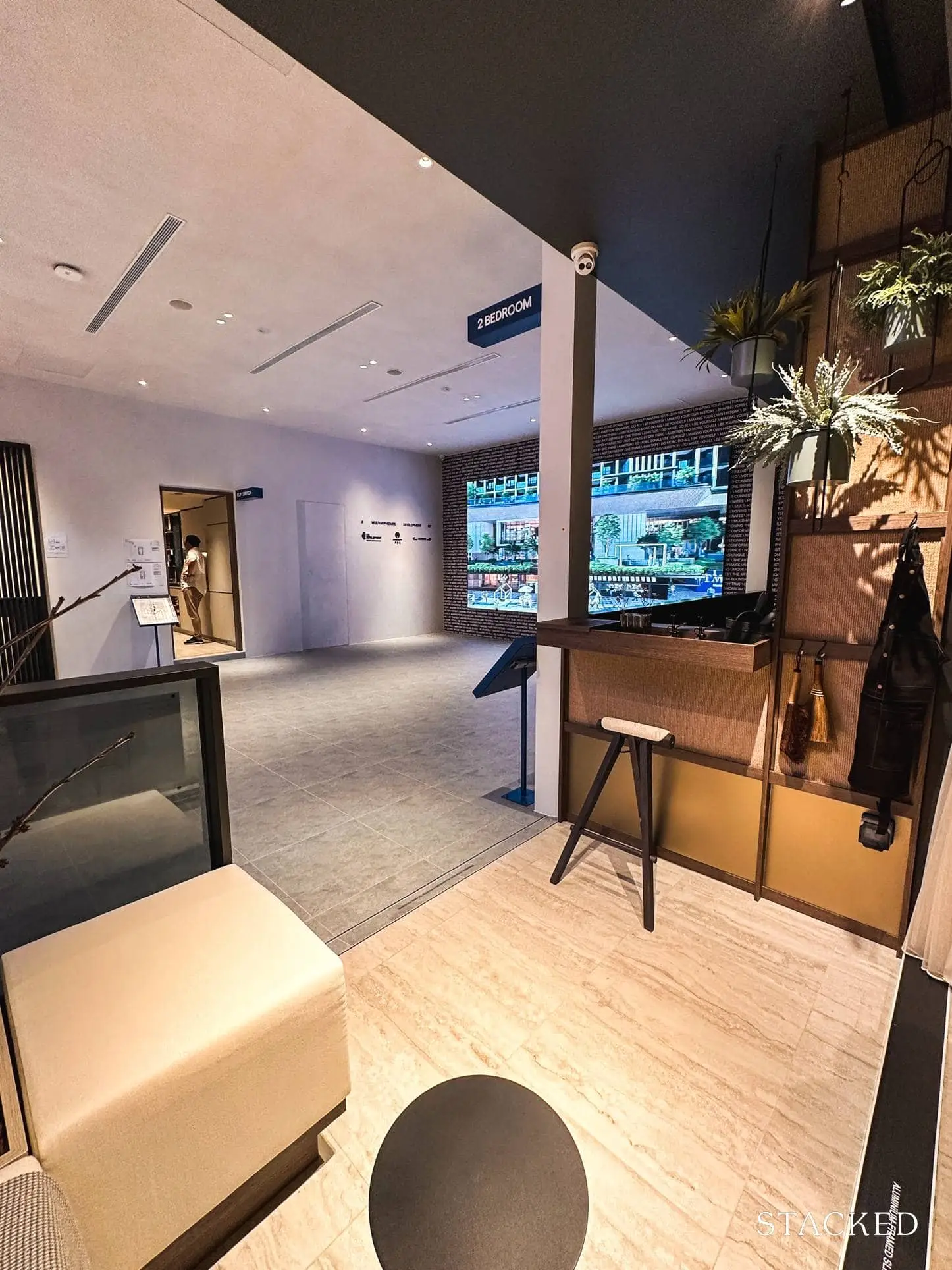 The balcony is of an average size at 5.2 sqm so it's a good balance between functionality and efficiency. Good enough for a small coffee table or even a dining table for 2 at least. I did like the panelling design they've done on the side of the wall, which is a good design inspiration for your home.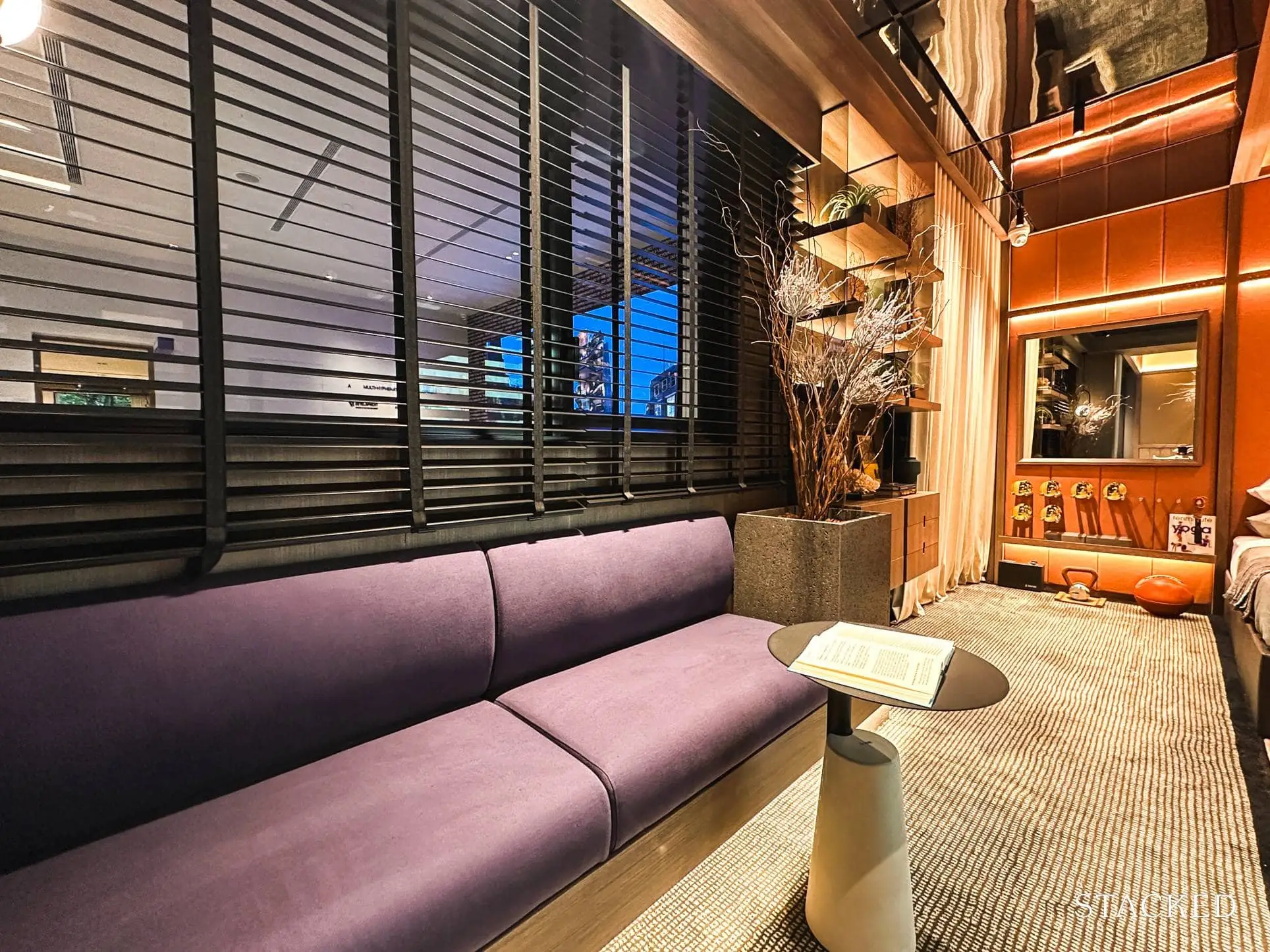 Moving on to the rest of the unit, what's really different here is how the layout has been reconfigured.
You can see that a part of the wall has been knocked down, to form an open corridor that leads from the living all the way to the Master Bedroom. Well, this is cool (I'll come to that shortly) but probably only doable if the TV point is not situated there or you will have to factor this into your renovation costs.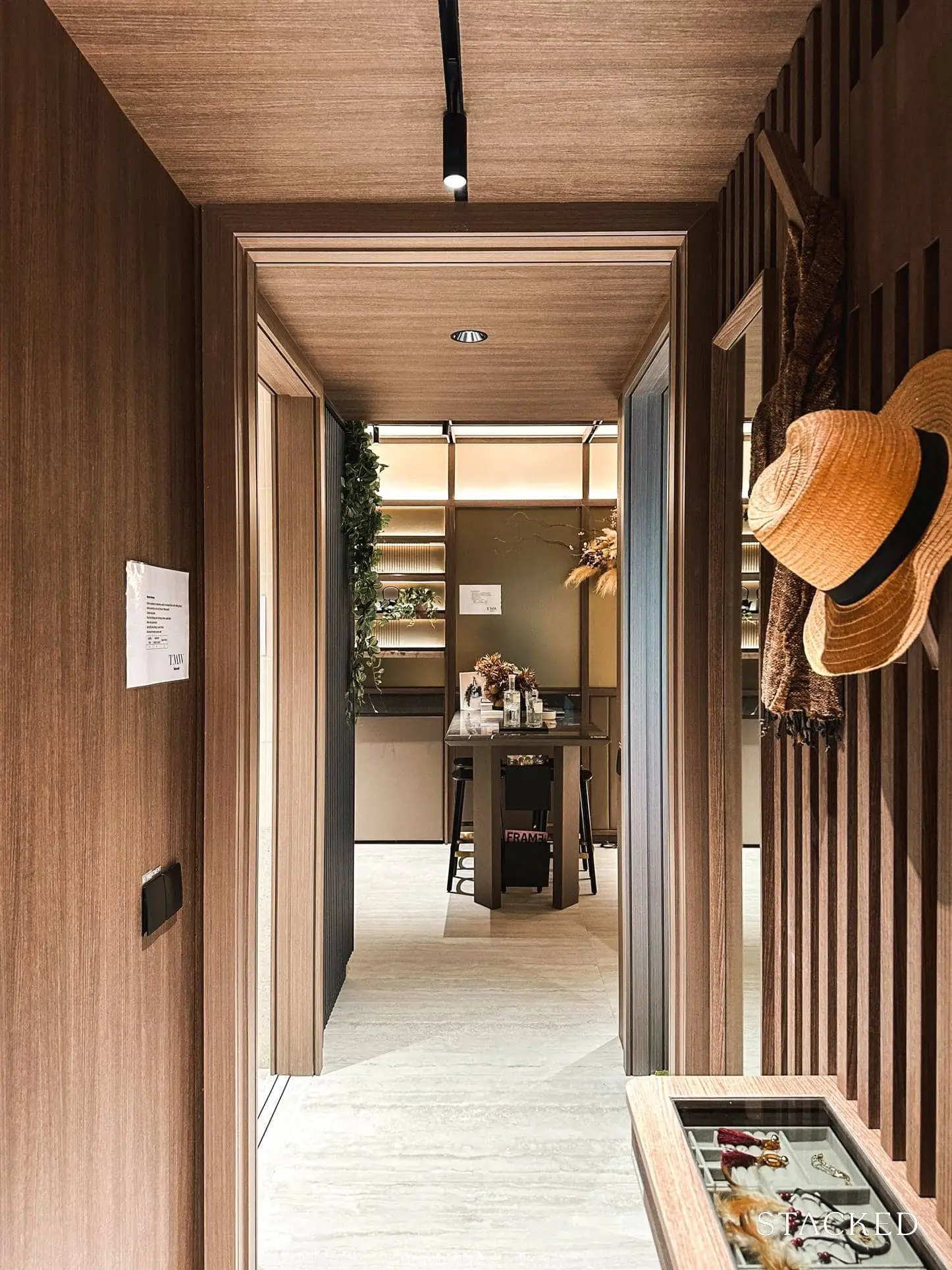 It's not a layout that most people would use, but if you are looking for a bigger space for 2, this would be an interesting one to consider.
This provides a secondary entrance to the bedrooms in addition to the typical corridor leading to them.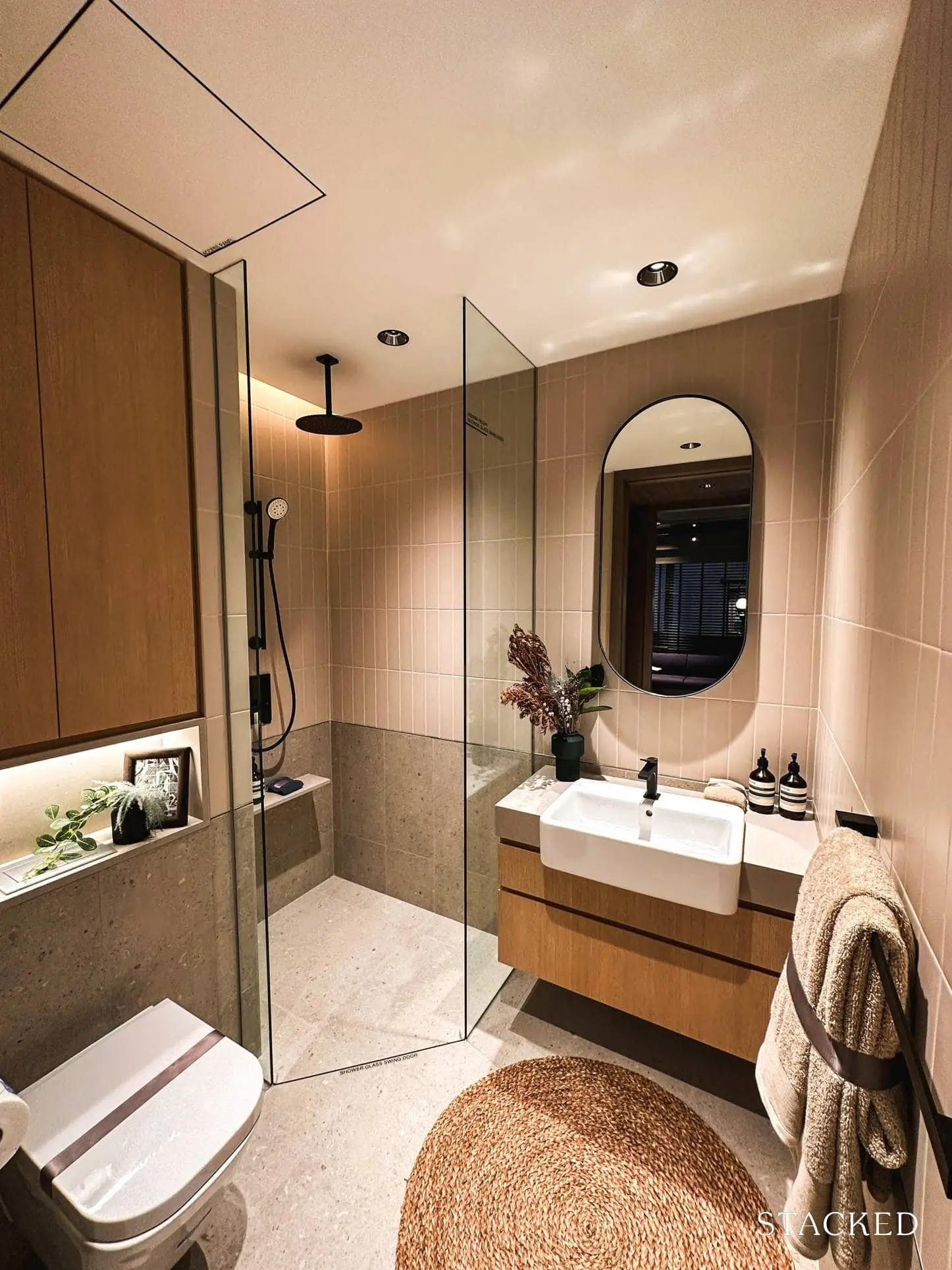 Before moving to the bedrooms, let's head to the Common Bath, which is of an average size of 4.4 sqm. While the layout is squarish, its size means that the entrance to the shower stall will be slightly slanted. It has a clean, modern light wood look coupled with the more "daring" use of subway tiles for half the wall.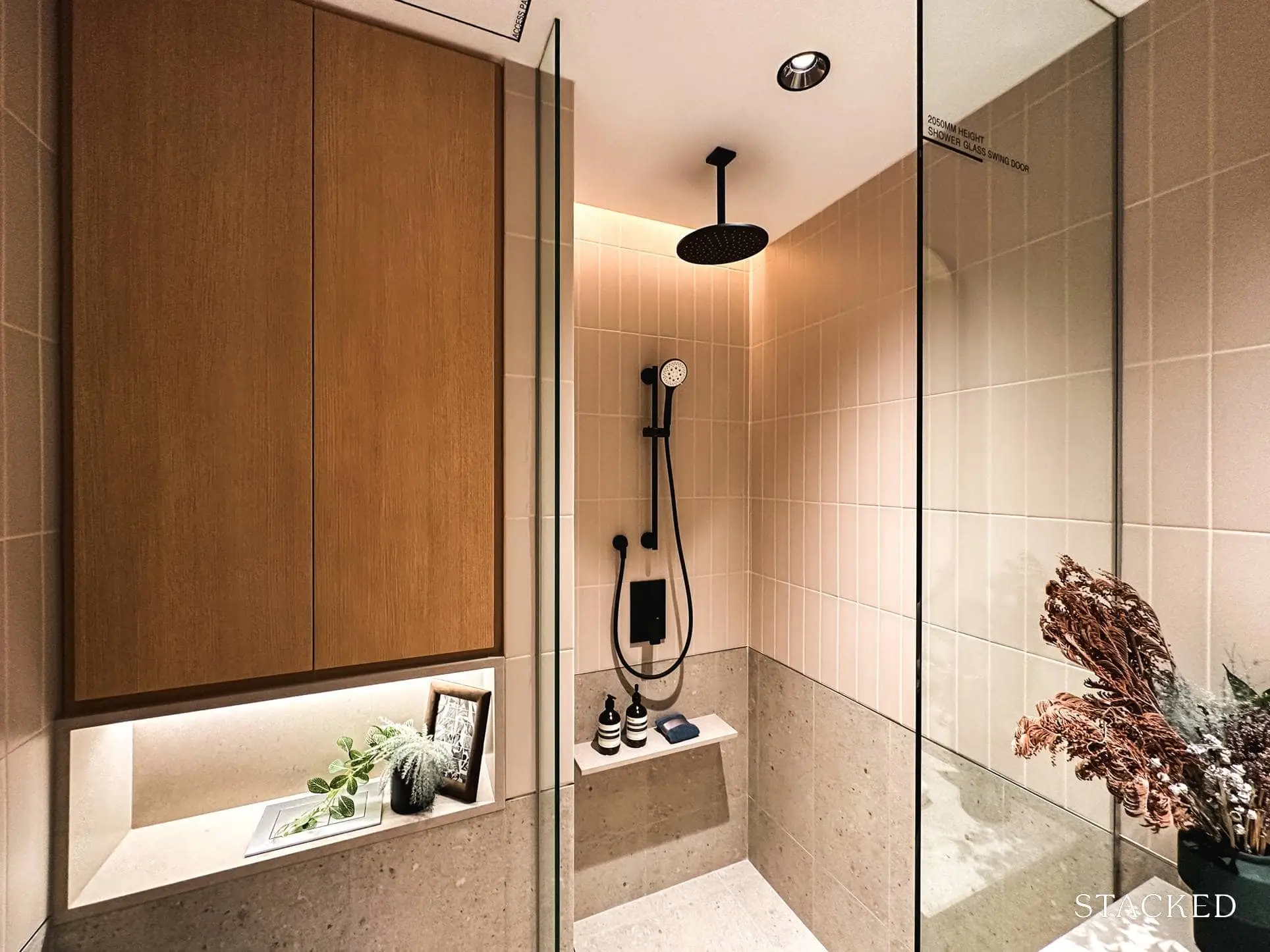 I say daring because many developers tend to go with the larger format porcelain/homogeneous tiles to lessen the need to maintain the grout lines. You get European fare of fittings and fixtures here including the matte black Gessi tap and rain shower as well as Roca wall-hung wc. Rain showers are uncommon for common bathrooms so it is certainly a premium feature that the developers have included here.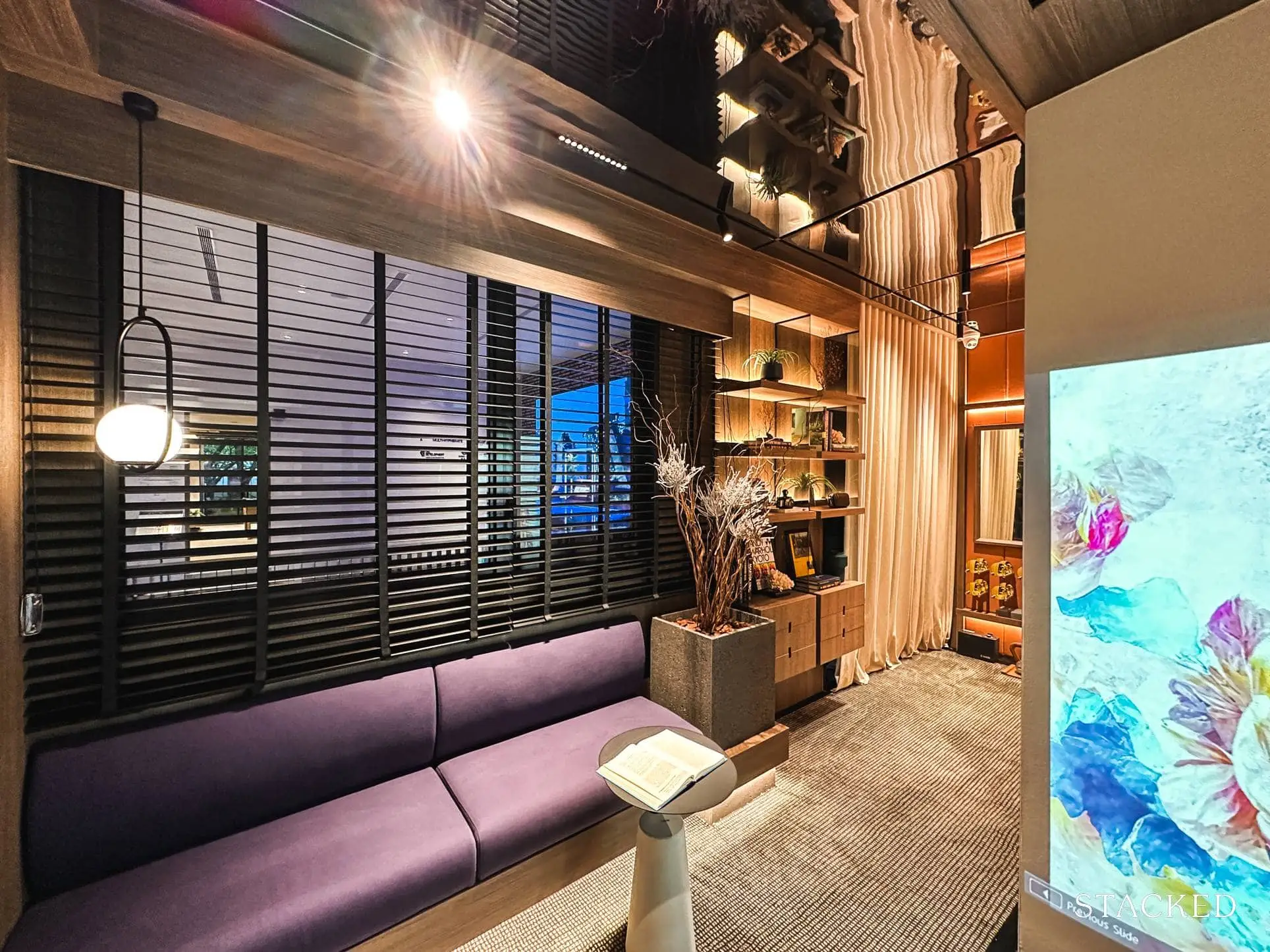 In the case of a bachelor/bachelorette or a young couple, this is a pretty cool layout as it caters for a foyer area in the common bedroom. The separate areas are demarcated intelligently through the use of different carpets.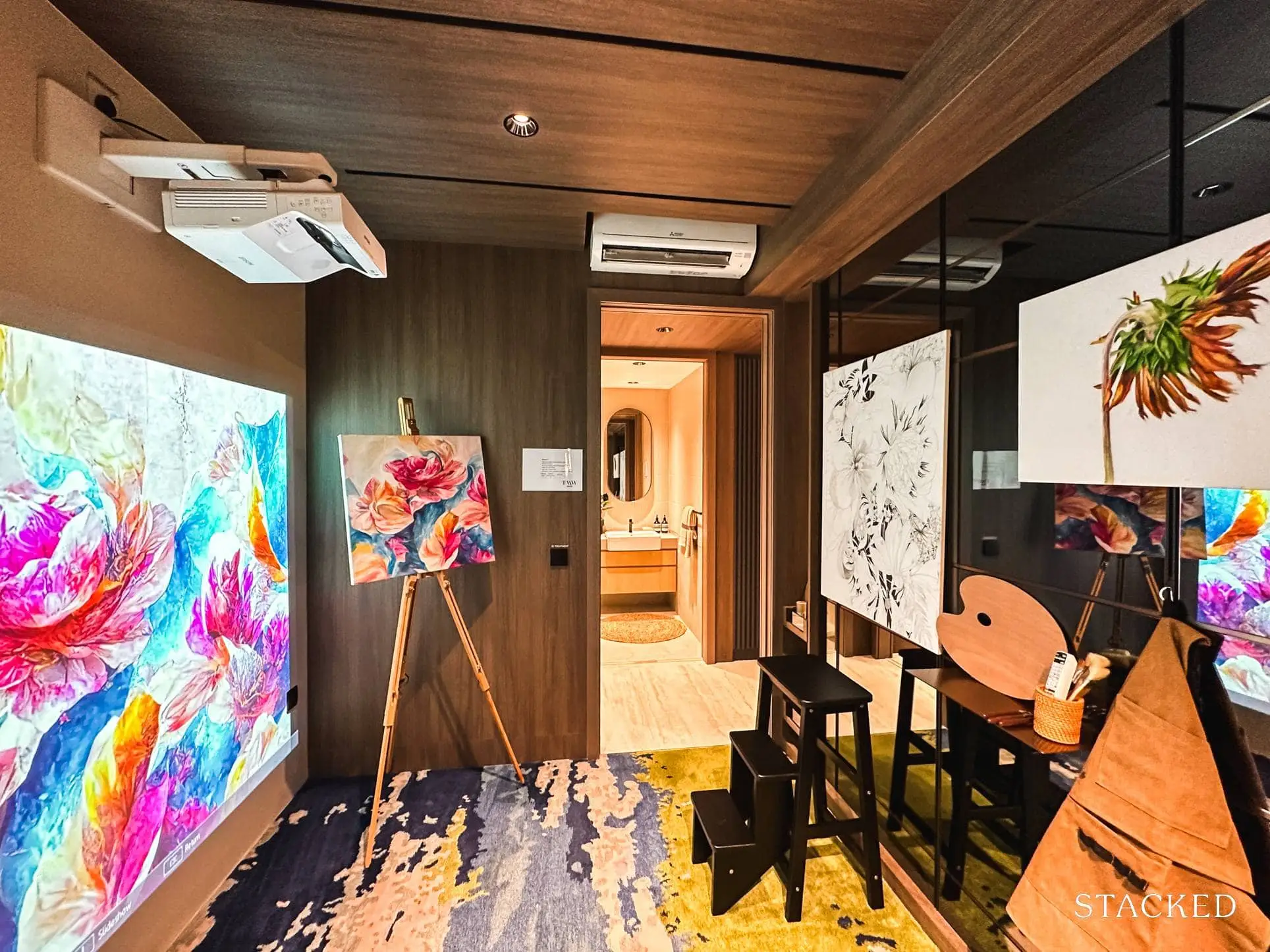 This unit has been designed as an artist's haven, complete with an easel and what looks to be a complete replica being projected on the screen. Again, this isn't going to be practical for most people, but I guess the idea was to communicate how the place can be reconfigured to your lifestyle.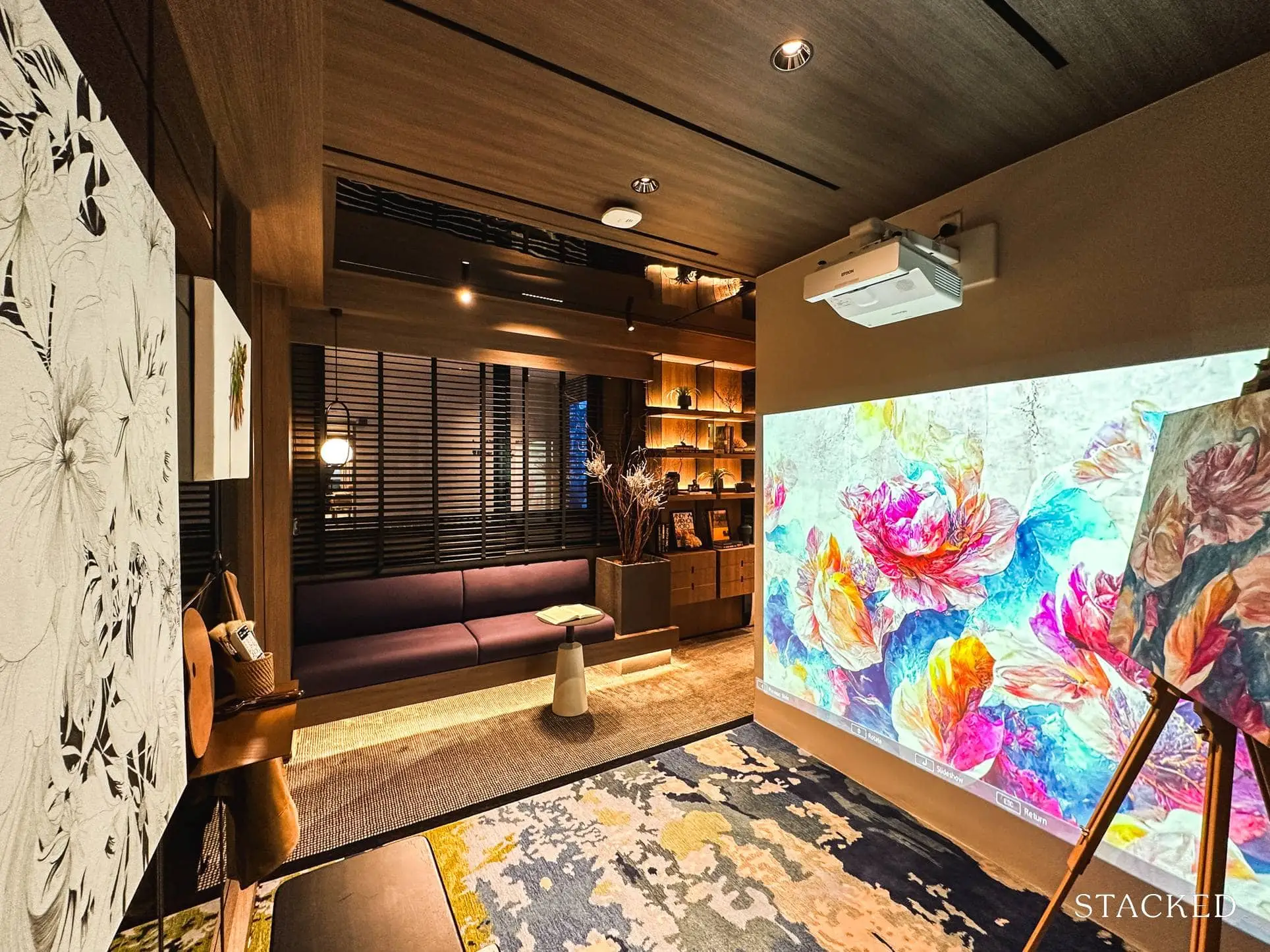 Alternatively, if you did prefer this to be a standard bedroom, it is slightly larger than average at 9.6 sqm. As usual, having a Queen sized bed will not be an issue but the built-in wardrobe will be an optional feature for you – in case you do not have an immediate need for it. As the aircon ledge is situated beside this bedroom, note that the windows will only be half height.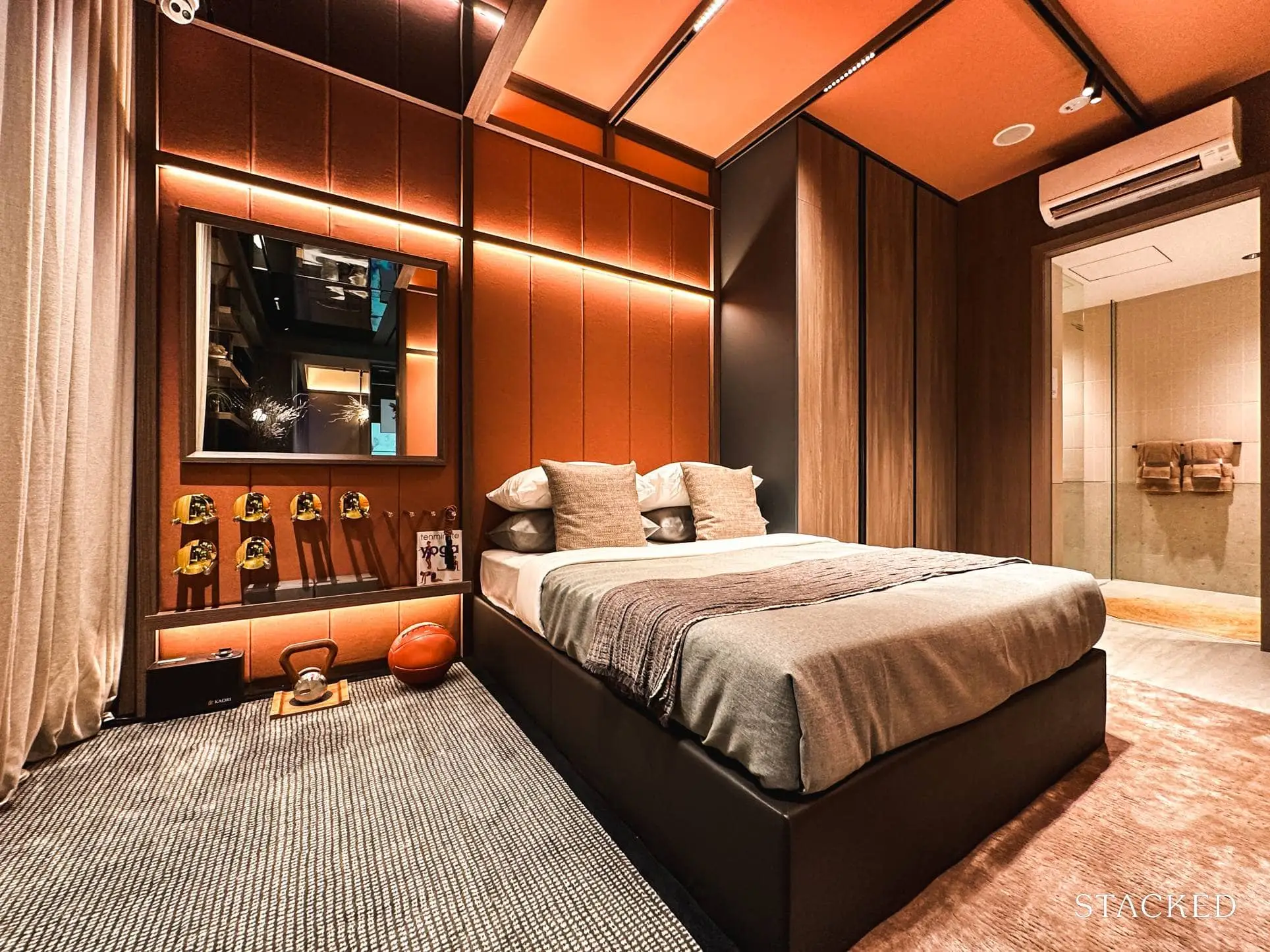 In fact, moving further down that trendy "corridor", you will actually realise that this aircon ledge actually stretches into the Master Bedroom.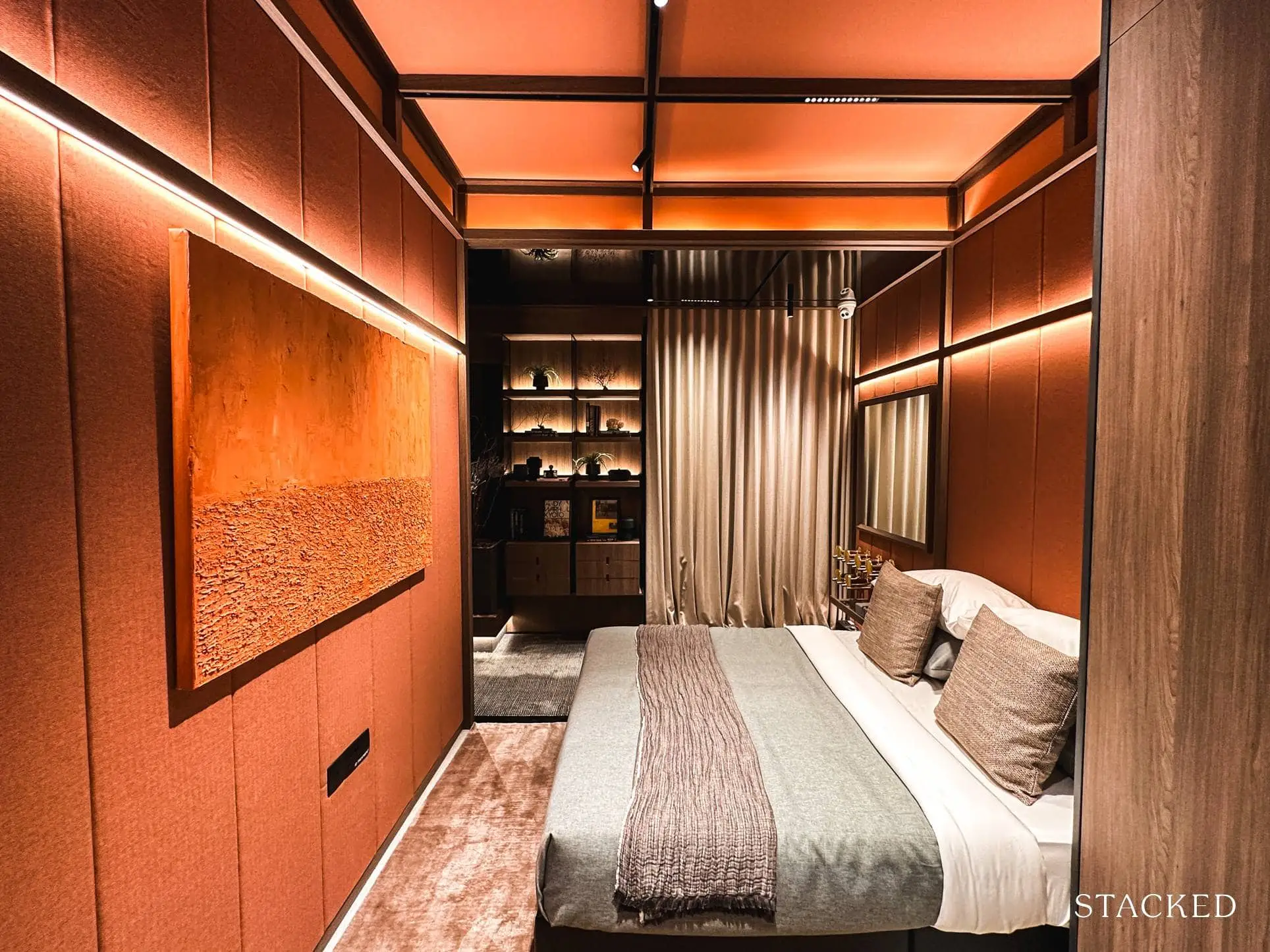 Therefore, while the windows are floor-to-ceiling here, it makes up only ½ to ¾ of the room. While not a deal breaker in any way, it does reduce the natural light and ventilation flowing into this room.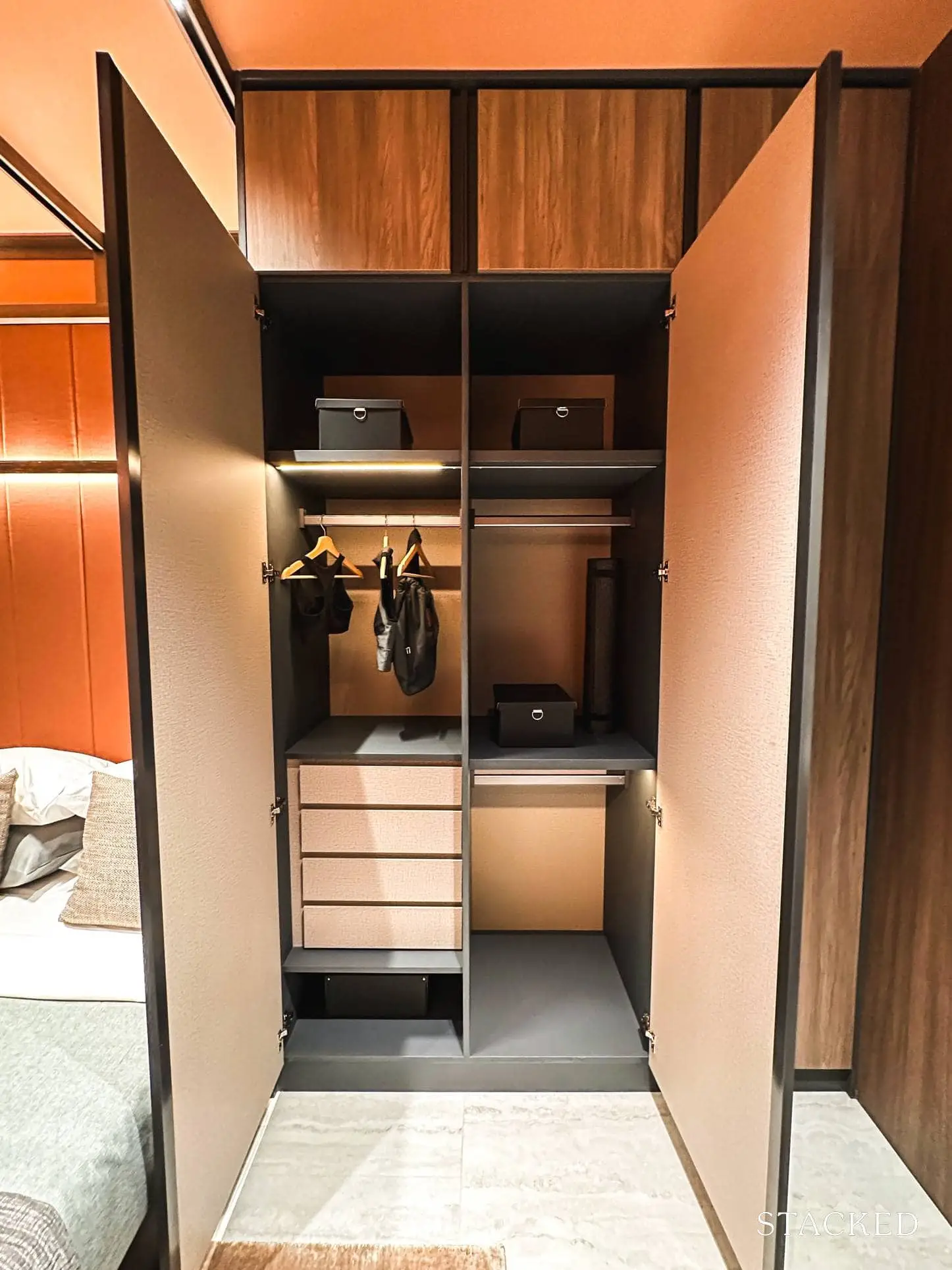 While you don't get the most desirable windows, the Master Bedroom is of a good size at 15.3 sqm and what I like best is the built-in wardrobe, which has slightly more capacity compared to most other new launch units of this size. There are 3 panels of full-height wardrobe space here as compared to 2 in most new launches.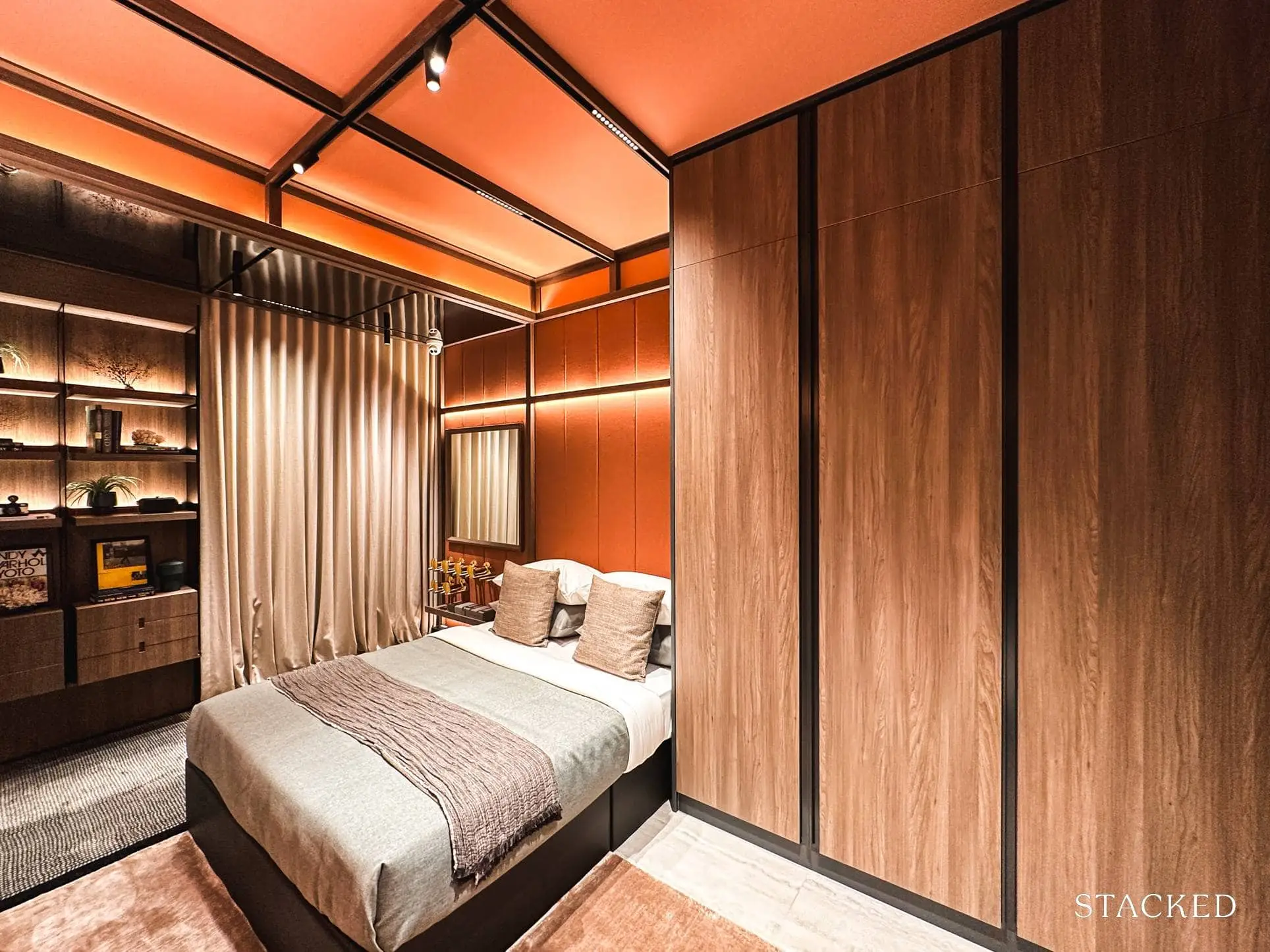 Despite this, a Queen-size bed will fit comfortably in the room, with enough space for a larger side table on one side or two smaller ones on either side. Due to the placement of the built-in wardrobe, which is parallel to the bed instead of the usual 90-degree angle, there is less space for a small bedside dresser. However, this does create more "foyer" space between the bed and the Master Bath.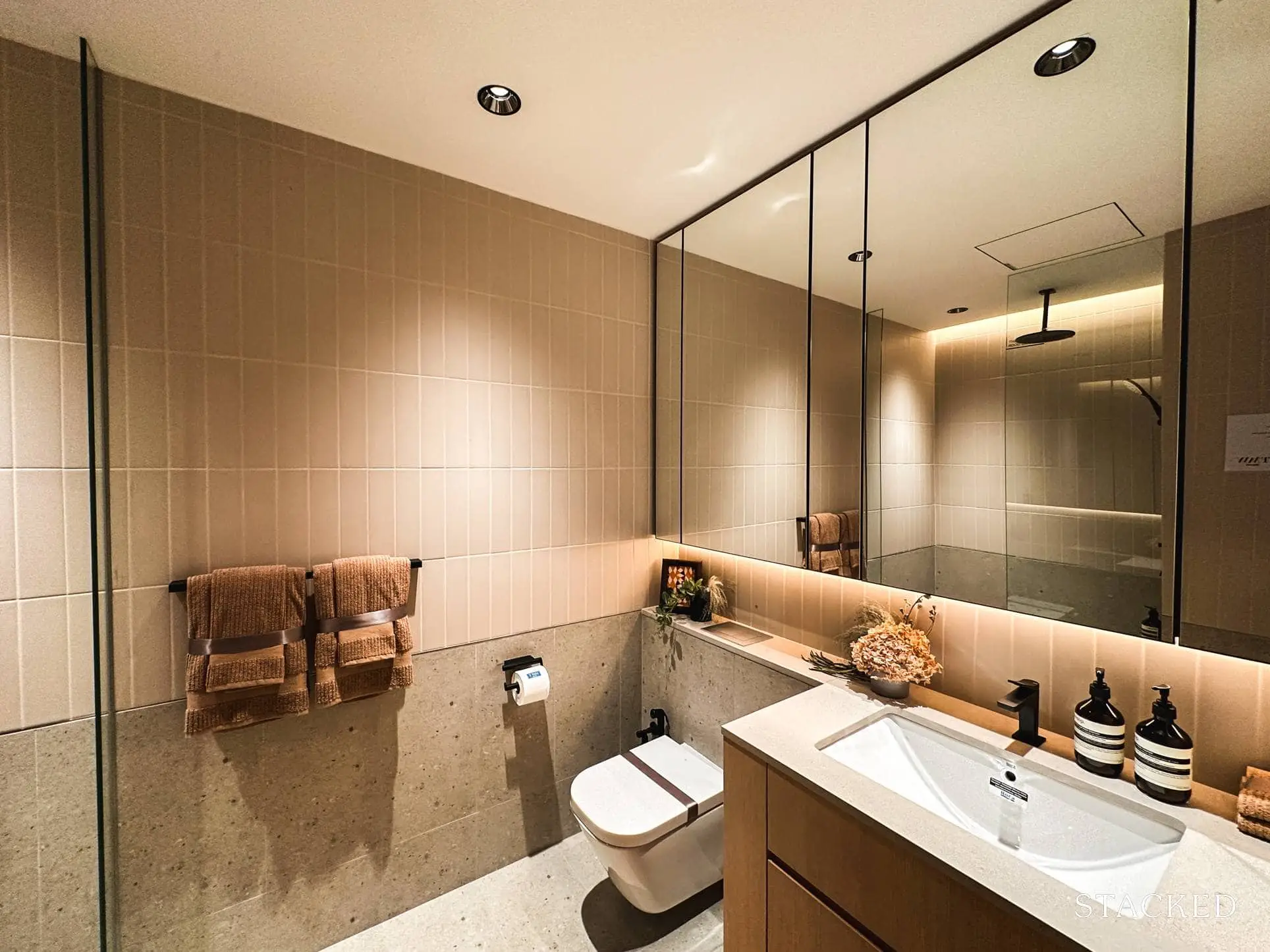 The Master Bath shares a similar design theme as the Common Bath. It's slightly larger at 5.7 sqm but shares the same matte black fittings from Gessi, which include the rain shower and tap. The wall-hung WC is from Roca.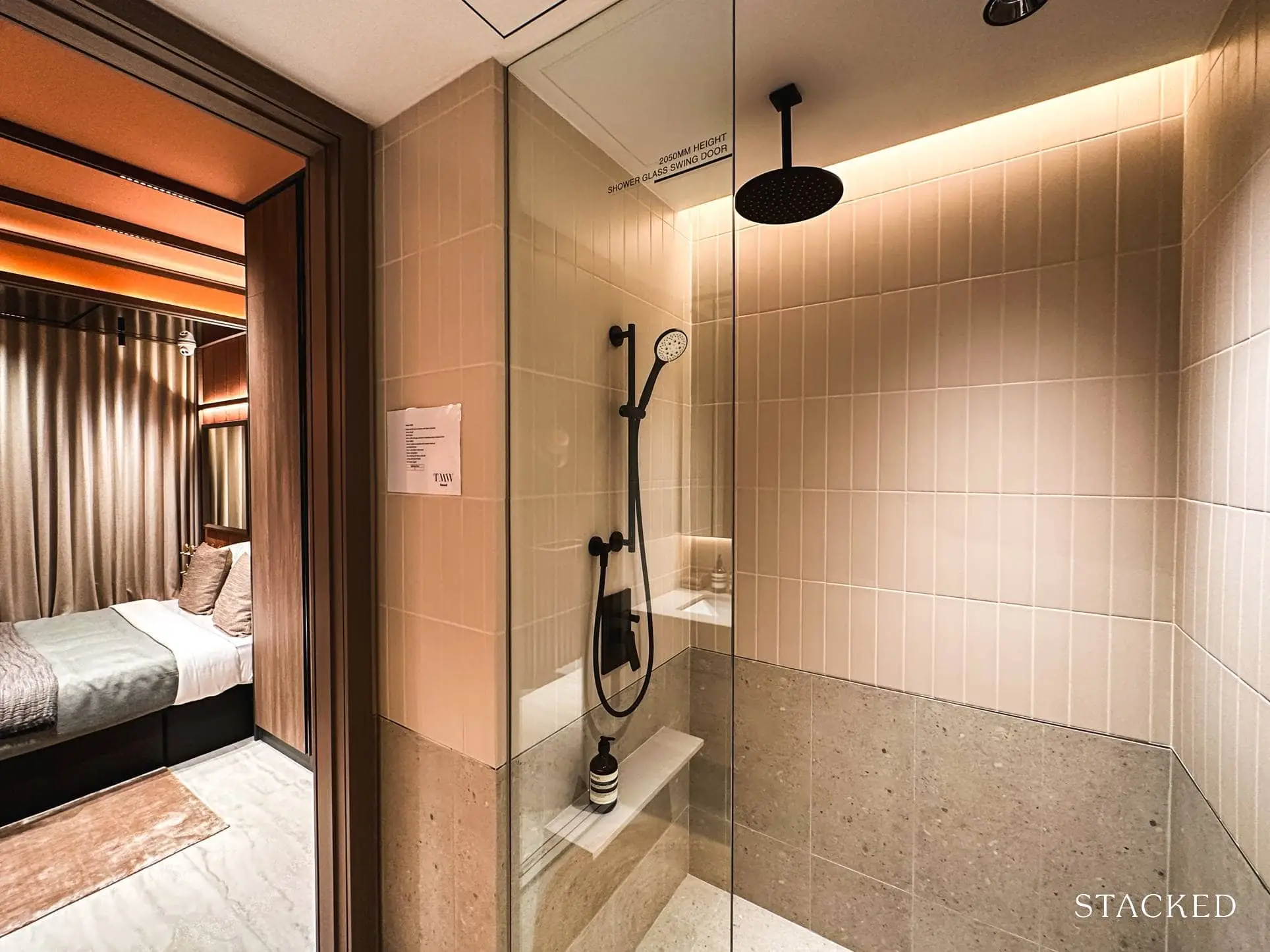 As I mentioned earlier, the design is slightly more adventurous here with the use of tiles for half the wall – more maintenance required but also more aesthetic. Reasonable trade-off in my opinion!
TMW Maxwell Location Review
TMW Maxwell is located along Maxwell Road, although its vehicular access is now via Tras Street. Close to it are the Maxwell Food Centre and Chinatown Complex Food Centre, two of the oldest hawker centres in Singapore, with the latter also home to the largest (and one of the most reasonably priced) wet markets in Singapore.
Honestly, this is such a great point to have if you cook at home. Getting groceries is not only easy but also affordable, which is unbelievable considering that you are living in the CBD. Even if you wanted something more comfortable to shop in, there are NTUC Fairprice outlets at Amara or Tanjong Pagar Plaza, which are less than 7 minutes away on foot.
Cheap eats are also not an issue of course, as the aforementioned hawker centres are home to some of Singapore's most famous hawkers, including Liao Fan Hawker Chan of Michelin fame and Tian Tian Chicken Rice of Anthony Bourdain (and subsequently Michelin) fame.
Fancier restaurants? Definitely not an issue either since you get a host of international cuisine from Korean to French and Italian at the heritage shophouses just down the road. You can be assured that there are a number of Michelin-recommended names (JAG, Rhubarb) and many more if you consider the wider vicinity. Far too many to name but you get my point.
The general concern around staying in the CBD is the lack of primary schools, especially those within a 1 km radius. Thankfully, TMW Maxwell is probably one of the more decent CBD options, as you get Cantonment Primary School within 1km and CHIJ Kellock and River Valley Primary School within 2km.
Schools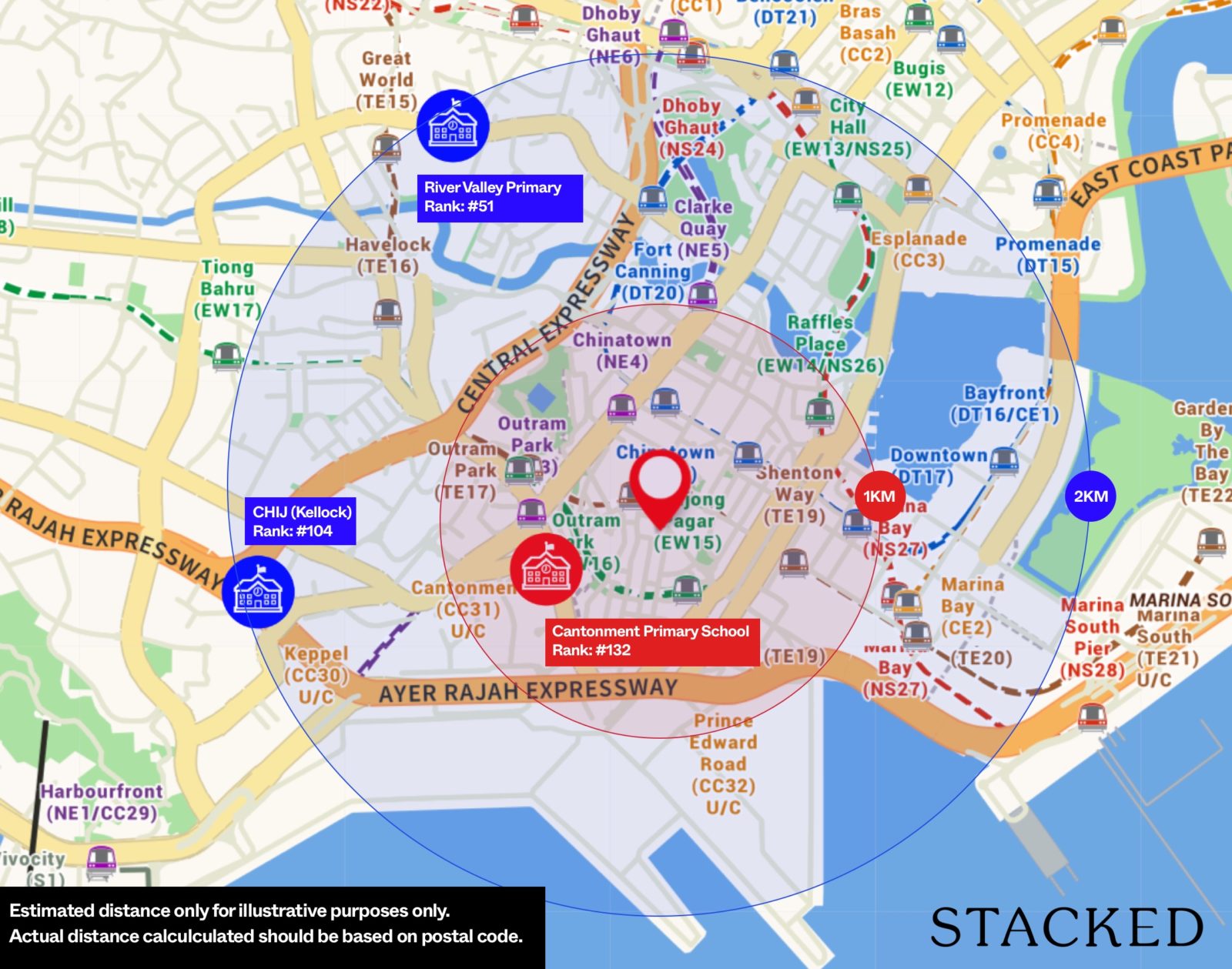 The general concern around staying in the CBD is the lack of primary schools, especially those within a 1 km radius. Thankfully, TMW Maxwell is probably one of the more decent CBD options, as you get Cantonment Primary School within 1km and CHIJ Kellock and River Valley Primary School within 2km.
Nearest MRT: Maxwell MRT (230m, 2 mins walk) and Tanjong Pagar MRT (270m, 3 mins walk)
Public Transport
| | | |
| --- | --- | --- |
| Bus Station | Buses Serviced | Distance From Condo (& Est. Walking Time) |
| Opp Fairfield Meth ChStop ID: 05271 | 80, 145 | 190m, 2 mins |
| Maxwell Stn Exit 2Stop ID: 05269 | 80, 145 | 280m, 3 mins |
Schools
| | |
| --- | --- |
| School | Distance From Condo (& Est. Walking Time) |
| Cantonment Primary School | <1km |
| CHIJ Kellock | <2km |
| River Valley Primary School | <2km |
Malls / Amenities
| | |
| --- | --- |
| Destination | Distance From Condo (& Est. Driving Time) |
| Guoco Tower | 270m, 3 mins walk |
| 100 AM | 700m, 8 mins walk |
Private Transport
| | |
| --- | --- |
| Key Destinations | Distance From Condo (Fastest Time at Peak Hour [0830] Drive Time) |
| CBD (Raffles Place) | 2.1km, 5 mins |
| Orchard Road | 4.3km, 8 mins |
| Suntec City | 3.4km, 7 mins |
| Changi Airport | 20.2km, 16 mins |
| Tuas Port (By 2040) | 37.5km, 40 mins |
| Paya Lebar Quarters/Airbase (By 2030) | 12.0km, 14 mins |
| Mediapolis (and surroundings) | 8.4km, 12 mins |
| Mapletree Business City | 6.8km, 10 mins |
| Tuas Checkpoint | 27.1km, 26 mins |
| Woodlands Checkpoint | 30.0km, 26 mins |
| Jurong Cluster (JCube) | 15.3km 20 mins |
| Woodlands Cluster (Causeway Point) | 27.4km, 26 mins |
| HarbourFront Cluster (Vivo City) | 3.7km, 6 mins |
| Punggol Cluster (Waterway Point) | 21.4km, 20 mins |
Immediate Road Exits: 1 – onto Cook Street and Tanjong Pagar Road
Unit Mix (by layout and any general points about it)
| | | |
| --- | --- | --- |
| Unit Type | Size (including void) | No. of Units |
| Flip / Switch (Studio) | 475 – 485 sq ft | 201 |
| 1 Bedroom | 510 – 566 sq ft | 68 |
| 1 Bedroom Loft | 1,037 – 1,076 sq ft | 5 |
| 2 Bedroom | 795 sq ft | 16 |
| 2 Bedroom Dual Key | 838 – 858 sq ft | 34 |
This is probably the first shoe-box focused development I have reviewed on Stacked, with 62% of units smaller than 500 sq ft. No units are larger than 2 bedrooms and even among the 15% of 2 Bedroom units, most of them are dual-key units.
I think you get the picture – you can either see this as a development for investment, where you expect a number of residents here to be tenants. Or for owner-occupiers, where you will probably be one who is working in or near the CBD and appreciates the convenience of this location.
It's not a bad idea to be investment focused, especially for CBD condos as there is often a lack of demand from families anyway. It is also clear from the marketing of TMW Maxwell that this is angled toward the younger, high-earning crowd where aesthetics, branding, and vibrancy of the development will appeal to them.
Developer Review
TMW Maxwell is being developed by a JV between CEL Development (Chip Eng Seng), SingHaiyi, and Chuan Investments, with their ownership being split 40%, 30%, and 30% respectively.
CEL Development is a fully owned subsidiary of Chip Eng Seng, which was listed on the Singapore Exchange up till February 2023, when Gordon and Celine Tang successfully acquired 91% of the company, prompting a delisting. It has a string of developments under its belt since its incorporation in 1999 including those in the CCR such as Grange Infinite and Kopar at Newton to those in the OCR such as Parc Komo and High Park Residences. It has a strong reputation, riding on its construction parent Chip Eng Seng, which is one of Singapore's best-known builders, having acquired expertise and know-how since its founding in the 1960s.
SingHaiyi Group was delisted from the Singapore Exchange in 2022, having previously been named SingXpress Land before being renamed to its current name in 2013 following the majority stake of Gordon Tang and his wife, Celine Tang. SingHaiyi recently launched Grand Dunman, which we recently reviewed, as well as another mega-development in Parc Clematis, The Gazania, The Lilium as well as commercial developments such as 9 Penang Road, which now serves as UBS' Asia-Pacific flagship office.
Chuan Investments is a newly incorporated company owned by Longlands Holding Limited, Tng Kay Lim and Yang Tse Pin, each holding approximately 33.3% in it.
Stack Analysis
Site Plan

Best stacks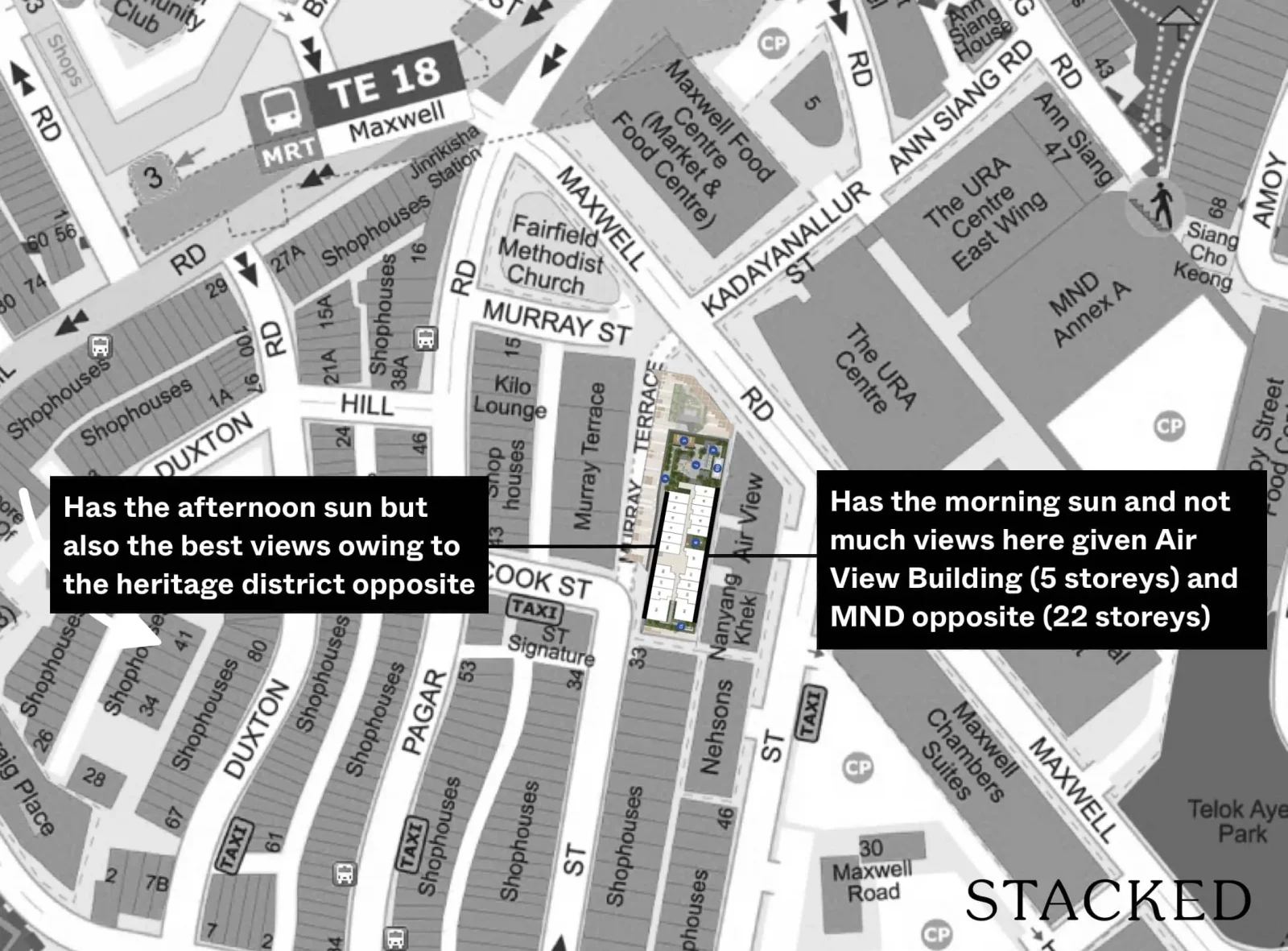 There are only 2 main directions for TMW Maxwell – East or West, so there's not much choice in avoiding the sun – you either get the morning or afternoon one. We also note that residential units only start from the 4th storey, which gives you decent clearance if you are facing the shophouses at Tanjong Pagar.
Whilst I would usually caution against the afternoon sun, this direction will be the one with the best views (Stacks 5 to 8 and 9 to 14). With units starting from level 4, you will more or less clear the neighbouring shophouses at Tanjong Pagar and Duxton, and of course, the higher the floor, the better the views of this heritage district. It's a lovely view to have, if only you didn't have the west sun to bear with.
On the other hand, for the East facing stacks, the neighbouring Air View Building is about 5-storeys high so in order to clear it, you will likely need to be above the 6th storey. Even then, you have the MND Building across the road, which is 22 storeys high so you will likely not be getting any unblocked views of any sort here.
Afternoon Sun Analysis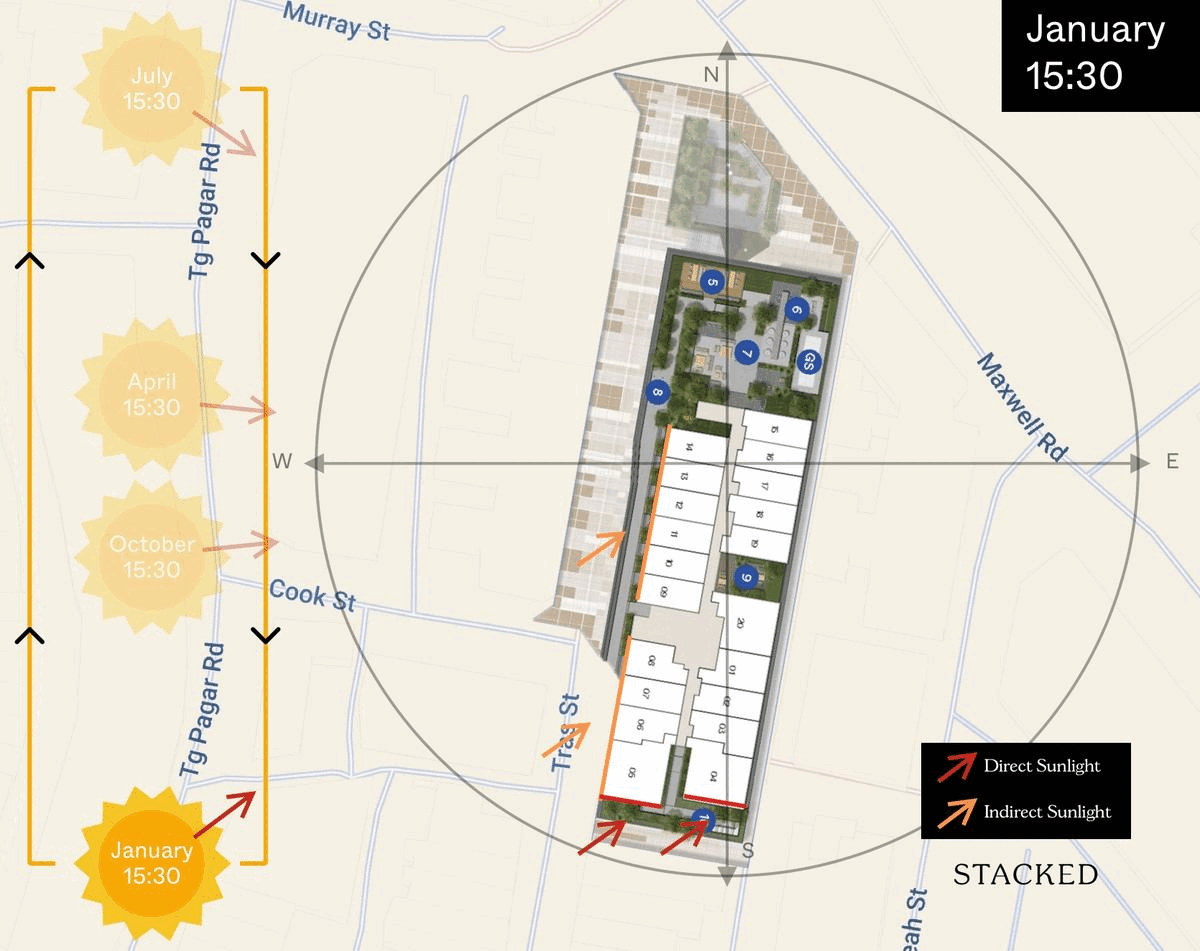 Pricing Review
If you are considering TMW Maxwell, you will undoubtedly compare it against its neighbouring developments. So here is how it stacks up!
| | | | | | |
| --- | --- | --- | --- | --- | --- |
| Development | Units | Psf | TOP | Tenure | Price Gap |
| TMW Maxwell | 325 | $3,188 | 2028 | 99 Years | |
| One Bernam | 364 | $2,634 | 2026 | 99 Years | 21% |
| Wallich Residence | 181 | $3,216 | 2017 | 99 Years | 0% |
| V on Shenton | 510 | $2,152 | 2017 | 99 Years | 49% |
| Eon Shenton | 132 | $2,374 | 2017 | 99 Years | 35% |
| Icon | 646 | $1,790 | 2007 | 99 Years | 79% |
Indicative Prices
As of this writing, the only information I had was that the majority of units would be between $1.5 – $2 million, with psf prices starting from $3,188 psf. This would nicely keep all the 1 bedders, which I assume is the "majority of units" here to be between $1.5 million up to $2 million for 1 bedders if we factor in higher floors.
| | | | | |
| --- | --- | --- | --- | --- |
| Type | Units | Size | Starting $PSF (Est) | Est Starting Price |
| Studio | 201 | 474 | $3,188 | $1,511,112 |
| 1 Bedroom | 34 | 506 | $3,188 | $1,612,820 |
| 1 Bedroom + Study | 34 | 548 | $3,188 | $1,746,306 |
| 1 Bedroom Loft | 5 | 843 | $3,188 | $2,688,948 |
| 2 Bedroom | 16 | 792 | $3,188 | $2,525,607 |
| 2 Bedroom Dual Key | 34 | 838 | $3,188 | $2,671,790 |
Given all units are 1 and 2 bedders, TMW Maxwell clearly targets singles, DINKS (Dual Income No Kids), and the investor demographic. This makes sense given its location. Bigger unit types like the 3 to 5-bedroom units cater to families who may not be able to afford the much higher price tag given the $PSF in such areas tend to be high.
Given these demographics and unit mix, I'll be looking at the following data:
What 1-bedroom resale condos can you consider around here?
What's the rental yield like in the area?
Where do prices of the 1 bedders stand in today's new launch context?
1-Bedroom Resale Condos
The Tanjong Pagar area is surprisingly not short of residential developments: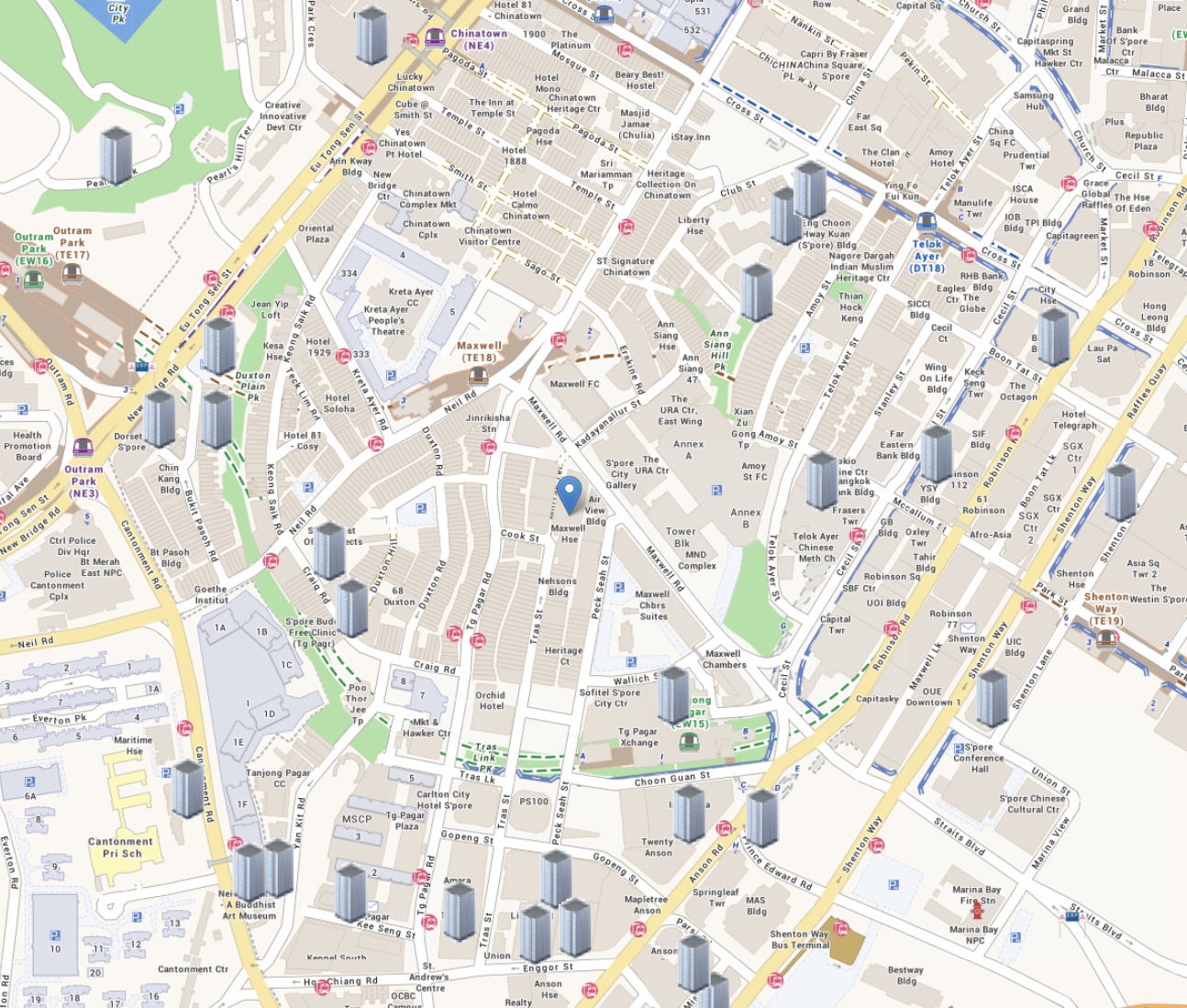 You can see that TMW Maxwell is more at the heart of the whole Tanjong Pagar/Amoy Street/Chinatown precinct, putting it at the "heart" of where the action is. Its proximity to Maxwell MRT and location right opposite Maxwell Food Centre also makes it very convenient – perhaps a lot more so than some of the residential developments around.
Here's what resale condos with transactions from January 2023 – Jul 2023 have recorded for unit sizes below 1,000 sq ft (This way, we don't look at unnecessarily big units here which aren't comparable to TMW Maxwell):
| | | | | | |
| --- | --- | --- | --- | --- | --- |
| Project Name | Tenure | Completed Year | 1BR | 2BR | 3BR |
| SKYSUITES@ANSON | 99 yrs from 18/02/2008 | 2014 | $880,000 | $1,380,000 | |
| SPOTTISWOODE 18 | Freehold | 2014 | $915,000 | | |
| SPOTTISWOODE SUITES | Freehold | 2017 | $1,020,000 | $1,450,000 | |
| THE CLIFT | 99 yrs from 28/04/2004 | 2011 | $1,028,000 | | |
| ICON | 99 yrs from 29/01/2002 | 2007 | $1,038,000 | $1,580,000 | |
| V ON SHENTON | 99 yrs from 29/11/2011 | 2017 | $1,038,000 | | |
| LUMIERE | 99 yrs from 21/03/2006 | 2010 | $1,065,000 | $1,594,000 | |
| ALTEZ | 99 yrs from 06/02/2008 | 2014 | $1,088,888 | $1,750,000 | |
| THE SAIL @ MARINA BAY | 99 yrs from 12/08/2002 | 2008 | $1,120,000 | $1,450,000 | |
| 76 SHENTON | 99 yrs from 12/04/2007 | 2014 | $1,180,000 | $1,780,000 | |
| ONE SHENTON | 99 yrs from 14/10/2005 | 2011 | $1,210,000 | | |
| CRAIG PLACE | 99 yrs from 22/05/1997 | 2000 | $1,250,000 | | |
| TMX MAXWELL | 99 yrs from 28/04/2023 | 2028 | ~$1,500,000 | $2,277,641 | |
| MARINA ONE RESIDENCES | 99 yrs from 01/07/2011 | 2017 | $1,588,888 | | |
| EON SHENTON | 99 yrs from 06/10/2011 | 2017 | | $1,320,000 | $1,870,000 |
| THE BEACON | 99 yrs from 05/03/2004 | 2008 | | $1,365,000 | |
| ROBINSON SUITES | Freehold | 2016 | | $1,828,000 | |
| THE ARRIS | Freehold | 2002 | | $2,180,000 | |
| SPOTTISWOODE RESIDENCES | Freehold | 2013 | | $2,350,000 | |
| WALLICH RESIDENCE | 99 yrs from 21/02/2011 | 2017 | | $2,600,000 | |
| ONZE @ TANJONG PAGAR* | Freehold | 2017 | $1,210,000 | | |
Source: URA
*Onze @ Tanjong Pagar's latest transaction was only in 2020 and thus, we are unable to use this price for deeper comparison.
The table's sorted by cheapest to most expensive – 1 bedders first, followed by 2 bedders. Only EON Shenton recorded a 3-bedroom transaction that's below 1,000 sq ft.
Immediately, you'll notice TMW Maxwell is one of the most expensive in terms of 1-bedroom units. However, this is often the case and you'll find that the absolute price isn't outrageous at all – at the very least, this isn't the highest entry price point that you'll find.
Look at Craig Place – the development is just about a 2-3 minute walk from TMW Maxwell. The buyer paid $1.25m for a 657 sq ft unit which is tagged as a 1 bedder.
For a 1-bedroom unit in the CBD, this is considered huge – but probably average/small when it was built in its glory days. As such, it does have a much lower $PSF of $1,904 psf compared to TMW Maxwell's $3,100+ psf.
I think it's obvious in this case: TMW Maxwell manages to come off as relatively affordable for its location and modern facilities given its smaller size. It's a playbook necessitated by the reality of where we are today and this isn't a surprise at all.
Still, Craig Place is already 23 years old and it's a 99-year leasehold development. As an investor, would you rather buy a bigger 1 bedroom unit with a higher risk of lease decay or a smaller and new one that just costs slightly more?
Making the decision to purchase the 657 sq ft unit as an investor must mean the yields make sense for you to want to risk the lease decay. Here's what the average rental yield at Craig Place looks like: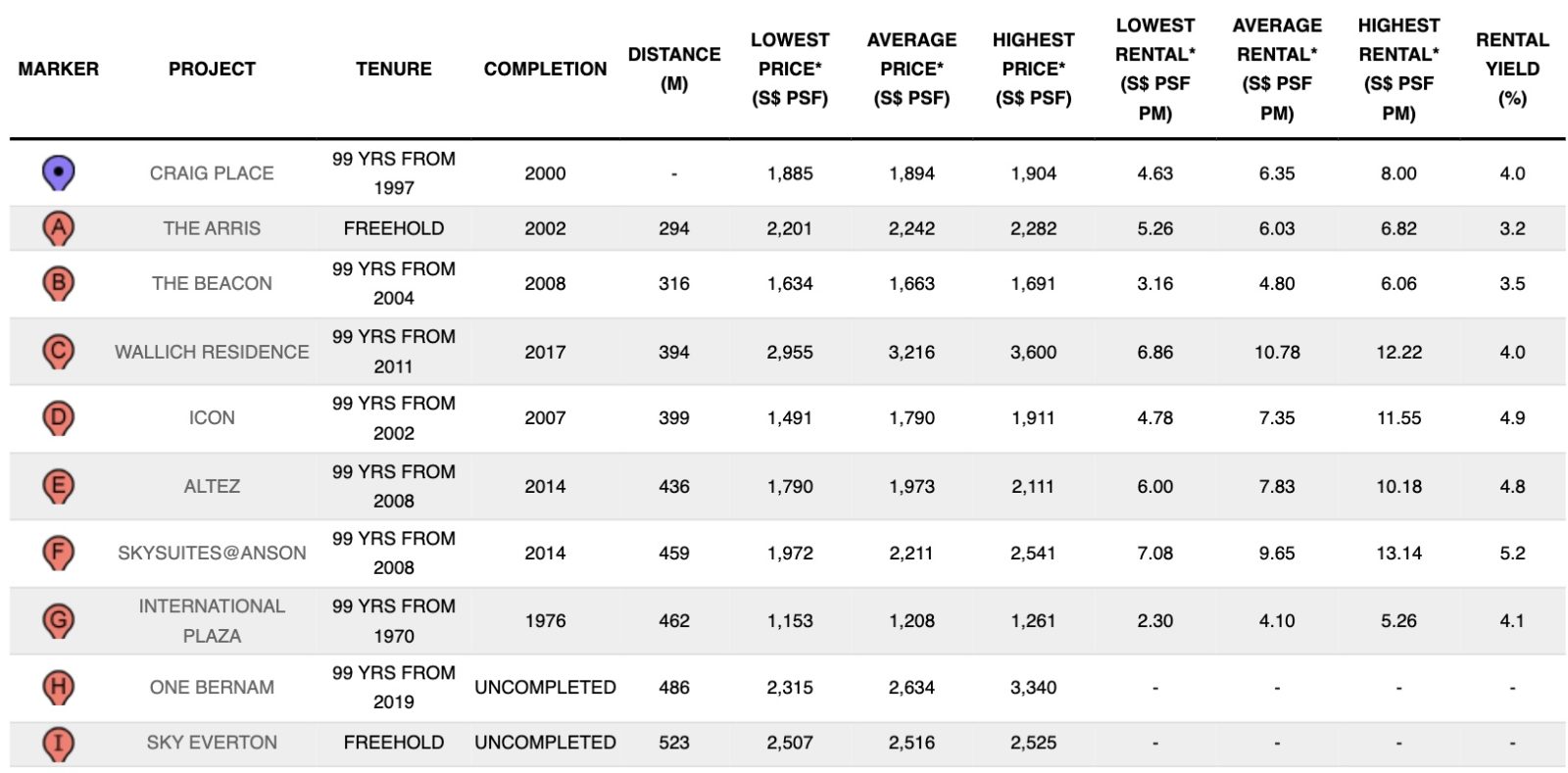 The data here is aggregated on a 6-month basis. There were no 600-700 sq ft units with rental transactions recently, but the most recent 1-bedroom went for $4,200 per month which is 4% in terms of returns.
For a 99-year leasehold development that's already 25 years into its lease, a 4% return is nothing to shout about. You can also see from the table that other developments, such as ICON, averaged a 4.9% return. Skysuites@Anson (which has really small units) achieved an average of 5.2%.
In this case, the unit may have cost too much, or perhaps there's something about the home I'm not aware of. Maybe it's partitioned well to rent out 2 bedrooms instead of 1 to achieve a better return? A low yield is not necessarily a bad thing. It shows that price can remain high too, and in this development's case, it is setting record highs despite it being older.
The real question is – would you be able to generate these 4+% rental returns as an investor of TMW Maxwell? To find out, let's turn to smaller 1-bedders.
Here's an extreme example – Skysuites@Anson. The development's studio is 366 sq ft in size. These are its rental contracts: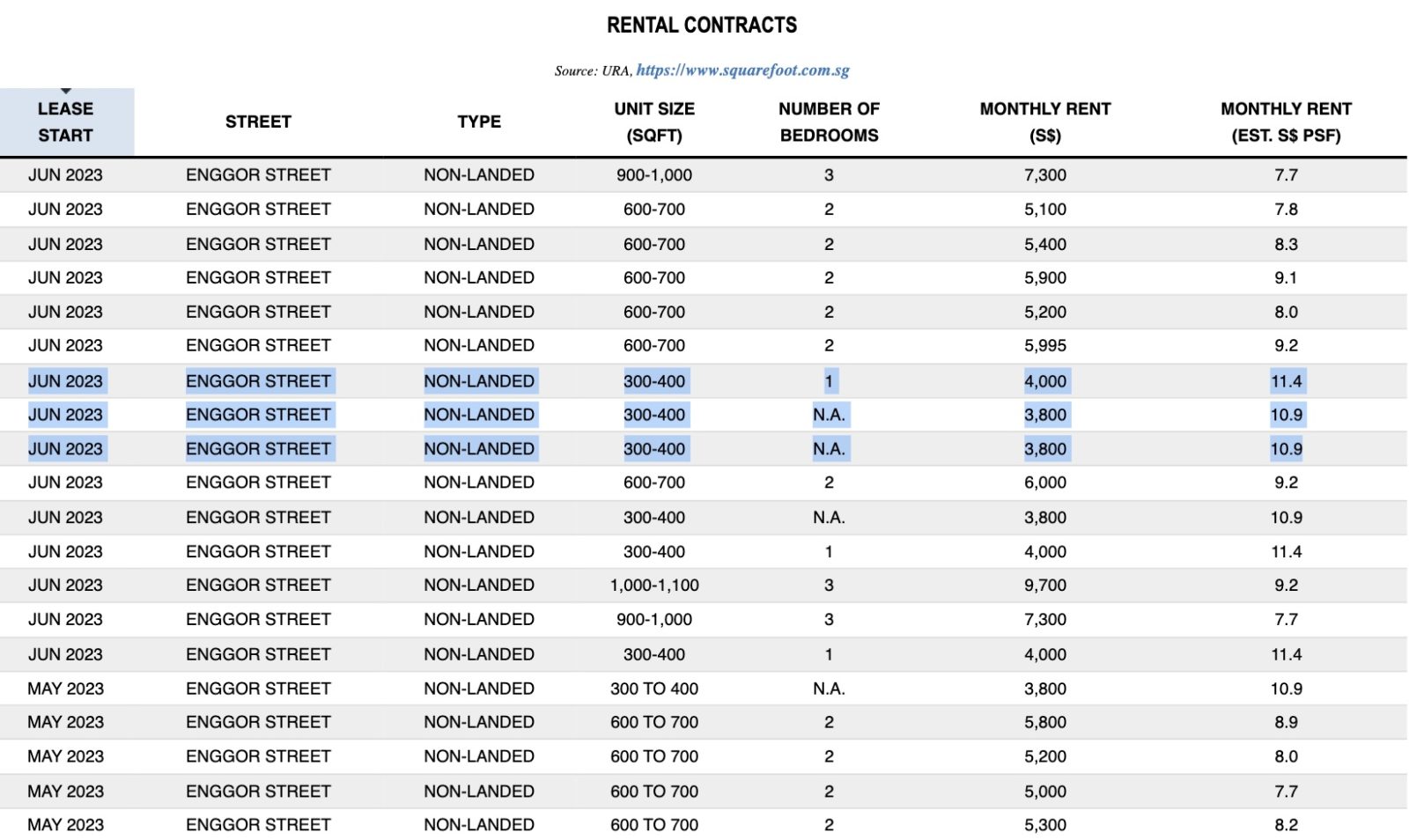 Notice how the studio/1-bedder can go for $4,000 per month as of June 2023? It's no wonder why the average rental yield could be as high as 5.1%!
The market has already shown to accept $4,000 per month for a unit that's just 300+ sq ft in size. Given TMW Maxwell's smallest unit is 474 sq ft, it's a sign that the development can command such a rent. But just how much more can it command?
Taking a look at all the 1-bedroom transactions in June 2023 alone, 256 contracts were for 1 bedder above $4,000 per month. This is out of 1,211 contracts, making it 21%, which is honestly higher than I expected.
Out of these 256 contracts, 18% or 47 of these were in District 2. To put this into perspective, the total number of District 2 rental contracts so far was 69. This means that 68% of rental units could charge more than $4,000 per month! Pretty good!
Going deeper, you'll also find that some contracts were for unit sizes between 400 – 500 sq ft:
| | | | | | | | | |
| --- | --- | --- | --- | --- | --- | --- | --- | --- |
| Project Name | Street Name | Postal District | Property Type | No of Bedroom | Monthly Rent ($) | Floor Area (SQM) | Floor Area (SQFT) | Lease Commencement Date |
| DORSETT RESIDENCES | NEW BRIDGE ROAD | 02 | Non-landed Properties | 1 | 4800 | 40 – 50 | 400 – 500 | Jun 2023 |
| ALTEZ | ENGGOR STREET | 02 | Non-landed Properties | 1 | 5250 | 40 – 50 | 500 – 600 | Jun 2023 |
| ALTEZ | ENGGOR STREET | 02 | Non-landed Properties | 1 | 5000 | 40 – 50 | 500 – 600 | Jun 2023 |
| ALTEZ | ENGGOR STREET | 02 | Non-landed Properties | 1 | 4800 | 40 – 50 | 500 – 600 | Jun 2023 |
| ALTEZ | ENGGOR STREET | 02 | Non-landed Properties | 1 | 4400 | 40 – 50 | 500 – 600 | Jun 2023 |
The fact that units this small can still command such a high rent does speak well for TMW Maxwell. However, Altez is cheaper…
Consider the 527 sq ft unit transacted on 28 March 2023 for $1,088,888. This unit is located on the 14th floor which is already more than halfway up TMW Maxwell.
In June 2023, there was a 500 – 600 sq ft unit in Altez that was rented for $5,600. This translates to a yield of 5.1%.
Let's say TMW Maxwell, due to its newness and more convenient location, could command the same rental of $5,600 for the lowest floor unit. What does this translate to?
A 4.9% yield.
If I take a conservative rent of $4,000 per month for a brand-new condo in the cheapest unit, you'd be looking at a 3.5% rental return. This is not an impressive rental return, but you must remember that we've considered a brand-new condo in the heart of the heritage shophouse area in the CBD. This is where we can expect prices to be higher, and due to its newness, face lesser depreciation compared to other leasehold developments.
Thus, from a rental investment viewpoint and in comparison with its surrounding competition, this is reasonable.
However, while my observations here are slightly optimistic, I must caution you about the Greater Southern Waterfront.
I know this buzz term hasn't been thrown around a lot recently, but when reviewing a District 2 condo, the threat of higher supply and hence, more competition when it comes to finding tenants, is very real.
A development like TMW Maxwell probably won't benefit much from the GSW given how built-up and convenient the area is already. There's no "gentrification" (for the lack of a better word) to be had here, so I cannot see why GSW can really bring prices up. It's akin to building another MRT station close to one that is already close to an MRT, to begin with.
Still, this transformation would be some time away, so investors today may not be as concerned about it.
Should you buy TMW Maxwell for own stay reasons?
Well, buying a home for your own stay purposes is a very subjective thing, so I can't give a straight-up answer. However, I can look at the alternatives.
There are a couple of developments that caught my attention. First is Spottiswoode Suites. This development is freehold so those looking to buy and stay for a long time wouldn't have to concern themselves with the lease decay. The condo is only 5 years old and has all the facilities of a full-fledged development. Take a look at this site plan: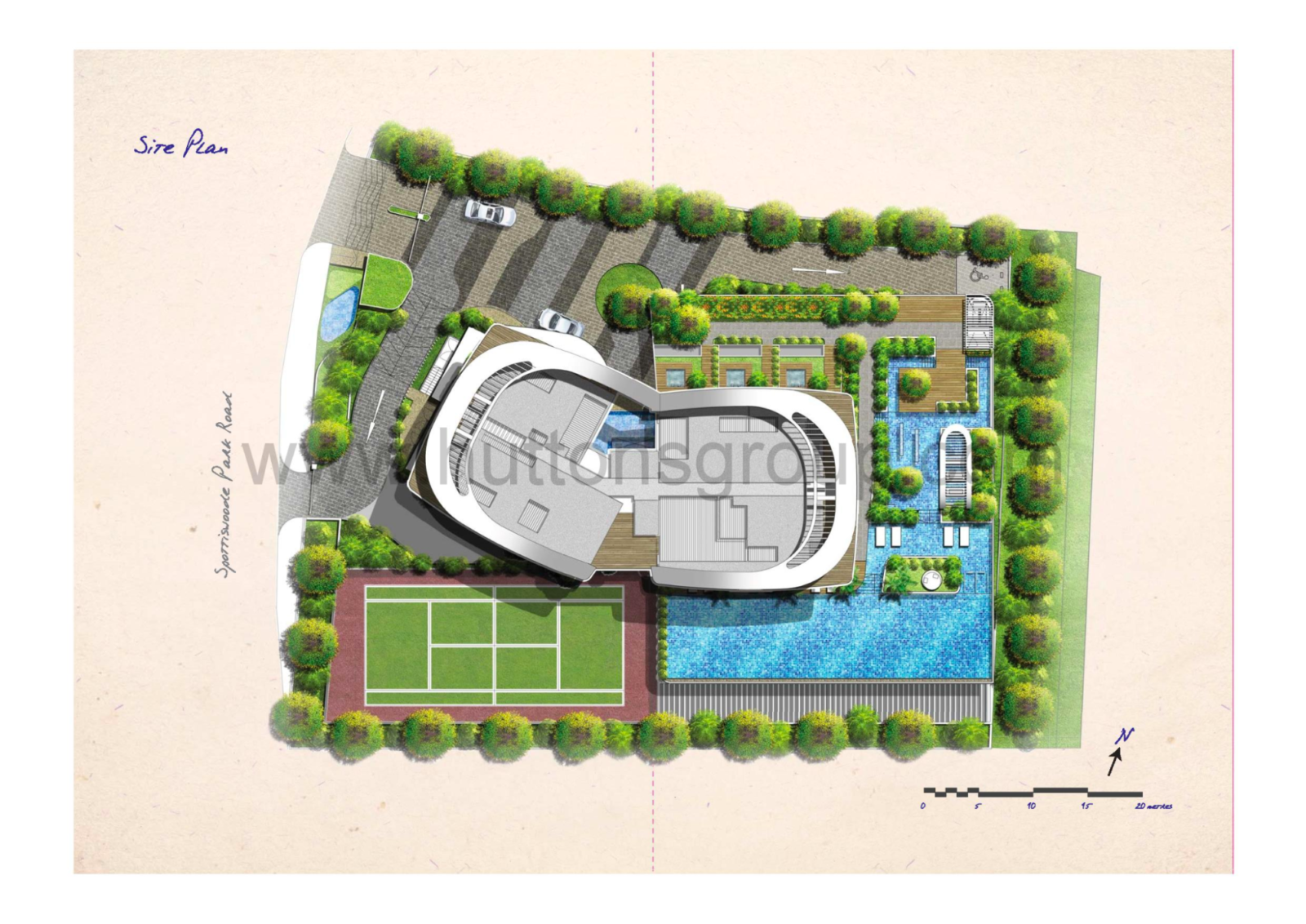 The development has a tennis court, a modern pool, and a gym. It's even got an aqua gym on level 24.
So far, so good right? But look where it's located: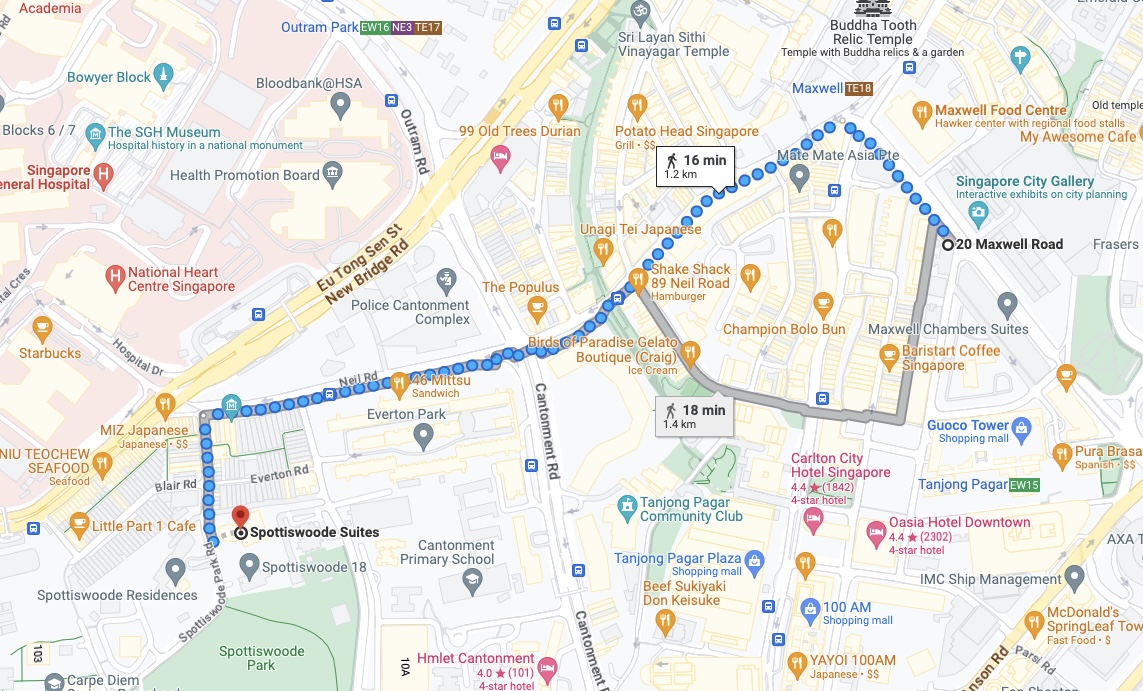 The location is by no means similar. Not that it's worse, it's just very different. The Spottiswoode area is just a lot more peaceful considering it neighbours Spottiswoode Park. However, this also means it has fewer amenities in the area, and it's certainly not in the "heart of it all" as much as TMW Maxwell is. As such, if you aren't particular about the locale and are just looking to stay around here, Spottiswoode Suites should be on your radar given it costs less.
In May 2023, there was a 1-bedroom unit at 441 sq ft that went for $1,080,000. This unit is pretty high up – on the 23rd floor too and it already costs $500k+ less than what TMW is asking for. Here's a comparison of their floor plans: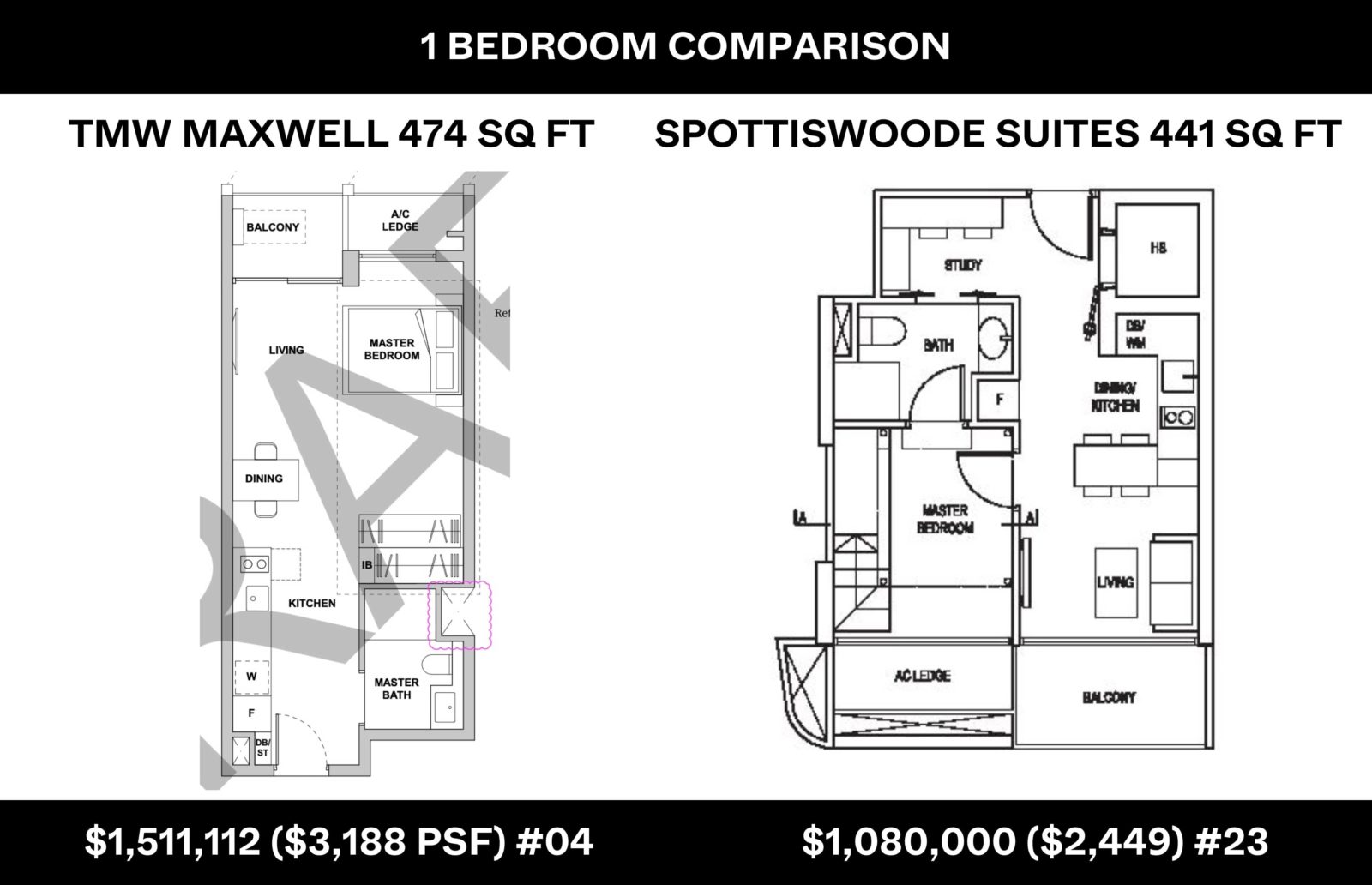 These floor plans and their respective pricing isn't entirely comparable. First, they're on different floors. If I estimate another $7,500 to the 18th floor (highest), then it's $1,616,112 which makes it 50% higher!
I'm honestly not a fan of the Spottiswoode Suites layout purely because the master bedroom is a loft setup: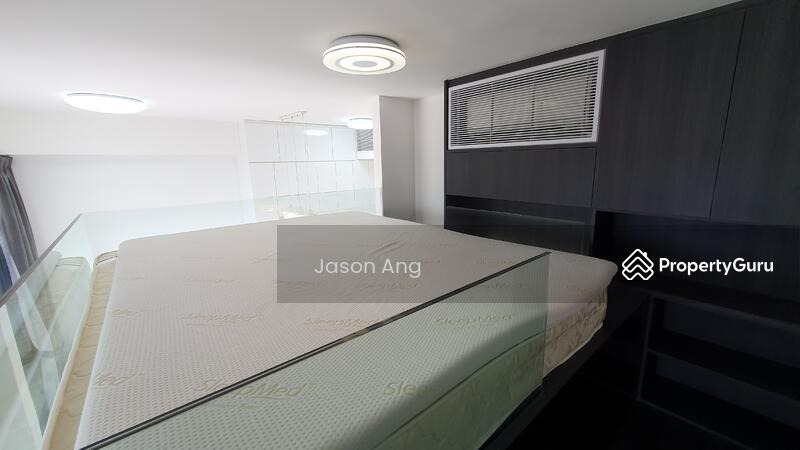 But what it does mean is that there's space for another study/exercise area which could bode well for someone staying in a small unit.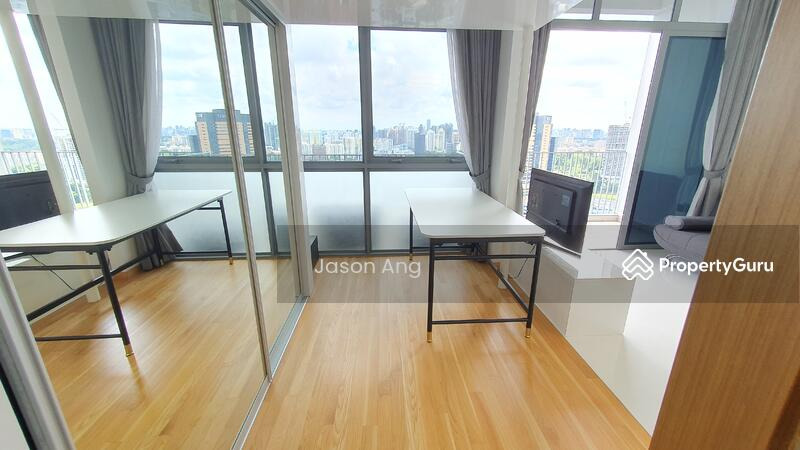 On top of that, the unit even has a study section of its own.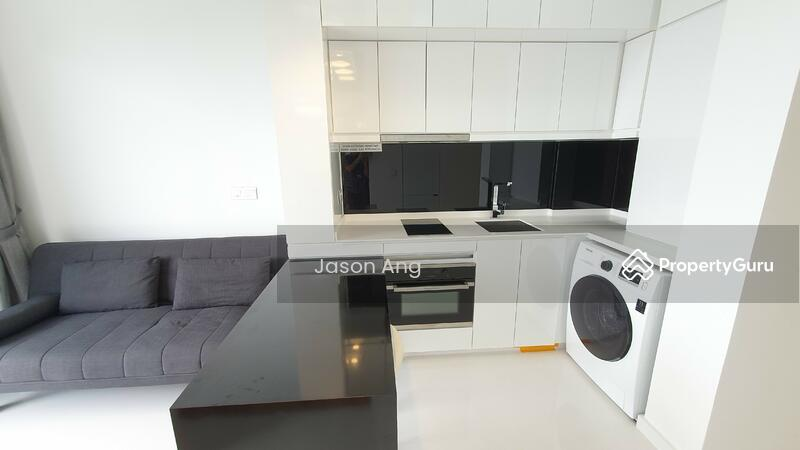 What also sells this unit are the views of the city – especially if you get one on the higher floors: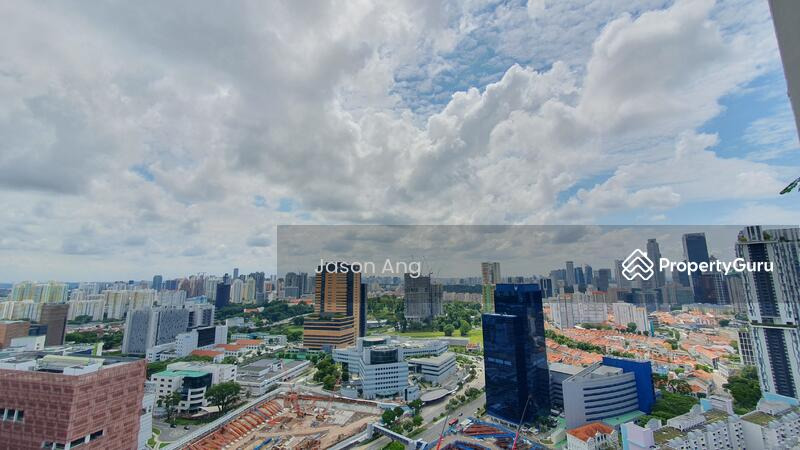 If you don't mind the location and fancy the loft setup, this freehold unit that costs less than TMW would be preferred.
But TMW's advantage here is in its open layout and "FLIP/SWITCH" attribute. You can configure the space to your liking, and since there are no walls between the bedroom and the living area, the space does appear bigger.
Ultimately, which you prefer here depends on what you value. But paying less for a freehold unit that isn't that much less functional seems to make more sense.
Another development that we can compare with is ICON. This is a pretty old development with a lease start year of 2002, making it already 21 years in terms of lease usage.
For those who don't mind the older lease, you can find a bigger 560 sq ft 1-bedder here which recently went for $1,050,000 for a unit on the 26th floor.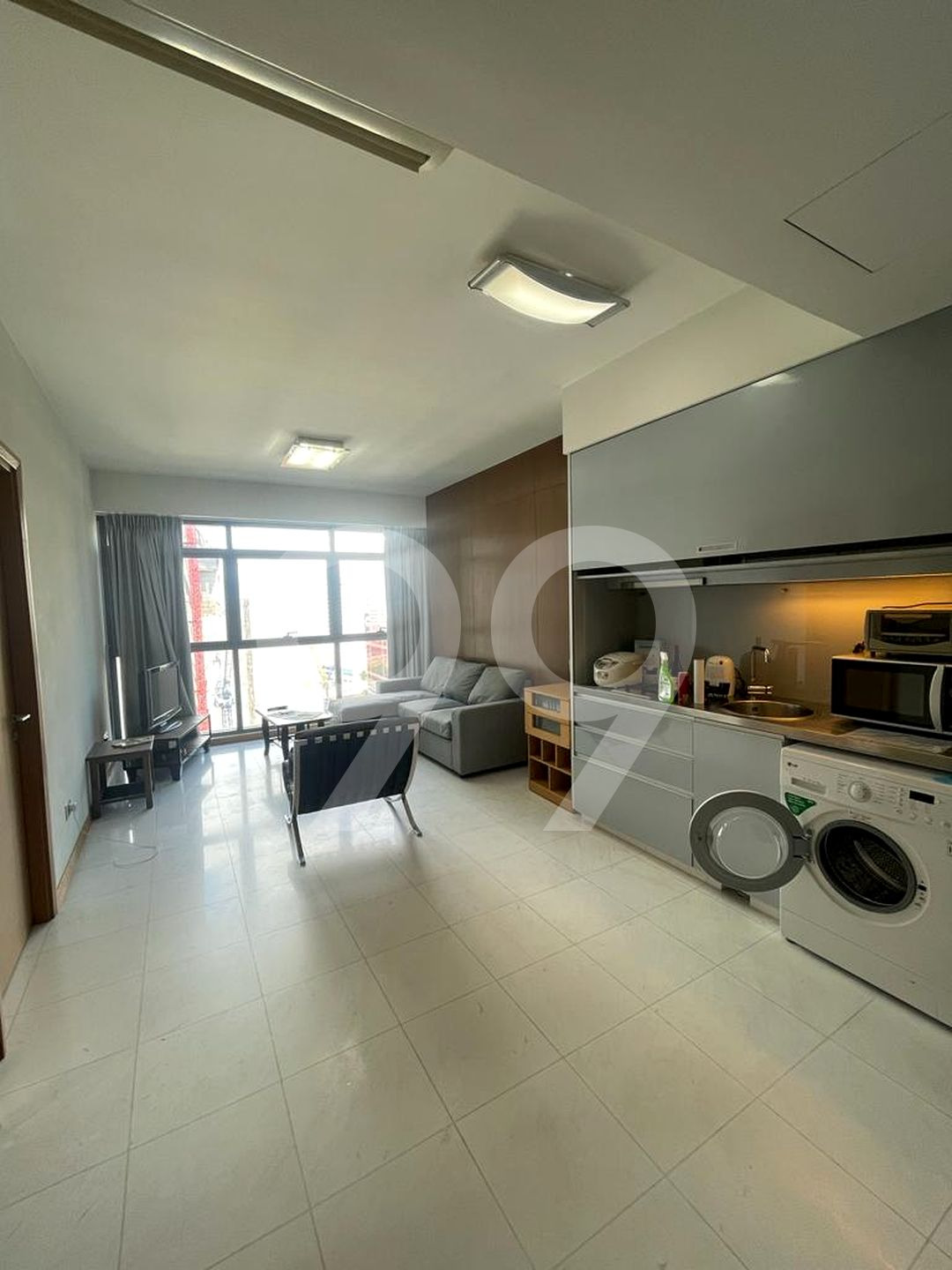 The unit certainly looks pretty sizeable for a 1-bedroom unit. I like that the regular layout makes it easy for furniture placement. Here's a side-by-side look at their floor plans: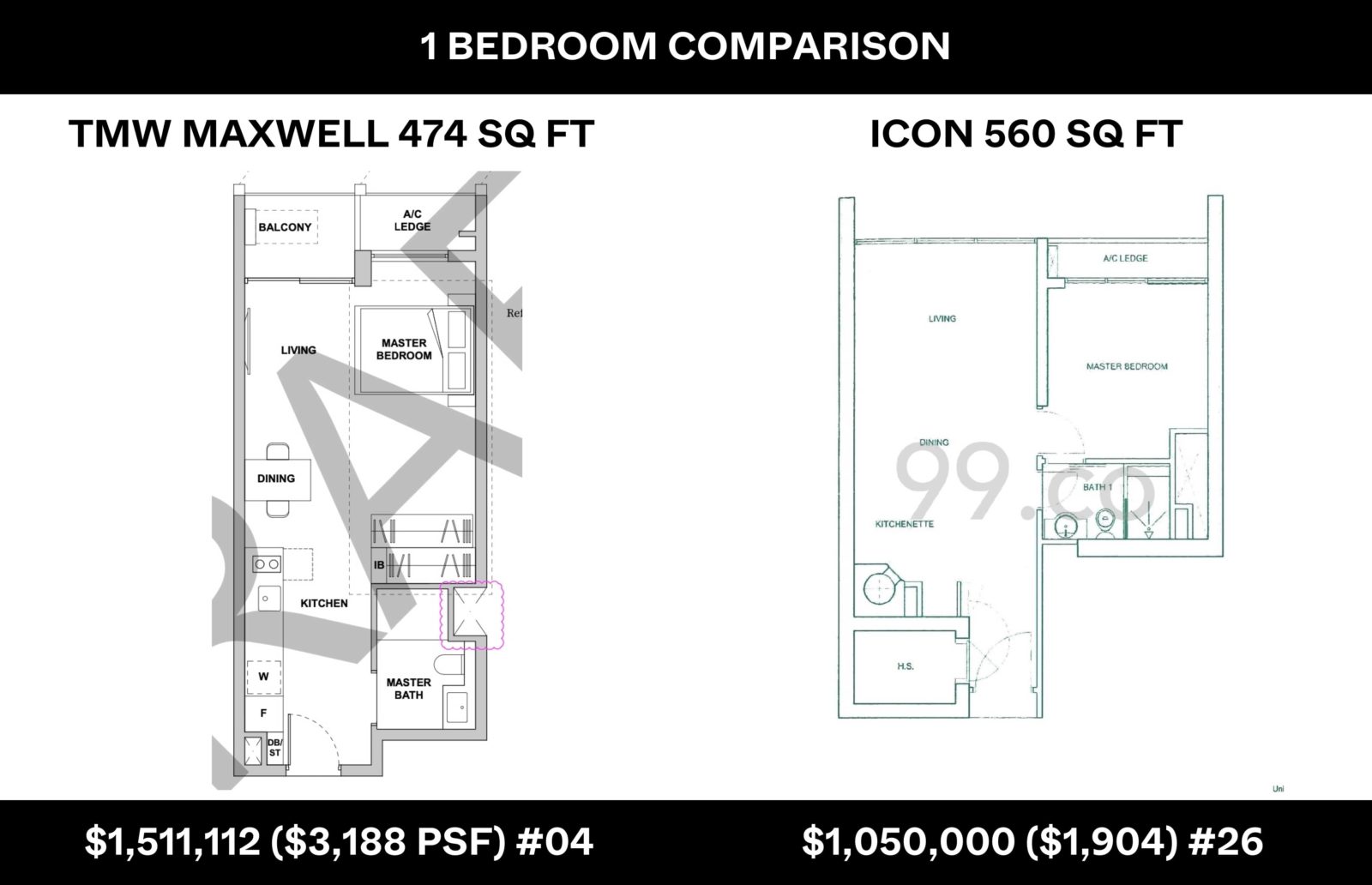 ICON may be in a different location, but it's in a really good place. It's probably the pinnacle of convenience as it's just 1-2 minutes from Tanjong Pagar MRT, right next to the 100AM mall just about a 2-minute walk to Tanjong Plaza market.
It's also a full-fledged development with 2 tennis court, a 50m lap pool that's connected to other pools, gym, clubhouse, and even a hot tub.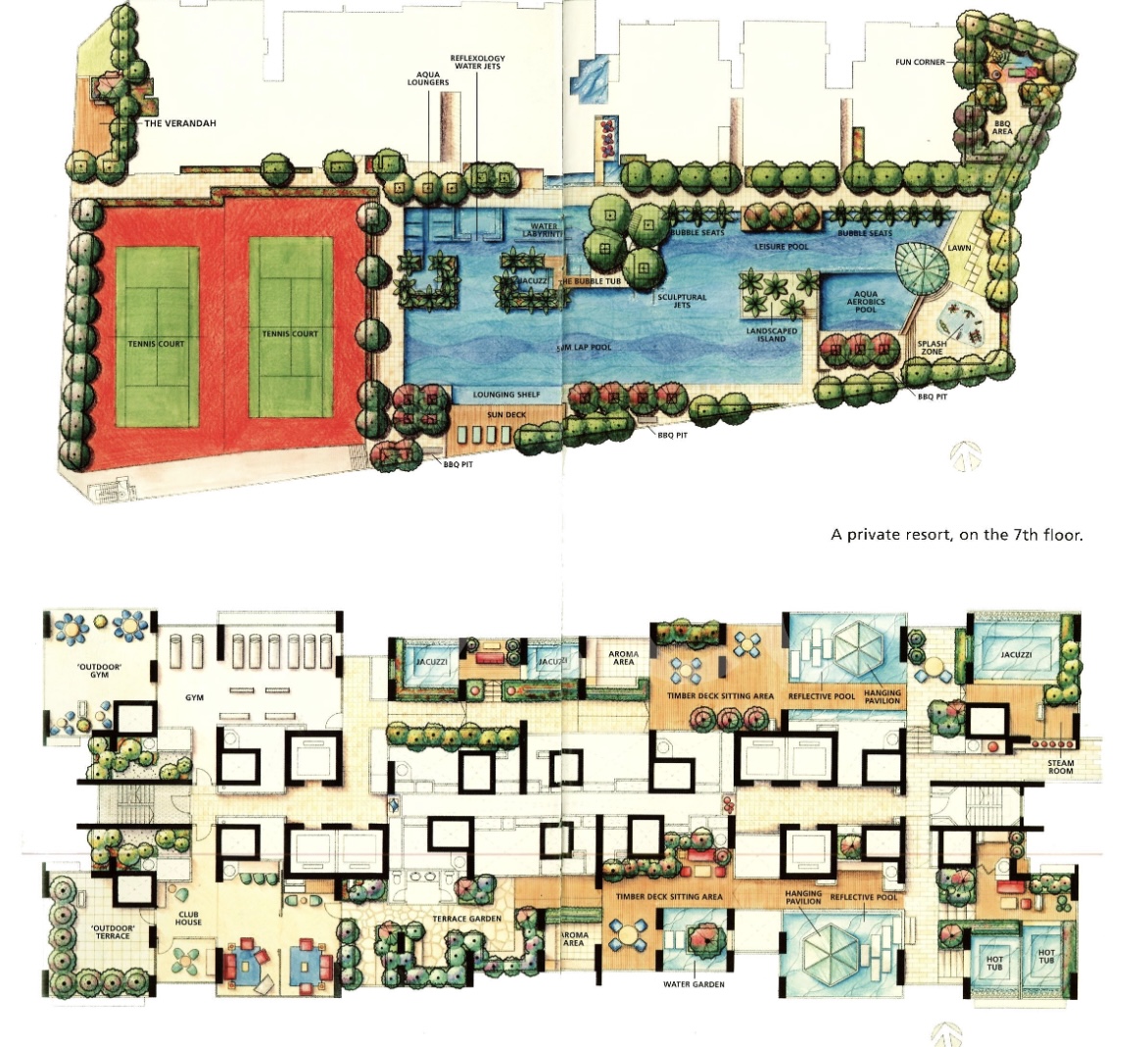 So again if you're not so hard up on the lease and are looking for own-stay options, ICON is a strong contender if you're on a budget.
In light of these options, I'd say that TMW Maxwell would face pretty stiff competition from just resale competitors alone.
Young couples or singles that can afford to spend $1.3+ million on their home have options.
They could buy a 4 or 5-room flat at The Pinnacle@Duxton. They could also purchase a 1 bedder – and in some condos, even a 1+Study in a condo around the area. For example, ICON's 1+Study on the 23rd floor went for $1.58 million in May 2023: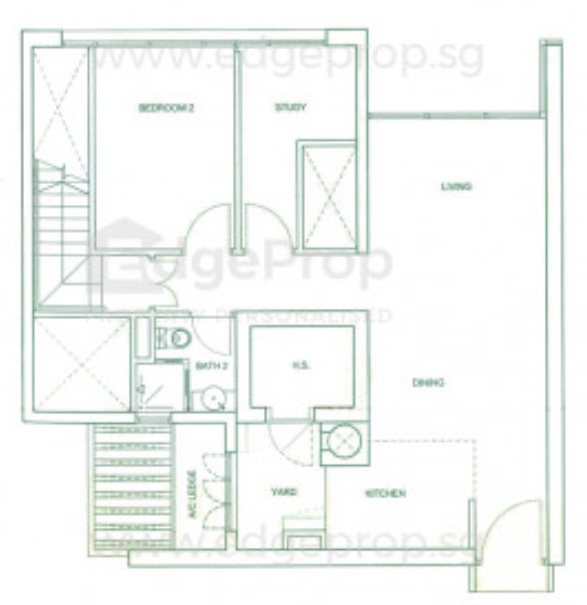 It even comes with a yard and household shelter which makes it even more practical.
If you were buying in the area, which would you rather go for? An old leasehold condo that costs about a third less, or TMW Maxwell? Would love to read your comments on this.
Next up, let's compare this to available new launches in the area.
Comparison to New Launches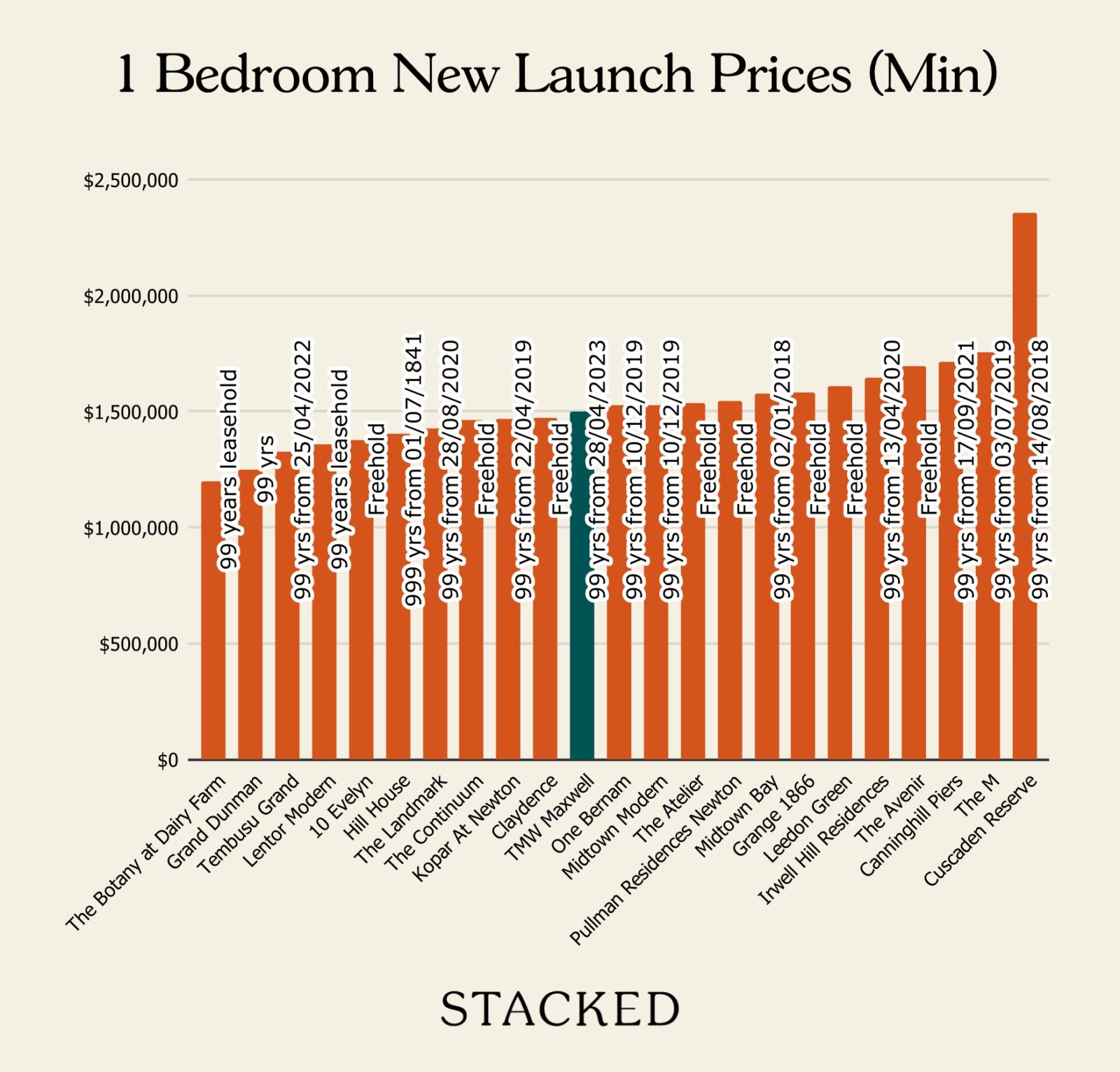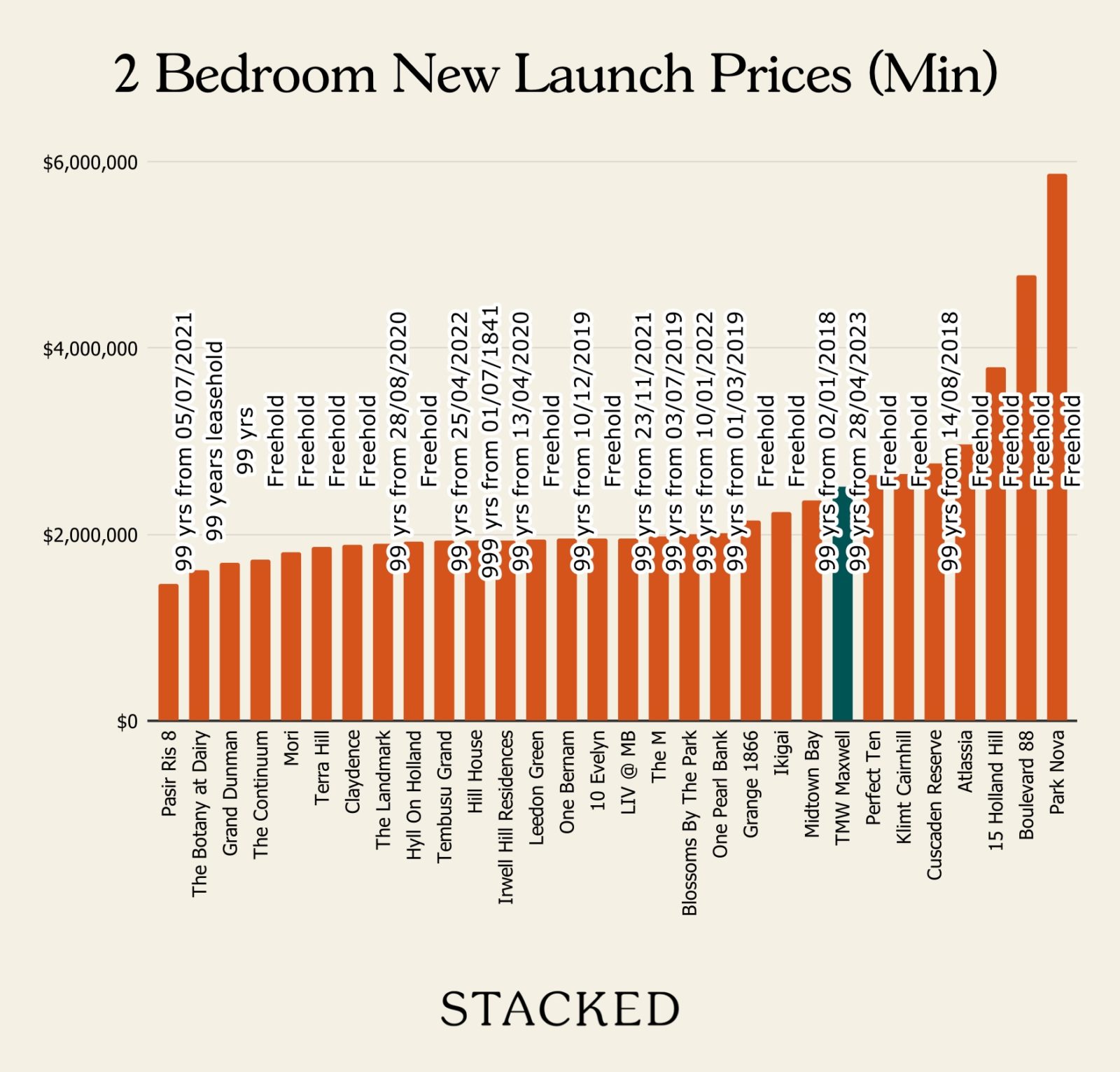 For our analysis, we'll focus on 1 bedders given that is the majority of units available at TMW Maxwell.
At its starting price, TMW Maxwell ranks halfway in terms of what is available today. Despite having a small size, this isn't that surprising given its location. There are a couple of comparable developments I'd like to talk about though, given their location and price point.
First is The M. This 99-year leasehold development is located at Middle Road, District 7. The location is extremely convenient. It's just a couple of minutes' walk to Bugis MRT which says a lot about the amenities in the area.
Currently, you can purchase a 1+study for $1,754,000. This is 16% more than what TMW Maxwell is asking for at the lowest-priced unit. Here's what it looks like: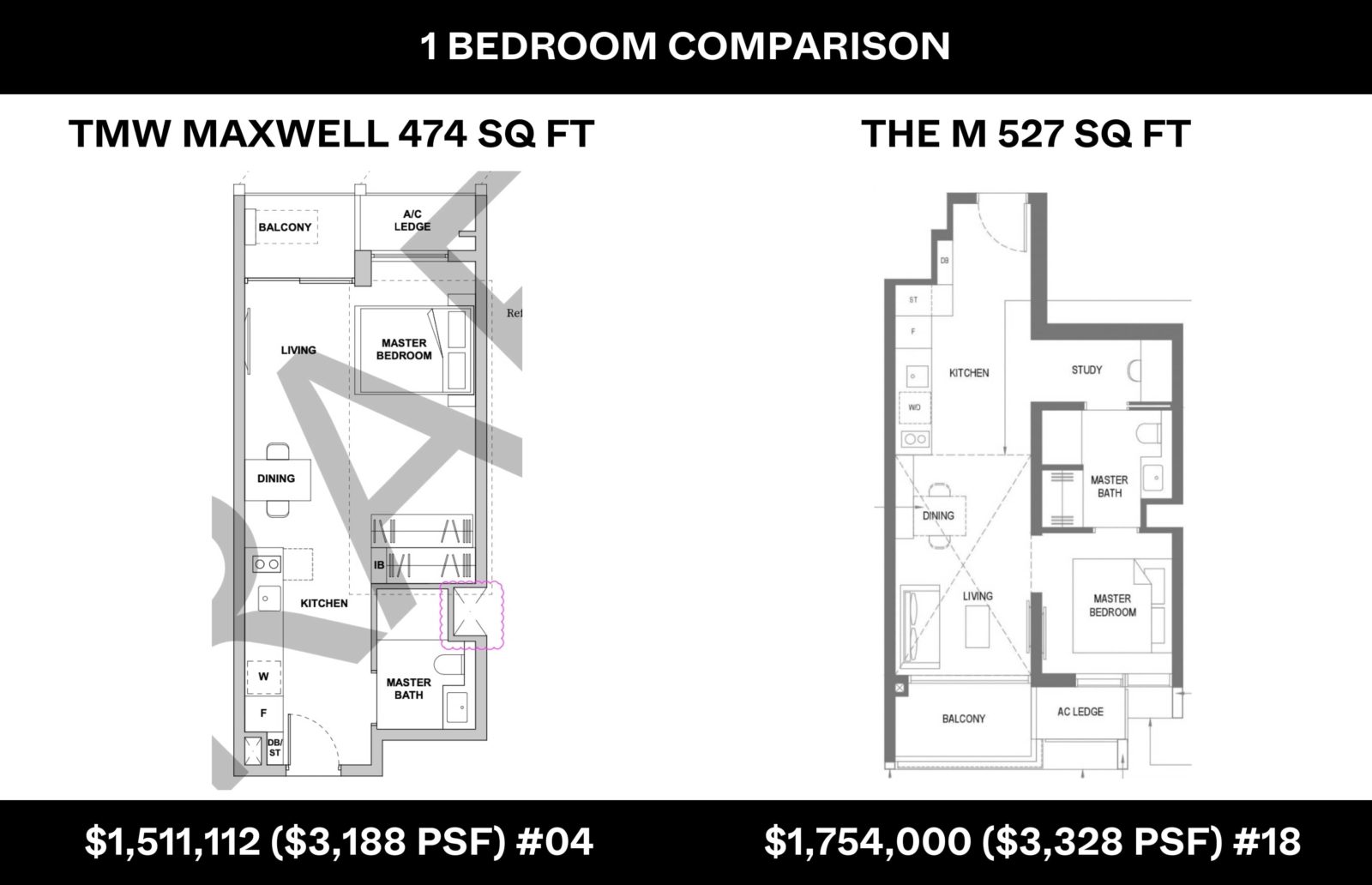 It's a little unfair to compare an 18th floor unit to one that's on the 4th floor, so for example, if I increase the price by $7,500 per floor, it'll come up to $1,616,112. This is still $137,888 less than what The M is asking for. In terms of $PSF though, TMW Maxwell would cost more since it's smaller.
But if you look at the layout, you'll find that the difference in space doesn't really make a huge difference to your lifestyle.
First, the entryway at TMW Maxwell opens up right into the kitchen so there's no wasted space. There's also a lot of space between the bed and wardrobe of TMW Maxwell to include a study, so it could easily function as one too. As a result, while TMW Maxwell's pricing seems high, it's quite in line with what the market is offering today.
Still, this is one of the highest-priced 1-bedroom competitor in the area. Let's instead look at the lowest-cost 1-bedder in the area – One Bernam.
One Bernam is around 600 metres away from TMW Maxwell which makes it relatively close by.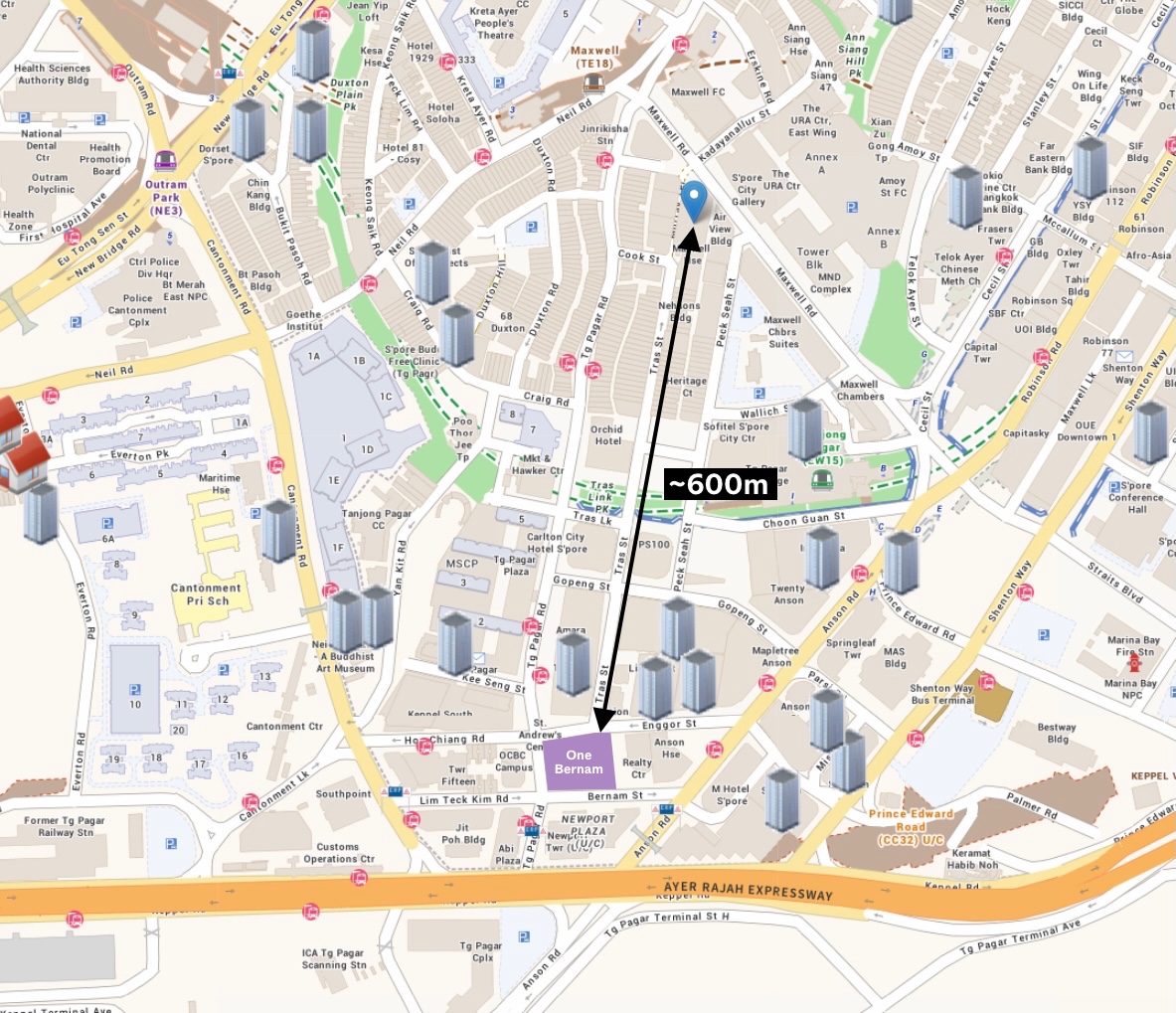 The lowest-priced 1-bedder on offer now is $1,526,000 which puts it only slightly higher than the cheapest unit at TMW Maxwell. Here's what it looks like: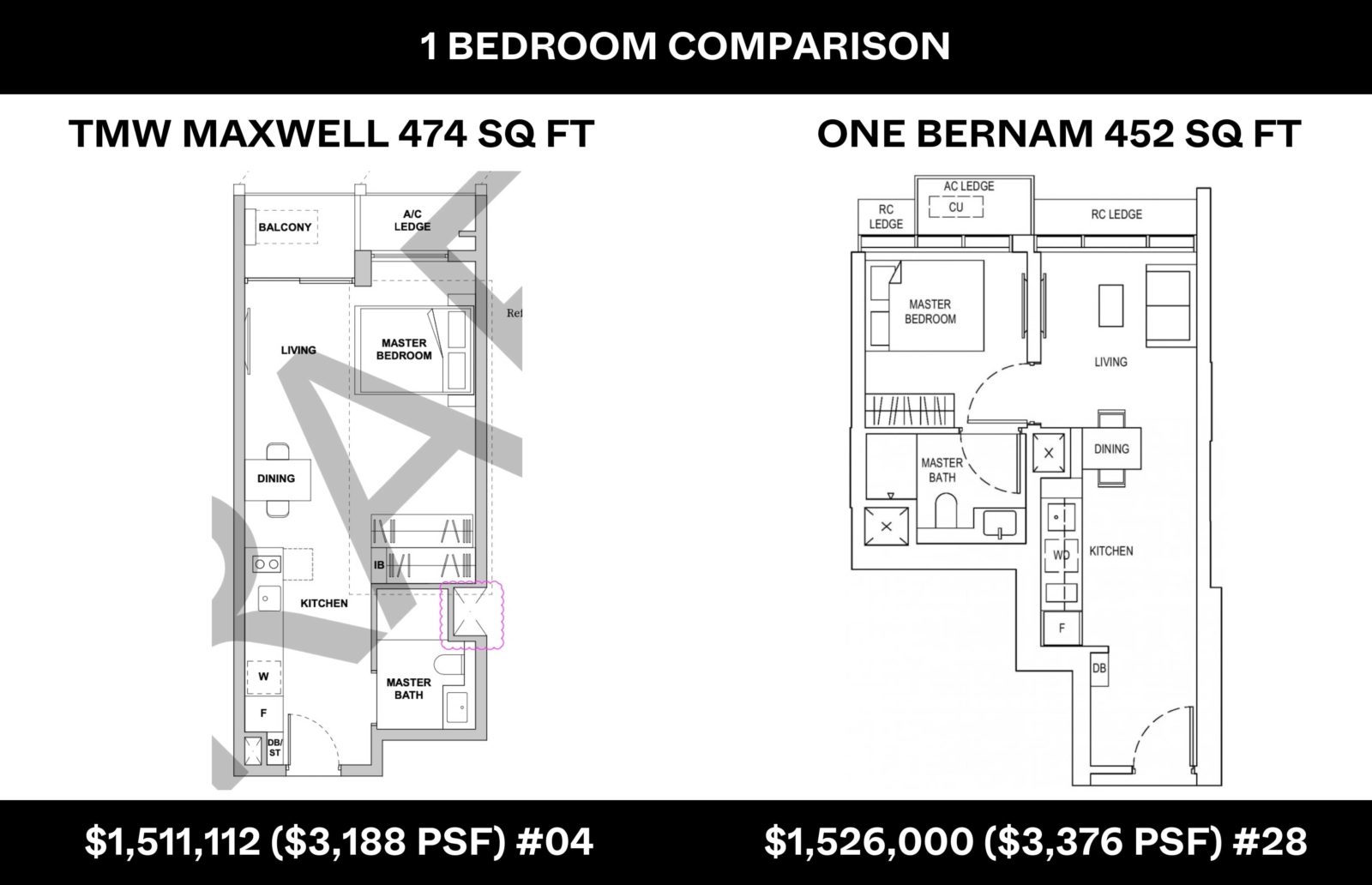 The lowest-priced unit is located on the 28th floor, which naturally commands a higher price. I can't compare TMW Maxwell directly given it's not going to be that high – but at the highest floor, you could be looking at $1,605,000. This would cost more than a unit at One Bernam. So how does the layout compare?
Perhaps this is subjective, but I do prefer the layout at TMW Maxwell. You can see the larger entryway in One Bernam – very undesirable for a unit that's already so small. The dining area is really just nice for 2, whereas there's at least some flexibility for a table of 4 in TMW's layout. There's also the open space between the bedroom and wardrobe, giving buyers here greater flexible to configure the space – which is really the whole point of this FLIP/SWITCH concept.
That said, some buyers may place a greater emphasis on the fact that One Bernam has a proper bedroom – which does offer more privacy.
Aside from the layout, both condos offer immense levels of convenience, so I think this really boils down to pricing and layout.
Now, let's look at one more – Midtown Modern. The reason I'm looking at this development is the same reason I looked at The M – it's also an extremely convenient place to live.
Midtown Modern is located in the Bugis area and is even integrated with Bugis MRT which is the best you can get in terms of convenience. The area is also a hotspot for F&B and shopping options.
Currently, the lowest-priced 1-bedroom unit is $1,529,000. It's only 409 sq ft which makes it the smallest new 1 bedder I've compared with so far. Here's what it looks like: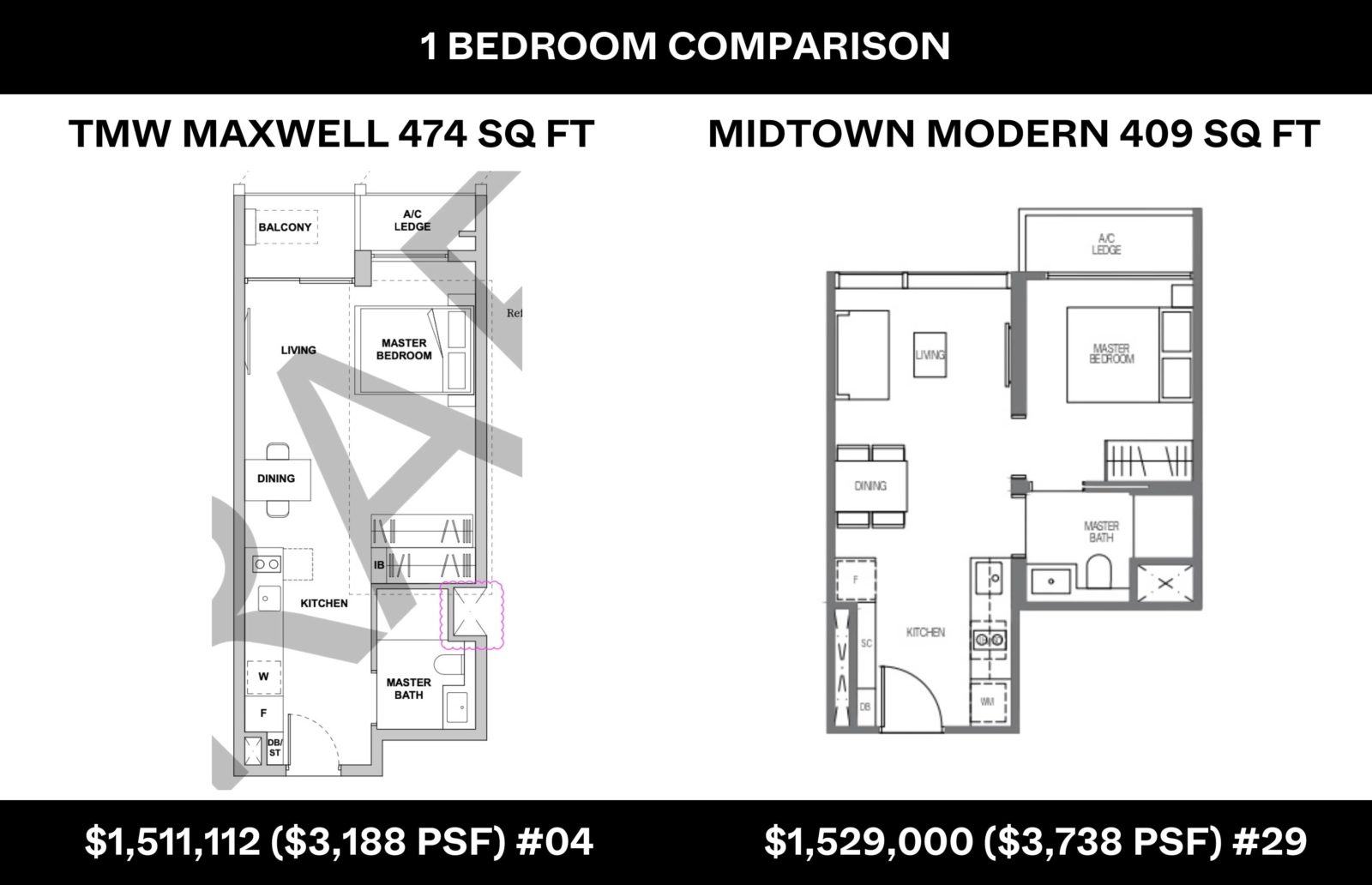 Midtown Modern's 409 sq ft unit is really efficient for a 1 bedder. It opens right up into the kitchen so there's no wasted space. The dining can fit 4 people, and it's got a decent bedroom size too. It has no balcony too so your indoor space is maximised – something I personally appreciate especially with a unit that's already so small. It's the perfect 1 bedroom layout in my opinion.
So on that front, TMW Maxwell does win in terms of size. In terms of price, it's not really fair as a comparison because Midtown Modern's price point here reflects its high floor – level 29. It'll cost only $29,000 more than the 4th floor unit in TMW Maxwell, assuming the estimated pricing is correct. Taking $7,500 per floor higher again, we'll be looking at $1,616,112 versus $1,529,000 – a $87,112 difference for staying about 11 floors lower.
In this regard, you can see how TMW Maxwell's pricing still makes sense in this regard if you're on the lookout for a 1-bedder that has more space. In this case, you could see the studio has a study area too, but that's hard to achieve with the Midtown Modern unit.
While both locations are extremely convenient, TMW Maxwell is really at the heart of the whole shophouse galore just outside the CBD. That's something pretty unique and thus, a plus point for a niche set of buyers.
So where does this leave us in terms of pricing?
Ultimately, the comparisons aren't so clear cut where yes, the psf is higher, but the overall quantum is lower as the unit is smaller.
You do have a lot of competition when it comes to smaller units in the area, as after all, the CBD area is targeted at such a consumer.
So when compared with resale alternatives in the area, you can definitely get cheaper alternatives.
That being said, none of them are really direct competitors – whether it be by layout or location. At the very least, you do have a strong selling point as compared to other 1 bedroom units in the area, the better use of space with the implementation of the space-saving furniture.
In terms of the immediate location, you really don't have many options save for Skysuites, Wallich Residence, and Onze @ Tanjong Pagar (which is freehold, by the way). And arguably, the Maxwell area is the most liveable when it comes to the CBD area, with the shophouses along Tras Street and Duxton adding a lot more character and life that improves liveability.
The same can't be said for The Marina side yet, although I'd expect that this would definitely improve in the future once the Marina Bay plots are up as the emphasis is on turning the CBD area into one that work/play/live makes it a very viable location to live in.
Can you make money as an investor? Rental demand should be strong and because of this, you should be able to command a decent yield.
On a less positive viewpoint, I'm of the opinion that highly-priced 1-bedroom units in this area, which is filled with other investor-led developments, tend not to perform very well. It's likely investors would see rental returns as part of their total gains, and so are less sticky in terms of prices. Moreover, the disparity in resale prices with the resale 1 bedders here leaves some uncertainty if it can maintain this gap – let alone widen it.
There are strong selling points to be seen at TMW Maxwell that you definitely don't get in the surrounding competitors, and the bet here is on the implementation that the final product will be sought after enough to create a good demand for the 1 and 2 bedders here.
Appreciation Analysis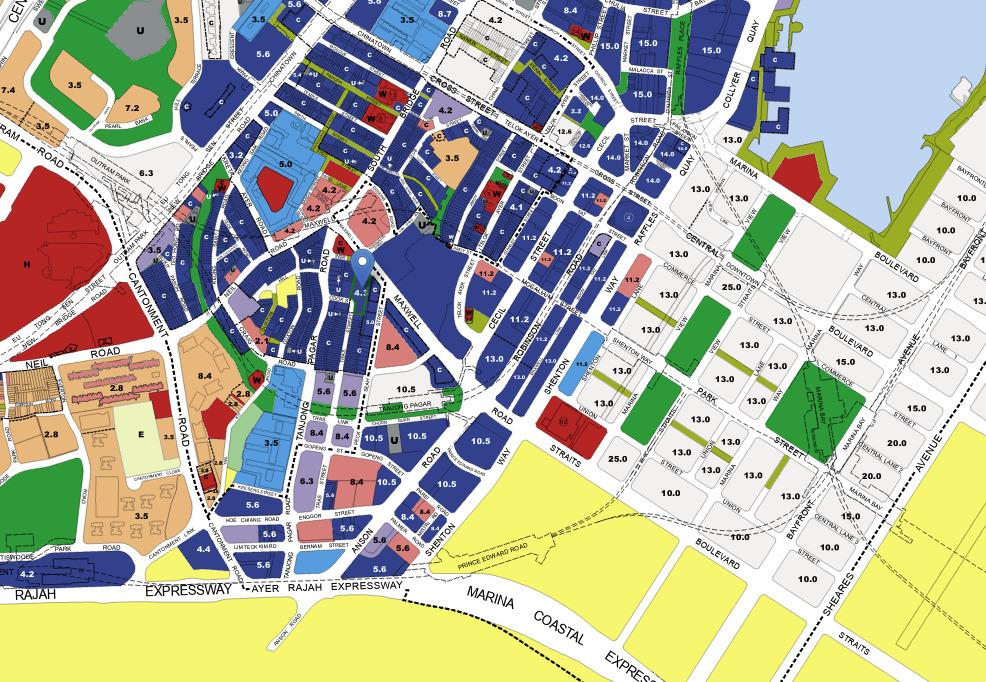 CBD Urban Renewal
It's been in the news over the past few years but if you haven't already known, the URA is pushing for more homes in the CBD. To do so, URA has come up with various incentive schemes to promote the redevelopment of commercial buildings into mixed developments, especially along areas such as Tanjong Pagar, Shenton Way, and Robinson Road among others. Among the incentives include an additional Gross Plot Ratio that may be granted. All of these tie in with having the "first mover advantage" here at TMW Maxwell as we are only getting started. In fact, after TMW Maxwell, we expect there are Newport Residences (former Fuji Xerox Tower) and Skywaters Residences (former AXA Tower) that are due to be launched in the coming years as well.
Underappreciated Convenience
Staying in the CBD can come across as "boring", especially after-work hours and on weekends when the entire area becomes less vibrant. However, I think it's down to 2 things – firstly, it's a chicken-and-egg issue – you need more people to start living here before the area naturally becomes vibrant because of the business opportunities for bars, etc. The push by URA to have more homes in the CBD, if successful, will achieve this, albeit over a longer time horizon. Secondly, it is important to differentiate between the different CBD areas. TMW Maxwell is no Marina Bay, this is in fact situated between two of the most mature estates in Singapore – Chinatown and Tanjong Pagar, both of which boast great food for all budgets. Convenience to an MRT station is one thing but convenience to a central MRT station is another and TMW Maxwell is just that – Tanjong Pagar and Maxwell are minutes away from Orchard, City Hall, and Bugis amongst others – it's simply everywhere you need in Singapore within minutes.
What we like
Flip/Switch units have 5 space-saving furniture provided as standard

Facilities that cater to the target customer

Vibrant and convenient location
Small land plot means that facilities may not feel generous

No large units so TMW Maxwell is more singles/couples focused
Our Take
TMW Maxwell seeks to reinvent your image of a new launch condo. Marketing materials don't have to be boring and show flats don't have to be run-of-the-mill. With the right marketing and of course the right product, it can really stand out.
As I mentioned, I really like that the developers have niched down, and been so clear about the type of consumers that they want to attract at TMW Maxwell. There's no need to incorporate facilities to try and cater to everyone, which is why you don't see the usual stuff like a kid's playground, etc.
If anything, the single or younger crowd would appreciate the no-kids atmosphere that would be cultivated at TMW Maxwell. You won't have to endure the sounds of kids noisily playing at the pool on weekends (as much as it can be music to some people's ears).
And it's great to see the level of detail the developers have put into TMW Maxwell, especially the standard provisions found in the Flip/Switch units. It's amazing that they actually included almost all the fixtures you need in a unit – a Murphy bed frame cum sofa, outdoor dining table, flip-down ironing board, and so on.
It's also the same case with the facilities, with the rooftop pool, a modern gym, lots of levels of greenery, and entertainment spaces (although I would still have liked more indoor space). Marry that with the commercial spaces, as well as the already vibrant Duxton area, and I think that you can understand the vibe here.
You are in the heart of Chinatown and Tanjong Pagar, with at least 3 popular hawker centres (Chinatown Complex, Tanjong Pagar Plaza, Maxwell) boasting Michelin Bib hawkers and 2 wet markets (the first 2 aforementioned) and I can assure you that grocery shopping at these is actually one of the most reasonable in Singapore. A function of their legacy rental rates from the past of course.
At the same time, you have Maxwell and Tanjong Pagar MRT just 3 minutes walk away, connecting you to Orchard, City Hall, and Bugis in less than 10 minutes. Of course, if you work in the CBD, you may even be able to walk to your office!
That said, TMW Maxwell is not for everyone – and that's not a bad thing at all. It's a CBD development after all, one that most families with children wouldn't consider living in anyway (and with most units less than 500 sq ft) It's a niche product that appeals to a select group of investors/owner-occupiers.
So if you are the targeted group, I think you would understand the appeal immediately. Anyone else outside that would probably be questioning the price points, and alternatives.
What this means for you
You might like TMW Maxwell if you:
Enjoy the convenience of CBD's location:

TMW Maxwell enjoys the MRT convenience and central location while not sacrificing practicality with daily necessities and food available at Chinatown and Maxwell.

Appreciate the distinctive architecture and branding of TMW Maxwell:

Thoughtfully curated and crafted with lush greenery and hip branding, I am certain that the developers will try to sustain this chic branding for the commercial tenants after the development TOPs.
You may not like TMW Maxwell if you:
Have a family:

TMW Maxwell's unit mix and standard provisions seem targeted at certain segments of Singapore – expats, singles, young couples who will likely be working in or near the CBD
End of Review
Documents
Join our Telegram group for instant notifications
Join Now
Matt K