Property Stories
A First-Time Homebuyer's Journey: The Pros And Cons Of Buying An Old, Resale Condo With En-bloc Potential
TJ
August 1, 2021

7

min read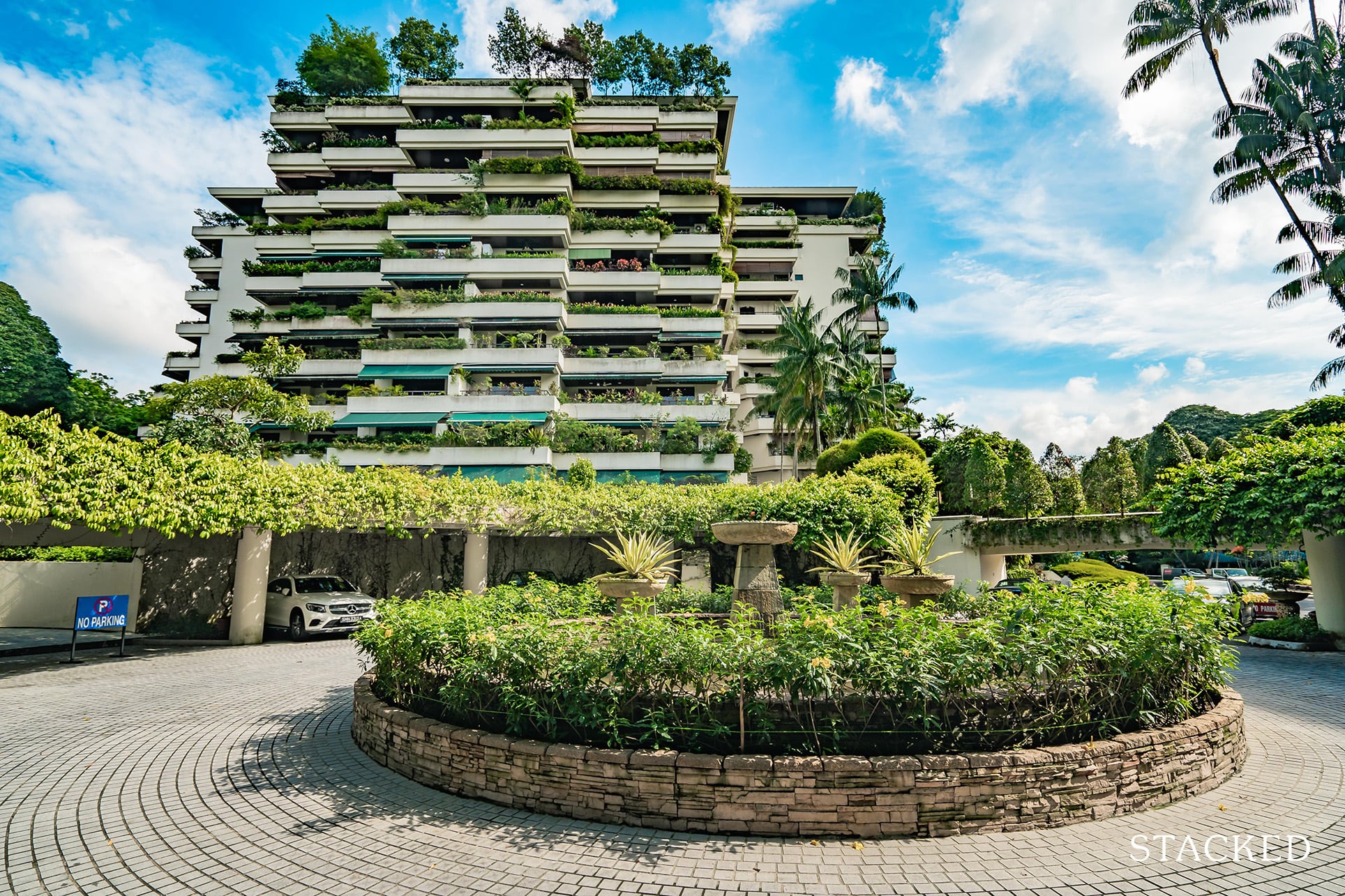 7
min read
Last week, I concentrated my property hunt in the Pasir Panjang region, and after finding 1 property to shortlist, I decided to expand my search to other areas this week. The 2 condos at Arcadia Road, Arcadia Gardens (also known as The Arcadia) and Arcadia Hillcrest, were both highly recommended by several friends and family members so of course, I had to check them out!
Unfortunately, it was during one of the periods where the number of COVID-19 cases was especially high so we wanted to limit our number of physical viewings and I needed to find a way to vet the developments without actually being there! (Since I won't be able to physically view any units, I'll be discussing both condos in conjunction based on their similar age and location, rather than analysing them individually based on their specific merits.)
Here are some of my tips to shortlist properties without physically viewing units:
Use Google Maps to explore the area and locate amenities. Check for places of worship, schools, reserve sites etc as these will affect noise levels, resale value and/or determine whether you'll eventually be living in a construction site.
Drive around the area to get a feel of the place
Check these sources of information for property news:

Google News
condosingapore.com – the forum members are usually prospective buyers of the development and thus often have relevant and interesting perspectives that you may not have previously considered
YouTube videos 
Property websites (such as Stacked!)
So I decided to take a drive around the neighbourhood first to see if I would like to live there.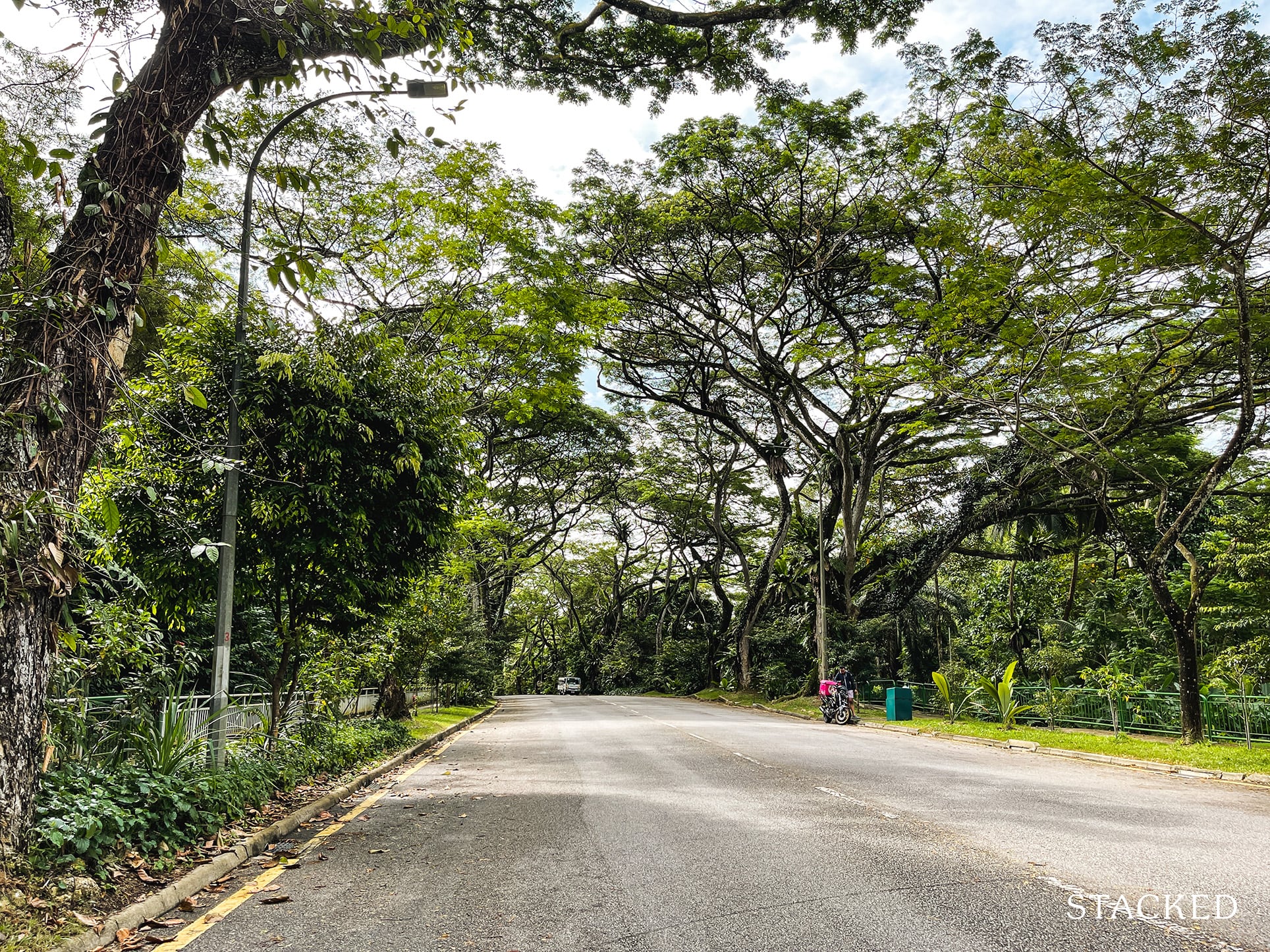 Once you turn into Arcadia Road, which has been designated a heritage road, it feels like you've entered an enchanted forest or gone back in time to a more peaceful and serene Singapore. I can see both condos being a big hit with people who are looking for a tranquil home surrounded by lush greenery. Kudos to my friends for knowing me well!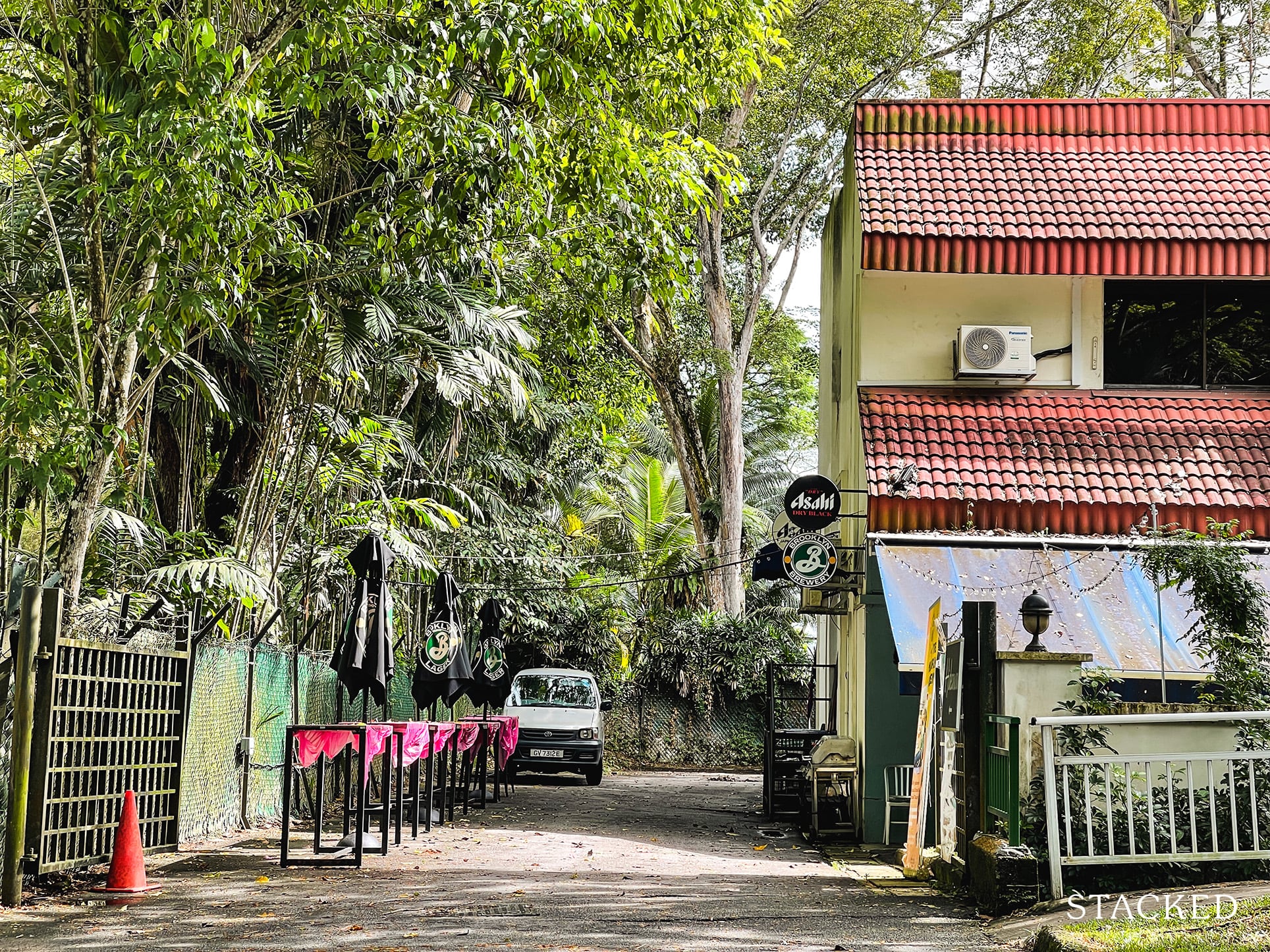 Despite being located on such a beautiful and quiet road, the condos aren't that far from amenities: there's a gourmet deli and eatery inside Hillcrest Arcadia, and I also found a shortcut through the back that takes you to the restaurants and shops at Greenwood (as well as Raffles Girls Primary School).
Is freehold always better than leasehold?
Looking at the Arcadia condos in more detail, they are 2 of the oldest condos in Singapore. Built in the 80s, these 99-year leasehold developments are, unfortunately, almost halfway through their leases. Older Singaporeans, like my Mom, have a strong preference for freehold developments over leasehold ones. I have a slightly different mindset: freehold is of course better if the units are identical. However, since freehold comes at a premium, you typically get a "better" and more comfortable leasehold unit for the same price as a freehold one, where "better" can mean anything from a bigger unit to being in closer proximity to amenities. (The freehold vs leasehold argument has been hotly debated recently.)
Since I can't bring my property with me to the grave, I'd rather enjoy the years I have in a more spacious and comfortable leasehold place rather than a small and noisy freehold condo. Yes, the leasehold property may eventually devalue to nothing but as long as I can live in it comfortably for the rest of my life, I'm at peace with that. Nevertheless, I do have a few qualms about old leasehold condos, namely:
massive maintenance fees: older condos are notorious for costing a fortune to upkeep and would I be able to pay these fees when retired? (Yes, I'm looking decades into the future, but old leasehold condos aren't easy to sell, so it's something that needs to be considered.)
Limited resale audience: whilst I'm looking for a home and not an investment asset, with property prices so high in Singapore, most of our funds would be locked into our home and I'd like to know we can sell our unit for a reasonable price if we ever need funds urgently later on in life.
En-bloc: boon or bane?
When I mentioned these concerns, my friends shrugged them off by either saying that the condos on Arcadia Road would definitely en-bloc or that one could just top-up the lease so there is no need to worry. However, I do worry! After having experienced the doubling of maintenance fees within a 5 year period from TOP, I am somewhat less sanguine about maintenance bills. (Not to mention the fact that the maintenance of Arcadia Gardens is already $1500 a month! If you're wondering how this compares to newer developments, here's a list of the maintenance fees of 10 newer luxury condos. Arcadia Hillcrest has a more palatable maintenance fee— surprisingly low for such an old condo, to be fair, with the maintenance fees for the currently listed (for sale) units ranging from $172 to $480.)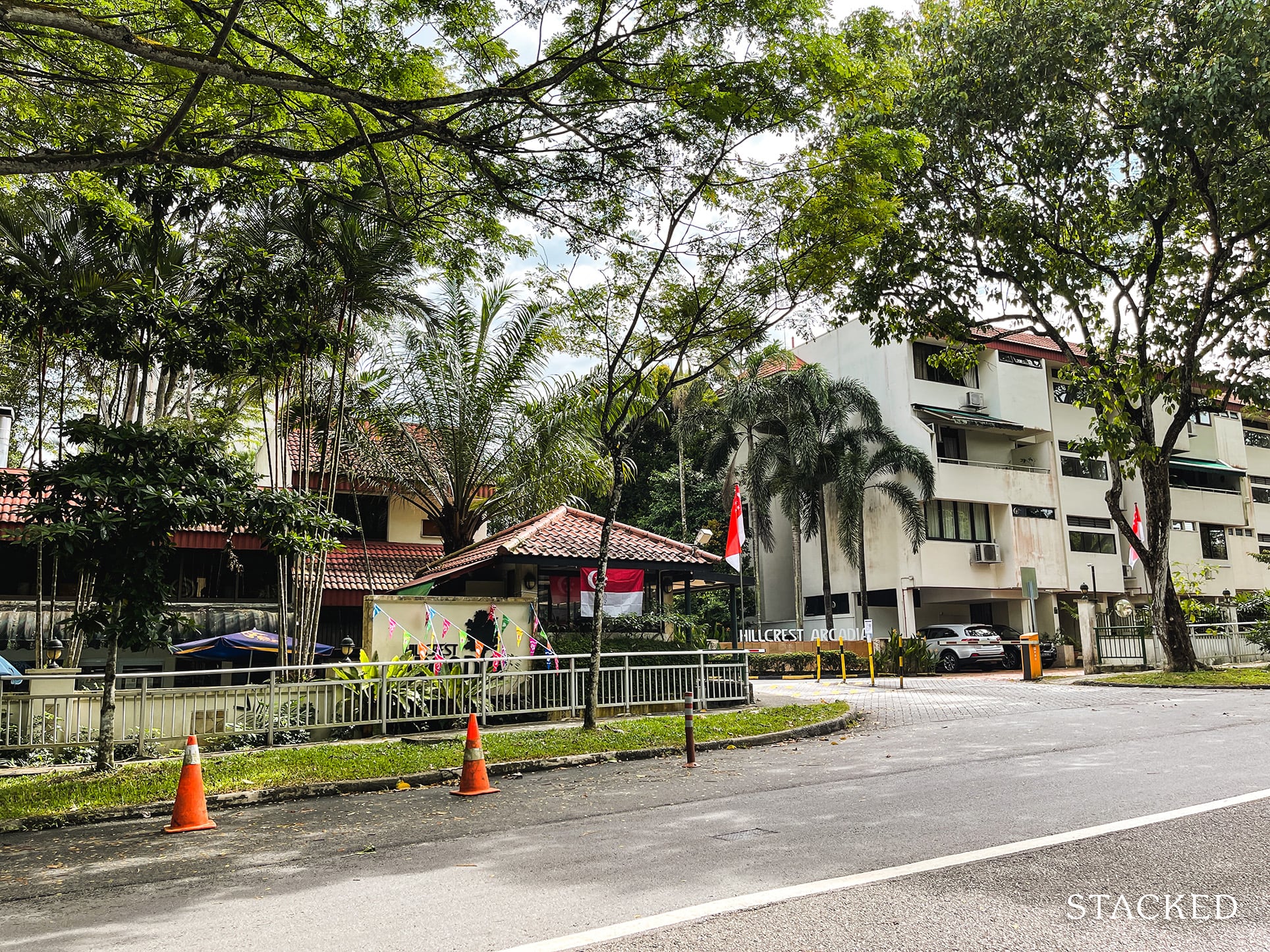 True, the condos at Arcadia regularly make the lists of "condos with the most en-bloc potential" and, with 56% of en-blocs between 2016-2019 involving condos between 30-40 years old, the 41-year old Hillcrest Arcadia has even been named by PropertyGuru as 1 of the Top condos with En-bloc Potential in 2021. However, as Ryan has previously shared, there are risks when counting on an en-bloc sale. One of my good friends actually sold her aged condo with "high en-bloc potential" to someone who paid a premium for the unit because he was sure the development would en-bloc soon and yet, years later, said en-bloc has yet to materialise.
As for topping up the lease, a visit to condosingapore.com revealed that a previous attempt to top up the lease of Arcadia Gardens in 2011 had failed. (Only bids which involved intensified land use would be entertained- which is why although in my previous article, I recommended that you ask friends for advice, I never forget to back everything up with my own research.)
Read this next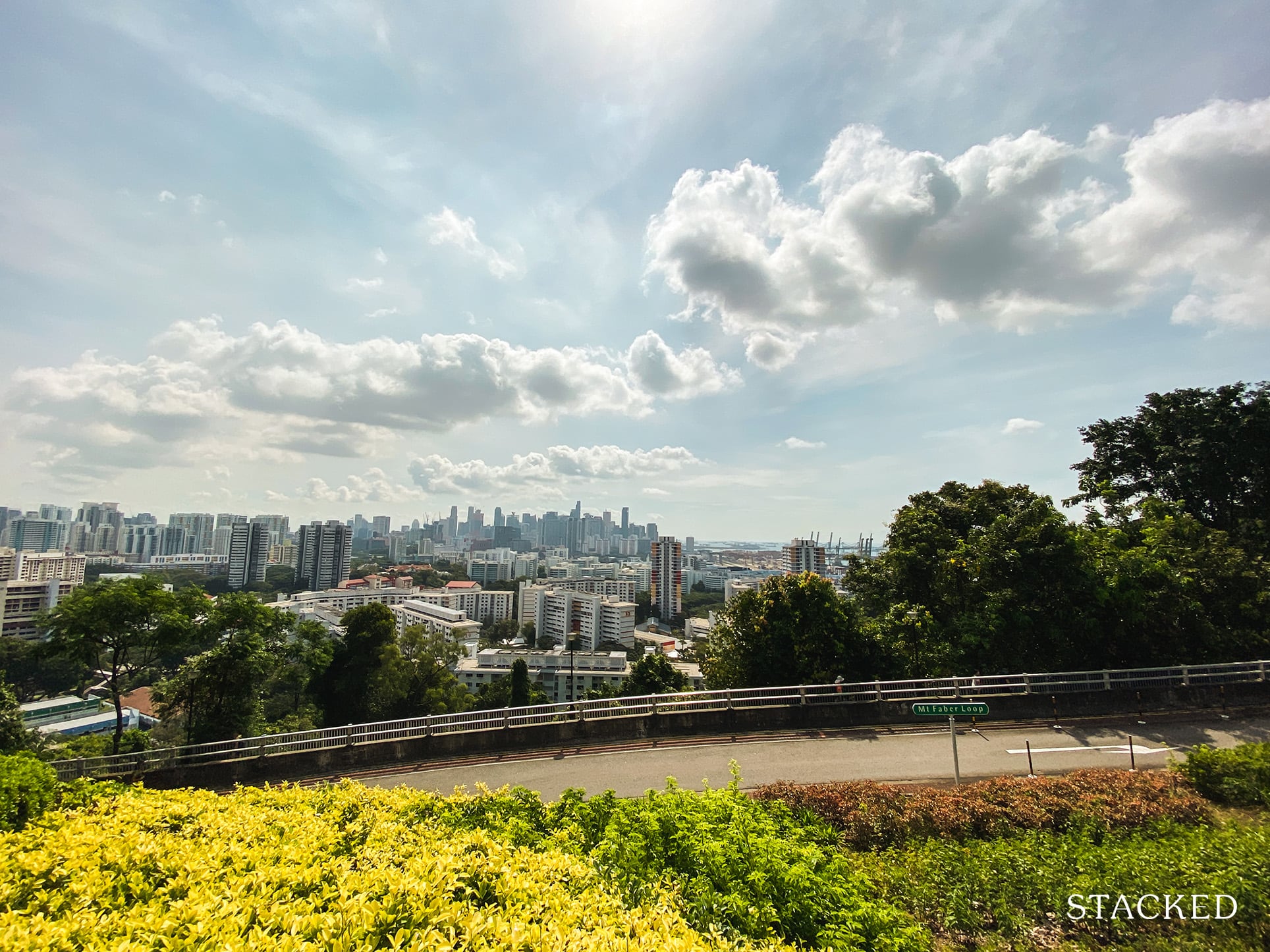 Moreover, like most Singaporeans, I have a love-hate relationship with en-blocs. As with much in life, it's all a matter of timing. Of course, if maintaining the condo has become too costly and lease decay has made the condo unsellable, a successful en-bloc would definitely be God-sent! However, at this point in time, the whole goal behind moving is to find a comfortable home, so I'd hate to spend masses of time and money on turning a place into an ideal home and being forced by an en-bloc to leave not long after. (Especially, if it entails being made to move at a loss! If you can prove that an en-bloc would make you lose money, you may be able to stop an en-bloc) This is why I advocate paying attention to en-bloc attempts even if you're not purchasing with the hopes of profiting from a future en-bloc.
To get a better idea of whether an unwelcome en-bloc would happen soon after I purchase a condo at Arcadia, I did 3 things:
Calculate the final cost of the unit: I estimated the cost of renovation, added it to the sales price (as well as stamp duty and other miscellaneous fees) and then divided in by the unit's size to get an idea of the unit's ultimate psf cost.
Compare it to the amount your neighbours paid: Next, I checked the URA records for the past transactions of the development and counted the number of transactions that were equal to or higher than the psf I would be paying. (I also take note of the transactions which are lower but similar to my psf.) This gives me an idea of how much support I would have to vote down an en-bloc. If, for example, I pay $1000 psf but 95% of the other owners bought their units ages ago and only paid $500 psf, I would not count on being able to enjoy the unit for a long time before an en-bloc comes along.
Guesstimate how much developers would be willing to pay in the event of an en-bloc: I then plot out a map of the nearby developments with their indicative psfs (for actual transactions as well as current sales listing). I supplement this map with the values of previous en-bloc attempts, both successful and otherwise. For example, after scrolling through several pages of Google news, I discovered that a nearby condominium, Watten Estate, had failed in its en bloc attempt in 2019 which had been priced at $1738 psf. Since developers would need to pay a hefty sum to top up the lease if they decide to purchase either of the Arcadia condos, in the absence of significant push factors to Singapore property prices, it would be fair to assume that developers would not be willing to pay anything close to that amount for the Arcadia condos. (To be even more precise in your calculations, you can use Bala's curve to approximate how much developers would need to pay to top up the leases.) Current asking prices for both condos on Arcadia Road range from over $900 to over $1600 psf: with the information I have on hand, I would certainly be wary of making a purchase at the higher end of that spectrum.
All in all, after having considered all of the above factors, I'd definitely love to live on Arcadia Road but, perhaps, not at these prices so my property search will still continue.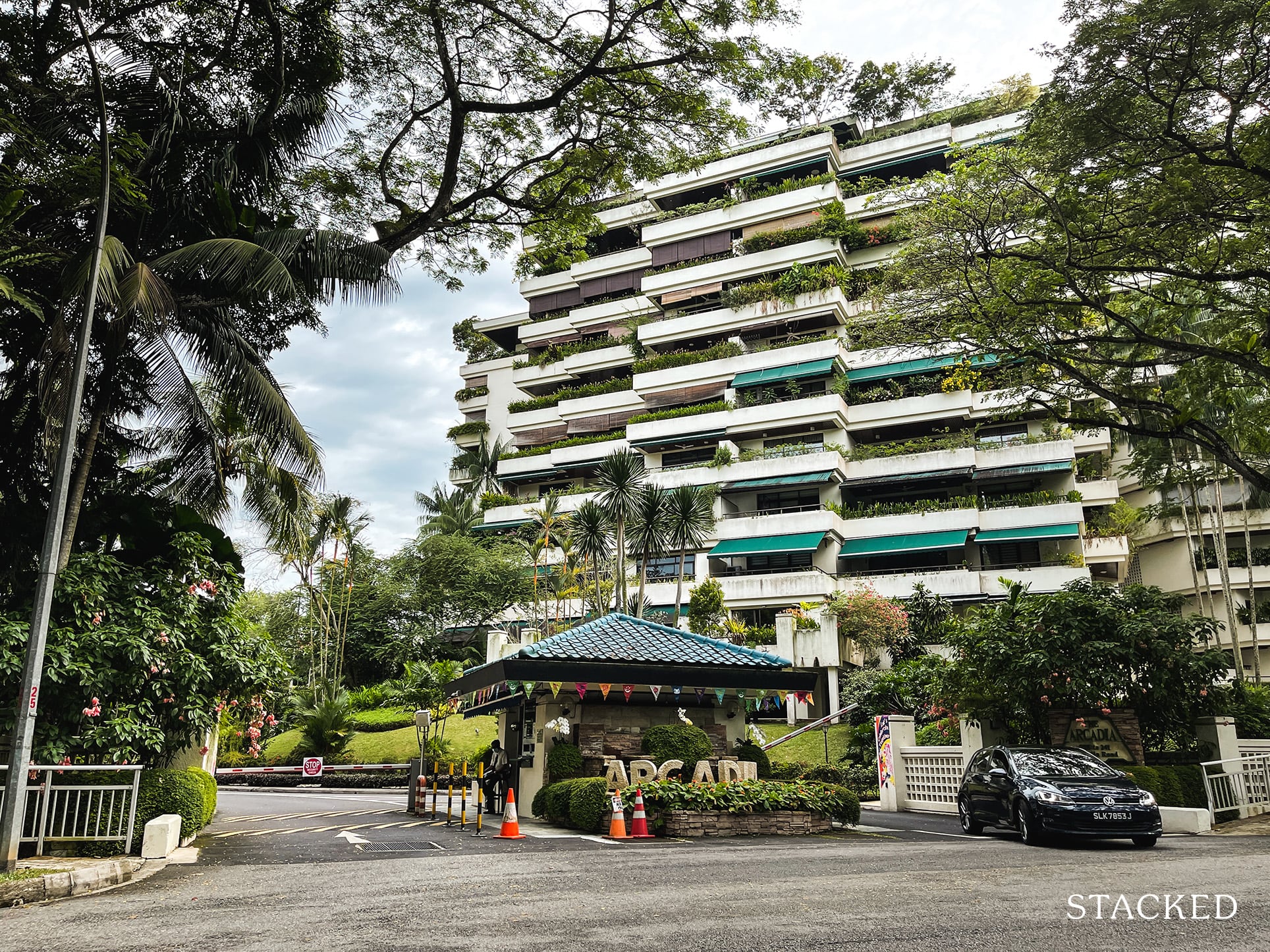 Pros
Surrounded by nature
Serene environment: Private and beautiful road lined with lush, green trees
Well-maintained condos: they even have their own websites!
Large units with the sensible layouts characteristic of older developments: some 1-bedders at Arcadia Hillcrest are over 1000 sf!
The units at Arcadia Gardens not only have a dumbbell layout, they even have backdoors which could potentially allow you to convert the units into dual-key units
Hillcrest Arcadia has a variety of unit sizes so the quantum starts from a more accessible price point
The maintenance rates at Hillcrest Arcadia are also reasonable, going as low as $172 for a smaller unit
Cons
– High Prices: both are past their best years as a leasehold development yet still asking for high prices. Moreover, large unit sizes at Arcadia Gardens mean the quantum is very high.
– Turning out of Arcadia Road onto the busy Adam Road is a pain
– Most units are old and would require renovation, possibly even re-wiring
– Some units at Arcadia Gardens face the PIE, which would mean living with a certain amount of noise
Some other considerations:
En-bloc potential: you could potentially make money, be chased out of your home soon after moving in, or live next to a construction site
Split-level maisonettes at Arcadia Hillcrest: great for multi-generational families as it affords privacy but not so great once the old folks start having mobility issues (or become lazy, like my Mother!)
See you again next week as I continue on the hunt for my next home in Singapore!