Condo Reviews

The Loft Condo Review: The Most "Affordable" Way To Live At Nassim
Reuben
November 25, 2019

15

min read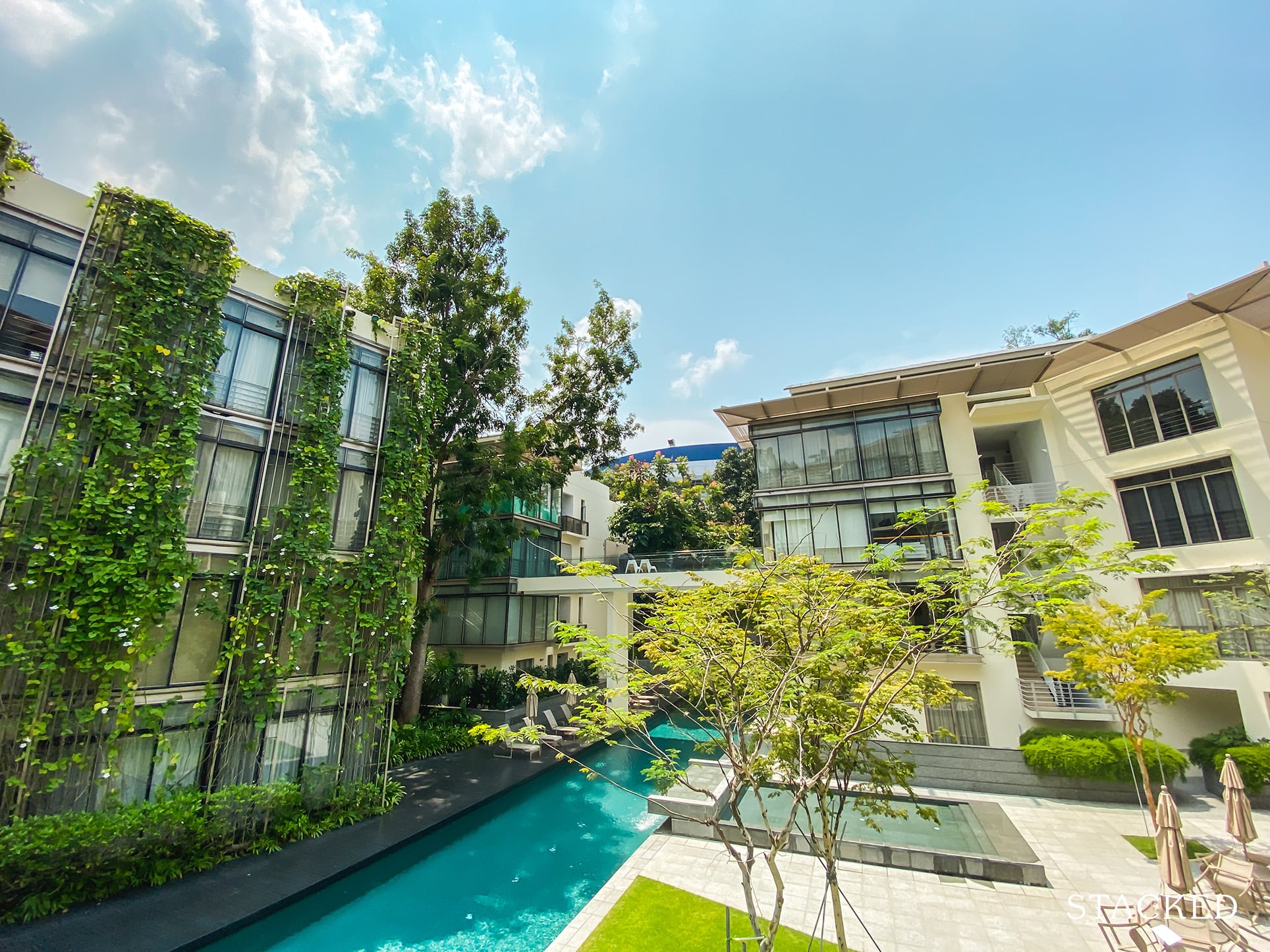 The Loft presents an opportunity to stay in a peaceful enclave, yet close to the Orchard shopping belt. It's also great for those who value larger living spaces. However its walking distance from the nearest MRT makes it less attractive for those heavily reliant on it.
Reviewed by Reuben on 25 November 2019
What we like
Good unit sizes

Peaceful environment

Modern design

Great upkeep
What we don't like
—

Leasehold status in Nassim

—

Not near MRT
15
min read
About this condo

| | | | |
| --- | --- | --- | --- |
| Project: | The Loft Condo | District: | 10 |
| Address: | Nassim Hill | Tenure: | 99 year |
| Site Area: | 81,044 sqft | No. of Units: | 77 |
| Developer: | Capitaland Ltd | TOP: | 2002 |
With 79 years left on its leasehold, you would be forgiven for passing The Loft (at Nassim) off for an antiquated development. Yet, it somehow defies all expectations with its flawless modernity.
In fact, some would even go on to say that its luxury stacks look like something out of the future!
Tucked away in the peaceful enclave of Nassim Hill, The Loft is a boutique development that brings both tranquil and luxurious (and to a certain extent, timeless) living to an incredibly convenient location.
2 decades in and The Loft continues to appeal to homeowners – and unlike its older peers like Signature Park, the condo shows almost no signs of wear and tear.
Yes, facilities are a touch limited here and you wouldn't expect state-of-the-art condo systems, but for its quantum to location ratio, you'd understand why it's still so appealing despite its age.
For those who want to experience peaceful living in an upclass area with solid amenities all round, The Loft might just be the place for you.
The Loft Condo Insider Tour
Facilities in The Loft
Lap Pool
Gym
Barbecue Pits
Jacuzzi
It's easy to be overshadowed in this neck of the woods, especially so when you have neighbours like the Nassim or the Nassim Park Residences. But the Loft condo is up to par here, with this lovely driveway up a small hill which almost feels like you are driving into some stately manor.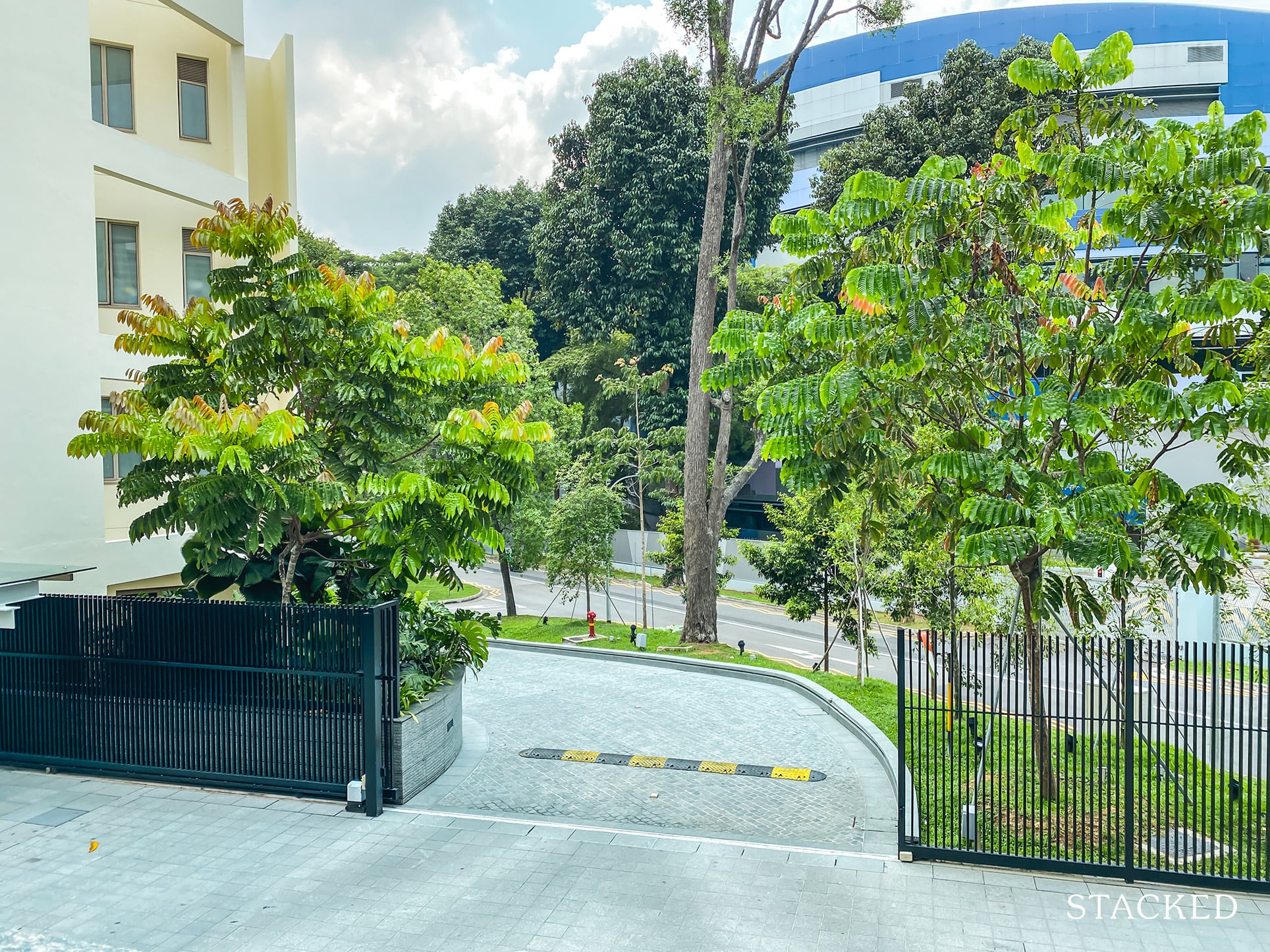 After driving up, you get to a small roundabout and the entrance of the Loft condo. There is a drop off point and small waiting area here for taxis.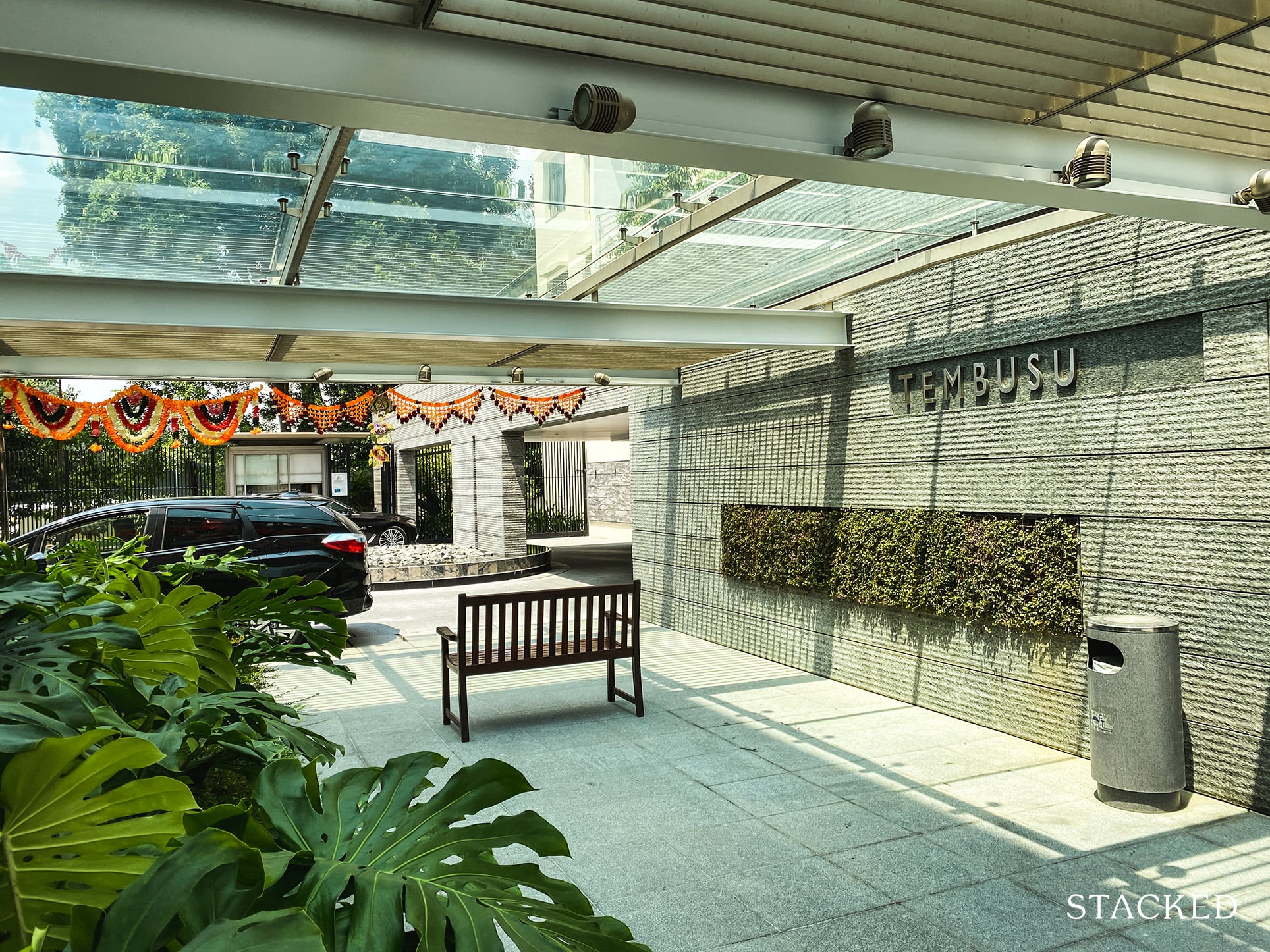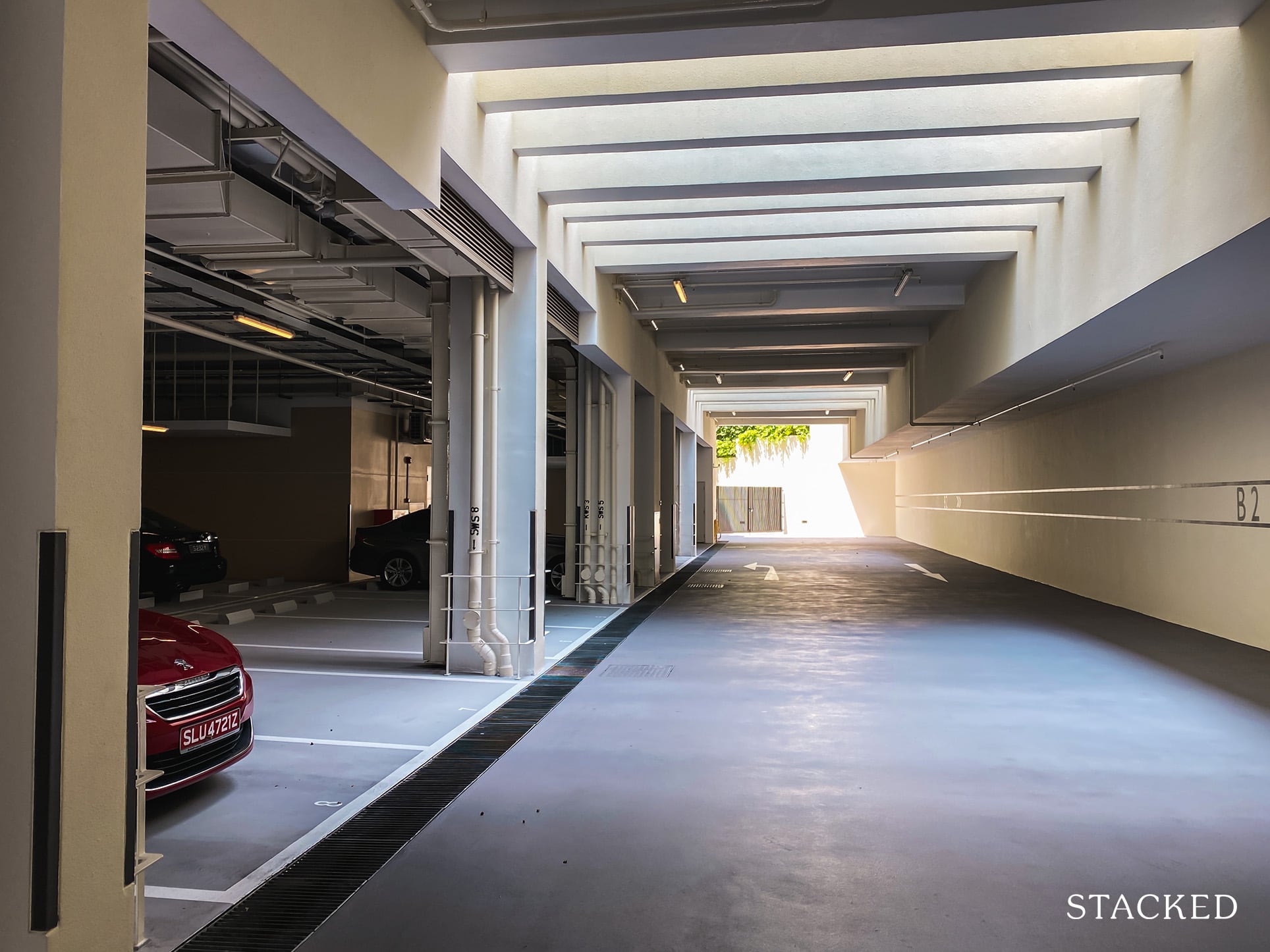 The carpark is wide, spacious and just a breeze to drive through. I like that there are open spaces to let the light through plus the higher than average ceilings really give a good sense of space.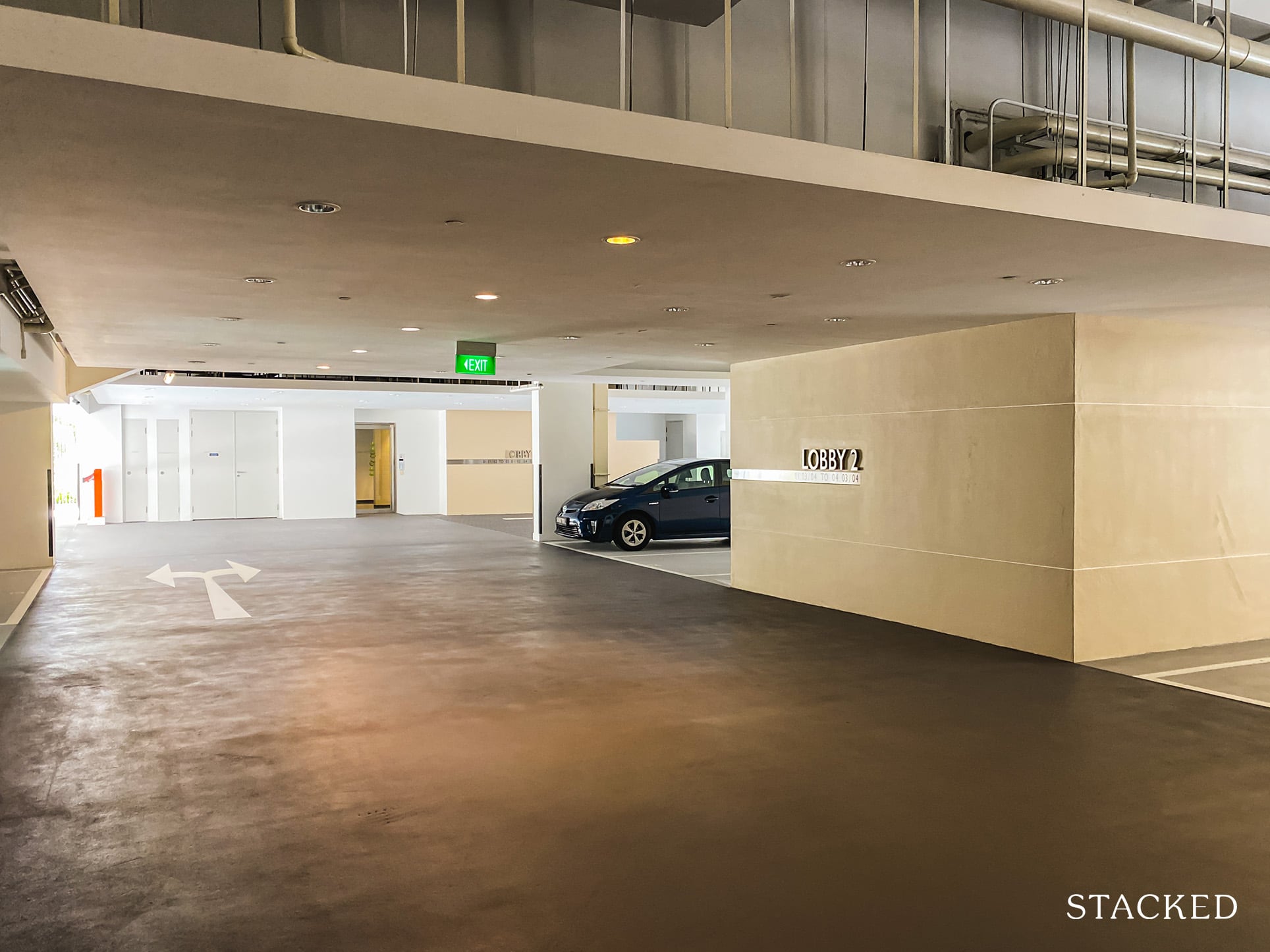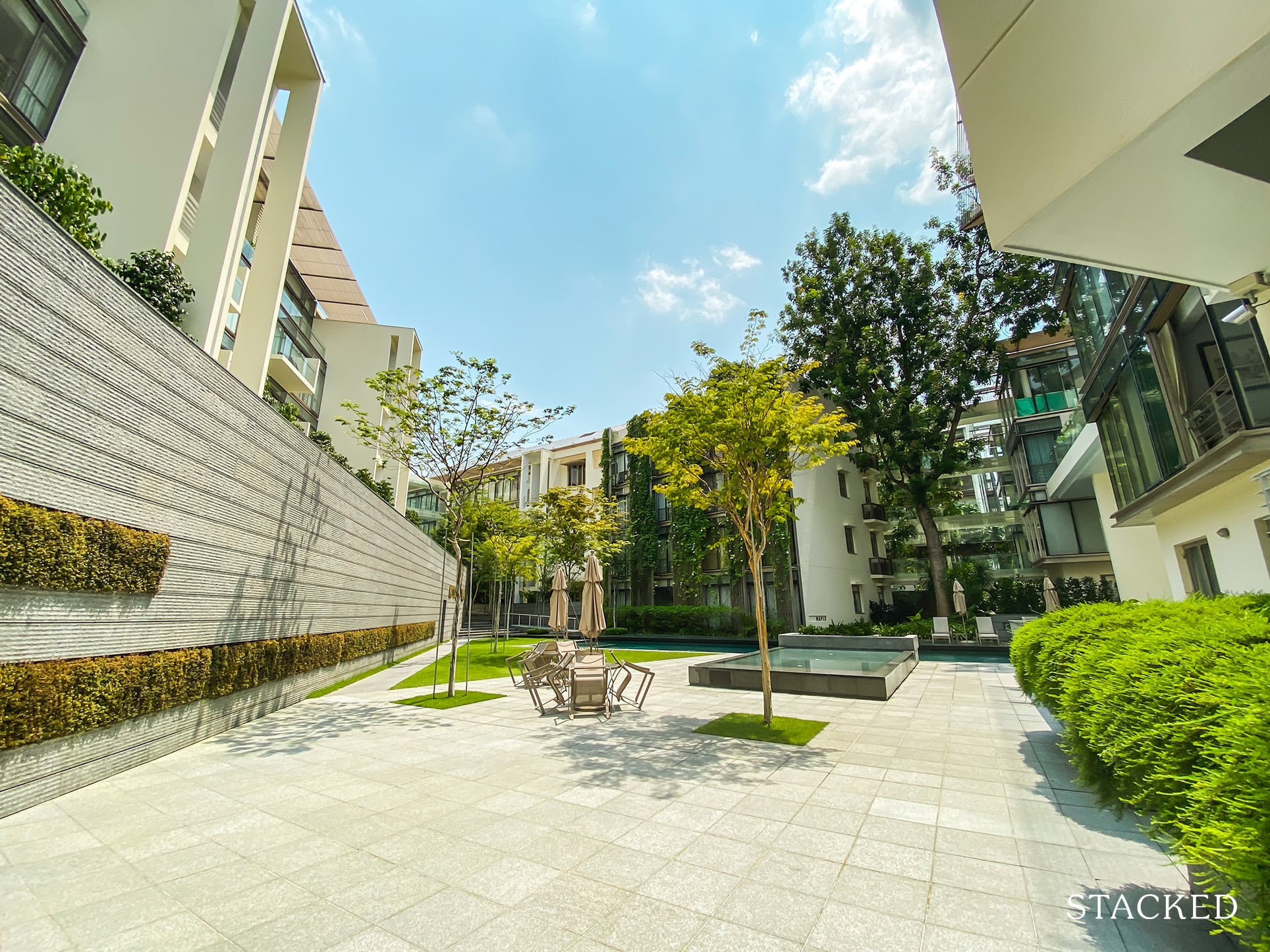 At this point let me stop you to hazard a guess at how old you think the condo is. 9 or 10 years maybe? In most cases that would be an entirely reasonable guess, but I'll let the cat out of the bag right now to amaze you that the Loft condo was actually built in 2002! That's right, this condo is now 17 years of age.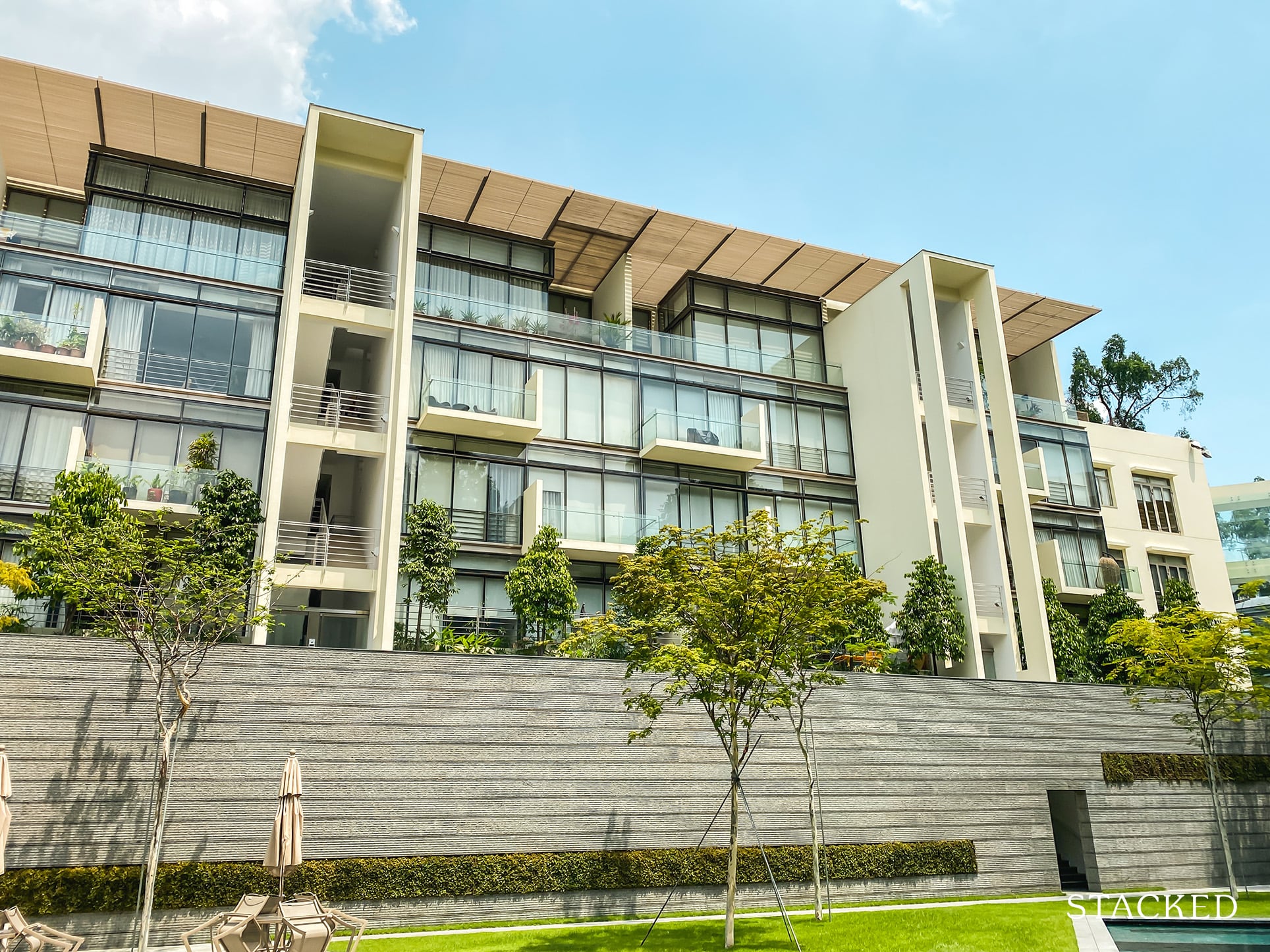 It's quite clear that the design of the condo was ahead of its time. Even now in 2019, it still looks fresh and modern. In fact, I'll go as far as to say that it looks even better than some of the condos that have been built in the past few years! Of course, taste is always a subjective thing but I think most people would agree with me that the design here is timeless and will stand the test of time. Another thing that stands out here is how immaculately maintained the Loft condo is. I think that has a big part to play in how amazing it still looks.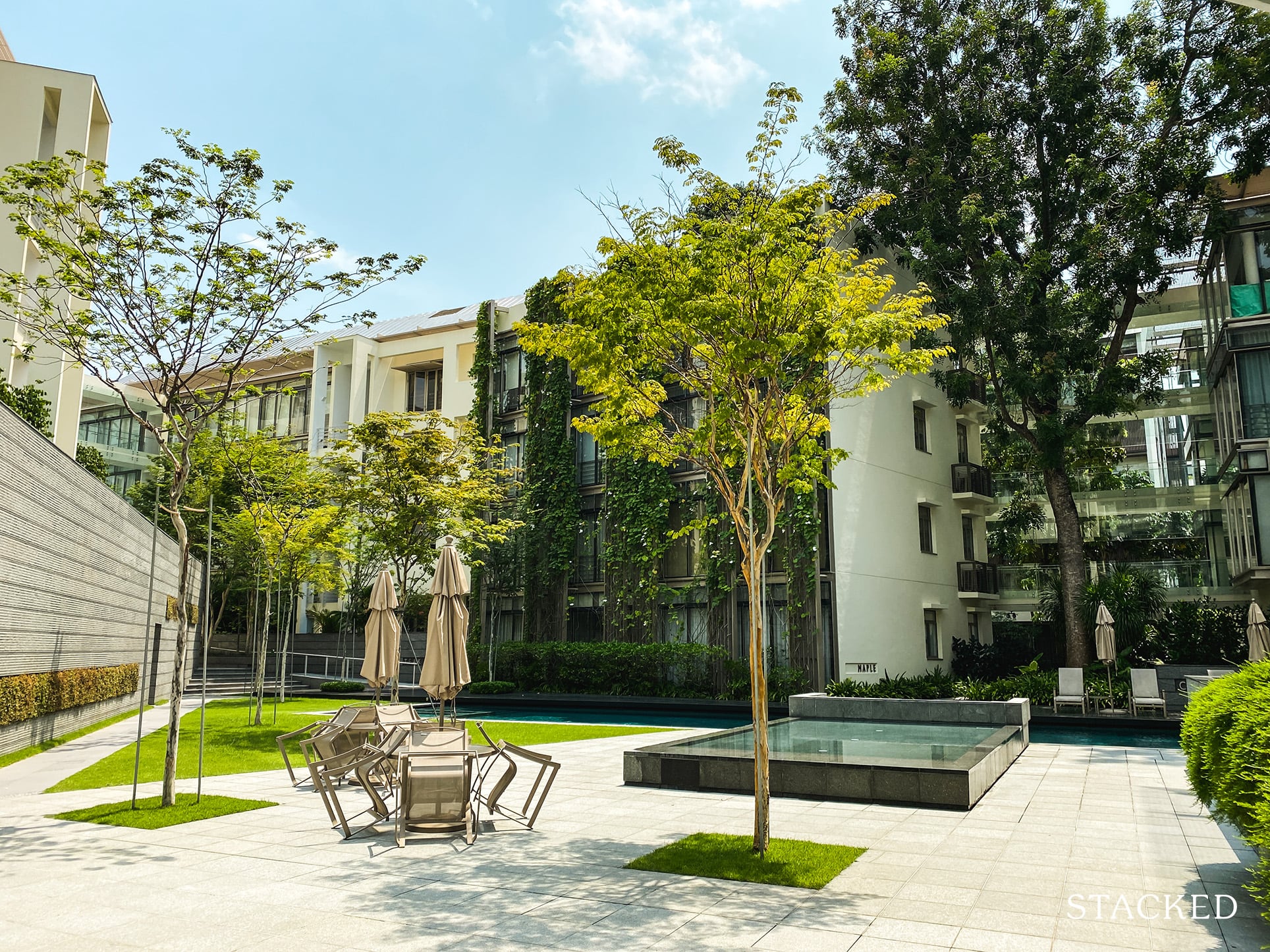 With just 77 units, you can consider the Loft condo a boutique one. Because of the low rise restrictions in Nassim, there are only 3 low rise main blocks that form a fixture around a triangular courtyard. It's not a bad open space at all considering the size of the development, and just sitting here you can see why people are willing to splash the cash to stay in Nassim. It's central but yet still retains an exclusive and private vibe. There are no high rise buildings around, so you don't have any nosy neighbours that are able to peer into your development.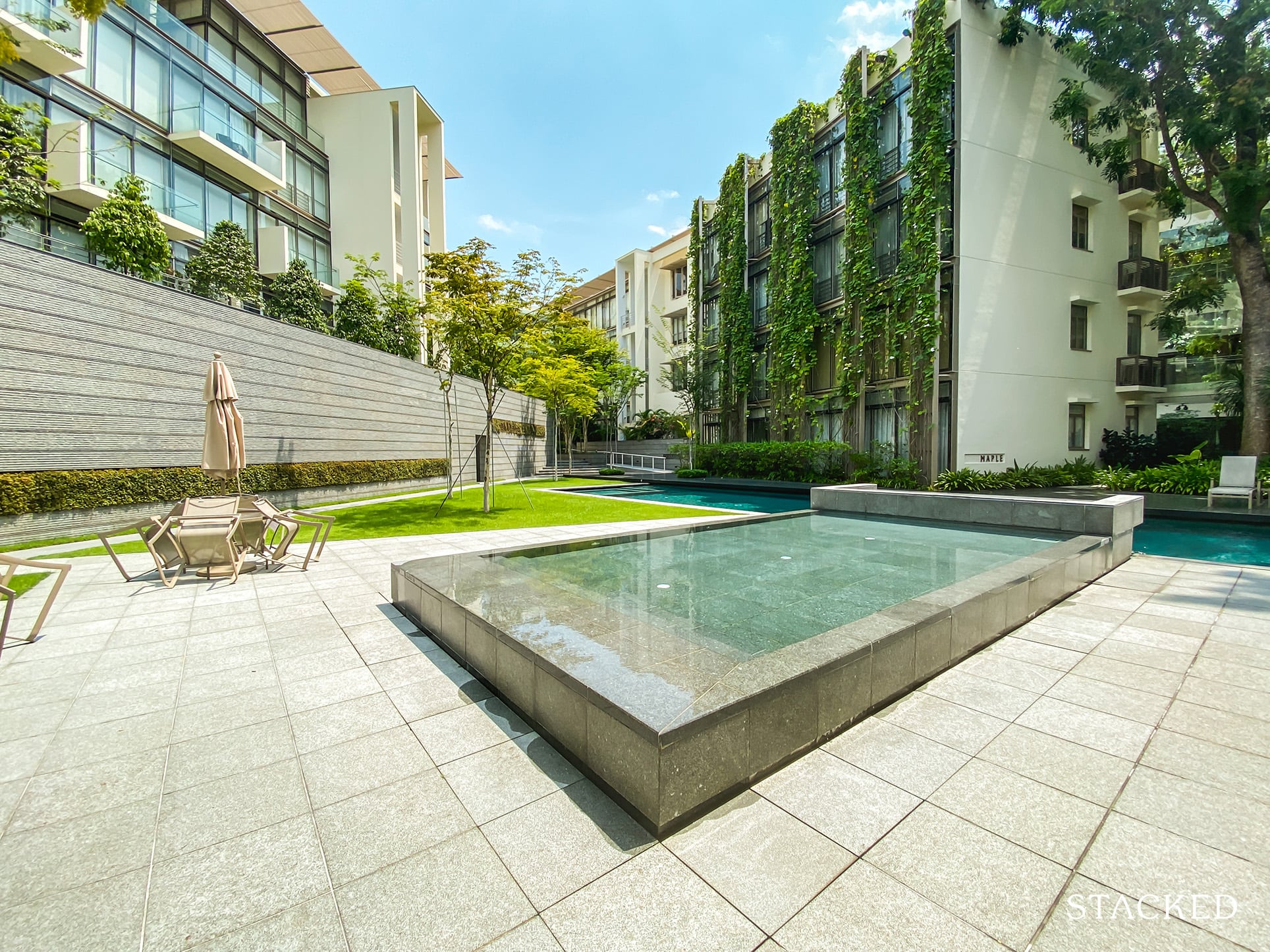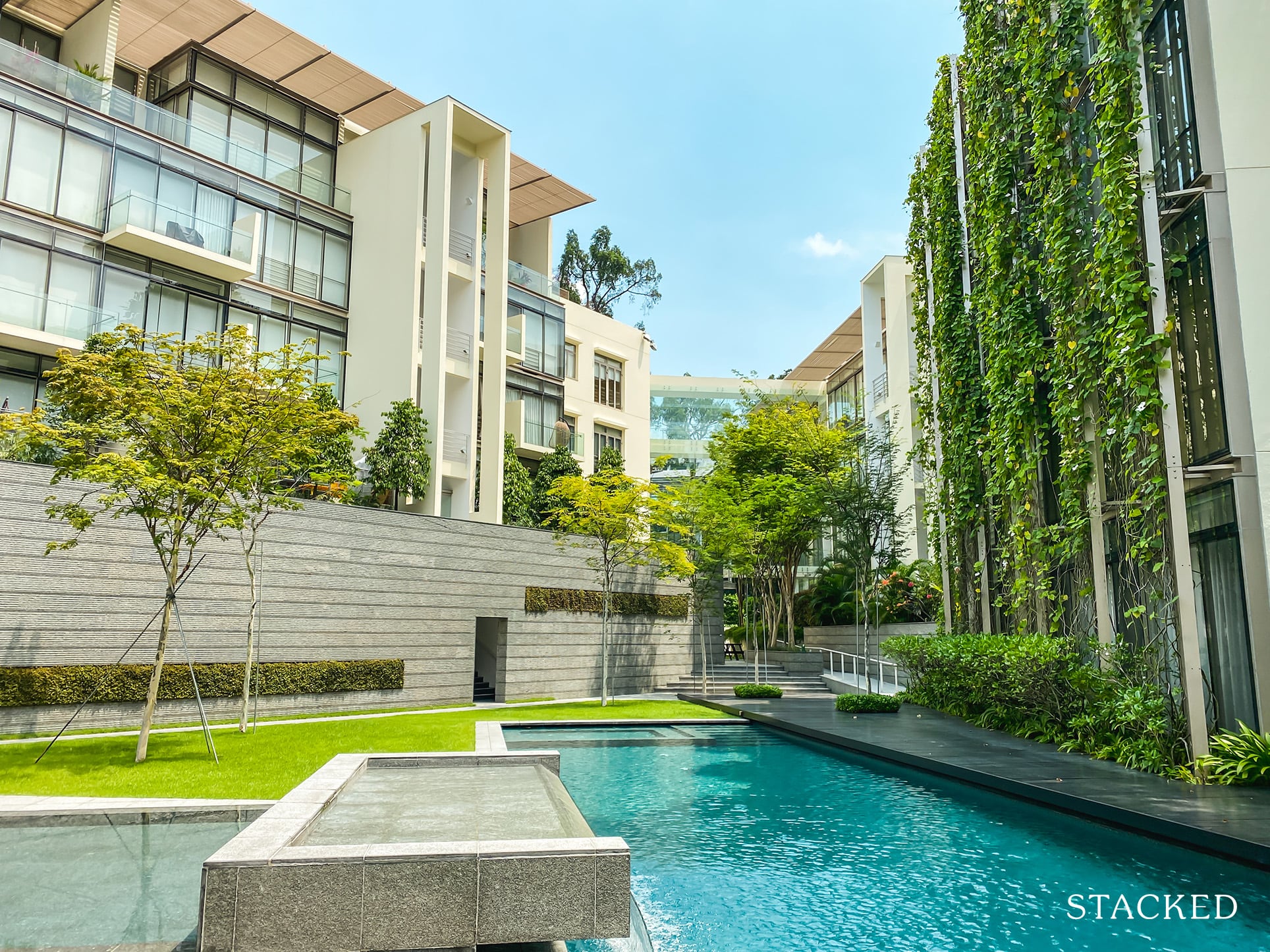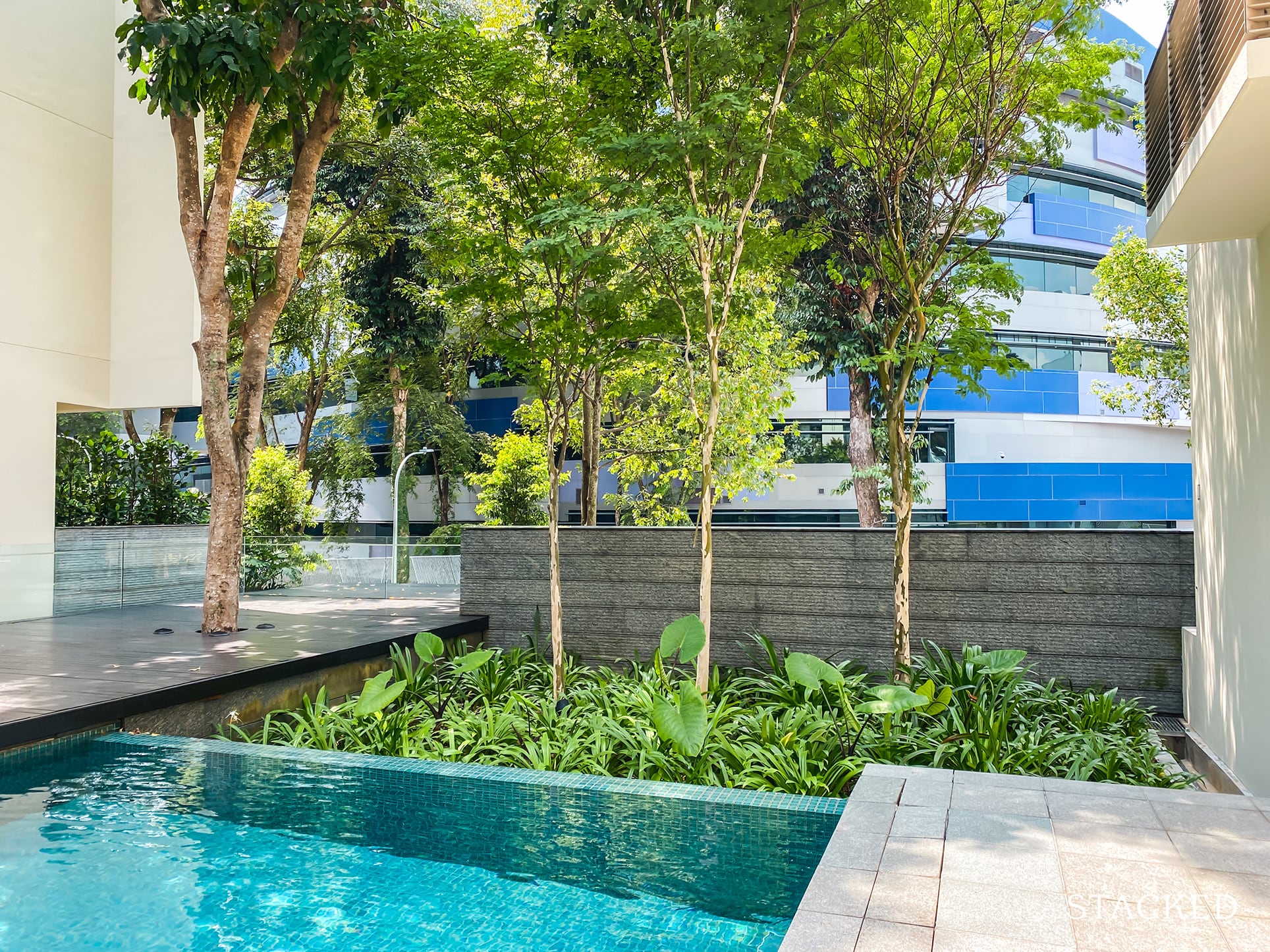 The swimming pool is not the biggest, but it is certainly enough to do laps in. I like how the infinity pool stretches towards the end towards Nassim Hill, although the Police Headquarters is a bit of an eyesore here!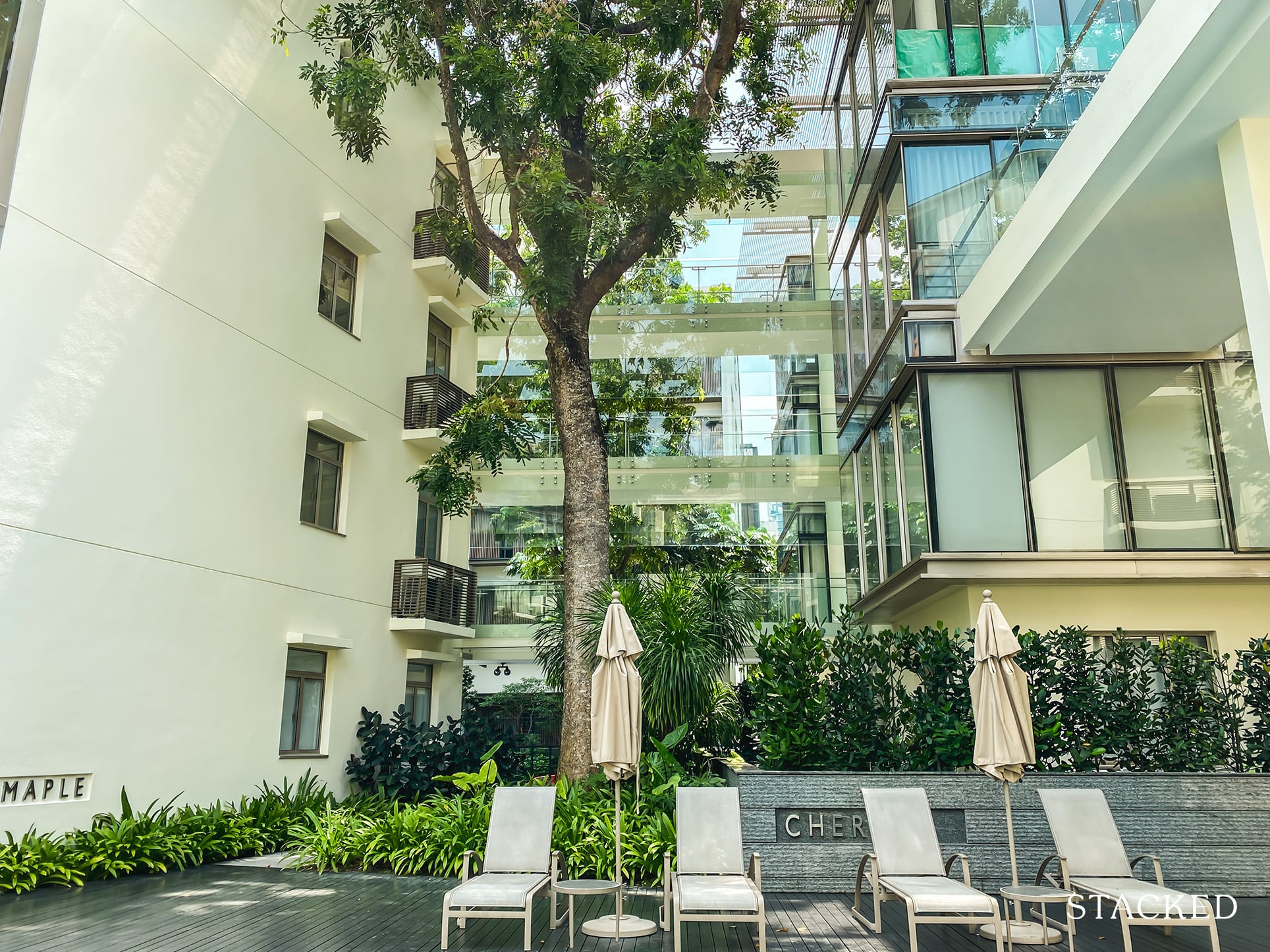 There are a couple of deck chairs, outdoor seating and umbrellas at the wooden decks next to the swimming pool which further adds to the relaxing feel of the place. (Love the look of the place with the glass bridges behind).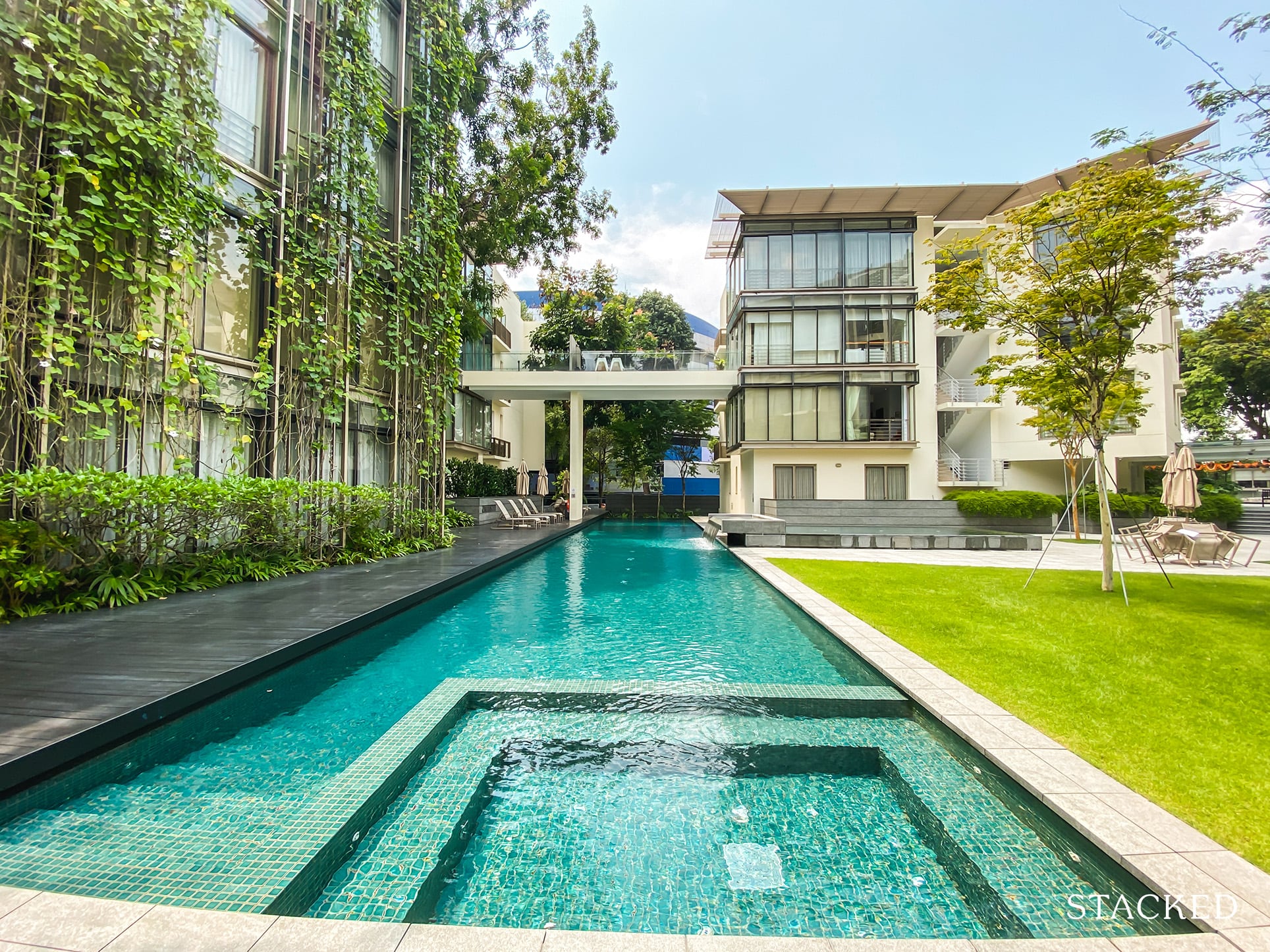 At the beginning of the swimming pool is a small integrated jacuzzi too.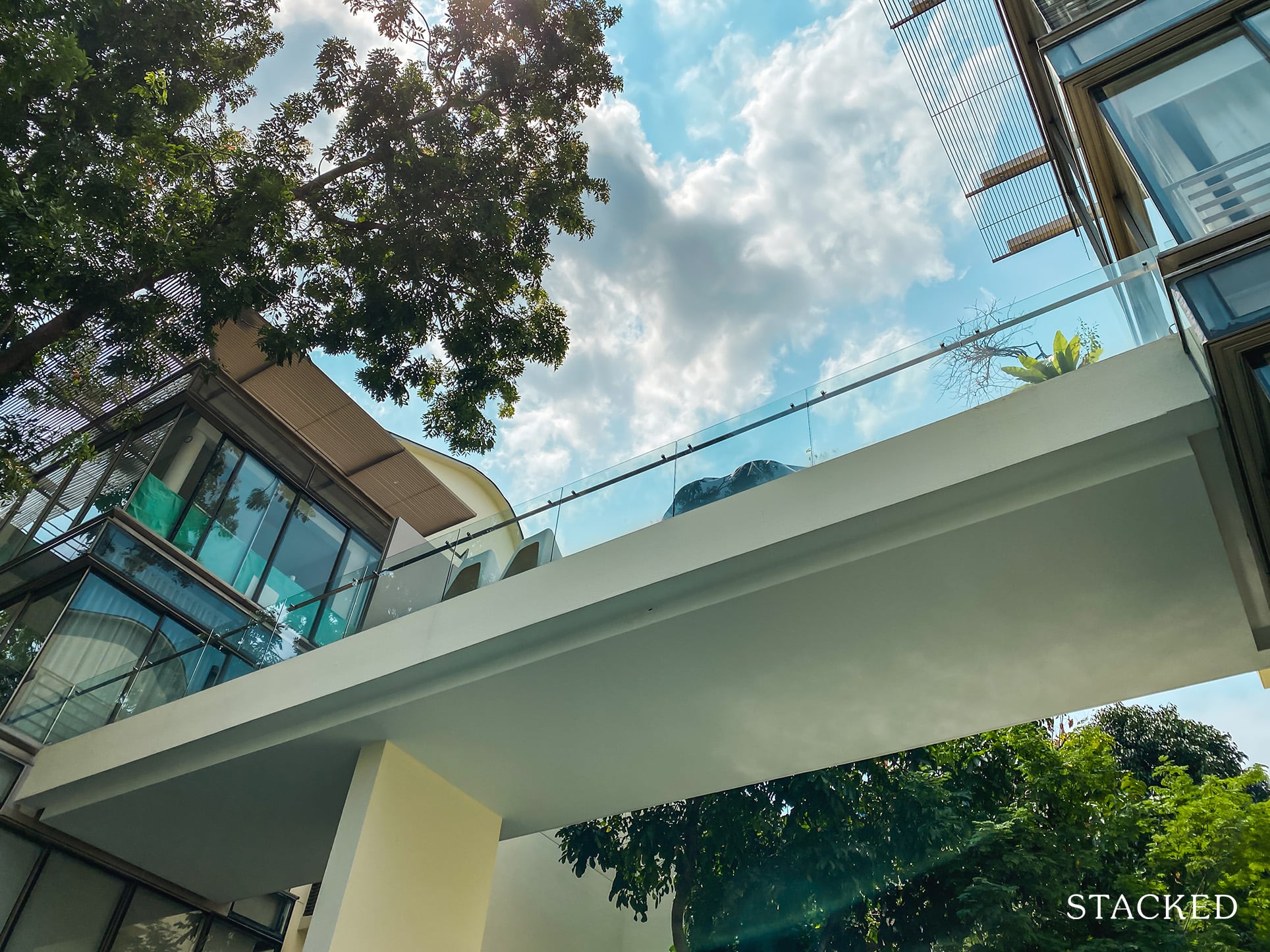 From here, you can't help but notice the sky bridge that links both blocks. It is actually part of a unit and is really super unique!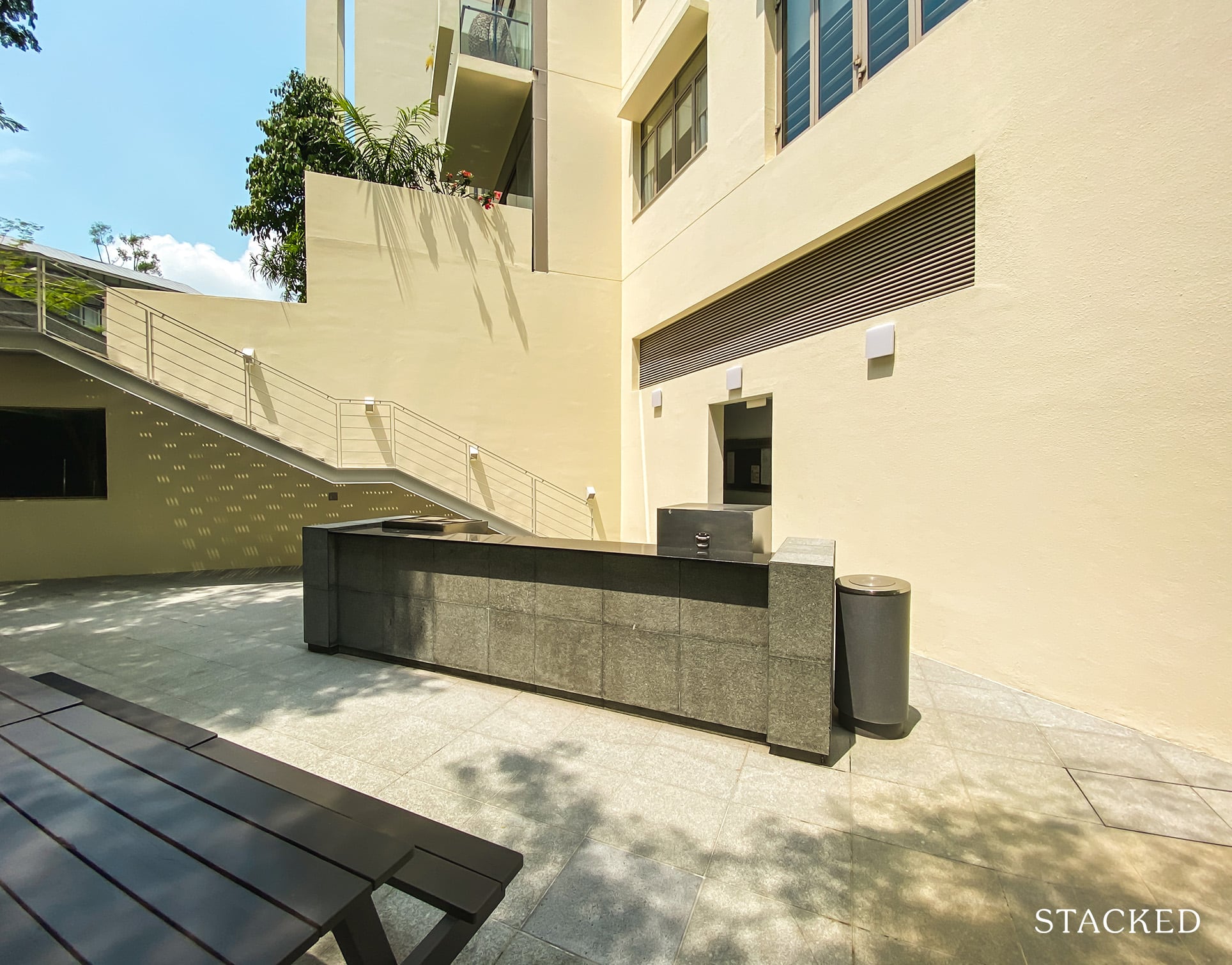 Further down is the barbeque corner, which is tucked away nearby the pool. It makes it more private but isn't exactly the nicest barbeque area that's for sure.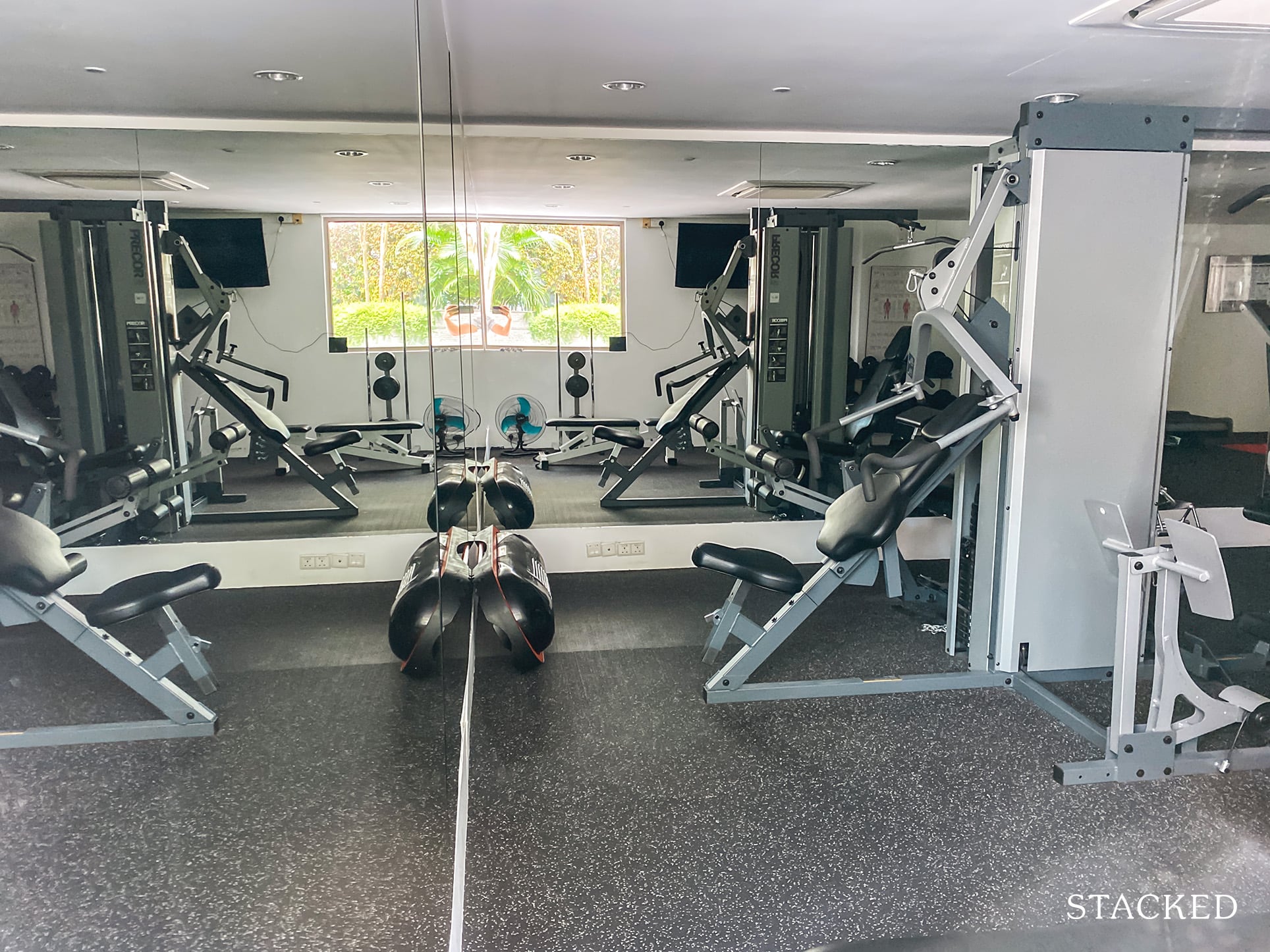 Next to the barbeque area is the gym. It is actually a very decent sized gym with good equipment for the 77 units in the condo. But it faces a similar problem to the barbeque area, it's hidden, and with just a small window it isn't exactly the most inspiring view to work out, is it!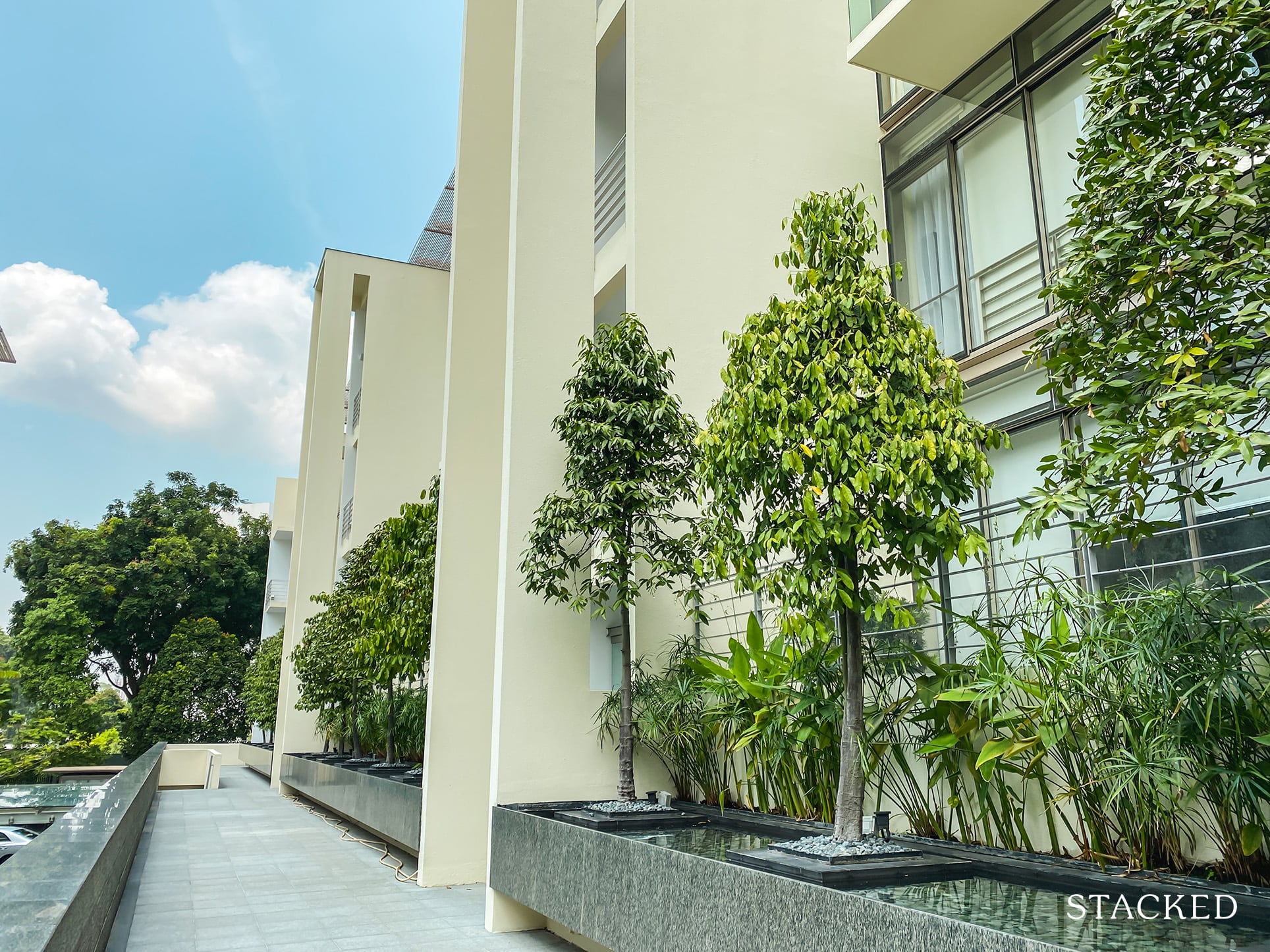 You could walk up the stairs to access some of the other units, that have direct access to a walkway.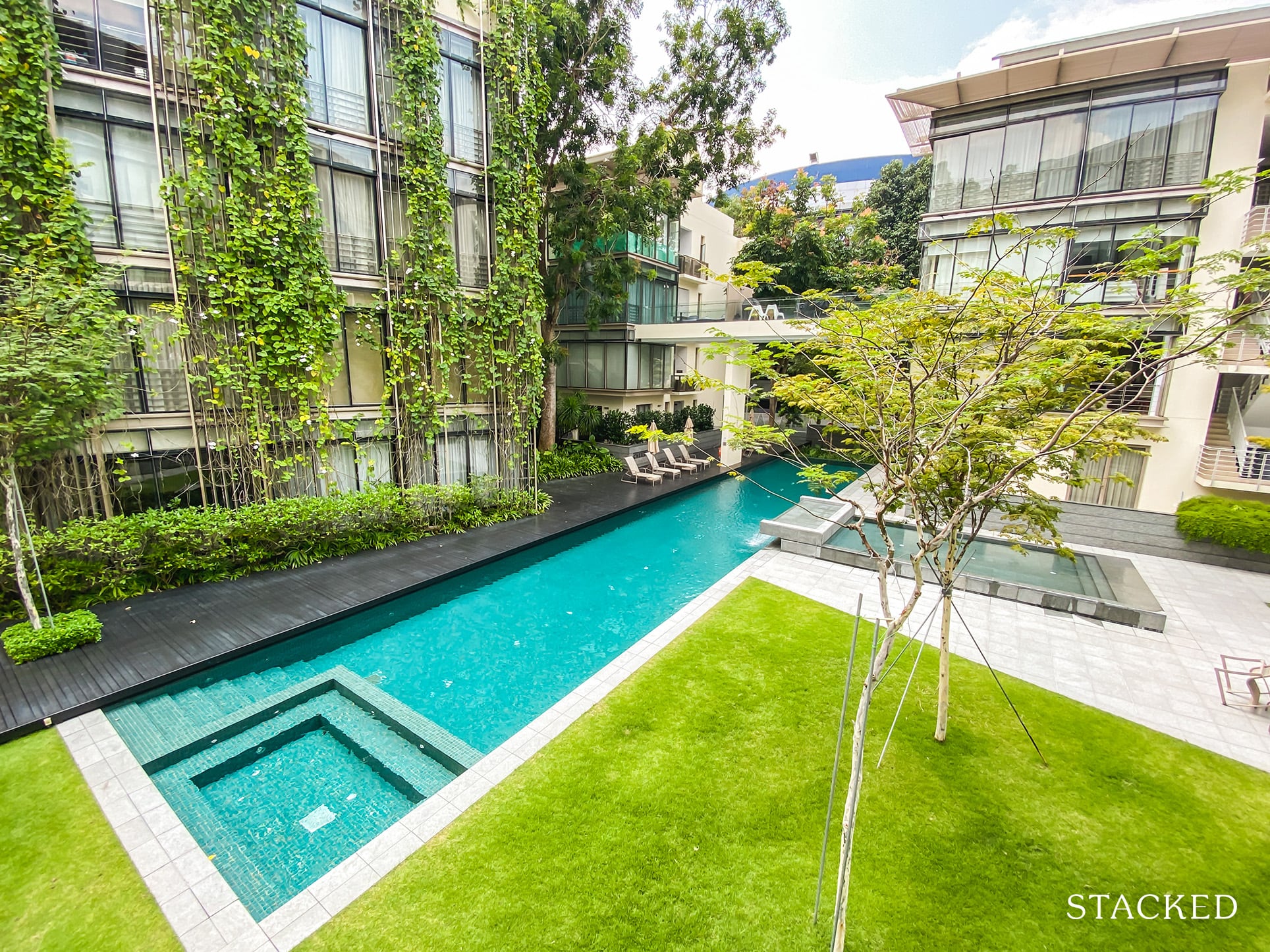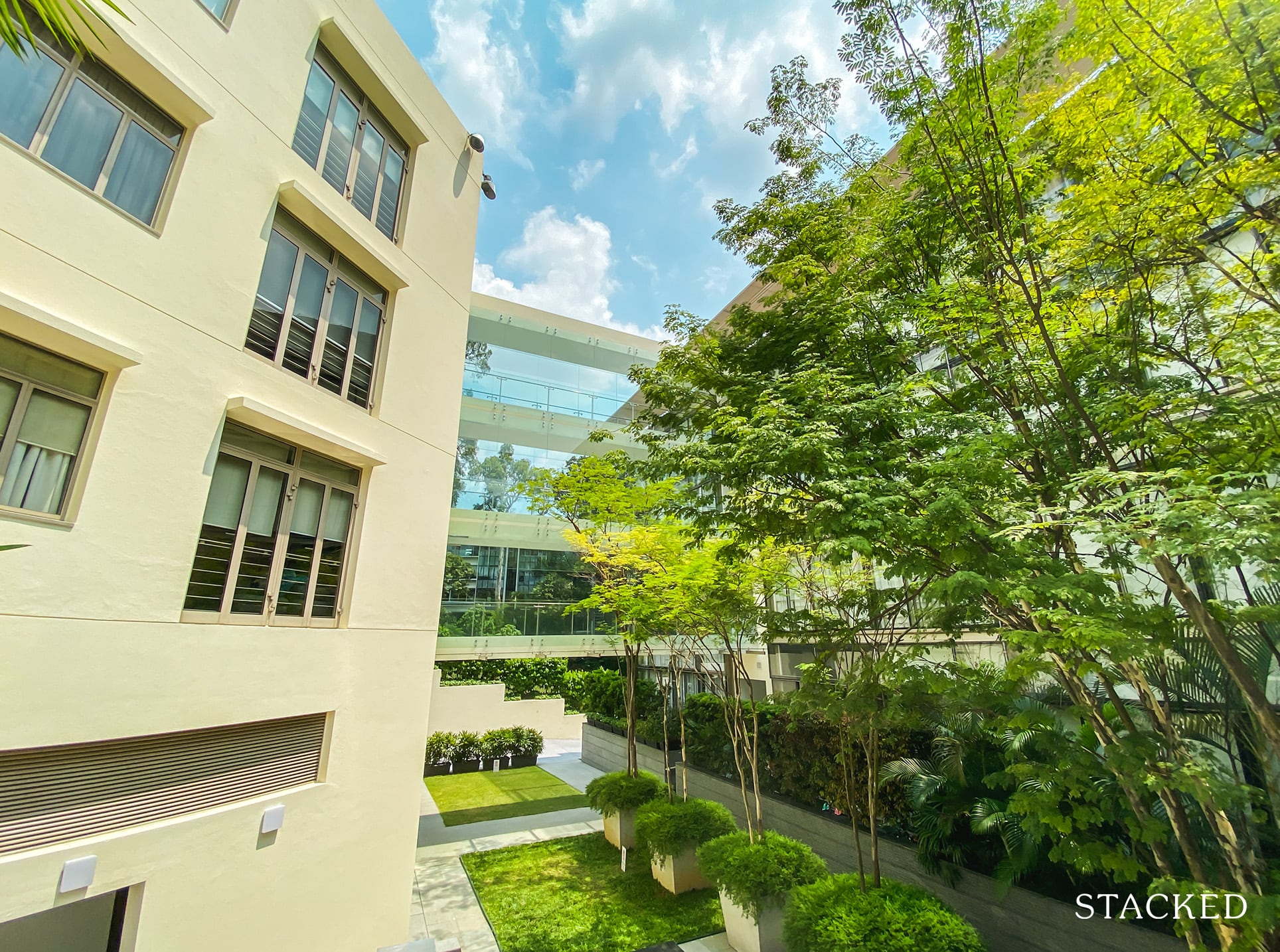 The glass bridges that connect each block is what gives the Loft condo its distinctive look. It is eye-catching and simply just a modern design despite its age. It's worth pointing out the landscaping here too, it's not overly done and kept to a minimalist feel. Plus I think it is purposely done to provide a certain privacy to those units that are closer to each other because of the triangular layout.
The Loft Condo Location Review
For those familiar with the Nassim Hill area, you'd understand the ease of access to nearby up-class amenities.
Situated between Gleneagles Hospital and Tanglin Mall, this quiet enclave is littered with shrubbery that helps to block out traffic noise from the nearby Napier Road.
A host of embassies surround the development, though its public transport offerings might be deemed slightly wanting.
Transport
| | | |
| --- | --- | --- |
| Bus Station | Buses Serviced | Distance From Condo (& Est. Walking Time) |
| 'Opp British Council' | 7, 7B, 77, 105, 106, 123, 174 | 500m, 6-min walk |
| British Council | 7, 75, 77, 105, 106, 123, 174, NR8 | 450m, 6-min walk |
| 'Aft Tomlinson Rd' | 7, 7B, 36, 36B, 77, 105, 106, 111, 123, 132, 174, 174e | 500m, 6-min walk |
Closest MRT: Orchard MRT – 1.5km, 19-min walk
A 19-min walk to the closest MRT really isn't the most ideal, especially in a scorching country where efficiency is maximised and time prioritised.
The slight silver lining comes in the impending Napier MRT Station (a 9-minute walk away) as part of the Thomson East Line – though it will only be opened in stage 3(2021). 
It is also heartening to know that there are a number of bus-stops with a variety of bus services (that also includes a Night-Rider) in the immediate vicinity. They're relatively close, but not close enough for any noise pollution from the roads to reach the condo.
One point to highlight is that bus 75 pauses only at the stop before the 'Opp British Council' stop. This means that residents will have to walk an additional 2 minutes back to the 'S'pore Botanic Gdns' stop should they wish to catch this bus.
As you've observed, public transport is present here, but definitely not the best. Perhaps this is why so much attention has been paid to the spatials of the car park area.
Private transport accessibility: Very Good
| | |
| --- | --- |
| Highway/Major Road | Distance From Condo (& Est. Off-Peak Drive Time) |
| Farrer Road & Queensway | 2.4km, 5-min drive |
| Bukit Timah Road | 2.2km, 5-min drive |
| Jalan Bukit Merah | 3.1km, 5-min drive |
| Holland Road | 700m, 3-min drive |
| Tanglin Road | 200m, 1-min drive |
| Orchard Road | 750m, 3-min drive |
| CTE | 2.5km, 4-min drive |
| AYE | 5.2km, 7-min drive |
| PIE | 3.1km, 5-min drive |
| ECP | 6.5km, 9-min drive |
| KPE | 9.4km, 10-min drive |
| BKE | 8.3km, 9-min drive |
| SLE | 15km, 14-min drive |
Road exits from condos don't usually get more central and pleasant than at the Loft.
Granted, you might encounter some jams during peak hours and public holiday/weekend periods once you head out from Nassim Hill onto Tanglin or Cluny Road – but the fact that you have two road exits to choose from is a wonderful aspect in itself.
More so when you factor in the limited number of residents living along Nassim Hill, and thus lower traffic on this road in general.
Perhaps the 'kindest' thing to residents who drive here is the fact that you can actually avoid ERP tolls if you plan your route right (assuming time is not an issue). Learn more about the ERP map clusters here.
Groceries
| | |
| --- | --- |
| Name of Grocery Shop | Distance From Condo (& Est. Off-Peak Drive Time) |
| Cold Storage – Tanglin Market Place | 260m, 1-min drive OR 3-min walk |
| Cold Storage – Orchard Hotel | 1km, 4-min drive OR 12-min walk |
| FairPrice Finest – Scotts Square | 2.5km, 8-min drive |
| FairPrice – Coronation Plaza | 3.6km, 8-min drive |
As you might have observed, The Loft's uptown location attributes to the lack of FairPrices in the immediate area, with a bunch of Cold Storages lining the Orchard area (should you crave diversity from this list).
The nice thing about its locale on the west-side of the Orchard Road shopping belt however, is that there are a whole bunch of FairPrices waiting just south from the condo in the Alexandra Road/Red Hill area!
Shopping Malls
| | |
| --- | --- |
| Name of Shopping Mall | Distance From Condo (& Est. Off-Peak Drive Time) |
| Tanglin Mall | 260m, 1-min drive OR 3-min walk |
| Tanglin Shopping Centre | 650m, 2-min drive OR 700m, 8-min walk |
| Forum – The Shopping Mall | 1km, 3-min drive OR 900m, 11-min walk |
| Far East Shopping Centre | 1.5km, 6-min drive OR 1.2km, 15-min walk |
| Lucky Plaza | 1.5km, 5-min drive |
| Paragon Shopping Centre | 1.9km, 7-min drive |
| Mandarin Gallery | 2.1km, 7-min drive |
| Far East Plaza | 2.5km, 9-min drive |
| Great World City | 2.7km, 8-min drive |
| Wisma Atria | 2.9km, 10-min drive |
| Valley Point | 3km, 9-min drive |
| Ion Orchard | 3.1km, 10-min drive |
| Concorde Shopping Centre | 3.4km, 10-min drive |
As with our previous review on OUE Twin Peaks, it does seem a tad redundant to pop in all the shopping malls in the Orchard Road shopping belt area – though we've done it all the same given the condo's slightly more west, Orchard Road fringe locale.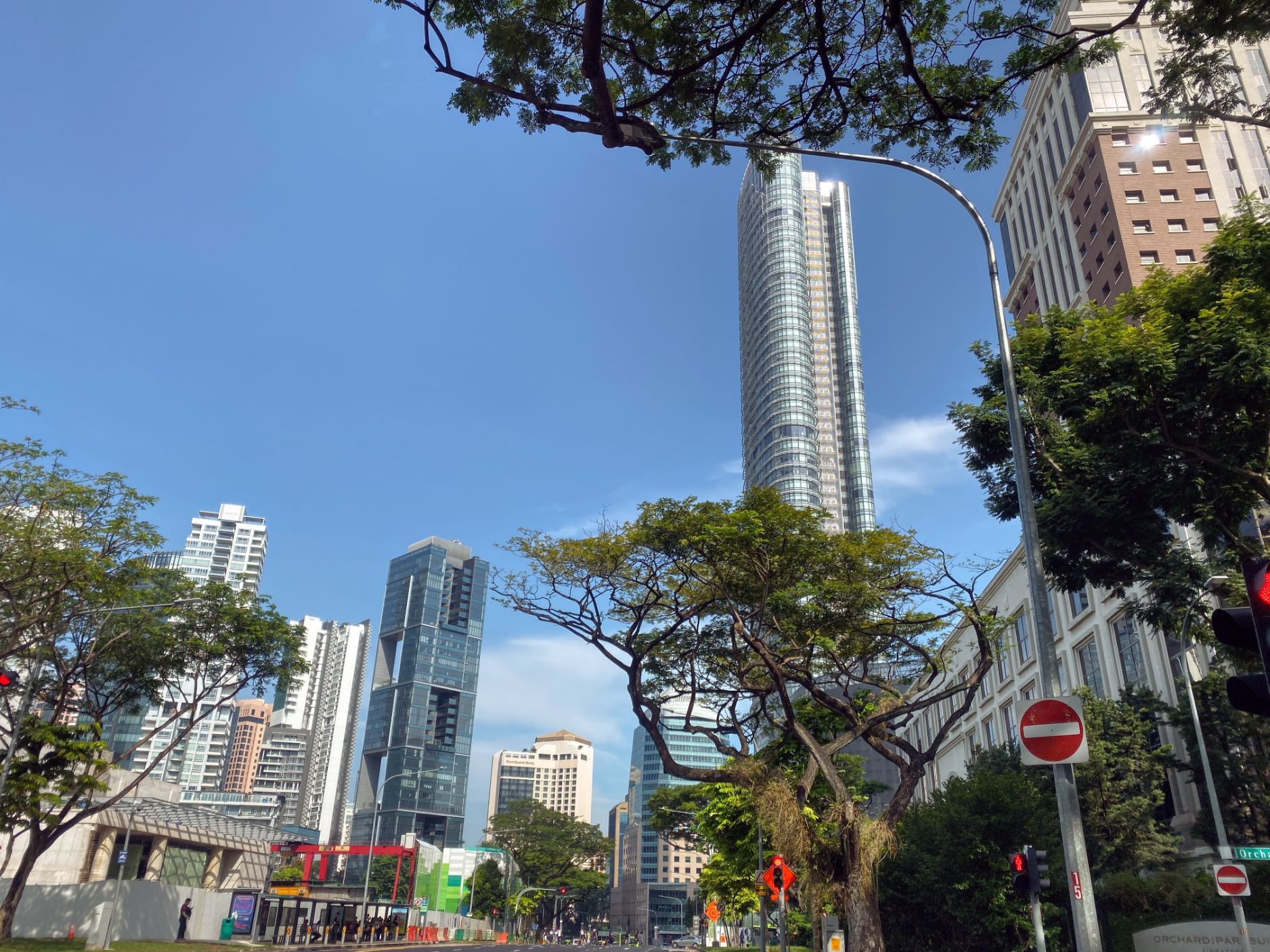 It is also worth noting that driving to either Wisma Atria or Ion from the condo will require a slight detour through Paterson and Grange Road – hence the slightly longer drive times.
What we would further like to emphasise on however, is The Loft's proximity to Dempsey Hill.
Located just 2km from the condo, it offers an alternative for exclusive grocery and dining options. The timeless Samy's Curry and posh Hubber's Butchery are the first that pop to mind.
Lastly, the presence of the entire affordable Alexandria food district just south of the condo (as mentioned earlier) further serves to emphasise The Loft's easy multi-district accessibility aspect.
Schools
| | | |
| --- | --- | --- |
| Name of School | Education Level | Distance From Condo (Est. Off-Peak Drive Time) |
| Wee Care Kindergarten | Preschool | 150m, 1-min drive OR 200m, 2-min walk |
| Maple Bear Preschool | Preschool | 1km, 3-min OR 950m, 11-min walk |
| Chiltern House Forum | Preschool | 1km, 3-min OR 12-min walk |
| EtonHouse International | Preschool | 1.1km, 4-min OR 13-min walk |
| Singapore Chinese Girls' Primary | Primary | 3.1km, 8-min drive |
| Queenstown Primary | Primary | 3.3km, 8-min drive |
| River Valley Primary | Primary | 3.4km, 10-min drive |
| Nanyang Primary | Primary | 3.9km, 9-min drive |
| Alexandra Primary | Primary | 3.9km, 10-min drive |
| Henry Park Primary | Primary | 5.1km, 10-min drive |
| Raffle Girls' Primary | Primary | 5.5km, 10-min drive |
| Raffles Girls' School | Secondary | 2.8km, 7-min drive |
| Crescent Girls' School | Secondary | 2.8km, 8-min drive |
| Queensway Secondary | Secondary | 3.6km, 7-min drive |
| Singapore Chinese Girls' School | Secondary | 3.7km, 8-min drive |
| St. Margaret's Secondary | Secondary | 3.7km, 8-min drive |
| Gan Eng Seng School | Secondary | 4km, 10-min drive |
| Nanyang Girls' High School | Secondary | 5.7km, 10-min drive |
| Victoria University of Technology | Tertiary | 2.1km, 7-min drive |
| NUS Law Faculty | Tertiary | 2.2km, 6-min drive |
| UBS Business University | Tertiary | 2.9km, 7-min drive |
| Boston Business School | Tertiary | 3.5km, 10-min drive |
| Hwa Chong Instituition (JC) | Tertiary | 4km, 8-min drive |
| MDIS University Campus | Tertiary | 4.1km, 9-min drive |
| University at Buffalo | Tertiary | 5.2km, 9-min drive |
| Catholic JC | Tertiary | 5.3km, 13-min drive |
| SMU | Tertiary | 5.3km, 16-min drive |
| Anglo-Chinese JC | Tertiary | 5.5km, 12-min drive |
| Eunoia JC | Tertiary | 5.7km, 12-min drive |
| Singapore Polytechnic | Tertiary | 6km, 13-min drive |
| SIM | Tertiary | 7.8km, 15-min drive |
| Ngee Ann Polytechnic | Tertiary | 8.1km, 15-min drive |
There are a number of education choices within the immediate neighbourhood, with The Loft being at the heart of things.
Interestingly enough, an abundance of top-rated Primary and Secondary schools border the residence – though there are none of them within a 1km radius of the condo.
Once again, the condo's western fringe on the Orchard Road shopping belt comes into play – allowing for closer distances to west-side institutions like Ngee Ann and Singapore Polytechnic.
The Loft Condo Additional Pointers
We've been through this point a number of times – and as always, it is worth noting that there are a number of mainstay embassies in the immediate area (especially for foreigners looking to rent a unit here).
They include the Philippines, Japan, Australia, United States, Britain and China Embassy.
Immediate Proximity to a Hospital
For those with frequent medical needs, The Loft is located a mere 4-min drive from Gleneagles Hospital. What's more, its Orthopedic Wing is renowned in Singapore – a solid option for potential sport-related injuries, provided that cost is not a concern.
As you've probably heard over a million times, Singapore is famous for being a concrete jungle. That's why having the Singapore Botanic Gardens just a 10-minutes walk away from The Loft is a massive bonus.
Factor in the general luscious greenery in the area and other nature-friendly developments like Dempsey Hill and it's easy to see why the well heeled nature-lovers prefer living in this part of town.
One other benefit that the foliage brings is its noise-reduction aspect. Factor in the extremely low potential of massive nearby construction work (save for the Thomson-East Line) as well as its 'hideaway' location on a hill, and The Loft truly serves as a retreat from the hustle and bustle of the city.
The Loft Condo Development Site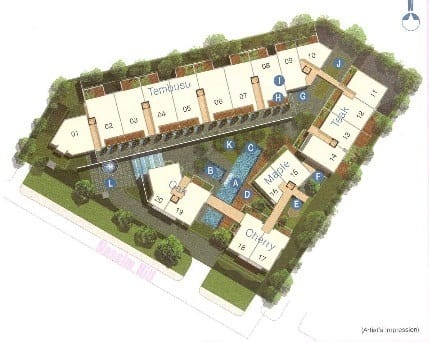 As you would have seen from the tour earlier, there isn't a massive offering of facilities here – which is really due to the limited size of the plot of land.
Still, the maintenance here is impeccable.
Yes, there are quite a number of blocks scattered around, but the fact that they are all only 4-storeys high provides a sense of exclusivity to its residents.
Best stacks
Stacks 2 to 7 (Tembusu) are your best bet when it comes to wind flow as the front and back can be opened for cross-ventilation. The back of these stacks also do not face any development so there is much better privacy.
Where as Teak and Maple will face directly towards the Nassim so for most people that would be a less desired facing.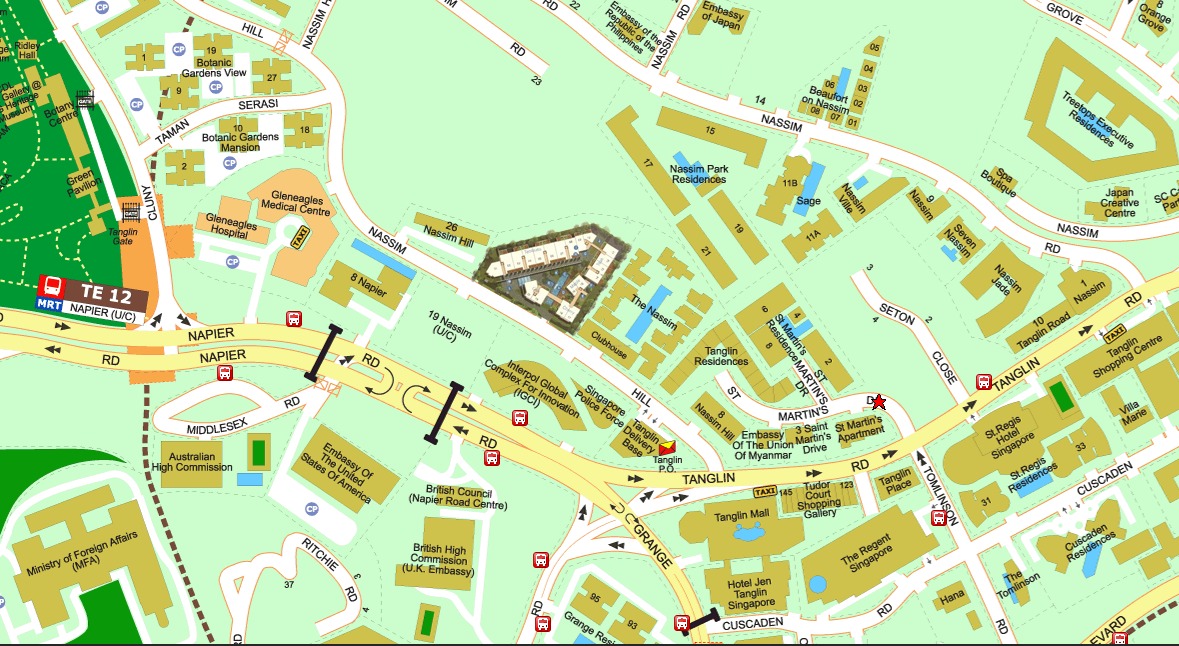 Because of the orientation of the blocks, all of them will have a facing towards your neighbour to a certain degree. Hence, if you really need your privacy, the best option for you will be the ground floor units.
Let's jump over to the unit mix:
The Loft Unit Mix

| Unit Type | Size (sqm) |
| --- | --- |
| Studio | 66 – 92 sqm |
| 2-bedroom | 96 – 123 sqm |
| 3-bedroom | 130 – 137 sqm |
| 4-bedroom | 170 – 174 sqm |
In line with the 'big is beautiful' trend 2 decades ago, you can easily observe the massive unit spaces available here. While it is normal to have units of this size in Nassim, it's also worth noting it is rare to have studio units in this area too.
Given The Loft's lack of immediate neighbours within the same age-group, we've decided to compile a couple of the other developments in the general area who were built in the same era as this condo.
From the get-go, you'd observe The Loft's 99-year leasehold sticking out like a sore thumb. You'll also realise that the condo is nearly half the average price of its immediate neighbours combined.
While it goes without saying that novelty and tenure both play a huge role in the quantum difference, it is also worth noting that The Loft is furthest away from the Orchard Road belt in this trio (even if the distance is negligible).
If you compare the prices of the other condos within the same age group, you'll further understand why location plays an important role in The Loft's 'lower-end' quantum.
With both St. Martin Residence and The Ladyhill situated 'deeper' into the Orchard district, residents in these developments not only have better immediate access to amenities, but also own living spaces on extremely valuable plots of freehold land.
Either ways, if you are love the Nassim area, this would be the lowest entry point (in terms of price) that you are going to find.
Our Take
I find myself extremely attracted to The Loft's offerings.
It might not be the newest development around, have the greatest range of facilities, or even command the most prime spot in District 10 for that matter.
But what it lacks in glamour, it makes for with important down-to-earth factors that greatly caters to a homeowner's needs.
It boasts solid unit sizes (something that is rapidly disappearing in newer developments), an abundance of nature (with easy access to the Botanic Gardens), an extremely quiet locale (in an upscale neighbourhood) and relatively easy access to basic necessities (like grocery shopping and food joints).
More importantly, it commands such an attractive quantum that is half that of its immediate neighbours.
Yes, you might be better off owning a car here to fully utilise the area's offerings, but even without this, it is a gem to behold in itself (in my humble opinion).
What this means for you
You might like The Loft if you:
• Value peace in an uptown district:Living near the Orchard Road shopping belt can be disadvantageous in the noise regard. The Loft is an admirable outlier in this.
• Appreciate large unit spaces:As mentioned, unit spaces here are a lot bigger than in most modern condos. With this becoming a fast scarcity, it is natural that more are appreciating larger living spaces.
You might not like The Loft if you:
• Look for state-of-the-art facilities:The Loft is nearly 2 decades old. While it has been well-maintained, it doesn't have the glitz and glamour that other modern condos in the district offer.
• Are heavily dependant on the MRT:The Loft's 'tranquility factor' trade-off means that the closest MRT is a 19-minute (or 9 in the near future) walk away. To most major MRT reliers, this would be a solid put-off.
End of Review