New Launch Reviews

Sky Everton Review: Freehold with 3 Swimming Pools near CBD
Sean
June 27, 2019

14

min read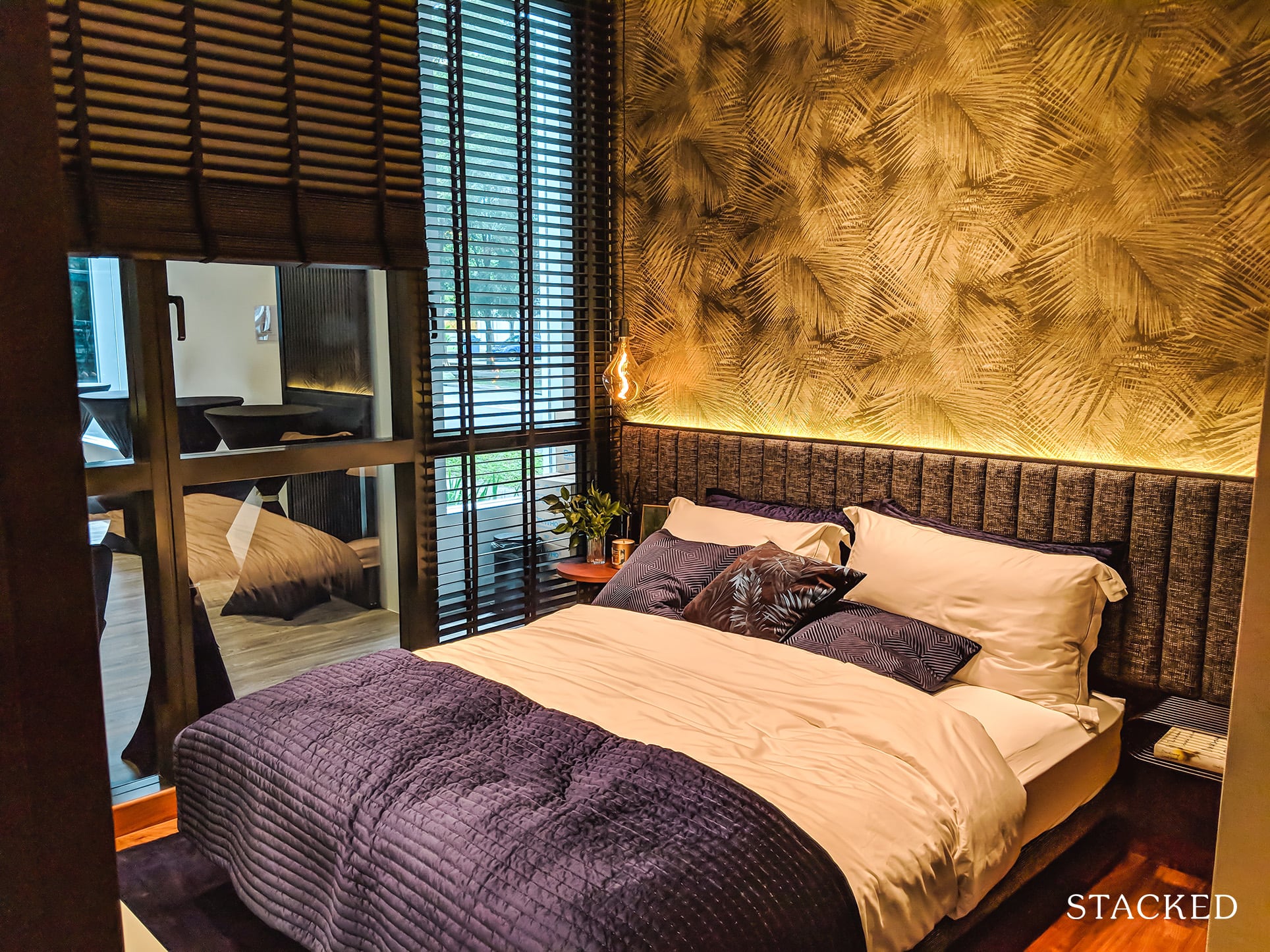 The Sky Everton has a lot going for it, great location, lots of facilities and freehold status. There are cheaper options nearby however, if location is the most important to you.
Reviewed by Sean on June 27, 2019
What we like
Near 4 MRT Stations

Freehold

3 swimming pools

Great facilities

Revitalisation to the area in the future
What we don't like
—

Weird 3 bedroom layouts

—

No good schools nearby

—

No supermarket nearby
14
min read
About this condo

| | | | |
| --- | --- | --- | --- |
| Project | Sky Everton | District | 02 |
| Address | Everton Road | Tenure | Freehold |
| Site Area | 72,059 sqft | No. of Units | 262 |
| Developer | SL Capital Pte Ltd | TOP | 2023 |
Sky Everton is a new launch freehold condominium in a much sought after location. If you work in the CBD or are looking for an investment unit that would be easy to rent out, there would be no doubt that you would have heard of this development. With apparently 40% of its units sold during the launch weekend, is the Sky Everton really that attractive? Or are people just falling victim to the herd mentality. Read on to see our full review of the Sky Everton!
Sky Everton Review – Location
Sky Everton is located where the former Asia Gardens used to be. It had gone en bloc for $343 million at a land rate of $1,722 per square foot per plot ratio, which we thought at that time was quite the astute purchase. Why is that so? If you look at the map, the Spottiswoode enclave is a very unique one as between all the rows of shophouses along Everton Road and the blocks of HDB flats is a small area where there are just 3 current developments: Spottiswoode Residences, Spottiswoode Suites and Spottiswoode 18.
This location is very interesting because it is probably the closest you can get to the CBD area but still have the coveted freehold status.
In fact, most people are surprised to learn that such an area exists and even more so that it is freehold.
As with most properties in Singapore, the main selling point of Sky Everton is really the location. If you are working in the CBD area, it is such an attractive prospect to live so close to work that you can actually walk to and fro from your office. You save on transport and get some exercise, which is always great for a balanced lifestyle. For the lazy ones, the upcoming Cantonment MRT station on the Circle line is an option at a 2-minute walk away. You could also easily walk to Outram Park MRT, which has the North East line, East West line and the Thomson-East Coast line (which is still under construction). To be located within 4 MRT stations (out of 6) is no mean feat at all, and to top it off with its freehold status, it's no wonder the Sky Everton is selling well.
Just to highlight the convenience at your disposal, Cantonment MRT station is just two stops away from Harbourfront, so you are able to access shopping and dining at Vivocity and Harbourfront Centre in no time at all. Alternatively, a quick jaunt to Outram will get you to places like Chinatown, Clarke Quay and City Hall where there are a plethora of shopping centres to choose from. Think People's Park Complex, Suntec City, Raffles City, and Marina Square, just to name a few.
Another reason why this location is so highly regarded is its proximity to Singapore General Hospital. If you are a doctor working there, walking to work would be under a 10-minute walk. It could be further, depending on which part of the hospital but in general it will be very convenient.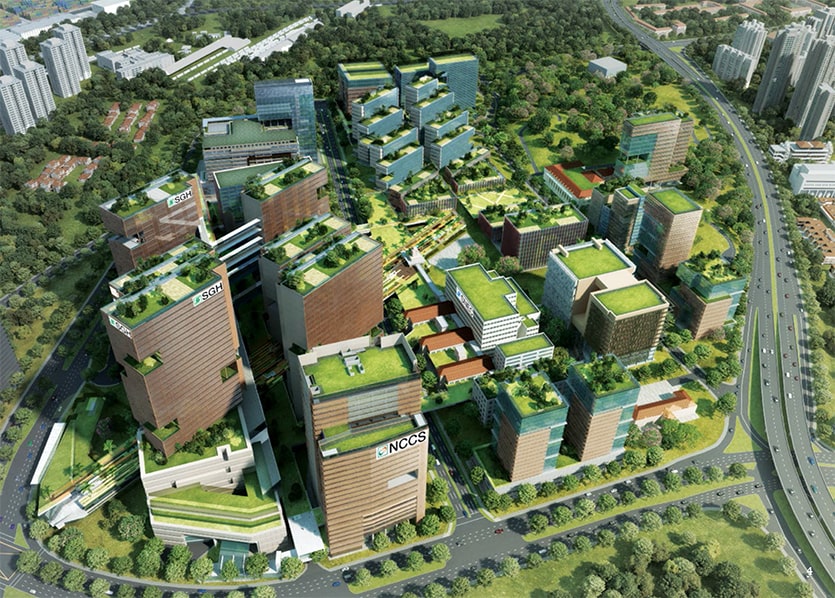 But this could change in the near future as well (for the better) because there are plans to move the entire SGH closer to the two MRT stations along Outram Road and Eu Tong Sen Street. Not just that, the SGH compound is set to triple in space afforded to patient care and right now when you walk along New Bridge Road you can see many new buildings that have sprung up. With the 550-bed Outram Community Hospital opening in 2020 and the 43 ha of space dedicated to healthcare, you can be sure this would be a hotspot in the future.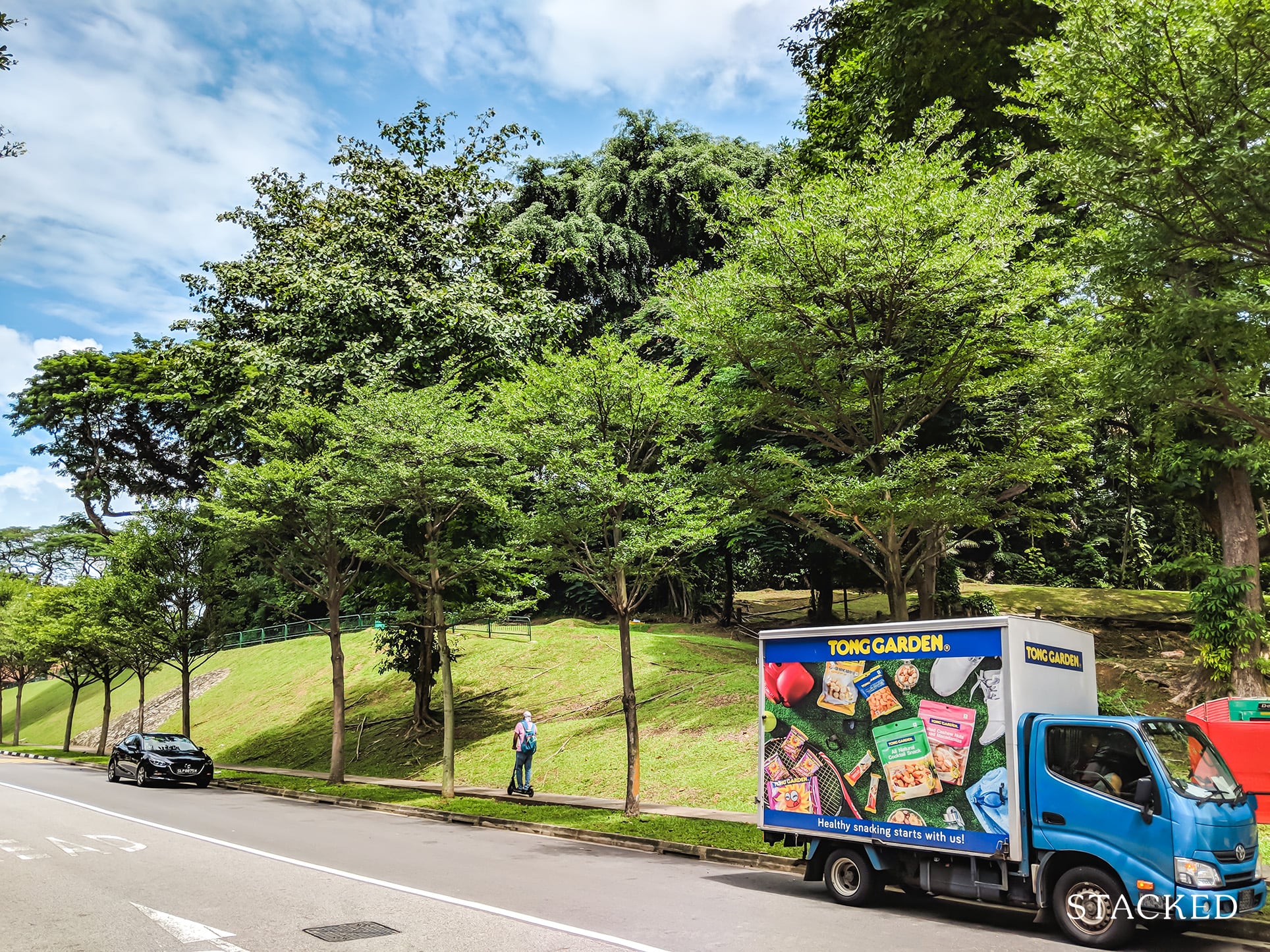 Another thing that is being marketed is the sea view but this is really only applicable for the higher units. Also, it is very dependant on the stack you have selected. Right in front of the Sky Everton is actually Spottiswoode Park, which is a really lush tranquil area. The greenery is a really great thing to have here, particularly as you are surrounded by loads of concrete blocks.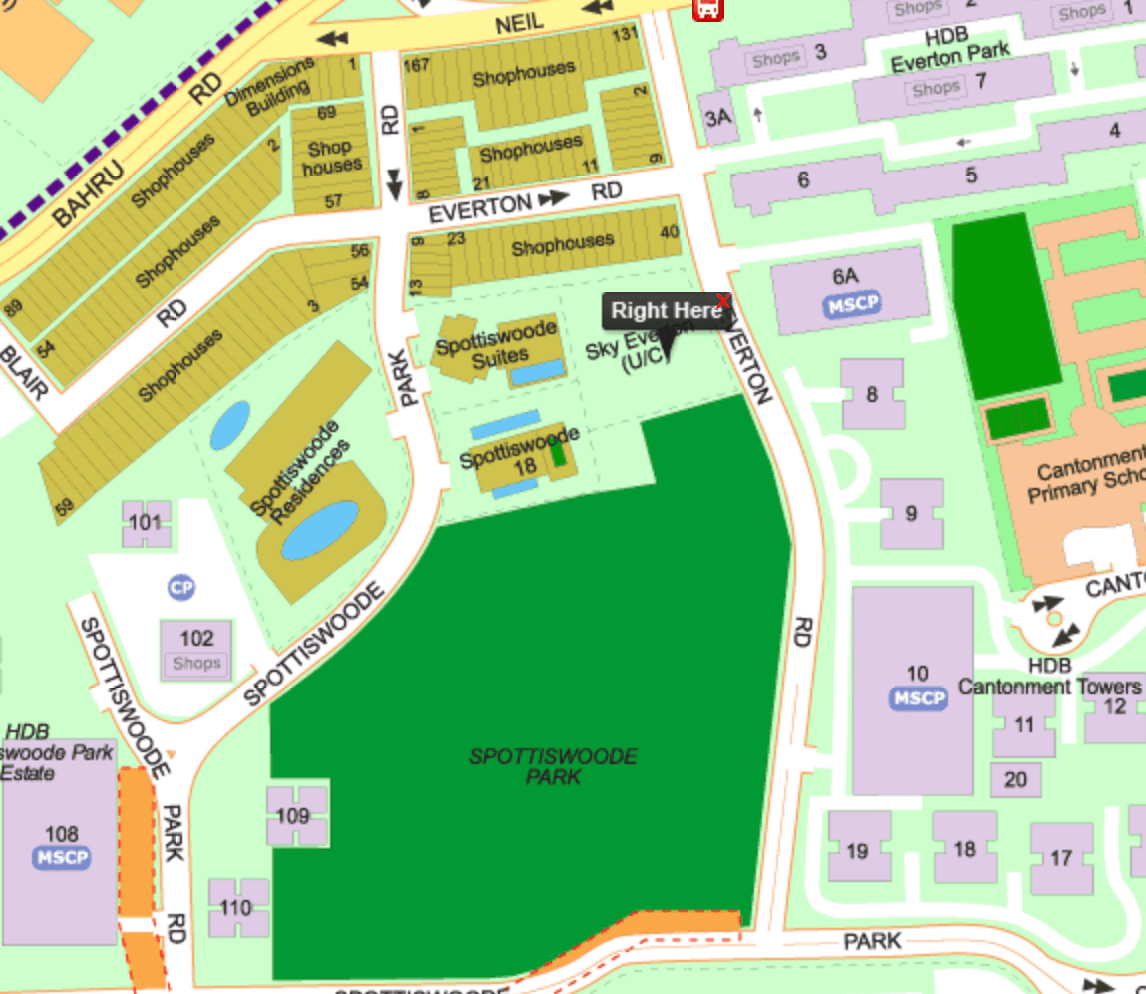 Which is why it's a pity that in the proposed URA Master Plan 2019 the area will be up for residential use.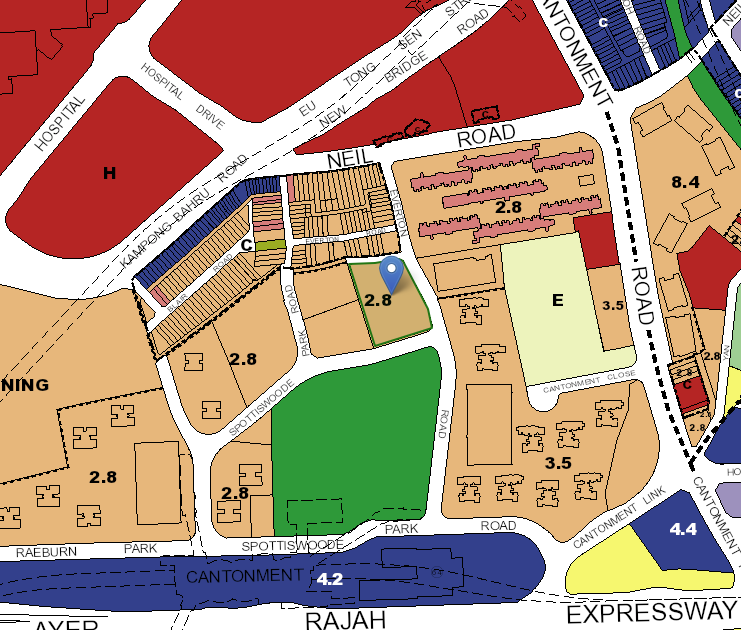 Now, we don't know whether this will be used for private or HDB housing, but at a similar plot ratio of 2.8, the unblocked view towards the sea would no longer be a reality. It will probably be a while before this is up for GLS, and you will definitely get to enjoy the sea views for a few years, but this is a point of contention you will have to consider. On that note, we will recommend the stacks facing the shophouses as these will be unblocked and more future proof.
Thanks to one of our readers, we are glad to report that in the confirmed URA Master Plan 2019, Spottiswoode Park will remain unchanged!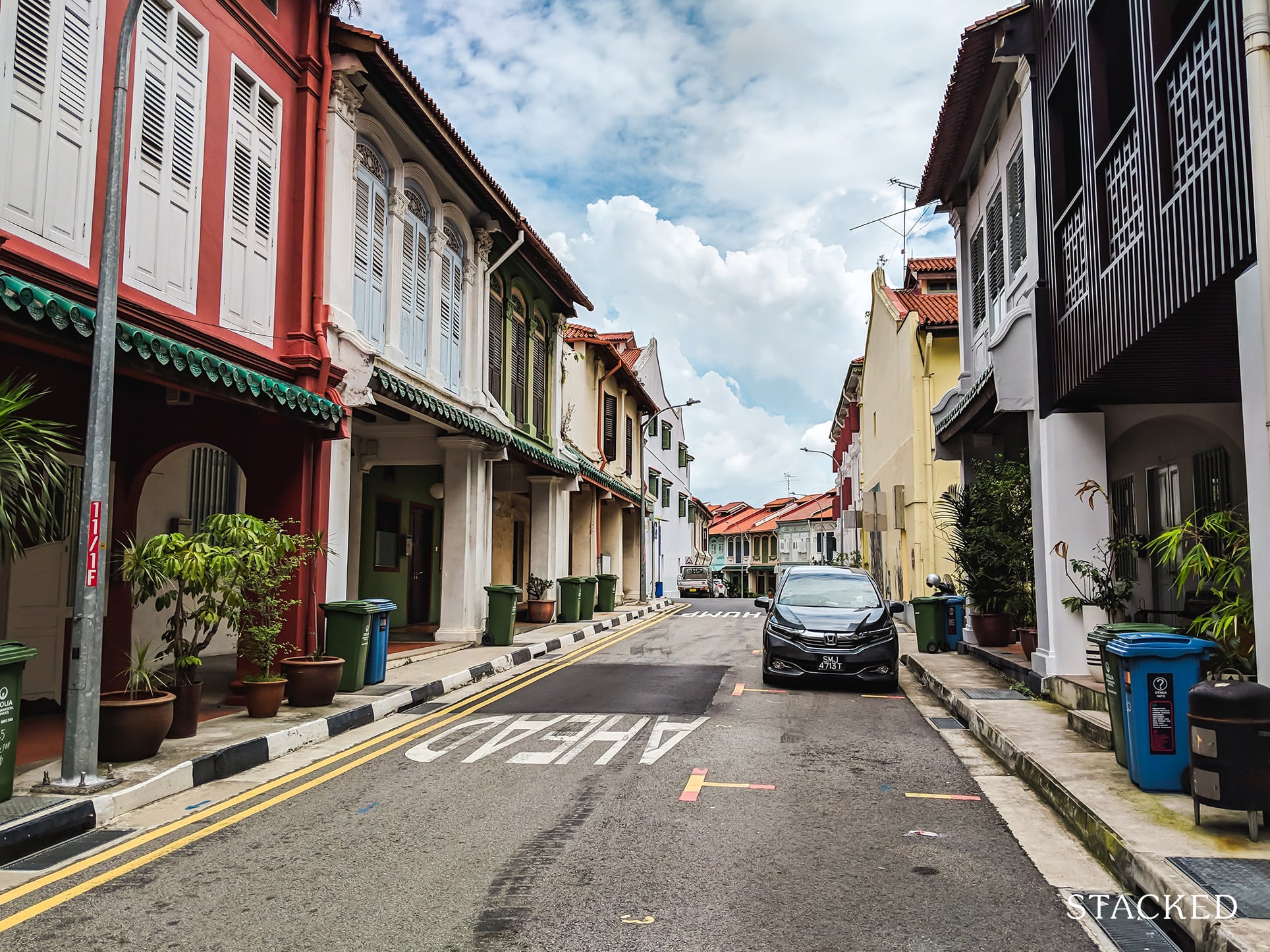 For food in the immediate area, you do get quite a widespread selection. The shophouses at Everton Park are well known and for good reason. There are many cafes and hipster coffee shops, like Nylon Coffee Roasters, Everton Creamery, and Little Oasis. It can get quite crowded during the weekends when everyone just seems to want to have a relaxing brunch. For dinner food, you will be spoilt for choice at the Duxton and Keong Saik area, which is well within walking distance. One thing to take note would be Sundays are pretty quiet in the area, as many shops and restaurants choose to take Sundays as their rest day. But as the Government looks to expand the Greater Southern Waterfront, so you will see this area pick up and be more lively in the future.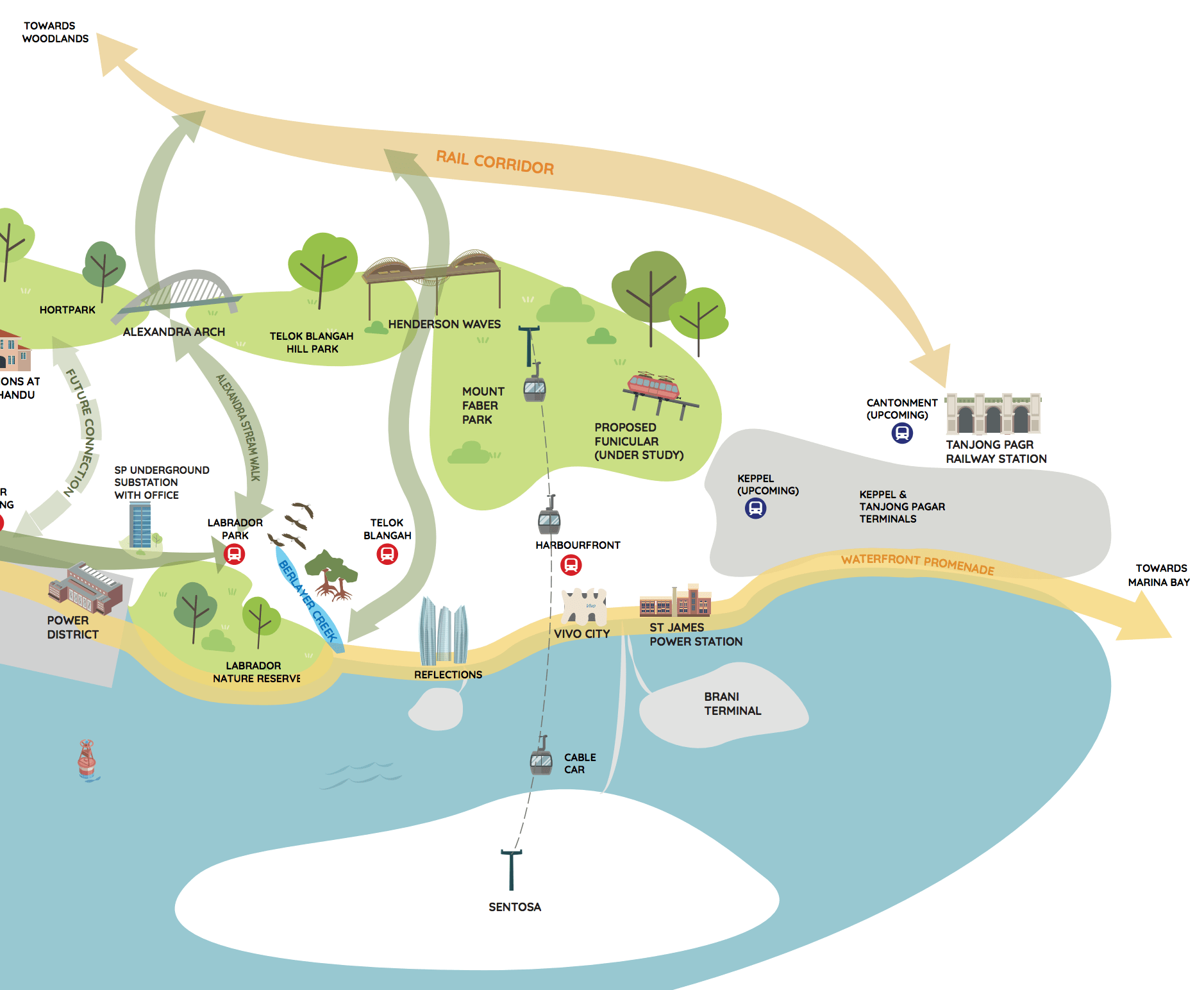 If you are looking at the Sky Everton as an investment property, there are a couple of things about the Greater Southern Waterfront that would interest you. At six times the size of Marina Bay, the revitalisation in this area is on a lot bigger scale than you would think. Once all the port activities relocate to Tuas, Tanjong Pagar and Pasir Panjang will introduce unique waterfront live-work-play concepts. One of which is the waterfront promenade that will stretch from the West Coast Park area all the way towards Marina Bay. Just imagine a scenic walk with beautiful sea views almost at your doorstep, it is quite an exciting future ahead for this region.
In terms of amenities, it is not great news on this front. There is a NTUC Fairprice Finest and Cold Storage Altez within walking distance. But we wouldn't say that they are close enough that you could lug your groceries back home. For most of the clientele looking at Sky Everton, we think this would not really be an issue as they are working professionals that would eat out or order in. But for the bigger units catered to families, this would be a downside for sure.
Last but not least for schools, you do not get a wide selection here. Cantonment Primary School is the nearest at just a minute walk away. There are a few childcare centres like Carpe Diem Springs and Kids Campus at Tanjong Pagar. There is also a kindergarten, PCF Tanjong Pagar within walking distance, but again you are not flushed with options here. But for most of the potential buyers, the lack of schools would not be at the top of their criteria so we do not see this as too much of a problem.
Sky Everton Development Site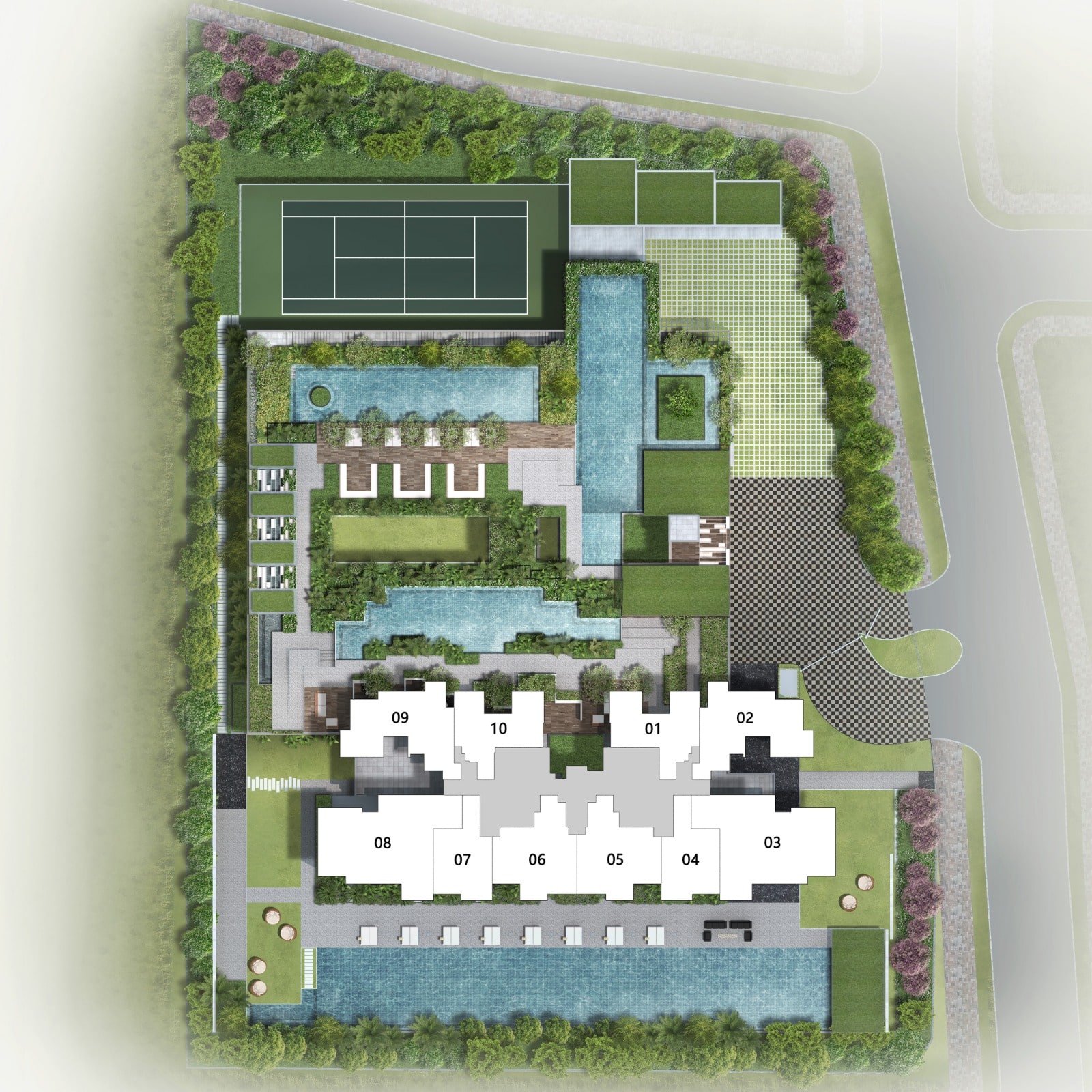 Sky Everton sits on a regular shaped piece of land that only has one tower of units that go up to the 36th floor. We like the layout of the development, it is thoughtfully planned out and it is amazing that they managed to squeeze 3 swimming pools and even a tennis court in the development.
There is no underground carpark here, just a multi-storey one that has 262 carpark lots, with one allocation for each unit. Taking into consideration the location and closeness of the MRT stations it is safe to say that most people staying here would not be driving and there would be more than enough carpark lots to go around.
There is only one entrance to the development through Everton Road but as this area is not as densely packed, traffic conditions should be manageable.
Unit sizes here have a good mix and even go up to a 6 bedroom penthouse! Which is quite rare to find, and could be a useful option for people looking for multi-generation family living.
Unit mix

| Unit Type | Size (sqft) |
| --- | --- |
| 1-bedroom | 463 – 592 sqft |
| 1-bedroom + study | 506 – 635 sqft |
| 2-bedroom | 646 – 764 sqft |
| 2-bedroom + study | 657 – 840 sqft |
| 3-bedroom | 915 – 1066 sqft |
| 3-bedroom + study | 958 – 1109 sqft |
| 4-bedroom | 1346 sqft |
| 5-bedroom penthouse | 1819 sqft |
| 6-bedroom penthouse | 2228 sqft |
Maintenance fees here are surprisingly very reasonable considering the development facilities and number of units. It starts from $290 for the 1 bedroom and goes up to $464 for the 6 bedroom penthouse.
Insider Tour
Arrival Plaza
Arrival Lounge
Atrium
Tree Courtyard
Arrival Water Court
Banquet Lawn
50m Lap Pool
Water Loungers
Family Pavilion
Poolside Dining
Alfresco Garden Lounge
Day Bed Lawn
Playground
Firefly Garden Cabana
Firefly Garden
Maze Garden
Tennis Court
Bicycle Lots
5th Storey Piazza Deck
Nature Walk
Nature Lounge
Gourmet Kitchen
Aqua Gym
Massaged Bed
Spa
Tropical Pool Deck
Jacuzzi
Party Deck
Infinity Pool
Fitness Park
Play Area
Sky Forest Lounge
Yoga Deck
Hammock Alcove
Gym
Herb Garden
Green Bar
Sky Bar
Sky Lounge
Starlight Dining
Reading Lawn
Skyline Co-Working Space
Social Pod
Sky Cabana
Swing Cabana
Sky Teppanyaki Grill
Observation Deck
Sky Event Room
Alfresco Dining
As you can see, Sky Everton has pulled out all the stops when it comes to the facilities. Some standouts include the Teppanyaki Grill and Co-Working Space at the 24th floor and even a herb garden at the 14th floor.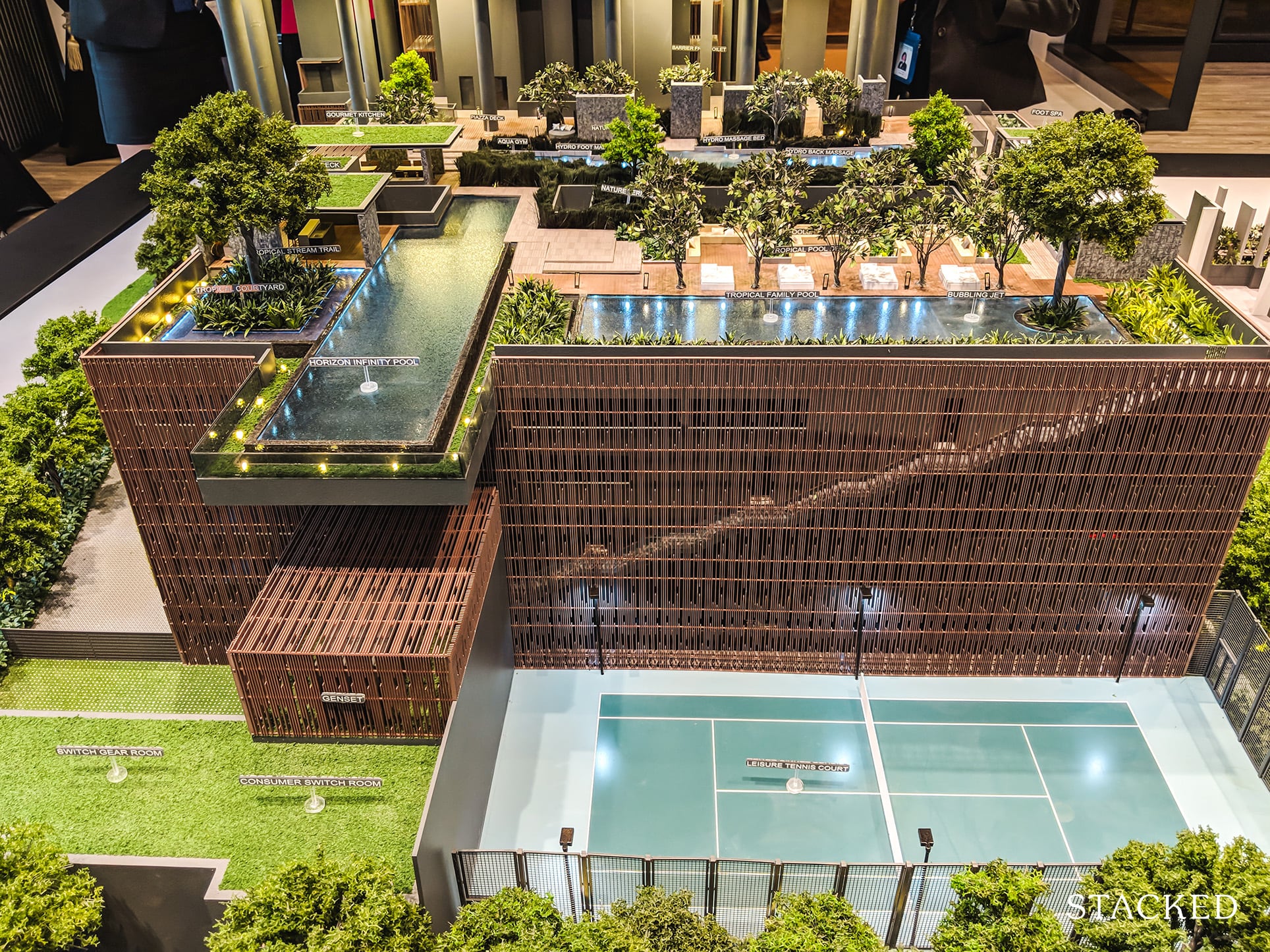 It's a pity there isn't a rooftop infinity pool like 3 Cuscaden or Scotts Square, but they sure made up for it with 3 swimming pools here!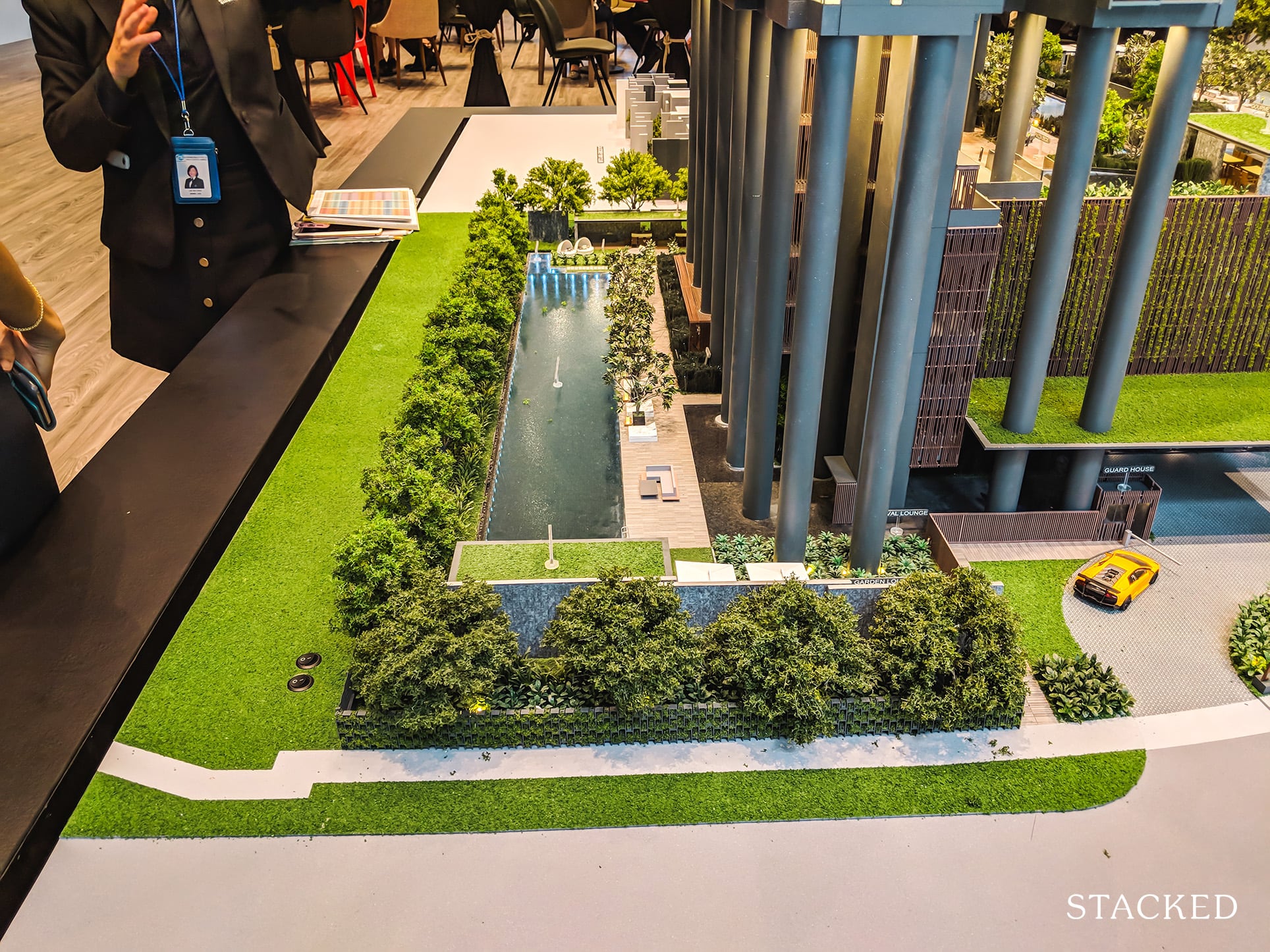 50m lap pool for proper swimming at the back of the development. With just 262 units, you can expect to have enough private space in the common areas.
2-Bedroom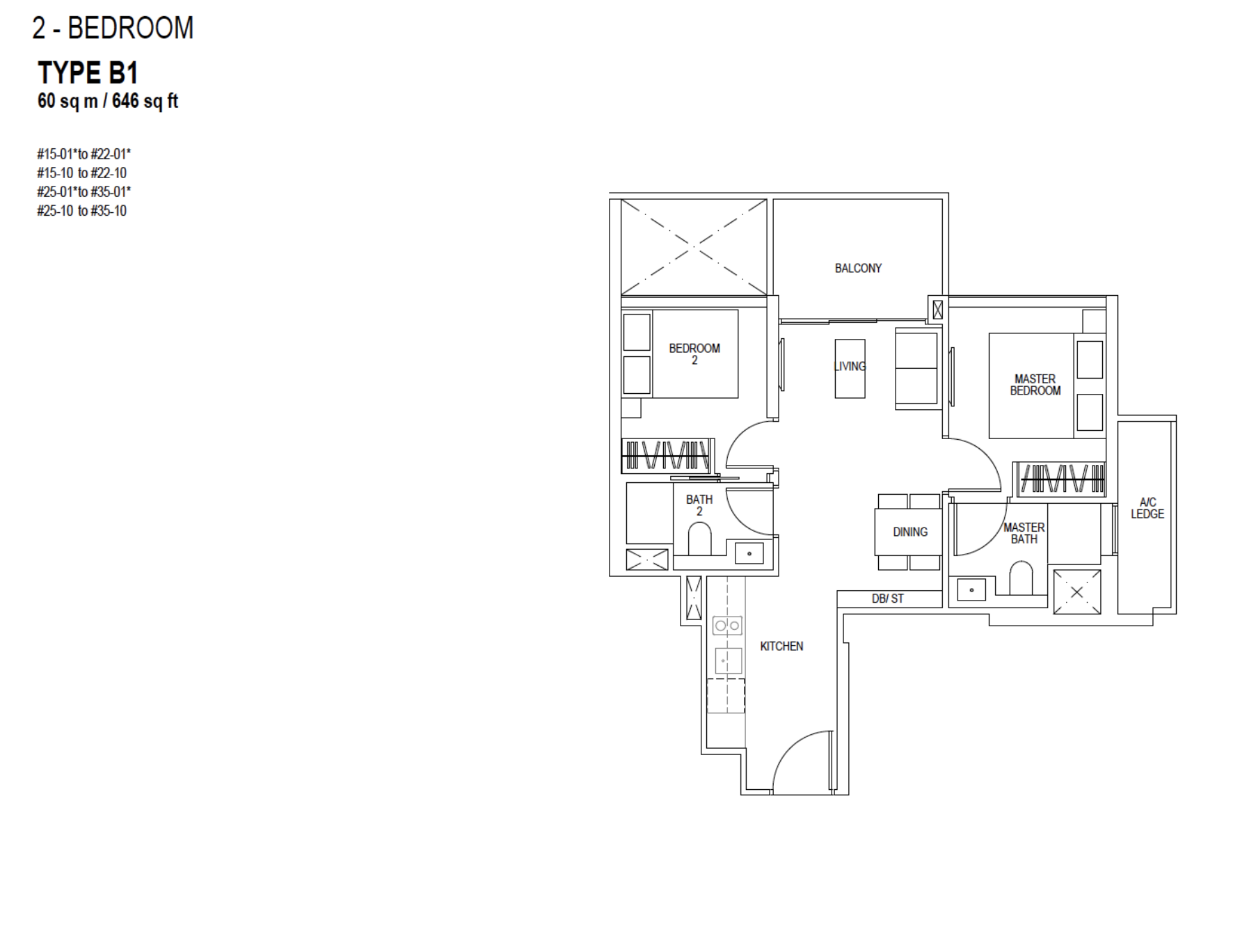 The layout for the 2 bedroom units at Sky Everton are well laid out. We like that both the bedrooms are separated by the living room so as to give more privacy to the occupants. All units here come with 3.5m ceiling height, which is above average so kudos to the developer.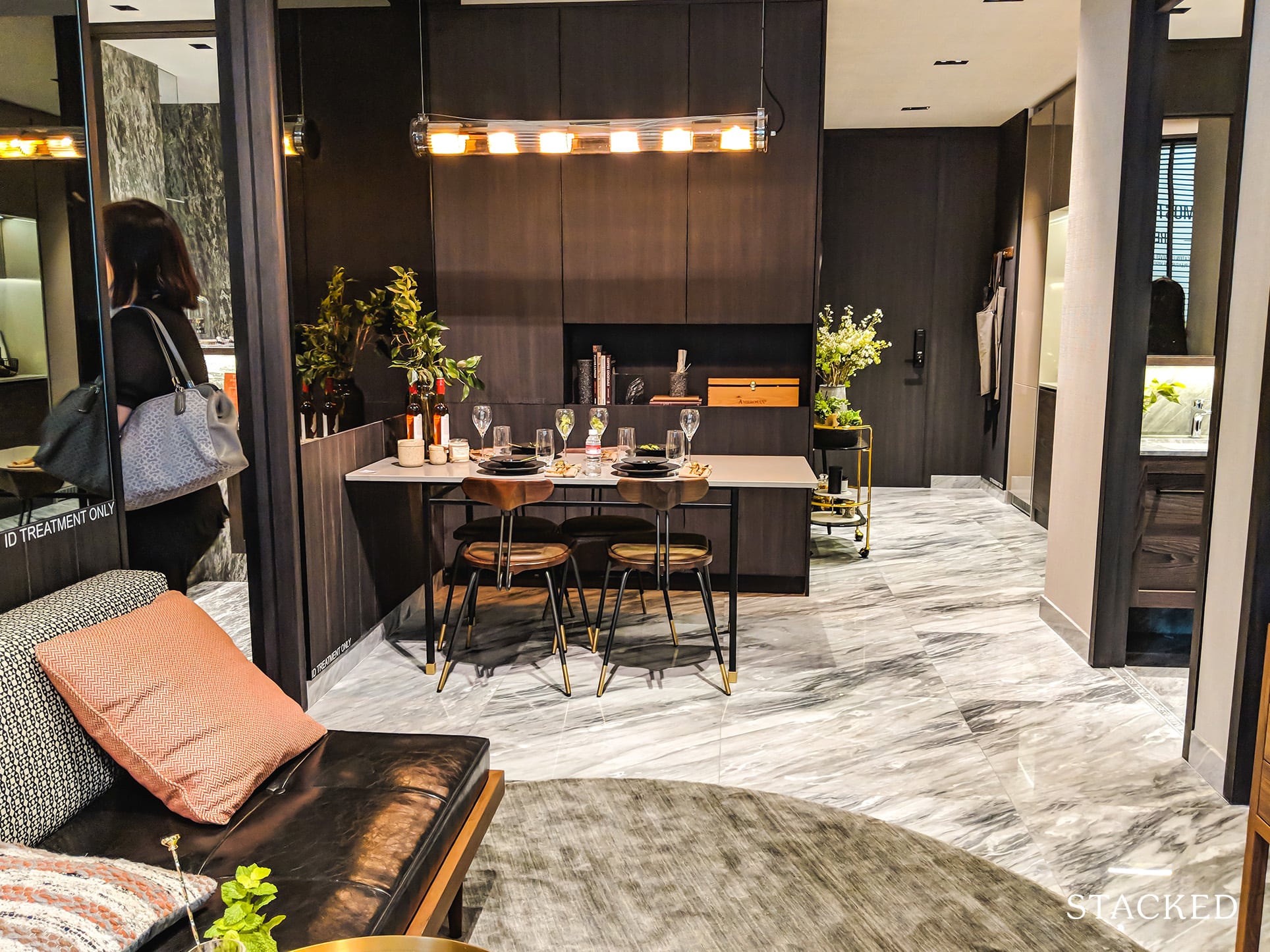 The living area is big enough for a small couch and a proper dining table that will be good for 4 people to dine comfortably.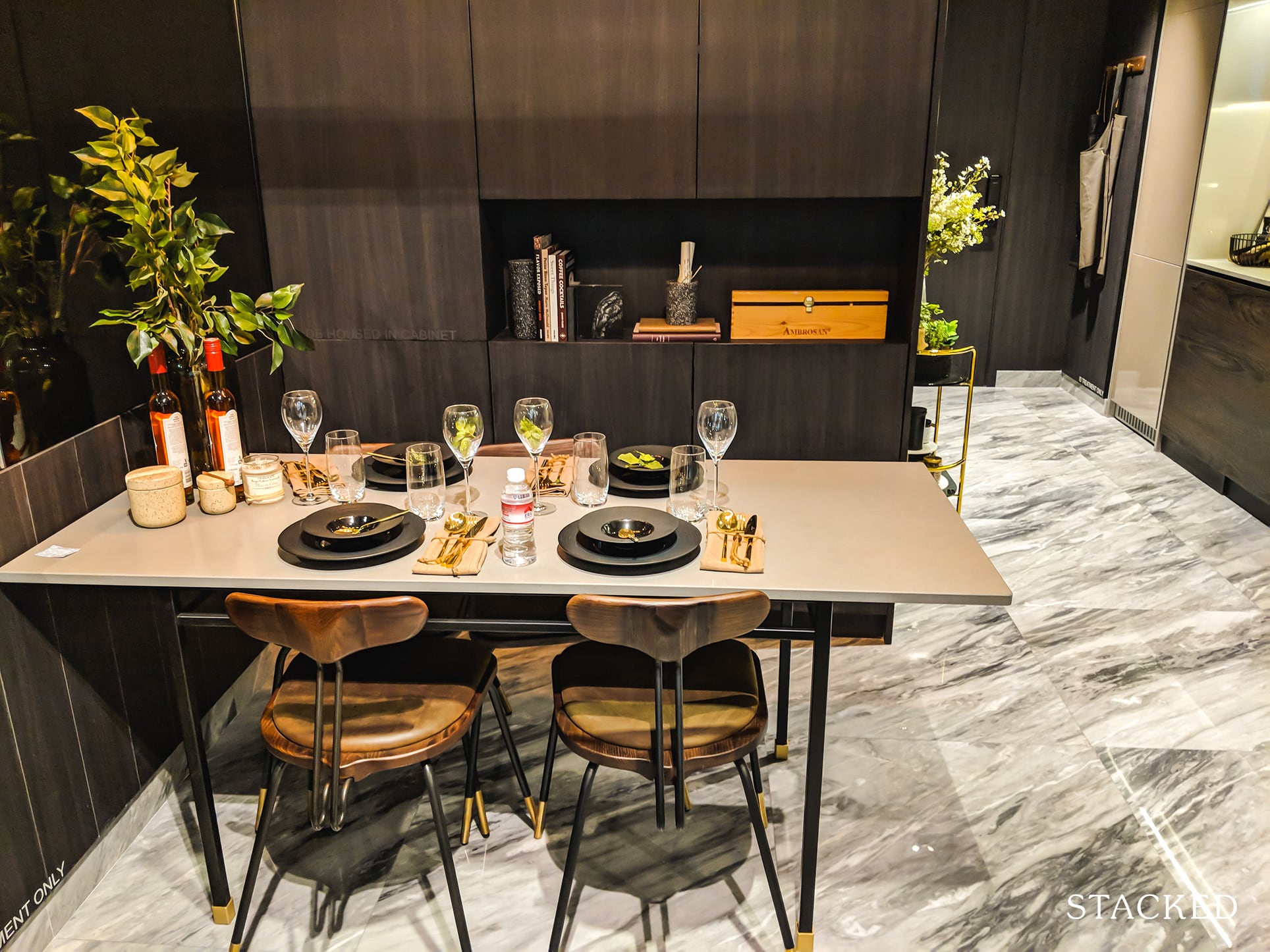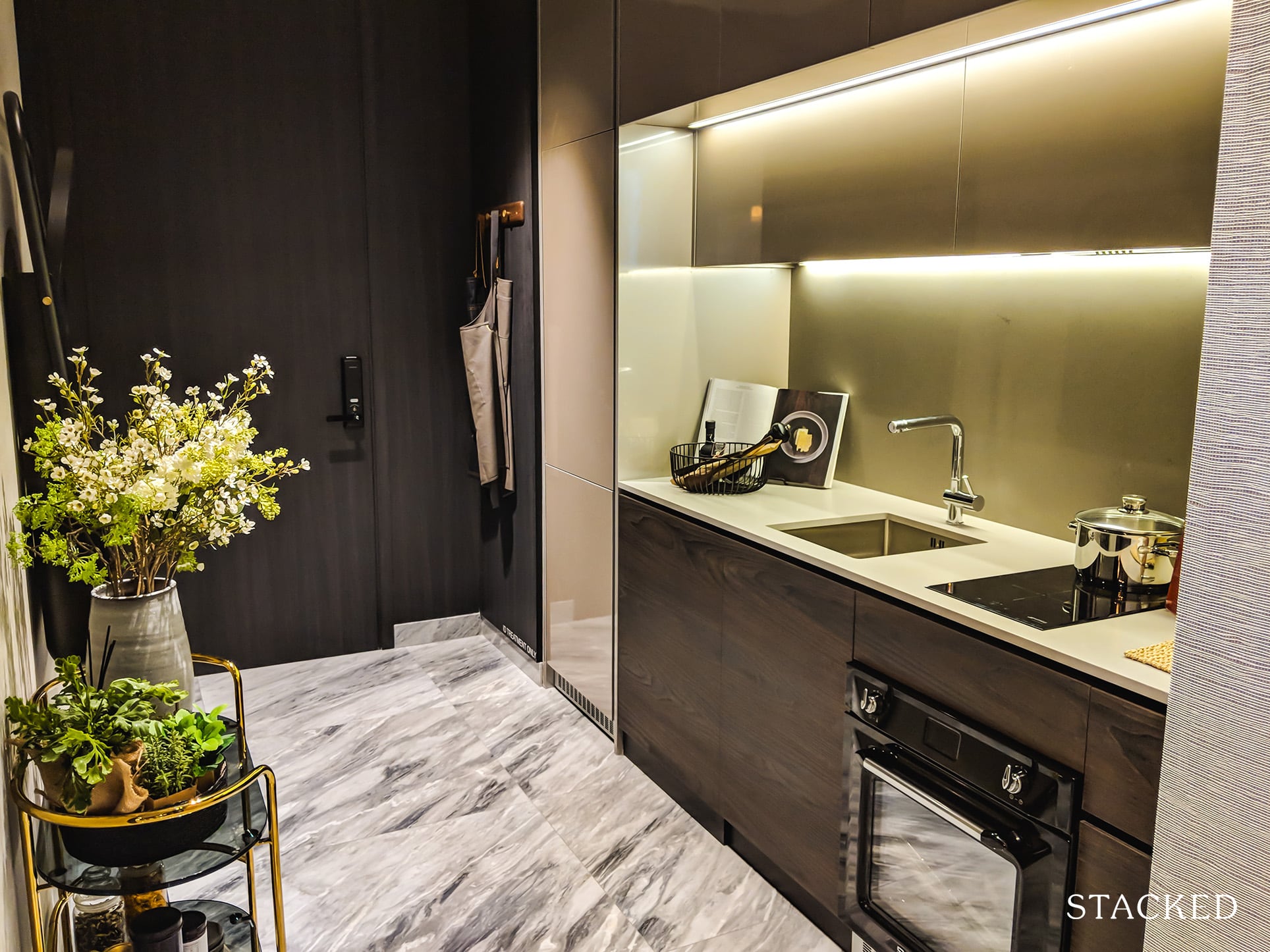 Don't expect to do heavy cooking here, as there are no windows around. Not that it would be an impossible feat, but to let the smell out you will have to open your front door and the balcony doors for air to flow through.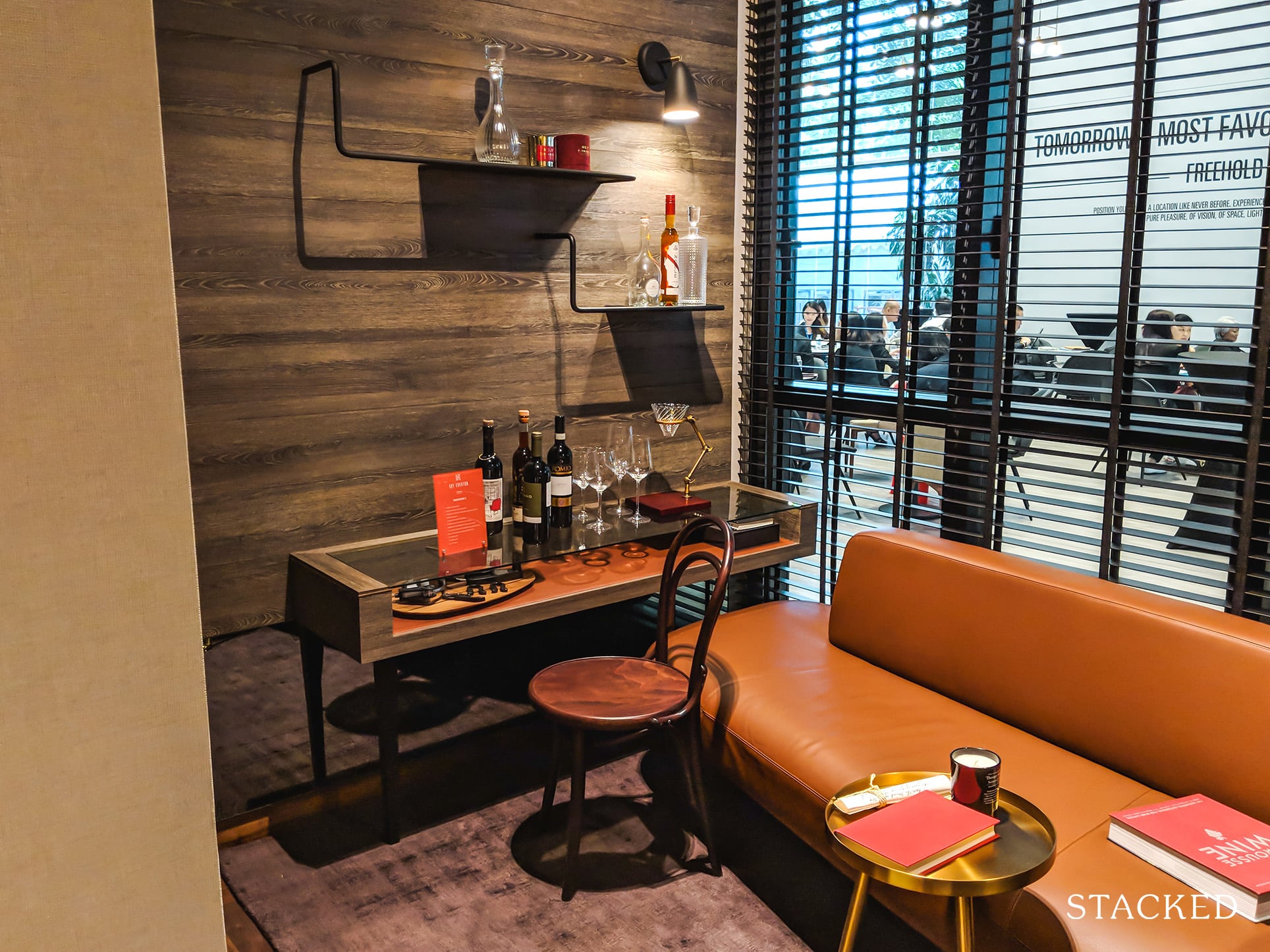 The ID unit show cases the second bedroom as a lounge area, but you could fit a queen sized bed here. If you need a study table that could pose an issue though.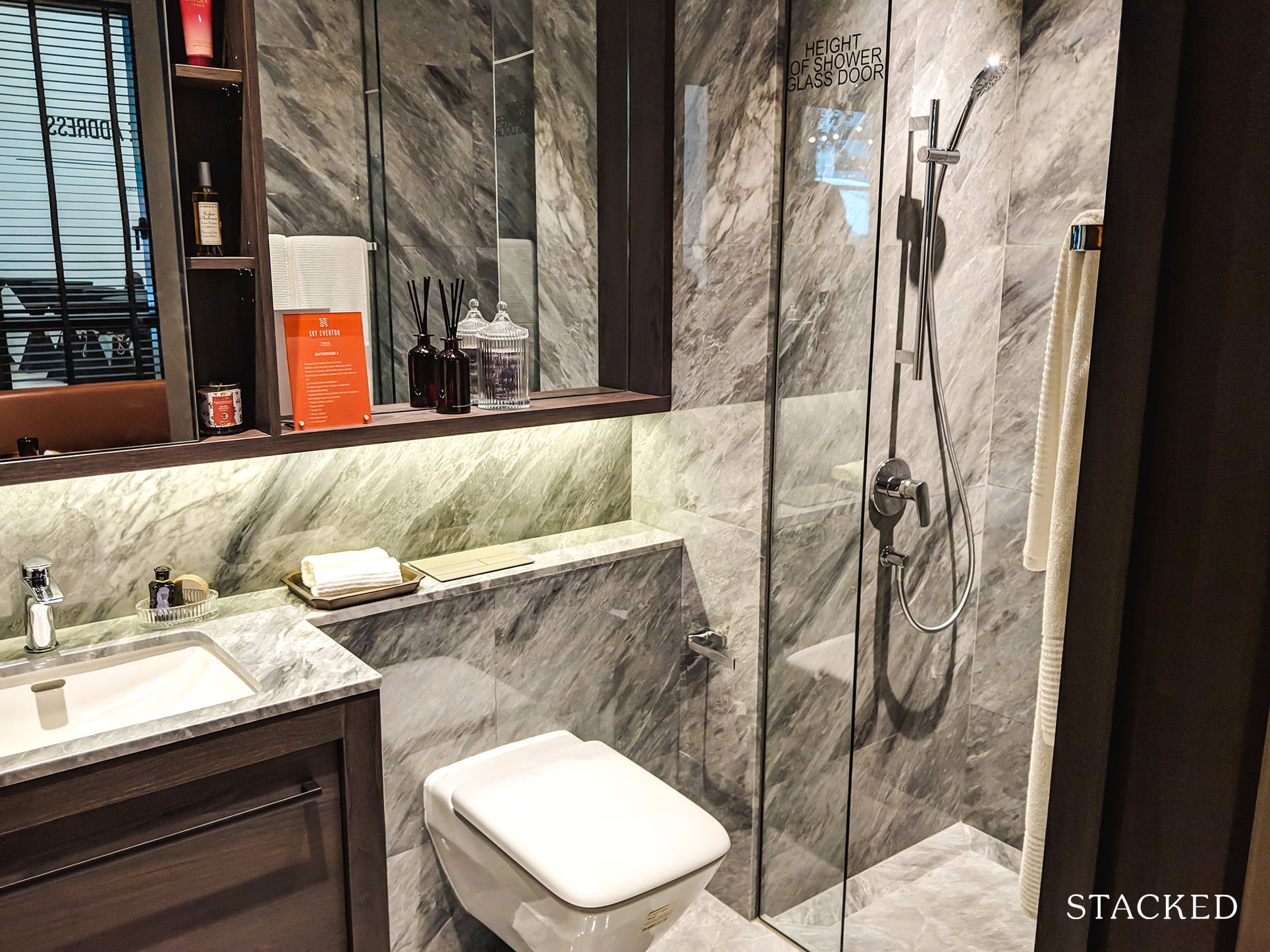 The common toilet is in a jack and jill layout. Which is useful as you can access it from the bedroom as well as from the living area for your guests.
The master bedroom is on the small side, but with the 3.5m ceiling height, it certainly helps to give a more spacious feeling.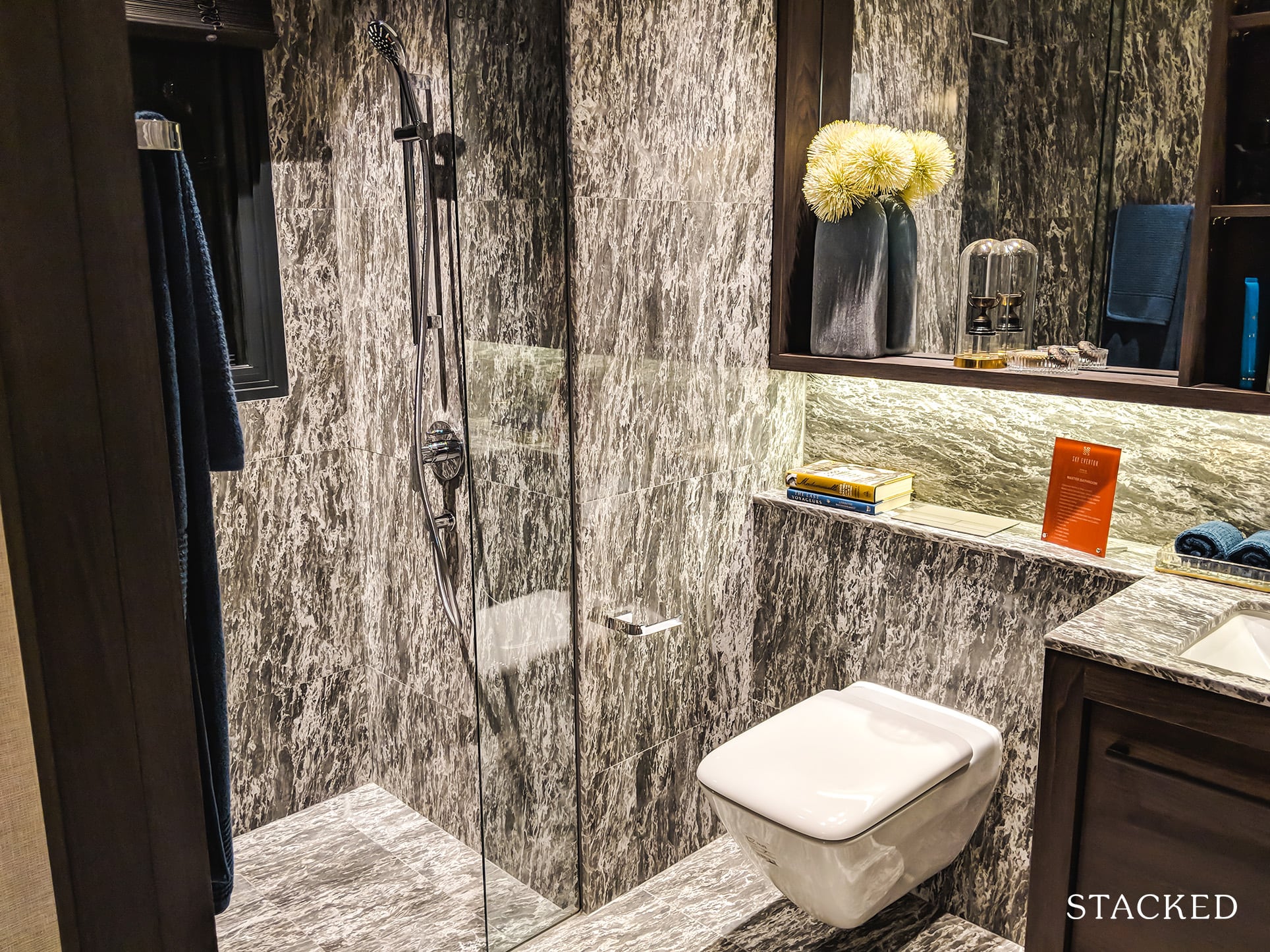 The master bedroom toilet.
3-Bedroom + Study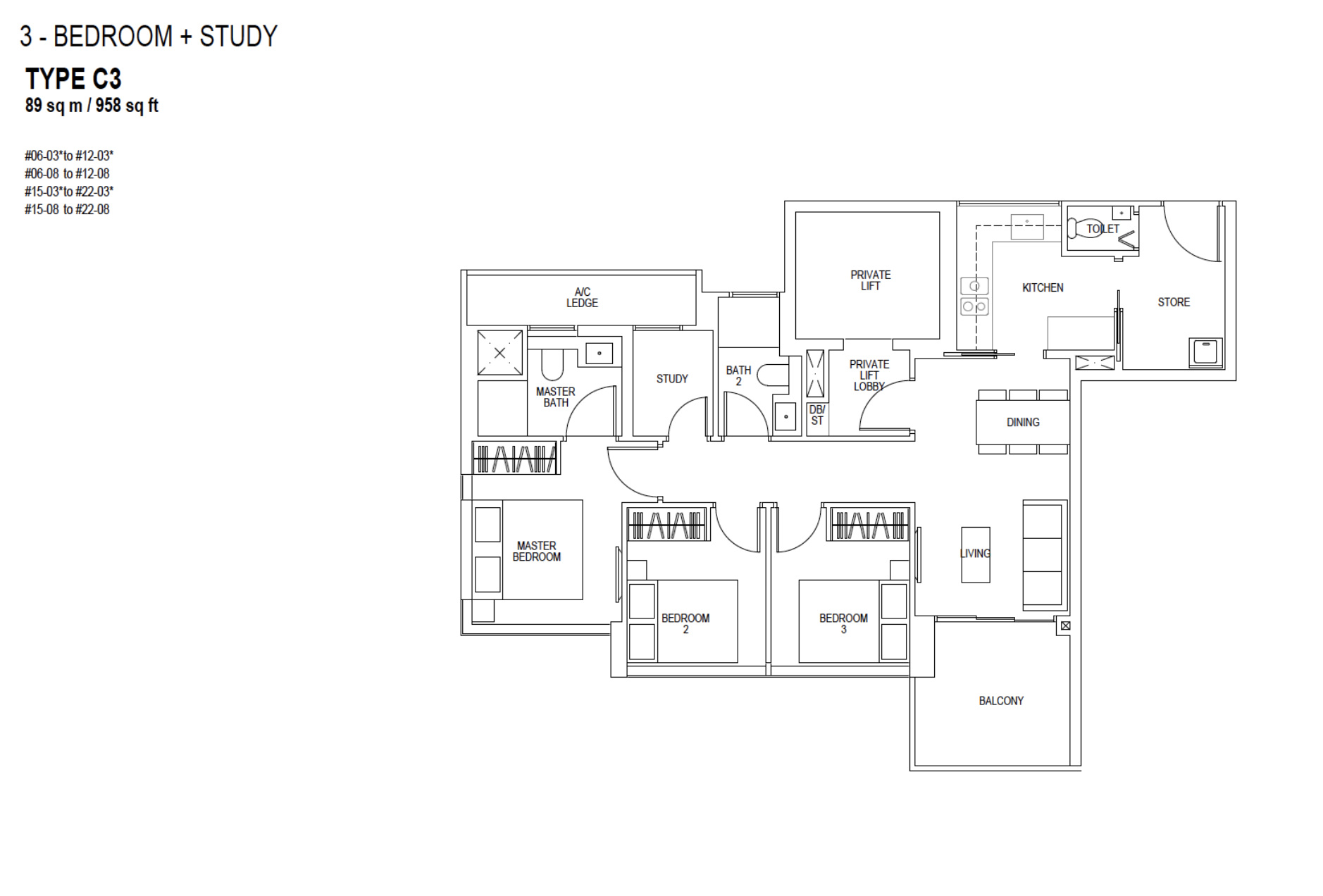 The showflat showcased the 3 bedroom unit that comes with private lift access and a study. Although some people may feel that the private lift lobby is a waste of space, we do feel that it is always a nice touch to have.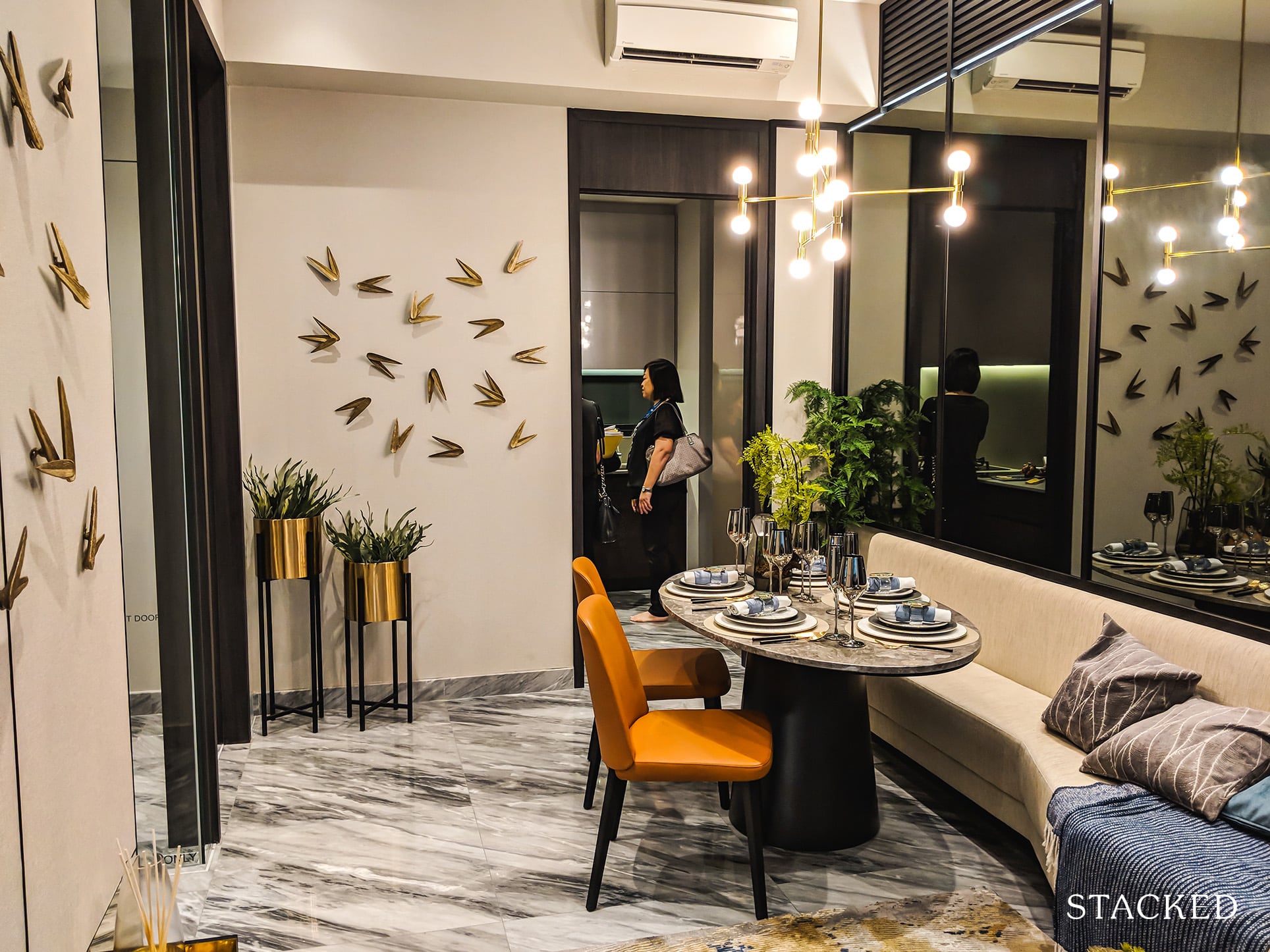 To be completely frank, the living room in the 3 bedroom is disappointingly small. We suppose some of the space was taken up by the private lift lobby, study and the abnormally big store room area (which we will get to in a bit). Which is why the dining table in the 3 bedroom unit looks to be even smaller than the one in the 2 bedroom unit.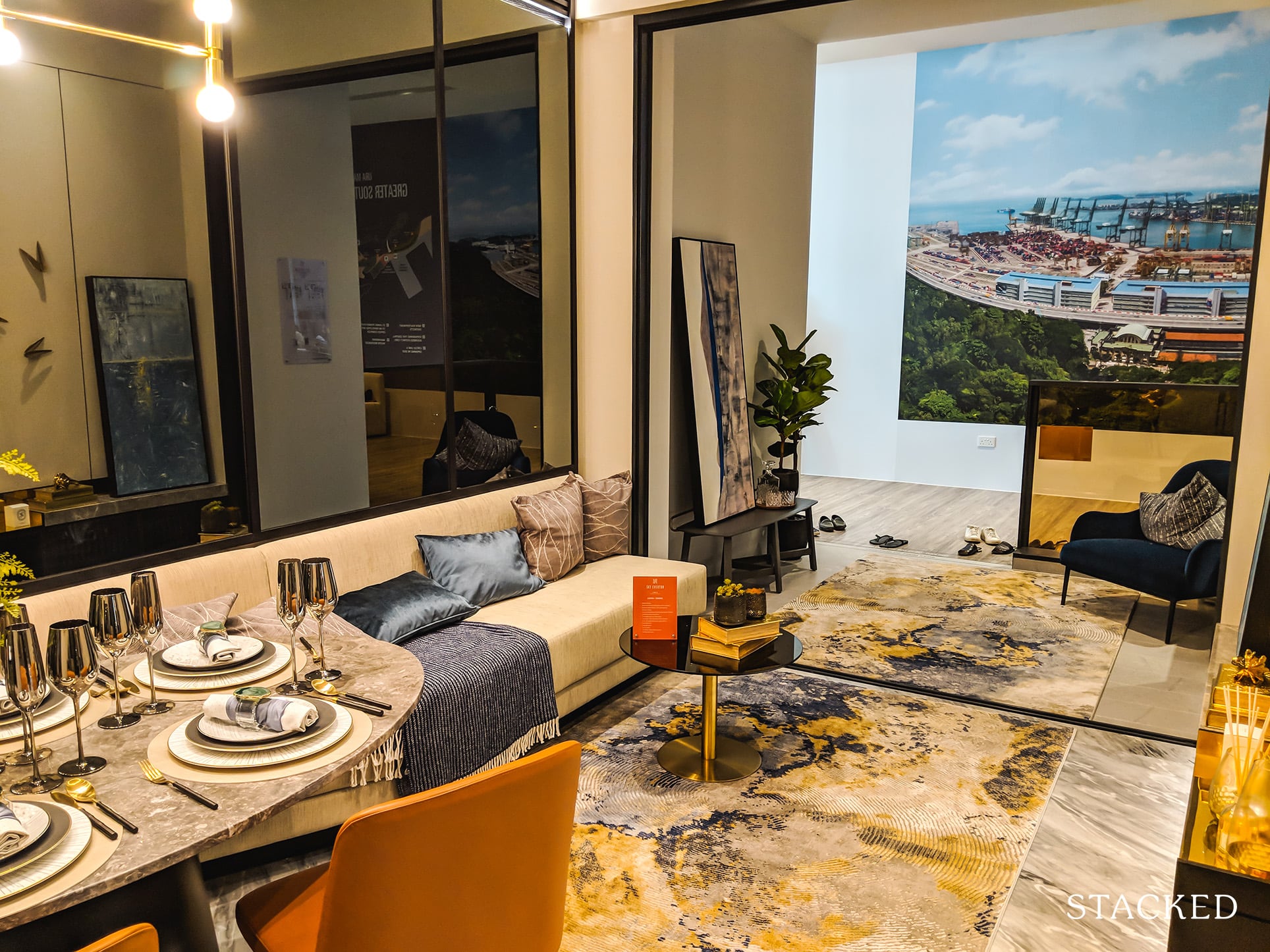 The view towards the balcony and showing off the living room space.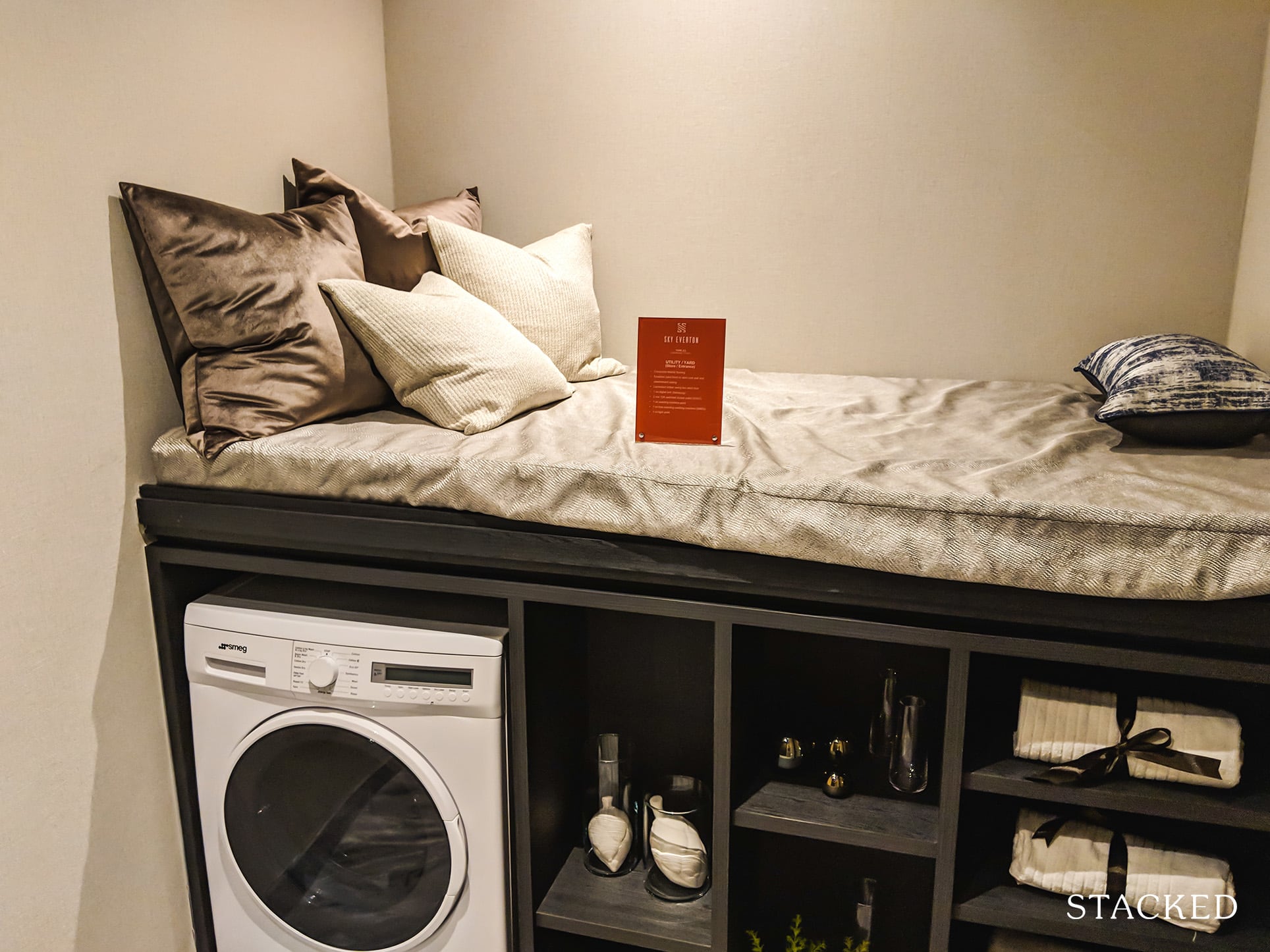 This is the store area, where the other entrance is located as well. It is really quite a large space and could almost be used as another bedroom (with a single bed). If you have a helper this would come in handy too. The kitchen here can be an enclosed space, and so you can do your regular heavy duty cooking if necessary.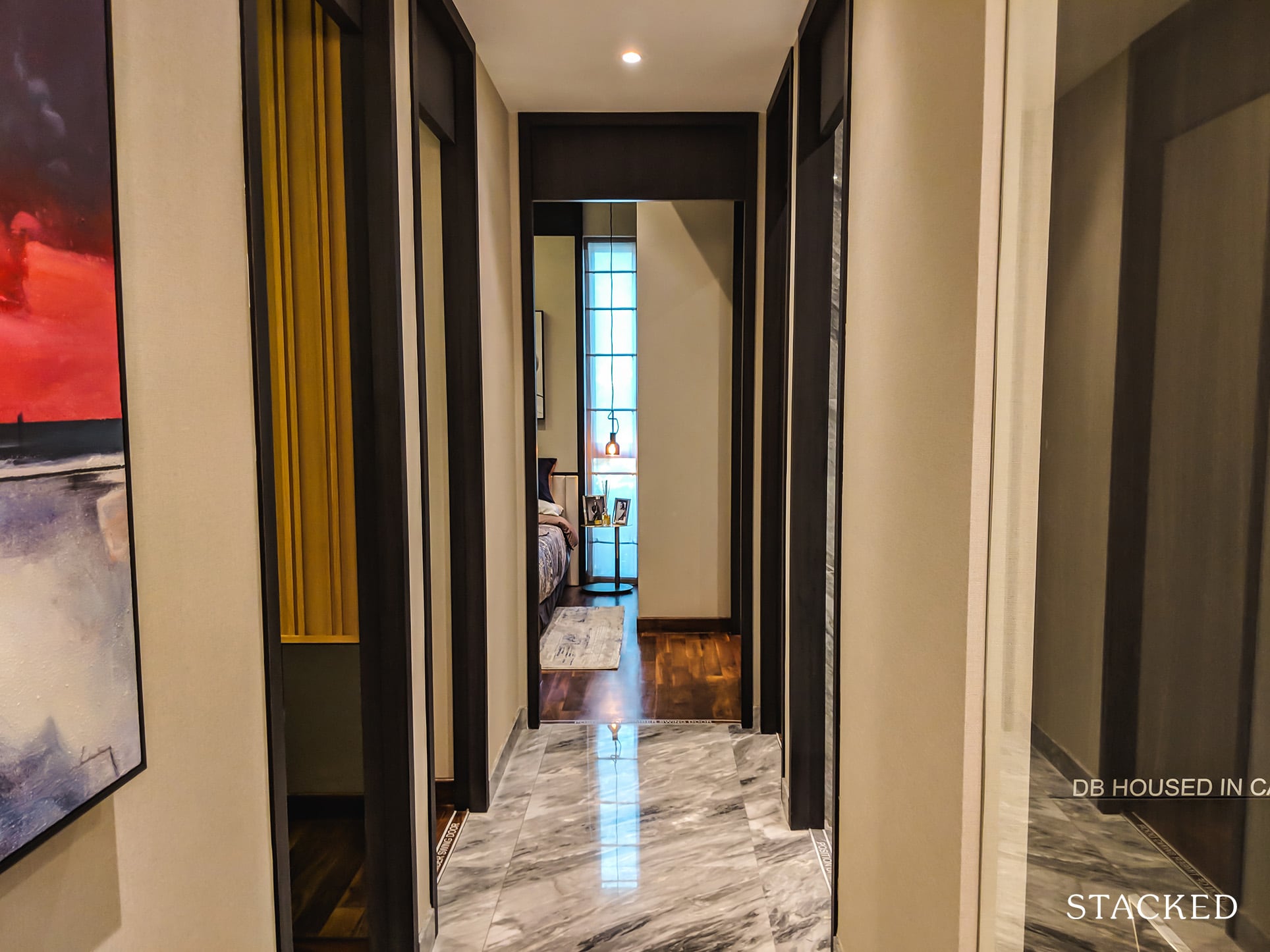 A view of the corridor space leading to the bedrooms and study room.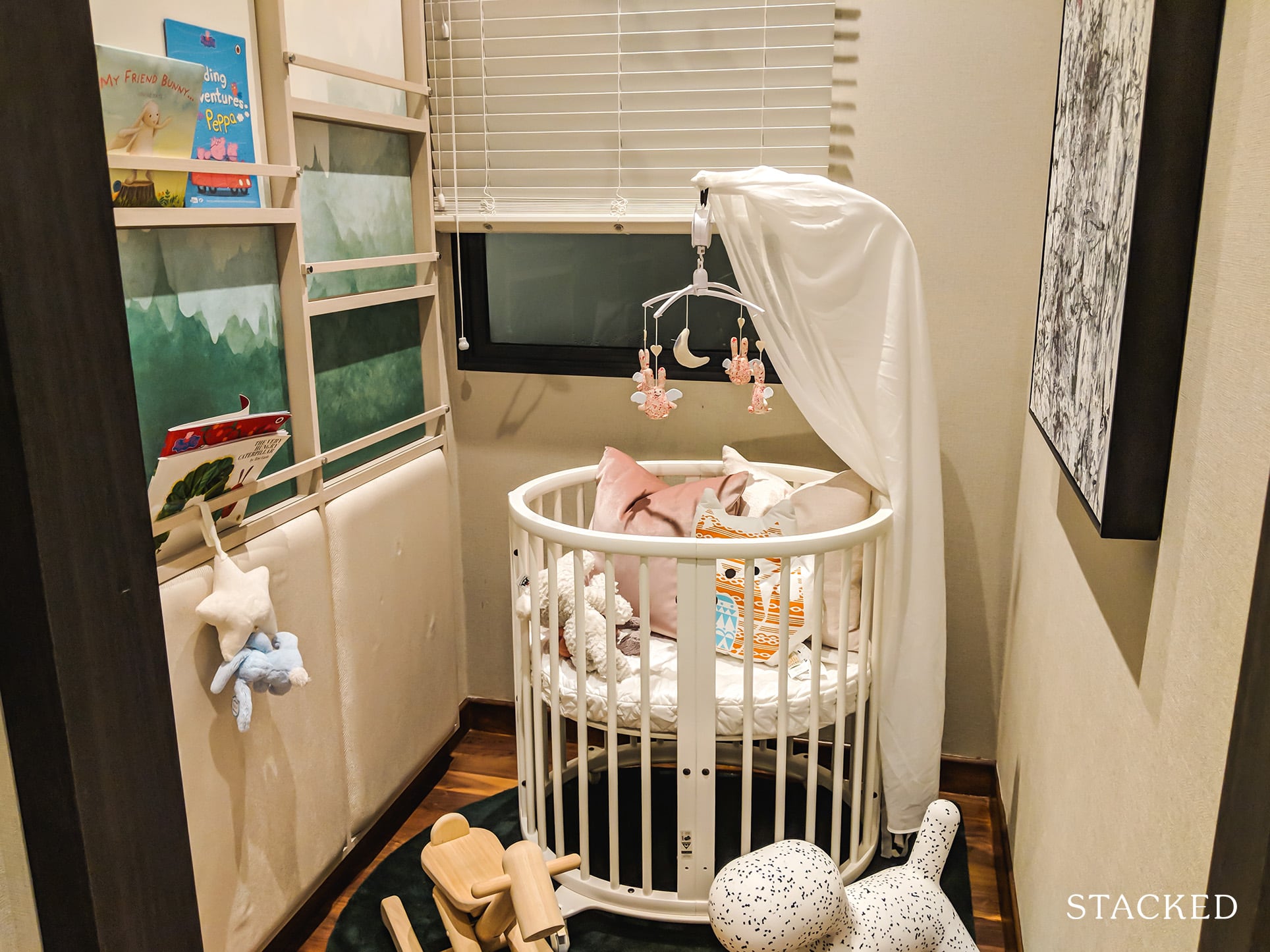 In the showflat unit, the study room has been shown to be a baby's room. It isn't a big space by any means, but it can be useful as shown here.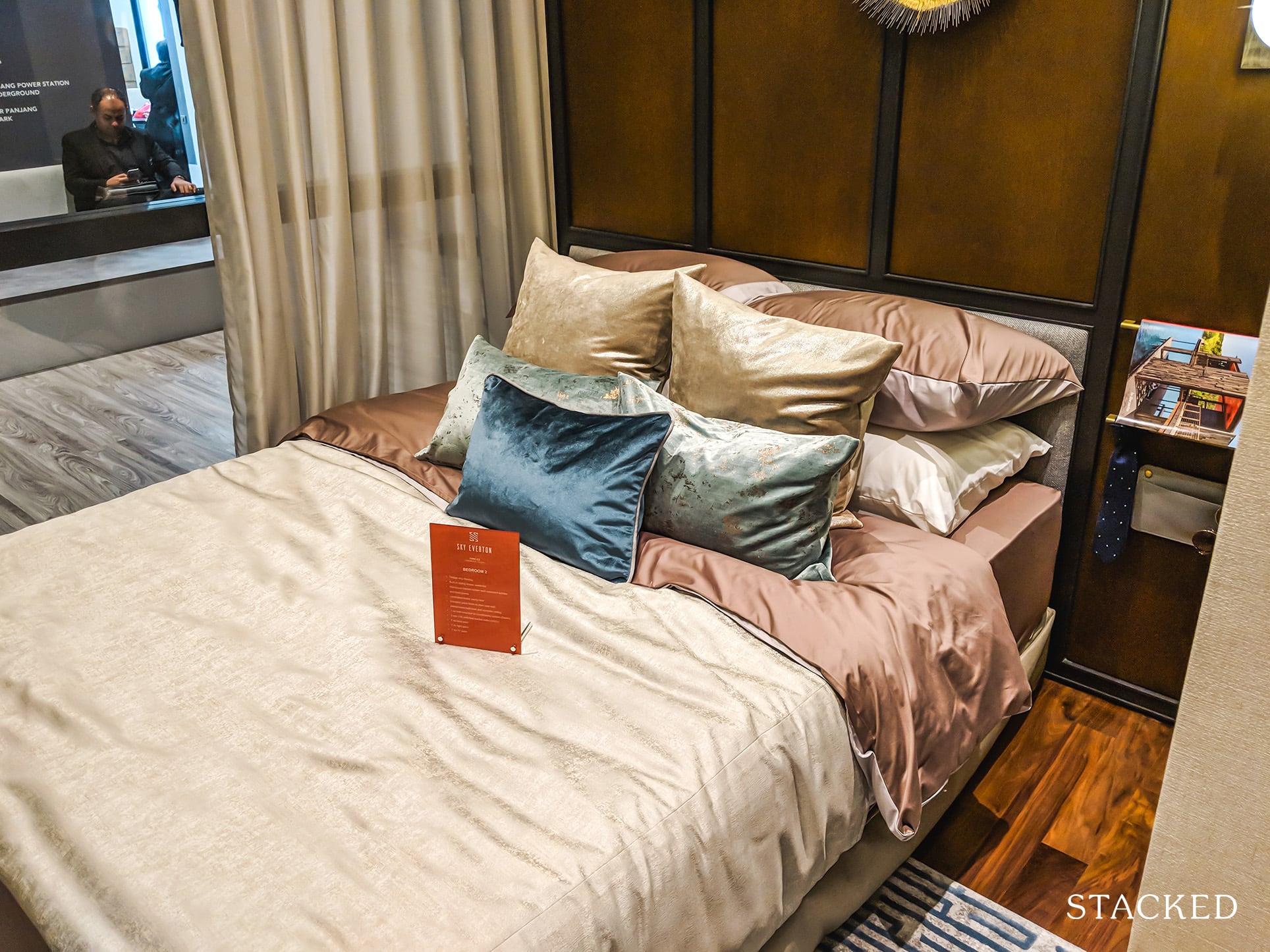 Both common bedrooms are similarly sized and can fit a queen sized bed.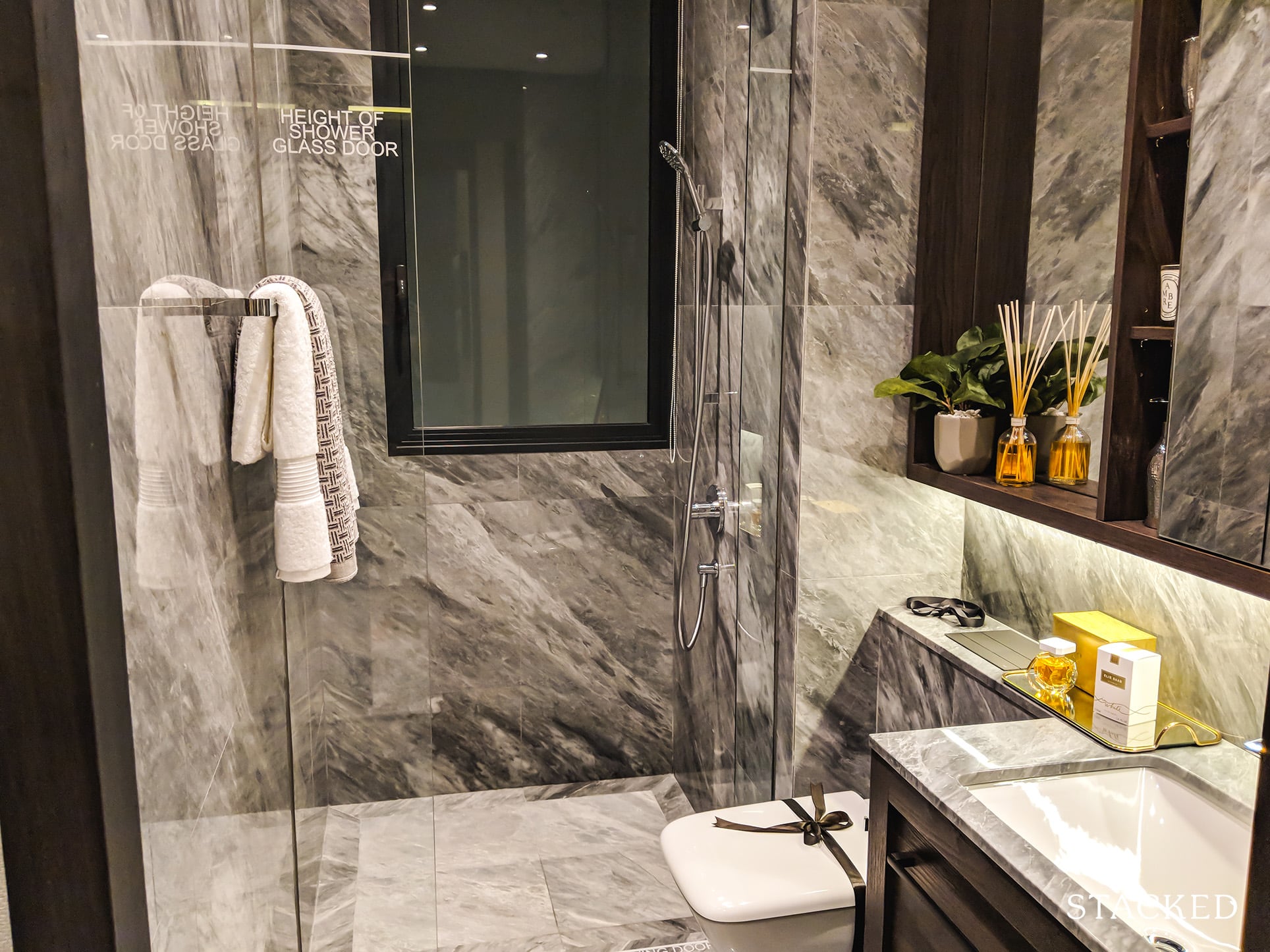 The common room toilet.
And here we have the master bedroom, it isn't the biggest but you do have room to walk around. Unfortunately only the living room has a balcony space.
Sky Everton Review Prices
Sky Everton Prices

| Unit Type | Size (sqft) | Unit No. | Sale Price | $psf |
| --- | --- | --- | --- | --- |
| 1-bedroom | 463 sqft | 09-04 | $1,168,283 | $2,523 |
| 1-bedroom | 463 sqft | 15-07 | $1,212,727 | $2,619 |
| 1+study (Last Unit) | 506 sqft | 09-01 | $1,238,788 | $2,448 |
| 2-Bedroom | 624 sqft | 08-05 | $1,587,778 | $2,545 |
| 2-Bedroom | 624 sqft | 08-06 | $1,587,778 | $2,545 |
| 2-Bedroom | 646 sqft | 16-10 | $1,626,667 | $2,518 |
| 3-Bedroom | 915 sqft | 15-02 | $2,328,788 | $2,545 |
| 3-Bedroom | 915 sqft | 16-02 | $2,336,869 | $2,554 |
| 3-Bedroom | 915 sqft | 15-09 | $2,328,788 | $2,545 |
| 3-Bedroom | 915 sqft | 16-09 | $2,336,869 | $2,554 |
| 3+study | 958 sqft | 06-03 | $2,392,121 | $2,497 |
| 3+study | 958 sqft | 07-03 | $2,399,192 | $2,504 |
| 3+study | 958 sqft | 07-03 | $2,399,192 | $2,504 |
| 3+study | 958 sqft | 07-08 | $2,399,192 | $2,504 |
| 4-bedroom | 1346 sqft | 25-03 | $3,699,394 | $2,748 |
| 4-bedroom | 1346 sqft | 26-03 | $3,714,545 | $2,760 |
| 4-bedroom | 1346 sqft | 25-08 | $3,699,394 | $2,748 |
| 4-bedroom | 1346 sqft | 26-08 | $3,714,545 | $2,760 |
| Penthouse 5-bedrooms | 1819 sqft | 36-01 | $5,717,576 | $3,143 |
| Penthouse 5-bedrooms | 1819 sqft | 36-10 | $5,717,576 | $3,143 |
| Penthouse 6 bedrooms | 2228 sqft | 36-03 | $7,106,869 | $3,190 |
| Penthouse 6 bedrooms | 2228 sqft | 36-08 | $7,106,869 | $3,190 |
Disclaimer:
(Pricing as of 24/06/2019, prices may change anytime)
Sky Everton launched with an average PSF of $2,500 which was to be expected given their en bloc price and new launch premium. Because the unit sizes aren't big, the quantum for the smaller units is not big and is priced attractively for people looking to invest or for own stay. Given the attractive location, it is safe to say that units here will be easy to rent out.
If you really want to stay in the area and location is of utmost importance to you, the price point of Spottiswoode 18 is low enough that it is worth considering. When you take into consideration the surrounding property prices, the price point of Sky Everton may seem to be a little high. Whether the new build and comprehensive facilities justifies the price difference is really dependant on your needs as a home buyer or investor.
Our Take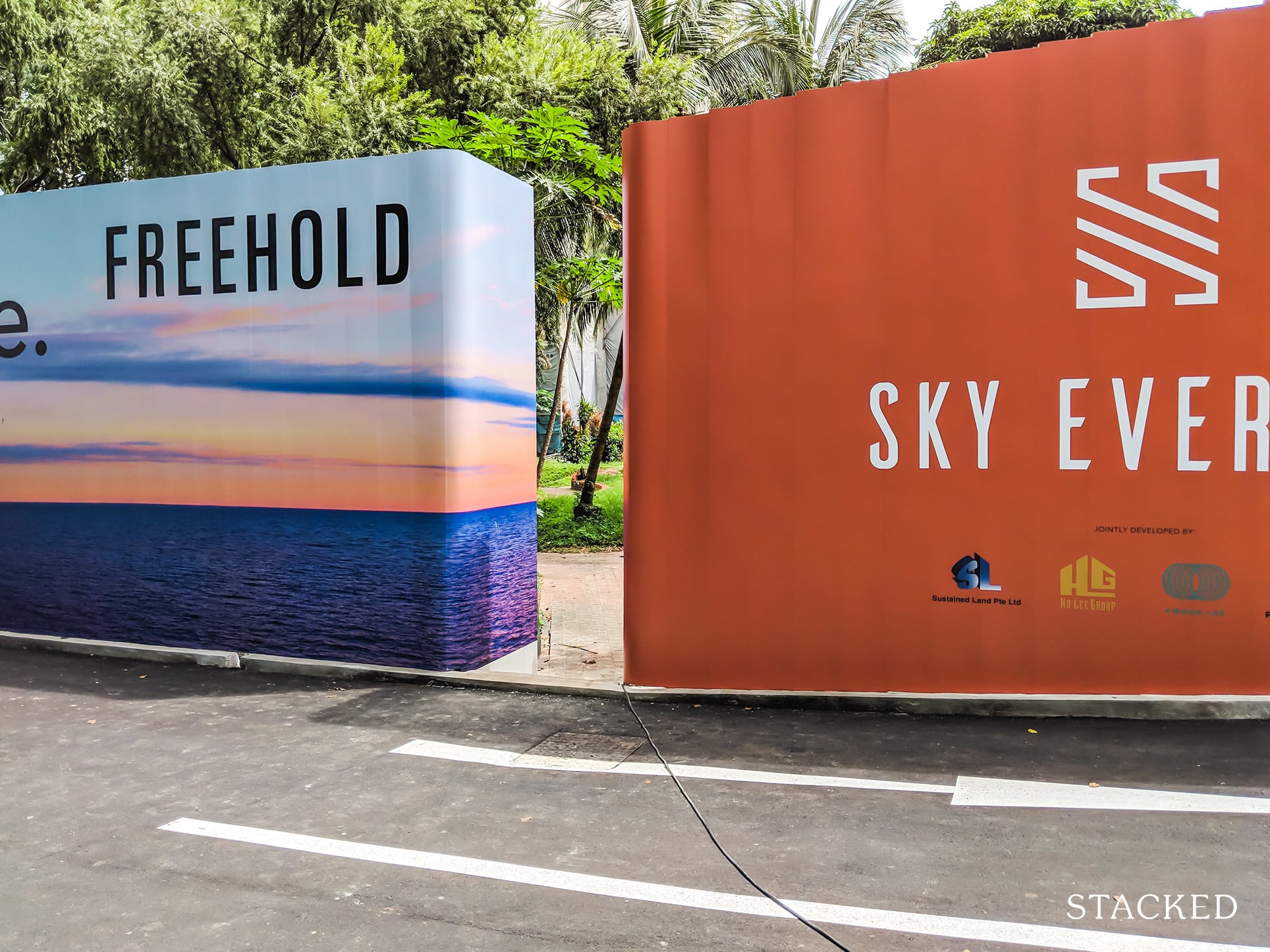 Sky Everton is an attractive project if you are in the market for a new launch as it offers a fantastic location and is chock to the brim with facilities. With the upcoming MRT station and developments to the Greater Southern Waterfront it is certainly an enticing option. Because unit sizes are small, the quantum is very palatable. However, there are other options in the area to consider if paying for a low PSF is your main concern.
What this means for you
You might like the Sky Everton if:
• You prioritise the location.The location is really fantastic, with an MRT station at your doorstep and three others nearby. Oh and CBD is walkable too.
• You want it to be future proof.The area has lots of upgrades coming along, in the CBD area, Greater Southern Waterfront, and Singapore General Hospital.
You might not like the Cosmopolitan condo if:
• You prioritise space.The 1 and 2 bedroom units are on the small side.
• You are looking for family living.The location is great for working people and expats, for families, there is a lack of school options and amenities nearby.
End of Review
[optin-monster-shortcode id="gzivtlotizxfiuzqwtnx"]