Condo Reviews

Signature Park Review: All About Family Living
Reuben
November 3, 2019

20

min read
With over 1,000 sqft for a 2-bedroom, Signature Park is perfect for those who value big unit sizes. Its location to schools and nature is also perfect for those with kids. However, the development is less than ideal for those who rely on the MRT frequently.
Reviewed by Reuben on November 03, 2019
What we like
Two swimming pools

Lots of land

Near schools
What we don't like
—

Not near MRT

—

Traffic congestion at Toh Tuck

—

Dated exterior
20
min read
| | | | |
| --- | --- | --- | --- |
| Project: | Signature Park | District: | 21 |
| Address: | Toh Tuck Road | Tenure: | Freehold |
| Site Area: | 786,125 sqft | No. of Units: | 928 |
| Developer: | City Development Limited | TOP: | 1998 |
The dawn of the 21st century brought many positive changes to Singapore – and perhaps one of the most influential was Signature Park to the real estate market.
2 decades in and the former Construction Excellence Awards holder doesn't seem to be letting up on its solid price tag. This despite constant competition from various new surrounding developments.
What's more interesting is the number of resales that have already been made this year!
Housing over 900 units spread across 11 eight and ten-storeyed blocks, you wouldn't exactly term Signature Park as a mini condo development.
Some things that residents here have come to value over the years include the condo's convenient locale, its abundant (albeit useful) facilities as well as the exclusive shield from the outer world that its numerous blocks provide and its sprawl of greenery enhances.
Yes, it has incredible price longevity given its quantum to age ratio – but how will the freehold Signature Park line-up against its peers… and is it still a good buy all things considered?
Find out now from our new-and-improved condo analysis below!
Signature Park Insider Tour
Facilities in Signature Park
Swimming Pool
Jacuzzi
Clubhouse
Function Room
Gym
Tennis Court
Basketball Court
Squash Court
Playground
Outdoor Fitness Station
Games Room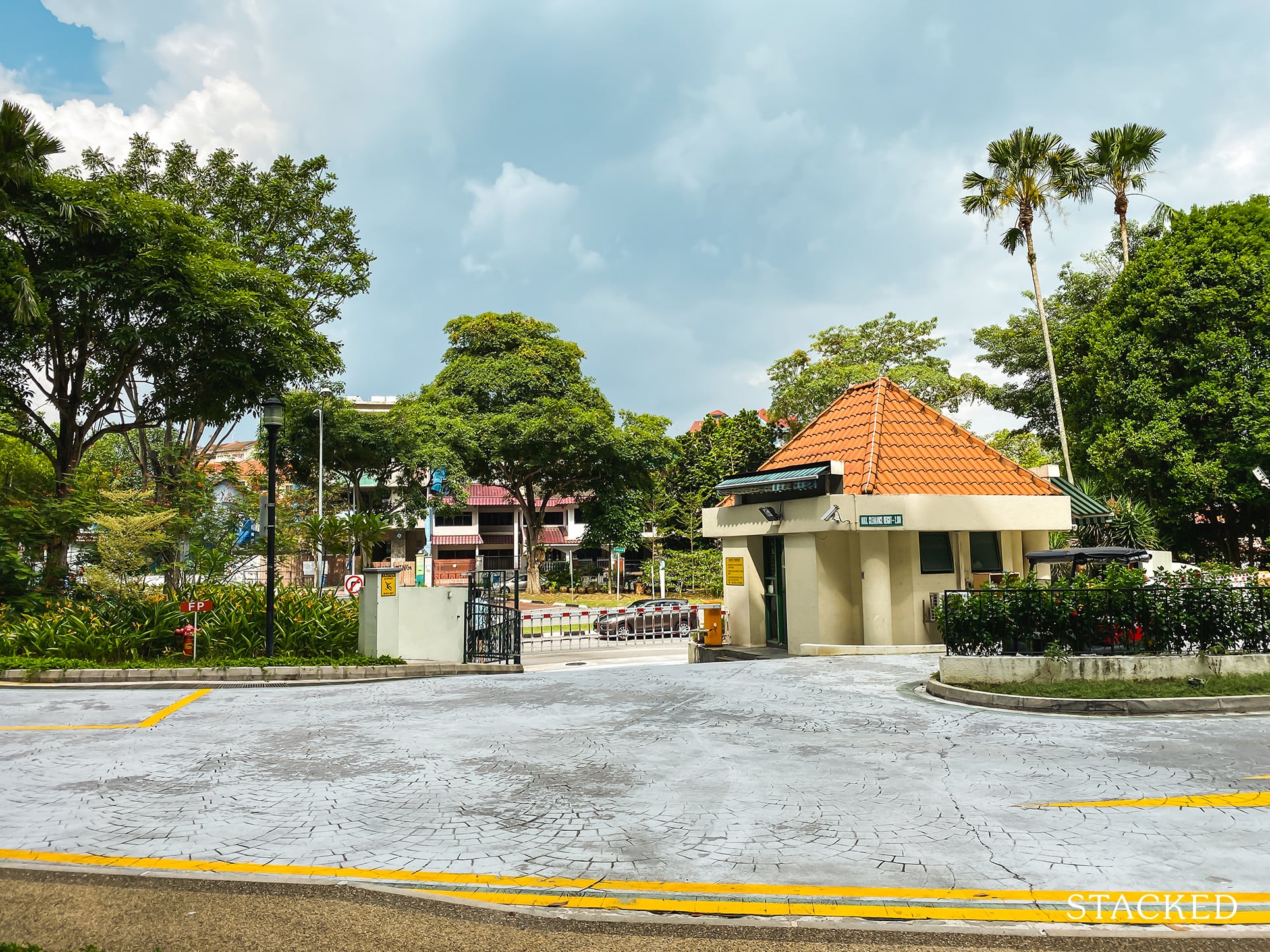 Sitting on a massive 786,125 square feet of land and with 928 units, it was imperative that Signature Park had more than one entrance to accommodate the traffic flow. So I'm happy to report that it has delivered on that front, with the main entrance on Jalan Jurong Kechil, and the back entrance along Toh Tuck Road. The main entrance has two lanes, one for visitors and the other for residents, which allows for a smooth flow of traffic. Unfortunately, the back entrance only has one lane, which can get jammed up during peak periods as the guard has to check each visitor before allowing them in.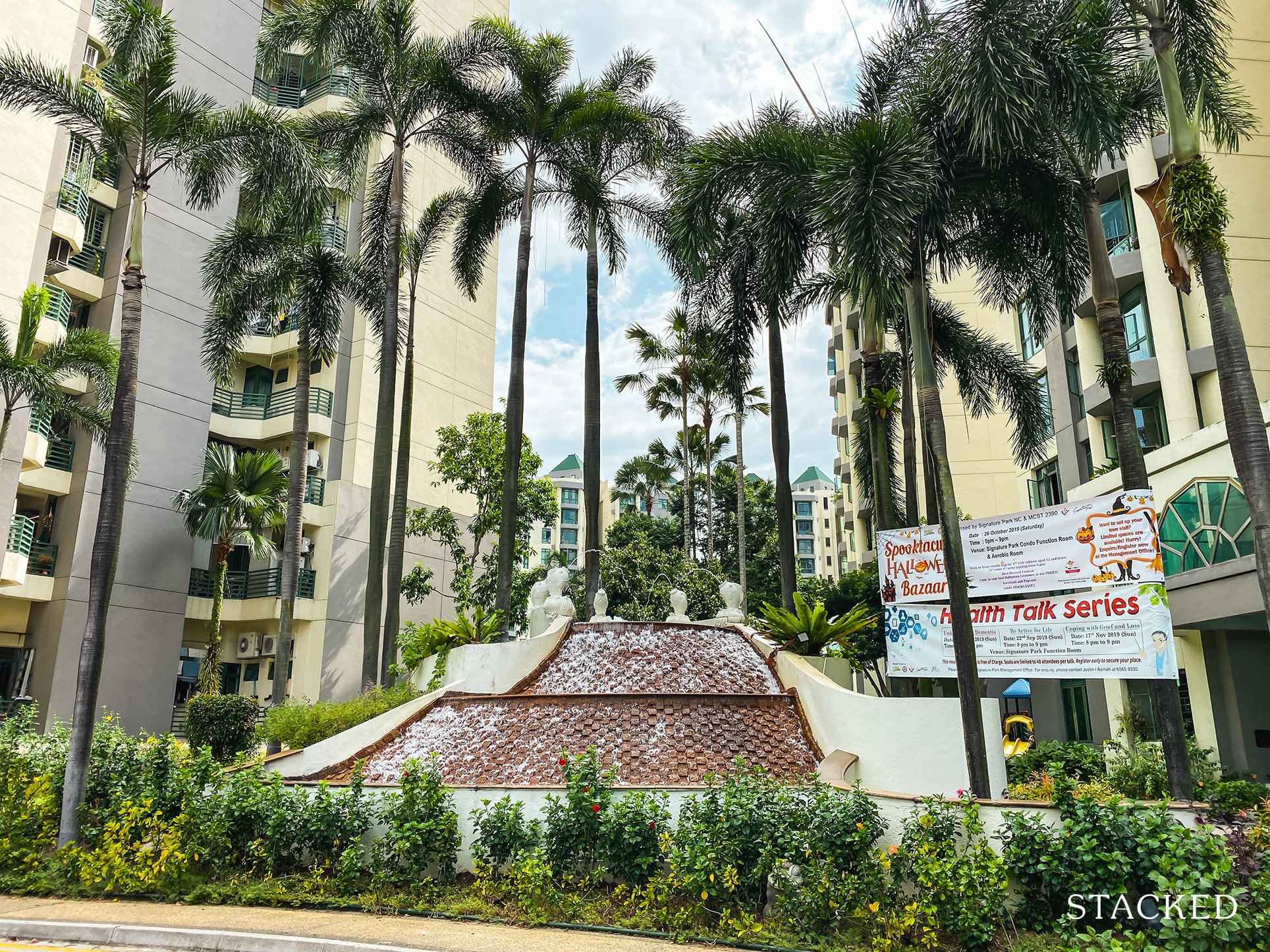 Once you get in, there is a water fountain to greet you, surrounded by a surprising number of palm trees. It is quite a welcoming sight, but like many of the condos in the same era (Pine Grove, Sommerville Park, Pandan Valley), the dated-ness of the design is undeniably apparent.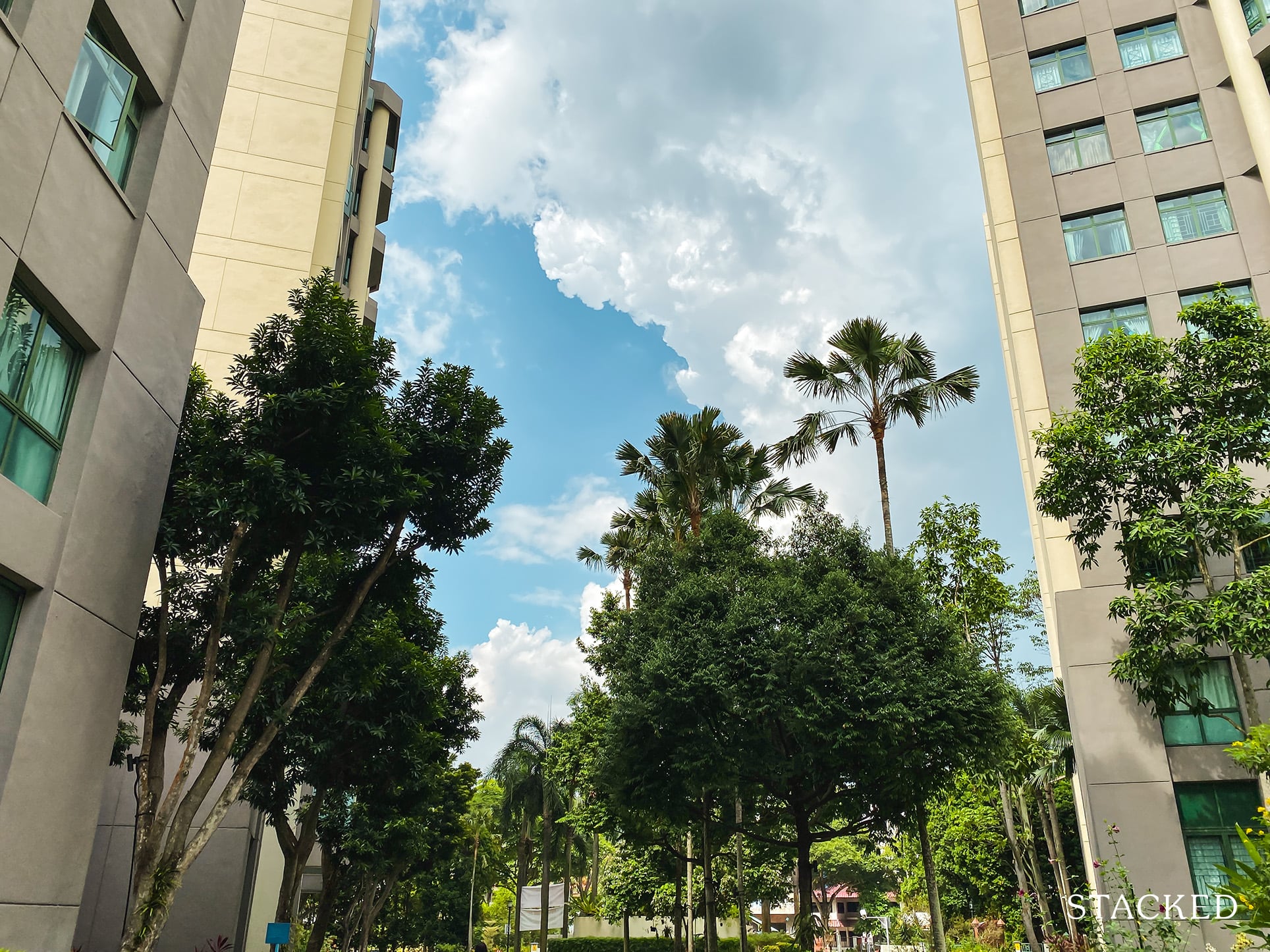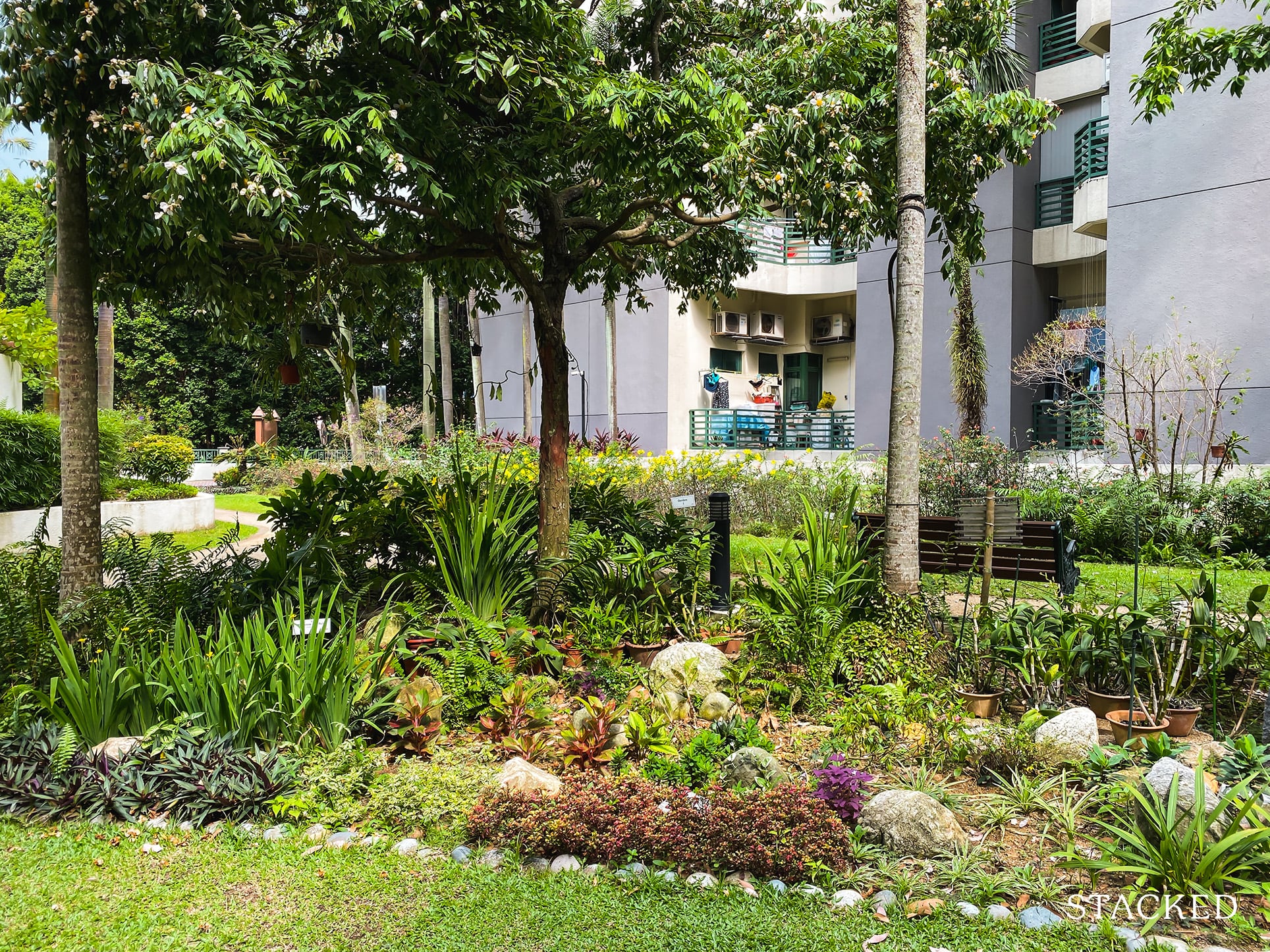 Beyond the water fountain, you'll come across a space dedicated to different types of plants and even herbs. It's not the manicured landscaping that we have come to expect from new developments, but it is very rustic and homely looking.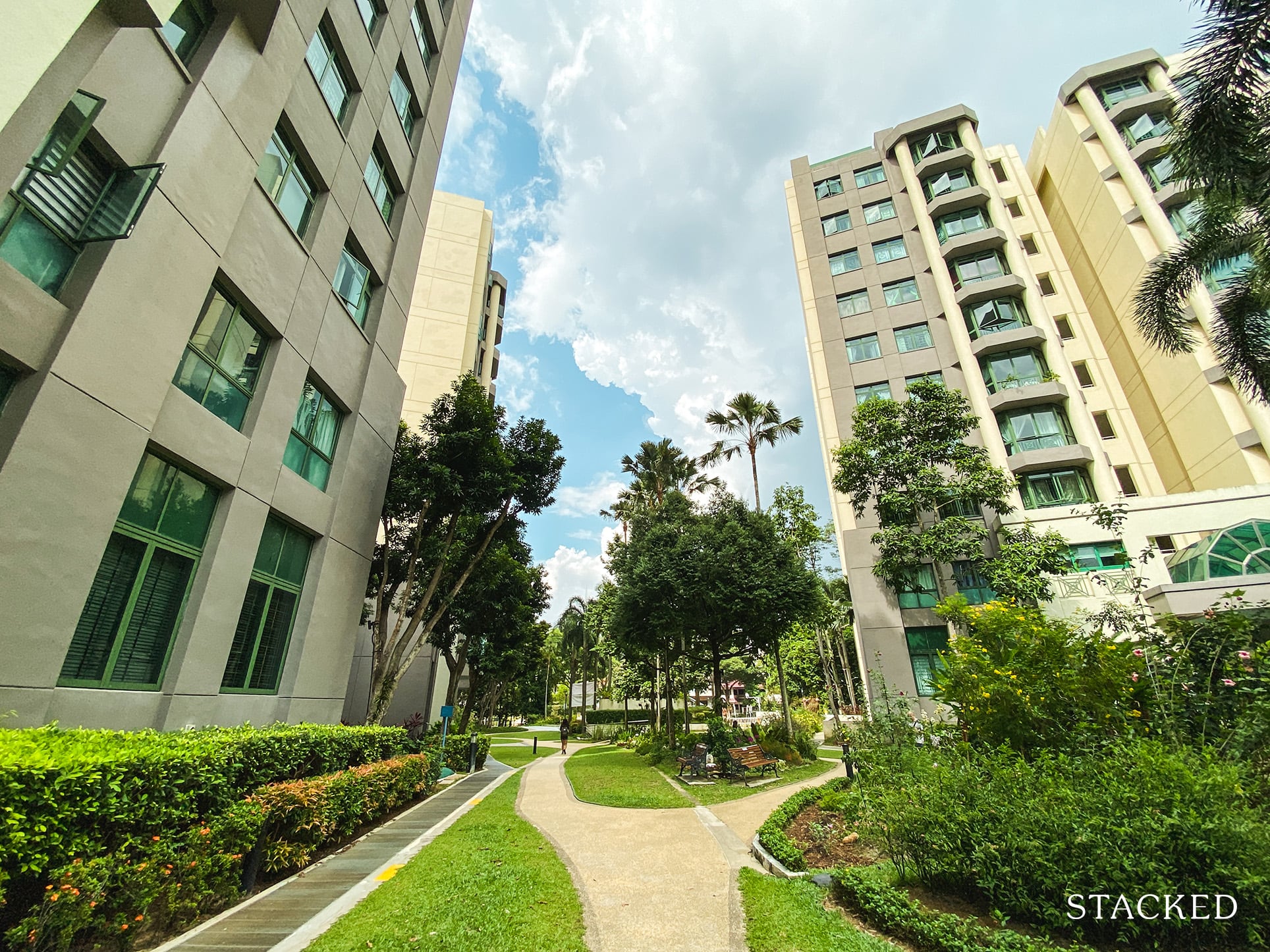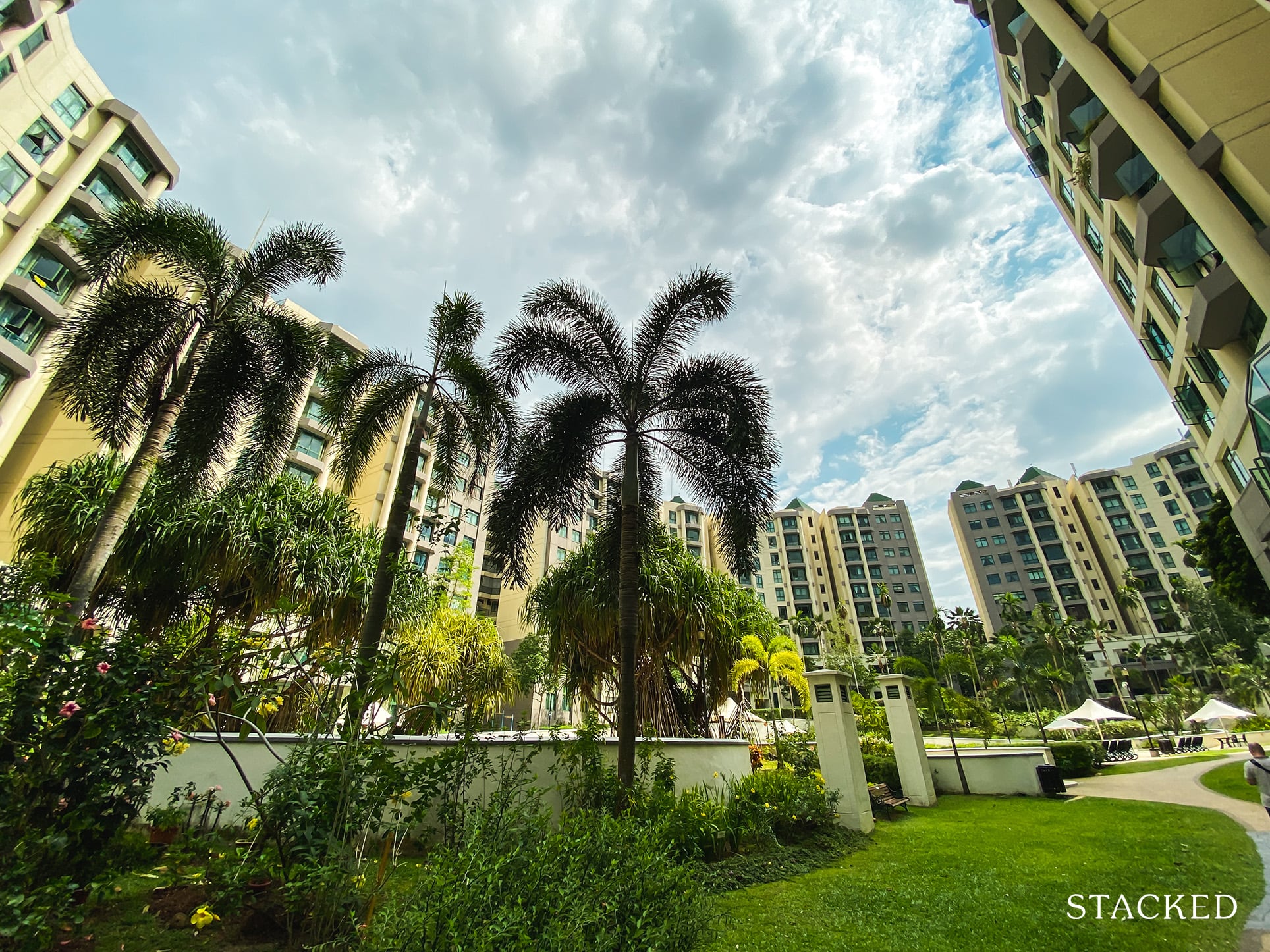 Walking further in will get you to the first swimming pool (yes, there's two). Immediately, you will get a sense of how big the development truly is. 928 units is a lot, that's for sure, but you never quite get the sense that there are as many units as there are due to how the blocks are spread out.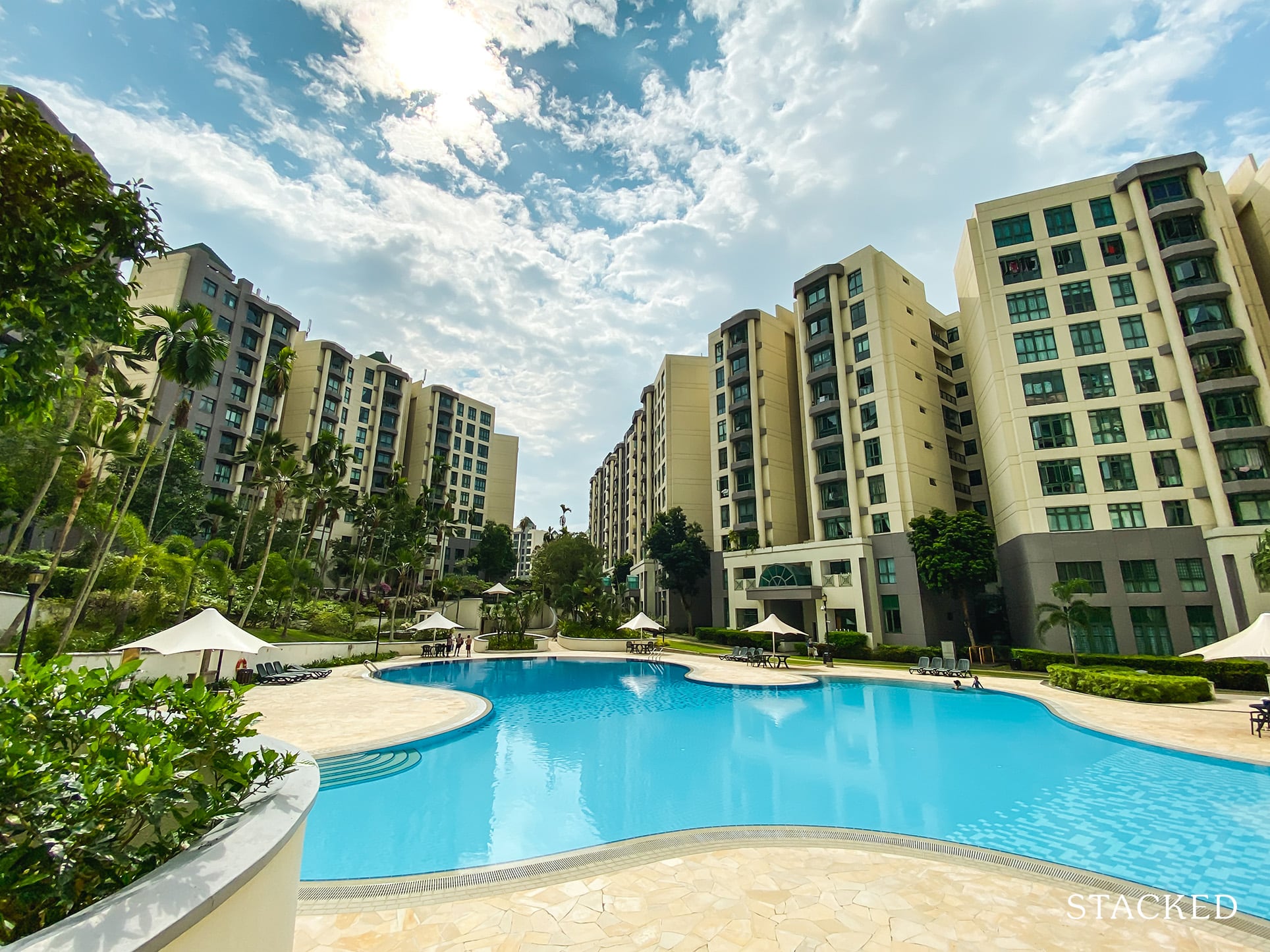 Due to how the swimming pool is shaped, most of the blocks are spaced pretty far apart, so most units enjoy quite a sense of privacy here. The tiles in this swimming pool were actually re-tiled a couple of years back, so it does look newer than the other pool.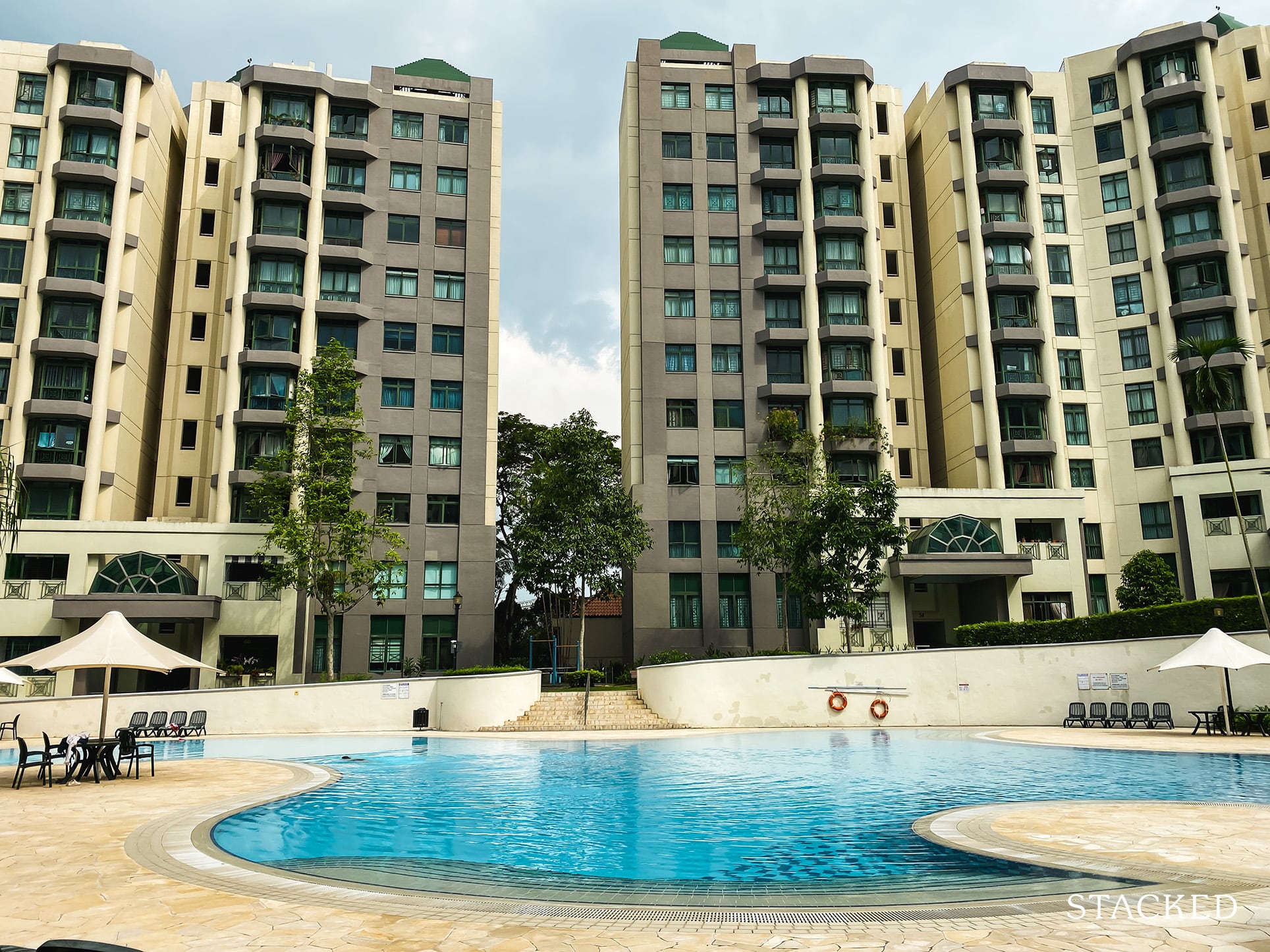 Back in the day, it was popular to have units facing the swimming pool, hence the layout of the blocks completely surrounding the pool.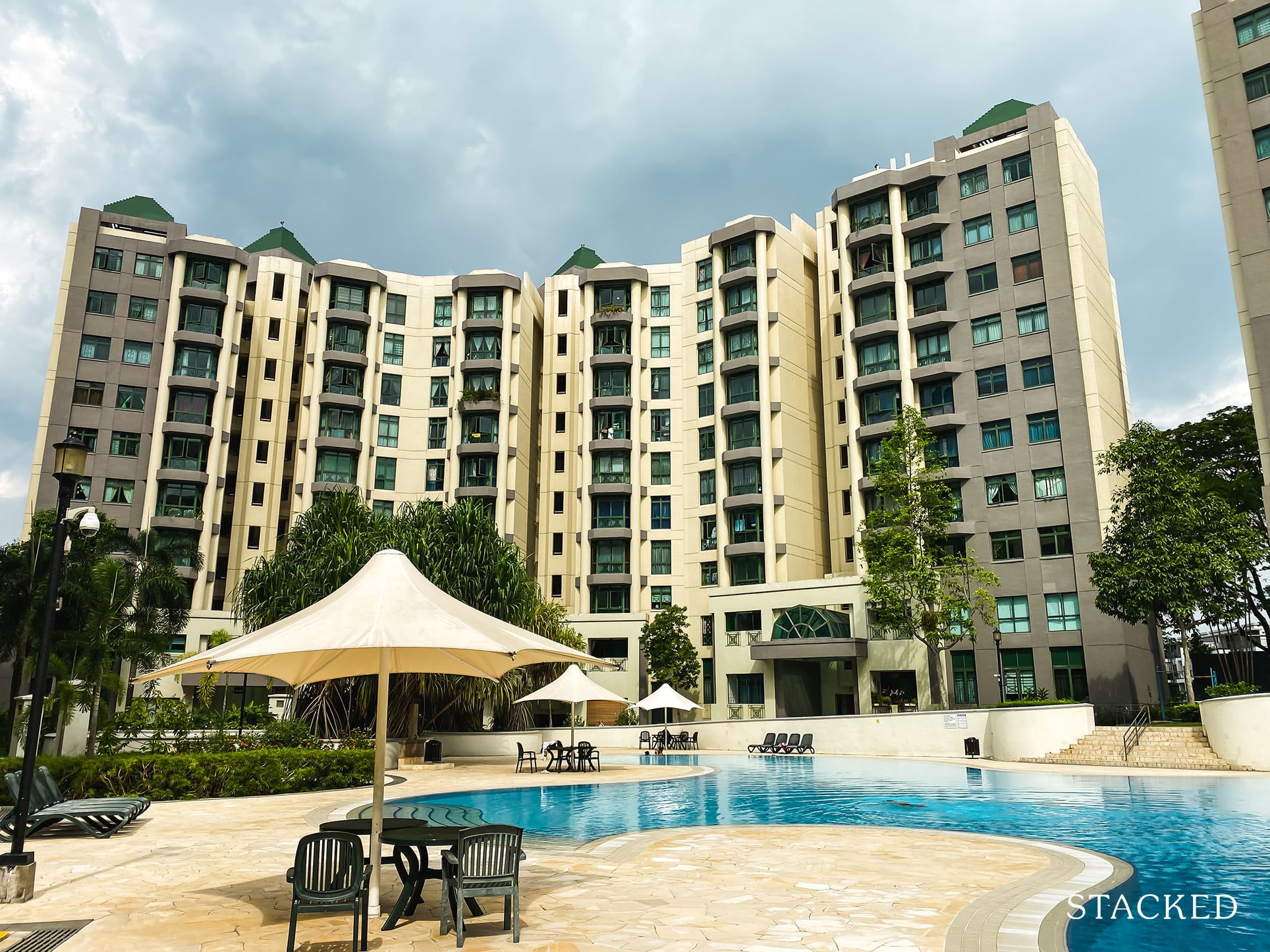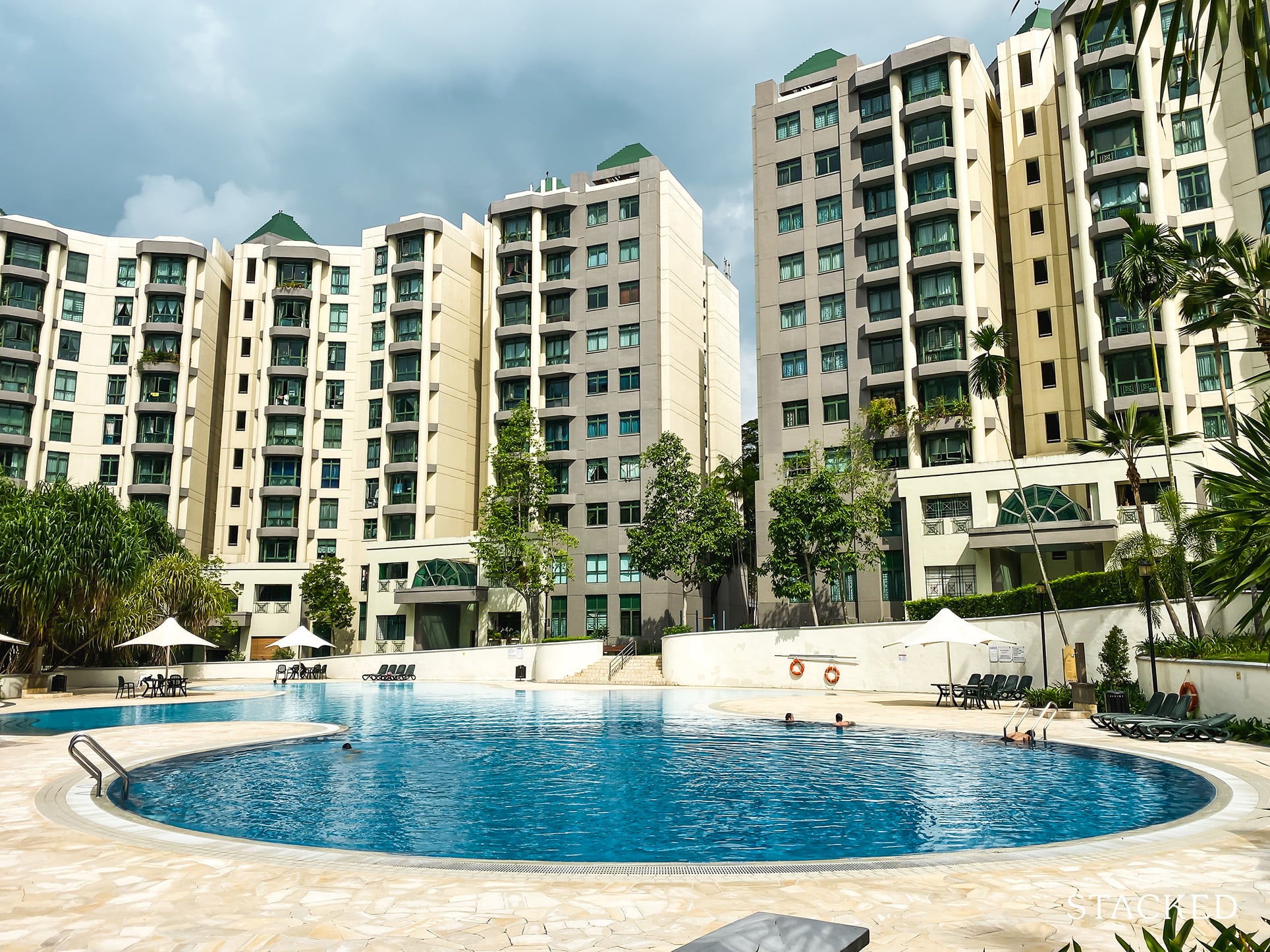 It's tough to gauge the size of the swimming pool as it isn't your traditional lap pool, but you can see from here how wide and spacious it is. I do prefer the look of the modern infinity lap pools, but the size and feel of this will be more attractive for families with young children that's for sure.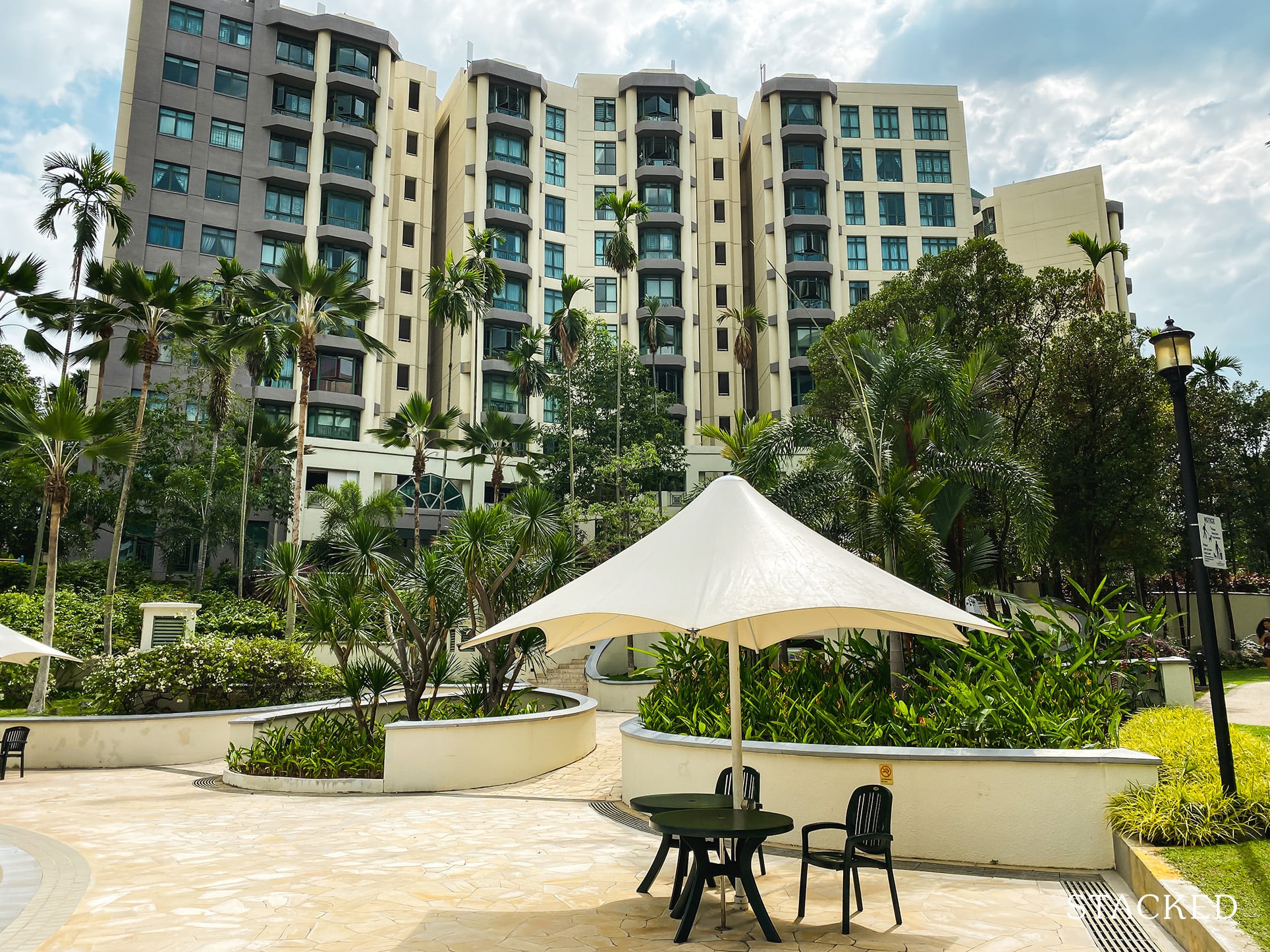 There are a number of umbrellas with plastic tables and chairs as well as sun decks scattered around the pool, mimicking the countryside resort feel.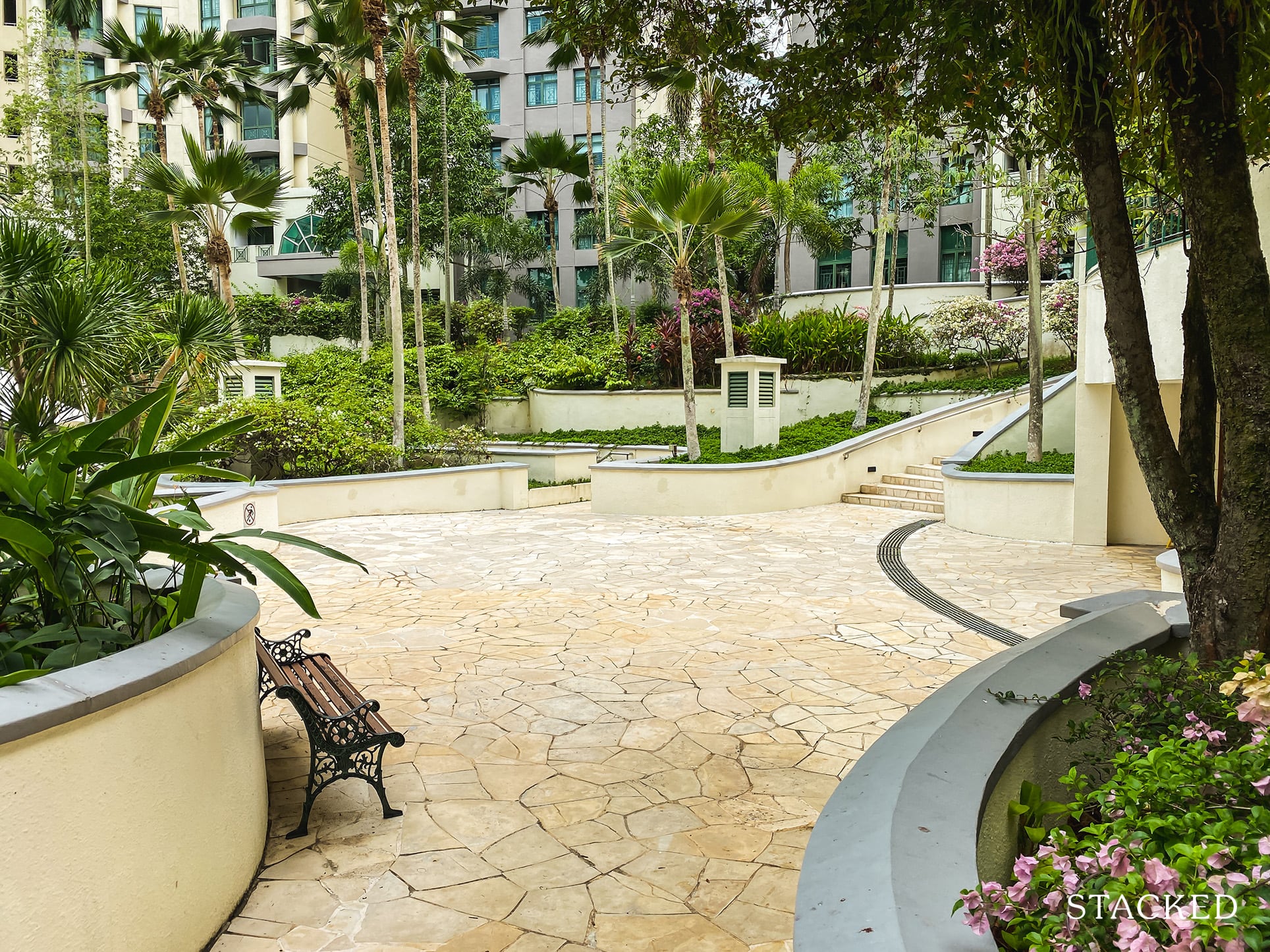 Next to the swimming pool is the barbeque pit that is actually on an elevated platform. This open space can also be used if you have to cater to more guests than normal.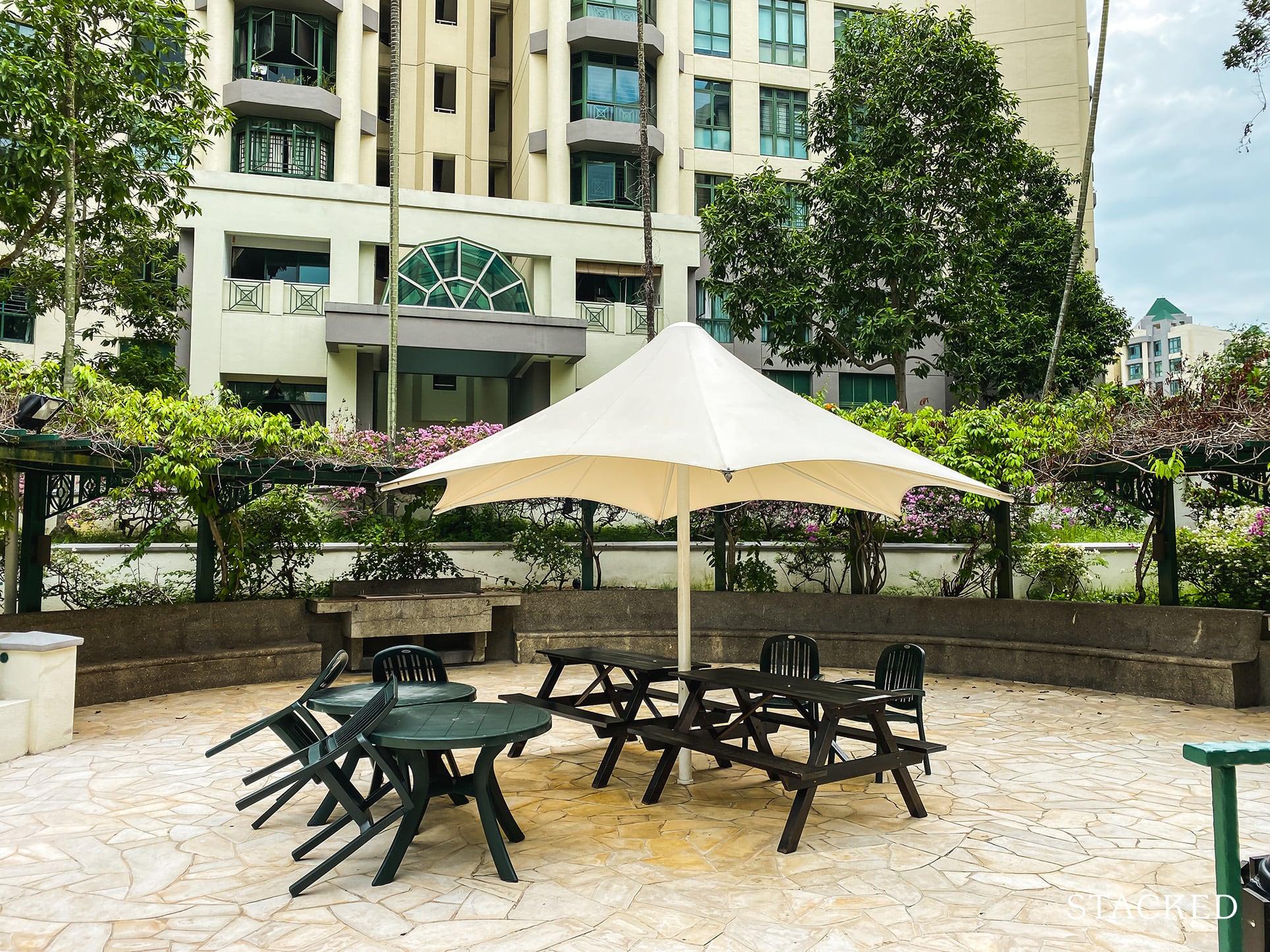 The barbeque area on the top is a really big space by itself, but it could do with more seating.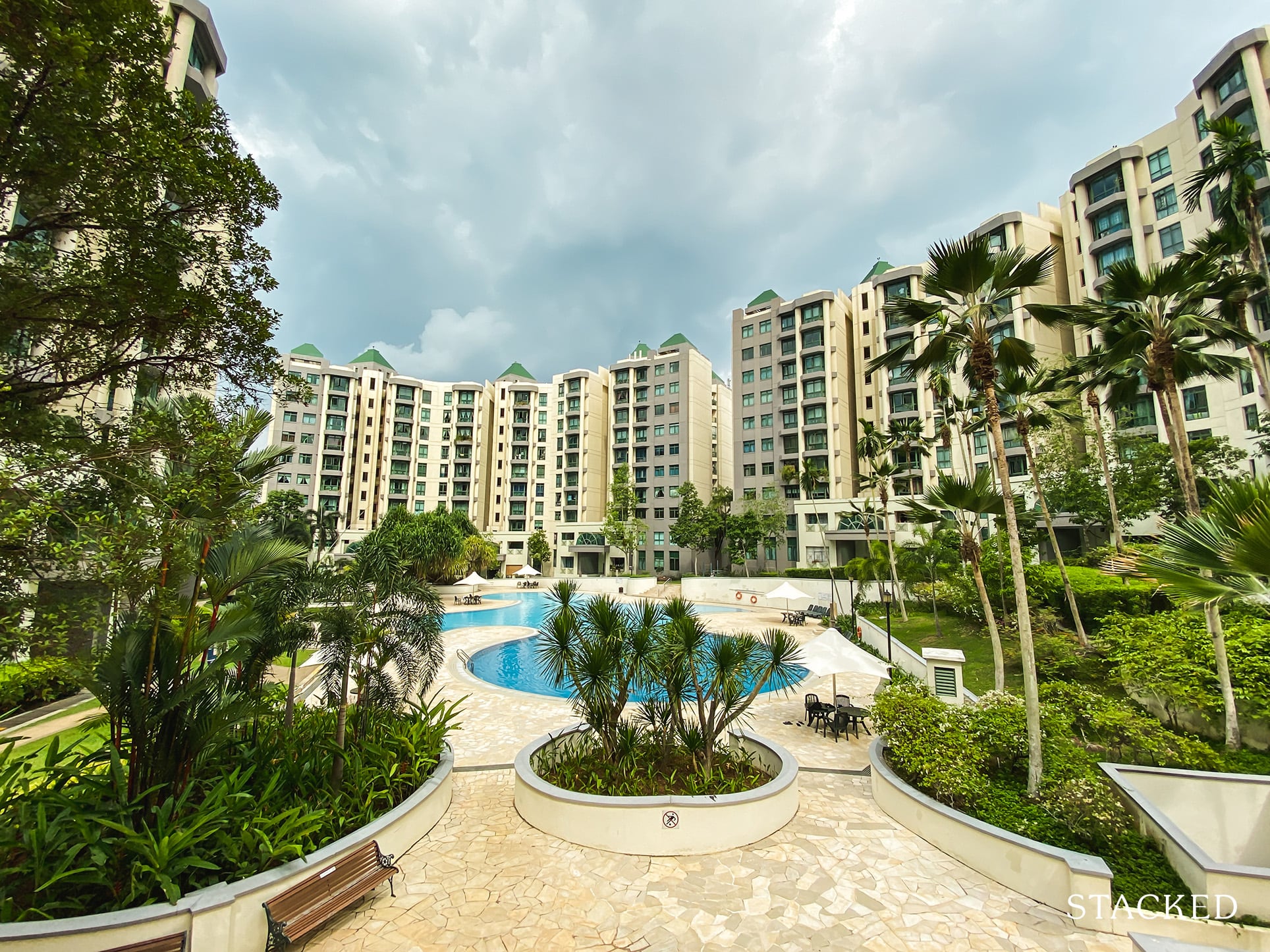 The view from the barbeque pit overlooks the swimming pool, and is far enough such that you don't have to worry about the noise levels disturbing those residents using the pool.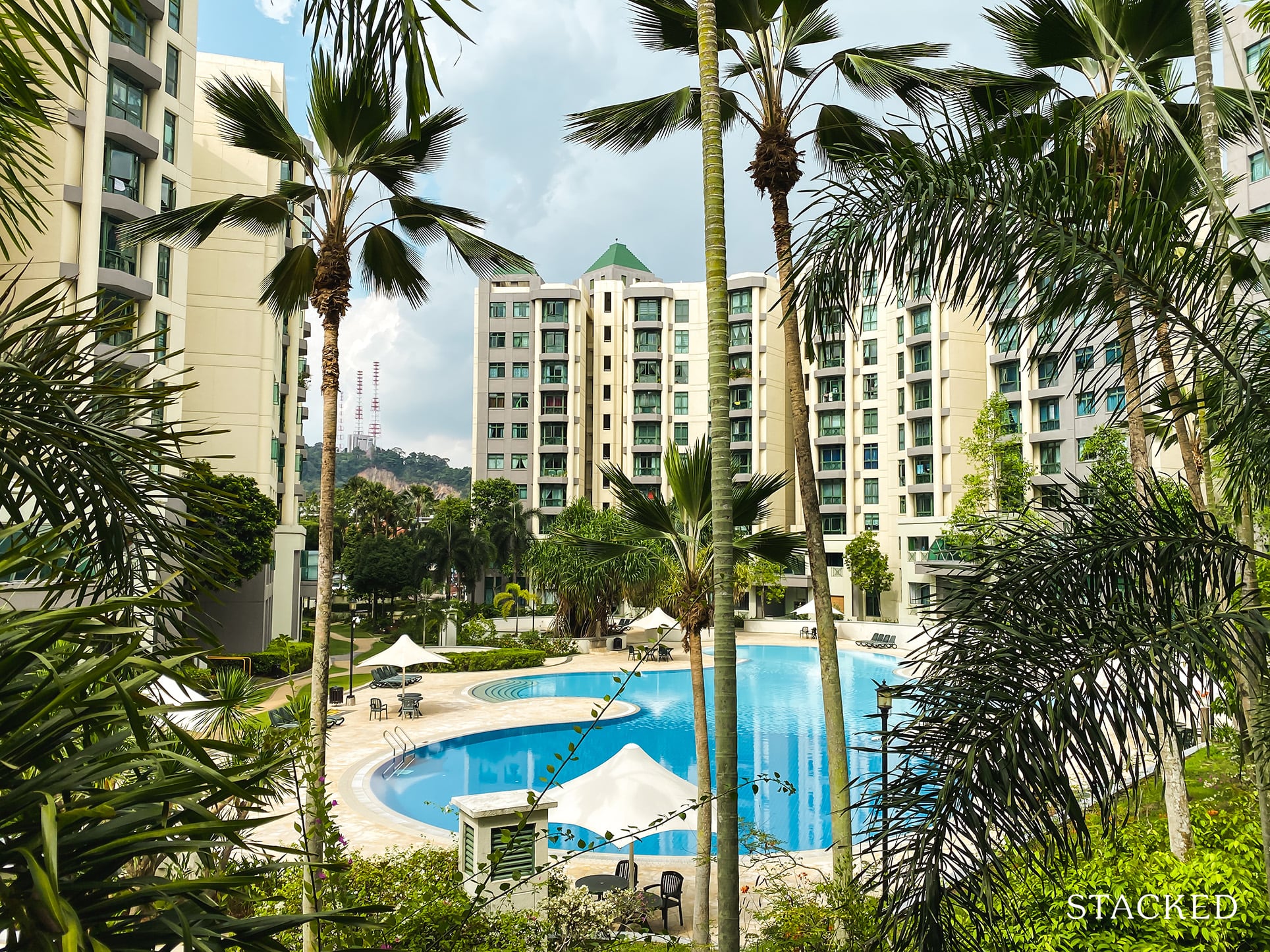 Surrounding the swimming pool are also walking paths that you'll find useful for an evening stroll or just to walk the dog. One side actually slopes up gradually, which provides for some interesting walking terrain.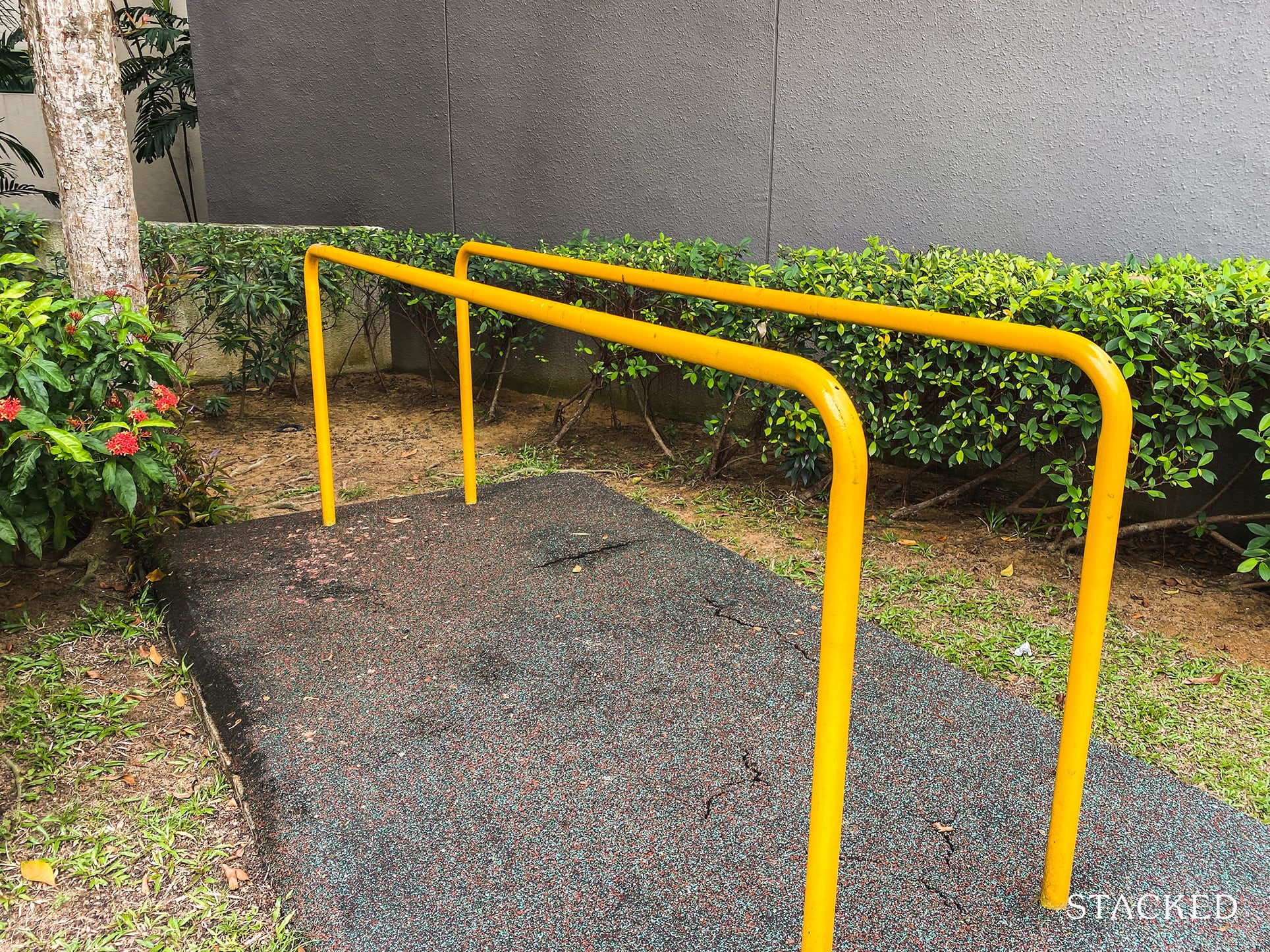 Along the pathways, there are various outdoor exercise stations that you can stop and use. Think of it as an extremely long circuit training!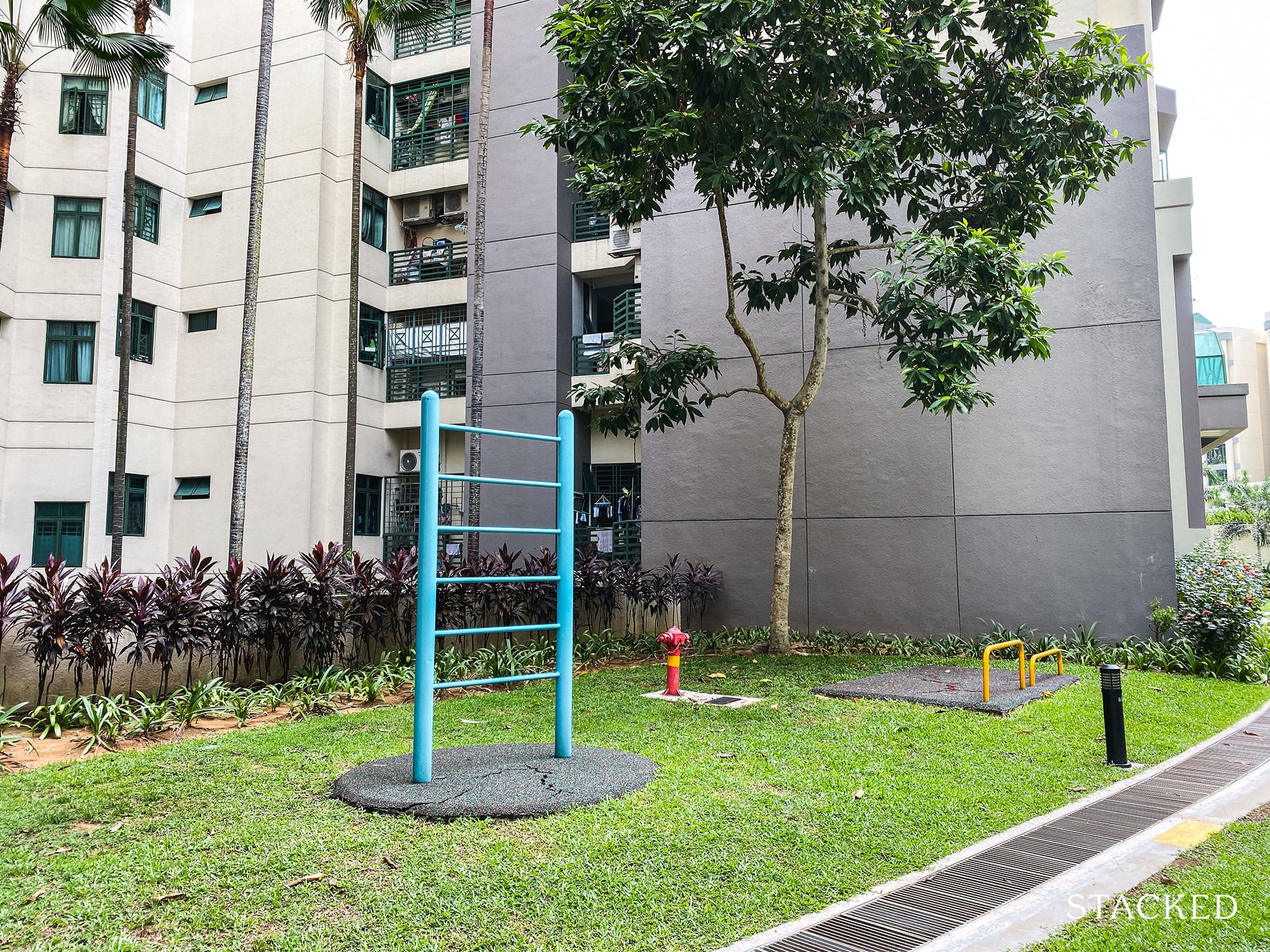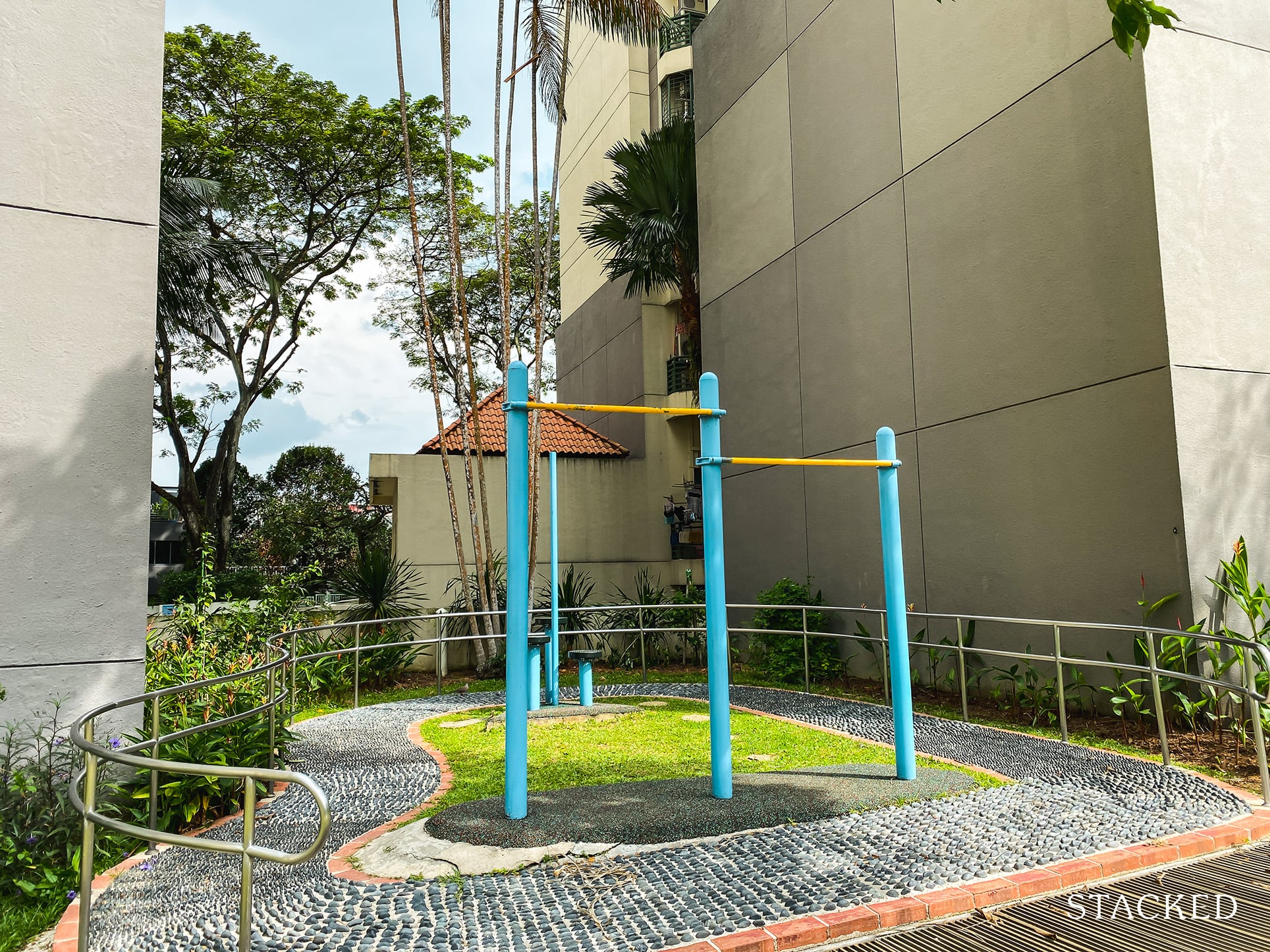 Clearly, fitness must have been a big theme at Signature Park and you'll certainly have no lack of outdoor fitness training equipment.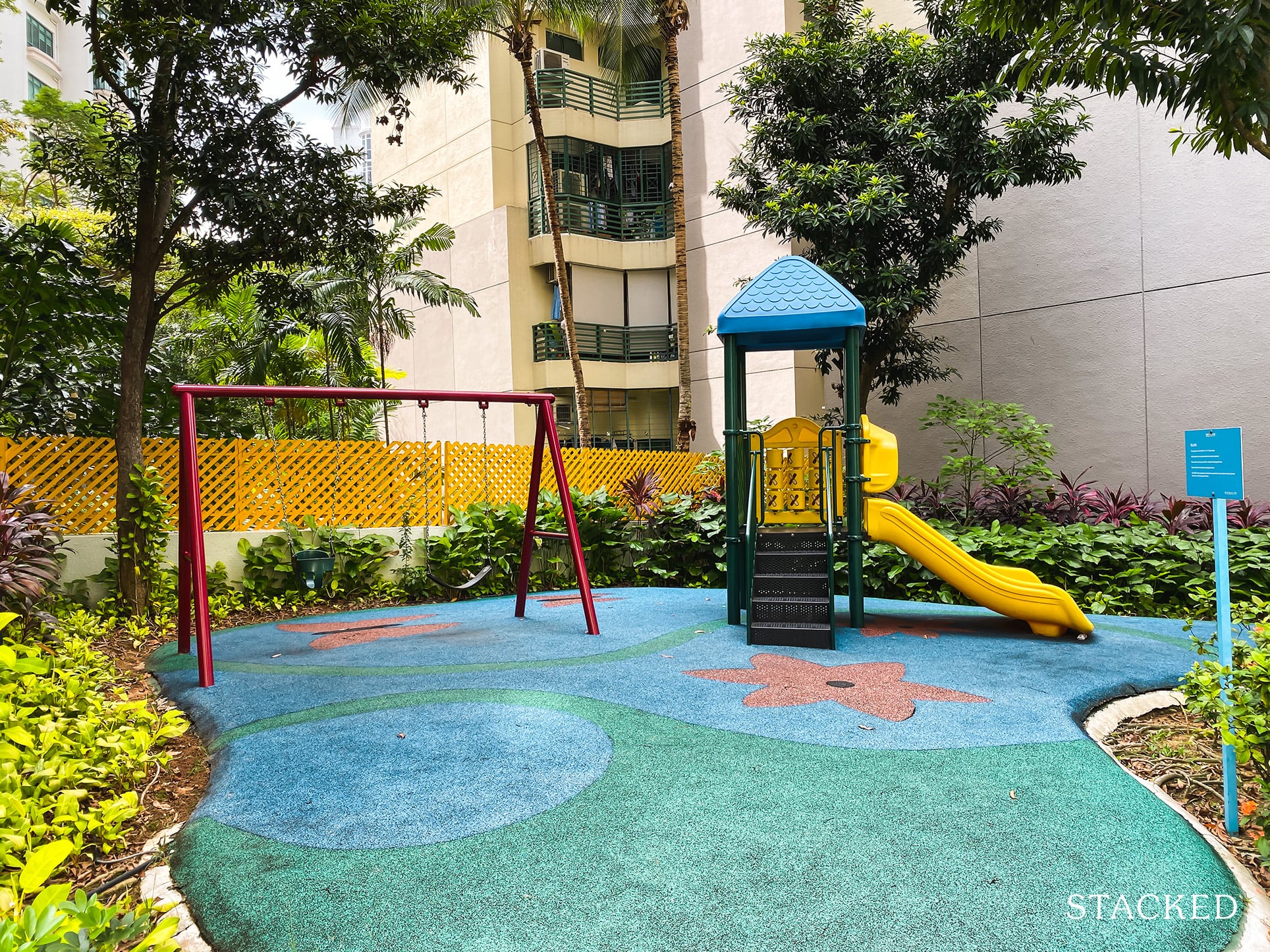 There is also a playground alongside the pathway, with a swing set and a small slide. I like that one of the seatings can accommodate toddlers safely, which would no doubt be a thing of interest for parents. Also, you must be wondering (as this playground doesn't seem very big) but this definitely isn't the only playground in Signature Park. In fact, as you'll see later on, the whole condo is clearly geared towards children and family living.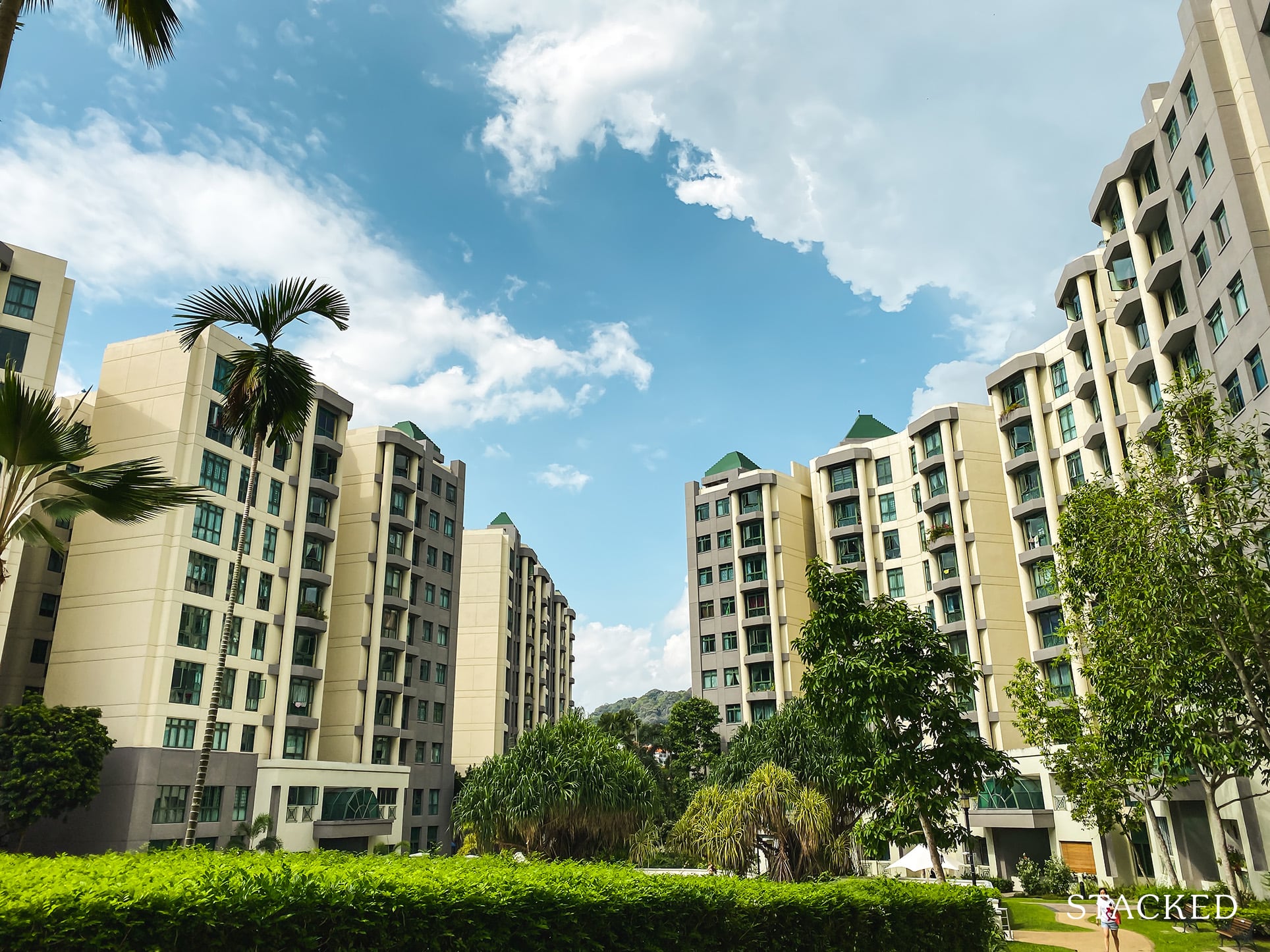 Leaving this set of blocks behind, we get to the next section of Signature Park.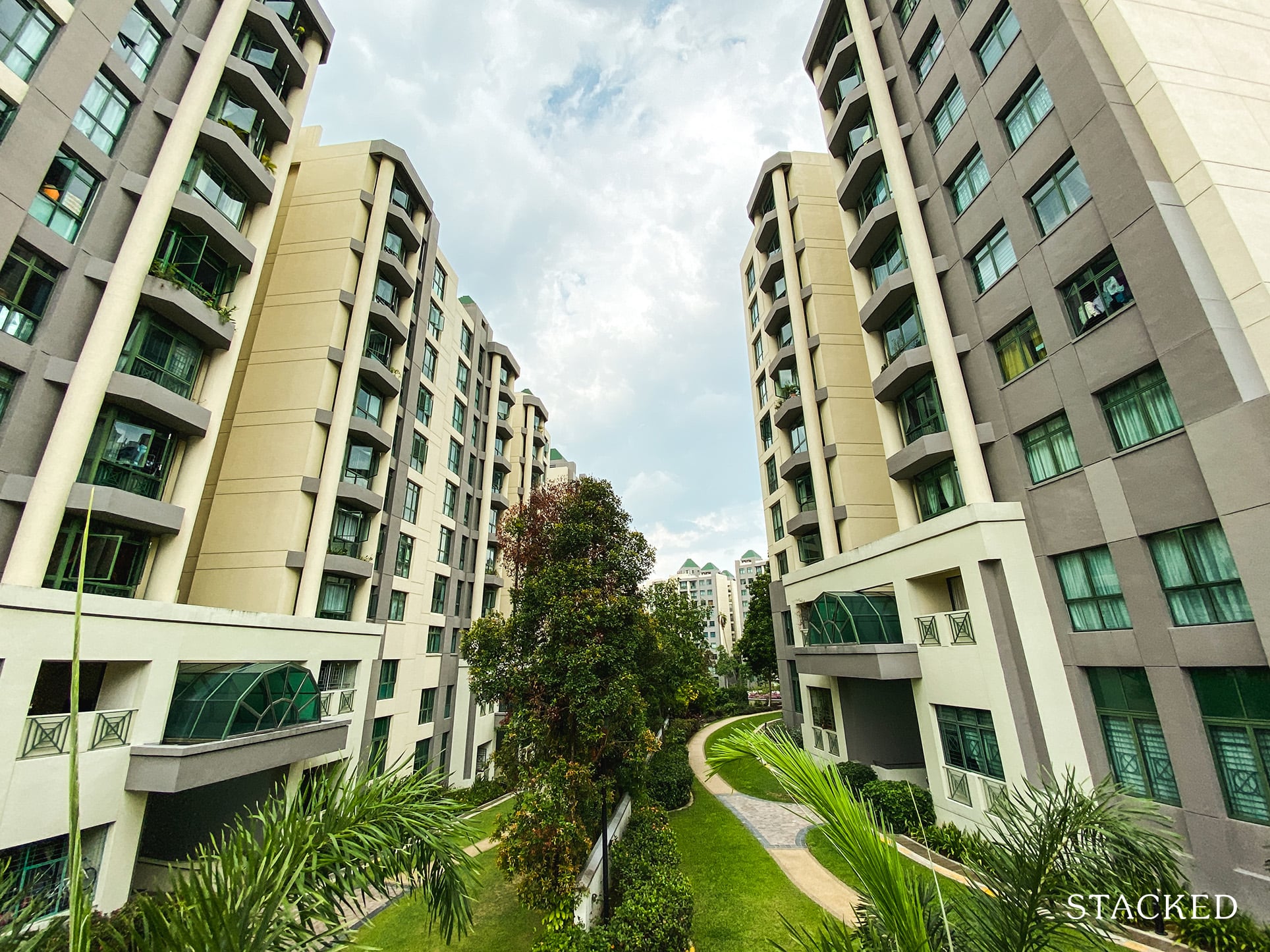 It is quite a long trek to the other pool, and again, it really shows off the vast size of the land available at Signature Park. The land is actually an irregular shape, hence these blocks are probably the closest in terms of distance to each other.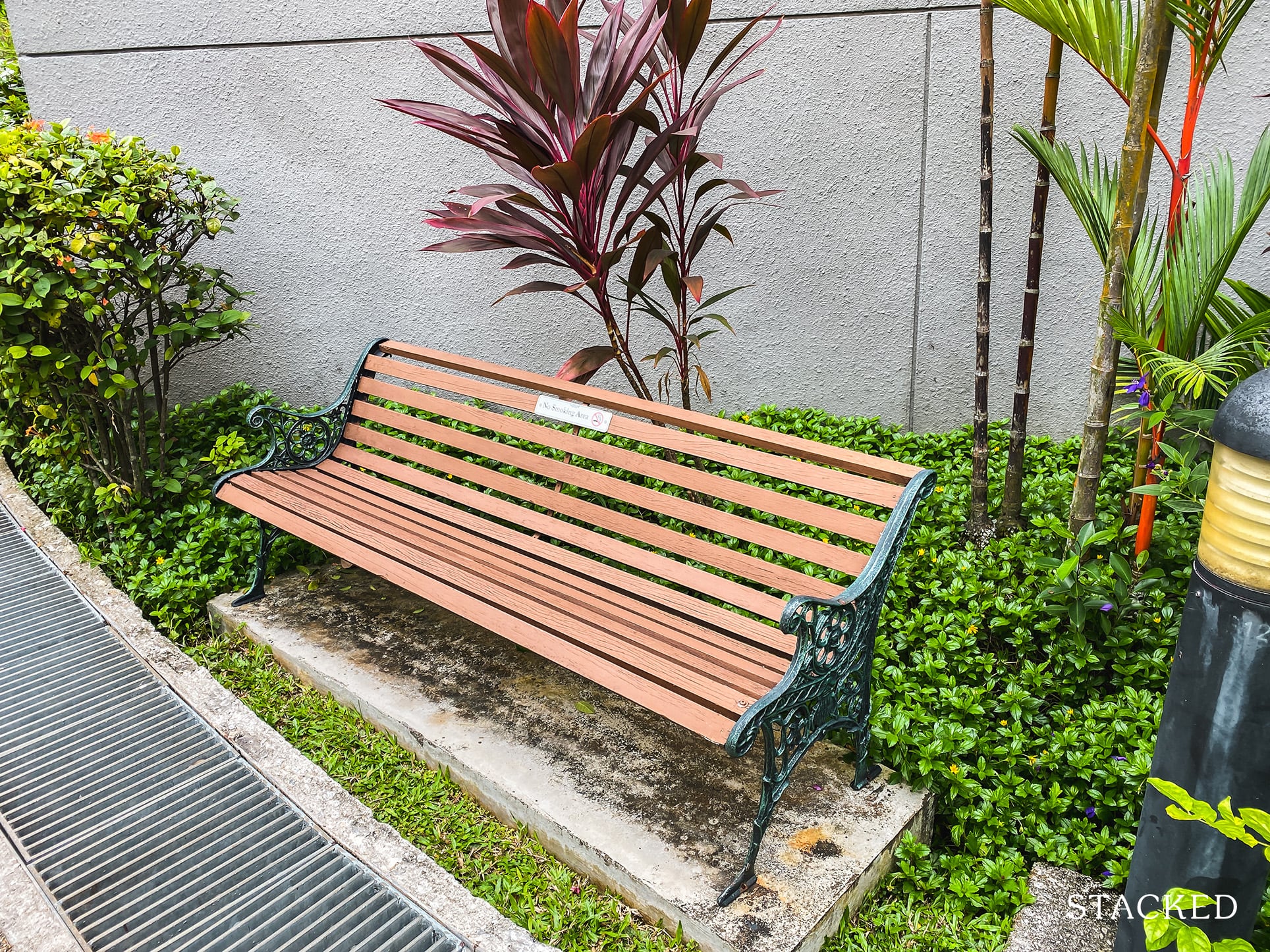 Other than the fitness stations, you'll find these wooden benches placed along the way too. If you are getting on in age, these would certainly come in handy if you plan to walk the entire circumference of the estate.
Once you climb up the stairs, you will immediately see the second swimming pool, along with a water slide! It's not the longest thus not the most exciting, but younger kids will be absolutely thrilled with this. You really don't see slides in condo pools very much nowadays. (Pine Grove is one that comes to mind).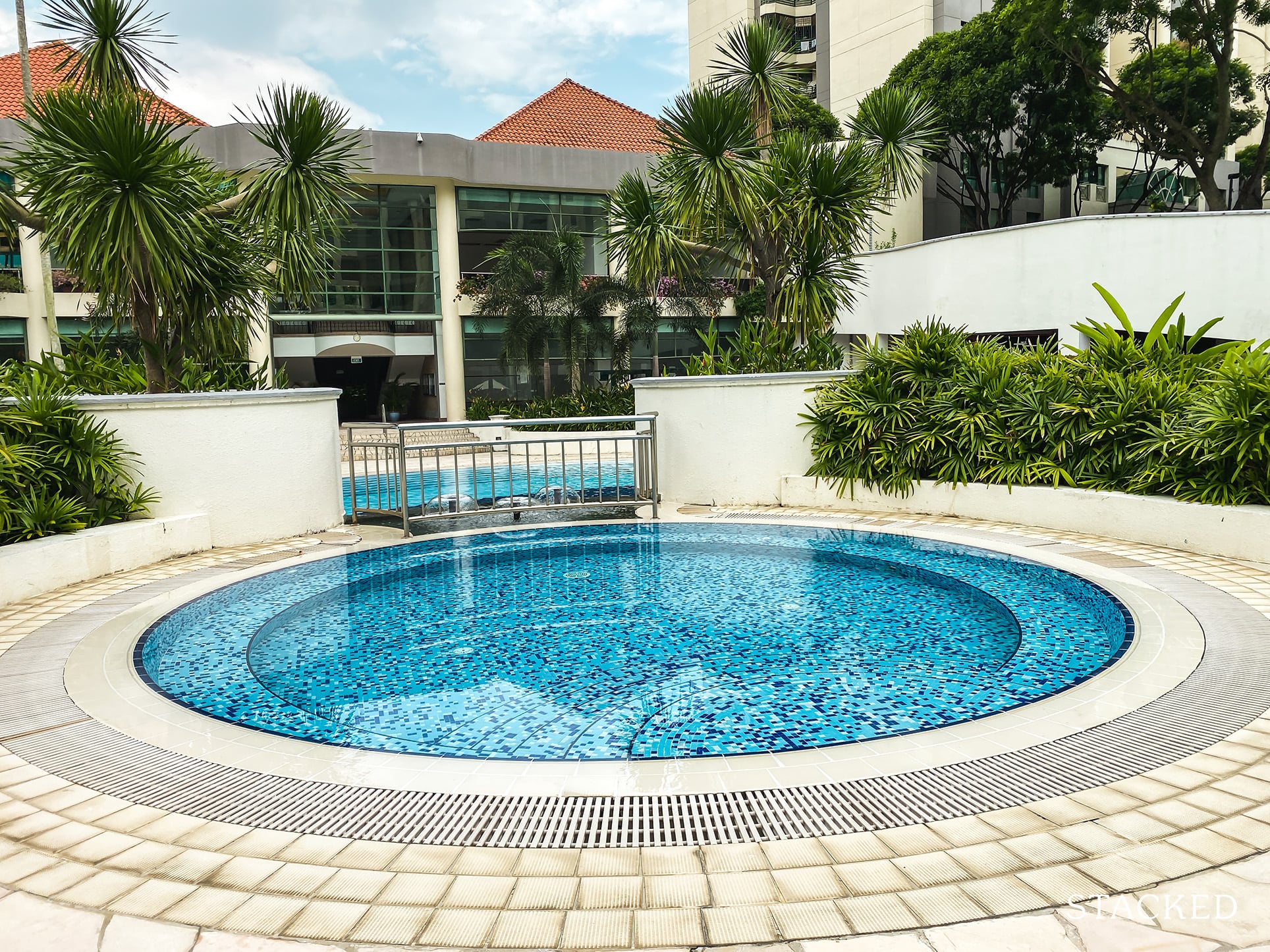 In the middle of the Swimming pool is an elevated jacuzzi. There is a water fountain down by the side facing the clubhouse, but I can't help thinking how much cooler this would have been if it was another water slide!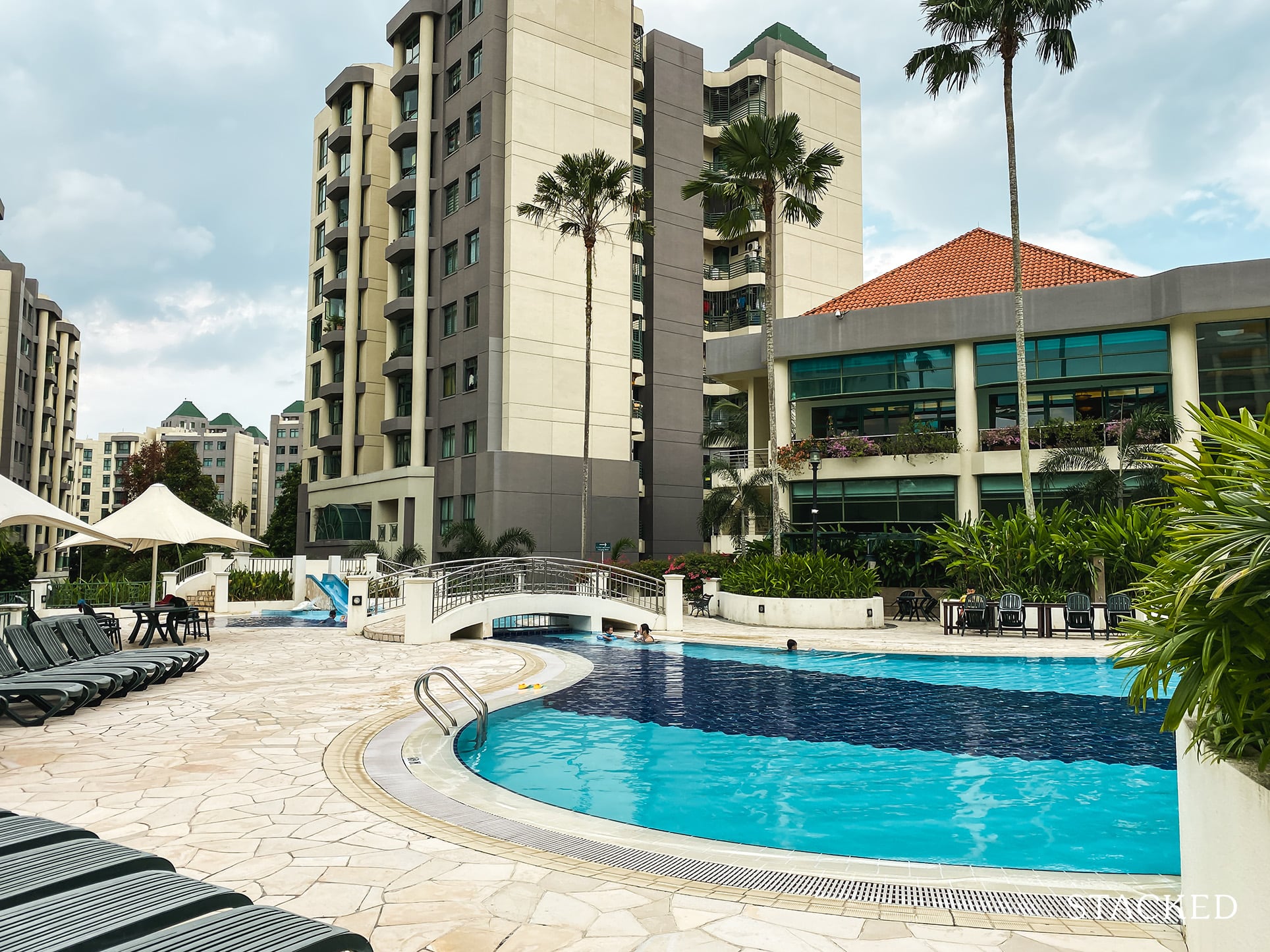 It would have been pretty cool too if you could actually swim under the bridge, but the metal guards prevent any of such activities. Similar to the other swimming pool, there are more than enough deck chairs to go around.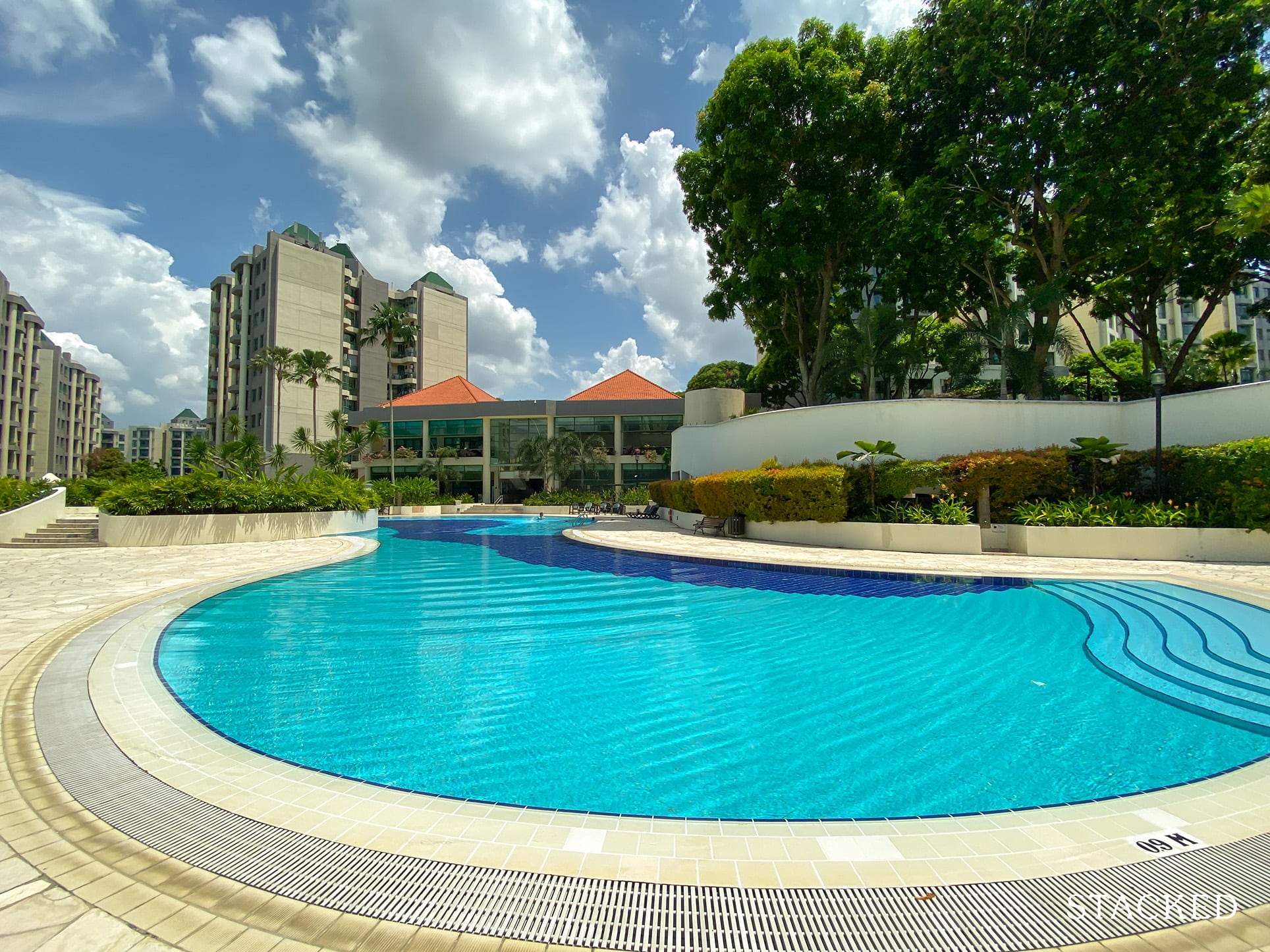 Speaking of which, it is commendable that Signature Park has two swimming pools, especially when most of the older condos (Pine Grove/Pandan Valley) only have one. It makes for a nice change in scenery too if you are up for the long walk to get to the next pool. But with the slide here, it is all too clear which pool the kids would prefer!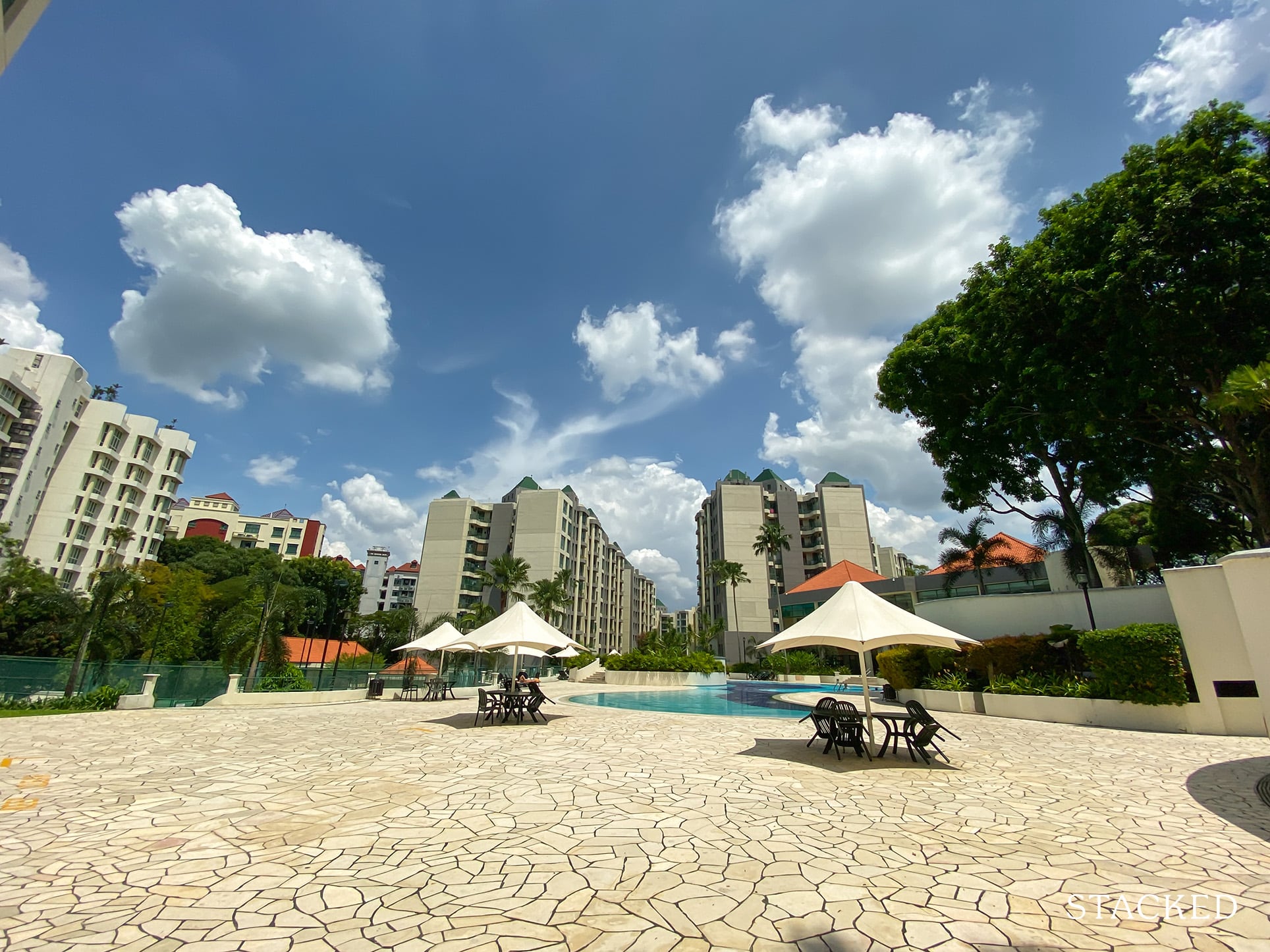 It's just a whole lot of space available here, and you can't help but think they could have made the swimming pool so much bigger!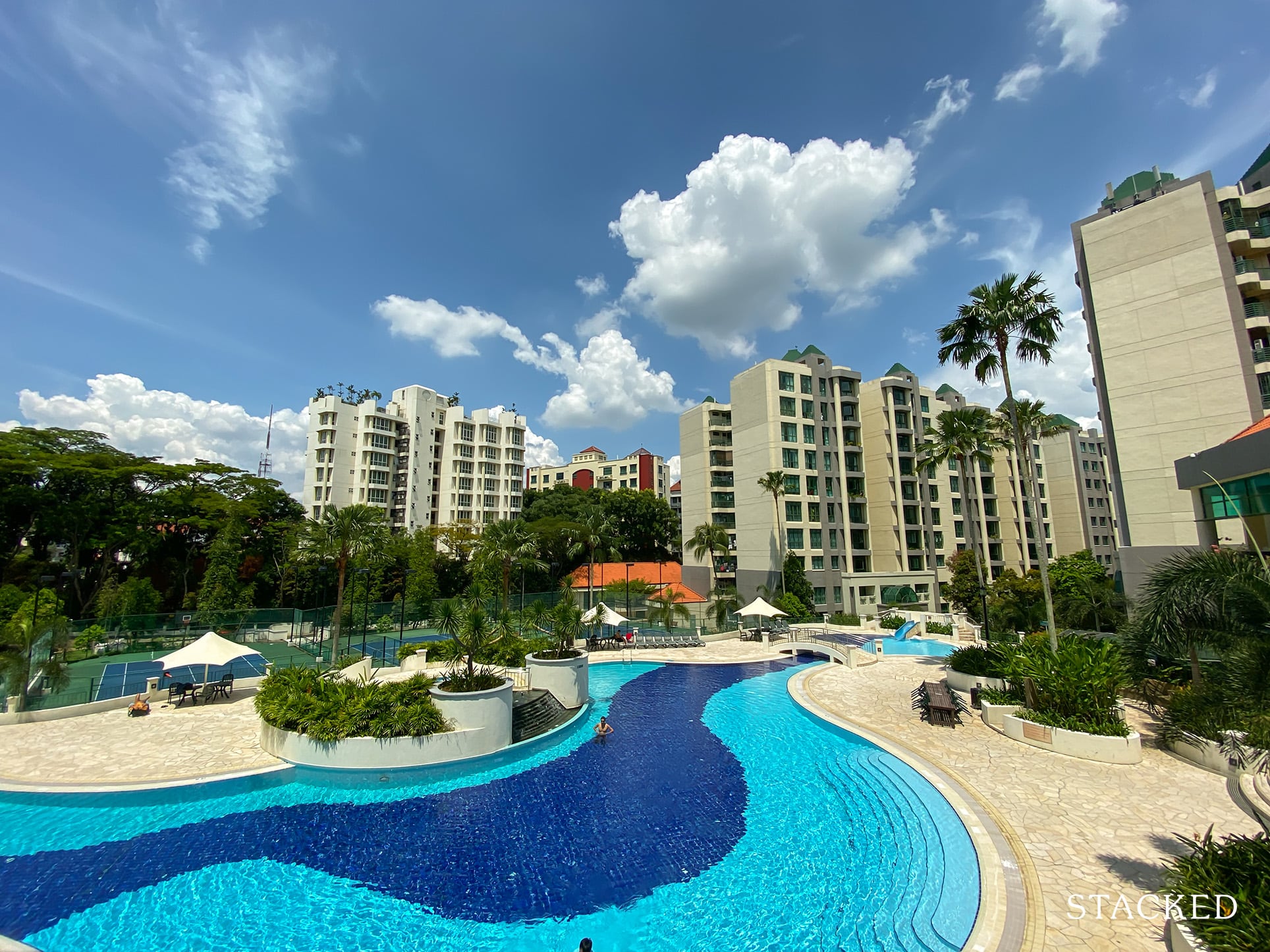 Here is a better shot showing you the size of the second swimming pool.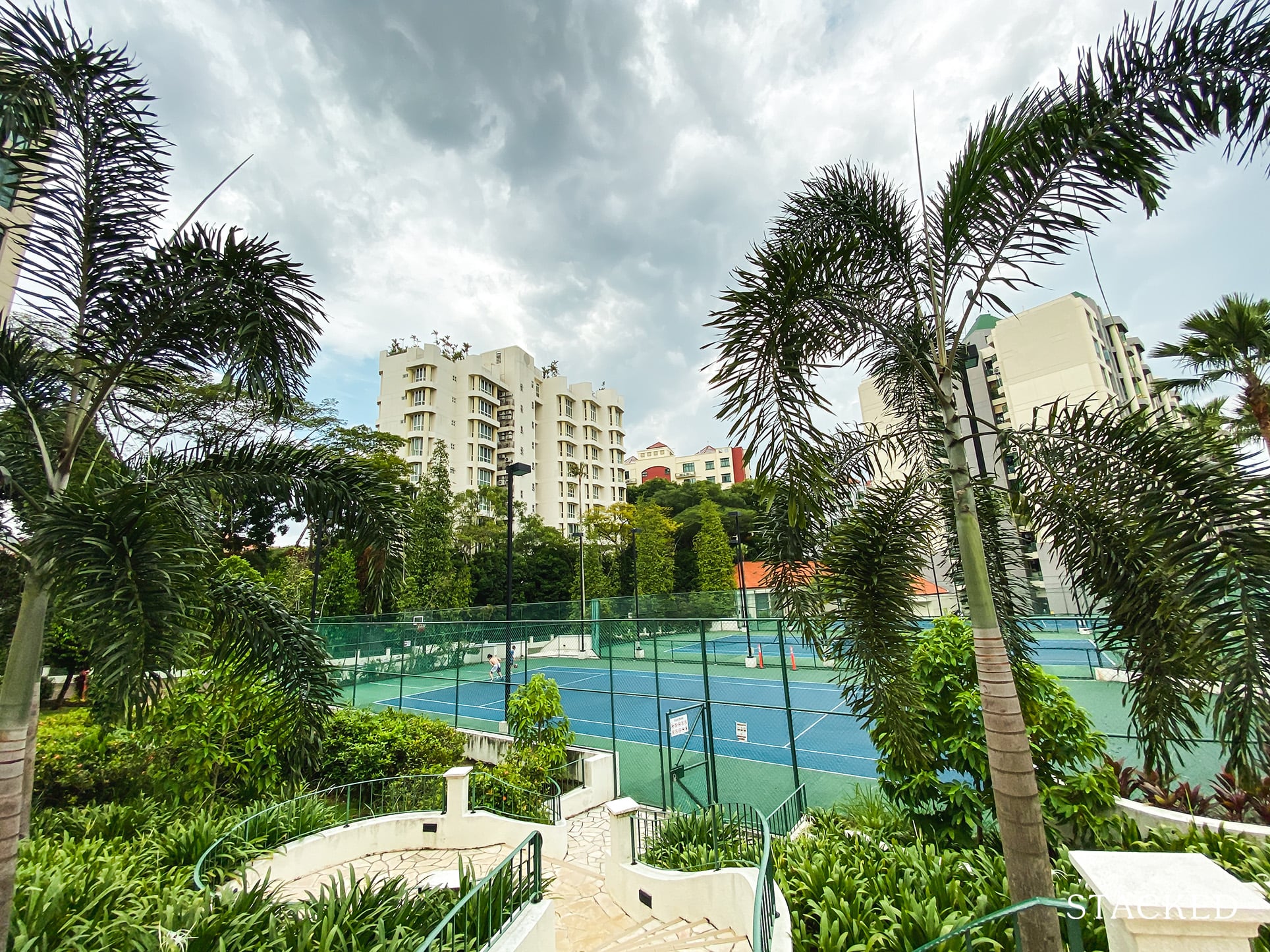 Just behind the swimming pool are a couple of courts.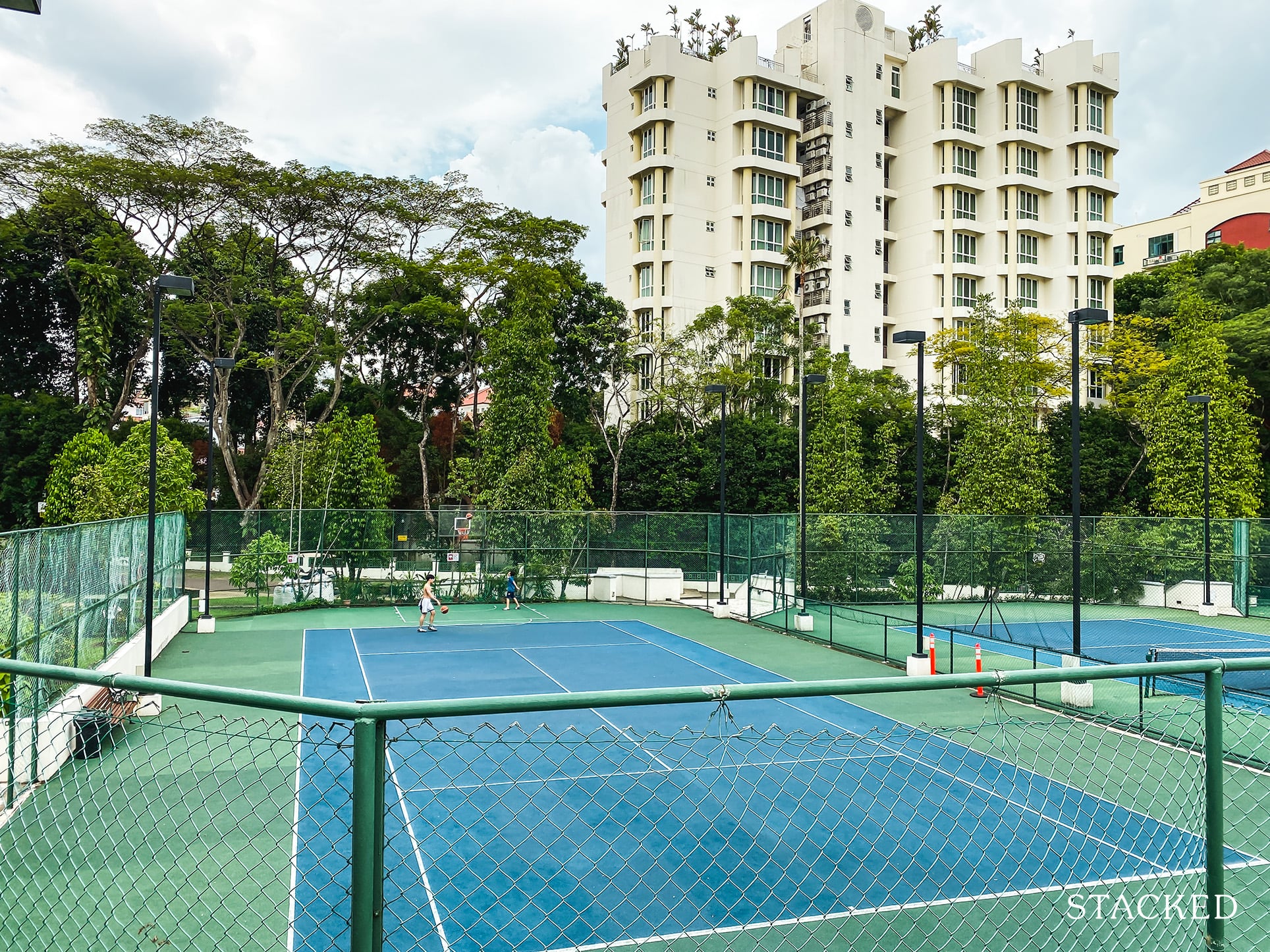 The first is a basketball court that can double up as a street soccer court too. When space is at such a premium in Singapore, this truly is a luxury to have in a condominium. Again, for people who are into sports and young families, these are useful facilities to have.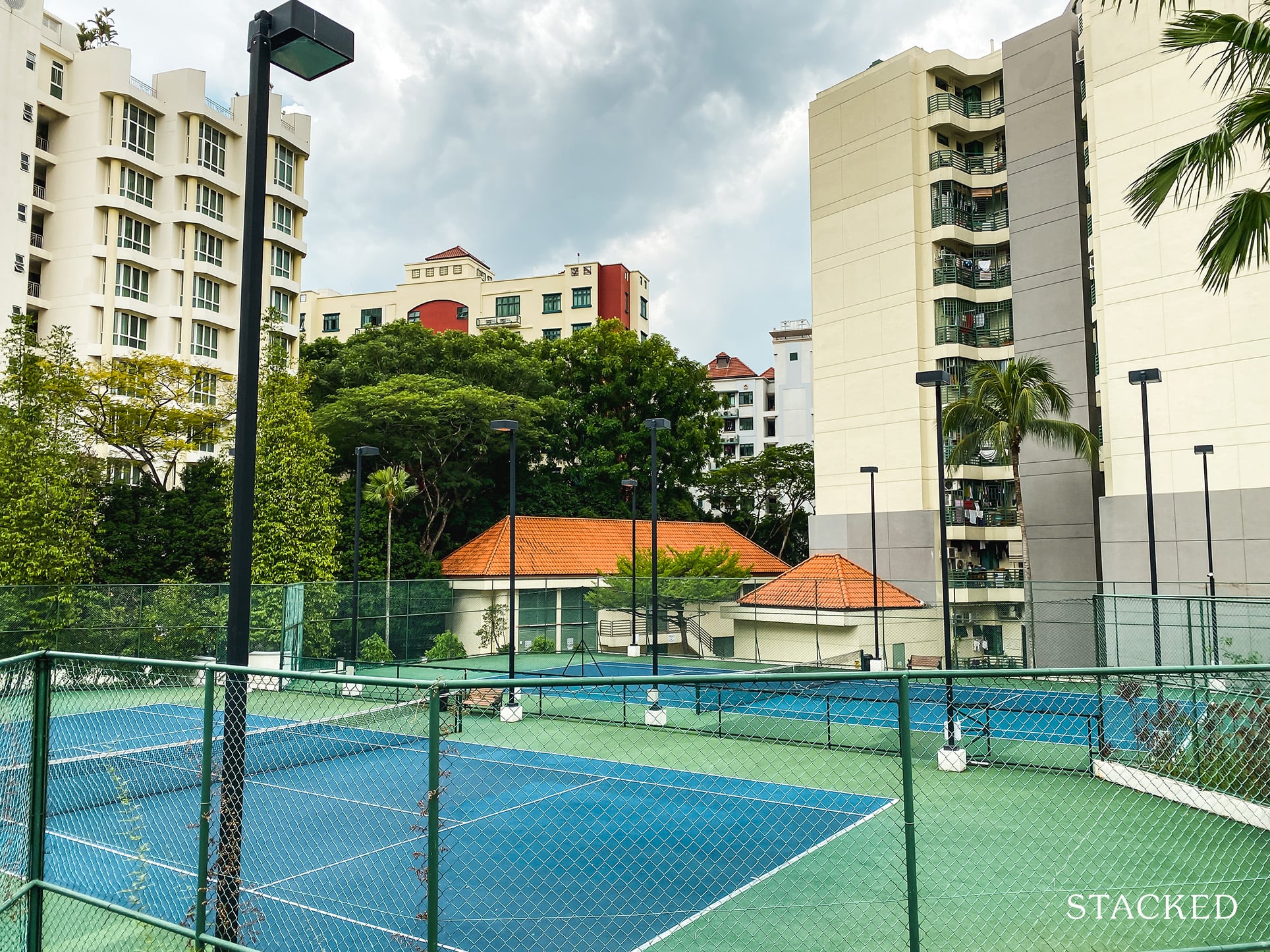 Followed by two tennis courts, which is about par for the number of units in Signature Park.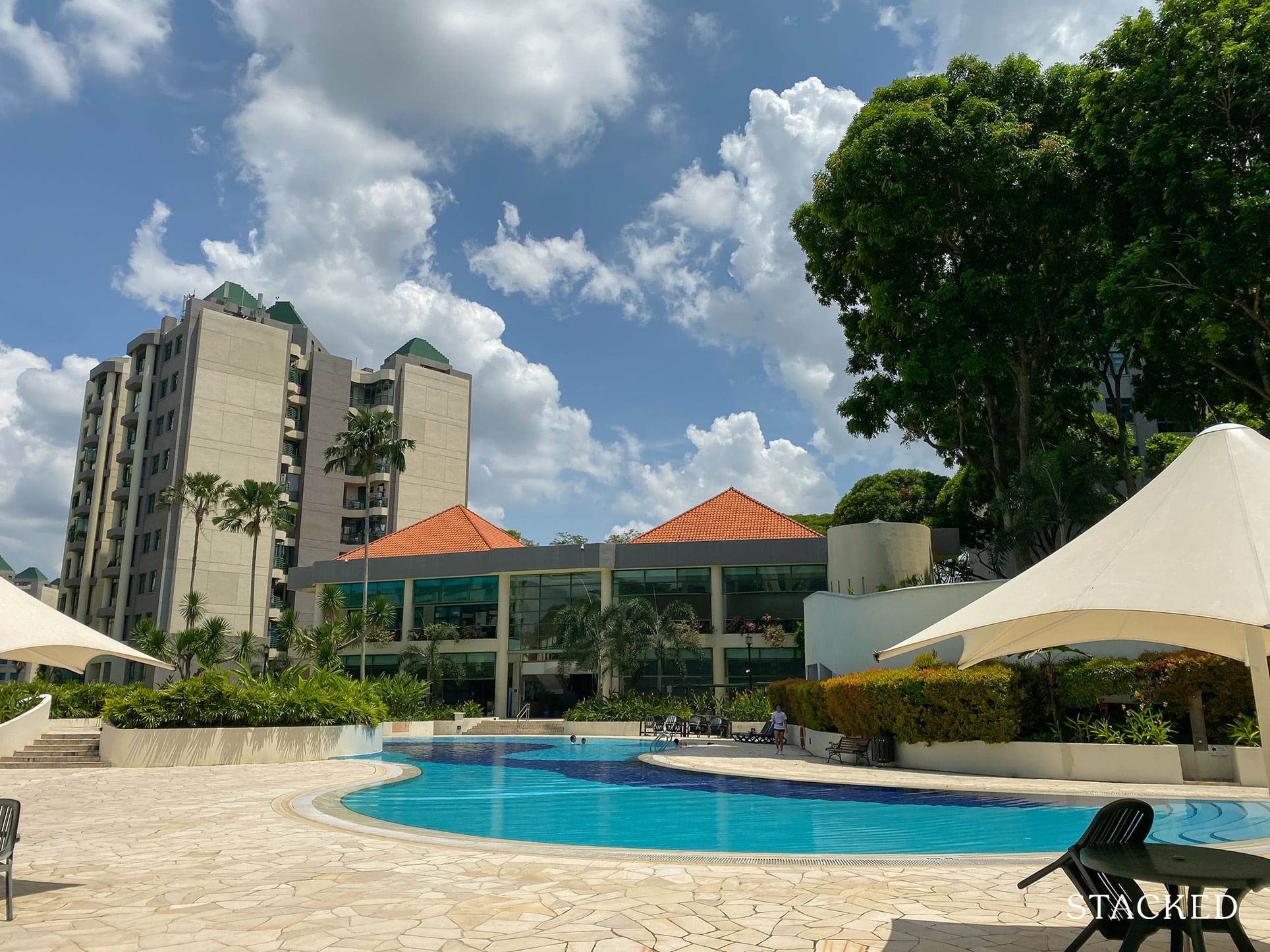 Moving on to the clubhouse, of which there is only one in the estate.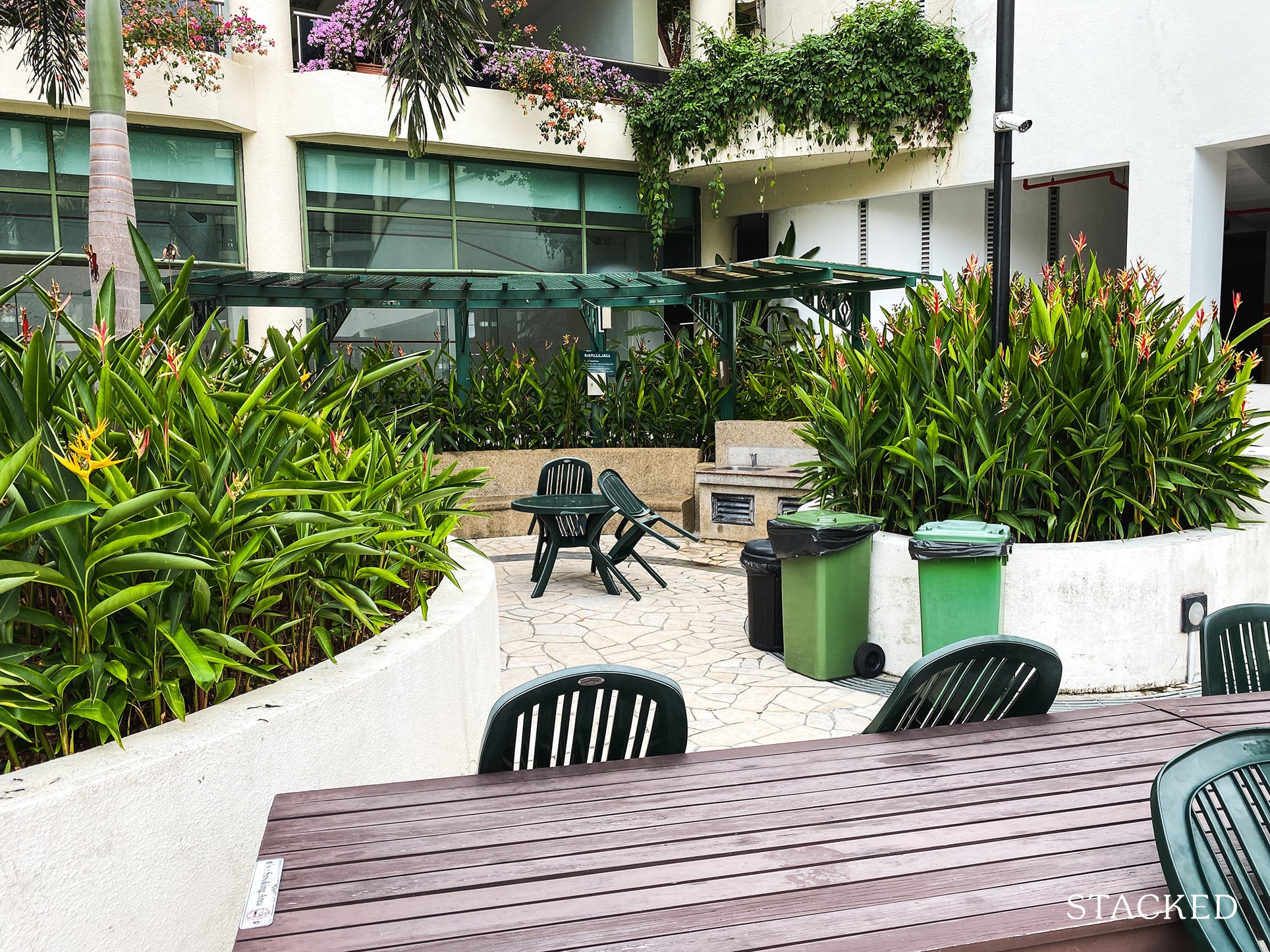 There are two separate barbeque pits right outside the clubhouse. Unfortunately, these aren't sheltered so you'll need to prepare a wet weather programme.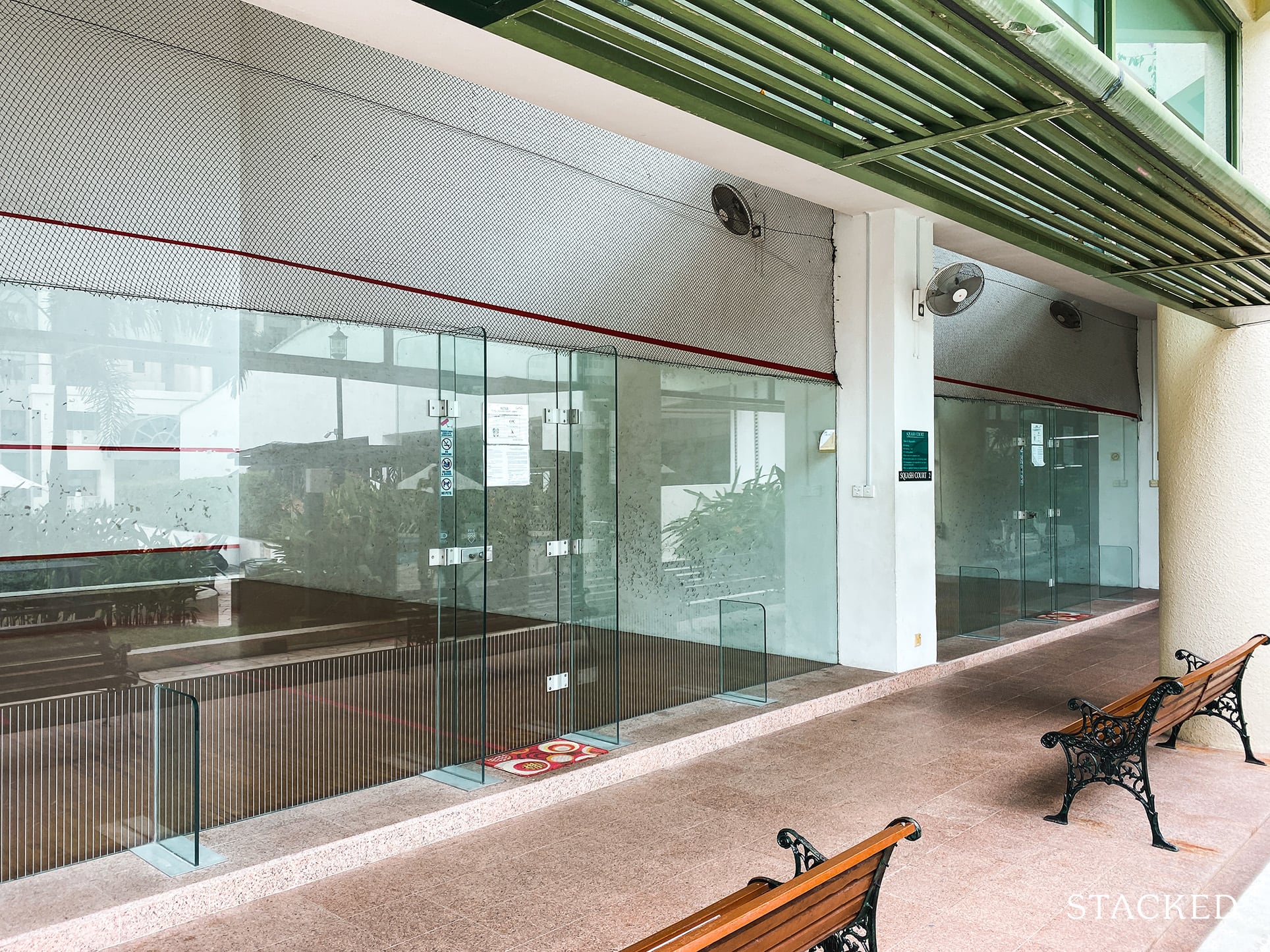 In the clubhouse itself, there are two well-utilised squash courts to the right. These are the old school ones that are not air-conditioned so you'll definitely work up a sweat here. Squash courts belong to the era of the 1980s to 1990s condos and isn't something you'll see in all the new launches today.
To the left is the gym and a function room. The gym is really small and packed and is the biggest letdown so far in Signature Park. It has a decent number of equipment but it is way too small considering the number of units in the development. Plus the views out of it is nonexistent, which can be a little sad while you work out.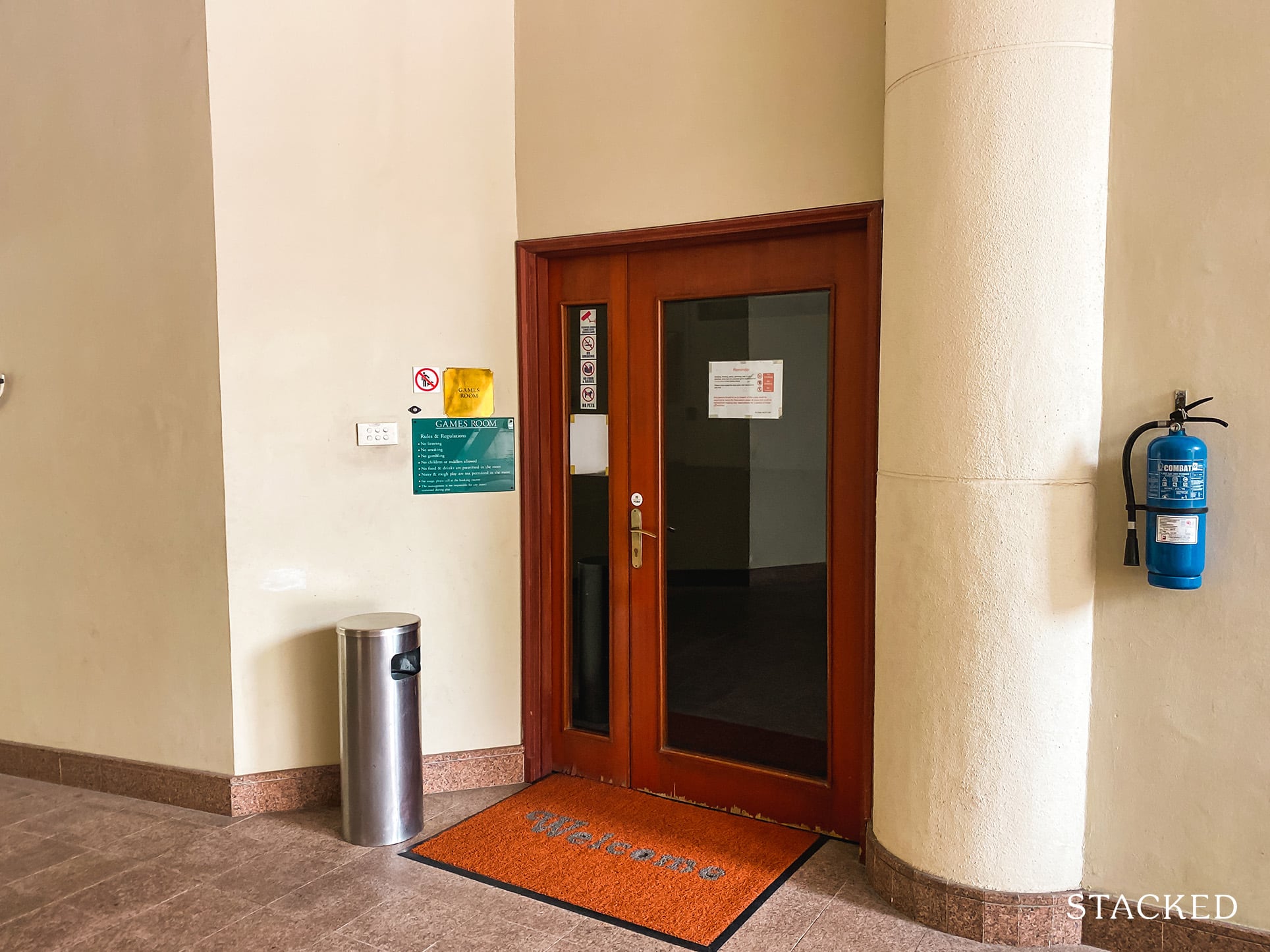 A games room rounds off the facilities available on the first floor.
Walking up to the second floor lets you take in a good view of your surroundings.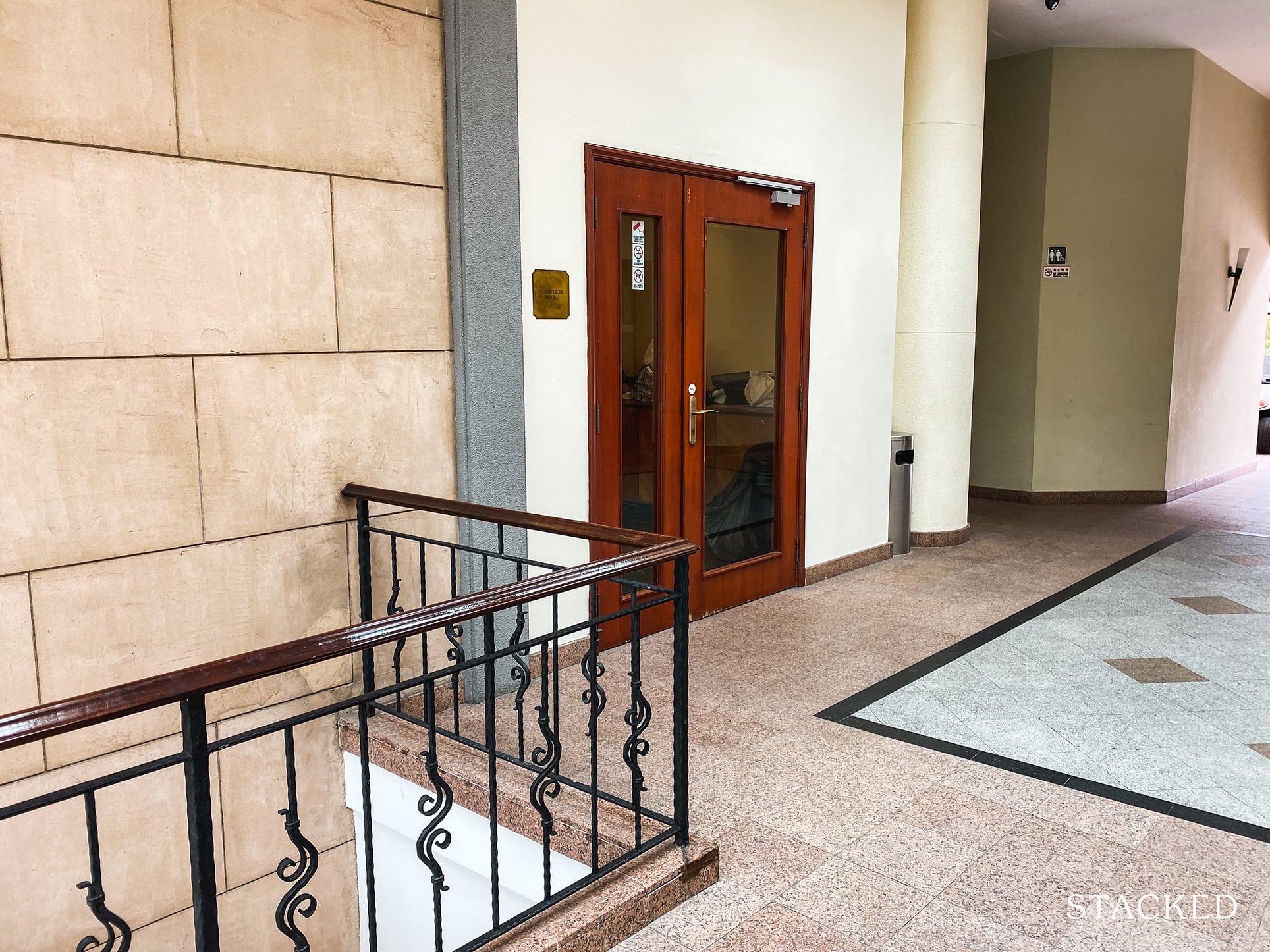 Of which lies the second function room. This is essentially the same size of both rooms on the first floor, so it is quite a big space.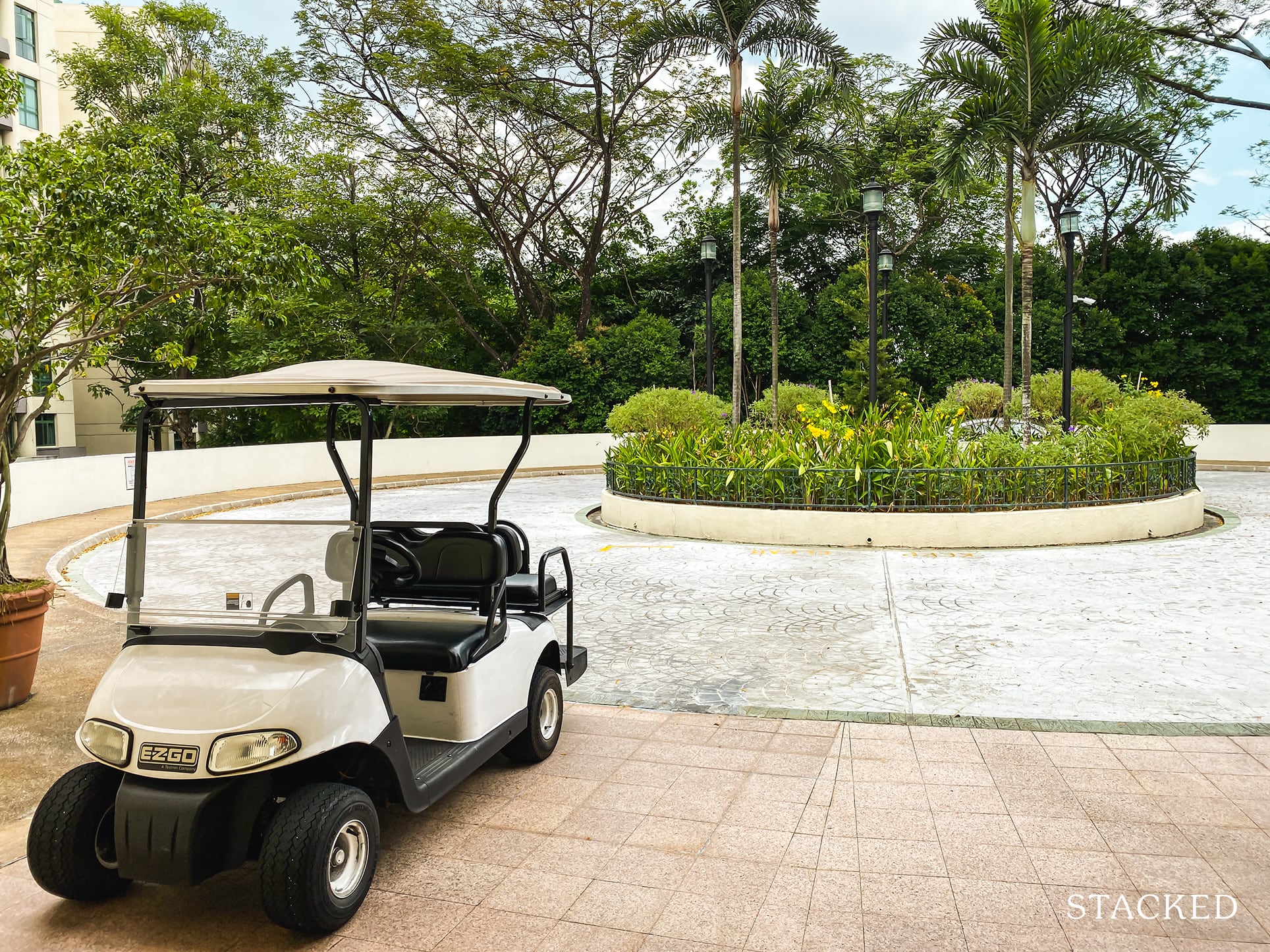 At the back of the clubhouse is a roundabout that connects you to the other blocks plus the back entrance of Signature Park. Note the buggy for the security guards to get around, which speaks volumes of the size of this estate. If only they had one for each block!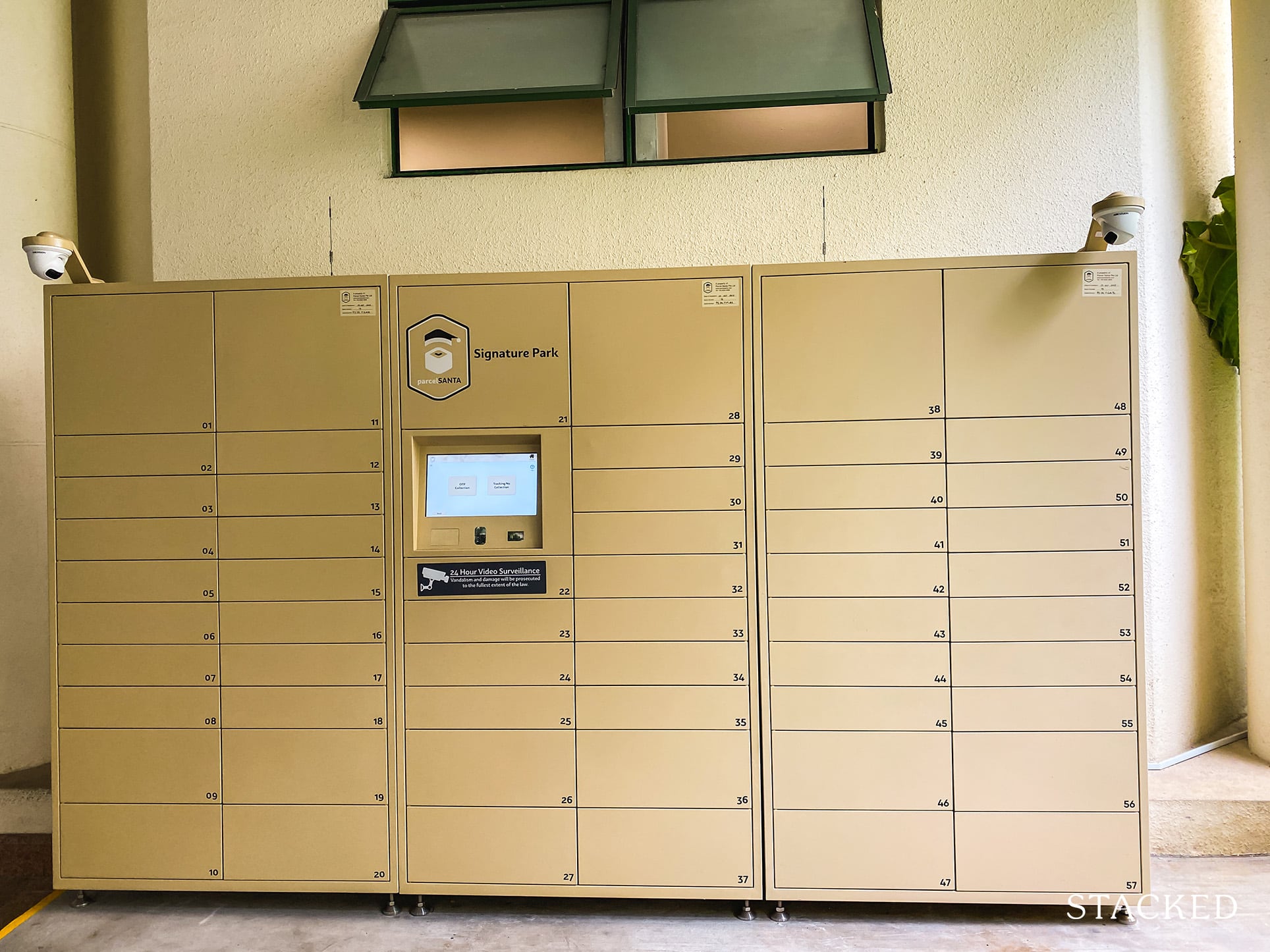 Between the clubhouse and the carpark is a Parcel Santa, which is super useful for all your online deliveries.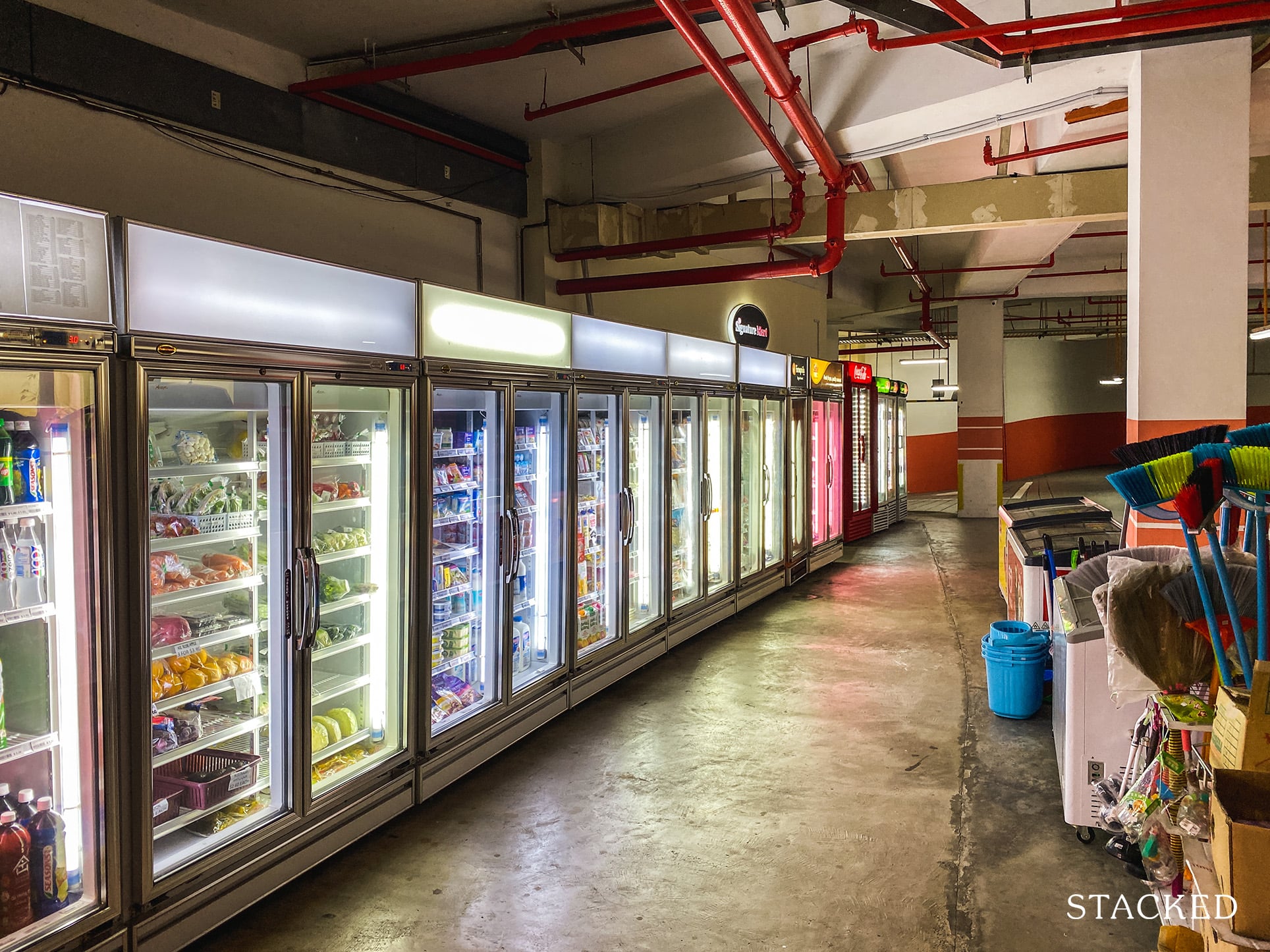 There is also a sizeable mini-mart, which is always convenient to have. This one is actually quite big, and seems to sell almost everything you might need.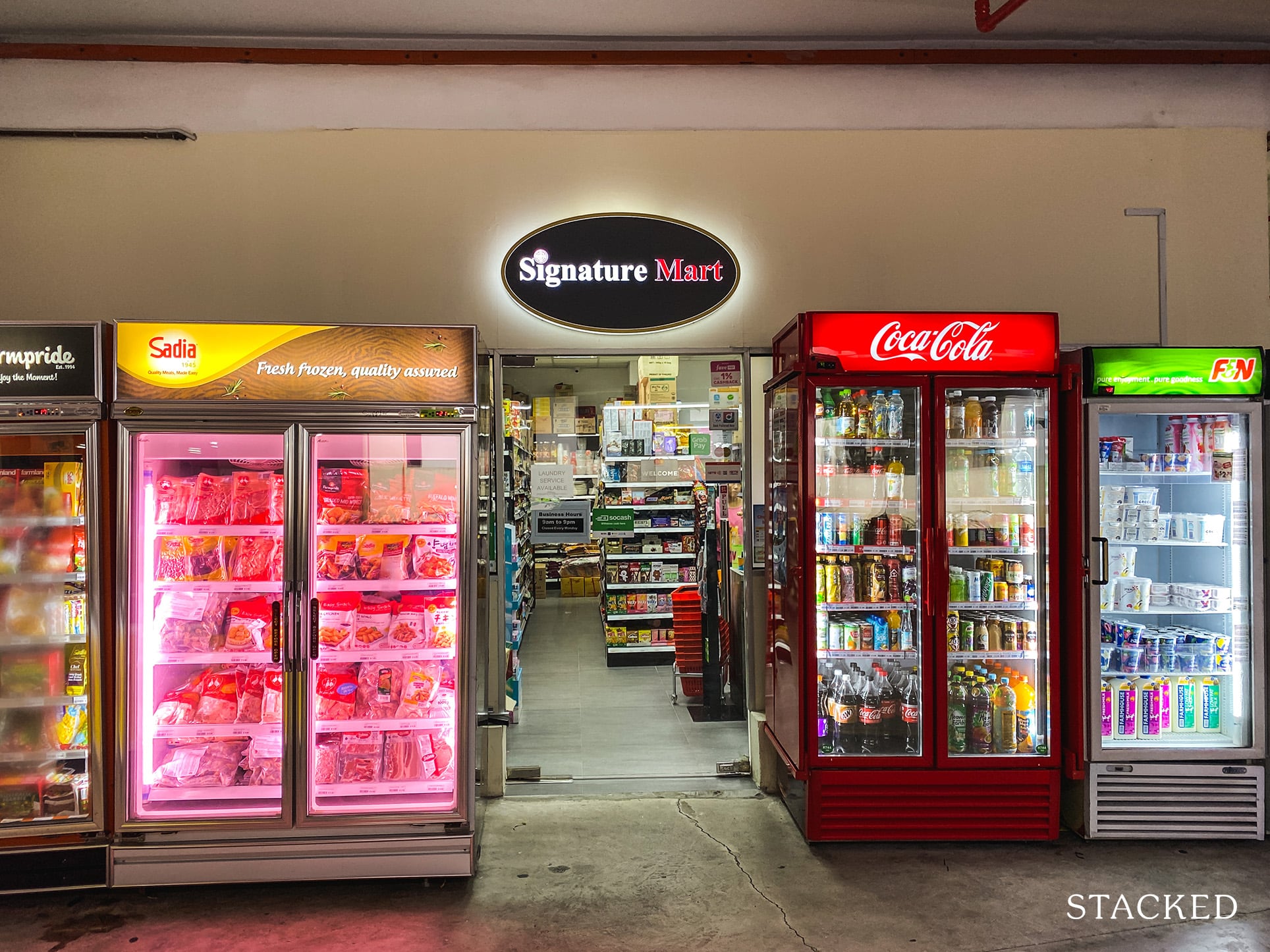 It's just really handy for ad-hoc purchases or a refreshing drink after a hard exercise.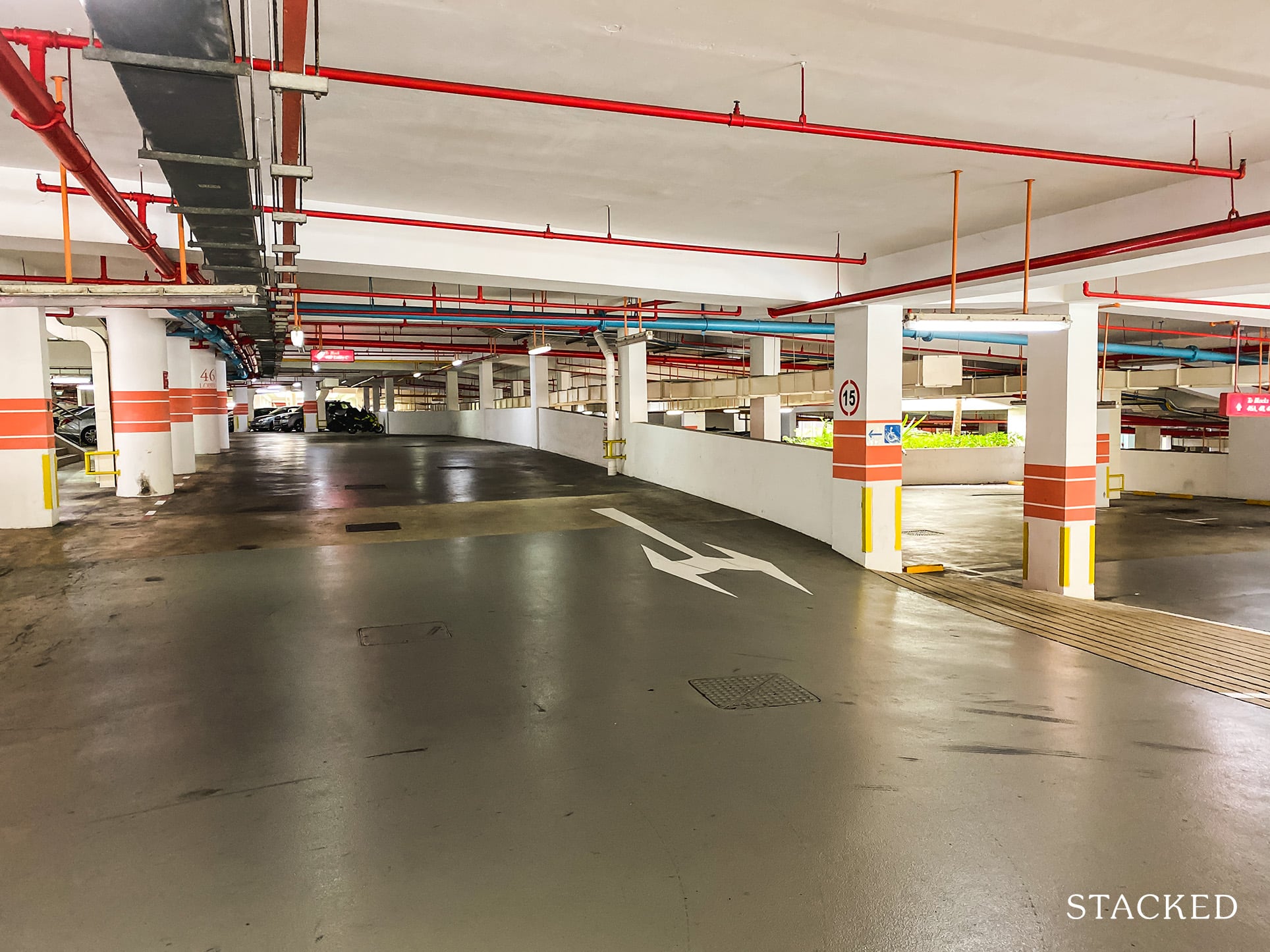 The mini-mart is actually accessible from the carpark itself.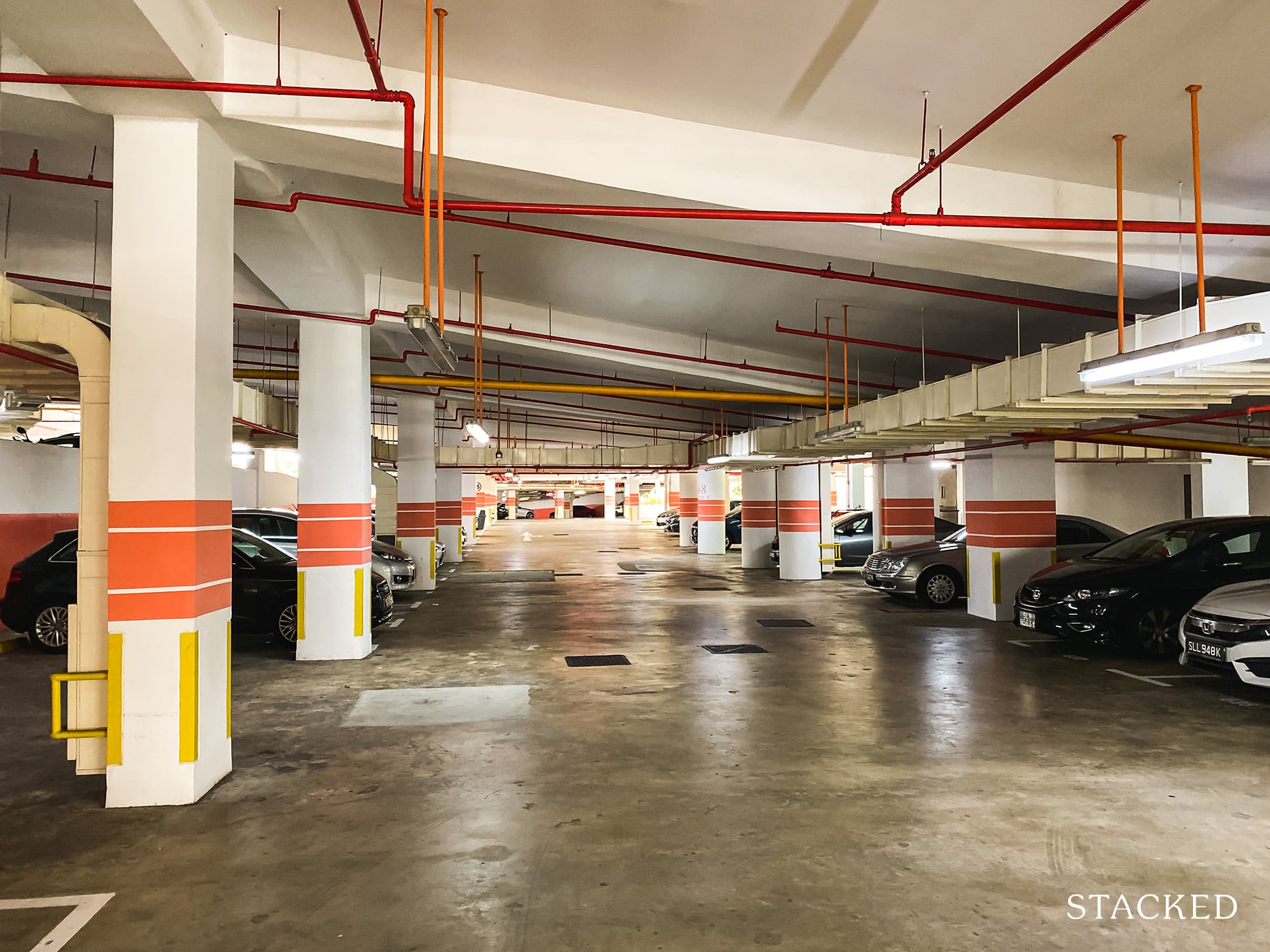 There is sufficient carpark, and residents get to enjoy sheltered carpark. Guests are not allowed to park in the basement, and have to resort to open-air carpark in front of the blocks, which is a bummer (for visitors that is).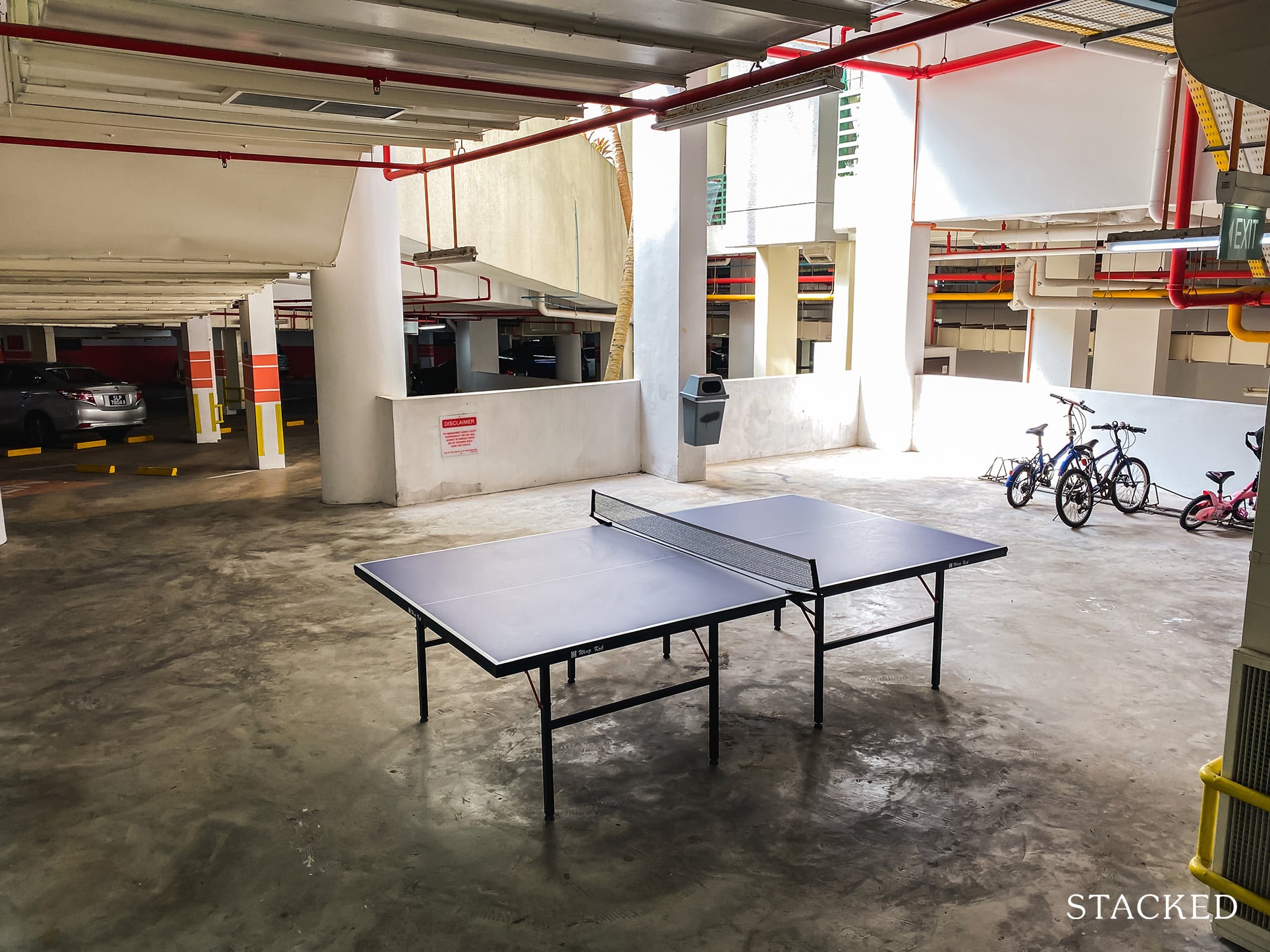 The basement even holds a table tennis table! With that, I think Signature Park has pretty much covered all the sports available to you in Singapore (okay maybe except bowling). *which I know some people might not consider a sport, but we'll save that debate for another day.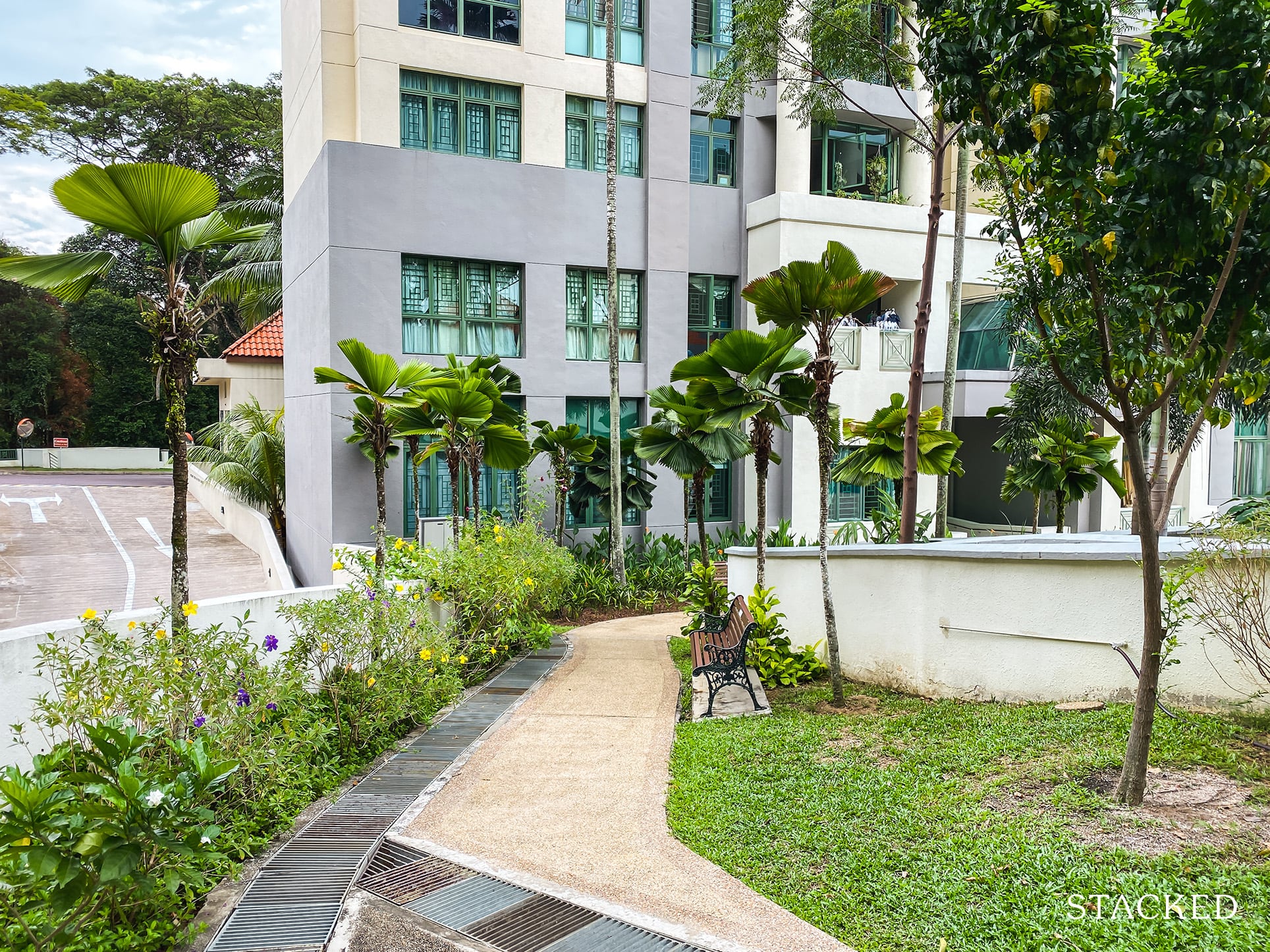 Moving up from the swimming pool is an inclined path. With all the greenery it really makes for a pleasant walking experience.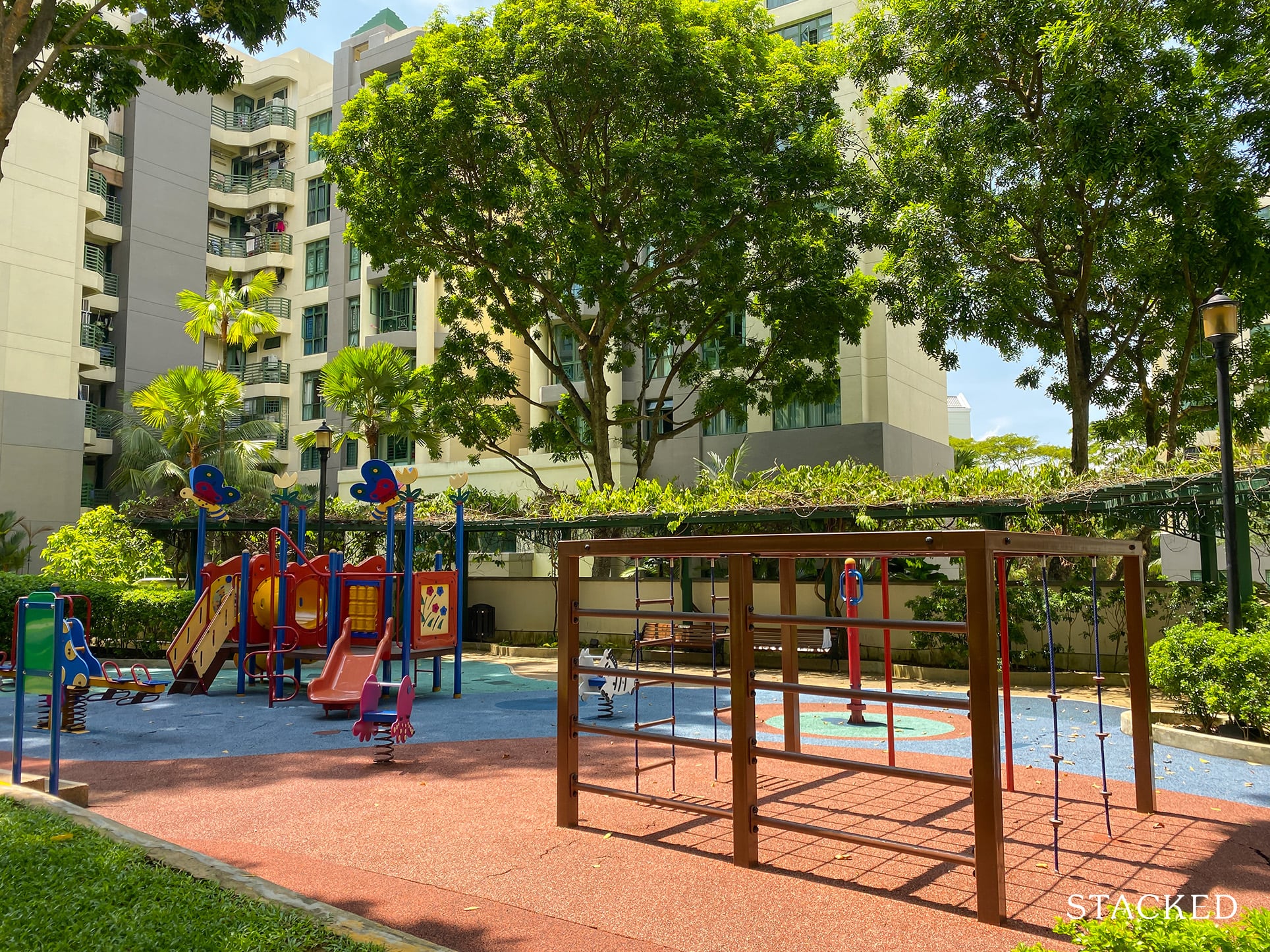 The path leads you to a much bigger playground for the kids.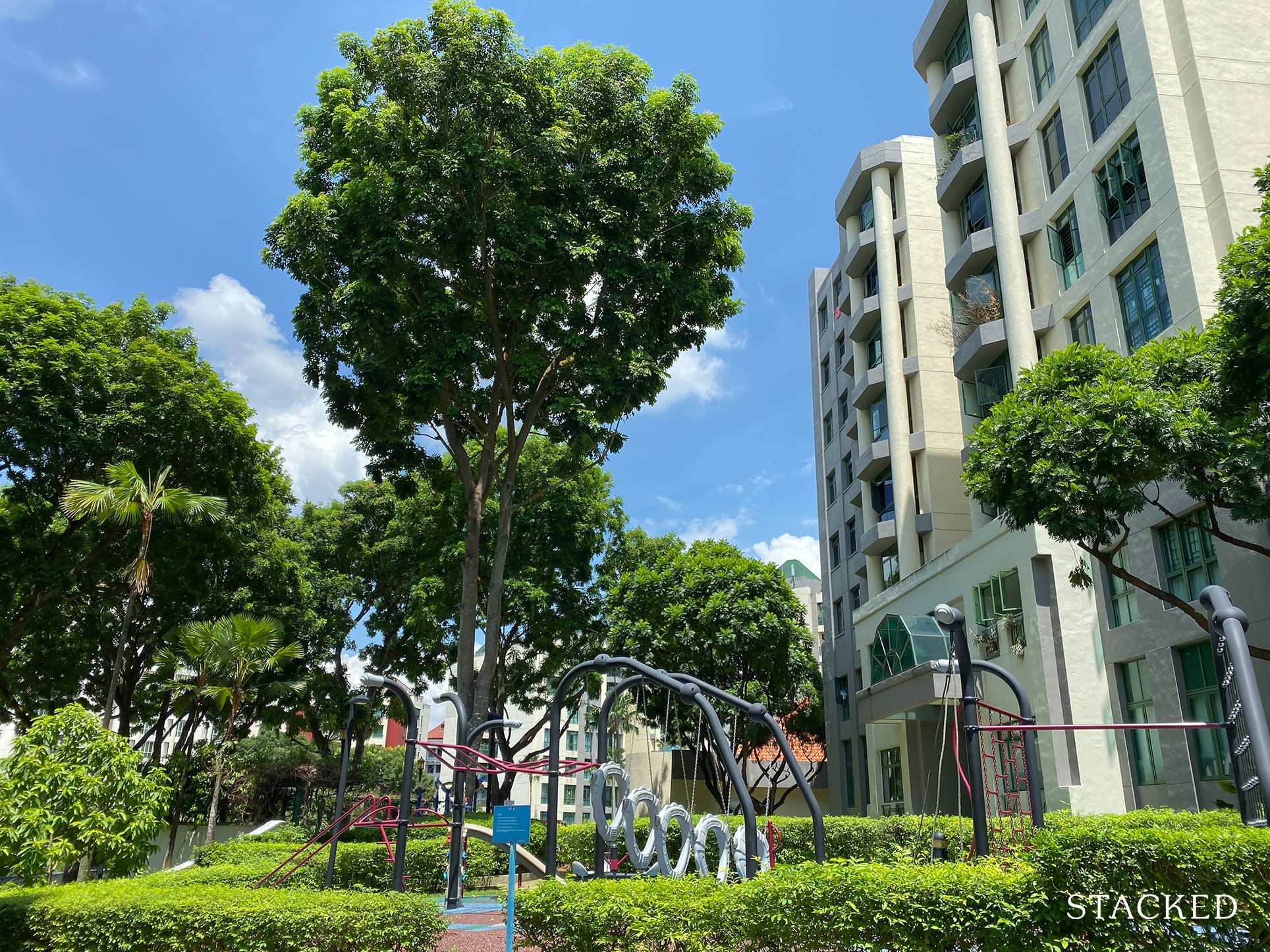 Right next to it is a more advanced looking playground. If anything, these blocks are certainly the area to be at if you have kids!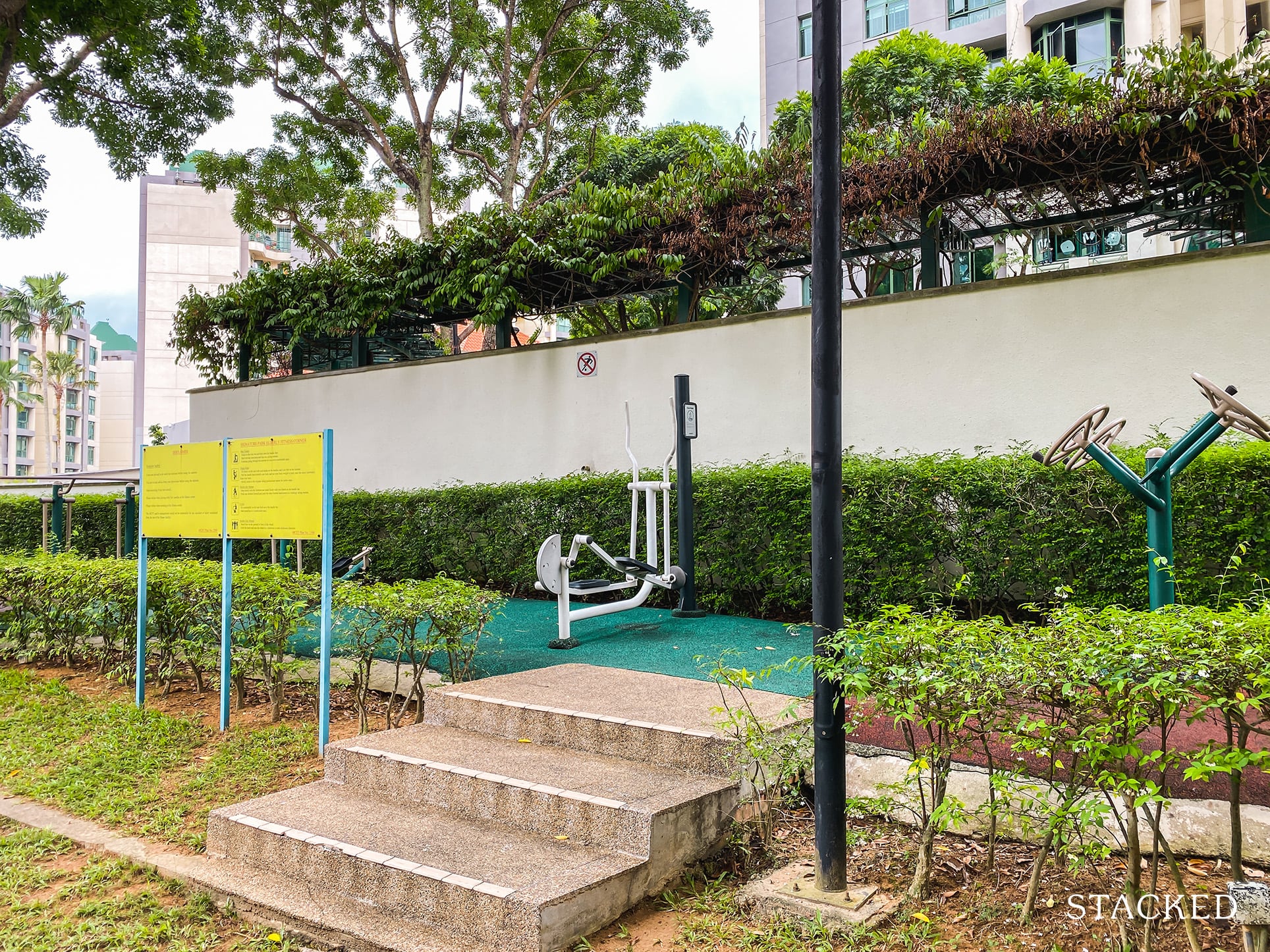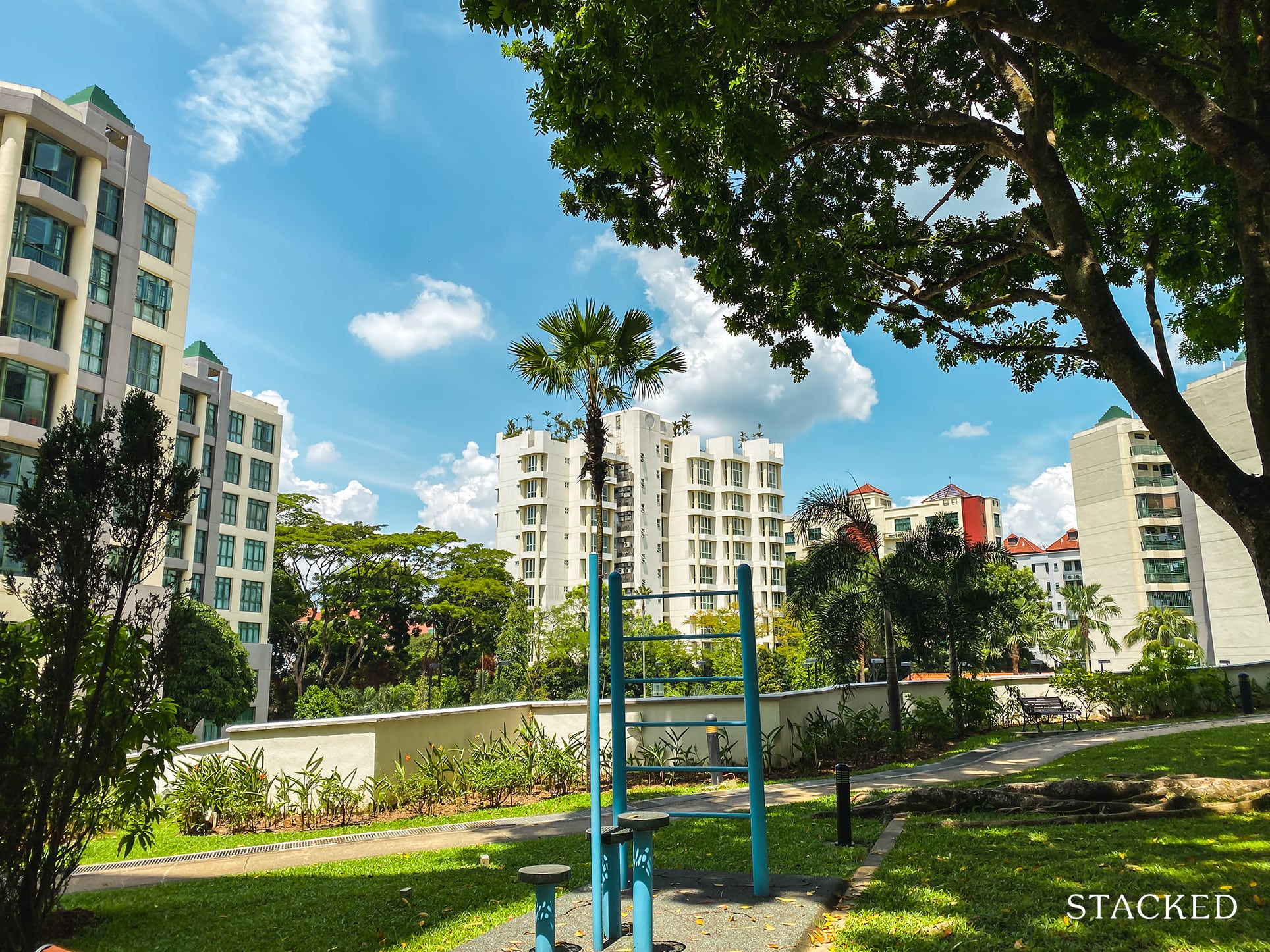 In front of the two playgrounds are two outdoor fitness stations. Presumably, the adults can get to exercise while the kids play?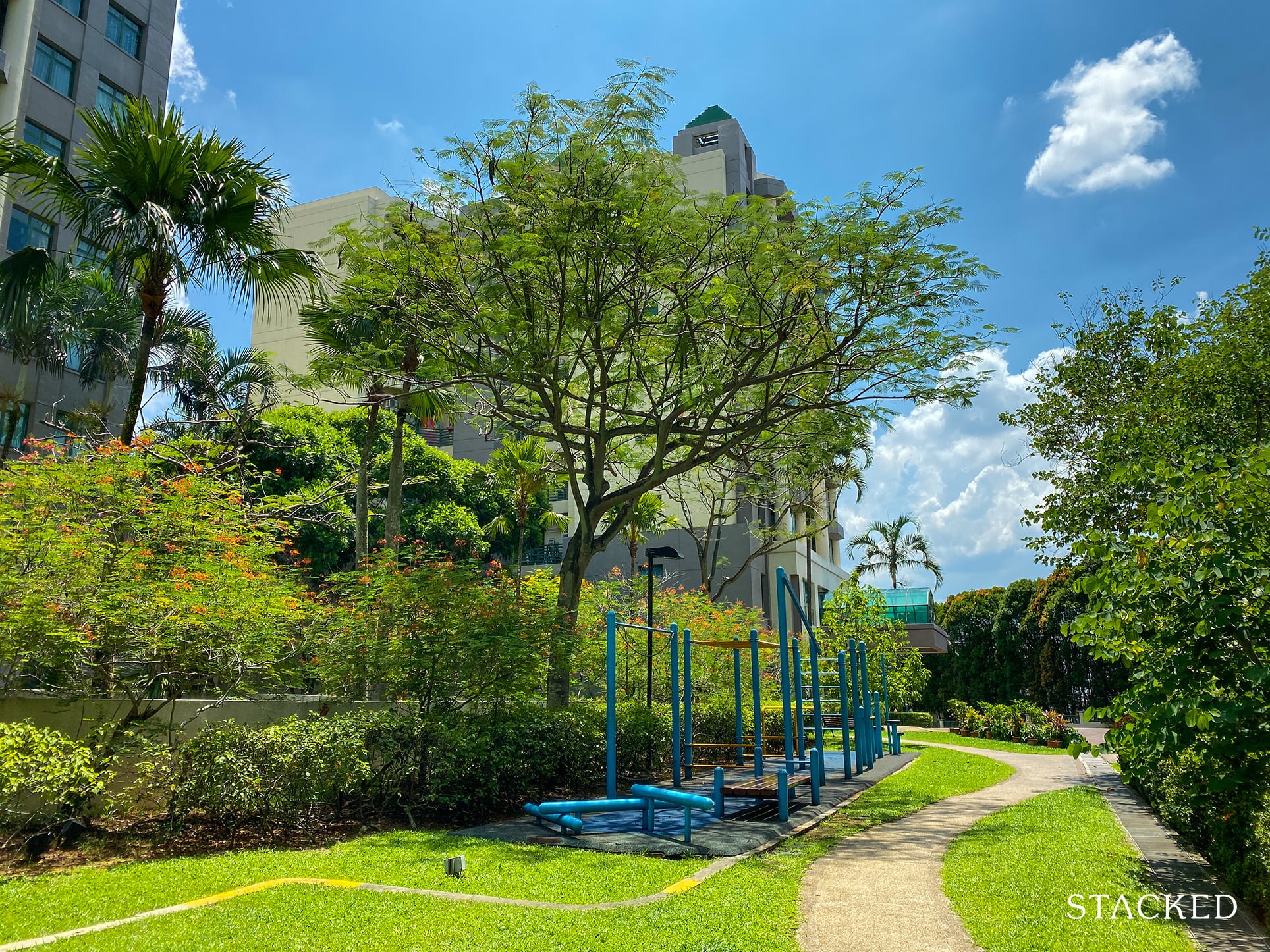 And as if that weren't enough, just a couple of steps away is what is probably the biggest outdoor fitness station in the development.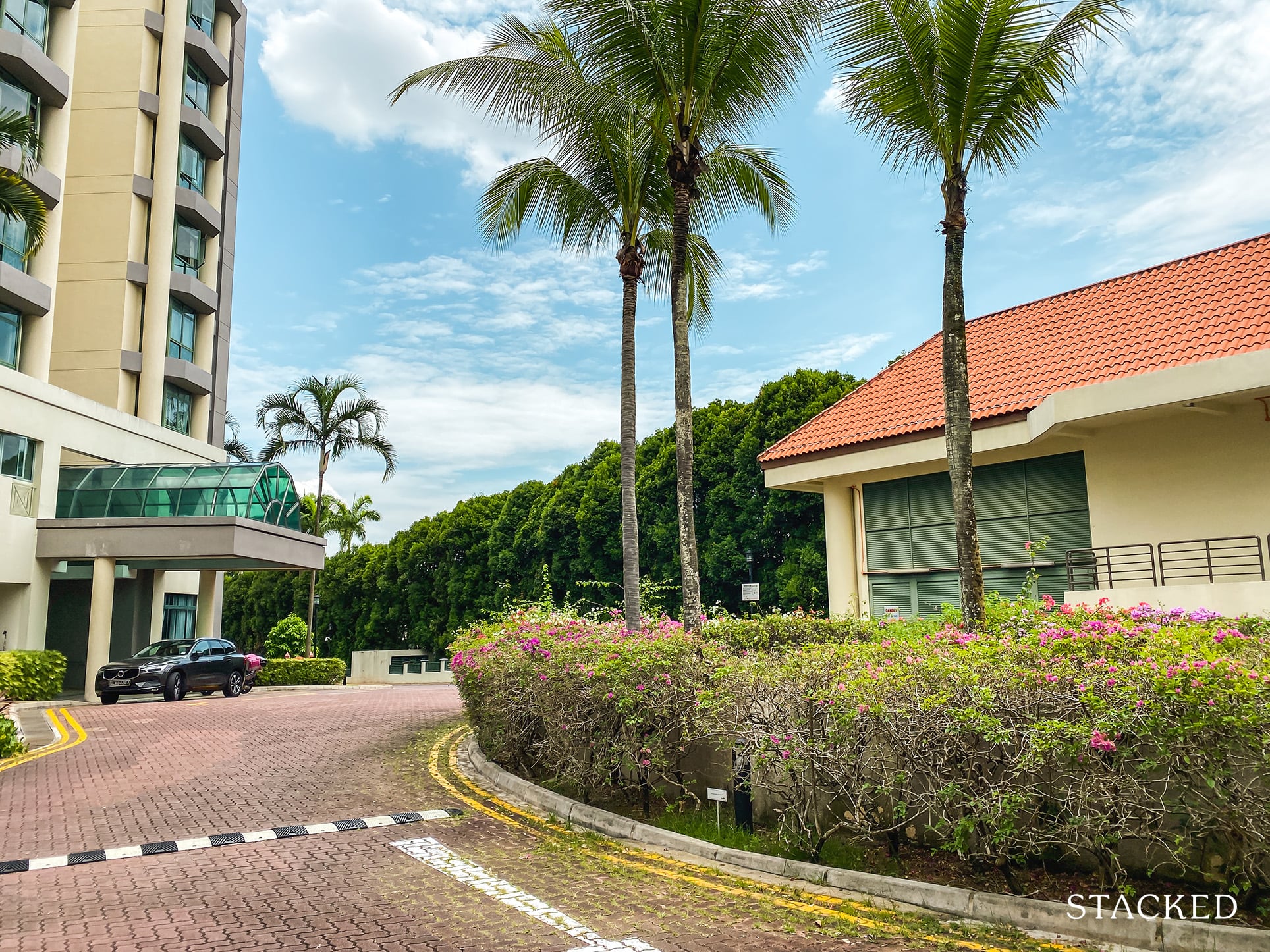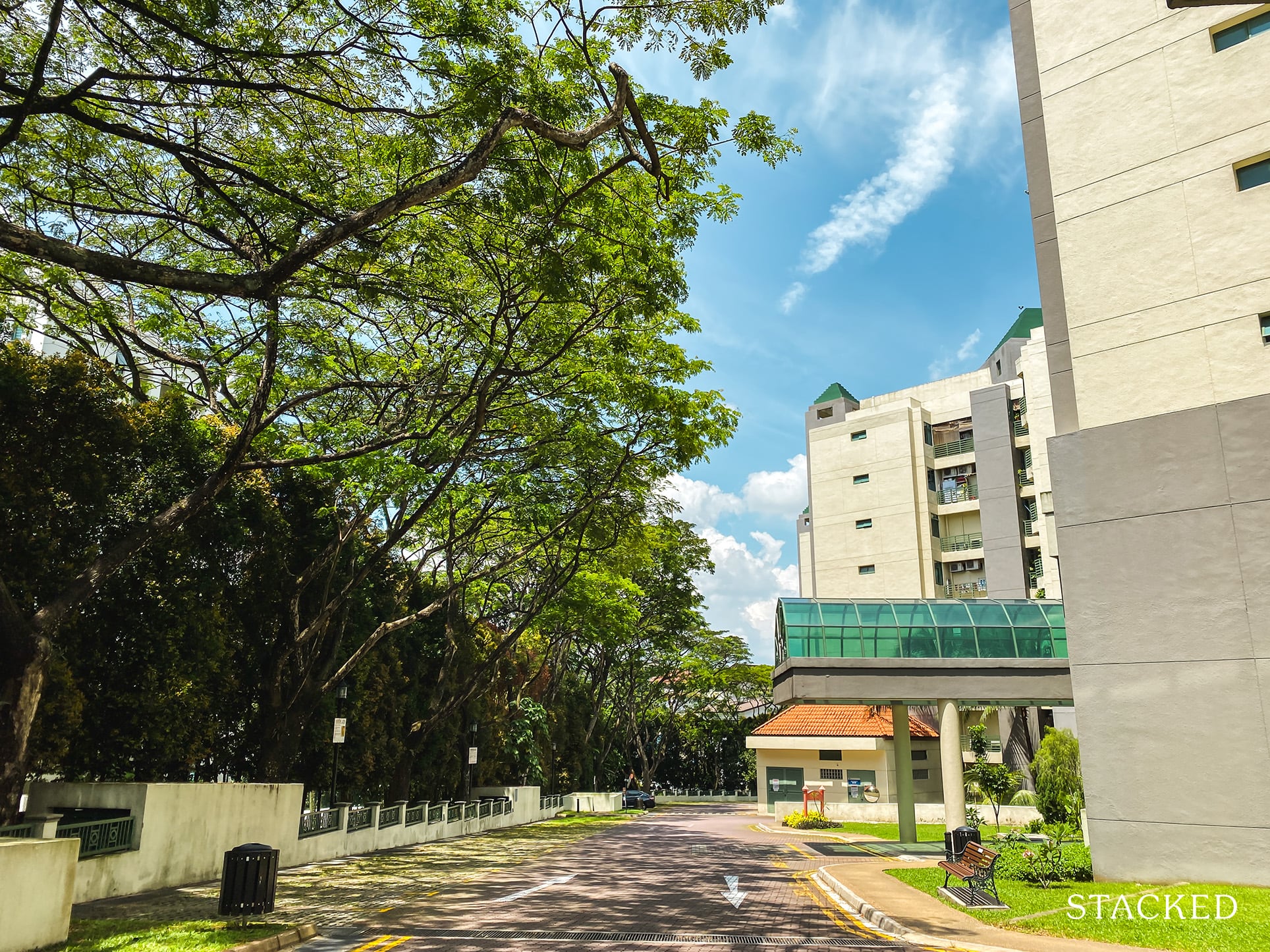 Each block also enjoys its own sheltered drop off point, which is always useful in tropical Singapore.
Signature Park Location Review
Located in District 21, Signature Park is geographically 'sandwiched' between the Bukit Timah Nature Reserve and Ngee Ann Polytechnic.
A string of amenities that include top schools, eateries, and entertainment options are littered in its immediacy – a feat that no doubt gives testament to the matured estate's lifespan.
Here, you will find a detailed list of them – some a necessity to the majority, others a niche for the minority.
Transport
| | | |
| --- | --- | --- |
| Bus Station | Buses Serviced | Distance From Condo (& Est. Walking Time) |
| 'Signature Pk Condo' | 3N, 61, 66, 66B, 157, 174, 174e, 970, 985 | 450m, 5-min walk |
| 'Goodluck Gdn' | 41, 77 | 350m, 4-min walk |
| 'Aft Jln Jurong Kechil' | 41, 77, 173 | 650m, 7-min walk |
Closest MRT: Beauty World MRT – 1.1km, 13-min walk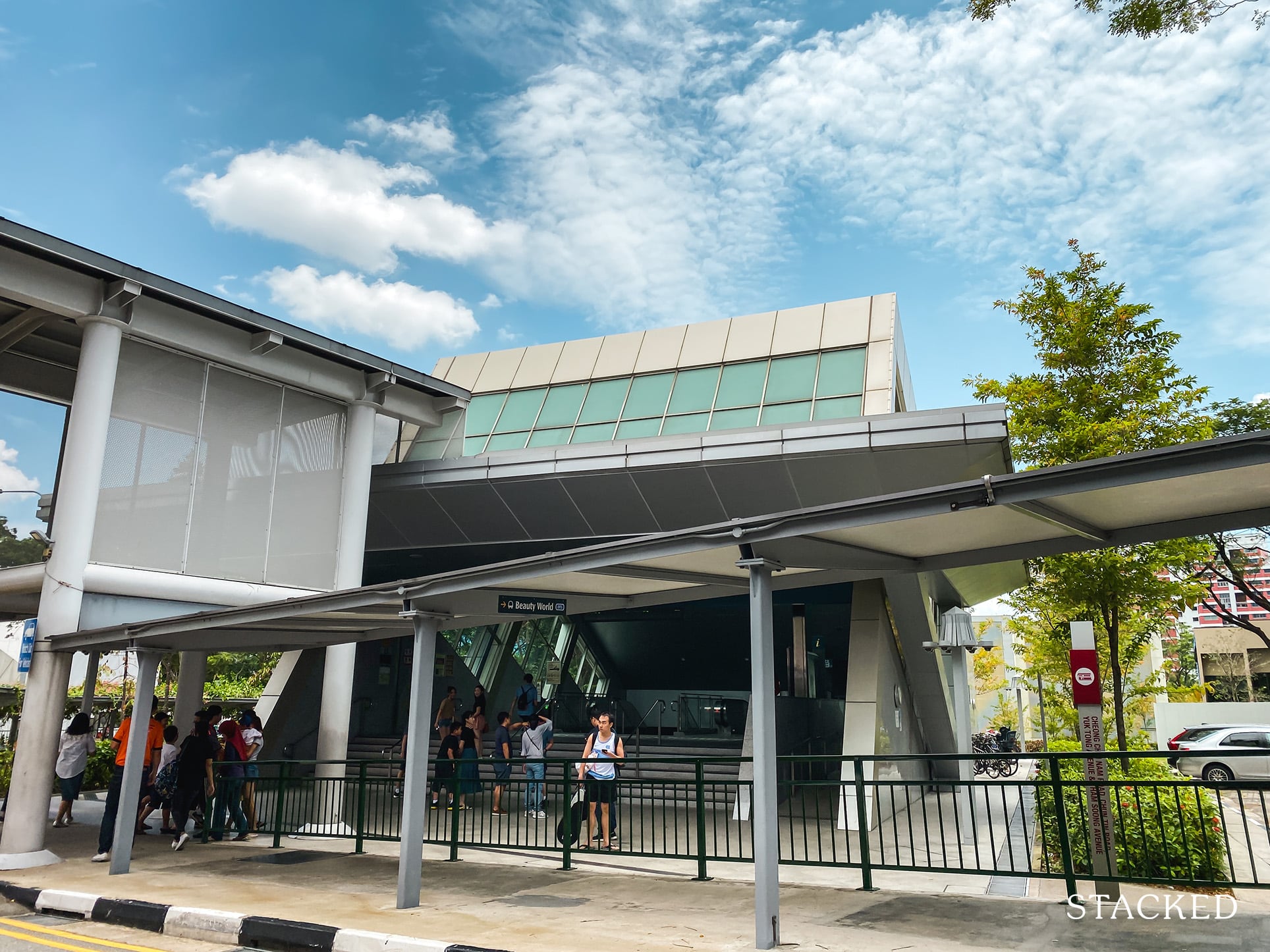 As with some of our previous condo we have reviewed (Avenue South and Principle Gardens come to mind), Signature Park is admittedly quite a walk from its closest MRT. It is also worth noting that this walk is only partially sheltered.
Still, the 3 bus-stops in the condo's immediate reach does help to slightly mitigate this given the number of services that ply them.
Private transport accessibility: Good
| | |
| --- | --- |
| Highway/Major Road | Distance From Condo (& Est. Drive Time) |
| Upper Bukit Timah | 1.4km, 5-min drive |
| PIE | 1.7km, 4-min drive |
| Dunearn/Clementi/Bukit Timah Road | 2.5km, 5 to 12-min drive |
| Clementi Ave 6 | 2.6km, 5-min drive |
| Bukit Batok Road | 4.3km, 7-min drive |
| BKE | 5.8km, 9-min drive |
Our new 'personal vehicle requirement' rating (you'll reach that in a bit!) analyses the need for a car – but what about the ease of access for residents who own one?
The good news is that Signature Park is only a short drive away from the major road amenities as you can see listed above (though be warned that these roads can get rather congested during peak hours!)
Furthermore, the condo isn't situated next to any main highways or roads hence the much-reduced likelihood of traffic-related pollution for residents.
Groceries
| | |
| --- | --- |
| Grocery Shop | Distance From Condo (& Est. Drive Time) |
| FairPrice Xpress – 213 Upper Bukit Timah Road | 2.0km, 7-min drive |
| FairPrice Finest – Bukit Timah Plaza | 2.5km, 10-min drive |
| FairPrice – Bukit Batok East Ave 3 | 2.8km, 9-min drive |
| Cold Storage – Sime Darby | 2.9km, 9-min drive |
| Cold Storage – West Mall | 3.2km, 10-min drive |
| Cold Storage – Hillview Market Place | 3.4km, 9-min drive |
| Cold Storage – Rail Mall | 3.6km, 9-min drive |
| Cold Storage – Clementi Arcade | 5.7km, 11-min drive |
Frankly, we might have slightly overdone the grocery list (oops) – but hey, at least you know your fresh food options in the vicinity in a traffic jam crisis (which is honestly quite a possibility in this area)!
Furthermore, residents at Signature Park actually have their very own grocer (call it the Marina One's predecessor) which offers some pretty solid cuts of fresh meat amongst other necessities.
Granted, it might not be the cheapest mart or the only one that you'll visit for the rest of your stay here (we all need some diversity now and then), but it sure adds to the convenience!
Shopping Malls
| | |
| --- | --- |
| Shopping Mall | Distance From Condo (& Est. Drive Time) |
| Beauty World Centre | 1.9km, 7-min drive |
| Beauty World Plaza | 2.2km, 9-min drive |
| Bukit Timah Plaza | 2.5km, 9-min drive |
| King Albert Park Mall | 3.1km, 10-min drive |
| West Mall | 3.2km, 10-min drive |
| Rail Mall/HillV2 | 3.5km, 9-min drive |
| Westgate/Jem/JCube | 4.2km, 10-min drive |
| Clementi Mall/Grantral Mall/321 Clementi | 4.6km, 10-min drive |
| The Grandstand | 4.9km, 13-min drive |
The list is a well-supplied one.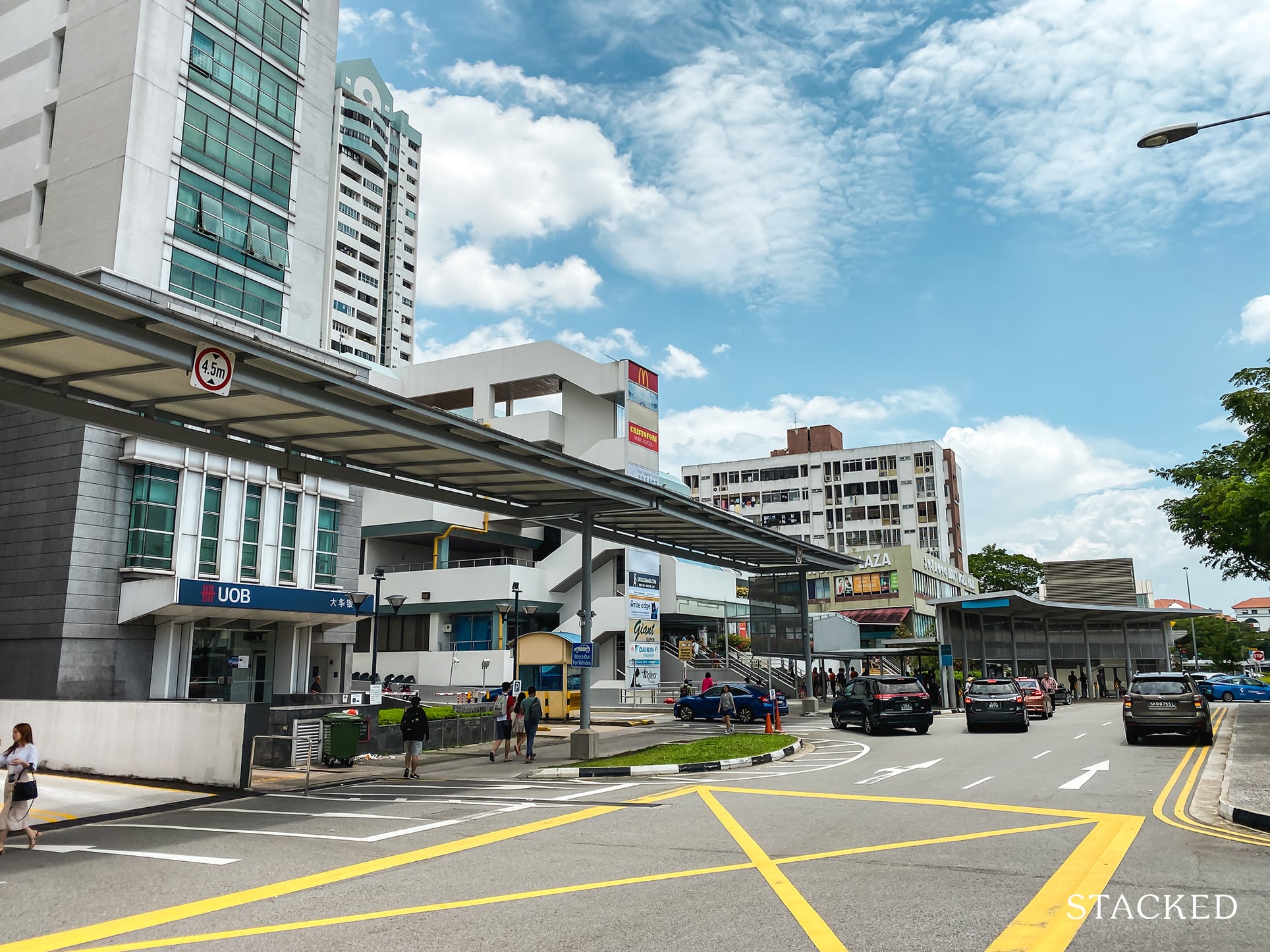 Perhaps one of the biggest perks of Signature Park's location is that it offers residents a choice of quieter malls to its north (Rail Mall), entertainment-themed malls to the east and west (Clementi & Jurong area) and immediate yet diverse food options to the east (Beauty World area). Chun Tin Road is a hotspot for food, with many options open late into the night for those that enjoy their weekend suppers.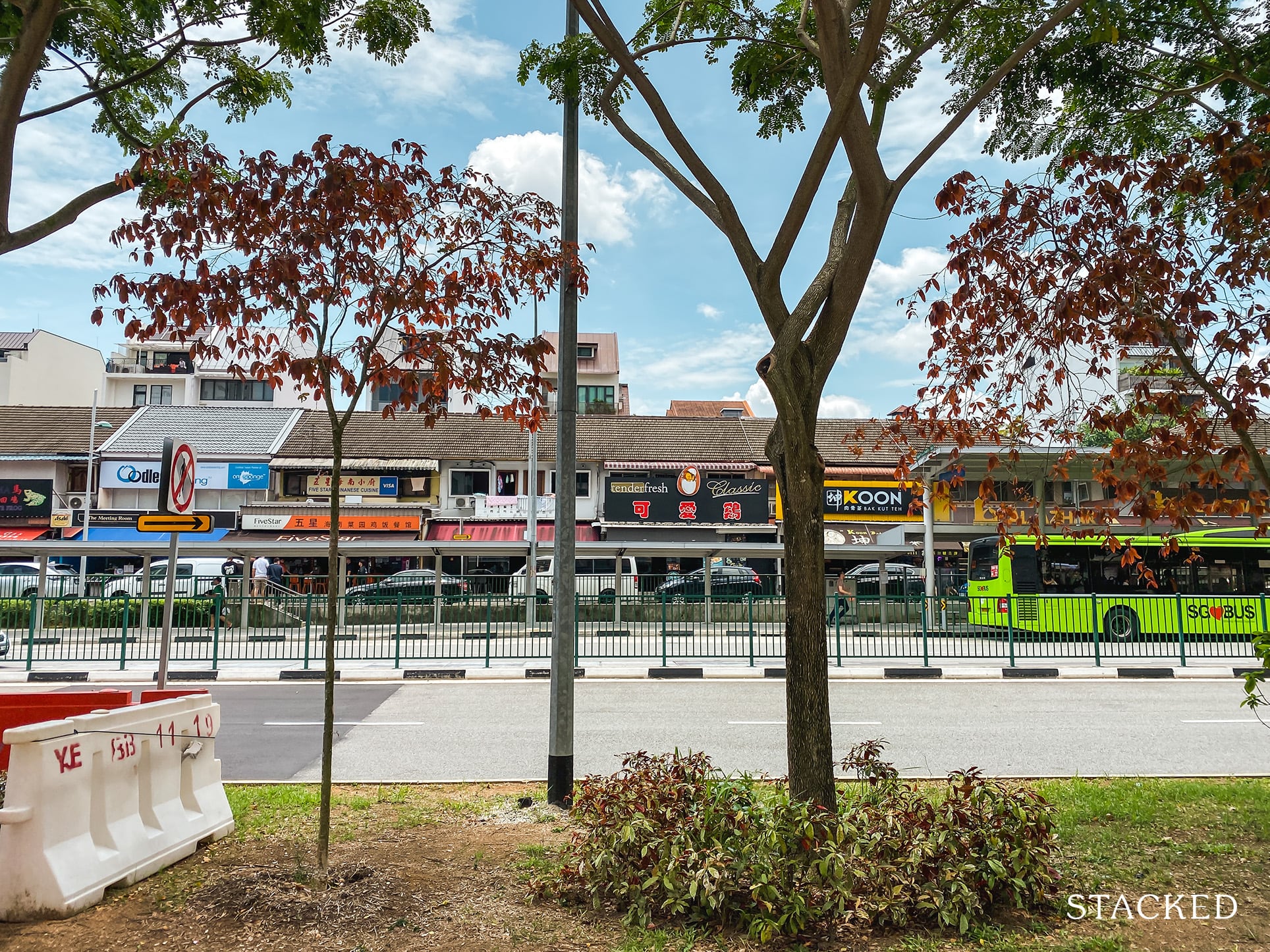 Schools
| | | |
| --- | --- | --- |
| School Name | Education Level | Distance From Condo (Est. Drive Time) |
| Pariposa Preschool | Preschool | 0.5km, 2-min drive(Shorter Walking Distance) |
| Cambridge @ Bukit Timah | Preschool | 0.8km, 3-min drive(Shorter Walking Distance) |
| Garden House | Preschool | 0.9 km, 4-min drive (Shorter Walking Distance) |
| ELF Preschool | Preschool | 0.9 km, 3-min drive |
| EtonHouse @ 215 Upper Bukit Timah | Preschool | 2.1km, 7-min drive |
| Bukit Timah Primary | Primary | 0.95 km, 3-min drive |
| Cambridge Primary | Primary | 1.2 km, 5-min drive |
| Pei Hwa Primary | Primary | 2.2 km, 7-min drive |
| Keming Primary | Primary | 2.6 km, 8-min drive |
| Pei Tong Primary | Primary | 4.5 km, 9-min drive |
| Qifa Primary | Primary | 5.9 km, 10-min drive |
| Yusof Ishak Secondary | Secondary | 1.7 km, 5-min drive |
| Bukit View Secondary | Secondary | 2.8 km, 8-min drive |
| Nan Hua High | Secondary | 6.6 km, 10-min drive |
| Ngee Ann Polytechnic | Tertiary | 3.4km, 12-min drive |
| Eunoia Junior College | Tertiary | 7.9 km, 14-min drive |
| Anglo Chinese Junior College | Tertiary | 9 km, 13-min drive |
| Jurong Pioneer Junior College | Tertiary | 16.7 km, 14-min drive |
| National University of Singapore | Tertiary | 9 km, 13-min drive |
| Singapore Institute of Technology | Tertiary | 9.8 km, 16-min drive |
| Nanyang Technological University | Tertiary | 11.8 km, 16-min drive |
Parents can take a breather – even if only for a moment.
Yes, there are a number of schools in the area – even more so than on this list (we only include schools in the 10-minute drive radius for secondary and below).
However, due to the location of the condo, a majority of family members will have to go through notoriously congested roads at peak hours if they are sending their loved ones to school (especially for those studying in the Bukit Timah Education Belt).
The same goes for students at Ngee Ann Polytechnic given its multitude of entrances and blocks.
The plus in all of this is that those studying at NTU will have relatively easier access to campus as compared to those residing in other parts of Singapore.
Additional Pointers
An abundance of medical care in the area.
The closest major medical facilities to the condo are St. Luke's and Ng Teng Fong General Hospital – both a 10-minute drive away with more household names available at a slightly greater distance. This comes in handy for the more susceptible age groups given Signature Park's status as a family condo.
A number of nature spots to choose from.
The Bukit Timah Nature Reserve springs to everyone's mind – but there are actually a plethora of other parks in the area too. Some of these include The Green Corridor, Mayfair Park and Hoover Park with the closest – Bukit Batok Nature Park (5-minute drive). 
Good news for those who frequent Malaysia.
Given the condo's location in the more centralised part of Singapore's north-west region, frequent commuters still have the option between the Woodlands (BKE) and Tuas (AYE) checkpoints before setting it off.
Not so good news for those who work in the CBD
Unfortunately, the CBD is nearly a half hour's drive from Signature Park (without even considering public transport). For those working there, taking up residency here is very much ill-advised given the long and tedious traveling times.
Signature Park Development Site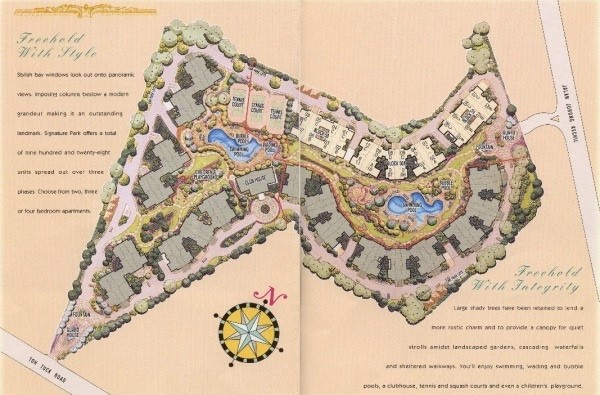 The condo was built in an era where the most basic of mobile phones were beginning to make their way into consumers' lives – as such do pardon us the lack of an electronic development site map (we assure you our analysis will be thorough as always)!
First things first, there are quite a few blocks in Signature Park.
For some, this equates to a lack of privacy. For others, a myriad of noise-related disturbance as a result of being in close proximity to your neighbours.
Factor in the condo's 20-year lifespan and the usual wear and tear that follows will naturally result in constant renovation work amongst various units, and hence more disturbance for residents here.
In addition, facilities and amenities in the condo might not be the newest or the prettiest given its age.
Having also covered the entrance/exit situation earlier, keep in mind that the back entrance is susceptible to clogging come peak hour.
To add on, the back entrance that leads to Toh Tuck Road can get quite chock-a-block with the morning peak hour traffic. The problem is the abundance of traffic that this one-lane road serves – it is basically overtaxed by residents from the existing prominent developments like Highgate, The Beverly and The Creek @ Bukit.
Not to mention the upcoming new launches like Raintree Residences and Goodluck Garden – which isn't going to make the situation any better. If you drive a lot this is undoubtedly something that you will have to contend with.
Let's fire up the unit mix:
| | | |
| --- | --- | --- |
| Unit Type | Est. No. of Units | Est. Avg. Size of Units (sqft) |
| 2-bedroom | 336 | 1,000 – 1,100 sqft |
| 3-bedroom | 469 | 1,200 – 1,500 sqft |
| 4-bedroom | 123 | 1,600 sqft + |
Once again, the condo's age provides some ambiguity to its dated unit-mix. Should you require a detailed copy of it, do feel free to let us know!
One thing that is for certain here is that its units are massive. 2-bedroom units here are almost twice the size of modern 2-bedders and possibly the same size as newly built 4-bedders in crowded districts with high demand.
Another point to note is that Signature Park is known as a family development, hence all the playgrounds and large unit spaces that come alongside.
Signature Park Price Review
At a glance, Signature Park tops the list in terms of quantum despite its seniority. This is due in part to its facility offerings.
On the other end, its unit and common area spatial bonuses seem to be its prized asset in an age where condo units are getting cozier, and developments, tinier.
Another thing to note was its valuation rise following the Beauty World MRT completion in 2015.
This also comes after the en bloc sale of Goodluck Garden (immediate neighbour) – which occupies over 500,000 square feet of land and could be developed to hold 669 units.
And therefore leading to renewed interest in the matured condo's units.
With little hope of a renewed residential en bloc spree, second-generation residents here might be banking on this 'final opportunity' and thus be looking to let their units go just below market price – which would explain the high number of recent resales.
Our Take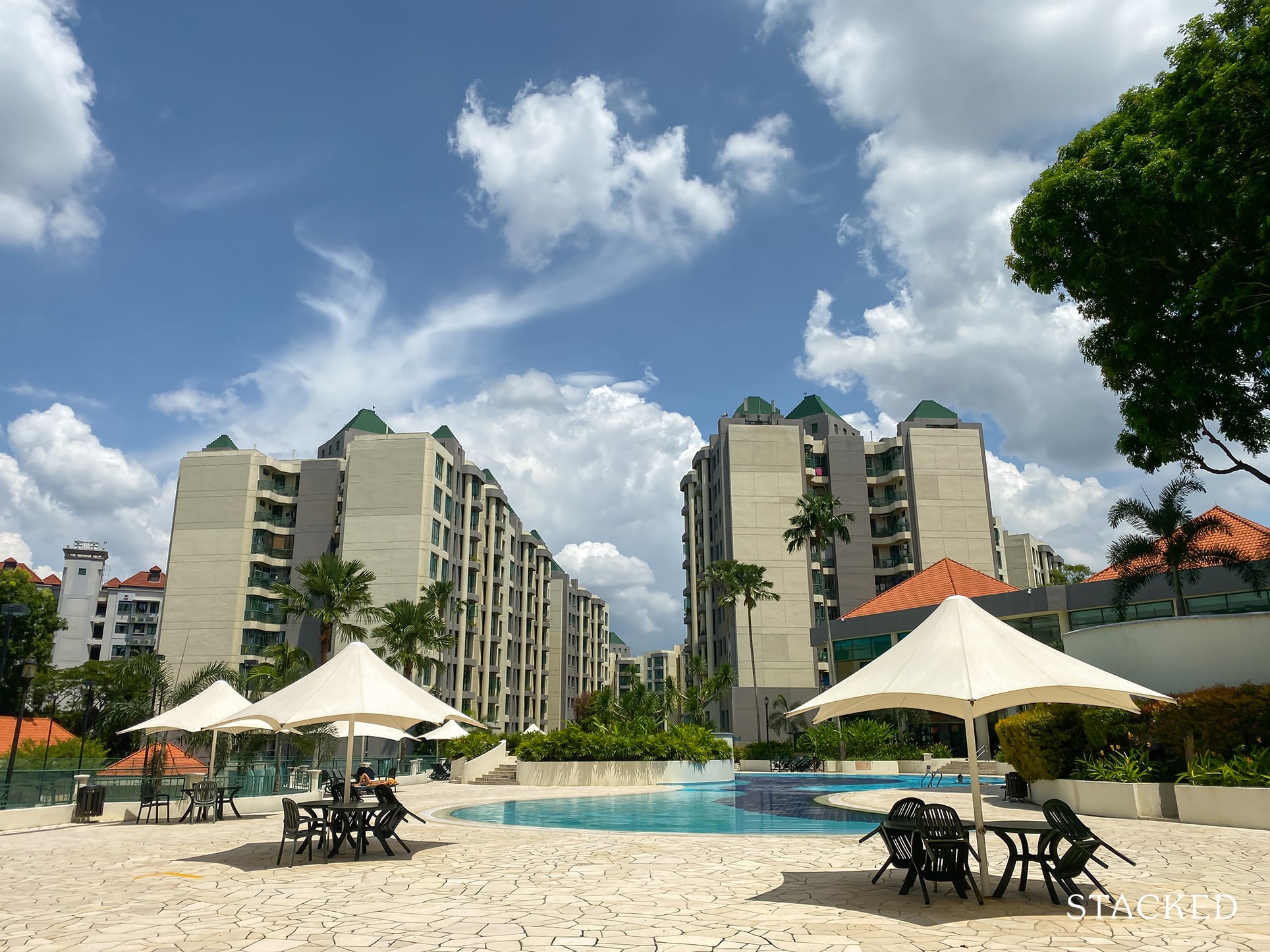 Personally, I greatly enjoy the space on offer here – something that is becoming increasingly rare in Singapore.
True, it might be dated, isn't the closest to the MRT and is still a tad expensive.
However, if you do own a car and consider the actual location and freehold status of Signature Park, this really is an incredible option to boot, especially if you are a family man/woman and enjoy having an abundance of nature within your grasp.
That being said, I wouldn't stay here for the life of me if a commute to the CBD was on my list of daily activities!
What this means for you
You might like Signature Park if:
• You have kids:Plenty of education opportunities and solid nature options make this a great place for raising the children.
• You enjoy big unit spaces:Coming in at over 1,000 square feet for a 2-bedroom unit, it is going to be hard to find an alternative in Singapore.
You might not like Signature Park if:
• You take the MRT a lot:The Downtown line has certainly improved the transportation links, but it isn't really close enough to walk daily.
• You enjoy modern facilities:State-of-the-art amenities, glamorous lobbies, and polished car parks are unfortunately not on offer at the 20-year old Signature Park Condominium.
End of Review