Condo Reviews

Scotts Square Condo Review: Freehold luxury in the middle of Orchard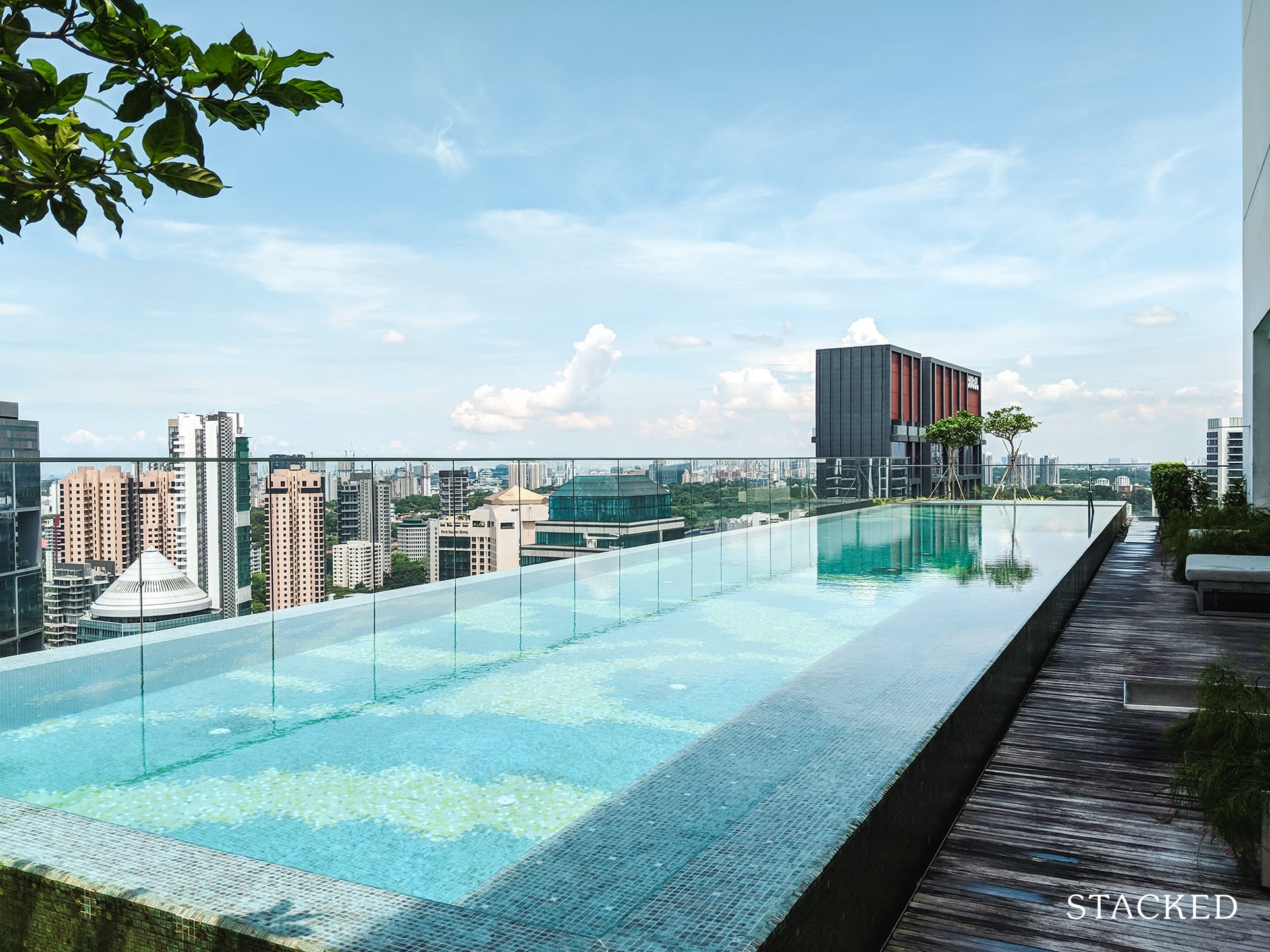 If you are looking for a luxury freehold condominium in Orchard, the Scotts Square location cannot be beat. The rooftop infinity pool goes some way into paying off the high price!
Reviewed by Stanley on April 23, 2019
What we like
Super convenient location

Two very nice swimming pools

High quality gym

Near MRT

Freehold
What we don't like
—

Traffic during peak hours

—

Taking 2 lifts to go home
15
min read
About this condo

| | | | |
| --- | --- | --- | --- |
| Project | Scotts Square | District | 09 |
| Address | 6-8 Scotts Road | Tenure | Freehold |
| Site Area | 19,281 sqm | No. of Units | 338 |
| Developer | Wheelock Properties (Singapore) Ltd | TOP | 2011 |
If you are looking for a luxury freehold condo along the main Orchard Road shopping belt, Scotts Square condo seemingly has no peers. Freehold condos are a rare sight along the main road, with only Lucky Plaza Apartments and to a certain extent Orchard Towers and Kim Sia court. None of which are synonymous with luxury or even have any facilities to speak of. Of course the more famous luxurious option would be the Orchard Residences, but this is a 99 years leasehold property. So if your requirements are to have freehold status, modern living and to be right on Orchard Road you really only have one prime candidate here, the Scotts Square condo. Read on to find out more about what we think about it!
Scotts Square Condo Review Location
The best attribute of the Scotts Square condo is really the location. It is not exactly on Orchard Road itself, but its at the corner, which is great because you are just outside the ERP. Admittedly, if you have the cash to stay here, the ERP wouldn't bother you too much. But still, its nice to know you would not be charged each time you go in and out of your house during the peak hours. This is also the best part of Orchard, or rather, the more premium section where you have shopping malls like Ion, Takashimaya and Paragon. Not to mention Scotts Square as a shopping mall right below as well.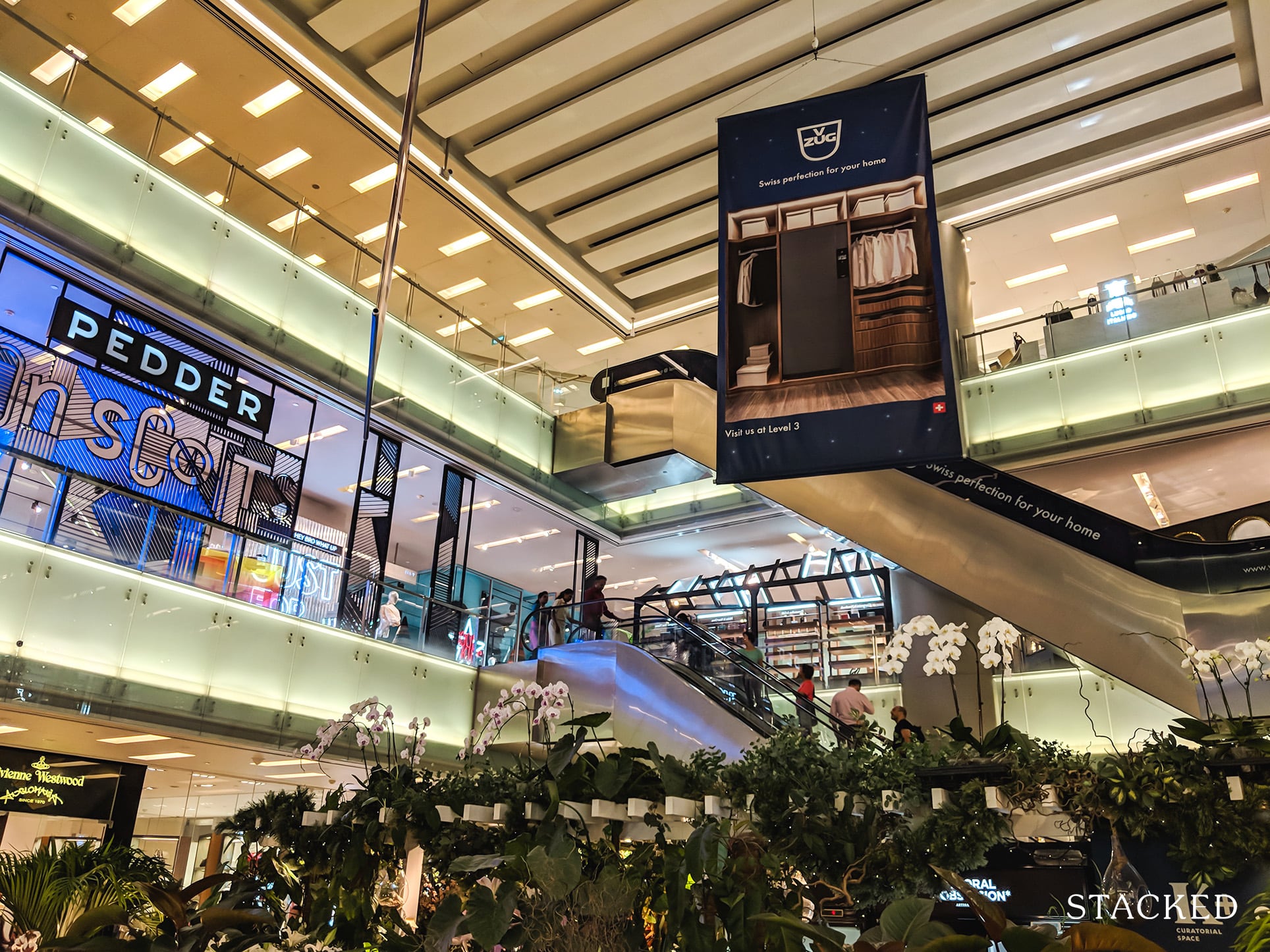 One downside of being on Scotts Road is that if you are coming back from Orchard Road you will have to make a U-turn past the Tanglin Club at Stevens Road. The traffic at Far East Plaza and Grand Hyatt can get quite heavy as well, so during peak hours, this could be a factor that you would have to consider. Ultimately though if you are looking to stay in Orchard, remember that the traffic will always be an issue that could make or break your decision.
Like we said earlier, the number one reason why Scotts Square is so attractive is how convenient the location is. There are a ton of shopping malls literally at your doorstep. Just to name a few in the vicinity, Ion, Shaw House, Far East Plaza, Taka and Paragon. Of course nowadays with online shopping, this advantage has diminished slightly.

Still, nothing compares to being able to just go downstairs and shop for whatever you need, whenever you need it.
With Orchard still being the prime area for shopping in Singapore, there is really no need to go anywhere else (maybe except for the new Jewel at Changi).
Again, because of the location, getting food is super easy at the Scotts Square condo. If you do not even want to get out of the compound, you can dine at Paradise Teochew, Pizza Express, London Fat Duck and Coffee Academics right downstairs, just to name a few. We also like that if you are looking for something cheap and local, Far East Plaza has a ton of options, and at Tangs basement which is just next door, is good for a quick bite.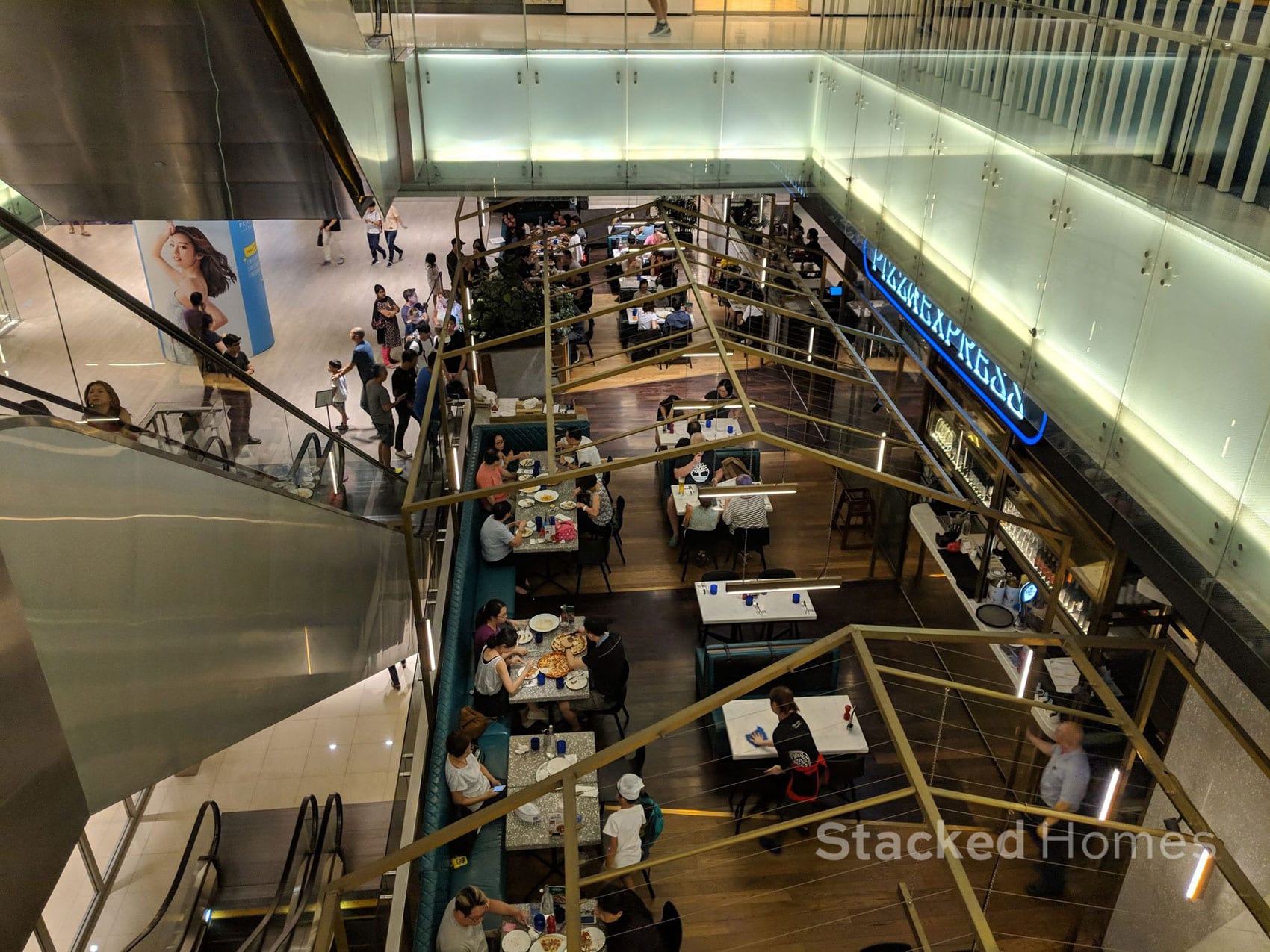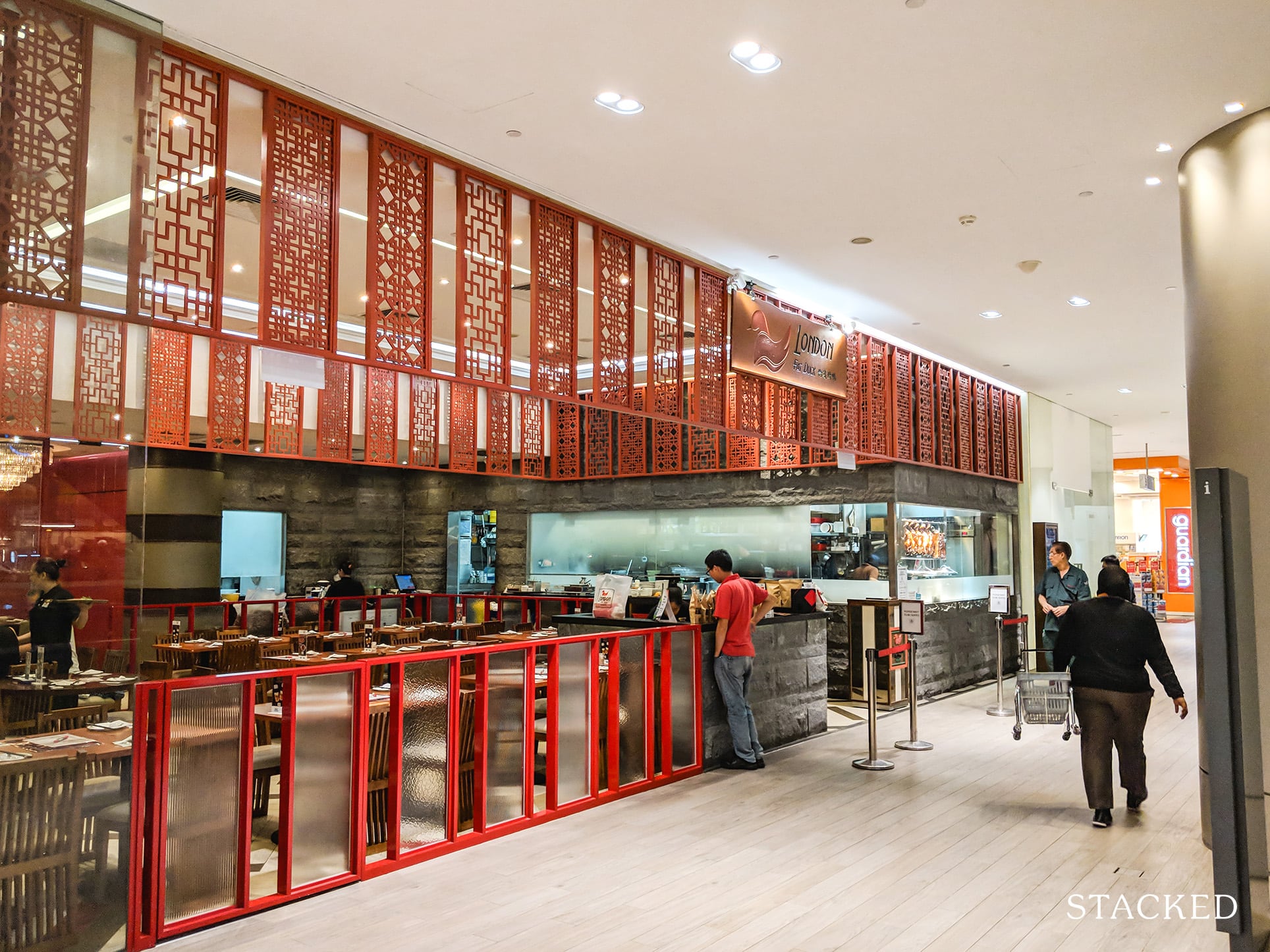 In terms of amenities, there is an NTUC Fairprice Finest right at the basement. So if you need some ingredient urgently for your dinner, it's super convenient to just nip right down to get it. It isn't 24 hours though, which is a shame. The nearest for that would be the Cold Storage at Claymore, about a 7 to 10 minute walk away.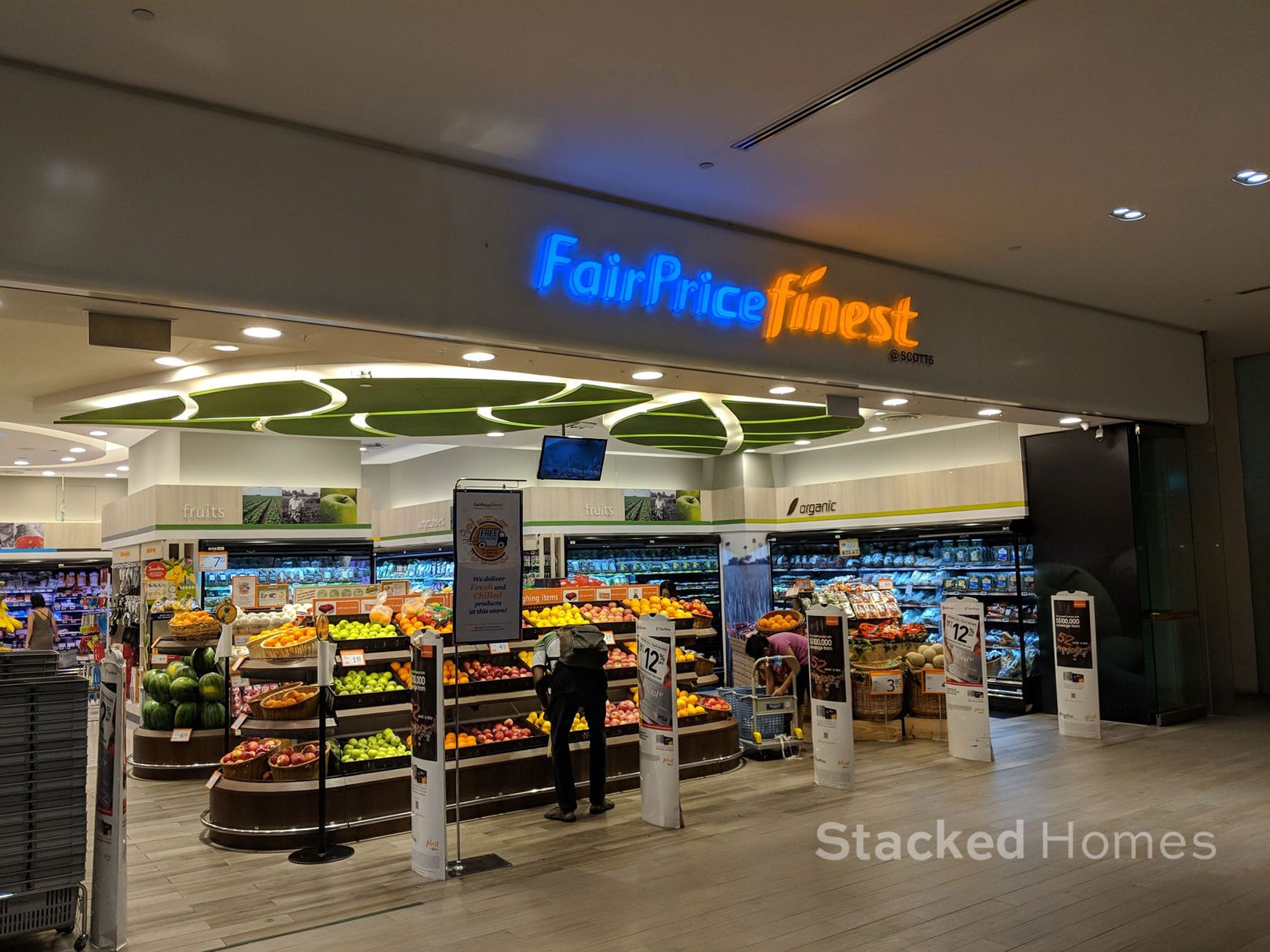 Another really attractive aspect of the Scotts Square condo is that you have very quick access to the MRT station. After coming out of the development, you can get there quickest through the underground access from Tangs Plaza. Perhaps the slight downside here would be that if it is raining, you would need your umbrella for the crossing to Tangs. In the future, once the Thomson-East Coast line is up, the connectivity would be improved even further, with the construction site being just next to Ion.
If you have to take the public bus, it is slightly less appealing here as there is no bus stop right in front of the development. The nearest would be at Tangs, which is really just a minute walk away. Being in a prime area such as Orchard, there are many buses that ply this route: NR8, NR7, NR6, NR5, NR3, NR2, NR1, 36, 77, 124, 128, 143, 162M, 162, 167, 171, 174e, 174, 190, 518A, 518, 700A, 700, 971E, 972.
One last potential cons for the location of the Scotts Square condo is the proximity to schools. The nearest would be the International Schools Singapore (ISS) and Chatsworth International School. In terms of good local schools, Raffles Girls School, Singapore Chinese Girls School and Anglo Chinese School are not too far off, but they aren't near enough to walk either. For parents with younger kids, there is a Mindchamps Preschool at Paragon and Pat's Schoolhouse at Claymore which are both in a walkable distance. However, considering the unit sizes and development, we do think that this would be a non-issue for most prospective buyers as the Scotts Square is really more for investors and couples that do not have kids or families with older and more independent children.
Development Site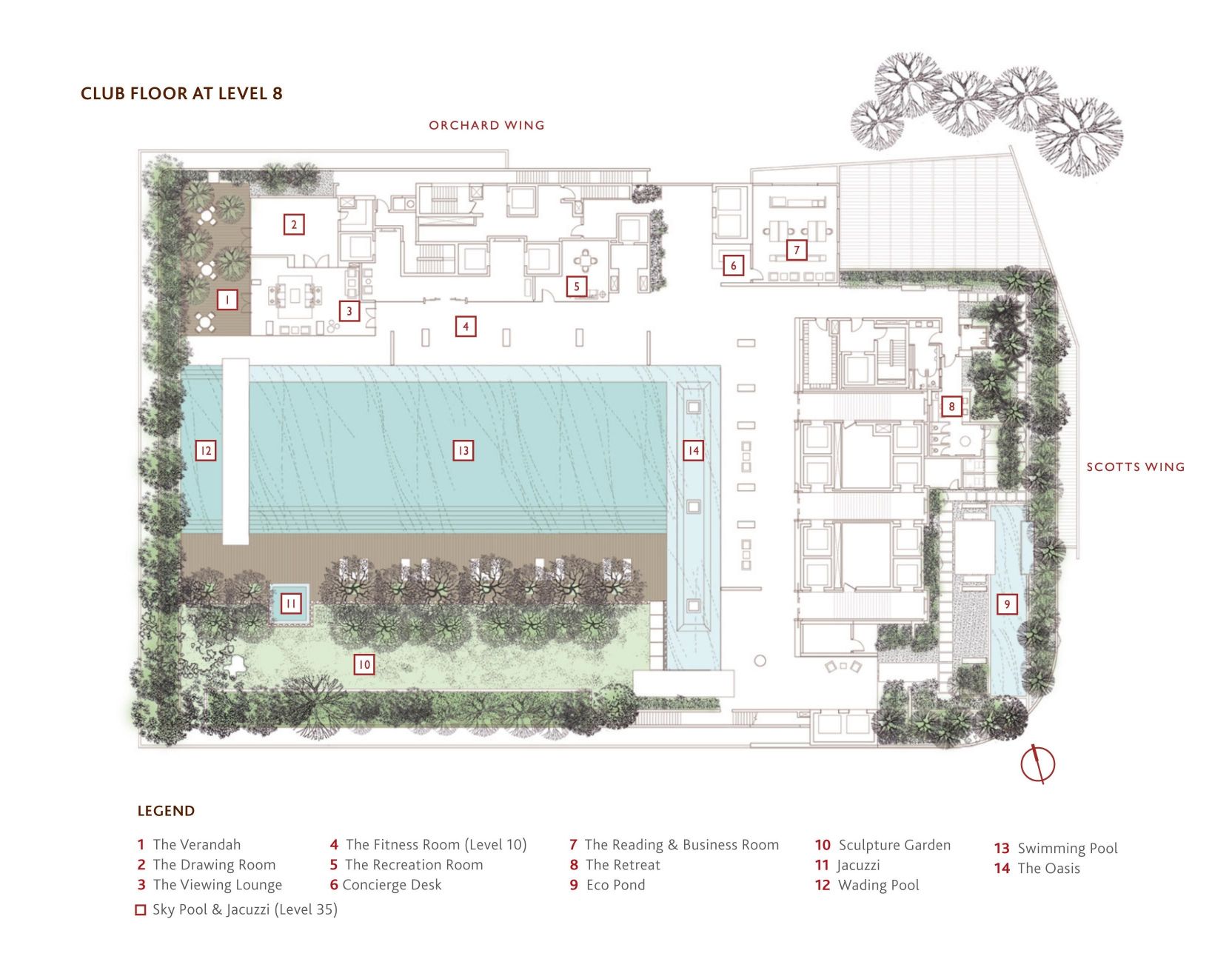 Scotts Square sits on a nice rectangular plot of land, and as mentioned earlier, is really great because it is right outside the ERP yet is super close to the Orchard shopping belt. Unfortunately, you cannot access the development via Nutmeg Road at the back (unless it's by foot) so you really only have the front entrance by Scotts Road. In any case for a prime city development, this is really good enough. One point of contention would be driving in and out, as there is a pedestrian crossing between Scotts Square and Tangs Plaza, so at peak hours traffic could build up here.
A private underground carpark is also available for residents, there isn't exactly one lot available per unit. But because the Scotts Square condo is very much geared towards rental and with such a convenient location, there will be sufficient carpark space. Unfortunately, this is strictly for residents only. So if you have friends and family visiting, they will have to make do with the main Scotts Square carpark. If they visit after 6 pm this is just $5 per entry!
The unit mix of the Scotts Square condo is limited to just 3 categories:
Unit mix

| Unit Type | Size (sqft) |
| --- | --- |
| 1-bedroom | 624 – 635 sqft |
| 2-bedroom | 893 – 947 sqft |
| 3-bedroom | 1227 – 1249 sqft |
We are quite surprised at the generous size of each unit for a prime condo development, especially considering new launches nowadays are already at a 2 bedroom for 600 plus sqft and so on. The private lift lobby does take up some space, but it is still very very liveable. Unfortunately for penthouse fanatics, there is none of that sort here, with the biggest apartment coming in at 1249 sq ft. So if you need any more space than a 3 bedroom, the Scotts Square condo would definitely not be able to fit your needs. 
The development also comes in two wings, the Orchard Wing and the Scotts Wing. The Orchard Wing goes up to 35 floors and the Scotts Wing, at 43 floors.
Insider Tour
The Verandah
Dining Room
Viewing Lounge
Gymnasium
Recreation Room
Concierge
Reading/Business Room
Jacuzzi
Wading Pool
Main Lap Pool
Sky Pool
For a condominium right smack in the middle of town, the Scotts Square condo has quite an impressive number of facilities. There are even 2 swimming pools for you to pick from whatever you fancy.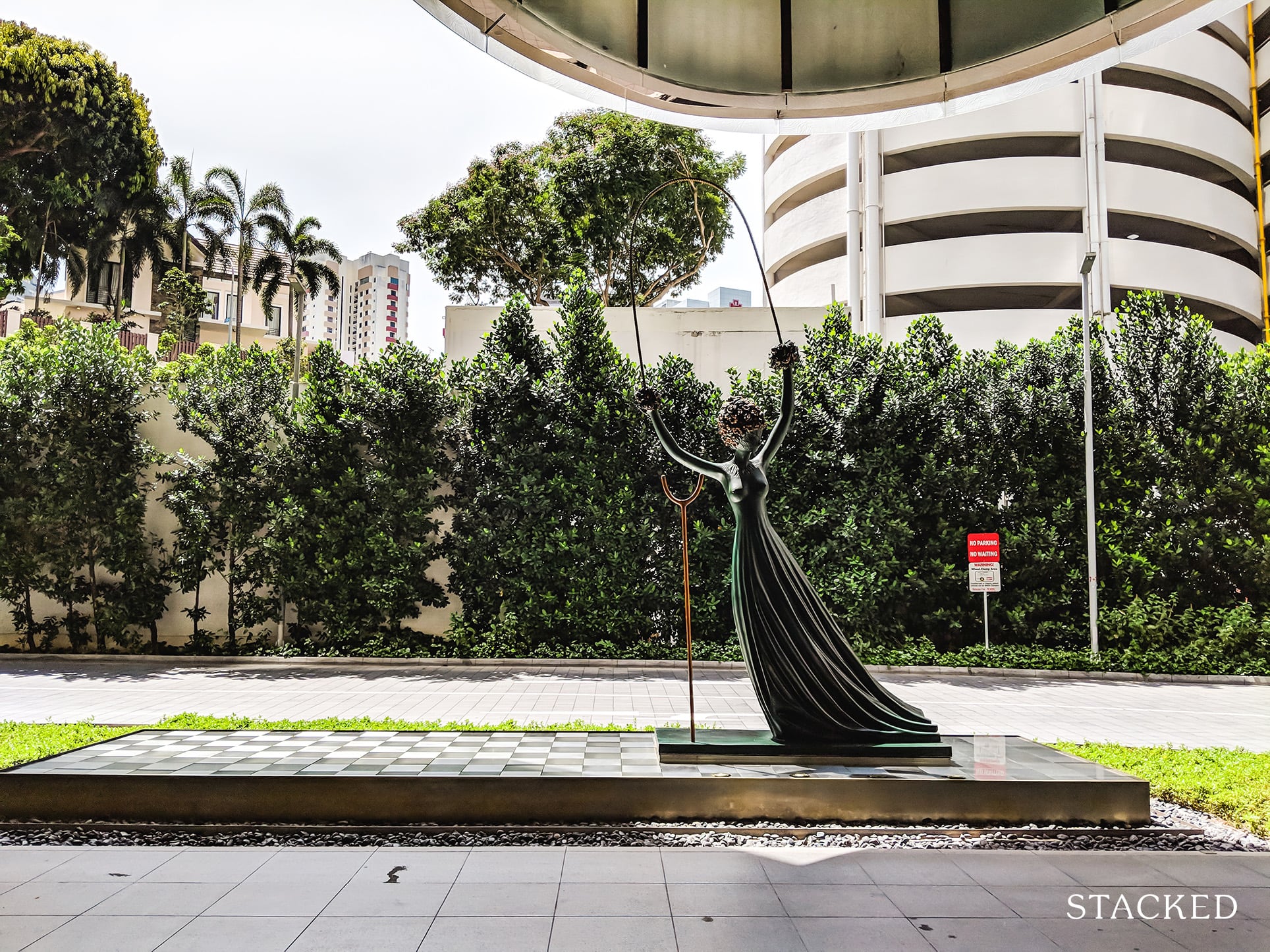 The condo has a very spacious and welcoming drop off point at the back of Scotts Square. Upon arrival, it really feels like you have arrived at a city hotel.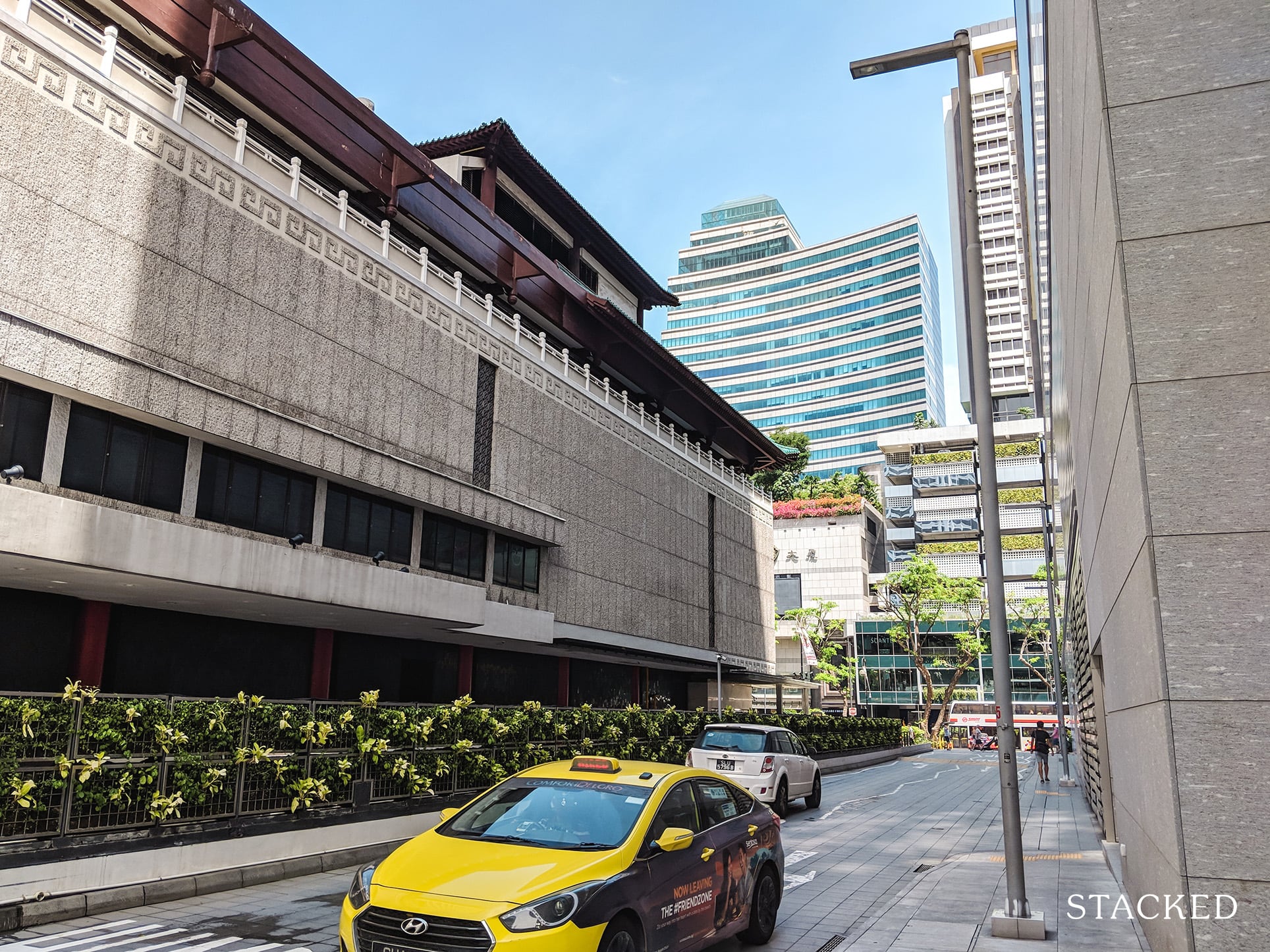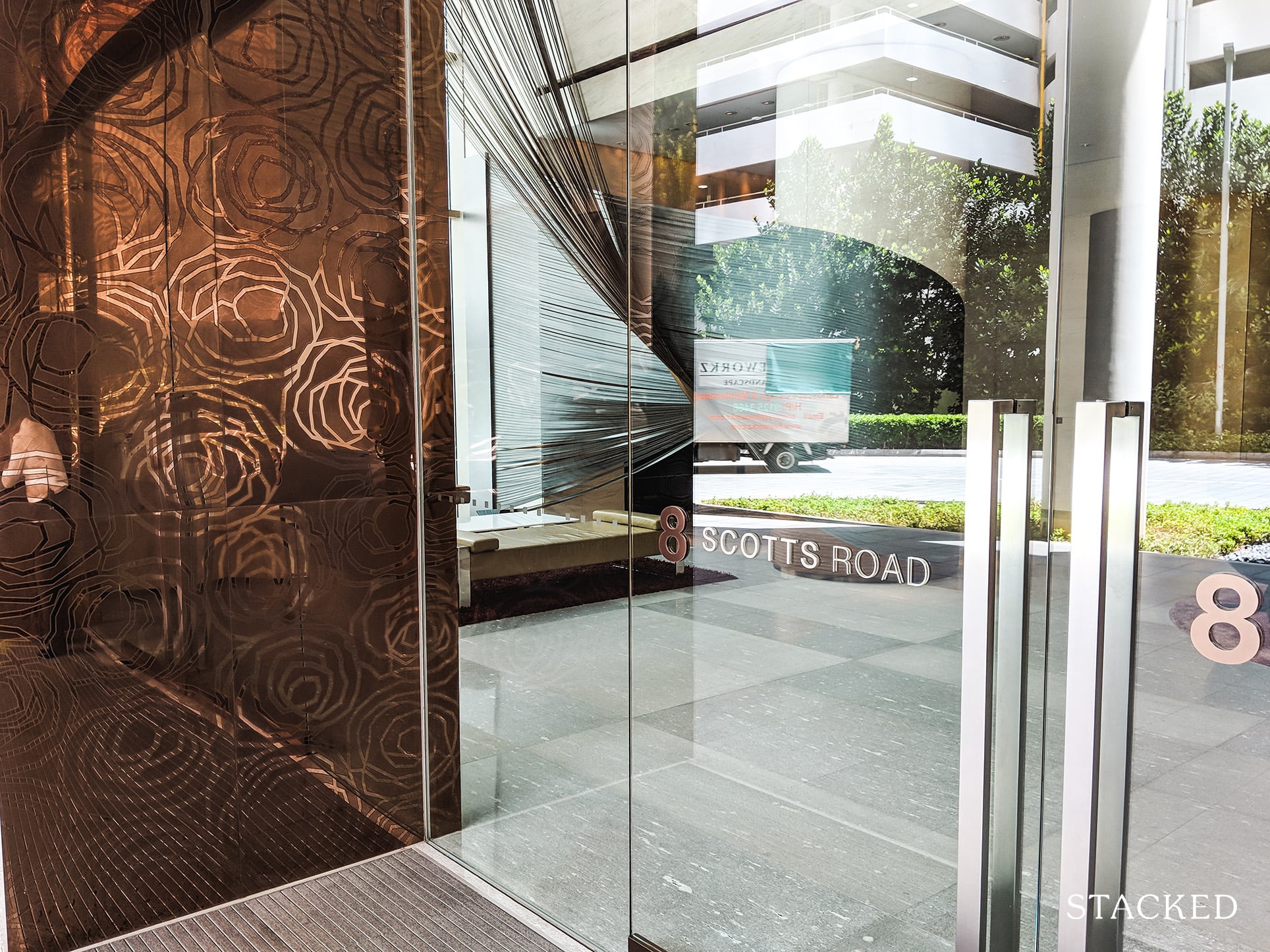 The Scotts Square lobby can only be entered via your keycard, which prevents non-residents from entering the premises. There is also a security guard that is stationed there for additional checks.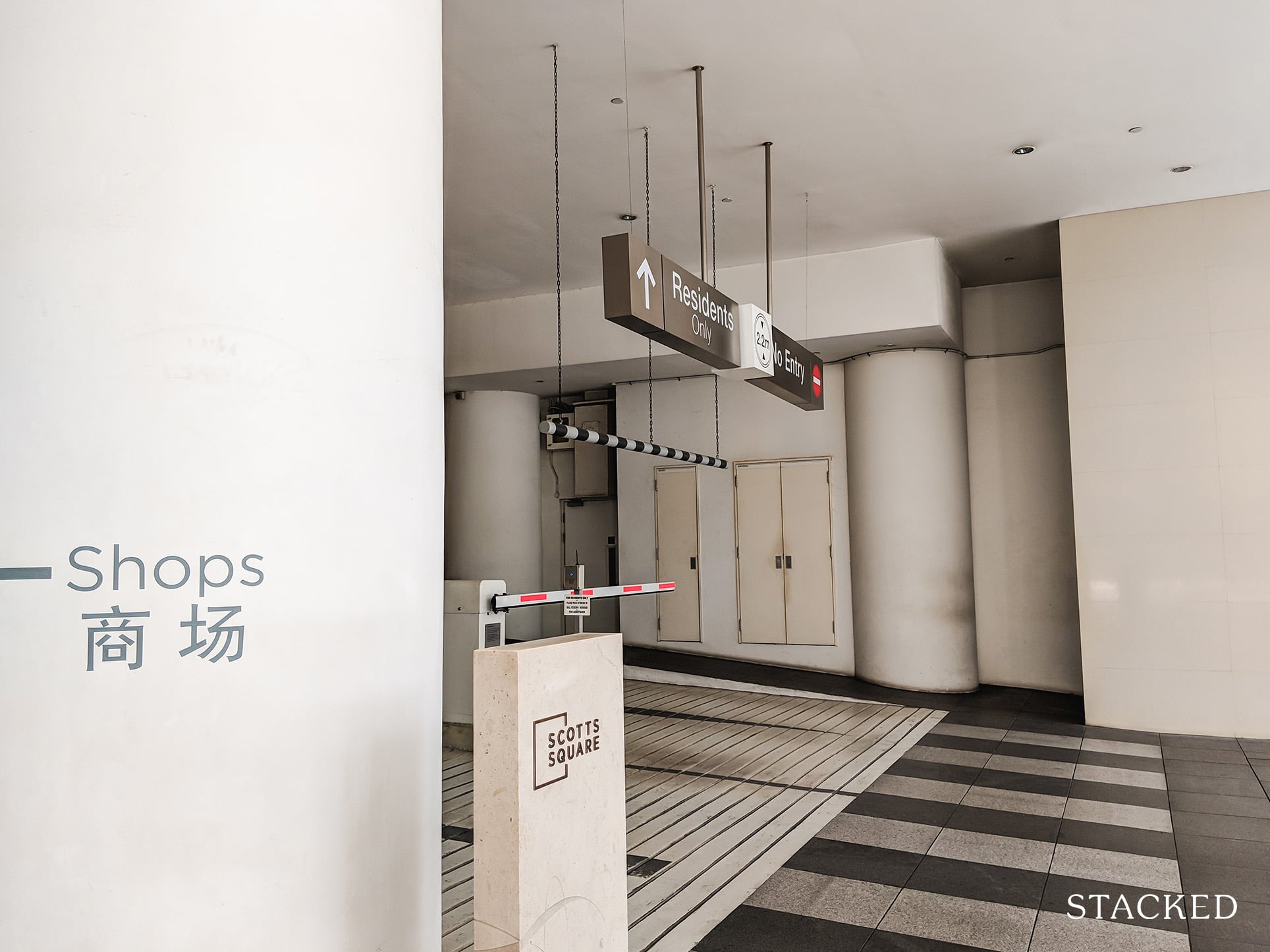 The Scotts Square condo residents carpark is on the right, and as mentioned, is strictly for residents. For friends and family who are visiting, they will have to park at the main Scotts Square carpark.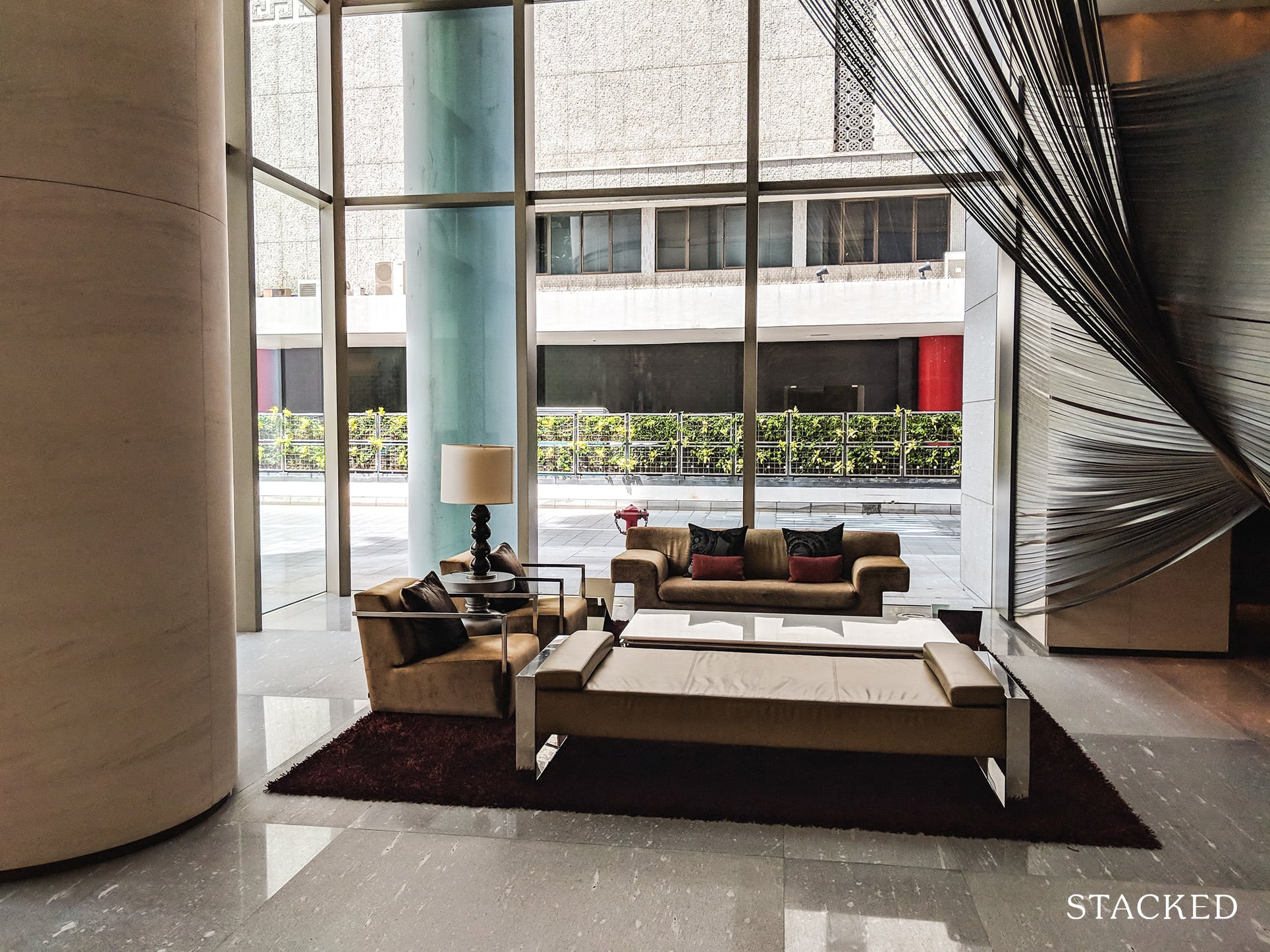 Once you are in, the lobby has a seating area. For the few minutes we were there, there were many pickups and drop-offs by taxi, which just shows the number of rentals there are at Scotts Square.
You have to take a lift up to the main area of the condo. Just like how you would at a city hotel where the hotel is positioned on the top floors of the building. To some people, this might be a slight annoyance as you will have to take two different lifts to get home every day.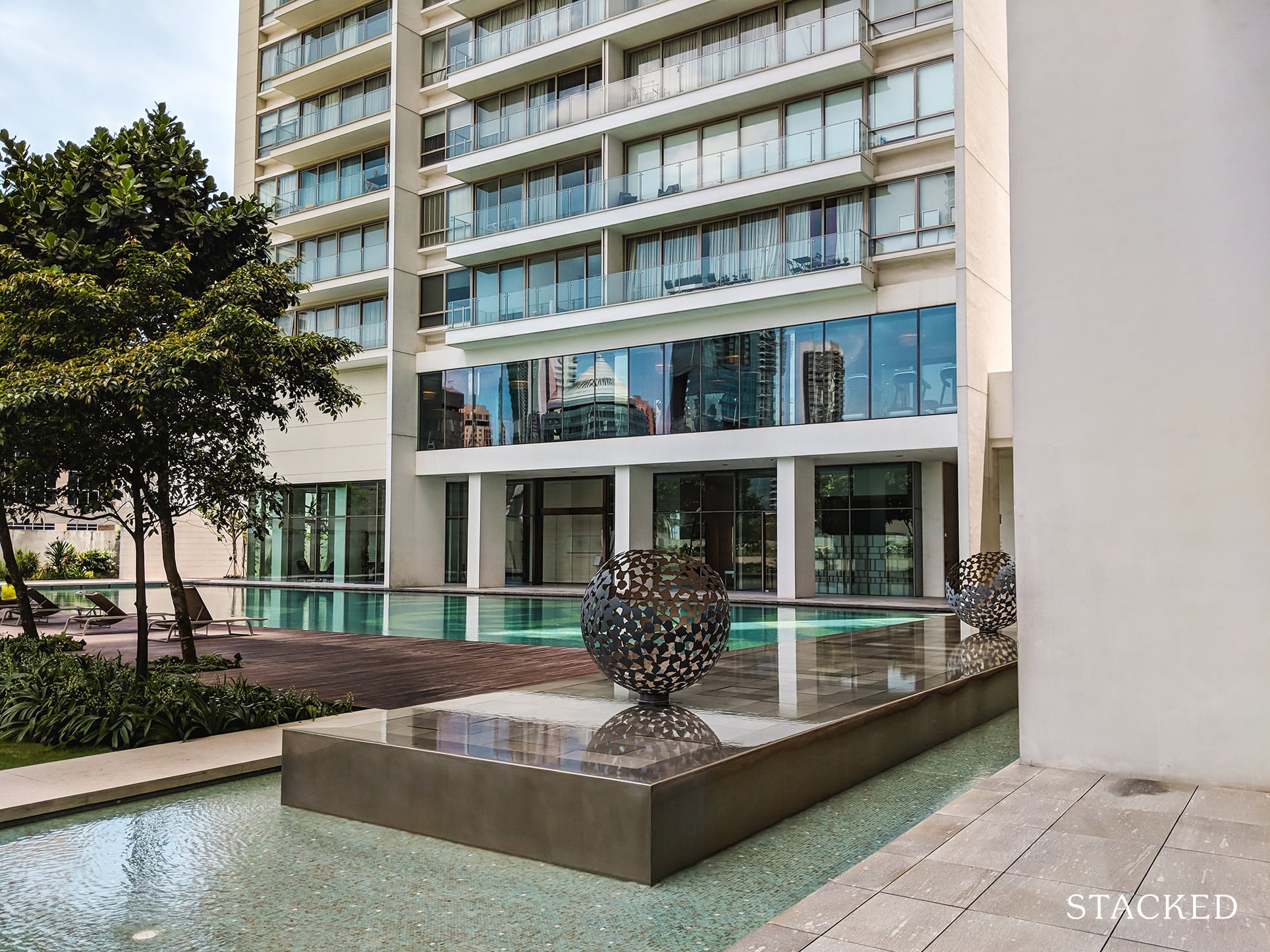 Once you step out, you are immediately greeted with this magnificent view. First impressions are fantastic as it feels very luxurious and relaxing. Again, the feeling is very reminiscent of a high-end hotel.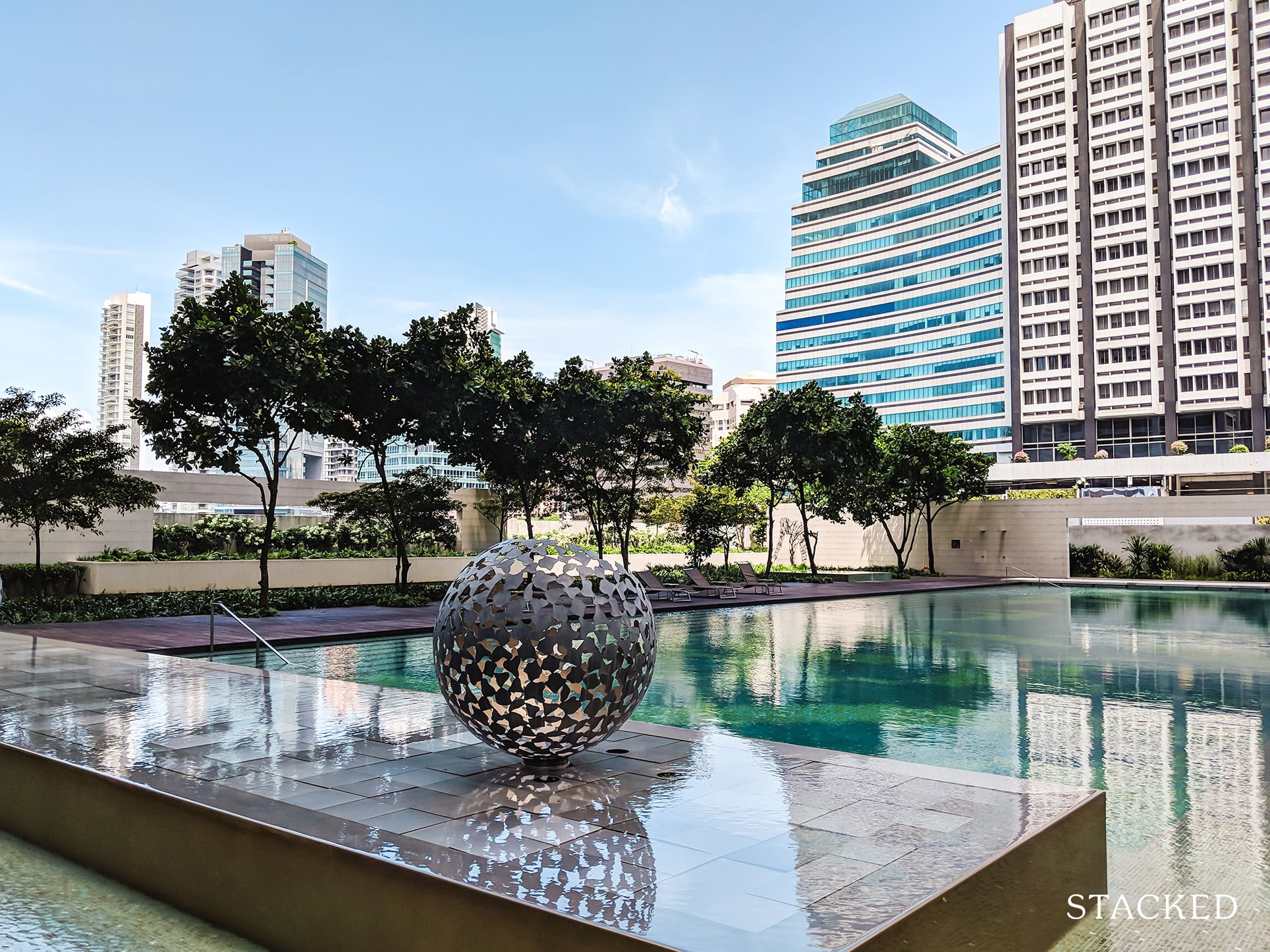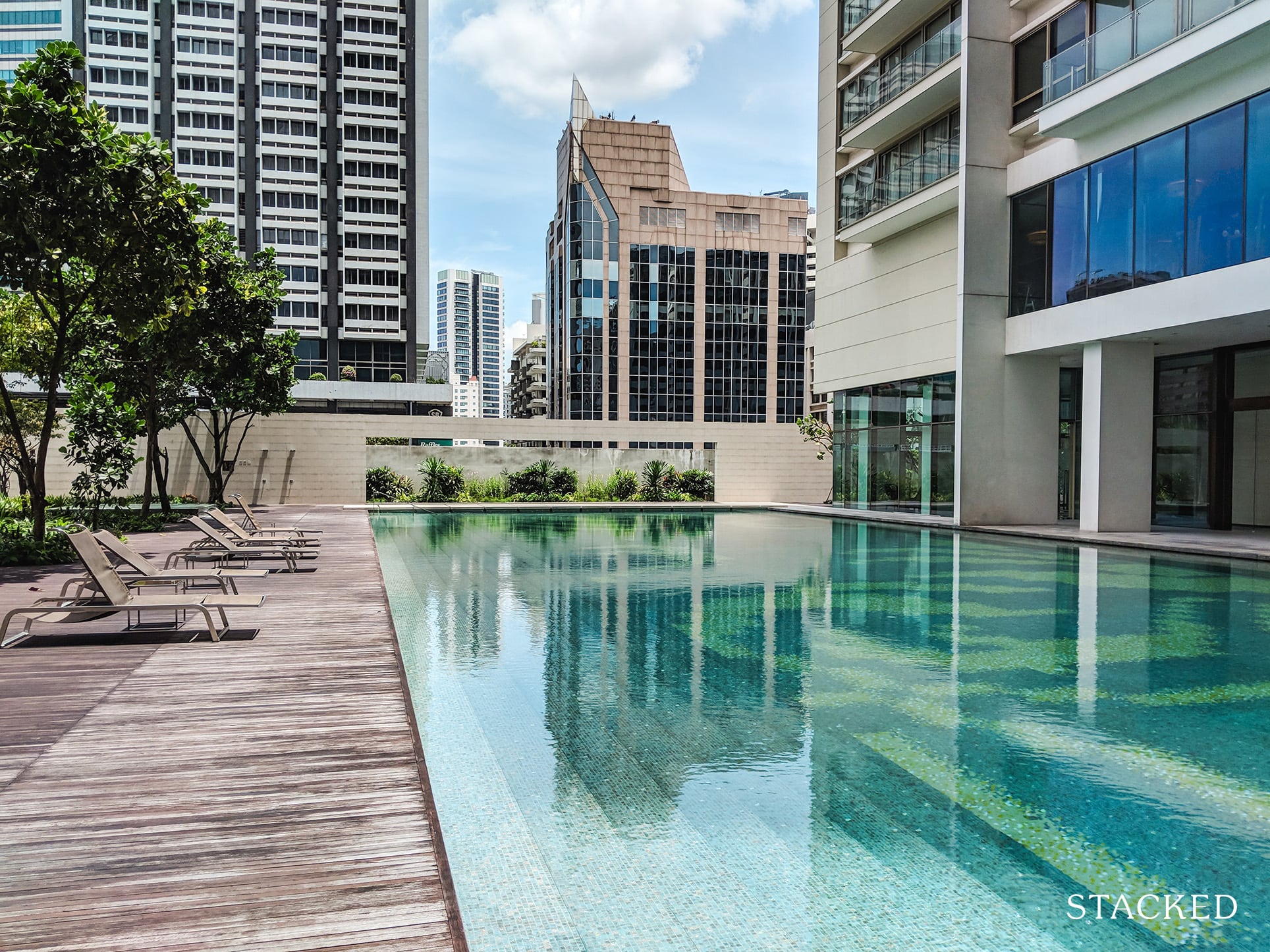 The swimming pool at the Scotts Square condo is remarkable. The size is great for proper swimming and the lighter coloured tiles give off a very relaxing vibe despite it being in the middle of the city. There are a couple of deck chairs at the side, but we can't help but feel that it would have been so much better with some cabanas instead to complete the look.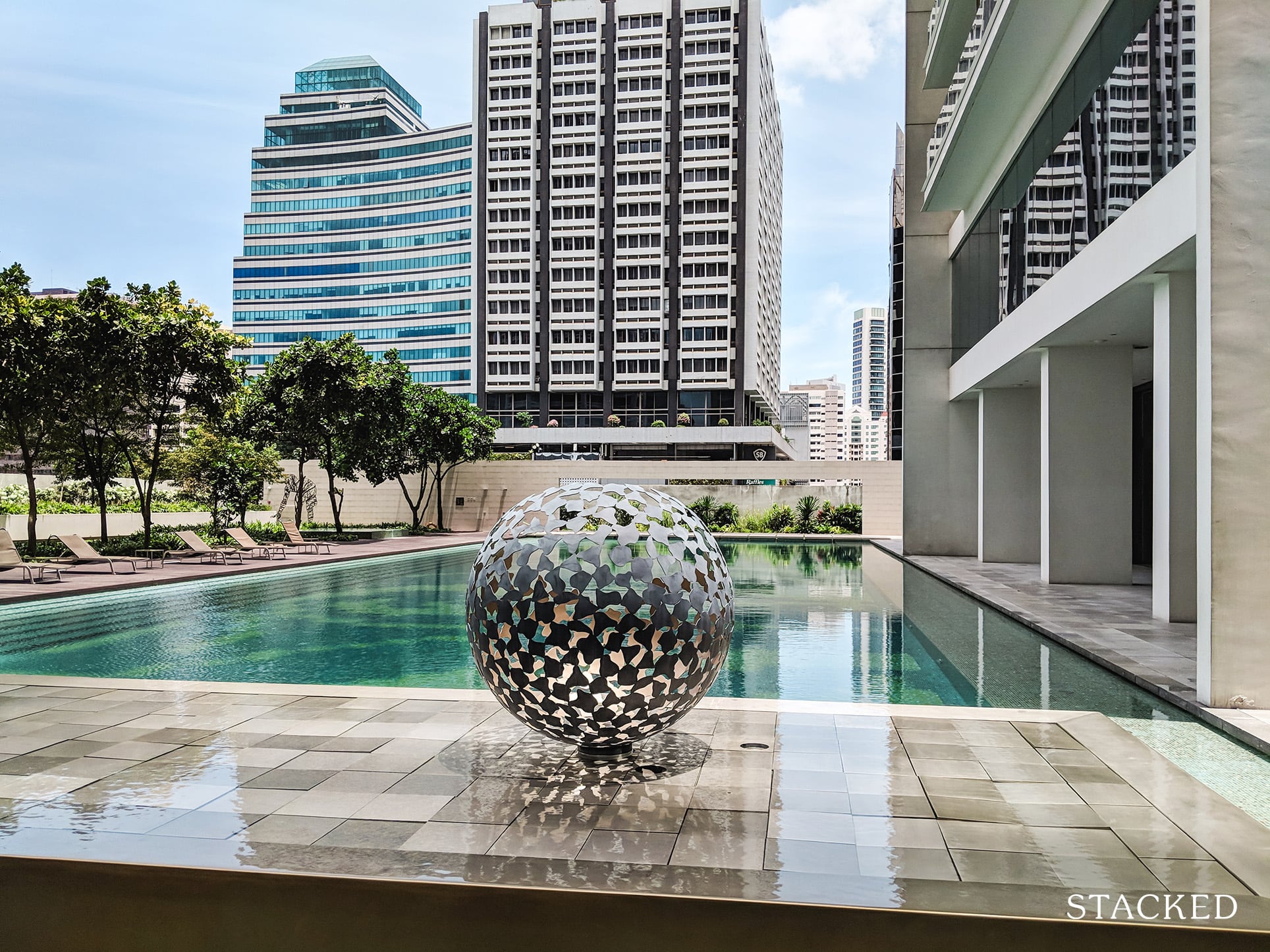 The fountain area occupies quite a sizeable amount of space, but it does contribute to the high-end feel of the place.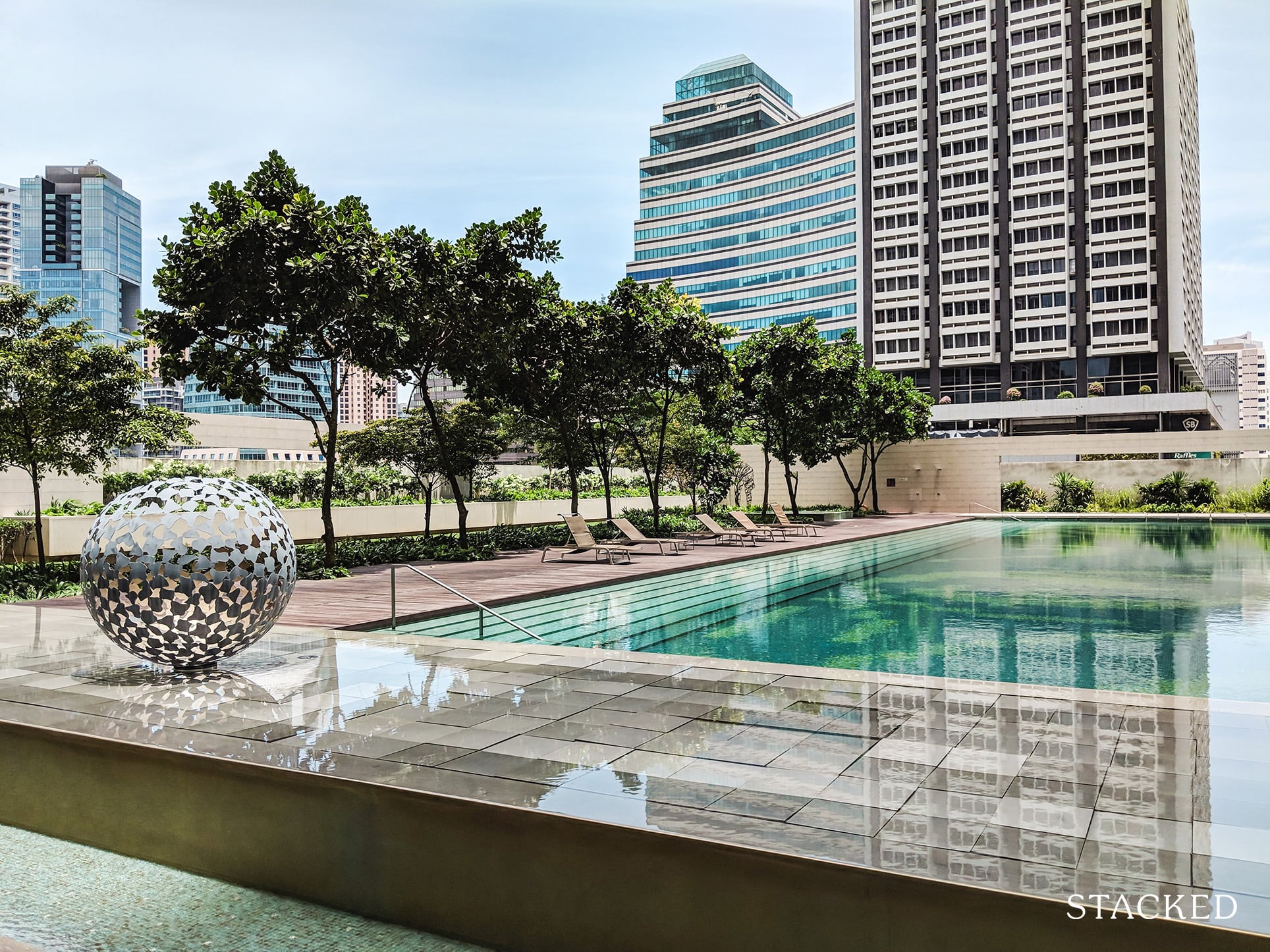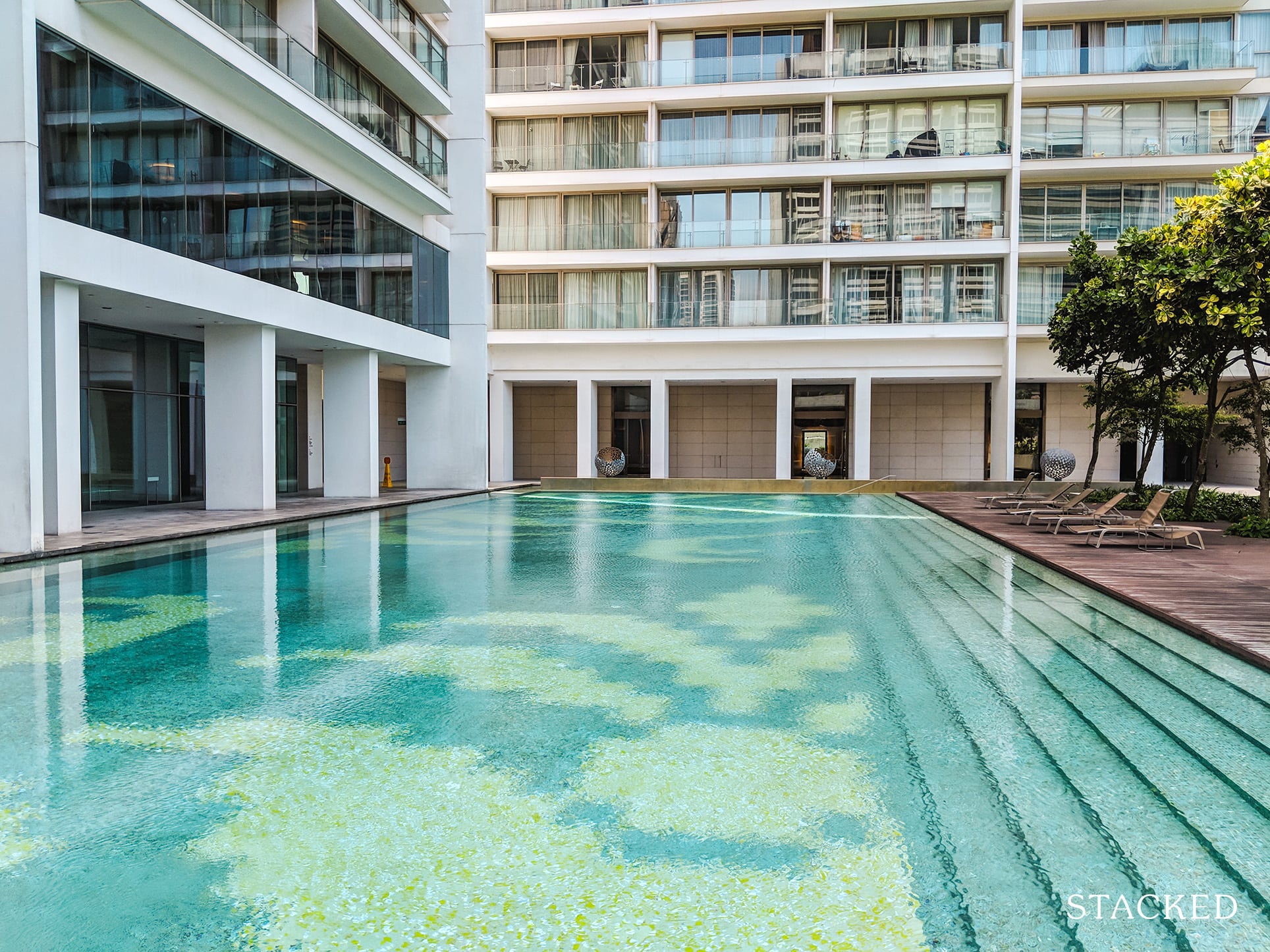 Despite the boisterous location, it is relatively quiet up here. I think it's safe to say we are big fans of the swimming pool at the Scotts Square condo.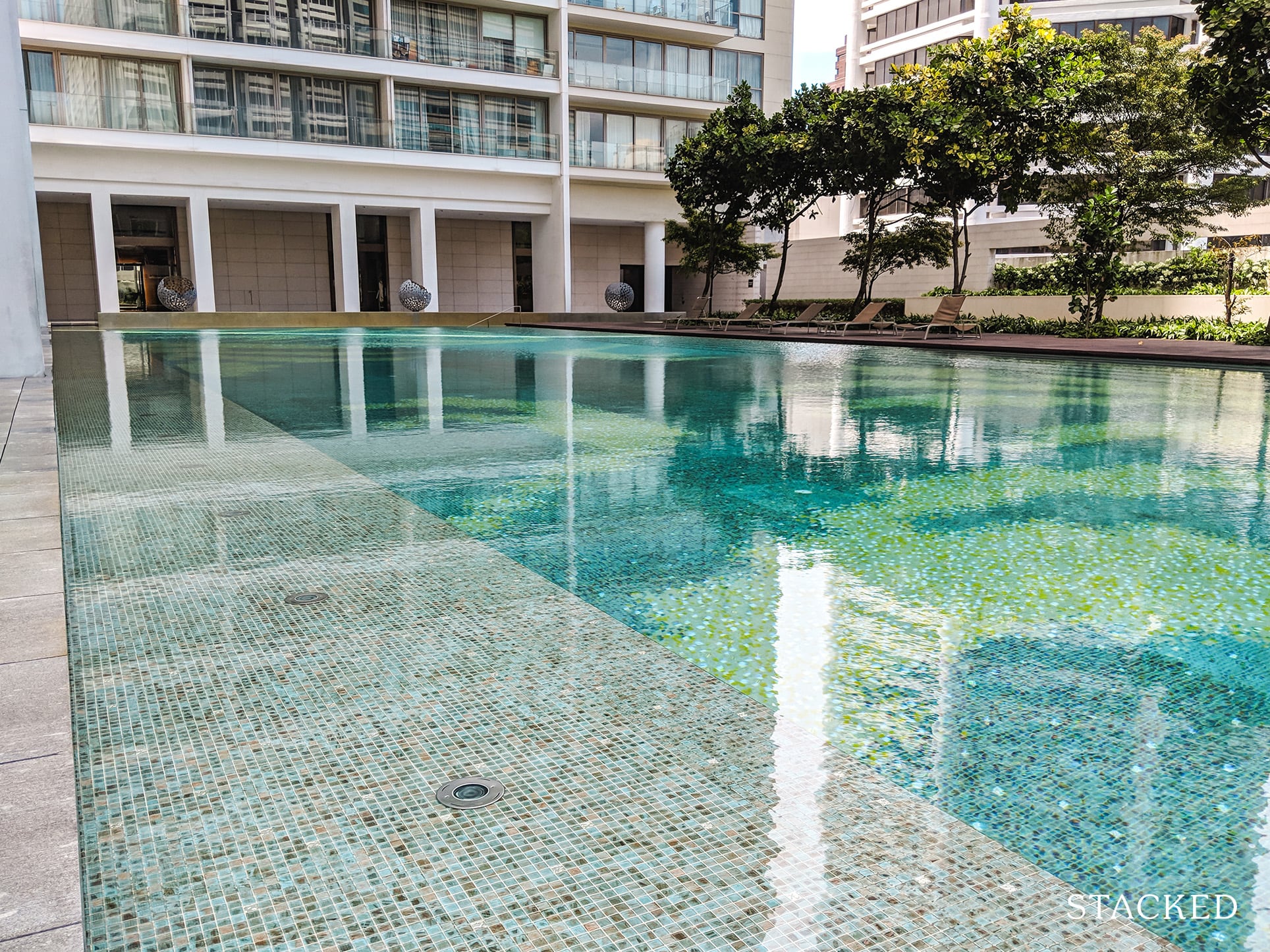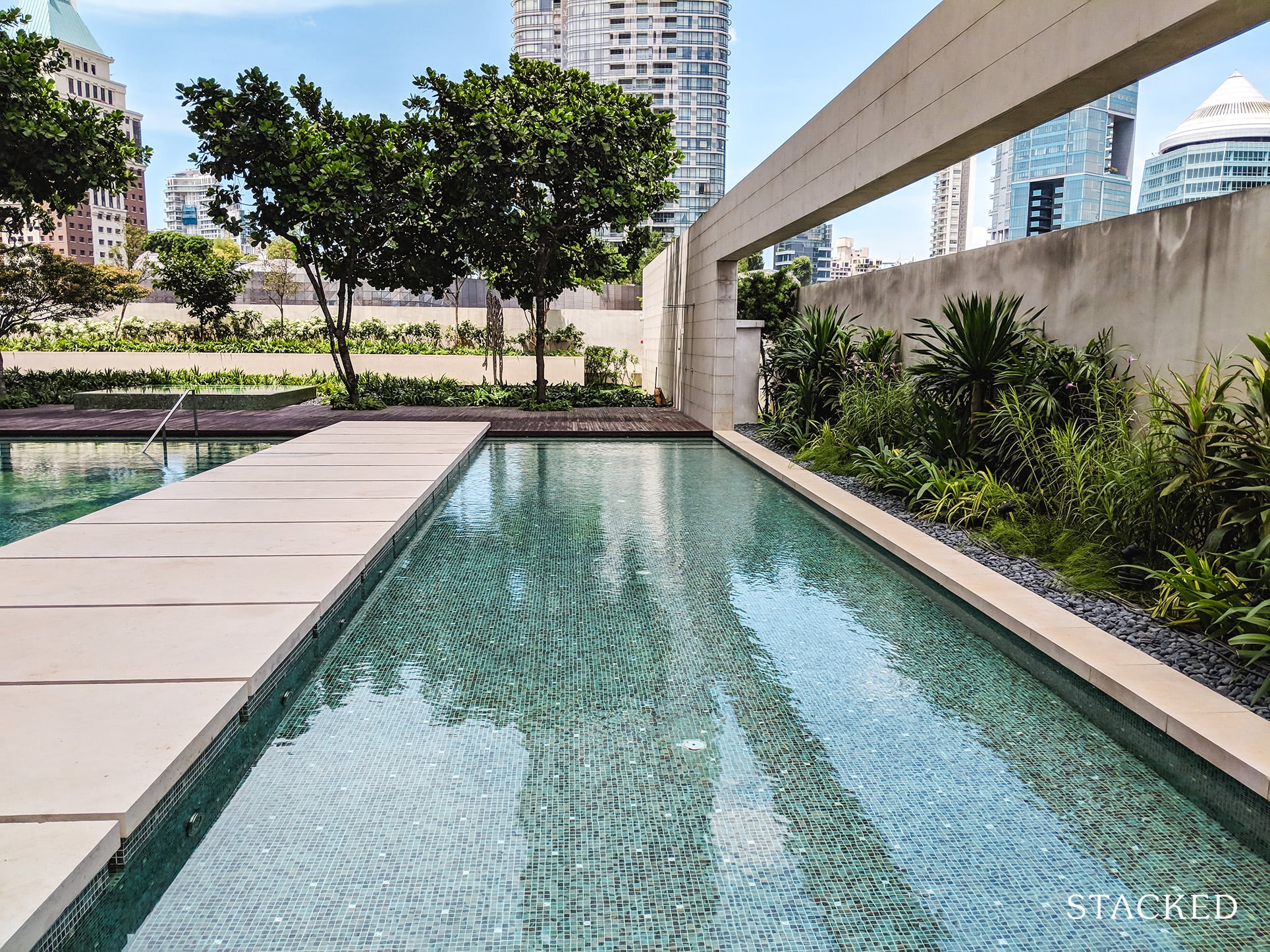 There is a wading pool at the side for children as well.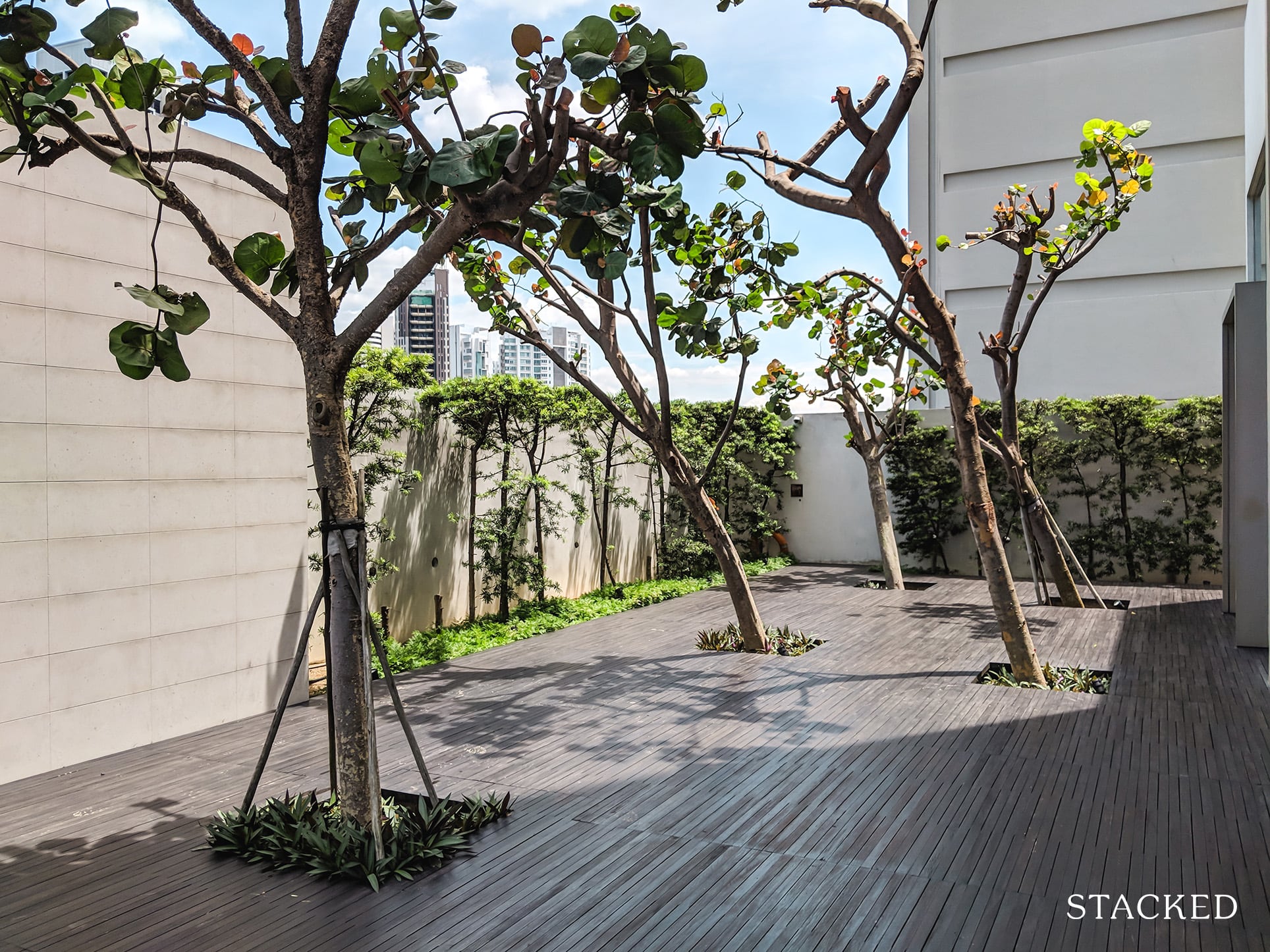 A verandah area which perhaps would be better if it was turned into a BBQ station.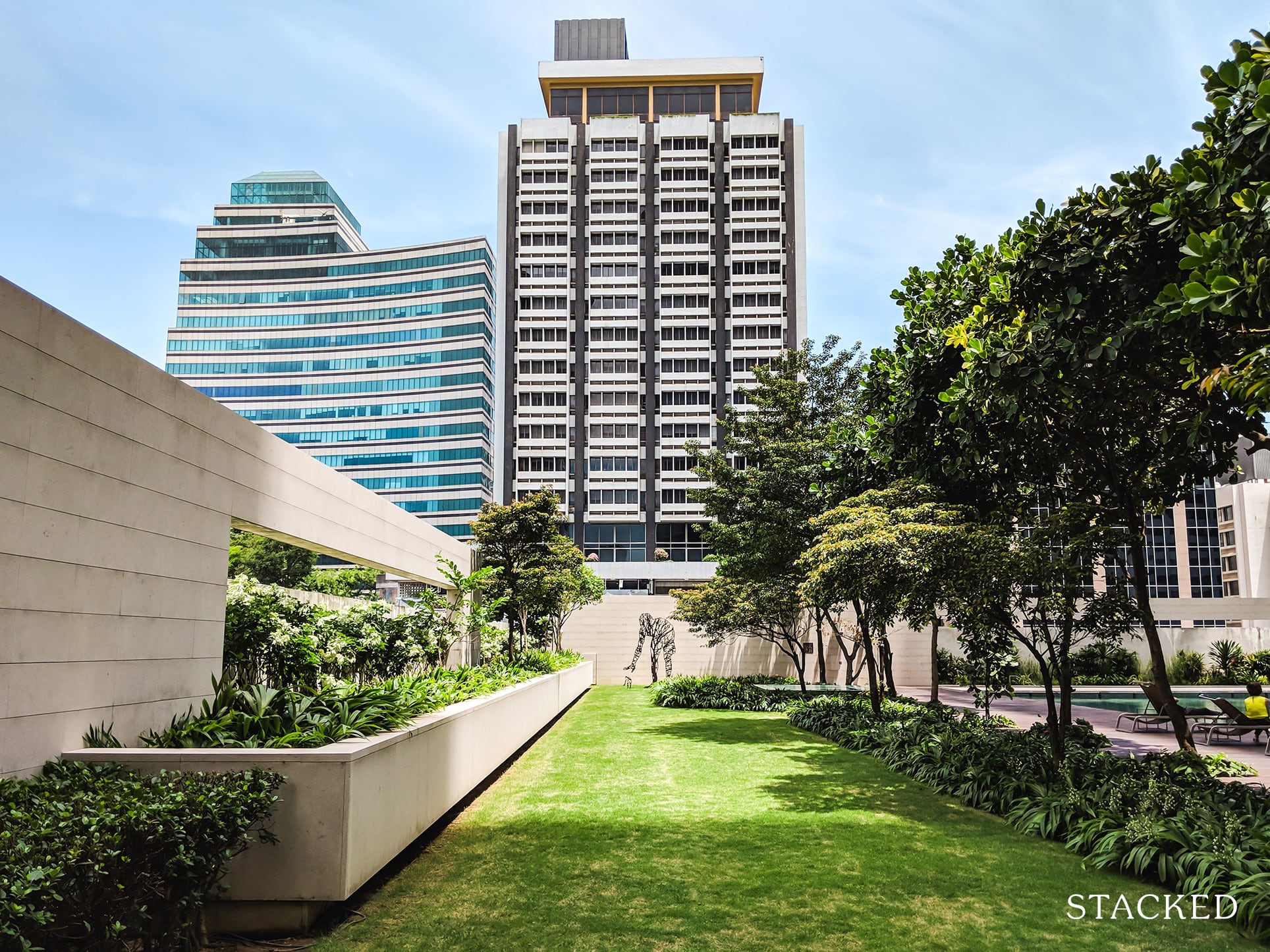 Read this next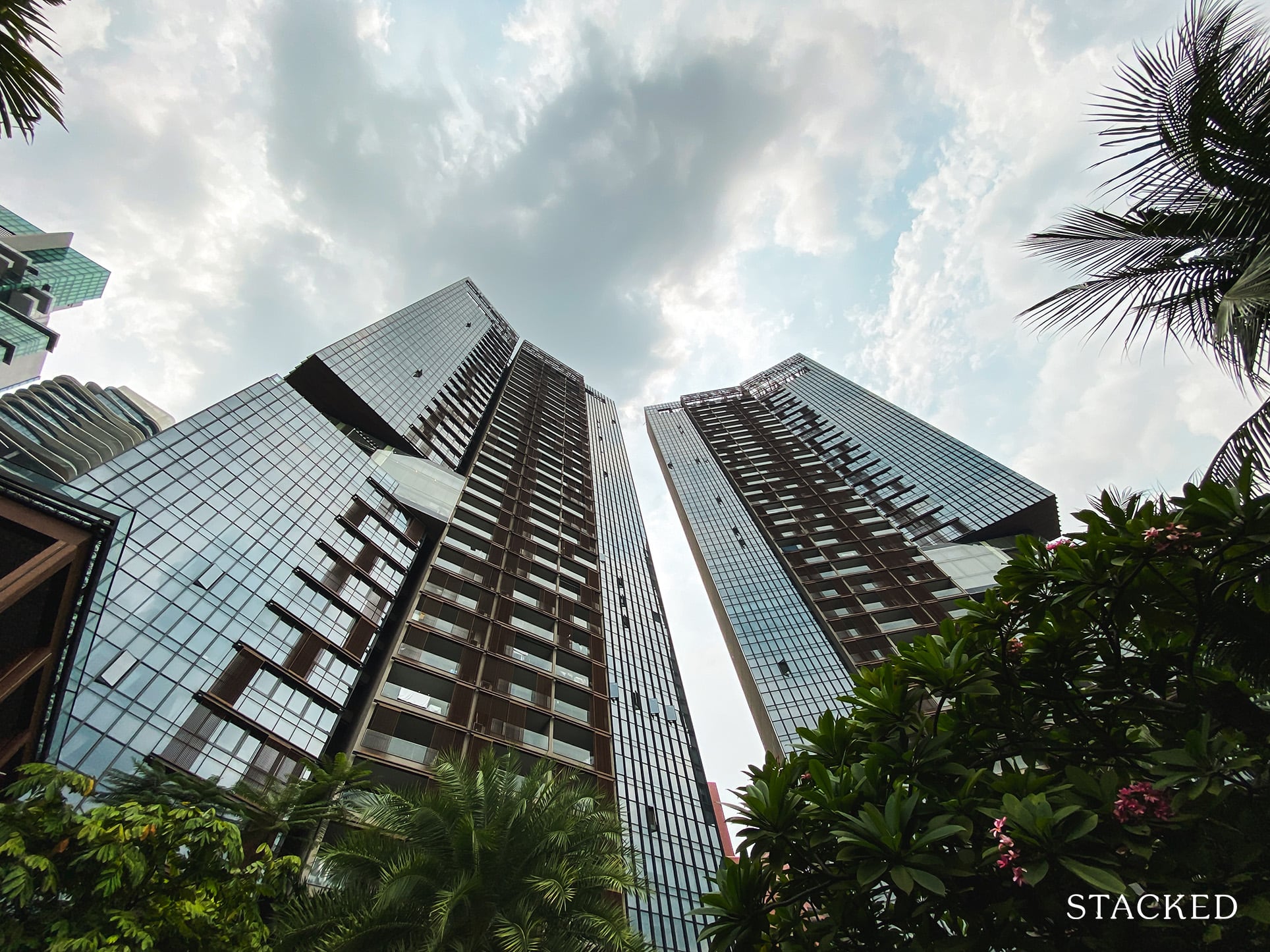 At the side of the swimming pool is a small garden area, which does provide some greenery which is a great respite from the concrete-ness of the city.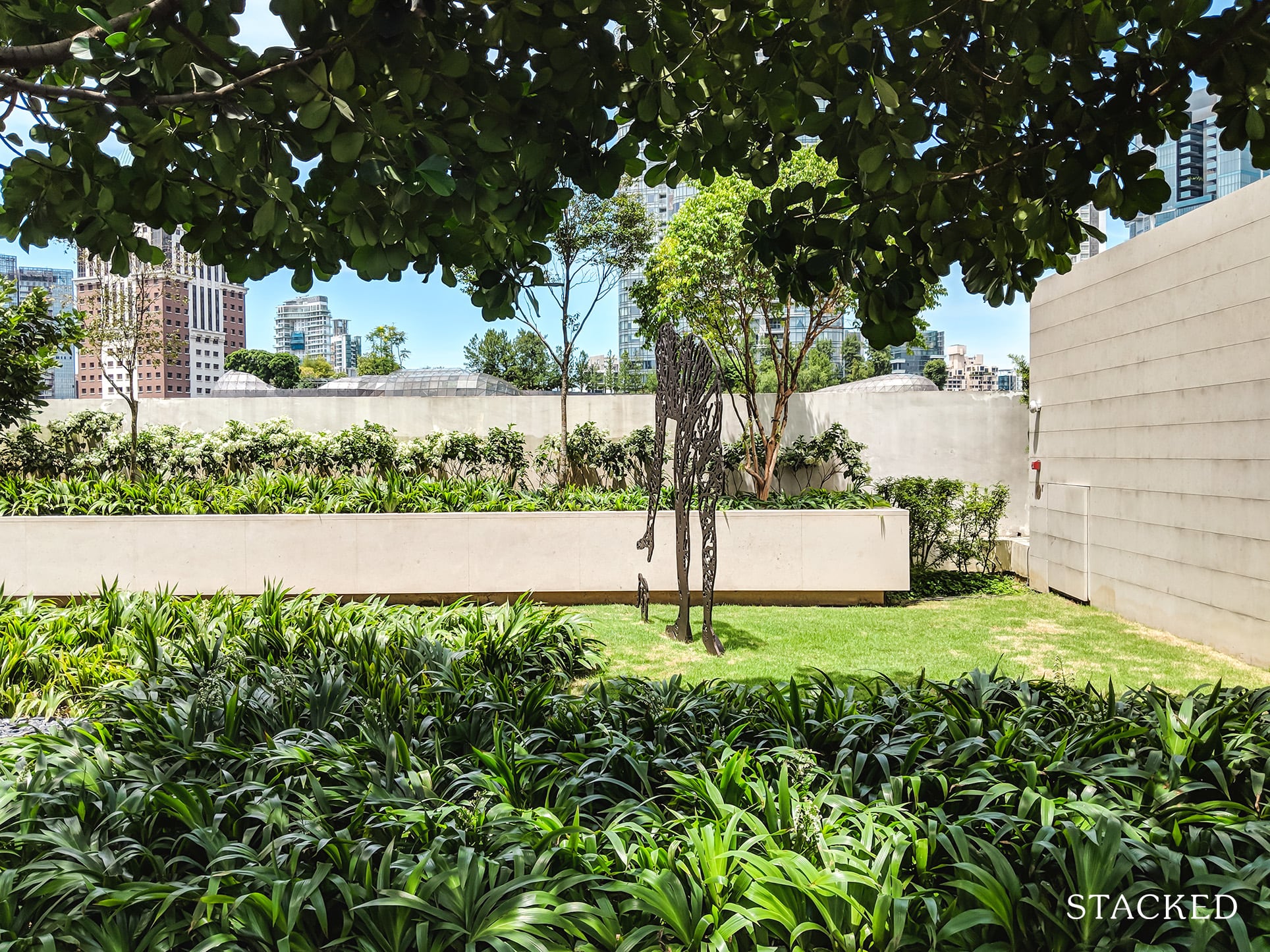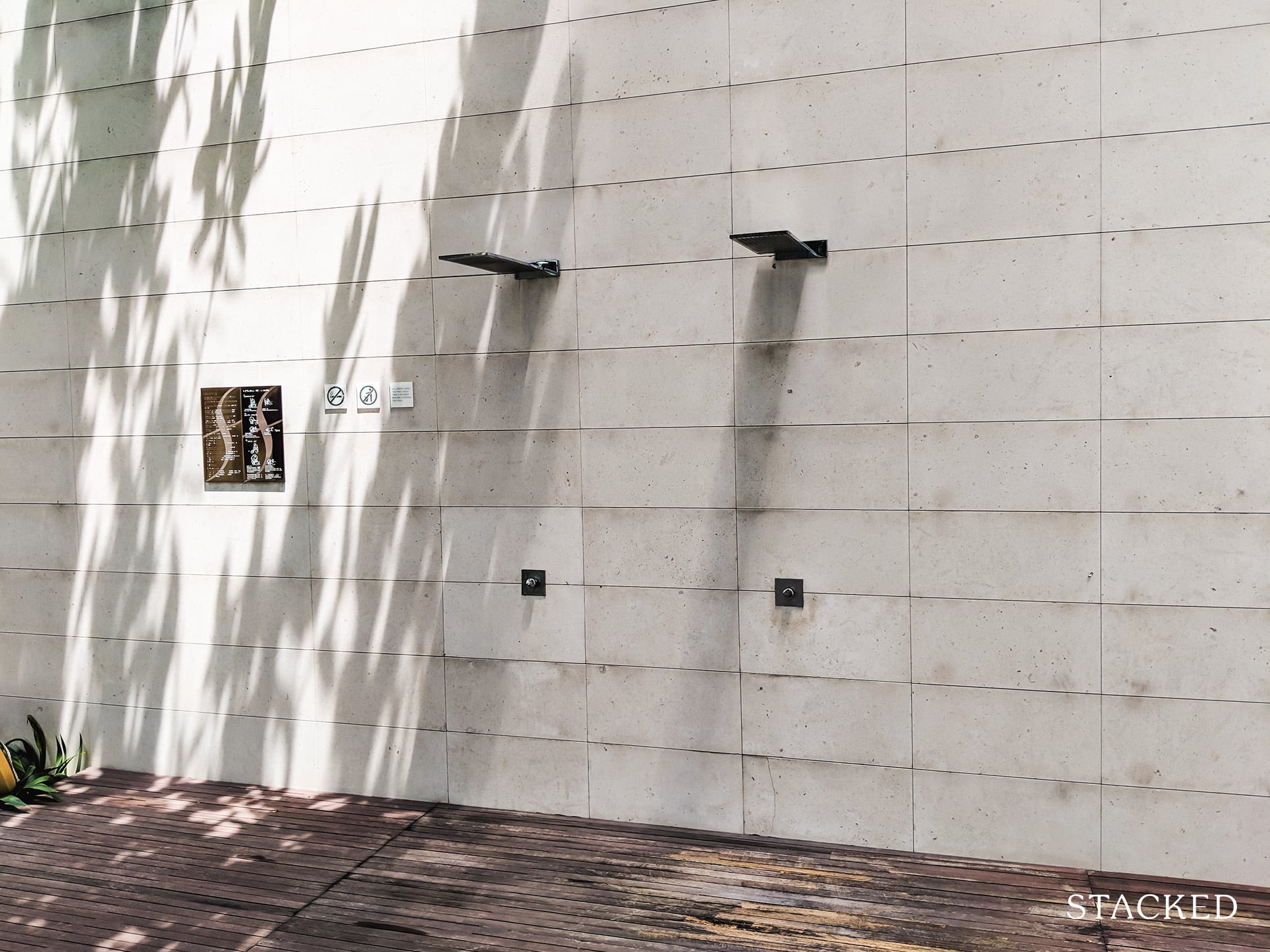 Of course, there is also an open shower by the swimming pool.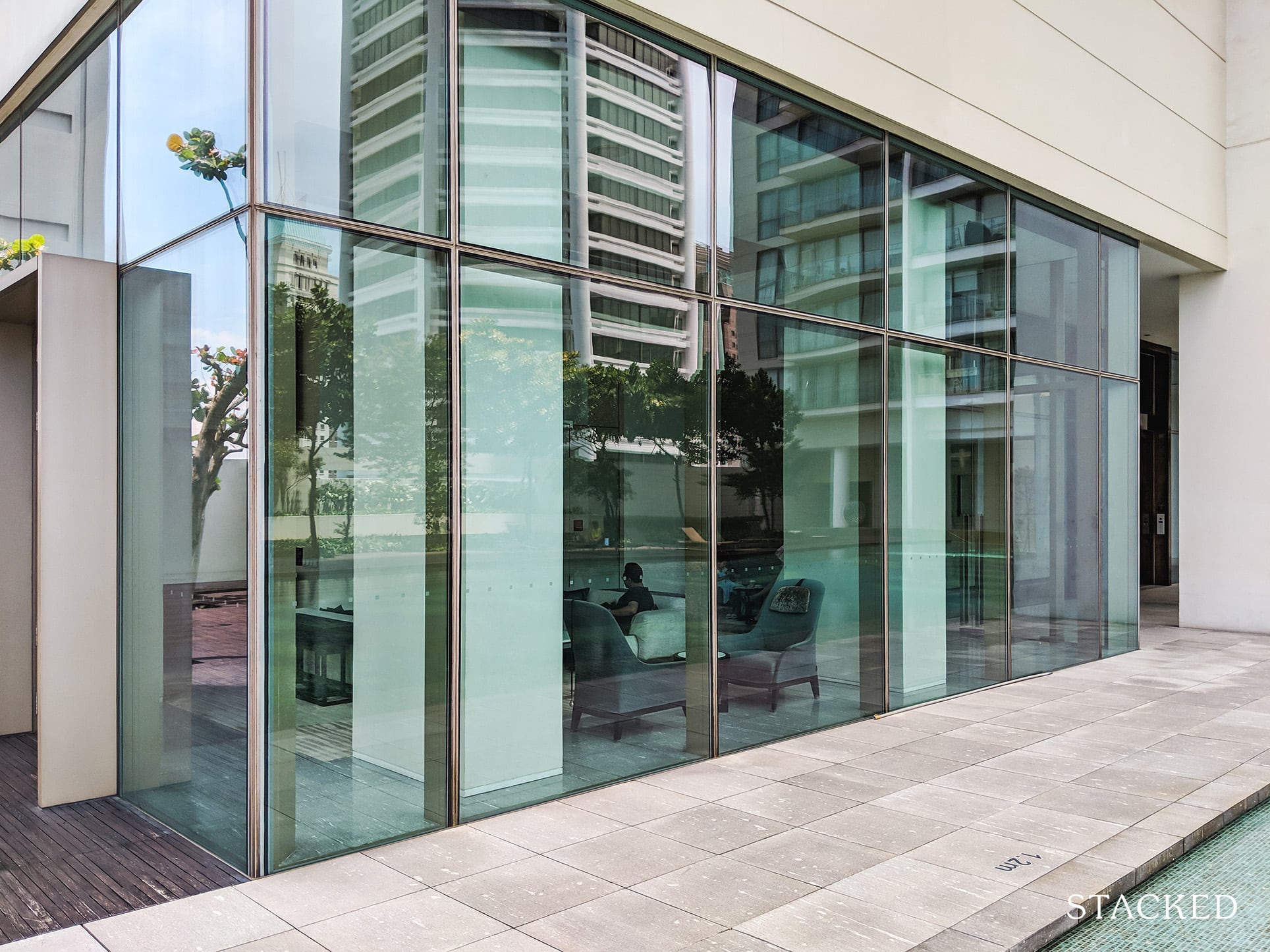 Just by the swimming pool is a lounge area, with comfy sofas overlooking the pool.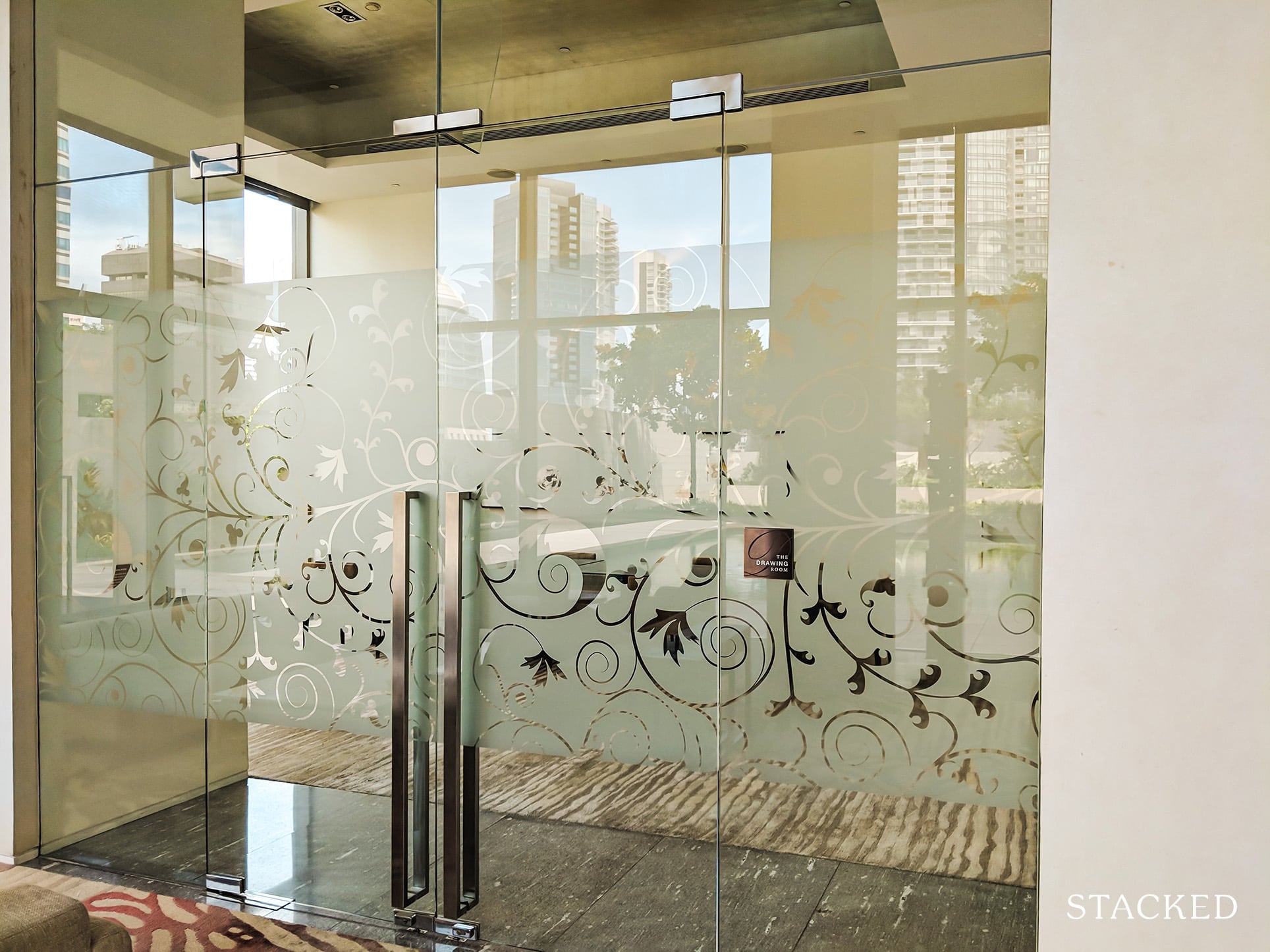 Located inside the lounge is a dining room which you can book to host your guests and have a dinner party.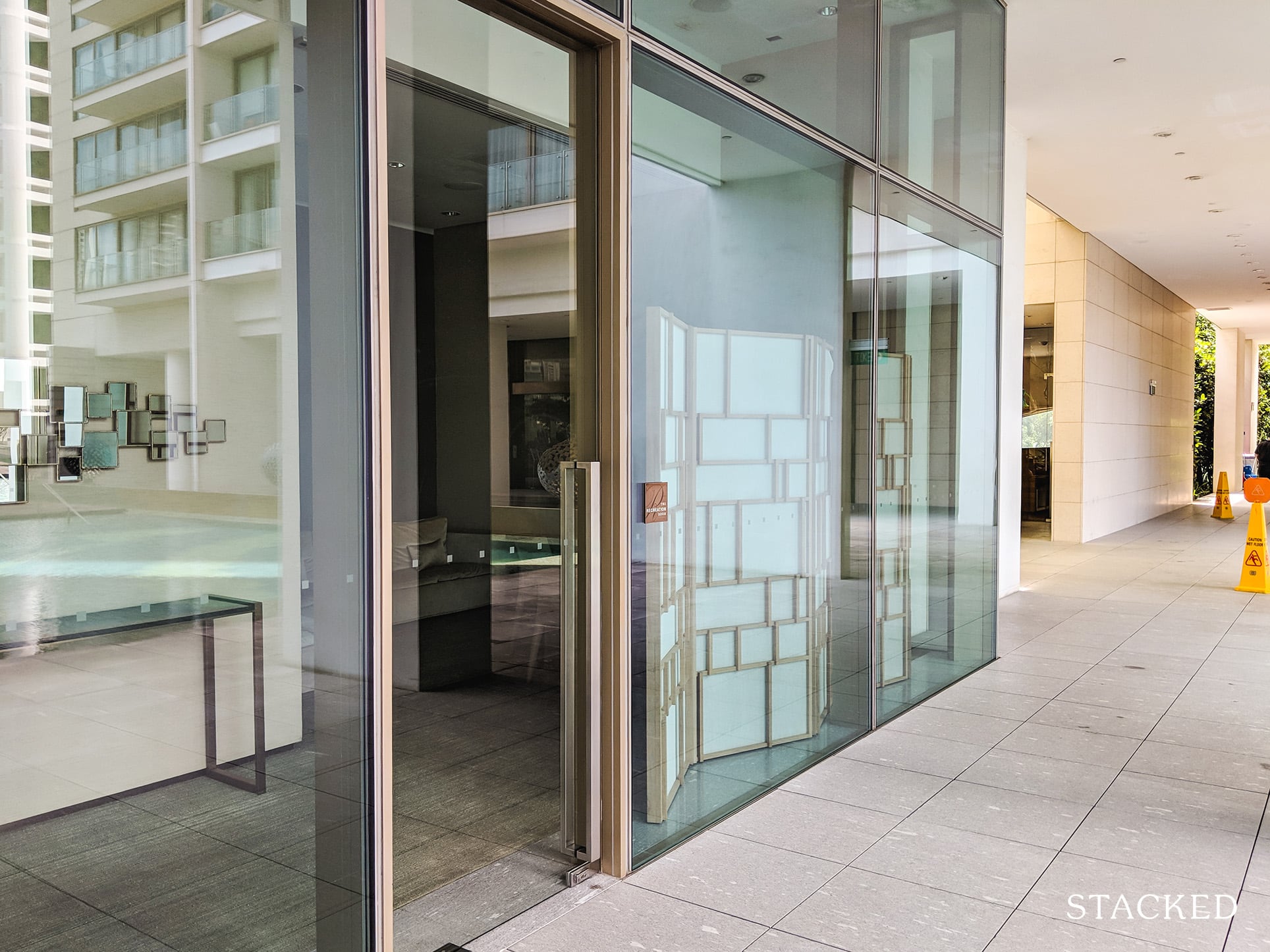 And further down there is a recreation room as well.
At the corner is the concierge desk. You can actually instruct your deliveries to be sent here in the event you aren't at home and collect it once you get back. We can imagine this feature coming in handy for many people.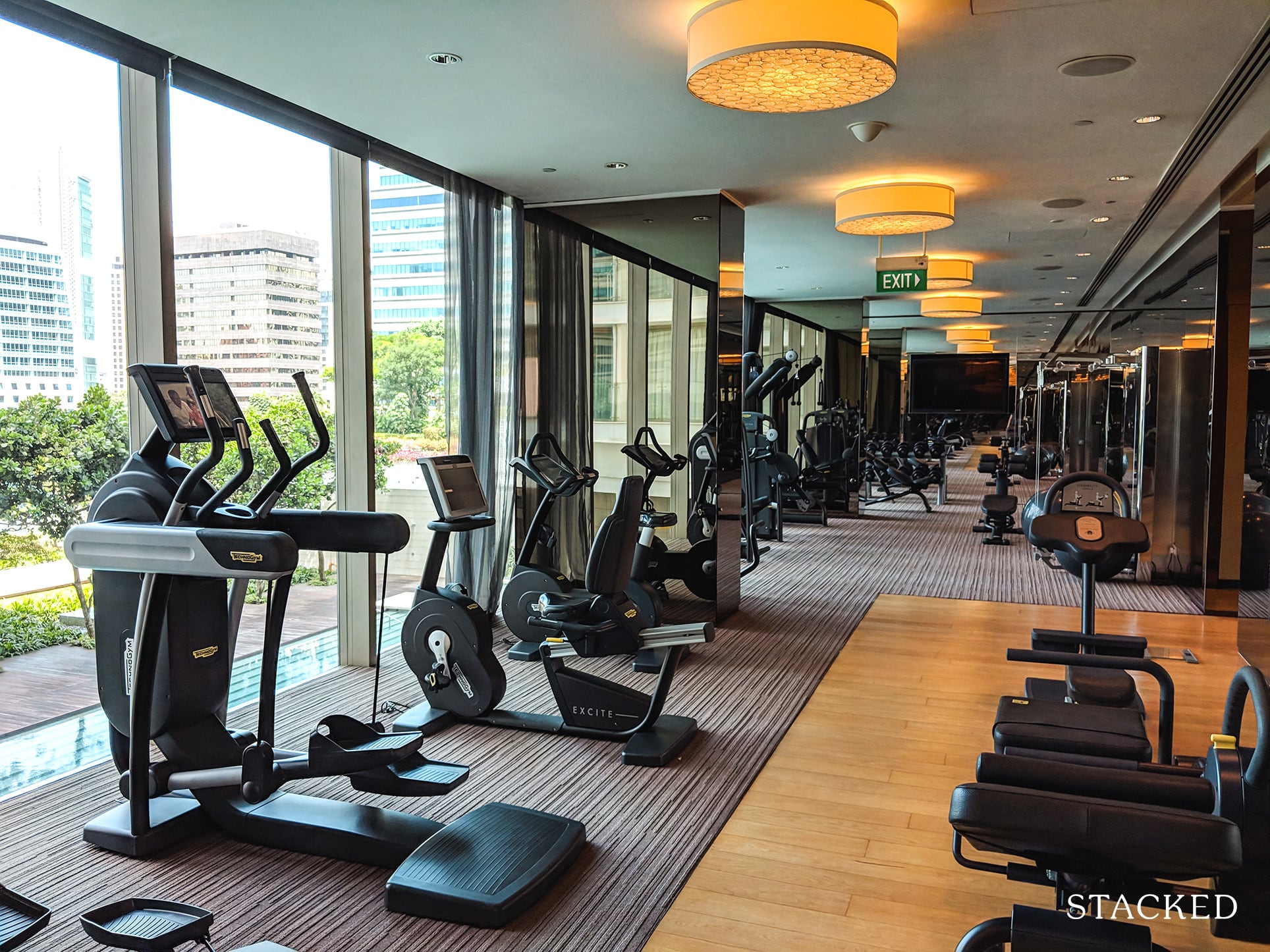 In order to access the gym, you will have to take the lift from the swimming pool level. The gym is fantastic here, it is of a hotel quality level and really feels like a private fitness centre.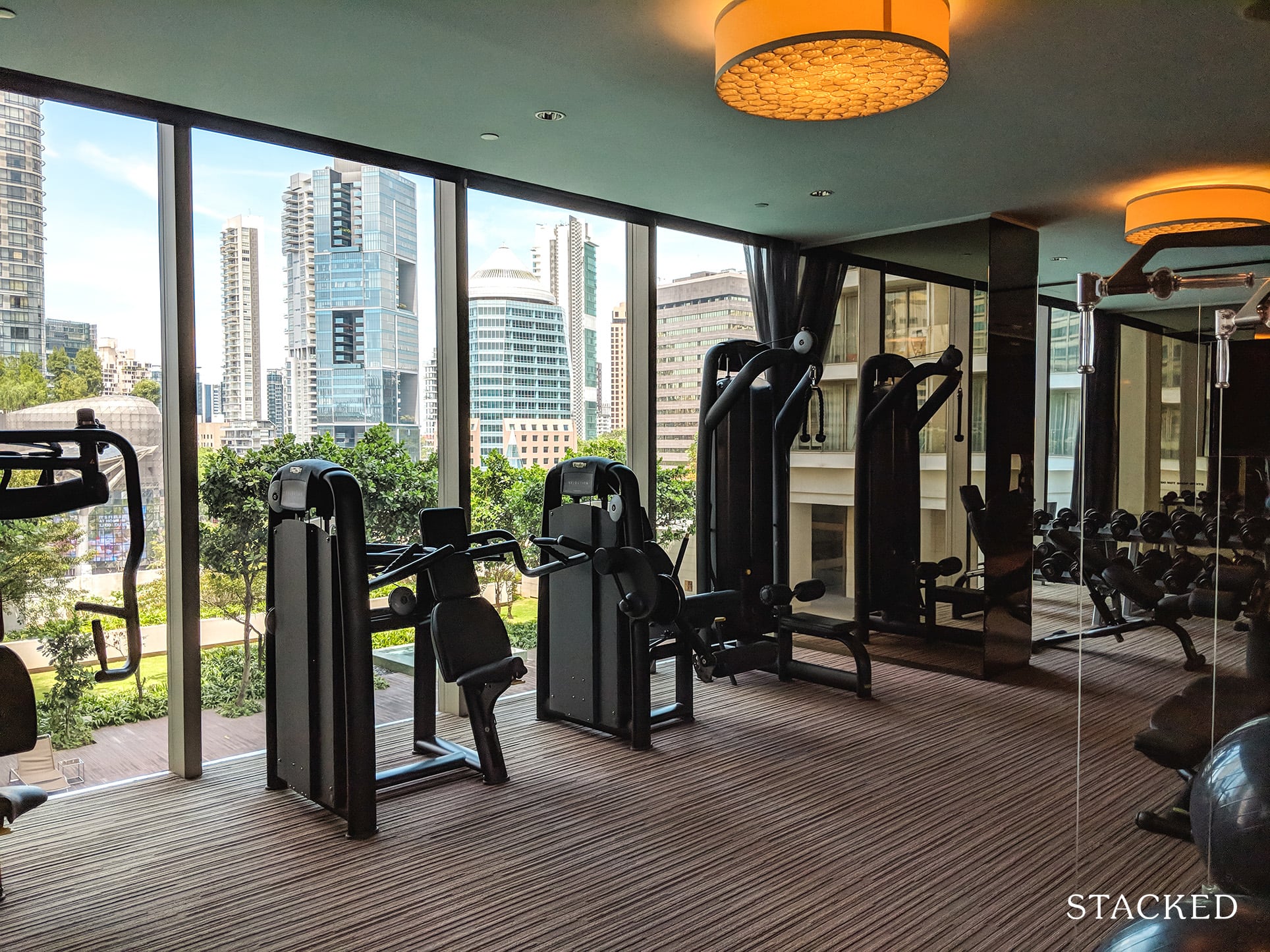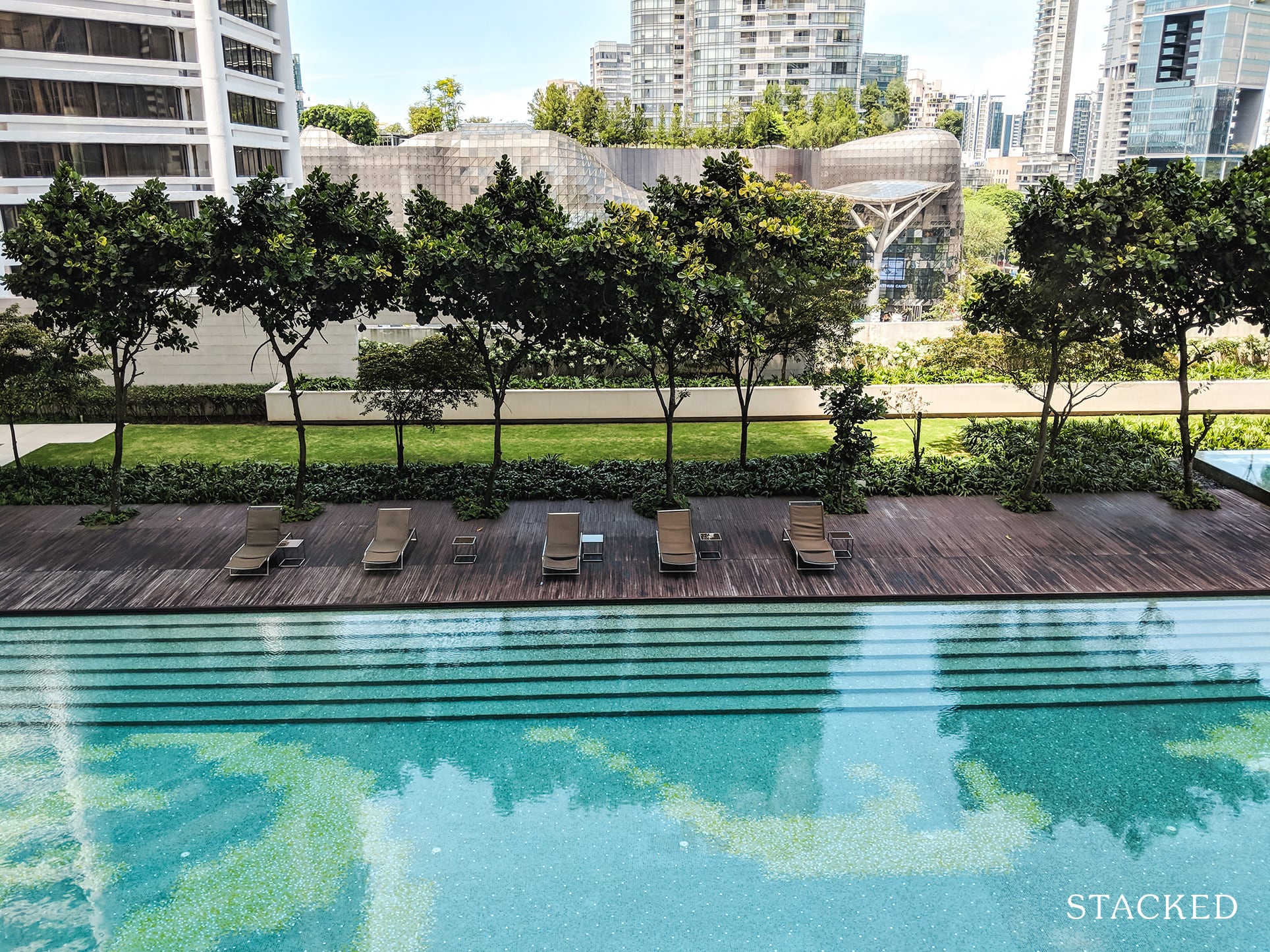 You get a picturesque view of the swimming pool from the gym as well.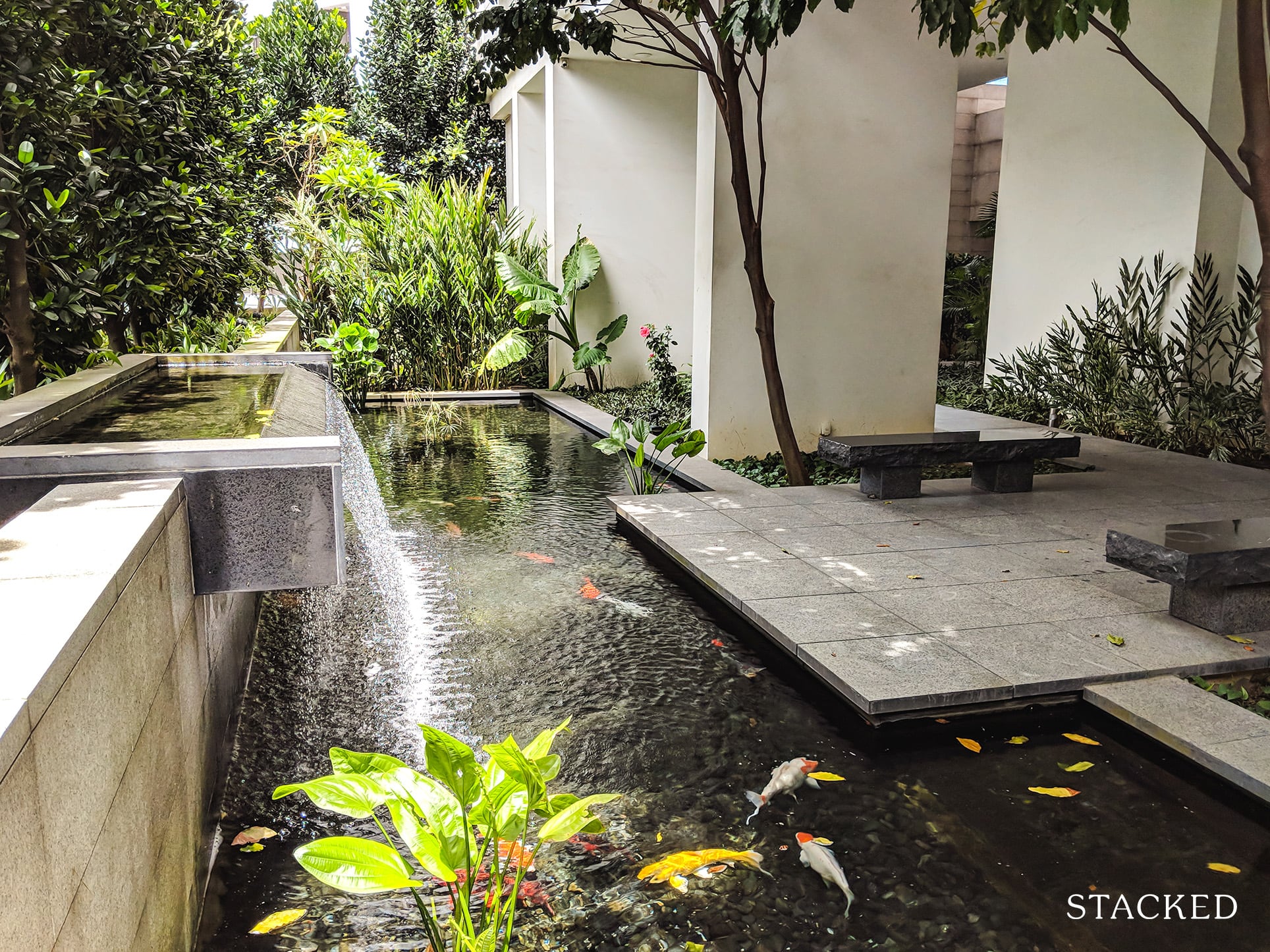 There is also a koi pond at the back of the development.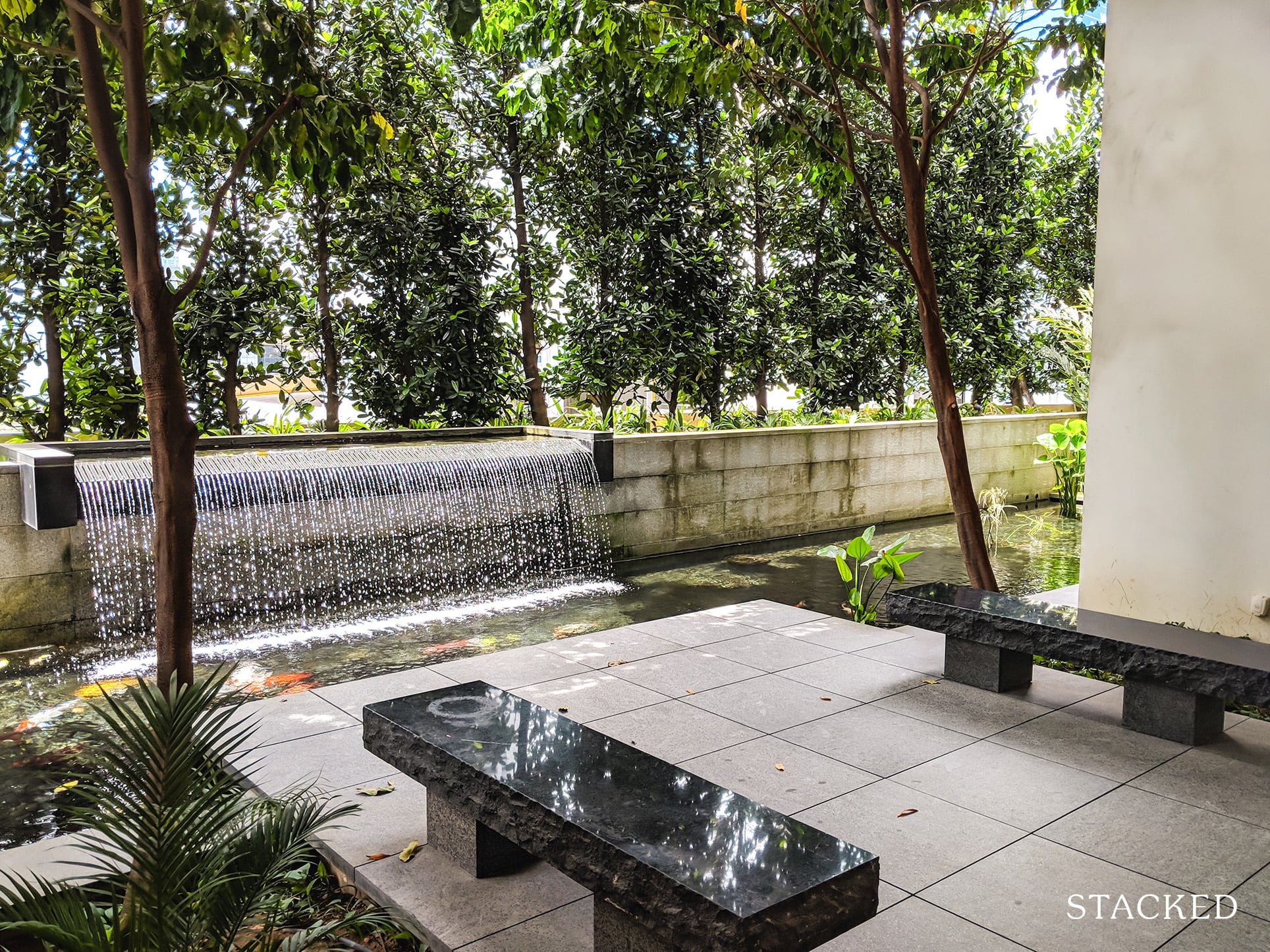 And a seating area nearby. We definitely don't see this area being used much.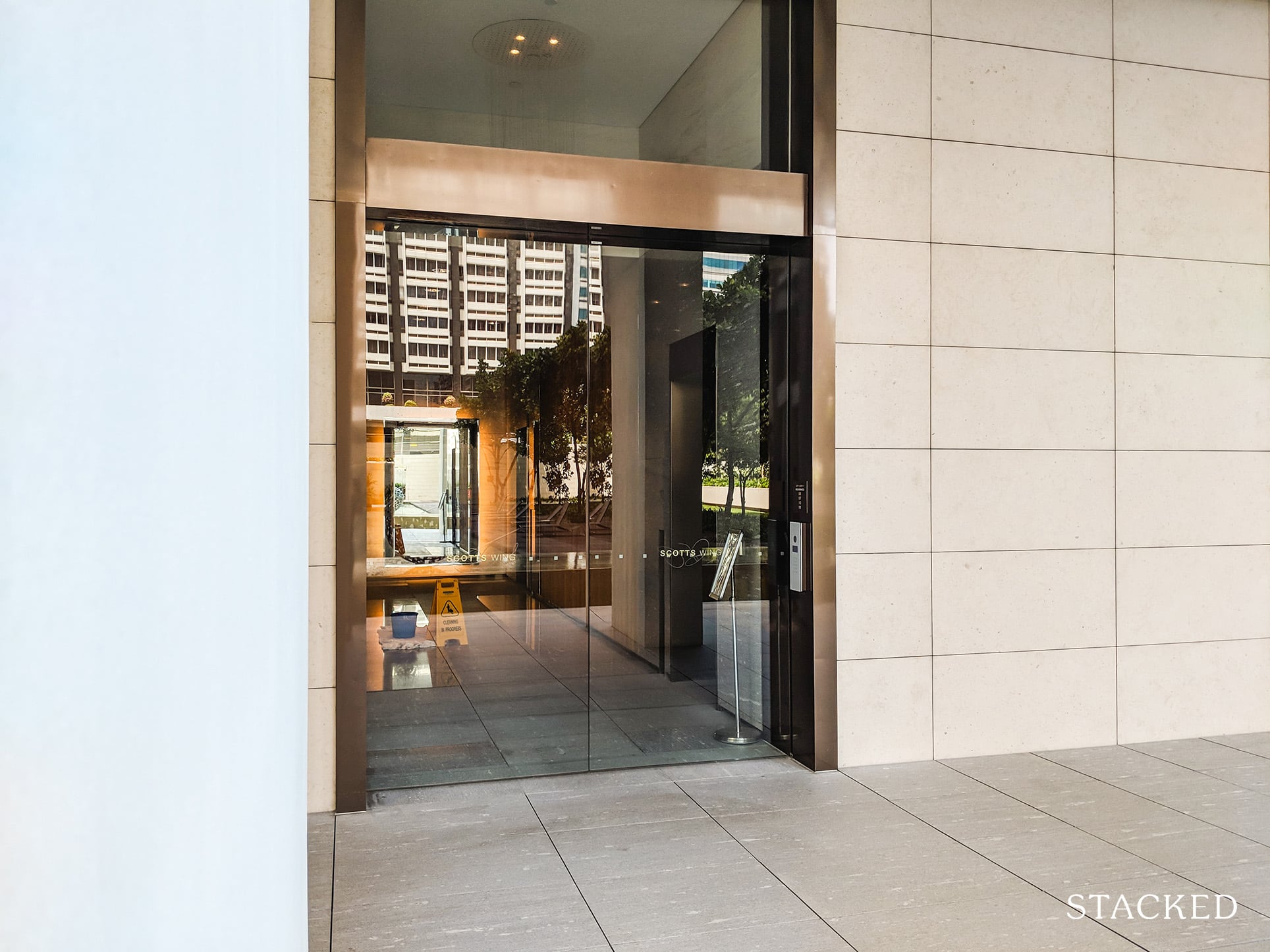 Like we mentioned earlier, to access either the Orchard Wing or the Scotts Wing you will have to go to the respective lift lobbies. Now, on to the rooftop pool on the 35th floor of the Orchard Wing.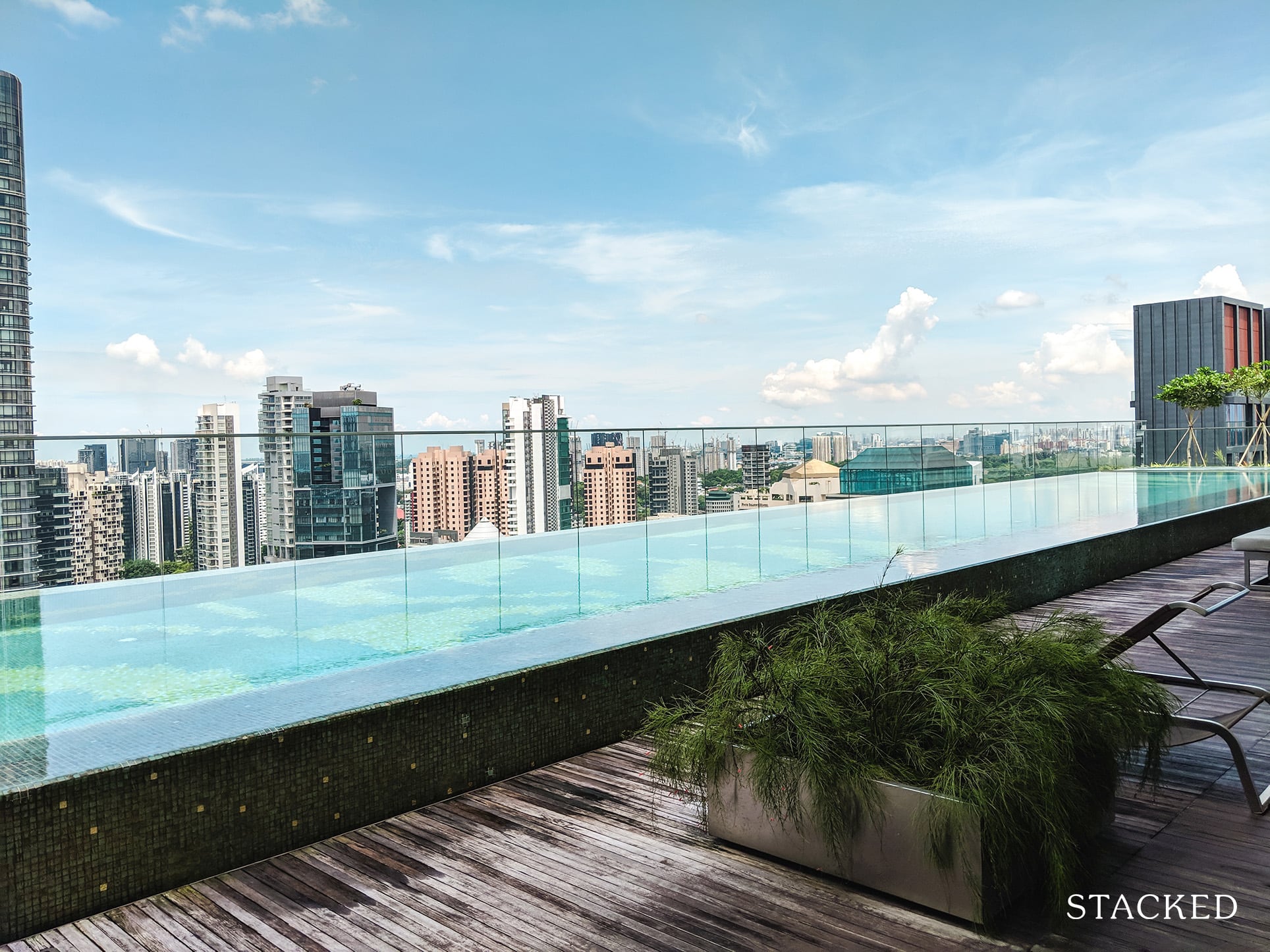 Once you get up, you will immediately be treated to this remarkable view.
The swimming pool is actually pretty long and if the development only had this, it would actually be quite adequate.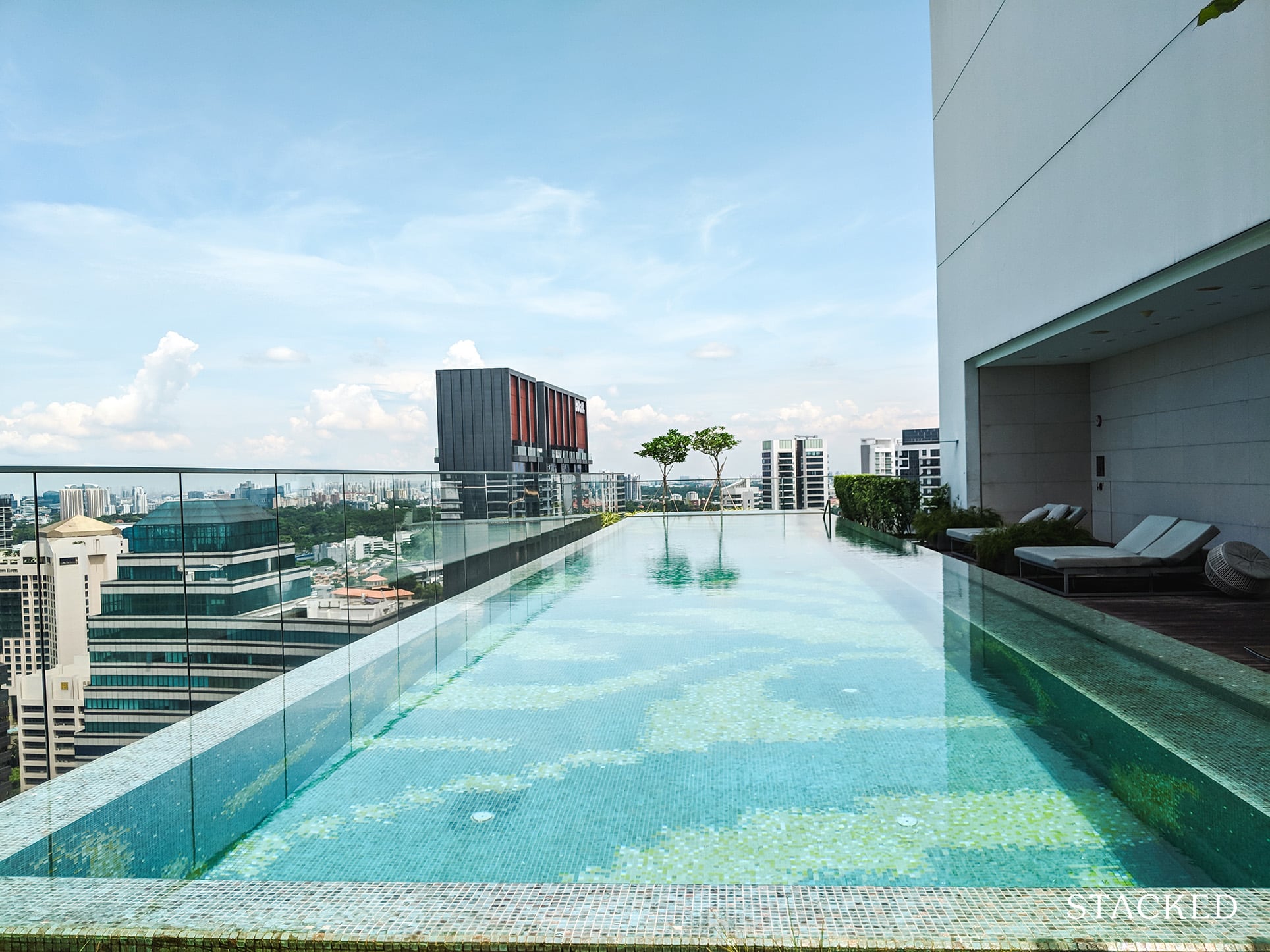 It is really a sight to behold from here. We think having a rooftop swimming pool like this in the middle of Orchard goes some way into justifying its high PSF. This ranks as one of the best views you can get from a swimming pool at a condo in Singapore in our opinion.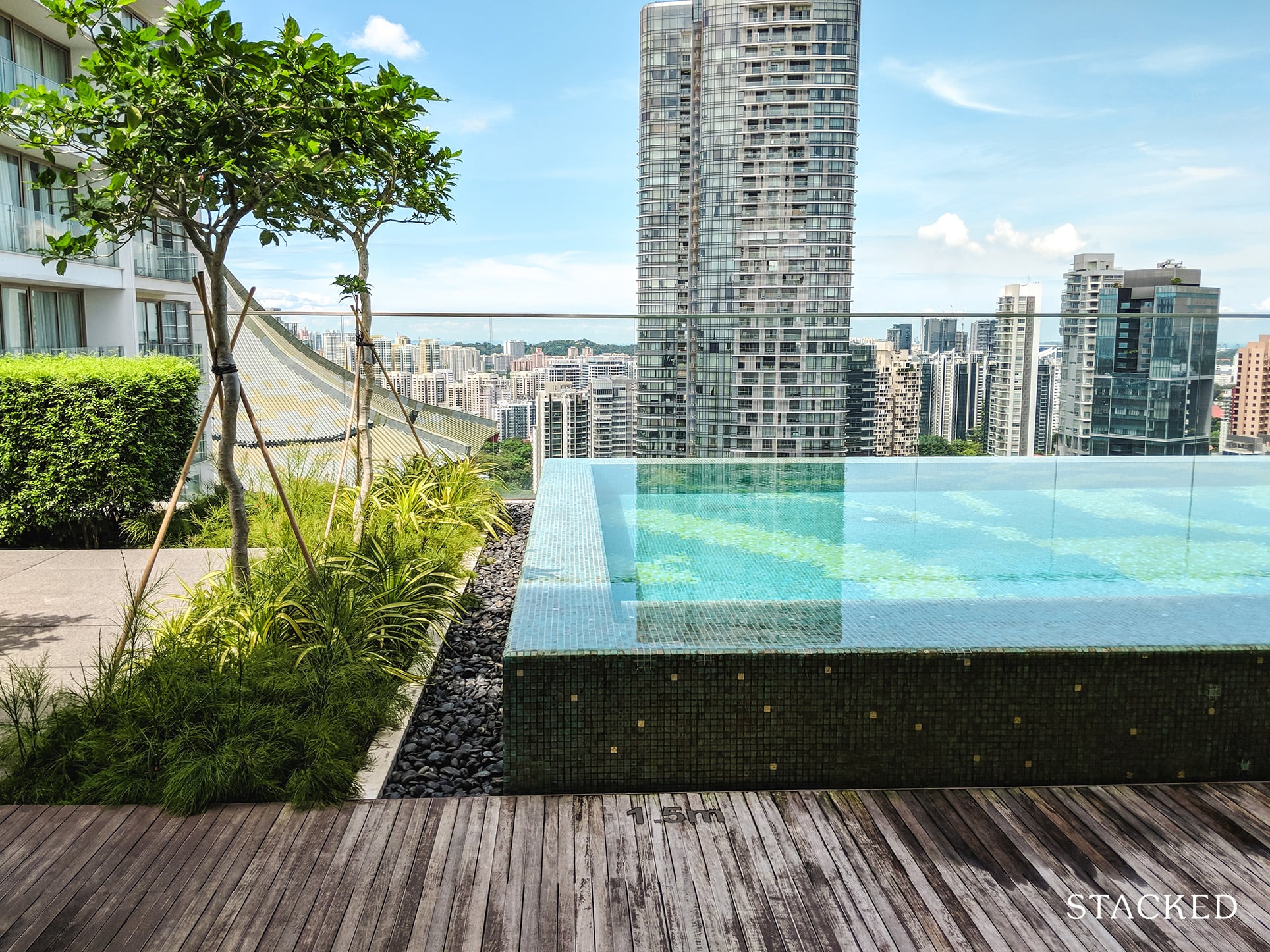 The Orchard Residences may have a lagoon-like swimming pool, but even then they do not have one with as good a view as this.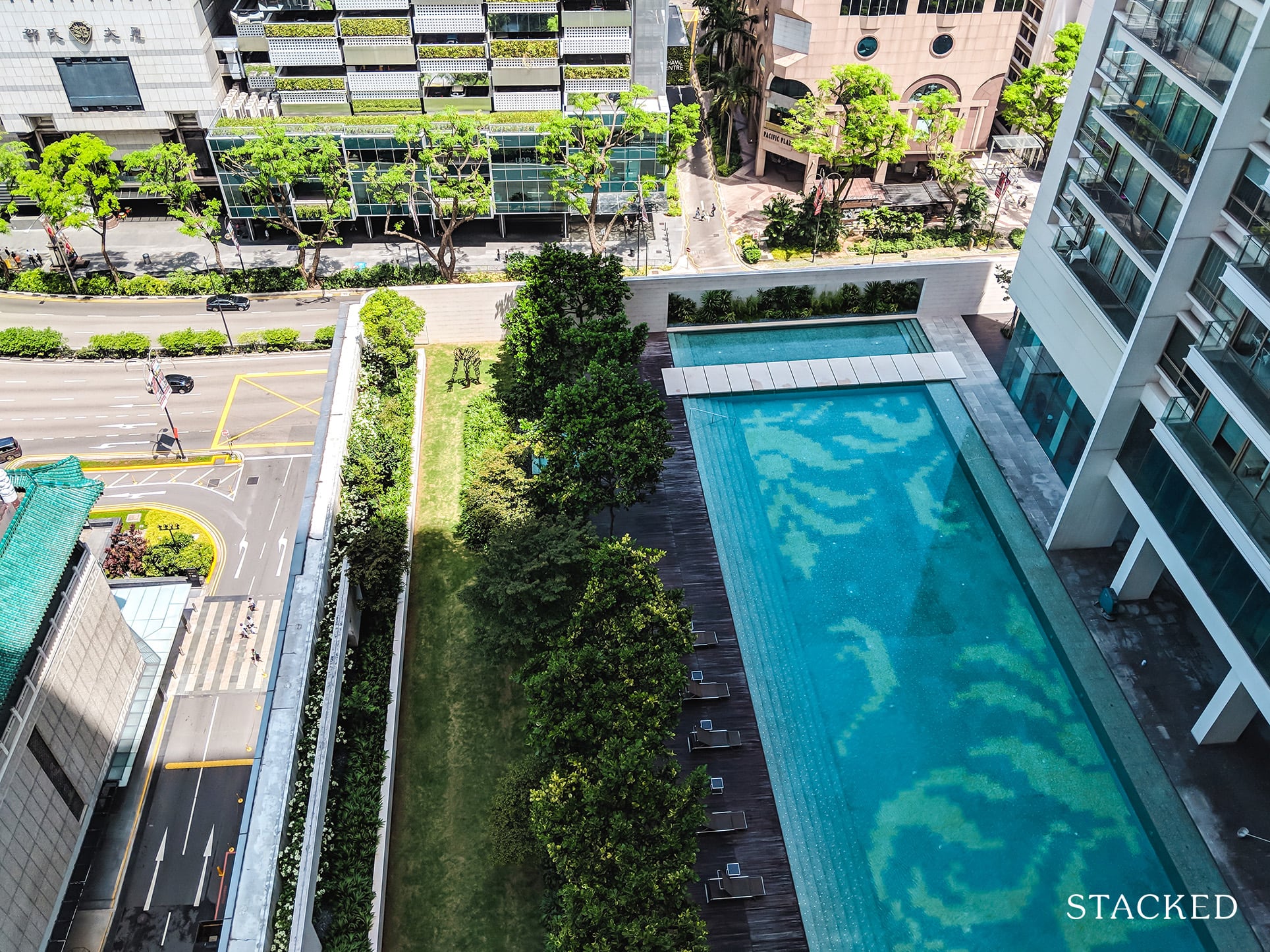 One more shot of the swimming pool from the Scotts Wing.
So which are the best stacks?
Scotts Square is not a big development by any means so there are only so few stacks that you can choose from.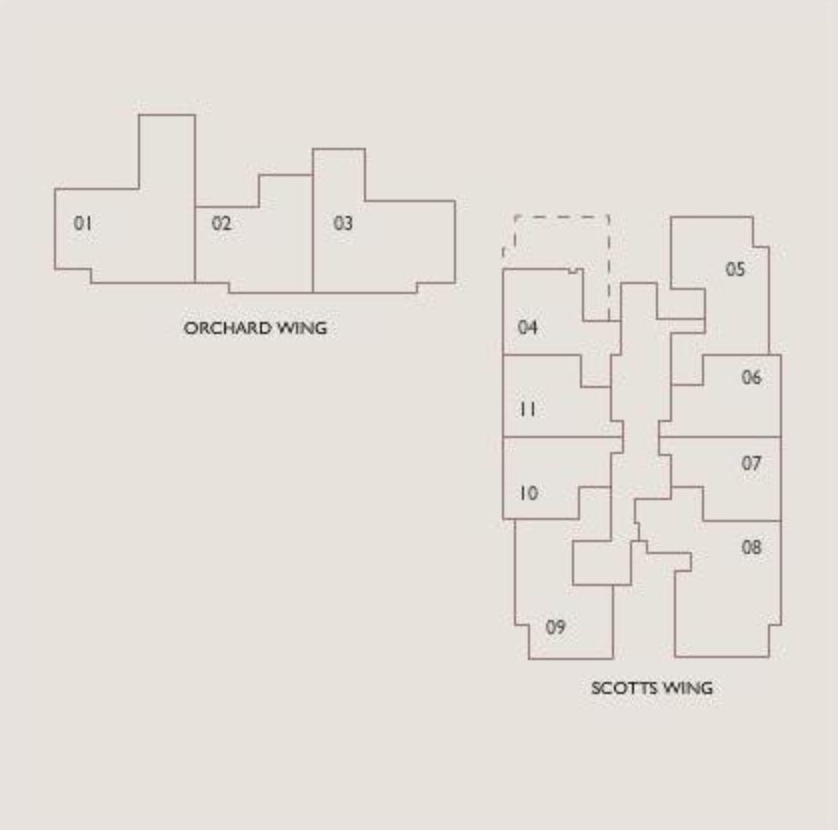 As you can see, the stacks 1,2,3,4,11,10 and 9 get the swimming pool view. Whereas 5,6,7 and 8 are facing Nutmeg Road, where there is a cluster of landed homes.
If you prefer more privacy, we recommend looking at stacks 5,6,7 and 8 as these are facing the landed cluster and as such you get unblocked views and much better privacy as you do not have any neighbours that are able to peer into your home. If you can, try to avoid stacks 3 and 4 as these have the closest proximity to your neighbour.
Scotts Square Condo Review – Prices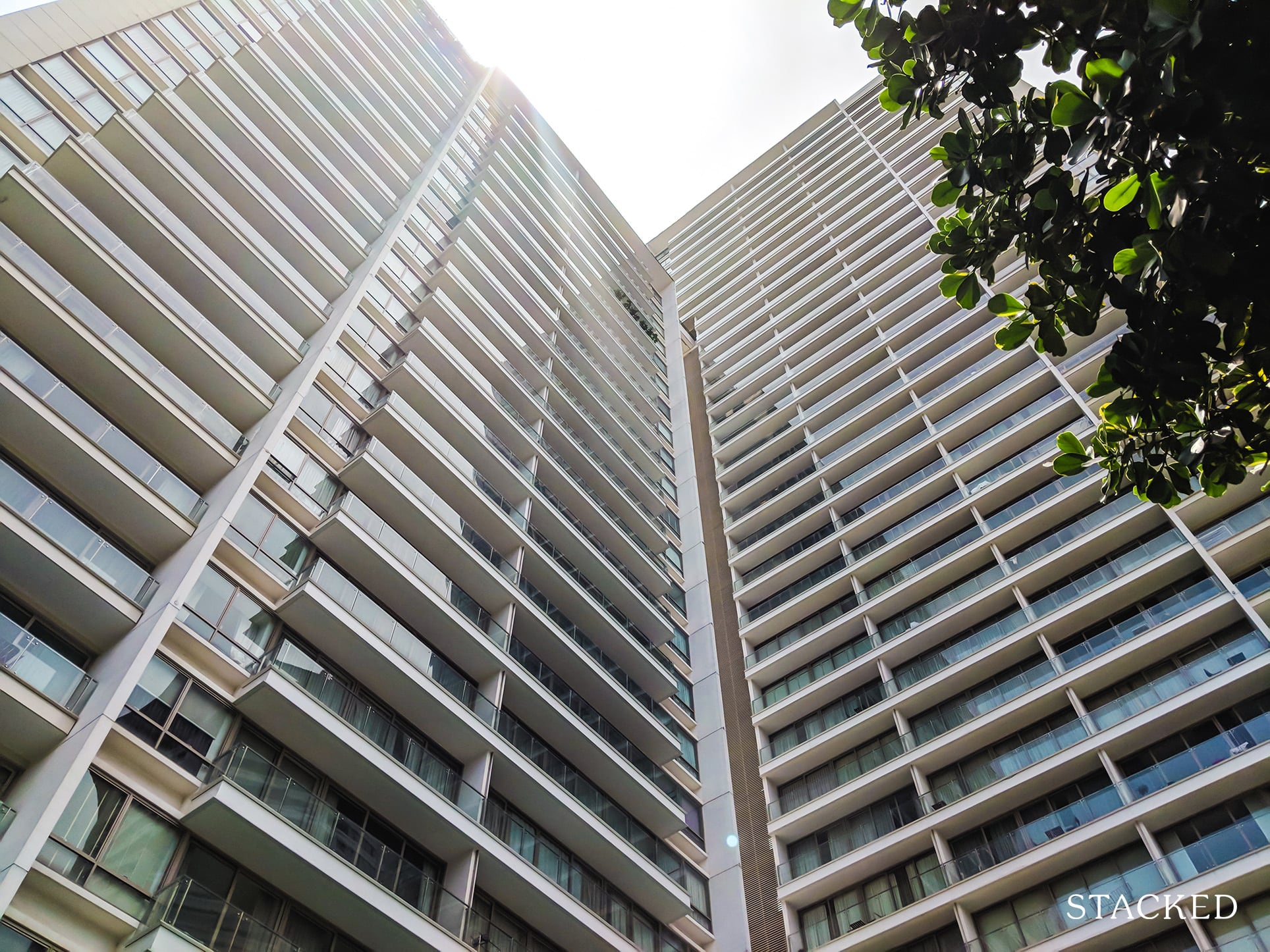 Surrounding developments

| Project Name | Tenure | TOP | Average Price (PSF) |
| --- | --- | --- | --- |
| Scotts Square | Freehold | 2011 | $3,382 |
| Kim Sia Court | Freehold | 1970 | $1,741 |
| Richmond Park | Freehold | 1996 | $2,477 |
| The Orchard Residences | 99 years | 2010 | $3,038 |
| Twentyone Angullia Park | Freehold | 2014 | $3,399 |
| Ritz-Carlton Residences | Freehold | 2011 | $3,673 |
Prices at the Scotts Square in terms of PSF is definitely on the high side, but not so much so if you compare to other luxury condominiums in the area such as Twentyone Angullia Park and Ritz-Carlton Residences, both of which have higher average prices. Also, you have to take into account that the Scotts Square condo is in the most prime location and the most convenient as well.
At its peak, Scotts Square was selling at $4,803 PSF for the one-bedroom unit so prices have actually come down quite a bit. Also because the unit sizes at the Scotts Square is a lot smaller than Twentyone Angullia Park and Ritz-Carlton Residences, you do end up with a more affordable quantum as well.
Our Take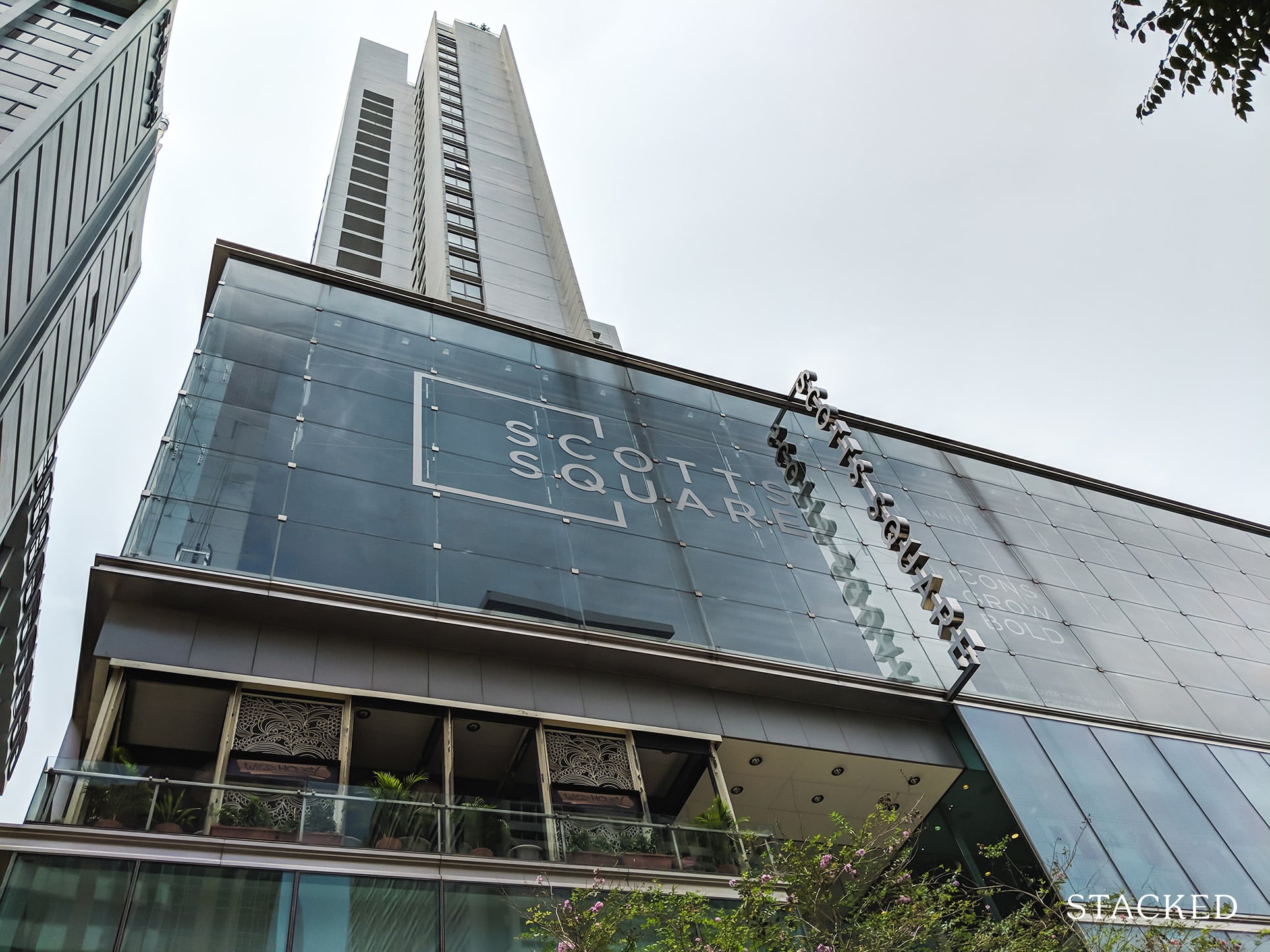 In our opinion, the Scotts Square condo is an impressive development if luxury city living is what you are looking for. The location is second to none and the facilities are top-notch. The lobby area, swimming pool, gym and private lift to each unit adds to the luxurious experience. It speaks volumes that if you told us that the development had just received its TOP last year, we would have believed you as it is maintained so immaculately. We cannot stress how important it is to have a good management team that is up to the task of maintaining the value of your property and the Scotts Square has that in spades. When we were there, there were staff all over the place, cleaning the windows and clearing rubbish from the area.
The development just screams quality and if you like the hotel experience this would be the perfect place for you. As always with a city condominium, if you are fine with the smaller unit sizes and hustle and bustle in Orchard Road, this is quite a special oasis in town that you just have to visit for yourself.
What this means for you
You might like the Scotts Square if:
• You are all about the location.The location of the Scotts Square is ultra prime and convenient
• You require good facilities.As far as facilities goes, the gym and swimming pools at the Scotts Square are top notch
You might not like the Scotts Square if:
• You like big living spaces.General living space is quite tight, so this would not be the best for families
• You like peace and quiet.Being located so centrally, its hustle and bustle from the moment shops are open till they close.
Looking for a condo with a great swimming pool outside of Orchard, check out our Rivergate condo review!