Buying
The Essential Guide To Read And Compare A Floor Plan
Ryan J
June 17, 2020

10

min read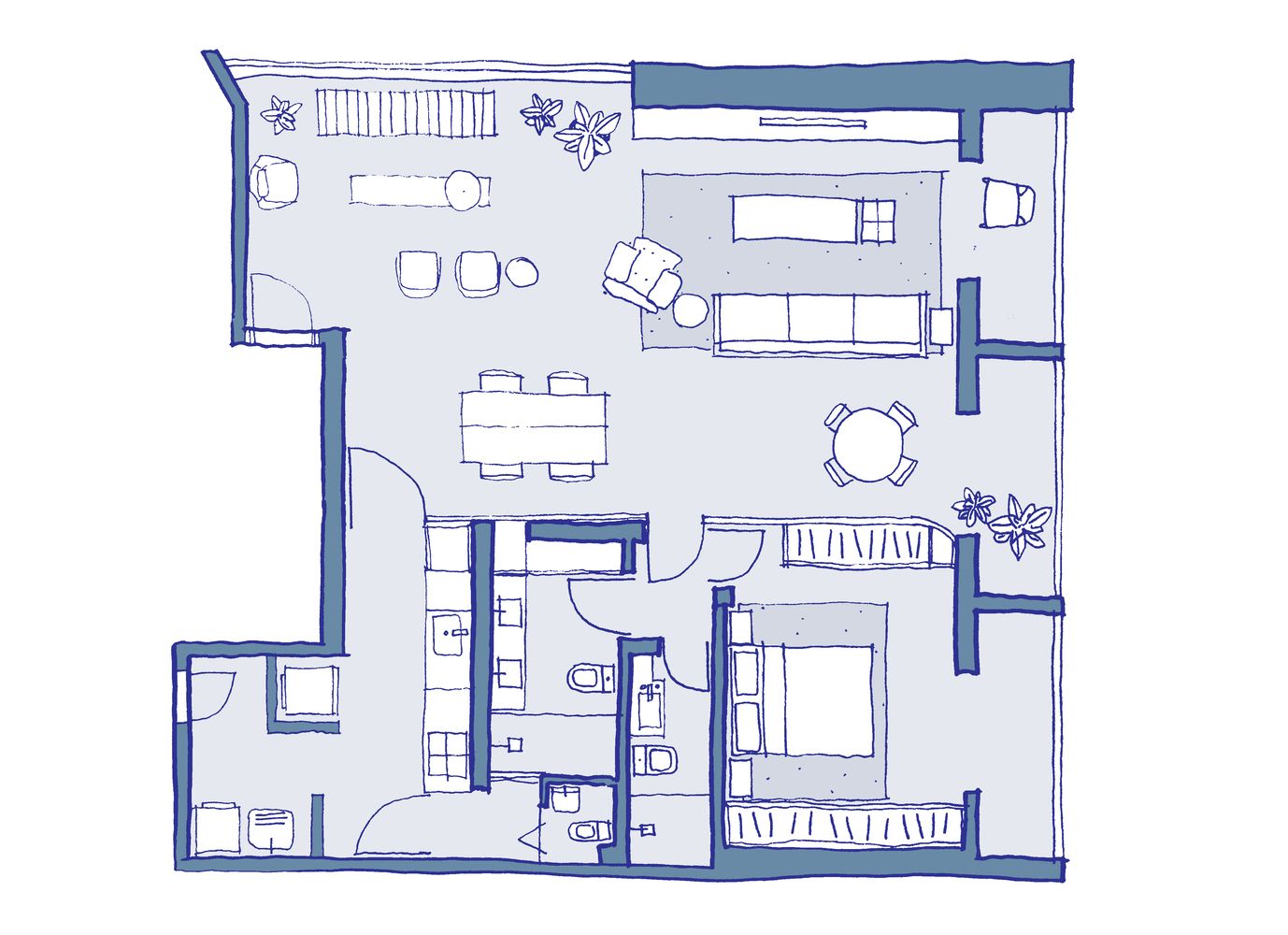 10
min read
This is Part 14 of our 18-part first-time home buyer series. You may refer to the full table below:
Showflats and pictures can be deceiving. What you see in the showflats and galleries have all been in the hands of professional designers and photographers; and the ones hired by developers are at the top of their game. These are people who can make your junior suite toilet look like a bedroom at Buckingham Palace.

To get a less…distracted perspective, it's always important to look at the floor plans instead. Besides a more objective view, understanding the floor plan also helps you identify inefficient layouts and the potential for future renovations. Here's how to read and compare them:
The basics of interpreting a floor plan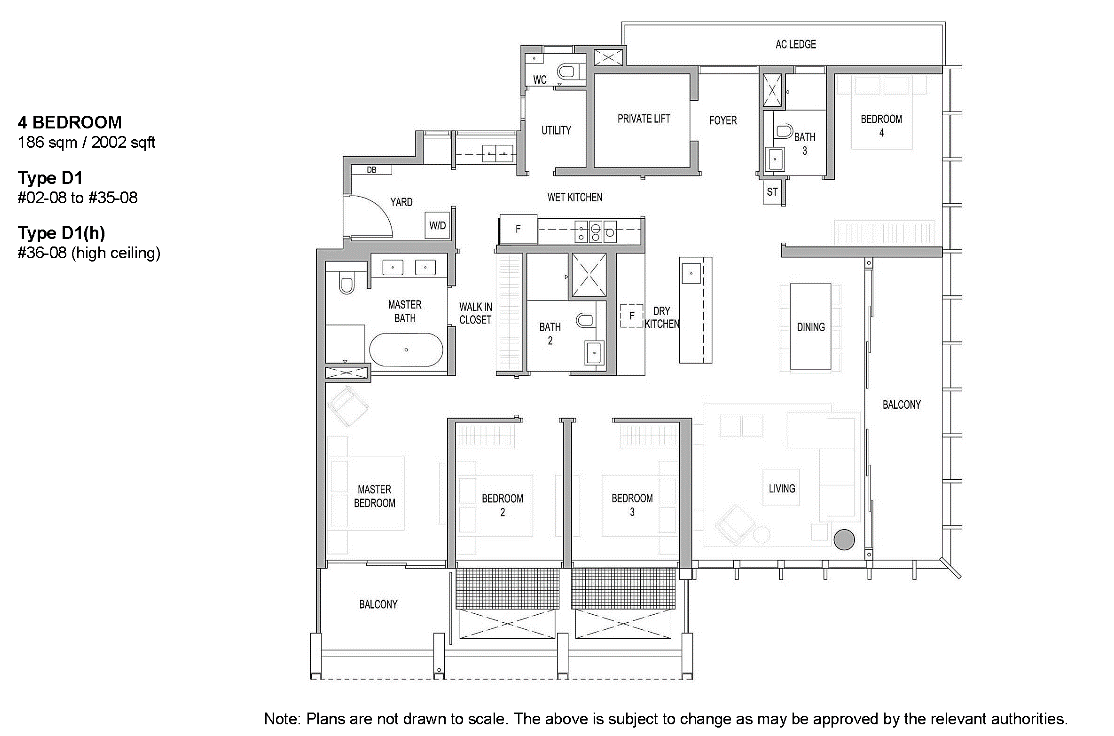 Walls and windows
The above is a unit from Riviere. The walls are coloured in so it's easier to visualise (this is not always the case on every floor plan).

Note that the thicker lines indicate structural or load-bearing walls. These can't be moved. The thinner lines indicate partition walls, which can be hacked away. If you're uncertain which is which, ask the developer.

The positioning of structural walls is important because they govern later renovations. For example, in the above floor plan, note that there's no structural wall between the dry kitchen and dining room to divide them; this means you have the option to separate them with a partition wall if you want or to leave the space open. In some older developments where open concept kitchens were not common, there may be a structural wall dividing the two.
The windows are the transparent lines (if the walls are not coloured in, then windows will usually be differentiated by appearing as three fine parallel lines).
Take note of where the windows are, as this is where the natural light comes in. In the above, for instance, the corridor running past bedrooms 1 and 2 would usually be quite dark – but you can see the balcony would stream light directly into the area so it's not so bad.
You can use a pen, toothpick, or ruler to put up against the windows to visualise the direction of the light. Look out for dark spots that are cut off totally from the windows.
Exterior windows usually can't be changed (lest your condo ends up looking hideous when everyone changes their windows to their own tastes, and the overall façade looks like a confused mess).
The doors
Check out this floor plan from Carpmael 38: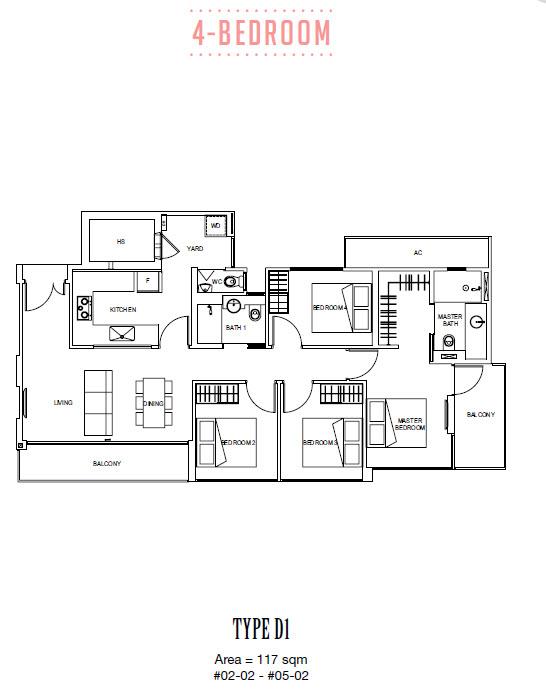 The quarter-circle shapes indicate where the swing doors are located, and the direction they swing in. Note that most doors swing inwards.

Other types of doors, such as sliding doors or folding doors, may be indicated by a "v" shape (suggesting the folded door), or just two sliding panels. They're quite obvious from the lack of the "swing arc".

(Ps. Where you see the swing arcs appearing in exterior walls, that doesn't mean there's a door leading out to a 20-storey plummet and your doom. It's just indicating a casement window that can be swung open).

Note that structural walls can't be changed even to include doors.

Fittings, Furnishings, and Equipment (FF&E)

You'll note that some floor plans, such as the ones above, have images of beds, sofa sets in the living room, kitchens in the sink, etc.

The furniture is not, of course, actual items that come with the condo unit (unless you're buying fully furnished). They're just included on the plan to give you a sense of the scale (e.g. putting the bed there gives you a general idea of how much space is in the bedroom; it's much easier to visualise than telling you how many square feet the room is).

Likewise, most bathrooms on floor plans will indicate things like bathtubs, or kitchens will mark out the stove, to give you a sense of size. But this is really the domain of your Interior Designer or contractor, to handle later on.
Two key things to note about floor plans in Singapore (especially if you're a foreigner)

First off, you can expect to see a bomb shelter, or household shelter, in condos built after 1997. This is thanks to the Civil Defence Shelter Act. The walls surrounding the shelter can't be hacked away; and while small (most people use it as a storage closet for their golf clubs or something), it can seriously get in the way in compact units.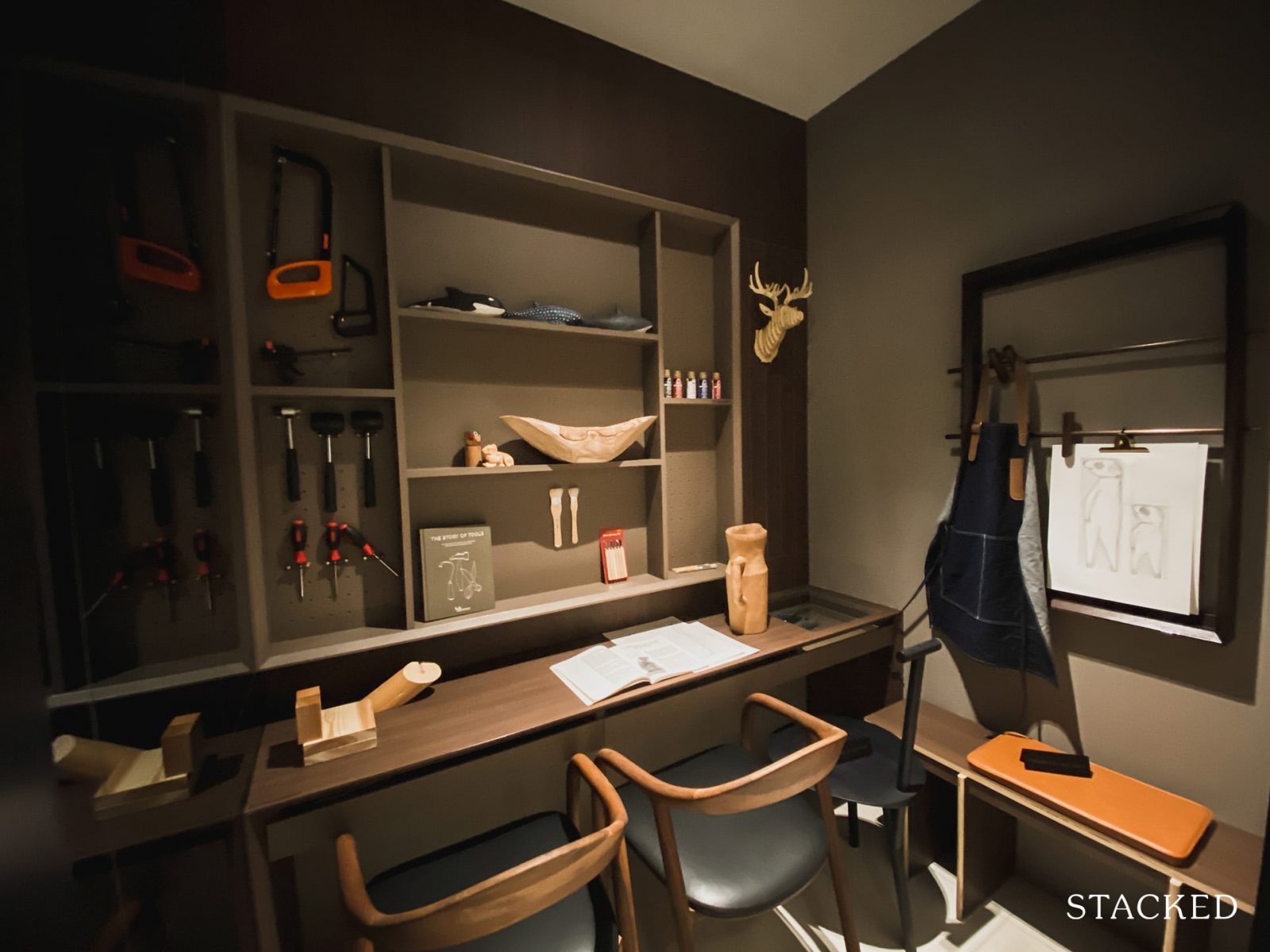 When looking at floor plans for units that are 510 sq.ft. or less, take note is there is a household shelter, and the overall impact on your living space (ask the developer to point it out to you). It may convince you to look for something bigger.
Read this next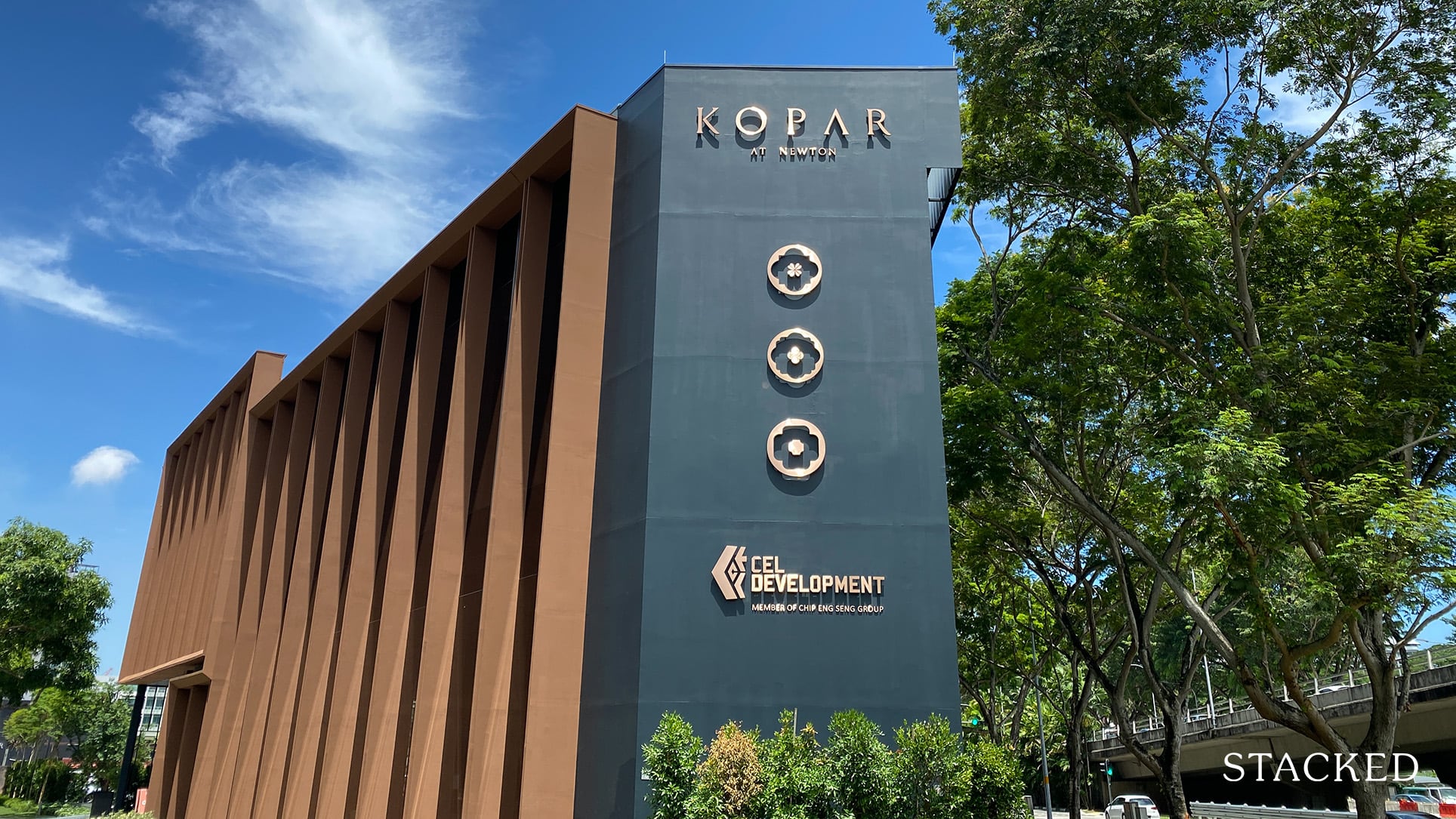 Second, the Private Enclosed Space (PES) is something unique to Singapore. URA defines these as "semi-outdoor spaces that form part of the private area of residential units which are sold to home buyers".

This is a super-broad definition; it can range from a small balcony ledge to a huge patio on the ground floor in which you can fit three or four sofas in. Just bear in mind that you are paying for it, and its semi-outdoors. 
Some buyers loathe certain types of PES; for example, a balcony that's too tiny to sit out on and enjoy, but which will cost them money anyway. Be sure to ask about these semi-outdoor areas, and ponder if they're worth paying for.
How do you compare the floor plans?
Some of the key factors to consider, when comparing one unit type against another, are:

The efficiency of the layout 
Options for future renovations 
Dual key units
The value of functional versus open space 
Long term suitability 

1. The efficiency of the layout
As a general rule, floor plans with a rectangular shape will be more efficient than plans with odd or L-shaped layouts.

Odd-shaped layouts often include a lot of corridor space. You want as little of that as possible since corridors are not living spaces or functional spaces. One way to get around this is to pick a floor plan with a dumbbell layout, as we pointed out in Sloane Residences: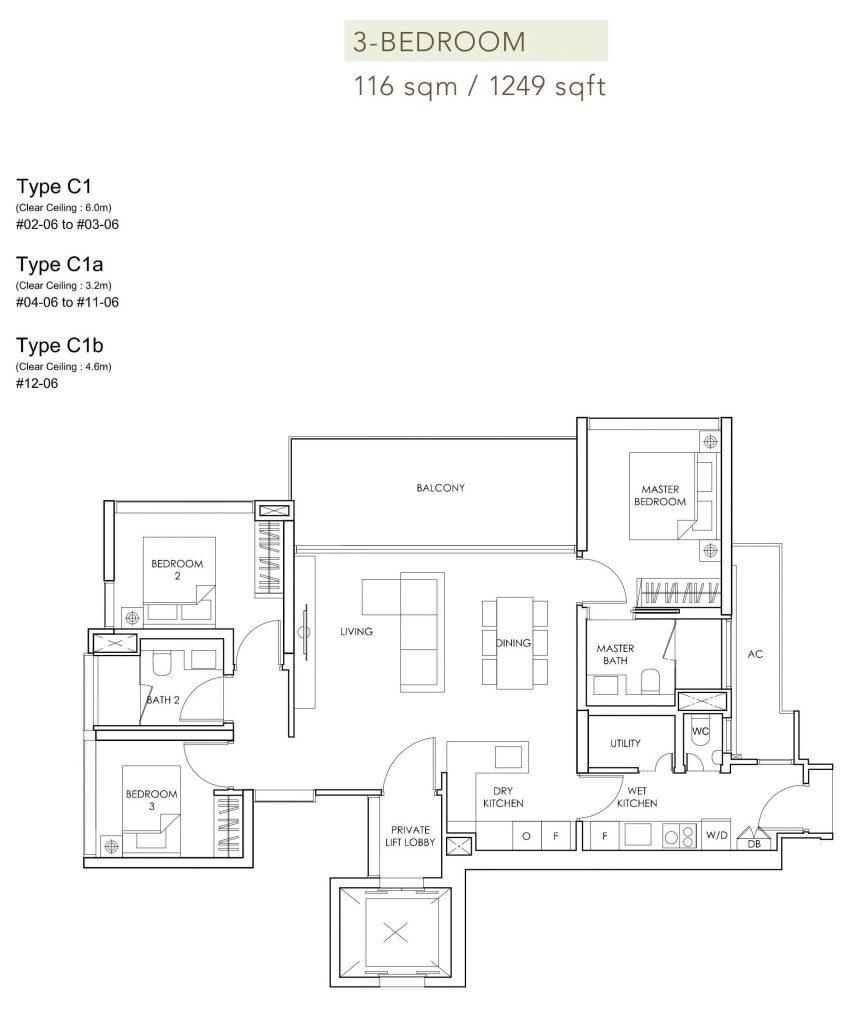 Notice that the kitchen and master bedroom are on the right, the other bedrooms are on the left, and the living/dining space connects the two. There's no need for a corridor space, and the connecting area is actually a usable living area.

2. Options for future renovations
Try to visualise alternative layouts, to suit a theme that you have in mind. Does the floor plan support such renovations? Or is it limited by load-bearing walls and unusual shapes?

Likewise, take note of how many rooms are available. If you want to set up a nursery, for example, you'll either need another bedroom or at least a small study that can be converted.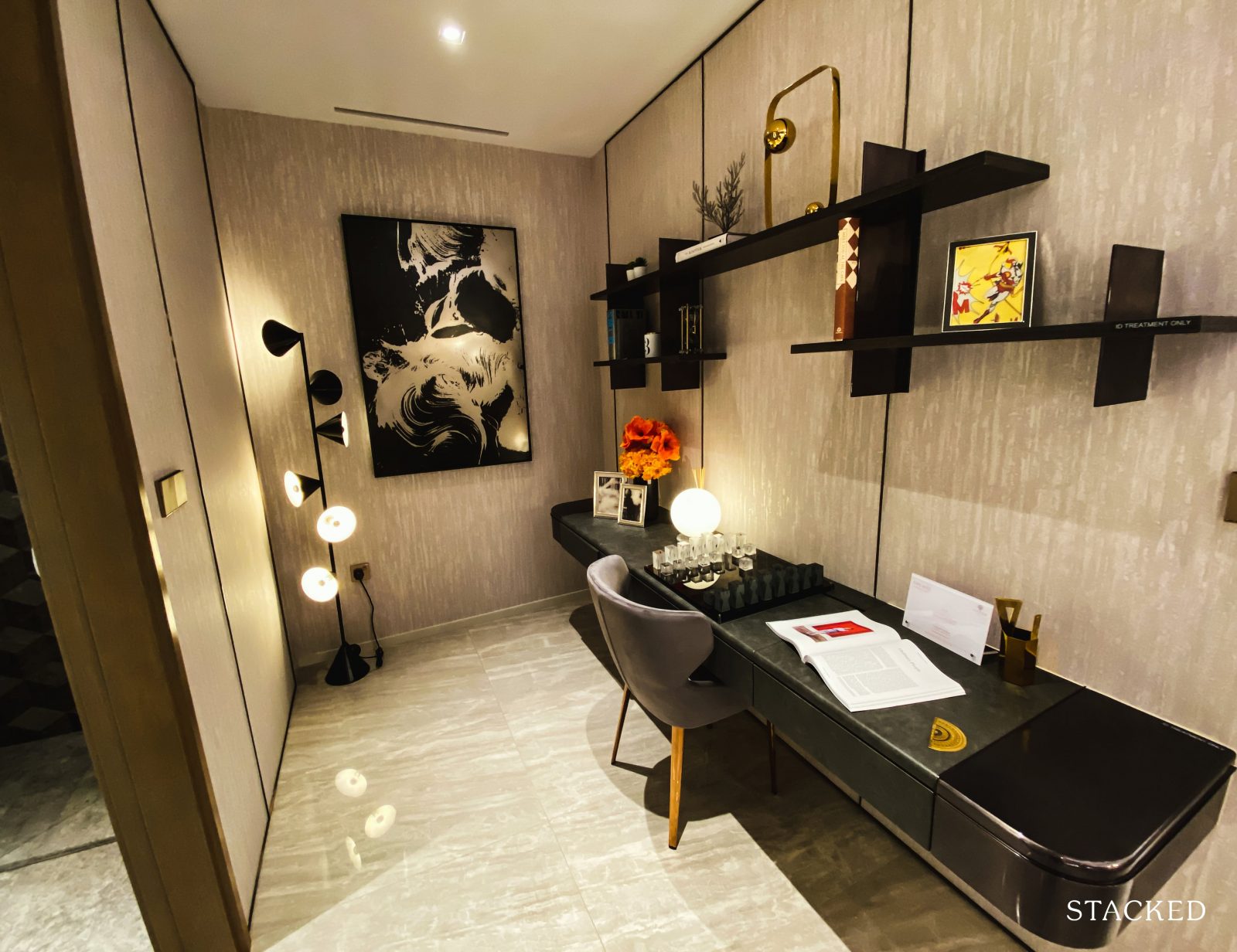 It's not that a particular floor plan will completely prevent your renovation plans. Interior Designers can do wonders these days – no matter the layout, they can probably find a way. The issue is the monetary cost and time involved. 

If it seems you'll have to hack away every partition wall, reconfigure the kitchen, merge multiple bedrooms etc., then you just know it's going to cost you a bomb. You might also be waiting much longer to move in. Remember, the work can only start upon the Temporary Occupancy Permit (TOP).

So if you want to pay less for renovations, and not end up waiting another three or four months to move in, then defer to the floor plan that better suits your vision. You can grab a copy of the floor plans online and show it to your Interior Designers.

If you need help in this area, feel free to contact us on Facebook.

3. Dual key units
Some units are designed as dual-key units. These are, in essence, two self-contained units within the same property. As an example, check out this floor plan from 8 St Thomas: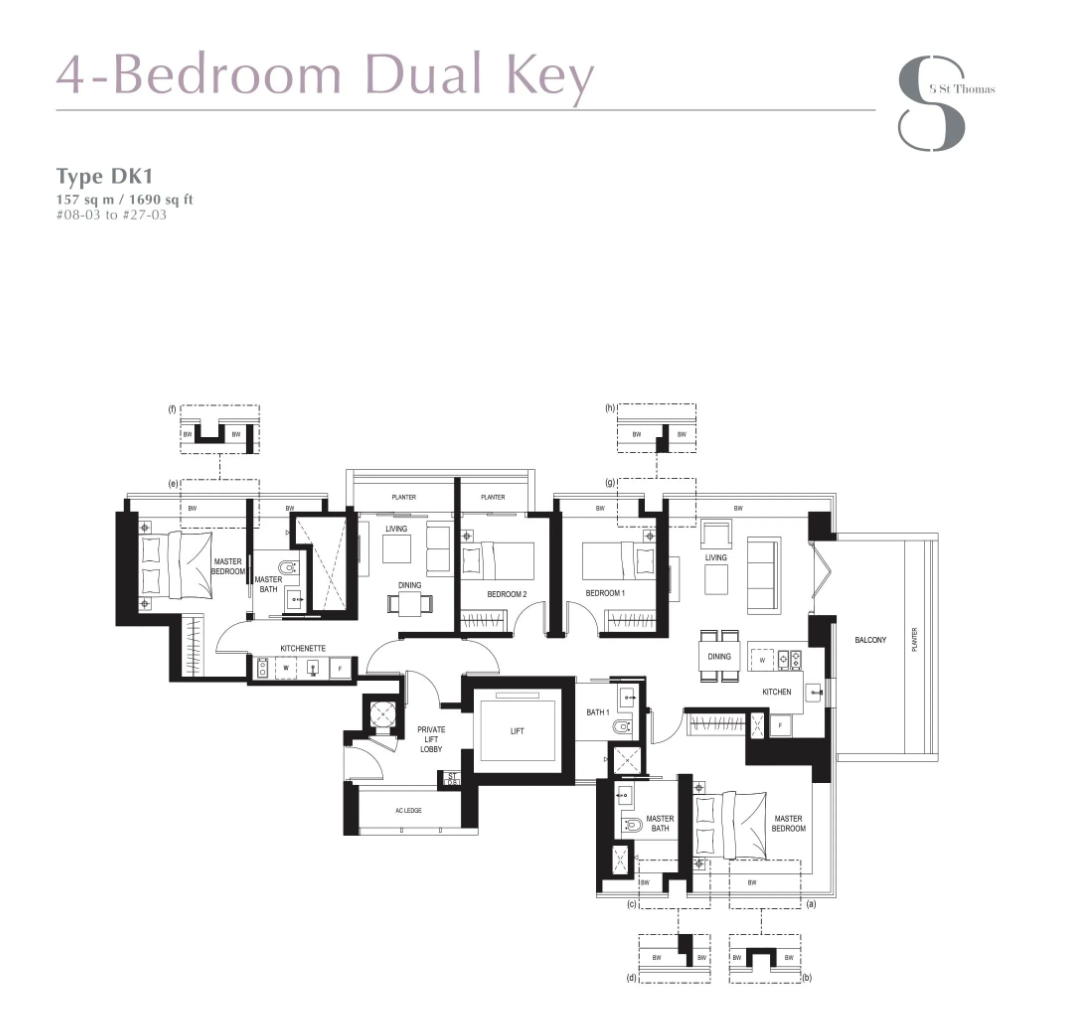 Notice that the main entrance opens up into a foyer. From there, the door in front leads into one unit, while the door on the left leads into another.

This can help in different situations, such as if you want to rent one side out to a tenant while you live in the other. Alternatively, you could live with your in-laws, with continued privacy (and without having to pay Additional Buyers Stamp Duty for a second unit).

Dual key units do cost more per square foot, but they're a viable alternative to trying to own two properties. We've compiled a list of 93 developments with dual key units.

4. The value of functional versus open space
Functional spaces loosely refer to rooms with a specific intent; the most obvious would be the kitchen. The bigger the functional spaces, the less open space is left over (e.g. a bigger kitchen and bathrooms ultimately mean a smaller living room).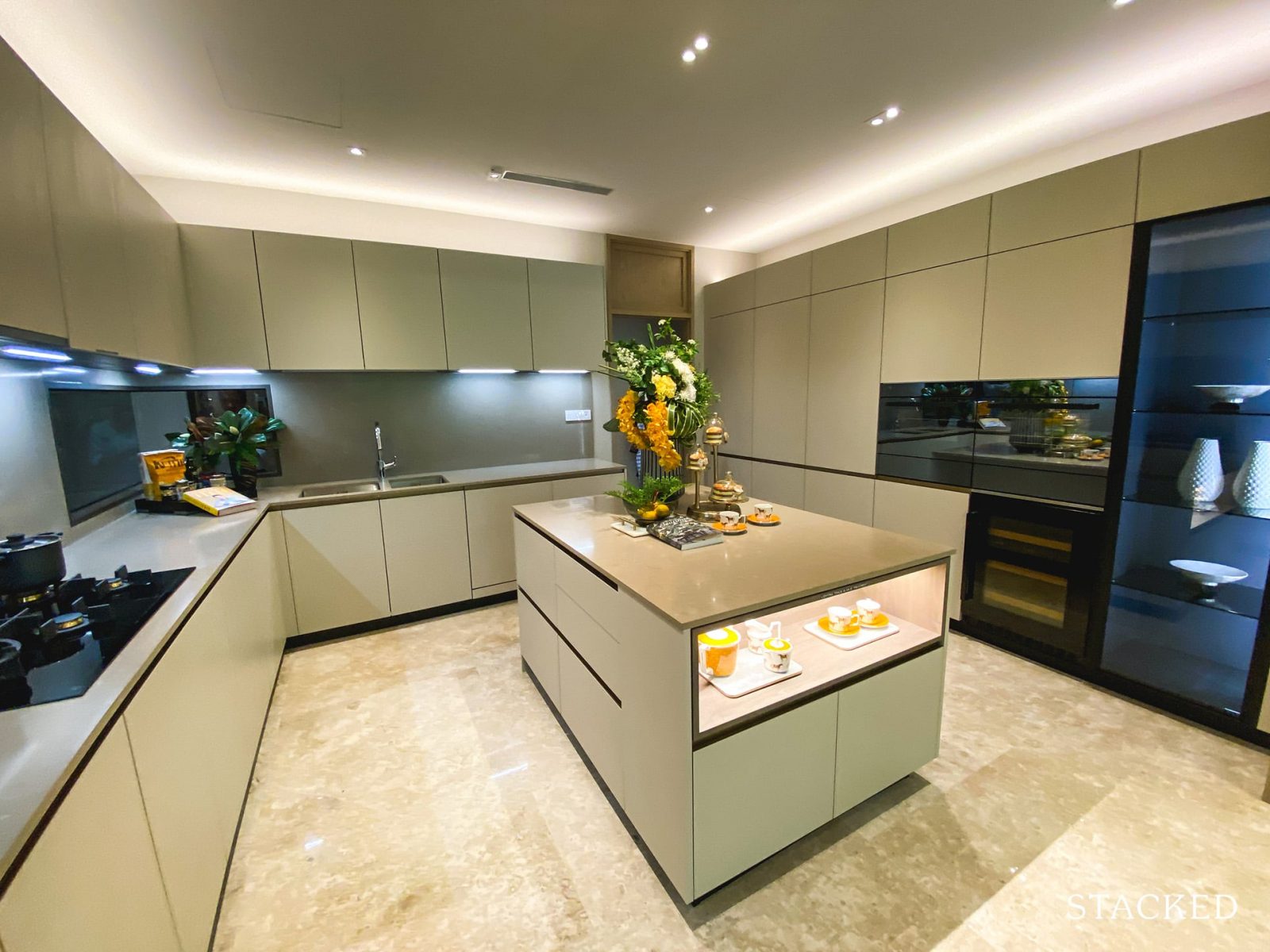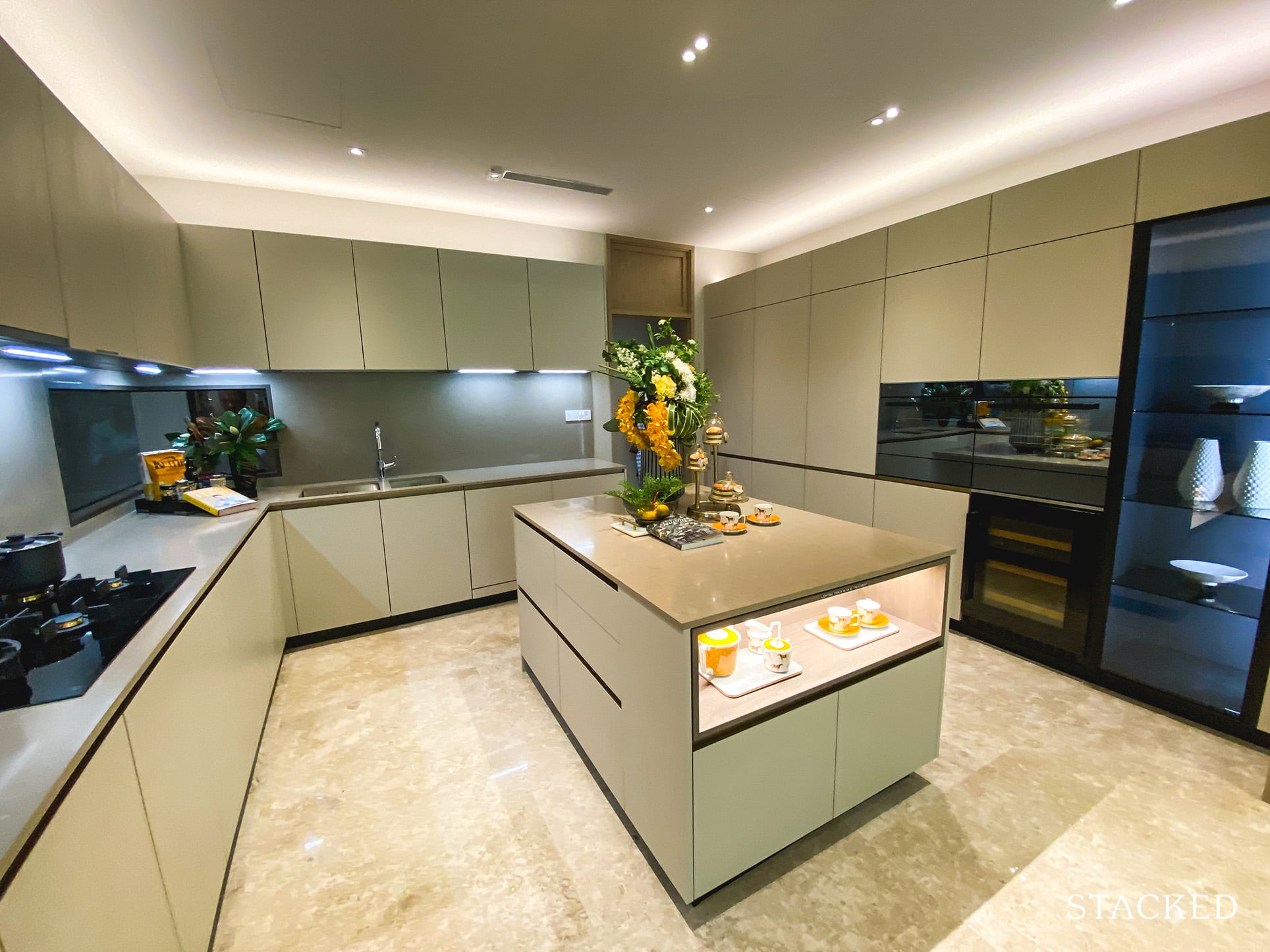 The right balance, however, is entirely subjective. Some passionate home cooks are perfectly fine with having a massive kitchen, and couldn't care less about a small living room.
Some passionate hobbyists or professionals, such as musicians who will use the study as a practice room or even studio, are happy to trade off space in other areas (as opposed to some people who feel a study room is meaningless, and will just hack it away immediately to open up the living room more).

When choosing between the two floor plans, make sure you consider the value of the functional spaces to your lifestyle.
5. Long term suitability
You may be certain you're happy to have a two-storey unit with stairs right now; but if you may feel differently when you reach 75. Likewise, you may think 510 sq.ft. is perfectly fine as long as it's easily configurable, but that may change when you get married and have children.

Try to visualise whether the space will suit you five to 10 years down the road (or further, if you have no intent to ever move). If your home loan lasts 25 to 30 years, your comfort should as well.

For more in-depth looks at different condos, visit Stacked Homes. We provide a critique of different unit types (with different floor plans), as well as giving you a wider view of the overall development.

For more details on buying your first home, check out the rest of our Ultimate guide on Stacked Homes.

This is Part 14 of our Ultimate Guide to buying your first home. If you haven't read Part 13, you can do so at the link!