Condo Reviews

Pollen and Bleu Honest Review: Quaint Boutique Condo along Farrer
Stanley
February 16, 2019

14

min read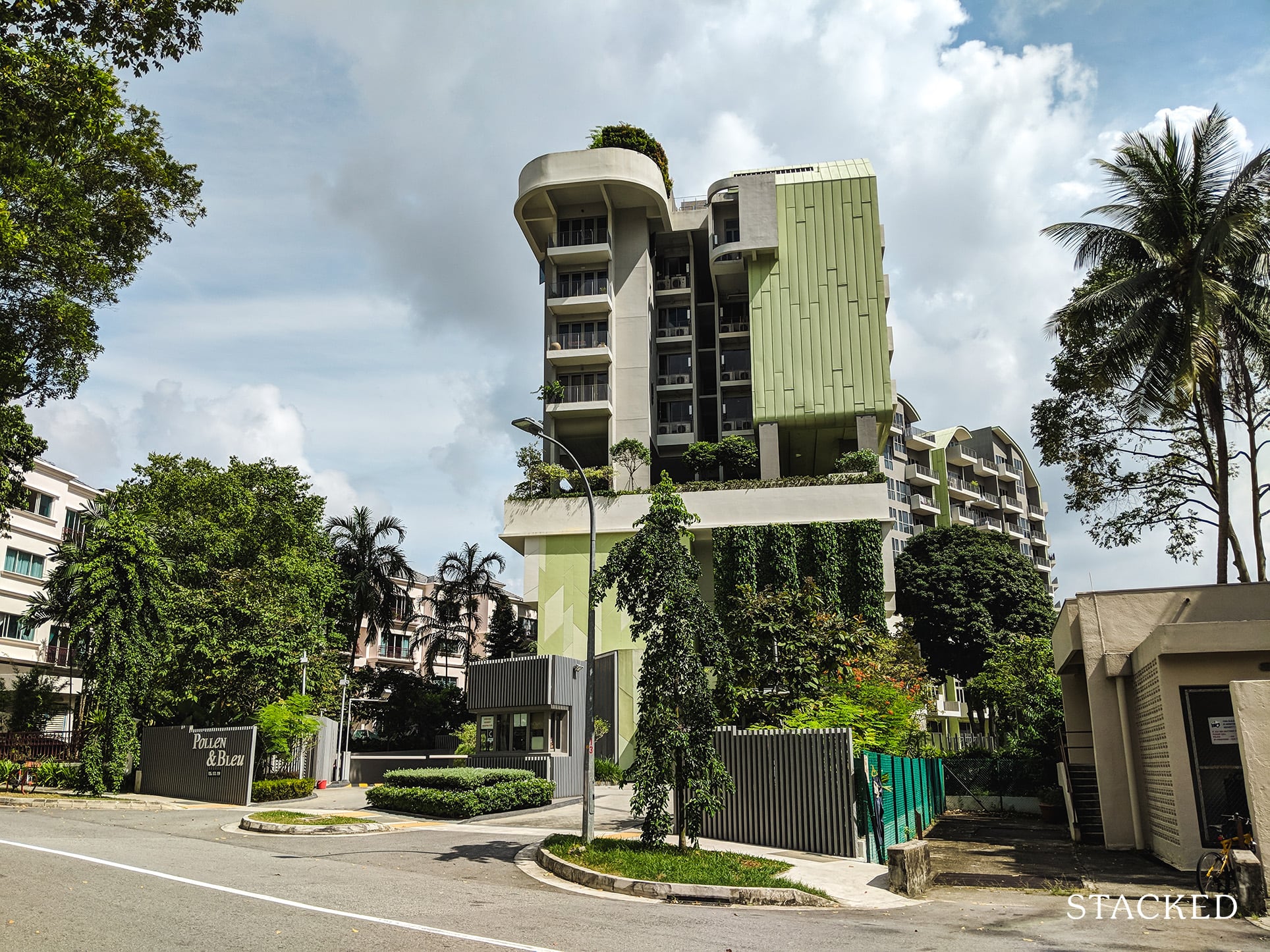 There are better developments if you are looking to stay at the Farrer area, but if you want something new, modern and peaceful, this is one of the few choices available.
Reviewed by Stanley on February 16, 2019
What we like
Peaceful and quiet

Unblocked views at the top

Quirky interior
What we don't like
—

Quite a walk in from the main road

—

Only leasehold among all the freehold in the area
14
min read
About this condo

| | | | |
| --- | --- | --- | --- |
| Project | Pollen and Bleu | District | 10 |
| Region | Core Central Region (CCR) | Address | Farrer Drive |
| Tenure | 99-year Leasehold | Site Area | 67,469 sqft |
| No. of Units | 106 units | Developer | Singland Development Pte Ltd |
Pollen and Bleu is a unique boutique development along Farrer Drive. Just from the name alone, you can tell that the developers were trying to go for something different. And it absolutely has to be, seeing as the plot of land is surrounded by many condos like Sommerville Grandeur, Sommerville Park and Spanish Village. Interestingly as well, this is the only 99-year leasehold property in the entire huge plot of land along Farrer Road. So it does stick out in the mix, also because the surrounding developments are all much older and designed in a different era.
Pollen and Bleu Review Location
Pollen and Bleu is located along Farrer Drive, and as such, there is only one road leading into it from the main Farrer Road. It is located right at the end, which to some, might be a blessing in disguise. The advantage here is that you are shielded from the road noise from the main road and you certainly get a bigger sense of privacy here. But the disadvantage is that it is set out further from the main road, and from Farrer MRT station. From the map, you can see that Pollen and Bleu is sandwiched between Sommerville Grandeur and the back of Sommerville Park.
From the map that might seem to be a bad thing, but it is actually a non-issue in our opinion. Sommerville Grandeur is of a lower level, and the back of Sommerville Park are the landed and townhouse parts as well so you get unblocked views towards the forested area along Holland. 
If you do not drive, the walk along Farrer Drive to the main road is about 5 minutes. Walking out is easy, but walking back requires more effort as it is a gradual incline. Unfortunately, it is not a sheltered walk and you will be unprotected from the rain and the hot sun. Once you are on Farrer Road however, it is easy to reach two major expressways, PIE and AYE. Because of that connectivity though, peak hour traffic is usually heavy. So expect lots of early morning traffic on Farrer Road towards Queensway, and rush hour traffic on the opposite side.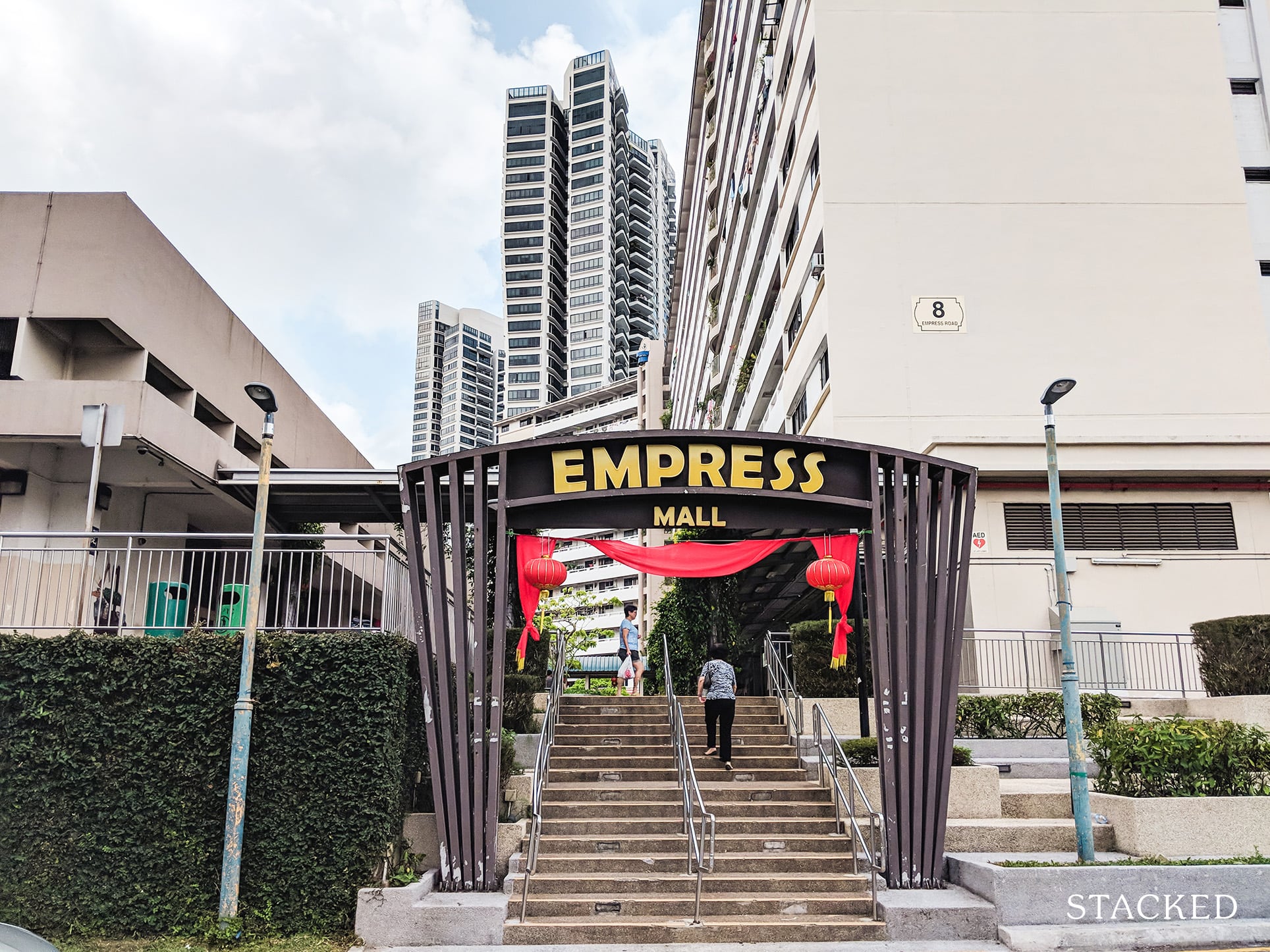 Once you are on the main road, you can be sure of great accessibility all around. Turning right leads you to Farrer MRT, where it is just a couple of minutes walk away. Right opposite is Empress Road Food Centre, where there is a wet market and a hawker centre, so getting fresh food and local grub is convenient and quick. The downside is that the Empress Food Centre is not the most lively of places, especially at night as there aren't many stalls open. The saving grace here is the proliferation of food services like Food Panda and Deliveroo (Sorry Deliveroo fans, there's a minimum order rule in this area!). In case you are wondering, there is an overhead bridge so you do not have to worry about crossing the major Farrer Road at all! There are also some small shops there, selling fruits, artisan bread and meat, clinics, dry cleaning and a 7 Eleven, which we think would meet most people's needs.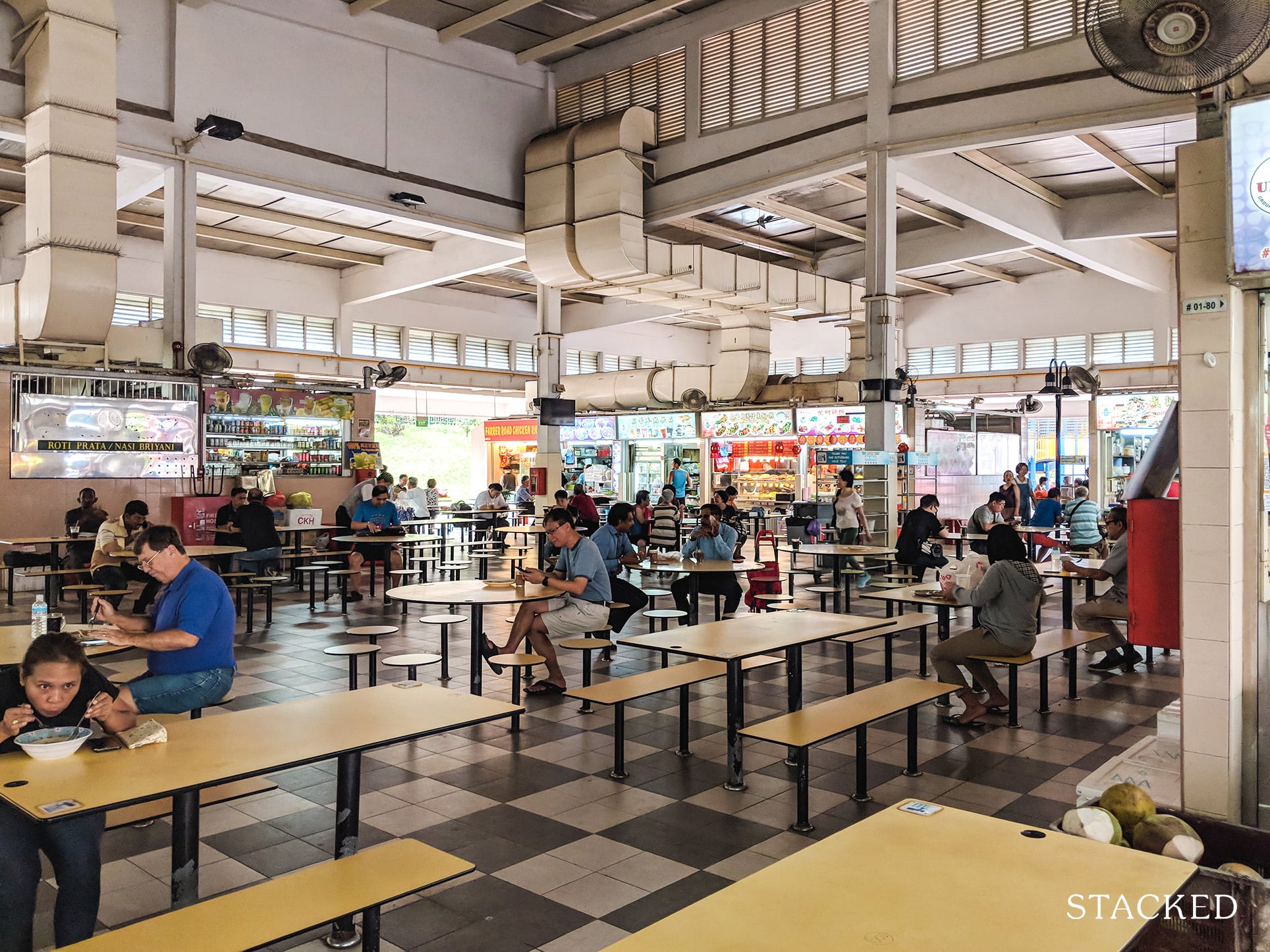 If you are in need of a bigger selection of food, there are a couple of joints at the Farrer Gardens HDB estate and even D'Leedon. Yes, D'Leedon actually has a supermarket, cafes and other retail shops. And yes, it is definitely open to the public. Walking further down Farrer Road towards Cluny, you'll find Serene Centre and Adam Road Hawker Centre. Serene Centre has a 24 hour McDonalds and several other restaurants like Fat Belly and Sugarhaus. Cluny Court, although small has interesting small independent shops and bigger brands like Gastronomia by Da Paolo, Plain Vanilla and Relish. The icing on the cake here is a 24 hour Cold Storage for your grocery needs.
Going down Farrer towards Queensway brings you to Holland Village, famous for its food and atmosphere. In a couple of years' time, the place will be updated with a mixed-development currently in the works so you can expect even more shopping and dining options in the future. Pollen and Bleu is also a close 10-minute drive to town if you want to catch a movie or just do more shopping!
Now, for schools – the closest would be Saint Margaret's Secondary, followed by Nanyang Primary. These are both within walking distance! Within driving distance would be Raffles Girls Primary School, Queenstown Primary School, Nanyang Girl's High School, Hwa Chong Institution, National Junior College, Anglo-Chinese School (International) and Hwa Chong International Schools. Its a wealth of good schools to choose from, so definitely proximity to a good school is not an issue here.
Pollen and Bleu Development Site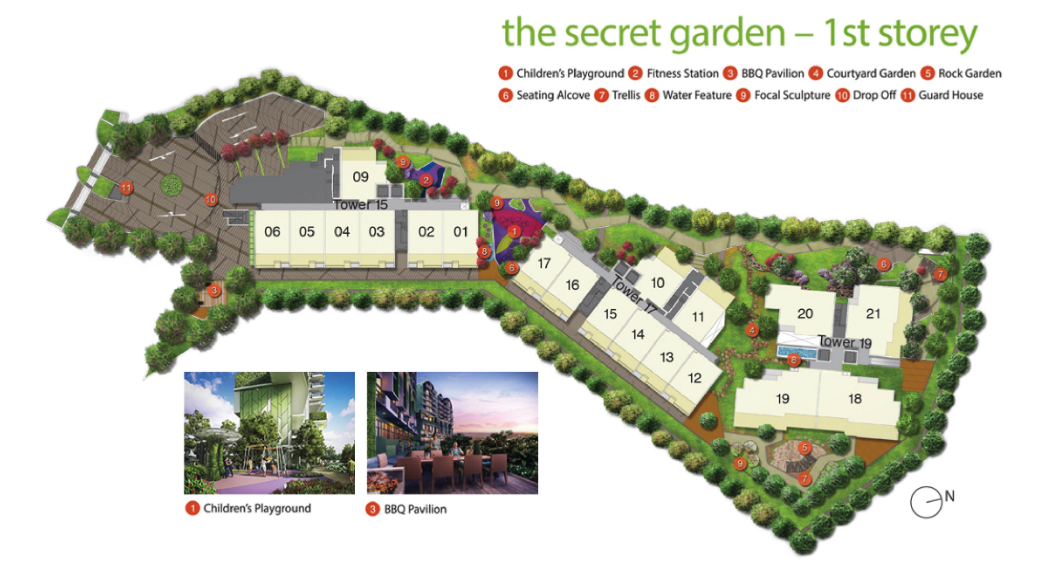 One of the early complaints of Pollen and Bleu was the constrained and irregular shaped plot of land that it sits on. In our opinion after visiting the site, the gap between the properties is not an issue and because the surroundings are all low rise, you really do not get a squashed feeling. At the very least, you are the shiny new jewel of the Farrer Drive neighbourhood! However, the downside of being in between two old freehold developments is in the case that they go en bloc in the future, so you will have to deal with the construction and inconvenience. But seeing as the en bloc cycle is passing us by, you will not have to deal with this problem for the next couple of years.
Here is the unit mix of Pollen and Bleu:
Unit mix

| Unit Type | No. of Units | Size of Units (sqft) |
| --- | --- | --- |
| 1-bedroom | 8 | 549 sqft |
| 1-bedroom + study | 12 | 603 sqft |
| 1-bedroom + study (Garden Terrasse) | 15 | 700 – 732 sqft |
| 2-bedroom | 14 | 872/893sqft |
| 2-bedroom (Atelier Loft) | 17 | 1,163 – 1,270 sqft |
| 3-bedroom | 18 | 980 – 1,313 sqft |
| 4-bedroom | 12 | 1,432 – 1,593 sqft |
| Penthouse | 10 | 1,841 – 2,831 sqft |
Despite the small size of the development, the unit mix here is really quite diverse. One thing to note here is that the 2 bedroom units are bigger than most of the new launches that we have seen. Carpark lots are also adequate here, one let per unit but you can also expect to have more carpark space due to rental units here.
Insider Tour
| | | |
| --- | --- | --- |
| Children's Playground | Fitness Station | BBQ Pavilion |
| Courtyard Garden | Rock Garden | Seating Alcove |
| Viewing Deck | Function Deck | Sunken Sunset Lounge |
| Sky Terrace | Gymnasium | Infinity Edge Lap Pool |
| Kid's Pool | Jacuzzi | Pool Side Dining Lounge |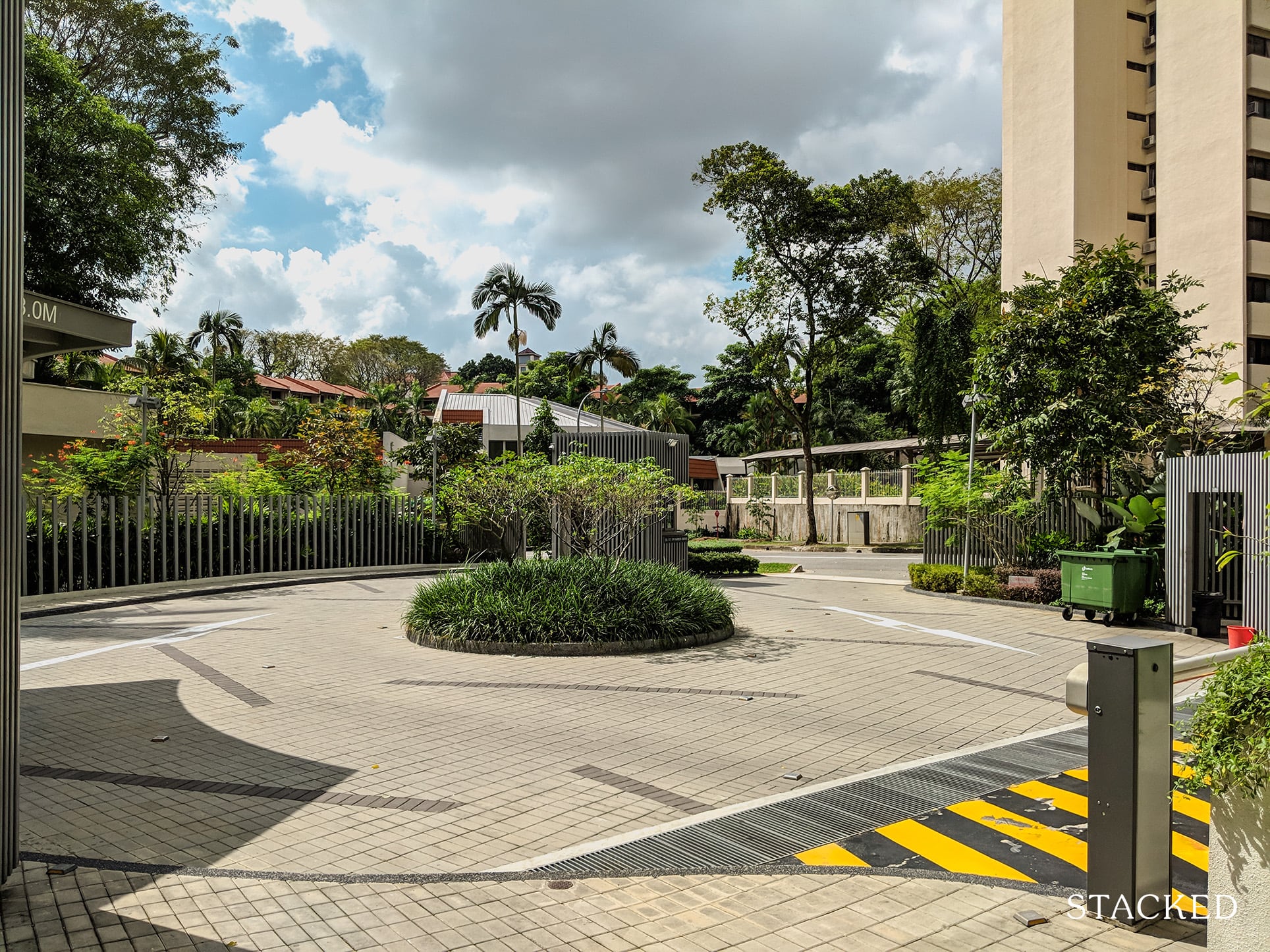 The arrival area to Pollen and Bleu is nice and spacious, the shelter isn't the biggest though.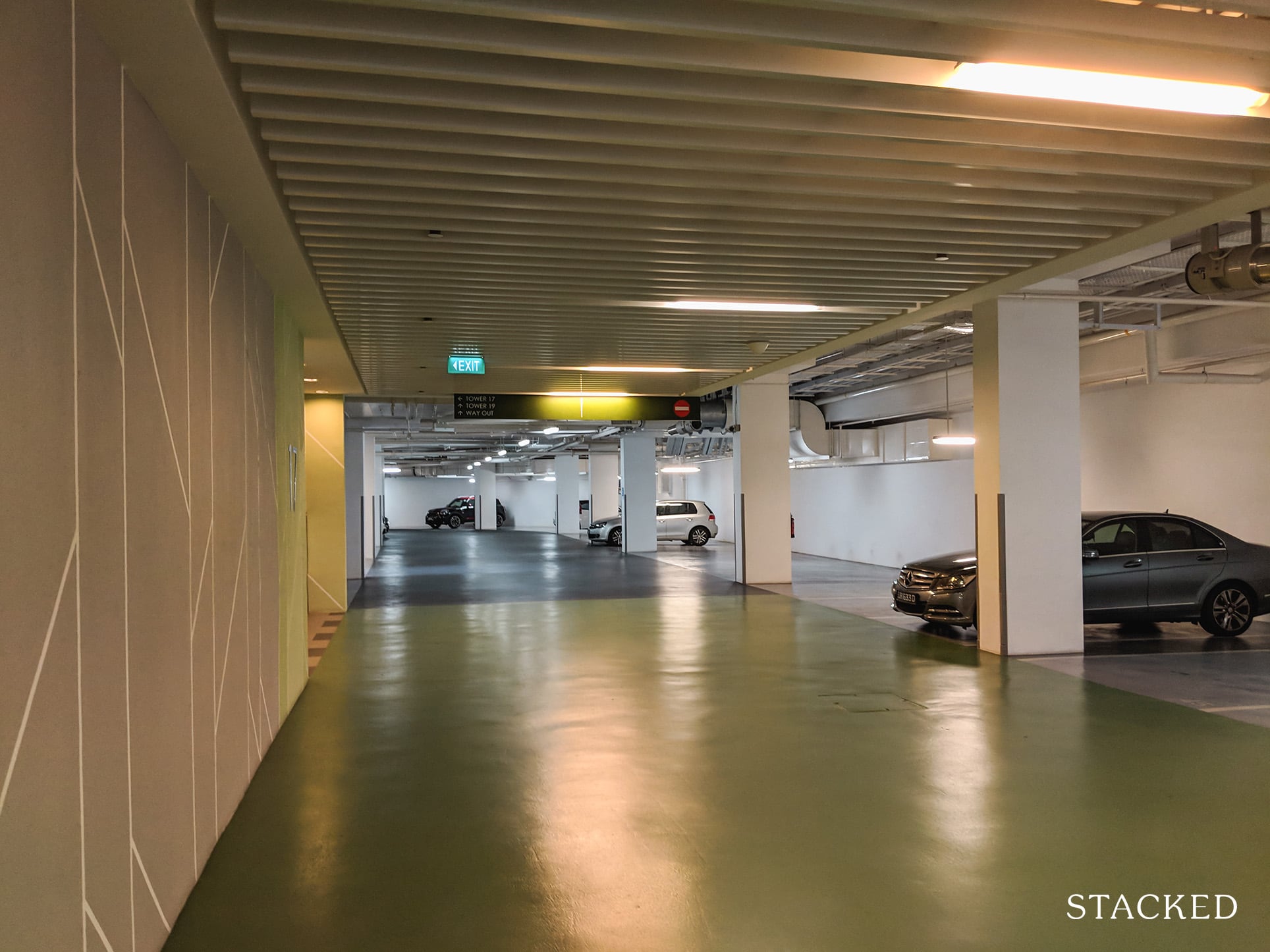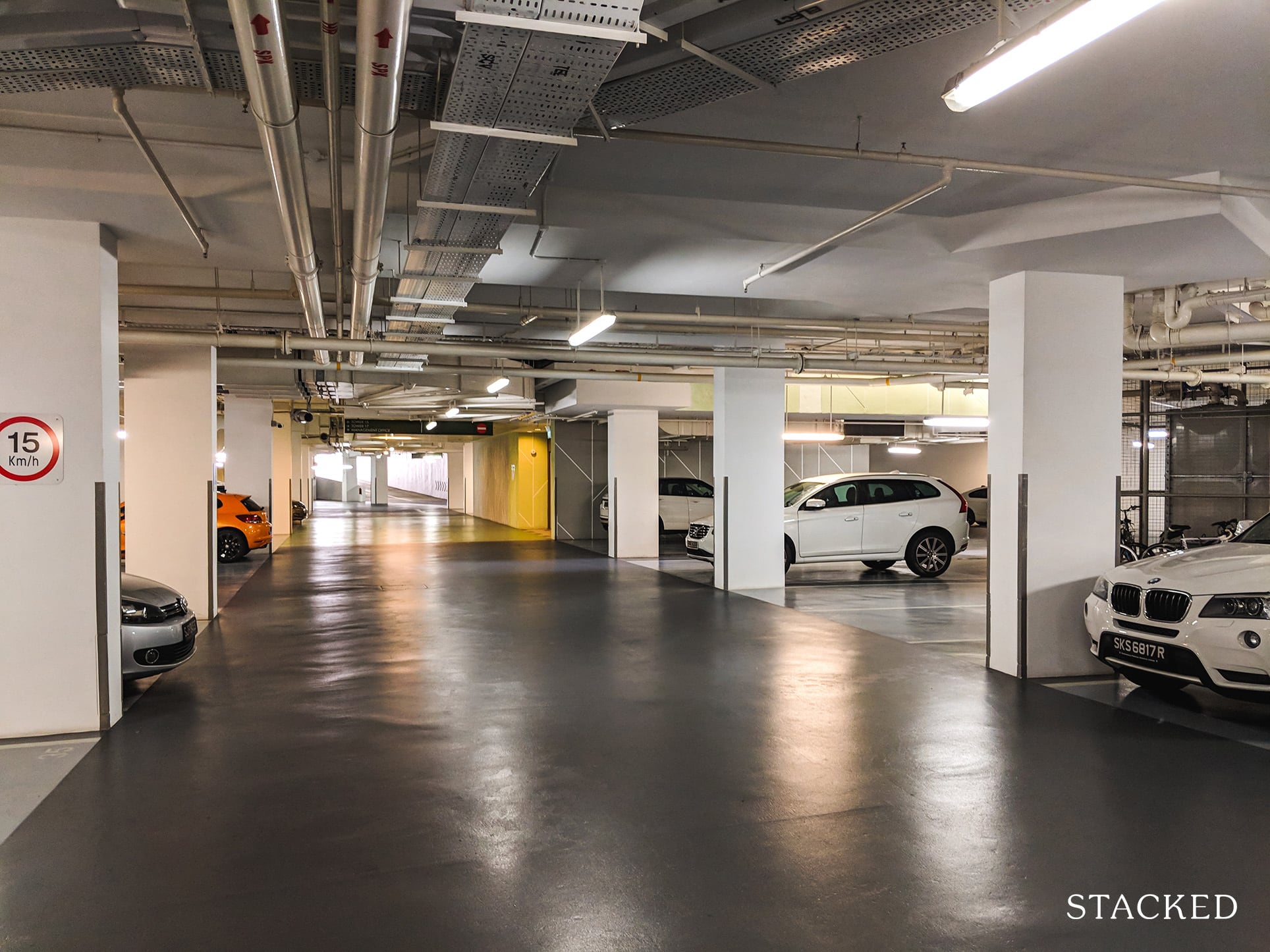 The carpark is large and airy, and the space per lot is generous. It also has that nice smooth coating which gives off a premium feel to it.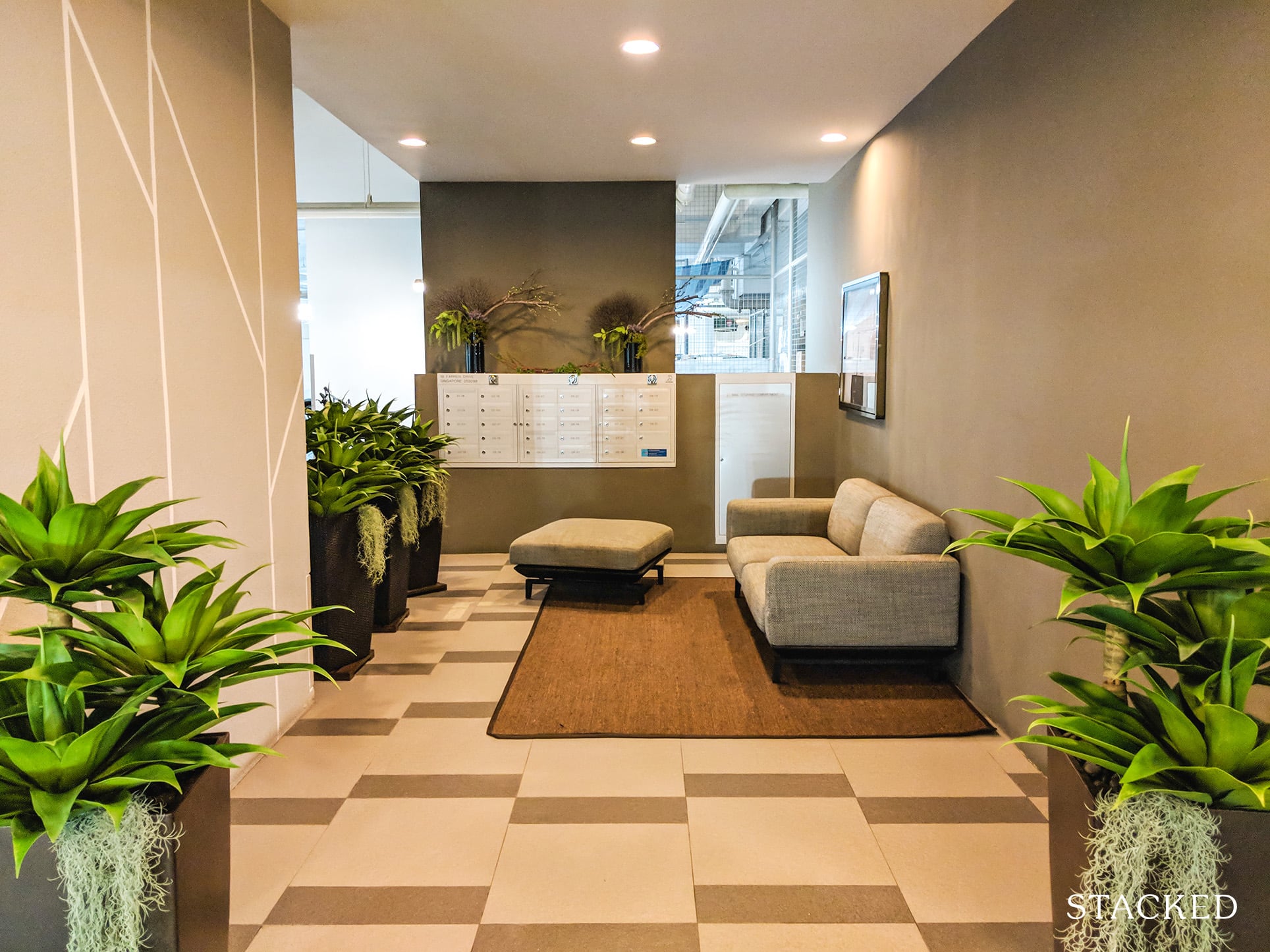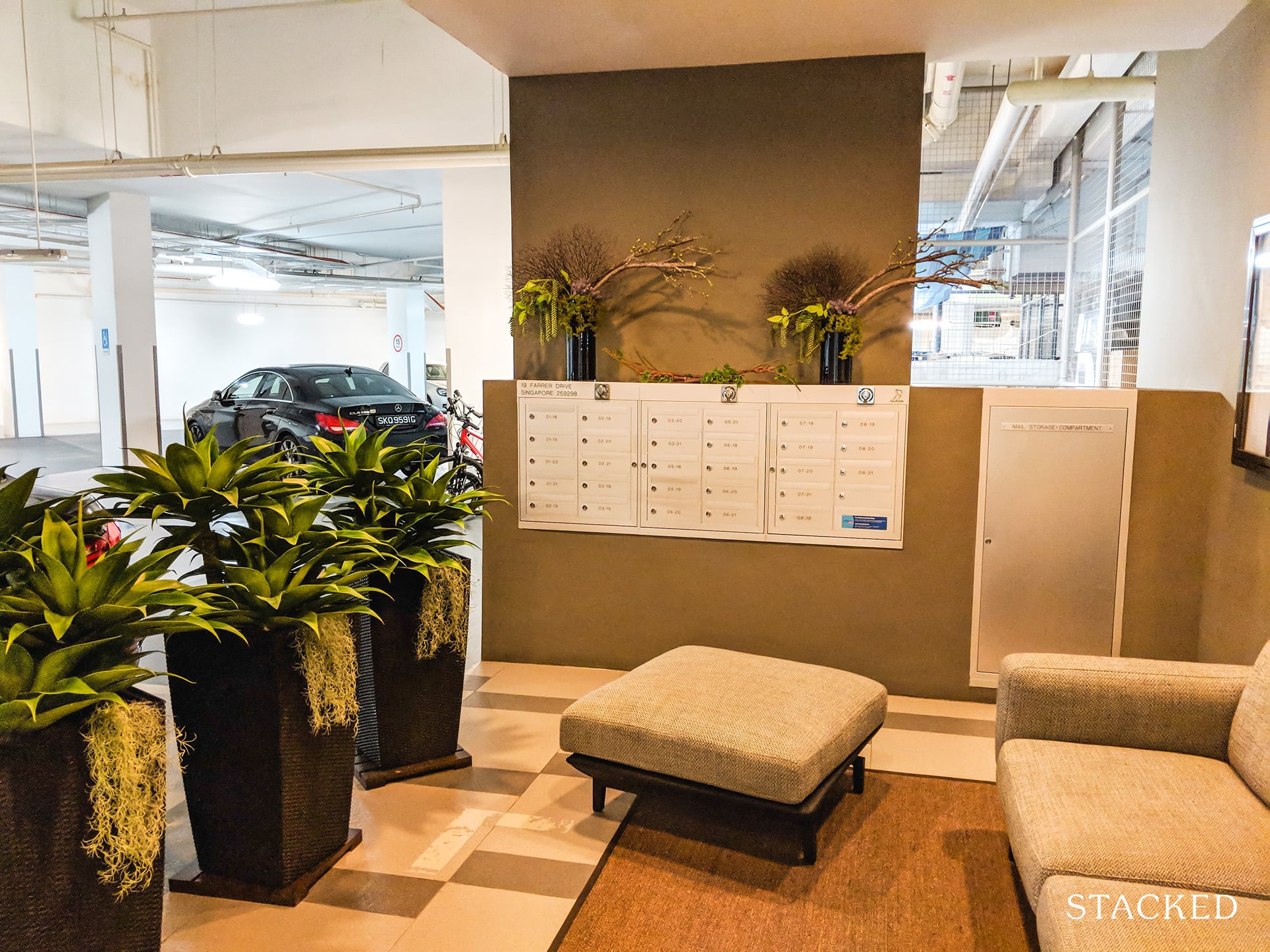 The lobby area shows off the unique side of the development, we can't think of any other development that has an open lobby at the carpark. It works because it is nice and cool.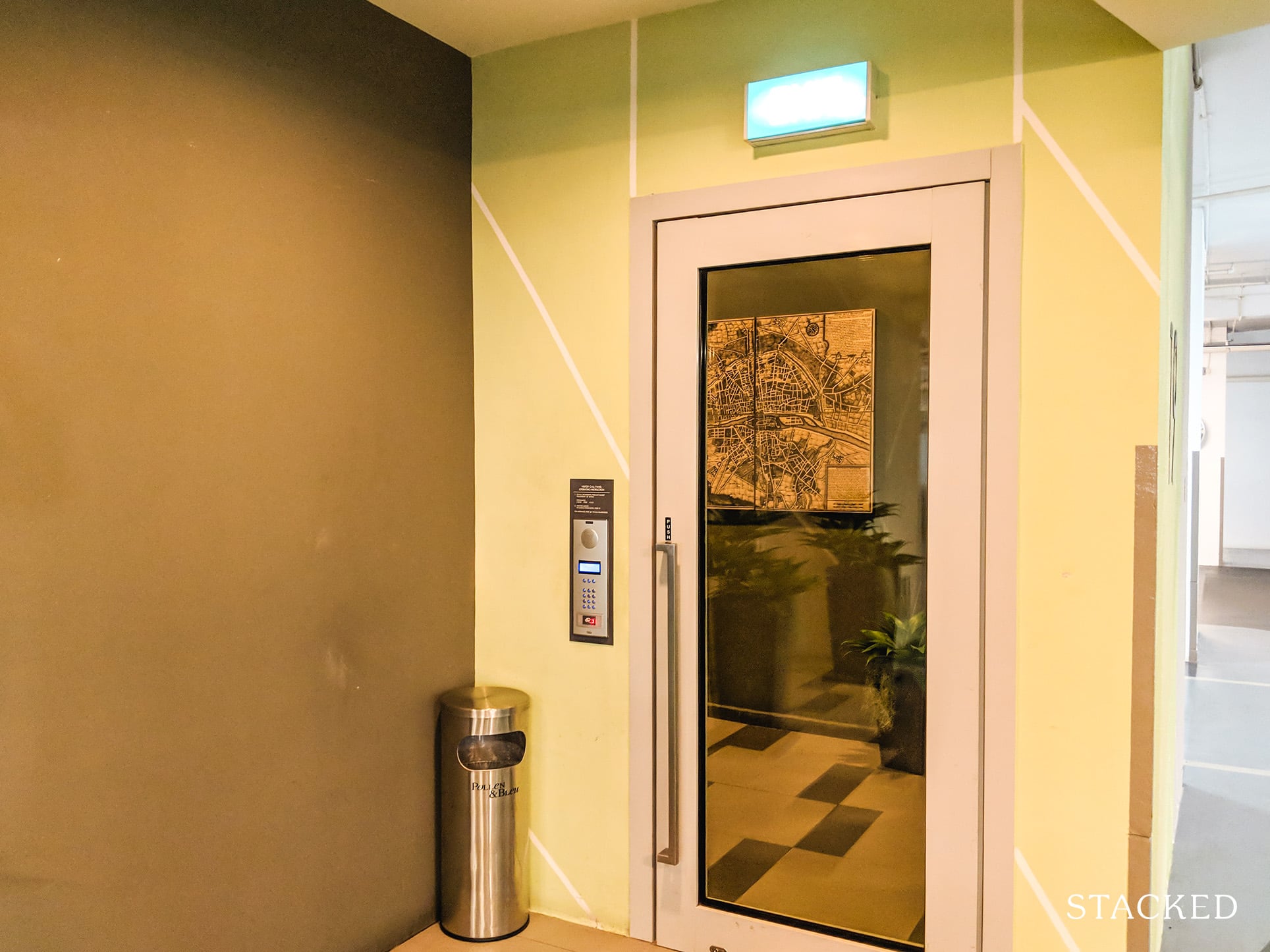 Keycard access is required to get into the development, the minimum security for most new developments nowadays. Visitors will have to dial directly to gain entry.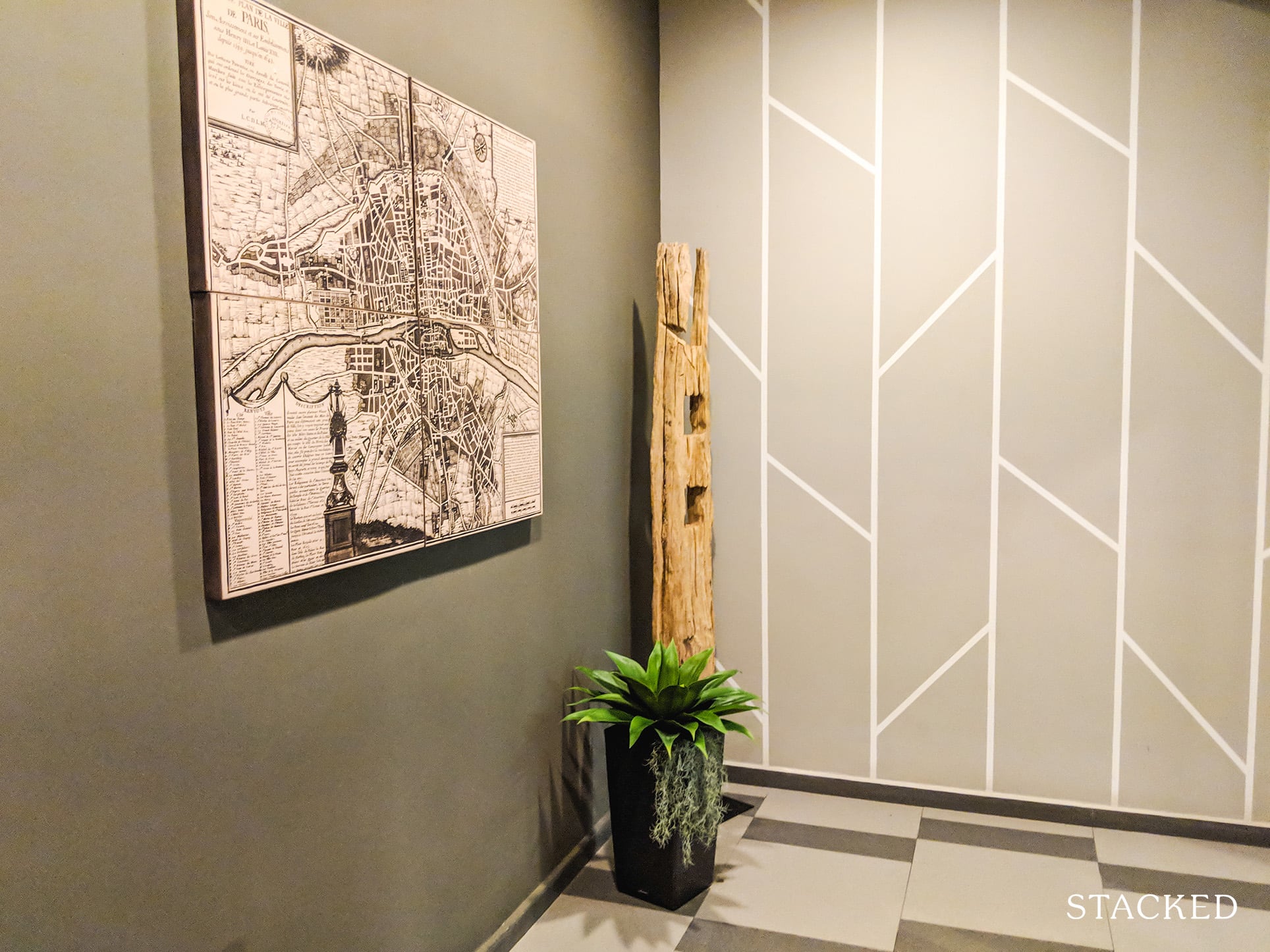 Once you get in, its nice and cool as it is air conditioned. Again, the decor in Pollen and Bleu contributes to much of its identity.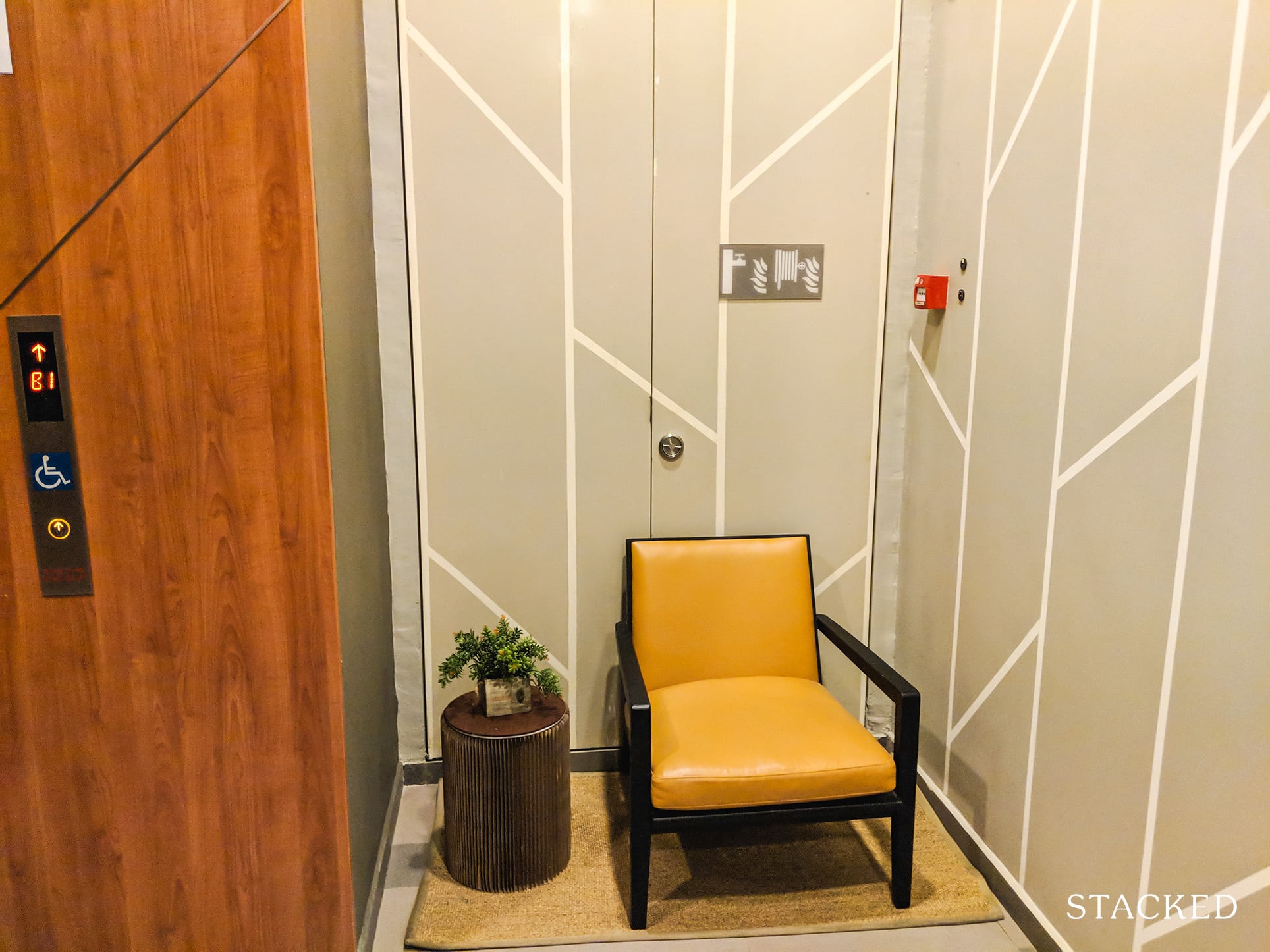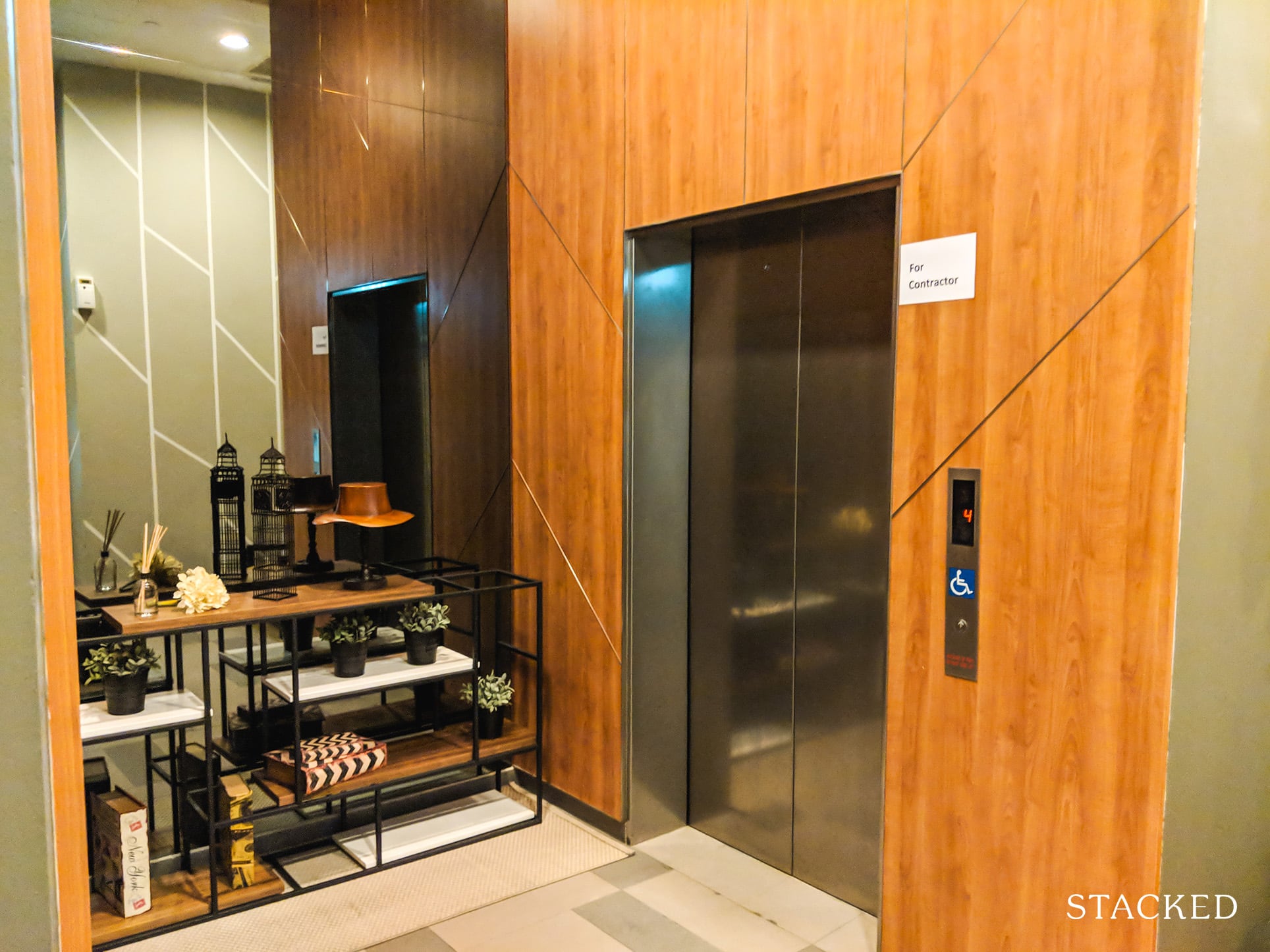 As you can see, the lobby, in general, is nicely designed and is a welcoming feature every time you come back home.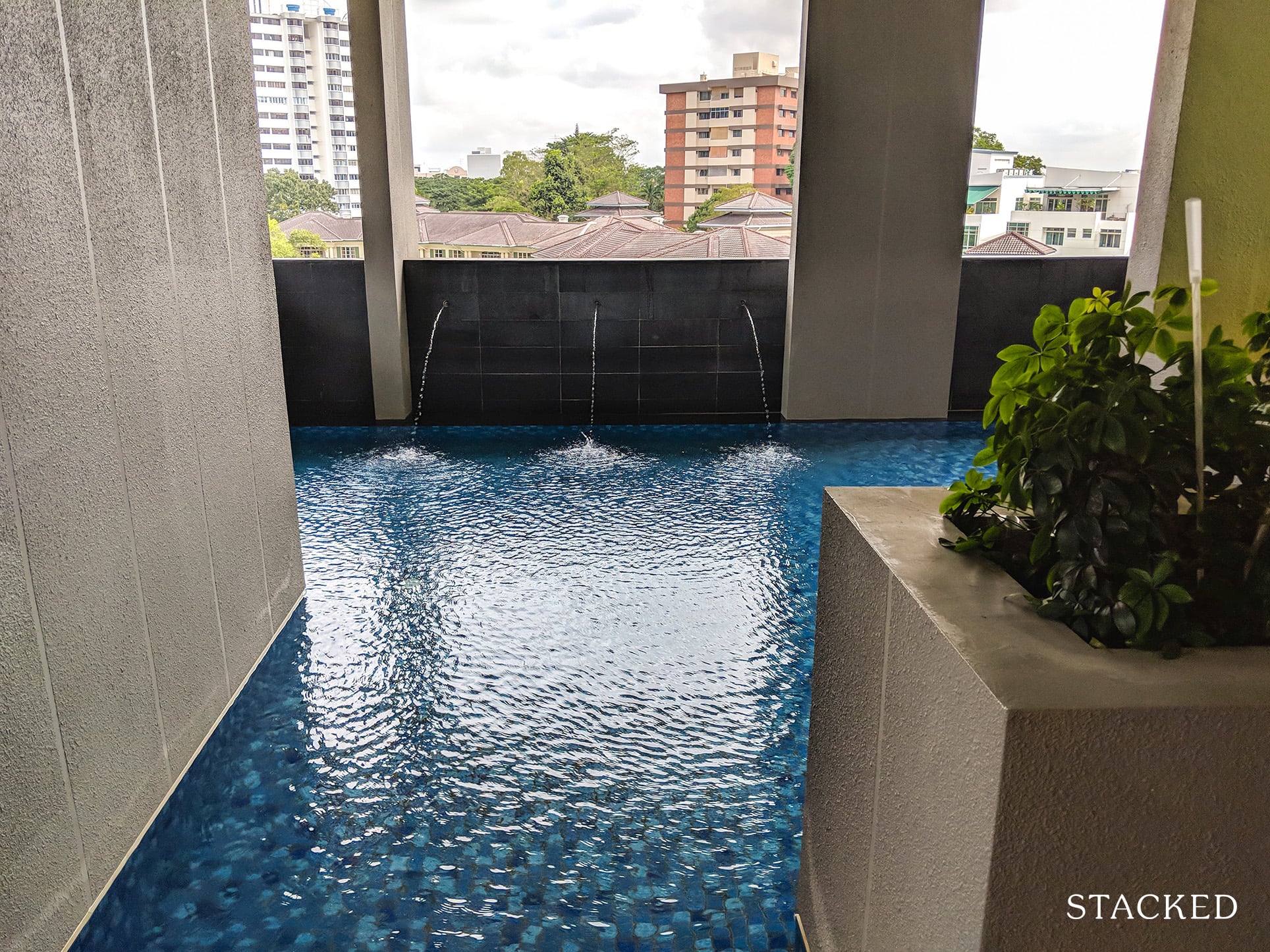 Because of the small size of the development, most of the facilities are located in the middle deck.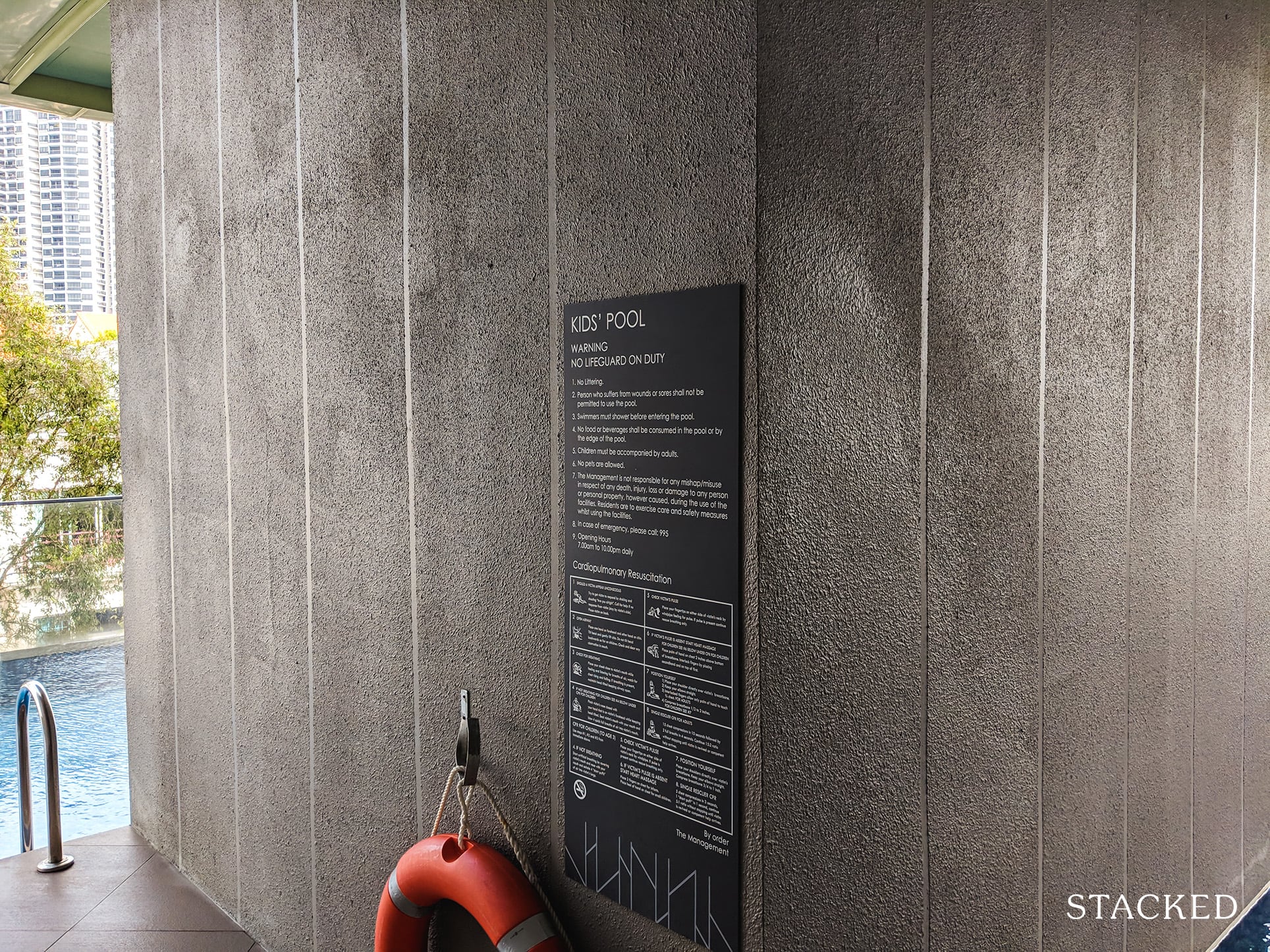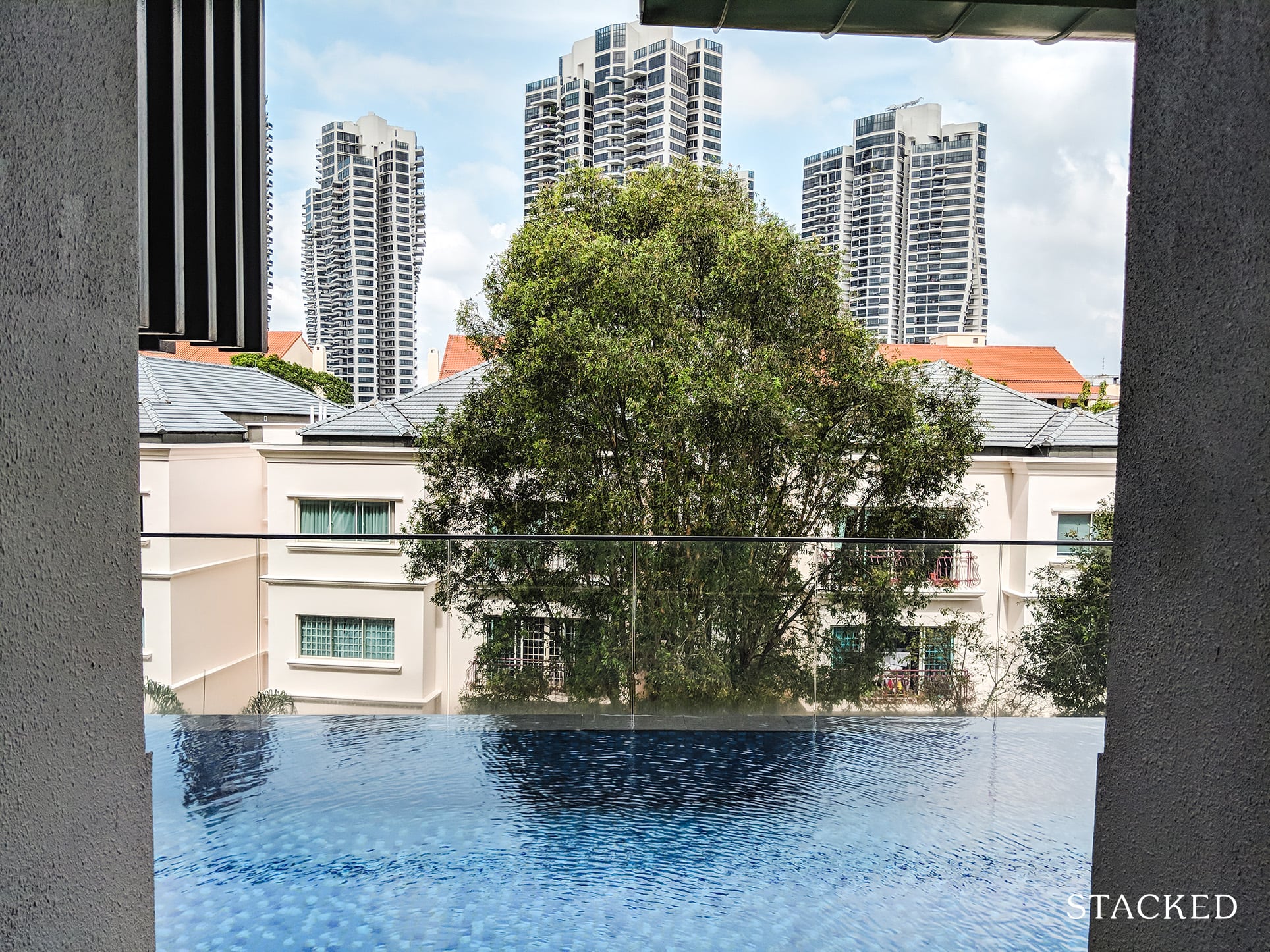 The view from the swimming pool, in this case, is not the best, it's facing the back of Sommerville Grandeur. Which unfortunately for those staying on the top two floors, you will be able to look into their home.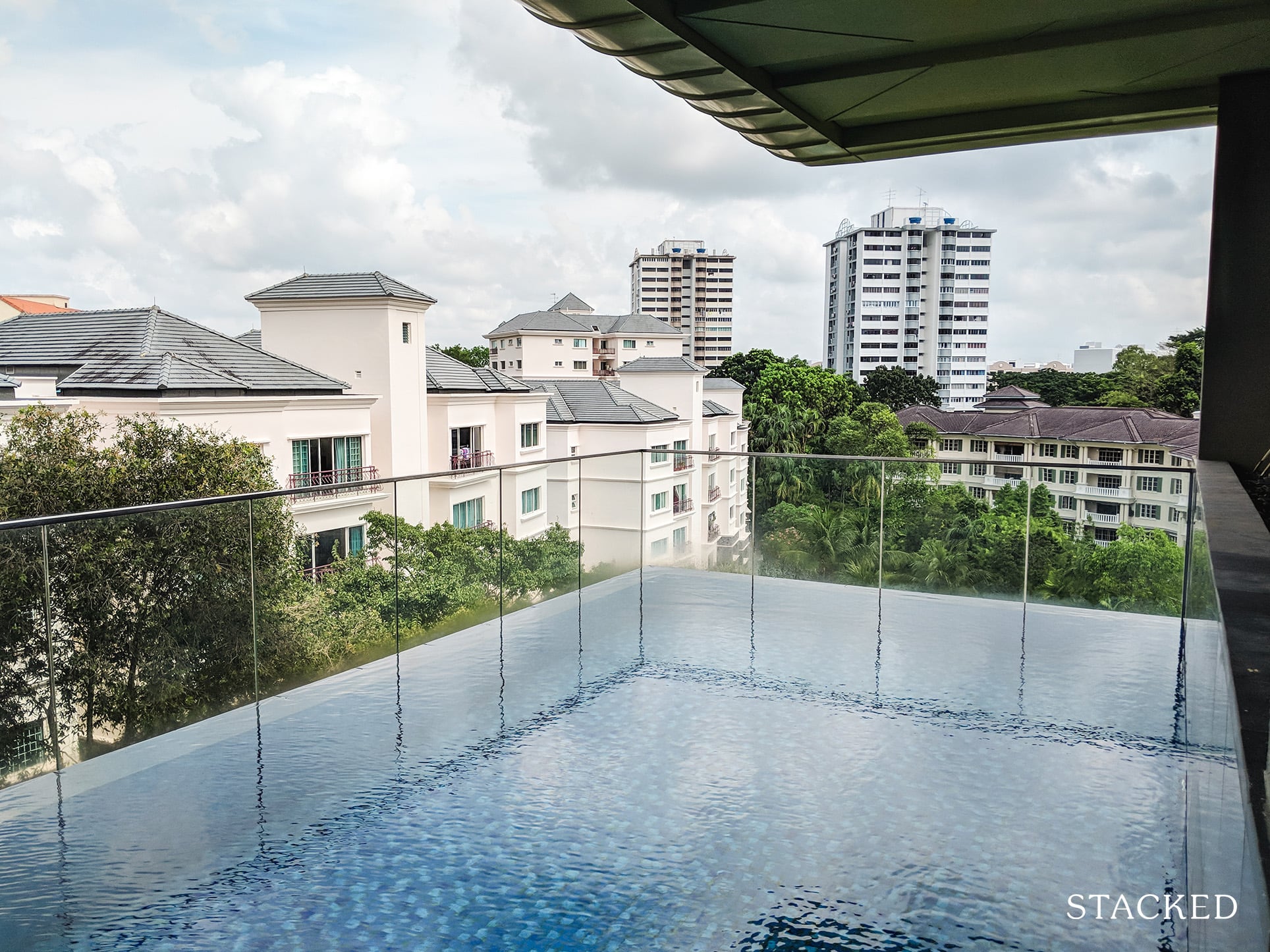 With that said, it is still a nice chill-out spot. If you are a sun worshipper, this probably is not the best place to be. It does offer a nice respite from the sweltering heat of Singapore.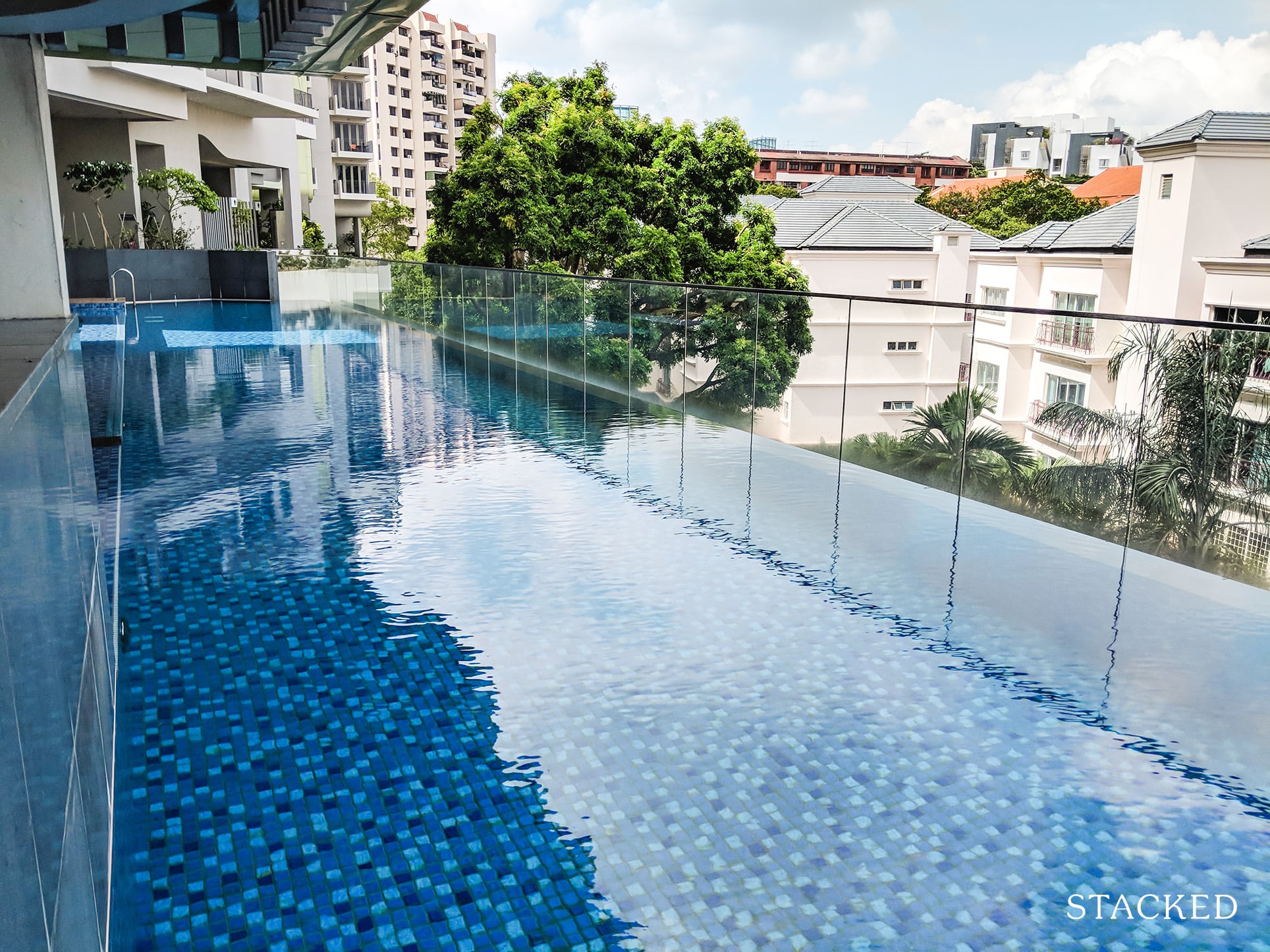 It is quite a long length, so you can get your cardio done here with a few laps around the pool.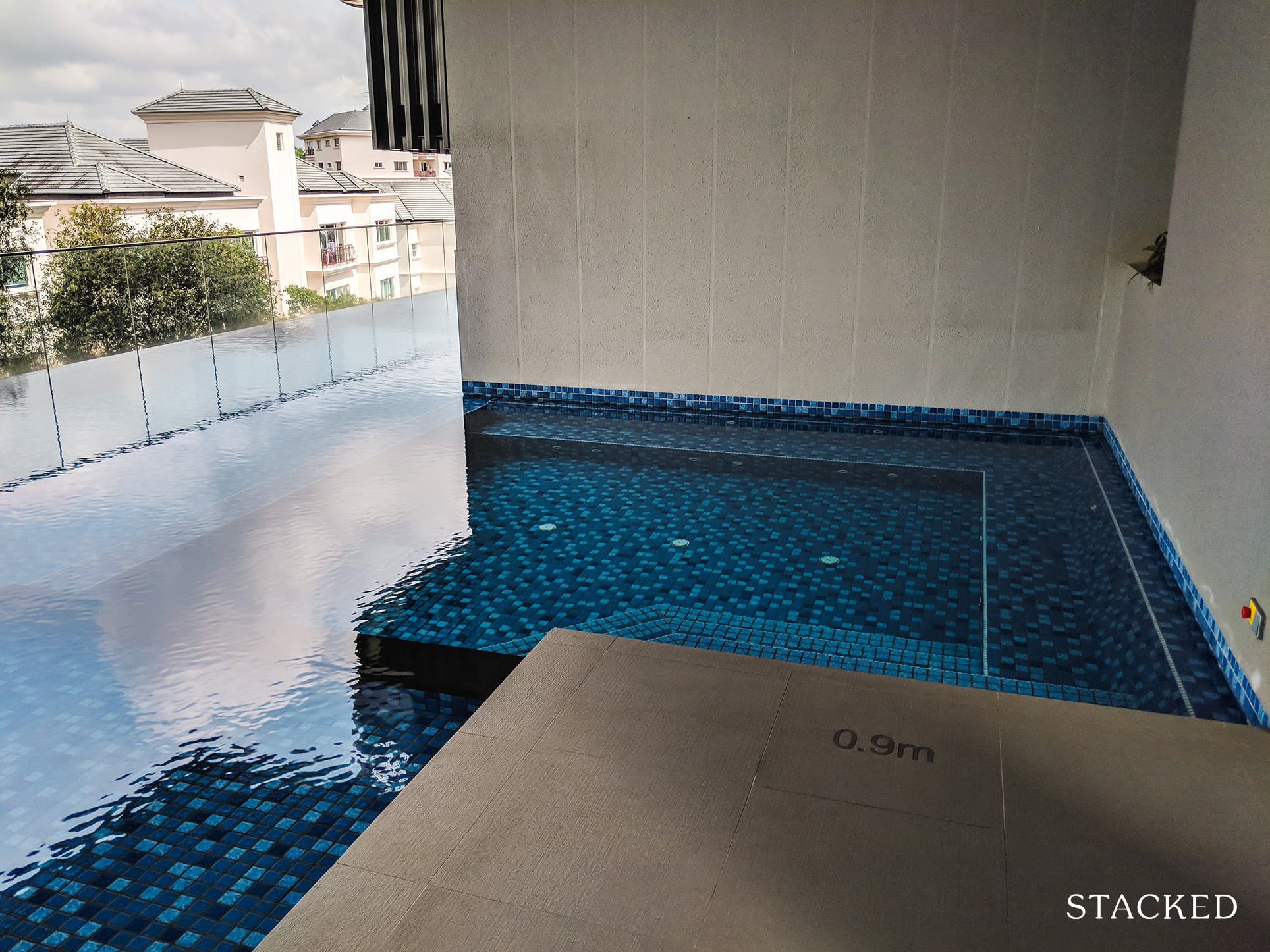 A small jacuzzi area.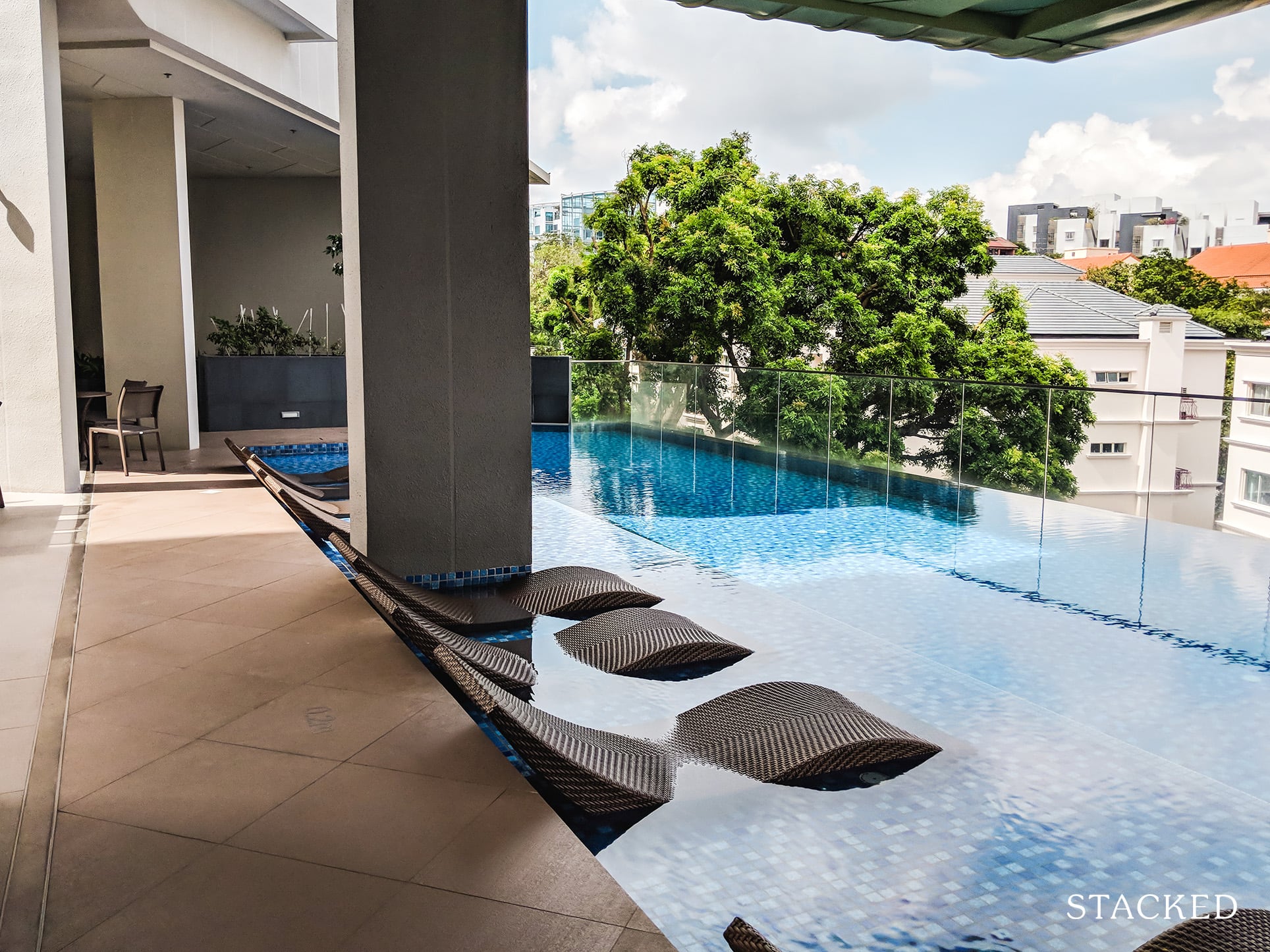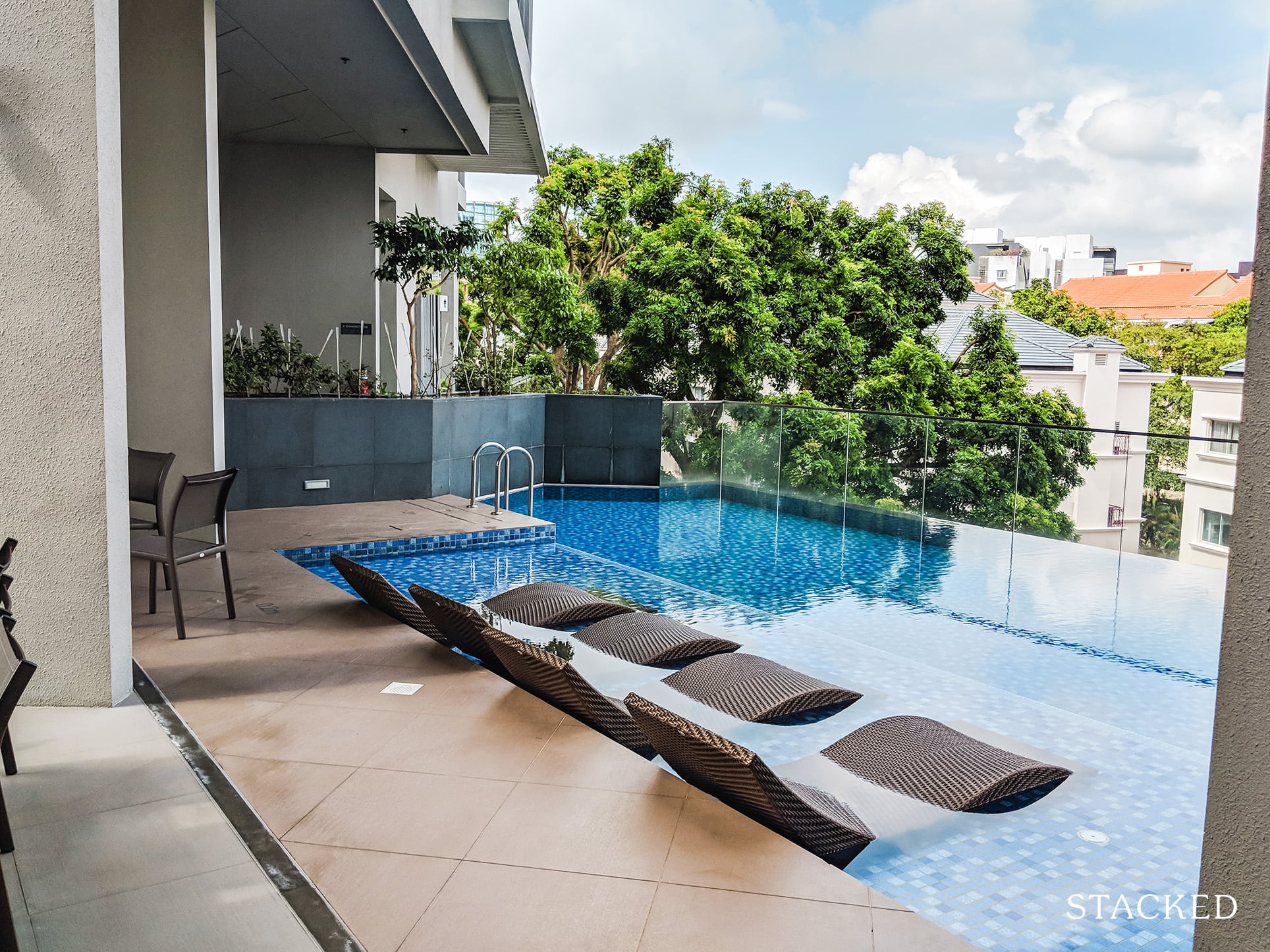 Numerous sunken sunbeds in the swimming pool, they all offer the same view though.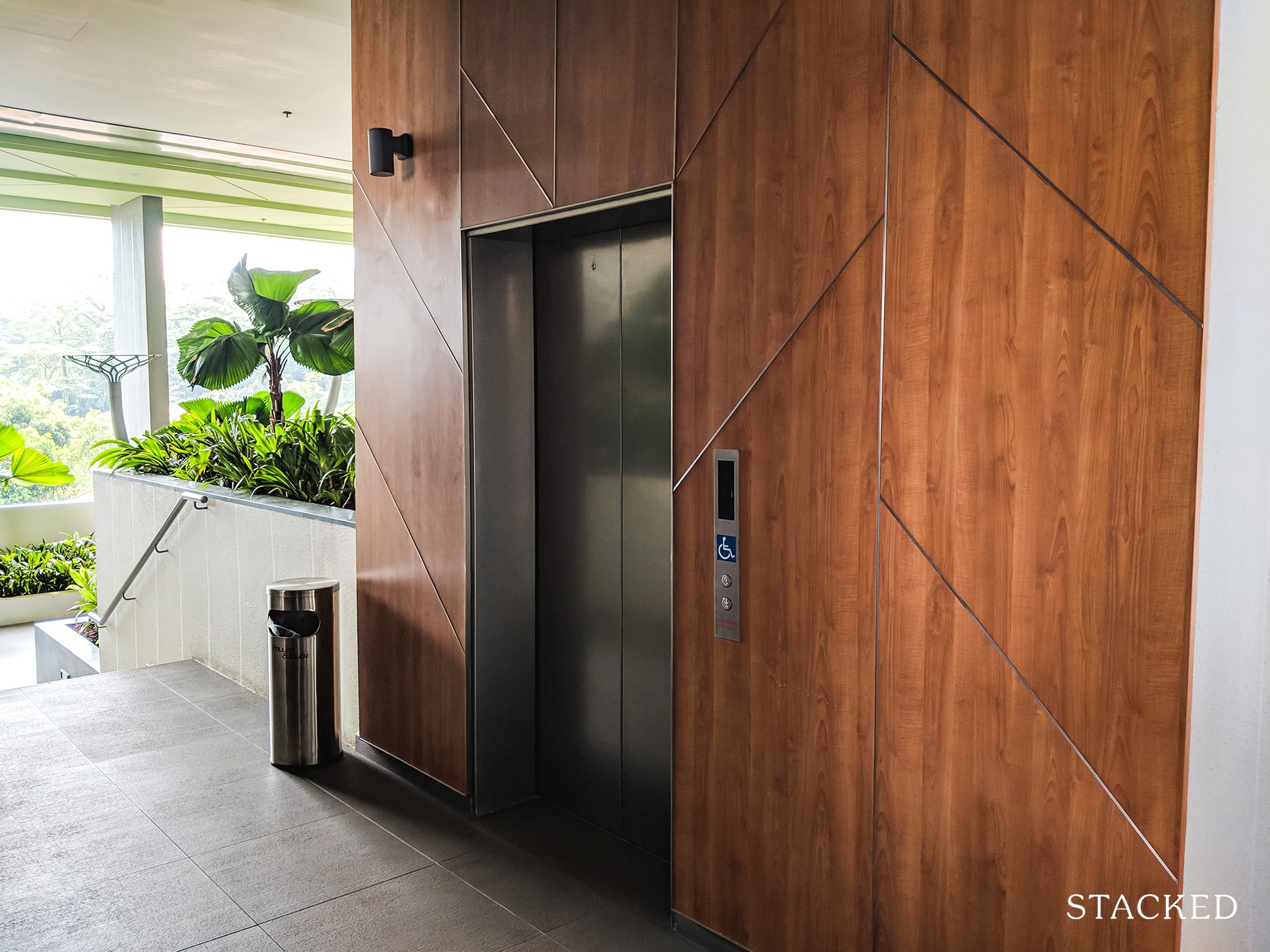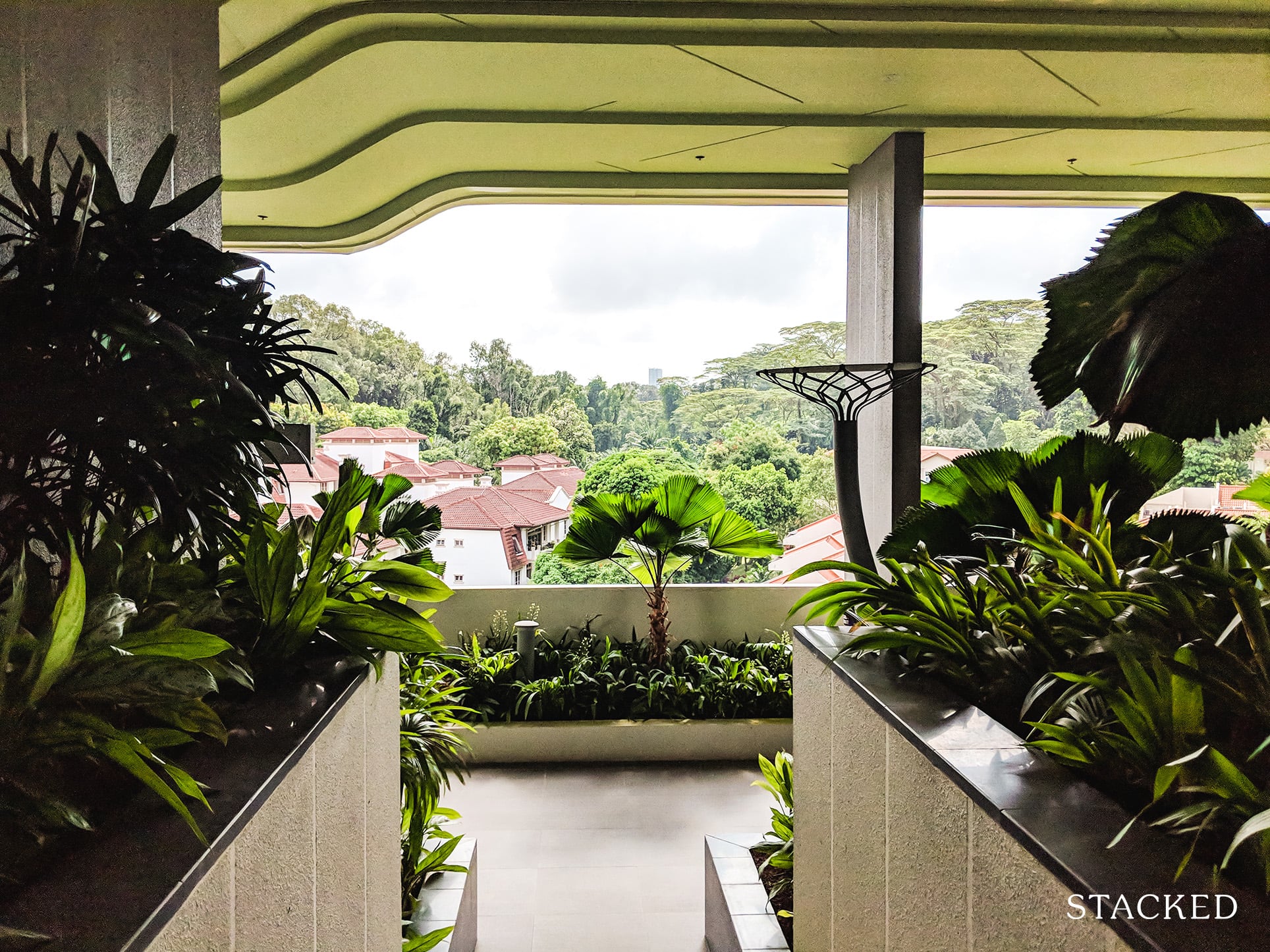 The facing on the other side, where it faces the back of Sommerville Park is a lot better in our opinion. There is a lot of greenery, and it's super tranquil and peaceful to look out.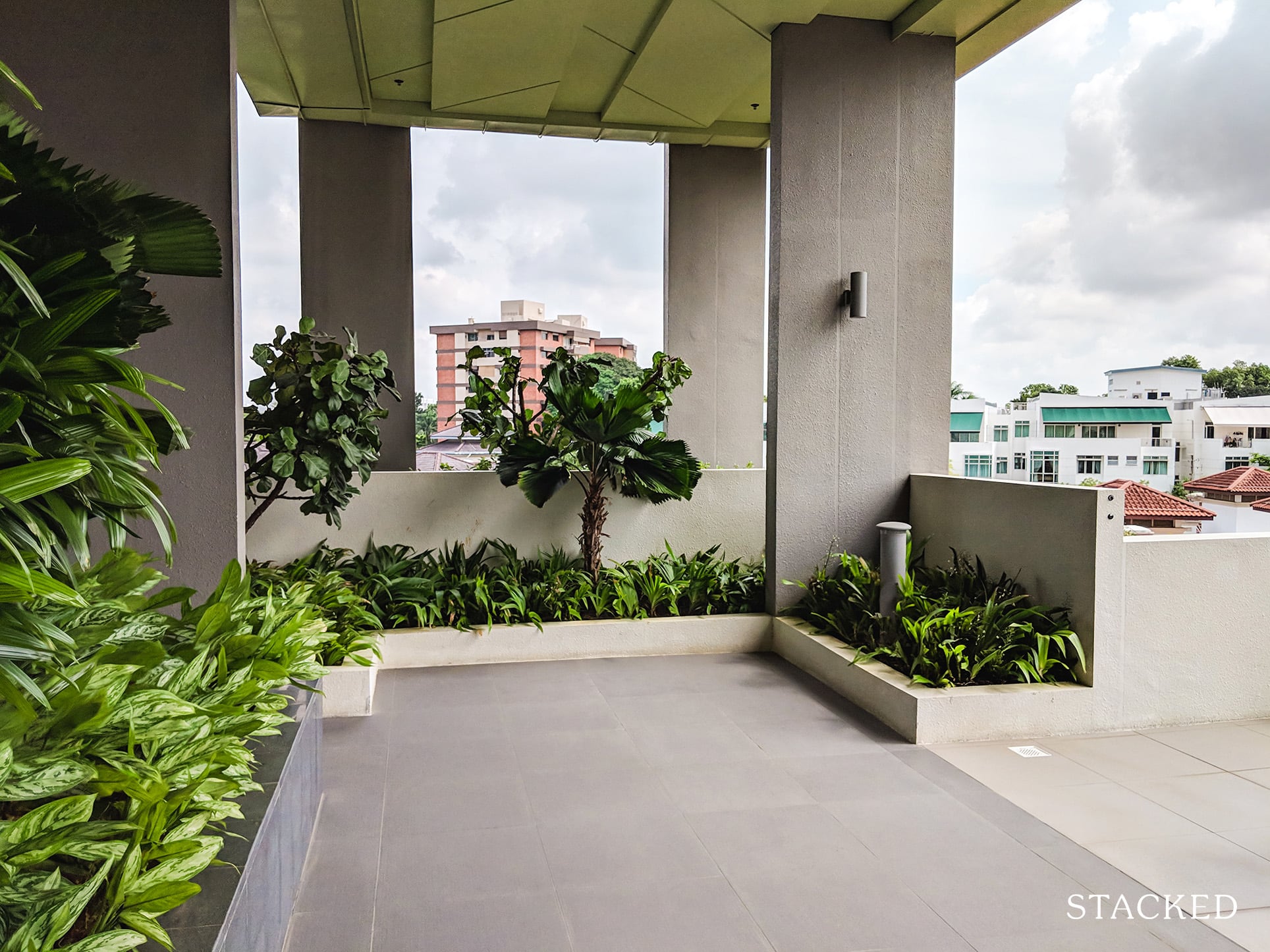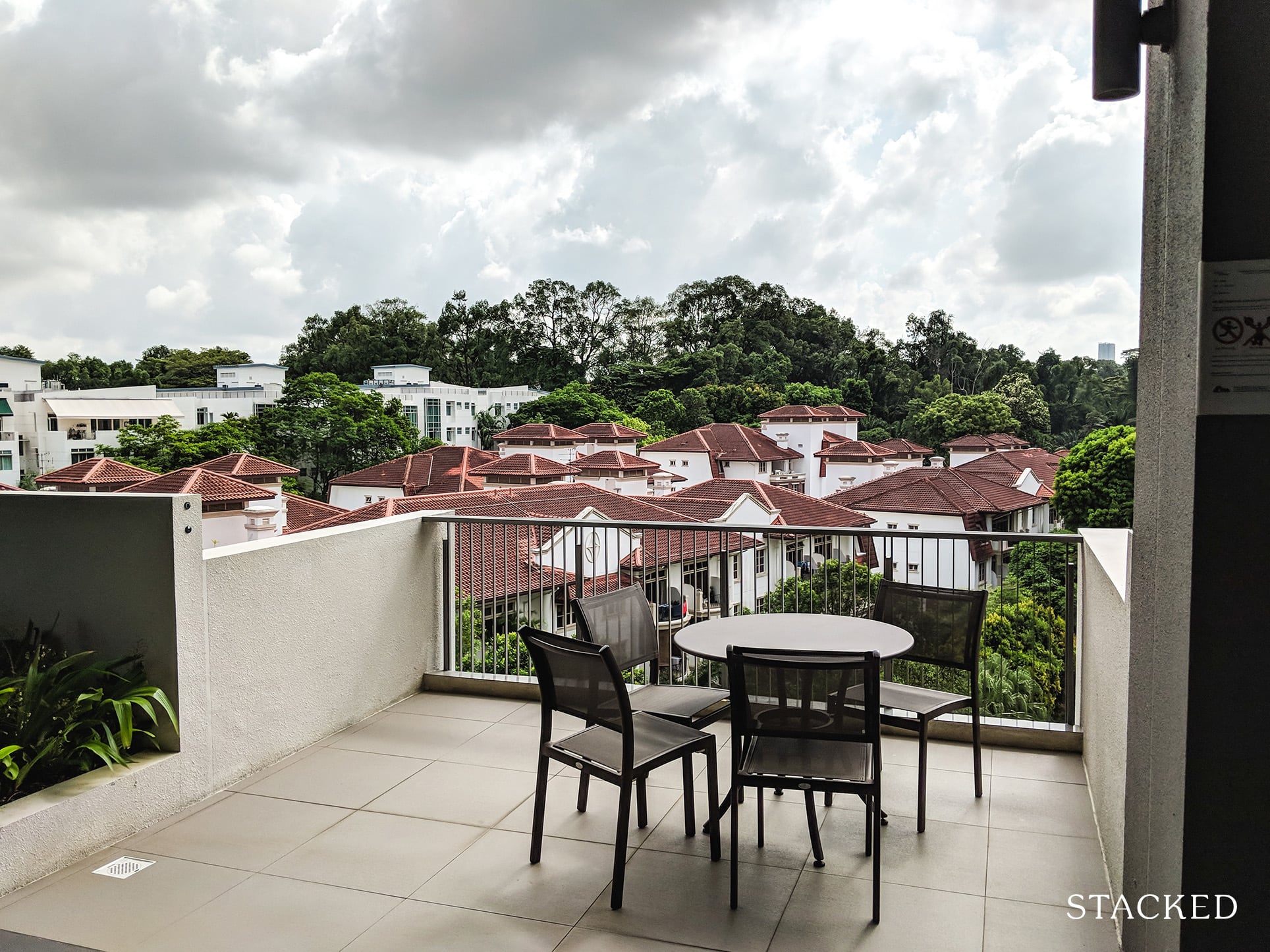 There are a couple of seating areas scattered around the viewing deck. It can be a nice place for breakfast or a cup of coffee in the morning.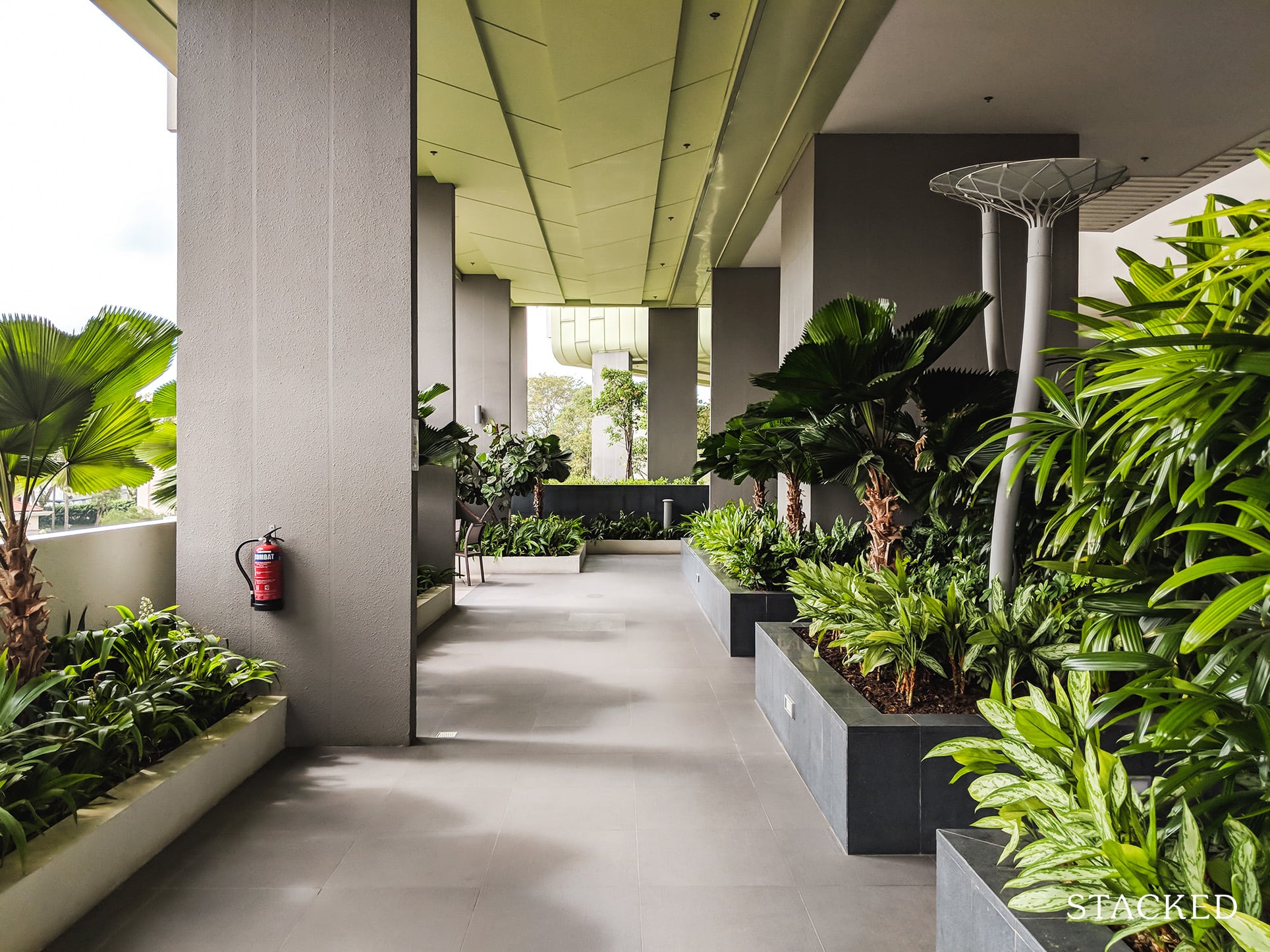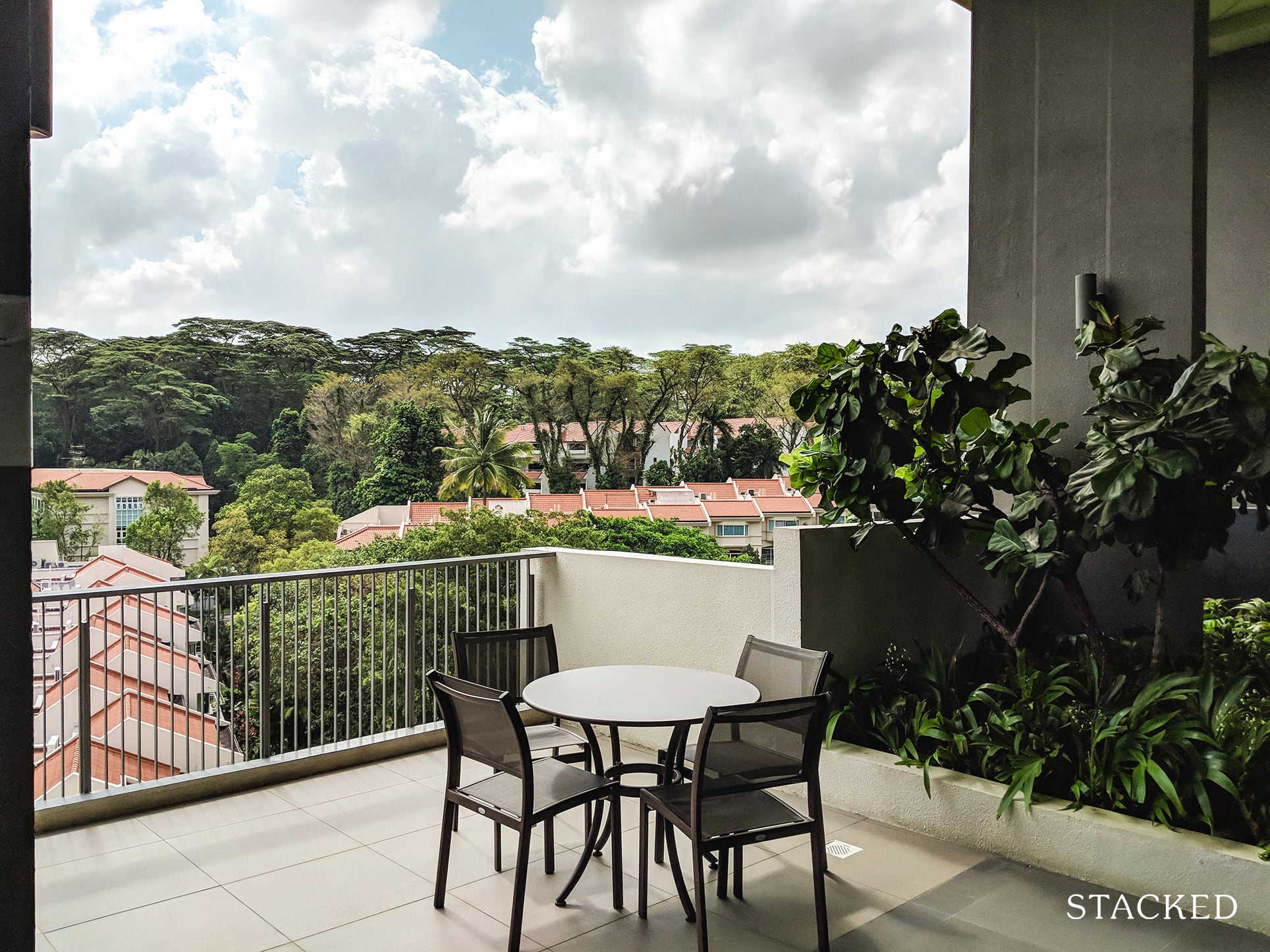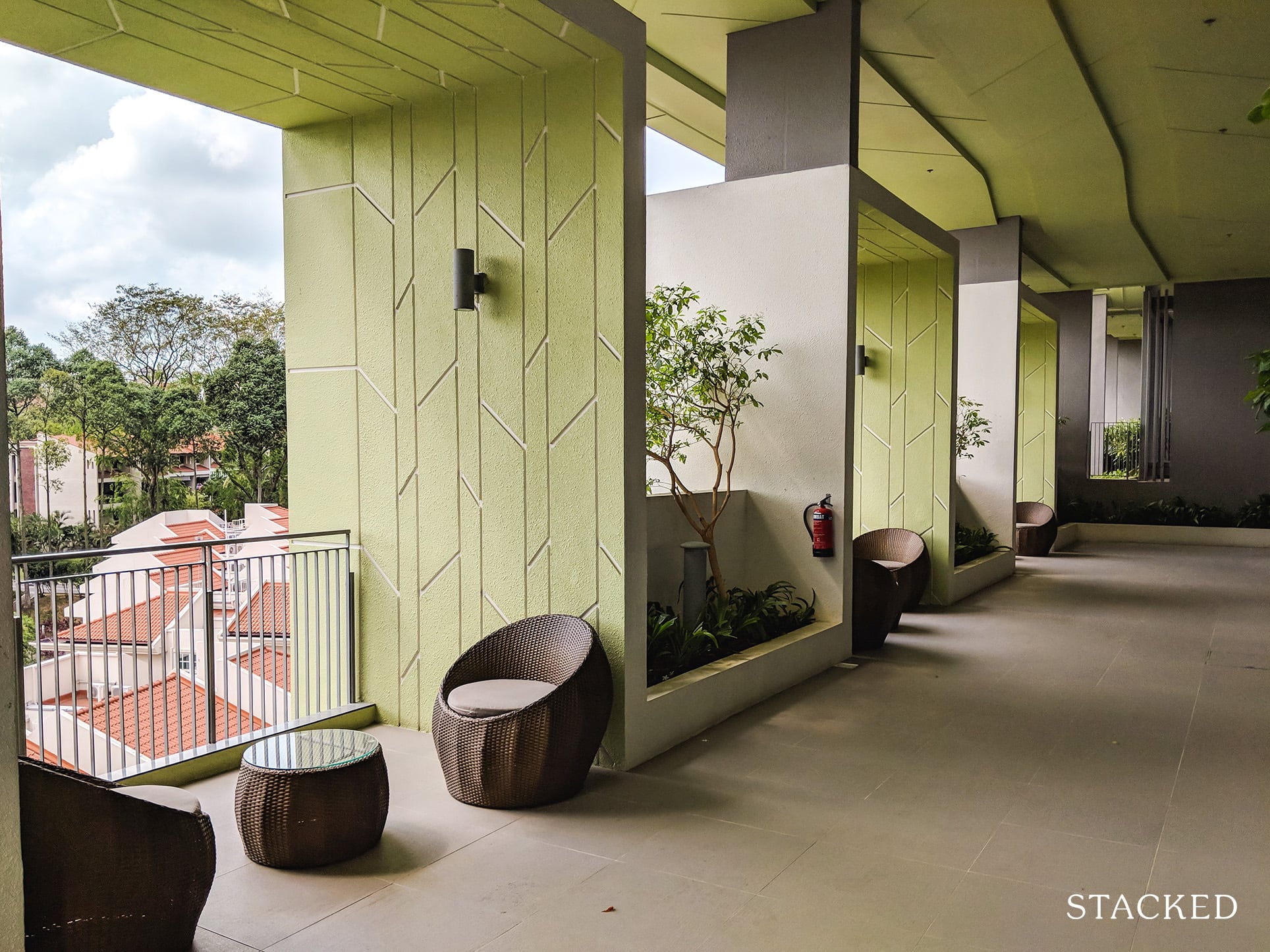 As this area runs along the whole length of Pollen and Bleu, there are really quite a number of seating spaces. We don't imagine that there would be much competition here for this. Frankly, these are not the most comfortable to sit on.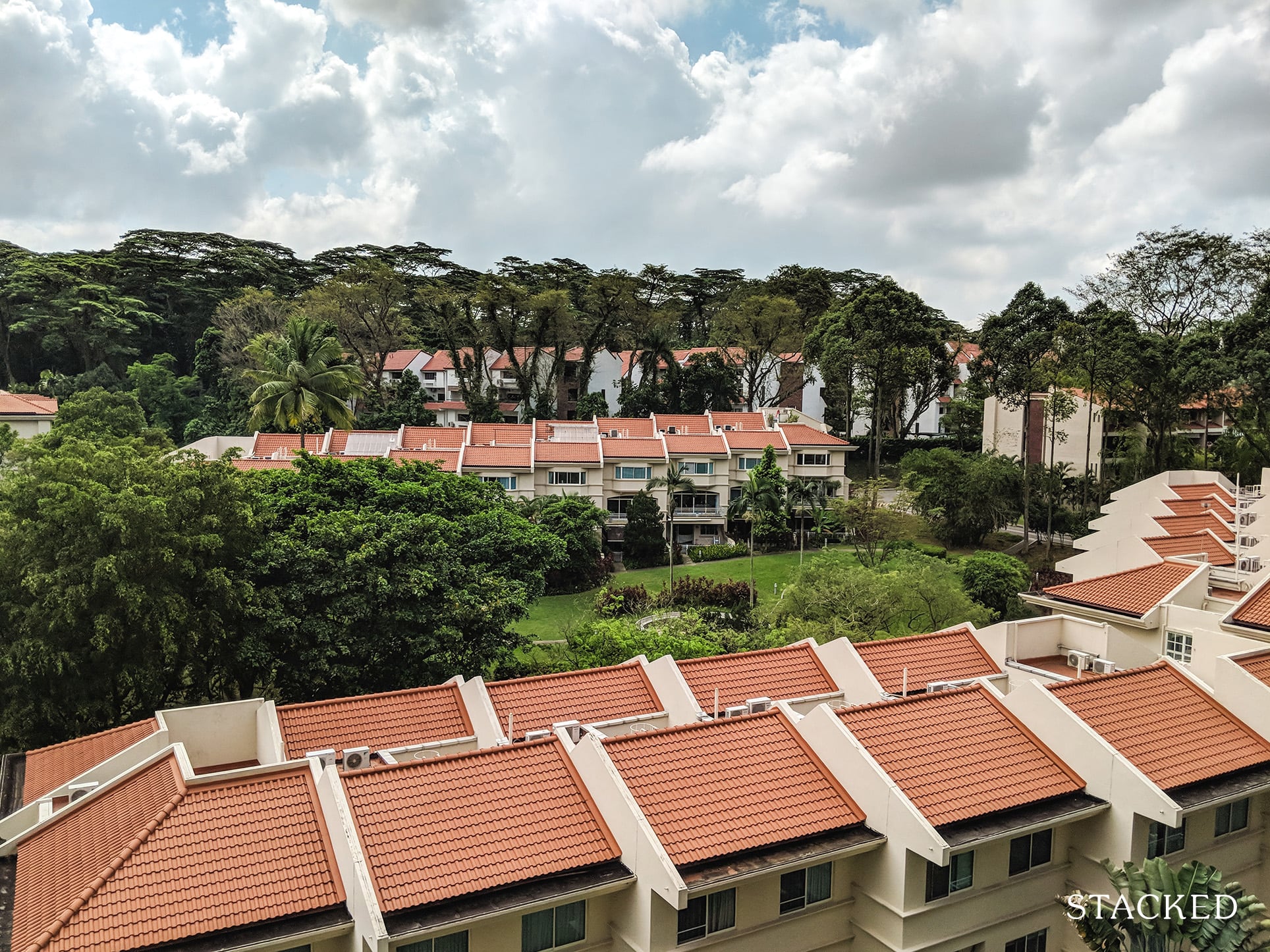 As said earlier, the back of Sommerville Park is mostly the low-rise townhouses so you get a good view over the top of them.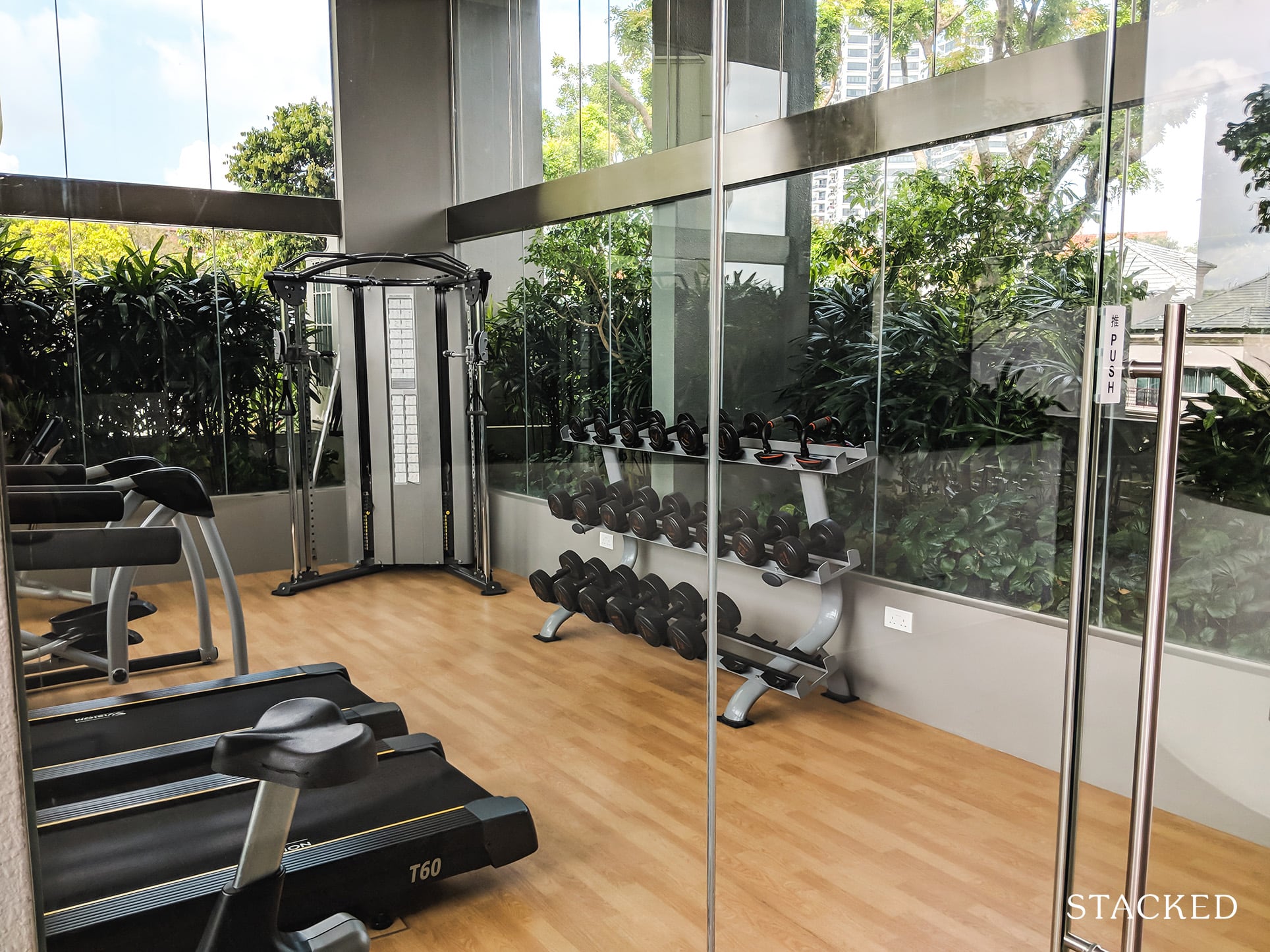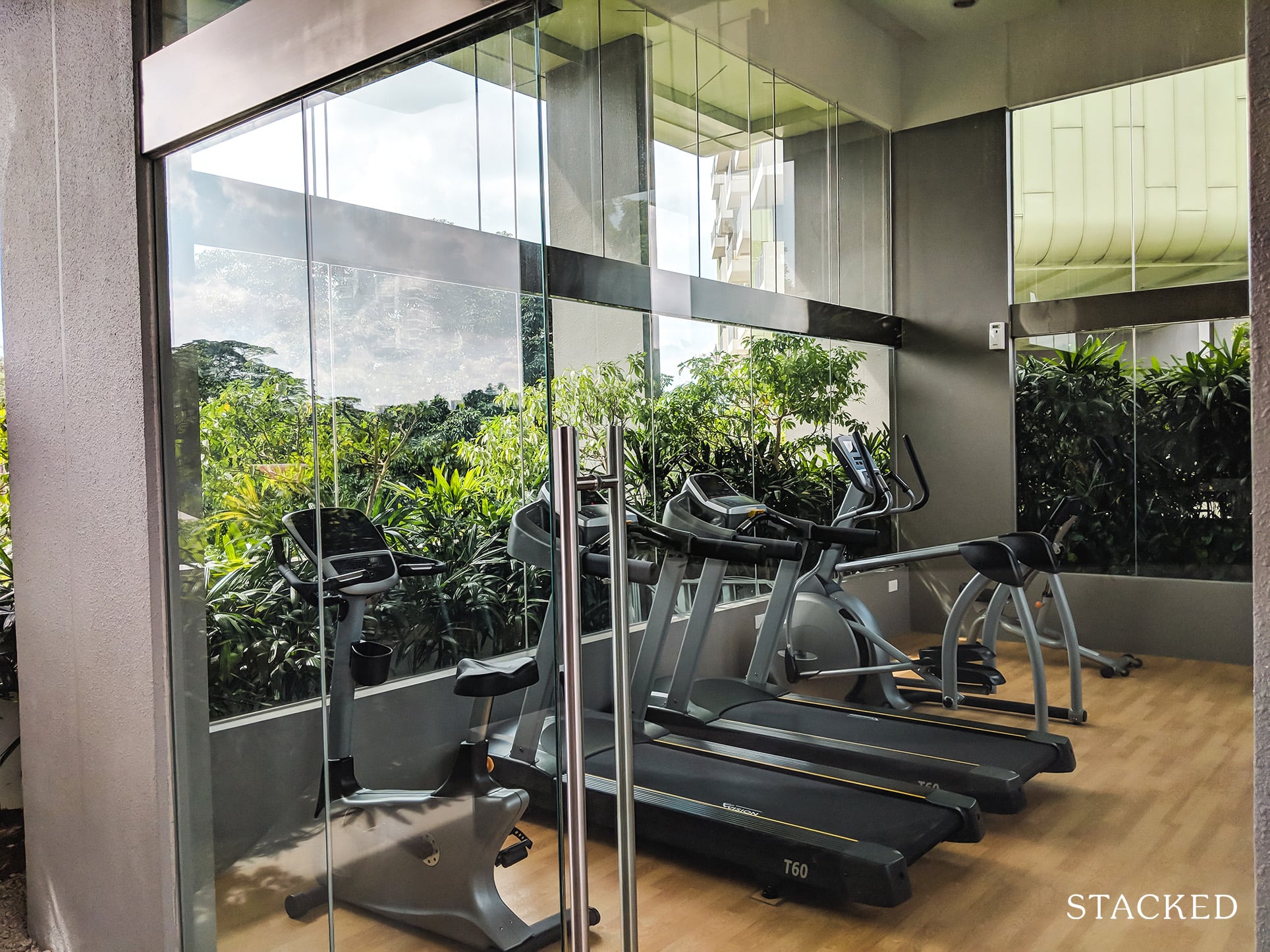 The gym is impressive for a boutique development, as there is even a rack of weights and a decent amount of space.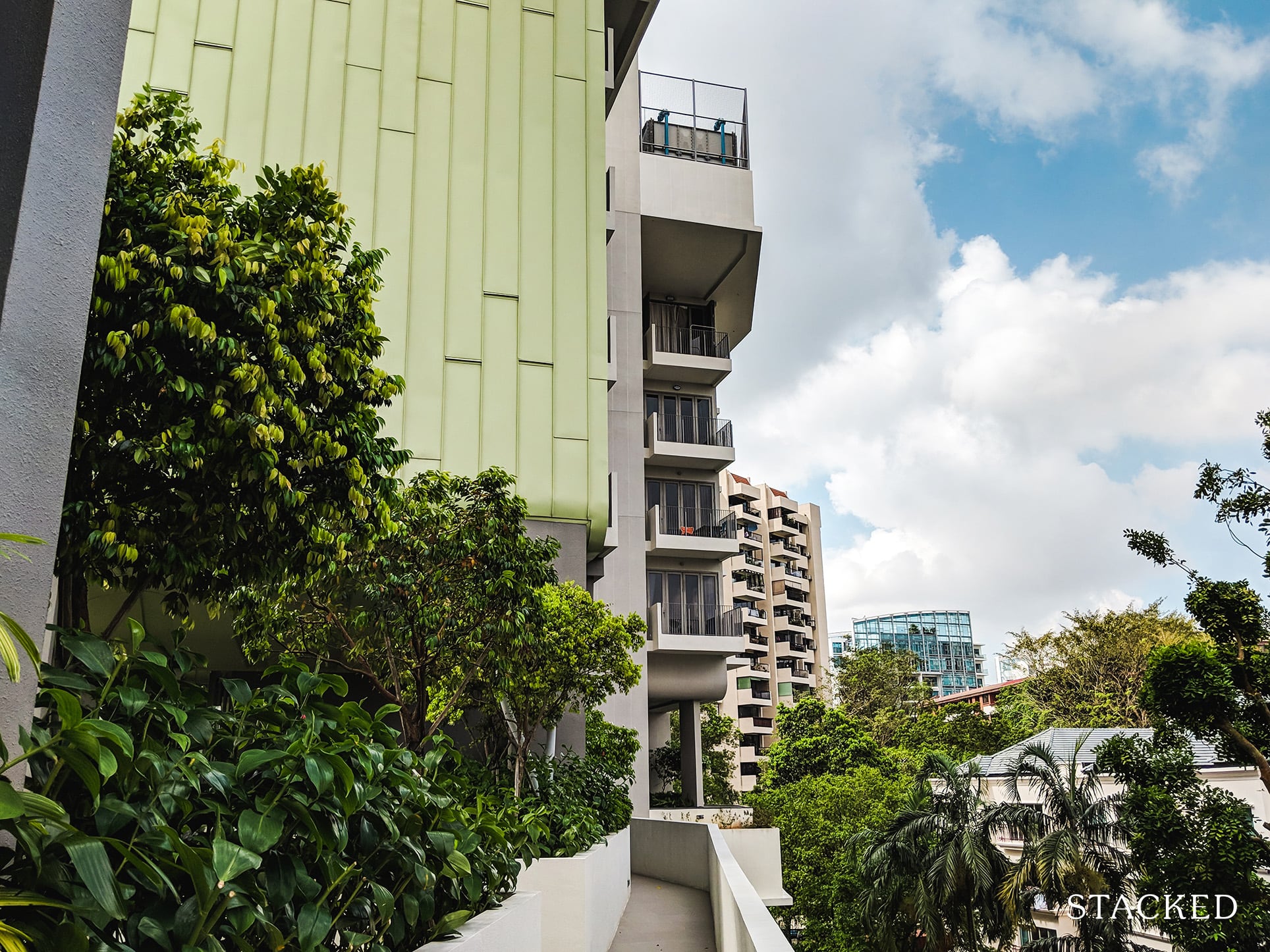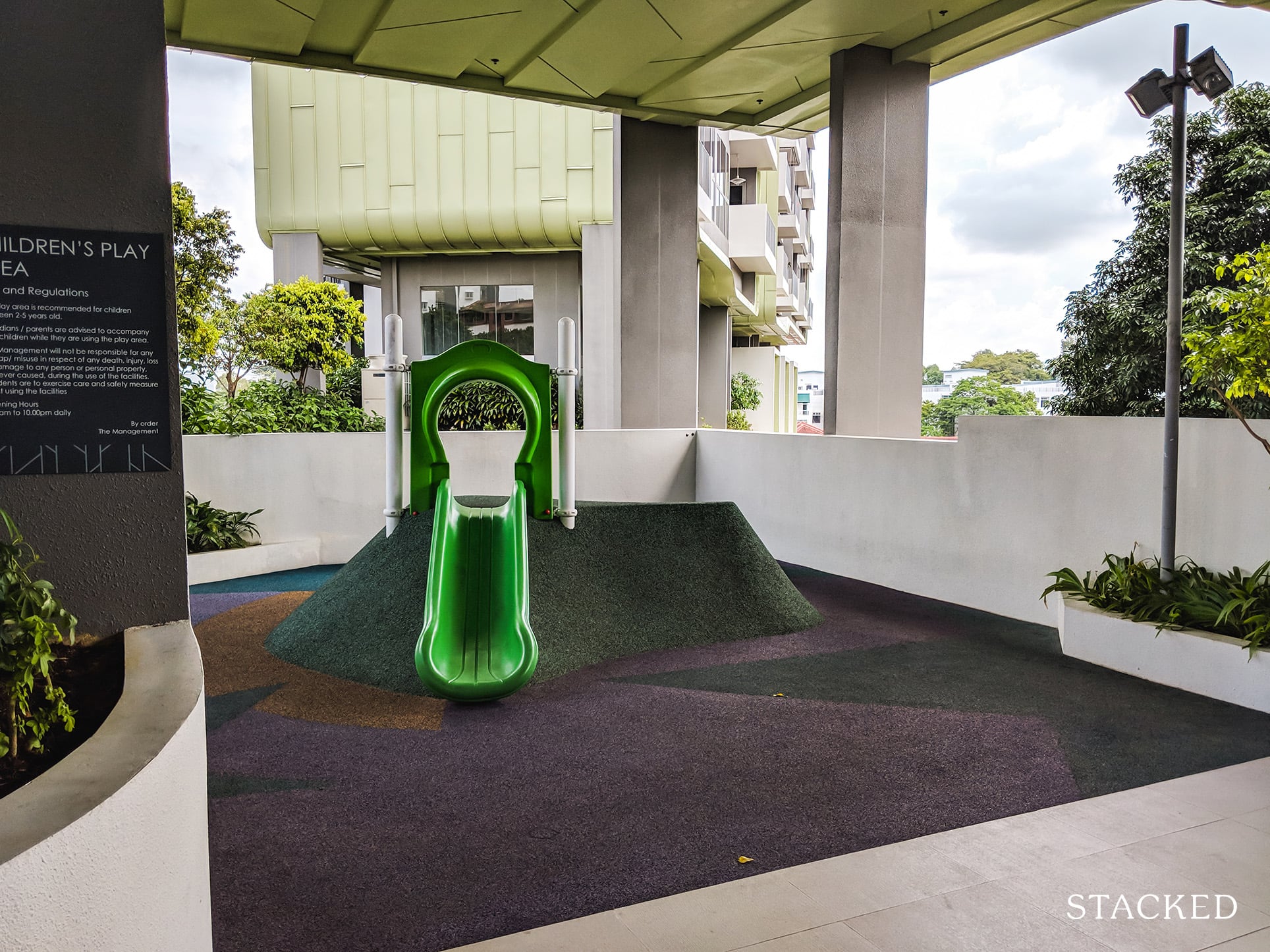 The ubiquitous children's playground.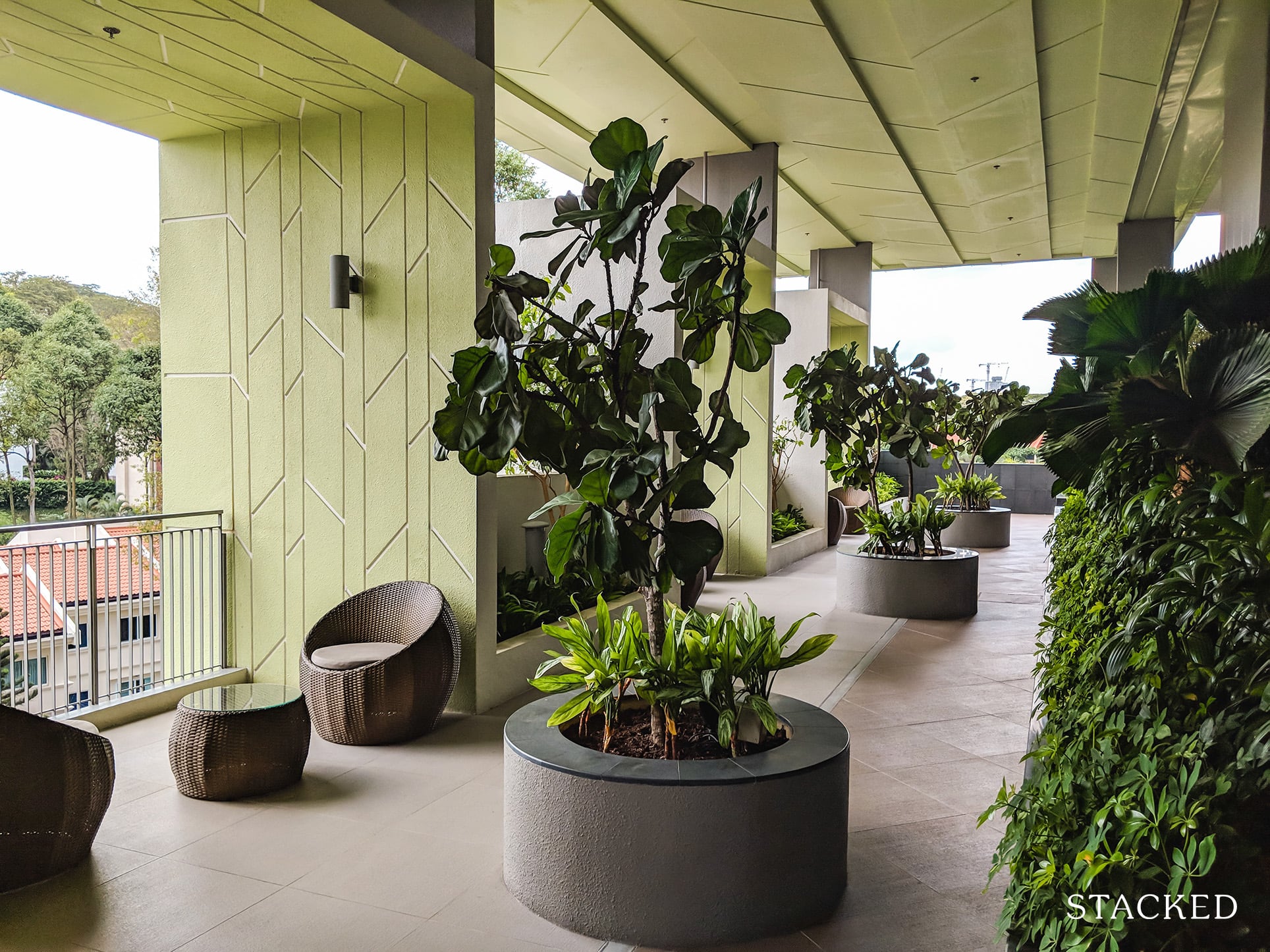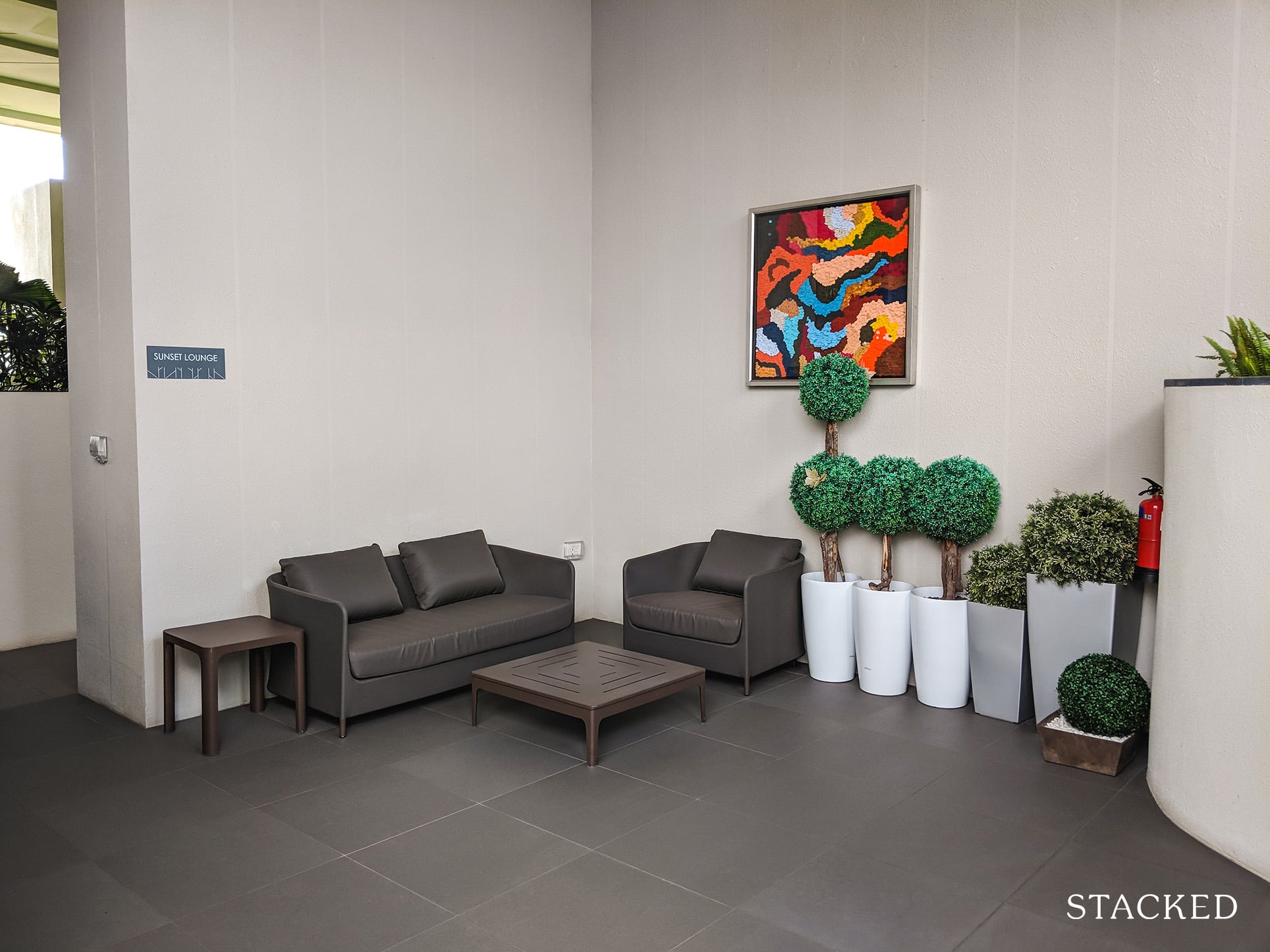 More seating areas.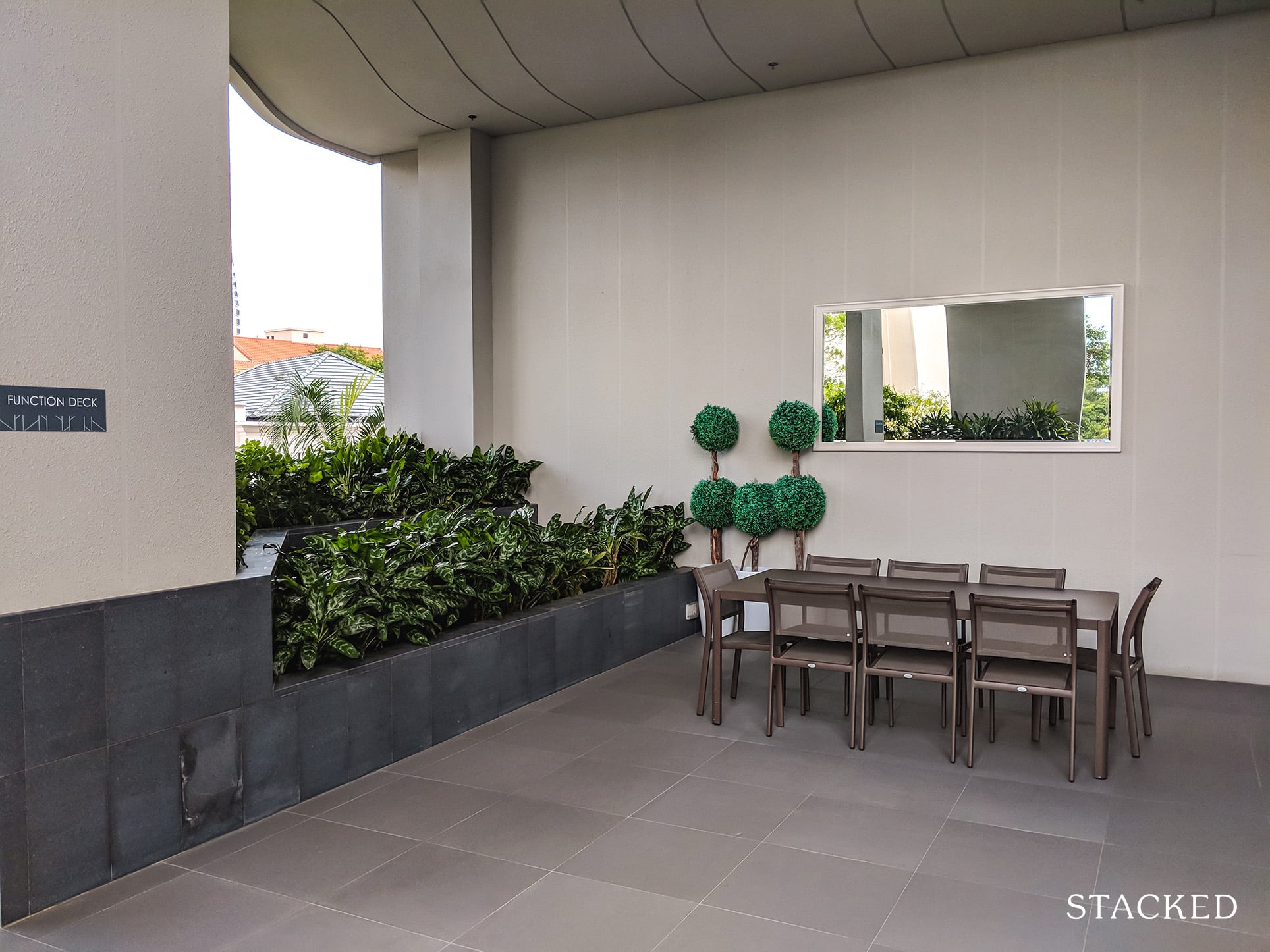 There is a function deck with a standard dining table for small gatherings.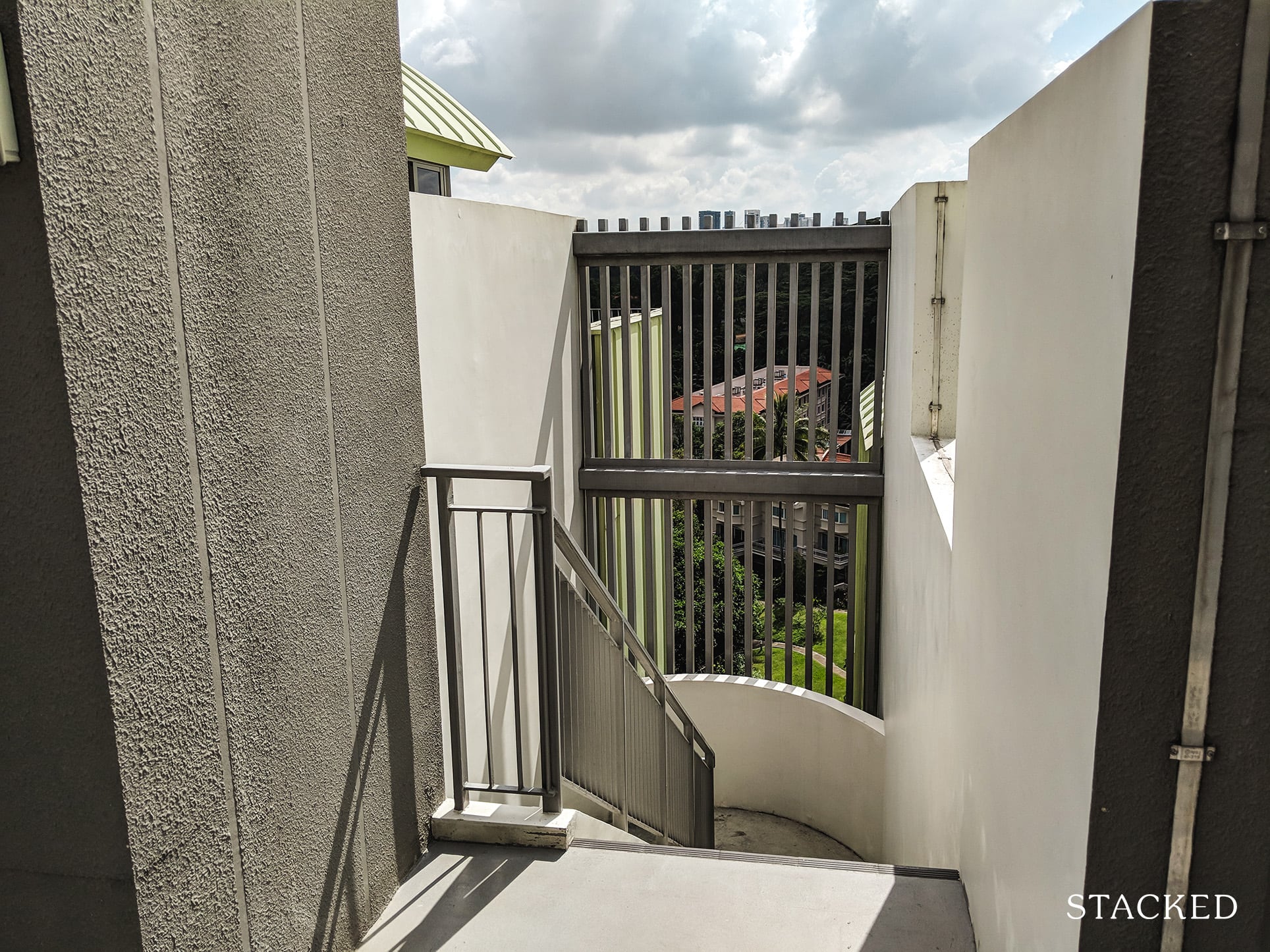 Read this next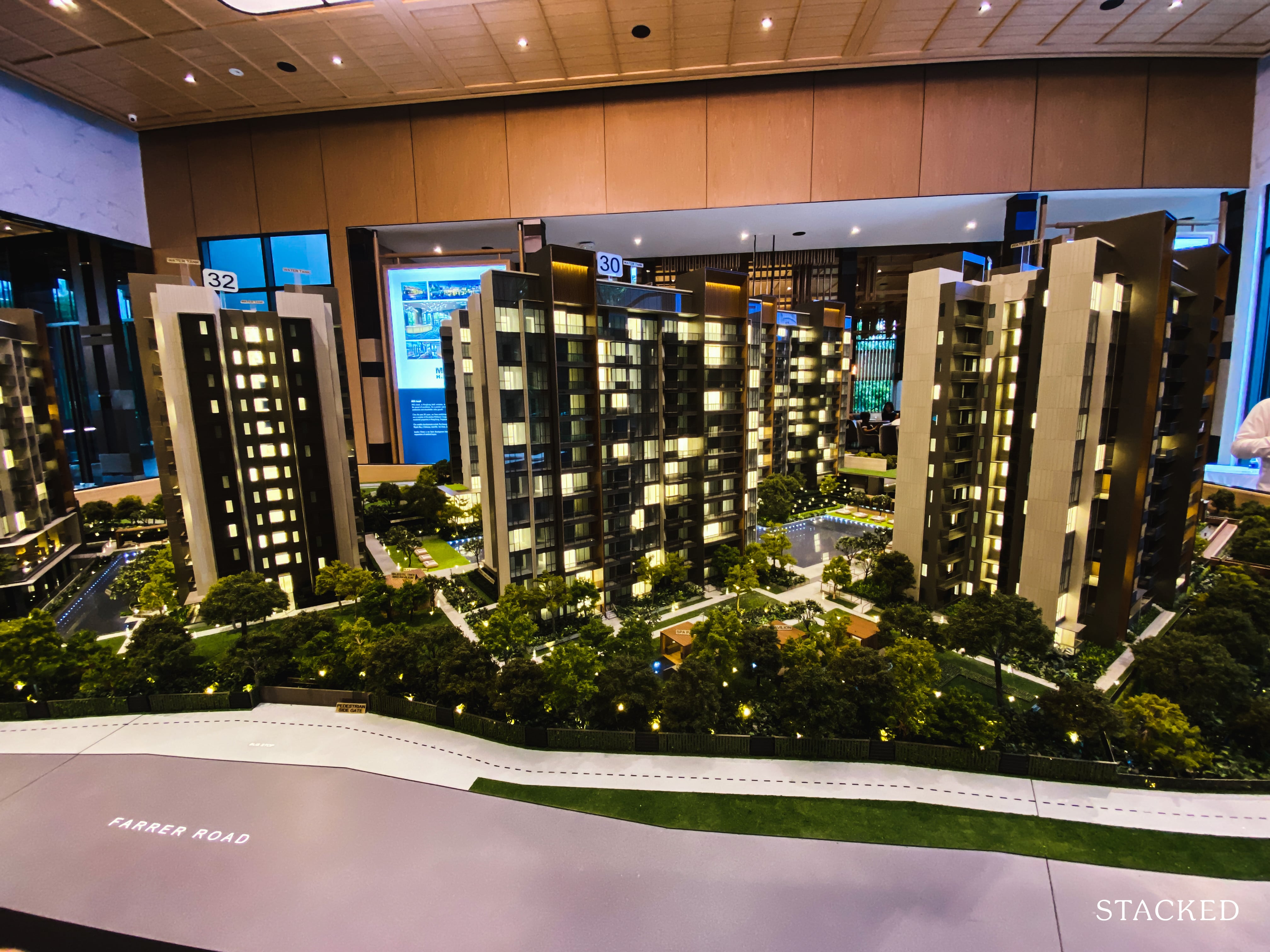 Let's show you the topmost viewing deck.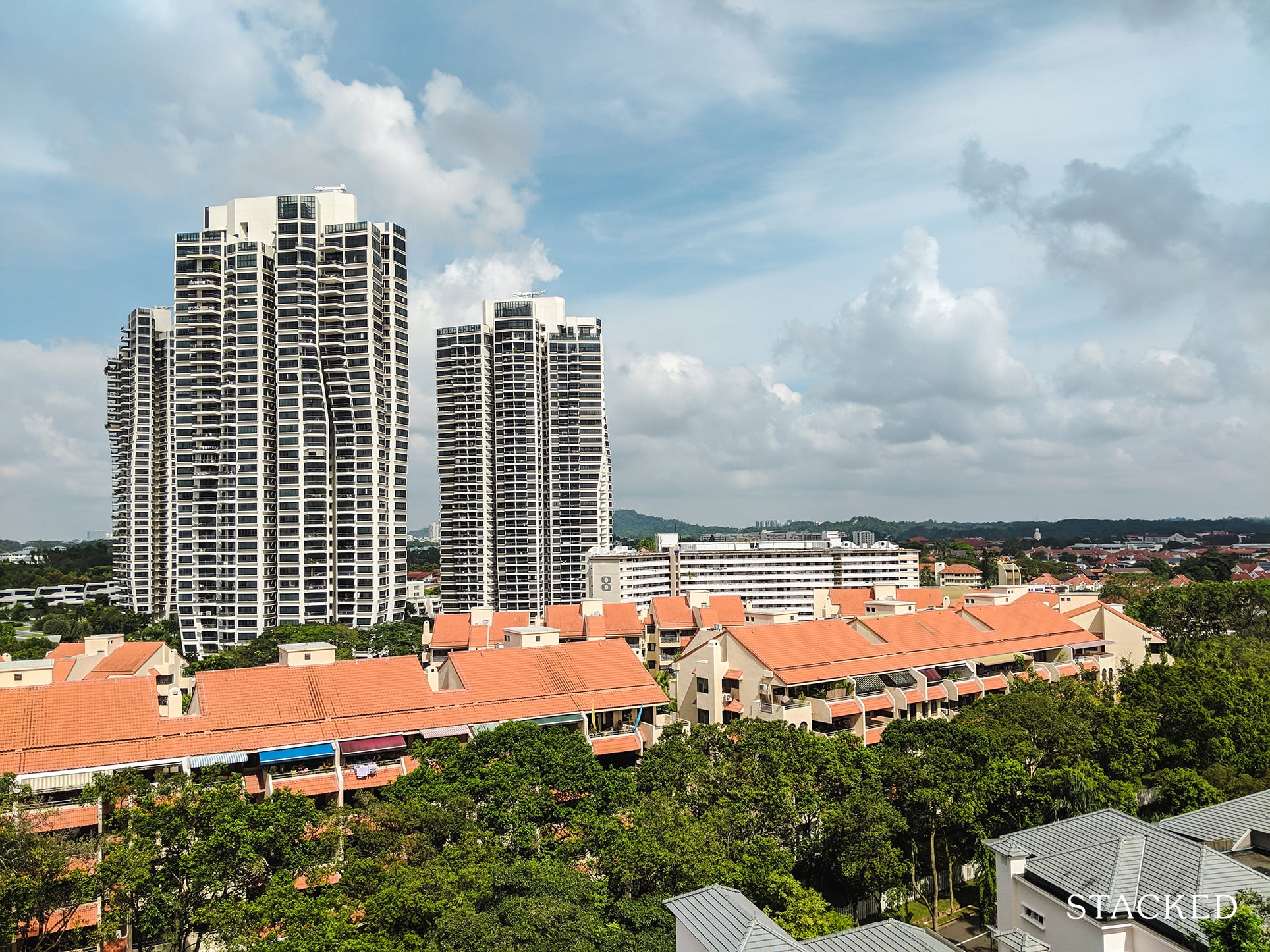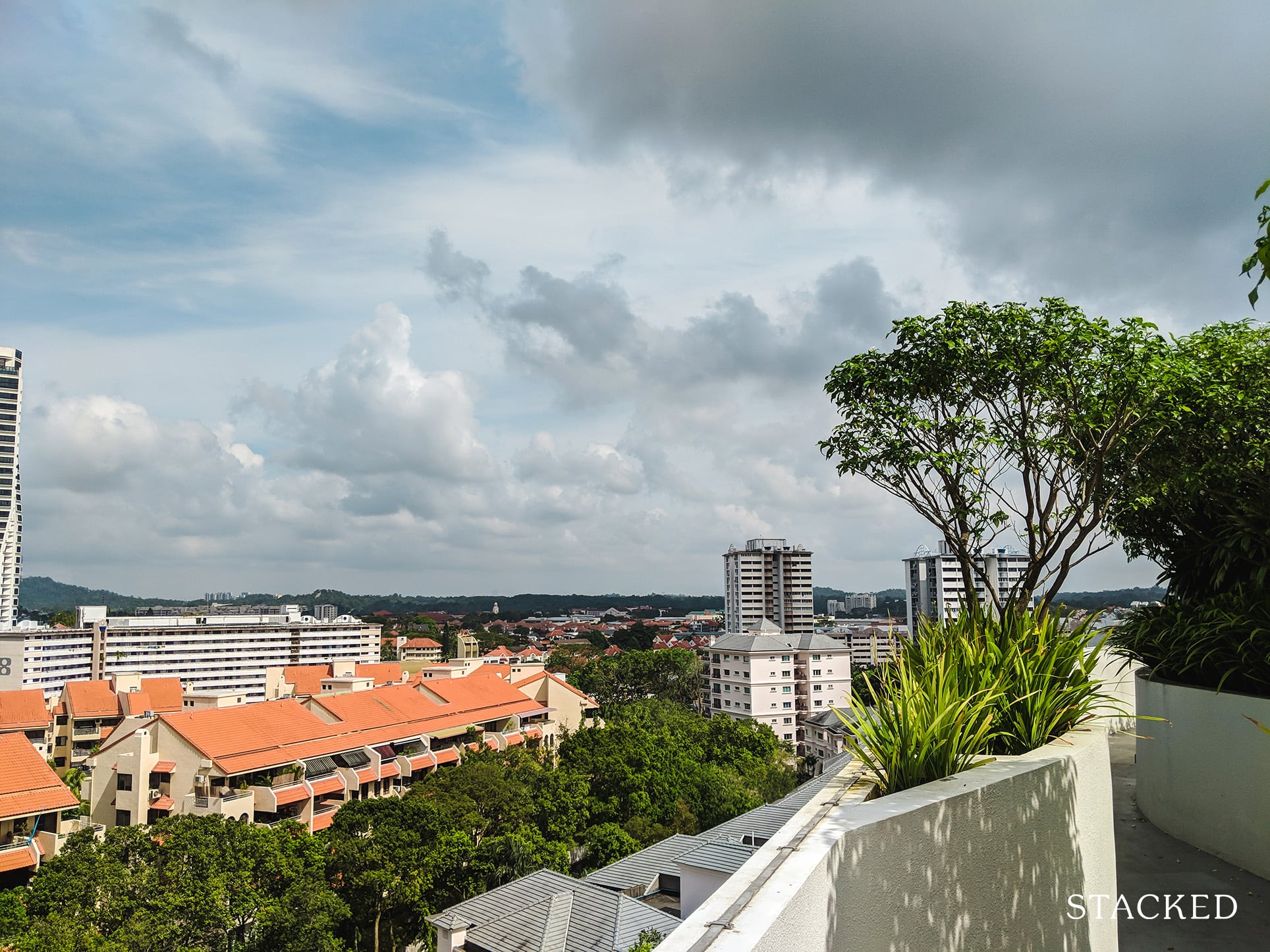 The views are nice from this elevated point, as it is unblocked.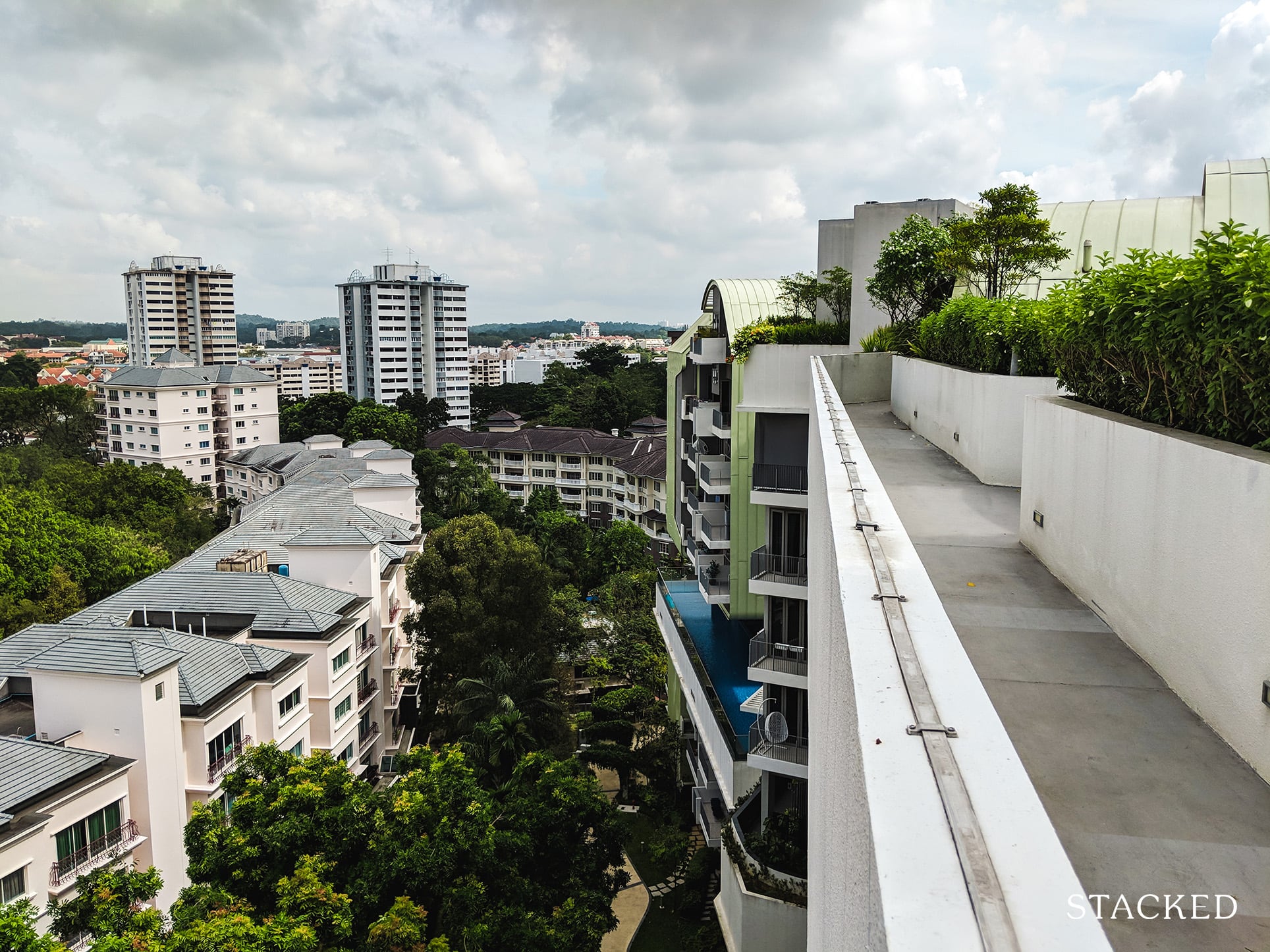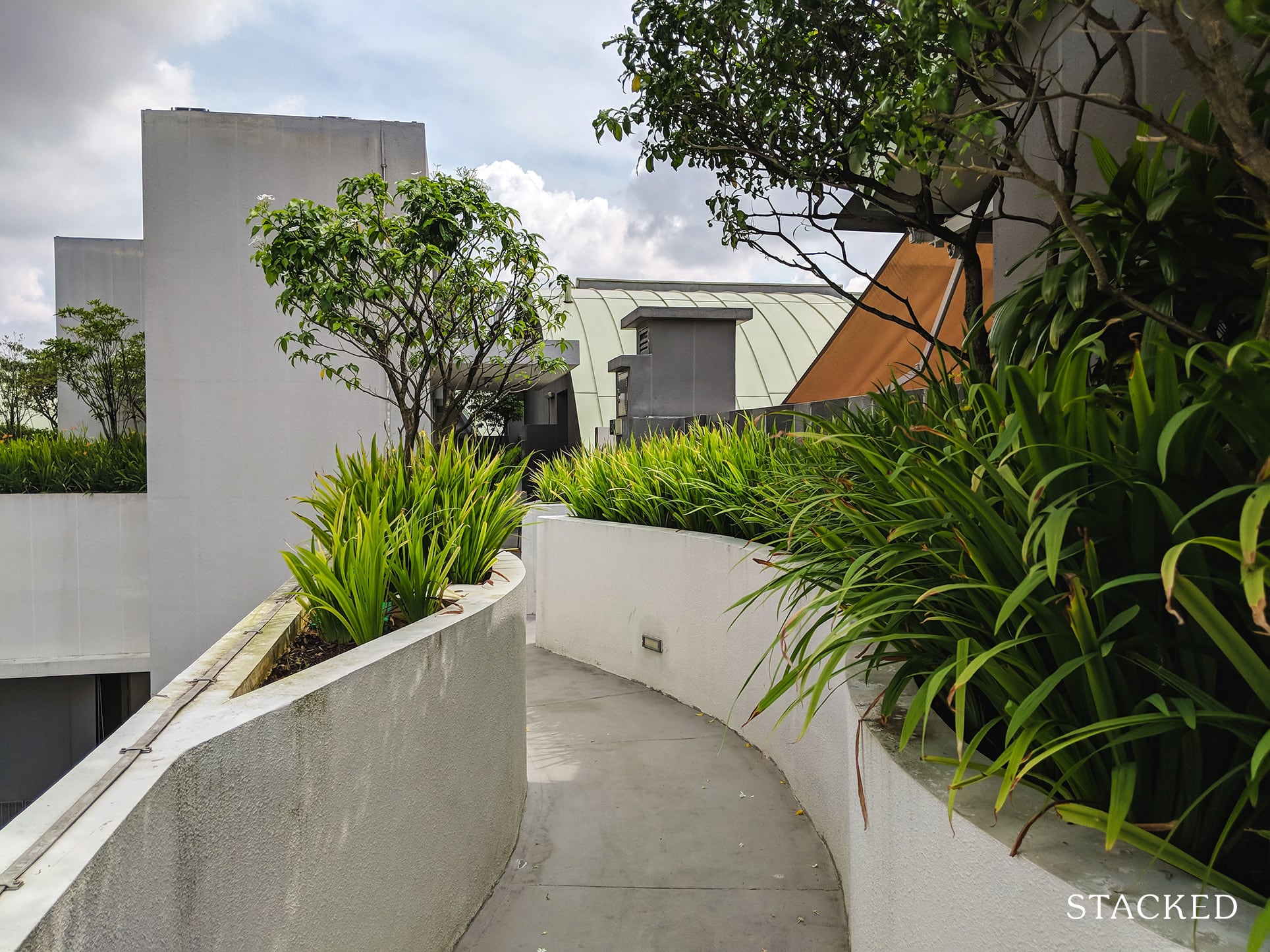 You can walk along the whole length of Pollen and Bleu from the top.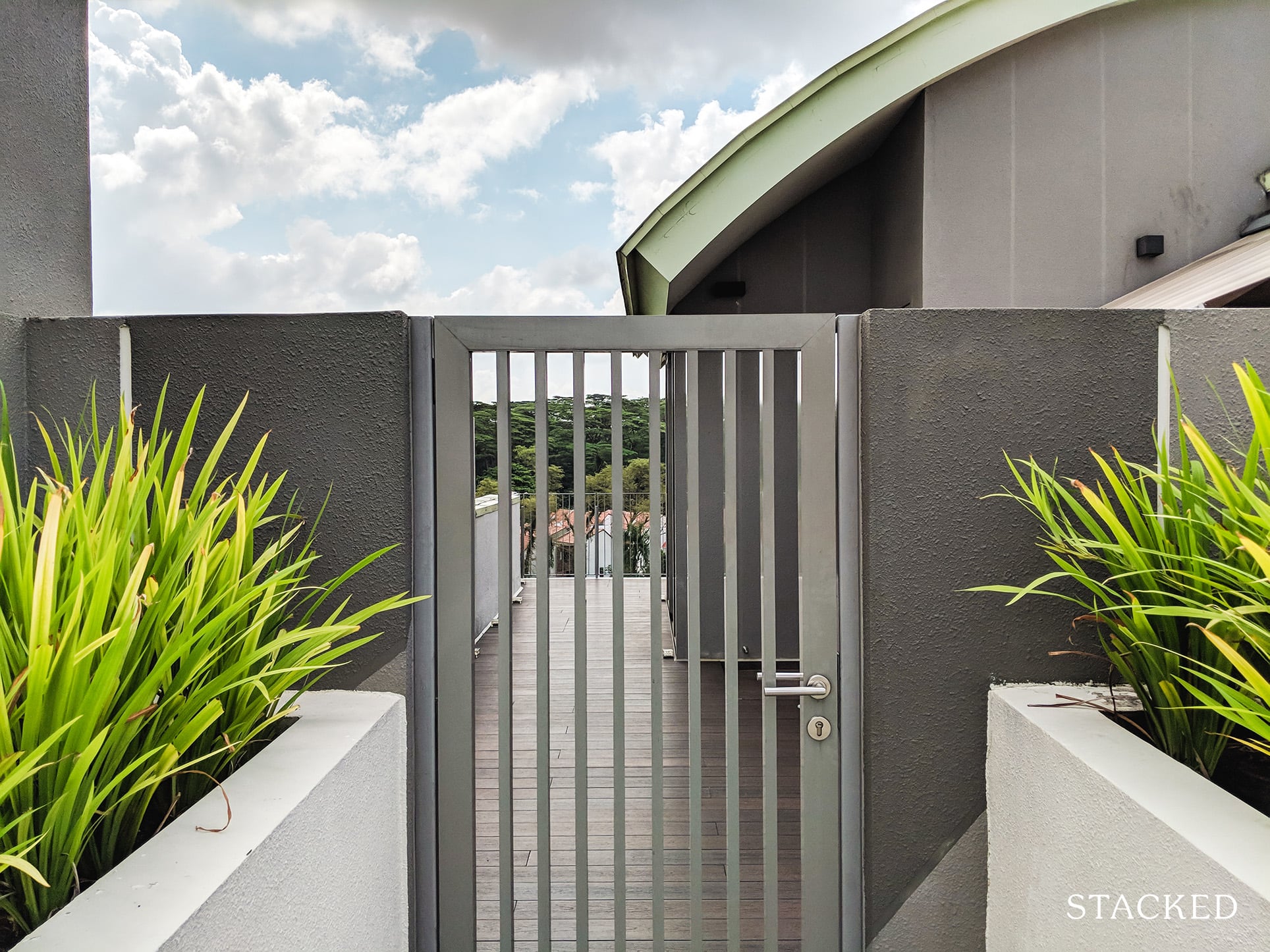 The penthouses each have their own access gate to the top viewing deck.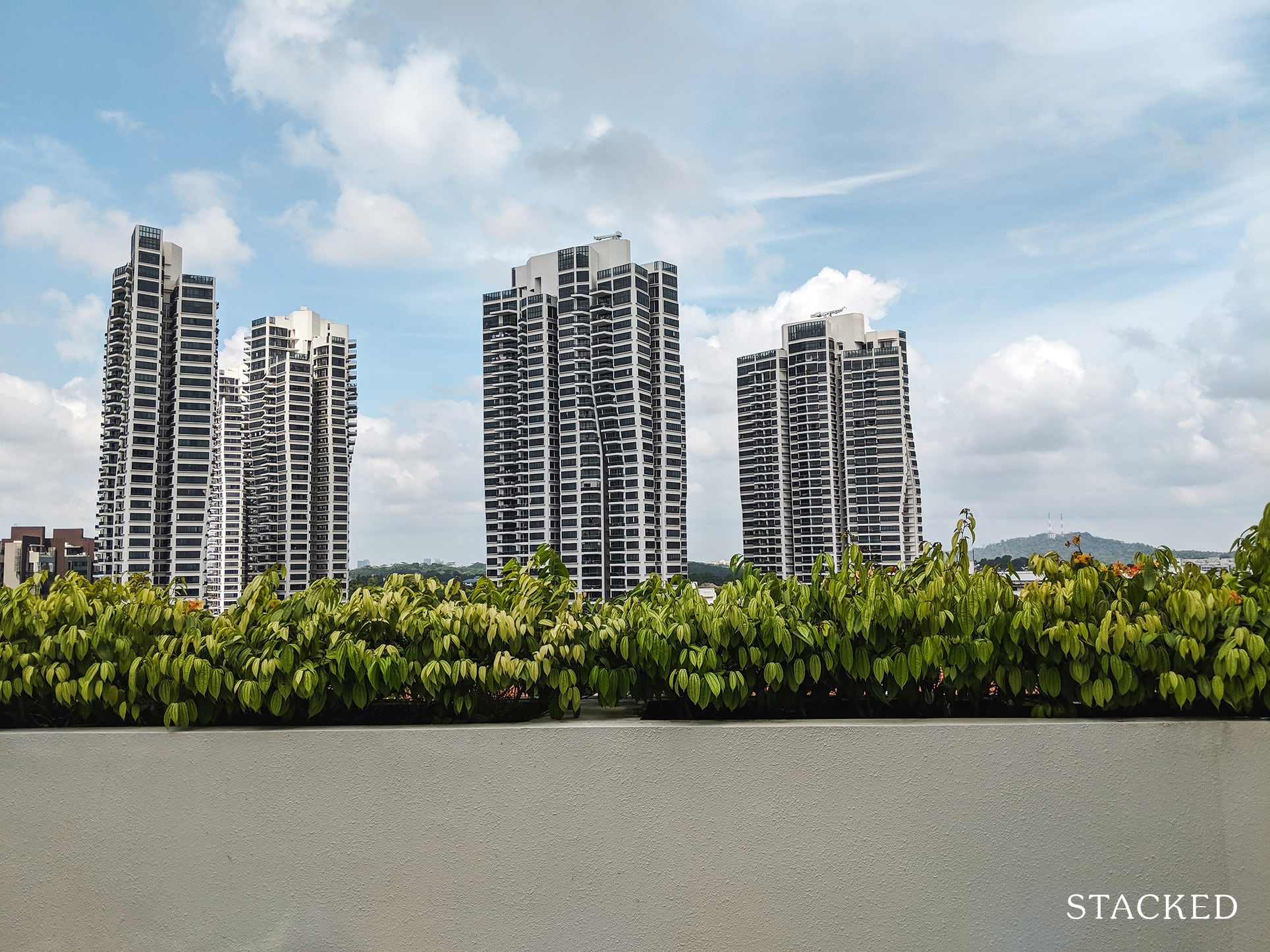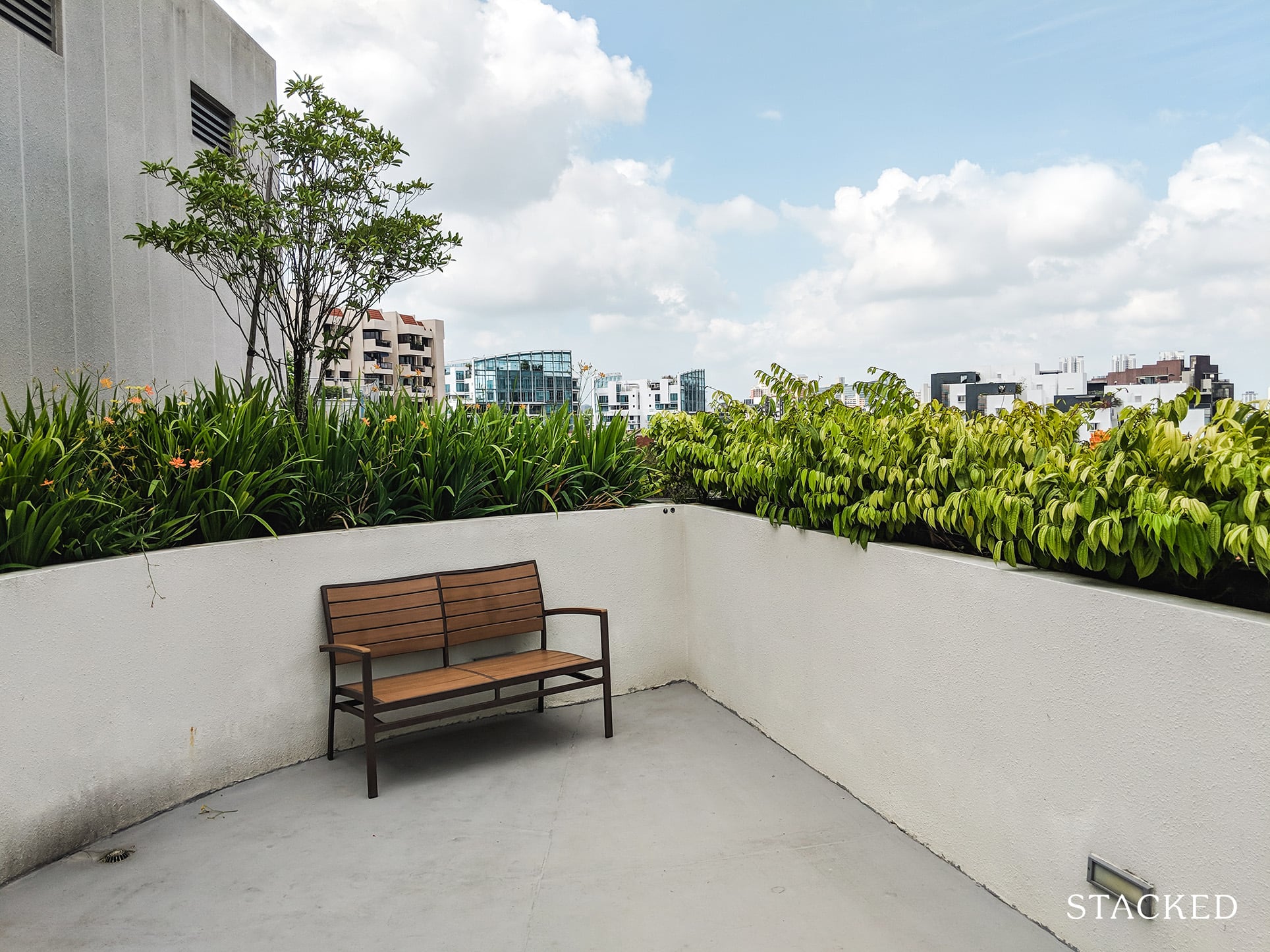 We do feel more can be done at the top, it is a bit sparse other than the nice views.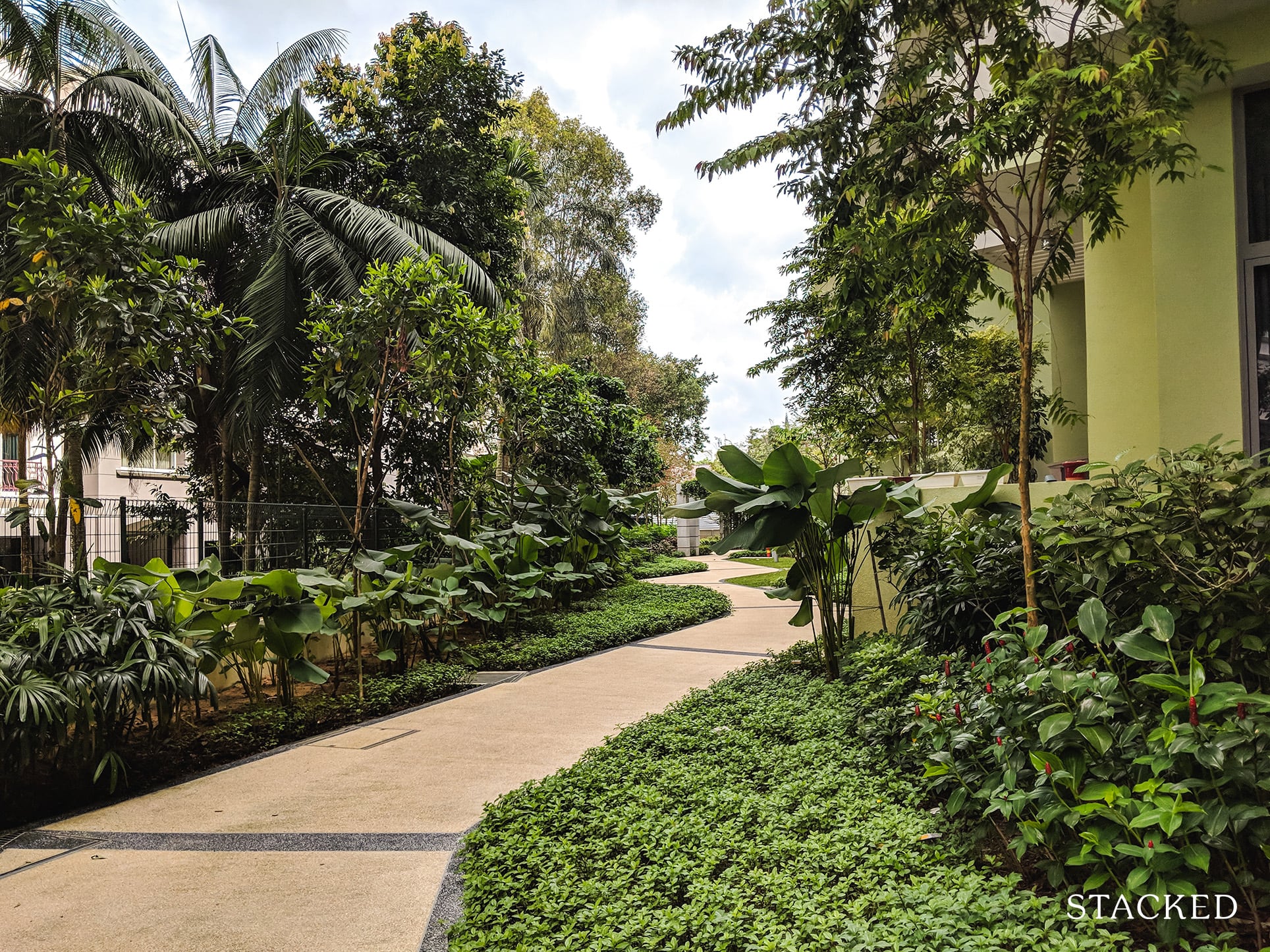 Now, for the first level of Pollen and Bleu. Here, you can see that the space allowance between the developments is wide enough.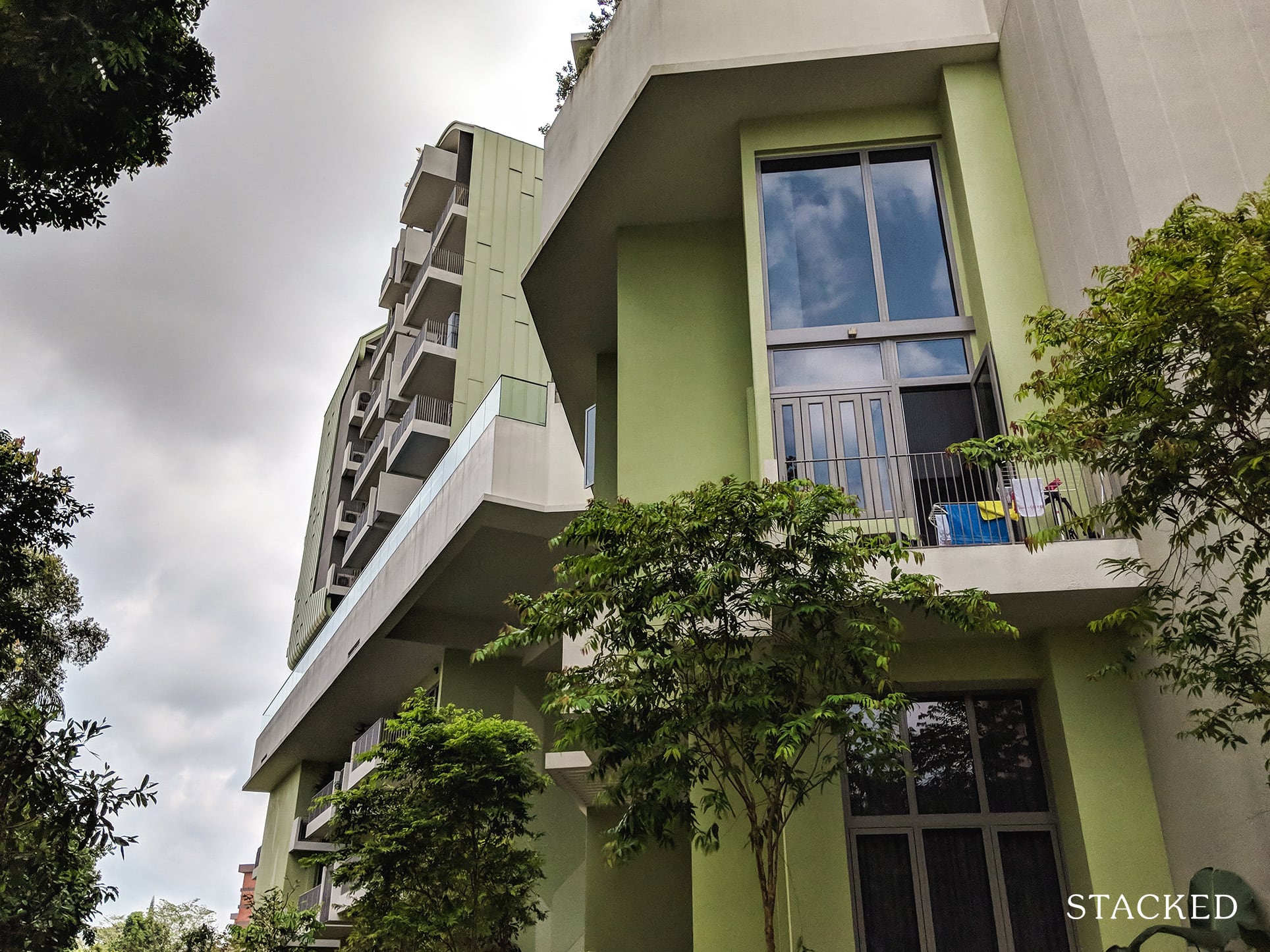 As you can see from the windows, these are the loft units.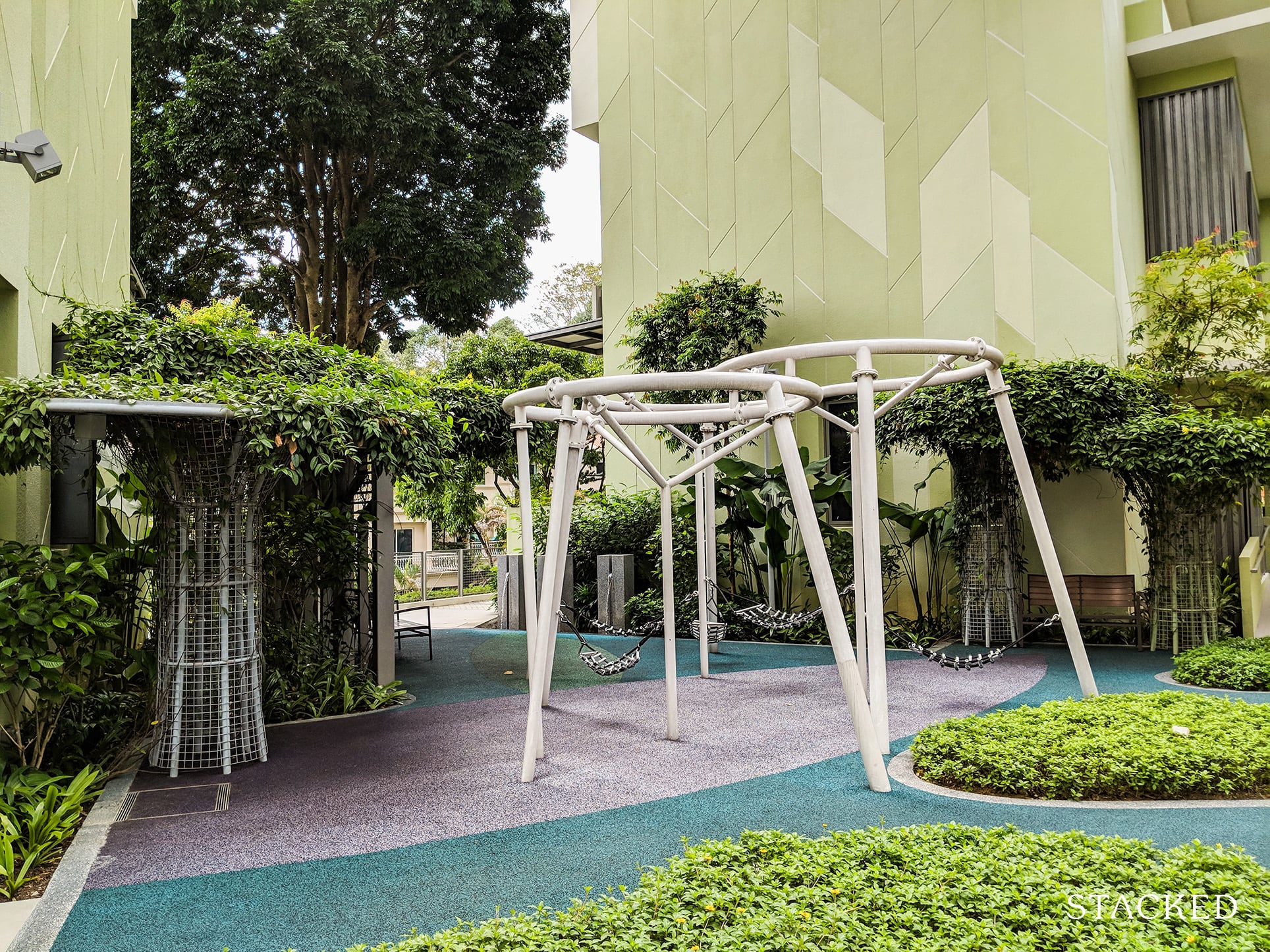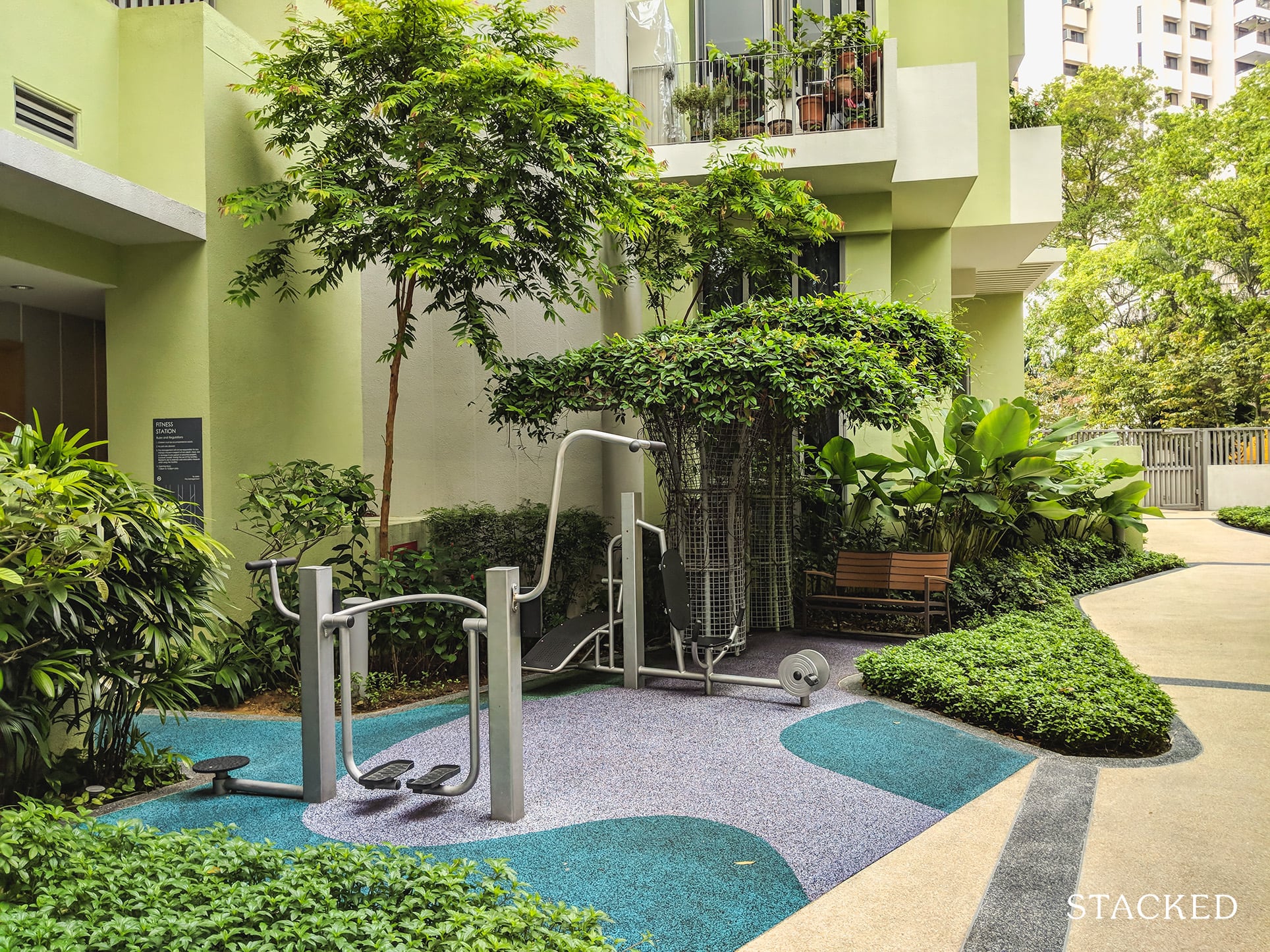 Outdoor fitness station area.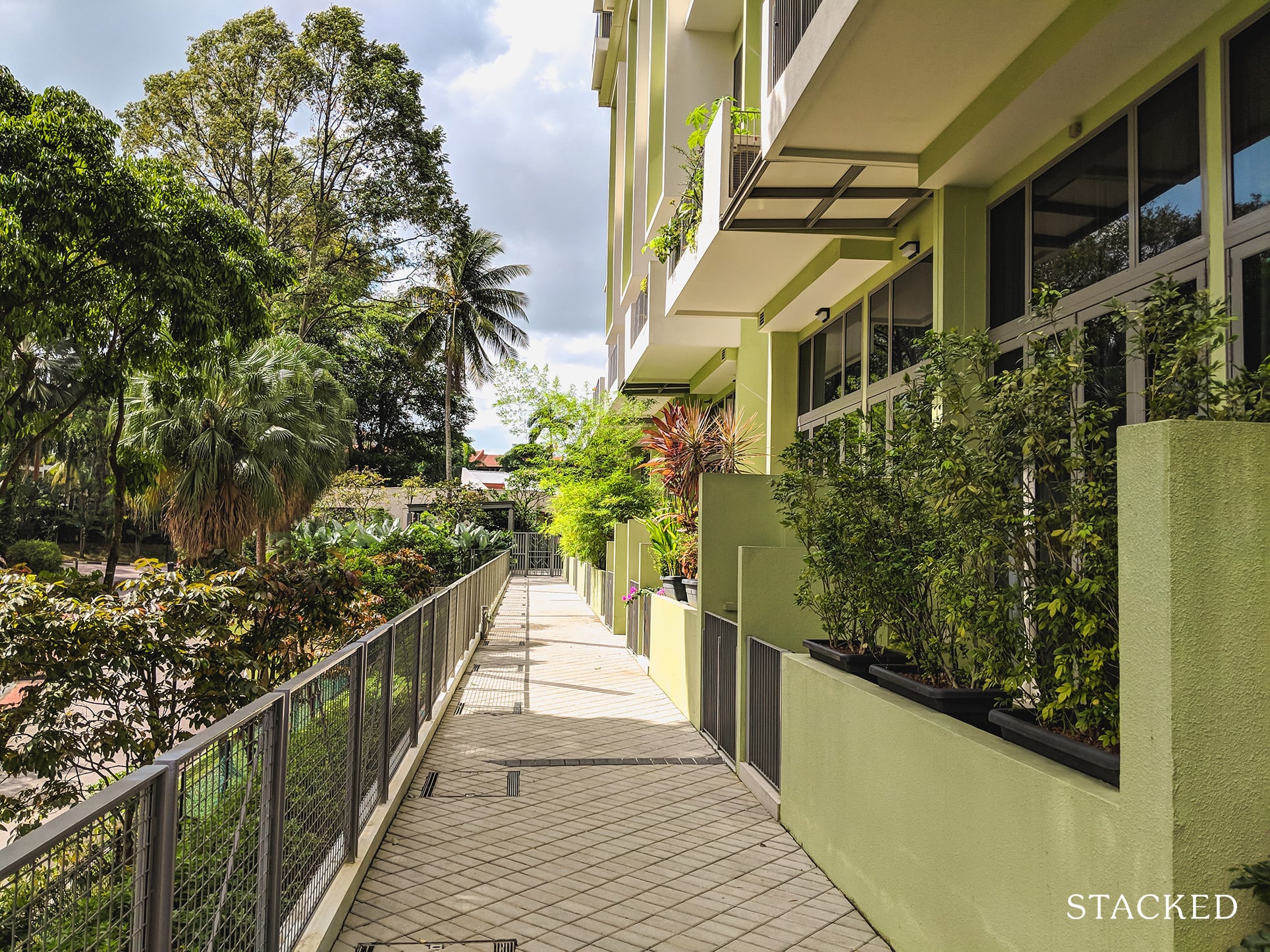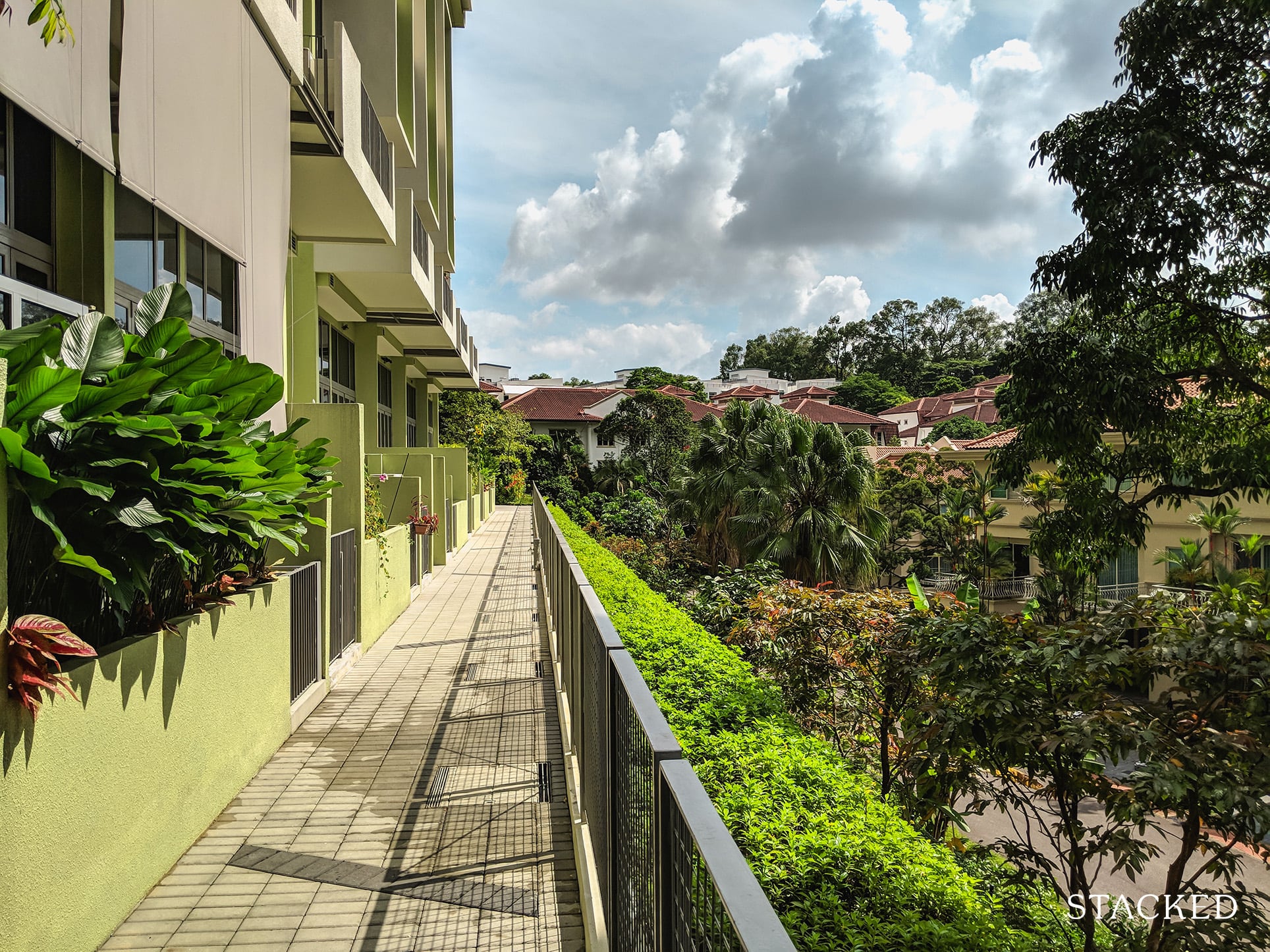 You can walk along the other side of Pollen and Bleu to get to the BBQ Pavilion.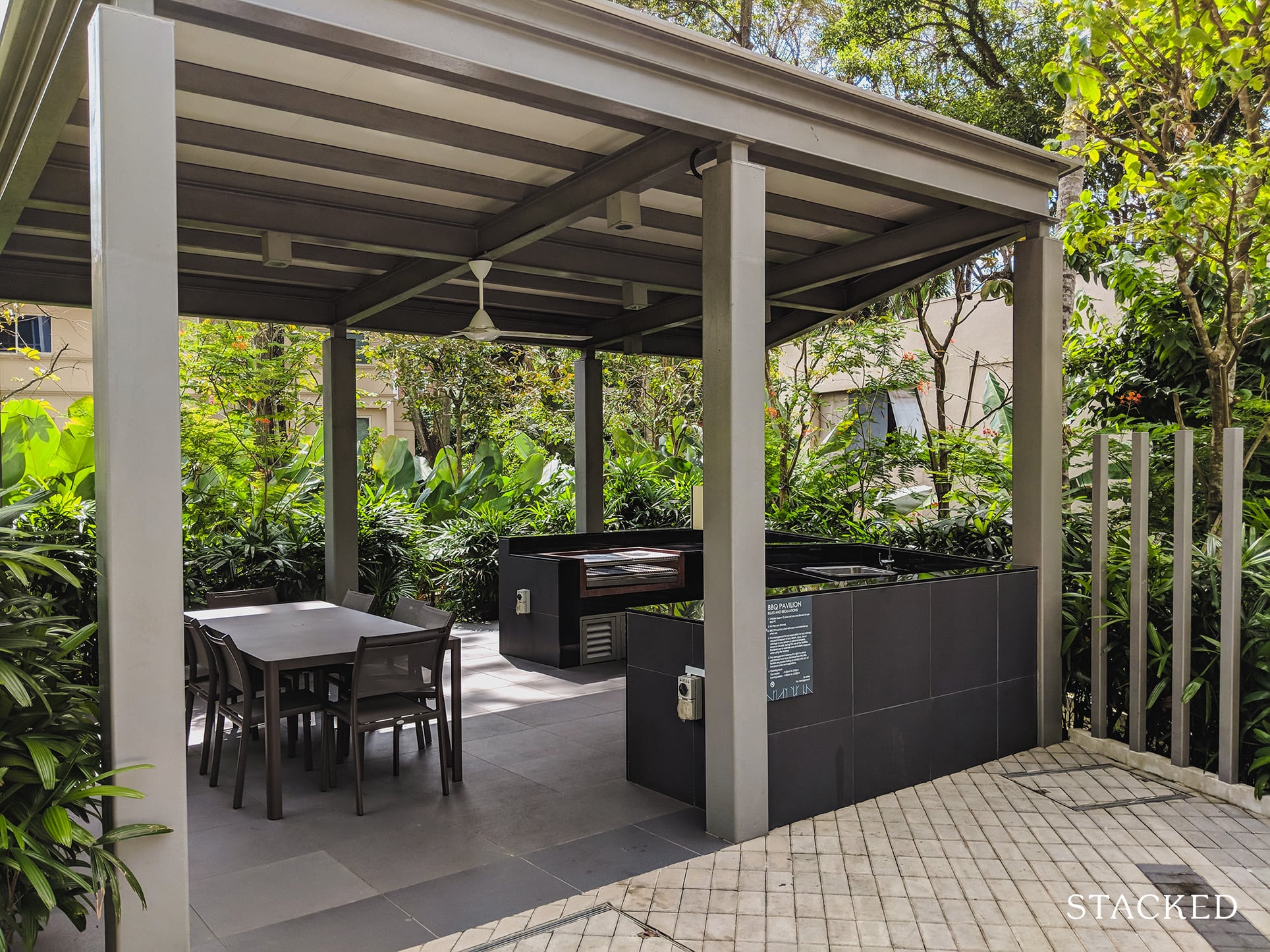 The BBQ pavilion is a nice setup, its set just outside the gate, so you don't have to worry about the noise disturbing neighbours as much.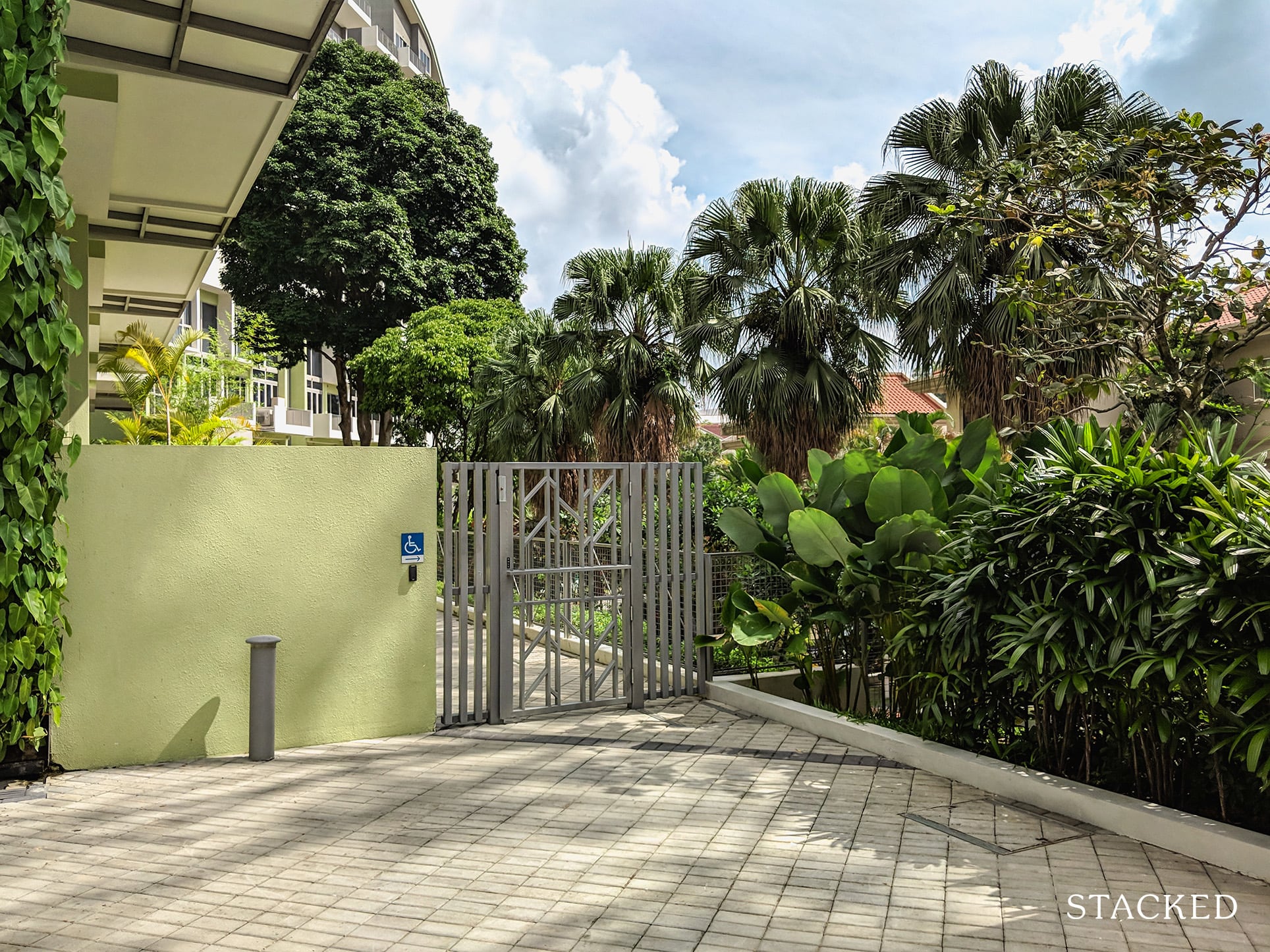 The advantage is you don't have to buzz all your guests in for the bbq, but the downside is if you have to bring stuff back and forth from your house, it can be a hassle.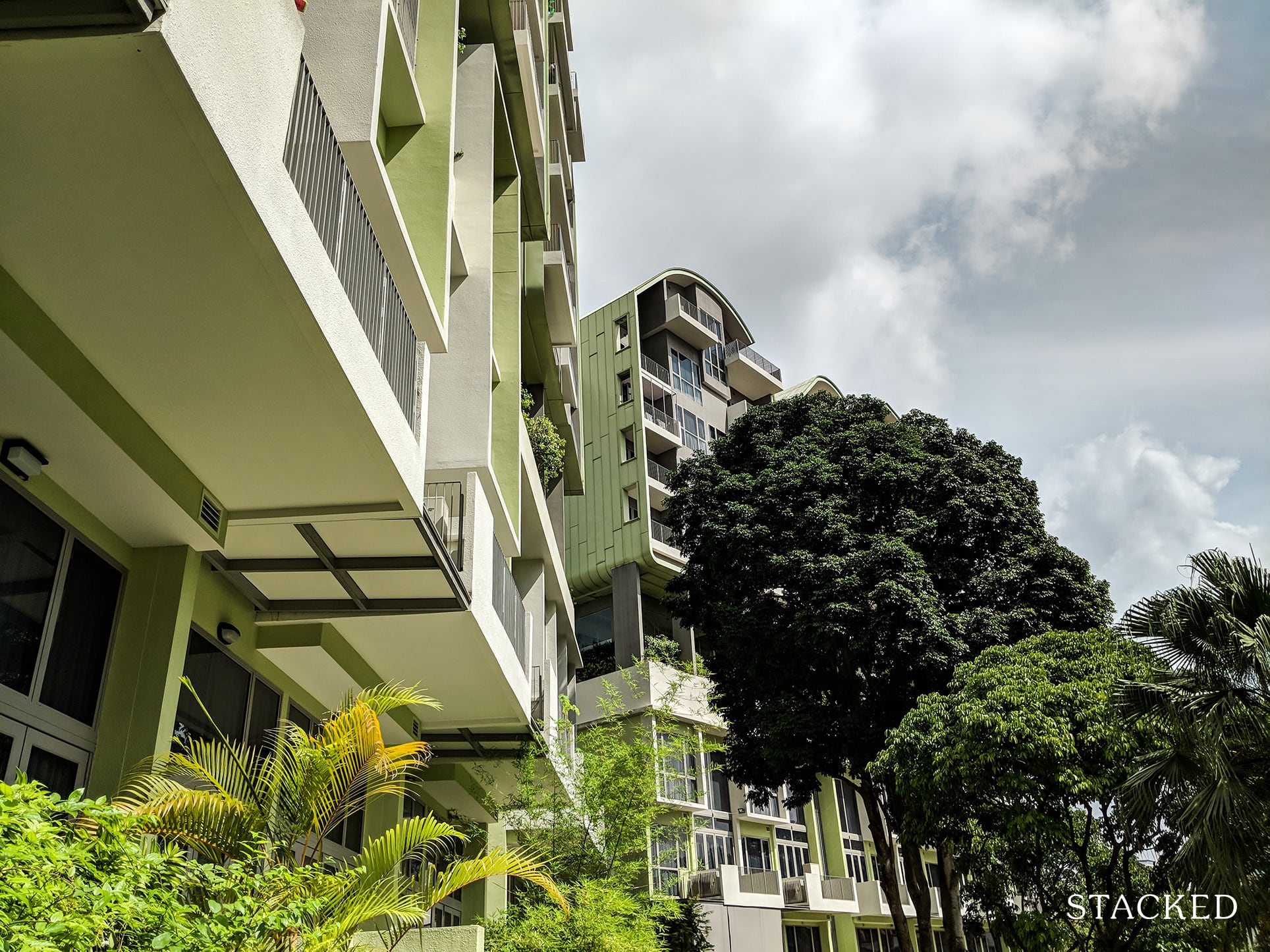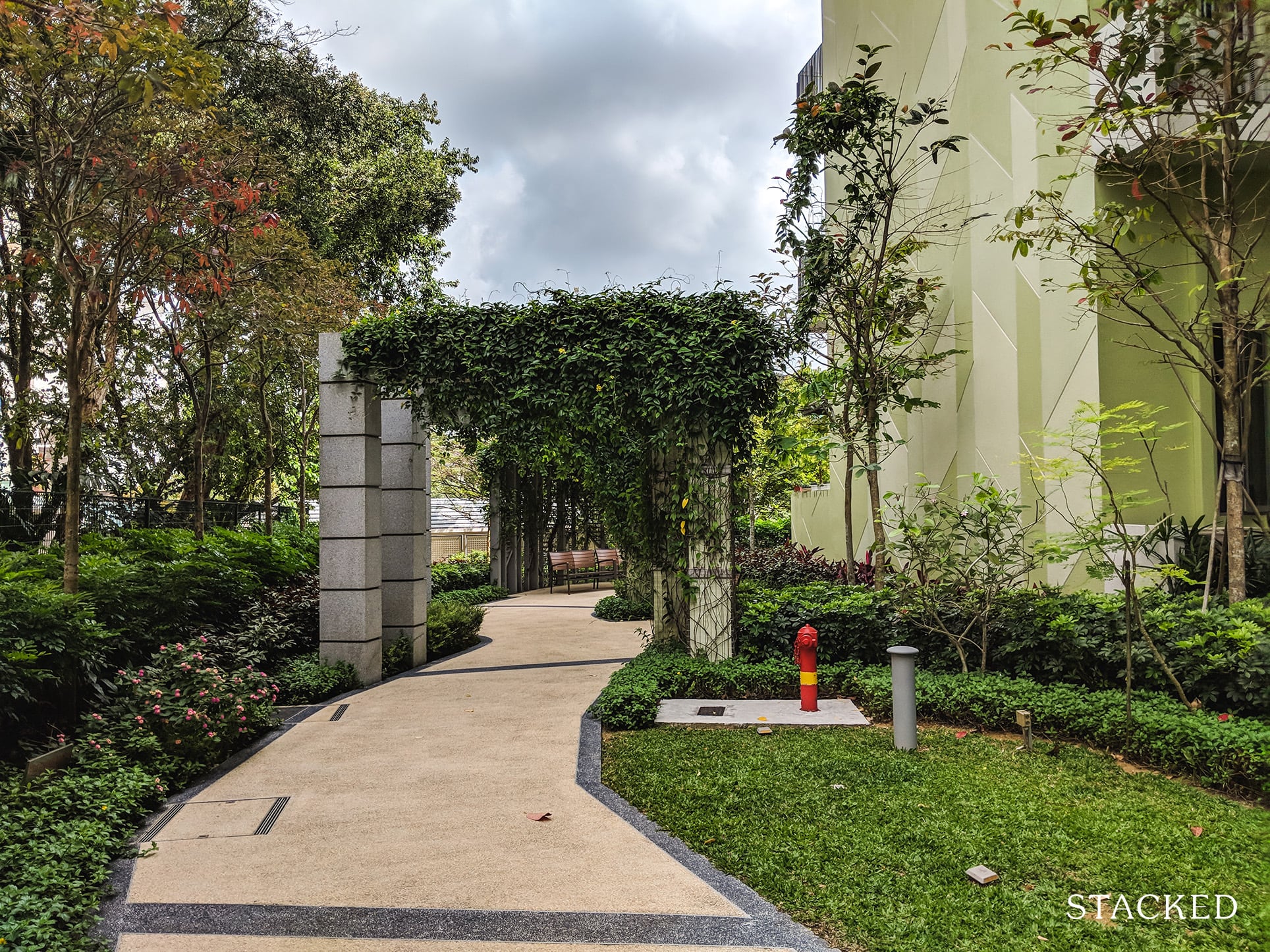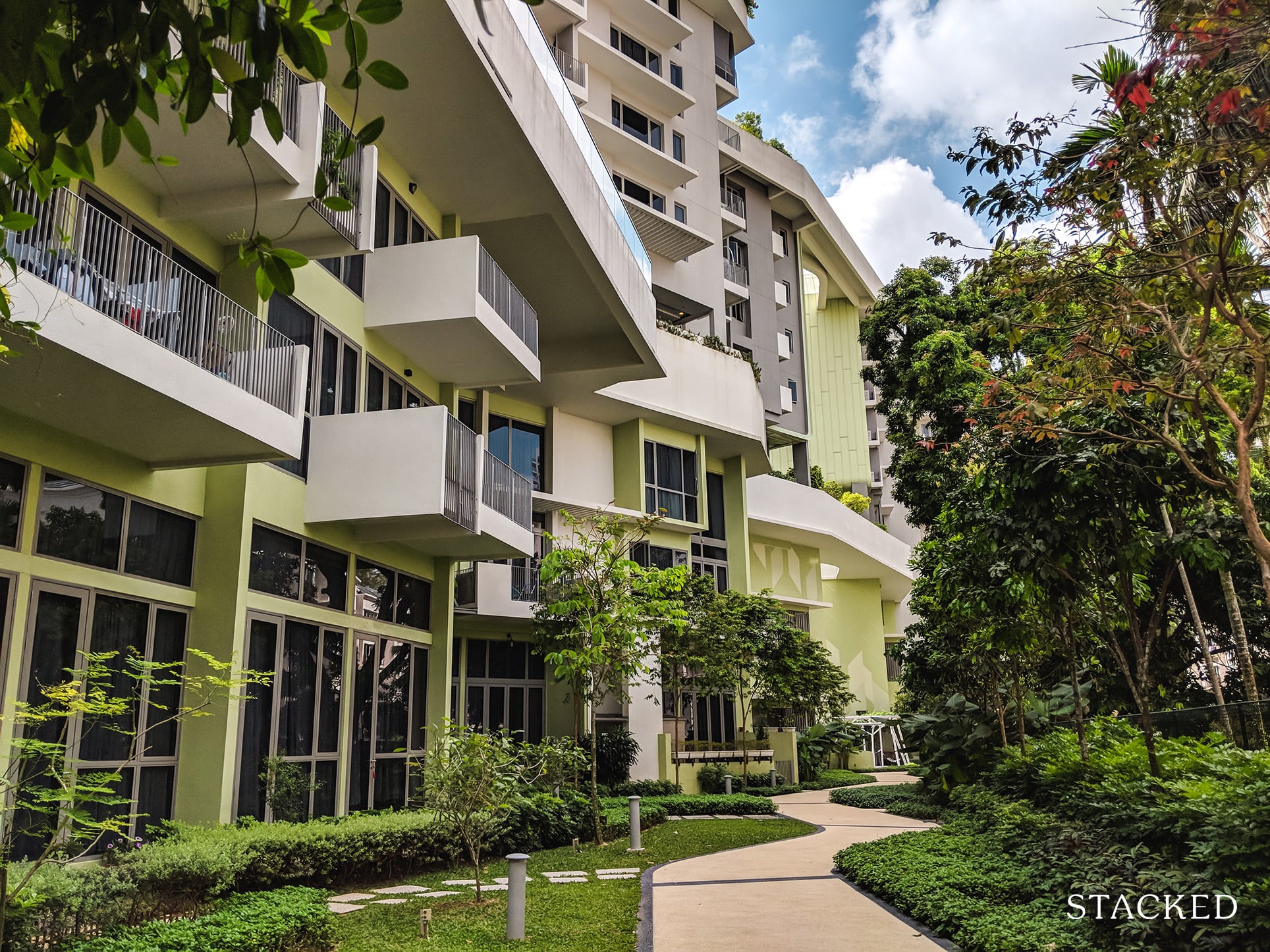 The pathway runs around the circumference of Pollen and Bleu, so it can be a mini jogging track if you will. Or to walk your dog.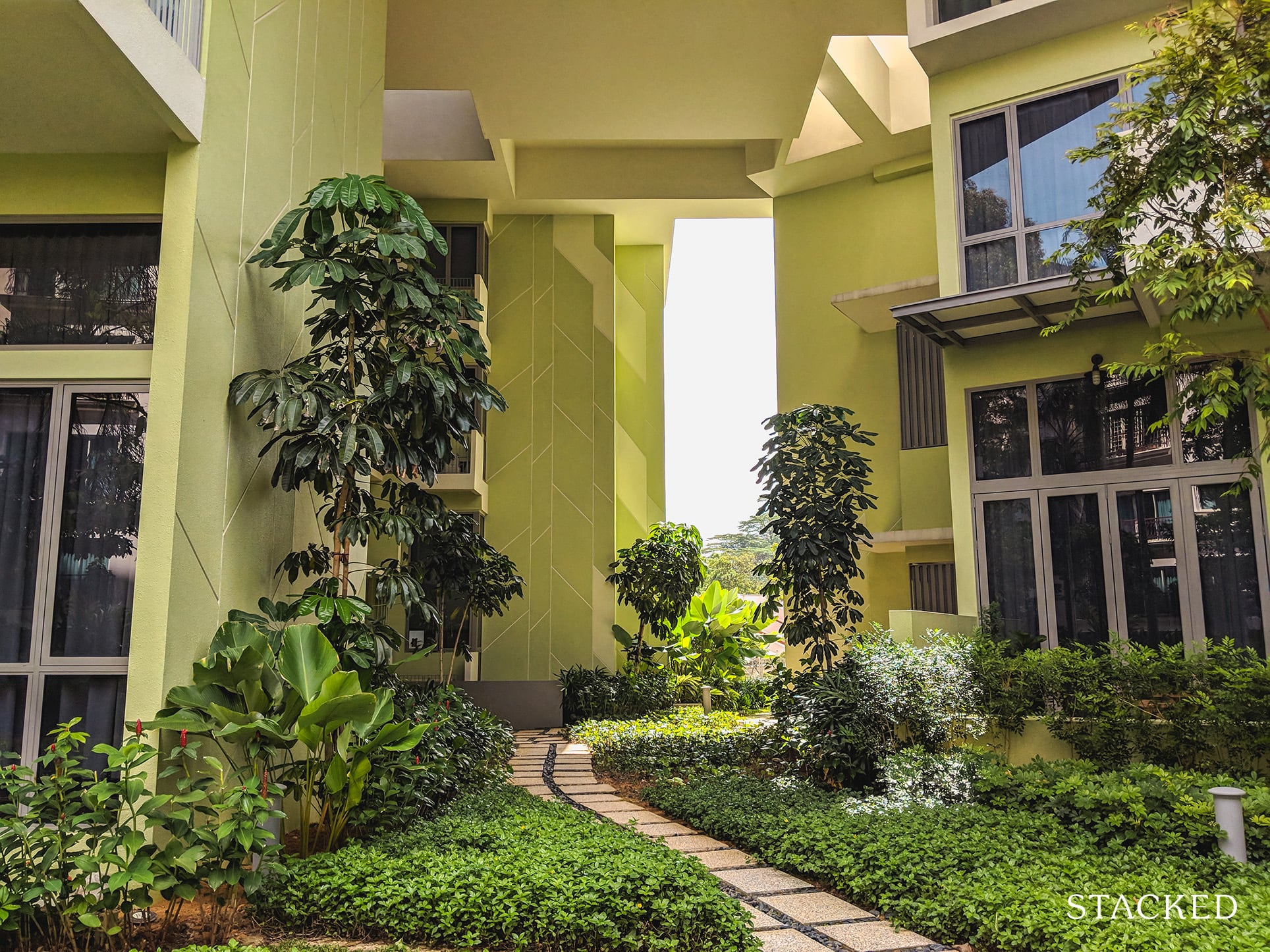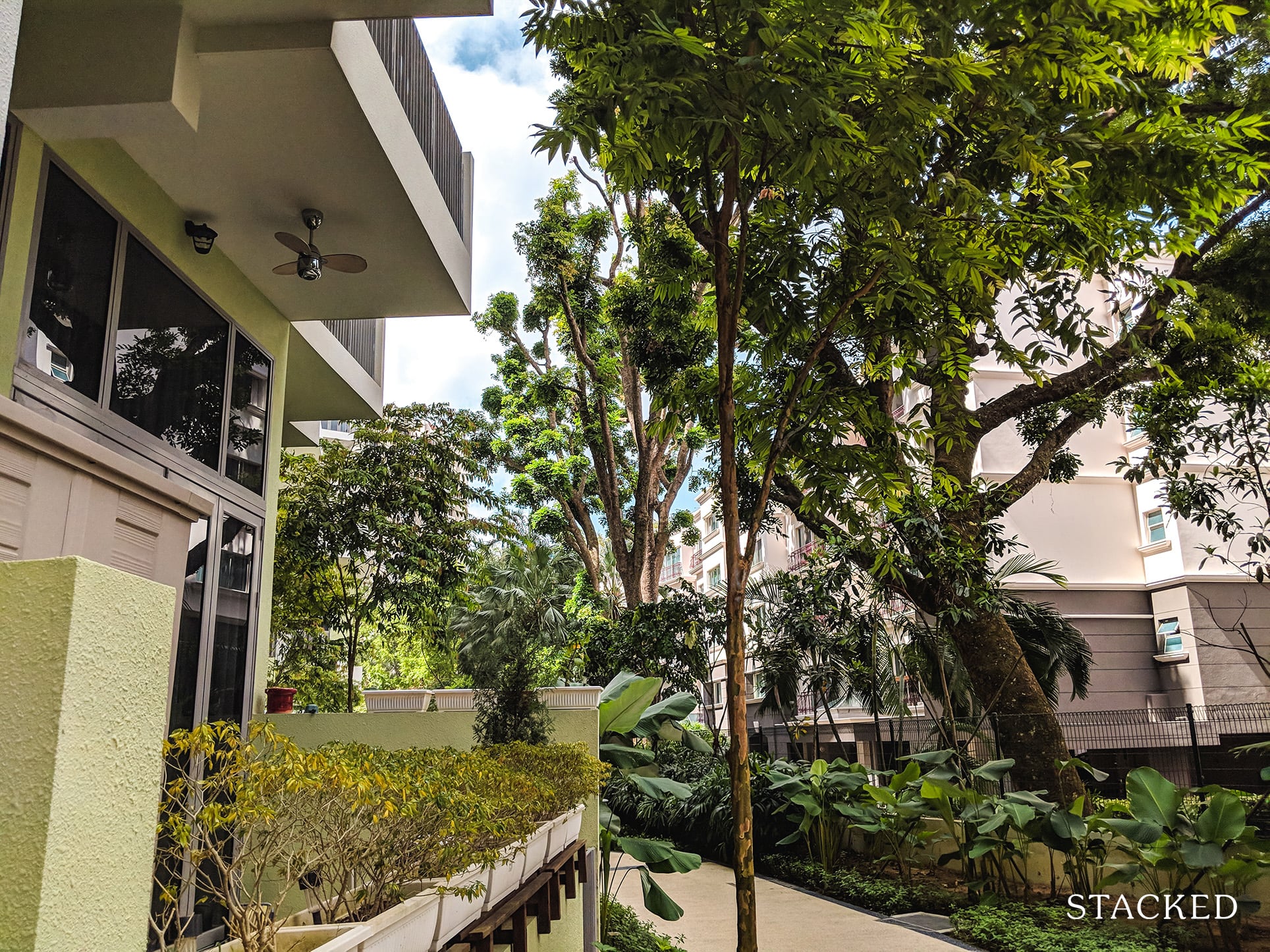 Pollen and Bleu Condo Review – 3 bedroom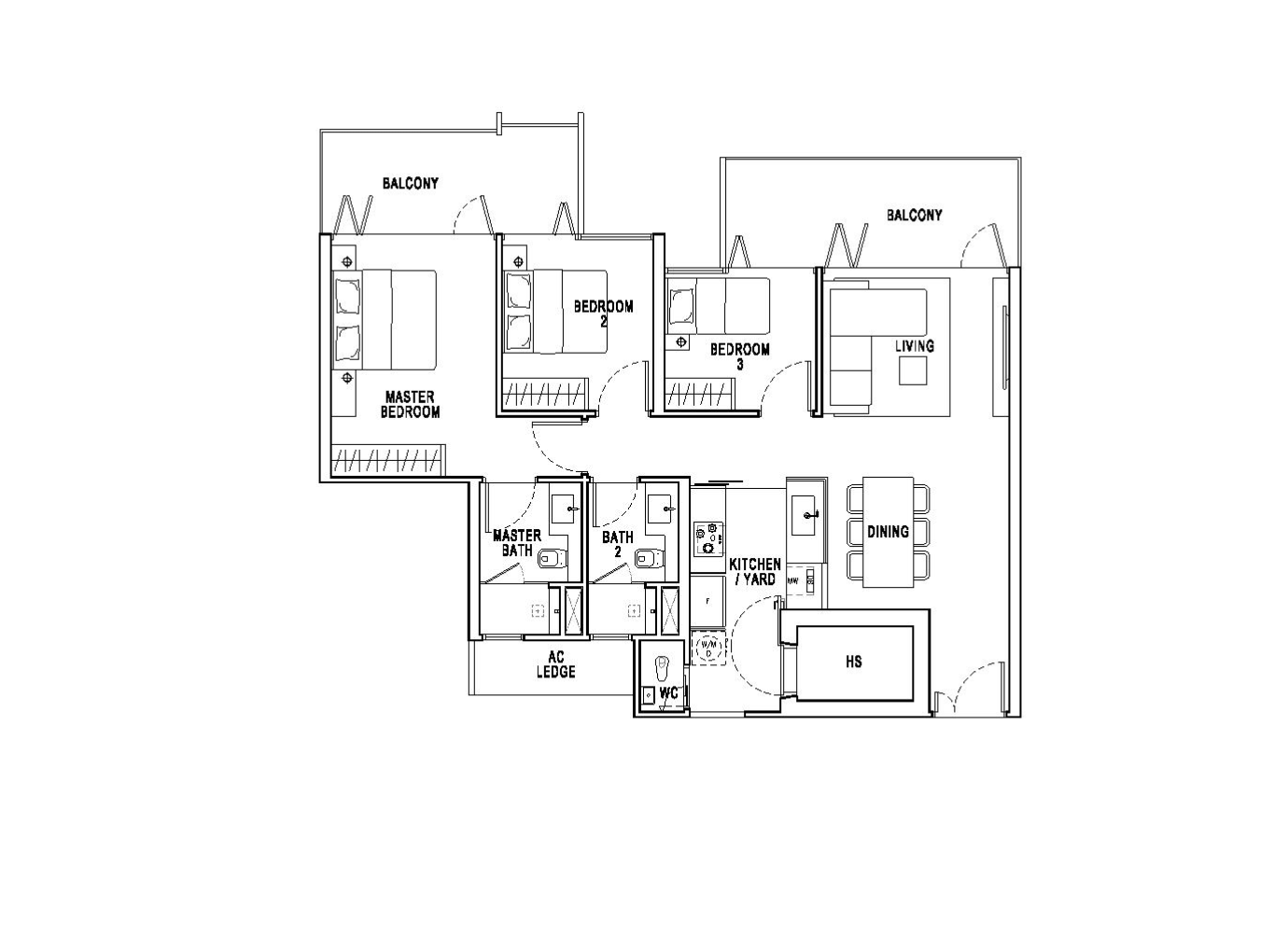 This particular 3 bedroom is sized at 1184 sqft of space.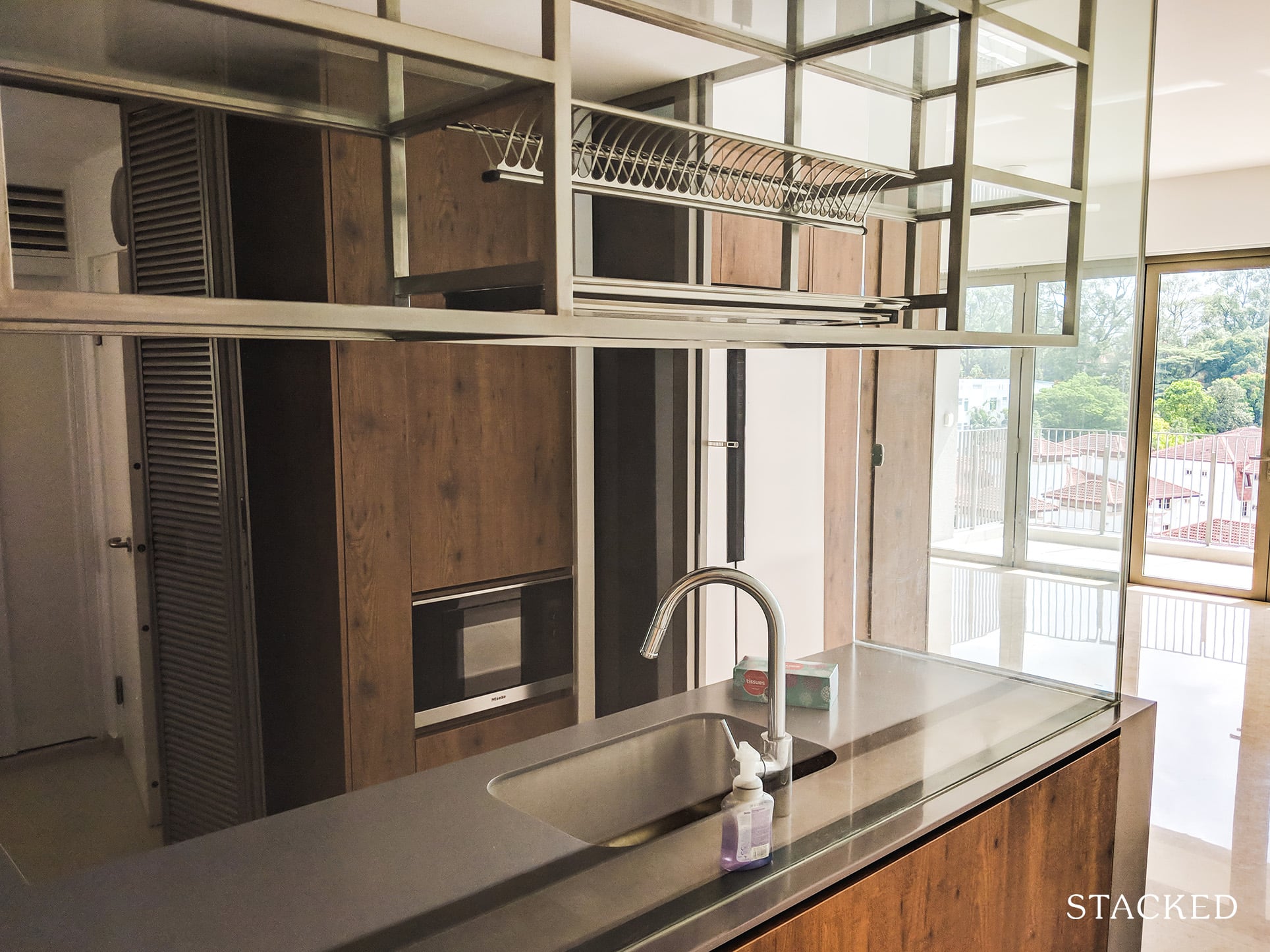 Upon entering the unit, the kitchen is immediately on your left, and is open but yet covered with the glass panels.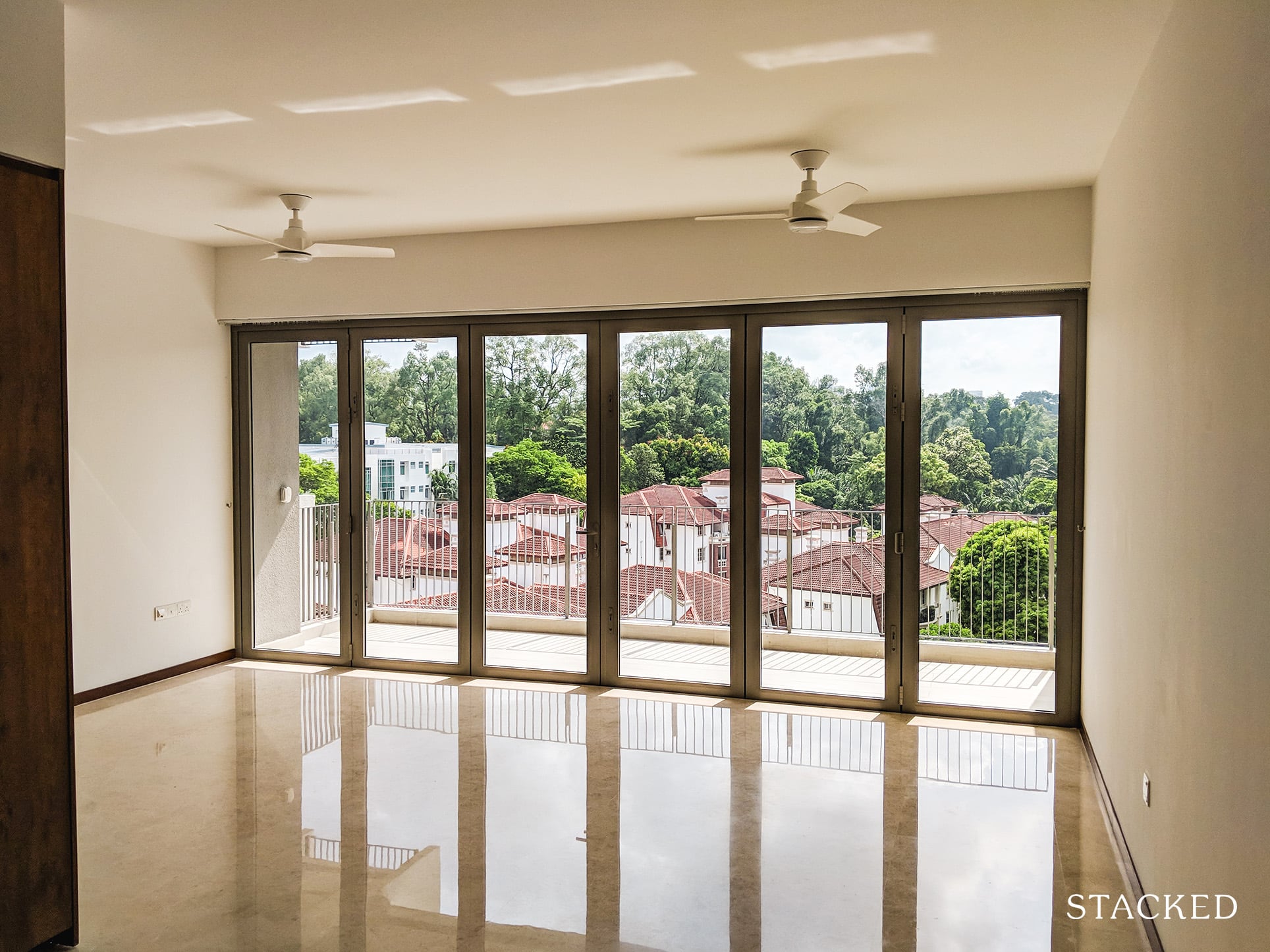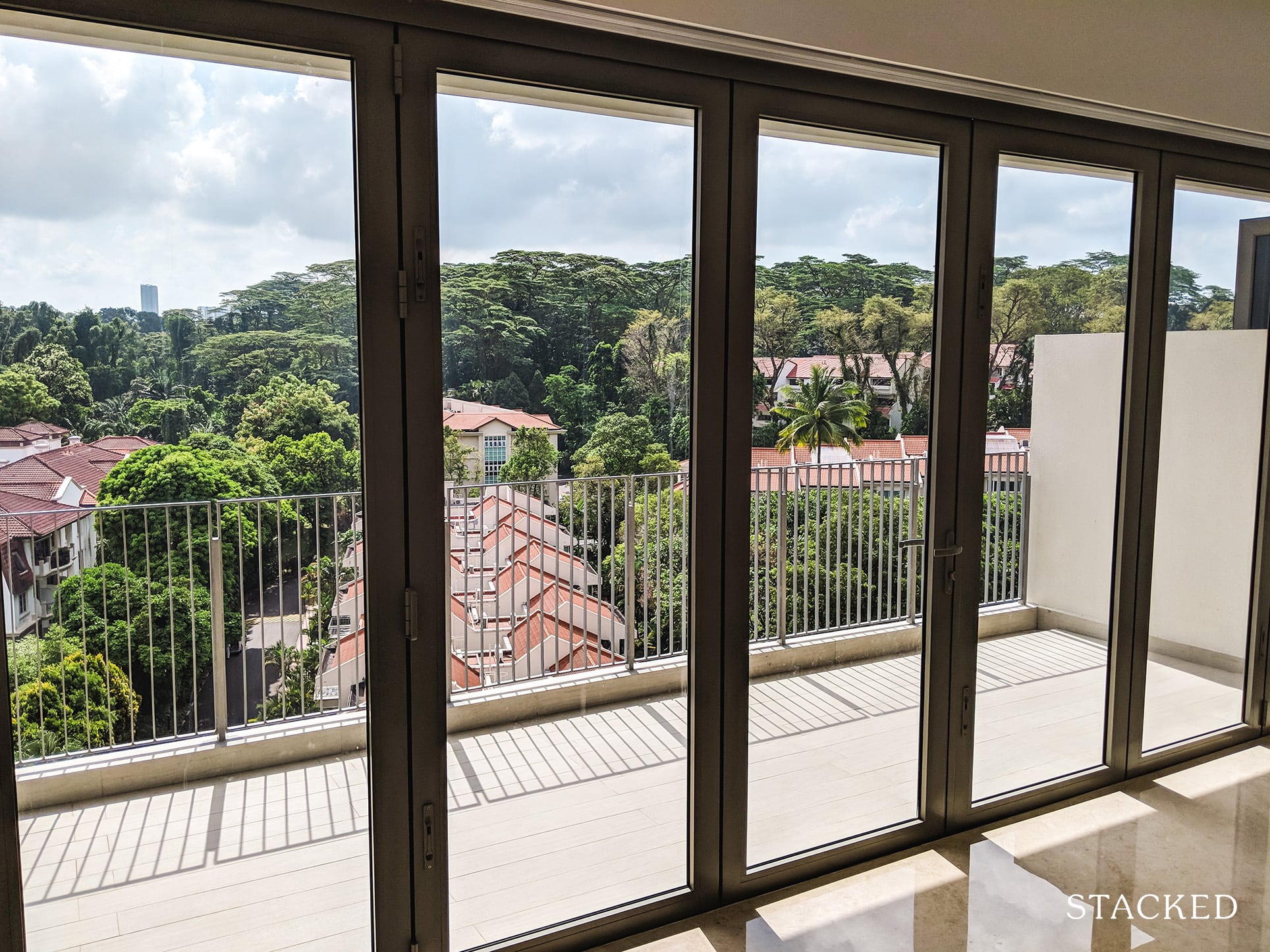 The view towards this side of Pollen and Bleu is peaceful and open, and the balcony is big enough for some seating if you prefer.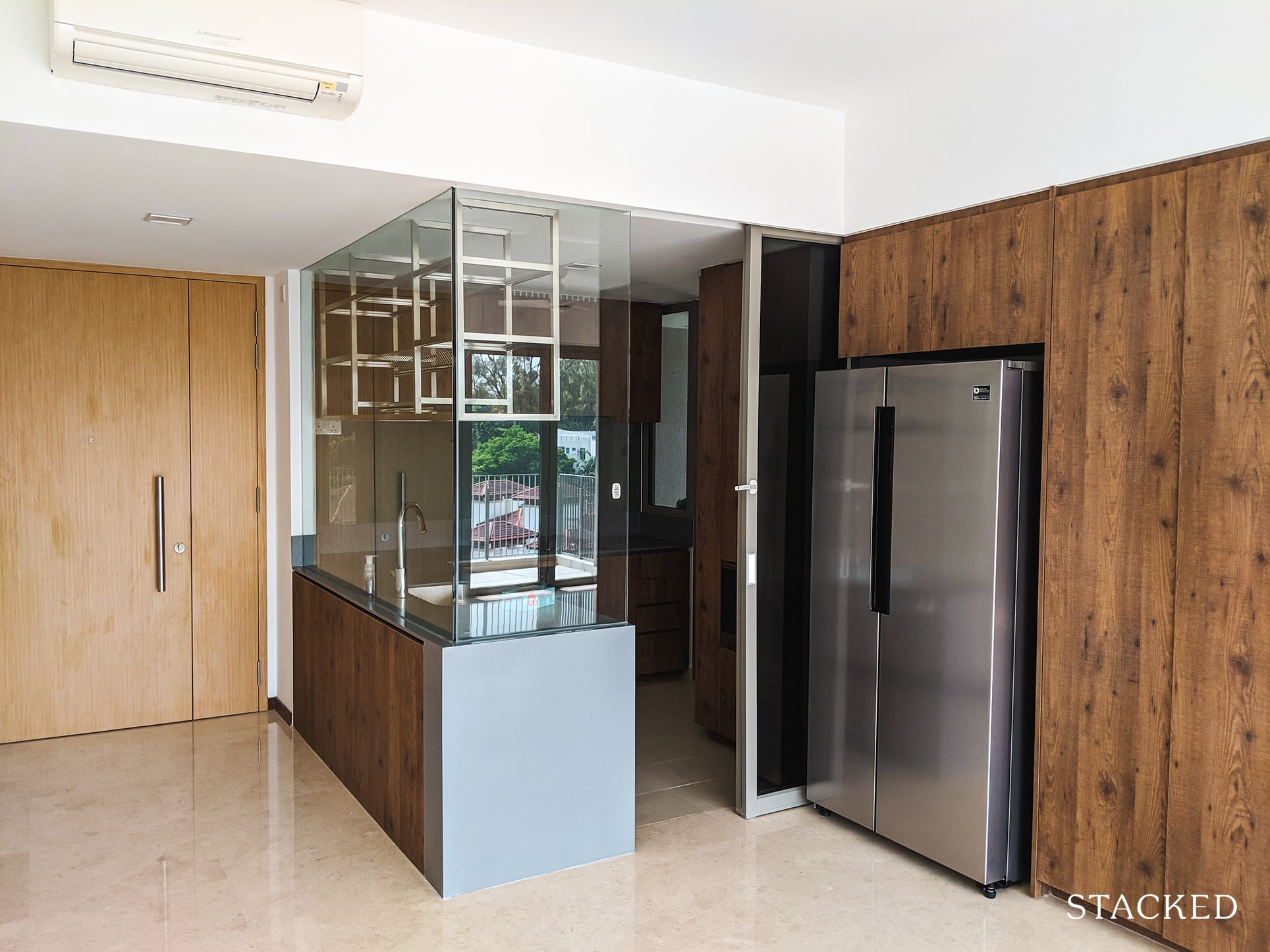 The fridge on the outside is a little more unorthodox, but it makes it easy to get a beer or wine from the living room.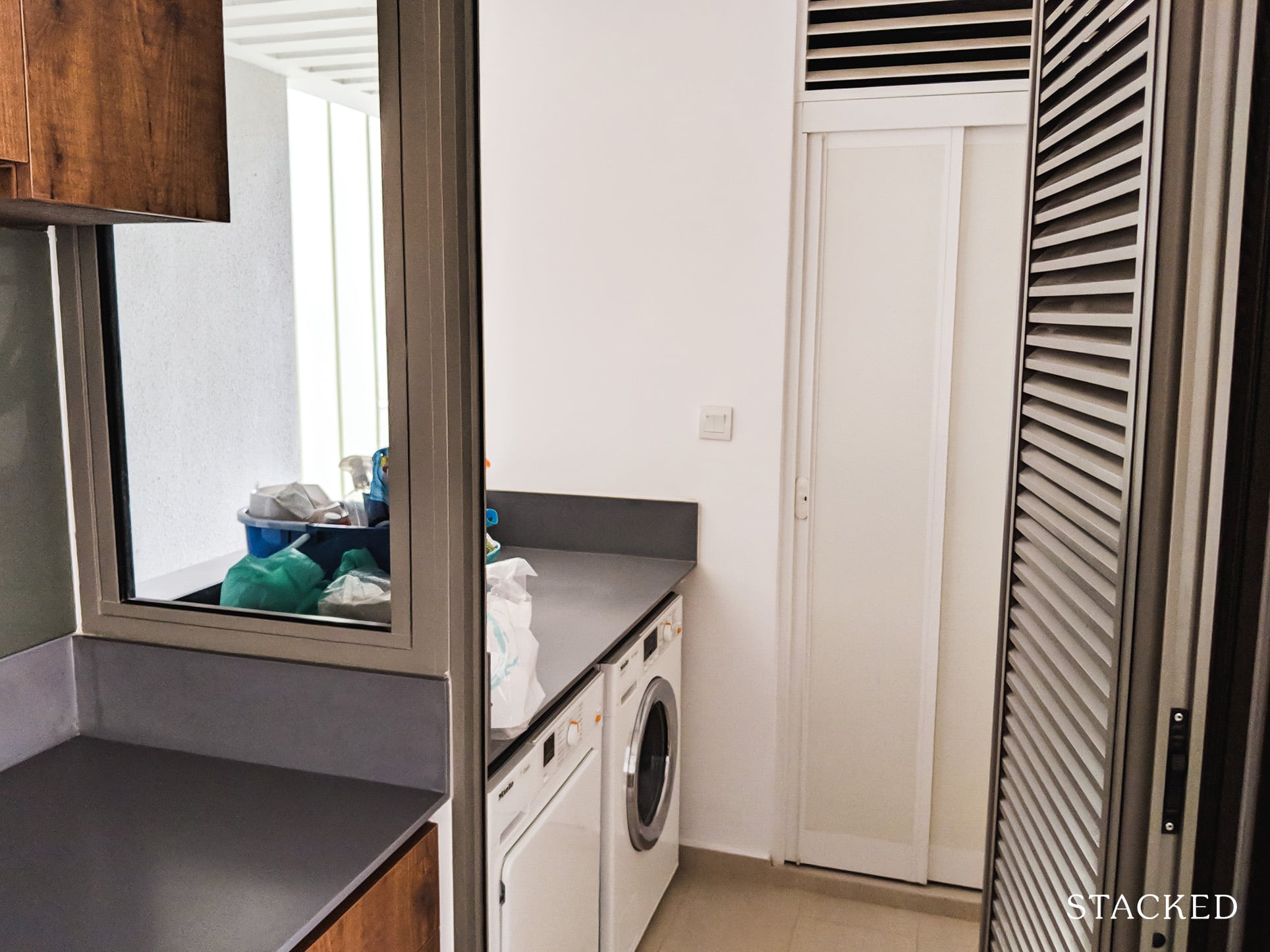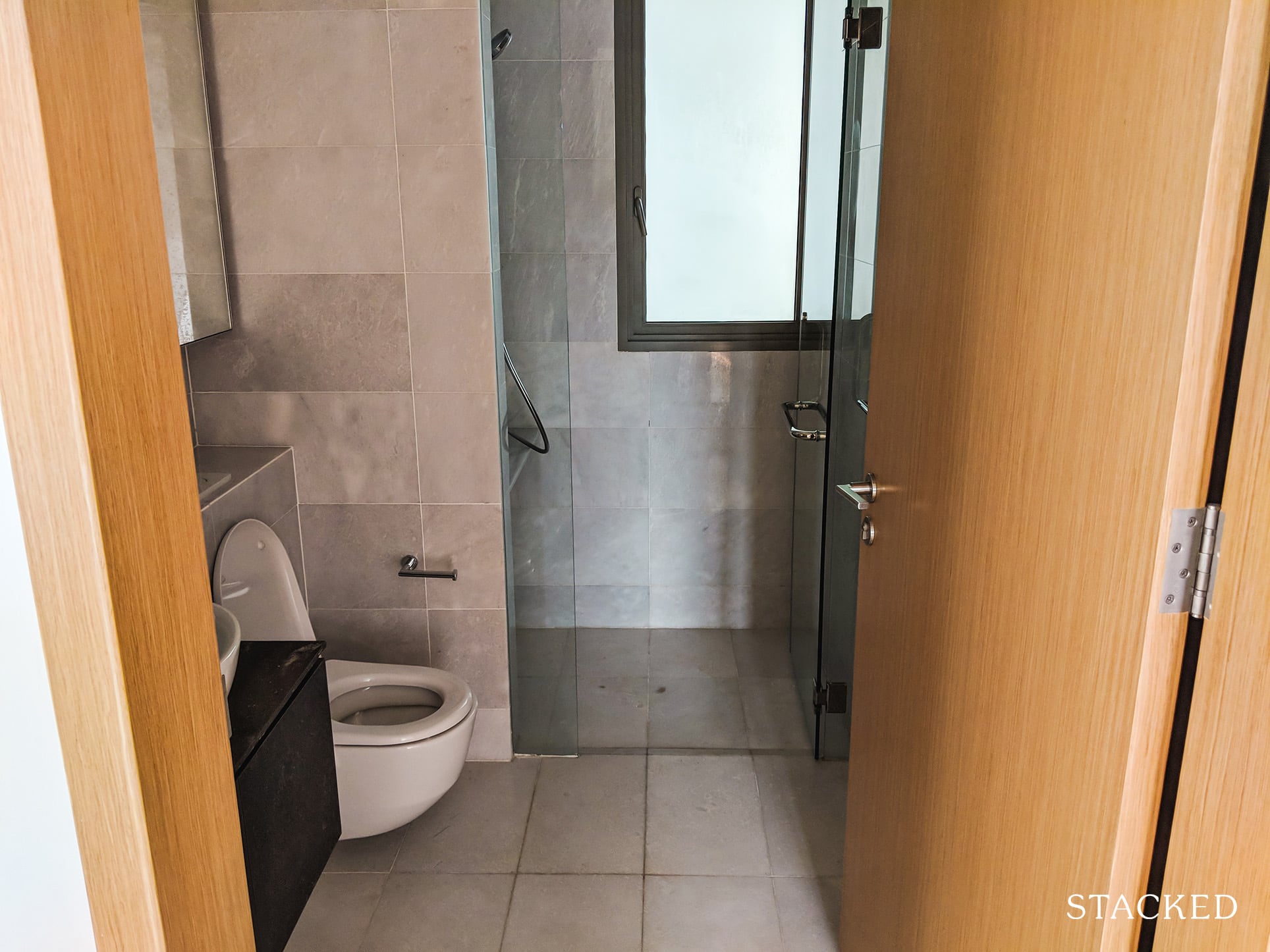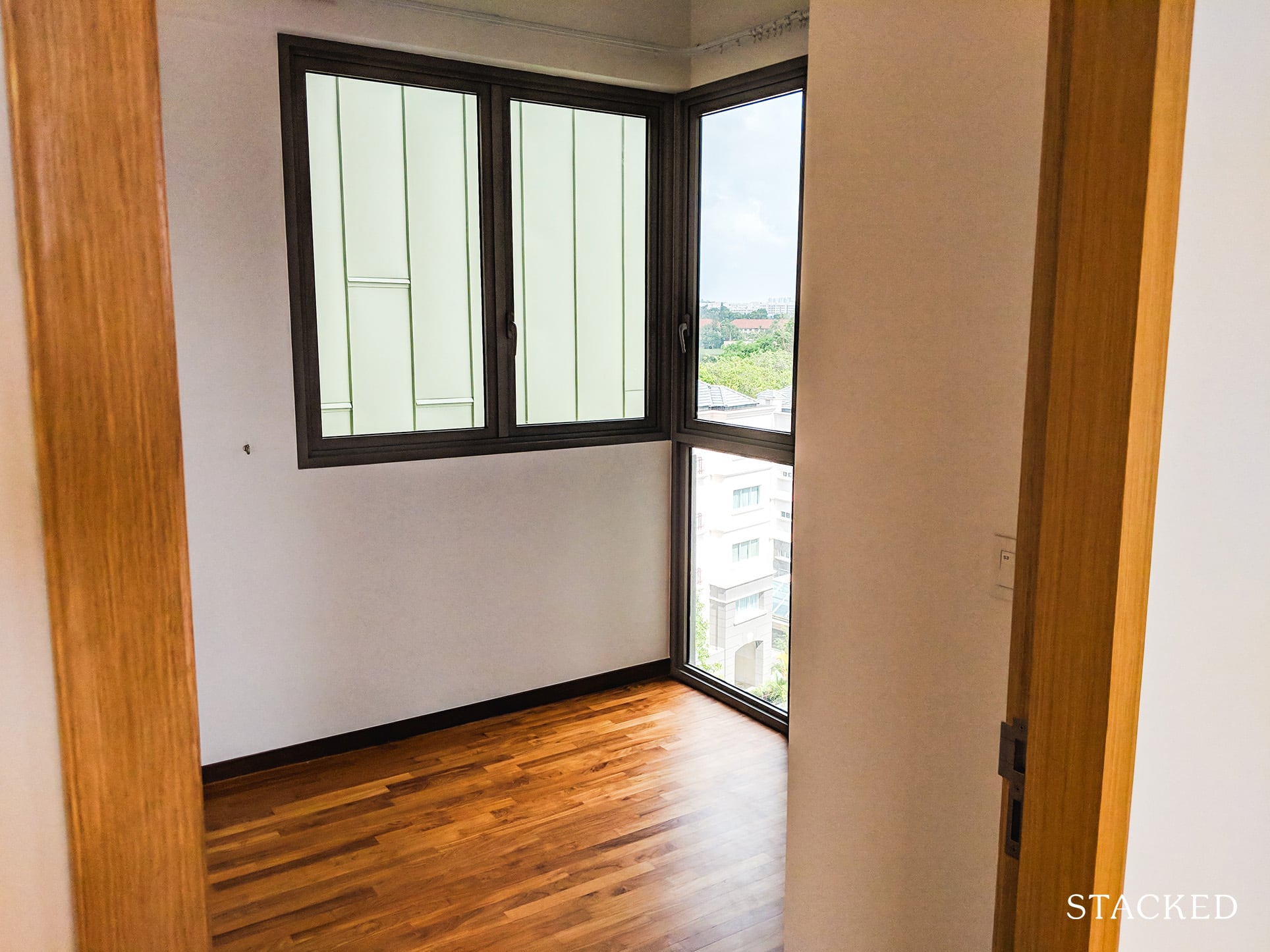 There is a full-length window in the common bedroom.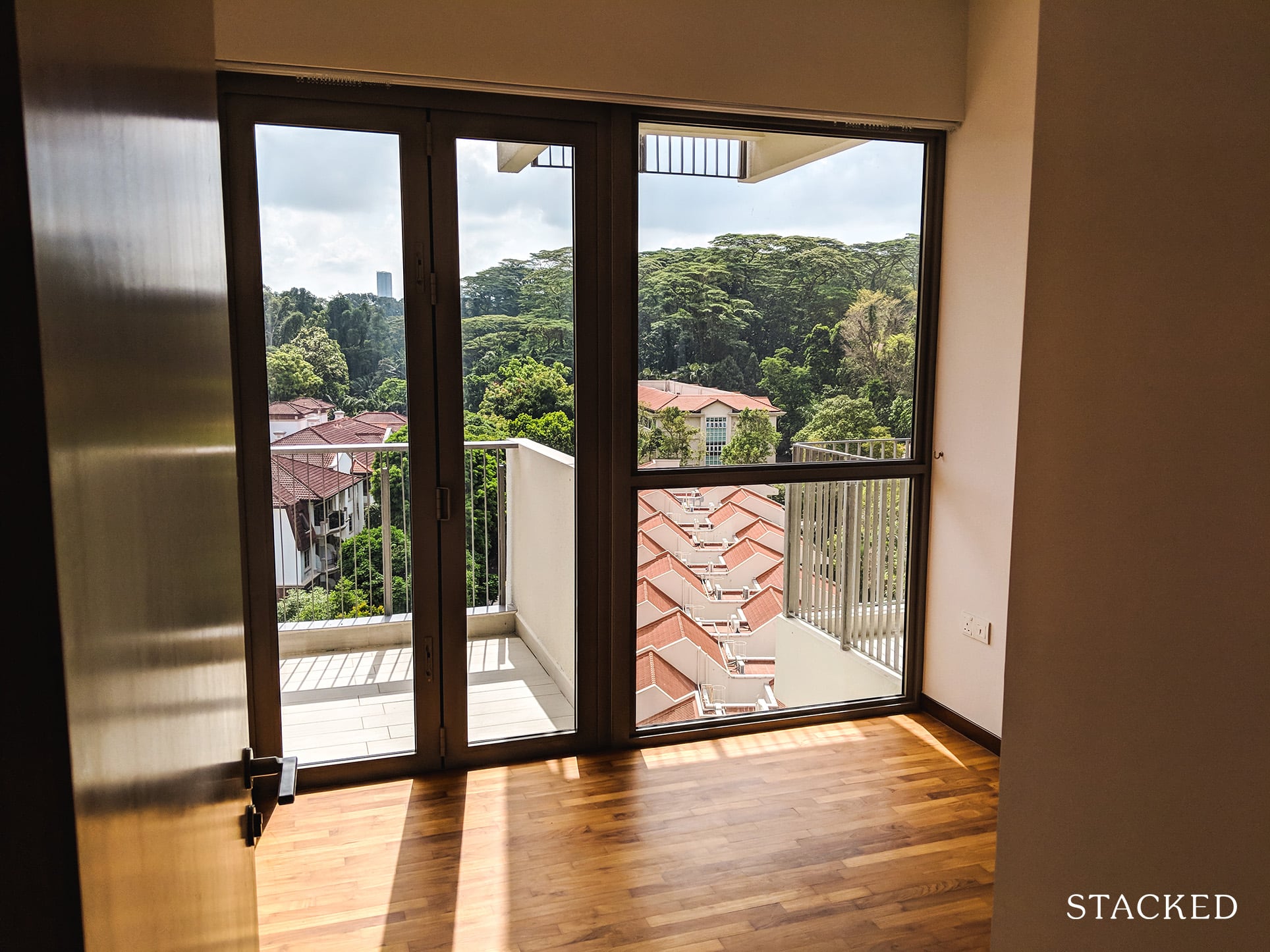 The second common bedroom has the same great view and shares a balcony with the master bedroom.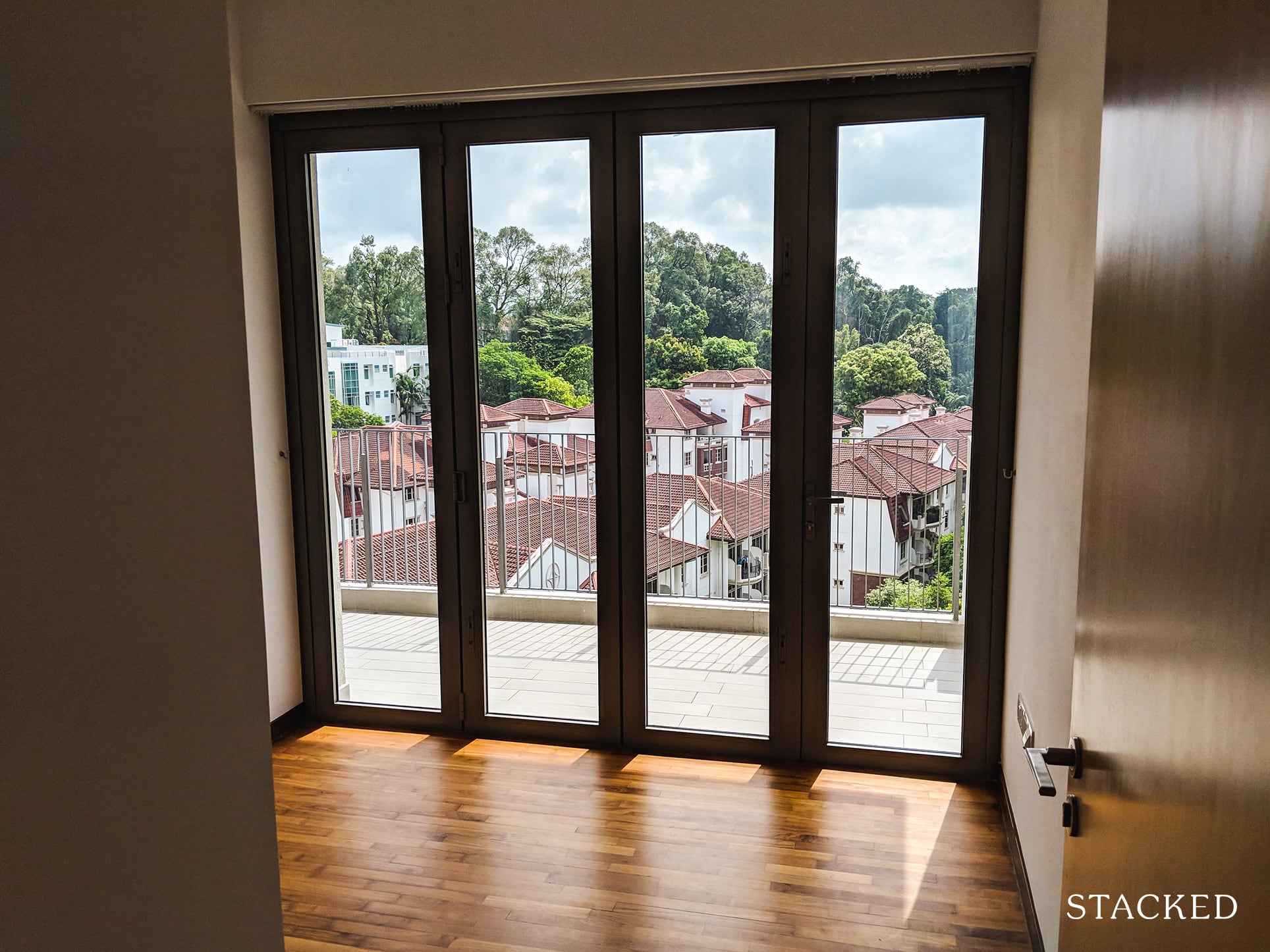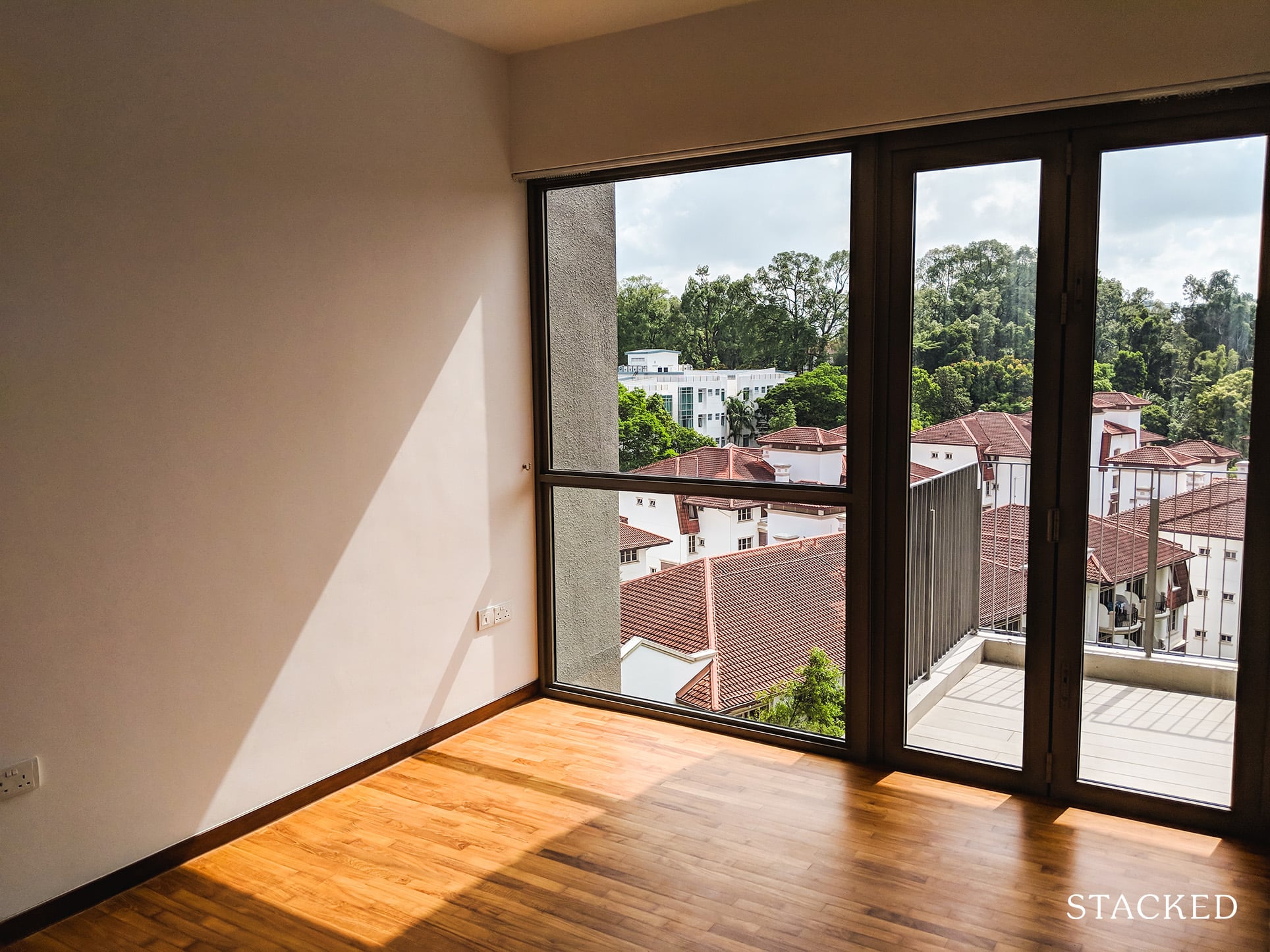 The master bedroom is not the biggest, but the large windows really bring a lot of light into the room, making it feel bigger. Of course, it leads out to a balcony as well.
Final Conclusions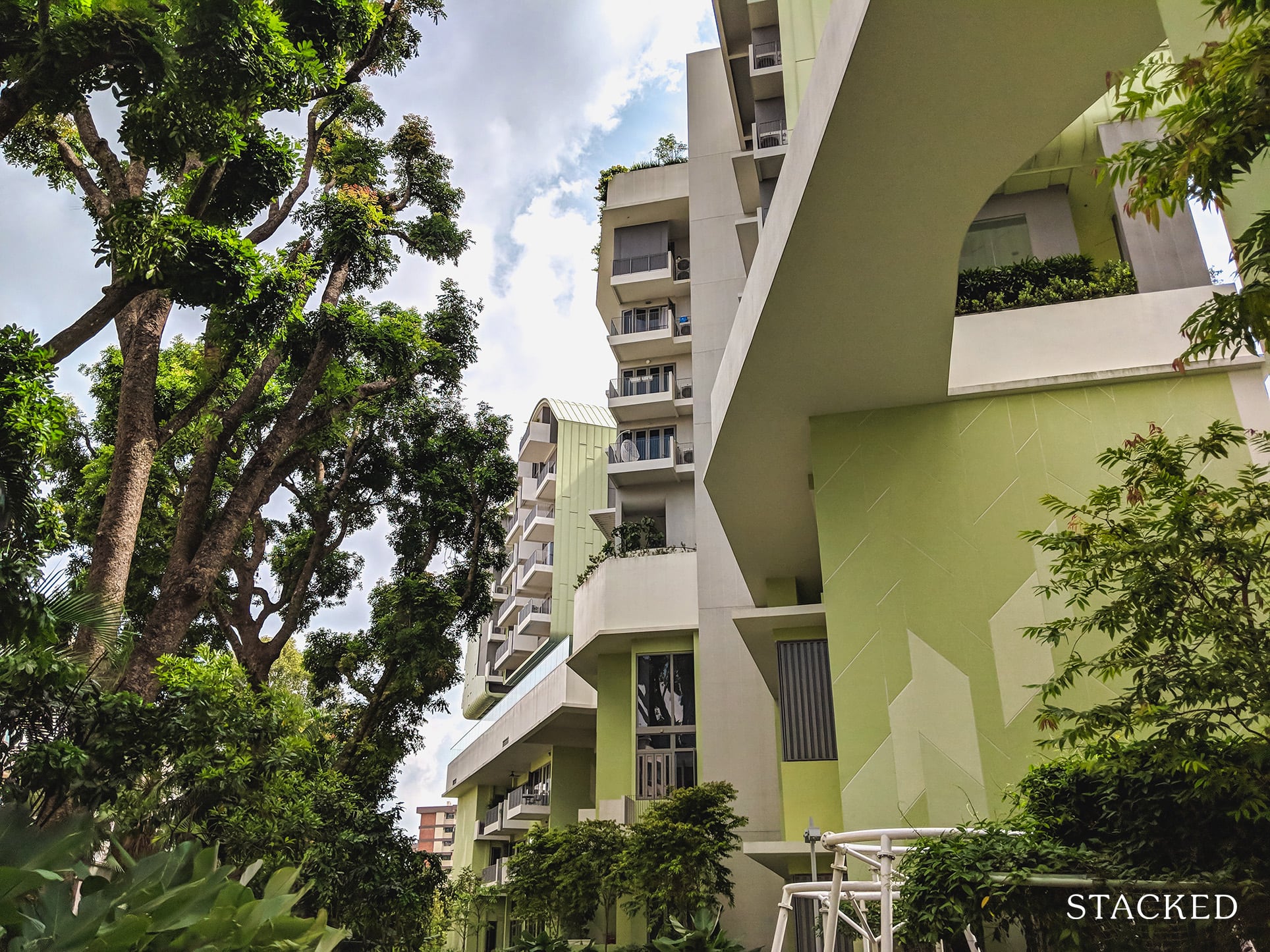 Pollen and Bleu is one of those places that you just have to go and see for yourself, its appeal is to a very specific crowd. If you are looking at the Farrer vicinity, in particular, Pollen and Bleu is a development you should take a look at if you like smaller developments and require something more modern. One of the biggest downsides is the accessibility to the development, but if you value your peace and quiet that is just a necessary byproduct.
So that is it for our Pollen and Bleu condo review! As always feel free to leave a comment below or you can always reach us at hello@stackedhomes.com!
End of Review