BTO
November 2022 BTO Launch Overview: 9,540 Units On Offer At Queenstown, Kallang/Whampoa, Bukit Batok, Tengah, Yishun
Ryan J
November 9, 2022

9

min read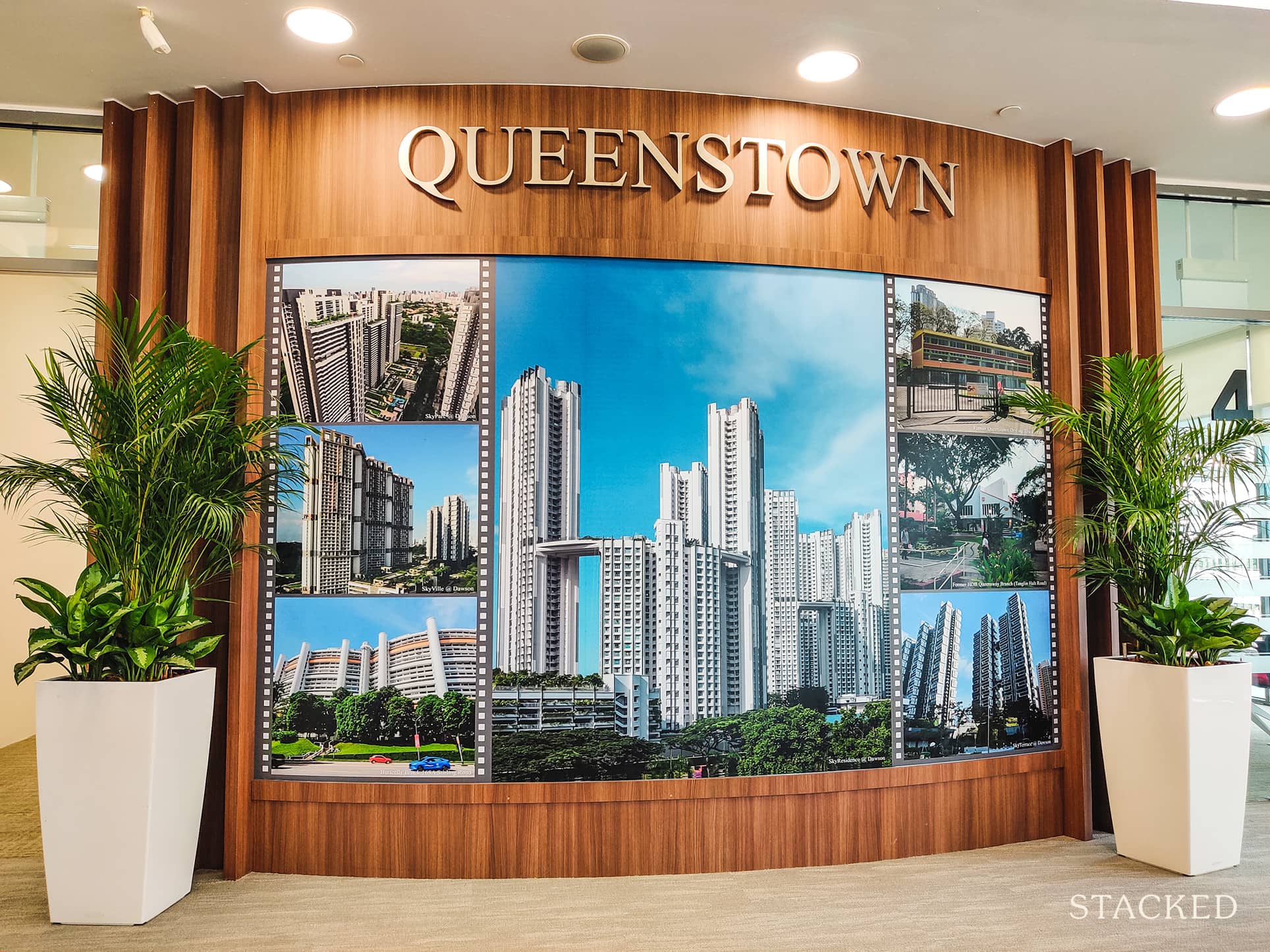 9
min read
HDB has ramped up production as promised, and this upcoming launch is where we're starting to see it. There are nine projects across five HDB towns this time around, with about 9,540 units to accommodate rising demand. In bigger news, two of the launch sites are the hot spots of Kallang/Whampoa and Queenstown. Here's a quick run down of the different sites:
Mature towns
1. Kallang / Whampoa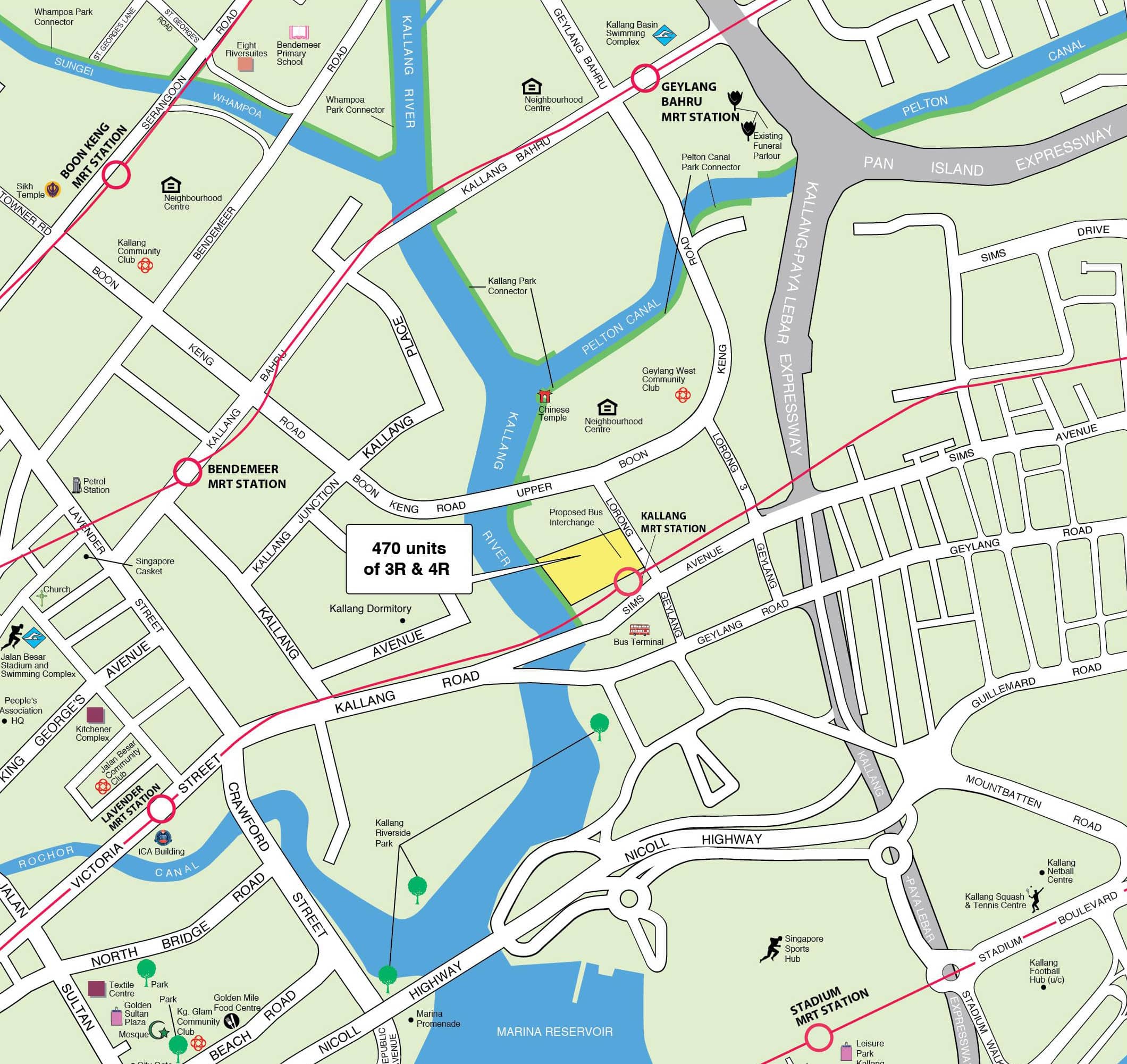 This site is at the junction of Geylang Lorong 1 and Sims Avenue, right next to the Kallang MRT station (East-West Line). Plans also suggest the bus interchange will be located very near, or even integrated with, the launch site itself. There are 470 units of 3 and 4-room flats.
Note that Kallang MRT is just two stops from Paya Lebar and the commercial hub of PLQ, which makes things very convenient indeed.
Right off the bat, we can tell you this is likely to fall under the Prime Location Housing (PLH) schemes. One of the signs is the lack of 5-room flats, which has so far been common to PLH flats.
The other is the pricing of nearby flats, which shows this to be a prime area. The 4-room flats at nearby Kallang Trivista, for example, have seen recent transactions at over $900,000.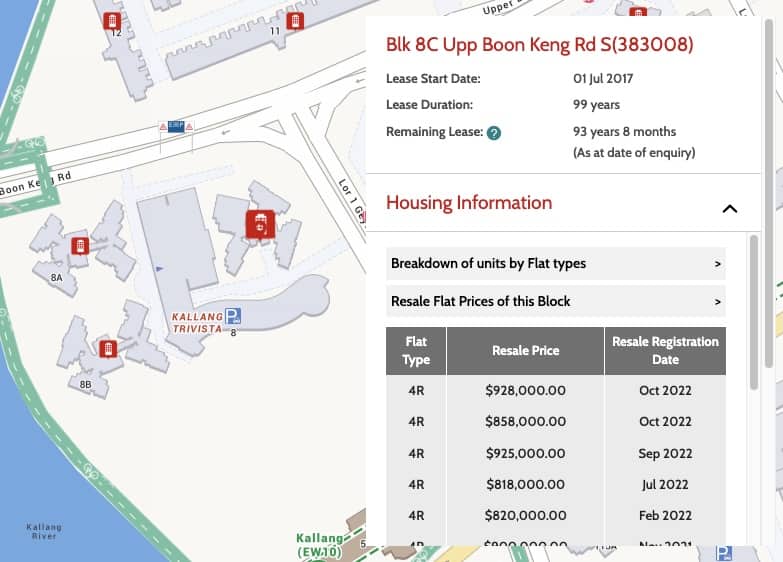 Near the Kallang MRT, in the direction of Jalan Ayer, residents will find a good range of local eateries. The area is also about a five-minute drive to the Kallang Wave Mall and Singapore Sports Hub (it's a bit far to walk though, at about 16 minutes).
While it's a bit far from schools, this is still one of the best-located BTO launches we've seen; we'd expect it to be oversubscribed, even if it comes with the baggage of a 10-year MOP and subsidy clawback.
2. Queenstown
This is what we cleared away part of Dover forest to build. The Queenstown launch consists of three separate projects:
The first is between Commonwealth Avenue and the Ulu Pandan canal, and consists of 1,330 units of 3 and 4-room flats.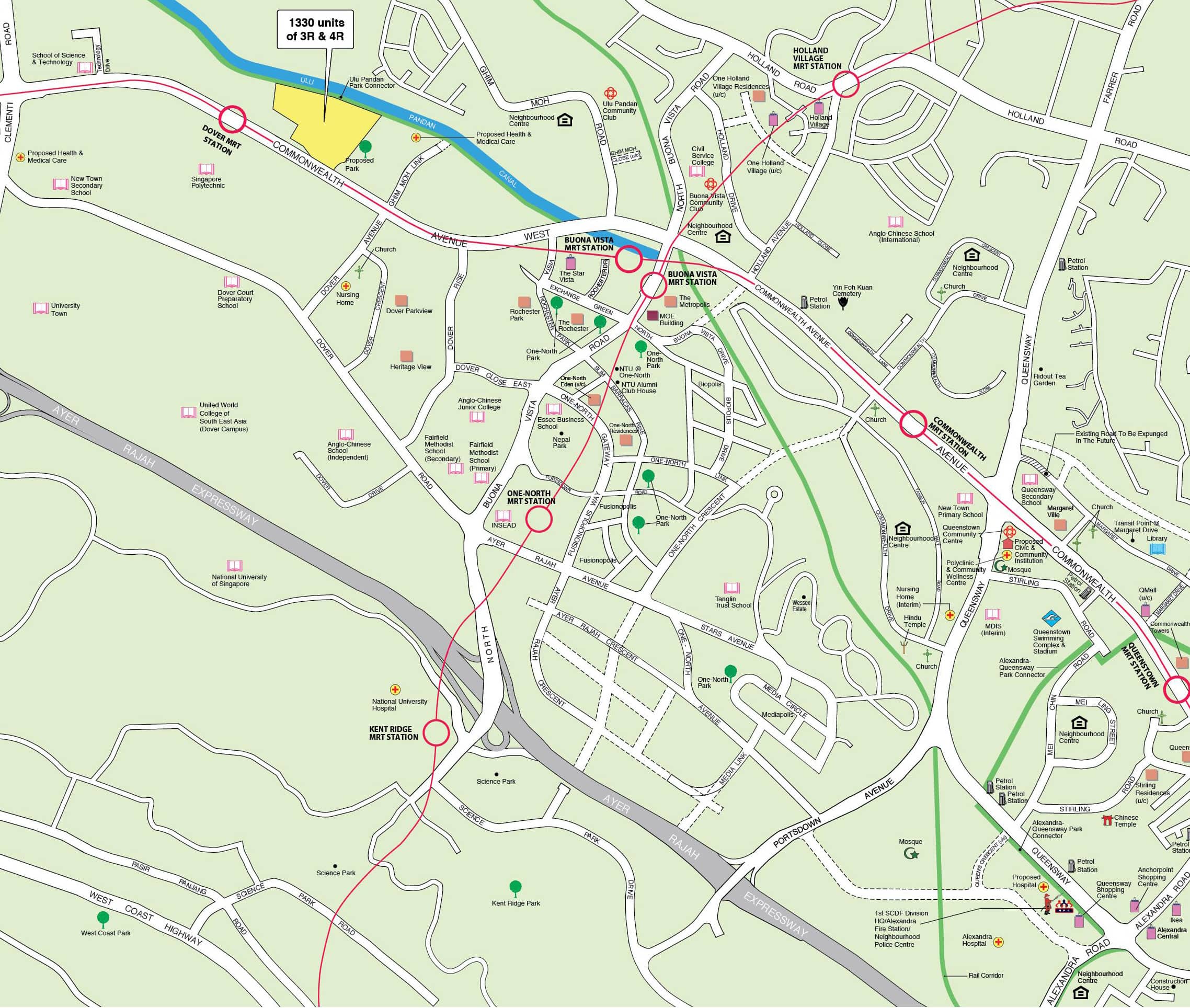 This site is likely to be under the PLH scheme and has a notably stronger location than the other Queenstown counterparts.
It's close to the Dover MRT station (East-West Line), which is next to Singapore Polytechnic. Several high-prestige schools, including Nan Hua, ACS, and NUS High School, are close by too. The ironic part is that being PLH, there's a lack of 5-room flats which families tend to prefer – and families also tend to be the ones most interested in schools.
The second site is where Queensway connects with Portsdown Avenue, near Alexandra Hospital.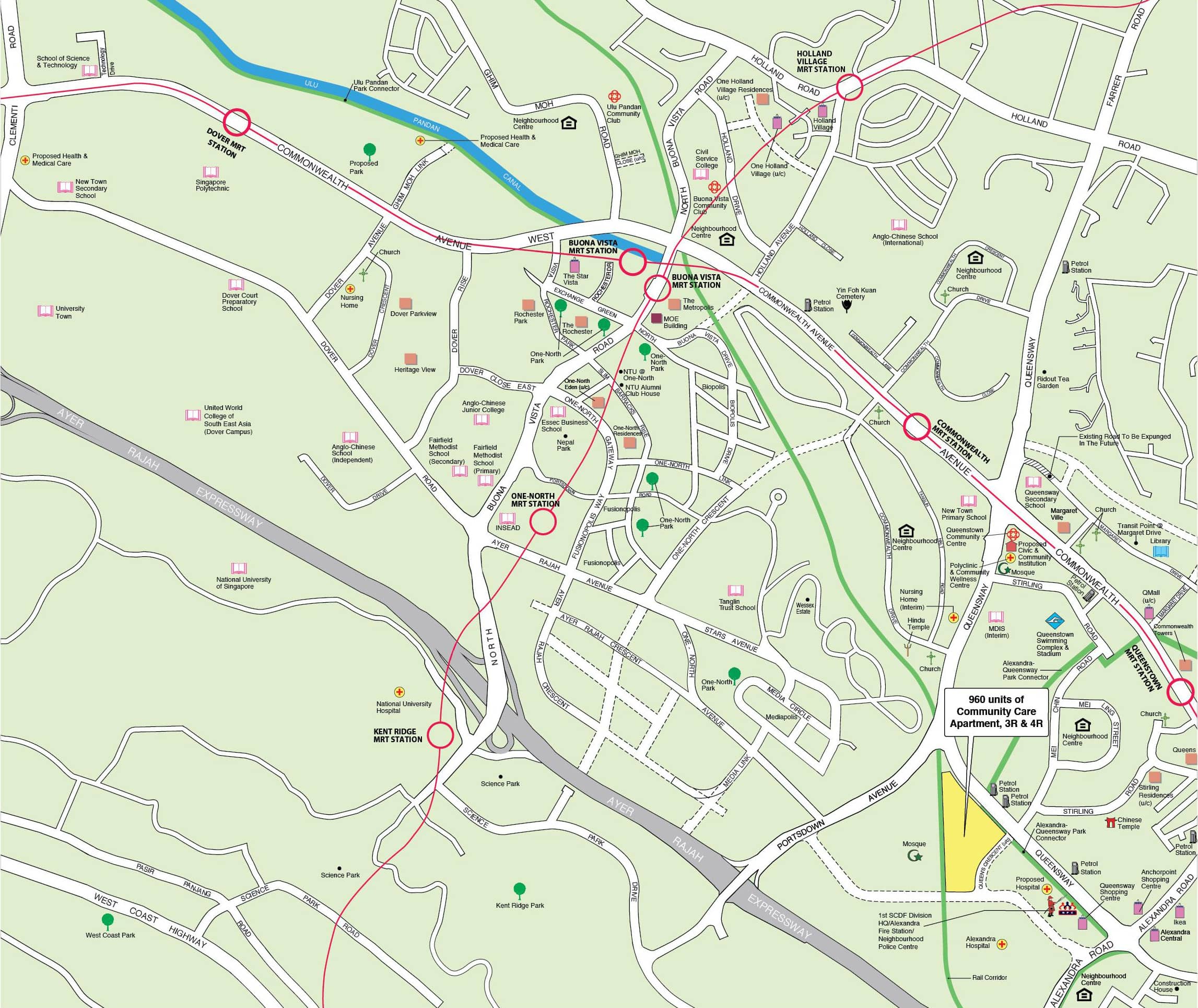 This will consist of 960 units of 3 and 4-room flats, and these will be under the Community Care scheme. That means extra amenities for the elderly (age 65+), such as monitoring and emergency-call systems; you can read more about the Community Care scheme here.
This makes sense for units that are located so close to Alexandra Hospital, but be aware some buyers consider it taboo to live near such facilities. There's also a worry about sirens causing noise disruptions, and heavier traffic.
(Ps. Speaking of sirens, it doesn't help that Alexandra Fire Station is also nearby!)
We'd say this site is generally less desirable to those who don't need healthcare. The main drawback is that Queenstown MRT station is going to be about a 12 – 15 minute walk away. The shortest route through Stirling Road is on a steeper gradient walking back too, so it isn't a flat easy walk all the way.
The third site is between Ghim Moh and North Buona Vista Road, and is the only Queenstown launch to feature 2-room flats. There will be 960 units available, in a mix of 2, 3, and 4-room flats.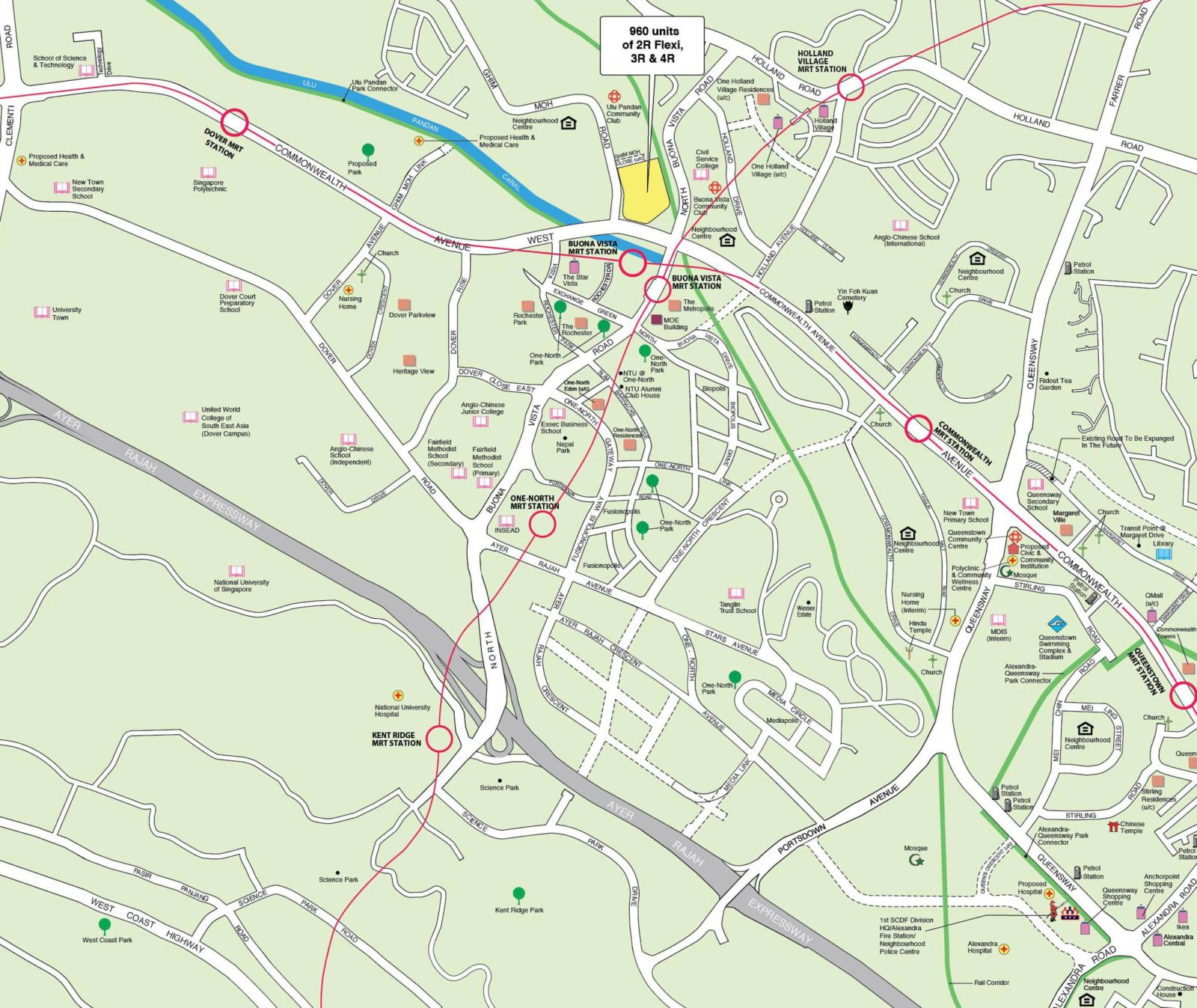 This site is next to Ghim Moh Ascent, a PLH project launched in the May 2022 exercise. The main appeal here is walking access to Buona Vista MRT station (East-West Line), which is just under 10 minutes away. The station is also next to Star Vista, one of the largest malls servicing the area. There's a recently revamped Cold Storage, and the food options are actually more extensive than you might think.
Another big plus is the proximity to Holland Village, which is roughly a kilometre away. It's even possible to walk there if you don't mind a long 12-minute stroll. You can also walk to Ghim Moh Market and Food Centre easily from here, which other than the popular hawker food that you can get, there is also a 24 hour Giant Express. Besides, Ghim Moh Link already has an NTUC FairPrice and a Sheng Siong so you do have bountiful choices here as far as groceries are concerned.
Those who previously balloted and failed to get a unit at Ghim Moh Ascent have a second chance here.
Non-mature towns
1. Bukit Batok
This site is at the intersection of Bukit Batok West Ave. 2, and Ave. 5. There are 790 units of 2-room flexi, 3, 4, and 5-room flats available.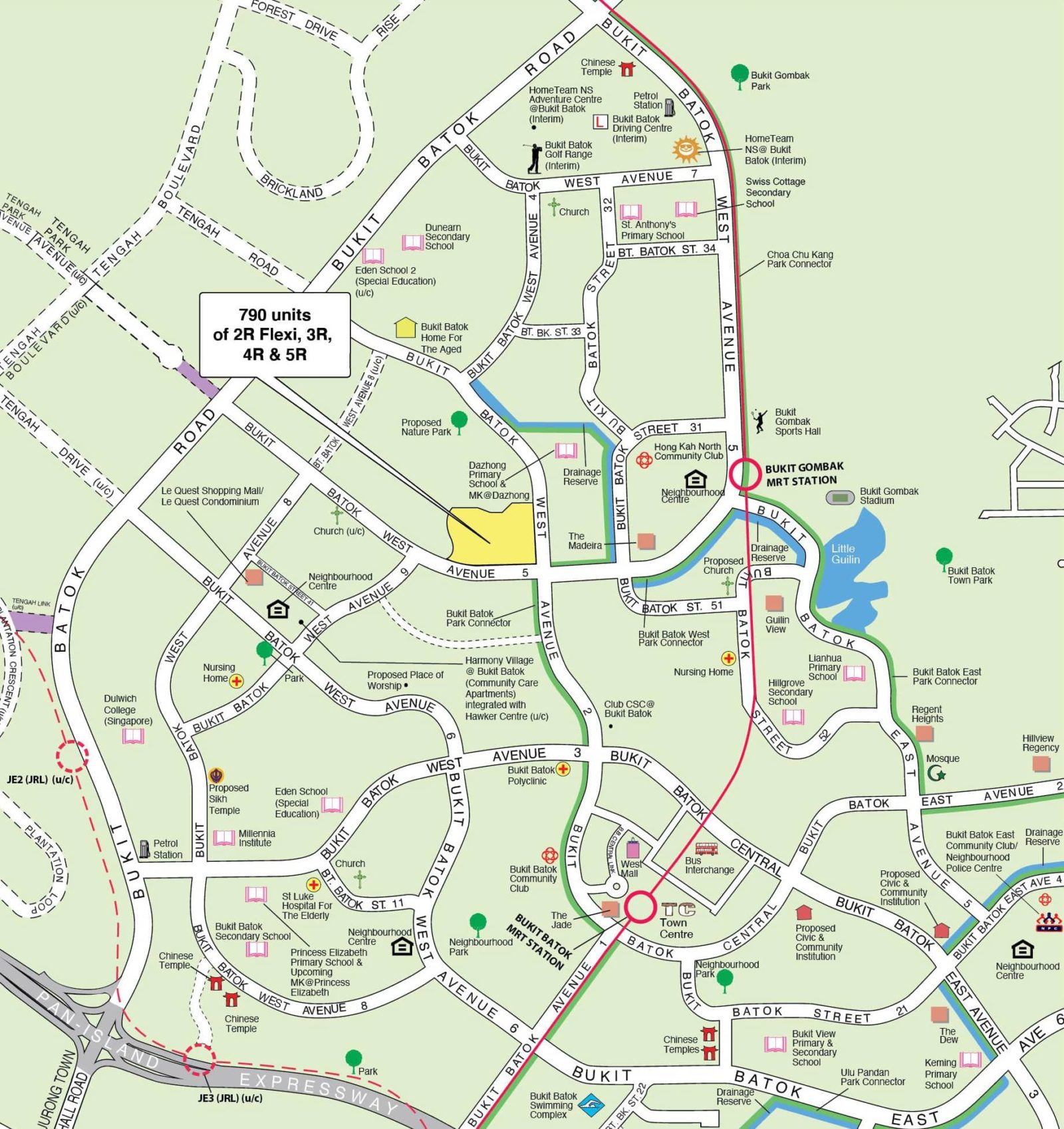 Whether the MRT access here is convenient is up for debate. Bukit Gombak MRT station (North-South Line) is roughly within a 10+ minute walk, but we know that's far enough that some people wouldn't call it convenient.
The site is just a short stroll from the Bukit Batok hillside park, which makes for a good amount of nearby greenery; and the Bukit Batok Park Connector is also nearby. Cyclists and outdoor types will probably enjoy the area more, as Little Guilin is not too far off from Bukit Gombak MRT.
The immediate surroundings have plenty of day-to-day amenities. Bukit Batok Street 31, for instance, has a Giant supermarket; and there's also one at Bukit Batok Central, near the MRT. For major shopping needs, you'd probably need to head to West Mall, which may be within 10 minutes on foot.
Overall, a reasonably accessible and convenient location; and one that's good for nature lovers.
2. Tengah
There are two projects at Tengah, but they're right next to each other; only a proposed strip of park space divides the two. Both are along Tengah Garden Avenue. The larger of the two will offer 1,460 units of 2, 3, 4 and 5-room flats, while the smaller of the two offers 610 units of 4 and 5-room flats.
The larger plot is the more desirable of the two, being closer to the proposed Hong Kah MRT station (Jurong Region Line). This MRT station is expected to be running by 2027 – given a five-year construction period, that should be just nice for when you collect the keys. For now, there's no MRT access on foot.
As always, it's tough to talk about Tengah currently, as much of the town is still in the planning stages. The only thing we're certain of right now is that, when things do get off the ground, these two launch sites will see a boost as they're near the MRT. This makes them a choice for those seeking an "early bird" advantage.
At present though, it won't be the most accessible or convenient location – and we note that are few schools nearby as well. But given the crazy home prices in 2022, this may be one of the few ways to grab an affordable 5-room flat.
3. Yishun
There are three projects at Yishun, all located next to each other. They form a long stretch between Yishun Avenue and the Lower Seletar Reservoir. This area overlooks the golf courses of Orchid Country Club, which is expected to close by December 2030.
The first project is next to Skies Miltonia condo. It offers 1,330 units, in a mix of 2, 4, and 5-room flats.
The second and third projects in the row offer 950 units of 2, 3, 4, and 5-room flats, and then 680 units of 2, 4, and 5-room flats.
All three projects have the potential to command a great view, as you'd expect from flats facing a large golf course and reservoir; but keep in mind that the golf courses are slated for further residential development. As such, there's no guarantee that the view will last.
We would rank the Yishun sites as the least exciting for this launch, as there's nothing outstanding here yet. Perhaps when the golf course is redeveloped, there will be more in the way of nearby amenities. Accessibility is also a struggle, as Yishun MRT station is too far to walk daily.
Nonetheless, for home buyers who like a higher degree of privacy or silence, the Yishun sites can offer that; at least until the golf club moves out. Northpoint City is also a fantastic mall that serves the area, so you don't have to feel like you'd really be missing out on any retail or dining options.
For more on the Singapore property market, follow us on Stacked. We'll also keep you updated on changes and trends in the Singapore property scene, and provide in-depth reviews of new and resale homes alike.