Buying
7 Tested Ways To Select The Perfect New Launch Condo Unit
Stanley
October 25, 2019

8

min read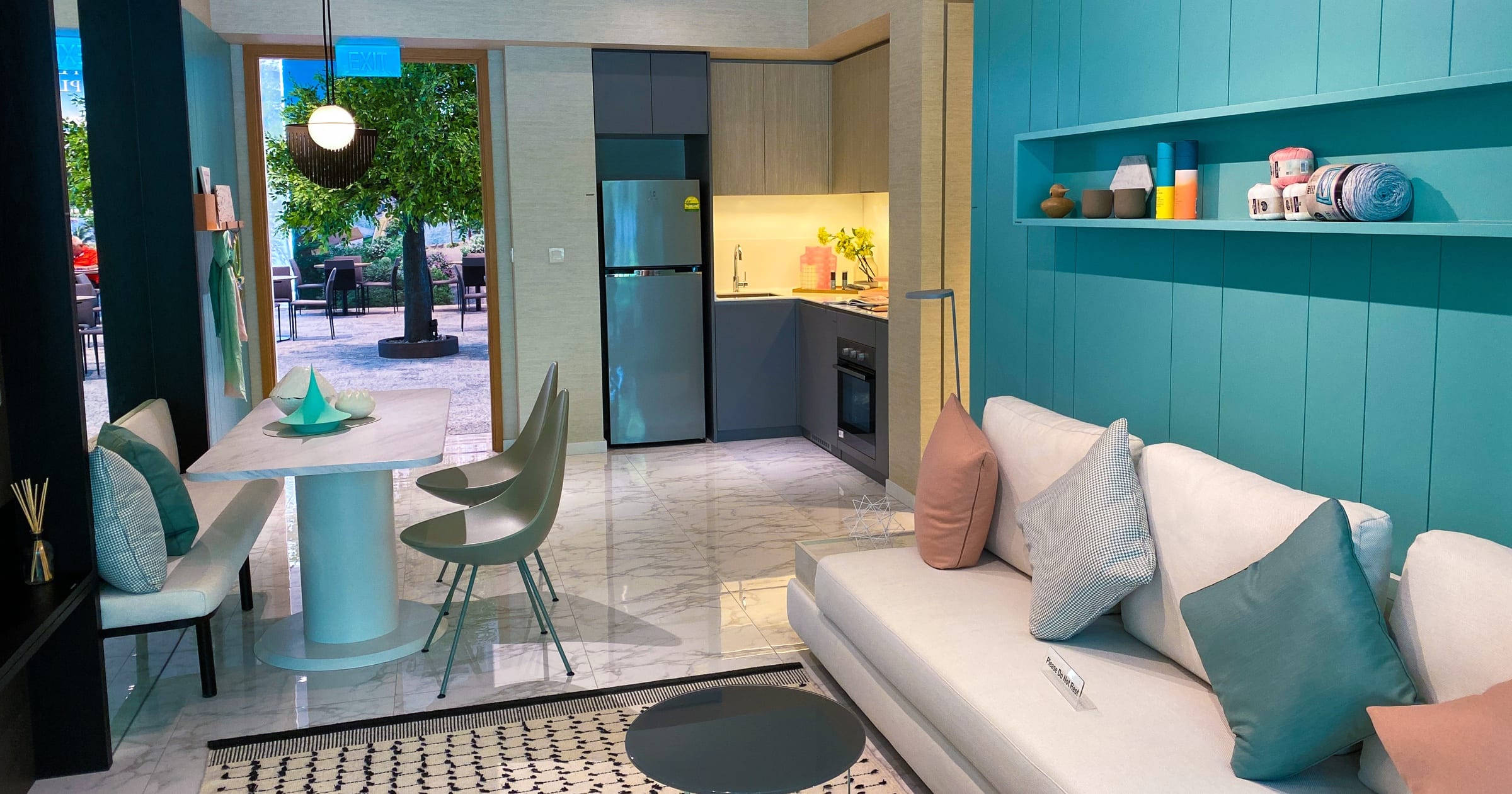 8
min read
"XXX condo has sold 75% of its units on launch day"
Ever seen this familiar headline?
Or better yet, these photos that are usually plastered over all the new launch condo articles in the newspaper.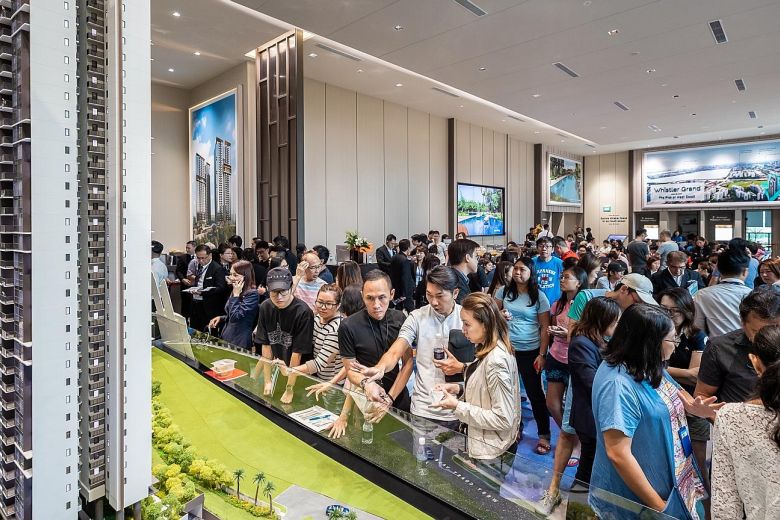 Can you imagine the mayhem that happens during a popular launch?
People scrambling to submit their cheques, last-minute futile glances at the showflat model to determine which is the best unit.
For a first time home buyer, buying a new home can be a frightening experience.
Throwing over a million dollars at a new launch condo is nothing to be sniffed at.
When so much money is at stake, it is only right that you are absolutely prepared.
The real question is: How do you select the best new launch condo unit?
7 tested ways to select the best new launch condo unit
1. How to select the best facing
Now, the term best facing can be quite subjective.
For example, some people actually like the afternoon sun (yes, there are people like that out there).
Or some of you might prefer a city view?
Or even a garden view.
Some of you might enjoy a swimming pool view, while others might hate that due to the higher level of noise.
I think you get the idea.
So when it comes to determining the best facing, it is really down to your personal preference.
Let's say you are looking for a unit with the least amount of afternoon sun possible.
The first thing you'll have to do is look for the compass on every showflat model (usually found at the corner).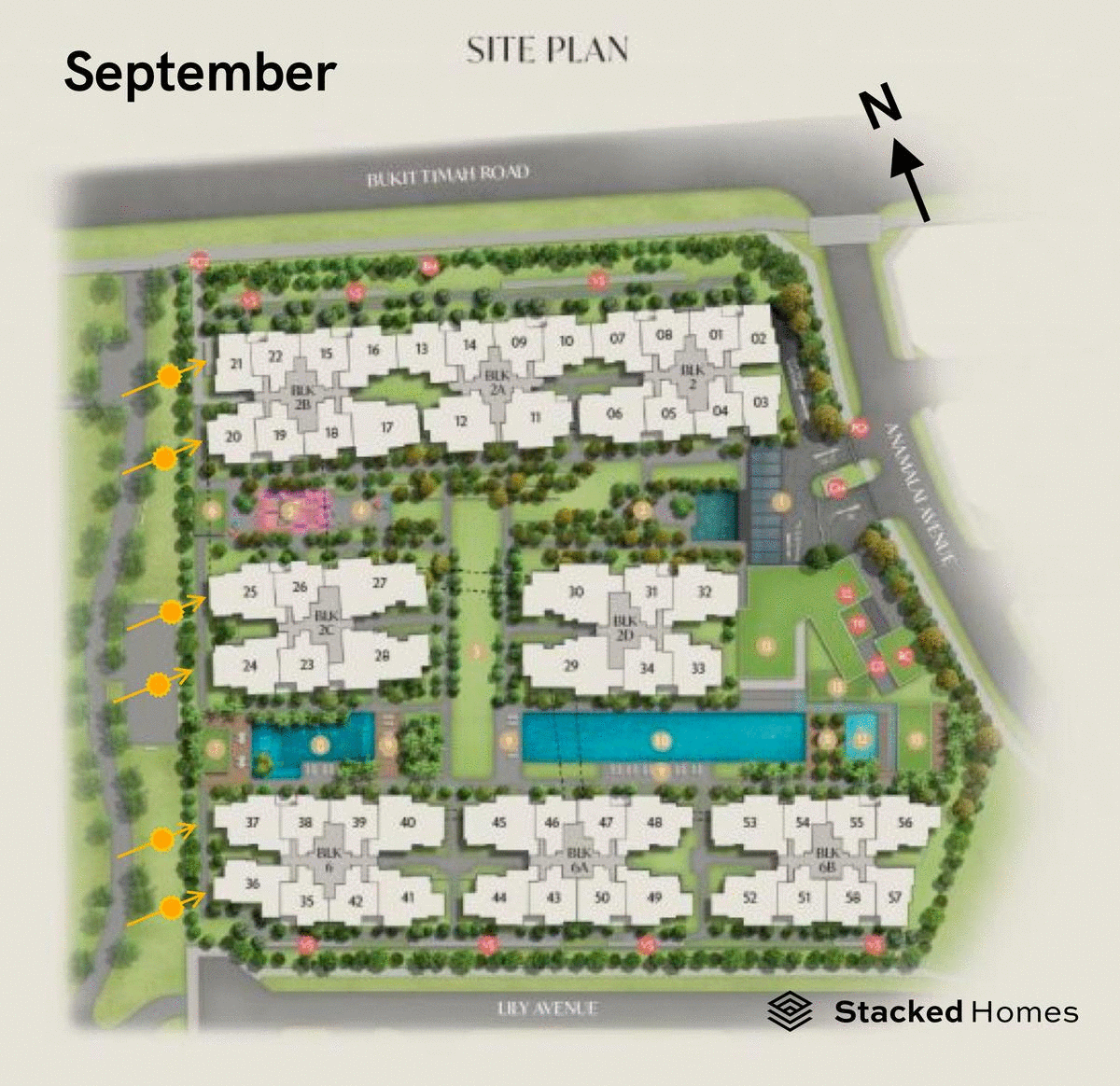 By using the compass, you'll be able to see which units will be affected by the afternoon sun.
Most agents will tell you that what you should be avoiding is the west sun.
And they are not wrong.
But if you really want to be specific about it, from March to September, the sun rises and sets slightly in the North West direction.
Whereas from September to March, it is actually from the South West direction.
Depending as well on the orientation of the blocks, there could be cases where a taller block might block off the sun from the lower blocks.
Or a neighbouring block could do the same thing.
So if you are looking for a unit that would avoid the afternoon sun, this would be your best bet.
2. Choosing the best stacks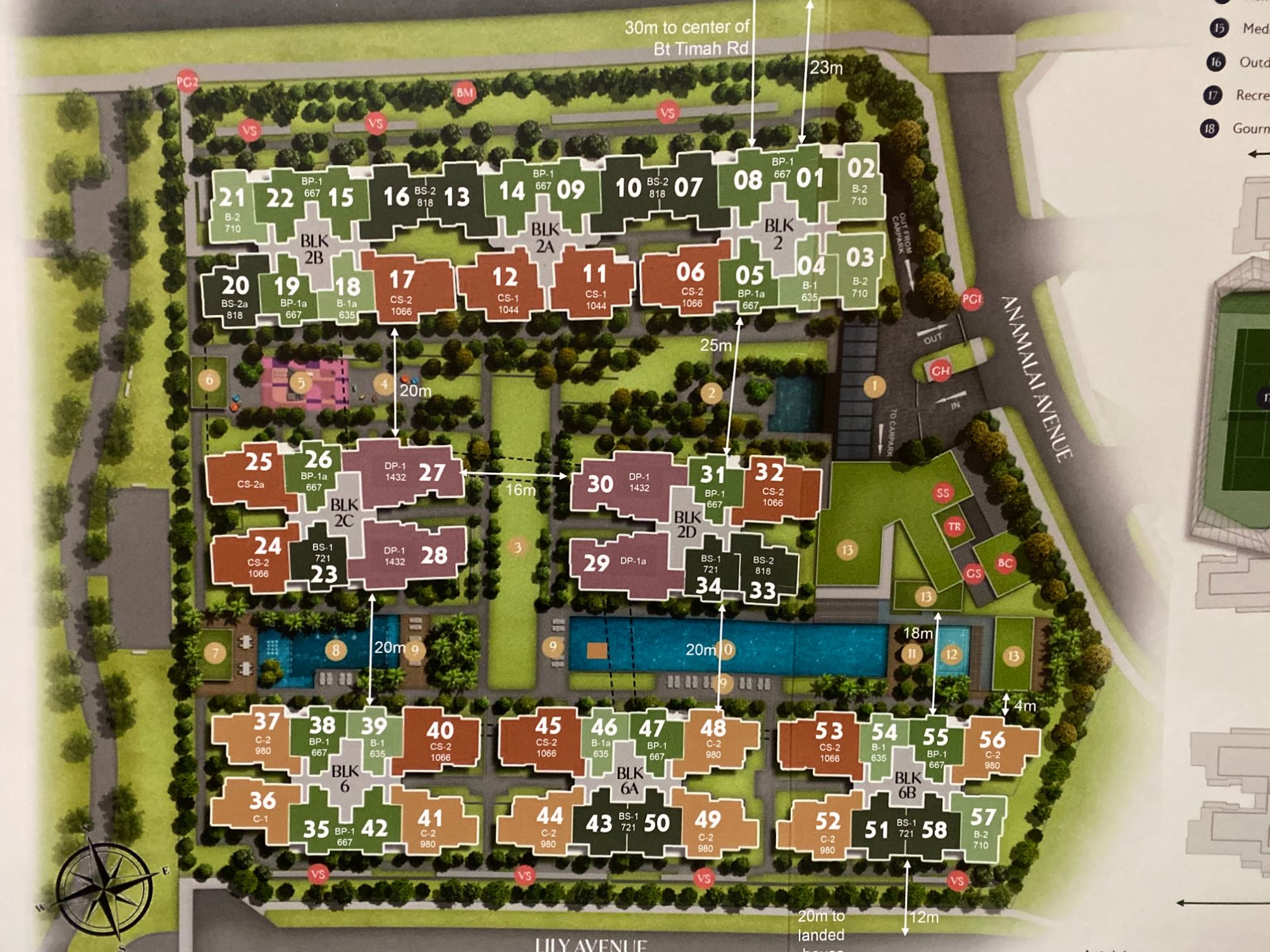 Who doesn't like privacy?
I think it is safe to say that no one likes to have their neighbours peering into their unit any time they want.
Having privacy blinds drawn all the time doesn't cut it either.
This actually really wasn't as much of an issue back in the day.
Just take a look at condos like Pine Grove and Sommerville Park.
Because of the amount of space available, you'd hardly find a unit that is too close for comfort.
That, however, is a different story today.
As units get smaller and smaller, the proximity to your neighbours just gets closer and closer.
So unless you are some sort of exhibitionist, look out for the length of the distance between each block.
Remember, not all the distances are the same so this is something that you will have to check on to see what you are comfortable with.
Something very comfortable and generous would be about 60 metres.
Anything shorter than that and you will have to make do with giving up some of your privacy.
Lastly, don't forget to consider what is on the outside of the estate too.
Showflat models will never show neighbouring developments, and neither would most artist impressions.
Instead, a very rosy picture is usually painted, with the buildings surrounded by lots of greenery.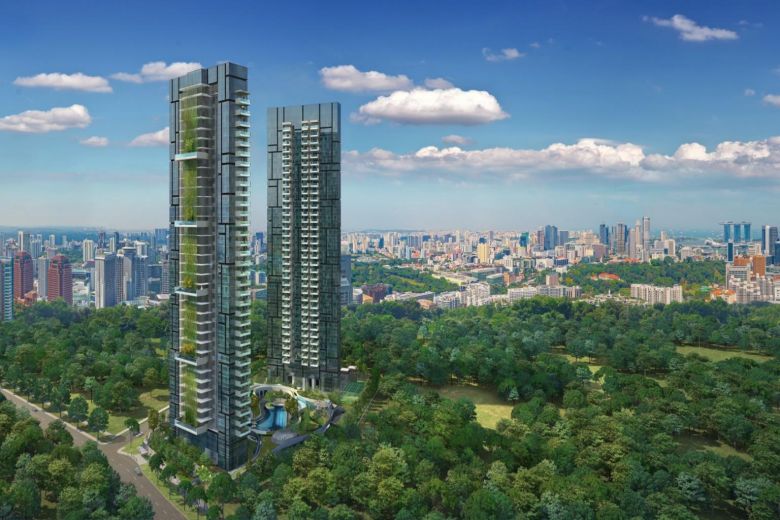 So you will have to do your due diligence to find out what exactly will be next to the stack that you are eyeing.
3. Deciding on a premium stack
Premium stacks are basically a way for a developer to justify an increase in price over a "regular" unit.
Some perks of a premium stack could include:
Private lifts, sea views, greenery views and unblocked views.
Similar to the point above, what you really need to assess here would be the long term feasibility of it.
You really wouldn't want to pay top dollar for a sea view unit, only to find out that you'll only be able to enjoy that for a few short years. 
For example, those who bought Skyline Residences with the premise of unblocked views towards the sea would have been dismayed at the news of HDB flats being constructed at the current site of the Keppel Club.
With that said, here is how you can find out what upcoming changes there will be surrounding the new launch condo.
It's as simple as searching for the development you are looking at.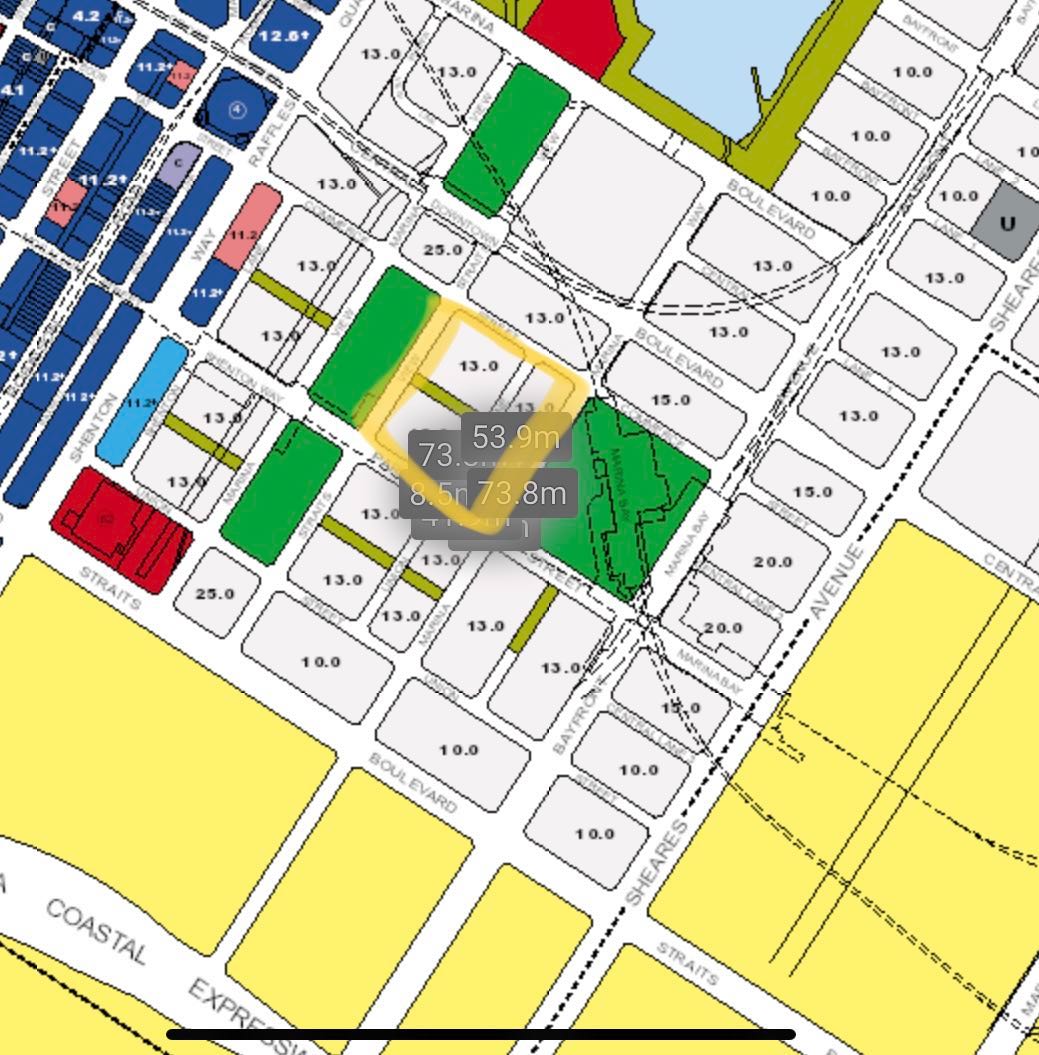 Of course, with the way Singapore is so quickly evolving, you can never put a solid guarantee that your surroundings would never change.
But with such a big investment into your home, I believe it is well worth your time to research and go into the deal with your eyes wide open.
4. Use Online Tools
As mentioned in our showflat tricks article, one thing that will set you apart from all the other regular new launch condo buyers is looking at the floorplan beforehand.
One very useful online tool that could lend a helping hand is Attribuild.
Simply put, it uses an algorithm based on professional knowledge and data analytical technology to help provide insights on an individual unit's efficiency and usability.
Now, you will have to remember that this is based off an algorithm, so you cannot expect it to be 100% foolproof.
But for what it's worth, I think generally it will definitely help in the analysis of the floorplan.
Here is how it works.
Look for the new launch condo you are interested in, in this case, let's go with RoyalGreen.
Read this next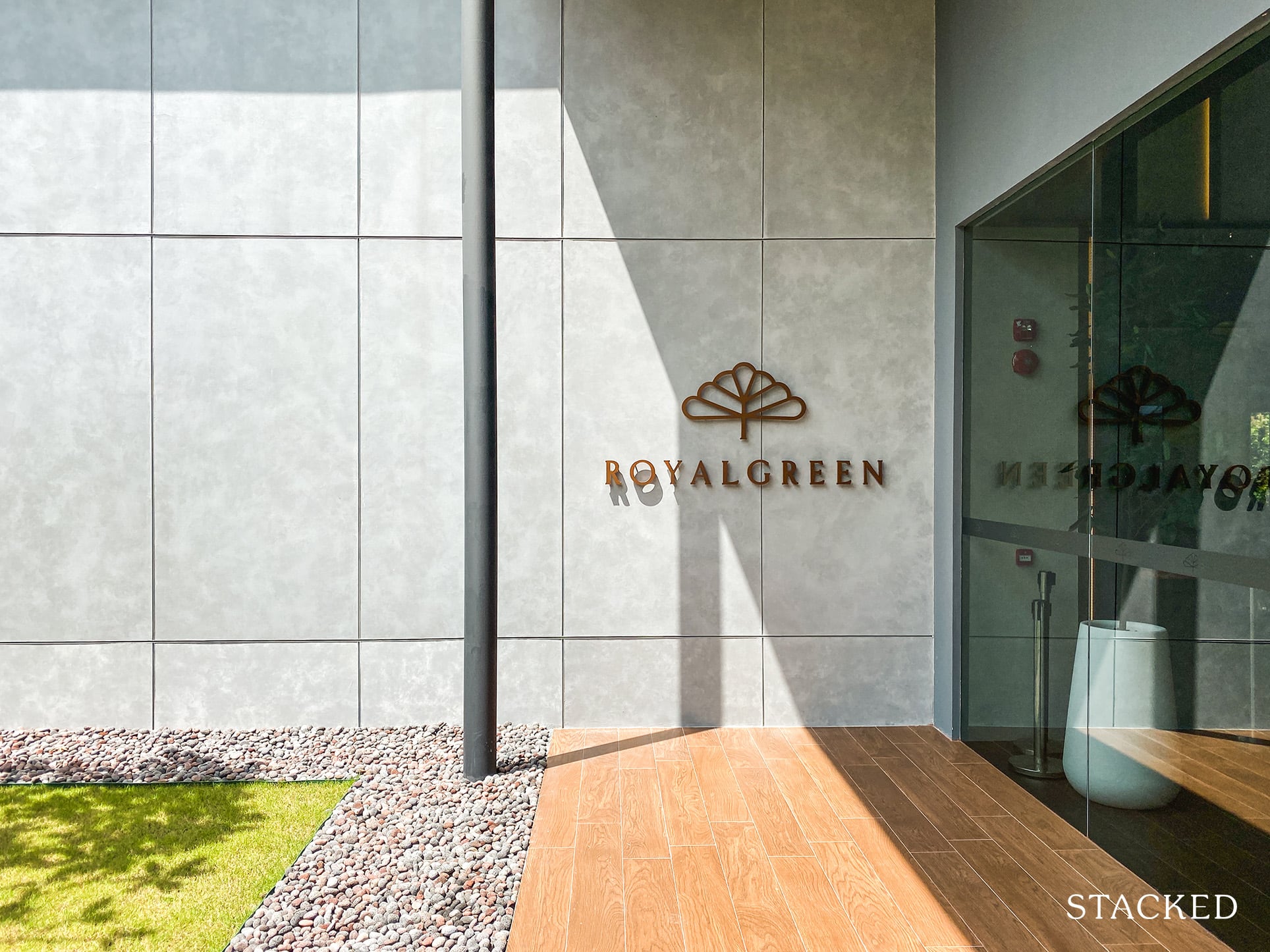 From here, you can easily search for the unit, even down to the unit number!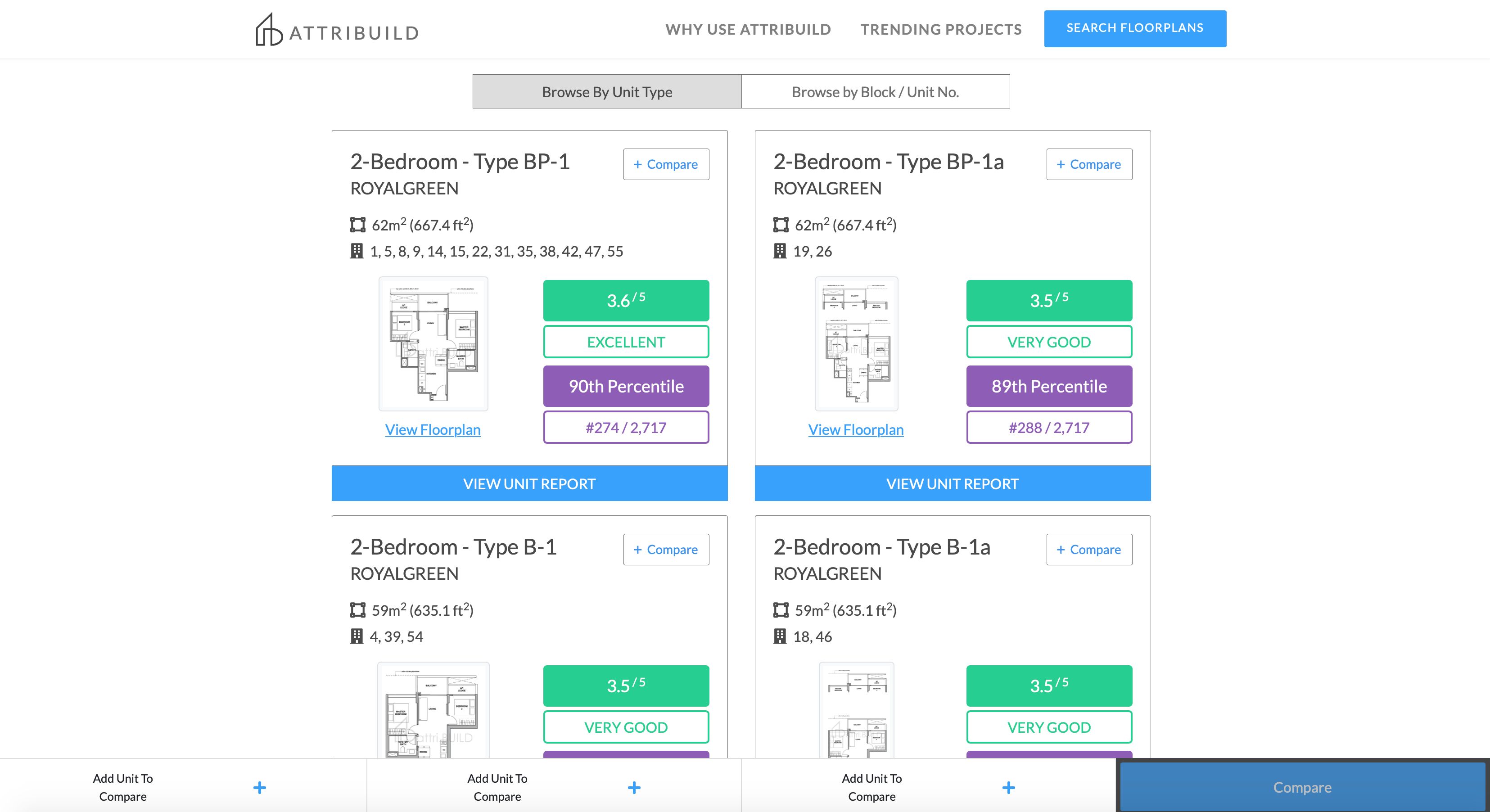 Once that is done, you will be able to see an overview of the unit with the plus and minus points clearly laid out.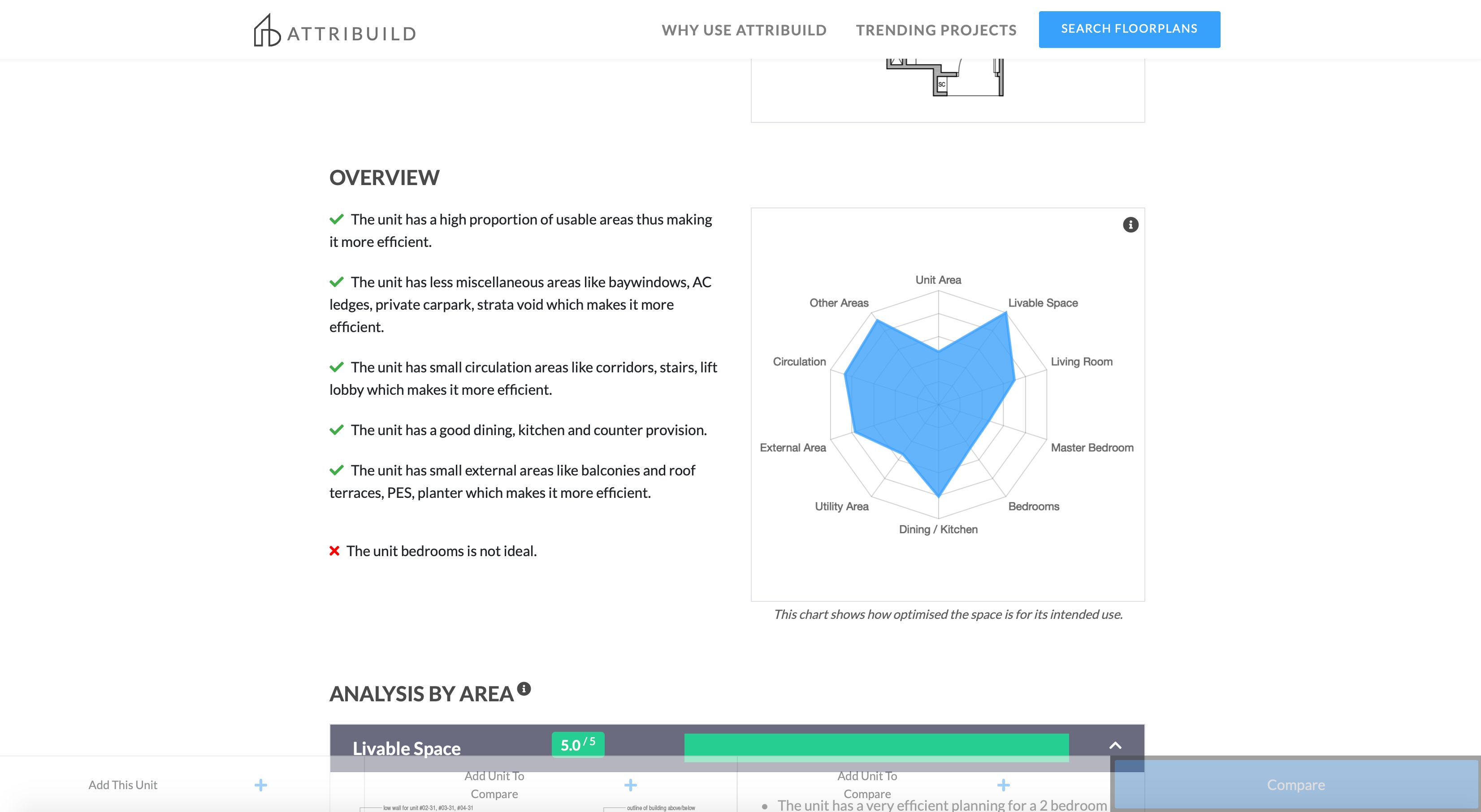 You can even go down to the analysis by area, where you can see the inefficiencies of the unit and general commentary on it.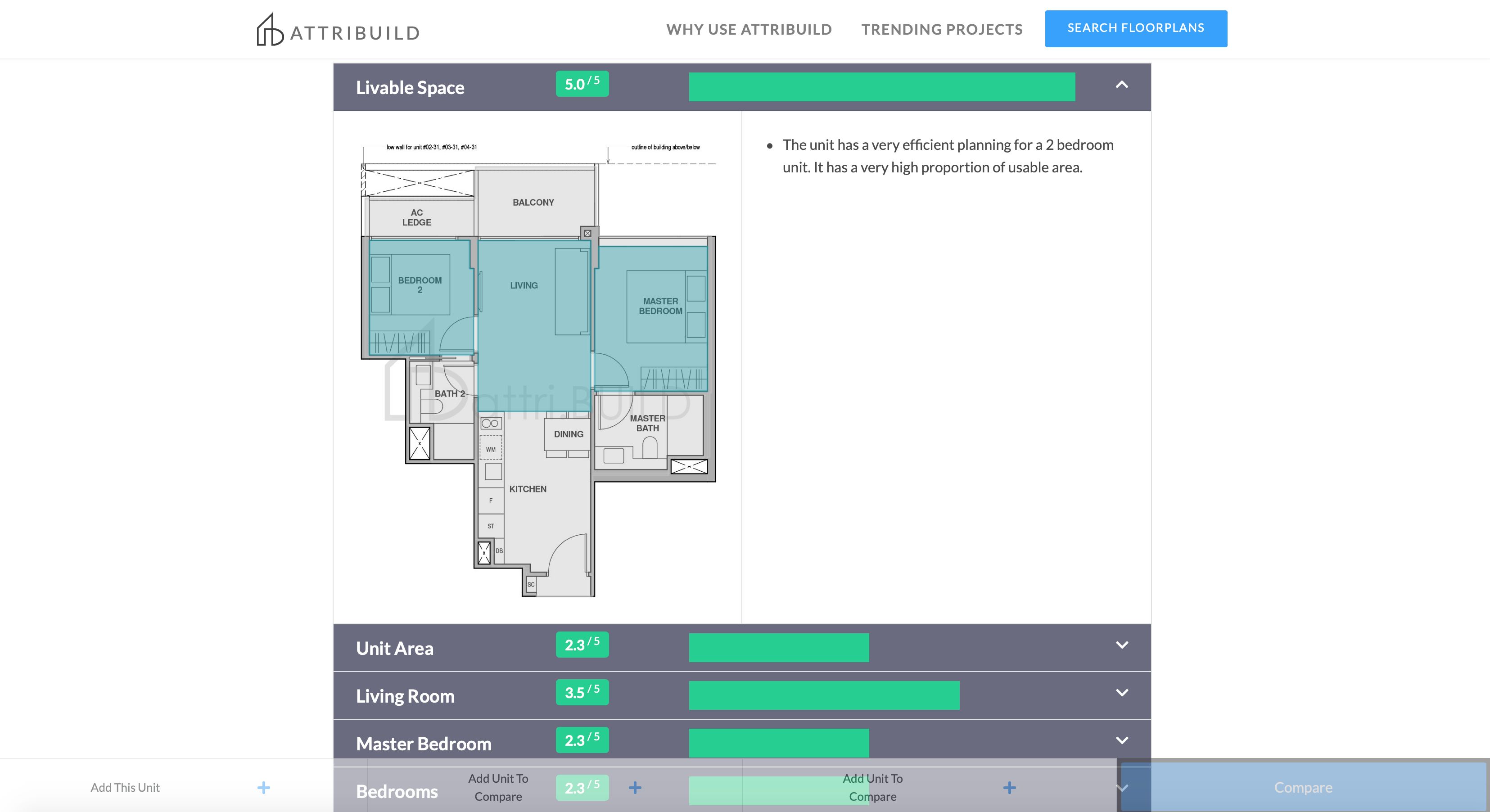 5. Deciding on which level
If you have been to enough new launch condo showflats thus far, you would have realised by now that the ground level and top level units are usually differentiated from the rest.
This can be in the form of an open patio, bigger balcony, and a higher ceiling level.
As a result, you might see these units move faster than the rest.
So unless you have acrophobia (fear of heights), how do you choose between a top or ground level unit?
To make things easier, let's go through the pros and cons list for each.
Pros of a ground floor unit:
Bigger PES – If you enjoy outdoor dining, and want more space for decorative plants or even a mini garden.
Easy Access – Ground floor units usually have direct access to a garden or even the swimming pool.
Pets – If you have dogs/cats, ground floor units will easily be the safest and better choice.
High ceiling – This is very much dependant on the development, but most new launch condos will feature a higher ceiling for their ground floor units.
Cons of a ground floor unit:
More pests – As you can imagine, being on the ground floor closest to the gardens means that your unit will most likely to be infested with the odd creepy crawlies every now and then.
Units that have a rubbish chute in their homes might have issues with cockroaches, so you will want to have proactive management that will ensure fogging is done every week.
Noise – What is a pro can easily be a con here too, as direct access to the pool or garden also means increased exposure to noise, especially if you are looking to purchase into a kid friendly development.
Privacy – Many ground floor units have walkways in front of them, so you will have to contend with less privacy overall as people can walk by and easily peek in.
Pros of a top floor unit:
Views – This is by far and away the number one reason why anyone would want a top floor unit, particularly when some of the new launch condos today stand at 40 stories in the sky. 
Noise – Again, depending on how high are you are, you could be insulated more from the noise down below.
Privacy – This point could be subjective again, depending on how far apart the blocks are, but you should expect a higher level of privacy than most.
Cons of a top floor unit:
Lift – Unless you are looking at a luxury new launch condo with private lifts, you could spend a good amount of time waiting for the lift at the top floor.
Particularly during morning and evening peak hours!
6. Find out which unit will be completed first
If you are looking at a new launch condo as an investment, you have to know that rental yields are all just projections.
For big developments, key collections will usually be done in phases.
So those who obtain their keys first have the advantage of prepping the unit for rent.
Especially when some of the new launch condos have more than 1,000 units, being first to market, in this case, can be an advantage.
Therefore it would really help your selection if you do know which units will be released first.
7. Do your due diligence at the actual site
Many people buy a new launch condo purely by taking things at face value, only to discover when it is actually built that these things don't really play out the same in real life.
For example, seeing on the brochures at the showflat that the MRT is a 7-minute walk away.
If you are heavily reliant on the MRT as a means of transport this is totally something that you have to test out for yourself.
Depending on how fast you walk, is the walk really only 7 minutes?
How much of the walk is sheltered/unsheltered?
Do you have to cross any major roads?
Is the walk a flat surface all the way through? Or is it more of an uphill walk?
Finally, while this might only be an issue at the bigger developments, this is something that many people fail to consider all the time.
But a 7-minute walk to the MRT does not take into account the distance within the condo itself.
So if you do happen to choose the stack that is the furthest into the development, the walk through the condo itself could easily take you 10 minutes!
Which at the end of the day, could add up to a 17-minute walk to the MRT station.
I hope this article has gone some way into helping you select the best new launch condo unit possible for you. There are certainly many other factors involved, and should you feel stuck in any way and need some additional guidance please feel free to reach out at hello@stackedhomes.com