Rent
Most expensive district in Singapore (to rent)
Sean
May 28, 2018

3

min read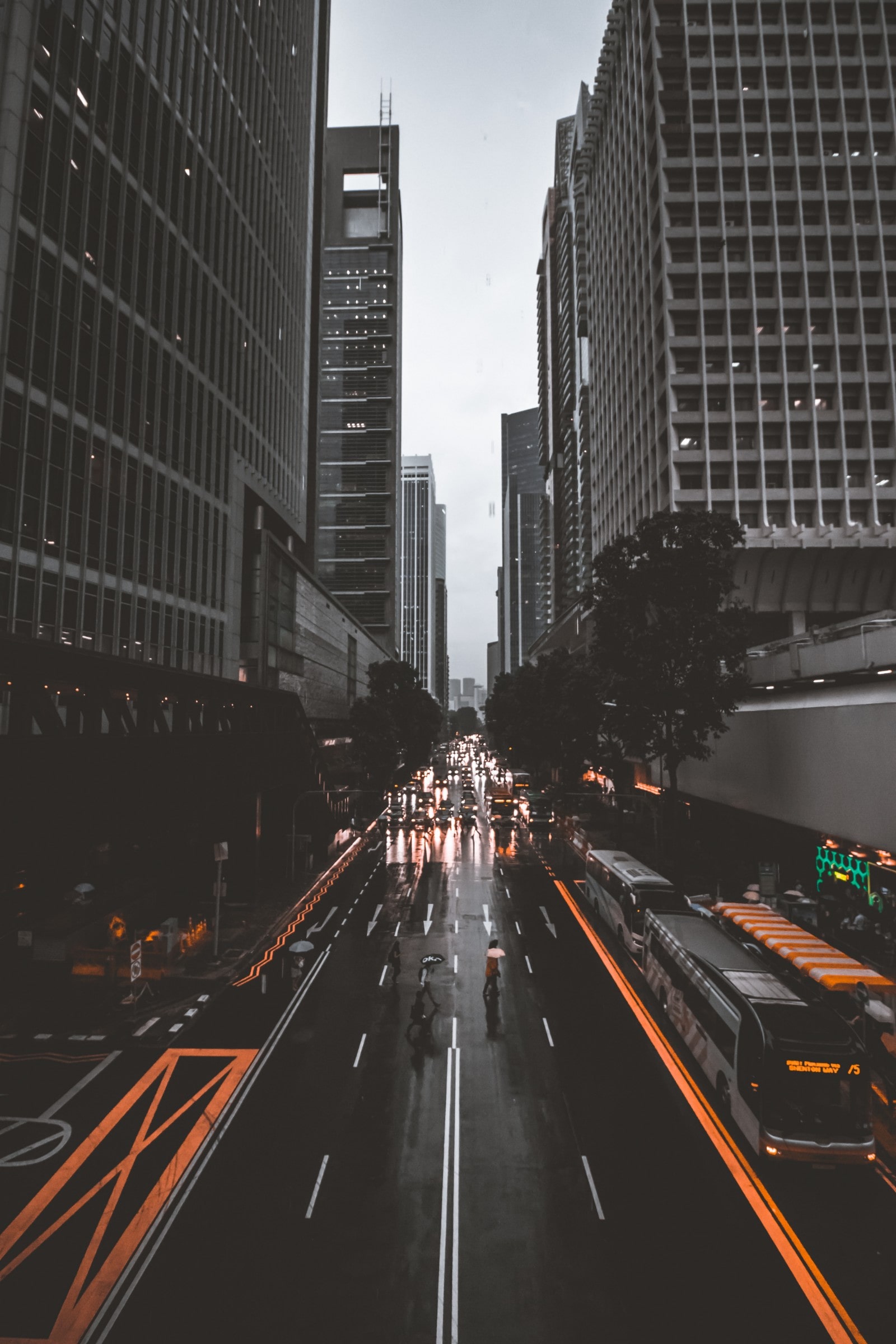 3
min read
Given Singapore's well known status of being the most expensive country in the world to own a car, it is not surprising that Singapore is also one of the most expensive real estate markets in the world. Some of the homes that cater to the ultra rich here can get really super luxurious and downright jaw dropping. Examples include the Hamilton Scotts with its "car porch in the sky" and the Wallich Residence, where its S$108 million penthouse made the headlines for being the most premium property in Singapore for sale at the moment.
However, we are not here to talk about buying luxury property in Singapore but about the most expensive district in Singapore to rent. If we take a look at the price for one of these units at the Hamilton Scotts, we can see that the last sale transacted was at S$8.4 million, as compared to the rental prices currently at around $11,750 a month. Which means the current rental yield for the property is 1.68%! That is a quite frankly terrible rental yield, which if you are a renter looking at a luxury condominium can represent a rather good value at the moment. Of course, don't go running around looking for properties with a low rental yield, but it can be an alternative way to justify renting a lux home for yourself!
This is further evidenced by Singapore falling to the 7th most expensive location in Asia (from 4th) for high-end rental homes. If you were wondering which country is number 1, it is currently still Hong Kong (not much of a surprise, really). So if you are on a nice pay package and looking for a luxury home to rent in Singapore, lucky you as this is truly a renter's market at the moment. With that being said, what is the most expensive district in Singapore to rent?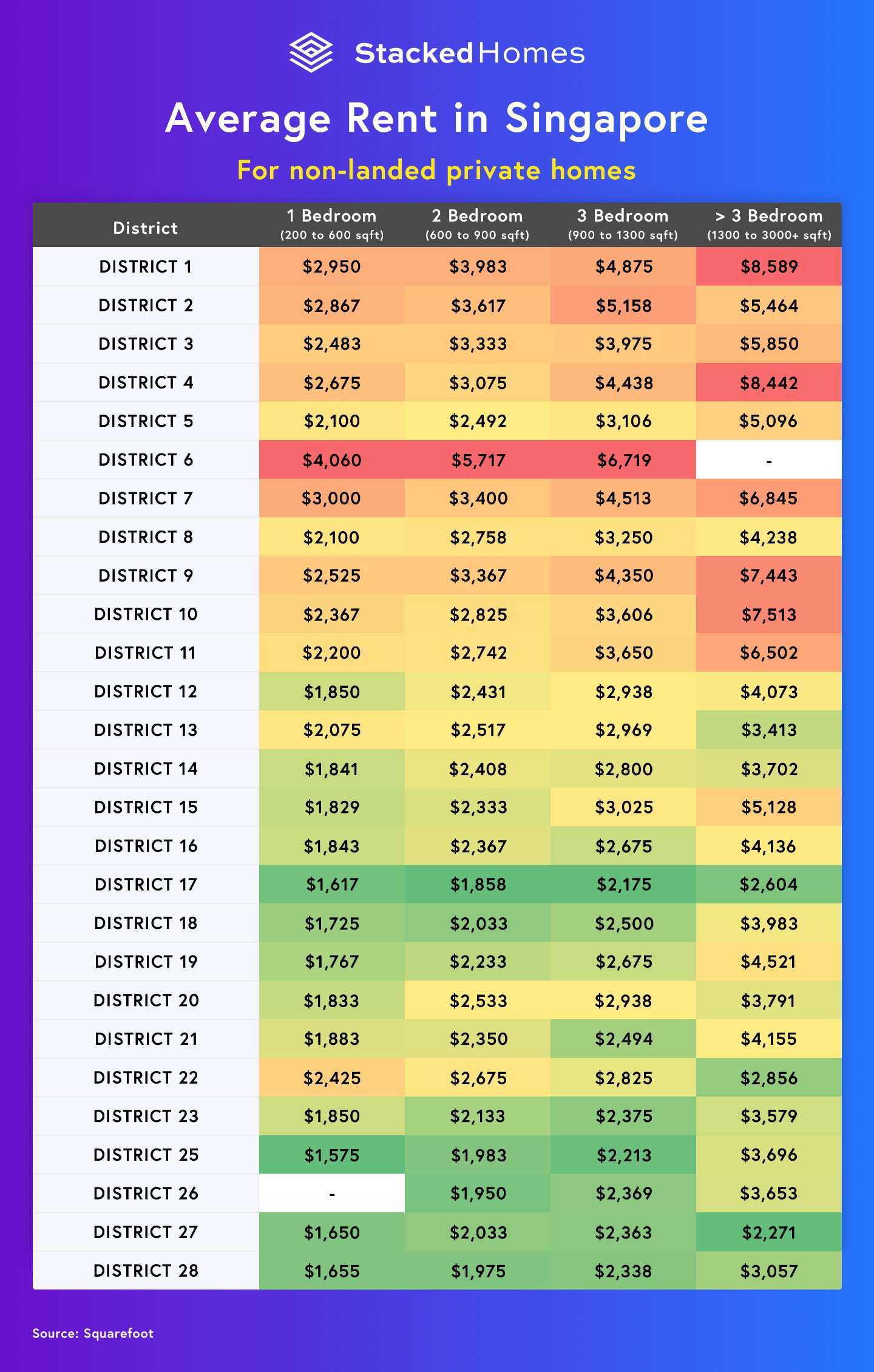 Just by looking at the table, you can see that the general trend seems to be that the smaller the district number, the more expensive the rent would be. Let us further break it down into 1 bedroom, 2 bedroom, 3 bedroom and 4 bedroom and more.
Most expensive district in Singapore (1 bedroom)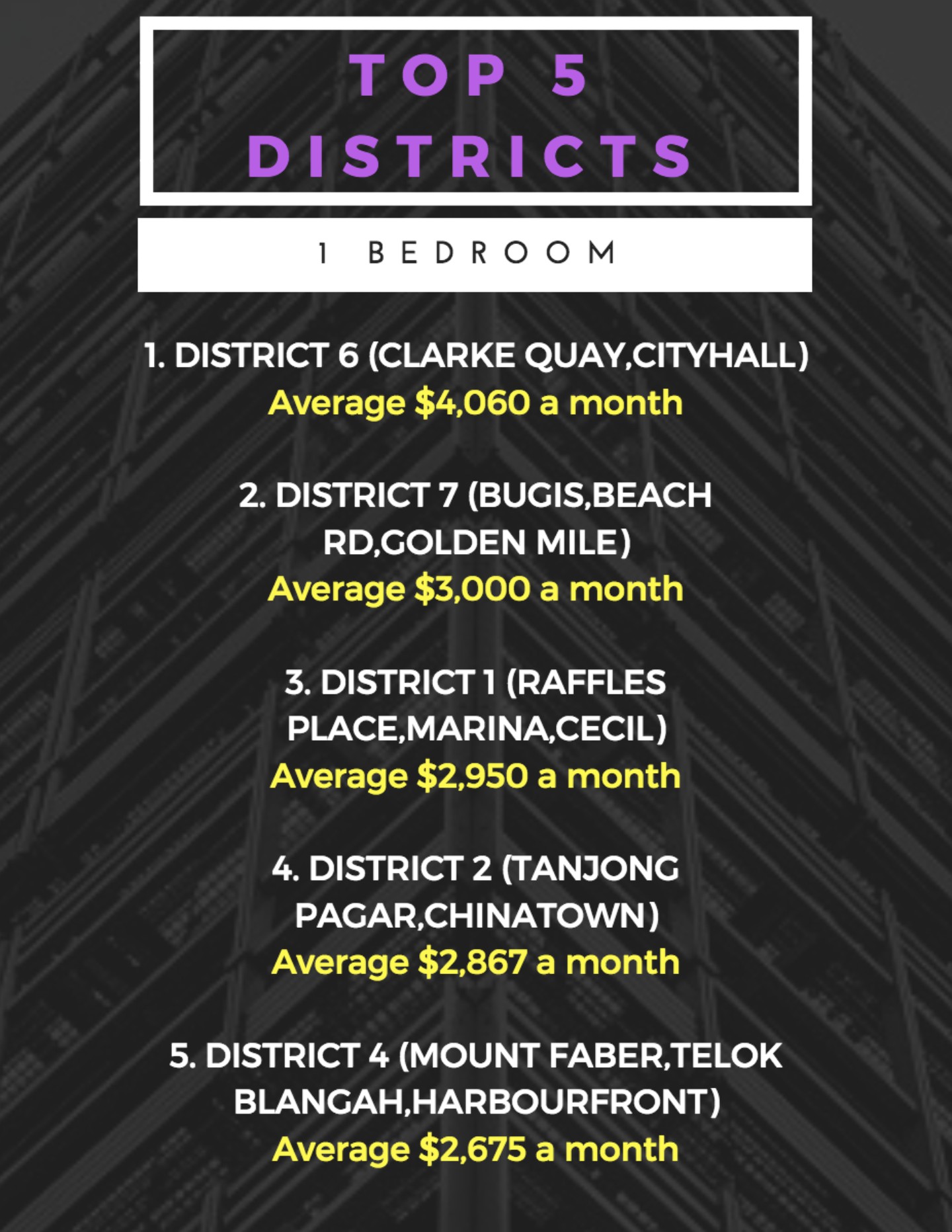 Surprisingly it was District 6 to be the most expensive to rent for a single bedder apartment, by quite some margin too it must be said. The rest of the districts following are pretty close in number to each other.
Read this next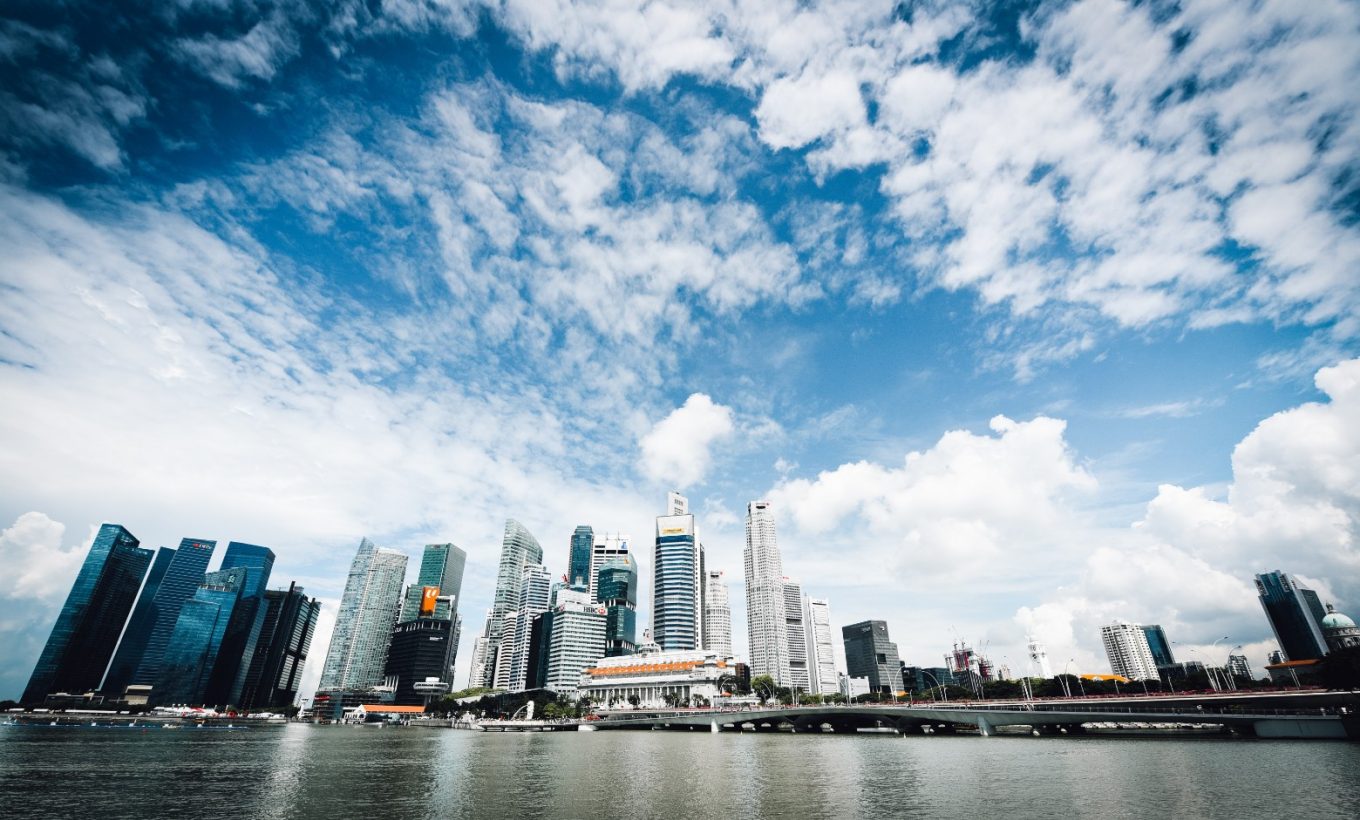 Read this next
by Stanley
Most expensive district in Singapore (2 bedroom)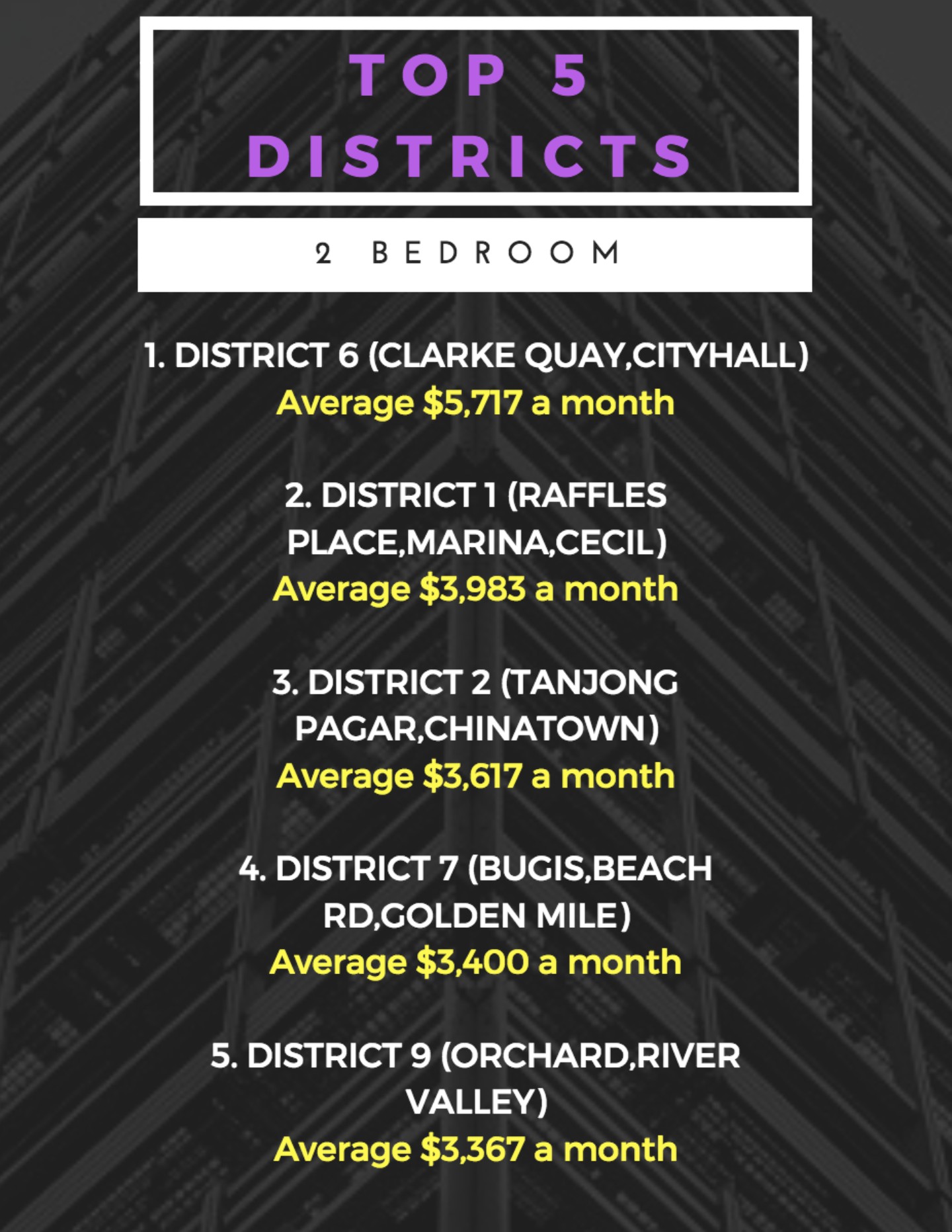 Again, surprisingly District 6 comes out tops at an average of $5,717 for a 2 bedroom apartment. District 1 and 2 finally overtakes District 7 to be the 2nd and 3rd most expensive respectively.
Most expensive district in Singapore (3 bedroom)
Since its for the third time, we cannot possible say it is surprising anymore but District 6 is once again the most expensive district for a 3 bedroom unit. District 4 makes it to the top 5 just over District 9, presumably because of the rents over in Sentosa.
Most expensive district in Singapore (4 bedroom plus)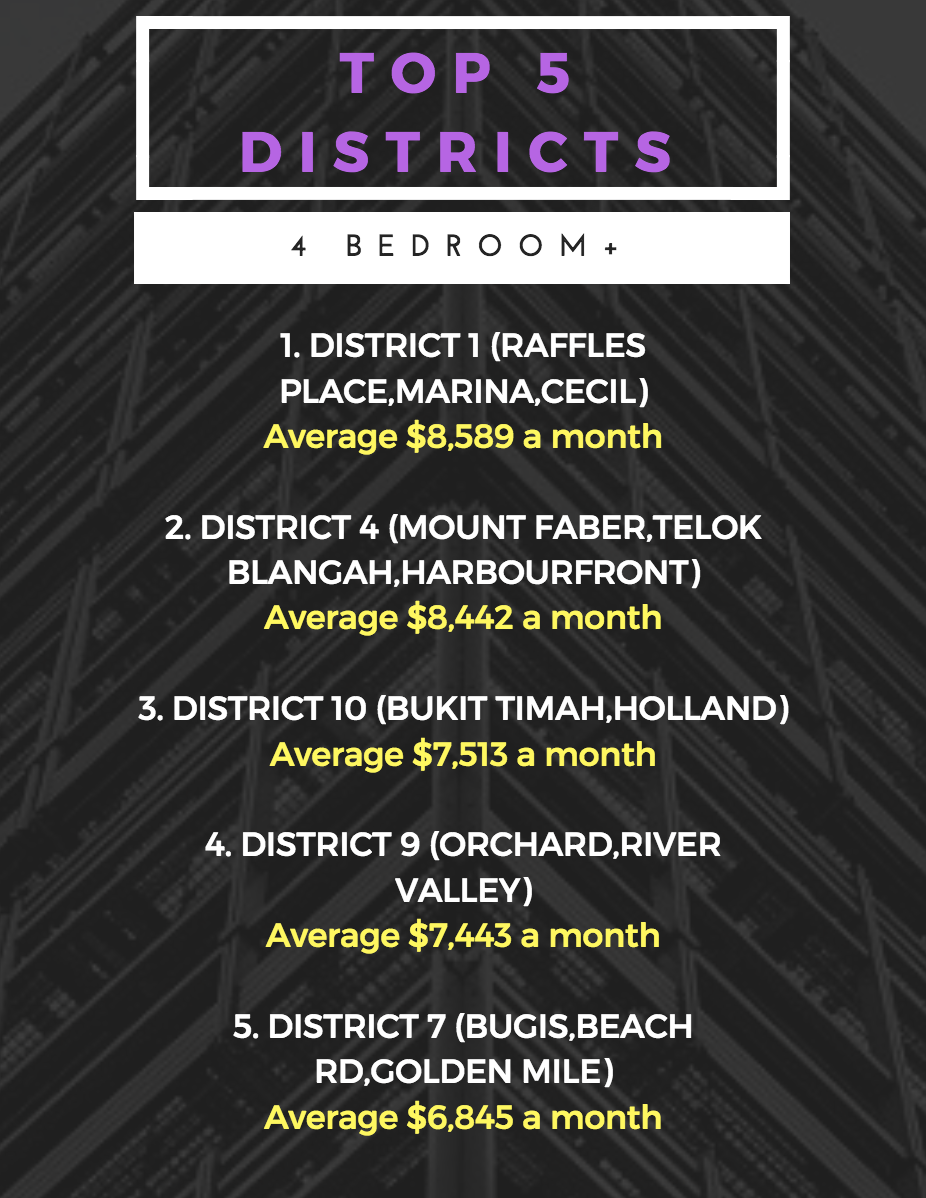 For the biggest apartments in Singapore, District 1 finally takes the cake for the most expensive district at $8,589 a month. District 10 also makes an entry to the top 5, this can be due to the bigger unit sizes in the Holland and Bukit Timah residential areas.
As always, feel free to leave a comment down below or you can always reach us at hello@stackedhomes.com!