44
min read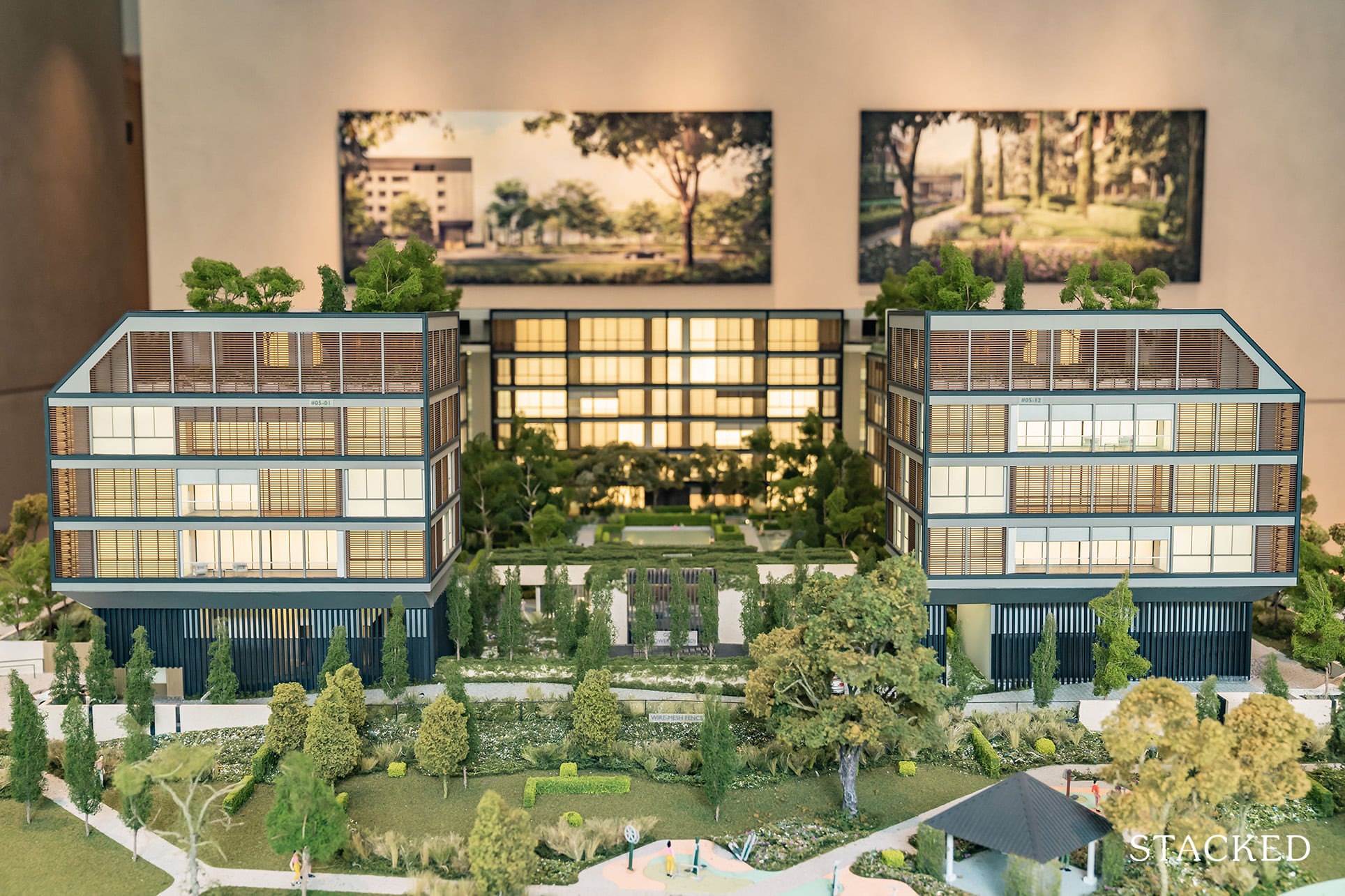 A luxurious boutique along East Coast Road
Meyer House presents an opportunity for those looking for indulgence in a luxury and exclusivity development in district 15, though it comes at a steep price.
Project:
Meyer House
District:
15
Address:
128 Meyer Road
Tenure:
Freehold
No. of Units:
56
Site Area:
109,630 sqft
Developer:
Secure Venture Developments No. 1 Pte Ltd
(JV between UOL Group and Kheng Leong Co.)
TOP:
October 2021
It's always fascinating for me to see how a show flat is transformed into reality, especially so when it's one of Singapore's most highly exclusive and ultra-luxurious condominiums.
Enter Meyer House.
Personally, I've always been a fan of Meyer House. There have always been 2 classifications of luxury, one which is loud and opulent, while the other is a more classy and refined take. If you're into watches, it's like the difference between a diamond-encrusted gold Audemars Piguet Royal Oak, and a Patek Philippe Perpetual Calendar. Meyerhouse certainly falls into the second camp here – it's understated, and what I'd term as quiet luxury. The first time I toured it with Ghib, it was already clear that this was something special – and really quite unlike many other condominiums in Singapore.
I'm excited to show you around, so let's get into the tour.
Meyer House Insider Tour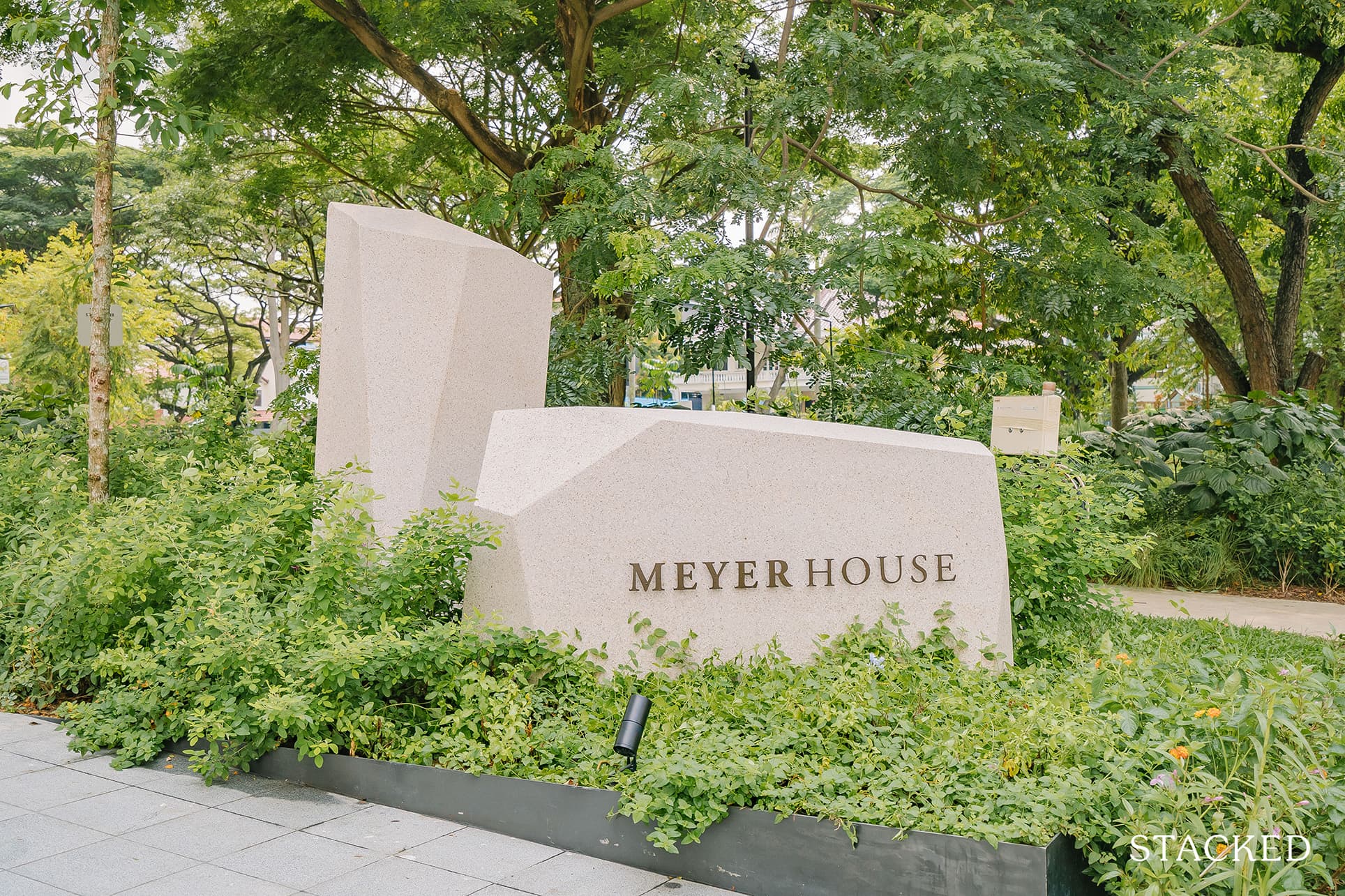 Even from the sign on the outside, it's hard to really tell of its luxurious status. It's one of those things, that if you know, you know. Which speaks to those who like the finer things in life, but like to keep it down low.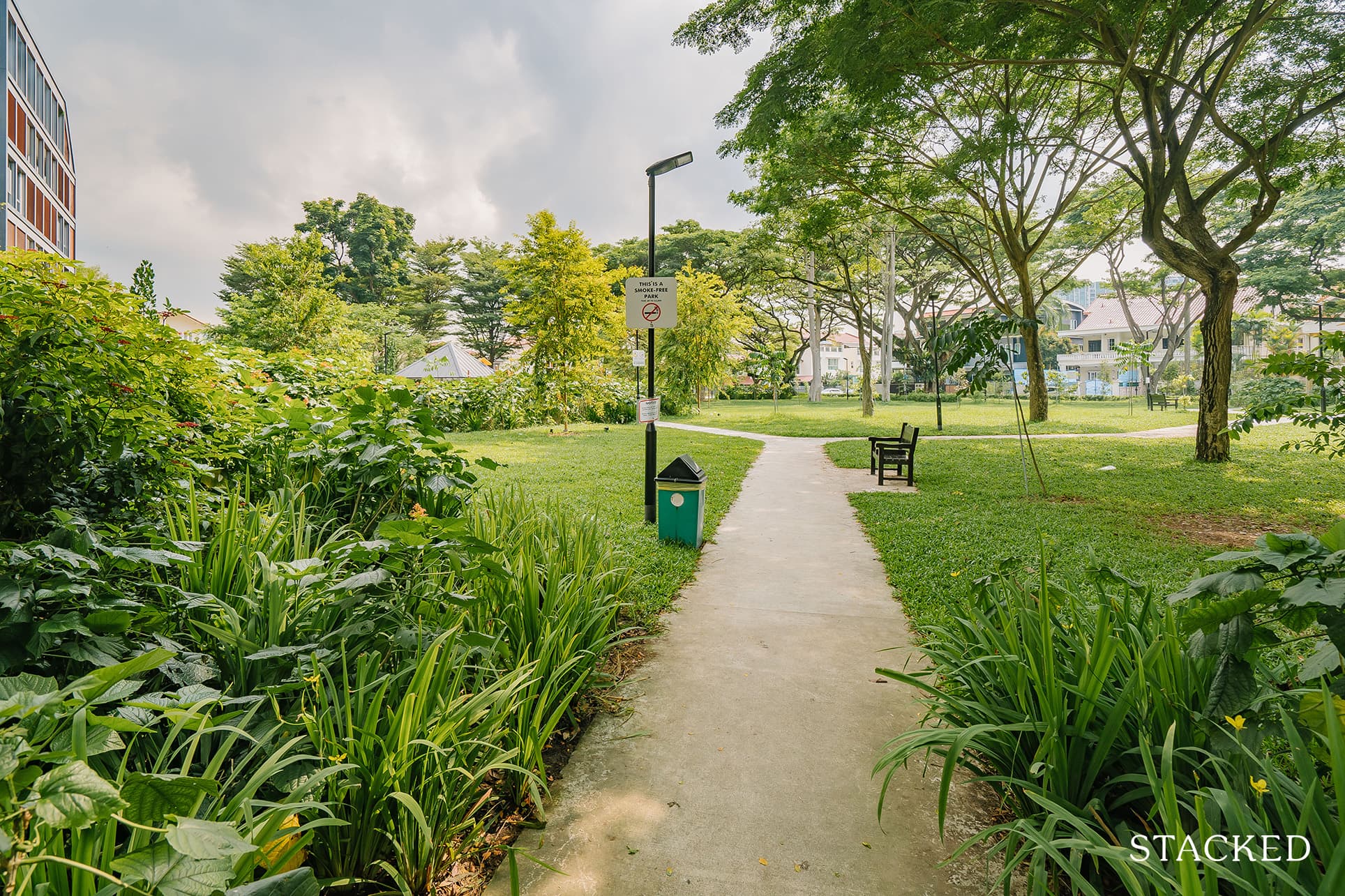 Let's start with the Meyer Road Playground right outside the estate, which is a really unique feature to have. Now, this is a public park, that is bounded by landed estates on both sides, Meyer House on one, and The Makena on the other. But with the U-shape nature of Meyer House, it's made out like the park is the extension of the estate – which really gives off a very nice, relaxing vibe.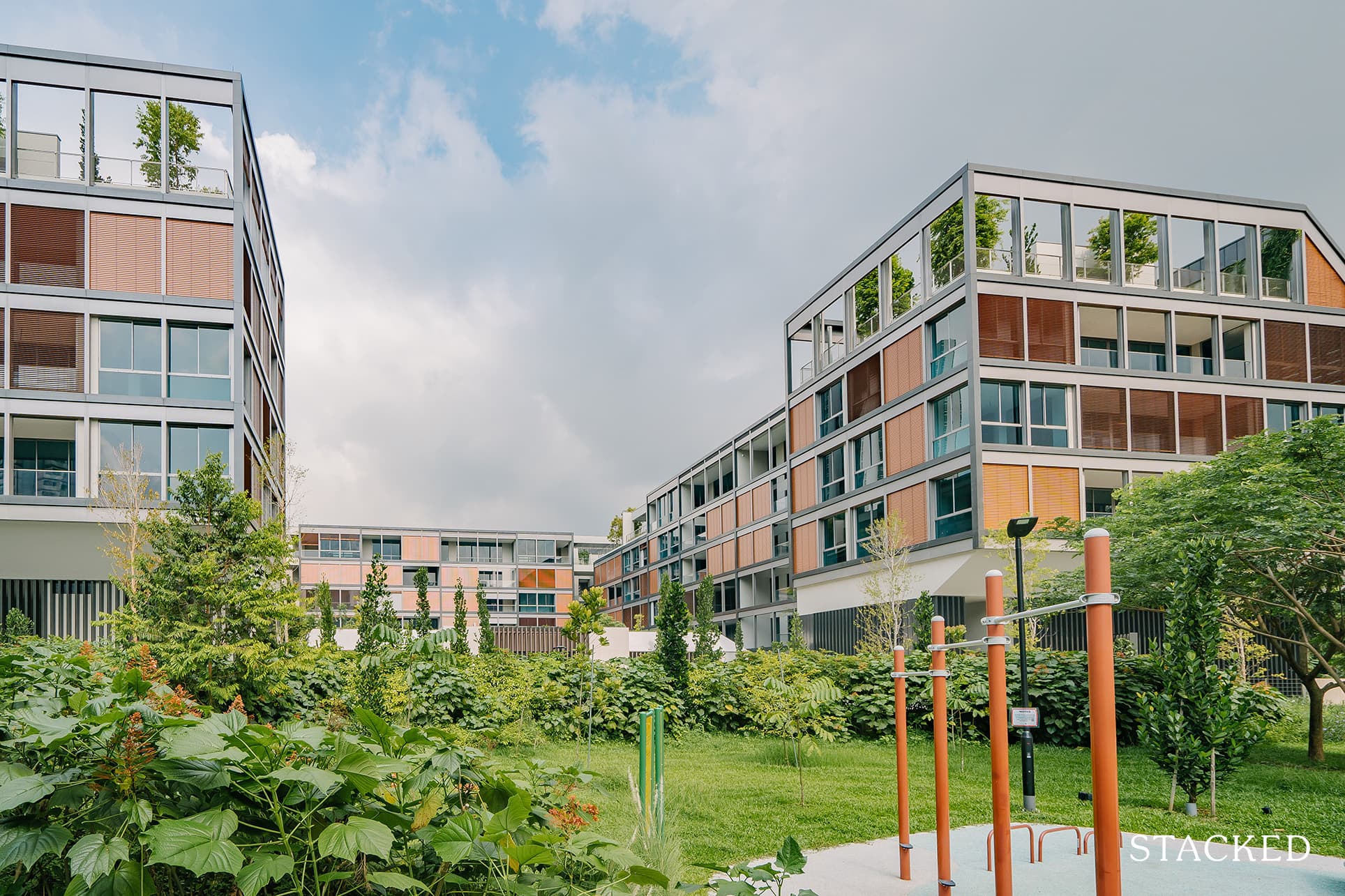 While you can't exactly amble out of the grounds straight into the park (and the thick layer of greenery means you can't overlook the inside as well), at some angles it does feel like the park is completely yours.
It's not a big park by any means, and so the good part is it shouldn't be overly crowded here, as it would probably be mostly used by the landed estate owners nearby to walk their dogs. Either way, East Coast Park is just a short jaunt away, and I reckon most people would rather head there instead.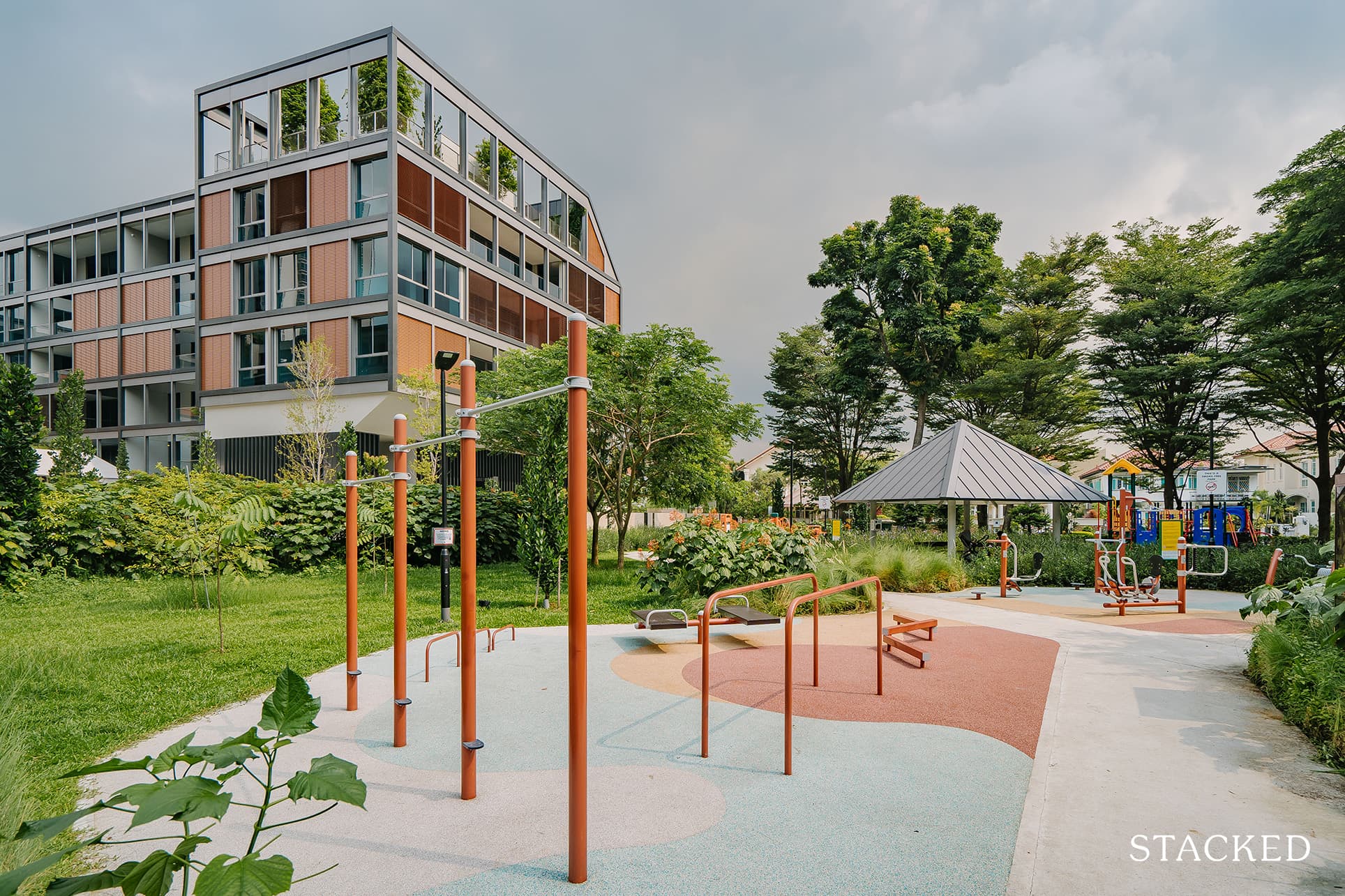 You do have some outdoor fitness stations, and a playground with a sheltered pavilion, so if exercising outdoors is your thing – it's right at your doorstep.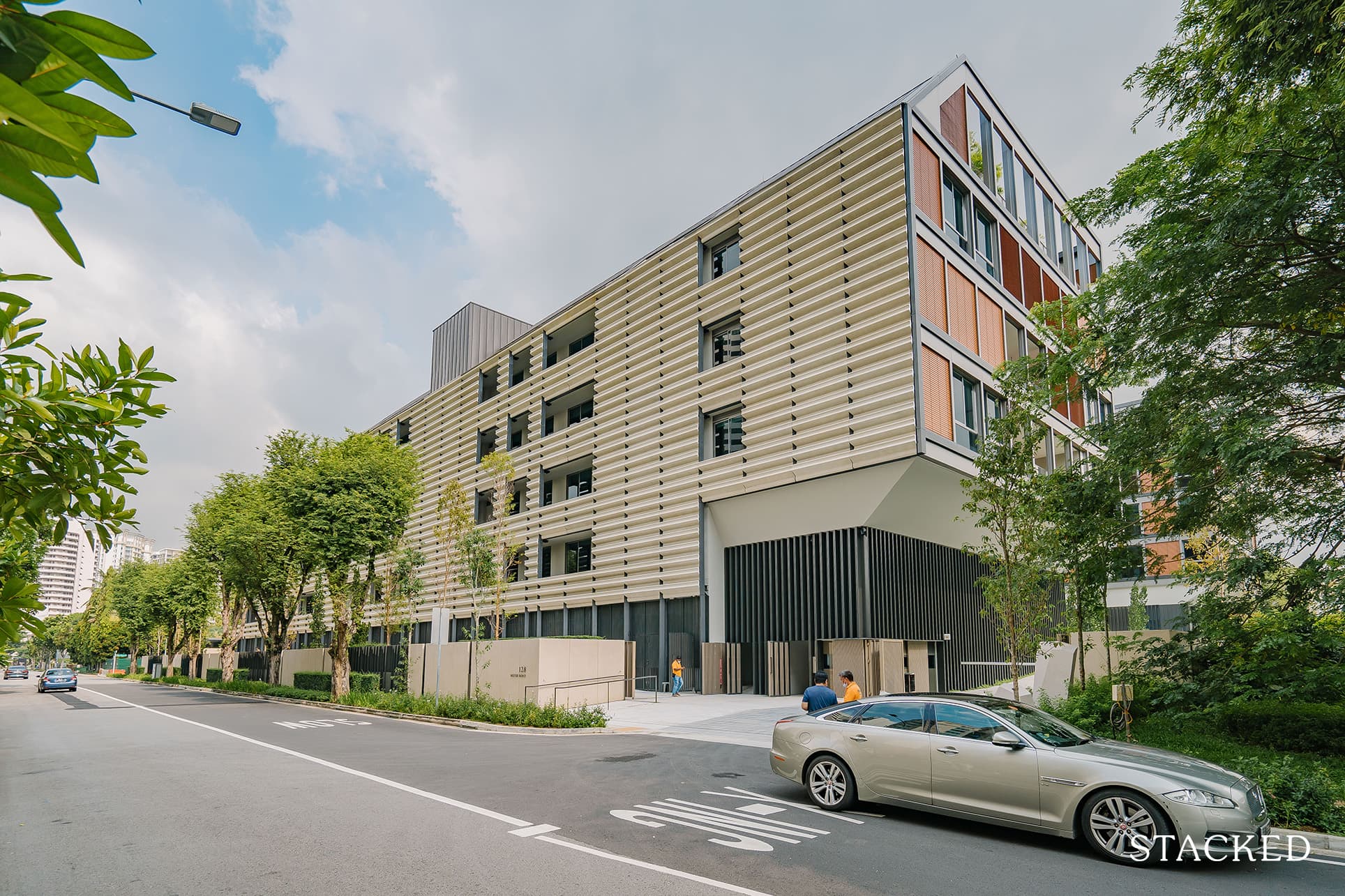 For the sake of those who aren't as familiar, Meyer House is located along Meyer Road (where else right?), which is quite a long road that serves all the sea view facing condos like The Meyerise, and the upcoming Meyer Mansion.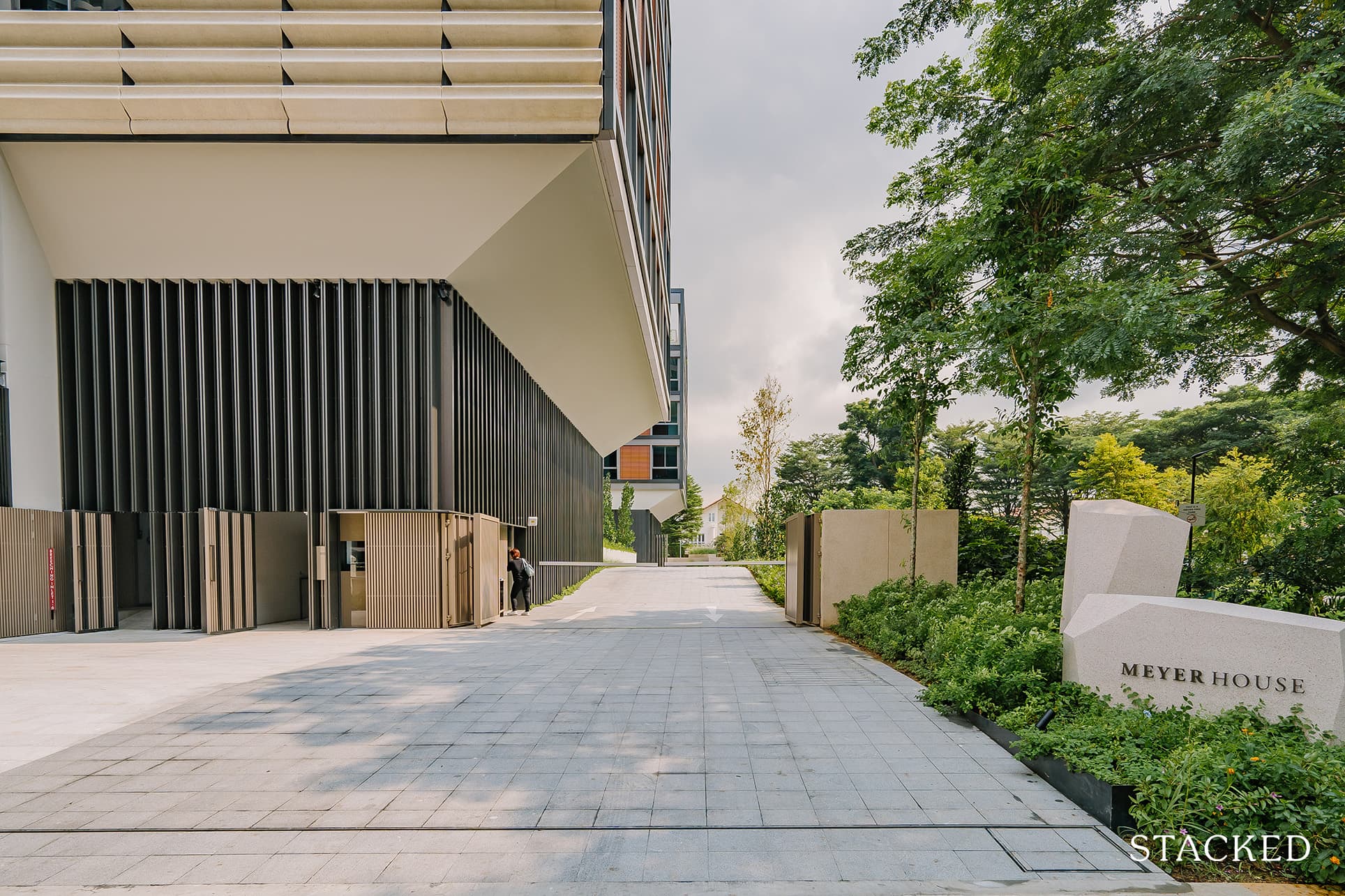 Much like what has been said so far, the entrance to Meyer House doesn't seem like much on the outside. And given the low-rise shape of it, it almost feels like you are driving into someone's really large bungalow.
It's a single-lane entry and exit, which I'm sure isn't going to be an issue in a place with just 56 units.
I would say though, on a rainy day for visitors, I'm not sure how much that curved ceiling would be sheltering the car should you need to holler the unit number you are visiting.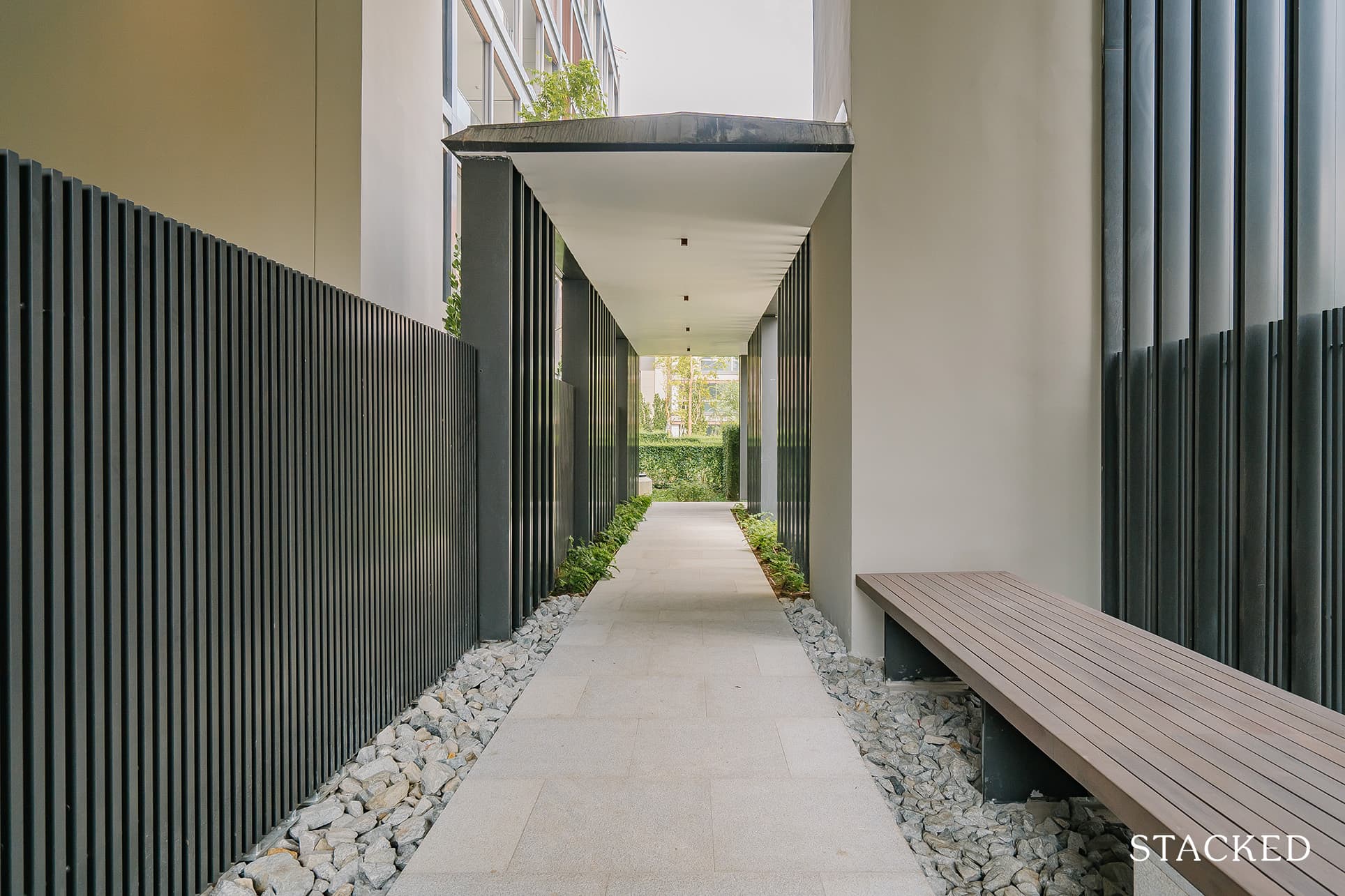 Once you step in, it's like a secret passageway that leads you into the home.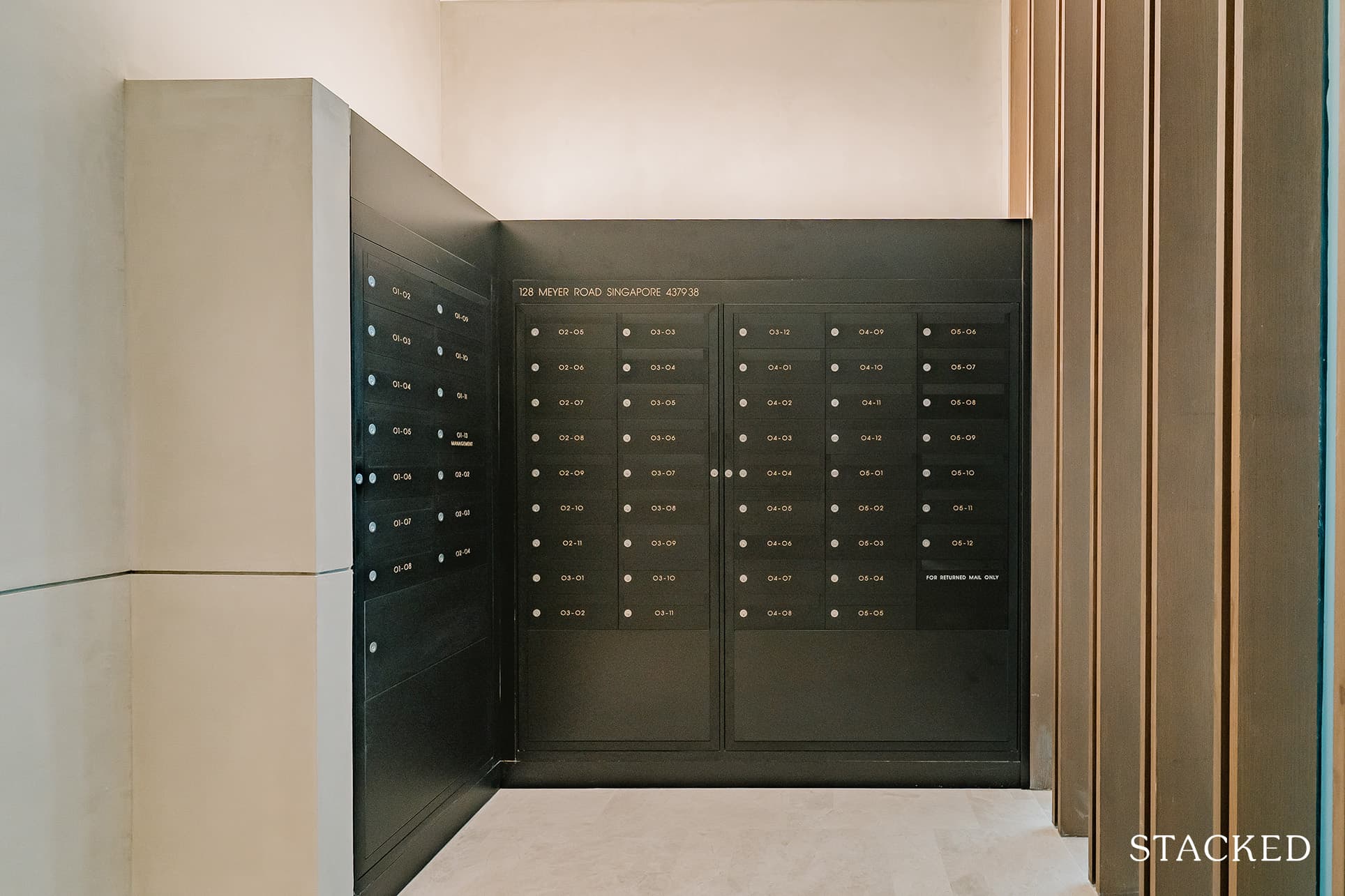 I just have to mention the letterboxes here as well. Is this not the cleanest, and most aesthetic-looking letterboxes you've seen or what? I love the black look with the font and the detailing, it's super crisp.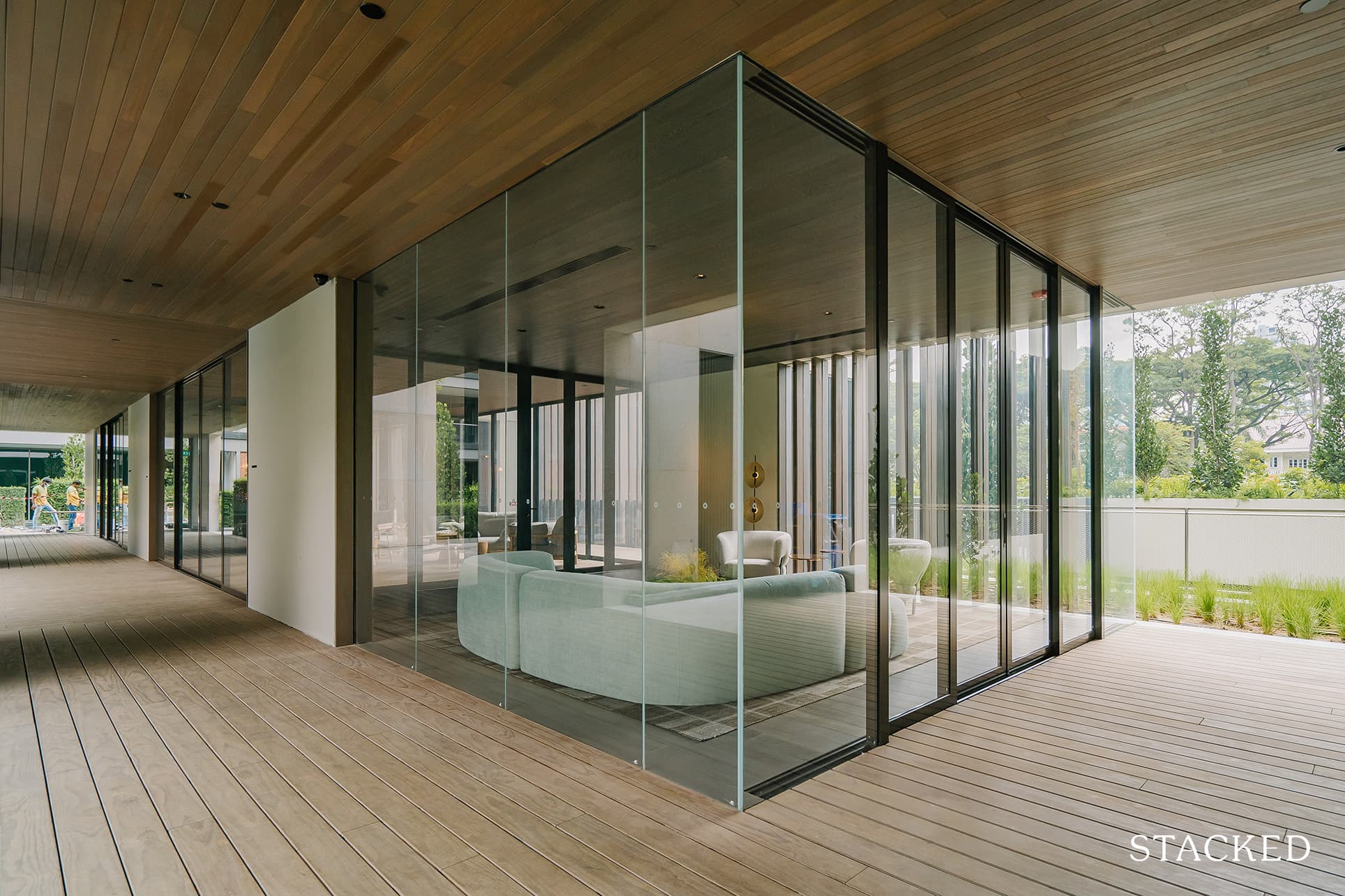 Let's start with the Clubhouse first, which features lounging spaces and a dining area that is nearly wrapped all around with floor-to-ceiling windows.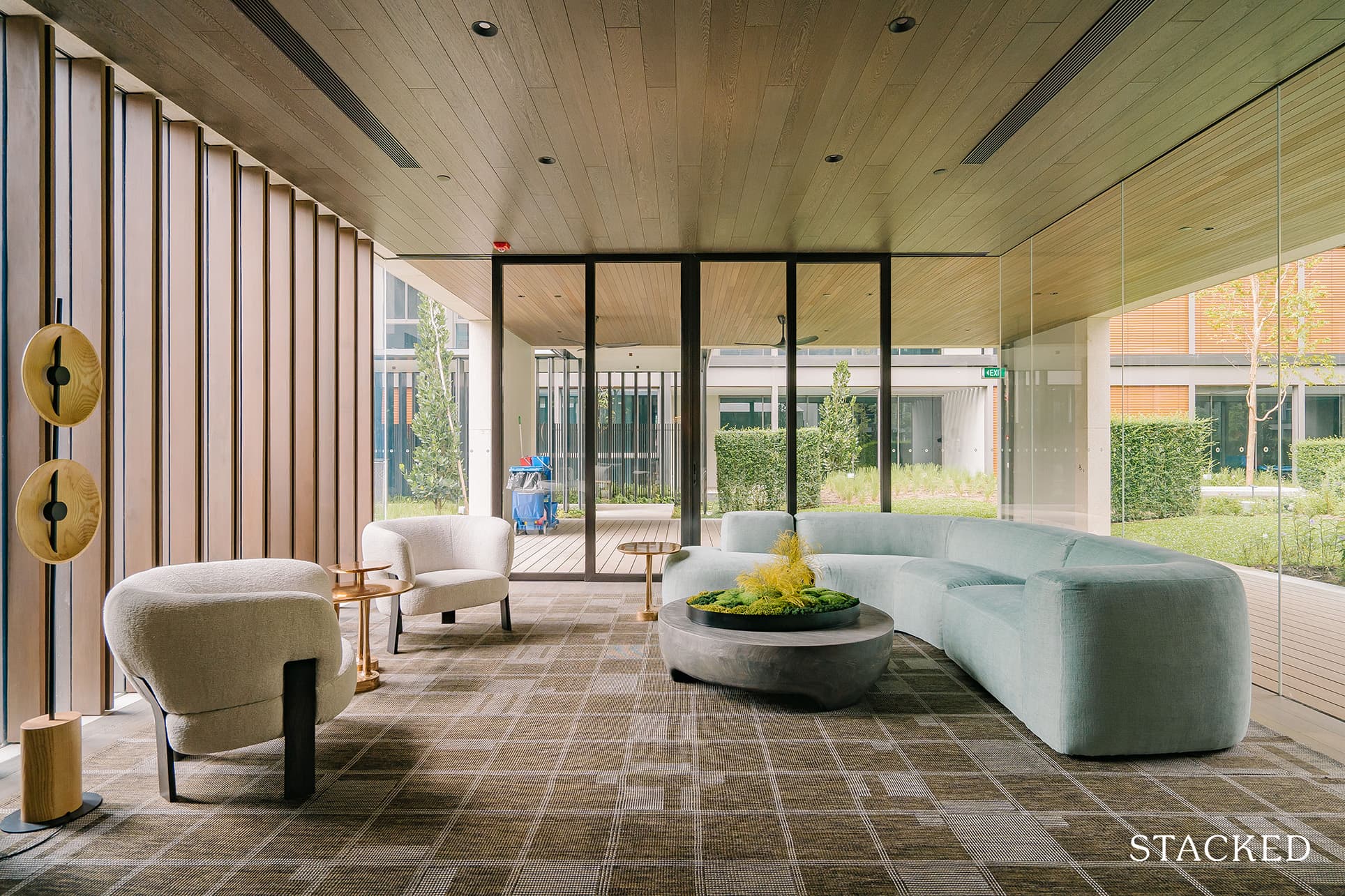 It's plush on the inside, with a carpeted floor and the curvy plush sofa and armchairs providing a very cosy vibe. It has a luxurious mid-century modern look that I am really quite partial to.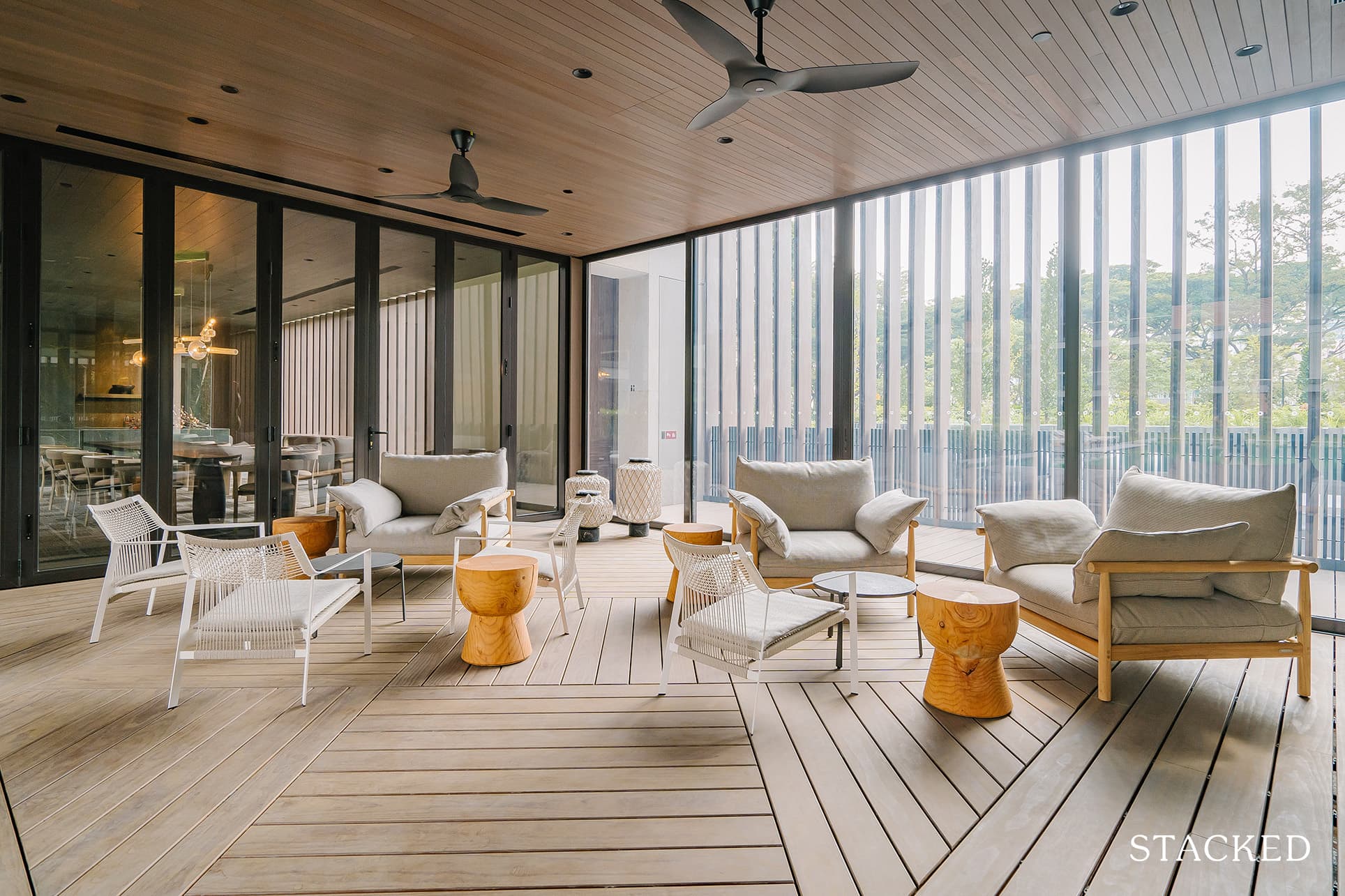 In the middle or more lounge seating, and it is of course fully air-conditioned. That said, you can also completely open up the folding doors in between each section to create a huge entertainment area. During the windy parts of the year, you can also open up the entire space (the doors facing the pool too) to enjoy the open air and breeze as well. On more humid nights, well, that's what the ceiling fans are for!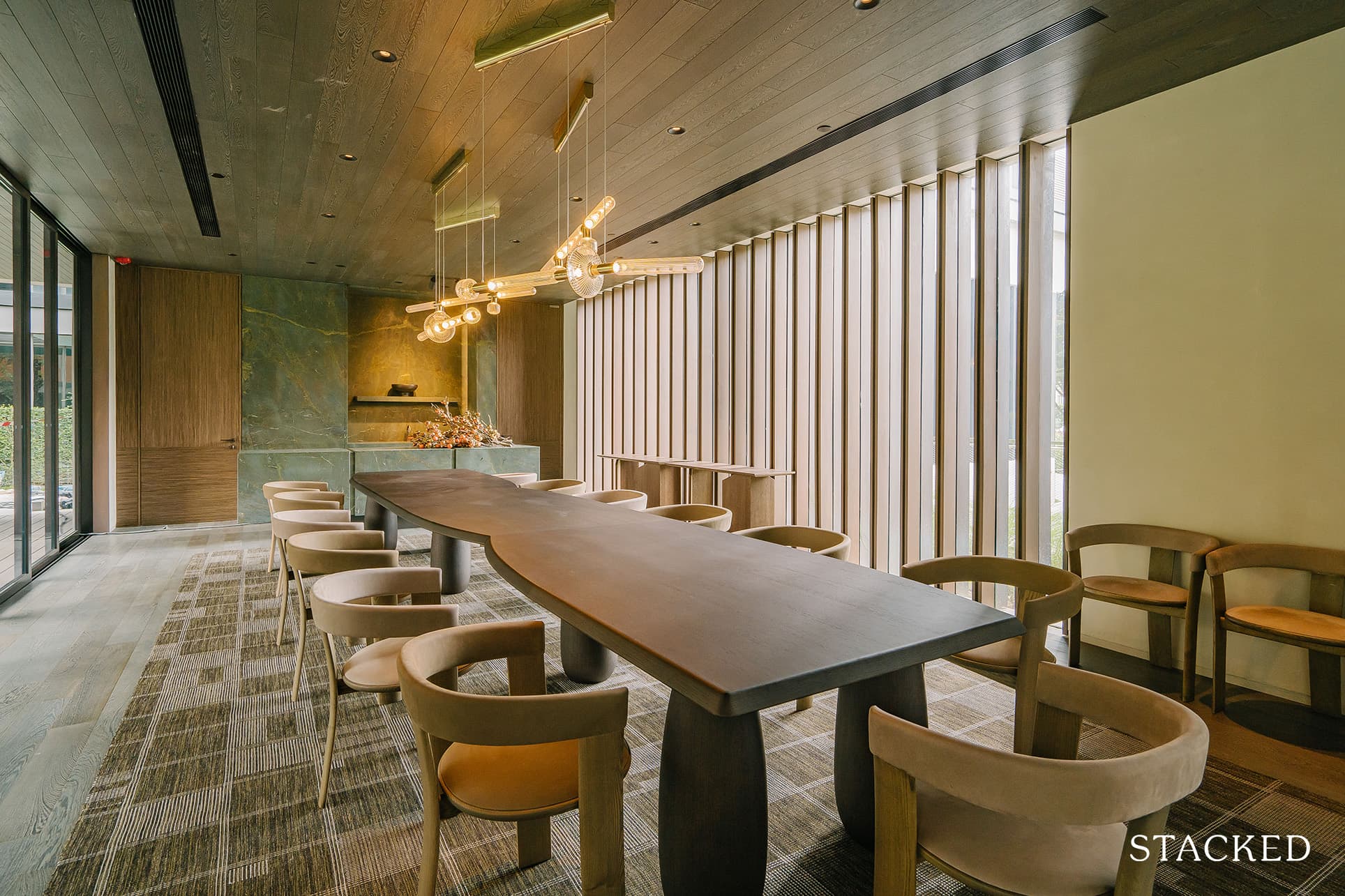 Right at the end of the Clubhouse is the dining area that has a long dining table that supposedly can seat up to 18 people.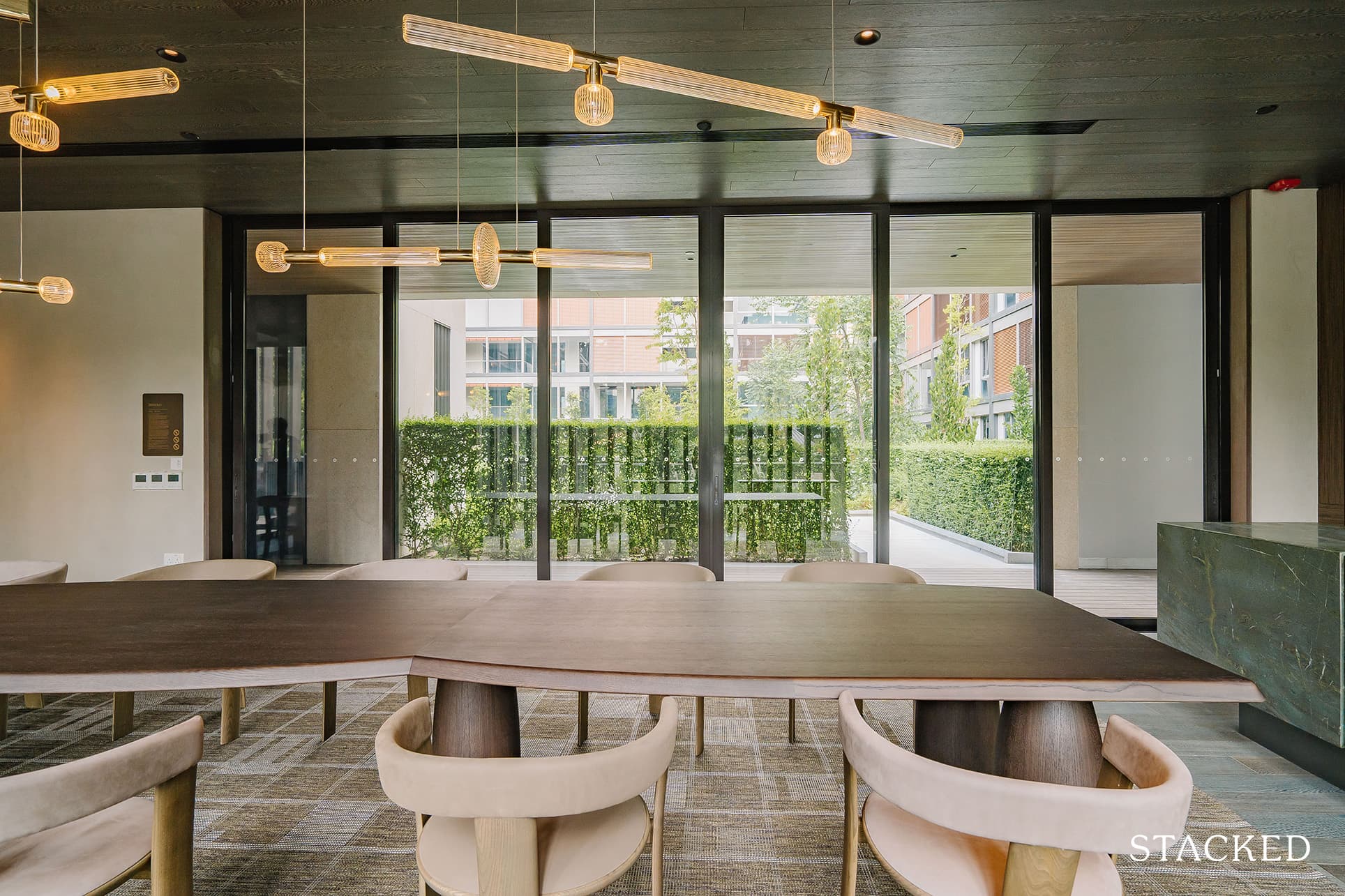 You can also open up the space from here, although your view of the pool will be blocked by the garden hedges. And let me be the first to tell you, those black-framed doors are really solidly built! You can really feel the heft when you try to move it.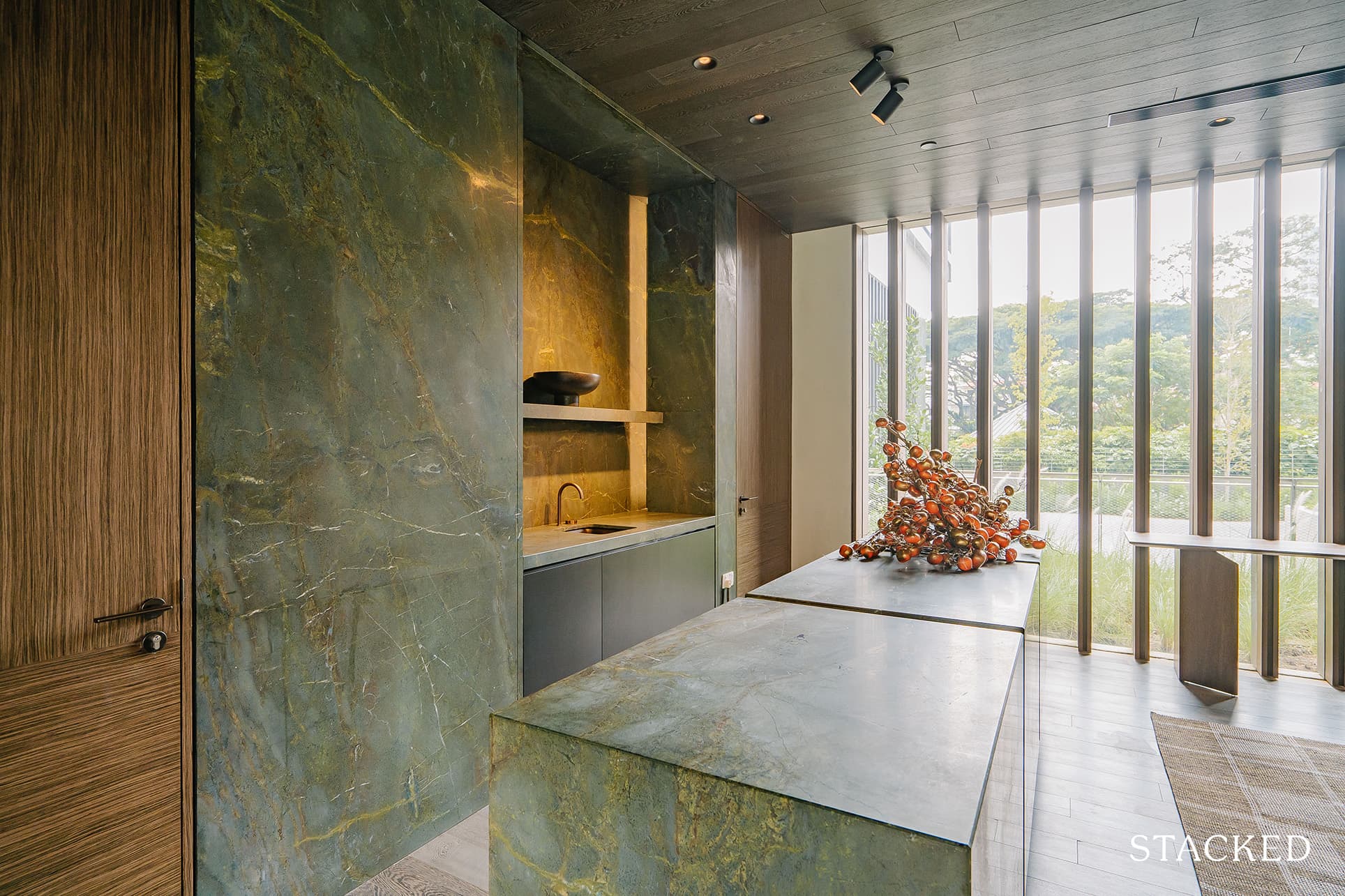 At the far end is a kitchen island, and a sink. Looking for the rest of the cooking facilities? They are all located beyond these doors.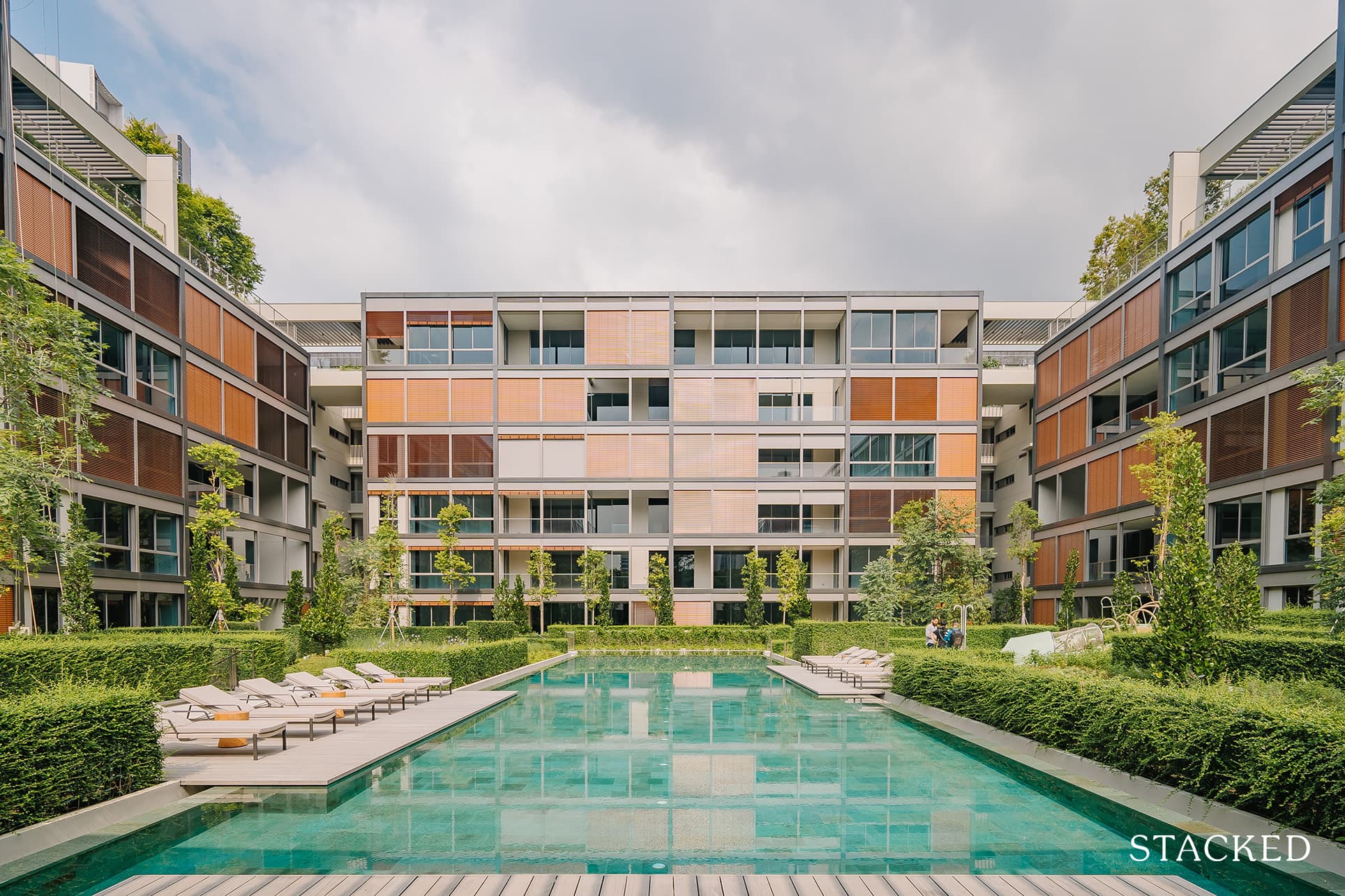 Next up, the main highlight of most condominiums – the swimming pool. It is right in the middle of the development and serves as the focal point that all units look into.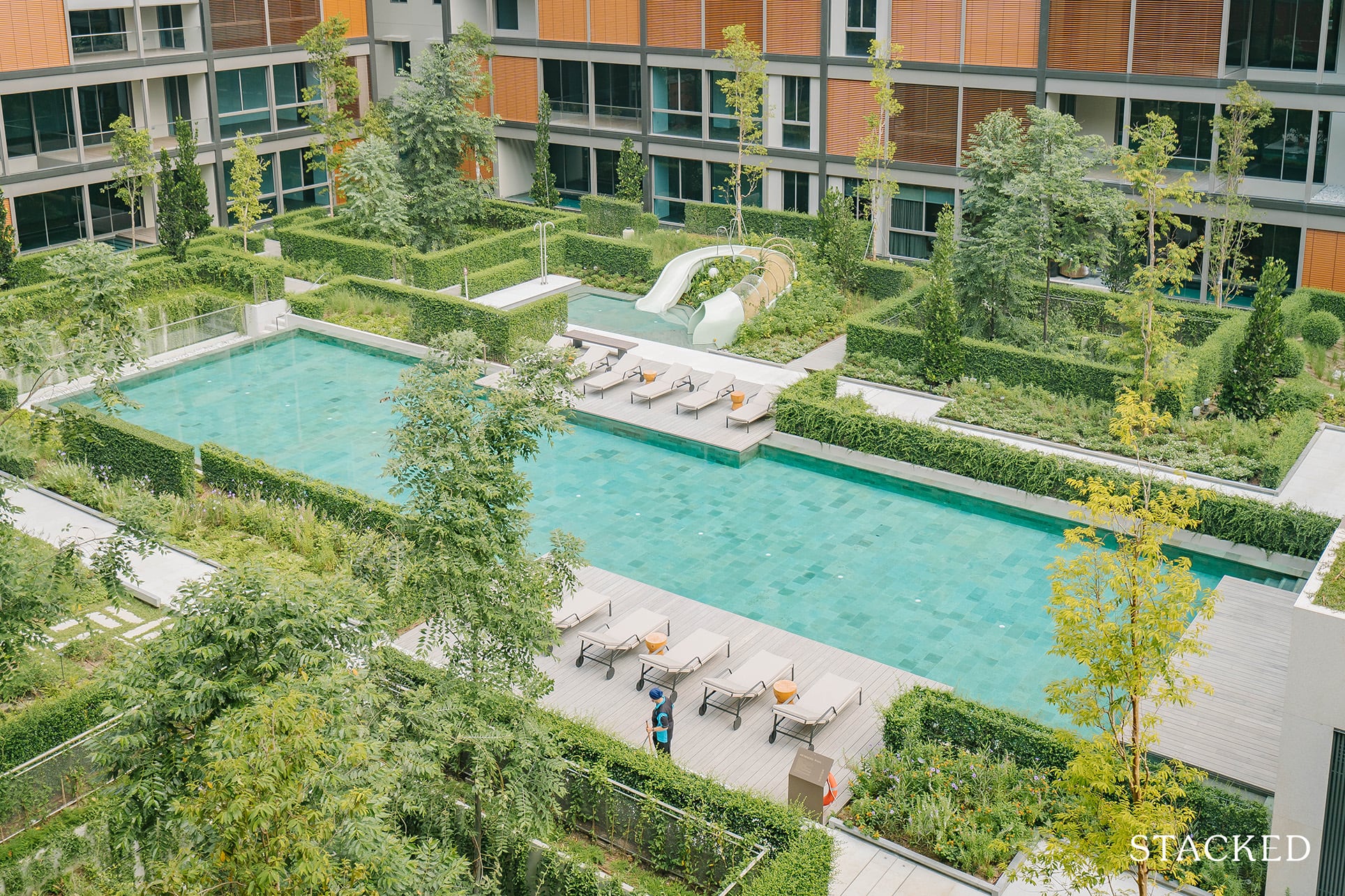 Here's a better shot for you to visualise the space – it's quite a pretty sight to look into, isn't it?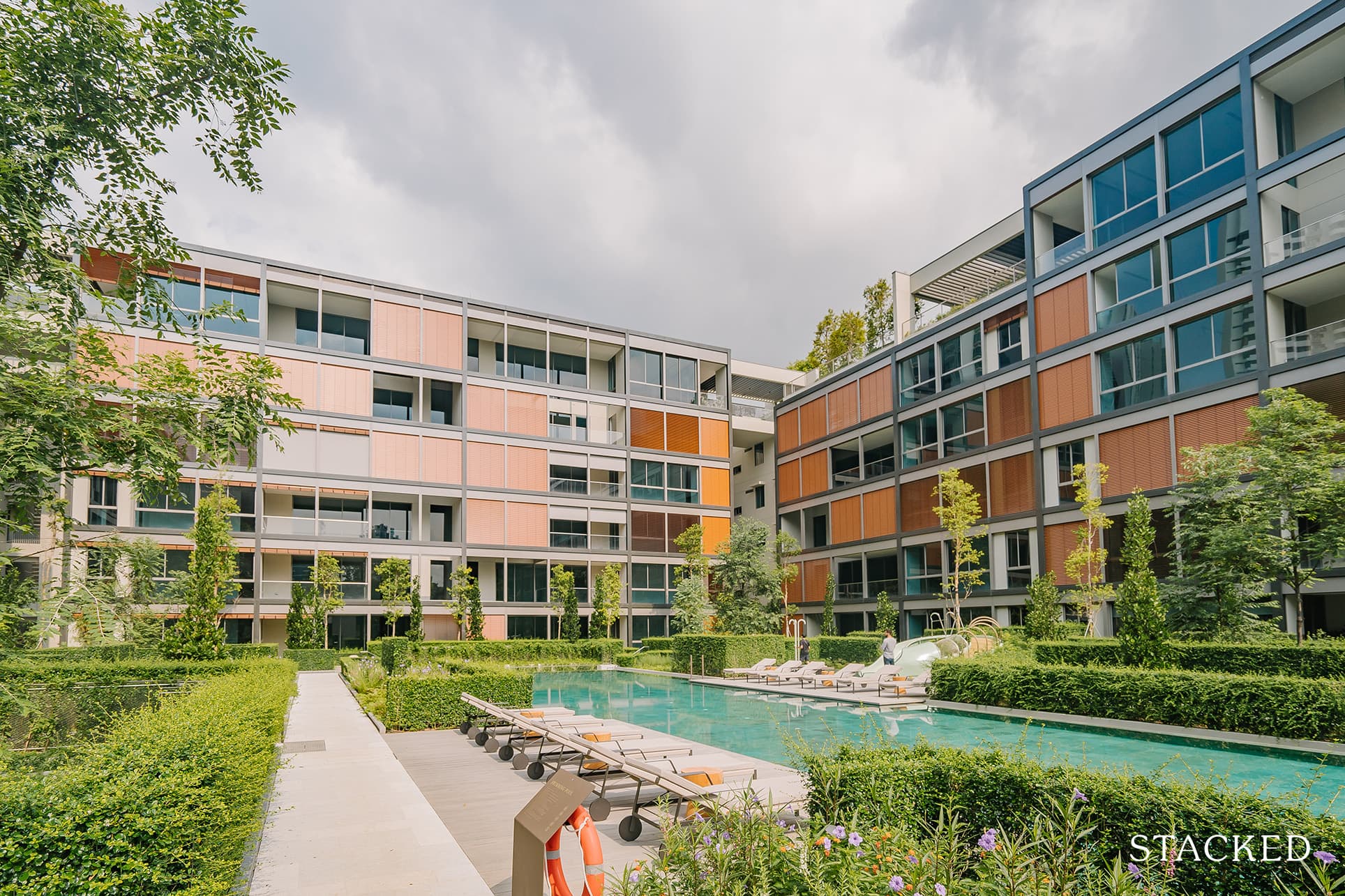 It's quite a gorgeous looking pool, and has a decent amount of setback from both sides of the development. It still does feel a little too open at this point (that's always going to be the downside of a courtyard), but according to the renders, once the trees by the side grow, it should feel more private.
If you love to suntan but are a little shy though, this probably isn't the best place to do it. Have the body of a Greek God? Well, this would be right up your alley in that case.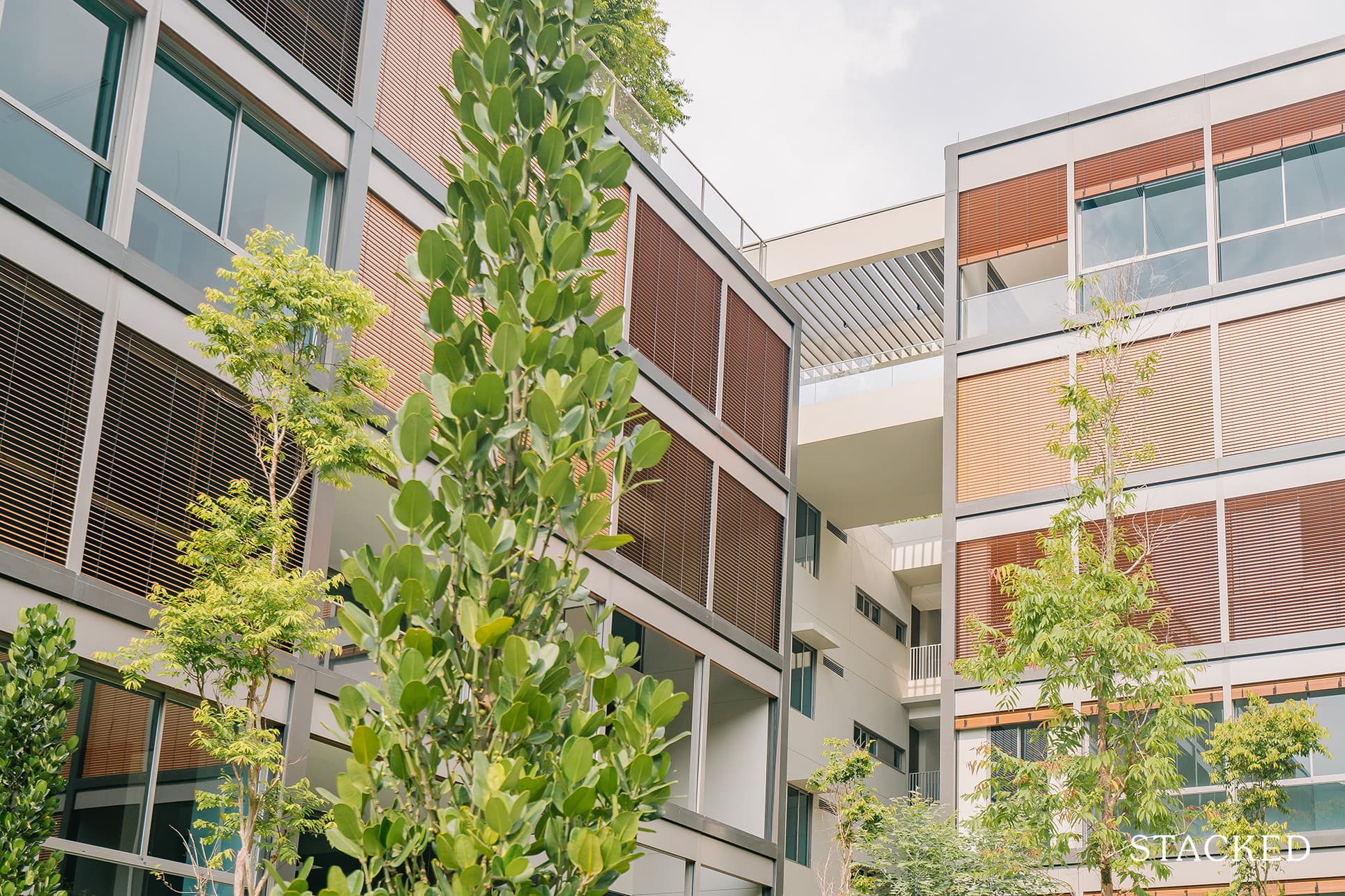 It's still early days, so I'd expect these trees to be thicker and lusher in the future!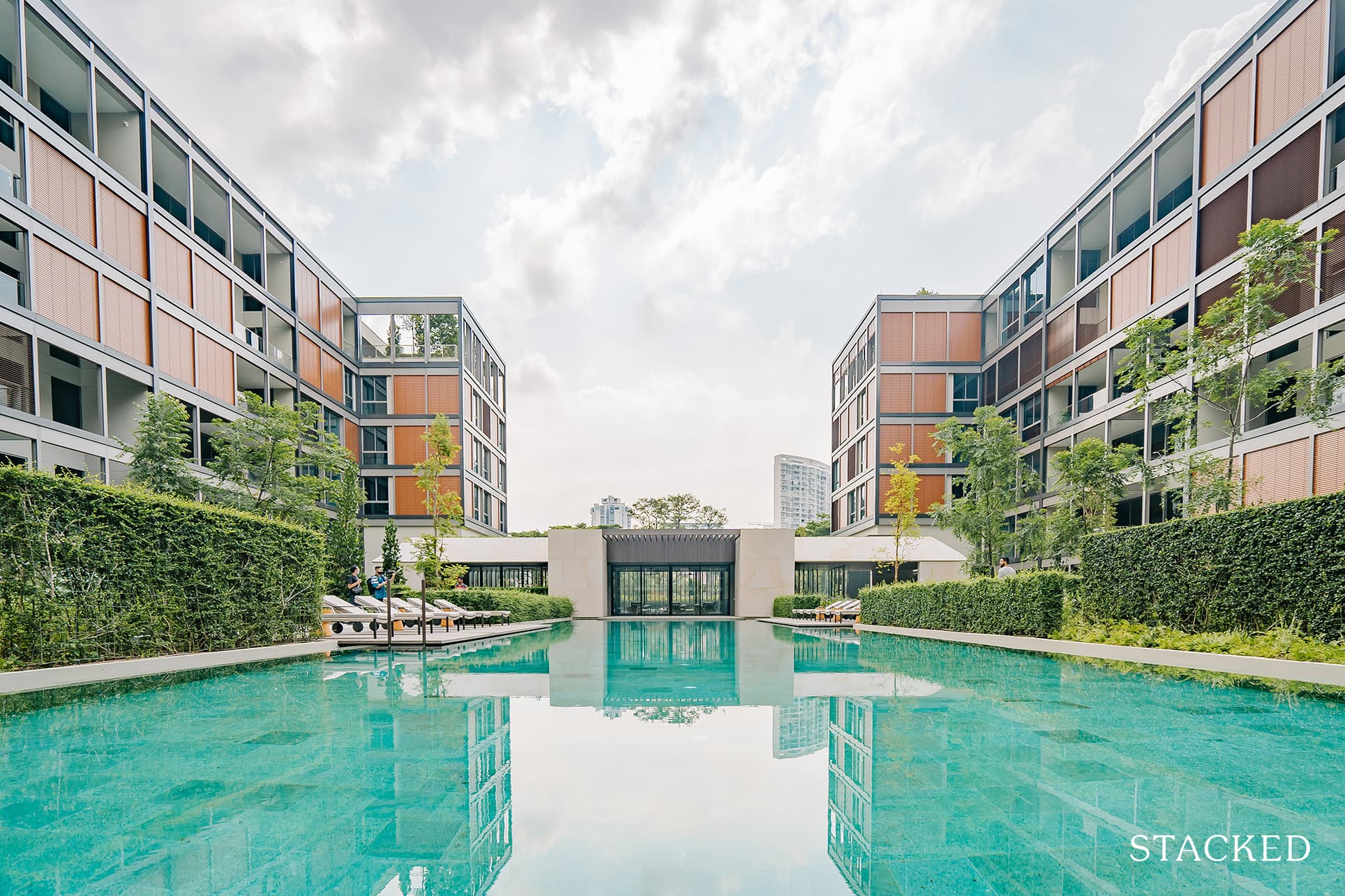 While the ambience of the pool is certainly nice enough, you don't get any tall buildings looking over you, it's worth a reminder that the pool here is 30m long. I suppose for 56 units it is adequate, plus the ground floor units here have their own private dipping pool.
This is probably the nicest vantage point for me though. With the park, and landed houses laid out beyond Meyer House, it almost looks like you are in a rather isolate location. Lovely.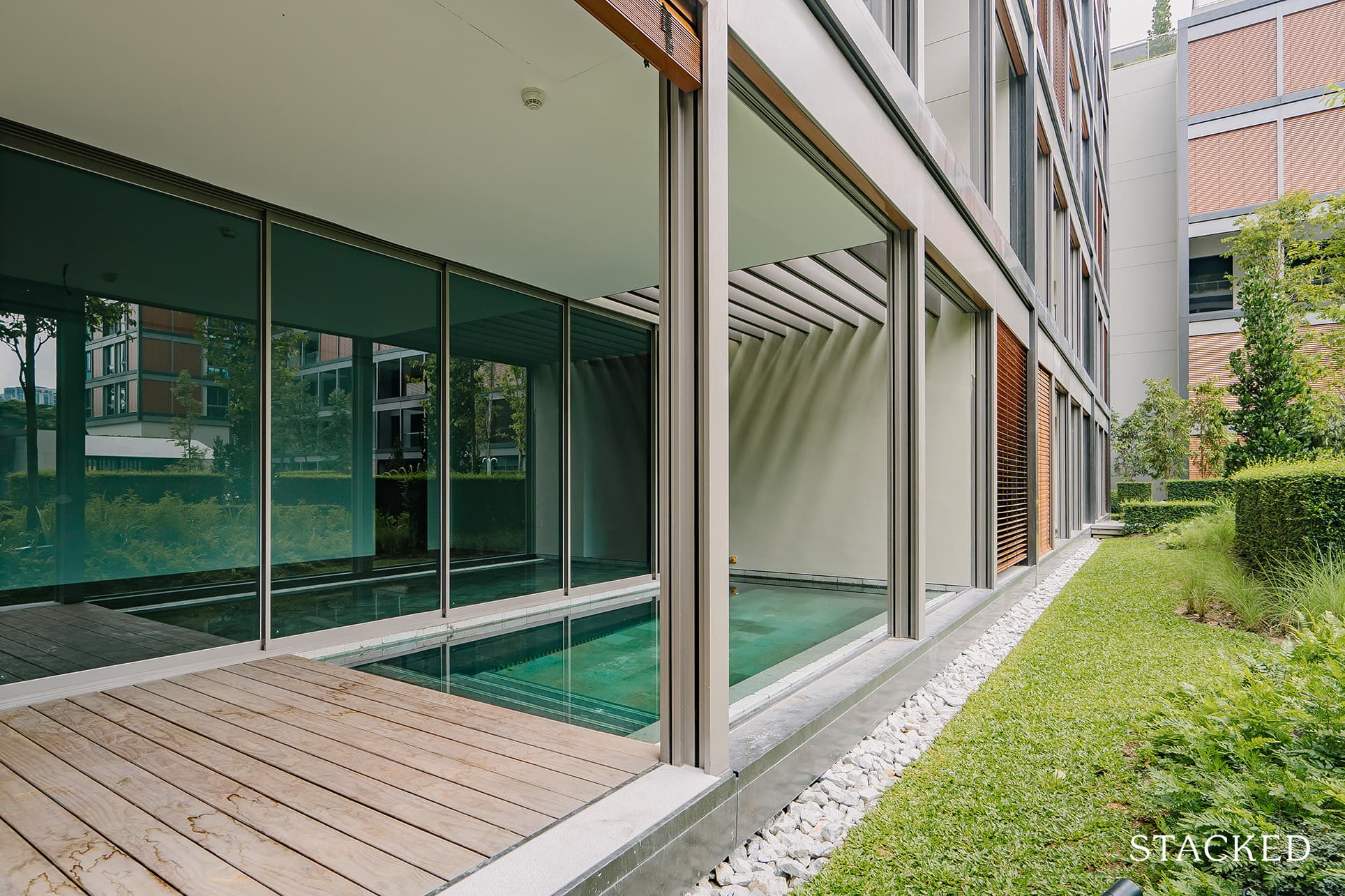 Here's one of the private pools that you might find in the ground floor units. As you can see, it's a seamless transition from the pool to the outdoor area.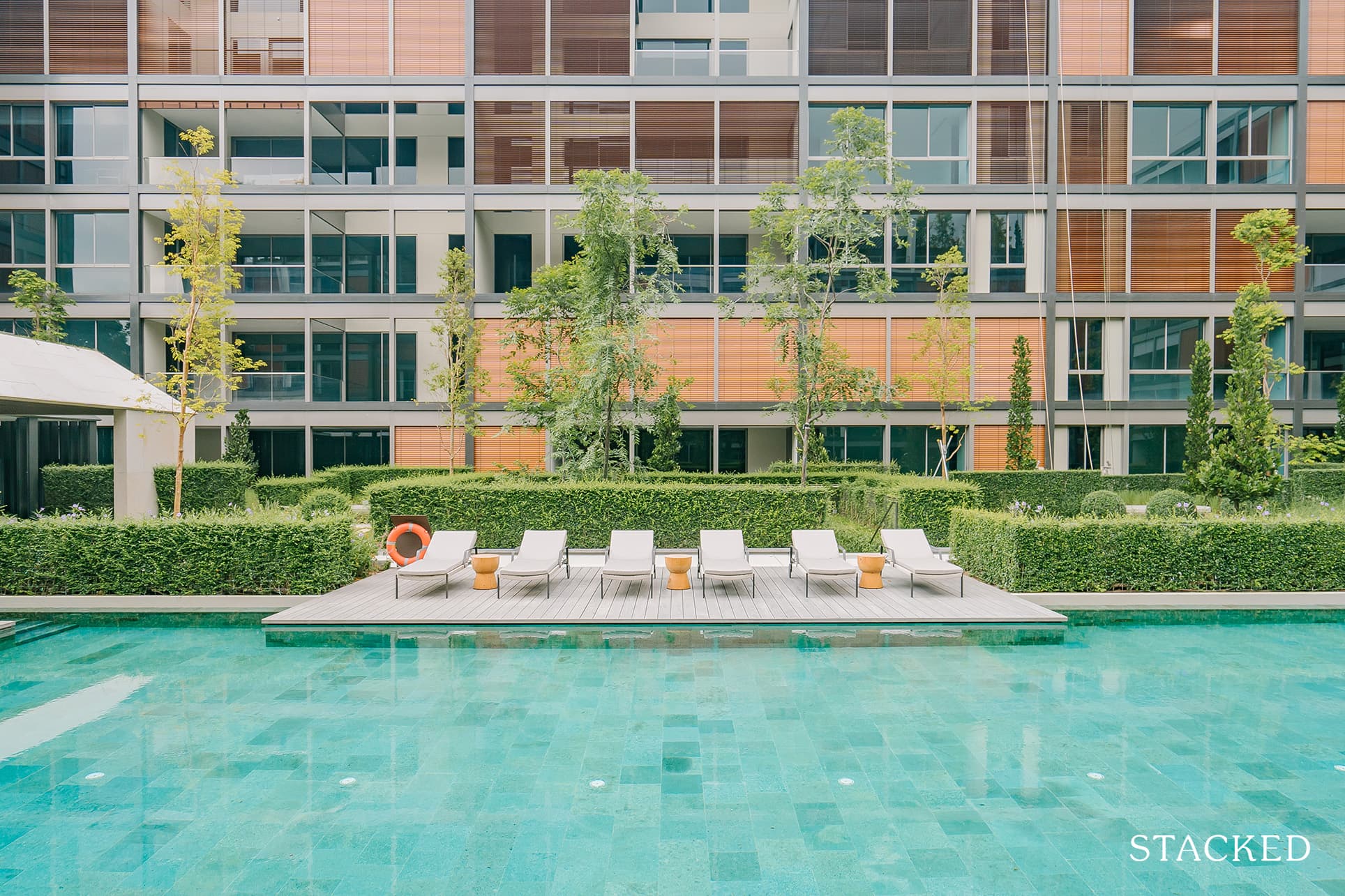 Both sides of the pool deck contains a row of deck chairs, but I would have gathered that pool cabanas would have made more sense here (even though it may spoil the aesthetic of the place). A cabana would give more privacy, and is just an overall nicer place to lounge in.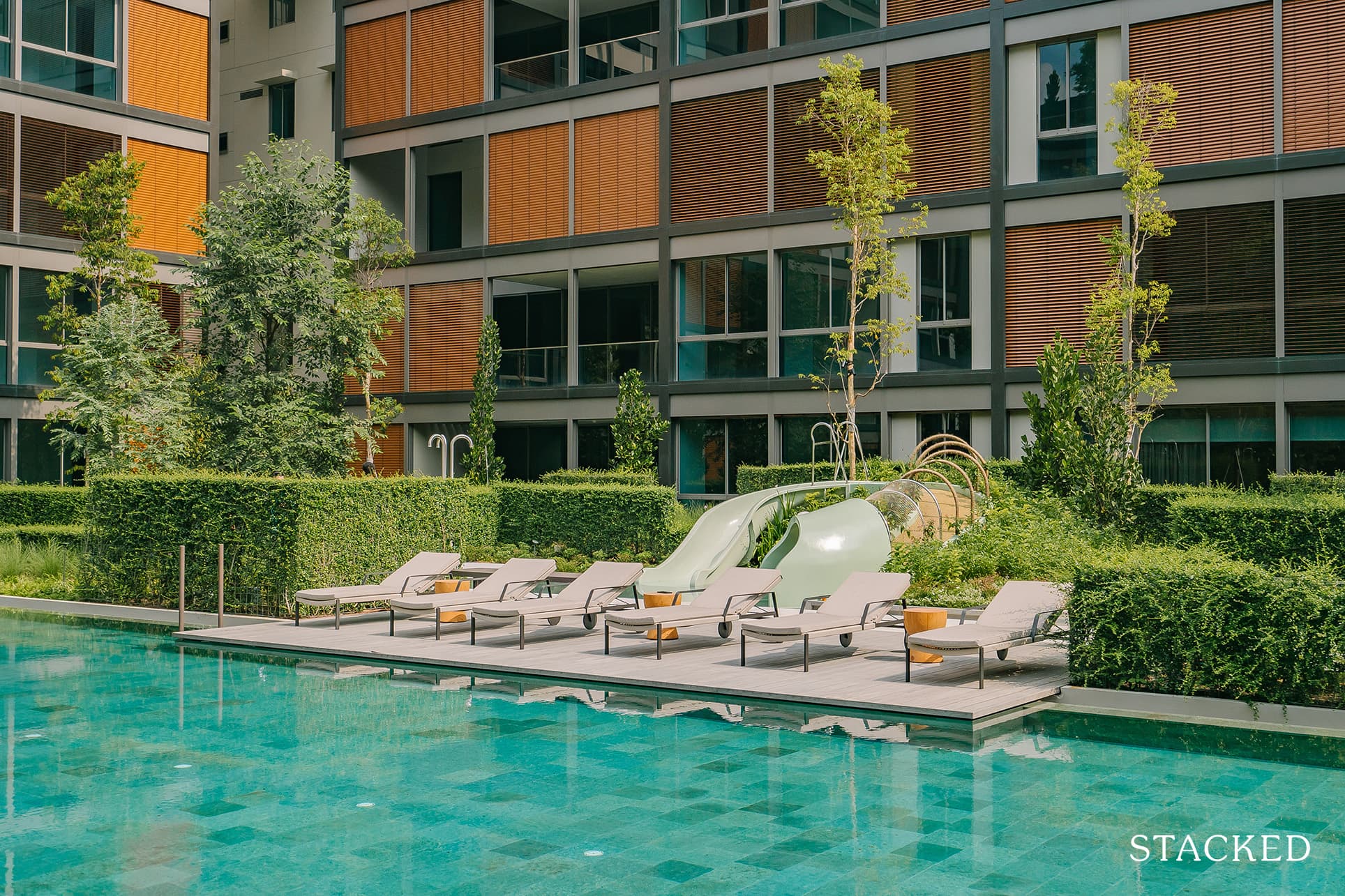 It's a total of 12 deck chairs, which should be enough for the 56 units in the development.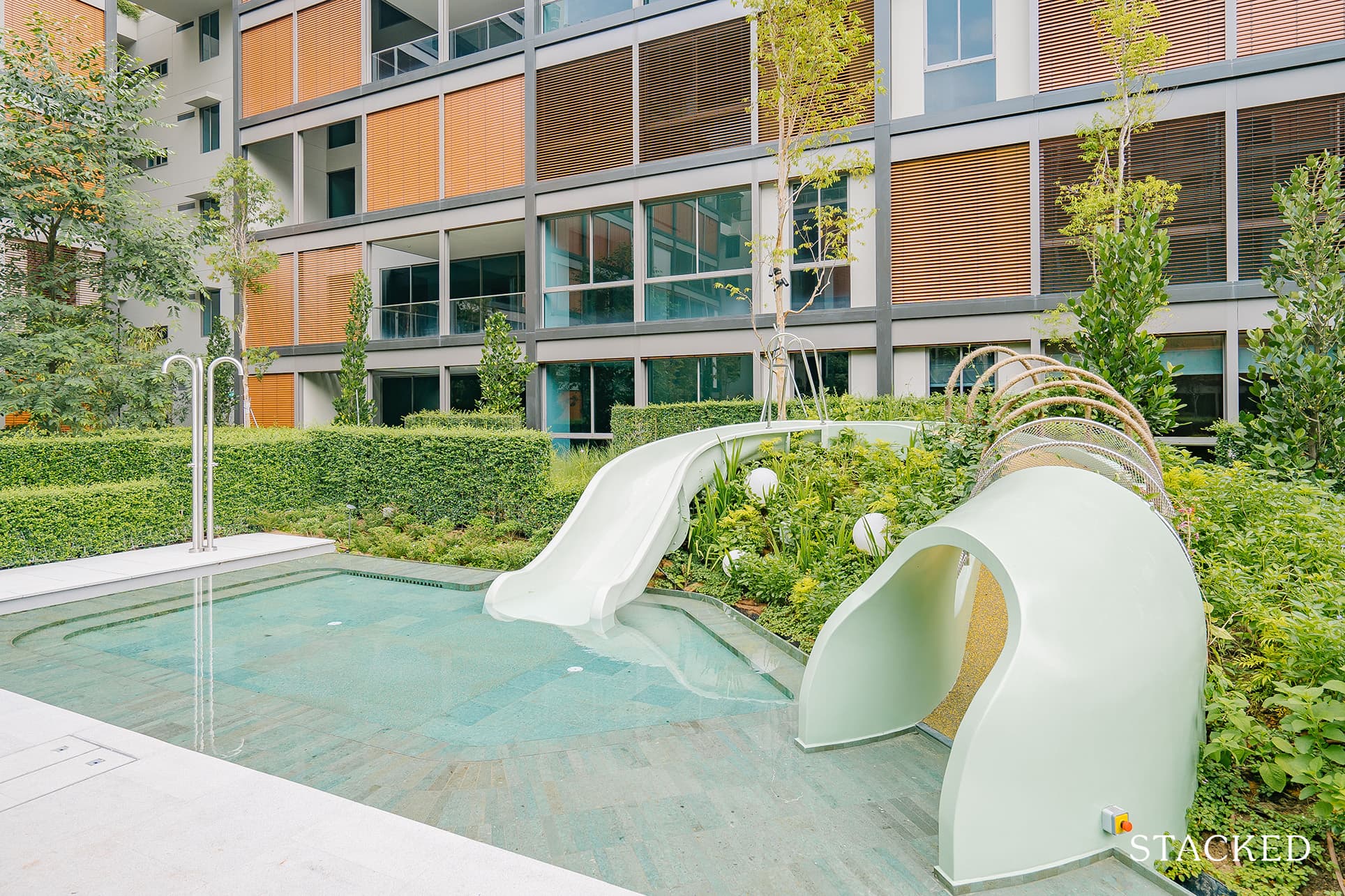 I do also like the addition of the kid's pool (as small as it is), which comes with a cute slide as well. It's nicely designed, with the lush landscaping providing a very picturesque setting. It's not the kid-friendly colours that you might usually see in other places, but I like this pastel green colour they've chosen. It's approachable, yet still in keeping with the rest of the space.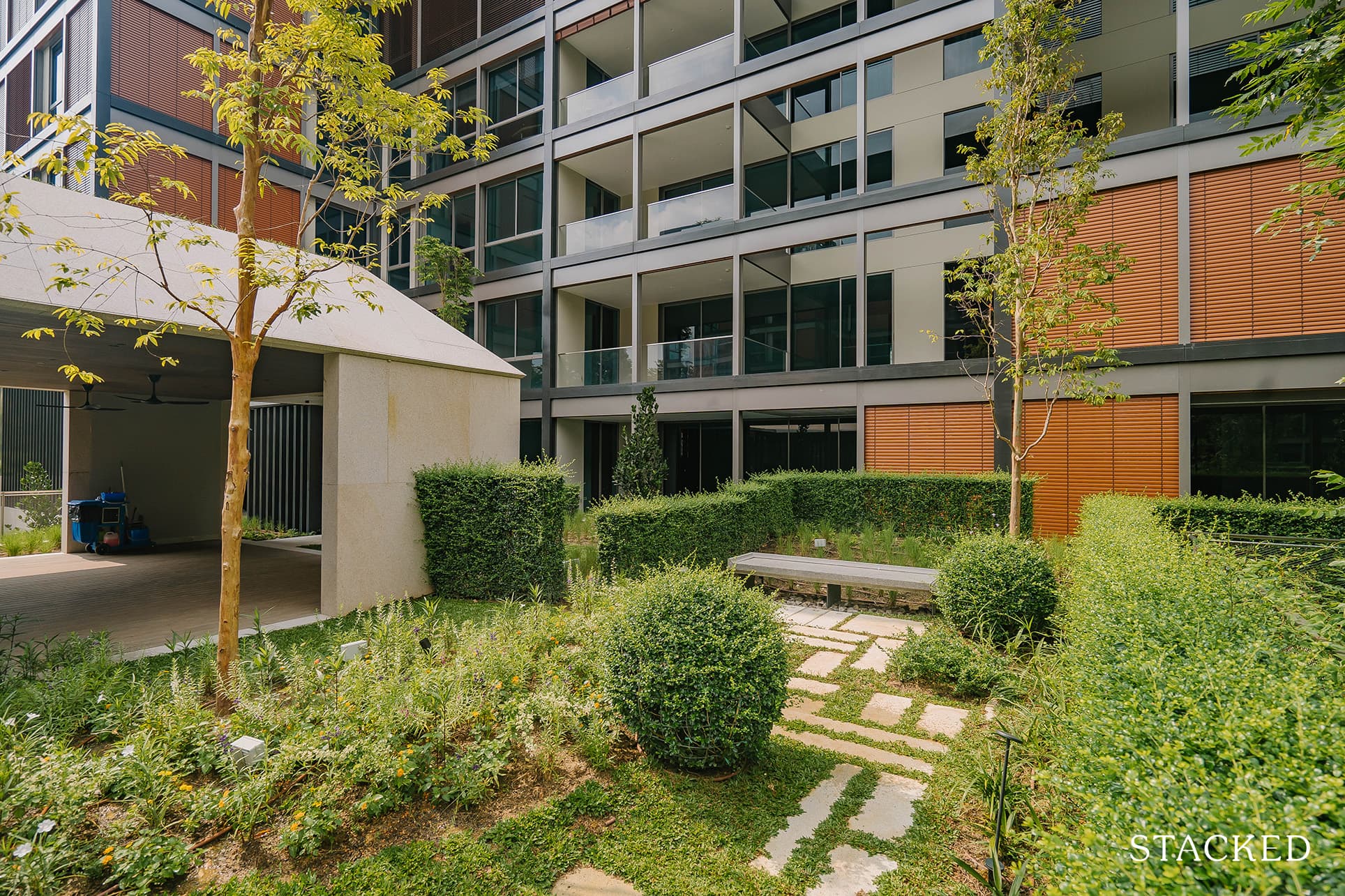 To be honest, with the land space and spacious unit sizes here, you really don't have too many facilities to speak of at Meyer House. For example, the above is just one of the garden spaces that you'll find by the pool.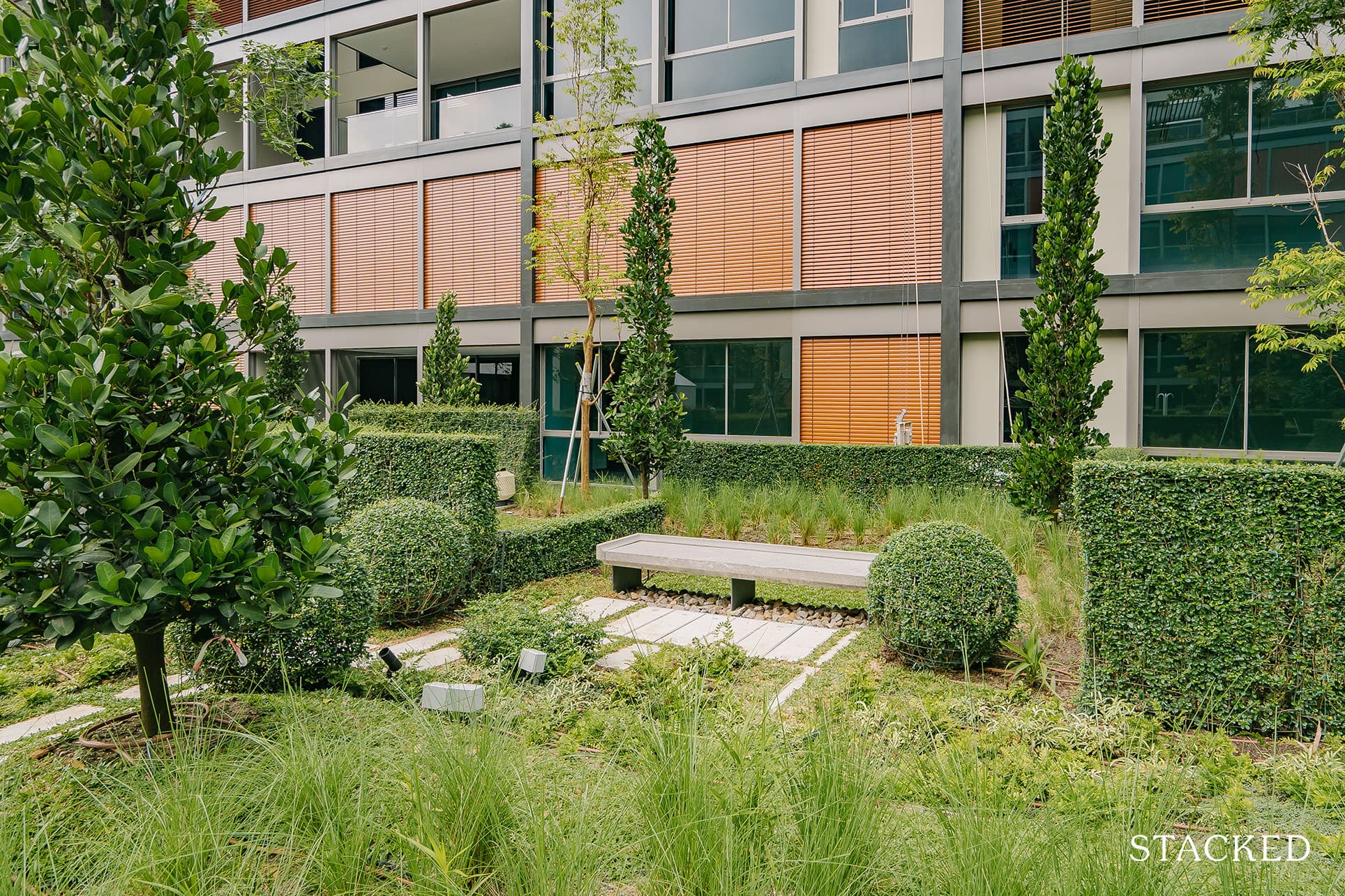 It's definitely not going to be the place of choice for the younger couple that craves vibrancy and a slew of activity on the weekends (like playing tennis, or hosting bbq parties by the pool).
I reckon this is more for weathly older couples who are looking to retire/are retired, and are "downgrading" from a landed property. Especially at that age, you really don't want to concern yourselves with maintaining a landed home. As such, a place like Meyer House does make sense. Big unit sizes, private lift and lift lobbies, set in a relaxing garden environment. It's a niche crowd all right, but one that will find this to be a sensible choice in their retirement years.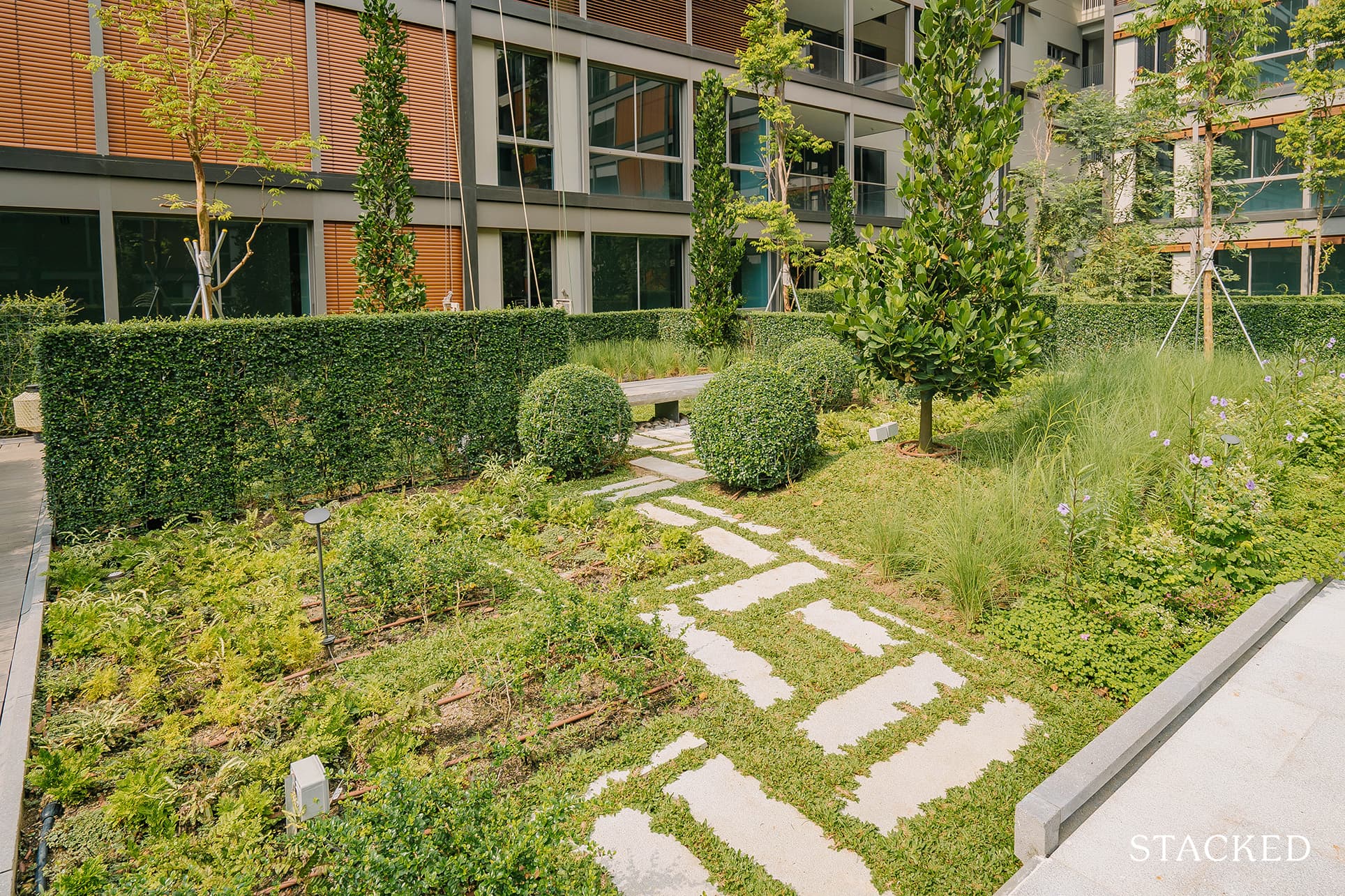 So while the younger crowd may wonder what's with all the garden spaces around, I do think it makes sense for the type of clientele that they are targeting. As above, it's still early days so I'd expect the landscaping to look much better in the coming months.
It is all already very pretty though, with the experienced Ramboll Studio Dreiseitl the creative studio behind the landscaping works here.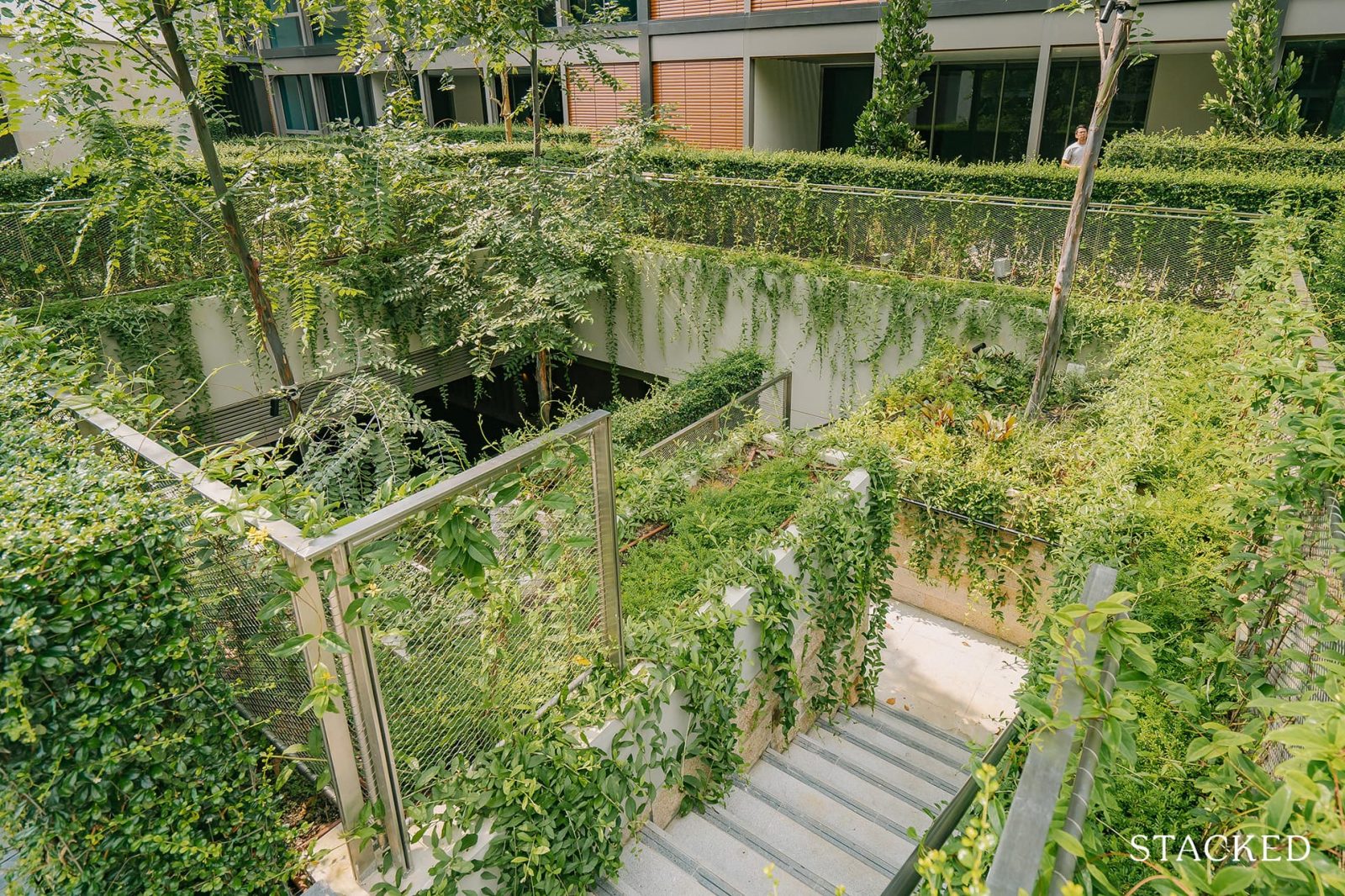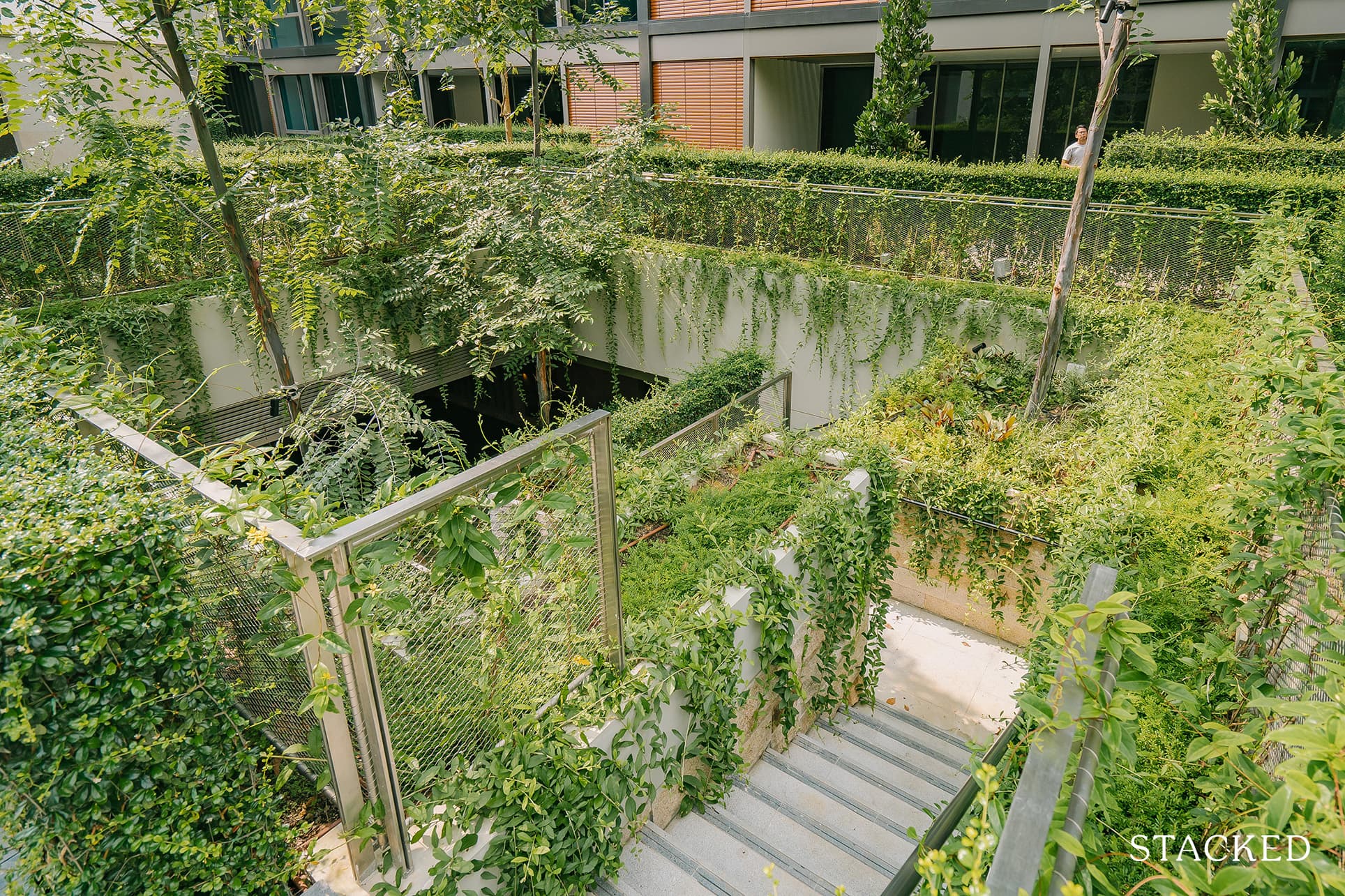 From the ground level, there are also 2 staircases that will lead you to the lower floor – traversing down does make you feel as if you are heading to a secret underground cave as your surroundings are nearly wrapped completely with plants.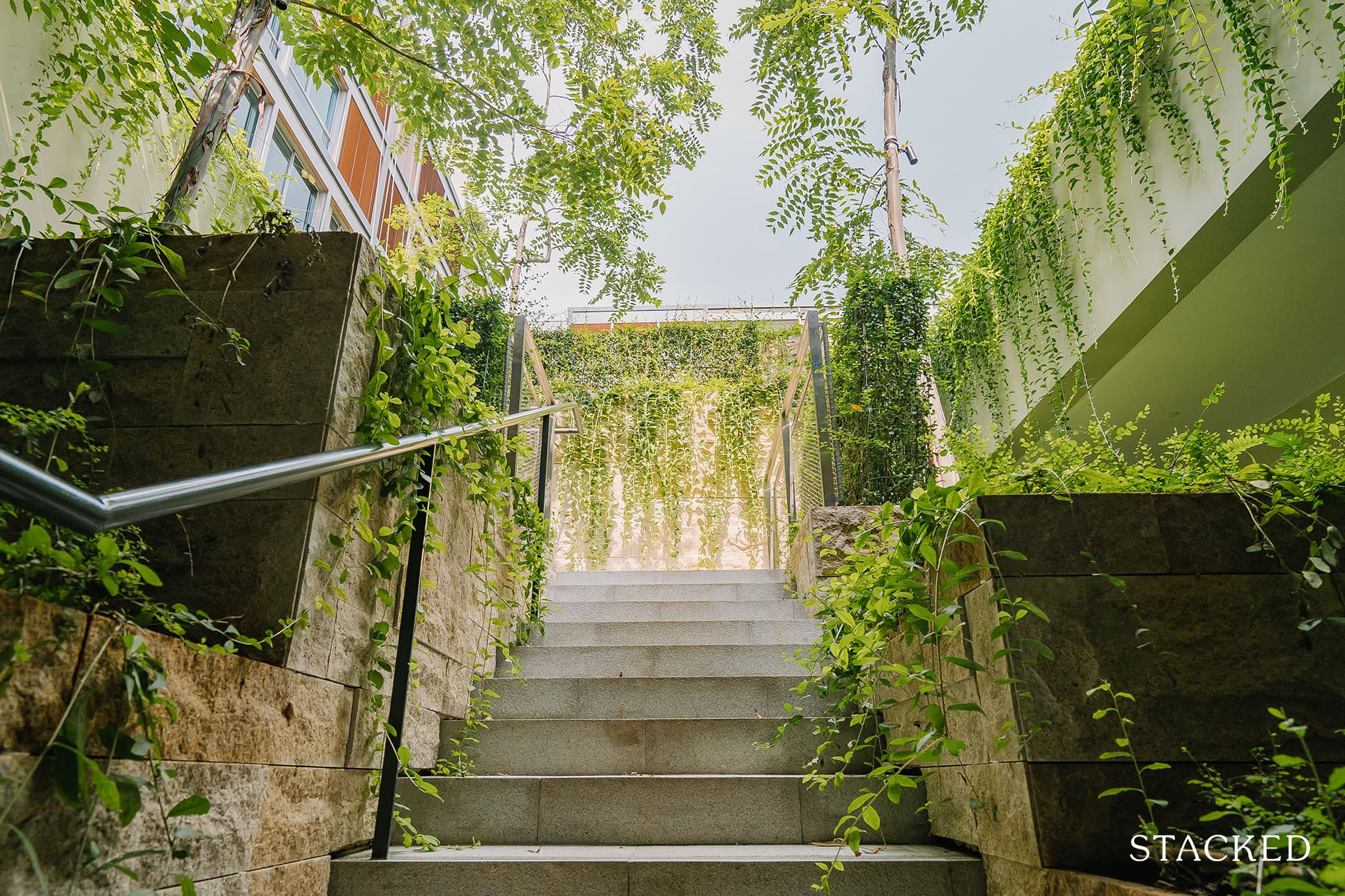 Going up for the first time too, it does give you that sense of "I wonder what's up there?".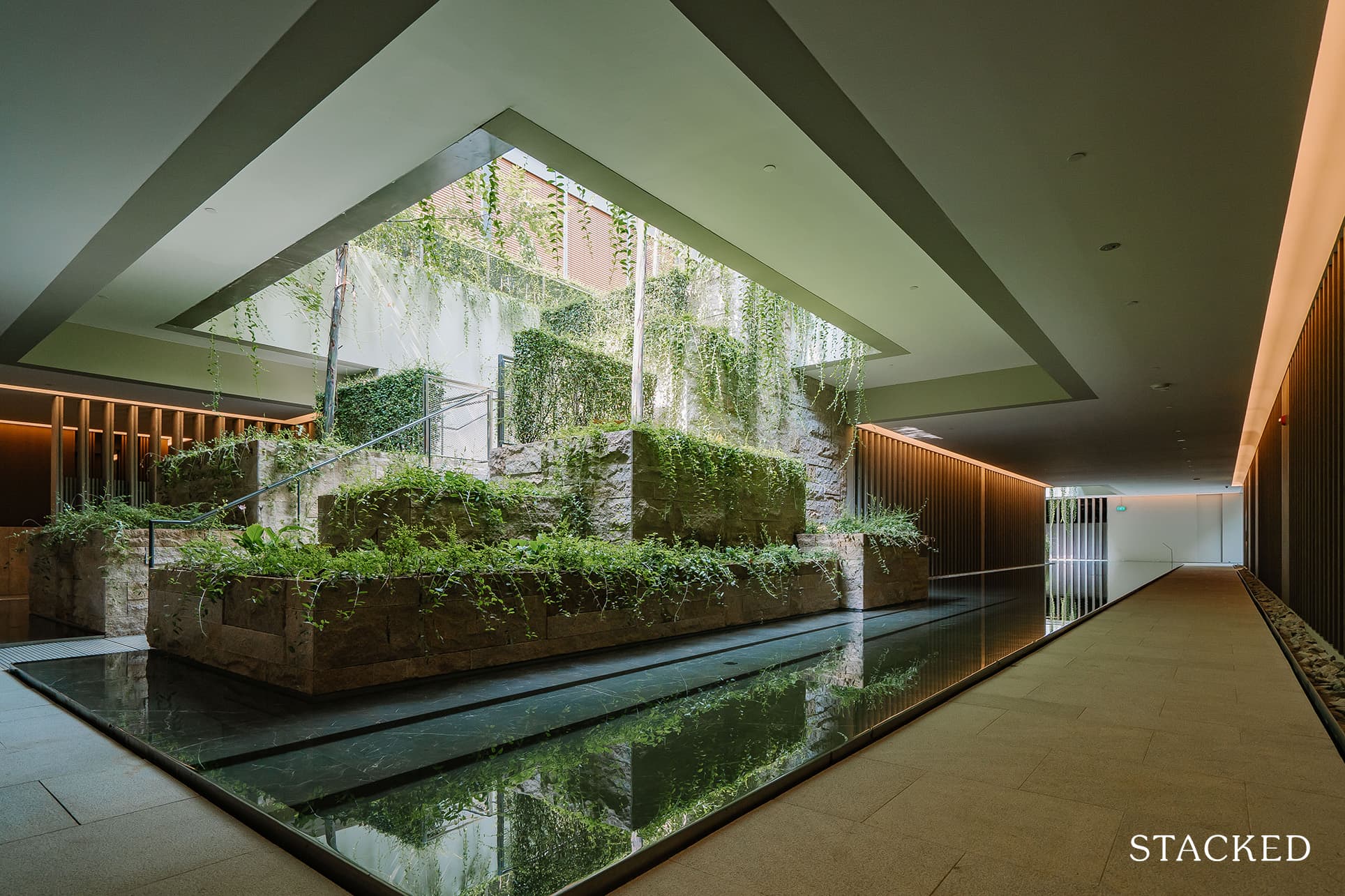 The basement areas really do take you by surprise though. Especially on a bright and sunny day, you immediately feel the coolness once you step down. With the shallow body of water surrounding the space, and mood lighting by the ceiling, it's all very nice indeed.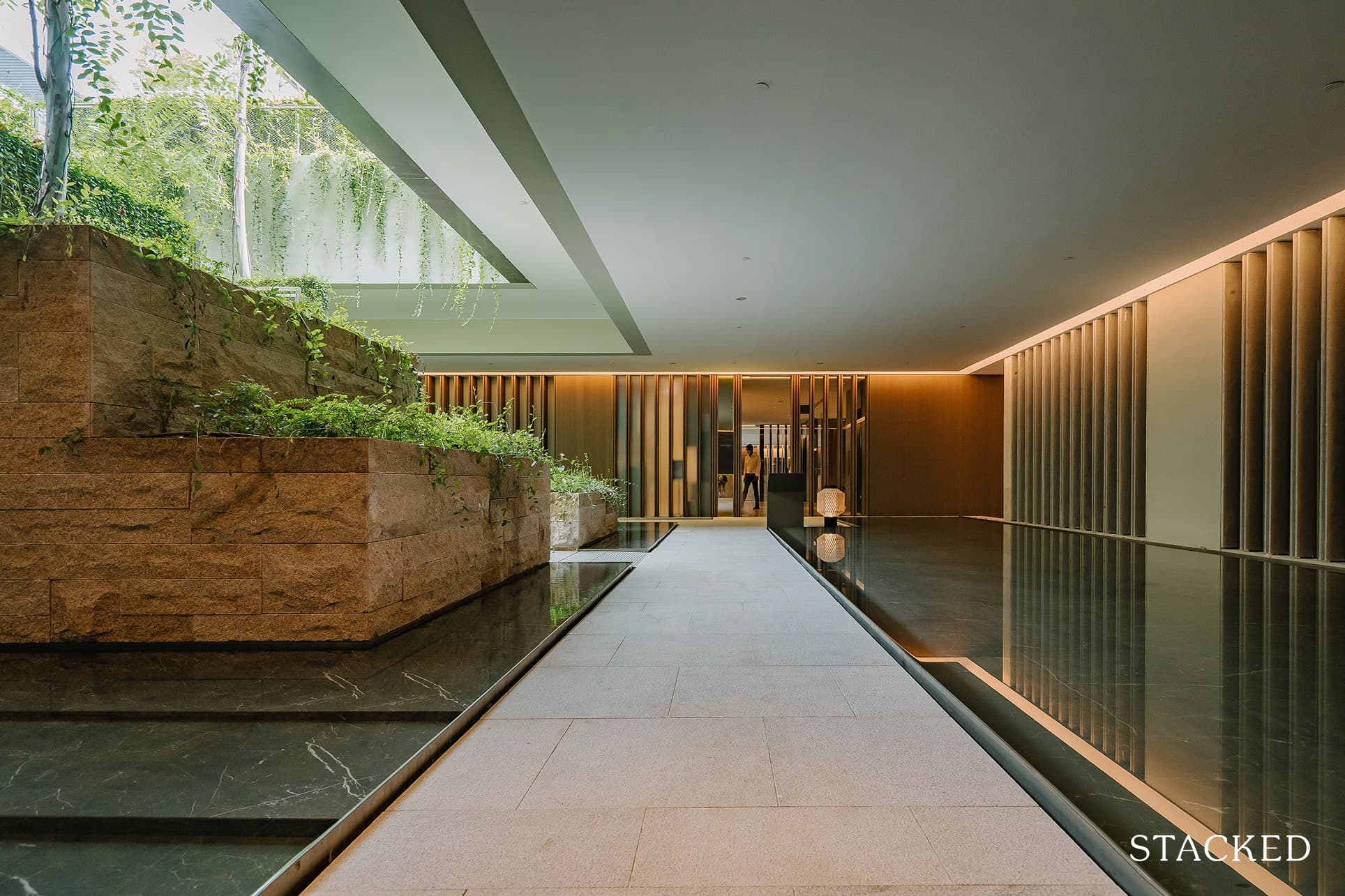 It feels like you are walking around in a recreational spa club, it's really super peaceful and chill (although it isn't as quiet as the picture looks, with the hum from the pool pumps underneath the swimming pool).
There are other points of interest here though, other than looking pretty.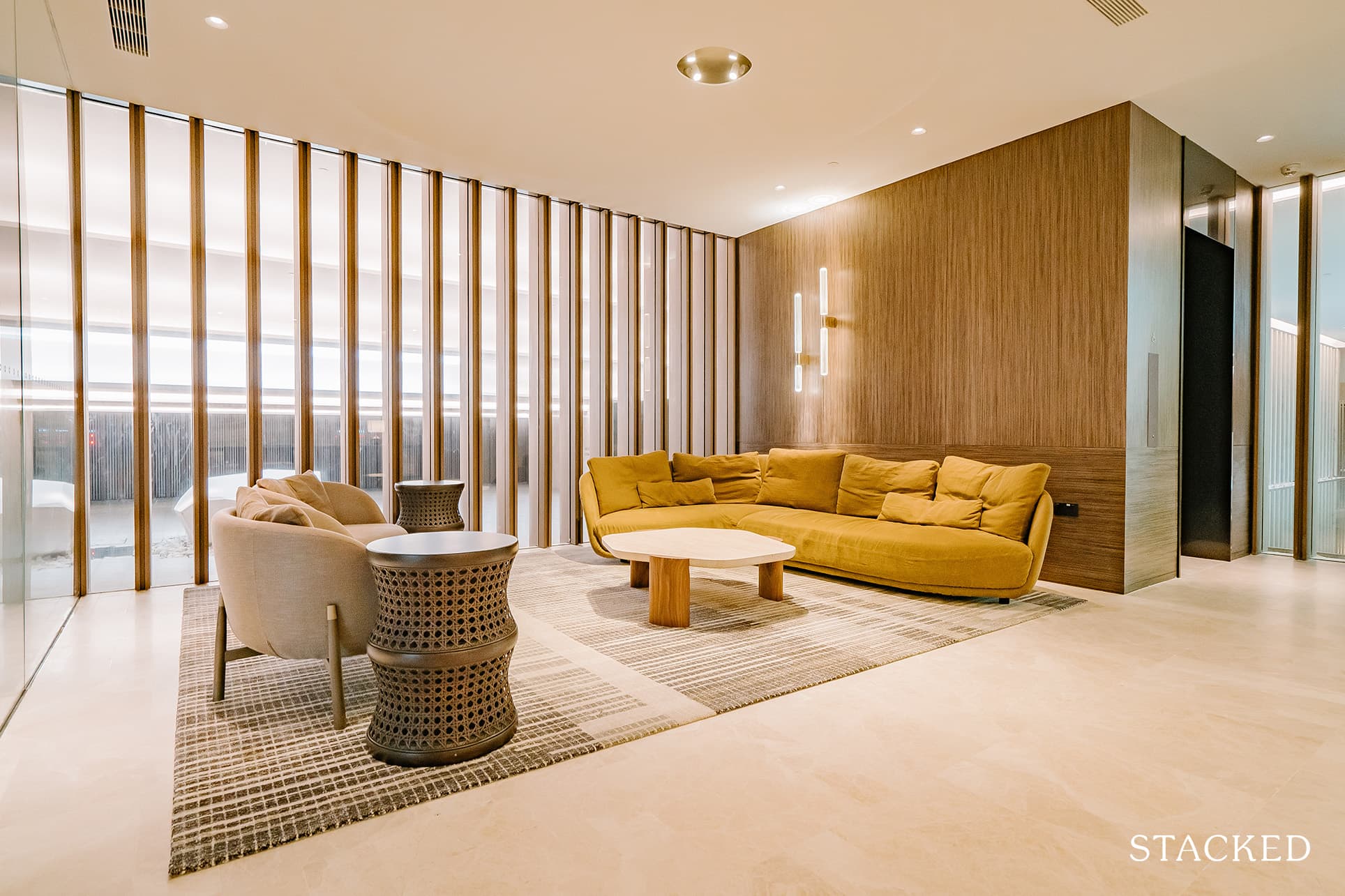 First up is the basement arrival lounge, where you can wait for your private hire car to come pick you up.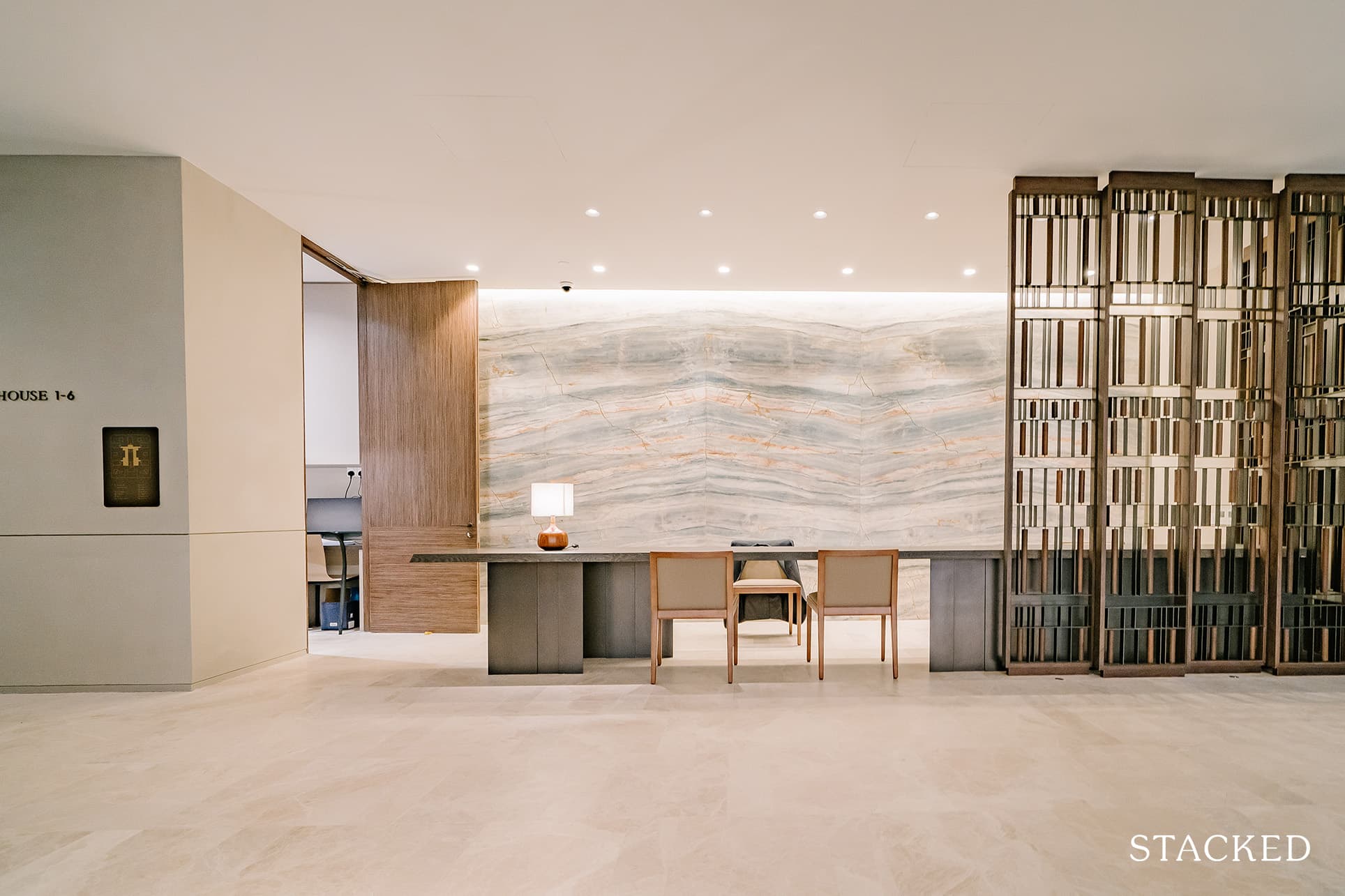 As with the rest of the space, it looks suitably upscale and distinguished here, and everything feels nice to the touch. It's also here that you'll find your concierge service, just like you would at a luxury hotel.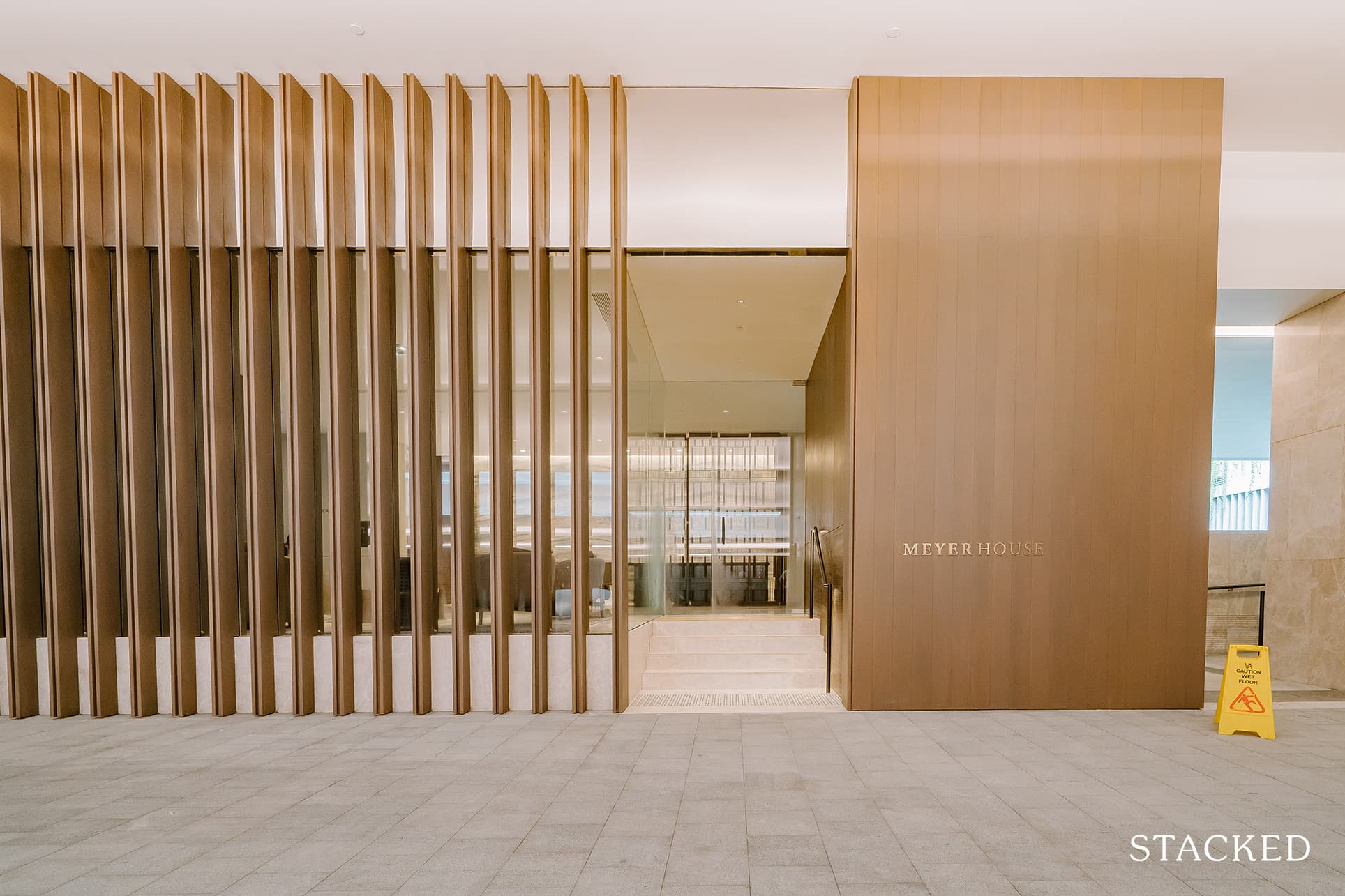 The drop-off area is certainly very grand, yet understated still.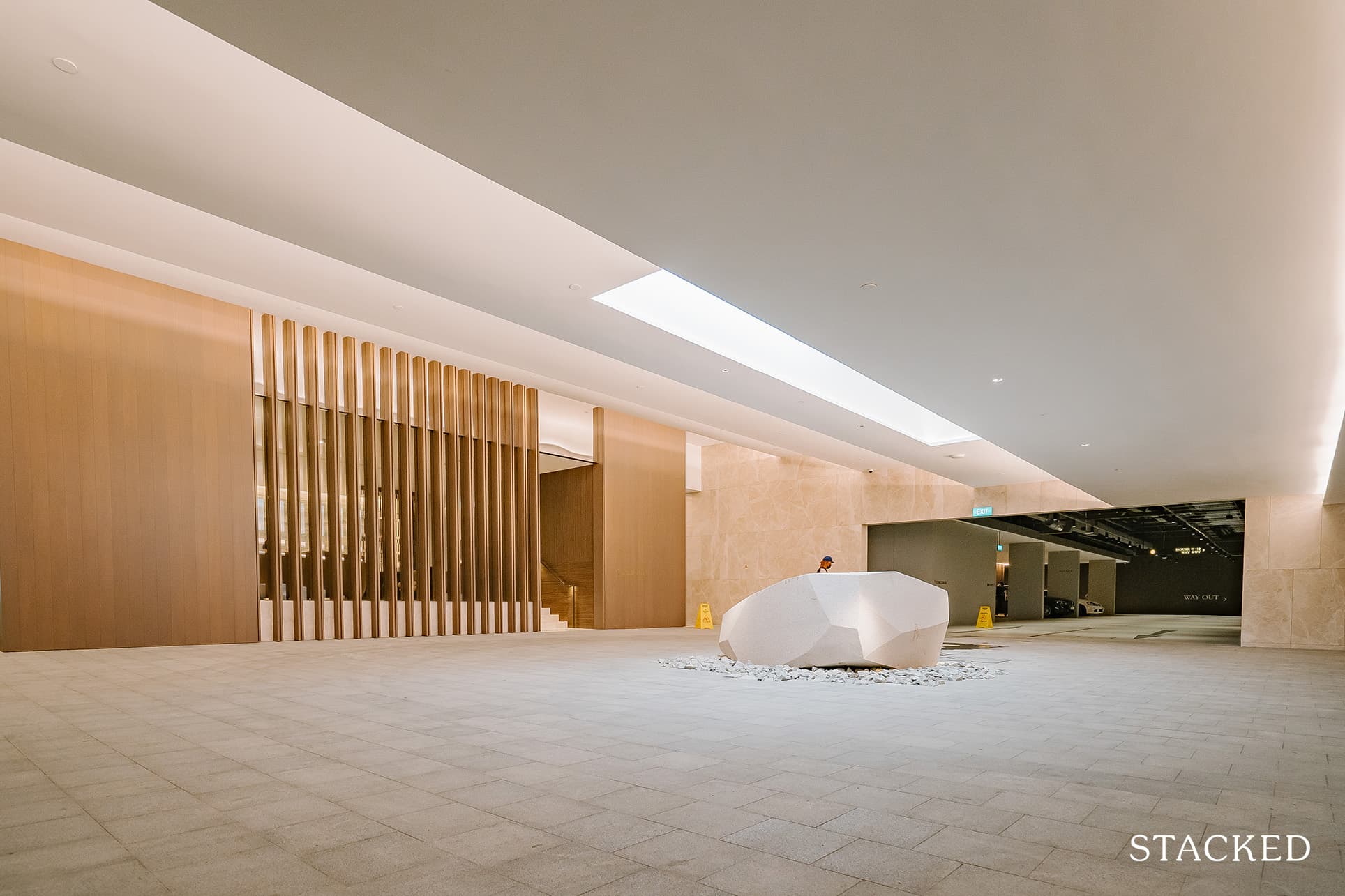 It's a big space dedicated to it too, which does make you feel like you've arrived at someplace nice.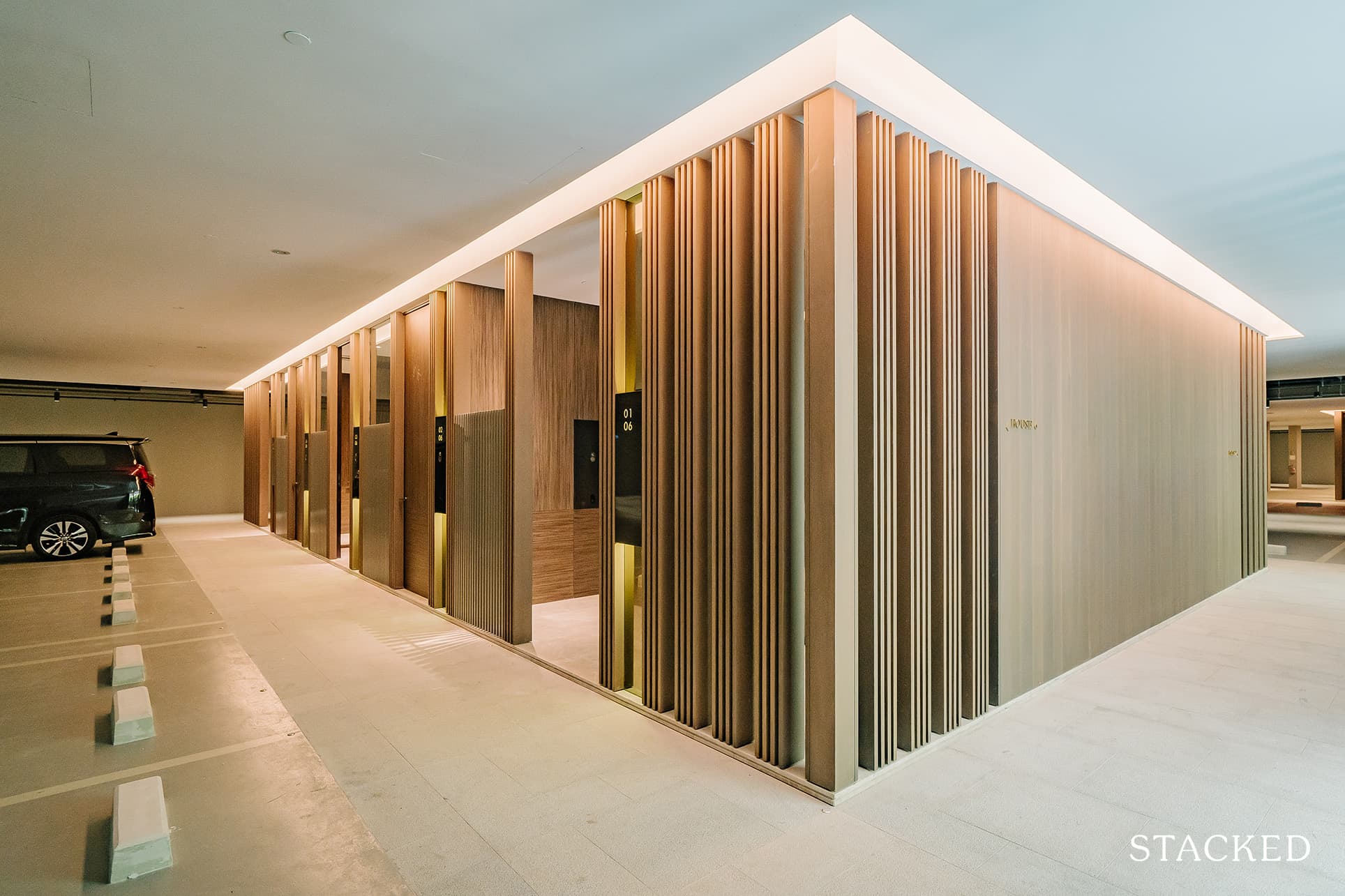 As you may have heard many times over, Meyer House is the first place in Singapore to offer private lift and lift lobbies for every single unit. And so the basement layout is probably quite unlike anything you've seen before.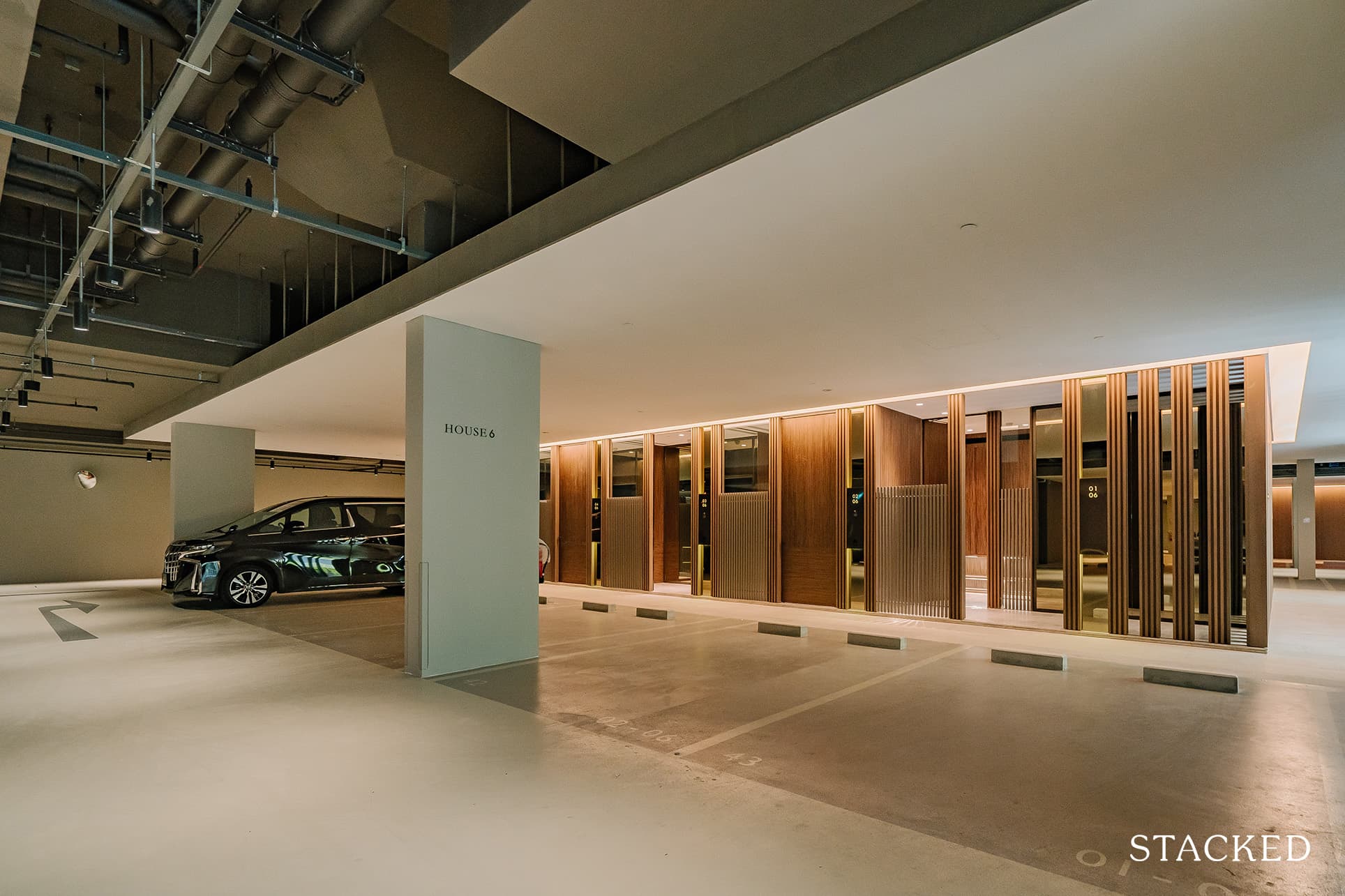 Only the penthouse and 4-bedroom units will have exclusive private car park spaces though.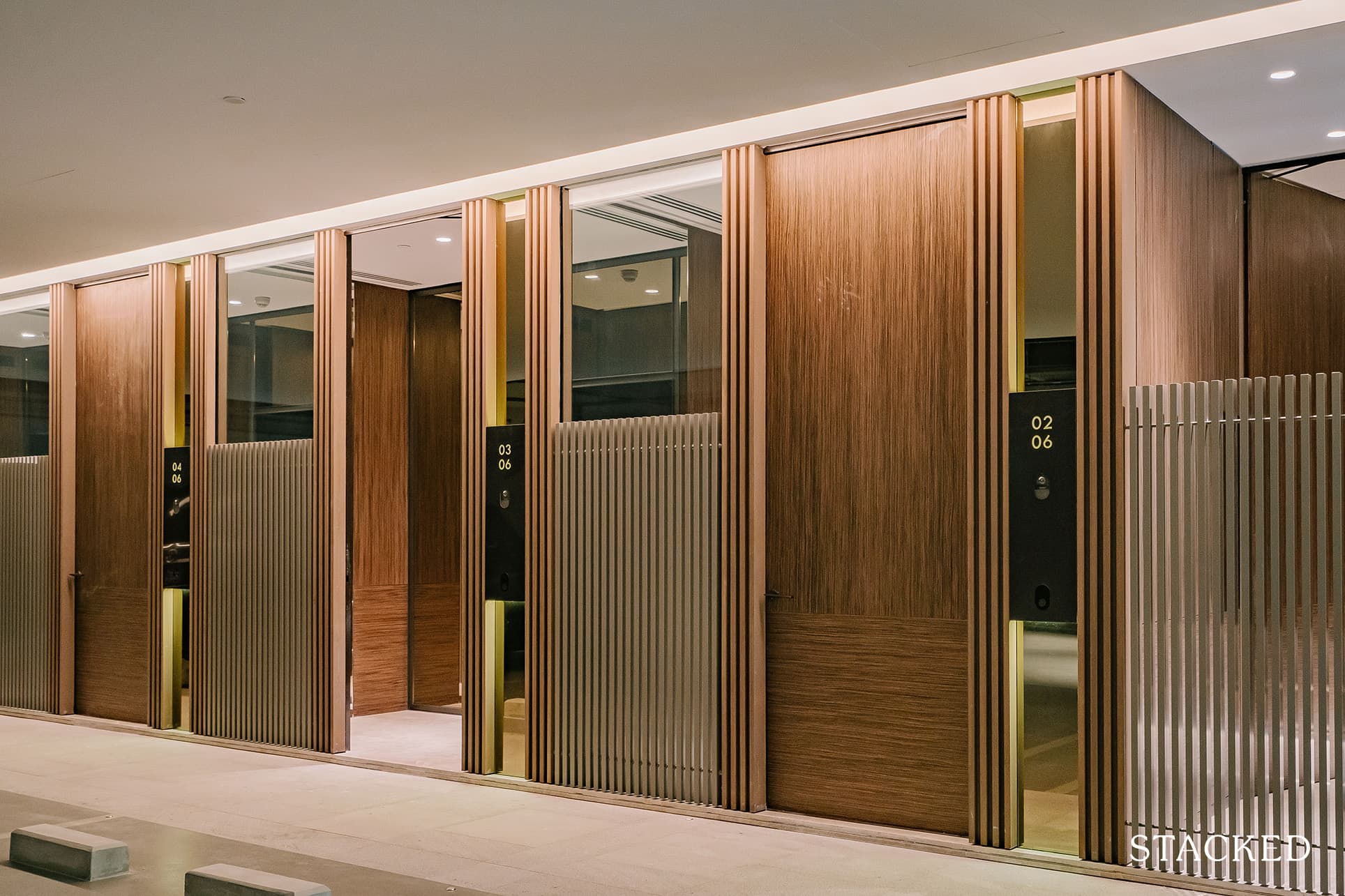 Each lift lobby area is done up very tastefully, with swathes of wood and ambient lighting providing a luxurious finish.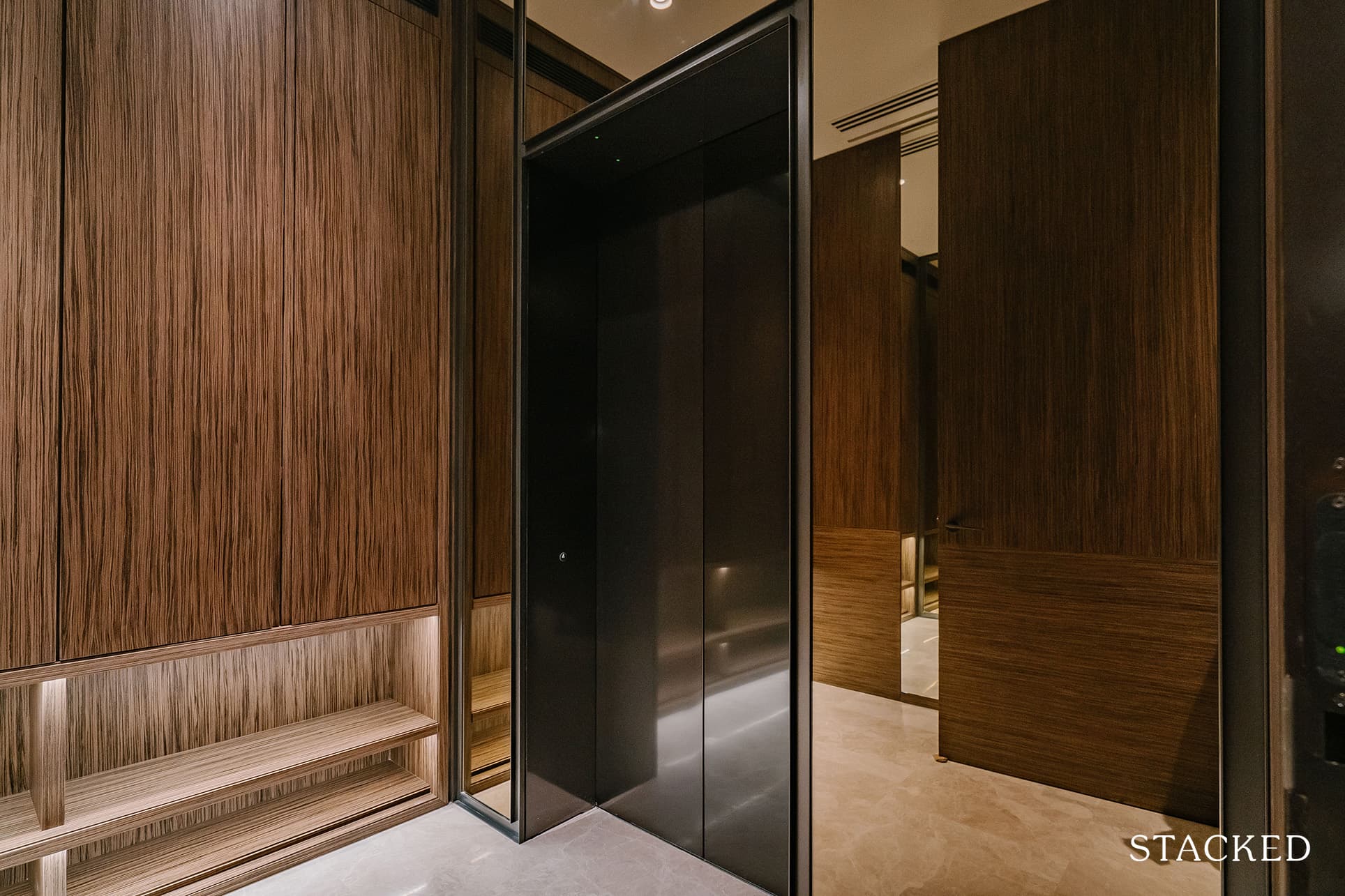 Now, onto the unit tour!
Meyer House 4-Bedroom 3,240 Sq ft Unit Tour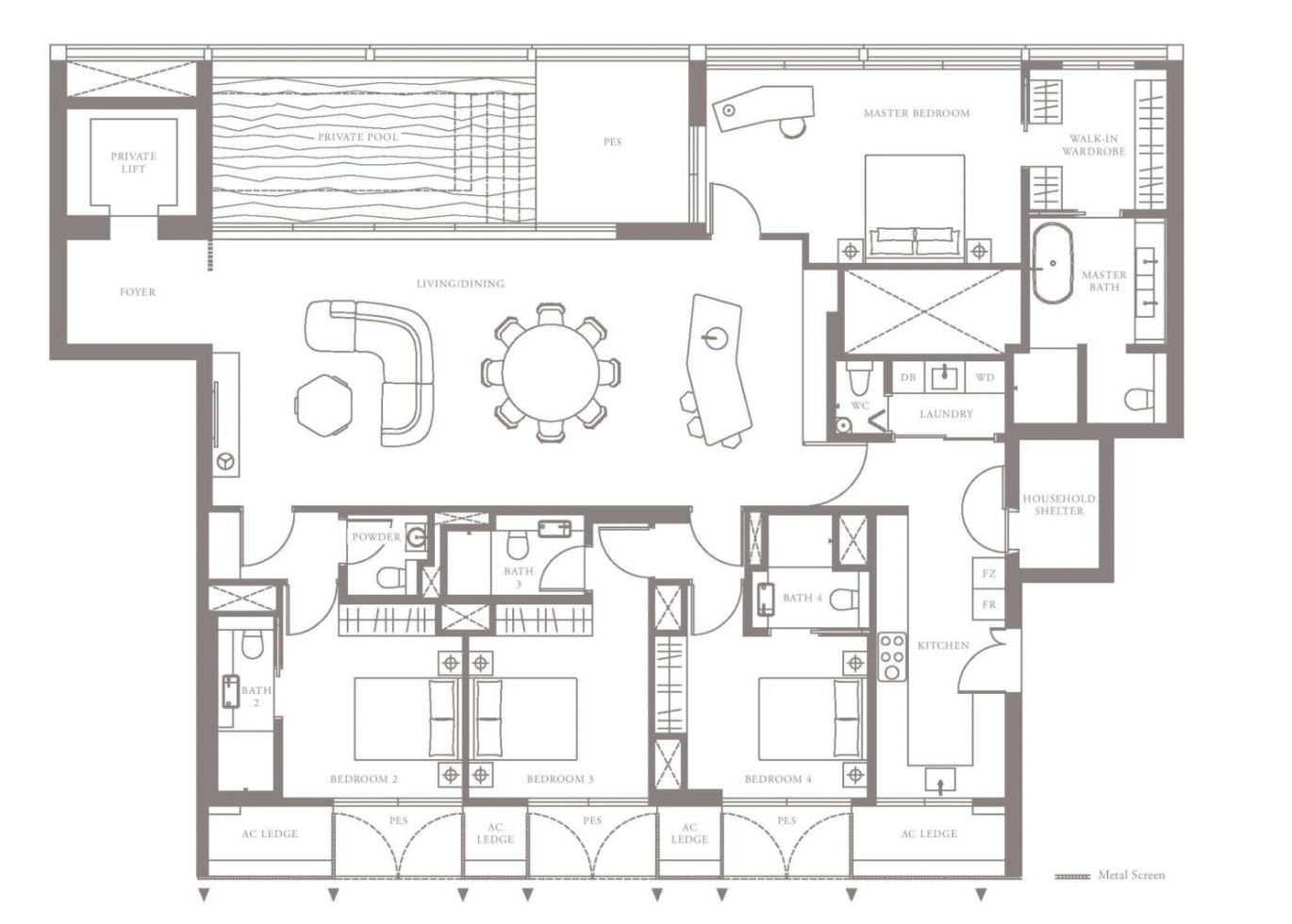 Meyer House only consists of 3 bedroom units and up, and the 4 bedroom units here range from the smallest size of 2,820 to 3,444 square feet.
The layout is actually very efficient, as there isn't the usual long entranceway or hallway here to speak of. Instead, all the 3 common bedrooms are set parallel to the living and dining, with the master bedroom set on the opposite side for a little more privacy.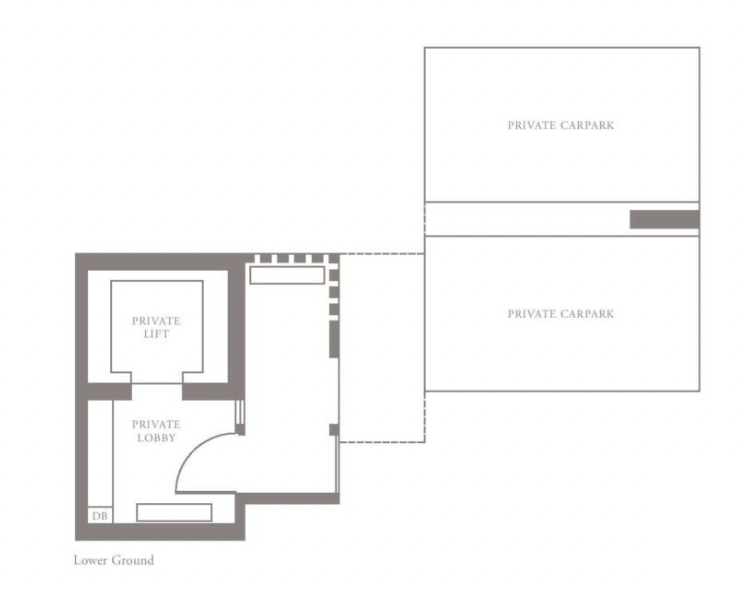 The private lobby and lift area will be part of your unit space as well, as with the dedicated 2 private car park lots.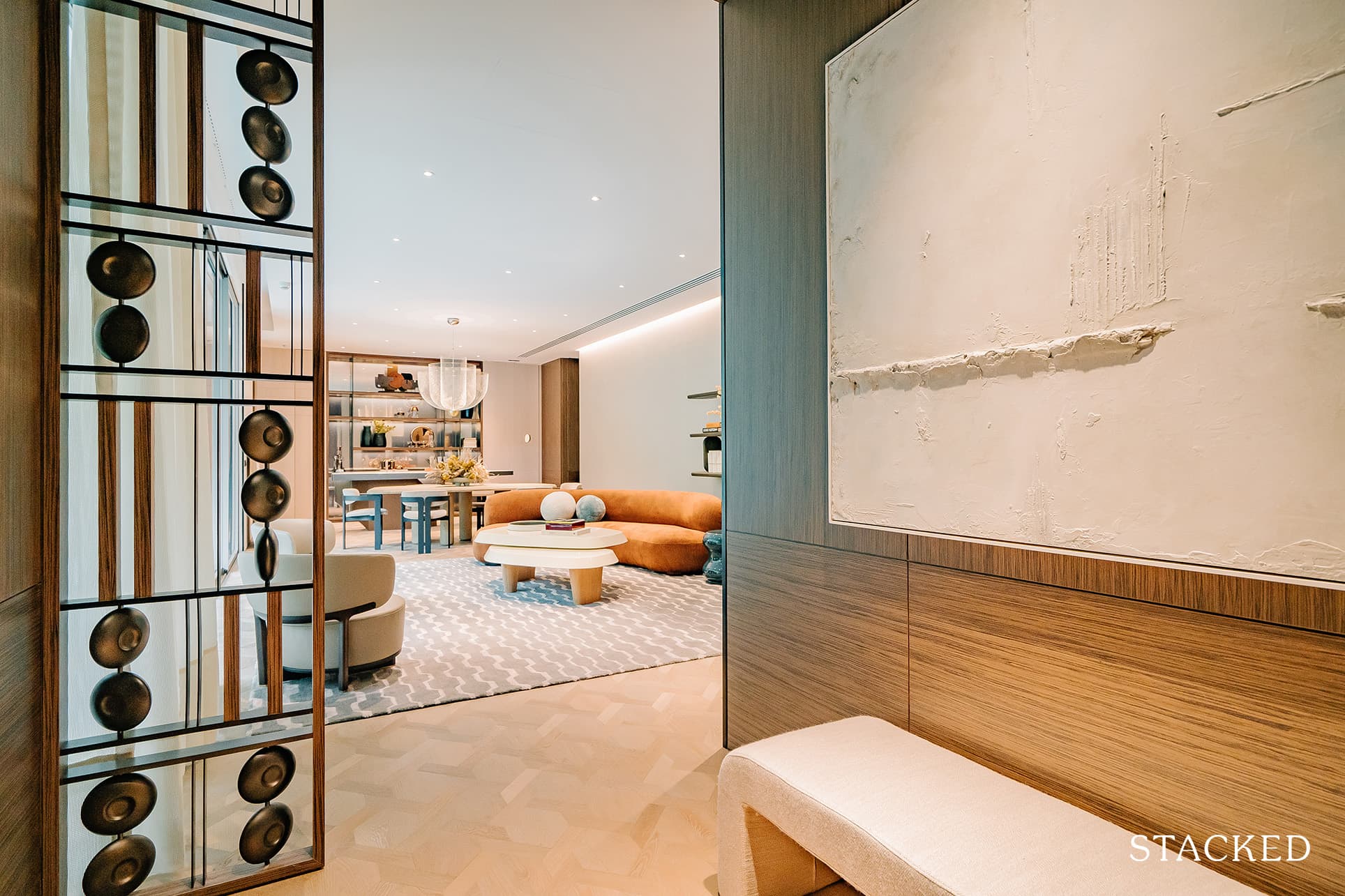 Most private lift lobbies will have a door of some sort for privacy and security, but given that you don't share this lift with anyone at all, there's no need for any such barrier here.
So once you step in, you are immediately treated to a view of the living and dining area.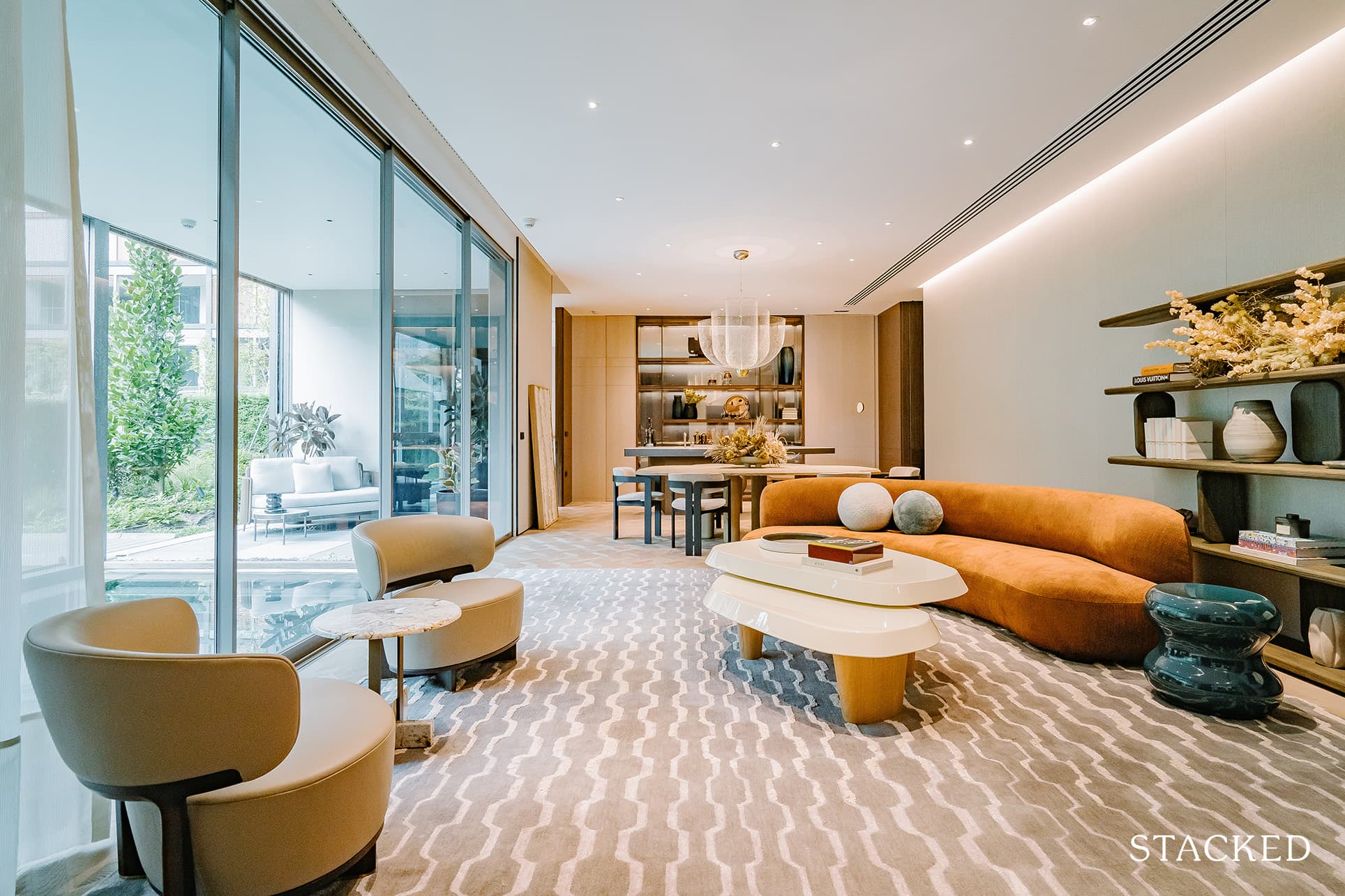 If you've seen our show flat tour (it's right below if you are interested), this 4 bedroom unit is bigger in size, but it also looks more spacious as the colour palette here is much brighter. Instead of the dark wood panellings by the side, it's now a light cream and the floor to ceiling balcony doors here really make a world of difference.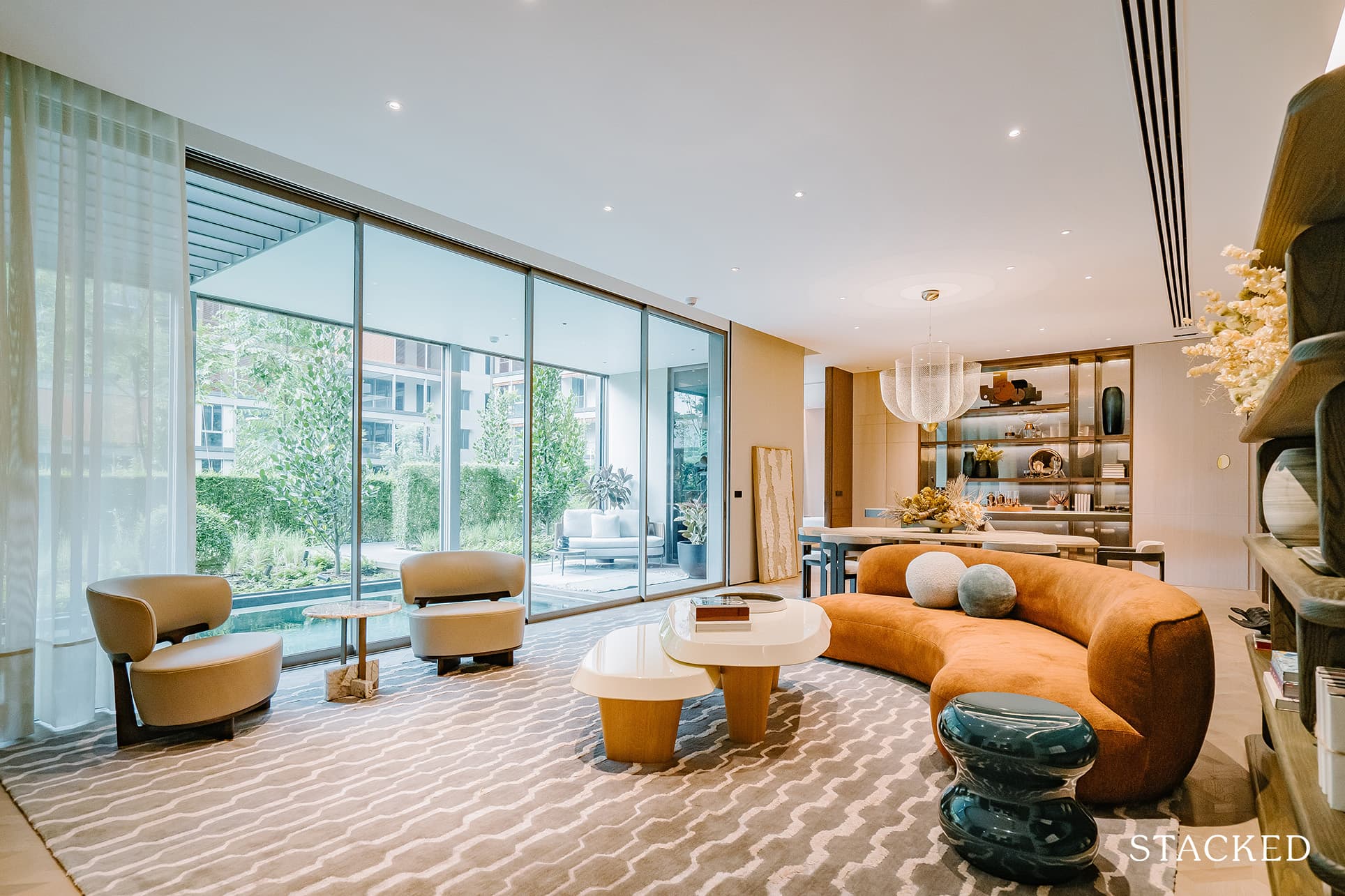 You can slide the balcony doors here for seamless access to the pool as well. The doors are really hefty too (like the ones at the clubhouse), which gives a great feeling of quality.
For those who are concerned about others looking in, you do have the garden hedges for some privacy, but the neat thing here is that you can also lower the privacy screens here if you want to take a dip in the pool undisturbed.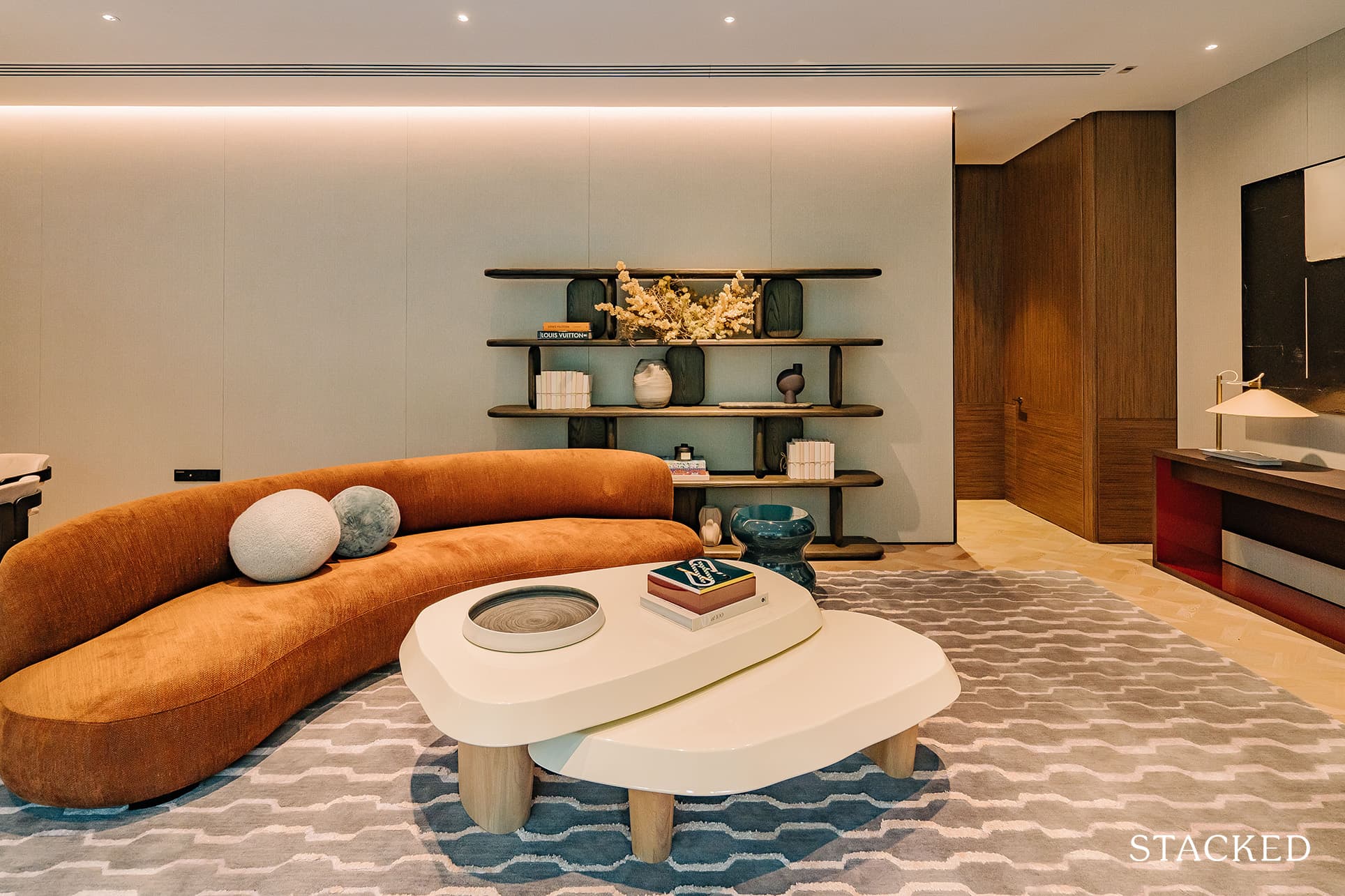 The living room is very wide (but also because it forms part of the walkway to the common bedrooms). I really like the design of the unit too, the colours, textures and the varying patterns on the carpet in the living all come together harmoniously.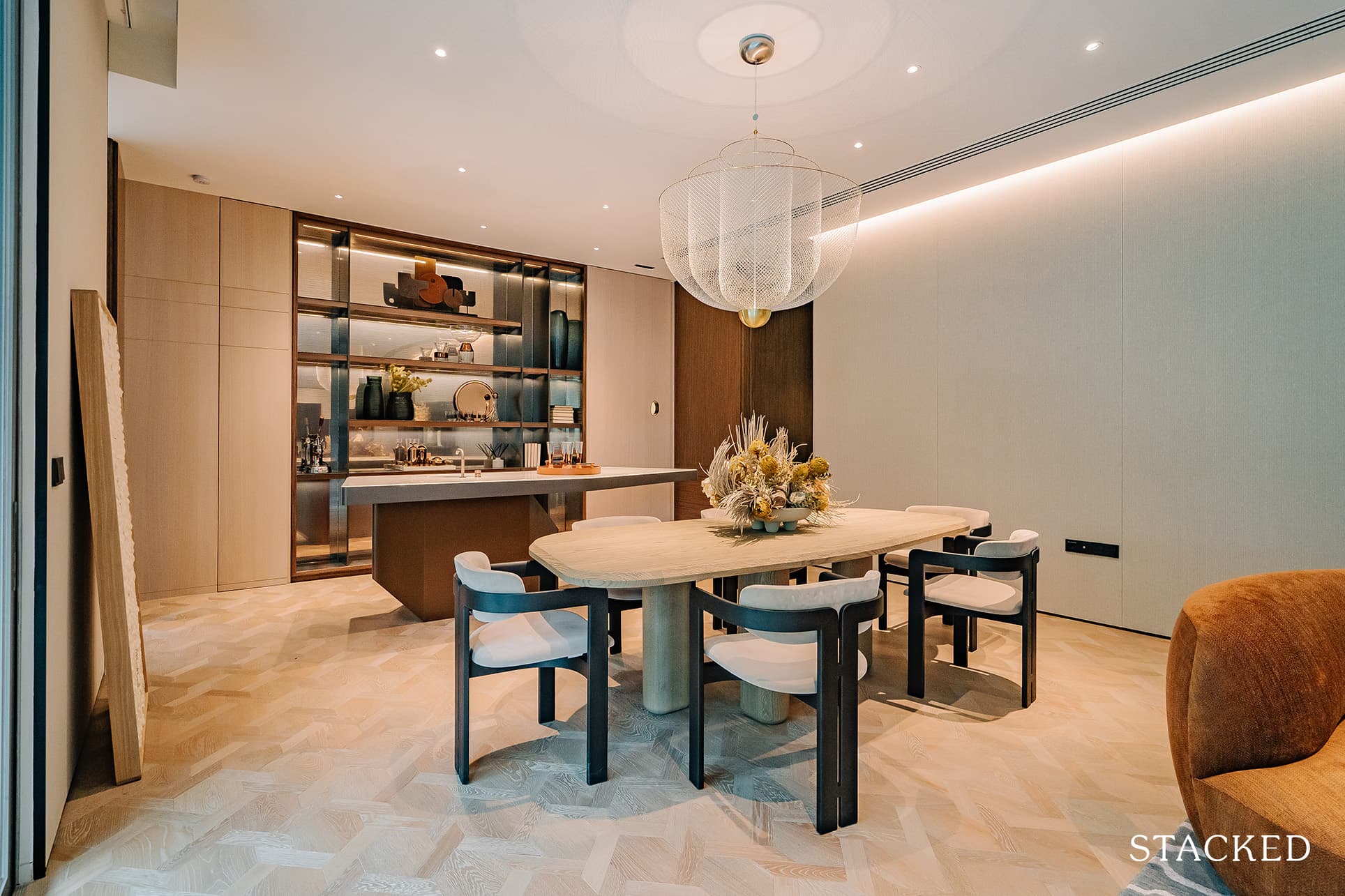 Next to the living is the dining area. Shown here is a dining table that can seat 6 people very spaciously, but you can also fit in a bigger 8, or even 10 seater adequately.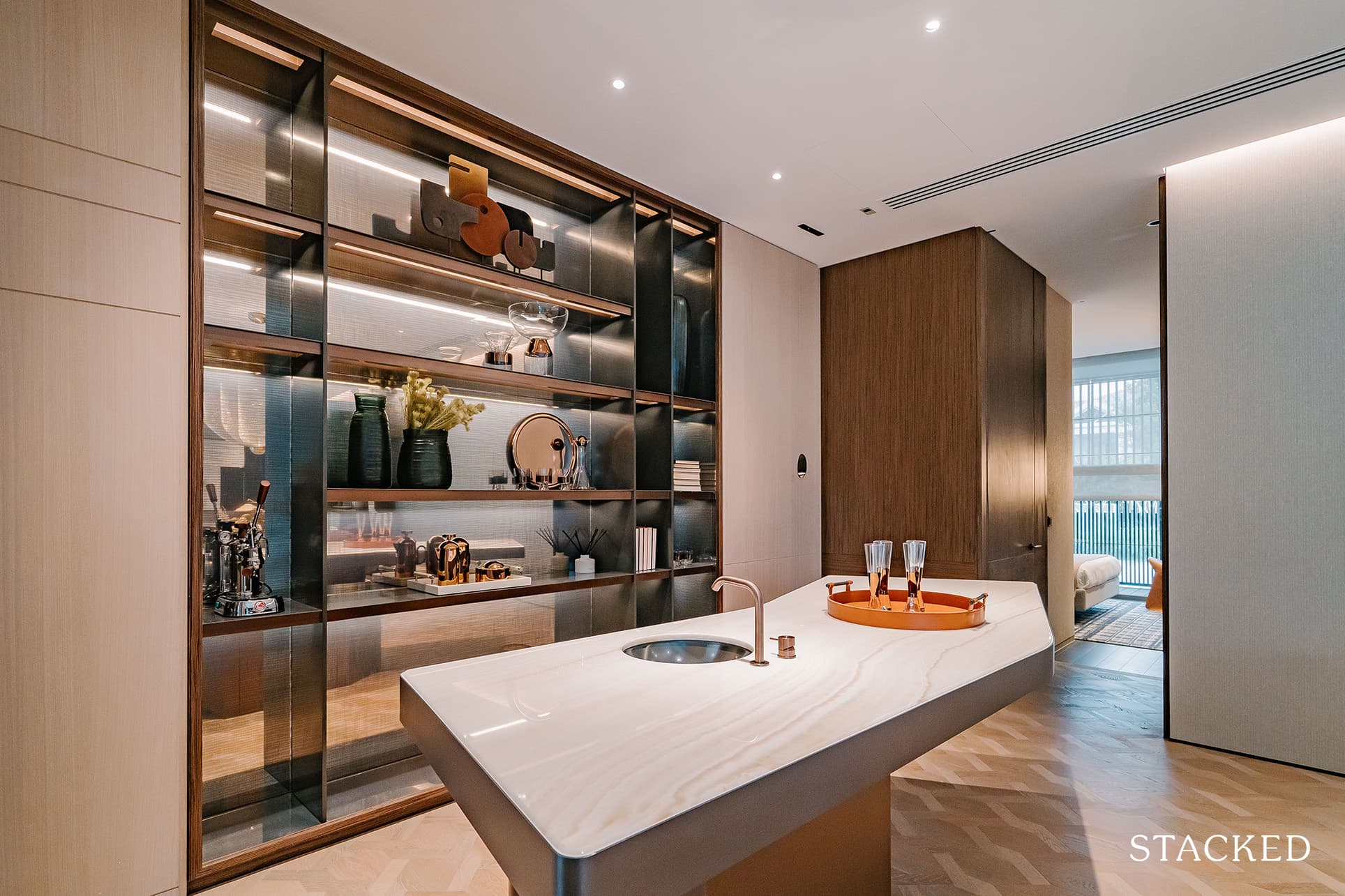 There's even additional space here too to fit in a kitchen island. The one here is a very svelte shape, which is a great fit that goes with the curvature of the dining table and the couch.
I suppose given the kitchen is decently sized for most needs, having an island here probably would be better suited as a bar counter instead.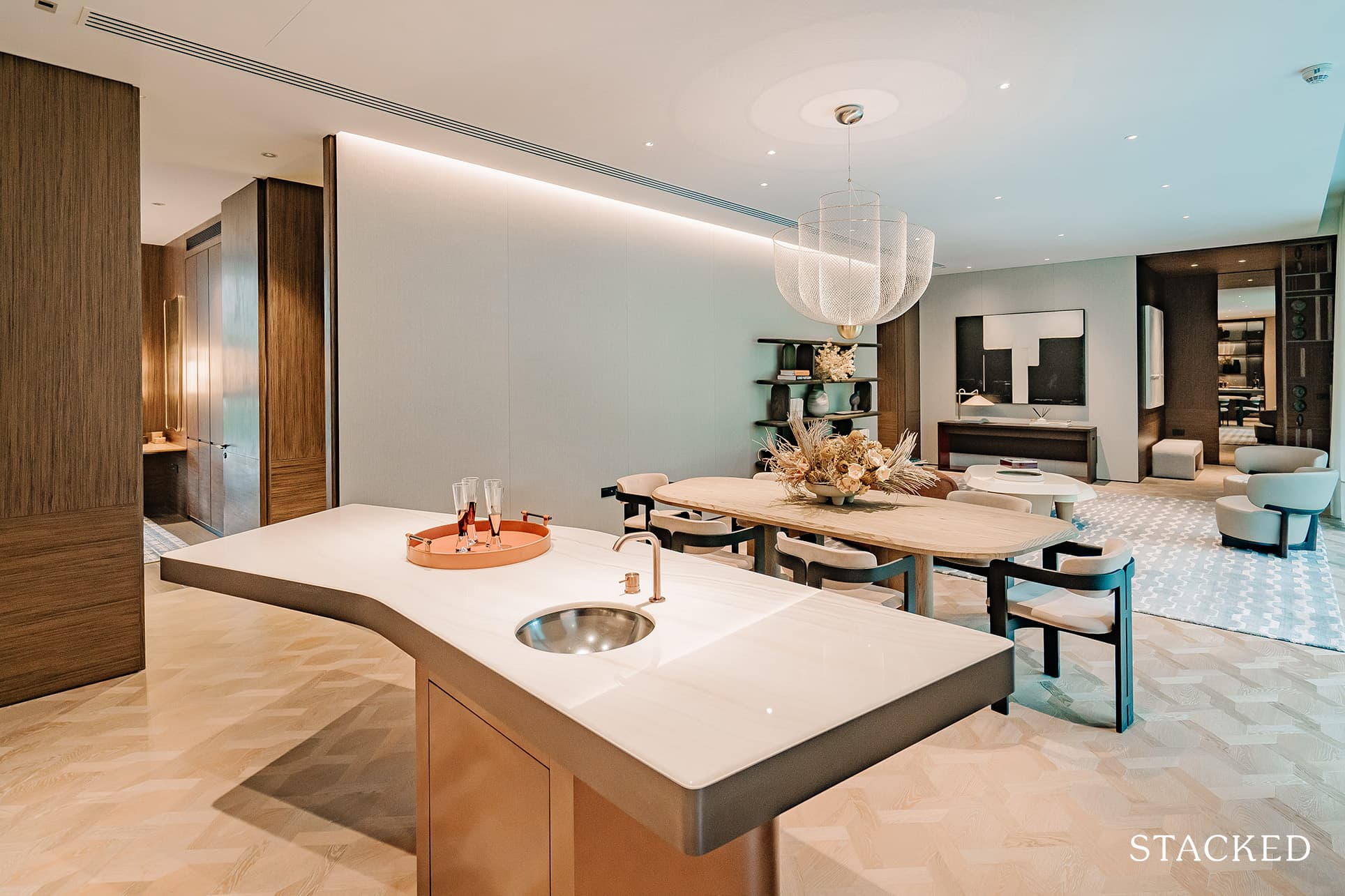 As you can see from here, the 6-seater dining table looks almost too small for the space! If you don't see a need for an island here, the dining and living space can be even bigger as well.
Of course, the higher than average 3m ceiling height also plays a part in the expansive feeling here.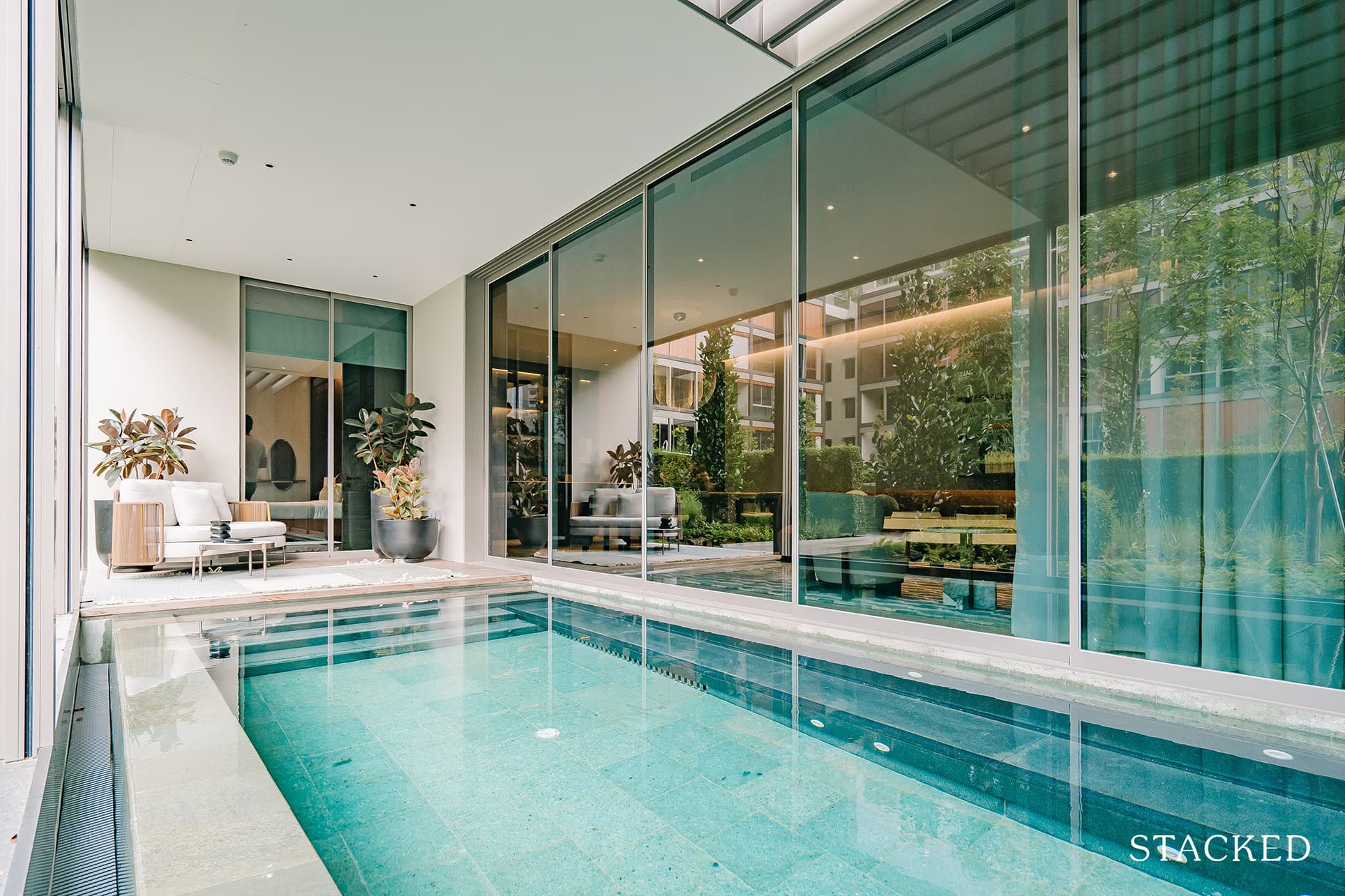 Only the ground floor units here have a private pool by the living. Depending on the time of day, you aren't going to see much sunlight here. So if you are the sort that fears a cold pool, this would probably not be ideal for you.
What's worth noting here is that there would be 2 layers of blinds that come with the unit. One is the outer Venetian blinds, and the other allows you to have the air-conditioning on while still enjoying the outdoor space.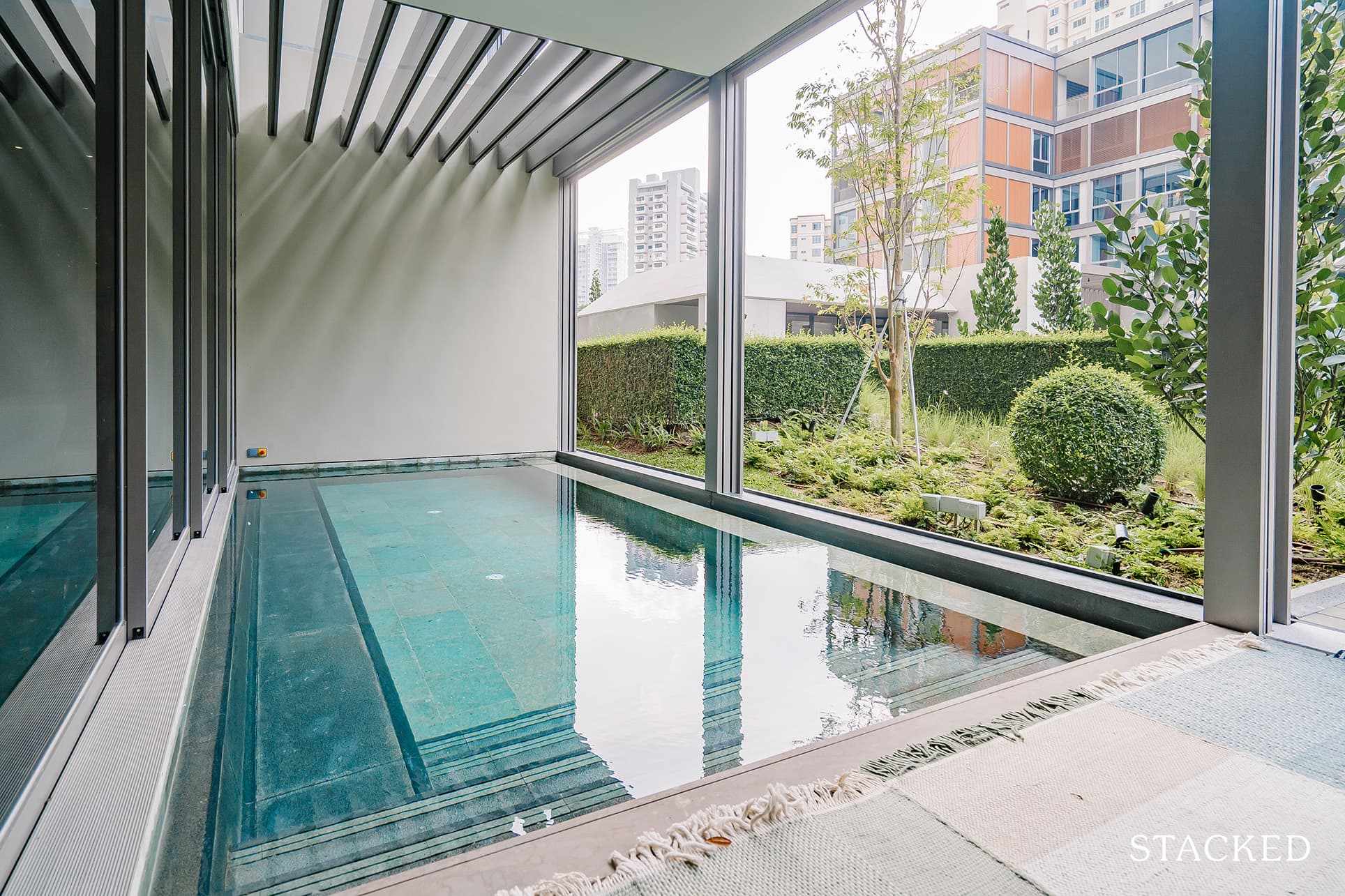 Even if you don't use it as much as you might think, it's always nice to chill by a body of water. You can think of it as a very expensive water feature by the living room, if you will.
Also with the way the garden on the outside is laid out, it does almost feel like an extension of your own private garden, which I'm sure is part of the attraction for those coming from landed properties.
Do note though, that the units above have void areas that look into the pool below.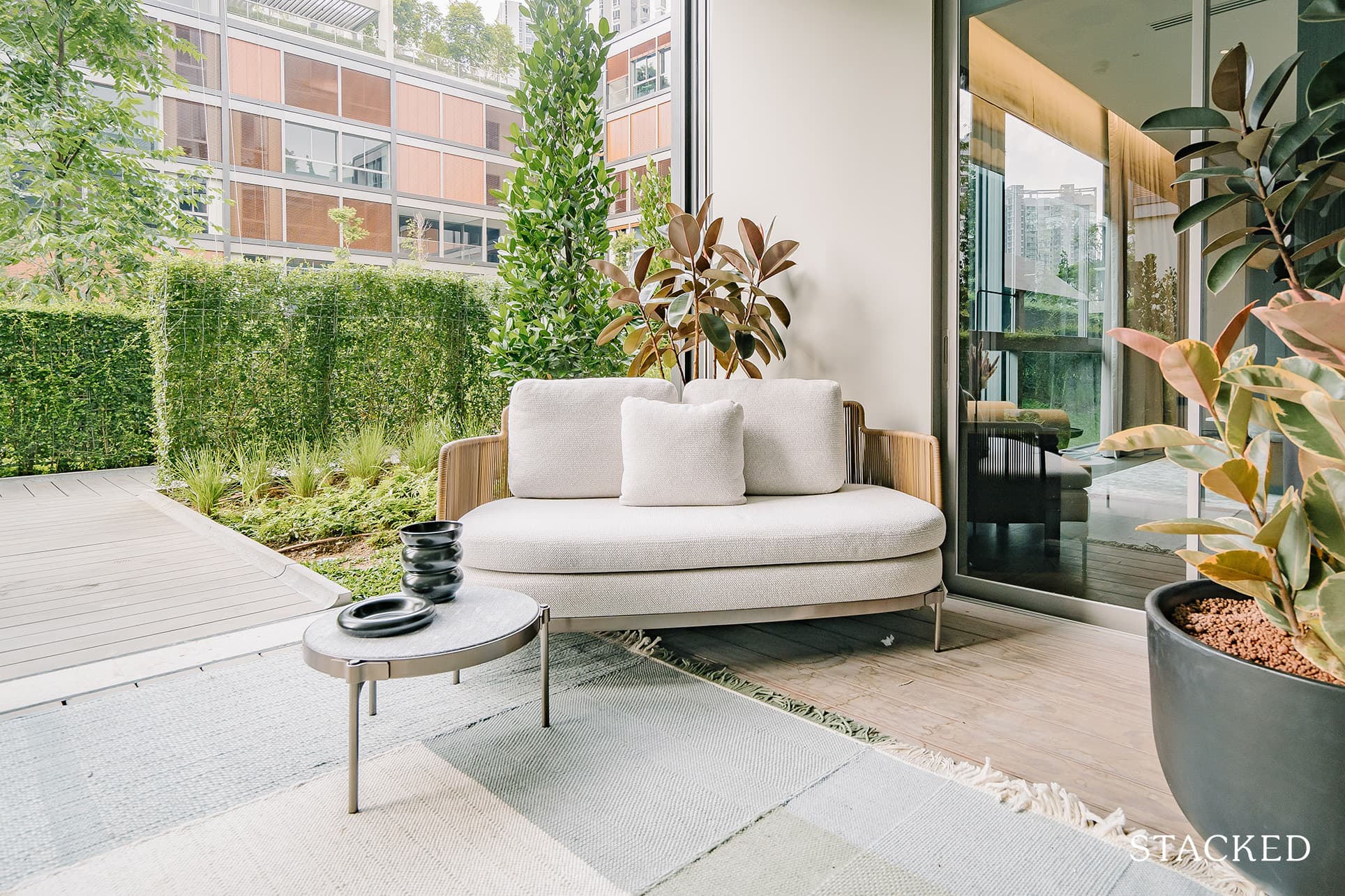 There is also enough space by the side of the pool for additional lounge seating. From here, you can see the seamless access to the outdoor areas as well.
You can also get to the balcony directly from the master bedroom via the side glass doors.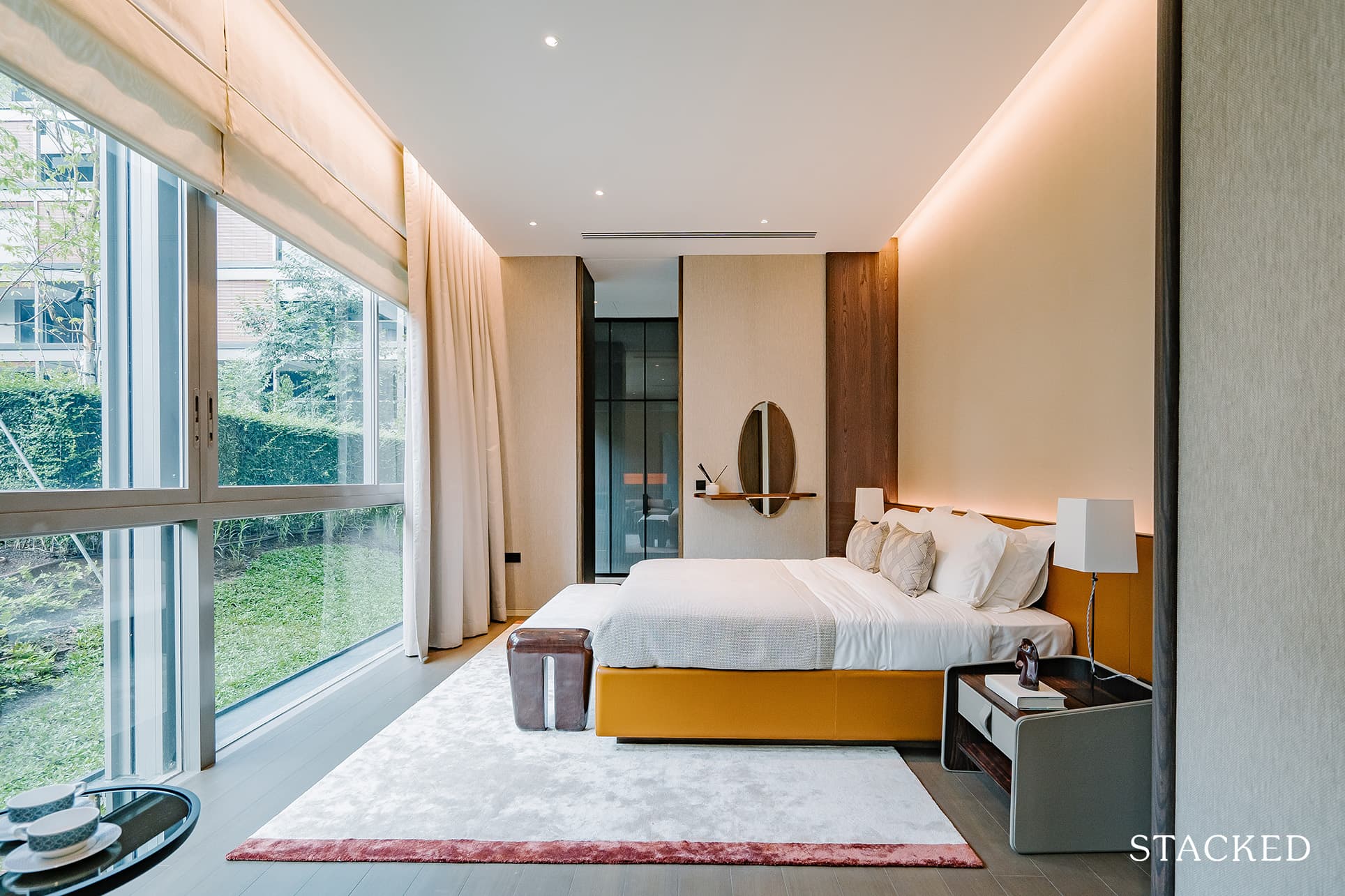 As you may expect, the master bedroom is extremely large. Even with a king-sized bed, the amount of space that you have to walk around the room is unparalleled.
The master bedroom has the same facing as the pool/balcony, which some people may not take a fancy to. On one hand, you can wake up to nice green views, but on the other, units on the higher floors can look into your bedroom should you keep the privacy drapes open.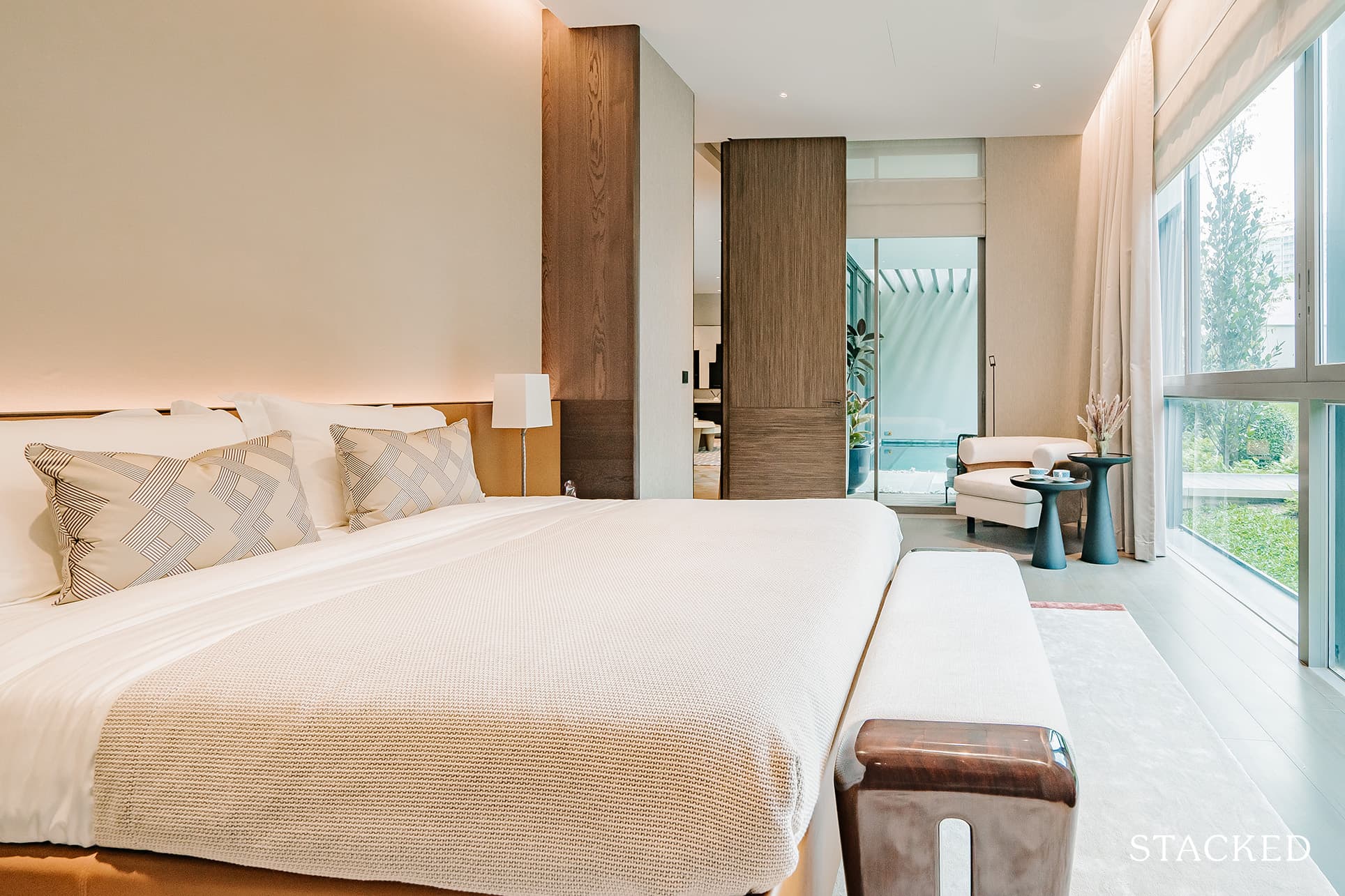 Still, there's no discounting the fact that the floor to ceiling windows are able to let a ton of light in. It makes the space so much brighter, and it really allows that luxuriousness of space to be that much more apparent.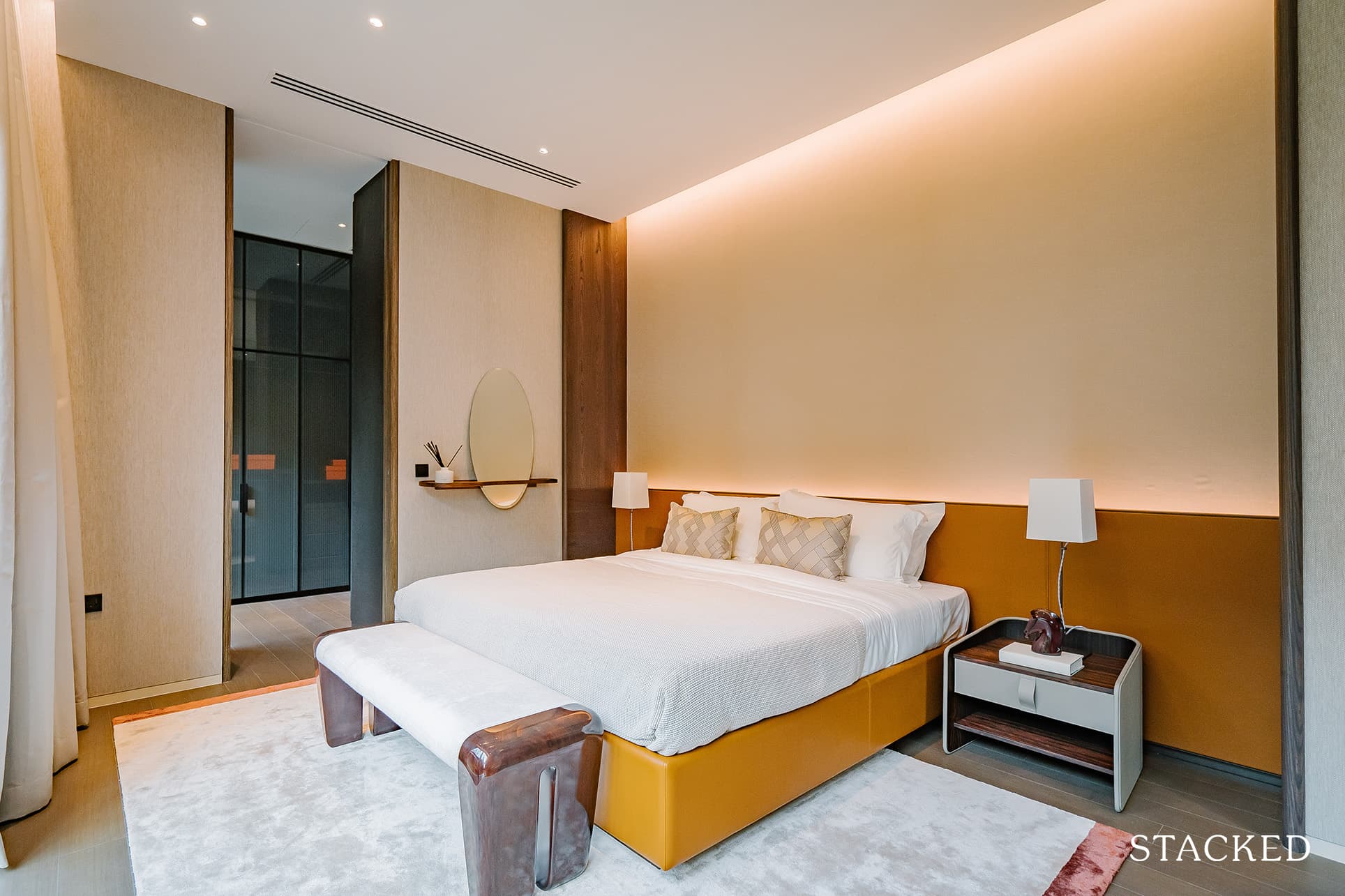 Instead of an armchair by the corner, you could also place a small study table too, to use as a working area instead.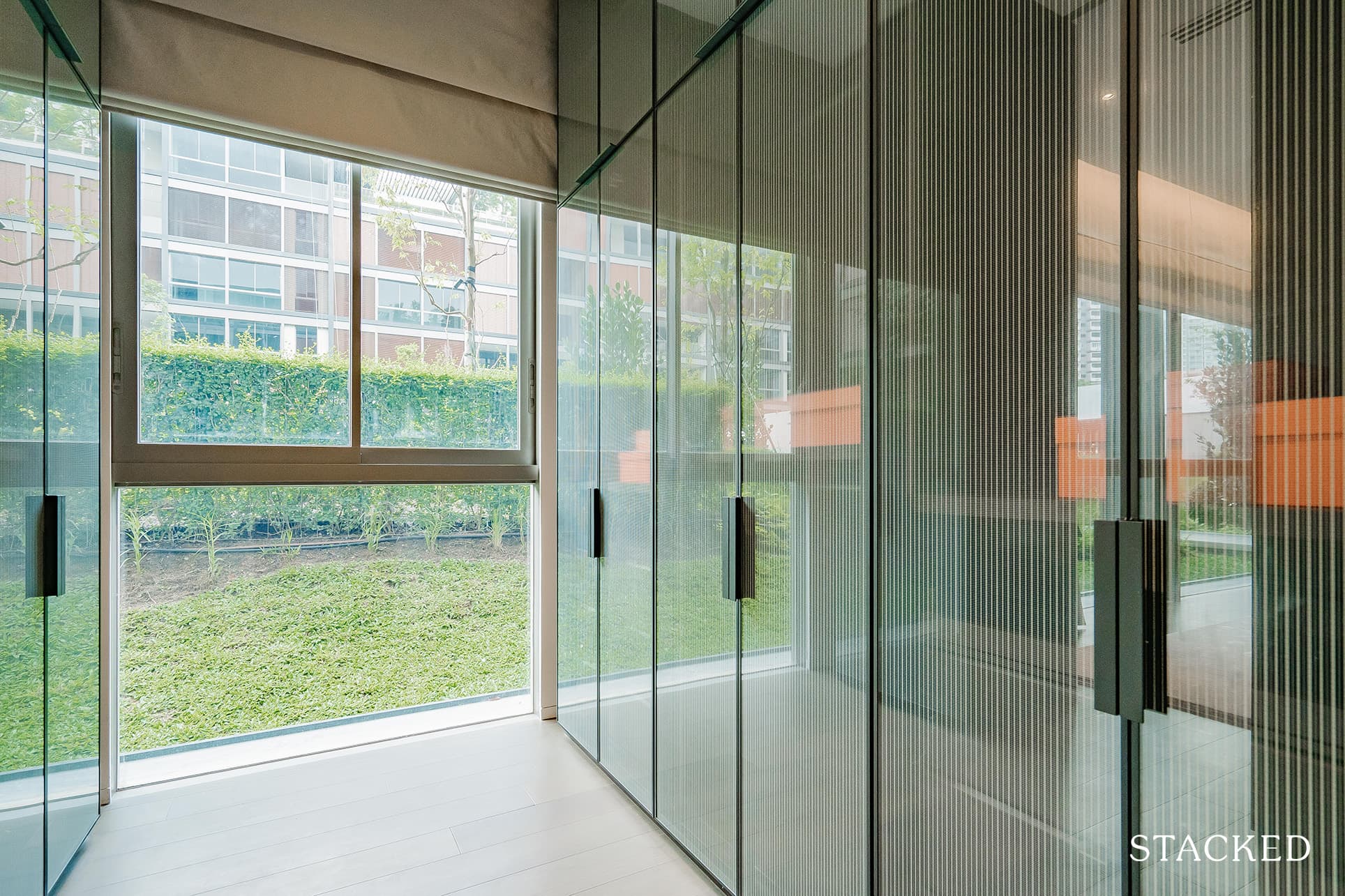 And needless to say, the master bedroom will come with all the bells and whistles that you'd expect from a luxury unit. Here's a sizeable walk-in wardrobe, with ample storage on both sides of the space.
Although I would add that while the amount of storage here is definitely more than the average new launch today, it might still not be enough for the type of clientele looking at these units. You might have to look into building more storage spaces in the bedroom instead.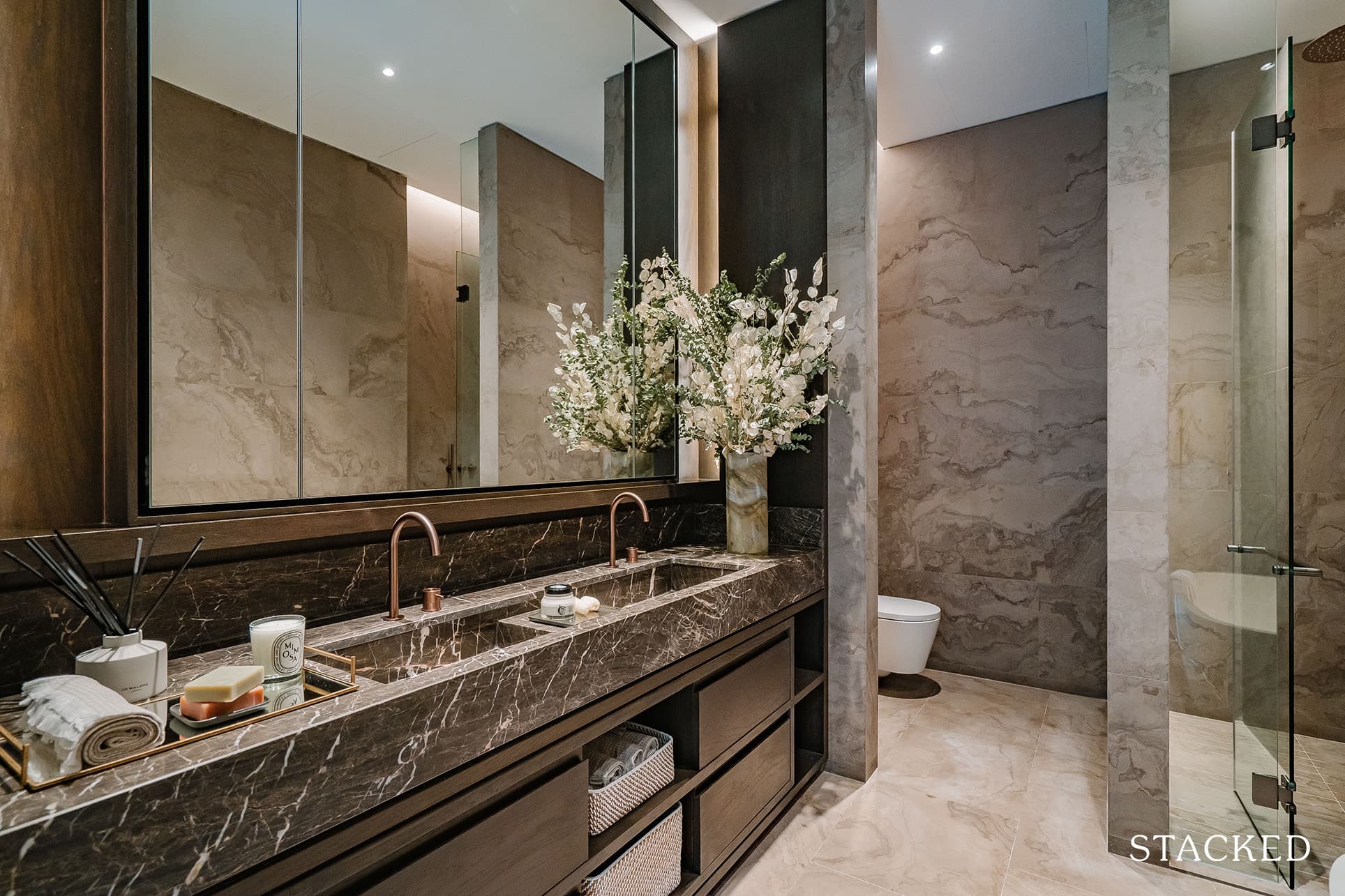 The master bathroom is a luxurious affair, and I especially like the bronze accents of the bathroom fittings on the his and hers sinks.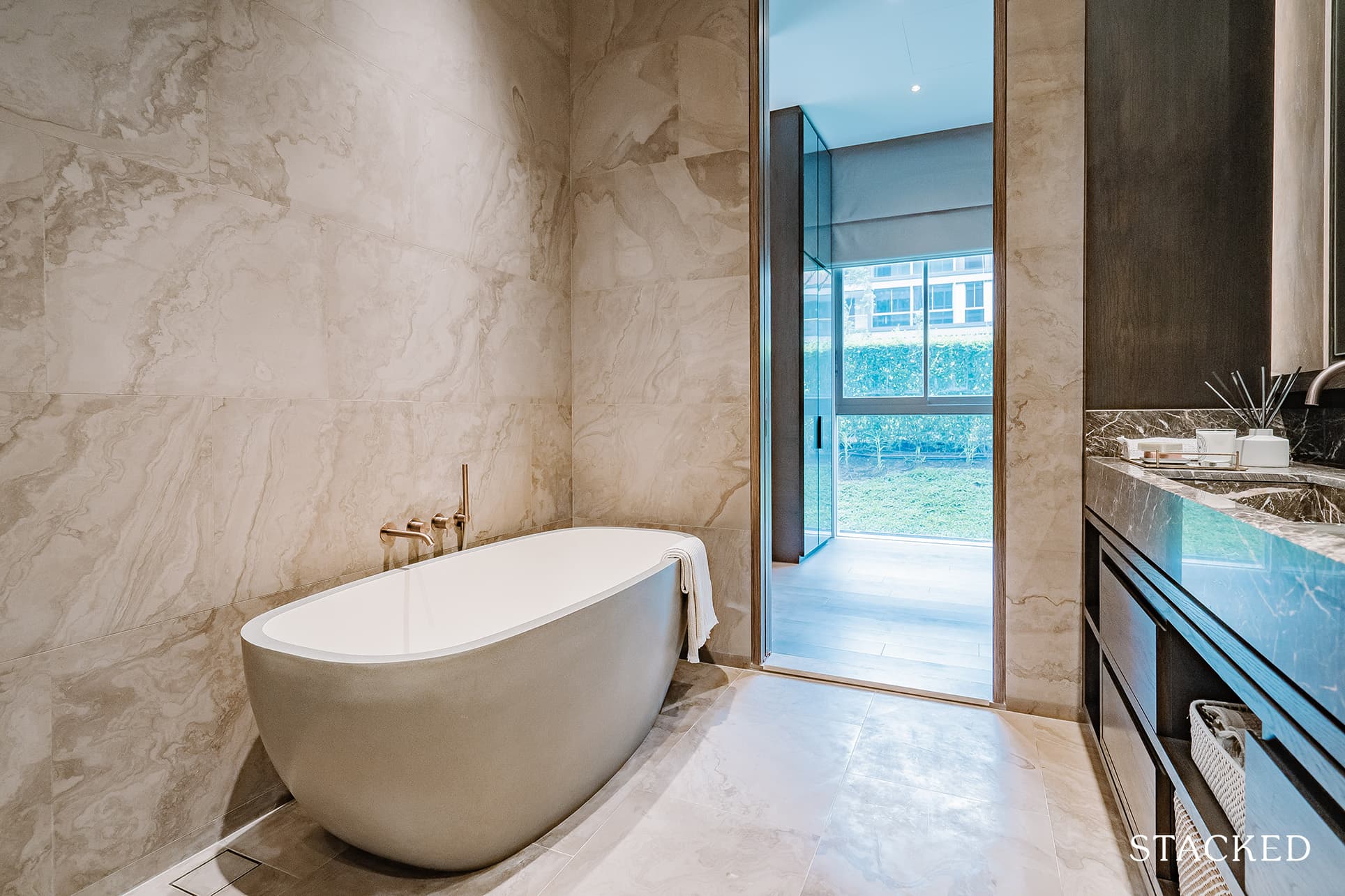 Like the one shown in the show flat, the bathtub is a little on the small side, but it is quite a deep one as well.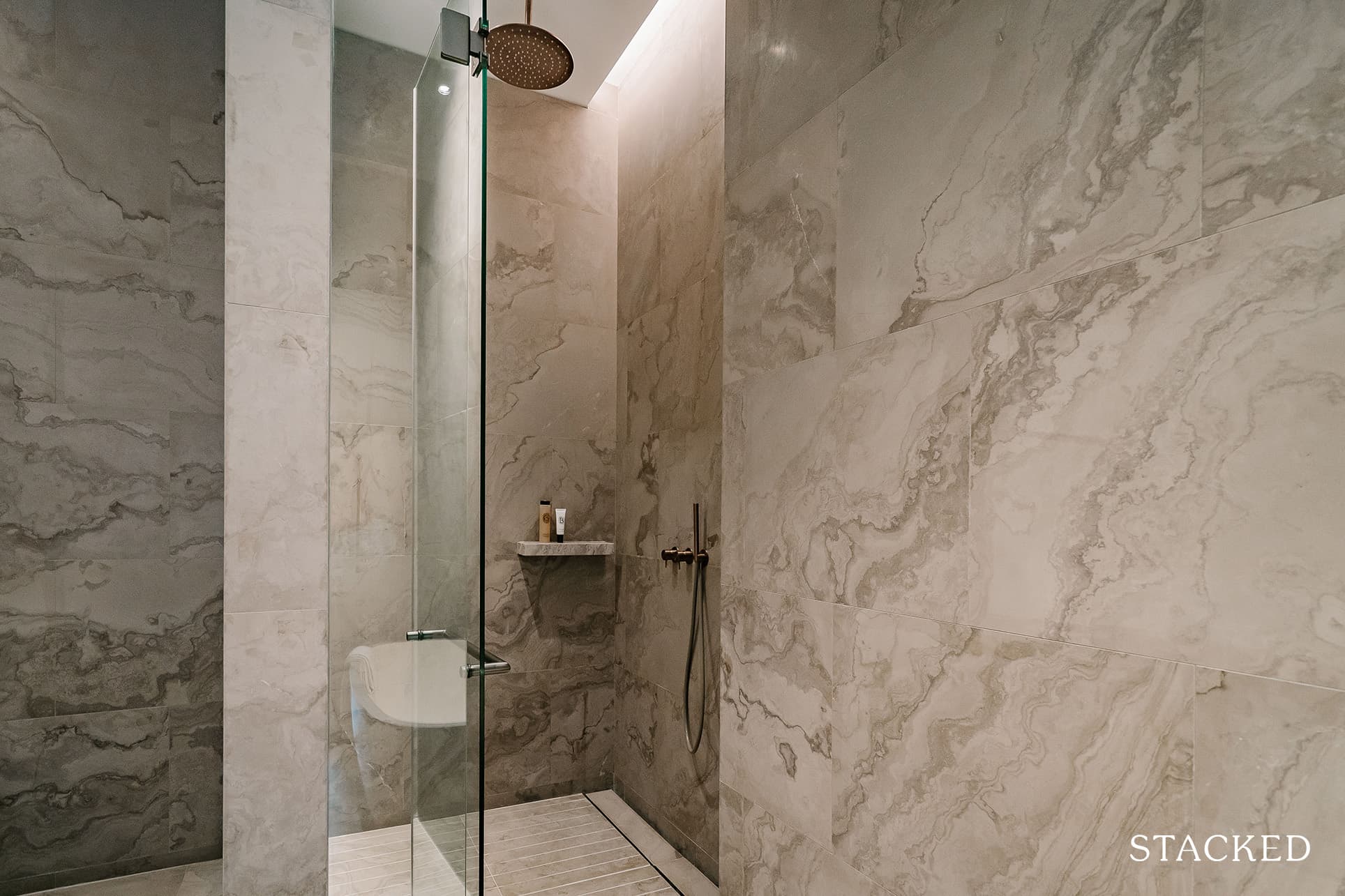 You do also have a standing shower area, that comes complete with a rain shower. There's no window here though, which is less ideal (although you can open up the one in the walk-in wardrobe).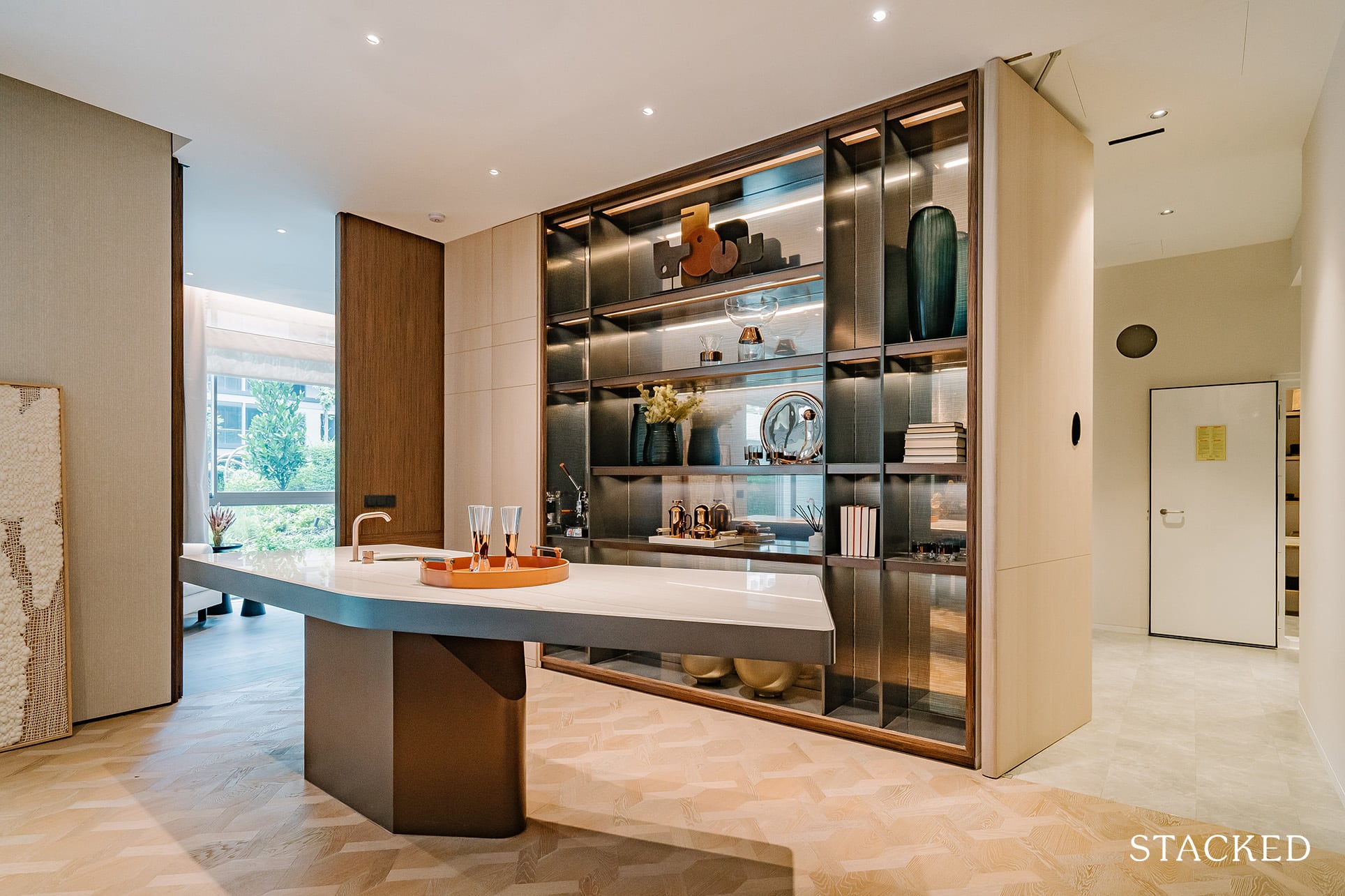 Let's head to the kitchen next. You might have missed the entrance when you first walked in, as it is quite seamlessly hidden by a very large door panel at the end of the living/dining area. It swings open when it senses you are nearby, which is actually very practical and useful – especially when you are coming out of the kitchen with your hands full.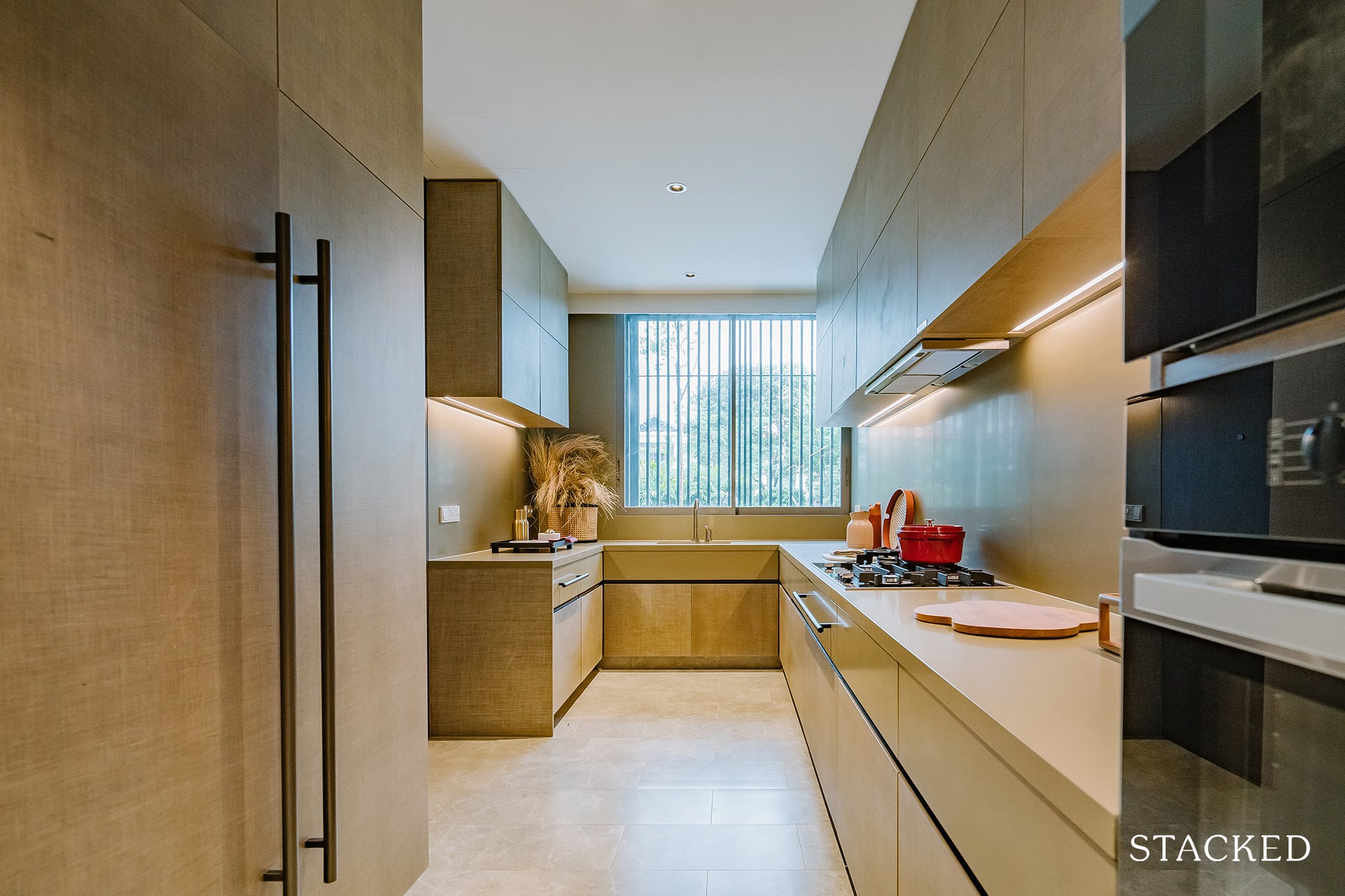 For me personally, the kitchen is the least impressive part of the house. It's probably more that it looks kinda ordinary in comparison, than it is bad. I guess it does speak a lot, considering most people would certainly find it good enough.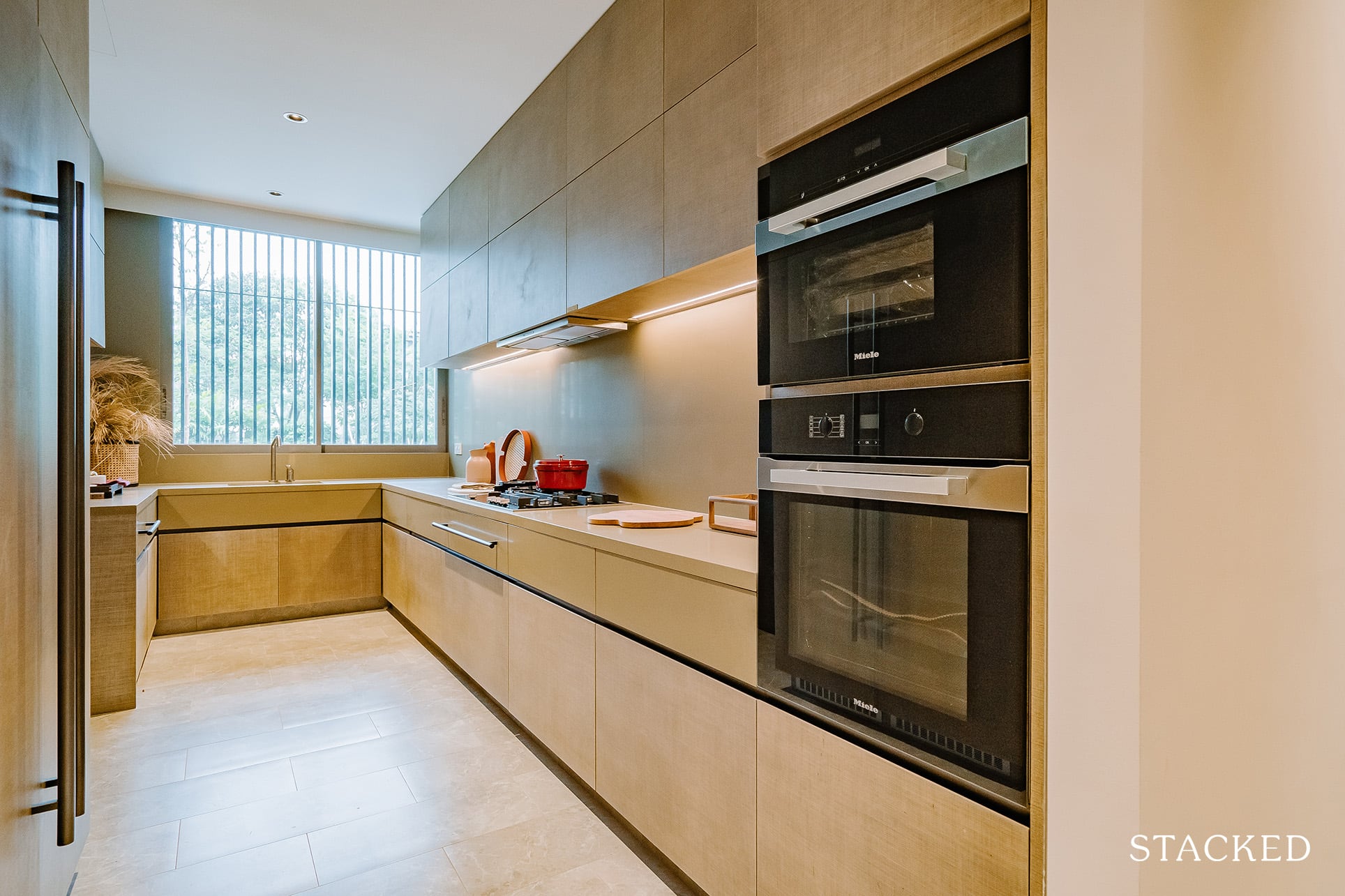 Looks aside, it's definitely big enough for multiple people to be in here prepping and cooking. You also have a lot of storage space, so there shouldn't be too many worries on that end.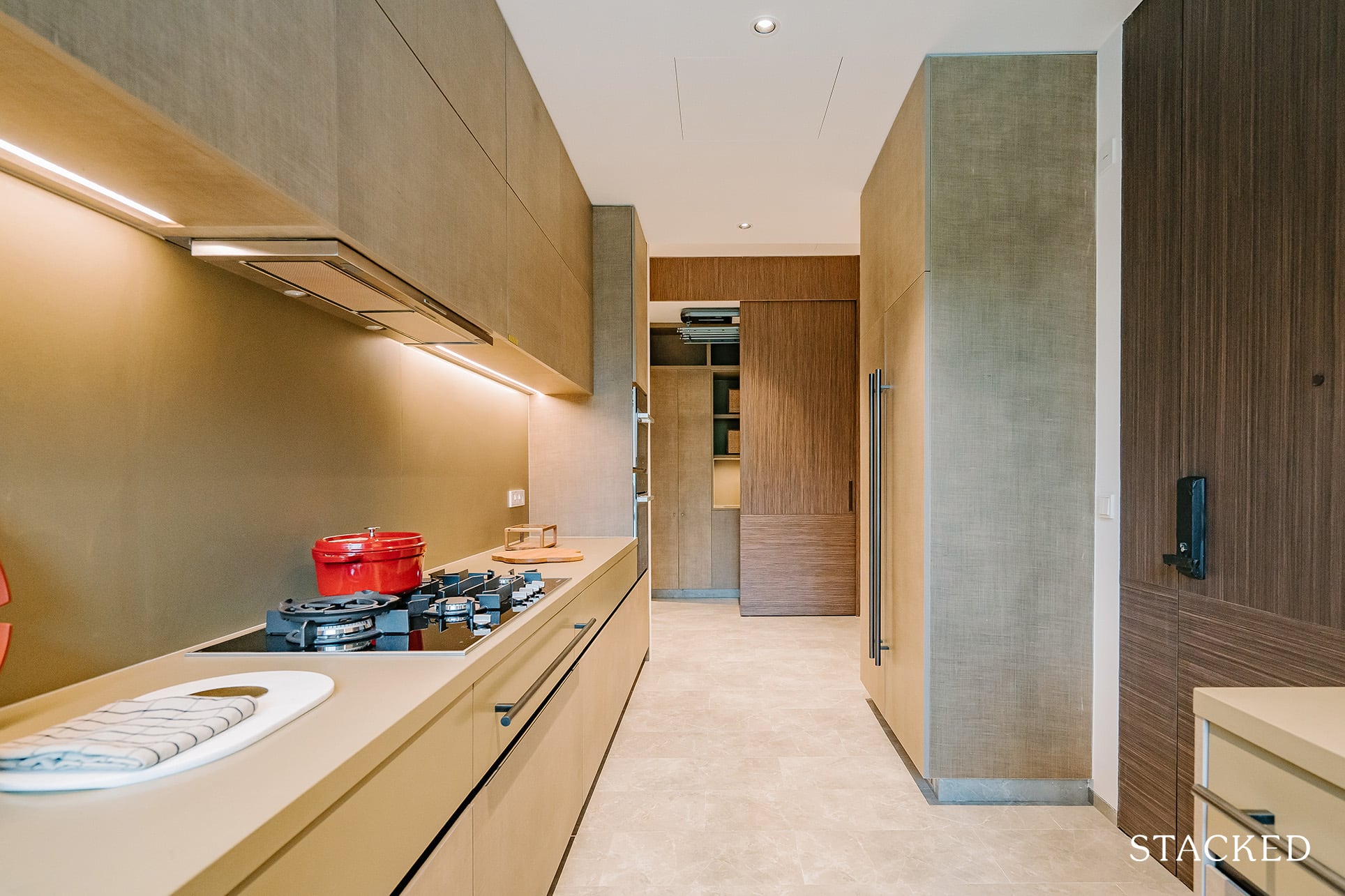 The second entrance/exit is located here, which is where you'd usually receive your deliveries from. By the side of the door is the big fridge – all the kitchen appliances here are from Miele, a typical brand of choice for high-end apartments.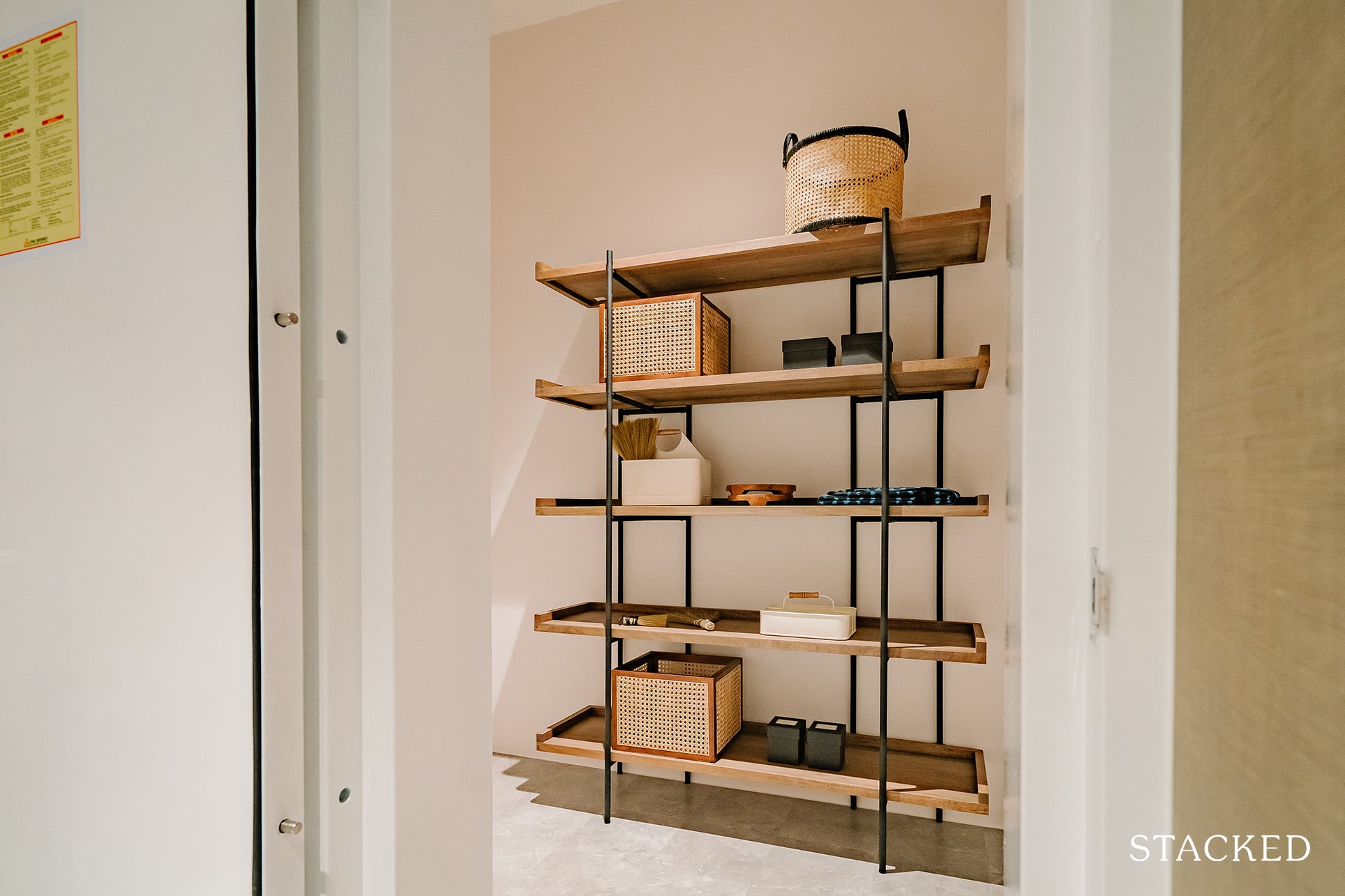 By the other side of the fridge is the household shelter, which can be used for additional storage. With most 4 bedroom units though, this would likely be turned into a room for your helper.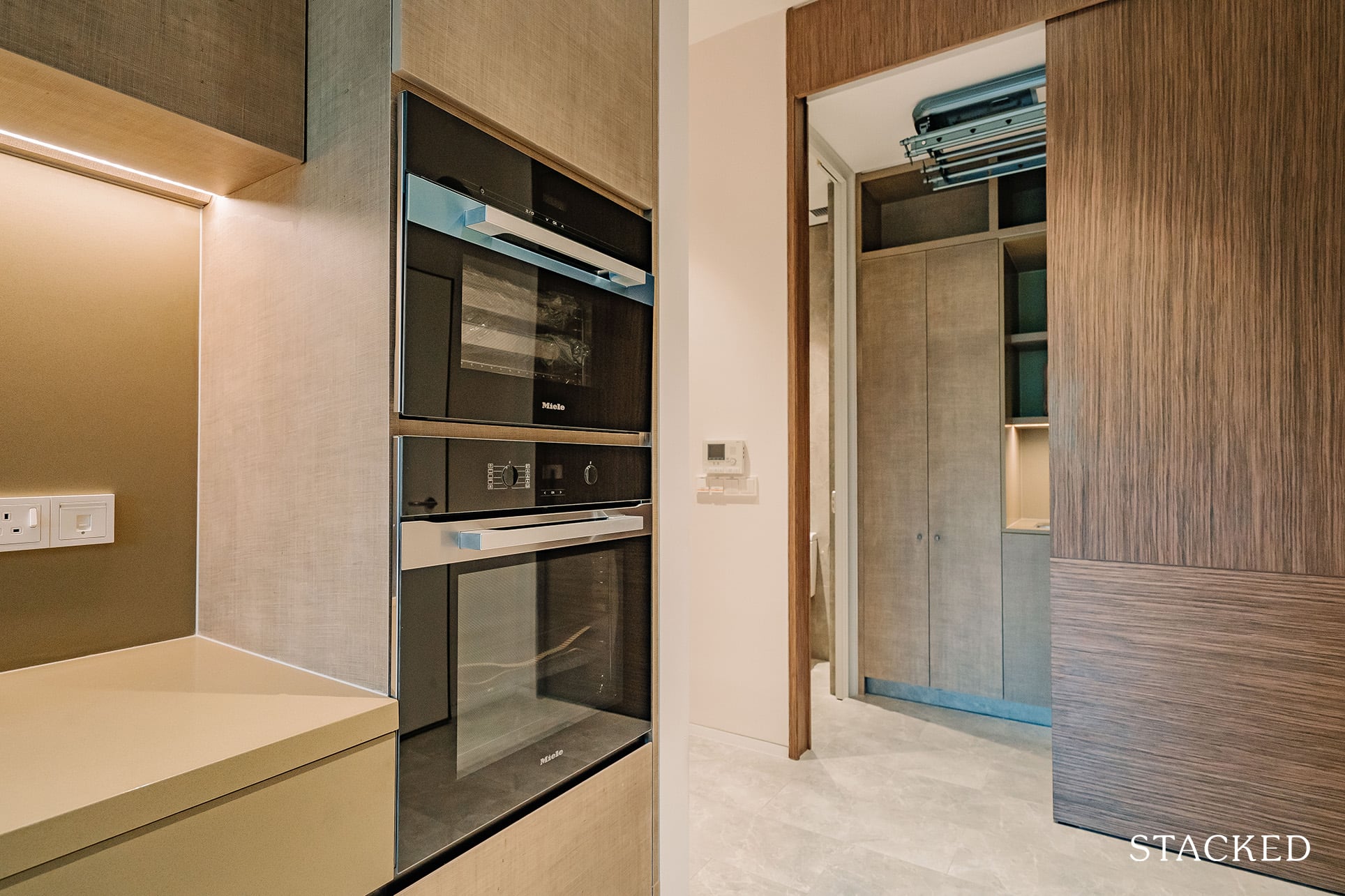 Last but not least, is the yard area. This is actually located by the main entrance to the kitchen (on your left). It can be kept hidden away with a sliding wooden door, if you want the place to look spick and span.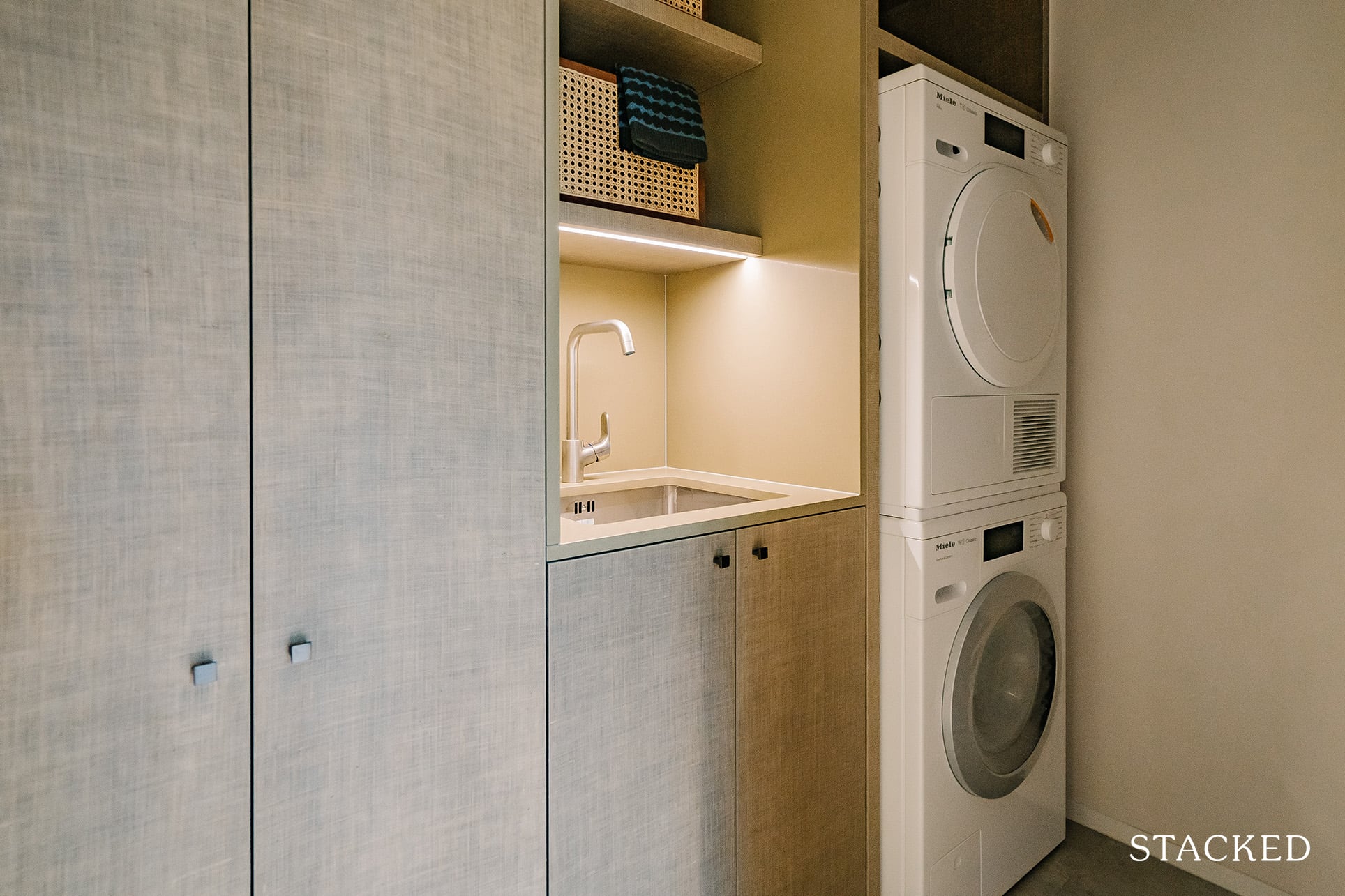 The yard area contains more storage compartments, a sink, washer and dryer (by Miele), and a WC. For those who always have practicality at the top of their mind, you'd probably notice that there isn't a window here, which is less ideal if you'd like to dry your clothes naturally. But to mitigate that, the developers have thoughtfully added an overhanging laundry system from Steigen that has a special solar heater.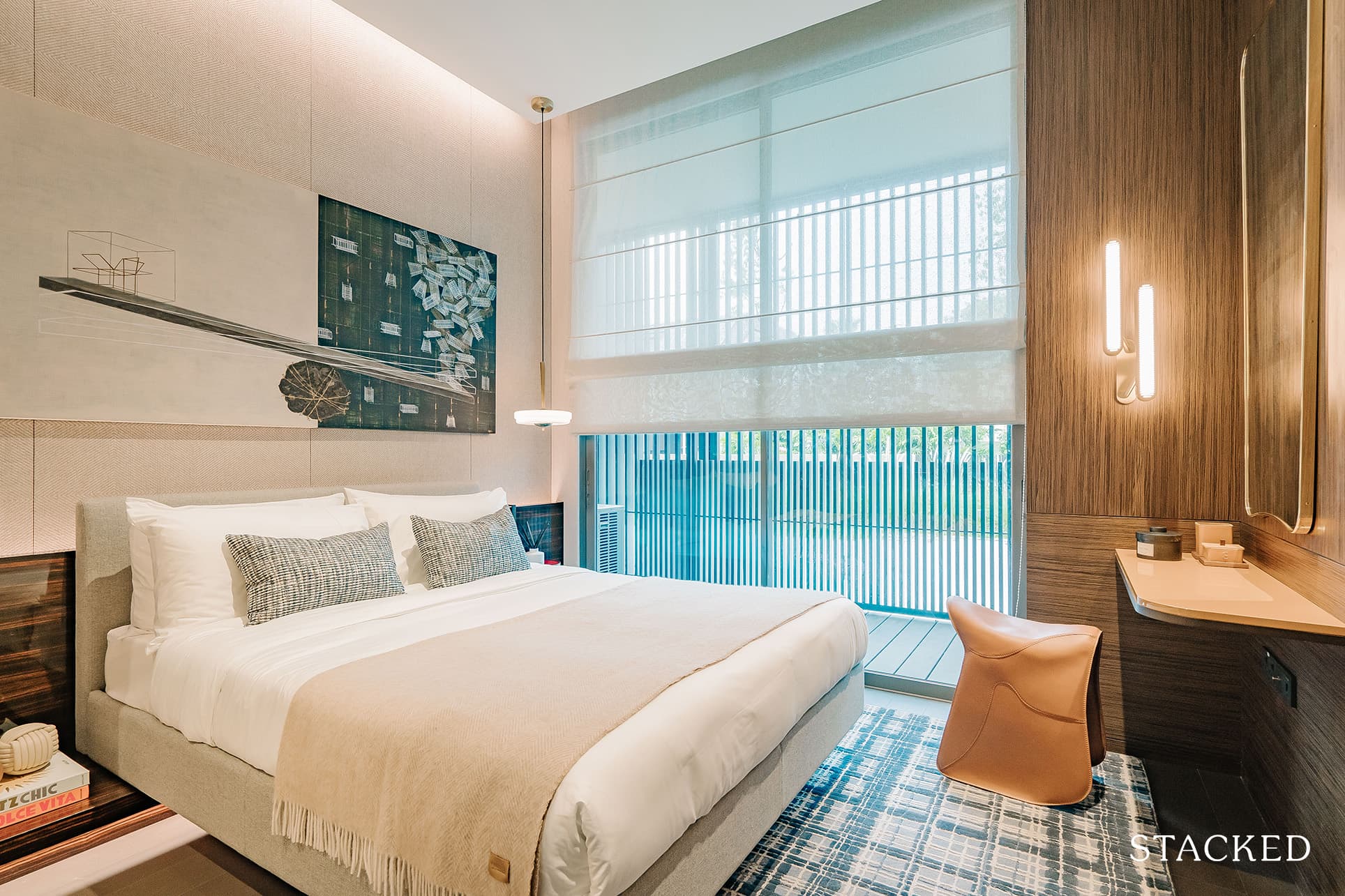 Next up, are the common bedrooms. It's a bit hard to explain in words but take a look at the floor plan and you'd see what I mean.
There are actually only 2 doors located by the living/dining that leads to the 3 common bedrooms. They have a private foyer of sorts before you get to the bedrooms, which does help with further sound insulation.
You also don't have windows that span the entire length of the room, as the AC ledge is on the outside of each bedroom. In general, with the low-lying nature of Meyer House, views on the outside circumference of the estate aren't much to speak about.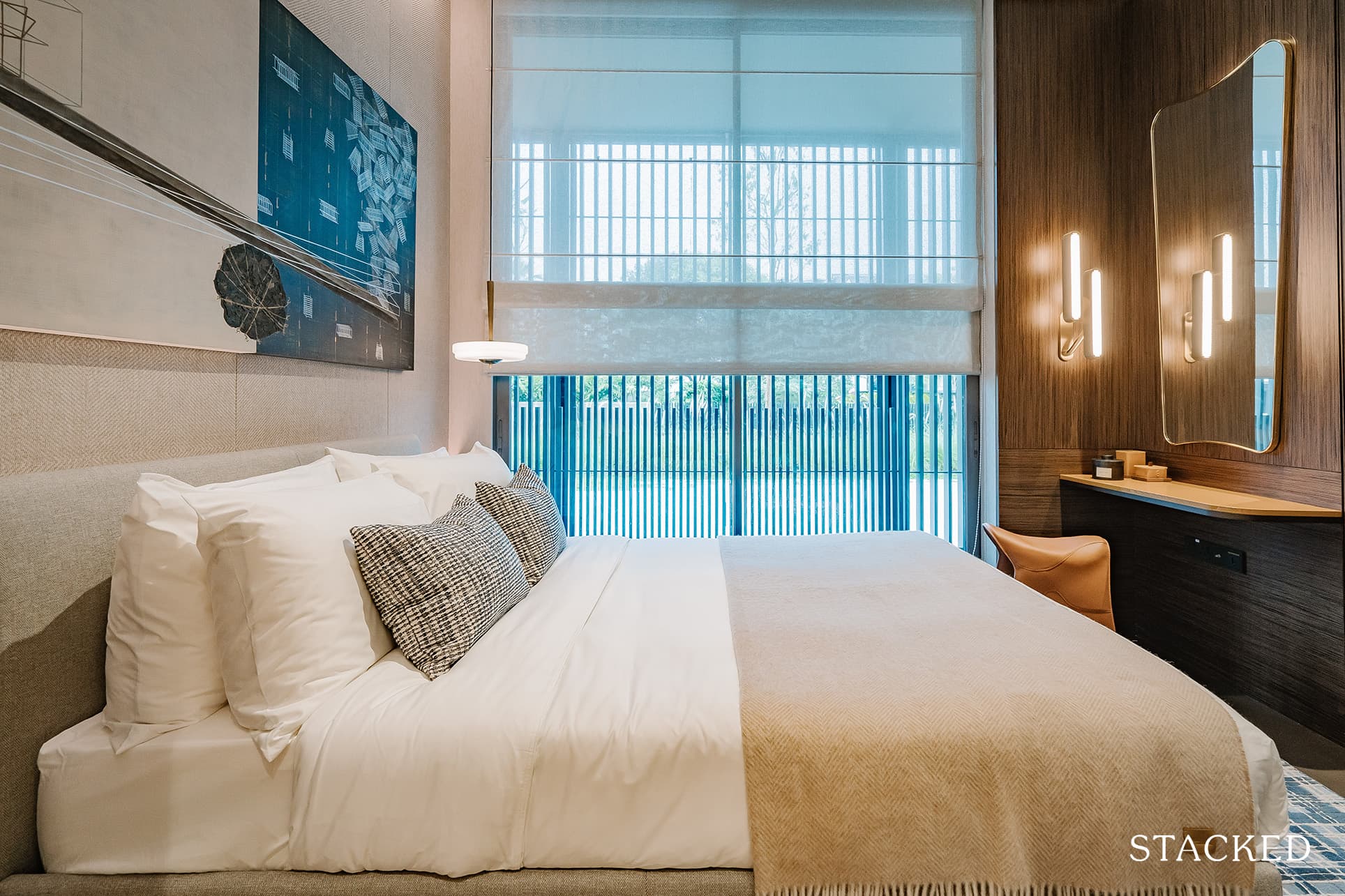 The common bedrooms aren't as impressive in size as the master bedroom, but are still more than decent when compared to today's new launches.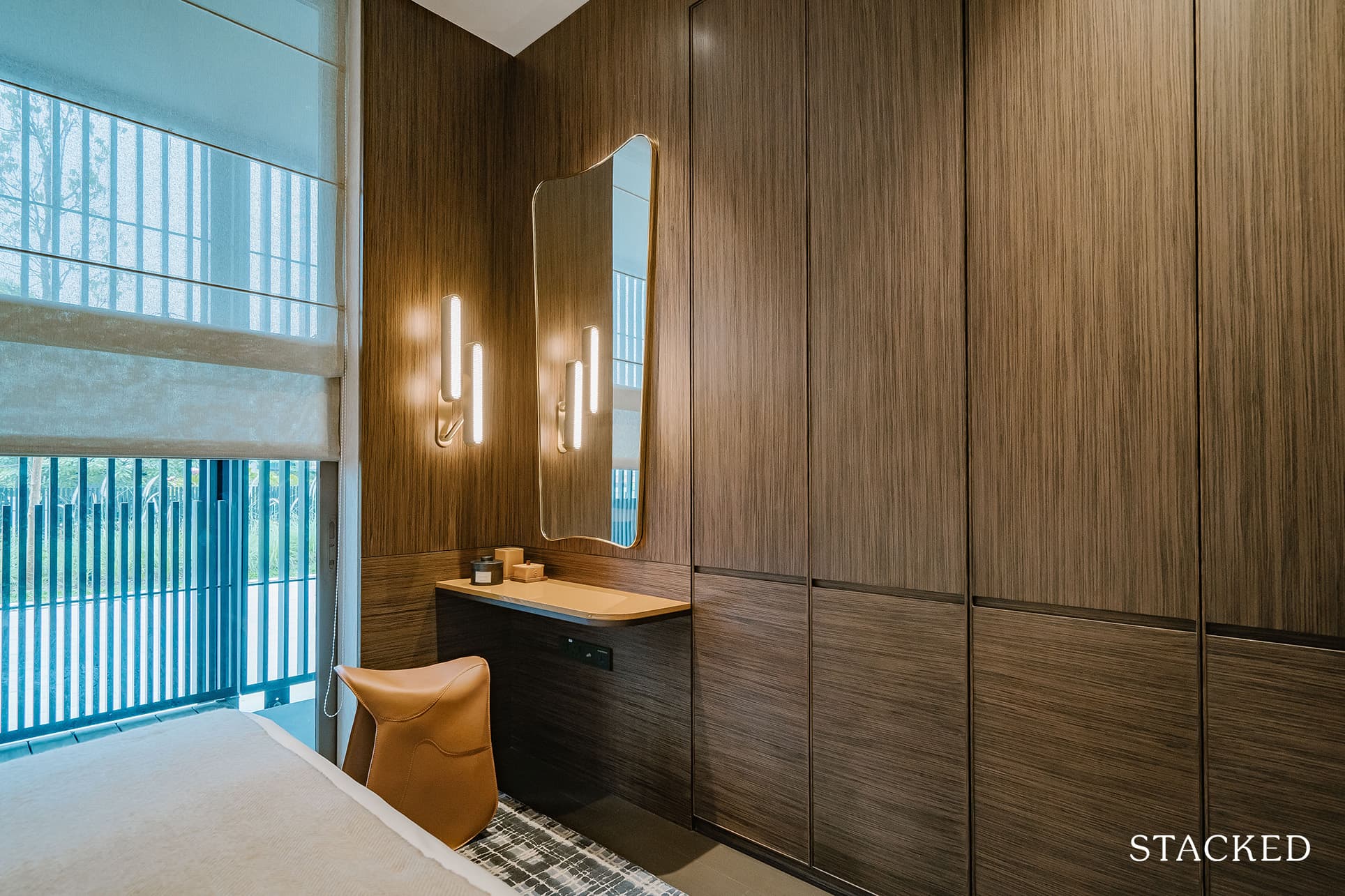 As shown, there's still space by the corner of the room for a small dresser. And instead of the usual 2-panel sliding wardrobe here, you have 2 wardrobe compartments that have a very seamless design that keeps it flushed along with the rest of the wall.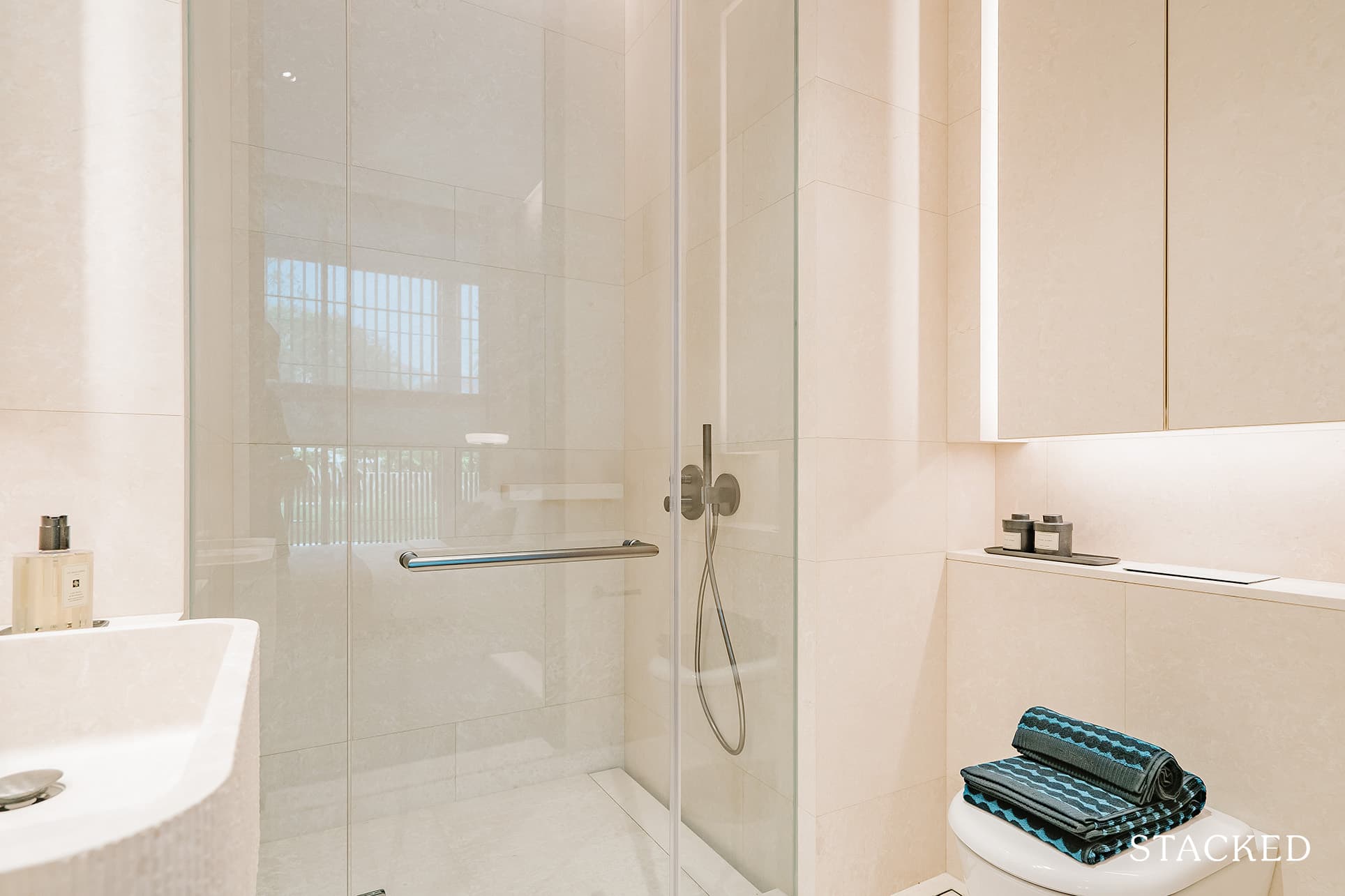 Every bedroom here will come with an attached bathroom. Which obviously makes sense for a development of this stature. If you don't even have to share a lift lobby with anyone, I doubt you'd be wanting to share your bathroom with others in the house either!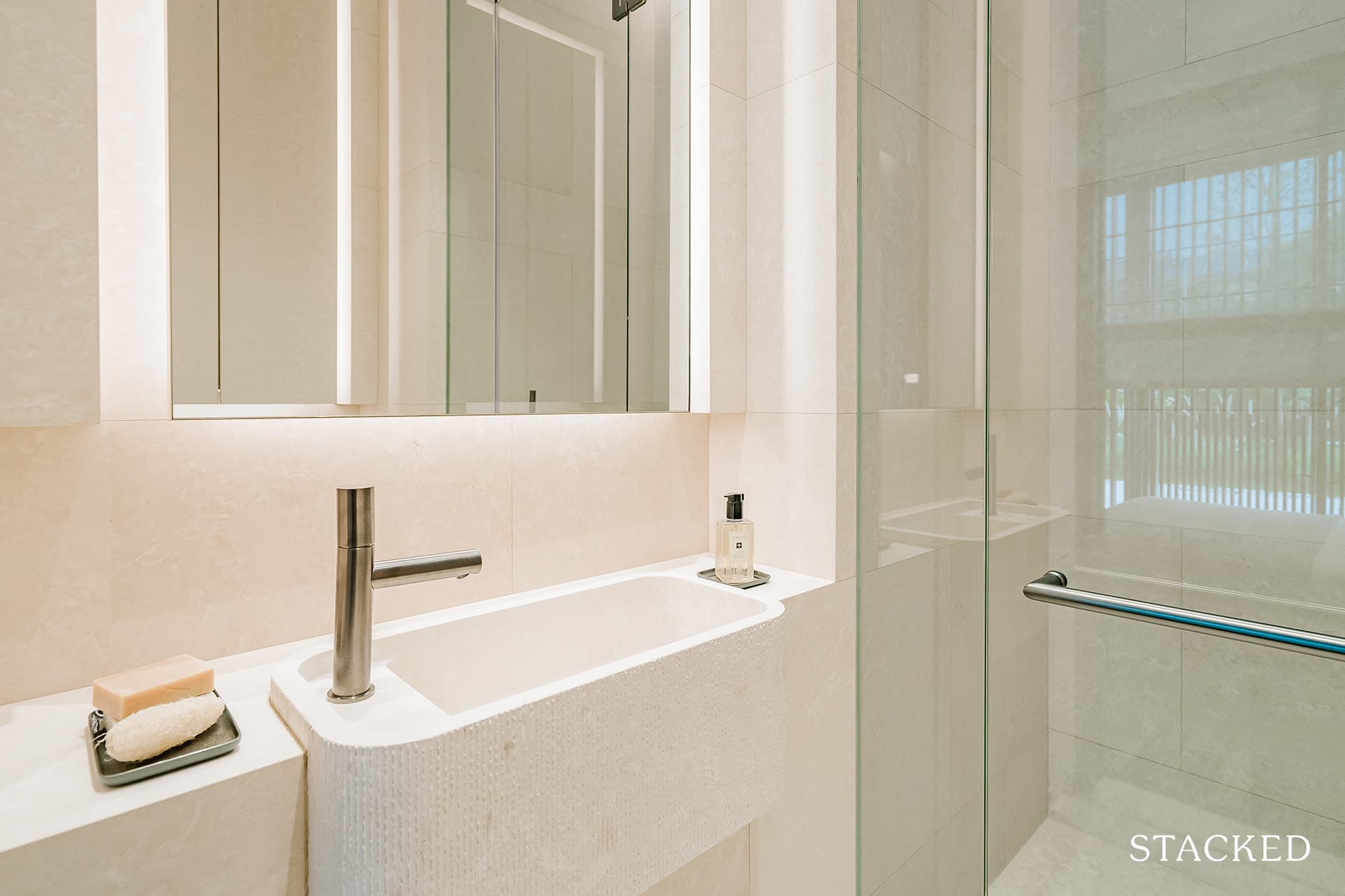 That said, I must point out that the common bathrooms here are compact. Like the living area, this one here sports brighter cream coloured tiles, which is in contrast to the show flat where the bathrooms looked much cosier.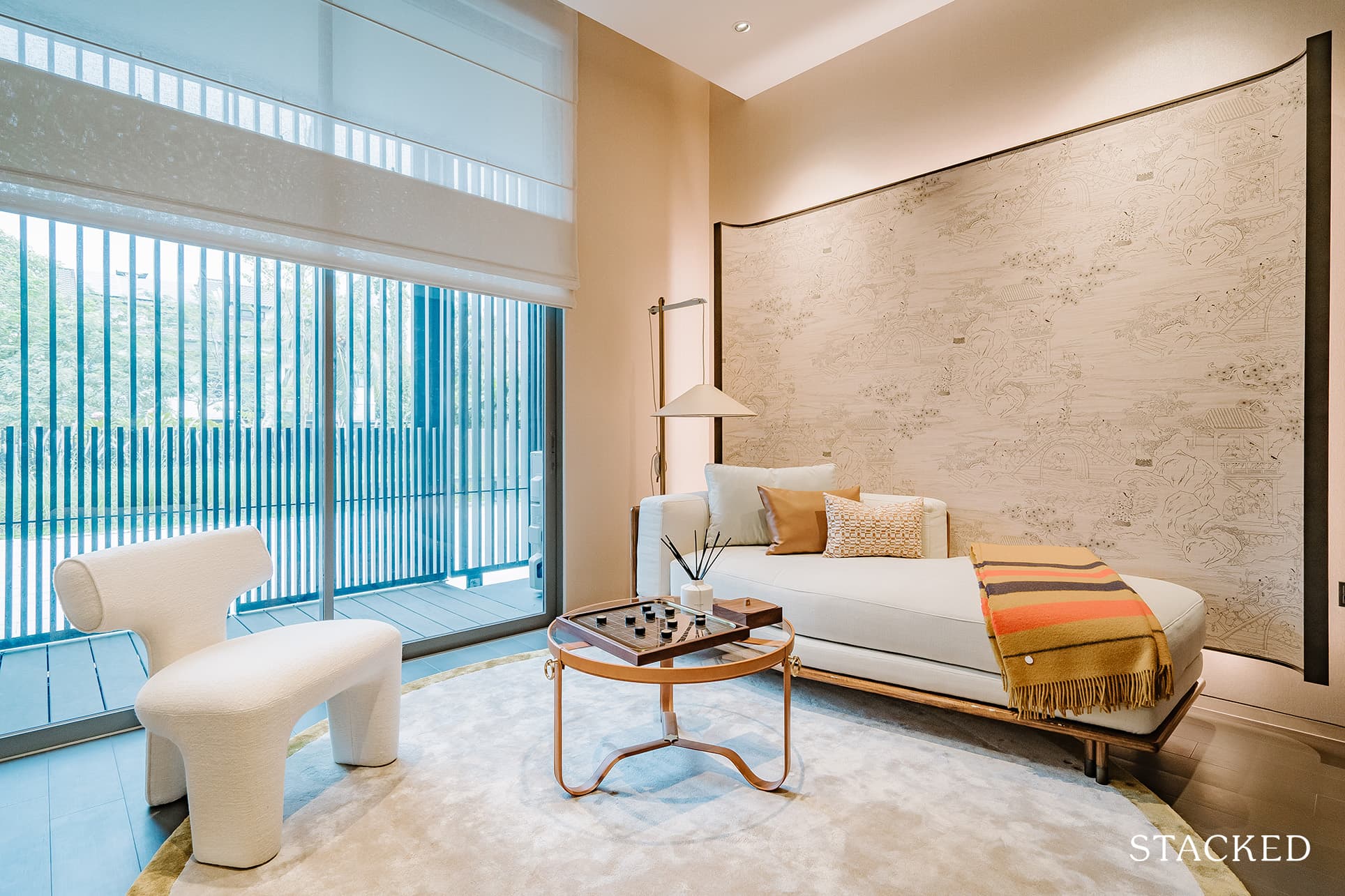 The common bedroom in the middle has been re-fashioned as a seating room, where you can have tea and play checkers/chess? I can't say there's all too much difference in the sizes for the common bedrooms, it's probably just the layout (where the bathroom and wardrobes are positioned).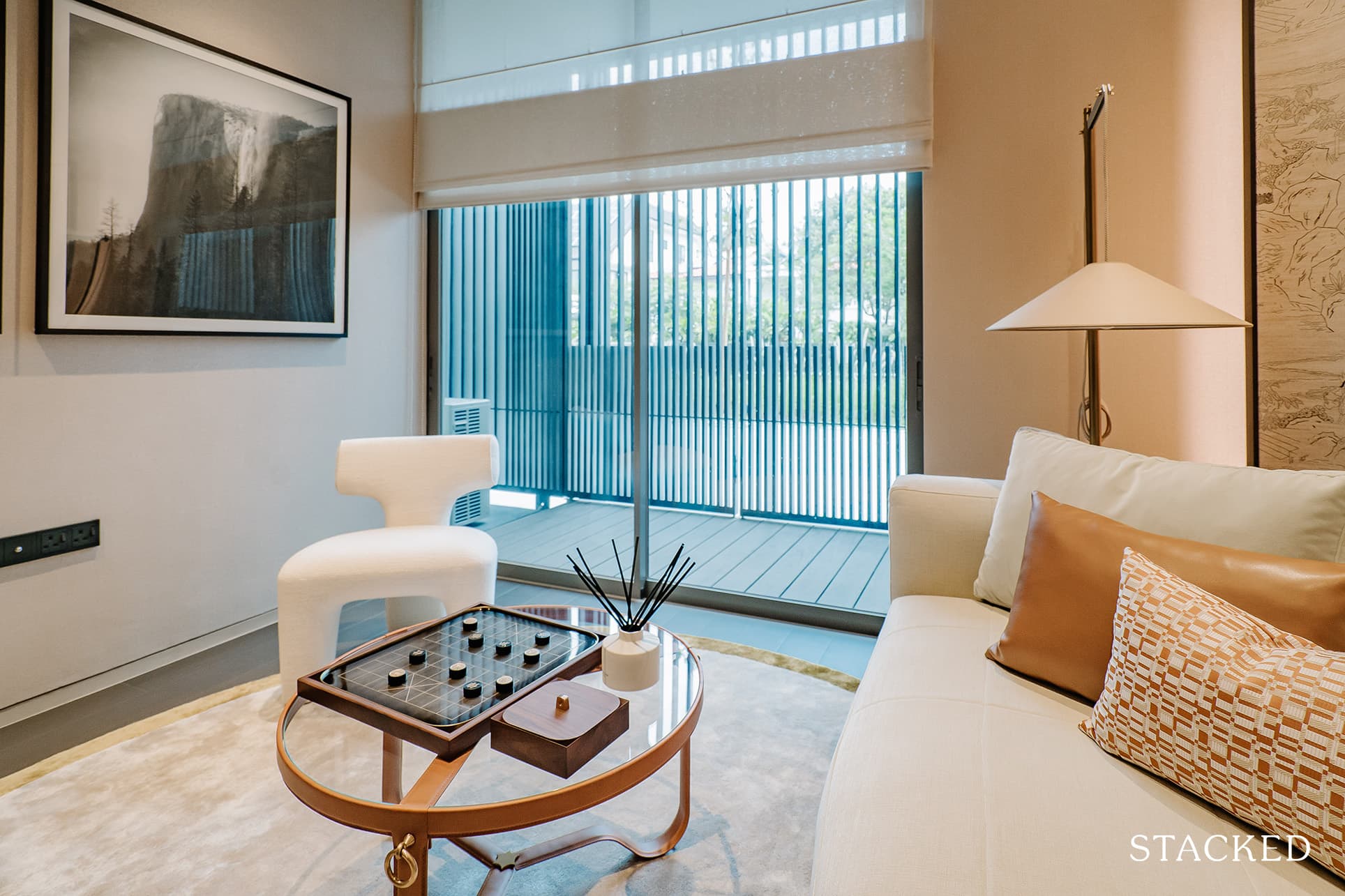 It's also here that you are better able to see that the ground floor units will have a small PES area that you can step out of. There's not going to be much of a view anyway, given the low level.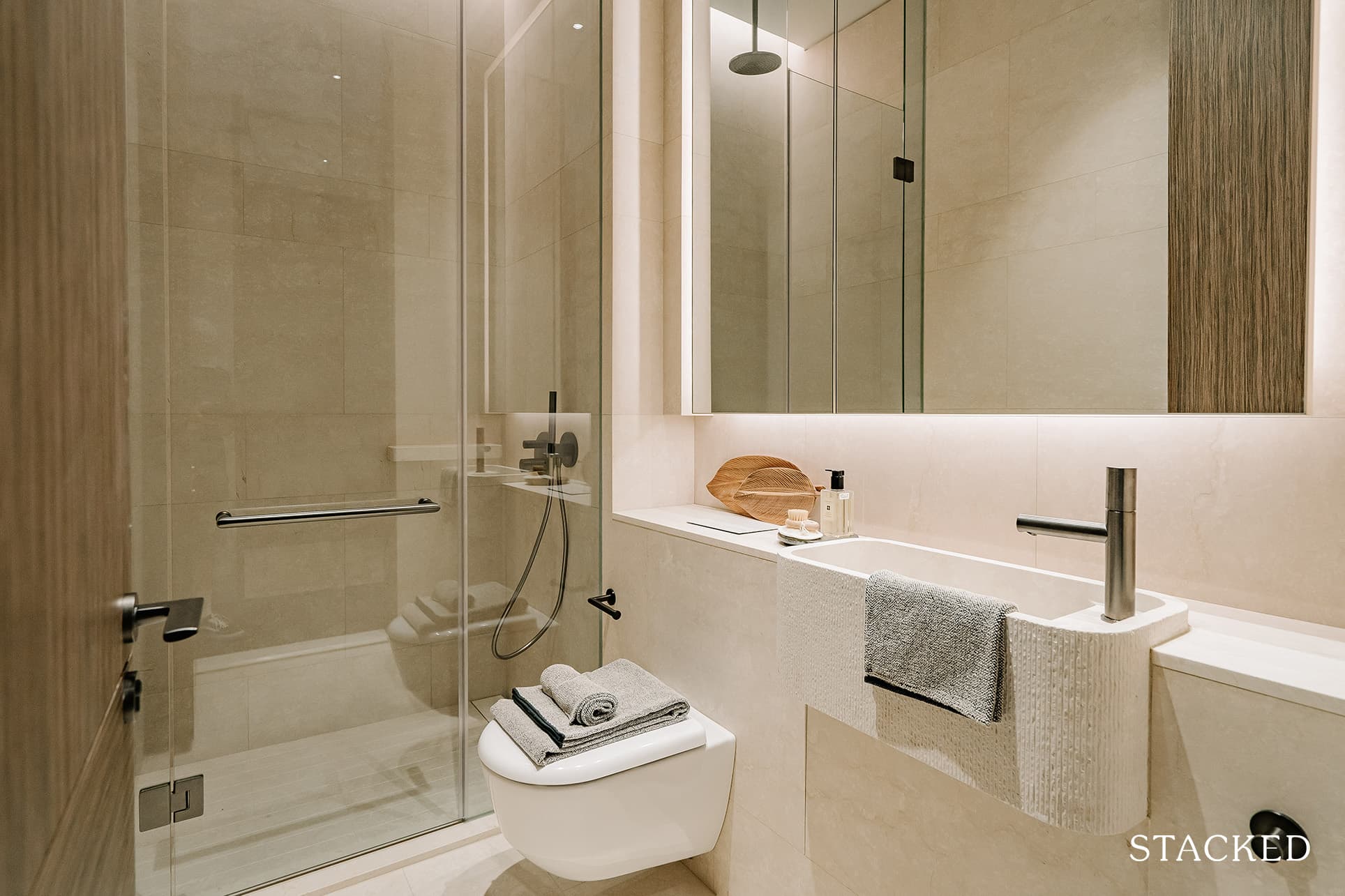 There is, of course, an attached bathroom here as well. The bathroom fittings are the same too, with a rain shower for each of them. Do note that none of the bathrooms here have any ventilation windows, which is always going to be the problem with the courtyard style layout.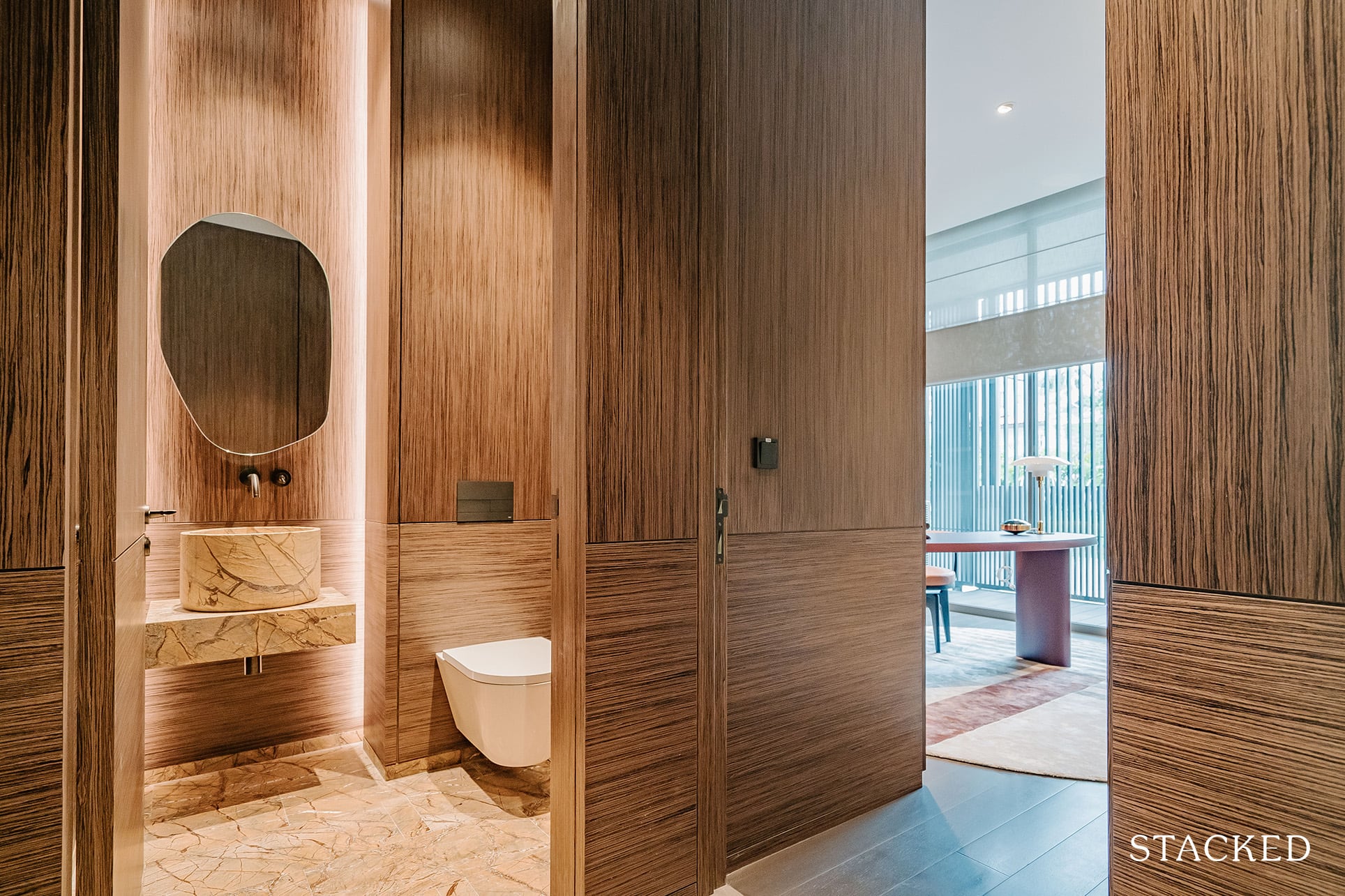 The entrance to the last bedroom (by the main private lobby entrance) has its own foyer as well, and beside it is the powder room for guests. It's always one of the hallmarks of any luxury property, to have a bathroom catered specifically for guests.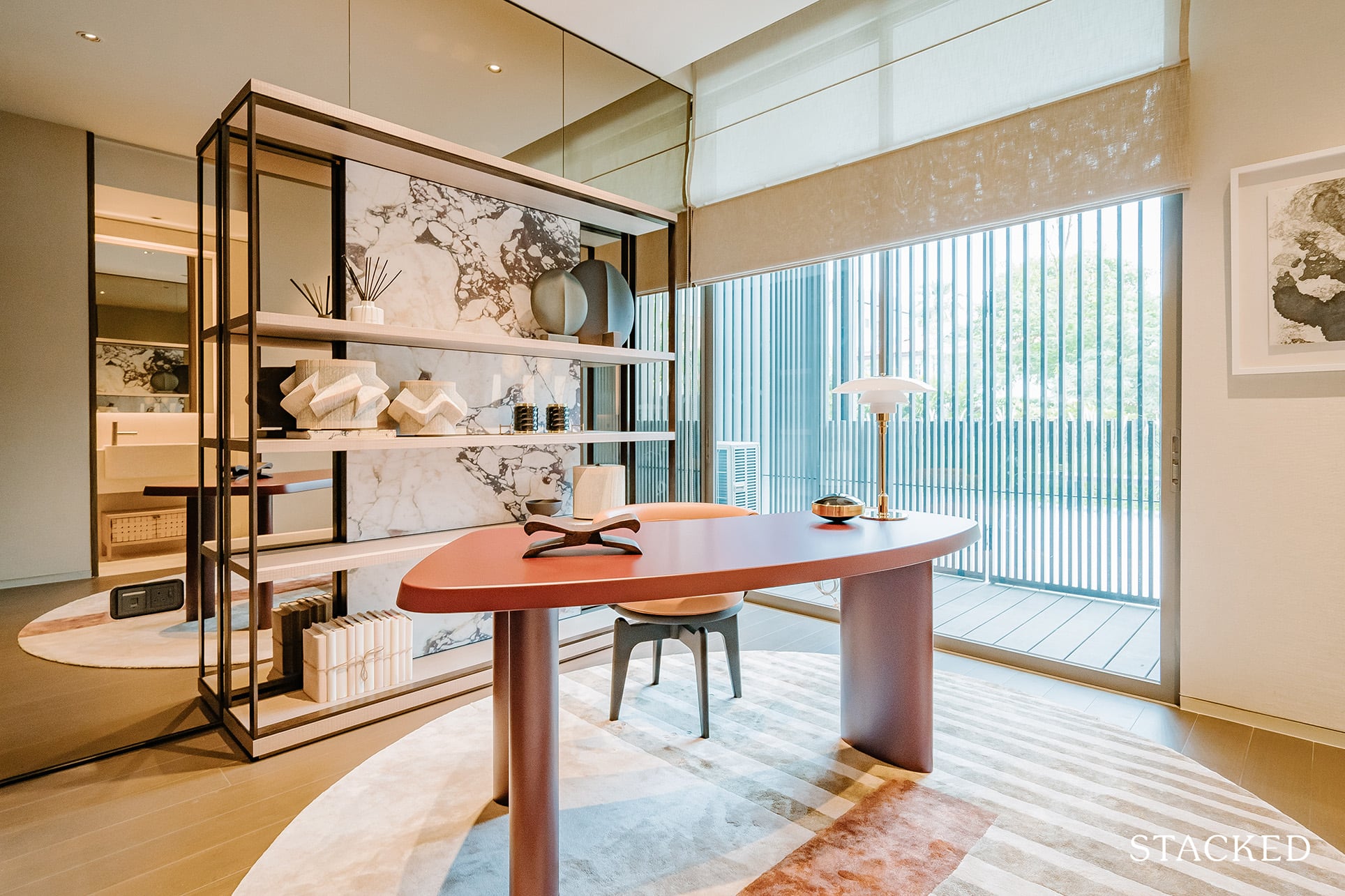 This common bedroom is very similar to the one before, in size. The layout is a little different, as the powder room takes the place of the bathroom of the previous. Instead, the bathroom is placed by the side of the room.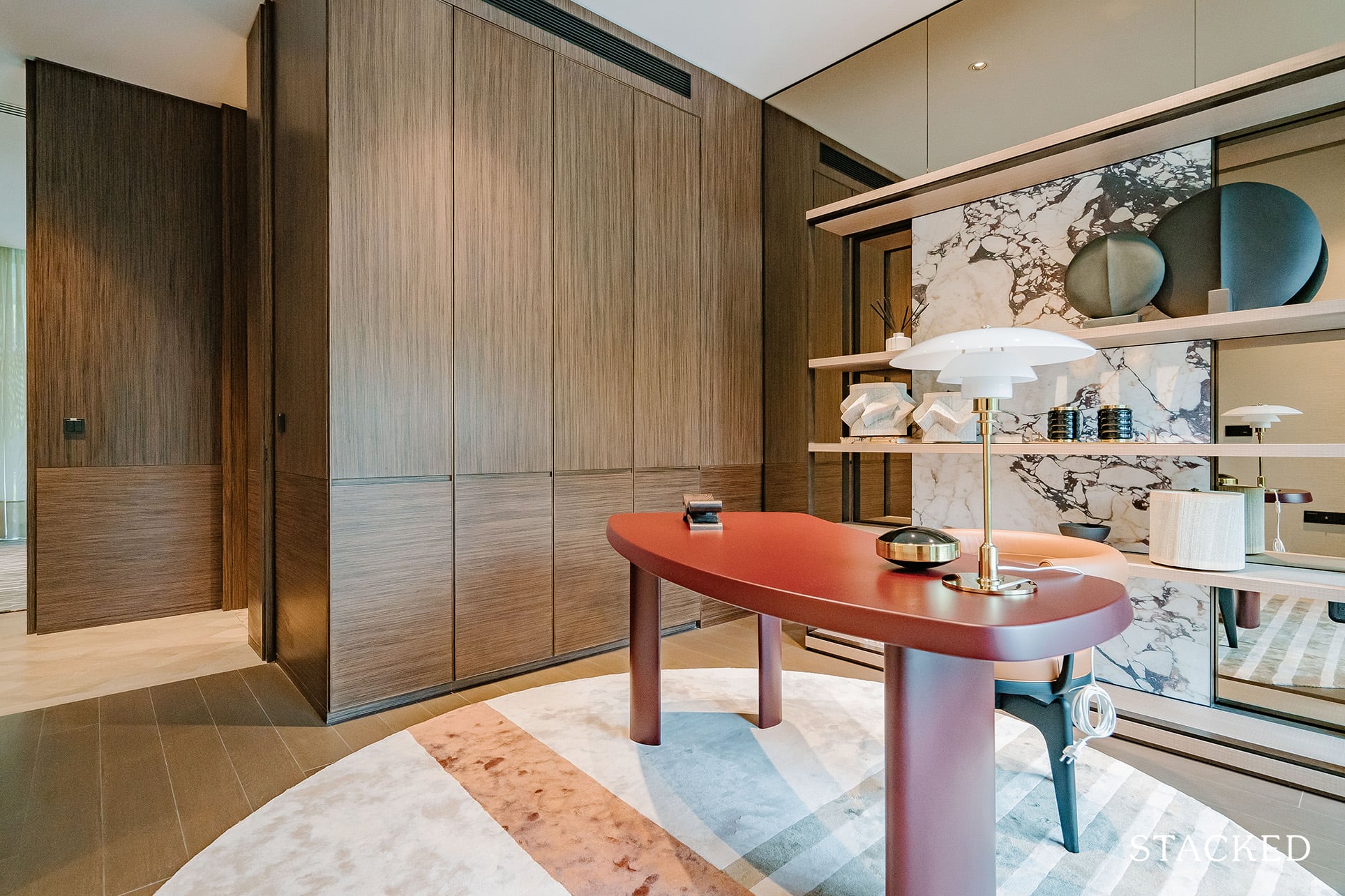 You do have slightly better storage space than most normal new launches. These again aren't the sliding variety, as you have enough space to open these even with a queen-sized bed.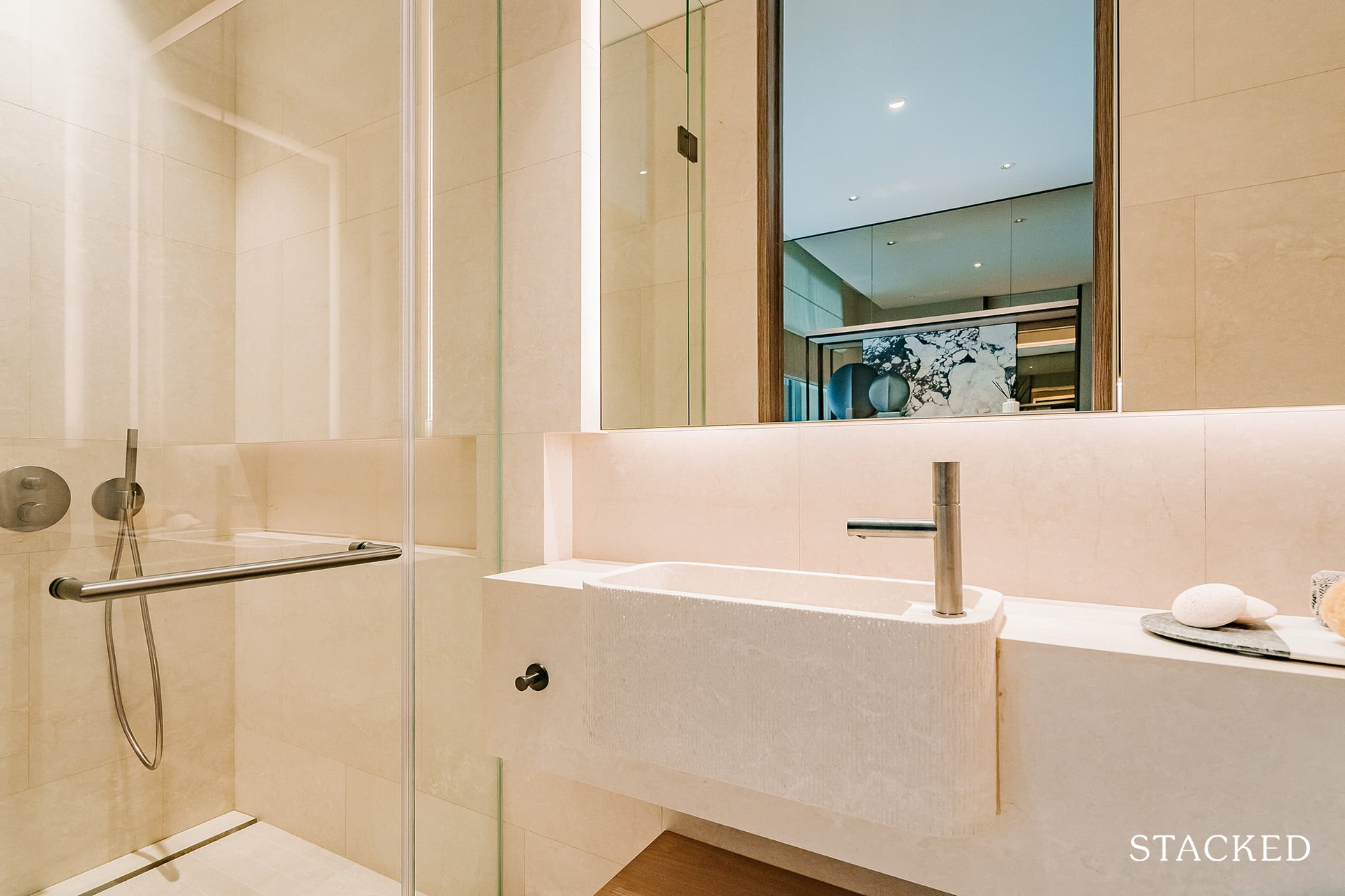 The attached bathroom here is the same as all the rest you've seen so far in terms of fittings and size – there will be no ventilation window here either.
Meyer House Location Review
Meyer House has a family-centric location. In the most immediate sense, the development is located right next to the Meyer Road playground, which is a good spot for picnics or children to run around (supervised, mind you, as there's no fence between the playground and the road).
Families with young children may want to note that Meyer House is just 300 metres – or about four minutes' walk – to Global Tots Preschool. It's also 600 metres from Montessori for Children (Broadrick Campus), which is roughly a seven-minute walk.
The downside is that that, for older children, there's only one school within the all-important one-kilometre radius; this is Chung Cheng High School, which is just 880 metres away. There are many other schools that are a short drive away though (see below).
The main appeal of this area is twofold:
First, it's nestled in a tranquil, low-density housing area. The vibe closely matched by the Siglap landed housing enclave, so you can consider Meyer House an alternative to homes in that area.
Meyer House is also just 1.2 kilometres away from East Coast Park, and an eight-minute drive to the East Coast Lagoon Food Village (currently closed for renovation). This provides easy beach access, for those who like water sports and fishing.
Second, Meyer House is close to Katong, which is an increasingly gentrified lifestyle zone. The stretch from around Katong Shopping Centre all the way to Joo Chiat is a major draw, and it's just a five-minute drive from Mountbatten Road. This stretch also includes plenty of family-friendly wine bars and Izakayas.
The main retail hub of the area is Parkway Parade, which is roughly a seven-minute drive from Meyer House. Parkway Centre – which is across from Parkway Parade – is one of the tuition/enrichment hubs of the east (the Katong area is particularly known for its music schools when it comes to enrichment). Many academic tutors have also spread out all the way to East Coast Road, so families will have no issues finding such services nearby.
Amenities
Groceries
| | |
| --- | --- |
| Name of Grocery Shop | Distance From Condo (& Est. Walk Time) |
| Makena's Mart | Opposite |
| Fairprice Xtra | 7-minute drive (at Parkway Parade) |
Schools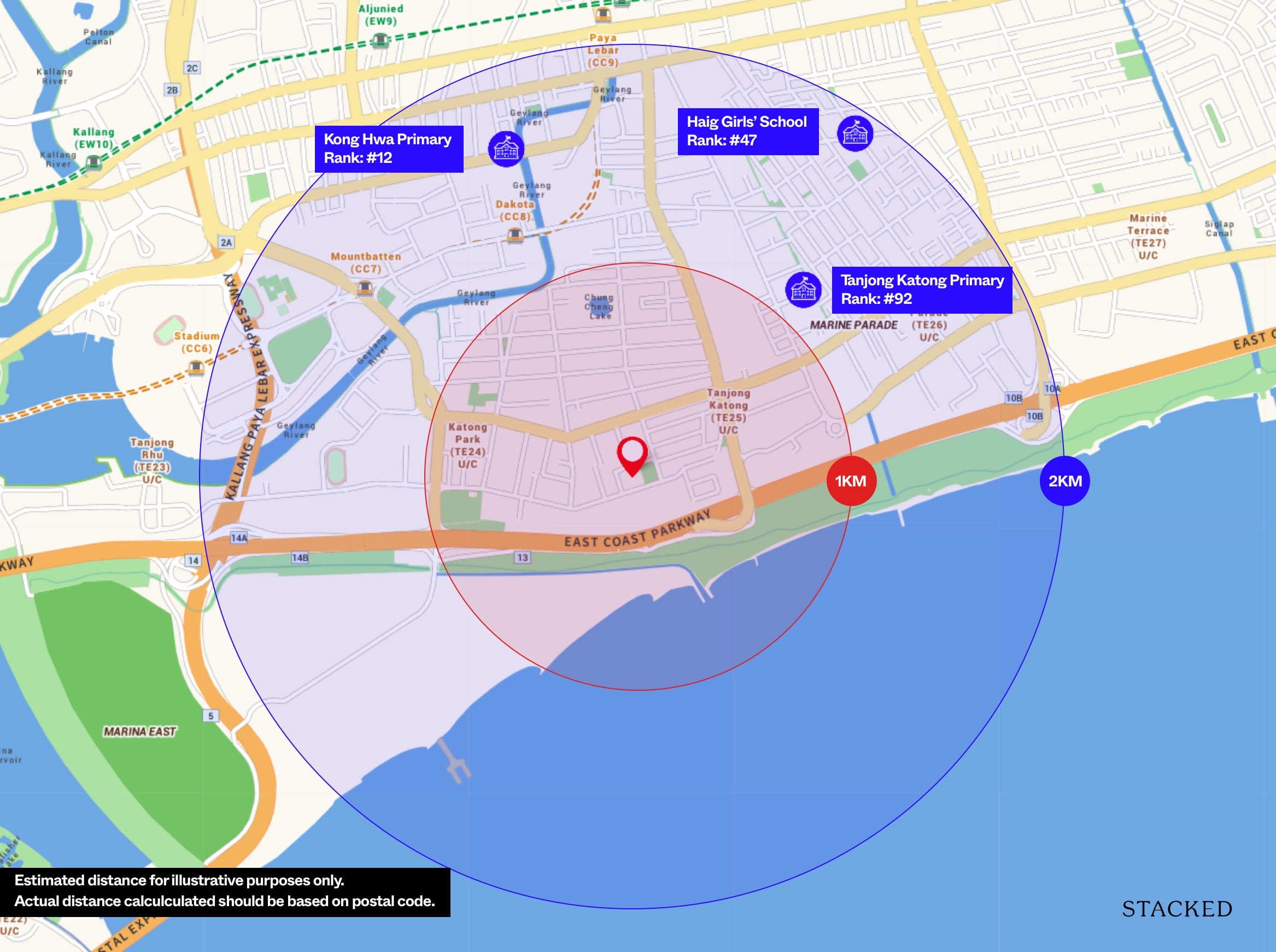 | | |
| --- | --- |
| Educational Tier | Number of Institutes |
| Preschools (within 1km walk) | 4 |
| Primary School (within 2km) | 3 |
| Secondary School (within 3km drive) | 4 |
| JC (within 3km drive) | 1 |
| Polytechnic (within 3km drive) | 0 |
| University (within 3km drive) | 0 |
| International Schools (within 3km drive) | 1 |
Adventure Tree Preschool – 2-minute walk (160m)
Global Tots Preschool – 4-minute walk (300m)
Kgs International Preschool – 7-minute walk (550m)
Little Skittles International Preschool – 8-minute walk (700m)
Kong Hwa School – 22 minutes by bus
Tanjong Katong Primary – 18 minutes by bus
Haig Girls' School – 26 minutes by bus
Tanjong Katong Secondary School – 22 minutes by bus
Tanjong Katong Girls' School – 17 minutes by bus
Chung Cheng High School – 13-minute walk
Broadrick Secondary School – 19 minutes by bus
Dunman High School – 16-minute walk
Victoria Junior College – 24 minutes by bus
Candian International School – 12-minute walk
Public transport
| | | |
| --- | --- | --- |
| Bus Station | Bus Services | Distance From Condo (& Est. Walking Time) |
| The Sovereign / Meyer Road | 566 | 50m, 1-minute walk |
Nearest MRT station: None within walking distance. Dakota MRT station is the closest at around 1.8 kilometres.
Meyer House has no MRT currently within walking distance; but Tanjong Katong MRT station on the Thomson-East Coast Line will be a short walk away, which is slated to be completed in 2023.
So in terms of public transport, your current choice when it comes to buses is Premium Service 566. The good news is, the bus stop is just a short stroll away, being near The Sovereign. This service also goes direct to Robinson Road (it stops outside Raffles Place MRT, Exit F), and goes up to the Marina Bay Financial Centre.
Private Transport
| | |
| --- | --- |
| Key Destinations | Distance From Condo (& Est. Peak Hour [0830] Drive Time) |
| CBD (Raffles Place) | 9.2 km, 13-min drive |
| Orchard Road | 10.3 km, 15-min drive |
| Suntec City | 5 km, 8-min drive |
| Changi Airport | 12.7 km, 12-min drive |
| Tuas Port | 44.3 km, 43-min drive |
| Paya Lebar Quarter | 3.8 km, 10-min drive |
| Mediapolis | 15.2 km, 17-min drive |
| Mapletree Busines City | 13.8 km, 15-min drive |
| Tuas Checkpoint | 34.2 km, 30-min drive |
| Woodlands Checkpoint | 33.1 km, 40-min drive |
| Jurong Cluster (JCube) | 22.2 km, 23-min drive |
| Woodlands Cluster (Causeway Point) | 25.4 km, 29-min drive |
| HarbourFront Cluster (Vivo City) | 10.6 km, 12-min drive |
| Punggol Cluster (Waterway Point) | 17.2 km, 23-min drive |
Immediate Road Exits:
There is only one exit onto Meyer Road, from which you can carry on to Tanjong Katong Road, or turn on Crescent Road onto Mountbatten Road. There's quick access to the ECP, MCE, and PIE.
Those who work at Paya Lebar Quarter will appreciate the short 10-minute drive; and 13-minutes to the CBD is not bad either. This particular stretch of Meyer Road also tends to be quite open, even during the morning rush hour.
The Developer Team
Meyer House is a joint venture between UOL Group and Kheng Leong Co.
UOL Group is one of the most established luxury residential developers in Singapore. 
When condos first appeared on the real estate scene, between the 1970s and '80s, UOL was one of the first developers to see potential in the luxury segment (in the 1970s condos were not yet popular or common, so the concept of luxury condos was a bold proposition). Some of the first luxury condos, such as Cairnhill Plaza and Orchard Bel-Air, were built by UOL. 
Over the past two decades, market watchers have come to associate UOL with prime area developments; you tend to find UOL properties in areas like Nassim, Newton, and Tiong Bahru. There's also an association with Pan Pacific Hotels and Resorts, which is a subsidiary of UOL Group.
While Meyer Road is not in the Core Central Region, it's still within their purview as luxury developers, as Meyer Road is a high-end enclave. 
Kheng Leong Company is one of Singapore's oldest home-grown successes, starting as a commodities business in 1949; but most Singaporeans today know them as real estate developers. Kheng Leong has always had an eye for potential; they were among the first to tap on the One-North tech hub with One-North Residence, and move into the developing Hougang area with The Minton in 2014. One of their best known prime developments is 15 Holland Hill.
Stack Analysis
Development Site Plan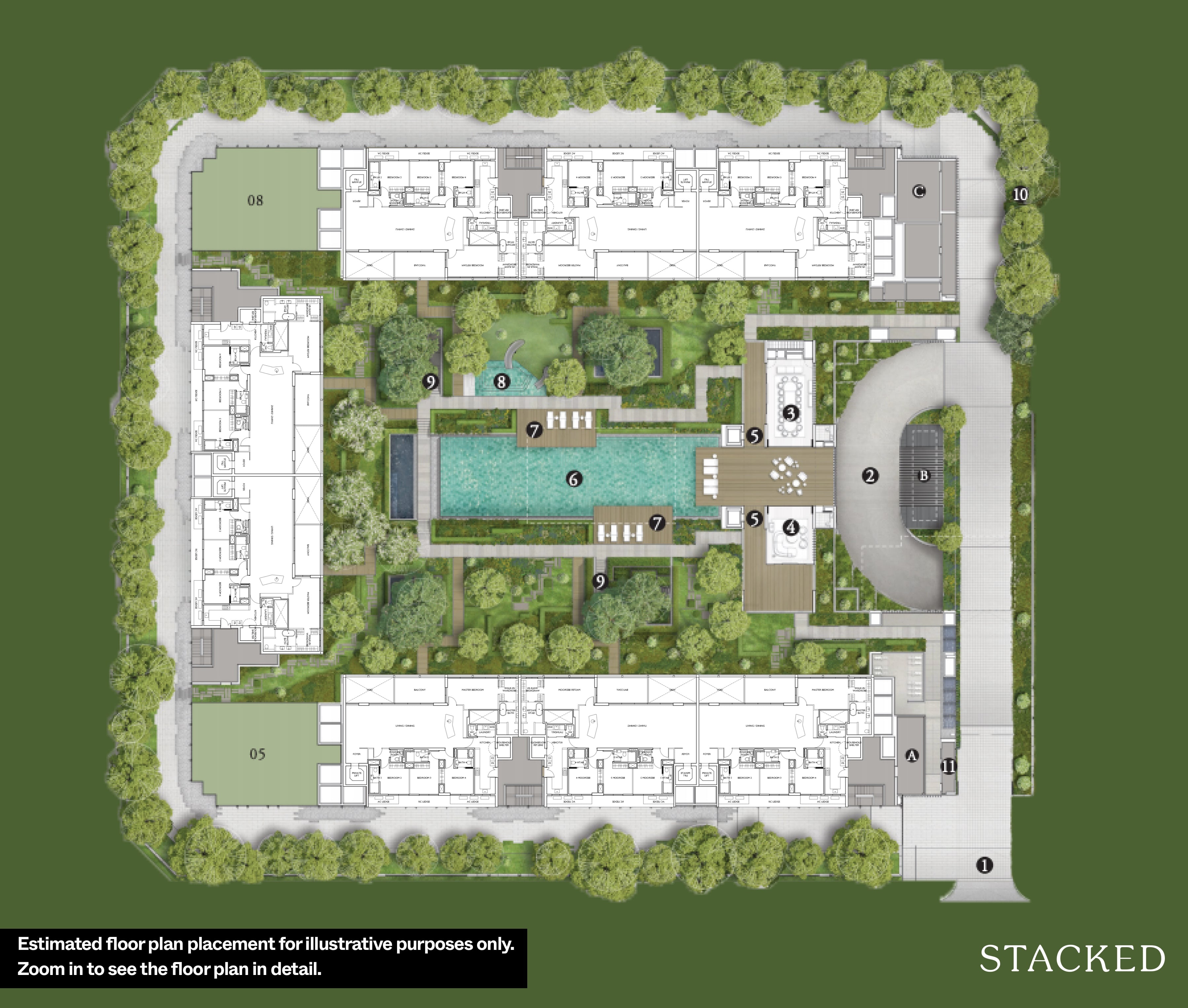 A land size of 109,630 sq ft may not seem big, but it's more than generous given there are only 56 units. In fact, as said earlier the site was marketed as being sufficient for 200+ units (!) when it was bought.
The stacks are arranged in a U-shape configuration, around a 30-metre pool and water courtyard. Stacks 6 to 11 are adjacent to Jalan Nuri, while stacks 2 to 5 run alongside Meyer Road. Stacks 2 and 11 are closest to the development's entrance, which faces the Meyer Road Playground. Due to the U-shaped configuration, all of the stacks are more or less equidistant to the lap pool.
The Meyer Road Playground is, at the time of writing, being redesigned and upgraded; the developers have mentioned that it will be ready by the time Meyer House reaches TOP. Families with children will appreciate how it's right across from the Meyer House entrance.
Afternoon West Sun Analysis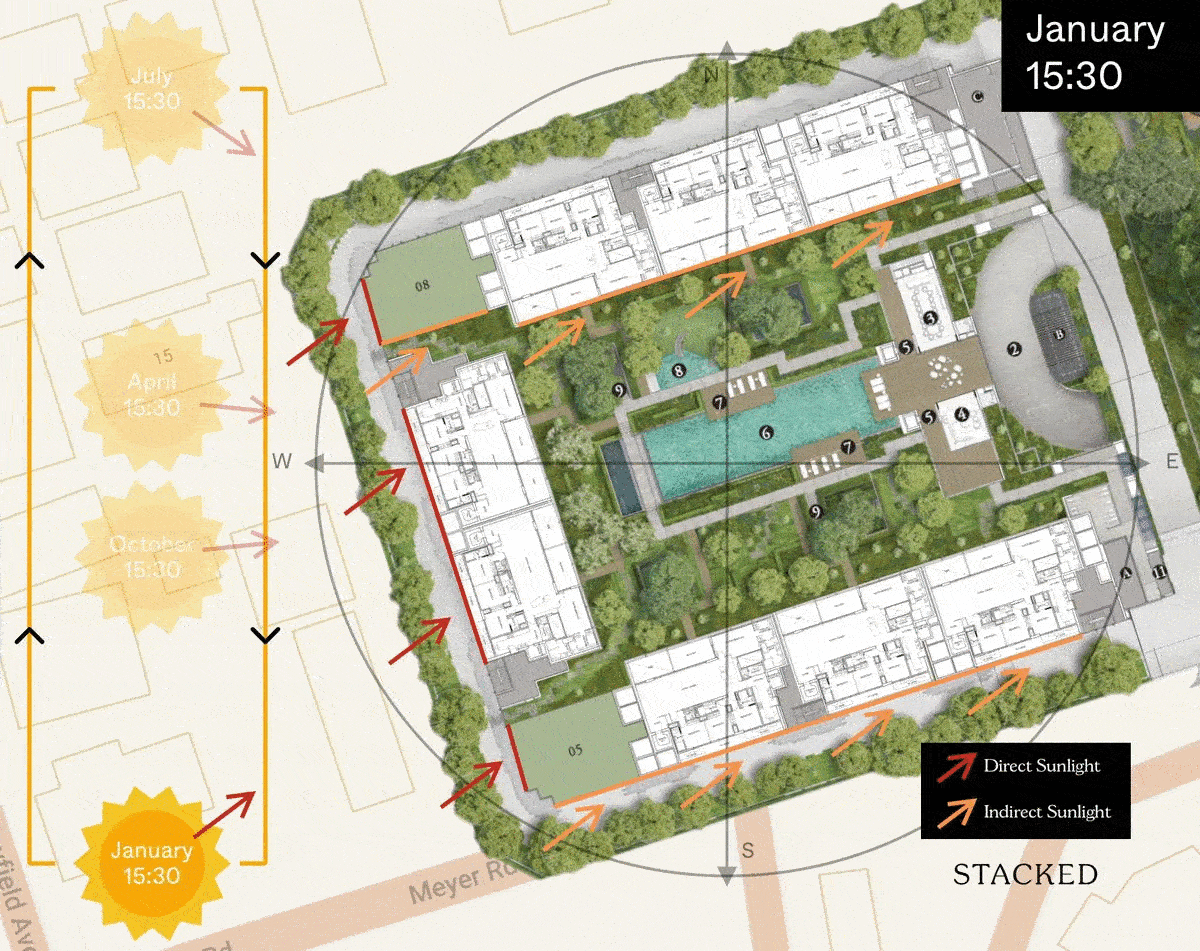 Those who are looking to avoid the west sun would have to take note of stacks 5 – 8.
For the 4-bedroom unit, stacks 6 and 7 would experience afternoon sun almost all year round in the bedrooms.
However, the good news is that the large living/dining, as well as balcony space, is in a north-east orientation – so those looking to enjoy the lifestyle element of Meyer House wouldn't need to be too concerned about this.
Stacks with the least afternoon sun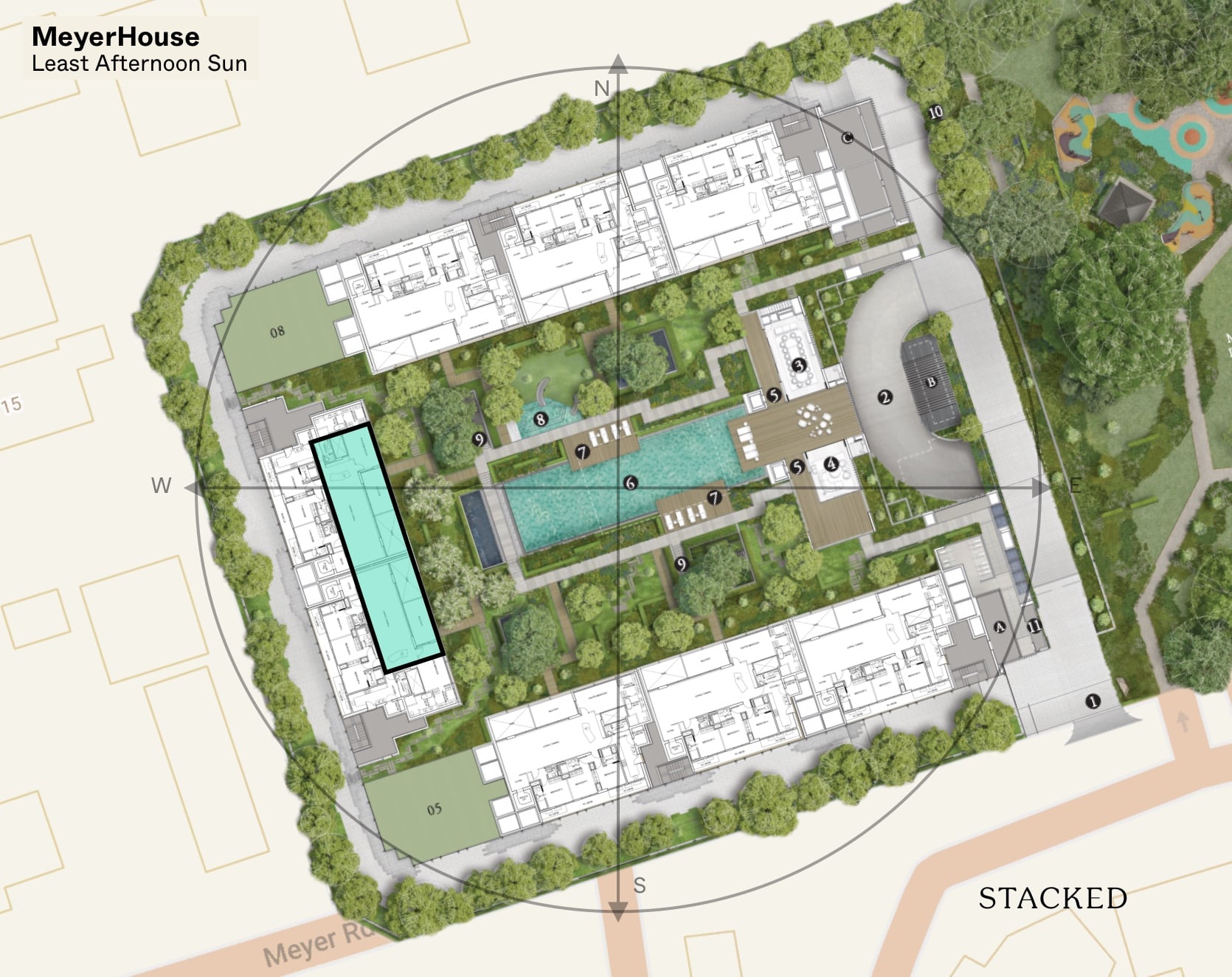 For those who are looking to avoid the afternoon sun here, you can consider stacks 1, 2, 7, and 8. These are partially blocked by the neighbouring units.
Ironically though, if you're looking to enjoy the least amount of afternoon sun on the balcony, then we would go for stacks 6 and 7 (which made it to the stacks with the most amount of afternoon sun).
I know it's strange, but if you don't wish to have direct sunlight while lounging on the balcony in the afternoon, then the west-facing units are actually better since it's only the bedrooms that face the west side. And given this project is geared toward those seeking a certain lifestyle, I think this is an important consideration.
That being said, the west sun can really heat a unit up in its entirety, so if you're looking for the least afternoon sun overall, then we'd go for 1, 2, 7, and 8.
Unit Mix
| | | | | | |
| --- | --- | --- | --- | --- | --- |
| No. of Bedrooms | Type | Size (Sqft) | No. of Units | Share Value | Est. Maintenance Fees (per month) |
| 3 | 3A, 3B | 1,862 – 2,110 | 10 | 8 | $1,300 |
| 4 | 4A, 4B | 2,820 – 3,315 | 34 | 10 – 11 | $1,650 – $1,800 |
| 4 | 4C, 4D | 3,078 – 3,444 | 6 | 10 – 11 | $1,650 – $1,800 |
| Penthouse | PH | 5,662 – 5,683 | 6 | 14 | $2,500 |
| | | Total | 56 | | |
The unit mix is quite straightforward; there are only 3-bedroom units, 4-bedroom units, and penthouse units. Of these, 4-bedroom units make up the bulk, with 40 such units available. There are only 10 3-bedders and six penthouses.
The penthouse units are found only in stacks 2 and 11 (near the entrance), and stacks 3, 6, and 7.
The three-bedders are found only in stacks 5 and 8, which are the two corner stacks that connect the two wings of the development. These are among the furthest stacks from the main entrance.
Maintenance fees will make some buyers need a deep breath. It's around $1,300 per month for three-bedders, and $1,650 to $1,800 a month for four-bedders. Penthouse units are at $2,500 per month.
That's high but not unexpected, since (1) Meyer House is a boutique development, and higher maintenance fees are expected given the low unit count, and (2) this is an ultra-luxury development.
This combination of traits means maintenance here – while typical for high-end properties – was never going to be anywhere near cheap.
Best stacks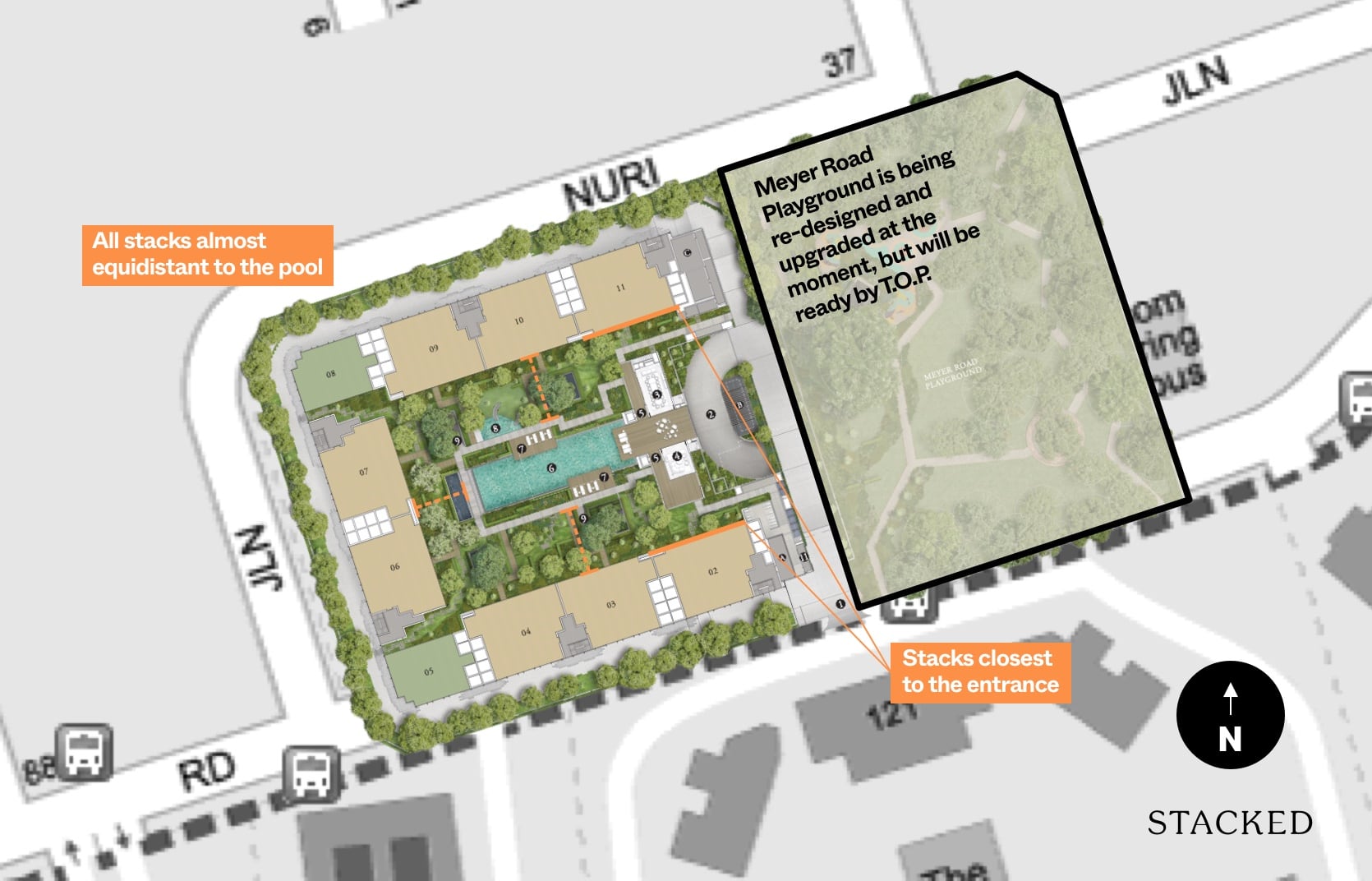 As this is a boutique development with few units, the degree of difference between each stack isn't as great. That said, we would pick stacks 2 or 11, on the basis of being closer to the water courtyard and the entrance.
In most other developments, we wouldn't go for the stacks that are directly close to the entrance because of potential noise issues – but given that Meyer House has only 56 units, there's likely to be minimal or no noise pollution even at single entrance/exit. 
The downside to stacks 2 and 11 is that there are no 3-bedders, just penthouse units, and 4-bedders; so you're going to face a higher quantum.
Updated Pricing (Since May 2021)
For our updated pricing, we take a look at the developments that are within a 500m radius of Meyer House over the past 1 year.
| | | | | |
| --- | --- | --- | --- | --- |
| Project Name | No. of Units | Median Unit Price ($ PSF) | TOP | Tenure |
| Meyerhouse | 56 | $2,538 | 2021 | Freehold |
| Aalto | 196 | $2,028 | 2010 | Freehold |
| Amber Skye | 109 | $1,631 | 2017 | Freehold |
| Hawaii Tower | 135 | $1,653 | 1984 | Freehold |
| Meyer Mansion | 200 | $2,595 | 2023 | Freehold |
| Peach Garden | 41 | $1,601 | 1970 | Freehold |
| The Makena | 504 | $1,672 | 1998 | Freehold |
| The Meyerise | 239 | $2,196 | 2014 | Freehold |
| The Sovereign | 87 | $2,214 | 1993 | Freehold |
Source: URA (May 2021-2022).
As mentioned in our old pricing review, Meyer House stands alone given you don't really have many comparisons with similar offerings.
From these findings, Meyer Mansion remains the focus of comparison as it's a luxurious development and also the most recent new launch in the vicinity.
Currently, Meyer Mansion's $PSF offering is still slightly higher than Meyer House, but mostly due to its smaller unit sizes as compared to Meyer House.
From URA, the latest Meyerhouse transaction was on 10th May 2022 which was for a 2,971 sq ft 4-bedroom unit that went for $7,570,000 ($2,548 psf).
The closest comparison we could get in terms of size for Meyer Mansion in the past 1 year is a 2,412 sq ft 4-bedroom unit that went for $5,146,400 ($2,403 psf). This was transacted in September 2021 though, when prices were lower.
Both 4 bedroom units are very different in quantum simply because of the space afforded by Meyer House even though their $PSF is pretty close.
Likewise for the 3 bedroom units. The most recent transaction at Meyer House was a 1,862 sq ft unit in January 2022 that was sold for $5,010,525 ($2,691 psf).
This was significantly higher than a low floor unit at Meyer Mansion that sold for $3,763,200 ($2,515 psf). Like the 4 bedroom units, this was smaller too – 1,496 sq ft as compared to the 1,862 unit at Meyer House.
Appreciation Analysis
While MeyeRise and Meyer Mansion are nearby, they don't provide direct competition against Meyer House.
Buyers of boutique developments are quite specific in their preference; most want the exclusivity and privacy that comes with a small unit count, and even 200+ units are over the top for this segment of buyers. This gives Meyer House a clear edge, as the only other boutique development – Meyer Park – is already 35 years old.
A check on the URA Master Plan also shows that – barring drastic rezoning – there isn't room for many more condos in this area; not unless someone starts buying up large numbers of the landed properties nearby.
Coupled with the freehold status of Meyer House, this has all the ingredients that long-term investors like: few equivalent alternatives, no lease decay, and improved en-bloc prospects (from the low unit count; it's easier to secure the 80 per cent vote given the fewer owners). 
What Meyer House is not suited for is near or mid-term gains. This is true of most boutique developments and luxury developments, and Meyer House happens to be both. You're paying for the freehold status, as well as high recurring costs from the maintenance fees.
So on the one hand, we're confident that over a period of maybe 15 to 20 years, the combination of exclusivity plus freehold status could mean solid appreciation. On the other hand, if you're the sort of investor hoping for returns after just five to 10 years, this probably shouldn't be your first choice.
Our Take
What we like
Only luxury boutique in the immediate area

Close to desirable lifestyle stretch of East Coast Road

Huge spacious units
What we don't like
–

Low accessibility

–

Steep maintenance costs
Think "family" and "owner-occupancy". Meyer House is a tough sell for pure investors, who are looking at immediate factors like positive cash flow, cash-on-cash returns over five years, etc.
But for genuine home buyers who want luxury family living, Meyer House is off-the-charts great: it's next to the neighbourhood playground, it's got good preschools nearby, you're in striking distance of the beach, and East Coast Road is a whole lifestyle stretch.
Ultimately though, I'd see Meyer House as primarily an indulgence, for families in the high-income brackets. It is definitely for a very niche crowd, you really aren't going to find too many Singaporeans that can afford such a price point that would plunge for a condo instead of a landed home.
So yes, while it has niche appeal, for those that value the luxury of space, yet still have a want for security, facilities, and that exclusiveness – this should definitely be one to look at.
Meyer House Showflat Insider Tour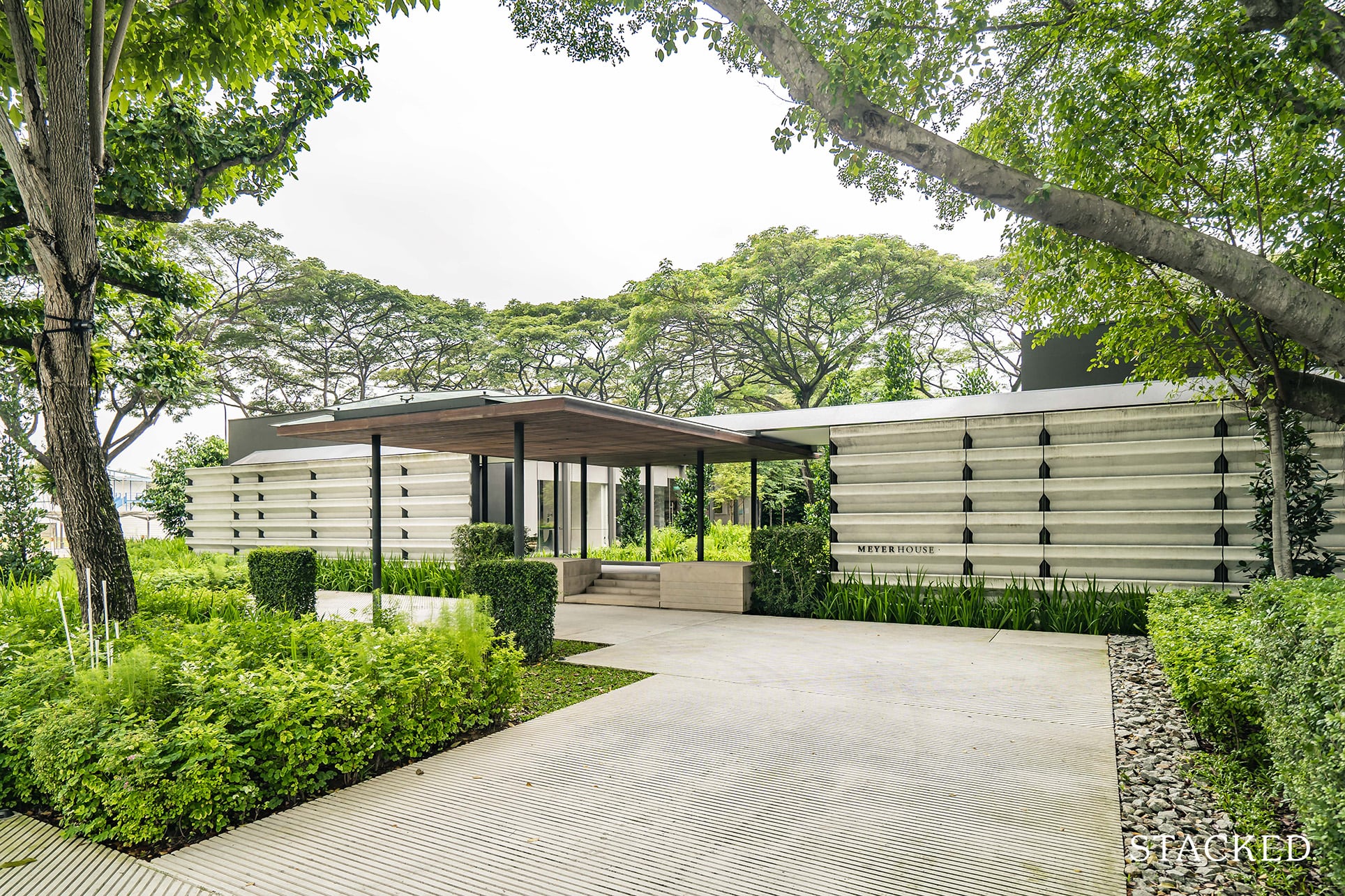 Since this project is conceptualised to be the crème de la crème of private condominiums, it is perhaps fitting for me to start with an introduction of the brains behind the project. Designed by the famous WOHA Architects, interior design by Yabu Pushelberg, and Ramboll Studio Dreiseitl as the landscape architect, it certainly reads like the who's who of the design world.
But if you aren't familiar with this space, maybe a quick refresher of their past works would do the trick. The Instagram-famous lush green garden-in-a-city Parkroyal on Pickering was designed by WOHA. Four Seasons New York was just one of the lux creations by Yabu Pushelberg, and Ramboll Studio were the planners behind the Bishan Ang Mo Kio Park – among many others. It's a stellar cast indeed.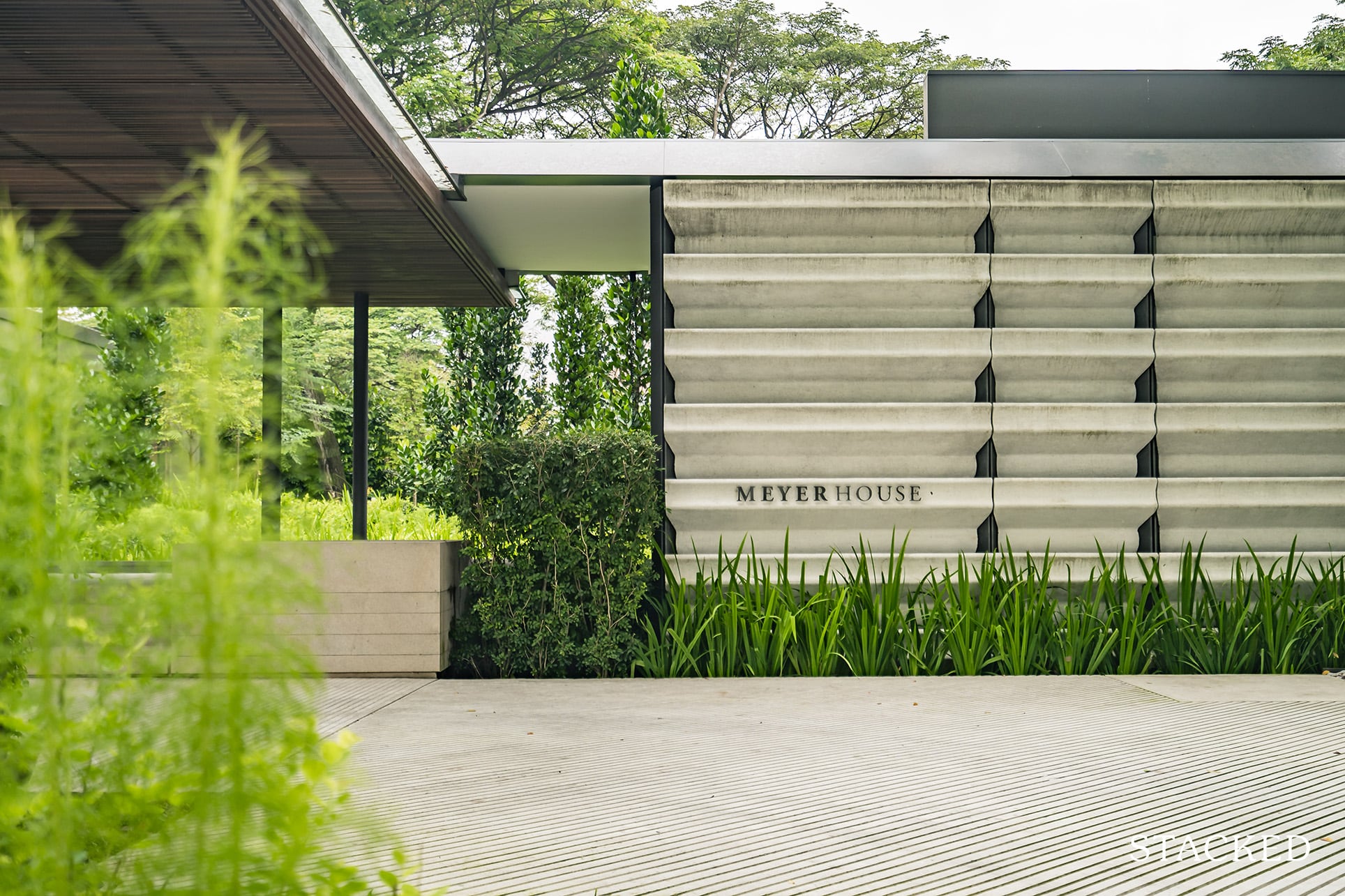 You get an idea of the design concept from the exterior of the show flat, with those sleek clean lines and neutral colour tones. It is minimalist for sure, yet you can somehow just tell of its luxurious ambitions still – it just has this very understated aura about it. It's unlike South Beach Residences or Boulevard 88 where it is luxurious and flamboyant and you want everyone to know about it. Here, it's just more of an if you know, you know type of feel.
Perhaps a little comes down to the name, Meyer House. I like it. It reminds me of The Upper House in Hong Kong, where it rivals your usual Ritz Carltons and Mandarin Orientals in terms of luxury but yet is just more under the radar.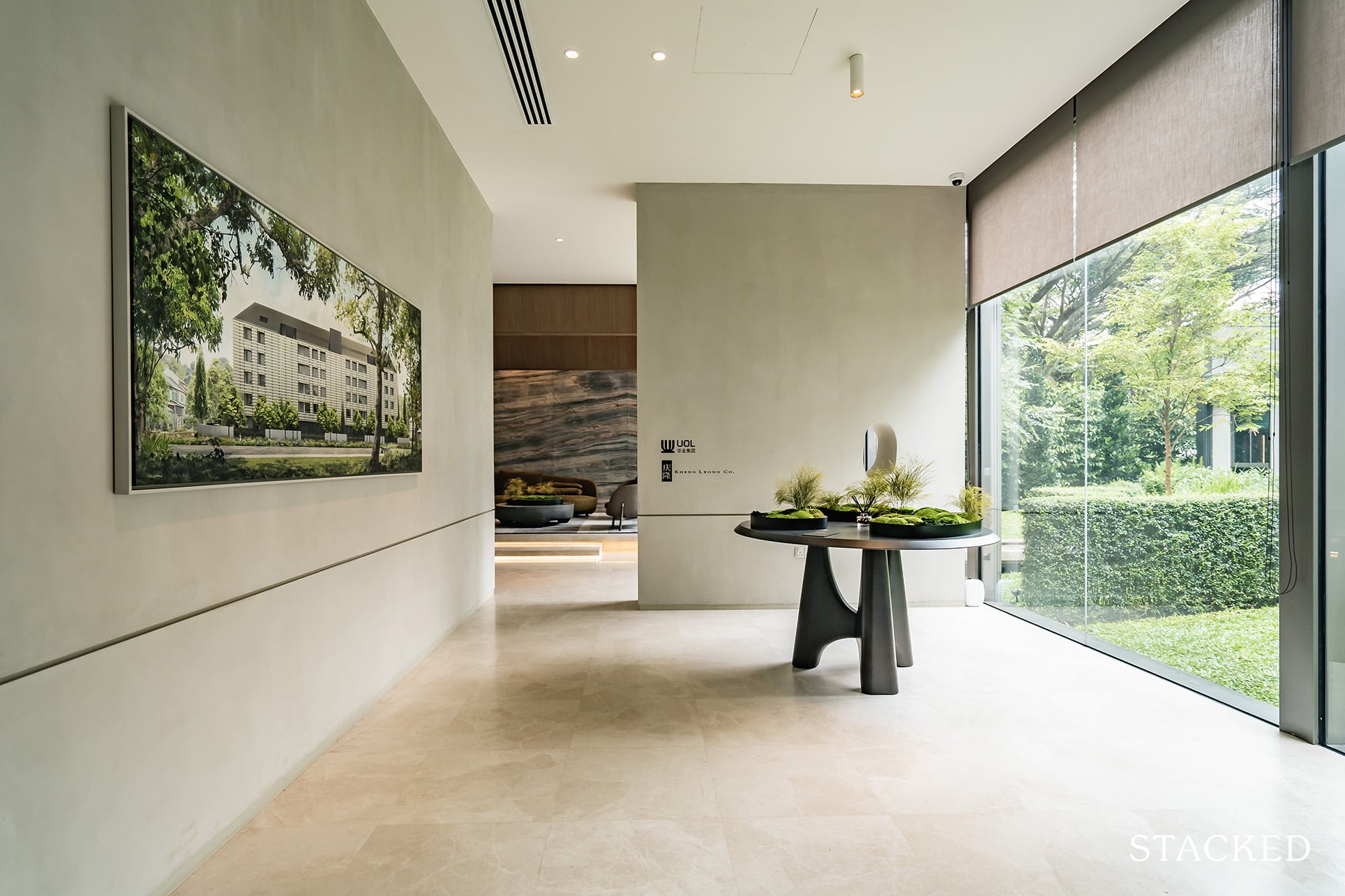 As you might imagine, it is a suitably sumptuous affair on the inside. You certainly get the impression that space will be the least of your concerns here, especially upon seeing just how much space they have dedicated to the show flat. Remember, you are never going to get much footfall either in a niche-luxury product such as this so it is all the more impressive.
Actually, Kheng Leong themselves are in the midst of developing a similar ultra-luxury development in Holland – 15 Holland Hill, but the vibes that you get here are not even comparable.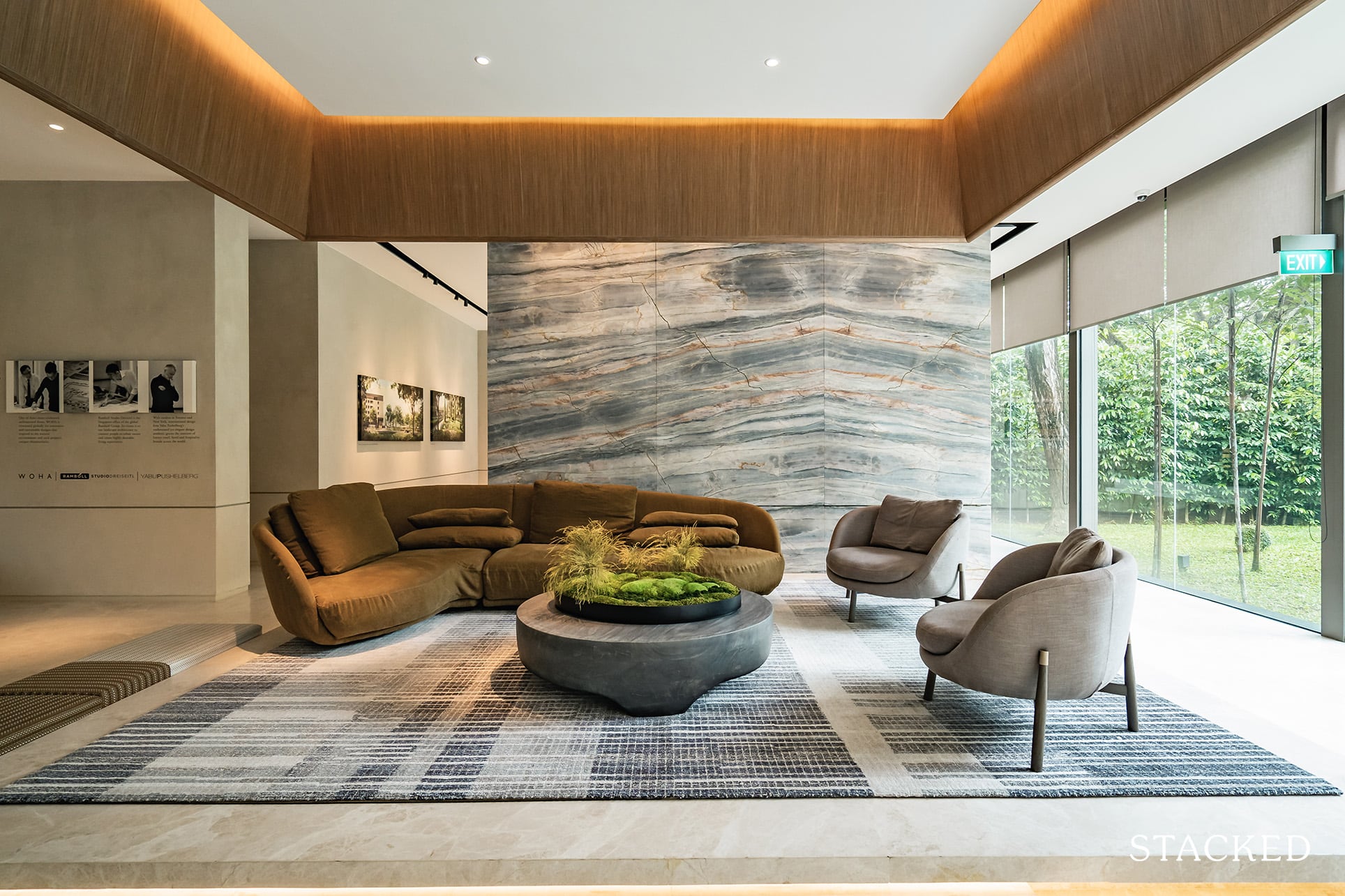 Ultimately when it comes to a high-end project, first impressions really do count, and it's easy to see here that the developers have set out their stall to impress.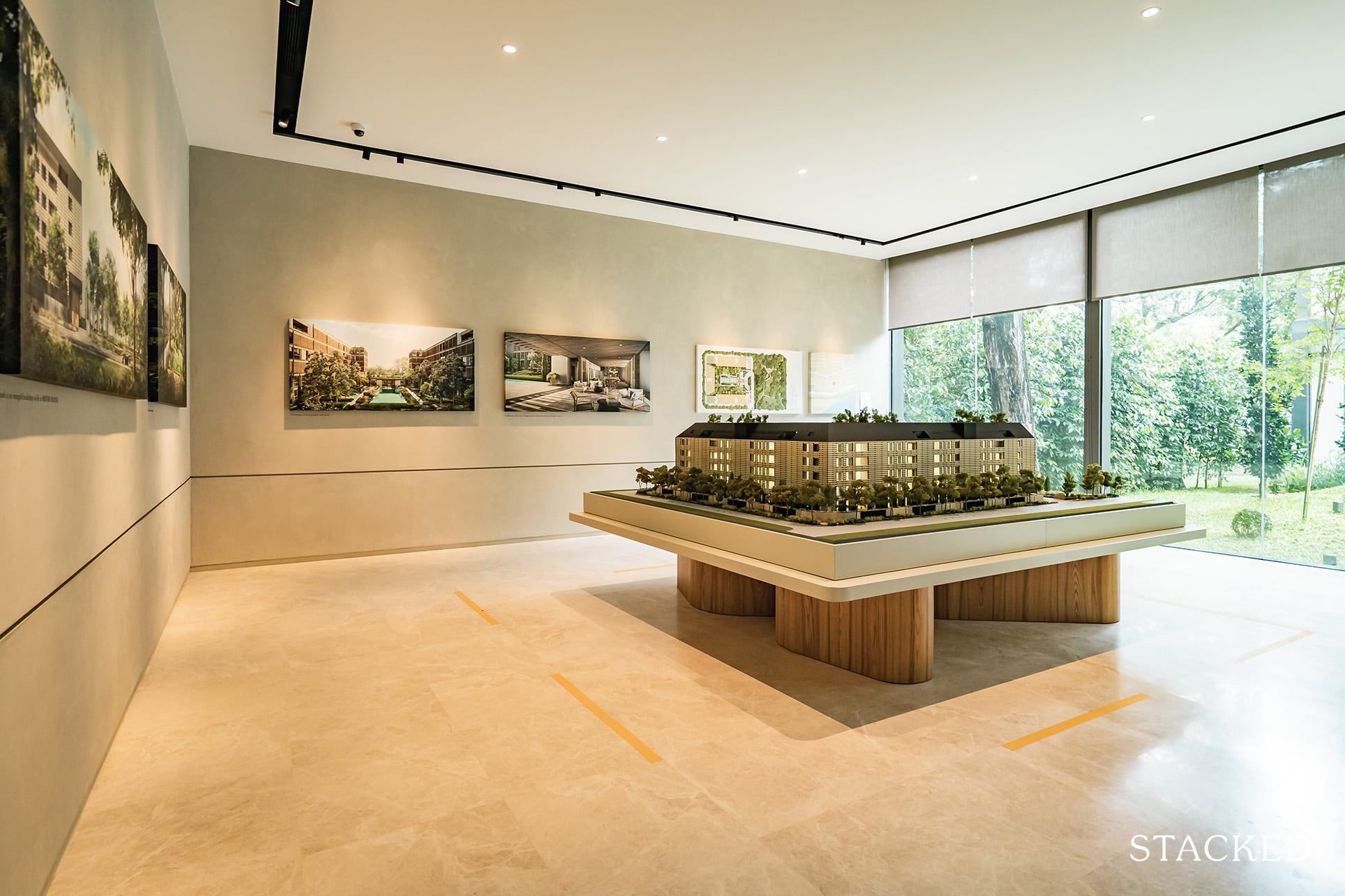 If you are seeing the model for the first time, I daresay that it isn't a design that would immediately blow you away. It slowly grows on you, especially when you learn of the different details and features that set it apart from almost anything else.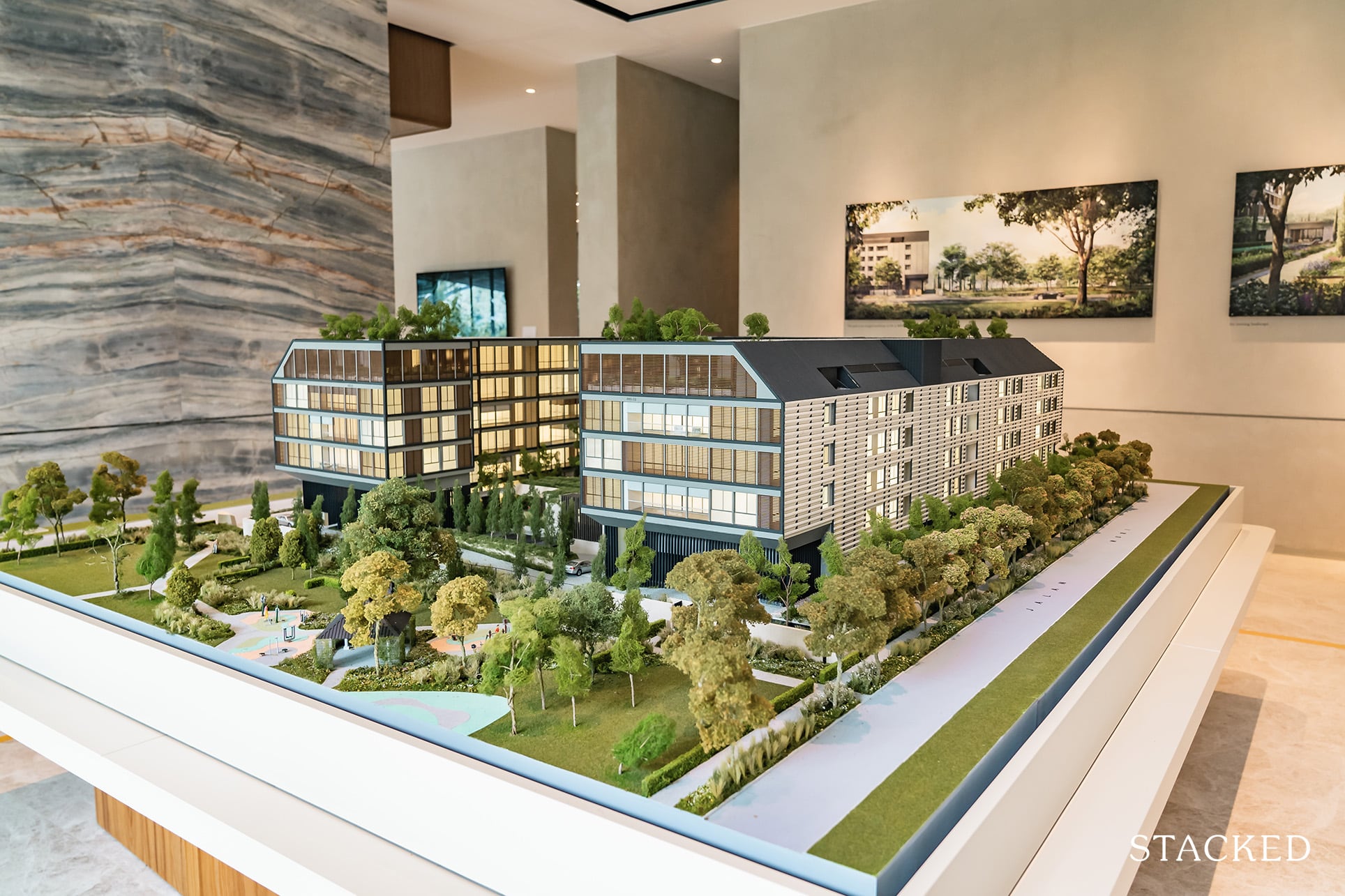 I really do like the design of the Meyer House. That glass fibre reinforced concrete exterior facade does have this timeless appeal about it, and even if you were to come back and look at it after 10 years I believe it would still look just as classy. Yes, that's exactly the word for it – classy. It almost reminds me of some of the stately houses that you'd see in the Mayfair area of London.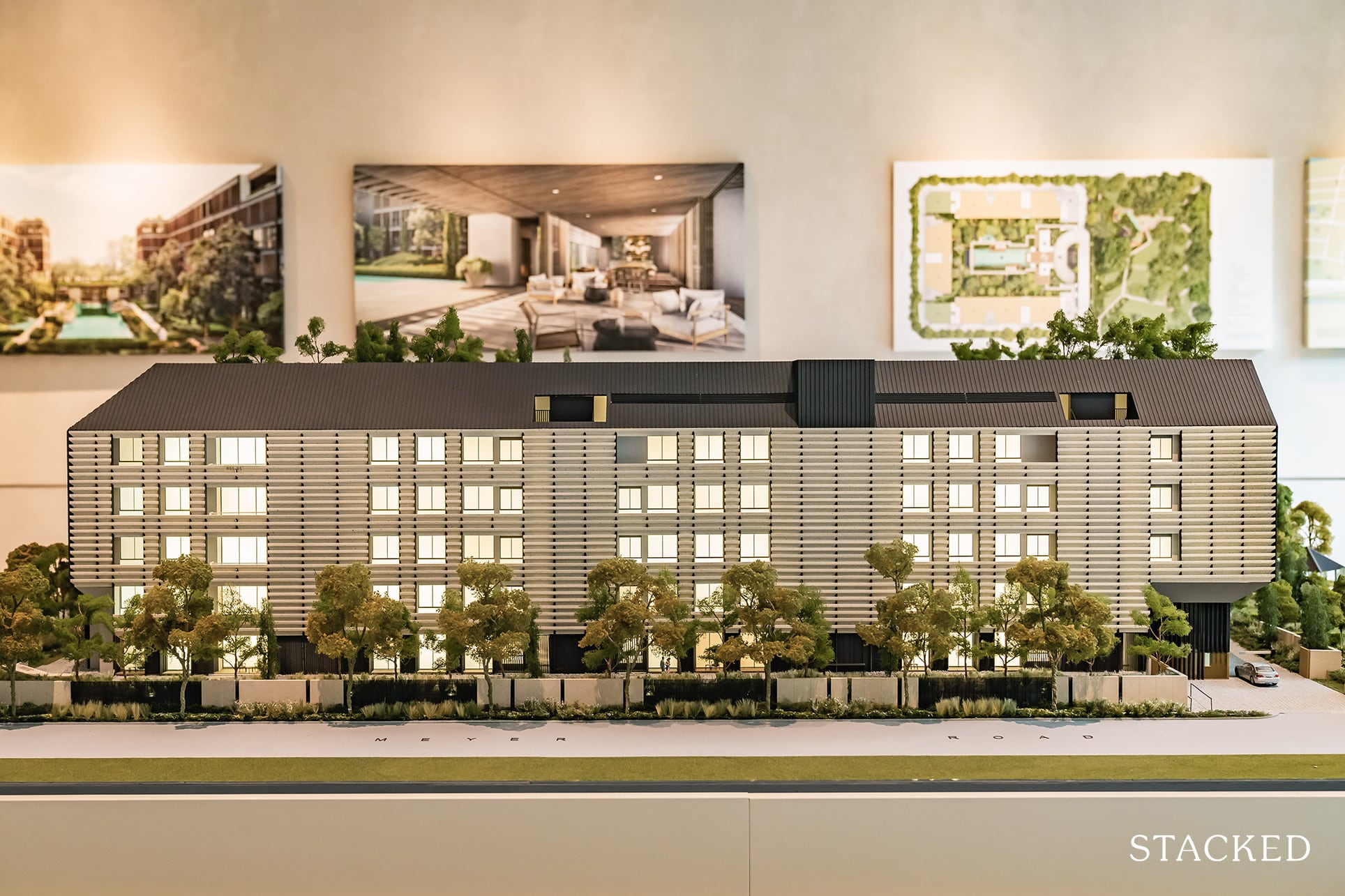 And like I said in the introduction, developers UOL and Kheng Leong do have a great track record when it comes to an ultra-luxury condominiums. Most people looking at Nassim Park Residences probably would be surprised to learn that it was completed in 2011.
Especially when most modern new launches that you see today are starting to look alike, a design such as this is really a breath of fresh air to me.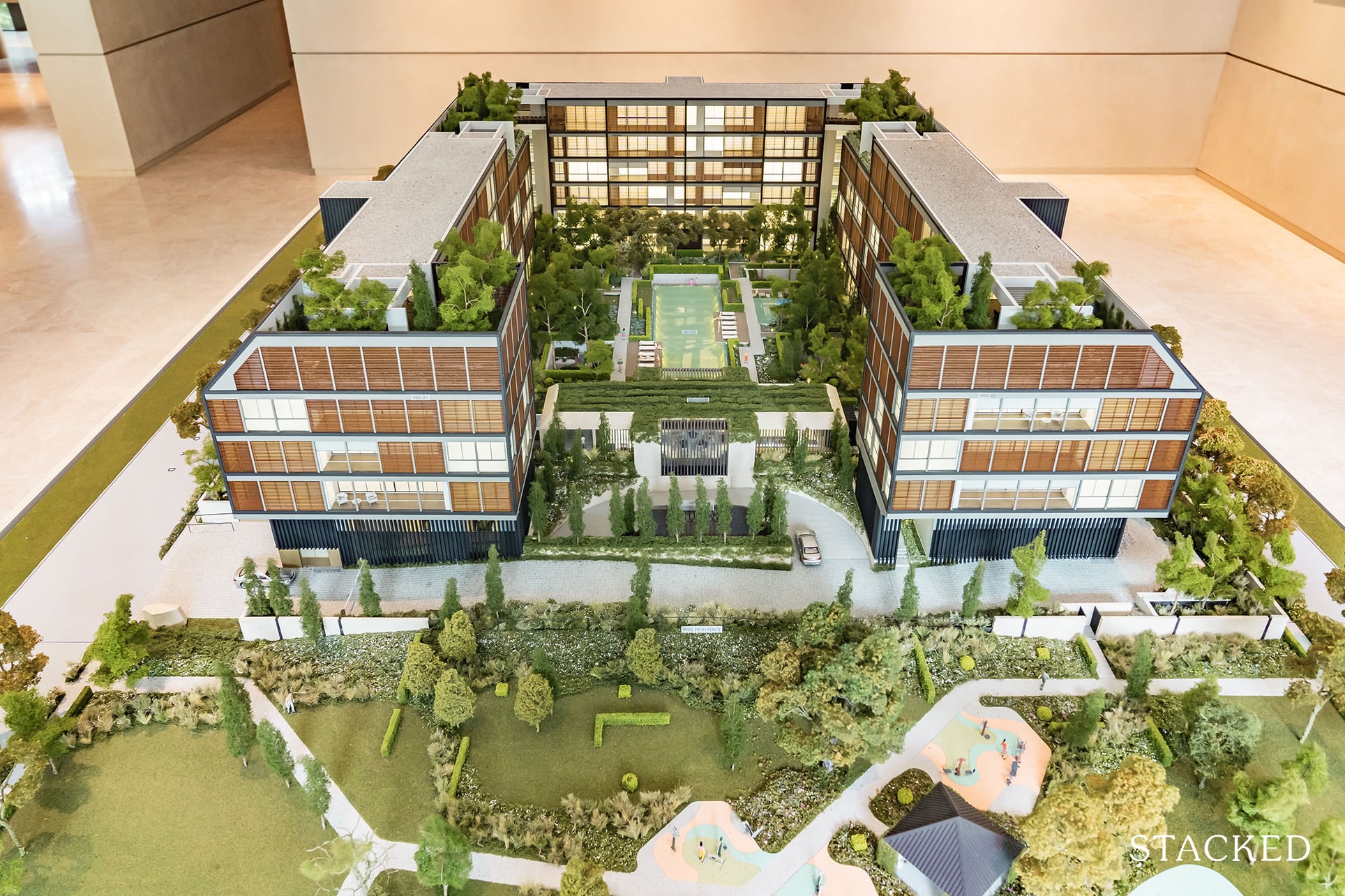 Shaped like the letter C, Meyer House offers quite a unique layout that isn't as commonly seen. In some sense, it is more private for the inward facing units as no outsider can ever look in. But on the other hand, you do still have to face what little neighbours that you have here. To be fair, for upmost privacy you will have to get GCB levels so this isn't an issue entirely limited to the Meyer House.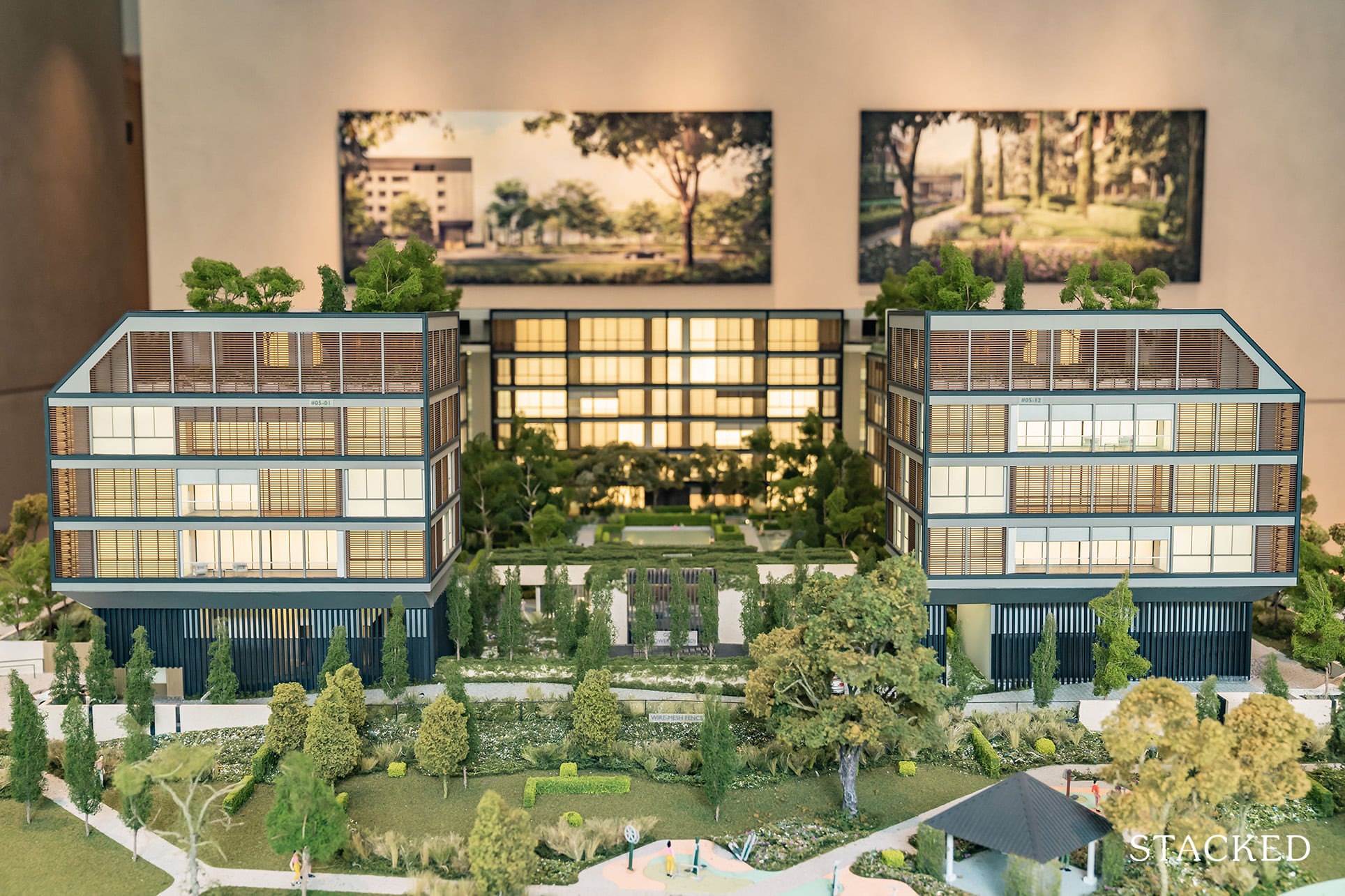 When viewed from the front, it does look all the more majestic, almost like it is a stupendously large landed home of an ultra rich billionaire owner.
It's also really smart that they've angled the open section of its layout towards the public park in front of it. While it would have been a whole new level of opulence should the park have been part of its grounds, this is probably the next best thing. Plus it has a private entrance directly to the park, so it does seem like it is a seamless extension of it.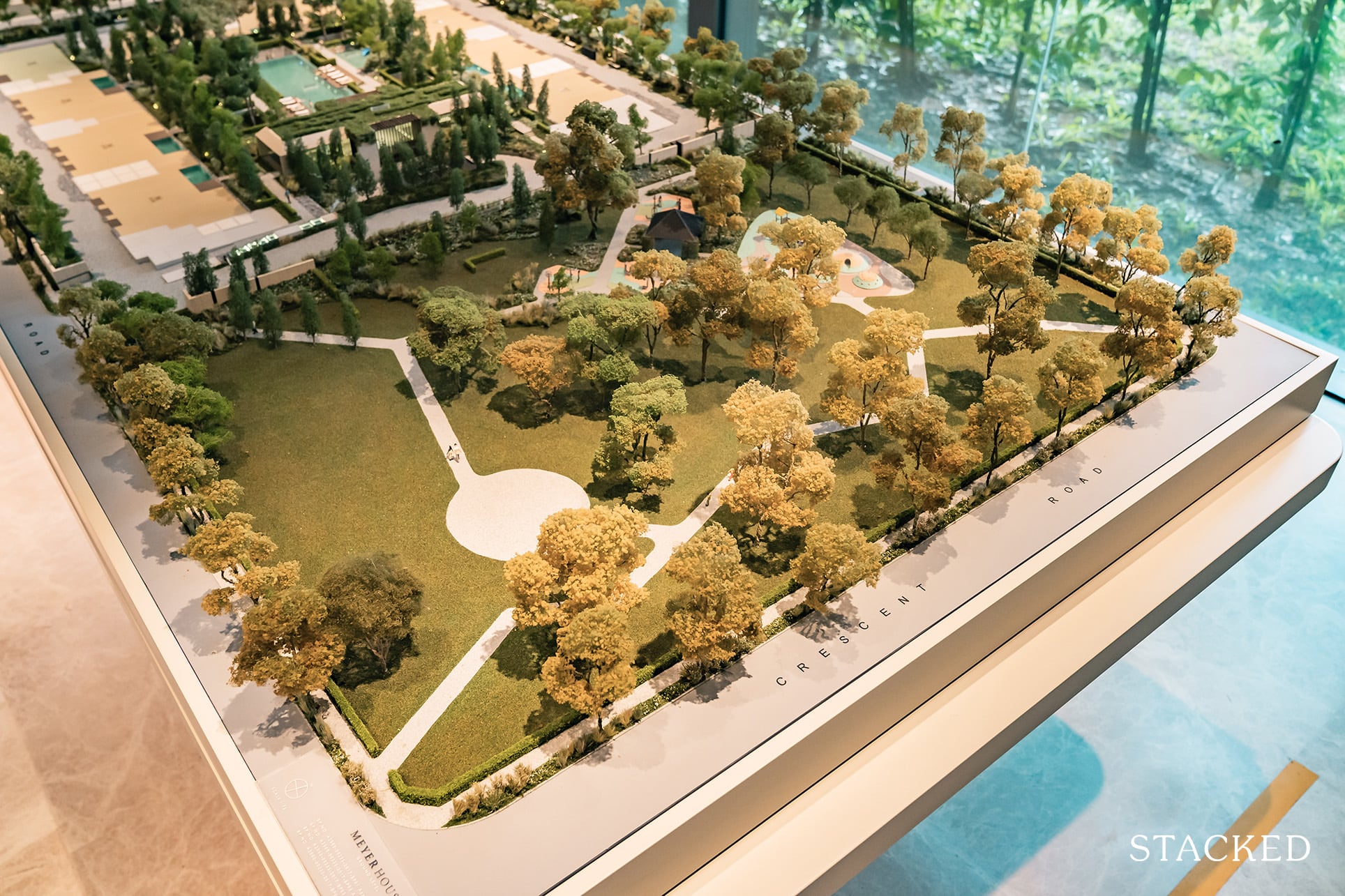 It does remind me of Parksuites, with the only difference that the developers are looking to implement some upgrades to this public park. Either ways, sweeping greenery views are definitely a major plus point here.
For families with young children potentially looking at a home such as this, having an open park at your doorstep is undoubtedly going to be a draw.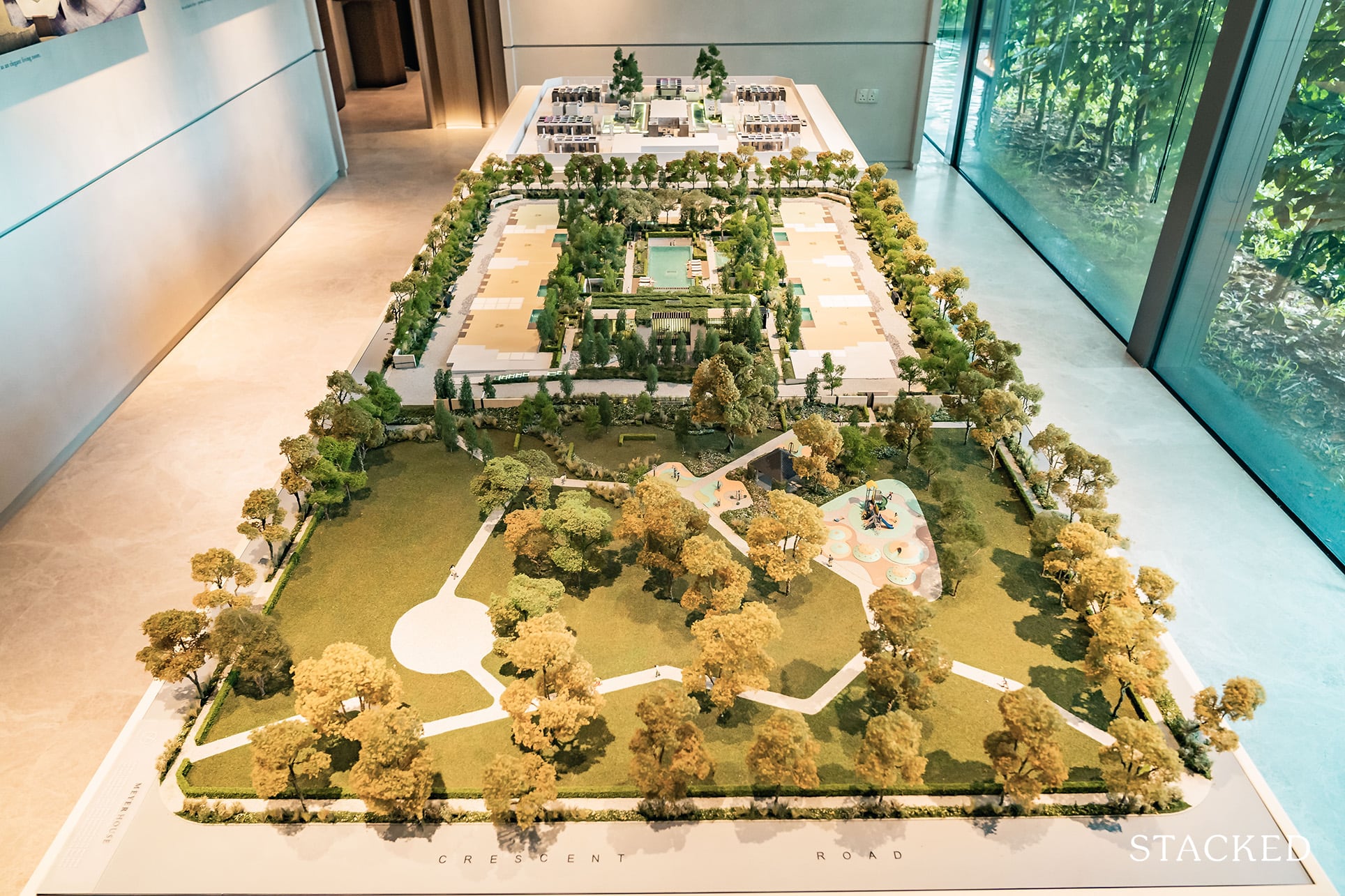 Let's talk a bit about the space of Meyer House as it is after all the number one strength of it. It offers a class leading (109,630 sq ft/56 units) 1,957 sq ft of land per unit. That's a whole lot more than even 15 Holland Hill at 1,429 sq ft of land per unit – which certainly says a lot.
It's clear that the developers have identified a niche of buyers they are targeting and they have really doubled down to deliver on that front. In land scarce Singapore where space will always be a premium, unit sizes and land size per unit such as this will stand head and shoulders above everyone else.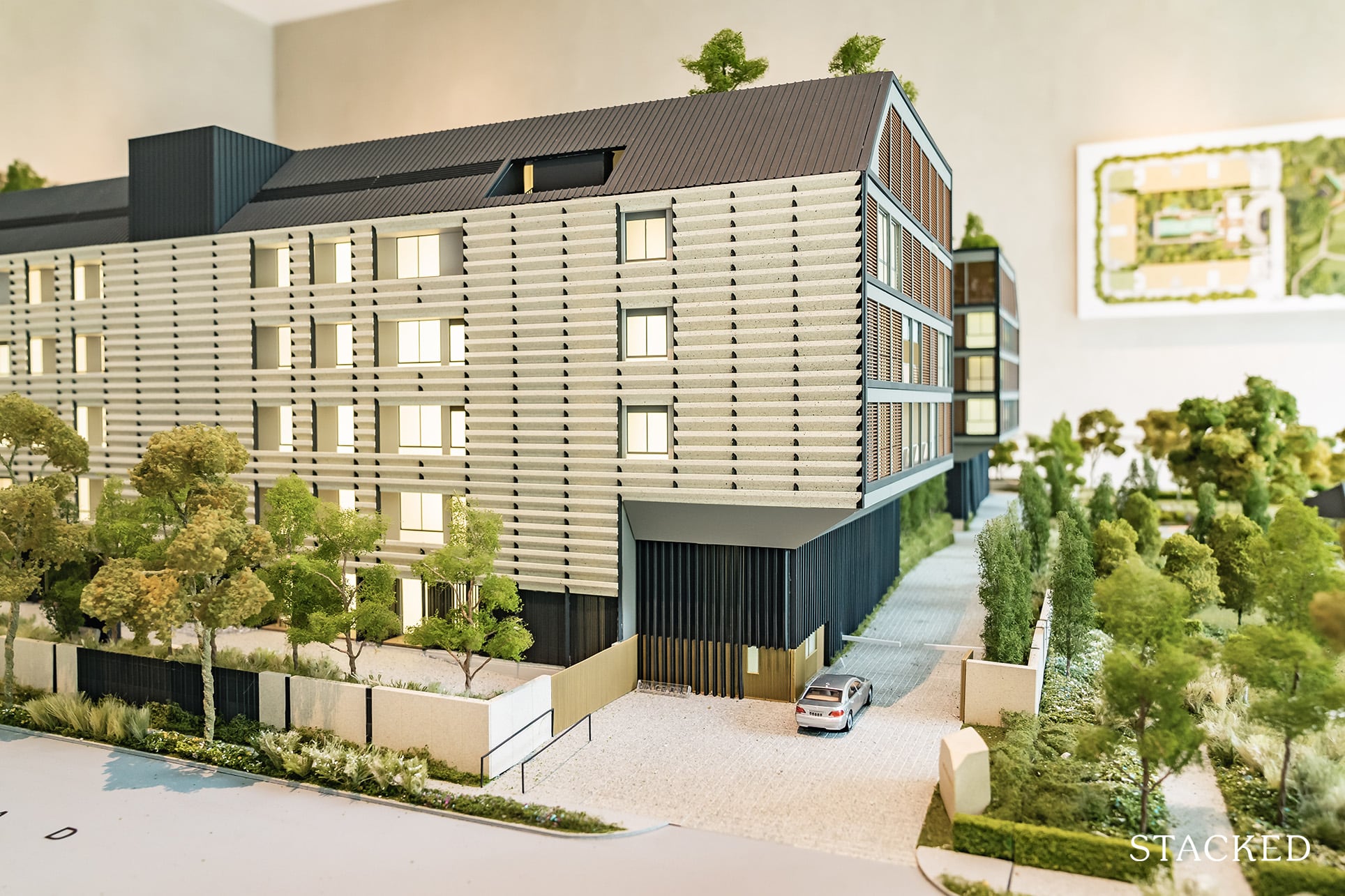 The entrance to Meyer House is located along Meyer Road, but it is as nondescript as they come, which does suit its understated nature. It also does serve as a privacy filter to prevent drivers from peering in, but that said you can still look in if you were that curious from the Meyer Road Playground itself.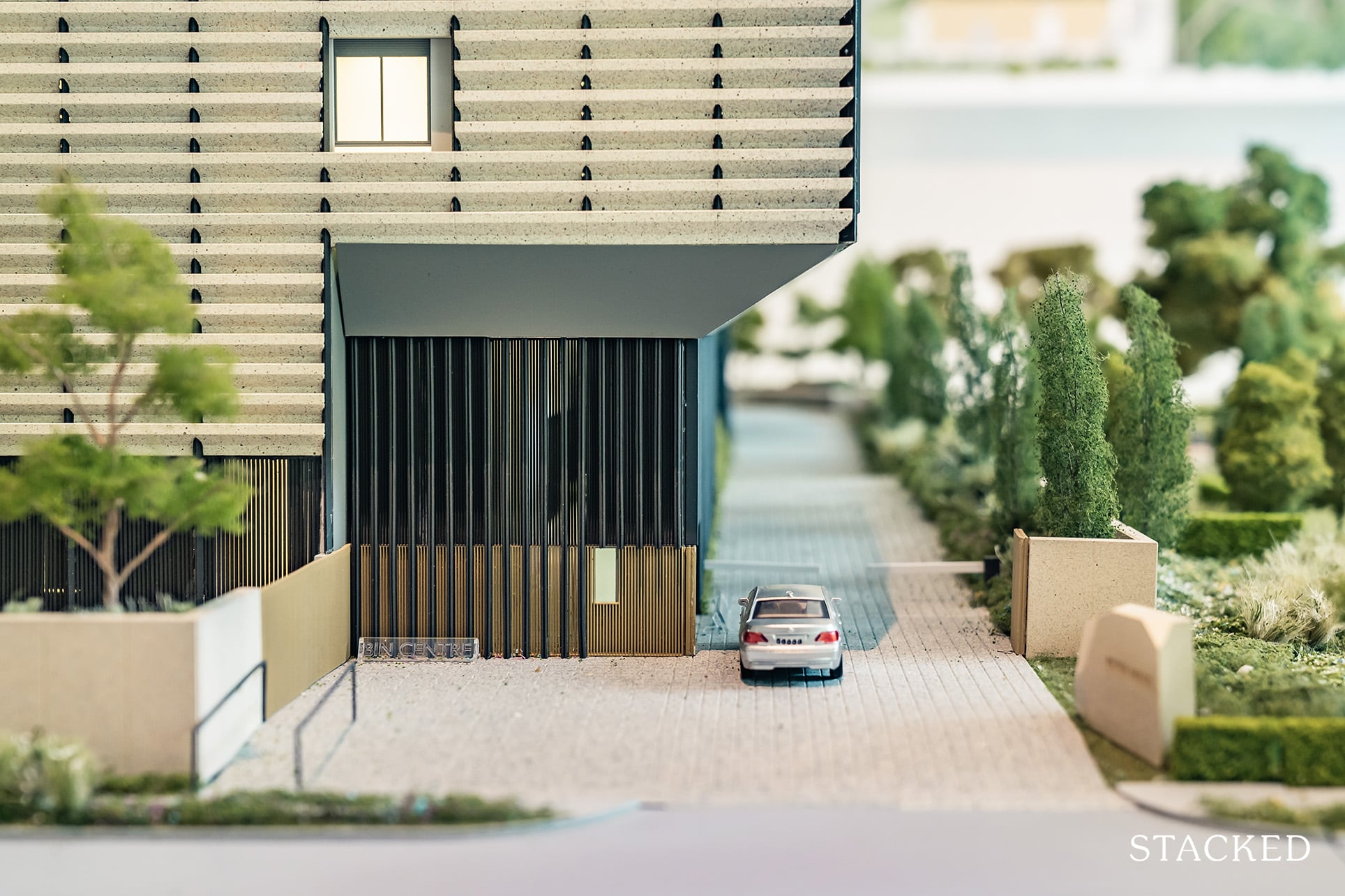 It does remind me of ultra luxury hotels from the Aman Group, where the entrance belies what is actually lying inside. It's one of those cases of if you know, you know.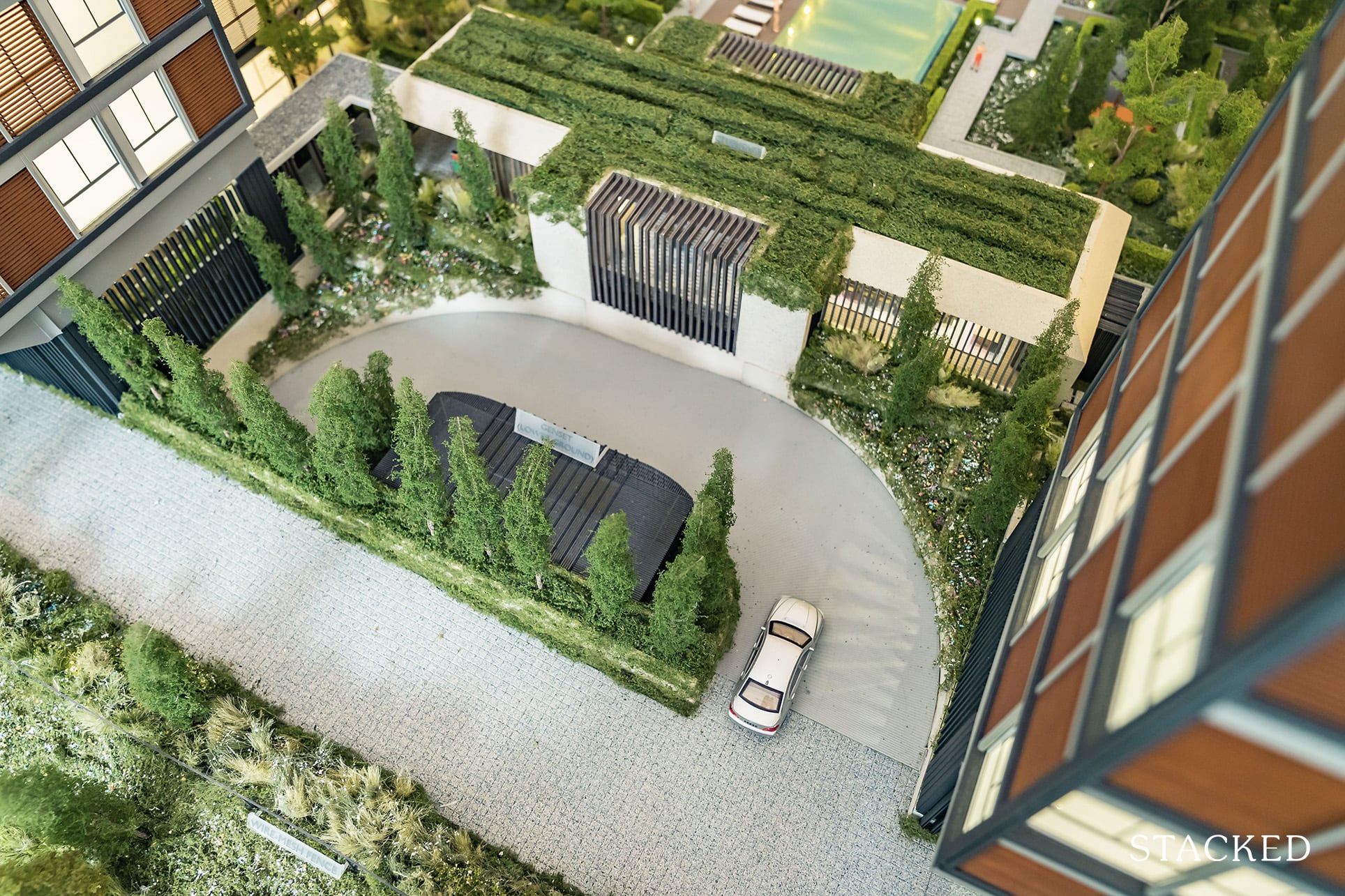 Driving down the driveway leads you to the arrival area, which is completely surrounded by greenery. The drop off point isn't actually on the first level though, for that you'd have to head into the basement.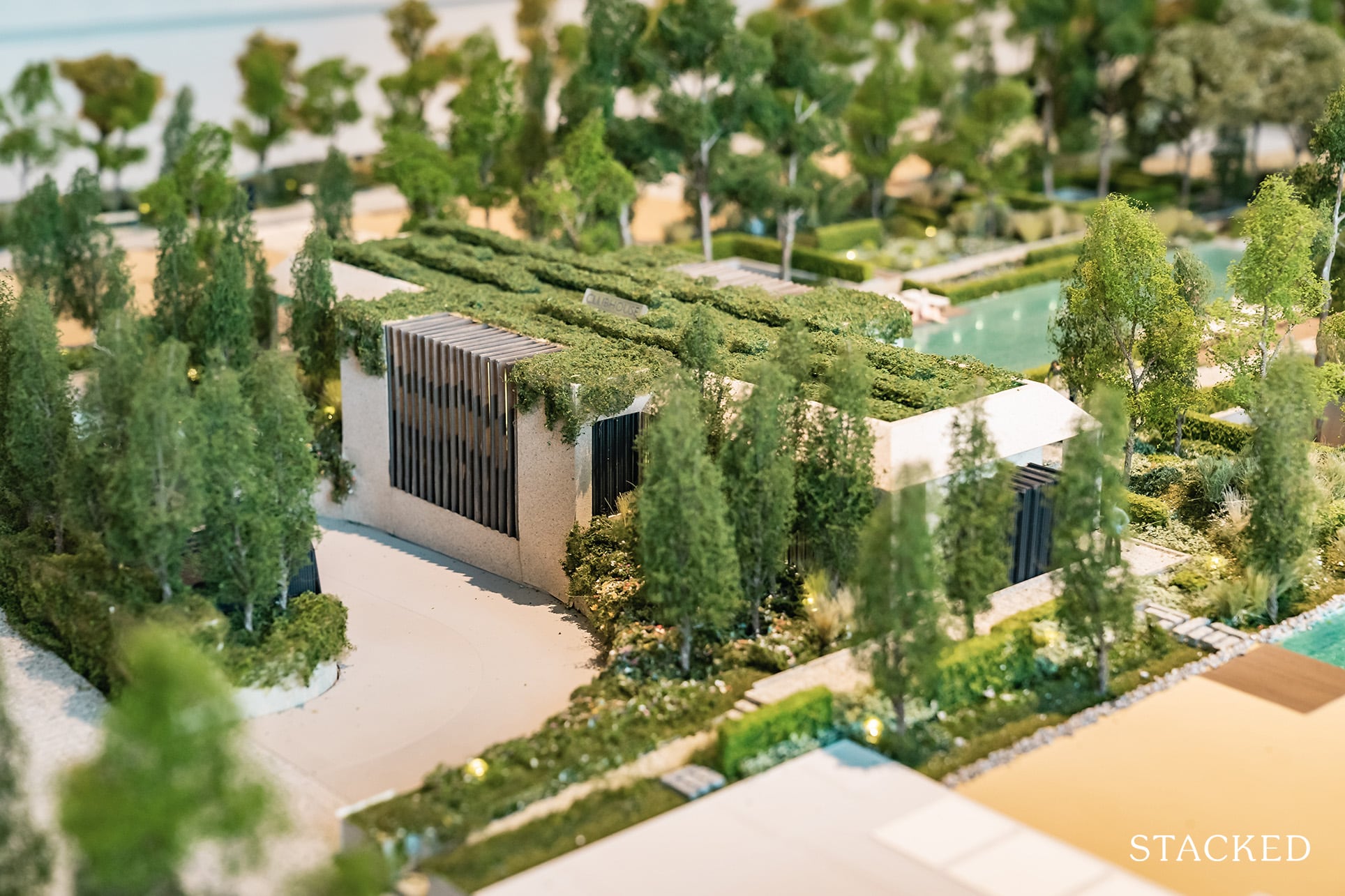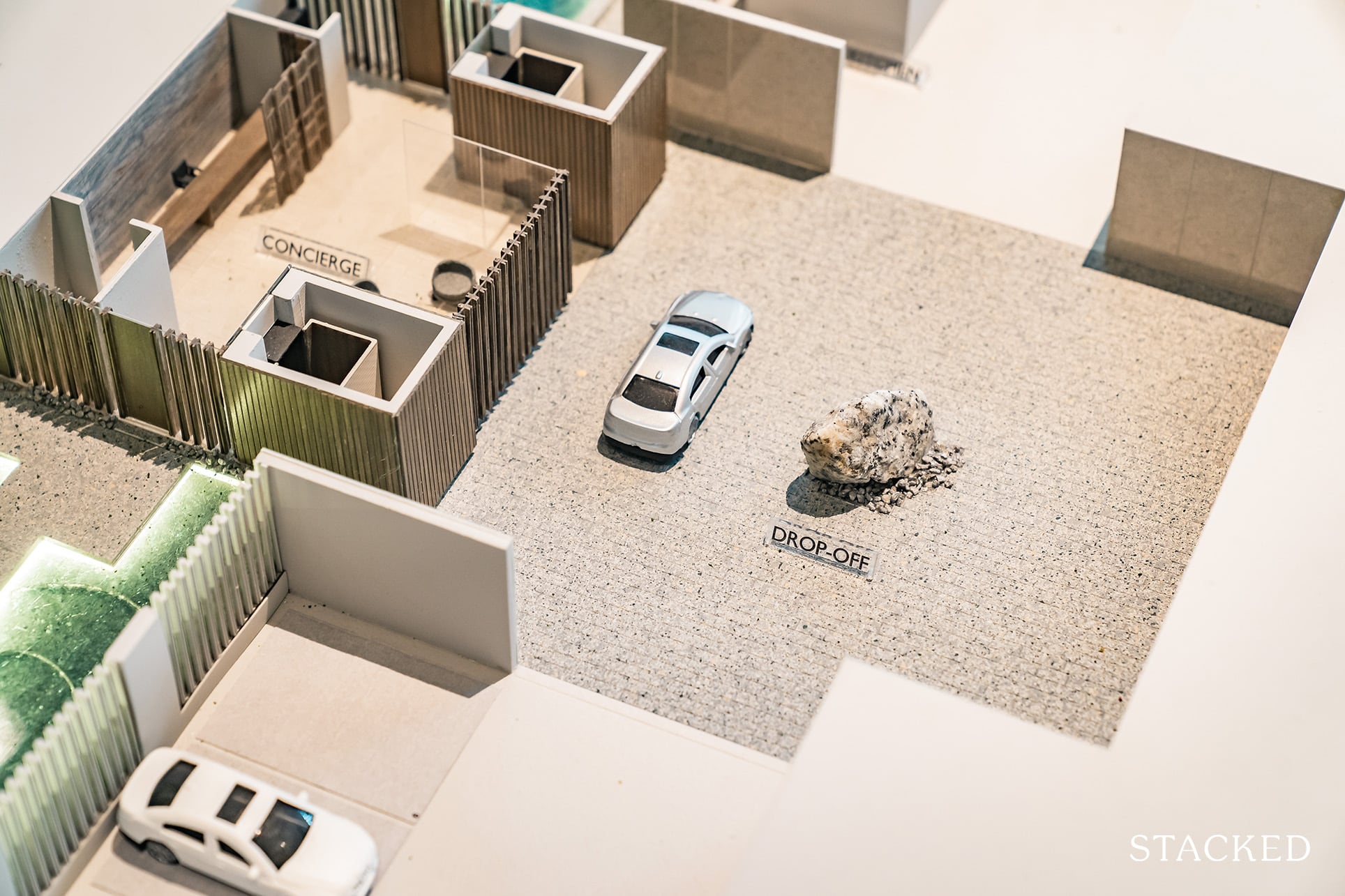 The drop off point is also where you'd be greeted by the concierge counter, which is definitely a standard offering in luxury condos. From housekeeping services to booking of transport, this can all be done here.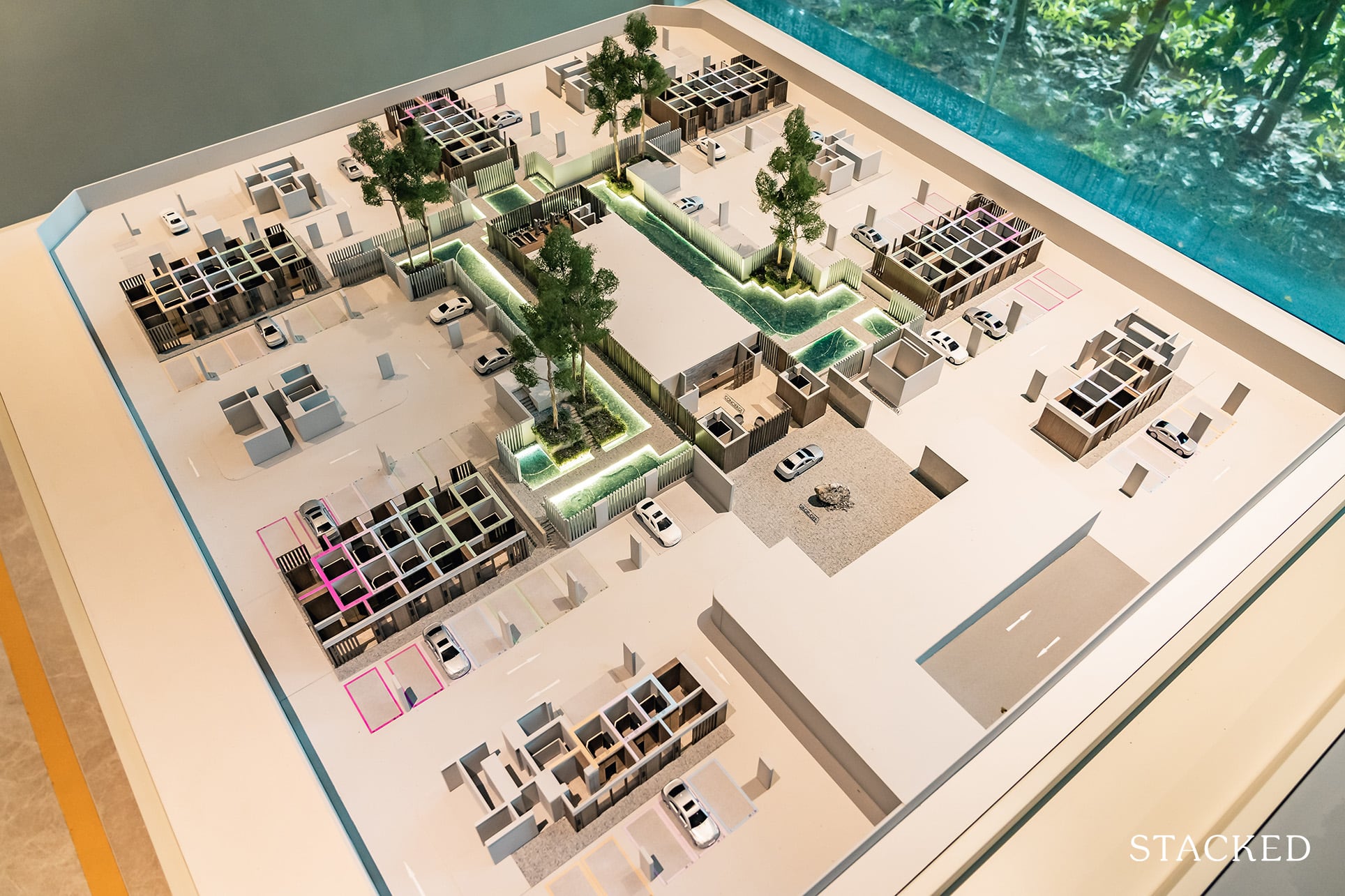 Which leads me to my next point, and probably one of its most differentiated offerings: the dedicated private lift and lift lobbies for all its units. Yes, you read that right. Even at 15 Holland Hill where it is at a similar premium level, that luxury is only afforded to the "special" units. The regular ones only have the regular private lift.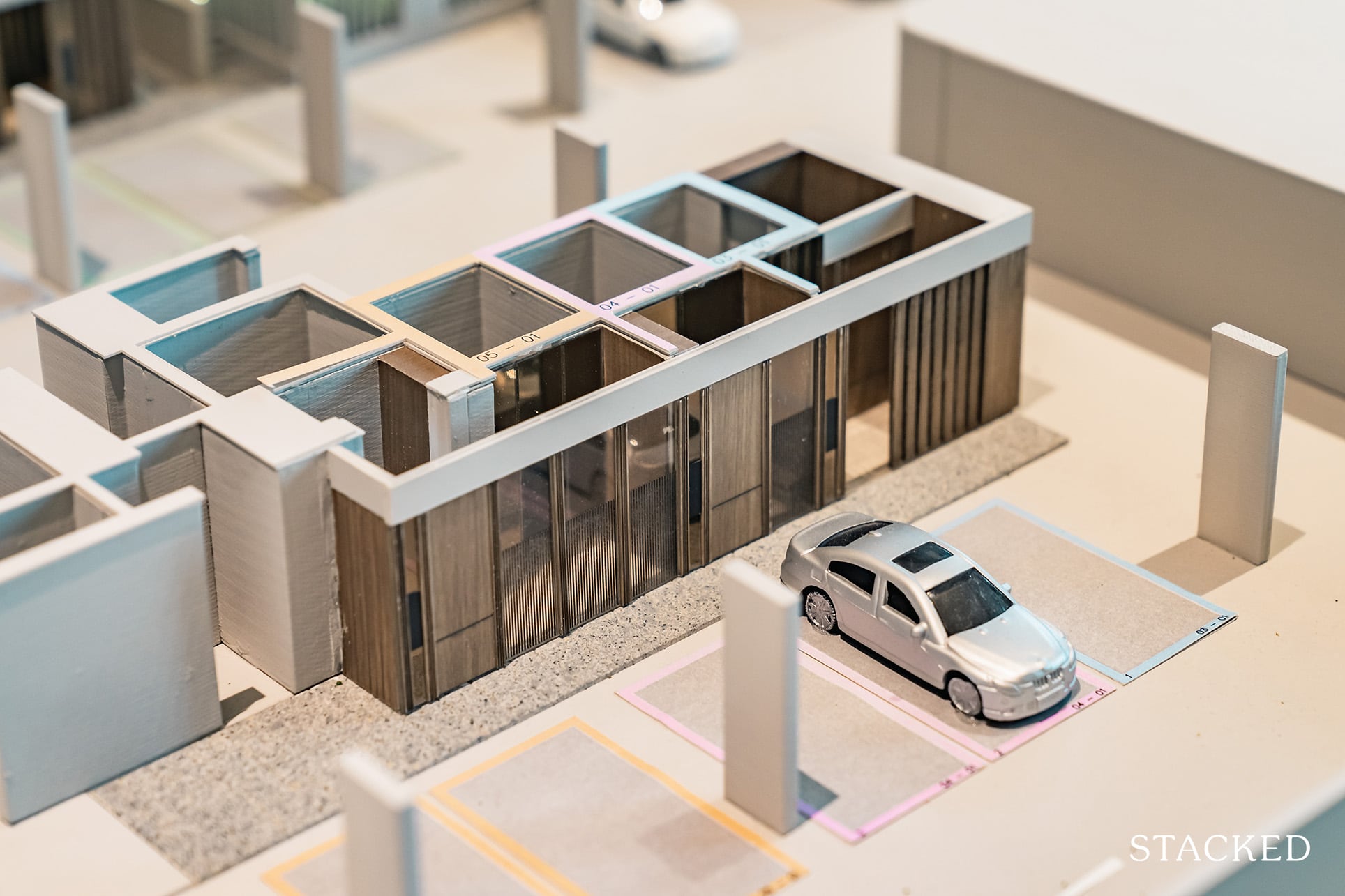 To be clear, this means that each unit will have its own lift and lobby – you would not be sharing this with anyone but the residents in your household. You should note that only the 4 bedroom and penthouse units will have its own dedicated car park lot as well. Funnily enough, that is actually the majority seeing as there are only 10 3 bedroom units out of the 56.
There are a total of 85 carpark lots, which is more than the 1:1 carpark lot ratio but I still think that is on the low side particularly at the price points of the penthouses ($13.6 million and up). Surely you'd reasonably expect families of these apartments to have more than 2 cars?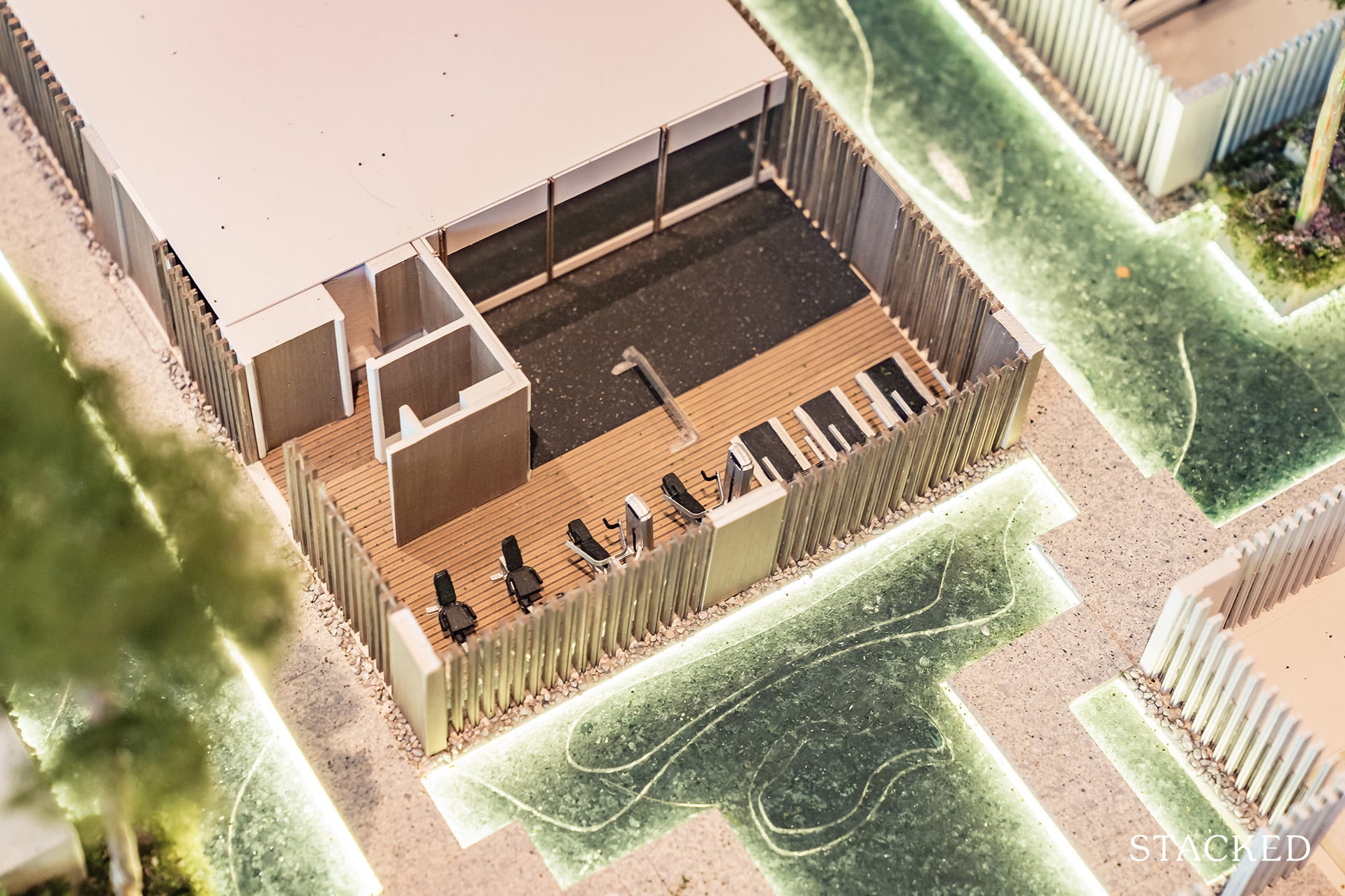 To round up the basement offerings, the gym is located here as well. Thankfully, it looks to be surrounded by various water features so you do get some sort of view still.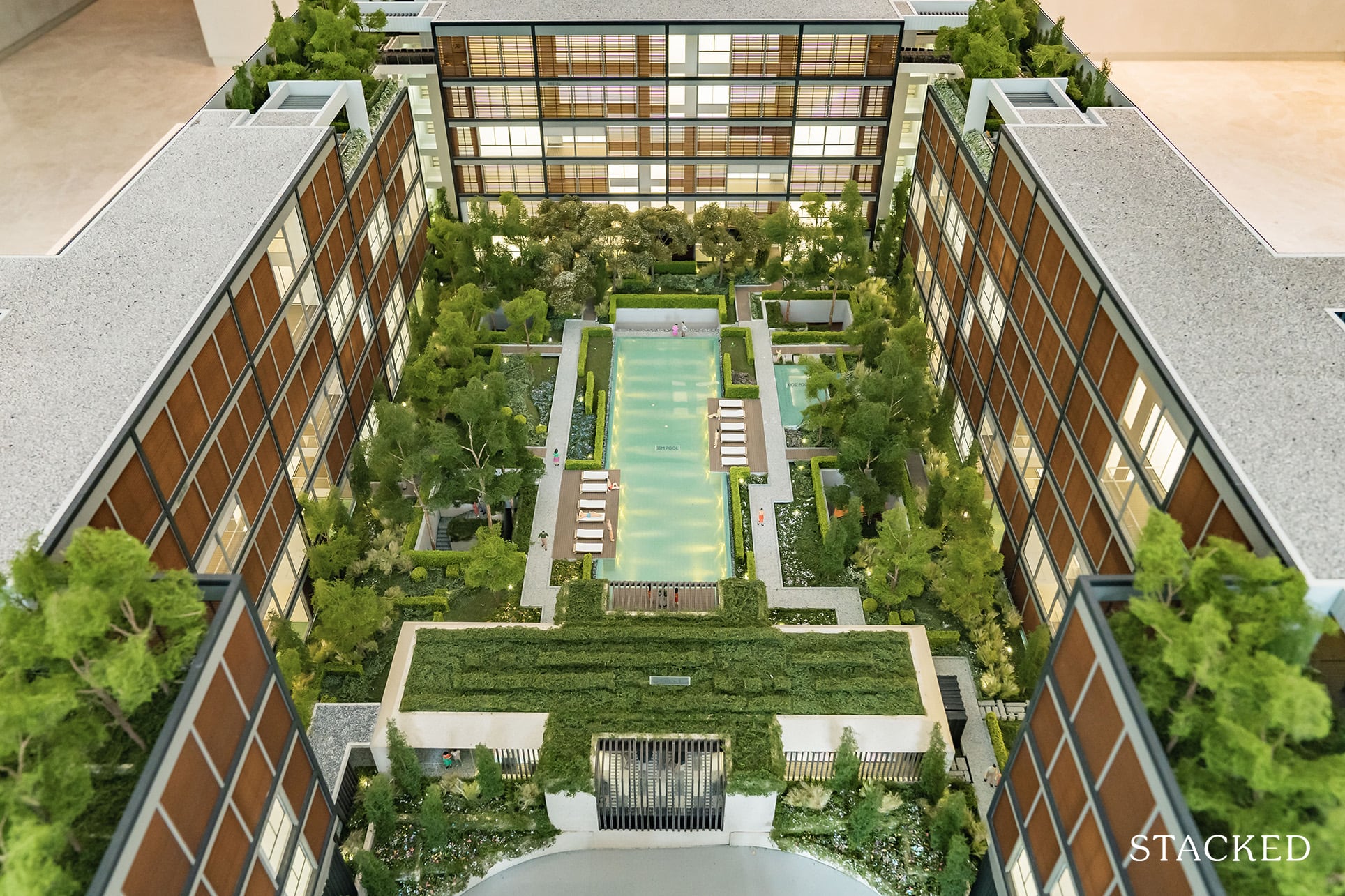 Now let's take a closer look at the ground level. For those who love nature, you'd absolutely revel in the landscaping at the Meyer House. From a first glance, it almost seems to be 70% landscaping, and 30% swimming pools.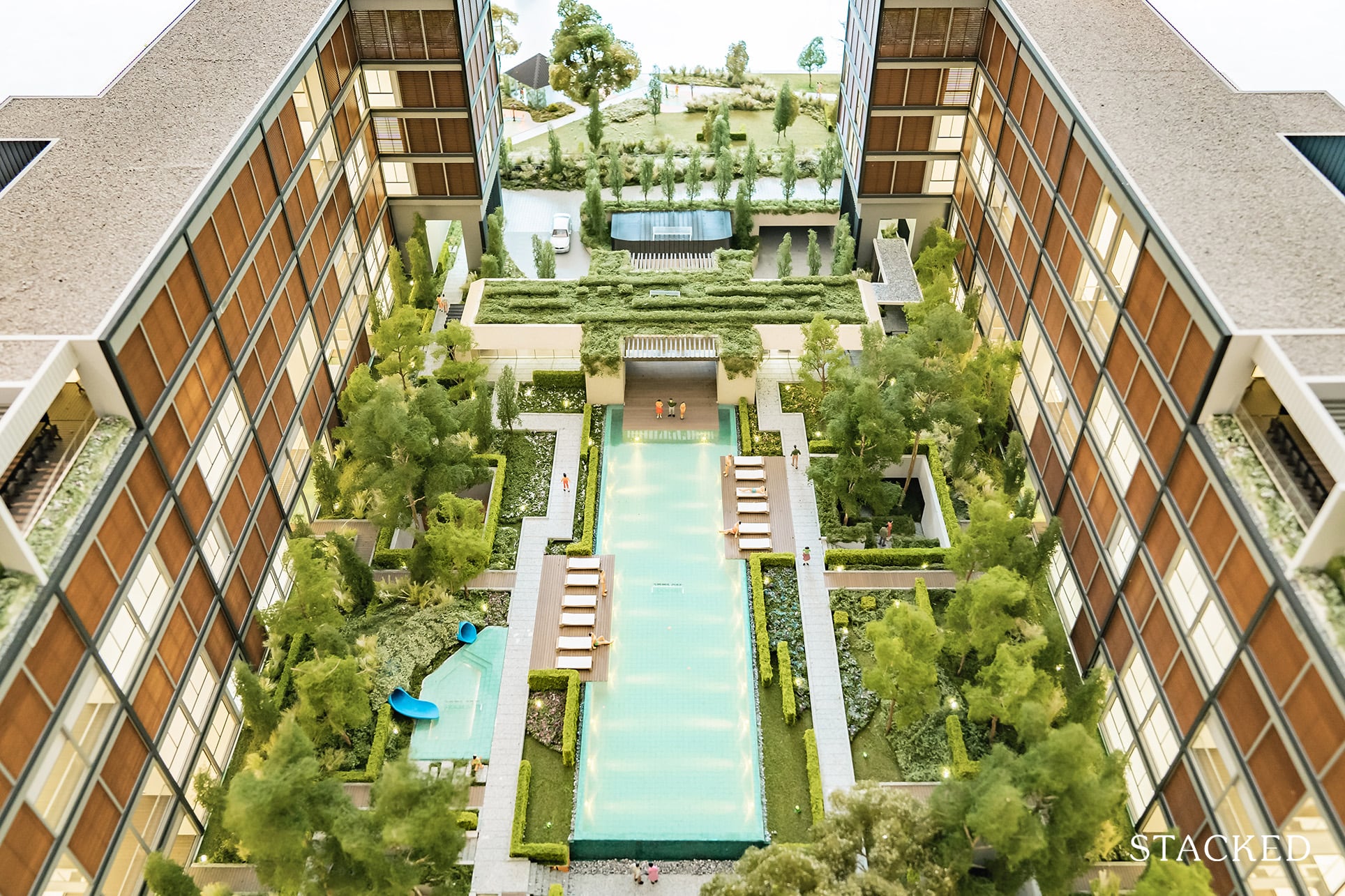 It isn't as spectacular as the English Garden at 15 Holland Hill (which was created by Ramboll too), but it is still nonetheless a visual treat for the eyes. Even if you'd were to glance outside the estate, you'd still have a good view of the park – so it is really just greenery all around.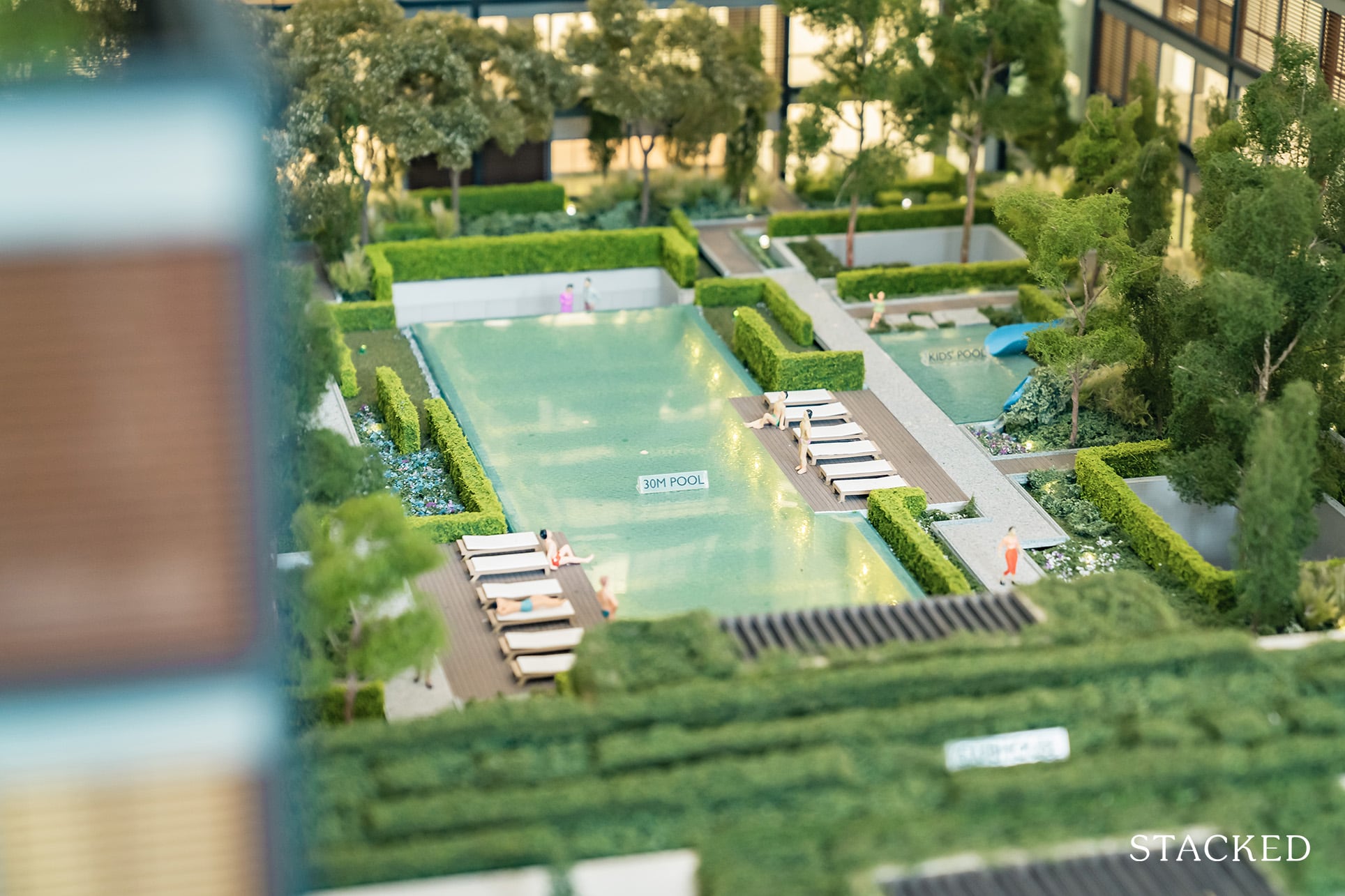 Smack in the middle of the landscaped grounds is a 30m lap pool. It does look like an incredibly relaxing place to be in, surrounded by the well manicured hedges and perfectly placed trees.
That said, it is a little on the small side for my tastes, even if there are only 56 units. I guess it was a conscious decision on their part to give more allowance to the landscaping, as you can see there was definitely enough space for a bigger swimming pool.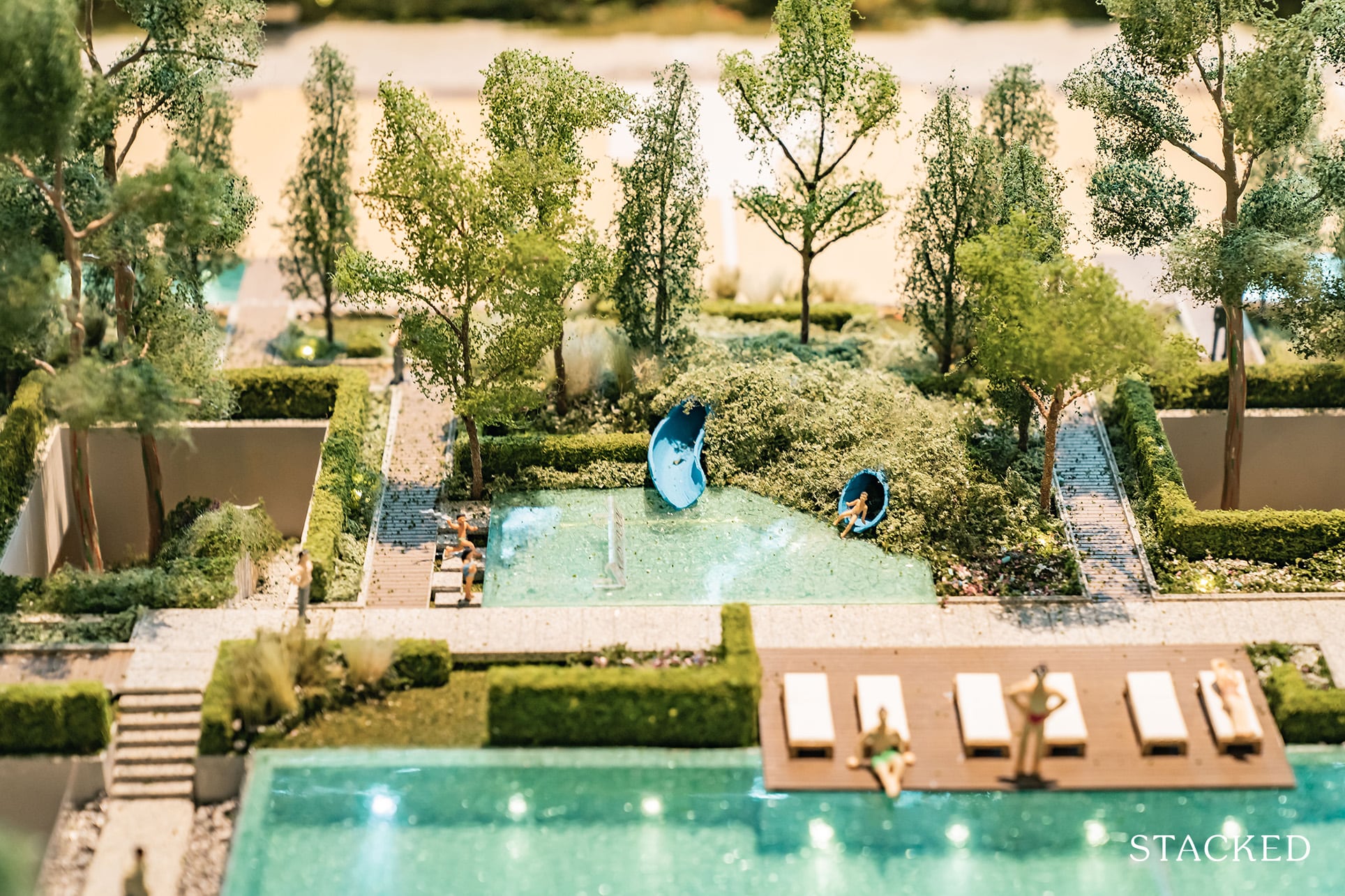 On one side of the swimming pool, you do get a kids pool too. And quite amazingly, it comes with a slide (something that kids can be self entertained all day). As a parent myself, I do appreciate that detail and addition as it isn't something commonly seen in most developments (even the supposedly family oriented ones), which has always been quite strange to me.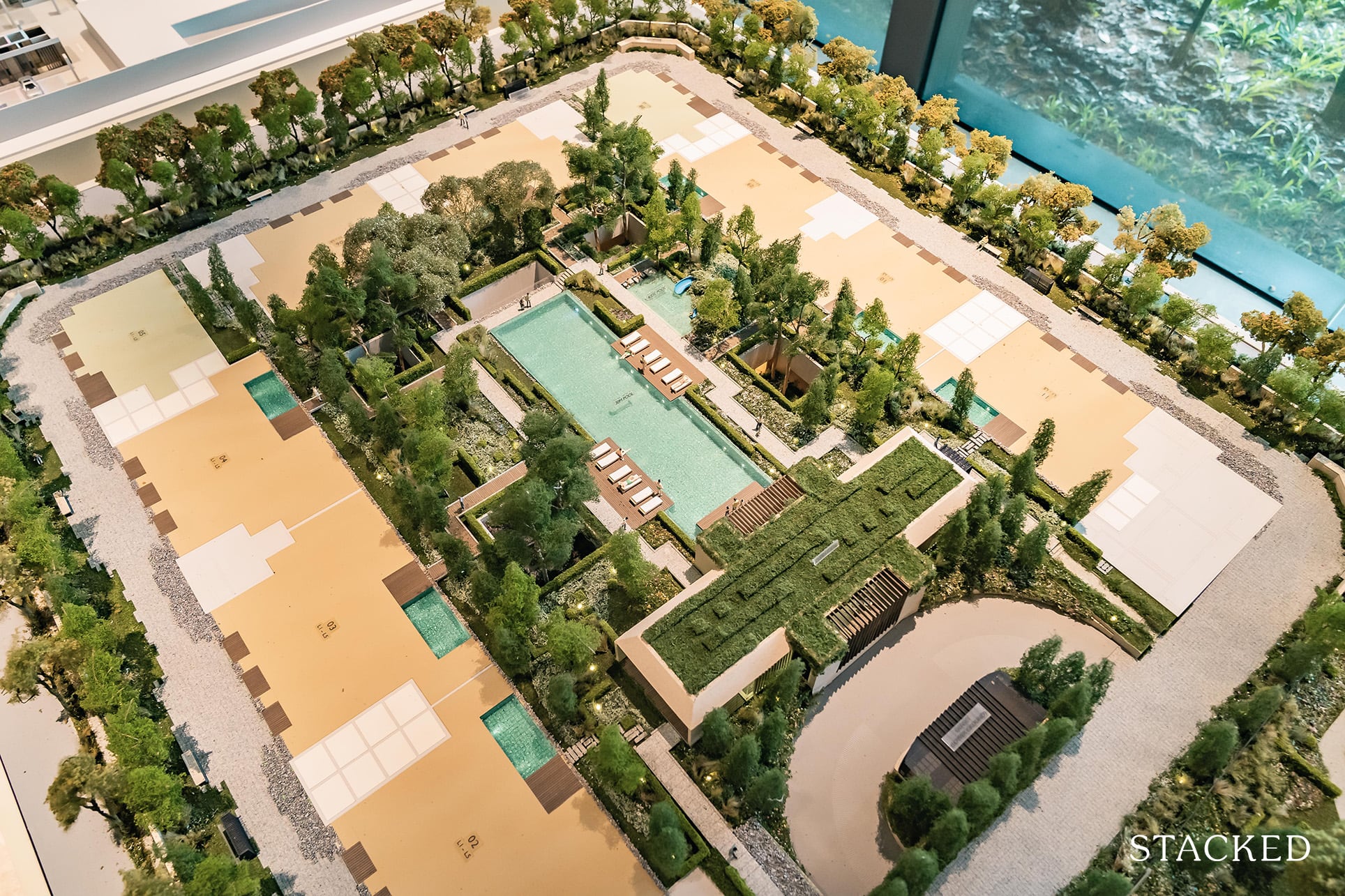 The clubhouse is actually that long structure that you see above. It will feature cosy lounge seating as well as a 18-seater private dining room.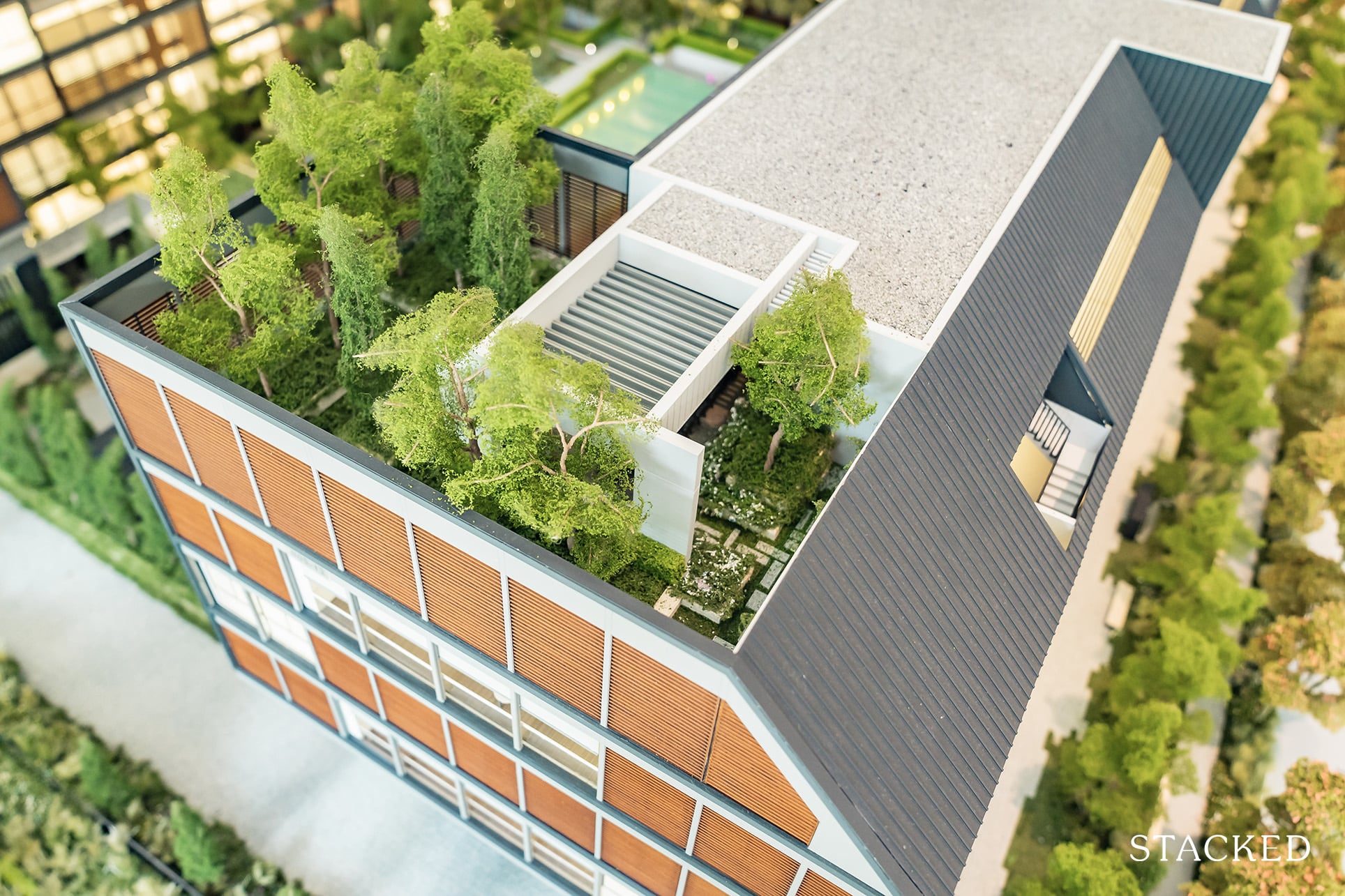 Located at the rooftops are the penthouses. These range from a gigantic 5,662 – 5,683 sq ft, of which there are only 6. They each come with a private garden, but no private pool here – which is quite surprising.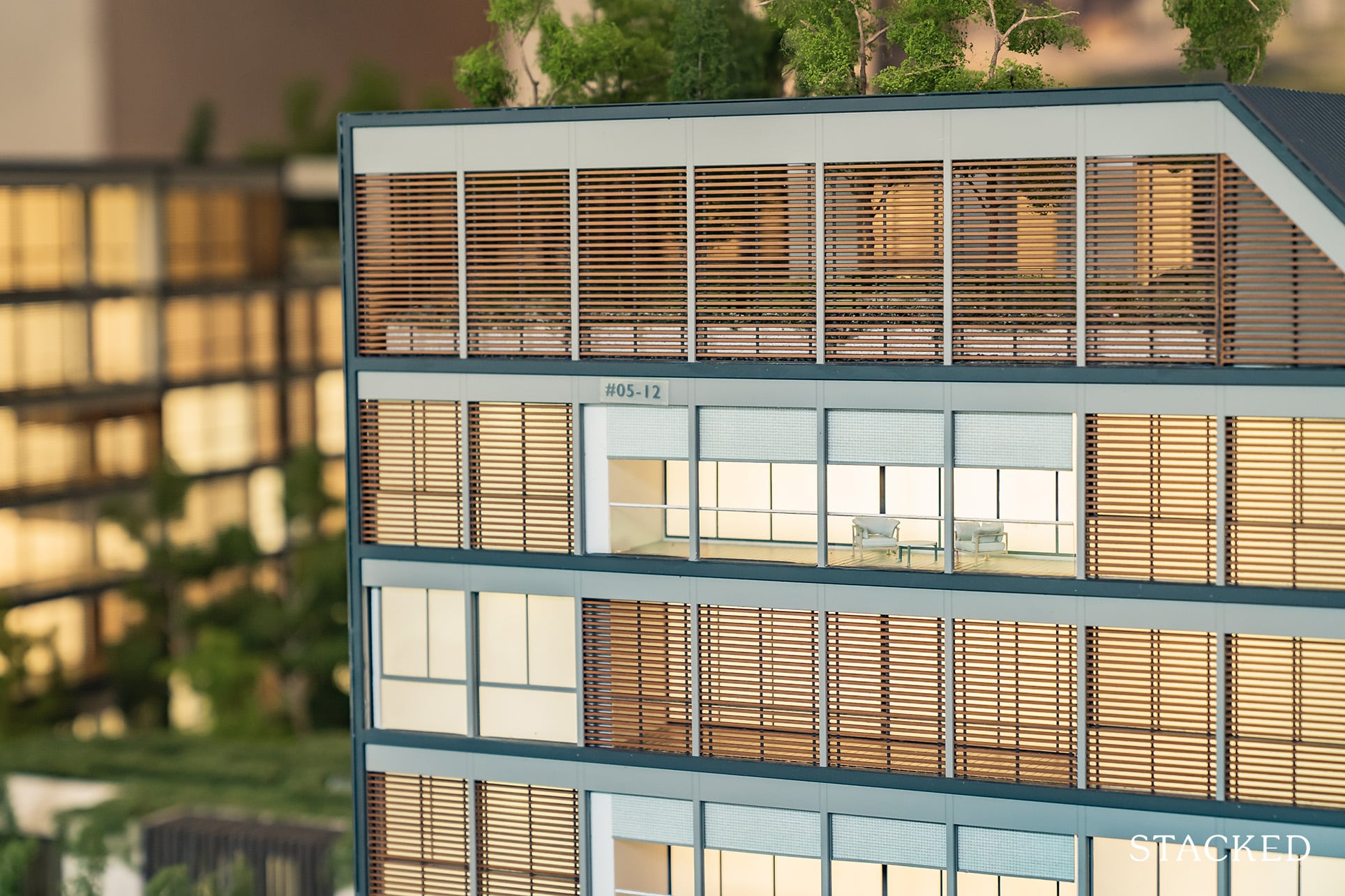 Read this next
4-Bedroom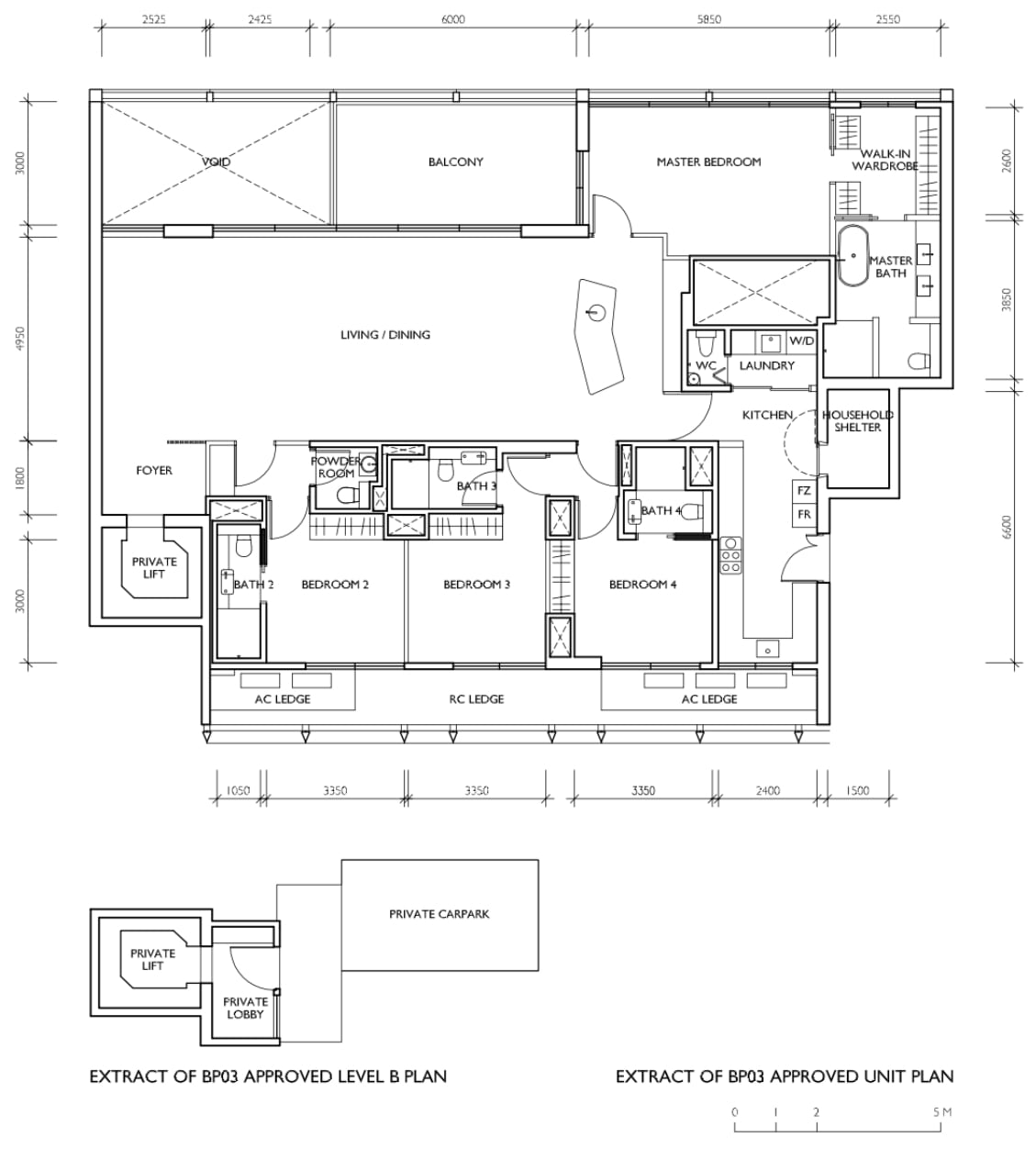 At 2,971 square feet, there's no doubt that this is a very large 4 bedroom unit. Just to give you some comparison, most new launch units today are hovering between 1,200 to 1,500 square feet on the upper end, so a 4 bedroom bordering 3,000 square feet is really quite something.
On the whole, it is actually very well laid out, and surprisingly efficient (not that it even needs to be). You should note that the dedicated carpark and private lift lobby are counted in your liveable space, but again, at this size I doubt anyone would see this as wasted space.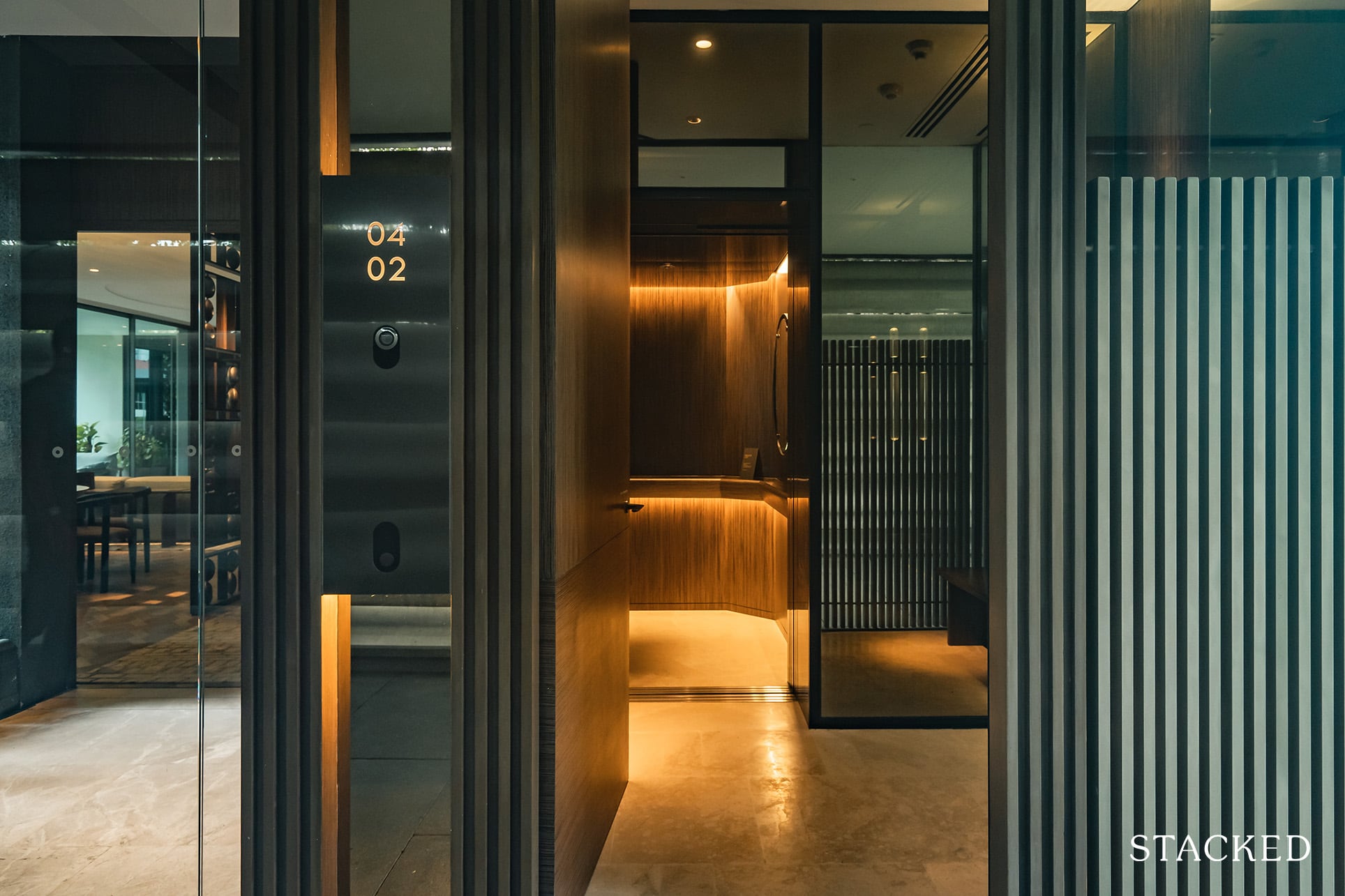 This is your private lift lobby, complete with your unit number lighted up and the camera to view should you have guests coming over. It's certainly swanky and unquestionably an opulent way to be welcomed home each time. In today's Covid-19 environment, this is definitely the safest – as extravagant as it may look.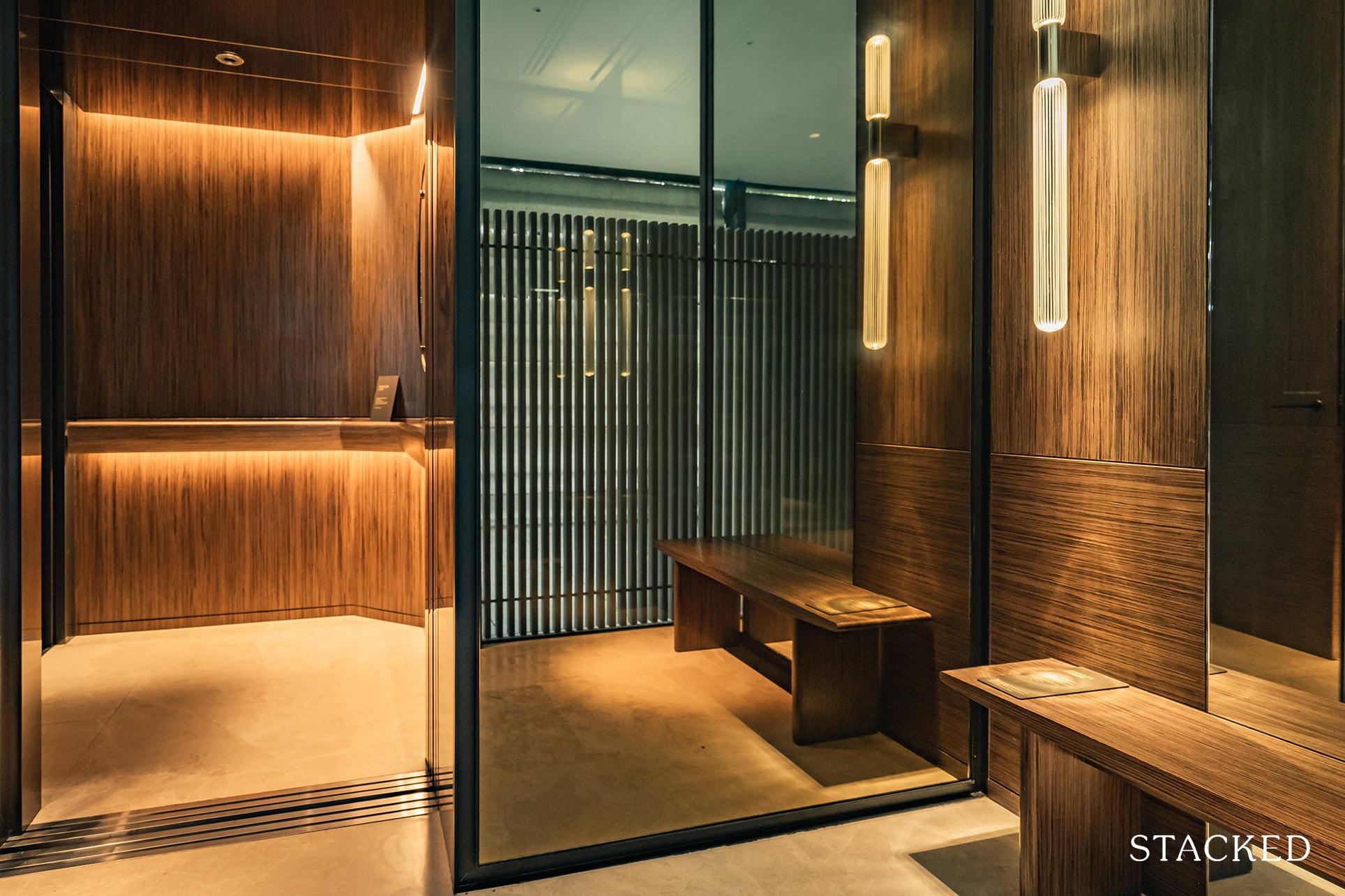 For those expecting the lift lobby to be a small cramped space would be pleasantly surprised at the size of it. There's enough space for a small bench and you do have in-built cabinetry included to store your shoes, car keys and such.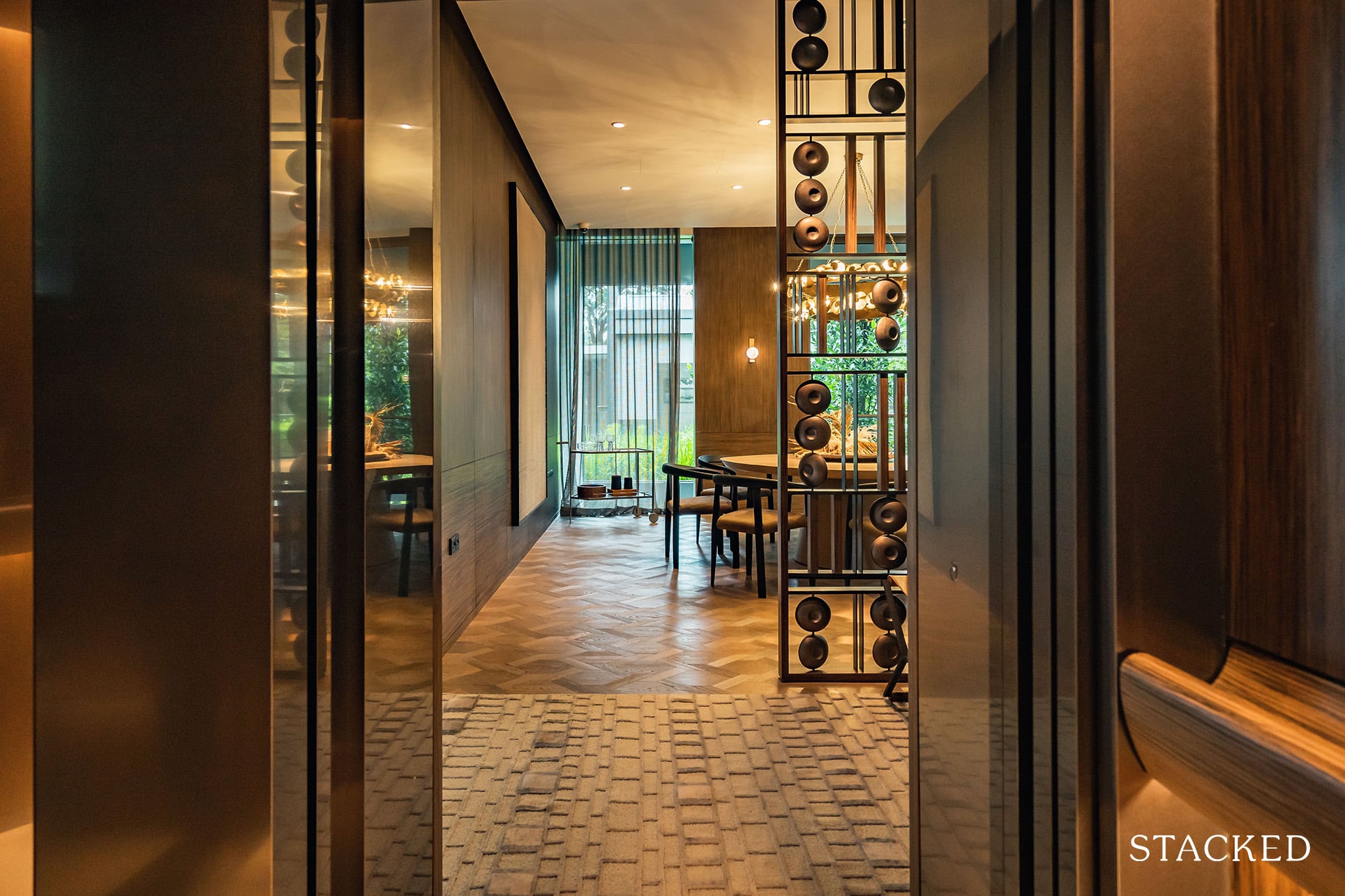 Once you get to your floor, it opens up into a small foyer as you catch a glimpse of the living area.
Perhaps because the weather was quite overcast on the day of my visit, but the lighting was quite dark in the showflat. Taken positively, it creates a very sultry mood, but of course this would be entirely up to your lighting arrangements when you move in.
I suppose it could have been purposefully done to make it feel intimate despite the obviously large space or it might have the feeling of being a tad too exposed.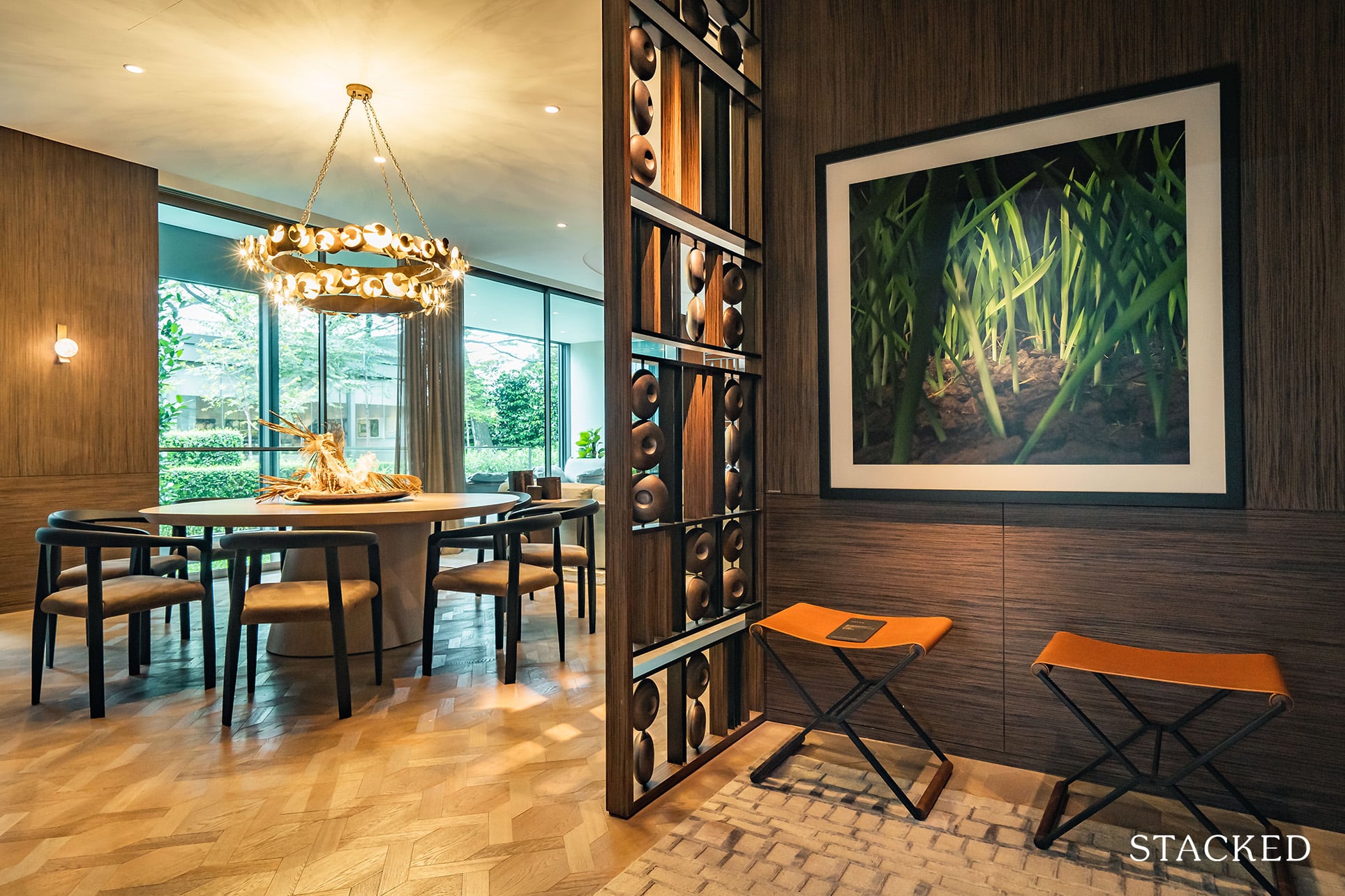 Nonetheless, the vibe is undeniably that you are in someplace special. I think that Yabu Pushelberg have done an amazing job to cultivate that luxury hotel feeling, yet it feels super homely as well. I can't say it is too surprising though, given their highlight reel features high end hotels from all the big cities such as Park Hyatt and Four Seasons.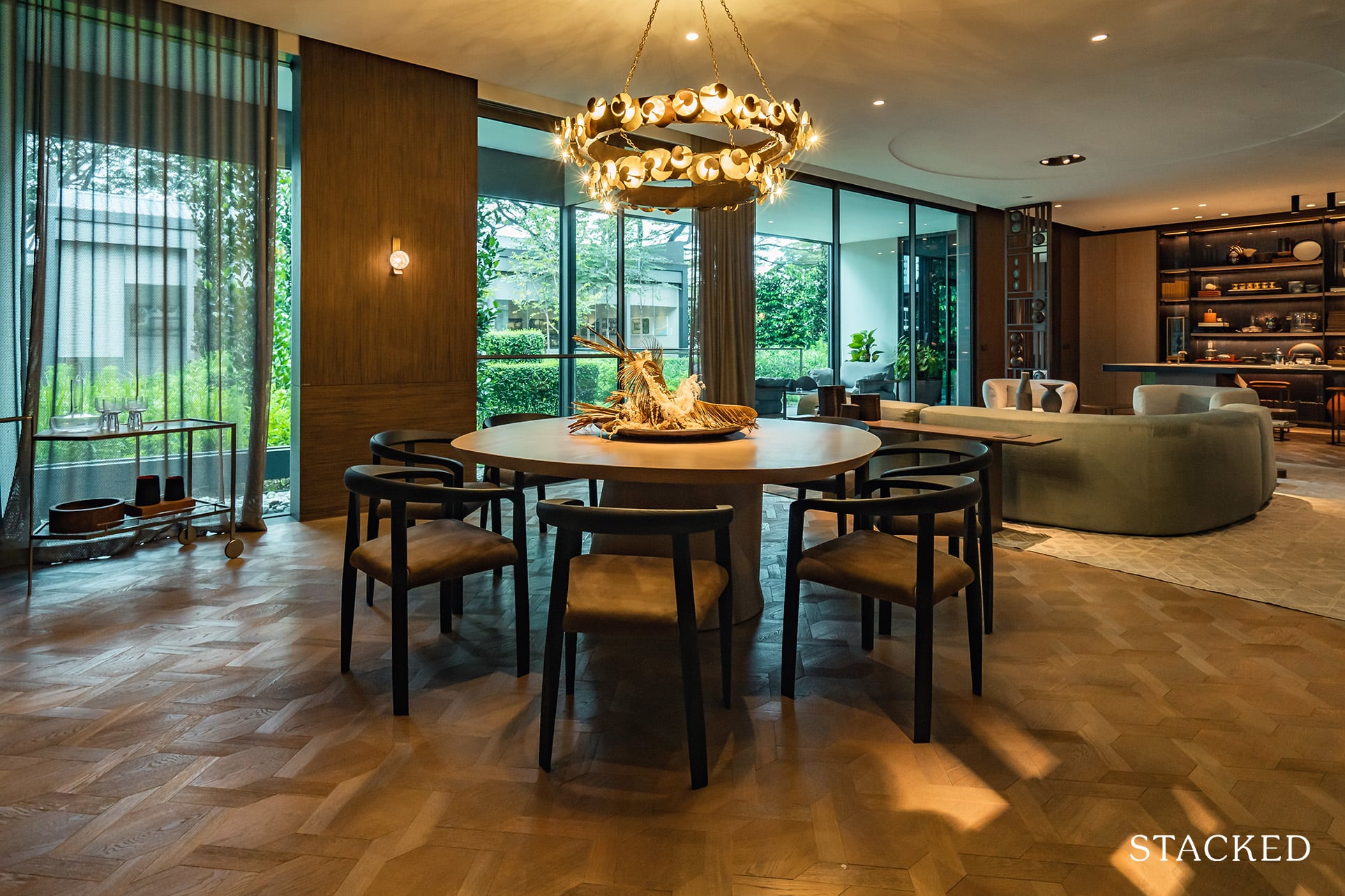 So the moment you step in, you will immediately get such a great sense of space. There's no long entrance way that you'd normally see for the bigger units as there is absolutely no need for one here because of the private lift and lobby.
That 3 metre high ceiling height (which is higher than the norm) really comes into play here too.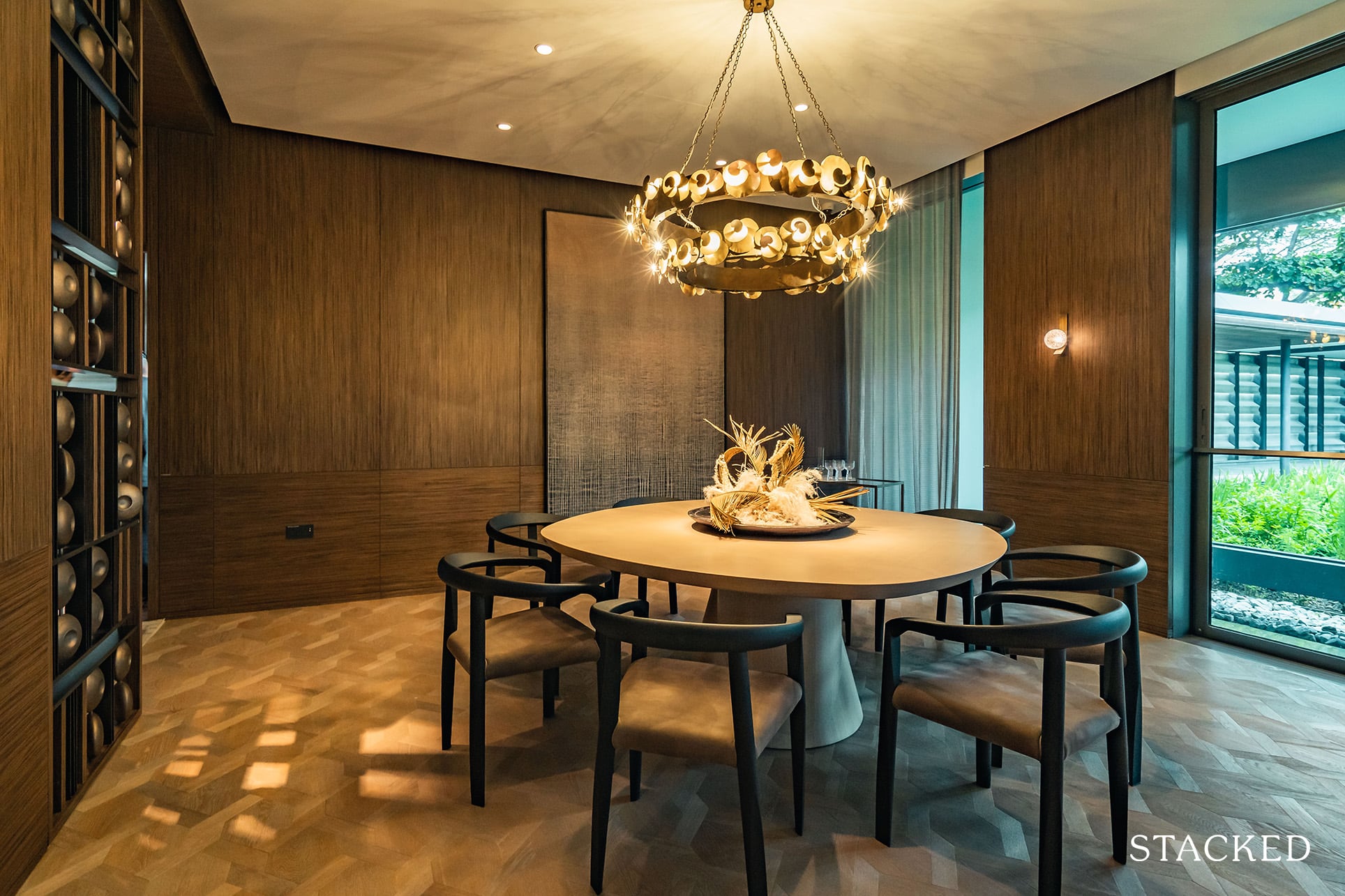 As you might expect, the dining room here is massively sized. It is wide, and even with a bigger sized dining table you'd easily have enough space to move around freely.
You could do with a regular long table too, but it probably isn't the most efficient given how wide the space is.
I'd probably swap around the dining and living space though, it makes serving food from the kitchen much more convenient.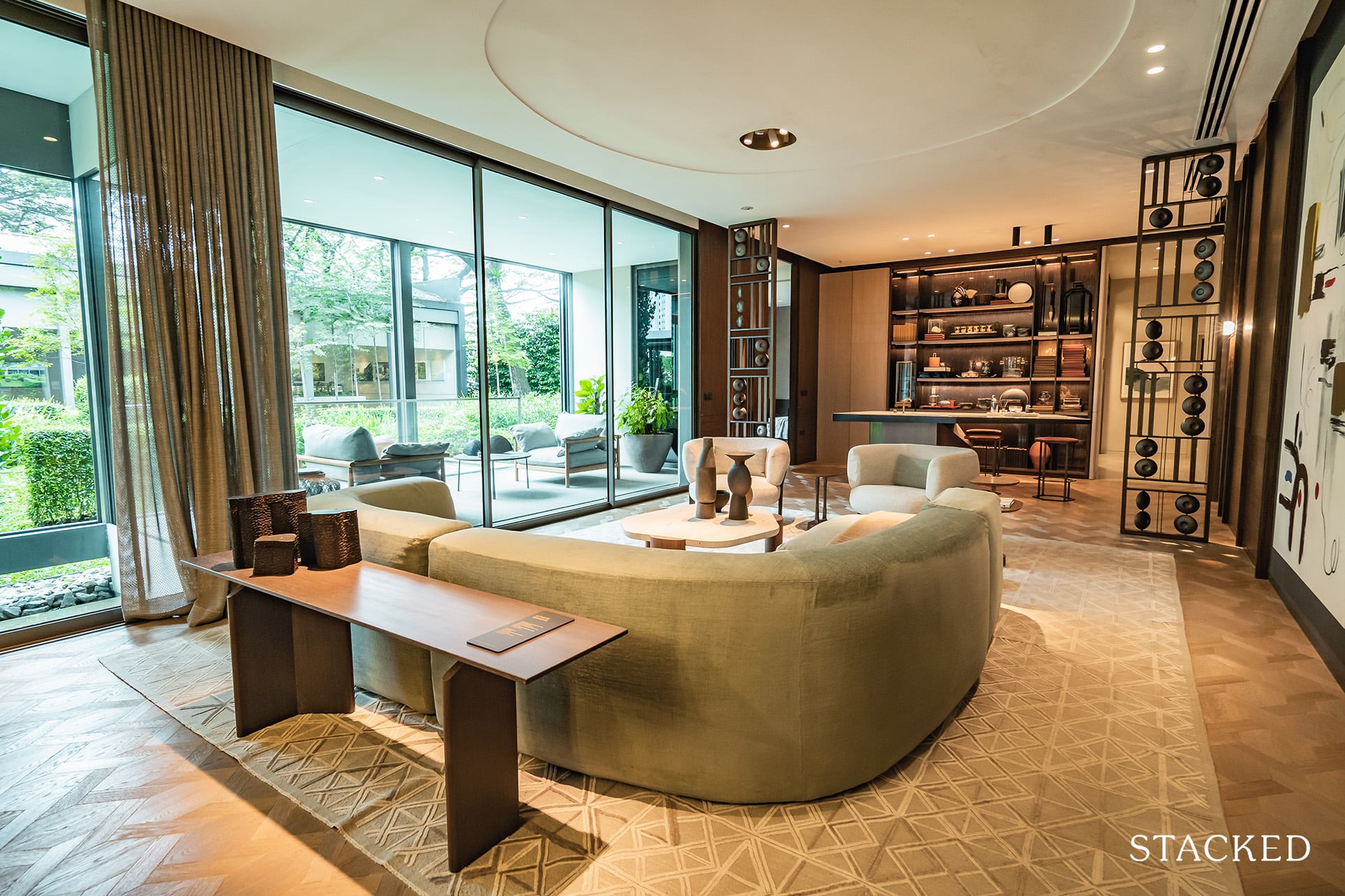 Before I get to the living area, the sharp eyed among you might have noticed that the living and dining areas isn't the usual marble flooring that you might see in luxury apartments. Instead, they've gone with timber flooring that is more typically used in bedrooms.
It isn't just an old timber flooring though, you can see that patterned weave creates for a very unique look (especially when the light shines on it). Bear in mind, this isn't an easy install at all – you'd have to do it perfectly if not the gaps would be a real pain.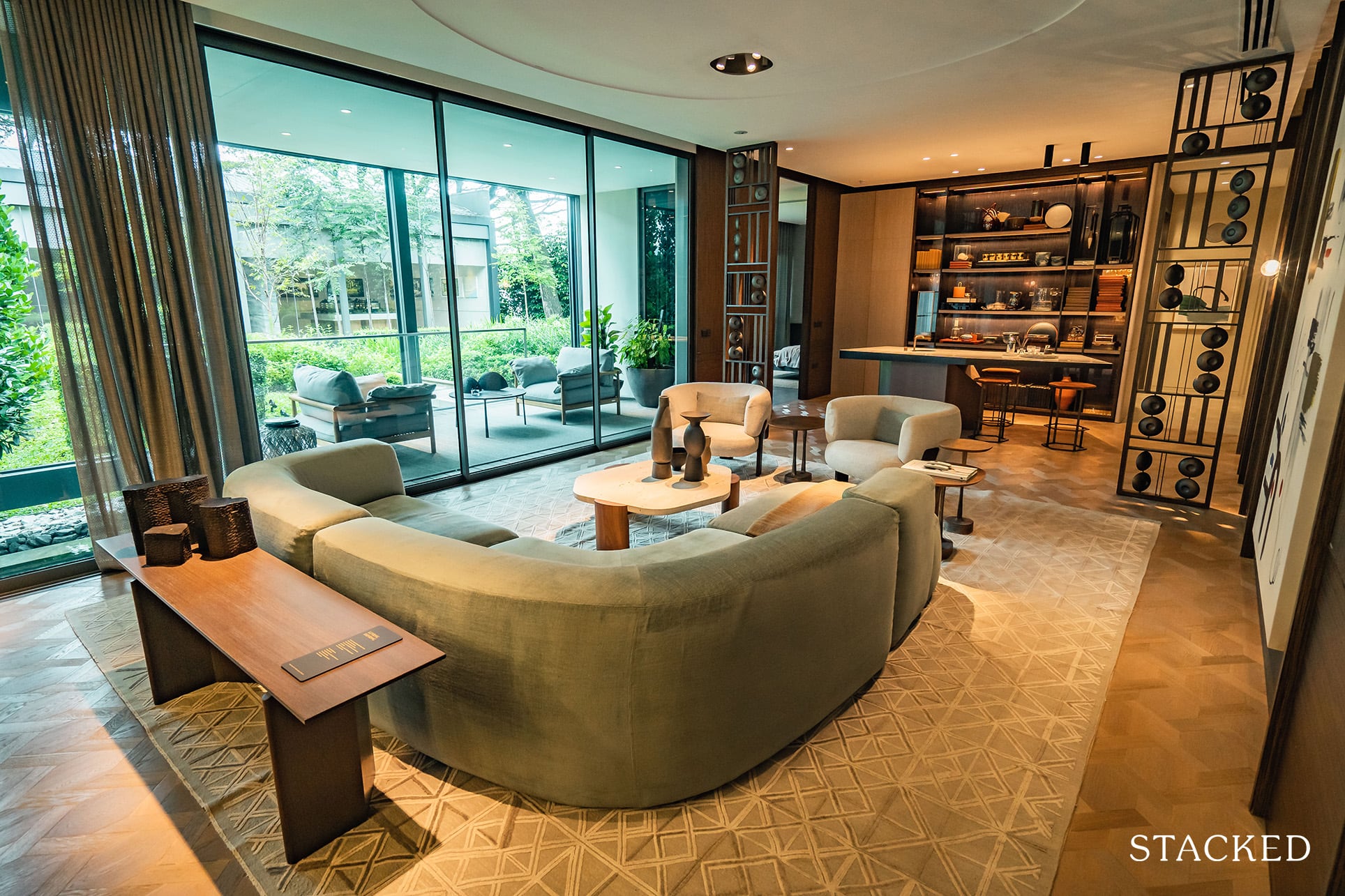 One good thing about a big seamless space such as this is that you are able to customise the living arrangements as you please. Wine and dine a lot? You can dedicate more space to the dining area. Prefer to lounge around all day? You can incorporate large L-shaped sofas and even a day bed or chaise loungers to complement the space.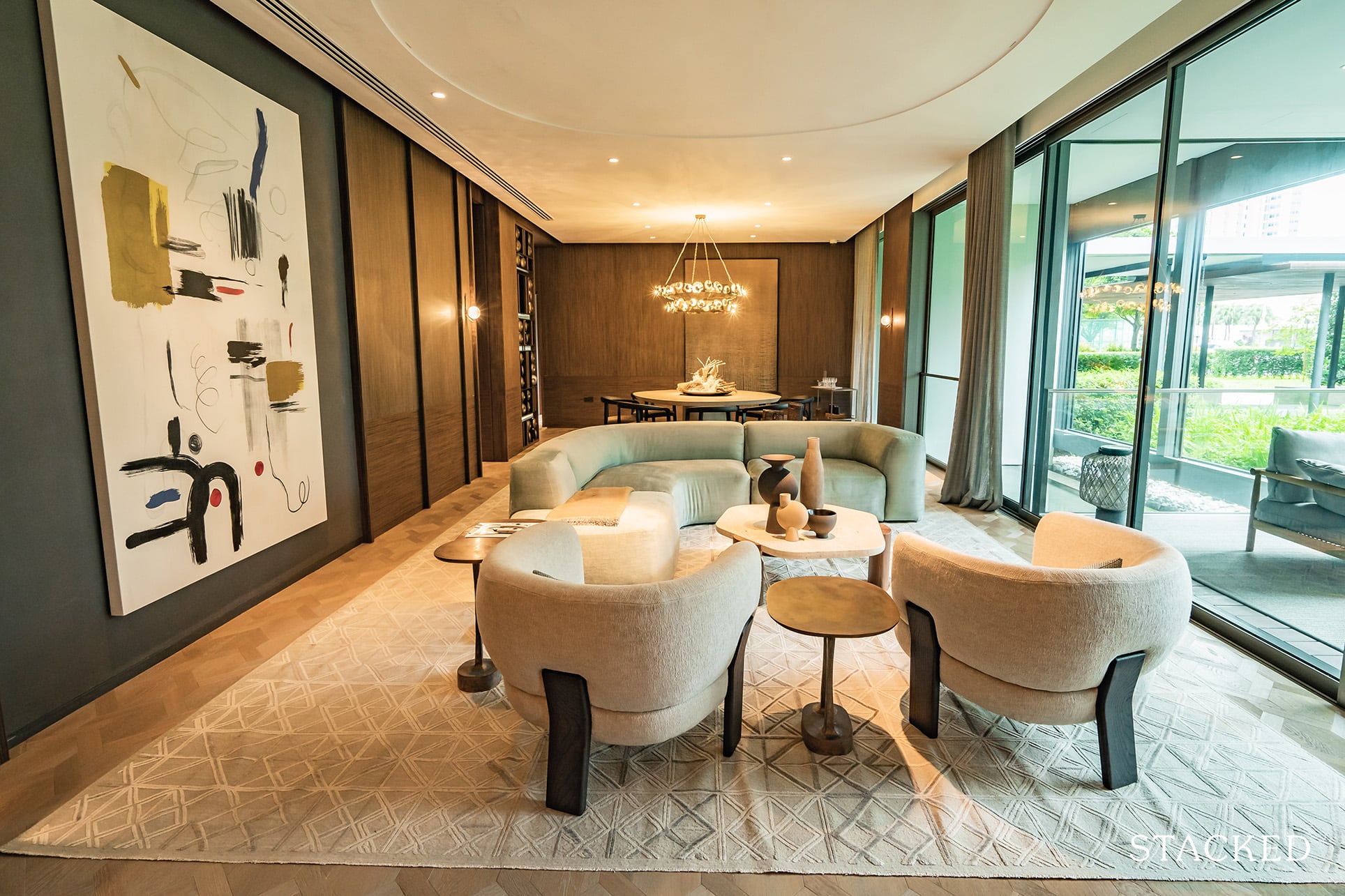 Another great feature is the floor to ceiling windows here. It lets you get an expansive view of the landscaped surroundings and the ability to let a lot of sunlight in just makes the room that much brighter and seemingly bigger. If you were to look at the full length of the room as well, you'd see that the glass windows (and balcony) take up nearly 80% of its length too – so that naturally plays a big part.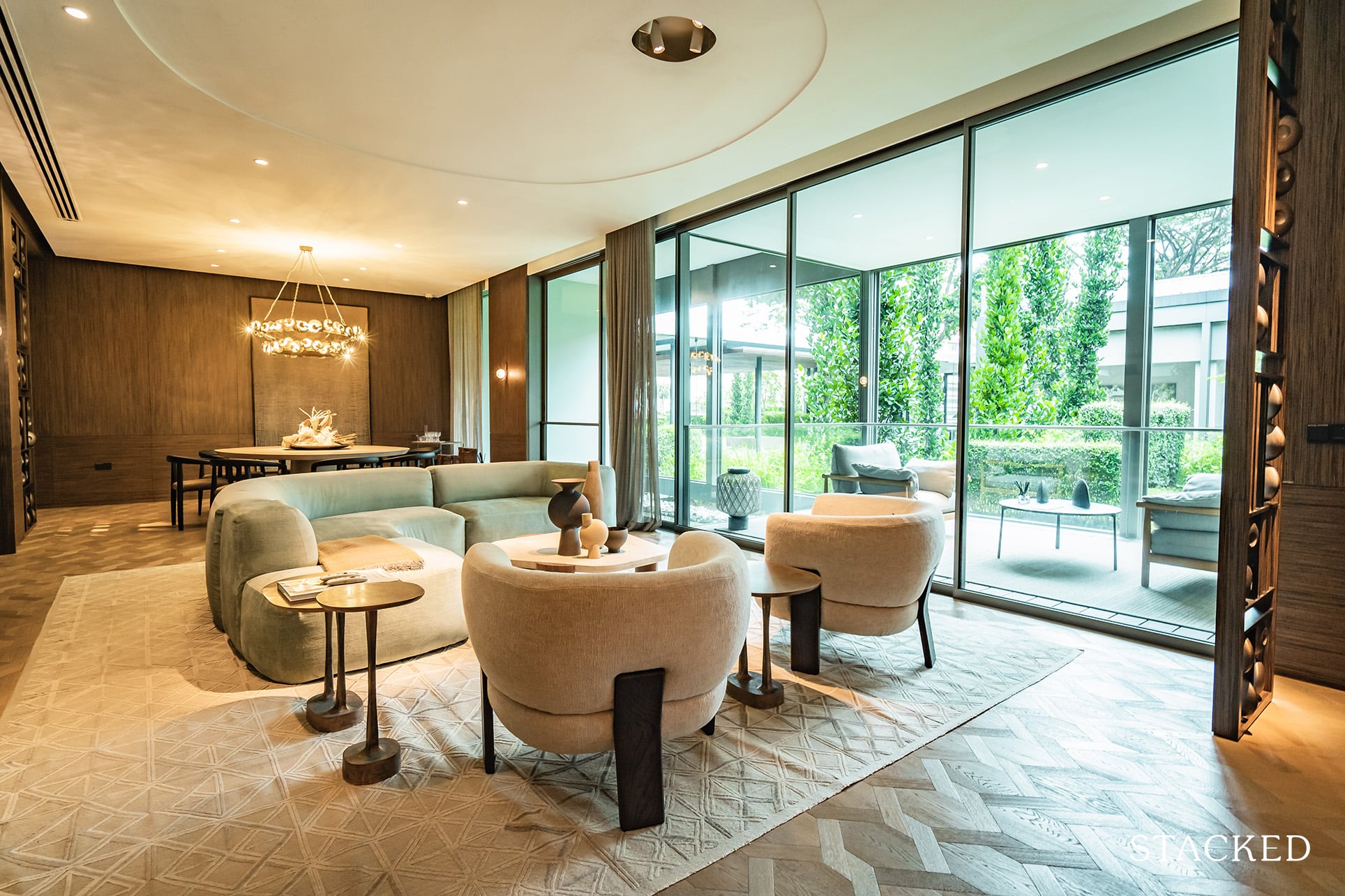 The balcony features a sliding glass door that can be neatly tucked in to create a seamless transition between the indoors and outdoors. It was a heavy one to push, which does give you that high quality feeling.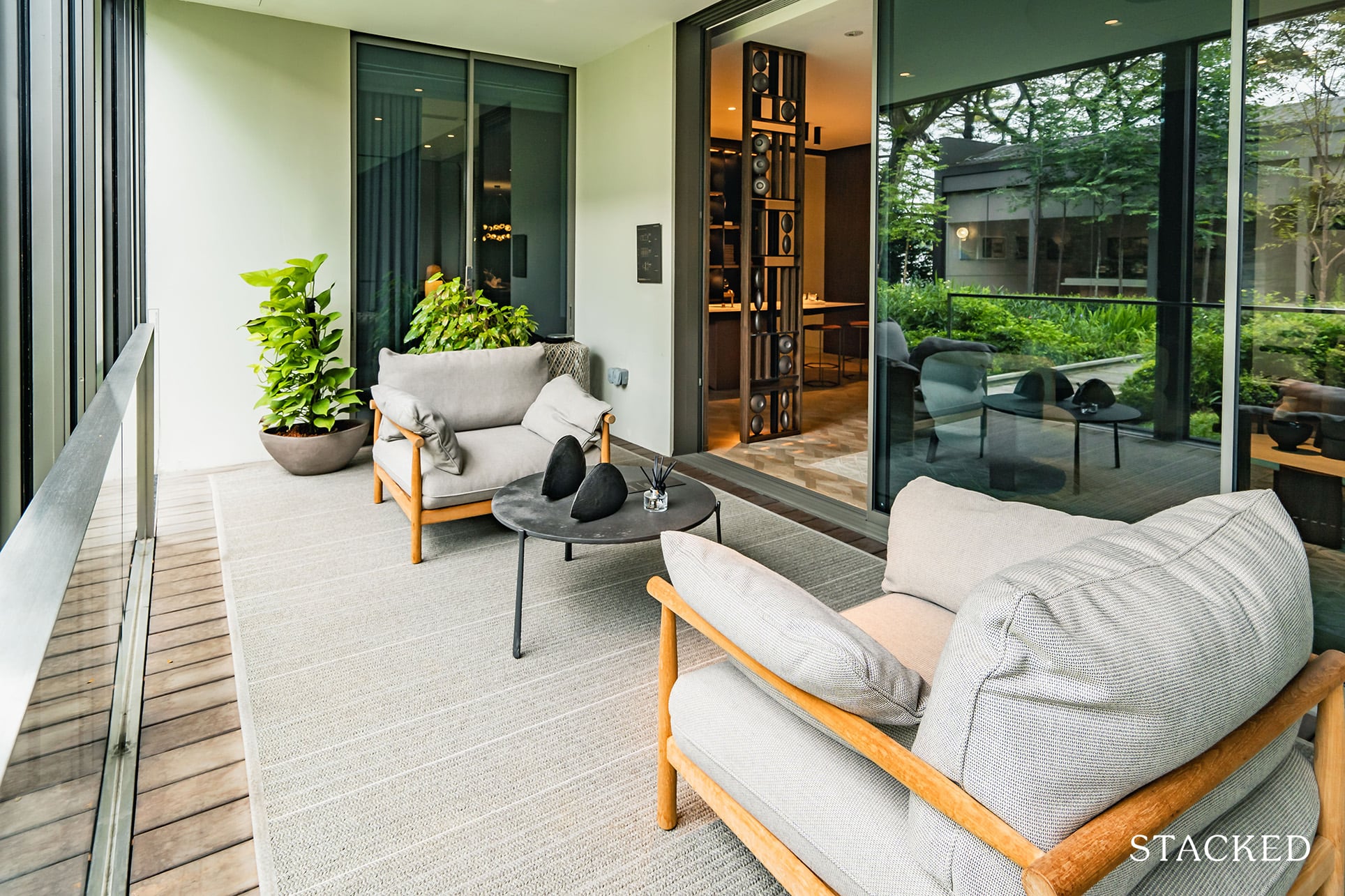 What's cool here is that there would be 2 layers of blinds that comes installed. One is the outer Venetian blinds, and the other is a piece that allows for you to still have the air-conditioning on without leaking too much of it. This means that you can enjoy the balcony and views without compromising too much even on a hot day.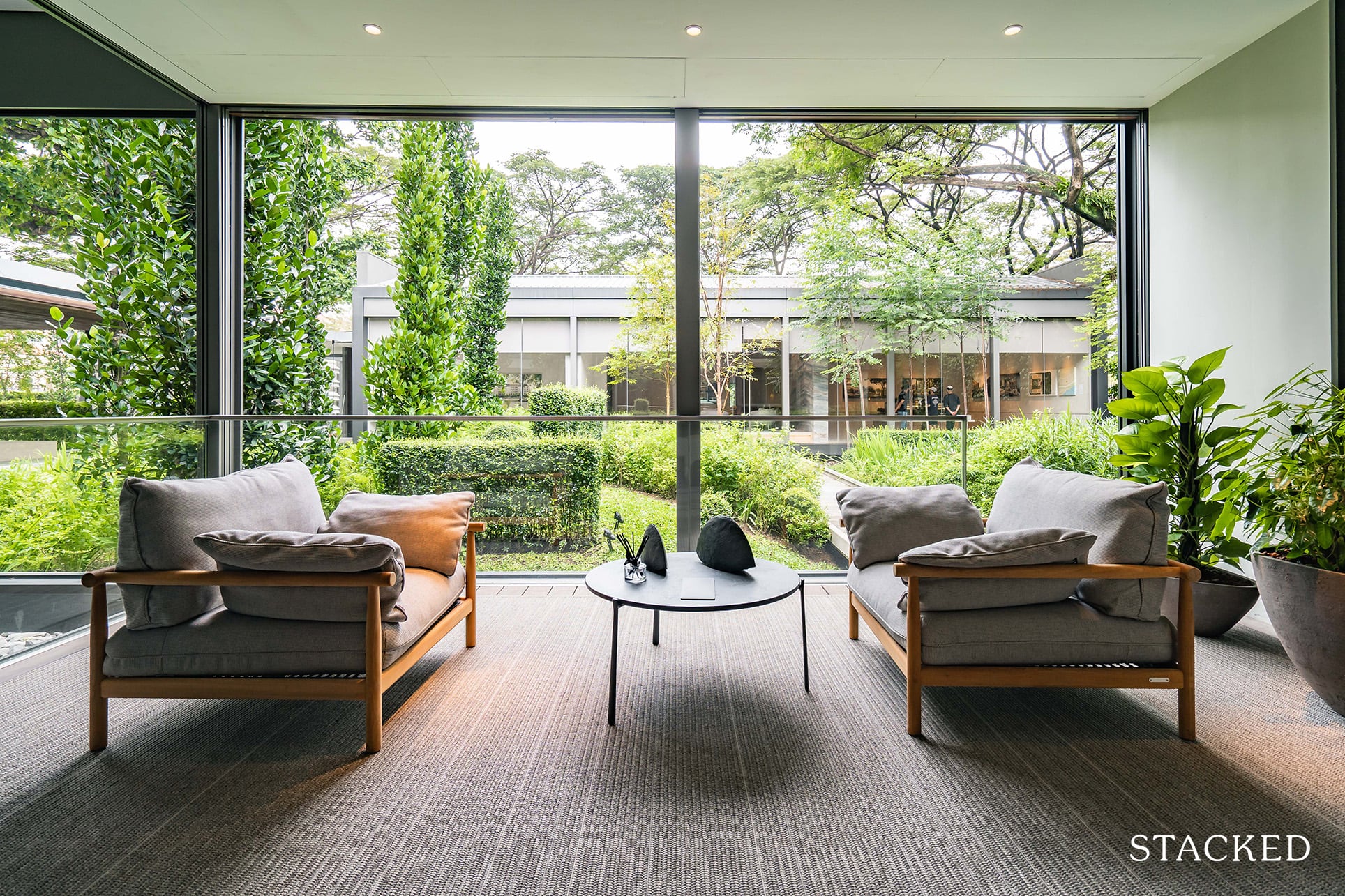 The balcony is not a bad size at all, spanning the length of the living room. Personally, I did feel it could be bigger, especially because of the very useful features that the developers have installed to make it a much more usable space.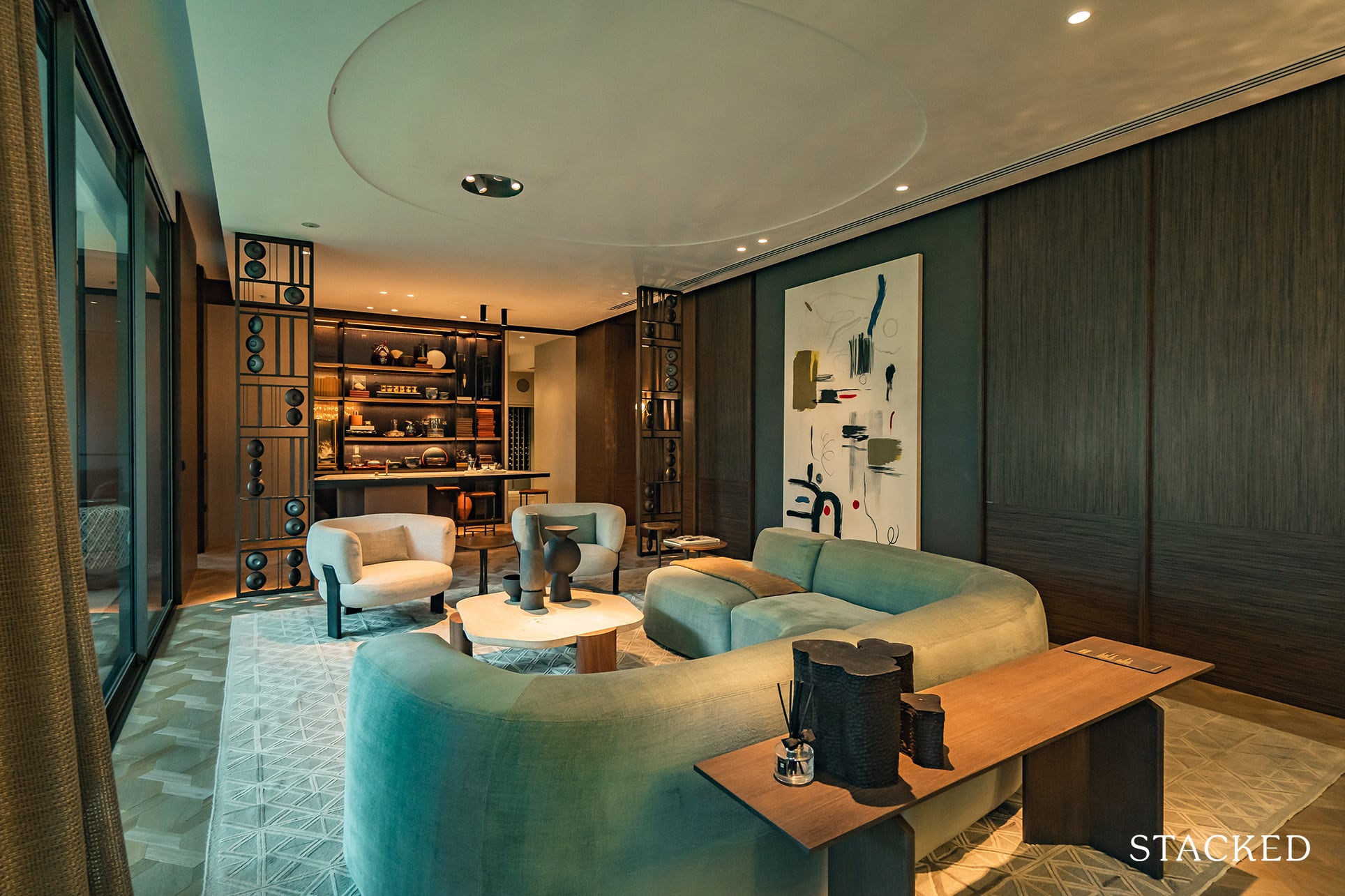 At this point you may be wondering just where the bedrooms are located (if you haven't peeked at the floor plan yet). I'm not sure if it was intentional, but the bedrooms are all hidden seamlessly to the right of the living and dining area.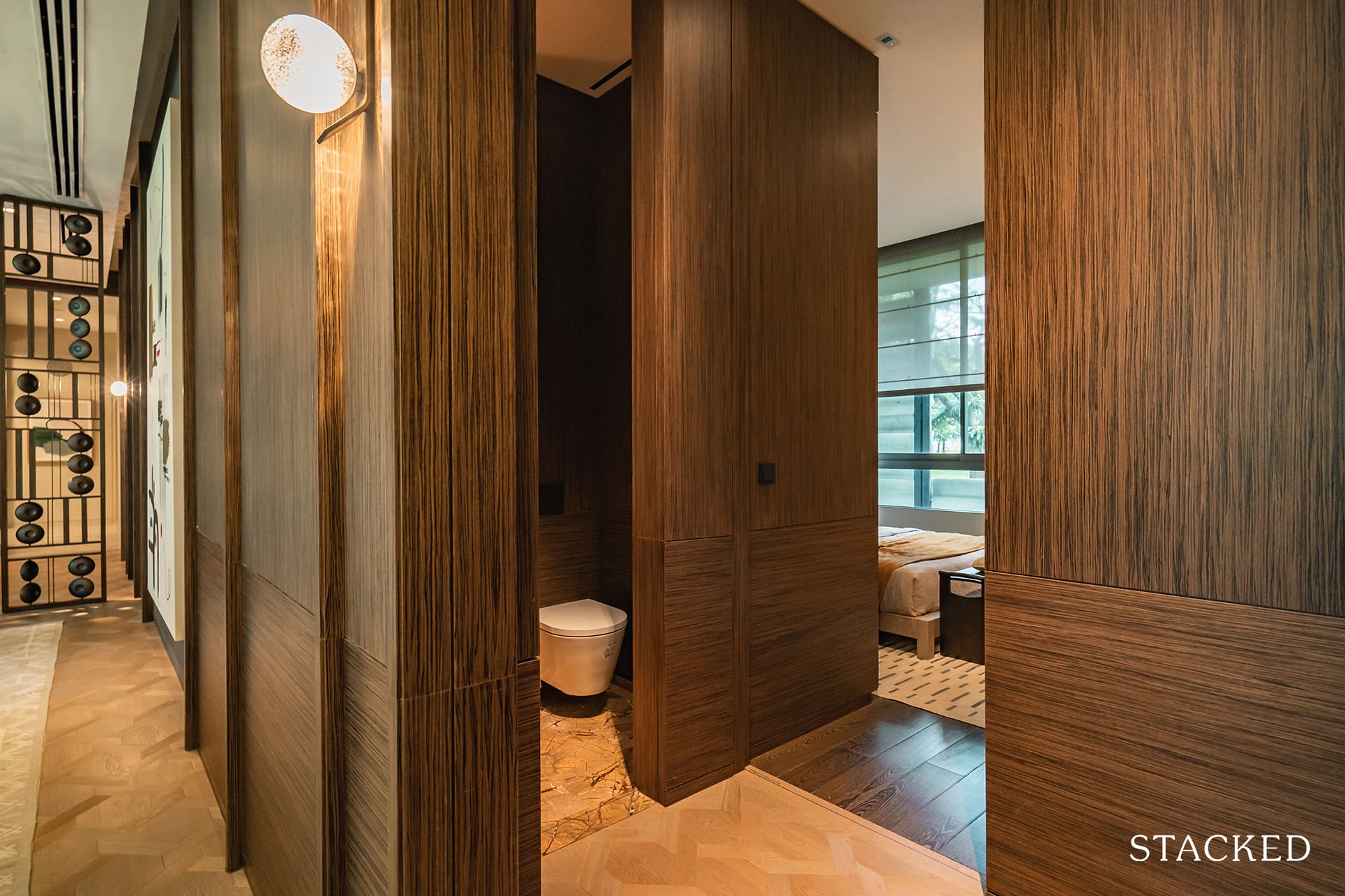 Heading to that first common bedroom, there is a small foyer of sorts that you might think is for the bedroom.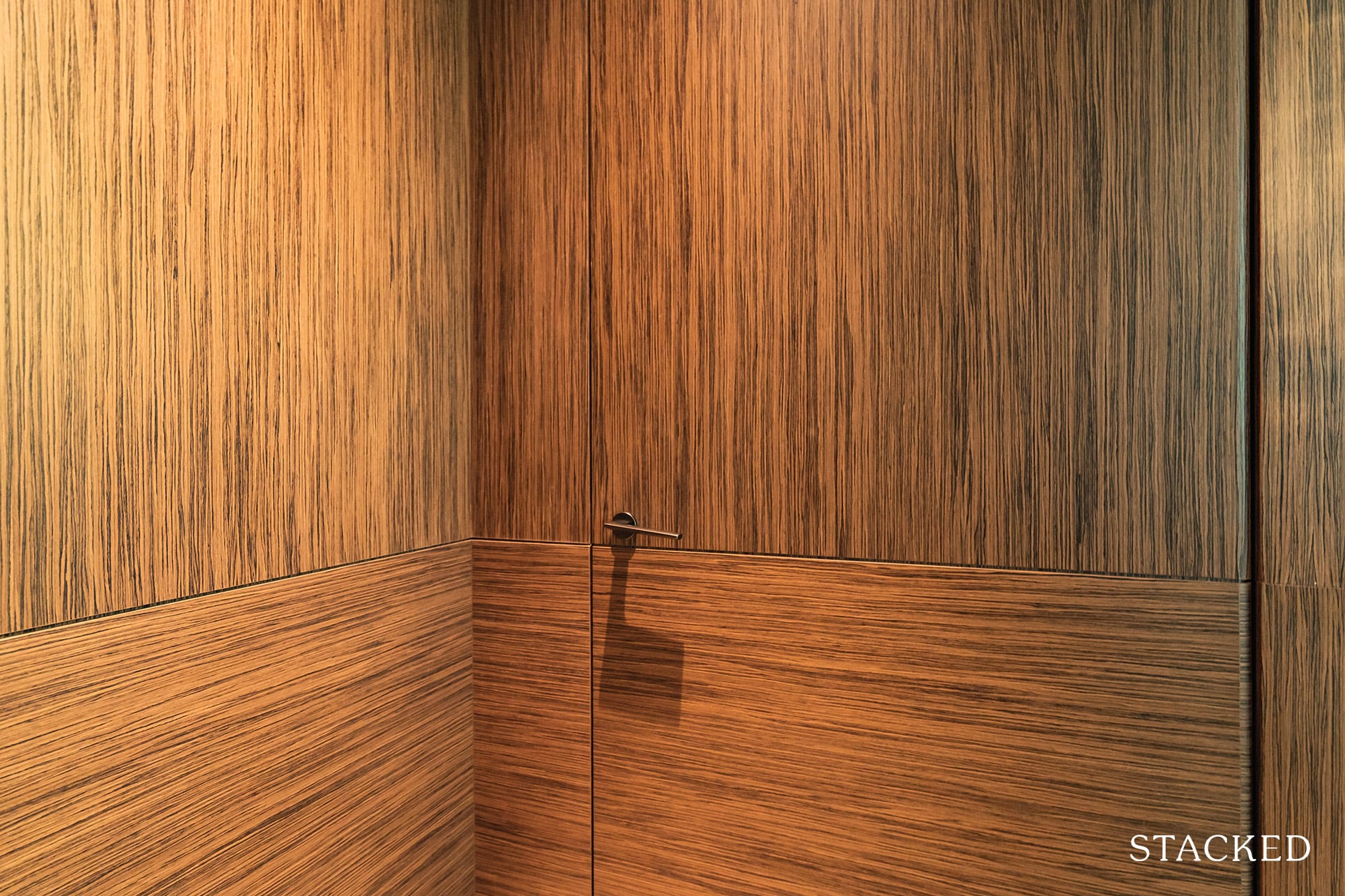 It is in fact a foyer that brings you to the bedroom, as well as to the powder room (which I'll show you shortly).
What's pretty unique here is that they have created a little indentation so that the door fits perfectly in when you open it, like a well fitted glove. I know I've used the word seamless in this review many times already, but there's really no better word to describe it.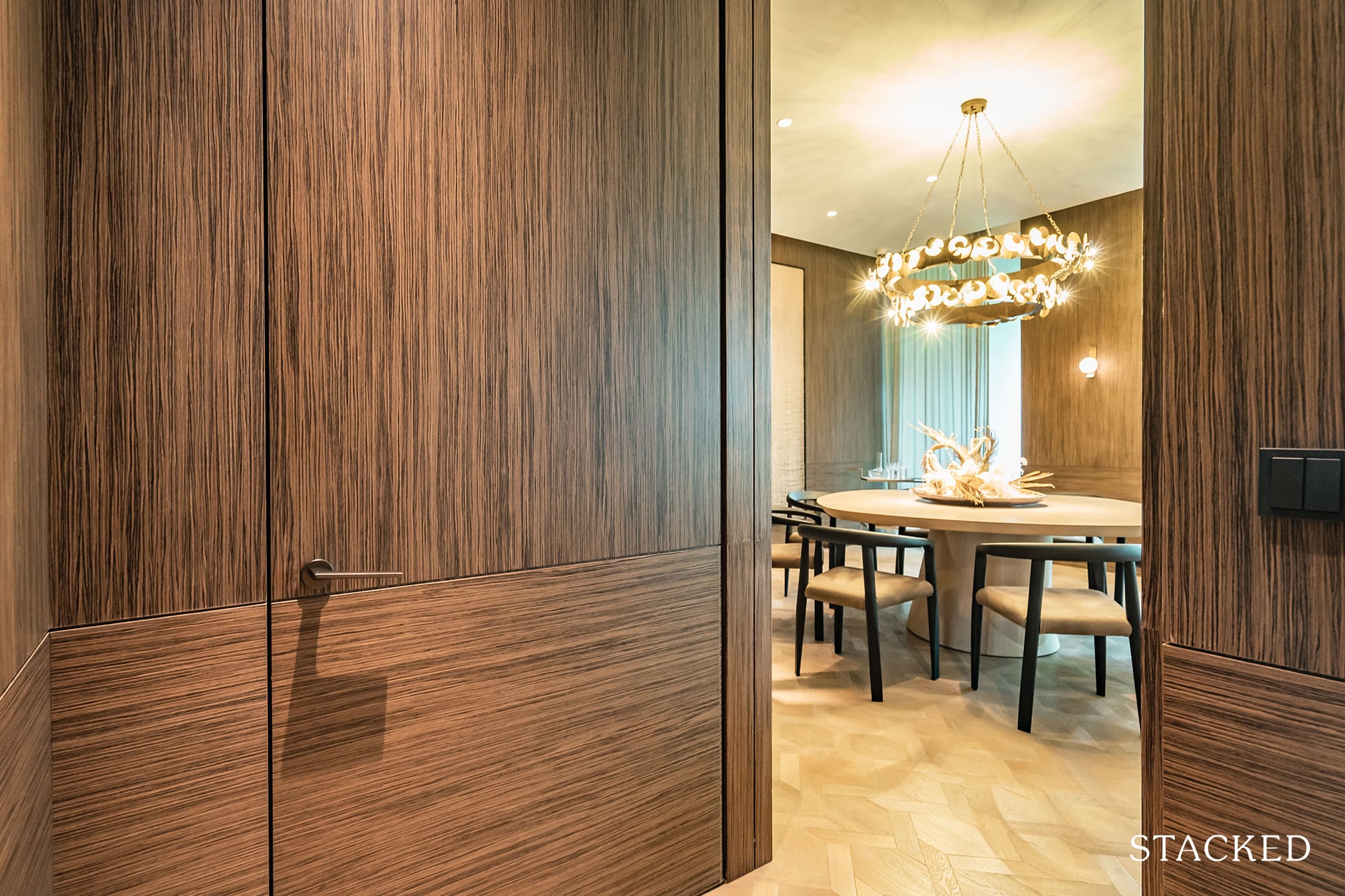 Here's another shot of it in action.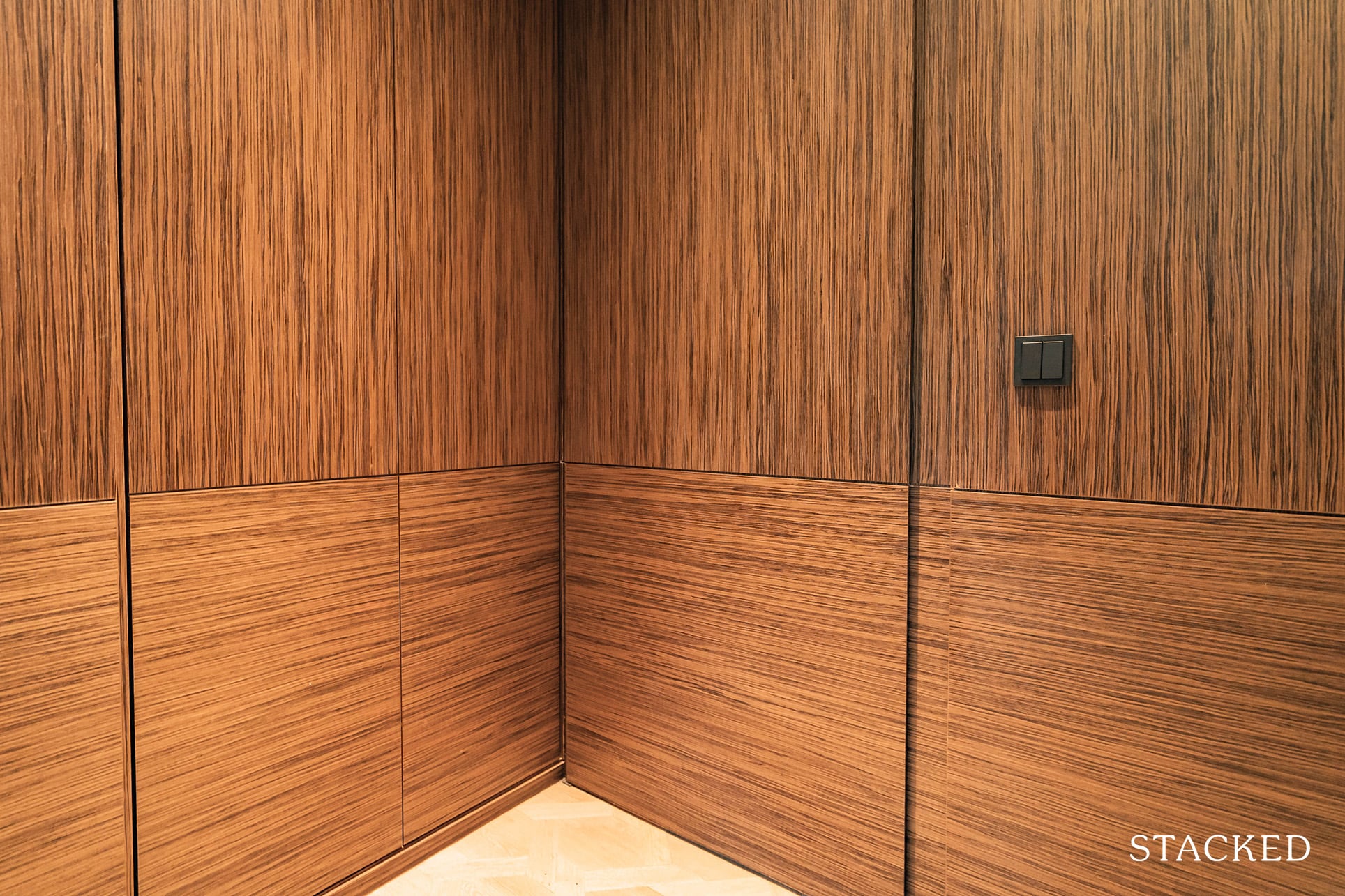 They've even squeezed in a small cabinet behind, which is hard to see from here, but trust me – there's a special storage here.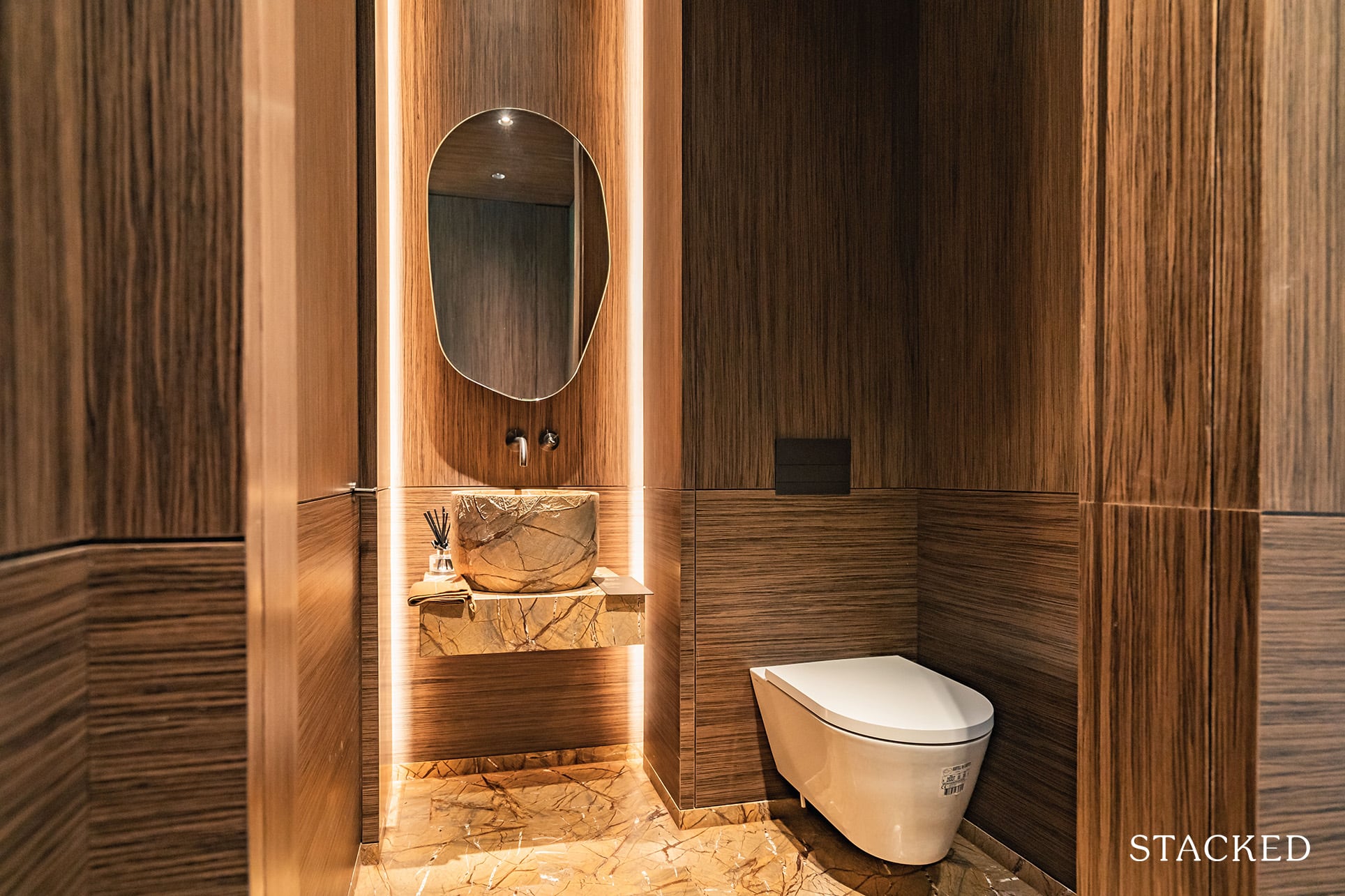 This is the powder room that your guests can use when they come over.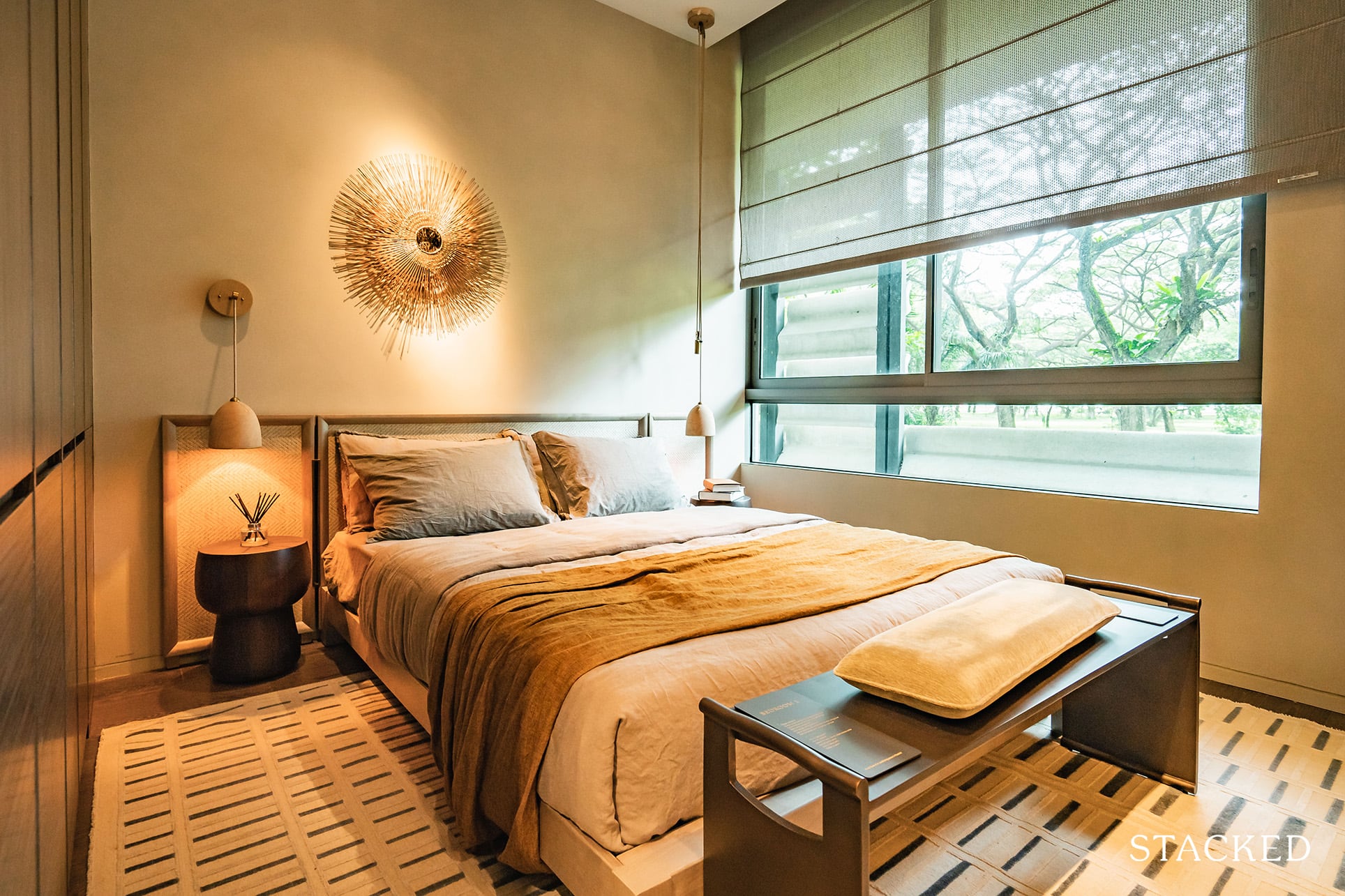 The bedroom is definitely on the large side, with definitely enough room if you wanted to place a king sized bed as well. It's a pity you don't get full length windows here however, as the AC ledge is located on the outside.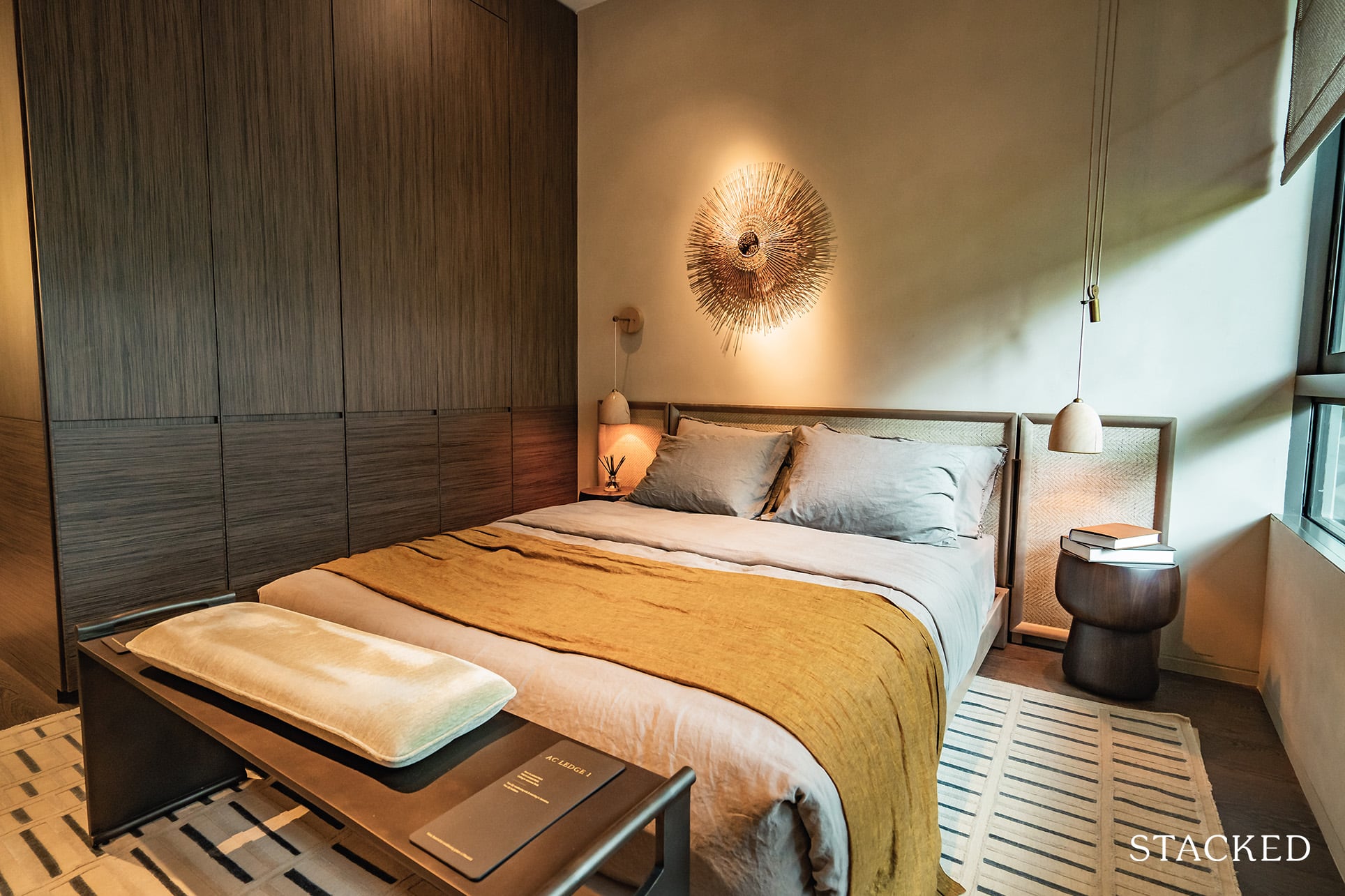 You certainly do get bigger storage spaces here than most new launches today too, which is always a good thing.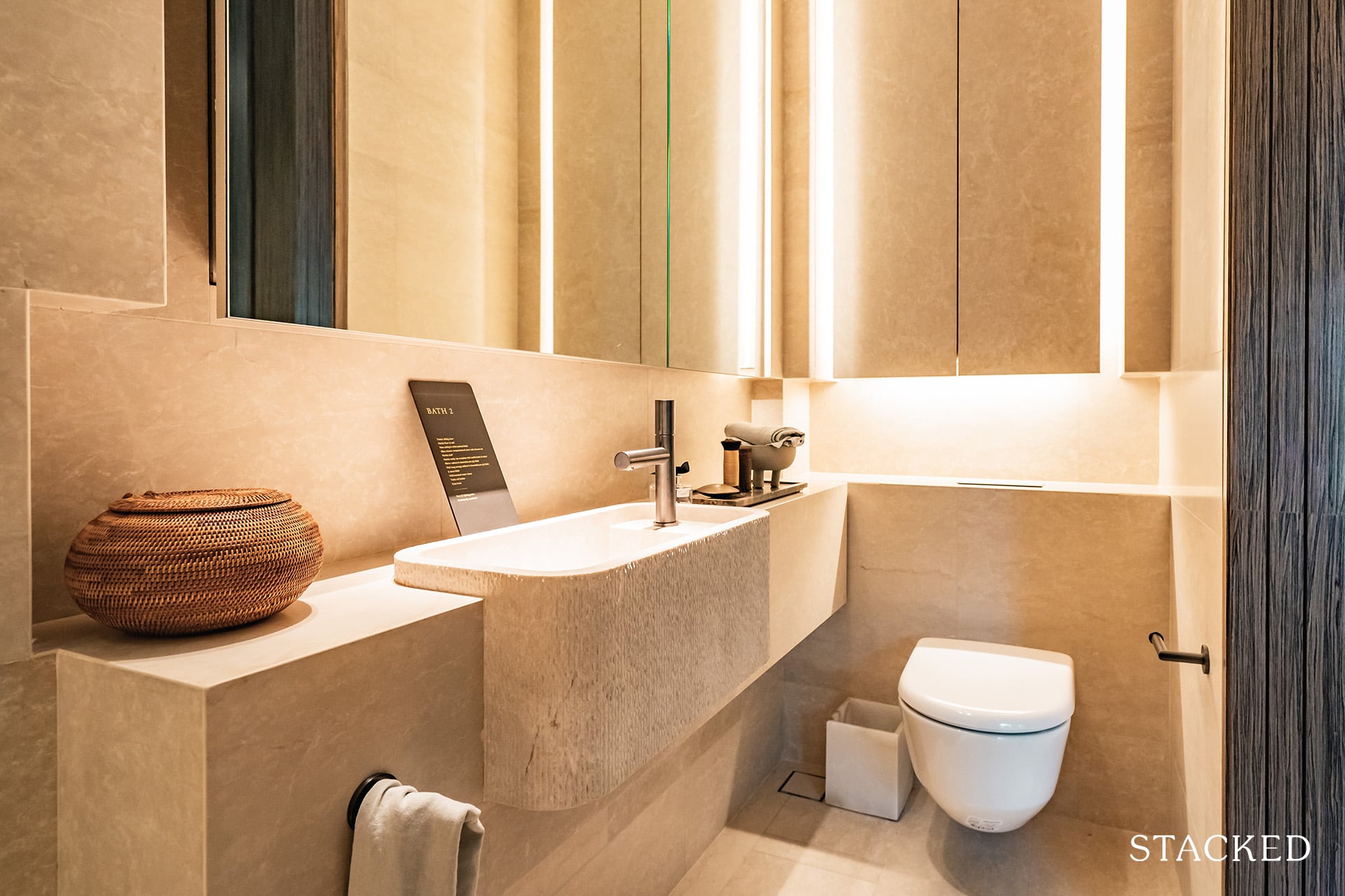 As you would reasonably expect, every bedroom here comes with an attached bathroom. It is quite long but thin when it comes to width, so it doesn't feel quite as spacious as you might expect.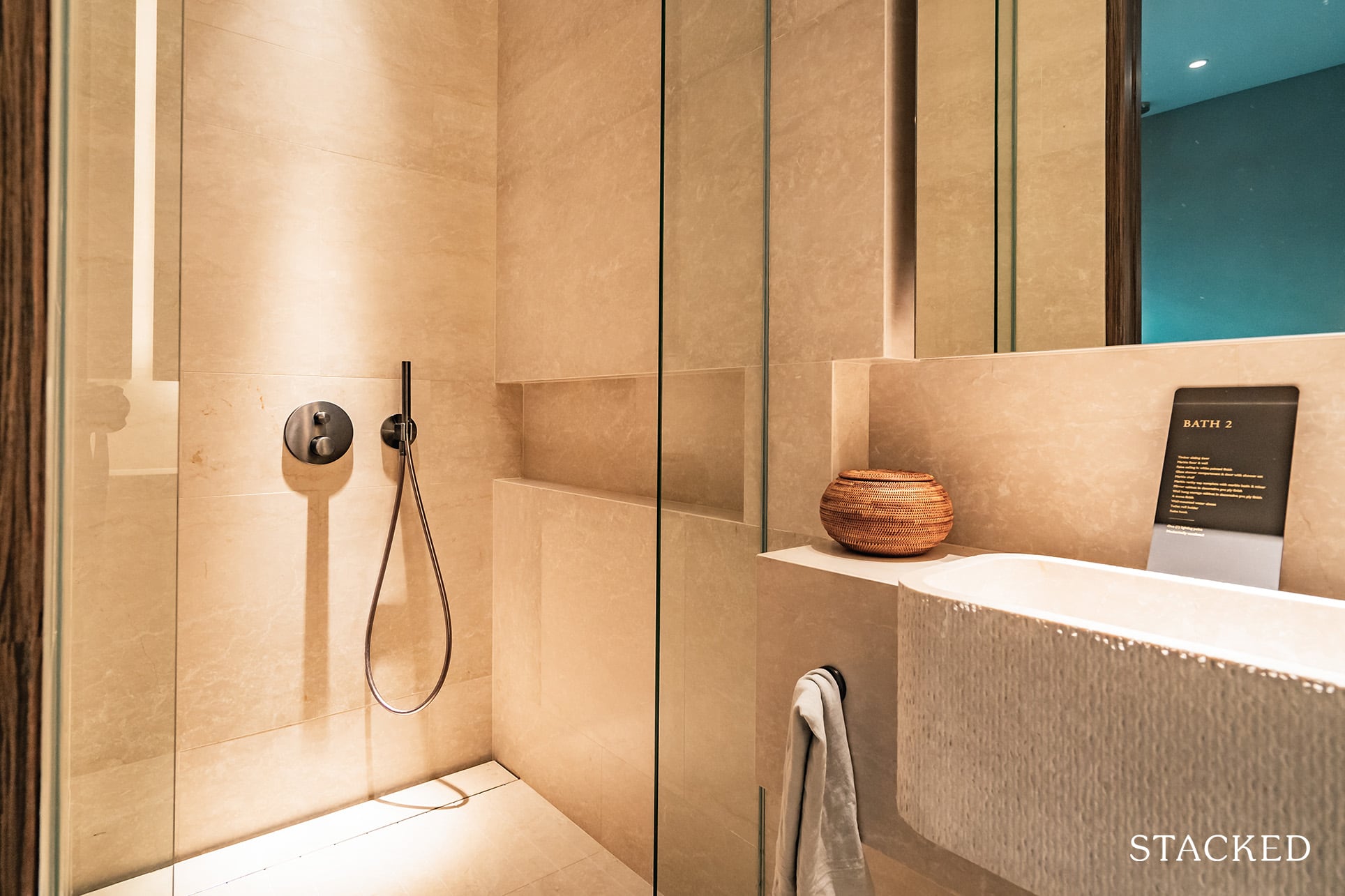 Of course it does feature a rain shower with the bathroom fittings from Axor. Note that the location of the bathroom means that you do not get a window, which is a bummer as natural ventilation is always the best.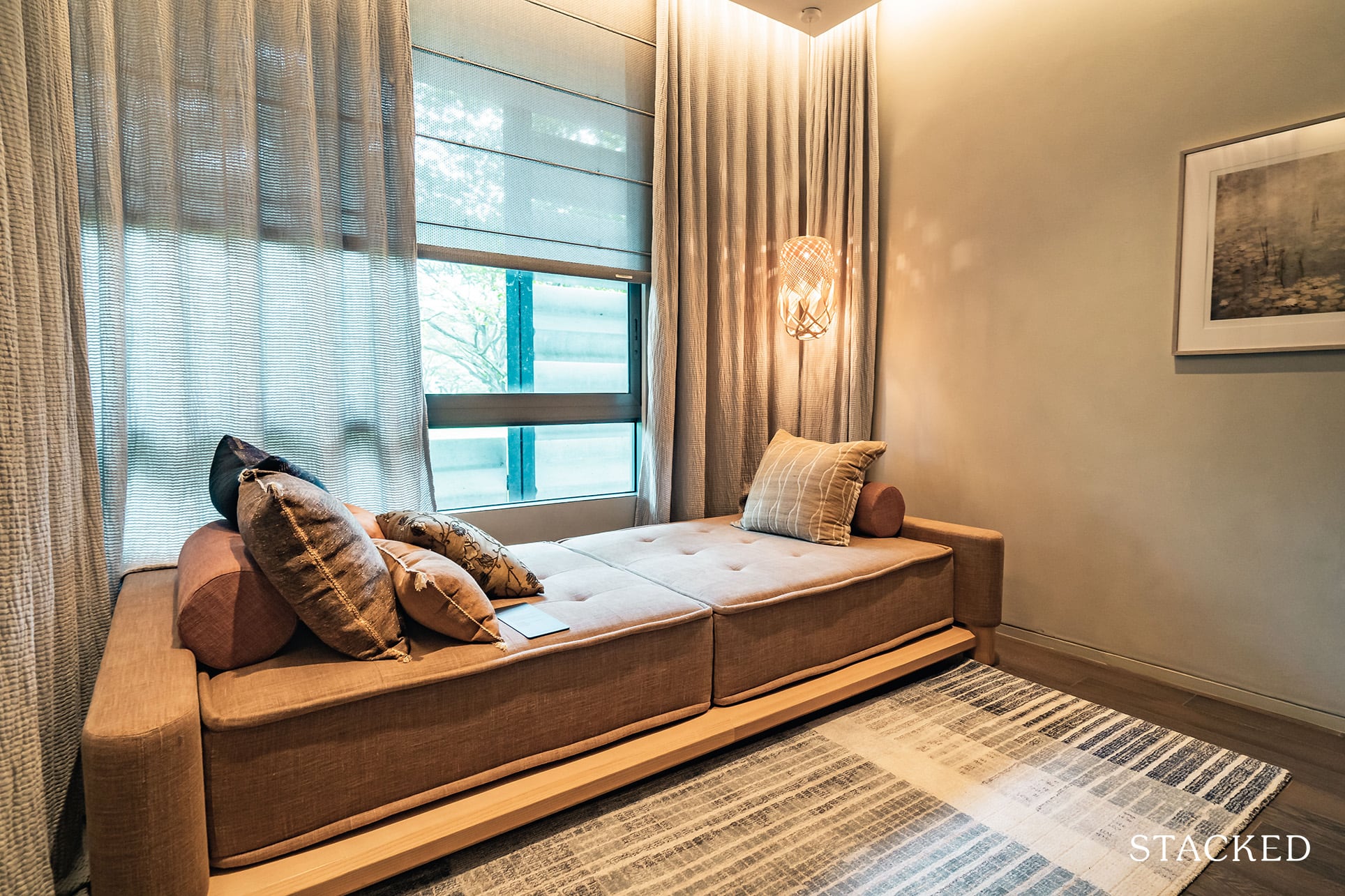 The second common bedroom (the one in the middle) is similarly sized. This one here at the showflat is shown with a daybed as an example.
Note that this has the RC ledge on the outside too, so you would not be getting full length windows in here either.
Of course, you could turn this into a study/home office too if you have no need for so many bedrooms.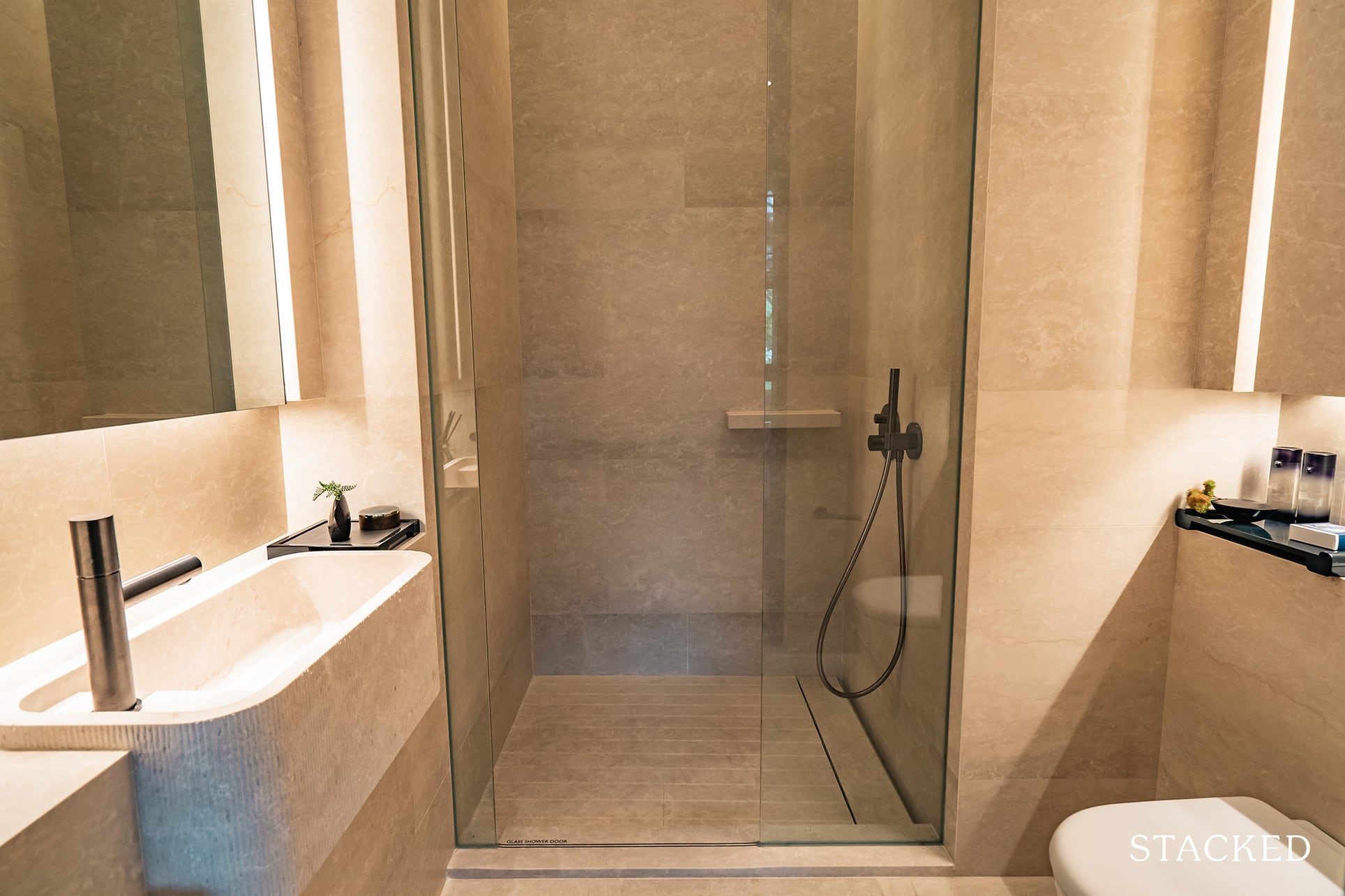 The common bathroom features the same Axor bath fittings, but again, there's no window here for any natural ventilation.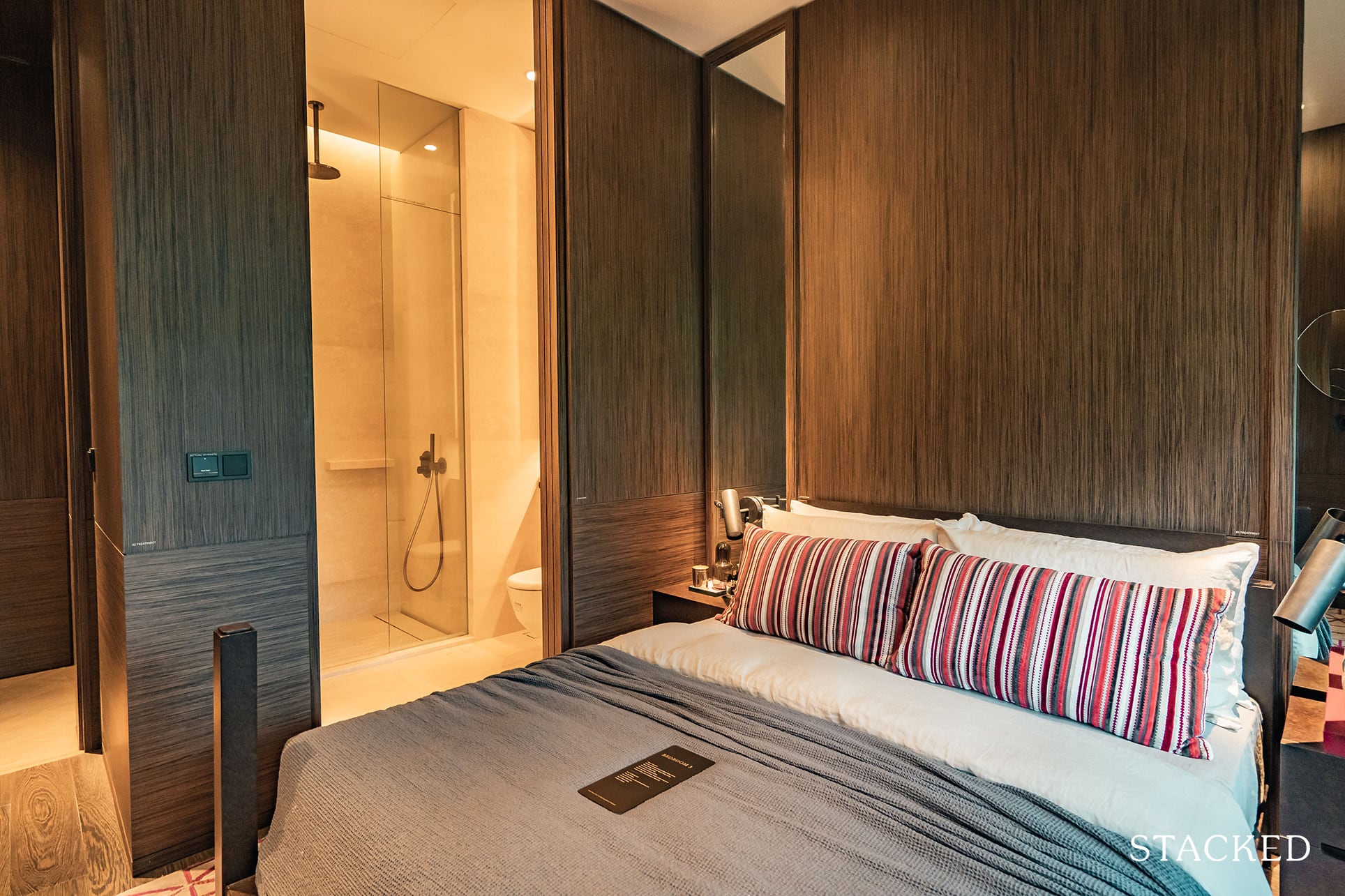 The last common bedroom is pretty much the same size, save for the different orientation of the wardrobe and bathroom.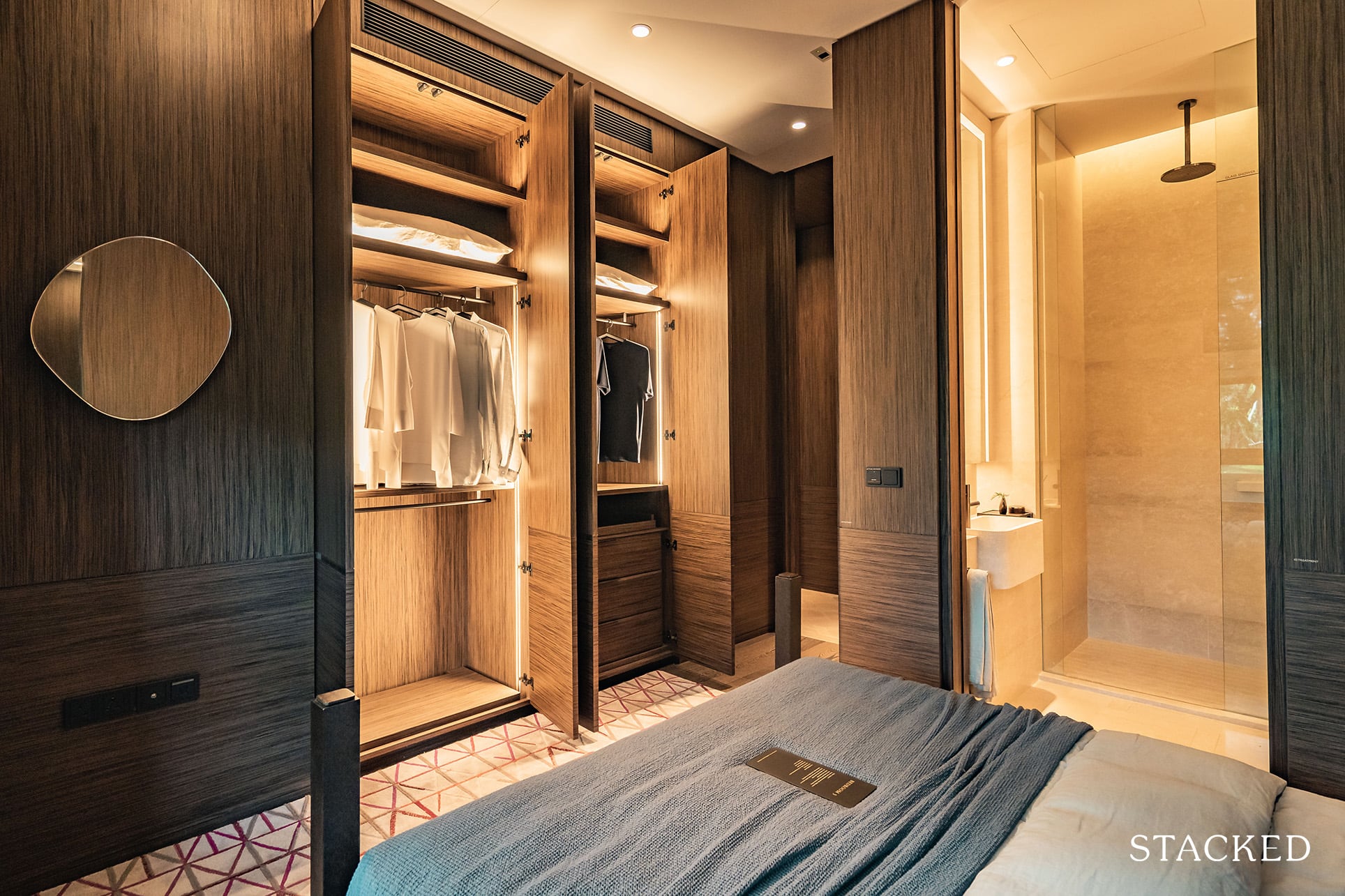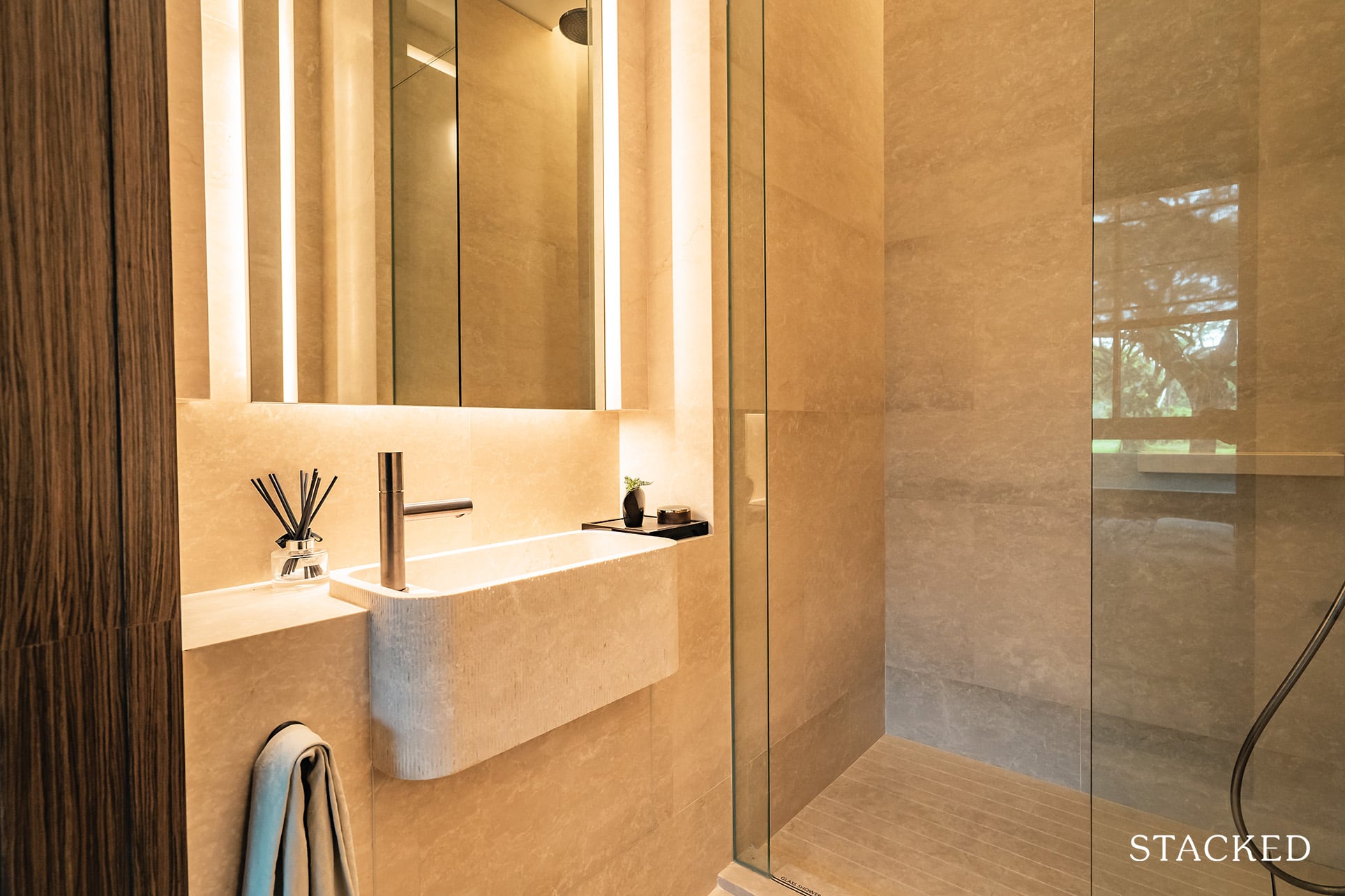 Finally, the third common bedroom comes with an attached bath as well. Again, no window here for ventilation would be the major concern for most.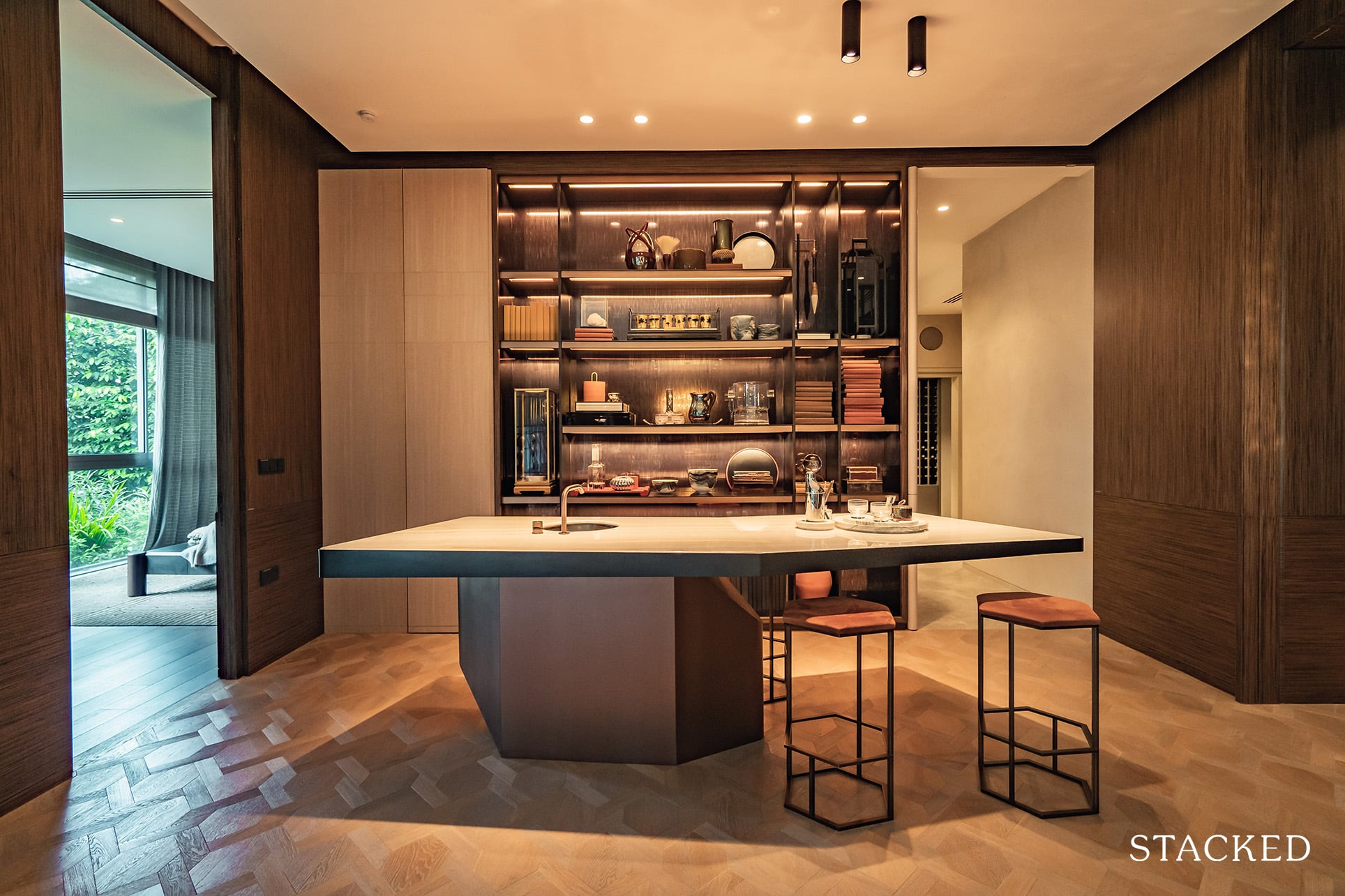 Once you come out of the third bedroom, you will see what is named as the "Library Bar", or you can treat as the dry kitchen as well (even though it wasn't designed as such).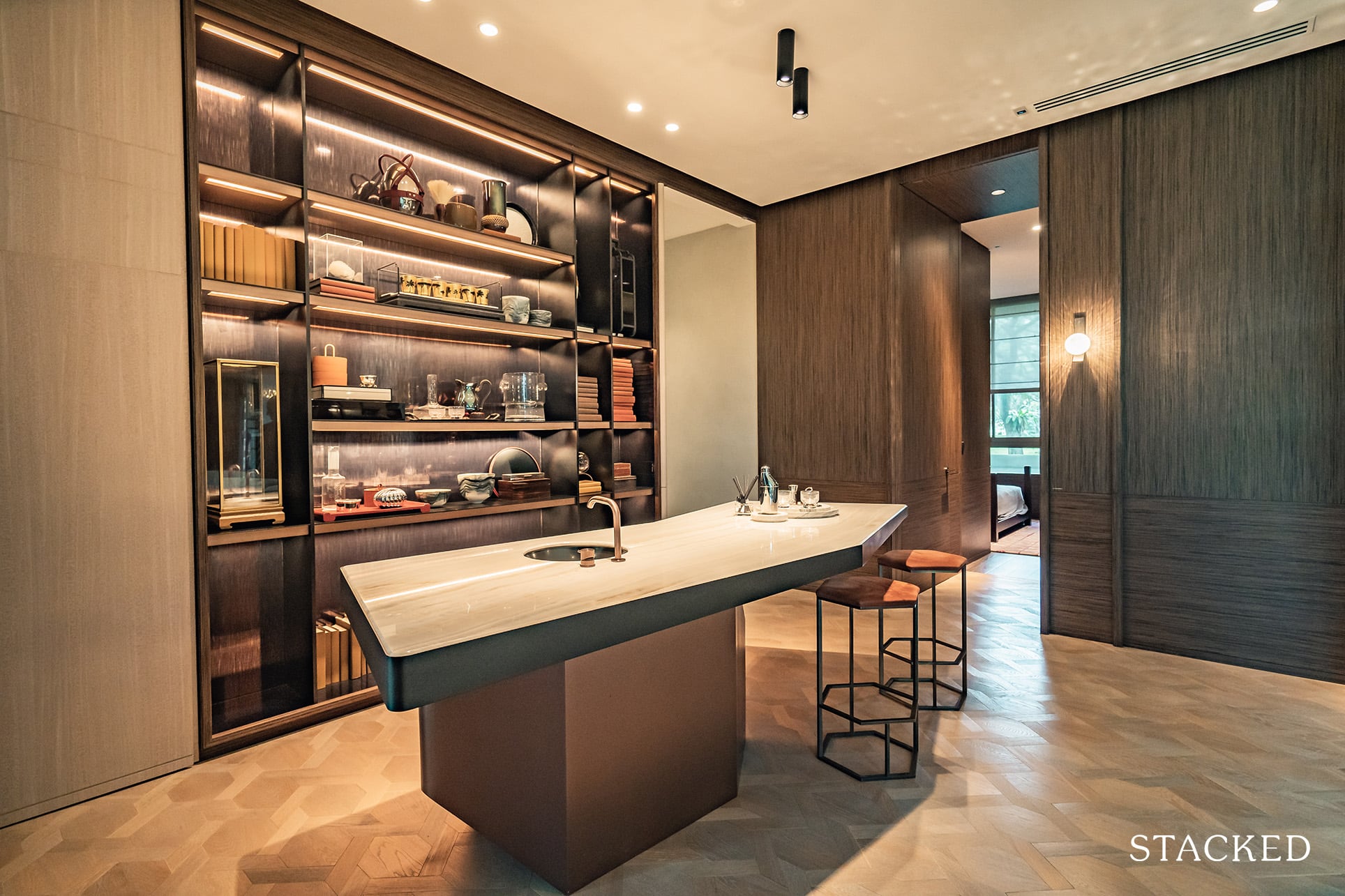 It features a single slab of marble in an irregular shape that provides a statement piece to the long room. I really like the circular sink and bronze tap here too, it just feels premium to the touch.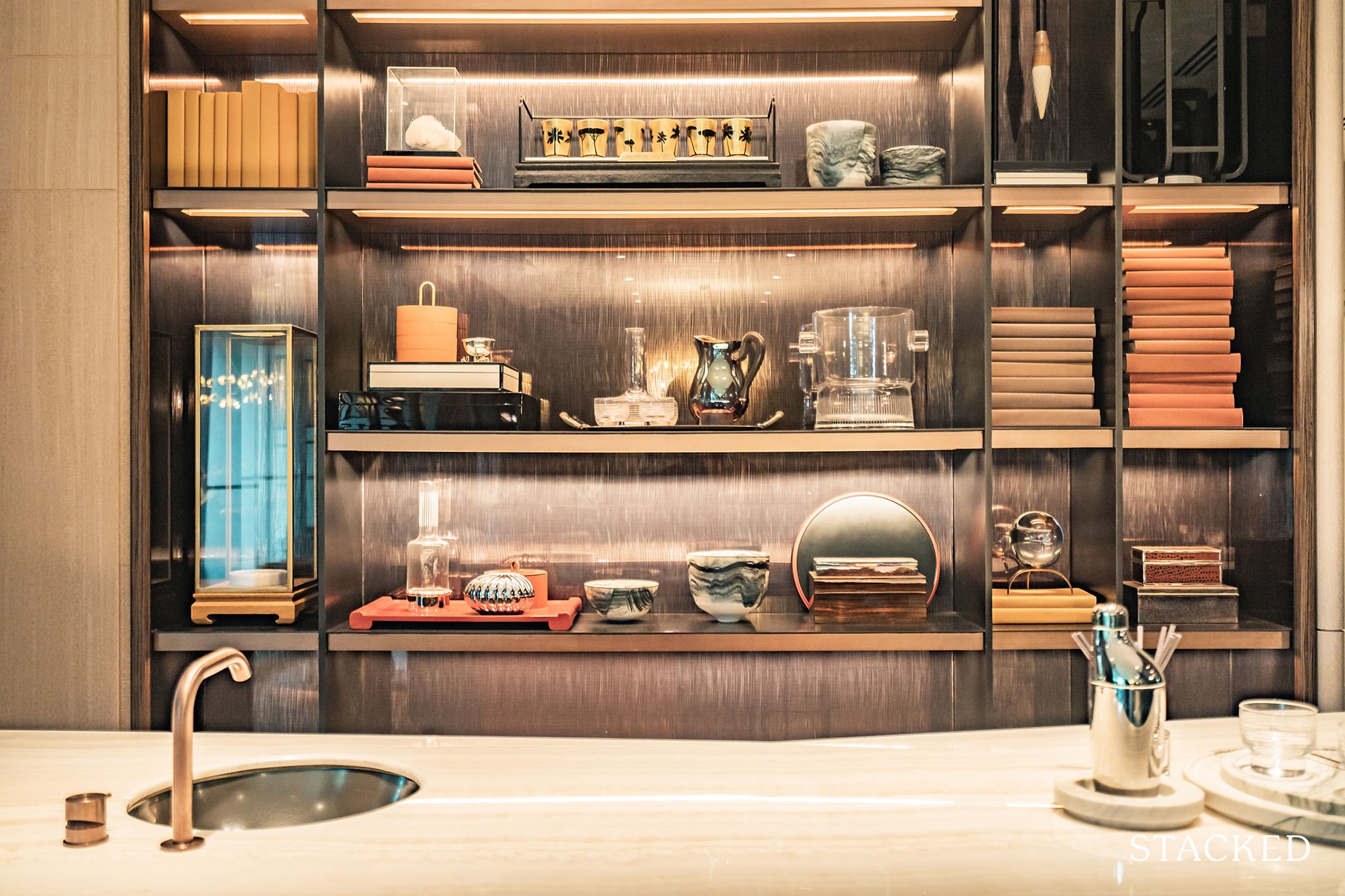 I do find the concept of the Library Bar a little gimmicky even though it was designed by Yabu Pushelberg. But if you do have statement pieces to display I suppose this would be the most suitable place to do it.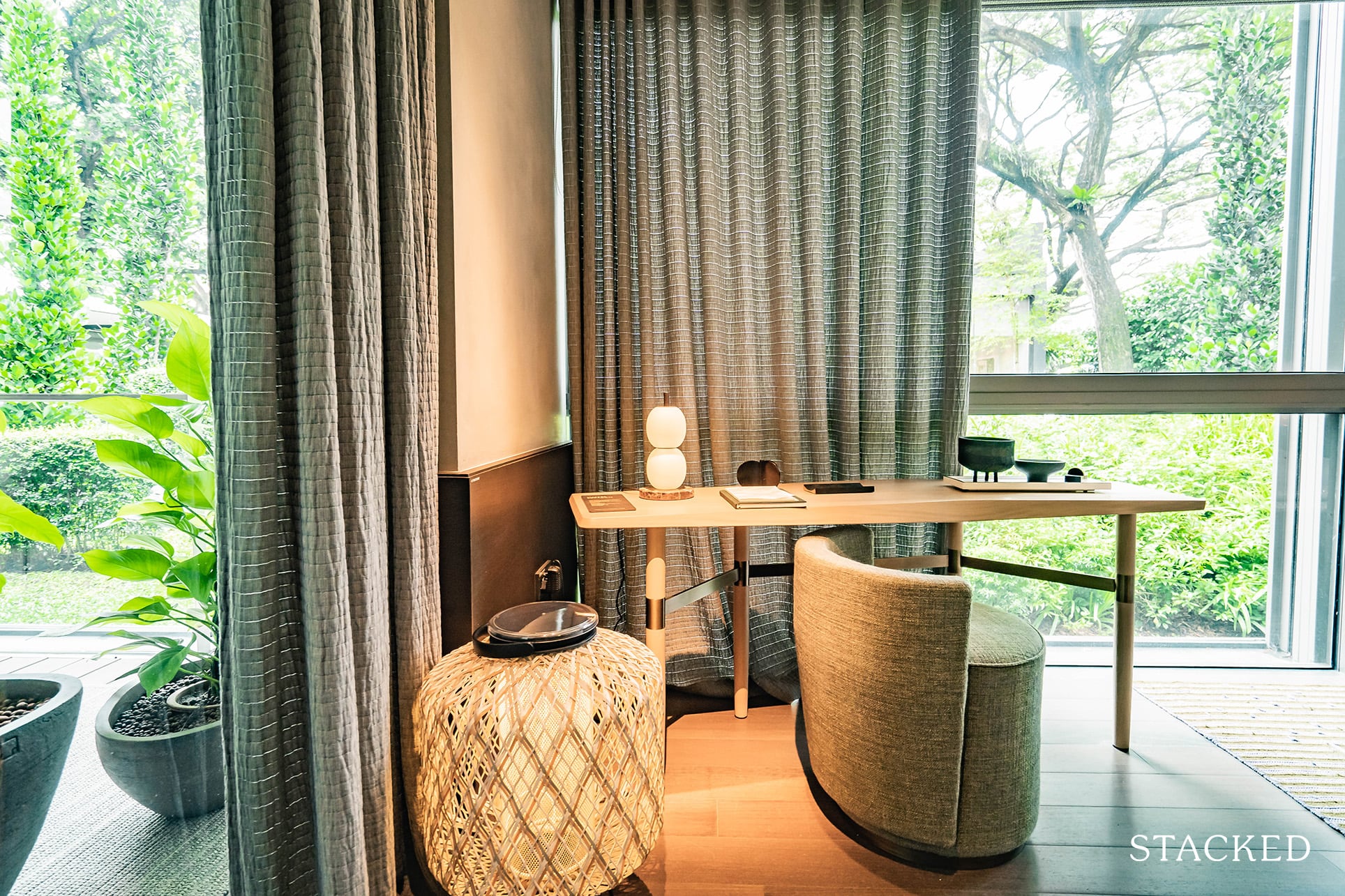 When you see common bedrooms of those sizes, you'd naturally have a higher expectation when it comes to the master bedroom. And I'm happy to report that it mostly delivers.
Upon entering the room, you do have a little space here for a small study (with a view).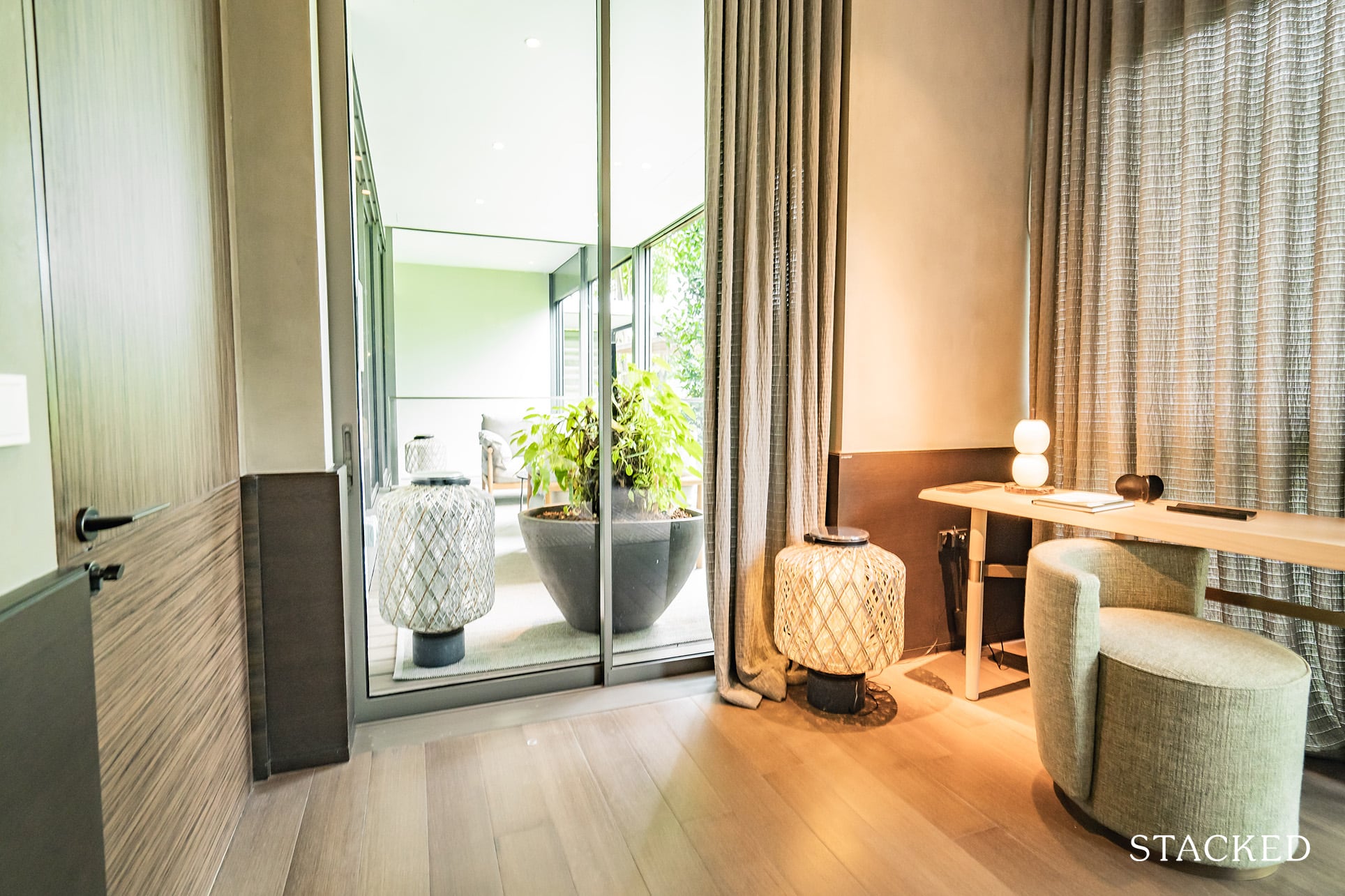 You can access the balcony from here too with a sliding glass door, but it would have been the icing on the cake if the master bedroom had its own private balcony.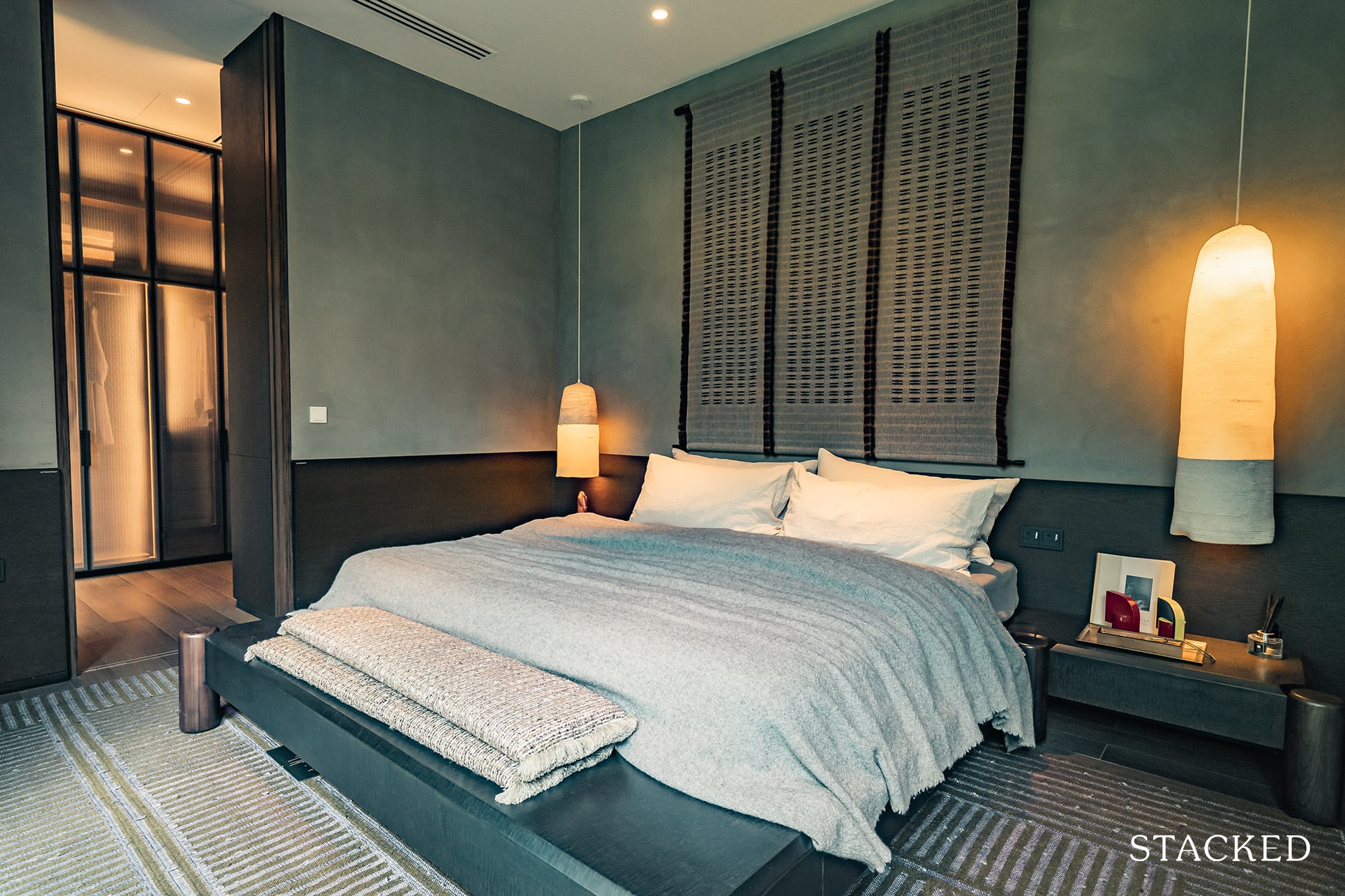 Nevertheless, there's no discounting the fact that the master bedroom is a superbly spacious one.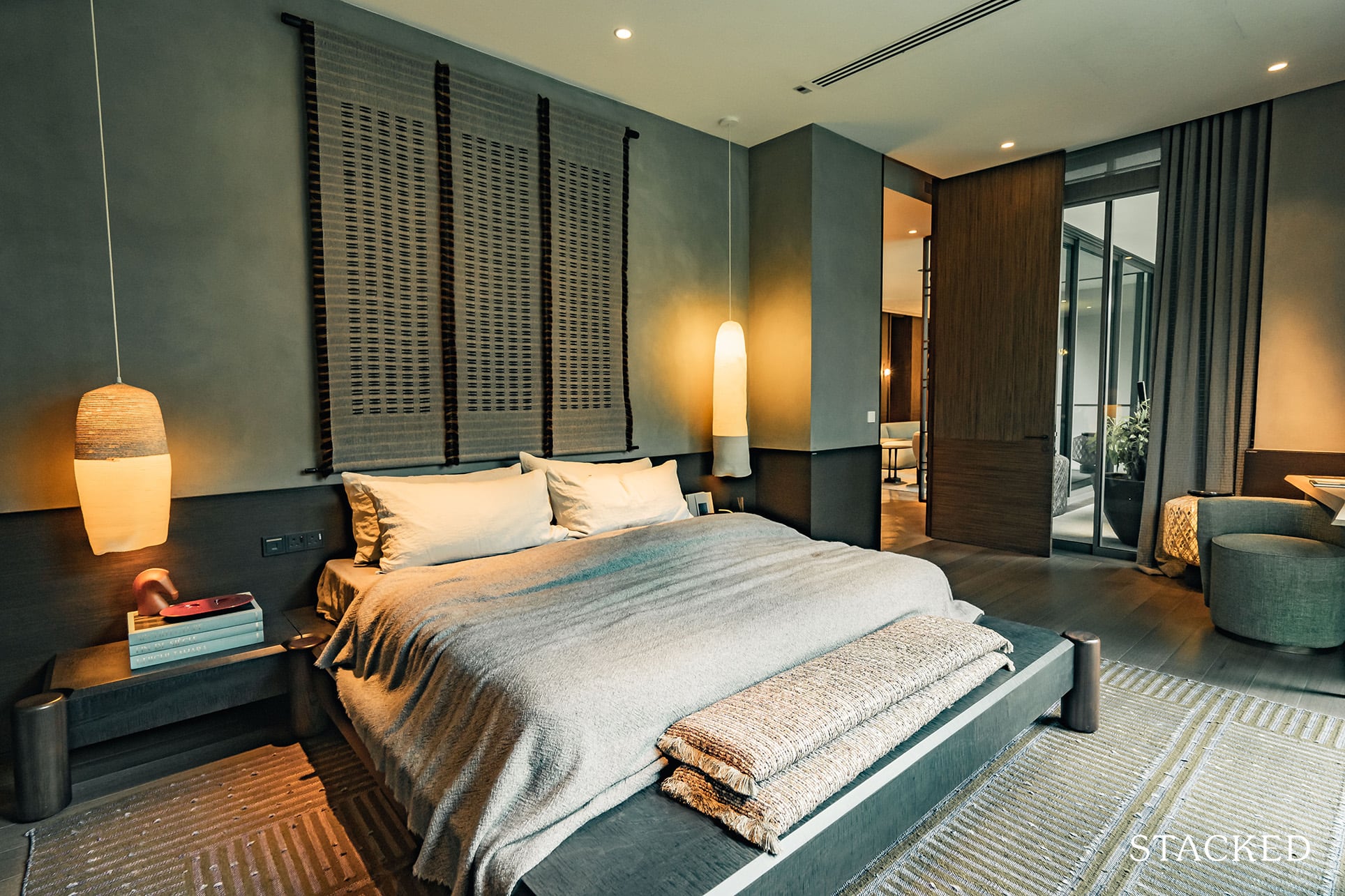 The space even makes the king sized bed look small in comparison. It goes without saying, you have more than enough space to prance around the room.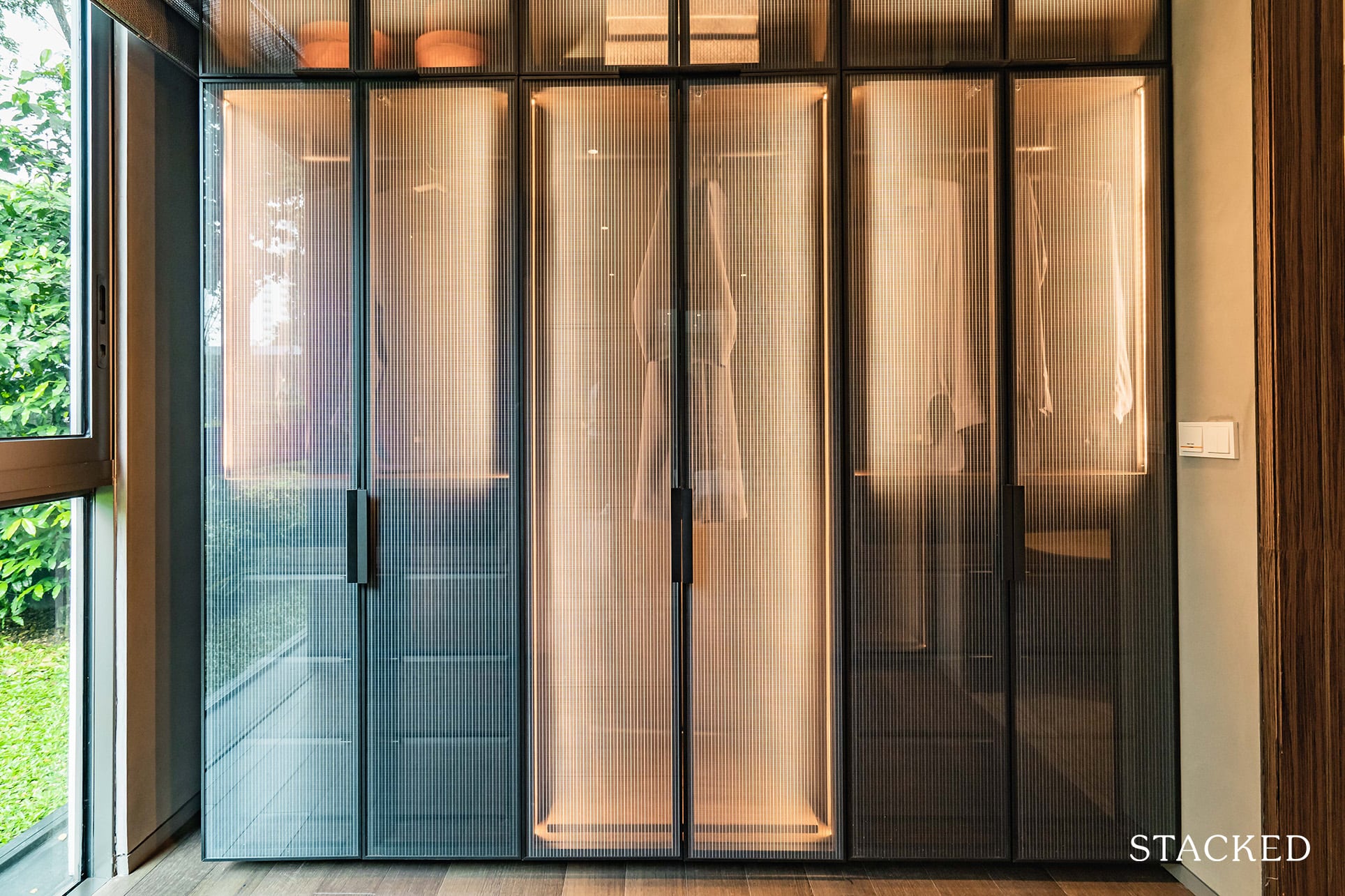 At the end of the master bedroom is the walk-in wardrobe.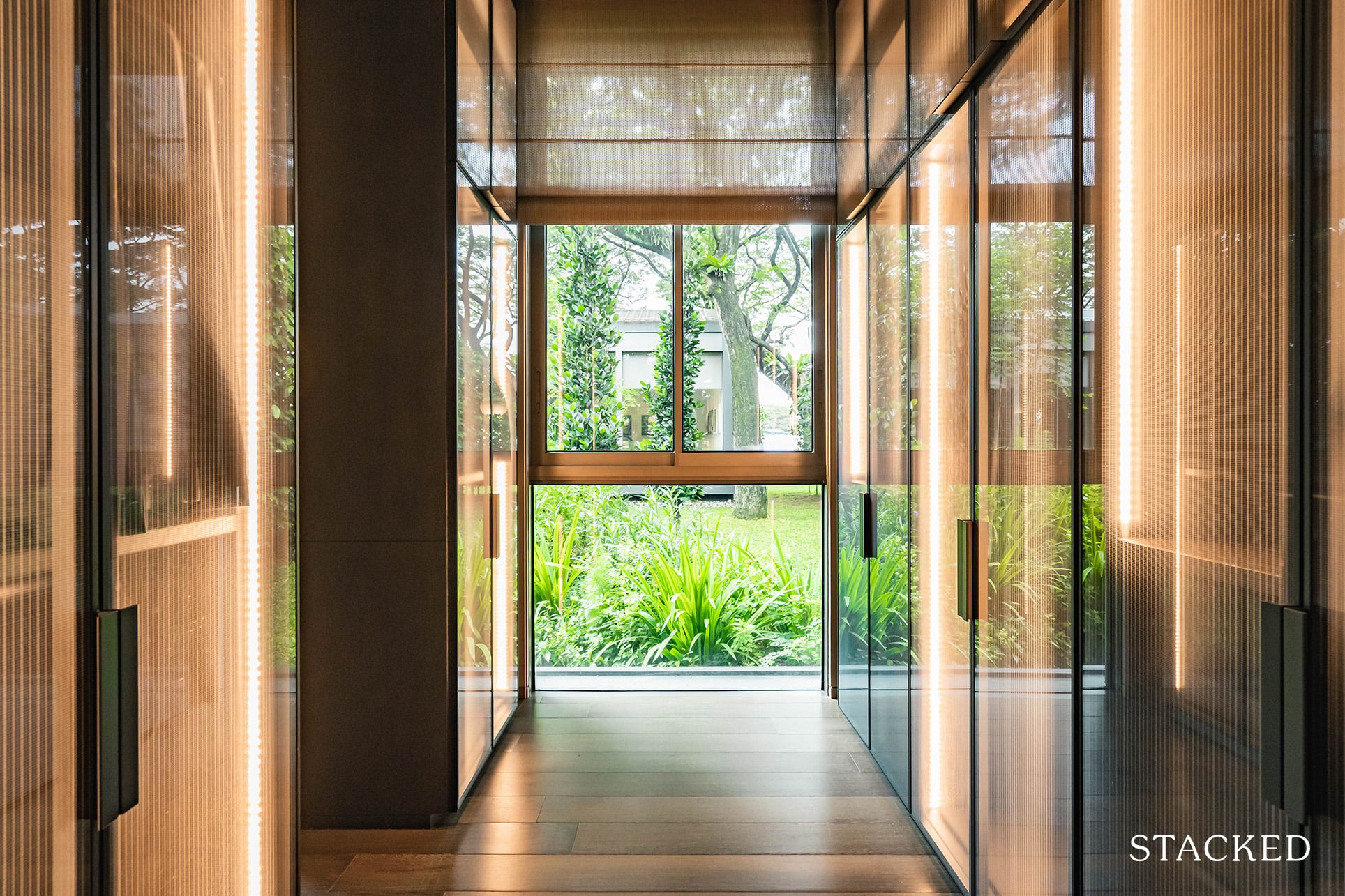 It's a fantastic size, with a fairly sizeable amount of storage for most people.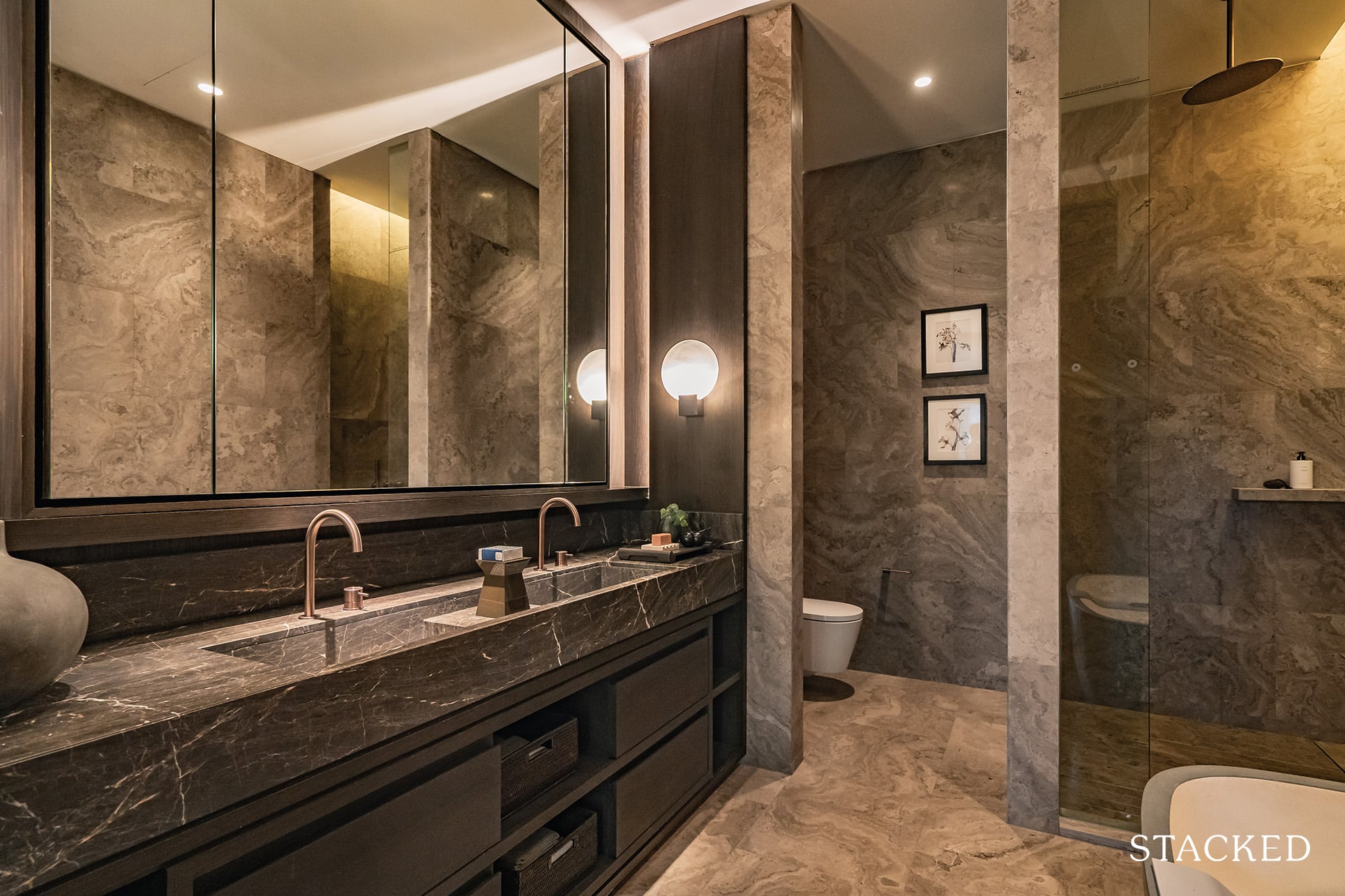 The master bathroom is big, but perhaps it was hampered by the dark colour palette, as it didn't feel palatial as compared to the rest of the unit so far.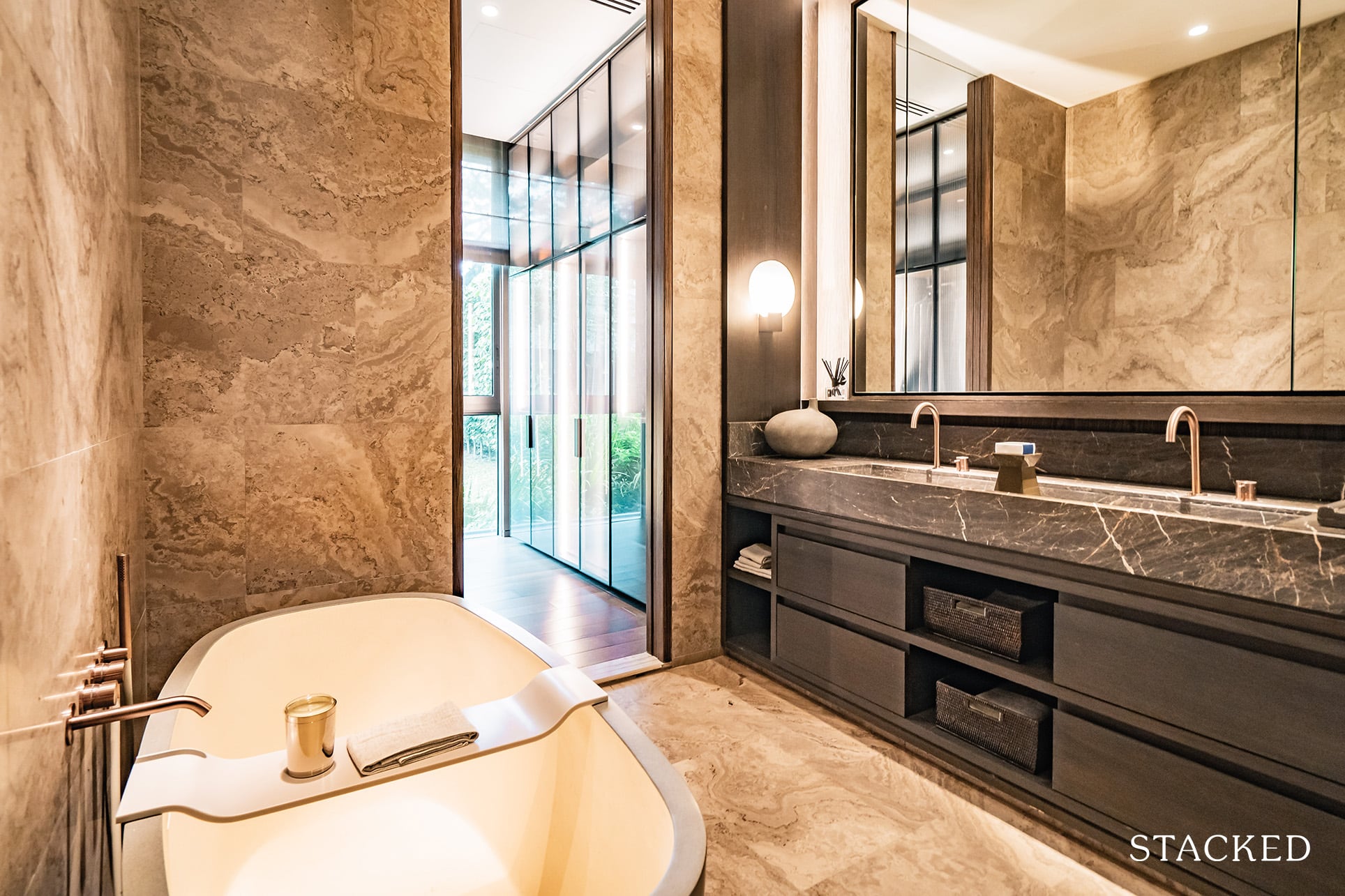 The look is undeniably upmarket, with his and hers sinks, and the bathroom fittings from Axor.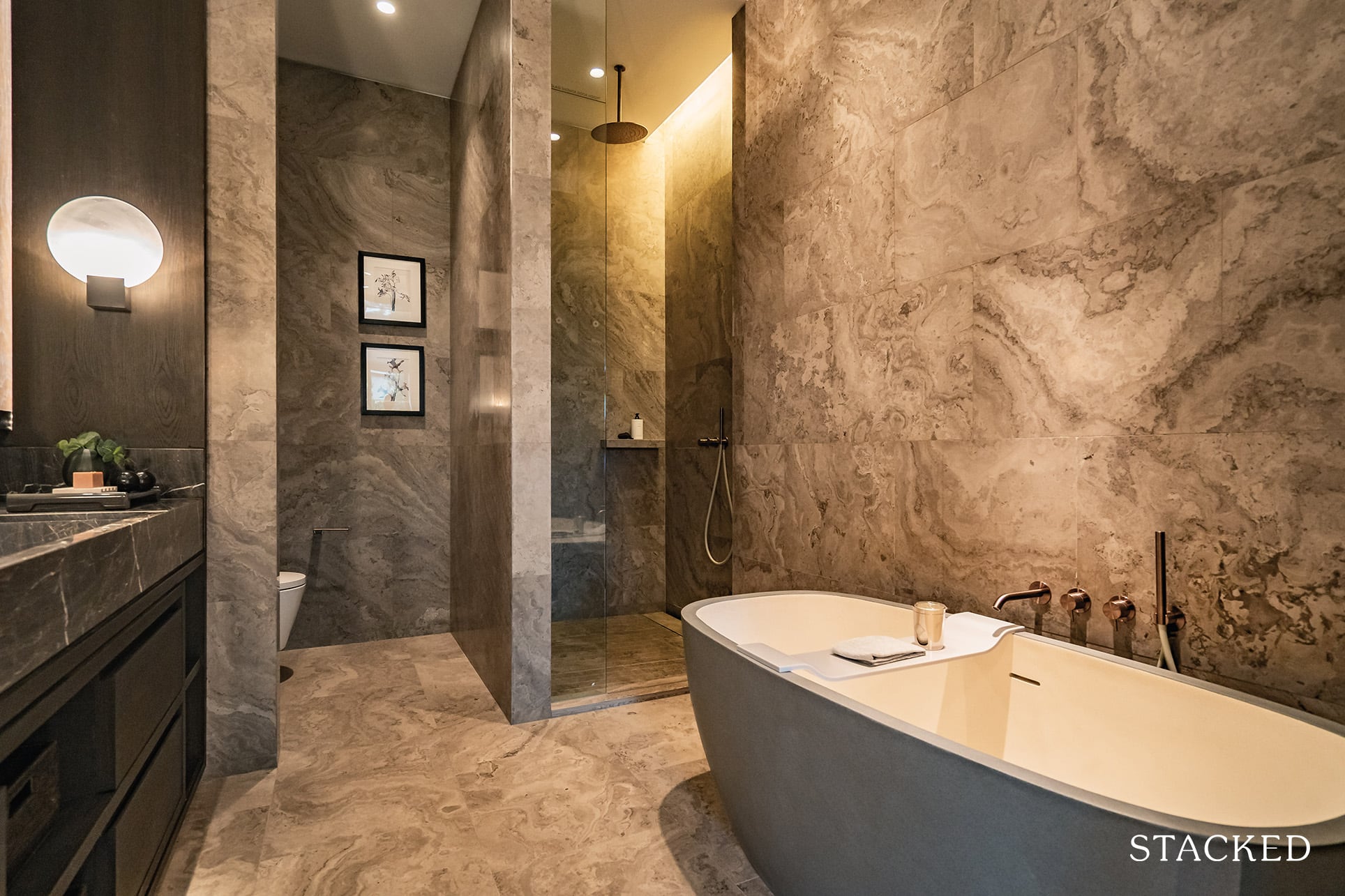 At this price point, I'm sure a bathtub would be the least of every buyer's expectations and they have definitely delivered one here. My nitpick would be it is on the small side, anyone blessed in the height department would not be too comfortable with such an arrangement.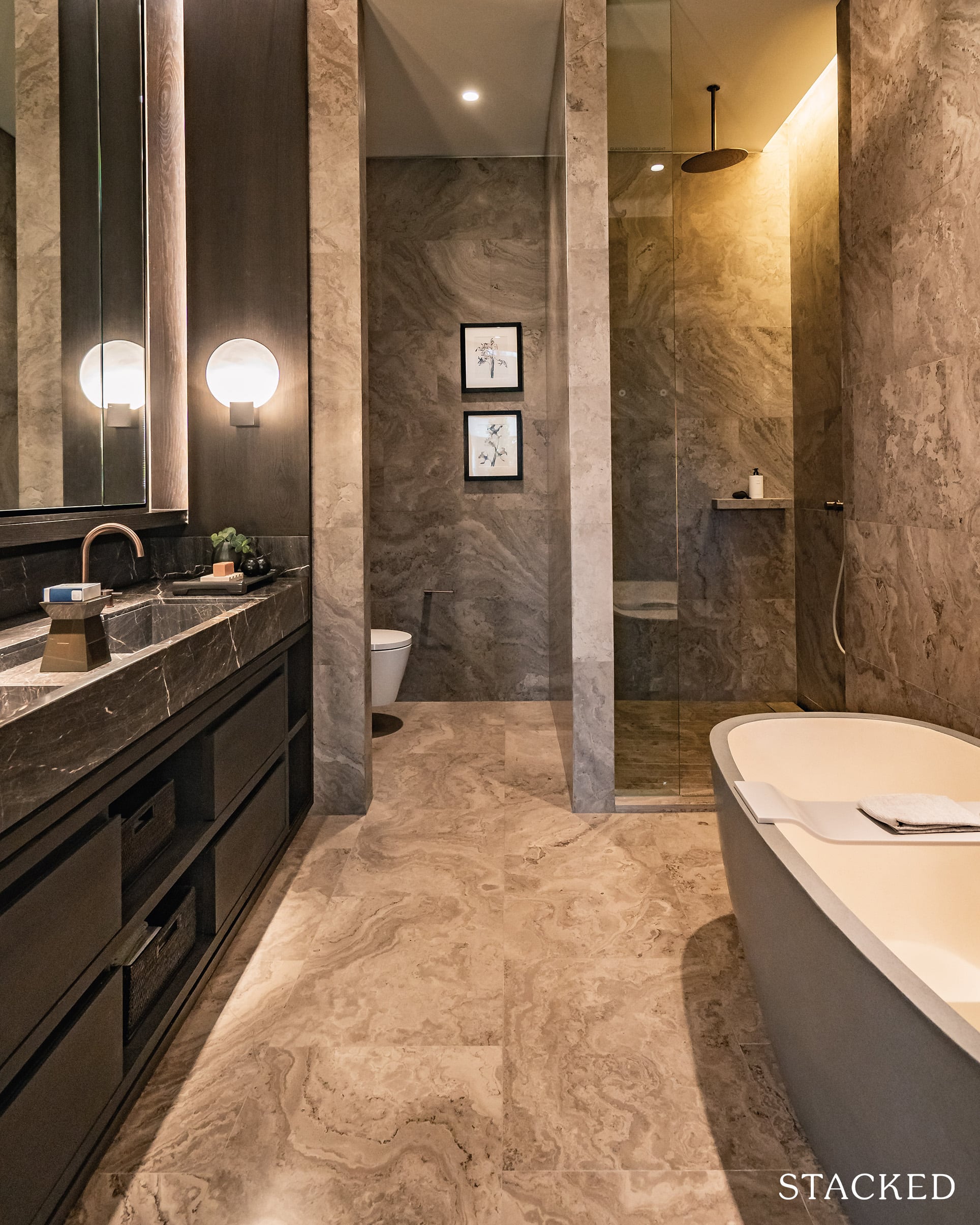 Last but not least, like all the bathrooms so far, this one does not have a window in the bathroom itself. That being said, you could use the one at the walk-in wardrobe area.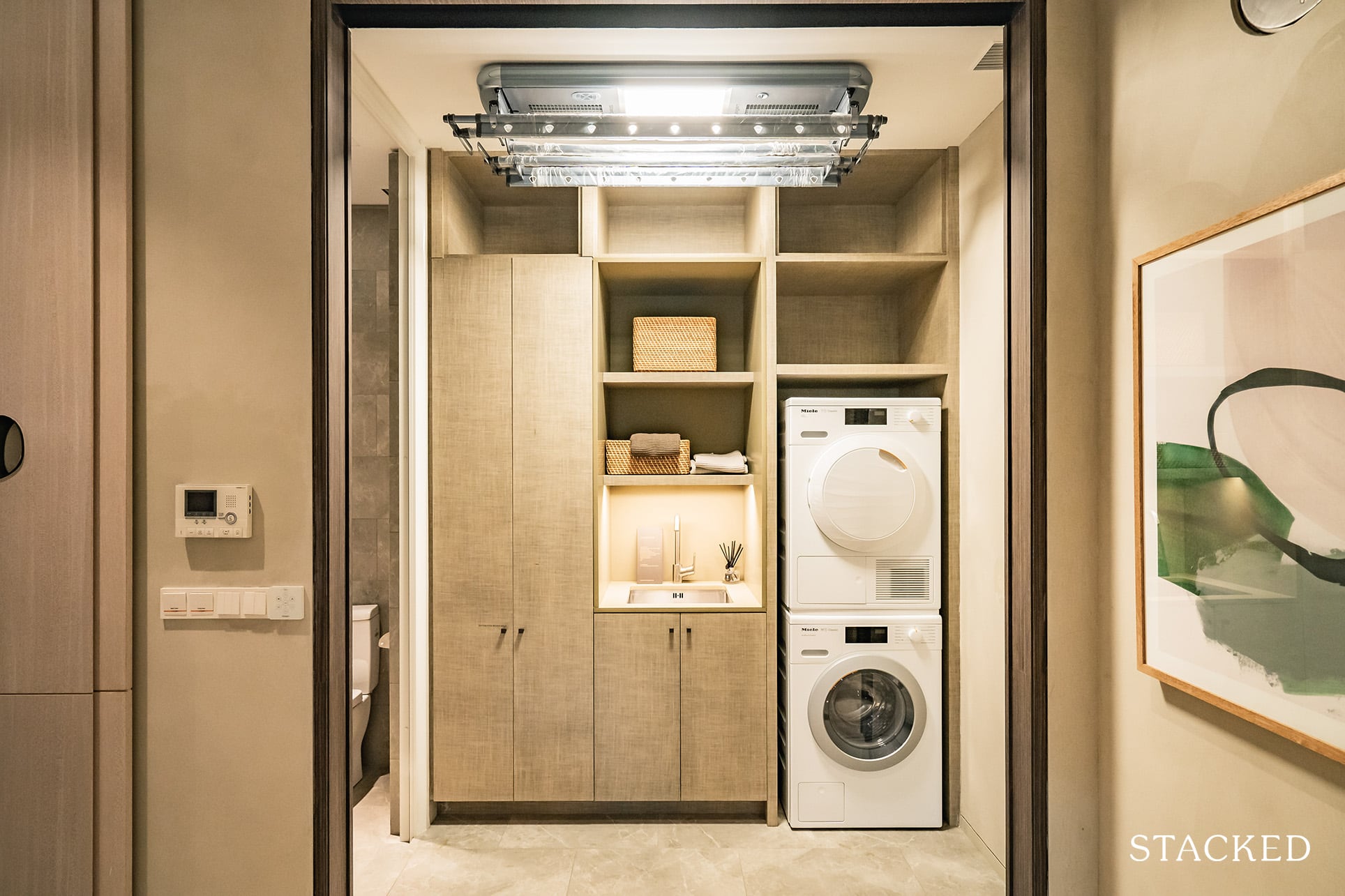 Heading to the kitchen, it comes with a dedicated laundry area that has a washer and dryer from Miele. It does come with the overhanging laundry system from Steigen that has a special solar heater. I've not personally used one before, but I have contacts that have passionately vouched for it.
Going by that, you could say that it does mitigate the lack of a proper yard here. ]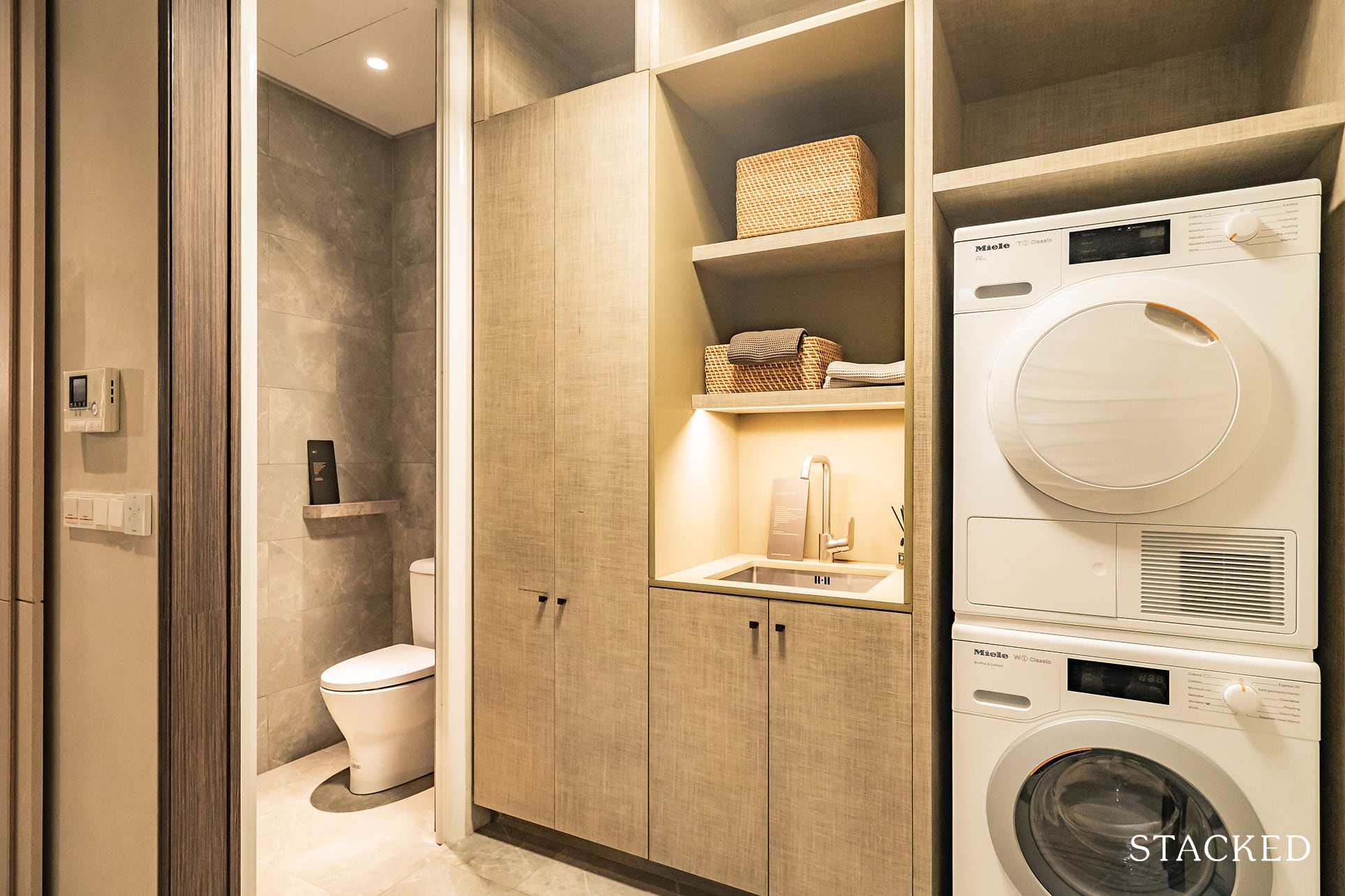 They have also usefully included a WC and a small sink here too.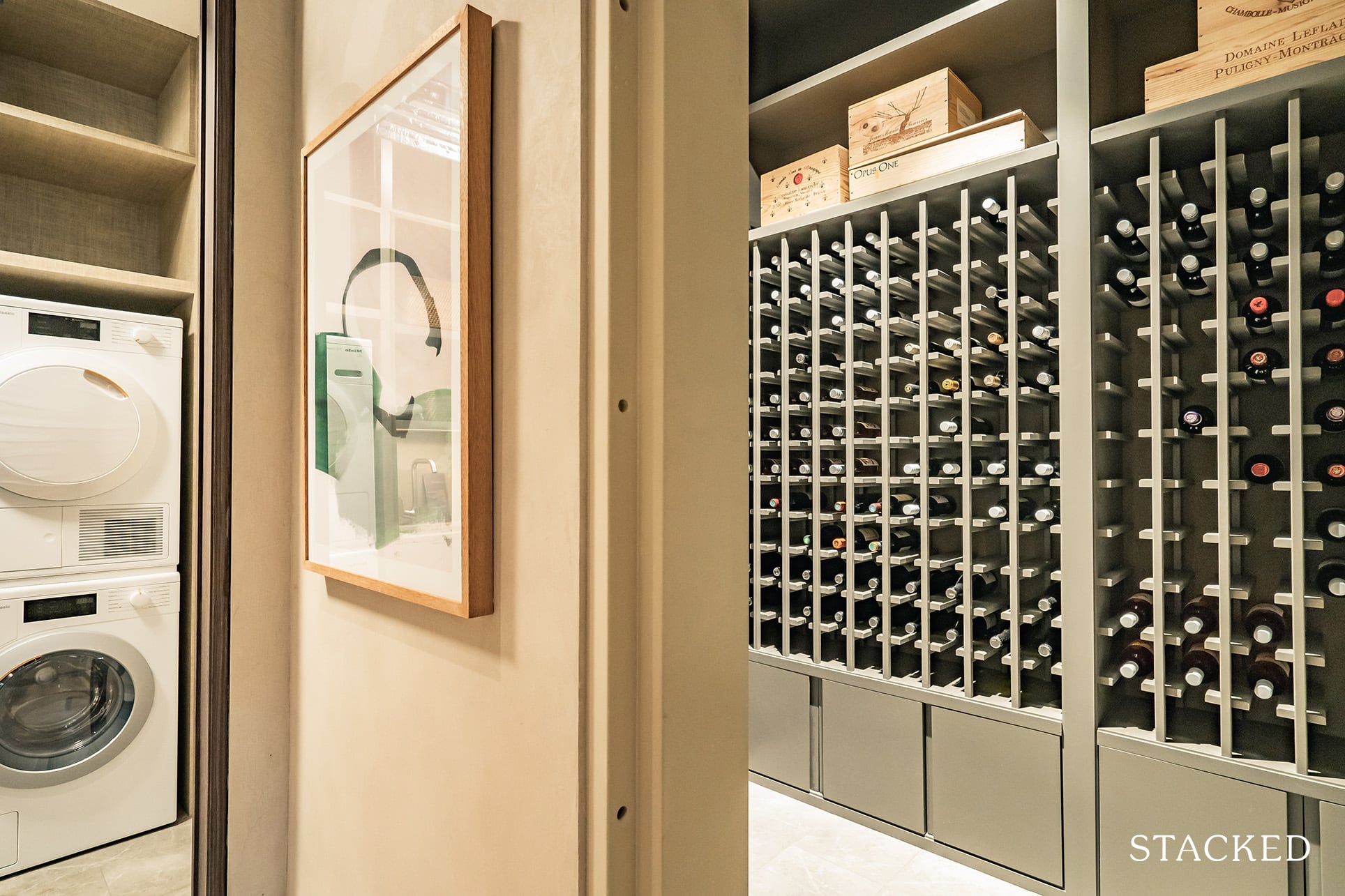 There is a bomb shelter to the right too, which would most definitely be used as a helper's room.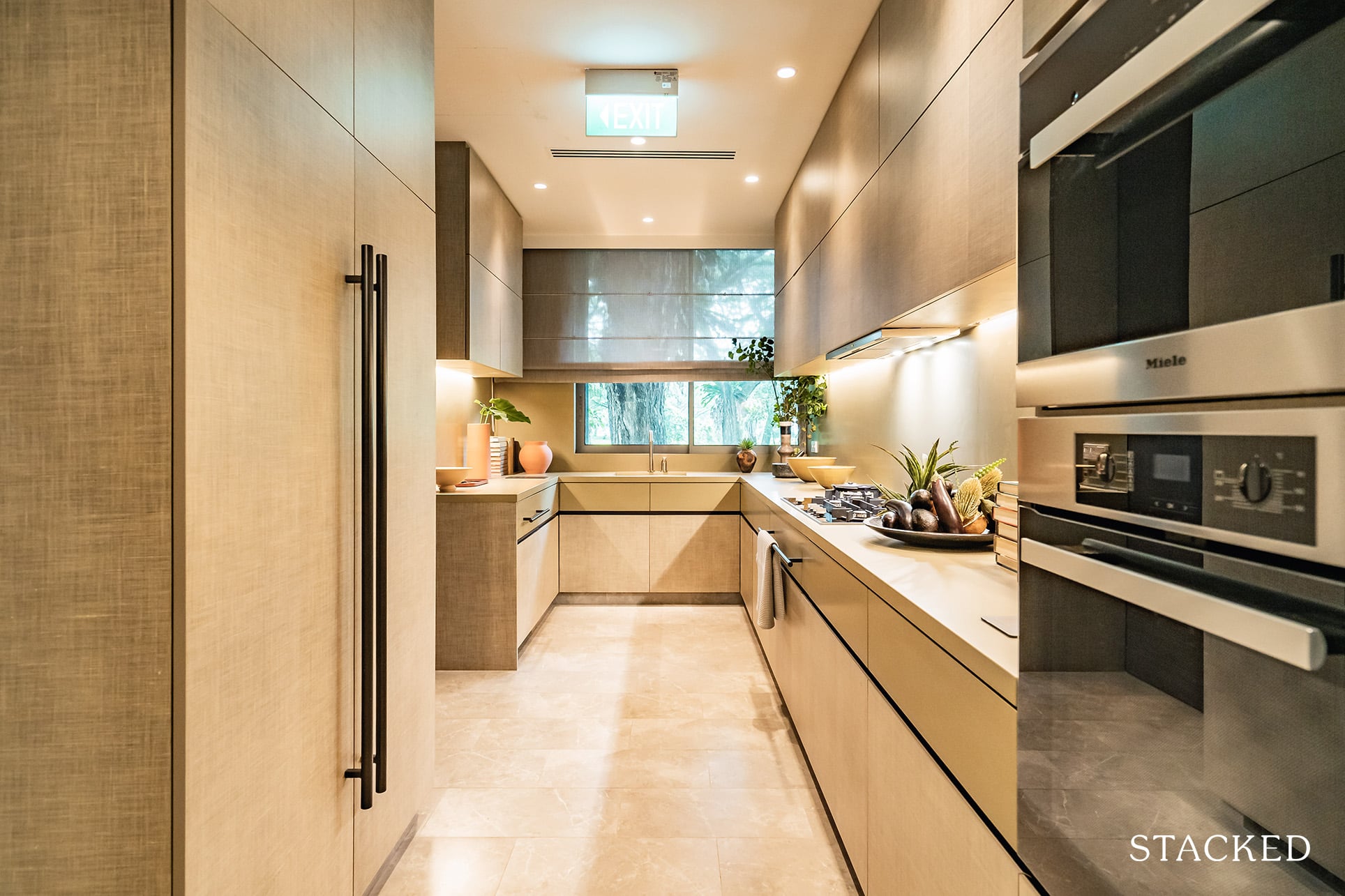 I don't suppose anyone would have too many complaints about the kitchen. It's long and spacious, with more than enough counter top space and storage. Kitchen appliances are from Miele, with the addition of a huge integrated fridge (the one you see on your left with two handles).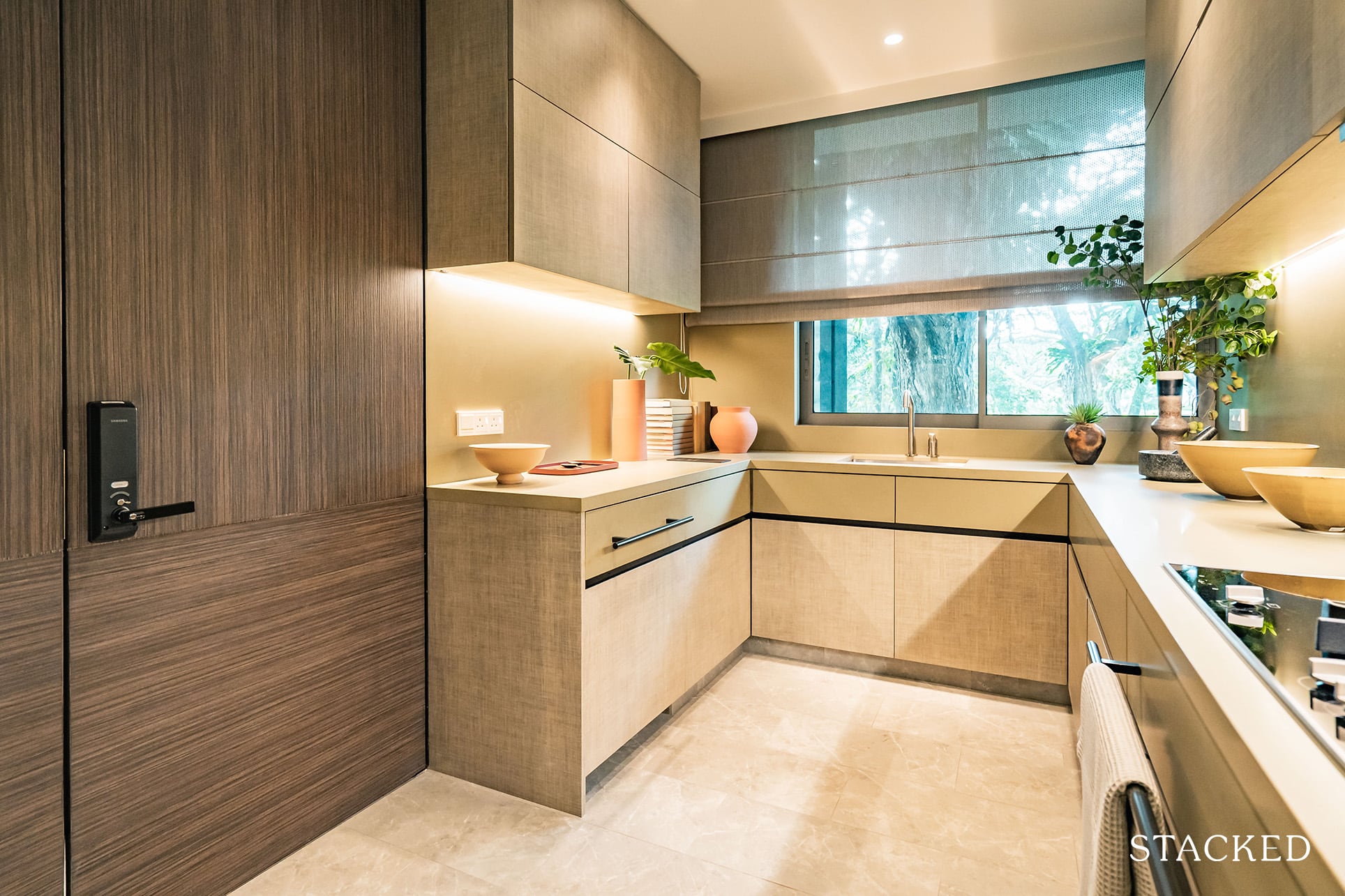 There is a secondary exit/entrance here too, which would more commonly be used for any deliveries to the house.
My grouse here would be the sink, which really should have at least be a dual-sided one.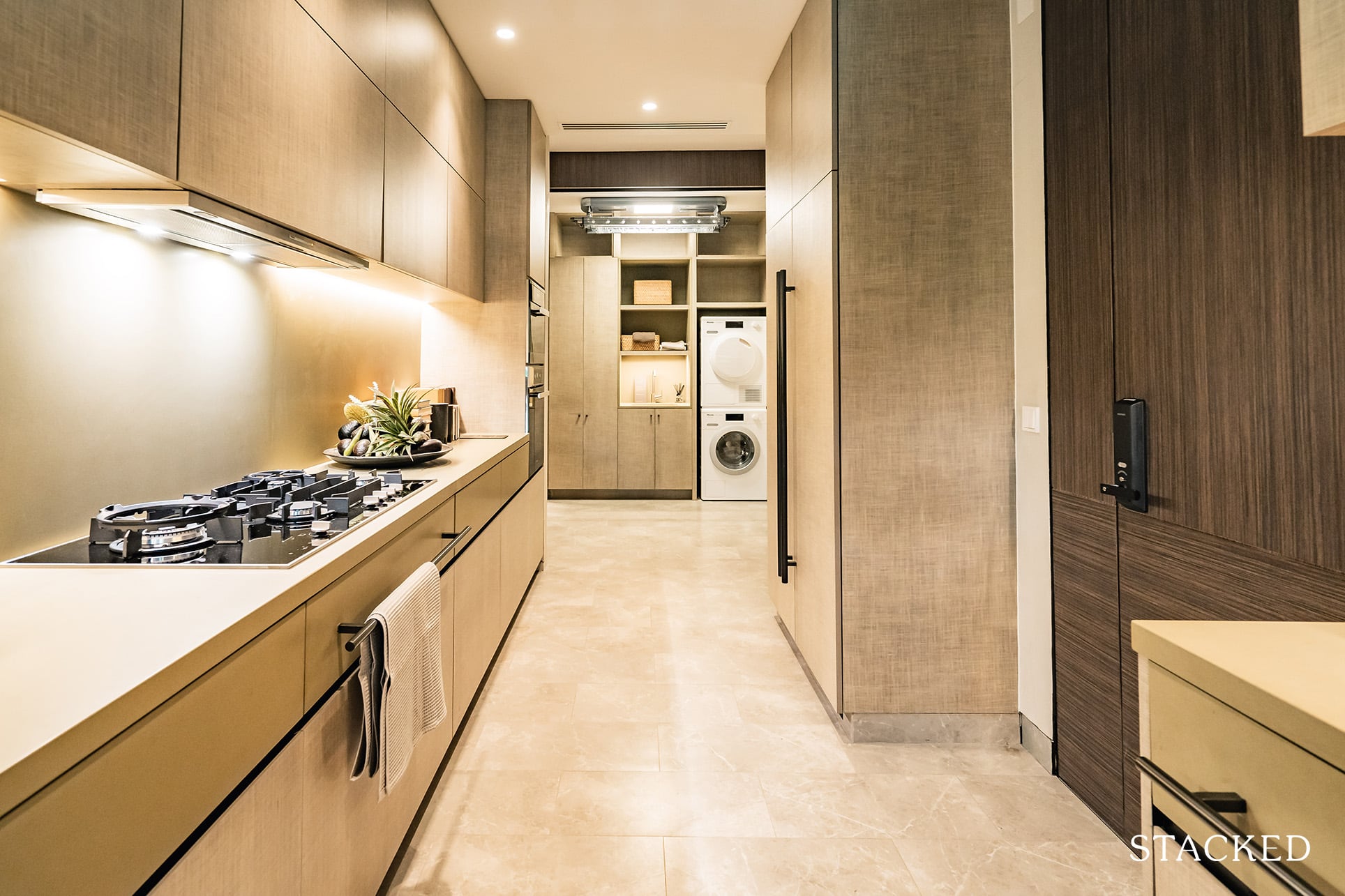 Price Review (Old)
The closest condos for comparison are:
The Makena
The Meyerise
Meyer Park
Meyer Mansion
| | | | | |
| --- | --- | --- | --- | --- |
| Development | Units | PSF | TOP | Lease from |
| The Makena | 504 | $1,544 | 1998 | Freehold |
| The Meyerise | 239 | $2,087 | 2014 | Freehold |
| Meyer Park | 60 | $1,418 | 1985 | Freehold |
| Meyer Mansion | 200 | $2,679 | Under development | Freehold |
(Prices according to Square Foot Research)
To be blunt, trying to compare Meyer House with its neighbours is a bit of a headache. While they're all freehold properties, Meyer House doesn't compare well as it's a boutique development; the only other neighbour that comes close in size – Meyer Park – was completed in 1985, so there's a massive age difference. The Makena is likewise much older, and is not positioned as a luxury offering.
As such, I'd suggest you use Meyer Mansion or MeyeRise as a point of comparison. I'll focus on Meyer Mansion however, as it's the other most recent launch.
Meyer Mansion is also positioned as a luxury property; it also includes luxury features like private lift (although it isn't dedicated like Meyer House). Meyer Mansion is only 290 metres down the road, although it does feature a wider unit mix with one and two-bedders (which accounts for the higher average price psf), and has a higher unit count of 200.
(We have a full review of Meyer Mansion on Stacked).
Checking on 99.co, the typical quantum for a 4-bedder at Meyer Mansion (around 1,722 sq.ft.) in 2020 was in the range of $4.6 million. A larger unit at Meyer House (1,873 sq. ft., a 3-bedder by Meyer House standards that transacted in February last year) had a quantum of just $4.4 million.
(There were no other 3-bedder transactions on record for Meyer House yet, at the time of writing).
Between the two luxury properties, Meyer House may be a little more cost-efficient; if for no other reason than its larger unit sizes, and hence lower price per square foot. This difference is slim, however, and based on only a single transaction of a 3-bedder to date.
That said, Meyer Mansion is simply taller and has a better overall view of the sea and surrounding properties; even though both Meyer Mansion and Meyer House benefit from being in low-density areas.
In general, I think families will prefer Meyer House for being more spacious and next to the area's playground; investors will probably eye Meyer Mansion instead, as it includes one and two-bedder units.
Ultimately do note that this is a very niche product, mainly because of the price point it is sitting at. I do think that most Singaporeans would rather opt for a landed property. So your captive audience would be one that really enjoys that more handsfree process of staying in a condo but are willing to pay for that extra space, or foreigners looking for a landed property but are unable to buy one.
Still, like what I mentioned about 15 Holland Hill, at this level it gets a lot harder to answer the question of whether it is value for money. That privacy and exclusiveness that Meyer House provides: coming home to a green filled haven, not having to share a lift with anyone (for the more reserved folk), and luxuriating in big living spaces. Those are intangibles that is hard to put a price on. For that niche buyer that wants the living space but prefers to stay in a condo environment, Meyer House does hit all the right spots.
What this means for you
You might like Meyer House if you:
• Desire huge and spacious units:

Meyer House offers just 56 units on a plot that could have accommodated over 200. Moreover, the units here offer top-of-the-line finishings.

• Want to live in a luxury boutique in East Coast:

Meyer House is the only luxury boutique development in the immediate area next to Meyer Park, which is significantly older. It's also close to the desirable lifestyle stretch of East Coast Road
You might not like Meyer House if you:
• Don't wish to pay too much for maintenance:

It's the usual problem with all boutique developments – even more so for luxury. The steep maintenance cost can be a huge turn off.

• Need great accessibility now:

While a common issue in low-density housing areas, having only one bus service nearby is a challenge. You really want a car if you live here – that is unless you're willing to wait till 2023!
End of Review
Join our Telegram group for instant notifications
Join Now
Reuben