Condo Reviews

Margaret Ville Review: An Upscale-Looking Condo For Those Seeking More Privacy (Not For Young Kids Though)
Sean
May 6, 2022

20

min read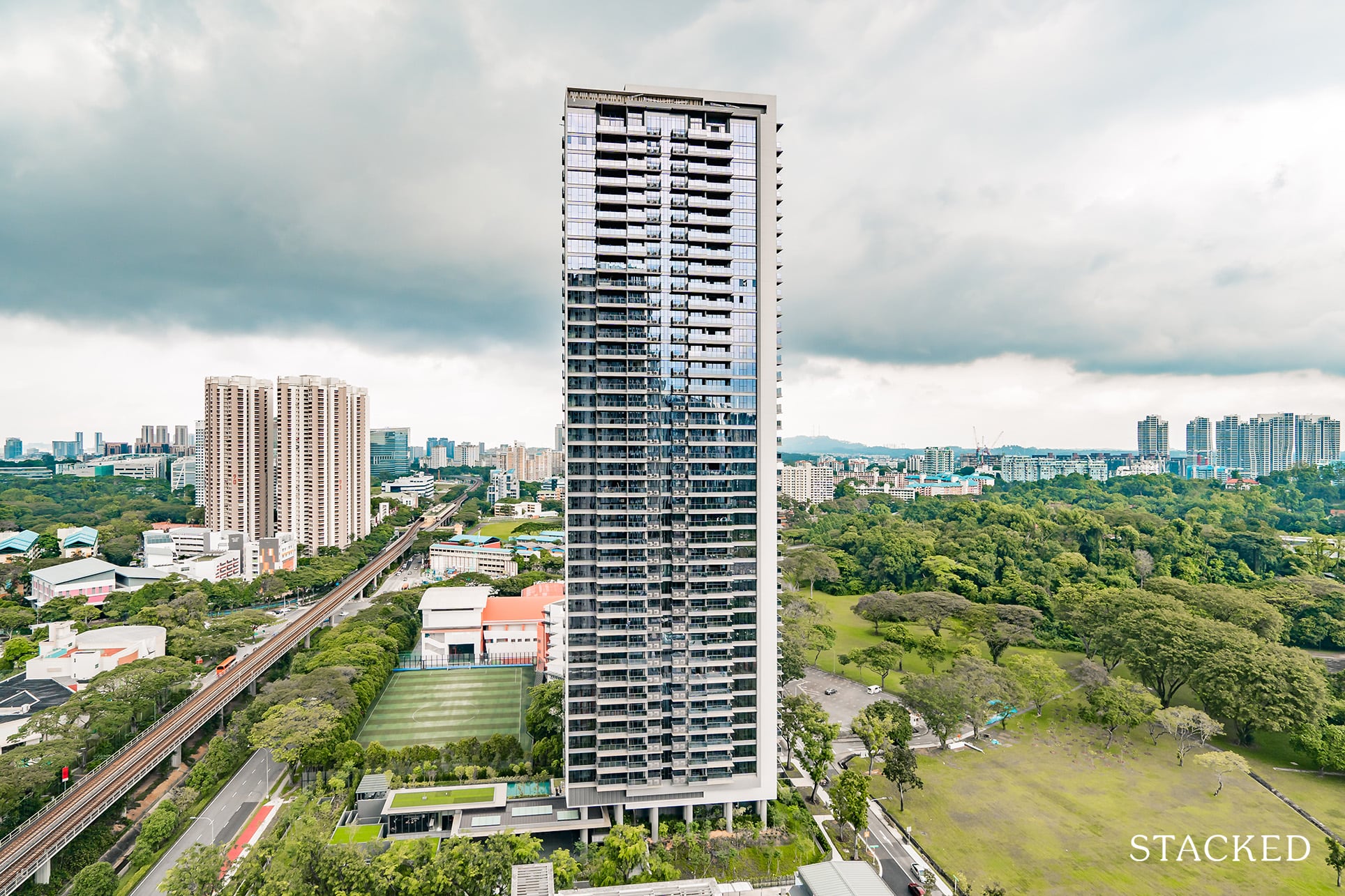 Our Verdict
Margaret Ville is a new condo for those looking for a certain degree of exclusivity in a central location. With no playground or kid focused facilities though, this isn't one for families with young kids.
Reviewed by Sean on May 06, 2022
What we like
Just 309 units

Good accessibility if you drive
What we don't like
—

Limited facilities

—

3/4 bedroom units are quite compact

—

Immediate amenities are a little lacking
20
min read
| | |
| --- | --- |
| Project: | Margaret Ville |
| District: | 03 |
| Address: | Margaret Drive |
| Tenure: | 99-year Leasehold |
| No. of Units: | 309 |
| Site Area: | 51,772 sqft |
| Developer: | MCL Land |
| TOP: | 2021 |
It is quite startling to see just how much has changed in the past few years along Commonwealth Avenue. The whole stretch after Queenstown Secondary School has drastically morphed from the low-rise hawker centre, pool/ex-movie theatre, and old HDB blocks – to new sky-high BTO blocks, and gleaming condos like Commonwealth Towers and Queens Peak.
Margaret Ville was the second last development to be launched (after Commonwealth Towers and Queens Peak but just a month or so before Stirling Residences). It drew bullish bids from 14 developers back then, which was finally won by MCL Land with a winning offer of $238.39 million, or $997.85 per sq ft per plot ratio (PSF PPR).
And clearly, because it was launched later, it had a higher land cost than both Commonwealth Towers (which cost $883 psf ppr), and Queens Peak (which cost $871 psf ppr). As for Stirling Residences, it was the last to be acquired, and that was done at a stunning $1.03 billion bid ($1,051 psf ppr).
Nevertheless, Margaret Ville is quite the oddball out of the above-mentioned developments. They are all sizeable ones at 700 plus units and up (as compared to just 309 units at Margaret Ville), and on paper, it seemingly has the worst location given the distance to an MRT station (it is the furthest away).
Which really isn't a bad thing at all. Not everyone likes to live in such a dense environment, and today 309 units are quite a sweet spot to have decent facilities, and yet enjoy reasonable maintenance costs as well.
So what's it like to live at Margaret Ville? Read on more for our insider tour.
Margaret Ville Insider Tour
Frankly, when I first saw the location of Margaret Ville, it didn't seem to be a very exciting prospect. Firstly, it's a standalone building that is quite awkwardly sandwiched between Queenstown Secondary School and two churches. Great if you have kids attending the school, or you are a regular at either church, but beyond that, there isn't much further benefit.
If anything, it almost feels like a random plot that is just shoehorned to create a development.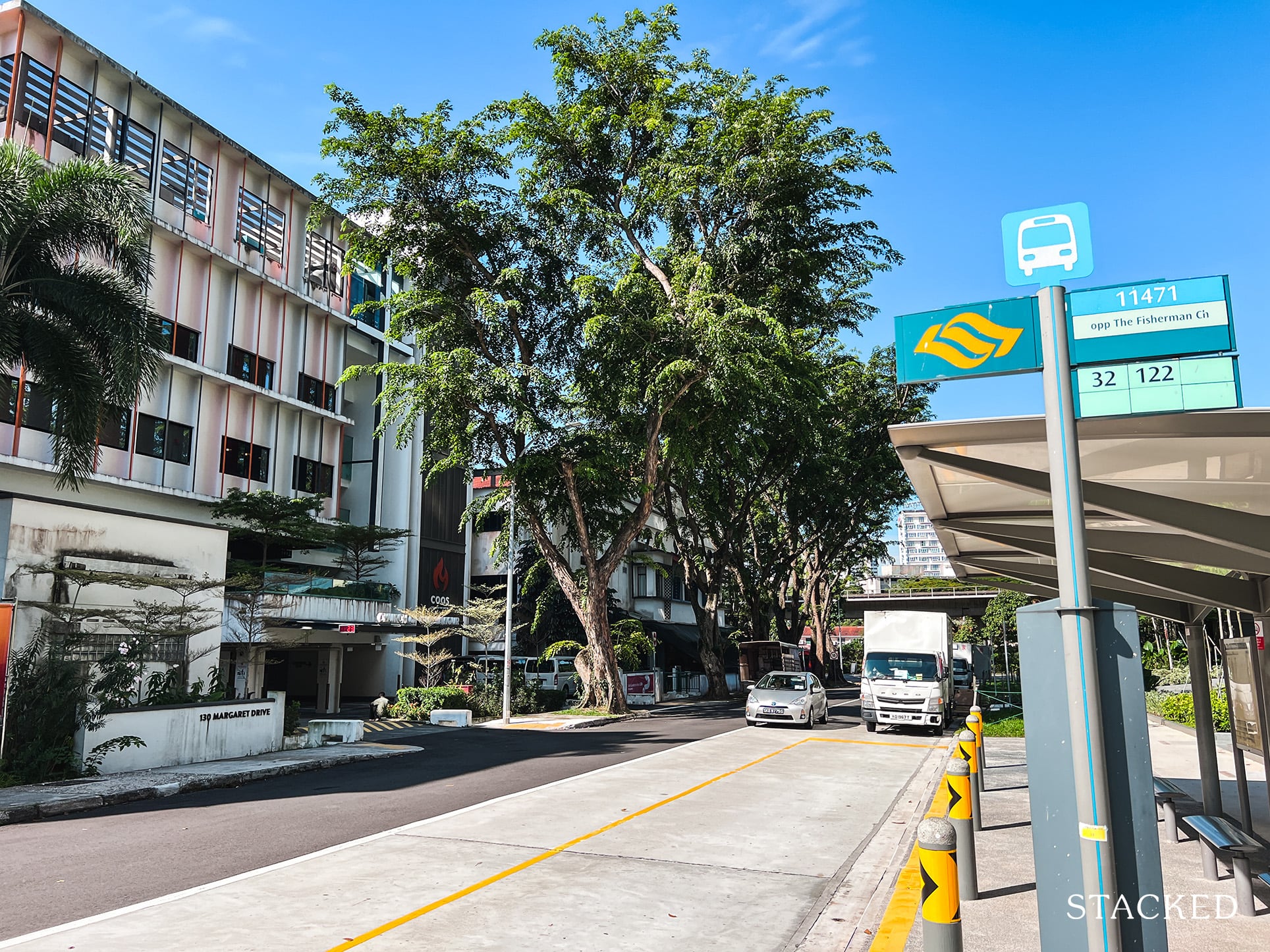 As such, there really isn't much in its immediate vicinity that's worth pointing out. While Commonwealth Towers and Queens Peak have the advantage of being situated right next to the MRT station, and Stirling Residences has the perk of being close enough yet set further away from traffic noise – Margaret Ville is right next to the main road and MRT tracks without enjoying the real benefit. So what gives?
Well, if you look closer and examine, there are some positive points to consider.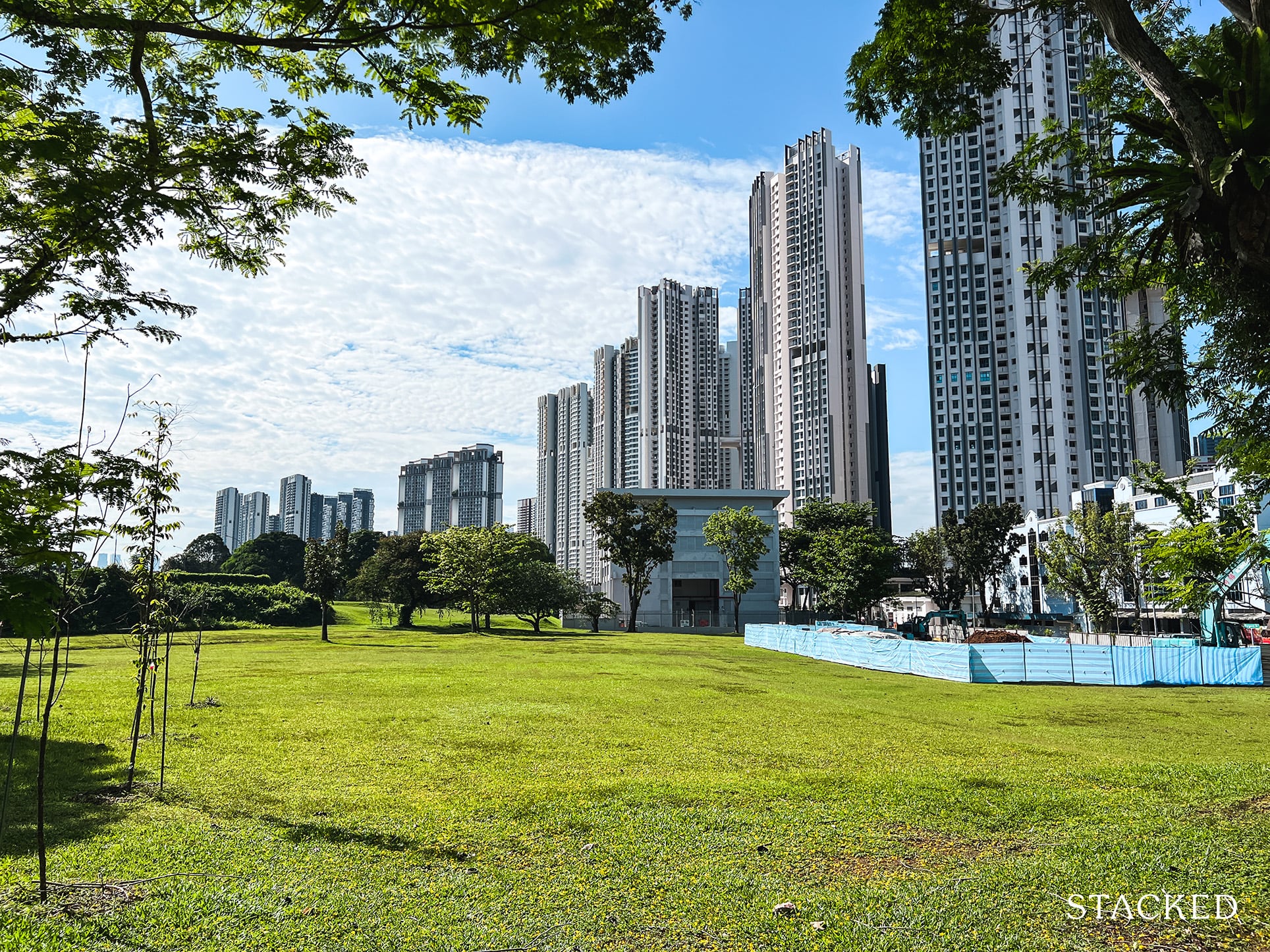 For now, it feels a lot more peaceful (other than the road and MRT noise) than the Commonwealth Towers/Queens Peak stretch. Because the entire area opposite Margaret Drive is currently swathes of green, its open and unblocked nature makes it so much less overcrowded.
Though I must warn you that according to the URA Master Plan, these areas are zoned residential with a plot ratio of 2.1 – so it's not going to remain this way forever.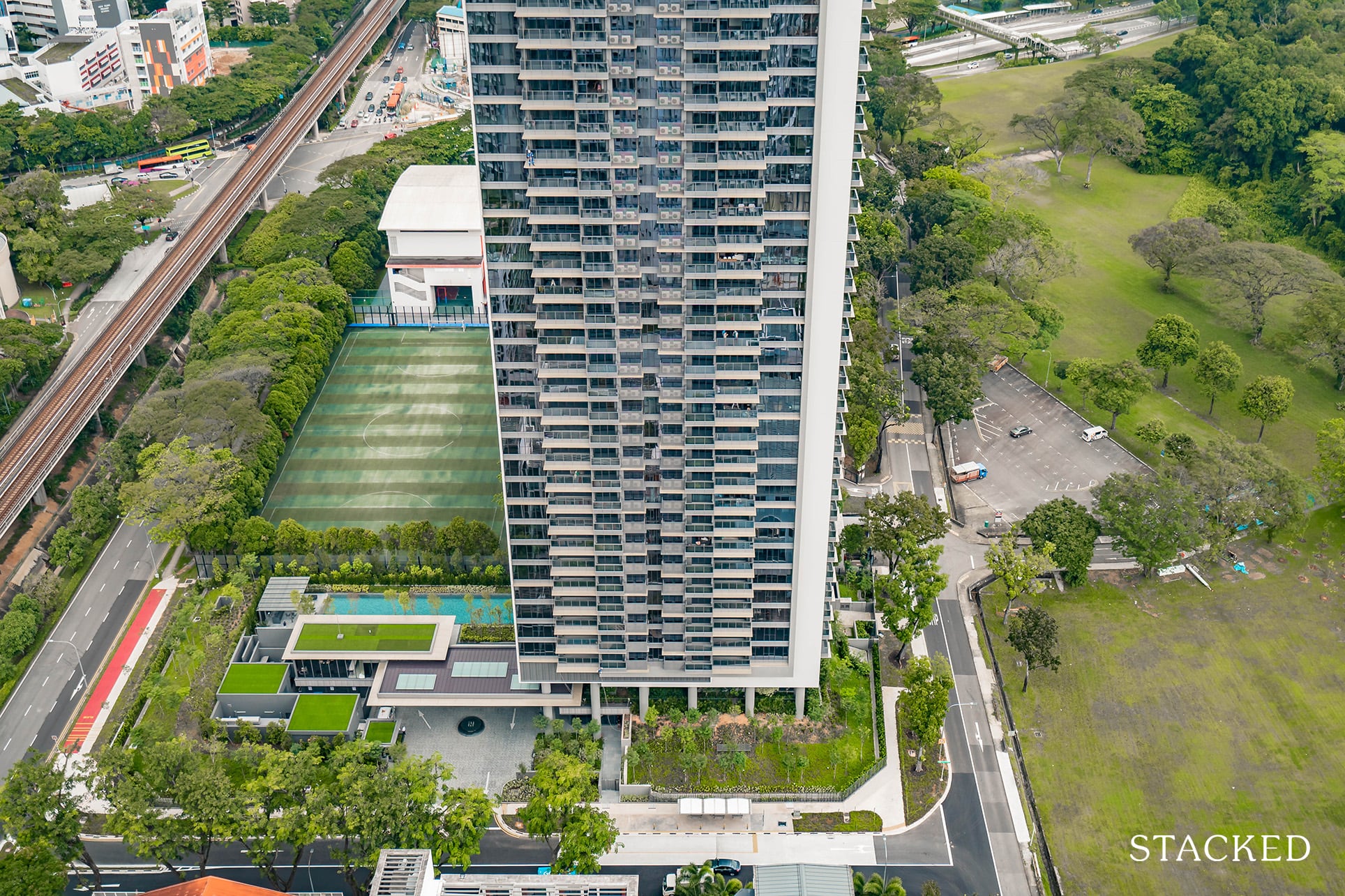 Margaret Ville sits on a land size of 51,780 square feet. It's certainly a small plot by conventional standards, and you can see it all in this shot above (the big field next to the pool is the football field of Queenstown Secondary).
To give you some context, Commonwealth Towers is about 2 and half times the size (126,885 square feet) and has 845 units – it's just ever slightly denser if you do the math.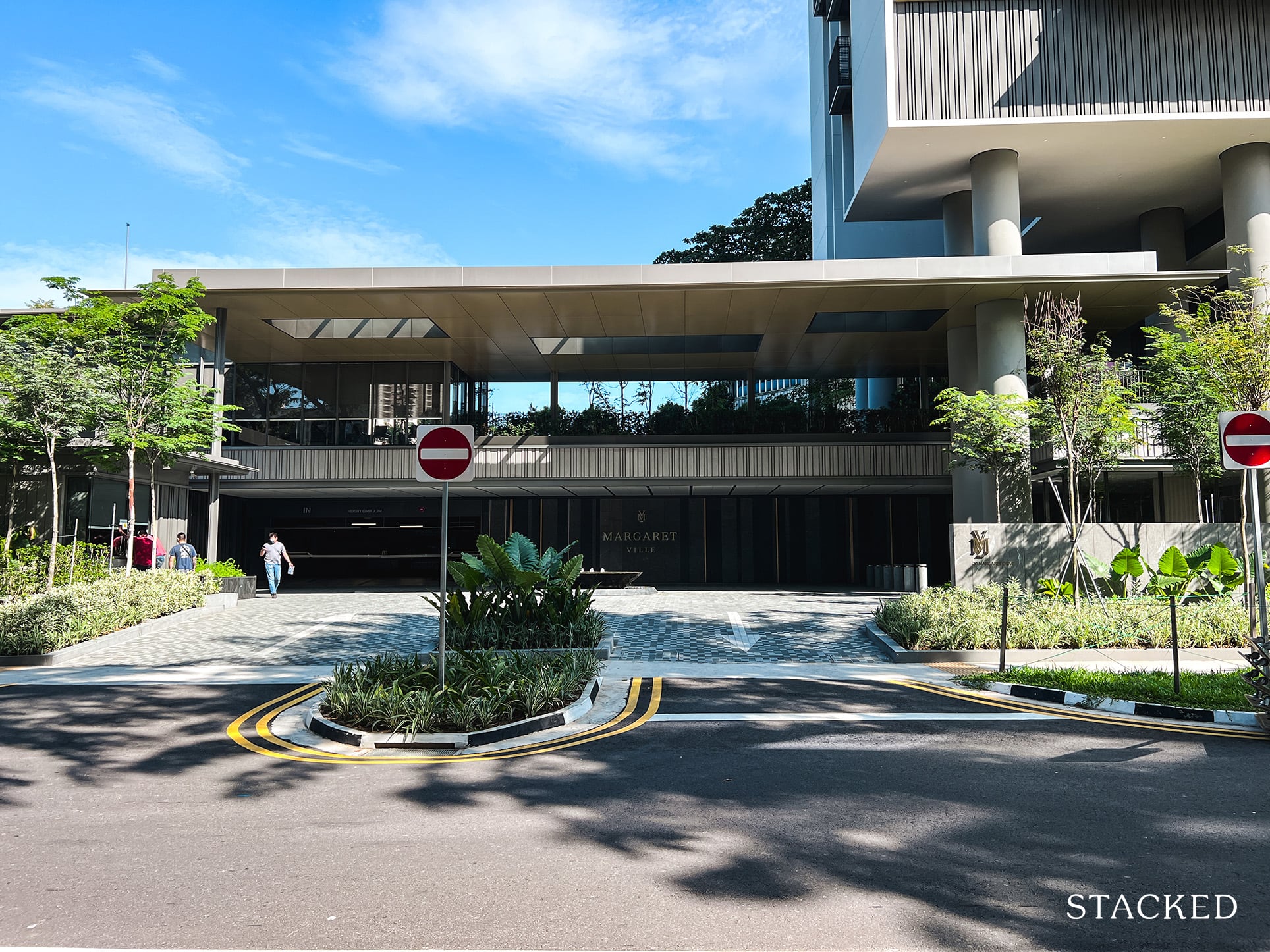 As mentioned earlier, Margaret Ville is set along Margaret Drive but its actual positioning is quite good as there is more than one way you can get there if you drive. The first is via Queensway or Commonwealth Avenue, and the second is via Margaret Drive which connects to Tanglin Road. The main Commonwealth Avenue can get quite jammed during peak hours, so the Margaret Drive/Kay Siang Road can be a useful hack to get home as well.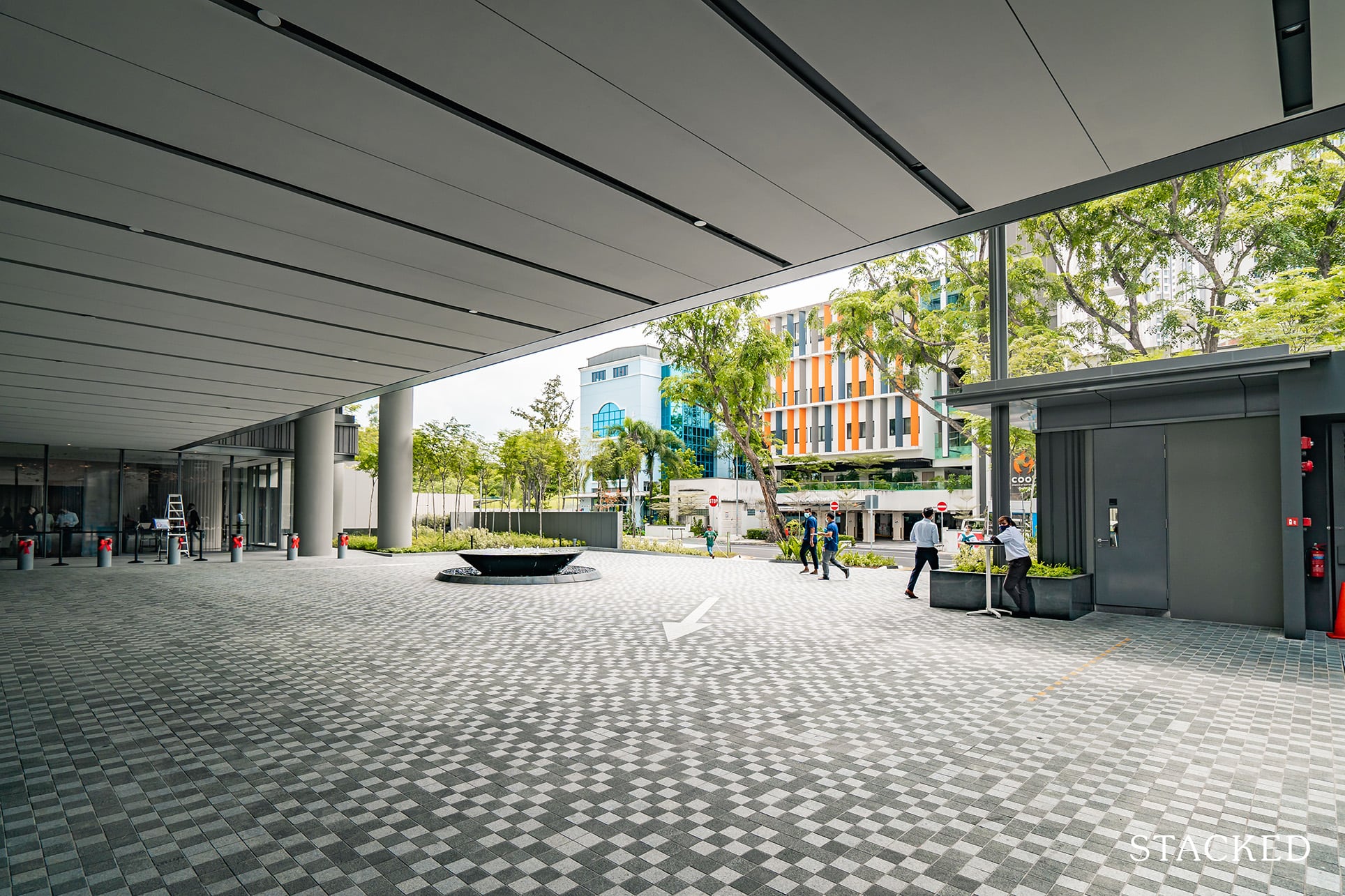 Despite the small plot of land, the arrival area is a very impressive one indeed. Judging from the space dedicated, it gives you the impression that you are arriving at a much bigger development. Some may say it's a bold move for a smaller space, but to me, I think it's paid off.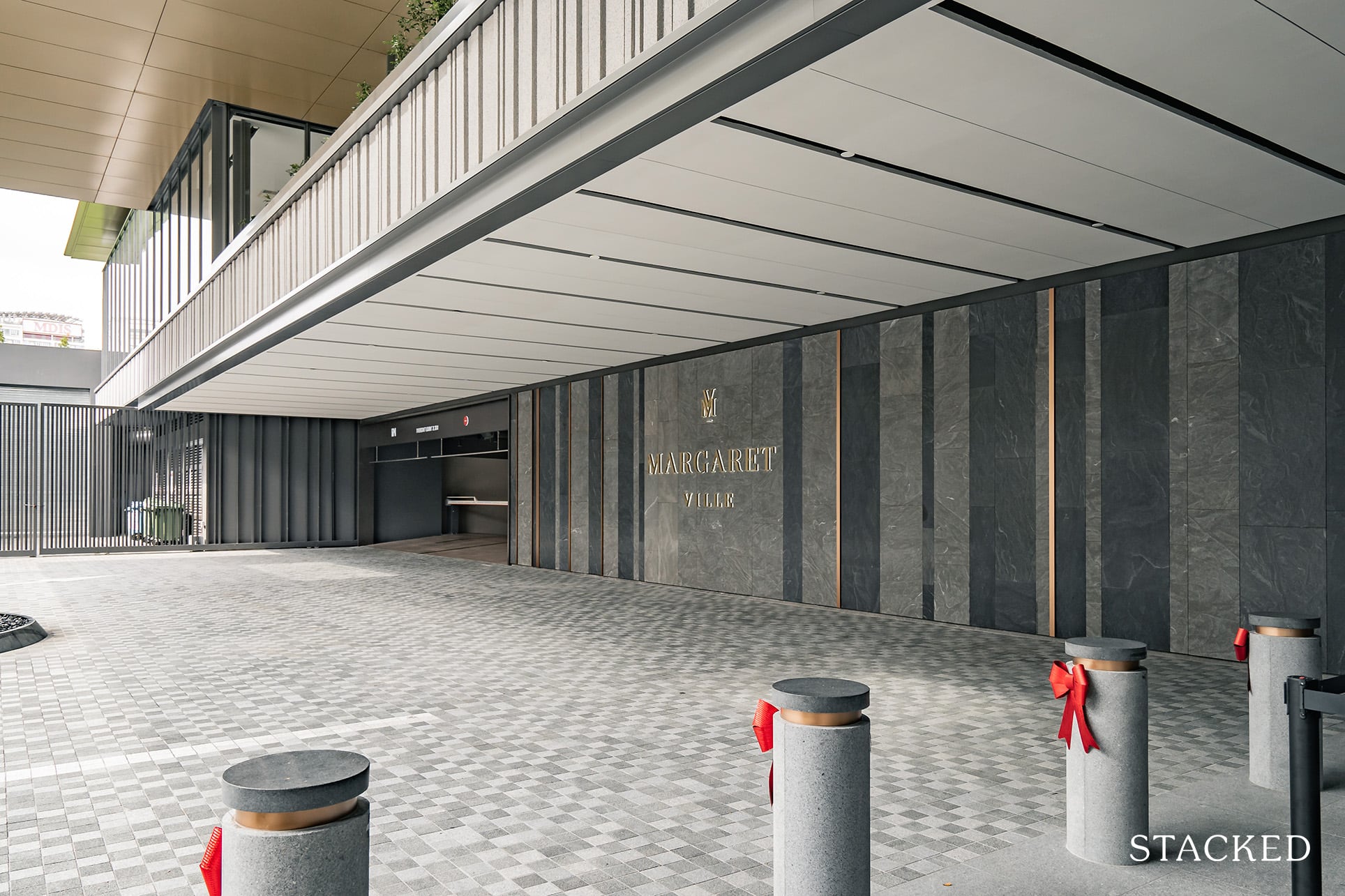 While there's not much in way of greenery here, it's a subtle and classy look. You do get that more upmarket feel here, and it almost feels like you've arrived at a city hotel.
Contrast this to the arrival at Alex Residences (very similar vibe, one tall tower on a small plot of land), and you'd see what I mean. Which would you prefer to come home to?
Car park lots are provided by means of an underground car park. Even from here, you can quite clearly tell that Margaret Ville has luxury ambitions – from the smooth epoxy flooring to the lighting details on the ceiling, and the fact that it's all been painted in grey as well.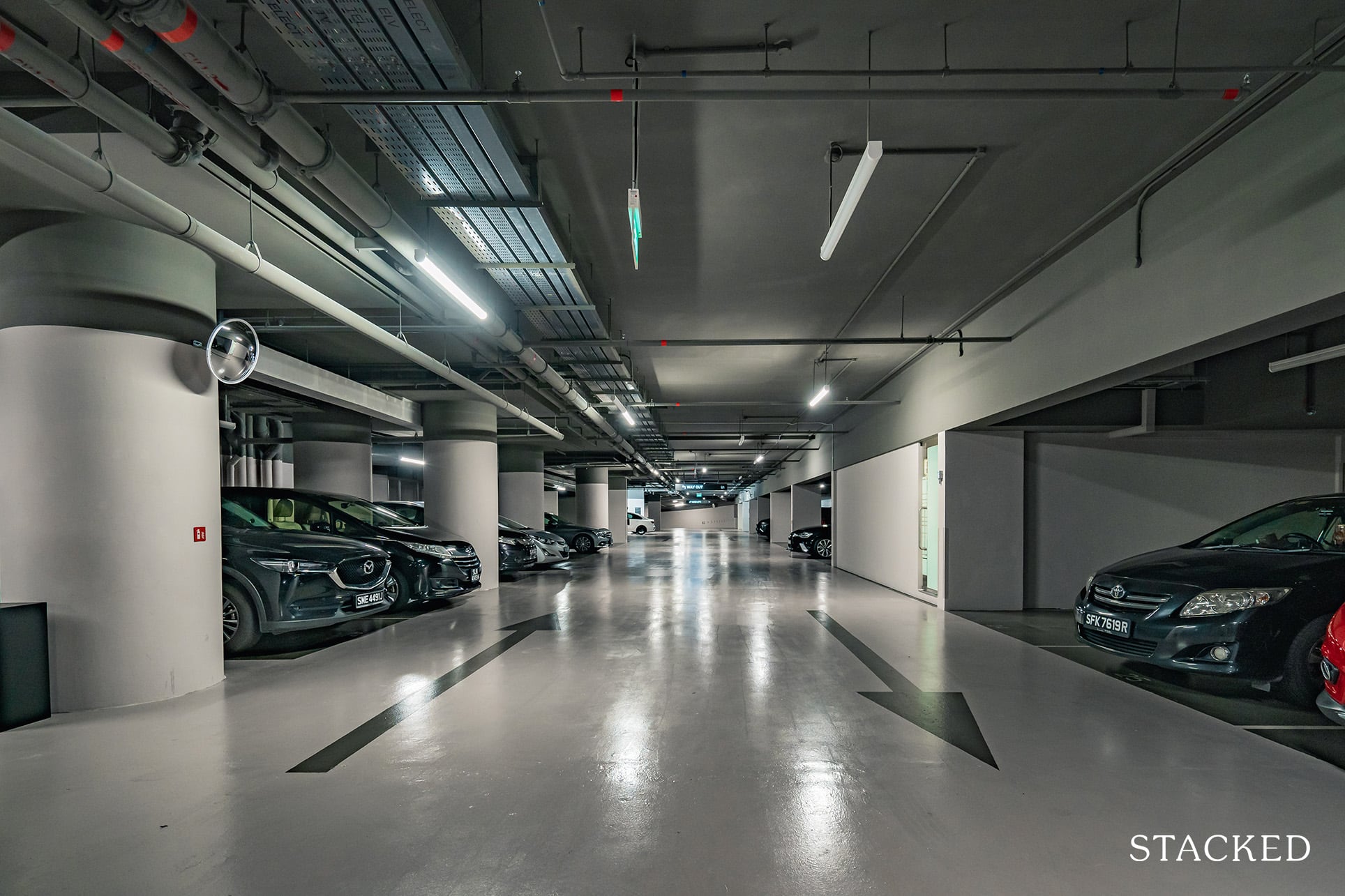 It all looks high-quality and certainly sets an even better impression from the arrival.
That said, for those who drive, it isn't as excellent on that front. There are only 247 car park lots for the 309 units so it isn't a 1:1 ratio here. It's a bit of a surprise as compared to its close competitors (with the exception of Queens Peak), both Commonwealth Towers and Stirling Residences have the ideal 1:1 ratio. All 3 are closer to the MRT too, so it is a little odd. Although, 62% of its 309 units are 1 and 2 bedroom units, so I'd expect a fair few to be tenanted out here.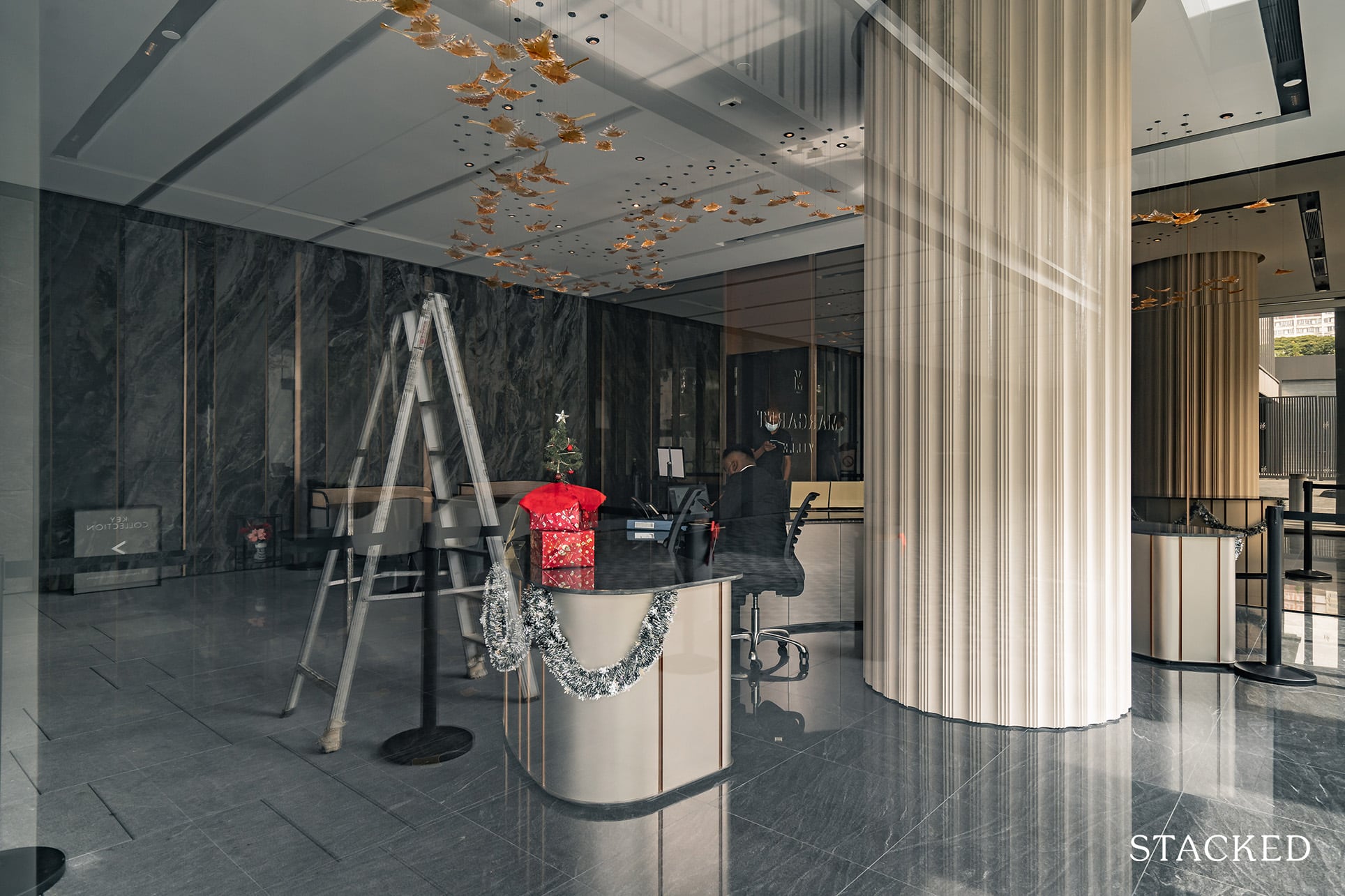 Moving back up to the ground floor, there's a lobby lounge by the side of the waiting area. I couldn't get a good shot of it as there were some works going on (so here's the rendered image instead).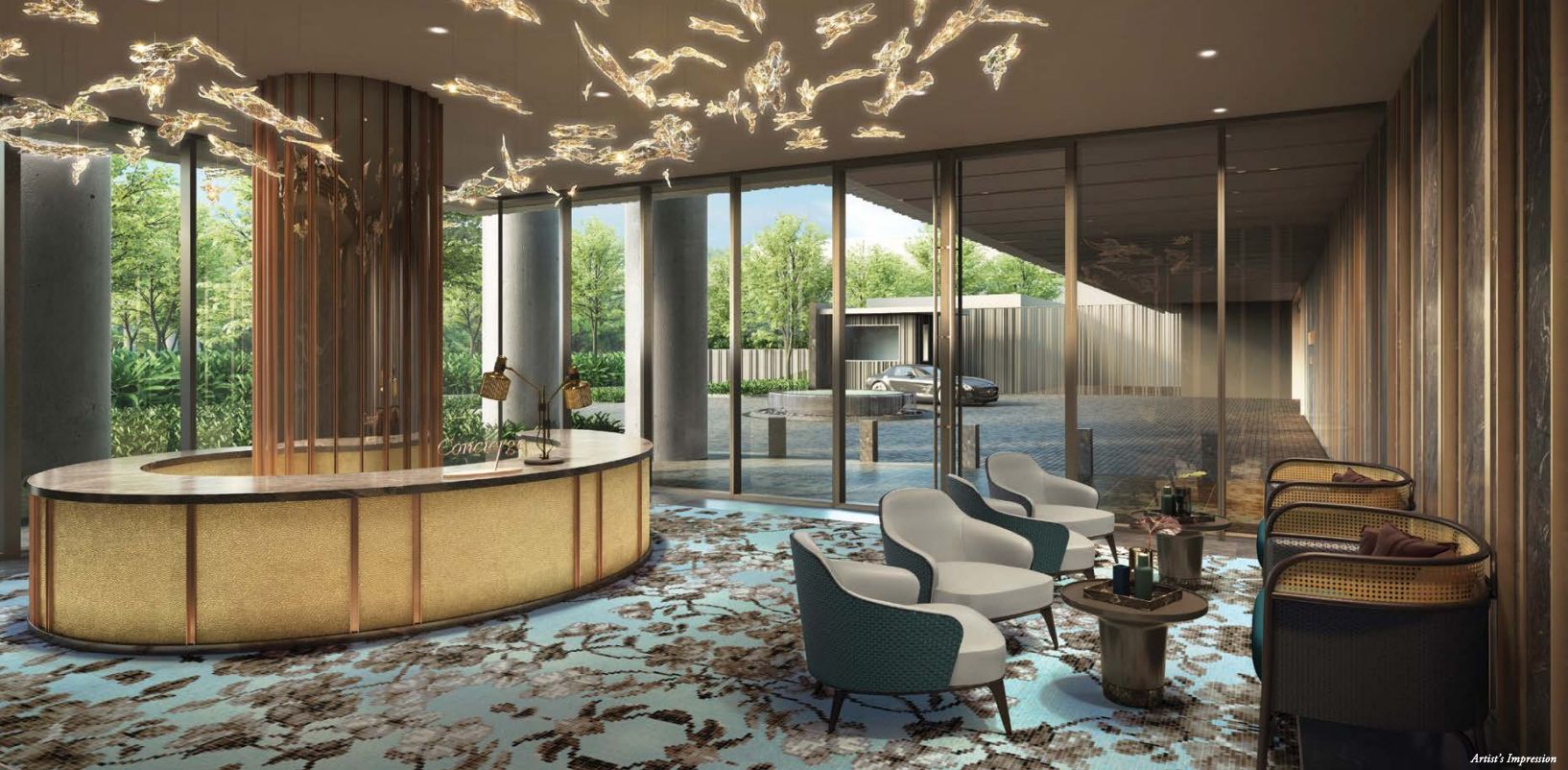 Again, it shows its ambitions of being a more up-market condo. I must say it looks quite handsome, with the gold trimmings and intricate patterns of the carpet. It's one of the bigger differences with this current generation of developments – developers have been making the effort to dress up most common areas as compared to older developments where there are fewer frills.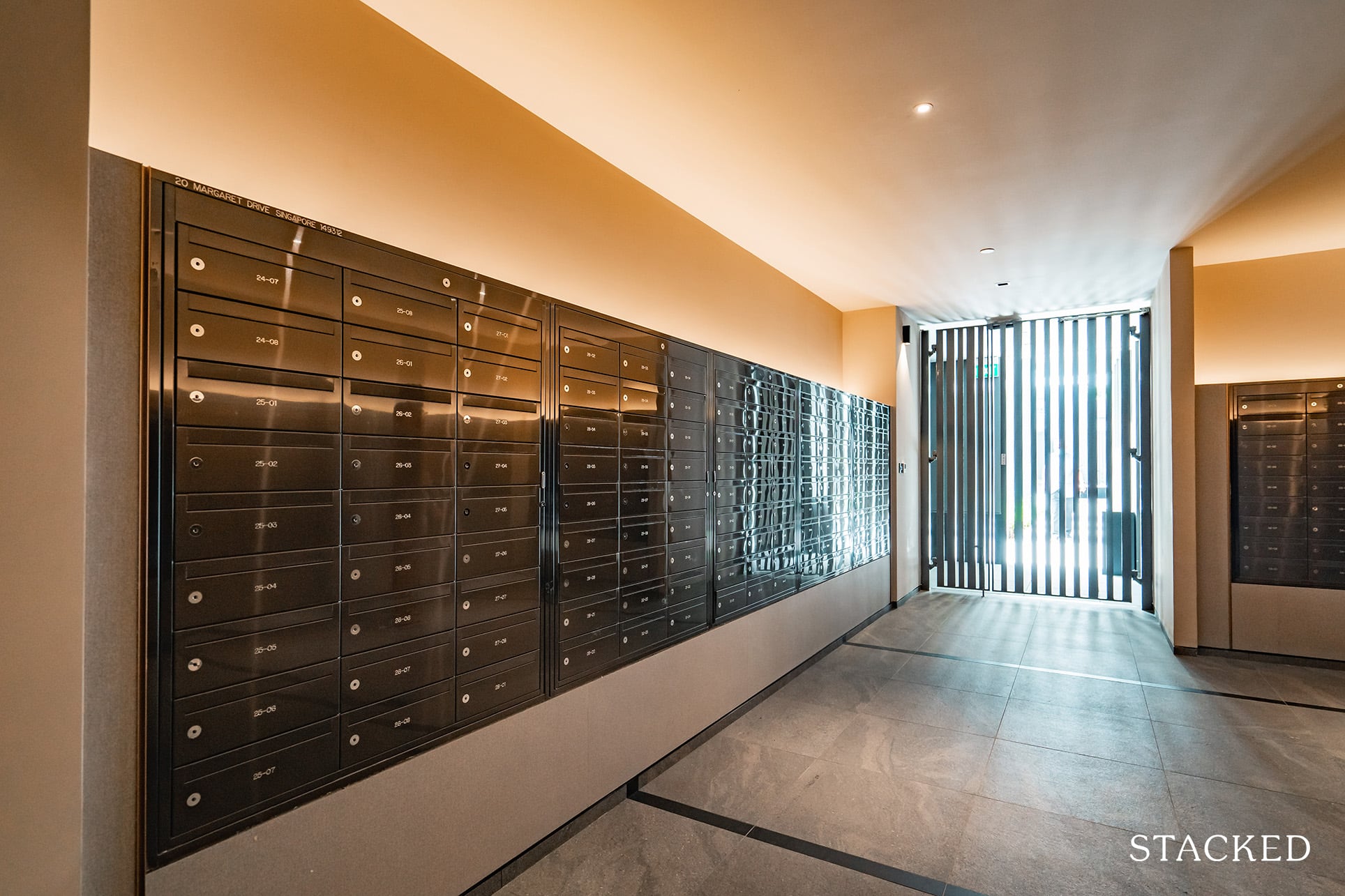 Even the letterbox area has not been overlooked. It's nothing crazy, but I do like the soft glow of the mood lighting.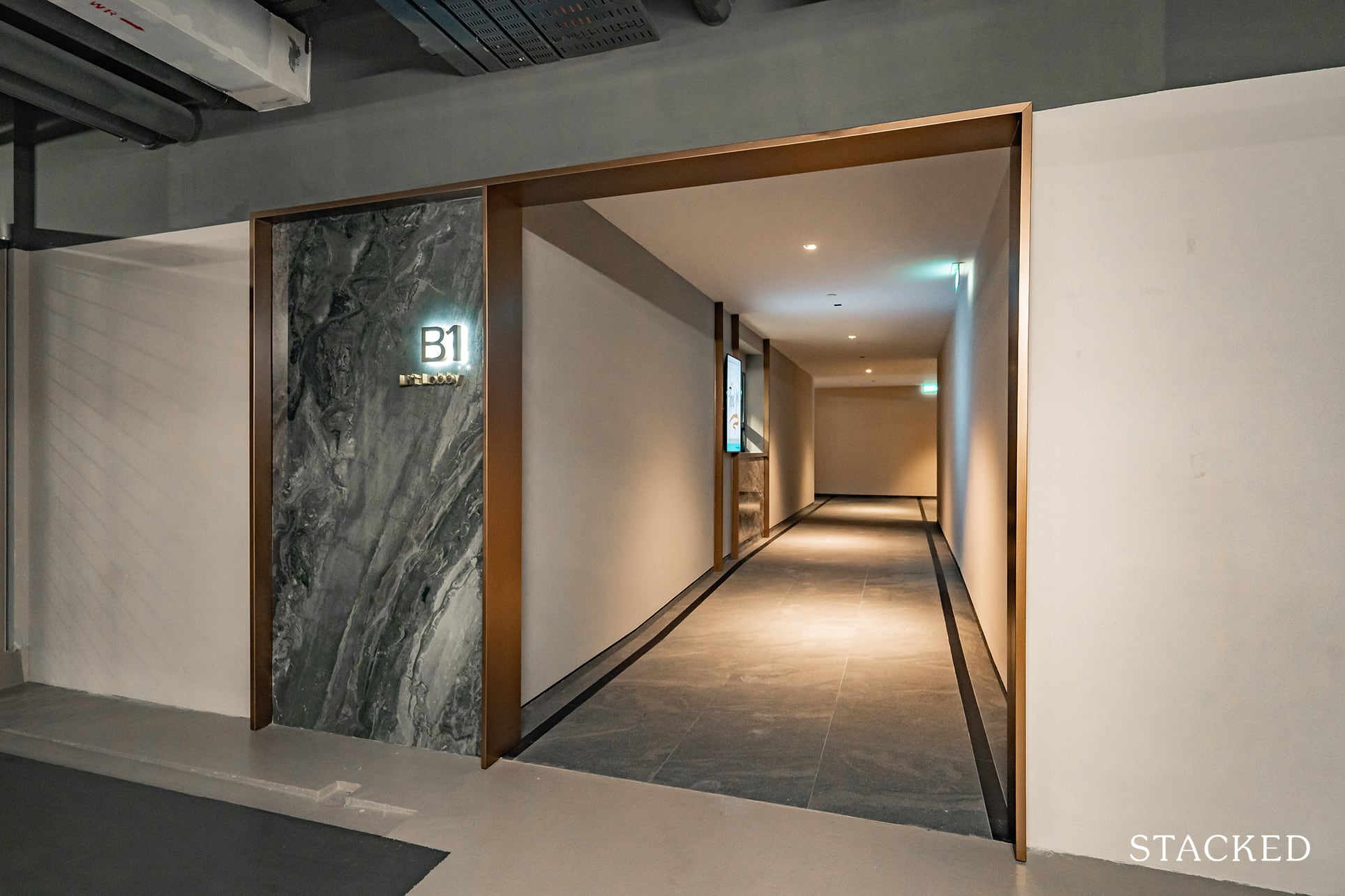 From the basement car park, getting to the lift lobby is a classy affair. The marbled feature wall along with the champagne gold trims continues that exterior look on the inside as well.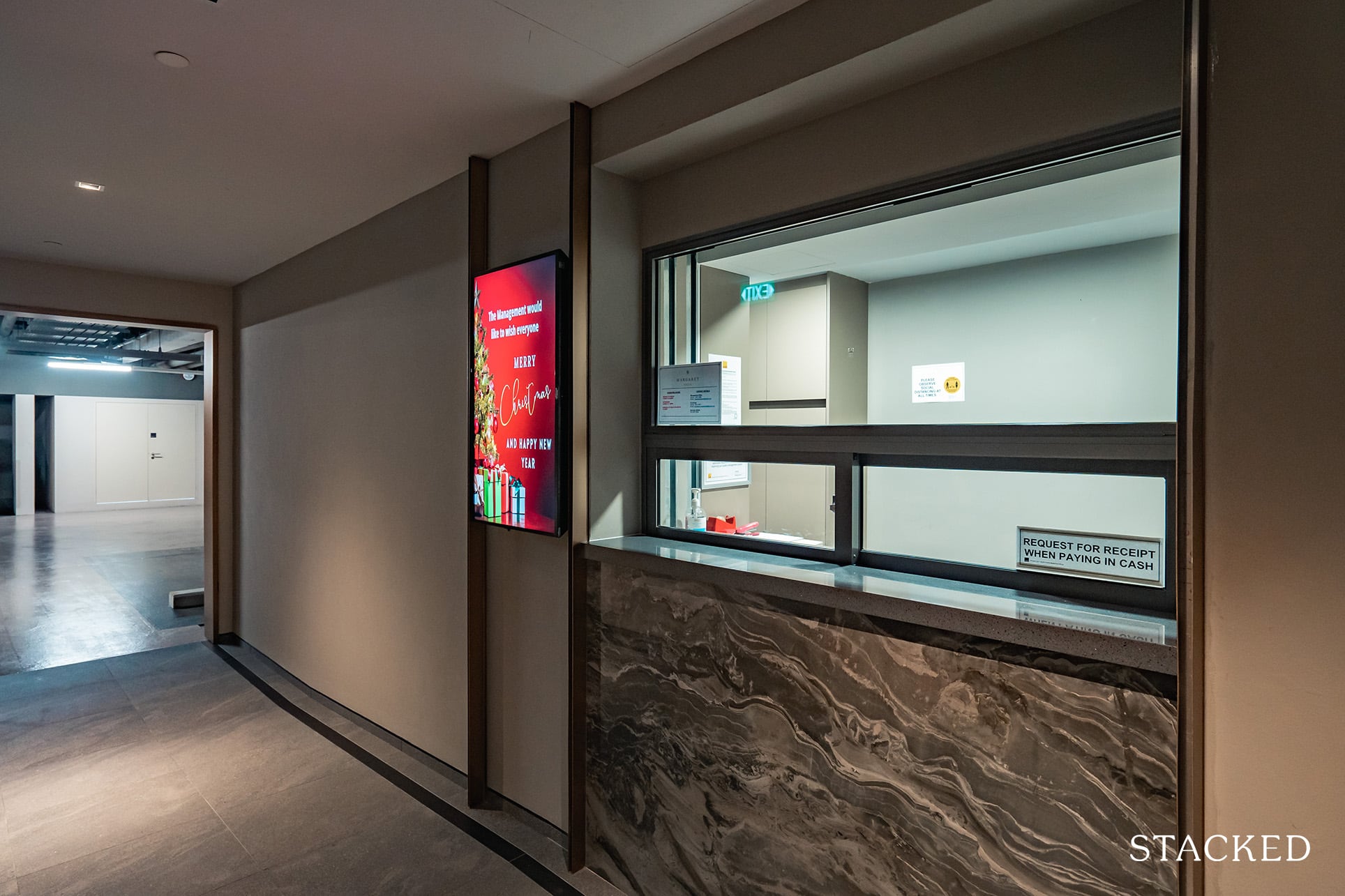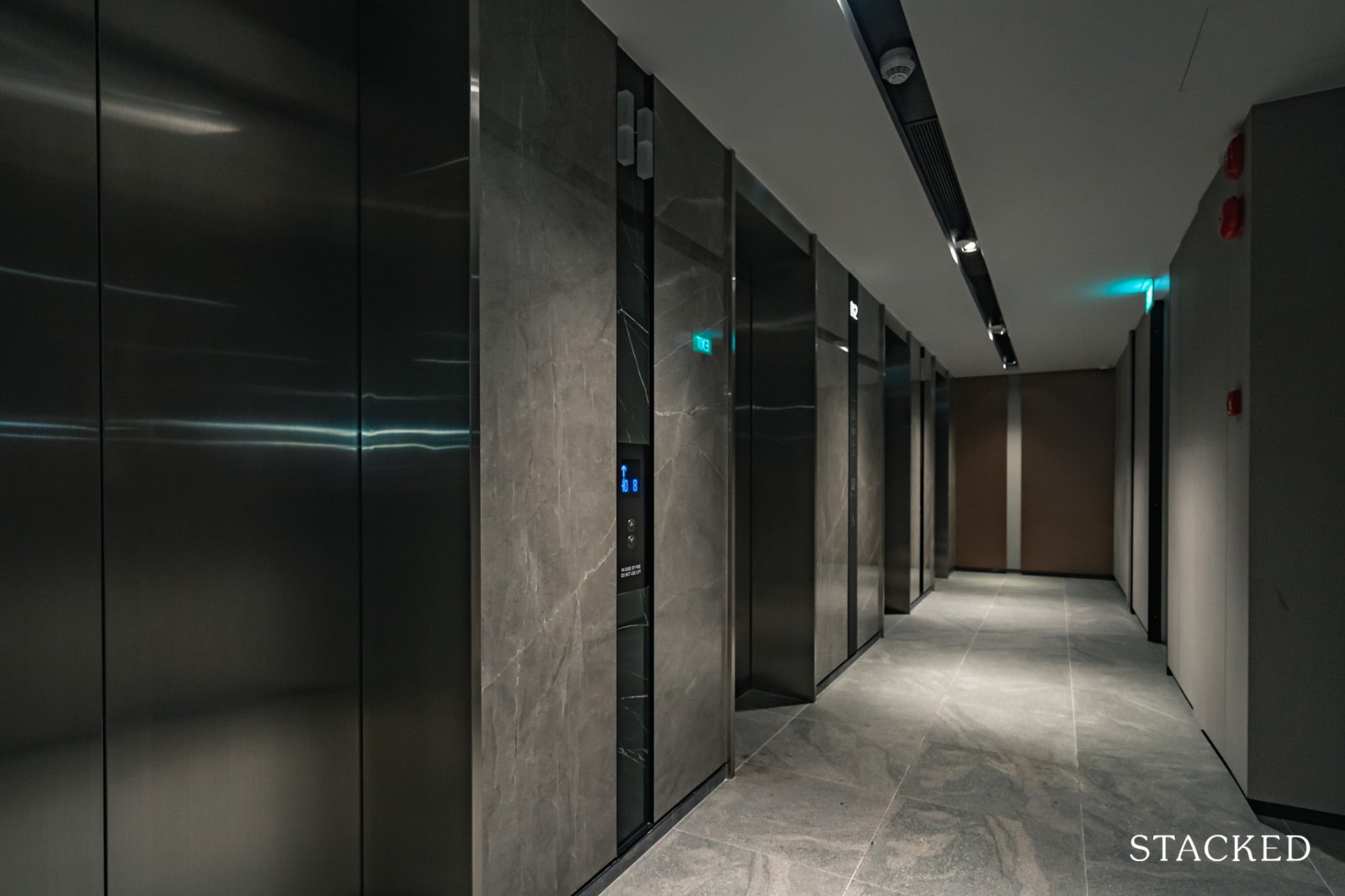 Likewise, the lift lobby areas are suitably stylish too. I am liking that dark, sultry look and it's a design that I think will still look modern even in the future.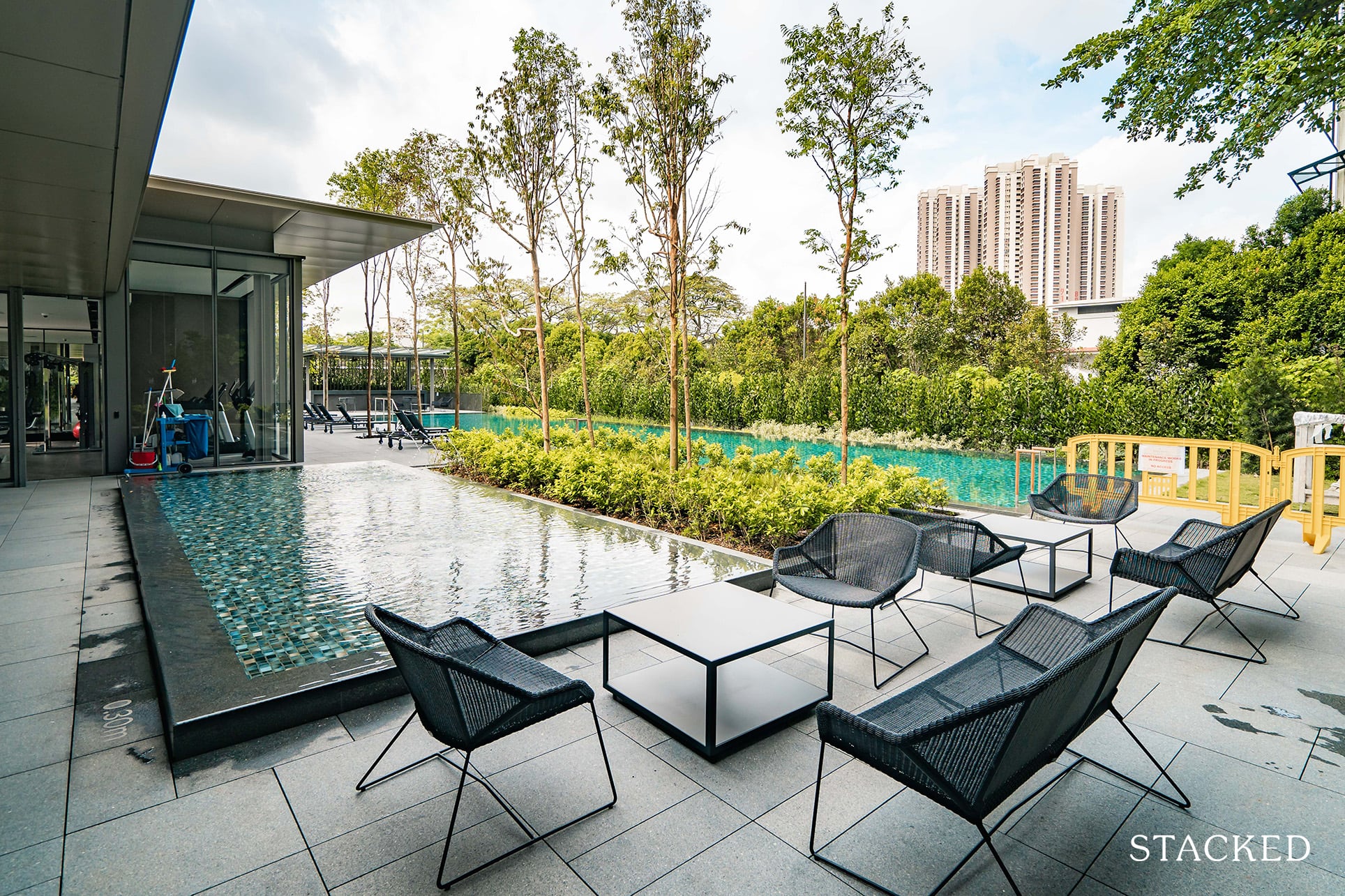 Let's now move on to the main facility area. You shouldn't expect much given the size of the land (there's no tennis court), but that's always going to be the case for new developments of this size.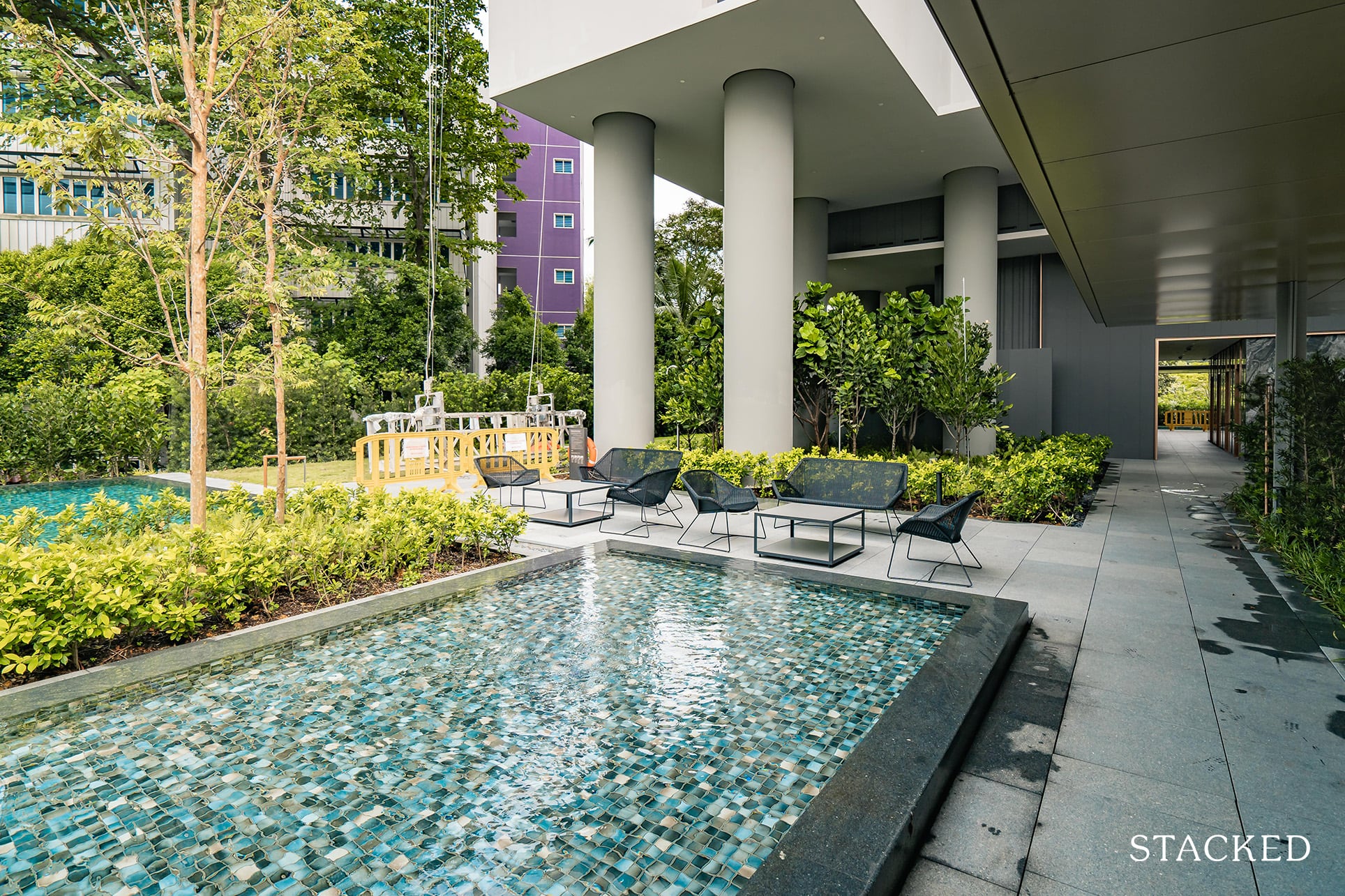 In the above is the children's jet pool, along with some seating at the side. You'd also notice here that the first floor of the development isn't actually situated on the first floor. This is great because you get more privacy (both for those living in the lower-floor units, as well as those using the facilities).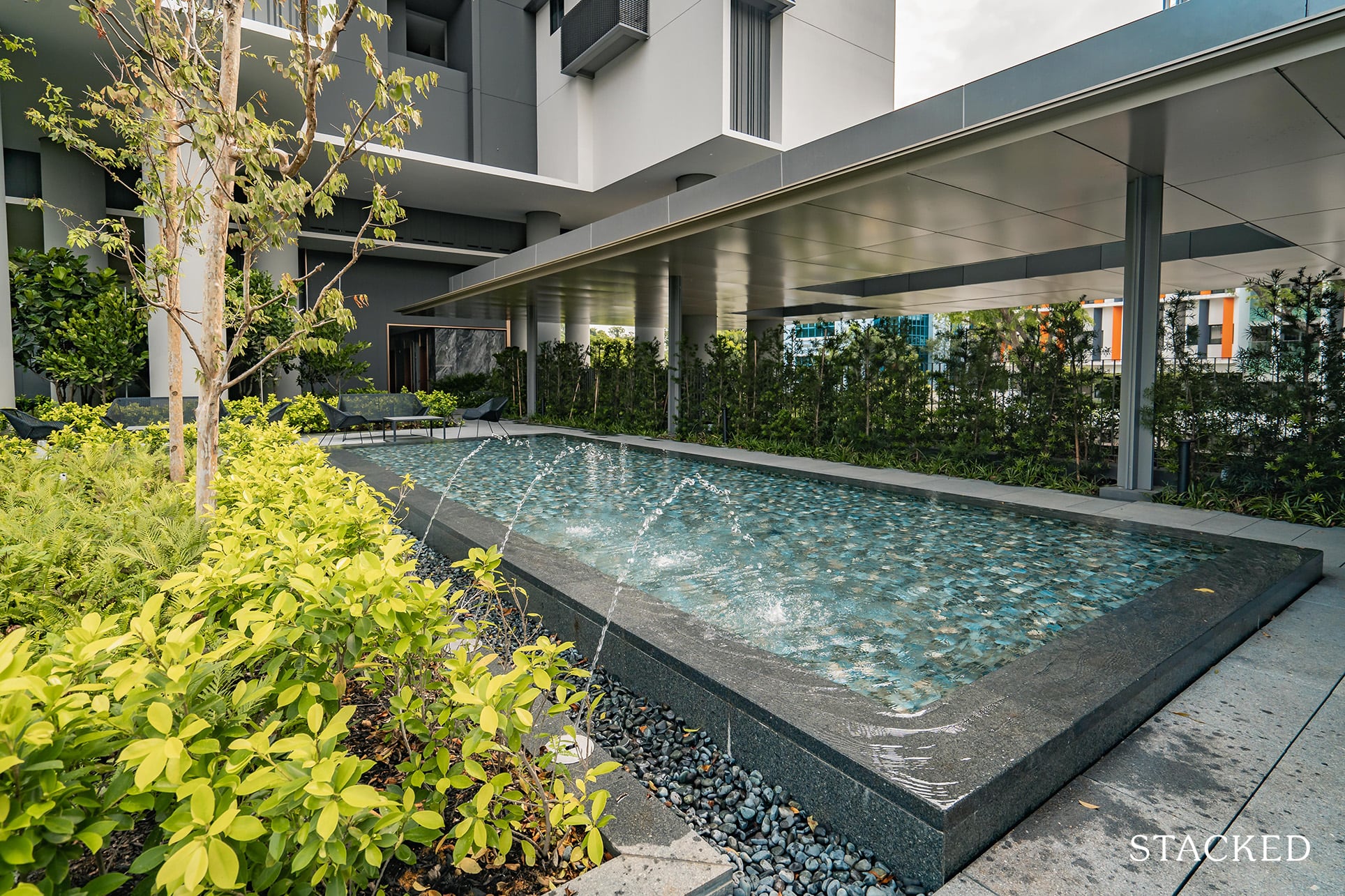 Though I can't say this is the most attractive proposition for kids. From an adult's perspective, I definitely prefer the absence of colour here as it is fitting with the rest of the development – but at first glance, most people would just assume this is the jacuzzi pool instead.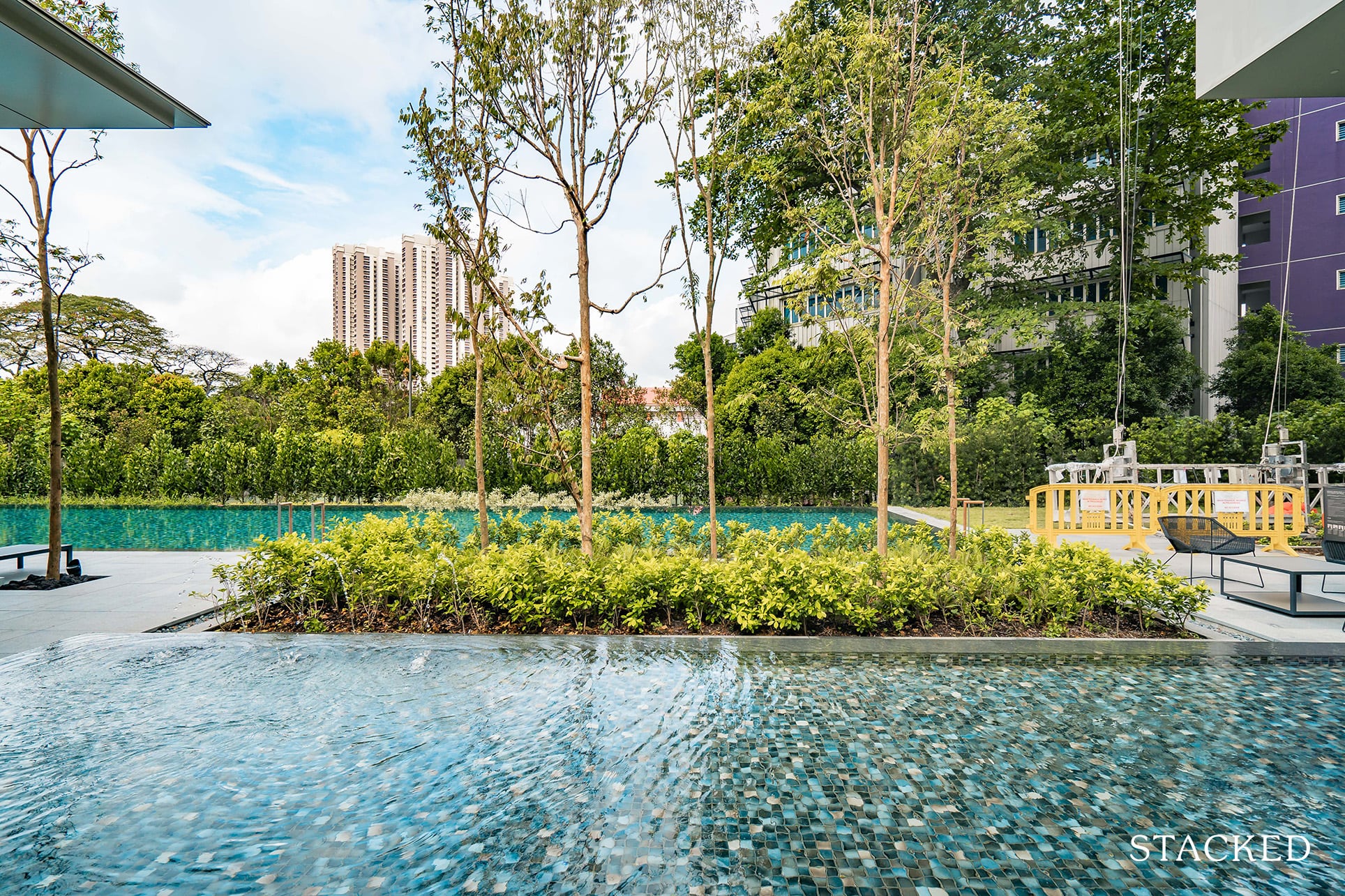 To be sure, this isn't really a condo development for kids anyway. It's one of the rare few condos without a playground, and the smaller grounds also make it less attractive overall.
I'd say singles, and married couples who aren't planning on having kids will be quite happy to see the absence of kid-related facilities. Sometimes that colourfulness can mar the look of the place, as with the overall noise that kids can generate at the playground (as joyous as that may sound).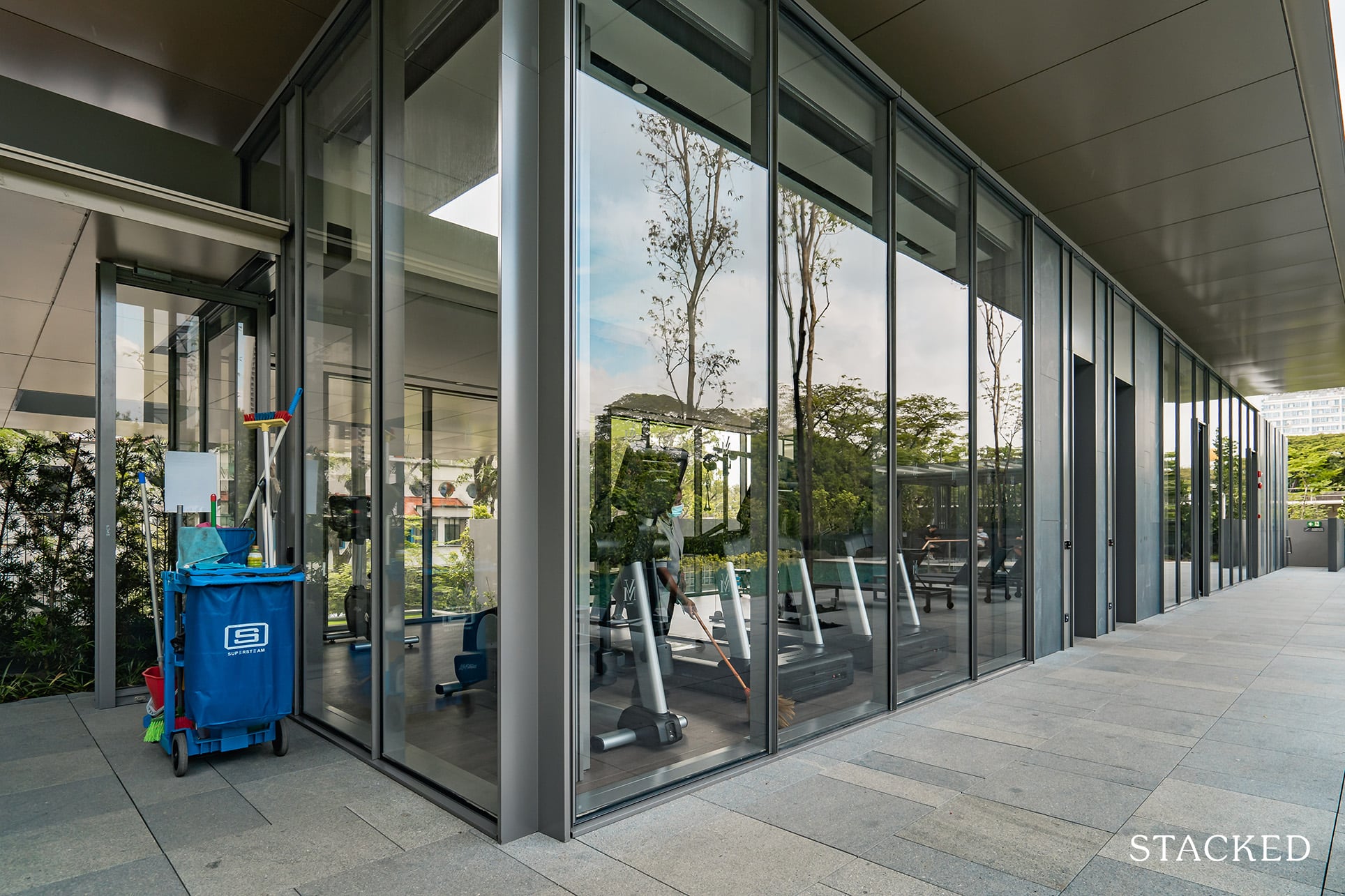 If you haven't noticed already, the gym (and the pool area) was purposefully elevated by the developer. As such, on one end, the gym will overlook the arrival area, while the other is on the same level as the pool.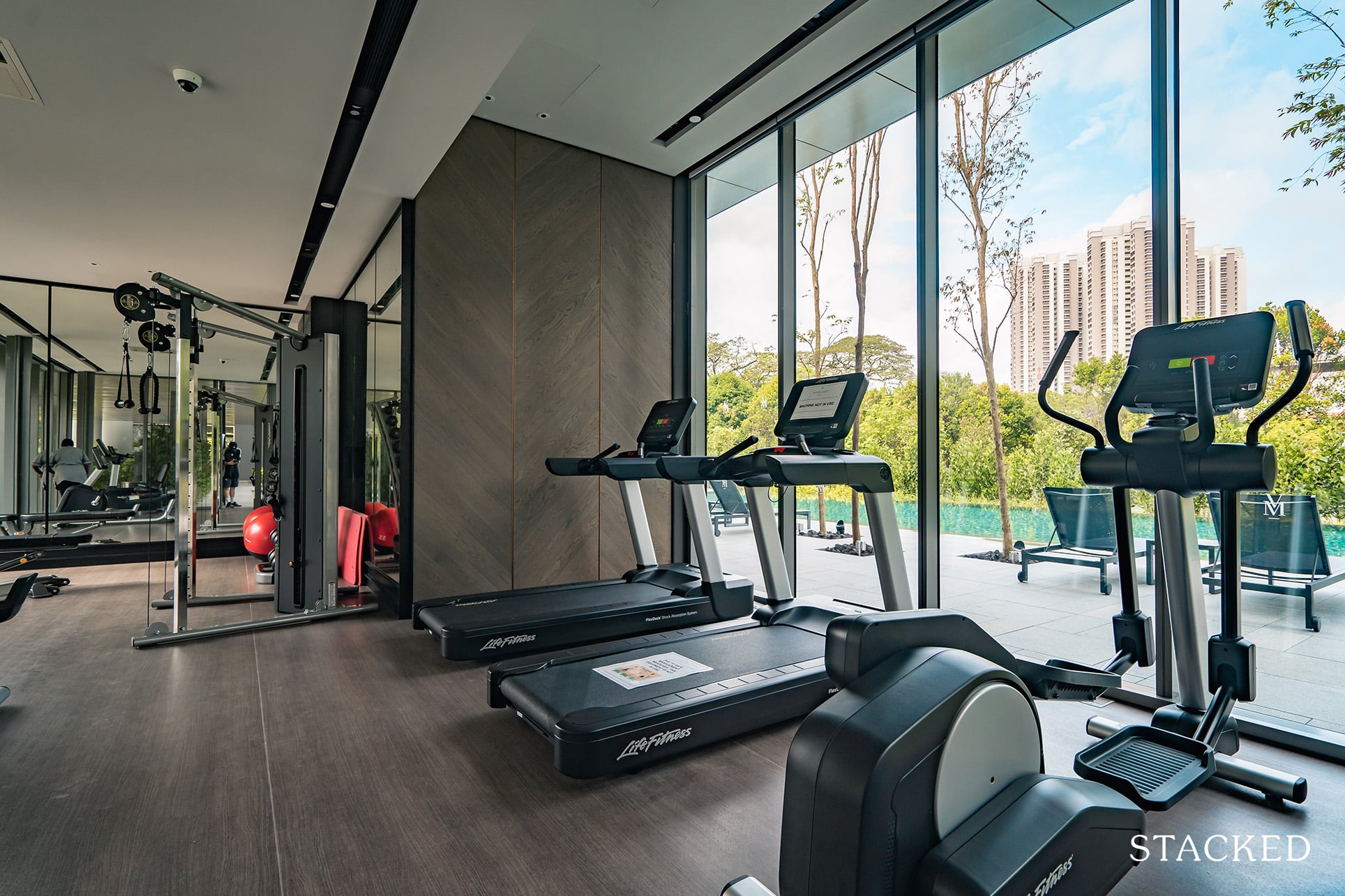 It's a smart move as the swimming pool is situated right next to Queenstown Secondary School (or more specifically, the football field), so having it slightly elevated for privacy reasons is sensible indeed. It was previously a flat piece of land, so there must have been additional cost incurred to build such a setup.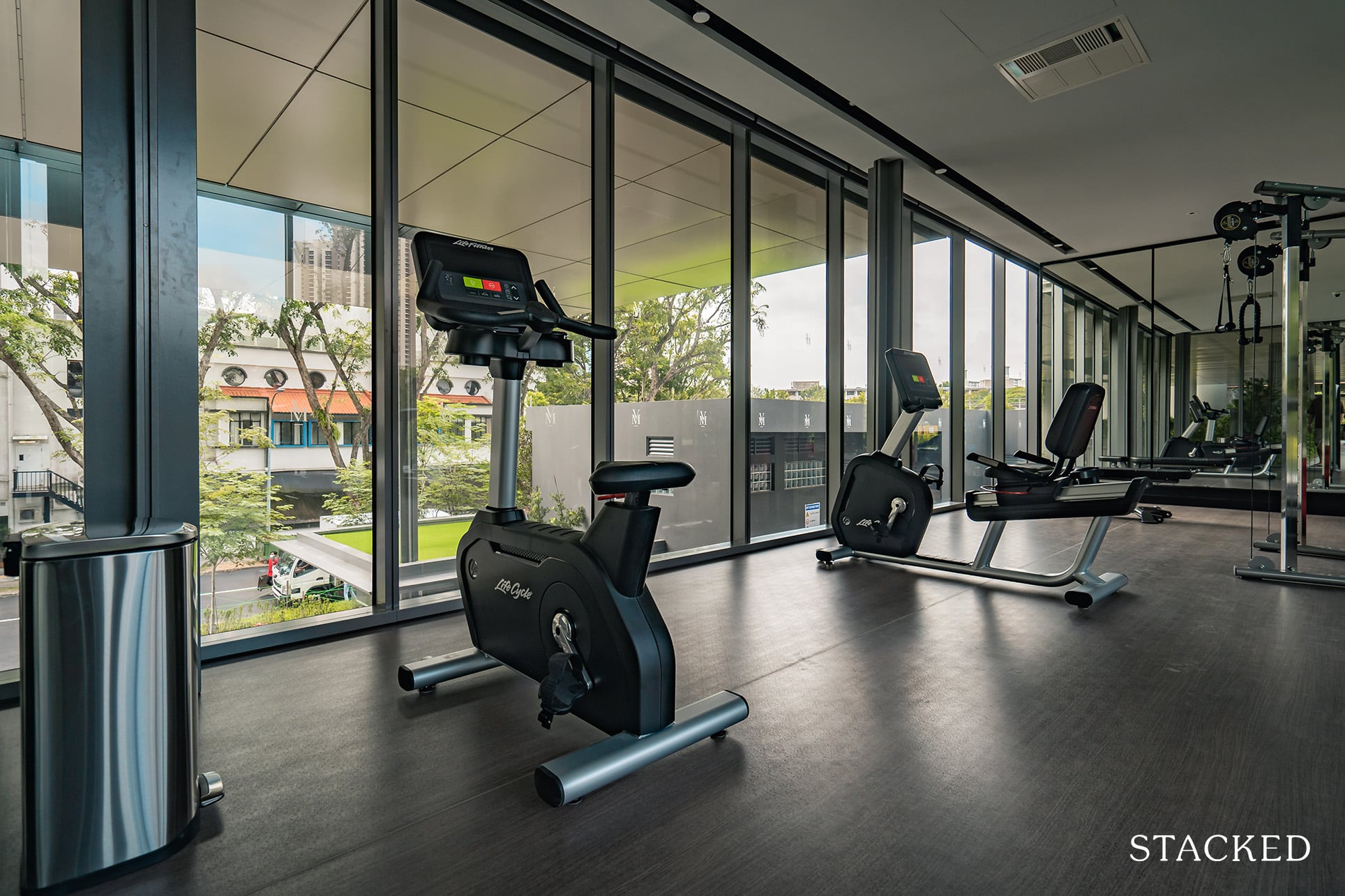 In any case, the gym is a decent size for the number of units. You do have various cardio equipment, along with the usual weight training machines. I do like the floor-to-ceiling windows on both sides too, as it helps to get more light in, plus gives you a better open view as you exercise.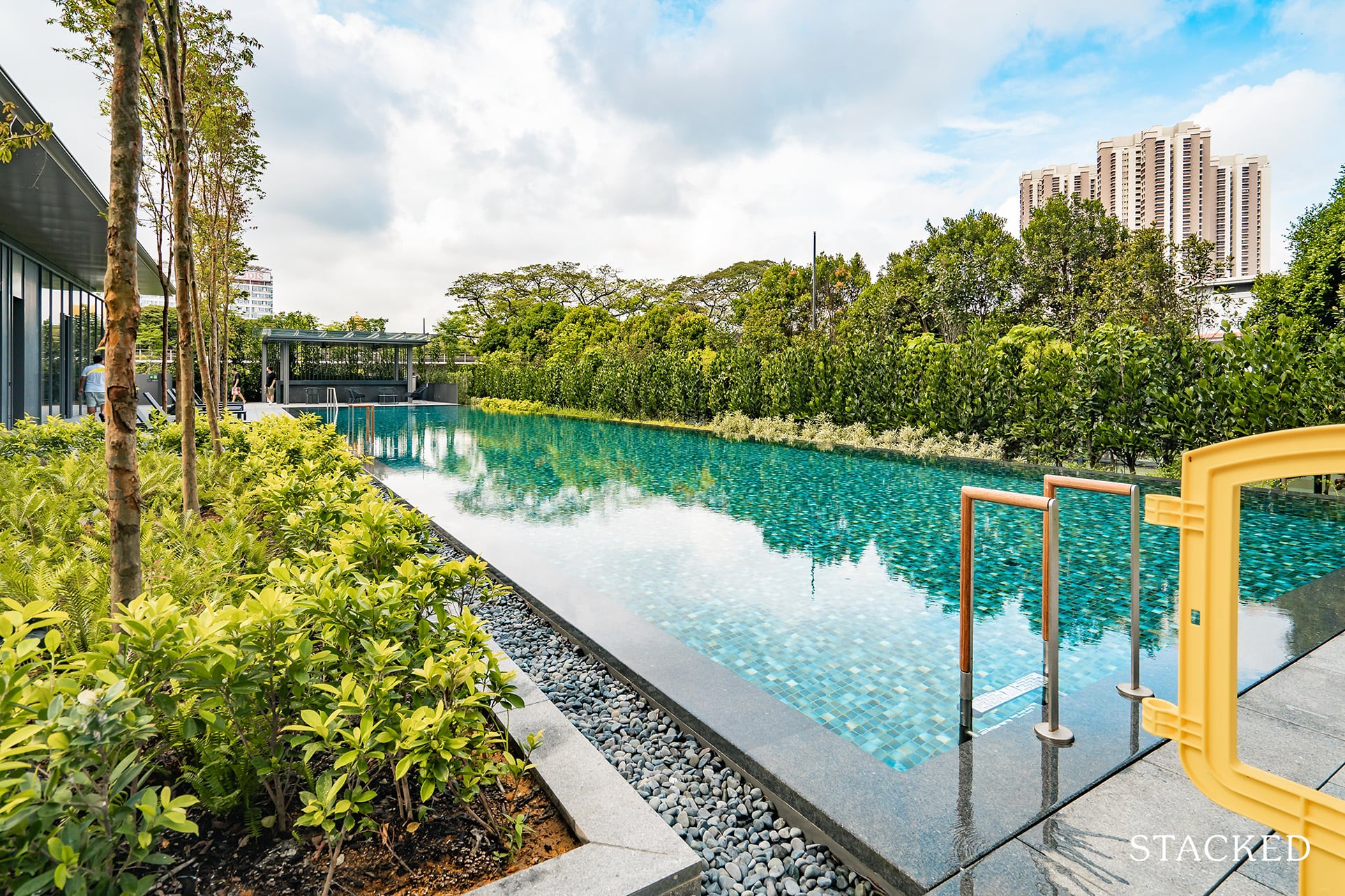 The infinity swimming lap pool is supposedly a 50m one, and I suppose is more than adequate for the number of units. Although I would say the best thing here is really its surroundings – it can be more private than you think. Because you only have a single residential block, the rest of the space feels very open as you are just next to the football field of the school (and will be guaranteed that openness for some time), plus you don't have any tall buildings beyond the MRT tracks either.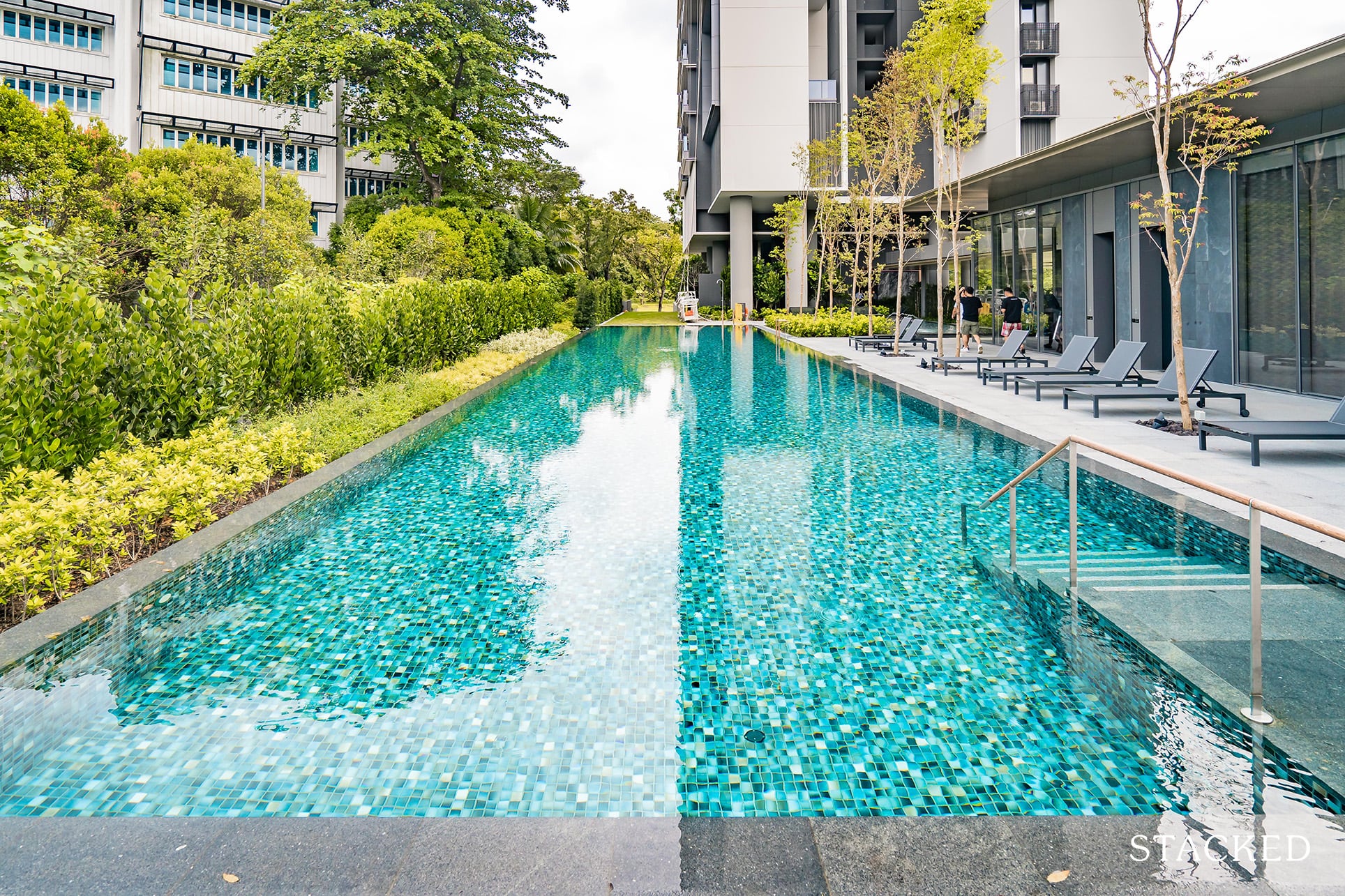 Admittedly, it isn't going to be the quietest, what with the school next door and the noise from the traffic and the MRT whooshing by at regular intervals.
It also isn't completely private as some sections of the school will overlook the pool. But there is a fairly thick amount of greenery planted by the side – plus weekends are probably the most popular periods where the pool will be used, and also the time when the school will be at its most quiet.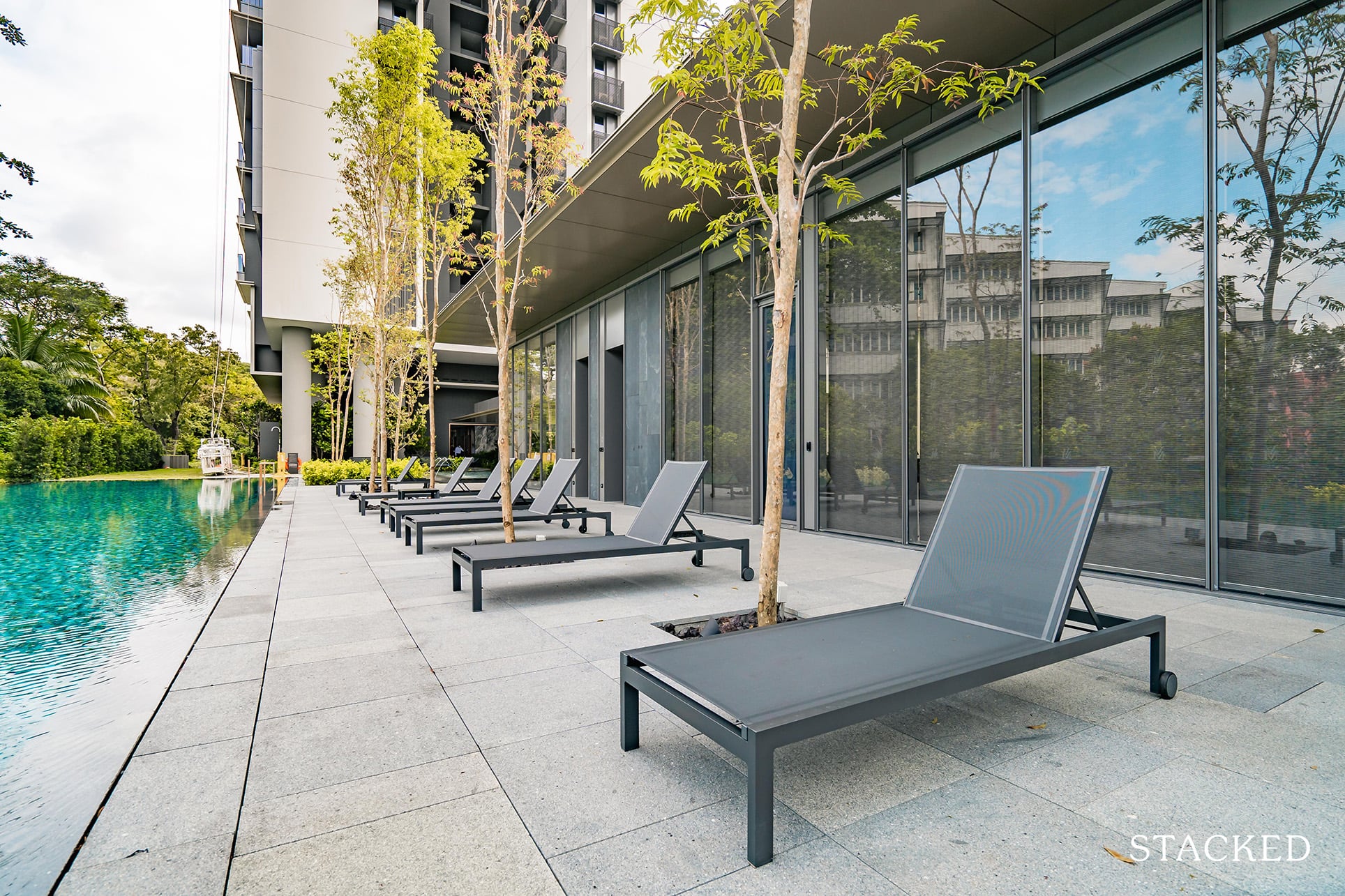 Along the length of the pool, you do also get a number of modern looking deck chairs planted by the side. The trees may look a little sparse here, but it is still very early days for Margaret Ville.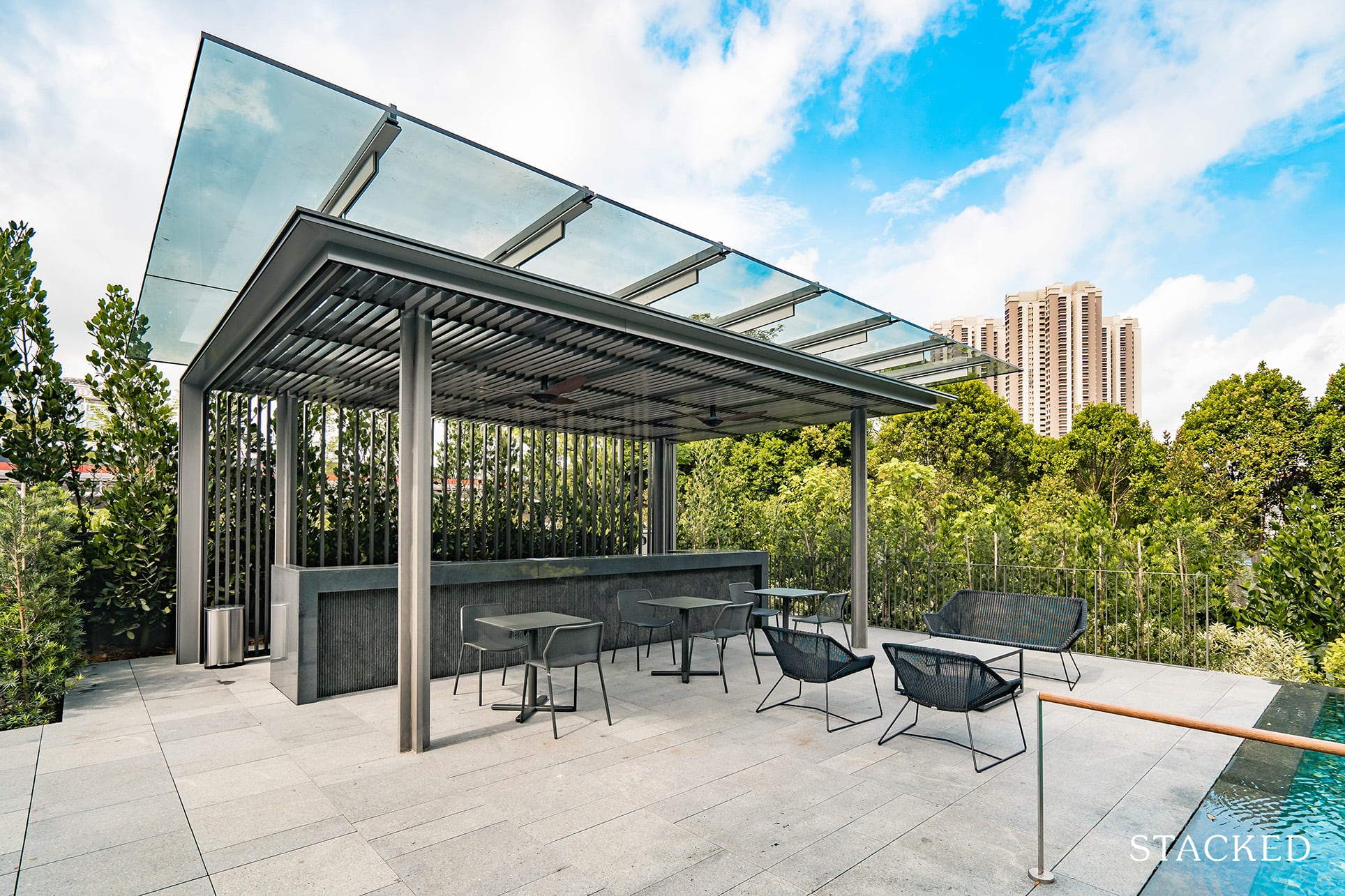 There's an alfresco dining pavilion right at the end of the pool (closest to the MRT tracks). It's covered with a stylish glass roof for shelter and even comes with ceiling fans to cool the place down. Despite Singapore's tropical weather, having a ceiling fan at pavilions isn't always a prerequisite so it's good to see that here.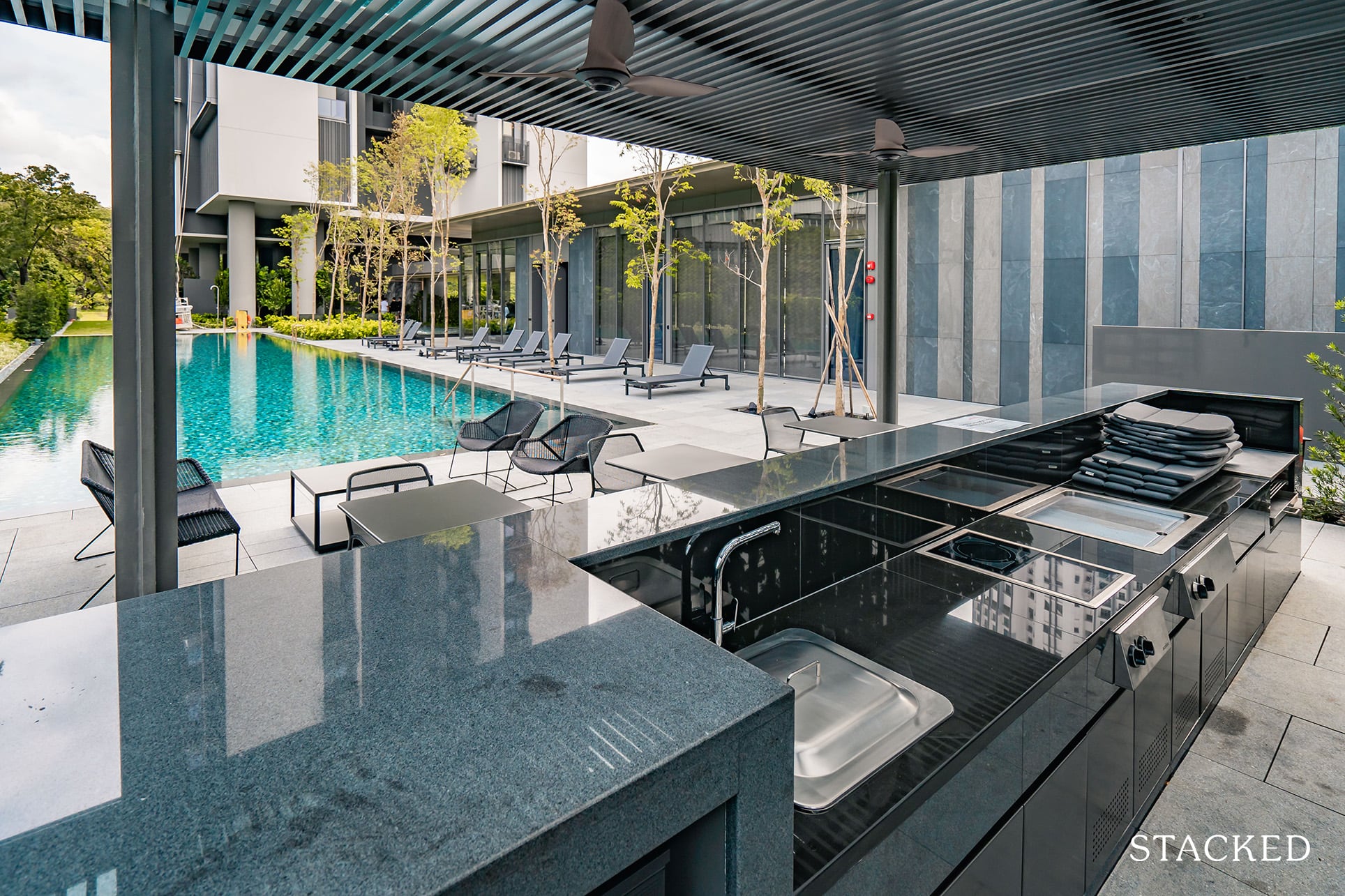 As the name suggests, you have outdoor dining equipment here to host dinner parties and poolside Sunday brunches. It's a nice enough spot, and I like that it's positioned away from the residential block (at least, as far as possible for this smaller plot of land).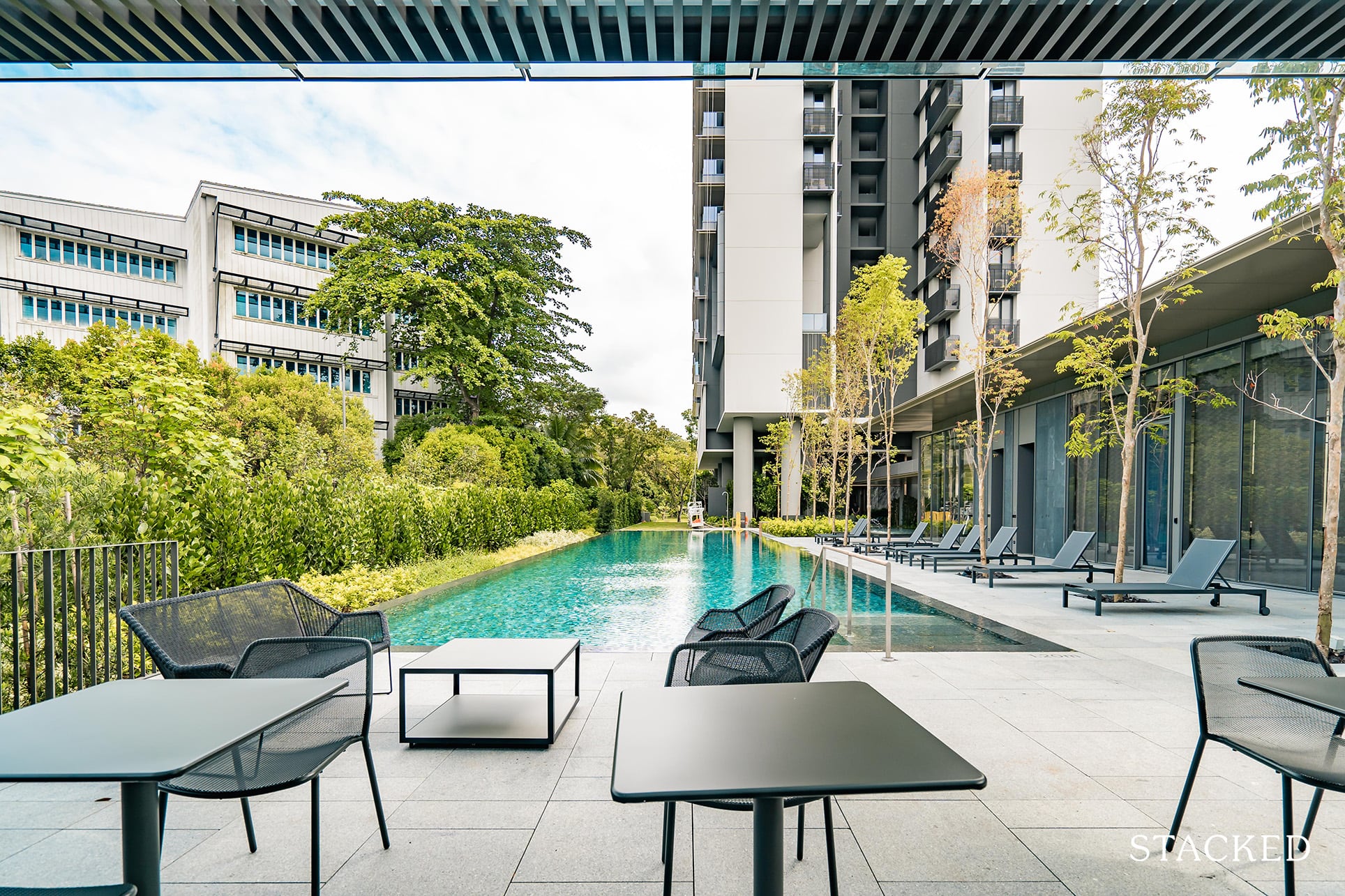 We are still living in Covid times after all, but there is a decent amount of seating by the pool as well.
Read this next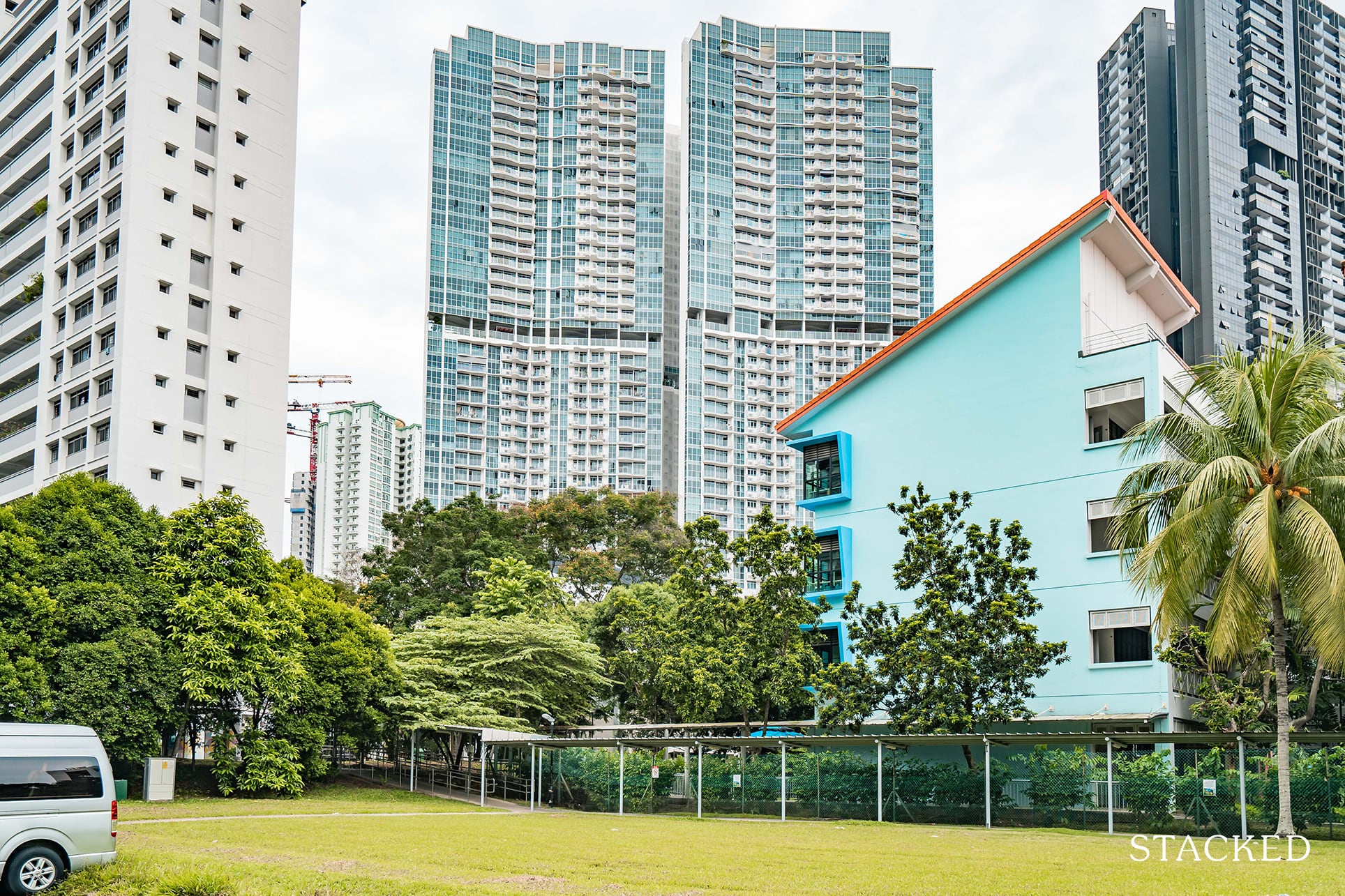 Margaret Ville Location Review
Margaret Ville is located in the Queenstown neighbourhood. For those of you who know your history, it's the first satellite town to be built in Singapore. As such, it has one of the highest proportions of elderly folk living within, as you can probably tell by walking around the older estates at Mei Ling Street.
In its immediate vicinity, Margaret Ville is caught in the middle of Queenstown Secondary School and 2 churches, The Fisherman of Christ Fellowship, and Church of Our Saviour. If you go to either church, you can literally roll out of bed to service every Sunday morning.
And while its competitors like Queens Peak, Commonwealth Towers, and Stirling Residences are definitely a closer walk to Queenstown MRT station, you aren't actually that far off either. You can walk to Commonwealth MRT station in about 8 minutes, with Queenstown MRT station just ever so slightly further away. I do reckon most would prefer the walk to Queenstown, it's safer (you don't have to cross any major roads) and a lot more direct. It isn't sheltered though, so you'd have to brave the hot weather or unpredictable rain as it comes. If you rely on the MRT a lot, Queens Peak or Commonwealth Towers will still undoubtedly be the clear-cut choice.
Although Margaret Ville could be an ideal compromise here. Some people don't like their immediate vicinity to be a hub of busyness, and as of now, the small radius outside Margaret Ville is still relatively peaceful thanks to the open land along Margaret Drive. I'd like to reiterate that it is zoned residential and will change in the future (but let's be real, change is the only constant in Singapore). For now, enjoy the expansive nature while it lasts.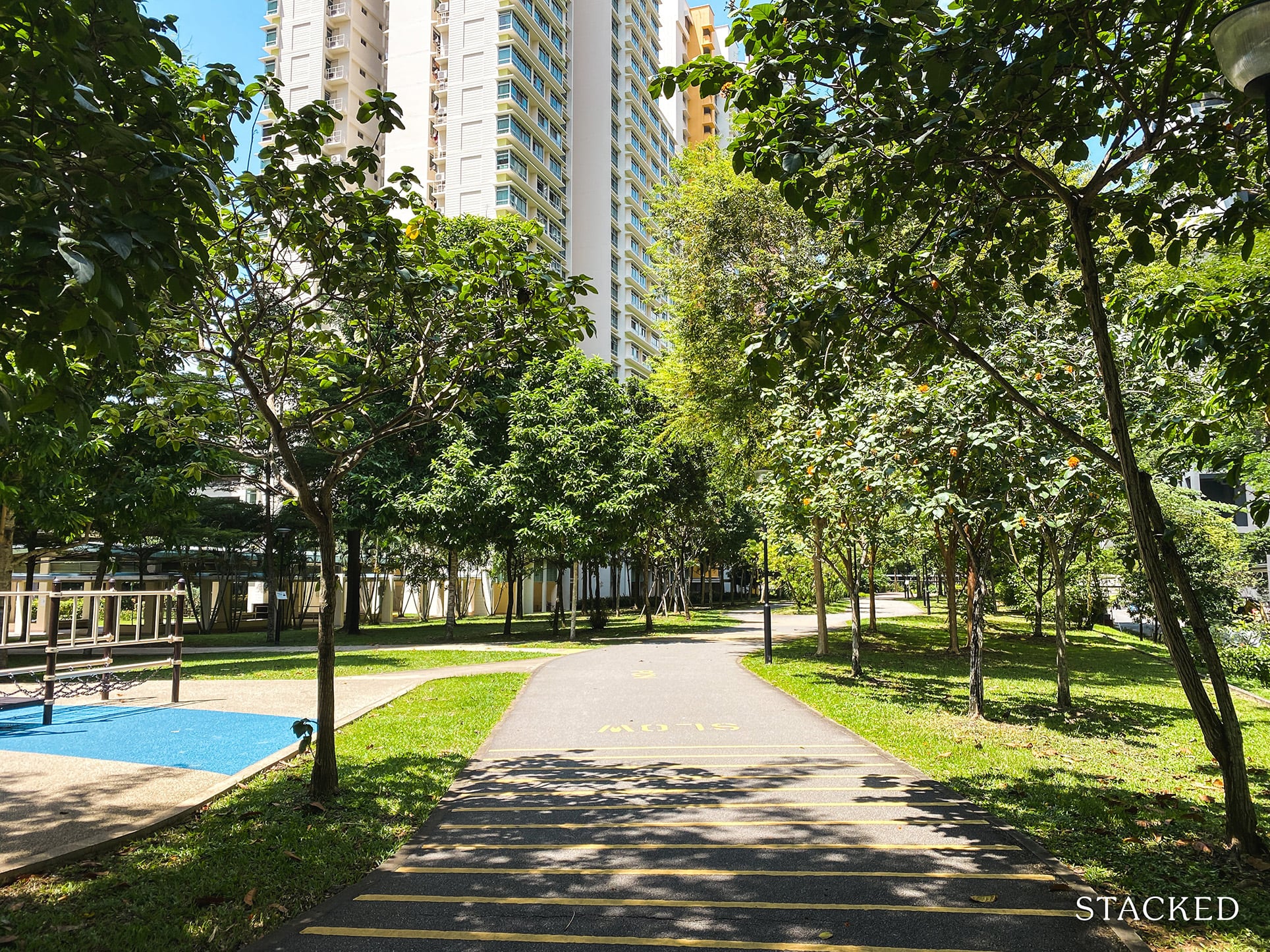 Another smaller downside here is that it doesn't enjoy a direct link (unlike its competitors) to the Alexandra Canal walk which leads to the Alexandra Park Connector. For those who enjoy cycling, it can actually bring you straight to Marina Bay/CBD itself and is quite a lovely place to take a walk in the early mornings or evenings.
Amenities
Groceries
| | |
| --- | --- |
| Grocery Shops | Distance From Condo (& Est. Walk Time) |
| Sheng Siong – 88 Tanglin Halt Road | 0.8 km, 9-min walk |
| Sheng Siong – Dawson Road | 1 km, 12-min walk |
| NTUC Fairprice – Dawson Road | 1.4m, 16-min walk |
Shopping Malls
| | |
| --- | --- |
| Shopping Mall Cluster | Distance From Condo (& Est. Walk Time) |
| Margaret Drive Hawker Centre (U/C End 2022) | 300m, 3-min walk |
| Tanglin Halt Food Centre (Till 2023) | 549m, 6-min drive |
Schools
Educational Tier
Names of Institutes
Preschool (within 1km walk)
PCF Sparkletots Preschool @ Queenstown
Mujahidin Mosque Kindergarten
Children's Cove Preschool
Primary (within 3km-drive)
New Town Primary (Within 1KM Distance)
Queenstown Primary (Within 1KM Distance)
Fairfield Methodist Primary
Gan Eng Seng Primary
Secondary (within 3km-drive)
Queensway Secondary
Queenstown Secondary
Crescent Girl's School
Bukit Merah Secondary
International School (within 3km-drive)
Razum International School
Ascentia International School
Invictus International School
ISS International School
Kingston International School
Junior College (within 5km-drive)
Anglo-Chinese Junior College
Anglo-Chinese School Independent
University (within 5km-drive)
National University of Singapore
Polytechnic (within 10km-drive)
Singapore Polytechnic
Ngee Ann Polytechnic
Public Transport
Bus Station
Buses Serviced
Distance From Condo (& Est. Walking Time)
Opp The Fisherman CH
Stop ID: 11471
122, 32
38m, 1-min walk
Block 42
Stop ID: 11151
111, 145, 186, 195, 195A, 51, 970, NR5
119m, 1-min walk
Aft CH of Our Saviour
Stop ID: 11159
32
190, 2-min walk
Closest MRT: Commonwealth MRT station (601m) 8-min walk
As mentioned, interestingly enough you don't get a 1:1 car park lot ratio here despite Margaret Ville being positioned the furthest away from an MRT station as compared to its neighbours like Commonwealth Towers. So while it is still within a walkable distance, this could be a point of contention for those looking for a newer development in this neck of the woods.
Private Transport
| | |
| --- | --- |
| Key Destinations | Distance From Condo (& Est. Peak Hour Drive Time) |
| CBD (Raffles Place) | 6.2km, 12-min drive |
| Orchard Road | 5.3km, 10-min drive |
| Suntec City | 7.6km, 15-min drive |
| Changi Airport | 28.8km, 38-min drive |
| Tuas Port (By 2040) | 29.9km, 45-min drive |
| Paya Lebar Quarters/Airbase (By 2030) | 11.9km, 22-min drive |
| Mediapolis (and surroundings) | 2.4km, 5-min drive |
| Mapletree Business City | 3.8km, 8-min drive |
| Tuas Checkpoint | 26.3km, 37-min drive |
| Woodlands Checkpoint | 21.3km, 31-min drive |
| Jurong Cluster (JCube) | 10.4km, 16-min drive |
| Woodlands Cluster (Causeway Point) | 20.6km, 30-min drive |
| HarbourFront Cluster (Vivo City) | 6.0km, 11-min drive |
| Punggol Cluster (Waterway Point) | 21.1km, 35-min drive |
*Note that Drive Times are calculated during Peak Hours
Immediate Road Exit(s): 1 Exit onto Margaret Drive
Summary: Exit onto Margaret Drive. You can access the development through Queensway or Commonwealth Avenue. Margaret Drive itself is a long inner road that you can drive to join Kay Siang Road, which gets you to Tanglin Road, and subsequently, Orchard Road. It's rare to get so many points of entry to get to and fro, so for drivers this is a definite perk.
The Development Team
Developer (MCL Land)
MCL Land is certainly no stranger to Singaporeans. They are a member of the Jardine Matheson Group under Hongkong Land Holdings, and have been building notable past projects such as Sol Acres, Lake Ville, J Gateway, and Hallmark Residences (among others).
In terms of upcoming projects, they are currently working on Leedon Green, the soon-to-be-completed Parc Esta, as well as the recently launched Piccadilly Grand (along with CDL).
Margeret Ville Unit Mix
| | | |
| --- | --- | --- |
| Unit Type | No. Of Units | Size of Units (sqft) |
| 1-Bedroom | 39 | 463 sqft |
| 1-Bedroom + Study | 39 | 527 sqft |
| 2-Bedroom | 78 | 657 – 700 sqft |
| 2-Bedroom + Study | 36 | 829 sqft |
| 3-Bedroom | 78 | 915 – 969 sqft |
| 4-Bedroom | 39 | 1,184 sqft |
The spread of units here is quite commendable for the small number of units. As mentioned above 62% of the 309 units are dedicated to the smaller 1 and 2 bedroom units, so you will be seeing more of these tenanted out.
Only the 4 bedroom units here have space for a utility room (for helpers), so the more compact size plus the lack of kid's focused facilities here does mean that you should not be seeing many, if not any, families with young kids taking up residence at Margaret Ville. For those who prefer adult-only locations and find the squeals of kids playing painful to the ears, this could be a development to consider.
Margeret Ville Unit Sizes
Margaret Ville 1 Bedroom 463 sq ft
Let's start with the 1 bedroom units here.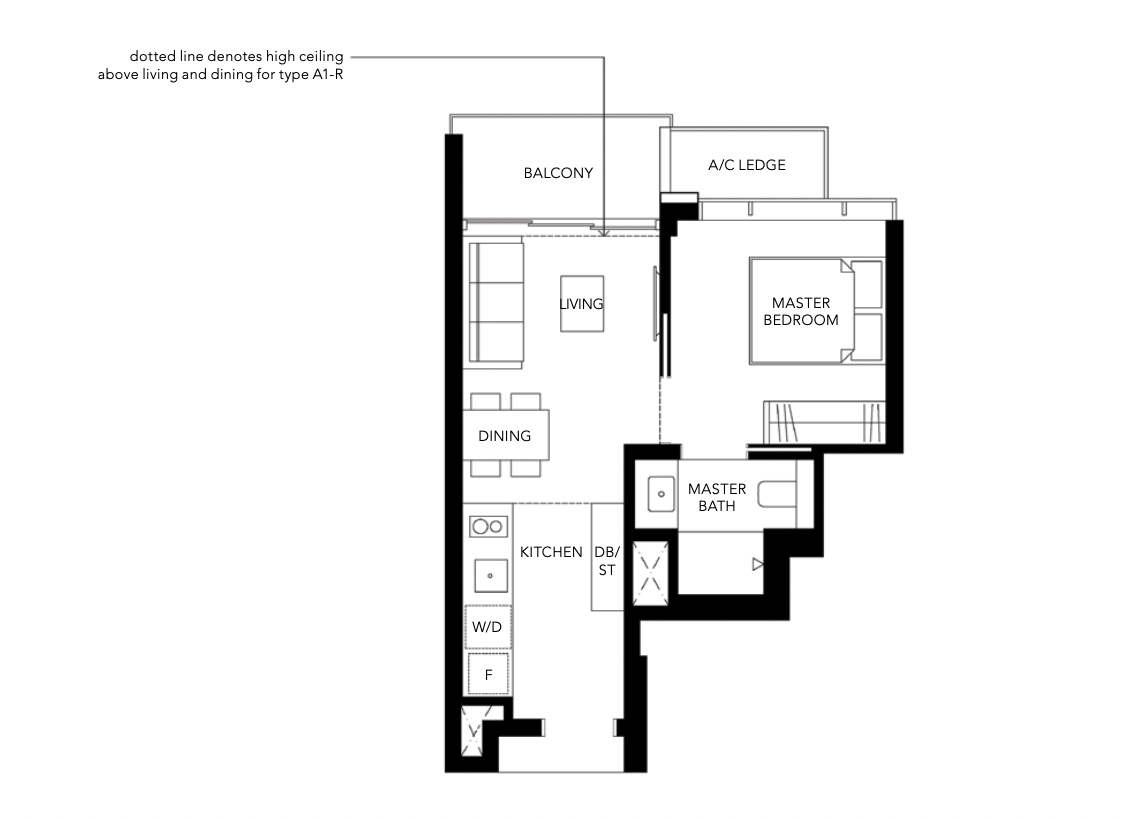 There are 2 types of 1 bedroom units available, one at 463 square feet, and the other at 527 square feet. For those looking at the most minimal entry price into the area, the smallest unit available is the 441 square feet 1 bedroom unit at Queens Peak.
Not everyone considers a 1 bedroom unit below 500 square feet as liveable, but for those who do – this 1 bedroom unit is as efficient as they come.
Perhaps the only downside here is the lack of a jack-and-jill bathroom, or maybe even with the bathroom door accessible from the living instead. Some visitors may find getting to the bathroom through the master bedroom an encroachment of privacy.
Margaret Ville 1 Bedroom 527 sq ft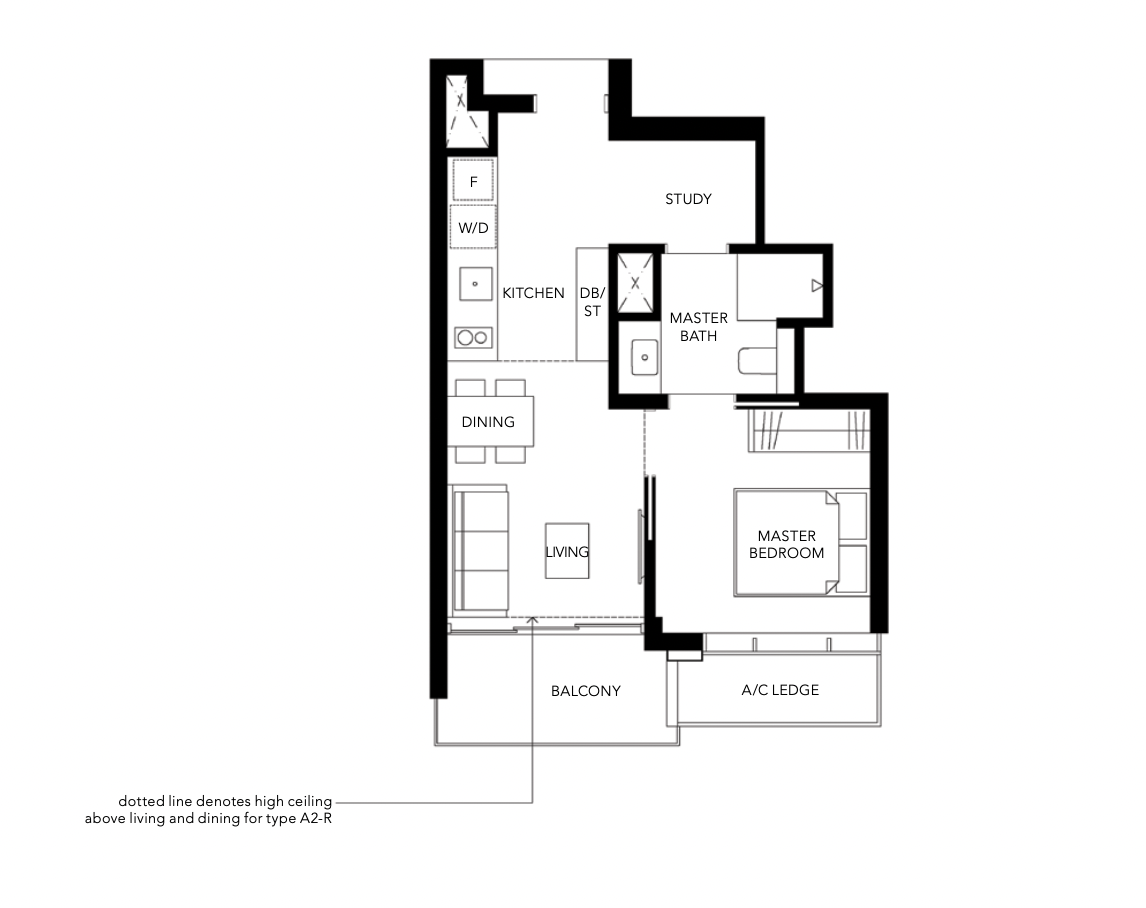 The 1 bedroom + study unit at Margaret Ville is larger because of the added study room, but the overall layout is made better too. Margaret Ville was conceptualised and launched before the pandemic, so having study rooms added to the smaller unit types can't be considered a stroke of genius, but it certainly comes in handy for those looking to have a dedicated workspace from home instead.
You could also have a smaller dining here instead of the study, to enjoy a bigger living space, so it is quite flexible in that regard. Finally, there is a jack-and-jill bathroom which makes things more convenient when you have guests over.
Margaret Ville 2 Bedroom 657 sq ft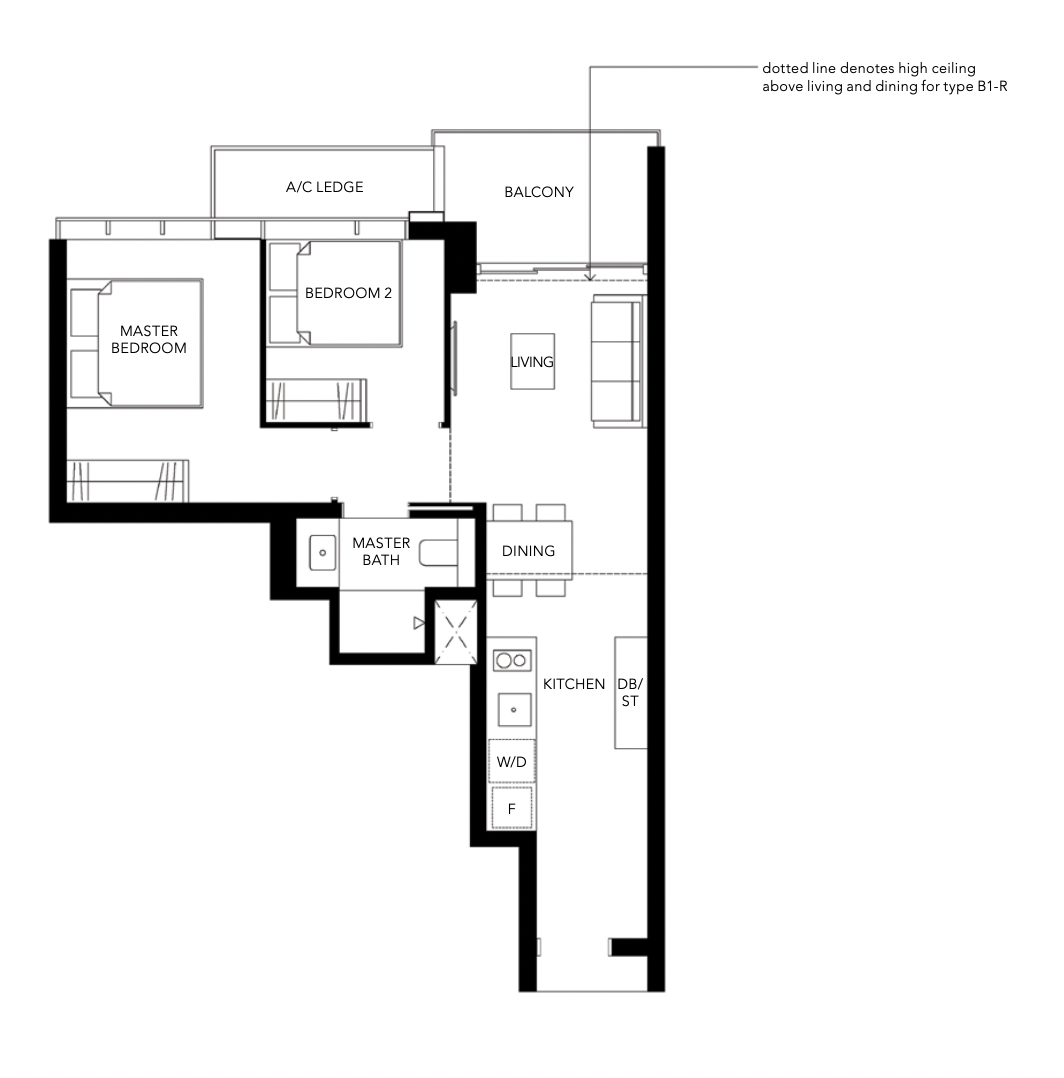 The smallest 2 bedroom unit at Margaret Ville is 657 square feet – which is in line with what you'd find in the property market today for new launches. While there are some developments that manage to fit in 2 bedrooms and 2 bathrooms, this one is a 2 bedroom and 1 bathroom instead. On one hand, this is more liveable, but on the other, it can have a limited audience as not everyone likes the idea of only having one shared bathroom.
Also, in this case, the entrance hallway is unnecessarily long, which does take up valuable space.
Margaret Ville 2 Bedroom 700 sq ft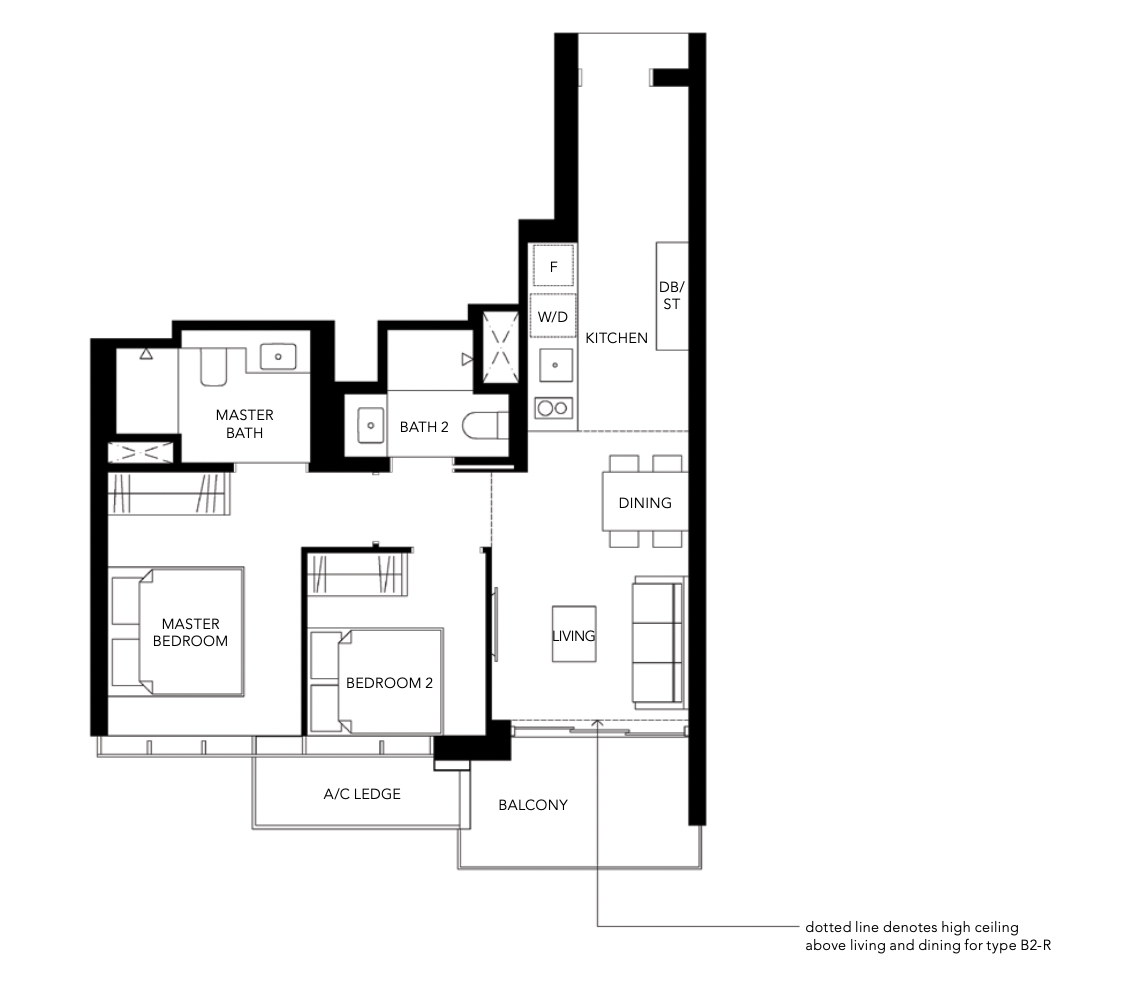 At 700 square feet, the 2 bedroom 2 bathroom option at Margeret Ville should be the more palatable option for most.
Unfortunately, it doesn't come with a more ideal dumbbell layout option, and this layout is as common as it gets for a unit of this type. Again, it comes with an unnecessary entranceway (although you could build some storage panels by the side). There are no ventilation windows in the kitchen, or either bathroom, so that is another point to look out for.
Margaret Ville 2 Bedroom + Study 829 sq ft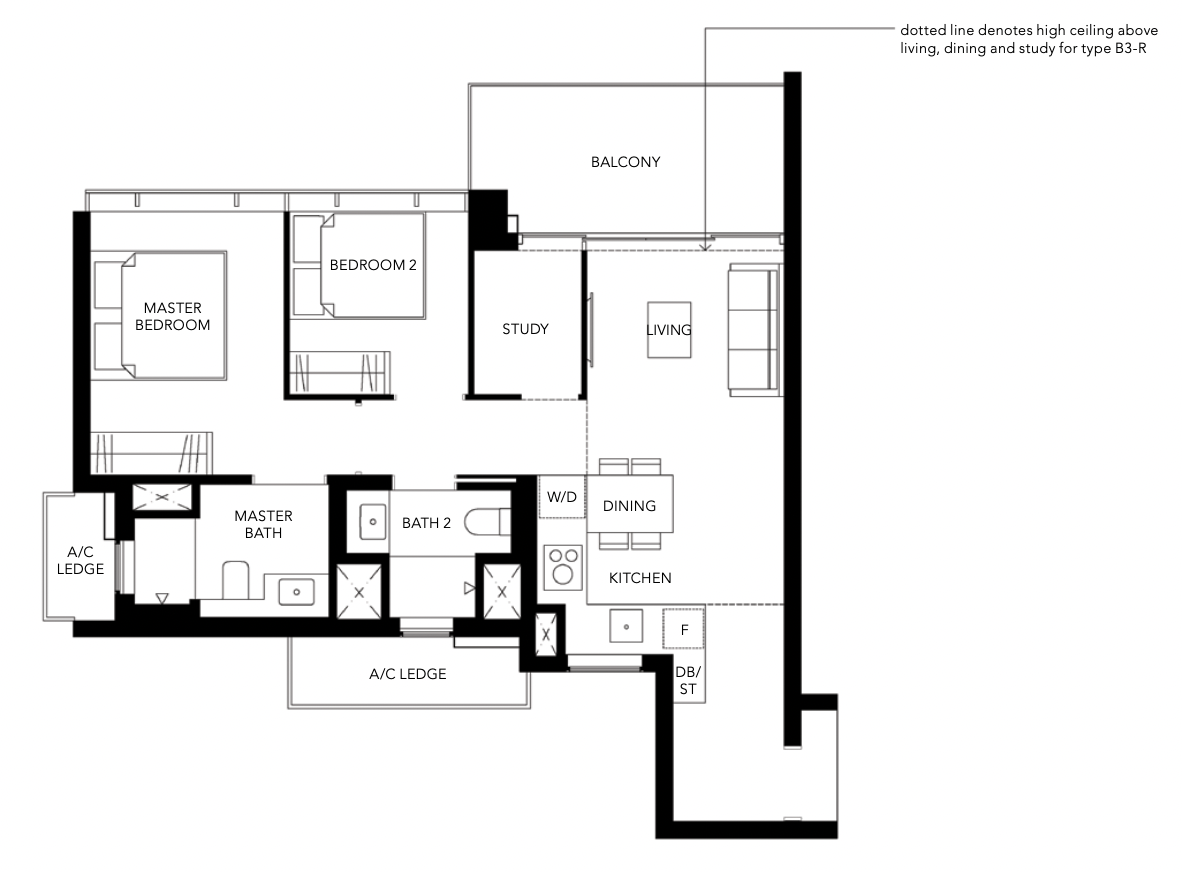 For those with a bigger budget, the 2 bedroom + study may make some sense from a liveability perspective. First up, there's a flexible study area for today's pandemic era. The position of it is also as such that you can knock down the walls to create a bigger living and dining area.
There is also an entranceway here that caters for those who want more privacy, and unlike the smaller 2 bedroom units, the layout of it makes it more usable as you can put in a console here or construct more storage without really blocking the entrance.
Margaret Ville 3 Bedroom 915 sq ft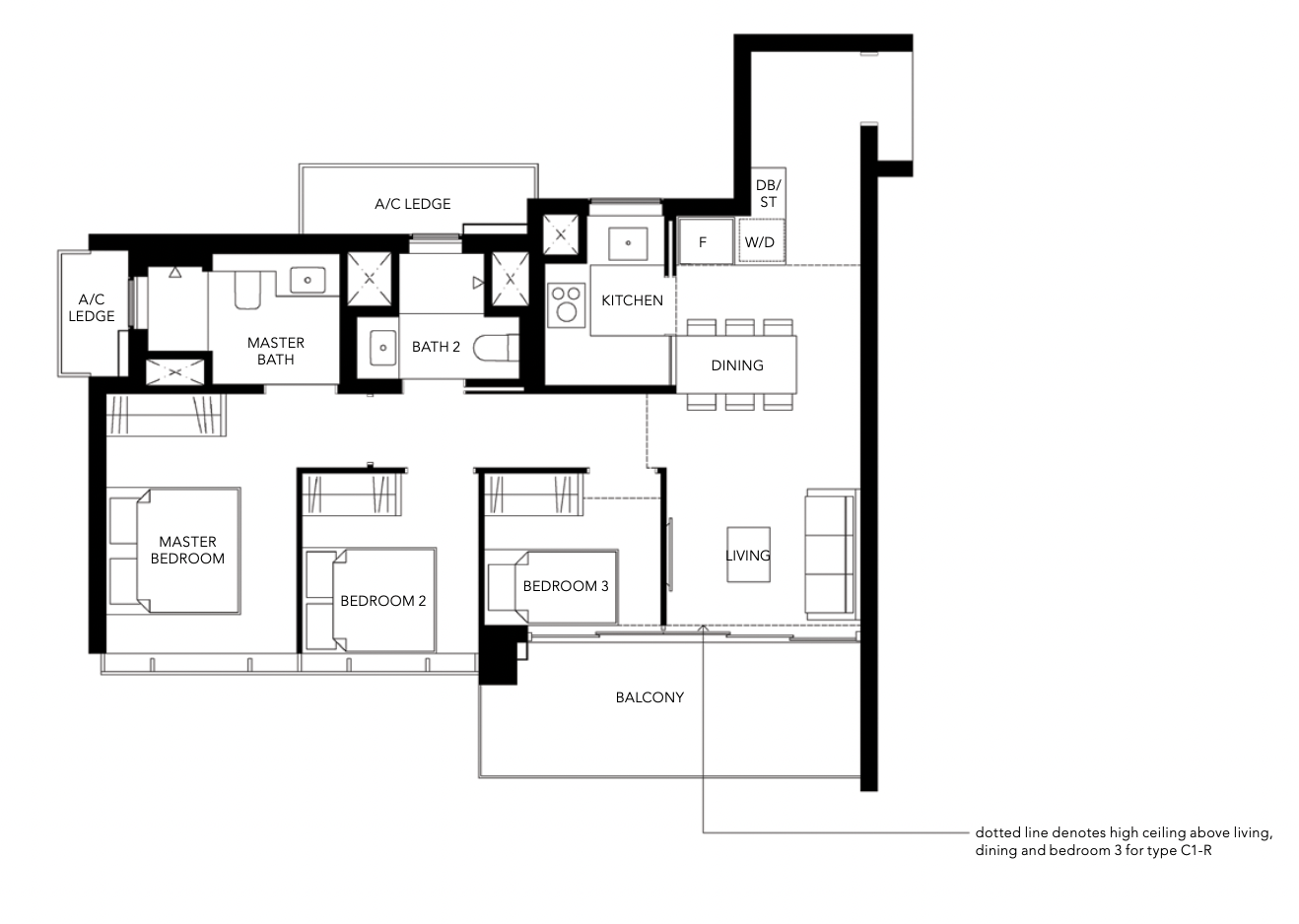 The 3 bedroom units are considered to be a compact size, as you can quite clearly see from the floor plan. The third common bedroom can only fit a single bed, although it does have the advantage of an access to the balcony as well. You do get an enclosed kitchen here (with ventilation), and both bathrooms are also blessed with ventilation windows.
All in, it's a 3 bedroom unit, with compromises. No yard, no additional storage space/utility, and a common bedroom that is smaller than average. It's for those looking for the smallest entry price, with no frills.
Margaret Ville 3 Bedroom 969 sq ft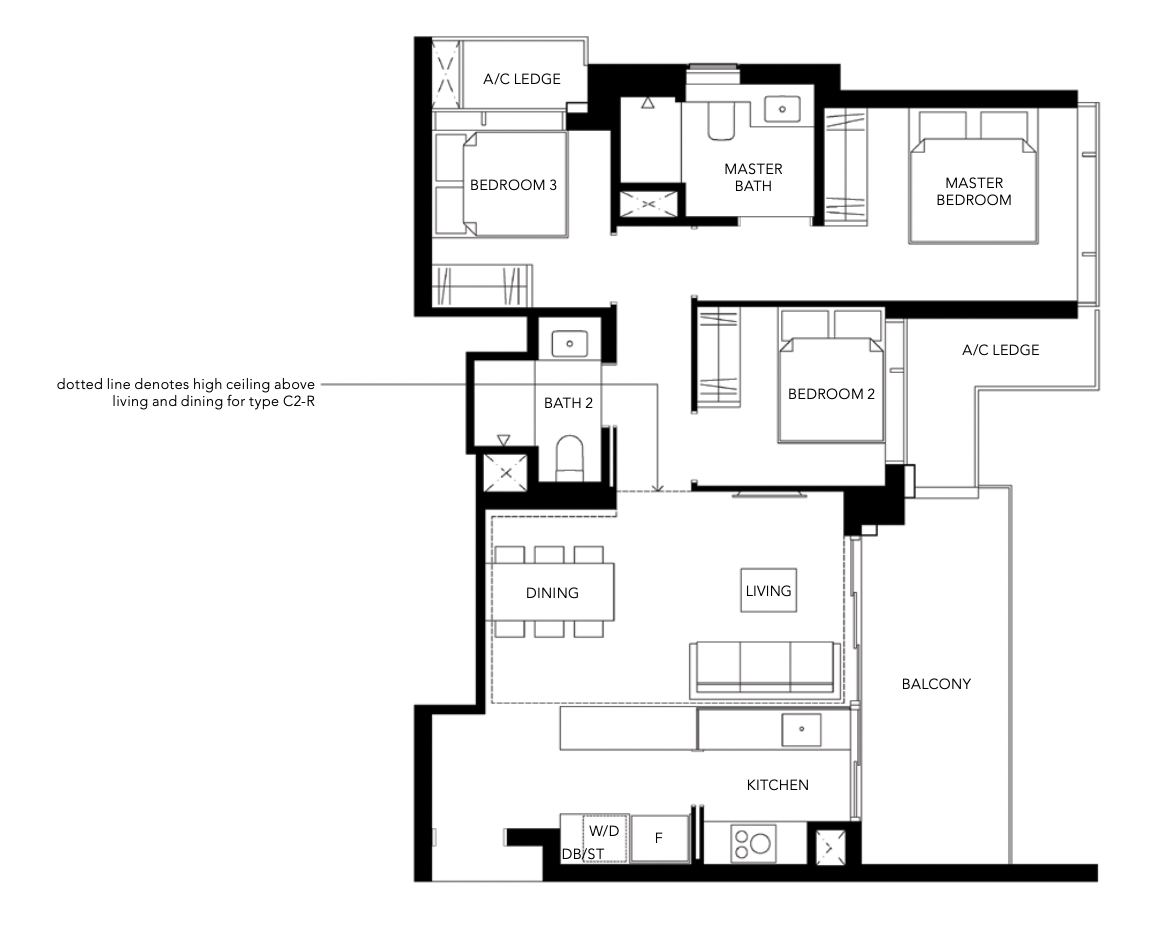 This 3 bedroom unit at 969 square feet may not seem much bigger than the smallest 3 bedroom unit on paper, but the layout is a much better one, although it is certainly unconventional.
For starters, the entryway opens up with the dry kitchen and wet kitchen, but the unique aspect here is the kitchen that faces (and opens up to the balcony). This helps the kitchen feel brighter and more open, and you are able to ventilate it a lot more effectively as well. The balcony is quite sizeable, and spans the length of the kitchen and living room. It still isn't a layout that caters to families though, with no utility room for helpers, and neither is there a yard area for washing/drying (although most would end up using the balcony nowadays).
Unlike the smaller 3 bedroom unit, this one comes with both common bedrooms being able to accomodate a queen sized bed.
Margaret Ville 4 Bedroom + Utility 1,184 sq ft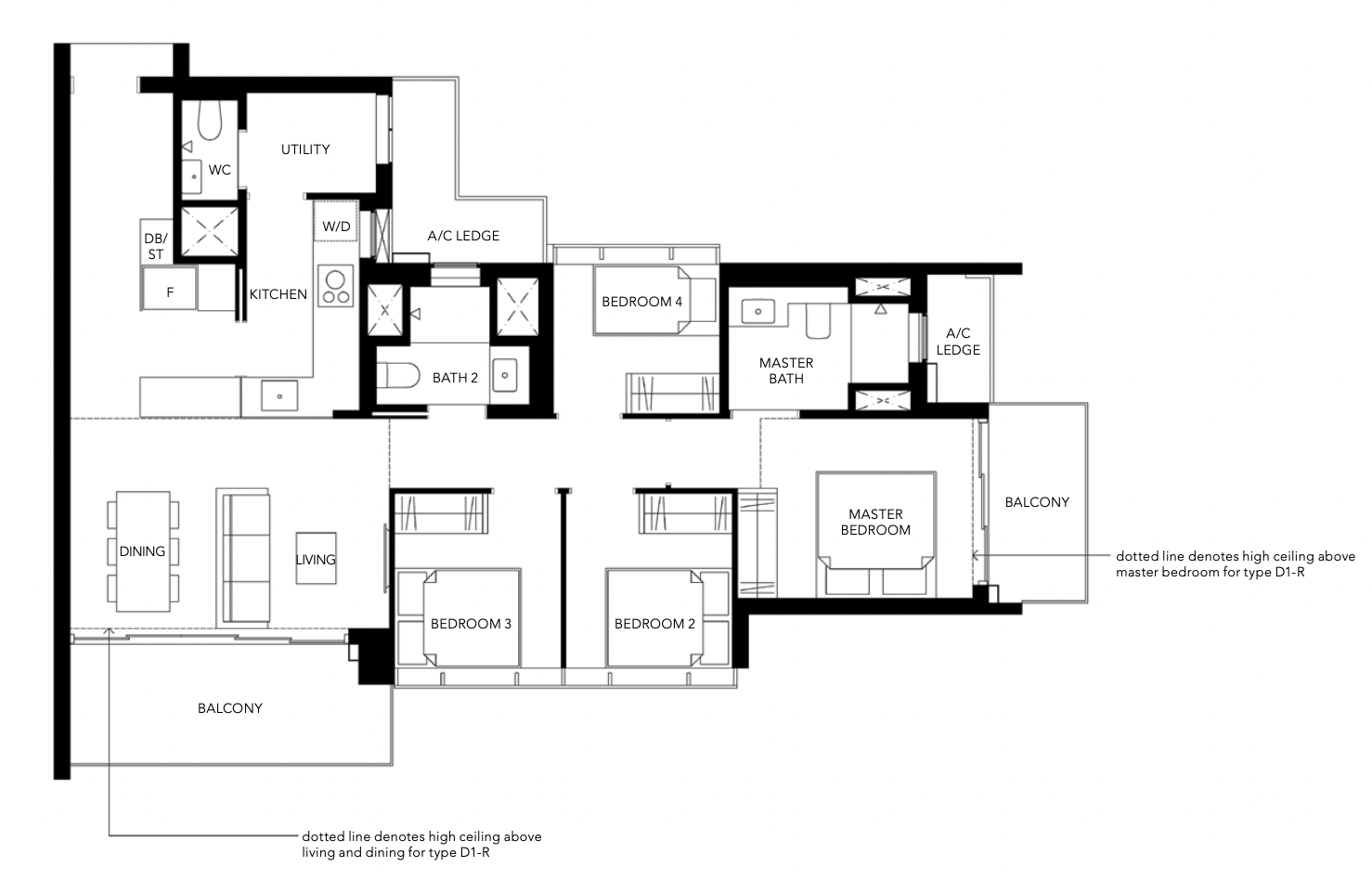 As shocking as it may be to some, this 4 bedroom + utility 1,184 square feet unit is the biggest on offer at Margaret Ville. Naturally, this is also the best stack available as it is set the furthest away from the traffic noise on Commonwealth Avenue, as well as the current unblocked view over the landed GCB enclaves plus the views towards the city in the distance.
For families adamant on living at Margaret Ville, this unit is your best bet. There's a wet and dry kitchen, along with a utility room (no yard though). You do have 4 bedrooms here, although the last bedroom is a small one, and only able to fit a single bed – you're probably better off with it being a study room instead.
Conversely, all 3 common bedrooms here will share just one common bathroom. Both bathrooms do come with a ventilation window, and the master bedroom here enjoys a decent sized balcony too – with a view that currently overlooks the landed areas.
Stack Analysis
Margaret Ville Site Plan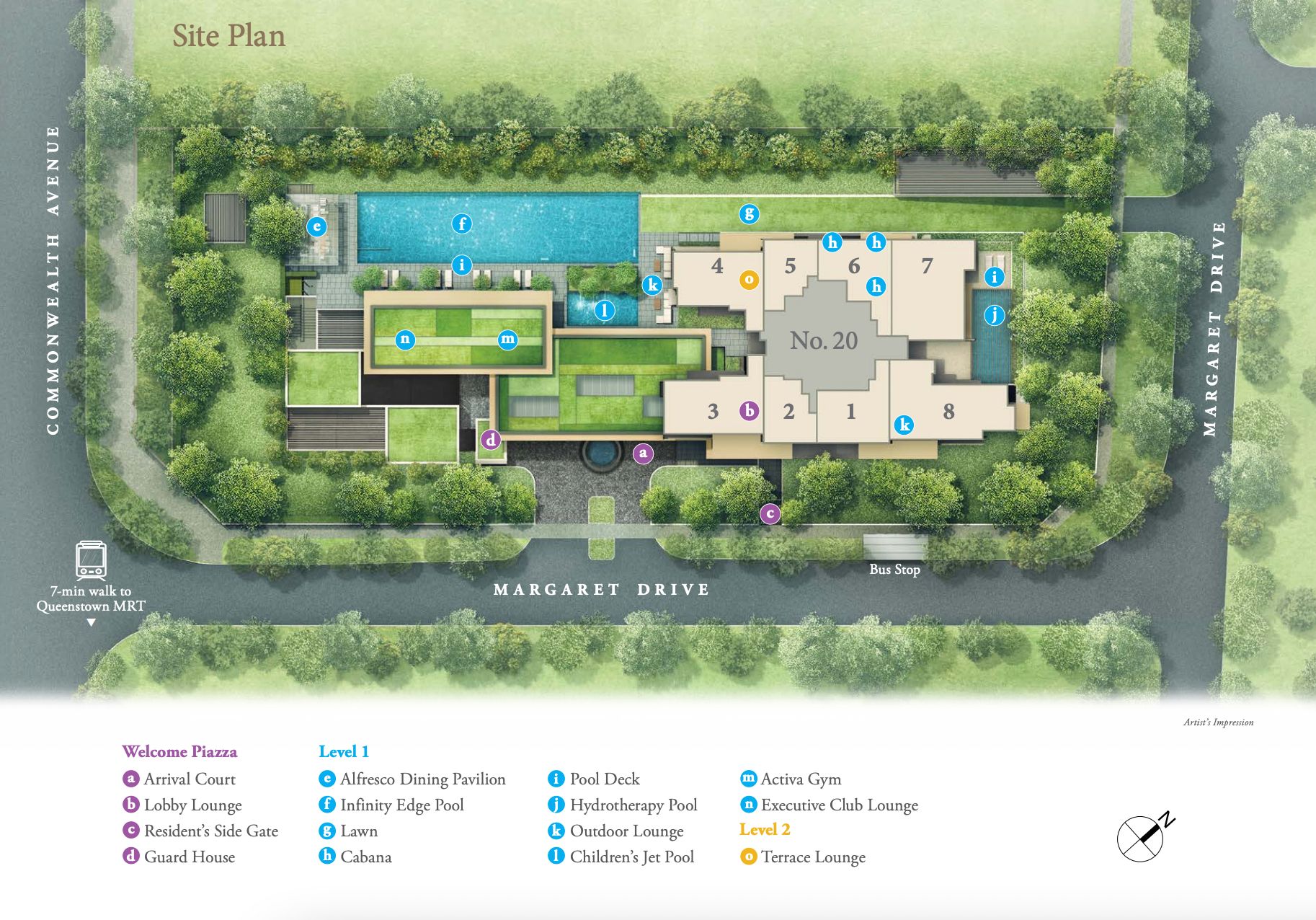 At 51,780 square feet, Margaret Ville sits on a regular rectangular plot of land that is about 40% of the size of Queens Peak or Commonwealth Towers. It's a small plot, but the saving grace here is that with just 309 units it doesn't feel as built up and dense as the other 2.
You are surrounded by 3 roads, and Queenstown Secondary, but there is thankfully some setback for the facilities from Commonwealth Avenue – which is the busiest road of the 3 by a mile.
They've also made the wise decision to push the residential block as far back as possible, with the swimming pool and other facilities acting as the "shield" for those living there.
It's quite the no-frills development in terms of facilities as everything is located on the ground floor, and is one of the few developments today that doesn't come with a children's playground. There are also no facilities on the top floor to speak of, which is a little disappointing there also aren't unique penthouse units here, just the usual higher ceiling for the top floor unit.
Margaret Ville Best Stacks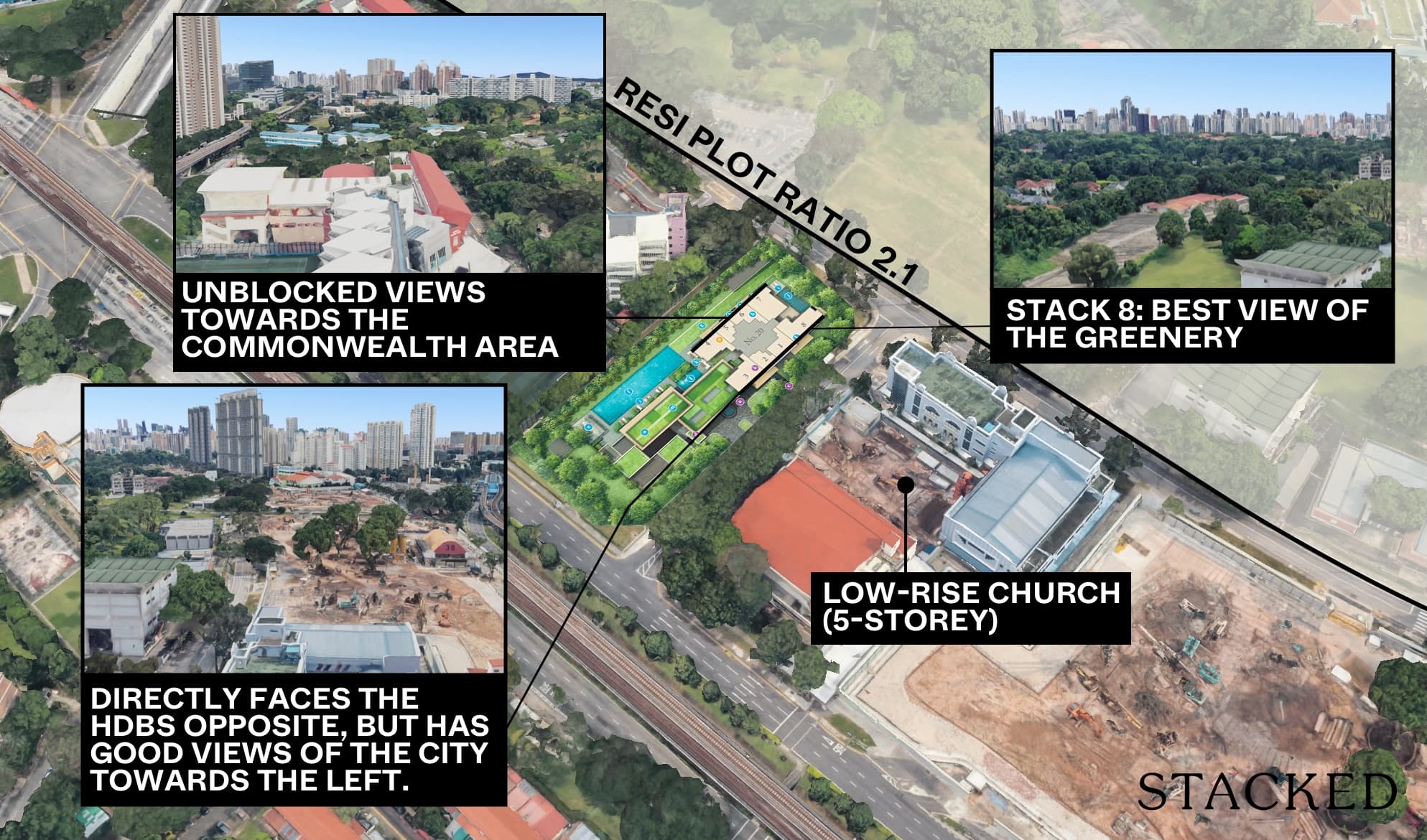 To be honest, there's not much to choose from when it comes to a singular block of units as you are pretty much relegated to whichever is your unit type.
Both sides of the residential block will be facing a building, Queensway Secondary School for stacks 4, 5, 6, and 7, while 1, 2, 3, and 8 are facing both churches. Despite the residential units not being situated on the ground level (it's built several metres high), you'd probably still want to look for at least level 5 and up to clear either building.
If you have selected a unit facing Queensway Secondary School, you will have views towards the West (beyond the school it's still relatively unblocked), but otherwise, it's your standard high-rise view. Those facing the church will enjoy a better view towards the city skyline, especially stack 8 as it would be able to take in more of that greenery and landed view across Ridout/Swettenham/Peirce. However, take note that the direct view is towards the recently-built SkyResidence@Dawson – though it is around 130m away.
The best views, for now, are reserved for the master bedroom units of the 4 bedroom units at stack 8 as these face the currently unblocked greenery beyond Margaret Close. As mentioned though, the unblocked nature of it will change in the future as these are marked as residential plots.
Margaret Ville Price Review
Project Name
Units
Tenure
TOP
Average Price (PSF)
Distance from MRT
Margaret Ville
309
99-year leasehold
2021
$2,007 psf
600m, 8-min walk (Commonwealth)
700m, 9-min walk (Queenstown)
Queens Peak
736
99-year leasehold
2020
$1,933 psf
Immediate
Commonwealth Towers
845
99-year leasehold
2017
$1,947 psf
Immediate
Queens
722
99-year leasehold
2002
$1,414 psf
180m, 2-min walk
Stirling Residences
1,259
99-year leasehold
2022
$2,083 psf
450m, 5-min walk
Alexis
293
Freehold
2012
$1,515 psf
550m, 6-min walk
The Anchorage
775
Freehold
1997
$1,637 psf
850m, 10-min walk
The last time a review was done in this area was with Queens Peak in November 2020. Using the same table, you can see just how much resale prices in the area have increased since.
| | | | |
| --- | --- | --- | --- |
| Project Name | Average Price (PSF) In Nov 2020 | Average Price (PSF) In May 2022 | Percentage Increase |
| Queens Peak (736 units) | $1,870 psf | $1,933 psf | 3.37% |
| Commonwealth Towers (845 units) | $1,838 psf | $1,947 psf | 5.93% |
| Queens (722 units) | $1,221 psf | $1,414 psf | 15.8% |
| Stirling Residences (1,259 units) | $1,978 psf | $2,083 psf | 5.3% |
| Alexis (293 units) | $1,448 psf | $1,515 psf | 4.63% |
| The Anchorage (775 units) | $1,467 psf | $1,637 psf | 11.59% |
| Margaret Ville (309 units) | $1,842 psf | $2,007 psf | 8.96% |
Given that the age gap between Queens Peak and Margaret Ville is so close, prices are where you'd expect them to be, with Margaret Ville priced just a little higher. Commonwealth Towers was built further back in 2017, but I reckon that a combination of its more sleek modern look, and the overall better package does show in its pricing, which has maintained parity with Queens Peak so far.
| | | |
| --- | --- | --- |
| Project Name | Land Bid Price | Current Average PSF |
| Queens Peak (736 units) | $871 psf ppr | $1,933 psf |
| Commonwealth Towers (845 units) | $883 psf ppr | $1,947 psf |
| Margaret Ville (309 units) | $997 psf ppr | $2,007 psf |
| Stirling Residences (1,259 units) | $1,051 psf ppr | $2,083 psf |
Stirling Residences still remains the benchmark to beat in the immediate area (it is the most expensive land price, after all). I won't be surprised to see Queens Peak and Commonwealth Towers reach $2,000 psf soon anyway, given the way even future OCR new launch condos will be priced at.
We could still see prices at Stirling Residences rise in the next few months, as the condo is closed to being completed at the time of writing. As potential buyers would now be able to see the development with their own eyes, and more sellers are able to sell without incurring Seller's Stamp Duty (SSD), there should be more movement once it is completed.
For those looking at freehold options in the area, it is slim pickings, with just Alexis and Anchorage to choose from. They could not be more different from each other though. Anchorage is much older, and on a much bigger plot of land, with more spacious units. Alexis on the other hand is much smaller (you practically have no open land), and smaller units too (starting from as small as 388 units).
It's very much a project for those looking for an investment unit to rent out, with its close proximity to the MRT station and a current average rental yield of 3.9% which is very decent indeed.
All in all, the prices at Margaret Ville are very much in line with its competition currently, and we could yet still see further upward movement given that it is still considered to be a newly completed project.
Appreciation Analysis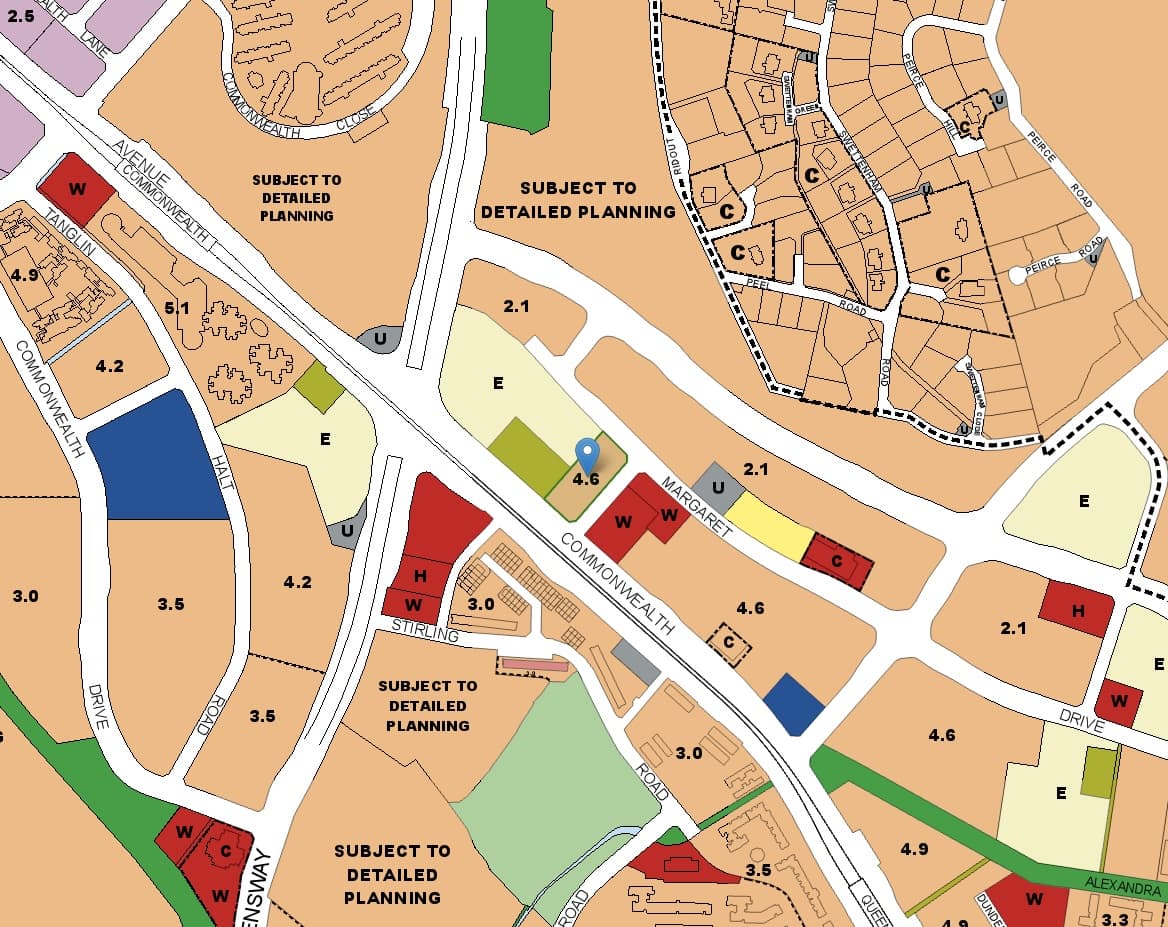 Given the amount of unblocked land surrounding Margaret Ville at the moment, it doesn't take a genius to figure out that these will change in the future considering the central location.
These will be quite significant changes too, with Margaret Close opening up to a new road that will cut through to form a parallel with the current Margaret Close. This will facilitate new developments that have a plot ratio of 2.1. The good news is a plot ratio of 2.1 does mean that the maximum number of storeys here will be 24, so those who are looking at the higher floors at Margaret Ville should still be able to enjoy an unblocked view.
Besides that, there will also be further support from HDB upgraders in the area in the future. Right next to Margaret Ville is the recently completed SkyResidence@Dawson and SkyOasis@Dawson, along with SkyParc@Dawson which is a little further away.
There is also additional redevelopment from the SERS plot of land at Tanglin Halt which is located just adjacent to Margaret Ville. The two markets, food centres, and seven commercial blocks will be demolished and is the biggest SERS project since 1999, involving 3,480 flats.
Our Take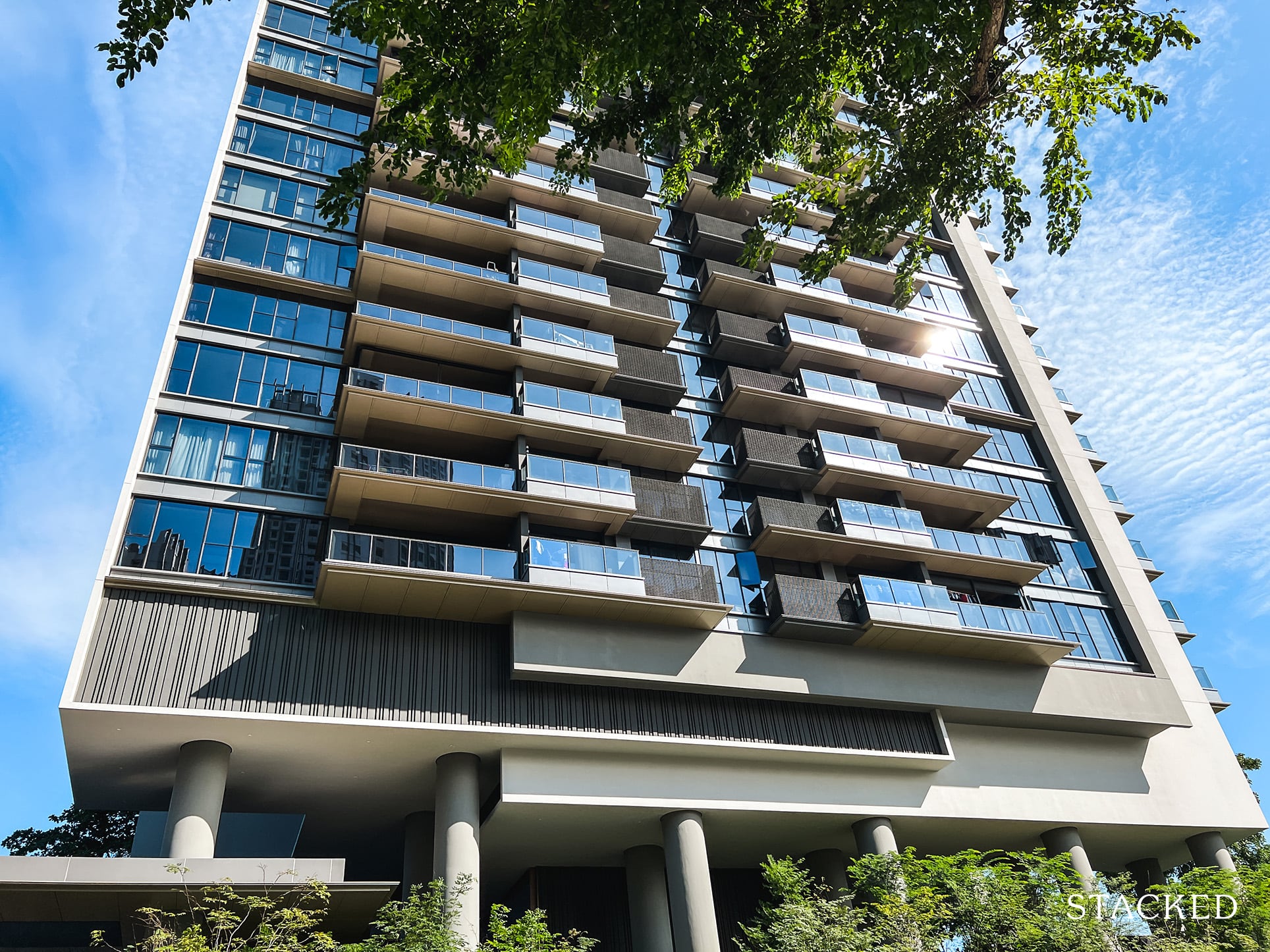 I think the biggest appeal for me when it comes to Margaret Ville is really the number of units. 309 units in today's context is quite a sweet spot if you don't want something too dense yet still have enough facilities to justify paying the monthly maintenance fee. While it may not be as fully featured as nearby competition like Stirling Residences or Commonwealth Towers, for some people the added exclusiveness that it offers may well be worth it.
And although some people may feel that they are missing out by not having a focus on some kid's facilities, on the contrary, I do think that it was a good move. You may find it harder to cater to a wider audience when exiting, but it does also mean that a very specific audience would be very happy to have found such a development. For those seeking a more adult-focused development, and who have no plans to have kids in the future would probably be very content.
What this means for you
You might like Margaret Ville if you:
• Want to live in a low density condo in a central locationWith just 309 units, Margaret Ville stands out amongst the newer condos in the area as they start from 700 plus units.
• Don't want to deal with noises from kidsWith no playground, and any kid-focused facility to speak of, Margaret Ville will unlikely be a choice for any families with young kids.
You may not like Margaret Ville if you:
• Prefer a condo with varietyWhile it does have the usual pool, gym, and dining facilities, Margaret Ville doesn't offer anything else beyond the standard facilities.
• Need spaceWhile you do have access to the unblocked areas beyond Margaret Ville, the actual plot of land is small, and the bigger units here are also on the small side.
End of Review