Living In
Inside A Gorgeous Transformation Of A 100-Year Old Shophouse in Singapore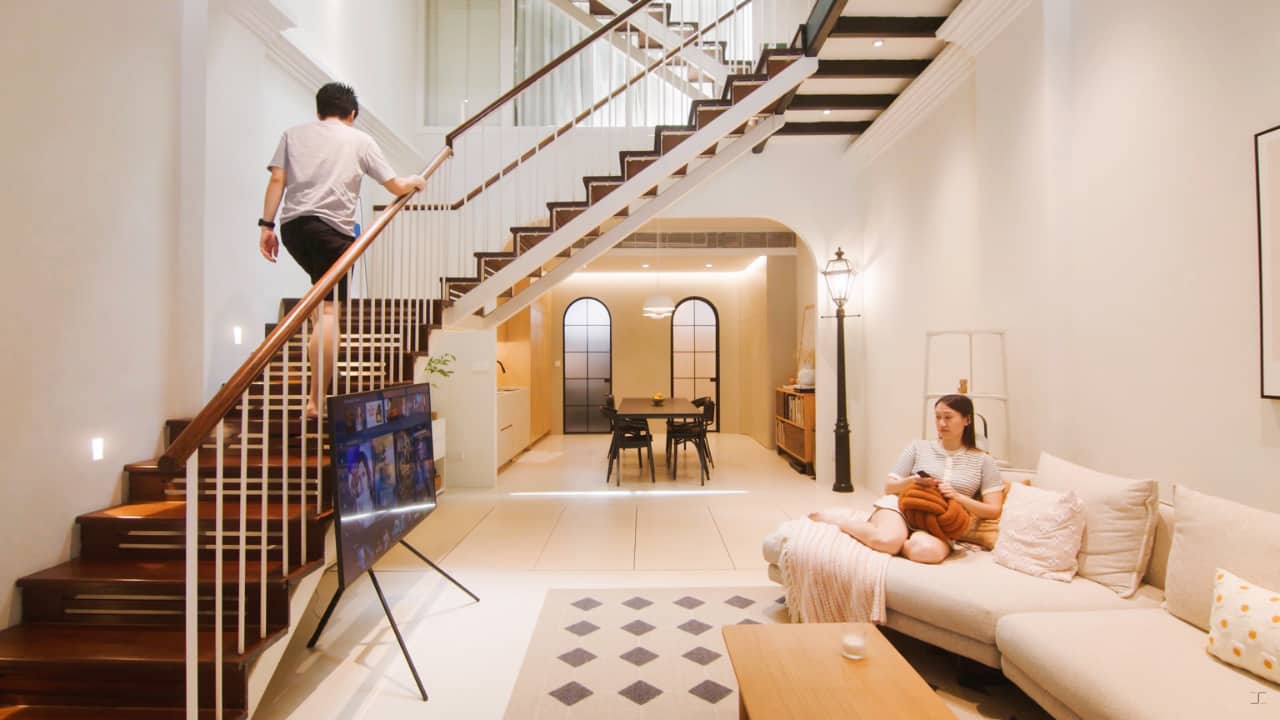 3
min read
This week, we visit probably the most interesting type of Singapore housing – the shophouse. This historic 100-year-old house in Katong is home to Jake and Kylie and has been beautifully renovated at a cost of $250,000, with a design focus on preserving its historic details and charm. Jake and Kylie both work from home, so the space was designed around work and play, making it the perfect oasis for them to live and work in.
As you step inside, you'll be greeted by a spacious and inviting living area. The design here is flexible, with no built-in furniture, allowing Jake and Kylie to adapt the space as needed. Interestingly, this area used to have a fish pond, but subsequent owners have converted it into storage space instead.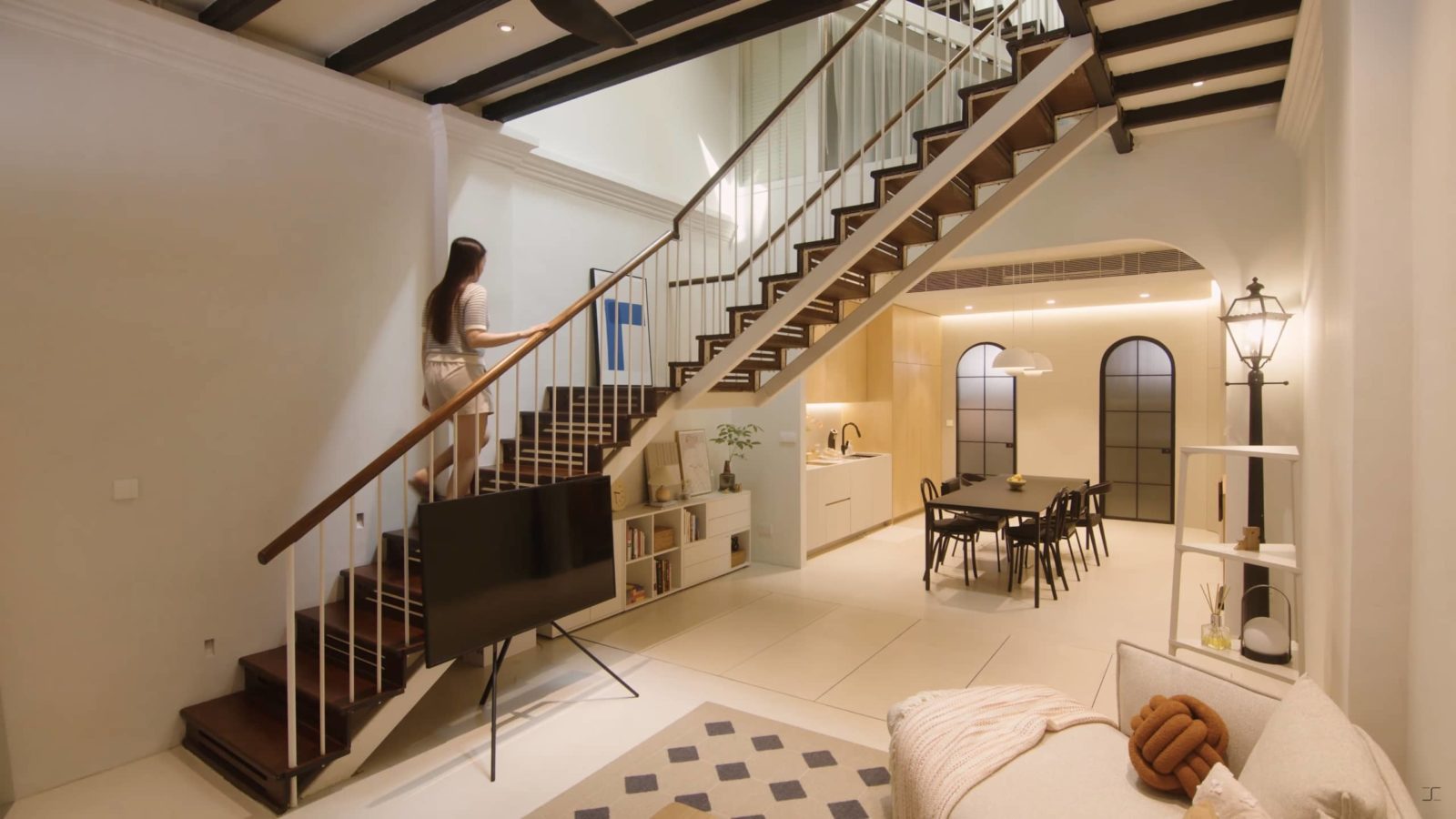 One of the most striking features of the house is the central stairwell. This was built by the previous owner, and Jake and Kylie chose to keep it as a nod to the heritage of the space. It also doubles as a storage cabinet, with a loft netting into the space of the second and third floor study area, which creates an interesting creative space.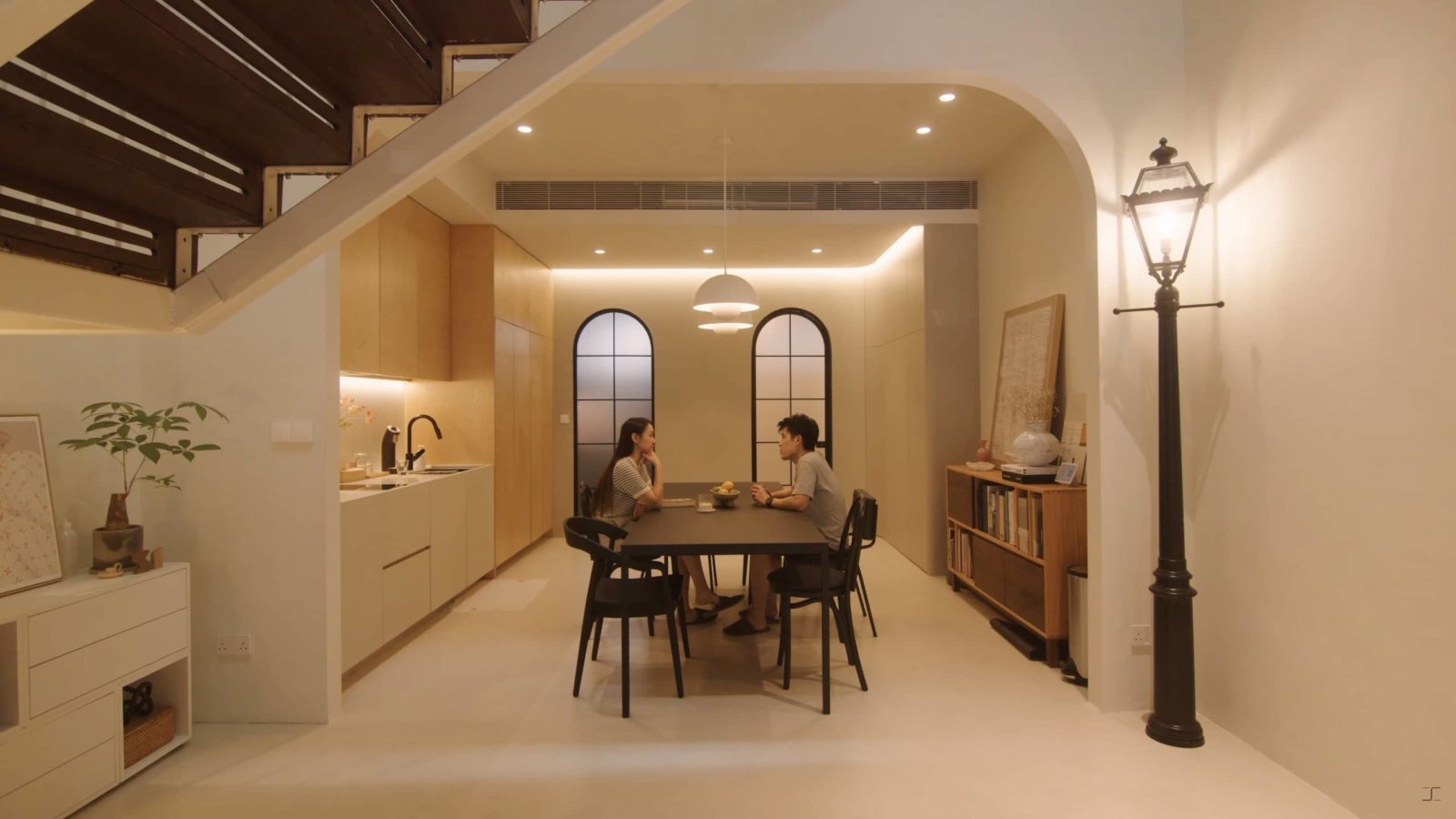 Jake and Kylie wanted privacy for their main entrance, but also desired cross ventilation, so they installed a 2-layer glass door and louvered door. They also kept the original colors of the doors and windows, and chose a pastel pink for the walls to complement the green.
As you enter the dining area, your eyes are naturally drawn to the twin arch doors, which lead to the kitchen and bathroom. The dining area has been expanded, and a dry pantry was installed for light food preparation. The kitchen features a skylight and stainless steel countertops and backsplash for easy maintenance. The bathroom has been updated with textured walls and a terrazzo basin.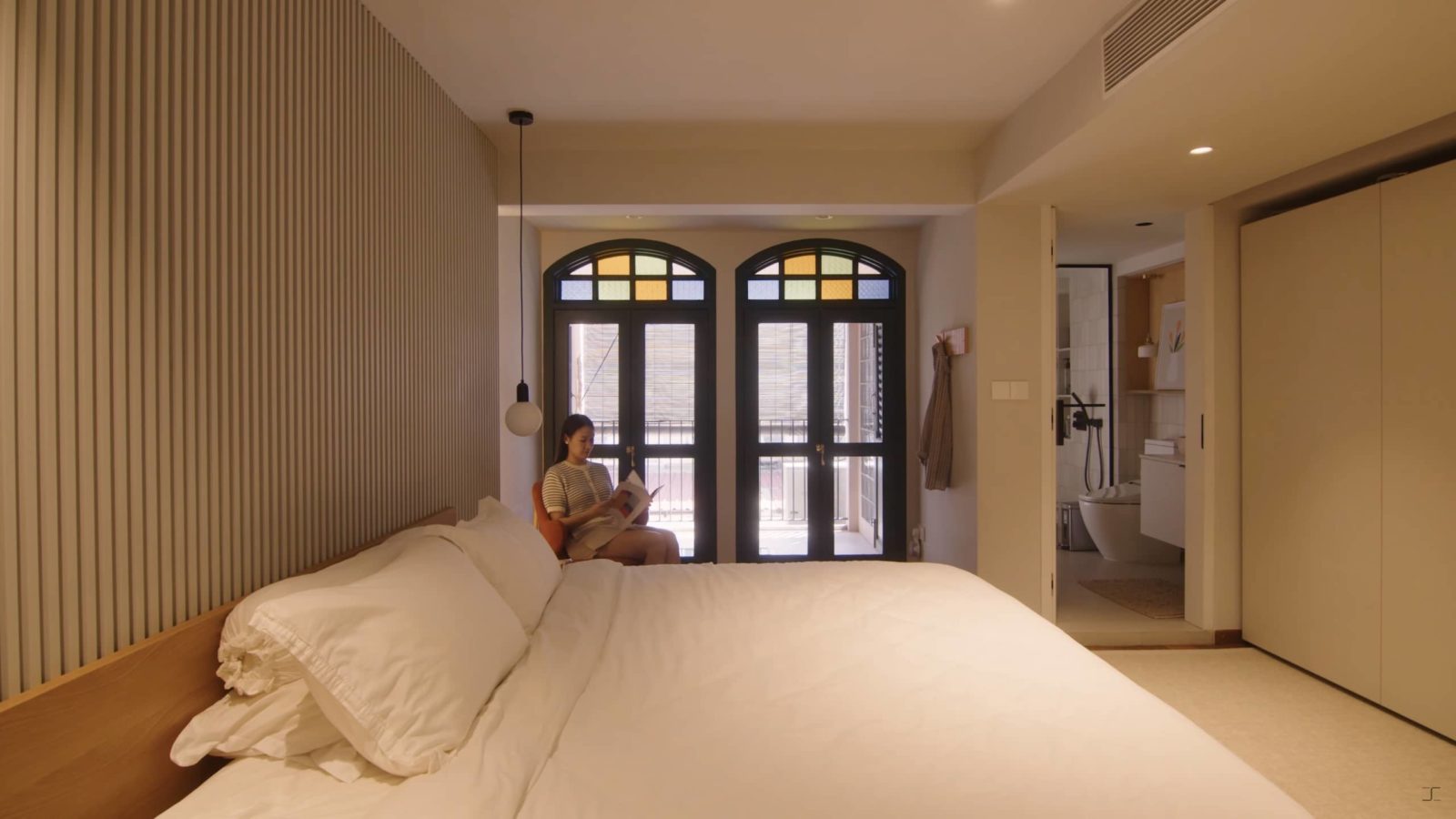 On the second floor, the bedroom and bathroom have been combined to create a simple, clutter-free space with flushed storage and textured finishes. They chose microcement and a terrazzo basin for the bathroom, adding more texture to the space.
As Jake and Kylie both work from home, they have a big study that was formed from 2 previous rooms. This space provides a perfect workspace for them to be productive and creative. Additionally, the loft netting from the stairwell provides a really interesting space that allows them to be creative.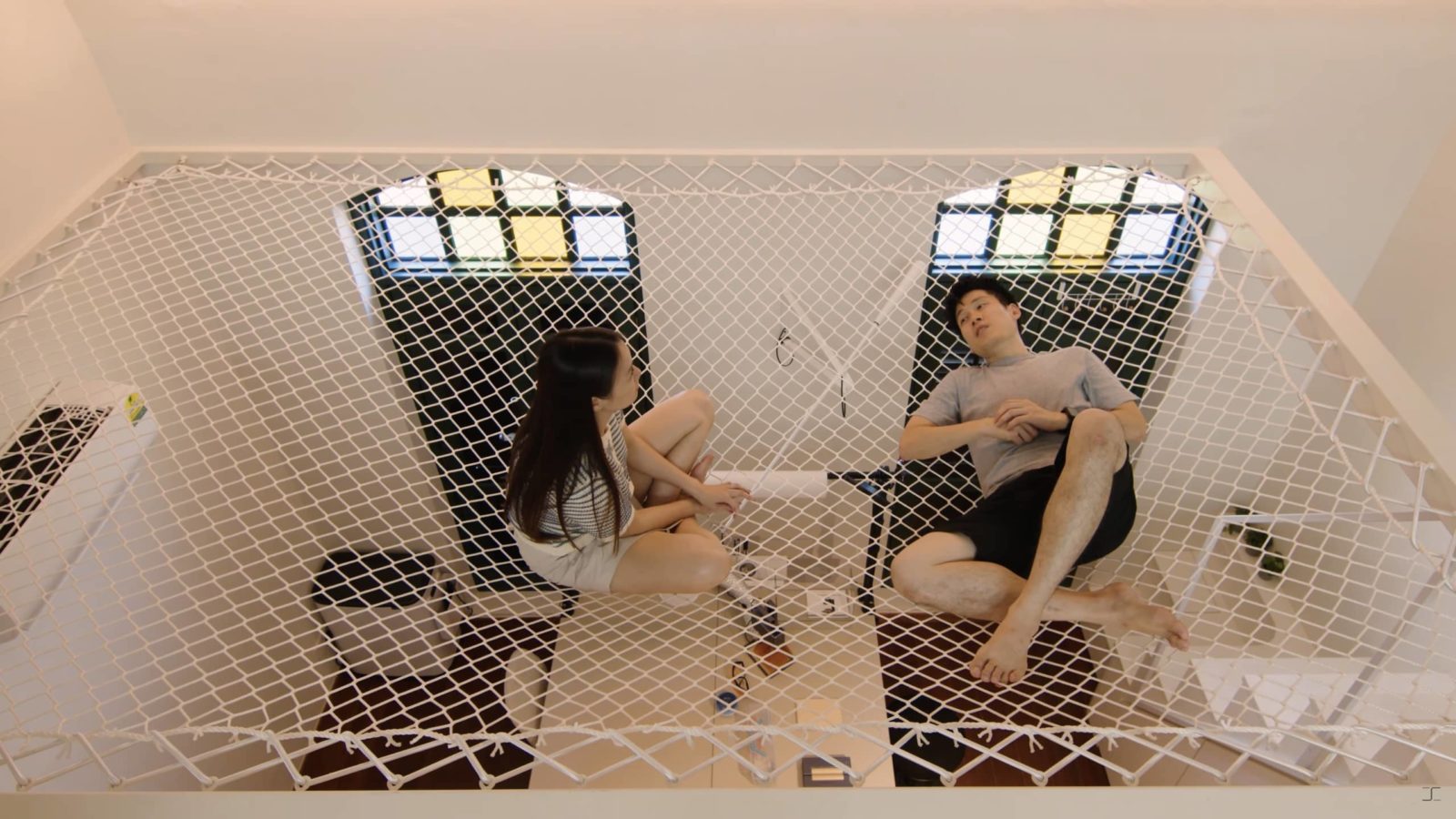 Finally, the family room doubles as a guest room and indoor plant oasis for Kylie. Here, you'll find three English cast iron lamp posts, adding a touch of nostalgia to this charming shophouse.
Special thanks to Jake & Kylie for showing us around their lovely home. If you'd like to get connected to them for the design of your own home, you can reach out to them in this link. Successful projects get a $500 Stacked Store voucher!
If you are an architect, ID, or homeowner interested in featuring your home, please fill in our form at https://forms.gle/a1GmuwSCCFAns3GV9