Our Verdict
Located in the mature estate of Novena, Ikigai is a boutique development that takes up a modern interpretation of Japanese architecture with detailed motifs in its fixtures. On top of its freehold status, the central location offers convenient drives into Orchard and the CBD. However, this comes at the cost of its size and facilities.
35
min read
| | |
| --- | --- |
| Project: | Ikigai |
| District: | 11 |
| Address: | Shrewsbury Road |
| Tenure: | Freehold |
| No. of Units: | 16 |
| Site Area: | 11,065.44 sqft |
| Developer: | Opulent Development Pte Ltd |
| TOP: | 2026 |
Moving away from the conventional nomenclature of condo names that affix words like residences or park to their name, Ikigai is a condo that definitely stands out.
While some may draw references to a Japanese restaurant (there are several Ikigai restaurants in Singapore), the name Ikigai is actually a Japanese concept that means "a reason for being". (I'll go further into the name later).
Besides the name, they've also gone down the unusual route of not building a show flat.
Which does make sense from a cost perspective, especially when there are just 16 units. For buyers who may lament the lack of something physical to touch and feel, the quality of renders and 3D tours today may just surprise you. Lower costs may also mean lower prices in general, which means that buyers will ultimately benefit.
In an era where building a show flat can amount to millions (not to mention the expensive monthly rental of land), and the environmental savings of not having to build and tear it down later – there's a lot to gain from not having a show flat today. Hopefully, this can even be a trend moving forward, as many companies start to take a stand towards sustainability to counter the threat of climate change.
Now, show flat conditions aside, let me tell you a little more about Ikigai.
It's a freehold boutique development in the Novena neighbourhood, one that perhaps doesn't need much introduction as it is no stranger to buyers and renters alike. Its city location offers residents within the neighbourhood to have access to many key amenities, like excellent schools, shopping options and of course, some of Singapore's best healthcare providers.
Introduced as a modern cum local interpretation of Japanese architecture, this 11,000 sqft boutique development may be small in size but it's surprising at the level of detail that has gone into the project (which you'll see more in the tour below).
Let's dive right into the (virtual) insider tour.
Ikigai Virtual Insider Tour
To first address the elephant in the room, Ikigai's unusual name has deep Japanese origins. Besides Japanese restaurants in Singapore, many of you might have chanced upon this word from the book by Francesc Miralles and Hector Garcia, where Ikigai ultimately means 'your way of living'.
More impressively, for a development of just 16 units, there has been a lot of thought put into it. It has special influences in its design from world-renowned Japanese calligrapher, Tomoko Kawao and award-winning architect Yip Yuen Hong (of ipli Architects) and their interpretation of the word 'Ikigai'.
As previously mentioned, the entire project is featured only online (although there is a small space located in the CBD). Its website showcases the entire design mood board that inspired the final product of Ikigai, along with some extremely detailed virtual show flats.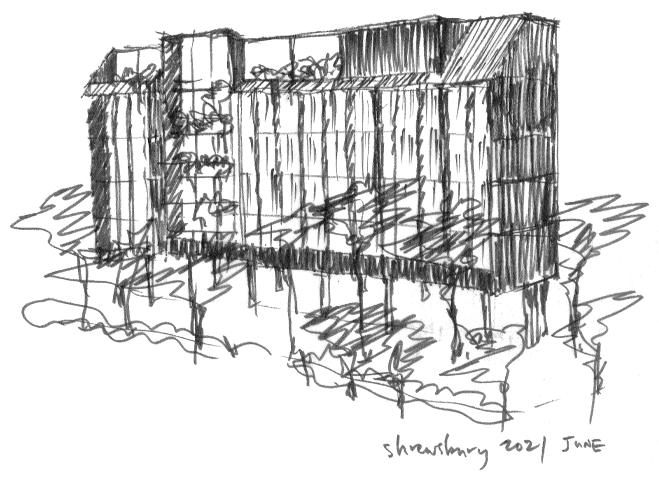 We're first welcomed by the simple sketch of Ikigai's facade that is dated June 2021, which shows the vision that the architects initially had over the design of the project.
What stood out to me was the simple straight lines and minimalistic design, complemented with green landscaping that reminds me of a typical Japanese project that I'd see in an upper-class neighbourhood in Tokyo (think Ueno in Tokyo). This simple sketch was a great introduction to hint at the artistic tone of Ikigai.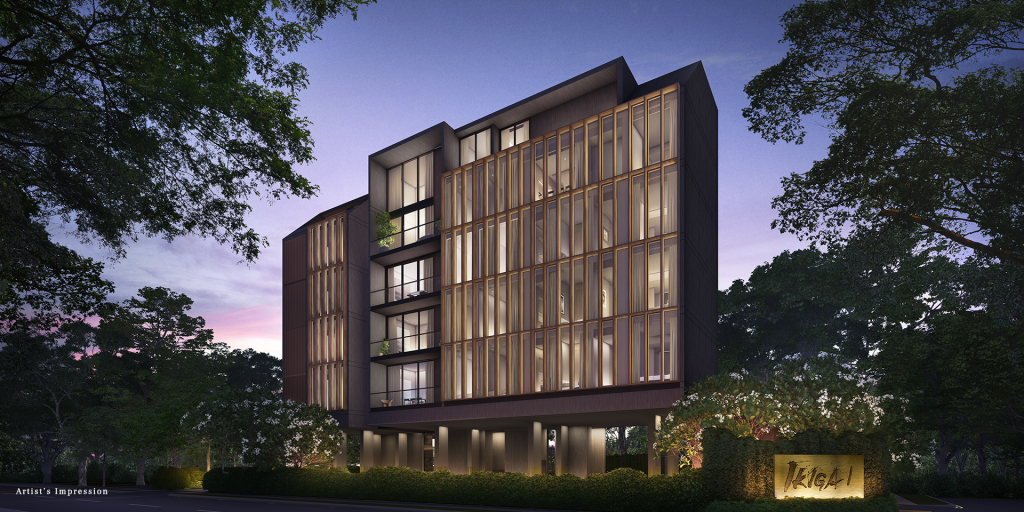 Taking a look at the artist's impression of Ikigai's hero shot, I'd say that it does not seem to deviate too far from its initial sketch. It showcases its contemporary architecture that has strong influences from traditional Japanese designs.
High ceilings and big panelled windows overlooking the trees and garden seem to be the focal point of the design. I've seen many boutique condos with standard, even boring designs (with so few units, the economies of scale just don't make as much sense), so this is something commendable.
On a similar note, the architects chose to use char wood cast concrete wall for its durability, sustainability and energy efficiency. As a result, less maintenance would be needed due to zero artificial touch-ups, a feature that rides off the wabi-sabi concept.
Moving onto the facilities, Ikigai offers a pool, a kid's pool, a gym and a pavilion within the development. That's not a bad offering at all considering a recent boutique project that I reviewed (The Atlassia), has nearly double the units and doesn't come with a gym.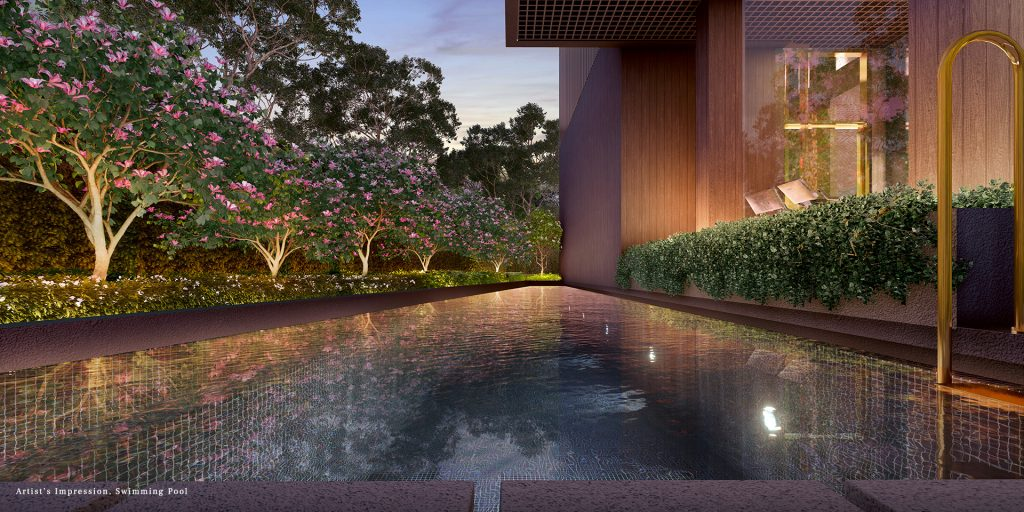 Taking a look at the pool, is positioned at the back of Ikigai's site plan, which is nearest to the CTE. Lined with beautiful flora and fauna as a natural barrier and buffer from the external environment, the pool (about 14.6m in length) presents a private spot for residents to relax or exercise.
Though, it should be noted that residents that stay in units that face the expressway have balconies that overlook the pool and would be able to see those using the pool.
It's definitely not the biggest pool around, but again for just 16 units, it's actually a pretty decent size. In fact, you might even be surprised to even see other people at the pool at times, given how few units there are.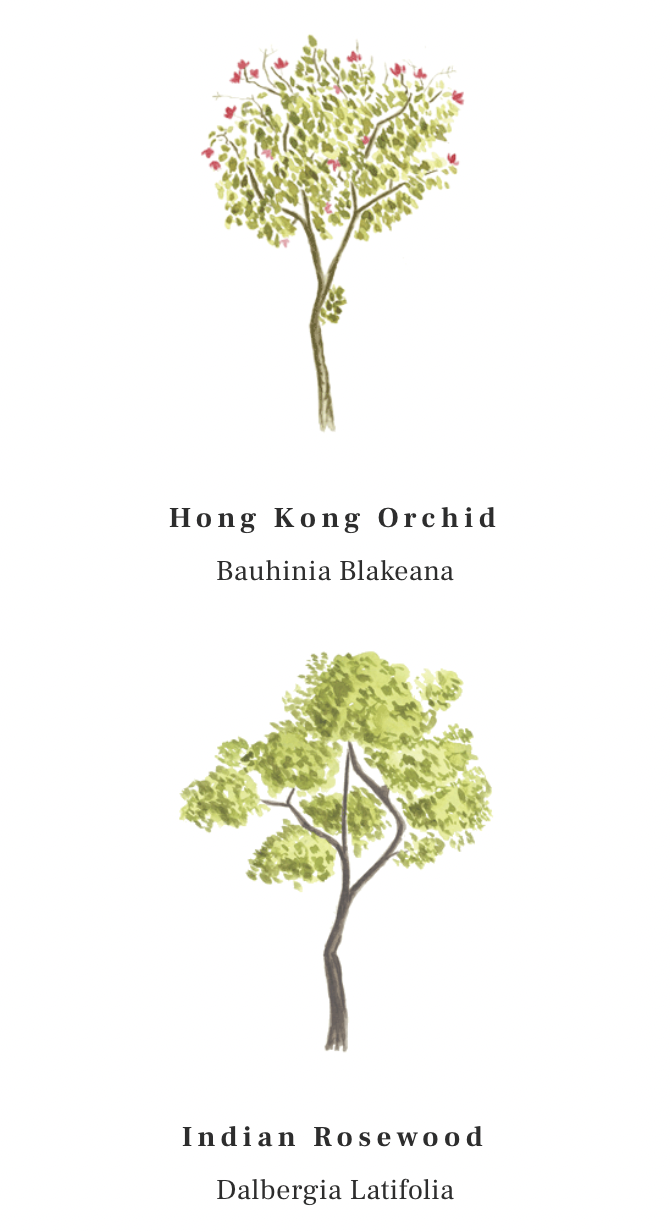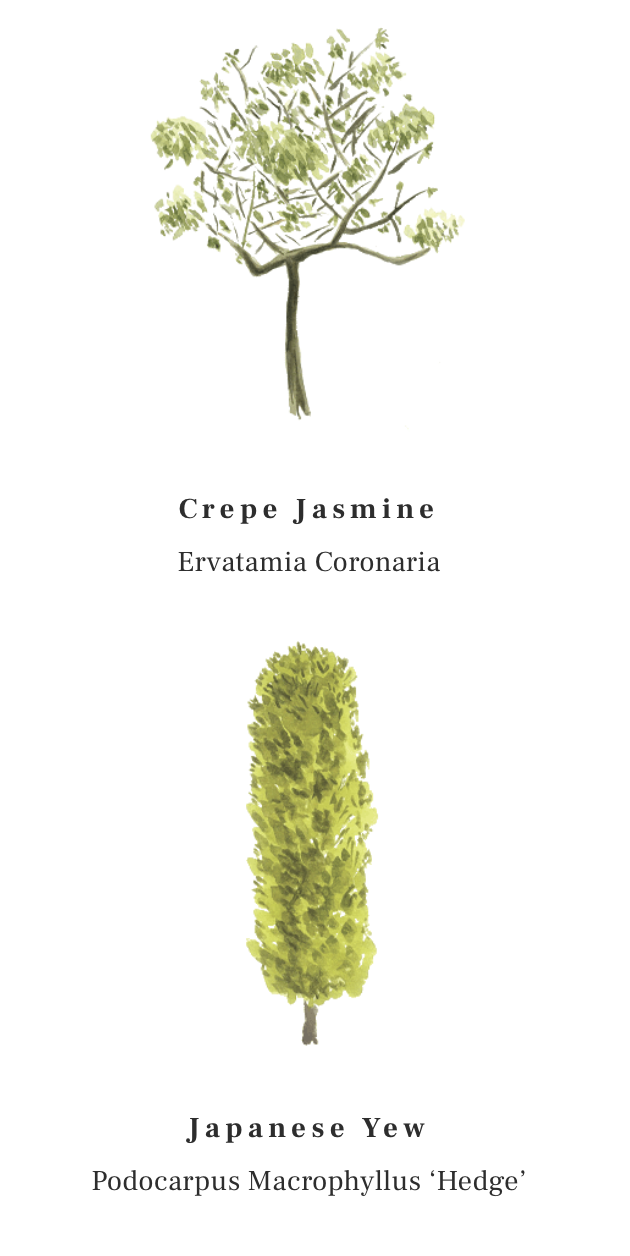 Another detail that the architects of Ikigai proudly highlighted was the blend of tropical and Japanese-style gardens that surround the building. Some of the more iconic green landscaping to set the mood for Ikigai includes the Hong Kong Orchid (which we could see along the pool), the Crepe Jasmine, Indian Rosewood and Japanese Yew.
Residents can also find smaller rock gardens within a Japanese-style pavilion.
I thought that this minute detail definitely brought the concept of living in a Japanese garden to life, and it's good to see that here.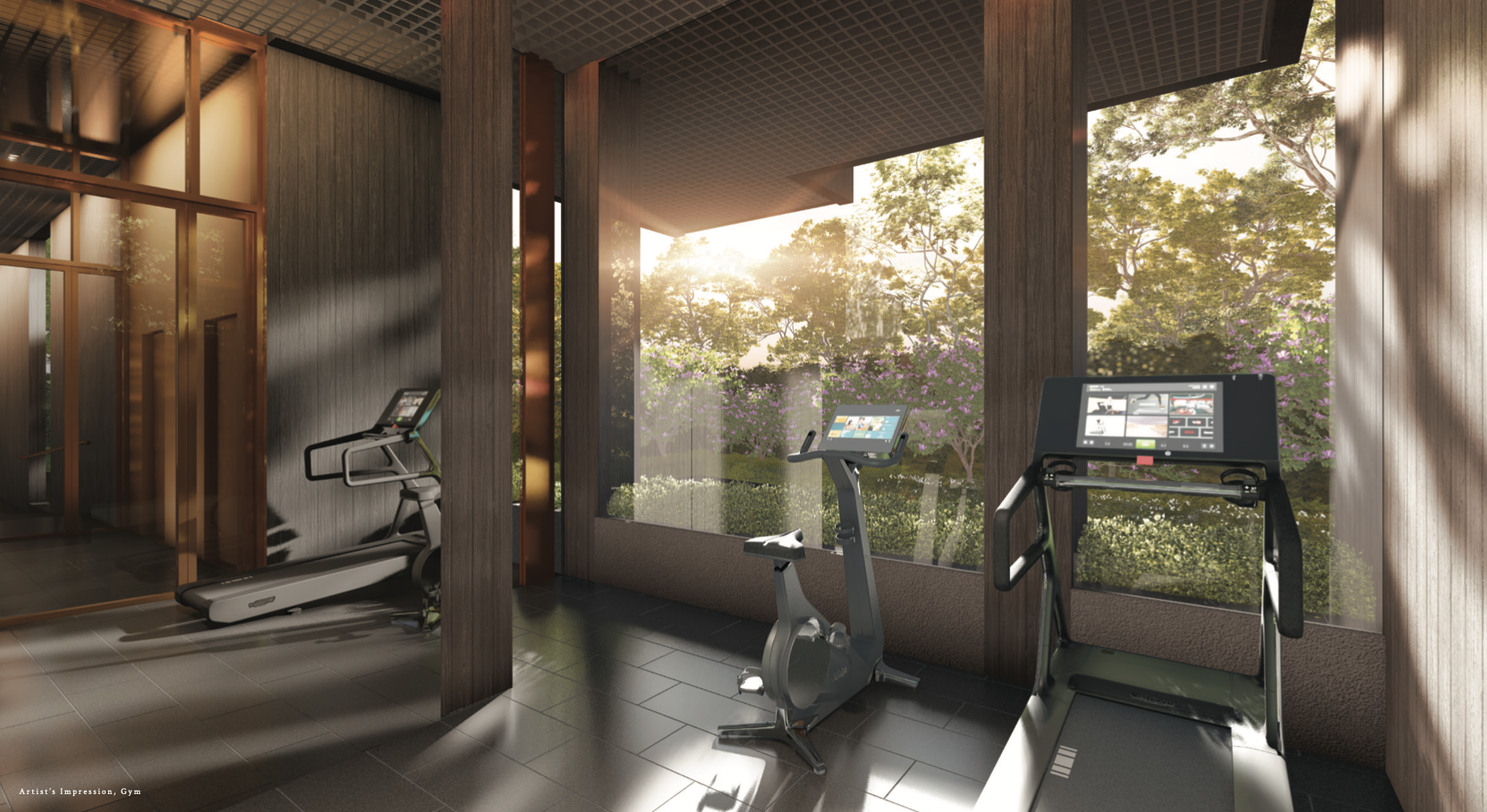 Ikigai offers a small gym which is located near the swimming pools. I do appreciate that it is fitted with wide glass panels to allow those working out to gaze out at the beautiful landscaping. From the renders, the ceiling does look higher than usual, and although you can't expect to have a wide range of fitness equipment here – it certainly goes beyond my expectations for what a typical 16 unit development would provide.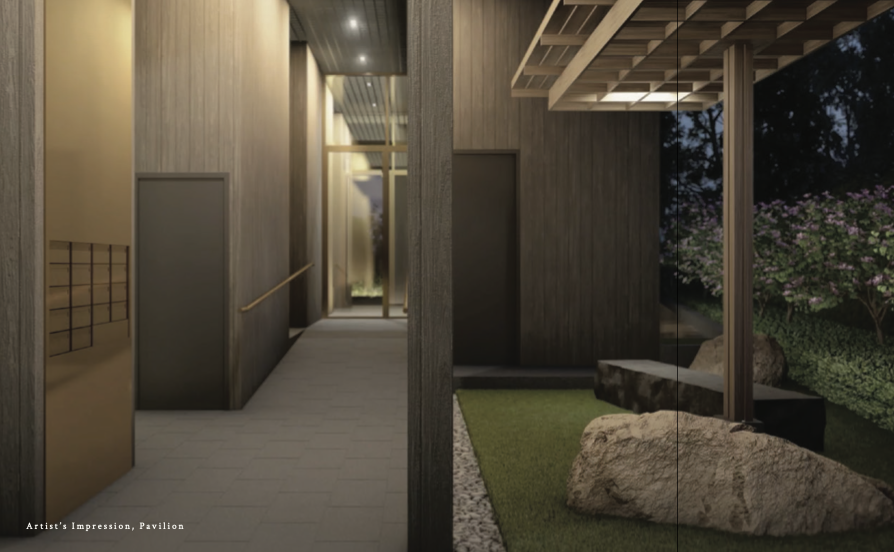 There is also a pavilion, which is rather special in terms of design. It is known as a Machiai Pavilion, which is a traditional Japanese waiting pavilion that blends in really well with the overall theme of Ikigai.
While this may be overlooked in bigger developments with many facilities and features, again, it's great to see that here even in such a small development.
Let's now head on to tour the rooms.
PS: For those who are interested in the 3D tours of ALL bedroom types at Ikigai, be sure to visit our New Launch portal.
Visit our portal here.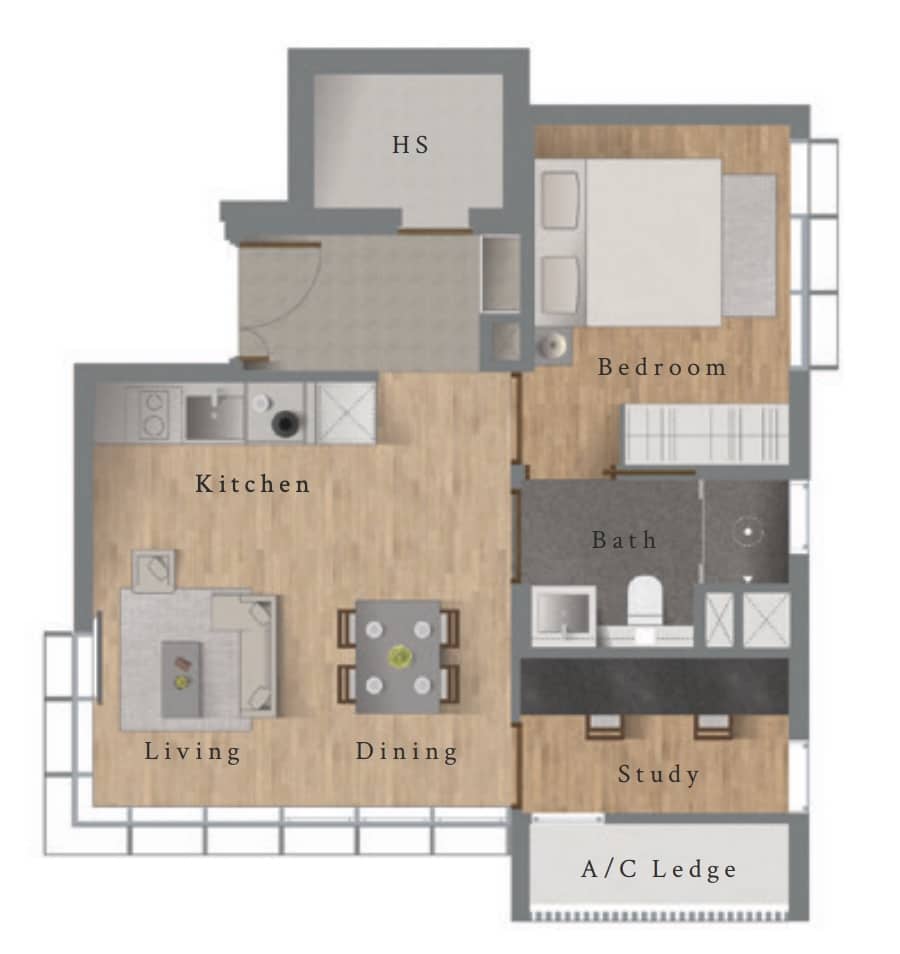 The 1 bedroom + study room at Ikigai comes in at 603 square feet – which is very sizeable in today's context. For your reference, most 1-bedroom new launch units will typically be at 4-500+ square feet, so anything 600 square feet and above is usually reserved for 2-bedroom units instead.
Plus, there's no balcony here to speak of, so besides the household shelter, you do have quite a fair bit of indoor living space.
The most surprising thing is that this is the smallest 1 bedroom unit available at Ikigai. There is a bigger 1 bedroom unit at 635 square feet, and together they take up nearly 50% of the 16 units at Ikigai.
As for the floors, this will come in a mix of homogenous tile and engineered timber floorings.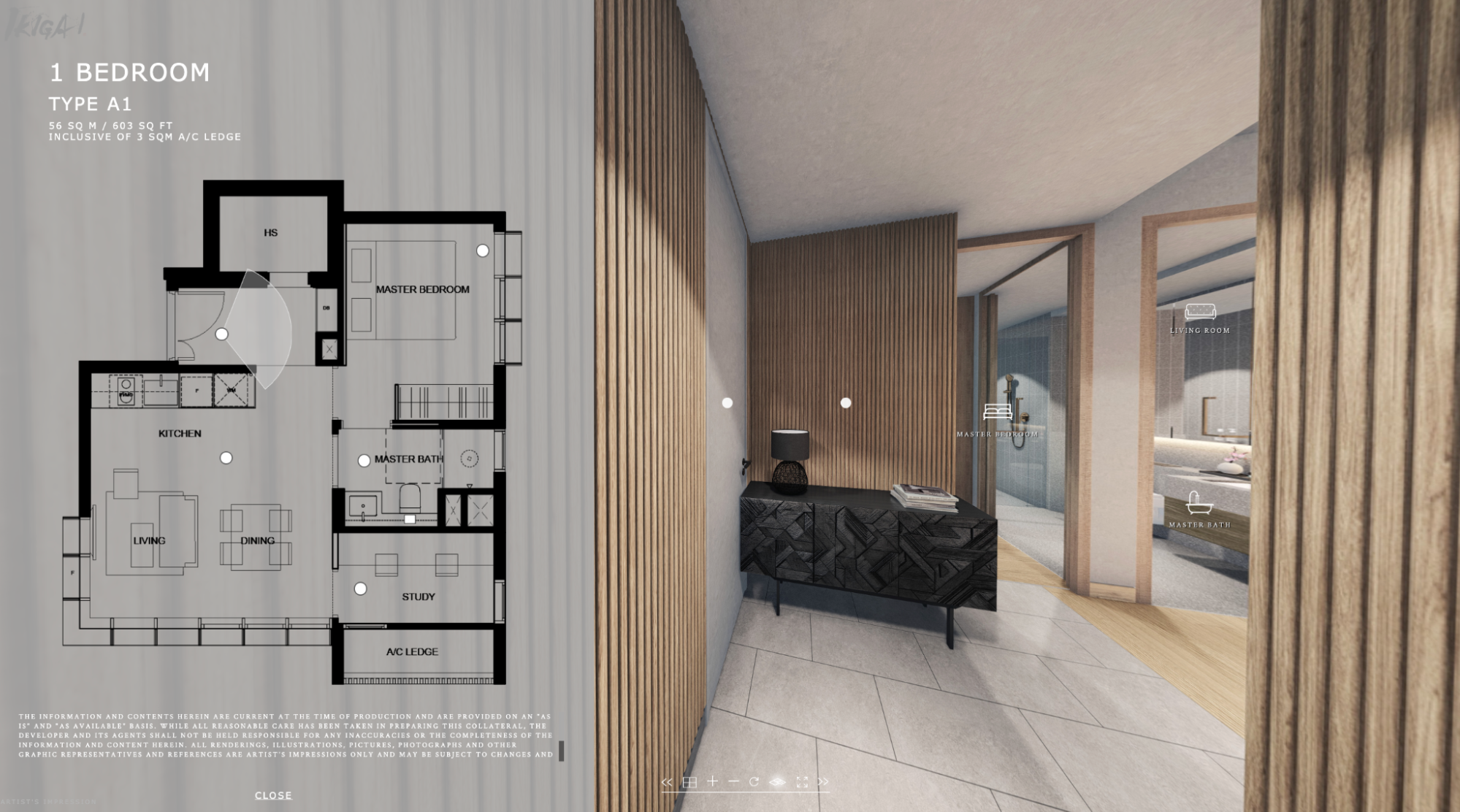 Starting off with the foyer of the Type A1 unit, it immediately looks into the apartment's Household Shelter (which is the white door on the left). It must be said that the placement of the entryway console here is a little strange, as it blocks the opening of the household shelter.
Most new 1 bedroom units on the market will have entrances that open right up into the living – which is much less private. While I reckon most buyers at this price point don't really mind, if you are a stickler for privacy this would be of particular interest.
The household shelter seems to be typically sized, and the designers chose to convert the space into a walk-in wardrobe area.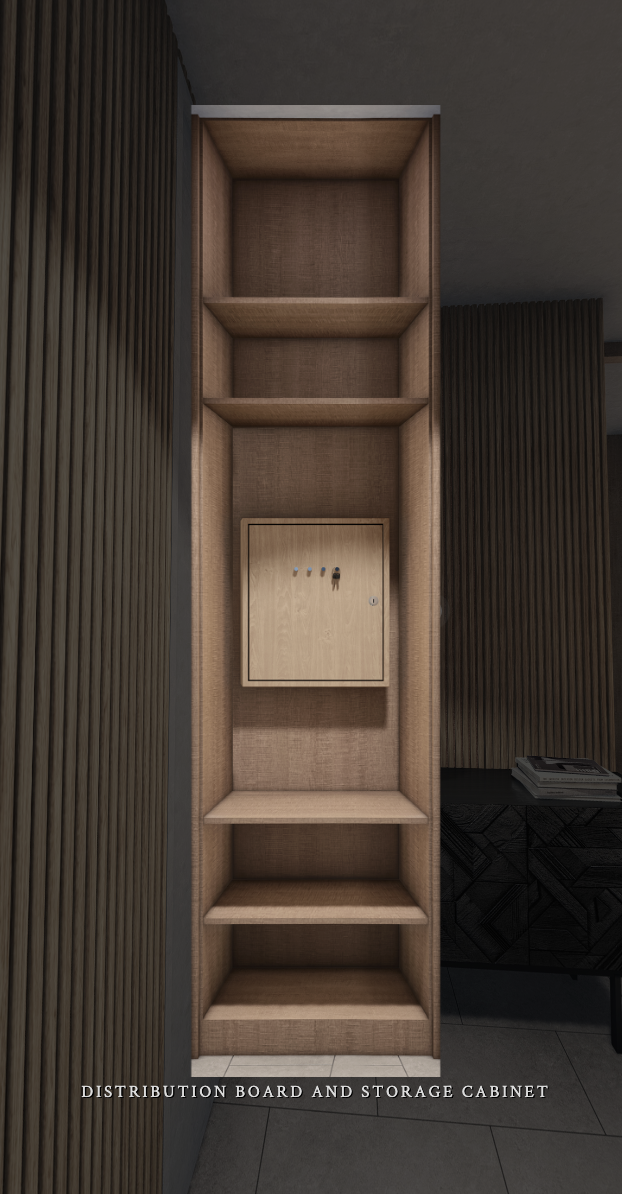 The distribution board and storage cabinet, on the other hand, look like a useful shelving space to store shoes or any other household items.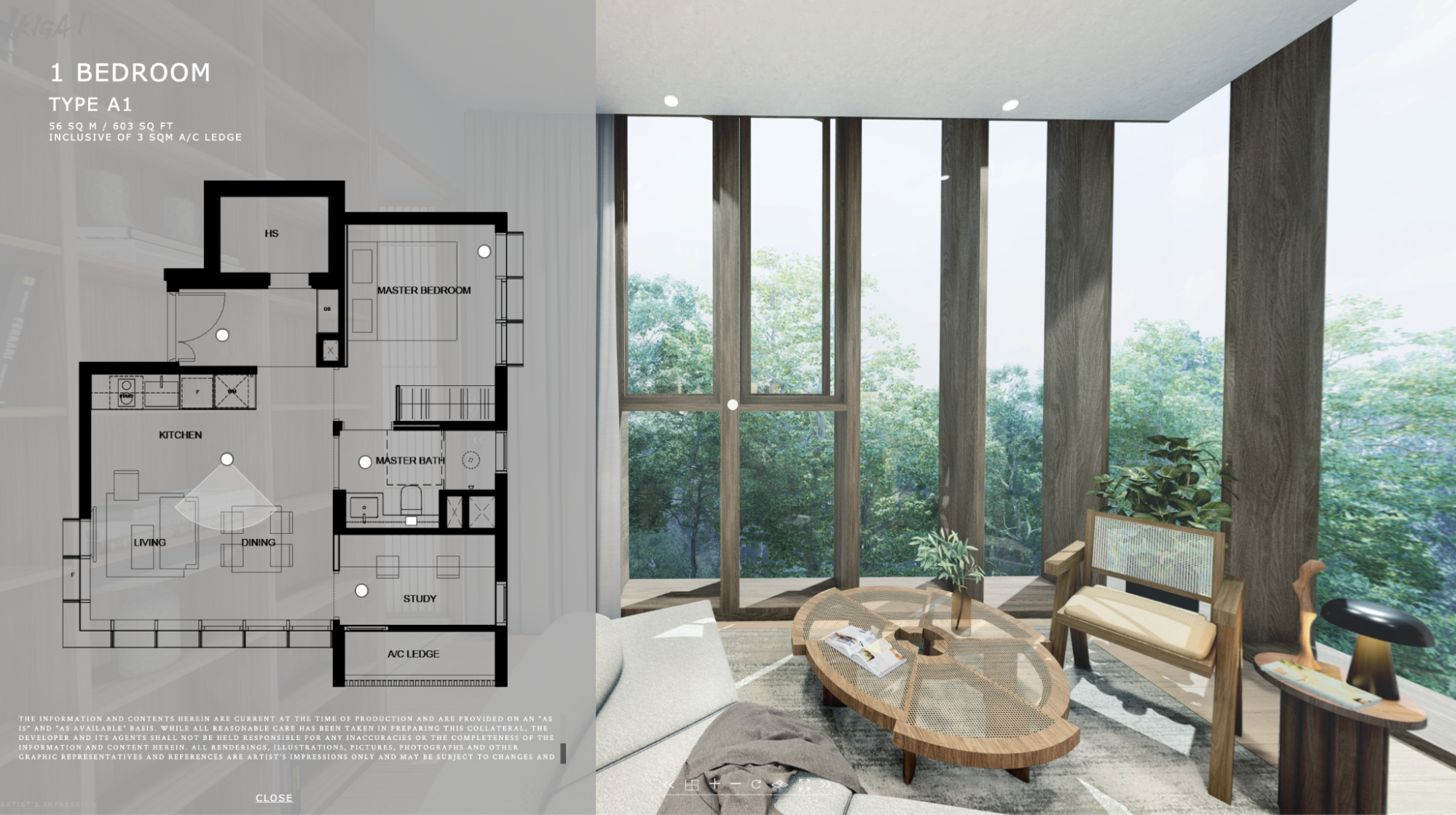 Moving on, we're now looking at the direction of the living room. From the floor plan, you can see that the living and dining is laid out in parallel fashion – which is quite rare to find in 1 bedroom units.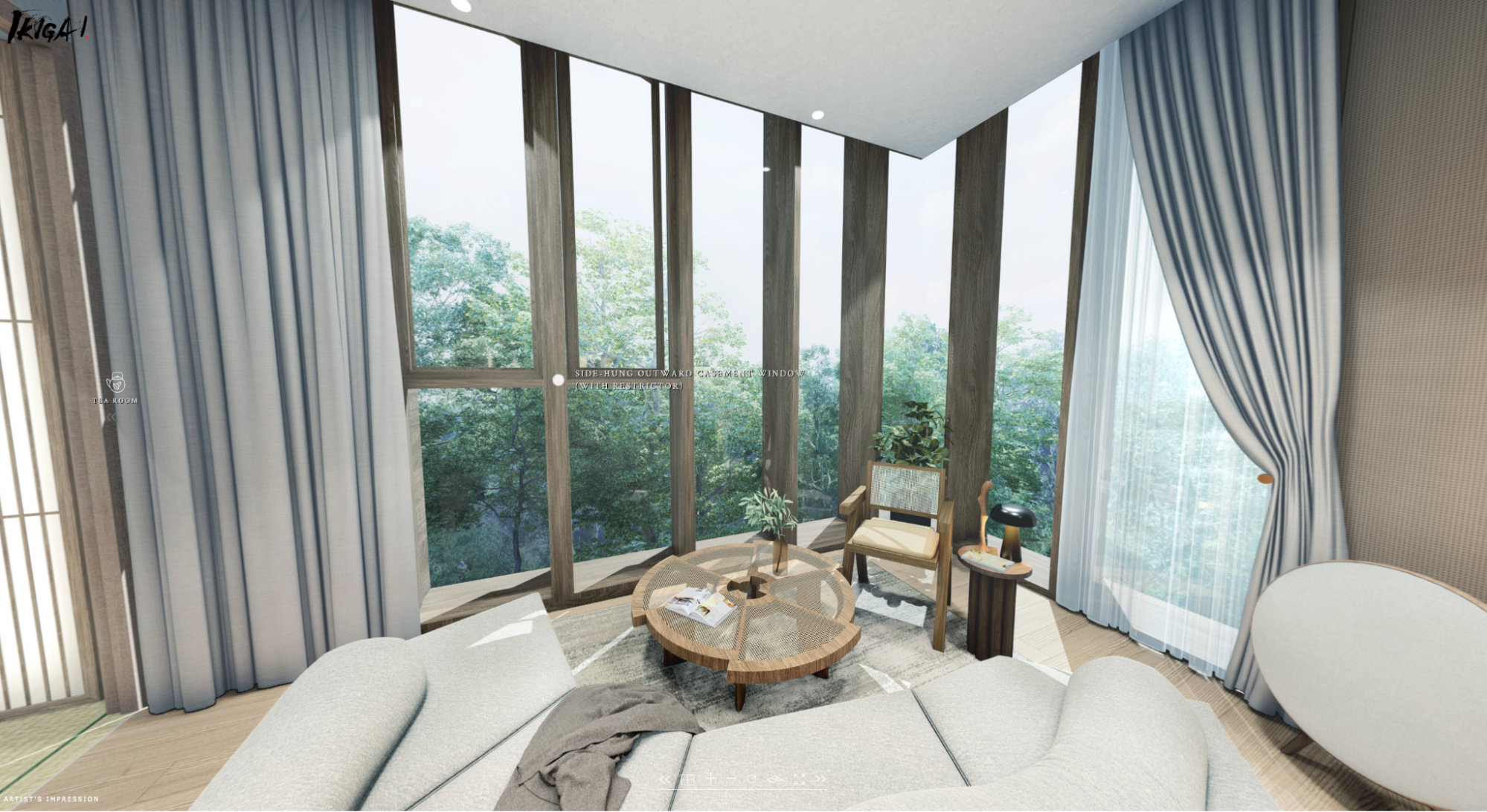 At first glance, the huge floor-to-ceiling windows command our attention. The L-shaped nature of it also gives you a more unique perspective. Seeing that this is the A1 stack, these window panes are South and West facing and overlook the open space behind Ikigai and the CTE.
The living space can also comfortably fit a small coffee table and a three-seater sofa. However, with this orientation, it could be tough to place a television in the living room. There are alternatives like projectors or fashionable choices like the Samsung Frame TV to look at.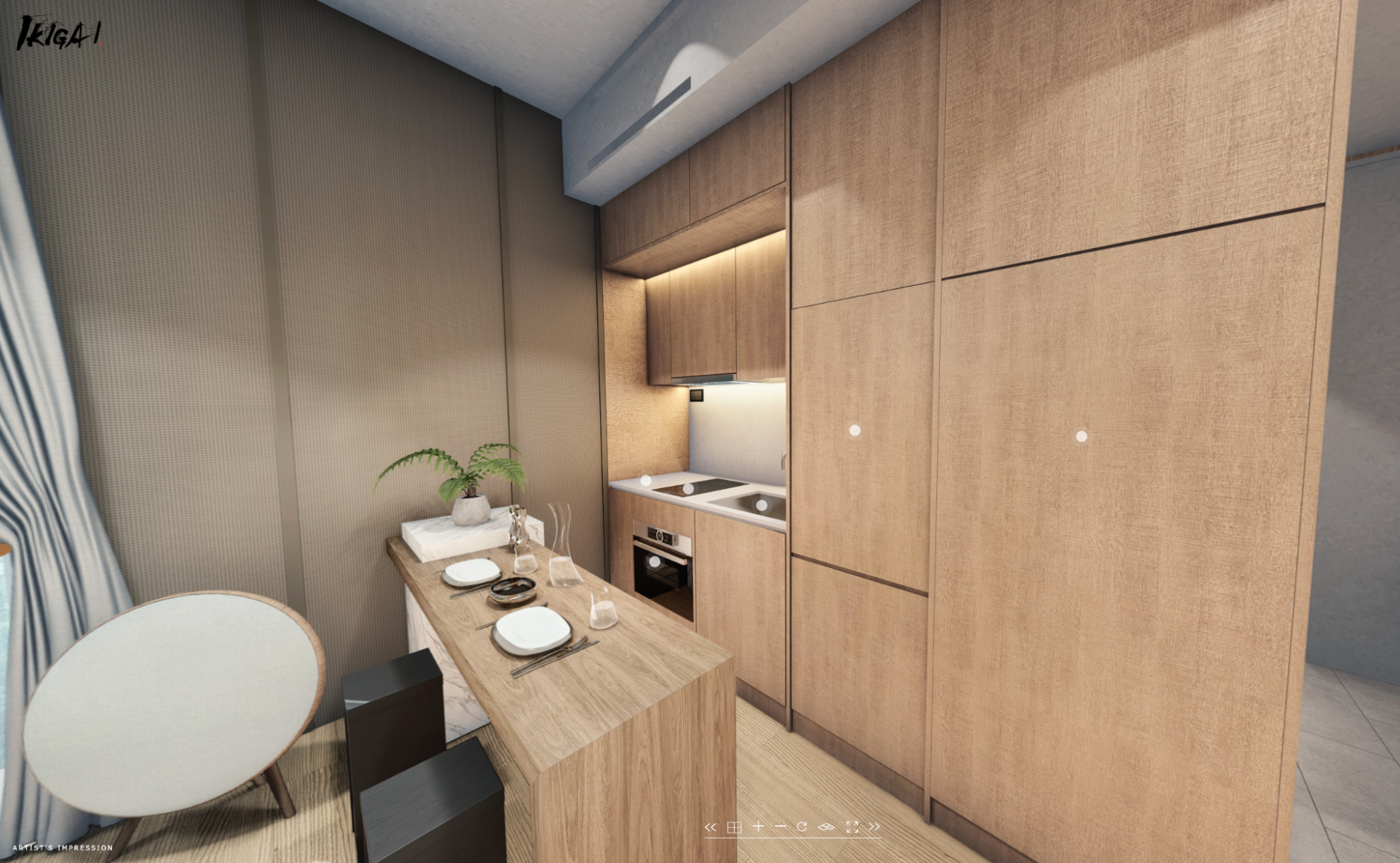 As for the kitchen, I was quite surprised to see that it wasn't bigger, or one that is enclosed given the size of the unit. You could also build a kitchen island here, but there's definitely no room to build an enclosed one.
Overall, you can see the design aesthetic from both Japanese and Hygge influences.
As for the kitchen, the countertops, sink and backsplash are made of Quartz composite material, with a Bosch microwave oven provided. For those looking to dry their dishes, there's a stainless steel dish rack with a removable tray provided.
If you are wondering where the rest of the equipment is kept, it's hidden behind the flushed panels by the kitchen. This mainly houses the in-built fridge and washer cum dryer machine.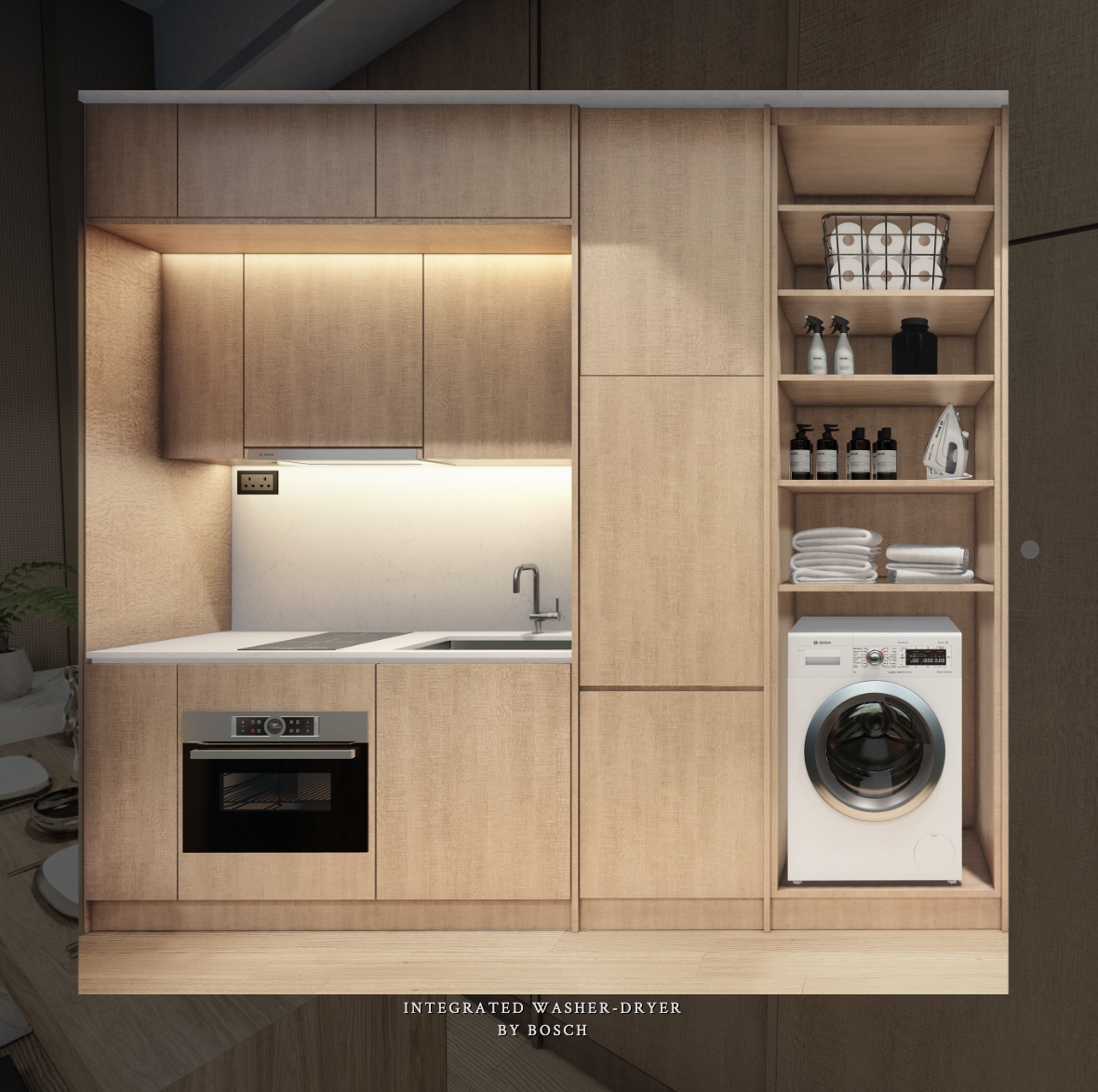 The far-end cabinets house the shelving space and the integrated washer-dryer system by Bosch.
I appreciate that there are so many storage spaces available for storing any washing-related sundries, though it being literally beside the fridge might not be the most ideal position.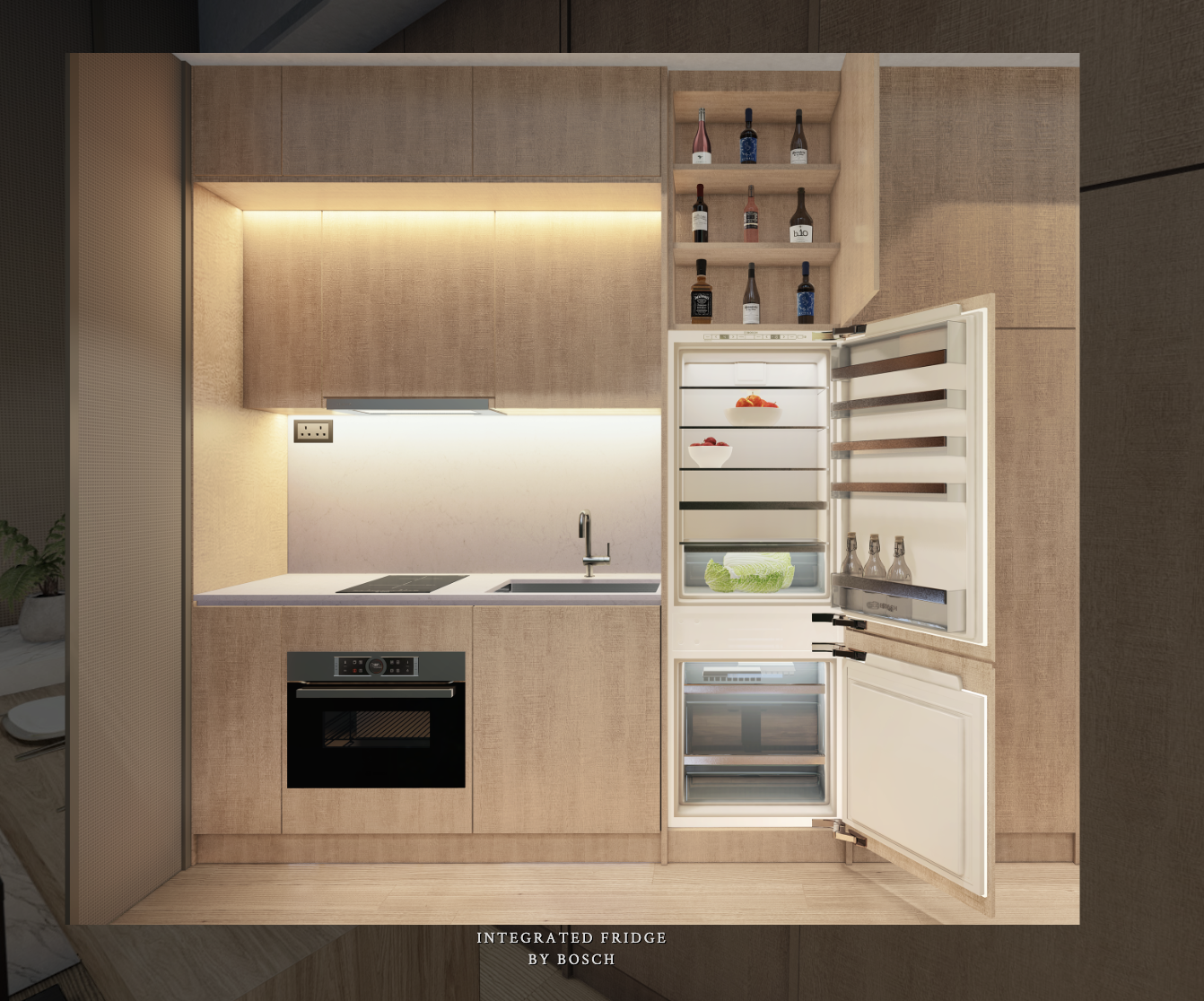 The cabinet beside the washer cum dryer is where the integrated fridge is placed. Similarly, it is also from the brand Bosch. One thing that I like about integrated fridges is that it gives the whole space a very seamless outlook. It is definitely a minimalist's dream come true, though as always future maintenance could pose an issue.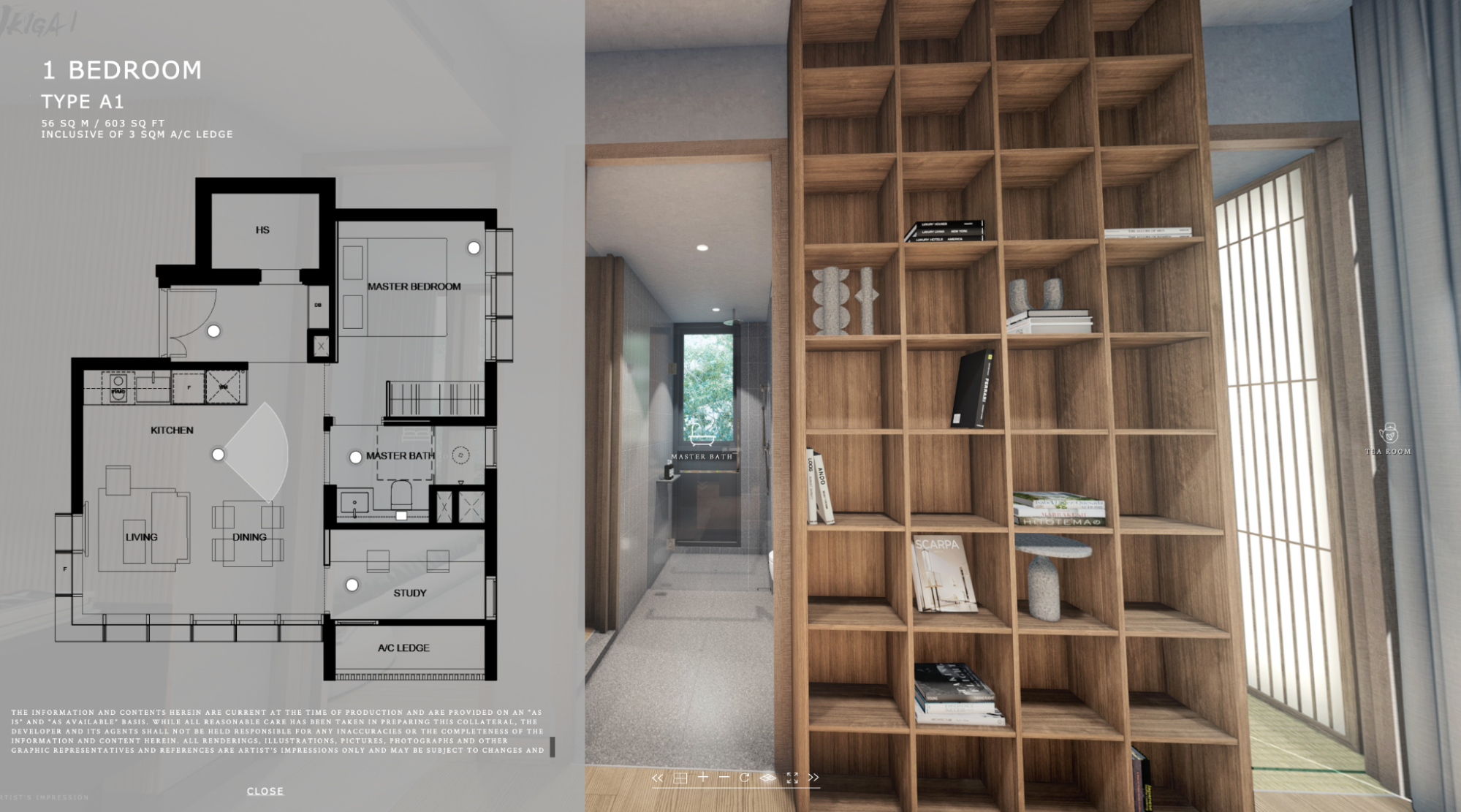 The designers chose to utilize the wall space in between the study room and bathroom with a statement shelving piece. I thought it was a rather authentic Japanese feature, and future homeowners can opt to design their units in the same fashion.
Let's next tour the study room (or in this case, the tea room).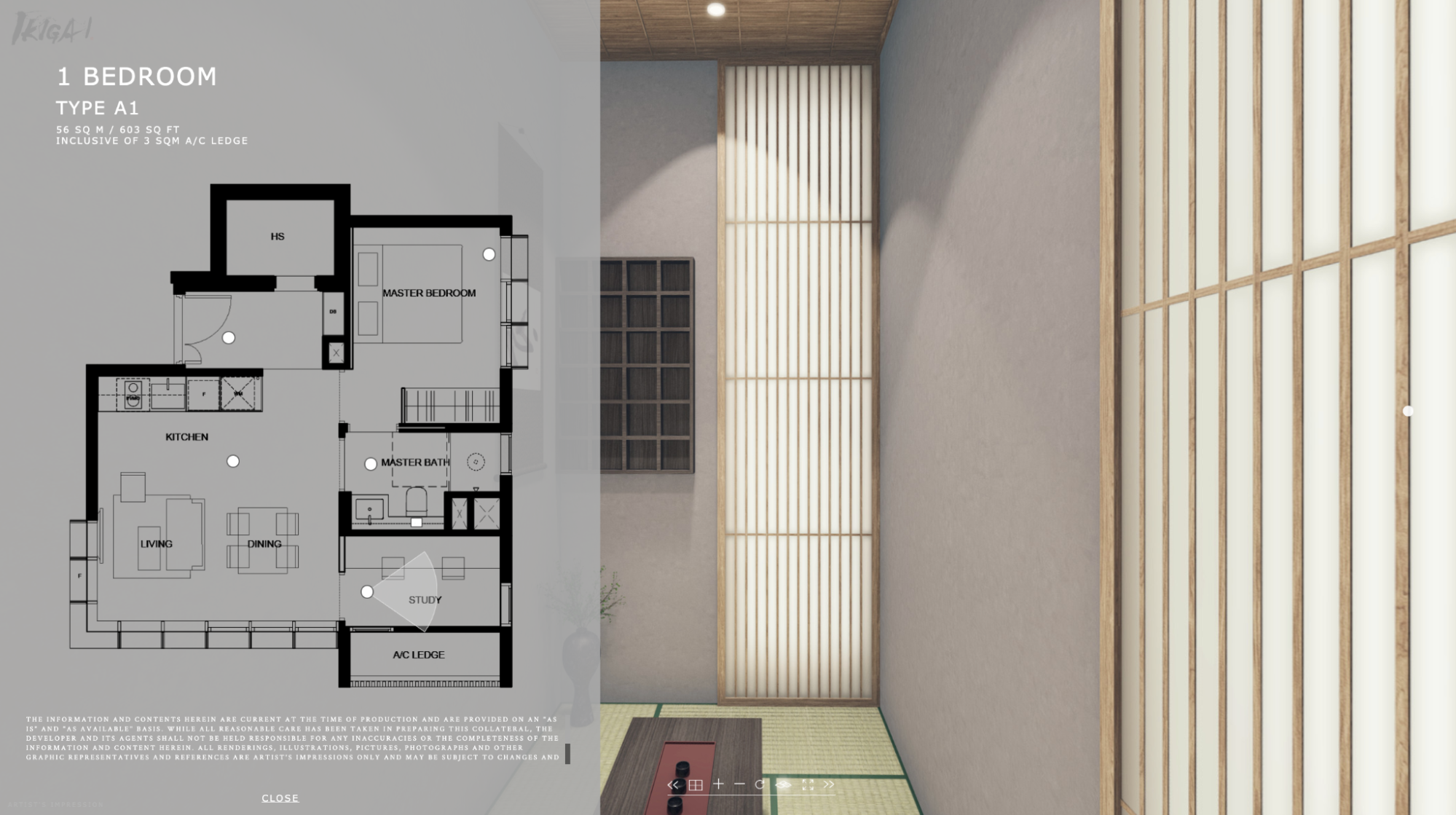 The study room is a rather neutral space that is able to be converted to the occupant's needs – in this case, the designers chose to convert it into a tea room to accentuate the Japanese theme.
Otherwise, a study table and chairs would be able to fit into the space perfectly as well.
Another design highlight is that the developers chose to install Shoji Screen Curtain walls to allow light to naturally filter into the space. This is a very classic element in traditional Japanese architecture, which fits with the name Ikigai well.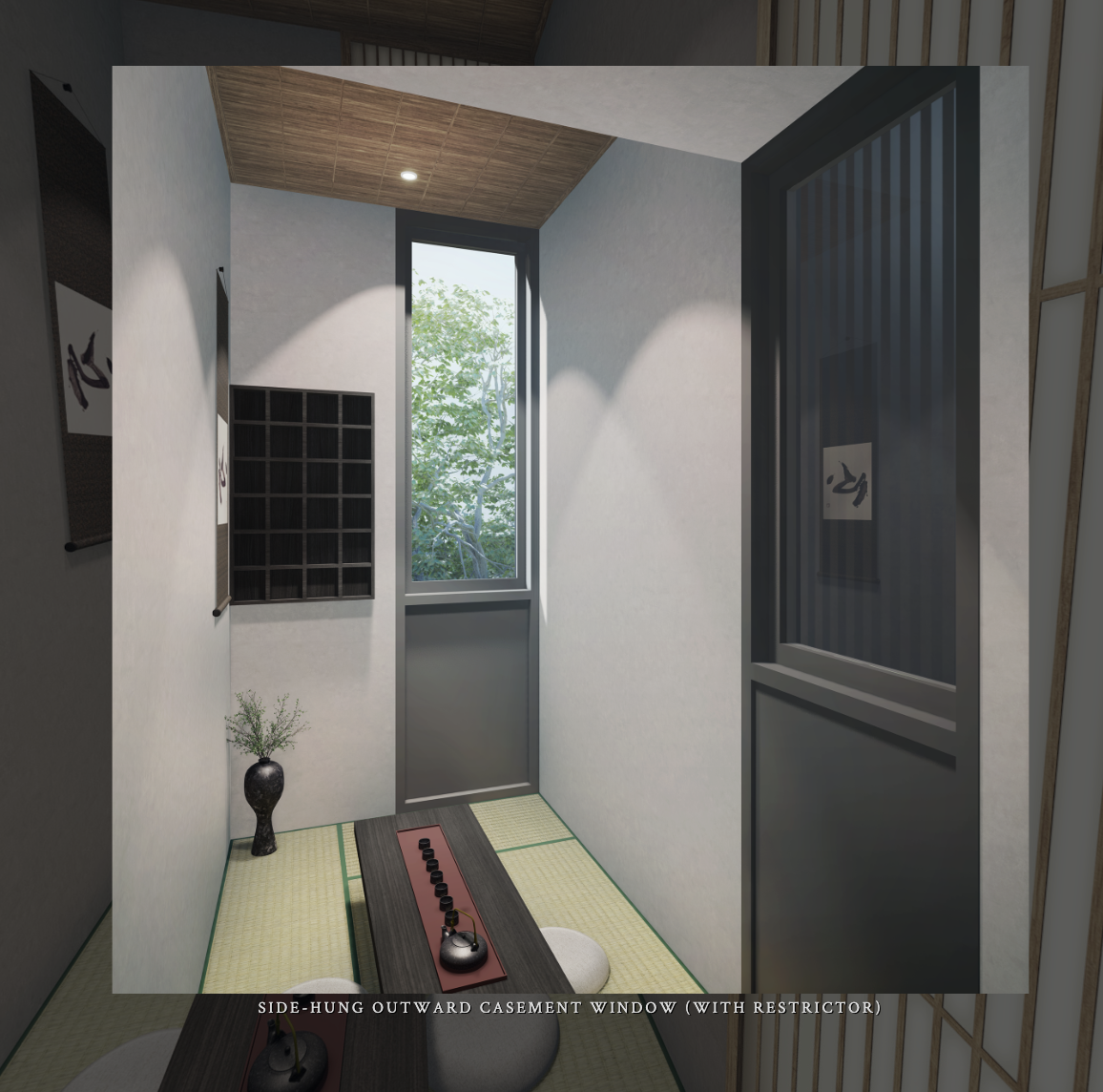 Side-hung casement window in the study room
View of the Living room from tea/study room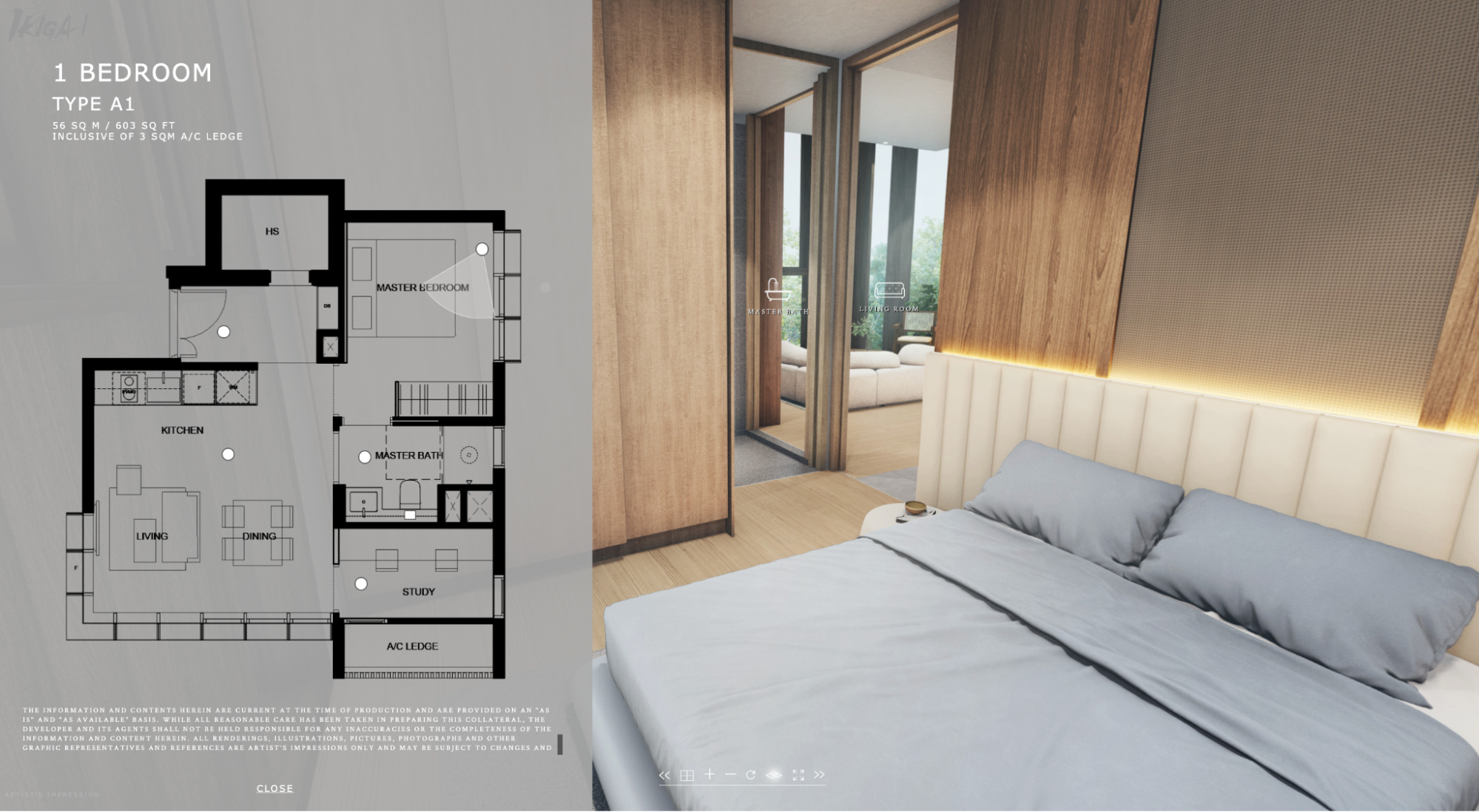 Next, we tour the master bedroom, which can comfortably fit a queen-sized bed and a built-in wardrobe.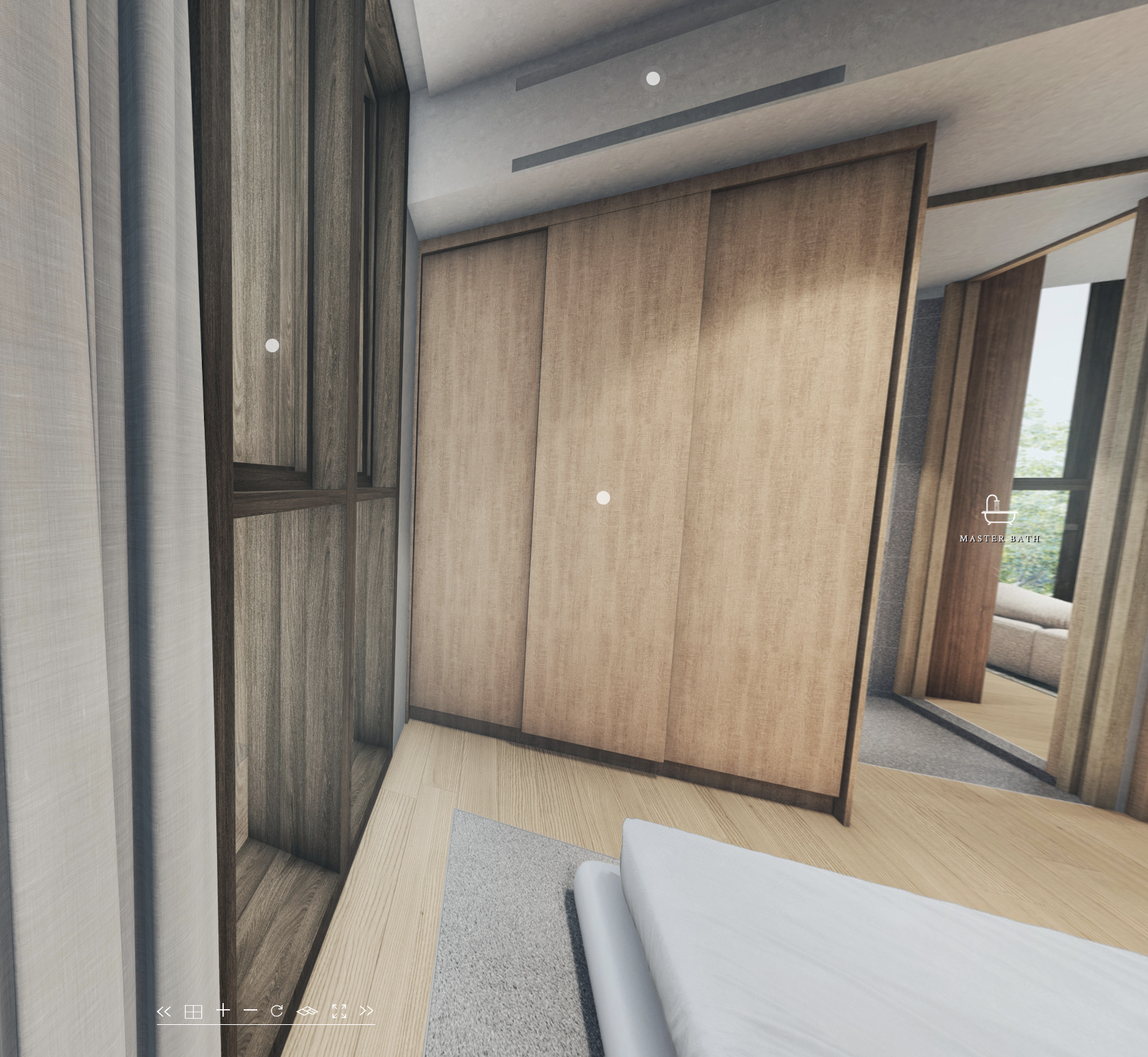 Also, the air conditioning within this room is concealed within the ceiling to give an overall uniformed look. It also has windows that allow natural light to filter into the room (which faces the East).
The built-in wardrobe is a 3-panel sliding piece, which is a little larger than the typical wardrobe that you might see in new launches today.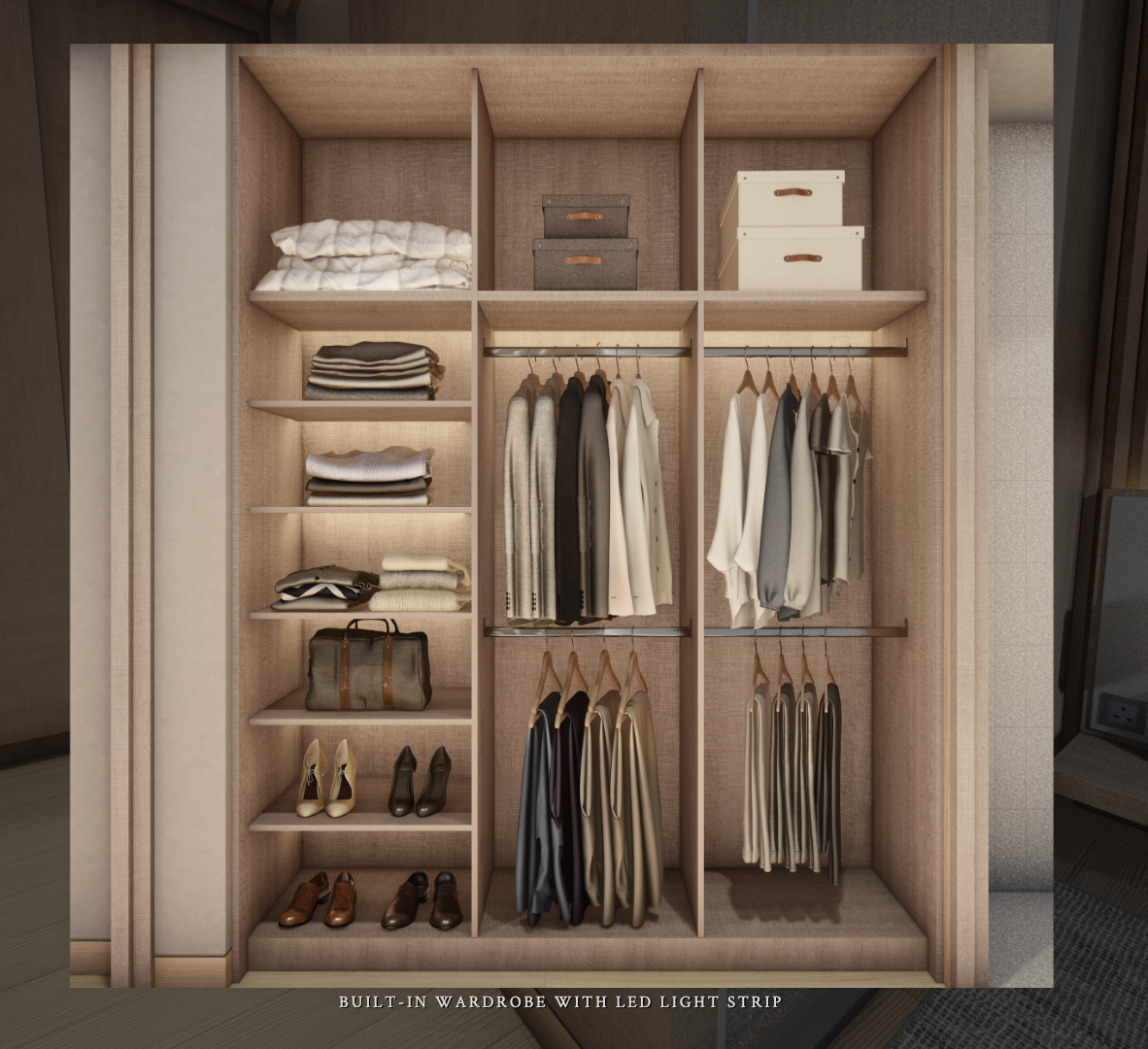 Built-in wardrobe in the master bedroom
There are also nifty little touches here, like a glass top slide-out drawer that allows you to keep your accessories neatly.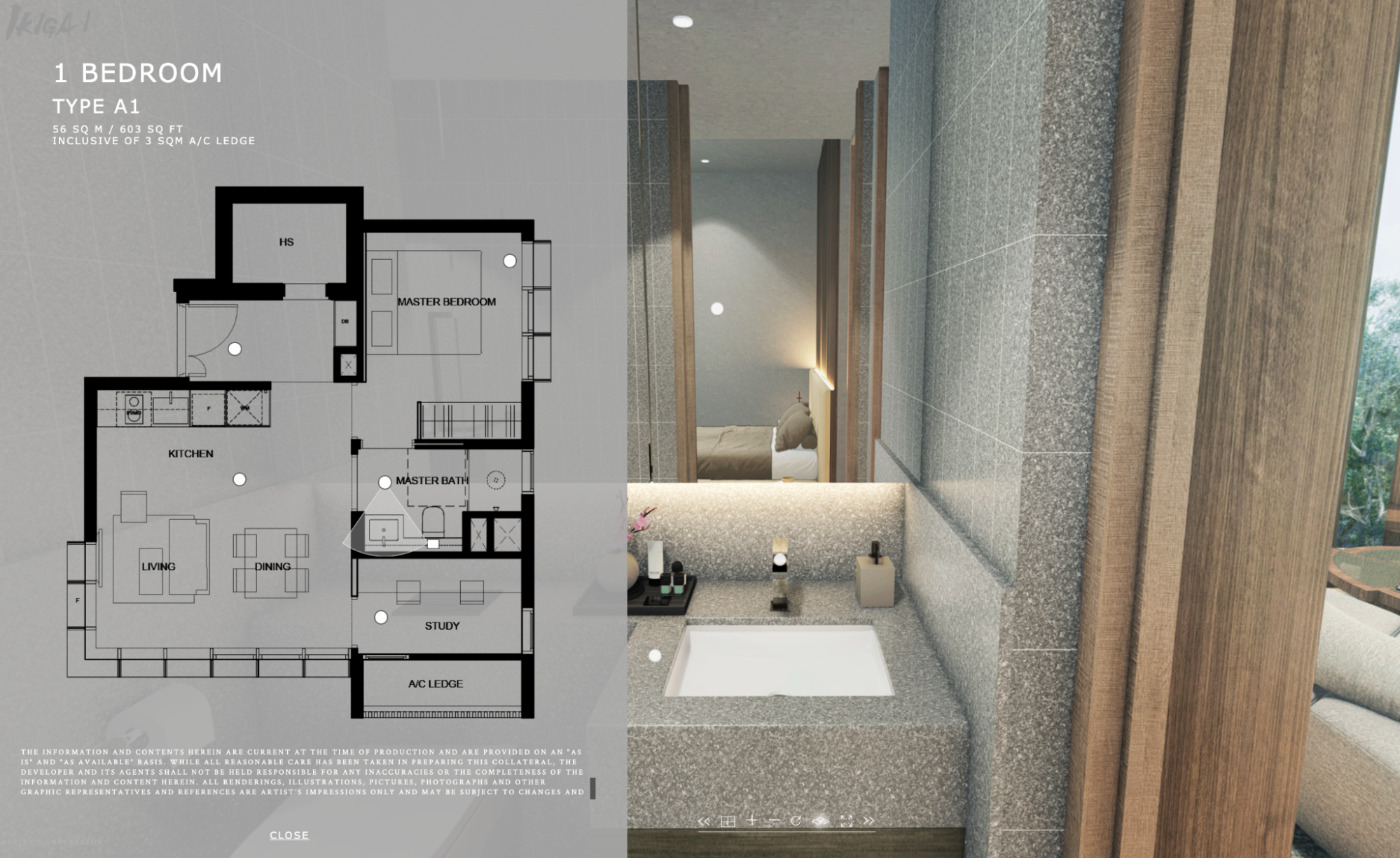 Ending the tour with the bathroom area, it's positioned in a very accessible area from all areas of the unit – and is especially useful because of the jack-and-jill doors. This means you can enter/exit from the bedroom as well as the living area.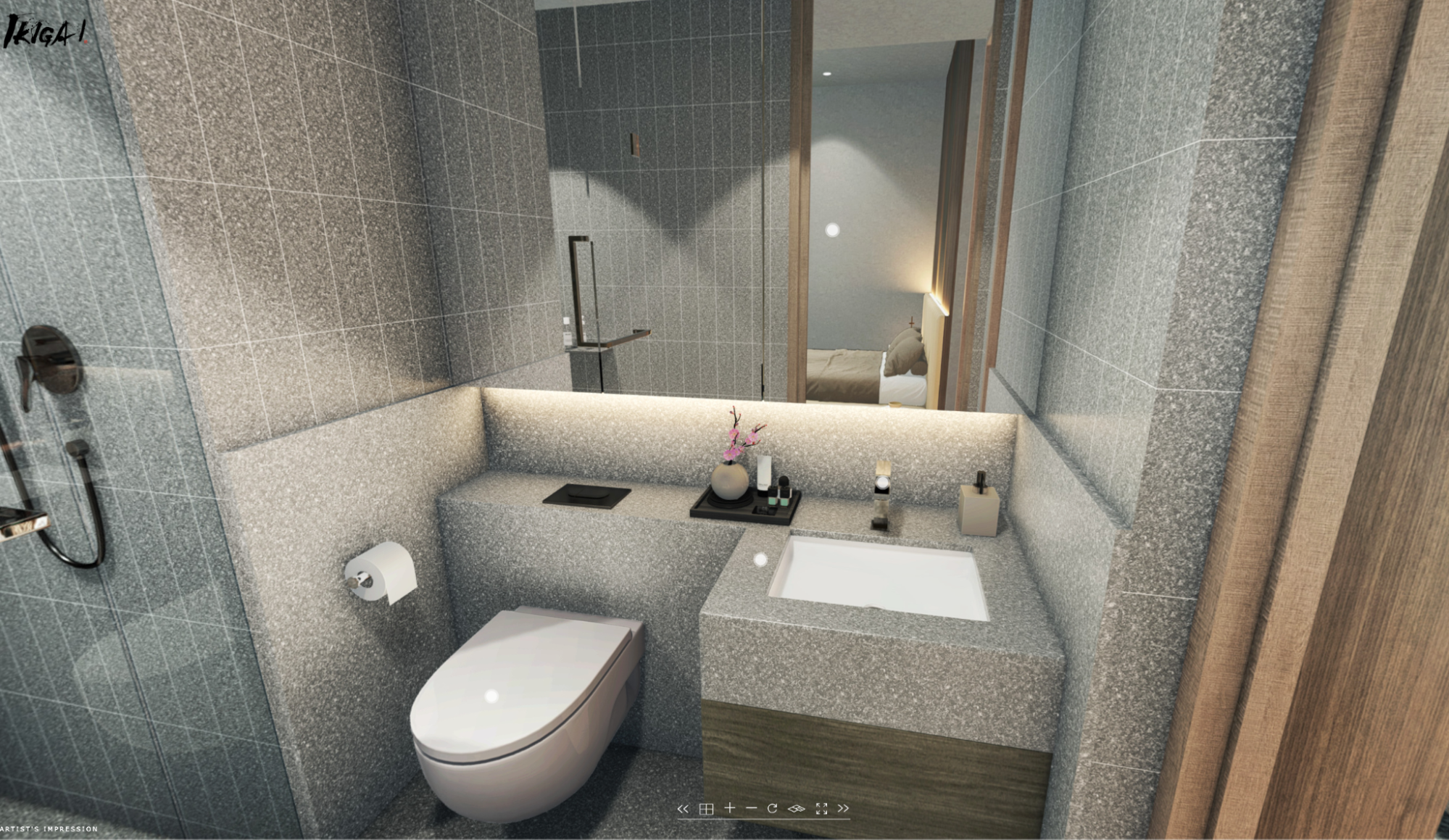 The bathroom is practically designed, with wall-hung toilets for easy maintenance, and the sink top is made of durable granite material. LED lights are also provided behind the mirrors to give it a more elevated outlook.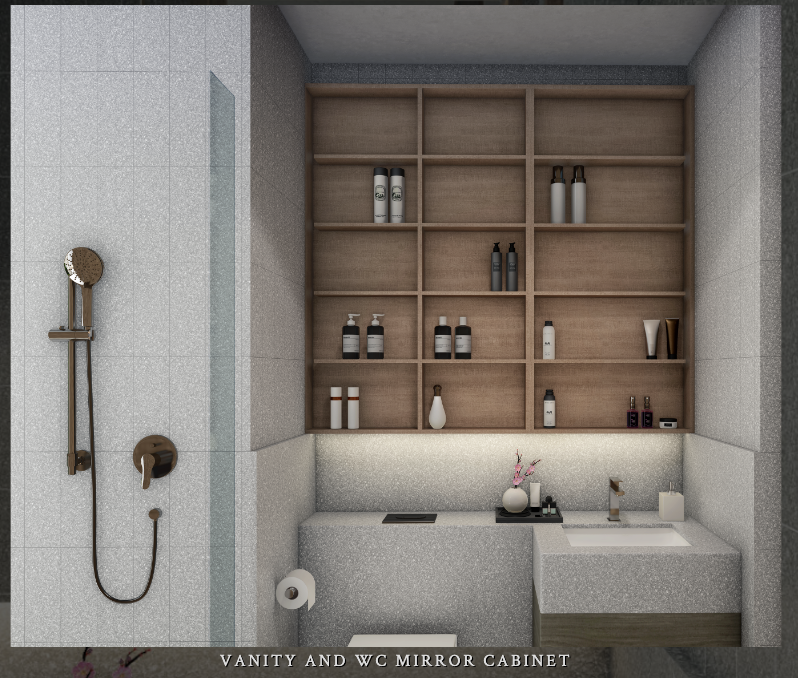 Behind the mirror is an extensive shelving cabinet that is very practical for storing sundries and other knick-knacks.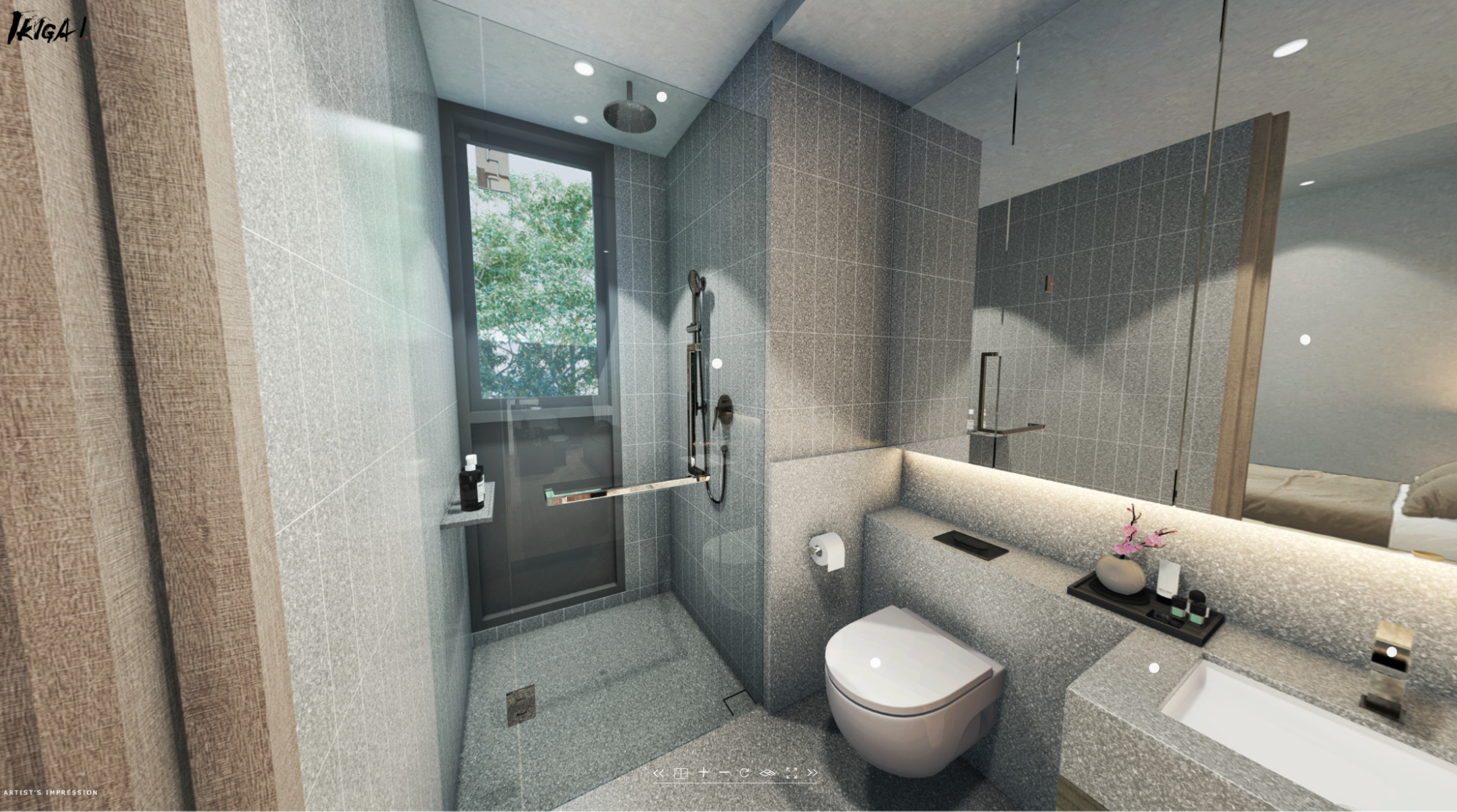 Apart from a handheld shower, there's also a rainshower feature installed.
This might come across as a simple feature that is overlooked by most, but the best part would have to be the windows that serve as natural ventilation to the bathroom.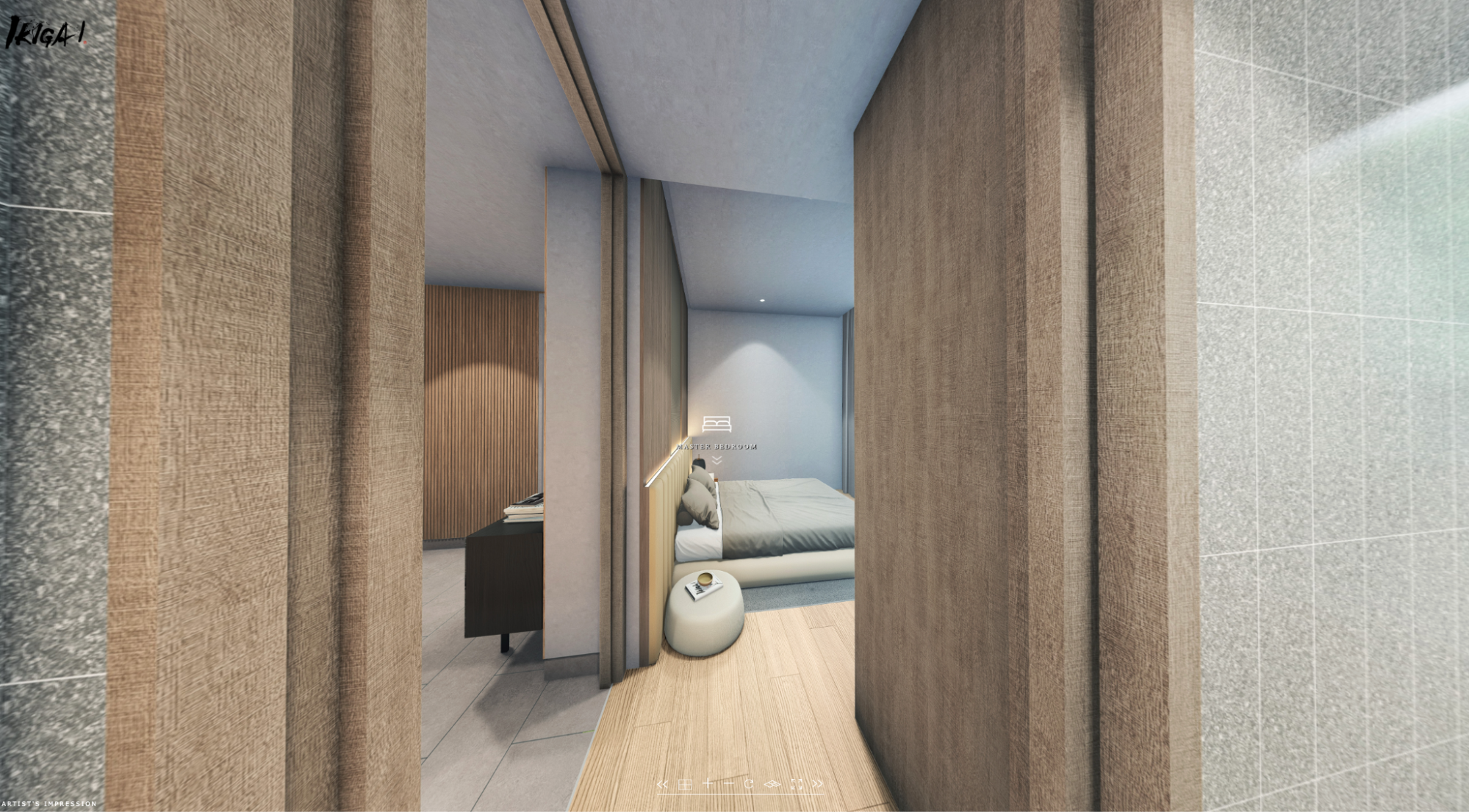 View of master bedroom from the bathroom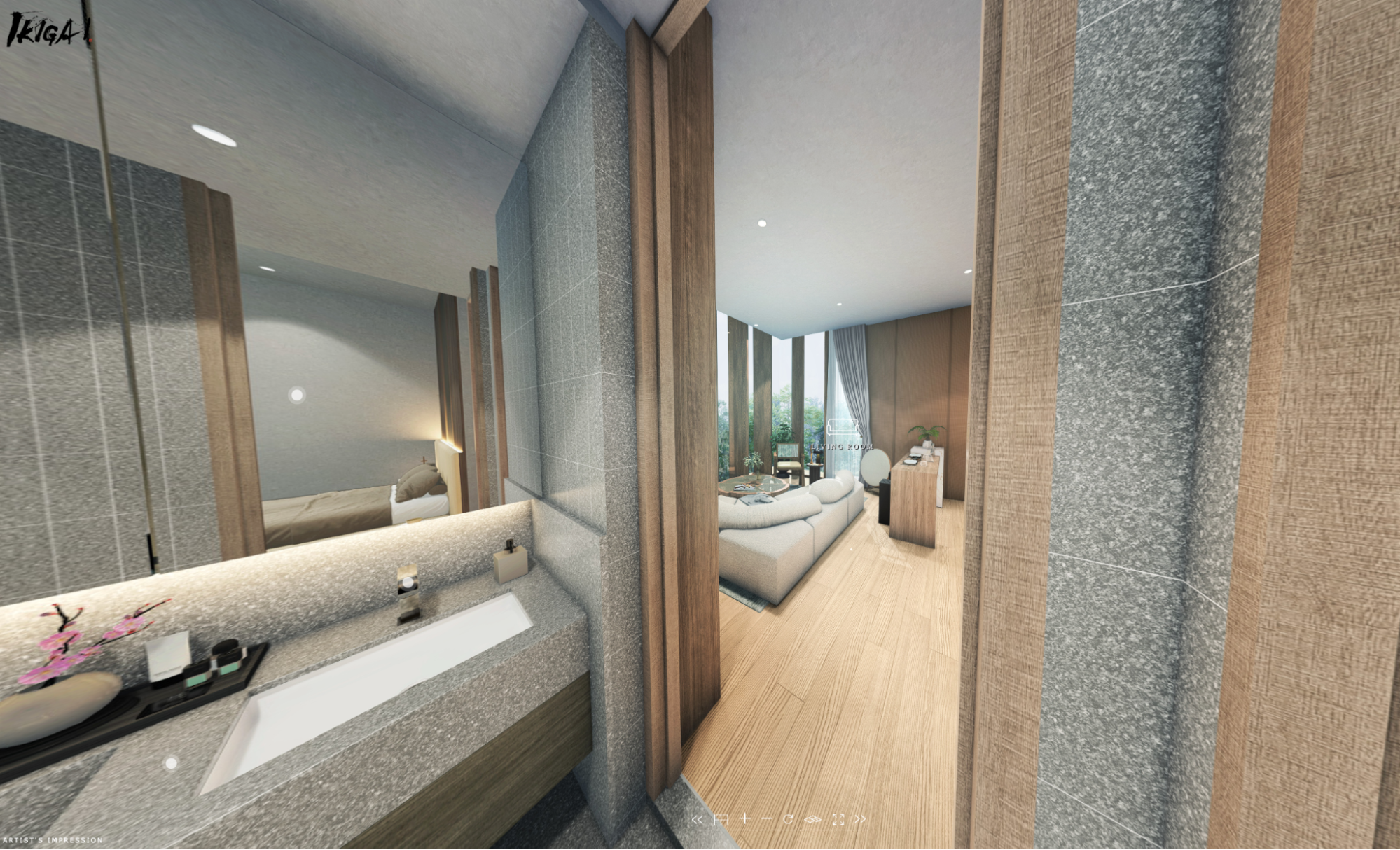 View of living from the bathroom
See the 3D tour of this unit here.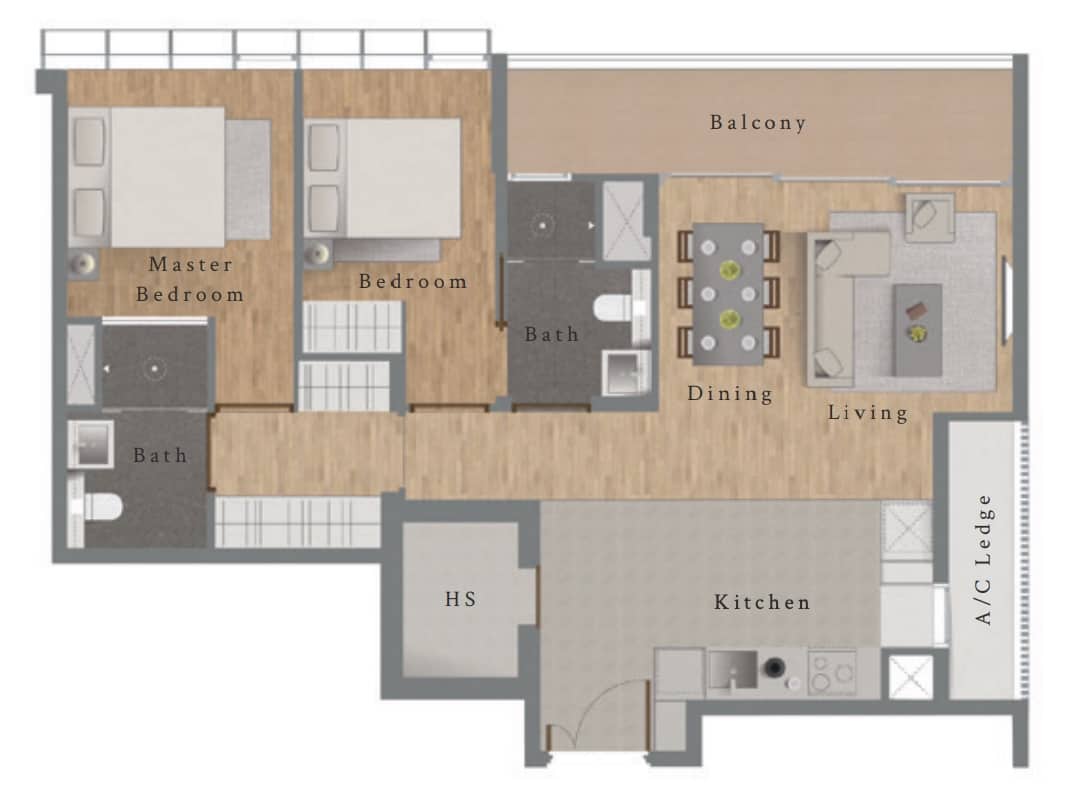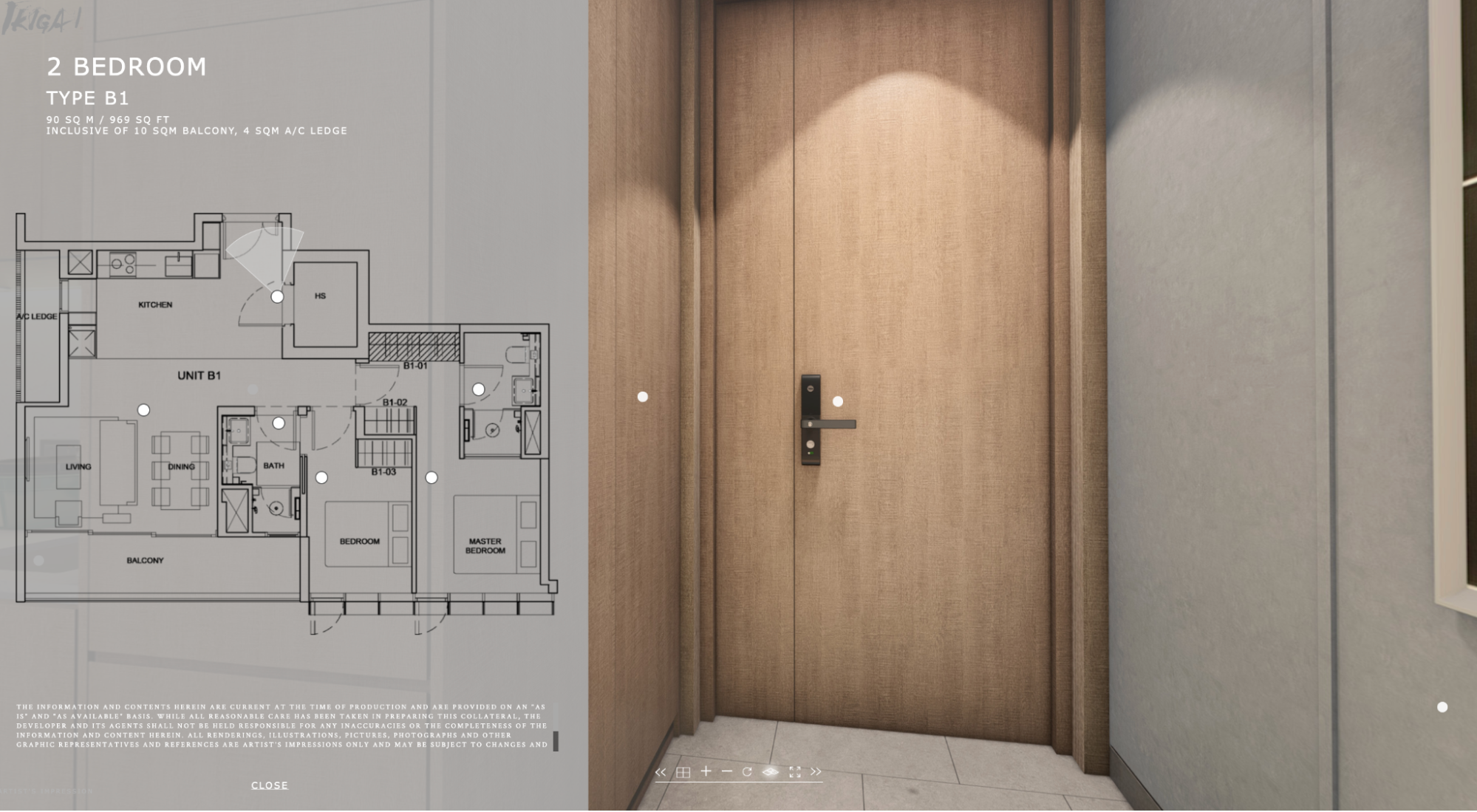 Next up on the tour is the type B1 unit, which is a 2 Bedroom Premium layout. At 969 square feet, this is considered a big unit by conventional new launch 2 bedroom units today. Given that there are even compact 3-bedroom units that can come under 900 square feet, you can see why this is such a surprise to see. Like the 1 bedroom unit, this isn't even the biggest 2 bedroom unit as there is a bigger 1,087 square feet 2 bedroom + study premium unit available.
The materials used here are in line with the rest of the development, with a mix of homogenous tiles and engineered timber for the floor.
We first start off the tour at the main door, which is also located beside the household shelter and distribution board and storage cabinet. The entrance here isn't as private as the 1 bedroom unit, but again I don't think most people buying these units would mind.
There are no renders available for viewing for the household shelter in this unit tour, but I can assume it'll be similar to the type A1 household shelter.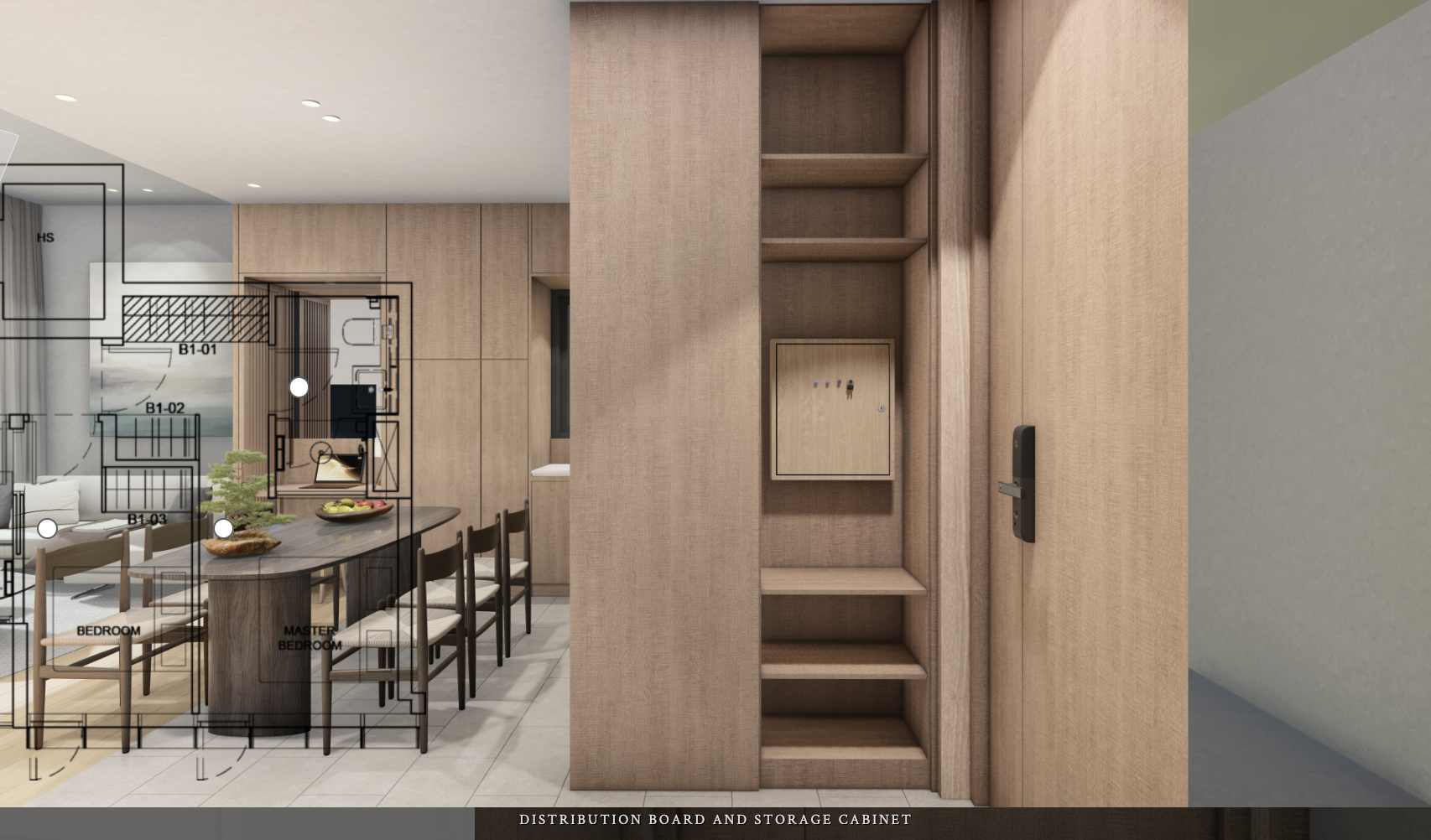 The distribution board and storage cabinet share the same shelving area as the kitchen area. Similar to the type A1 unit, the location makes it a great spot to keep any shoes or knick-knacks out of sight.
Once again, I appreciate the seamless look of all the shelving when it comes to the design and aesthetic.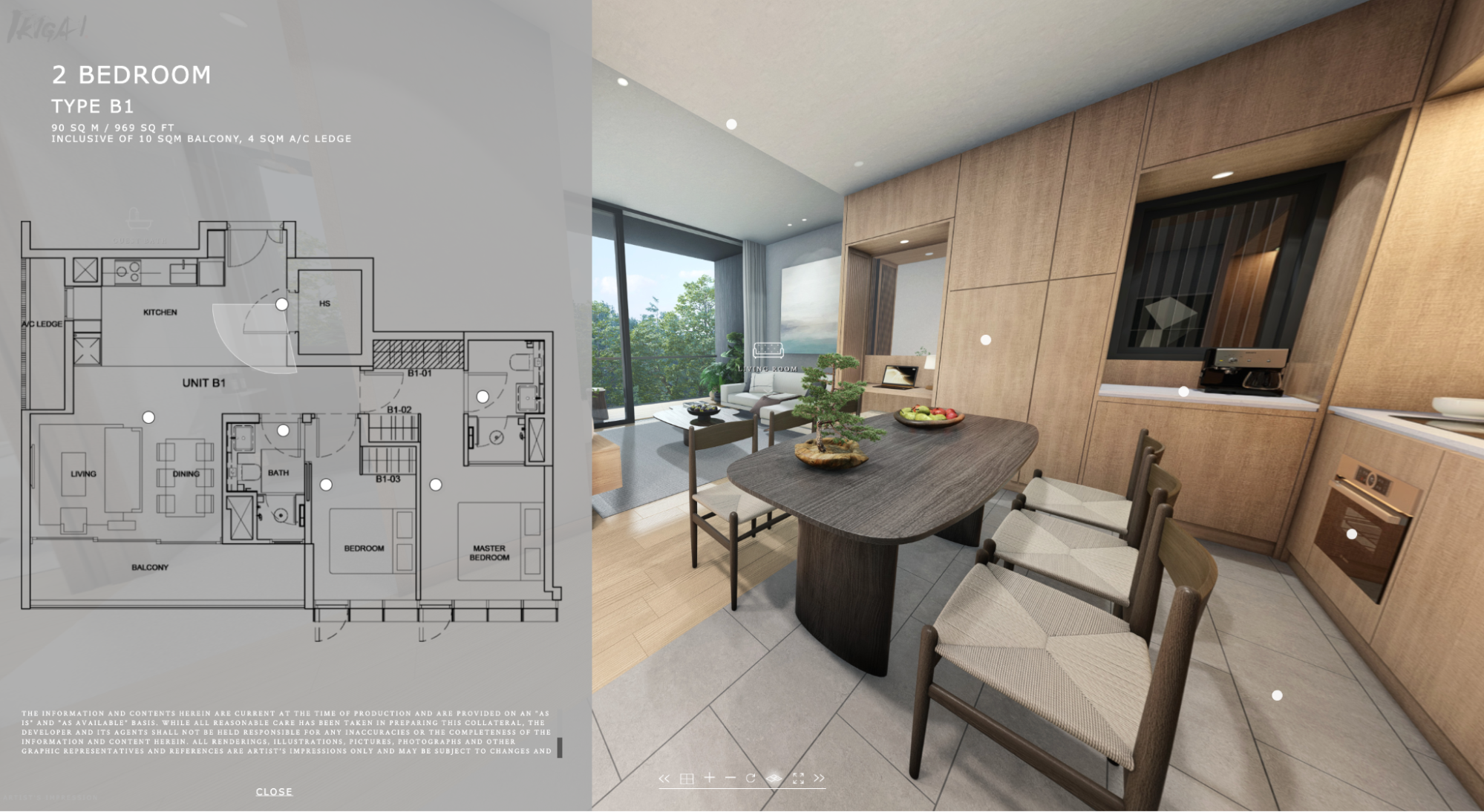 Moving on to the common area, we are immediately greeted by the kitchen and the living room space.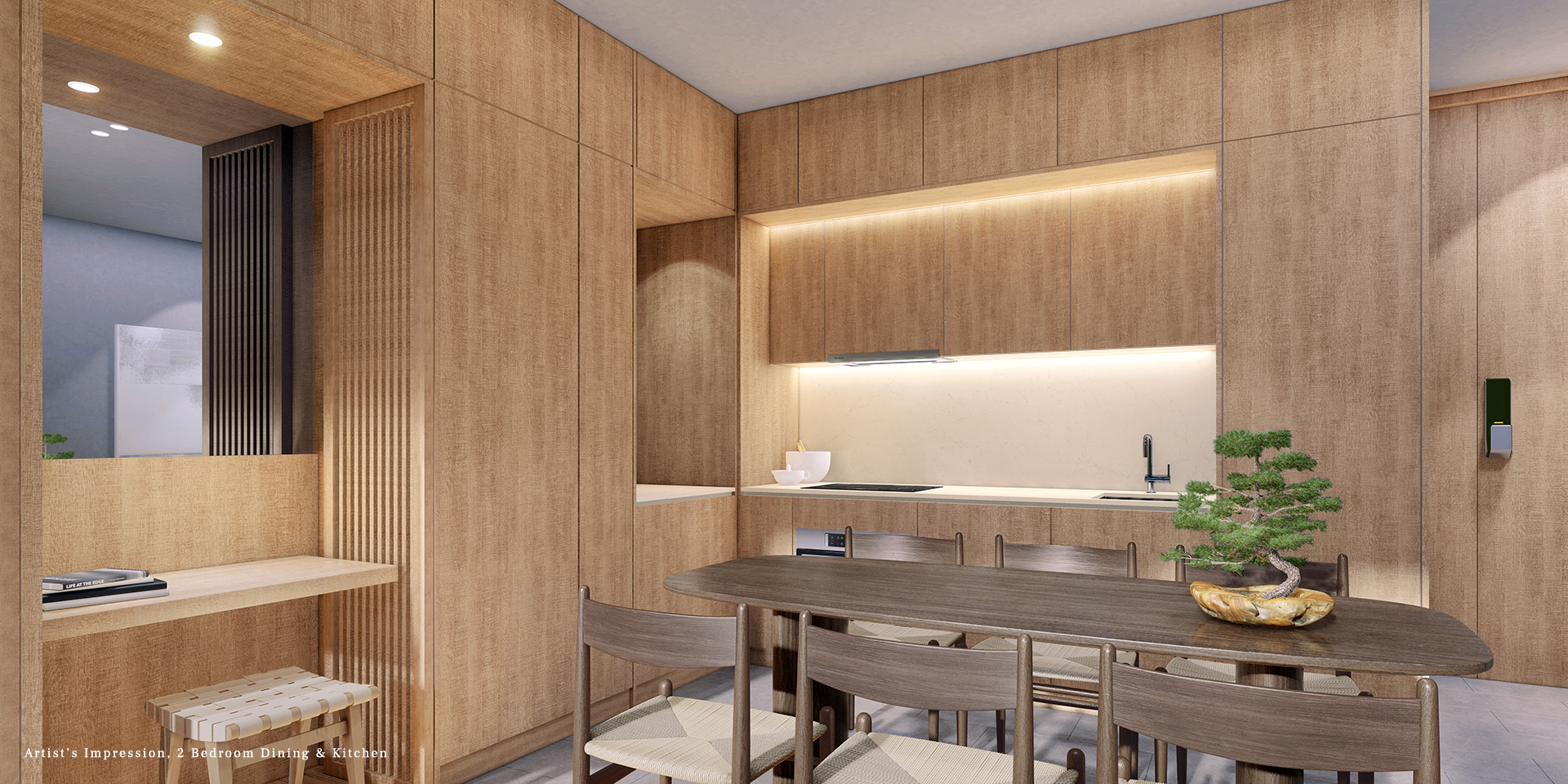 Starting off with the kitchen area is rather similar to type A1, but it does have more space for a bigger dining table, additional countertop area and more shelving space. The countertop, backsplash and sink are also made of quartz material for easy maintenance.
The kitchen also comes fitted with a built-in microwave, integrated fridge and washer cum dryer from Bosch.
While I do like the minimalist look overall, I do think some people might find it hard to overlook the lack of a properly enclosed kitchen given the size of the unit.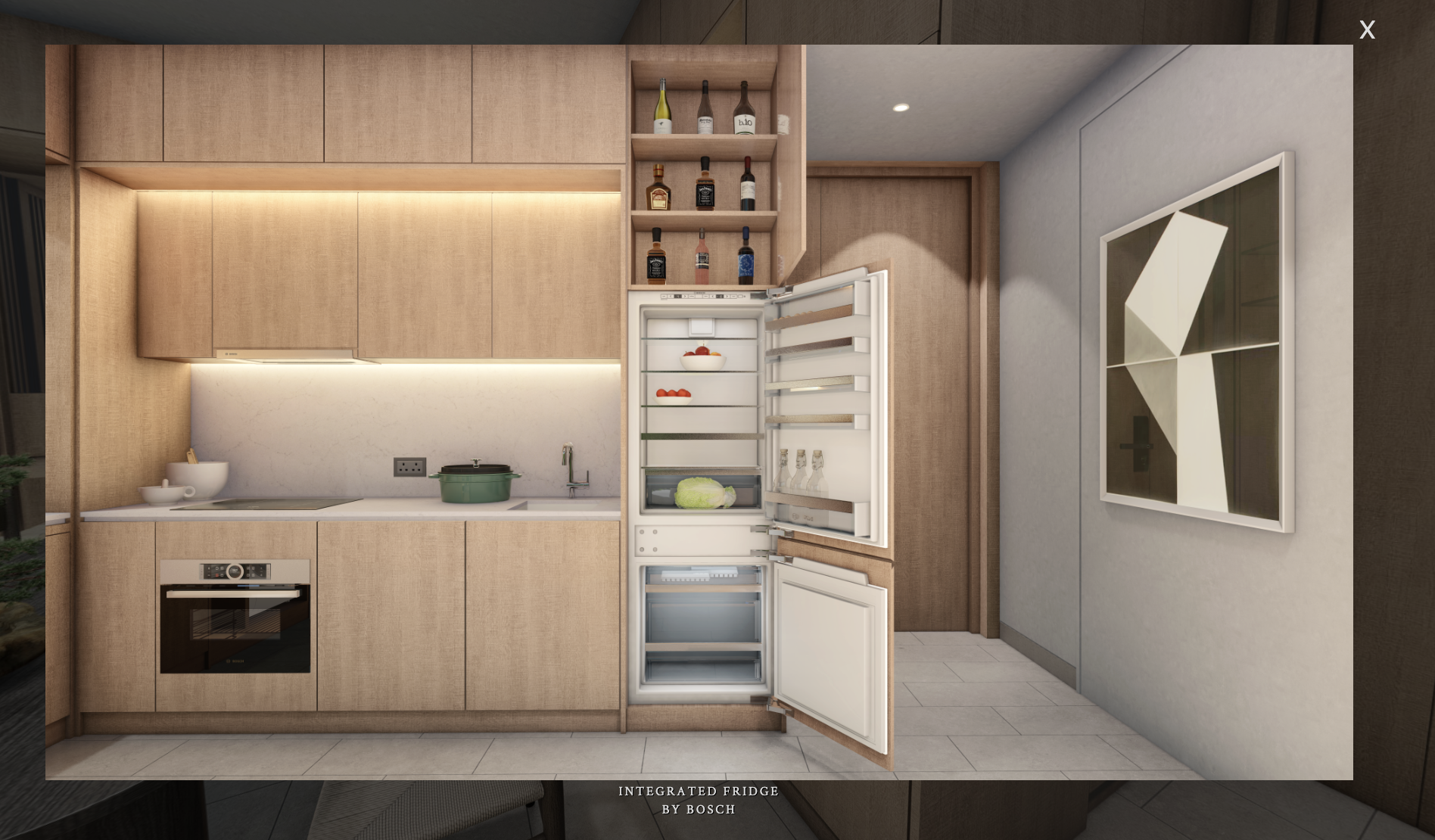 The integrated fridge is located in the first cabinet nearest to the sink. Again, I really do like the seamless look of the space.
The potential downside to this would be the maintenance of such a fridge further down the road. If you can't get a fridge of the exact same size, you might either have to redo the cabinetry or a smaller fridge that doesn't fit exactly.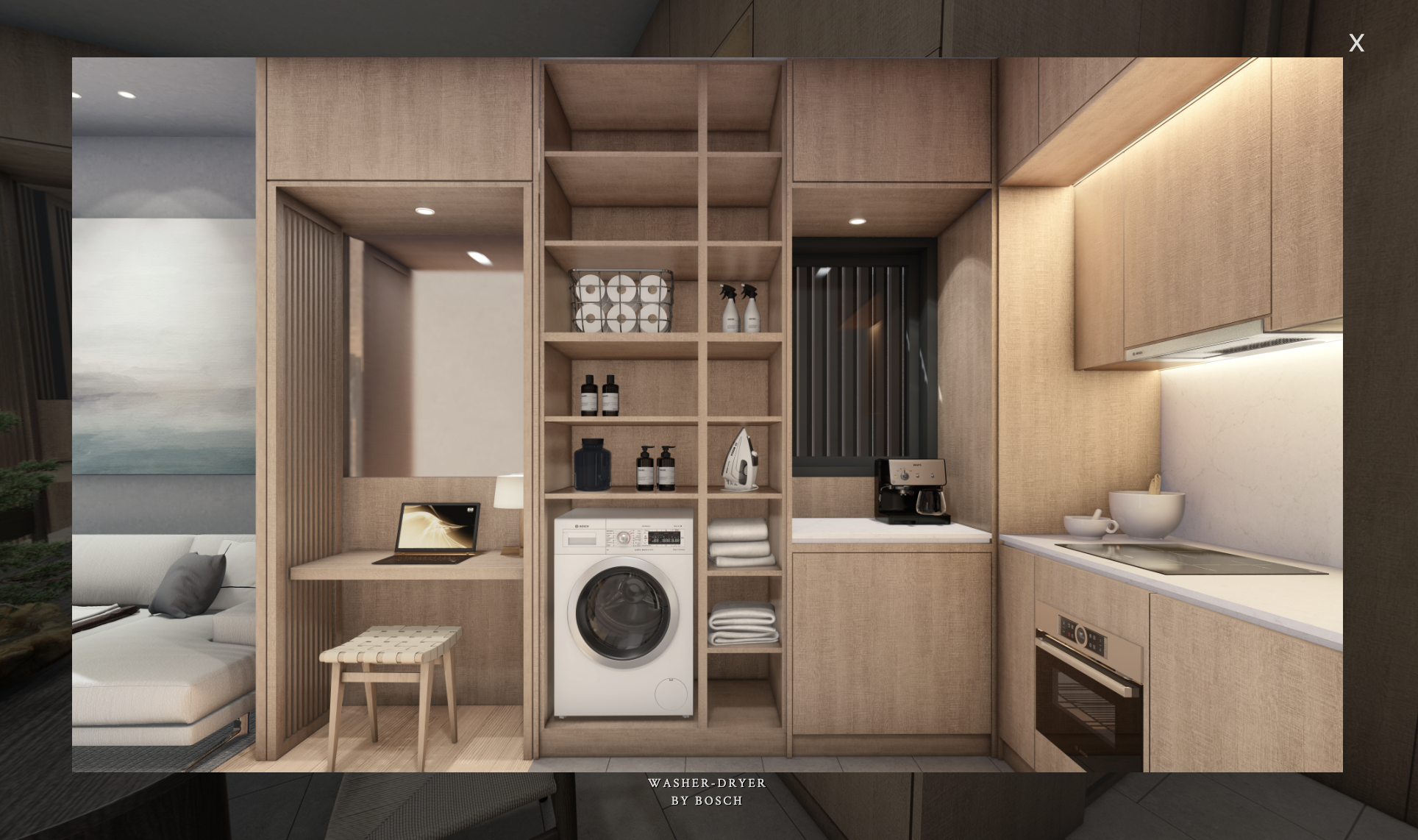 Unlike Type A1 where the washer-dryer is located right beside the fridge, this layout seems more distinct and better to my liking. Currently, it is located right beside the study space and additional countertop area.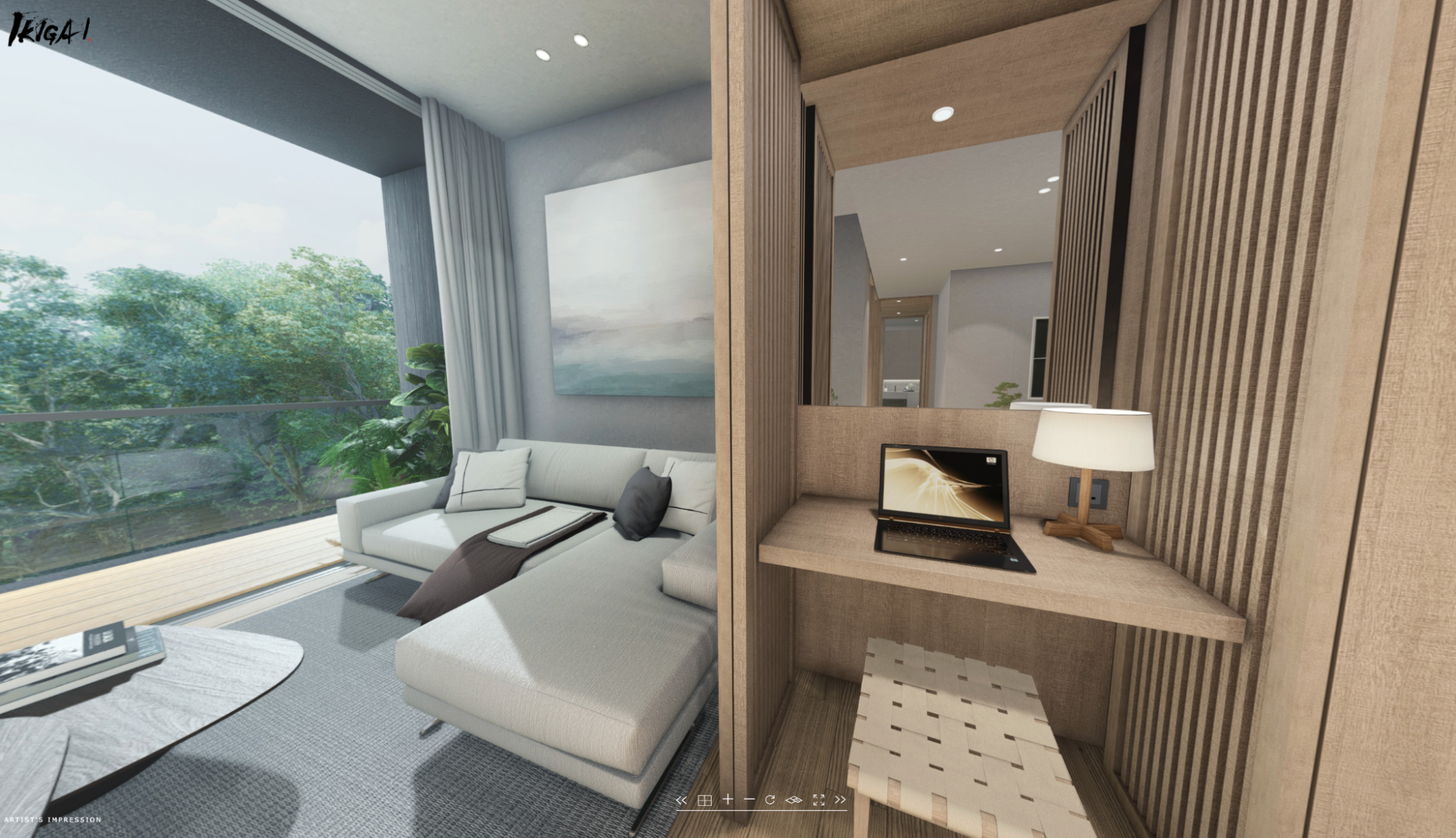 Unlike a designated study room, this unit has a study space instead, where there is an alcove that could fit a simple desktop set-up and chair. (Do note this is what the ID has done up, and is not standard provision).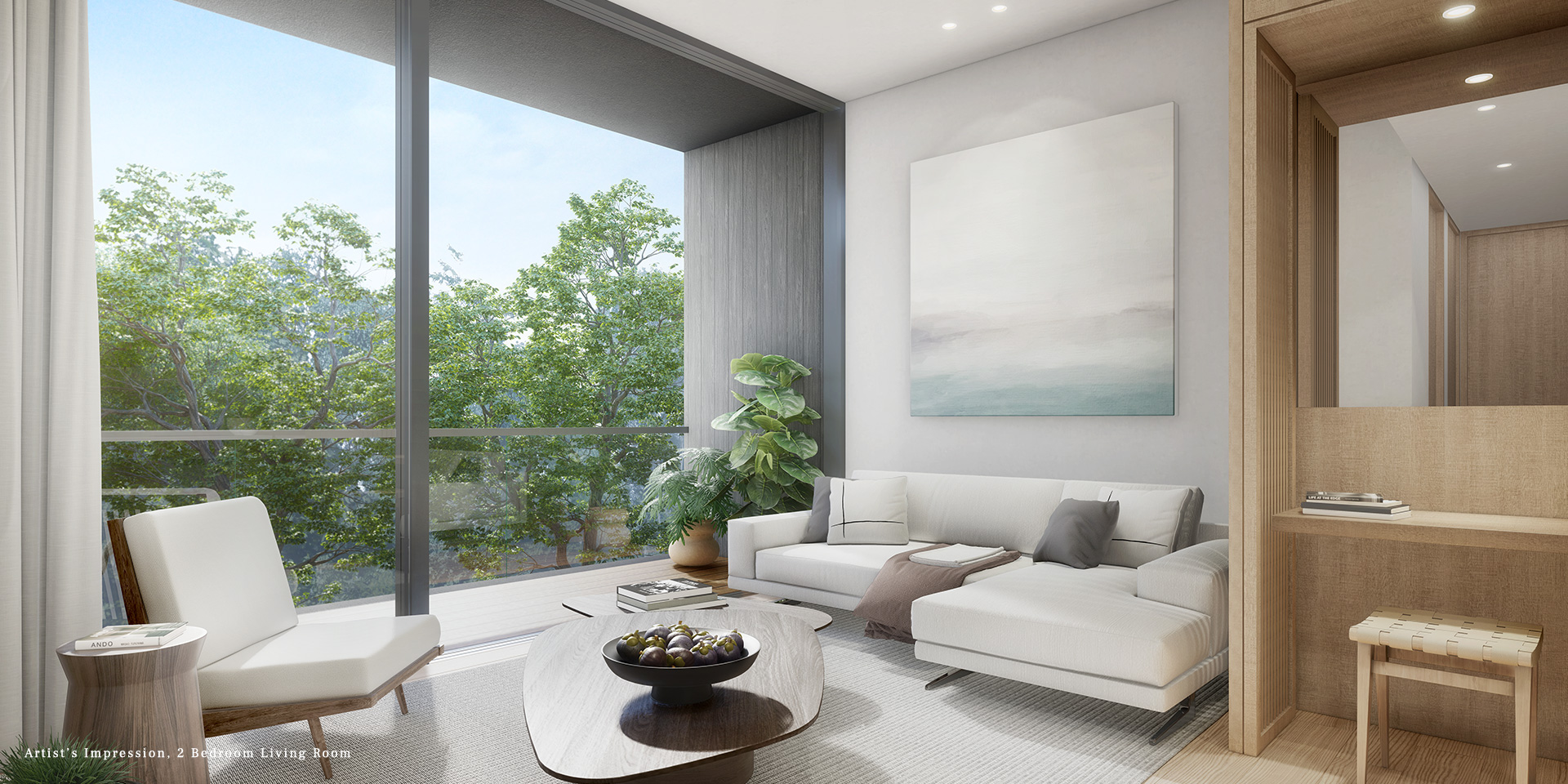 Let's move on to the living room space. Note that the ID has moved the dining to the kitchen instead, and this has resulted in a more spacious living space. This seems to make the most sense if you are trying to maximise the living area. Otherwise, you could actually build an enclosed kitchen if you wanted, given there's also a ventilation window by the kitchen.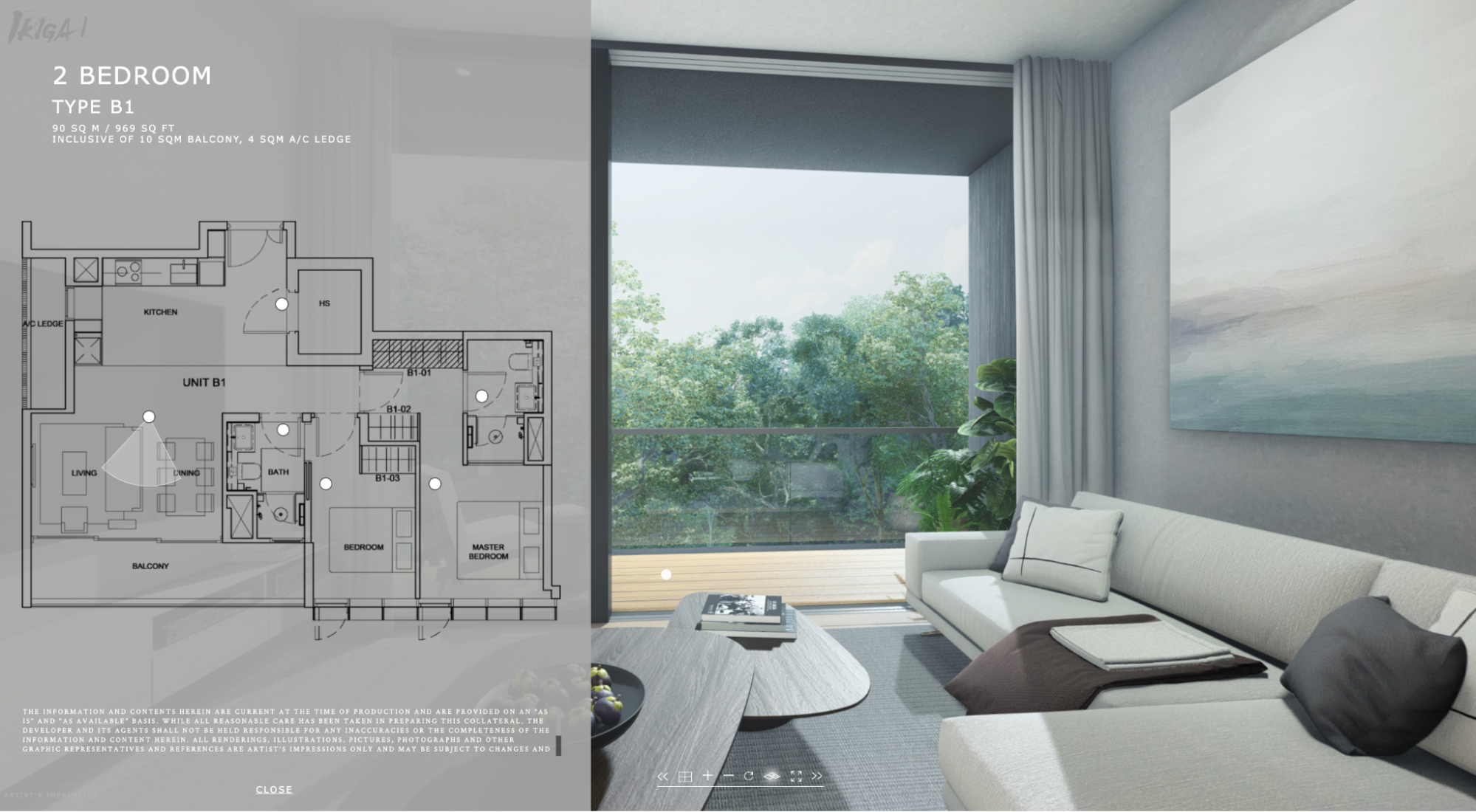 For this particular unit type, it has a balcony that overlooks the main Shrewsbury Road in the North direction. So the good news is that any intense afternoon sun would likely not affect this particular unit.
The living space is able to comfortably accommodate a 3-seater sofa, coffee table and TV console area, though the sofa and TV set up is flushed against the walls to maximise space.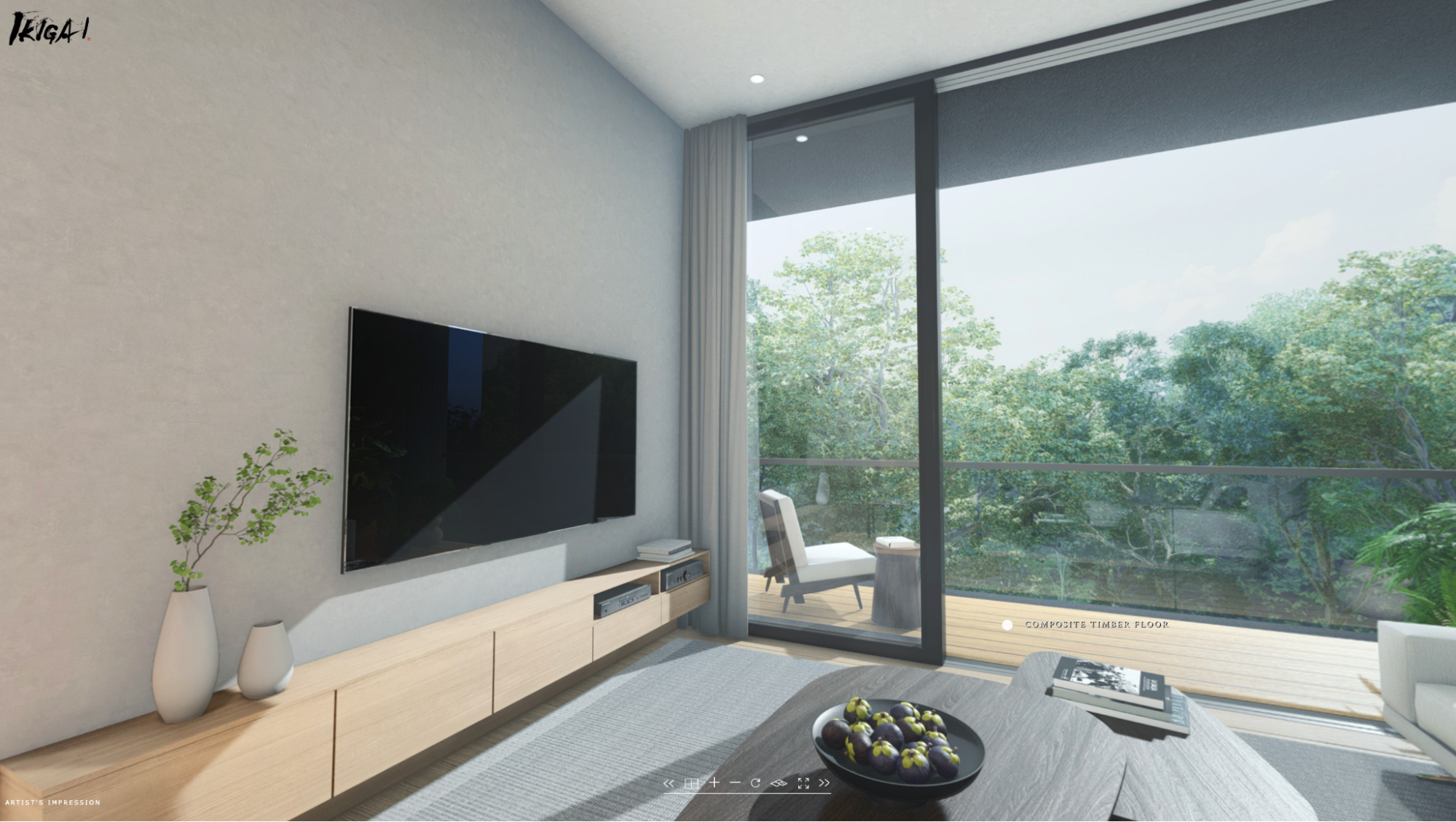 The balcony is also rather spacious, as it extends the length of the living and dining area.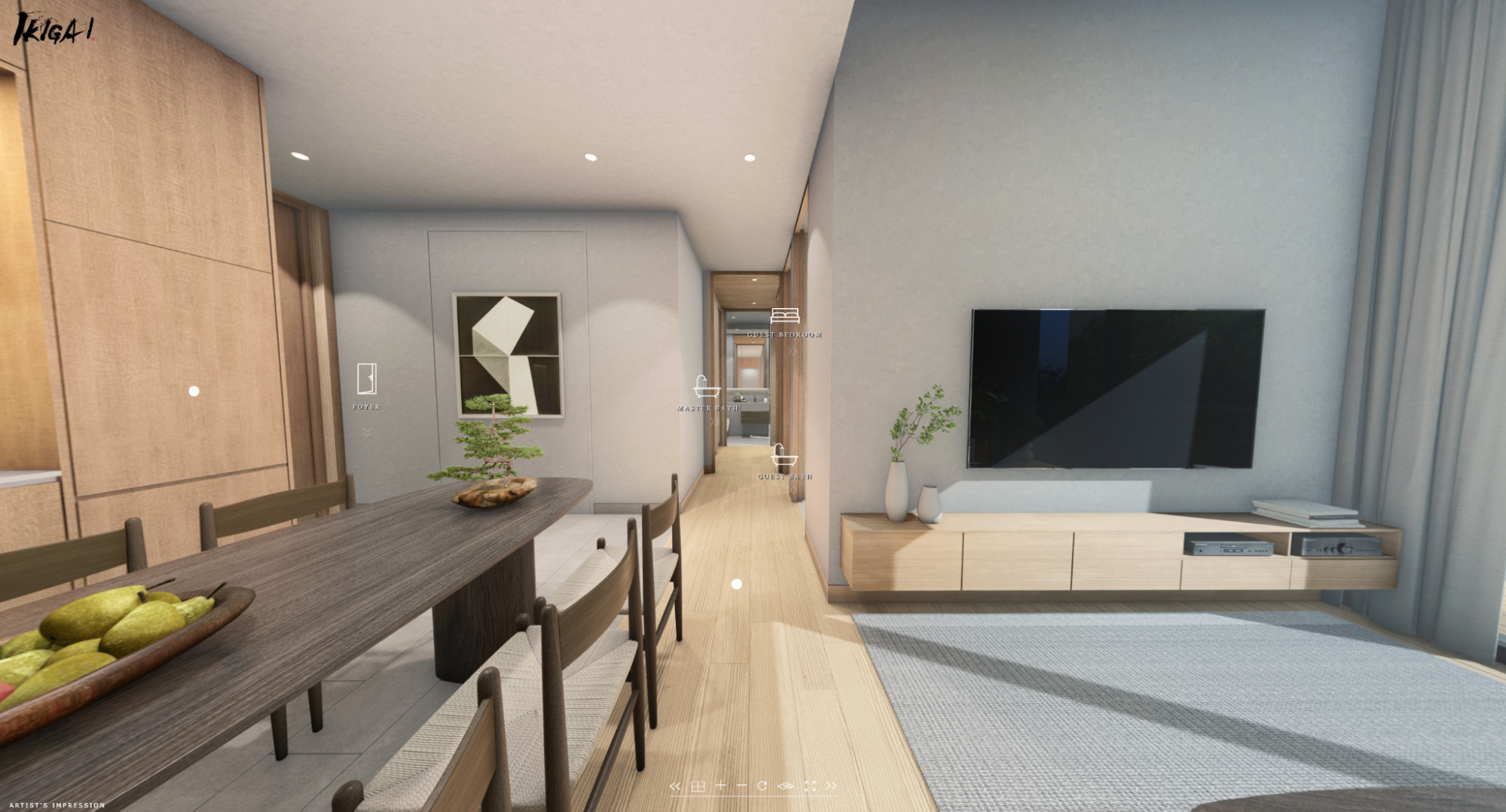 This view of the hallway from the living area showcases the size of the unit.
One thing to point out is that the placement of the dining area in the kitchen might not be the most practical since the walkway would be blocked unless all the chairs are tucked in.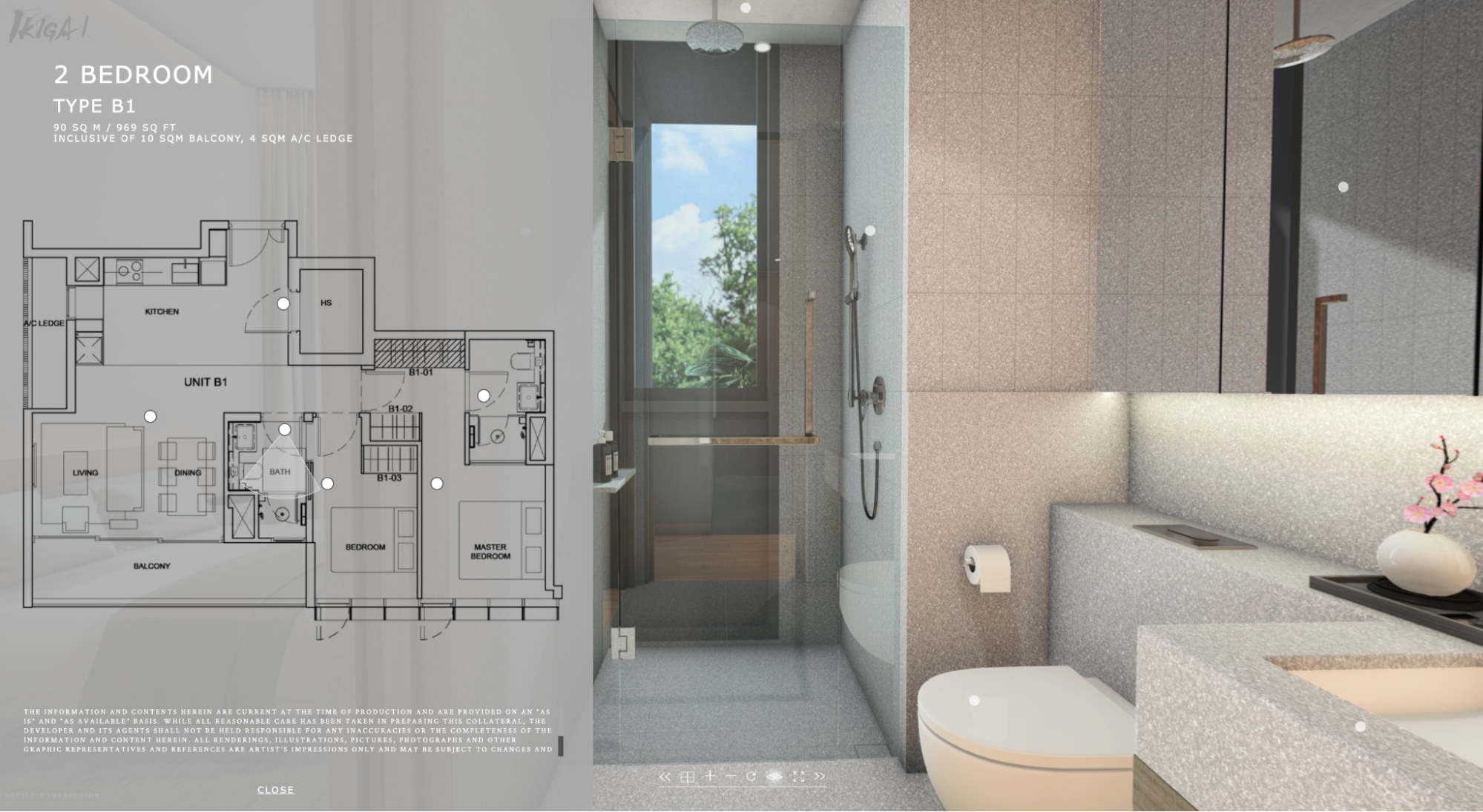 In terms of layout, this 2 bedroom unit at Ikigai offers the typical layout where the bedrooms are located down one end of the unit.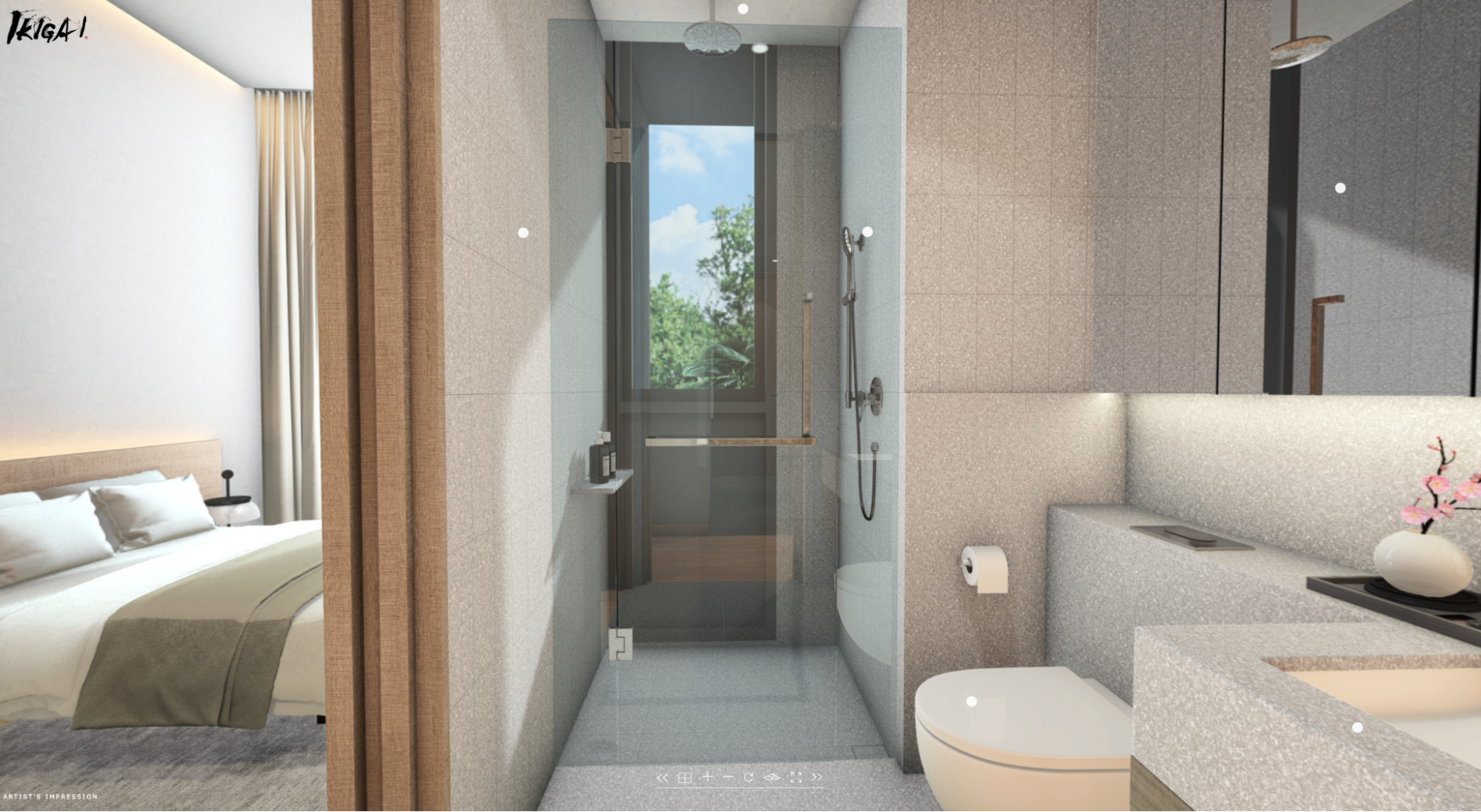 The common bedroom also has a jack-and-jill configuration with the bathroom, which effectively makes both bedrooms here an ensuite.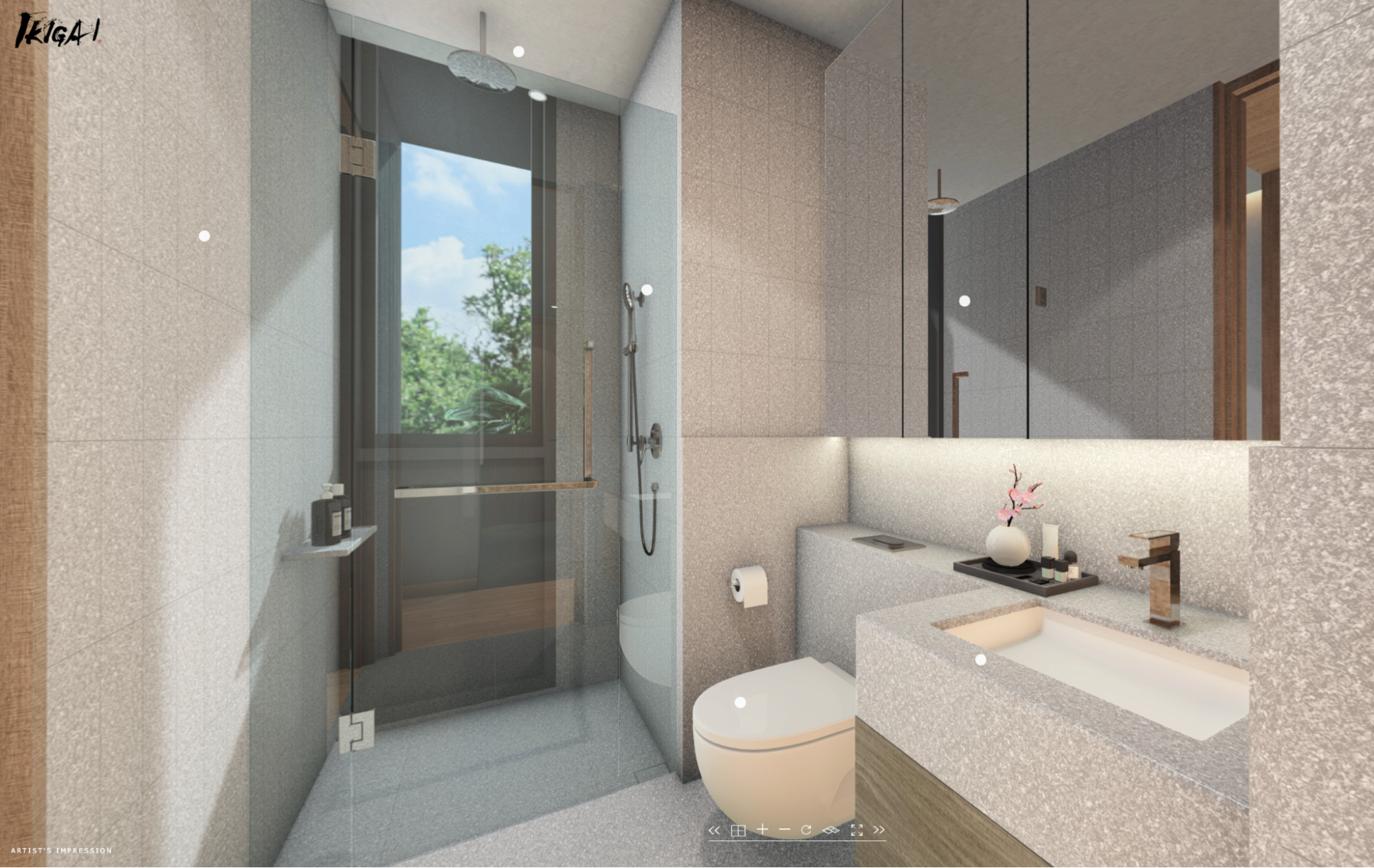 The bathroom has a standard layout, with a walk-in shower, wall-hung WC for easy cleaning and sink and shelving flushed to one corner.
The sink countertop is made of durable granite material for easy maintenance and behind the mirrors is shelving that is perfect to store any sundries and smaller bathroom items.
Similar to the bathroom in Unit Type A1, there is a rainshower and handheld shower for a relaxing bath experience. For practical purposes, you do have windows here that can open up for natural ventilation.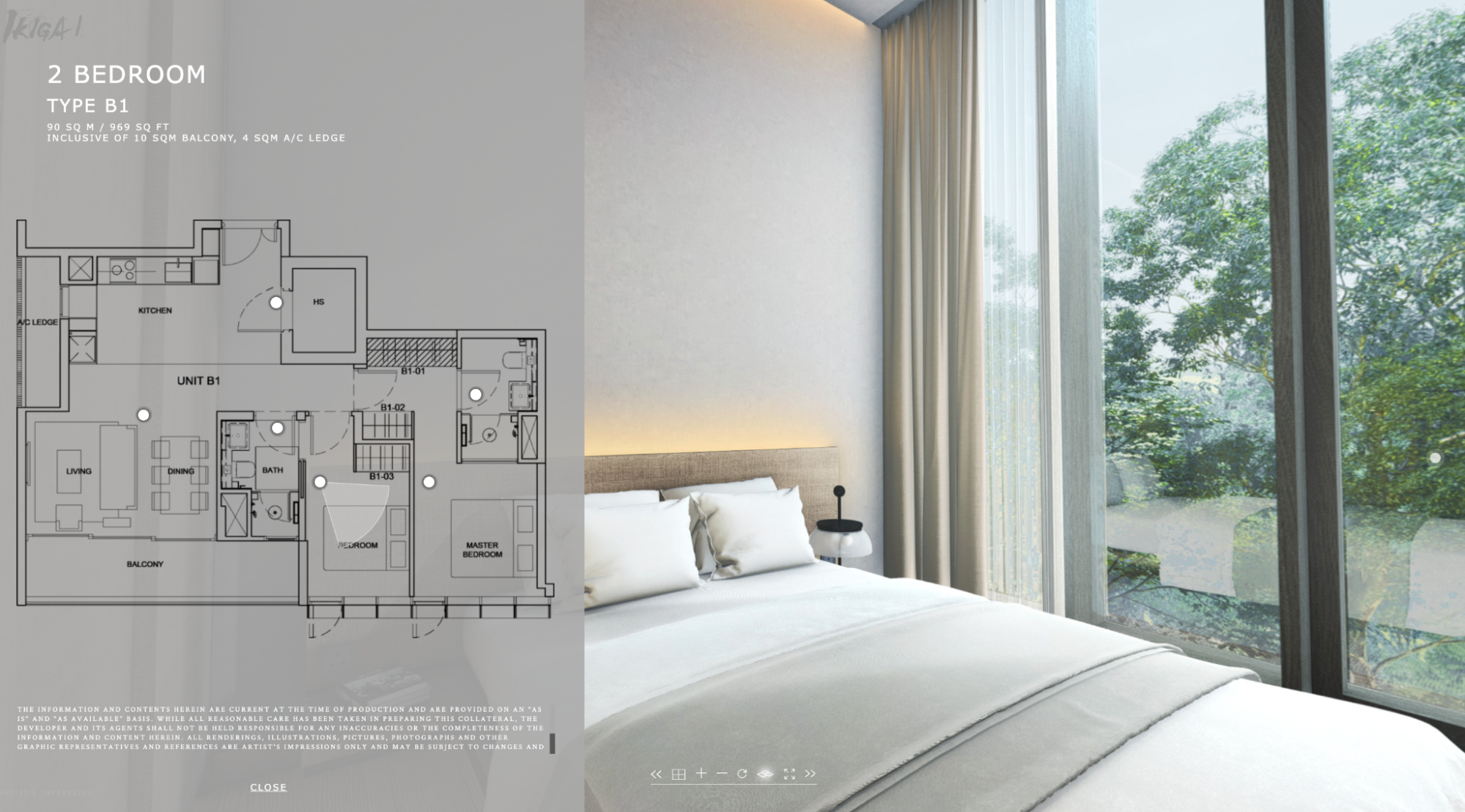 For the common bedroom, it has floor-to-ceiling window panels that face Shrewsbury Road in the North direction, similar to the orientation of the balcony.
The common bedroom is also able to comfortably accommodate a queen-sized bed and a built-in wardrobe – which is typically what you would expect for a 2 bedroom unit today.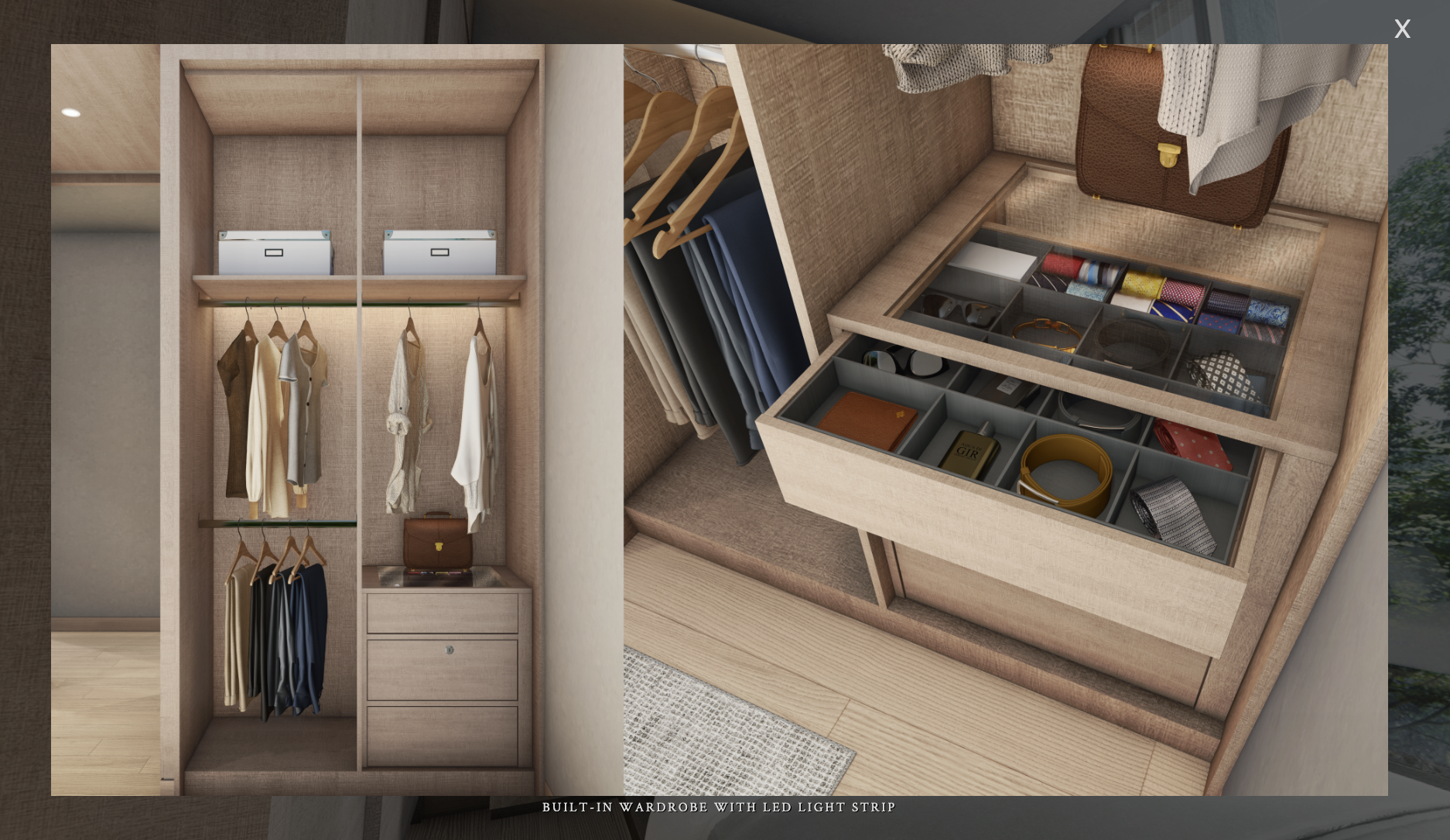 Built-in wardrobe with light strip
You do also get to enjoy additional details here (which are usually reserved for the master bedroom) with the pull-out accessories drawer and internal lighting.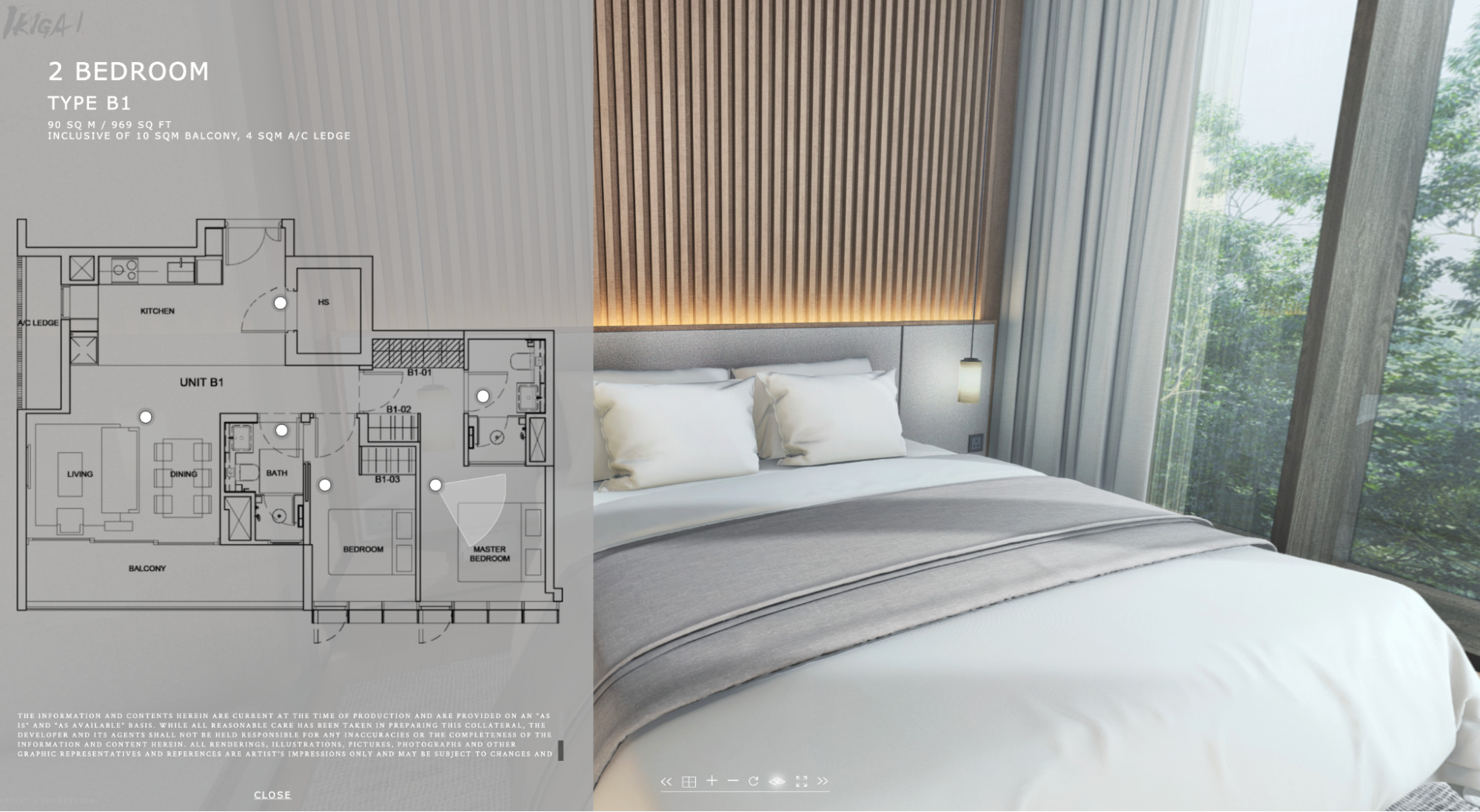 Last but not least, let's explore the master bedroom. Similar to the common bedroom, it shares a floor-to-ceiling window that overlooks Shrewbury Road in the North direction.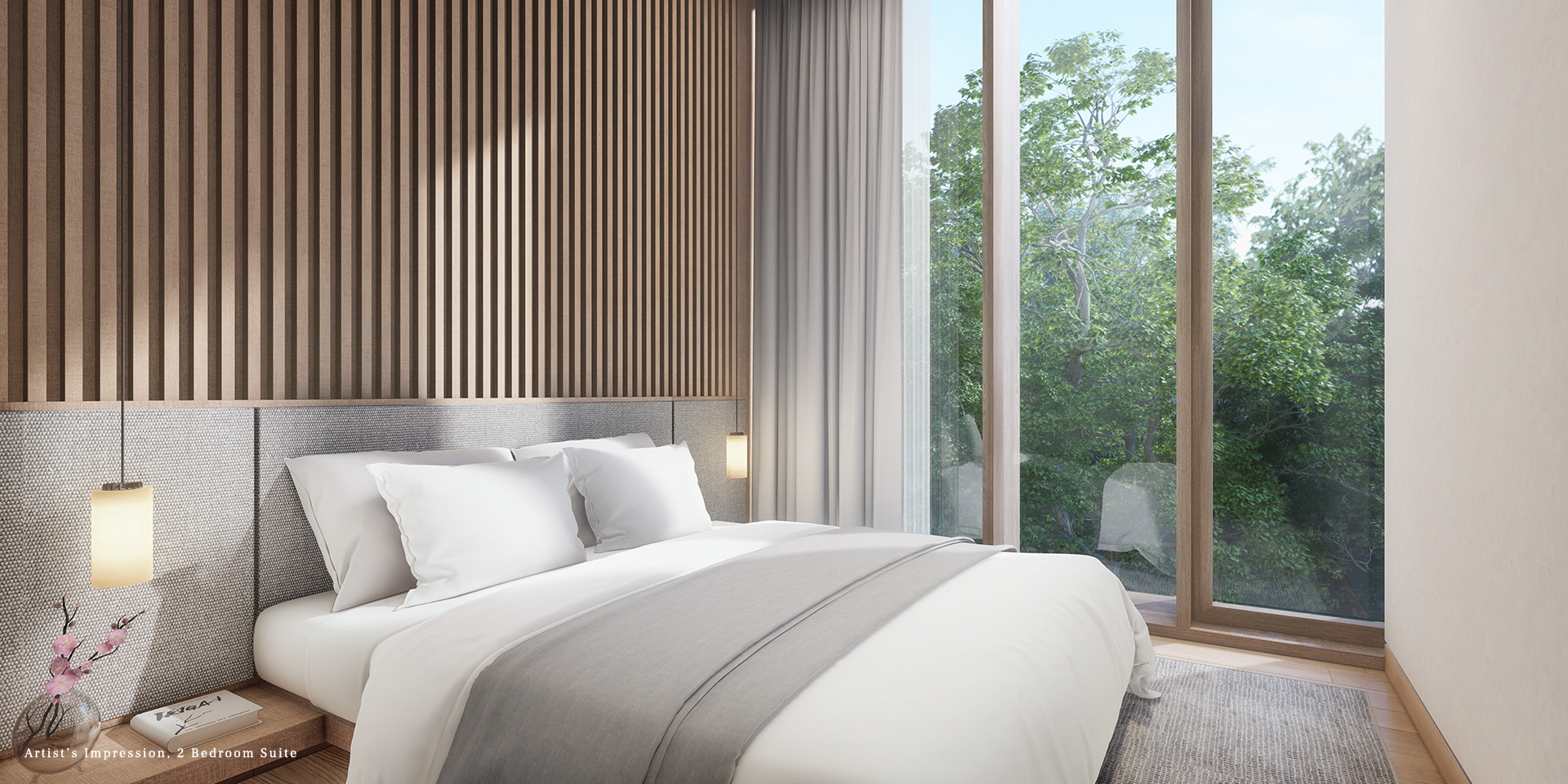 The sleeping area is larger than the common bedroom, of course, and is able to comfortably accommodate a queen-sized bed.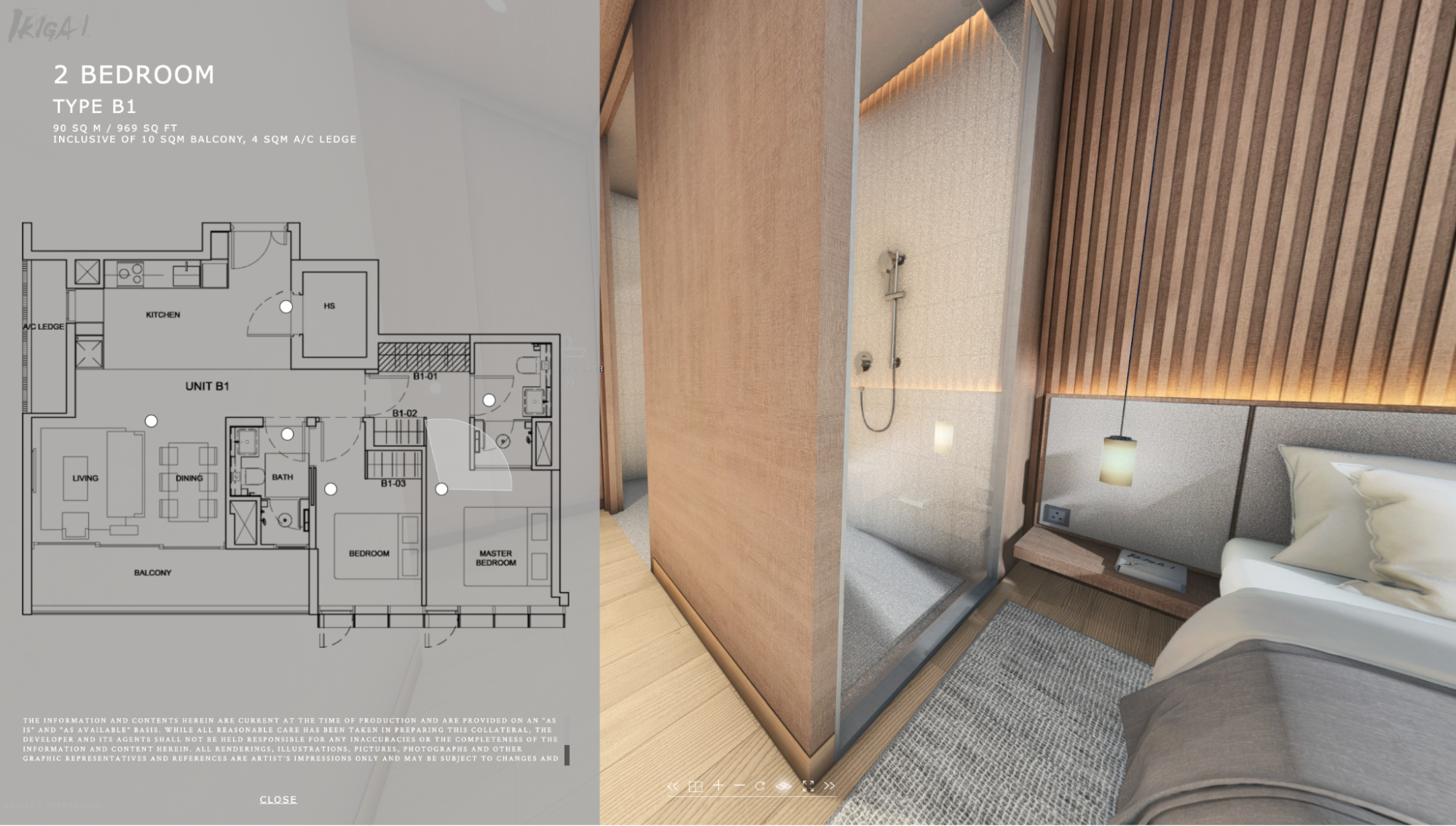 However, what sets the master bedroom apart is the additional wardrobe space (which is almost similar to a walk-in closet) and the glass-panelled bathroom, which gives the space a little more distinction. This is something a little risqué that the older generation might not quite appreciate, but I do think that the type of clients that Ikigai is trying to reach are the younger, more modernist type anyway.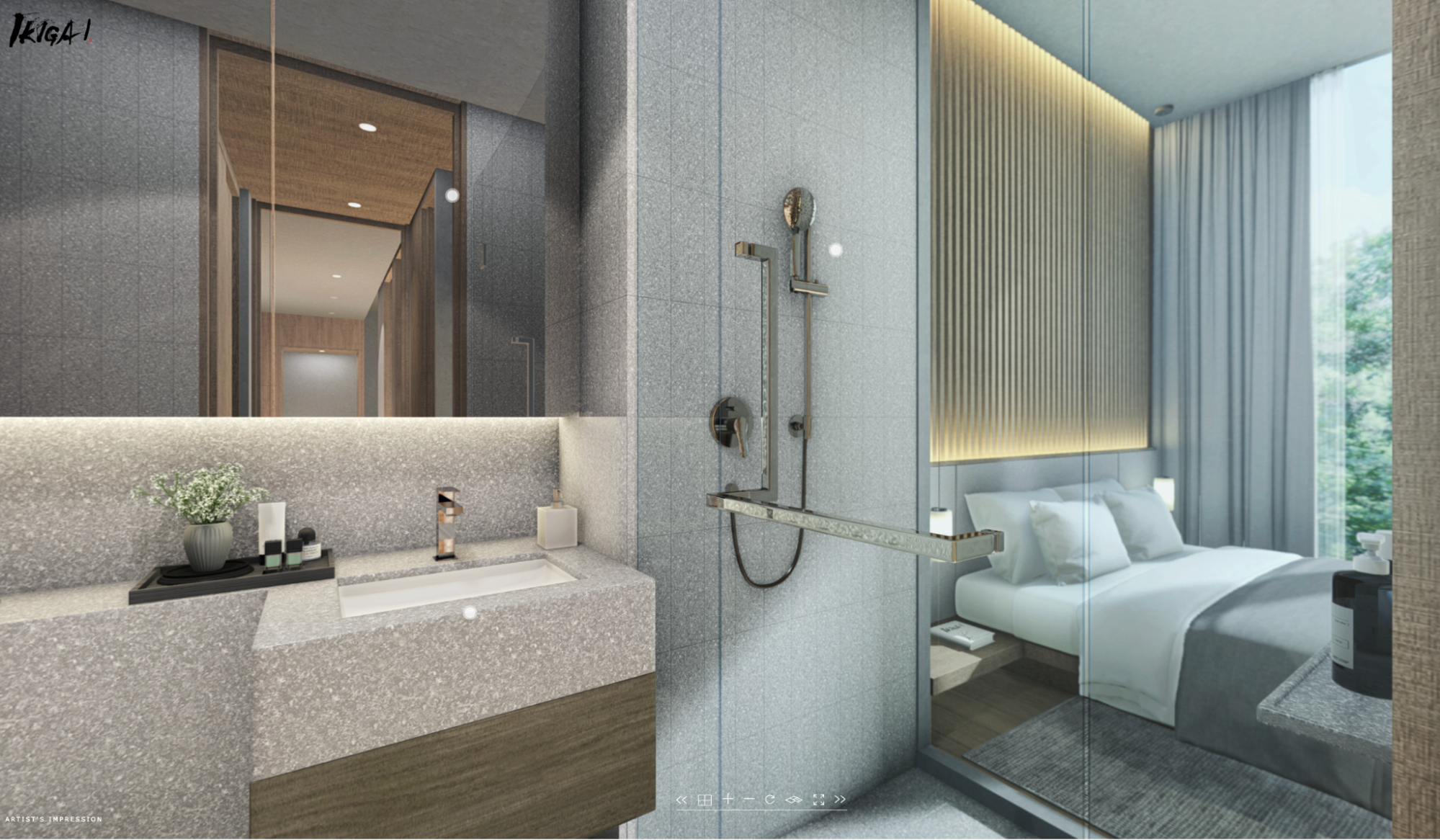 Similar to the other bathrooms, the master bathroom is well-equipped with a sink made of granite material, ample shelving behind the mirrors, wall-hung toilets and LED lights to elevate the ambience of the toilet.
Perhaps the only real downside here is the lack of any natural ventilation here.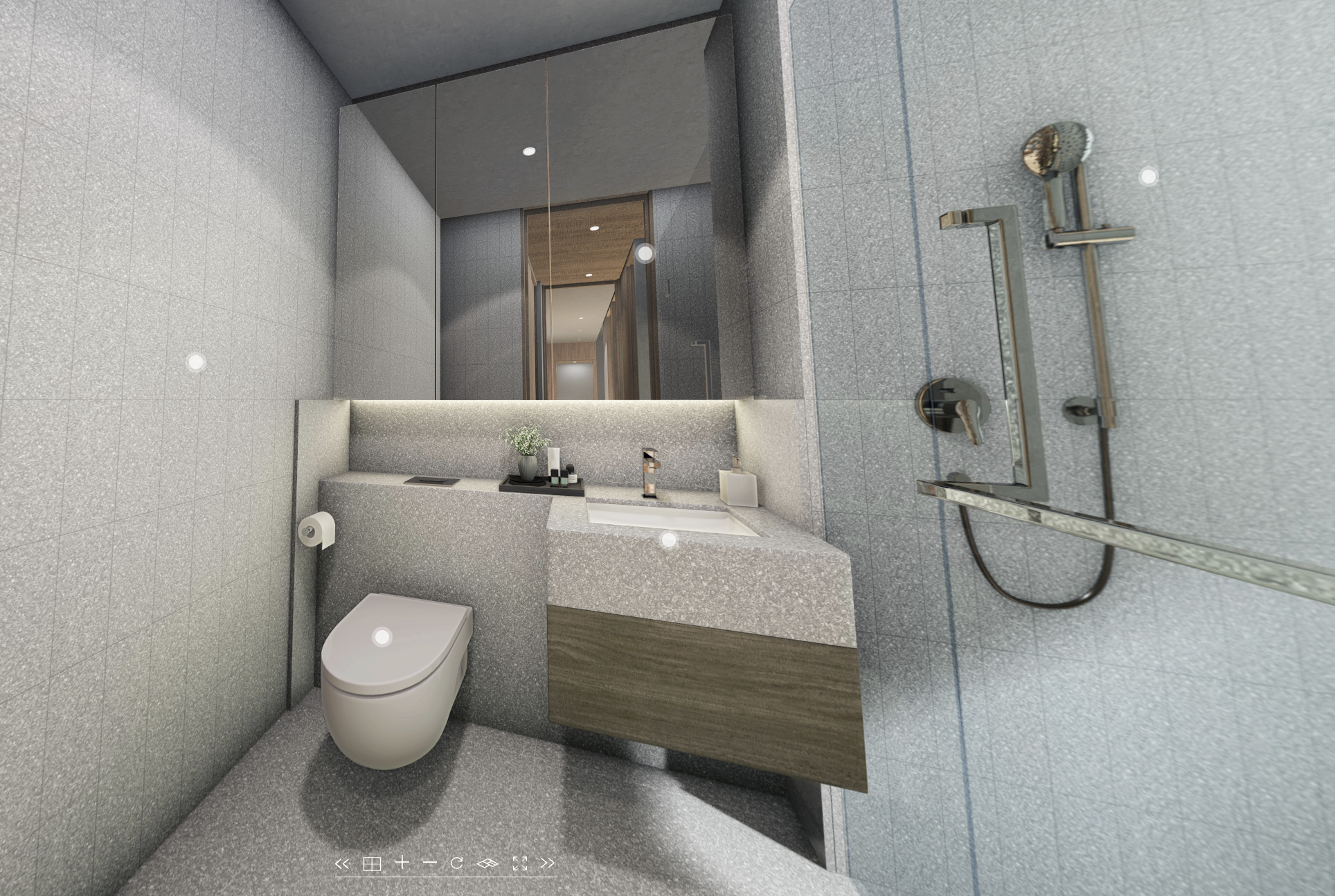 Overall view of the master bathroom
Located beside the bathroom is the wardrobe space, which is almost like a walk-in wardrobe.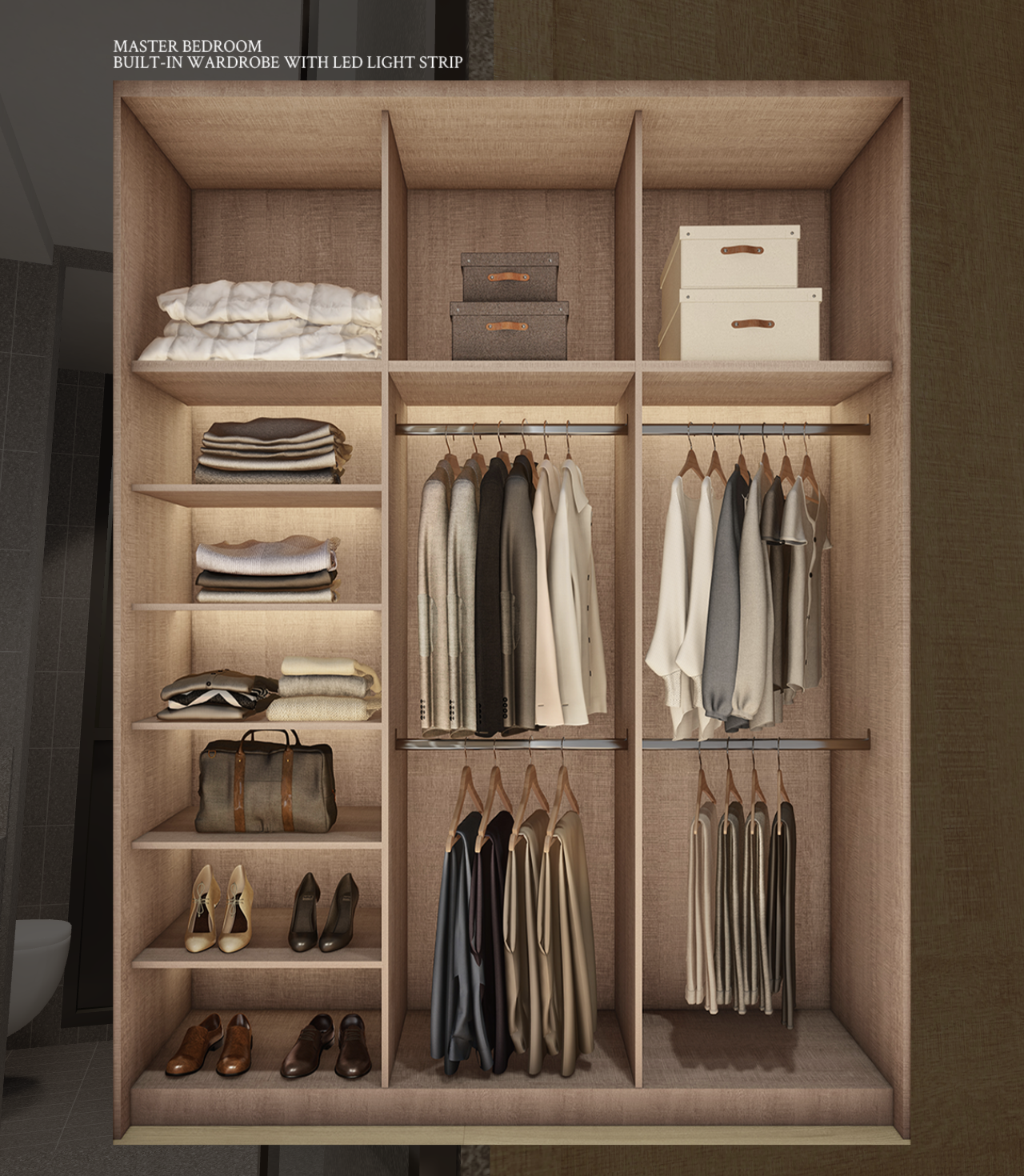 Built-in wardrobe with LED Light Strip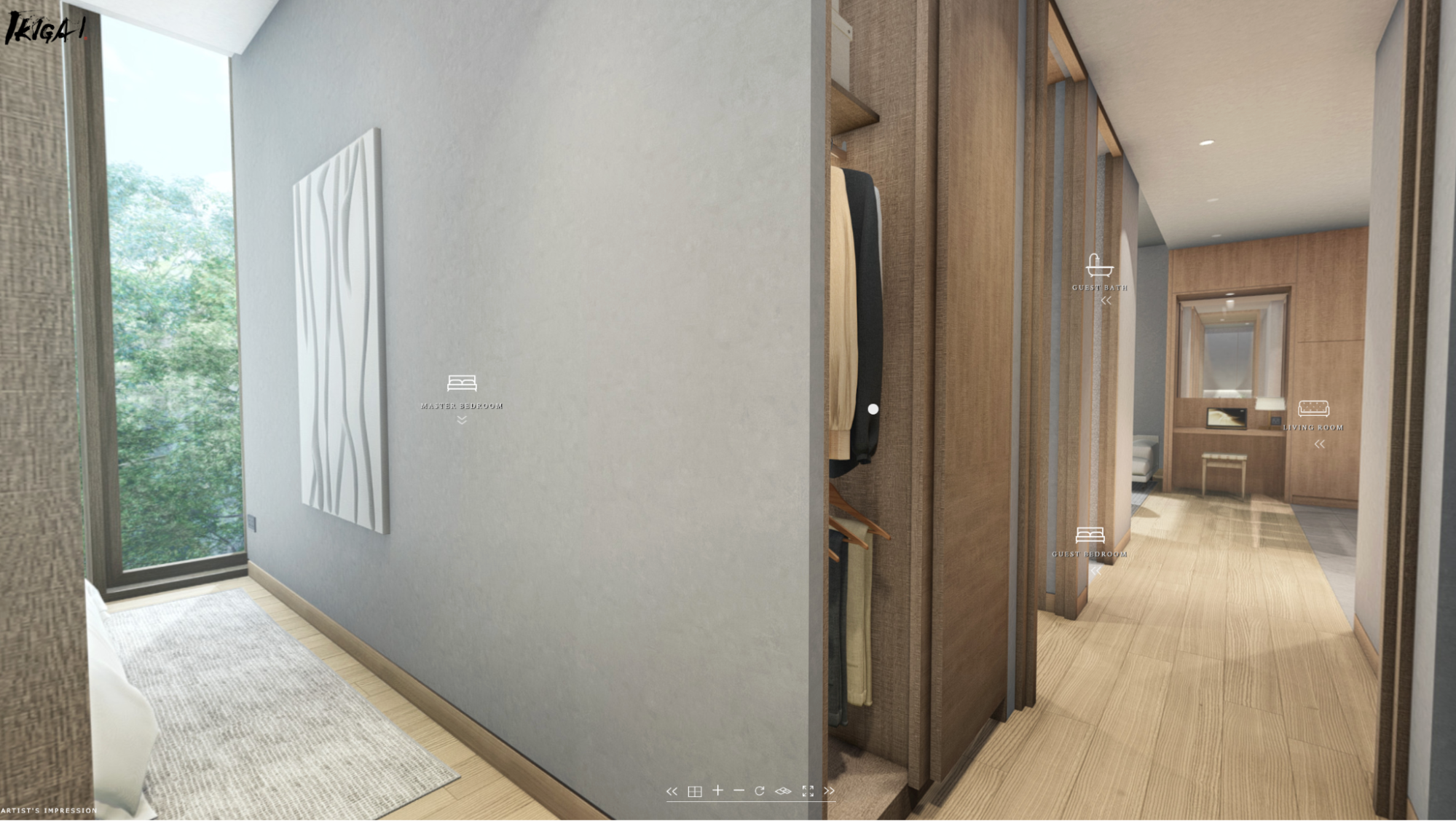 Flushed into the master bedroom wall is another panel of built-in wardrobe to create a walk-in closet feel.
See the 3D tour of this unit here.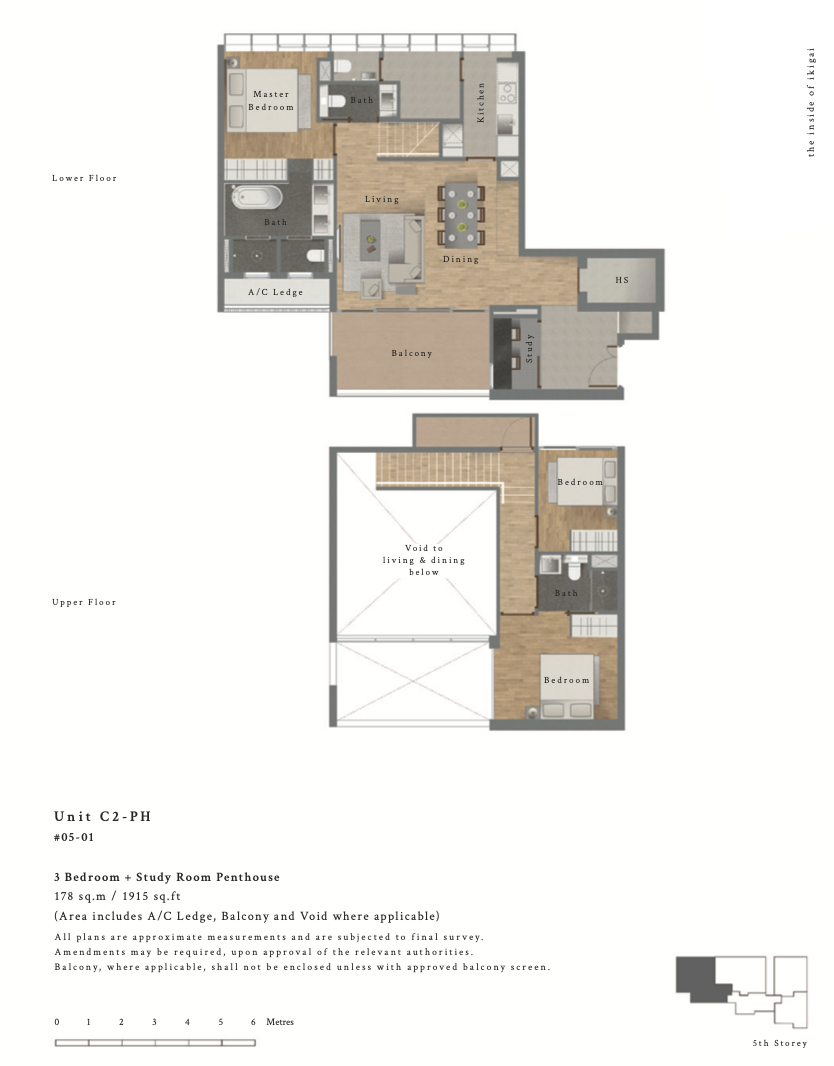 First things first, let's address the size and overall layout of the Type C2 3-bedroom + study room penthouse. The 1,915 square foot size is definitely big for a 3-bedroom unit today. But as you might know, a penthouse unit is one that will typically trade lifestyle aspects for practicality, so not all 1,915 square feet are dedicated to internal floor living space. In the case of this unit, it's mostly attributed to the high ceiling of the living and dining area (you are paying for the void space here).
This is the biggest unit available at Ikigai, of which there's only one exclusive unit. If you are looking for something smaller, there are 2 other 3-bedroom penthouse units, which come in at 1,496 and 1,572 square feet respectively.
In terms of the layout, the first floor includes a study alcove, a huge living space and balcony area, a closed-up kitchen, a powder room and the master bedroom. While the upper level contains 2 common bedrooms and a common bathroom. In some sense, this does make it more practical in the long run for the elderly.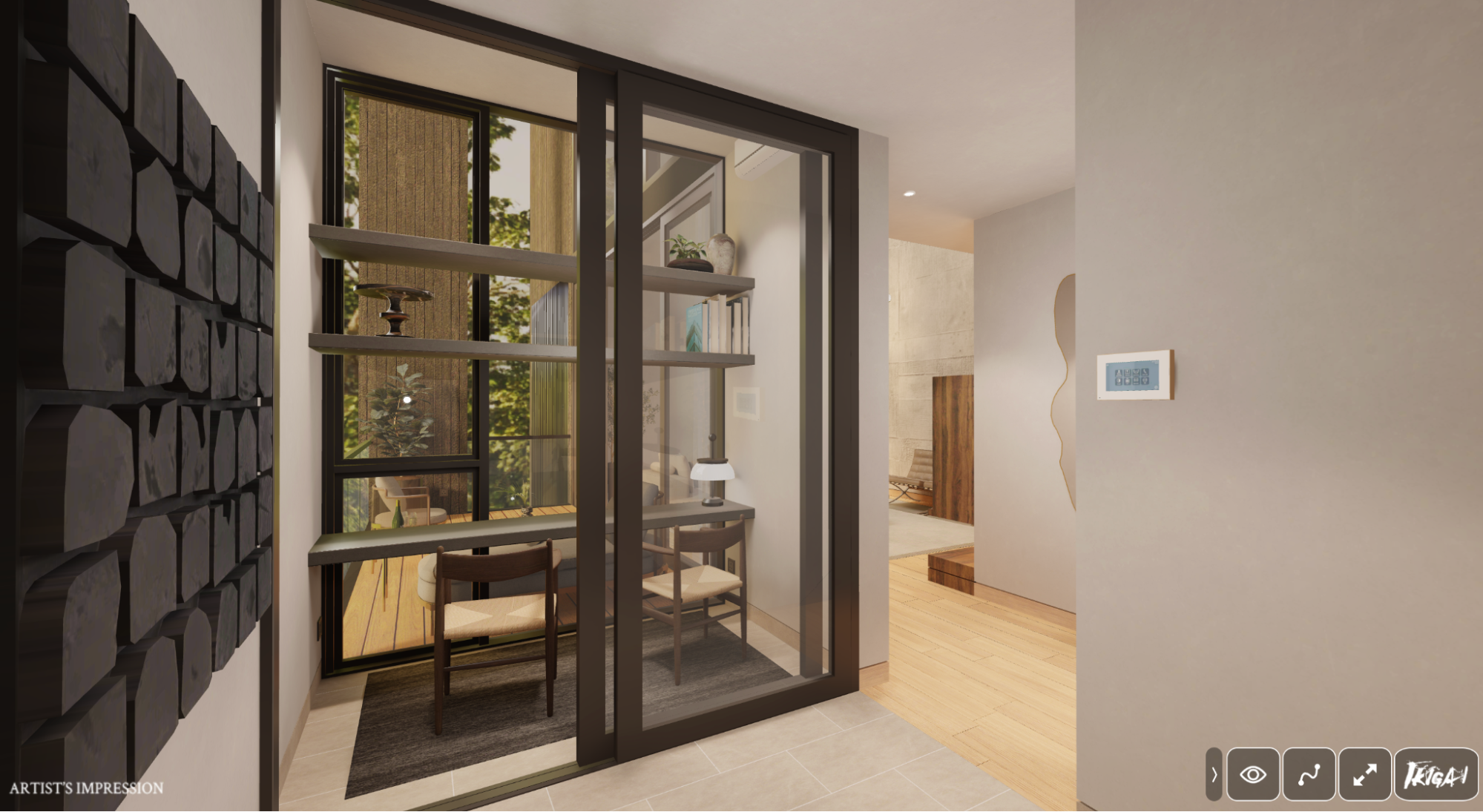 Entering the front door, the first thing in sight is the study room, which has been designed to allow maximum light to filter in. It does look to be quite a gorgeous-looking space, especially when done up in this minimalist wabi-sabi style.
It can comfortably fit a full-sized desktop set up, though one downside for me is that there's not much privacy since it is situated directly at the front door and faces the living areas.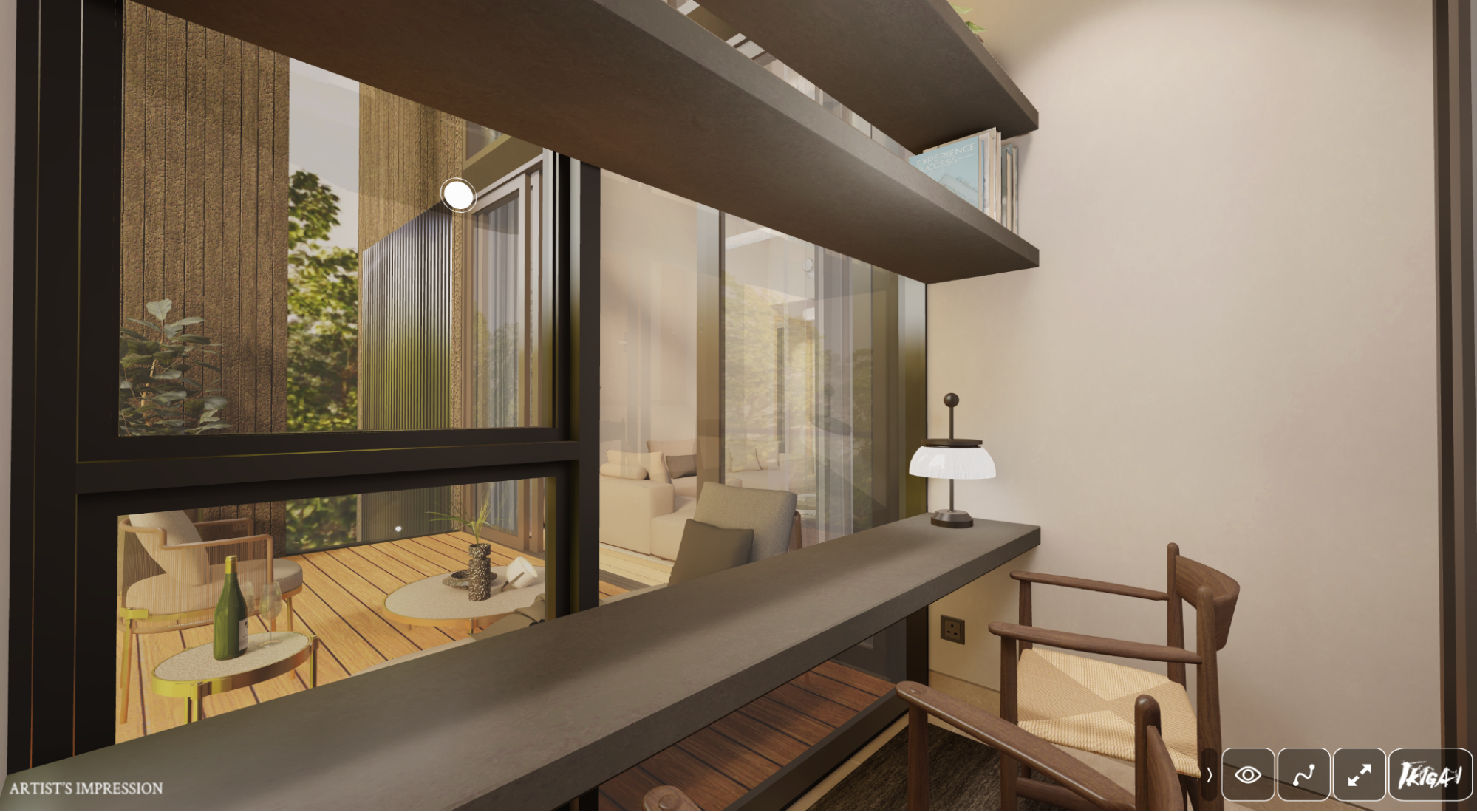 Study room facing the balcony
Moving on to the entranceway to the living room, there is a household shelter positioned near the main door. You can use this for additional storage, although for families this might have to be used as a helper's room instead.
The penthouse, of course, has the most impressive living room out of all the other virtual unit tours. The high ceilings, combined with a spacious area that blends into the balcony space give it a very luxurious and elevated feel.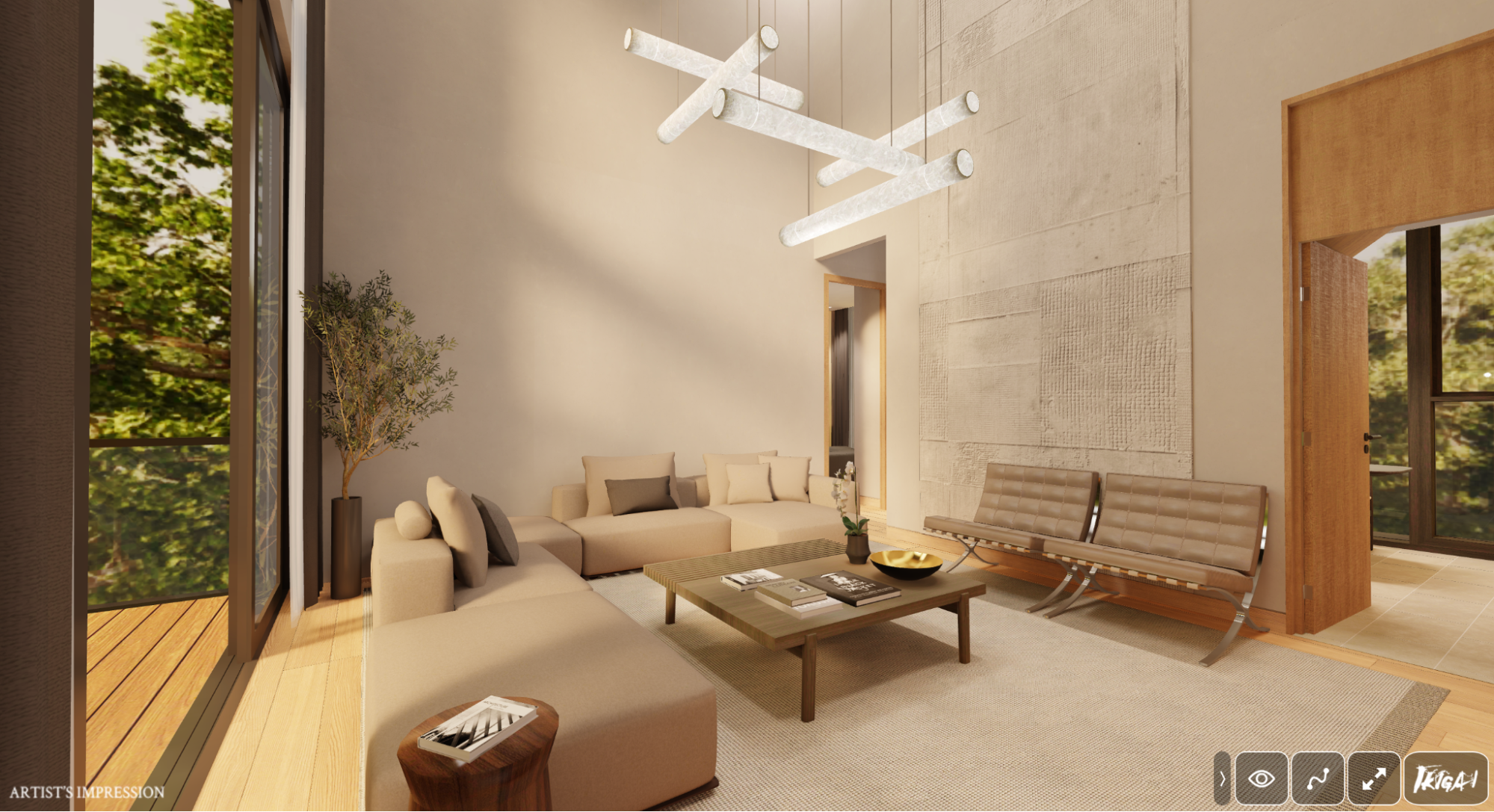 While shows that it can comfortably fit a full-sized sofa, chairs, dining table and a huge shelf, you should know that according to the floor plan – this is supposed to be the living and dining room. Like the 2 bedroom preciously, the dining area has been moved to the kitchen area to accommodate a bigger living space instead.
For those looking to optimise for lifestyle and maximum enjoyment, and less about practicality, this is probably the best layout anyway.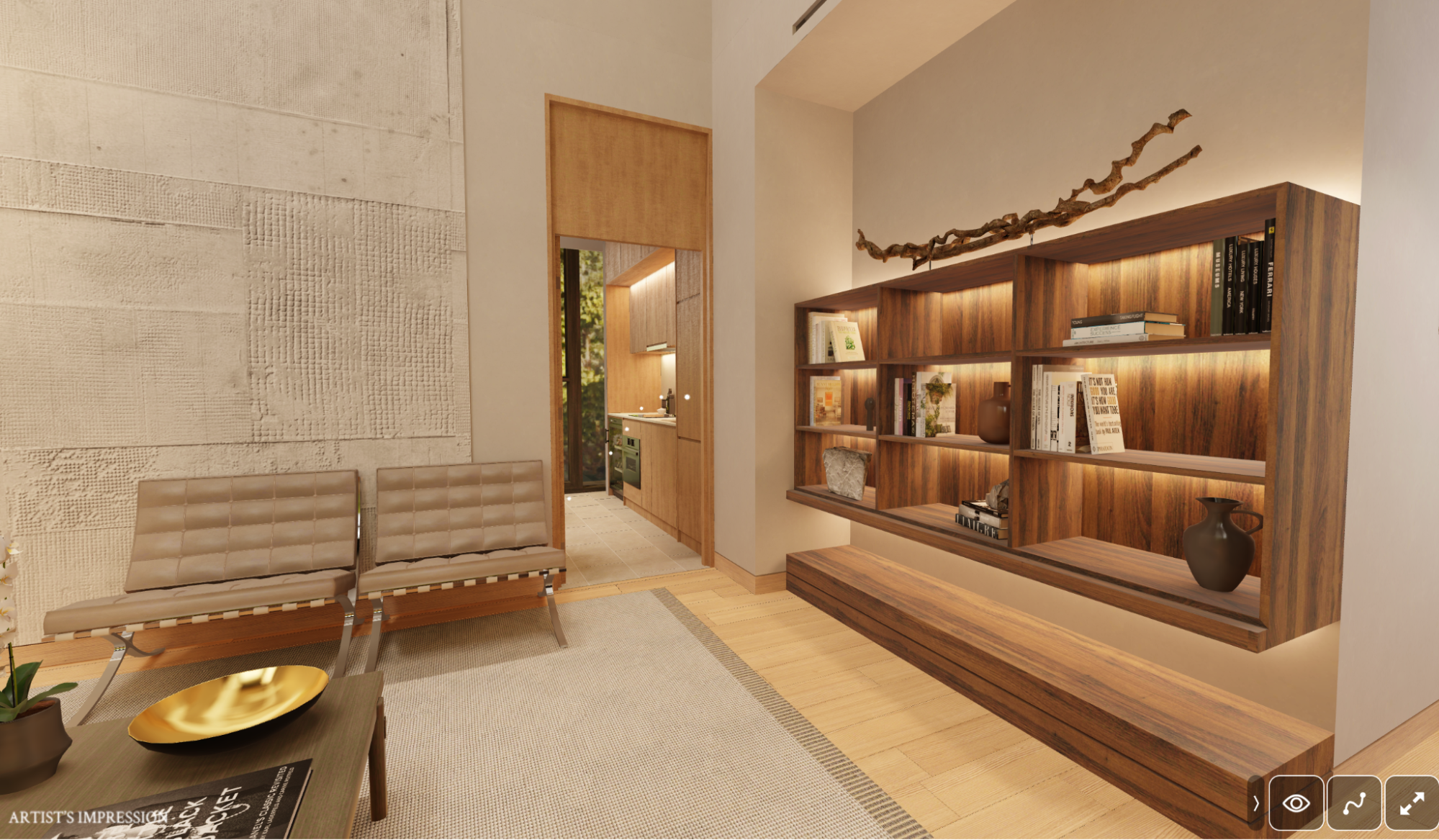 I would say that the decision to add a shelving centrepiece gives the living area a very grand and generous outlook – a design idea that future owners could potentially take up for their own unit.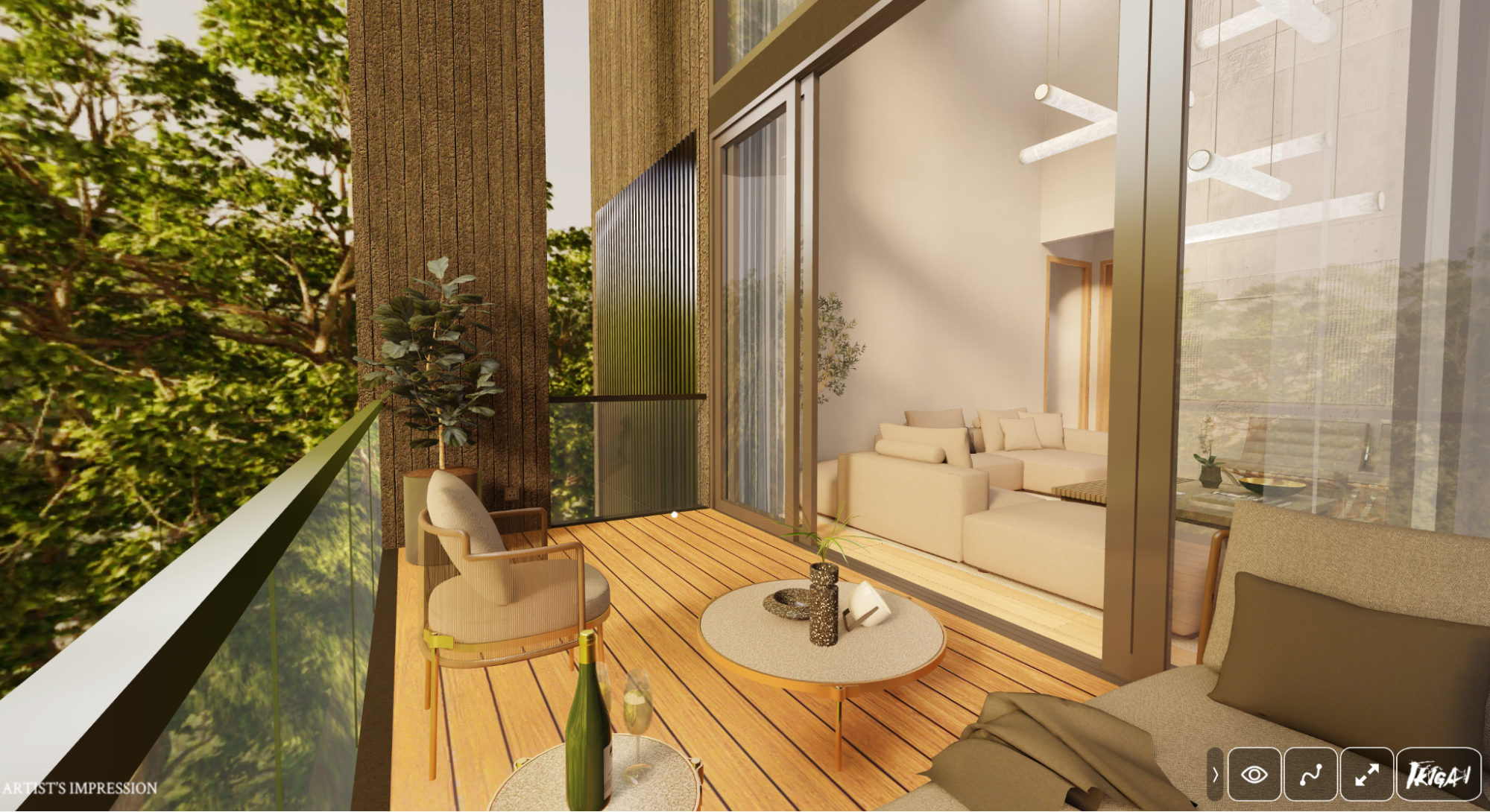 As for the balcony, it is quite a spacious space. It overlooks the empty plot of land and towards the CTE in the South direction.
Although some might be concerned with the potential noise and dust pollution, you could look to install a ziptrak to enclose the balcony space and further "extend" the living area. This could also be used as a secondary dining space (or even the primary if you so wished).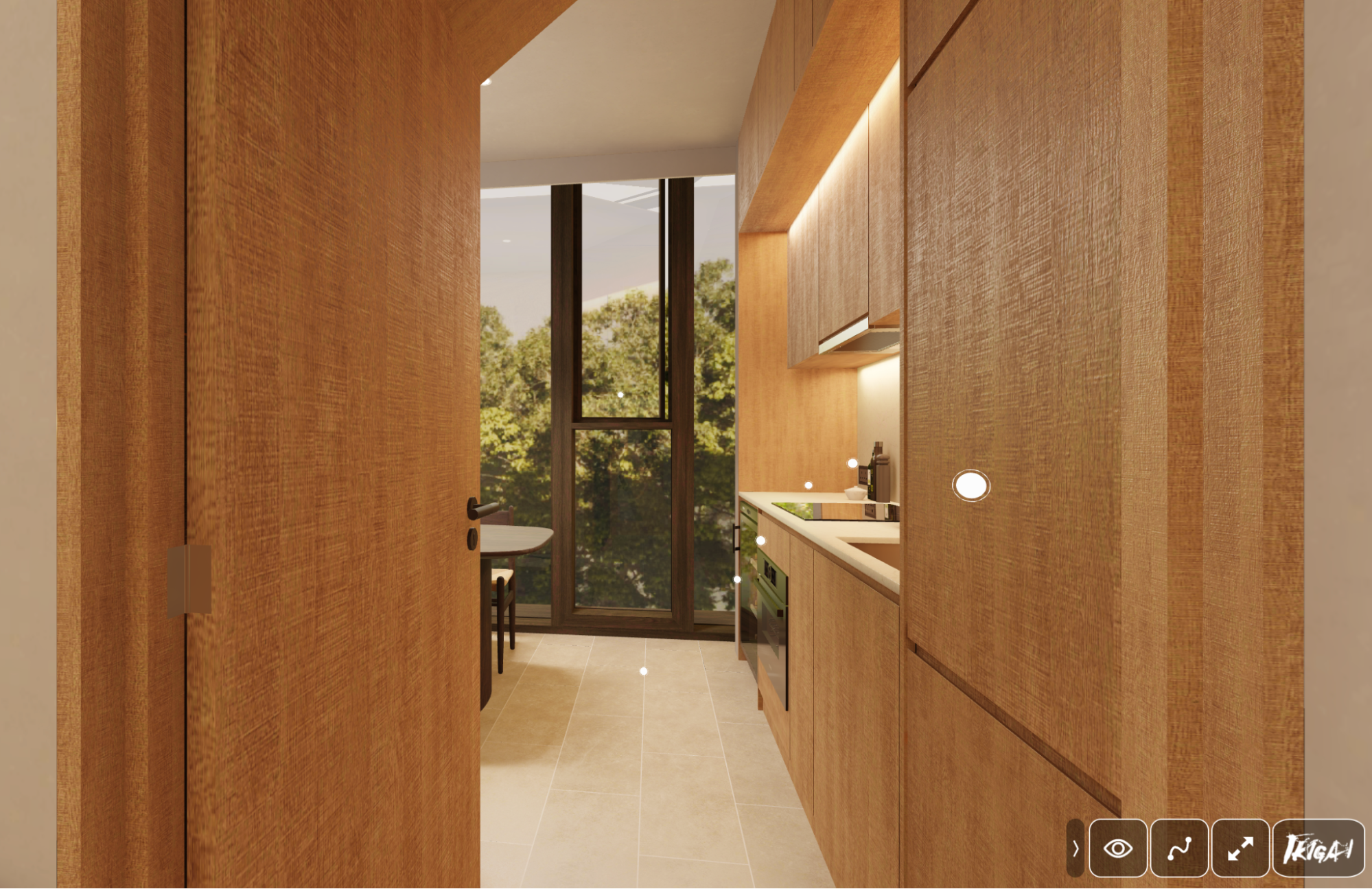 Moving on to the kitchen is rather different from the Type A1 and B1 unit layouts since this is the only properly enclosed kitchen concept.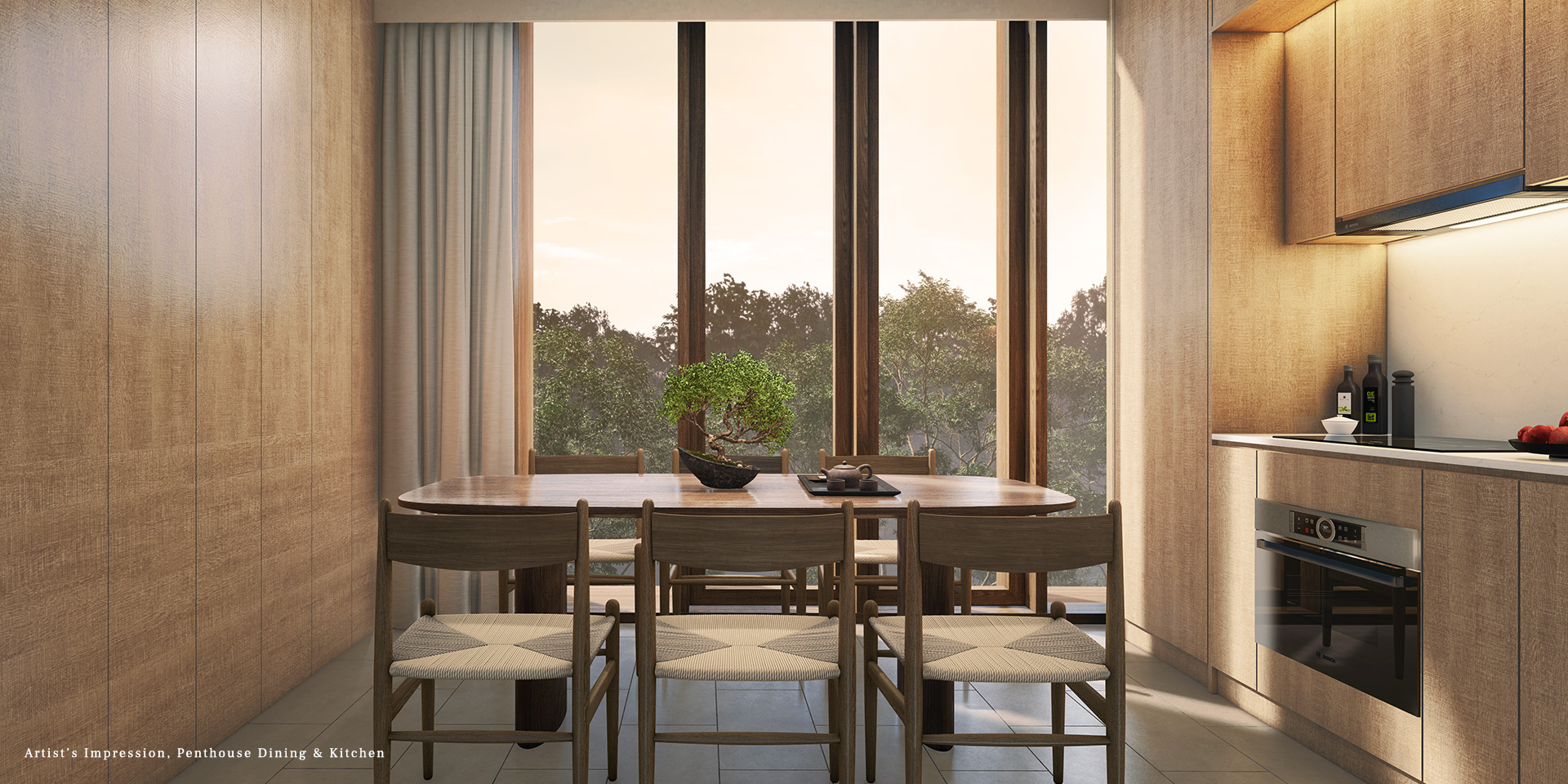 In terms of materials, the kitchen features quartz countertops, a backsplash and a sink. While on the equipment front, it is fitted with a microwave oven, integrated fridge and washer-dryer by Bosch. Additionally, there is also a premium wine cabinet by Liebherr to complete the well-stocked kitchen.
Although it must be said it is a little bit of a surprise to see an induction stove here, rather than the gas-powered alternative – which serious home cooks would prefer.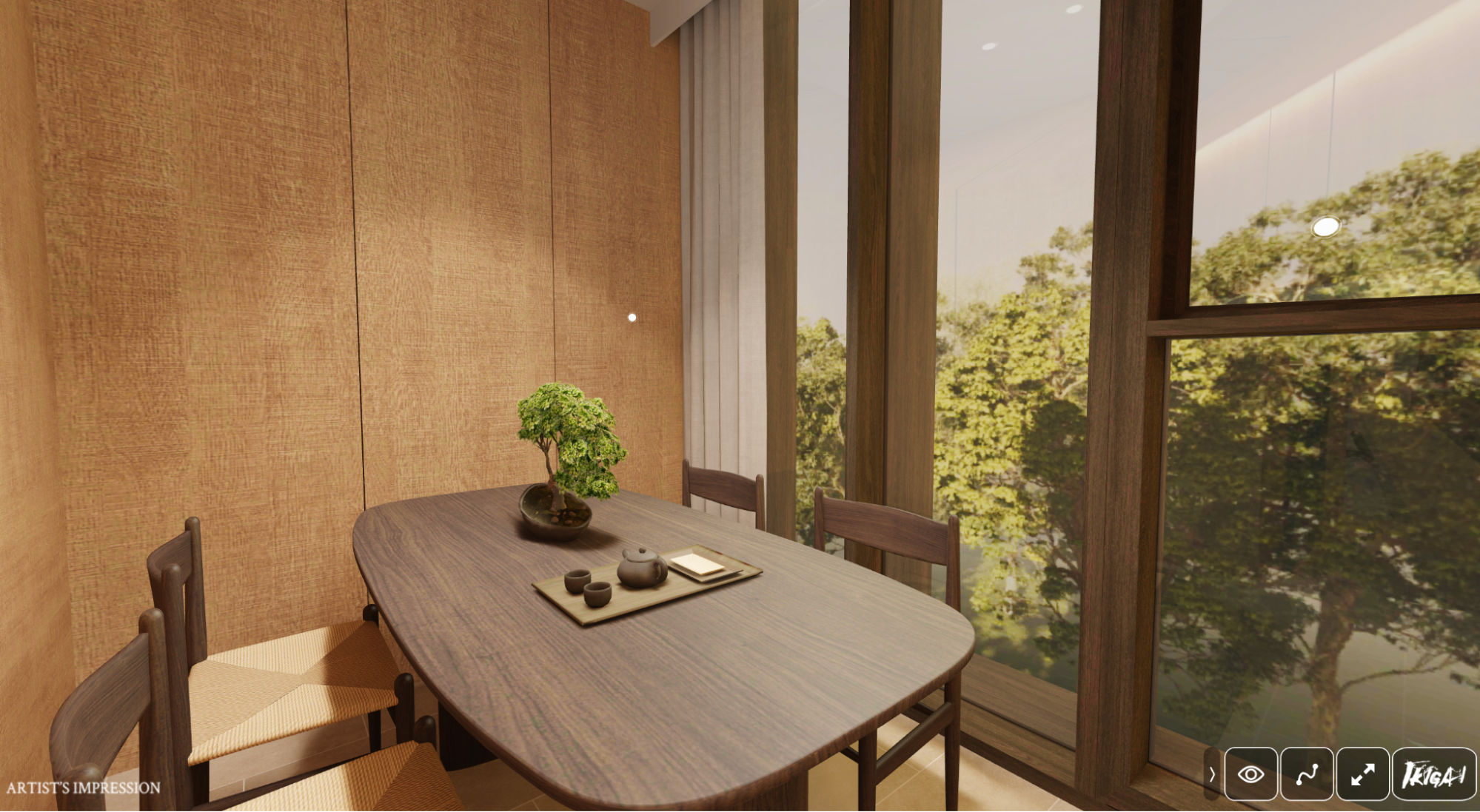 Also you might have noticed in the floor plan, that the kitchen is actually a utility room. This could be used as a helper's room, but the designers have rather interestingly chosen to add a dining table instead.
Although it might be able to comfortably fit a table for four here, it's not going to fit a full-sized family here, so that might not be the best use of space.
Personally, I'd much rather have the dining table placed outside onto the balcony area, so that we can truly make use of the enclosed kitchen space to its fullest potential.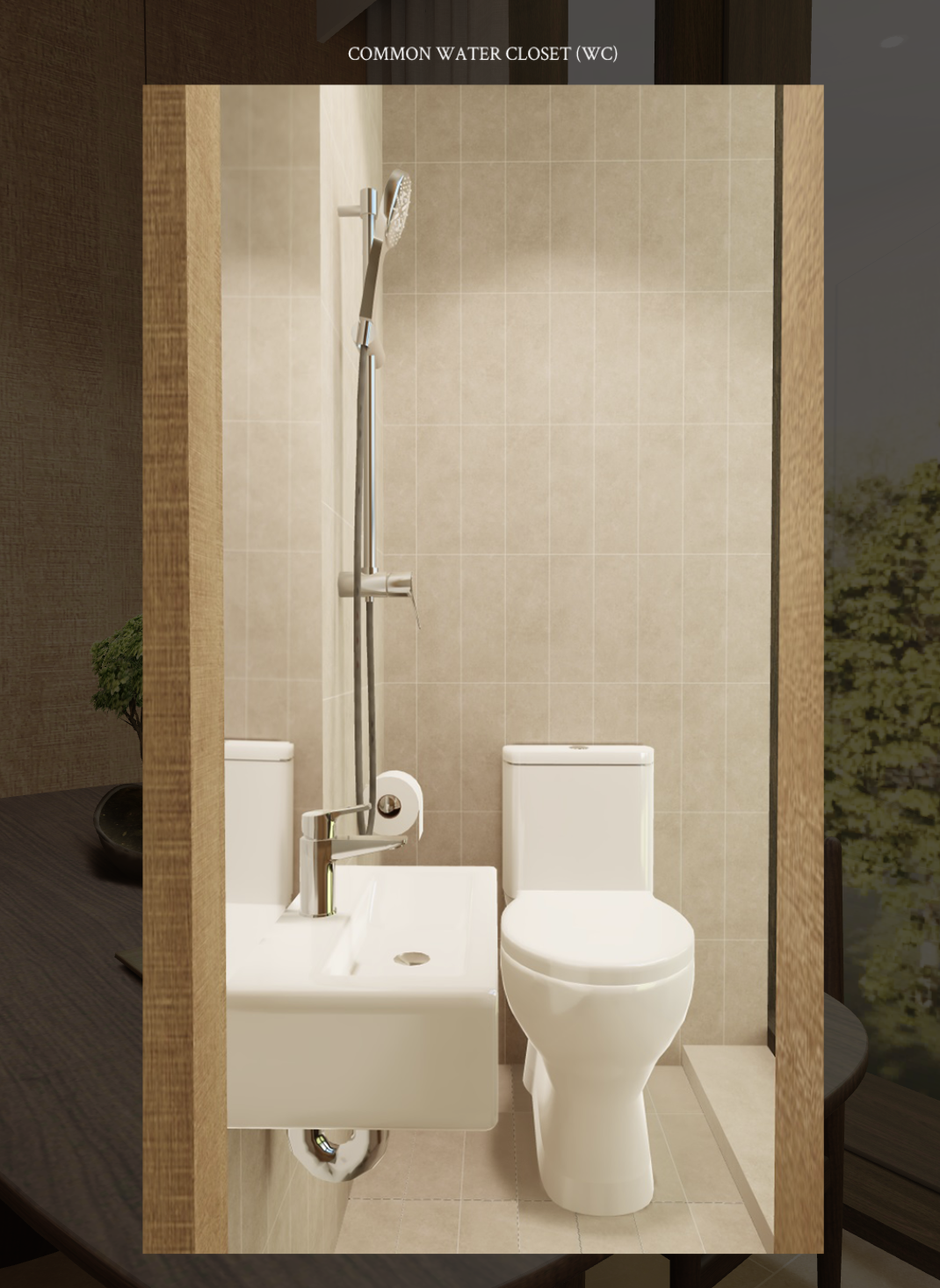 WC located behind kitchen wall panels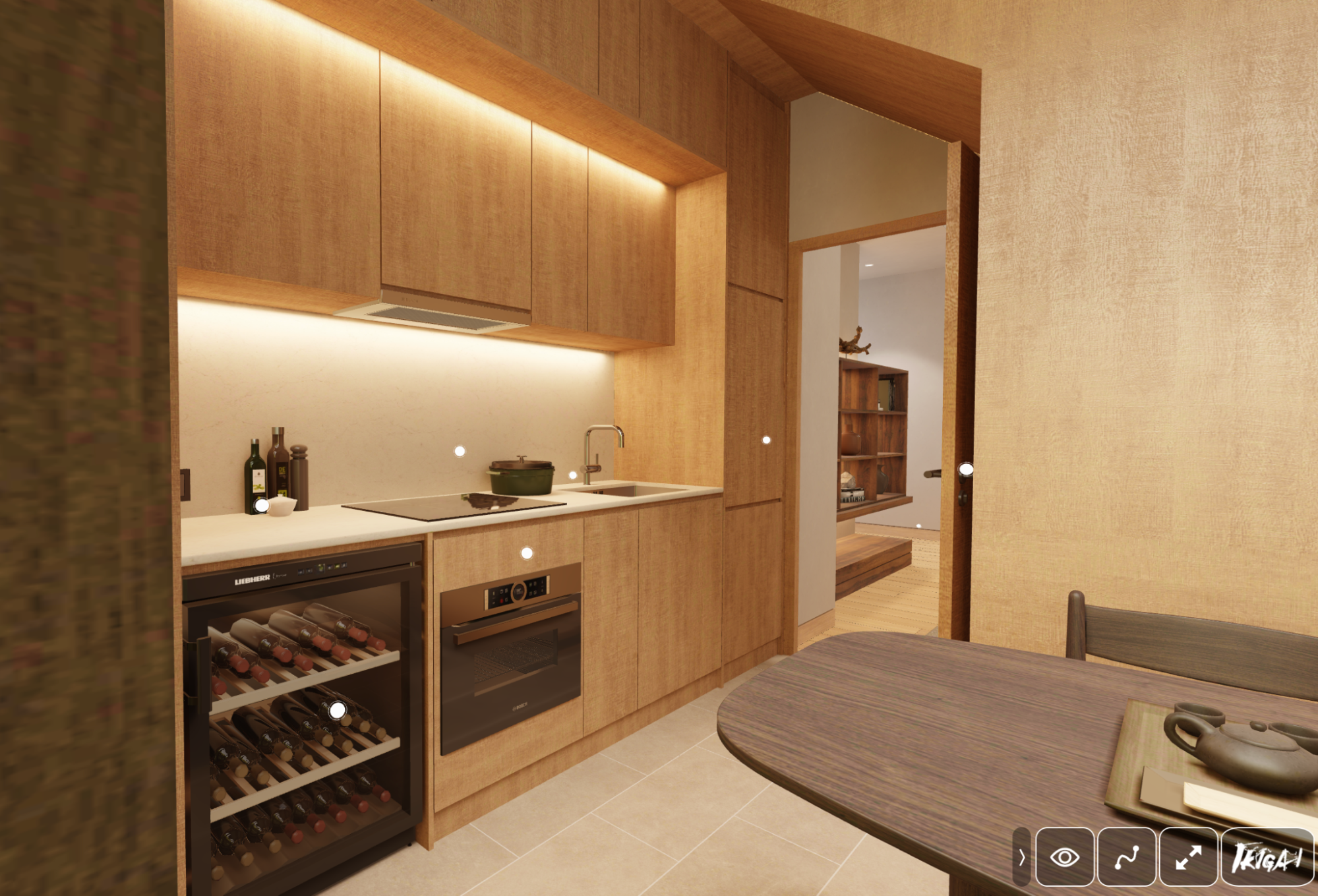 Looking at the layout, I'd say that while the kitchen space is quite big, you might find a lack of countertop space here.
Perhaps instead of a dining area, a kitchen island would be better placed here, as it can double up as a dining/breakfast counter, as well as more space to prep food.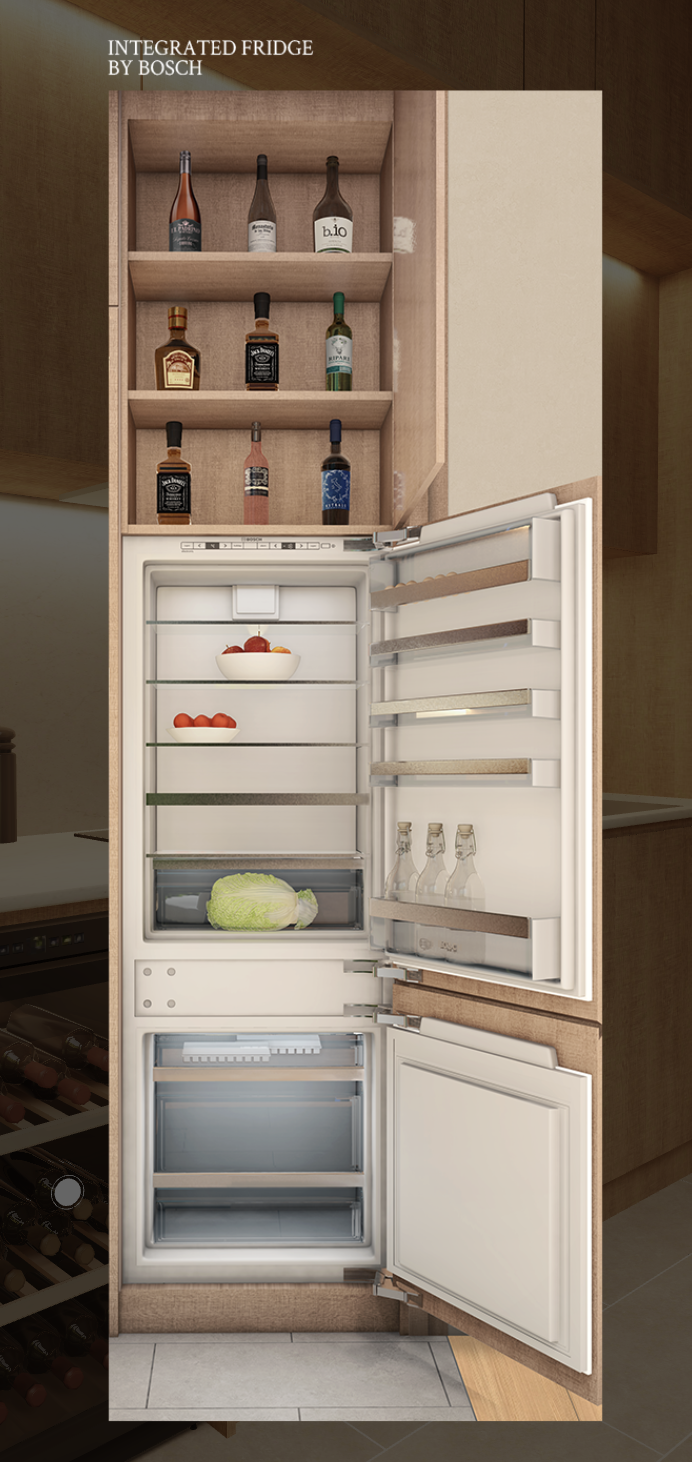 Integrated fridge by Bosch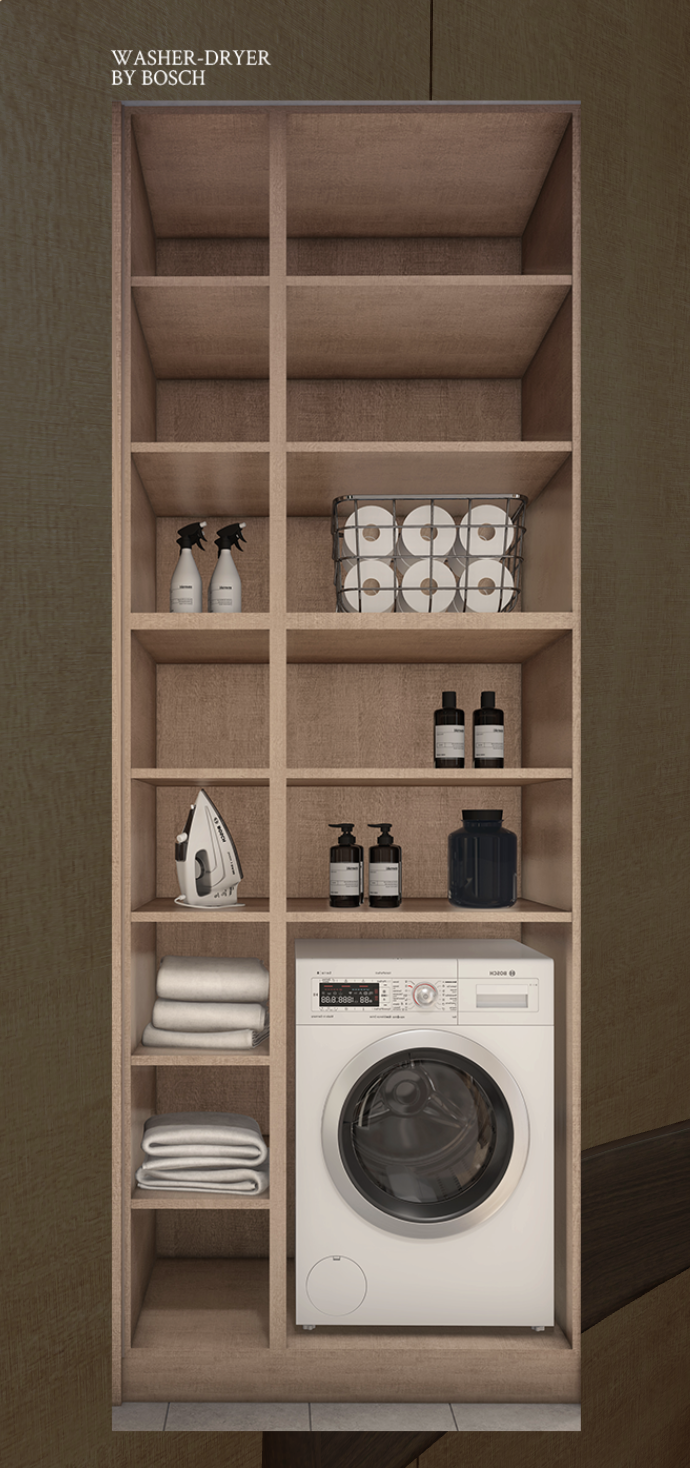 Washer-dryer installation by Bosch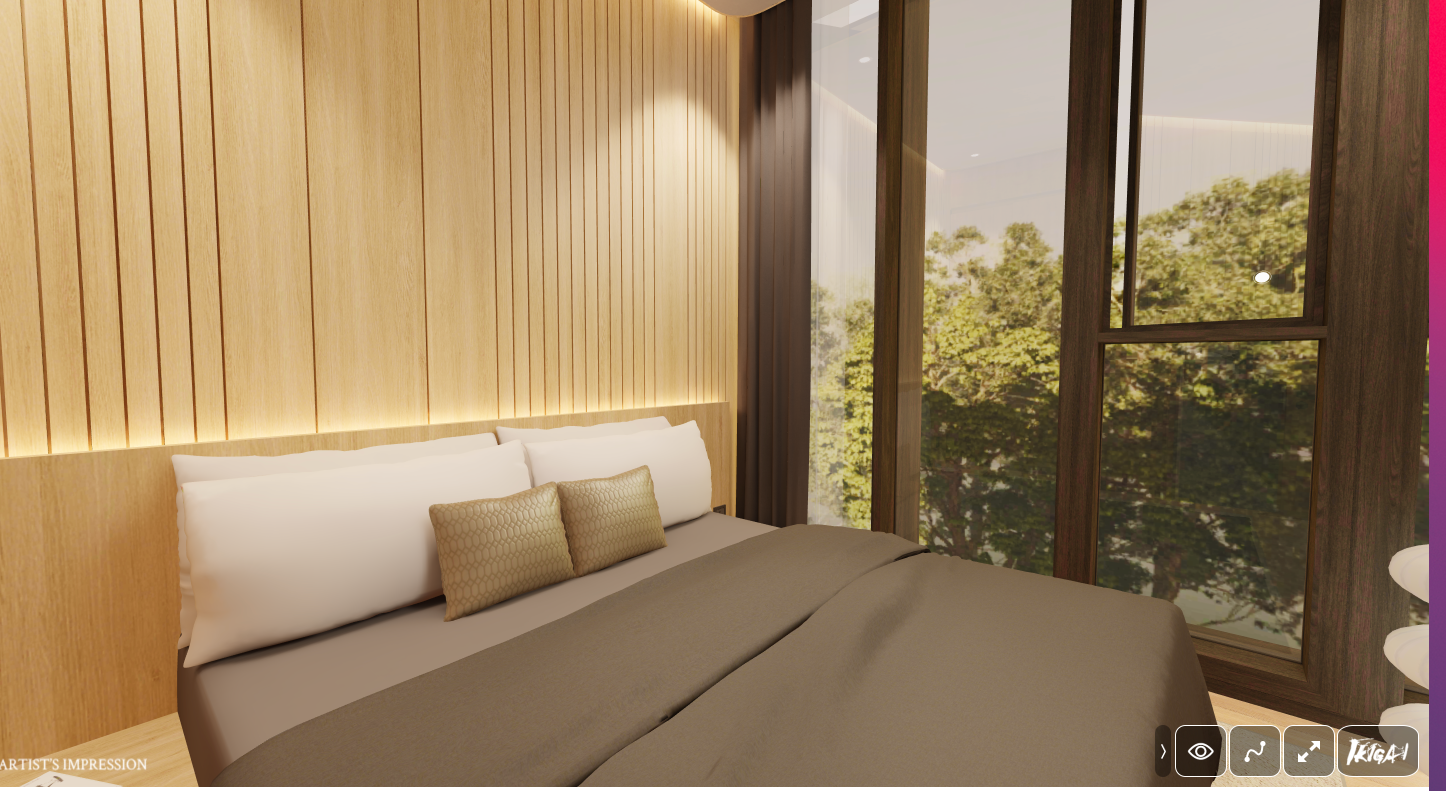 Moving on to the next area on the first floor is the master bedroom. The floor-to-ceiling windows are facing the North direction, overlooking Shrewsbury Street. For buyers, what's important to know here is that the natural sun would not be that intense in this orientation.
Additionally, this room is able to comfortably accommodate a king-sized bed and a built-in closet.
Built-in closet in Master Bedroom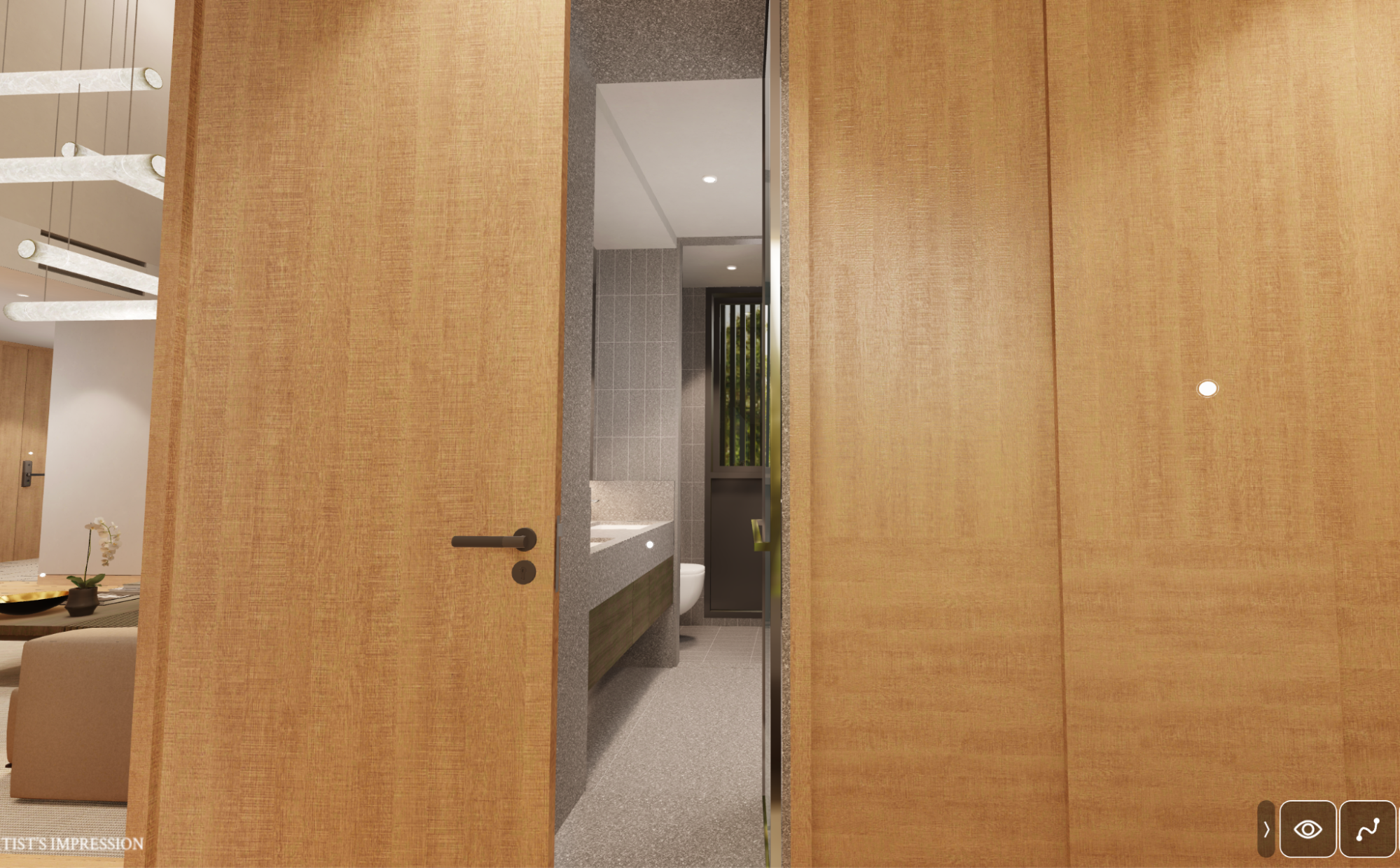 Located right beside the built-in closet is the master bathroom.
Immediately upon entering, you'll be greeted by a his-and-hers sink within a granite-clad bathroom. The choice to use a full granite material was a bold (and artistic) one since it manages to combine the elegant simplicity of a typical Japanese style.
The good news for potential residents is that the material is durable and would not require much maintenance.
There's also additional shelving behind the mirrors that's perfect to store any sundries and bathroom essentials. The installation of the LED lights at the sink also makes the whole space feel more elegant.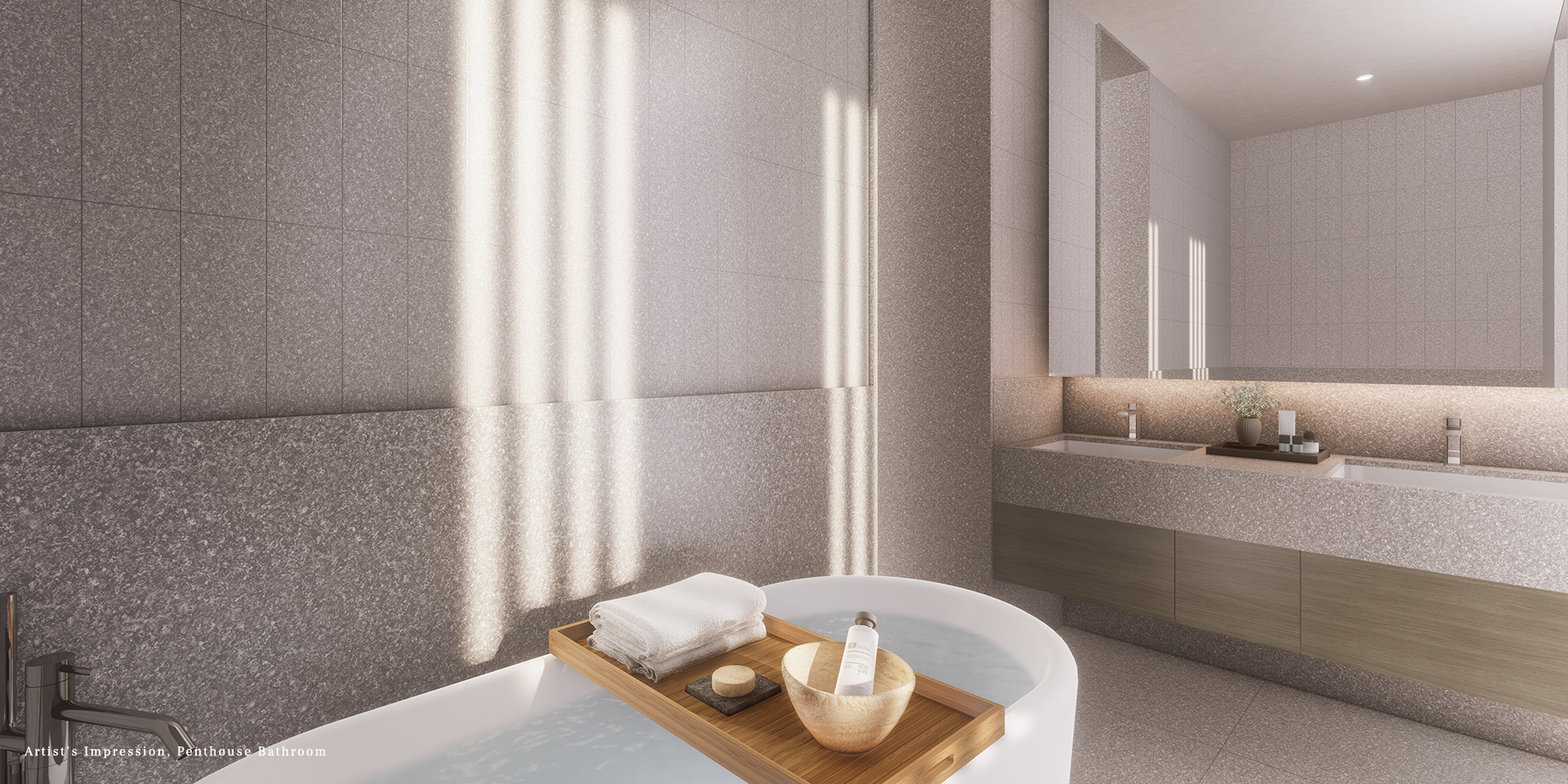 Facing the sinks is the indulgent inclusion of a bathtub. It's noted that only the penthouse units come with a bathtub in the master bathroom. It must be said that the combination of colours and materials gives a very organic and soothing ambience.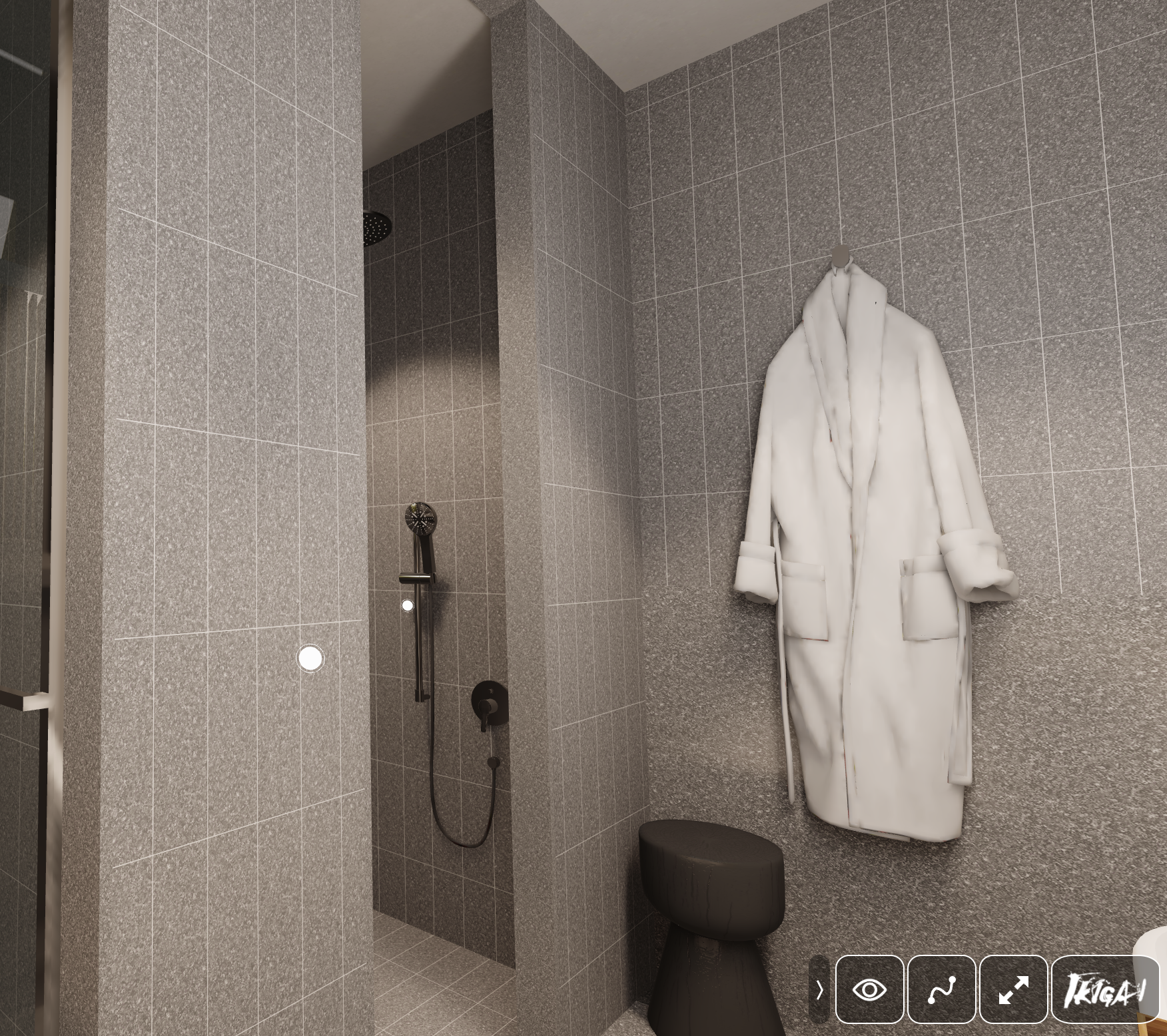 Right beside the bathtub is the walk-in shower.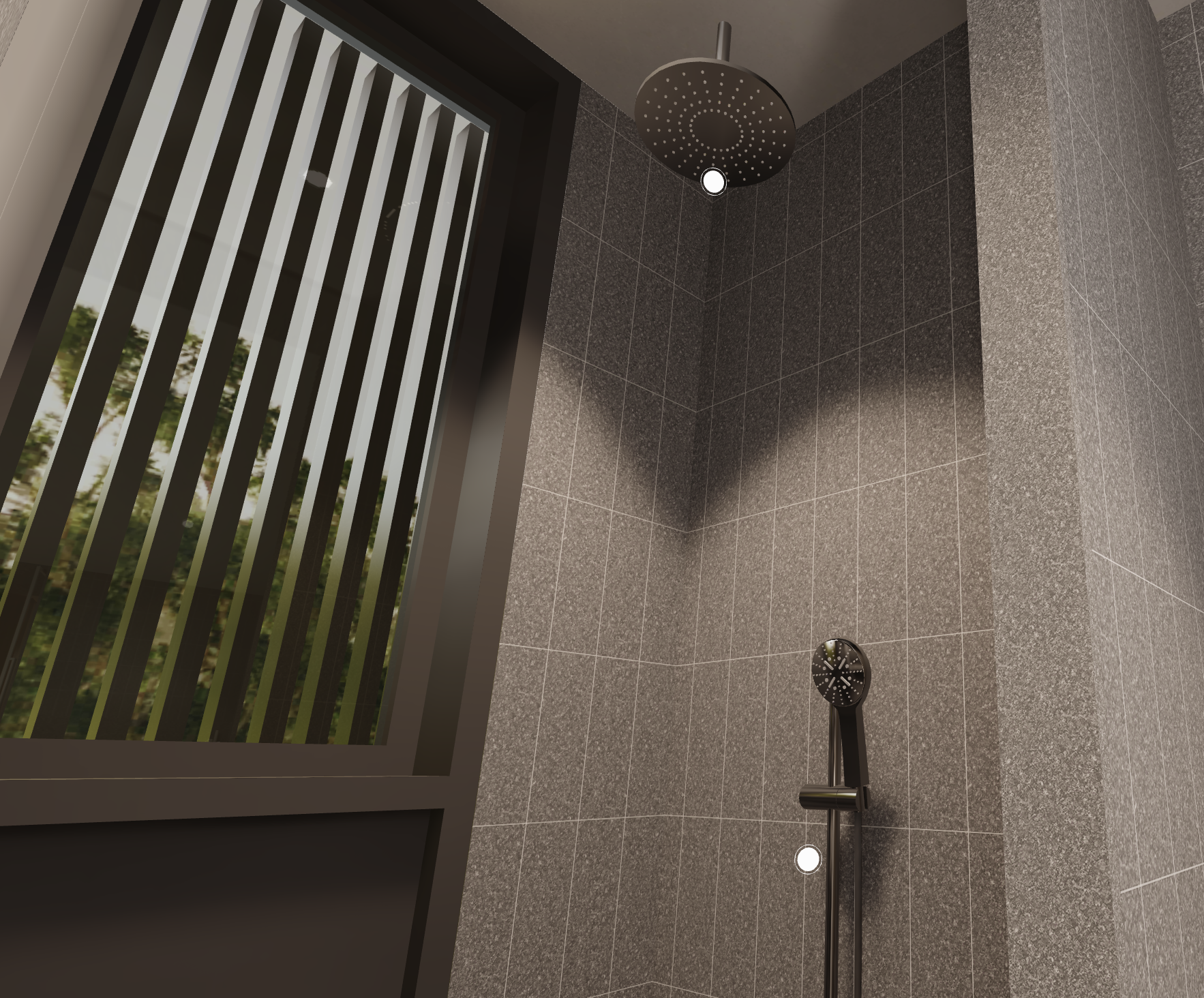 Also furnished with a handheld shower and rain shower, you'll have the alternative to either take a long hot bath or a quick and refreshing shower.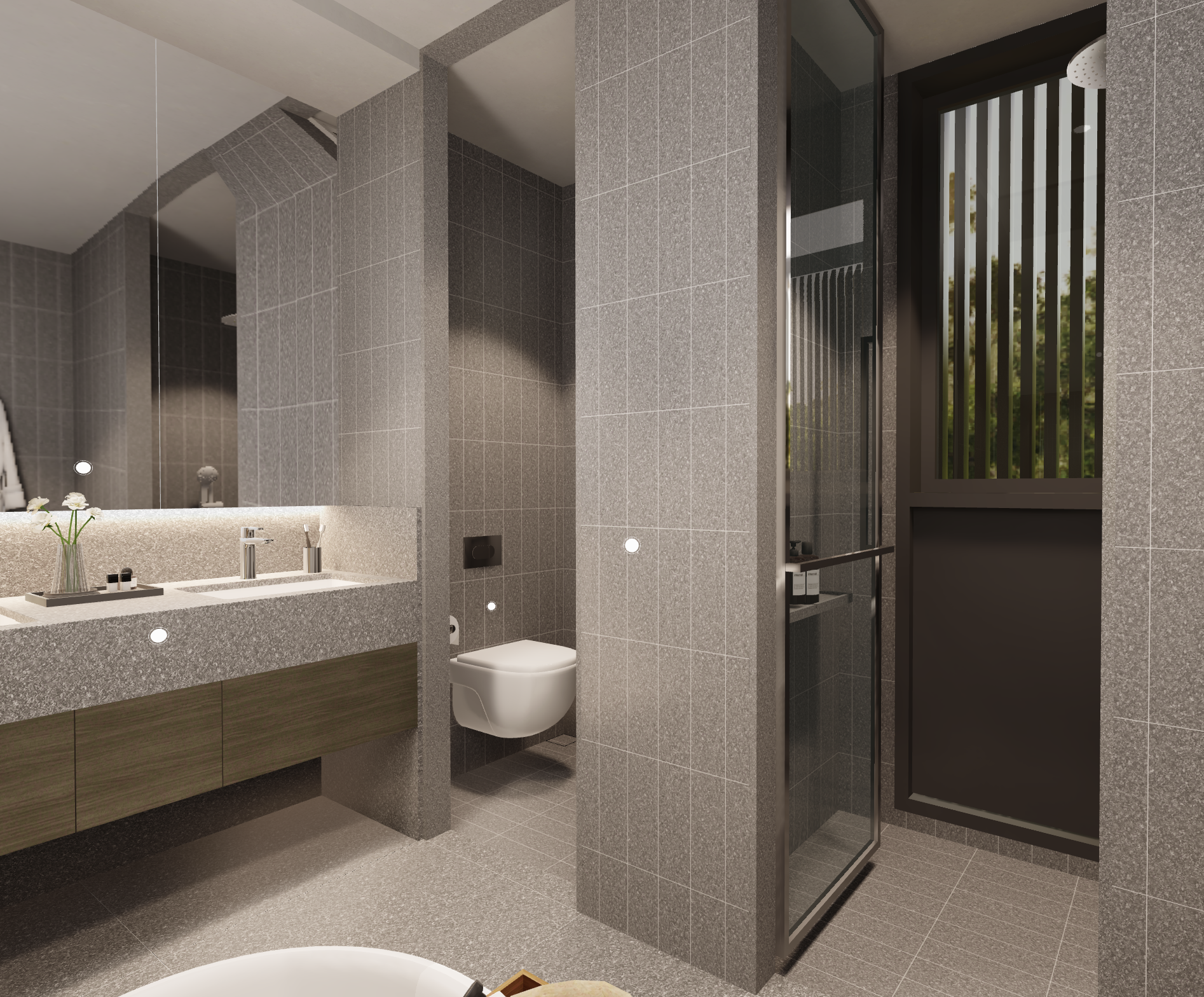 There is also the added bonus of a window here, for proper ventilation.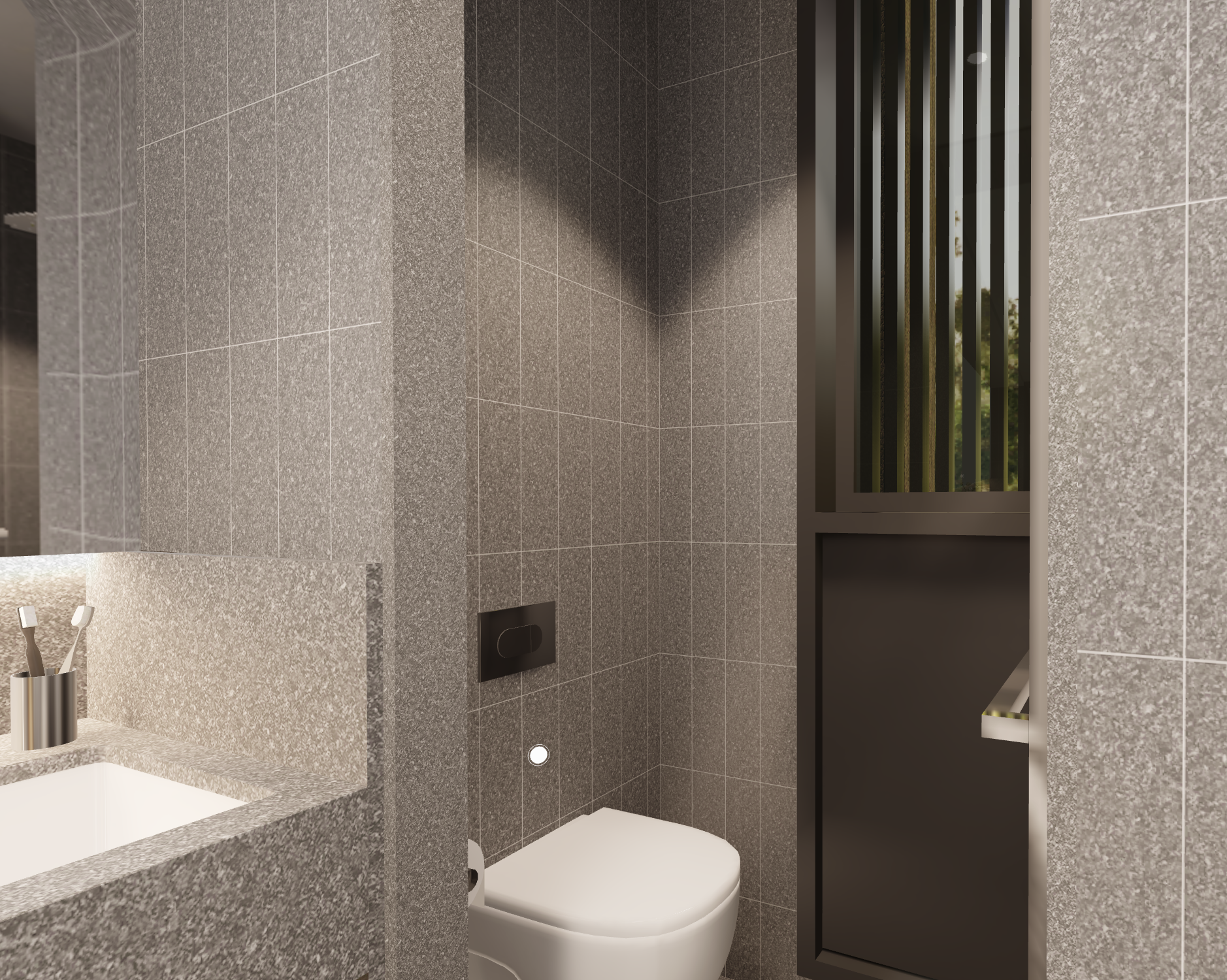 The toilets are also wall-hung for easy cleaning and maintenance.
The abundance of windows in this bathroom is definitely bonus cookie points, in my opinion.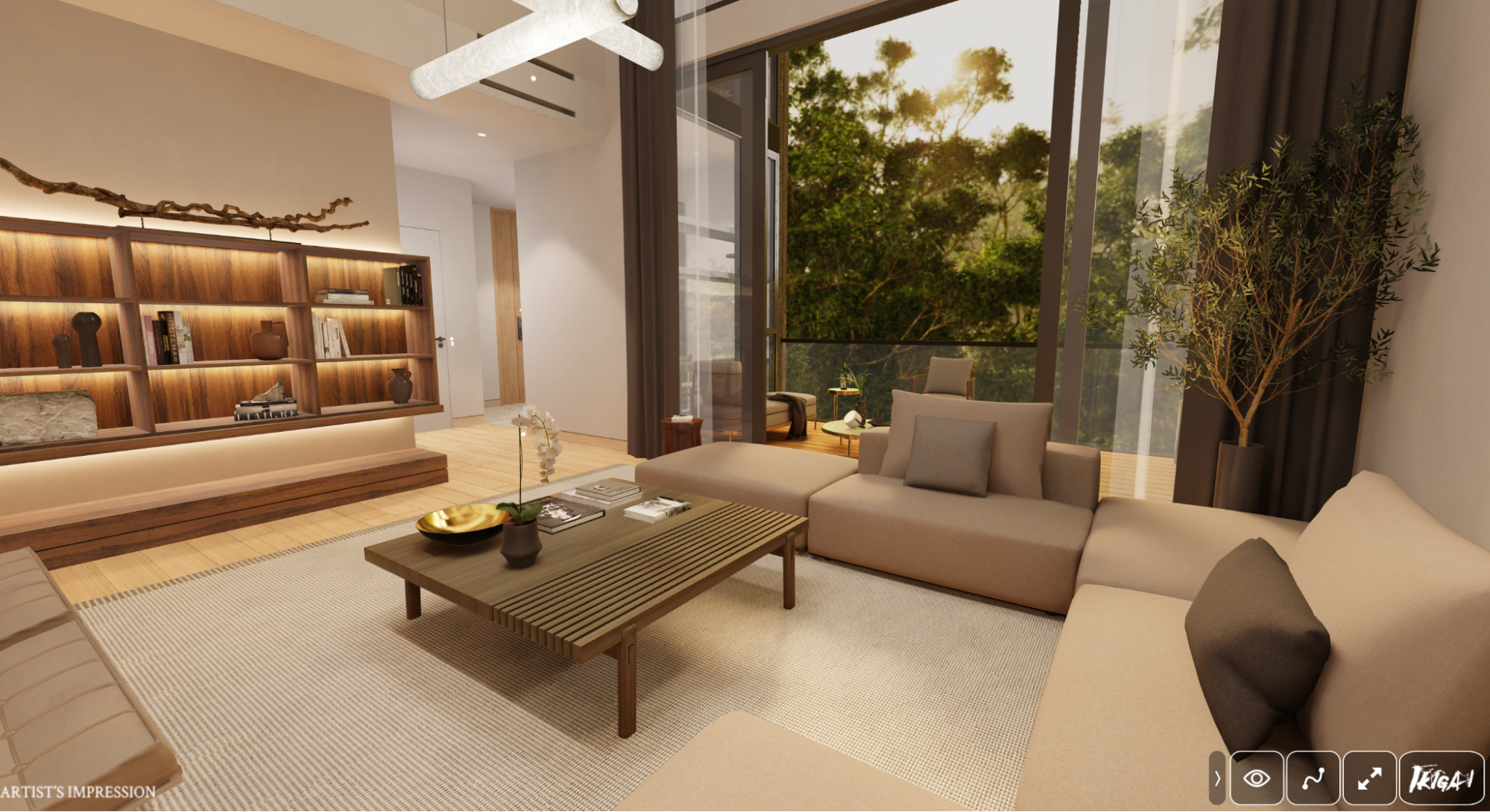 View of the living room from the master bedroom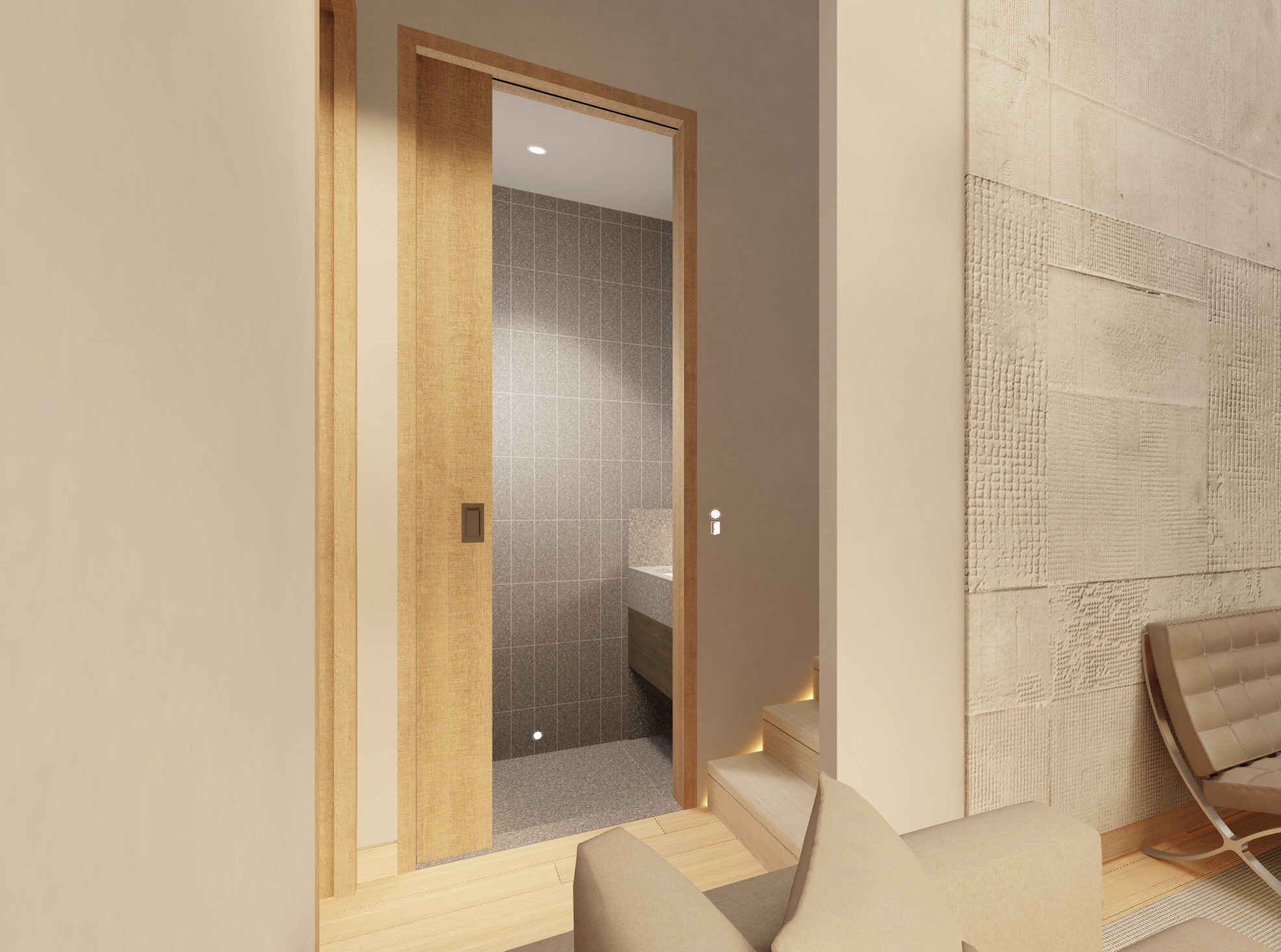 Just before we tour the upper part of the unit, it's worth noting that there is a powder room that guests can conveniently access from the common area. This is typically only found in more luxurious units, so it's great to see that little bit extra here.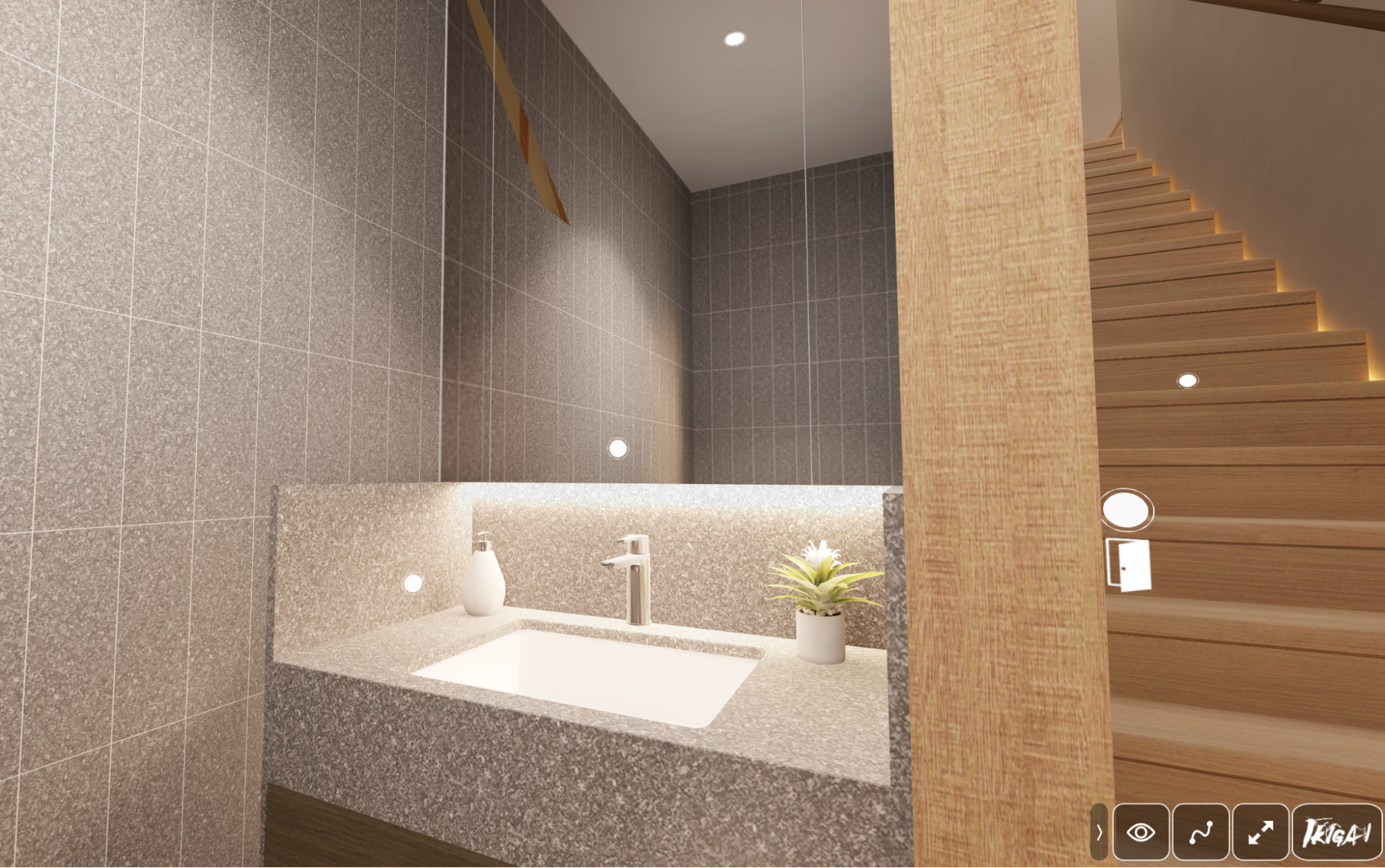 The powder room has a similar design to all the other bathrooms. It is made of granite material for durability and has a mirror fitted with LED lights that serves also as storage for bathroom essentials.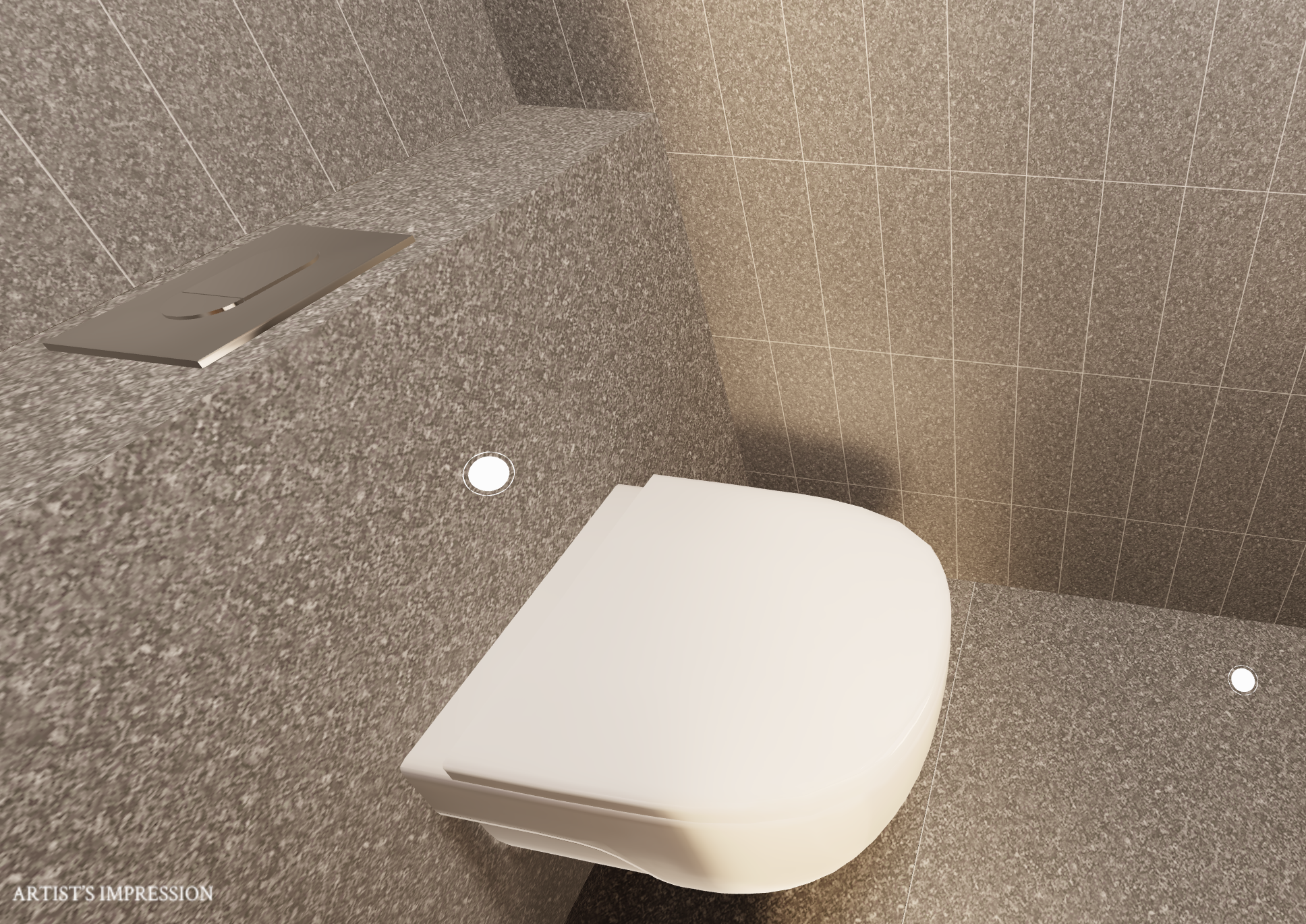 A simple wall-hung toilet is also included to make it a simple and minimalistic powder room for guests.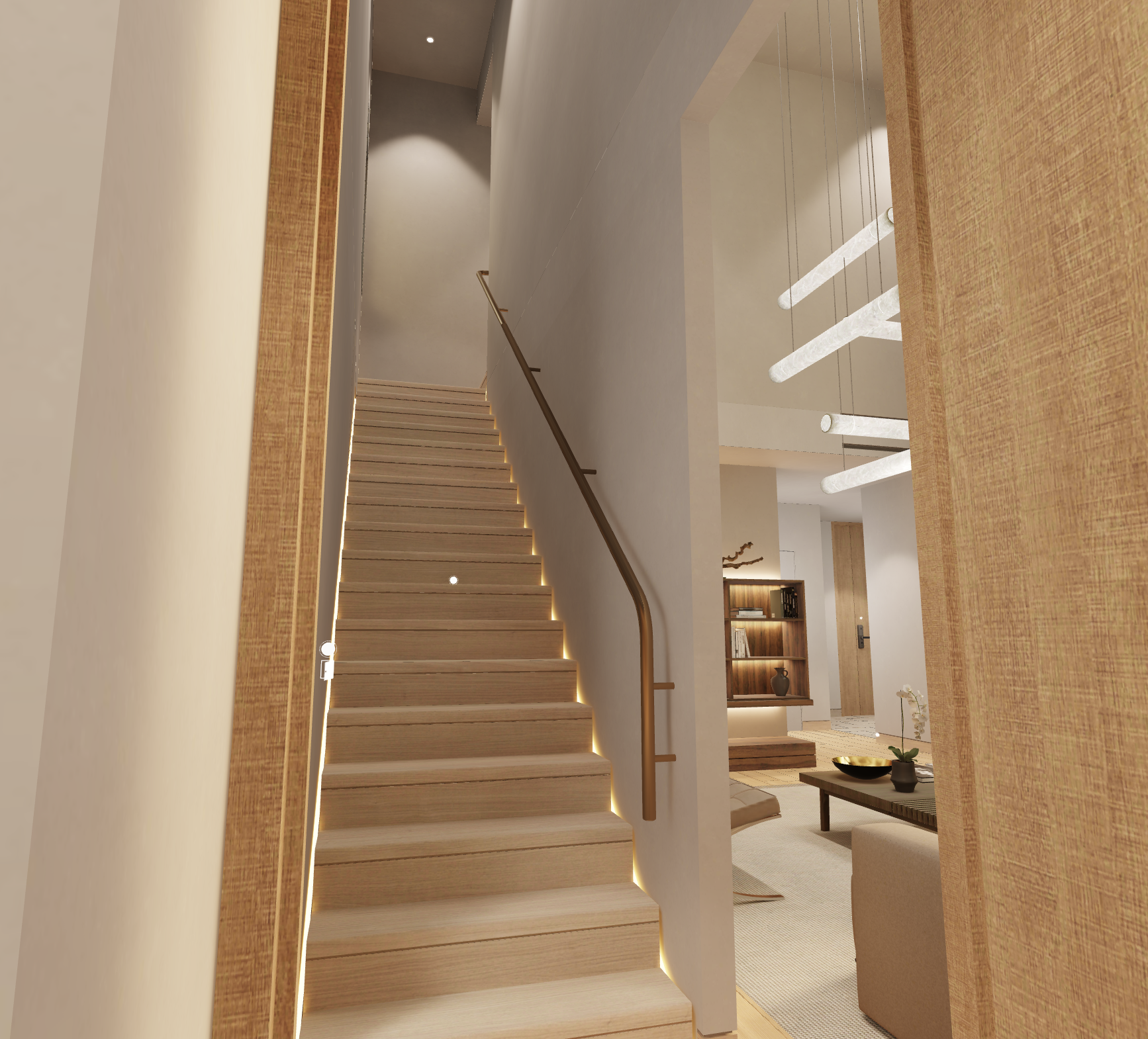 As with penthouse units set over 2 floors, there will be some space that will be taken up by the stairs. There isn't a lift here, but because the master bedroom is located on the first floor it does make it a more sensible layout in the longer term – even if it is less private.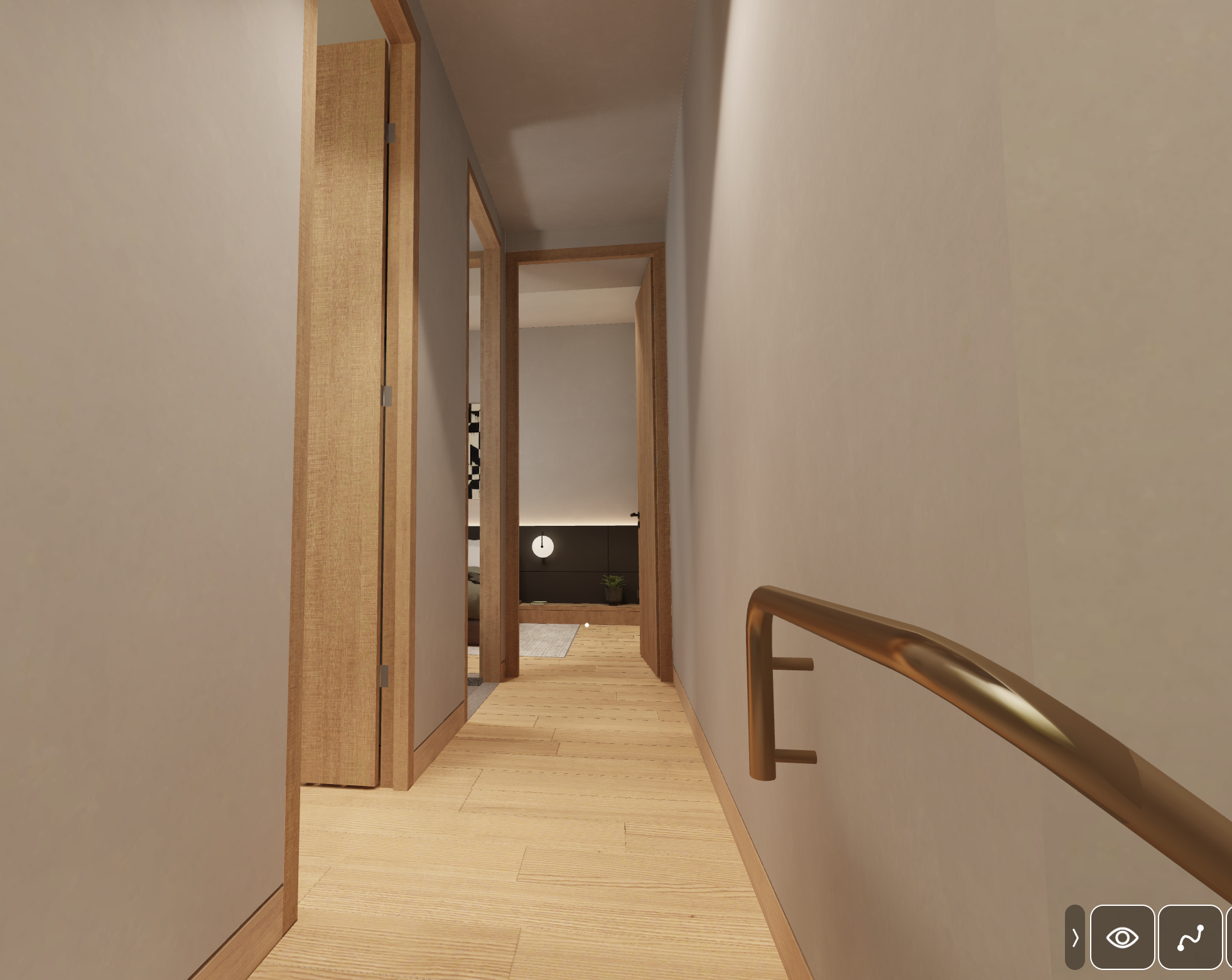 At first glance, the hallway of the upper floor points to three main rooms – two common bedrooms and the common bathroom.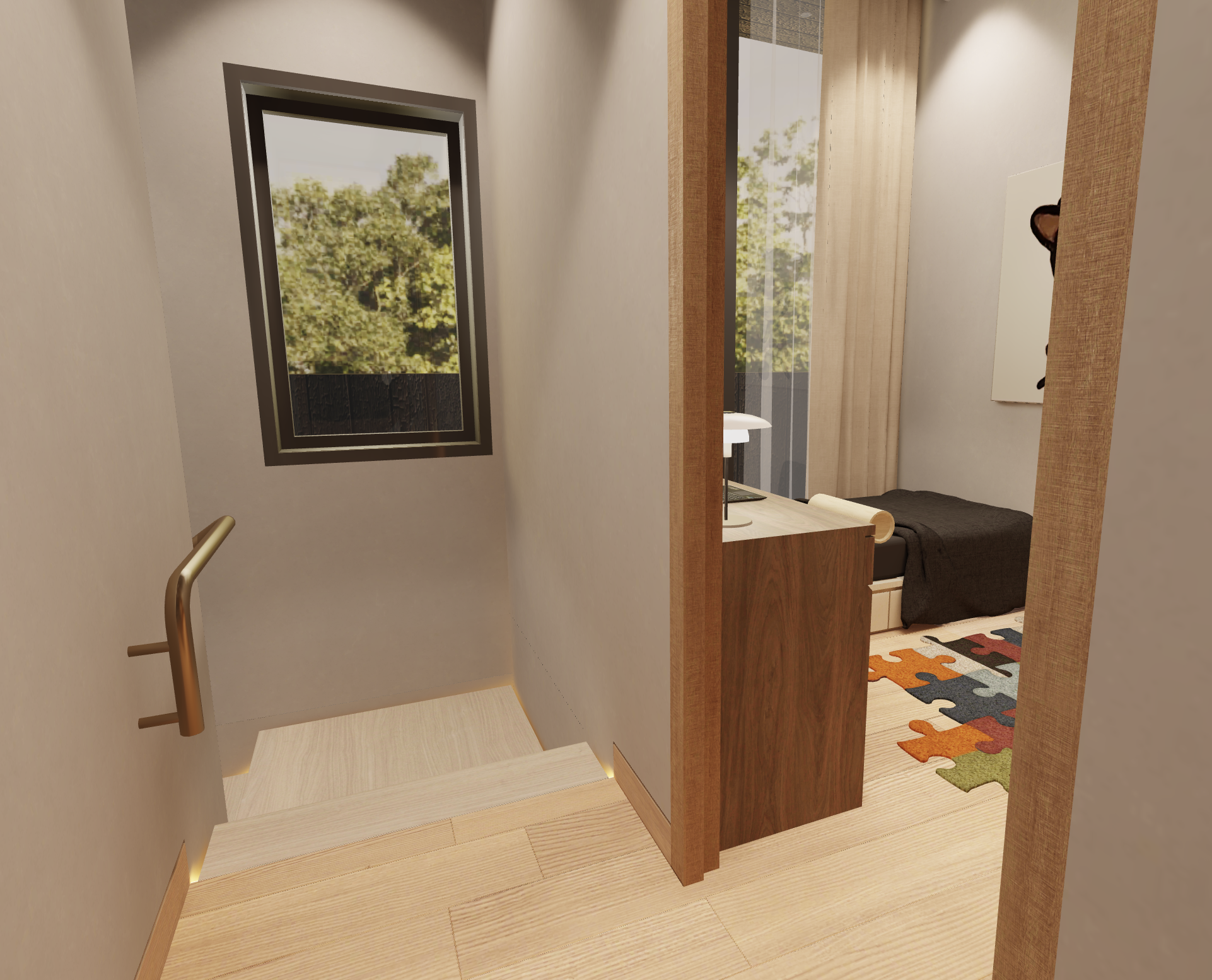 Let's take a look at the first bedroom from the stairs.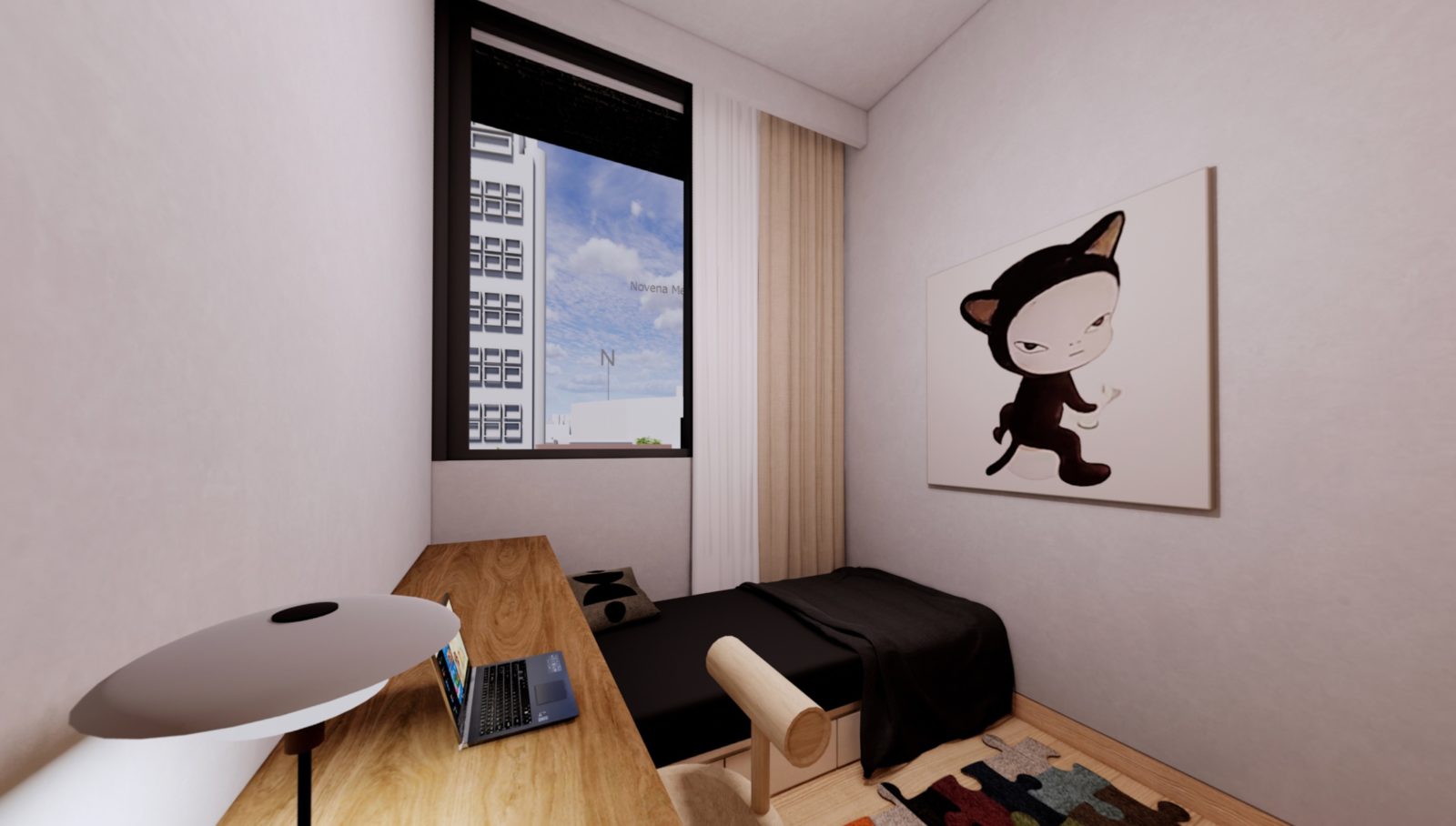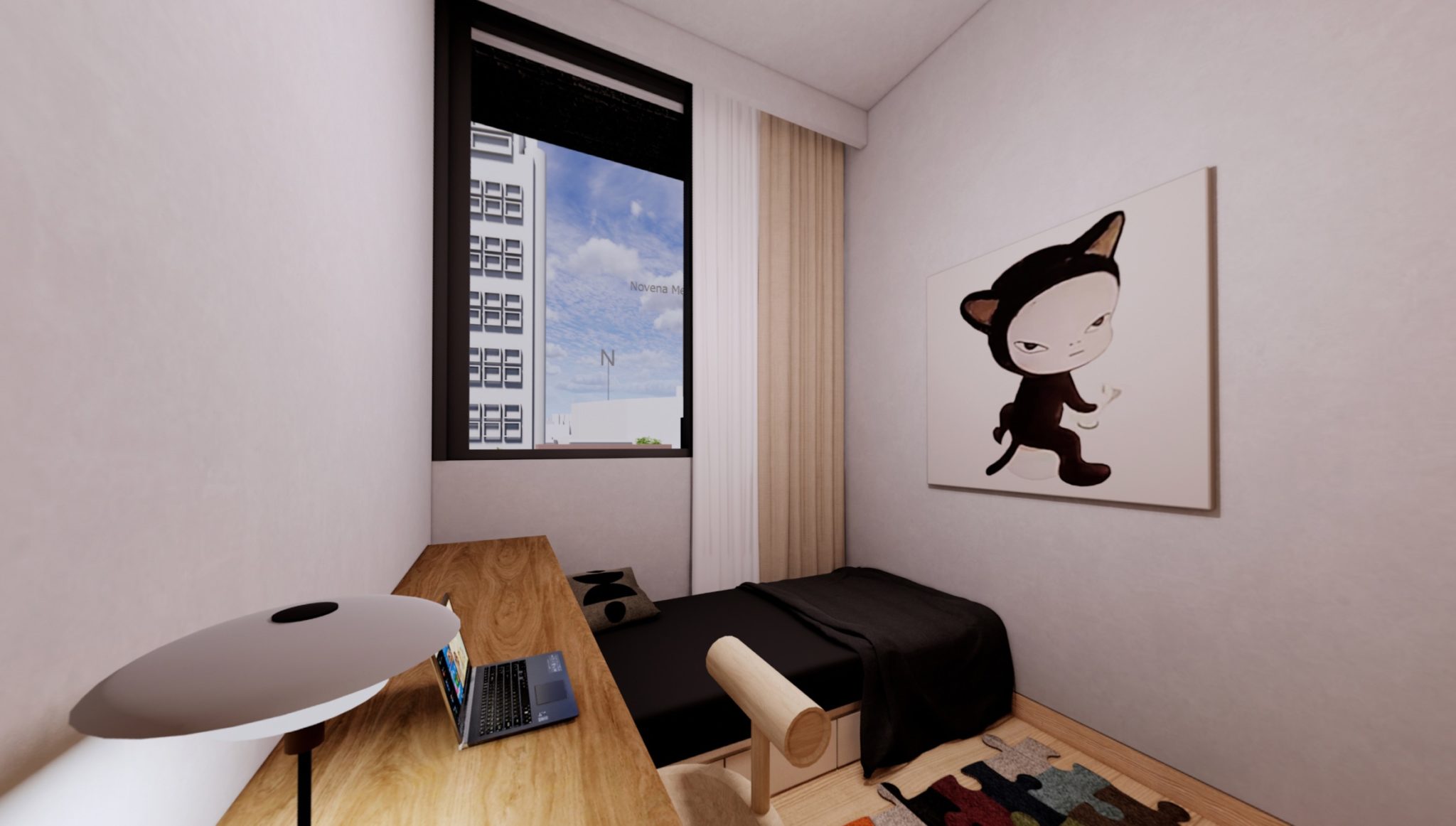 The designers have opted to make this the designated children's bedroom and can fit a study table, single bed and built-in wardrobe.
It is also worth highlighting that the windows are sliding windows for natural wind and breeze to spruce up the space.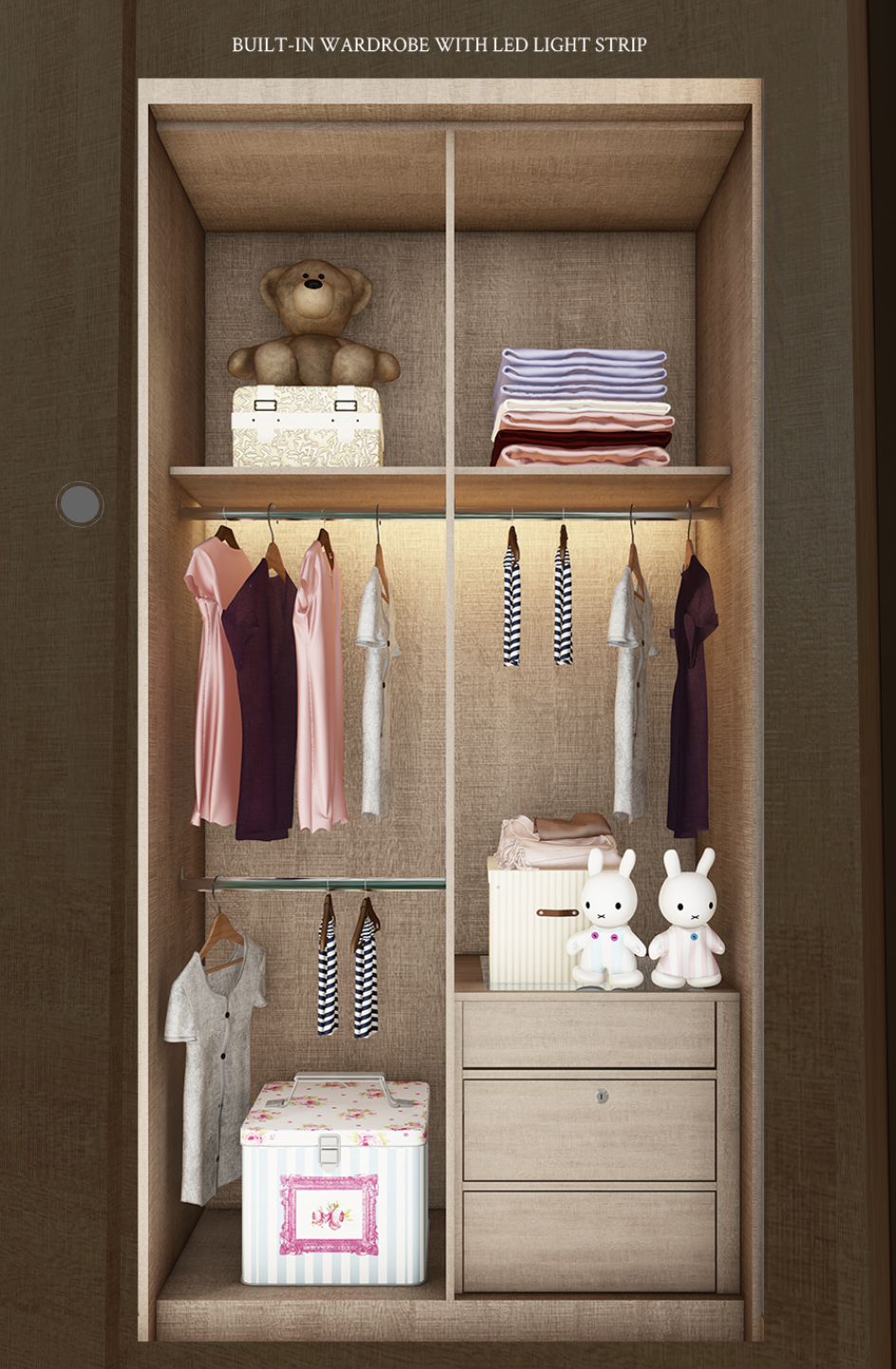 Built-in wardrobe with LED light strip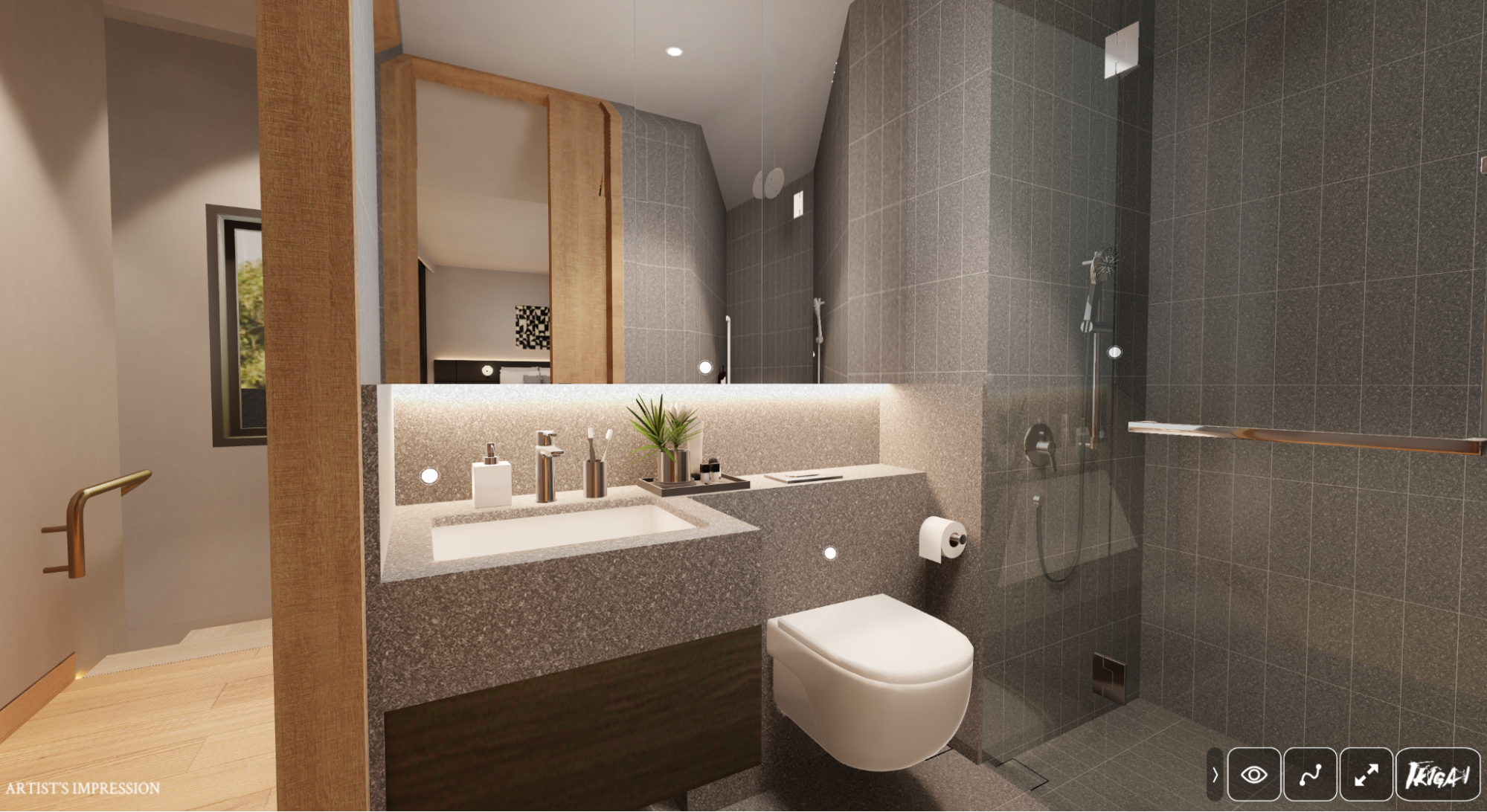 Located beside the bedroom is the common bathroom.
Similarly, there's a sink, wall-hung toilet and shower area within this bathroom. The bathroom is also made of granite material for easy maintenance.
At the back of the mirror is ample shelving for bathroom essentials that those living on the upper floor might choose to store.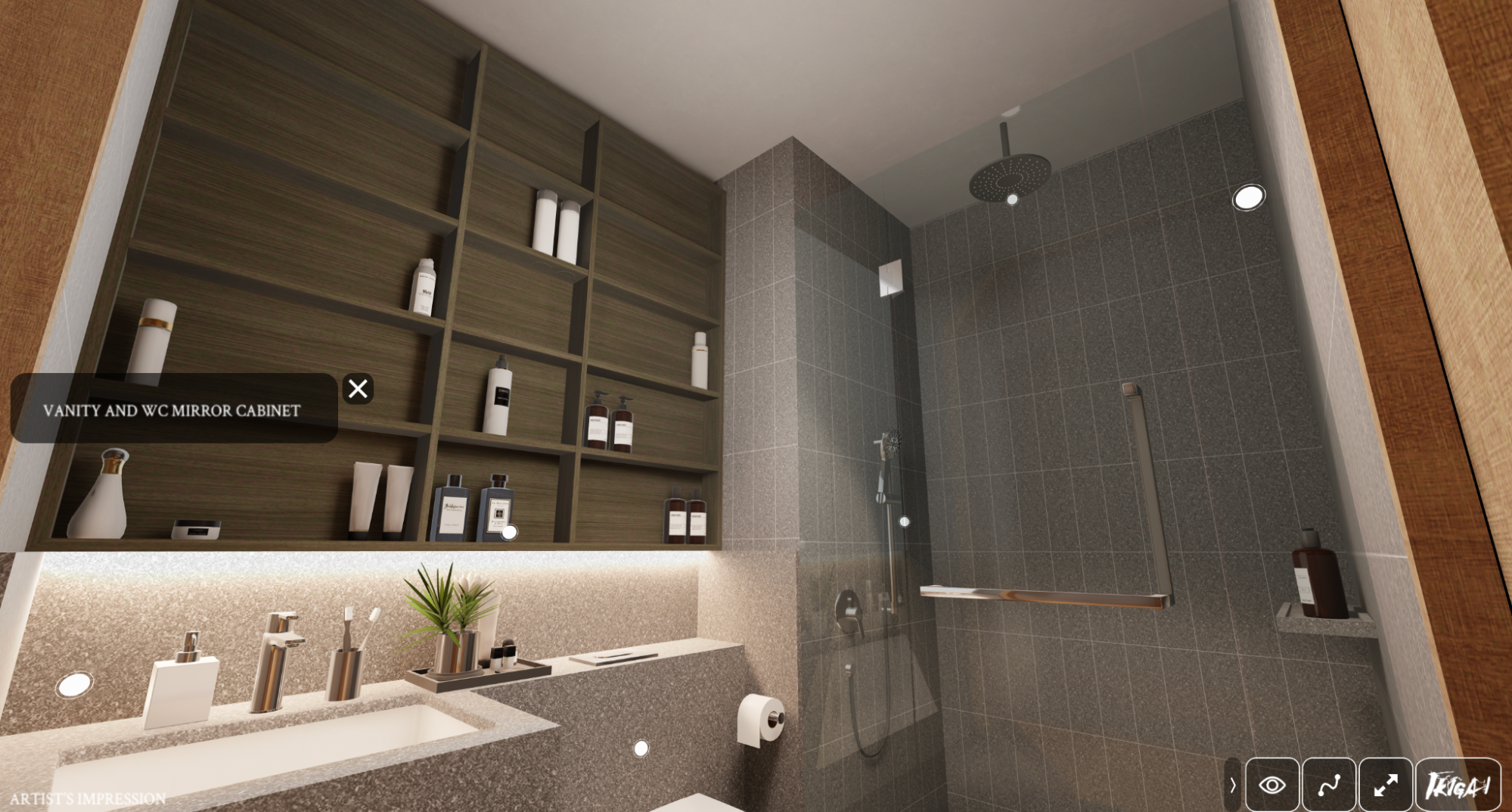 On top of the usual handheld shower, there's also the added luxury of a rain shower.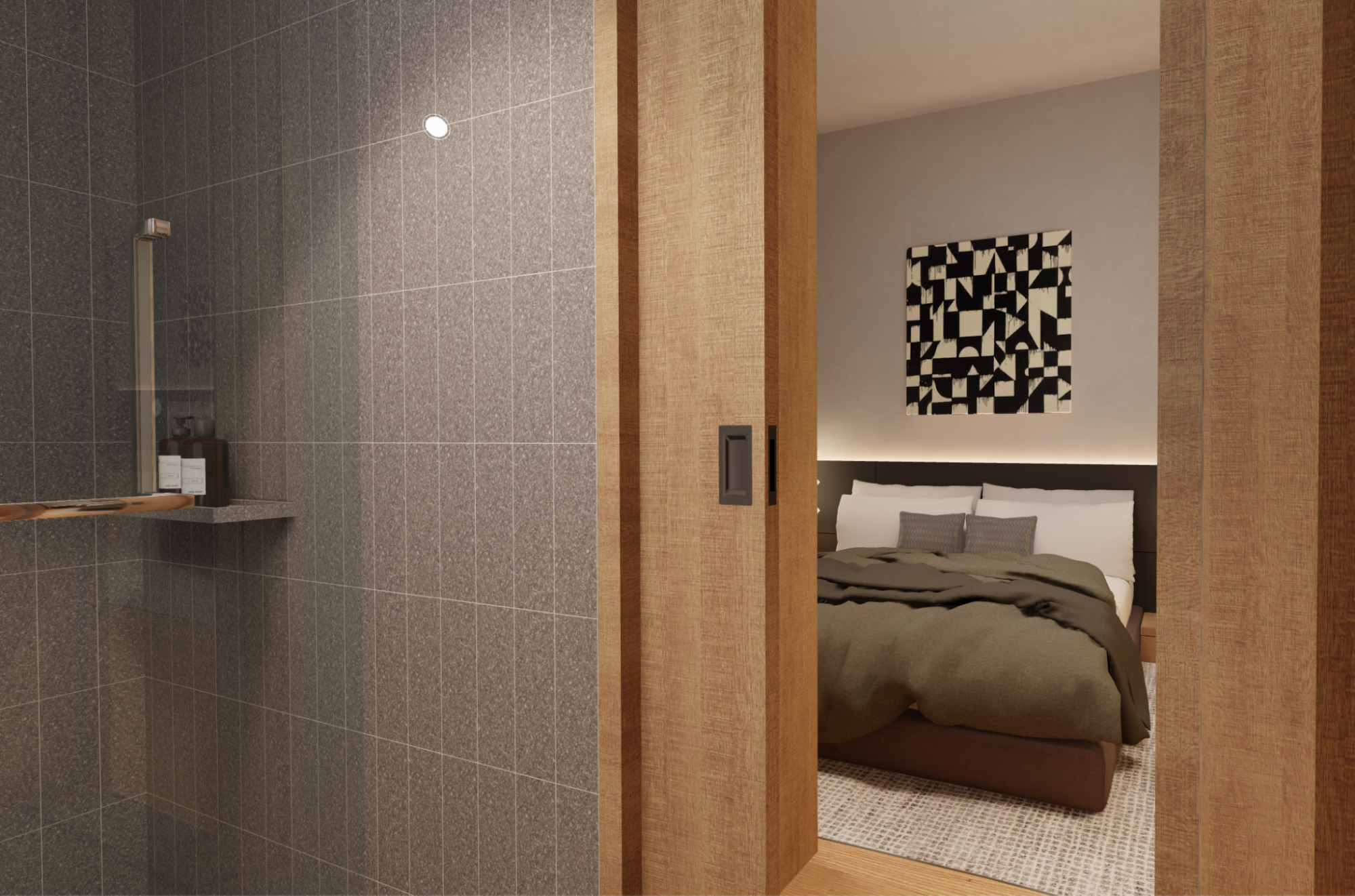 For this common bathroom, it has a jack-and-jill door connecting to the next common bedroom.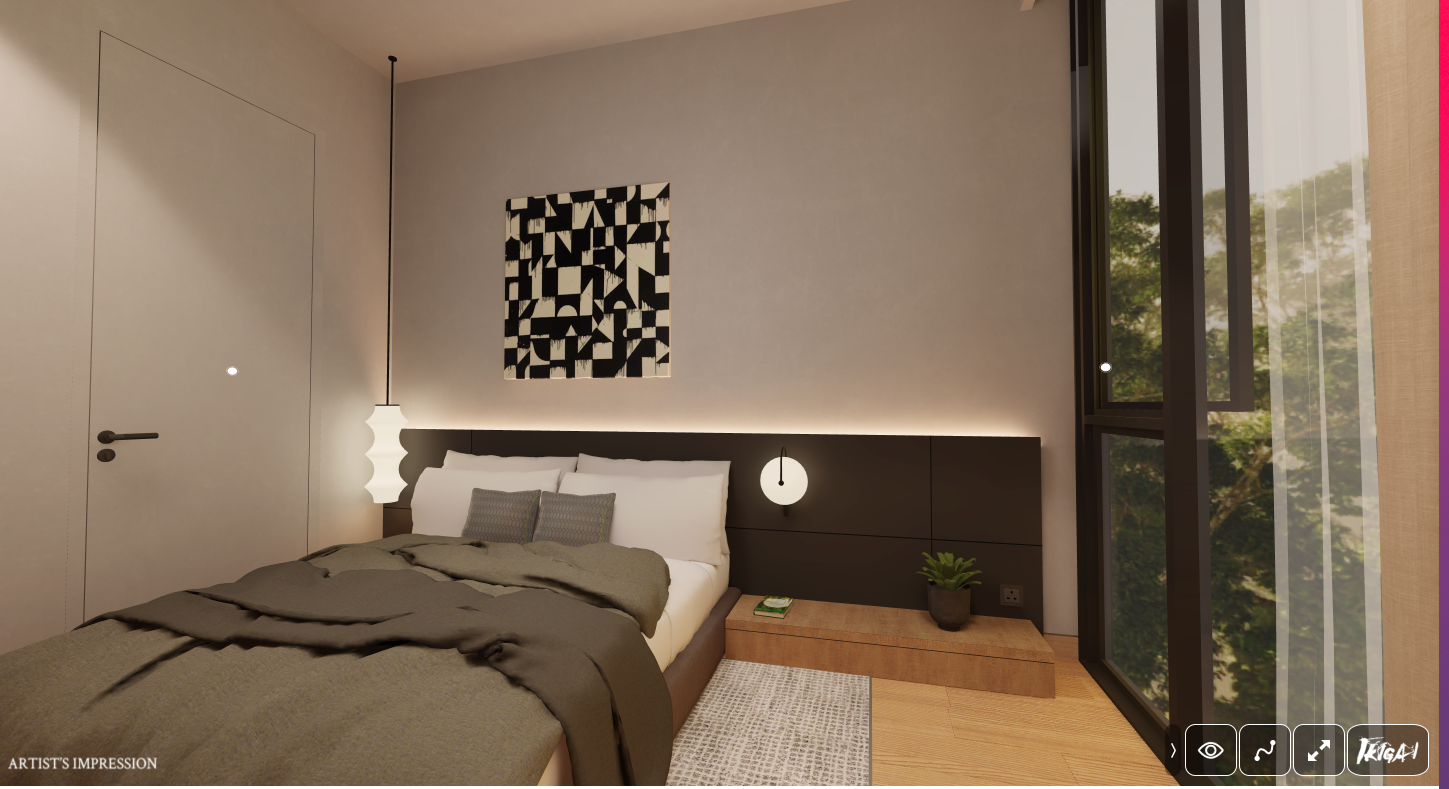 The last stop of this virtual tour is the final guest bedroom that has floor-to-ceiling windows overlooking the South direction towards the CTE.
The room comfortably fits a built-in wardrobe and a queen-sized bed with some space to spare.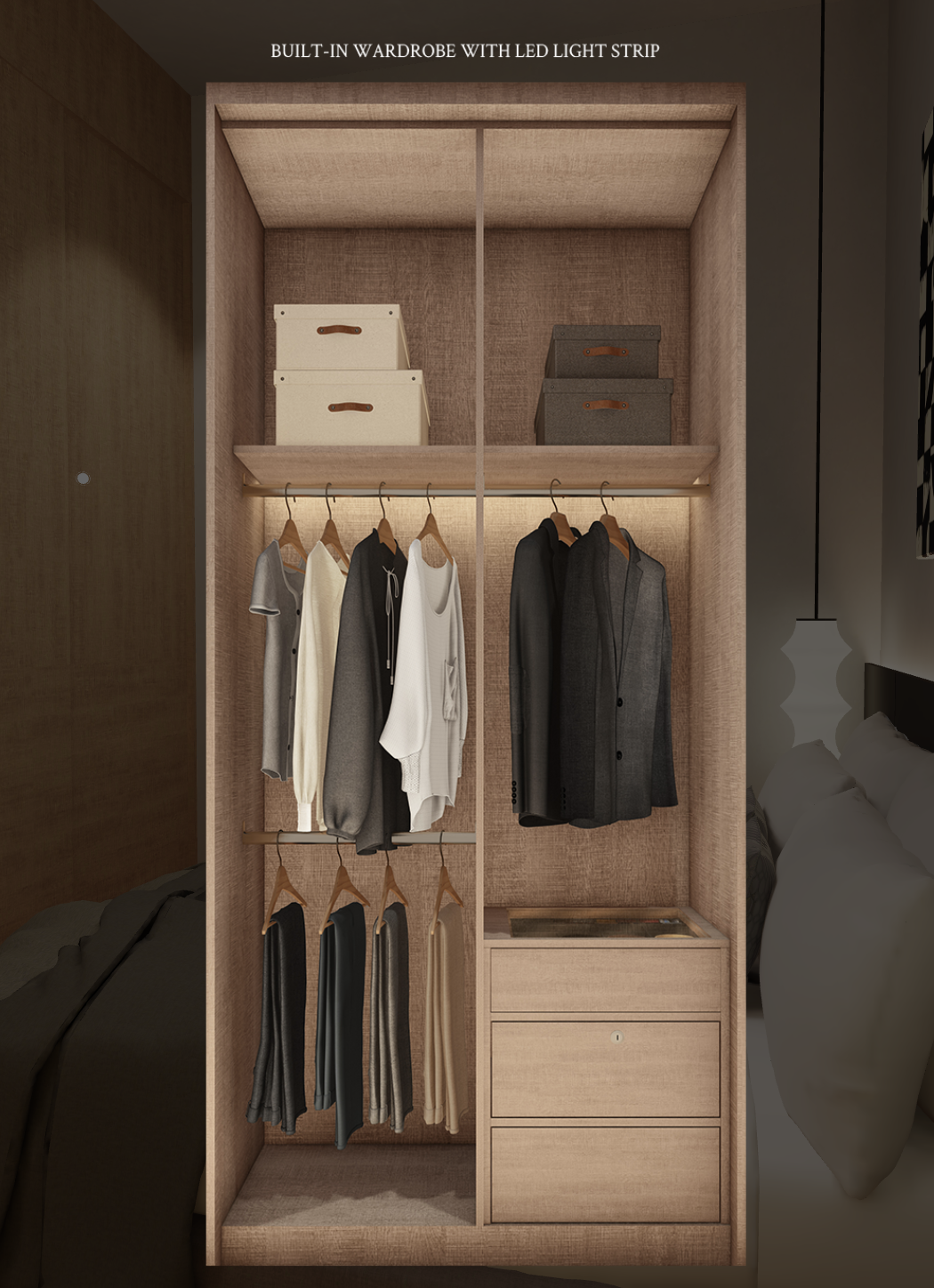 Built-in wardrobe with LED light strip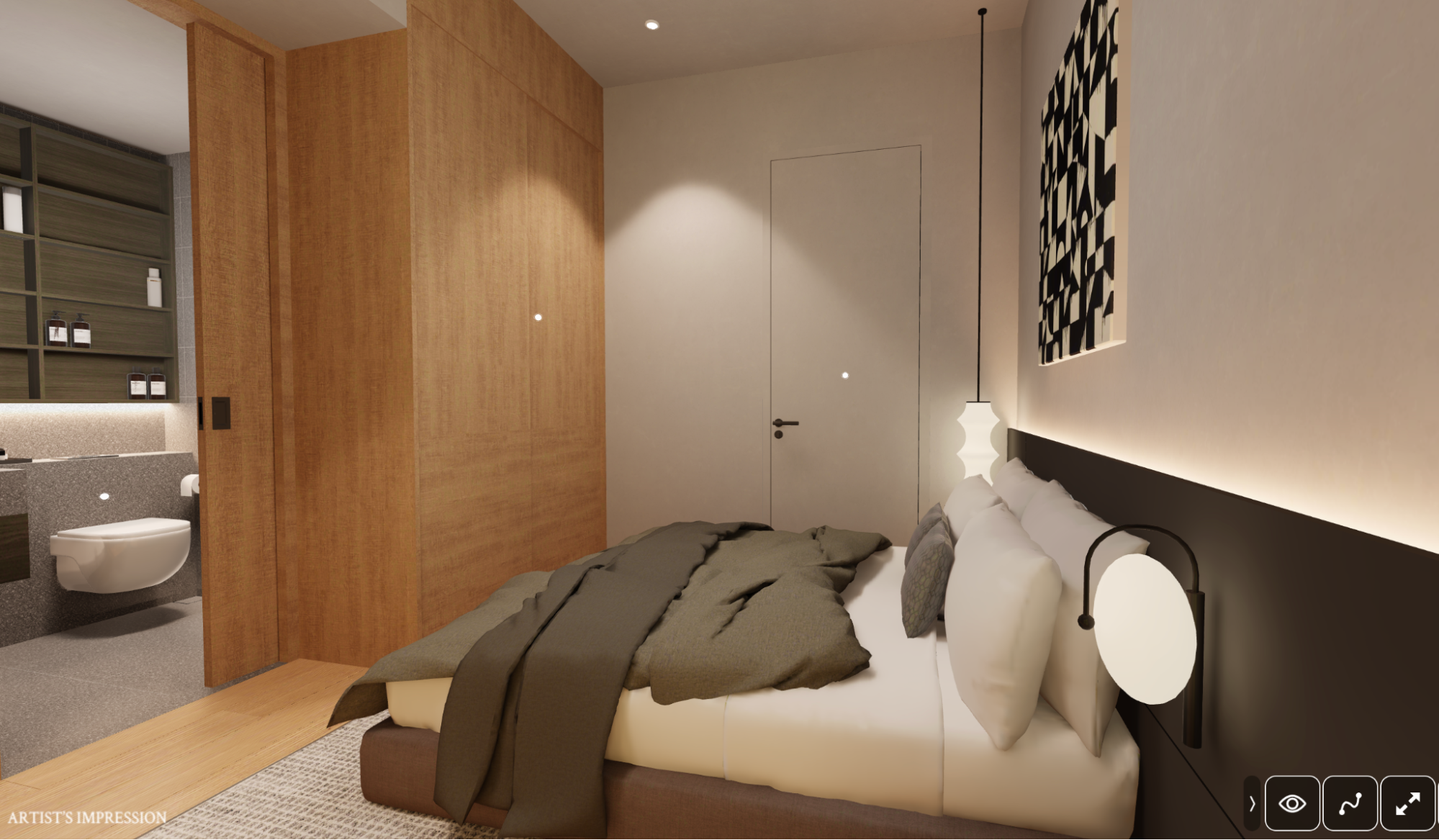 Last but not least, this bedroom has a door (in white) which has direct access to the roof garden.
See the 3D tour of this unit here.
Ikigai Location Review
Considering Ikigai's central location, I'd say that the development has rather good connectivity for public transport commuters.
Currently, the nearest MRT station is Novena on the North-South line, which is a fair 600m away. The second nearest MRT station is Newton MRT which is on the North-South and Downtown line (a 2km distance away). Farrer Park MRT Station, which is on the North-East Line, is also considerably nearby (2.2km walking distance). The only downside is that the pathway is not sheltered and is subjected to the whims of Singapore's fickle-minded weather.
The nearest bus stop, which is around 200m away, is also a very convenient mode of transportation. Bus service 21 connects residents to landmarks like Farrer Park Station and Lavender Station, and bus service 124 connects to Newton station, Orchard Station and Bencoolen Station. 518, on the other hand, is an express bus service that immediately connects residents to Bedok North Station, Temasek Polytechnic and even Tampines West Station.
Of course, those who have means of public transportation will find driving to core landmarks in Singapore's city centre to be very convenient, what with the Central Expressway (CTE) located nearby. On regular traffic conditions, the expected driving time to Orchard Road, Raffles Place and Suntec City are all under 10 minutes. However, seeing that the roads in core Singapore are usually crowded, residents might find themselves in traffic jams.
Great schools across all education levels are aplenty in the area, with more well-known names like Singapore Chinese Girls' School, ACS, Catholic Junior College, Raffles Institution and Hwa Chong Institution within 5km from Ikigai.
And of course, one of the biggest draws of Ikigai is its proximity to quality lifestyle offerings and amenities within the neighbourhood. Just within a 1km radius, residents can visit malls like Velocity @ Novena, Royal Square Novena, Goldhill Shopping Centre and Square 2. World-class shopping offerings along the famed Orchard shopping belt are within its 5km radius.
However, as Novena is earmarked to become Singapore's medical epicentre, we expect more amenities to support the growing demographic of the district. To me, the main attraction of Ikigai's location is the ability to enjoy the benefits of a mature estate in, the vicinity of Orchard and the CBD while anticipating the growth in its built environment.
Amenities
Public Transport
| | | |
| --- | --- | --- |
| Bus Stop | Bus Serviced | Distance from Condo |
| St. Joseph Instn Jnr | 21, 124, 518, 518A | 210m, 3-min walk |
| Opp Tan Tock Seng Hosp | 21, 124, 518, 518A | 290m, 4-min walk |
| Natl Skin Ctr | 21, 124 | 350m, 5-min walk |
| Revival Ctr Ch | 21, 124 | 400m, 6-min walk |
| Opp United Sq | 56, 57, 131, 131A, 141, 166, 851, 980 | 600m, 7-min walk |
| Opp Pek Kio Mkt | 131, 131A, 141 | 600m, 7-min walk |
| United Sq/Bef Novena Stn | 56, 57, 131, 141, 166, 851, 980 | 600m, 8-min walk |
| Pek Kio Mkt | 131, 141 | 600m, 8-min walk |
| Bef Carlisle Rd | 131, 141 | 1km, 12-min walk |
| Opp Carlisle Rd | 131, 131A, 141 | 900m, 11-min walk |
Nearest MRT:
Novena MRT Station, 600m, 8-min walk
Schools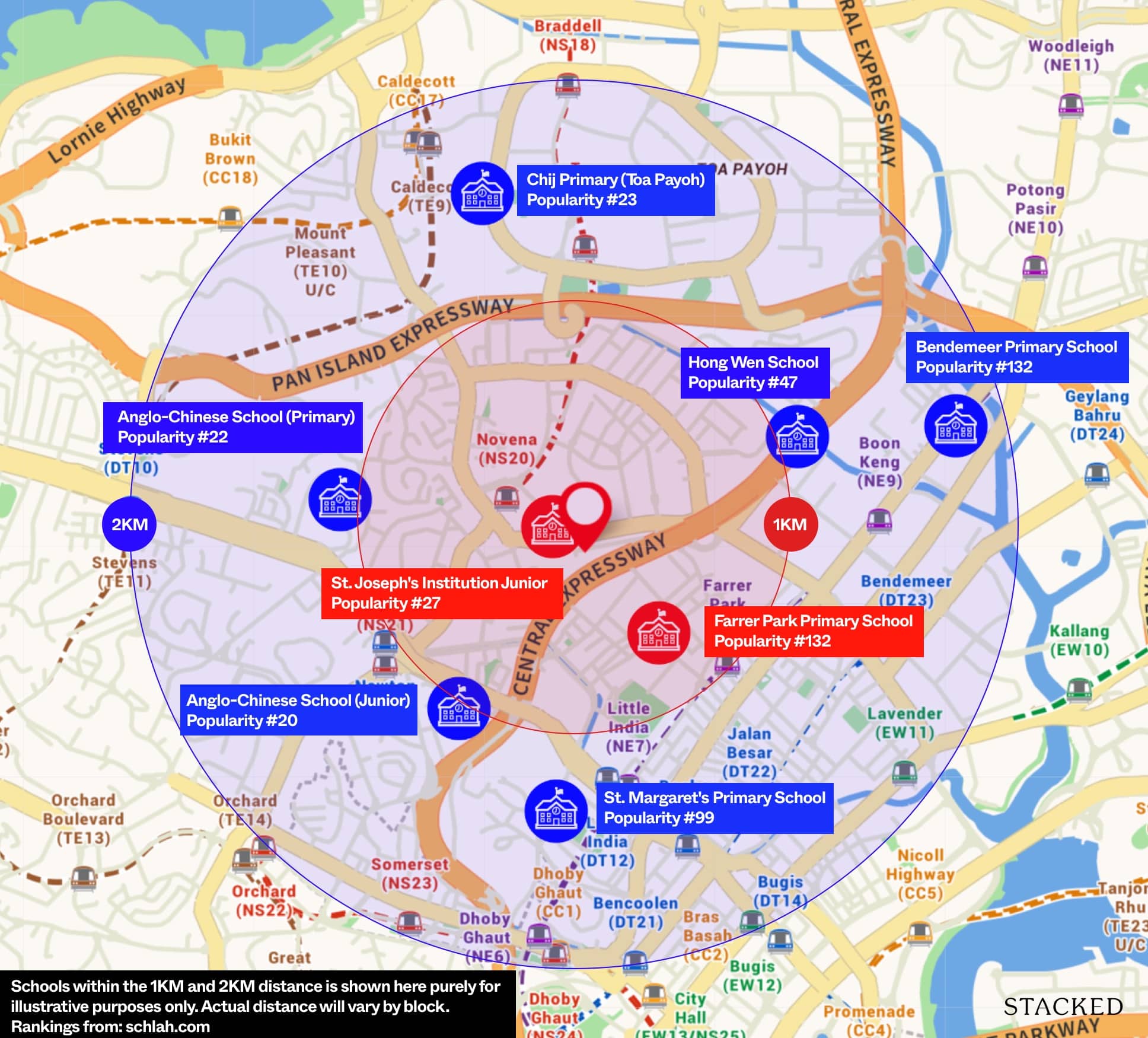 | | |
| --- | --- |
| School | Distance from development (& est walking/driving time at 8.30 am) |
| Kiddiwinkie Schoolhouse @ Novena | 1.3km, 4 – 10-min drive |
| EtonHouse Pre-School Newton | 1.2km, 3 – 8-min drive |
| Little Woods Montessori Pre-School | 1.2km, 4 – 9-min drive |
| Montessori for Children | 1.3km, 3 – 8-min drive |
| EtonHouse International School (Thomson) | 2km, 5 – 14-min drive |
| House on the Hill Montessori Pre-School (Balmoral) | 2.5km, 6 – 16-min drive |
| MindChamps PreSchool @ City Square Mall | 2.7km, 5 – 16-min drive |
| St. Joseph's Institution Junior | 600m, 3-min drive |
| Anglo-Chinese School (Junior) | 2.5km, 5 – 16-min drive |
| Hong Wen School | 2km, 5 – 12-min drive |
| Singapore Chinese Girls' School | 3.8km, 7 – 20-min drive |
| CHIJ Primary (Toa Payoh) | 3.1km, 6 – 16-min drive |
| Farrer Park Primary School | 2.4km, 4 – 12-min drive |
| Towner Road Primary School | 1.9km, 4 – 12-min drive |
| CHIJ Secondary School | 3.1km, 6 – 16-min drive |
| Anglo-Chinese School (Barker Road) | 3.9km, 9 – 20-min drive |
| Bendemeer Secondary School | 3km, 6 – 18-min drive |
| Catholic Junior College | 2.4km, 5 – 14-min drive |
| St Andrew's Junior College | 5.4km, 9 – 18-min drive |
| Hwa Chong Institution (College Section) | 5.7km, 9 – 22-min drive |
| Raffles Institution | 6.8km, 9 – 20-min drive |
| School of the Arts (SOTA) | 5km, 7 – 20-min drive |
| LASALLE (College of the Arts) | 3.3km, 6 – 20-min drive |
| Singapore Management University | 4.6km, 8 – 30-min drive |
| Lee Kuan Yew School of Public Policy | 4.5km, 9 – 20-min drive |
| Invictus International School (Centrium) | 2.5km, 5 – 14-min drive |
| Kindle Kids International School (KKIS) | 3.6km, 7 – 20-min drive |
| Worldly-Wise International Pre-School | 1.9km, 5 – 16-min drive |
| SJI International School | 3.6km, 7 – 20-min drive |
Retail Outlets
| | |
| --- | --- |
| Destination | Distance from Development (& est walking/driving time) |
| Velocity @ Novena | 600m, 8-min walk |
| Royal Square Novena | 650m, 9-min walk |
| Goldhill Shopping Centre | 700m, 9-min walk |
| Square 2 | 800m, 11-min walk |
| Balestier Hill Shopping Centre | 1.6km, 6-min drive |
| Balestier Plaza  | 1.8km, 5-min drive |
| Balestier Point | 1.4km, 5-min drive |
| Zhongshan Mall | 1.9km, 7-min drive |
| United Square Shopping Mall | 1.6km, 5-min drive |
| City Square Mall | 2.4km, 7-min drive |
| Mustafa Centre | 2.6km, 7-min drive |
| Far East Plaza | 2.5km, 7-min drive |
| ION Orchard | 3.8km, 14-min drive |
| 313 @ Somerset | 4.8km, 11-min drive |
| The Centrepoint | 3.7km, 10-min drive |
| Ngee Ann City | 3.4km, 13-min drive |
| Bugis+ | 3.2km, 9-min drive |
Private Transport
| | |
| --- | --- |
| Key Destinations | Distance from Condo (Shortest Time at Peak Hour (0830) Drive Time) |
| Orchard Road | 2.7km, 6 – 18-min drive |
| CBD (Raffles Place) | 7.5km, 10 – 24-min drive |
| Suntec City | 5.1km, 8 – 24-min drive |
| Changi Airport | 18.1km, 16 – 26-min drive |
| Punggol Cluster | 17.3km, 16 – 28-min drive |
| Harbourfront District | 10.5km, 12 – 35-min drive |
| Paya Lebar Airbase (by 2030) | 11.1km, 14 – 35-min drive |
| Tuas Port (by 2040) | 40.5km, 40 – 70-min drive |
Immediate Road Exits: Turn left from Shrewsbury Road into Moulmein Road
Ikigai Developer Review
Developer: Opulent Development Pte. Ltd.
A subsidiary of Prime Developments Pte. Ltd., (Opulent Development Pte Ltd) Ikigai is a freehold development that embodies the artistic interpretation of Japanese architecture within Singapore's built environment to celebrate the tradition of craft and materiality.
Architect
ipli Architects was founded in 2001 with its core philosophy centred around the pursuit of creativity, innovation and productivity.
For every project that ipli Architects undertake, it is based on the consideration that they would personally be able to nurture the development throughout its lifecycle. Past projects undertaken by the firm are mainly personal engagements, with notable addresses like 10 Coronation Road, 30 Chartwell Drive and 108 Warren Estate.
Unit Mix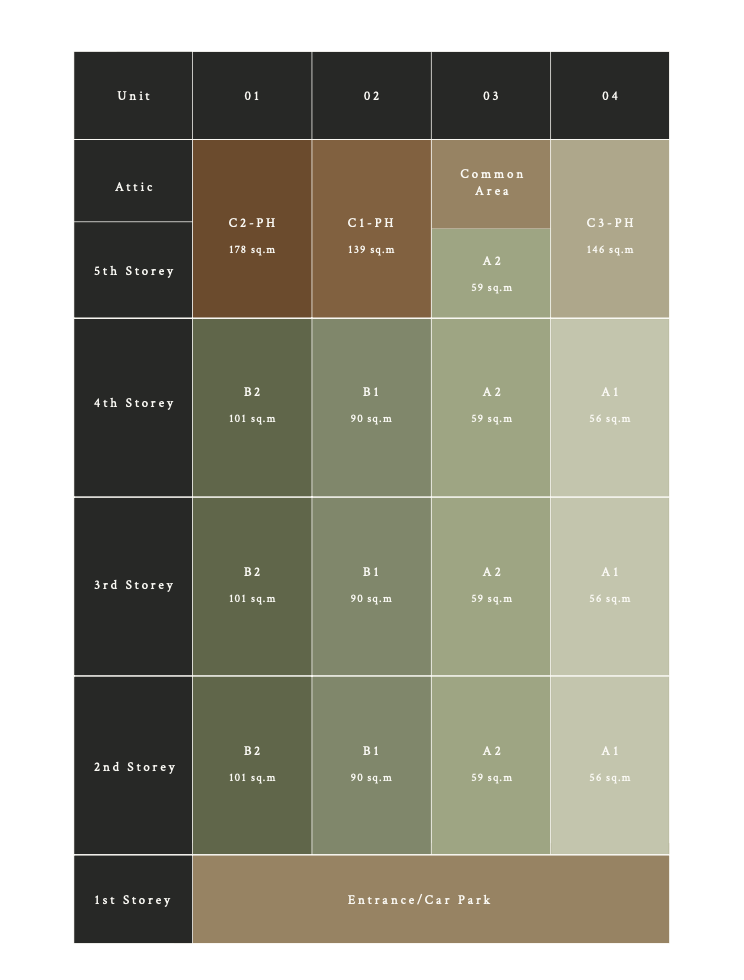 Unit Type
Category
Area (Sqft)
No. of Units
Percentage
1 Bedroom + Study Room
A1
603 sqft
3
44%
1 Bedroom + Study Space
A2
635 sqft
4
2 Bedroom Premium
B1
969 sqft
3
38%
2 Bedroom + Study Room Premium
B2
1,087 sqft
3
3 Bedroom PH
C1-PH
1,496 sqft
1
18%
3 Bedroom PH
C3-PH
1,571 sqft
1
3 Bedroom + Study PH
C2-PH
1,916 sqft
1
Like most projects, Ikigai has a range of 1 to 3 bedrooms, with some units offering a study space or room. Considering that it is a micro-project of only 16 units, I'd say that the range of sizes available is quite commendable.
Though, I presume that a majority of the units are catered to the 1-bedrooms since the neighbourhood is popular amongst investors and constantly commanding high demands from renters.
Overall, I'd say that the units are good in size. The 1-bedders range from 603 – 635 sqft, 2-bedrooms from 969 – 1,087 sqft and the 3-bed penthouses from 1,496 – 1,916 sqft, all considerably above the average size for current new launches in Singapore. 
With that being said, there are only three 3-bedroom units and they are all penthouses on the 5th (highest) floor. Otherwise, the other levels are uniform with a blend of A1, A2, B1 and B2 units.
Looking at the floorplans for most units, the squarish layouts would be really great for those who are looking to maximise the use of the space.
Ikigai Stack Analysis
Development Site Plan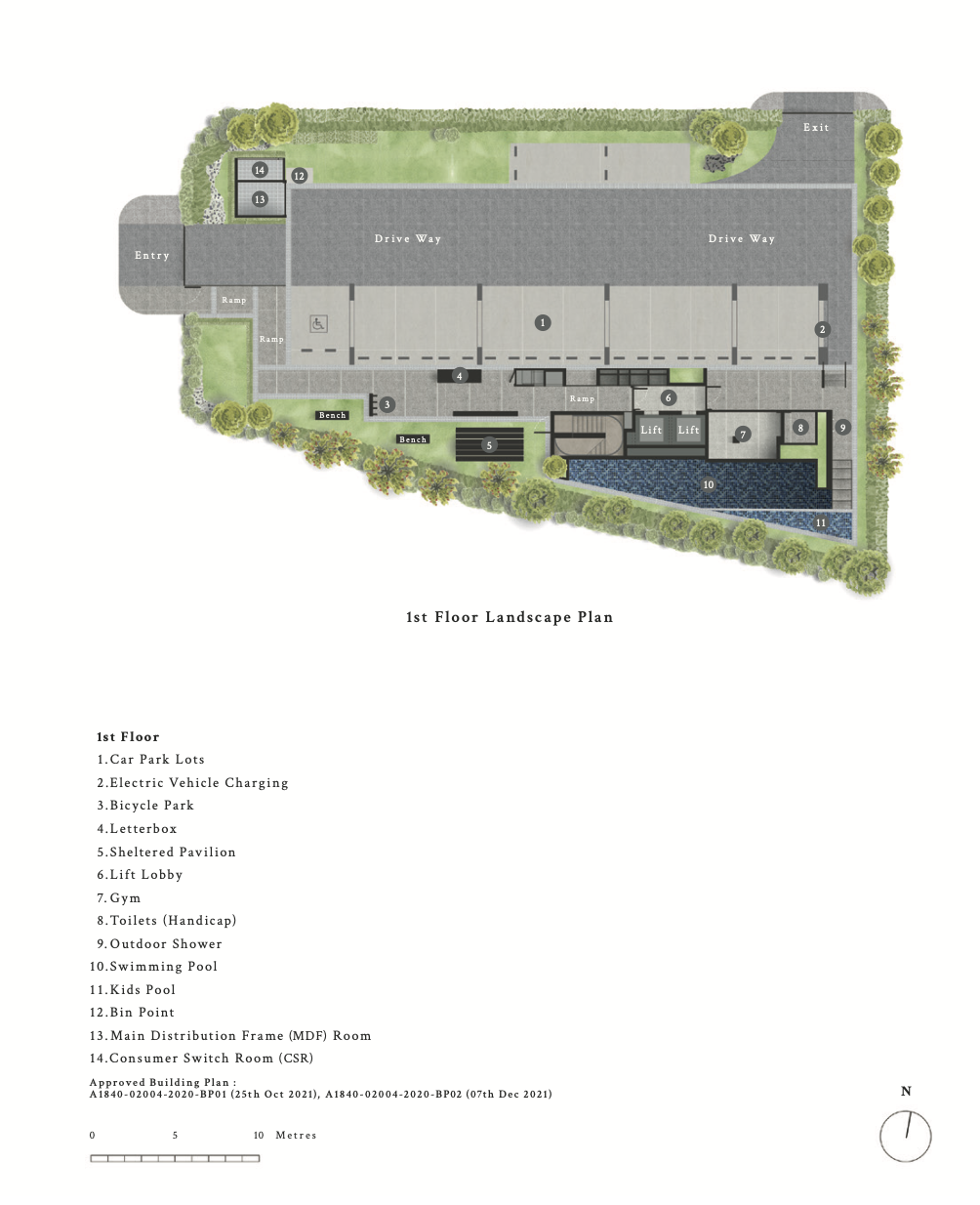 Seeing that Ikigai is a rather small boutique development that slightly exceeds 11,000 sqft, I wouldn't say a wide range of common facilities is something to be expected.
Ikigai offers a simple mix of a swimming pool (about 14.6m in length), a kids pool (4.7m in length), an outdoor shower, a sheltered pavilion and a gym – to be frank, much more than what I was envisioning. On a similar note, I thought it was a great idea to position the pools at the slanted part of the site area to realign that plot of land so that the residential block can have more squarish layouts.
At first glance, the driveway, ingress, egress and carpark lots are positioned to face Shrewsbury Road (for easier car access, I reckon), whereas the common facilities are placed at the back of the development for more privacy (since the back of Ikigai is still a green plot of land that separates it from the CTE).
Out of the 13 carpark lots, 1 of them has an EV charging point.
I also like the fact that the unit stack has a point block design with only 4 units per level – truly a great option for those looking to stay in a more bijou environment.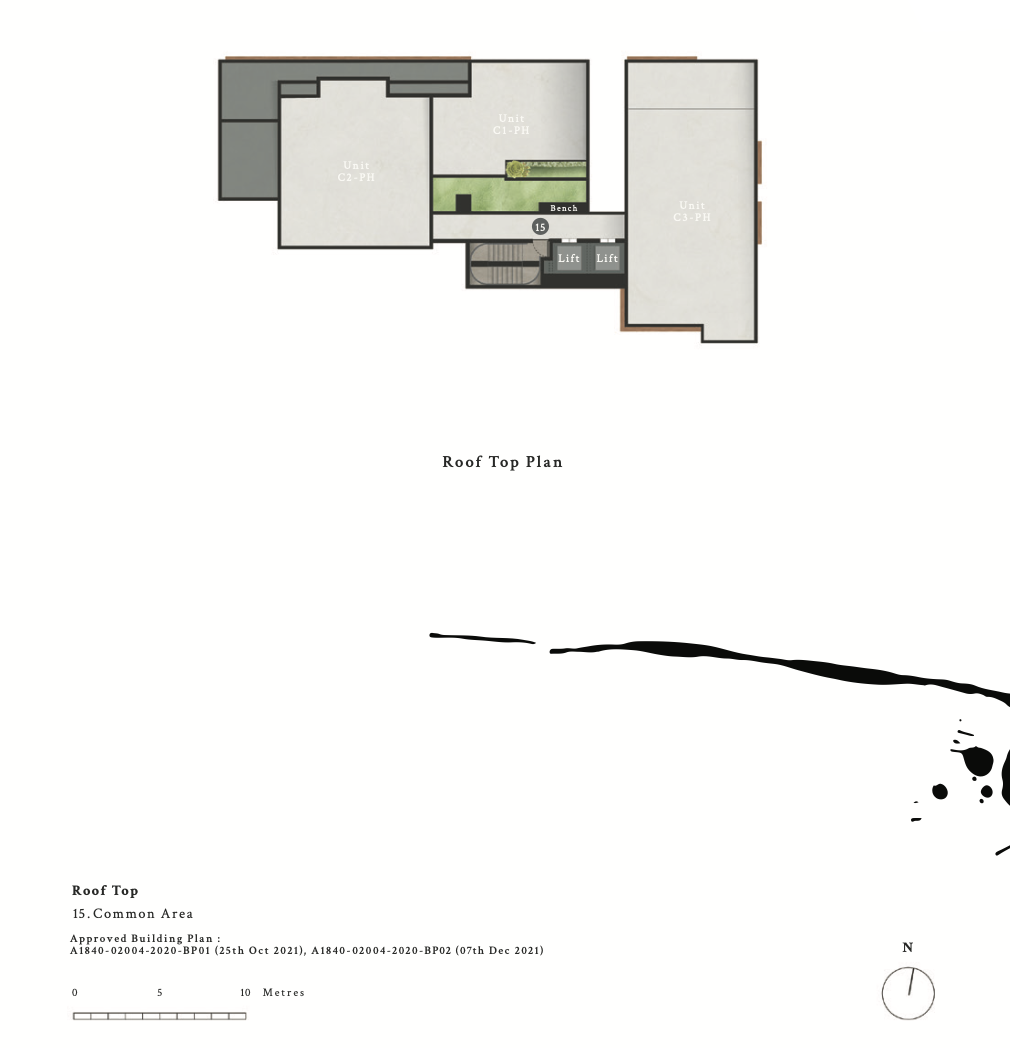 Additionally, residents can access a more private common area on the highest floor of Ikigai. The space is positioned within the heart of the penthouse units.
Best Stacks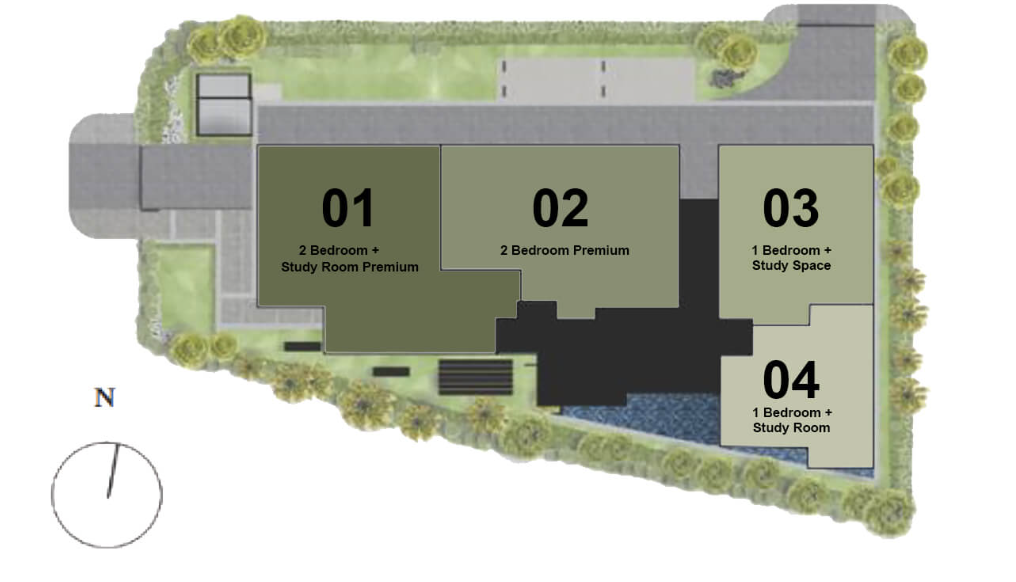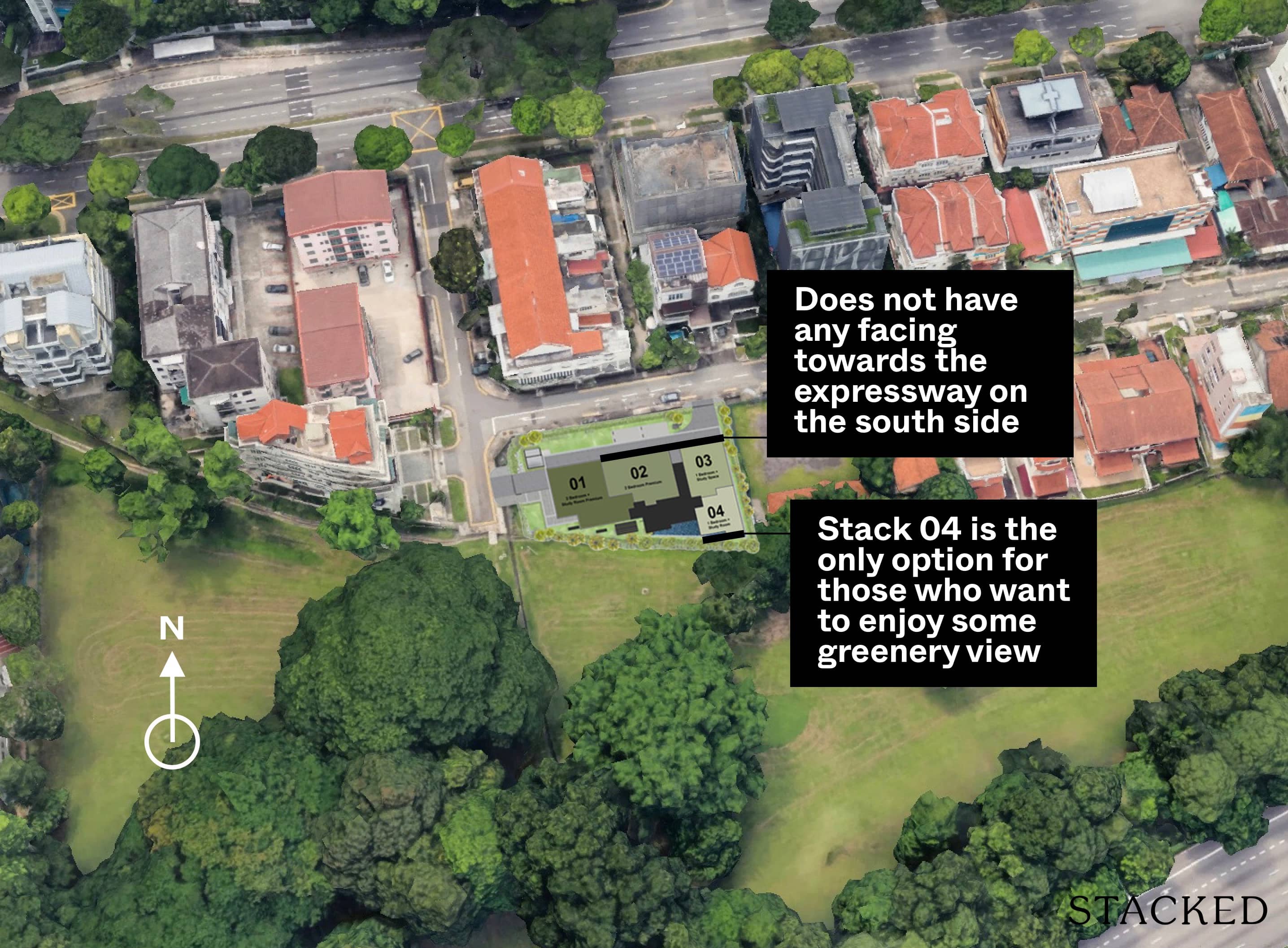 To be frank, since Ikigai is such a small development, there's not much of an option to choose from, which could be a good or bad thing (depending on your preference).
Stack 1 has a balcony and room windows that face the currently vacant land in the South direction, whereas Stack 2 has a balcony and room windows that overlook Shrewsbury Road in the North direction.
On the other hand, Stack 3, being a 1-bedder, does not have any balcony and instead, has windows at the master bedroom that is facing Shrewsbury Road in the North direction and windows from the living room facing the East direction.
Last but not least, Stack 4 has dual-panelled windows in the living room that overlooks the CTE in the South and West directions, and bedroom windows in the East direction.
For those who prefer to enjoy the views of greenery, stack 4 would be your only option, though this view might not last for long, seeing that the green plot is zoned for residential use on the master plan.
Otherwise, Stacks 1, 2 and 3 have rather similar orientations, which face the Novena skyline.
My pick for the best stacks would have to go to either 2 or 3 since I personally don't like facing the expressway.
Afternoon Sun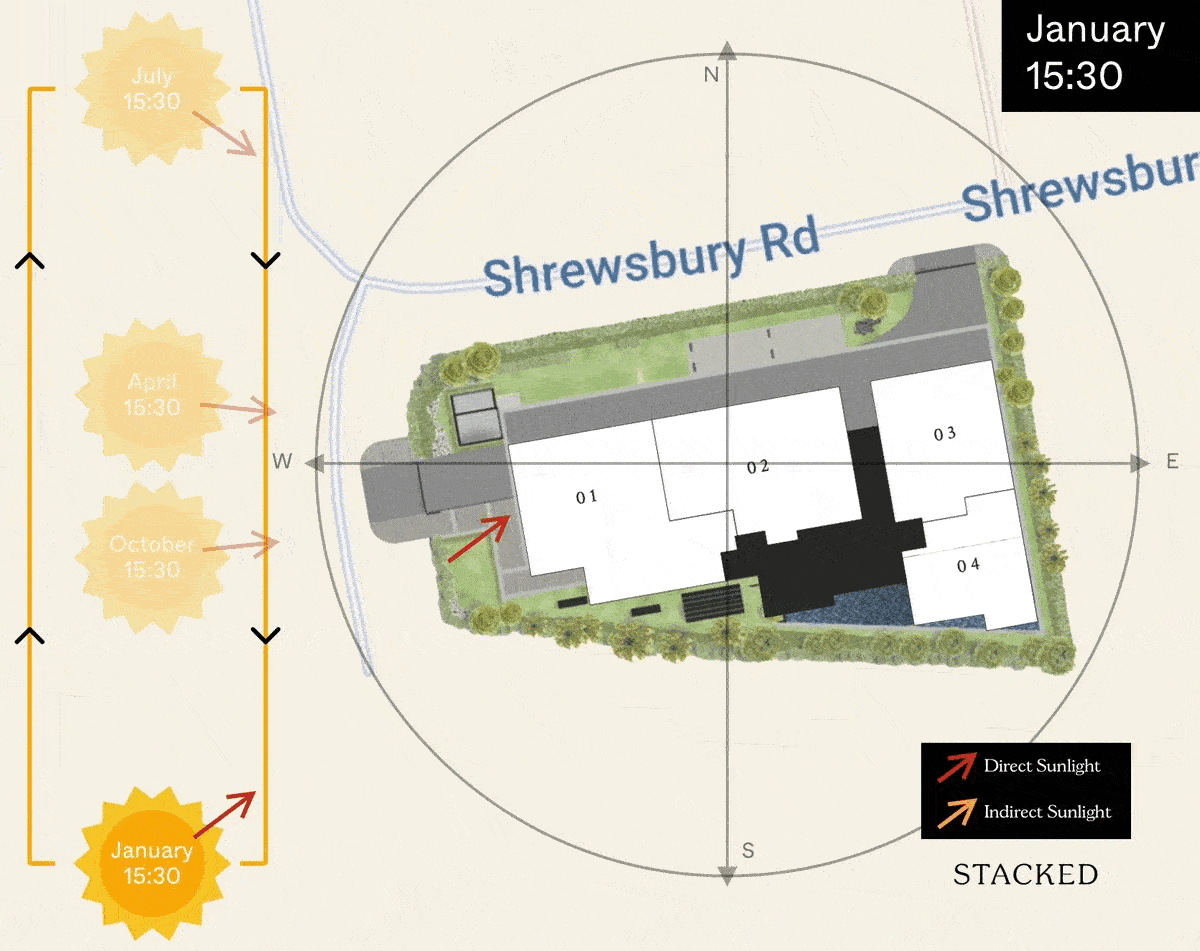 Considering the slight north-west tilt, stacks 01 – 03 will get some afternoon sun for about half the year.
Stacks with Least Afternoon Sun
Apart from Stack 4 which has a direct West-facing window in the living room, all other stacks are generally pretty well sheltered away from the direct afternoon sun.
Ikigai Price Analysis
When comparing Ikigai's performance with other new launches (est. from 2022 – 2026) in the same district, it seems like Ikigai is commanding a price within the expected price range of $2,398 psf. Other than the fact that Ikigai is the smallest development with the least variety of amenities, these developments have the same tenure and a comparable TOP.
Overall, the average range is from $2,077 psf to $2,561 psf.
| | | | | |
| --- | --- | --- | --- | --- |
| Development | Tenure | Units | Average Psf | TOP |
| Ikigai | Freehold | 16 | $2,398 psf | 2026 |
| Neu @ Novena | Freehold | 87 | $2,379 psf | 2023 |
| Fyve Debyshire | Freehold | 71 | $2,561 psf | 2022 |
| Peak Residence | Freehold | 90 | $2,432 psf | 2025 |
| Verticus  | Freehold | 162 | $2,077 psf | 2024 |
| 10 Evelyn | Freehold | 56 | $2,431 psf | 2022 |
| 35 Gilstead | Freehold | 70 | $2,554 psf | 2024 |
On the other hand, when comparing Ikigai's pricing to older developments within the neighbourhood, the new launch seems to have exceeded the $2,000 psf mark, unlike the rest which is hovering around the mid to high $1,000 psf mark. 
District 11 is also well-loved with most of the developments being freehold, which generally maintains its value. However, even with Soleil @ Sinaran's 99-year leasehold tenure, its performance is surprisingly second only to The Huntington after Ikigai.
For older developments (TOP 1999 – 2004), the average price psf ranges from $1,759 to $1,983 psf. For newer developments (TOP 2007 – 2011), the average price psf ranges from $1,641 to $1,937 psf.
Ikigai Pricing Review
| | | | | |
| --- | --- | --- | --- | --- |
| Type | Available | From | To | Average $PSF |
| 1BR + S | 3 of 7 | $1,352,800 | $1,421,200 | $2,235 |
| 2BR | 3 of 3 | $2,196,780 | $2,200,000 | $2,268 |
| 2BR + S | 2 of 3 | $2,430,090 | $2,438,800 | $2,240 |
| 3BR Penthouse | 2 of 2 | $3,147,040 | $3,301,900 | $2,103 |
| 3BR + S Penthouse | 1 of 1 | $3,932,400 | $3,932,400 | $2,053 |
Prices are subject to change without notice by the developer. Correct as of 19 December 2022.
Prices of available units at Ikigai currently start from $1,352,800 for a 1-bedroom unit, with the most expensive being the $3,932,400 3-bedroom penthouse unit.
If you're on the lookout for a new launch in district 11, here are your current options:
| | | | | | | |
| --- | --- | --- | --- | --- | --- | --- |
| Project | 1BR Avg ($) | 1BR Avg PSF | 2BR Avg ($) | 2BR Avg PSF | 3BR Avg ($) | 3BR Avg PSF |
| 10 Evelyn | $1,429,400 | $2,849 | $2,006,600 | $2,694 | $3,316,500 | $2,691 |
| 35 Gilstead | $1,758,000 | $2,476 | $1,877,500 | $2,682 | $3,797,000 | $2,467 |
| Enchante | – | – | – | – | $2,942,813 | $2,736 |
| Ikigai | $1,387,000 | $2,235 | $2,367,576 | $2,254 | $3,644,759 | $2,078 |
| Neu At Novena | – | – | $1,906,000 | $2,925 | – | – |
| Peak Residence | $1,632,950 | $2,916 | $2,130,547 | $2,653 | $3,003,742 | $2,799 |
| Pullman Residences Newton | $1,497,407 | $3,234 | $2,096,529 | $3,143 | $3,607,318 | $3,058 |
Ikigai's 1-bedroom price is the lowest at the moment, with 10 Evelyn being the next most affordable in this segment. This comes as a really pleasant surprise because the 1 bedroom is quite sizeable at 603 – 635 sqft! If you're in the market for a new launch, you should know that 635 sqft is pretty common for 2-bedroom units these days, so those looking for a spacious 1-bedroom might find this price quite palatable. The 1-bedroom layout also features a lot of usable internal living space (no oversized balcony/PES/oversized aircon ledges). Moreover, it's not only got the lowest overall price but the lowest $PSF out of all the new launches in District 11!
The 2-bedroom is where buyers may find Ikigai to be 'out of range' – but if you look at the $PSF, you'll find that it's actually the cheapest. This is where Ikigai's 2-bedroom is sort of both a plus and a minus. It's a plus given the large size, with 2-bedrooms ranging between 969 – 1,087 sqft, typical 3-bedroom sizes for new launch condos today.
However, the developer's choice of size alienates those who are price-conscious and are looking for something more practical. In this sense, Ikigai's layout caters to a niche target buyer who prioritises a larger liveable area and has no qualms about paying for it.
Those considering a 3-bedroom unit in the area will also see the similarities considering its $PSF is just $2,078. Mind you, OCR $PSFs have already gone past the $2,000 mark, so you could technically say it's "priced" like an OCR new launch. The average 3-bedroom new launch in district 11 since June 2022 is $3,393,953 – most of which were transactions from Pullman Residences Newton and it's around 50% more on a $PSF basis compared to Ikigai's 3-bedroom.
Now if we consider Ikigai relative to all other developments, where does it stand? Here's what the 1-bedroom looks like if we look at the CCR as a whole: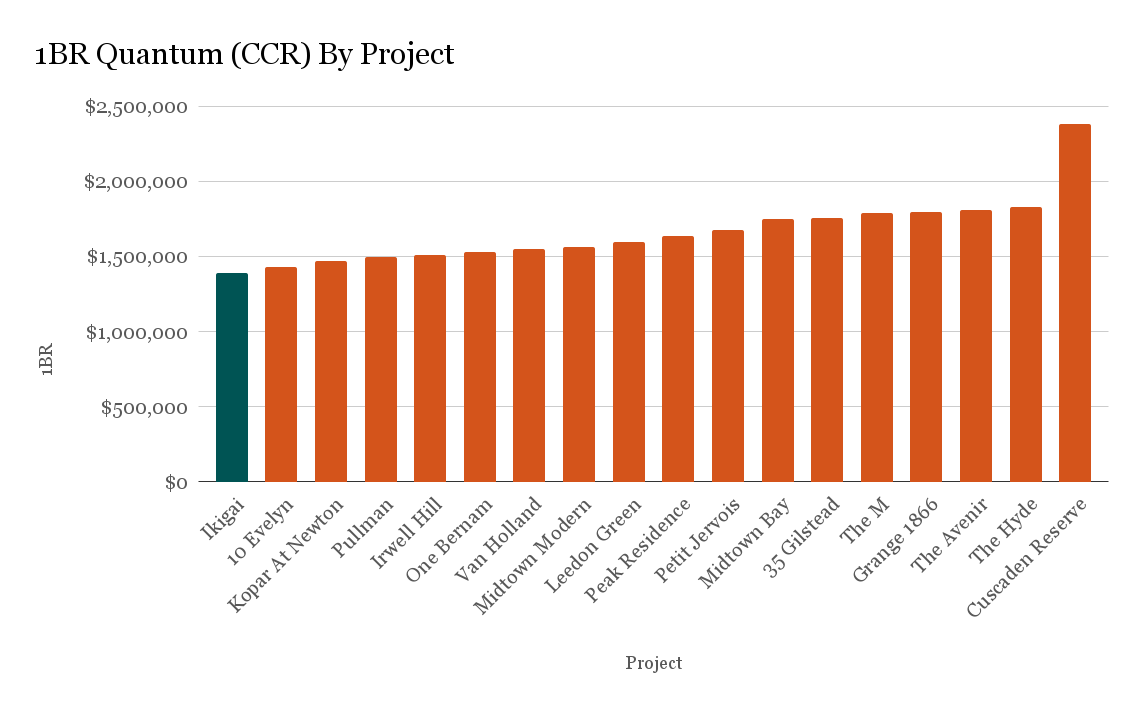 Relative to other projects in the CCR, Ikigai's 1-bedroom is extremely attractive – and it's quite the opposite of a shoebox unit too! Of course, this is not an Apple-to-Apple comparison. Ikigai is a boutique development so its facilities are lacklustre compared to developments like Kopar, Pullman and Irwell Hill. However, if the location being the CCR is an important consideration for you, then its pricing here looks very attractive.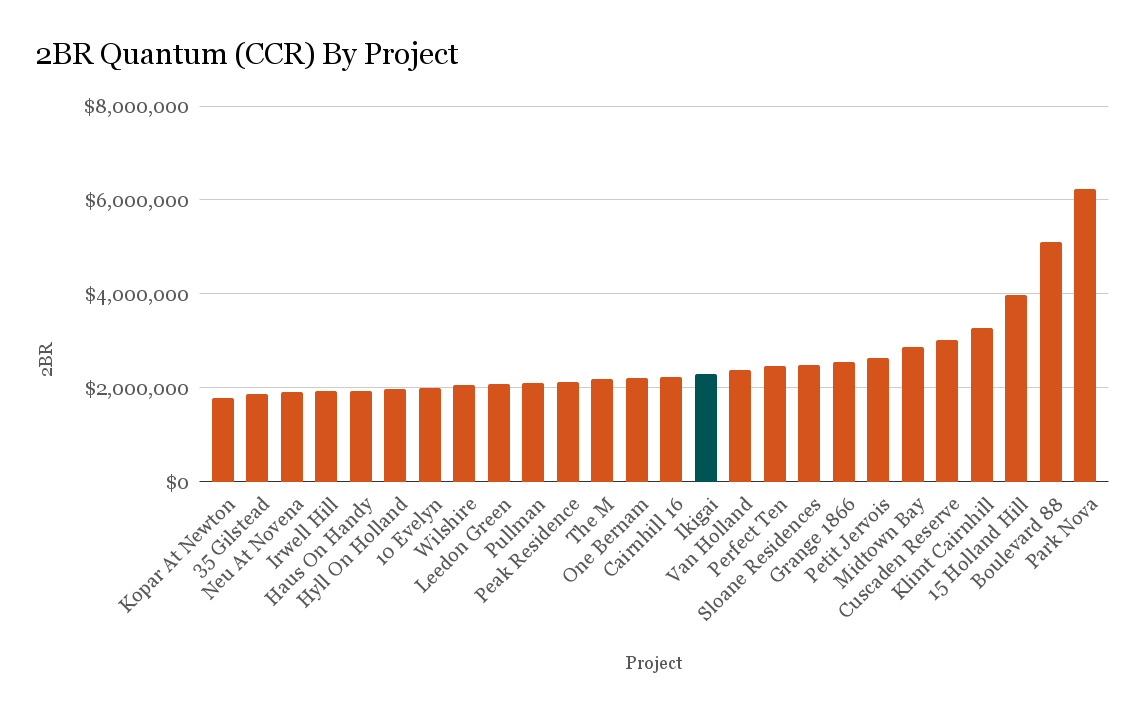 The 2-bedroom here looks affordable, but let's not forget you're comparing it to the likes of Van Holland, Perfect Ten and Sloan Residences largely seen as prestigious district 10 developments. While it is freehold, it does cost more than developments like Leedon Green which is also freehold, in district 10 and boasts more varied facilities.
This is where the prices are really put into perspective. Those looking to buy the 2-bedroom here would have forgone the opportunity to stay in a new freehold condo at District 10.
And when it comes to ease of selling later on, it's clear that buyers today could have a harder time offloading their unit considering the alternatives prospective buyers will have. In other words, this unit is truly an own-stay purchase.
When it comes to the 3-bedroom unit, Ikigai fares somewhat in the middle compared to available units today within the CCR. It is priced quite high for a boutique development that doesn't boast luxury nor a prestigious location, however, this is also not a fair comparison given that all the three 3 bedroom units here are penthouse units.
This means the prices here include the double-volume high ceiling (6.2 metres!). Moreover, the space is also larger since the penthouses are double-storey, so those looking at a duplex layout would be limited to choices such as Ikigai.
However, bear in mind that Ikigai is a 5-storey development. Those paying this quantum for a 3-bedroom may be able to find comparable 3-bedders on a much higher floor with better views (and perhaps not right next to an expressway too). As such, we do have concerns over the ease of selling the 3-bedroom at Ikigai in the future, however, there's no denying that for a freehold penthouse in the CCR with such a high ceiling and for the space it affords, this is quite a decent price.
So where does this leave us?
For those looking at district 11, the overall price of Ikigai (if you're looking for a 2 or 3-bedroom unit) means that only those who value space and are willing to pay more will consider this.
That said, its 1-bedroom price is relatively attractive considering the size it offers as it's currently the cheapest in terms of both price and $PSF (when compared to current new launches).
Ikigai Appreciation Analysis
Novena: Health City by 2030
Already known for its established medical presence in central Singapore, there are plans to improve the district even further.
One of the most anticipated urban transformations in the Novena neighbourhood is Health City Novena, which is a 17-hectare project that envisions creating an integrated community of healthcare, medical education and translational research in a vibrant and sustainable communal environment. This was the response to support the ageing population in Singapore. 
The project is expected to be completed by 2030 and in two phases. In addition, plans to integrate the older and new healthcare buildings include sky bridges and pedestrian pathways. The first development phase includes building the Ng Teng Fong Centre for Healthcare Innovation, the National Centre for Infectious Diseases and the Lee Kong Chian School of Medicine Clinical Services Building.
Currently, the Tan Tock Seng Integrated Care Hub and the new National Skin Centre are the final two buildings that officially conclude phase 1. Phase 2 of Novena Health City will commence in 2023 and is expected to accommodate 30,000 visitors daily upon completion in 2030.
Future residential influx around Novena
With the anticipated inception of Novena Health City, a denser residential build-up can be expected around the district, especially around Tan Tock Seng Hospital.
Based on the master plan, the previous site of the Communicable Disease Centre, which spans about 877,000 sqft, has been identified as a future residential redevelopment plot. Not only that, the Whampoa Estate has been earmarked to be rejuvenated with new housing projects for more housing choices for residents.
North-South Corridor (NSC)
Estimated to be completed in 2027, the North-South Corridor is one of Singapore's most extensive projects, spanning 21.5km long. Mainly to enhance the road connectivity for neighbourhoods along the NSC towards the city centre, mature estates like Ang Mo Kio, Bishan, Toa Payoh, Novena and Newton will be impacted. The NSC aims to improve connectivity to expressways such as the PIE, ECP and Seletar Expressway.
No doubt that residents of Ikigai will be able to enjoy better road connectivity when the NSC is officially ready. .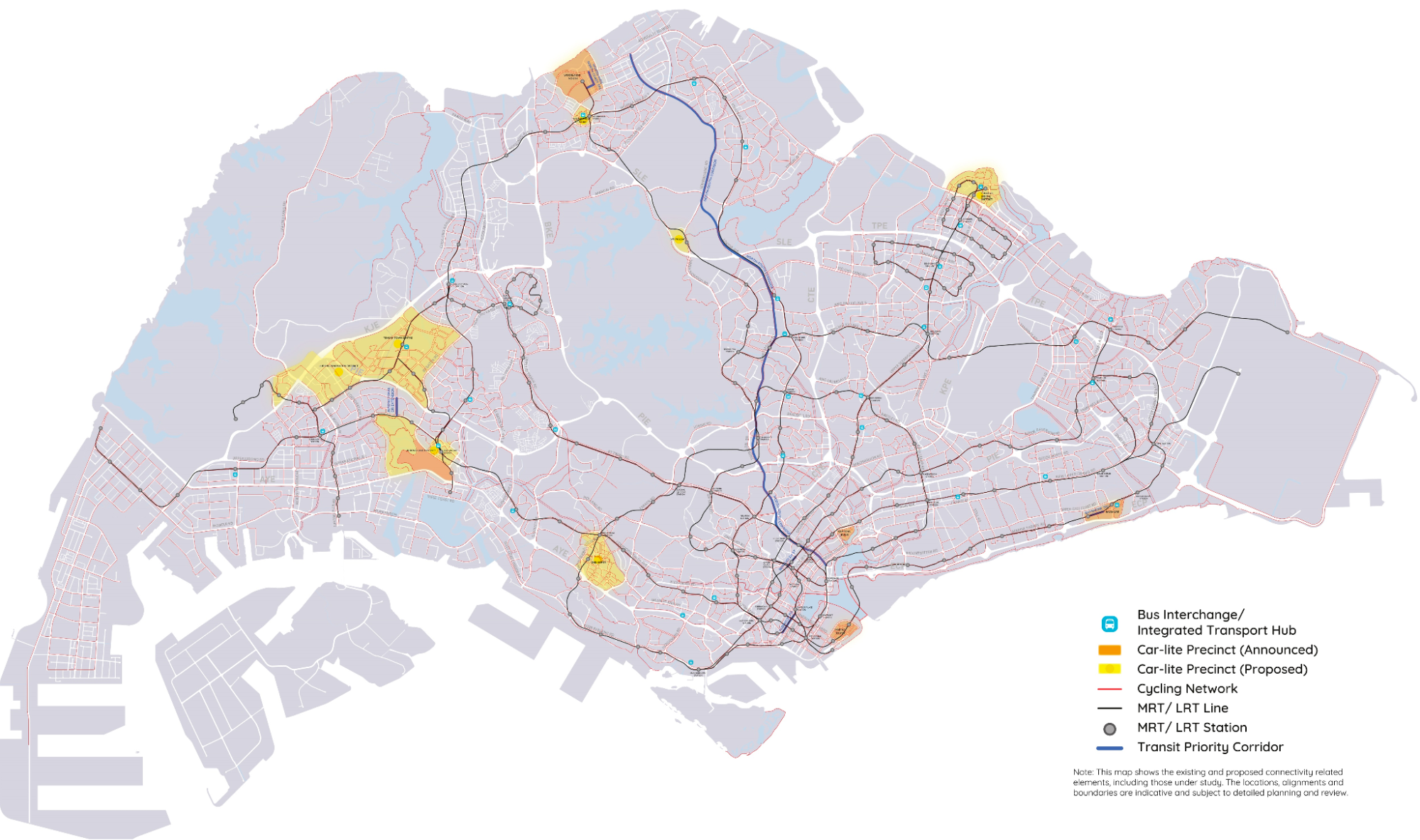 Rather than just a shopping district, there are bigger plans for Orchard Road. The prime area has been proposed to be enhanced into a lifestyle destination instead. Tanglin Road has been highlighted to evolve into art and mixed-use neighbourhood, while Somerset is elected as a youth-centric zone. Last but not least, Dhoby Ghaut is stipulated to transform into a family-friendly inclusive zone lined with lush greenery.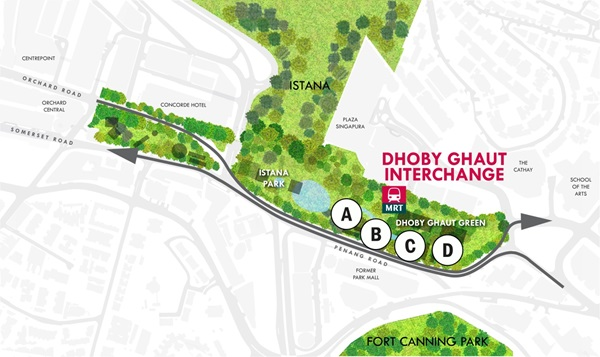 Considering Ikigai's proximity to Orchard, the development would be able to enjoy the improvements of the Orchard Road shopping belt.
What we like
Great attention to detail in Ikigai's design

Generously-sized units

Efficient layouts

Freehold

Proximity to Orchard Shopping Belt
What we don't like
–

Near the CTE

–

Limited facilities
Our Take
Boutique condos such as Ikigai often have a harder time standing out in the busy Singapore property market. Whether it's a question of budget for marketing, incentives for agents to push, or just a lack of visibility due to bigger developments around, it's easy to be overlooked.
Which is why for a development of just 16 units, Ikigai has quite a surprising package put together. From a decent swimming pool (relative to its size), a gym, and to the little details and touches that are often missing from small projects due to a lack of advantages from economies of scale. It's all a lot of effort put into so few units.
Plus, the effort put into the design (Yip Yuen Hong from ipli Architects), shows that the intent to create a compelling product.
Sure, boutique developments are definitely not for everyone. If you want to have a big pool to swim in, multiple facilities, or just enjoy being around more people – this won't be the right choice for you. But for those who are seriously private (it's going to be rare to see many people out and about), want a bigger than typical new launch living space, and still want to enjoy having some facilities, this could be the right development to have a closer look at.
What this means for you
You might like Ikigai if you:
• Like living in a private, low-density residential project:

Consisting of only 16 units over 5 storeys, Ikigai is perfect for those who enjoy living in a low-density project. Apart from yourself, you'd have only 15 other units to call your neighbours.

• Appreciate Japanese influences in the project's architectural design:

As its name suggests, Ikigai has strong influences from Japanese architecture, what with its focus on calligraphy and other iconic Japanese highlights like the Shoji Screens. For those who enjoy these highlights as part of your living experience in the development, Ikigai is a great option.
You may not like Ikigai if you:
• Prefer a wide variety of condo amenities:

Ikigai offers its residents a pool, a kid's pool, a gym and a pavilion as its amenities. For those who prioritises a wide set of condo facilities, you definitely should look elsewhere.

• Like bigger common spaces in the estate:

Living within a mature estate comes with its cons, one being a high-density residential estate. Most of your views and neighbouring skyline are generally dotted with more residential projects, especially HDBs. For those who enjoy a secluded neighbourhood, this might not work for you.
End of Article
Documents
Join our Telegram group for instant notifications
Join Now
Stacked