Buying
How To Hunt For Affordable Landed Homes In The East: A Seasoned Landed Home Specialist Shares Her Tips
Ryan J
March 23, 2023

10

min read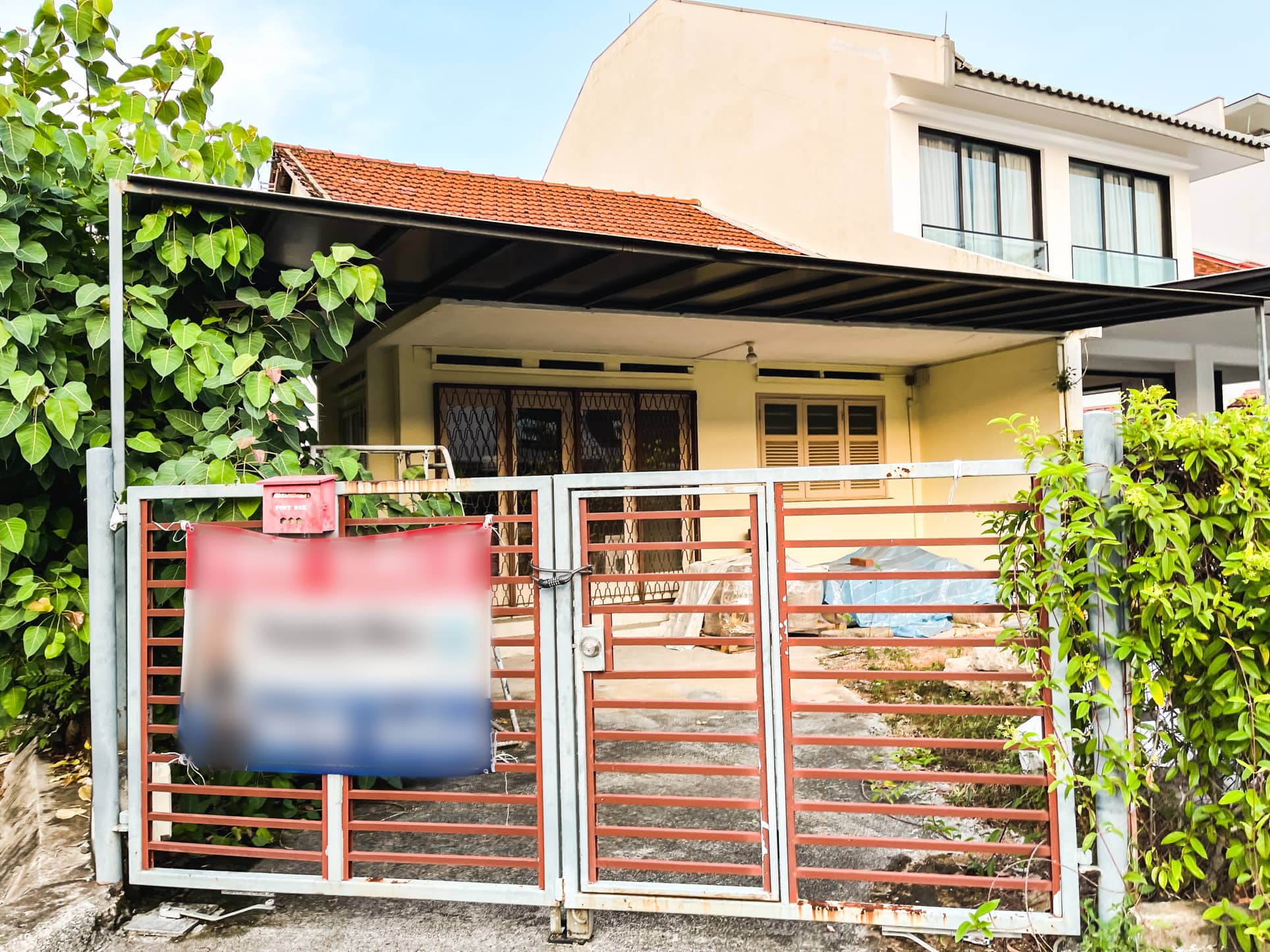 10
min read
There's always been much debate between the East and West in Singapore, but other than food Singapore's East side is also well-known for high-rent and luxurious landed housing. Some of the most popular low-density enclaves can be found on this side of the country, ranging from Siglap to Joo Chiat. But while higher prices are something of a given, the diversity of homes in the area means there's often a well-priced gem or two to be found. We spoke to a realtor specialised in this region's landed housing, on how to spot undervalued units:
The current landed property situation in the east
Most market watchers were quite stunned by prices last year, but that may have distracted from an interesting detail: on a Per Square Foot (PSF) basis, prices in two east-side regions were the lowest. 
We spoke to Real Estate Consultant Yan Goh from Max Properties SG, who specialises in Singapore's East side. She noted that:
"In 2022, overall sales volume across Singapore dropped by 47* per cent." Yan says, "While value increased by around 12 per cent year-on-year. The greatest increment in price comes from terraces, while the volume for detached houses dropped the most."
| | | | | |
| --- | --- | --- | --- | --- |
| Year | Number of Units | Change in Vol | Property Price Index of Landed Residential Properties (INDEX) | Change in Price |
| 2020 | 2,117 | – | 173.8 | – |
| 2021 | 3,714 | +75.4% | 197 | +13.3% |
| 2022 | 2,066 | -44.4% | 216 | +9.6% |
Source: URA
*Based on the agent's sources at the time. Our current data shows some variations since then.
| | | | | | | |
| --- | --- | --- | --- | --- | --- | --- |
| Year | Detached House | Difference | Semi-Detached House | Difference | Terrace House | Difference |
| 2020 | $1,374 | | $1,240 | | $1,411 | |
| 2021 | $1,485 | 8.1% | $1,430 | 15.3% | $1,555 | 10.2% |
| 2022 | $1,603 | 7.9% | $1,617 | 13.0% | $1,773 | 14.0% |
| | | | | | | |
| --- | --- | --- | --- | --- | --- | --- |
| Year | Detached House | Difference | Semi-Detached House | Difference | Terrace House | Difference |
| 2020 | 241 | | 531 | | 1055 | |
| 2021 | 468 | 94.2% | 998 | 87.9% | 1641 | 55.5% |
| 2022 | 221 | -52.8% | 554 | -44.5% | 892 | -45.6% |
This ran contrary to expectations that detached homes would lead in price, given their generally greater popularity.
Yan also notes that Kembangan is currently on the radar for value-buyers. Kembangan has access to an East-West Line MRT station of the same name, and the area has seen a pick-up in amenities. She says:
"It's an area that is quietly evolving with a myriad of trendy cafes and local eateries surfacing, emulating the likes of the coveted Siglap area."
There are also expectations of a new hub nearby, once Paya Lebar Air Base moves in 2030. URA has some details here. 2030 is not that far away, with regard to typical property holding periods – and this could pay off if the resulting redevelopment matches what we've seen in other areas, such as Paya Lebar Quarter (PLQ).
Transaction histories are of more limited use when bargain hunting
One of the issues with landed housing, especially in older enclaves like Siglap, is low transaction volumes. These areas have homes that may have gone decades without a transaction, so their price history isn't meaningful.
Yan says that, for finding the right value of a landed home, transactional data only form "one piece of the puzzle" anyway:
"Landed properties have many variables, unlike a condo apartment or HDB flat – from land size, number of storeys, bedrooms, and bathrooms to its facing, and whether the house has a lift or swimming pool. This myriad of factors makes it difficult to assess the comparative value of a landed home.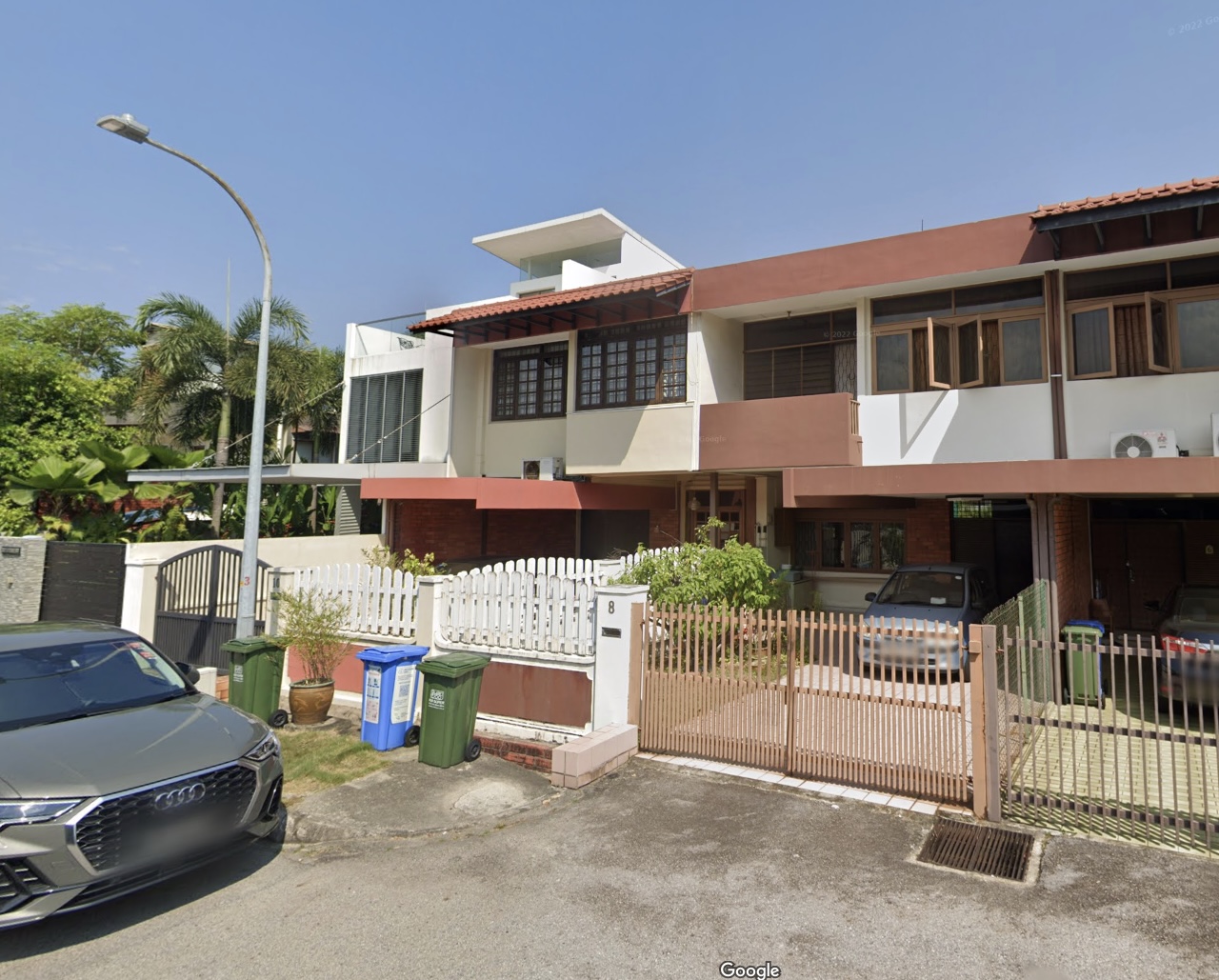 Often overlooked, the terrain of the house, and the view from within the house, also form deciding factors."
As such, any Comparative Market Analysis (CMA) report requires more in-depth research compared to non-landed counterparts; and Yan says it comes down to legwork (studying Google Maps, driving around the property's vicinity, chatting to people on the ground and gaining insider information from investigative work).
An important part of the price also stems from current market movements and sentiment: there are trends popular in landed homes today, that may not have been liked in the past; and vice versa. Yan says these sentiments and trends must be married into the final price analysis, for a proper assessment.
Unfortunately, this means you can't just look at URA transaction records, compare profitable to unprofitable transactions, etc.
Landed homes on a tighter budget
As an example, we asked how to find an affordable landed home in one of the more desirable east-side enclaves: Siglap.
While the homes here are unsurprisingly on the high-quantum side, Yan says that:
"The neighbourhood can be broadly divided into two areas – Frankel estate and Opera Estate. In Opera Estate, you can find more terraces at a more affordable psf, whilst enjoying the space of a landed home.
Frankel is considered the premium area, as houses sit on bigger plots of land – around 4,300 sq. ft. and above in the two-storey bungalow zone, and minimally around 2,160 sq. ft. and above in the two-storey semi-detached zone."
So even within a specific landed housing enclave, you can find stretches that are priced lower than the norm for the area. And given the proximity of the two, you may not lose out on much in terms of location, as they're minutes away from each other anyway.
(For more specifics on Siglap, Yan has a comparison of Frankel and Opera estate, while we have an earlier article touring the area).
*No terrace units can be built in semi-detached zones
The freehold versus leasehold argument for landed homes
One option for getting an affordable landed home is to go the leasehold route, as freehold will generally cost 15 to 20 per cent more on a psf basis. Yan says:
"This really depends on the profile of the buyer and what their longer-term plans are for the property. A freehold property is a classic preference, as homeowners may feel that the property belongs to them forever and they can pass it down to generations to come; but one thing to note is that the condition of the house may decline over time, making renovation and rebuilding a costly affair for future generations.
A young family who is looking to upgrade may find a leasehold property an affordable option, that gives them landed lifestyle quality and space for their growing children.
A client of mine with a young family recently told me that to her surprise, many of her upgrader friends bought leasehold properties; but it's no surprise actually as a condo of similar price provides a vastly different lifestyle compared to a landed home."
Yan also adds an example of a client who is a retiree, who has right sized to a landed property in the East after selling their Sentosa home.
Given that many family-sized new launch units are now breaching the $2.2 million mark, it may be worth considering something like a resale landed property instead – especially if your priority is living space.
Key requirements to watch for
While affordable is good, make sure the landed property is not cheap due to poor location, or other issues that are hard to correct later. Yan has a number of things it's best not to compromise on, however low they may bring the price:
"First, traffic flow around the property must be smooth and easy," Yan says, "Where there is little cause for congestion to occur. For most landed homeowners, privacy and quietude are key attributes so any noise and pollution from surrounding traffic is often disfavoured."
The next factor is a regular land size, which allows for generally squarish or rectangular-shaped rooms. This makes designing the home much easier. A final consideration is the proximity of eateries, which need to be an easy drive or a short stroll away.
(Keep in mind most malls are an unwelcome source of noise in low-density areas, so you need food places outside of the conventional mall food courts/fast food outlets).
Yan says one good example is Greenwood Avenue, which is a cluster of bakeries and restaurants that form a sort of food hub for one of the Bukit Timah landed enclaves.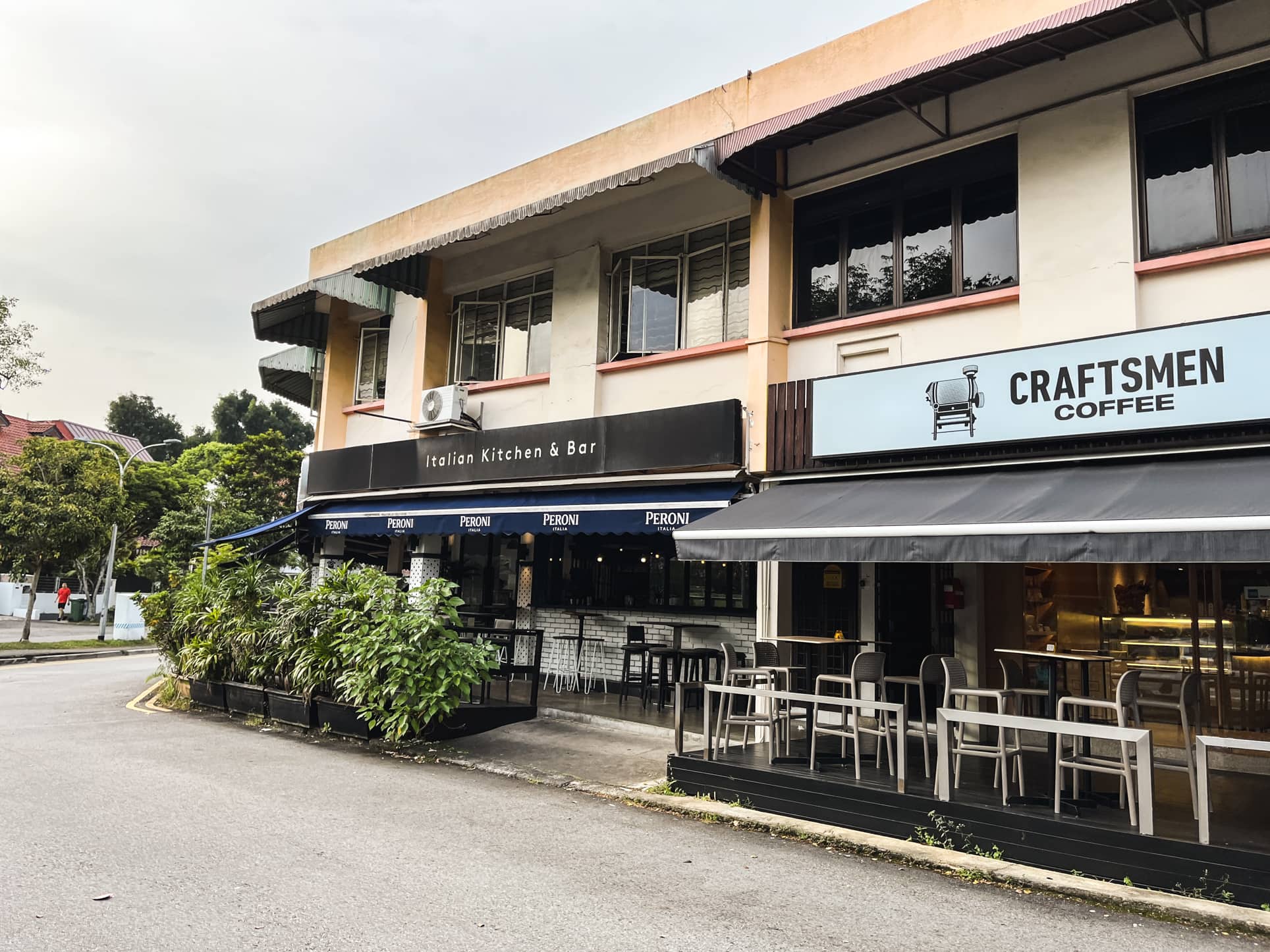 Besides these, there are some other factors to brace for:
"Looking purely at price psf may not be the most ideal marker," Yan says, as a renovated house adds more value compared to an original house, both intrinsically and monetary. This is true, especially in the current market, where construction and renovation costs are much higher and manpower restrained.
"Rebuilding a landed house is no mean feat for the layman, unless you have a construction background one would have to manage myriad decisions coming from the architect, engineers, Interior Designer, and painters to landscapers, etc. It could be a full-time job all on its own!"
As such, Yan says it's sometimes preferable to have a home that needs less in the way of renovation, than a "fixer-upper" in a cheaper but much older house. You need to take into account the potential renovation costs of a landed property (which can be much higher than a flat or condo), in ensuring the price is truly affordable or good value. 
She also adds a reminder:
"Typically the price psf for terraces are higher, as they are smaller in size* – this means that, depending on the type of landed house a home buyer is looking for, the expectations for price psf must change.
Using the average price psf is not useful when comparing dissimilar property types (i.e. terrace vs semi-d vs detached house). Unique builds also vary from house to house, so looking at price psf alone is not the best indicator for value."
*In general, smaller homes will have a higher price psf, while larger homes will have a lower price psf. This is true in the condo market as well.
Price directions in the 2023 landed market
Yan says that, while prices are still expected to rise moderately, the good news is that price growth may be slower this year:
"We were starting to see these signals from Q4 last year. Buyers may be more cautious with the surge in living costs, higher borrowing costs, and weaker economic growth.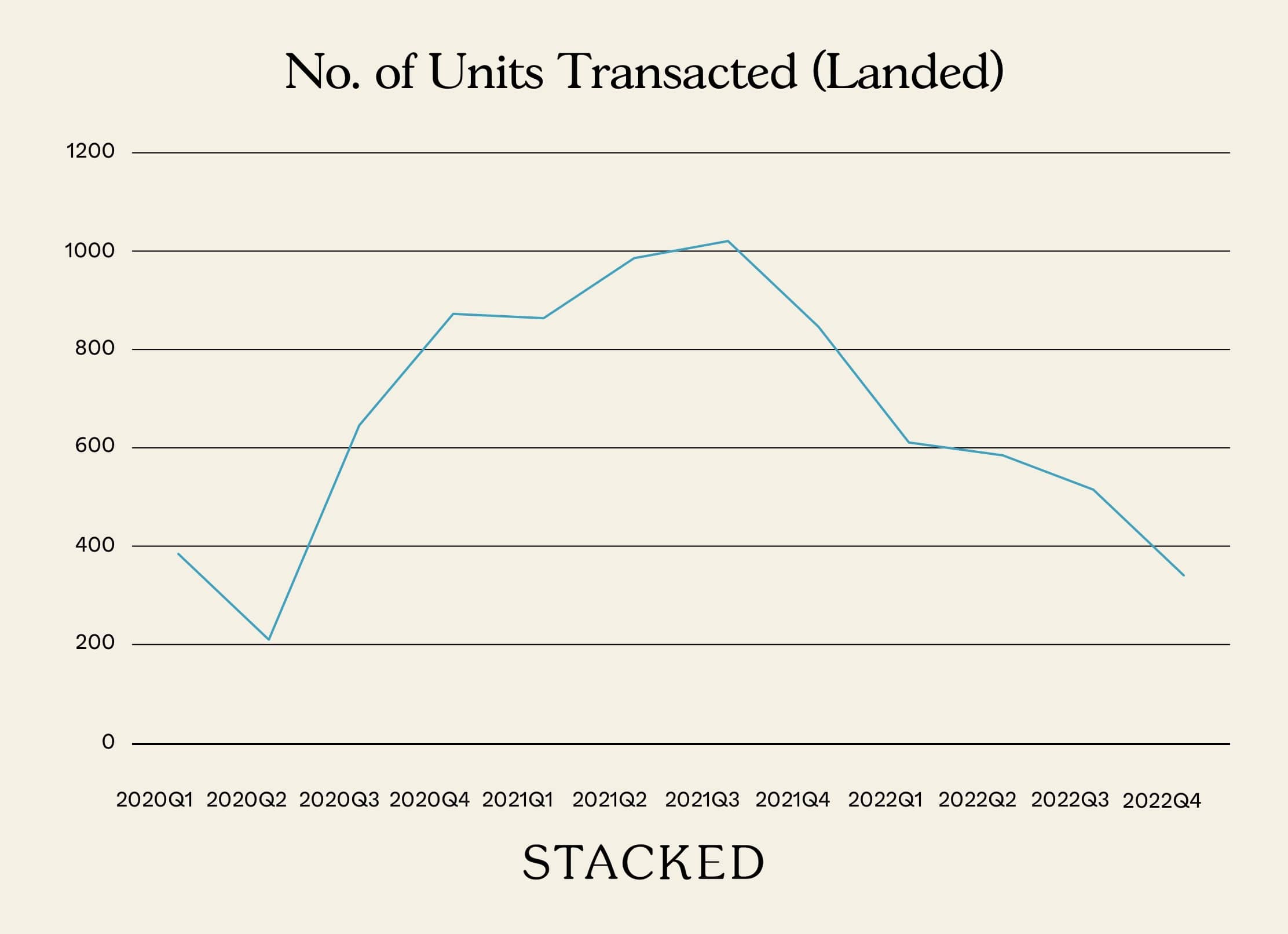 This will impact more of the lower-tier landed homes such as terraces, as higher net-worth individuals looking for bungalows and detached houses may be more financially fluid and cash rich.
Based on the almost 50 per cent drop year-on-year in volume in 2022, this trend is projected to continue this year. Buyers who urgently need a next home should act on it when they find the right property, taking into consideration of the current low inventory."
She also pointed out the current price gap between new and resale landed options:
"New landed homes built by developers transacted at an average of $2,679 psf in 2022, across Singapore while resale units averaged $1,662 psf.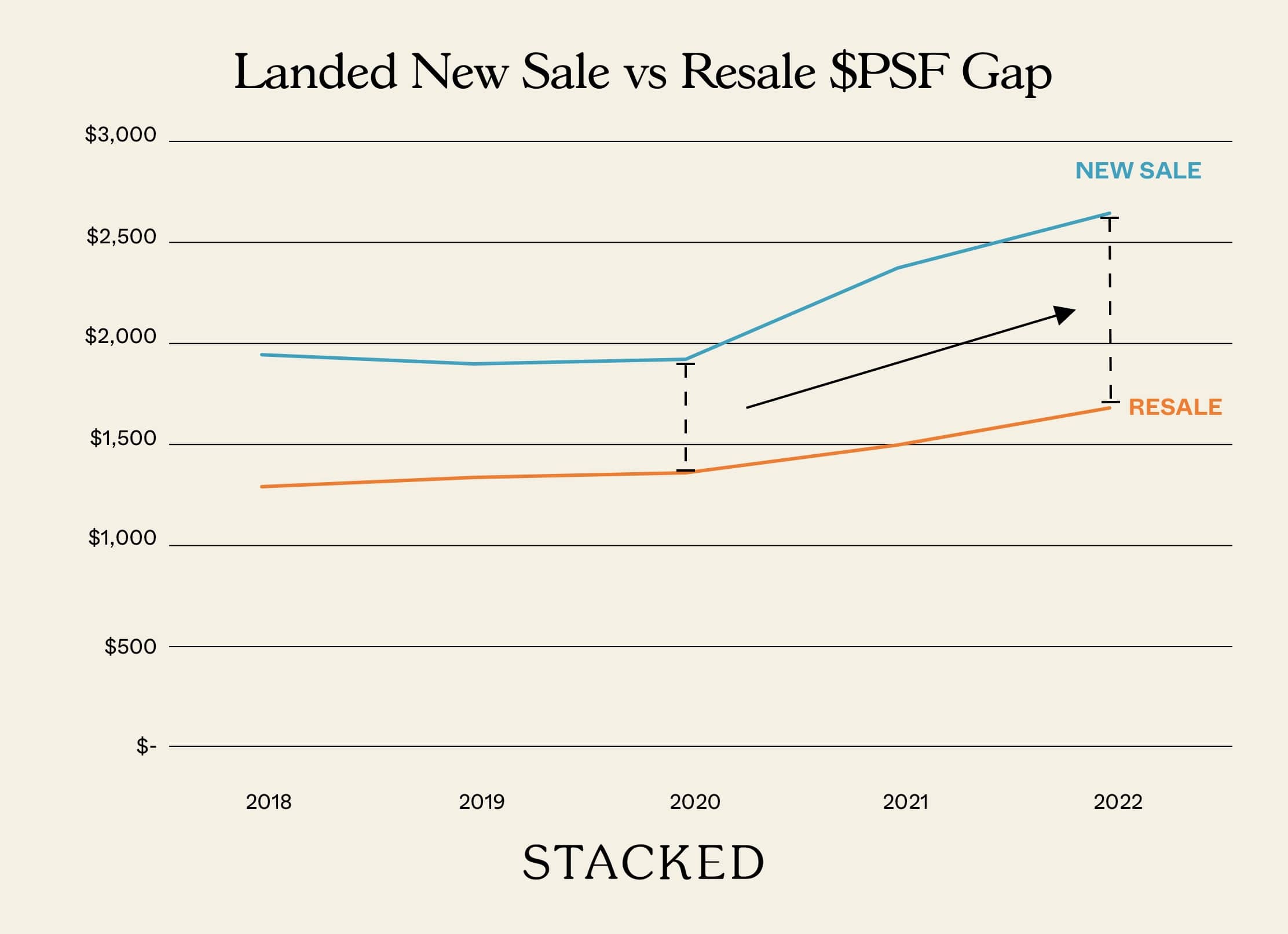 With the estimated 61 per cent difference in asking price, these newly built homes
are pegged at a future price, which forms the marker for the price trend in Singapore's landed home segment in the coming years."
Overall, it does seem that price growth has slowed, but those who want to wait and see are still likely to face higher prices; at least by the end of this year. Nonetheless, there are some clear alternatives out there:
Bear in mind that not all parts of a landed enclave are equally pricey, and that leasehold may be a better alternative for genuine home buyers. Also, factor in the renovation costs when it comes to affordability; as this can make a seemingly cheap unit quite expensive once all the work is done.
For more trends and expert commentaries on the Singapore property market, reach out to us on Stacked. We'll also provide you with the latest reviews of new and resale condos alike.